I'm So Bored I Could Famous Quotes & Sayings
List of top 66 famous quotes and sayings about i'm so bored i could to read and share with friends on your Facebook, Twitter, blogs.
Top 66 I'm So Bored I Could Quotes
#1. It's as if some bored ethereal being is fiddling with the remote control to his imagination, clicking channel after channel without finding anything to capture his interest for very long. - Author: C. Robert Cargill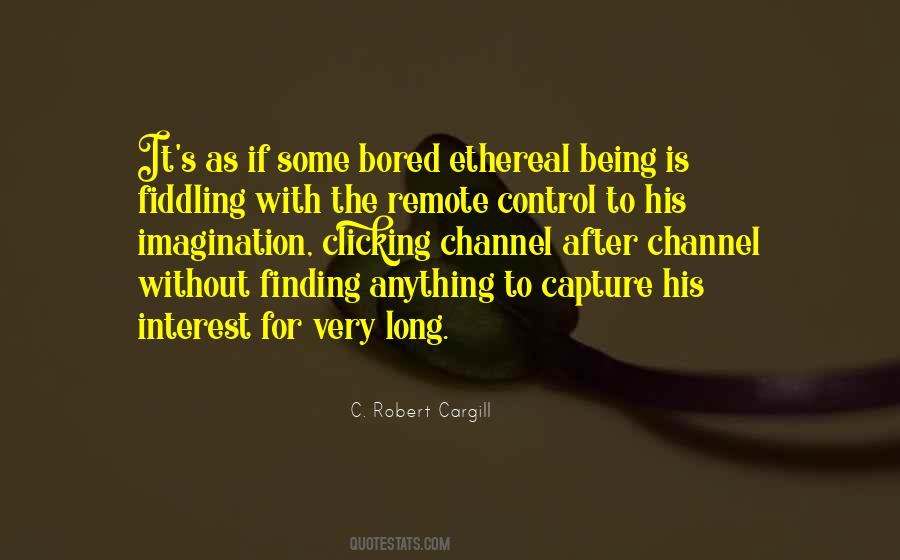 #2. There I found my sole comfort: Jesus, my only friend. I could talk only to Him. Talking to other people bored me, even when we spoke about religion. I felt it better to speak to God than about Him. There's often so much self-love involved in chatter about spiritual things! - Author: John Beevers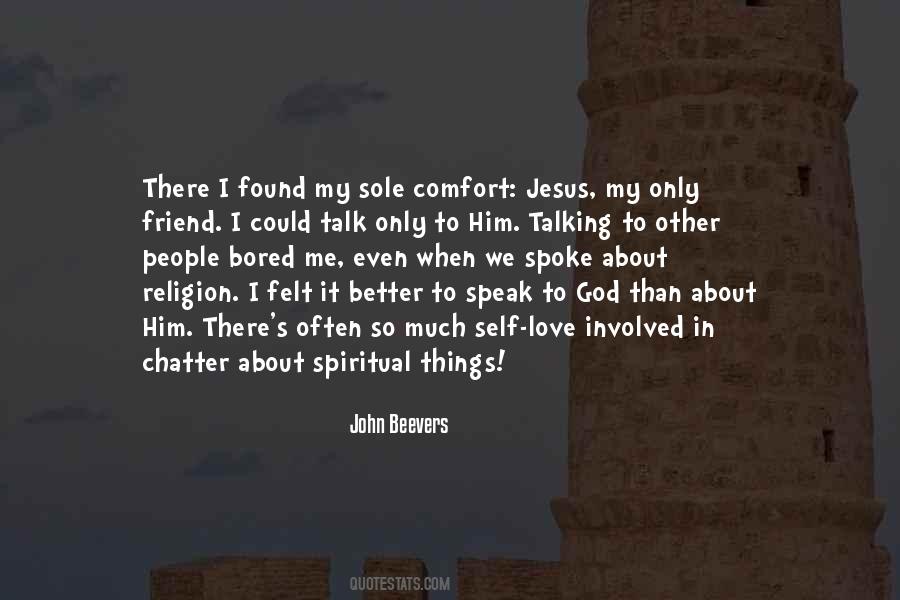 #3. Ever wonder why the gods created man, Grom? I personally think that we're the original reality show. They were so effing bored that they created us just so that they could feel better about themselves - Author: Sherrilyn Kenyon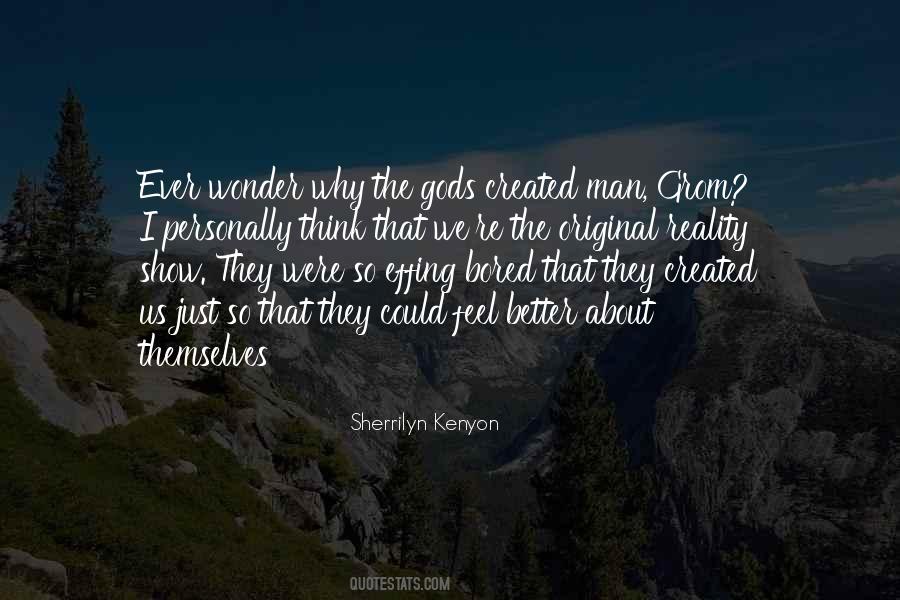 #4. Reading means never being bored and never being lonely. My books are my friends; they always provide me with a place to go. - Author: Satinder Bhatti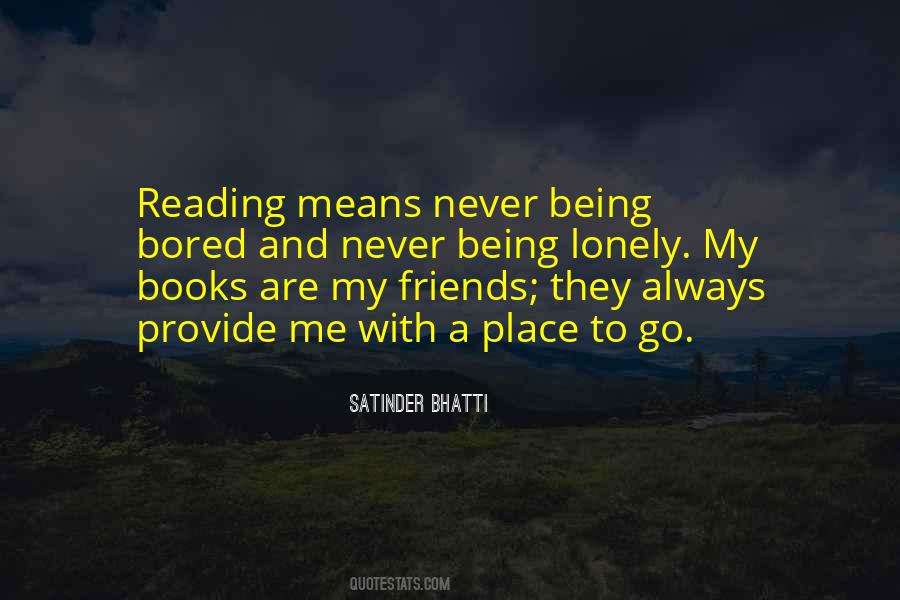 #5. To anyone who thinks eating disorders are something rich, bored white girls do to get attention, I bid you bite me. I have frequent, intense, inappropriate outbursts of anger over the lies little girls are told about what is beautiful. - Author: Stacy Pershall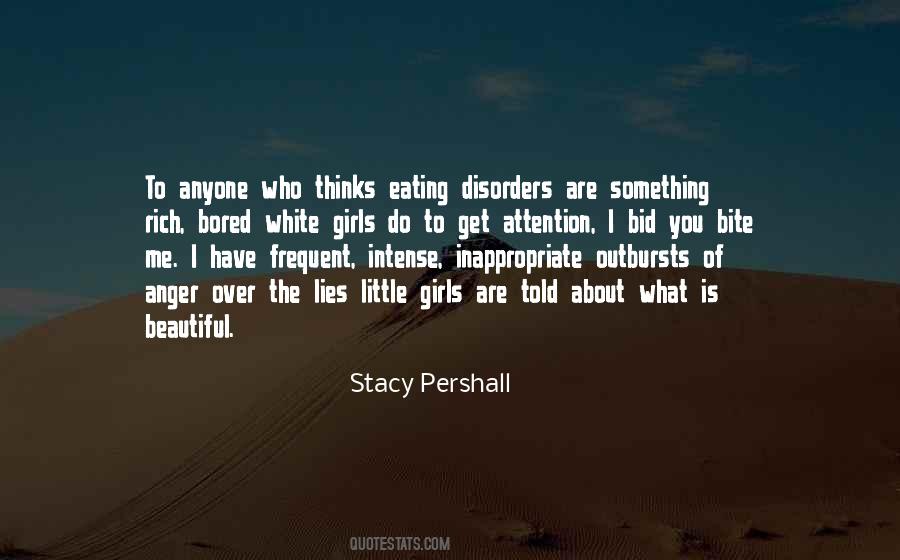 #6. Very talented people make some very bad songs so that people with a fourth grade reading level can sing along. Sure, corporate worship is good- but for me, I get very bored in Church trying to worship. - Author: Reese Roper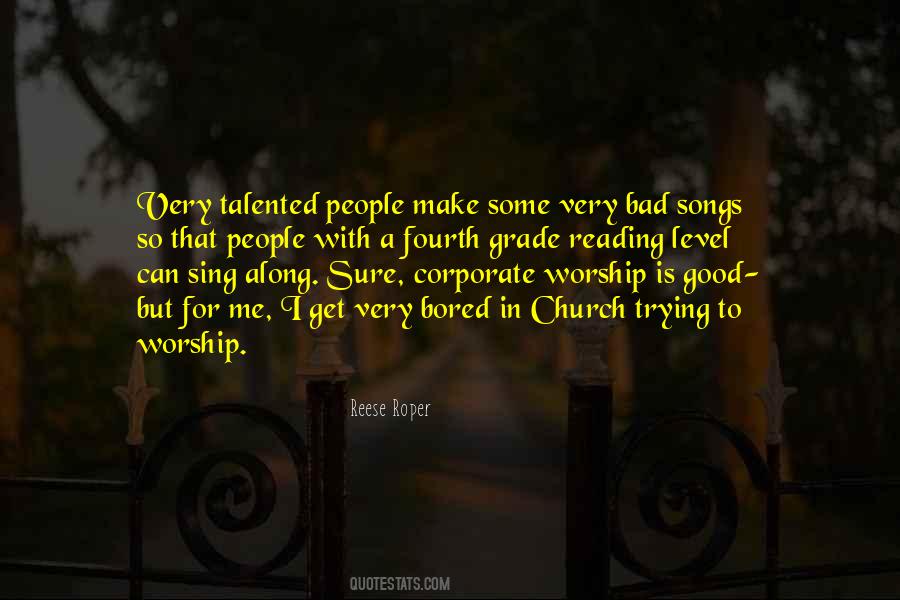 #7. Leisure: A fancy word for people who don't want to admit they're bored. - Author: Gene Perret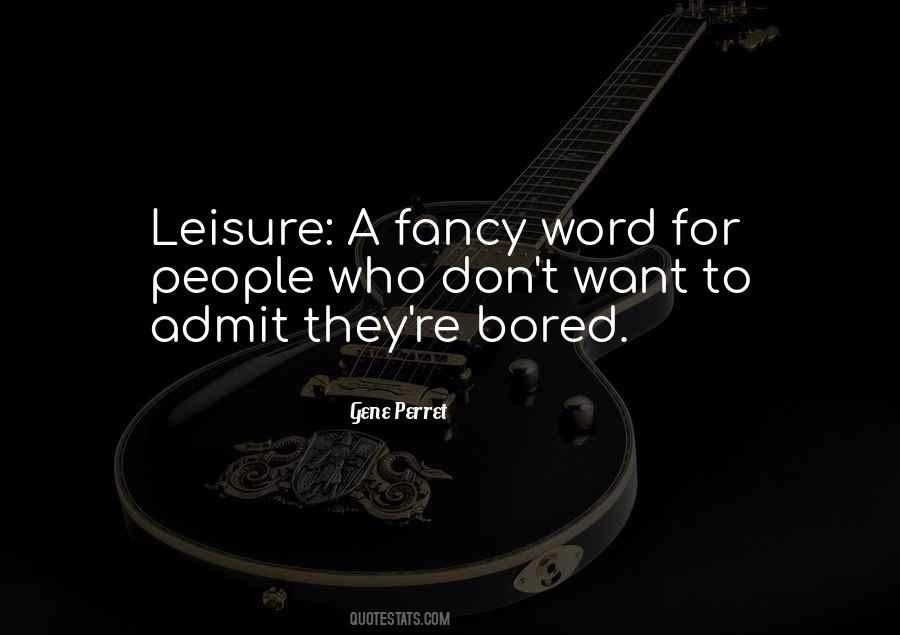 #8. If you're bored tonight why don't you write down everything that comes to mind when you hear the word toothpaste? - Author: Jaclyn Moriarty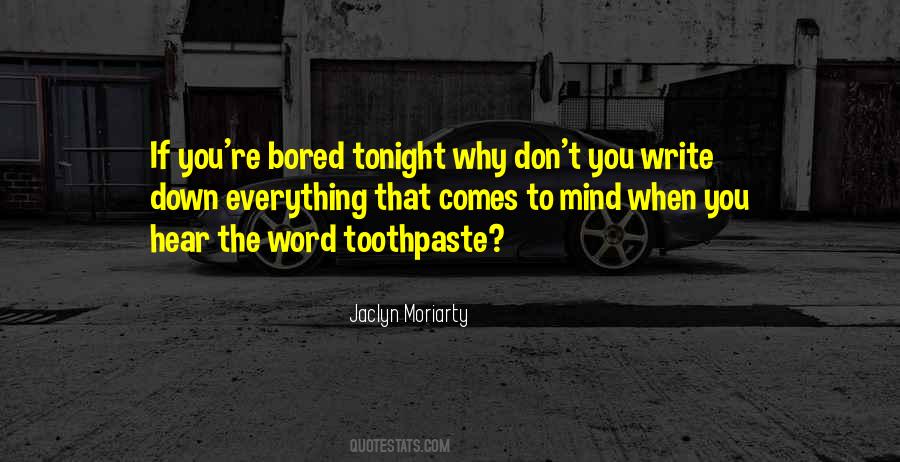 #9. If I'm not doing anything, I get really antsy and bored. - Author: Nat Wolff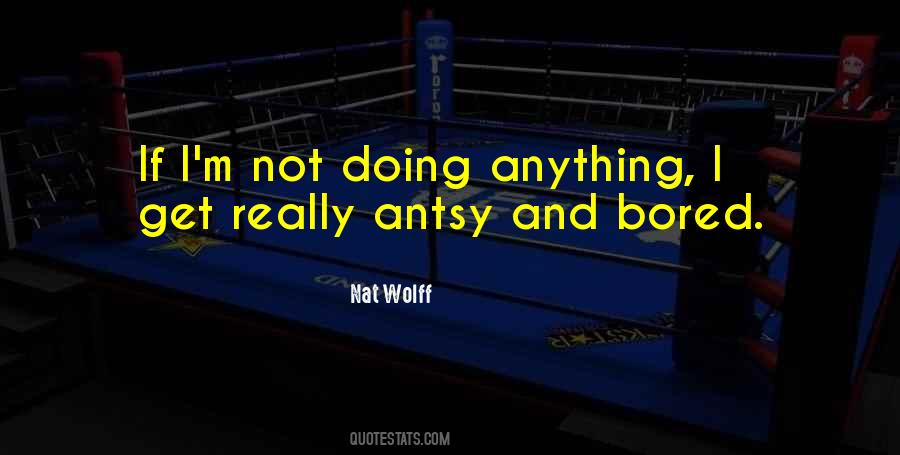 #10. Sometimes I get kind of bored if I go like a month or so and I'm not doing anything. At first I'm like, 'Cool, I'll have a little time off and I'll get to hang out with friends,' but then after a little while goes by I'm like, 'Oh,' and I really wish that I could go back and start doing work again. - Author: Miranda Cosgrove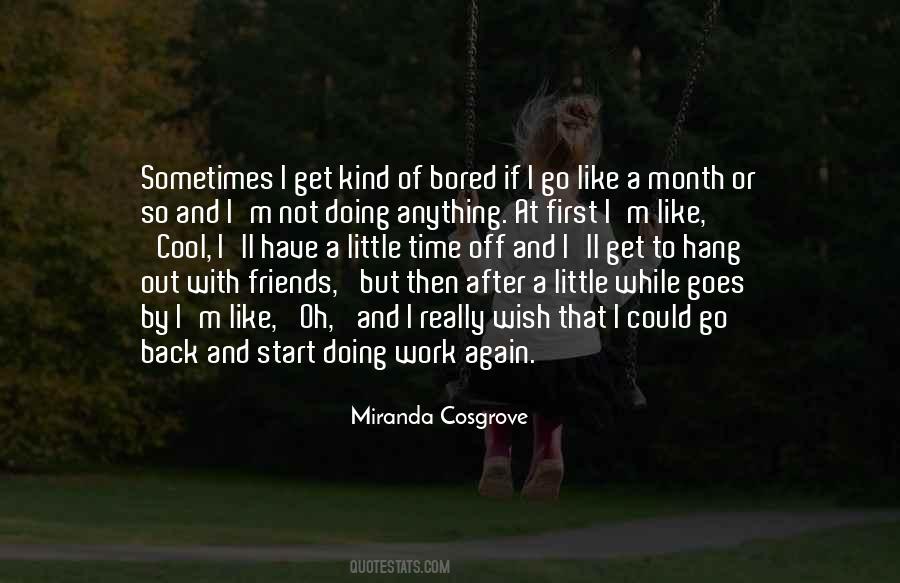 #11. People always think something's all true. I don't give a damn, except that I get bored when people tell me to act my age. Sometimes I act a lot older than I am, I really do. But people never notice. People never notice anything. - Author: J.D. Salinger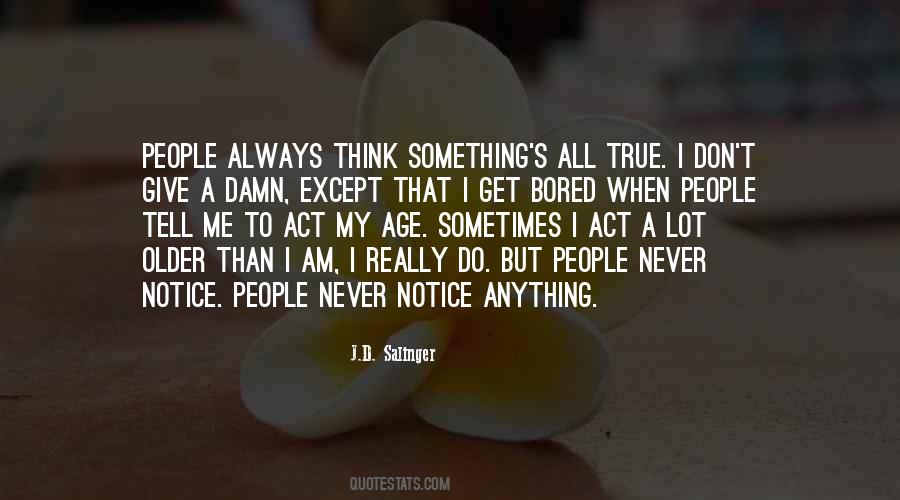 #12. But as I remember it, he looked alternately bored and preoccupied throughout the meal, as if, while one part of him was drinking Bordeaux and cutting his food into bite-sized morsels, the other half was engaged with shepherding a herd of goats across a bone-dry plain. - Author: Nicole Krauss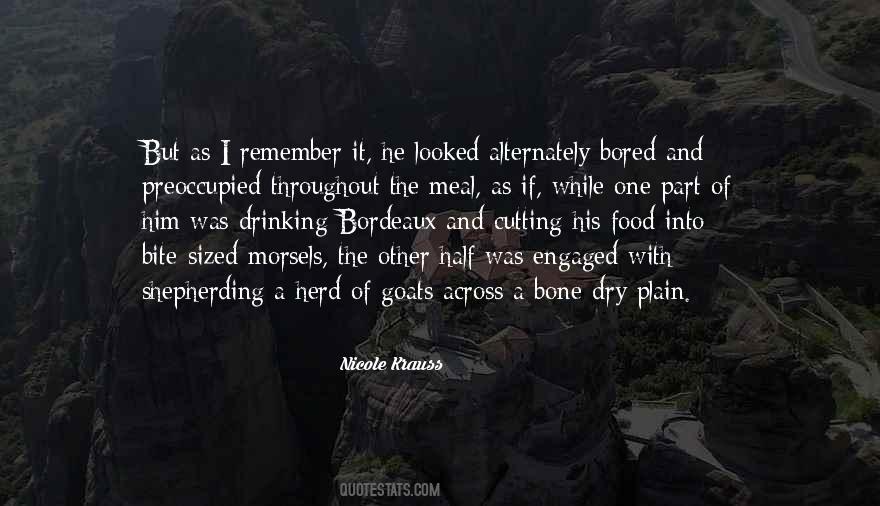 #13. I don't want to play the same character seven times. I think people would probably get bored of it. - Author: Anna Popplewell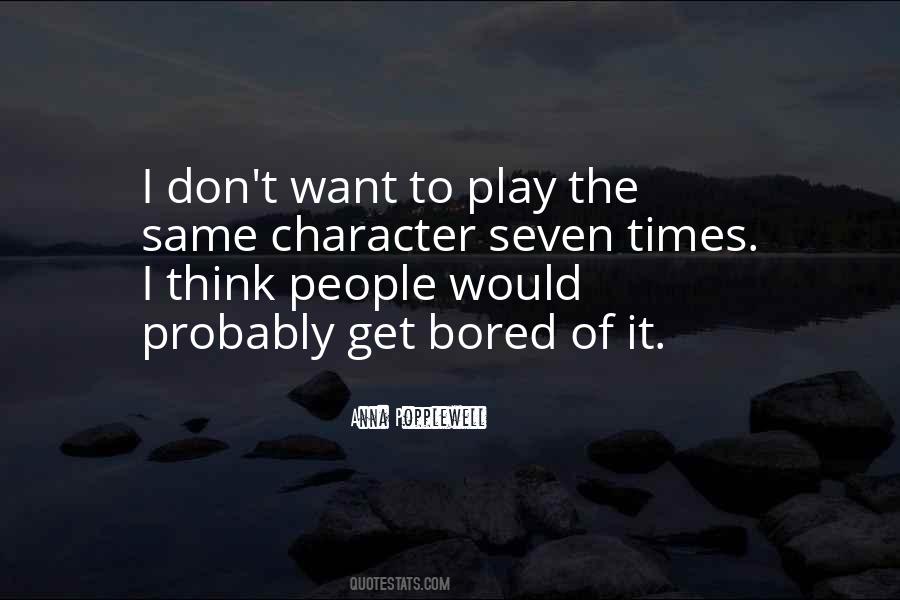 #14. It's hard having kids because it's boring ... It's just being with them on the floor while they be children. They read Clifford the Big Red Dog to you at a rate of 50 minutes a page, and you have to sit there and be horribly proud and bored at the same time. - Author: Louis C.K.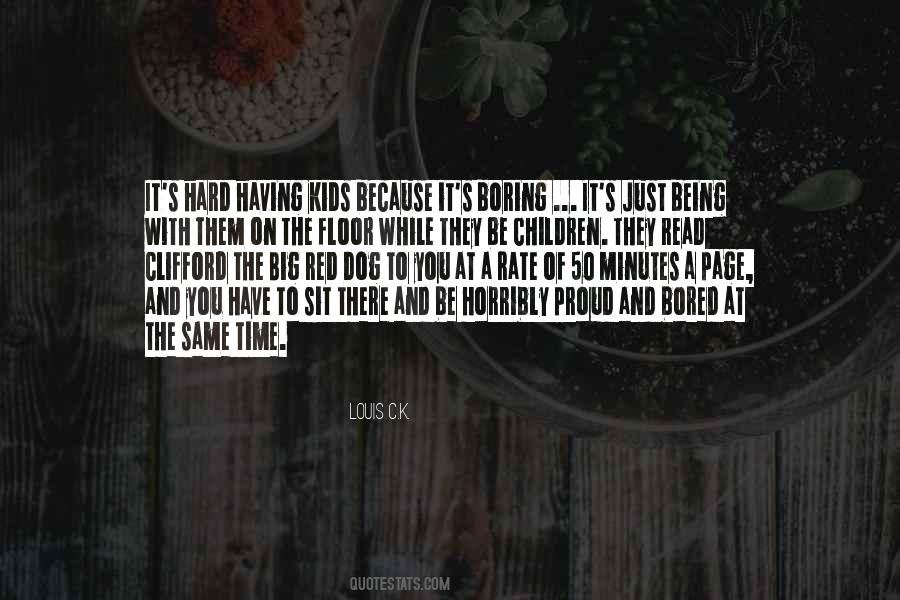 #15. Being steeped in the process of learning and exploring keeps me from becoming too nervous. Partly it's about not getting bored. - Author: Renee Fleming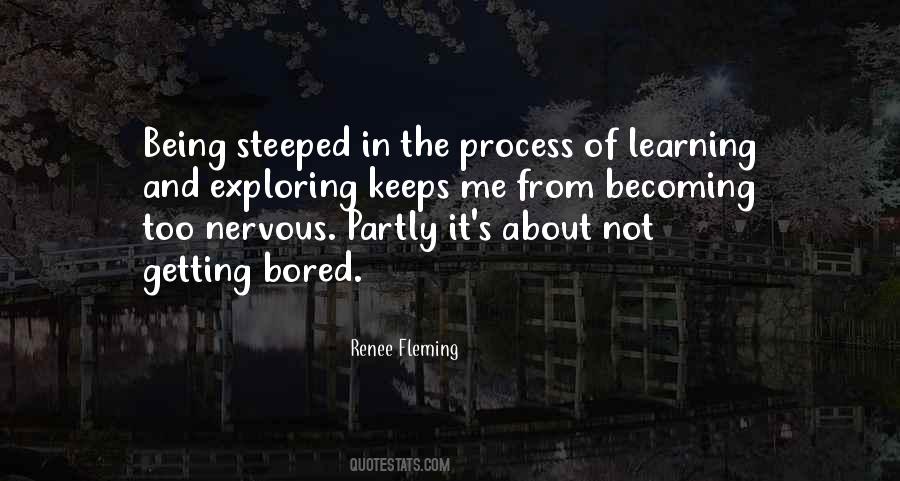 #16. I'm never bored, never ever bored. If I've got a day off I'll sit in a cafe and watch and observe. I'm a great observer. - Author: David Suchet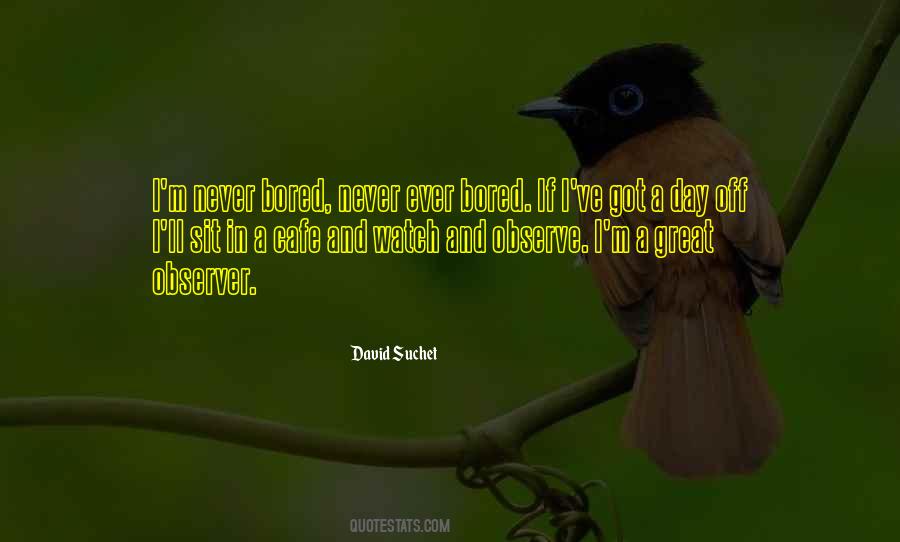 #17. I am fairly tired
bored beyond endurance
by the world we live in, and its ideals, and am ready to say so, not violently, but kindly, as one rubs salt into the back of a flogged sailor as though one loved him. - Author: Henry Adams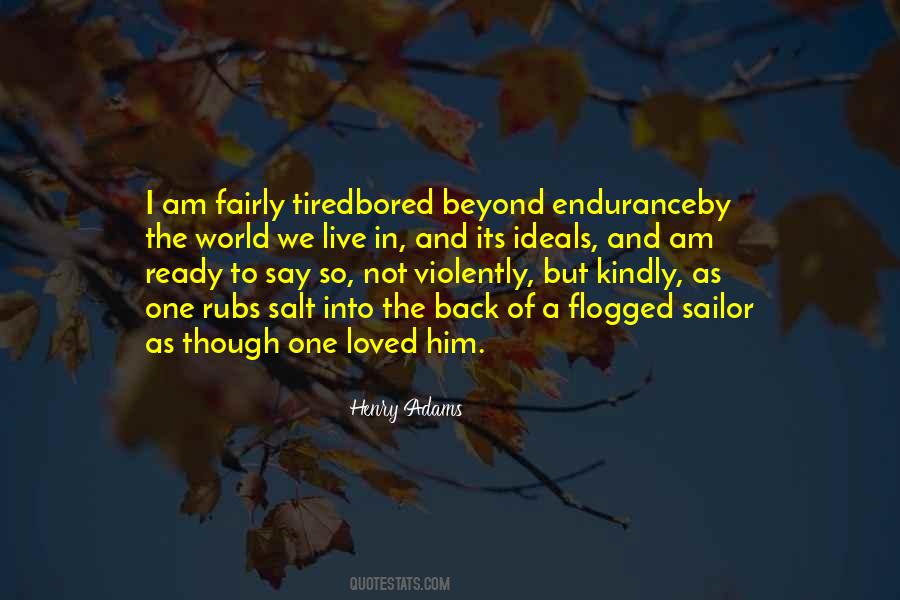 #18. I came to realize that I get less bored on my own than I do in the company of some man who doesn't altogether appeal to me. - Author: Alex Capus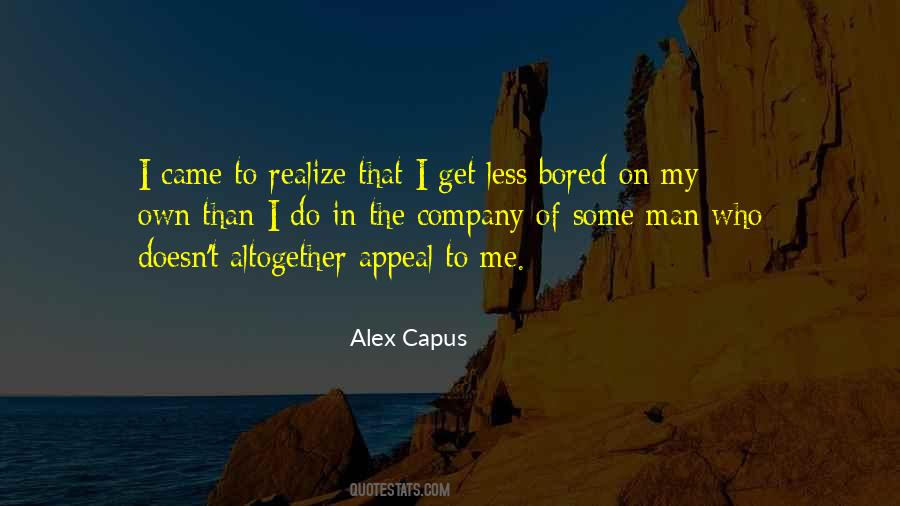 #19. Fiddle-dee-dee. War, war, war. This war talk's spoiling all the fun at every party this spring. I get so bored I could scream. Besides, there isn't going to be any war ... If either of you boys says 'war' just once again, I'll go in the house and slam the door. - Author: Vivien Leigh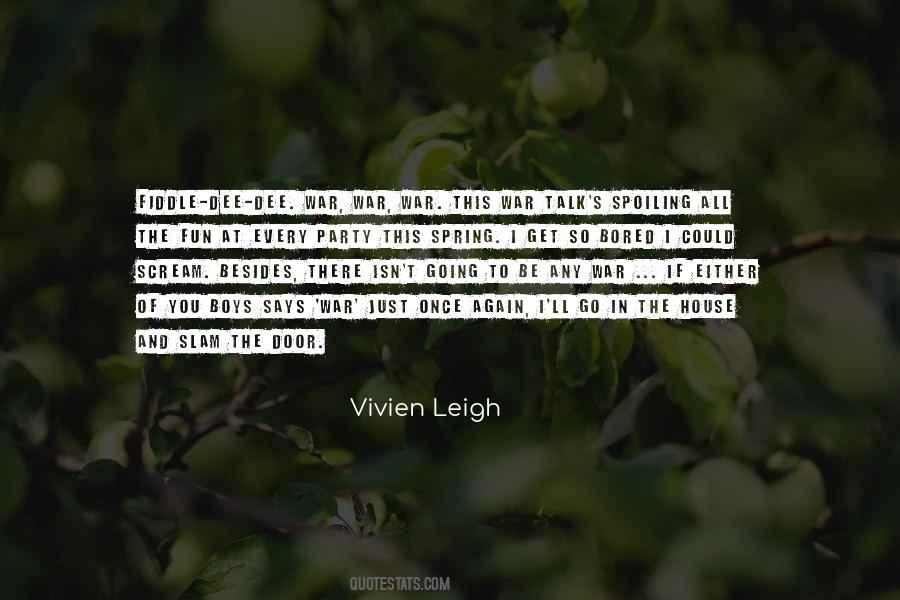 #20. Basically, I hate conformity. I hate people telling me what to do. It makes me want to smash things. So-called normal behaviour patterns make me so bored, I could throw up! - Author: Wendy O. Williams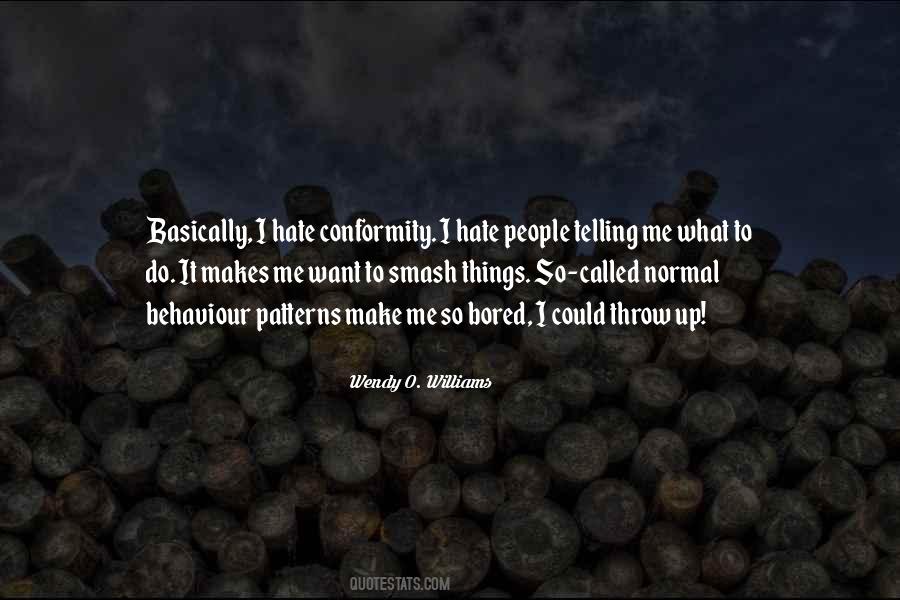 #21. I was four or five, and my mother gave me a big black tablet, because I kept complaining that I was bored. She said, "Then write something. Then you can read it." In fact, I had just learned to read, so this was a thrilling kind of moment. The idea that I could write something - and then read it! - Author: Joan Didion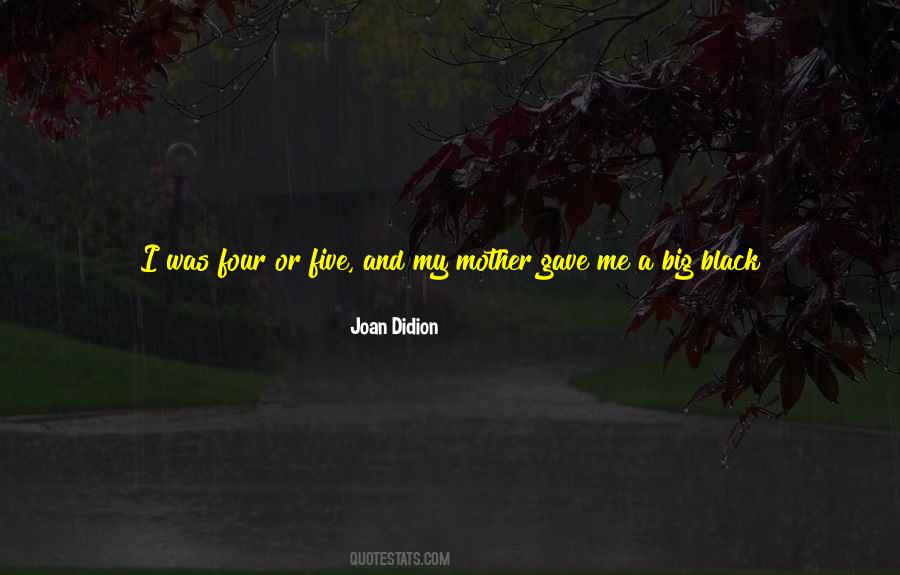 #22. Omigod, I'm so bored I could shoot myself in the head with a knife. - Author: Robyn Schneider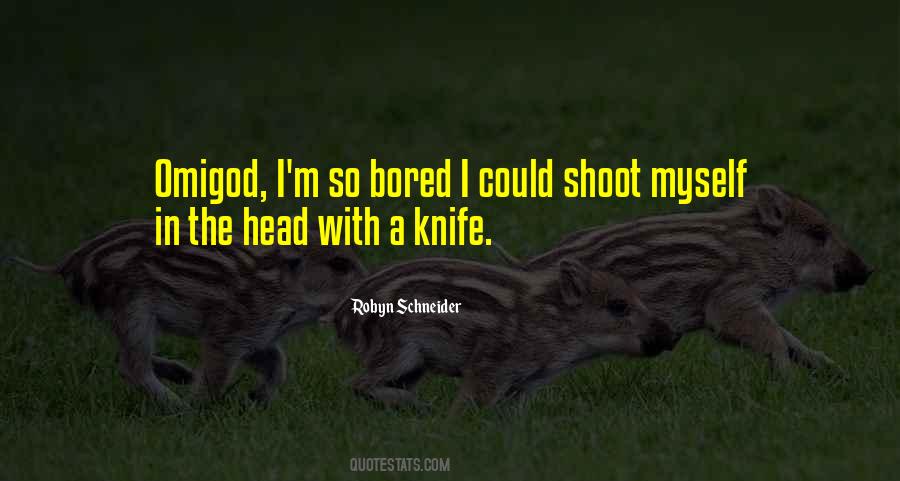 #23. I'm so bored I could sing to my dick. - Author: Joe R. Lansdale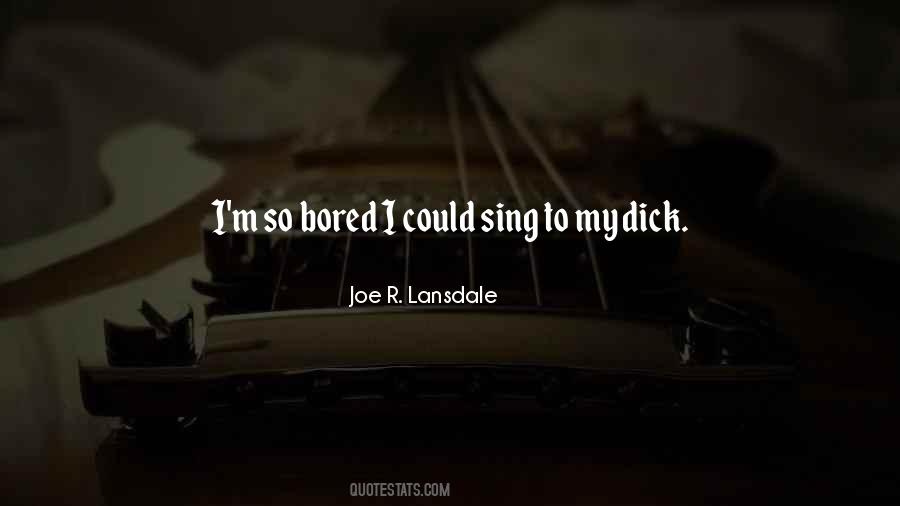 #24. I'm so bored I could do something, but can't be arsed. I'm unmotivated as well as bored. It's a killer combination. - Author: Gillibran Brown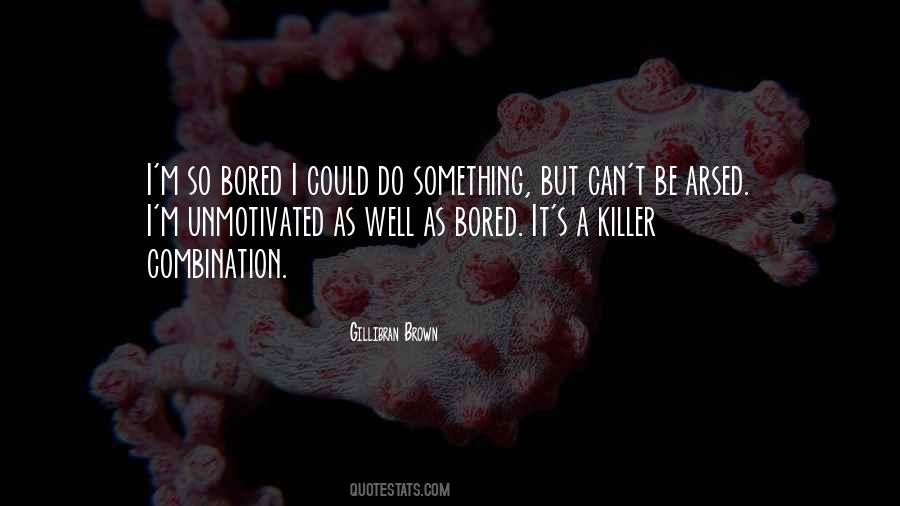 #25. I didn't start writing so that I could more deeply know myself. I was bored of myself, my life, my childhood, my hometown. I started writing as a way to know others, to get away from myself. - Author: Julianna Baggott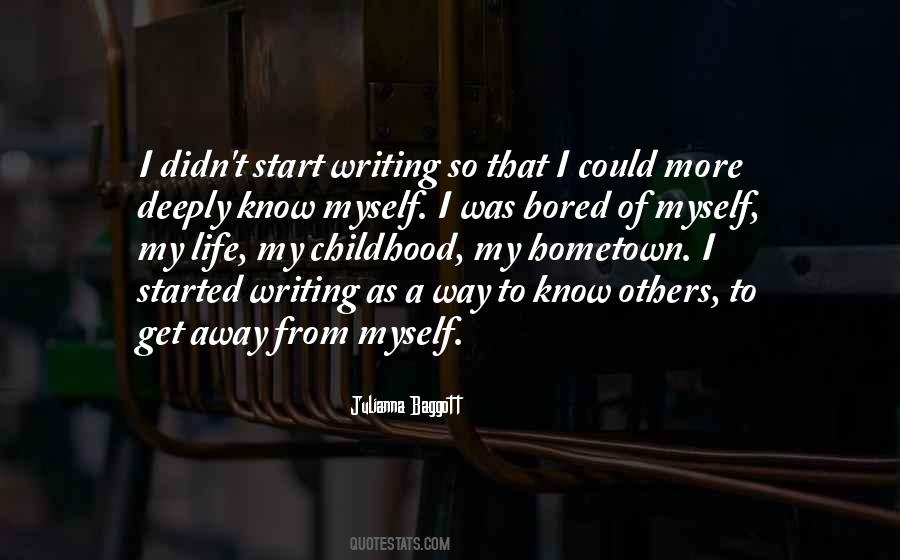 #26. [Devina] "You know, Adrian, you ever get bored with being a Goody Two-shoes, you could come over to my side."
"Because you have cookies, right."
Those black eyes returned to his own. "And so much more."
"Well, I'm on a diet. Sorry - but thanks for the invite. - Author: J.R. Ward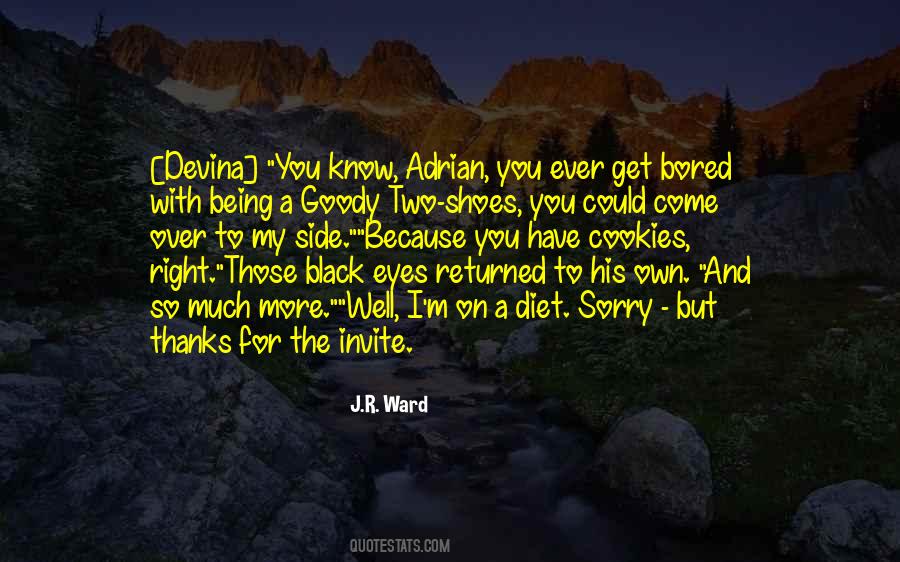 #27. I love you so much. I love you enough that I want to stay separate from you. You're an extraordinary man, Frank Wright. I could so easily lose myself in your world and never make a world of my own. And where would that leave us? We'd both be bored stupid. - Author: Nancy Horan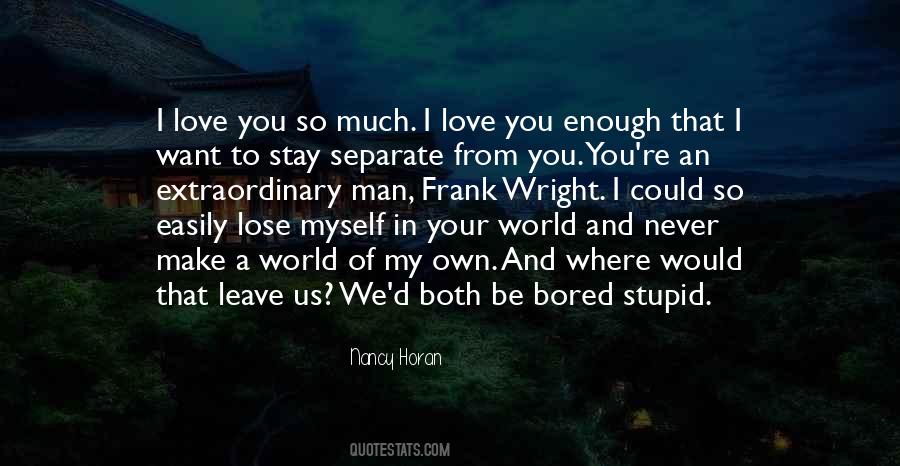 #28. At school I was lazy. But I started working when I was 15, washing dishes at a local truck stop restaurant. I was really, really bored with school, and I wanted to get a job as fast as I could. School was just so easy. There was just no challenge to it. - Author: Chuck Palahniuk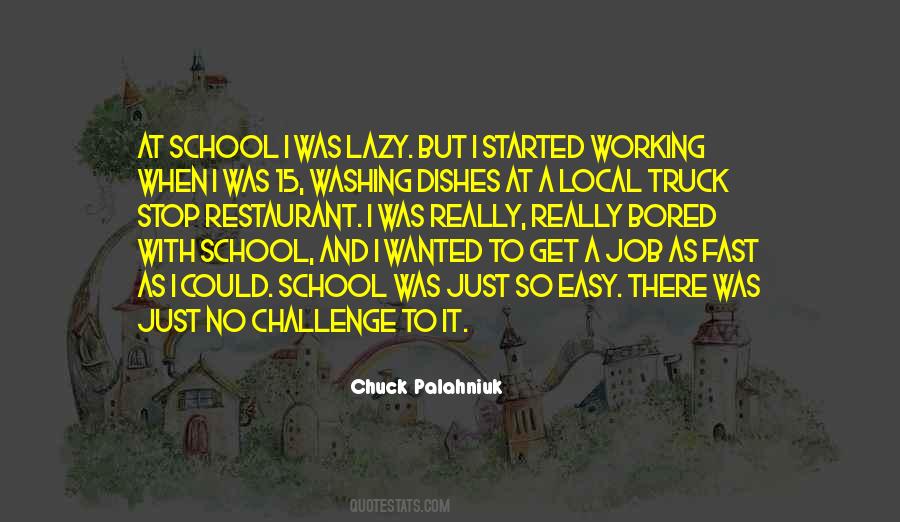 #29. I didn't want to go to college - I was bored by junior high. So I was in church one day, staring at the stained glass windows and thinking about things, when suddenly I decided that if I could start selling cartoons to magazines, they'd let me quit high school. - Author: Brad Holland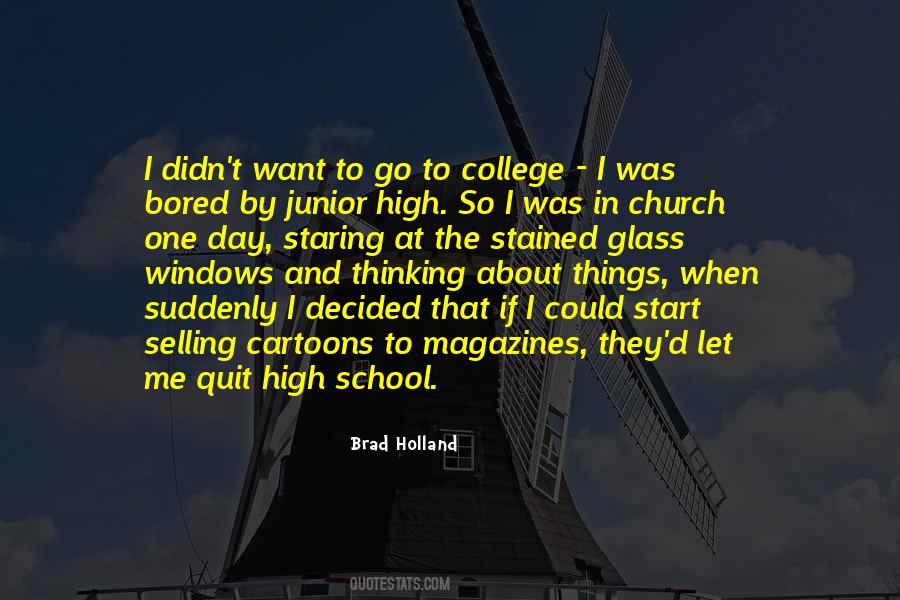 #30. It's so easy for me to fall back into depression. I think it comes with having money. I don't have to work. I could be sitting bored and depressed at home with a bag on my head. - Author: Kelly Osbourne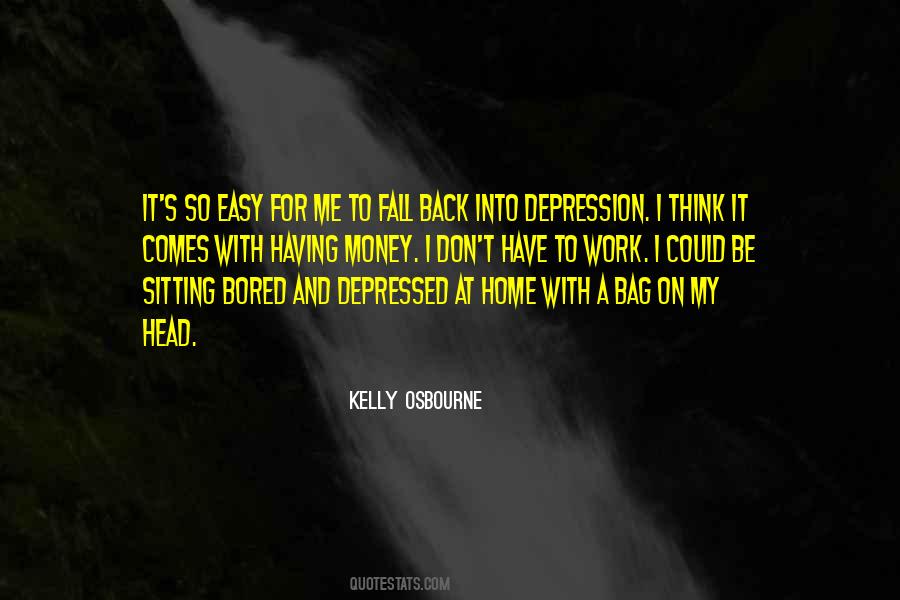 #31. So I learned that even after a single day's experience of the outside world a man could easily live a hundred years in prison. He'd have laid up enough memories never to be bored. Obviously, in one way, this was a compensation. - Author: Anonymous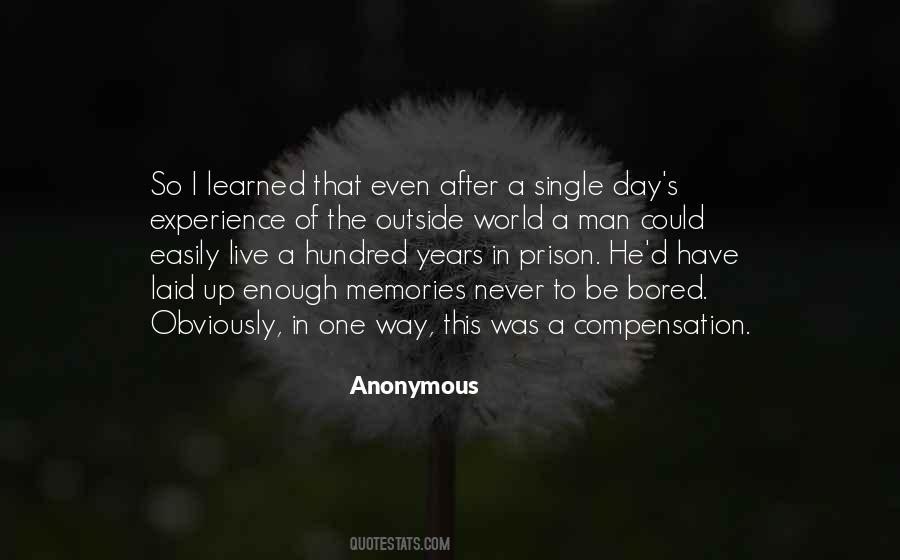 #32. Is your leg asleep again?" Troy said. "I'm worried about your circulation."

"It's fine," Elena said, stamping her foot.

She'd only been sitting for two hours, but she was so bored she could hardly stand it. She could literally hardly stand; even her blood vessels were bored. - Author: Rainbow Rowell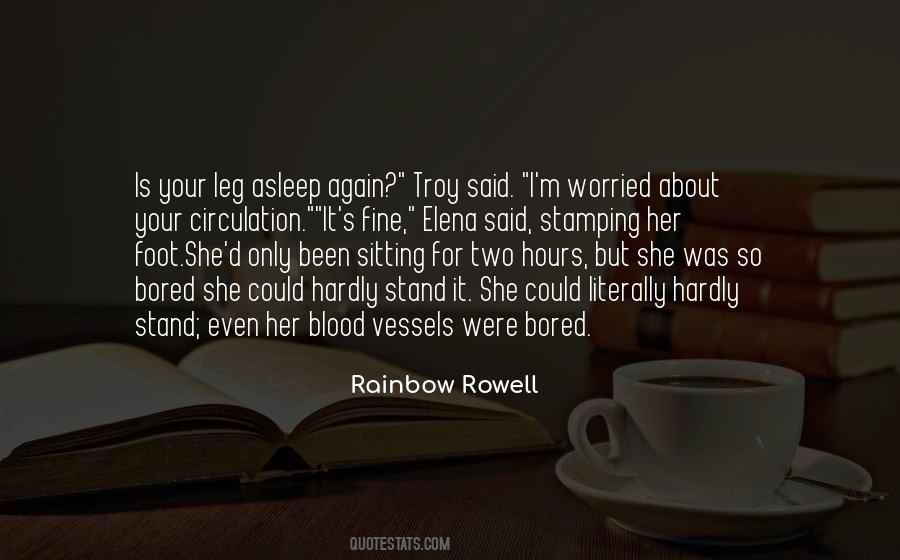 #33. I got bored with the topic; I felt this was 19th century physics. I was wondering if there was still something profound that could be made with light microscopy. So I saw that the diffraction barrier was the only important problem that had been left over. - Author: Stefan Hell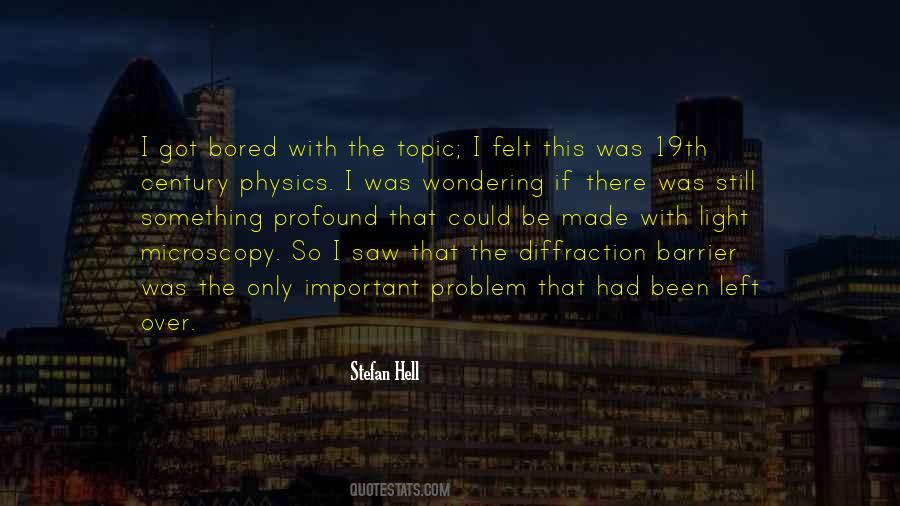 #34. People get used to more complex forms of entertainment, and they become bored by simpler forms. Television has become more complex in order to feed our demand. - Author: Alex Tabarrok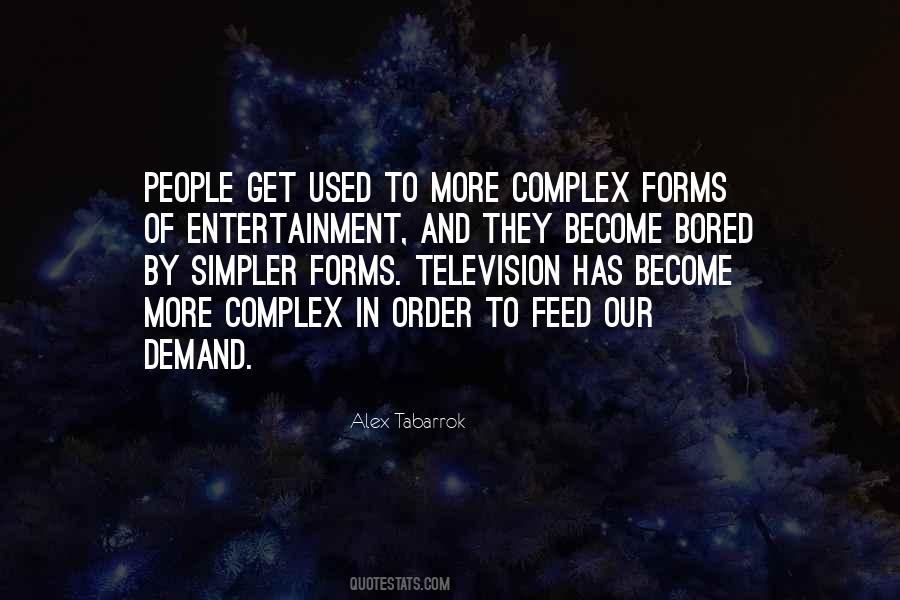 #35. Ever since I was twelve, I dreamed of being an author. I just never had the fortitude to see any of my stories through to completion. I would start a book, get a few chapters in, and grow bored or get distracted by something else. - Author: Hugh Howey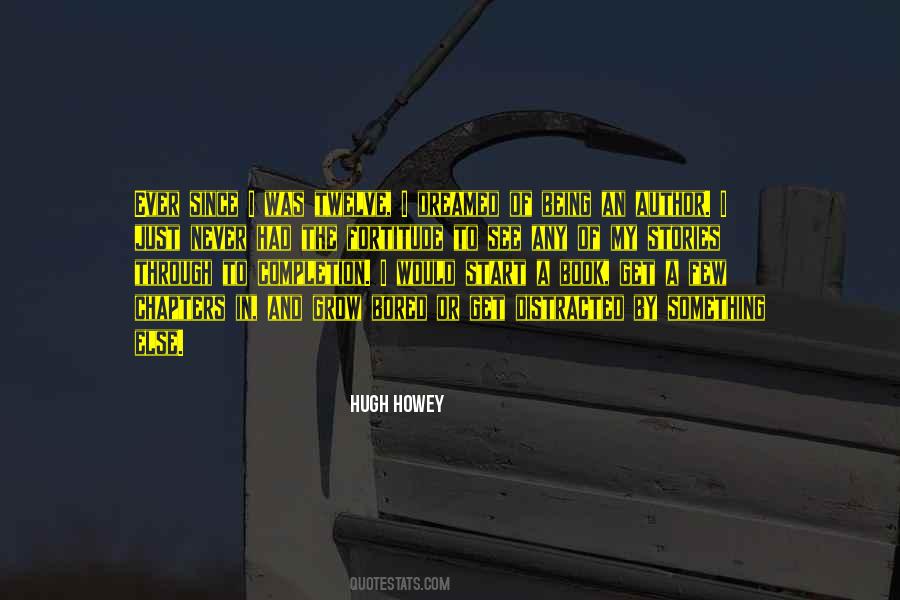 #36. When I got bored, I conjugated verbs. Kissing and conjugating go well together. They're both French. No. - Author: Rebekah Crane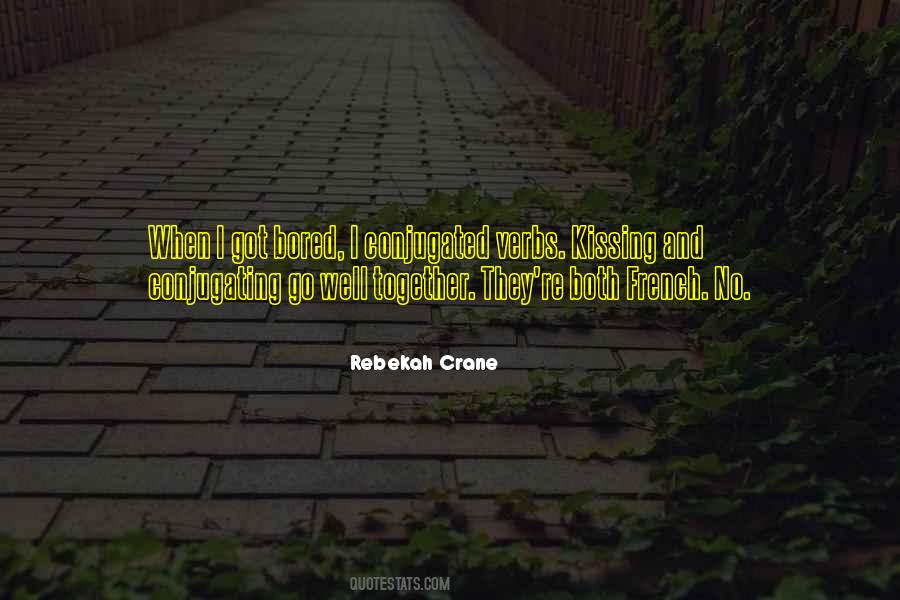 #37. Angry Leontine Sergeant, angry Aerian Commander in Chief, slightly bored Dragon, and panicked human - you could practically call it a racial congress, with humans in their usual position. - Author: Michelle Sagara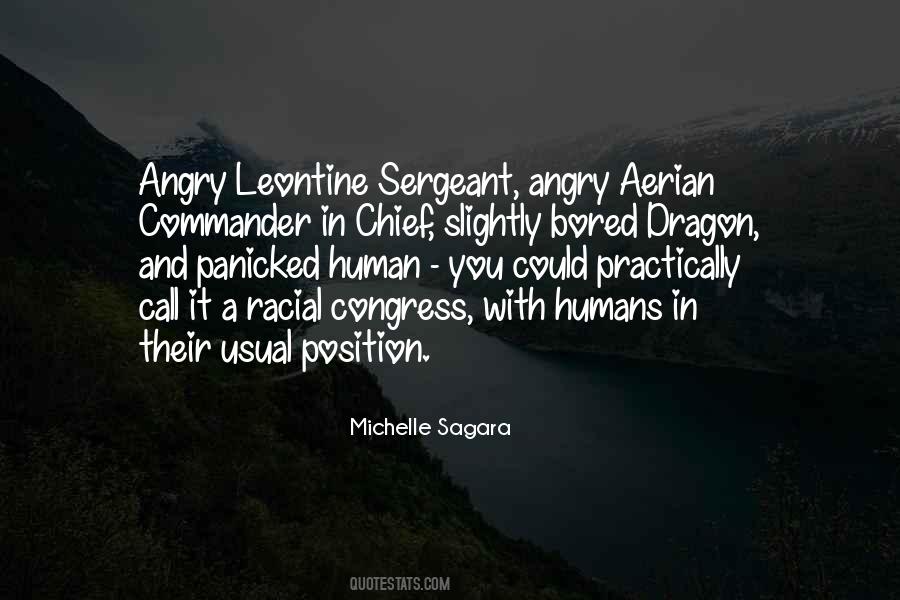 #38. The fascination to go into space has existed for hundreds of years. But as we do things and they're successful, people get bored. - Author: Jim Lovell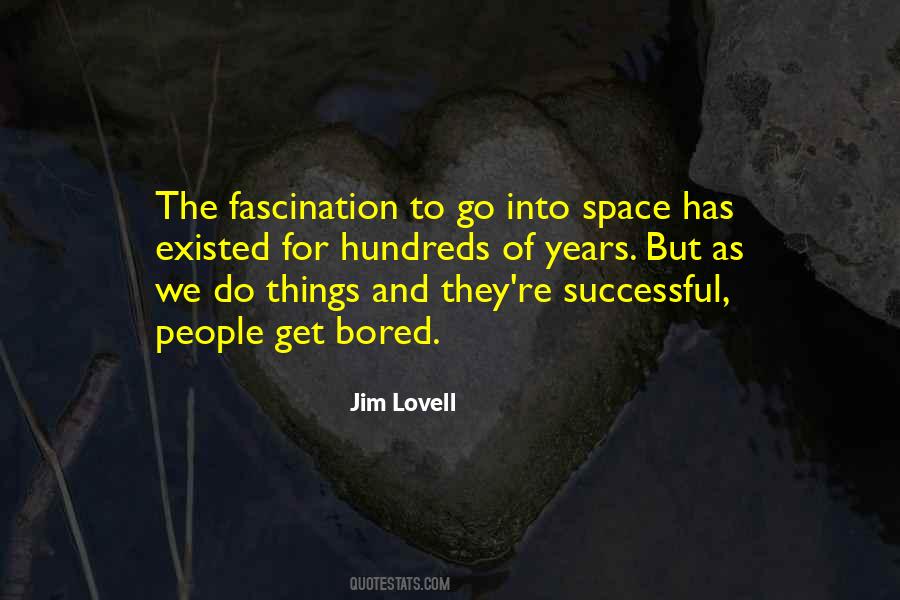 #39. But to give him anything to drink was impossible, or would have been so had not the landlord bored a reed, and putting one end in his mouth poured the wine into him through the other; all which he bore with patience rather than sever the ribbons of his helmet. - Author: Miguel De Cervantes Saavedra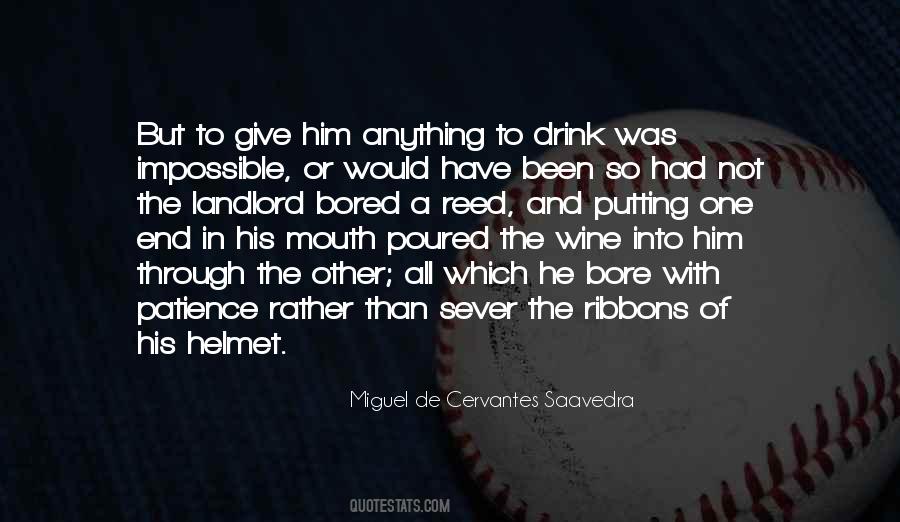 #40. There are oceans of things to discover, to explore, to learn, to invent, to create in this world; especially with its modern possibilities offered. So, I don't understand when people complain they're bored and have nothing to do. - Author: Sahara Sanders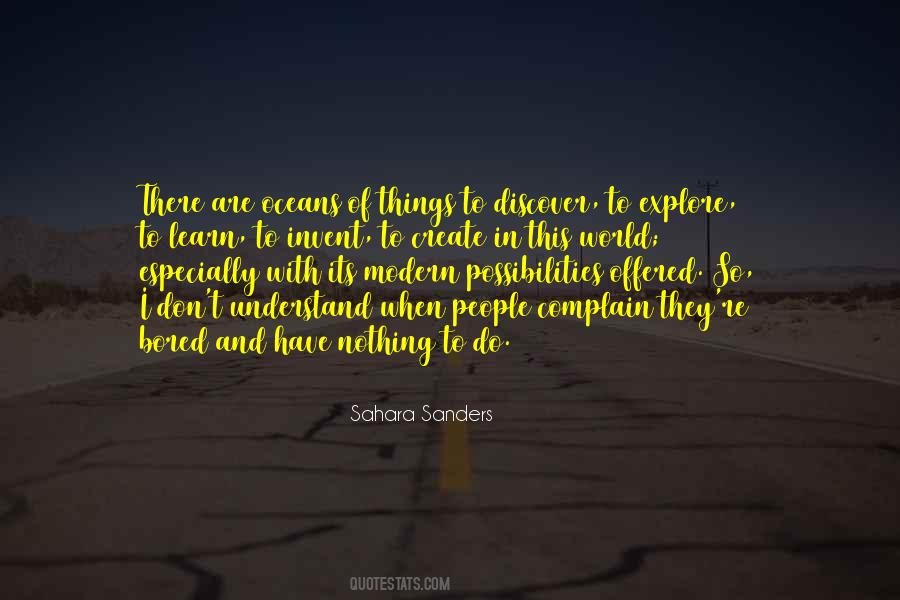 #41. I got a bit bored of just me and my guitar, - Author: Elena Tonra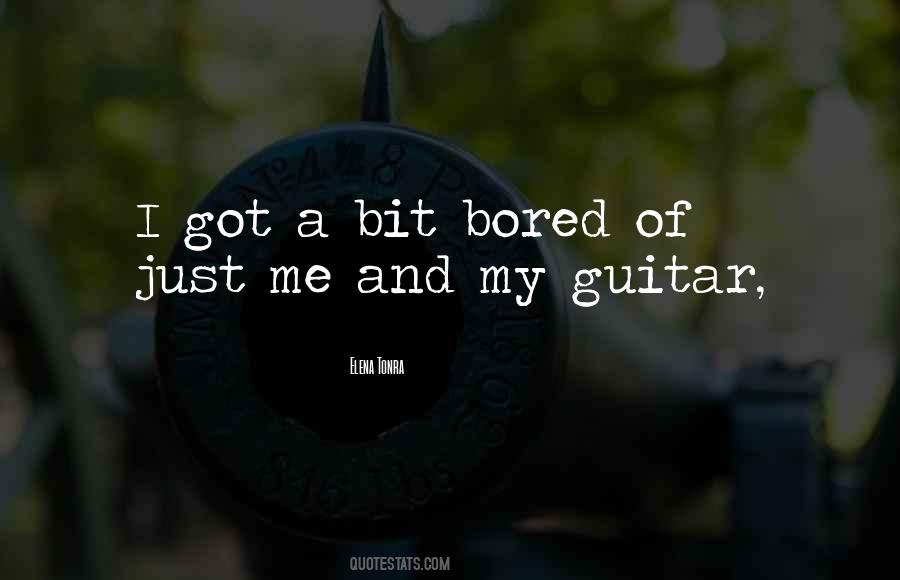 #42. Life is so interesting that sometimes it can make you bored. - Author: Debasish Mridha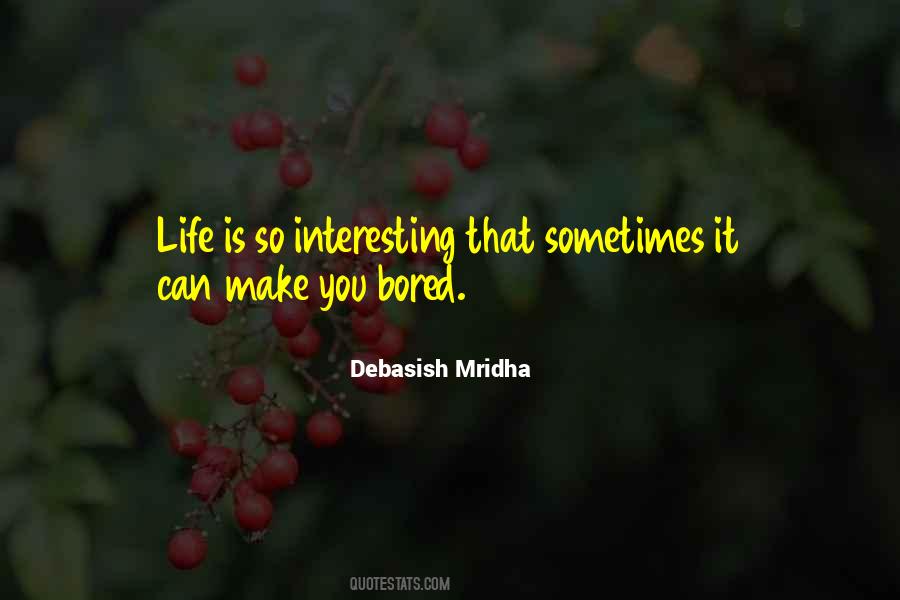 #43. Do you feel bored and stuck in a rut? Is work drudgery? If so, you are spending far too much time bemoaning your fate and how the universe is not cooperating with your desires. Be present with and in your current situation. - Author: Srikumar Rao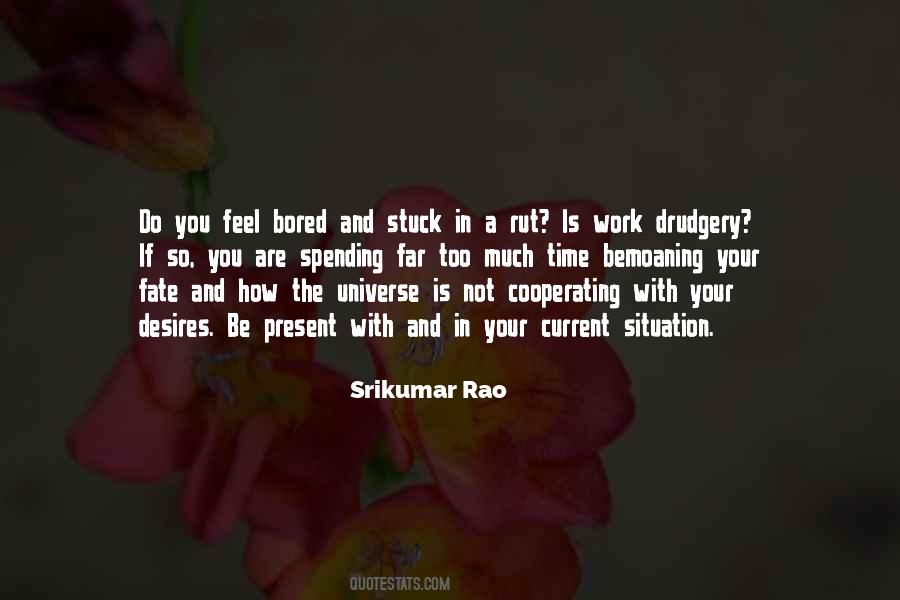 #44. I have quite a normal family and I'm bored with how normal my family is. I want to mess stuff up a bit. I chose the messed up characters because I find that that's acting. I want to explore emotions that you otherwise wouldn't be able to explore. - Author: Chloe Grace Moretz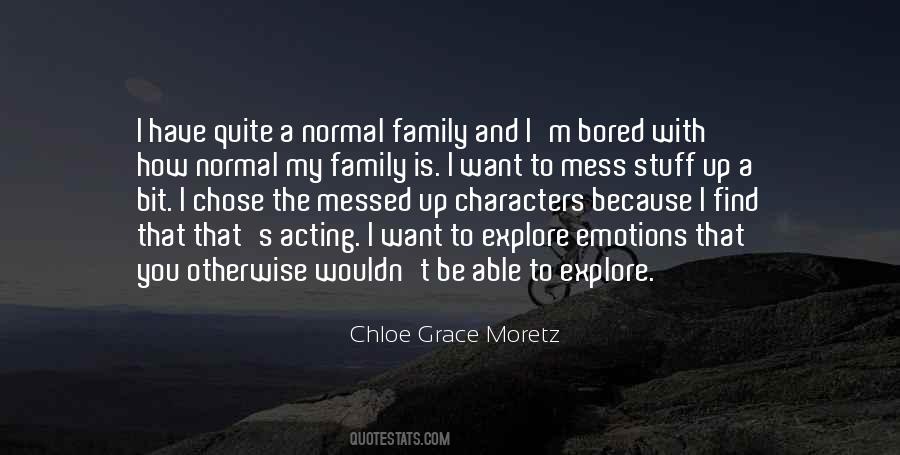 #45. Nothing pleases me more than when somebody who was awe-inspired to be working with me realizes I'm just another schmuck that they're bored of hanging out with on a set. I love that moment. I like it when that persistent illusion is smashed. - Author: Robert Downey Jr.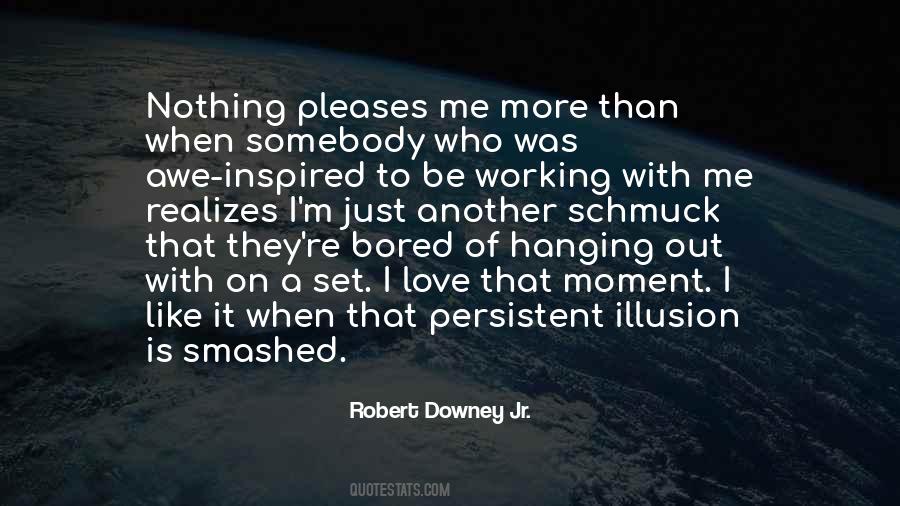 #46. I think boredom is the beginning of every authentic act. ( ... ) Boredom opens up the space, for new engagements. Without boredom, no creativity. If you are not bored, you just stupidly enjoy the situation in which you are. - Author: Slavoj Zizek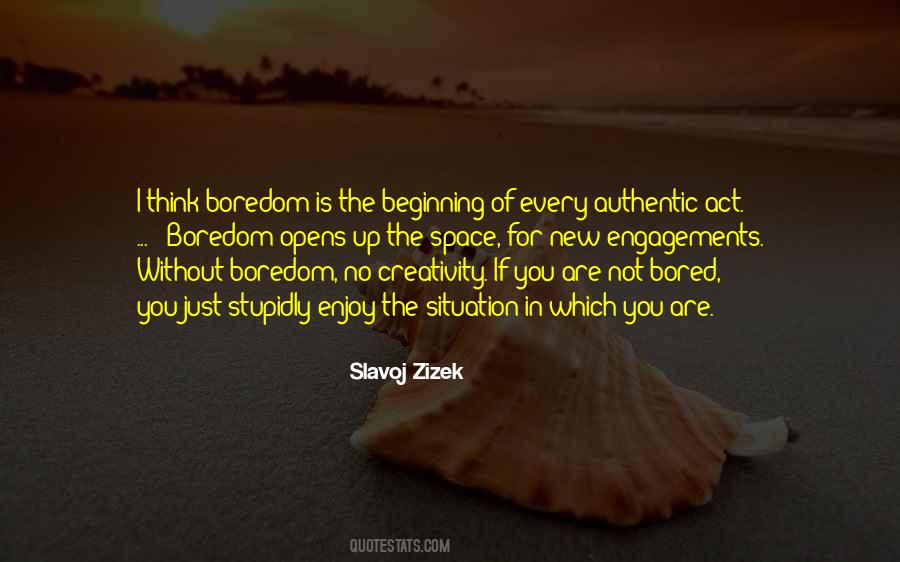 #47. I am utterly bored by celebrity interviews. Most celebrities are devoid of interest. - Author: Roger Ebert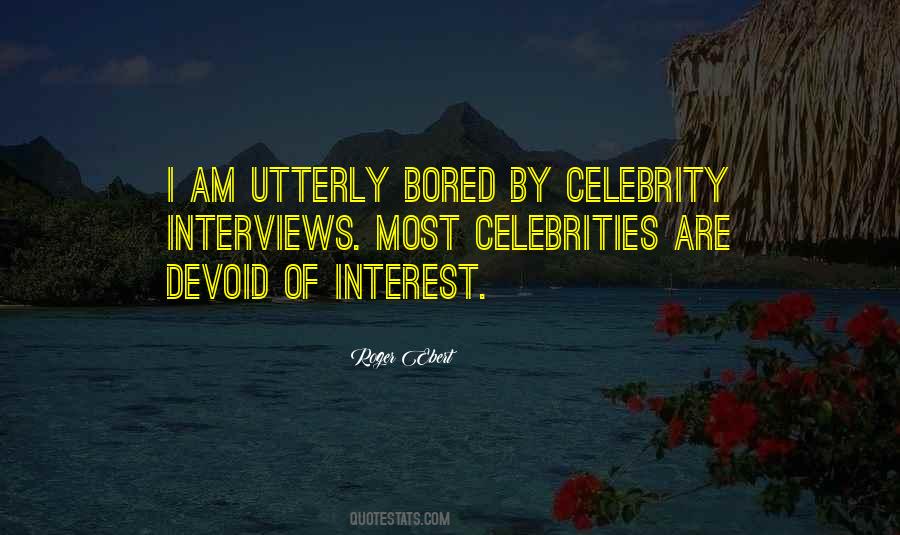 #48. I tell people that I'm not necessarily any good, it's just that there is nobody like me. I just promise you will not be bored. - Author: Andy Andrews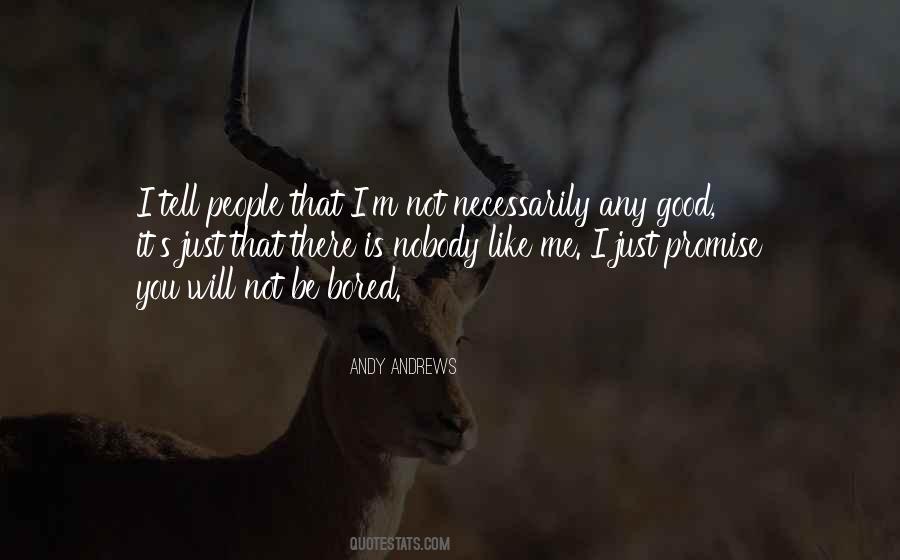 #49. it is much easier to strive for perfection when you are never bored. - Author: Daniel Kahneman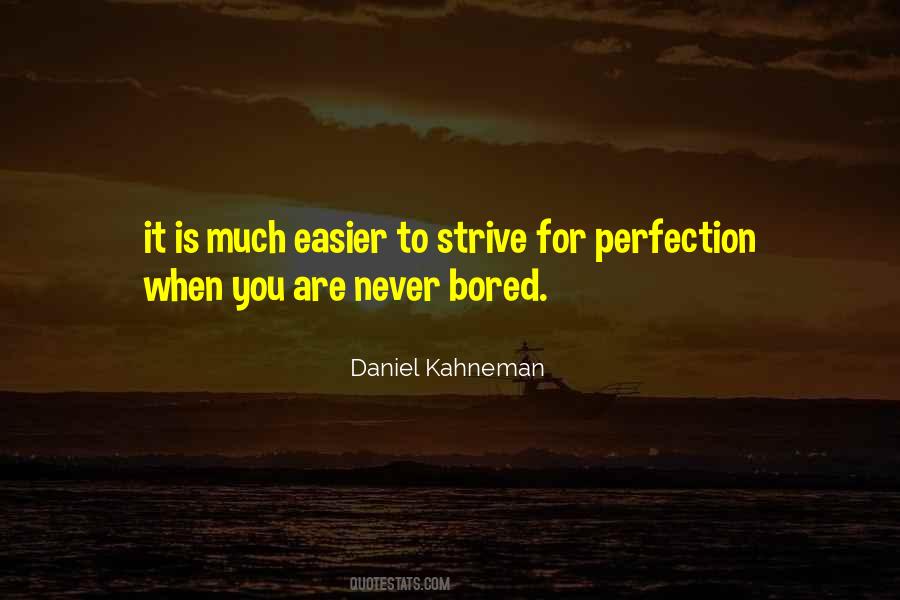 #50. The band's never taken a year off. Last August we decided to take one, and three months in I was bored to tears. - Author: Steven Tyler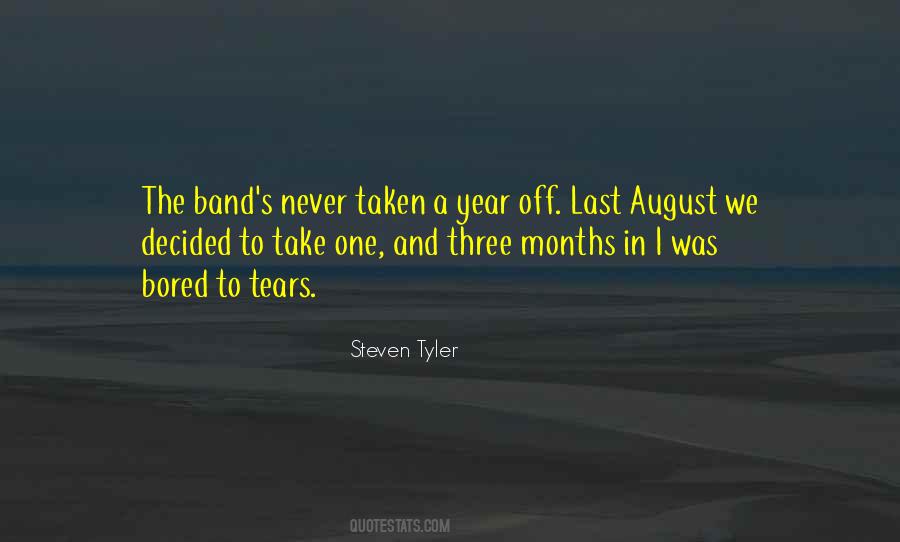 #51. been bored is not a crime but one must have someting to do for a living - Author: Zee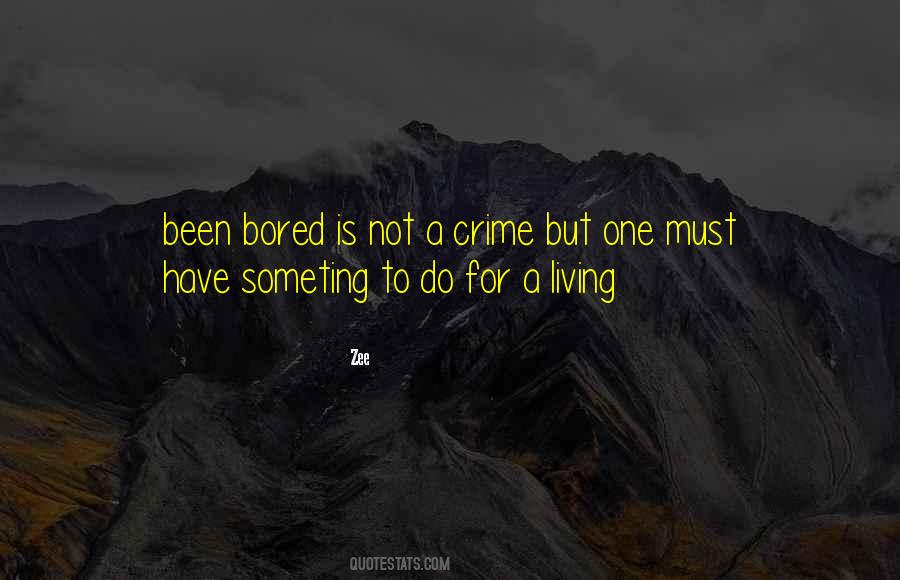 #52. I have named the destroyers of nations: comfort, plenty, and security - out of which grow a bored and slothful cynicism, in which rebellion against the world as it is, and myself as I am, are submerged in listless self-satisfaction. - Author: John Steinbeck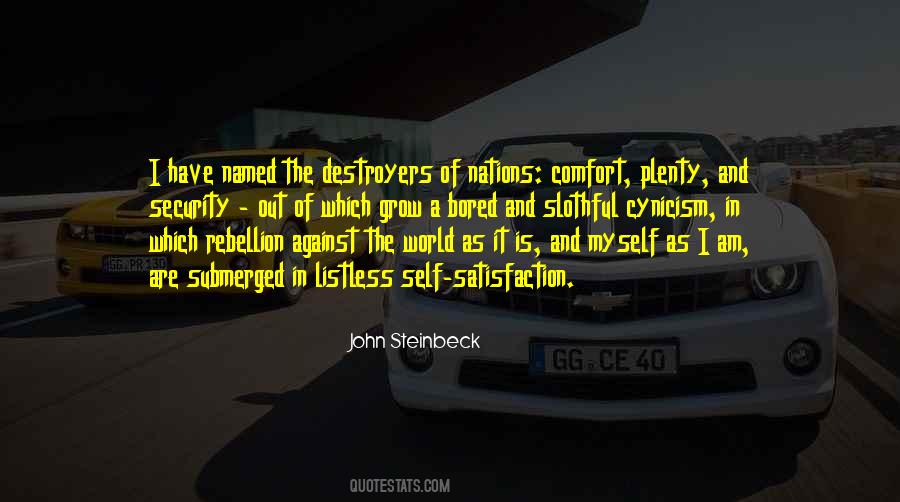 #53. When I moved out to Los Angeles to get some film and television work, and couldn't get any ... I became a little isolated, a little terrified, and it's a good place to get writing, because you're so bored. So I wrote a few screenplays, and people notice those. - Author: Clark Gregg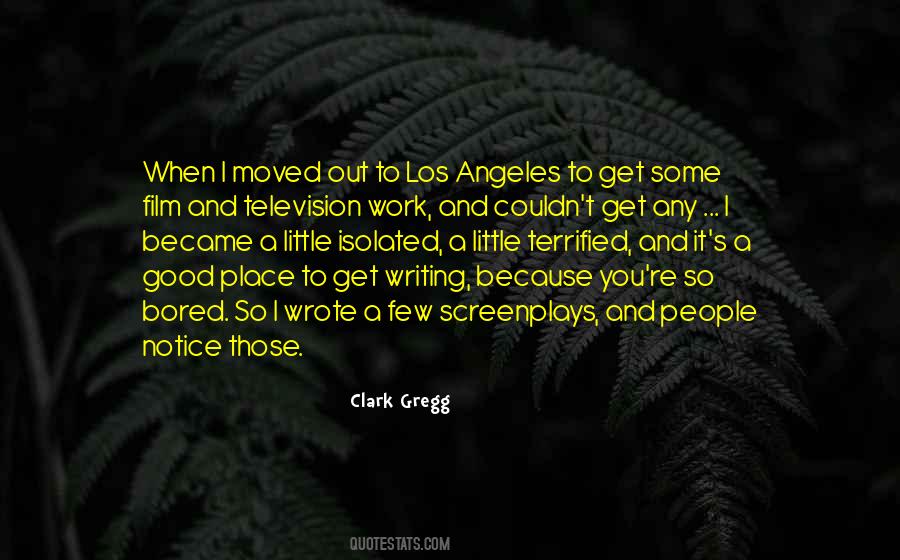 #54. I am selfish, private and easily bored. Will this be a problem? - Author: Neil Gaiman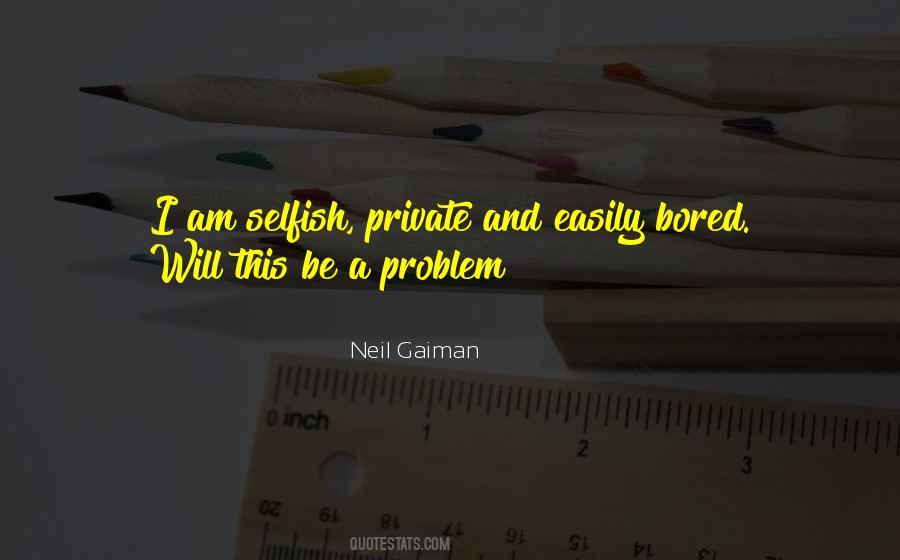 #55. Flow is an optimal state in which you feel totally engaged in an activity ... In a state of flow, you're neither bored nor anxious, and you don't question your own adequacy. Hours pass without your noticing. - Author: Susan Cain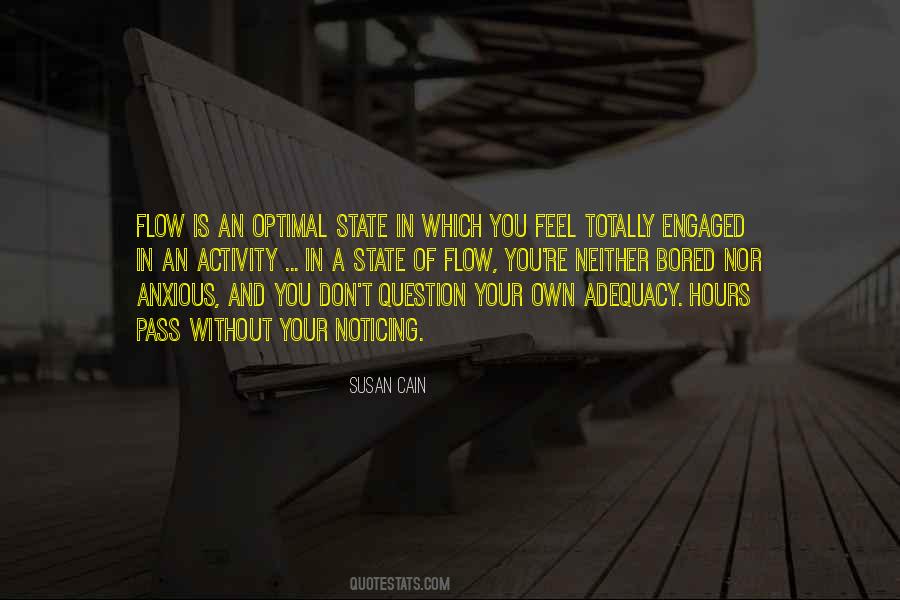 #56. We humans are unhappy in large part because we are insatiable; after working hard to get what we want, we routinely lose interest in the object of our desire. Rather than feeling satisfied, we feel a bit bored, and in response to this boredom, we go on to form new, even grander desires. - Author: William B. Irvine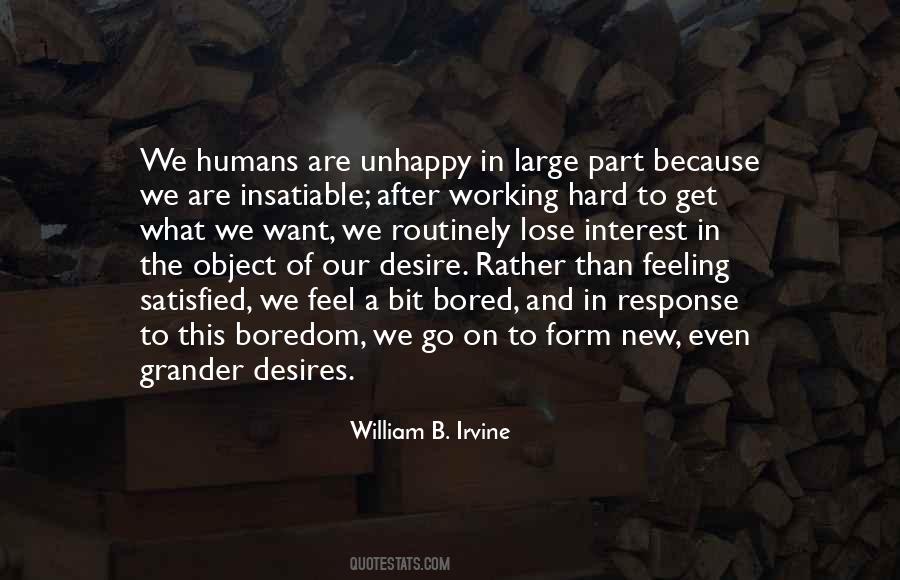 #57. I got fired once for putting like a packet of biscuits through a fan - I was really bored. - Author: Gold Panda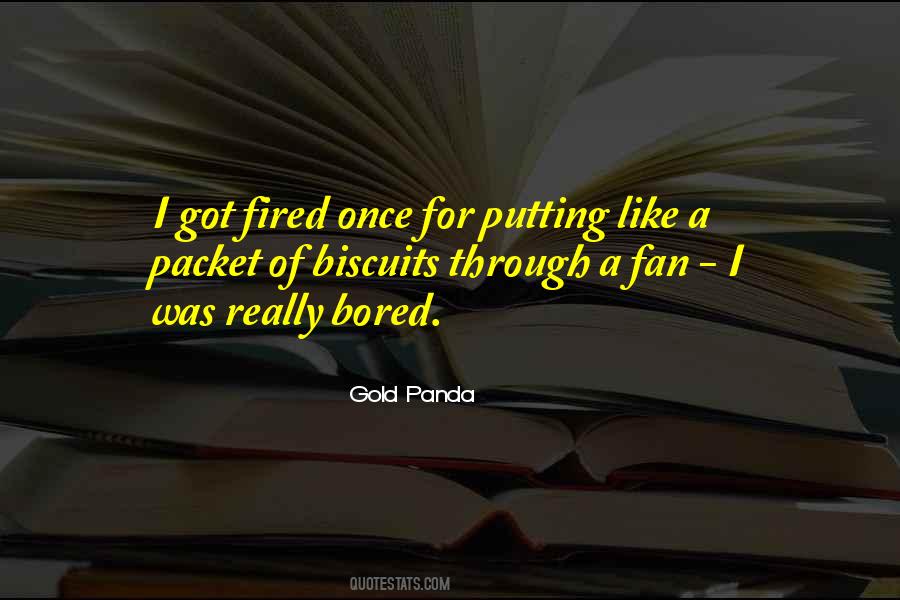 #58. After a while, if you are sufficiently bored or unemployed, you may want to read it from cover to cover. - Author: Leonard Cohen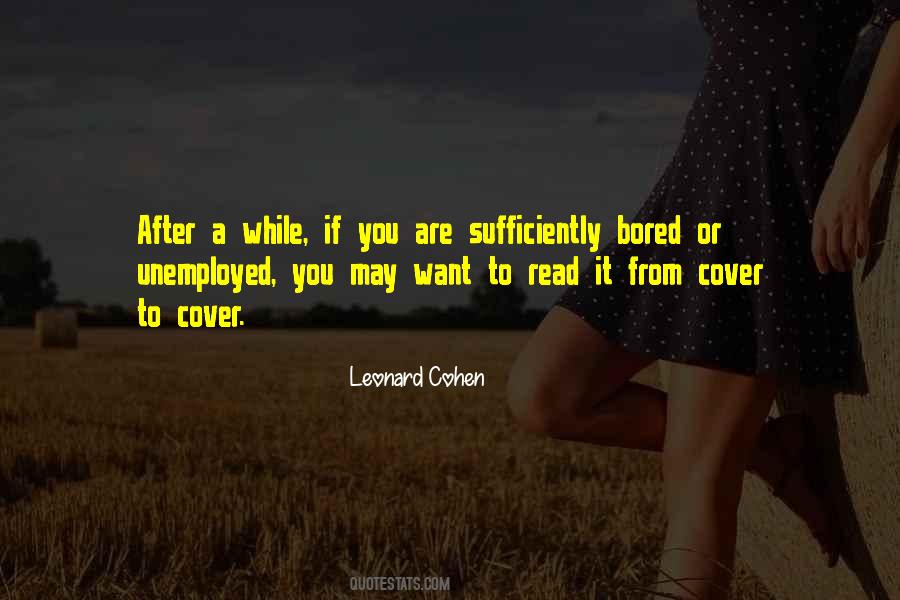 #59. I learned how to draw from being bored in school. I would doodle on the margins of my paper. - Author: Kevin Nealon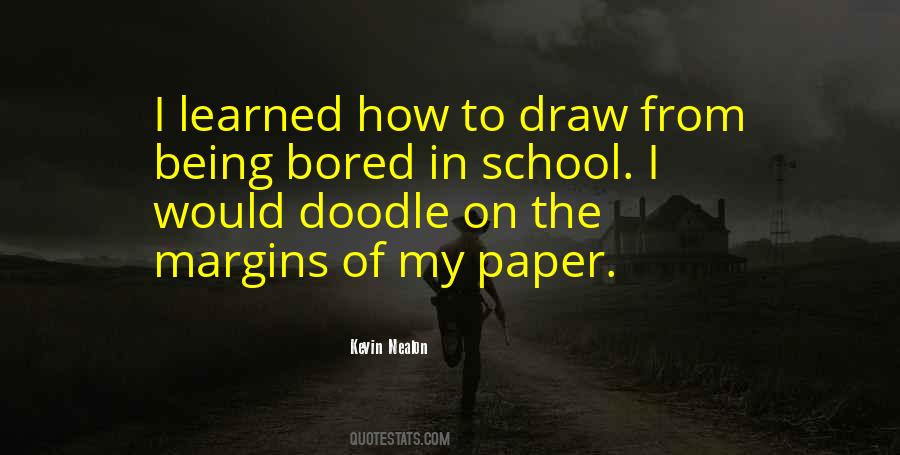 #60. I could have probably gone on and still played the part of the guitar player of Limp Bizkit, but musically I was kind of bored. If I was to continue, it would have been about the money and not about the true music, and I don't want to lie to myself, or to them or to fans of Limp Bizkit. - Author: Wes Borland
#61. In the second grade, I would just get bored and a joke would pop into my head and I would have to say it. It was almost like I had some brilliant novel in my head that I had to get down, and I would interrupt class all the time and get in trouble. - Author: Anthony Jeselnik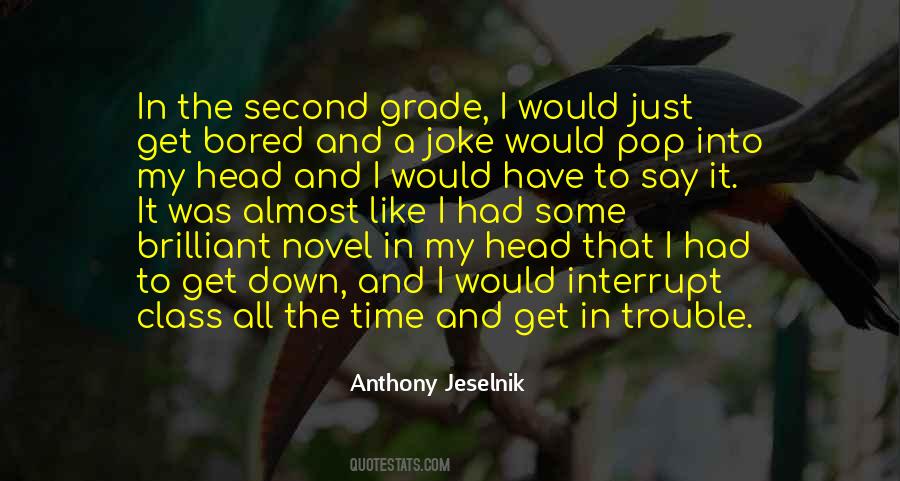 #62. I'm busy, but I'm also bored." "So, - Author: Nancy Baker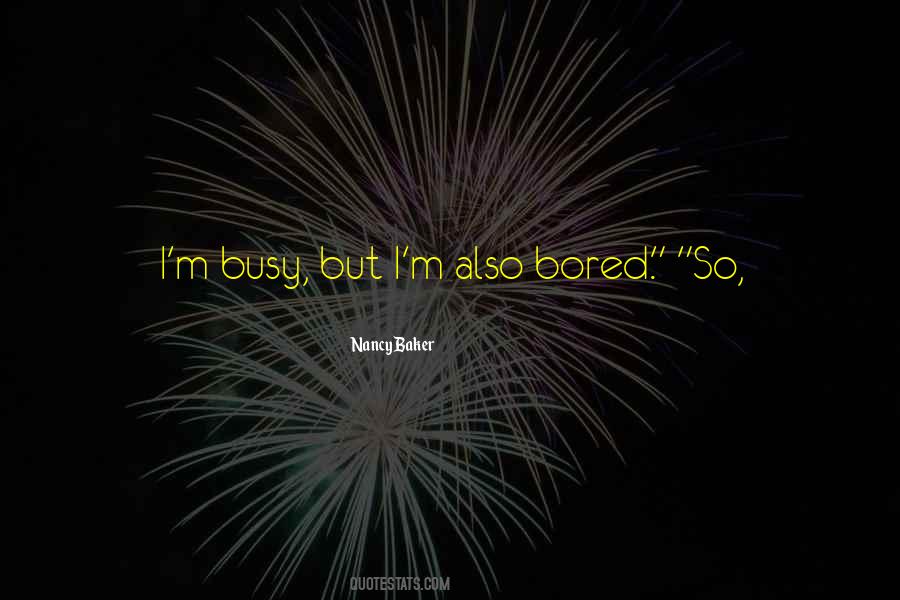 #63. I do give myself a break in my personal life but I think in work, if you don't push yourself you get bored and want to do something else. - Author: Diane Kruger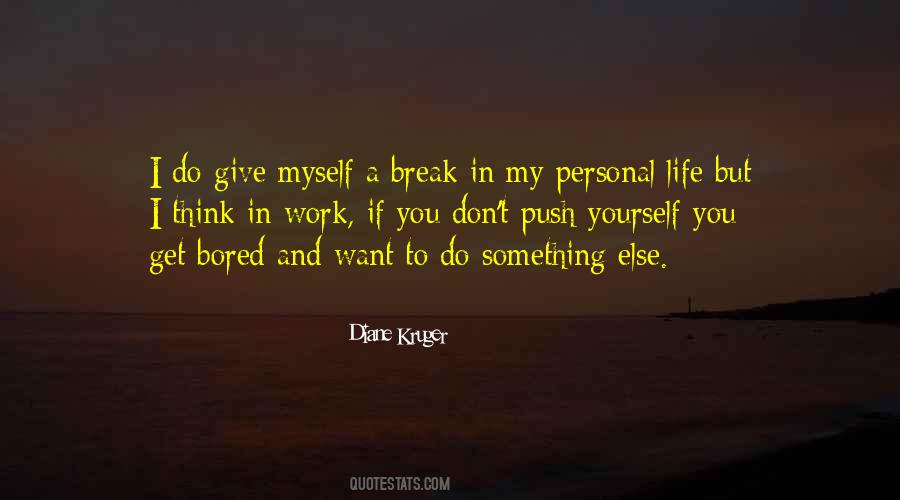 #64. i am always bored." (gwendolen harleth) - Author: George Eliot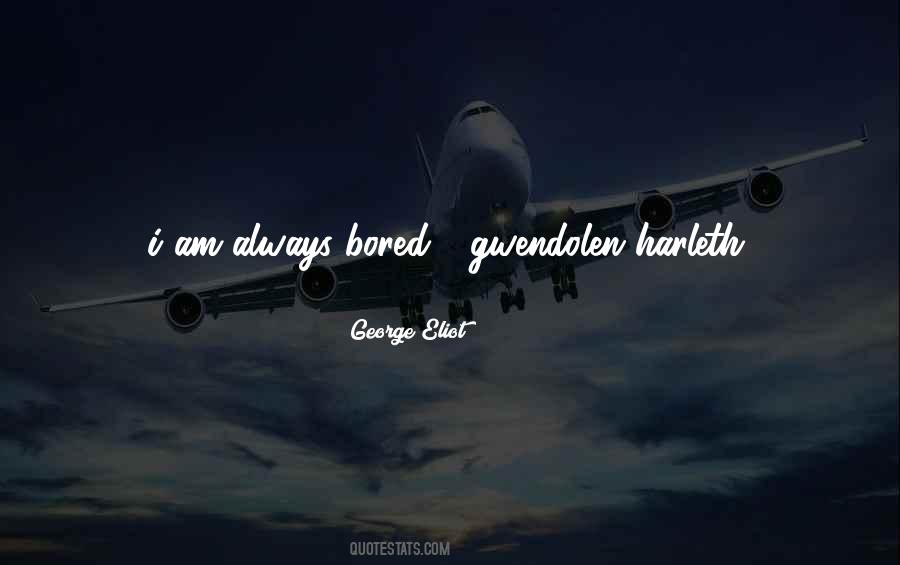 #65. There's an imp inside me, and if I don't let him out to make some mischief now and then, the world just gets too damned dull. I hate feeling grumpy and bored. I'm an enthusiast, and the more dangerous my life becomes, the happier I am. - Author: Paul Auster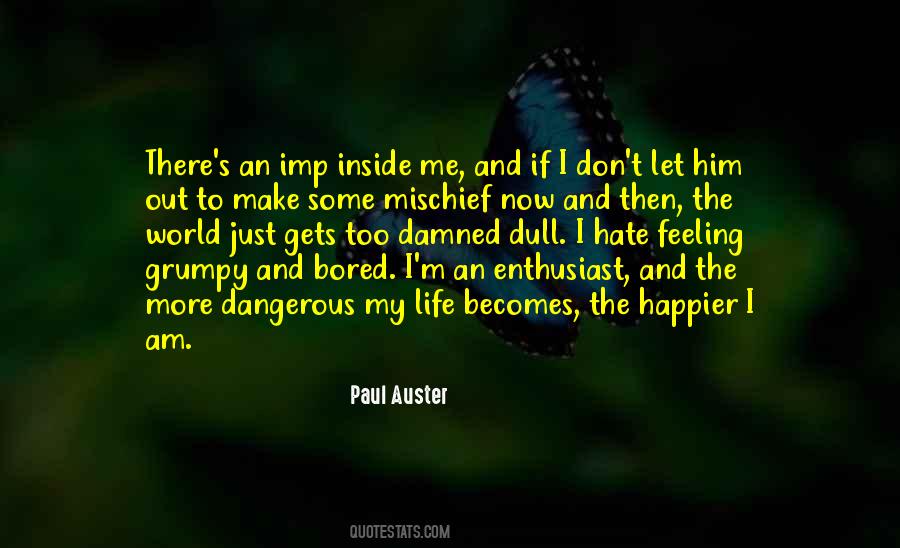 #66. My mother sighed, making me feel that I was placing an intolerable burden on her, and yet making me resent having to feel this weight. She looked tired, as she often did these days. Her tiredness bored me, made me want to attack her for it. - Author: Margaret Laurence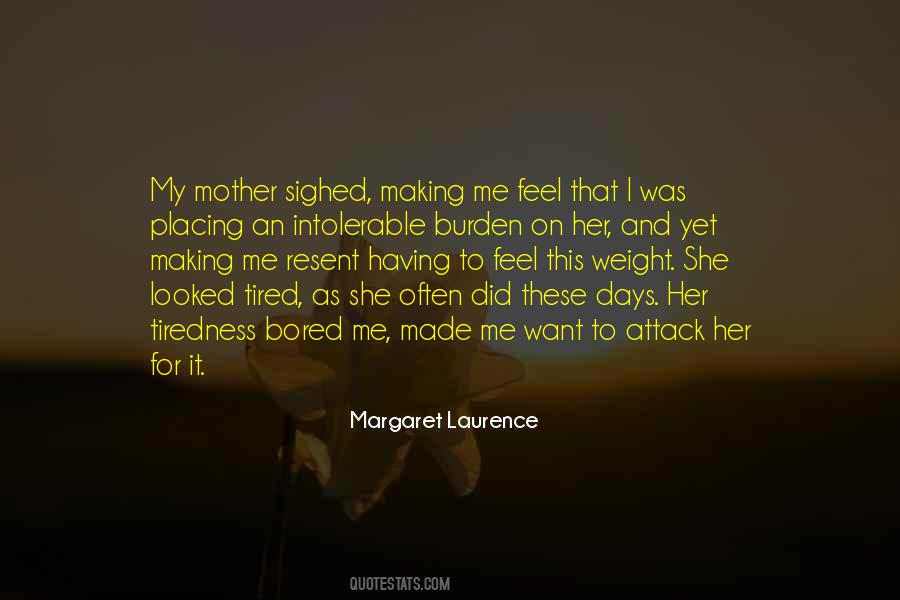 Famous Authors
Popular Topics