I Want Peace Famous Quotes & Sayings
List of top 100 famous quotes and sayings about i want peace to read and share with friends on your Facebook, Twitter, blogs.
Top 100 I Want Peace Quotes
#1. I just want to thank people who take big risks in their daily lives when there aren't cameras rolling. I want to dedicate this award to people who stand up for peace and against injustice and intolerance. - Author: Paul Haggis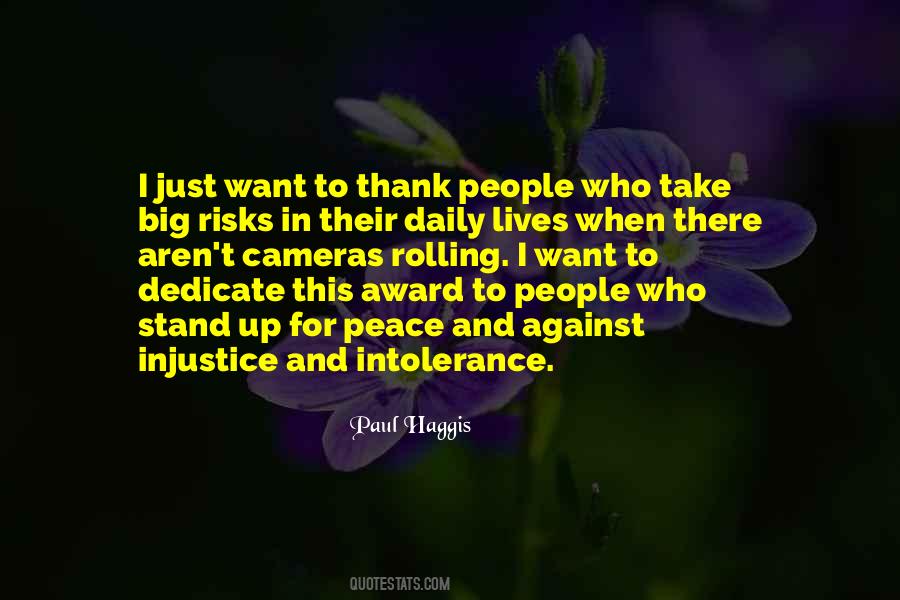 #2. What do you want ?
It was a hard question, especially if I had to bat en down the sarcasm. I mean, there was the beauty pageant answer of world peace, although I'd probably have to render it in the beauty pageant spelling of world peas. - Author: Rachel Cohn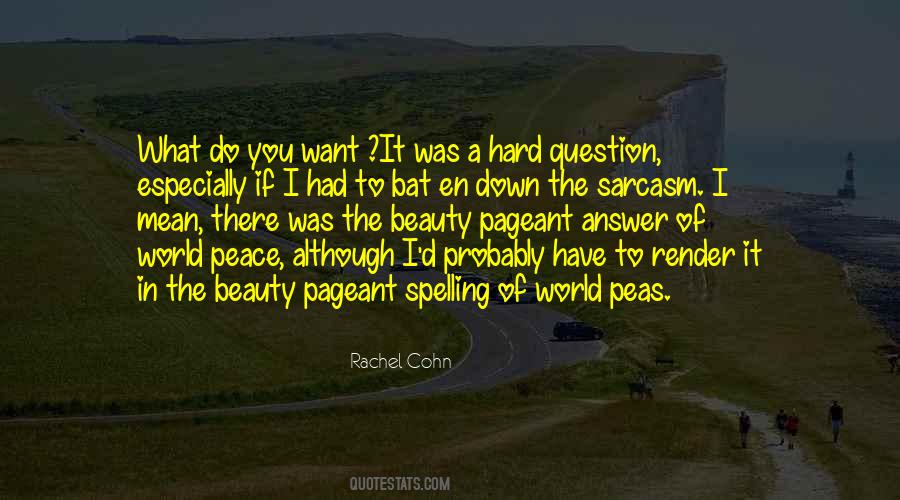 #3. If peace can only come through killing someone, then I don't want it. - Author: Hiro Mashima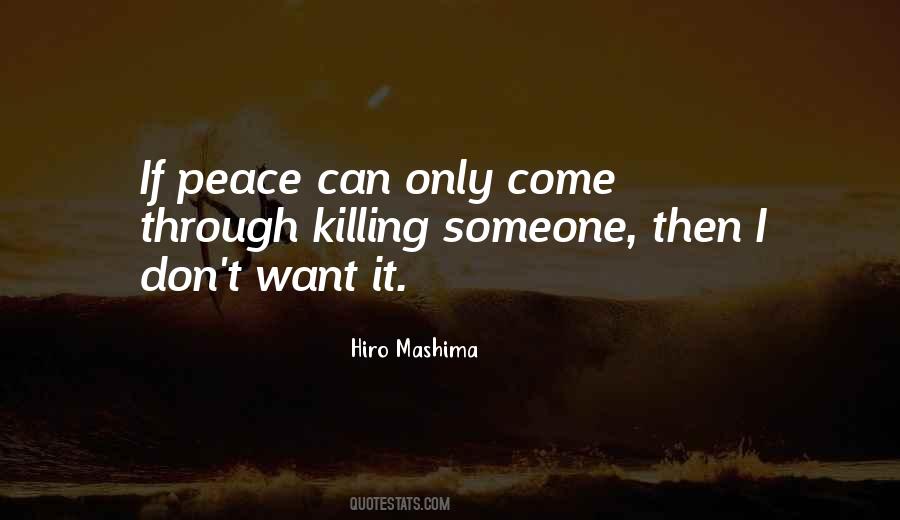 #4. I don't want nations feeling like that they can bully ourselves and our allies. I want to have a ballistic defense system so that we can make the world more peaceful, and at the same time I want to reduce our own nuclear capacities to the level commiserate with keeping the peace. - Author: George W. Bush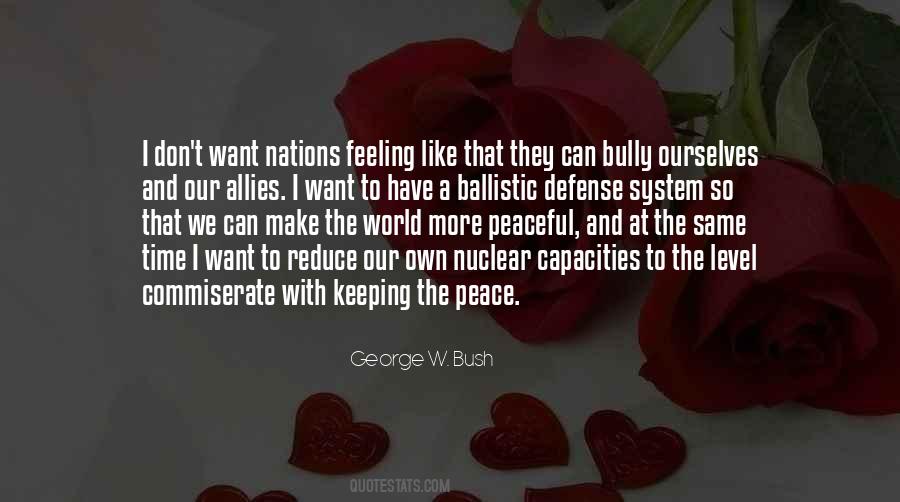 #5. I tried to instill a different motivation, to give them the security and the conviction that they were doing something good, something necessary, something useful - if you want to use a grandiose expression, that they were doing something for peace. - Author: Markus Wolf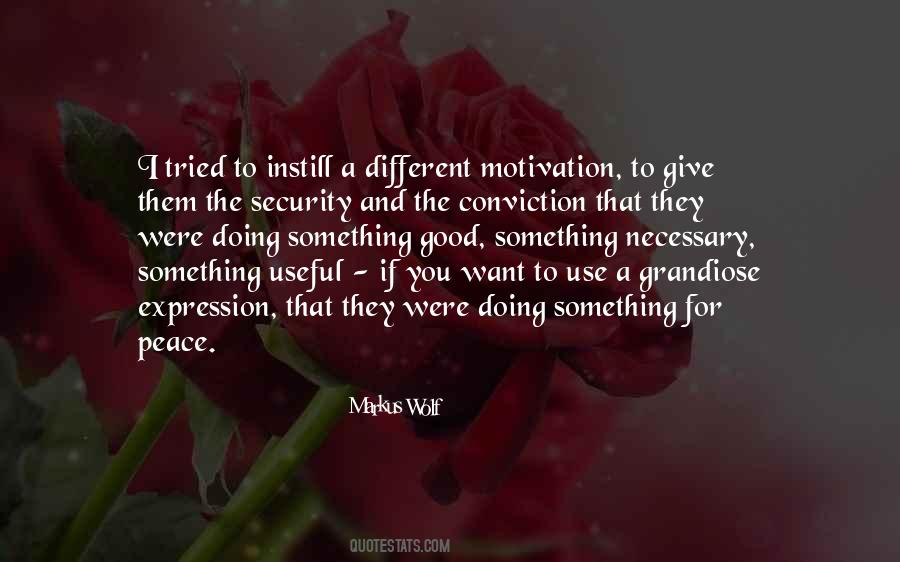 #6. I try to plant peace if I do not want discord; to plant loyalty and honesty if I want to avoid betrayal and lies. - Author: Maya Angelou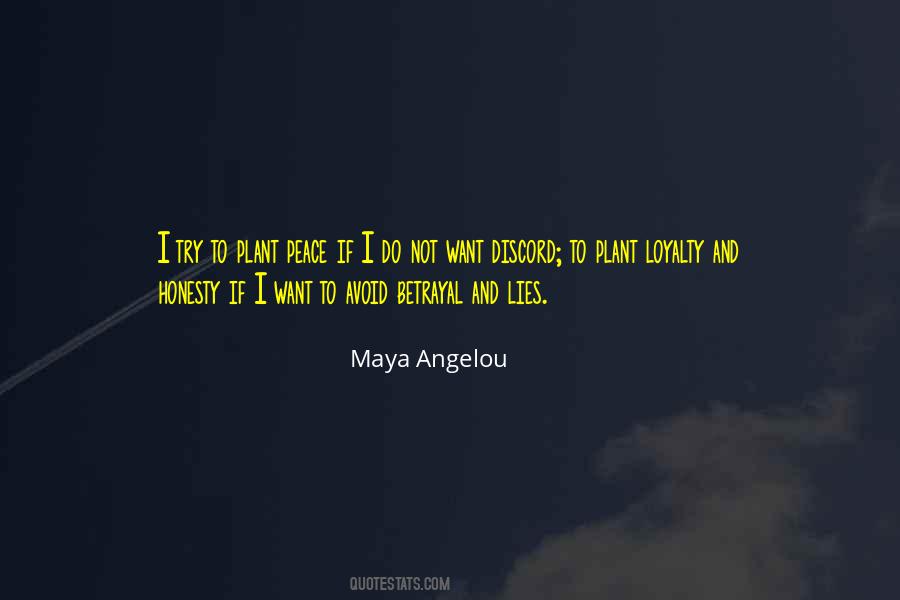 #7. A power that can't be used for good? Like a bad girl power? I wouldn't mind being clairvoyant, but I wouldn't want it if I couldn't use it for good. Peace and love, man. Peace and love. - Author: Alicia Sixtos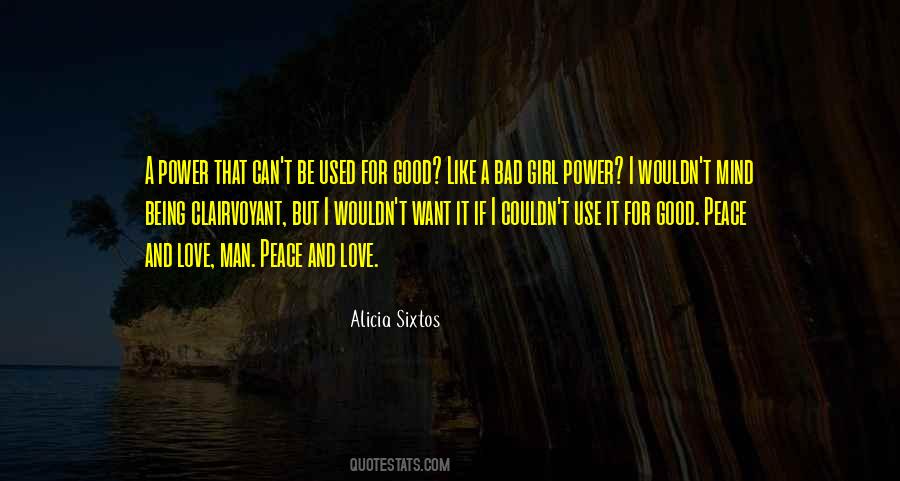 #8. I believe that as soon as people want peace in the world they can have it. The trouble is they are not aware they can get it. - Author: John Lennon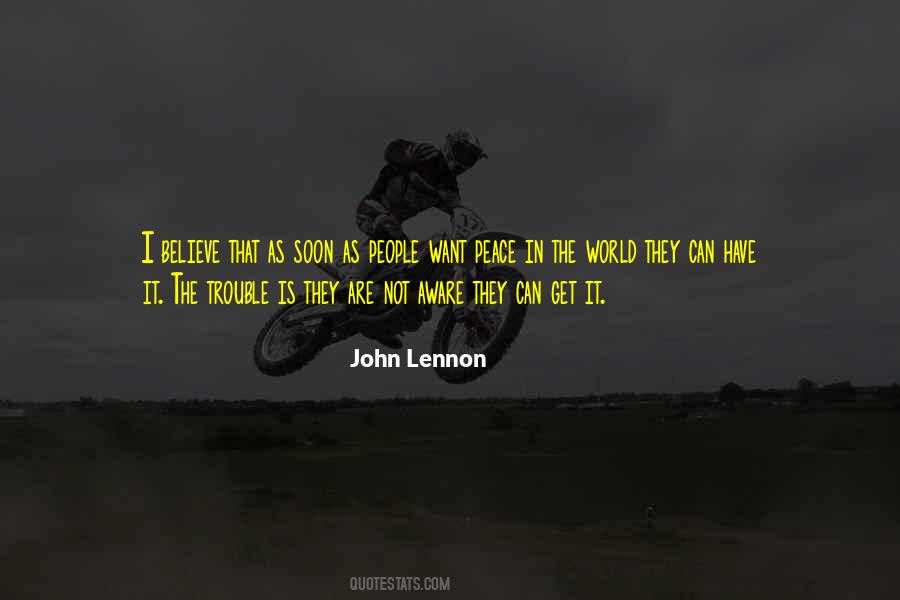 #9. All that peace, man, if felt so good it hurt. I want to hurt it back. - Author: Tim O'Brien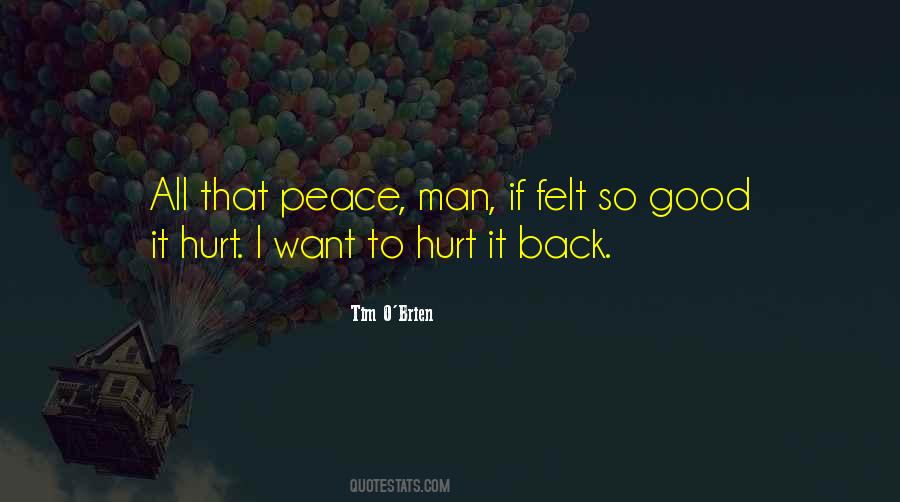 #10. I have no superhuman powers. If people don't want to make peace, there is nothing I can do. - Author: Martti Ahtisaari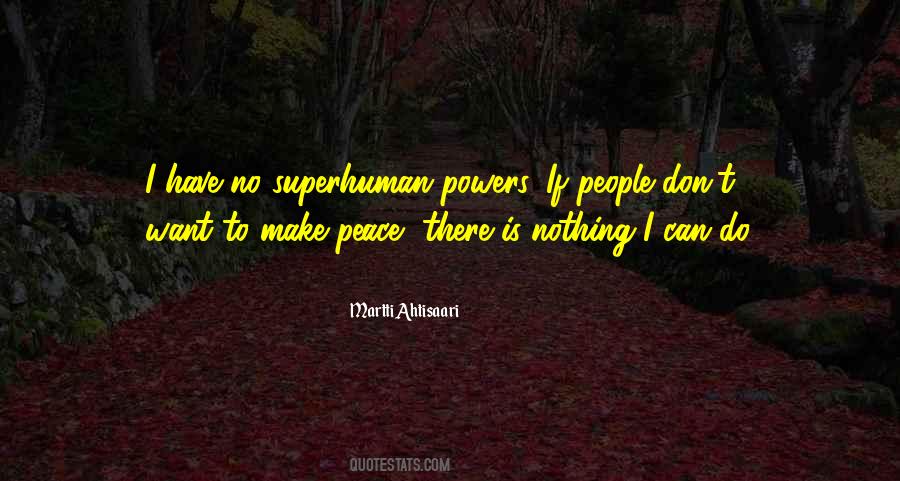 #11. I'm a 'What you see is what I want you to see' kind of girl ... When I first started, I just wanted to be perfect. I wanted to say I loved bunnies and rainbows and world peace. I realized that the only way to be perfect was to embrace your imperfections. - Author: Olivia Munn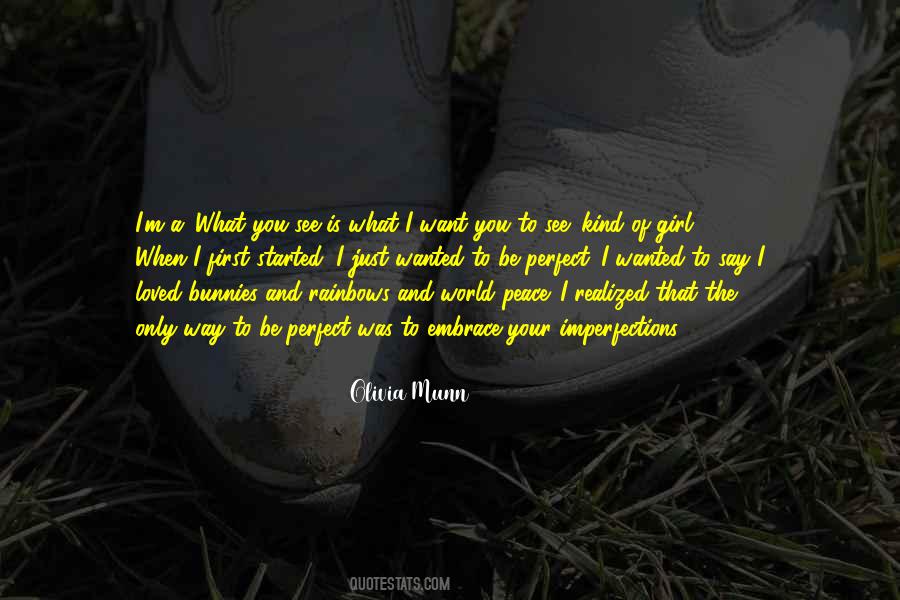 #12. I - Want - Peace, I is ego, Want is desire; Remove ego and desire and you have peace. - Author: Sathya Sai Baba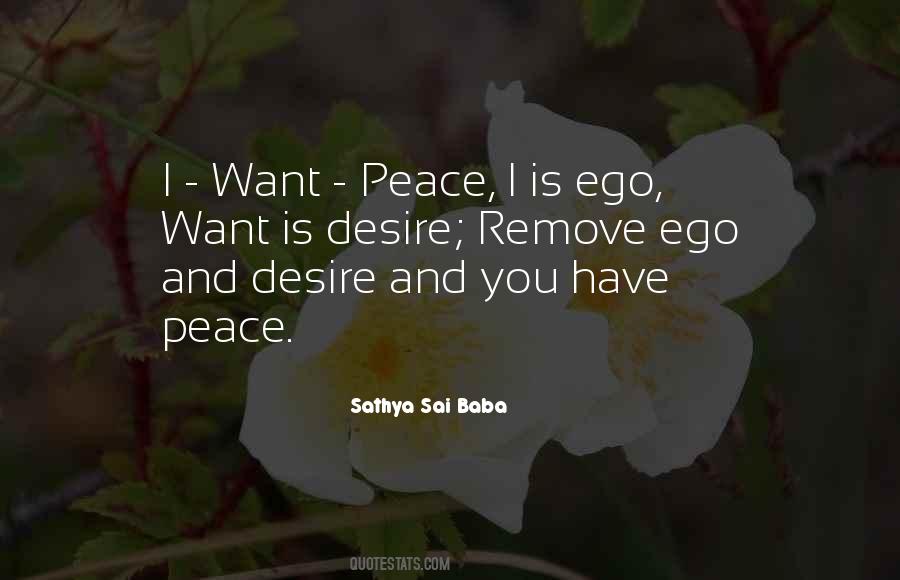 #13. Fighting by itself doesn't interest me anymore. I want to help people, the black people and I need any kind of media to spread my thought: God, charity, peace. - Author: Muhammad Ali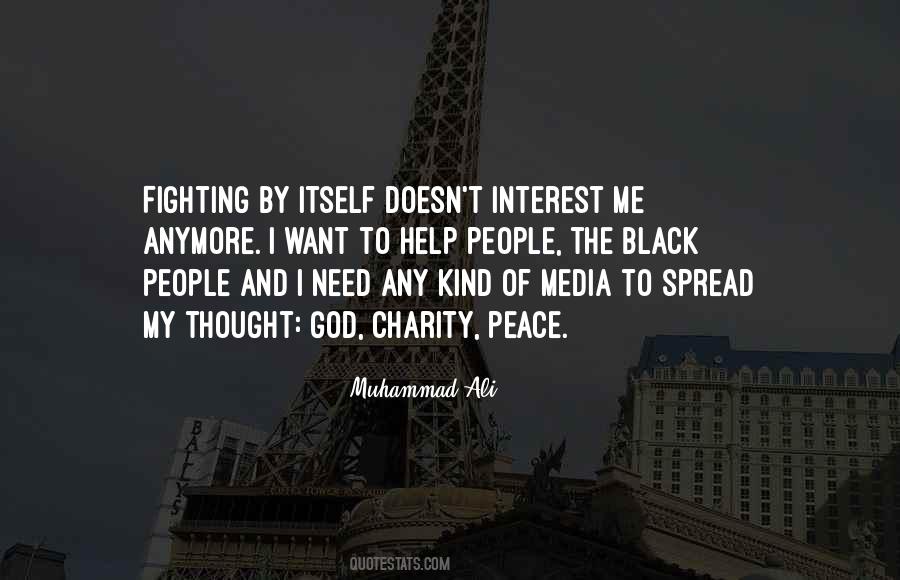 #14. I'm tired, Aria. I want peace."
"You want peace now that you have everything. - Author: Veronica Rossi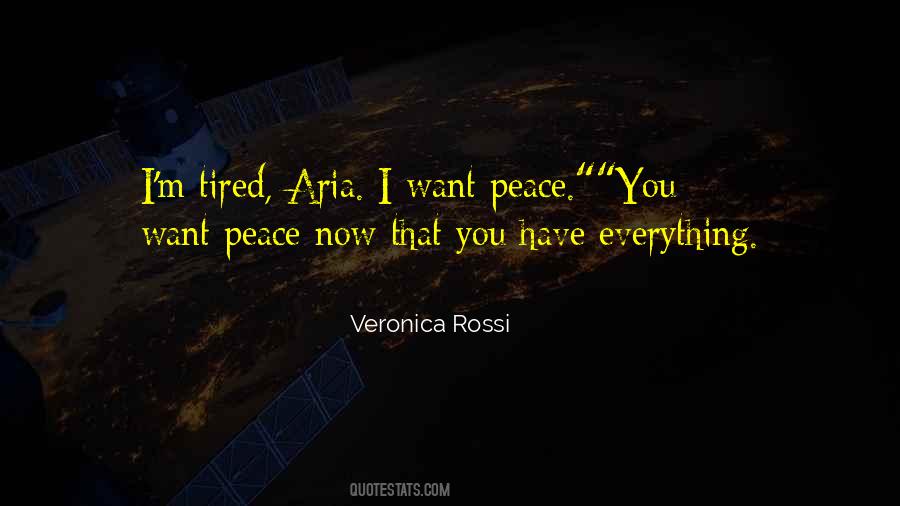 #15. War is not a state of being. It is meant to be a temporary chaos between periods of peace. Some want it to be a course of things: a default fact of existence. But I will not let that be so. - Author: Chuck Wendig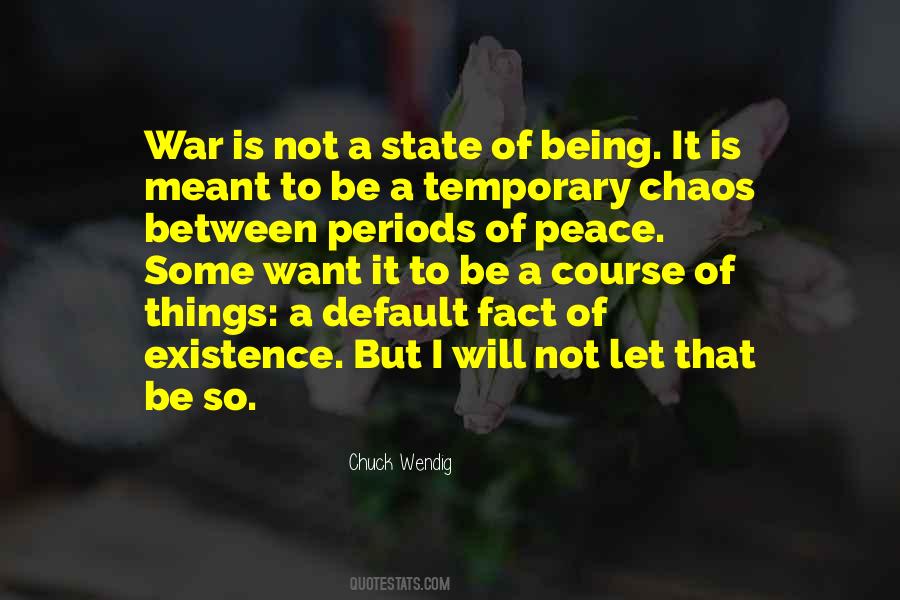 #16. I can certainly put myself in Israel's shoes. They are humans just like we are. They want peace and security inside their borders. - Author: Mahmoud Abbas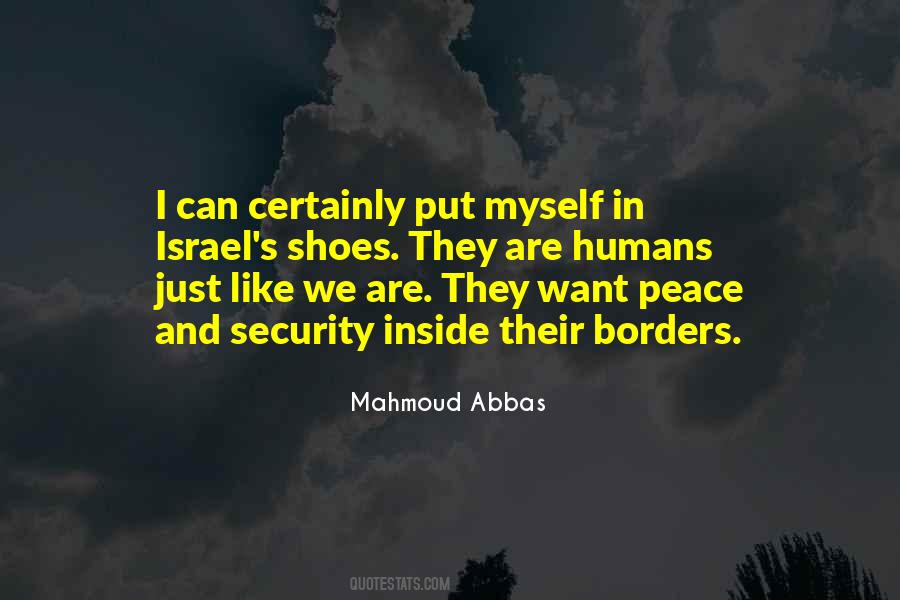 #17. I want to tell the United States, the international community and all those who speak about peace that ... the shortest way for this is that they should work for halting the Israeli aggression and occupation of the Palestinian territories. - Author: Khaled Mashal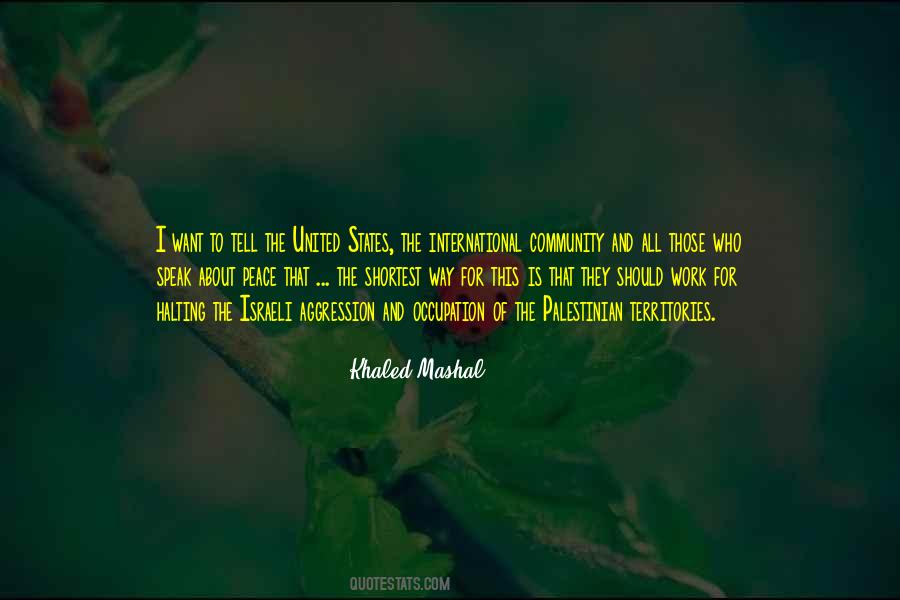 #18. I want to inspire and encourage people and intrigue them to want to know what makes me tick, which is ultimately the love of God, the grace, peace and forgiveness of God that I'm so thankful & grateful for. - Author: Christian Hosoi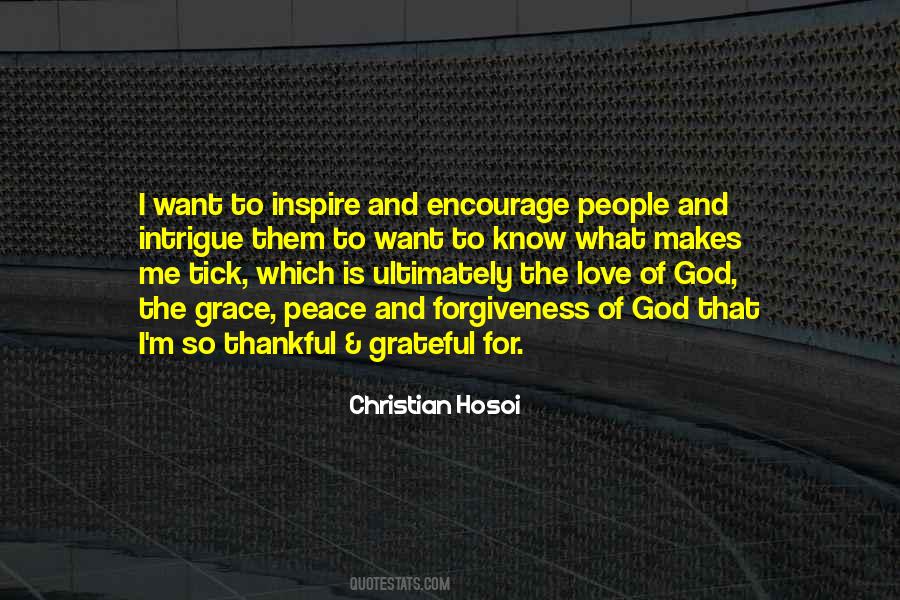 #19. I want to see peace dancing in the heart of every human being. - Author: Prem Rawat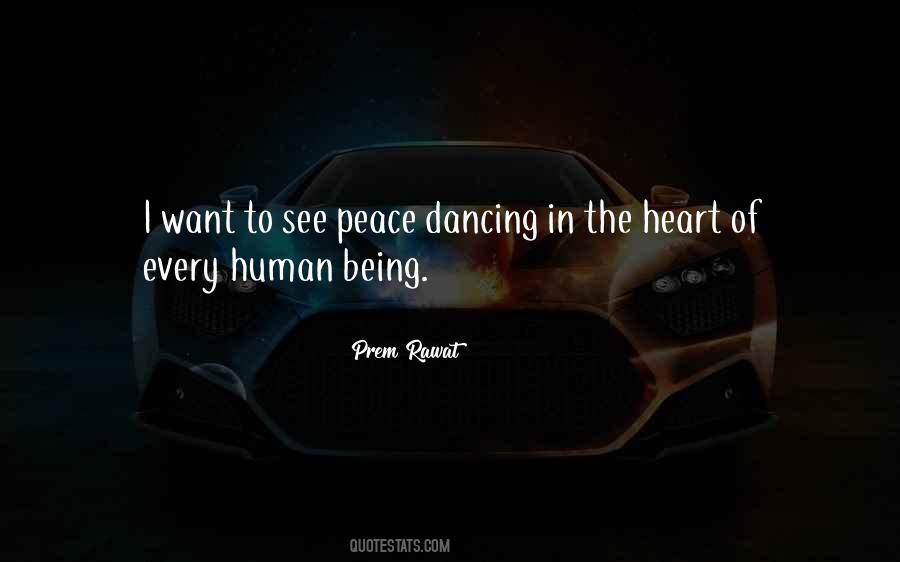 #20. I want to imagine there will be peace when I am gone, that I will see all of the people I have loved and lost. At least that I will be forgiven. I - Author: Kristin Hannah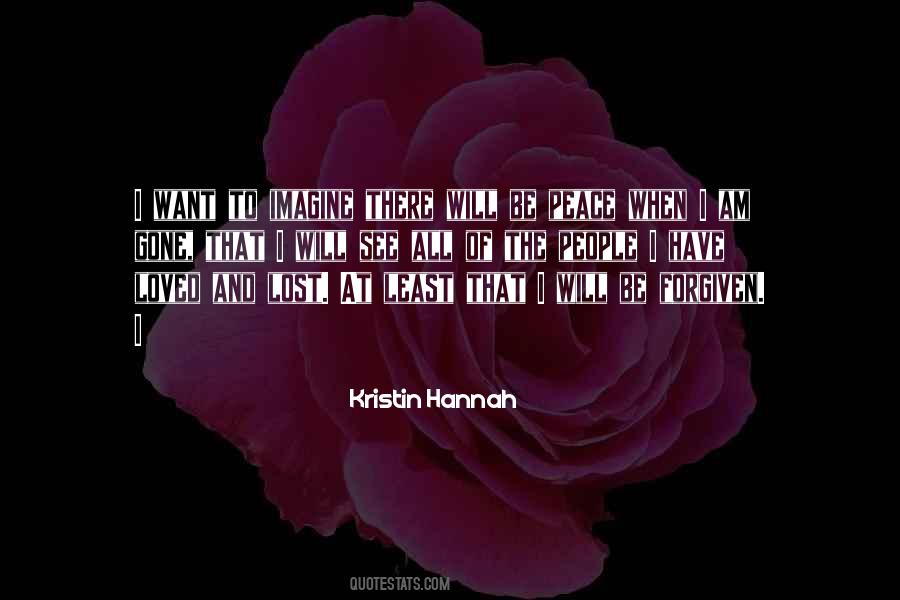 #21. But we want peace, I would move all my people down this way. I could then keep them all quietly near camp. - Author: Black Kettle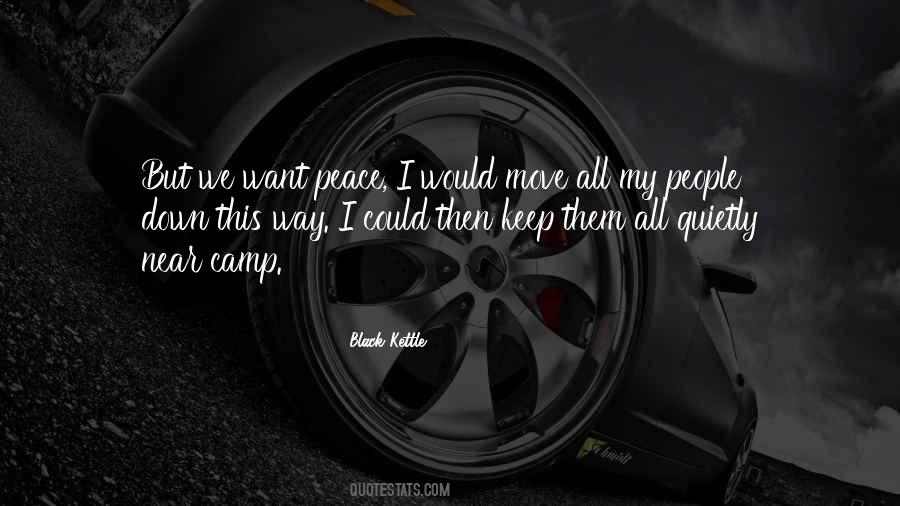 #22. The real discovery is the one which enables me to stop doing philosophy when I want to. The one that gives philosophy peace, so that it is no longer tormented by questions which bring itself into question. - Author: Ludwig Wittgenstein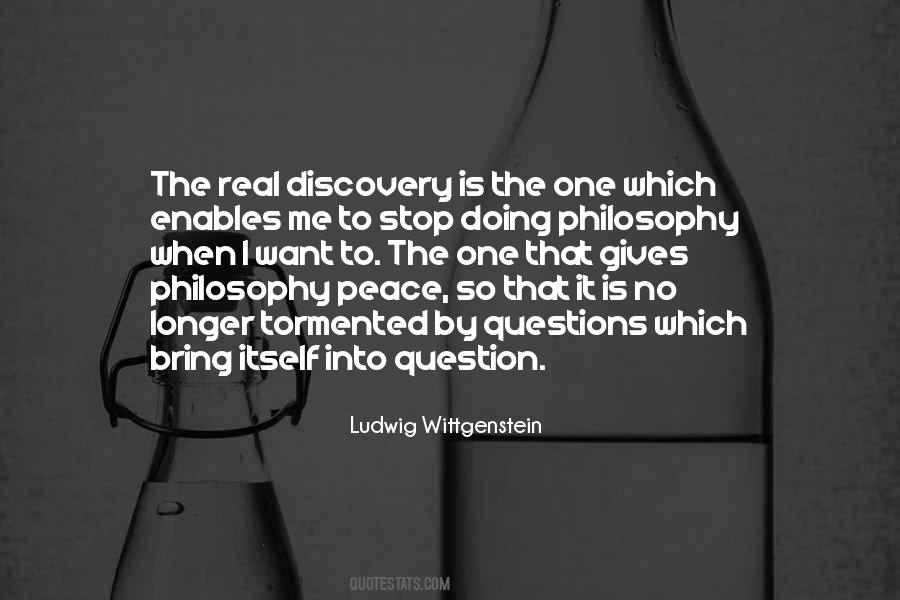 #23. I want to warn anyone who sees the Peace Corps as an alternative to the draft that life may well be easier at Fort Dix or at apost in Germany than it will be with us. - Author: Sargent Shriver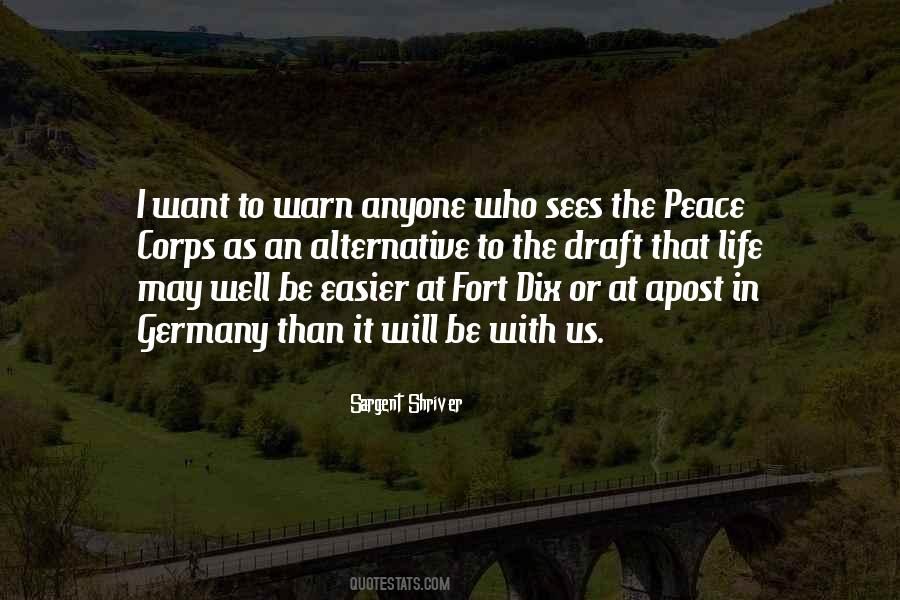 #24. Can I share with you my worldview? All of humankind has one thing in common: the sandwich. I believe that all anyone really wants in this life is to sit in peace and eat a sandwich. - Author: LIZ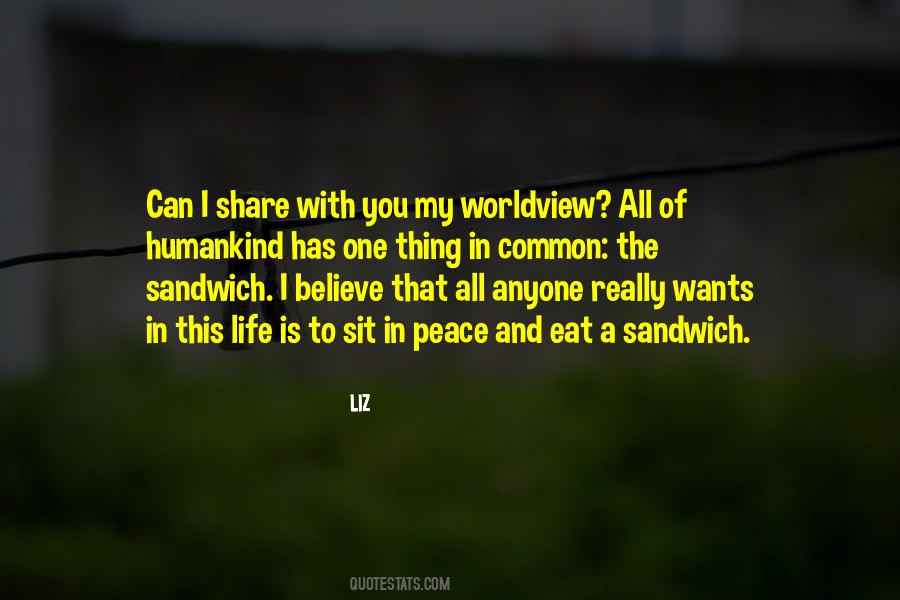 #25. The boy became a man and left home and became a dying figure on a cross. I want to be able to imagine that what happened to him will not come, it will see us and decide - not now, not them. And we will be left in peace to grow old. - Author: Colm Toibin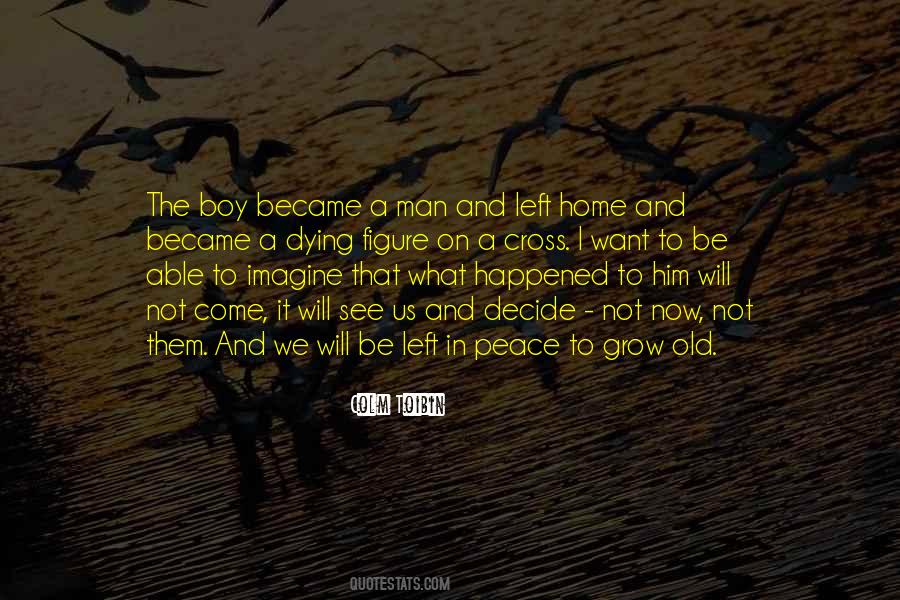 #26. Everyone is interested in war, in that people don't want it to happen. I'm much more interested in peace than in war but it's important to understand why we fight. - Author: Michael Morpurgo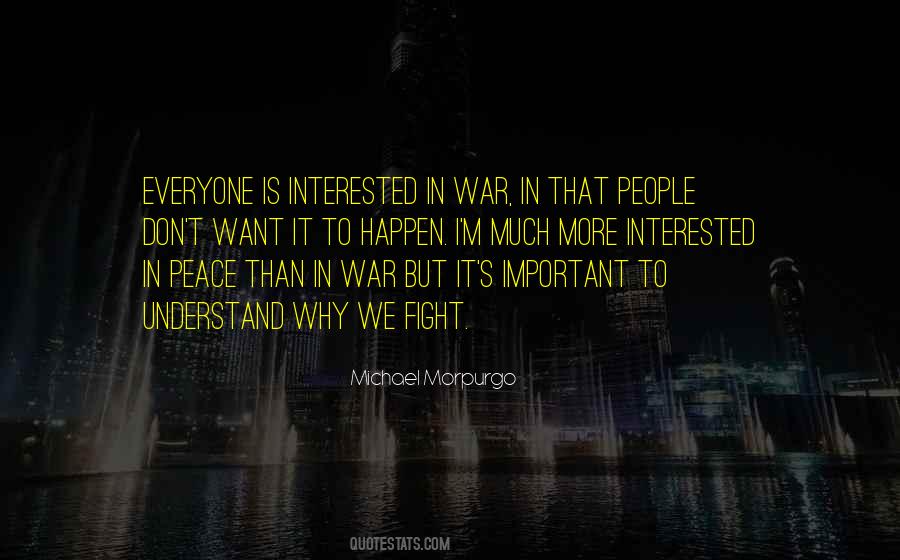 #27. I really only have Perfect Fun with myself. Other people won't stop and look at the things I want to look at or, if they do, they stop to please me or to humor me or to keep the peace. - Author: Katherine Mansfield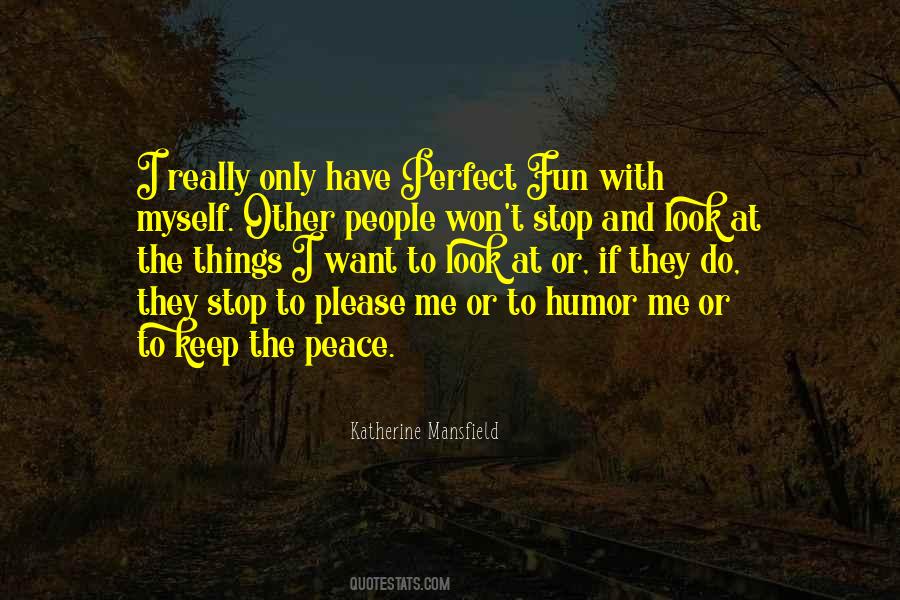 #28. Women want love, peace, unity, and shit like that. Men are tribal. I ain't tryna save the world. I'm just tryna get my piece for my crew, that's all. That's all it's about and that's the most you can ask for. What you know about that? - Author: Sister Souljah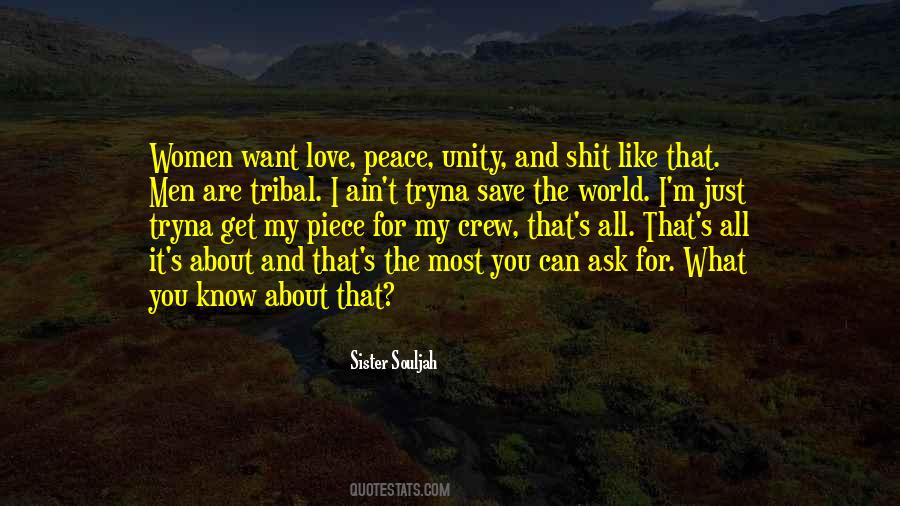 #29. Though I respect hugely the effort and the care and the beauty of games, I want to be working with people who want to create the 'War & Peace' of games, the 'Citizen Kane' of games, and not just be warming up George Romero. - Author: Clive Barker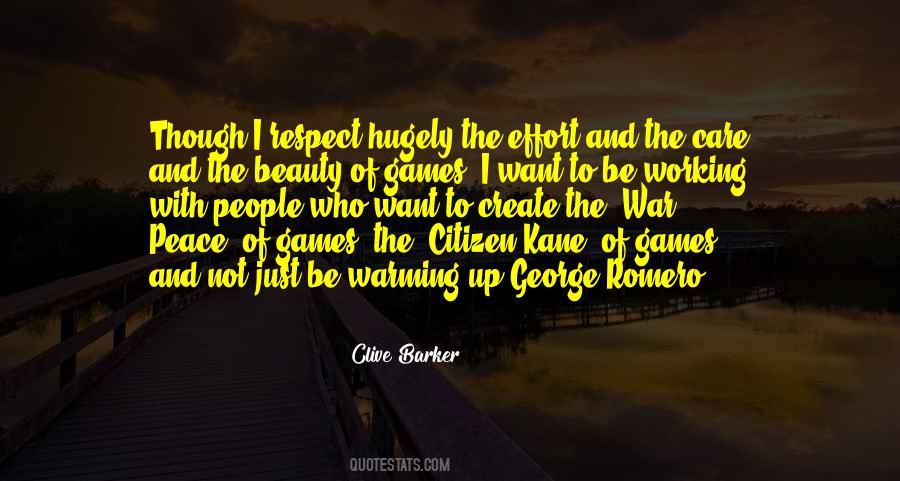 #30. I know something about that war, and I never want to see that history repeated. But, my fellow Americans, it certainly can be repeated if the peace-loving democratic nations again fearfully practice a policy of standing idly by while big aggressors use armed force to conquer the small and weak. - Author: Dwight D. Eisenhower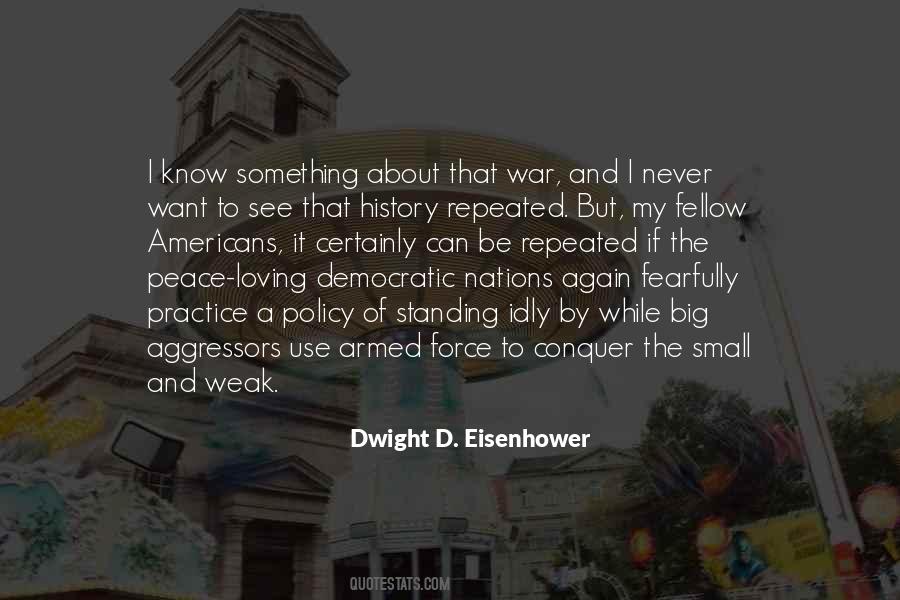 #31. I know I usually come down here to tell you I'm sorry. But I think today I want to tell you that I'm going to be all right. Don't let me be one of the things that keeps you from peace, Mother. I'm all right. - Author: Rainbow Rowell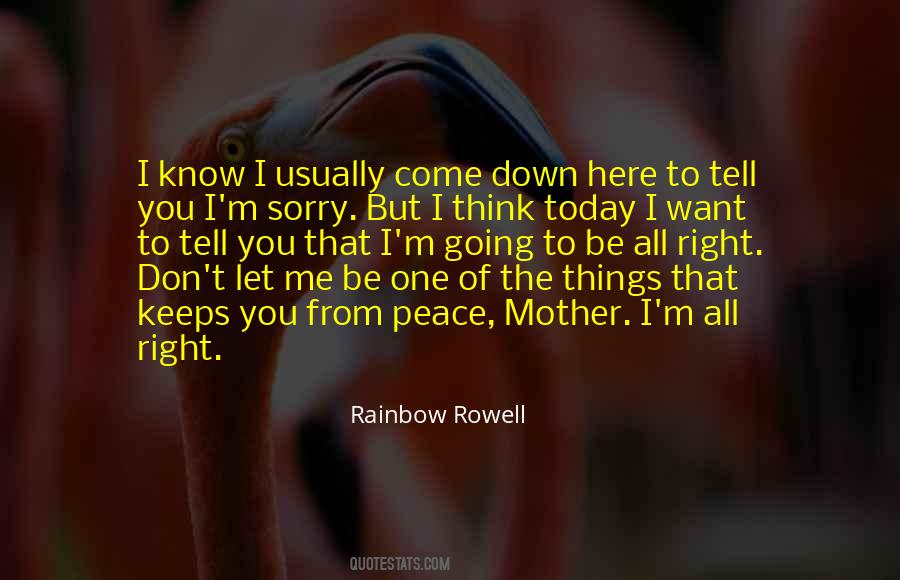 #32. If war, destruction and killings are the prerequisite to bring the peace, then I really don't want it. - Author: Debasish Mridha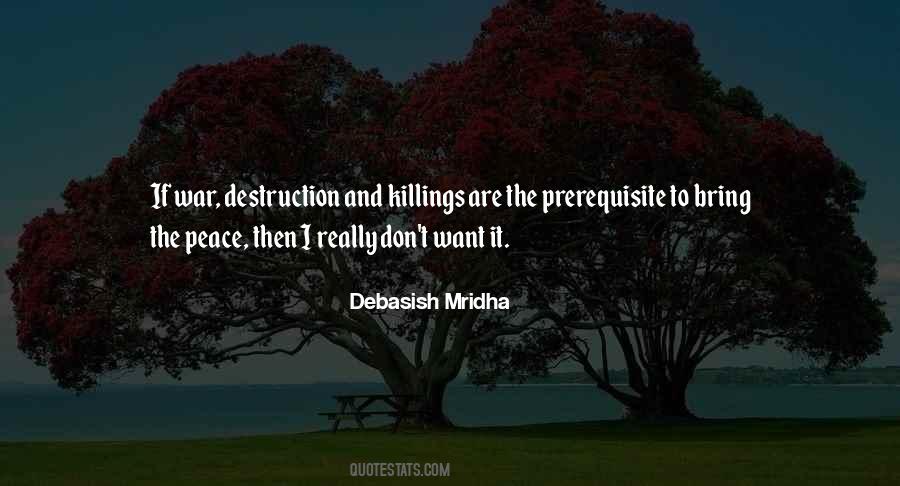 #33. I want more women to run countries. There'd be more peace on Earth. - Author: Carine Roitfeld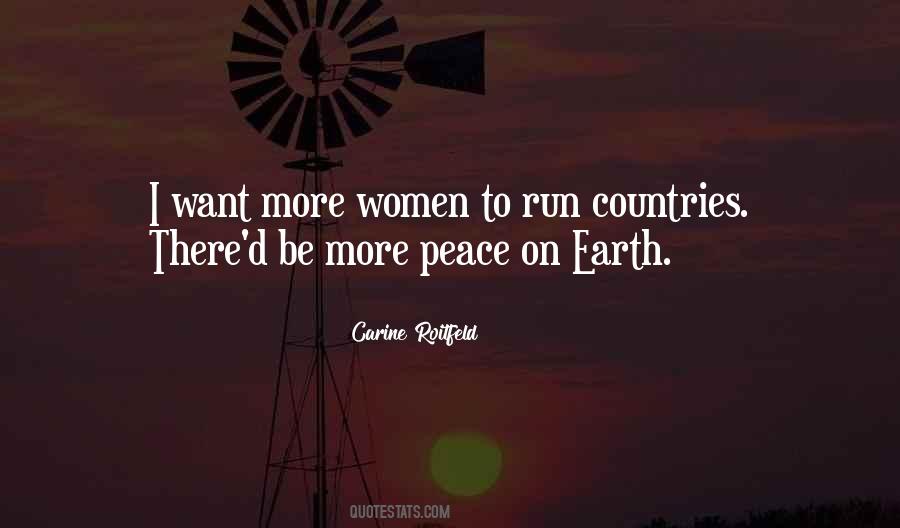 #34. Italy wants peace and quiet, work and calm. I will give these things with love if possible and with force if necessary. - Author: Benito Mussolini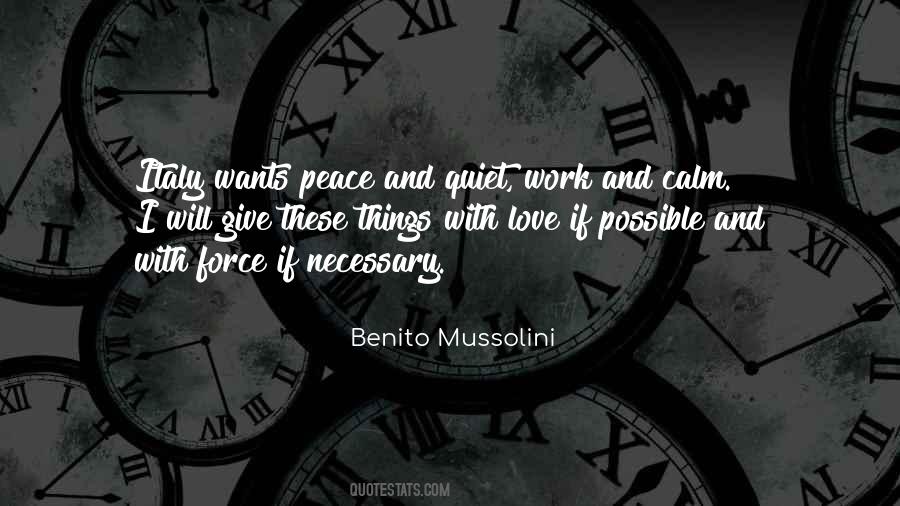 #35. I said you were a man of peace. I want you to know I took immense crap for that. - Author: George W. Bush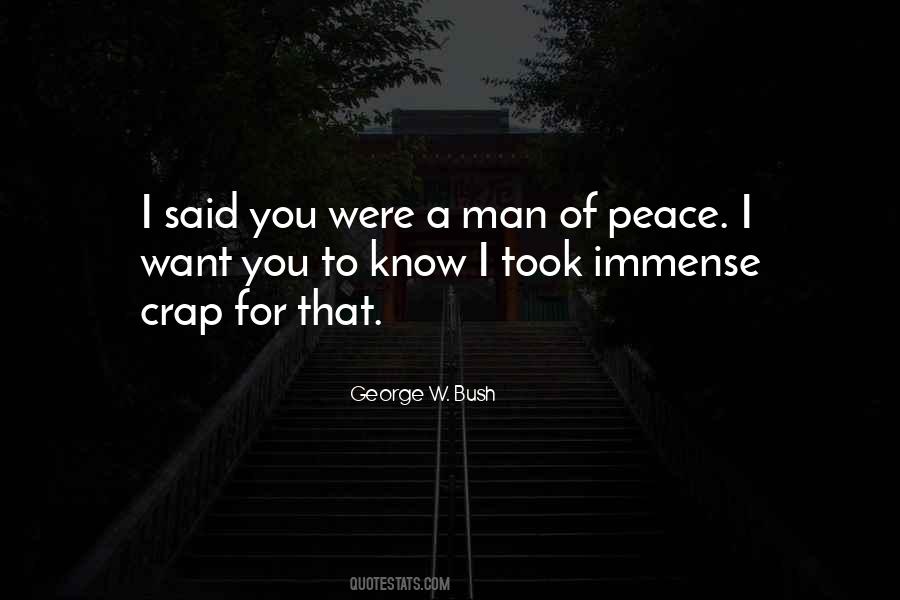 #36. After listening to you for slightly more than one hour, I can tell that you are a strong and intelligent man and that you want peace - Author: Howard Metzenbaum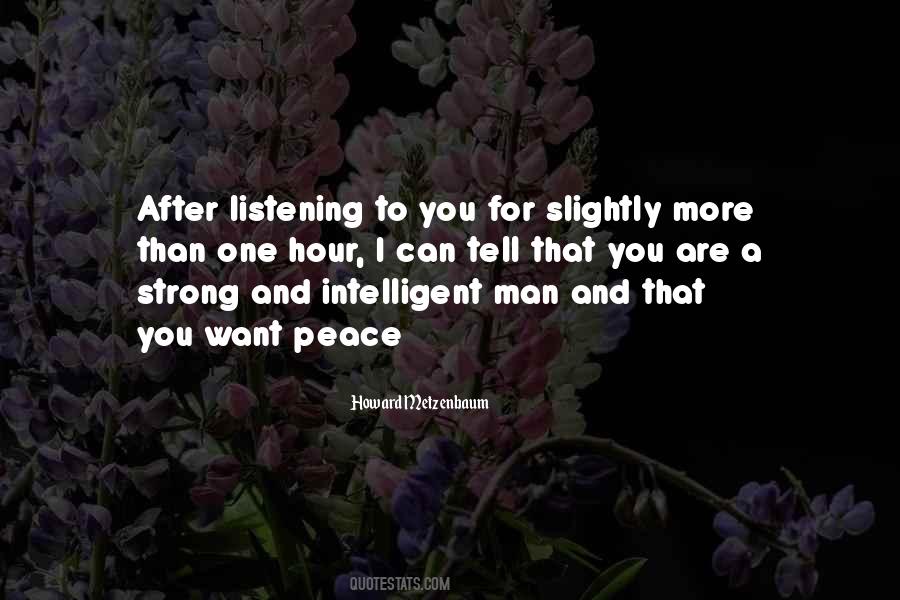 #37. All I want is to have my peace of mind - Author: Brad Delp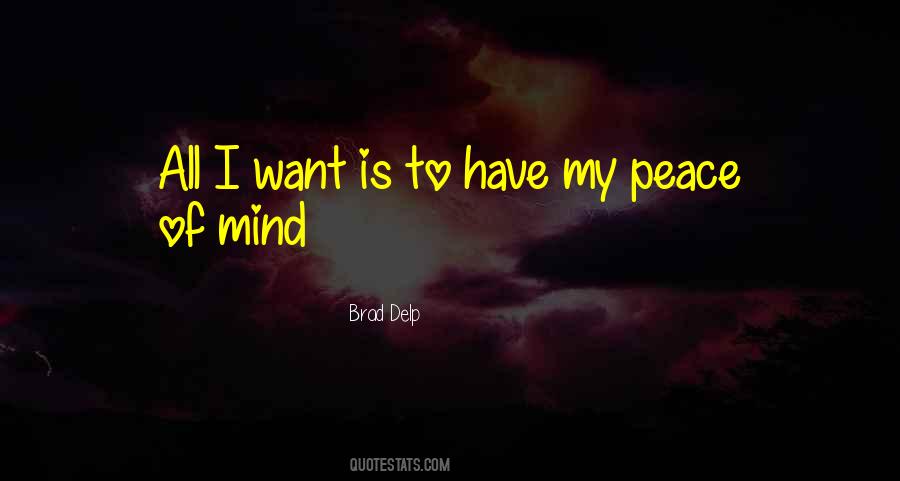 #38. I think that's all I want in life, just like peace and be able to make music and like have happiness when it's time off. Spend time with people and family, whatever. - Author: Justin Vernon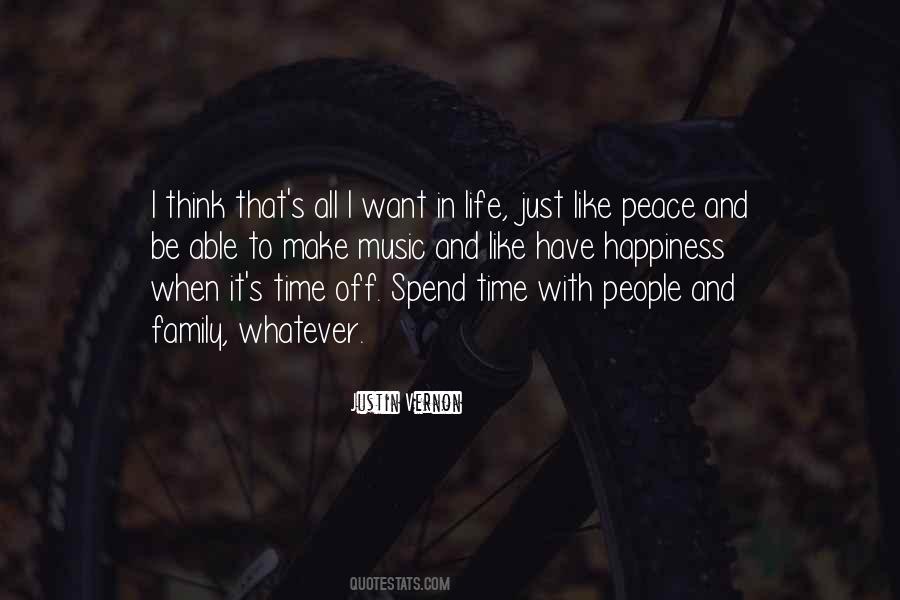 #39. I want to take one last journey together, just the three of us, and go back to Easterbury ... and let the Corporal relax and rest in peace. I'll be with you, Kieli, I'll still be with you ... Won't that do ... ? - Author: Yukako Kabei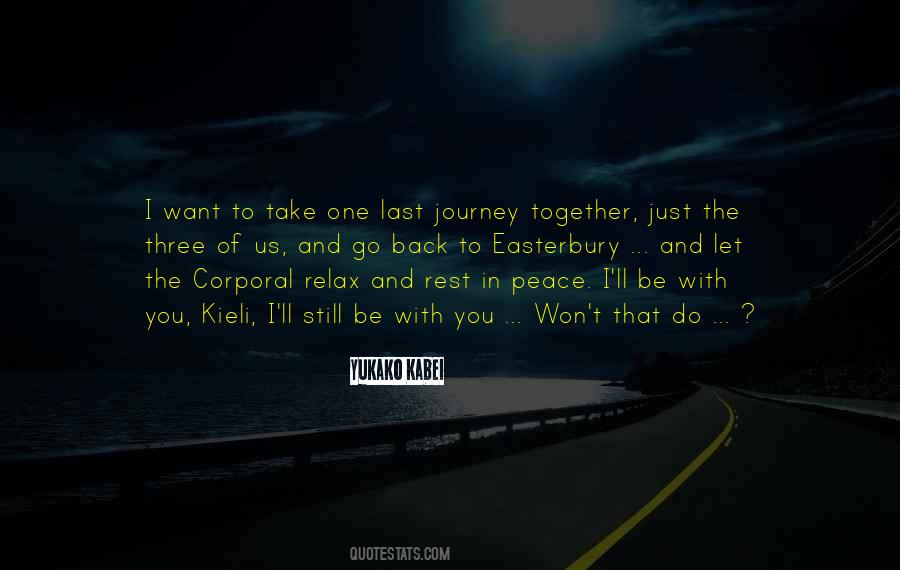 #40. I am sure the majority of Iranians want a peace agreement with Israel and want Iran to integrate with the international community and accept its universal values. - Author: Moshe Katsav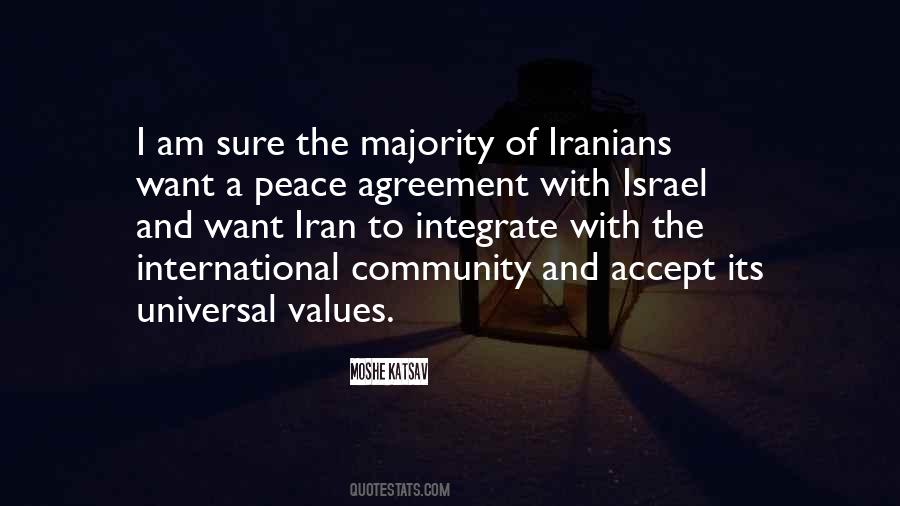 #41. I just want you to know , I love serenity, and peace; no craziness, no weird people turning up in the middle of the night. - Author: Yngwie J. Malmsteen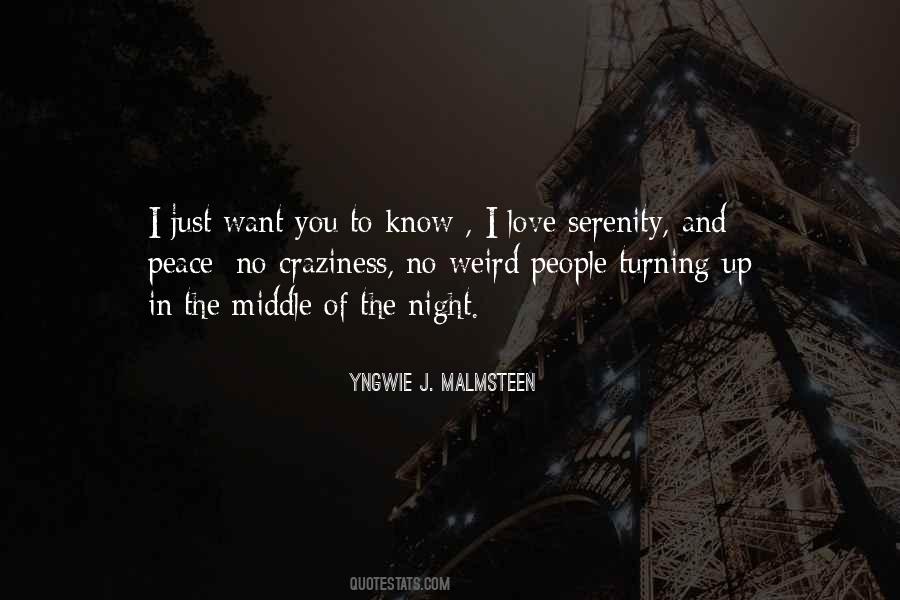 #42. That's what I want to be when I grow up, just a peaceful wreck holding hands with other peaceful wrecks ... - Author: Tillie Olsen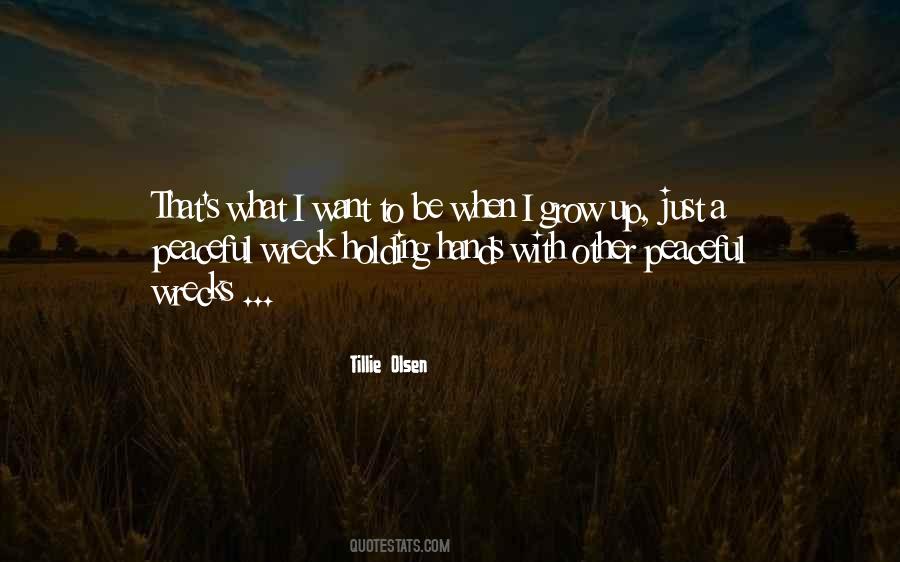 #43. I want the peace in knowing that is wasn't for lack of hustling that I missed a target for my dream. I want to know that the one thing in my control was under control. - Author: Jon Acuff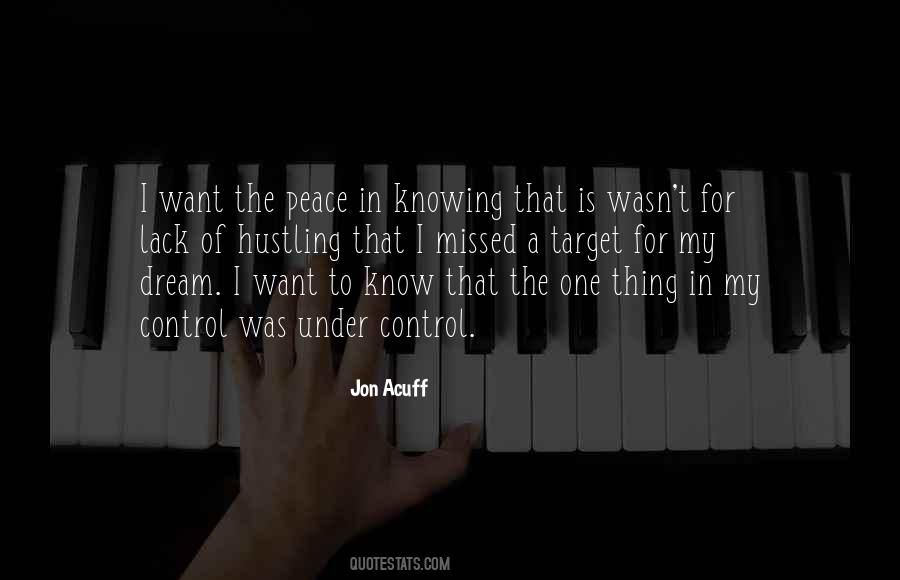 #44. I can see in your eyes, I can see in your faces, I can see you cry. But what I want to say, there's no reason to cry. Do not, in the name of peace, go in the streets and riot. - Author: George Weah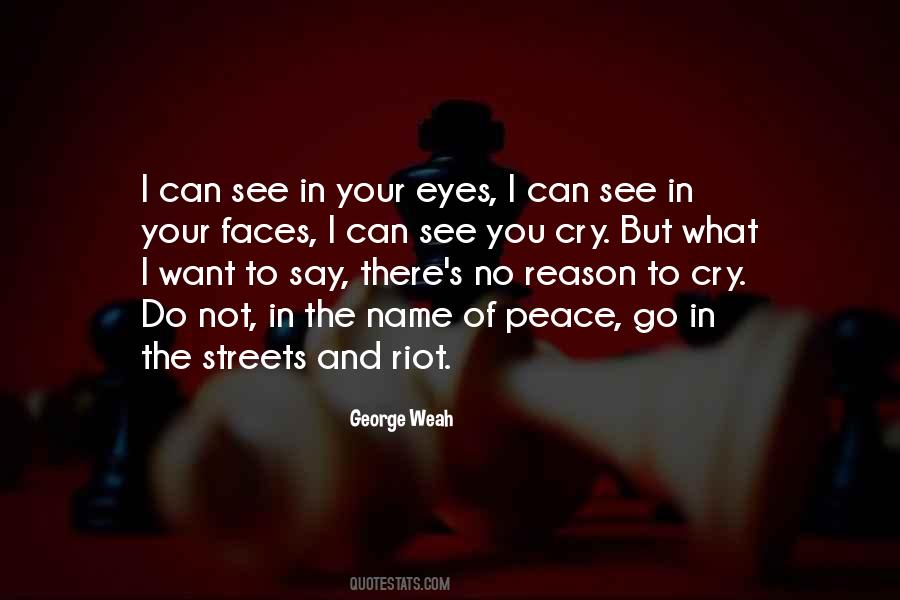 #45. And now leave me in peace for a bit! I don't want to answer a string of questions while I am eating. I want to think!"
"Good Heavens!" said Pippin. "At breakfast? - Author: J.R.R. Tolkien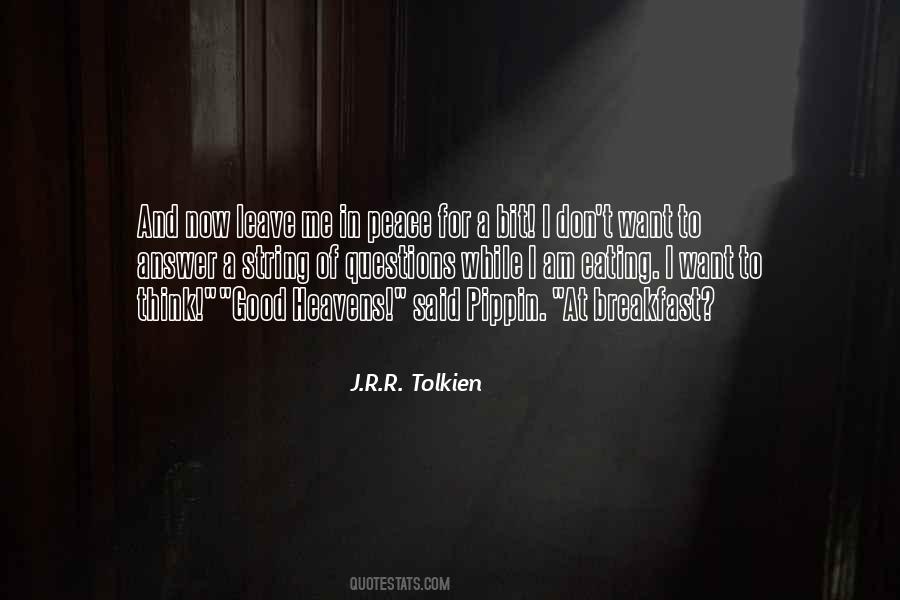 #46. I sincerely want peace, not because I lack resources for war, but because I hate bloodshed. - Author: Catherine The Great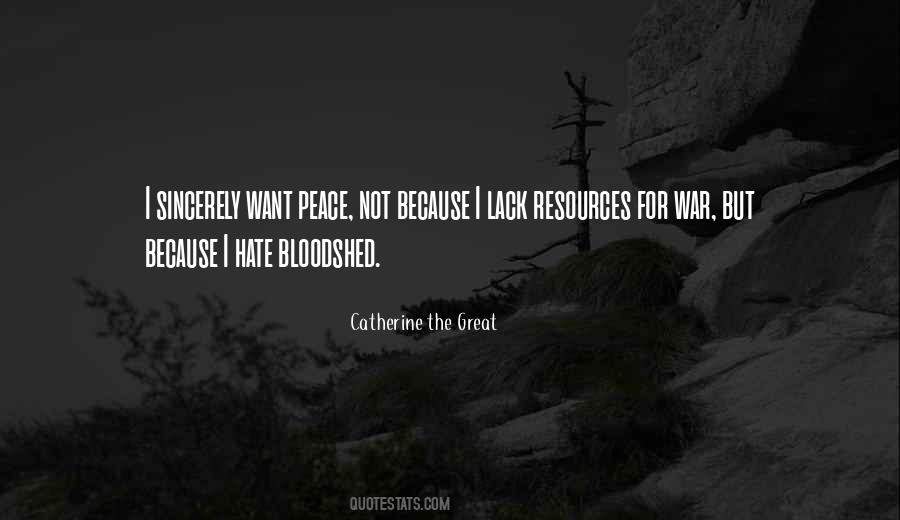 #47. That's what I'd ask you to do: Hope for peace. Because I know that I would love to be able to lay down my weapon and get to being a colonist. Just like you are. Just like I want to be. - Author: John Scalzi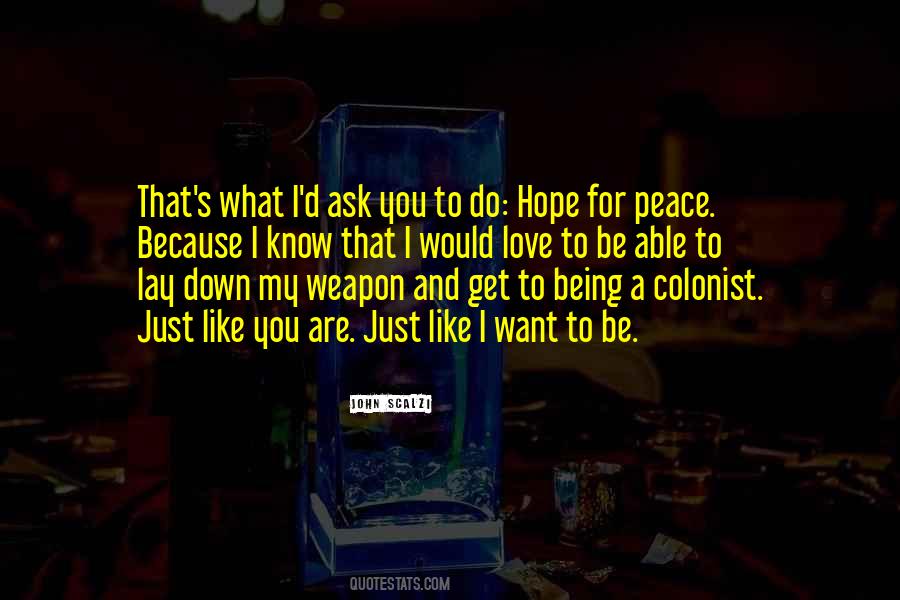 #48. When I pray for peace, I pray not only that the enemies of my own country may cease to want war, but above all that my country will cease to do the things that make war inevitable. - Author: Thomas Merton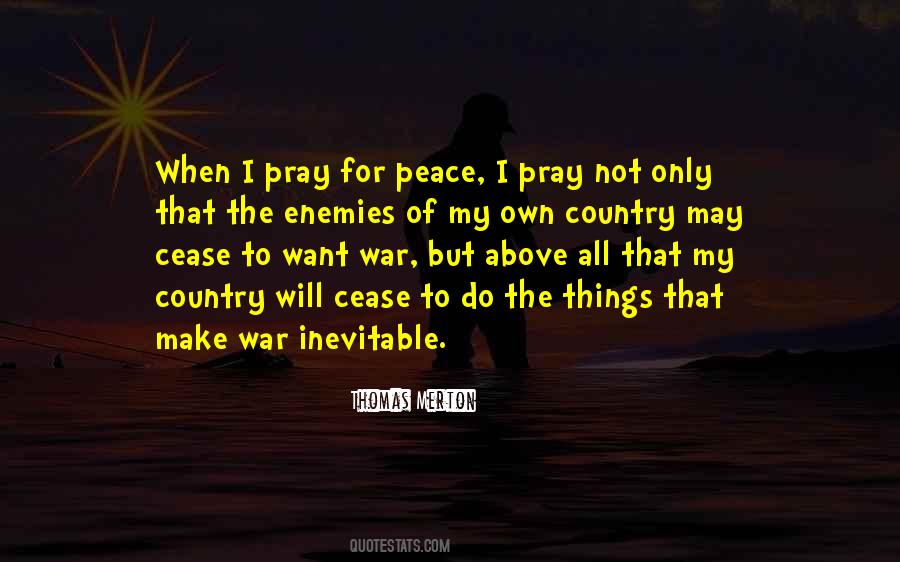 #49. I want to arrive at the possibility of peace with the Syrians, and when I believe that the conditions are right, I will not miss the opportunity. - Author: Ehud Olmert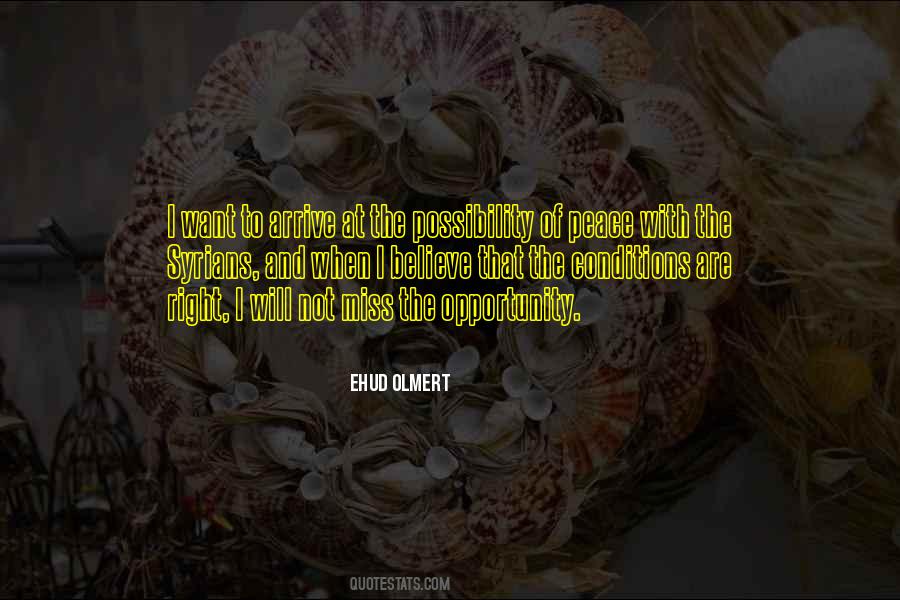 #50. I want to live the way I choose. It's all about happiness. I'm a happy person. But to find true happiness, peace within yourself and the world, that is something achieved in the moment. No matter the circumstance. - Author: Brett Dennen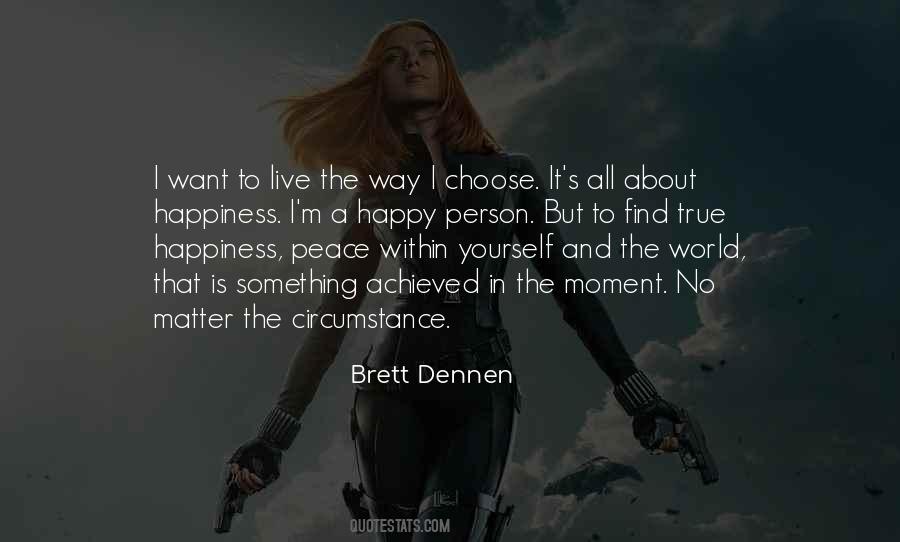 #51. I want my kids to head out the door full of peace, not the echoes of my frustrations. - Author: Lysa TerKeurst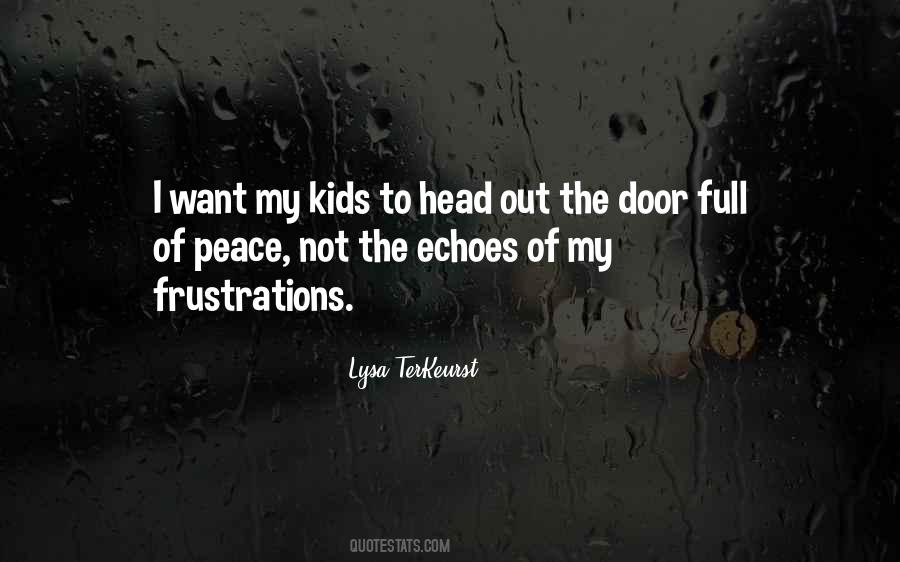 #52. I often heard the same question: What place does Russia reserve for itself in the world; how does it see itself; what is its place? We are a peace-loving state and we want to cooperate with all of our neighbors and with all of our partners. - Author: Vladimir Putin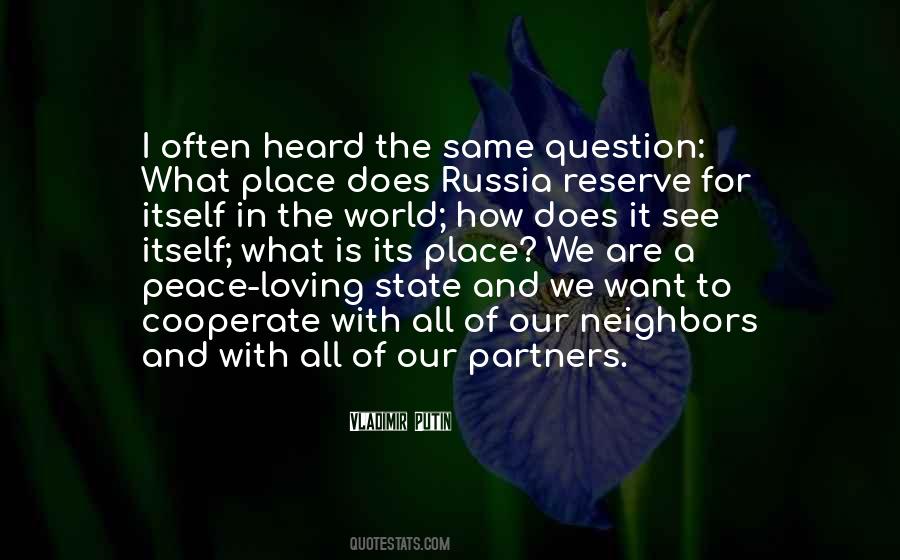 #53. I like to believe that people in the long run are going to do more to promote peace than our governments. Indeed, I think that people want peace so much that one of these days governments had better get out of the way and let them have it. - Author: Dwight D. Eisenhower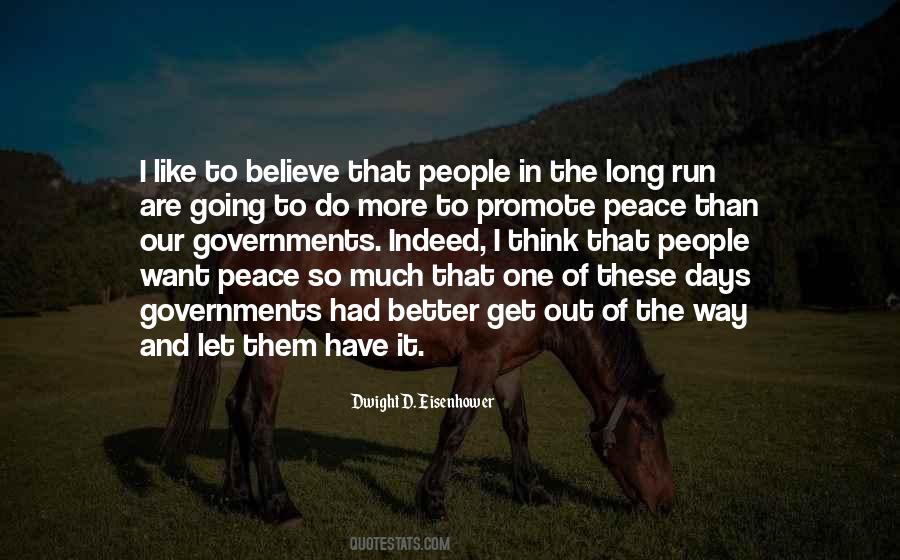 #54. To die,
so young to die.
No, no, not I,
I love the warm sunny skies,
light, song, shining eyes,
I want no war, no battle cry,
No, no, not I. - Author: Hannah Senesh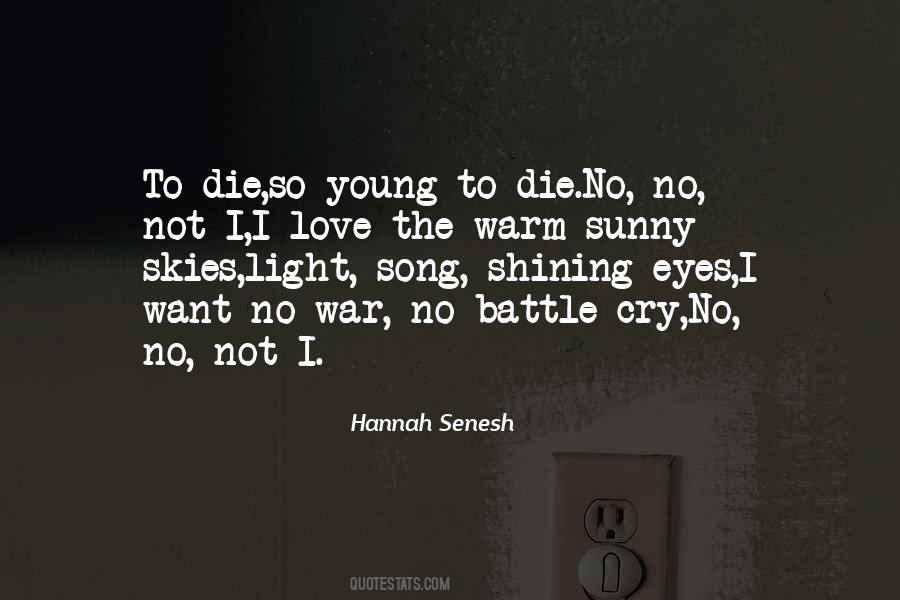 #55. I'm at a point in my life where I have something solid now. I'm a peaceful person, and I want to be surrounded by peace no matter what I'm doing. - Author: Cheryl James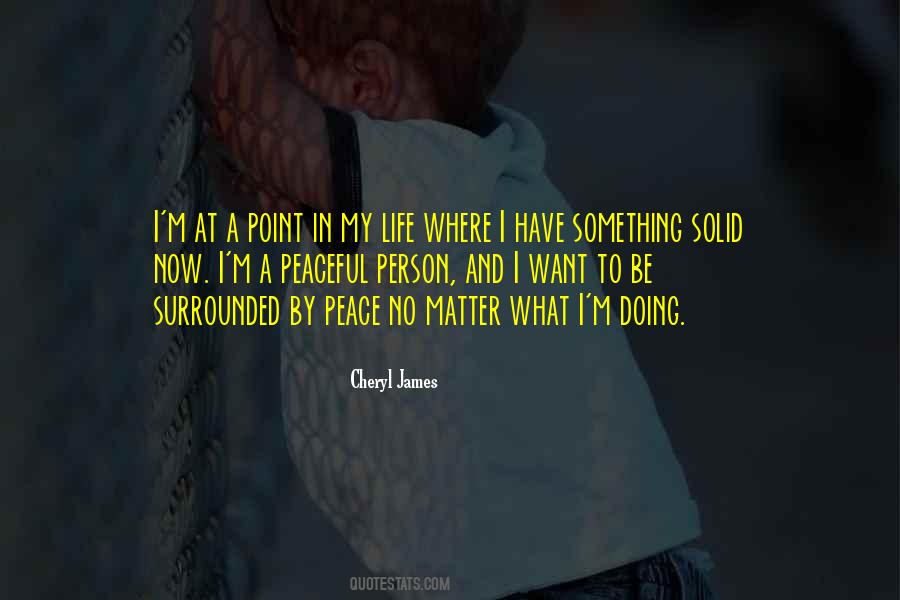 #56. I could do Rust In Peace again, but I don't want to. I could have followed that formula but, God, why? I would have to have done so much heroin and cocaine - and I wasn't going to. Not if I'm paying for it! - Author: Dave Mustaine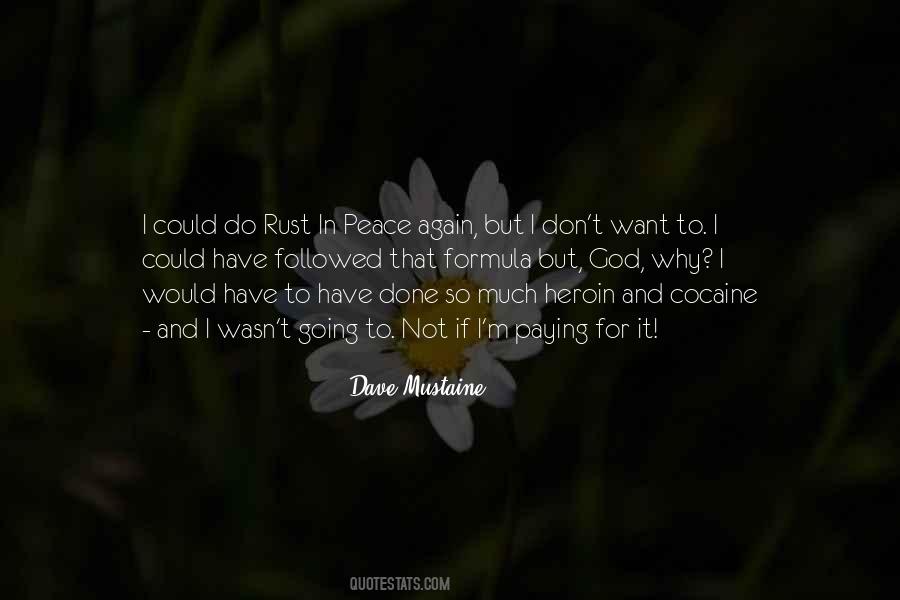 #57. When I leave here, when my final day on this earth is up, I want to leave in peace. I want to have peace in my heart. - Author: Rodney King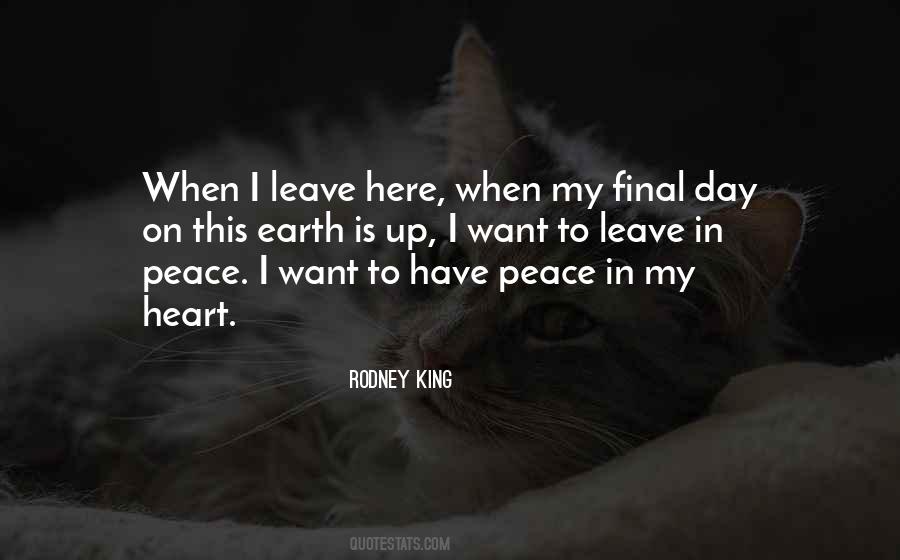 #58. I just want to live in peace and quiet. - Author: Agnetha Faltskog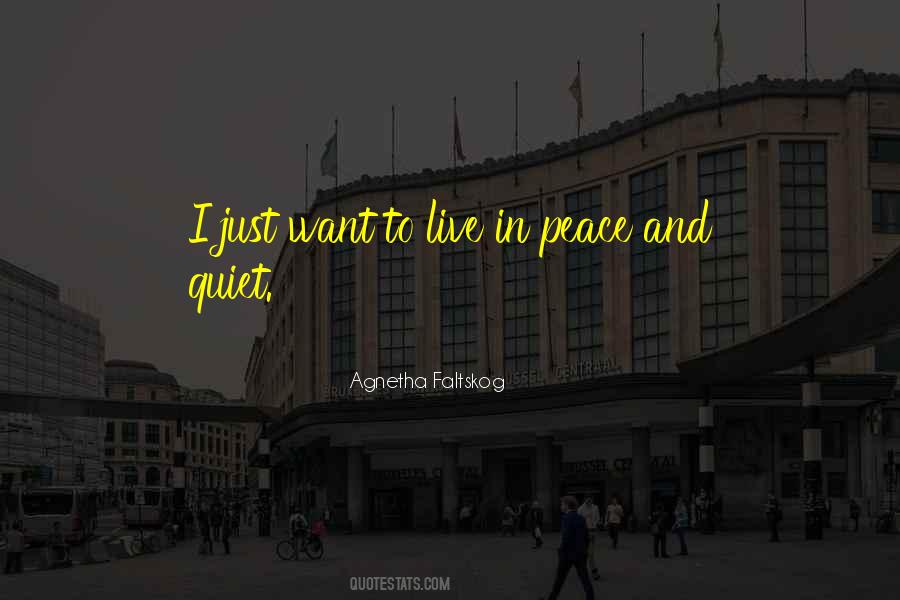 #59. I play to all people, and I play to people not governments, and I believe strongly that all people are peaceful and would want peace. - Author: Paul McCartney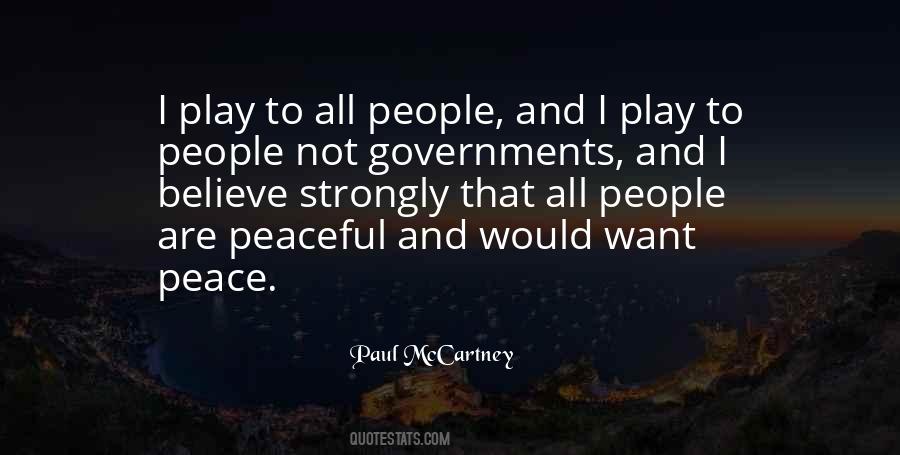 #60. I'd really like to change the world and save it from the mess it's in. I'm so weak, I'm so thin, I want to fly, but I can't even swim. - Author: Ray Davies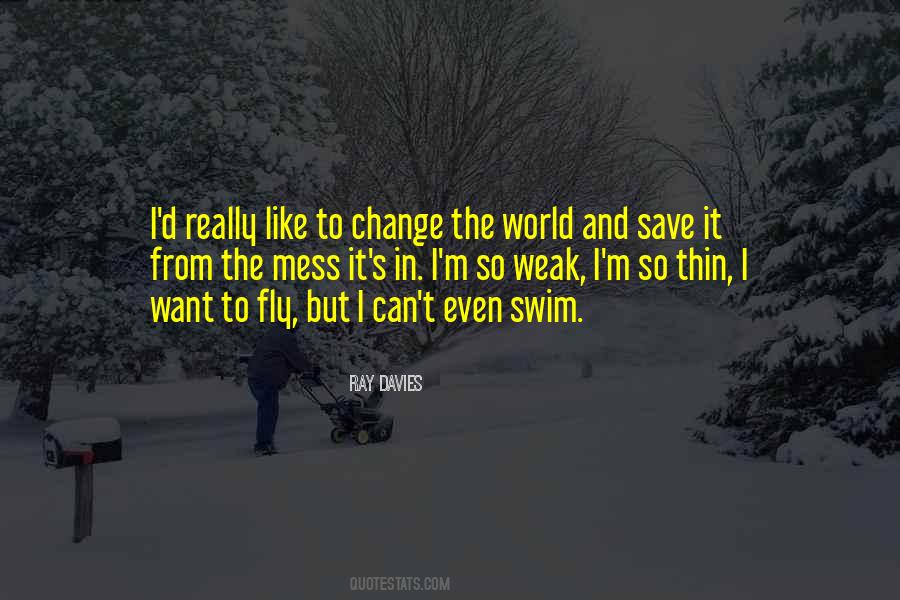 #61. I shall take my voice wherever there are those who want to hear the melody of freedom or the words that might inspire hope and courage in the face of fear. My weapons are peaceful, for it is only by peace that peace can be attained. The song of freedom must prevail. - Author: Paul Robeson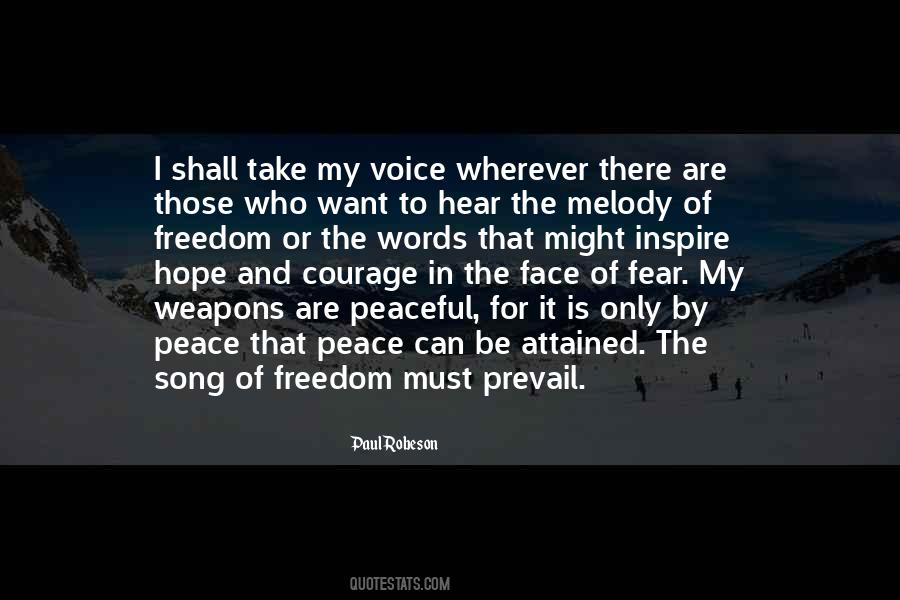 #62. Someday when peace has returned to this odd world I want to come to London again and stand on a certain balcony on a moonlit night and look down upon the peaceful silver curve of the Thames with its dark bridges. - Author: Ernie Pyle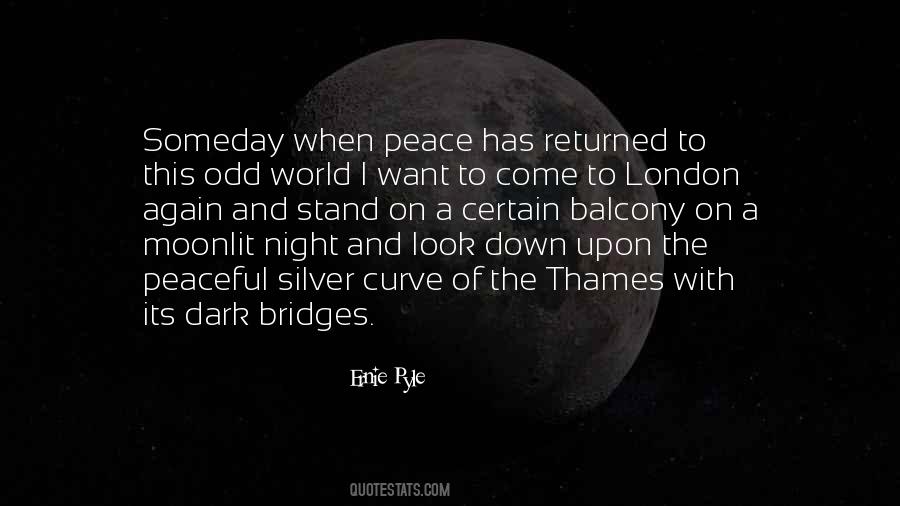 #63. The body on the ground is nothing more than a shell, a husk, and I am filled with a sense of peace. Yes, I think. Yes. This is what I want to be. An instrument of mercy, not vengeance. - Author: R.L. LaFevers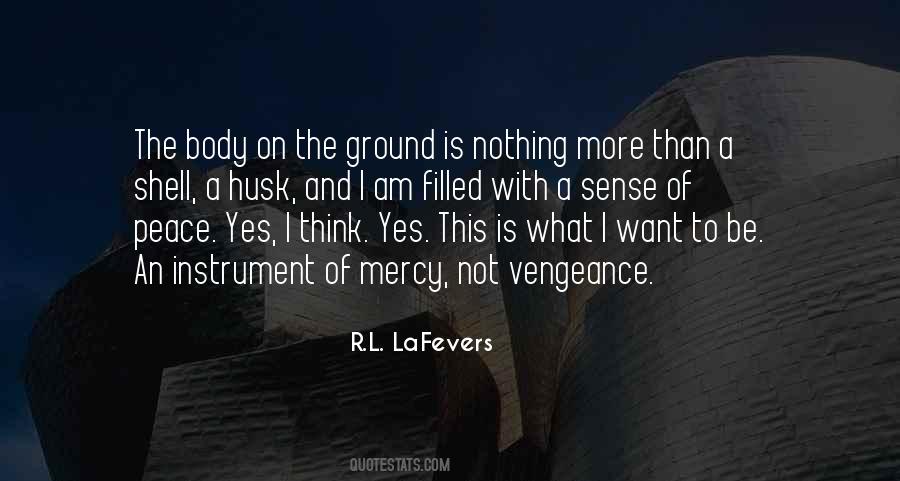 #64. Aggression, occupation and a repetition of the Holocaust won't bring peace. What we want is a sustainable peace. This means that we have to tackle the root of the problem. I am pleased to note that you are honest people and admit that you are obliged to support the Zionists. - Author: Mahmoud Ahmadinejad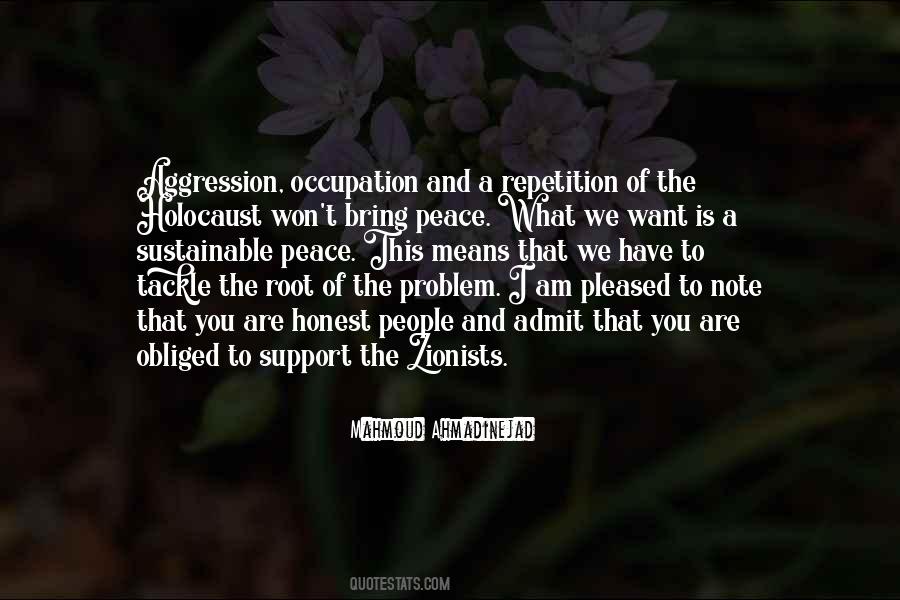 #65. Not the same thing in my opinion. You forgive for you. To find peace. You don't want that toxic shit eating up your soul. But you can use the injustice to fuel you." I - Author: Leslie N. Johnson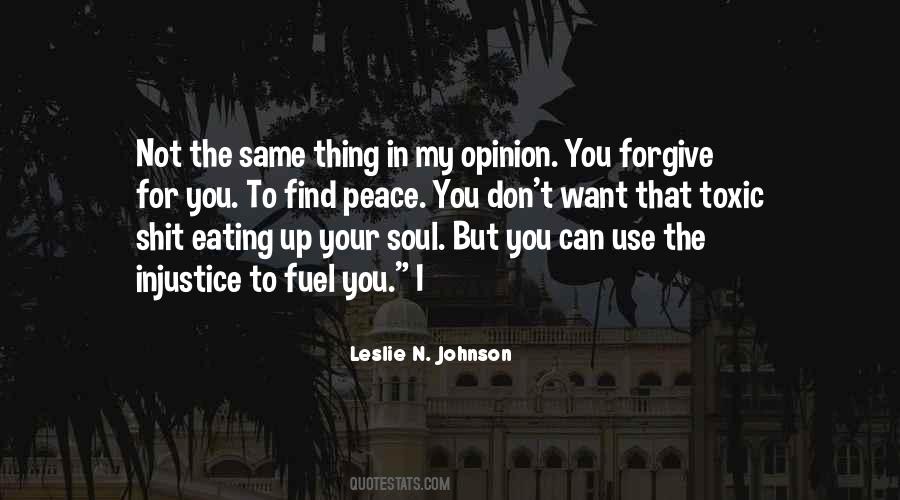 #66. I want no part of peace with savages who throw acid on and gun down young girls going to school. I would prefer to crush them and kill them wherever they exist. That's not being a warmonger. It's being a realist. - Author: Allen West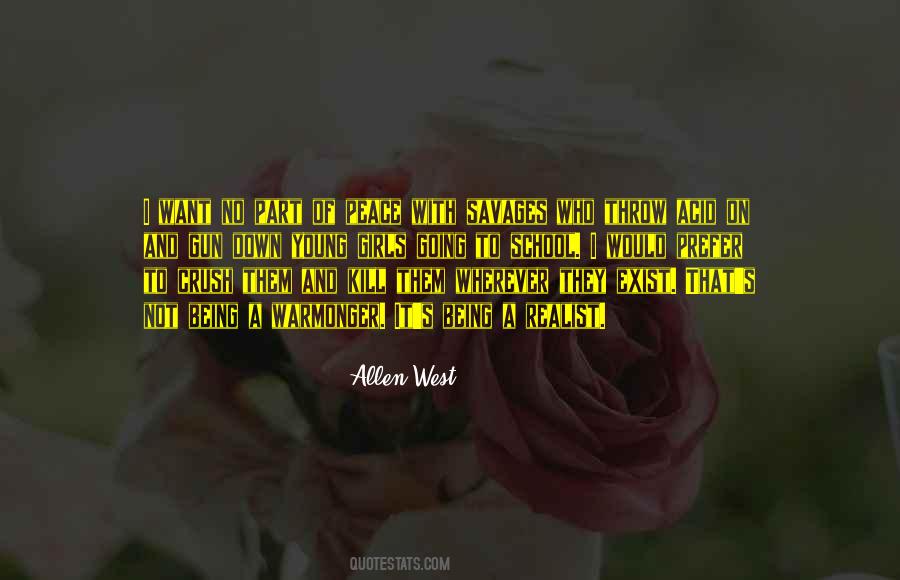 #67. I purposely don't talk about money, because people are already skeptical about TV preachers. But I do say that I want you to be blessed. To me, prosperity is having health, having great children, having peace, good relationships. It's not about the money. - Author: Joel Osteen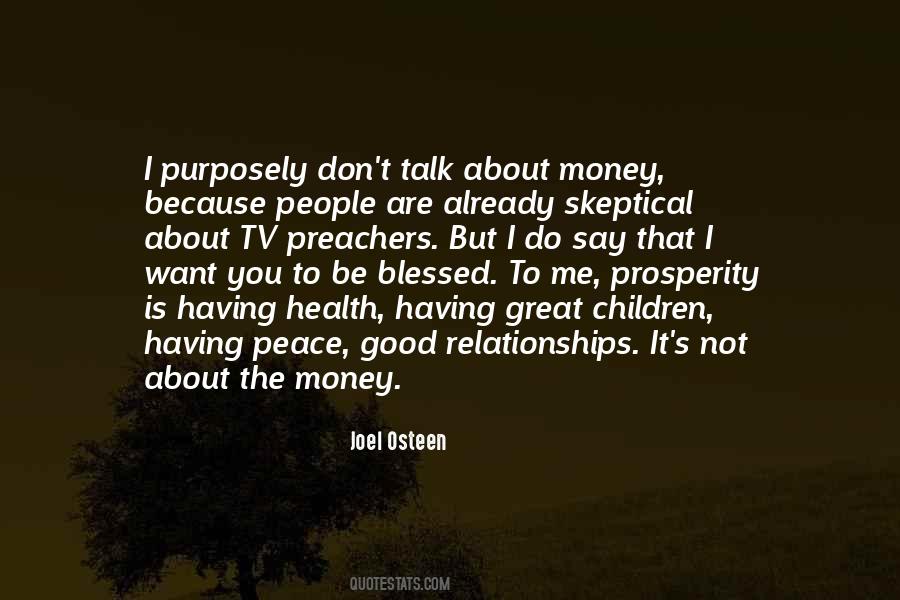 #68. Money can't heal your heart. Money can't give you purpose. I don't want arms and legs, I want purpose. I don't want arms and legs, I want peace. I don't want arms and legs, I want to be a miracle for someone else. - Author: Nick Vujicic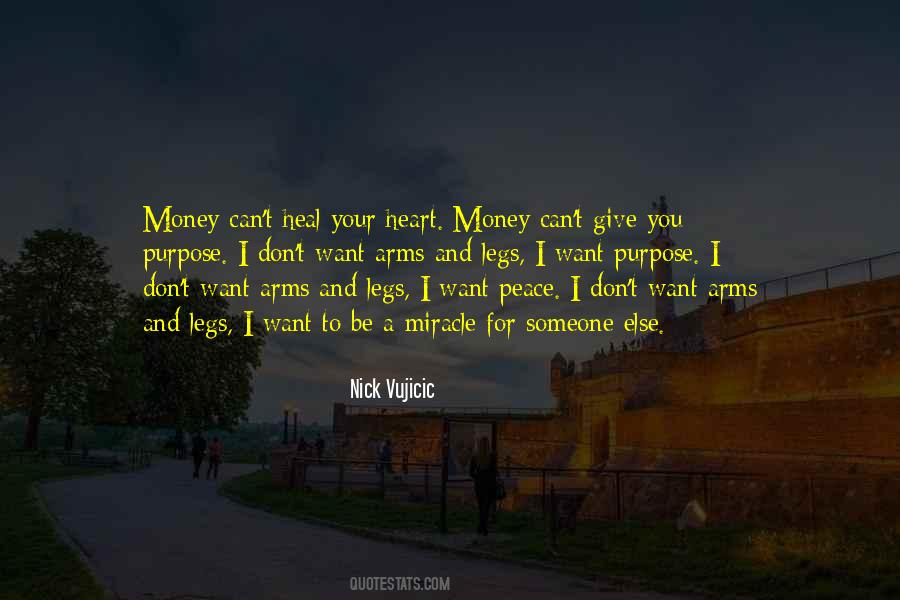 #69. The older I get, the more I want to do. It beats death, decay or golf in unfortunate trousers. Peace and quiet depress me. - Author: Simon Schama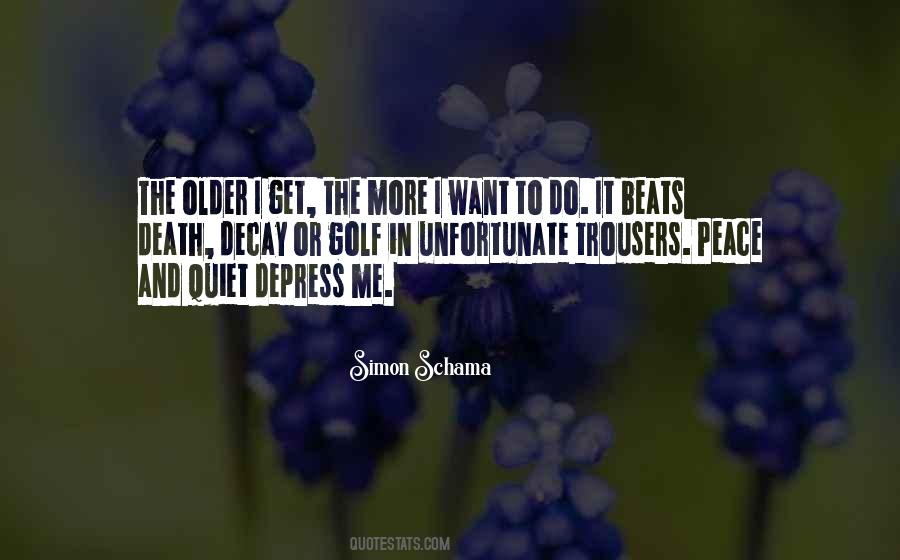 #70. I'm a Christian. I want the world of justice and equality. This is the only way to achieve peace. - Author: Hugo Chavez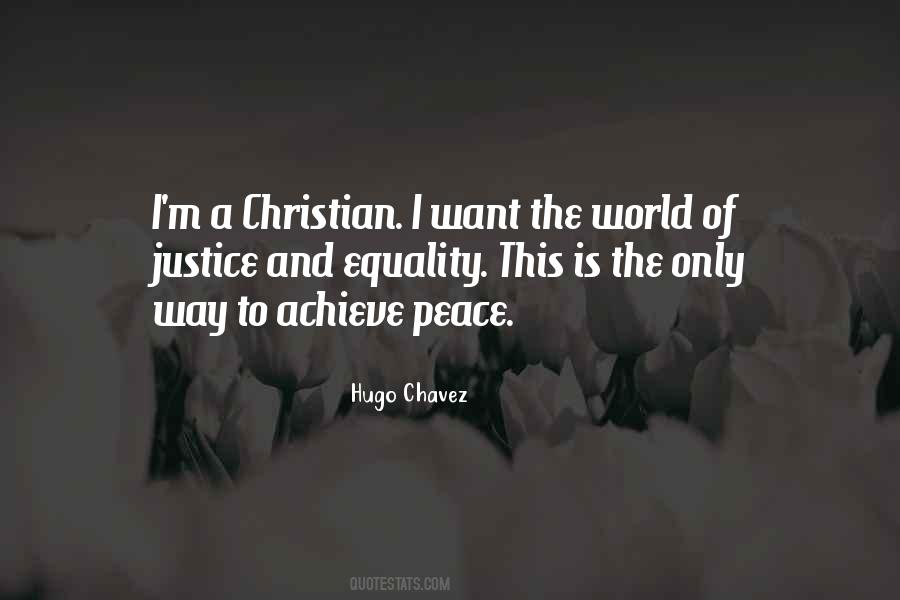 #71. I've found peace here at the co-op. You could stay with us, if you want. Become a ROFLcopter. - Author: Rick Riordan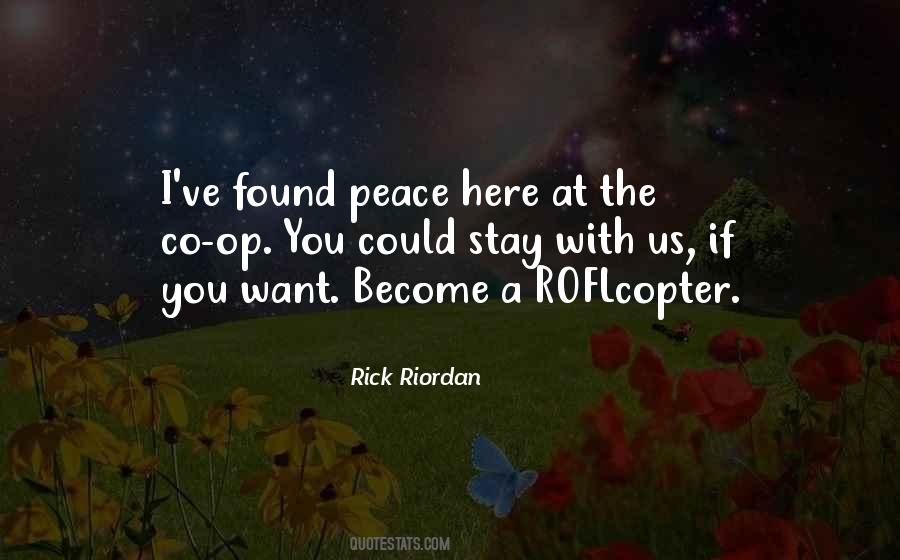 #72. I definitely want to thank my doctor, Dr. Sandy, um, my psychiatrist, she really helped me relax a lot, thank you so much. - Author: Metta World Peace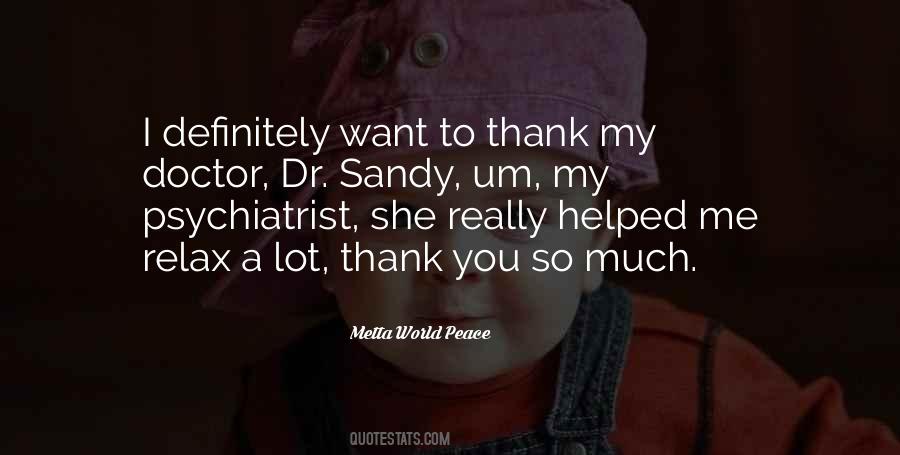 #73. I don't care how little your country is, you got a right to run it like you want to. When the big nations quit meddling then the world will have peace. - Author: Will Rogers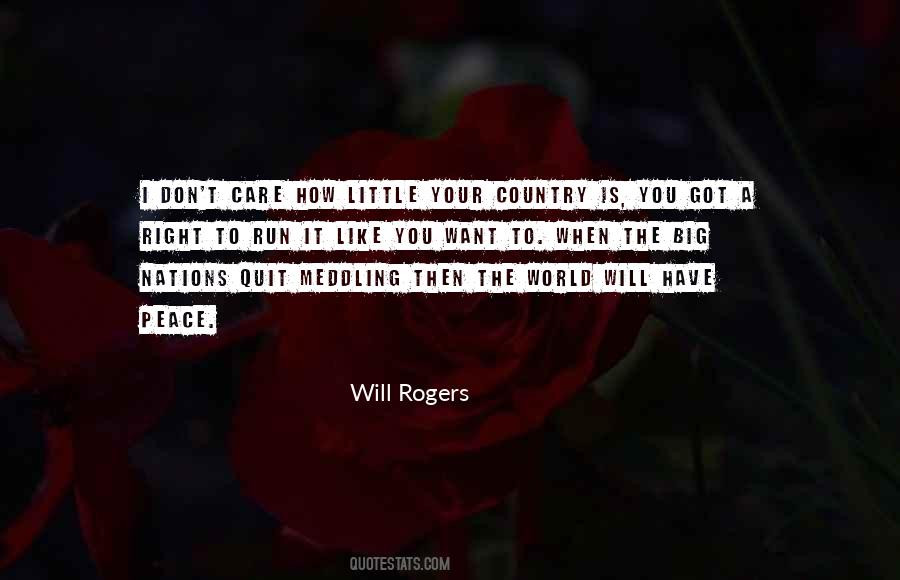 #74. See, I am very dependent ... on beauty and peace of the world ... on loyalty of friends ... on love in families ... on happiness and health of children. And I do not want to be free as long as I have it all ... - Author: Galina Nelson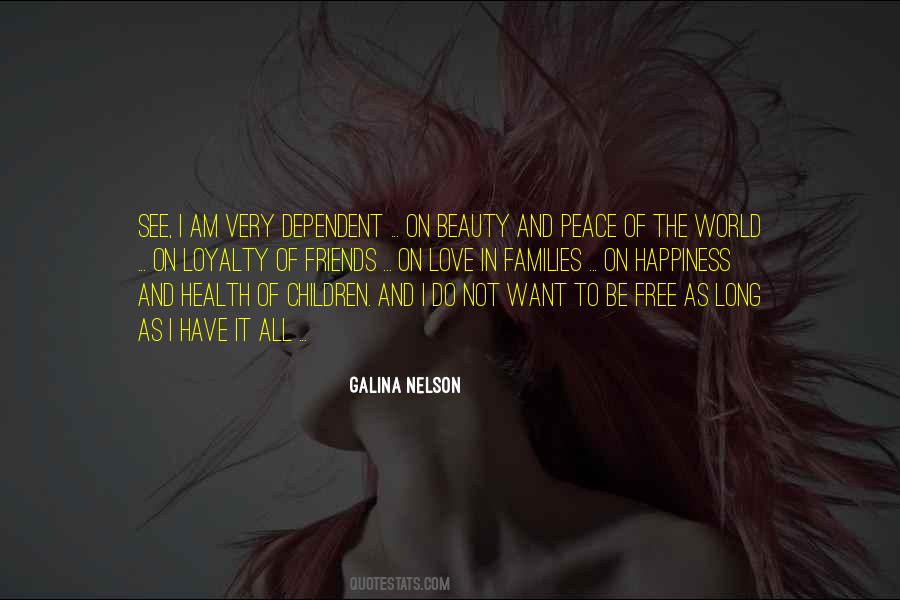 #75. As Americans, we want peace - we work and sacrifice for peace. But there can be no peace if our security depends on the will and whims of a ruthless and aggressive dictator. I'm not willing to stake one American life on trusting Saddam Hussein. - Author: George W. Bush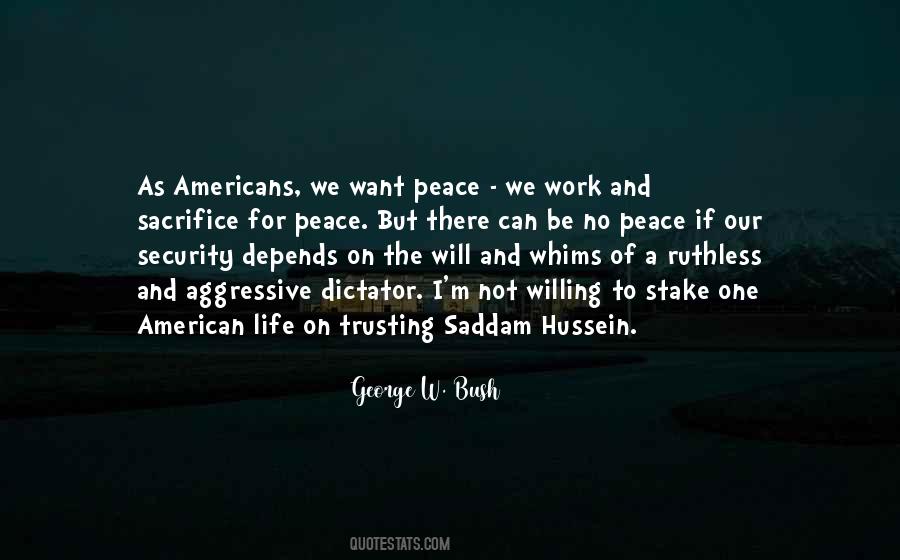 #76. If I really want inner peace in my life, then I must not busy myself with what other people do and say. - Author: Sri Chinmoy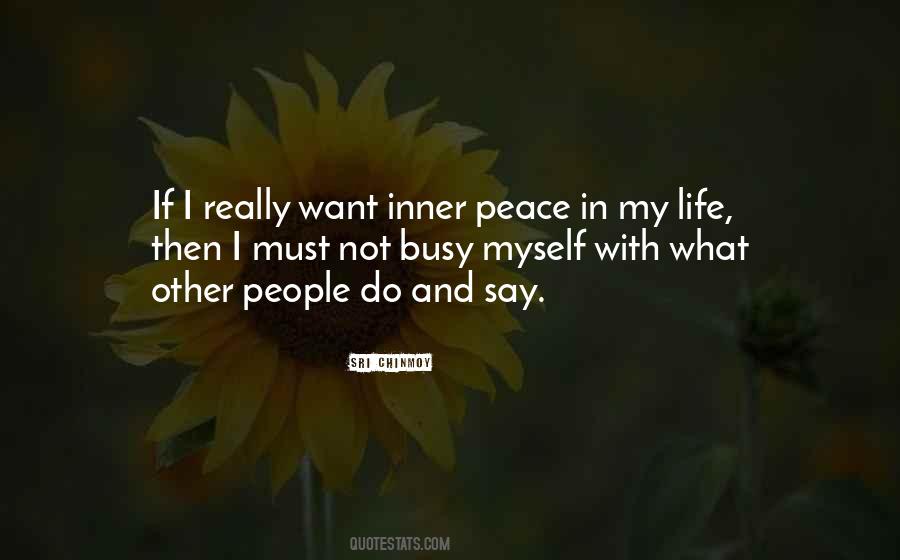 #77. I've been on the side where you have nothing, and now I'm on the side where anything I want is there for me. When I didn't have the means to do whatever I wanted to do, I still had peace. - Author: Dwight Howard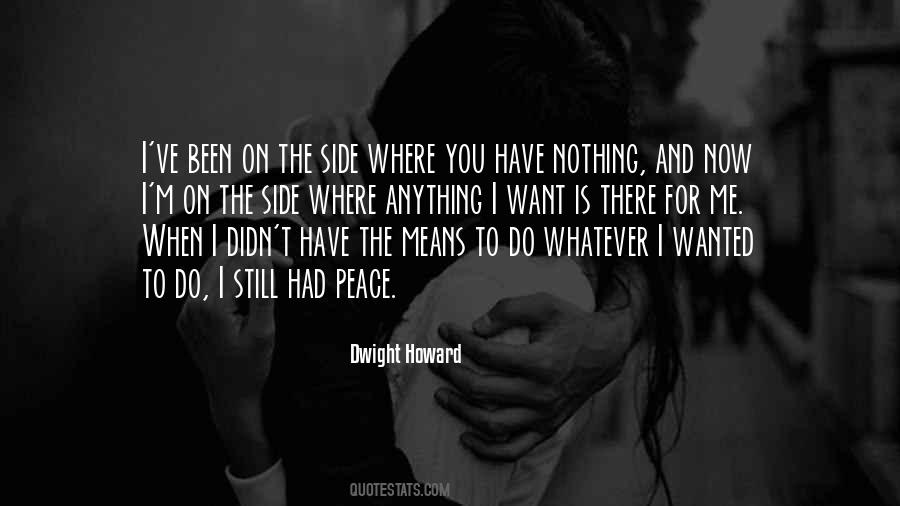 #78. I'd been conflict-phobic my entire life because I didn't want to lose my inner core of peace. - Author: Doreen Virtue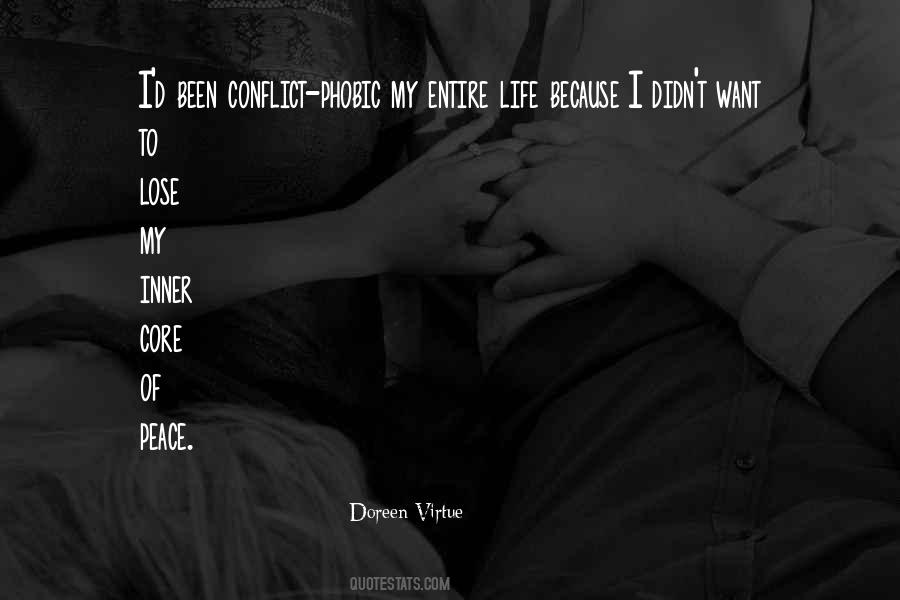 #79. When I am at peace with myself ... then thoughts flow into me most easily and at their best. Where they come from and how - that I cannot say ... I'd be willing to work forever and forever if I were permitted to write only such music as I want to write and can write - which I myself think good. - Author: Wolfgang Amadeus Mozart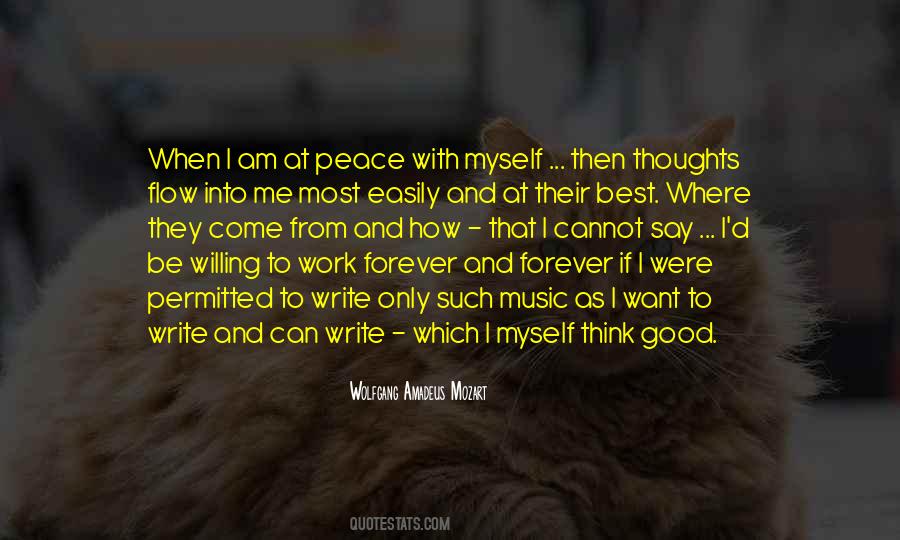 #80. Donald Westlake's Parker novels are among the small number of books I read over and over. Forget all that crap you've been telling yourself about War and Peace and Proust-these are the books you'll want on that desert island. - Author: Lawrence Block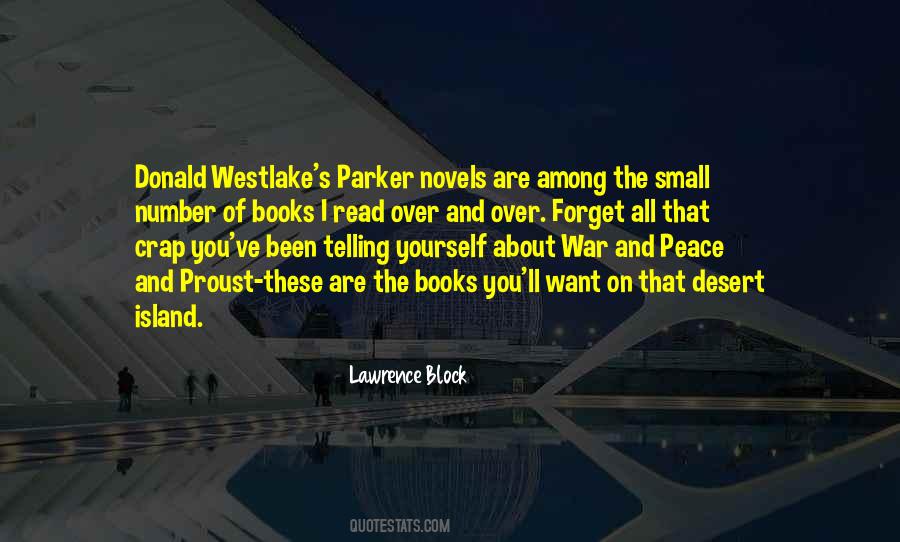 #81. People say to me so often, 'Jane how can you be so peaceful when everywhere around you people want books signed, people are asking these questions and yet you seem peaceful,' and I always answer that it is the peace of the forest that I carry inside. - Author: Jane Goodall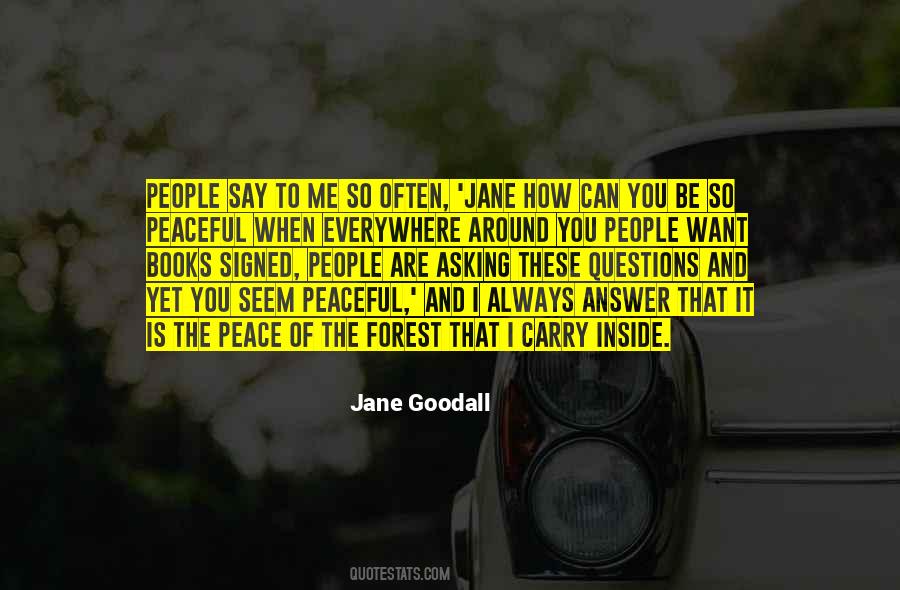 #82. The Left is acting like a young child, saying 'I want peace' ... A child says 'I want candy right away,' an adult takes all of the factors into account and understands who he's dealing with. - Author: Ehud Barak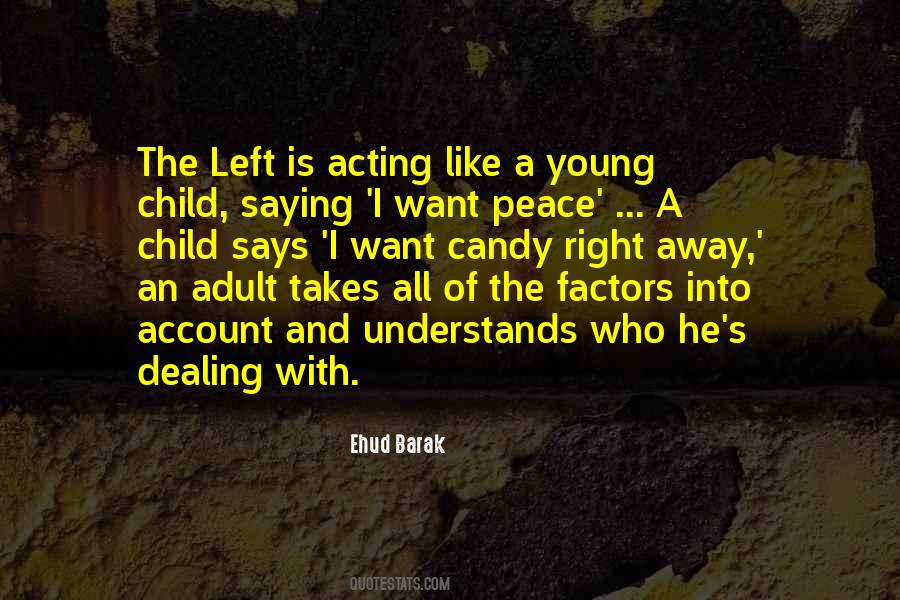 #83. If I want to be anything, I want to be a messenger of peace. - Author: Debasish Mridha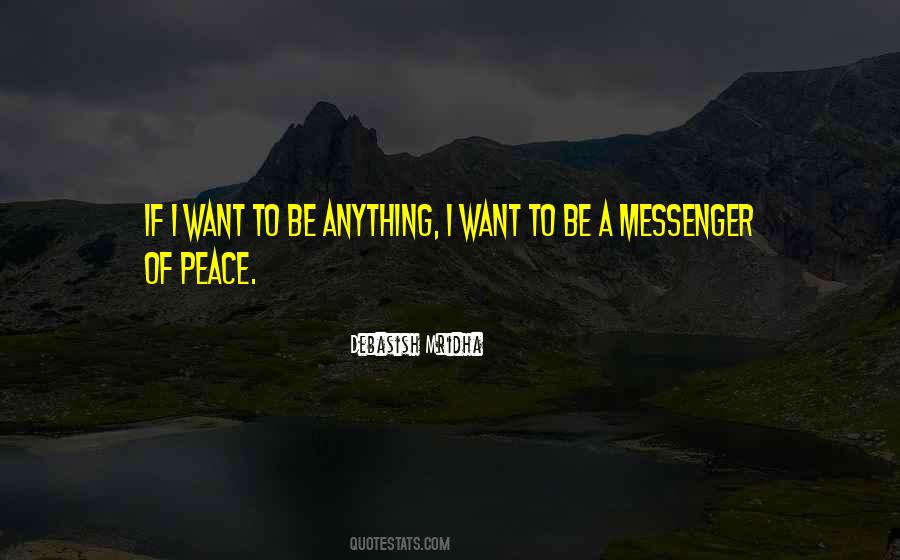 #84. No matter what, I want to experience a sense of peace while talking. As I look out into the audience, Ill remember to breathe and notice that at my core there is peace. - Author: M.J. Ryan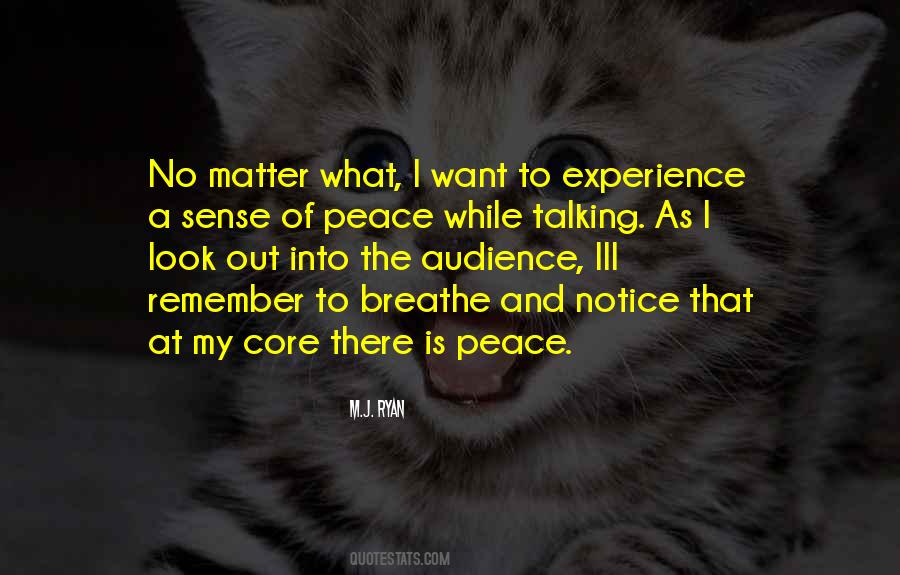 #85. I remember thinking I just want more. This isn't it. Fame is not the goal. Money is not the goal. To be able to know how to get peace of mind, how to be happy, is something you don't just stumble across. You've got to search for it. - Author: George Harrison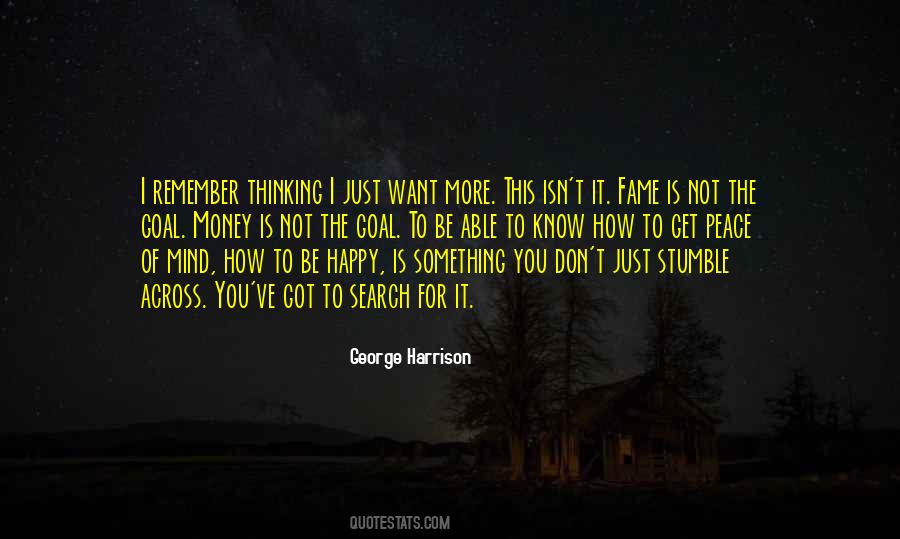 #86. It's hard to find peace with your thighs, but when they chafe, try to be grateful for them. Your thighs let you run and get you where you want to go. I have not just thigh peace but thigh happiness, and it begins with thigh gratitude. - Author: Margaret Cho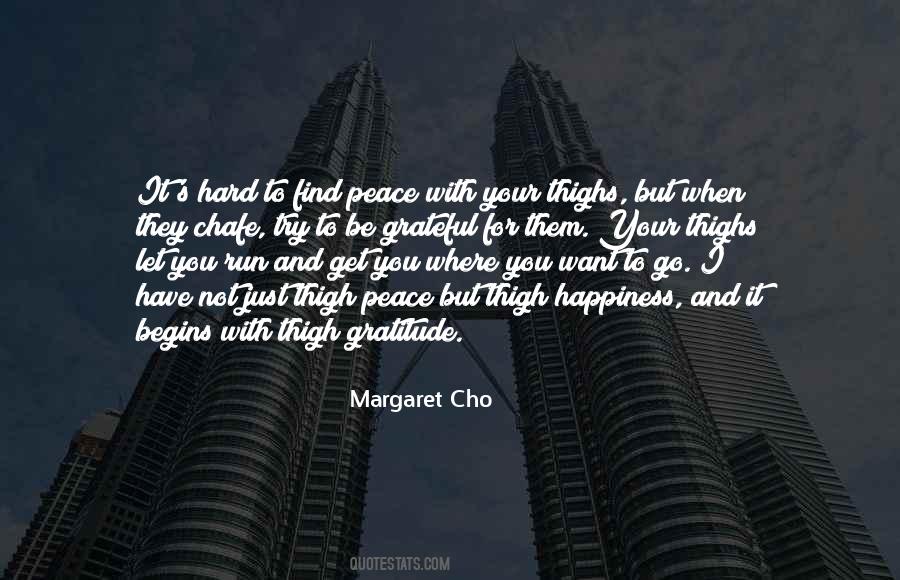 #87. You want me to flash you" I said
He nodded vigorously, like I'd asked if he wanted fries with that.
"And then you'll pass on?"
"That's all I want. So, yeah."
I could almost believe that a fourteen-year-old boy could find deep spiritual peace from a pair of boobs. - Author: Jeri Smith-Ready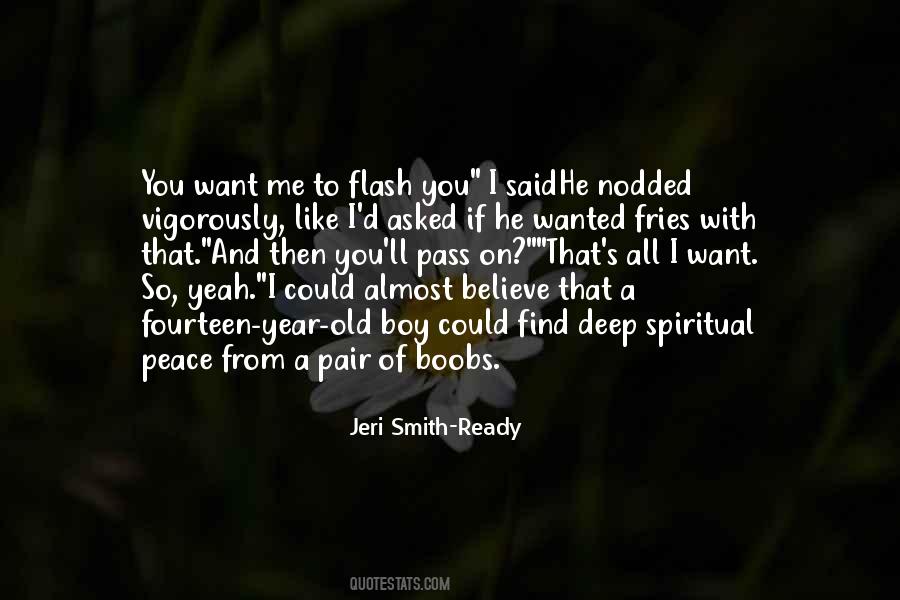 #88. I think that people want peace so much that one of these days government had better get out of their way and let them have it. - Author: Dwight D. Eisenhower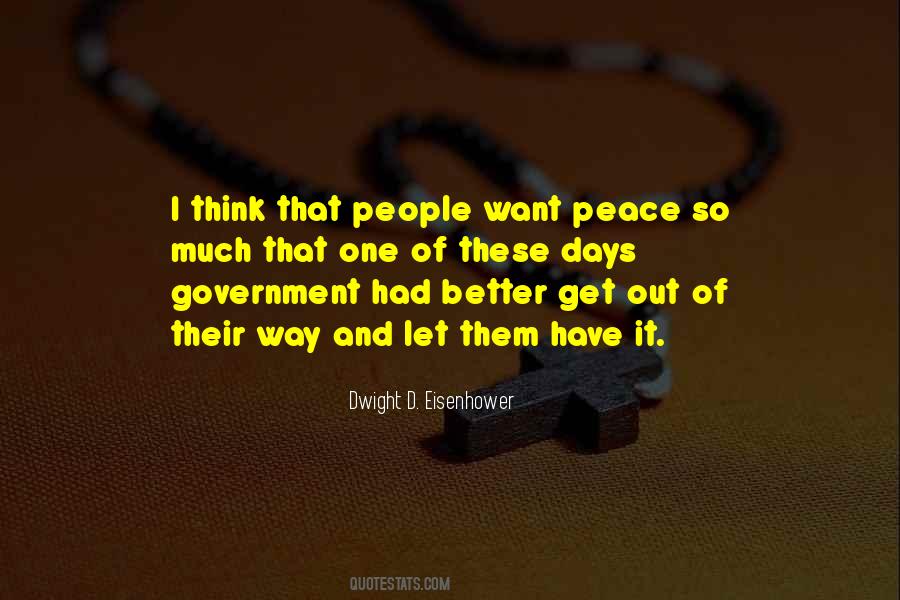 #89. The echo of the gunshots lingered; it was soon drowned by the chanting of the mob, and I didn't believe what I was hearing. They were chanting, 'We want peace. We want peace.' - Author: Jarreth J. Merz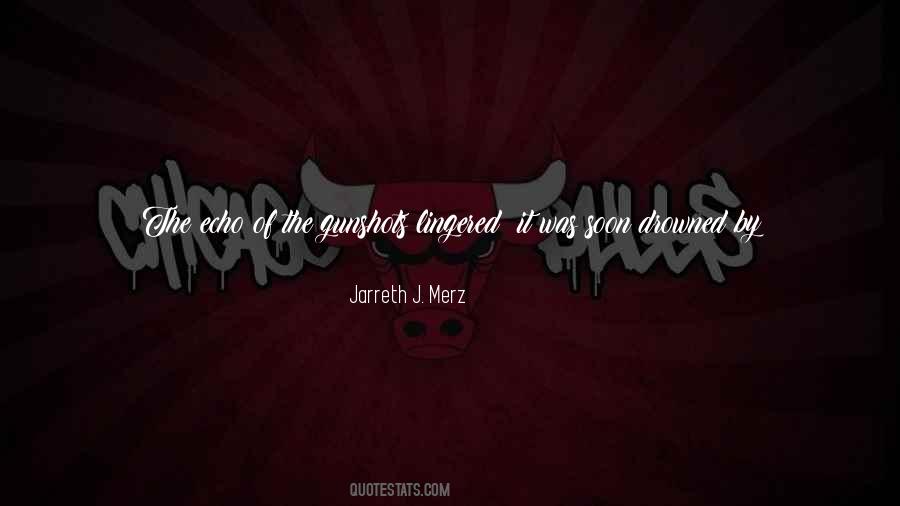 #90. I didn't want to remember ... yet in remembering, it dawned on me - finally - just how far down God had reached to free me. - Author: Nikki Rosen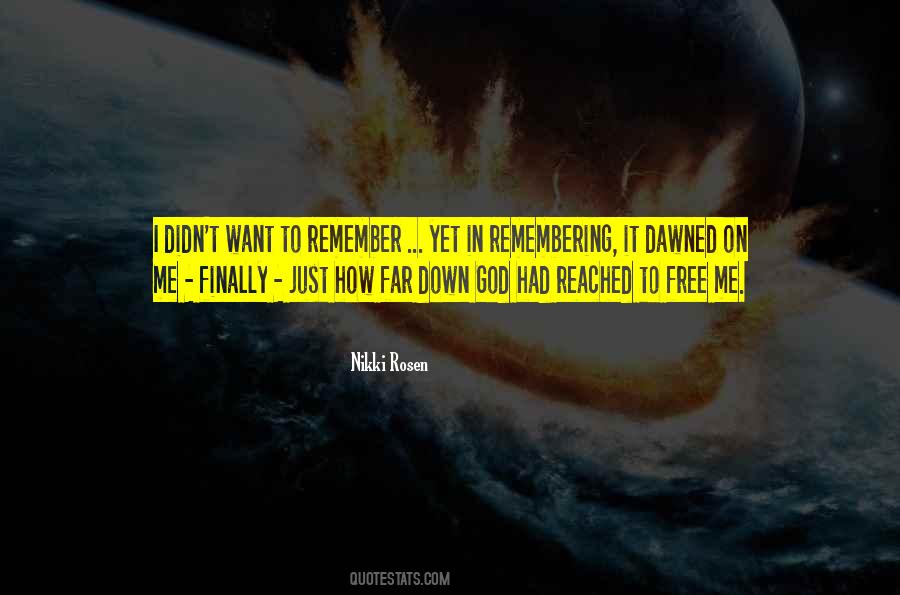 #91. If I want to live in a peaceful world, then it is up to me to make sure that I am a peaceful person. No matter how others behave, I keep peace in my heart. I declare peace in the midst of chaos or madness. I surround all difficult situations with peace and love. - Author: Louise Hay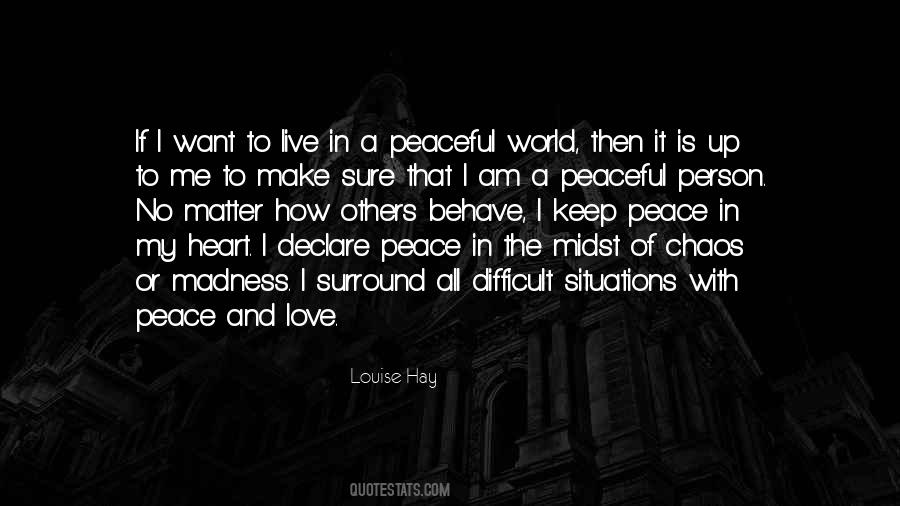 #92. ."I shouldn't want you. I'm not good enough for you. I know it and you know it. But that doesn't stop me from wanting you. Just being near you... You bring me peace, beauty," he says in a soft unwavering tone, briefly resting his forehead against mine. - Author: Chantal Fernando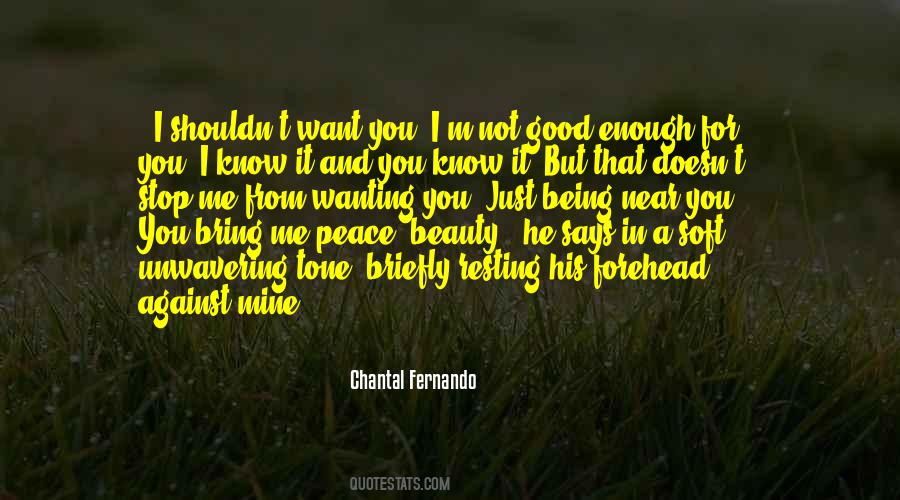 #93. The best road I want to walk on is the road surrounded by peace. - Author: Debasish Mridha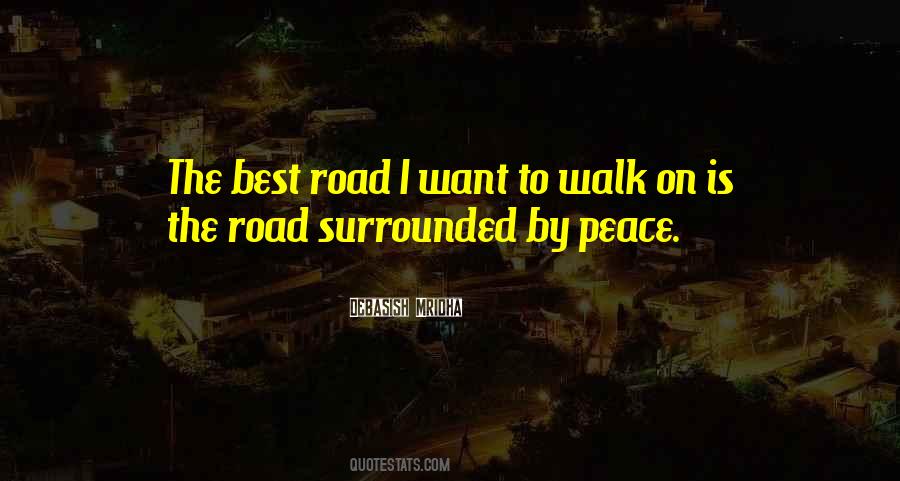 #94. If I wanted to be free of this unrequited longing, I would have to make peace with the past and finally let go. There was no way around it. But did I want to be free of it - and him? - Author: Kat Von D.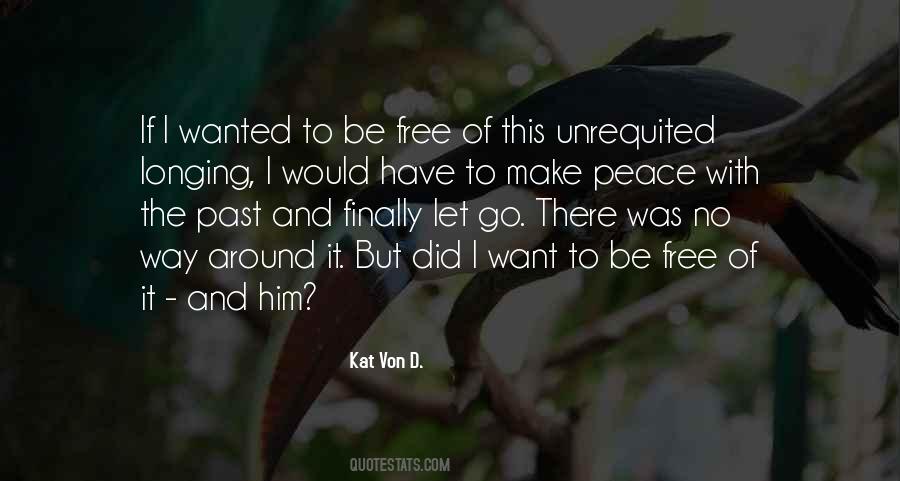 #95. I've never experienced peace in my life, and I don't want to. I don't trust the idea - Author: Janet Kauffman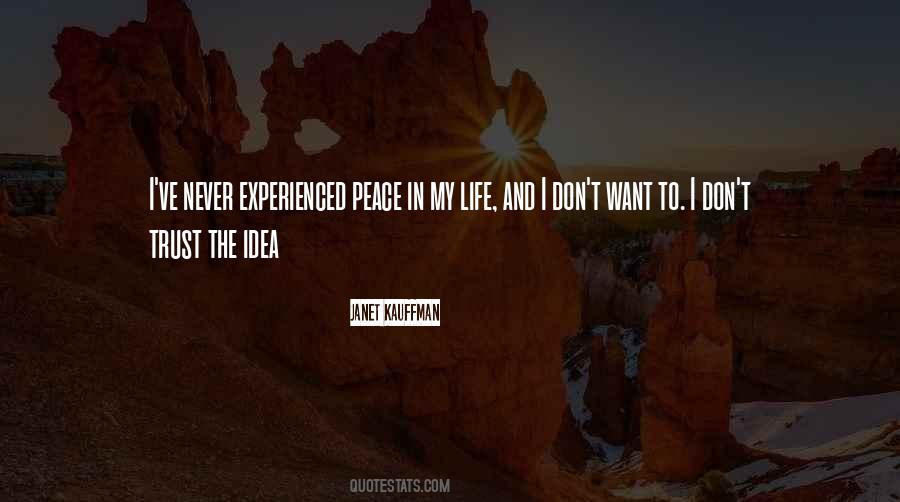 #96. I think people used to read 'War and Peace,' and now they don't; now they sit around with their tablets and watch 'Downton Abbey' and 'Breaking Bad' or whatever, and they want the things that they watch to be better so that they can feel better about themselves for watching it. - Author: Noah Hawley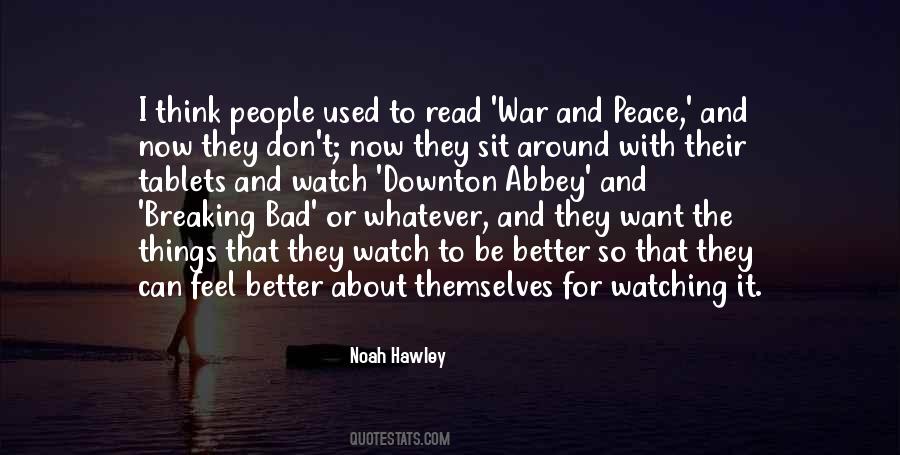 #97. I am poor and naked, but I am the chief of the nation. We do not want riches but we do want to train our children right. Riches would do us no good. We could not take them with us to the other world. We do not want riches. We want peace and love. - Author: Red Cloud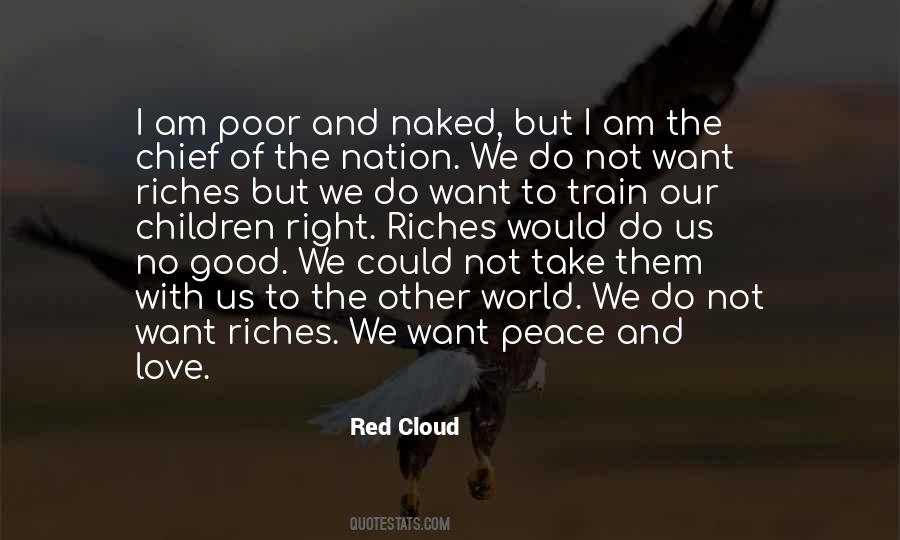 #98. The Dove
Fly your flight my dear dove
Sing your song, make it reach the ocean
I want my freedom
I want to live in peace
I want to sing your song
To have your wings
To be able to fly
I want my destiny to leave the path that it is taking now. - Author: Eduardo Carrasco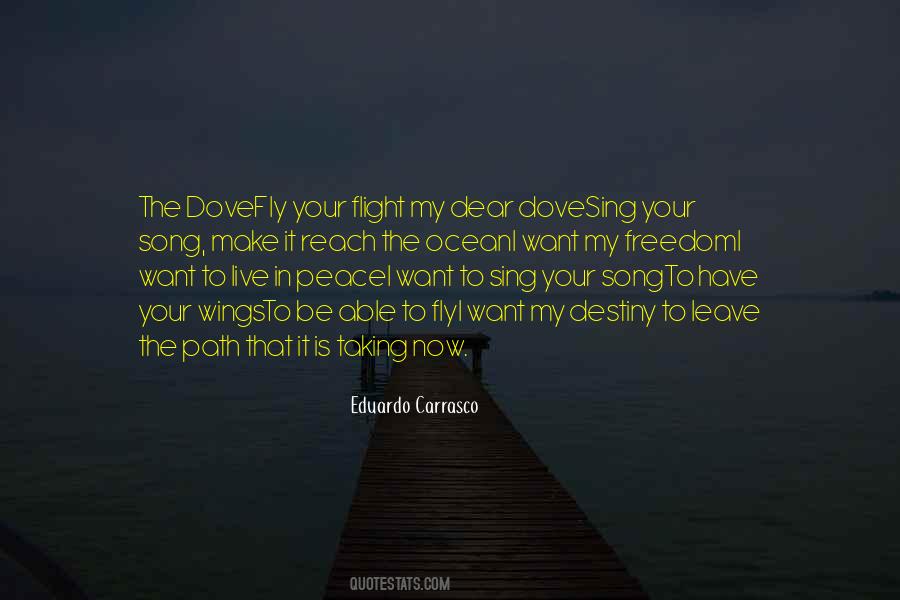 #99. I just want my kids to love who they are, have happy lives and find something they want to do and make peace with that. Your job as a parent is to give your kids not only the instincts and talents to survive, but help them enjoy their lives." - Author: Susan Sarandon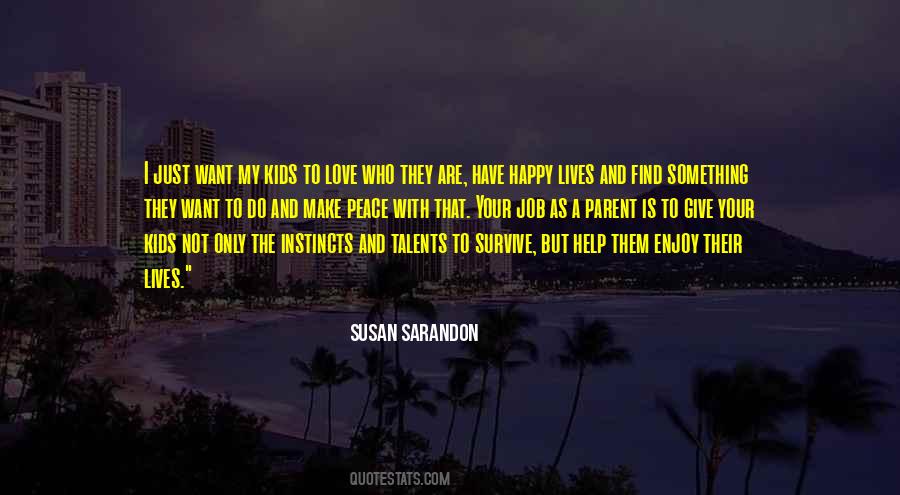 #100. Haven't you ever heard of an artist's muse?" the barman asked. "They all seem to either have one or want one. Me, all I want is peace and quiet. - Author: Louise Penny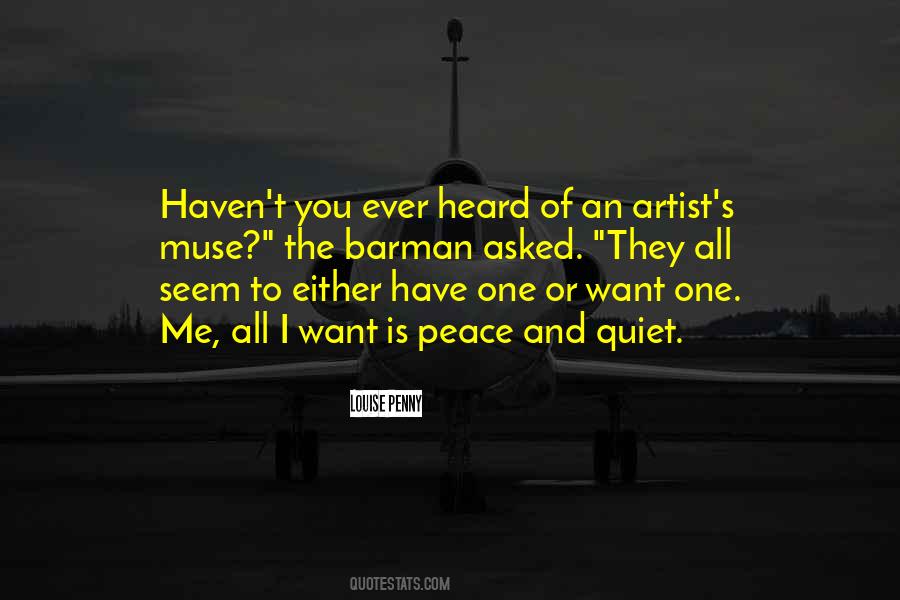 Famous Authors
Popular Topics