I Need Sleep Famous Quotes & Sayings
List of top 100 famous quotes and sayings about i need sleep to read and share with friends on your Facebook, Twitter, blogs.
Top 100 I Need Sleep Quotes
#1. I have to arrange my life very carefully. I need eight hours' sleep to work. - Author: Rachel Kushner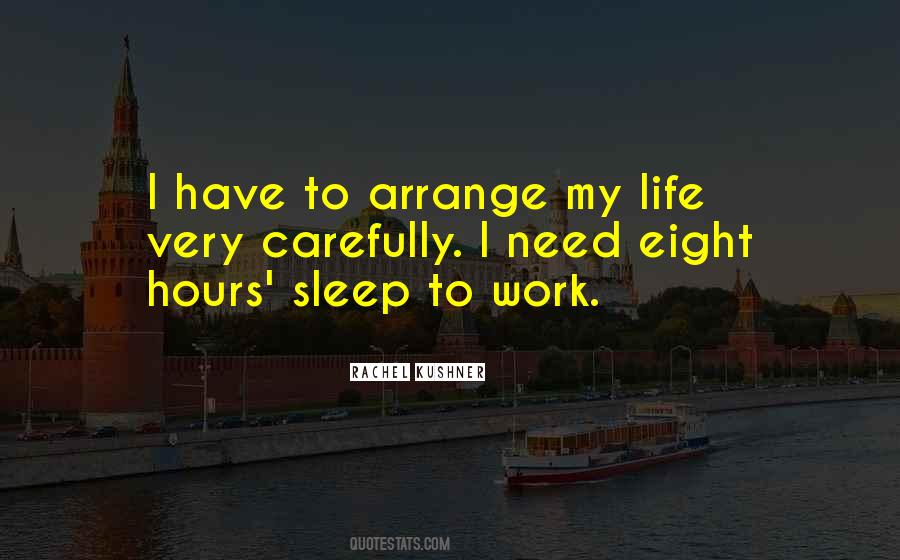 #2. I cup the bead in my hand and smile as I drift toward sleep, wondering what my rainy days are going to look like now. As good as my snowy ones, I think. I'm going to need a bigger umbrella. - Author: Laini Taylor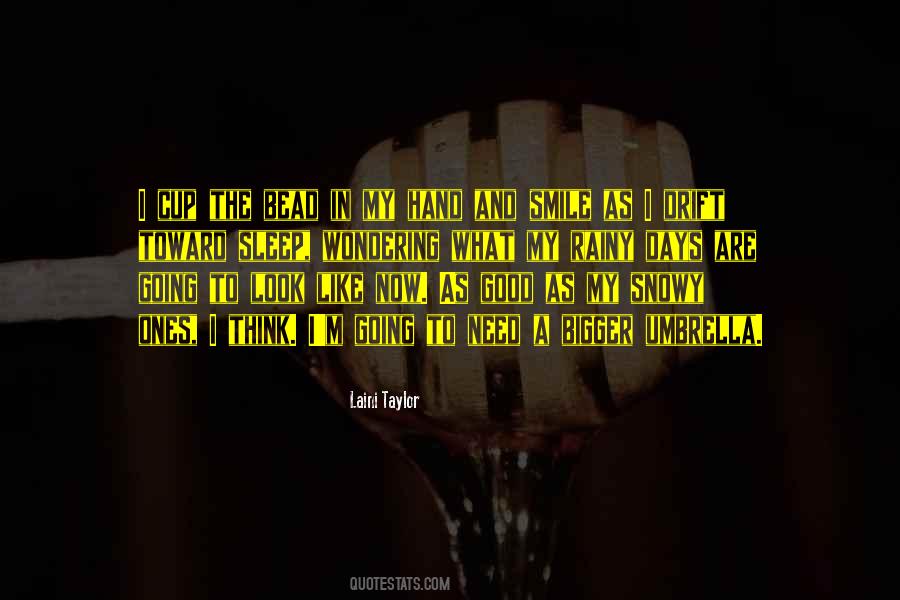 #3. In the last year of my presidency, I travelled 200 days out of 365. You have to lead a very disciplined life. To be able to do that, I need a lot of sleep. But I have no problems sleeping. On long days, I can easily take a nap for 20 minutes in the afternoon. - Author: Martti Ahtisaari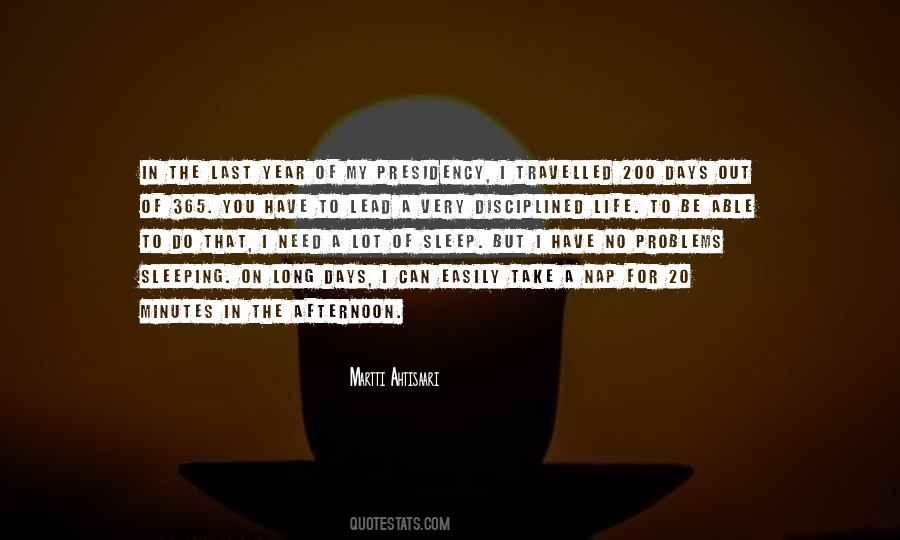 #4. I am always really buzzed after each performance, and at around one in the morning, I'll hit a brick wall and need to sleep. - Author: Hattie Morahan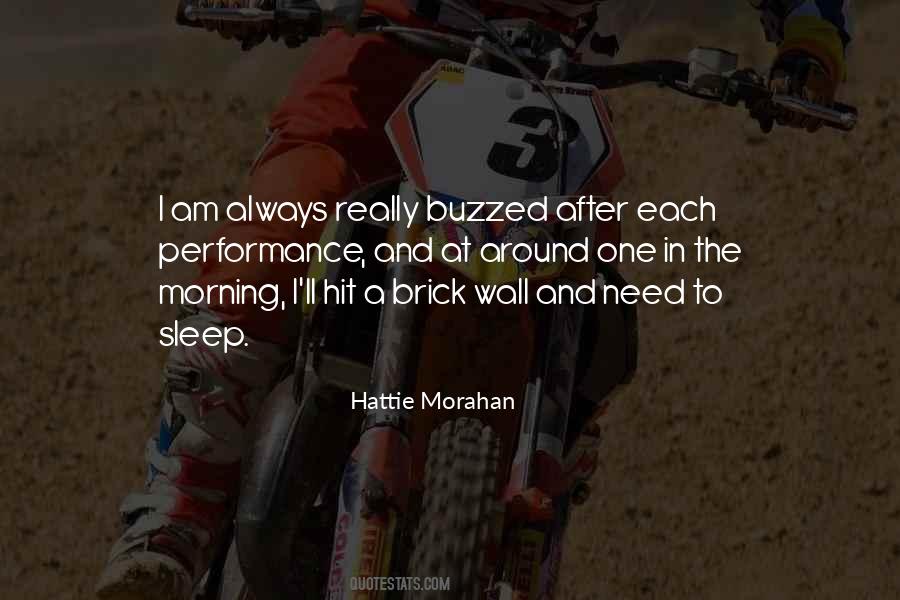 #5. Sleep is extremely important to me - I need to rest and recover in order for the training I do to be absorbed by my body - Author: Usain Bolt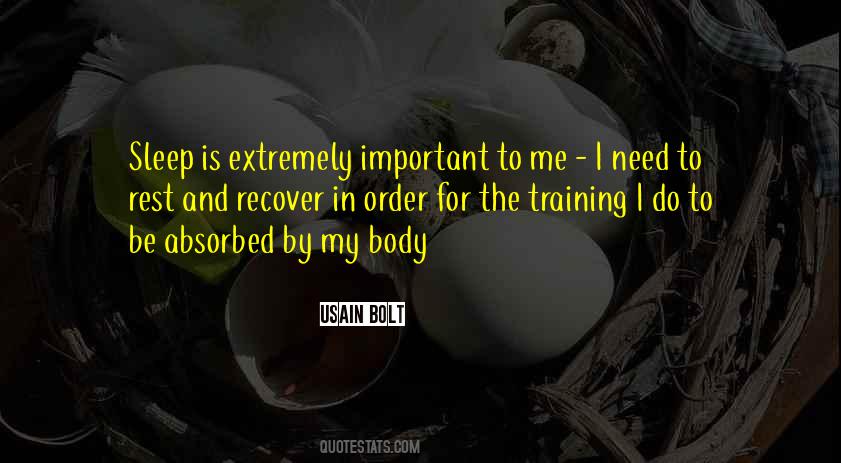 #6. Gabe: Okay, I'm going to roll over and go to sleep now ... And pretend I didn't just give you my heart.
Melanie: You'll probably need a replacement for that heart you just gave me, will mine do? - Author: Olivia Cunning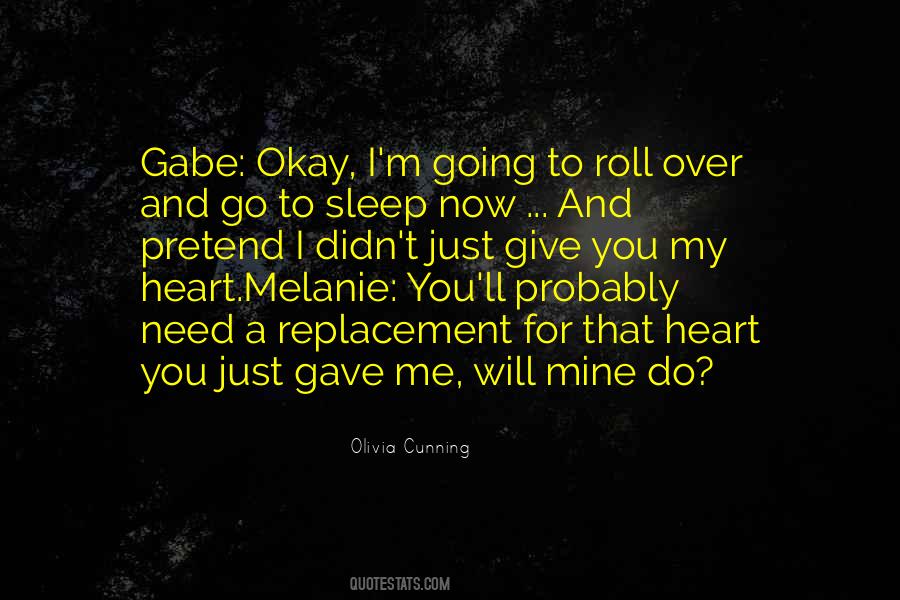 #7. The mind-is not the heart.
I may yet live, as I know others live,
To wish in vain to let go with the mind-
Of cares, at night, to sleep; but nothing tells me
That I need learn to let go with the heart. - Author: Robert Frost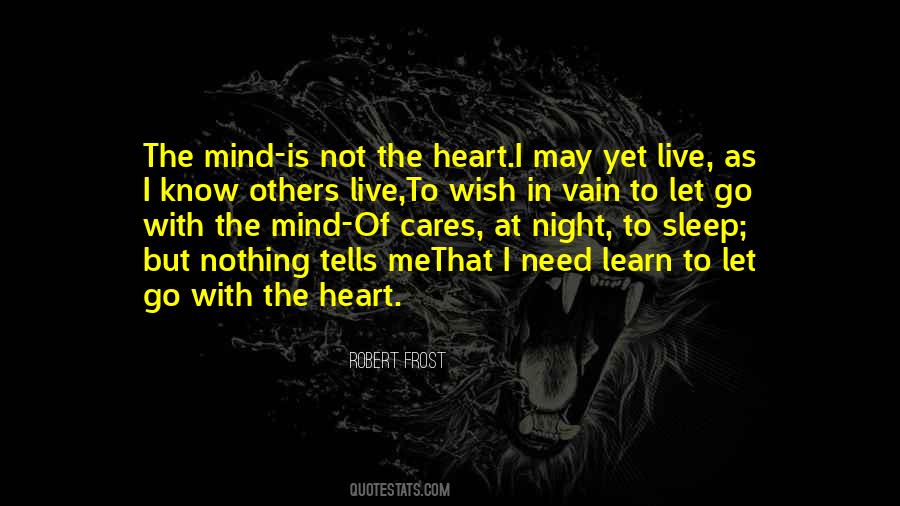 #8. And being gay isn't so easy, either I've always said that if anyone ever thought I was straight they must need glasses - but when I finally came out and said, "Yes, I do sleep with men and I'm gay," yeah, I lost record sales. There's no question - big, big time. - Author: Boy George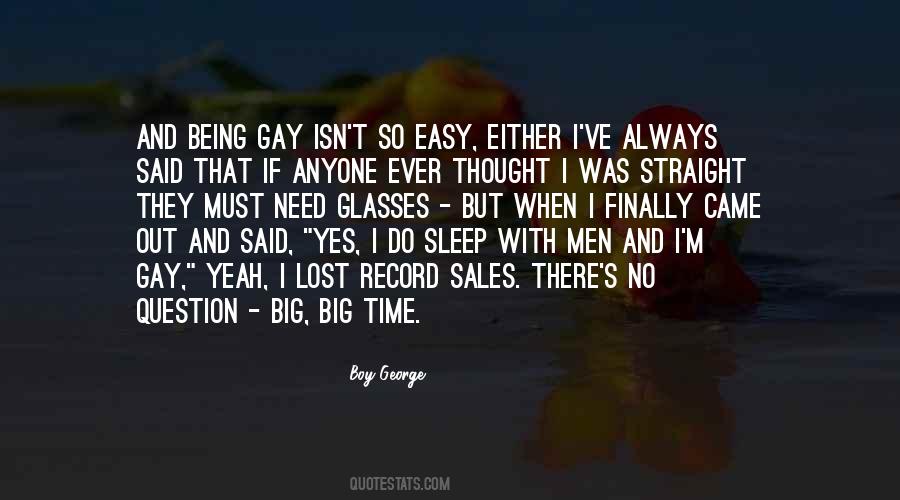 #9. I need solitude. I need space. I need air. I need the empty fields round me; and my legs pounding along roads; and sleep; and animal existence. - Author: Virginia Woolf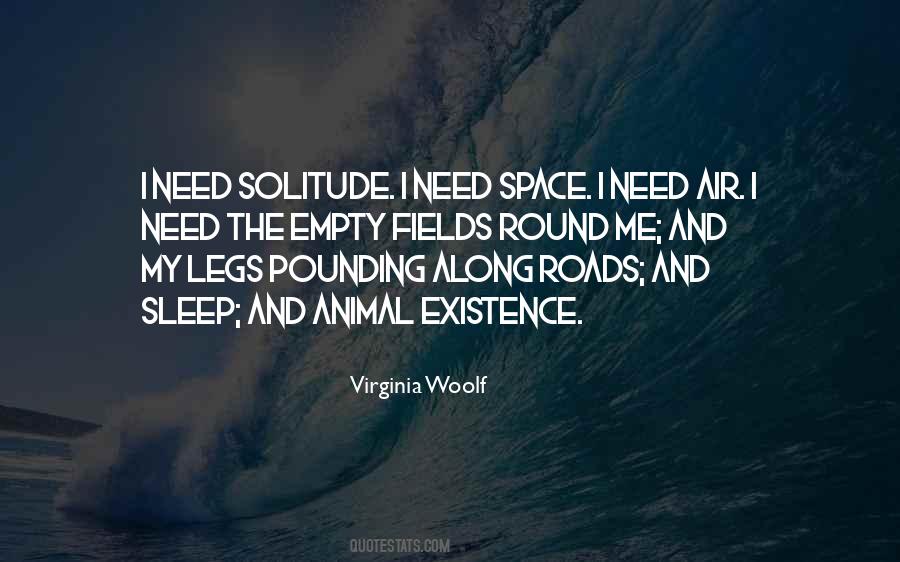 #10. Simon nodded. "You need your beauty sleep."
"Do I?" I said coolly.
"I didn't mean," Simon stuttered. "I meant ... you're a girl and all."
"Thanks for telling me, - Author: Amanda Howells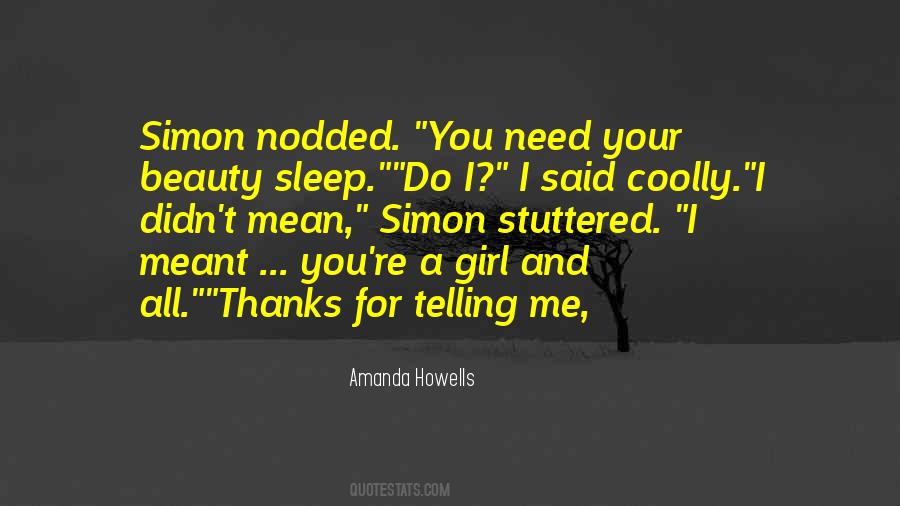 #11. We need each other / We believe in one another / And I know we're gonna uncover / What's sleeping in our souls - Author: Noel Gallagher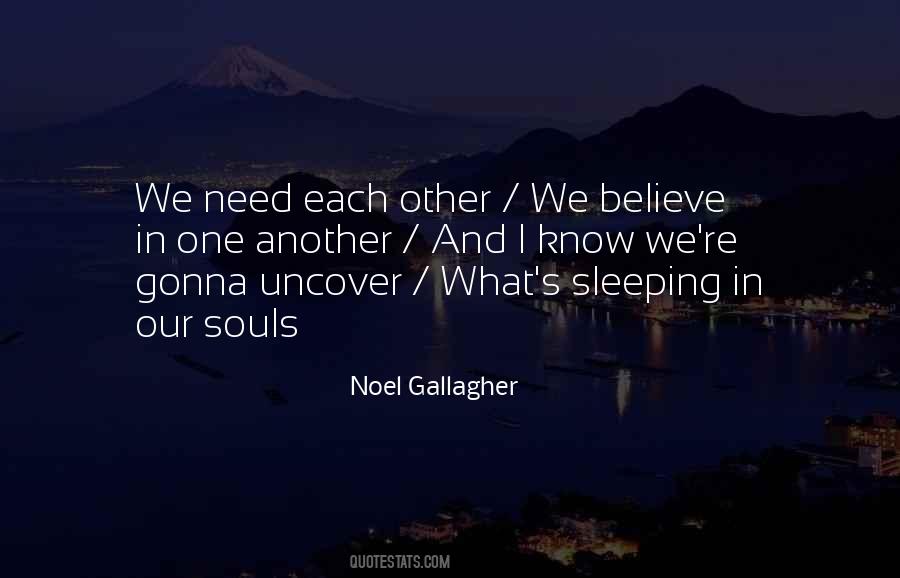 #12. Holiday? Is like, what? I'm a hyperactive girl, so it may be boring for me to be on the beach doing nothing. I just need to find a place for three weeks and work but sleep in the morning, maybe write a little bit, have a glass of red wine. That's my perfect holiday. - Author: Melanie Laurent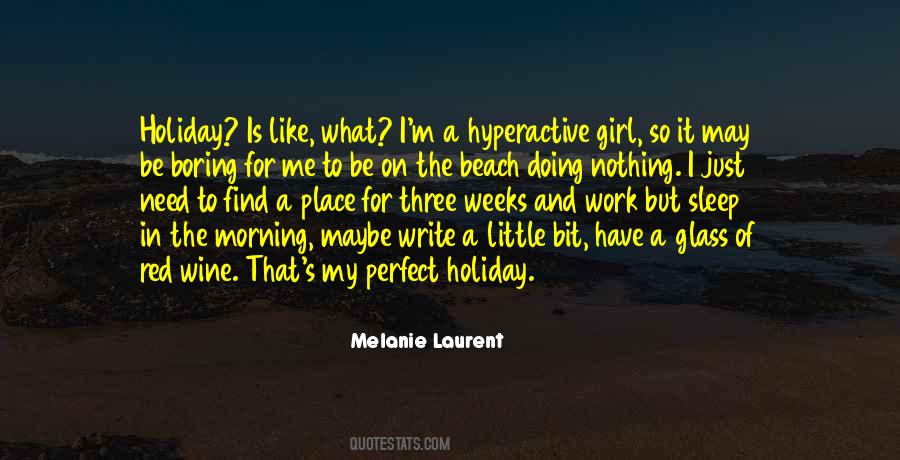 #13. Maybe I am getting too grown to want to sleep with Mama. But like a baby, I still have this smallness to my mind. I don't need her hands to convince me the world I can't see from under my blanket is real. I need her hands to do more than her words. Convince me the world I see outside it- ain't. - Author: Connie Rose Porter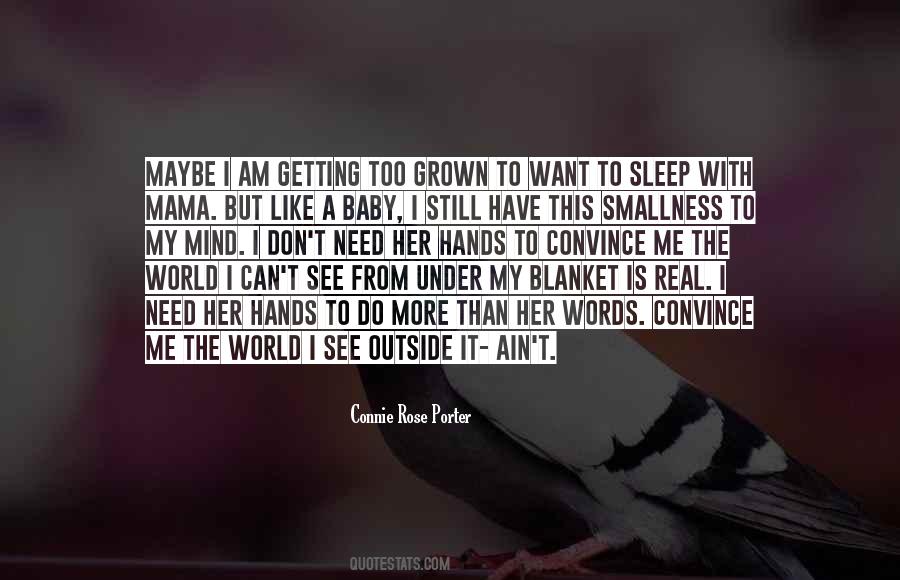 #14. If you can put this book down, it means you need more coffee and less sleep. After all, sleep is for the weak which is why I get 8 hours every night and 2 hours during the day and drink de-cafe. - Author: Leviak B. Kelly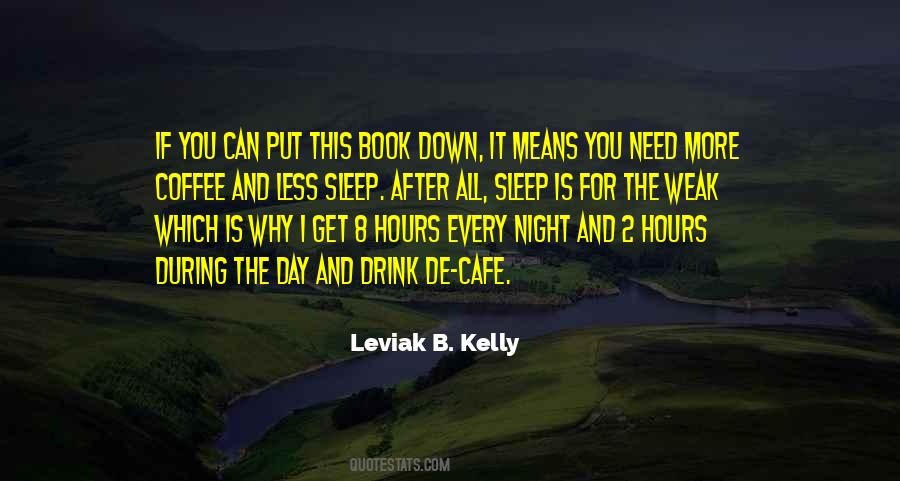 #15. I have more need of thought than of sleep. - Author: J.R.R. Tolkien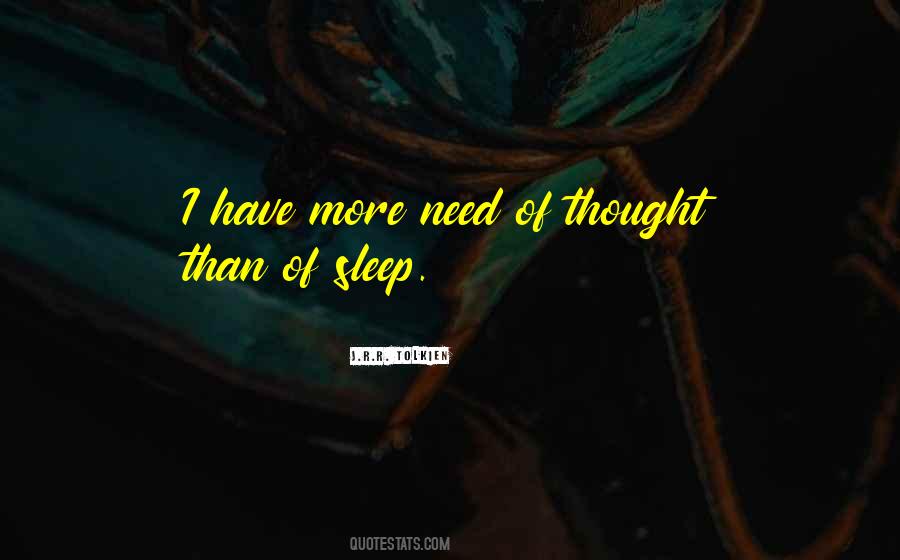 #16. My home is attached to a study - in fact, my home is my study, and I have a little room to sleep in. I need to write looking onto the street or a landscape. Looking at reality from some distance gives me romantic visions. - Author: Orhan Pamuk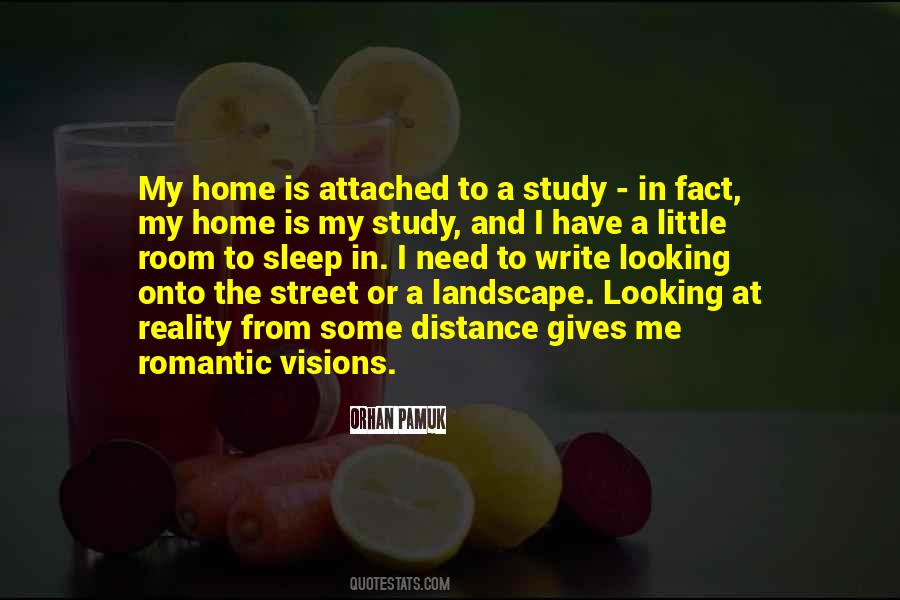 #17. I want you here when I go to sleep.' He licks my bottom lip. 'And I want you here when I wake up. Starting and ending my day with you is all I need. - Author: Jodi Ellen Malpas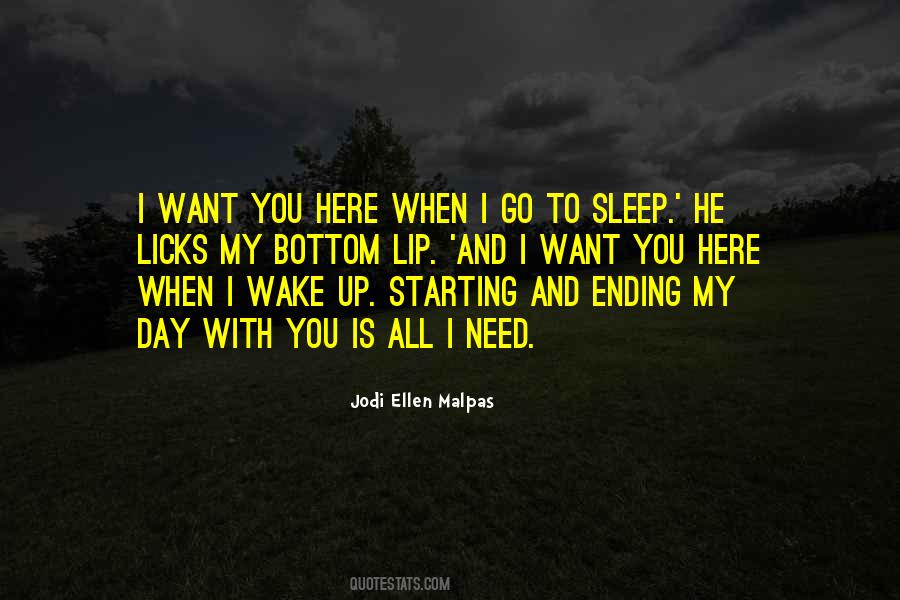 #18. I'm my happiest when I'm really busy. I love feeling like I need one more hour of sleep, or when I'm running around frazzled! - Author: Lauren Conrad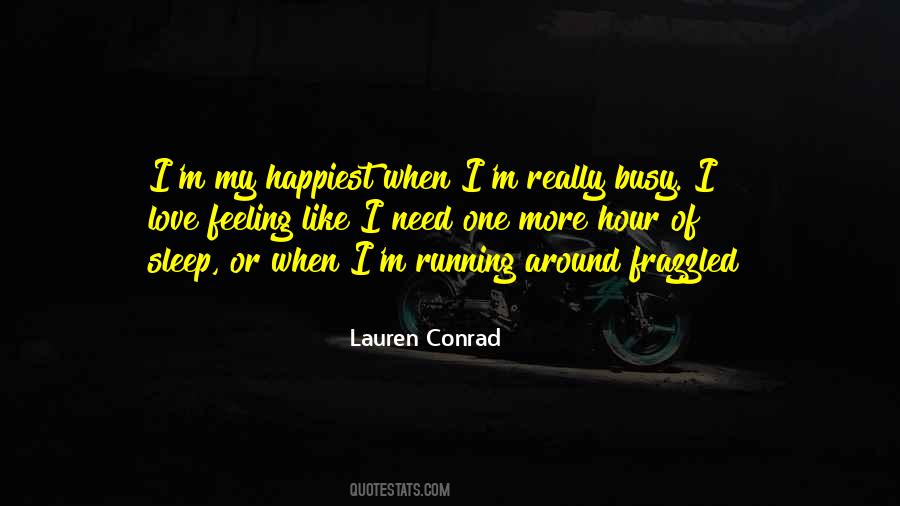 #19. I think the most challenging aspect was keeping up the degree of physical fitness you need while filming a major leading role in a primetime U.S. series. You have very little time to sleep and eat, let alone train. - Author: Dustin Clare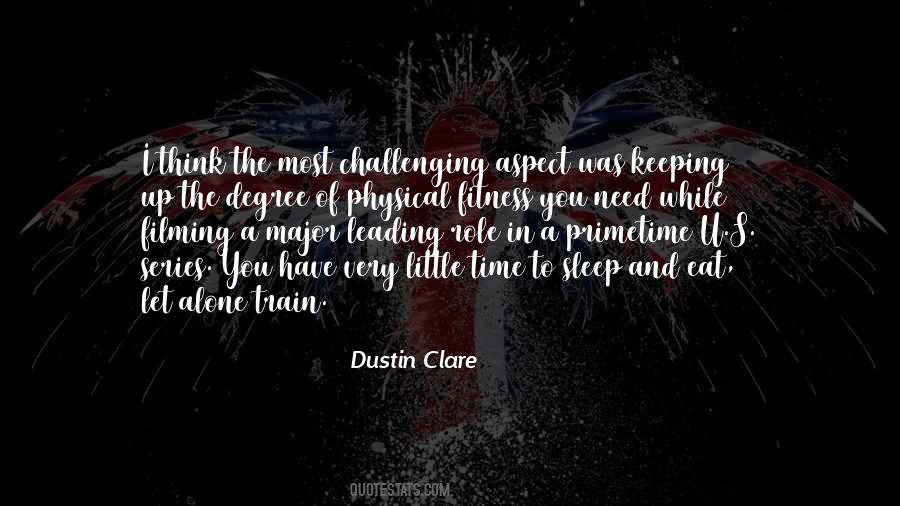 #20. I just need to know that someone out there listens and understands and doesn't try to sleep with someone even if they could have. I need to know these people exist. - Author: Stephen Chbosky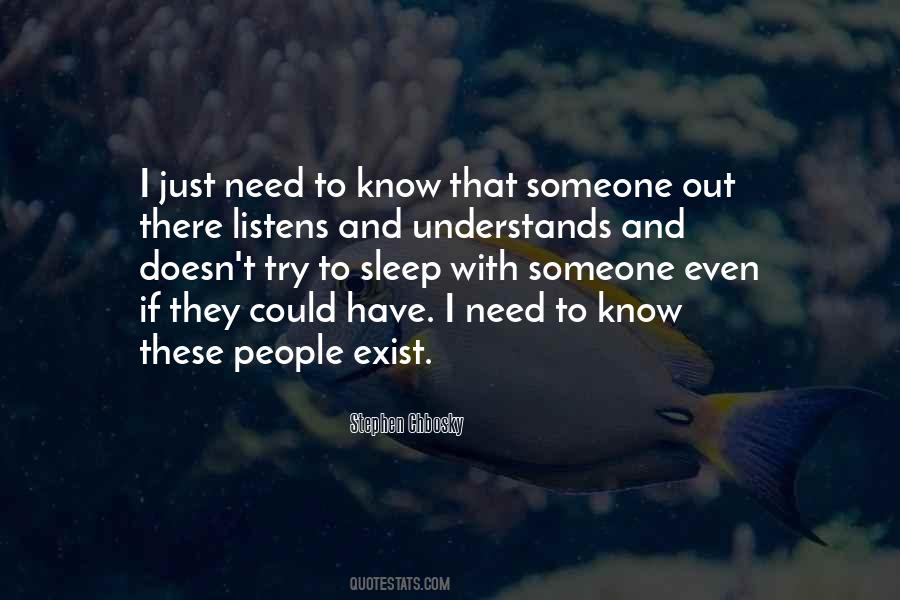 #21. So I've started wearing sweatpants to bed because I really don't need Santa seeing me in my underwear. - Author: Jeff Kinney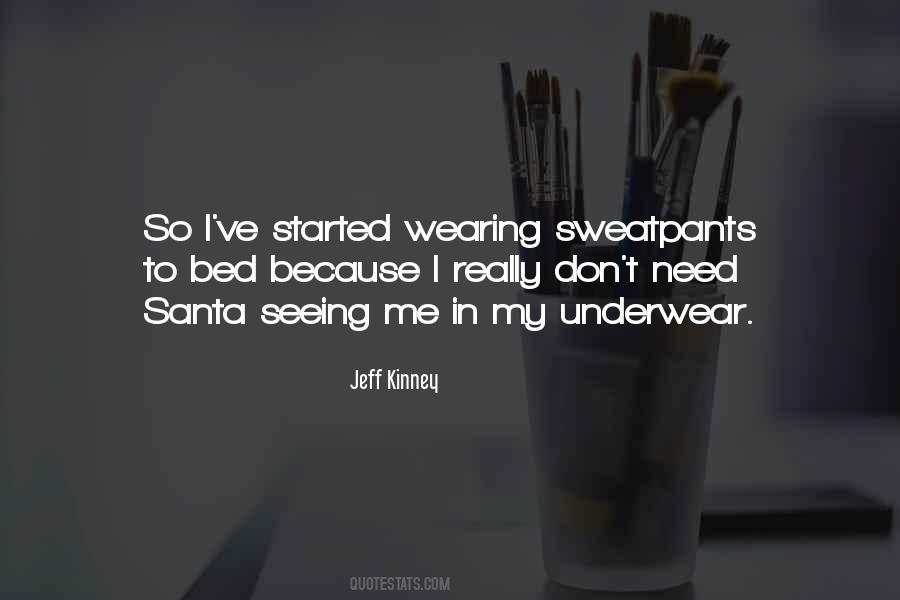 #22. I like to work from home. I do most of my writing in bed, late at night after everyone has gone to sleep. I need to be alone with my thoughts, and late at night is about the only time that can actually happen. - Author: Donald Driver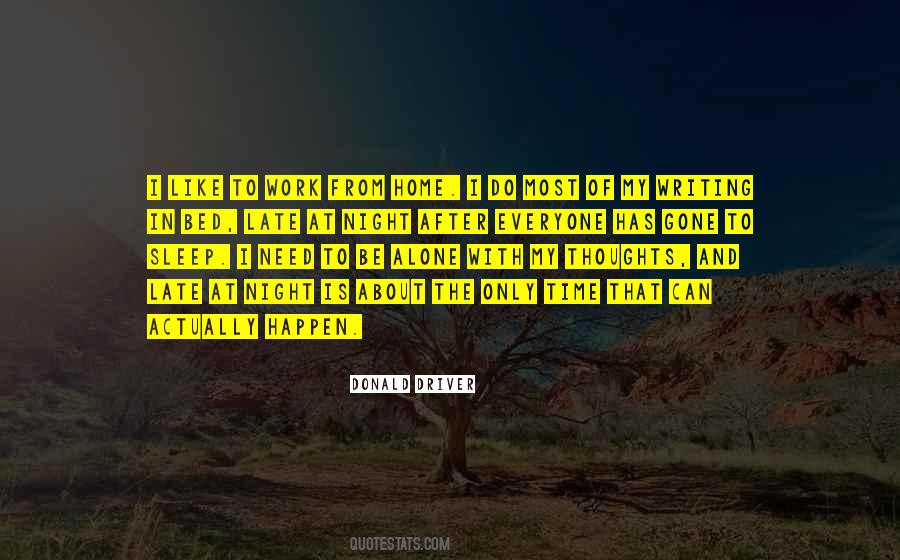 #23. Rappers can't sleep, need sleepin',
B.I.G. keep creepin',
Bullets heat-seekin',
Casualties need treatin',
Dumb rappers need teachin'. - Author: The Notorious B.I.G.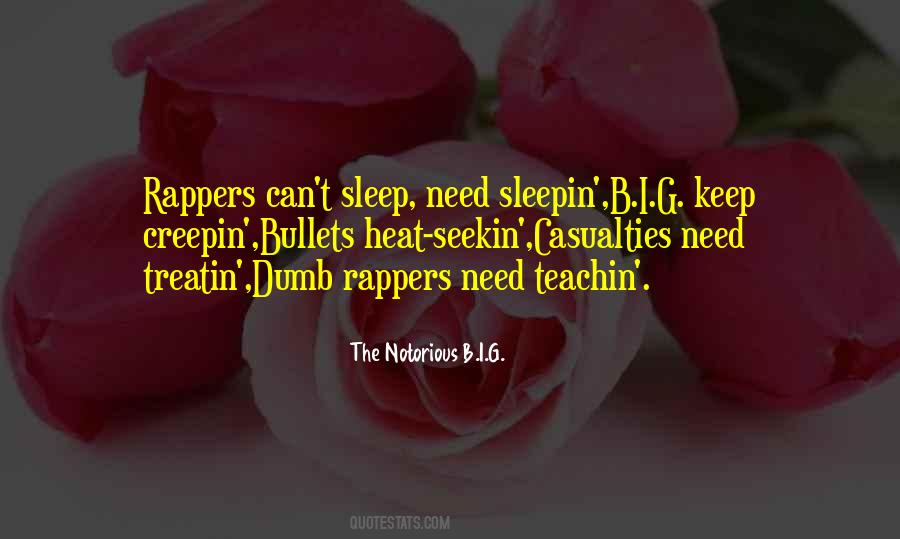 #24. But you didn't need me, did you? You'd already got yourself to safety."
"Sometimes, I sleep better knowing you ... and Niall ... " She faltered.
"Love you from a safe distance," he finished.
"Yes. - Author: Melissa Marr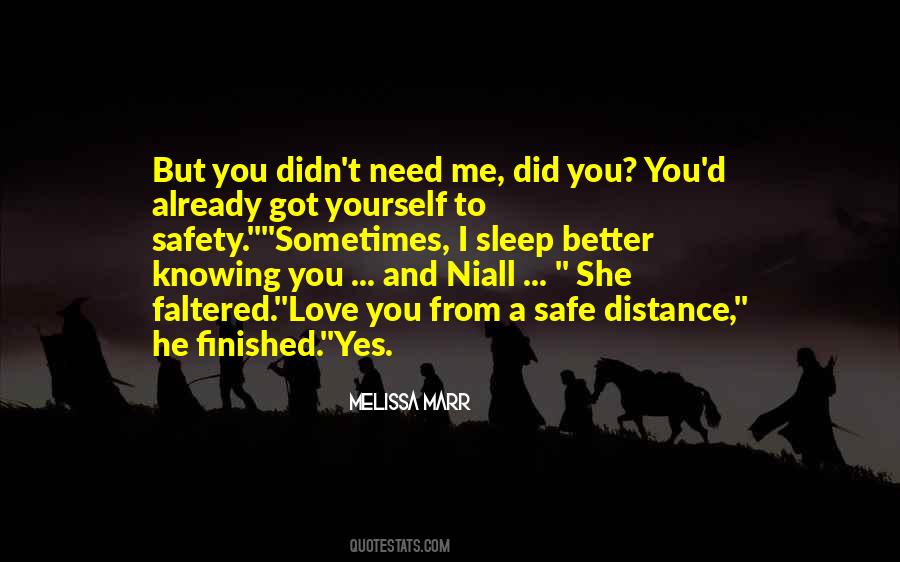 #25. I am compulsive about writing, I need to do it the way I need sleep and exercise and food and sex; I can go without it for a while, but then I need it. - Author: John Irving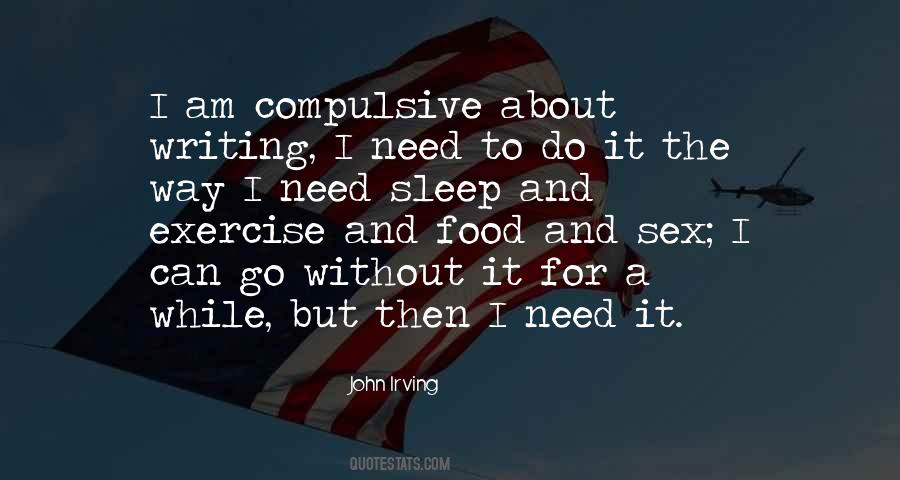 #26. Since I sleep fully clothed, I'm able to answer right away. By sleeping with your clothes on, you don't need to climb under the sheets. You don't need to disturb a perfectly made bed or even fold the bed back into the couch. - Author: Adam Johnson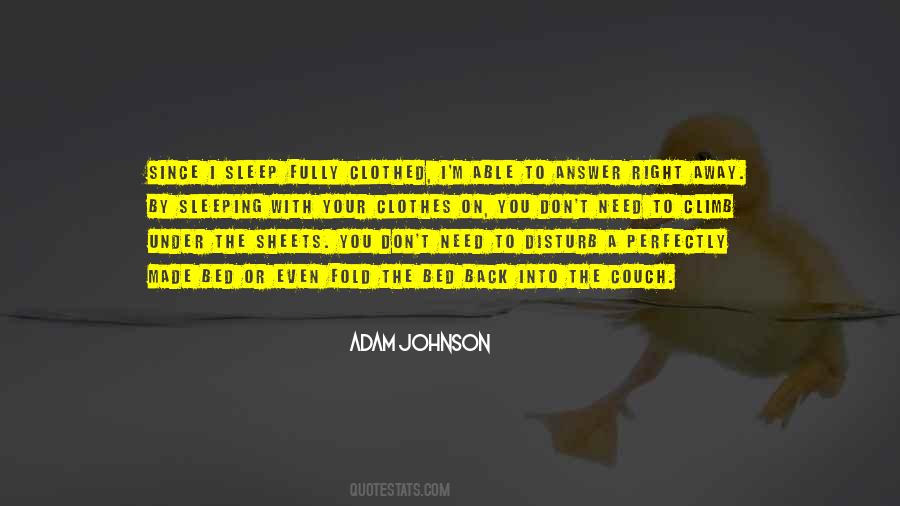 #27. Because there are a million thoughts that never sleep
and a million more that wake up as each second passes by ...
And it's insanity inside
but I can no longer keep quiet
Oh, I can't speak as well
I need to write
I have to write ... - Author: Sanhita Baruah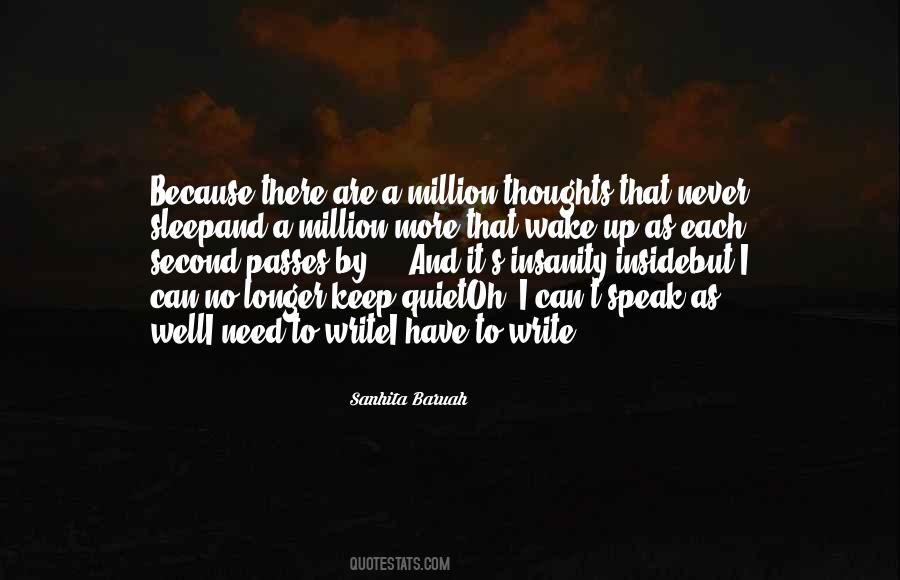 #28. Hey, sunshine."
"Daniel.:
Good Lord, baby, Say my name again. I need you to say it in your sleep. When you touch yourself. To no one in particular. Just say it, say it, say it. - Author: Tessa Bailey
#29. Unfortunately, I'll need to watch them again at some point, because my mind keeps straying back to reality. I envy Deo's ability to lose himself in fantasy for a while. That type of break seems almost as useful as sleep for keeping stress at bay, and I've never really mastered it. - Author: Rysa Walker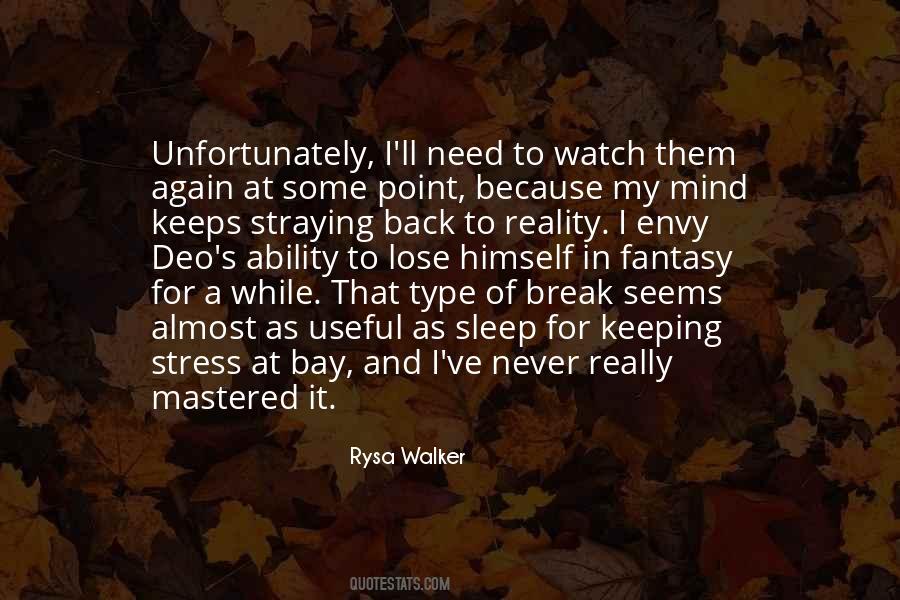 #30. So it comes to this; one doesn't need rest. Why bother about sleep if one isn't sleepy? That stands to reason, doesn't it? Wait a minute, there's a snag somewhere; something disagreeable. Why, now, should it be disagreeable? ... Ah, I see; it's life without a break. - Author: Jean-Paul Sartre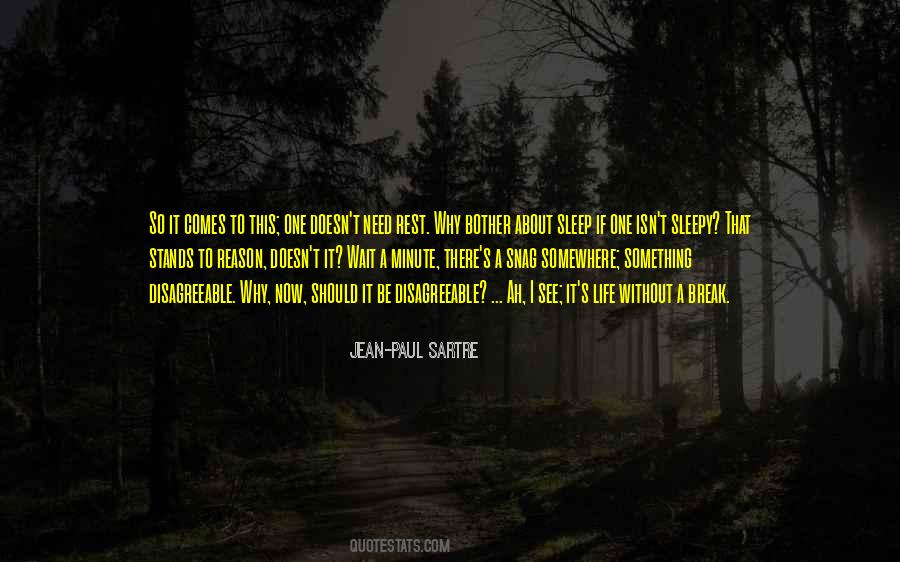 #31. Go to sleep, Crab."
"I don't sleep. I'm a crab. I only lie dormant."
"Why don't you sleep?"
"Because things will kill me if I do. I need to be in a state of constant awareness. Even if you think I'm sleeping, I'm not. I'm saving my energy so that I can fuck you up. Heads up 24/7. - Author: Drew Magary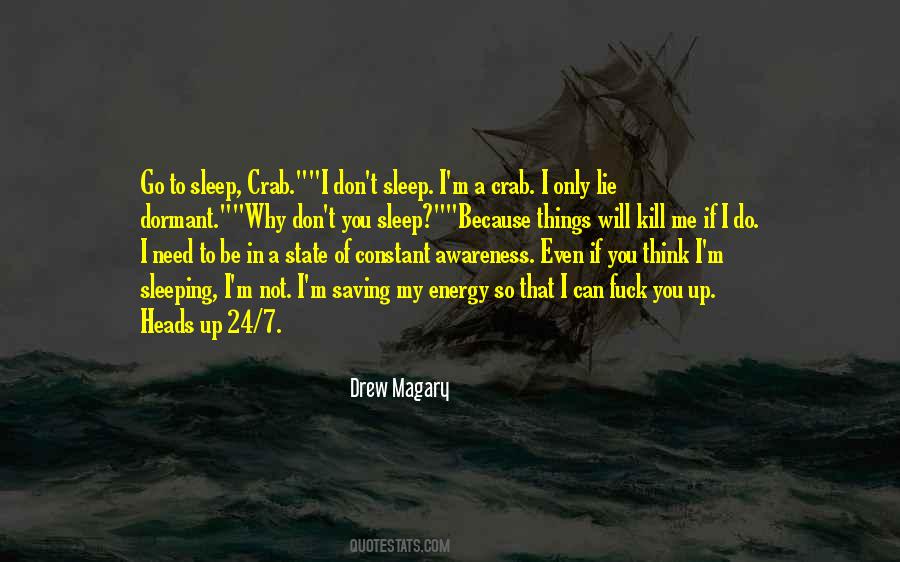 #32. I need to feel like I'm part of something. I need to feel part of the world when I go to sleep. - Author: Jason Wu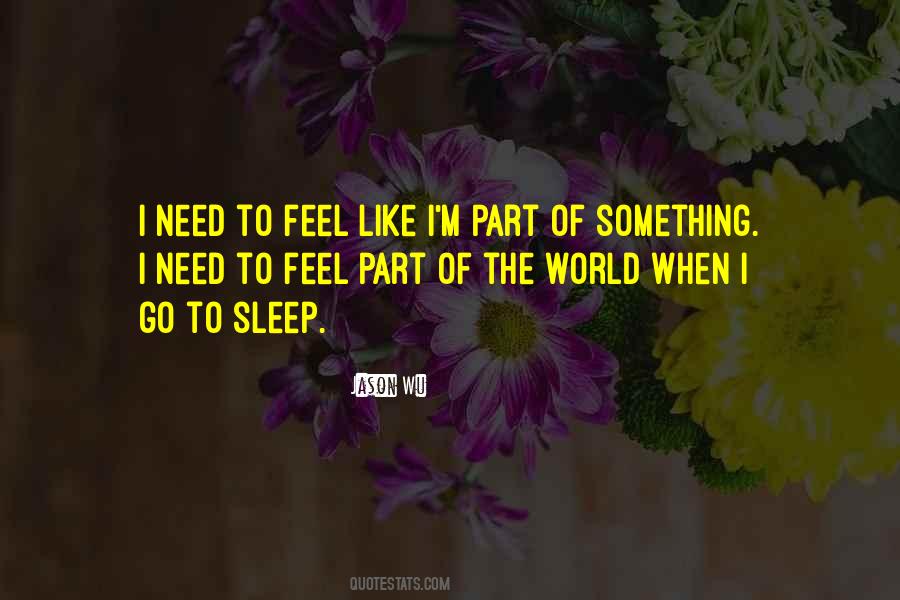 #33. No, Nathan, no." She wrapped his face in her hands. "I just need you
all of you
so much that I'm going crazy. I need your laugh. I need your company. I need you to sleep beside me and I need you to wake when I wake. I need you with everything in me. - Author: Nalini Singh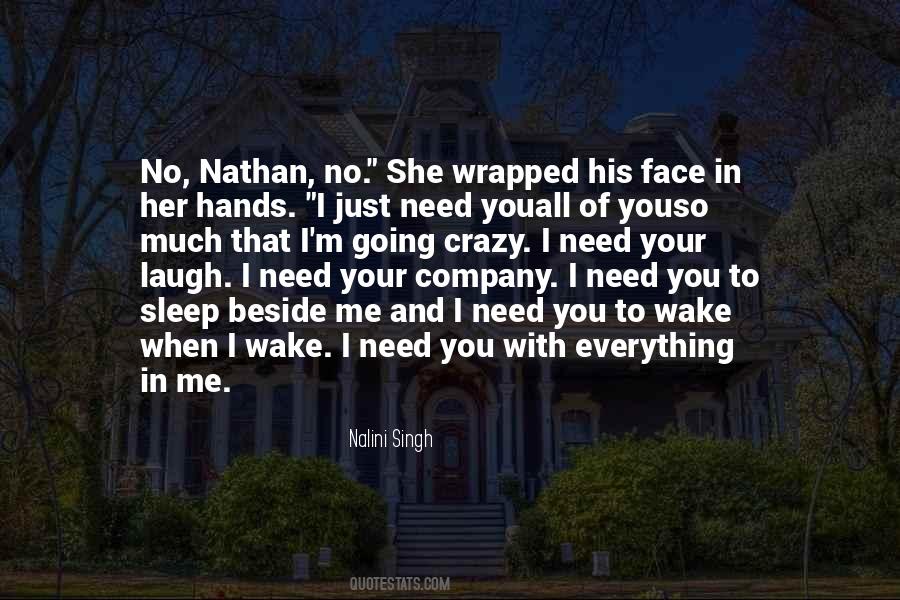 #34. The Mets have heart and character, and I need a man who can root for the underdog. I refuse to sleep with a Yankees fan. - Author: Jennifer Probst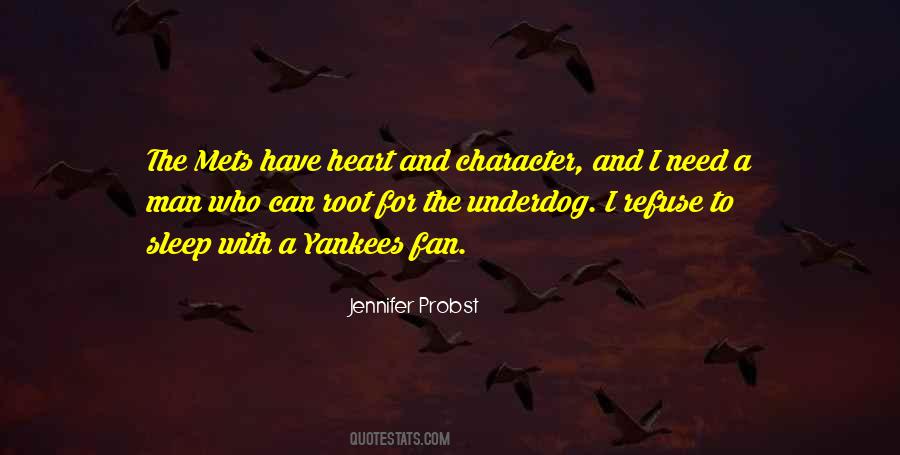 #35. But where shall I find courage?' asked Frodo. 'That is what I chiefly need.' 'Courage is found in unlikely places,' said Gildor. 'Be of good hope! Sleep - Author: J.R.R. Tolkien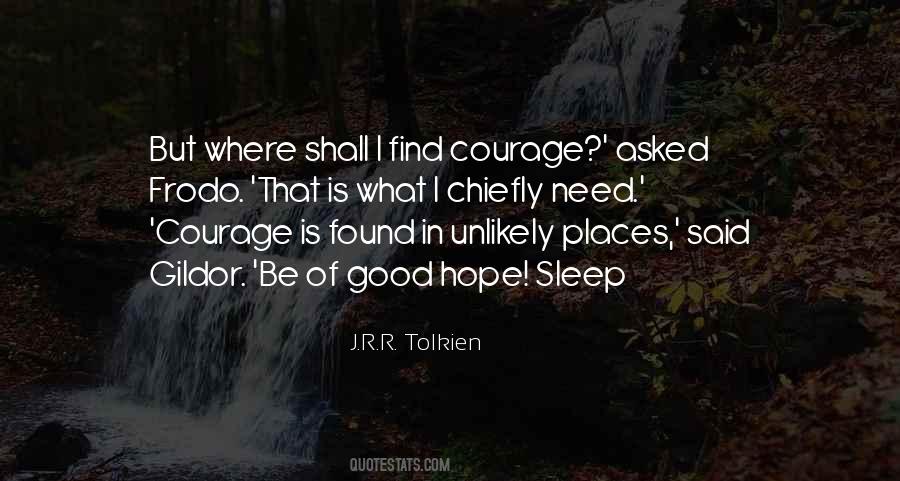 #36. the OGX exec, told a story about how Eike stayed home sick from work once. He spent the day in bed. The next day when he showed up at the office, he said, "You're all fucked. I didn't sleep well, and I wrote up twenty-seven new business ideas that we need to get cracking on right away." Eike - Author: Alex Cuadros
#37. Why does she even bother sleeping?" I heard Elizabeth ask quietly. "You'd think by now she'd stop trying. We don't need it."
I paused, waiting to hear Miaka's response. "She must have a really wonderful dream often enough to make the bad ones worth it. - Author: Kiera Cass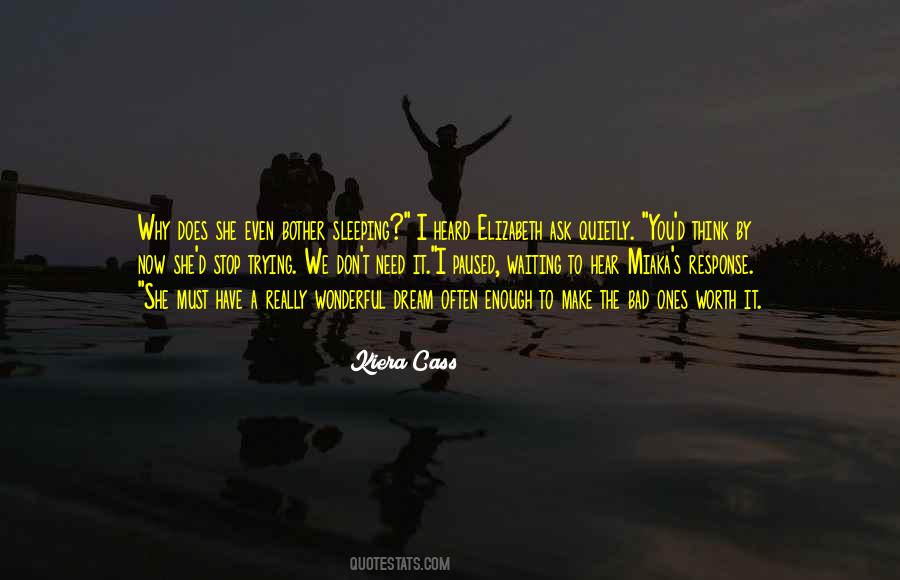 #38. I could experience vulnerability if I just constantly gave myself away without ever taking time out once a day or a couple times a day or whatever it is I need to restore, whether it's more sleep, or whether it's going to see a movie or writing something new. - Author: Jason Mraz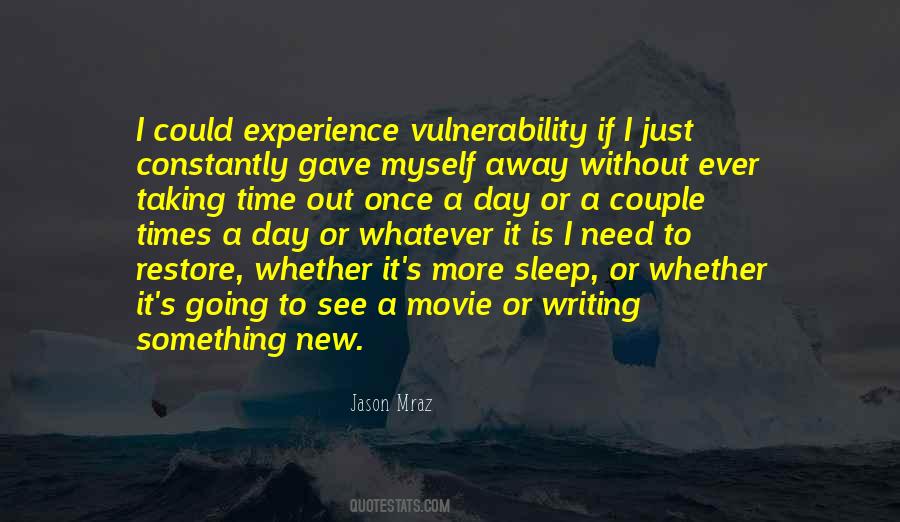 #39. I take a deep breath. I'm not sure where that swell of desperation came from, but know that I've acknowledge it, it's impossible to ignore, like a living thing has awakened from a long sleep inside me. It writhes in my stomach and throat. I need to leave. I need the truth. - Author: Veronica Roth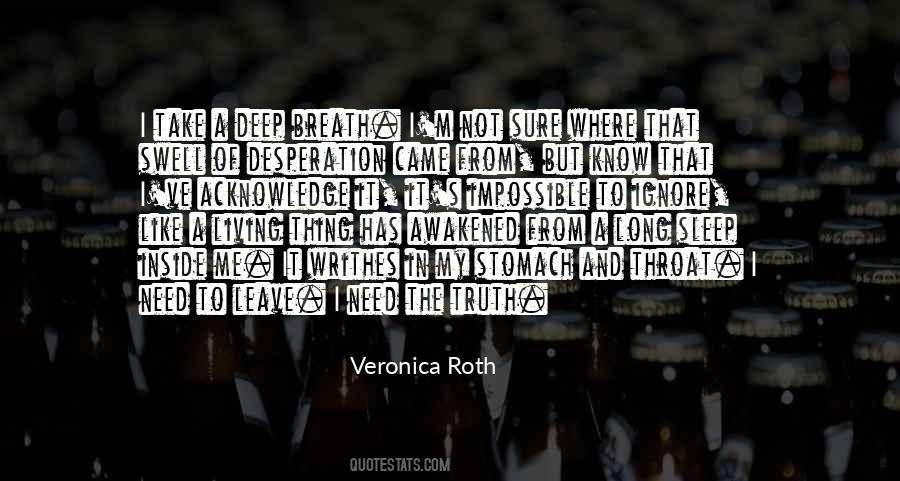 #40. I need about three seats lengthwise to sleep on a plane. It's not easy for me to curl up. - Author: Kareem Abdul-Jabbar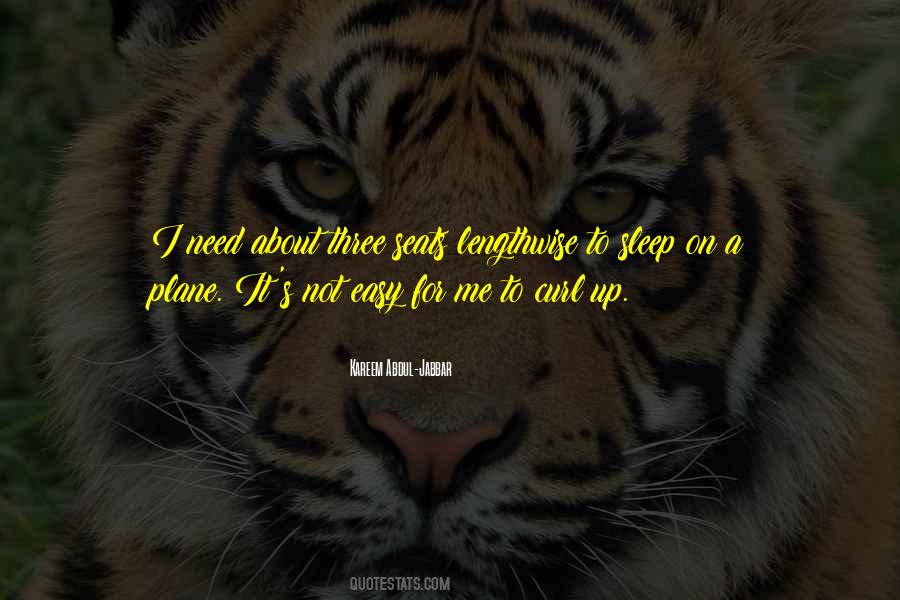 #41. And so I fell devoutly asleep and slept a long time, because young people seem to need sleep more than the old, who have already slept so much and are preparing to sleep for all eternity. - Author: Umberto Eco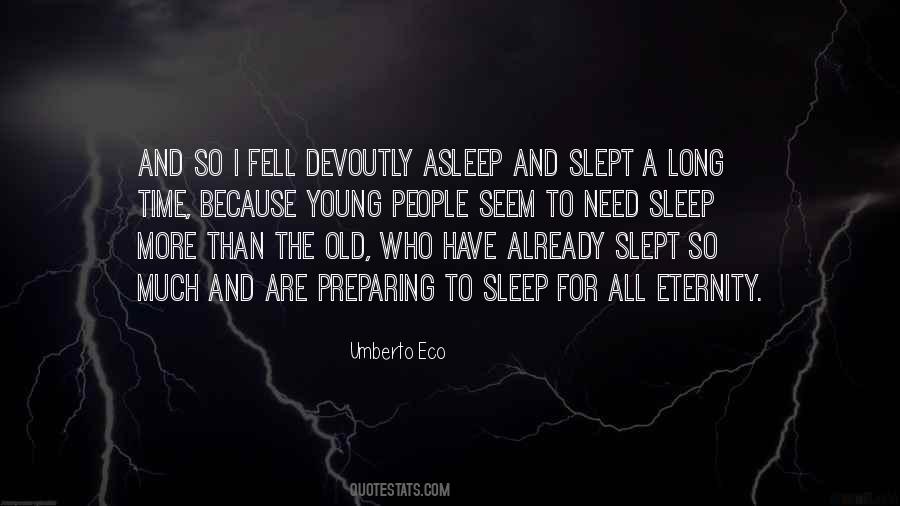 #42. Sleeping is much safer than the nightmare I'm living.
When I sleep I feel nothing and I do nothing and I see nothing and nothing matters and no one cares. There's no one to hurt or disappoint or notice when I'm low and I don't need to face anyone not anyone in the world or not even myself. - Author: Shannon Mullen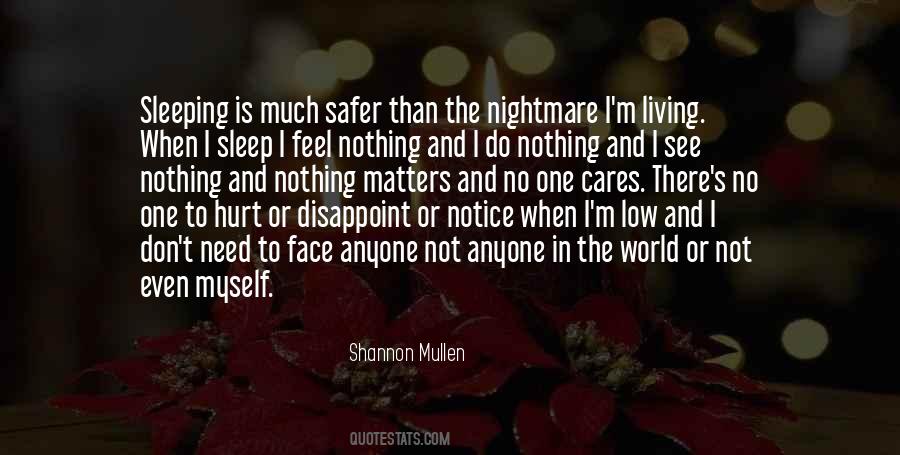 #43. I will end up with someone in the arts. I am positive. I eat, breathe and sleep acting. And I'll end up with someone who is happy staying at home and having me cook supper. But I also really need to be intellectually challenged and stimulated. I want someone bookish, and someone who is passionate. - Author: Ginnifer Goodwin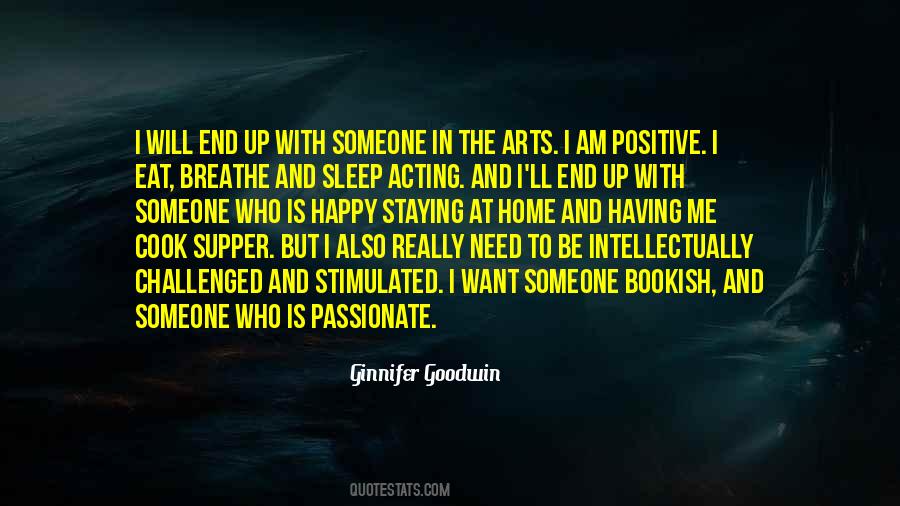 #44. If I start to feel run-down or like I'm going to get sick, I know I need sleep - stat. I can sometimes keep a sickness at bay with a good night's sleep! - Author: Annie Wersching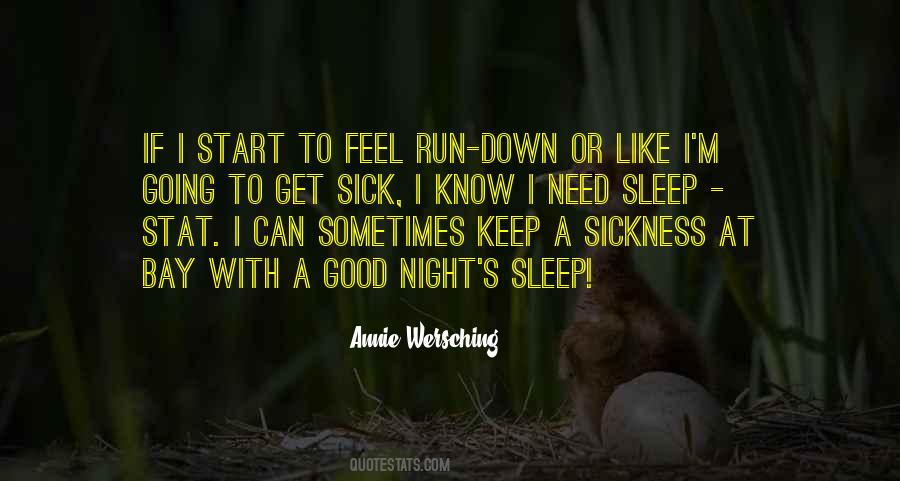 #45. Maybe I need some rehab,
Or maybe just need some sleep - Author: Kesha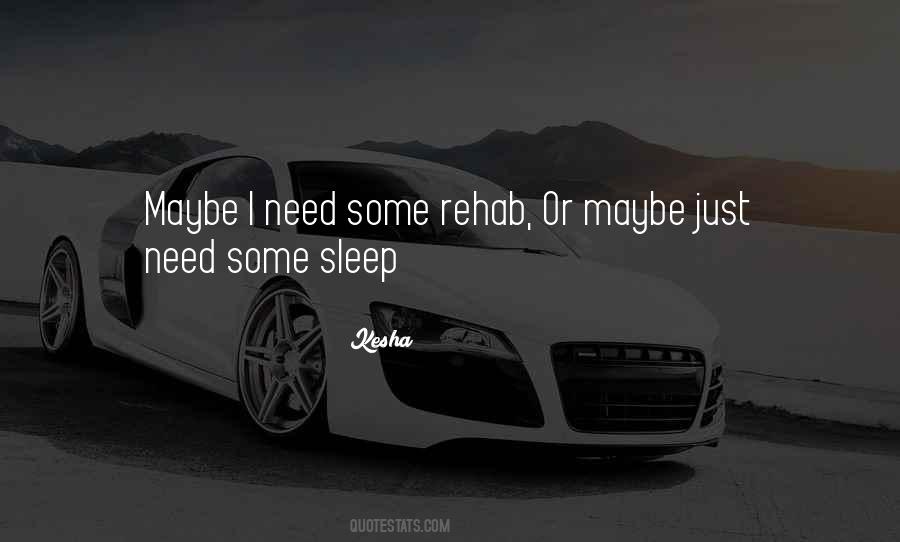 #46. For mental and emotional health, quiet time is very important to me. I need a point in every day that I disconnect from all electronics and reconnect to my center. I pray and meditate. I drink a ton of water and believe in a good night's sleep. - Author: Erica Tazel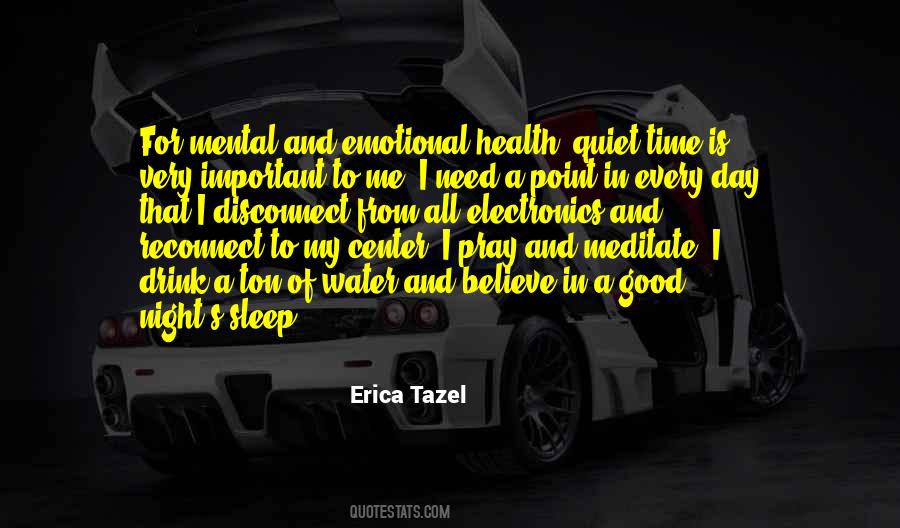 #47. I would like to have as much going on as other people do, but my problem is I get so attached to things, and there's my kids, and I need my sleep, and then there's being married - gotta check in on that, too. - Author: Joss Whedon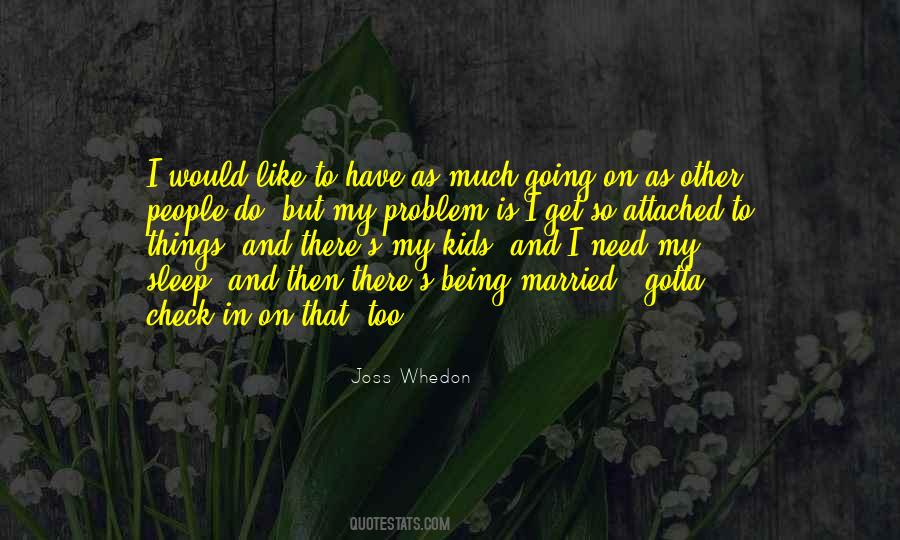 #48. I'm always on the go. I love doing things until I hit rock bottom. Then I need my 12 hours of sleep, and I'm on the go again. - Author: Maria Sharapova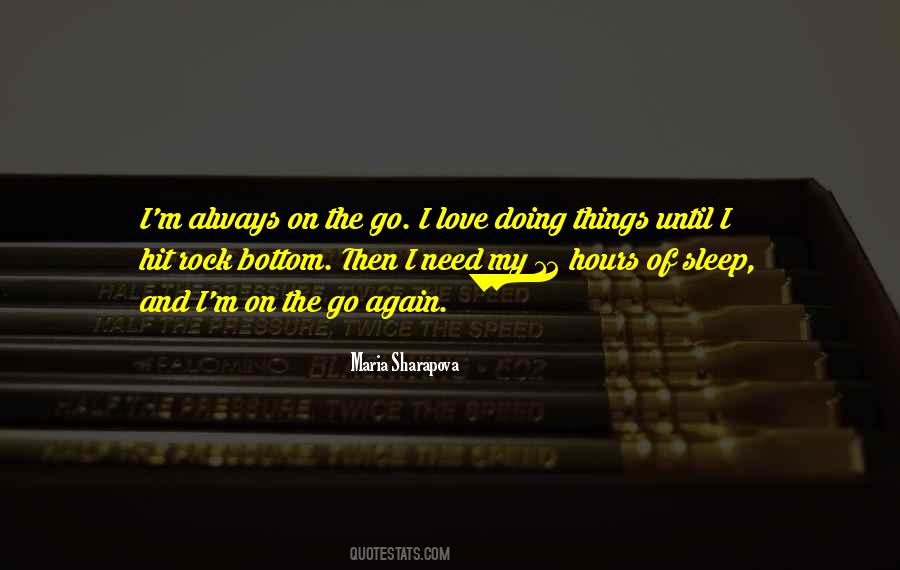 #49. We don't need to have sex. There are other things i can do to help you sleep. - Author: Katie McGarry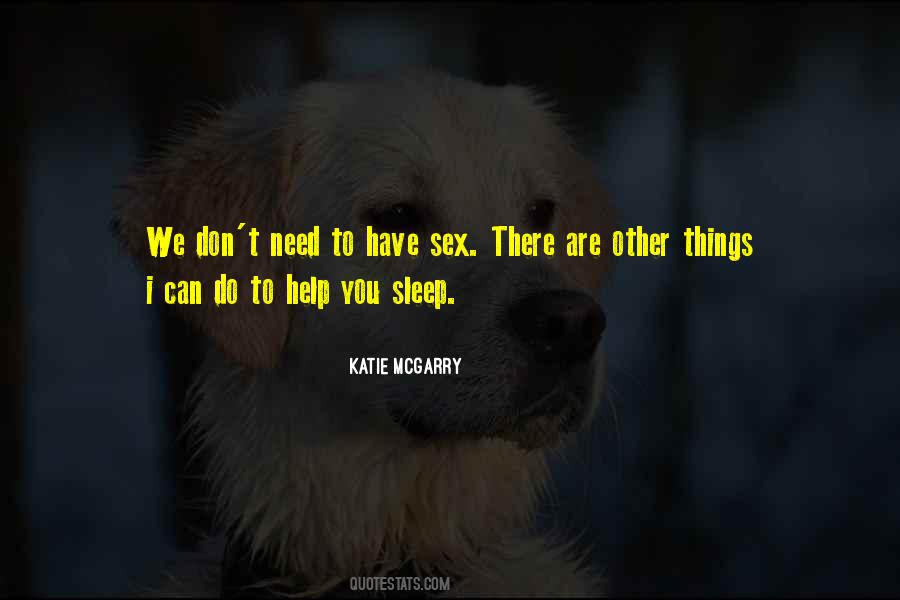 #50. I try to work out daily in the morning hours. This drives up energy levels dramatically. You'll feel more inspired. And you'll need less sleep. - Author: Robin S. Sharma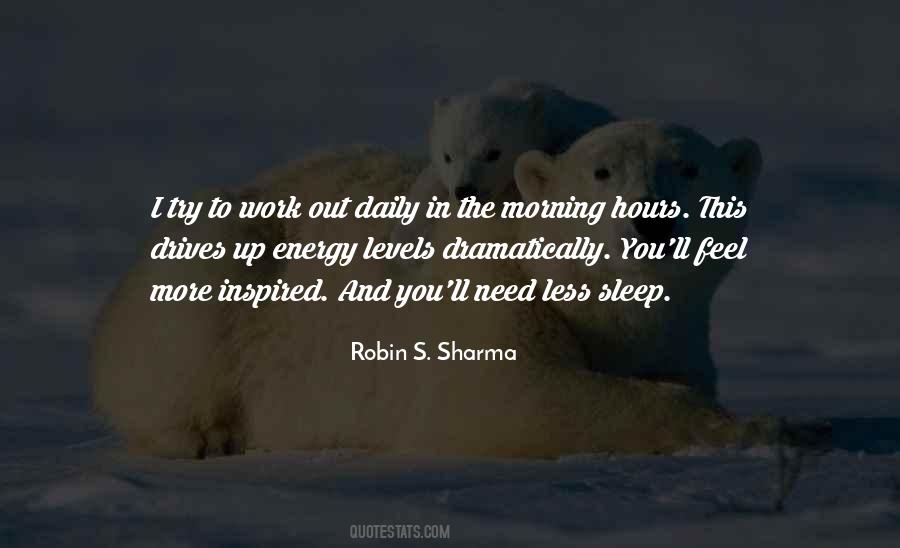 #51. In true rock star fashiuon, I had insomina last night and I didn't sleep at all. So all I need is a bottle of Jack Daniels and some groupies, and I'll be just like David Lee Roth. - Author: Chris Jericho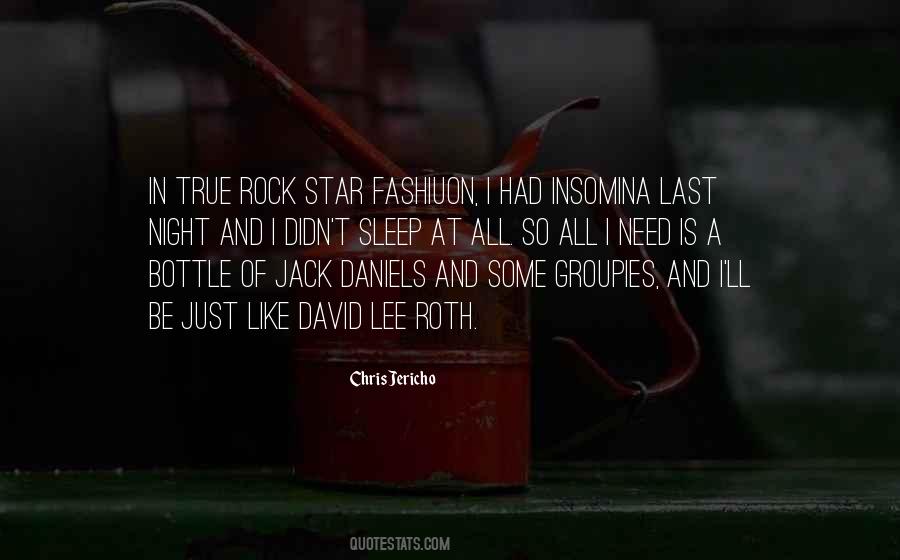 #52. I pushed myself way too hard during the first year of Veronica Mars and I got moody and run-down. Now I'll go to bed early instead of going out with friends. It's not always the most fun option, but I know I need at least eight hours of sleep to feel balanced. - Author: Kristen Bell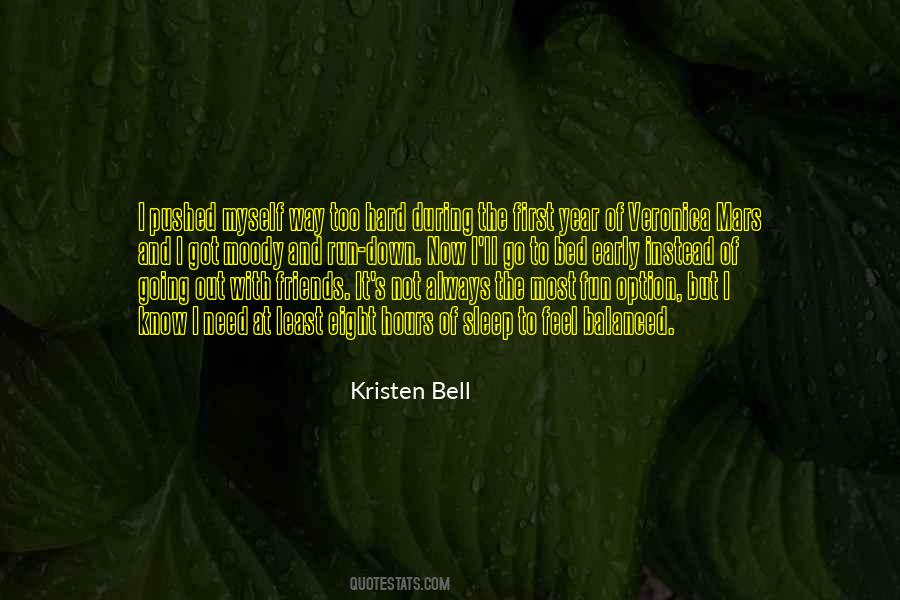 #53. Why would I lose sleep when I really need valuable sleep just to recuperate and come back and do my job? - Author: Christine Baranski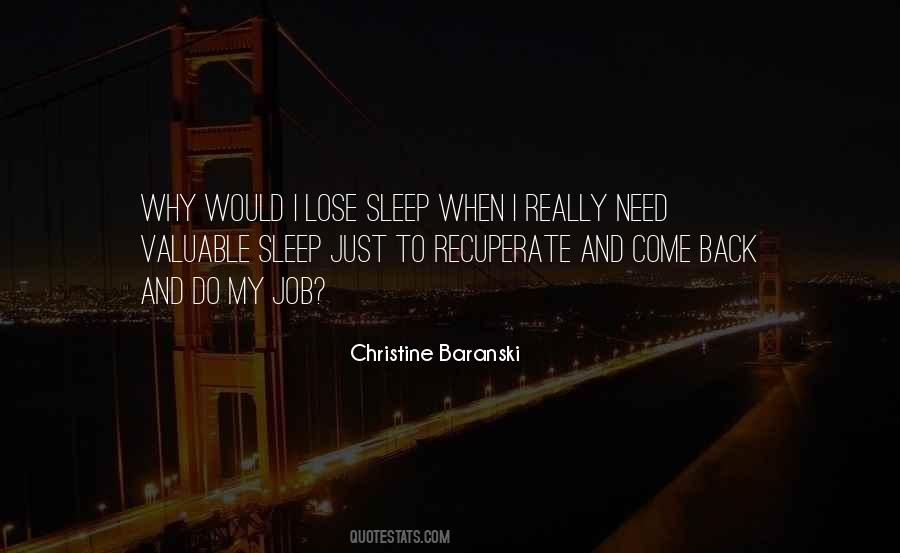 #54. Oh and P.S.? I am in dire need of more coffee. Industrial strength."
"But we're going to sleep soon," I say.
"I know." Laila shudders. "Addiction is a bitch. - Author: Susane Colasanti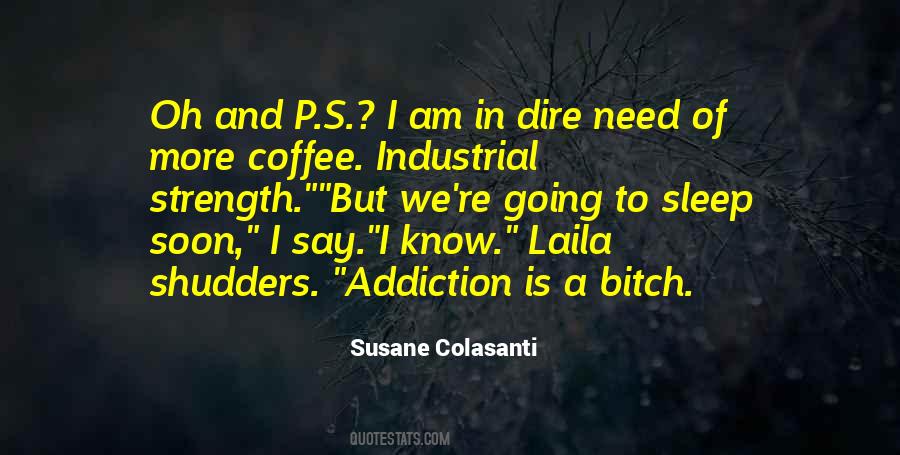 #55. If you wear clothing, and put out trash you are using up resources that others also need BUT I can pay attention and I can do better. That I know for sure about me, my soul needs to try or I can't lay my head down on my pillow at night and even hope to sleep. - Author: Kristin Bauer Van Straten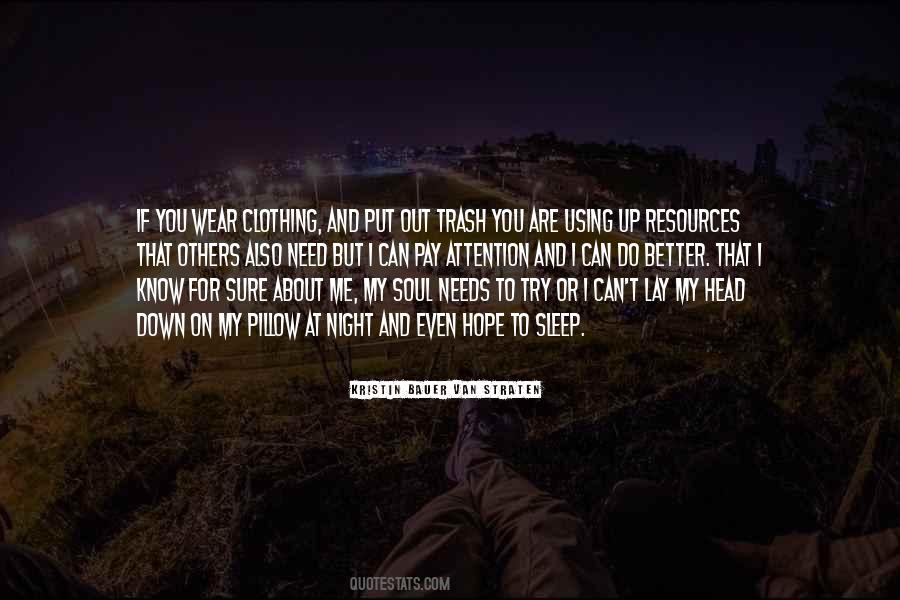 #56. I'm someone who needs more sleep than average, and I'm quite jealous of people who need only five or six hours and they're good to go. - Author: Jessa Gamble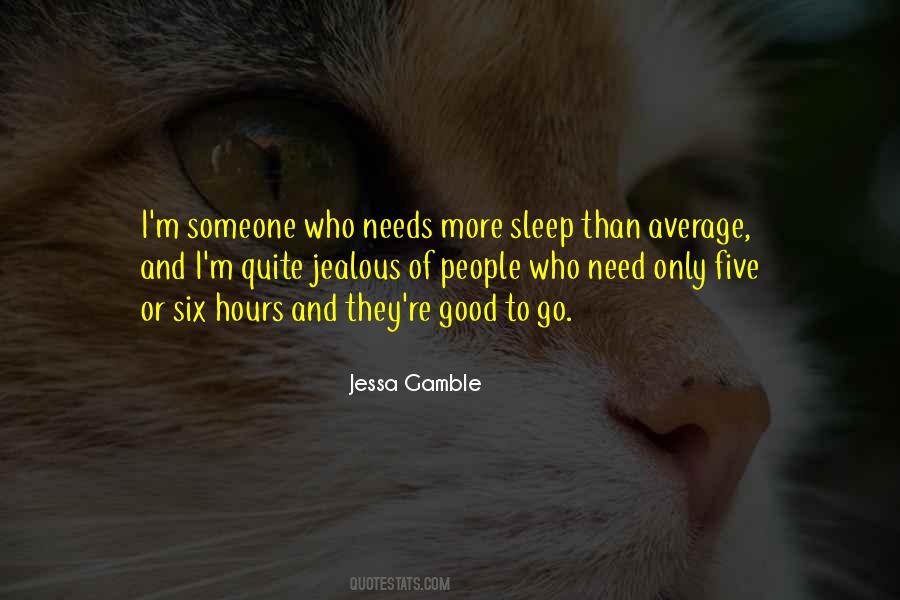 #57. I#pray because the need flows out of me all the time-walking and sleeping. It does not change # God - it changes me. - Author: C.S. Lewis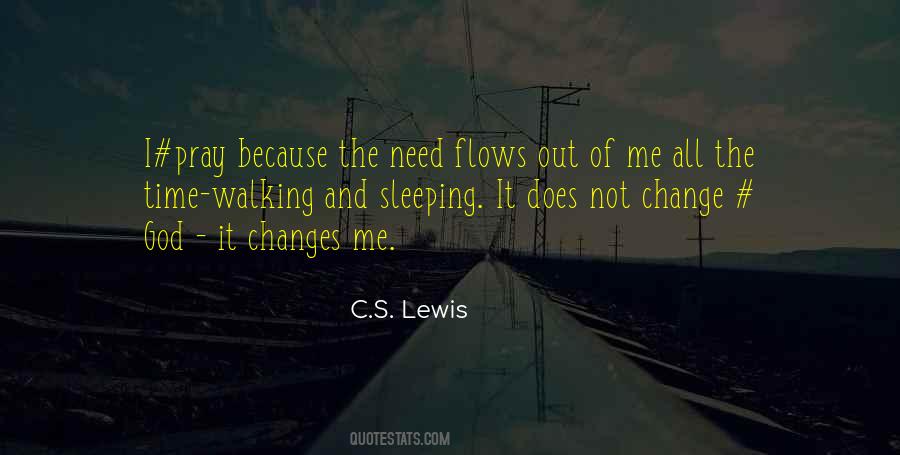 #58. I try to get 11 or 12 hours of sleep a night. It sounds excessive but that's really what I need. - Author: Heather Graham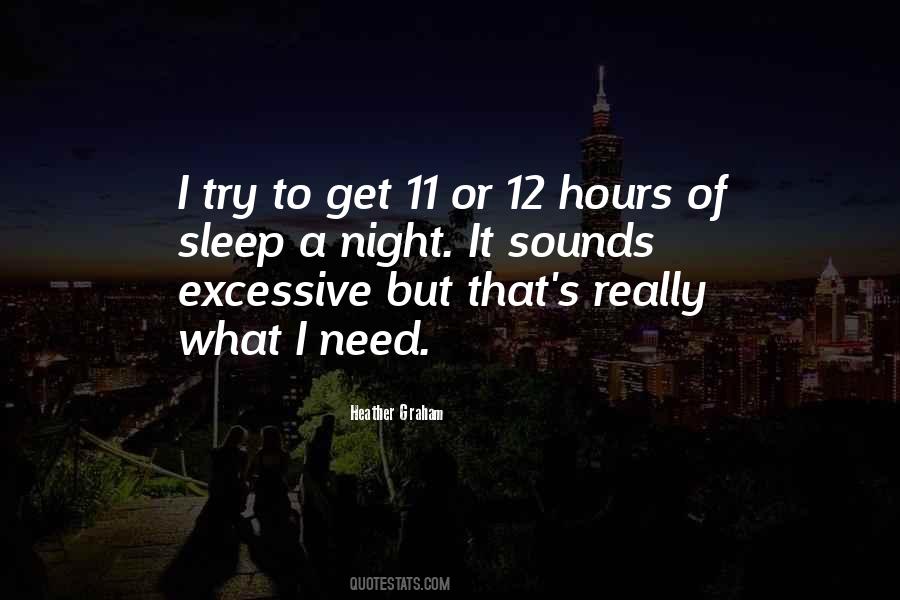 #59. I'm blessed by the fact I only need five hours of sleep on a daily basis. I do tend to regard Saturday and Sunday as work days. - Author: David Rubenstein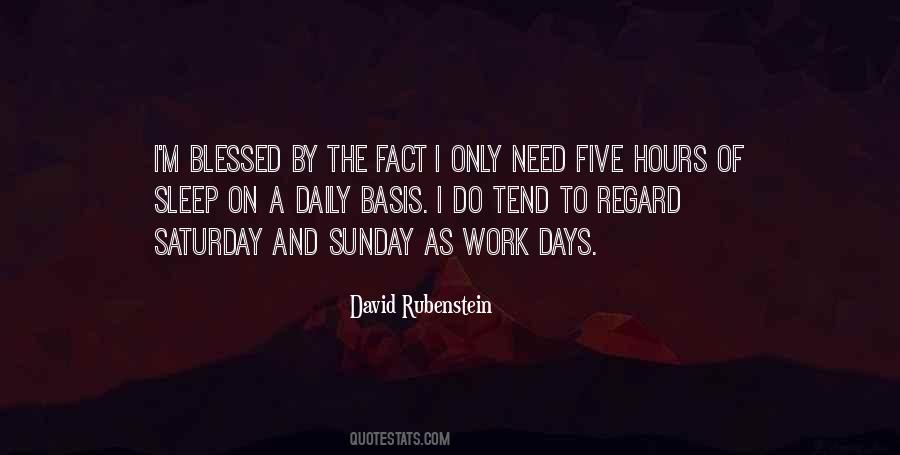 #60. Dissonance, n.
Nights when I need to sleep and you can't. Days when I want to talk to you and you won't. Hours when every noise you make interferes with my silence. Weeks when there is a buzzing in the air, and we both pretend we don't here it. - Author: David Levithan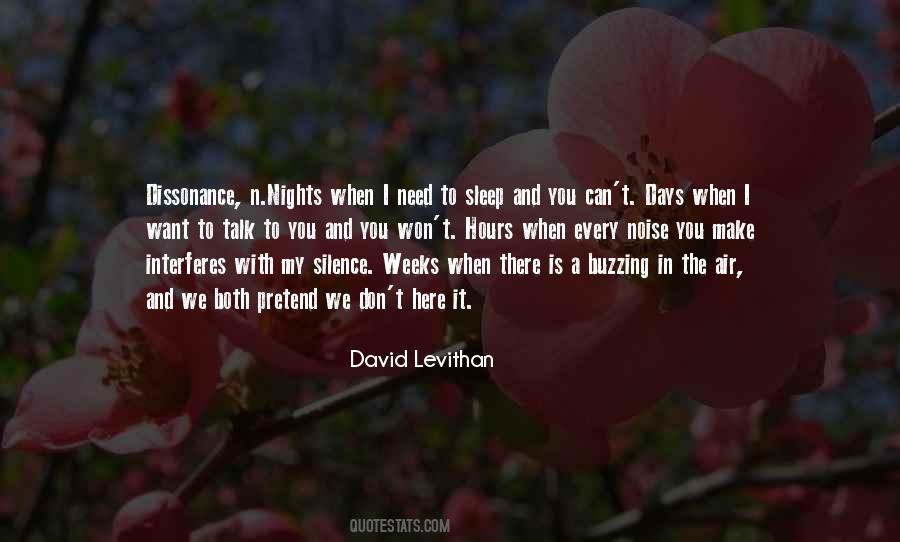 #61. I became an insomniac, really, hardly slept at all, didn't even try to. And it's carried on. I hate to say I only need as much sleep as Mrs. Thatcher, but I can cope really well on five hours. - Author: Sue Townsend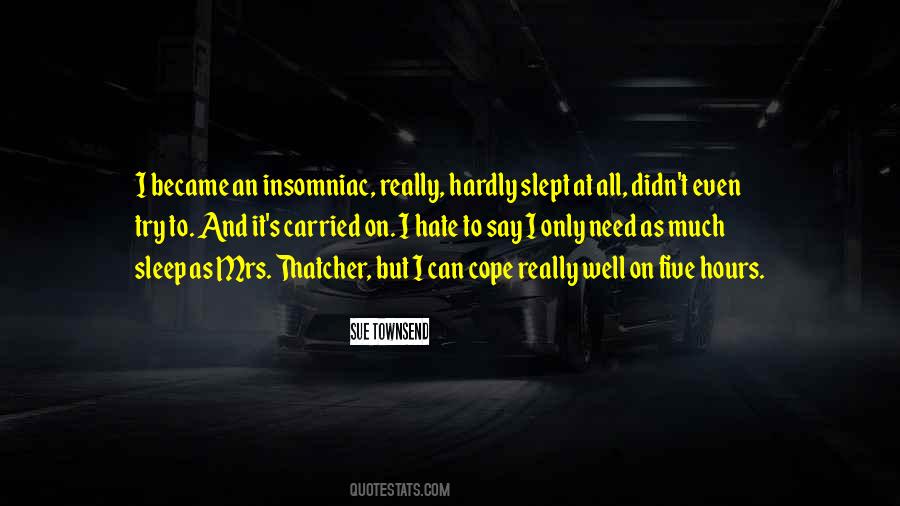 #62. I'm a sex machine to both genders. It's all very exhausting. I need a lot of sleep. - Author: Rupert Everett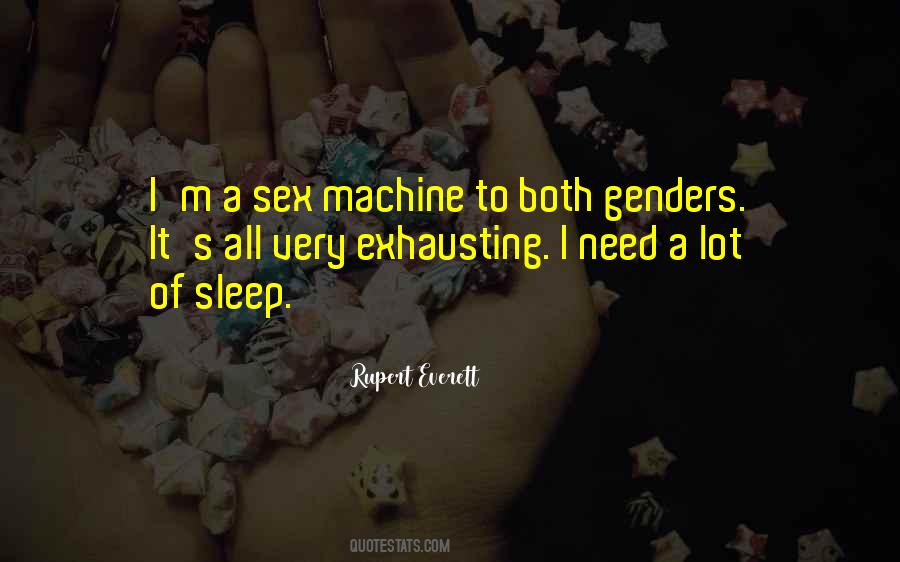 #63. Denna rolled herself into my blanket and curled up with her back to the fire. "I will allow you to ponder my vast cleverness while I sleep. Wake me when you need anything else figured out. - Author: Patrick Rothfuss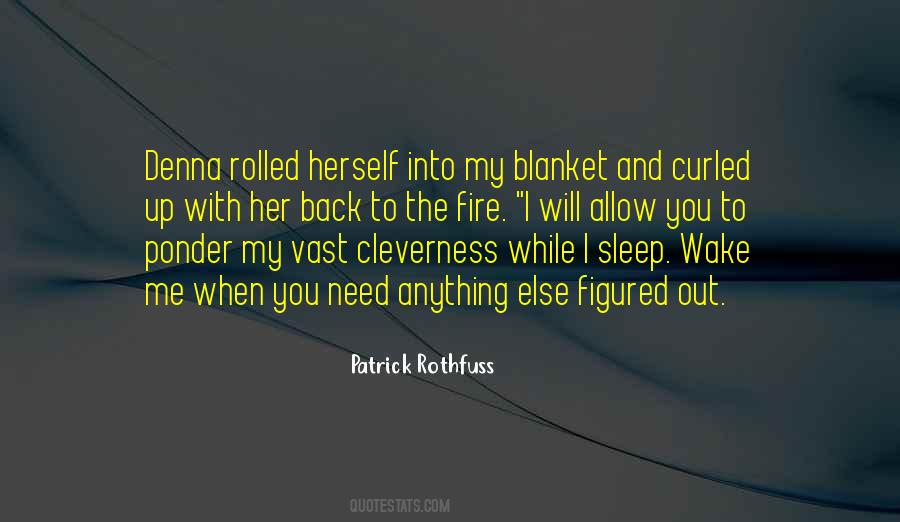 #64. No one ever does anything our of charity," Anna went on. "Every choice we make benefits ourselves directly or indirectly. Even if it looks like a sacrifice, the alternative would be unbearable in some way. If I hadn't helped I wouldn't sleep well , and I need my sleep. - Author: Sara Donati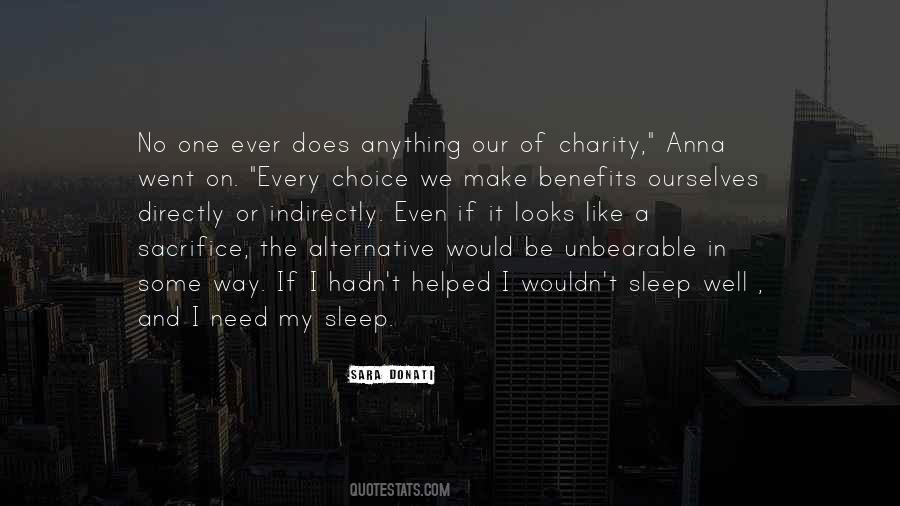 #65. Sometimes I just listen to classical pieces of music to take me away from my work. That's what I kind of do to wash away the notes that I've been working on all day. As human beings we need to sleep so that's kind of one of my little tricks. - Author: Aaron Zigman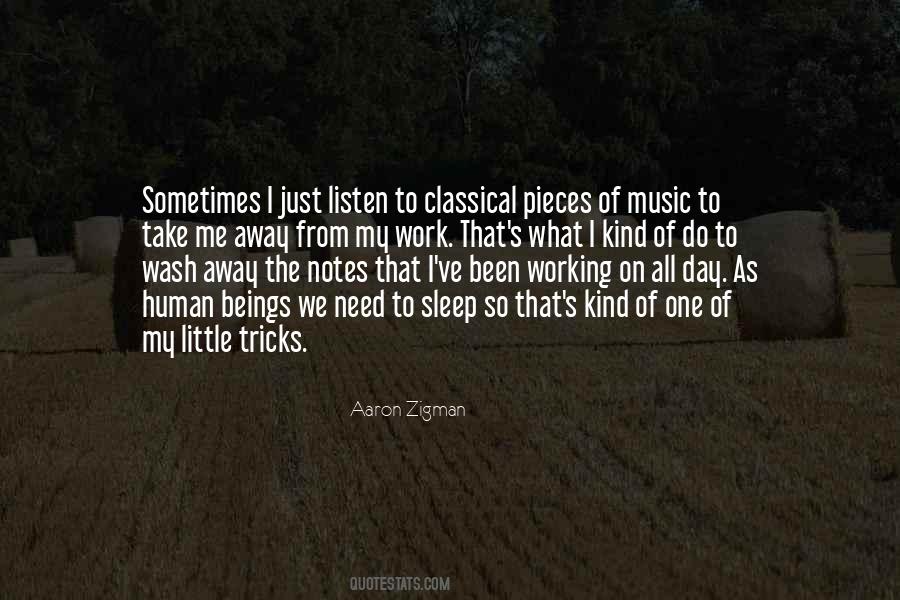 #66. It's 2 o'clock in the morning and I just can't sleep Outside the rain is pourin', I'm lonely as can be Maybe 2night'll be different than the nights before I need 2 feel someone beside me, I can't be alone no more - Author: Prince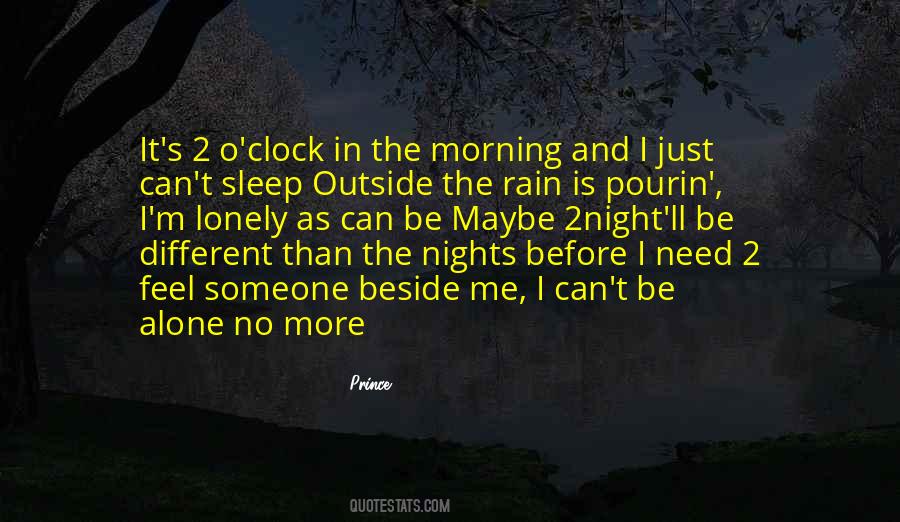 #67. Dreamt I died in Chicago next weekend (heart attack in my sleep). Need to write my will today, - Author: Mikey Welsh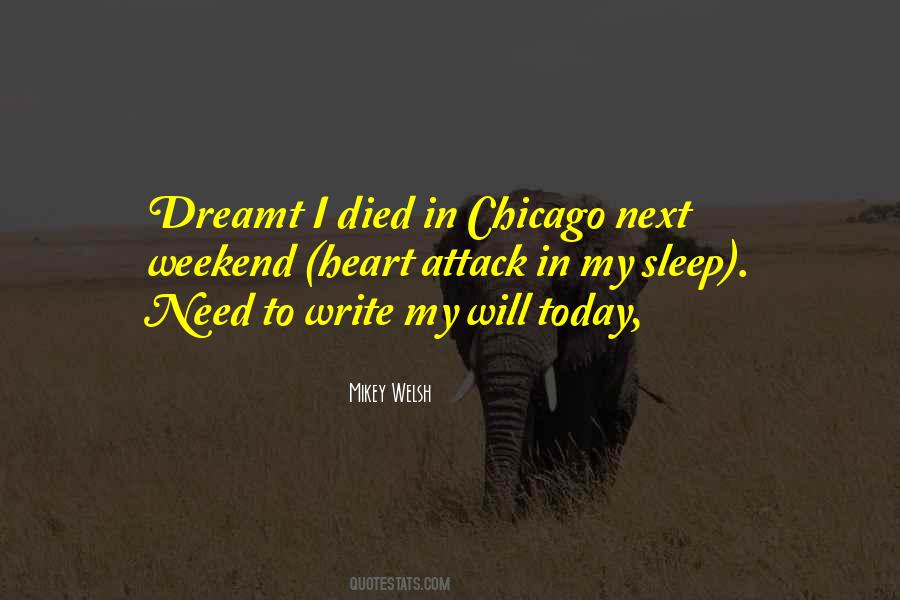 #68. You need more sleep."
"Skillet, pan."
"What?"
"You know, the skillet says the pan's the same deal."
He thought a moment. "I believe that's the pot calling the kettle black."
"Whatever, kitchen stuff can't talk anyway. - Author: J.D. Robb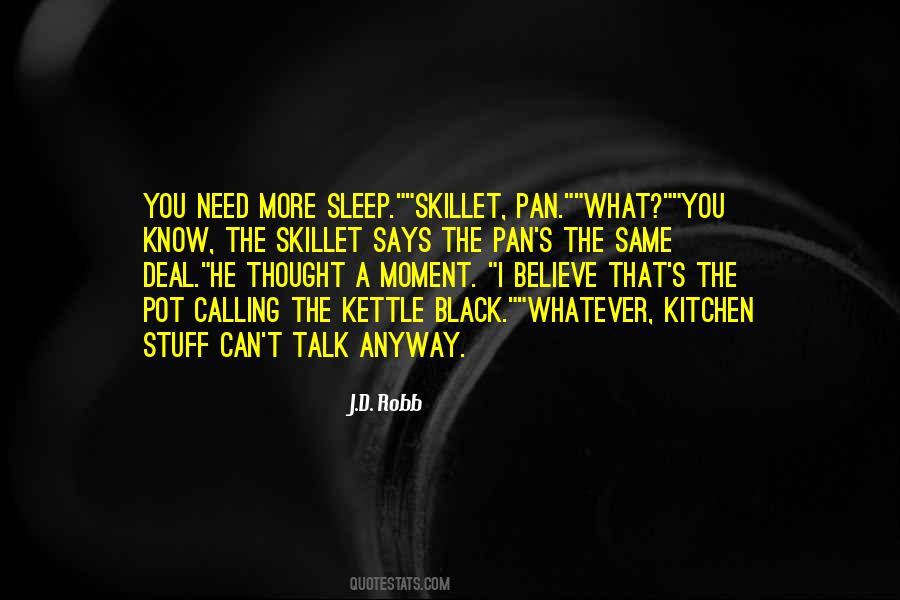 #69. Nights when I need to sleep and you can't. Days when I want to talk and you won't. Hours when every noise you make interferes with my silence. Weeks when there is a buzzing in the air, and we both pretend we don't hear it. - Author: David Levithan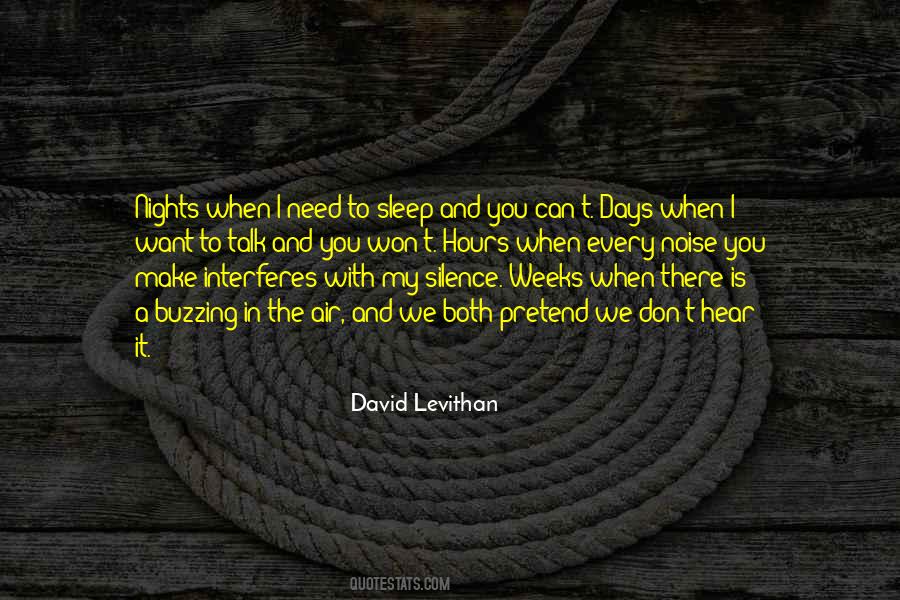 #70. It is dark for archery,' said Gimli. 'Indeed it is time for sleep. Sleep! I feel the need of it, as never I thought any dwarf could. Riding is tiring work. Yet my axe is restless in my hand. Give me a row of orc-necks and room to swing and all weariness will fall from me! - Author: J.R.R. Tolkien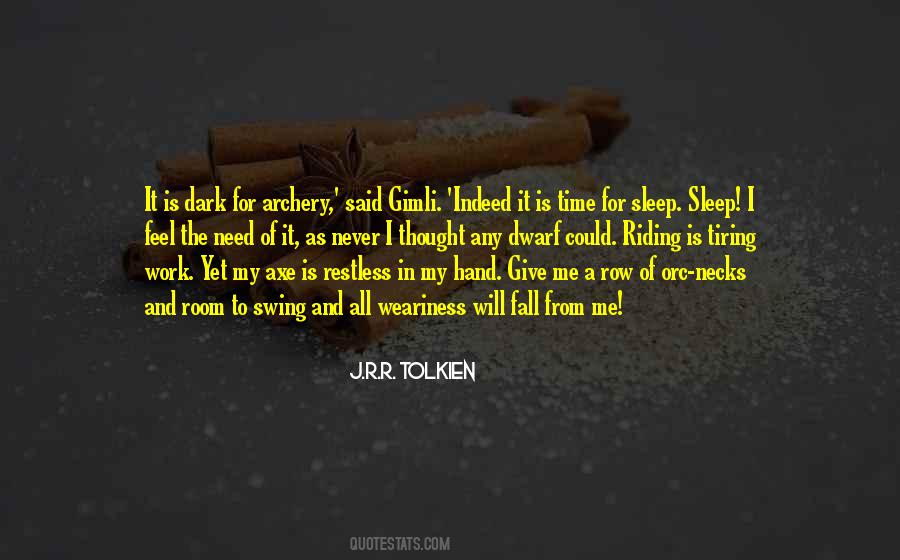 #71. I find it so all-encompassing when acting that there's no room for anything else when you're in it; you're just locked into thinking about it all day, you go to sleep with it, wake up with it, and when I come back, I really need time to recover. - Author: Sophie Okonedo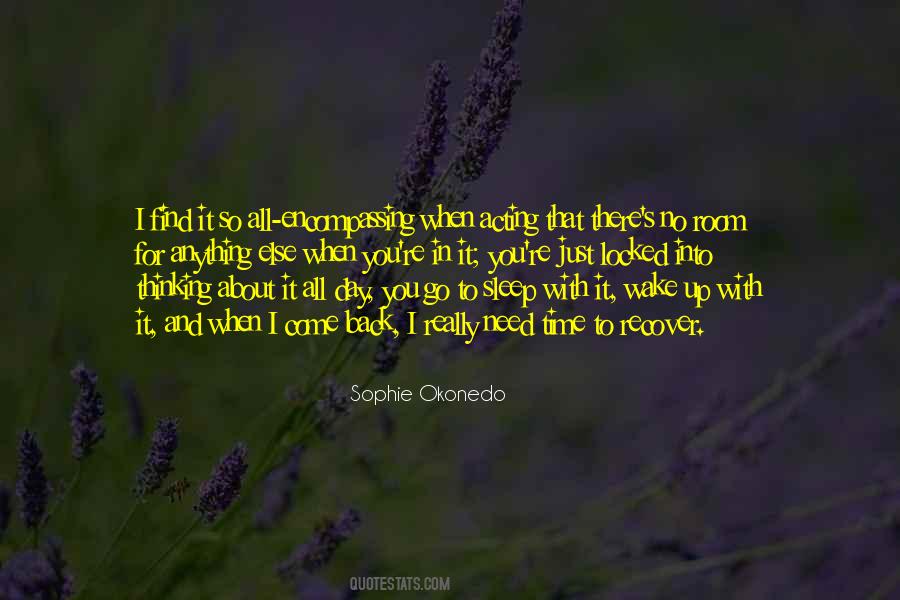 #72. If I'm in a relationship and my girlfriend is sleeping with other people, I don't need to know who it is; I just want to know how she feels about it. - Author: Ben Folds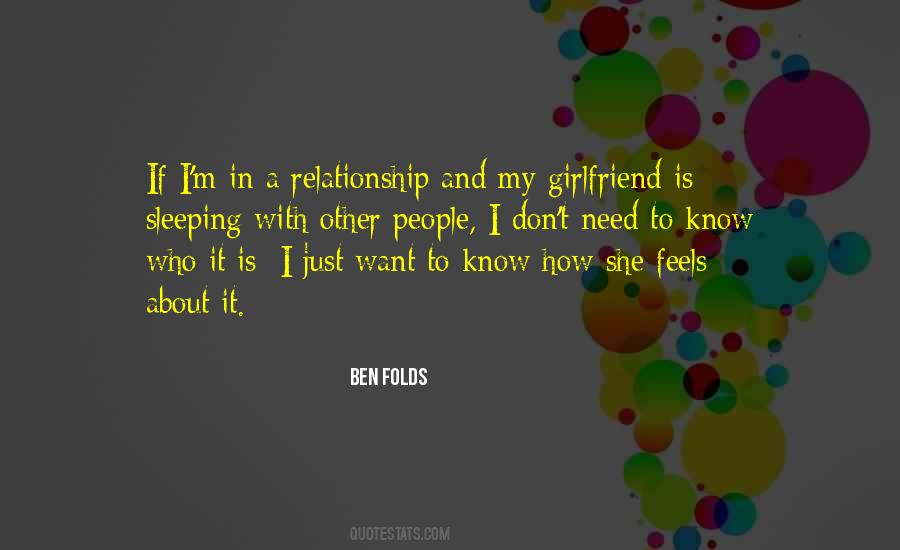 #73. At the back of my mind there is always a fear the depression could return but I do all the right things. I try to get the right amount of sleep because I know that I need sleep to function and I need to eat properly and to do some exercising. - Author: Melanie Chisholm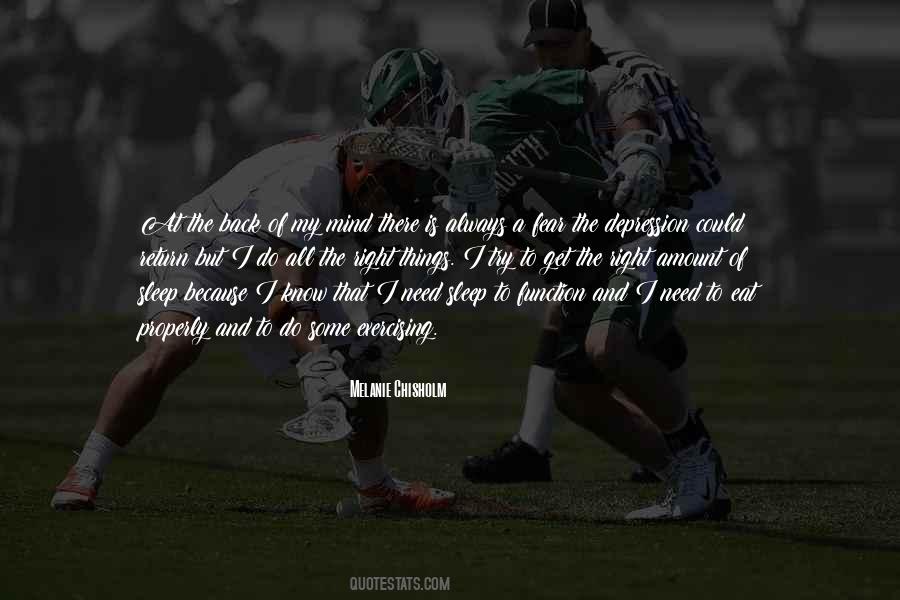 #74. I don't need to sleep to play. I'm crazy anyway. Being crazier still could only help. - Author: Anne Rice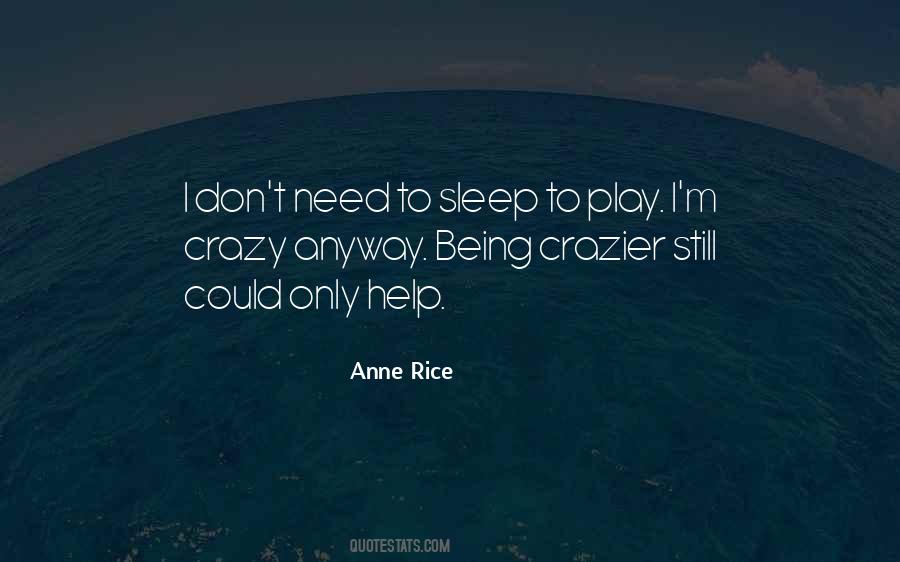 #75. I don't want you to go, but I can't make you stay. I want to continue holding you in my arms at night when you can't sleep and be there in the morning when you're adjusting to yet another new outfit. I also need someone to burn dinner because that doesn't happen nearly enough for me. - Author: Sydney Landon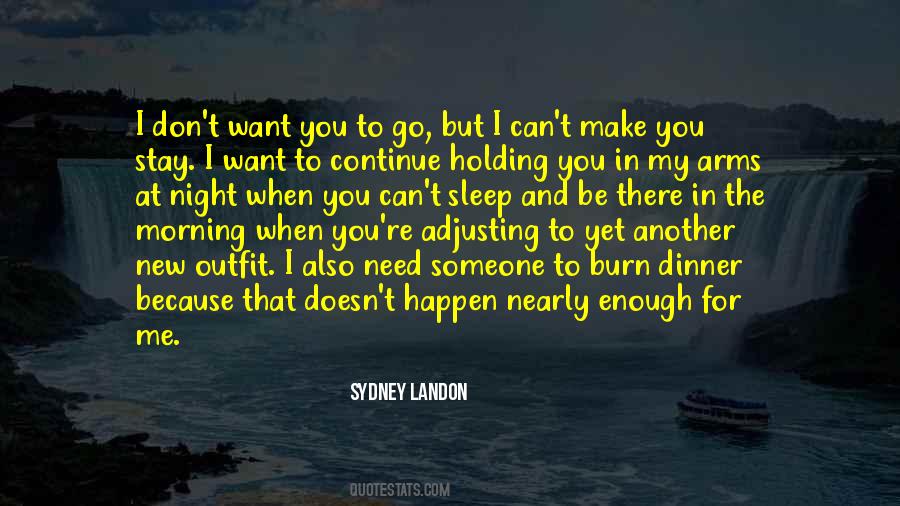 #76. By being with my kids. I'm like a lion who hunts and comes home to be looked after and sleep. I think girls tend to be drawn towards their dad. I'd love to have a son, but I have three kids who are great - three geezer birds and that's all I need to worry about. - Author: Ray Winstone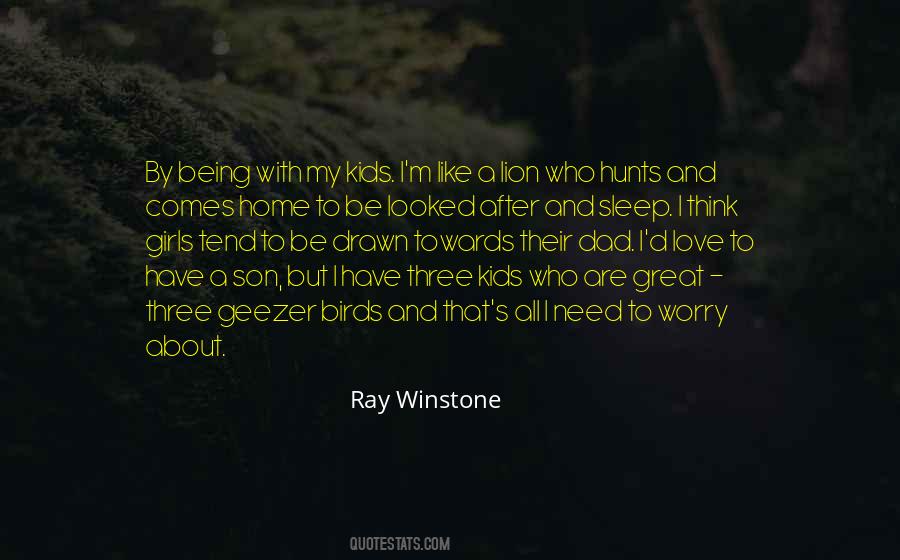 #77. I need you. I can't stand the thought of being without you." He releases a shaky breath. "You're the last person I think about before I go to sleep, and the first person I think about when I open my eyes in the morning. You're it for me, baby. - Author: Elle Kennedy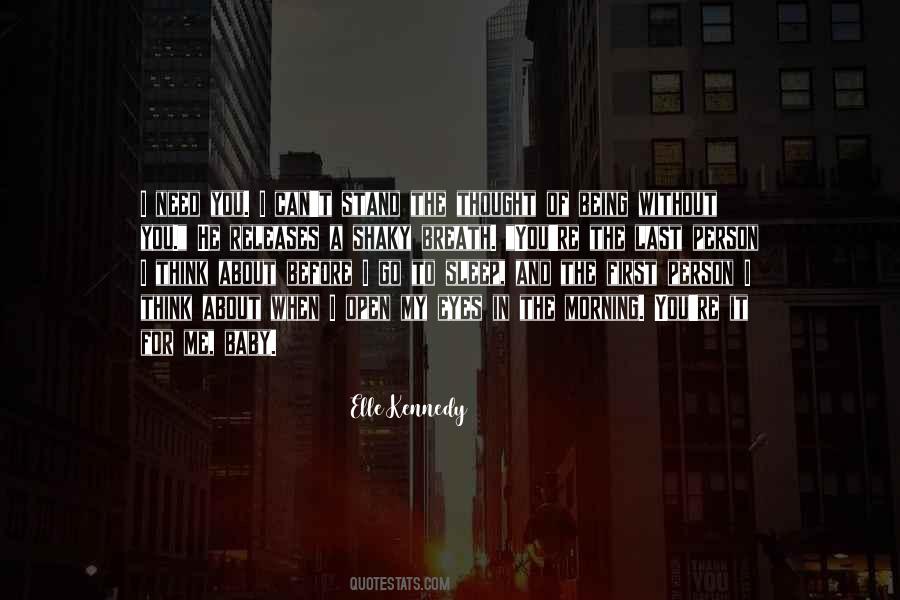 #78. The show girls do, like, 12 shows a day. I only did one or two shows a day, and I was like, 'I need to go to sleep.' - Author: Bella Hadid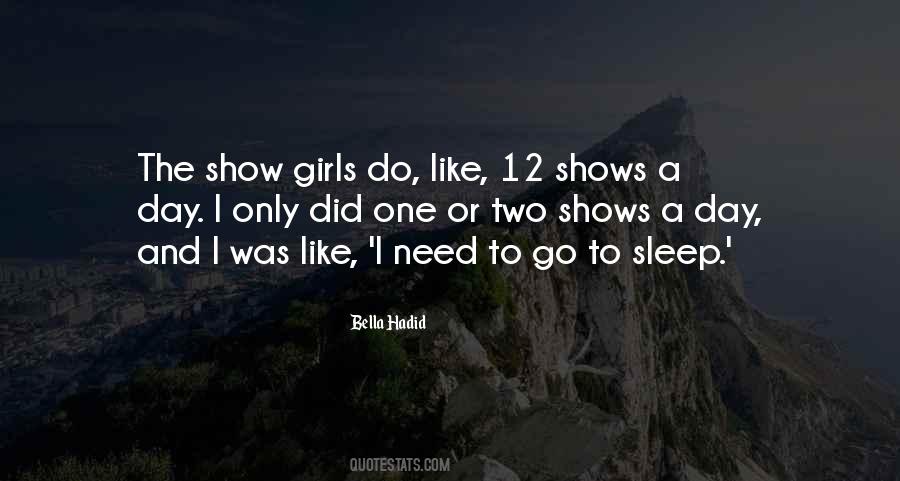 #79. You snore."
She stopped in the middle of the hallway and gaped. "I do not."
"Oh yeah, you do." He nodded, beaming from ear to ear. "Cute, kind of baby snores, but still snores by standard definition. Maybe that was the problem that broke up you and David. Doctors need their sleep, you know. - Author: Jennifer Shirk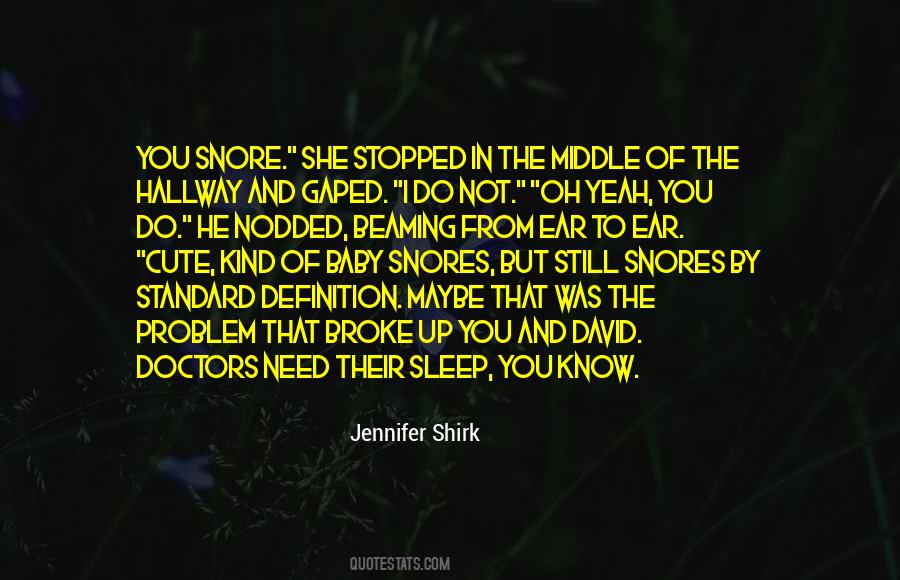 #80. Miss Penelope THINKS I need beauty sleep?! Sorry, Brianna, but Miss Penelope CAN'T think. She doesn't have a BRAIN! She's a hand puppet!" I shot back. - Author: Rachel Renee Russell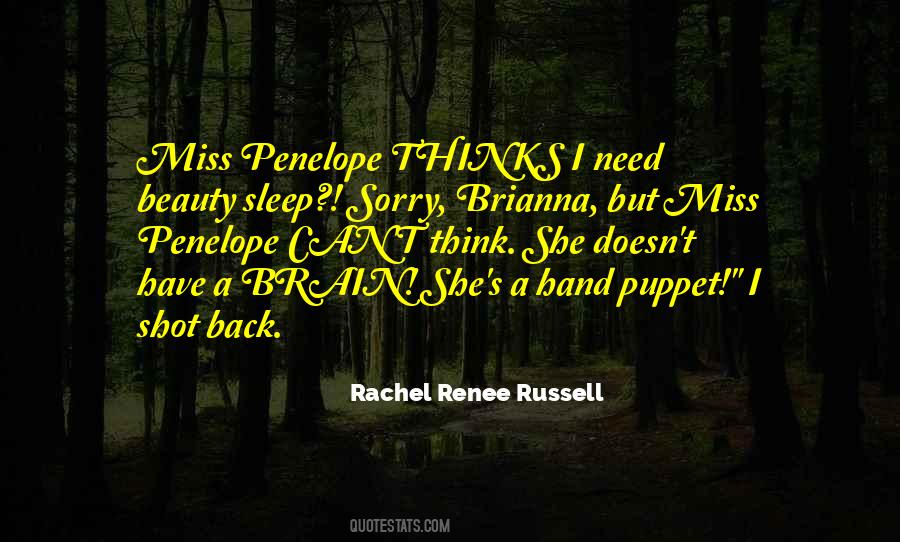 #81. Come on," Falco said. "I'll see you safely home to your fancy sheets. I'd say you need your beauty sleep, but it looks like you've been getting plenty. - Author: Fiona Paul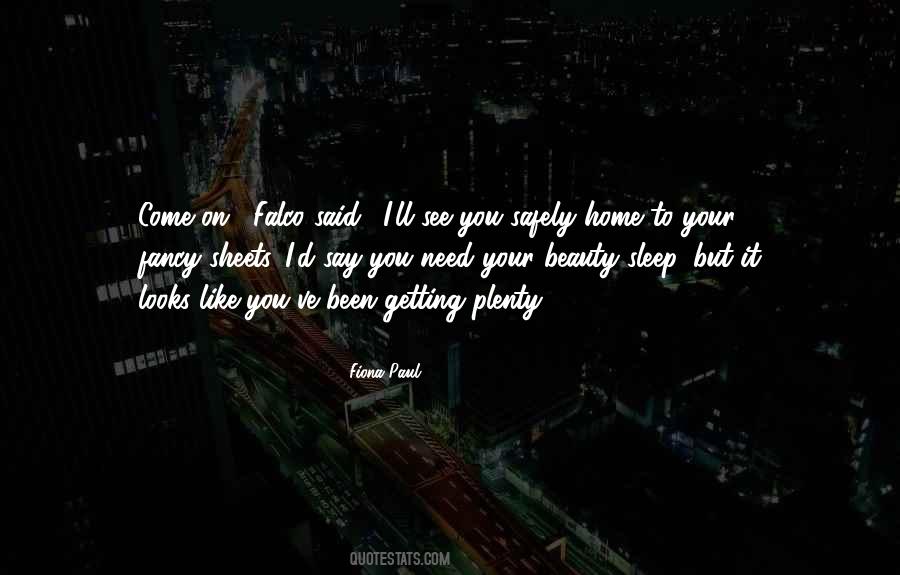 #82. I am writing this during my lunch period, because I need to reach towards the outside world of sanity, because I am overwhelmed by the sheer weight of the clerical work still to be done, and because at this hour of the morning normal ladies are still sleeping. - Author: Bel Kaufman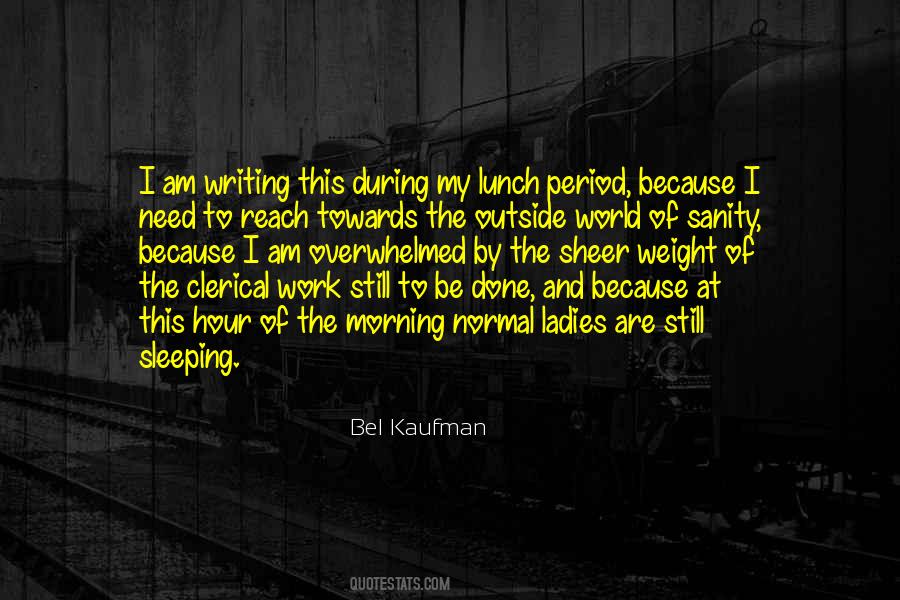 #83. I hate to be wrong. It makes me feel like a failure. Being wrong has the same affect on me as a lack of food or sleep. It lowers my entire mood. But, I need to be proved wrong sometimes, as it restores humility, and doesn't allow my ego to swell to stupidly big sizes. - Author: Paul Kelly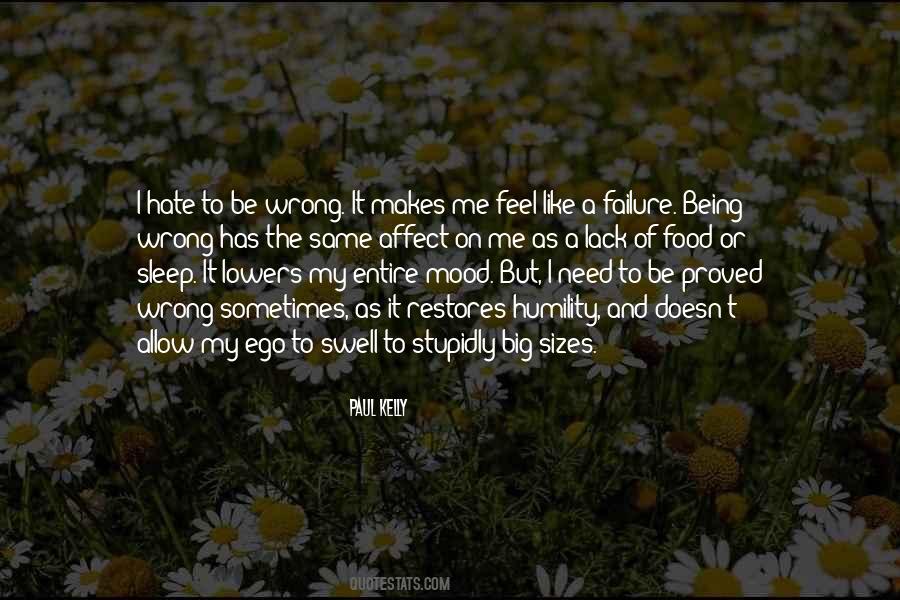 #84. It's nice to think that we have in ourselves the energy. It's somewhere, but it's sleeping sometimes. I try to wake it up when I need it. - Author: Agnes Varda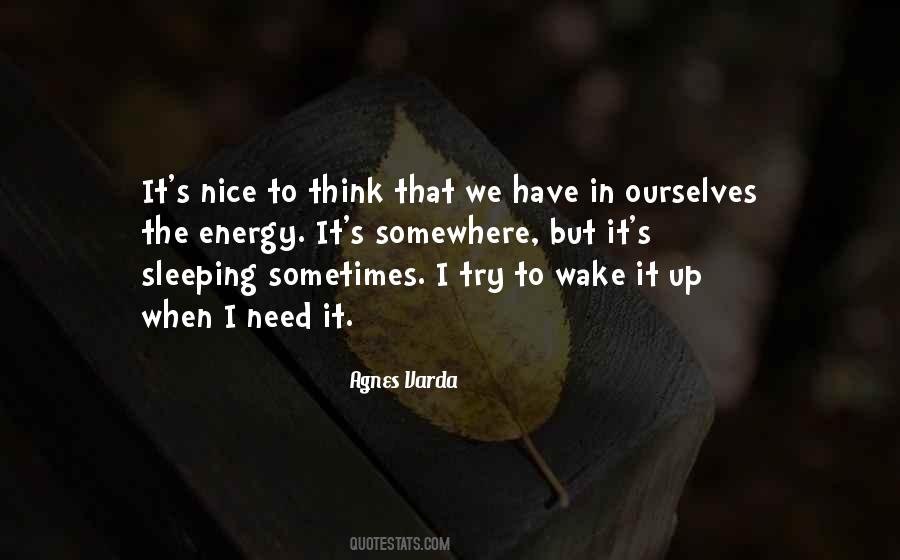 #85. I like a spirituality with a God that knows how to drive a car, that knows how to take his girl to the dance club, dance all night, have a little drink, kiss the kid when they come back in and go to sleep. God doesn't need a chauffeur
he needs to drive himself. - Author: Jeff Buckley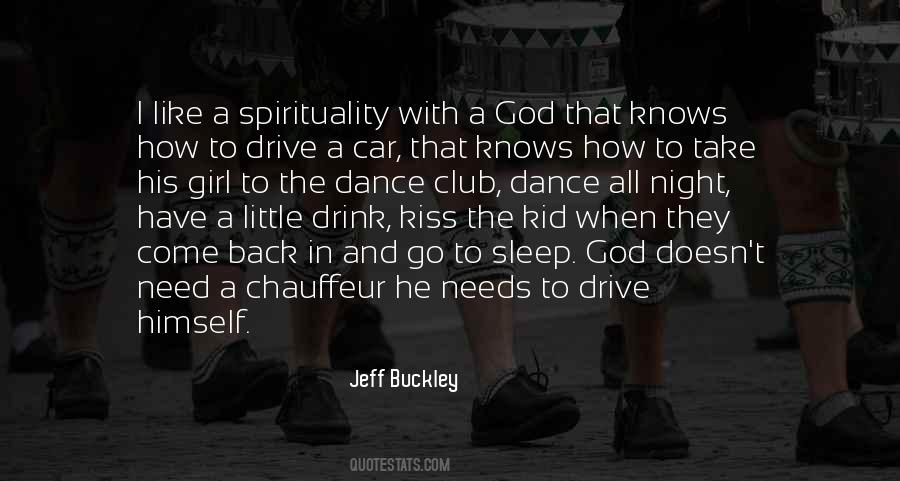 #86. Why can't I go out?" "You've just come in." "But it's a sunny day." "You need a nap." "I'm not tired." "You will be later." "I'll sleep then." "But you'll be grumpy all afternoon if you don't nap now." "No, I won't." "Yes, you will. - Author: Erin Hunter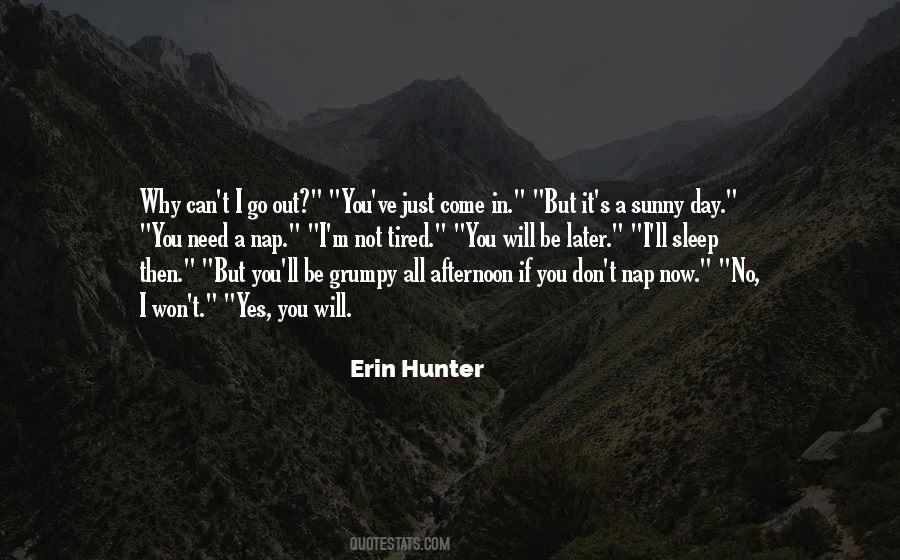 #87. I've always had this hyper kinetic energy, so I don't really need much sleep at night. - Author: Leander Paes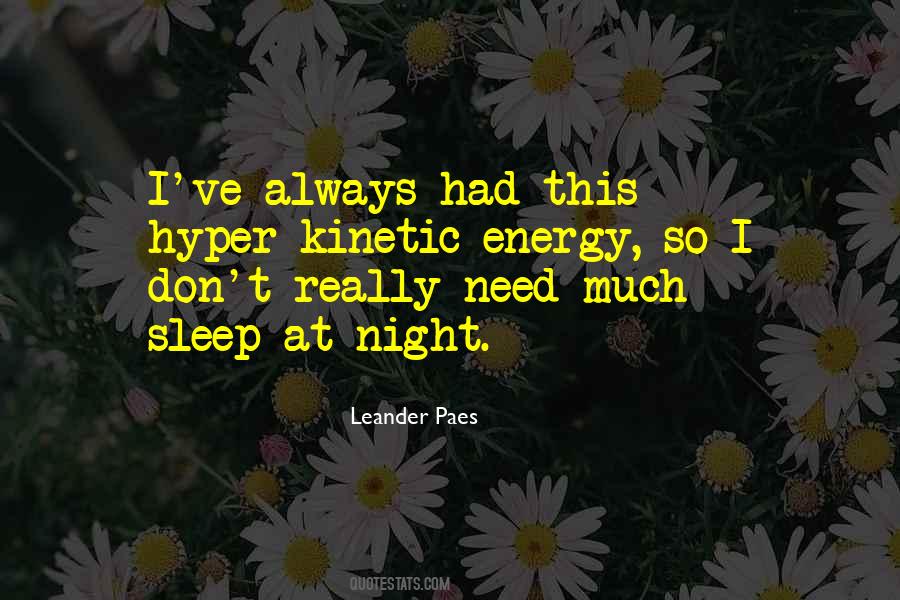 #88. And my love stays bitterly glowing, spasms of it will not sleep, and I am helpless and thirsty and need shade but there is no one to cover me- not even God. - Author: Anne Sexton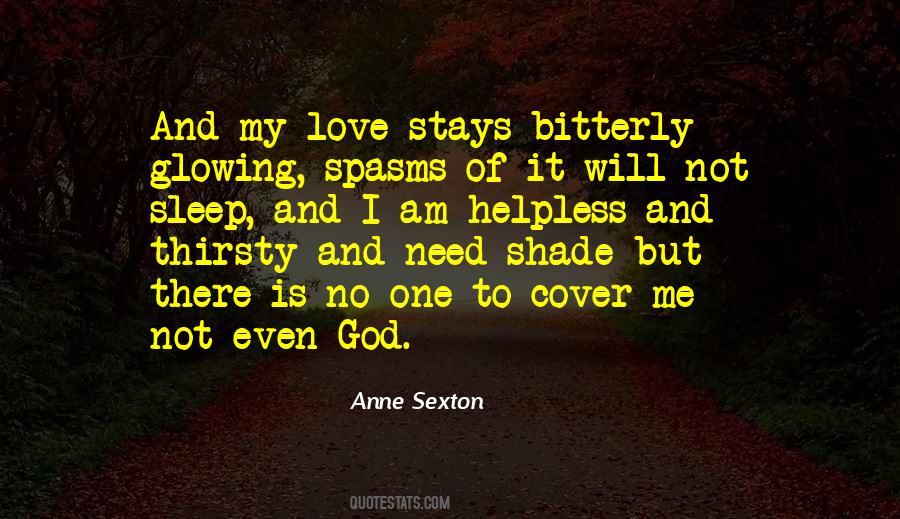 #89. Fuck sleep. I need you way more than I need sleep. - Author: Sibylla Matilde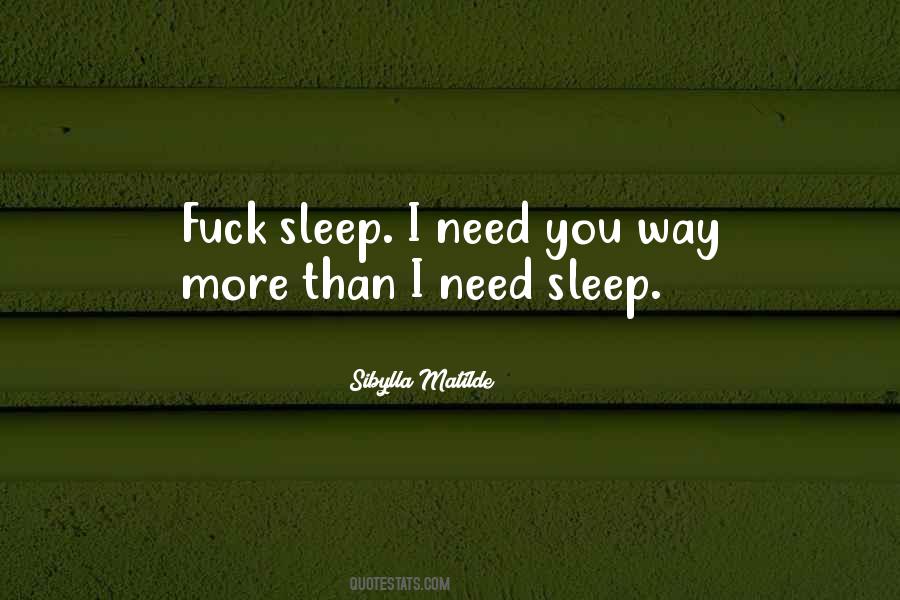 #90. Oh, I don't need sleep. I just went to my hotel room and had a cold hot dog and a vodka on the rocks. - Author: Betty White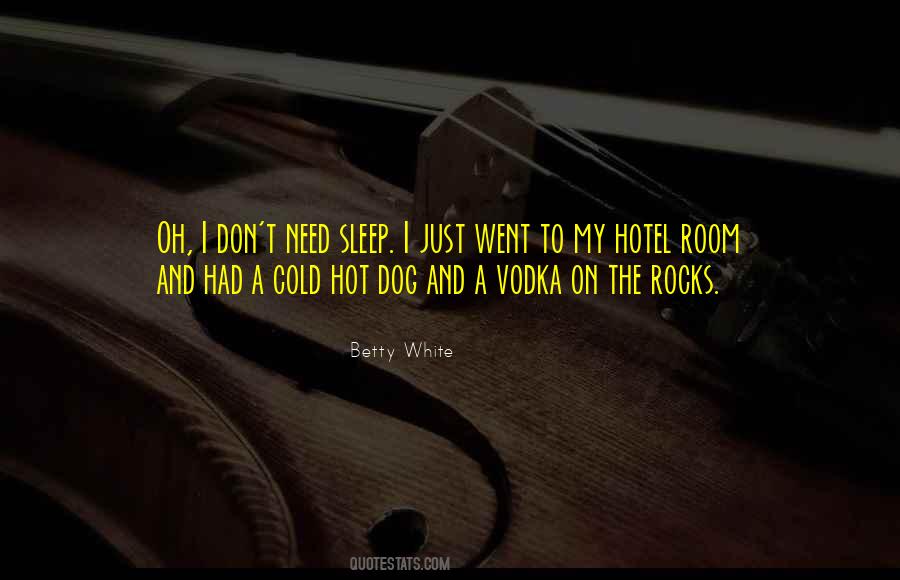 #91. I'm a huge believer in you don't really need anybody to make you feel validated or make you feel secure. When you go to sleep at night, you're with yourself, and when you wake up, you're with yourself. Be happy, just alone, regardless if you're with somebody or not. - Author: Brittany Snow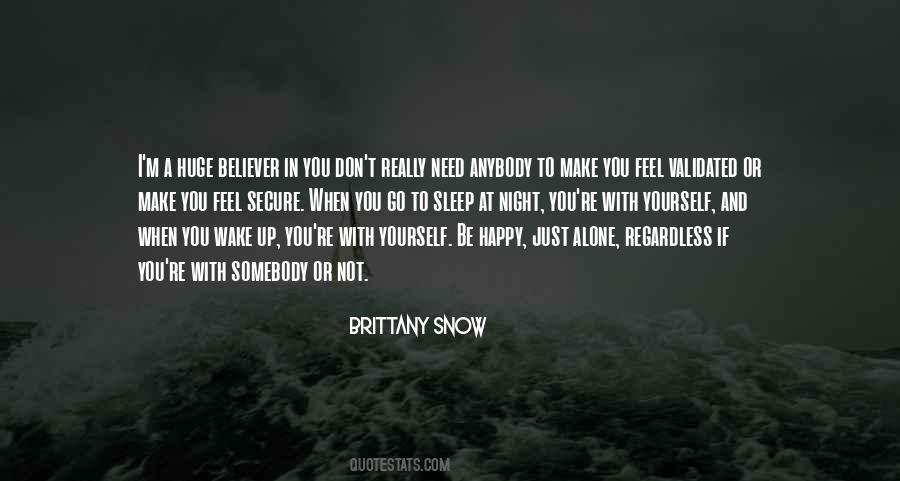 #92. I want to go to sleep and not wake up, but I don't want to die. I want to eat like a normal person eats, but I need to see my bones or I will hate myself even more and I might cut my heart out or take every pill that was ever made. - Author: Laurie Halse Anderson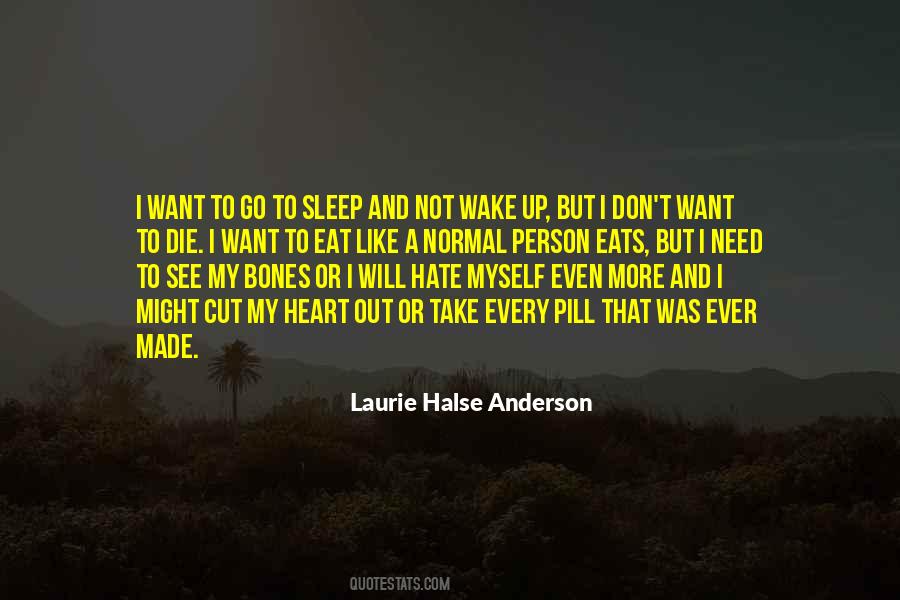 #93. I love sleep. I need sleep. We all do, of course. There are those people that don't need sleep. I think they're called 'successful. - Author: Jim Gaffigan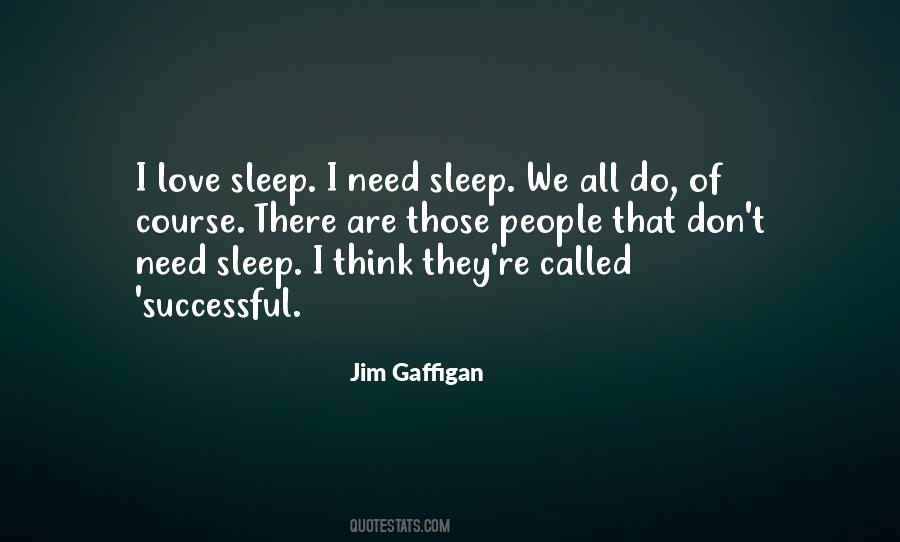 #94. I'm lucky in some ways in that I really don't need more than five or so hours of sleep. - Author: Iman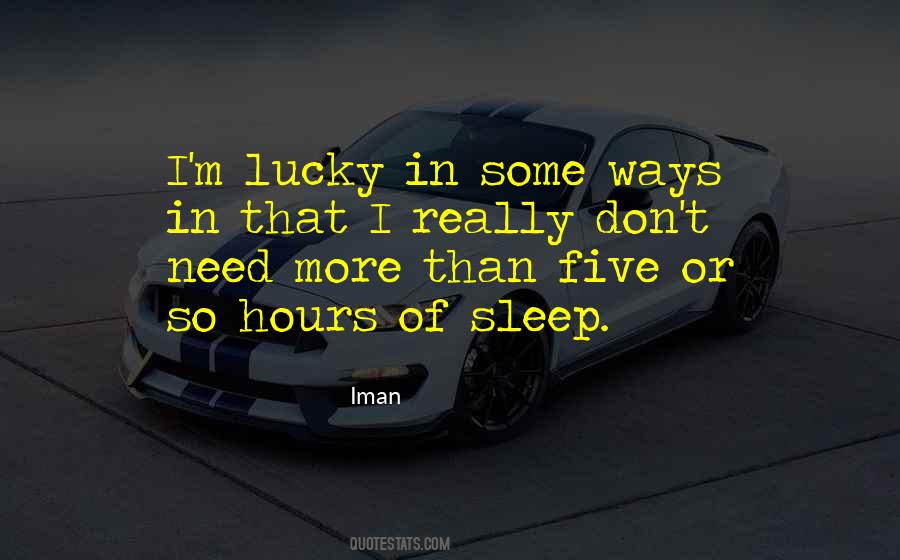 #95. For a person that's on tour, the environment is difficult. I don't want to come off sounding like, "Oh, it's so hard!," but it gets tough, after awhile. You need to take care of yourself. You need to sleep and you need to eat. Those things are hard to keep on any kind of routine. - Author: Patty Schemel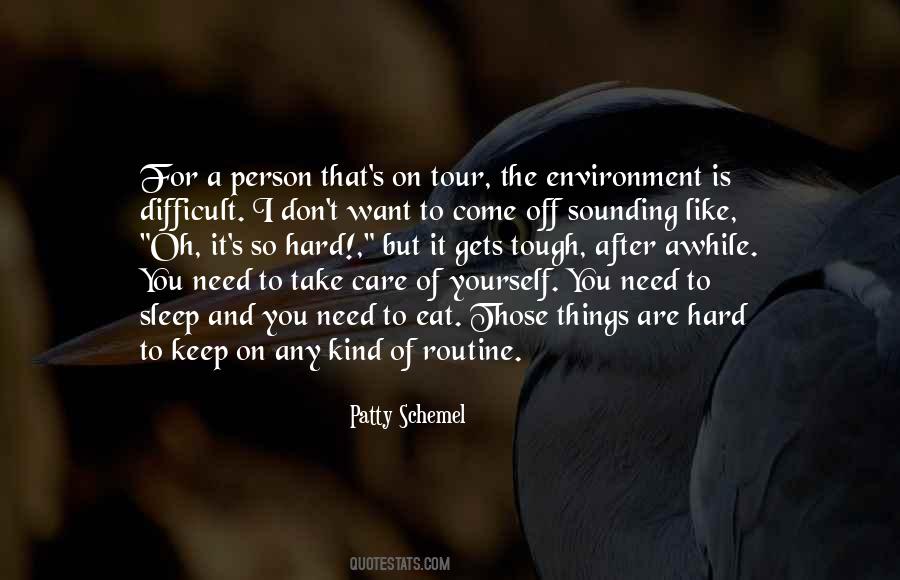 #96. Food," I suggested. "Sleep. That's what I need. To get the hell away from here."
Cole frowned at me, as if I'd suggested "ducks" and "yoga". - Author: Maggie Stiefvater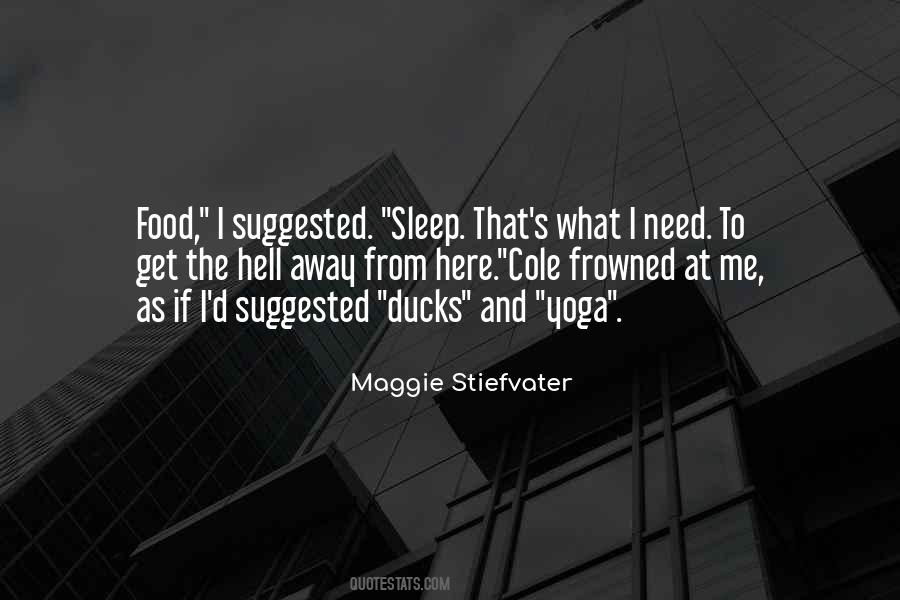 #97. I've never been in love. I will die without knowing what it feels like to need to see one person's face when you go to sleep at night, to crave seeing it when you wake up. I wish I knew. - Author: Libba Bray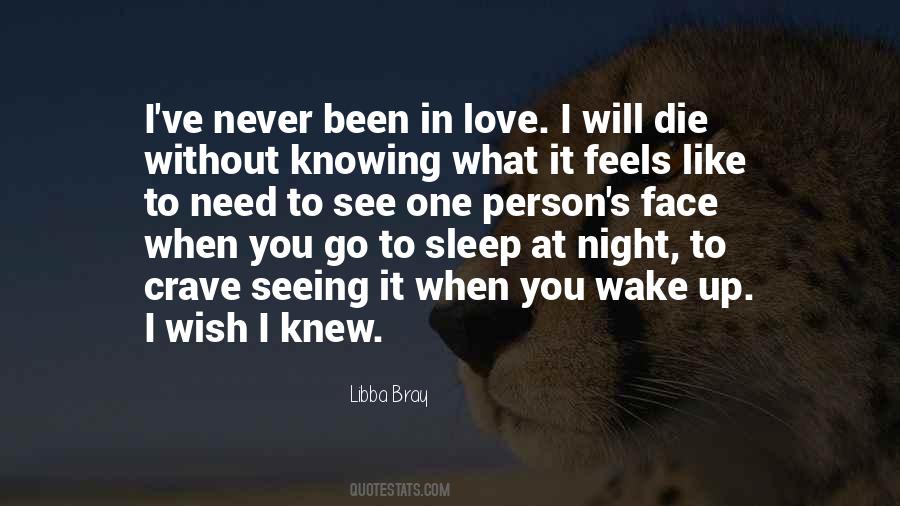 #98. Sleep is such a potent, liminal state, and I don't want to drag anything in there that doesn't need to be there. - Author: Bellamy Young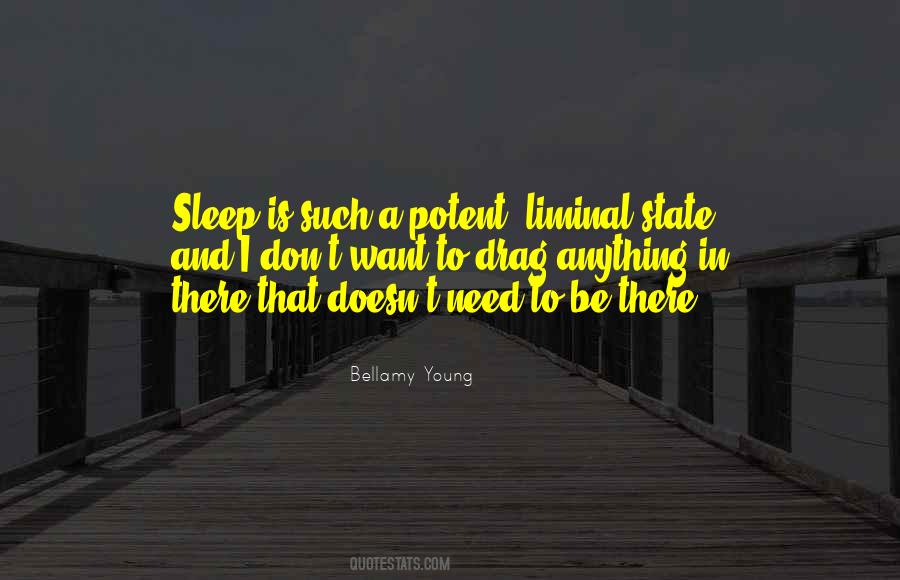 #99. Brianna! Did you take my clock again?!" I yelled. "If I'M late for school, it's all YOUR fault!" "I didn't take your clock. Miss Penelope did! She thinks you need all the BEAUTY SLEEP you can get! - Author: Rachel Renee Russell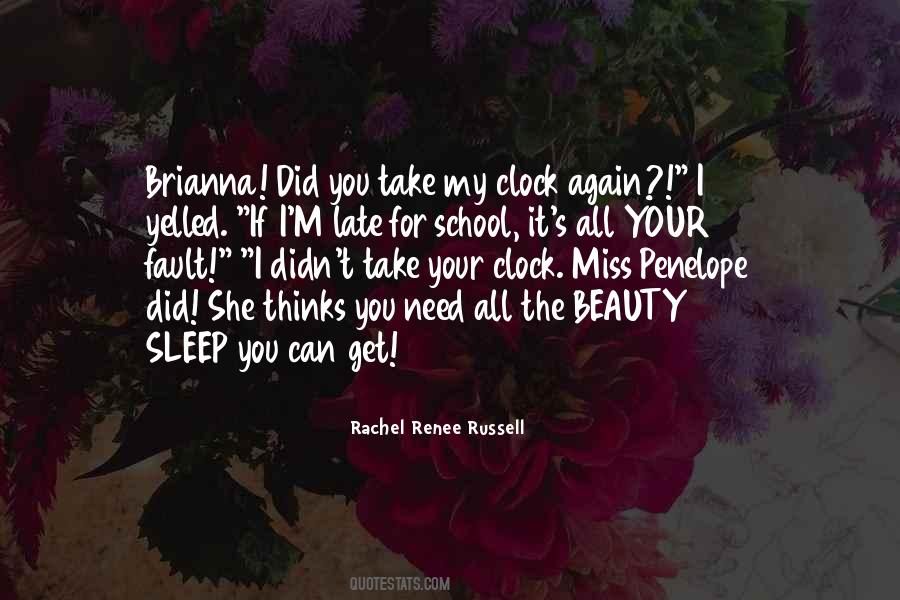 #100. I've learned that I don't need much sleep, and that I am able to really stand up for the things that I think that are important and that there are a lot of people out there who agree with me. - Author: Kerry Healey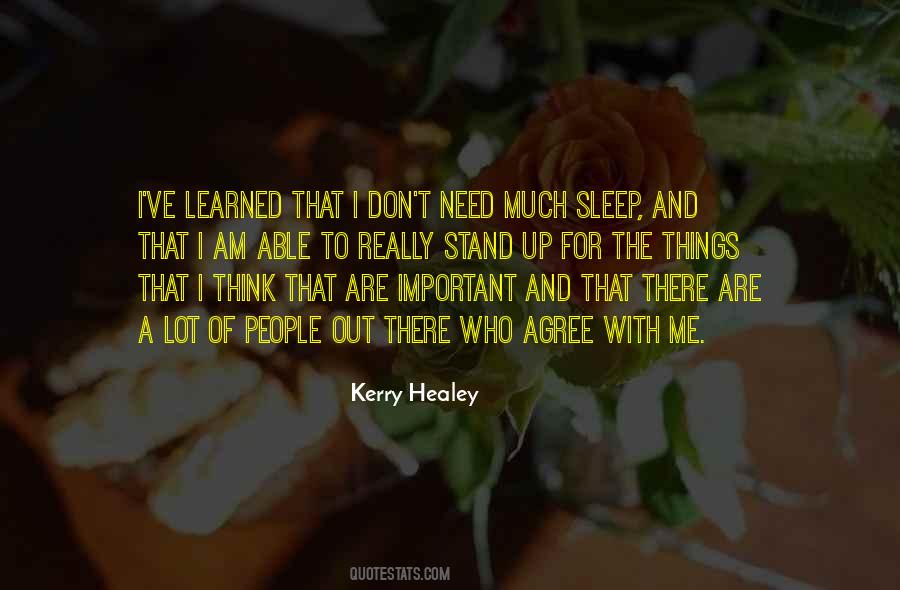 Famous Authors
Popular Topics