Goodbye To Him Famous Quotes & Sayings
List of top 33 famous quotes and sayings about goodbye to him to read and share with friends on your Facebook, Twitter, blogs.
Top 33 Goodbye To Him Quotes
#1. But then this morning I had to tell him goodbye. And he held me and kissed me so much, I thought I might die if he let go.
But I didn't die. Because he let go and here I am. Still living. Still breathing.
Just barely. - Author: Colleen Hoover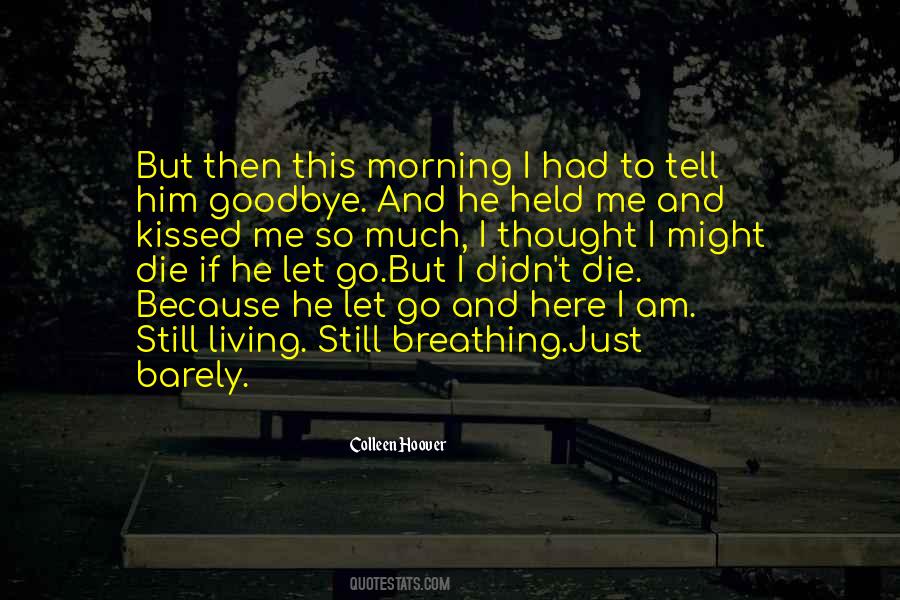 #2. It seemed I was torn; I wanted my goodbye, and I didn't. I wanted him to make me stay, and I wanted to go. - Author: Sam Mariano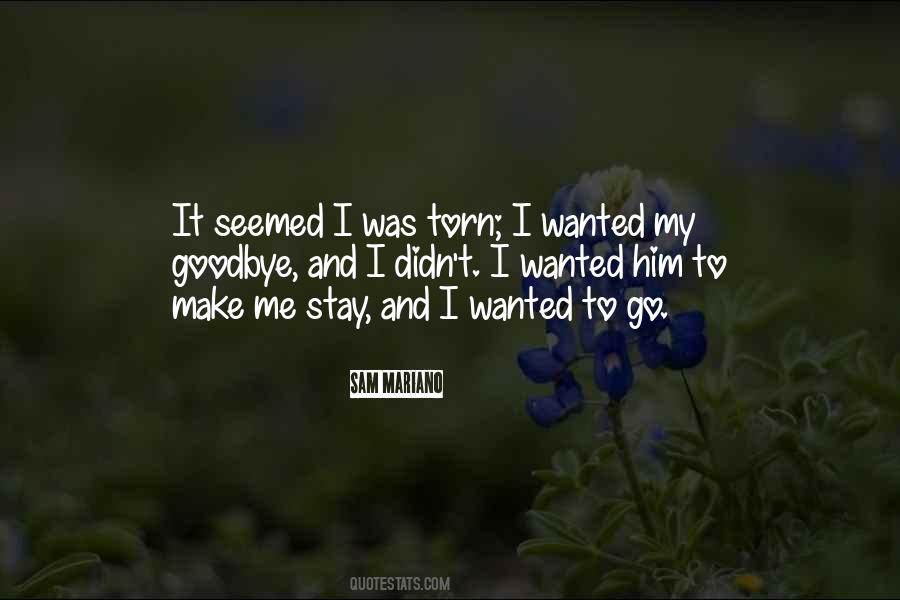 #3. Sweet, she thought. He must think I can't bear to hear him say it. That after all I have told him and after telling me how many feet I have, "goodbye" would break me to pieces. Ain't that sweet.
"So long," she murmured from the far side of the trees. - Author: Toni Morrison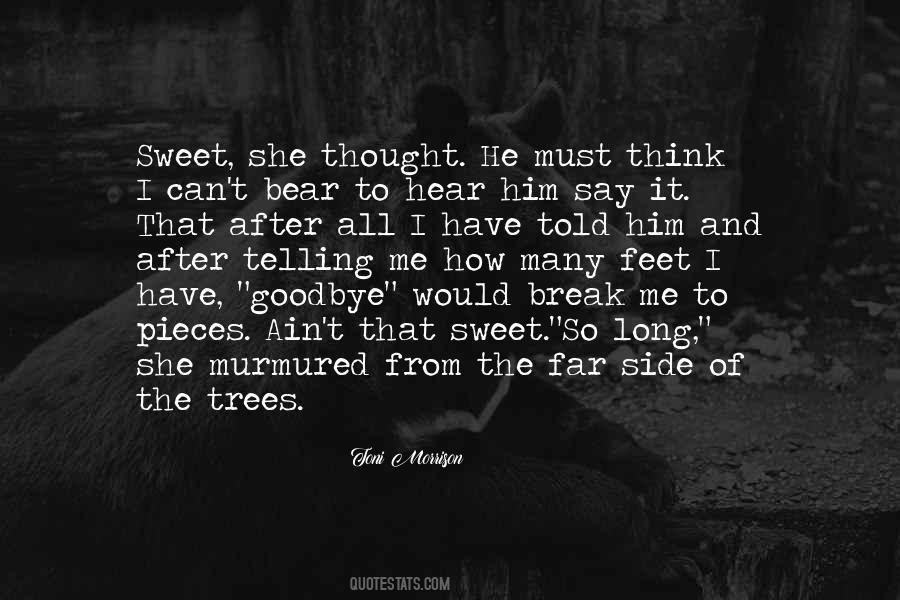 #4. It had been the most difficult part of coming to terms with what she was; knowing that she had to give up a potentially blissful and wildly happy relationship with Caleb. But it was her responsibility, she told herself, to say goodbye to him. - Author: Katie Lynn Johnson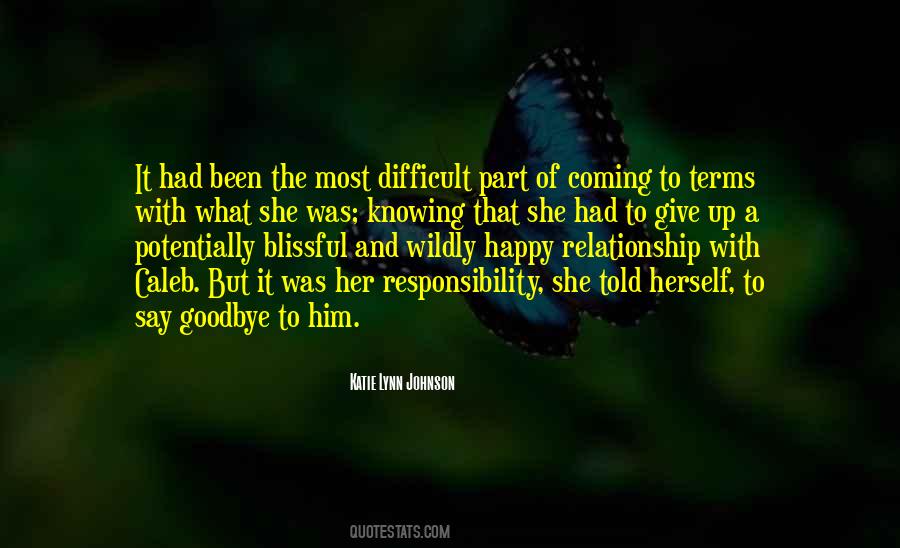 #5. Simon," said a voice at his shoulder, and he turned to see Izzy, her face a pale smudge between dark hair and dark cloak, looking at him, her expression half-angry, half-sad. "I guess this is the part where we say goodbye? - Author: Cassandra Clare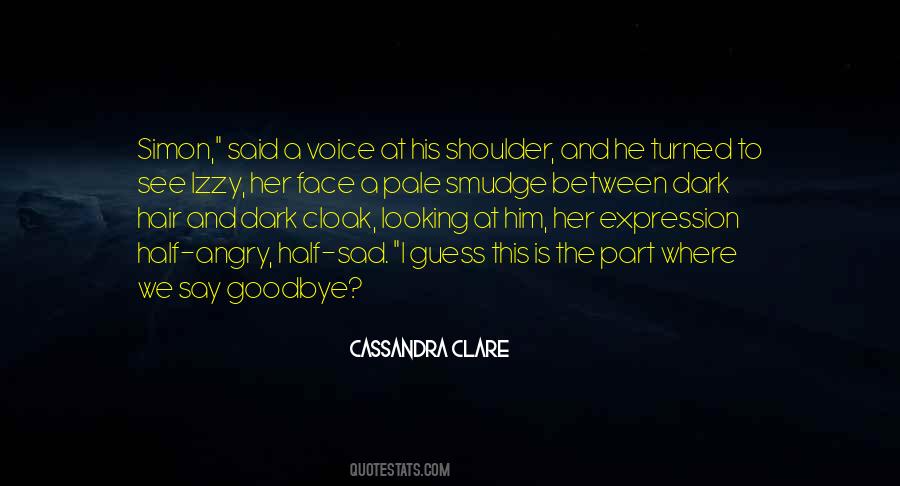 #6. Like the old soldier of the ballad, I now close my military career and just fade away, an old soldier who tried to do his duty as God gave him the light to see that duty. Goodbye. - Author: Douglas MacArthur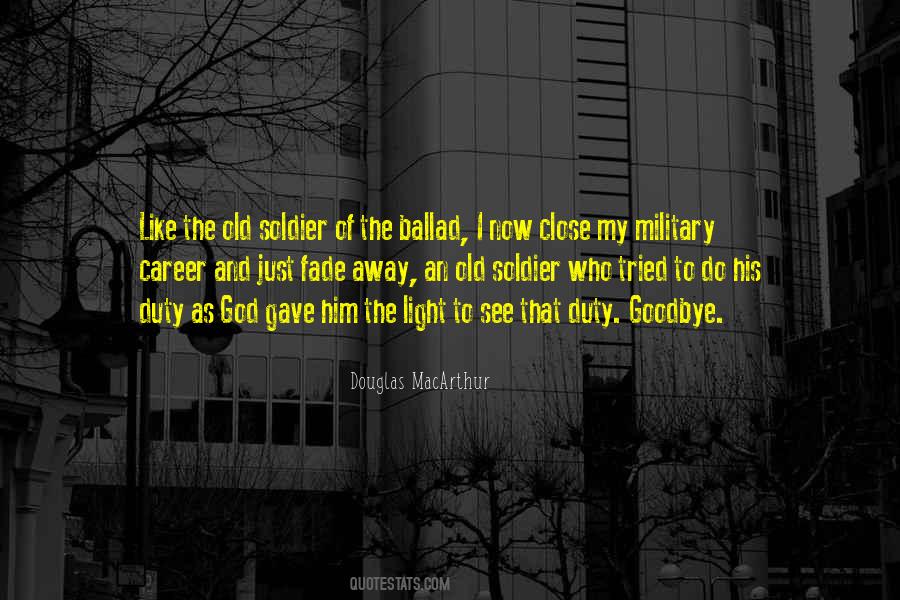 #7. In the distance, Amanda heard the sirens. Just a little bit longer. She didn't know what was wrong with her, but she was scared of dying before she had the chance to tell Ryker goodbye. In their capable hands, though, surely they could keep her alive long enough for him to return. They had to. - Author: Rose Wynters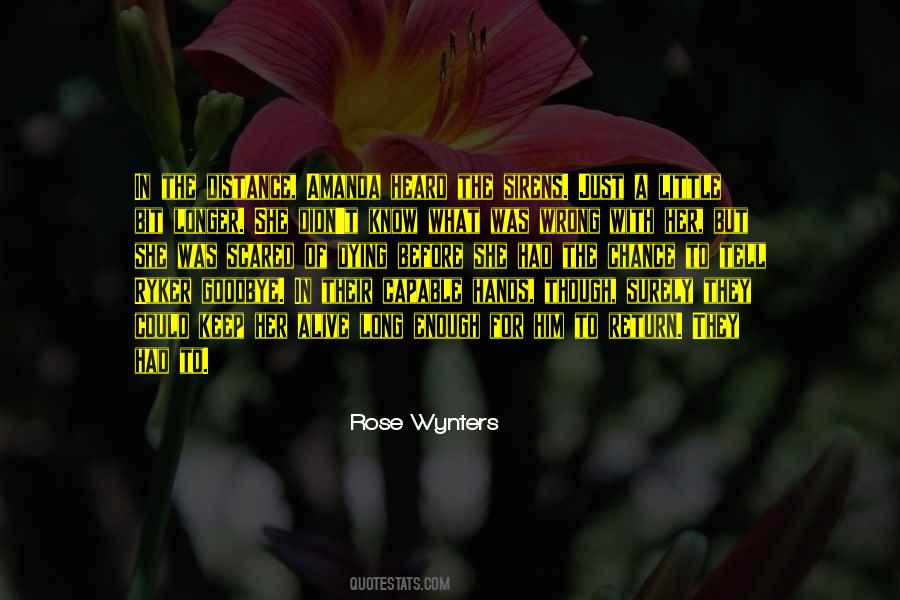 #8. Park was never going to love her more than he did on the day they said goodbye. And she couldn't bear to think of him loving her less. - Author: Rainbow Rowell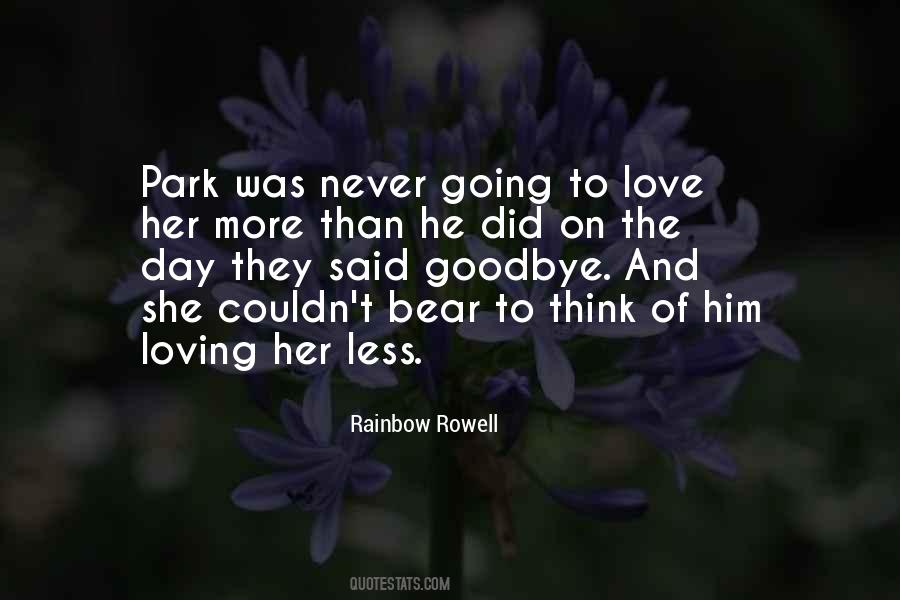 #9. Had a million things to say and none I knew how. I stepped forward and kissed him, like people kiss at airports, full of love and desperate longing, kisses that must imprint themselves on their recipient for the journey, for the weeks, the months ahead. - Author: Jojo Moyes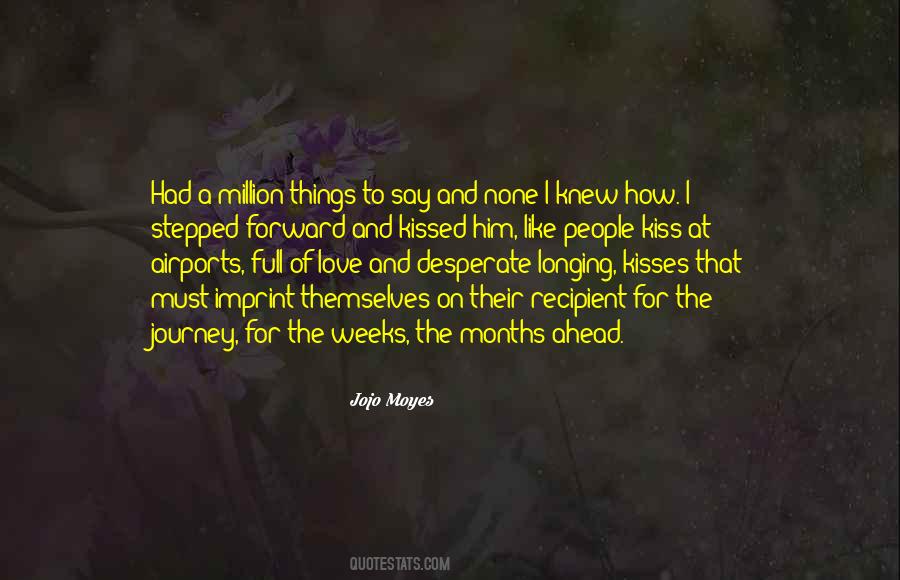 #10. He knew she suspected he was up to something, but being the good wife that she was, she didn't question him further. Just gave him a hug and a kiss goodbye and told him to be careful. - Author: Kathryn Meyer Griffith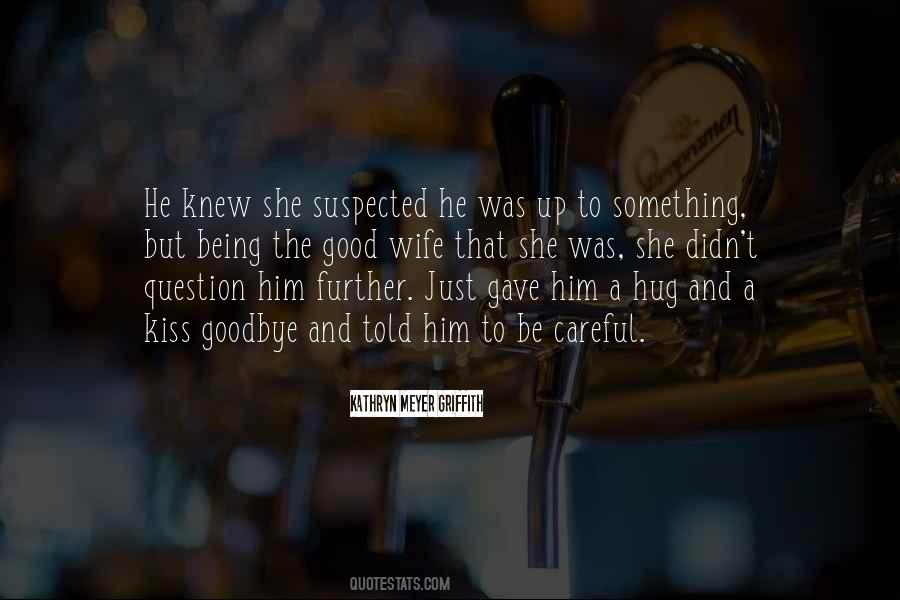 #11. Having a girlfriend was no longer my greatest need. Knowing and obeying Him was . I wanted to please Him in my relationships even if it meant looking radical and foolish to other people - even if it meant kissing dating goodbye. - Author: Joshua Harris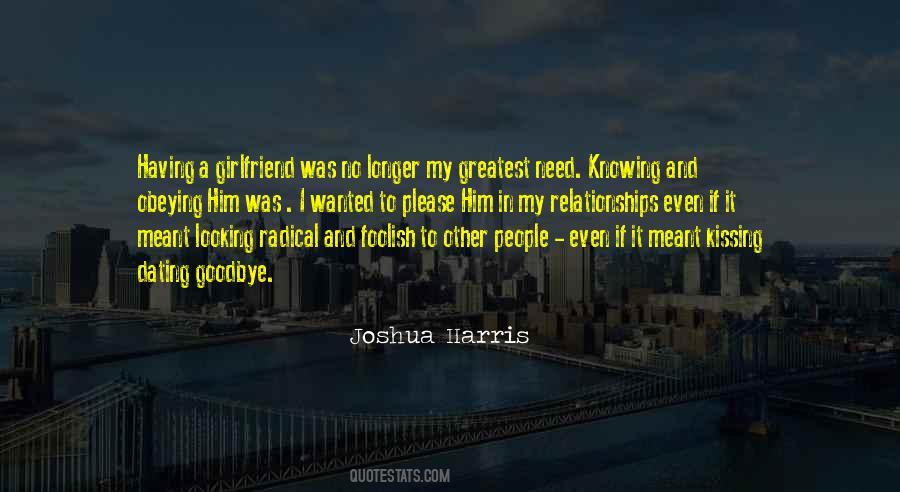 #12. I need to let him go. - Author: Marie Lu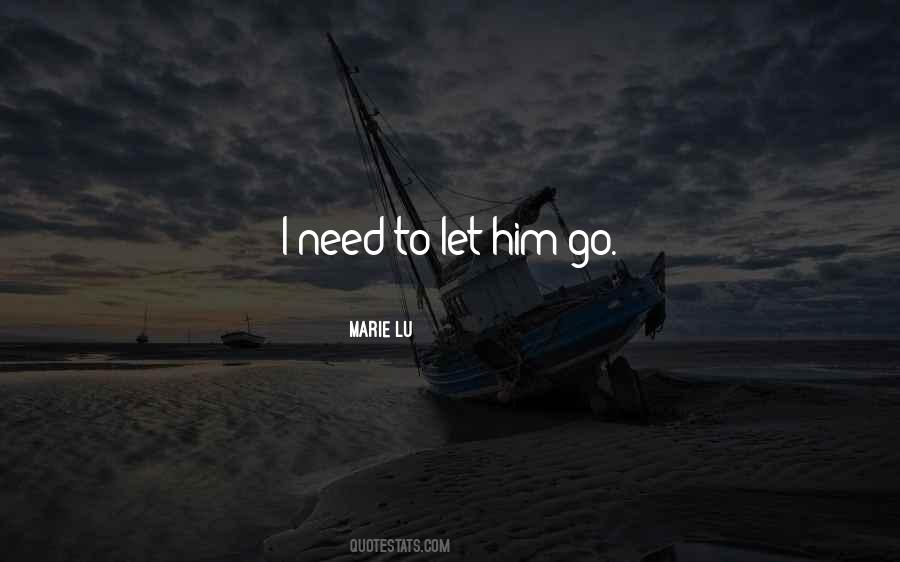 #13. I remember saying goodbye to my father the night he left to join the Navy. He didn't have to. He was older than other servicemen and had a family to support but he wanted to be a part of the fight against fascism, not just make movies about it. I admired this about him. - Author: Jane Fonda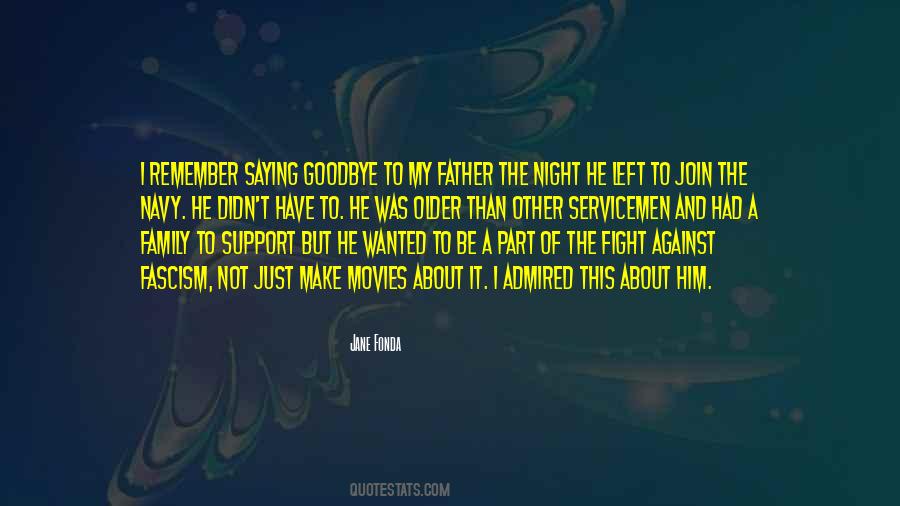 #14. He's not coming back. Maybe I do know this after all. Goodbye. I say to him in my head. I say it tenderly. I try to tell him with that one word how sorry I am. - Author: Deb Caletti
#15. We're not made to say goodbye. God didn't make us that way. We're eternal beings meant to live with him and those we love forever. So when we have to part with a loved one for a while because of death, it hurts. - Author: Lynette Eason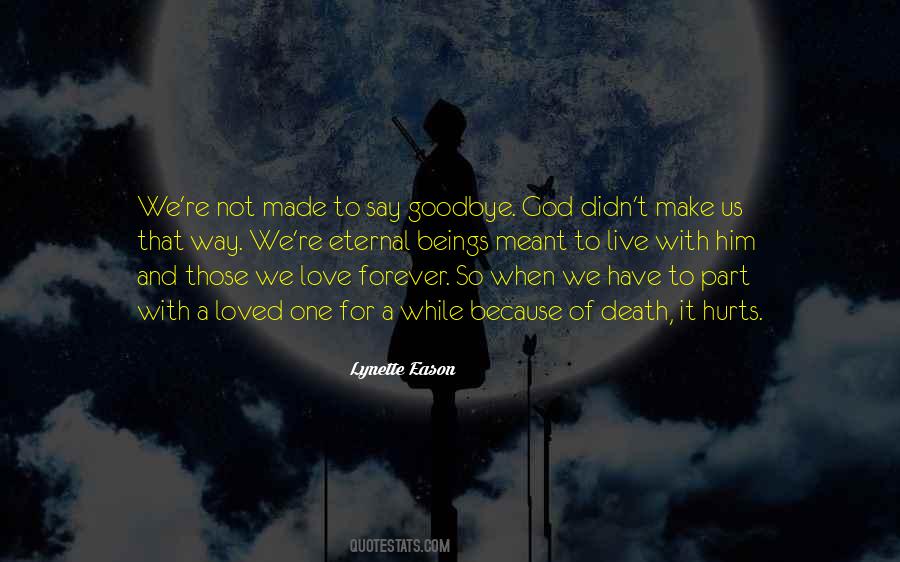 #16. [Jack Sparrow]'s a blast to play. I'll be in a deep, dark depression saying goodbye to him. I'll keep the costume and just prance around the house, entertain the kids ... I mean, at a certain point, the madness must stop, but for the moment, I can't say that he's done. - Author: Johnny Depp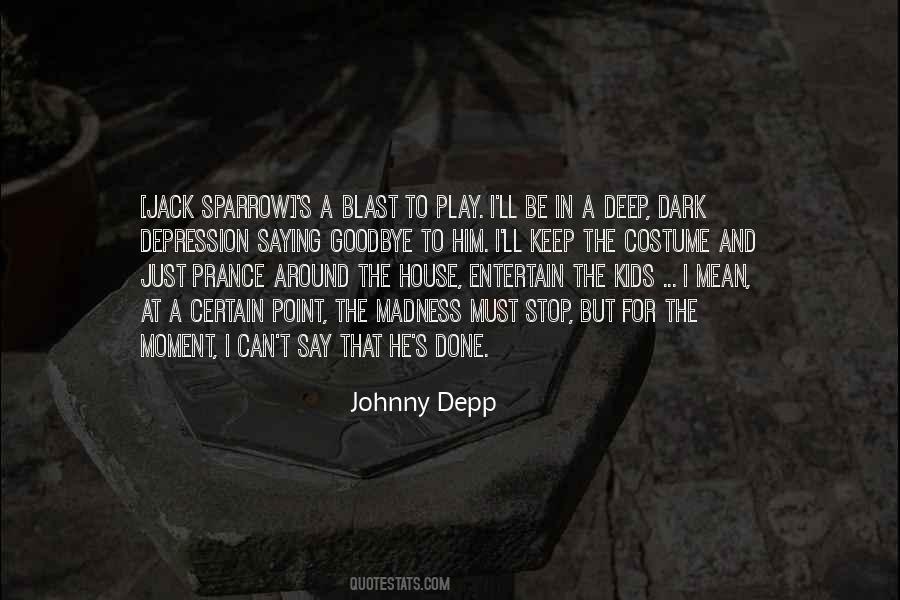 #17. He kissed me tenderly as my heart thumped out of control. My fingers slipped into his thick, black hair and held tightly. He paused, not wanting to pull away. I didn't let him. I was going to say goodbye properly. I held tightly, pressing my lips to his, soft at first then hard with desire. - Author: Leigh Goff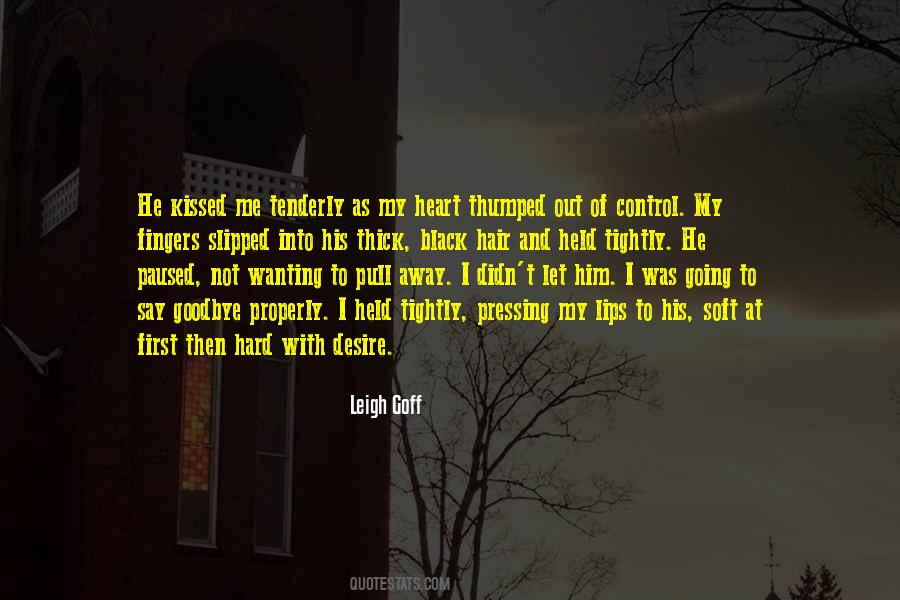 #18. I said it grieved me to part from anything that mattered to me, yet I welcomed the grief because it meant I had felt deeply and needed to express it. 'I even had trouble leaving the Parthenon,' I told him ... 'because it was so beautiful and I knew I'd never see it again. - Author: Jeanne Safer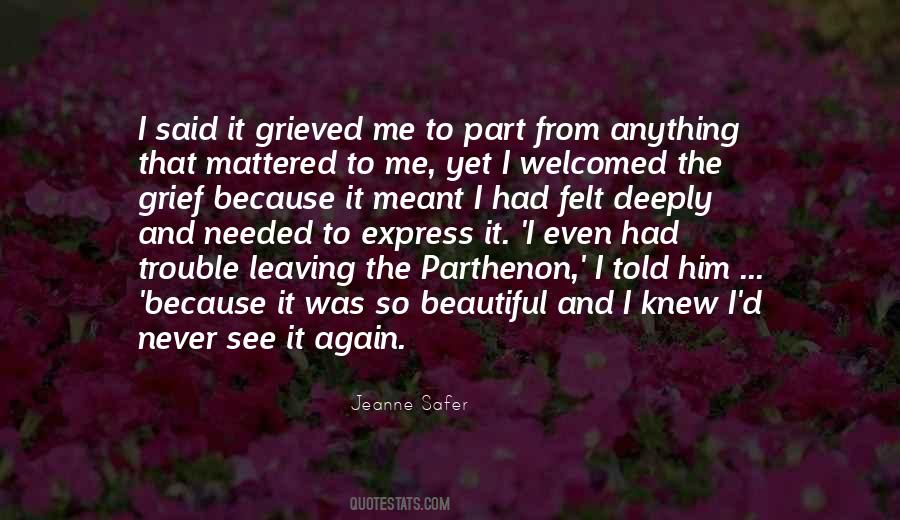 #19. A couple of years before he died, I kissed my father goodbye. He said, 'Son, you haven't kissed me since you were a little boy.' It went straight to my heart, and I kissed him whenever I saw him after that, and my sons and I always kiss whenever we meet. - Author: Terry Wogan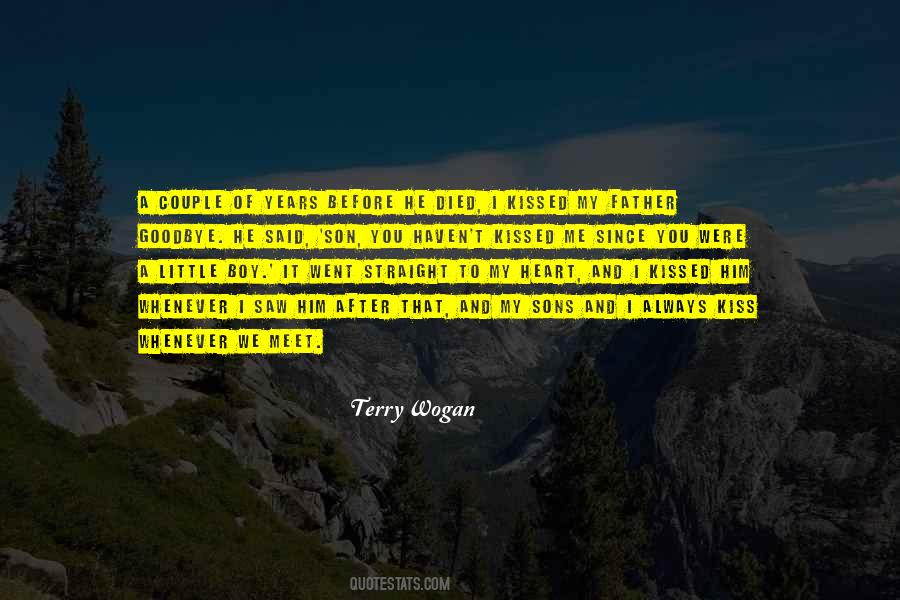 #20. Every night I went to bed promising myself I would tell him
goodbye in the morning and leave. But along with the mornings
always came new reasons to delay that, new places to see. I knew I
was only making excuses for myself, but there was no one to
reproach me, so I figured it was OK. - Author: Danka V.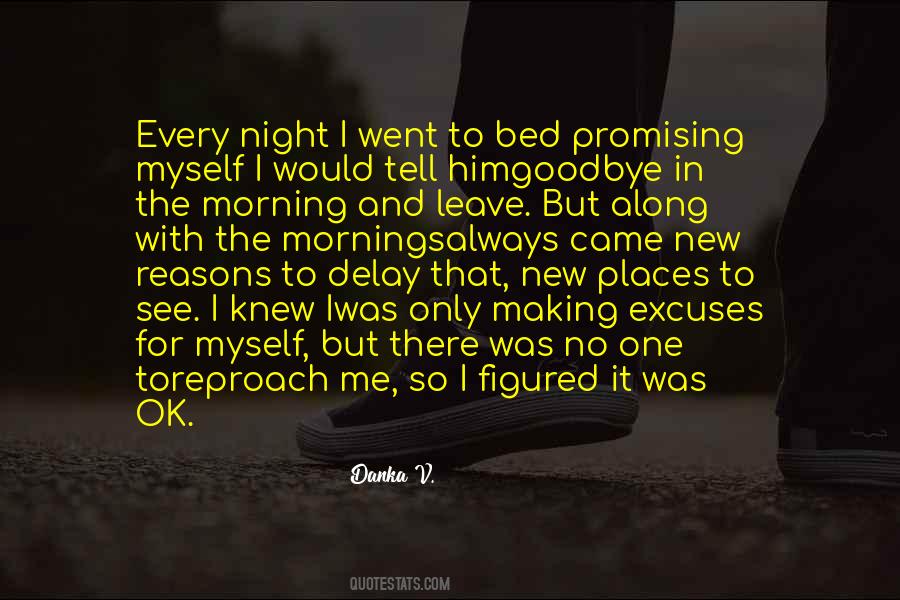 #21. You risked much, to give your love to such a one.
I stared at him. Love?
Did you not know, until now, when you must say goodbye? - Author: Juliet Marillier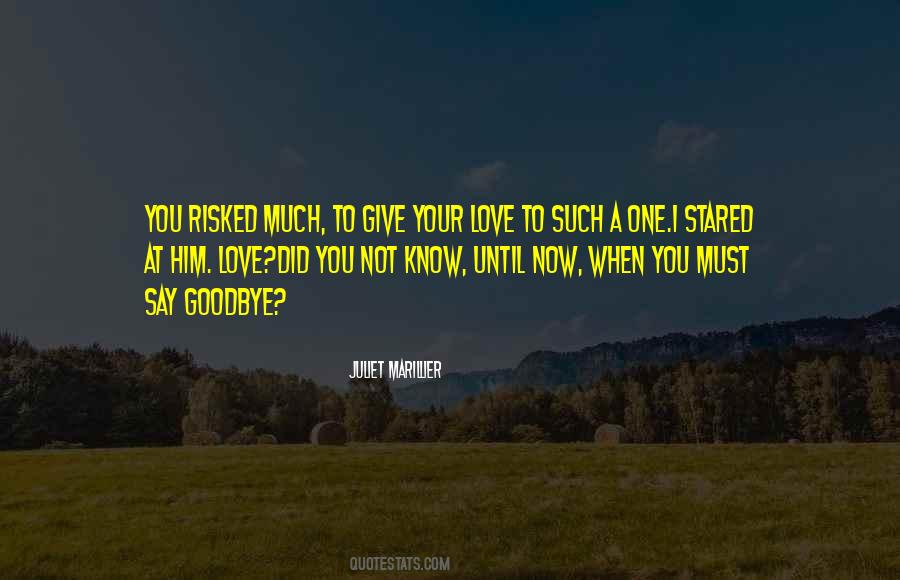 #22. Goodbye, fin,' I say. And I wish I was going with him, to some warm sheltered hideaway in the hills, wish that I, too, could lie down beside the dog, feel his unbroken heartbeat, smell the dust in his fur.
There's only hours. I steel my courage.
Surrender. - Author: Sonya Hartnett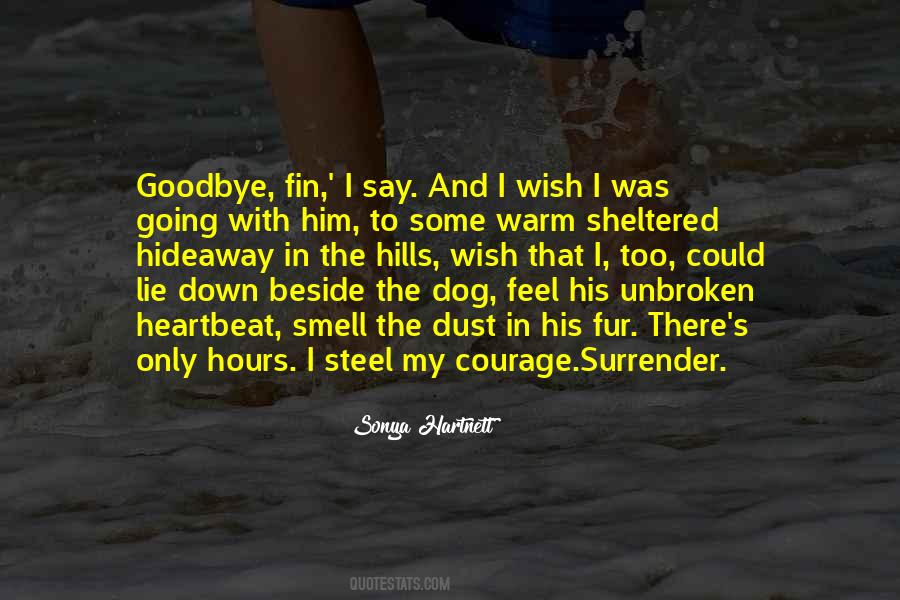 #23. I hate saying goodbye to you."
I nuzzled my face into his chest and then tipped my head back and looked up at him. "Just promise me once we get out of here, we'll never say goodbye again."
"I promise. - Author: Mia Sheridan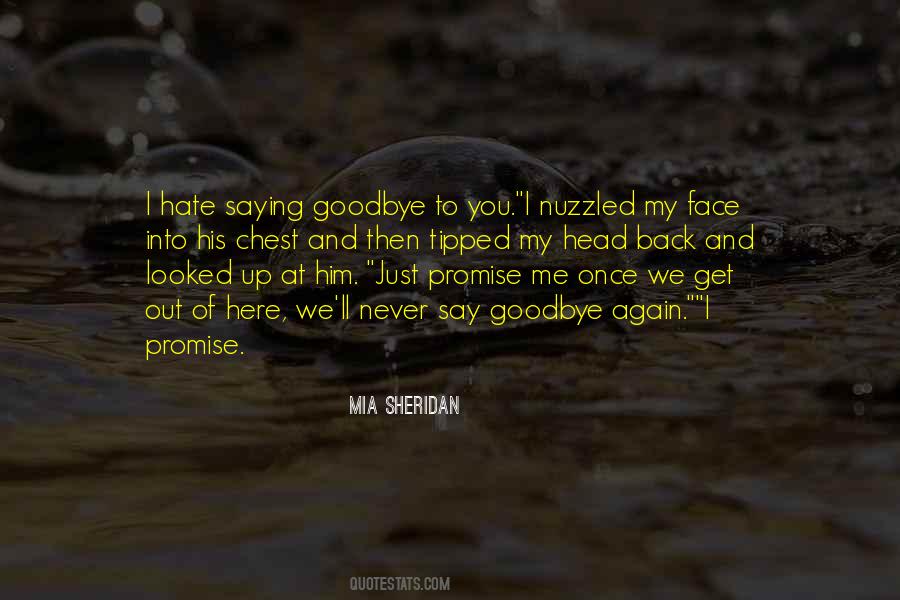 #24. But if there was a protocol for how to say goodbye to your newly ex-boyfriend's brother, right after you kissed him and probably sent your ex into the arms of his willing ex-girlfriend, I didn't know what it was. - Author: Rachel Vincent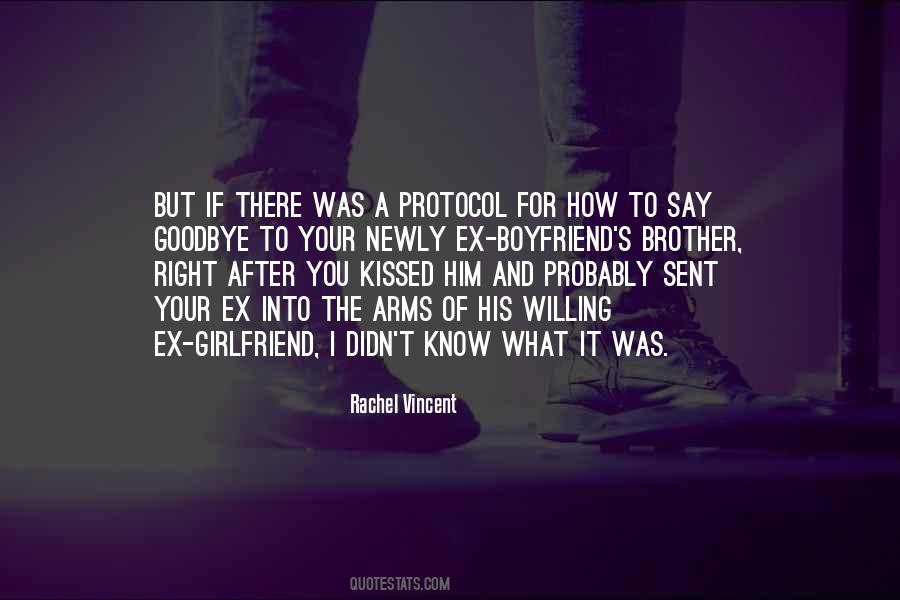 #25. He did not say goodbye, but she felt him leave. In the shadows of her closed eyes, she saw the forest path and saw him there. When she opened her eyes, he was gone. He had simply ceased to be. - Author: Karen Foxlee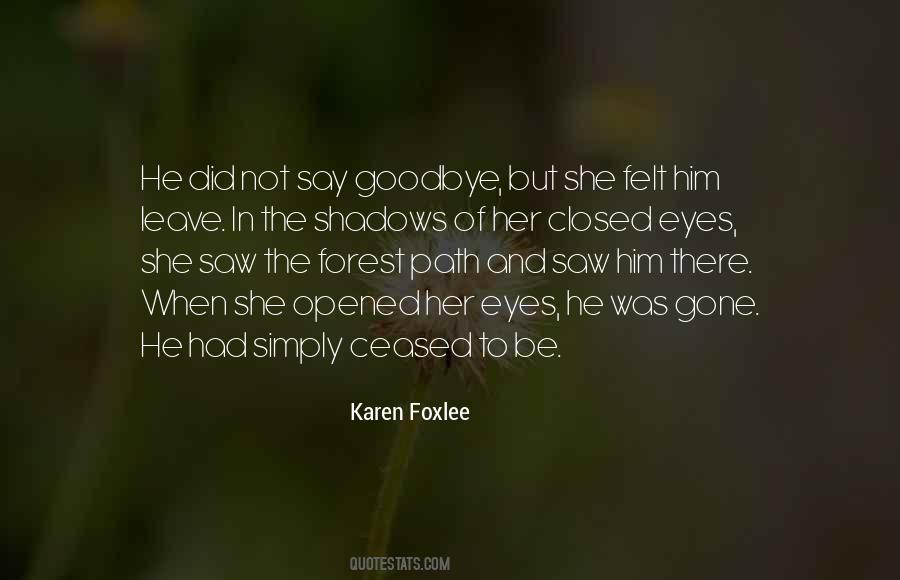 #26. What was it like to lose him? Asked Sorrow.
There was a long pause before I responded:
It was like hearing every goodbye ever said to
me - said all at once. - Author: Lang Leav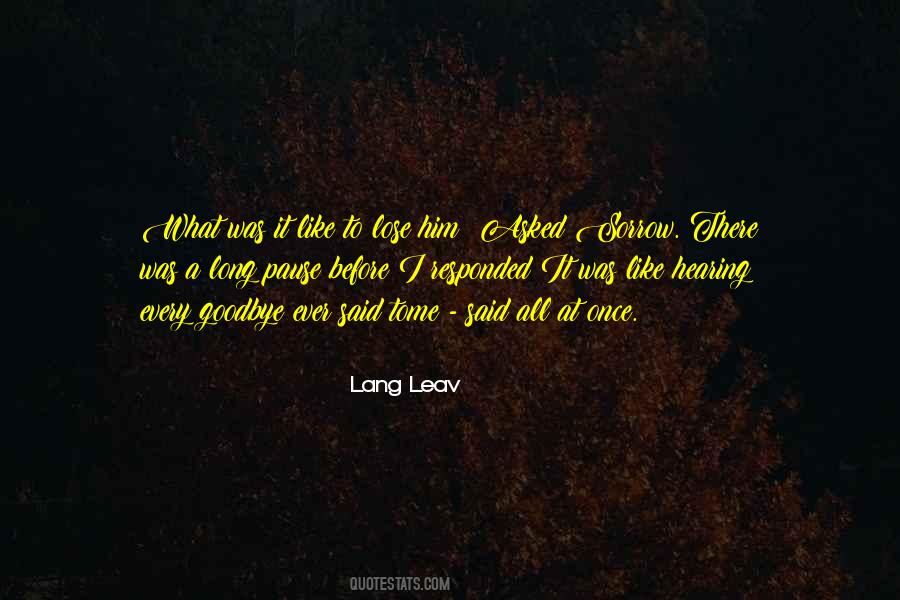 #27. now he sensed that she was saying goodbye to him - Author: Catrin Collier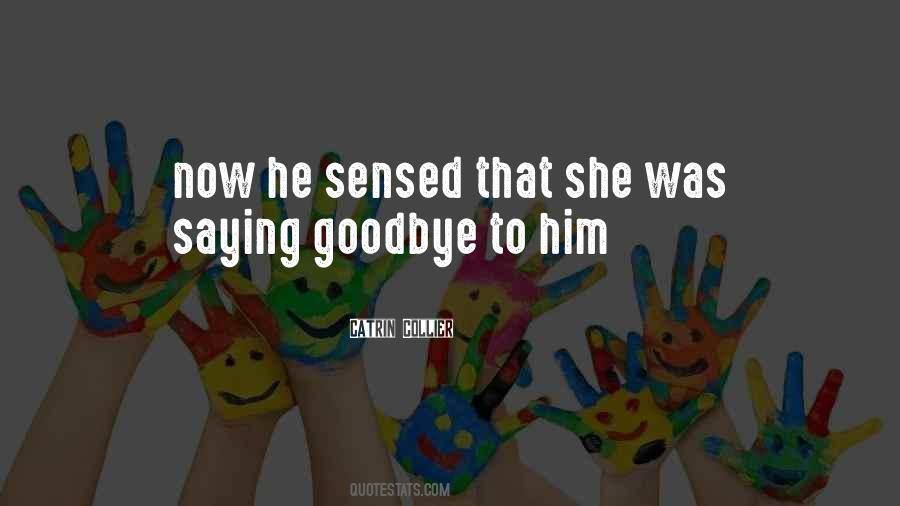 #28. For some reason, the smell brings tears to my eyes. I almost feel like I'm saying goodbye to him, which is ridiculous because I'm seeing him again in just a few hours. It's like saying goodbye to a dream that was never mine in the first place. Love is the worst. - Author: Jacqueline E. Smith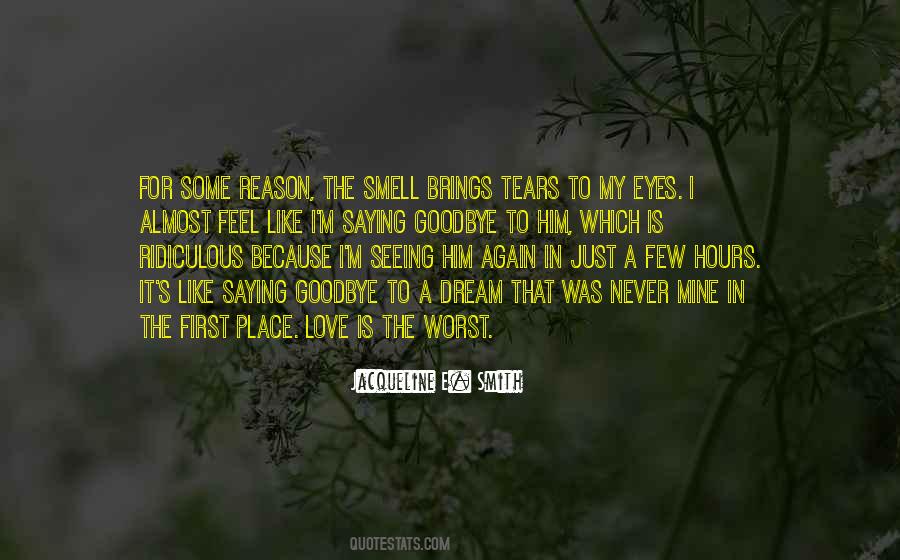 #29. I drew the last image ever of Opus at midnight while Puccini was playing and I got rather stupid. Thirty years. A bit like saying goodbye to a child - which is ironic because I was never, never sentimental about him as many of his fans were. - Author: Berkeley Breathed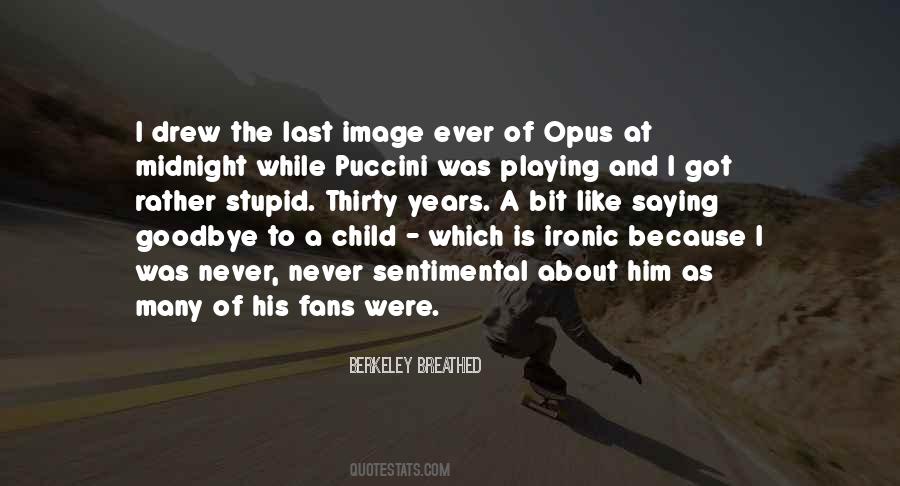 #30. What would I have wanted to say if I had had the opportunity to see him one more time? I would like to think that I would have kept it simple and said, "I love you," then just held his hand in silence, letting that thought linger in the space of the time we had left together. - Author: Lisa J. Shultz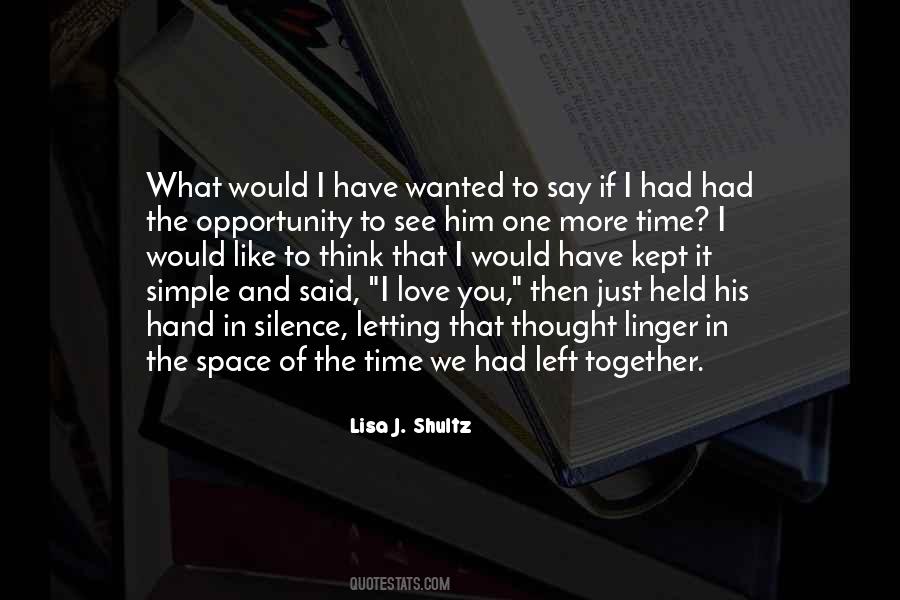 #31. She smiles and hugs him goodbye, her hand lingering on the small of his back. They are definitely going to have sex. - Author: Jay Asher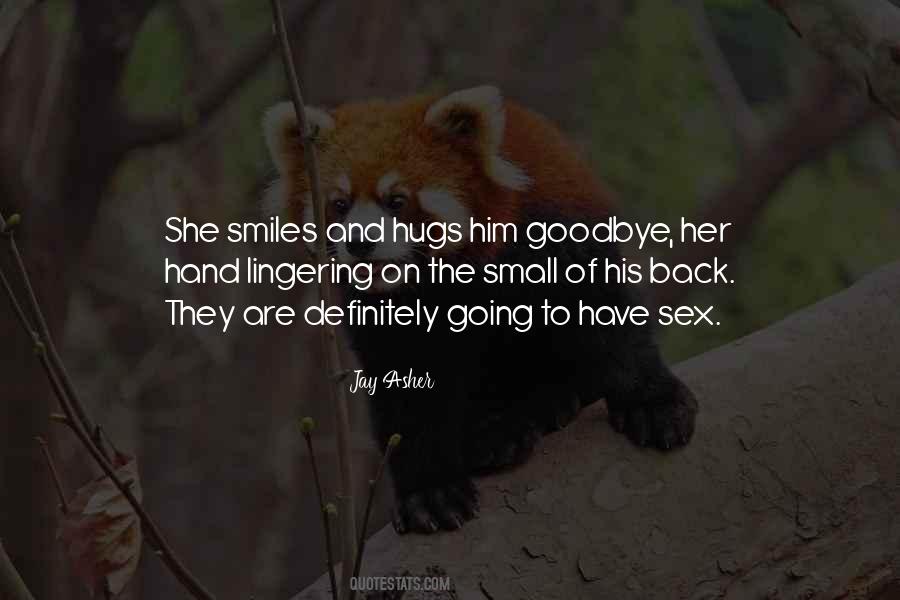 #32. And before he can tell her to tell Widget goodbye for him if need be, she leans forward and kisses him, not on the cheek, as she has a handful of times before, but on the lips, and Bailey knows in that moment that he will follow her anywhere. - Author: Erin Morgenstern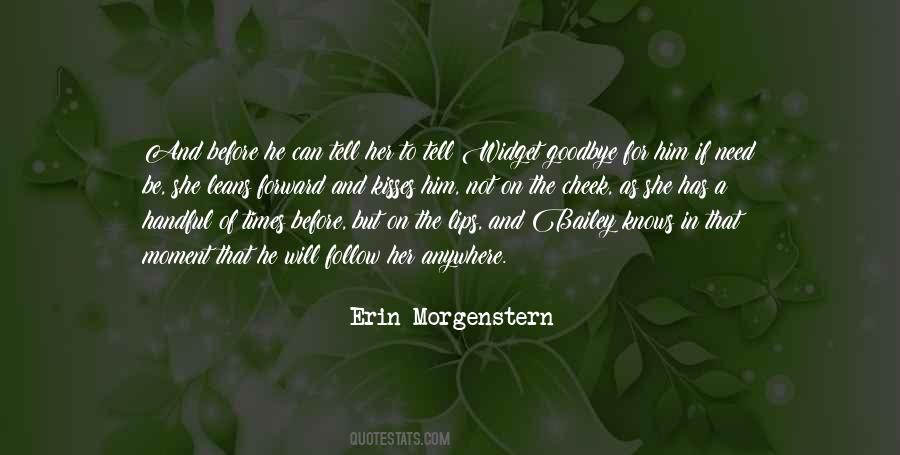 #33. When you do a normal film, you play the character for three months and you say goodbye to him. And then, when you watch the movie, you say, "I wish I could have done that differently. I wish I could have added this to it." - Author: Taylor Lautner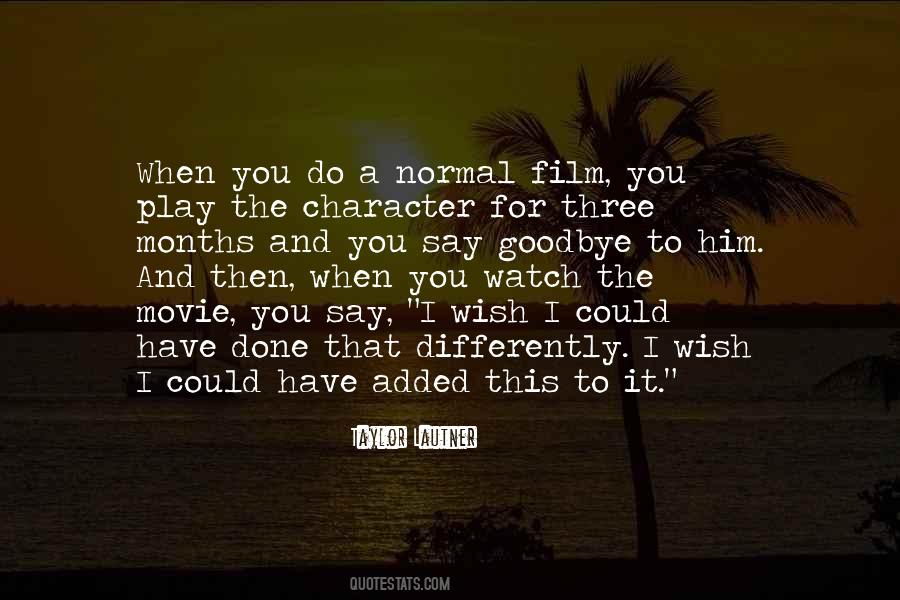 Famous Authors
Popular Topics