God In Control Famous Quotes & Sayings
List of top 100 famous quotes and sayings about god in control to read and share with friends on your Facebook, Twitter, blogs.
Top 100 God In Control Quotes
#1. God was in control. He wouldn't take them through a season where He hadn't gone first. - Author: Karen Kingsbury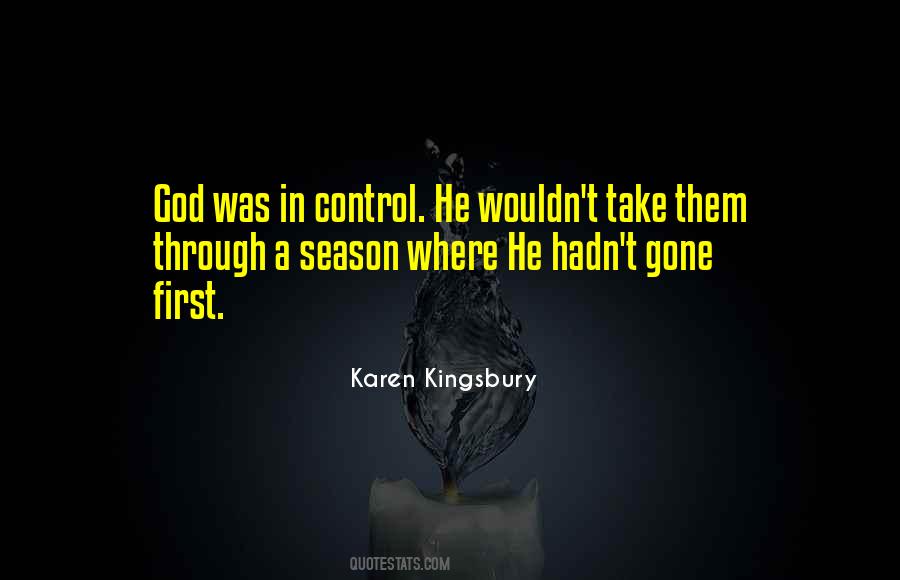 #2. The new humanity that is created around Jesus is not a humanity that is always going to be successful and in control of things, but a humanity that can reach out its hand from the depths of chaos, to be touched by the hand of God. - Author: Rowan Williams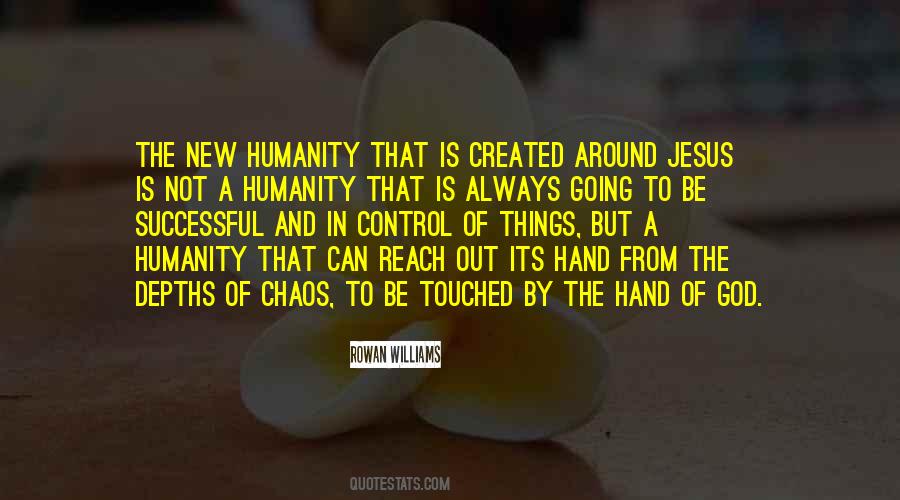 #3. it is clear that divine sovereignty and human freedom contradict each other.[16] If God controls everything, including man's thoughts, then man is not free from God. If man is free from God in any sense or to any degree, then God does not control everything. - Author: Vincent Cheung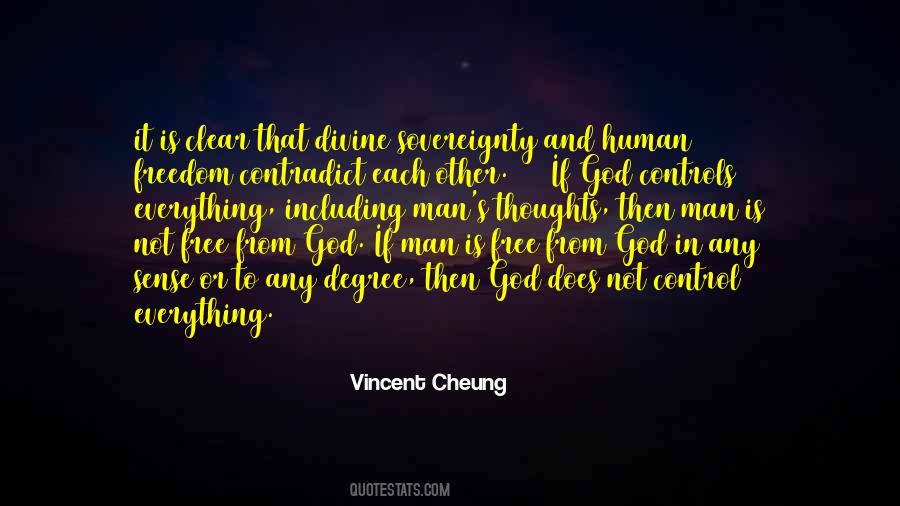 #4. The next time you're disappointed, don't panic. Don't give up. Just be patient and let God remind you He's still in control. - Author: Max Lucado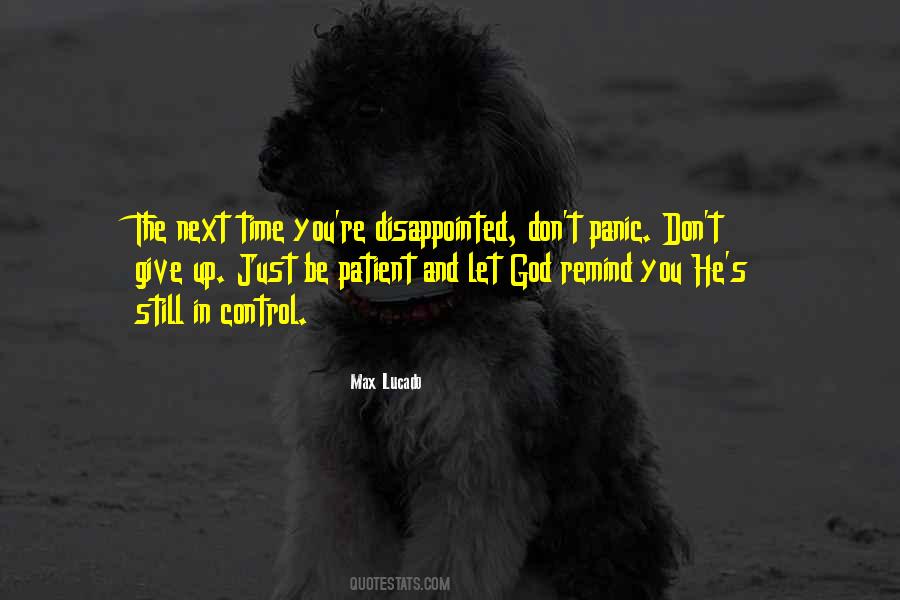 #5. I wrapped my arms around his neck, drawing him closer. Oh God, it was so out of control, but in this really sweet, beautiful way. I never thought I'd be allowed to have that feeling. I thought it had been completely beaten out of me, but there it was, untouchable and clean. - Author: Sarah Fine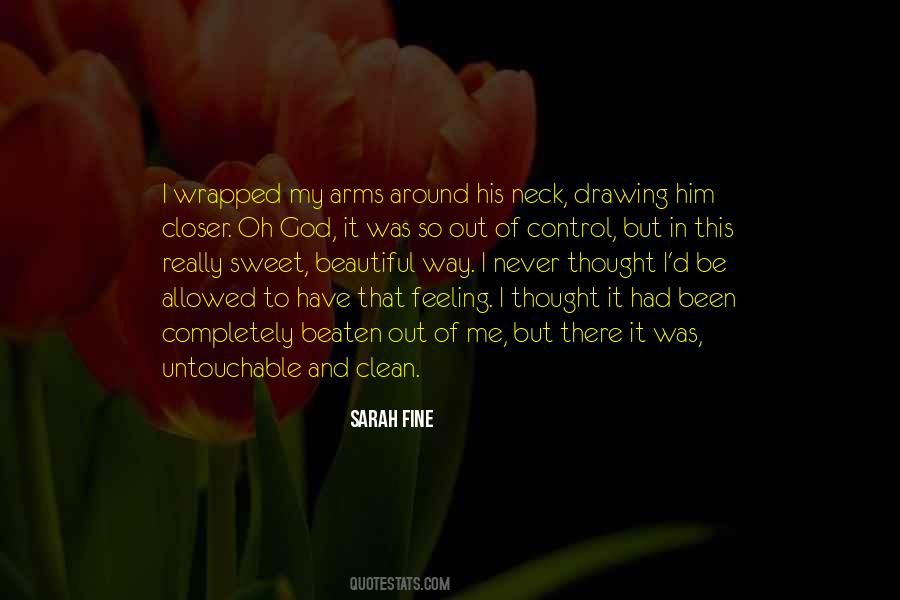 #6. Problems never just go away or take care of themselves, especially when God allows them in order to shape our character. God will patiently wait and allow the circumstances to compel us to do what we should have done at the beginning: surrender all control to God. - Author: Wayne Stiles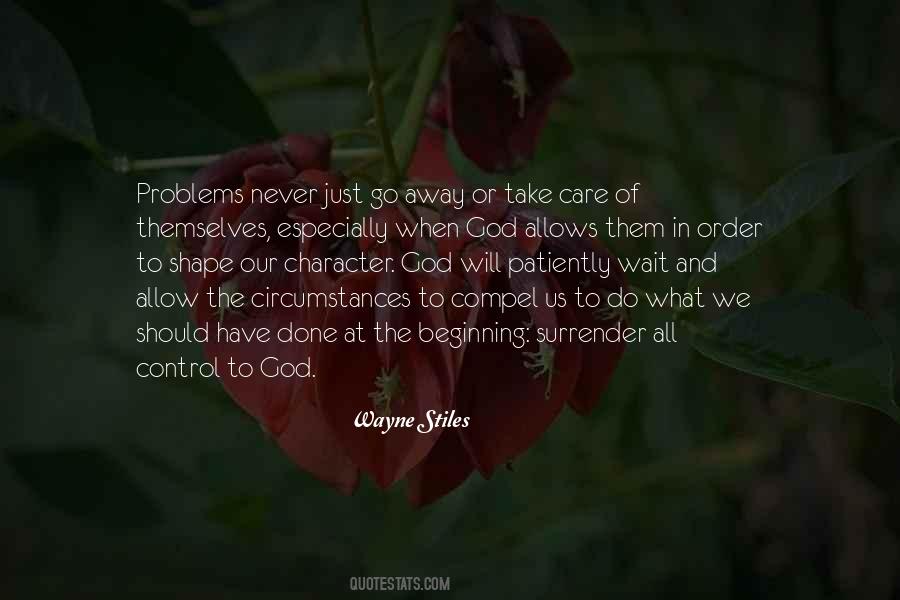 #7. Revelation announces that God is still in control and that he will conclude this stage of history the way he has promised. He - Author: Craig S. Keener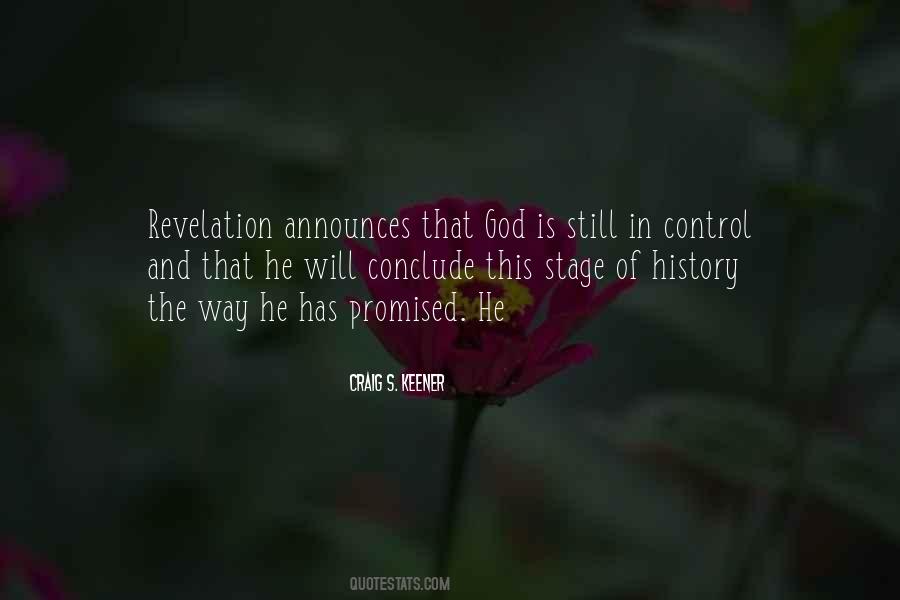 #8. With each new experience of letting God be in control, we gain courage and reinforcement for daring to do it again and again. - Author: Gloria Gaither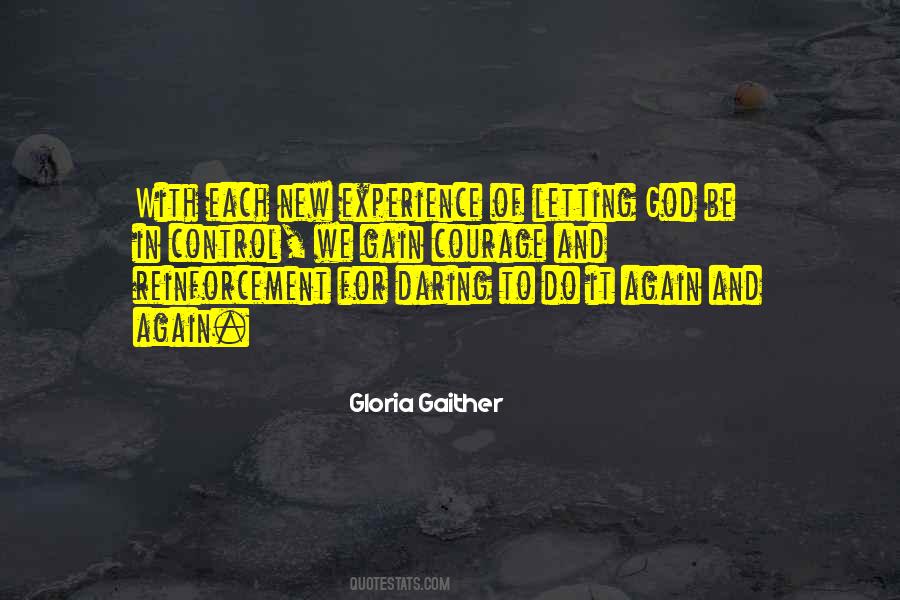 #9. And I remember telling God that whatever happens, happens. I remember telling myself He's in control. - Author: Esther Earl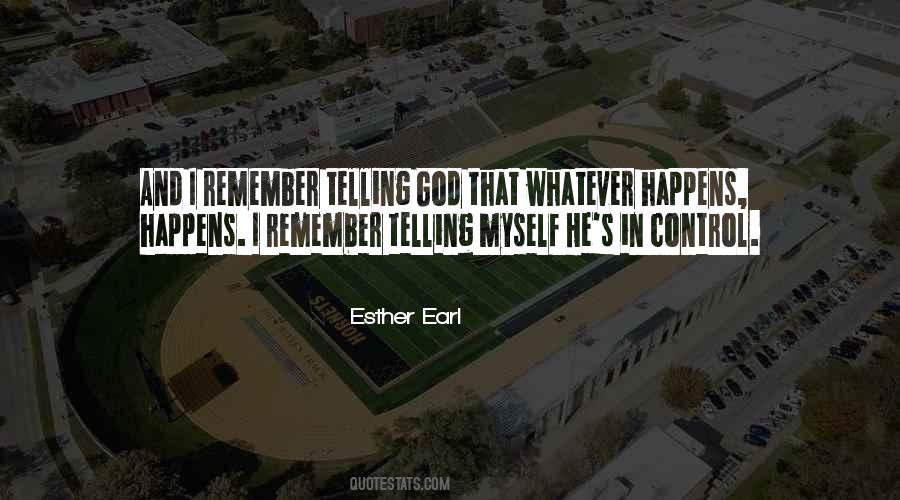 #10. Just as airplane pilots must maintain contact with air traffic control towers, you and I must stay in touch with God - the one who sees the big picture of our lives and who orchestrates everything that involves us. He - Author: Joyce Meyer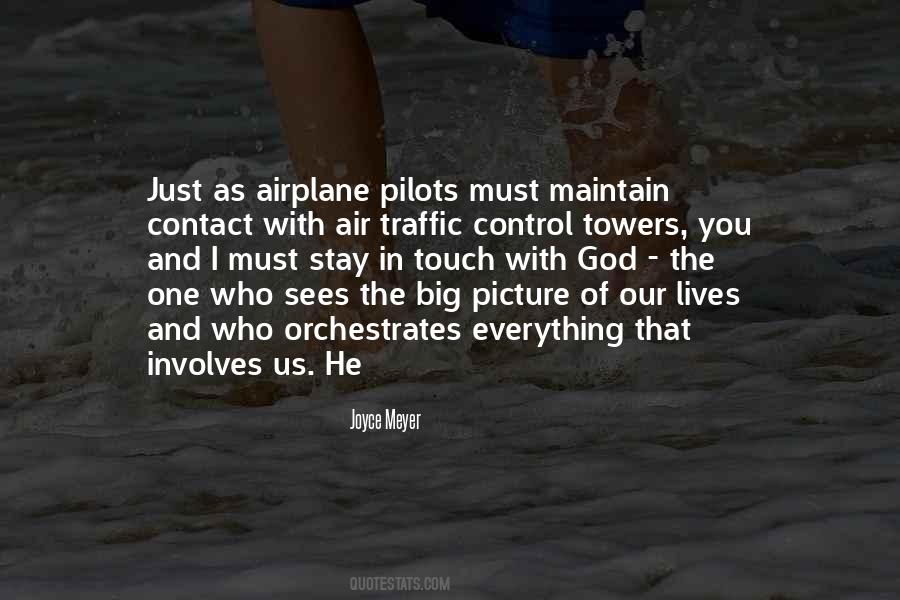 #11. Divine reality is not way up in the sky somewhere; it is readily available in the encounters of everyday life, which make hash of my illusions that I can control the ways God comes to me. - Author: Barbara Brown Taylor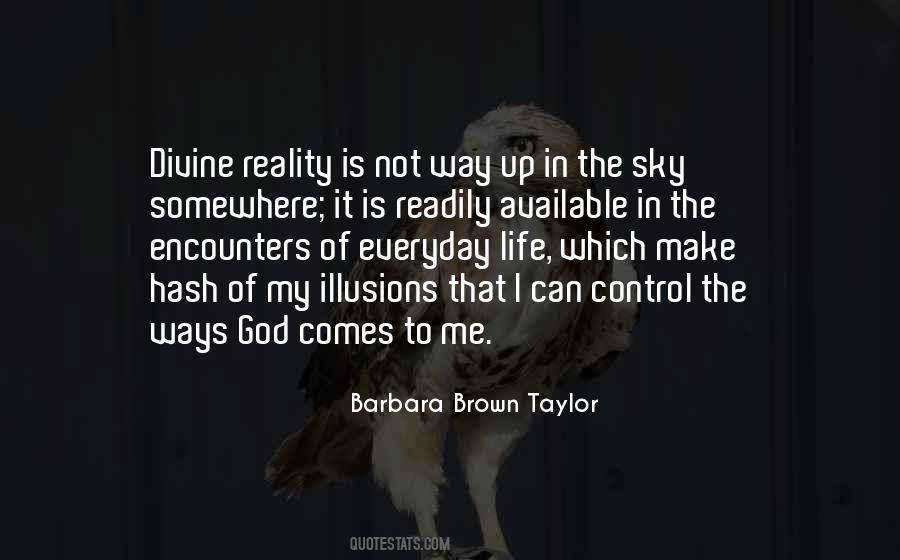 #12. I have never known more than fifteen minutes of anxiety or fear. Whenever I feel fearful emotions overtaking me, I just close my eyes and thank God that He is still on the throne reigning over everything and I take comfort in His control over the affairs of my life. - Author: John Wesley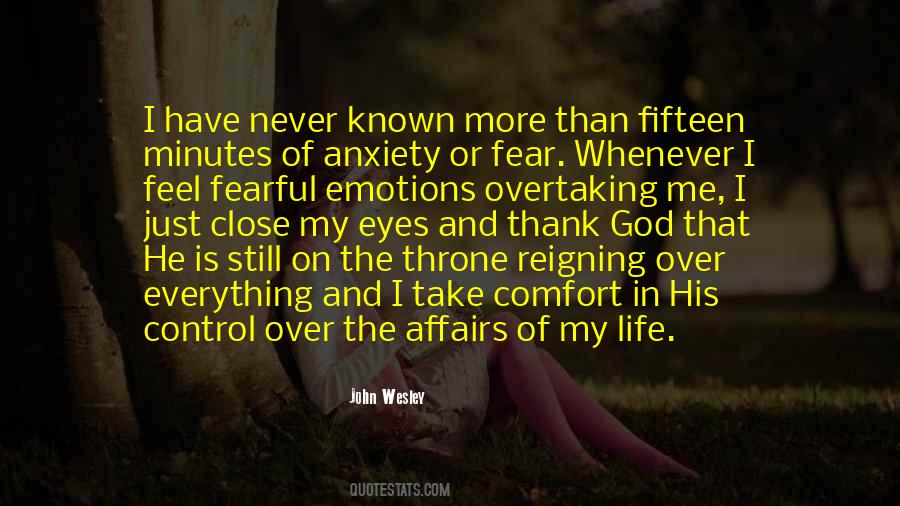 #13. Stress and worry is a residual of relying on yourself and being your own god, in control of everything. Worship allows us to rely on God's power to steer us through life. - Author: T.D. Jakes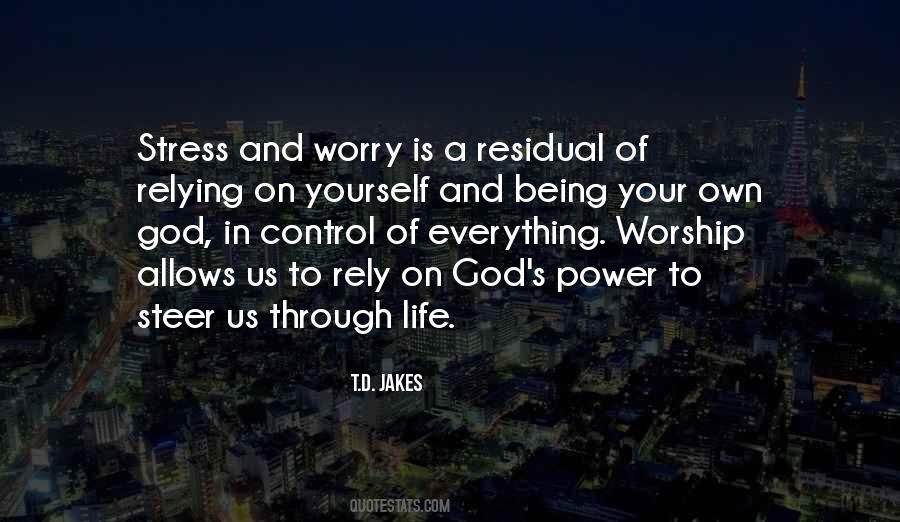 #14. There is a school of thought, a heresy from the madhouse of heresies in the ninth century, that says God is good and is in control of every individual thing that happens, every event, but that unfortunately the devil is in control of the timing. - Author: Norman Rush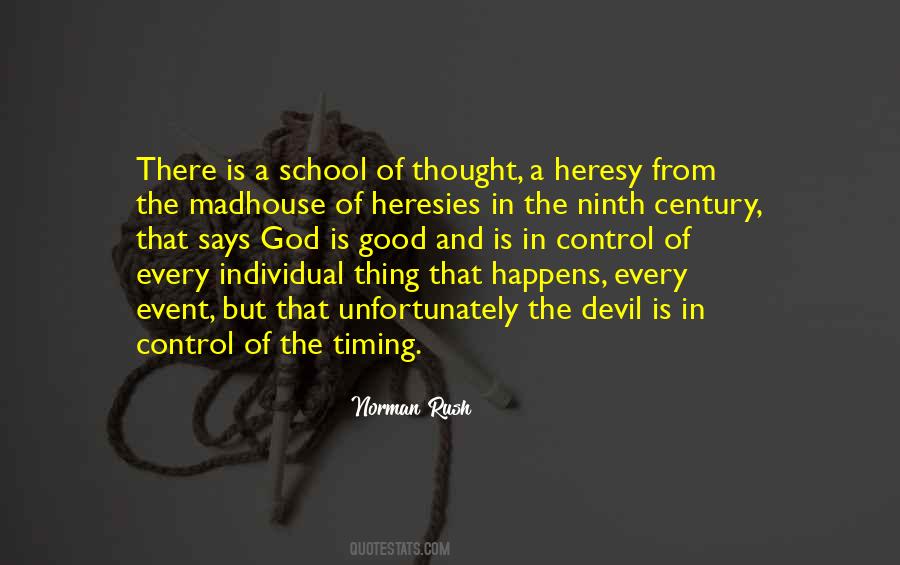 #15. I've said all along that God is in control. - Author: Tony Dungy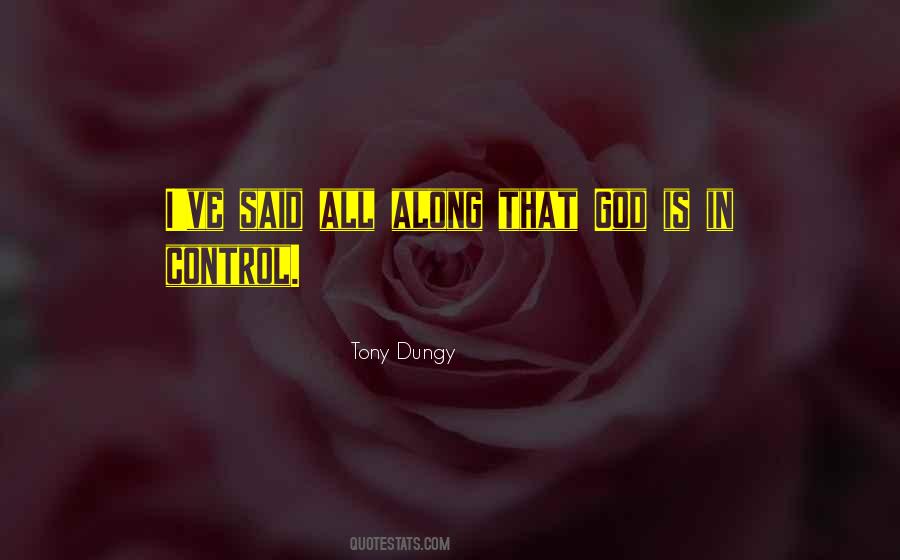 #16. In many ways, the longer I live, I understand that there are so many things outside my control. That's why I believe faith is such a big part of the story. There are so many things that were orchestrated by God, that were put into place to make this perfect storm, that created Linsanity. - Author: Jeremy Lin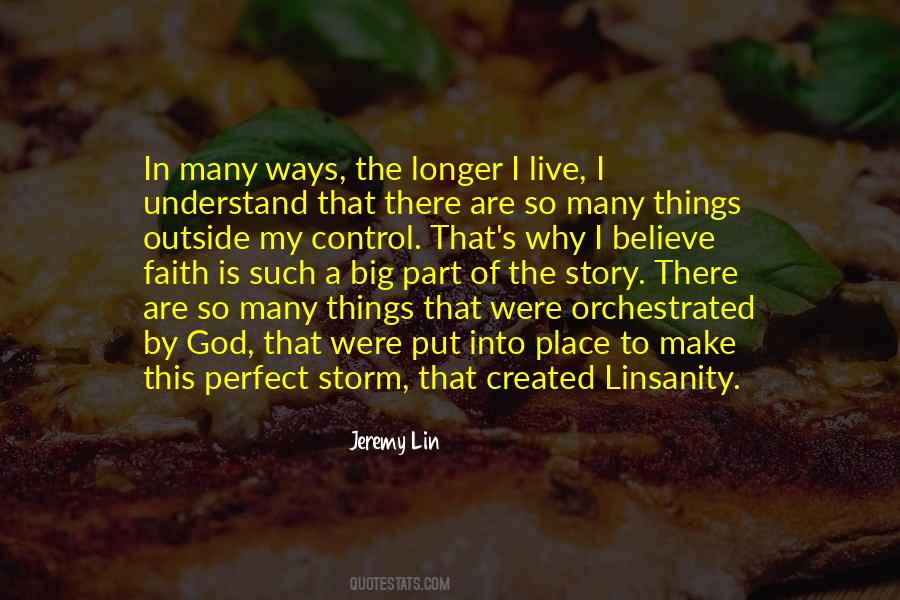 #17. Mary Daly, author of Beyond God the Father, points out that the model of the universe in which a male God rules the cosmos from outside serves to legitimize male control of social institutions. - Author: Starhawk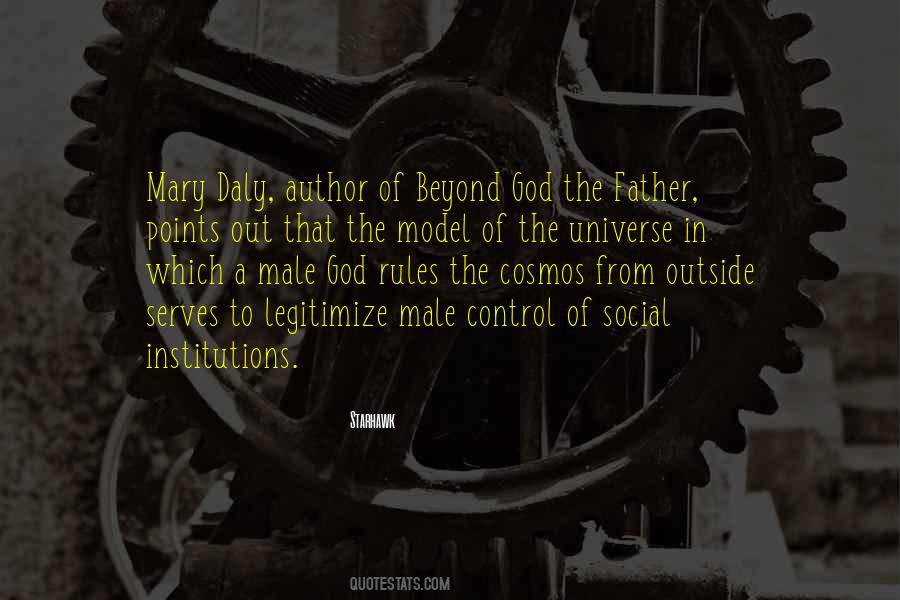 #18. From Genesis to Revelation, here's the central message: God Almighty, the Lord Jesus Christ, the Spirit of God, the Triune God is in control of all things, period. - Author: Charles Stanley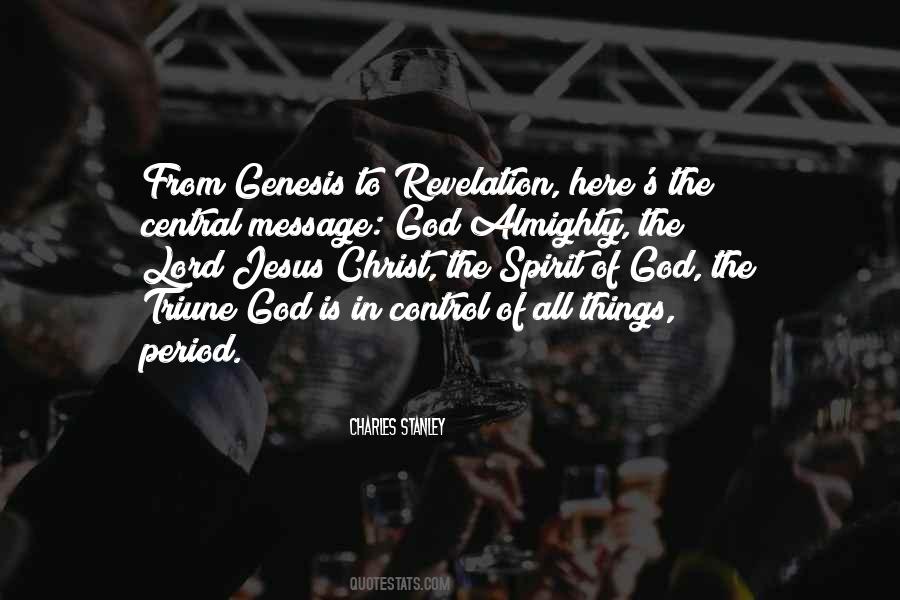 #19. It is so often self who tries to live the Christian life. No wonder we need breaking. As long as self is in control, God can do little with us. - Author: Roy Hession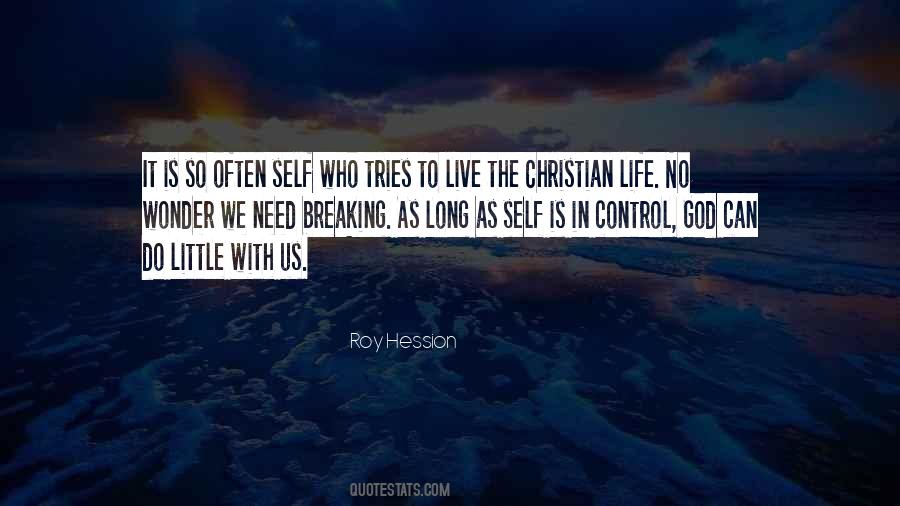 #20. The only thing that's in my control is to win ballgames and God is always taking care of me. - Author: Dusty Baker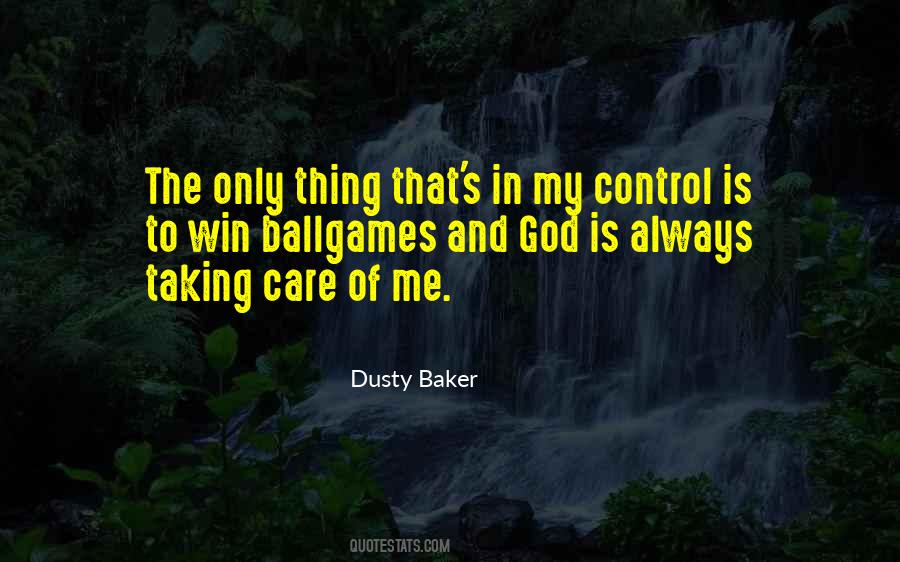 #21. The only way to take command of your life is to realize that you are never going to be in control of it. - Author: Toni Sorenson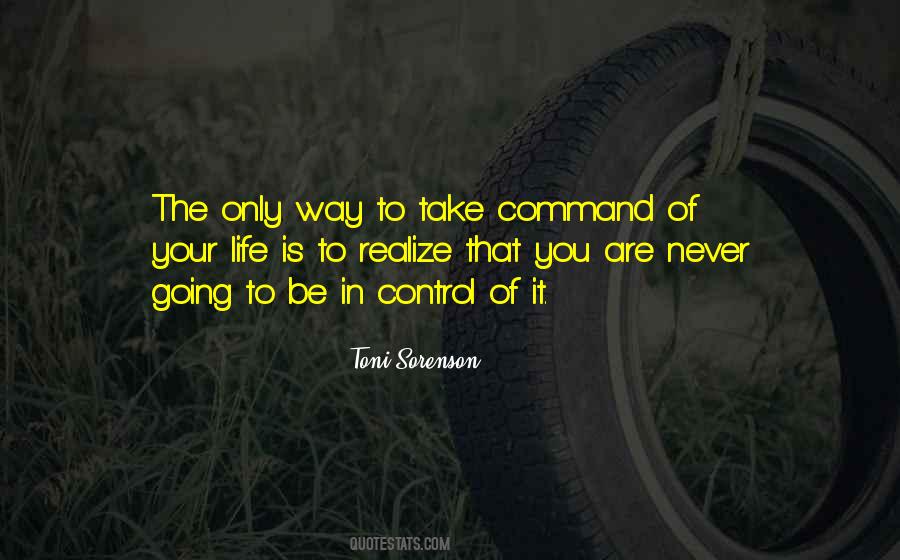 #22. It's funny how aimless a person can feel at times, even when they know God is in control. - Author: Chris Fabry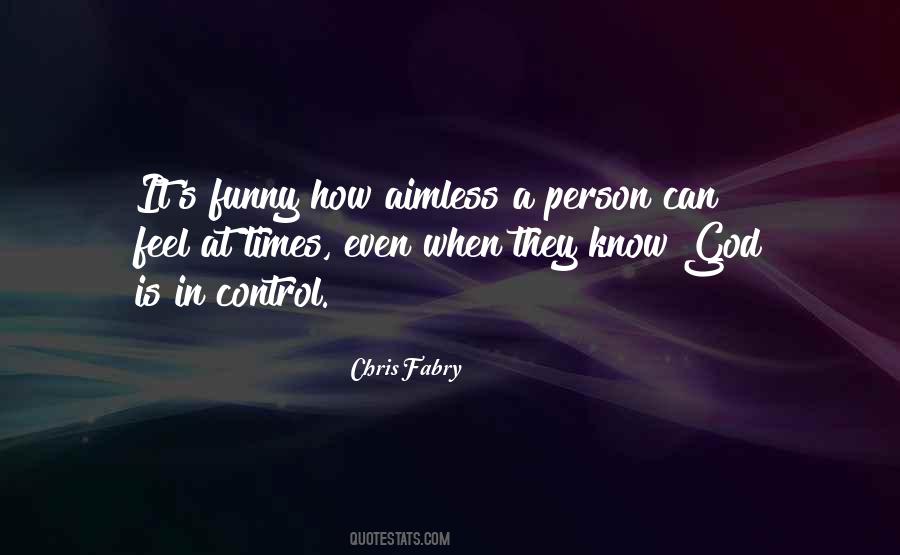 #23. God is in control, and therefore in EVERYTHING I can give thanks - not because of the situation but because of the One who directs and rules over it. - Author: Kay Arthur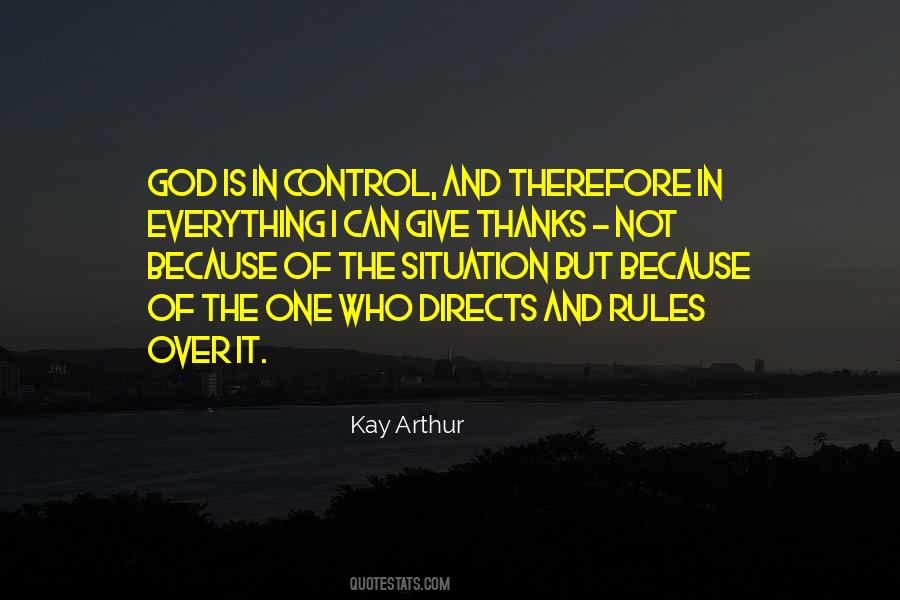 #24. Although God allows the world to use His great wealth in order that their physical and material needs be met, it is not God's will for the devil's children to control all the money that is in the world. - Author: Paul Silway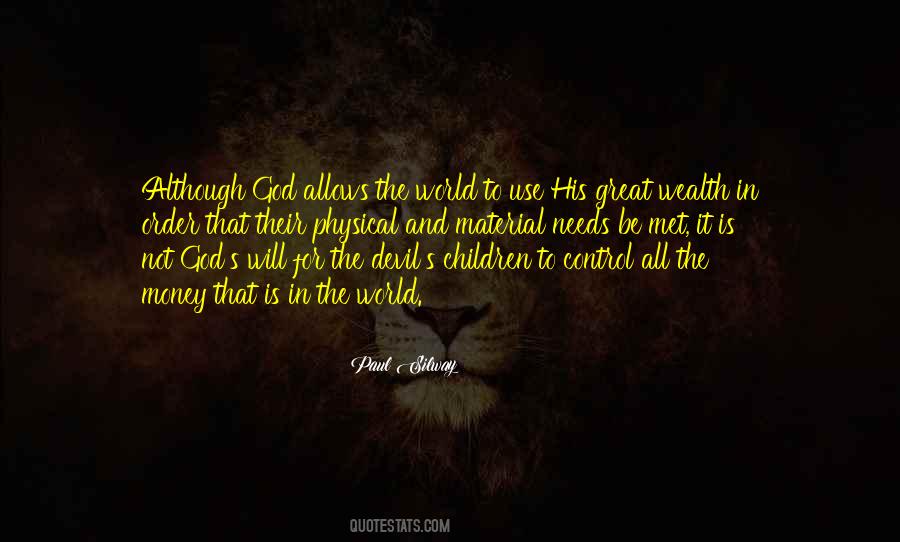 #25. To wait, biblically speaking, is not to assume the worst, worry, make demands, or take control. Nor is waiting doing nothing. It is a sustained effort to stay focused on God through prayer and belief. To wait is to "rest in the LORD, and wait patiently for Him" (Psalm 37:7). - Author: Max Lucado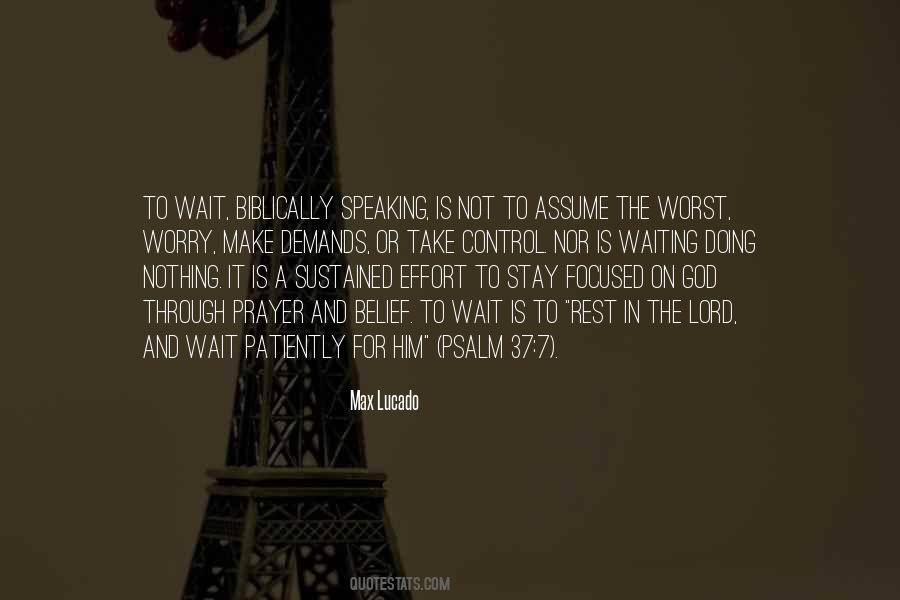 #26. Faith is a thing of the mind. If you do not believe that God is in control and has formed you for a purpose, then you will flounder on the high seas of purposelessness, drowning in the currents and drifting further into nothingness. - Author: Ravi Zacharias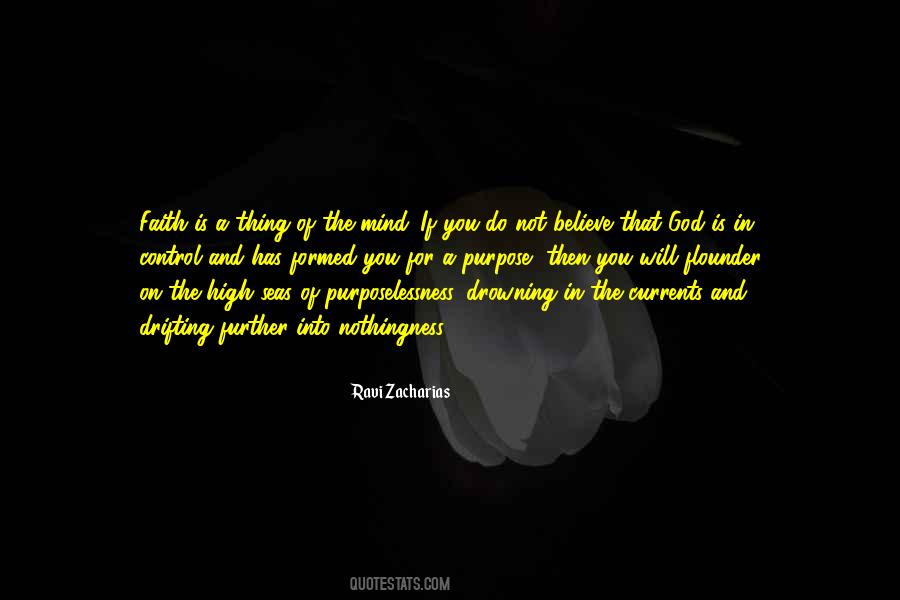 #27. God grant ... that he may learn to understand in time, that whoso is minded to do as he himself wills will soon enough see the day when he will find he has done that which he had never willed. - Author: Sigrid Undset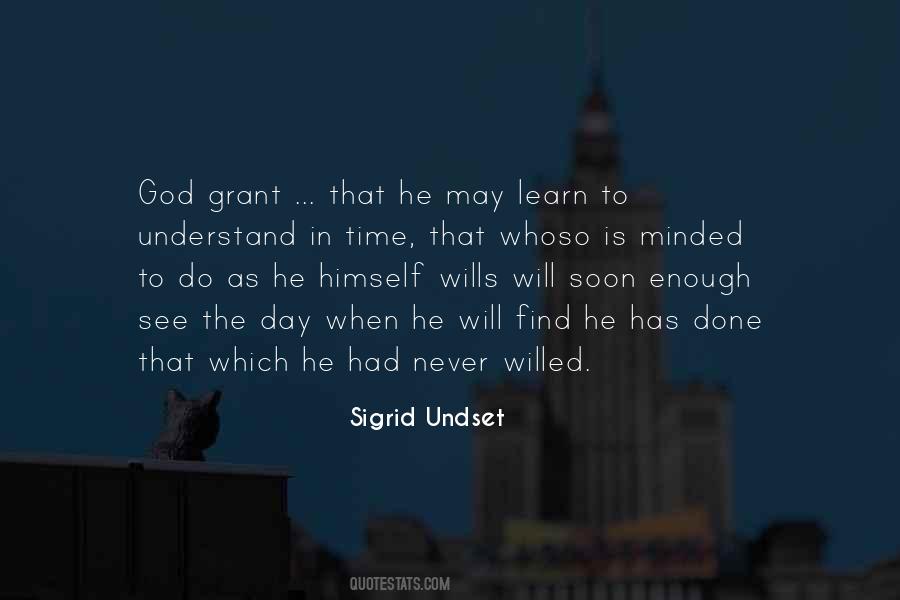 #28. I felt peace, even though I was still scared to death. I thought that, whatever would happen to me - I could still be killed. I didn't know - and in what I'd already been through, God was in control. - Author: Diet Eman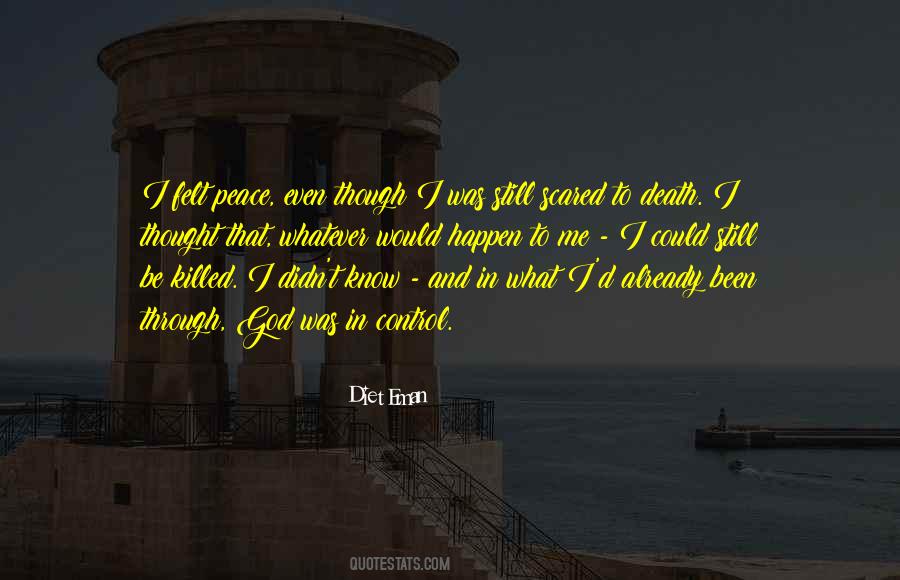 #29. We have little control over the circumstances of life. We can't control the weather or the economy, and we can't control what other people say about or do to us. There is only one area where we have control
we can rule the kingdom inside. The heart of every problem is the problem in the heart. - Author: Warren W. Wiersbe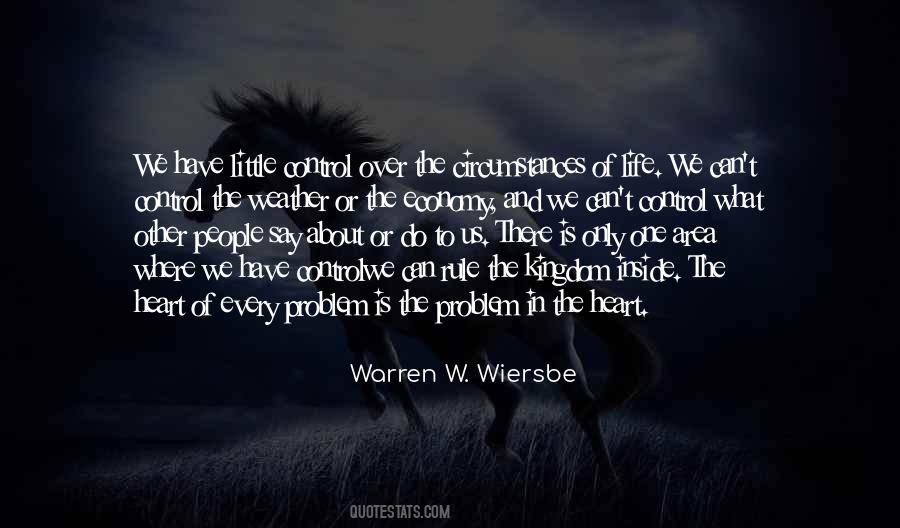 #30. God is the one that's ultimately in control of everything. You can't try to change things when they're not meant to be changed. - Author: Ricky Stenhouse Jr.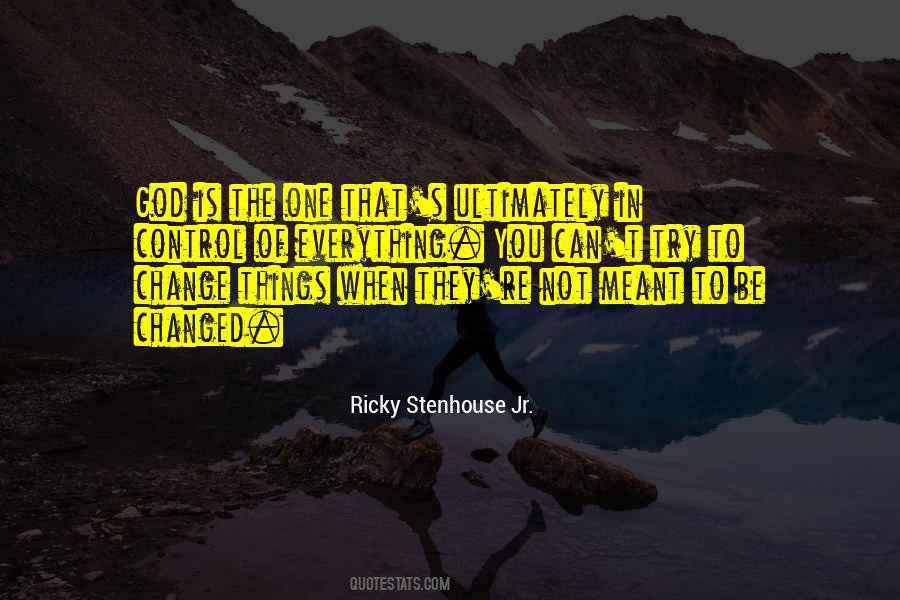 #31. God's vision is a call to move forward into the future in the full operation of love, joy, peace, patience, kindness, goodness, gentleness, faithfulness, and self-control, with a fearlessness that could only come from him. - Author: Sarah Bessey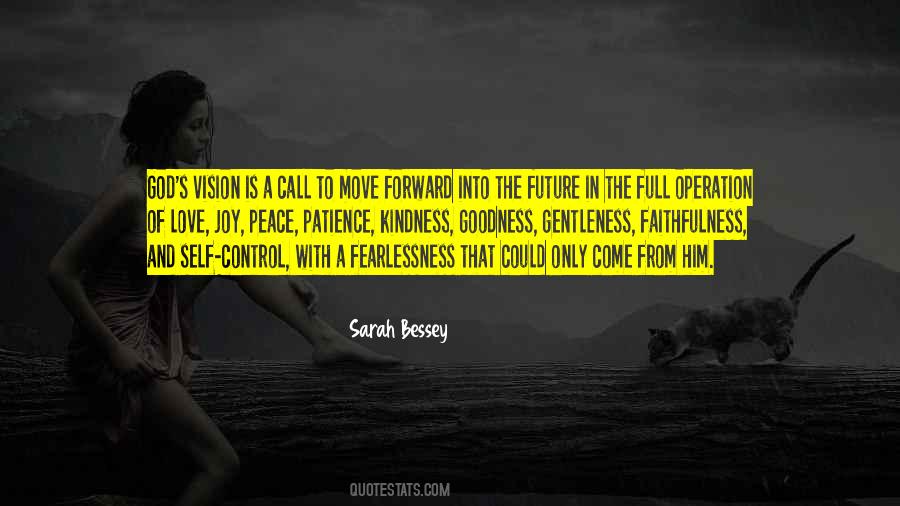 #32. Because God is sovereignly in control, accidents are just incidents in God's good plan for you. - Author: Rick Warren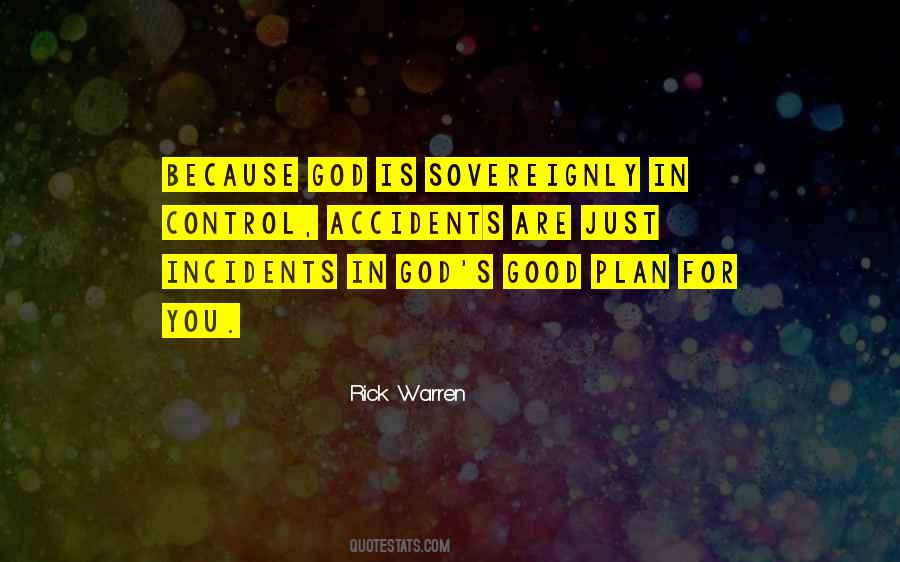 #33. If you're in bad mood, take a deep breath.
If you're in good mood, give thanks to God. - Author: Toba Beta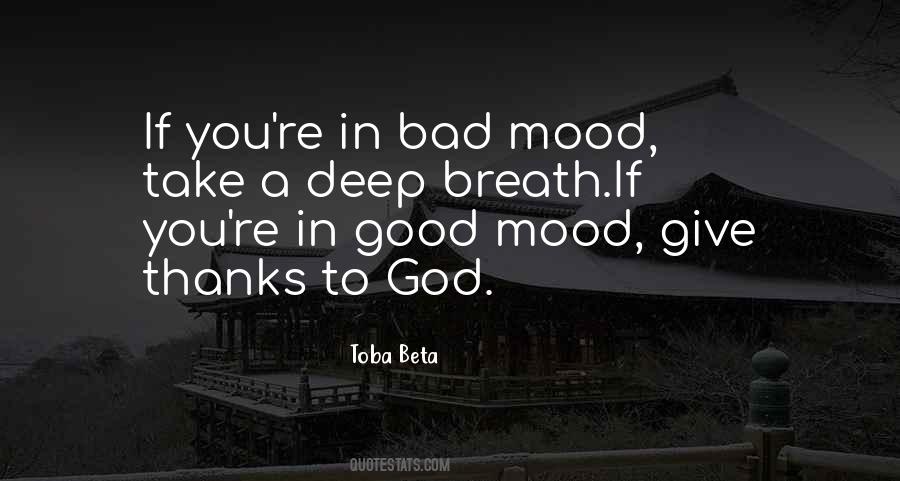 #34. Now I really make the little idea from clay, and I hold it in my hand. I can turn it, look at it from underneath, see it from one view, hold it against the sky, imagine it any size I like, and really be in control almost like God creating something. - Author: Henry Moore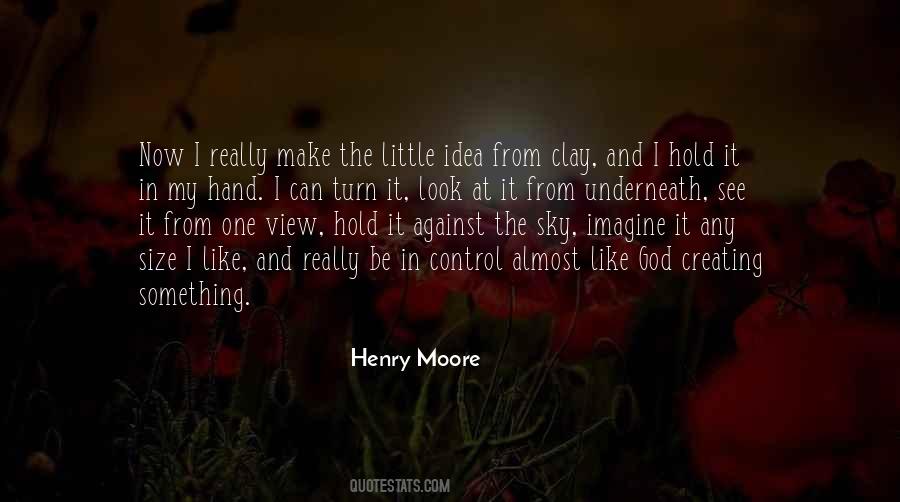 #35. I wonder if killing yourself is the only thing you can control in your entire life, and that's why it's a sin. Because you're beating God at his own game. - Author: Pete Wentz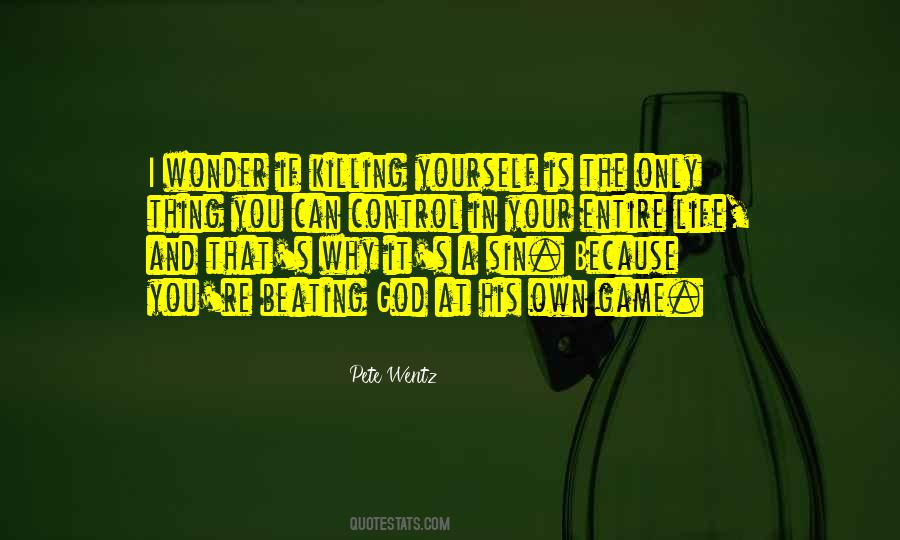 #36. We underestimate God and we overestimate evil. We don't see what God is doing and conclude that he is doing nothing. We see everything that evil is doing and think it is in control of everyone. - Author: Eugene H. Peterson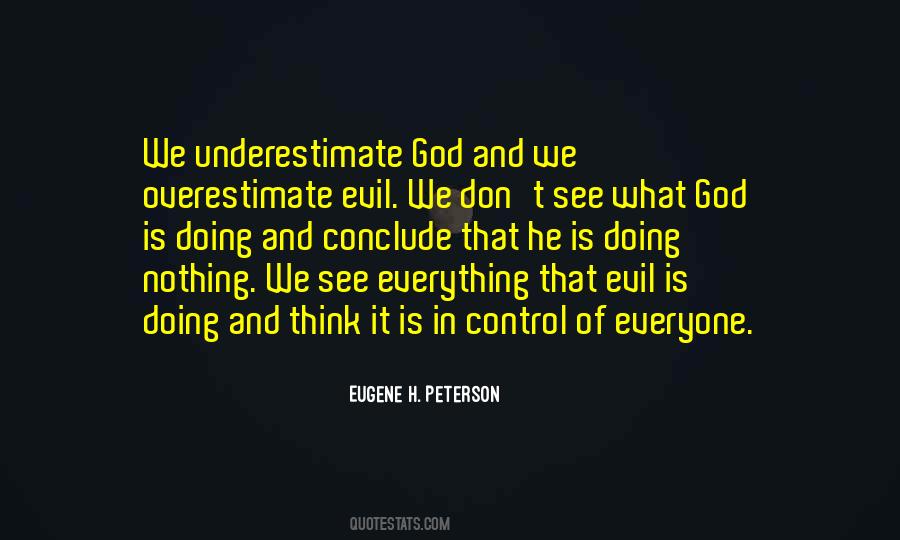 #37. Whether it's a Christian or a non-Christian, there's nothing like suffering to show us how small, needy, and not in control we are. Suffering has a way of sobering us up to the realization that we can't make it on our own, that we need help, that we're broken. - Author: Tullian Tchividjian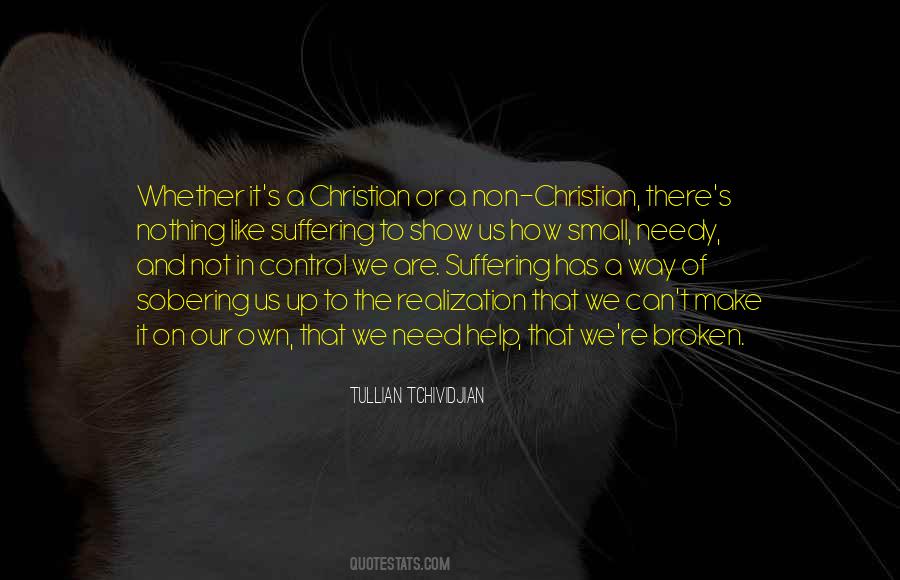 #38. Those who are afraid of freedom are those who cannot trust us to live in them. Trying to keep the law is actually a declaration of independence, a way of keeping control - Author: Wm. Paul Young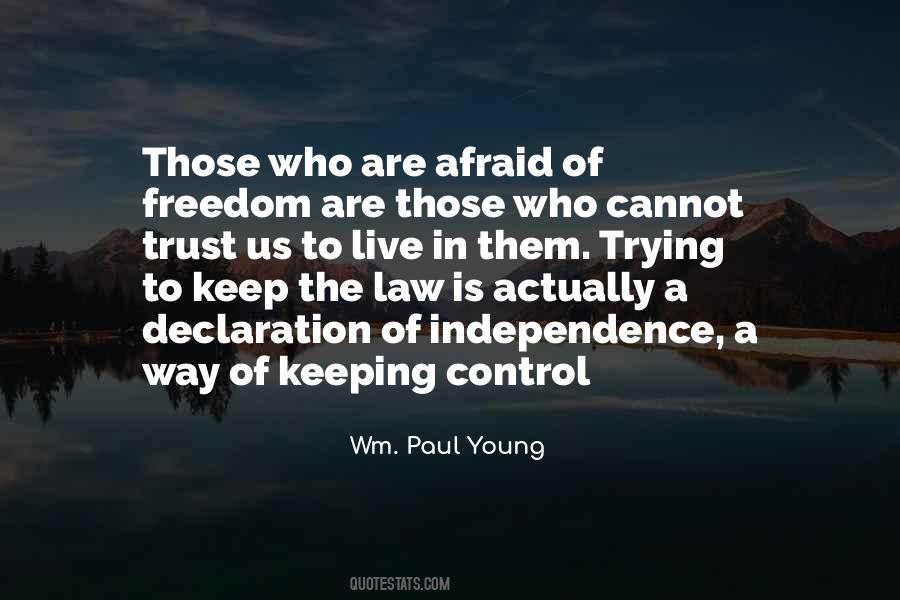 #39. I don't know that I believe that God is in control of everything that happens. As a Jew, I believe that we have free will and we are responsible for our actions. But I guess it's something I'm still probing. - Author: David Gregory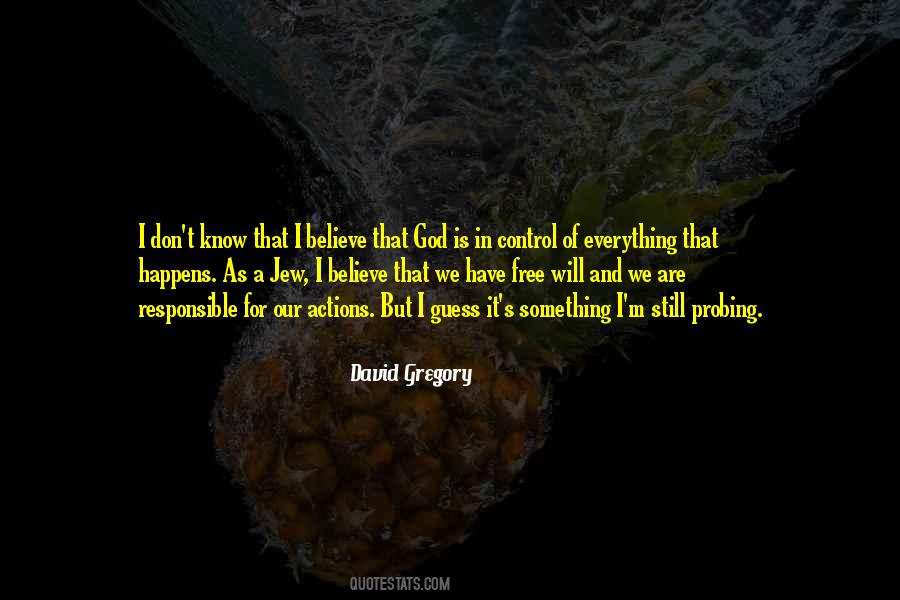 #40. Waiting exposes our idols and throws a wrench into our coping mechanisms. It brings us to the end of what we can control and forces us to cry out to God. God doesn't waste our waiting. He uses it to conform us to the image of his Son. - Author: Betsy Childs Howard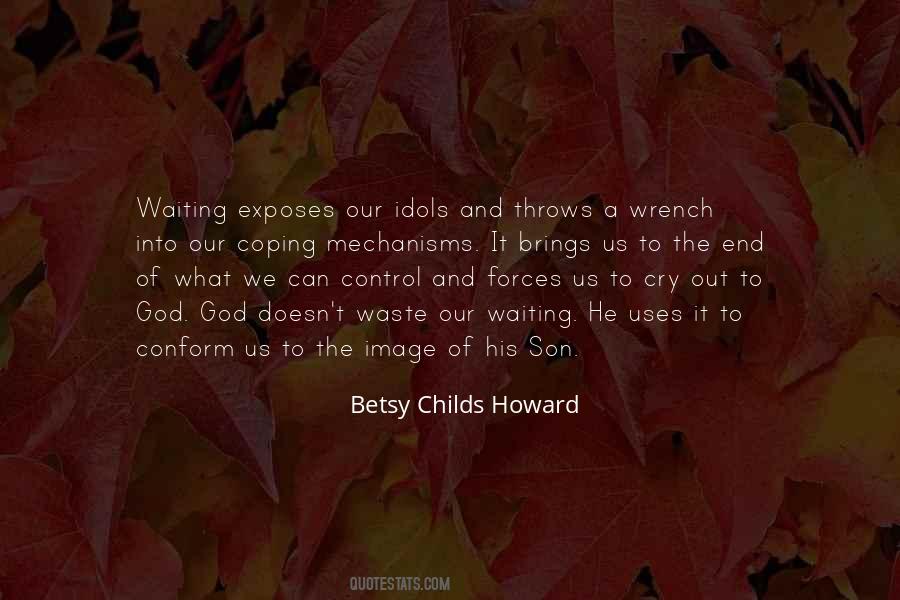 #41. I'm not a deeply religious person and I don't really know if there's a God or not and I don't really even care, but something out there has got to control something. Because people can put a gun in their mouth and pull the trigger and live and someone else can slip on the curb and die. - Author: Sonny Barger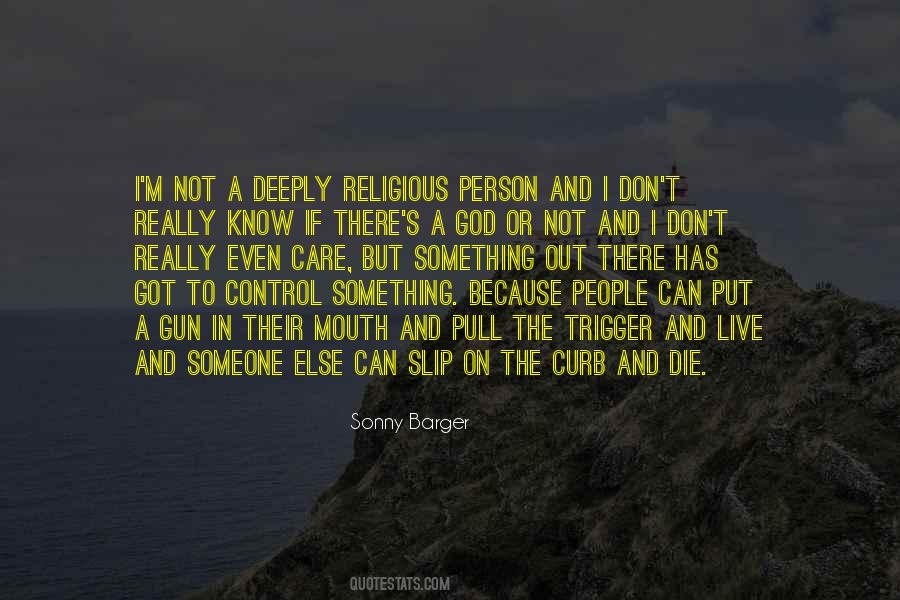 #42. The bar was the best place to hide in. time came under your control, time to wade in, time to do nothing in. no guru was needed, no god. nothing expected but yourself and nothing lost to the unexpected. - Author: Charles Bukowski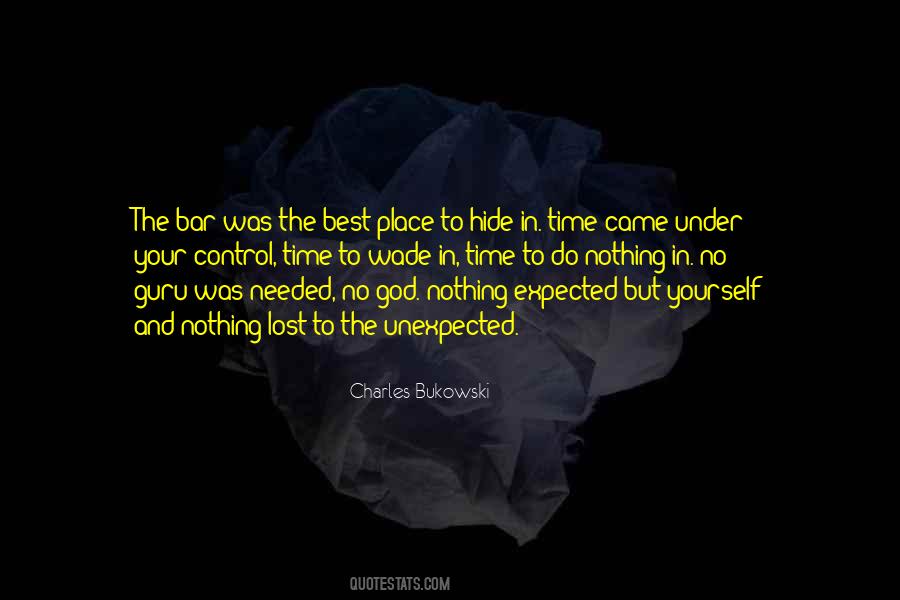 #43. God has given us control over one thing in our lives - our thoughts. - Author: Napoleon Hill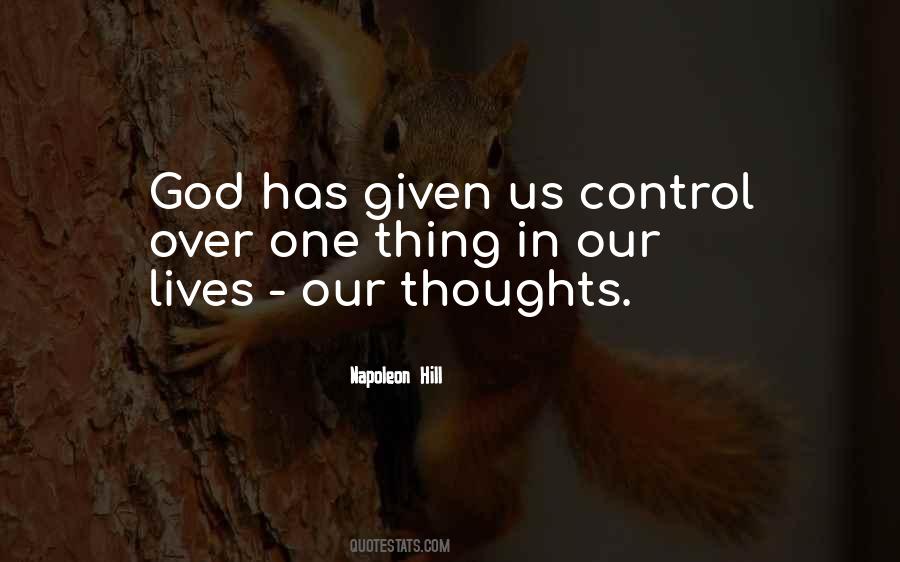 #44. God may withhold an answer to prayer until we relinquish control of the outcome and put our complete trust in Him. - Author: Suzanne Elizabeth Anderson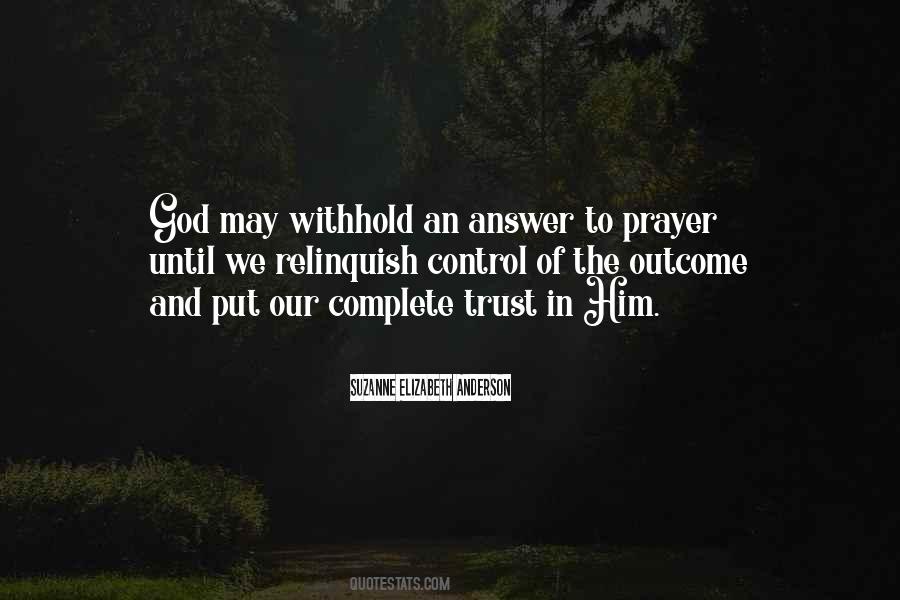 #45. Unplanned occurrences are reminders to check your tendency to think that you're the one in control. In reality, it's someone else....

It is a vivid reminder that in ministry, no matter how hard you work, ultimately it's God's work, not yours. All this puts our work in perspective. - Author: James Martin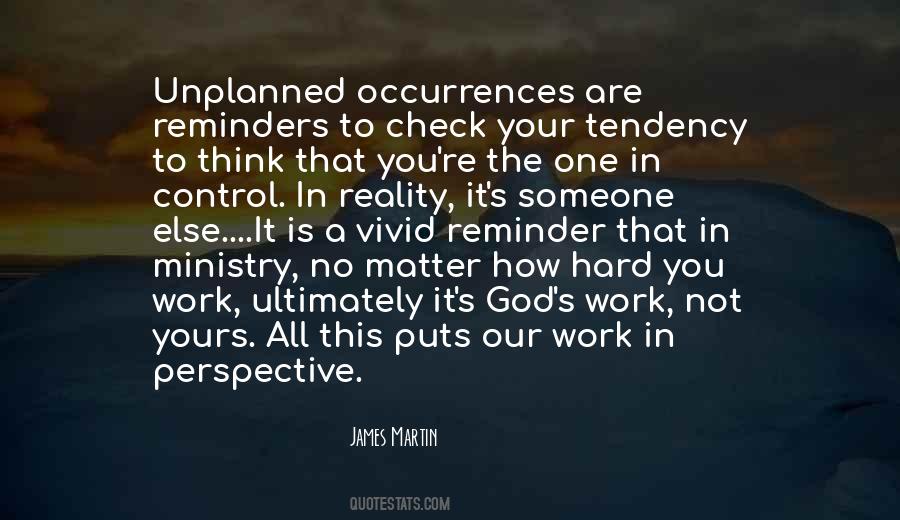 #46. My friend, when you always say "God is in control", while you have your feet on the brake pad, you are not going anywhere! Wise up! - Author: Israelmore Ayivor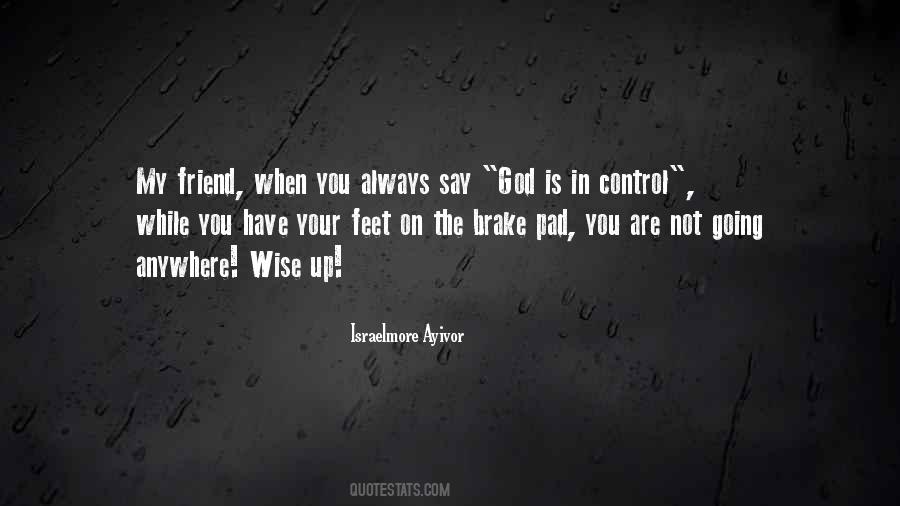 #47. Liberals believe in burning the American flag, urinating on crucifixes, and passing out birth control pills to 11-year-olds without telling their parents
but God forbid an infidel touch a Quran at Guantanamo. - Author: Ann Coulter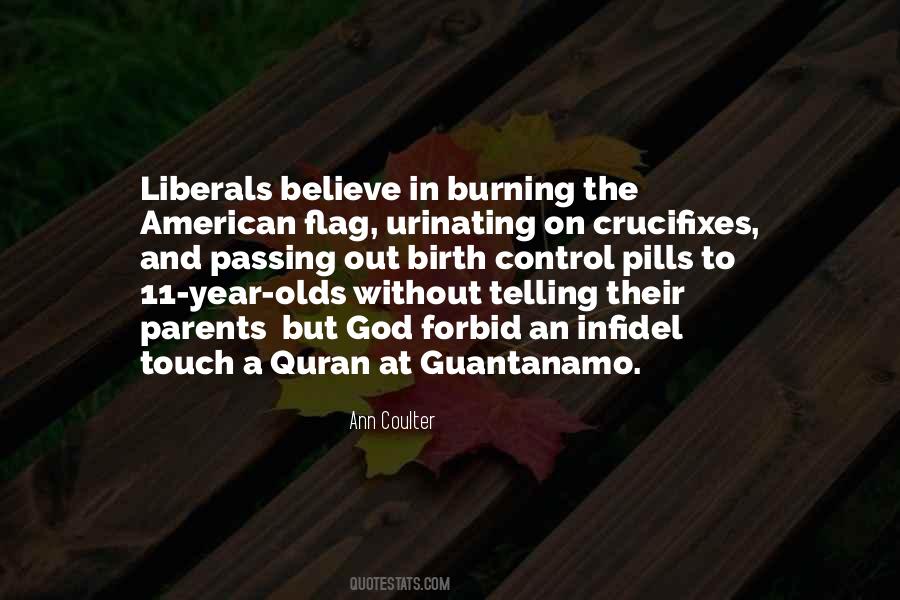 #48. It's better to have no control and be in the center of God's plan for your life than have total control and be completely lost to your destiny. - Author: Alisa Hope Wagner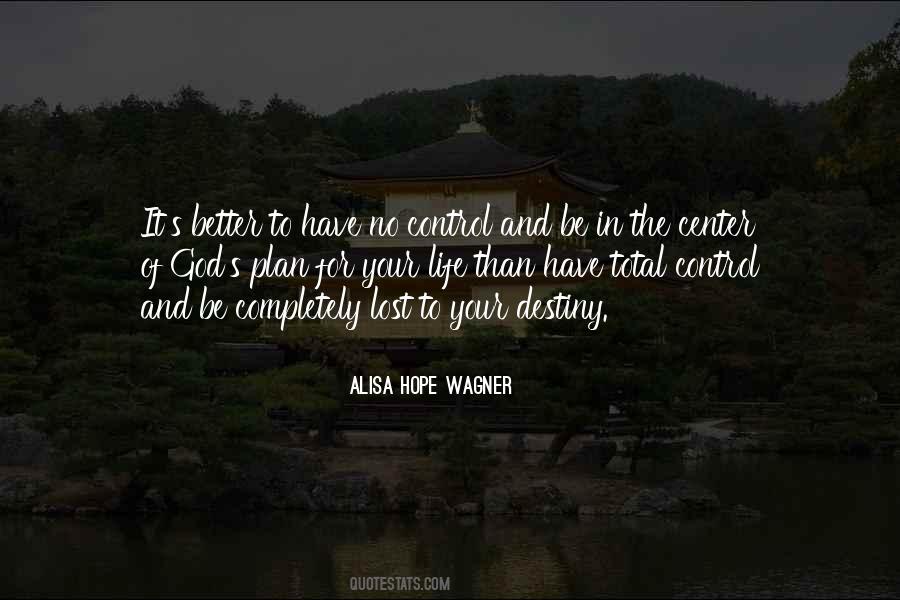 #49. My dad is still Christian Scientist. My mom's not, and I'm not. But I believe in God, and that there's a higher power and an intelligence that's bigger than us and that we can rely on. It's not just us, thinking we are the ones in control of everything. That idea gives me support. - Author: Ellen DeGeneres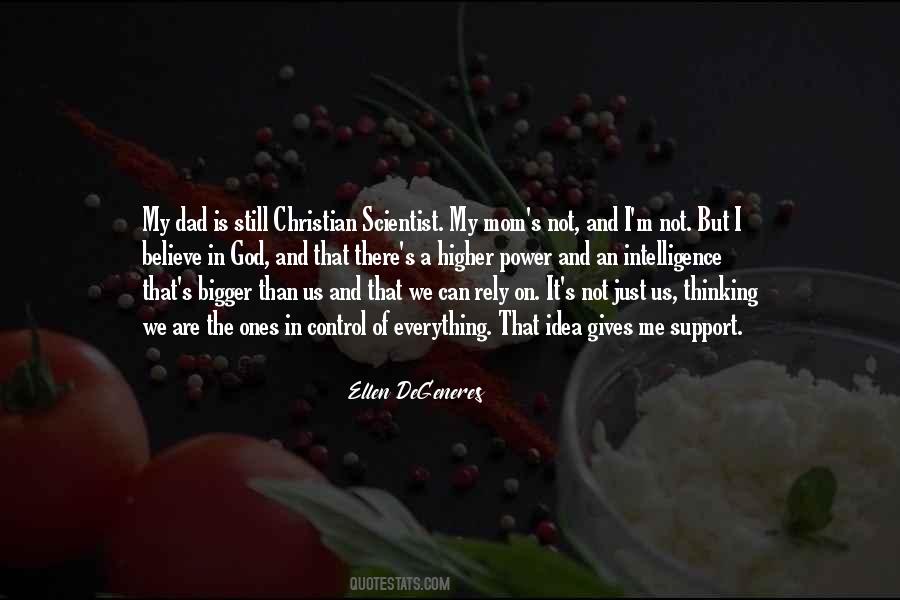 #50. When you accept the fact that sometimes seasons are dry and times are hard and that God is in control of both, you will discover a sense of divine refuge, because the hope then is in God and not in yourself. - Author: Charles R. Swindoll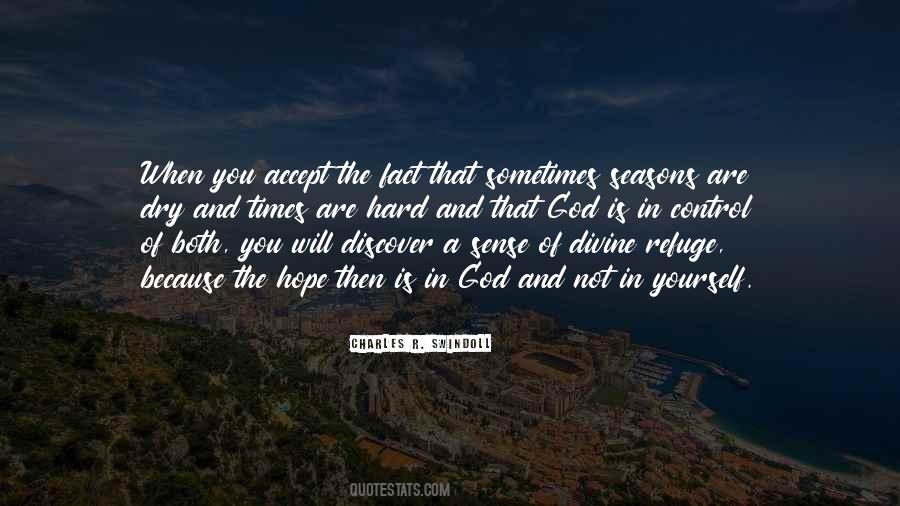 #51. God is mighty. God is caring. God is worthy of praise. God is loving. God is able. God is in control. Nothing takes God by surprise. Some sweet reminders to soak in before falling asleep tonight. - Author: Lysa TerKeurst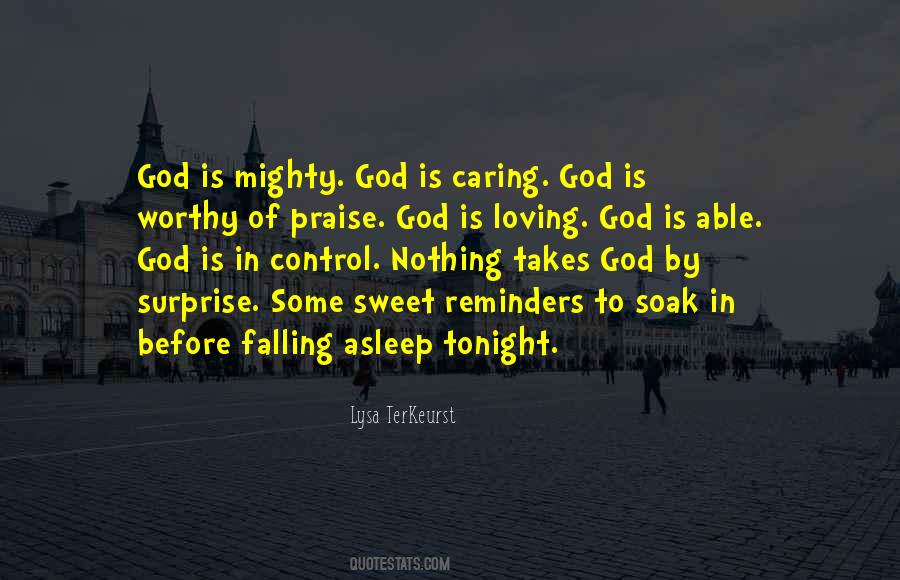 #52. There is never a moment when God is not in control. Relax! He's got you covered. - Author: Mandy Hale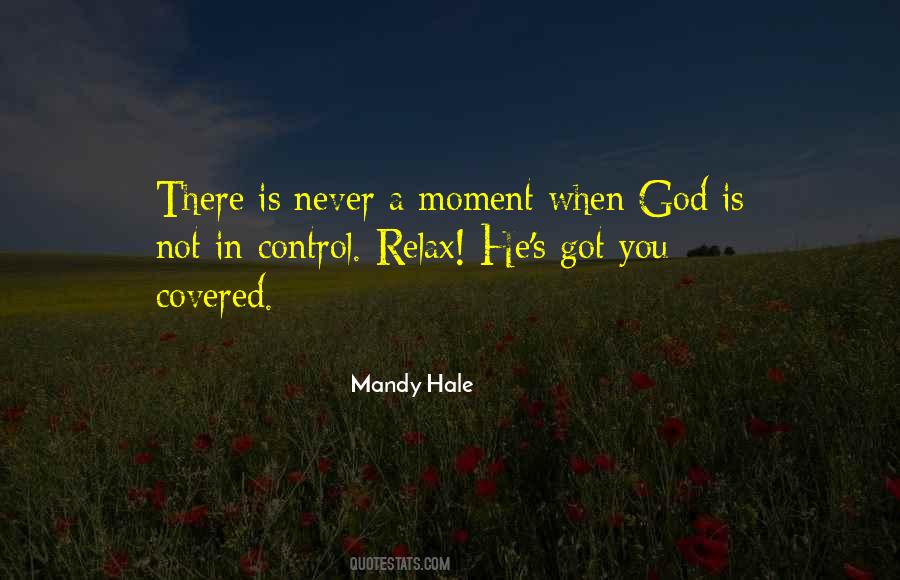 #53. Now every daughter of Eve want to "control her surrounding, her relationships, her God." No longer is she vulnerable; now she will be grasping. No longer does she want simply to share in the adventure; she wants to control it. - Author: John Eldredge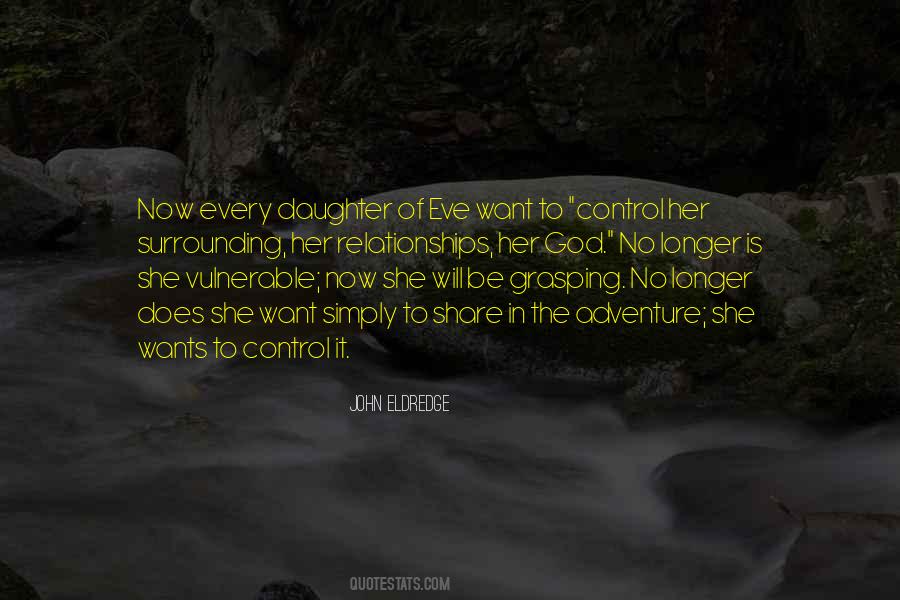 #54. We must desire to be separated unto the Lord from the world and its evil system. We must reckon ourselves dead to sin and alive to God. This is true positionally, but it can be made true in our spiritual life only as we yield to the Holy Spirit's control. - Author: Theodore Epp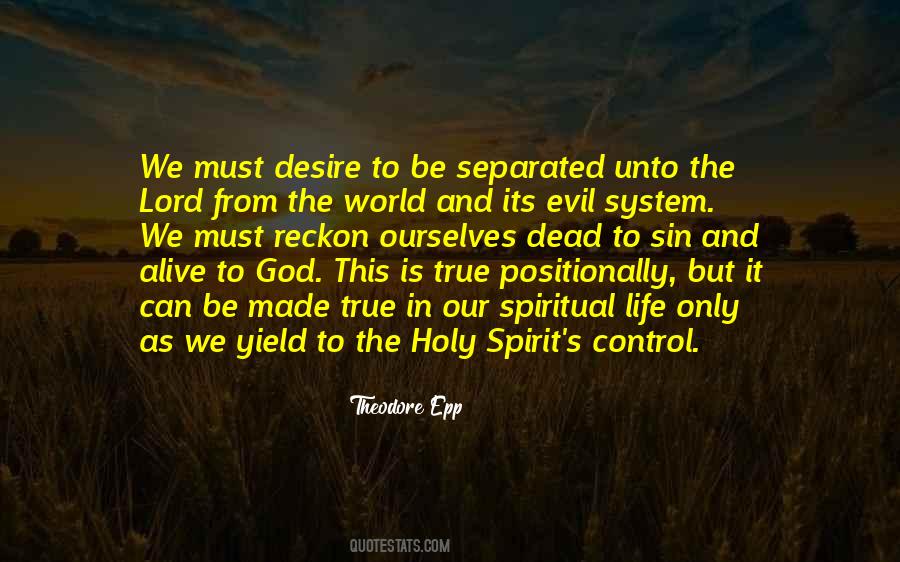 #55. When the world careens out of control, we can rest in the fact that God spun this world with a simple word. - Author: Mary E. DeMuth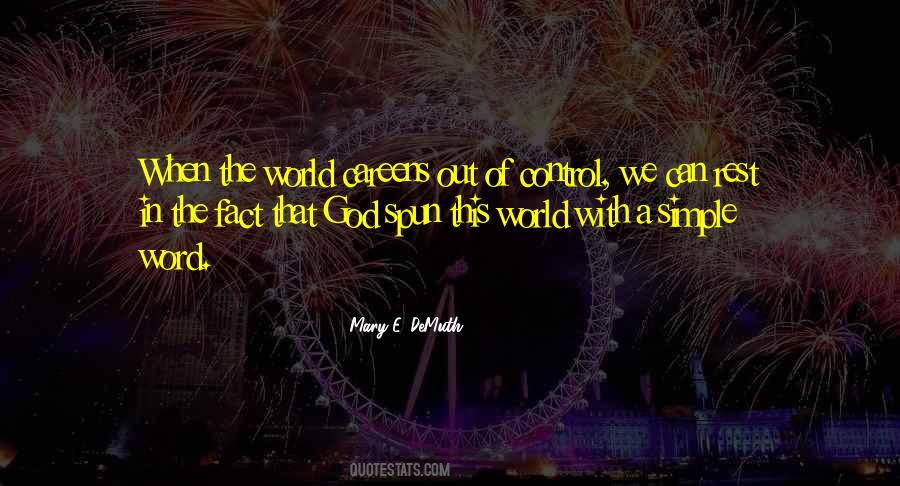 #56. Everything you do in life, I don't care, good or bad - don't blame God, don't blame the devil, don't blame me, blame you. You control everything! The thoughts you think, the words you utter, the foods you eat, the exercise you do. Everything is controlled by you. - Author: Jack LaLanne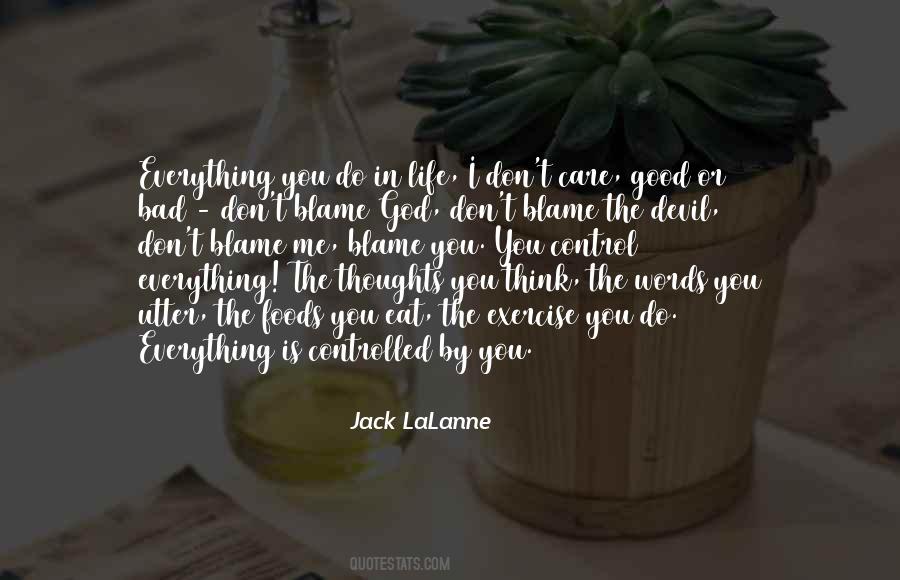 #57. God was in control. She had nothing to fear. No matter what happened next or how the outcome played in their lives, whatever triumph or tragedy might take place, God loved them. Nothing could ever change that. - Author: Karen Kingsbury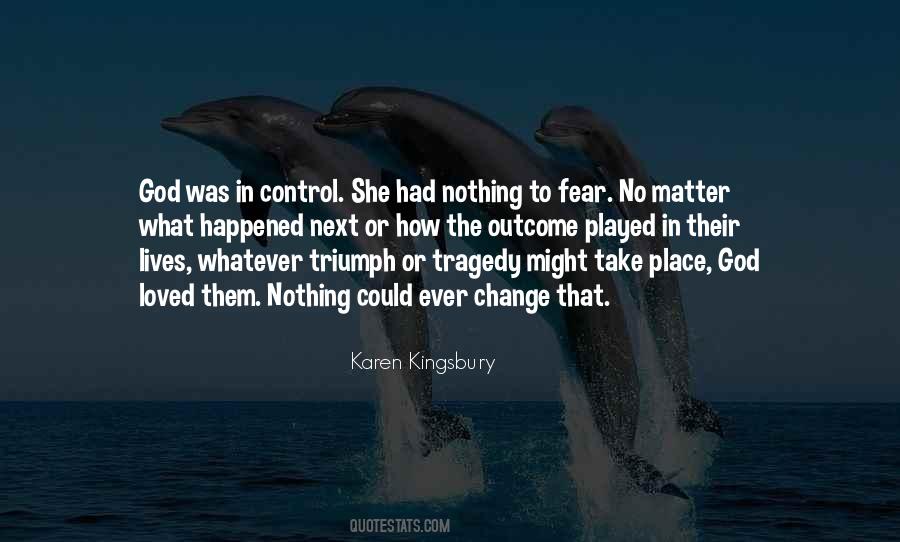 #58. We must surrender ourselves so utterly that we can never own ourselves again. We must hand over self and all its rights in an eternal covenant, and give God the absolute right to own us, control us and possess us forever. - Author: A.B. Simpson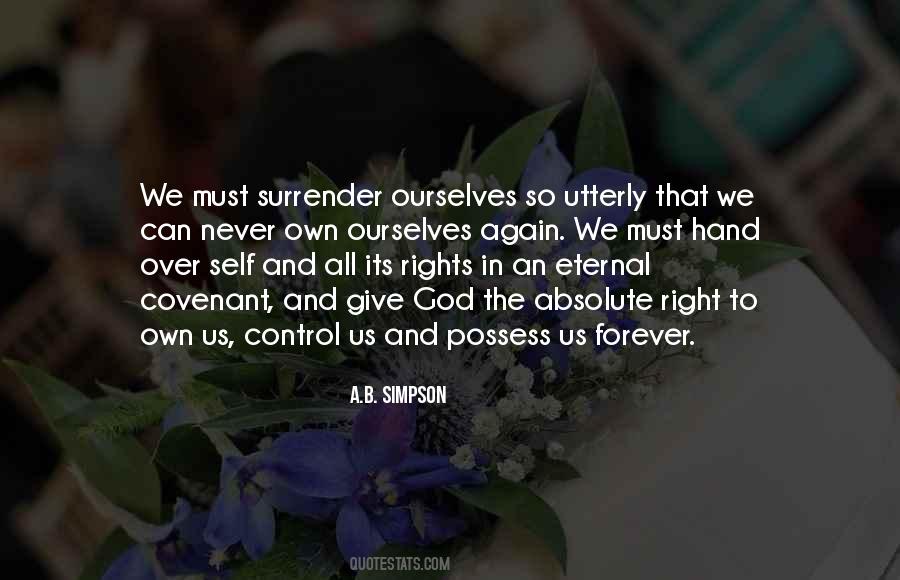 #59. If you aren't vigilant, if you aren't daily humbling yourself before Him, seeking His face, discerning His timing, operating under the Spirit's control, you may push and shove and force your way prematurely into that place where God wanted you, but you will not have arrived in His own time. - Author: Charles R. Swindoll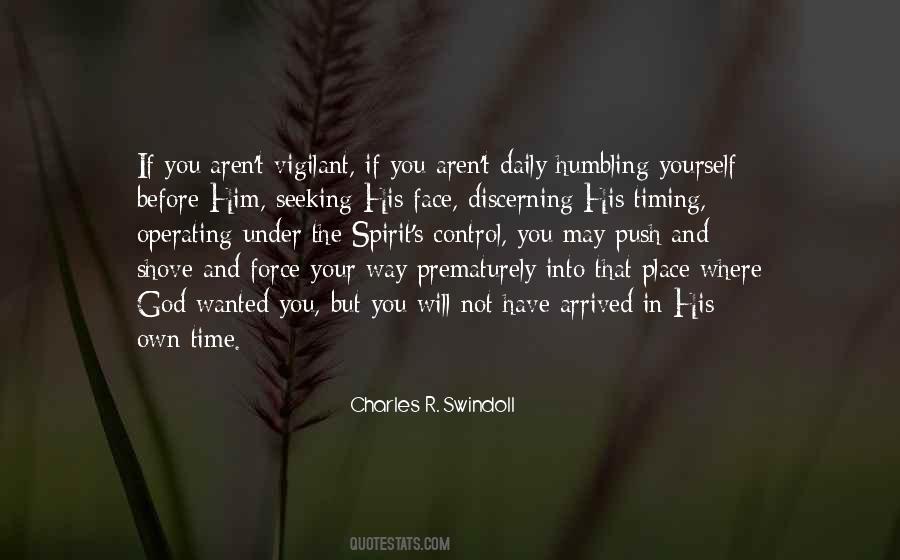 #60. I believe firmly in God's control in life. - Author: Charles R. Swindoll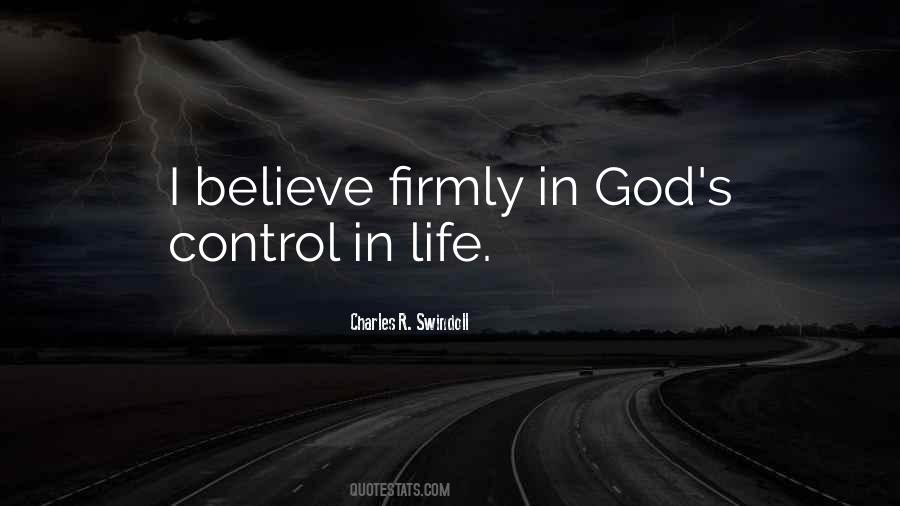 #61. Faith will help put us together on the same direction. Faith is building a relationship with God where he is in control. It is about believing although we do not always see. Do we love God with all our heart, mind, and soul? Can we follow his voice? - Author: Phil Mitchell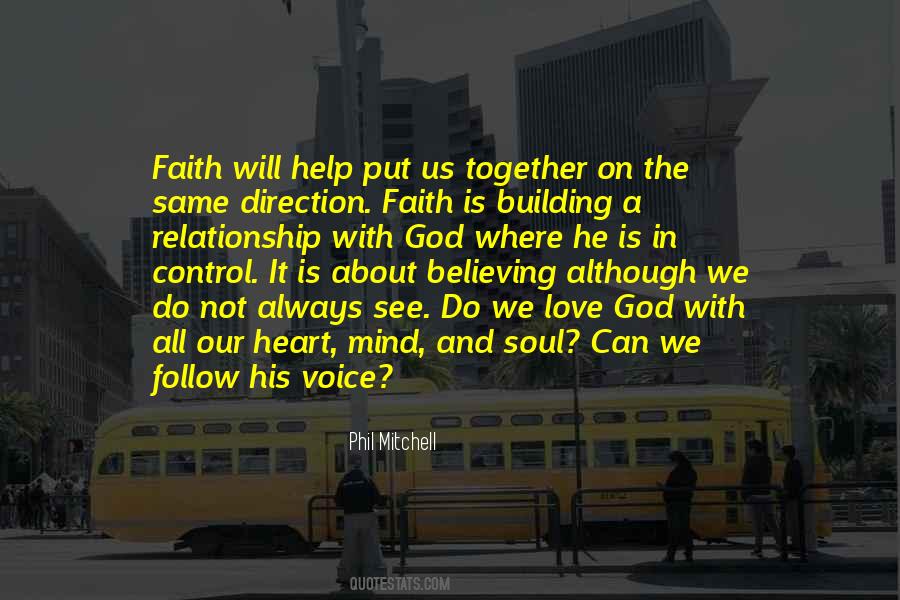 #62. the lover who leaves reason in control does not follow his god to the end. - Author: Marguerite Yourcenar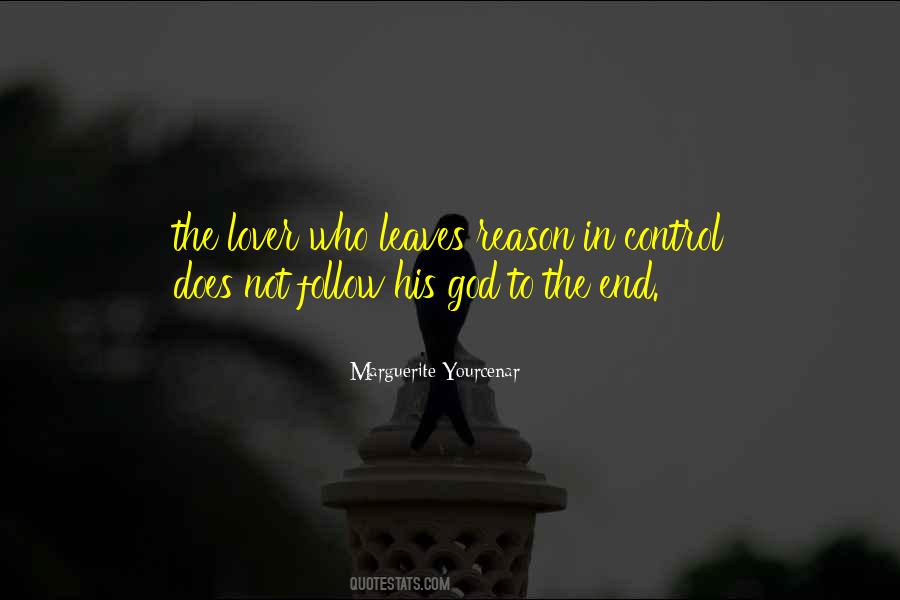 #63. Kingdom Authority is the God-given mandate of Christians to exercise control over the world in the name of Jesus and under His oversight. - Author: Adrian Rogers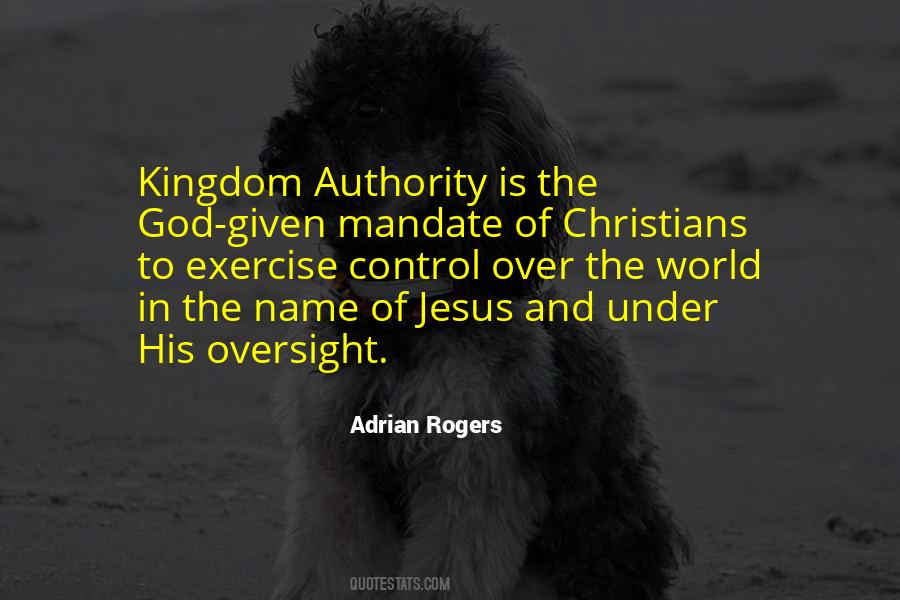 #64. A belief in God is fundamental; upon it rest the influences that control life. - Author: William Jennings Bryan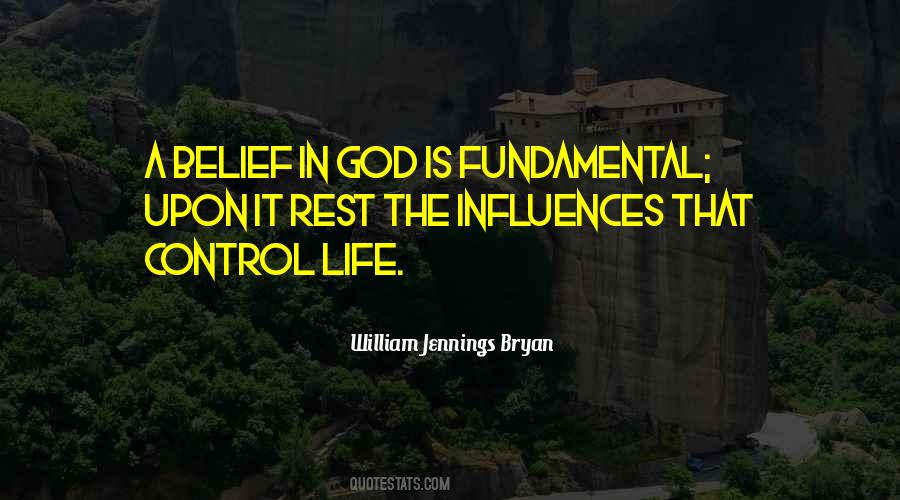 #65. Part of the beauty of Judaism, and surely this is so for other faiths also, is that it gently restores control over time. Three times a day we stop what we are doing and turn to God in prayer. We recover perspective. We inhale a deep breath of eternity. - Author: Jonathan Sacks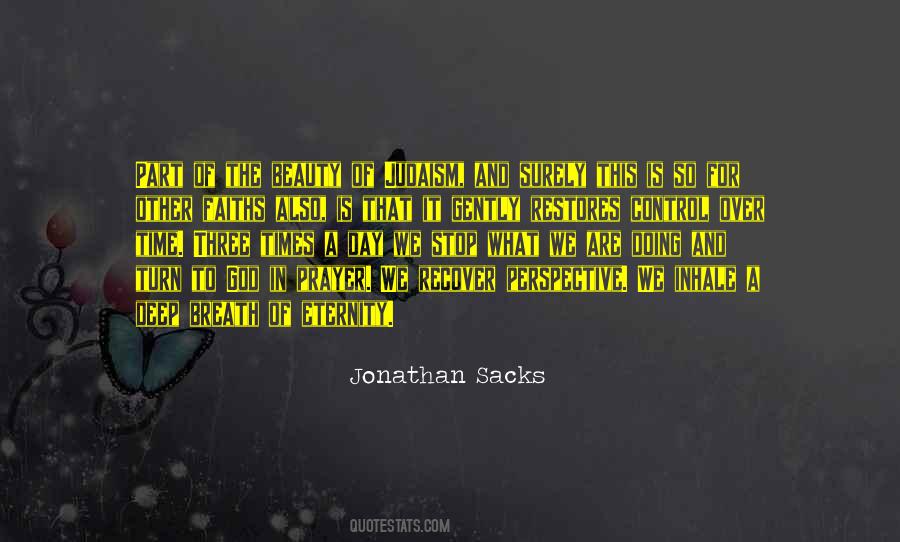 #66. Having faith in God means trusting in Him even when everything inside of you wants to take control. - Author: Dan Ellis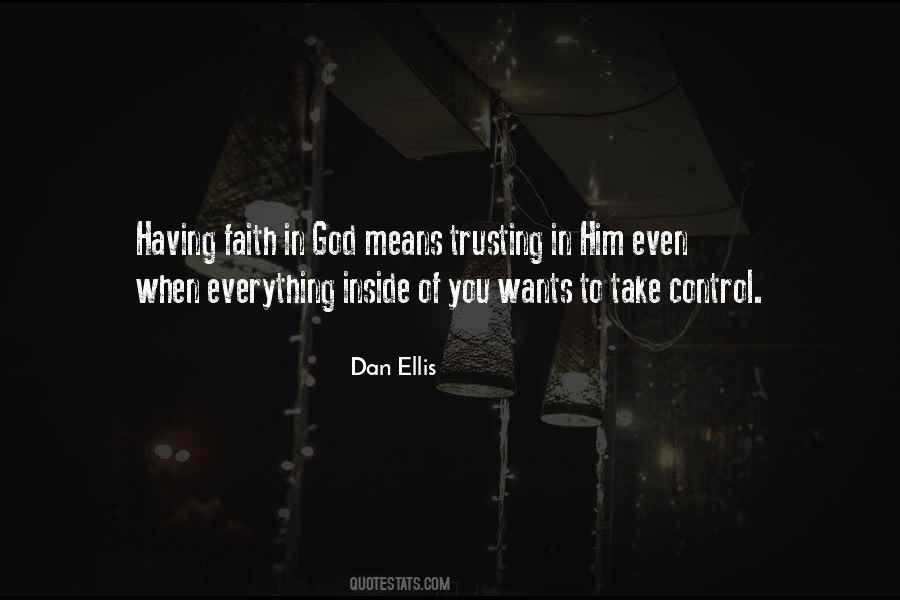 #67. Our need to control eventually works against us b/c we start to repress what we truly feel, need and want. God is in control so trust in that more than yourself! - Author: Michael Barbarulo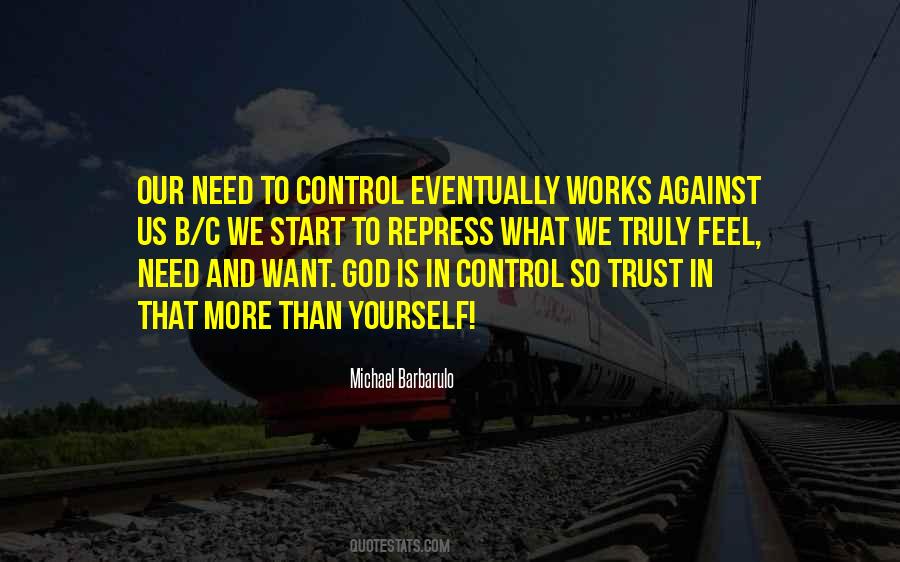 #68. Angels play a very active role in the purposes of God and the affairs of men, but do not control human events or violate the free will of human beings. - Author: Gary Kinnaman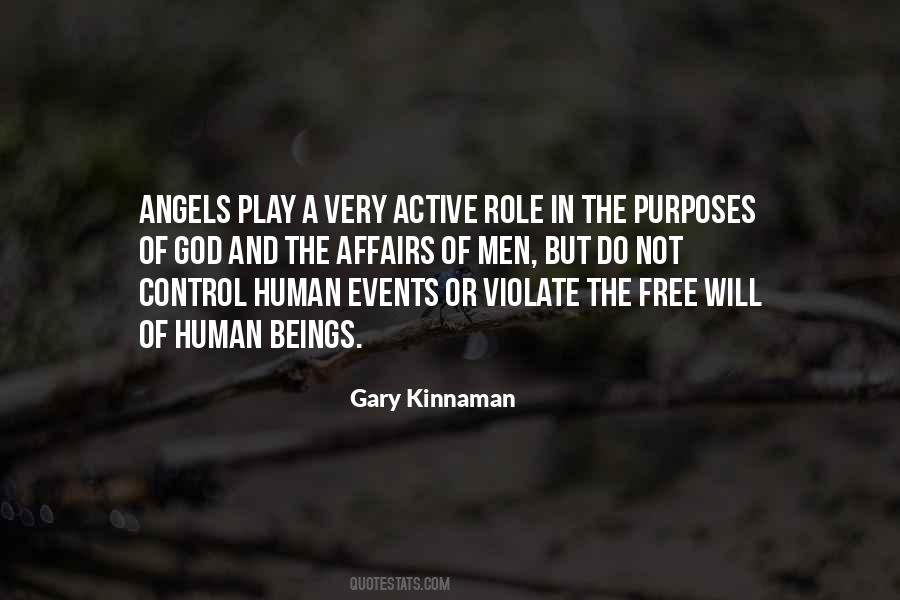 #69. The only way to know how prayer works is to have complete knowledge and control of the past, present, and future. In other words, you can figure out how prayer works if you are God. - Author: Paul E. Miller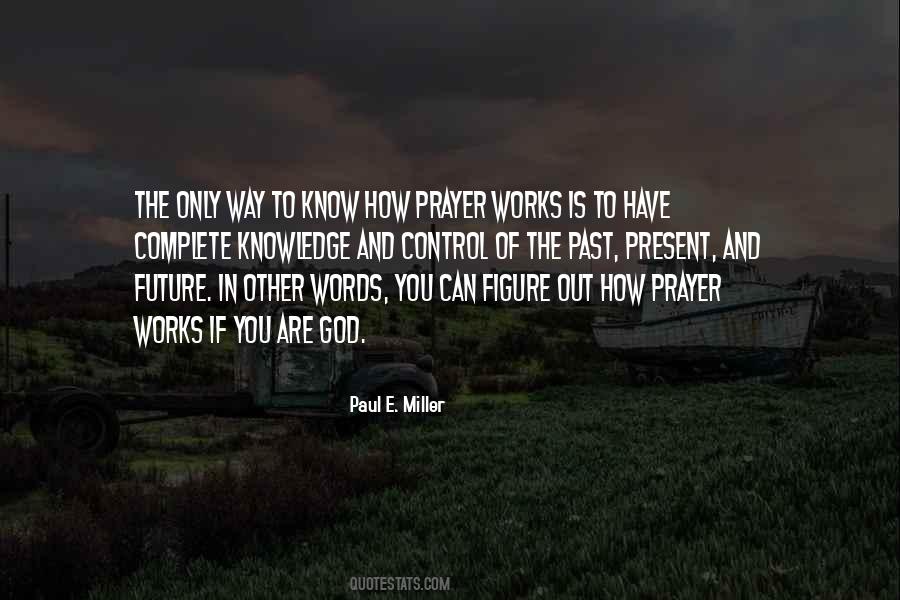 #70. His voice was like ice, cold and unforgiving, which was like hearing a different Draven altogether. Here he wasn't my Draven, soft and gentle. NO, here he was the Master, here he was the one in control ... here, he was a God! - Author: Stephanie Hudson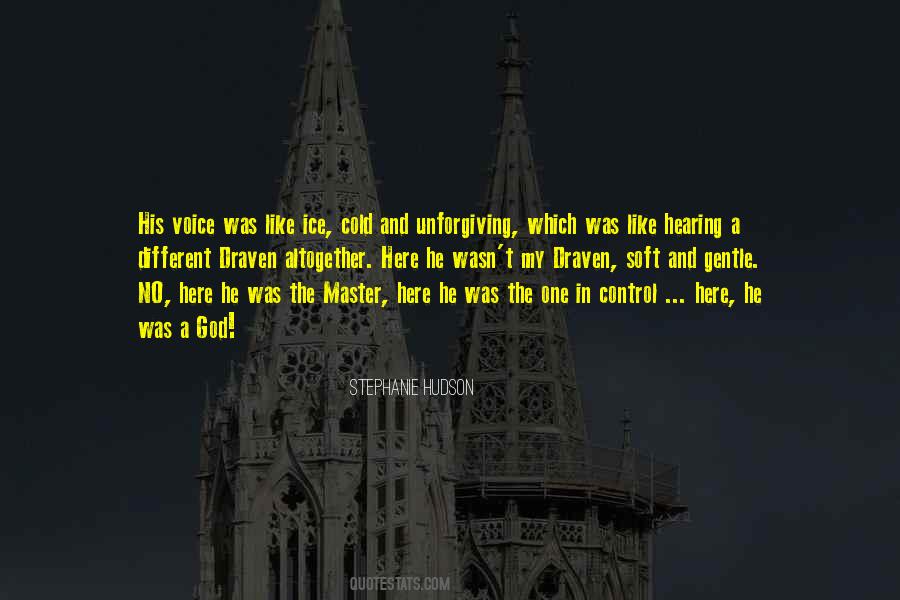 #71. When you believe in God, you've got to believe in the all-powerful God. He's not just God, He's the all-powerful God and He has total control over everyone's life. The Devil, on the other hand, is a real character that's trying his hardest to tear your life apart. - Author: Alice Cooper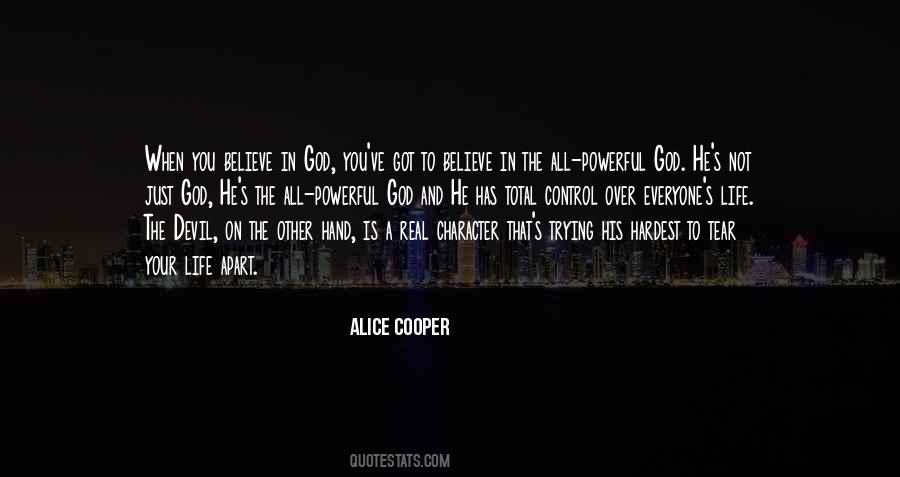 #72. Humans, as attractive and awesomely created as they are, tend to believe that events occur in their lives randomly, with little or no meaning. They often overlook the obvious, that God is in control. - Author: Debbie Macomber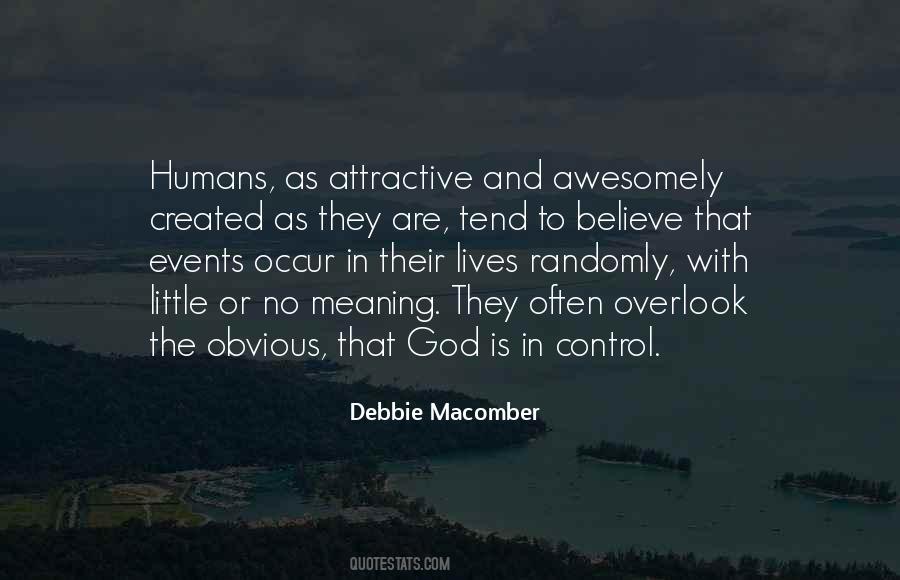 #73. It took me one more year to admit that I could no longer control my drinking. And finally on July 7, 1986, I quit, and let a bunch of sober alcoholics teach me how to get sober, and stay sober. God, they were such a pain in the ass. - Author: Anne Lamott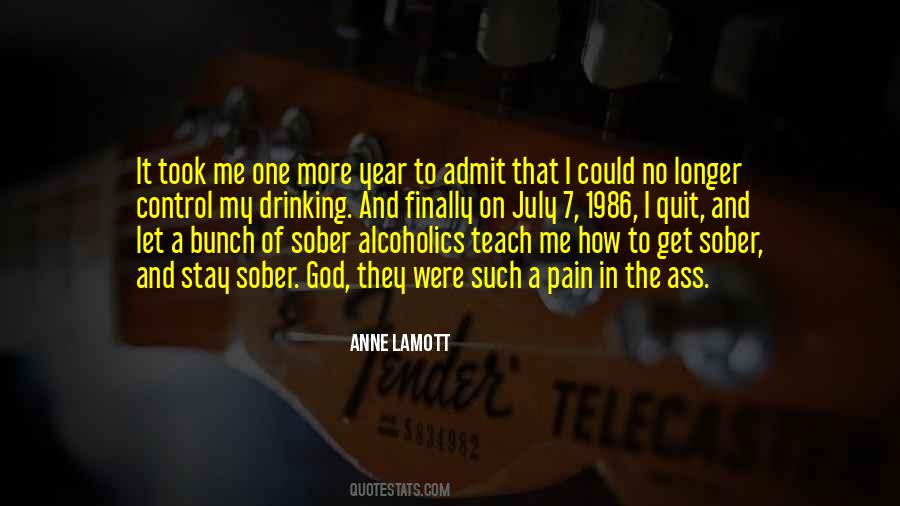 #74. All one can do is live the life that God gave you, and you know, you just do the best you can. And if somebody likes you or doesn't like you, that's really, in many ways, something you have no control over. - Author: Hillary Clinton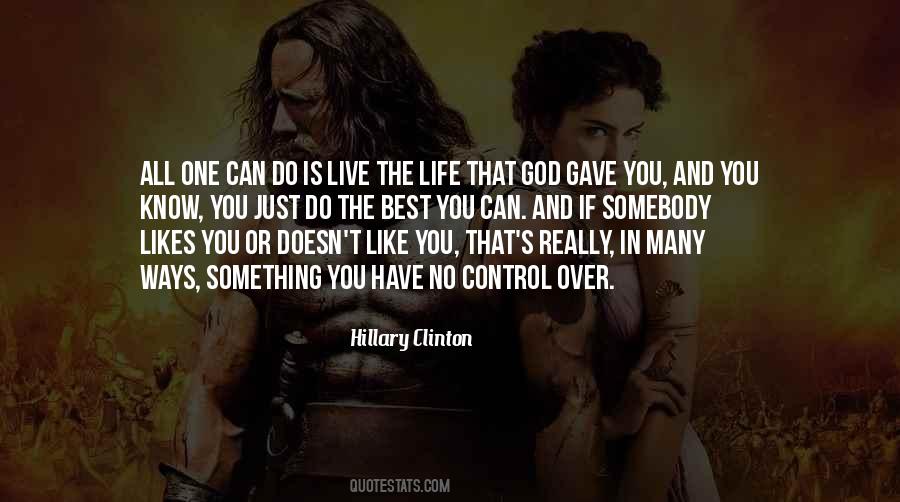 #75. No matter how many precautions we take, none of us are truly in control. Only God can claim that kind of authority. All we can do is use the good sense he provides and trust him to guide us. - Author: Karen Witemeyer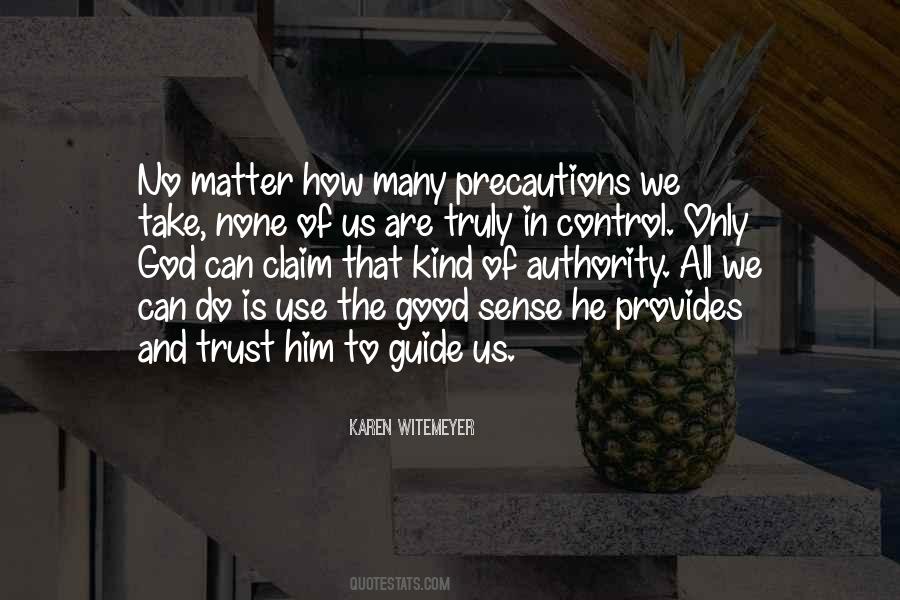 #76. Over commitment in business is usually due to a lack of faith, which results in fear - specifically, the fear of failure. But if we really believe God is in control, then we also should believe He's able to make us successful while we are keeping our lives in balance. - Author: Larry Burkett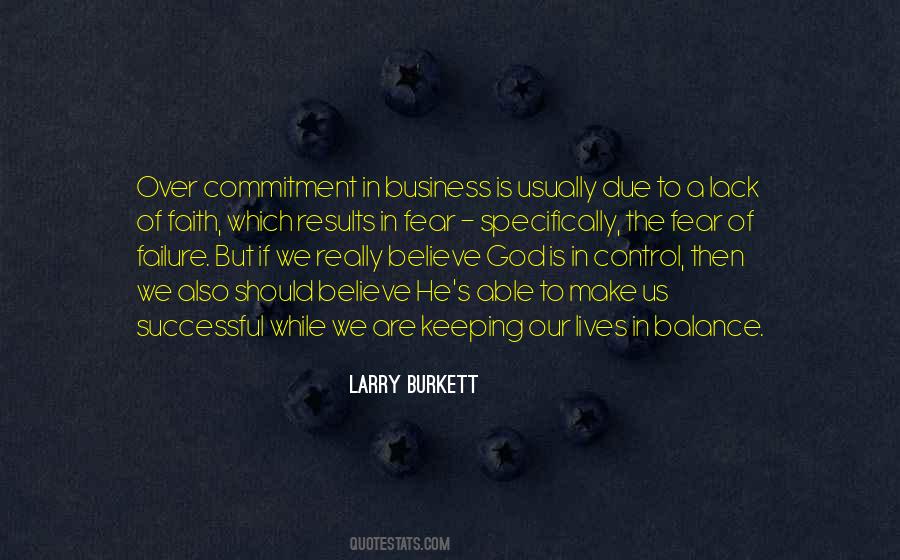 #77. God is in control of all events and is able to protect and provide for you His child. - Author: Jim George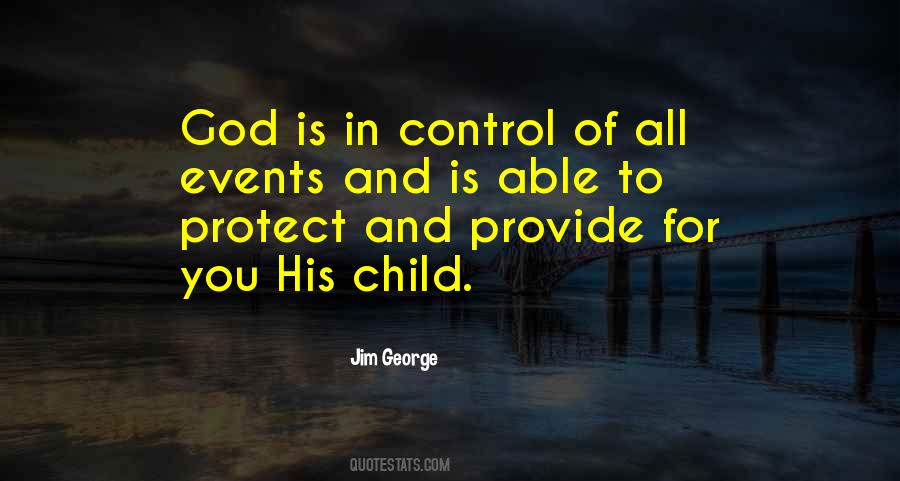 #78. When I pray, "Your kingdom come," I am saying to God's Holy Spirit, "Spirit of Christ within me, take control and do what You will for Your glory." A true child of God won't be preoccupied with his own plans and desires but with the determinate program of God, revealed in the person of Jesus Christ. - Author: John F. MacArthur Jr.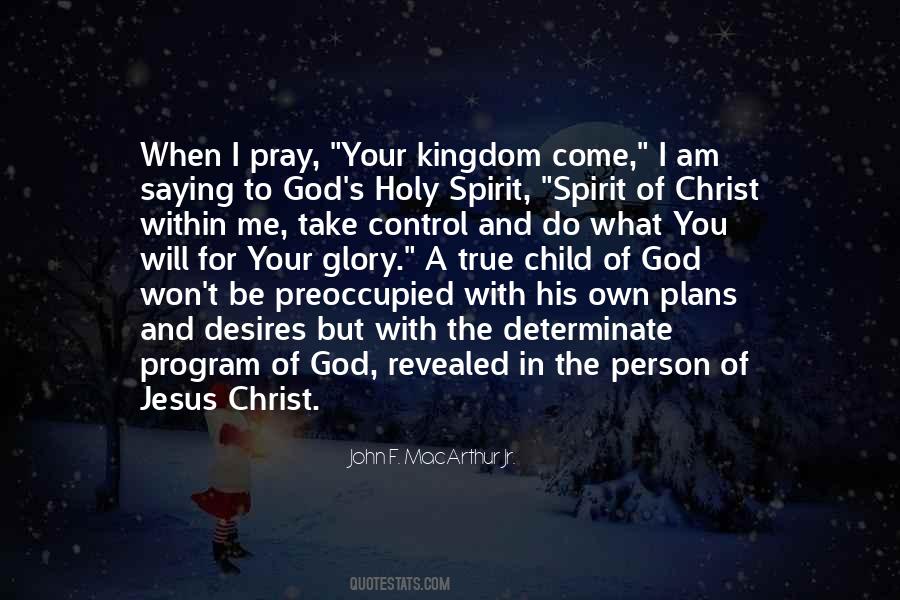 #79. When you are miserable, stressed, doubtful and fearful you are in control. When you are happy, peaceful, confident and faithful God is in control. - Author: Toni Sorenson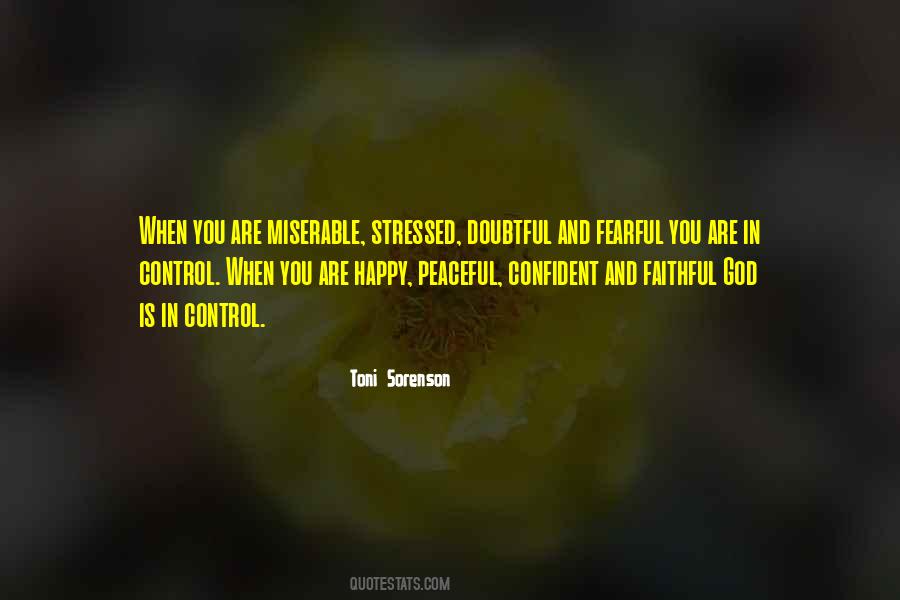 #80. If there is a single event in all the universe that can occur outside of God's sovereign control, then we cannot trust Him. God is never surprised, caught off guard, or frustrated by change."4 - Author: Chris Lautsbaugh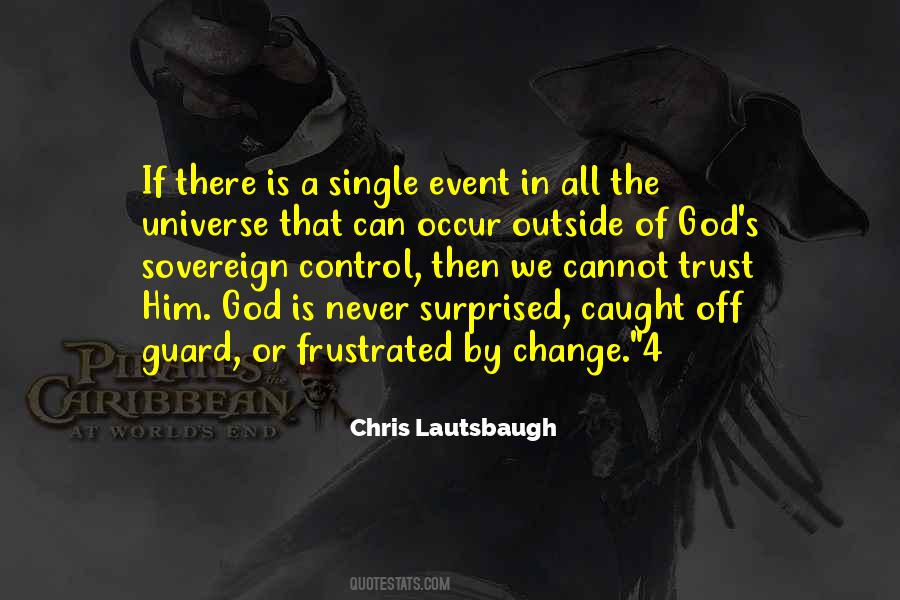 #81. Sovereignty means exercising kingly power. We use the word in relation to God meaning that there is absolutely nothing that he does not control. - Author: Graeme Goldsworthy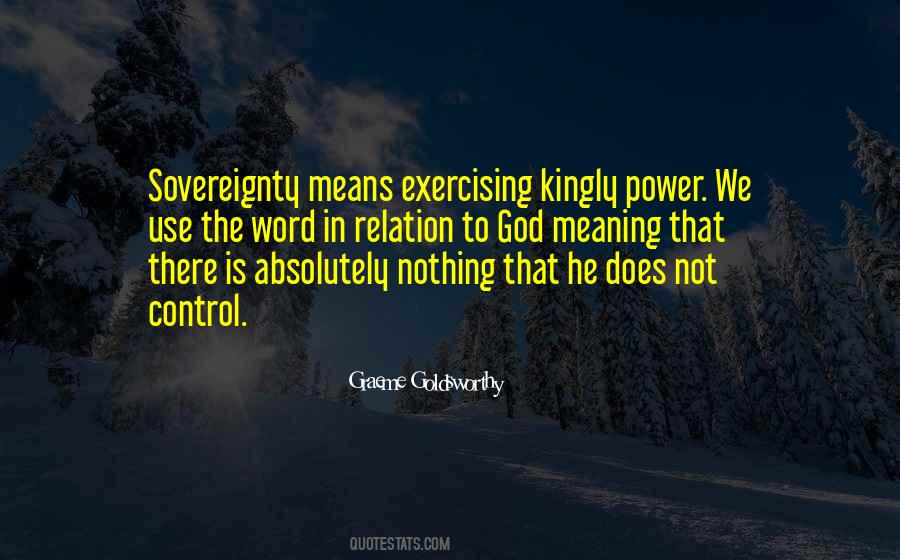 #82. If I thought even for one moment that a single molecule were running loose in the universe outside the control and domain of almighty God, I wouldn't sleep tonight. - Author: R.C. Sproul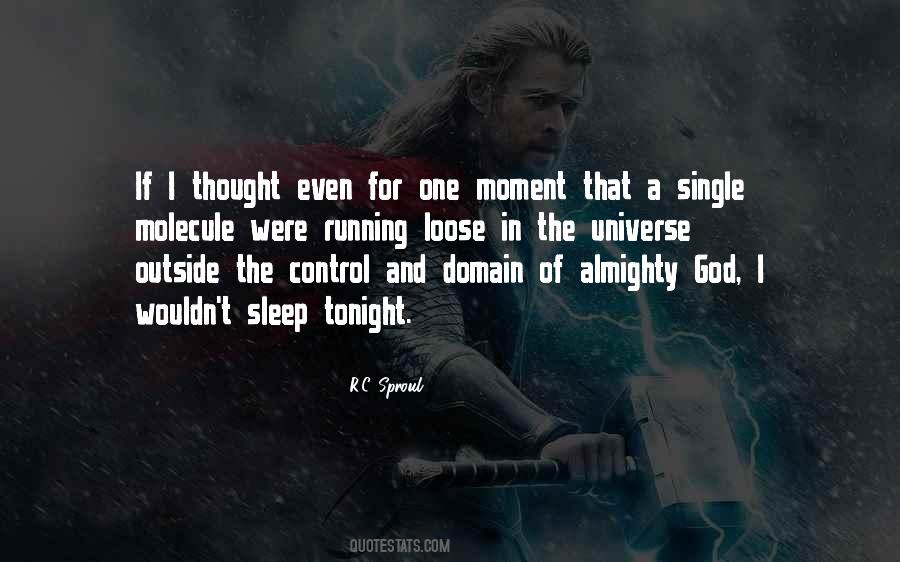 #83. How arrogant are we to believe we're in control of anything, much less our own destiny. All we can do is pray for God's divine guidance and follow the path Home. - Author: Robert Palasciano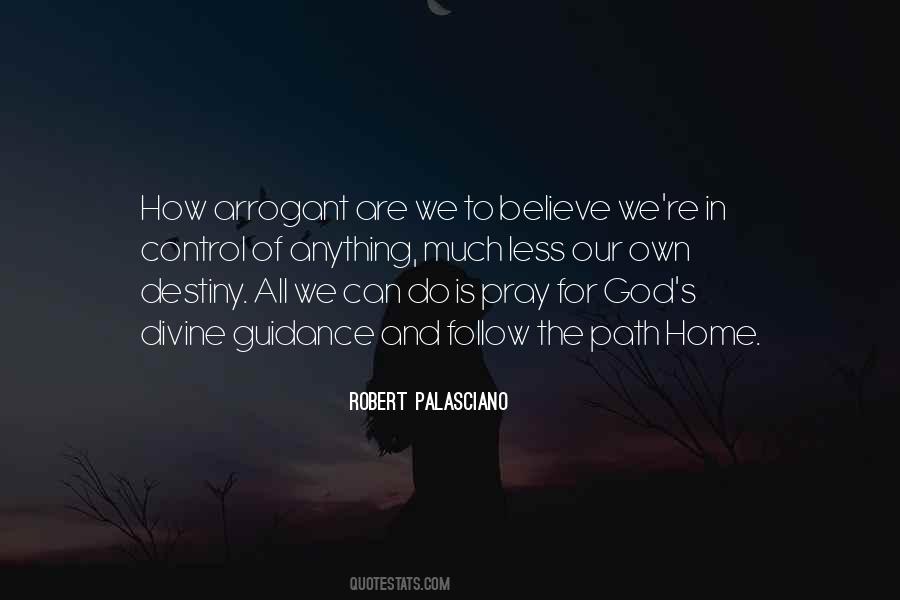 #84. I had to learn to trust more intimately in the power and presence of God, and to dare to let go of the need to control and orchestrate life. As - Author: John Tourangeau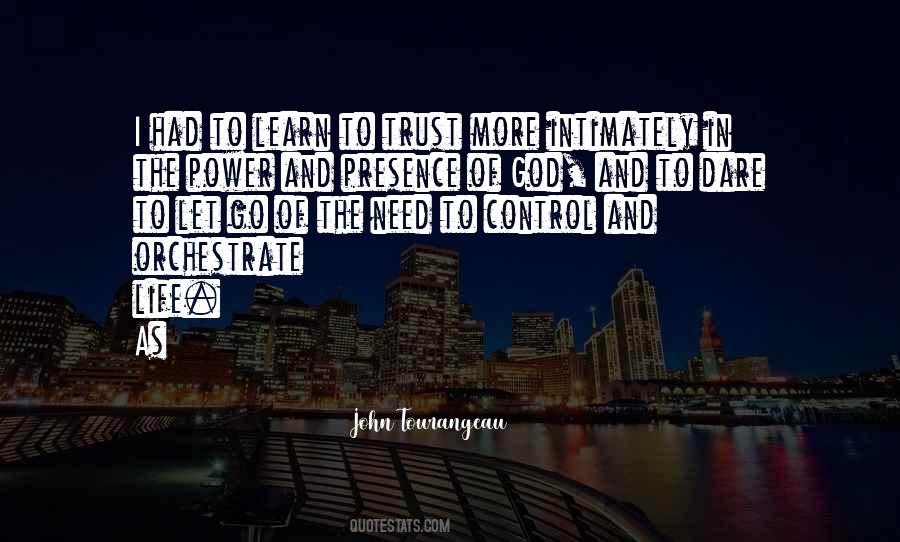 #85. The capacity to believe is under the control of each individual. But, not everyone directs his believing towards God. - Author: Paul Silway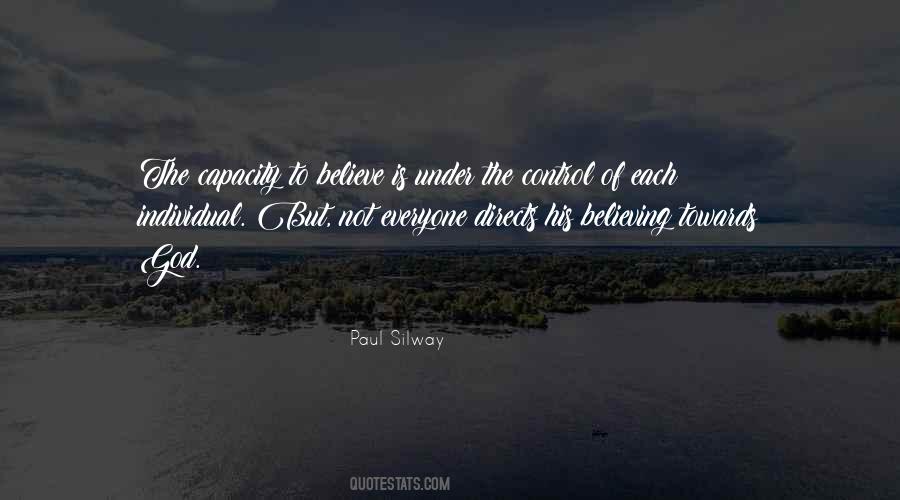 #86. No matter what anyone "does to you" along your path to either personal or professional happiness, that person cannot interfere with your destiny. Only you are in control of that, within the master plan created with God. - Author: Kathleen McGowan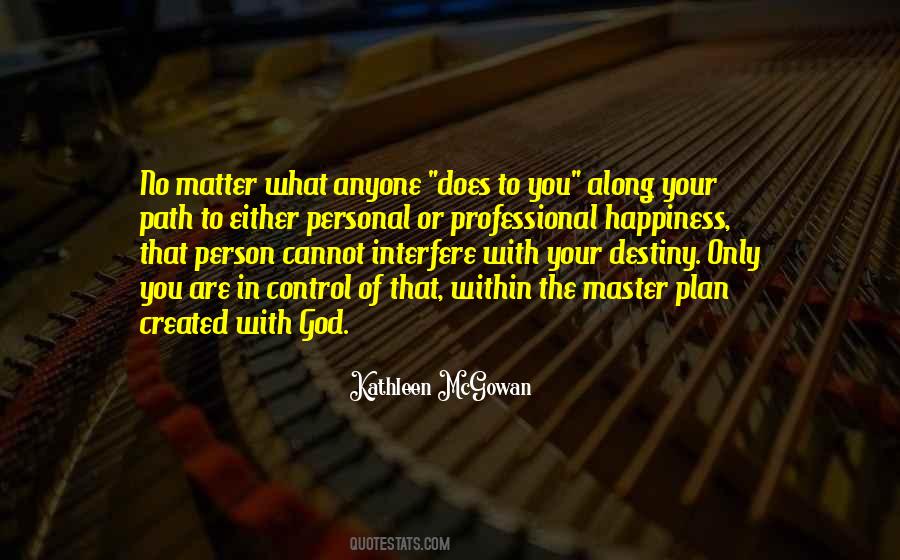 #87. We're just a conceited naked ape, but in our minds we're some 'divine legend' and we see ourselves as some sort of god, thinking we can decide what will live and what will die, what will be saved and what will be destroyed, but honestly we're just a bunch of primates out of control. - Author: Paul Watson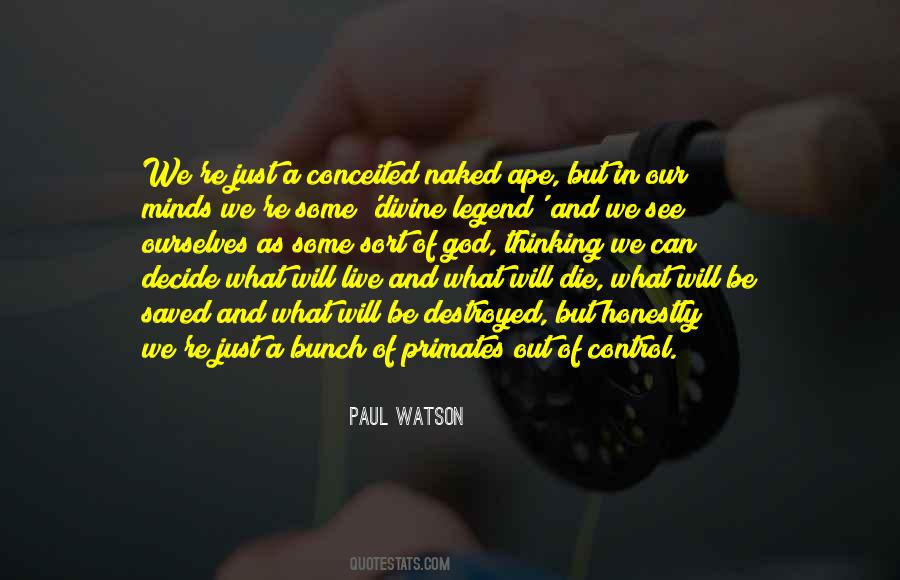 #88. When you say, I don't know exactly what God is doing, but I know he's in control that's evidence you're trusting Him. - Author: James MacDonald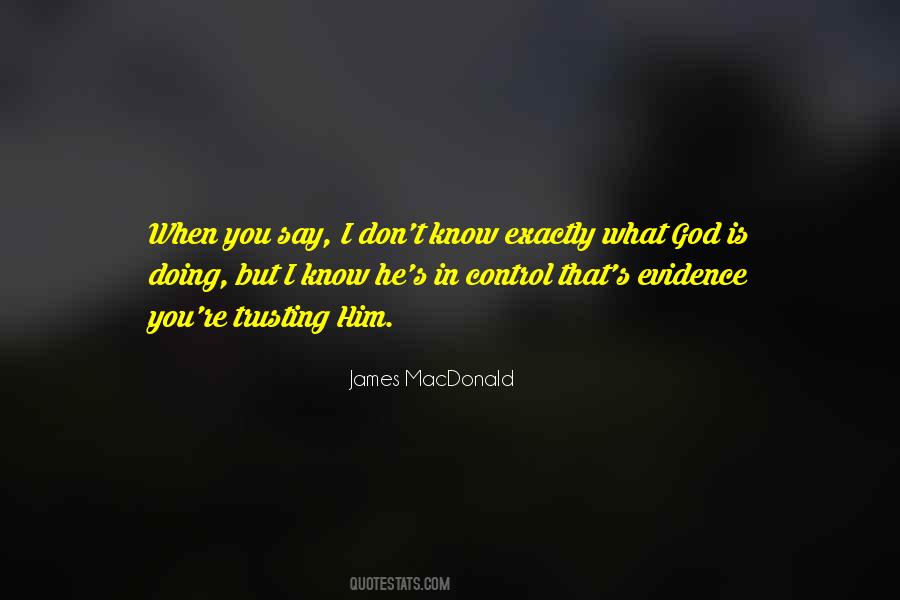 #89. We live in a world that is beyond our control, and life is in a constant flux of change. So we have a decision to make: keep trying to control a storm that is not going to go away or start learning how to live within the rain. - Author: Glenn Pemberton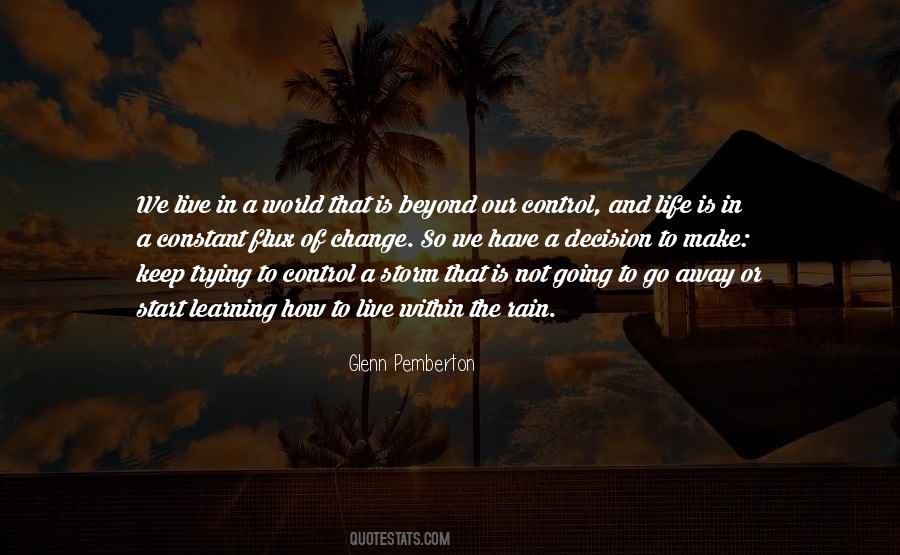 #90. America indeed has become a progressive nation, if we understand "progressive" to mean progressing away from God, his incomparable blessings, and the moral foundation that made America great, and advancing toward a mythical utopia where mankind is in control of mankind (think "Lord of the Flies"). - Author: Ron Brackin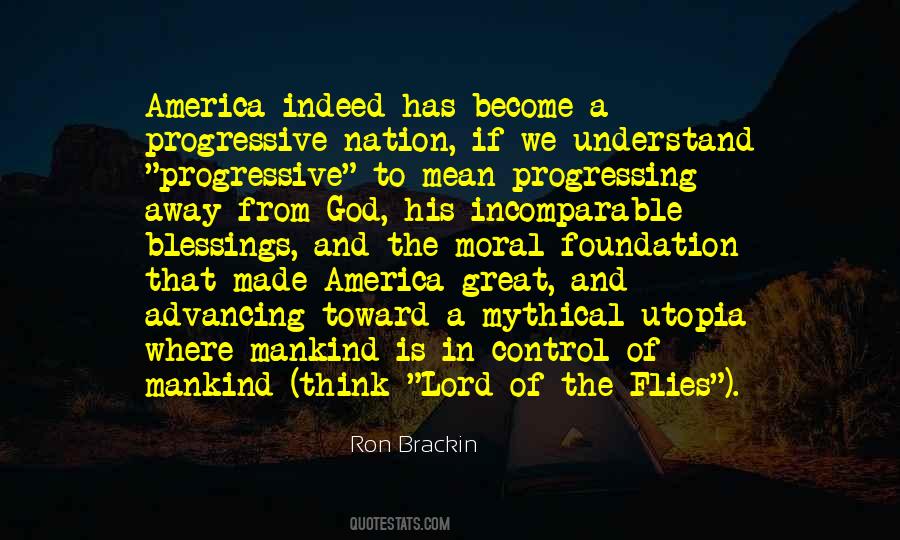 #91. This is a whole new world to explore as a developer to go in and learn these new gameplay mechanics, to learn what it's like to actually control a character from a top-down, 'God's eye' view, and to figure out how the game camera can be controlled by the player's head. - Author: Brendan Iribe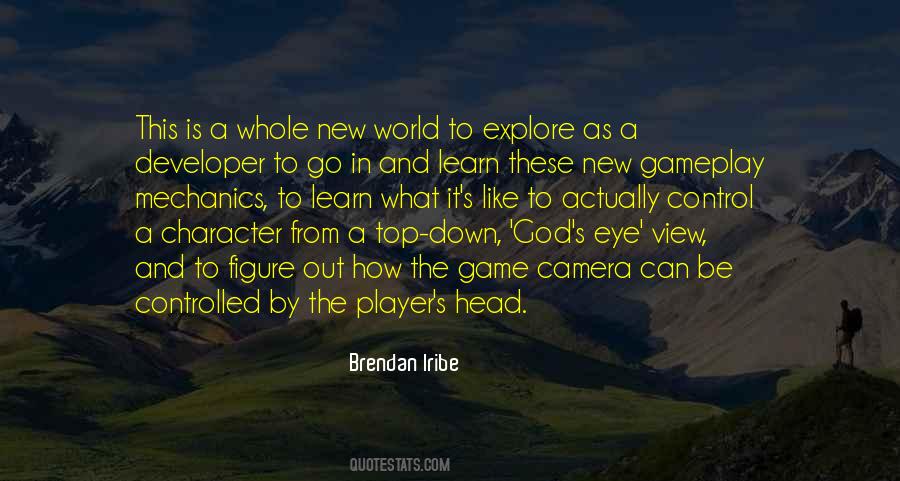 #92. I can rest in the fact that God is in control. - Author: Lysa TerKeurst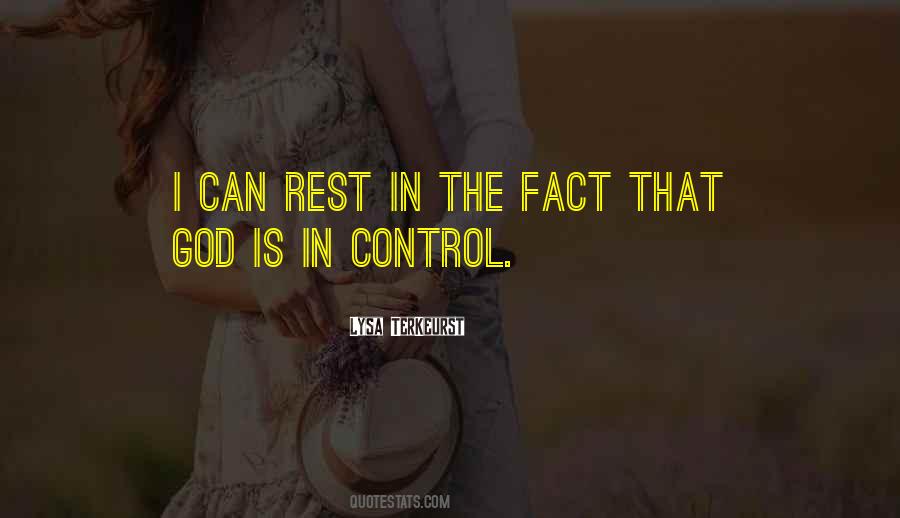 #93. I'm fairly convinced that the Kingdom of God is for the broken-hearted. You write of 'powerlessness.' Join the club, we are not in control. God is. - Author: Fred Rogers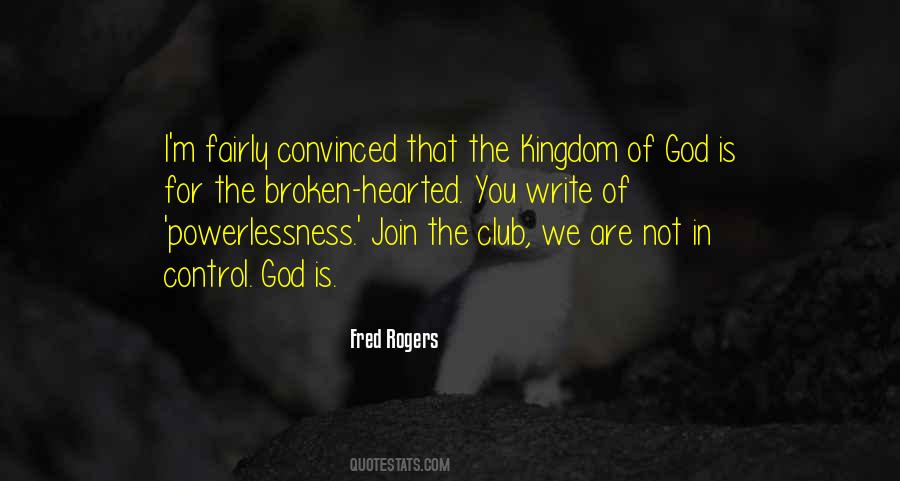 #94. Joy is the settled assurance that God is in control of all the details of my life, the quiet confidence that ultimately everything is going to be all right, and the determined choice to praise God in all things. - Author: Kay Warren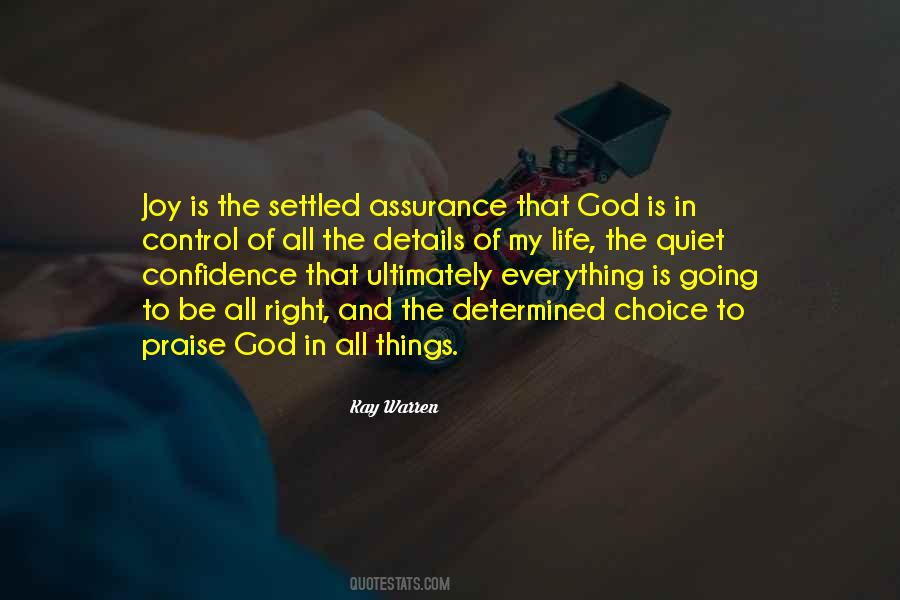 #95. But this is what disturbs me: if there is no God, then, the question is, who is in control of man's life and the whole order of things on earth? - Author: Mikhail Bulgakov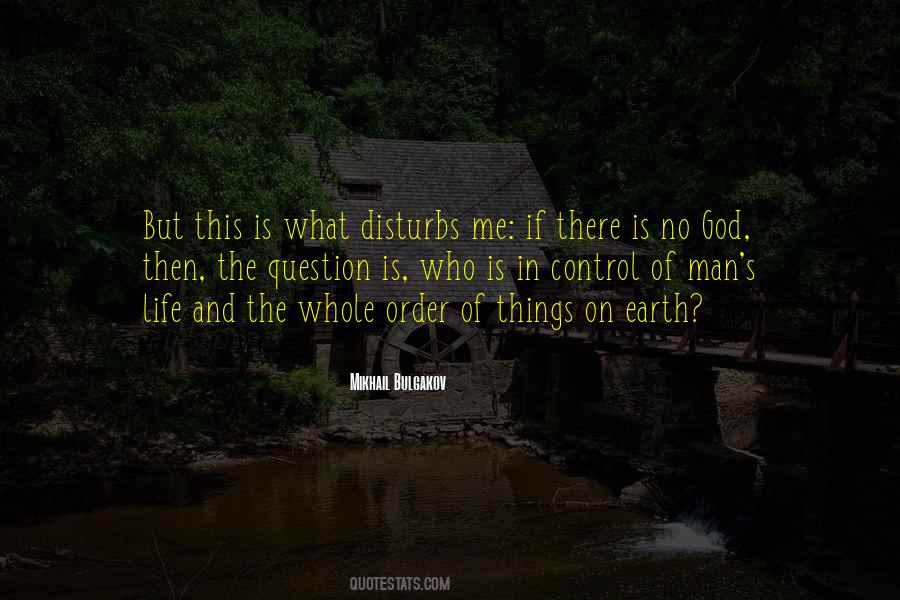 #96. You think you're in control, and you're trying to get that square peg in that round hole. You're frustrated, and you realize that you're not in control of everything. You need to just step back and let God. - Author: Cheryl Ladd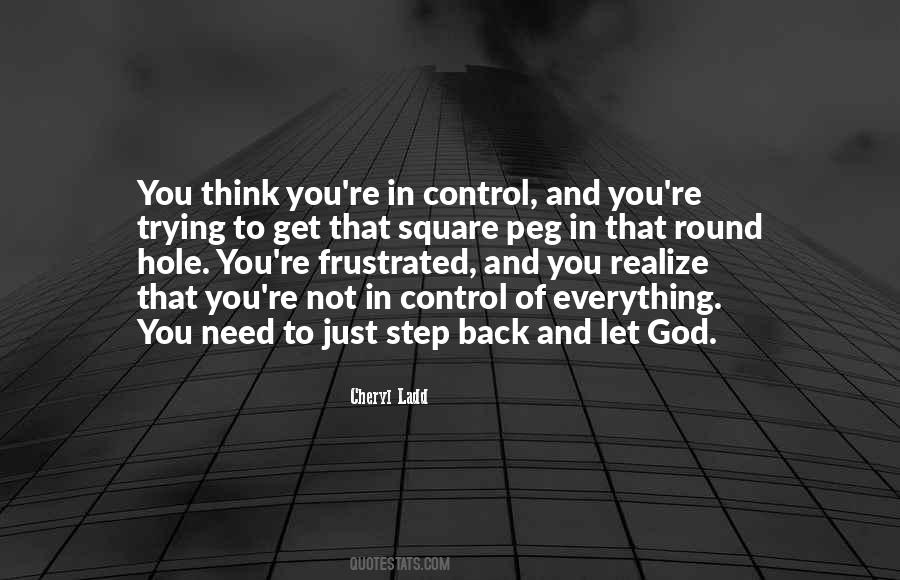 #97. Those of us who believe in the right of any human being to belong to whatever church he sees fit, and to worship God in his own way, cannot be accused of prejudice when we do not want to see public education connected with religious control of the schools, which are paid for by taxpayers' money. - Author: Eleanor Roosevelt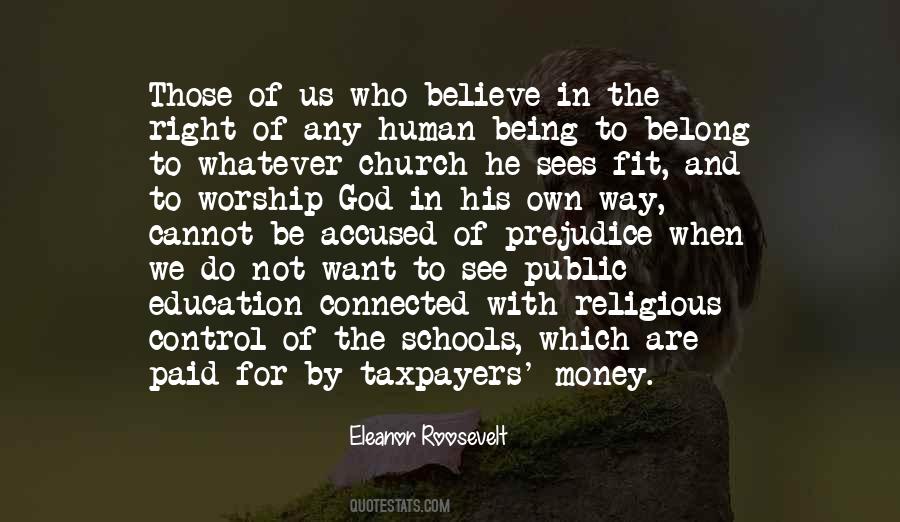 #98. God has given us peace in our pain. He covers us all the time. Even when we are out of control, he is still there. - Author: Max Lucado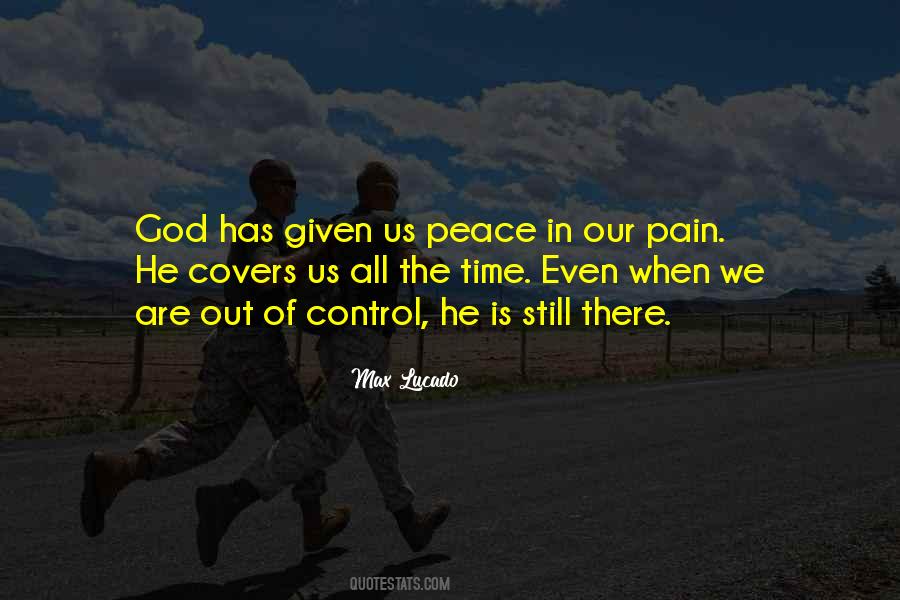 #99. I definitely do not want to police every girl out there, or tell them what they can and cannot do, but I know that God will do that. And God wants to be in their life and be in control of their actions and allow him to guide them through their life. - Author: Heather Veitch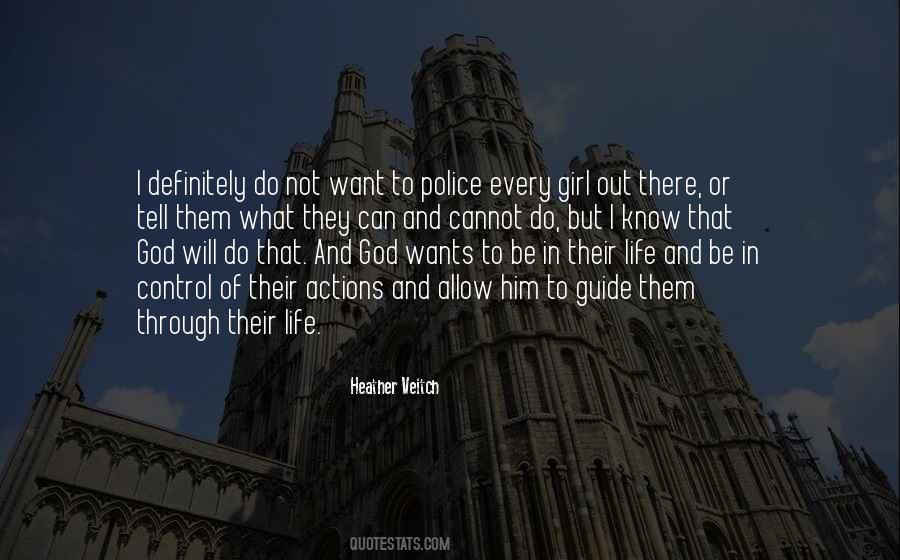 #100. We like to control the map of our life and know everything well in advance. But faith is content just knowing that God's promise cannot fail. This, in fact, is the excitement of walking with God. - Author: Jim Cymbala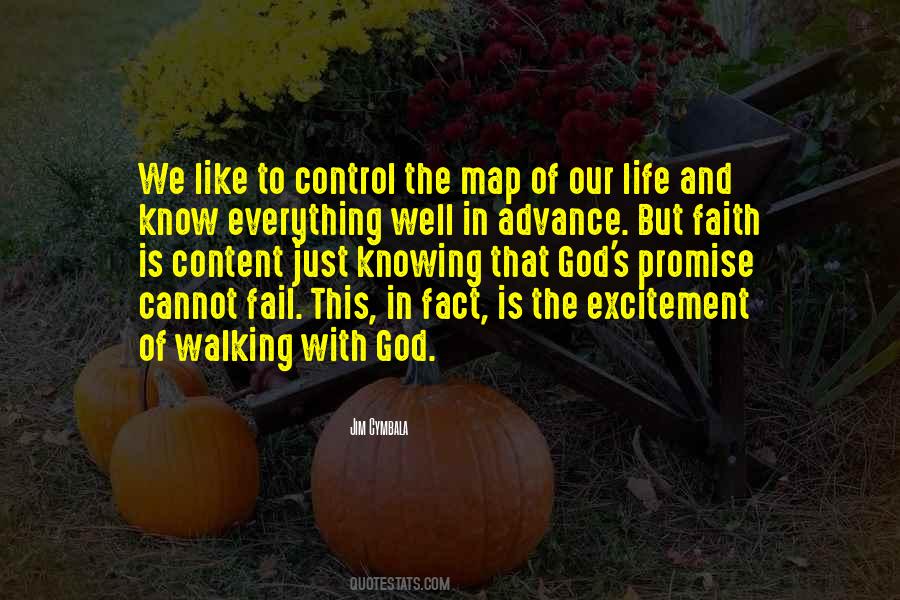 Famous Authors
Popular Topics