Forget Life Famous Quotes & Sayings
List of top 100 famous quotes and sayings about forget life to read and share with friends on your Facebook, Twitter, blogs.
Top 100 Forget Life Quotes
#1. The man who in view of gain thinks of righteousness; who in the view of danger is prepared to give up his life; and who does not forget an old agreement however far back it extends - such a man may be reckoned a complete man. - Author: Confucius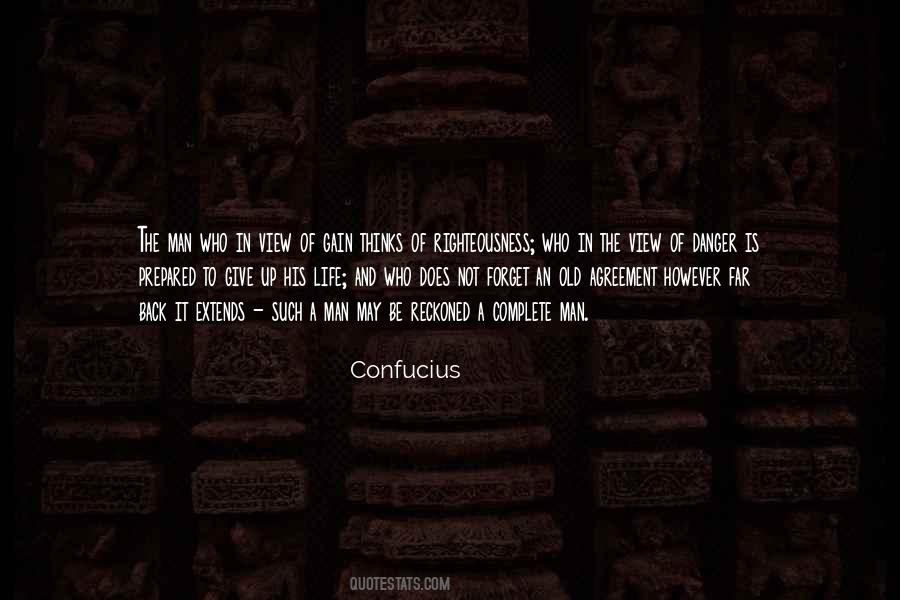 #2. We are so busy working on God, we forget He is trying to work on us. That is what this life is all about: God at work on us, trying to remake us into vessels of glory. We are so busy praying to change things that we have little time to allow prayer to change us. - Author: David Wilkerson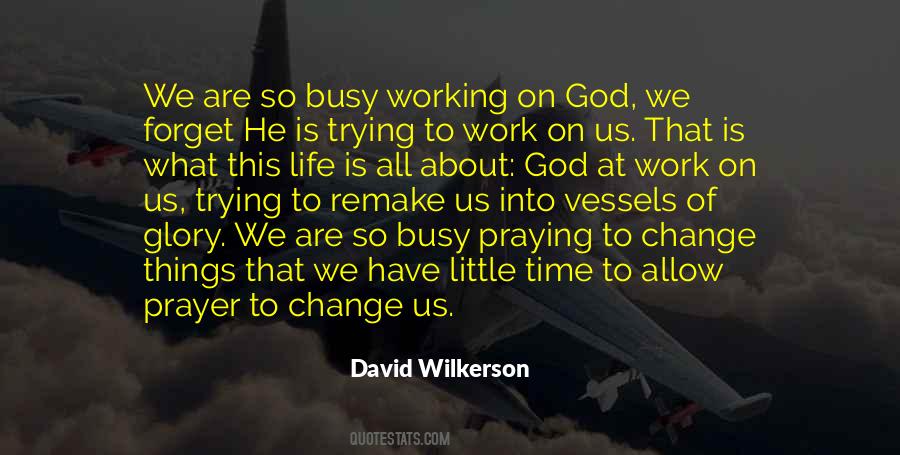 #3. Sometimes you might miss that person, sometimes you'll feel like running back to them ... sometimes you'll suffer from unbearable pain but sometimes you have to forget what you feel. And simply remember what you deserve, smile and move on! - Author: Nehali Lalwani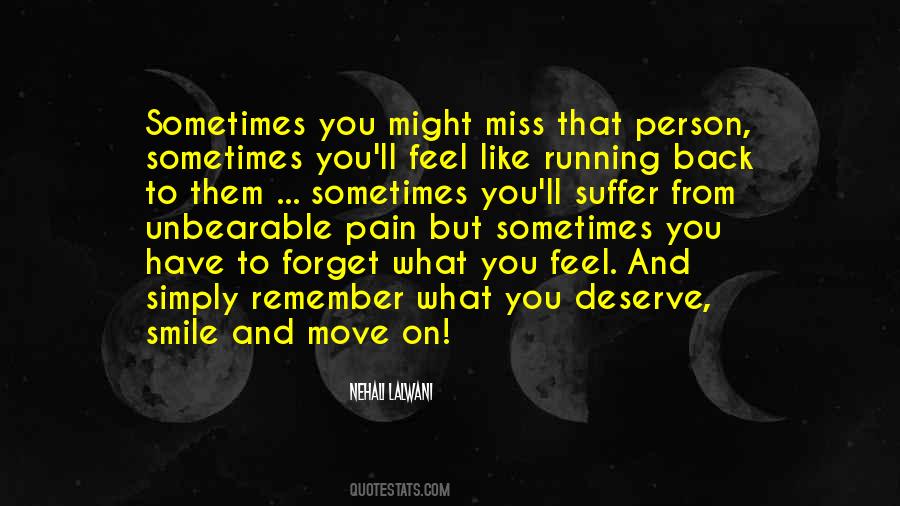 #4. Forgiveness is the most powerful thing you can do for yourself. If you can't learn to forgive, you can forget about achieving true success in your life. - Author: Wayne Dyer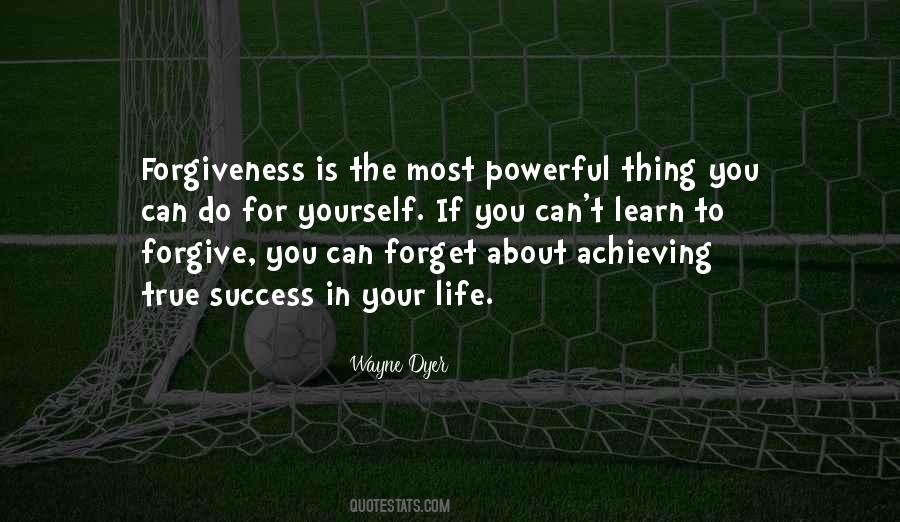 #5. If there is no order in your relationship with your wife, with your husband, with your children, with your neighbour - whether that neighbour is near or very far away - forget about meditation ... - Author: Jiddu Krishnamurti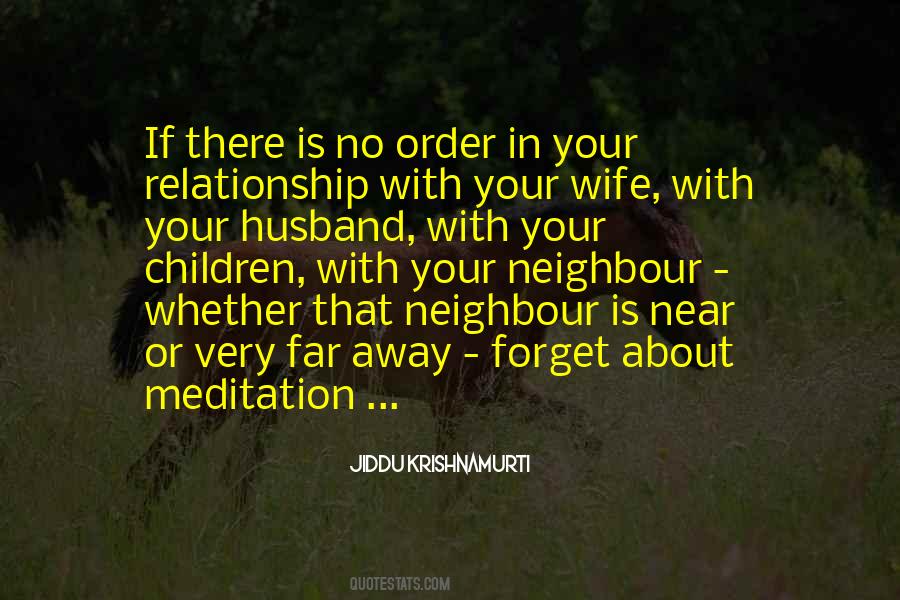 #6. Forget that you are anybody and just perform the activities around you. Look at them. Watch what you are doing, my God! Life is right in front of you, and it's great. - Author: Frederick Lenz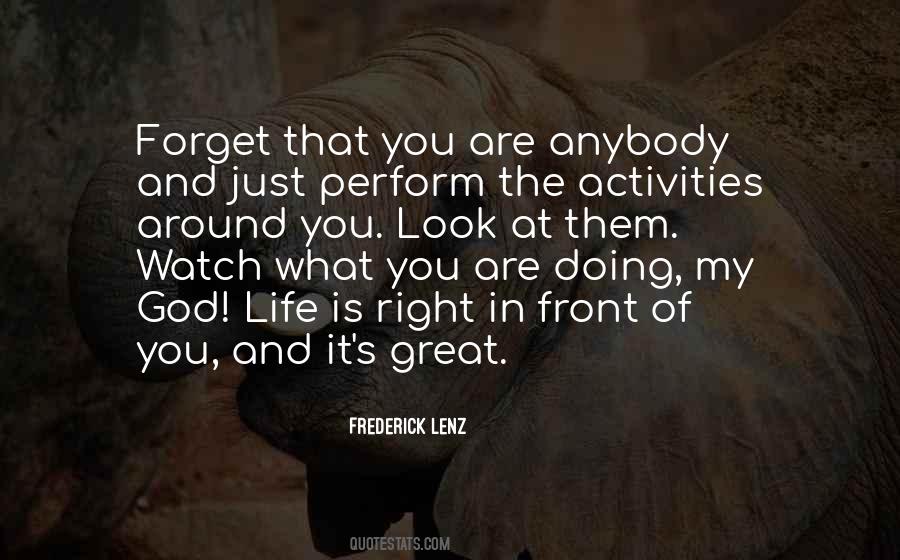 #7. Time slowly begins to move. Even as we begin to awaken to mundane daily life ... I don't want us to forget ... the sadness of living on the backs of unseen sacrifices. - Author: Kaori Yuki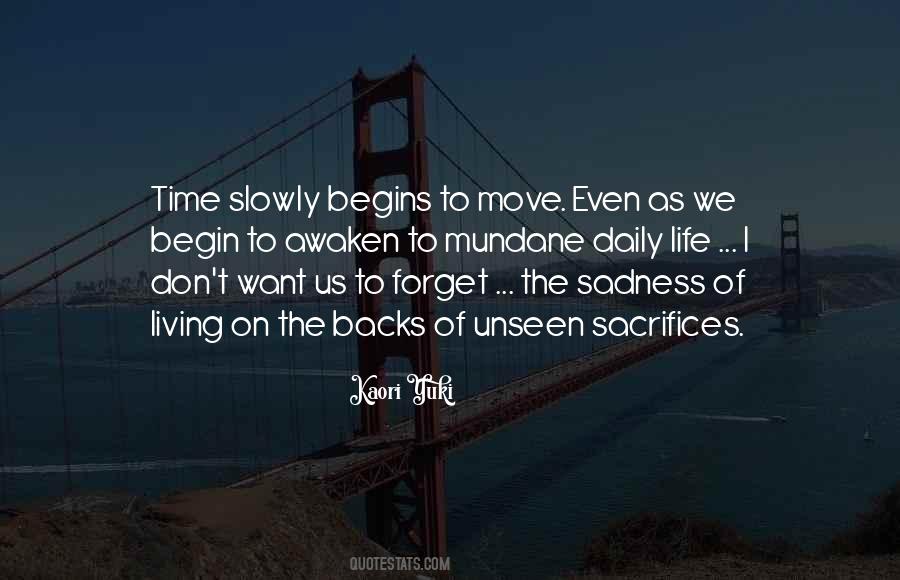 #8. We forget that just because something is honest it is not necessary the truth. - Author: Deb Caletti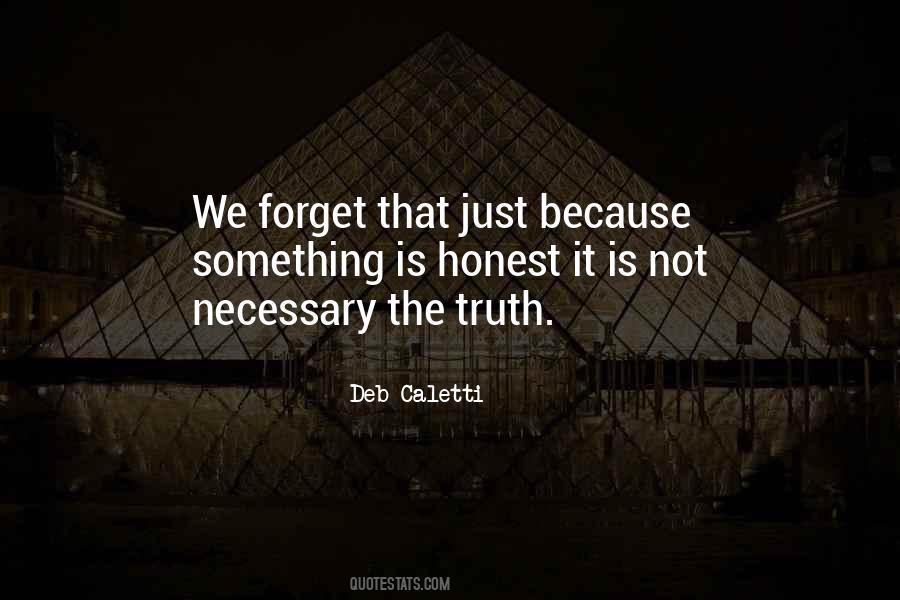 #9. It is very important for an actor or actress to look around at everything and everyone and never forget about real life. - Author: Sophia Loren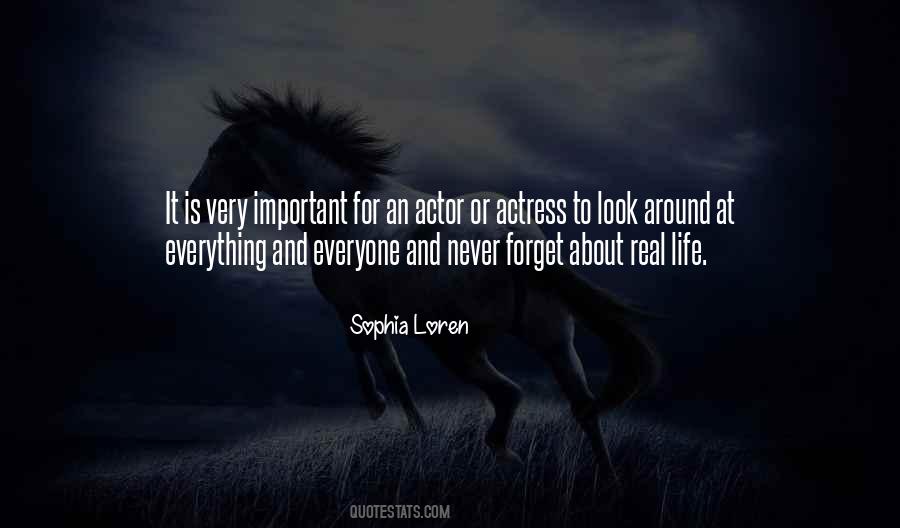 #10. When something is tragic you never really forget it. - Author: Sophia Olson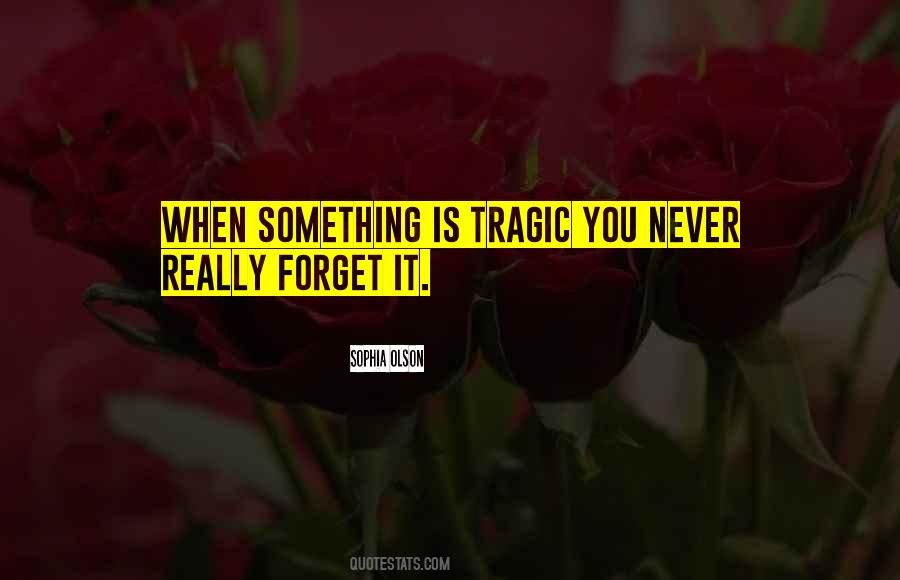 #11. Laughter opens your heart and soothes your soul. No one should ever take life so seriously that they forget to laugh at themselves. - Author: Robin S. Sharma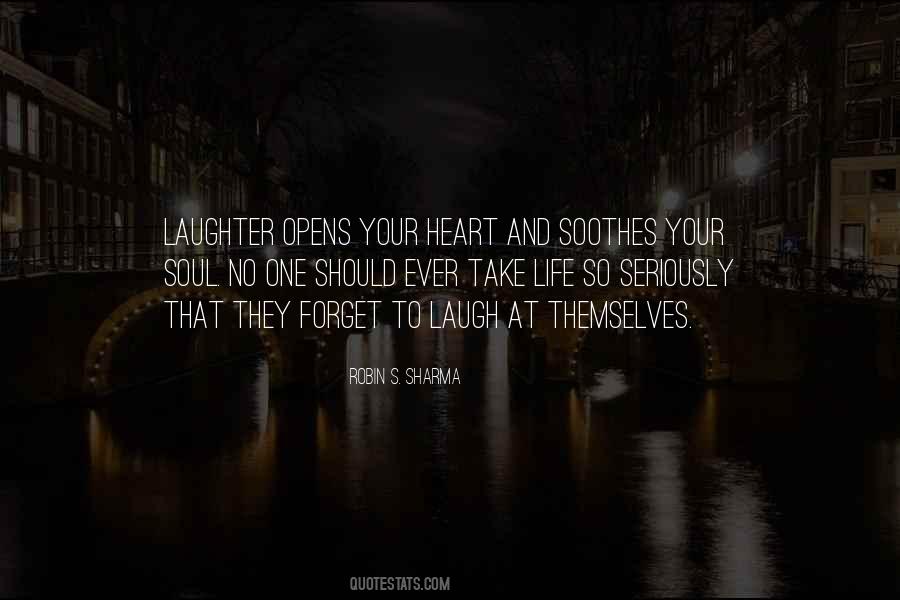 #12. Forget the past! Look straight ahead with great hope. - Author: Lailah Gifty Akita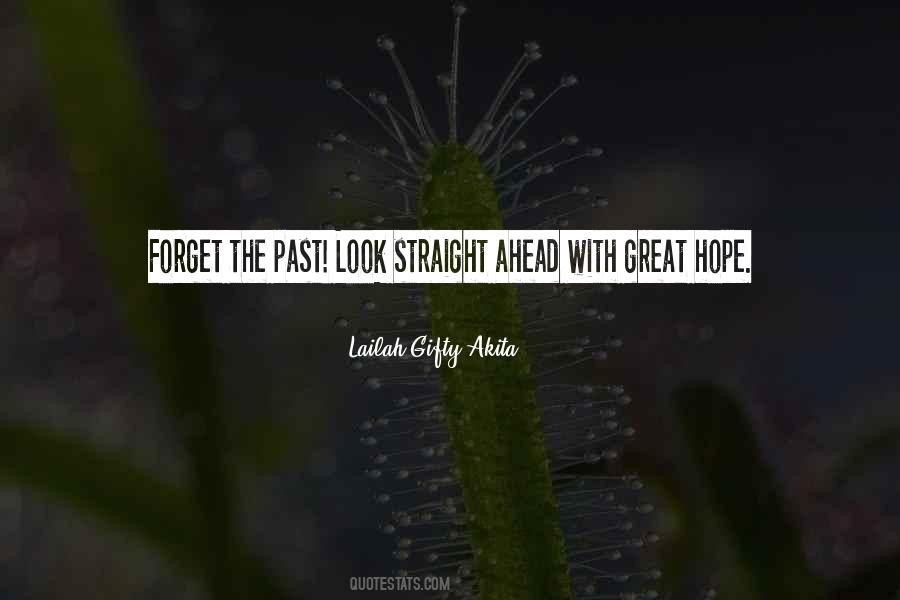 #13. I want to have an epic life. I want to tell my life with big adjectives. I want to forget all the grays in between, and remember the highlights and the dark moments. - Author: Isabel Allende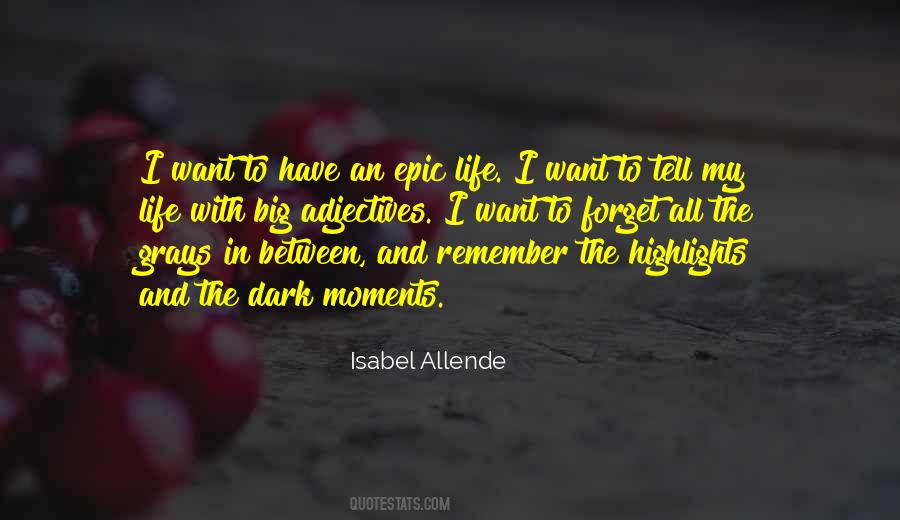 #14. The density of people in society is so thick that we forget that life will end one day. And we don't know when that one-day will be. So please, tell the people you love and care for that they are special and important. Tell them, before it is too late. - Author: Paula Fox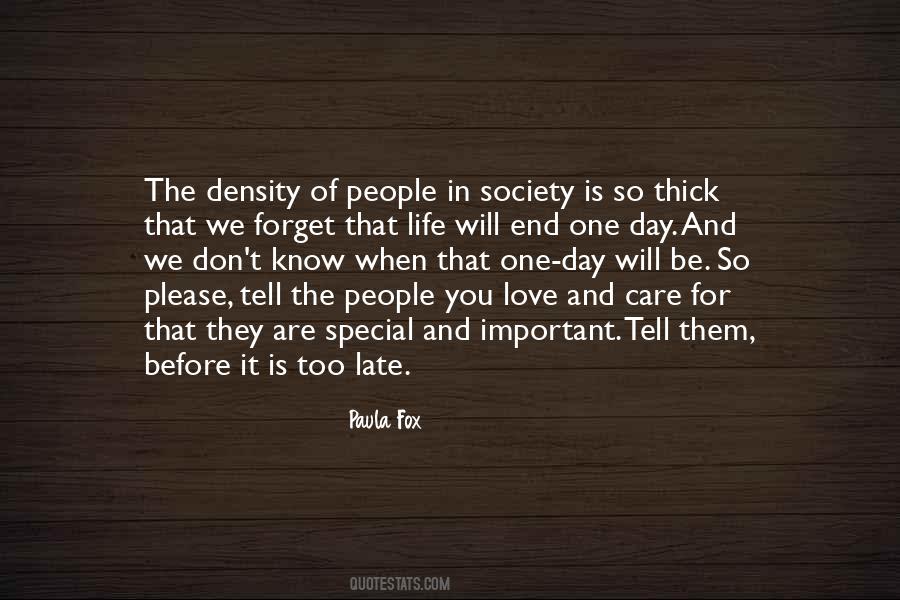 #15. I want to do things that will change someone's life, not something they'll forget about tomorrow. - Author: Daveigh Chase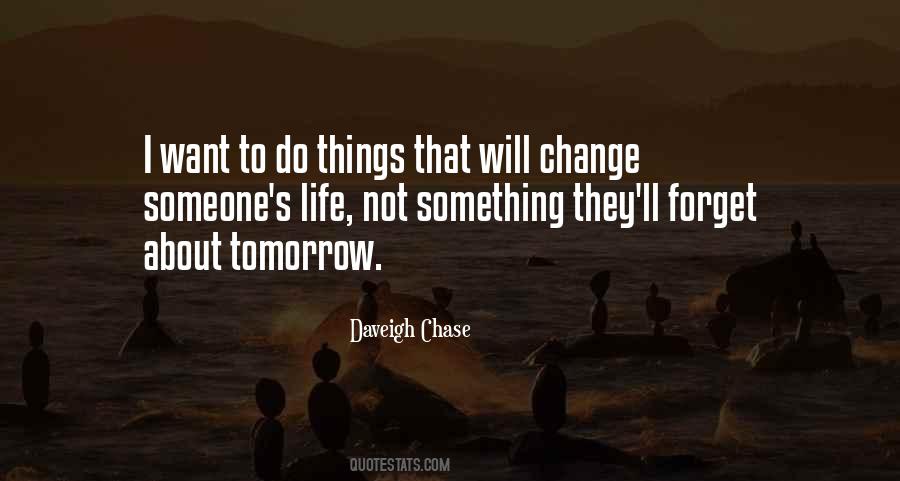 #16. She shrugged. You can be happy for someone else's good fortune, but that doesn't mean you forget your own bad luck. - Author: Jodi Picoult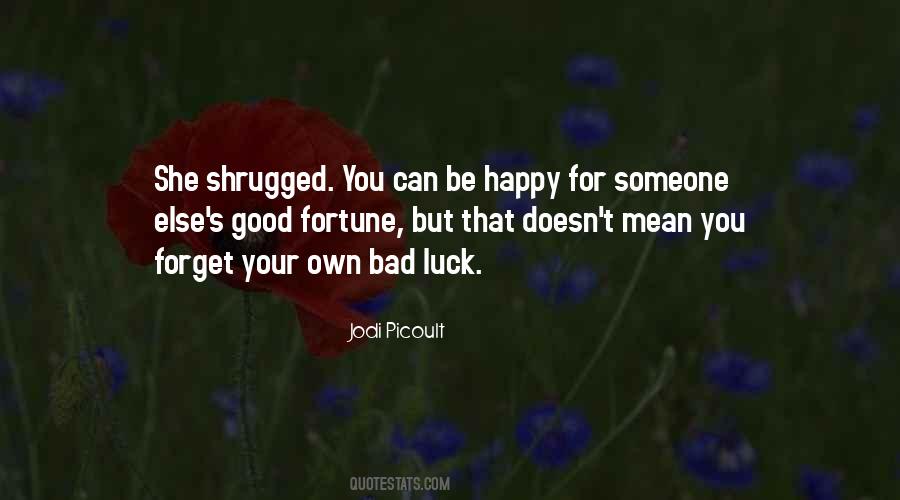 #17. People forget how sensational the things are that they do. They don't see it on themselves. It blends into the background of their daily life. - Author: Saul Bellow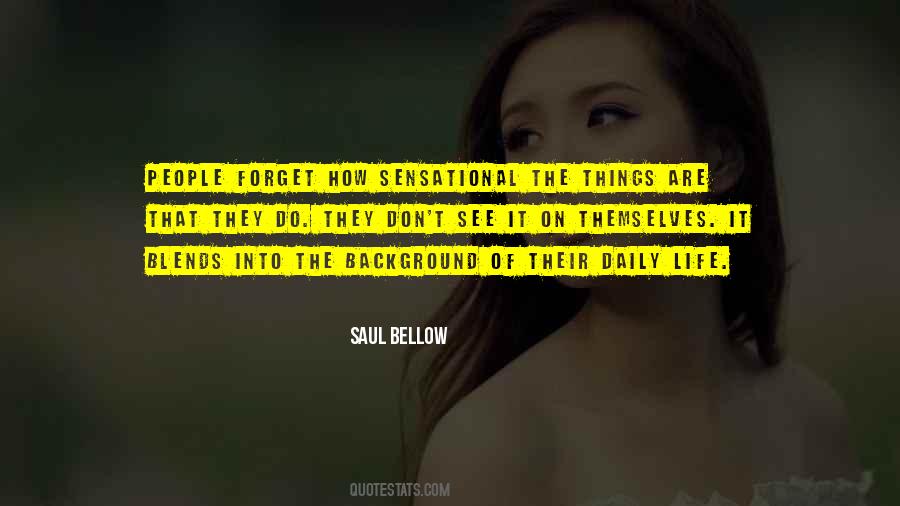 #18. It's easy to be forgetful when you're grieving, even forget those things that you believe most people wouldn't. - Author: Liz Fichera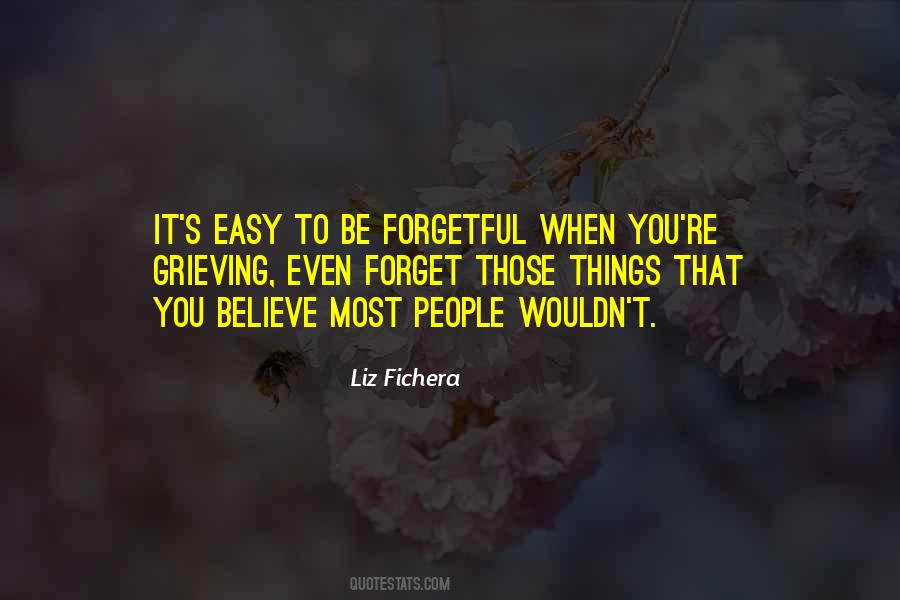 #19. She'll soon forget."
"Caddy," said Saffron impatiently, "she is headmistress of the private school! She's probably never forgotten anything in her whole life! - Author: Hilary McKay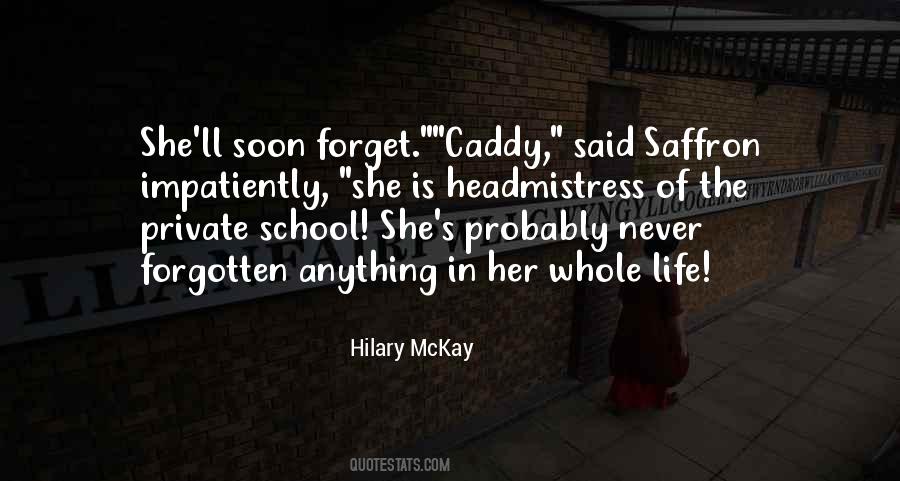 #20. We forget that the power of God isn't in a weapon or a leader, but within us. - Author: Toni Sorenson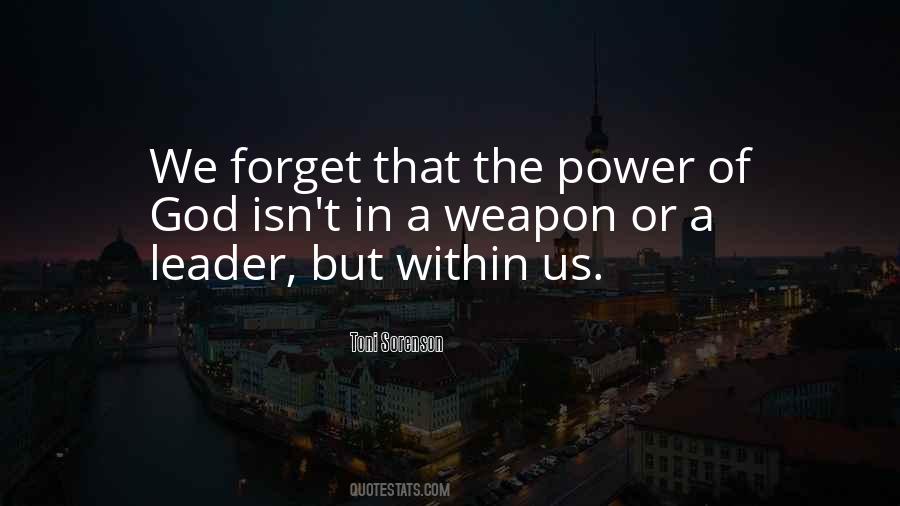 #21. Can we just forget that ever happened?"
His smile is devilish. "Not on your life. - Author: M. Leighton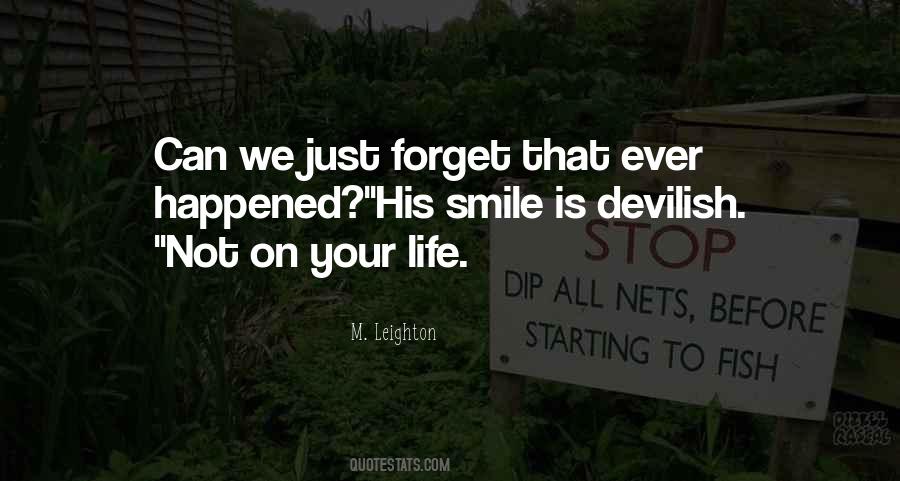 #22. Don't forget until too late that the business of life is not business but living. - Author: B.C. Forbes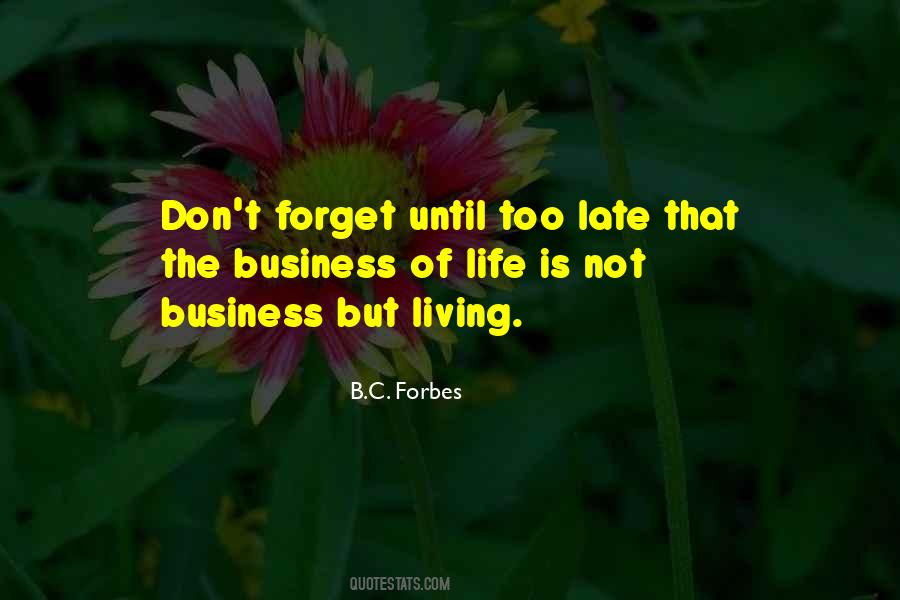 #23. And I did wonder - because it's now three years ago since I left prison - whether there would come a time when I would forget it, or it would be in the past as anything else might be - no, it's there every day of my life. - Author: Jeffrey Archer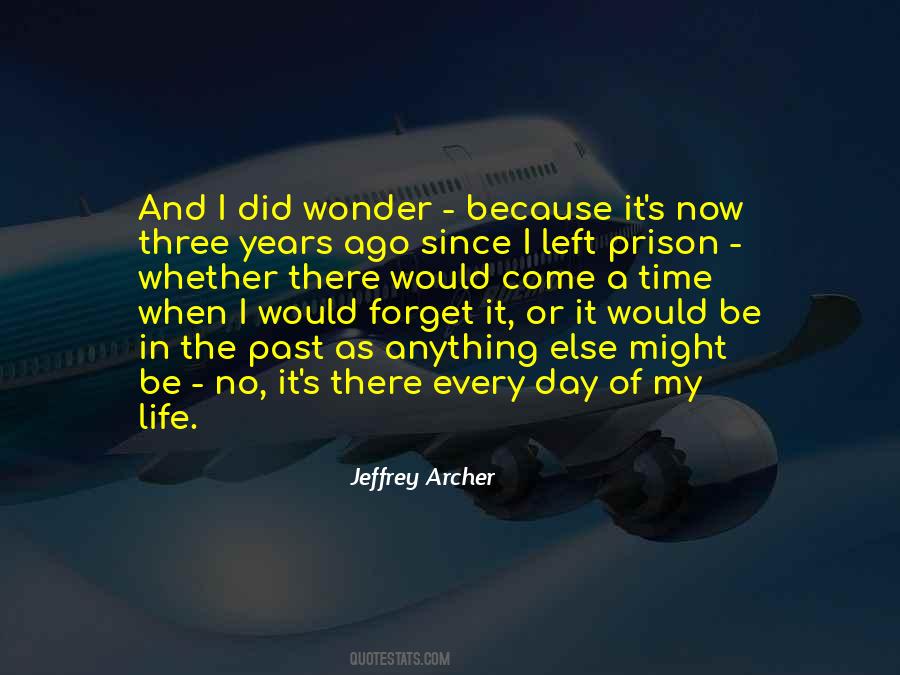 #24. 'Endgame' resists narrative and even thematic explanation. How you play it has to reflect this. If you decide something too much in advance, you forget the element that gives the play life - the audience. - Author: Simon McBurney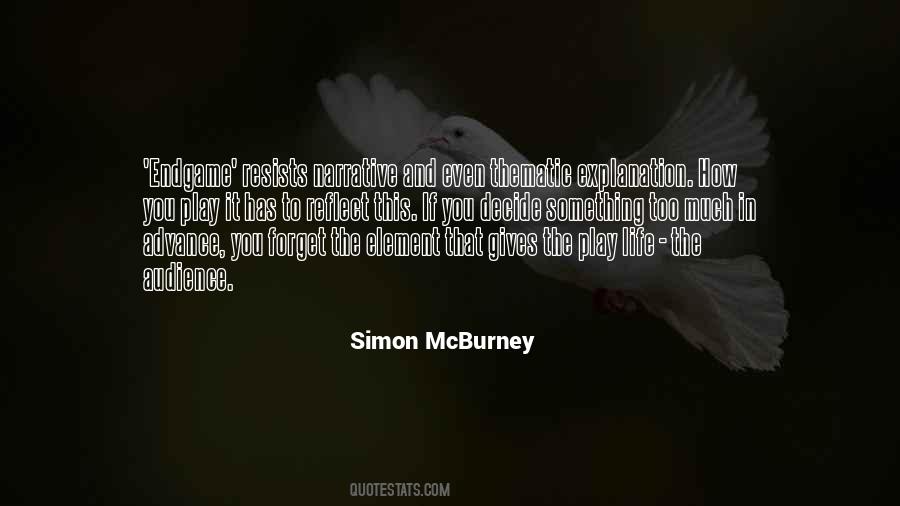 #25. Forget your mistakes but remember what they taught you. - Author: Vannetta Chapman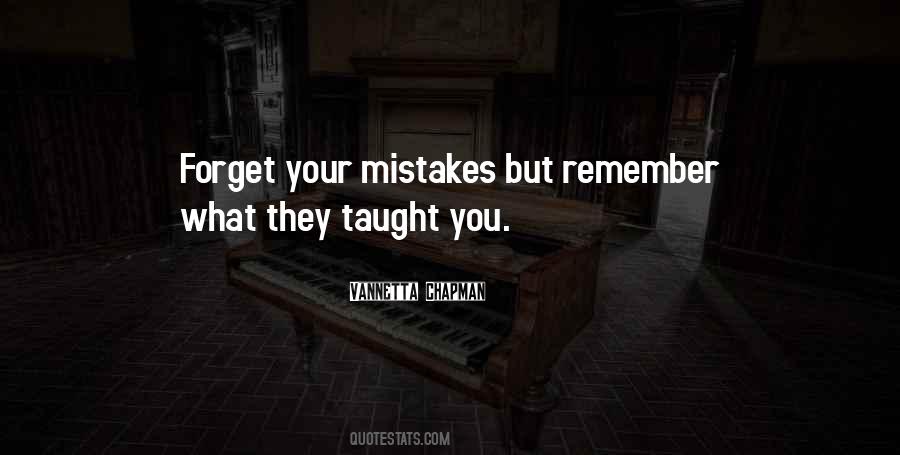 #26. Don't you want the guy who'll forget about all the other things in his life before he forgets about you? - Author: Greg Behrendt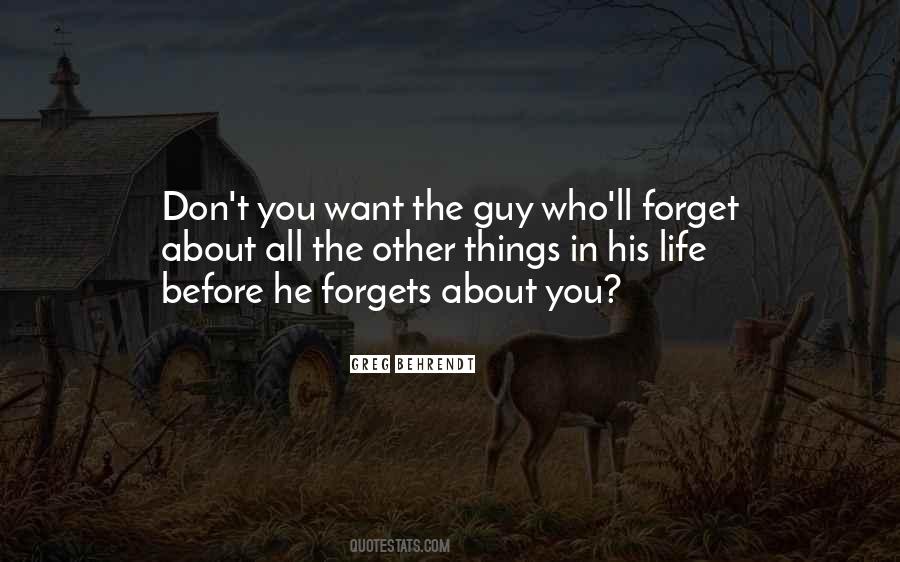 #27. Don't forget the little people, even when you want to. - Author: Jesse Petersen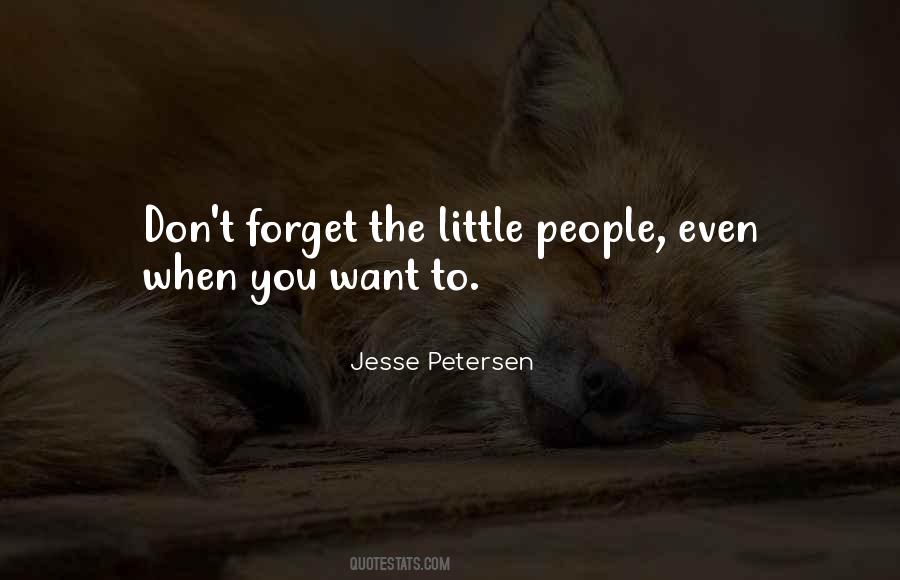 #28. Never forget that God is your friend. And like all friends, He longs to hear what's been happening in your life. Good or bad, whether it's been full of sorrow or anger, or even when you're questioning why terrible things have to happen. - Author: Nicholas Sparks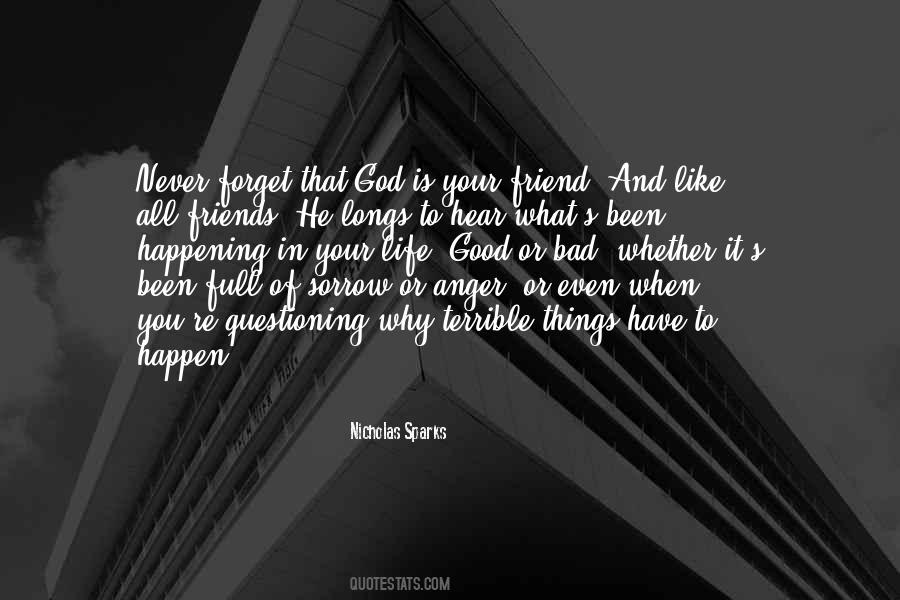 #29. Forget black and white and try on gray. In hair color, wardrobe or life choices, it may feel more enlivening than you imagine. - Author: Gina Greenlee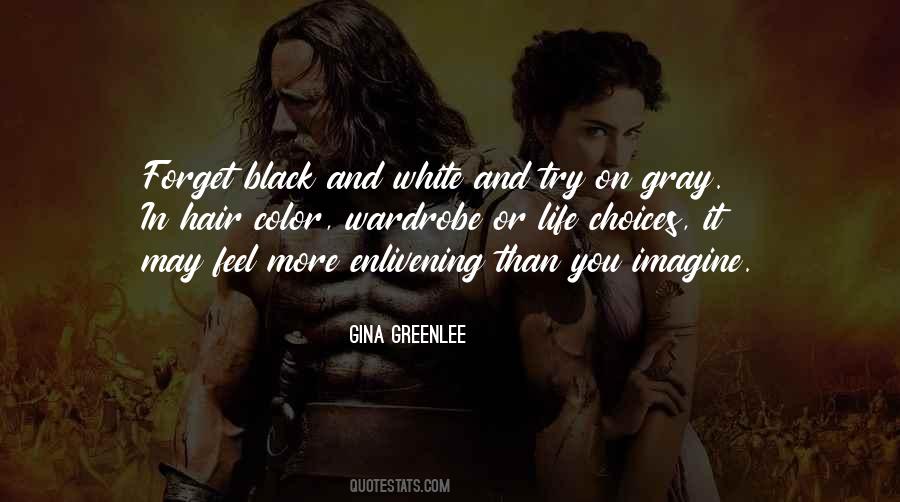 #30. Dream big & have huge ambition, but never forget life is lived in small moments and sustained by simple acts of love. - Author: Cory Booker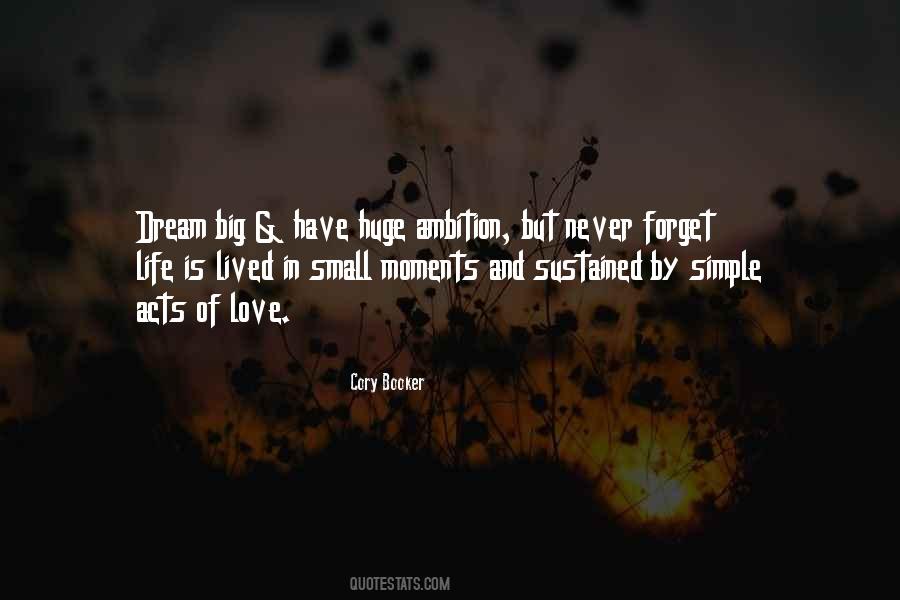 #31. Want to forget that you're growing older? Walk across green grass with bare feet. - Author: Toni Sorenson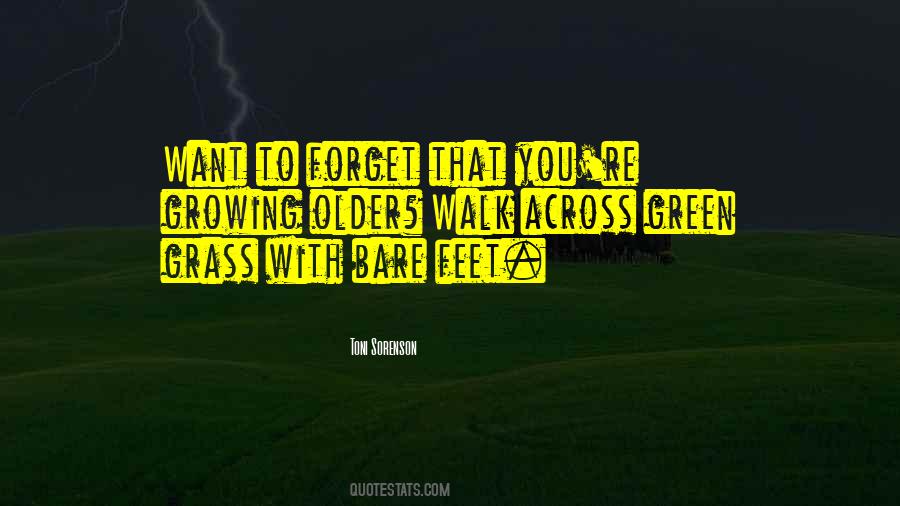 #32. You are an honest and honorable man ... Ofttimes I forget that. I have met so few of them in my life. - Author: George R R Martin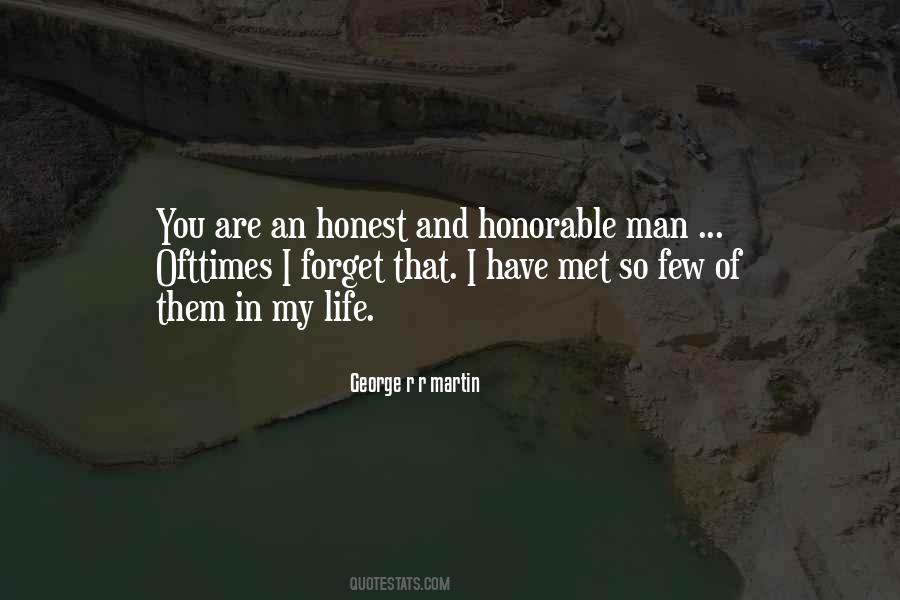 #33. I do not want to say I'm a product designer. I've been trying all my life to not be categorized, to learn something and then to forget about it. - Author: Milton Glaser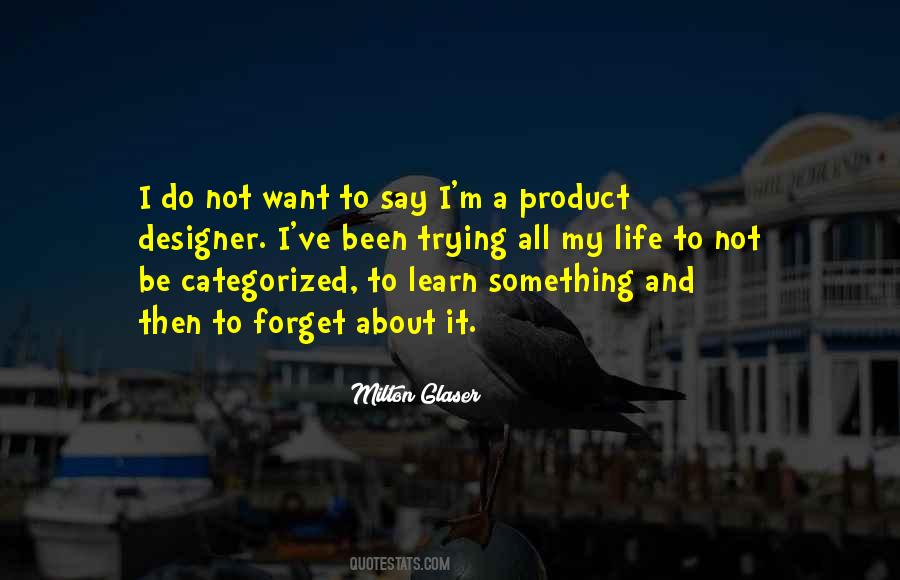 #34. Life is good - we forget that. - Author: Maryam D'Abo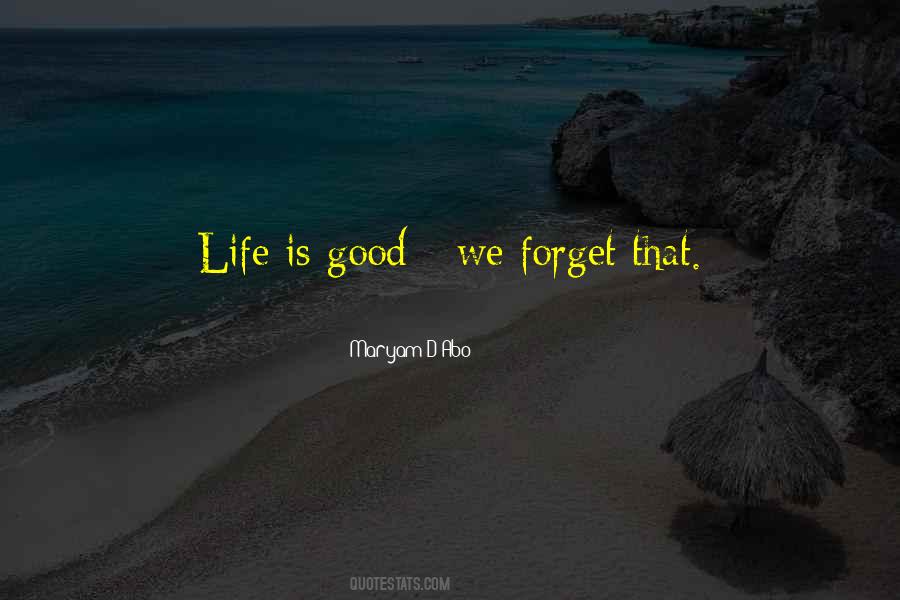 #35. We may not remember life, but we never forget touches of love. - Author: Debasish Mridha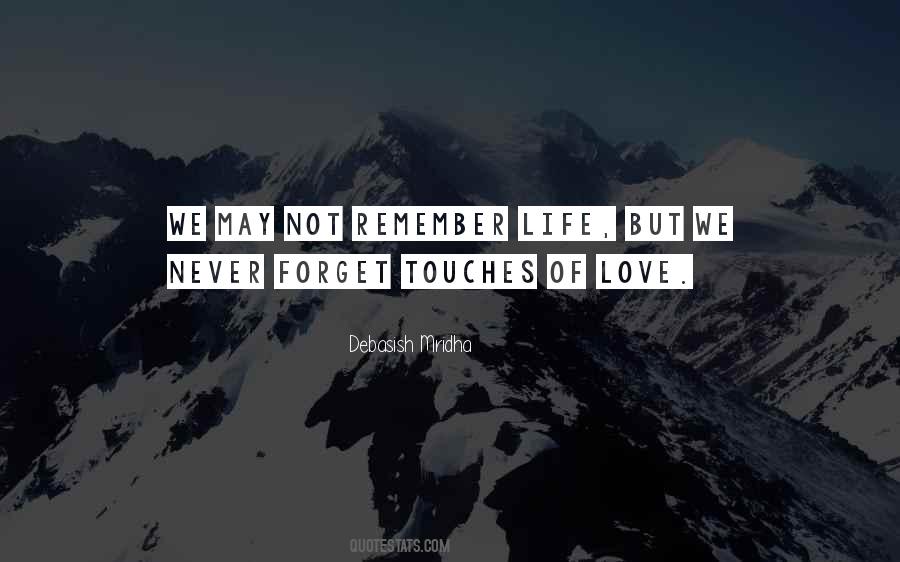 #36. some mistakes in life are not punishable, others teach you a lesson you never forget! - Author: Leslie Feinberg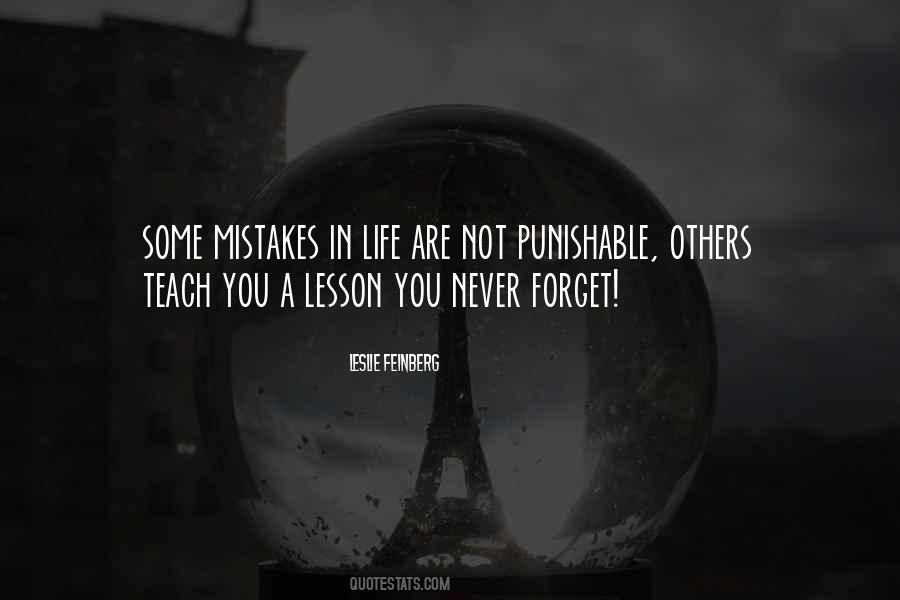 #37. The reason to consider life and what's of value is to make sure you're not missing out. Seize the day. What's important to you? What do you care about? What matters? Pursue that, forget the rest. - Author: Brittany Maynard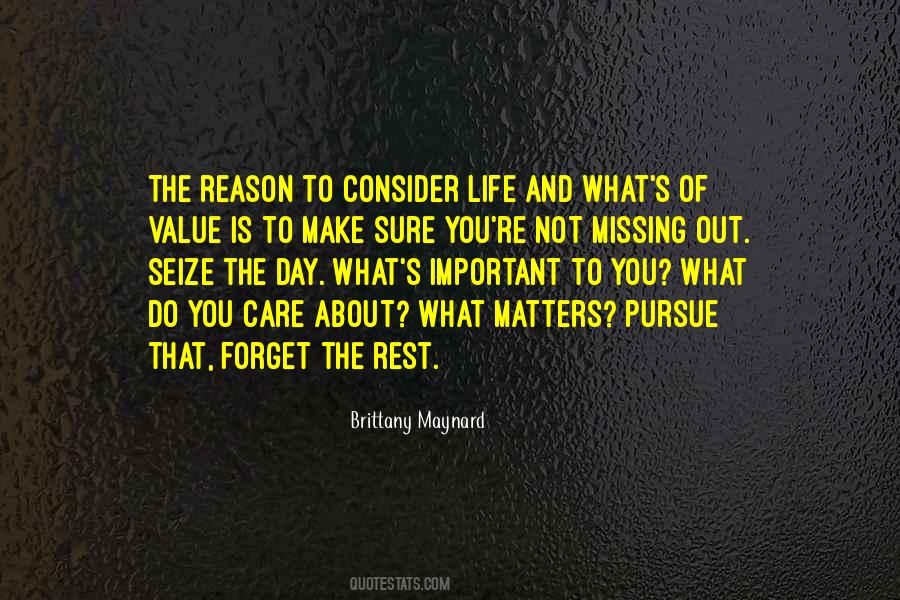 #38. When we as a nation, strive in vain to preserve the beauty of our national life, forgetting our biblical roots, we are doomed. - Author: Richard Halverson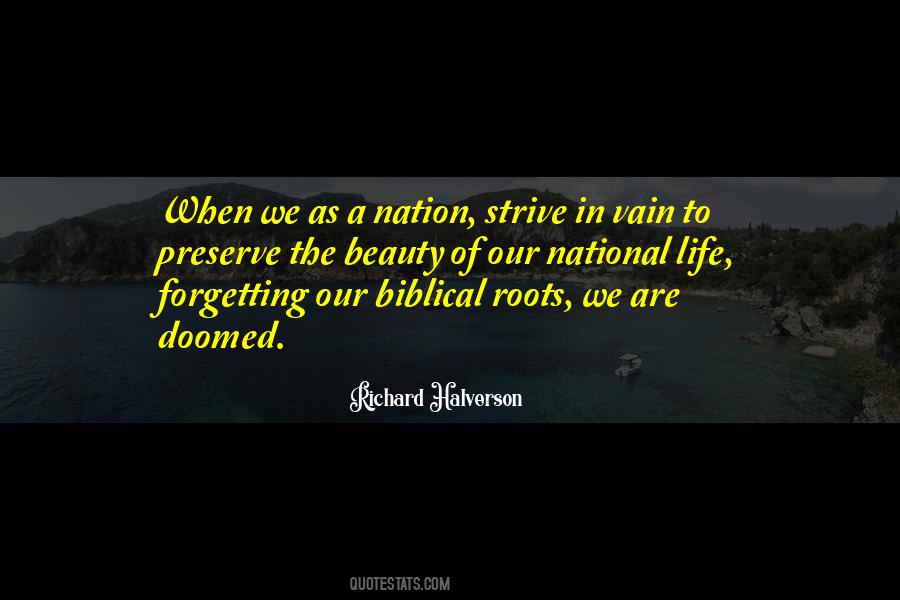 #39. Always do the things fast in your life, because some things are coming from the future towards you; they may separate you forever from doing the things you want to do! Never forget, some things are coming from the future, be fast! - Author: Mehmet Murat Ildan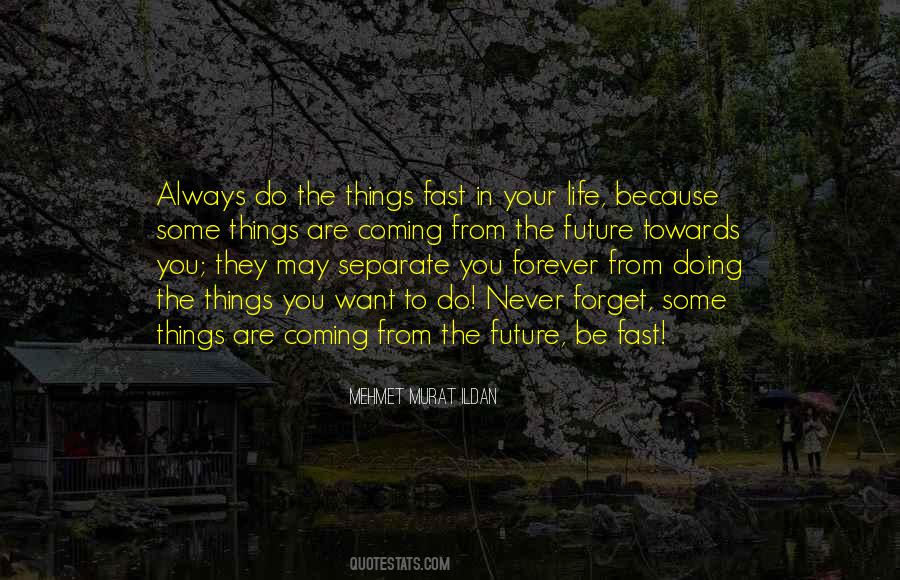 #40. If you mean a few little things - the exact sound of his voice, the shade of his hair, then okay, yeah. You're going to forget. But Ben isn't those things, you know? He's your brother. He's made up of every moment in his life. You'll never forget all of that. - Author: Victoria Schwab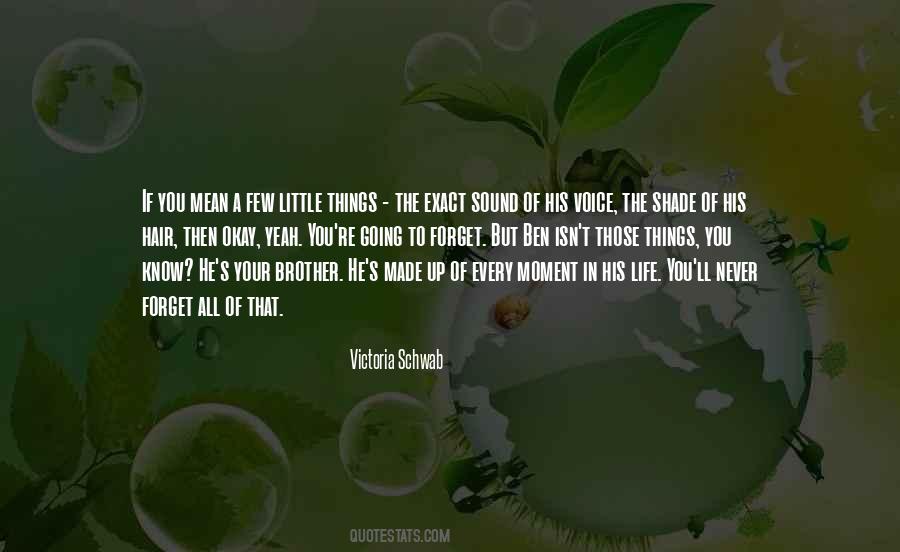 #41. The point of the list wasn't just to tick items off and forget about them, it was to learn something new. - Author: Lindsey Kelk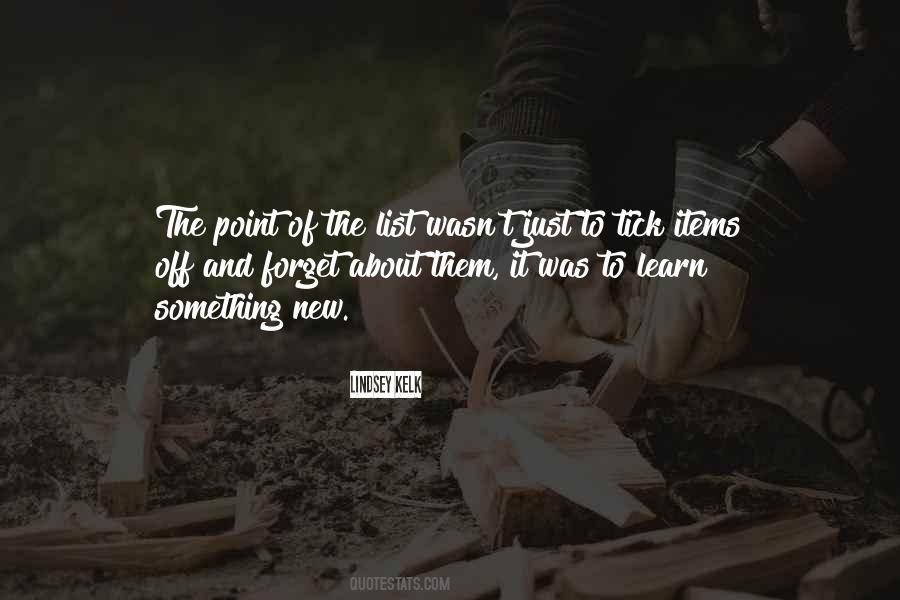 #42. Books are in the mind, Grandfather Alessandro said. Too many books and you forget your body is in the world. - Author: Tom Spanbauer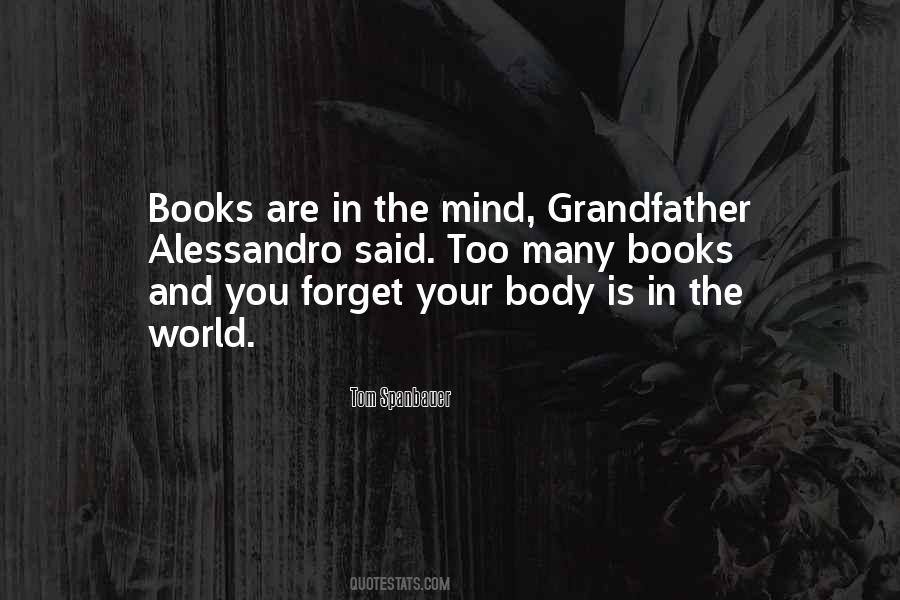 #43. You marvel and applaud big heroes in their big heroic actions, and forget you are a hero in your humble life and have modest heroic actions to complete yourself. - Author: Bangambiki Habyarimana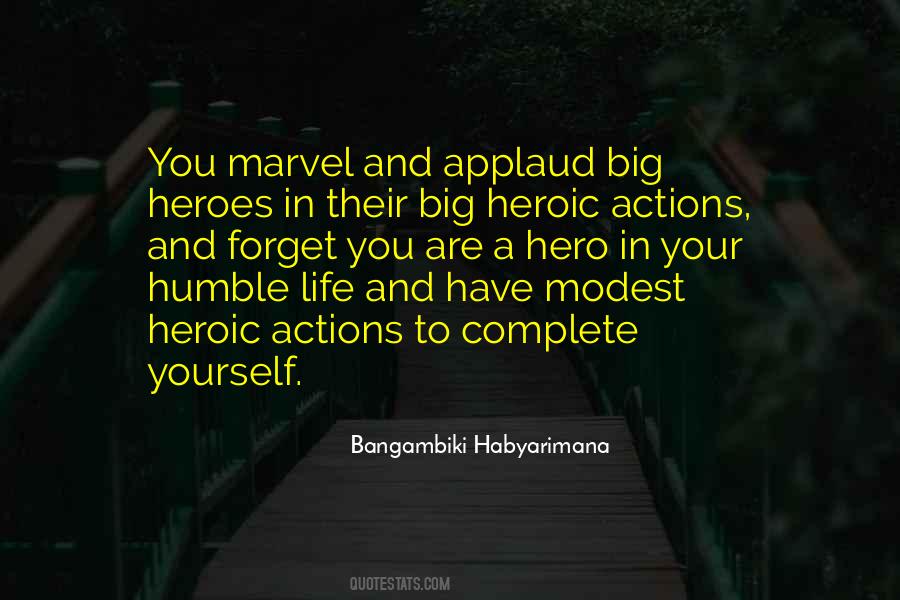 #44. It's not wise to seek the revenge and forget to love. - Author: Debasish Mridha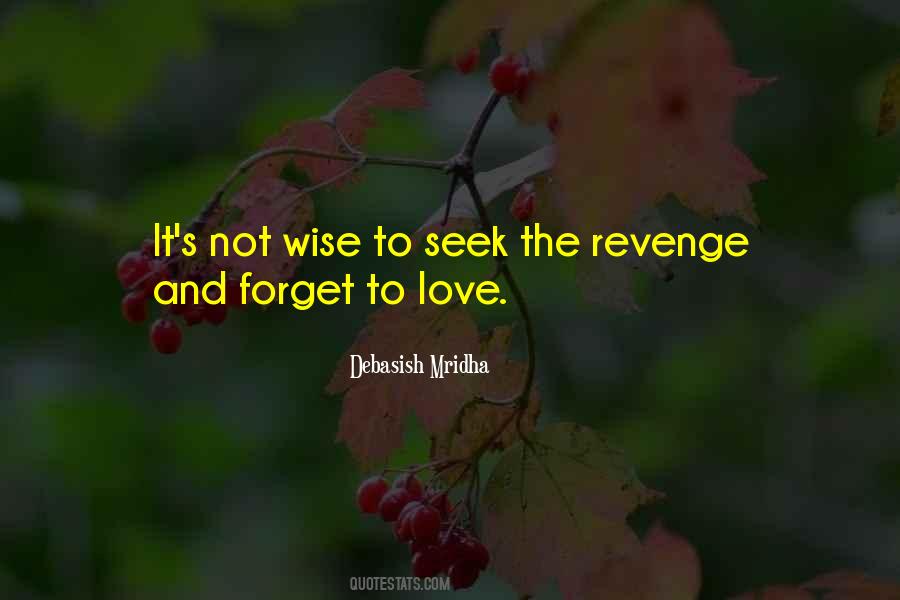 #45. Don't forget that we come into this life with out anything and with out anything we are going to leave, nothing is more valuable than human life!
Mos harroni se kemi ardhur ne kete jete pa asnjegje, e do te shkojme pa asnjegje! Asgje nuk eshte me e kushtushme se Jeta e njeriut ! - Author: Zybejta "Beta" Metani' Marashi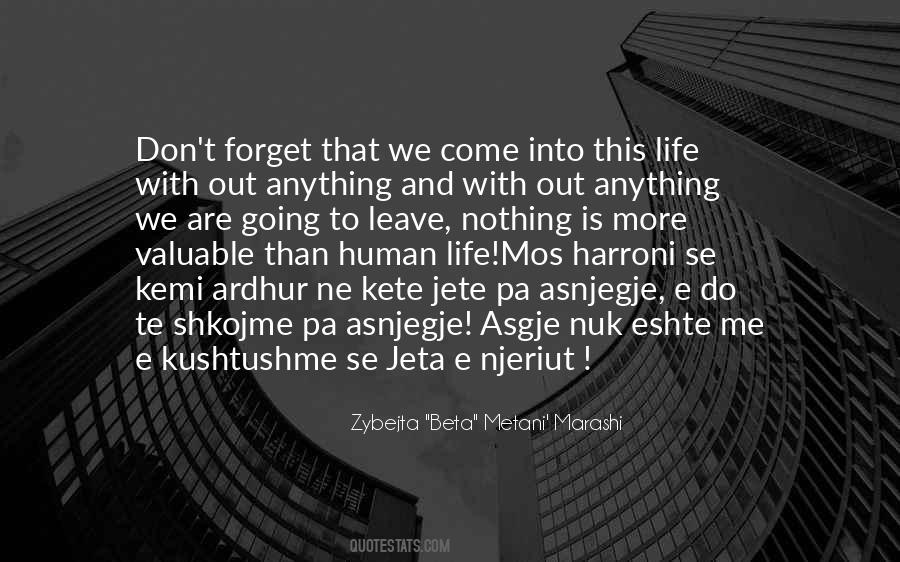 #46. I have learned in life that the best thing you can do to create a great future for yourself is don't forget what's in front of you. And so I'm trying to do a great job at HUD. - Author: Julian Castro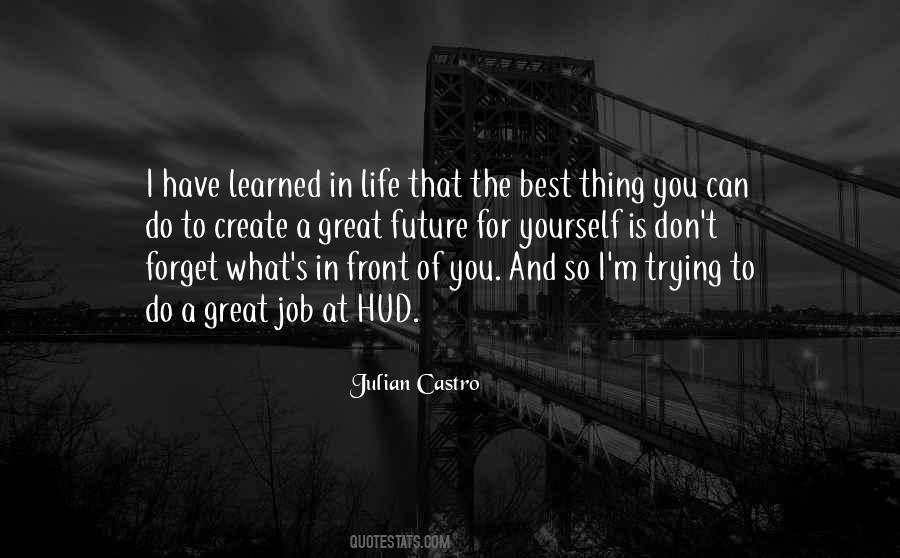 #47. If there ever comes a time that you forget where you came from, you've gone too far. - Author: Tanya Masse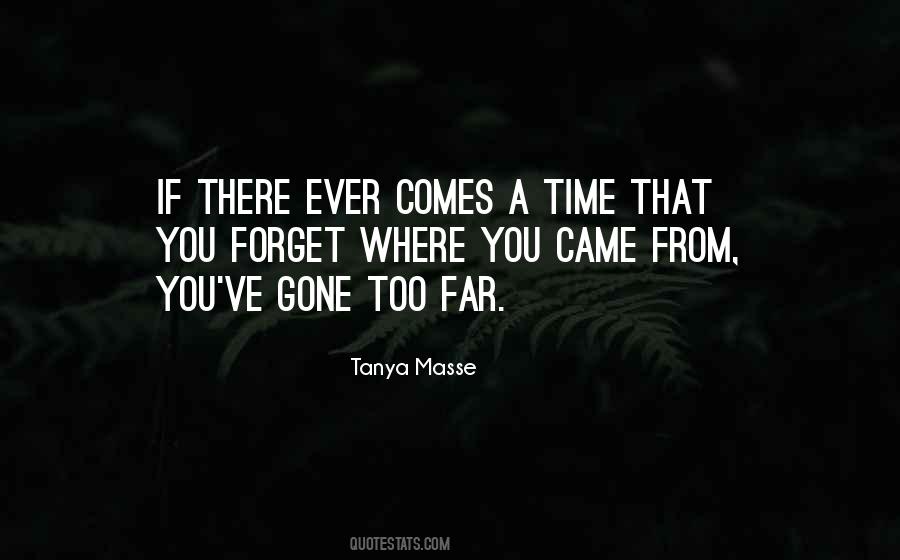 #48. In life you have a choice: Bitter or Better? Choose better, forget bitter. - Author: Nick Vujicic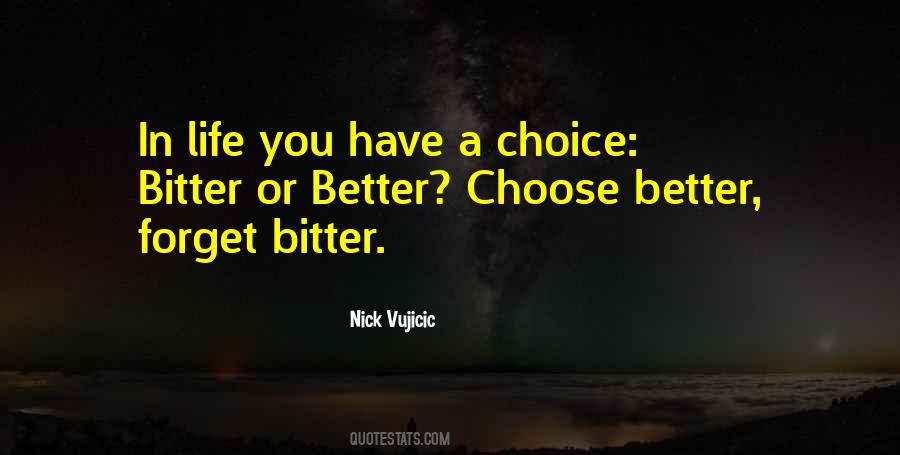 #49. We are frightfully concerned with our own deaths, sometimes so much so that we forget the real purpose of our lives - Author: Brian L. Weiss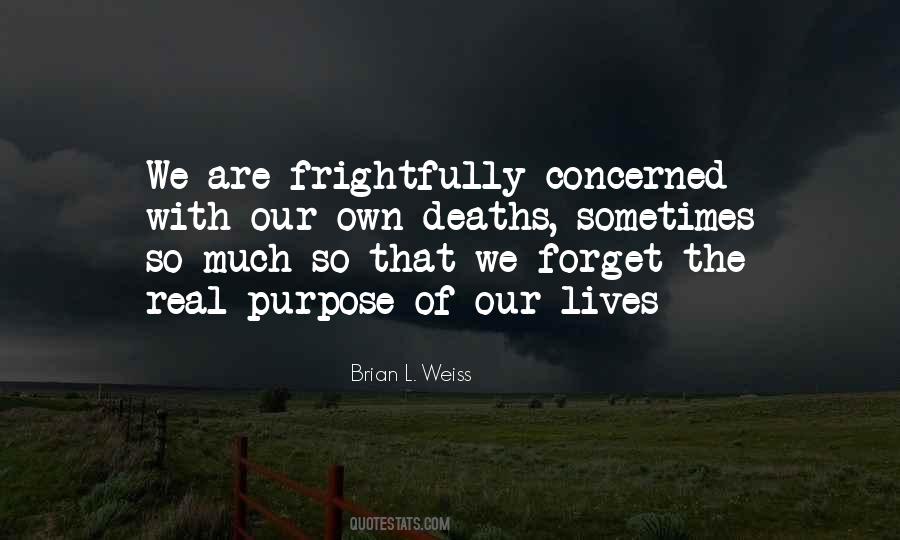 #50. You cannot change things by worrying over them.But you will find miracles happen when you hand over your problems to God
and then forget about ... - Author: Tanu Reshma B Singh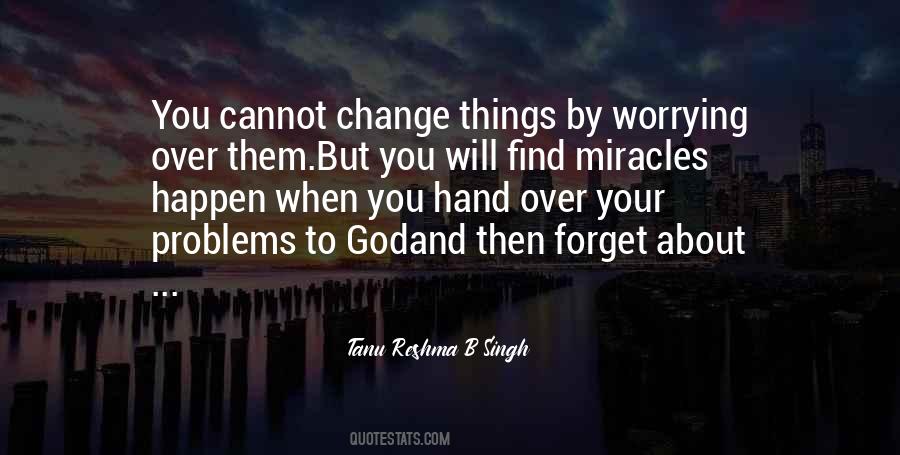 #51. Do not let the roles you play in life make you forget that you are human. - Author: Roy T. Bennett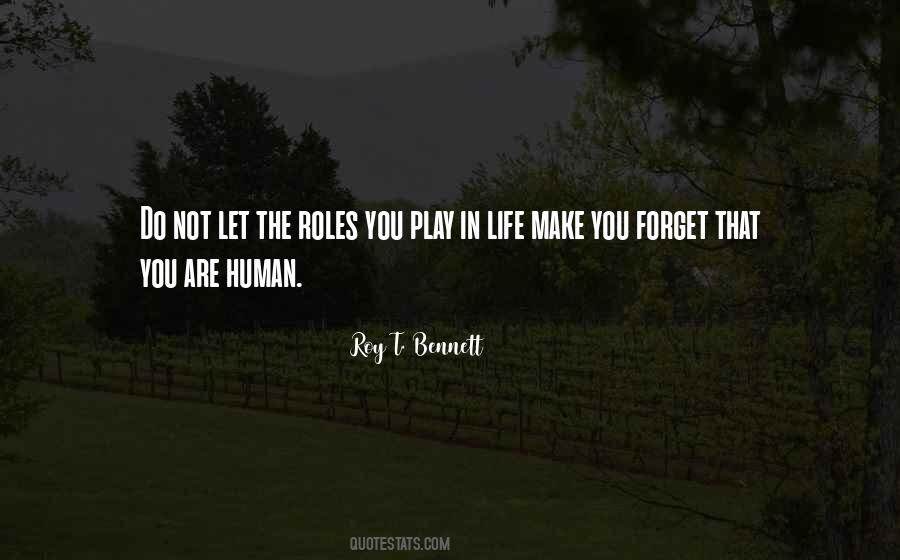 #52. Develop an interest in life as you see it; the people, things, literature, music - the world is so rich, simply throbbing with rich treasures, beautiful souls and interesting people. Forget yourself. - Author: Henry Miller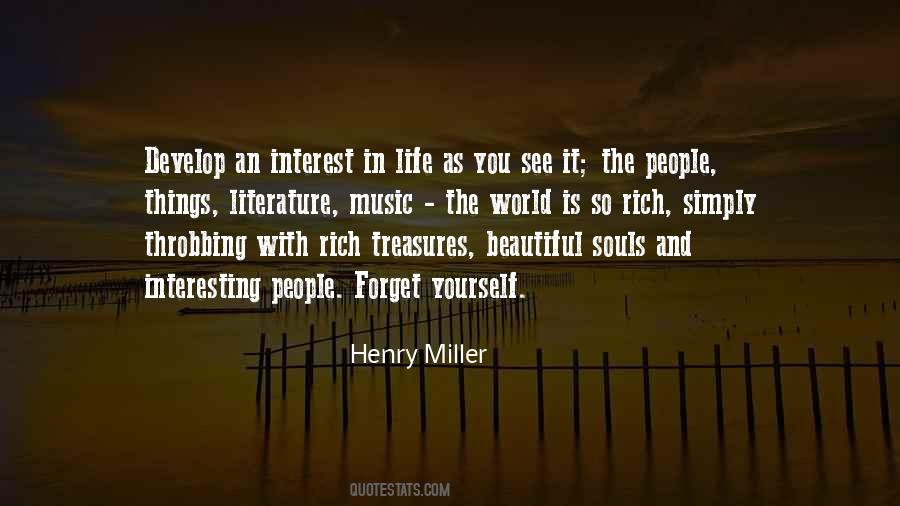 #53. It's lost time that matters - the time between time - the moments when you forget time and life just happens. - Author: Chloe Thurlow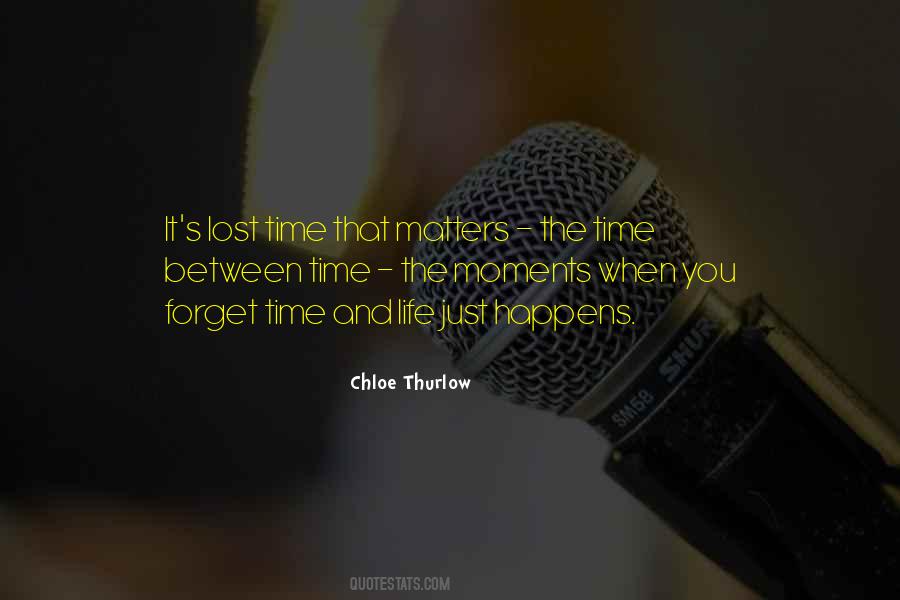 #54. Freud has shown one thing very clearly: that we only forget our infancy by burying it in the unconscious; and that the problems of this difficult period find their solution under a disguised form in adult life. - Author: Herbert Read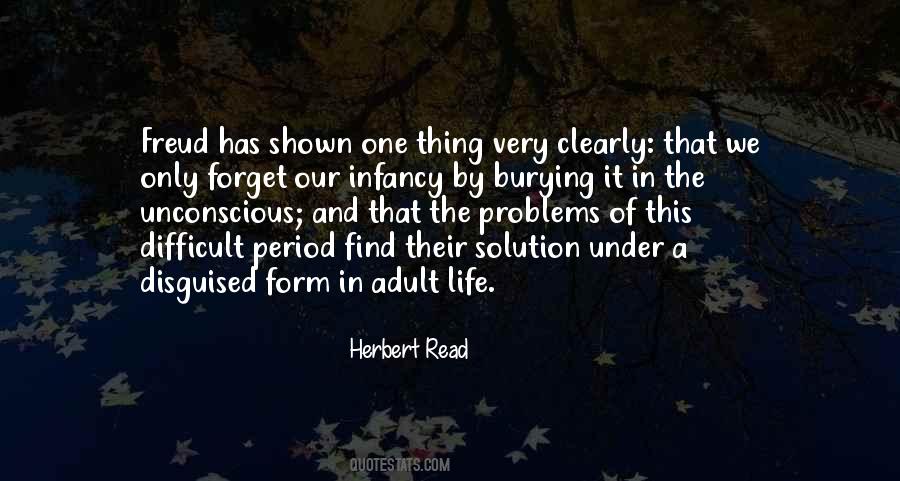 #55. Never forget what Jesus did for you. Never take lightly what it cost Him. And never assume that if it cost Him His very life, that it won't also cost you yours. - Author: Rich Mullins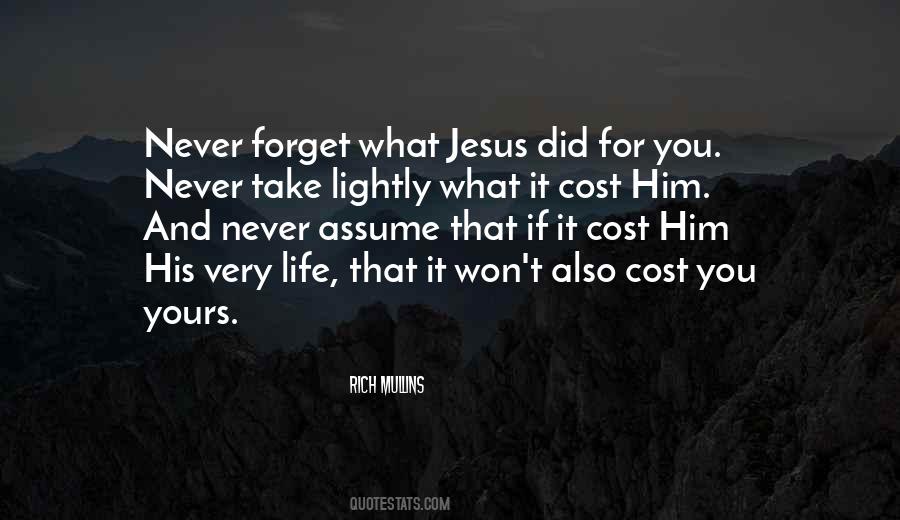 #56. I think the secret to a hoppy life is a selective memory. Remember what you are most grateful for and quickly forget what your not. - Author: Richard Paul Evans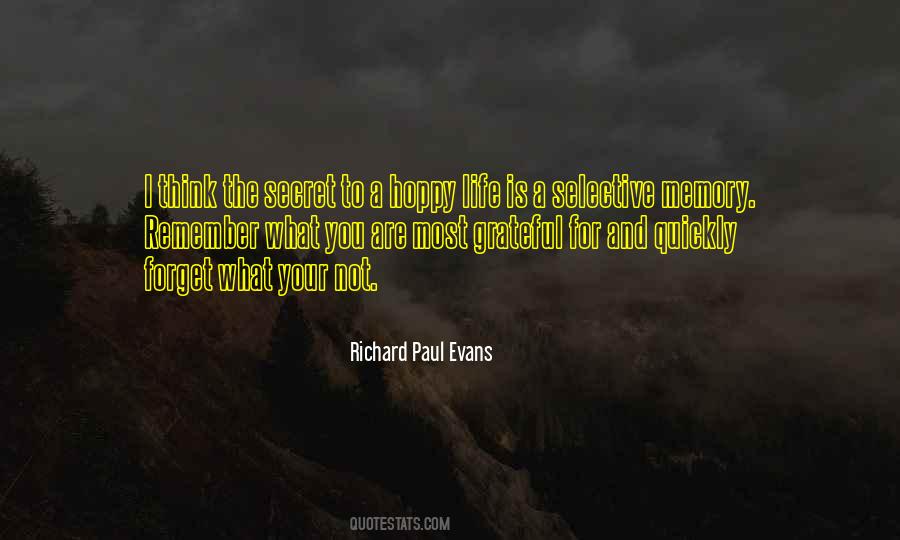 #57. They say you always remember the big firsts in your life. I will never forget the morning I was outwitted by an almost-four-year-old for the first time. - Author: E.L. Phillips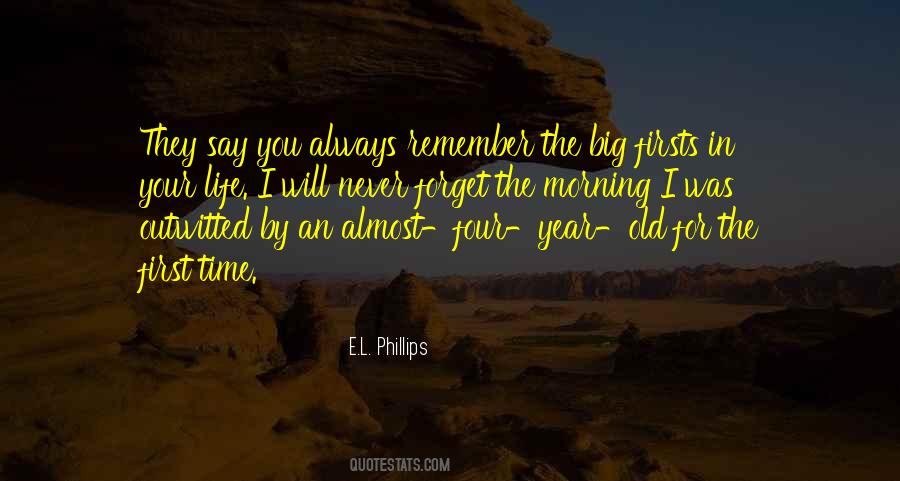 #58. And so I've written everything down, too afraid of my demons and what they may say, the doubt that eats at me from the inside. Too afraid that I'll forget and it'll all be a madwoman's dream. - Author: Nadege Richards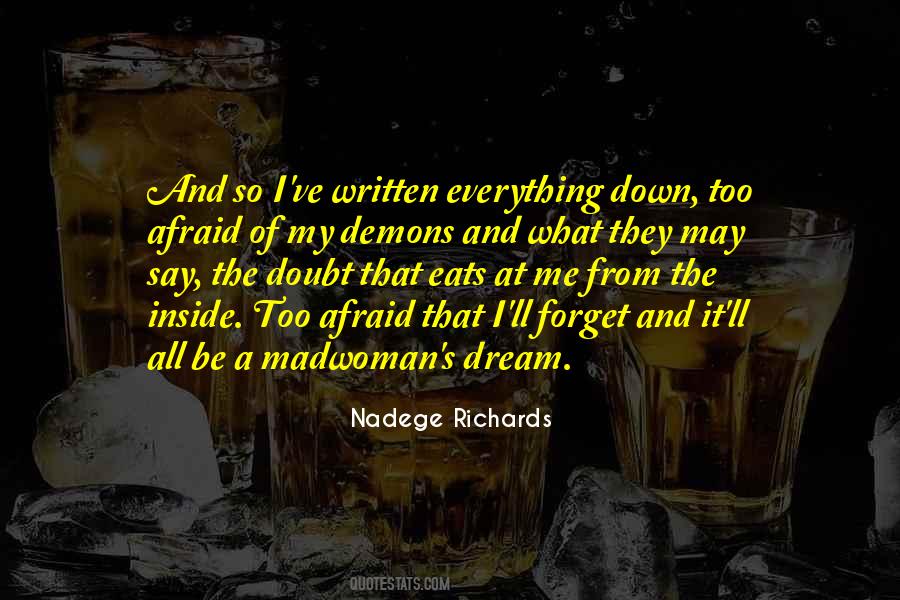 #59. The most important thing is to live an interesting life. Keep your eyes, ears and heart open. Talk to people and visit interesting places, and don't forget to ask questions. To be a writer you need to drink in the world around you so it's always there in your head. - Author: Michael Morpurgo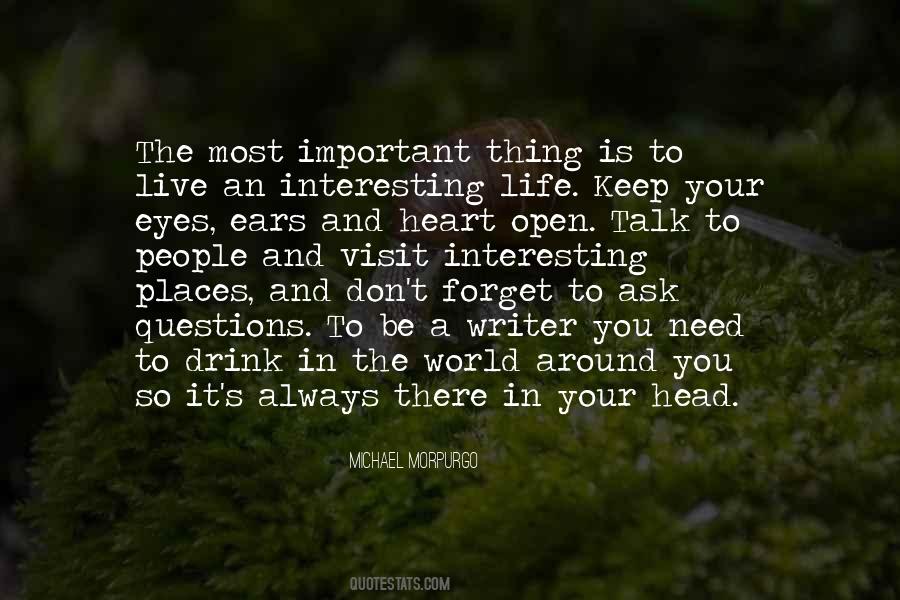 #60. Emily and I have now reached the time in life when not only do we lie about our ages, we forget what we've said they are. - Author: Cornelia Otis Skinner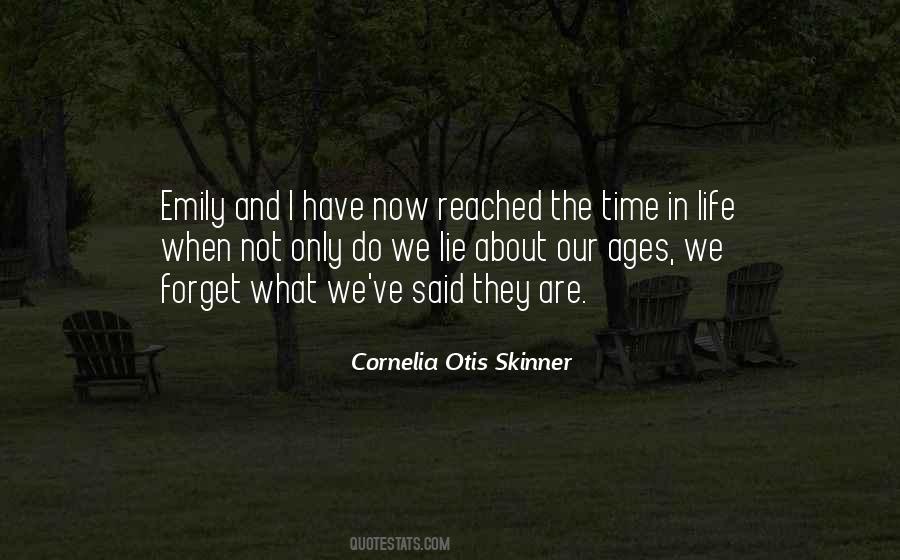 #61. Burdens of life become lighter when your heart is filled with love and we learn to forgive and forget with profound kindness. - Author: Debasish Mridha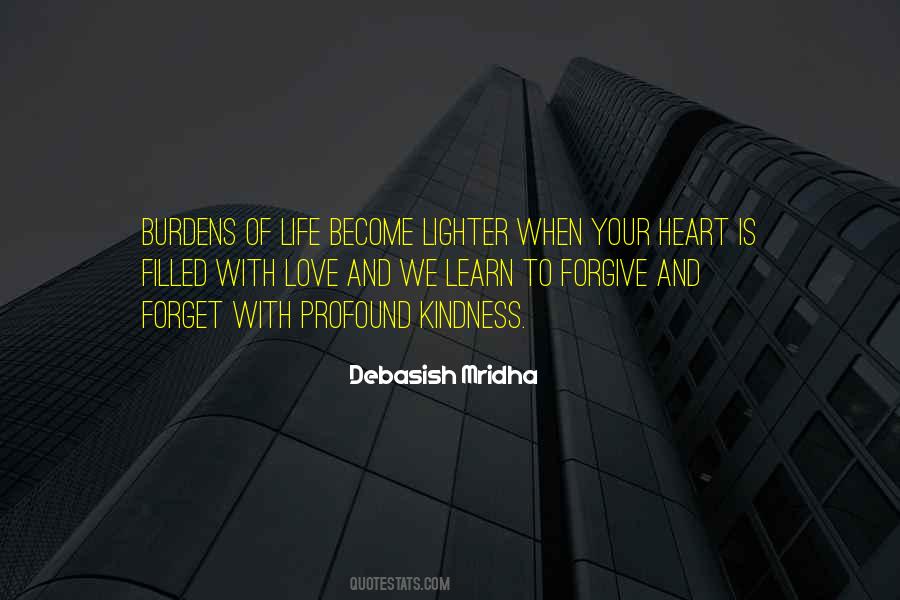 #62. Forget dice rolling or boxes of chocolates as metaphors for life. Think of yourself as a dreaming robot on autopilot, and you'll be much closer to the truth. - Author: Albert-Laszlo Barabasi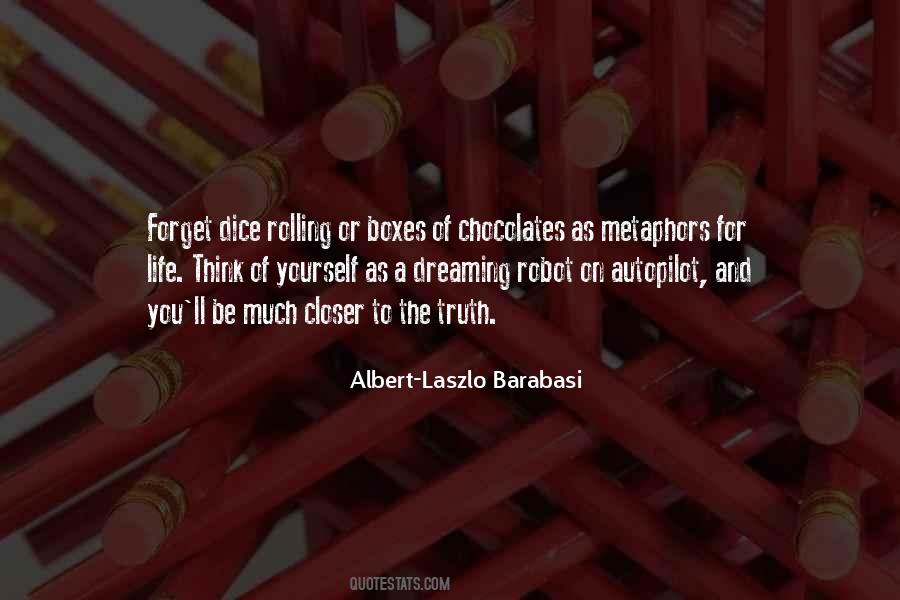 #63. If youth is the period of hero-worship, so also is it true that hero-worship, more than anything else, perhaps, gives one the sense of youth. To admire, to expand one's self, to forget the rut, to have a sense of newness and life and hope, is to feel young at any time of life. - Author: Charles Horton Cooley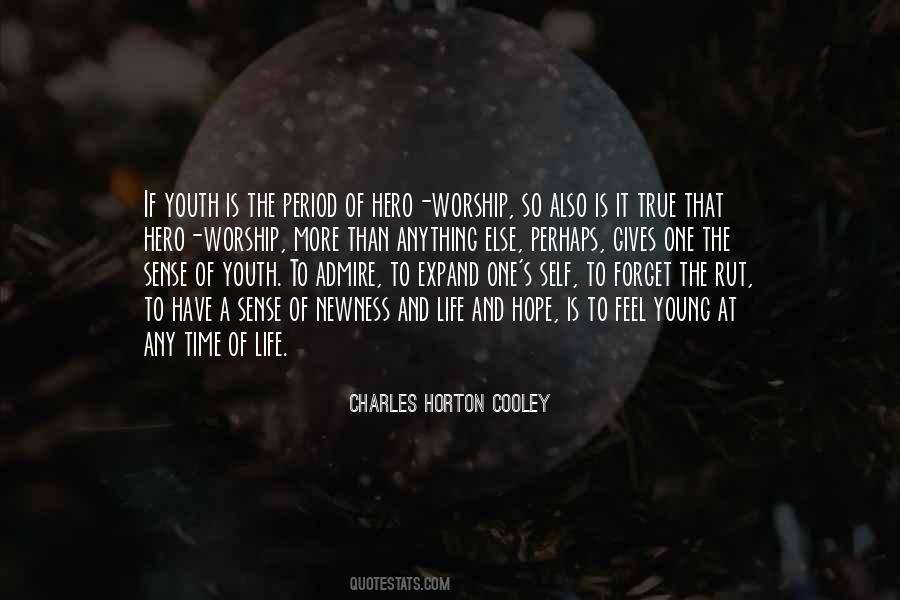 #64. When you're going through a tough spell, it's easy to think that's all your life is about. You forget the good things, forget the quiet places. But they're always inside of us and we can pull them up when we need to set ourselves right. - Author: Joan Bauer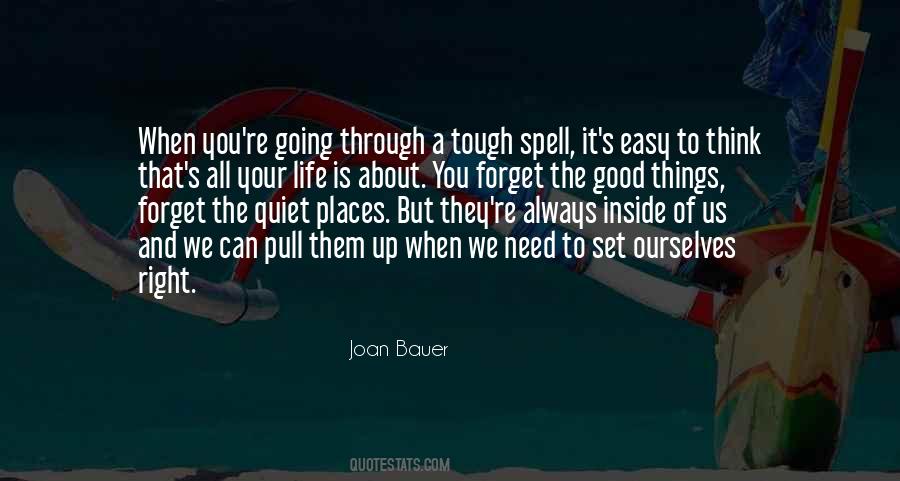 #65. Never Forget complexities and happiness are twin aspects of life.Live with them with love. - Author: Rajesh Walecha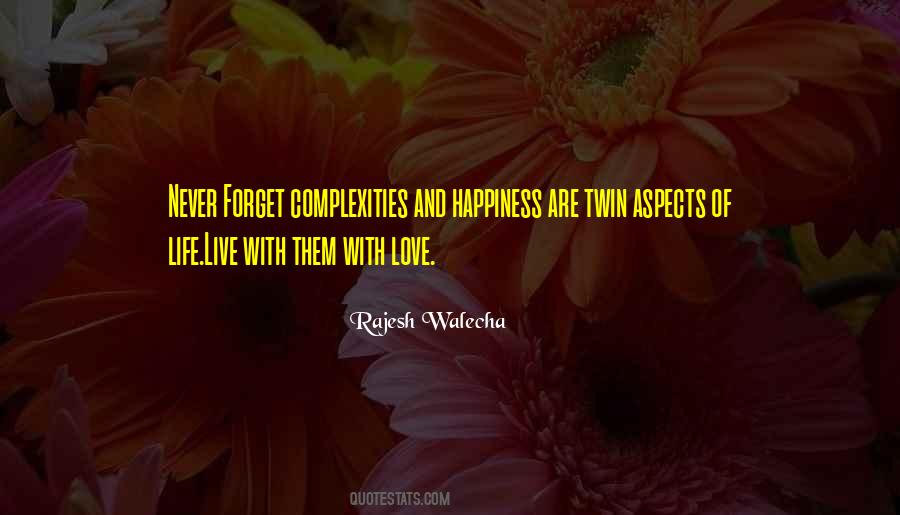 #66. It is perfectly true, as philosophers say, that life must be understood backwards. But they forget the other proposition, that it must be lived forwards. - Author: Soren Kierkegaard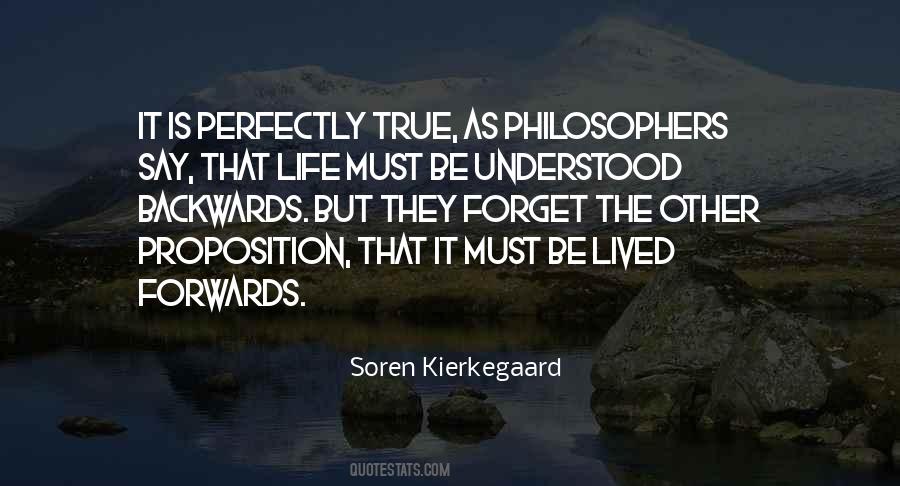 #67. War is unlike life. It's a denial of everything you learn life is. And that's why when you get finished with it, you see that if offers no lessons that can't be bettered learned in civilian life. You are exposed to horrors you would sooner forget. - Author: Robert Graff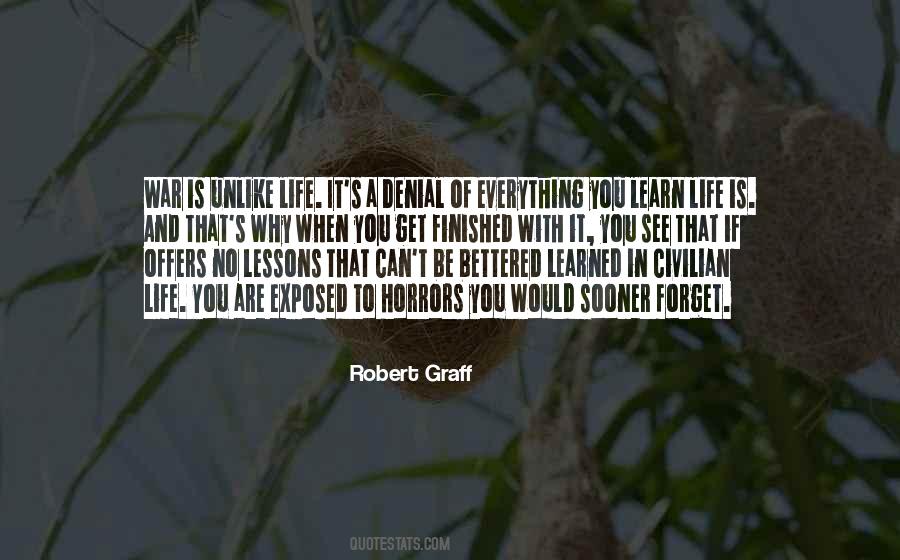 #68. Life's too short so we should enjoy it without forget our limits. - Author: Lilly Ghalichi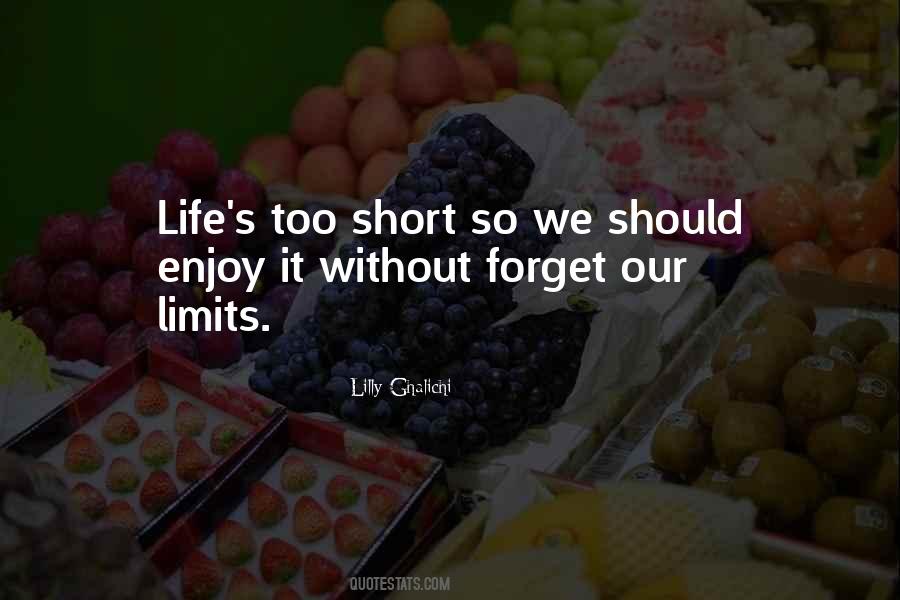 #69. If you are seeking the counsel of God on a directional matter in your life, never get so caught up in the specifics of your own situation that you selfishly forget about others. Don't neglect the poor. Think outside yourself. It's liberating! Likewise, - Author: John Crowder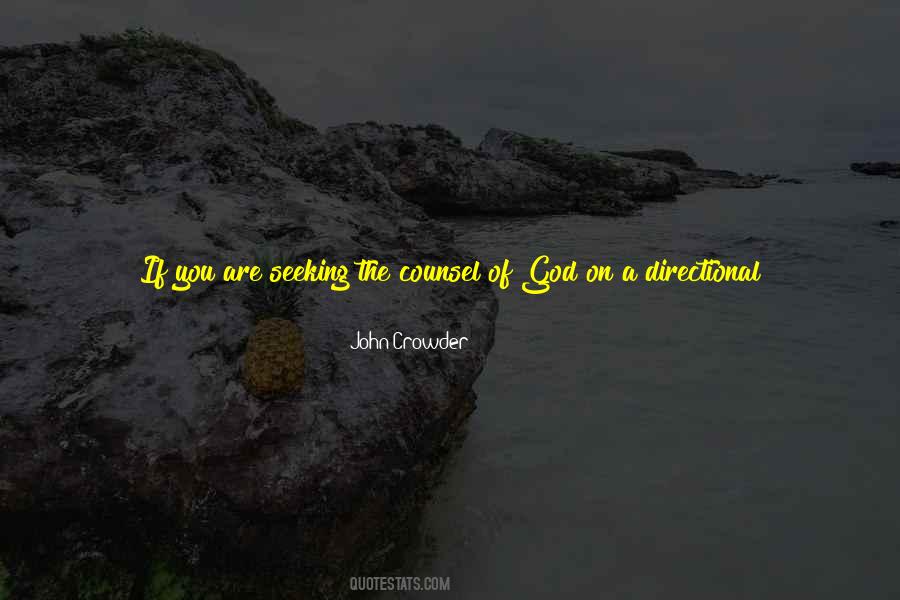 #70. I spend all my time trying to keep thoughts away and ignore them ... But here you are, trying to remember your own life, writing your thoughts down so that you don't forget. I suddenly realized what it would be like not to know, not to remember. - Author: Michael Scott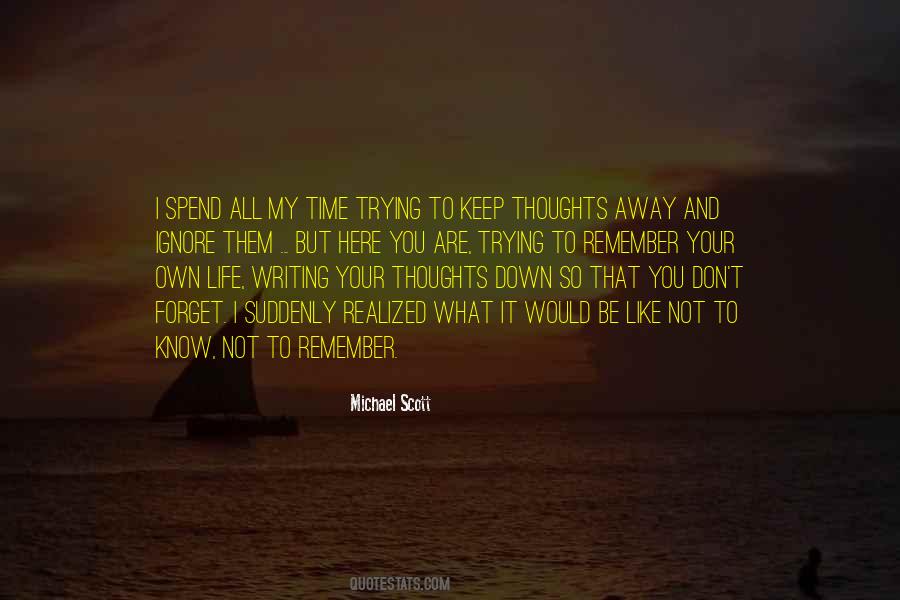 #71. 'Movement is life;' and it is well to be able to forget the past, and kill the present by continual change. - Author: Jules Verne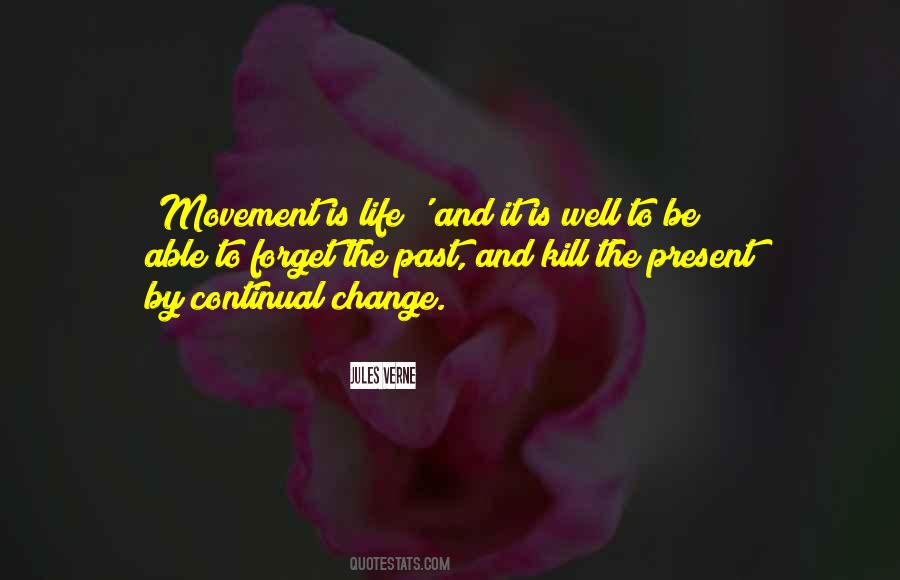 #72. Once you love, it's a gift forever. Once you hurt, forget it never. - Author: Debasish Mridha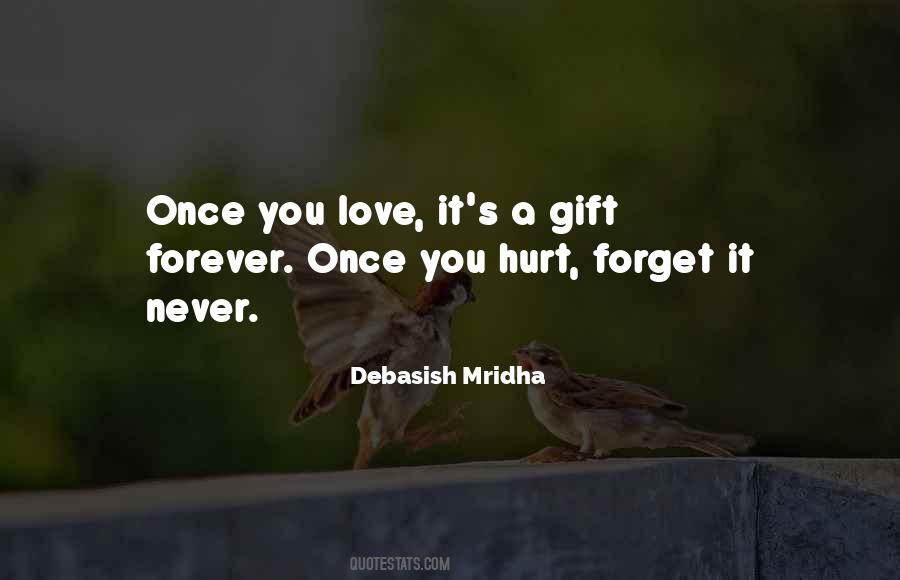 #73. Don't forget that in the midst of all your pain and heartache, you are surrounded by beauty, the wonder of creation, art, your music and culture, the sounds of laughter and love, of whispered hopes and celebrations, of new life and transformation, of reconciliation and forgiveness. - Author: Wm. Paul Young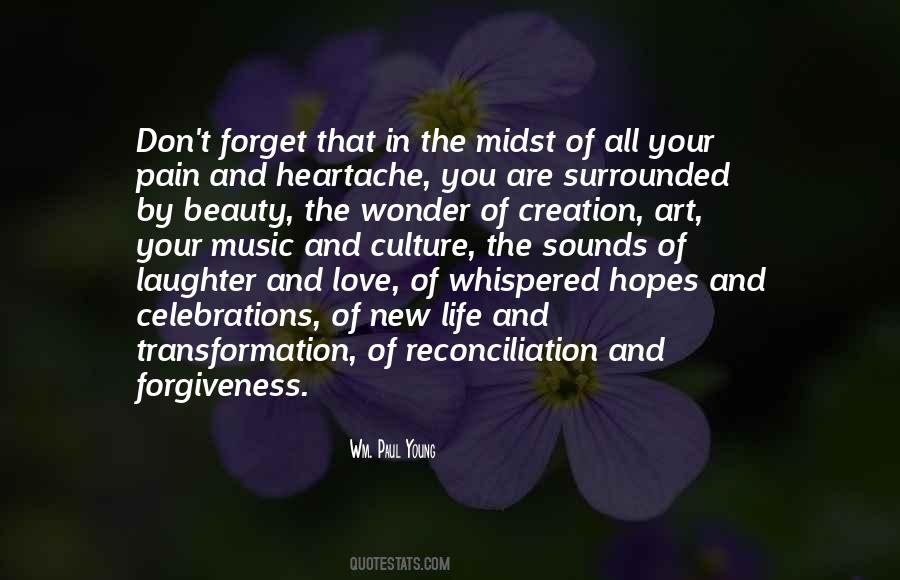 #74. I once sacrificed my life to keep my parents' promiise. This means nothing to you, because to you promises mean nothing ... But later, she will forget her promise. She will forget she had a grandmother. - Author: Amy Tan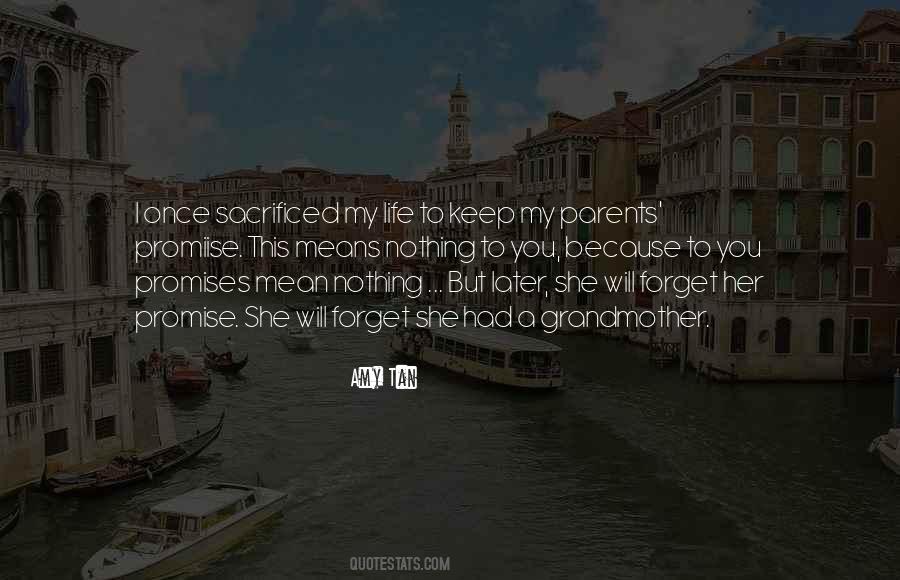 #75. To win in life, never forget to be content competing with yourself. - Author: Debasish Mridha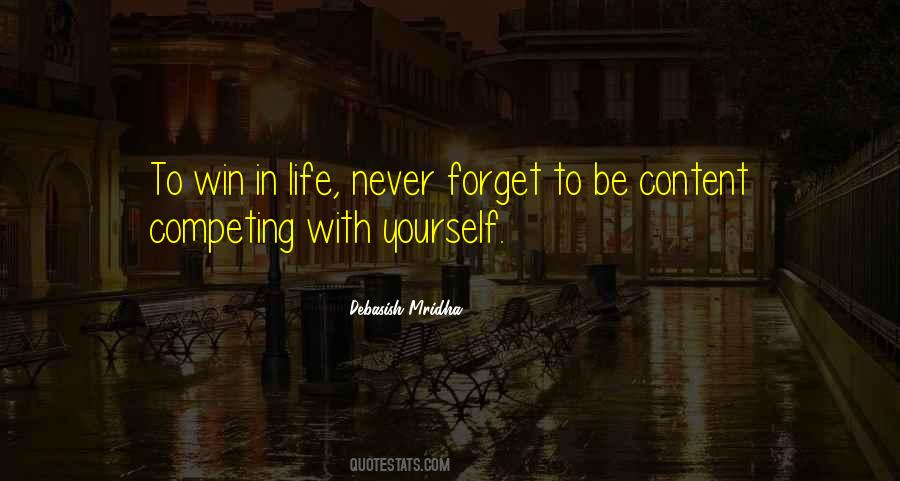 #76. We forget that the accumulation of knowledge and the holding of convictions must finally result in the application of that knowledge and those convictions to life itself. - Author: Jane Addams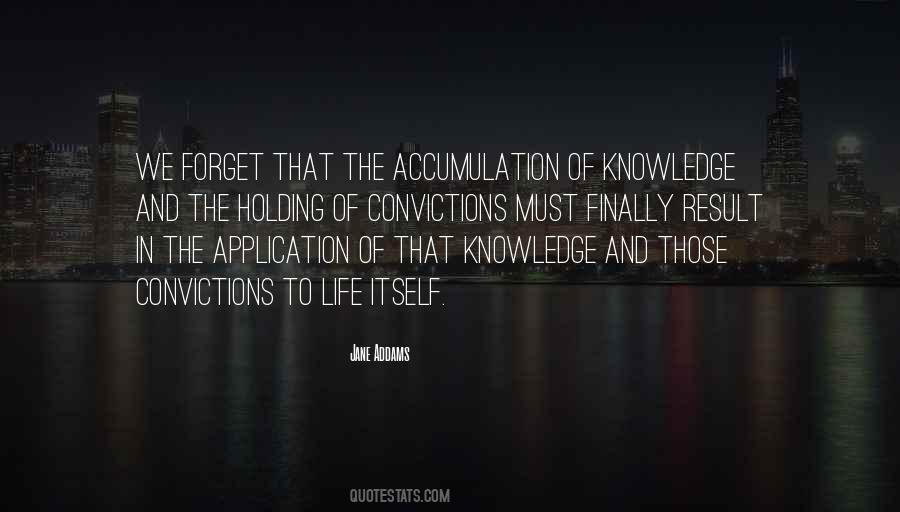 #77. Loving God, allow me to be a sheep at least once in a while, and never let me forget that most of my life I have been a goat. - Author: Richard Rohr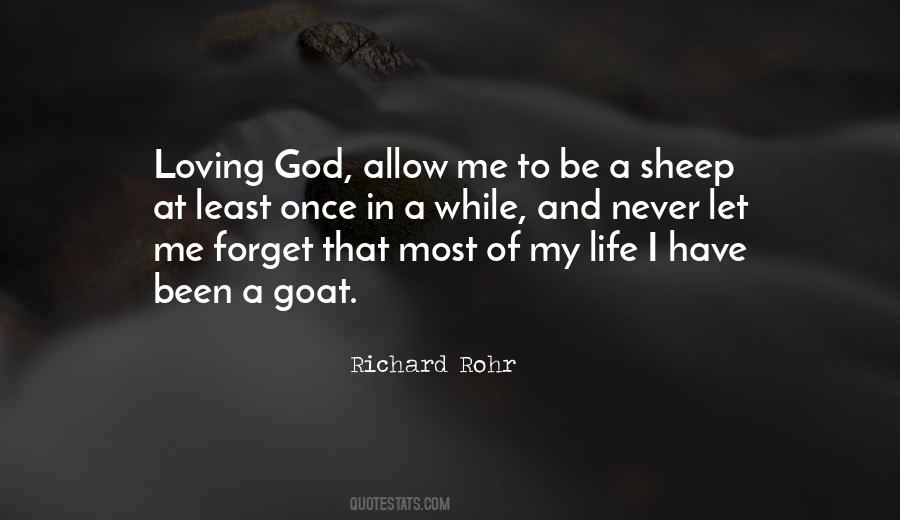 #78. In life's orchestra, the bike is the double bass. Hard to forget it - Author: Paul Fournel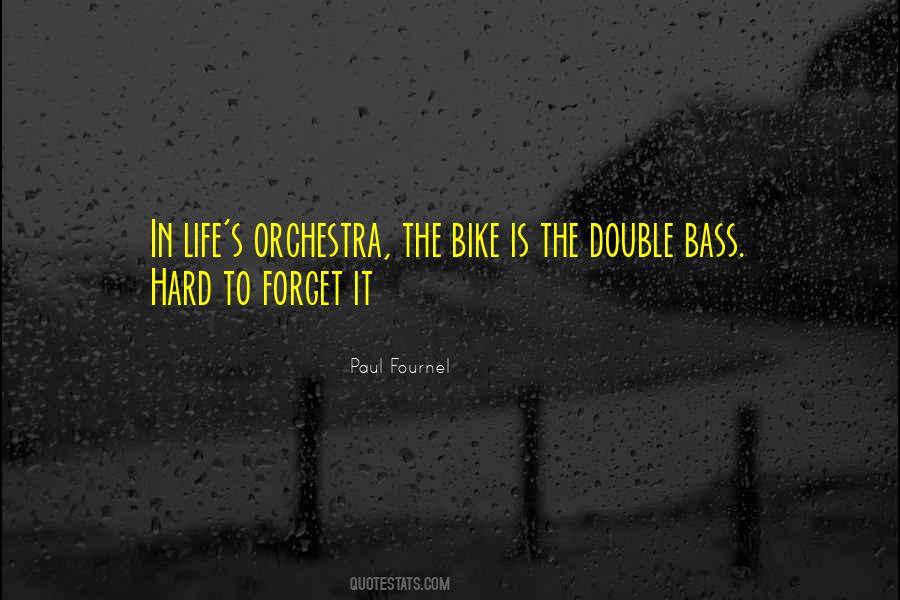 #79. I am the daughter of a Chicana and anglo. I think most days I am an embarrassment to both groups. I sometimes hate the white in me so viciously that I long to forget the commitment my skin has imposed upon my life. - Author: Cherrie Moraga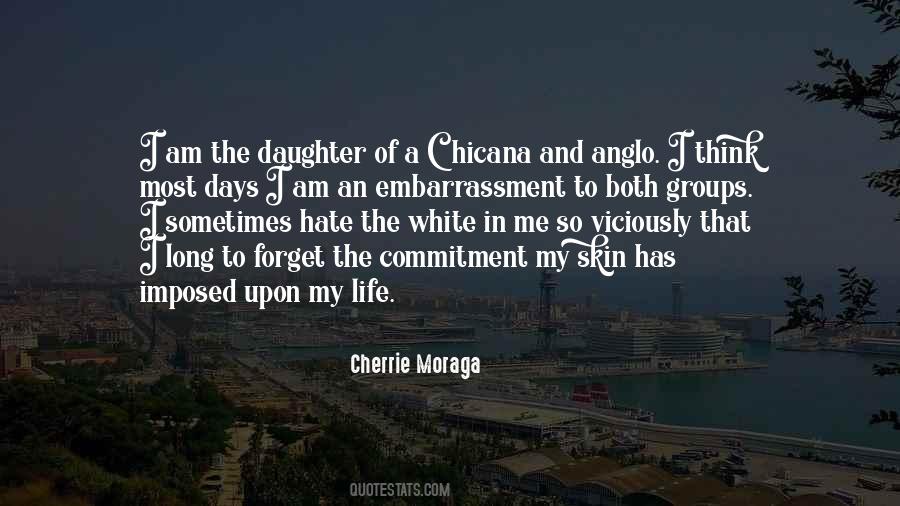 #80. Sometimes we can spend too much time trying to fix our life that we forget to live. - Author: Shannon L. Alder
#81. The joy of giving last forever.
So give with love and forget it never. - Author: Debasish Mridha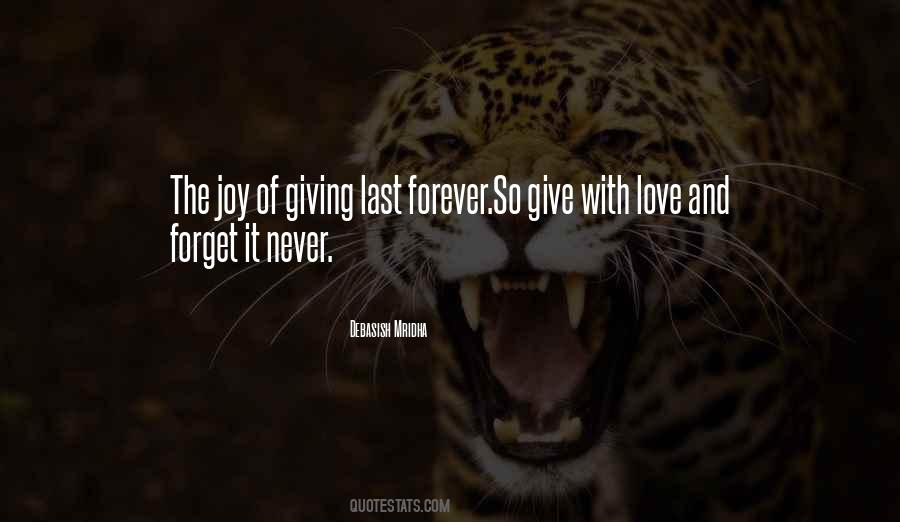 #82. Mankind has two immense problems, they forget to use logic and begin at the root of each trouble. - Author: K.R. Royal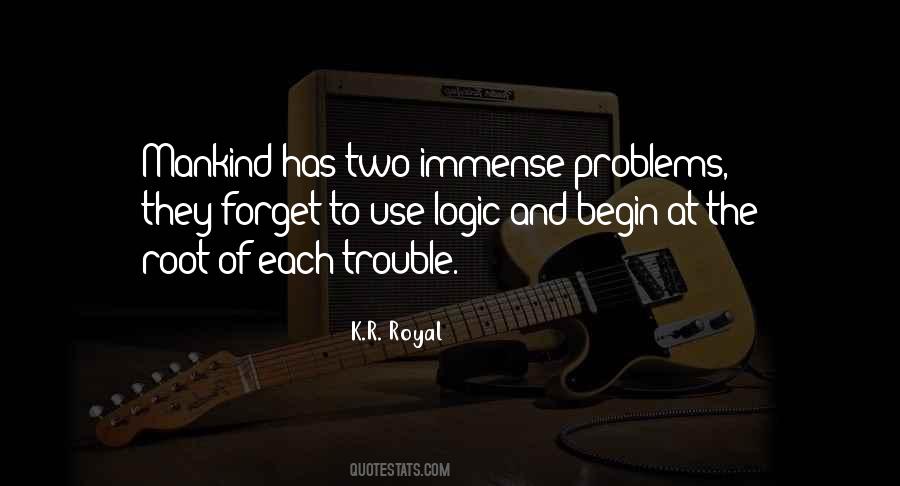 #83. People are so busy trying to do the right thing that they forget to Live. This robs away all the Excitement life has to offer. Do the right thing , but also Live! - Author: R.v.m.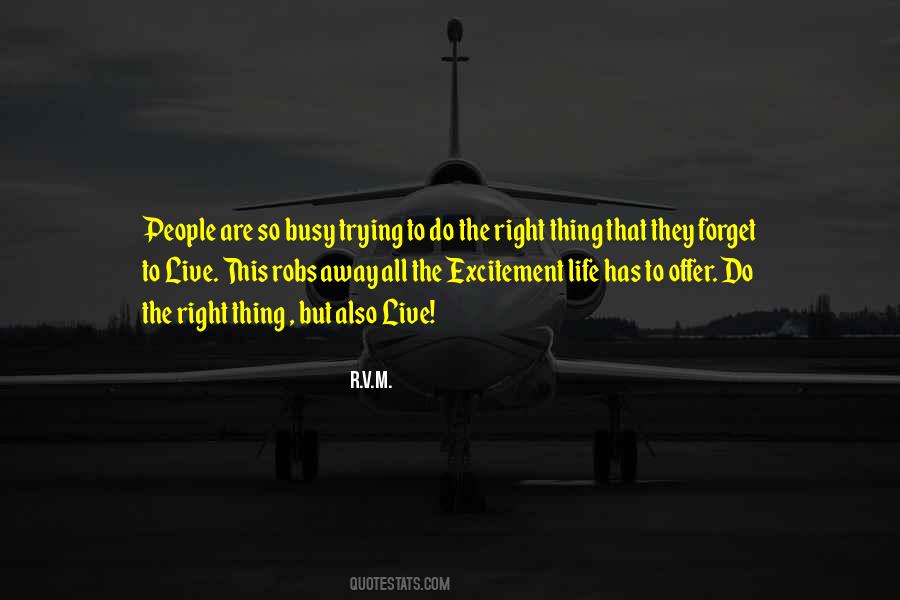 #84. My daughter recently reminded me not to get so busy making a living, I forget to make a life and I'm going to take that advice. - Author: Angie Stone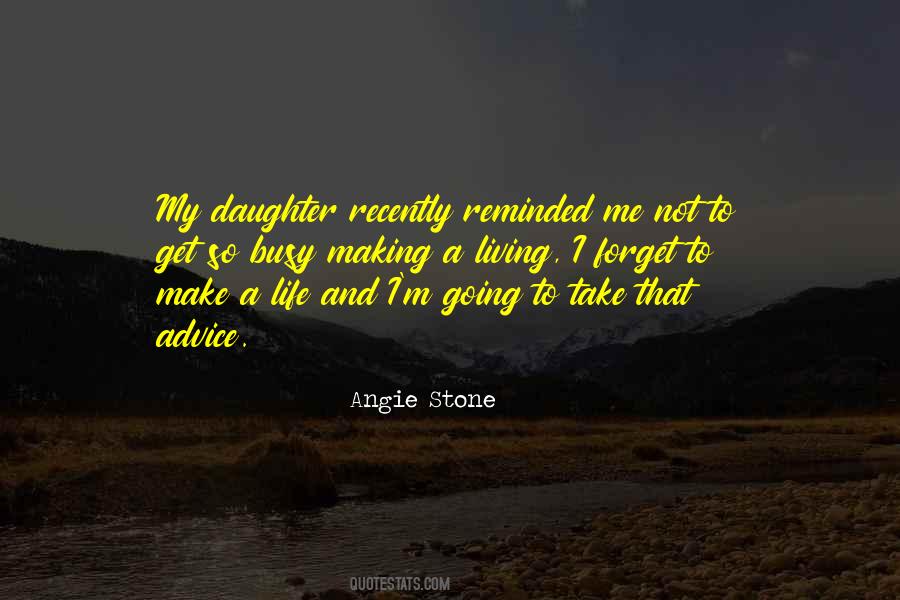 #85. Everyone has the ability to accomplish unique feats, everyone. You choose this. Become someone great in one other life. Forget about failing to many. Who cares? Doesn't matter when you start or finish, just start, no deviations, no excuses. - Author: Tom Platz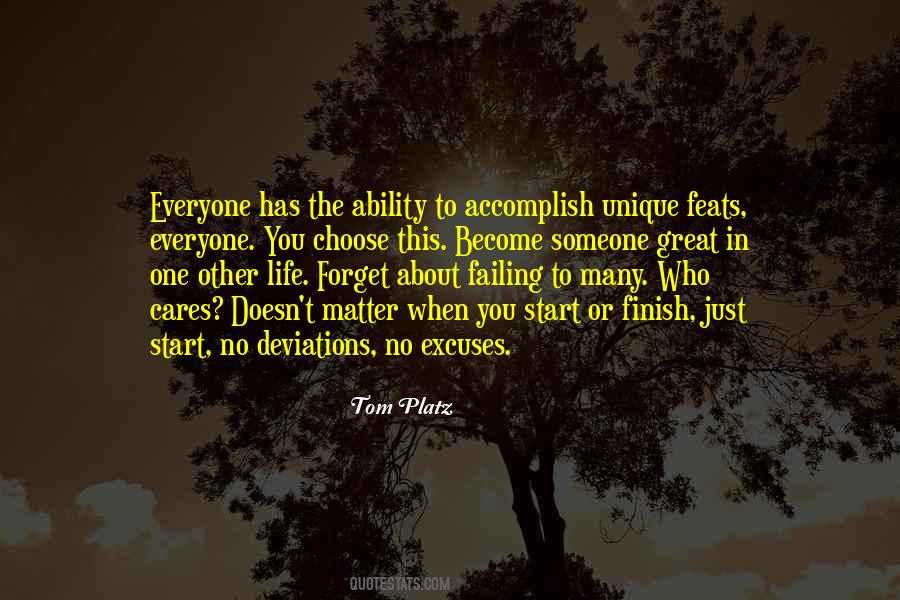 #86. One shouldn't forget his goal ever, whether he has to lose his personality on way to get it. Because to recognize aim and to achieve it, is the real life. - Author: M.H. Rakib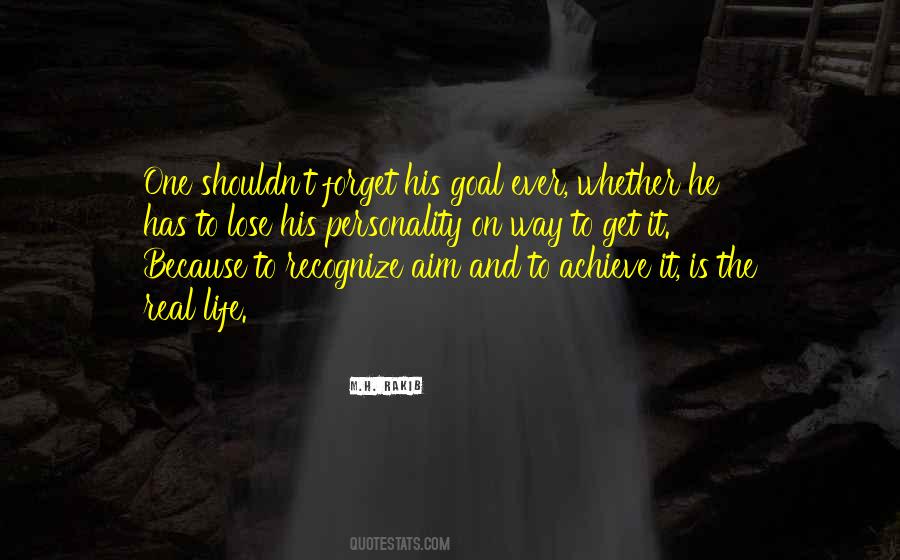 #87. ... he strove to leave his life in the hands of God, and to forget himself. - Author: Elizabeth Gaskell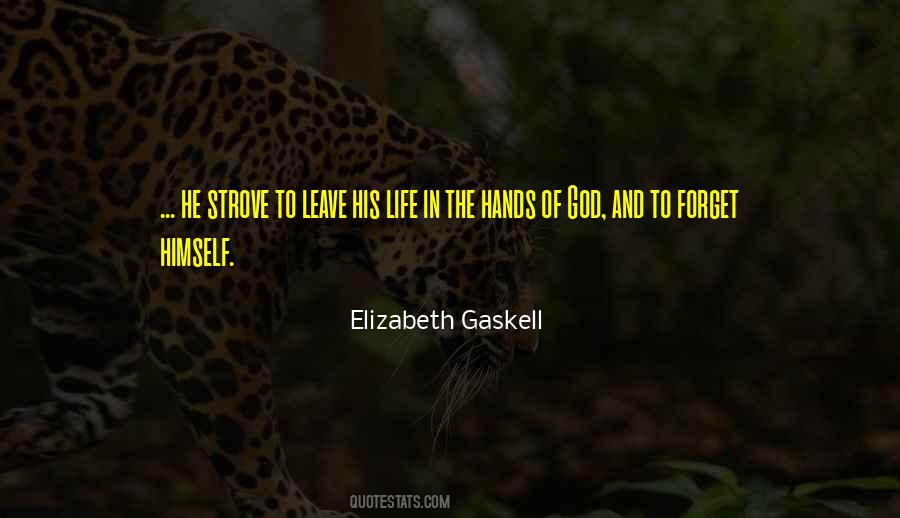 #88. Forget not that thy marriage, thy wealth, thy life are not for sense-pleasure, are not for thy individual personal happiness. - Author: Swami Vivekananda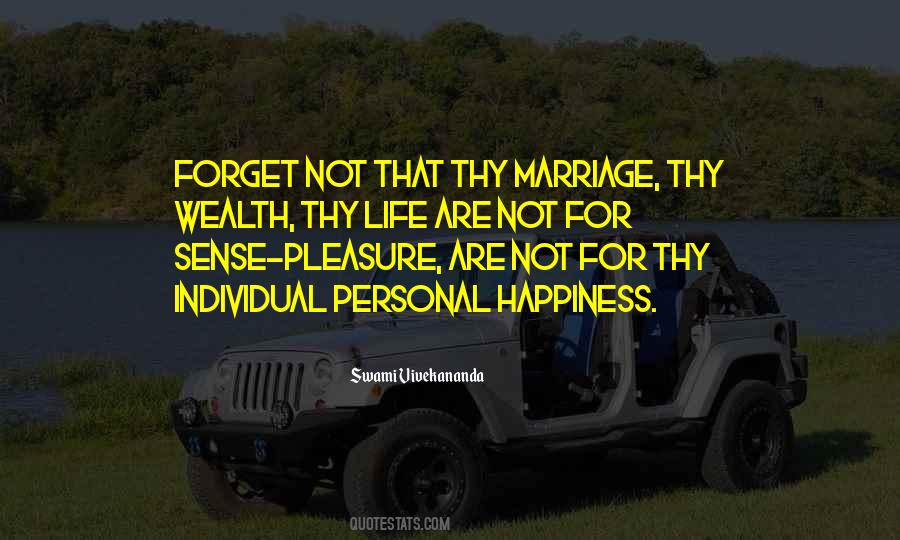 #89. Forget injuries, never forget kindnesses. - Author: Confucius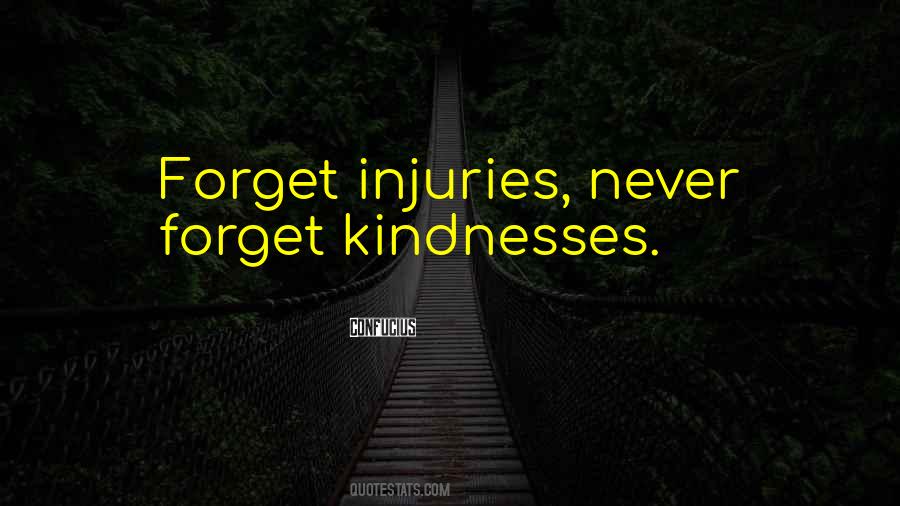 #90. When I forget how to love I look at my dog. - Author: Debasish Mridha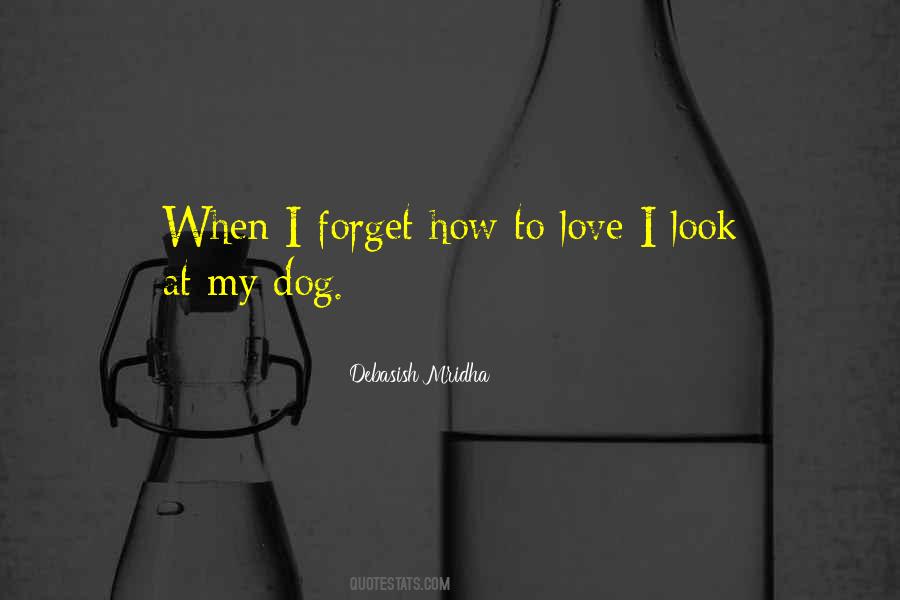 #91. You forget that you do choose your life and there are so many things to be grateful for and I feel like society has gotten to that point where we're always looking for the next and the better and we lose sight of what's actually in front of us. - Author: Shailene Woodley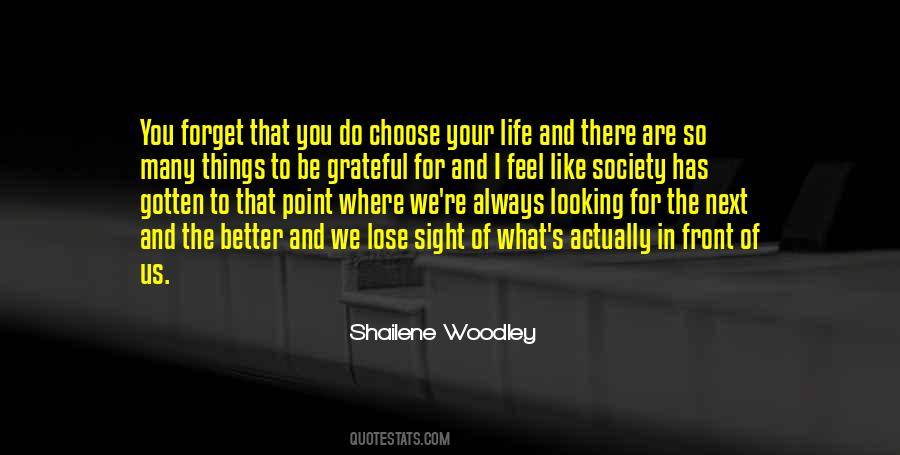 #92. saying goodbye isnt hard, but saying it to something you care about is whats hard, because you dont want to forget the emmotional pain and happiness they caused in you're life. - Author: Annoymous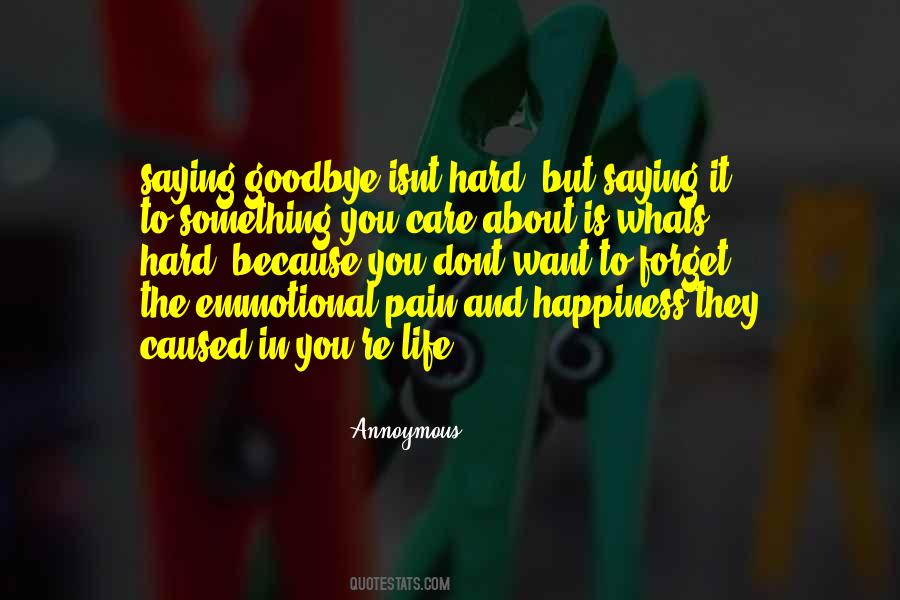 #93. PEOPLE always REMEMBER to FORGET ME. - Author: Shaikh Mustafa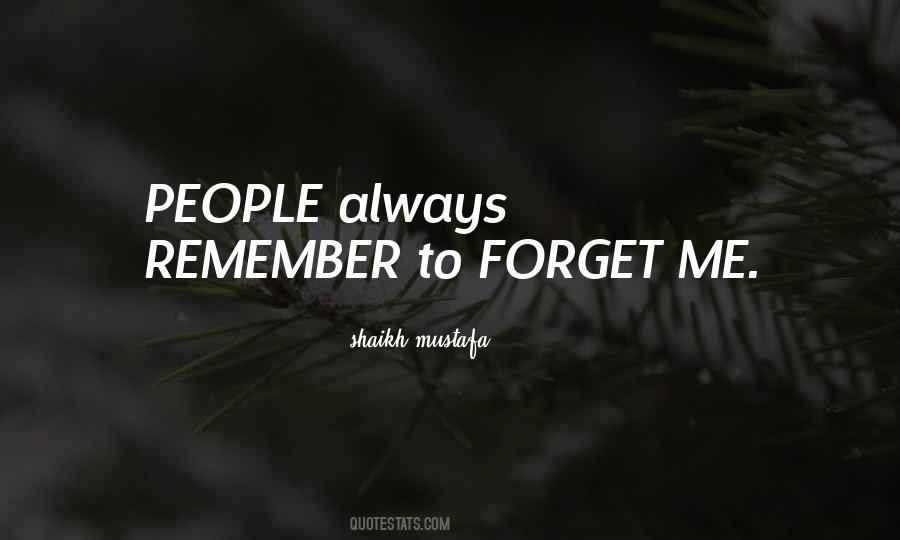 #94. You never can lose anything without gaining something. So forget the fear of loss and concentrate on the beauty of gain. - Author: Debasish Mridha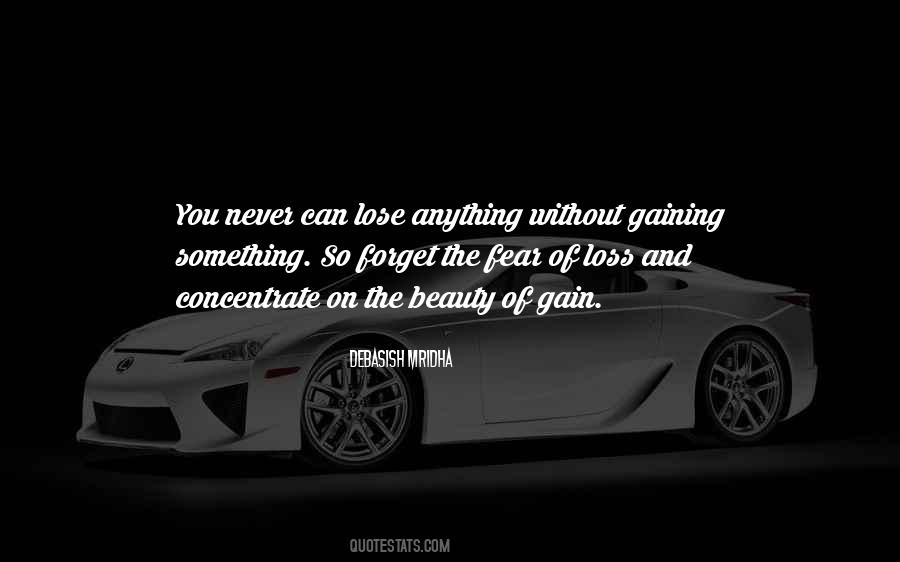 #95. My golden rule has always been to look on the bright side, no matter what. With all the complications in my life, I had to. Because if you can find three good things in any given situation, no matter how dire, I guarantee you'll forget the rotten stuff. - Author: Hester Browne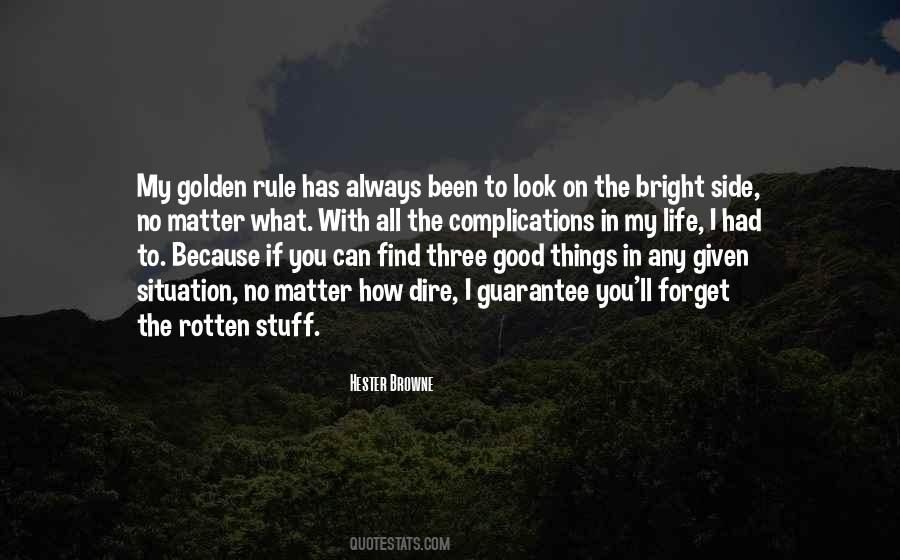 #96. But a hobby, like a habit, makes you forget about important things in life. - Author: Margo Kaufman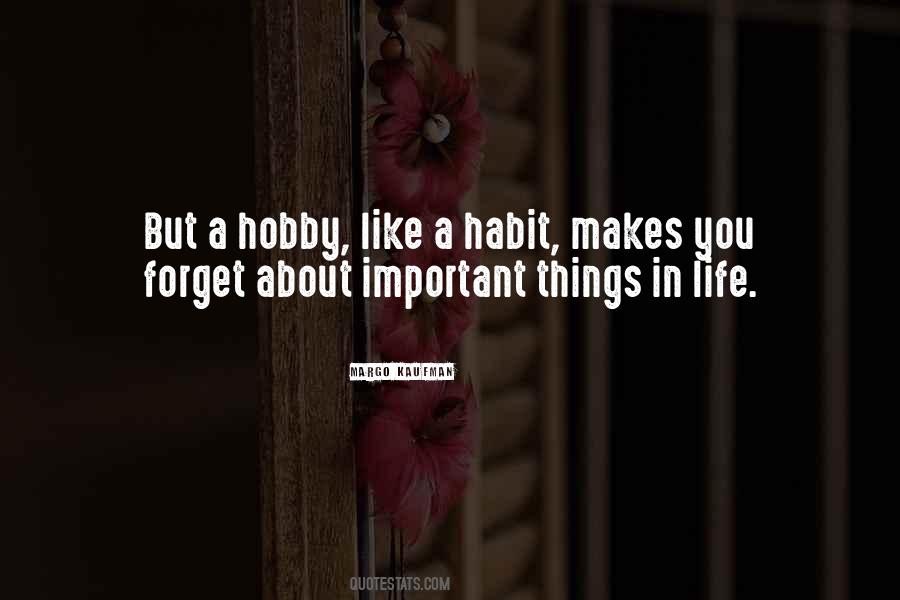 #97. Never shall I forget these things, even if I am condemned to life as long as God himself - Author: Elie Wiesel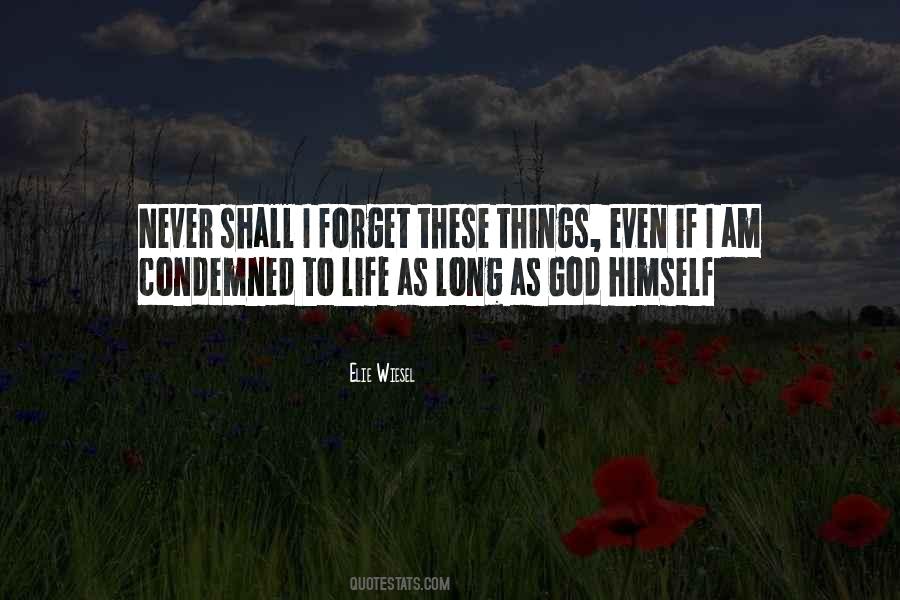 #98. Death must be so beautiful. To lie in the soft brown earth, with the grasses waving above one's head, and listen to silence. To have no yesterday, and no tomorrow. To forget time, to forgive life, to be at peace. - Author: Sylvia Plath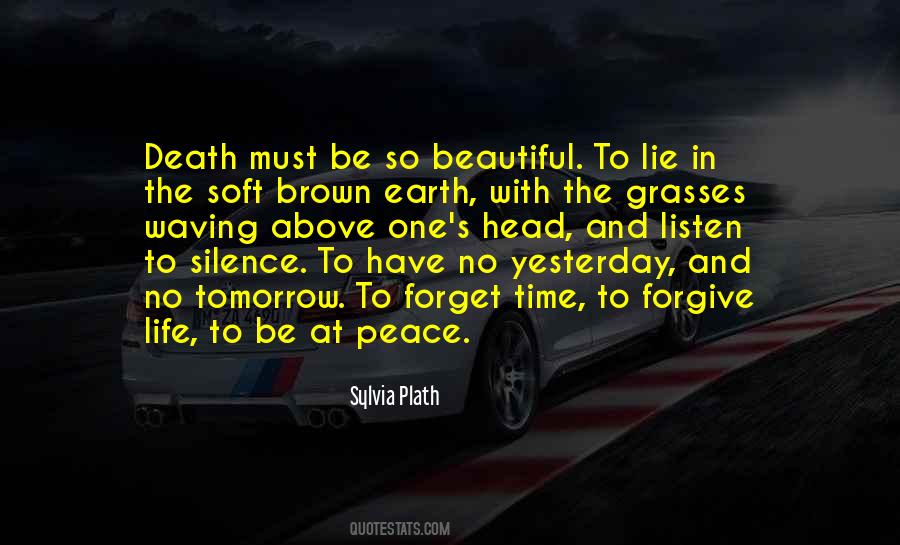 #99. Dead people can be our heroes because they cant disappoint us later; they only improve over time, as we forget more and more about them. - Author: Veronica Roth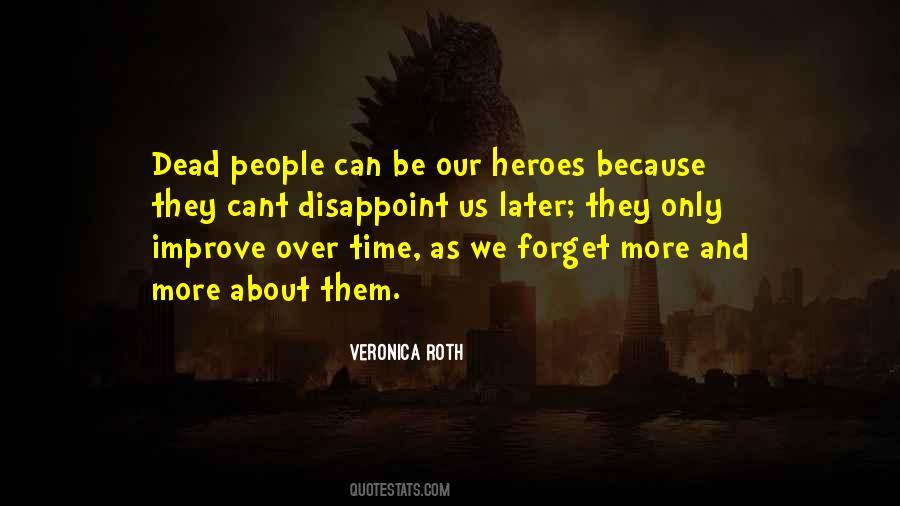 #100. As I matriculate my way down the field of life, I will never forget this moment and you wonderful people who helped make this day possible. - Author: Hank Stram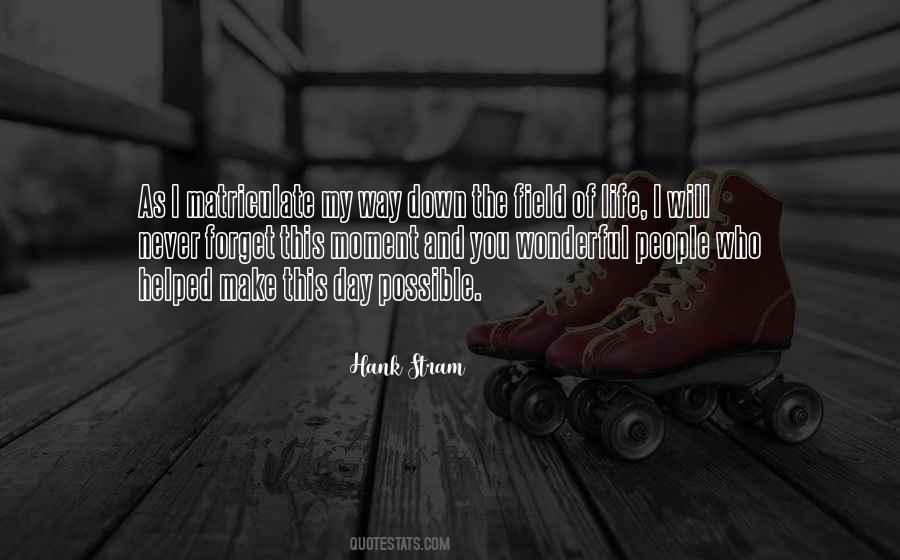 Famous Authors
Popular Topics