Find Something You Love Famous Quotes & Sayings
List of top 100 famous quotes and sayings about find something you love to read and share with friends on your Facebook, Twitter, blogs.
Top 100 Find Something You Love Quotes
#1. She falls in love every night for a while. Then she learns that if you're quiet, they talk, and you can find something to dislike about anyone. - Author: Genevieve Valentine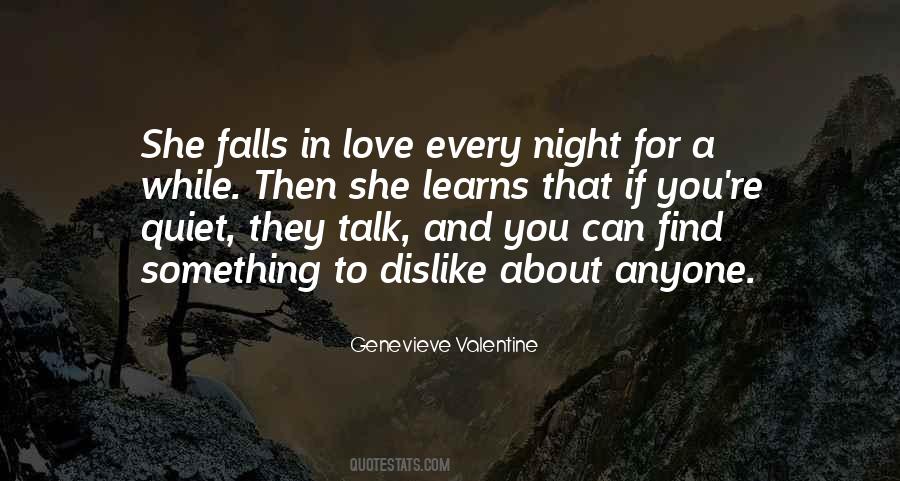 #2. Love isn't something you can find by focusing harder or by crunching numbers or making radical changes to how you go about things. Public - Author: Hodder Moa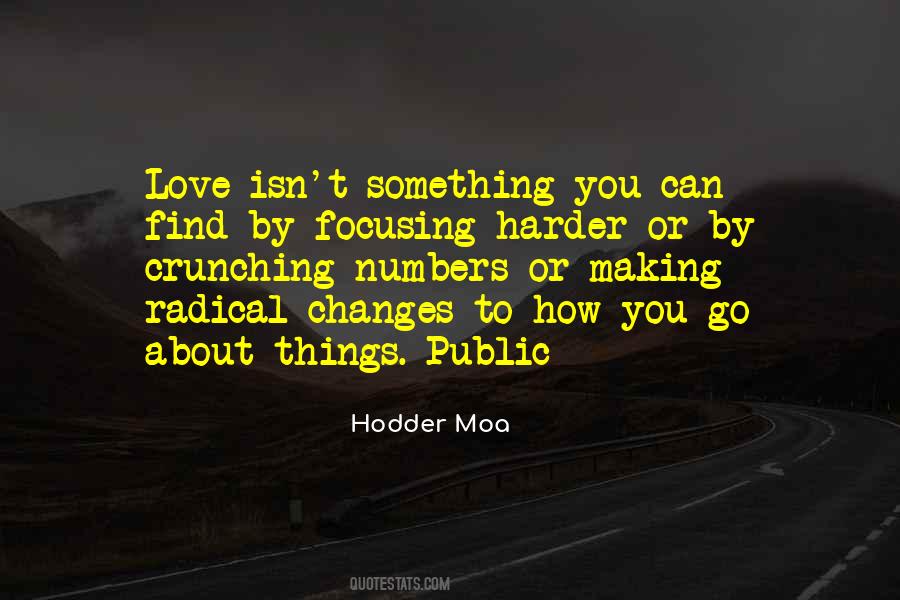 #3. If you love something, set it free. And if it really loves you, it will find a way to come back. - Author: Selena Gomez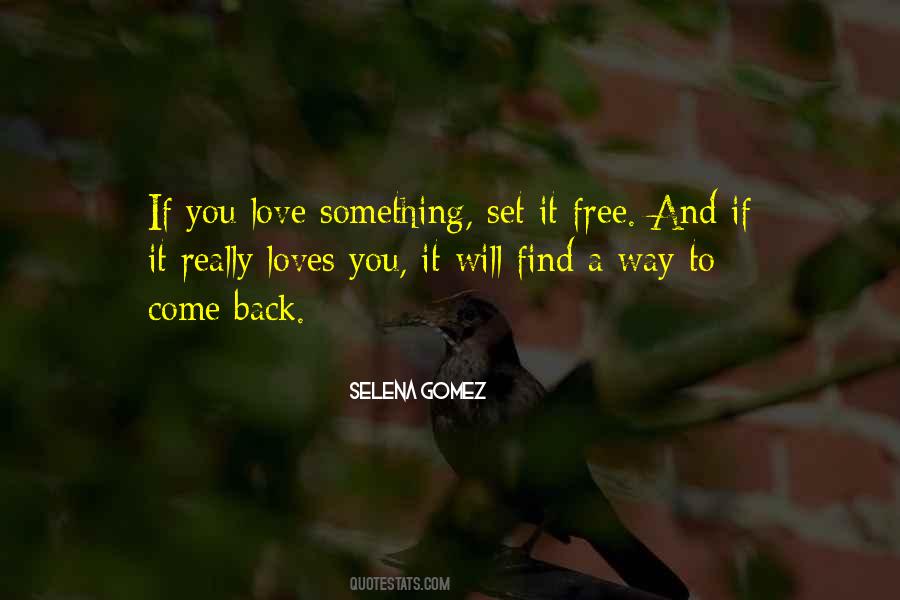 #4. Sexual fantasies say a lot about the emotional places we go to in our minds. When you find out what's so sexy about something to you or your lover, you will both want to do it more and you might start to crave the searching for whatever else you have hidden in that beautiful brain. - Author: Roberto Hogue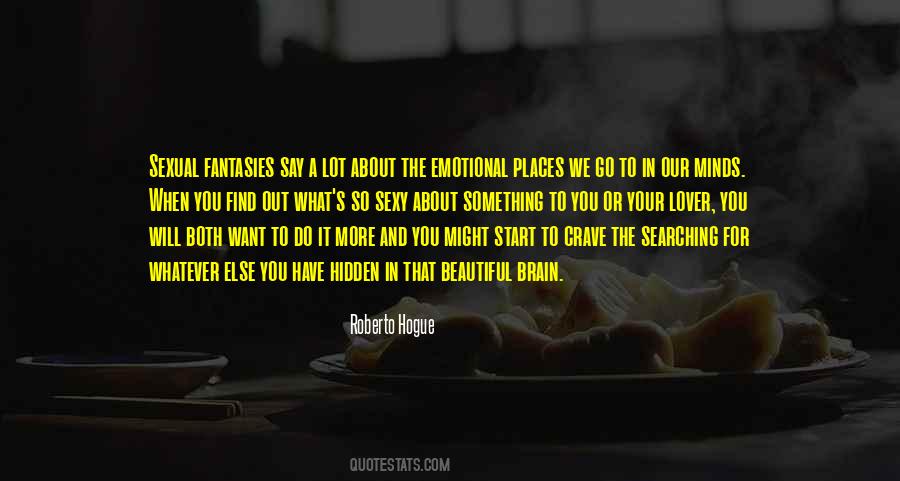 #5. Reading:
A journey to find love in
something you never knew existed - Author: Malisa Arnett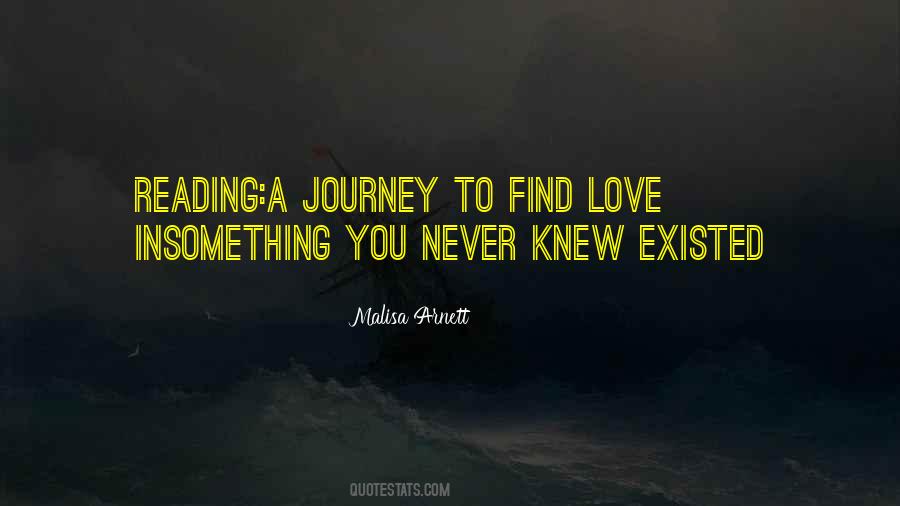 #6. Dear Tess, she read. This is probably a silly gift for a girl. I never did know the right thing to buy you. I was trying to think of something that would help when you're feeling lost. I remember feeling lost. It was bloody awful. But I always had you. Hope you find your way, Love Dad. - Author: Liane Moriarty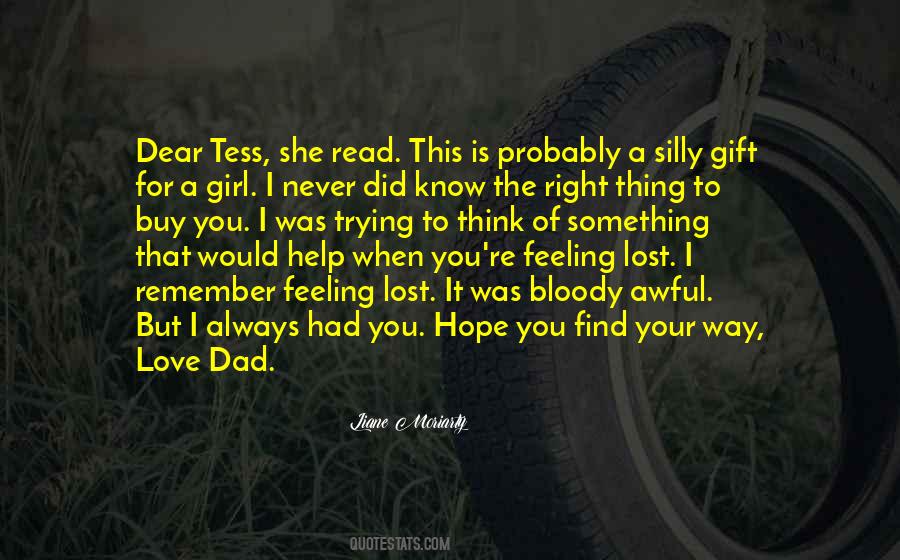 #7. If you are lucky enough to find something that you love, and you have a shot at being good at it, don't stop, don't put it down. - Author: Taylor Swift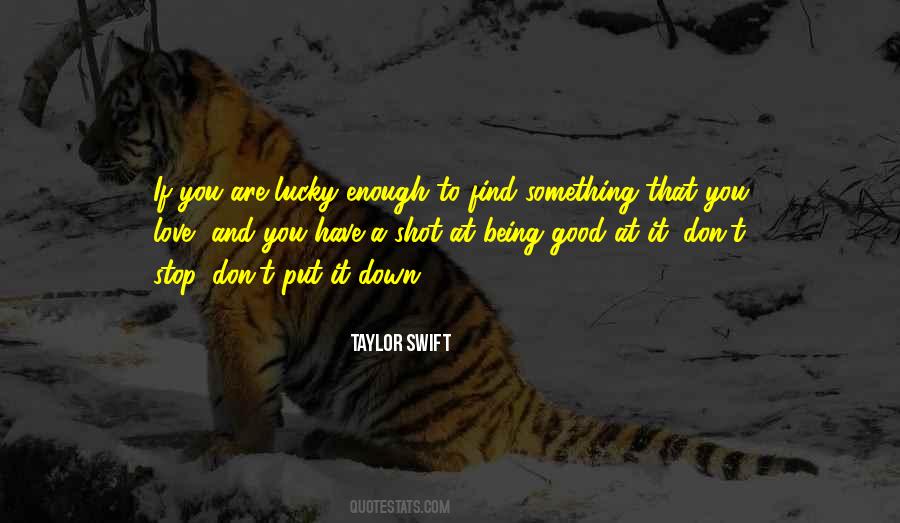 #8. It is not my place to offer pep talks, aphorisms, or dictums. But if I had to give one piece of practical advice it would be this: Find something that you love that they're fucking with and then fight for it. If everyone did that--imagine the difference. (50) - Author: David Gessner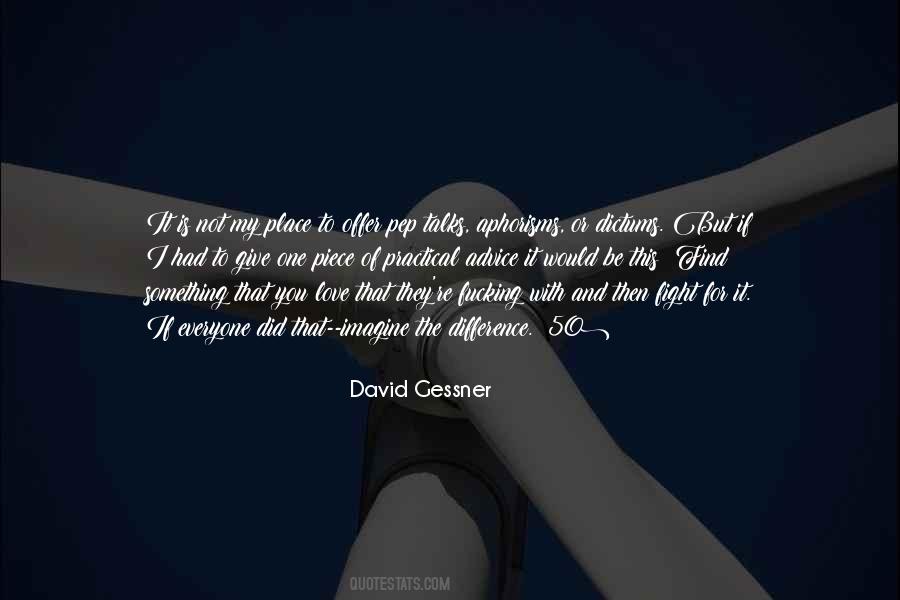 #9. Find something to do that you love because then the work itself is always the reward not the recompense. And if you love what you're doing you probably do better at it than doing something you don't love and therefore you'll be compensated appropriately. - Author: David McCullough
#10. My daddy. . . . . used to say, 'Honey, find something you love to do and then figure out a way to get paid for it.' He understood that where your true passion is, there your joy is also. And a joyful life is a truly successful life. Perhaps not by the world's standards, but whose life is it anyway? - Author: Kathie Lee Gifford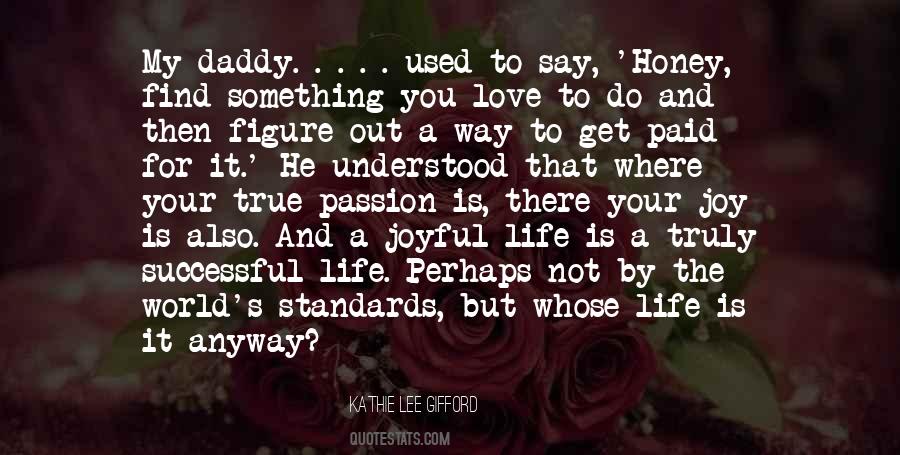 #11. If you make something with love and, you know, passion and you tell a real story, I think it will always find an audience somehow, you know. - Author: Anton Corbijn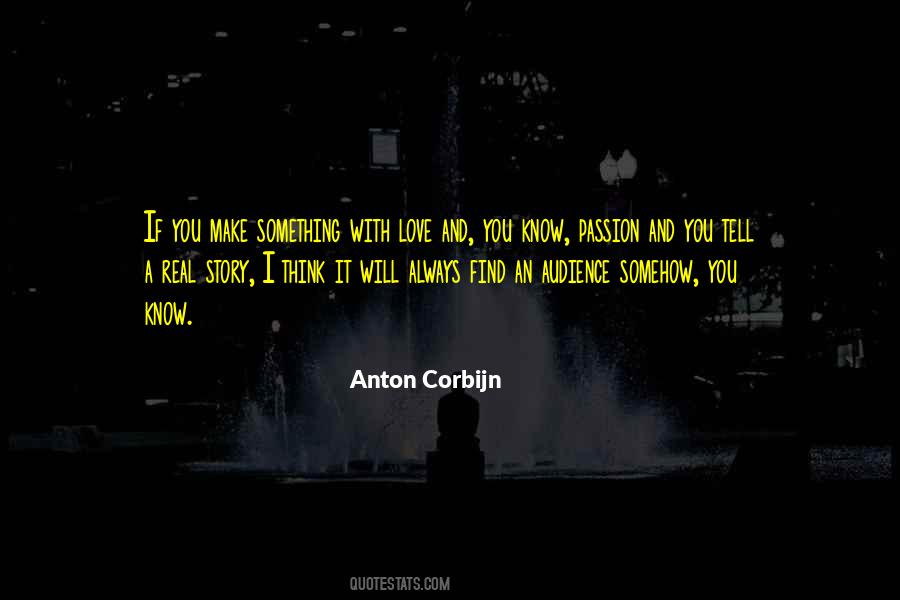 #12. I think people who are creative are the luckiest people on earth. I know that there are no shortcuts, but you must keep your faith in something Greater than You, and keep doing what you love. Do what you love, and you will find the way to get it out to the world. - Author: Judy Collins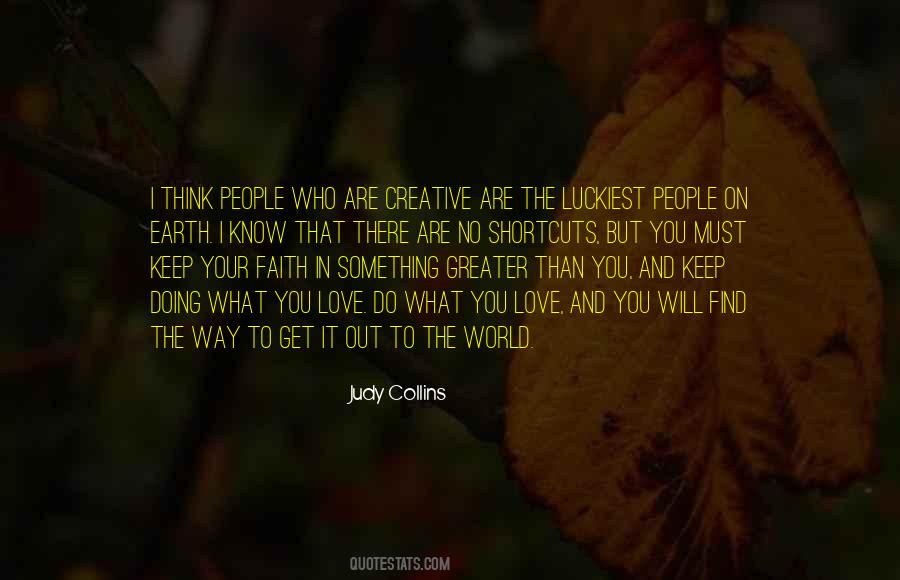 #13. Find something you love, and go after it, with all of your heart. - Author: Jim Abbott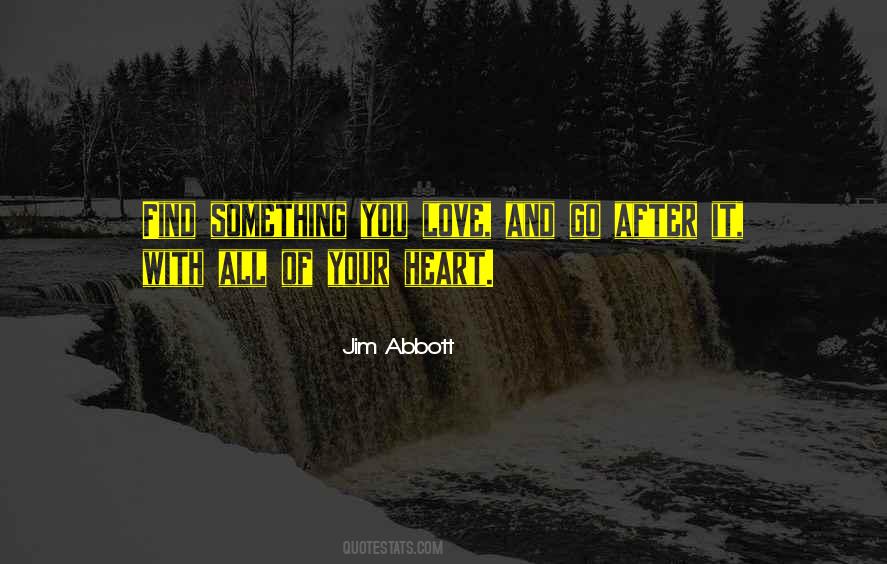 #14. I can't know entirely what's at stake beforehand; you find out as you go. I love to take a poem, for instance, that starts with something seemingly frivolous or inconsequential and then grows in gravity until by the end it's something very serious. - Author: James Tate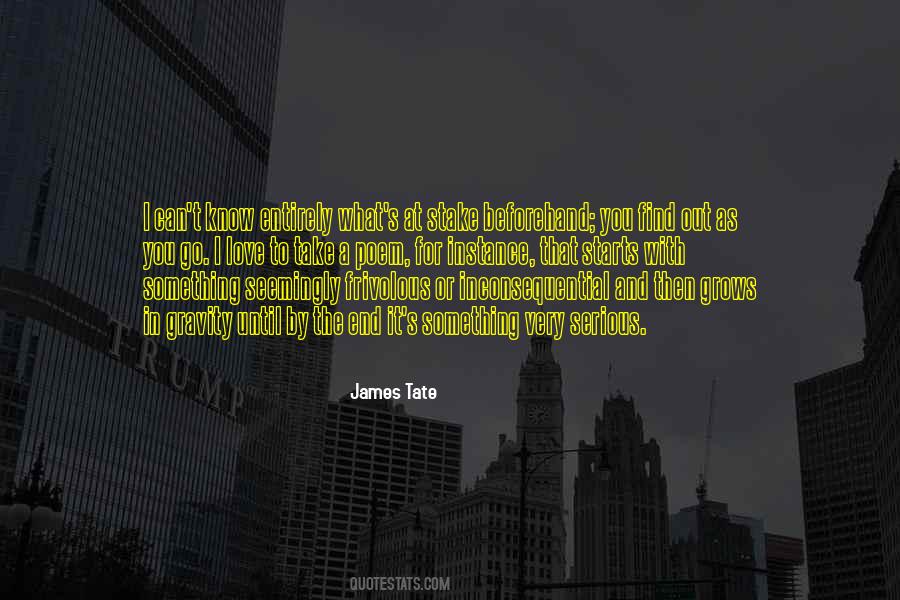 #15. It's easier to find a way to make money at something you love than to learn to love a job that you can make money at. - Author: Kim Harrison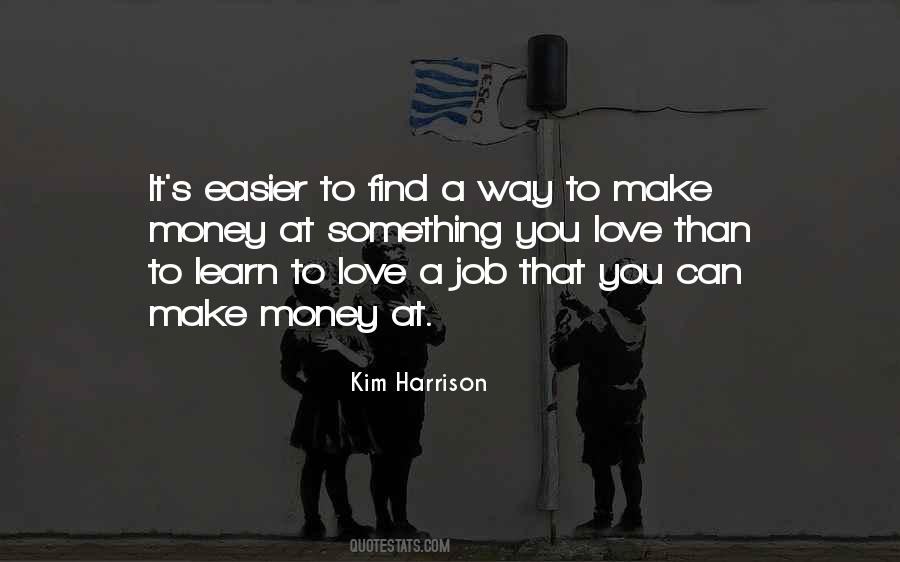 #16. Frankly, seeing my plays with an audience is something I do with gritted teeth; I find the experience very difficult. I love the moment when you have just the dress rehearsal, when no one's there; that's kind of the peak to me. When people start filing in, I like to file out. - Author: Richard Greenberg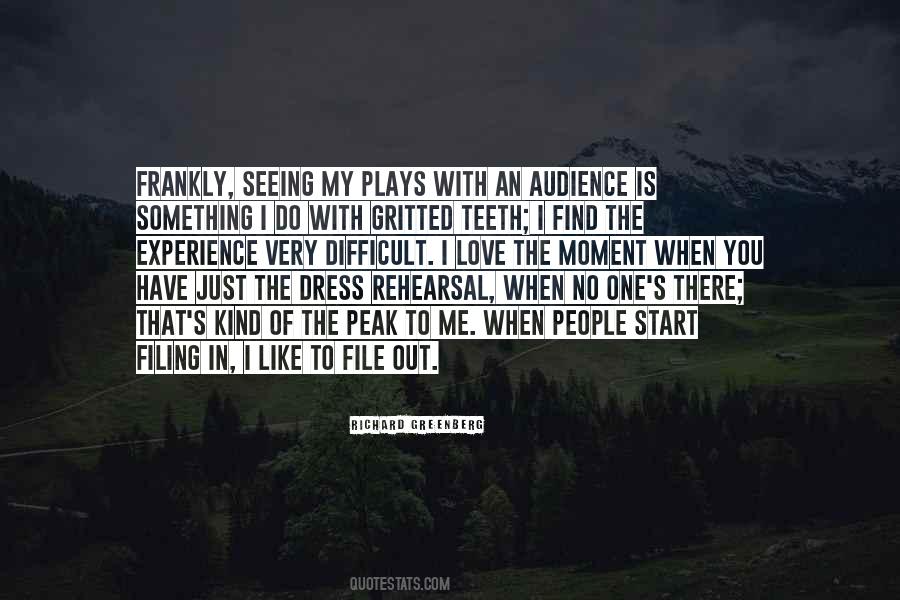 #17. It's funny the way life works. Sometimes you go around in a weird path to find out exactly what it is that you love to do, and I'm happy that I've sort of discovered something that makes me really happy. - Author: Haylie Duff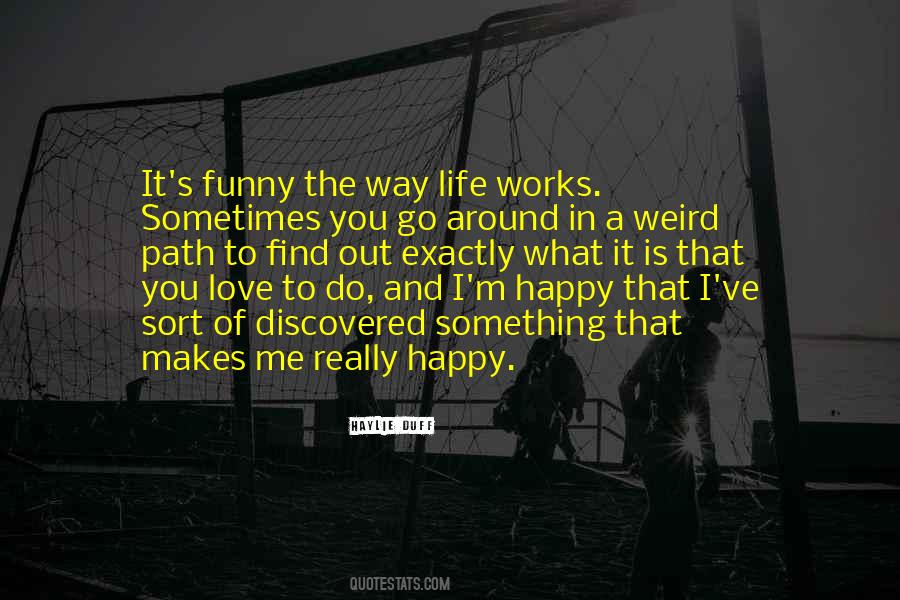 #18. I think diamonds represent luxury, indulgence, and class. So any time you can incorporate a gift that is synonymous with all those attributes, you know the other person will love it. I would challenge someone to find something that better represents Valentine's Day more than diamonds! - Author: Chris Evans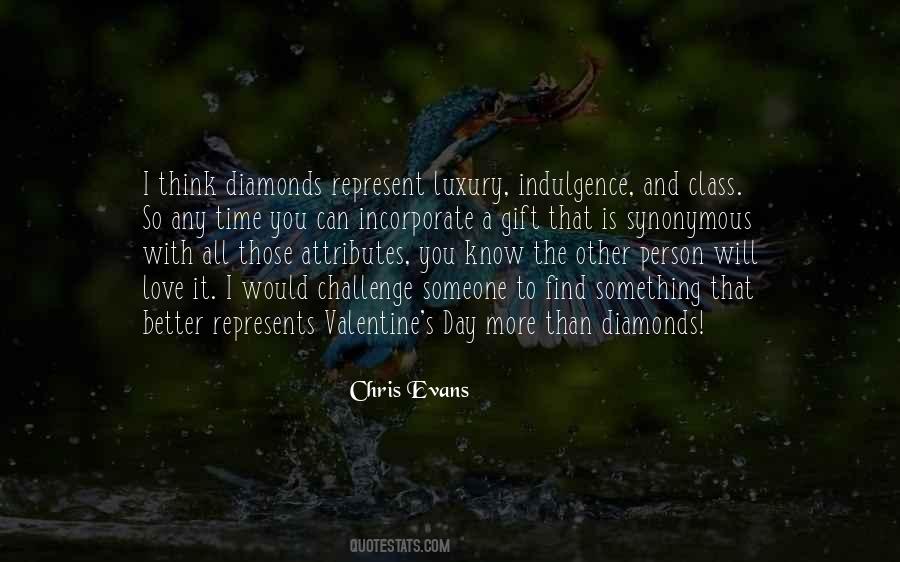 #19. Don't give your power away to anybody. If you find something to do that you truly love, you'll be successful. - Author: Rachel Roy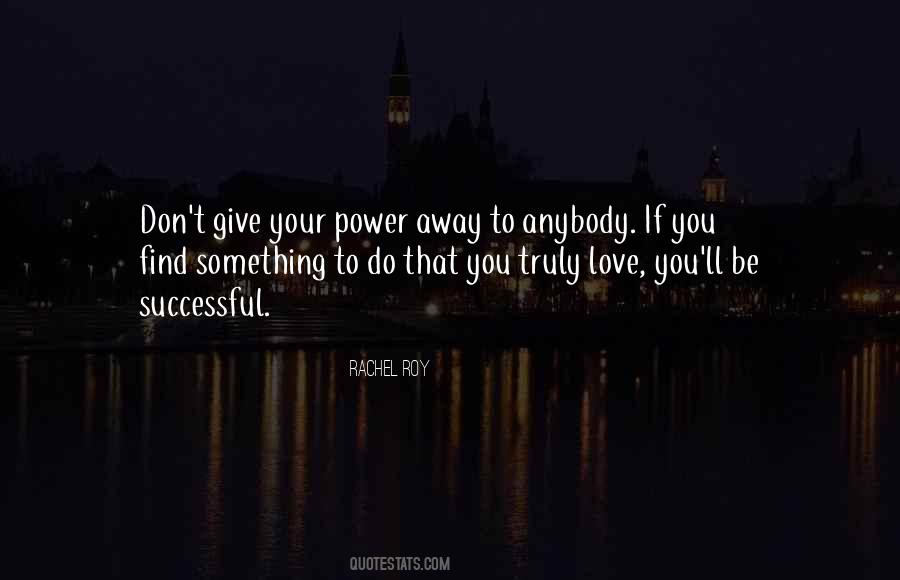 #20. Home is where you go to find solace from the ever changing chaos, to find love within the confines of a heartless world, and to be reminded that no matter how far you wander, there will always be something waiting when you return. - Author: Kendal Rob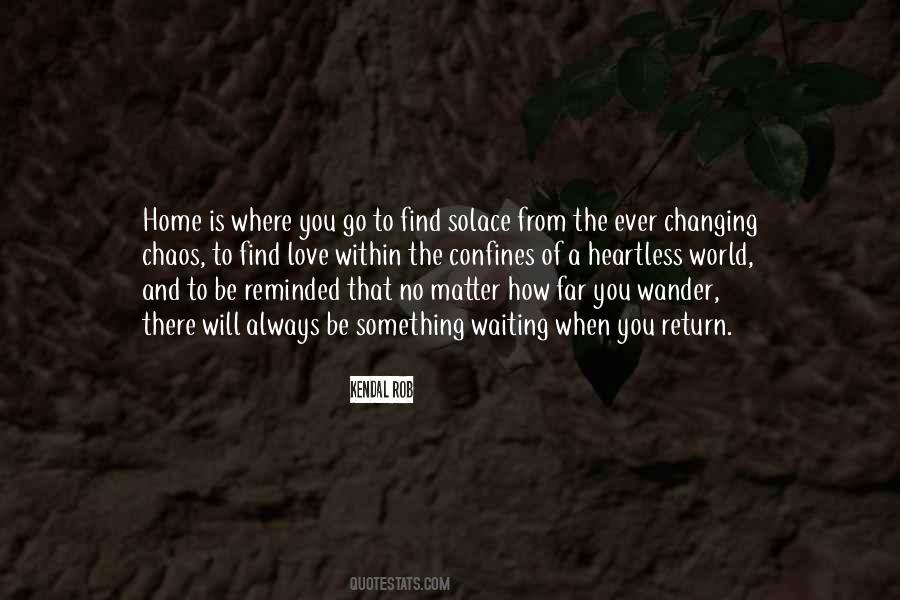 #21. If you are lucky you will find something you love, if youre really lucky youll find someone to pay you for it - Author: James Patterson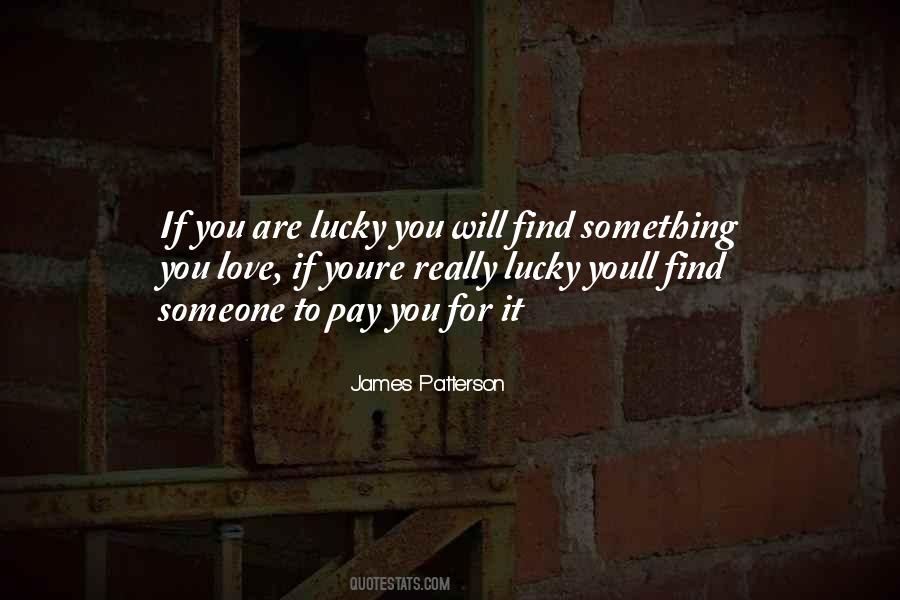 #22. It's very important to me to love what I do. It was important to me to find a career that I truly enjoy. You can find something that sort of excites you, that's half the battle of life. - Author: Adam Brody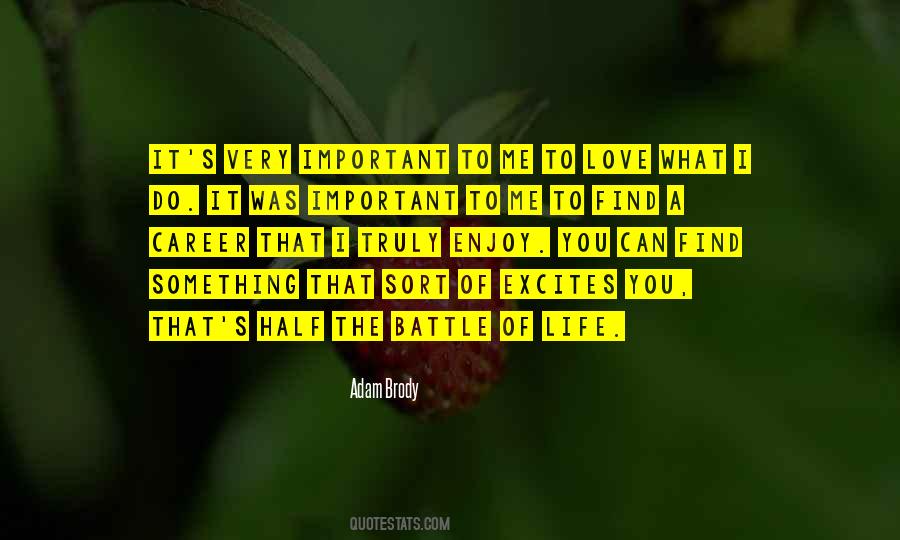 #23. Asked to give advice to a 13-year-old girl about how to lead her life, I say find something you love to do. The goal shouldn't be accumulating money. It might be making changes in the world, or in your country. - Author: Karen DeCrow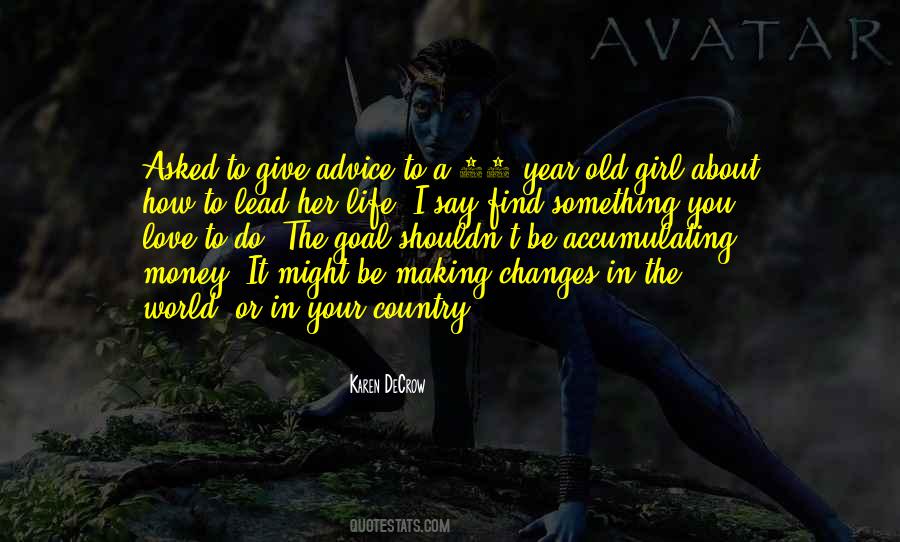 #24. I don't think it's about art being a career but it's about making sure that if art is something that you love, something that brings you joy, it's about you having a duty to find time in your life for that thing that brings you joy ... even if it can only be a small amount. - Author: Sarah Kay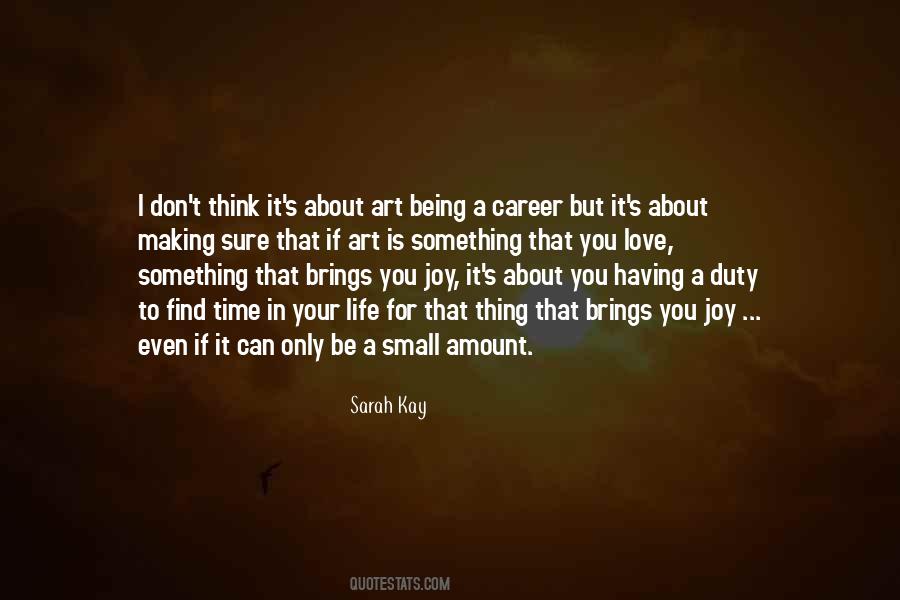 #25. I always tell my kids, "Find something that you love and within that you'll find some job that you can do and you'll always be happy. You'll go to a job that you want to go to." - Author: Tom Petty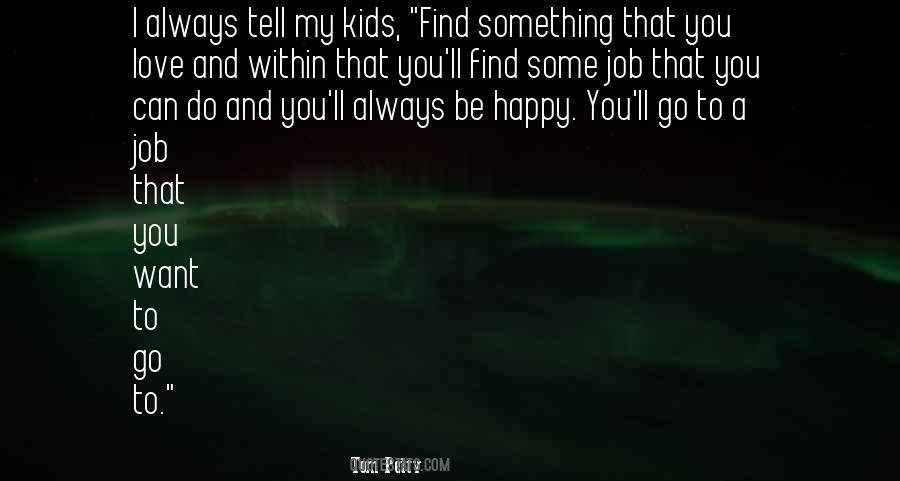 #26. You can hold any girl that you like
Fall in love when its easy at night
But you wake up wondering why
She aint ever something better
When youre lost and youve run out of road
Find what I already know
In the end close is all there is
But you wont find this - Author: Carrie Underwood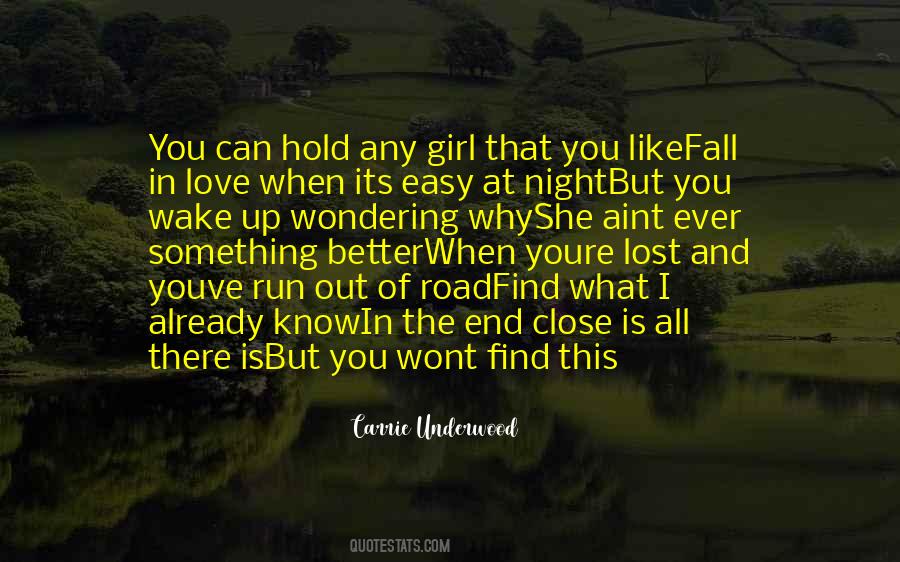 #27. Finding your passion is like finding your career soul mate. You 'date around' a bit, trying various jobs, but one day you find something you love so much you wanna marry it and see it every morning before your first cup of coffee. - Author: Emme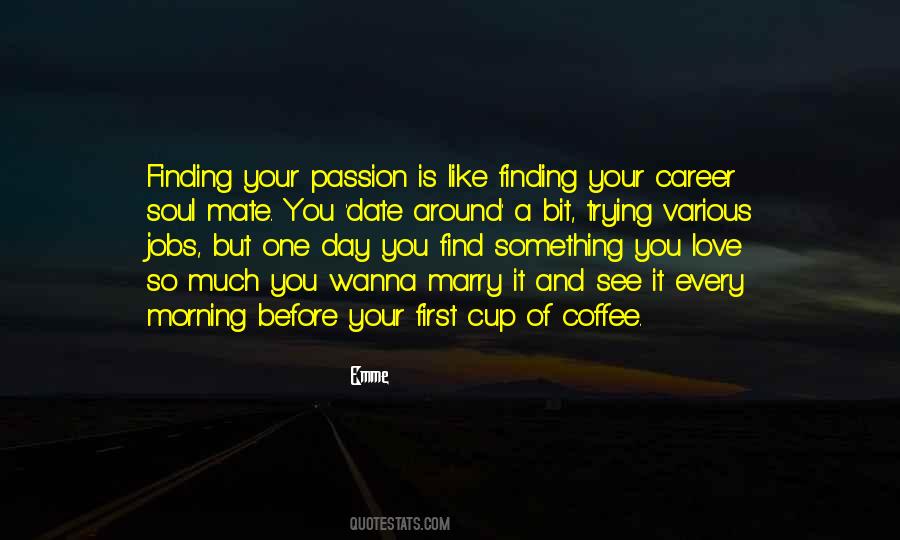 #28. Love is when you find something so great, so ... necessary, that it becomes more important to you than your own goals, than your own life - not because your life has no meaning without it, but because it gives your life a meaning it never had before. - Author: Dan Wells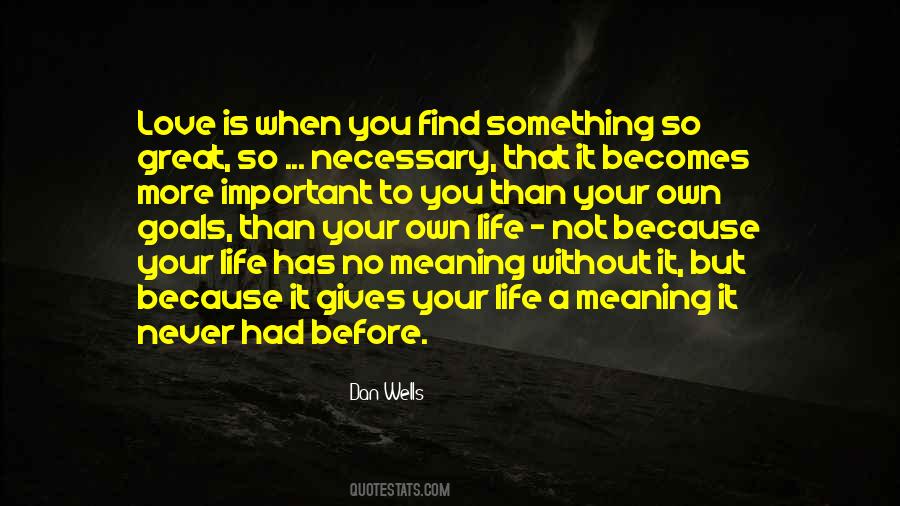 #29. Start where you are-do anything you can do, and do everything you can do, until you find something you must do! That something is probably your spiritual gift. - Author: Jim George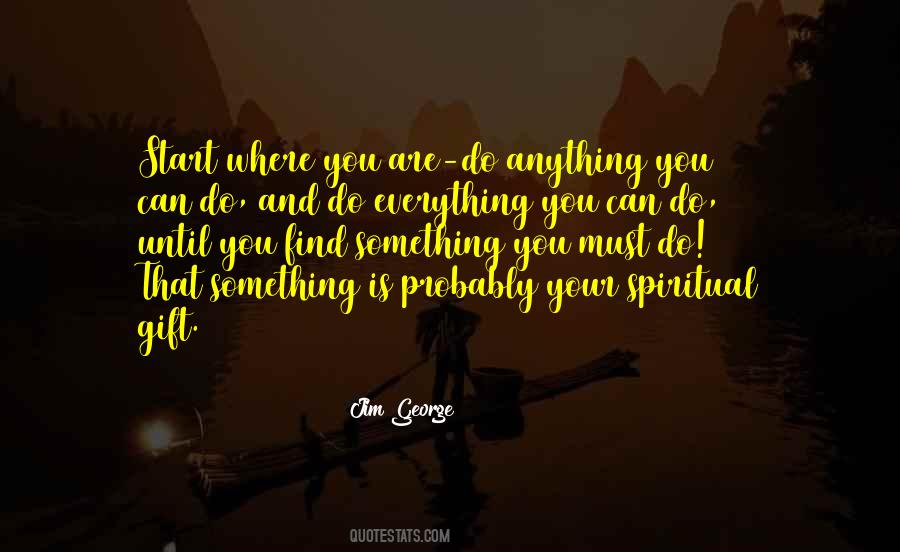 #30. Every single person, pretty much, is taught what they're supposed to do: go to school, get a job, find someone to love, get married, have kids, raise the kids, and then die. Nobody questions that. What if you want to do something different? - Author: Aziz Ansari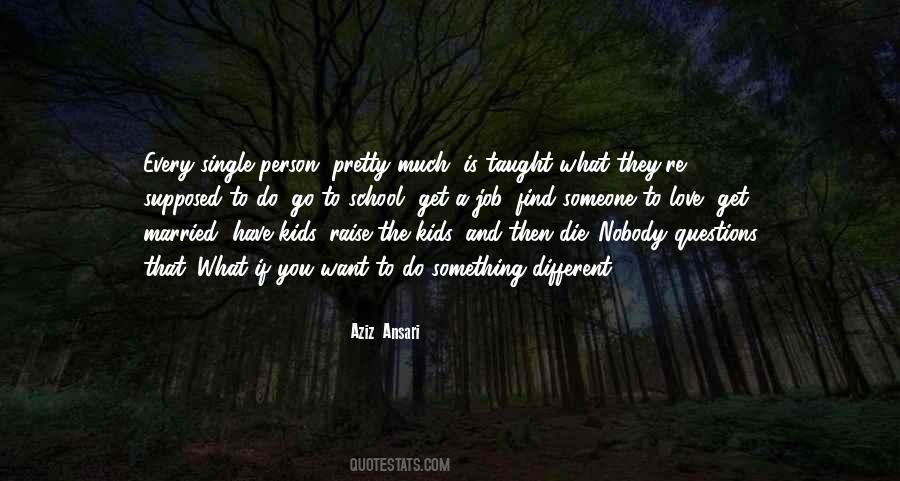 #31. I love doing a television show. It just always feels like it's a little while before you find something that feels unique and that feels like a character that you really want to play for awhile. - Author: Shiri Appleby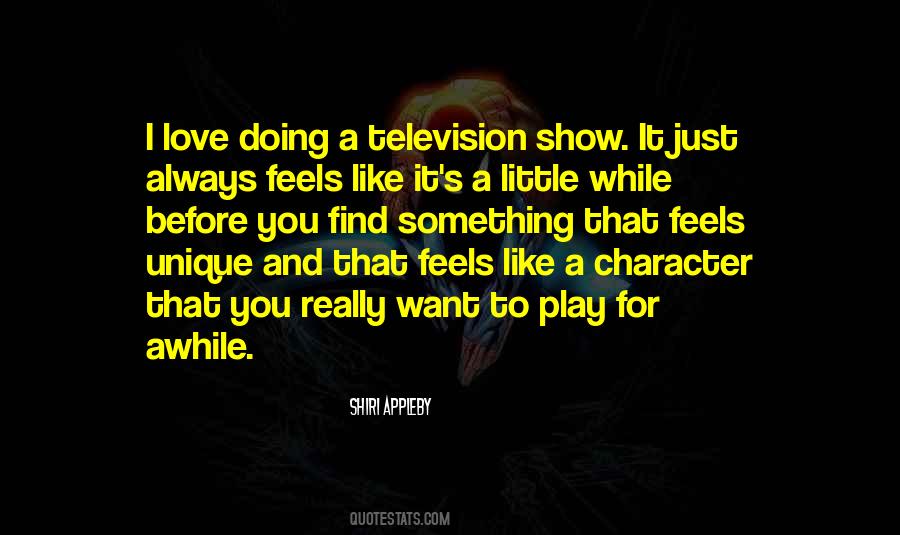 #32. I love life. There's always something to overcome, new people to meet ... You've just got to find your bliss and go after it. That's where the drive is, that's how you find your special place. - Author: Jim Stynes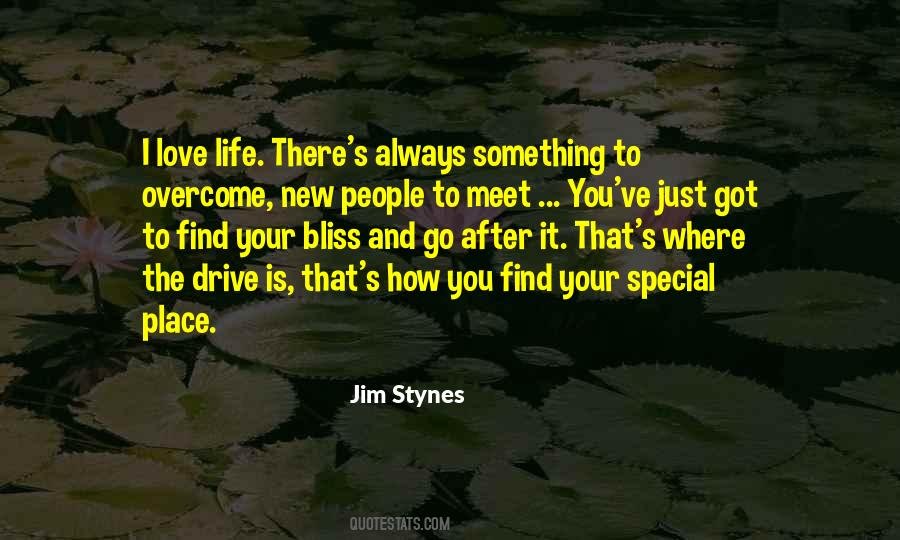 #33. Find something you really love doing and mix it with something you really care about. That's why I've had such longevity as an artist. I really, really care about ending violence against women, and I really, really love playing music. It's super enjoyable! - Author: Kathleen Hanna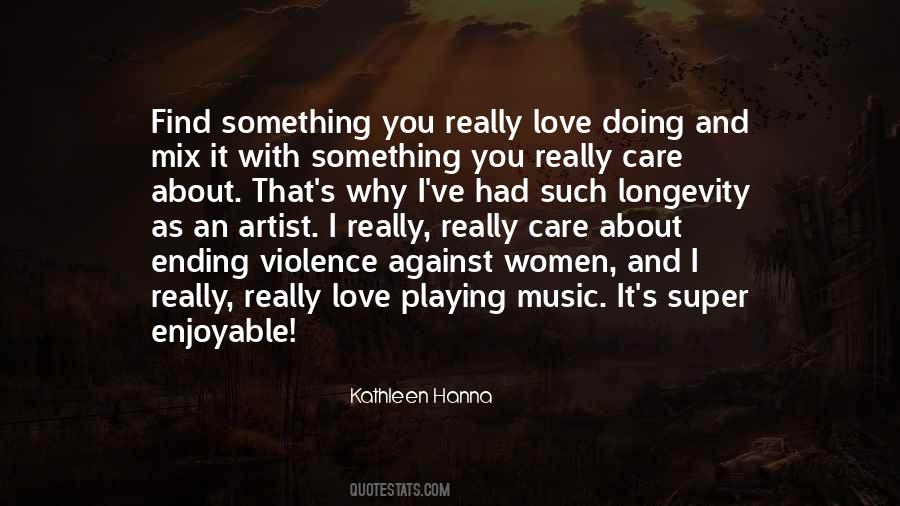 #34. Love may be harder to find in some people, but when they do love you know it must be something marvelous. - Author: Criss Jami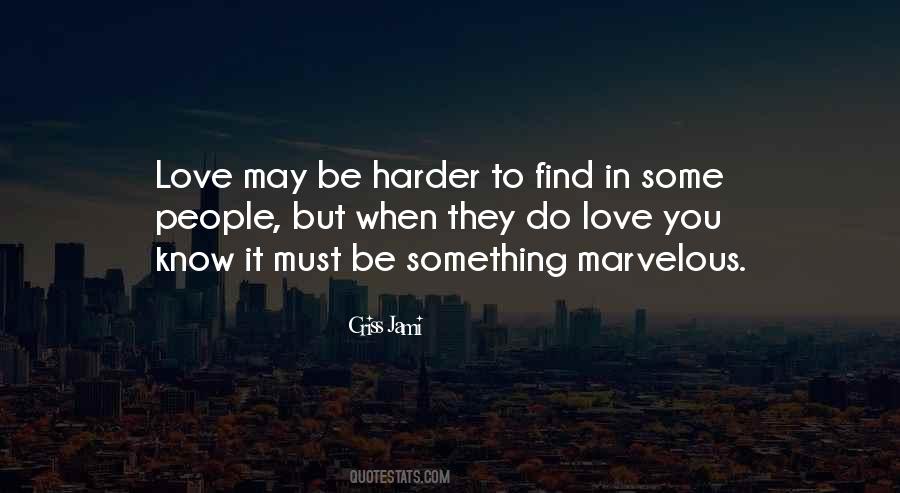 #35. Find something you're passionate about and you know, do something. - Author: Lea Michele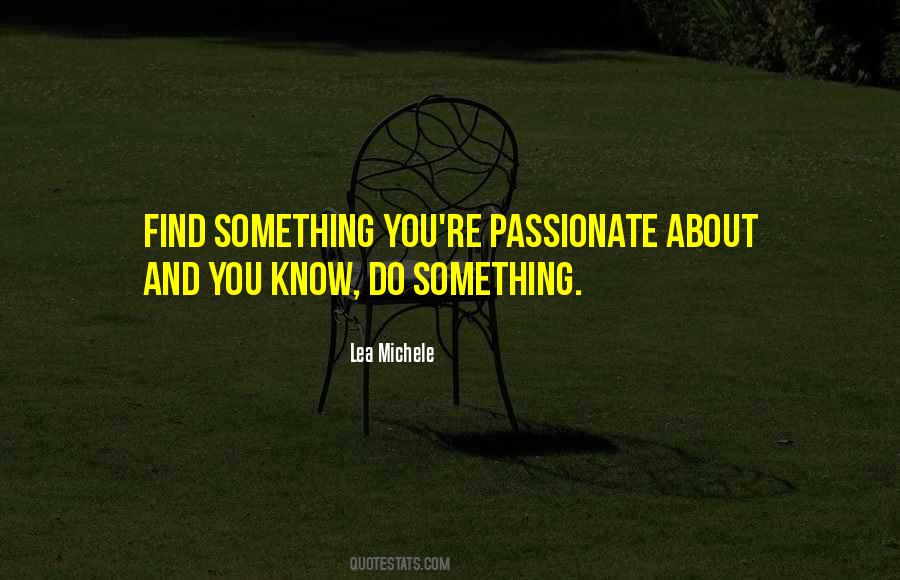 #36. Your life's work is something you love to do, something your talents can find full expression through. If we enjoy our work, we are sure to bring our creativity and enthusiasm to it. - Author: Laurence Boldt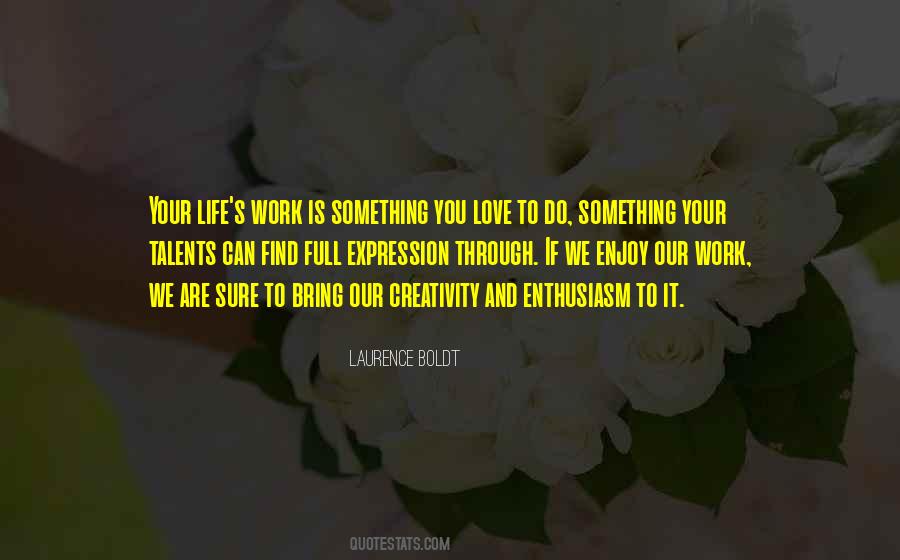 #37. What do you always think about? What do you think you can do easily? What do you find peace in your heart to do? Watch those things carefully because among them is something on which you can turn the entire environment surrounding you for your success. - Author: Israelmore Ayivor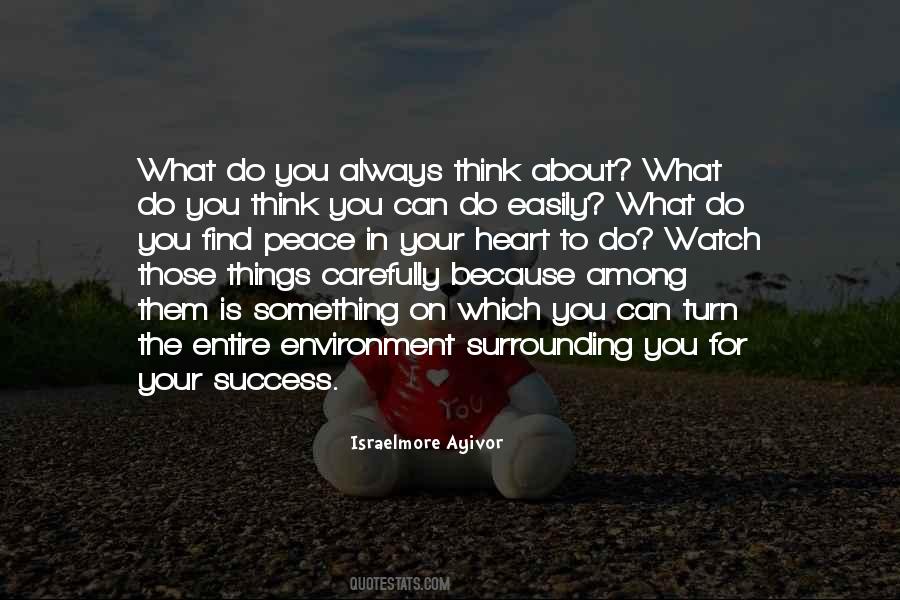 #38. Finally he asks, "What if that's not enough? What if I need something else?"
And she replies, "Whatever you need, I will find a way to get it to you. I will give you the moon, and more. - Author: Sarah Dessen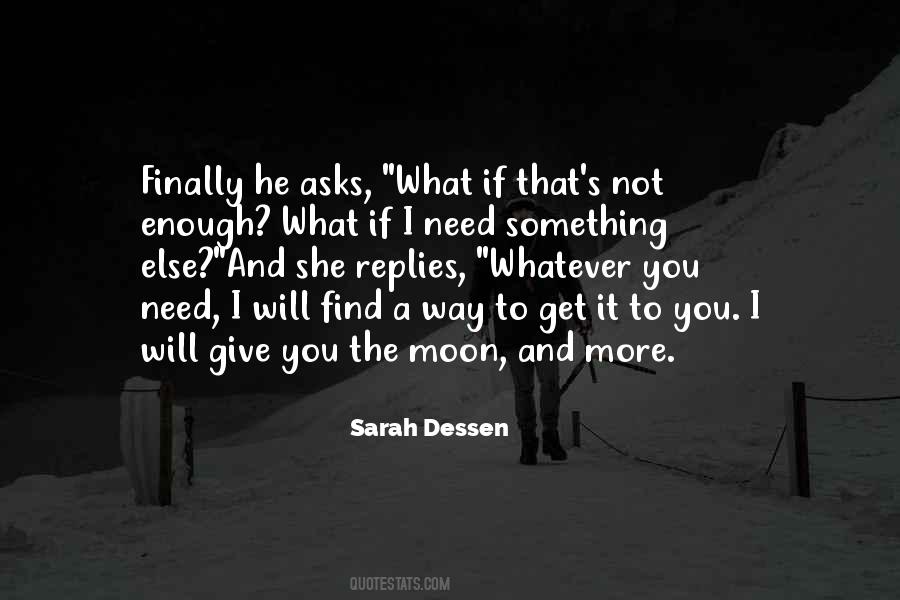 #39. Everyone needs to find something they love to do - it's not about what they have to do. You need to make it fun! So if shopping is your love and you hate exercise, walk to the shops! - Author: Irina Shayk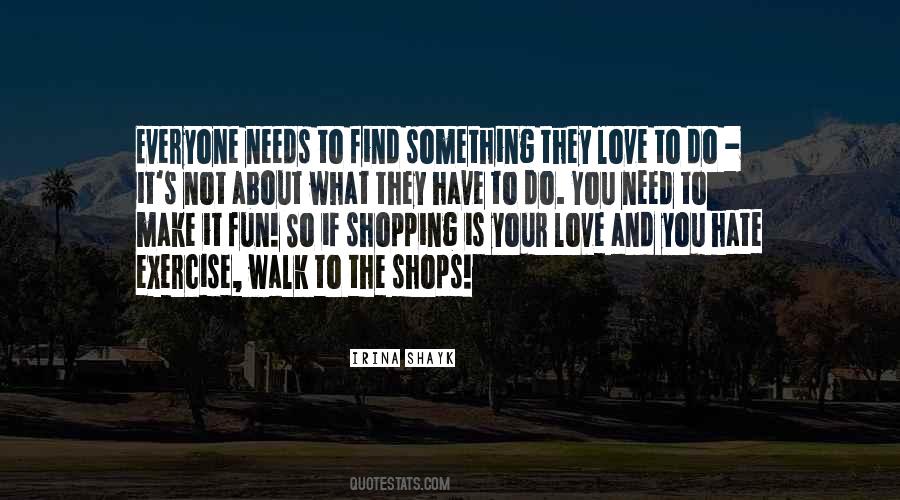 #40. Love isn't something you find. Love is something that finds you. - Author: Loretta Young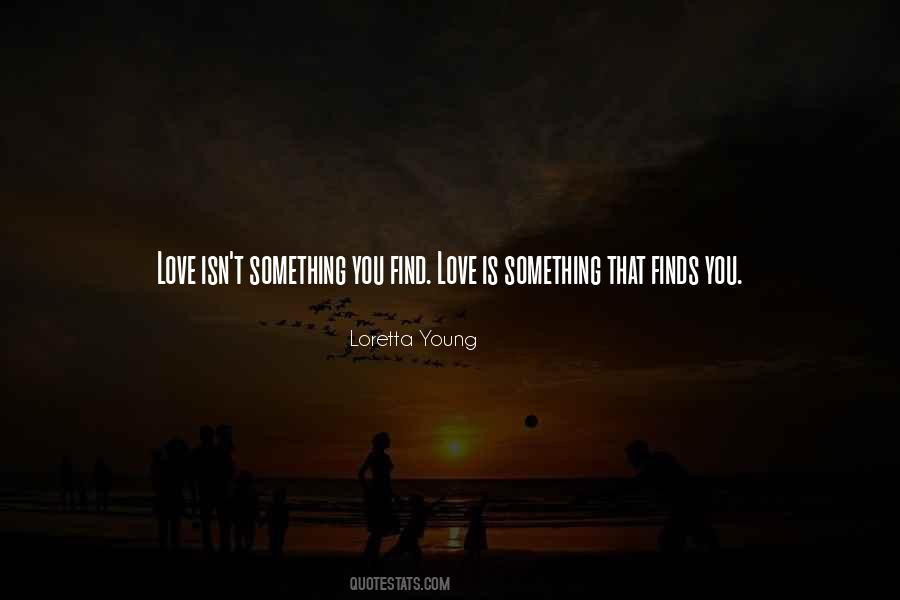 #41. Look, if you're playing Romeo and your Juliet is a pig, you find something you can love about pigs! - Author: Montgomery Clift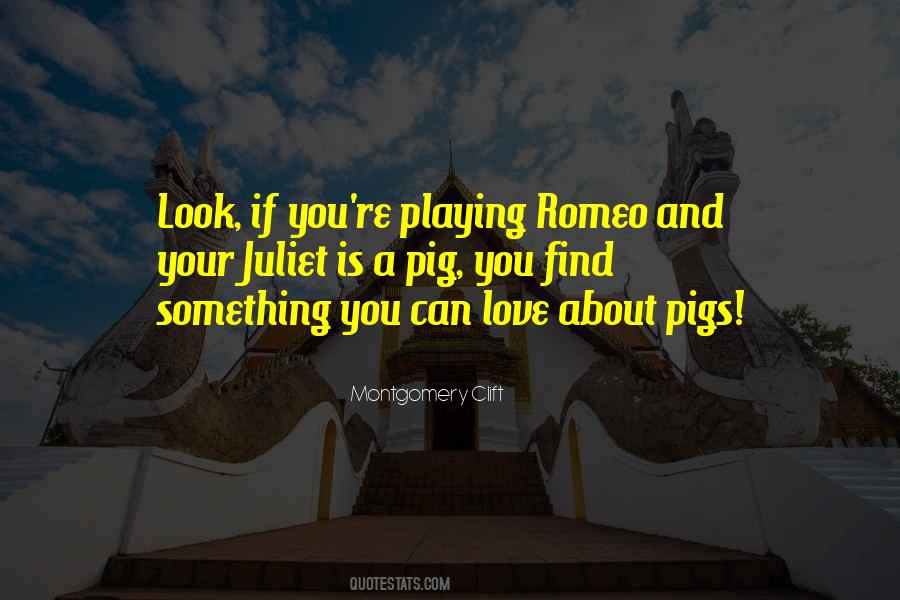 #42. Make sure you are doing something you love to do when working out. Nobody likes to work, so when you do choose a workout, make it something you enjoy doing. You won't stick with it if you hate it and if it feels like work. Find something fun. - Author: Miesha Tate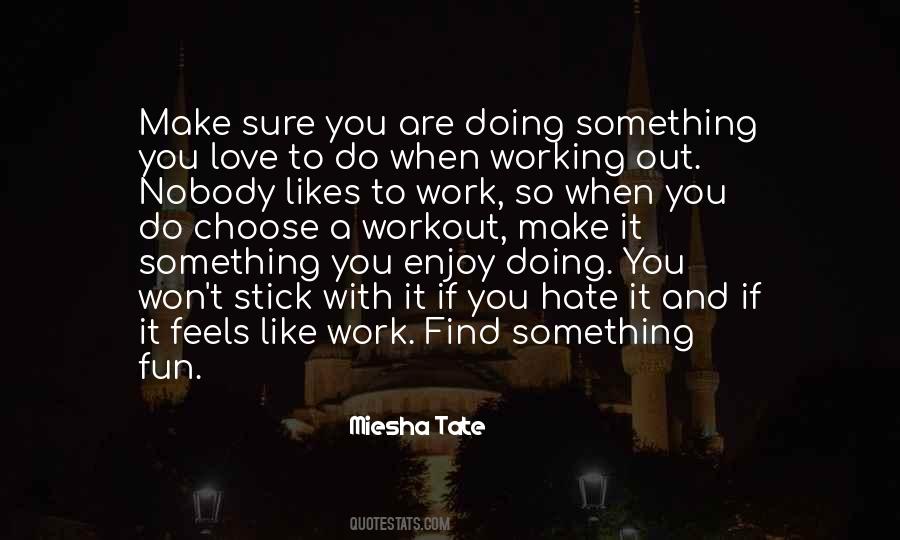 #43. I was starting to think, maybe you need to feel your way more through life - just turn off the lights and follow your senses, even if you stumble once in a while. Maybe that's what falling in love is like. Just feeling your way through the darkness until you find something solid to hold on to. - Author: Katie Kacvinsky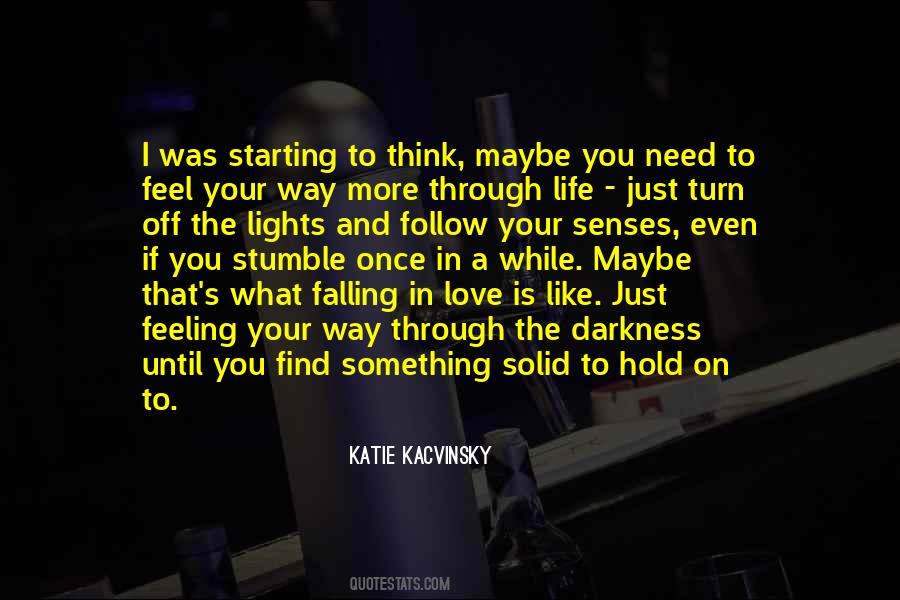 #44. In every lifetime there is a moment. A moment so clear, so profoundly unique; that it stands out against billions of other moments. When you find a moment such as this one, you pay extra close attention to it. It will usually contain something that defines you in the future. (The Children of Ankh) - Author: Kim Cormack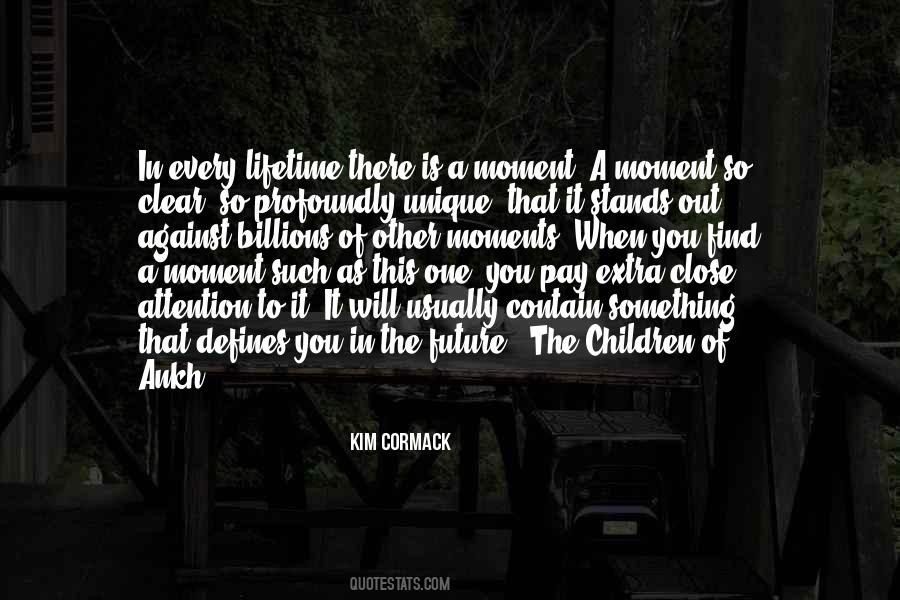 #45. It was easy to be proud of the kid who got straight A's and who made the winning basket-a kid the world already adored. But true character showed when you could find something to love in a child everyone else hated. - Author: Jodi Picoult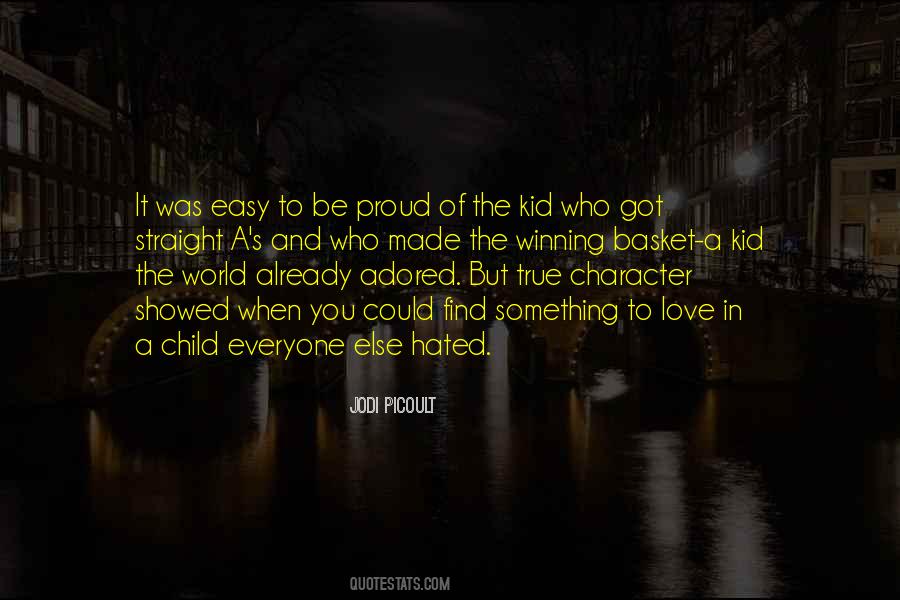 #46. If you've never had a mother or a father, you grow up seeking something you're never going to find, ever. You seek it in love and in people and in beauty. - Author: Gloria Vanderbilt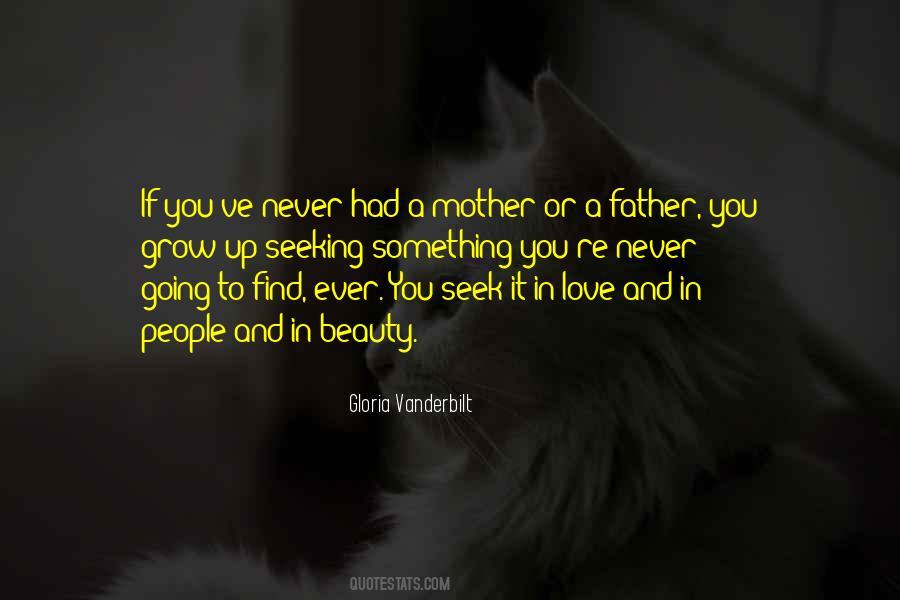 #47. Follow your bliss. Do the thing where you sit down at 8 a.m. and then you realize you're hungry and you look up and it's 10 p.m. If you can find something you love that much, it doesn't matter what you do. - Author: George Lucas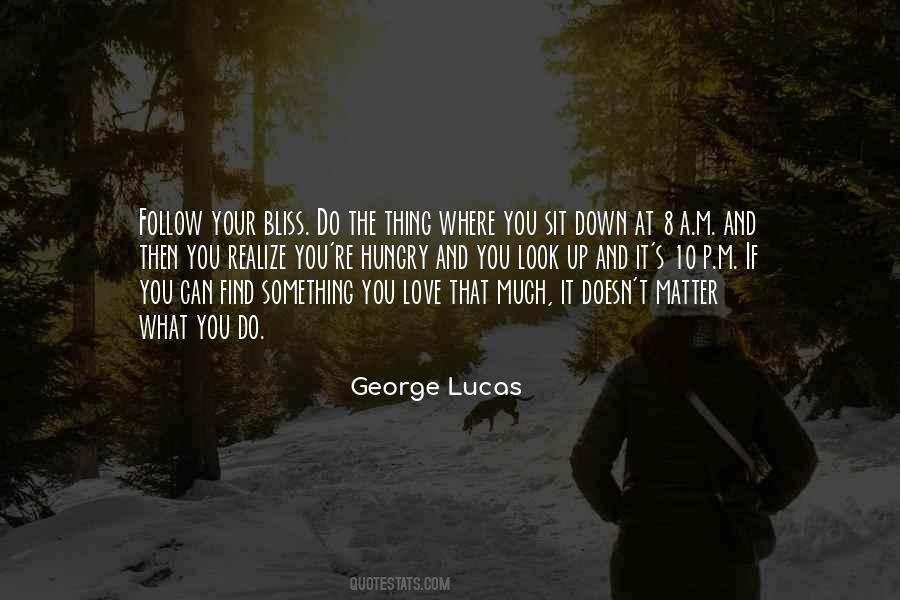 #48. The way the leaves on the trees tremble in the passing air is the way love reaches you, from all directions at once, mysterious, overwhelming, indescribable. To be in love is to find something you didn't know was missing. - Author: Chloe Thurlow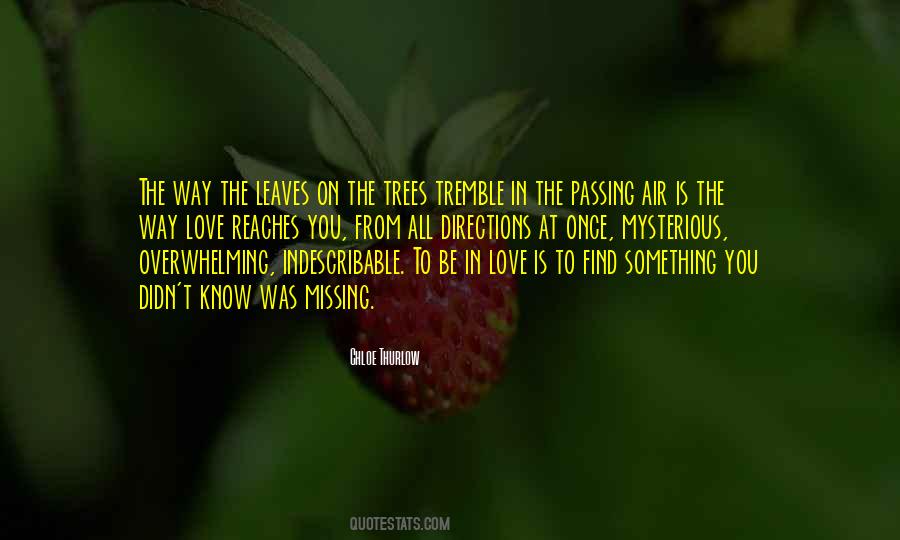 #49. You've got to love the villain if you have to play him. You've got to find something that you can live with in yourself if you're going to play the villain in a play on stage. - Author: Jim Dale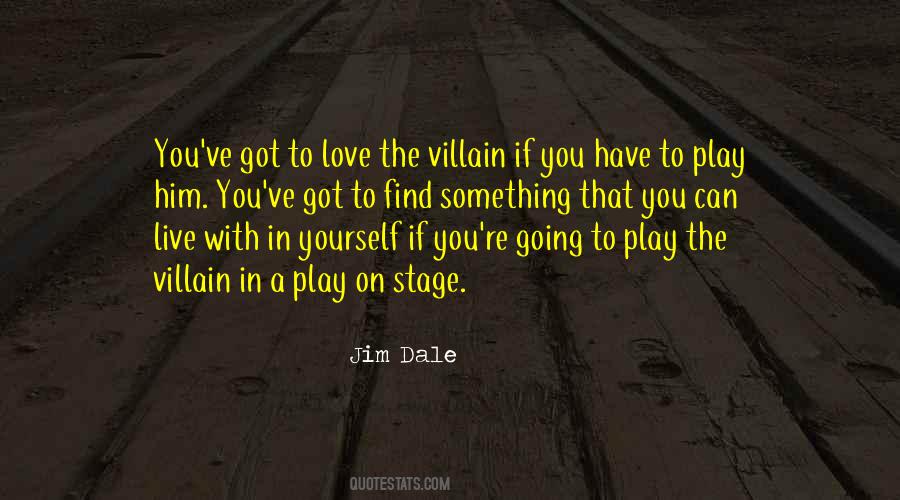 #50. Love is a very intense and strong emotion, and it'll make you do some weird things. But I'm always for love, and I think when you find something really special, you need to do whatever you have to do to hold onto it. - Author: Shaun Fleming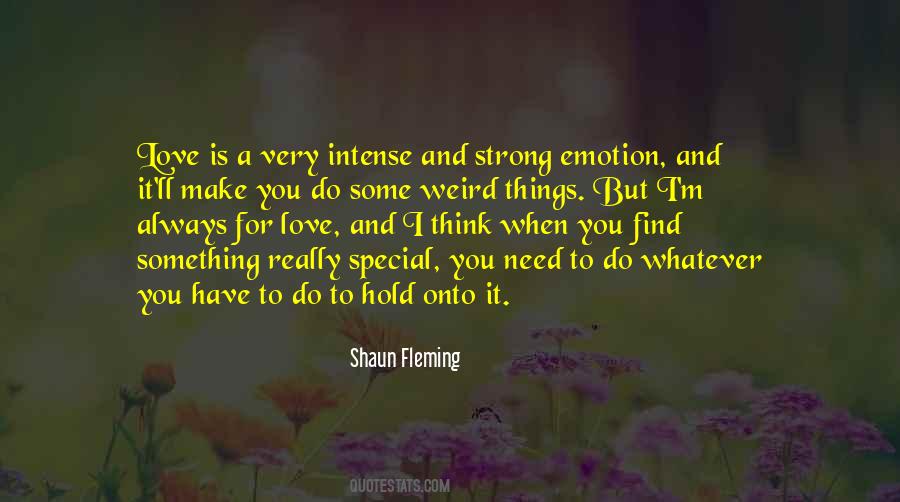 #51. If love and beauty were easy to find, they would not exist.
Chaos and sadness exist in order for you to find the love and beauty in them. So that love and beauty mean something.
It's meant to be hard. - Author: Pleasefindthis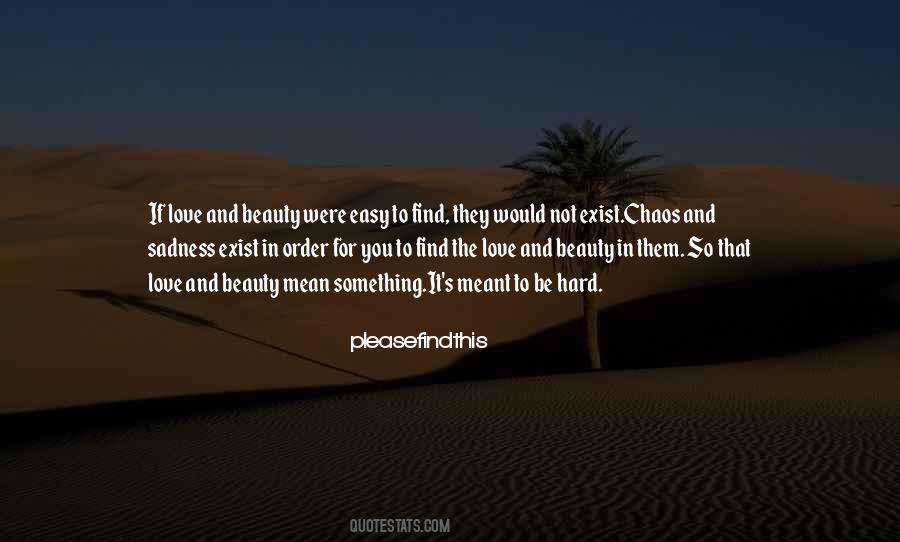 #52. So my free advice is to always find something to love and to make you laugh - something that will keep you in the here and now. Hounds are good at it, and they work for me. They may or may not work for you. - Author: Kevin Hearne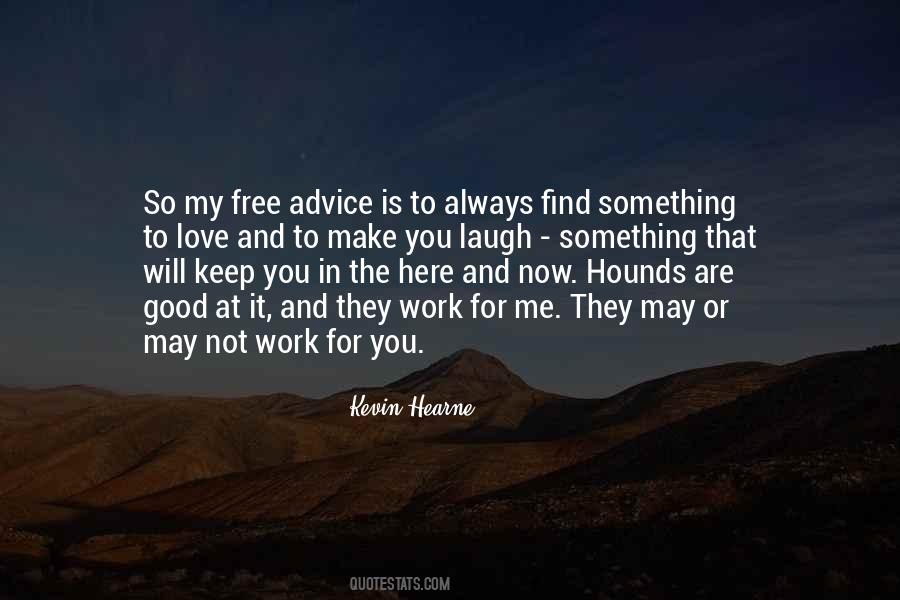 #53. I find that you're drawn to certain stories, and there's something about fairytales that have deep roots. They connect really deeply to you, and those are the stories that I find myself drawn to. I love characters that believe the impossible is possible. - Author: Glen Keane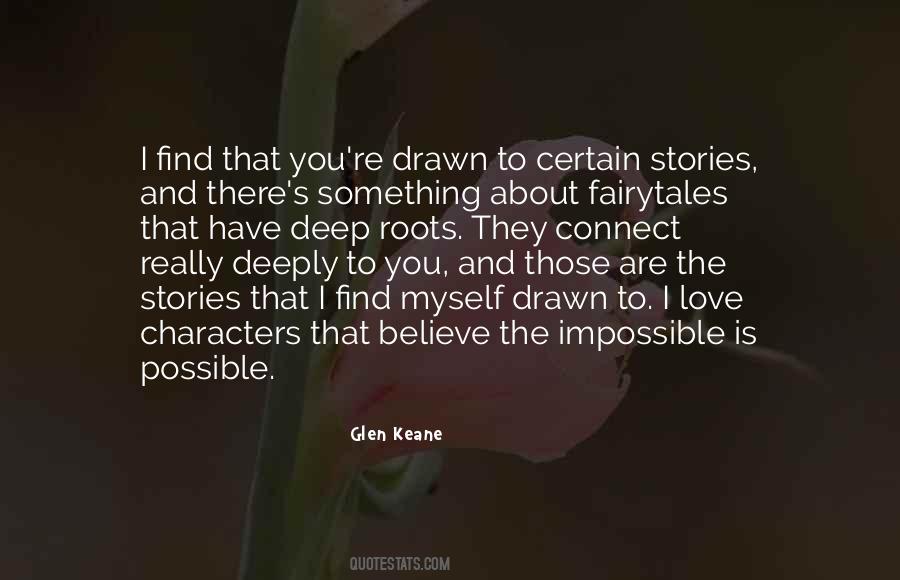 #54. Do something that you love. Whatever you're going to do is going to be tough enough. Find something that gets you so excited that the sun can't come up early enough in the morning because you want to go do your thing. - Author: Chris Gardner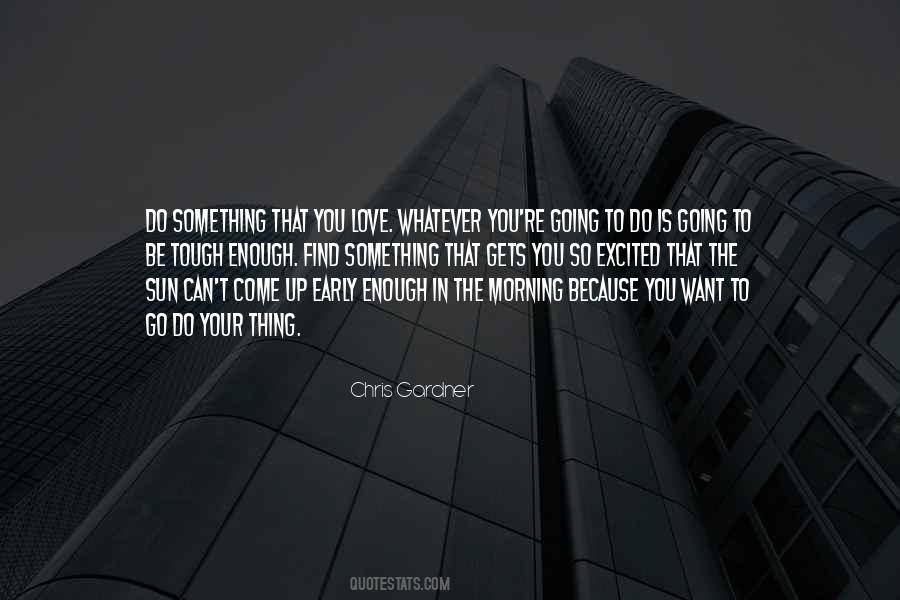 #55. Whenever you got angry with someone, you should replace the face of that person in your mind with the face of someone you love ... perhaps you could find something to like in him. - Author: Elif Shafak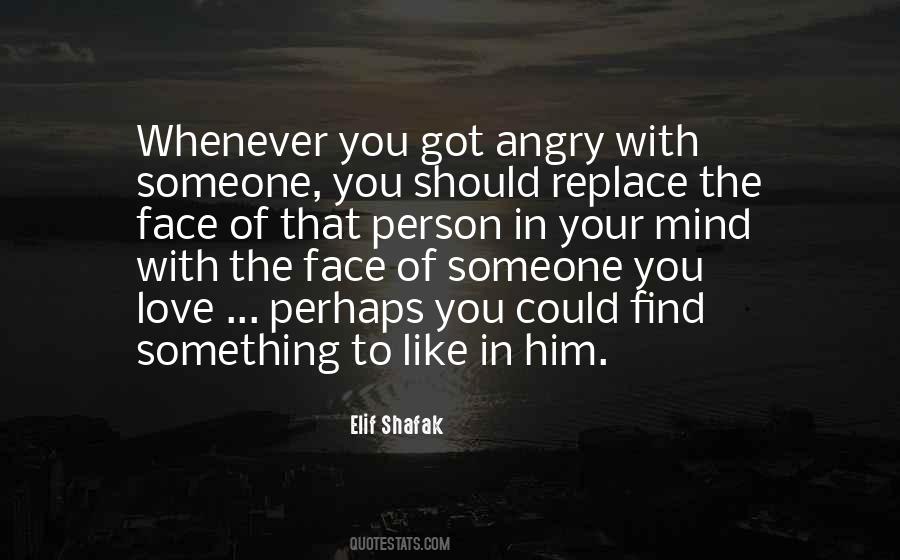 #56. Photographs are very interesting, and you can look into them a million times and still find a new meaning in them, something in the past that was caught in the film itself ... - Author: Rebecca McNutt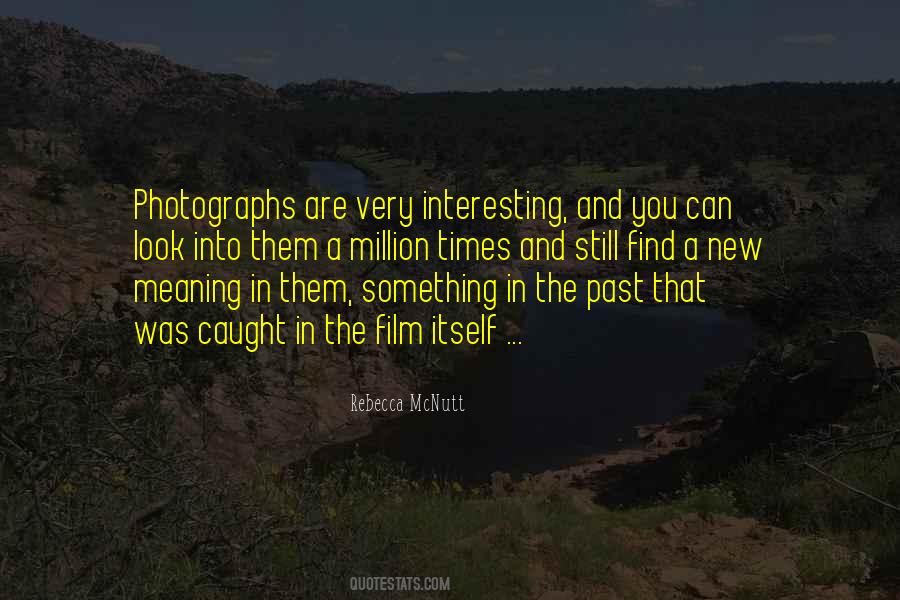 #57. Well, do you know what I hope for, once I allow myself to begin to hope? [ ... ] That you find in your love for people something not only to work for, but to comfort and restore you when there is a need. - Author: Vincent Van Gogh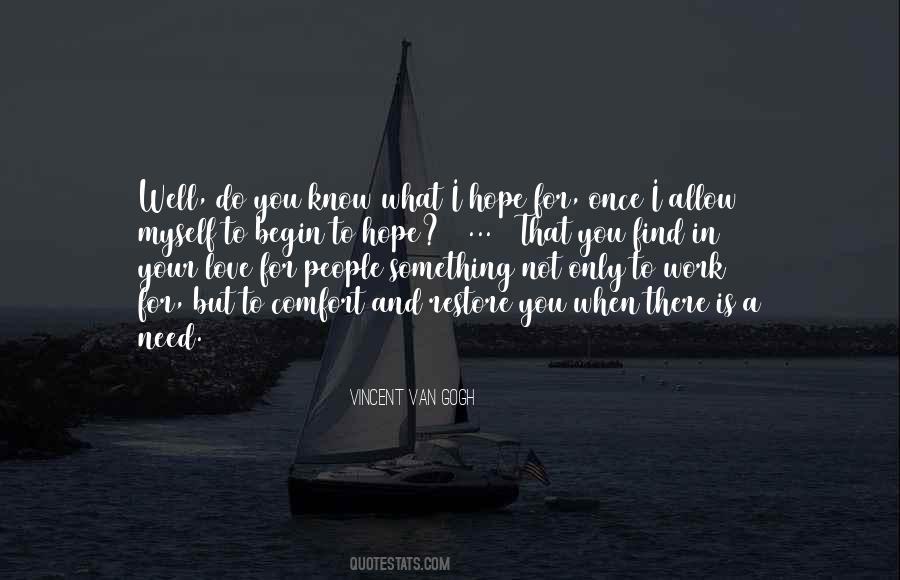 #58. I just started a business called HDNet. There never is one area that has a door open to everyone. Try to find an area with something you love to do and do it. It's a lot easier to work hard and prepare when you love what you are doing. - Author: Mark Cuban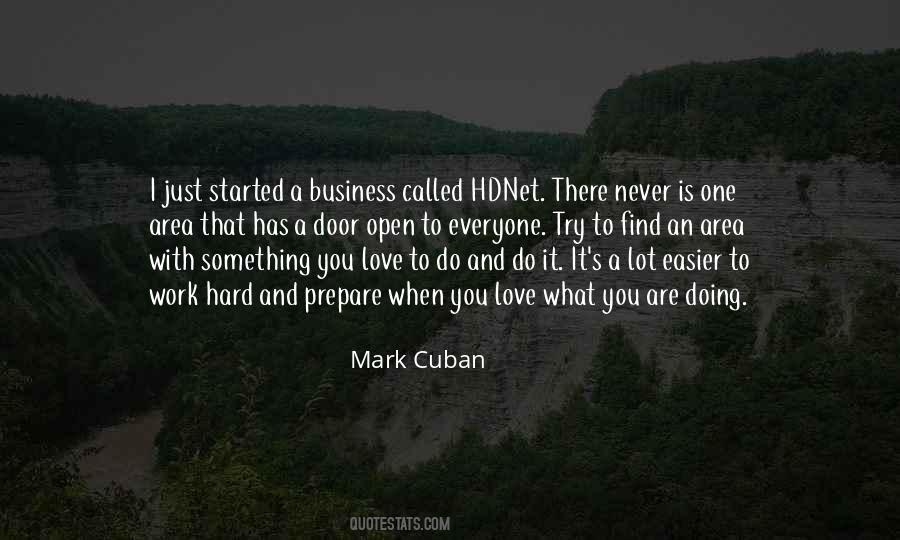 #59. Find something you enjoy and love and you're passionate about. And then dedicate all you've got to make it a success. And if you have those two things, I think with your passion and dedication, there is nothing that you cannot accomplish. - Author: Anousheh Ansari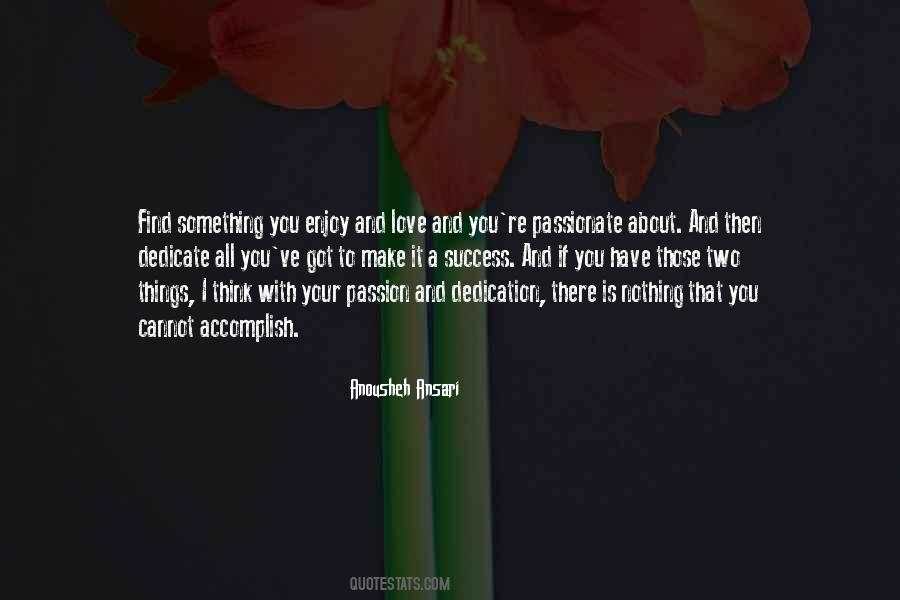 #60. Because when you find something you love, you can't quit. Every failure pushes you harder. It's in your soul and in your fucking heart - Author: Becca Ritchie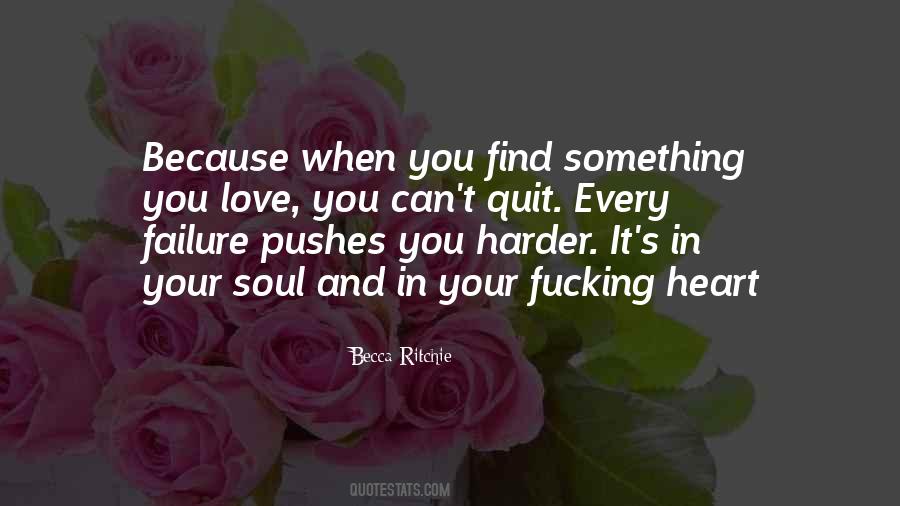 #61. I believe that once you find something you love, something that works, why keep looking for more? People always think there is something better around the corner. I decided a long time ago I'd stop wasting my time looking for something better and enjoy what I had. - Author: Wendy Mass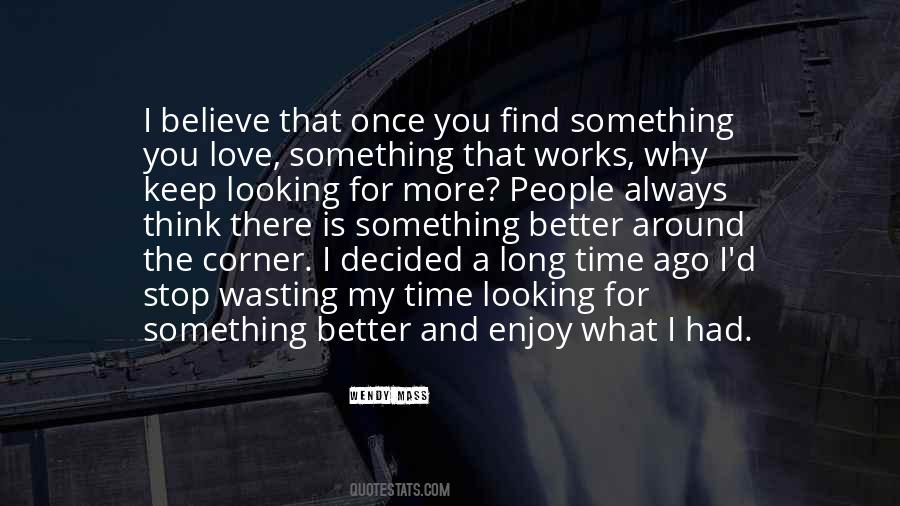 #62. You are never too busy to make time for what you love. It's just a matter of prioritizing - evaluating how you spend your days and dedicating time for what you value. If something is really important to you, you will find a way to fit it into your life. - Author: Jessica N. Turner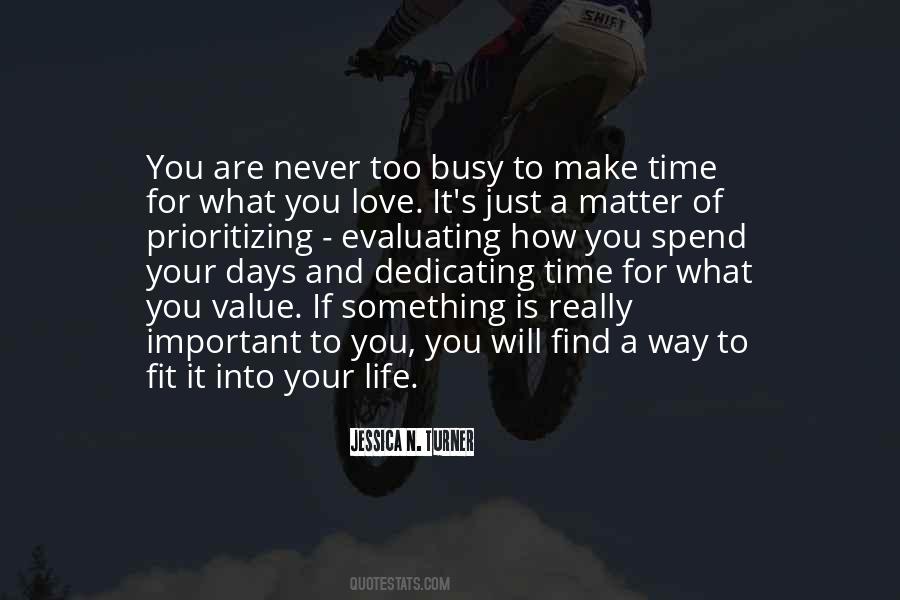 #63. A girl would be lucky to have you, but not like this, Carmine. Not the way you treat people now. You're wasting your time, and it's not worth it. You need to find something that is. So, maybe your life isn't boring, but it has to be unfulfilling. - Author: J.M. Darhower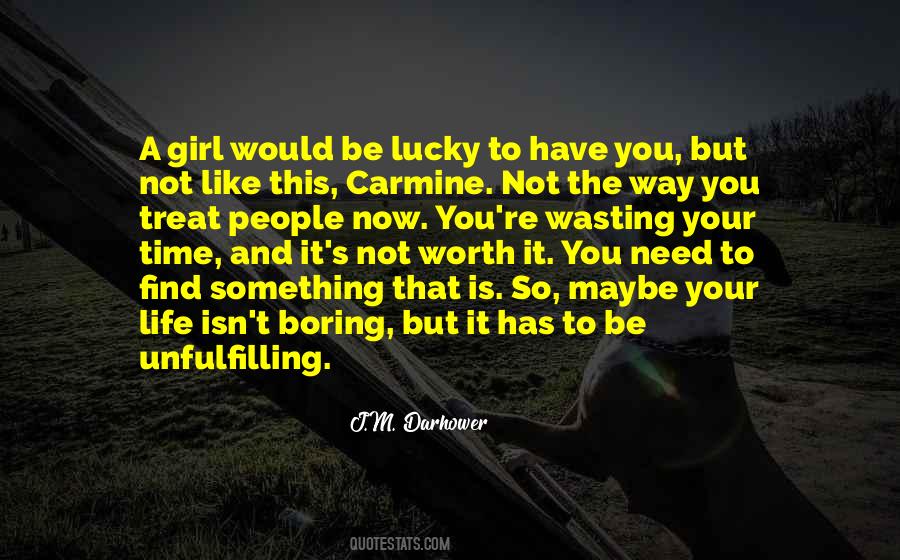 #64. Find something you love and do it better than everyone else. - Author: Gurbaksh Chahal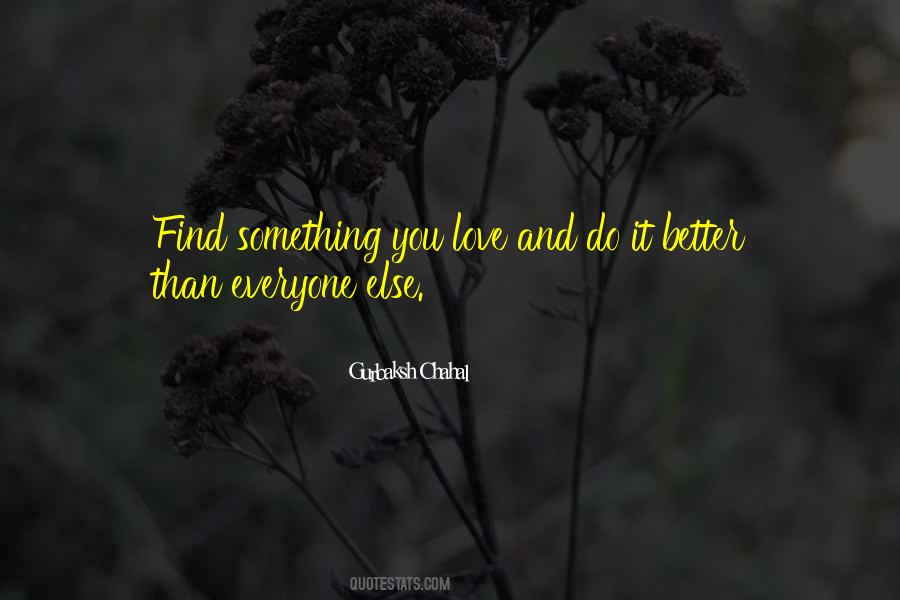 #65. My advice to everyone is find something that you love to do and you are passionate about. Because if you're not passionate about something, it's very difficult to be dedicated to it. - Author: Anousheh Ansari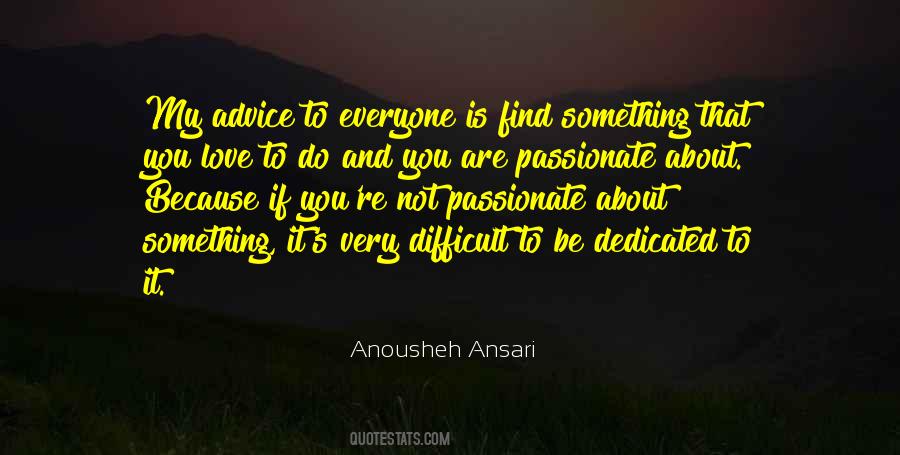 #66. Find something that reminds you of Jack ... "
"Like what?"
"The two of you were lovey-dovey. Didn't he ever give you.. I don't know ... a heart shaped locket necklace?"
"No."
"A teddy? With a T-shirt that says I LOVE YOU BEARY MUCH?
I rolled my eyes. "No. He wasn't like that. - Author: Brodi Ashton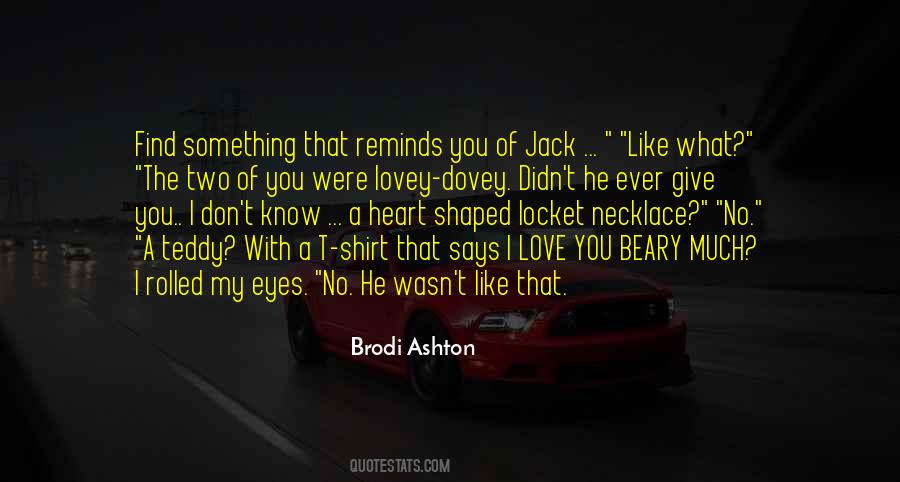 #67. Find something you love to do and then do it for the rest of your life - Author: Max Fisher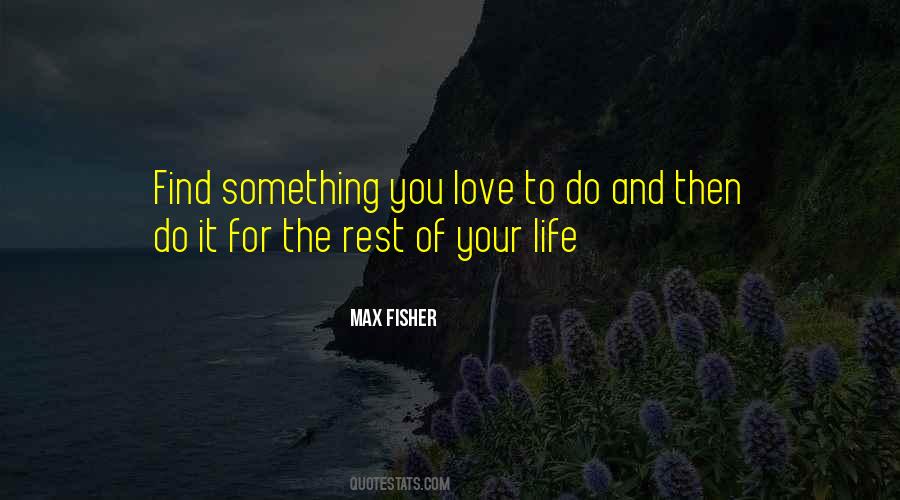 #68. True love is something, so very true and very rare to find. So, if you ever find such a thing. Treat it as if it were some treasure. Because, once you find such a thing and set free; it will not ever return. So, treat it as if its your most precious gift ... - Author: Jynnette L. Miller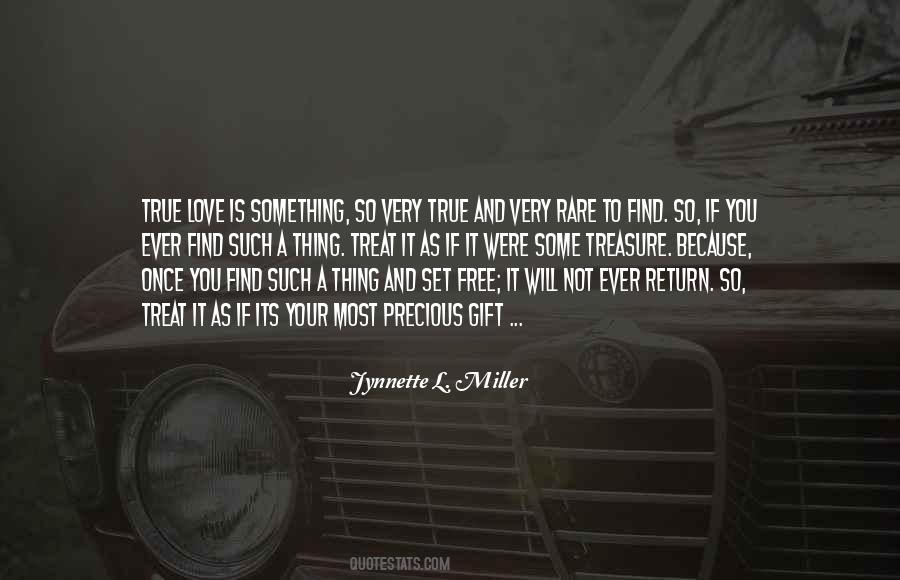 #69. I find myself more and more behind these days. You have to be really diligent. I don't have kids, which helps. I'm always working on something, whether a book, or a law review article that no one will ever read, or teaching. It pretty much means I work a lot, but it's all stuff I love. - Author: Alafair Burke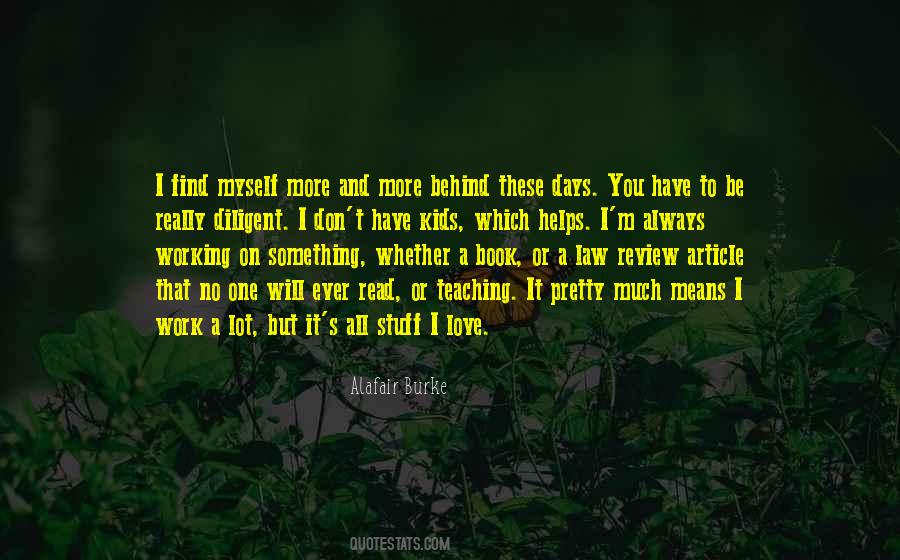 #70. I wanted something grand and sweeping."
"The kind of love you find in novels?"
"Maybe. That makes me incredibly stupid, I suppose. - Author: Paula McLain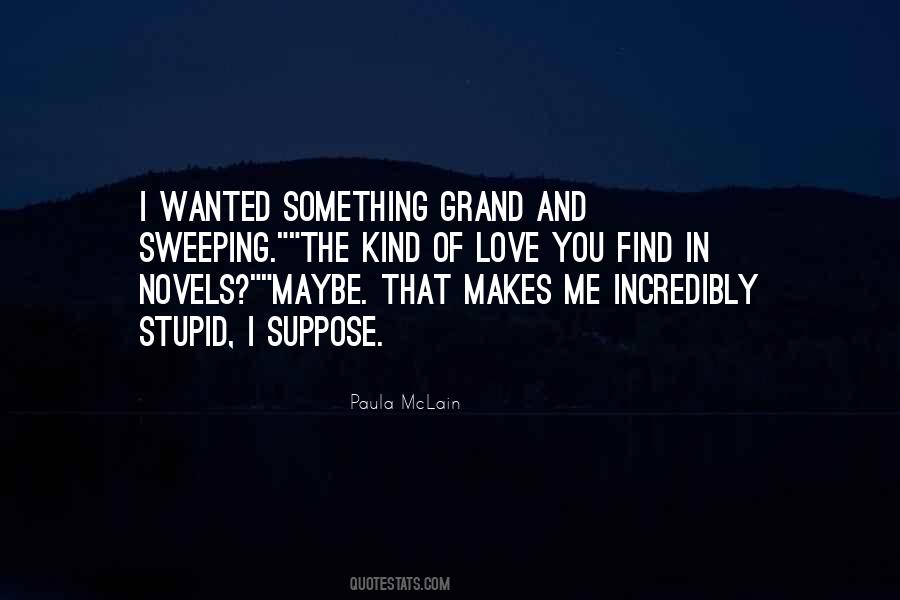 #71. If you can find something you love, go for it everyday of your life, and it would be really good to you. - Author: Jenifer Lewis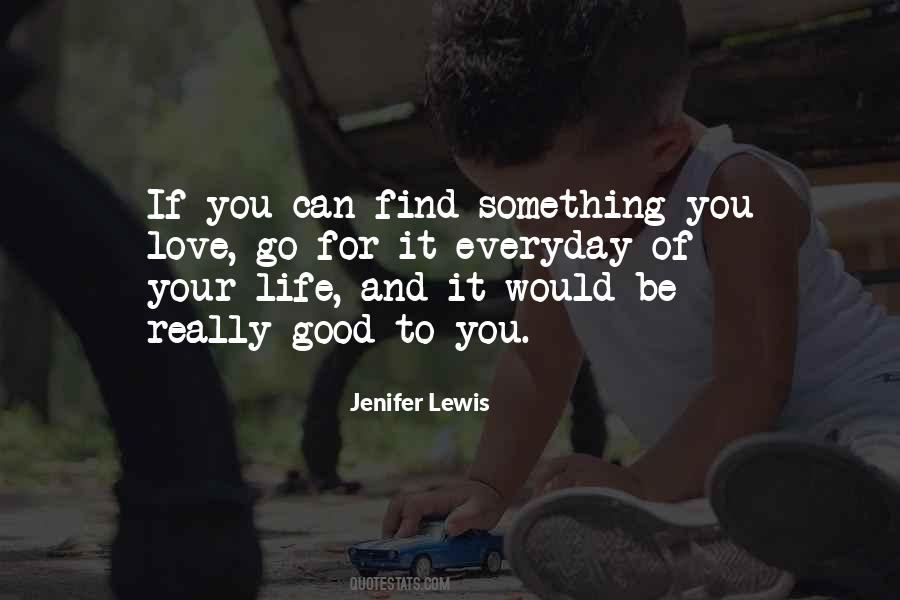 #72. The funny thing is, I don't care too much. You think you love something so badly, but when it's gone you find out you don't care so much. - Author: Damon Galgut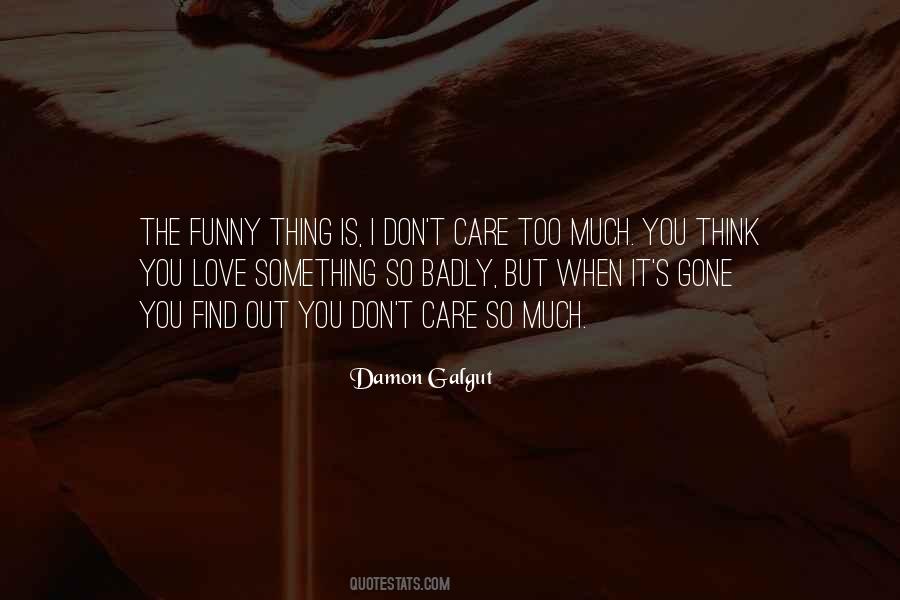 #73. The pain is what you make of it. You have to find something in it that yields. I understood my guiding imperative as: keep bleeding, but find some love in the blood. - Author: Leslie Jamison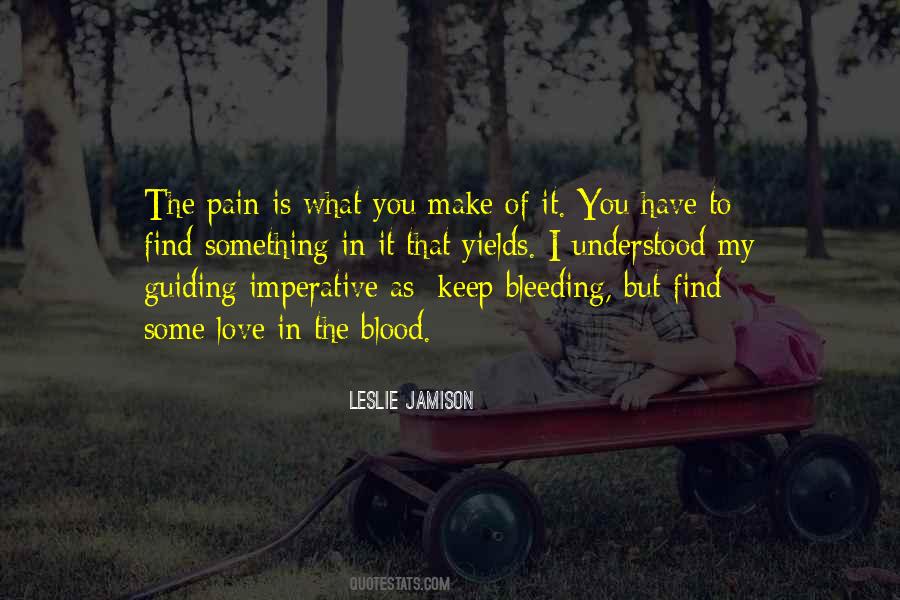 #74. Find something that you love. Something that gets you so excited you can't wait to get out of bed in the morning. Forget about money. Be happy. - Author: Chris Gardner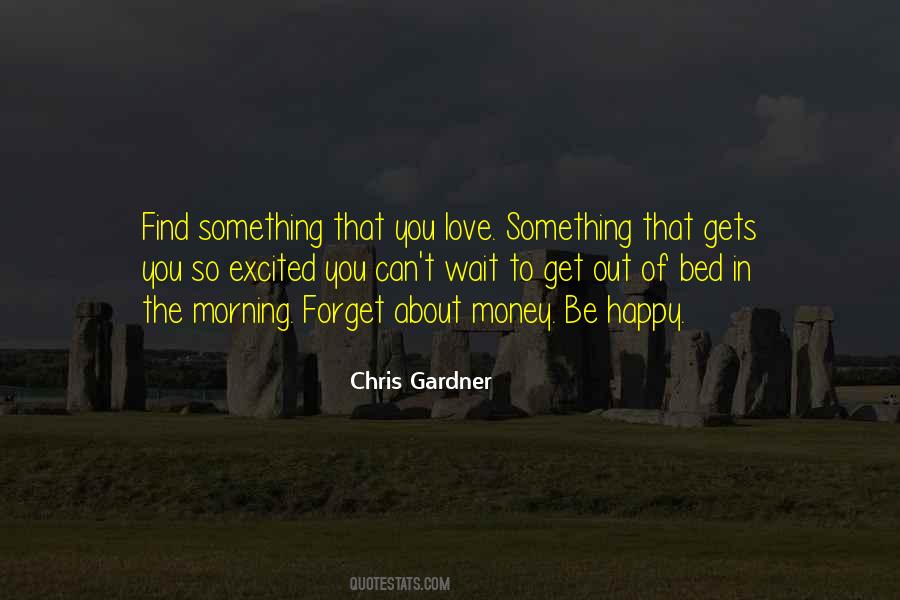 #75. Writing is my love. If you love something, you find a lot of time. I write for two hours a day, usually starting at midnight; at times, I start at 11. - Author: A. P. J. Abdul Kalam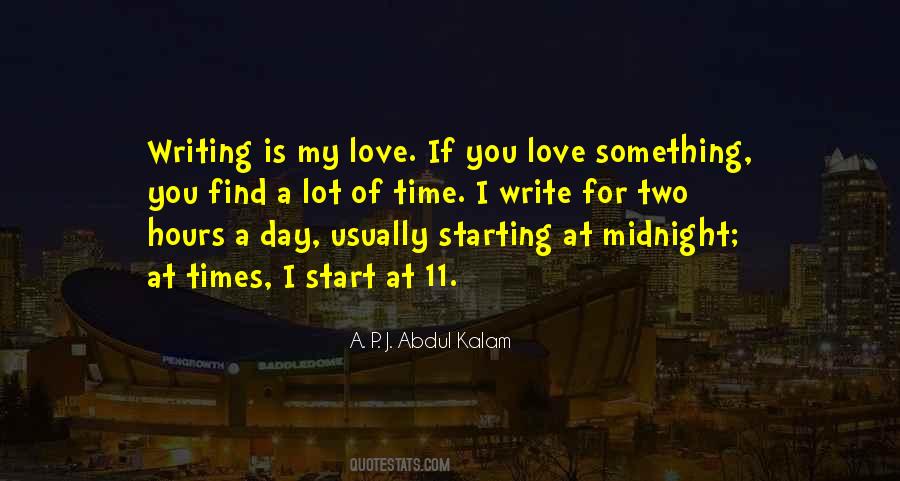 #76. Every small thing grows when you nurture it, Rosie. Love is just the same. But if that is making you miserable then, leave and find something else that brings you happiness you deserve to feel. - Author: Cecelia Ahern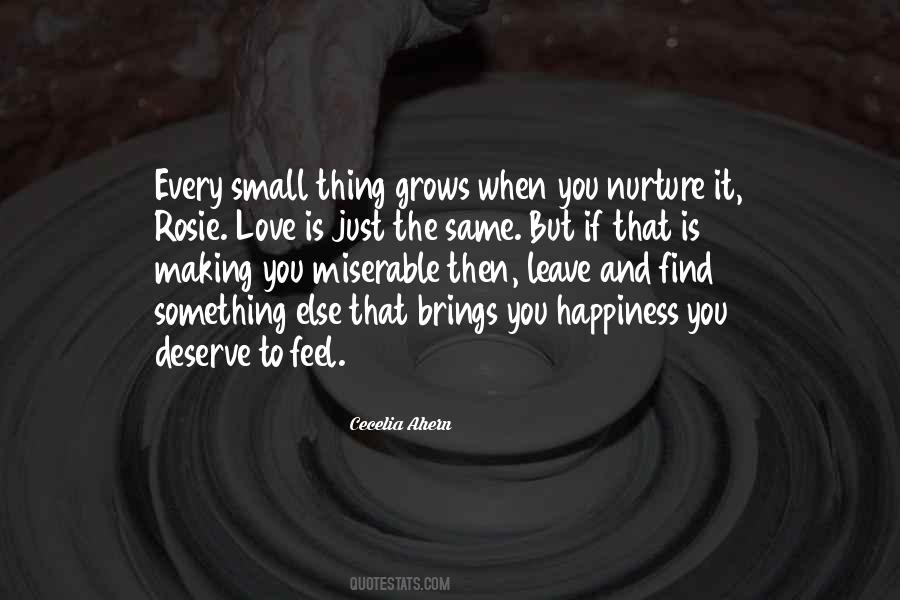 #77. I feel like if you turn on country radio, you will find something you'll love because it's so diverse.And that's a great thing. - Author: Miranda Lambert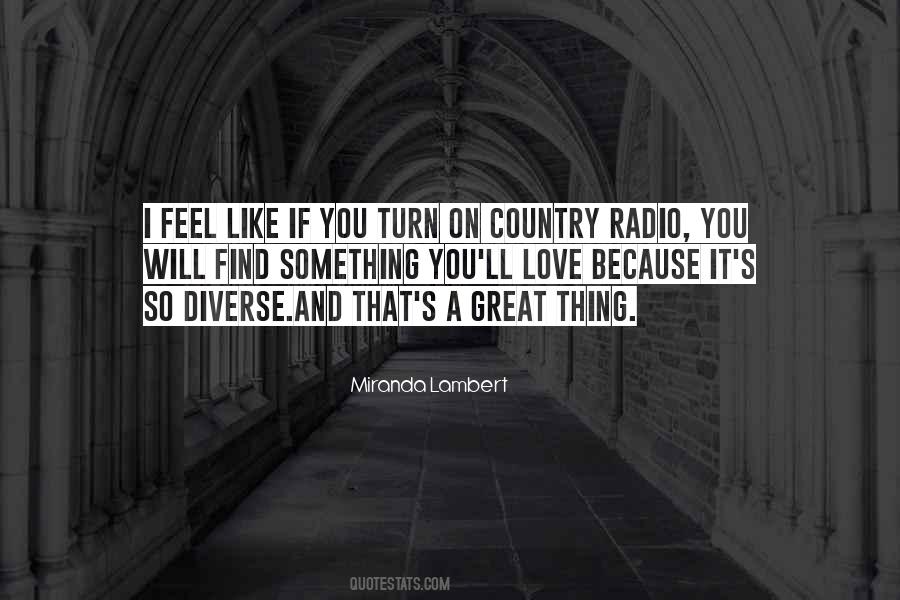 #78. When you're looking for something, you will find it. - Author: Debasish Mridha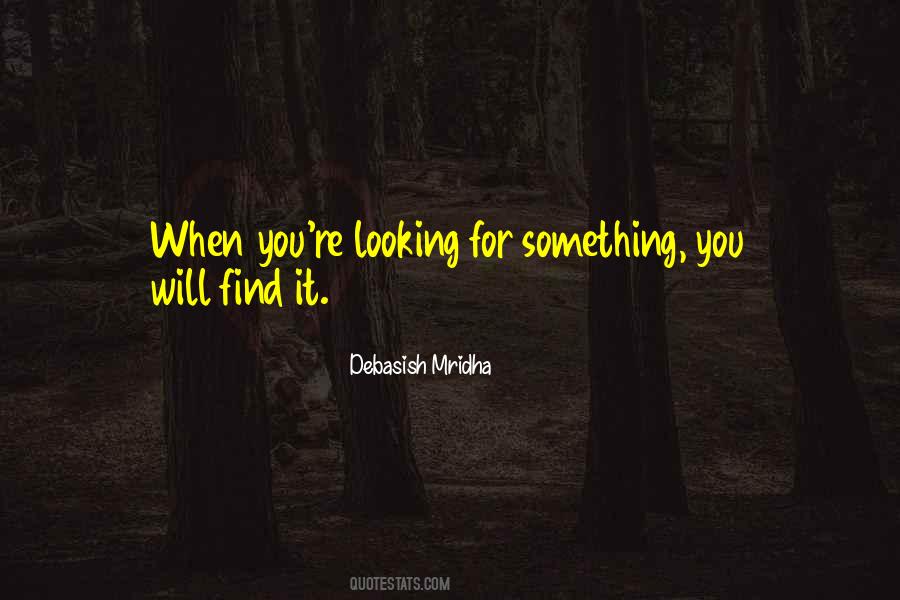 #79. You must find something that you deeply love and are passionate about and are willing to sacrifice a lot to achieve. - Author: Howard Schultz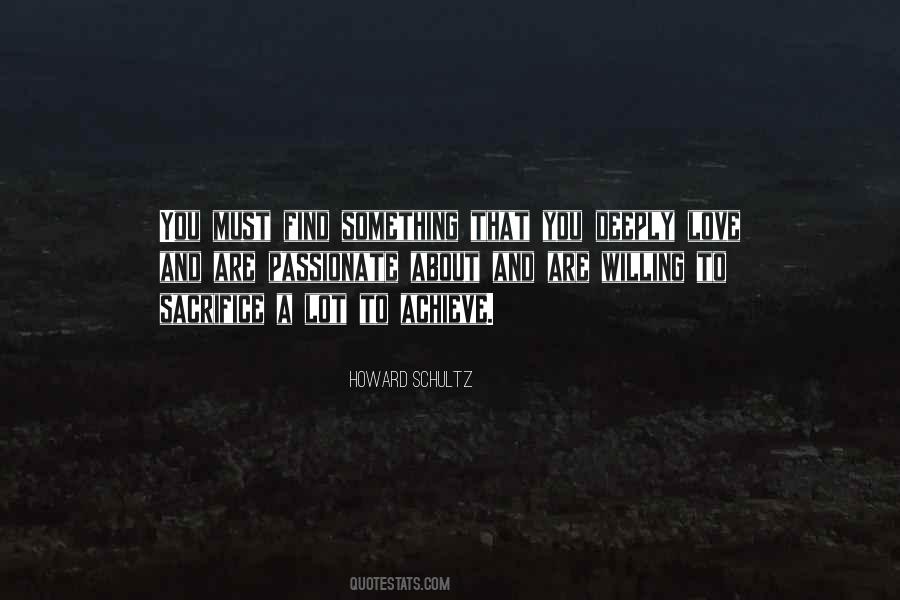 #80. Don't find work, find an interest and do it with love. If you can earn a living doing something interesting, then you will never have to work. - Author: Debasish Mridha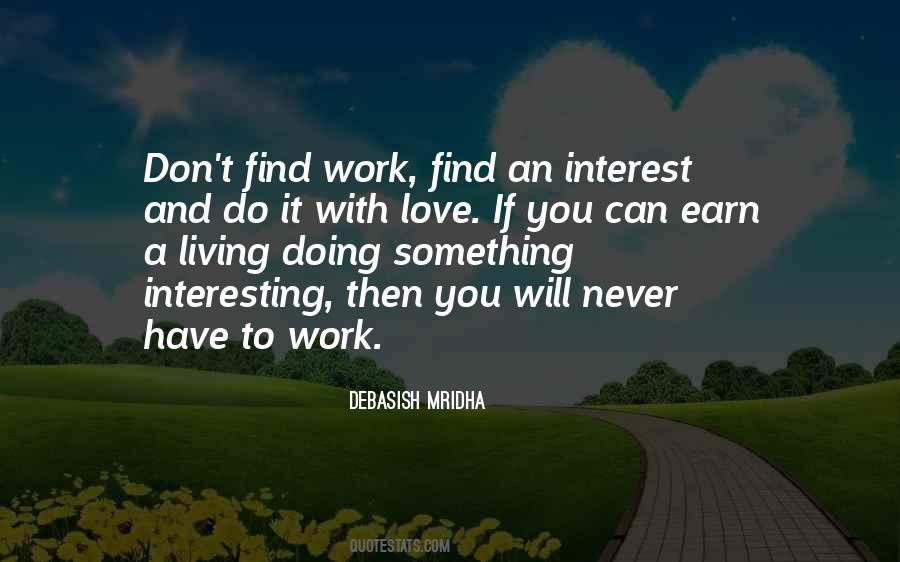 #81. Wherever you find real love, you will also find humility. Remember something: humility is not a weak and timid quality. Too often we feel that humility is a sign of weakness. This is not so. It is the sign of strength and security. - Author: Kathryn Kuhlman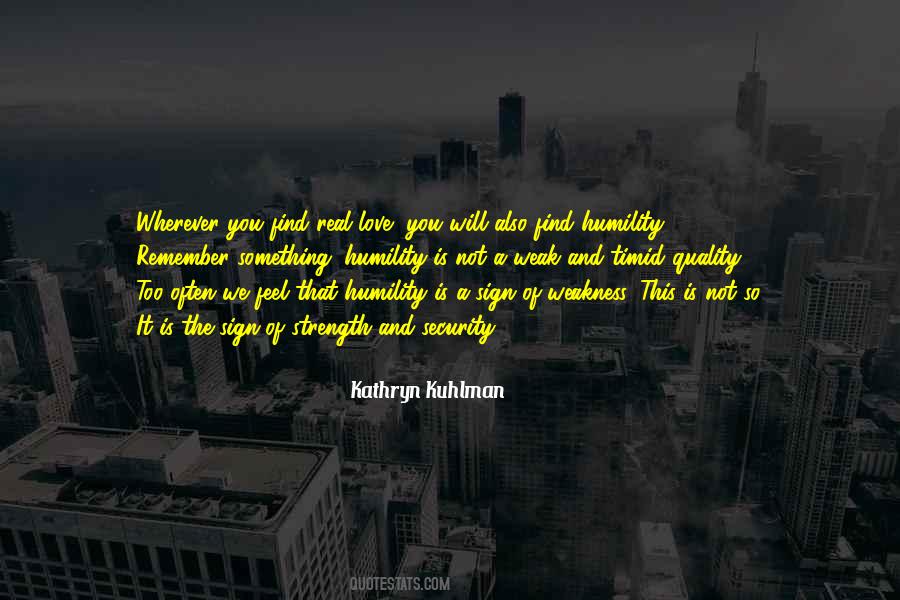 #82. You need to find your gift, something you love doing - Author: Sunday Adelaja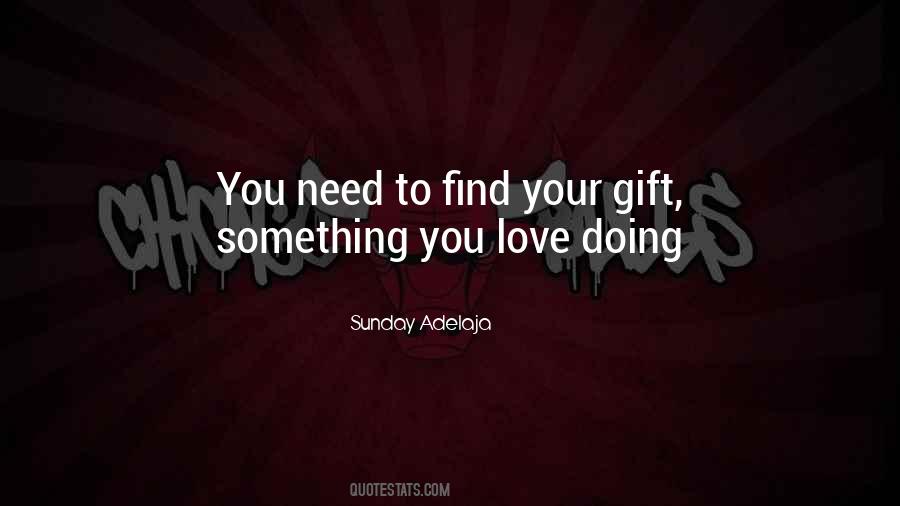 #83. When we lose people we love, we should never disturb their souls, whether living or dead. Instead. we should find consolation in an object that reminds you of them, something ... I don't know ... even an earring - Author: Orhan Pamuk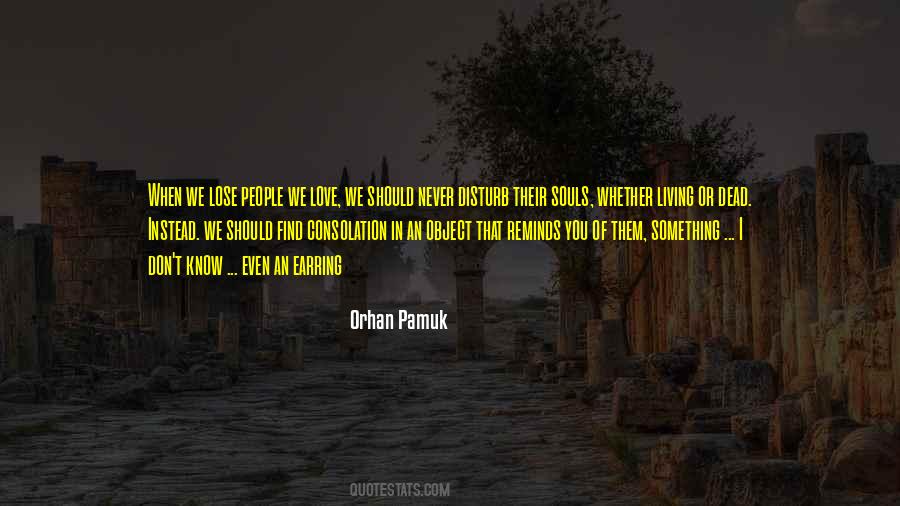 #84. What do you live for when everyone and everything you love is gone? Do you keep going, keep stumbling through the dark, or do you find something new to cherish? Maybe neither. Maybe you walk silently and ignore the blows time takes on your heart. - Author: Courtney M. Privett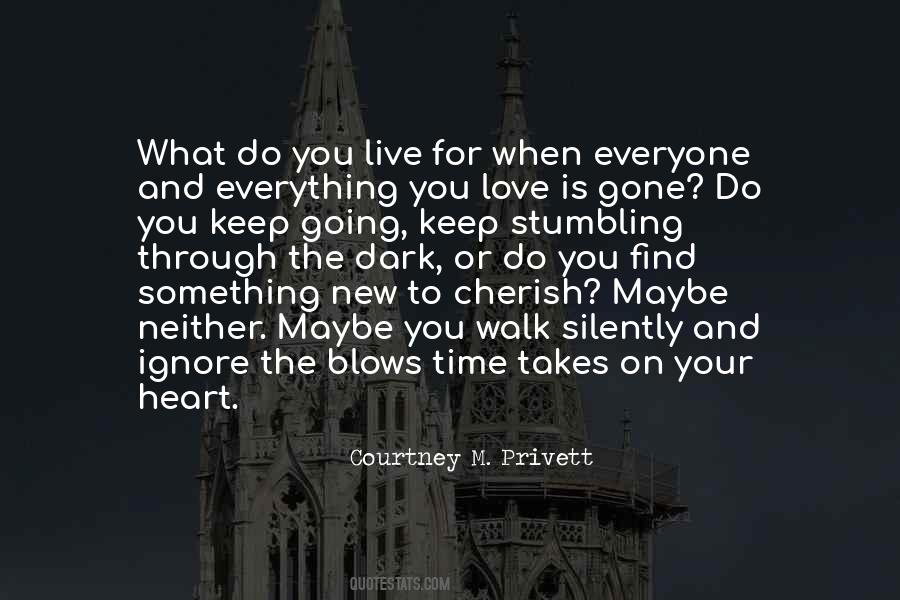 #85. You didn't find strength when you couldn't live without it. You found it when you had someone or something you loved so much that it forced you to stretch the edges of yourself further than you thought was possible. - Author: Martina Boone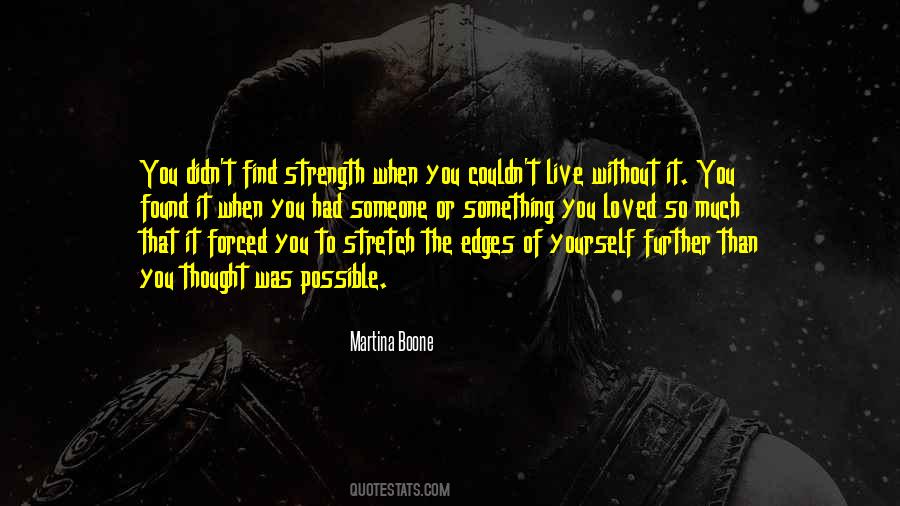 #86. Find what you love, because greatness is based on great gifts. If you love something, you can count on the fact that you are genetically gifted at it. - Author: Barbara Sher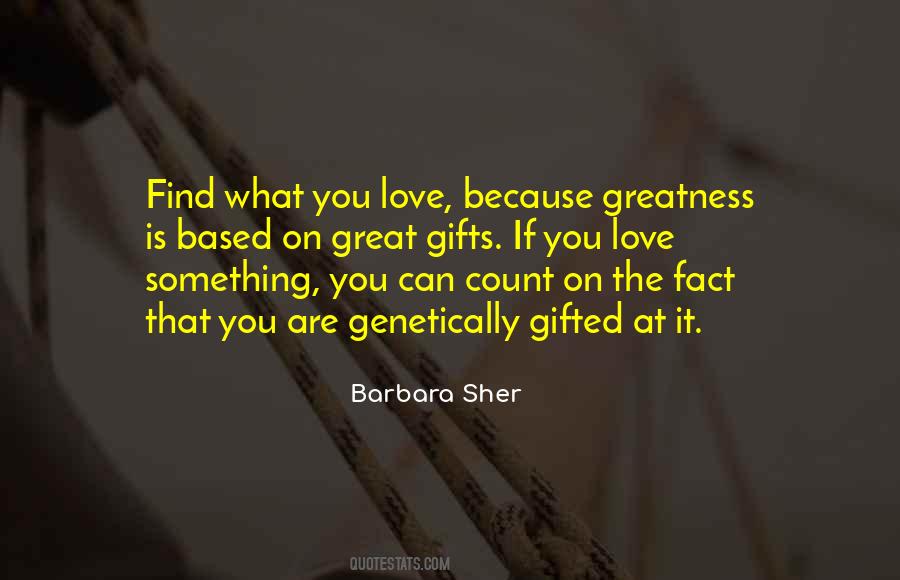 #87. Love; n.; (luhv), The emotion of something unexplainable. A word so powerful, it's hard to find meaning in any dictionary. Just be glad you found it. (eg: The world shall love someday) - Author: No One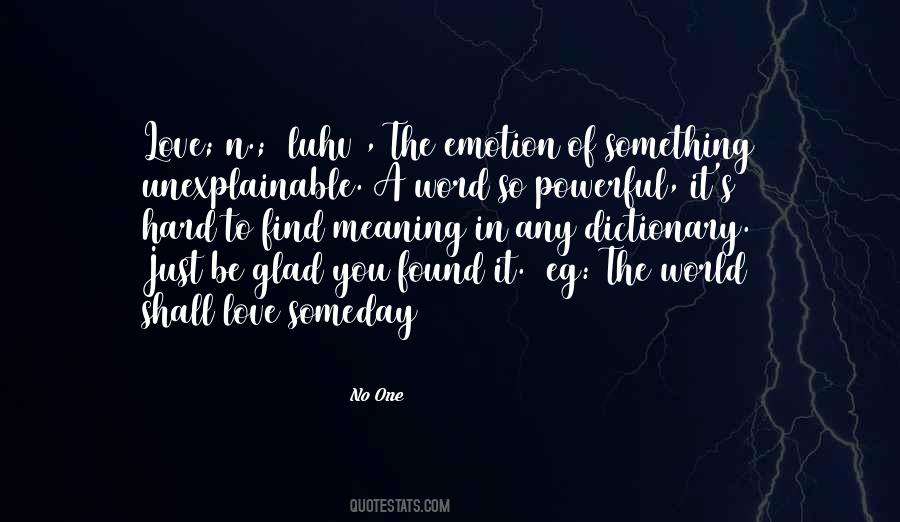 #88. If you pay attention to the movies they will tell you what people desire and fear. Movies are hardly ever about what they seem to be about. Look at a movie that a lot of people love, and you will find something profound, no matter how silly the film may be. - Author: Roger Ebert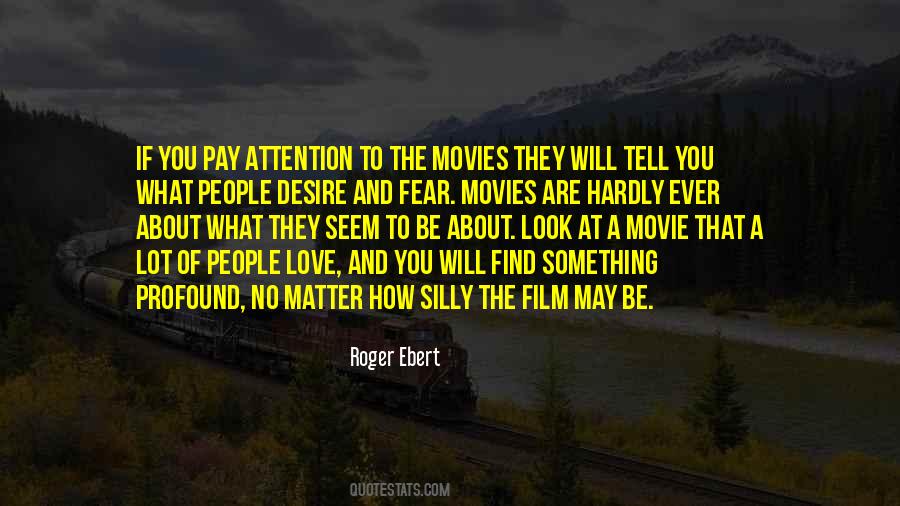 #89. The important thing is not being afraid to take a chance.
Remember, the greatest failure is to not try. Once you
find something you love to do, be the best at doing it. - Author: Debbi Fields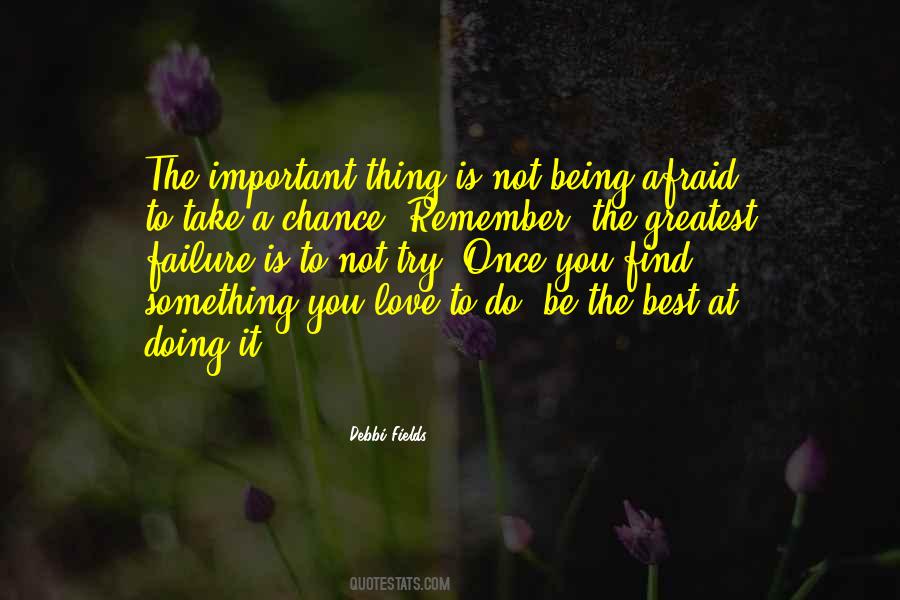 #90. It's better to be happy doing something you love, even if you don't find success right away. - Author: George Burns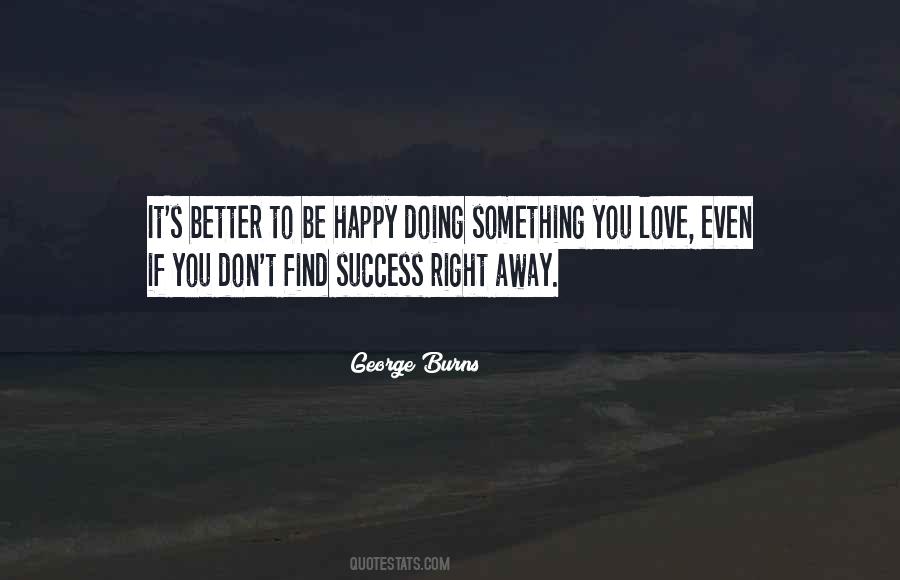 #91. Find something you love to do. If you don't make money at it, at least you love going to work. - Author: Mark Cuban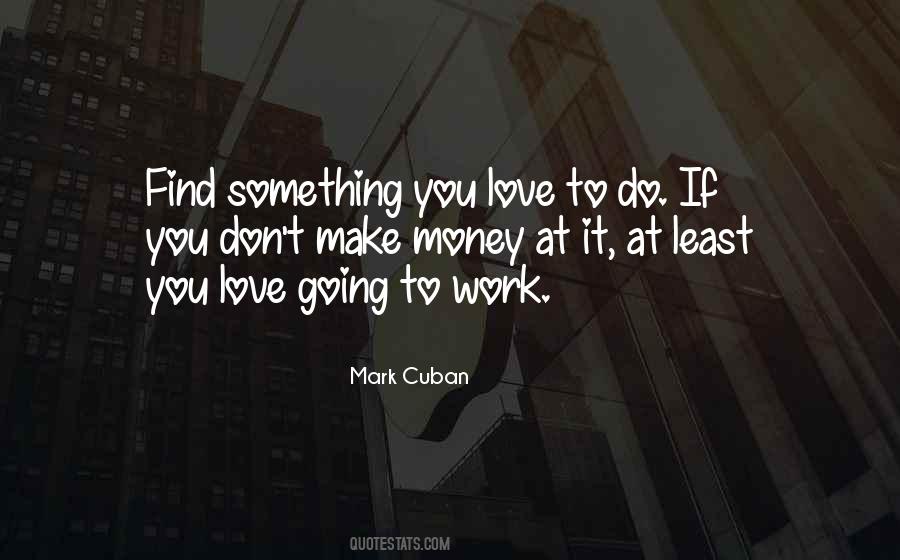 #92. But find something that you absolutely love doing. And then get to love the way you do it. That's the uniqueness of all of us. That's it. - Author: Al Lewis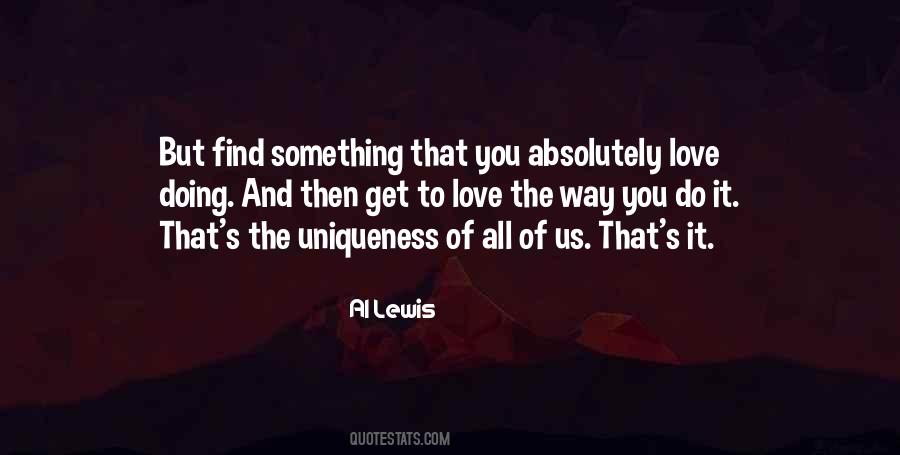 #93. Entrepreneurs: See yourself as victorious- and the best way to be victorious is to be passionate. Find something you love doing! - Author: Donald Trump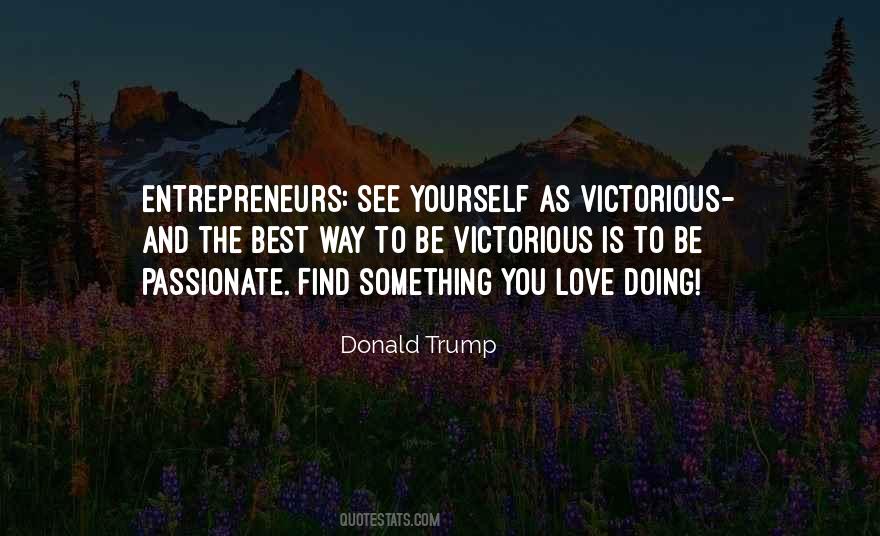 #94. The secret to success: find something you love to do so much, you can't wait for the sun to rise to do it all over again. - Author: Chris Gardner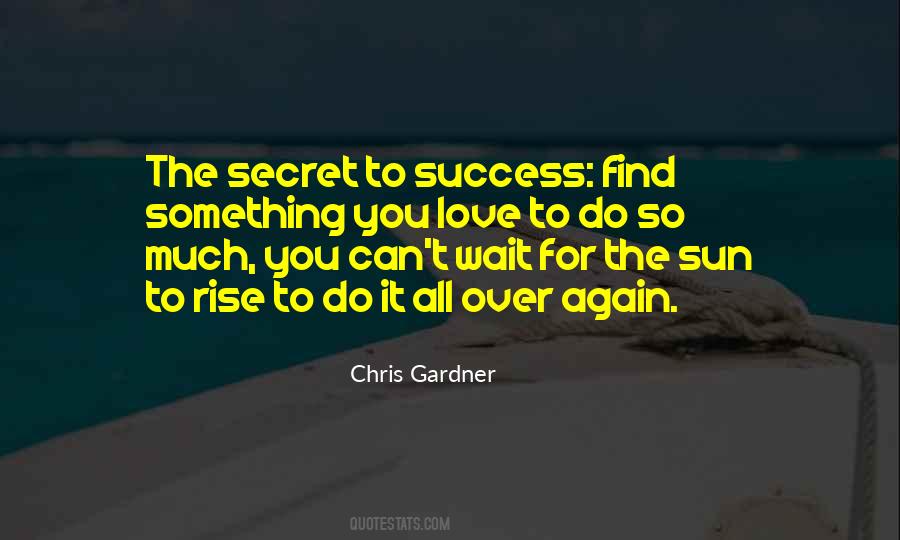 #95. I love Vivienne Westwood. Her work is so interesting, you can always find something that's great and fits you. - Author: Beth Ditto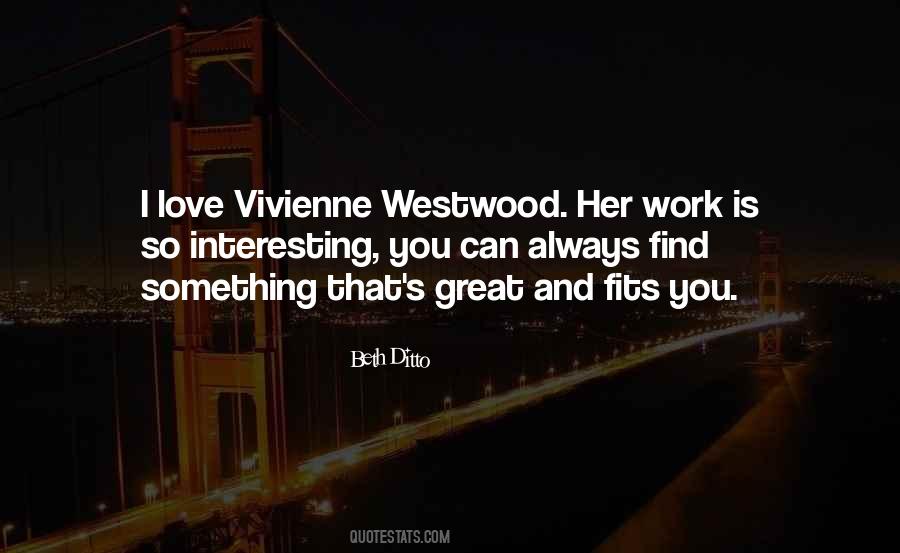 #96. Find something in life that you love doing. If you make a lot of money, that's a bonus, and if you don't, you still won't hate going to work. - Author: Jeff Foxworthy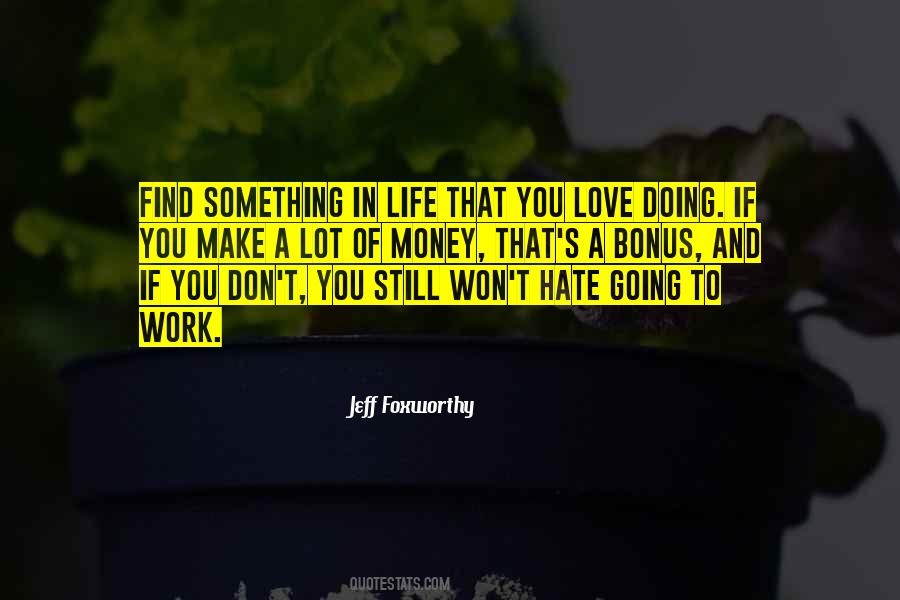 #97. Give up your heart and you lose your way
Trusting another to feel that way.
Give up your heart and you find yourself living for something in somebody else.
Sometimes you wonder what happens to love.
Sometimes the touch of a friend is enough. - Author: Jackson Browne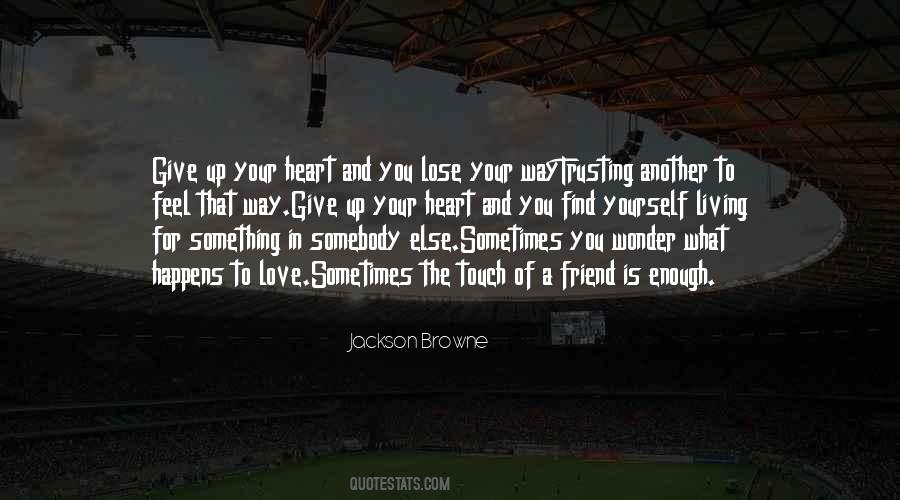 #98. there is something magical and addicting about going somewhere, being alone, and finding yourself in parts of the world you never knew existed, finding parts of yourself you never knew you would find. - Author: AVA.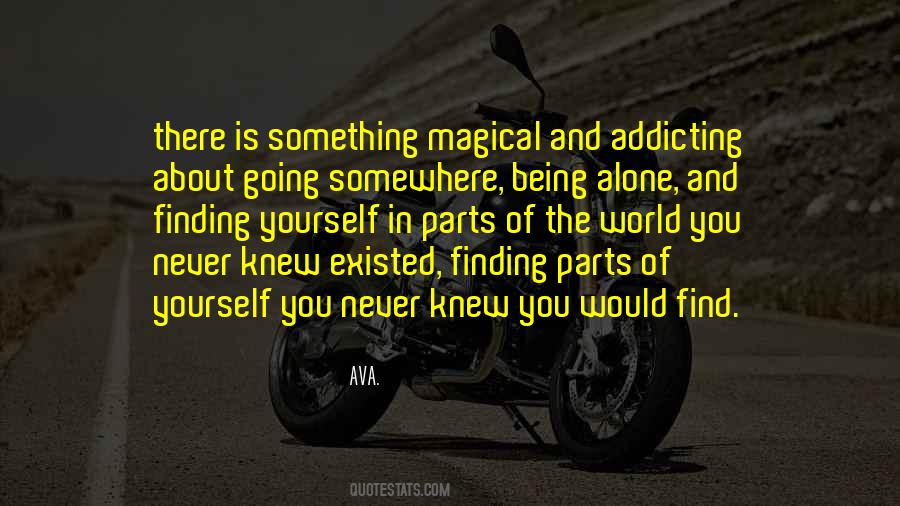 #99. Why worry about doing something you love? Figure out what the opportunity is. Find a thing, get good at it, learn to love it later. - Author: Mike Rowe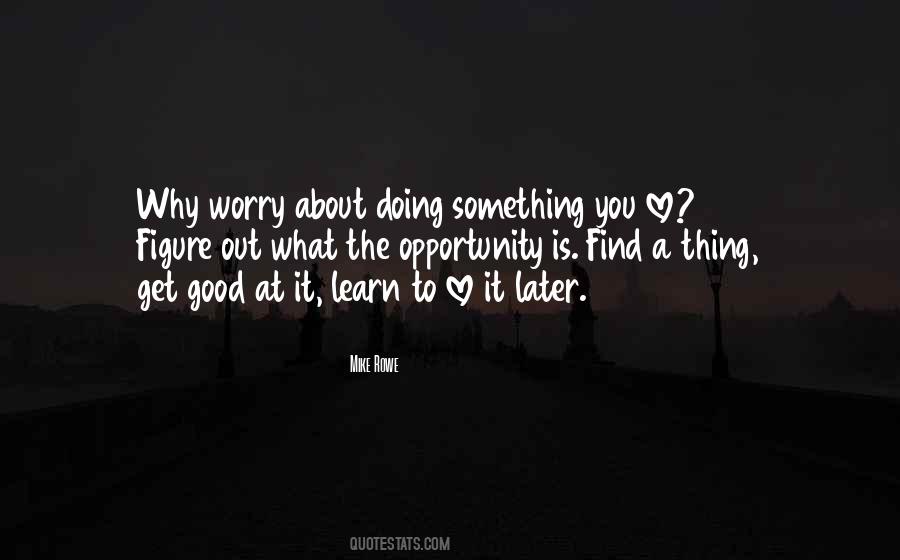 #100. I never feel burdened or overwhelmed by my work. People tell you to find something you love for a career, and I have. That makes me feel very lucky. - Author: Stephan Pastis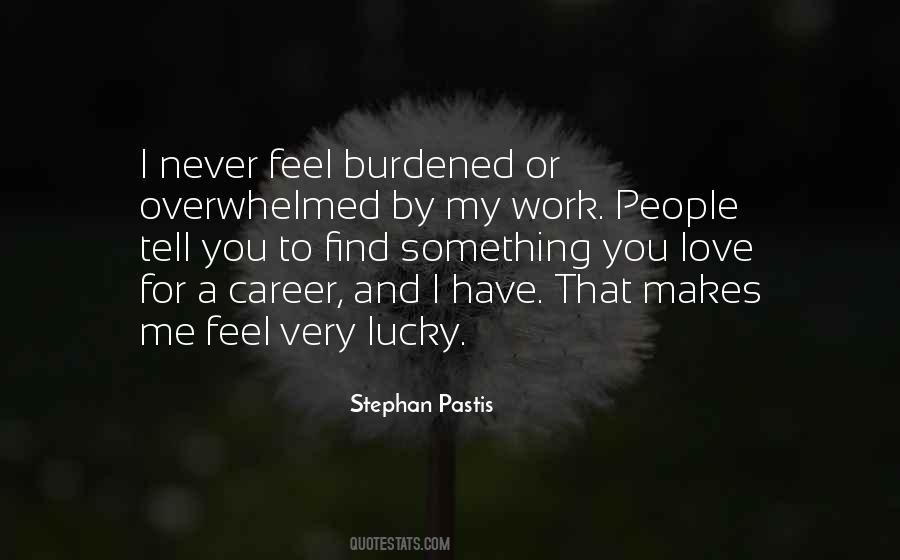 Famous Authors
Popular Topics