Fight With Love Famous Quotes & Sayings
List of top 100 famous quotes and sayings about fight with love to read and share with friends on your Facebook, Twitter, blogs.
Top 100 Fight With Love Quotes
#1. Love two men. My soul has two mates. I love them equally, and with the same amount of fierce devotion. And I'll fight to my death to have them both. - Author: J.A. Huss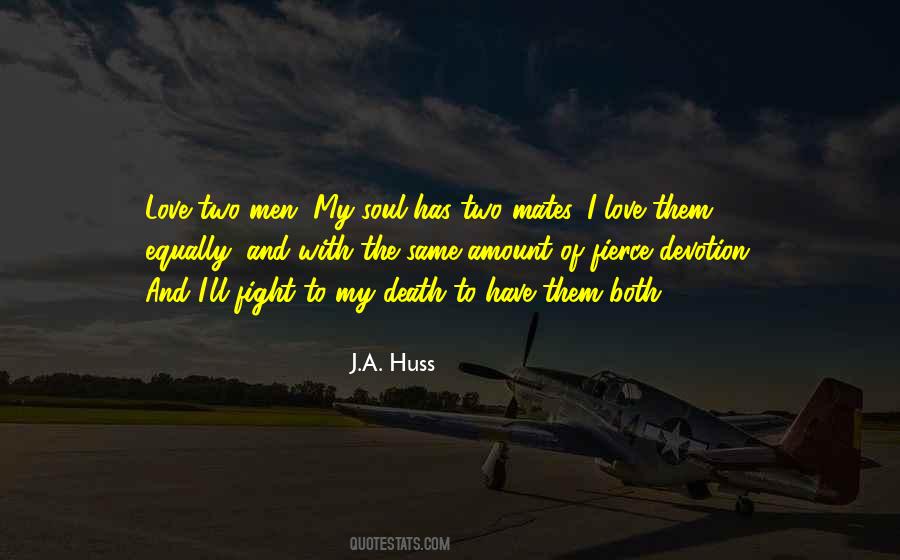 #2. O God, I can no longer fight my battles alone. I need Your help, Your love. Forgive me for all my mistakes. Cleanse my heart of all evil. Show me the way to peace and quiet and health, and fill me with love even for my enemies - Author: Unknown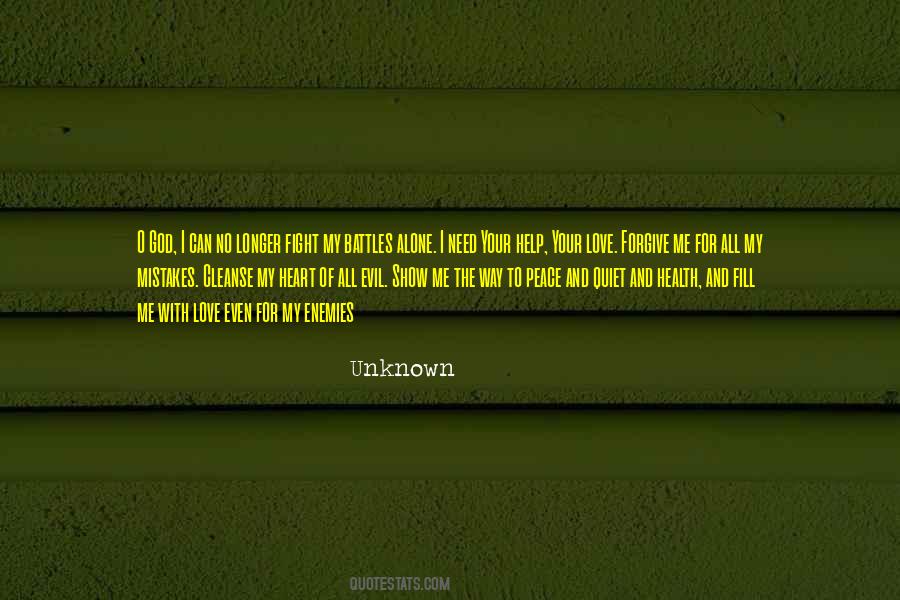 #3. I love your independence, I love that you don't swoon, I love that you'll fight me with your last breath if you think I'm wrong, and if I ever have to catch you, I swear I'll make sure you're standing on your feet as quickly as you can manage it. - Author: Dianna Hardy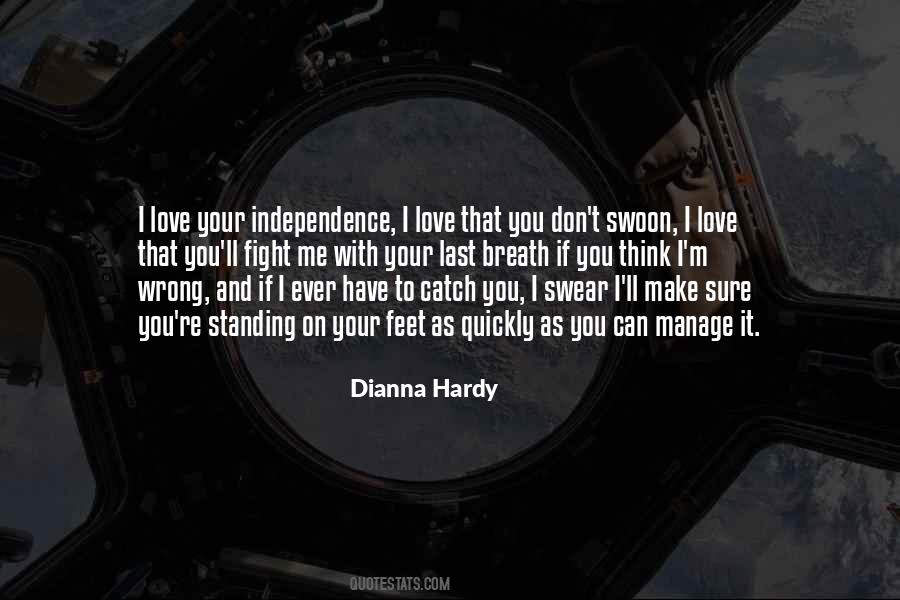 #4. There's little question that short stories, like poetry, don't get the respect they deserve in the culture - but what can you do? Like Canute, one cannot fight the sea, you have to go with your love, and hope one day, things change. - Author: Junot Diaz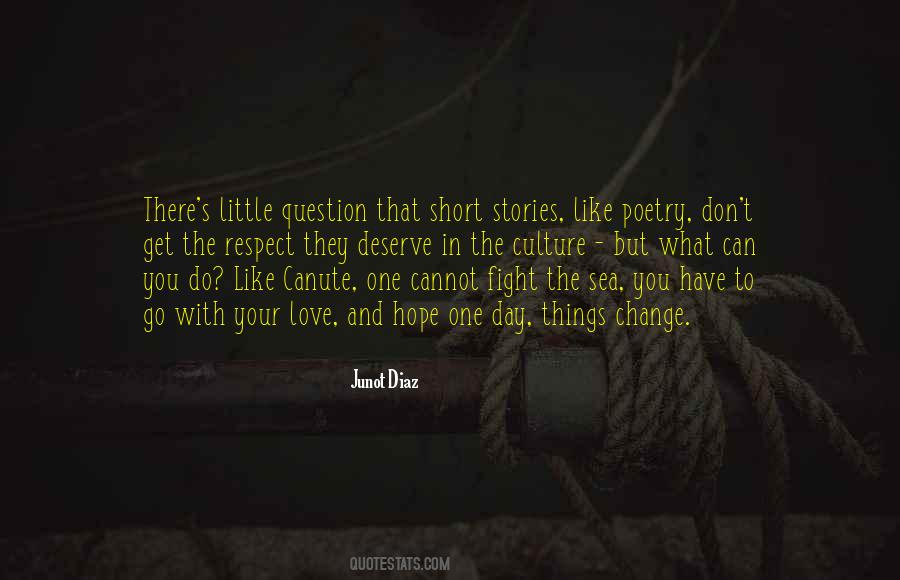 #5. If I had a life with Woods to look forward to I knew I could fight whatever darkness that tried to take me. Before Woods, I didnt know what I was living for. In my search to find myself, Id found so much more. I knew now why I wanted to live. I understood love. I had found it. - Author: Abbi Glines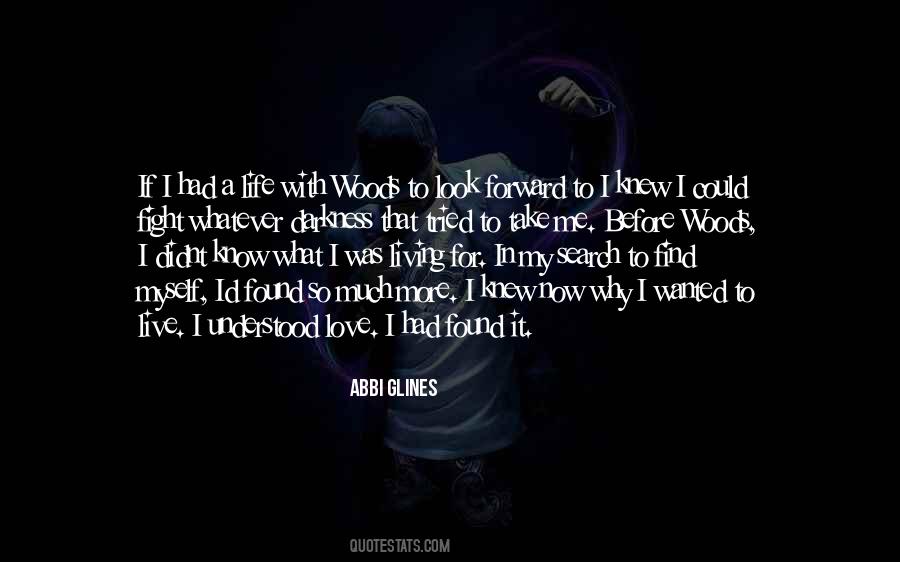 #6. I didn't want to want you."
"I didn't want to want you, either, but I did." Vaughn stepped closer to me. "you are everything I've never known, I fell in love with you a long time ago, princess. I've tried to fight it, but I can't, and I don't want to anymore. - Author: Samantha Young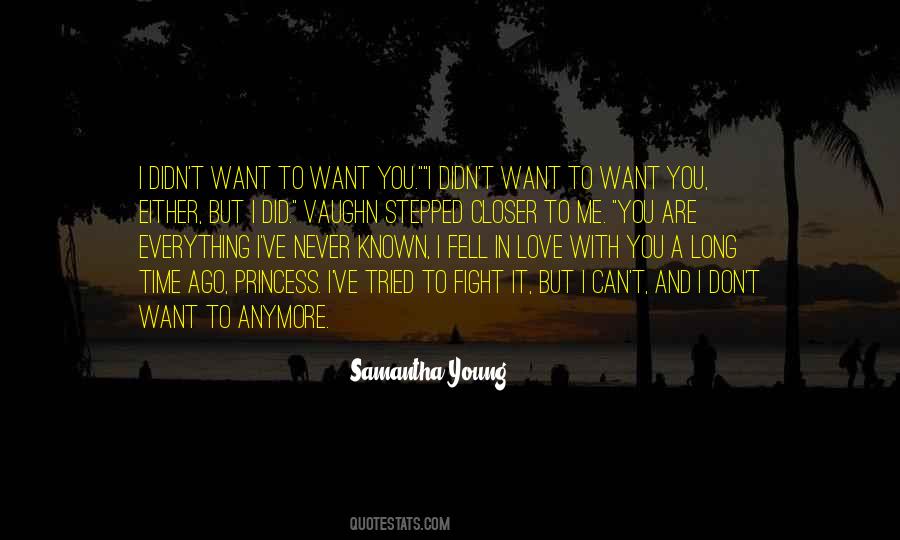 #7. It is not my place to offer pep talks, aphorisms, or dictums. But if I had to give one piece of practical advice it would be this: Find something that you love that they're fucking with and then fight for it. If everyone did that--imagine the difference. (50) - Author: David Gessner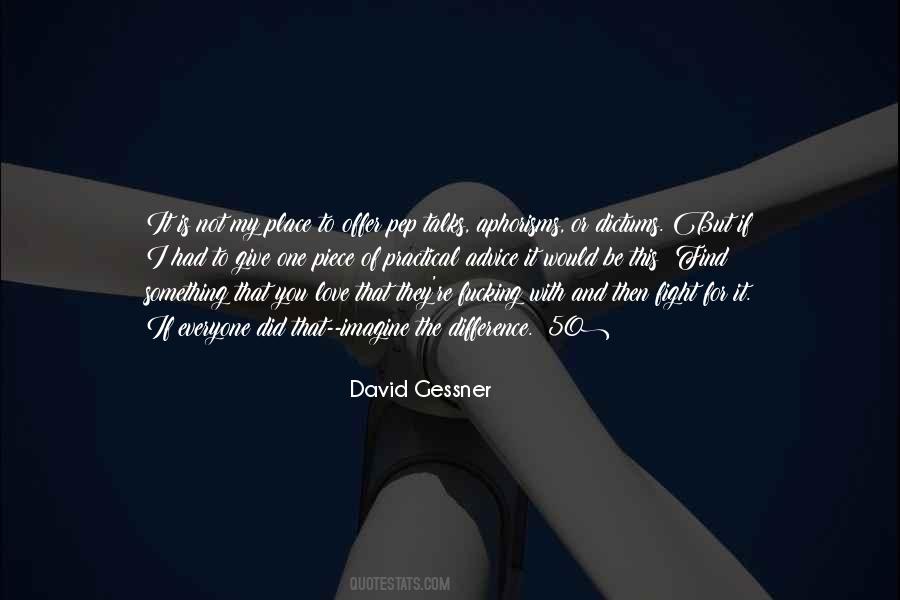 #8. Tell me you love me. Tell me you love me and will fight with me. - Author: Cassandra Clare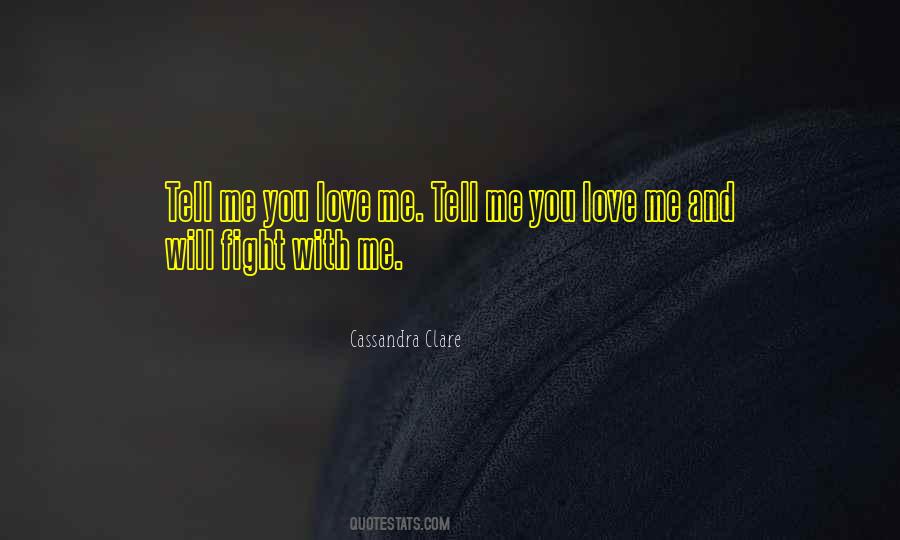 #9. I'm here all the way. Right next to you." I pressed her head into my shoulder. "I'm your rear guard, love. Your shield. Nothing will hurt you." I stroked her head and kissed it. "Let me fight with you baby. - Author: Lucian Bane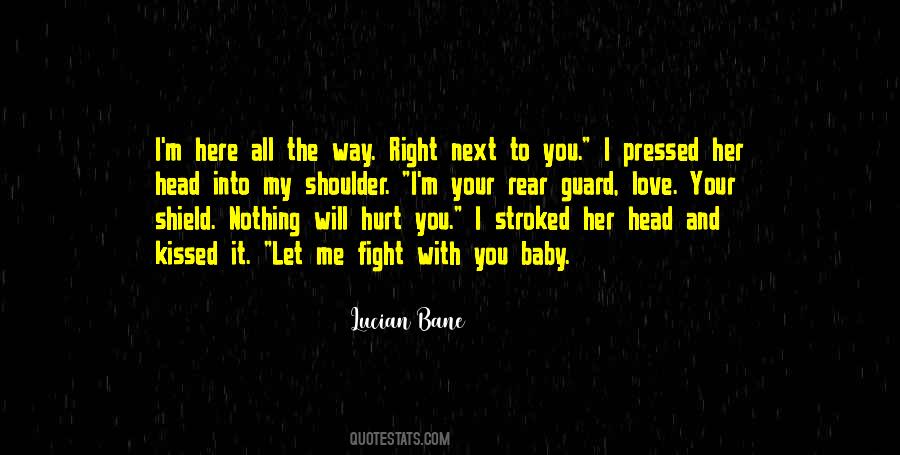 #10. Nor love they least
Who strike with right good will
To vanquish ill
And fight God's battle upward from the beast. - Author: Richard Hovey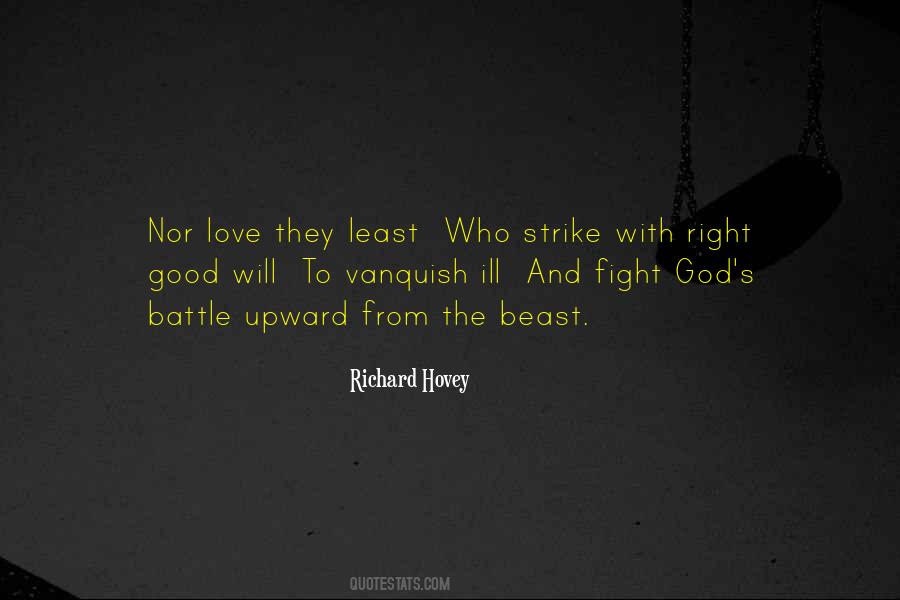 #11. I would not look upon anger as something foreign to me that I have to fight ... I have to deal with my anger with care, with love, with tenderness, with nonviolence. - Author: Thich Nhat Hanh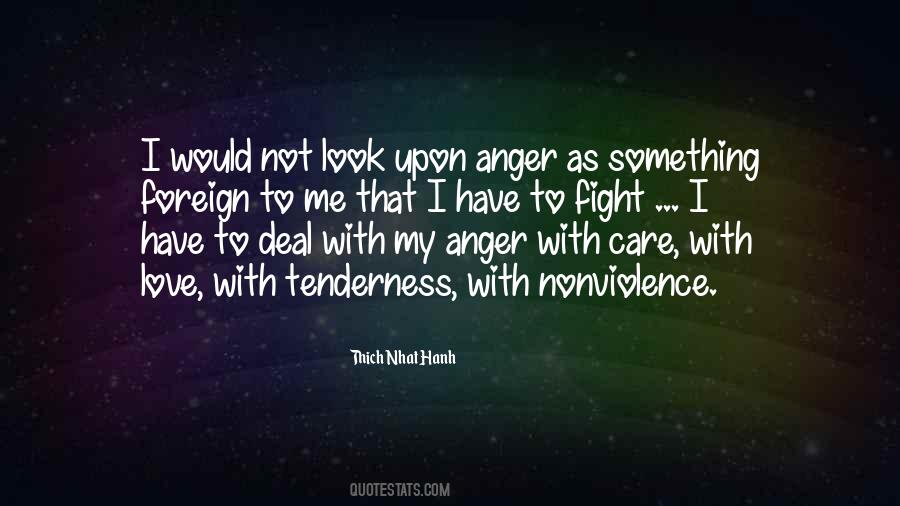 #12. Sometimes you know you've got a chance with a girl because she wants to fight with you. If the world wasn't so messed up, it wouldn't be like that. If the world was normal, a girl being nice to you would be a good sign, but in the real world, it isn't. - Author: Nick Hornby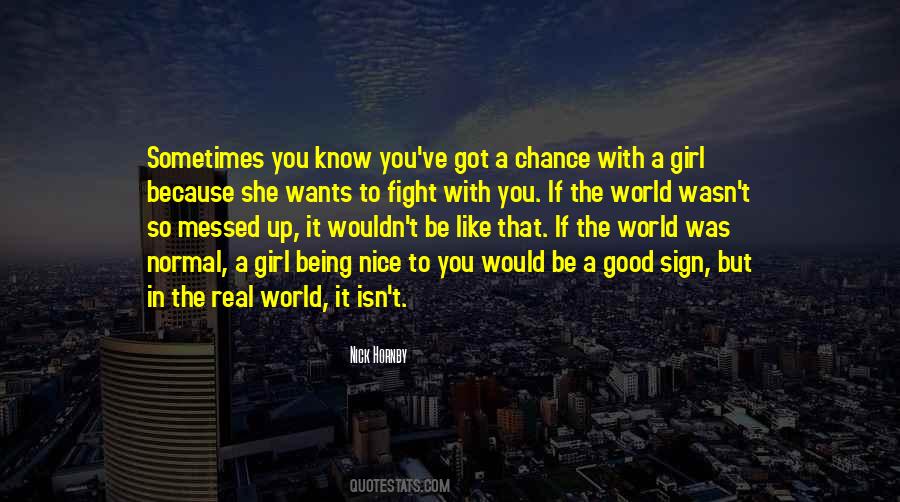 #13. But the truth is far less interesting than any of these explanations. The truth is, I thought I wanted something, but it turns out I didn't. End of story. I wanted the reward and not the struggle. I wanted the result and not the process. I was in love with not the fight but only the victory. And - Author: Mark Manson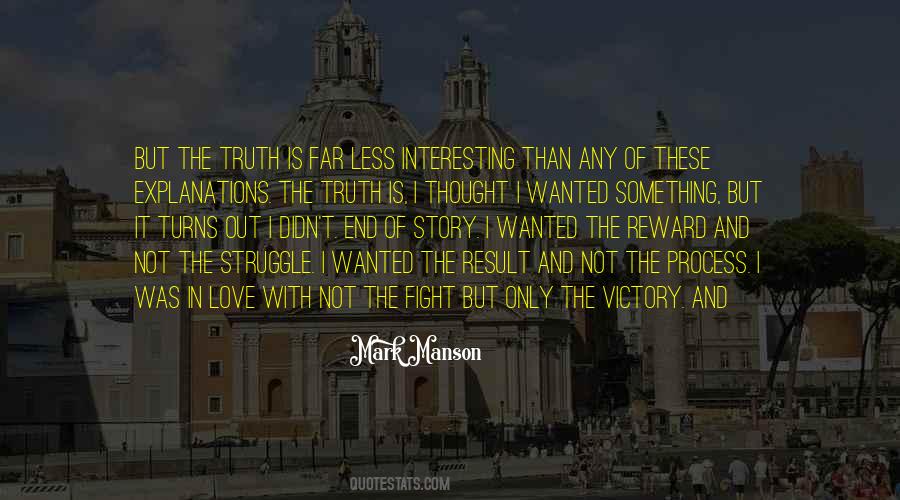 #14. I love doing fight scenes. I've been a dancer since I was 3 years old, so I think that helped me with the movements. - Author: Emeraude Toubia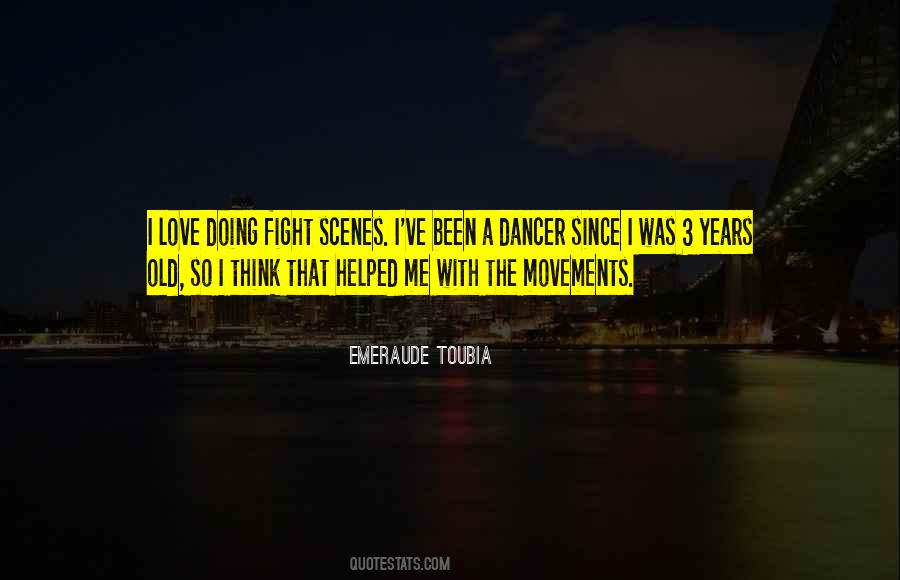 #15. Chipmunks jump, and
greensnakes slither.
Rather burst than
not be with her.
Bluebirds fight, but
bears are stronger.
We've got fifty
years or longer.
Hoptoads hop, but
hogs are fatter.
Nothing else but
Us can matter. - Author: Donald Hall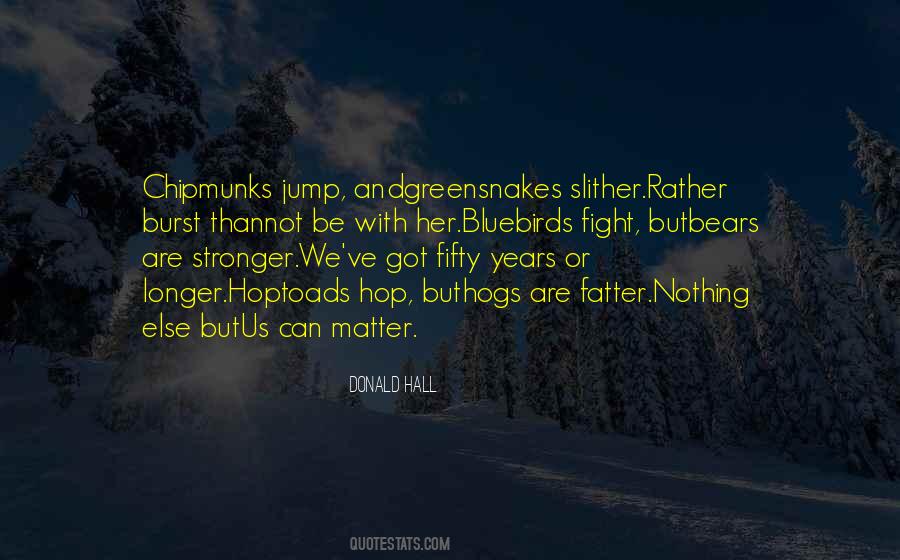 #16. To win the peace, fight with your love and understanding. - Author: Debasish Mridha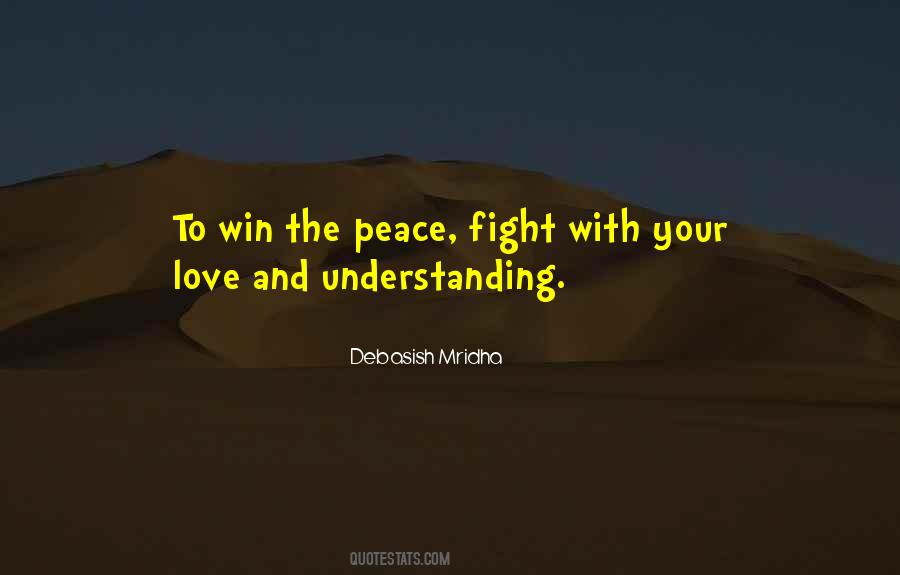 #17. I guess I haven't mentioned it before but I was, I am and I think I might always remain in love with you," he said with such passion that I froze in surprise. He went on. "And just so you know, I am prepared to fight for you, regardless of whether or not you share my sentiments. - Author: Farrah Naseem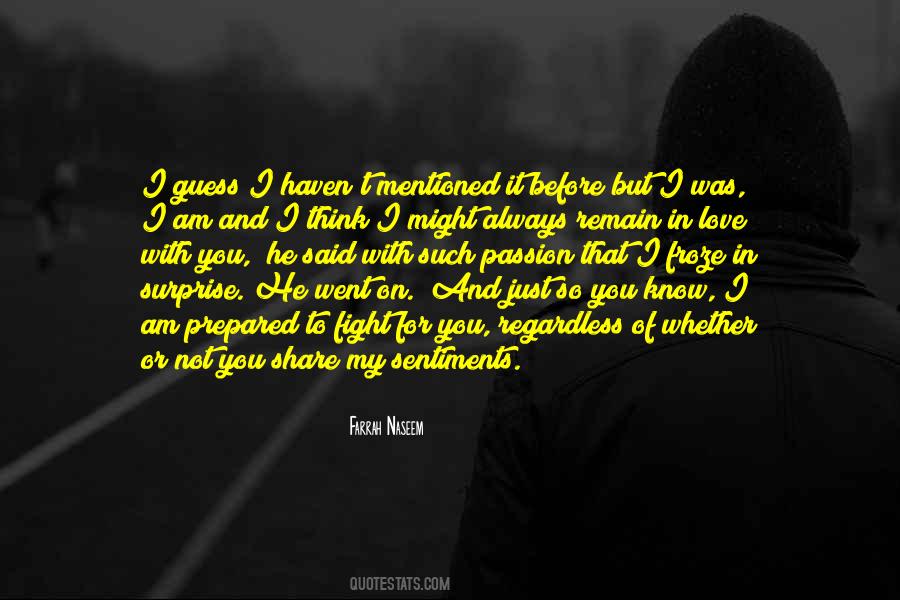 #18. 'The Master' with Joaquin Phoenix puts up a good fight, but my favorite movie of all time is 'The Wizard of Oz.' I just love it. I watched it over and over again as a child, and I think it has all the elements of wonder, and it's a beautiful story. - Author: Jonny Weston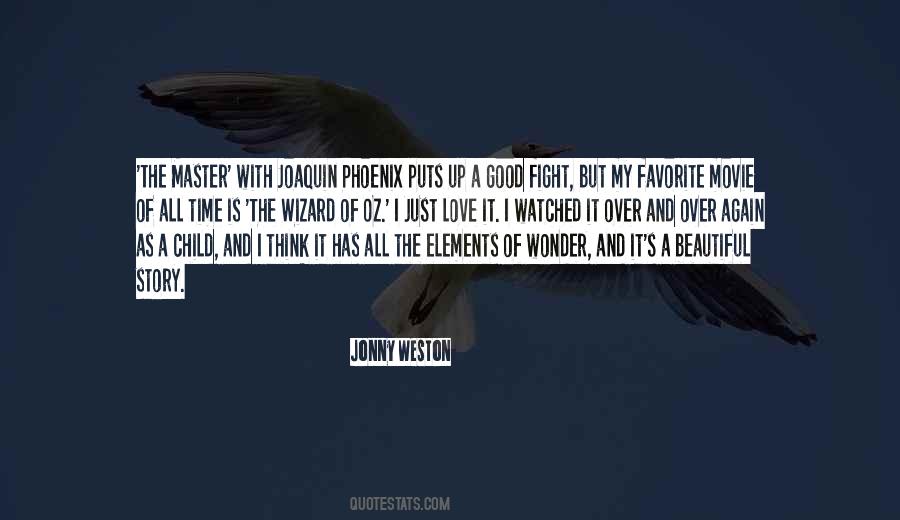 #19. And my desire,' he said, 'is a desire that is as long as a year; but it is love given to an echo, the spending of grief on a wave, a lonely fight with a shadow, that is what my love and my desire have been to me. - Author: Lady Augusta Gregory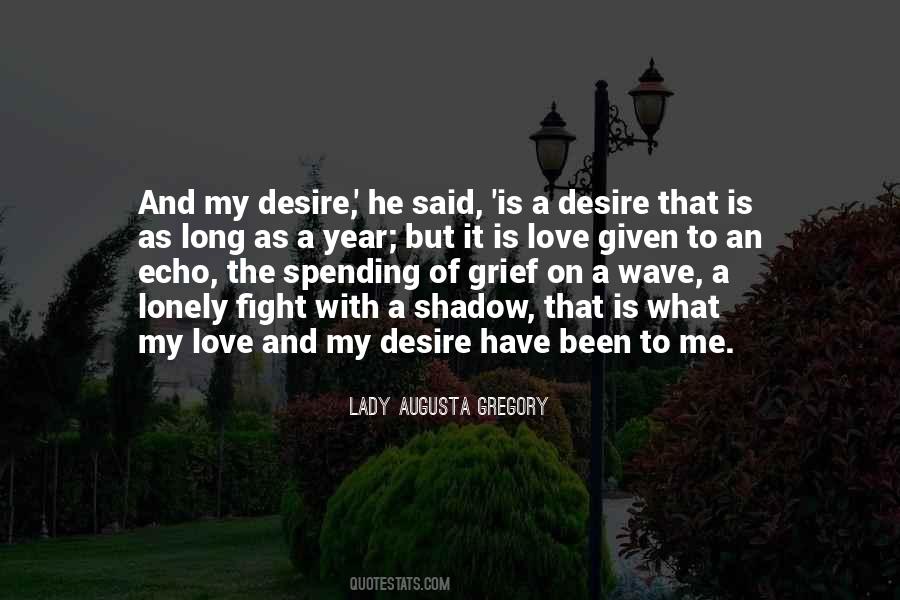 #20. Grief," he said, "is carnivorous. It feeds whether you're awake or not, whether you fight it or you don't. Much like cancer. And one morning you wake up and all those other emotions - joy, envy, greed, even love - are swallowed by it. And you're alone with grief, naked to it. And it owns you. - Author: Dennis Lehane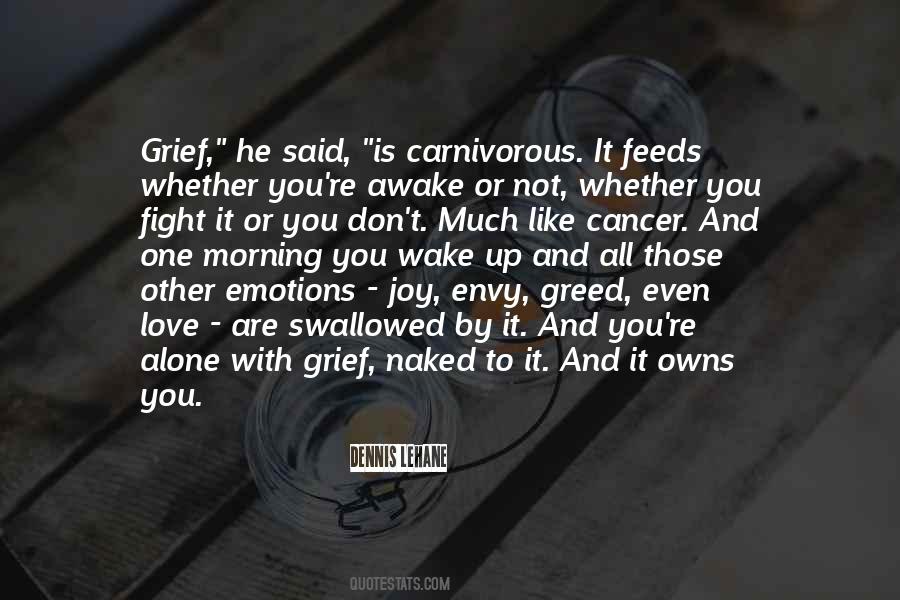 #21. I have faith in us as a family, and our friends. I think we will survive because we don't wish to harm anyone. If you ever need something to believe in, believe that to stand and fight for the people you love is the most honorable thing you can do with your life. - Author: Jessica Fortunato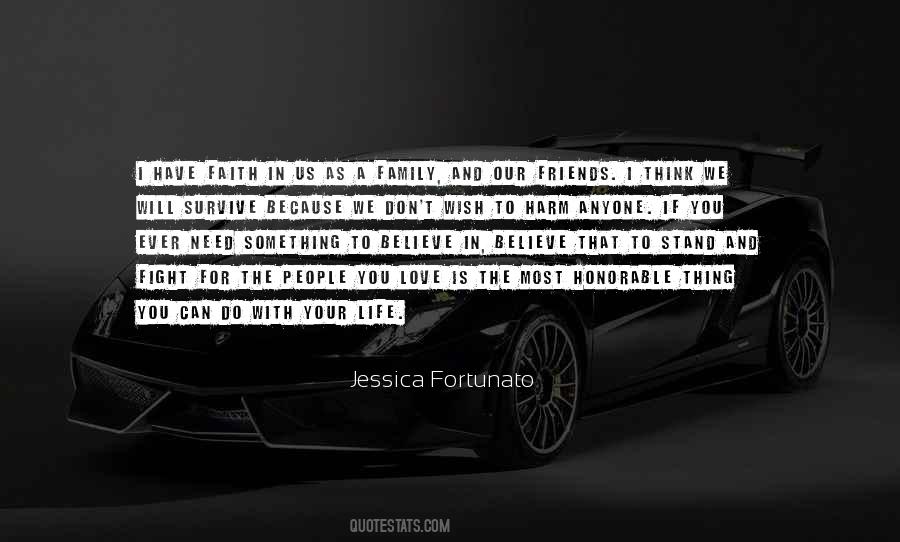 #22. You can spend the rest of your life fighting to be respected, accepted and understood by the people you have created a life with or you can start living a life where that isn't a daily goal and ambition in your relationship. - Author: Shannon L. Alder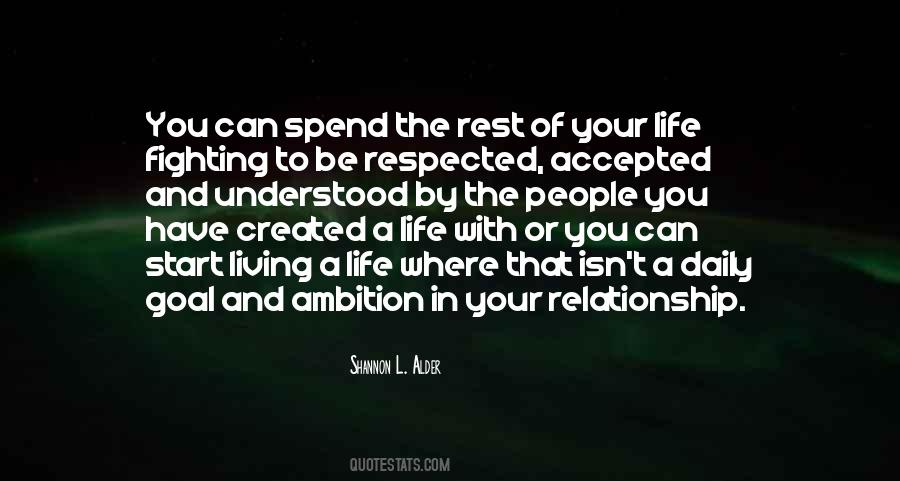 #23. I have a dream that one day this world will be very peaceful and people will fight, not with their weapons, but with their love. - Author: Debasish Mridha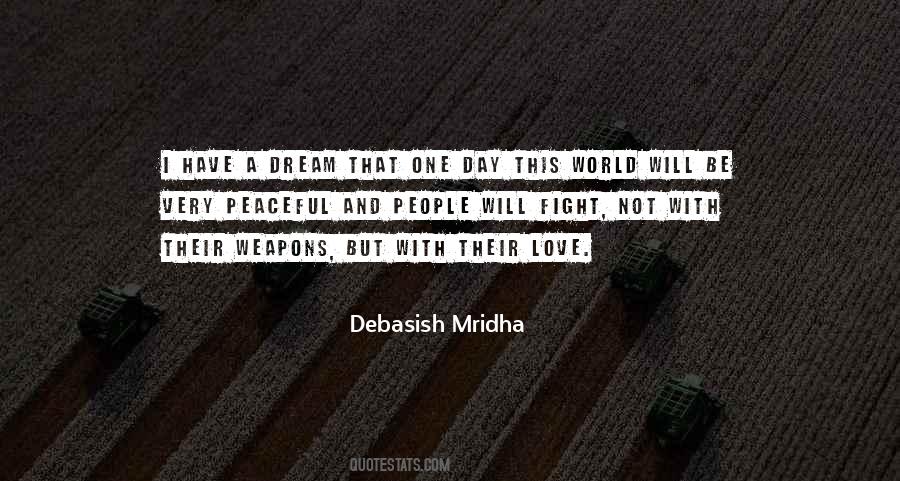 #24. Love is all about guts. If you have it, you fight with the world. If you don't, you fight with yourself. - Author: Heenashree Khandelwal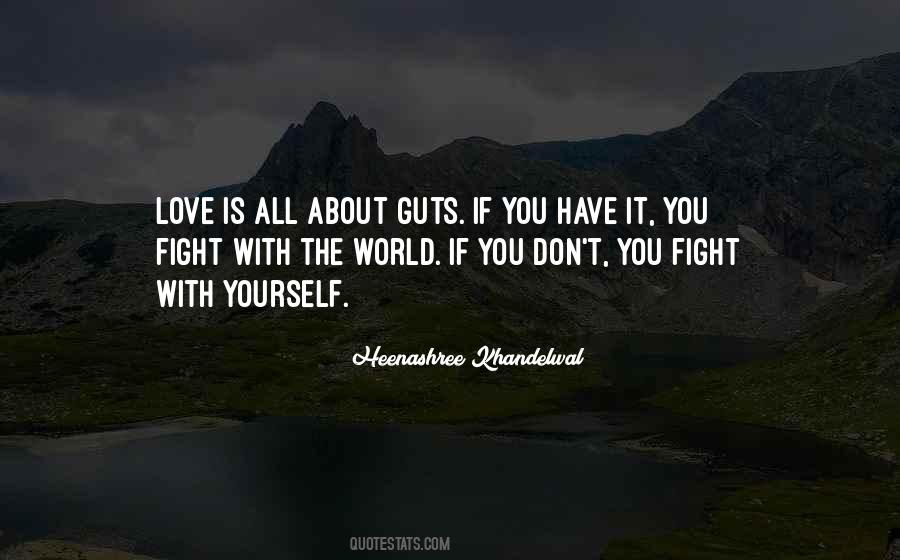 #25. I know." He leaned back, looking into her eyes. "But I'm not going anywhere, Jenny. I'll fight to stay with you. - Author: Amanda Gray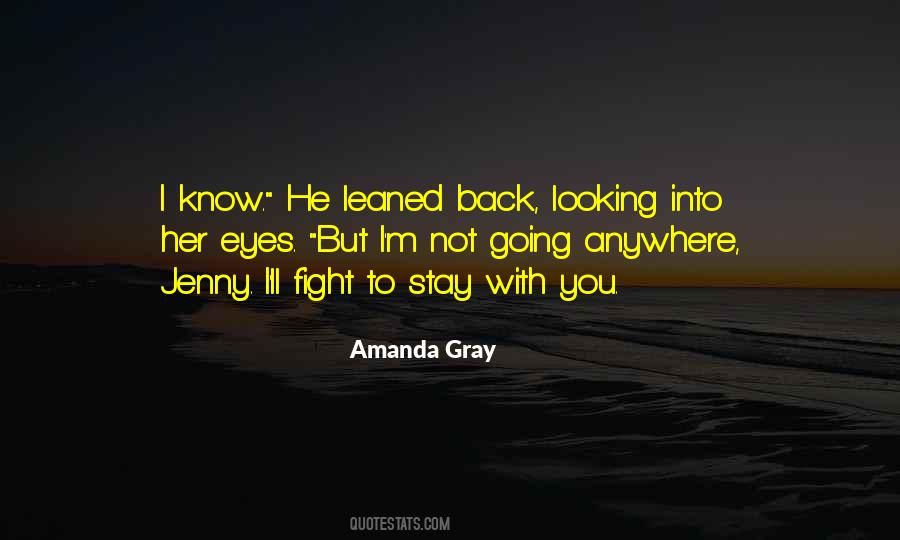 #26. Two parts of me have been at war. Your... odd family, your financial troubles- your in a different world from me. people expect me to travel in certain circles. And I do respect the wishes of my family, but not today. I've tried to fight it for months now, but Lizzie Bennet... I'm in love with you. - Author: Bernie Su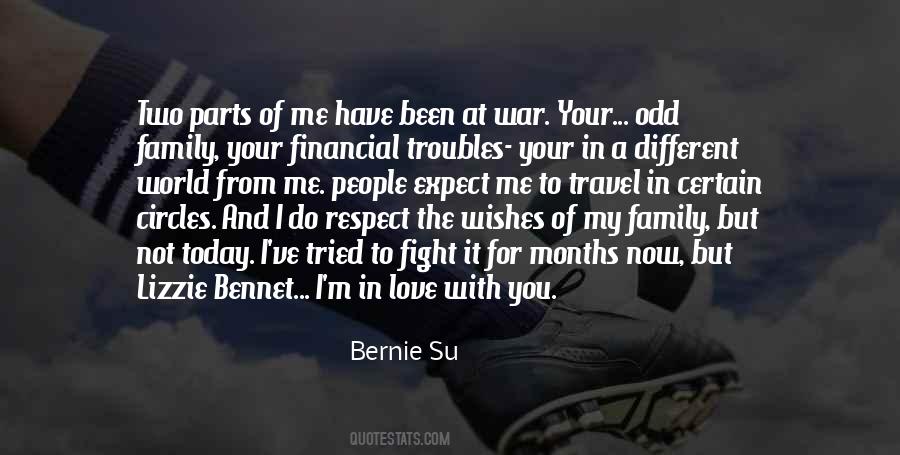 #27. What has mood to do with it? You fight when the necessity arises - no matter the mood! Mood's a thing for cattle or making love or playing the baliset. It's not for fighting. - Author: Frank Herbert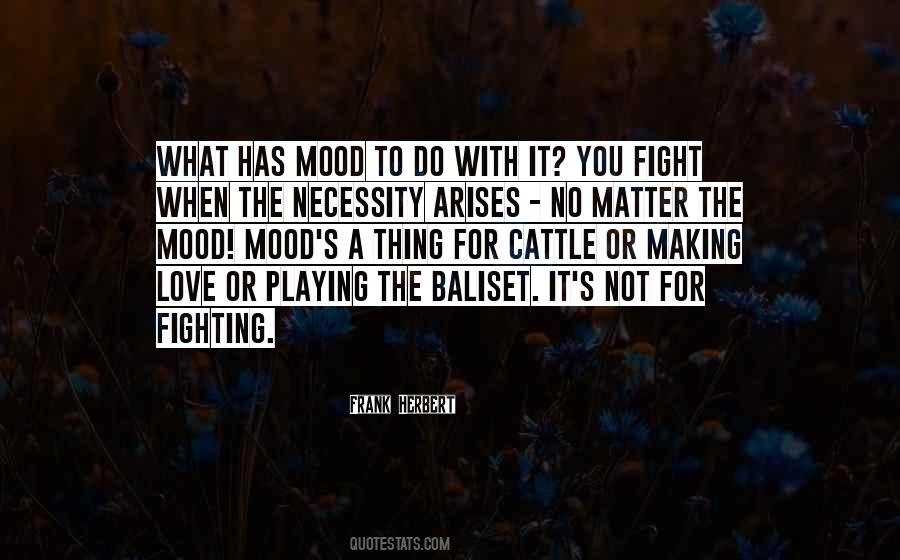 #28. [ ... ] I want to wake up with you in the morning, I want to fight with you in the afternoon, and I want to make love on any and every available surface in this place. And then I want to do it all over again. Come upstairs with me, Sophie. I'll keep you warm. I'll keep the darkness away. - Author: Anne Stuart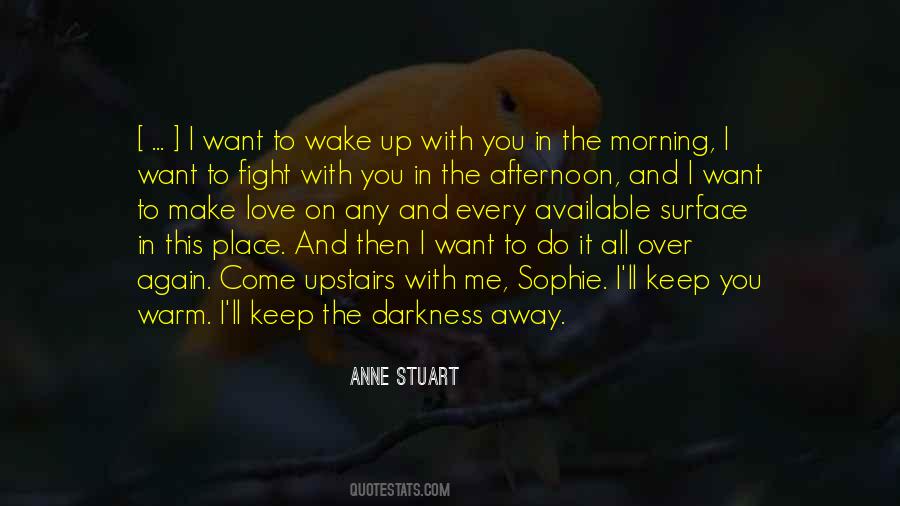 #29. You don't appreciate the things that come easy. The things we fight for are the things we keep with us forever. - Author: Shelly Crane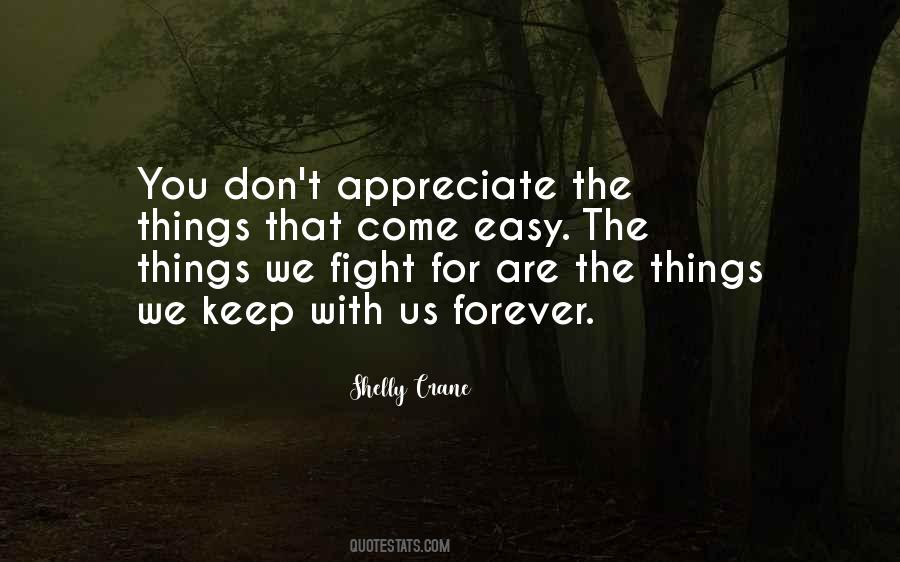 #30. I would like to invite everyone for the Third World War, but fight the war with love, not with the gun, to win the world peace. We all will be a winner. - Author: Debasish Mridha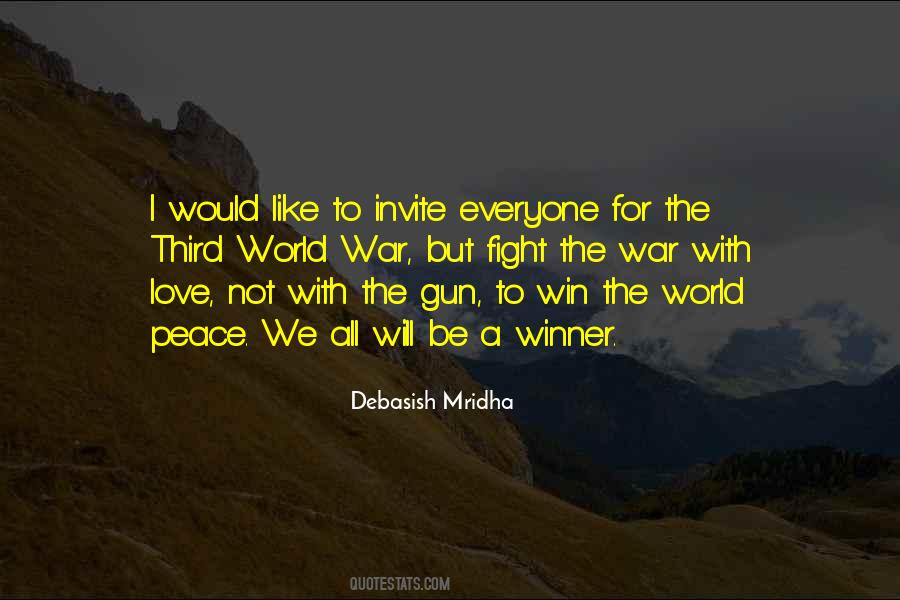 #31. I'm like kale; you know that leafy green stuff? I'm an acquired taste. You either hate me or love me. Either way, I really don't give a shit. -Emma (Fight With Me) - Author: Nicole Callesto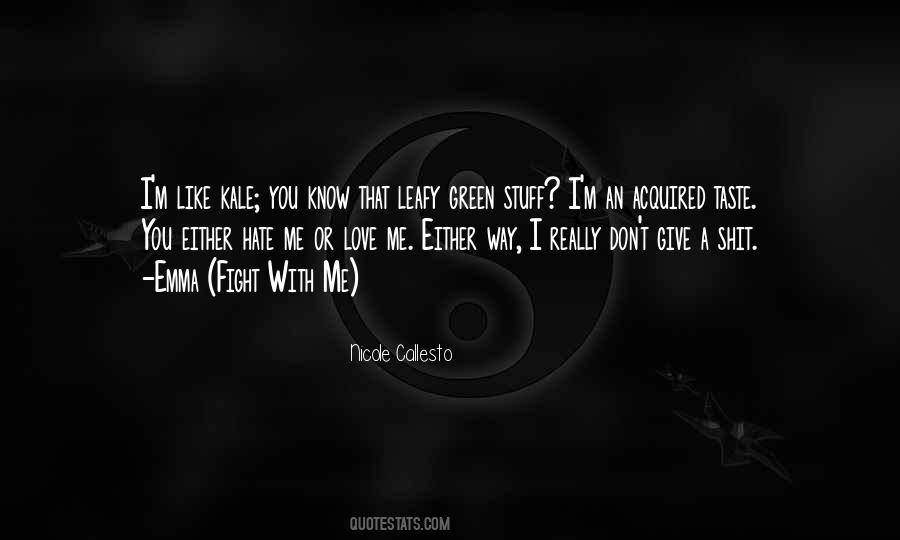 #32. I talk a lot about strength, faith and love, but I don't ever talk about the fact that I am one of the most sensitive people in my family. That might be the most shocking, because you always see me fighting the good fight, with the strong face on, but I am the most emotional. - Author: Monica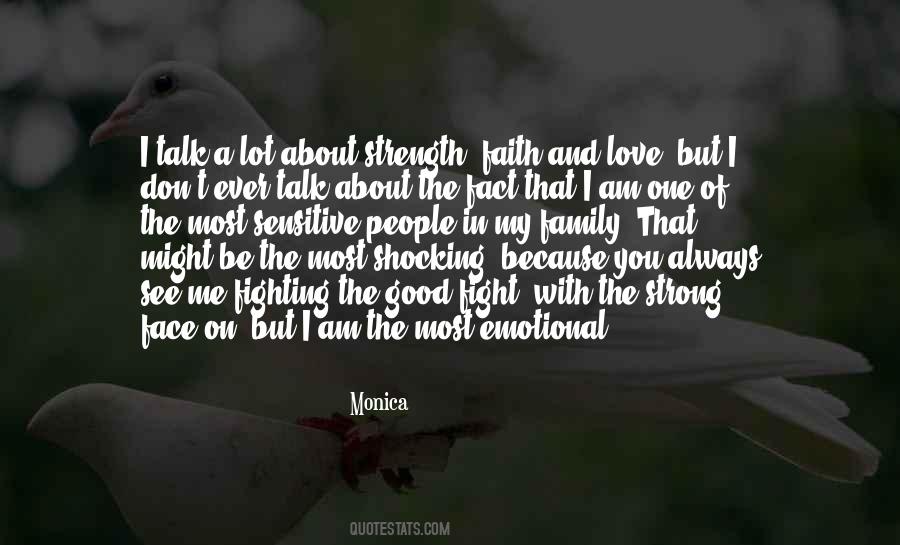 #33. The way to fight a woman is with your hat. Grab it and run.
The guy who said that was a wise man. He knew what most men don't - Women are powerful creatures who should be handled with care, or they can become very, very dangerous. - Author: Christina Dodd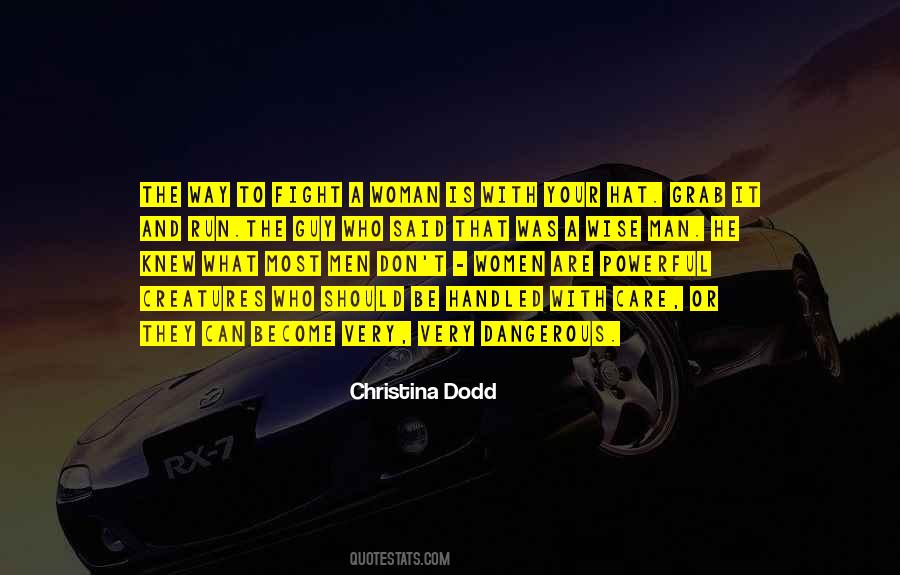 #34. Be loyal to what you love, be true to the earth, fight your enemies with passion and laughter. - Author: Edward Abbey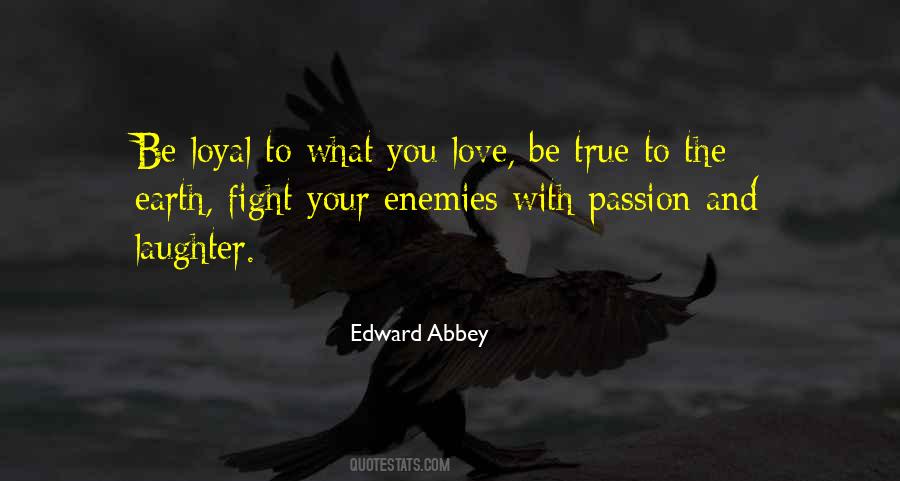 #35. He had illuminated the heartbreaking cruelty of war: When men who fight become nothing, only packages of bones and blood deposited in the earth with no clarion call to memory, those they love are left without a way to make such devastating loss hold meaning. - Author: Patricia O'Brien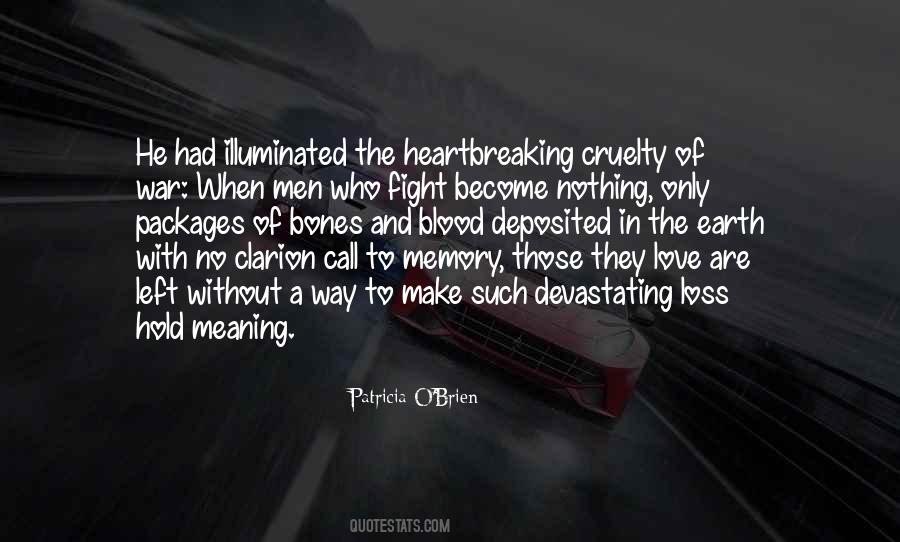 #36. Her self-respect had suffered a head-on collision with love, a clash that generally only ends one way. Love does not fight fair. In that moment her pride, the gut knowledge that she was right, even her sense of who she was, meant nothing, faced as she was with the prospect of being unloved. Faith - Author: Frances Hardinge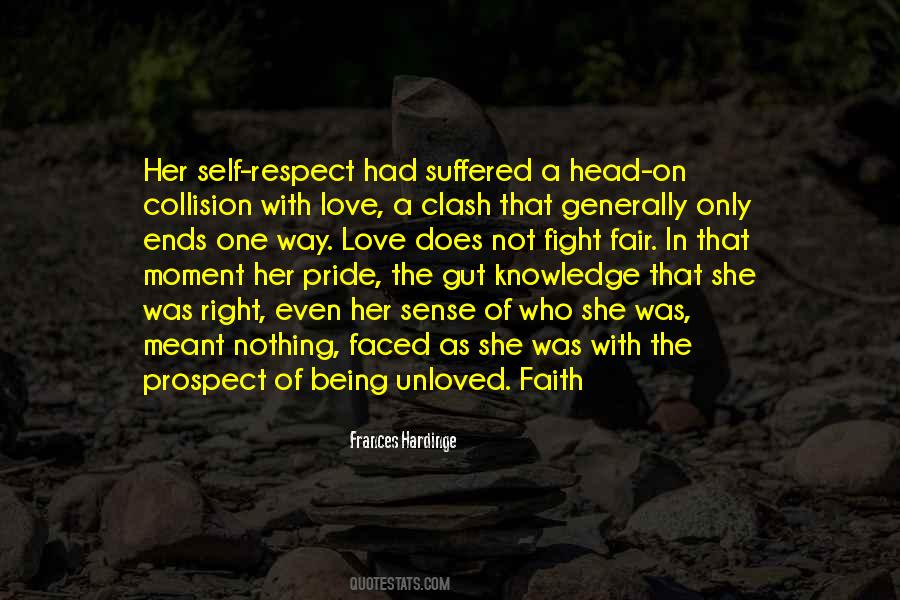 #37. Look at this lot - how we all threw ourselves into a fight just for him. We're not soldiers. But we know that what we do when we're with him matters. - Author: Scott Tipton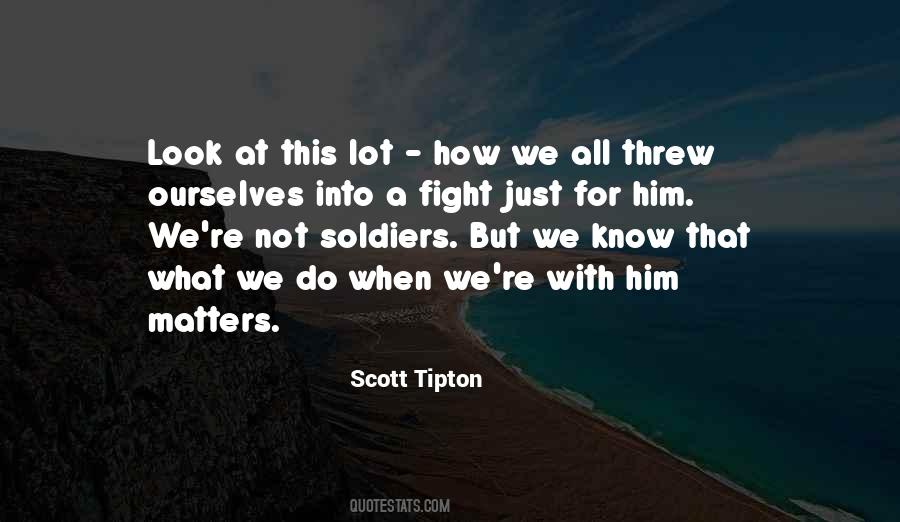 #38. It's so cute. They're in love." "It's like watching two kittens fight with machetes, - Author: Abigail Roux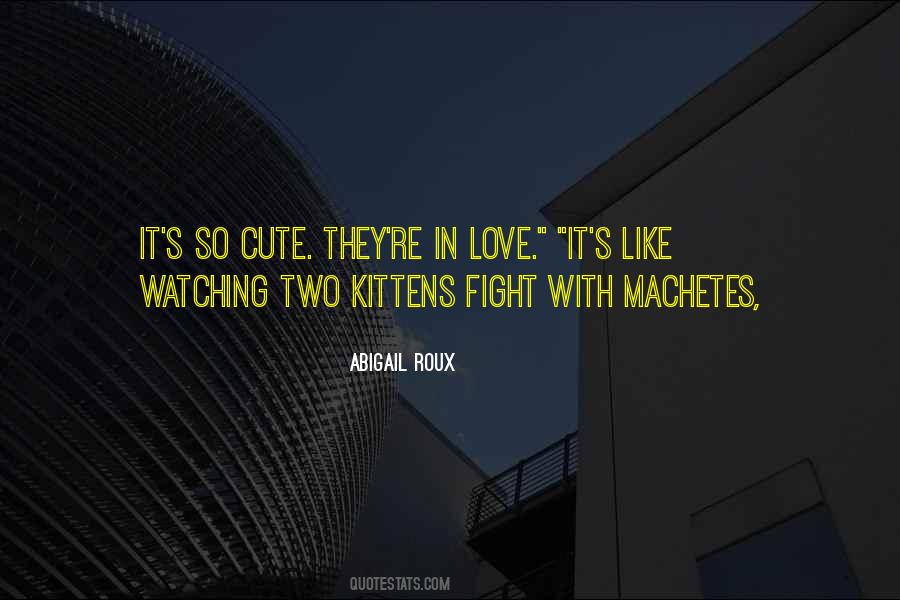 #39. In America, now, let us - Christian, Jew, Muslim, agnostic, atheist, wiccan, whatever - fight nativism with the same strength and conviction that we fight terrorism. My faith calls on its followers to love one's enemies. A tall order, that - perhaps the tallest of all. - Author: Jon Meacham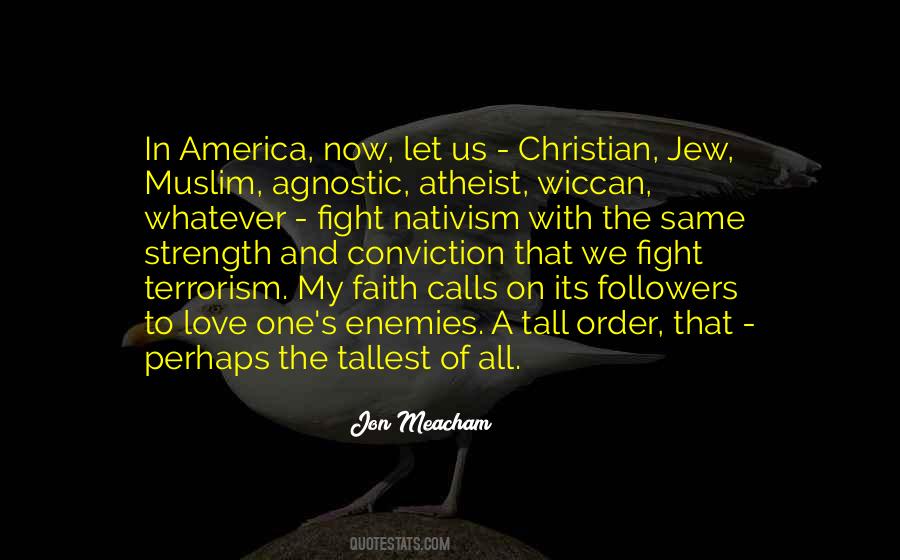 #40. I do profess to be no less than I seem; to serve him truly that will put me in trust: to love him that is honest; to converse with him that is wise, and says little; to fear judgment; to fight when I cannot choose; and to eat no fish. - Author: William Shakespeare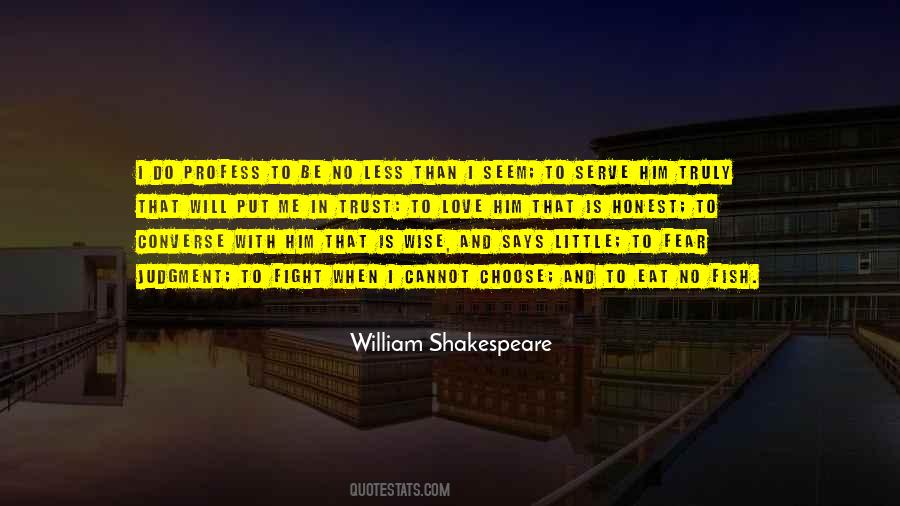 #41. Sometimes you are forced to defend your beliefs. Sometimes you are forced to look at relationships that aren't positive anymore. There are times when I have had to make peace with the fact that I am at war. And sometimes you have to fight those who do not want love to conquer all. - Author: Tori Amos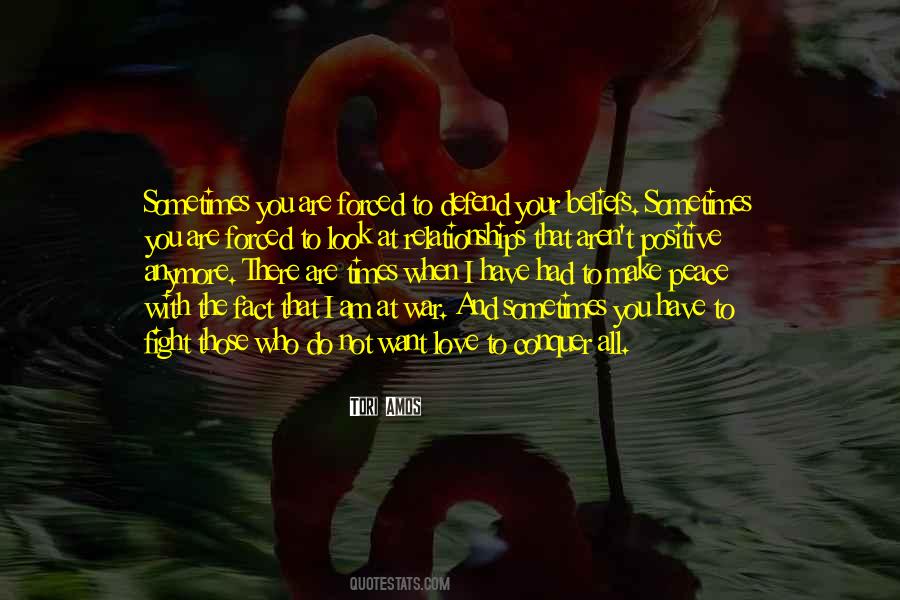 #42. I'm never going to give in. I'm never going to give up, and I will fight back with every breath I have.
- Dionne Warner, seven-time cancer survivor and subject of Never Leave Your Wingman - Author: Deana J. Driver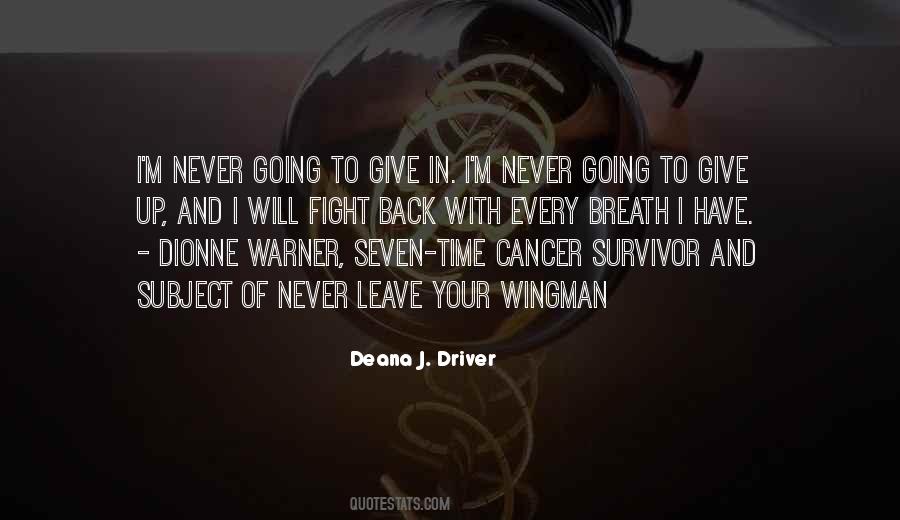 #43. Real girlfriend will be on your ass, text you everyday, fight with you, cares about you, listens to you, and loves you like no girl has. - Author: Abdul'Rauf Hashmi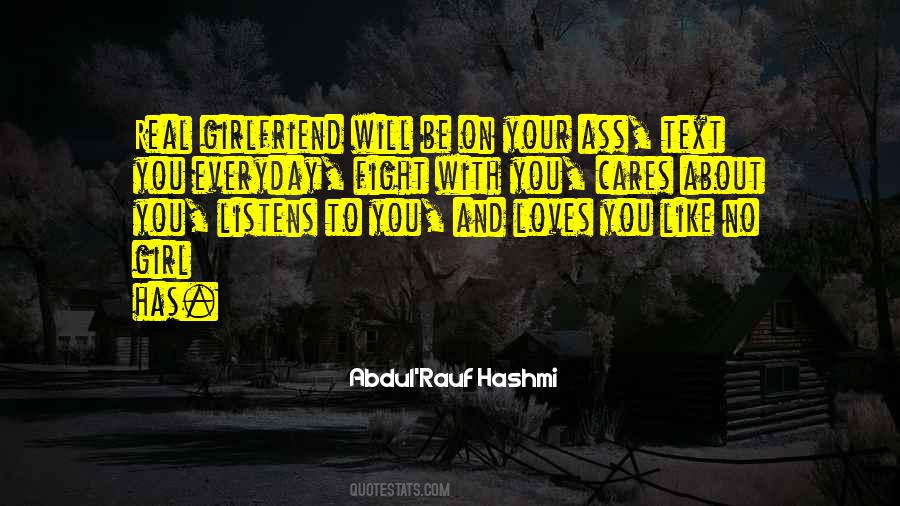 #44. I would love to have a battle of wits with you, Bison, but I doubt it would be a fair fight.'
'Shut your face.'
'Exactly my point. - Author: Derek Landy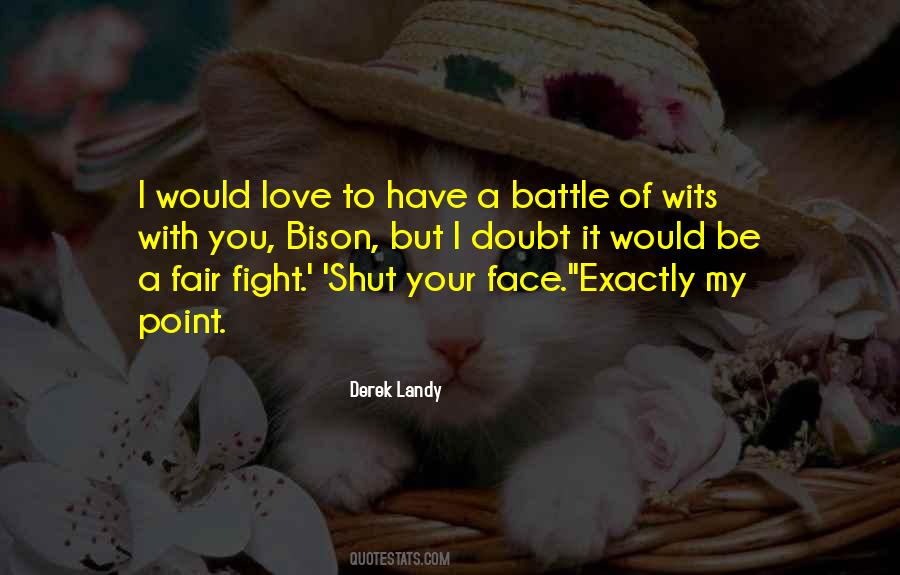 #45. With great love comes occasions of pain. You can't skip the pain; without it, you would never know what a precious thing love is. You wouldn't know to hang onto it. You wouldn't know to fight for it.
You embrace the pain because the love makes it all worthwhile. - Author: Theresa Smith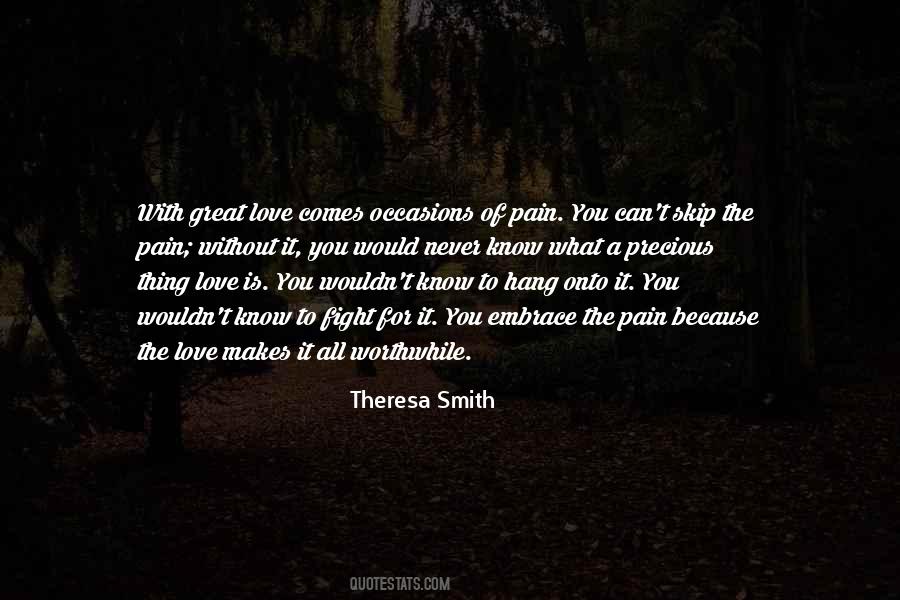 #46. I fight with love and i laugh with rage ... you gotta live light enough to see the humor, and long enough to see some change ... - Author: Ani DiFranco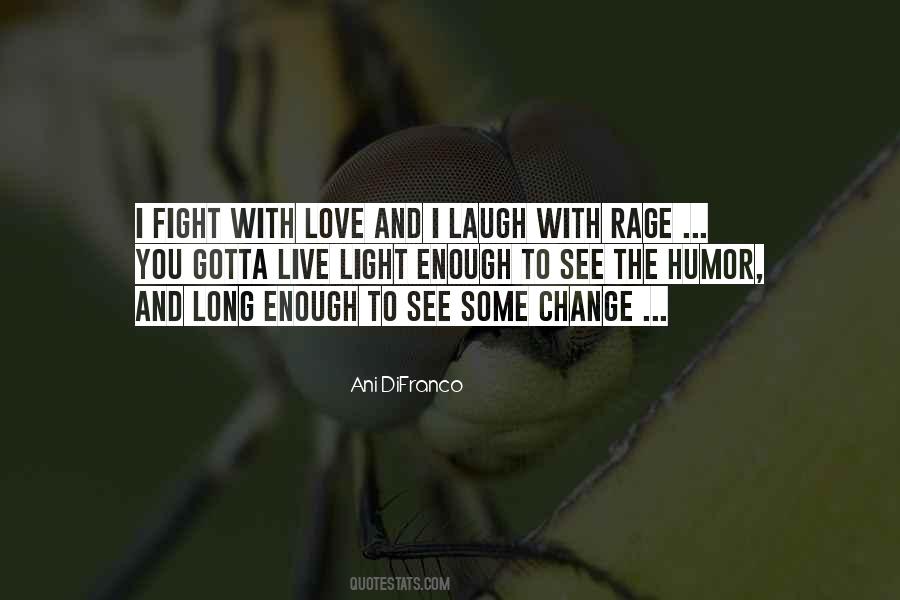 #47. Life is like a wrestling match- we struggle to fight but we never know that the only side that wins is the one with great love in it. - Author: Morrie Schwartz.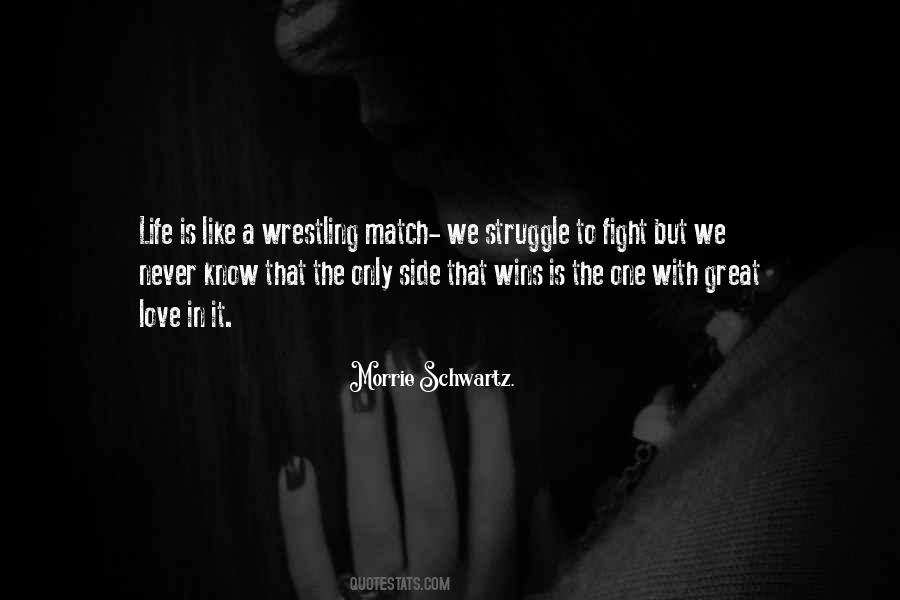 #48. Cassia.
I know which life is my real one now, no matter what happens. It's the one with you. For some reason, knowing that even one person knows my story makes things different. Maybe it's like the poem says. Maybe this is my way of not going gentle.
I love you. (Ky Markham) - Author: Ally Condie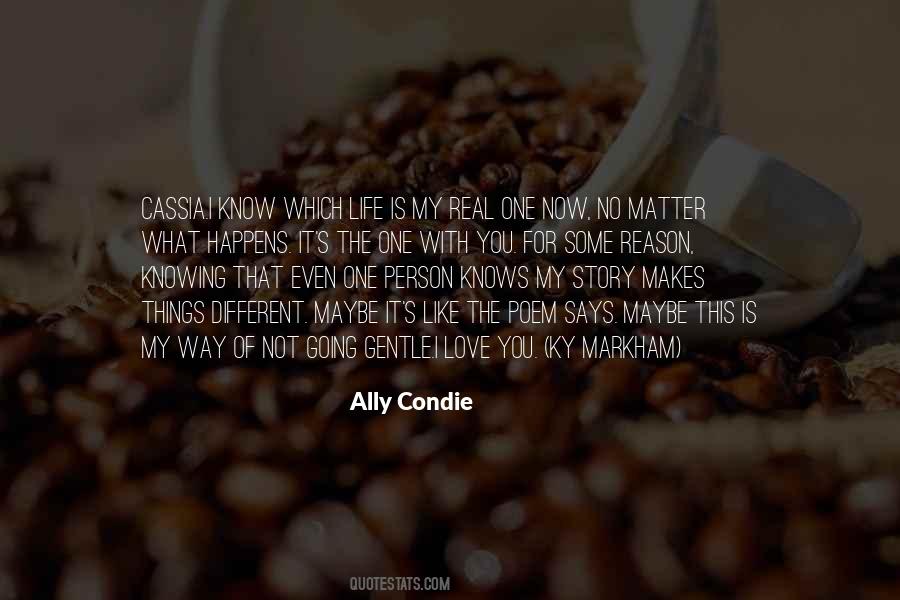 #49. If we didn't have strong feelings, how could we love or fight? When our flesh is cut, we bleed. When our heart is broken, we cry. There's nothing wrong with that. It only becomes a problem when it gets in the way of what you have to do. You can't crumble when others are counting on you. - Author: Robert Liparulo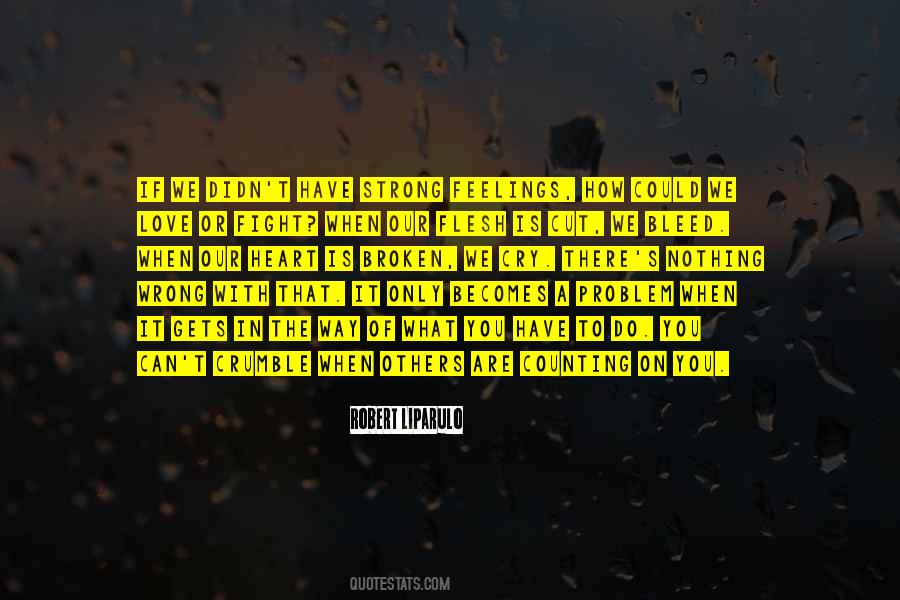 #50. We ought to compliment and not to compete with one another. - Author: Lailah Gifty Akita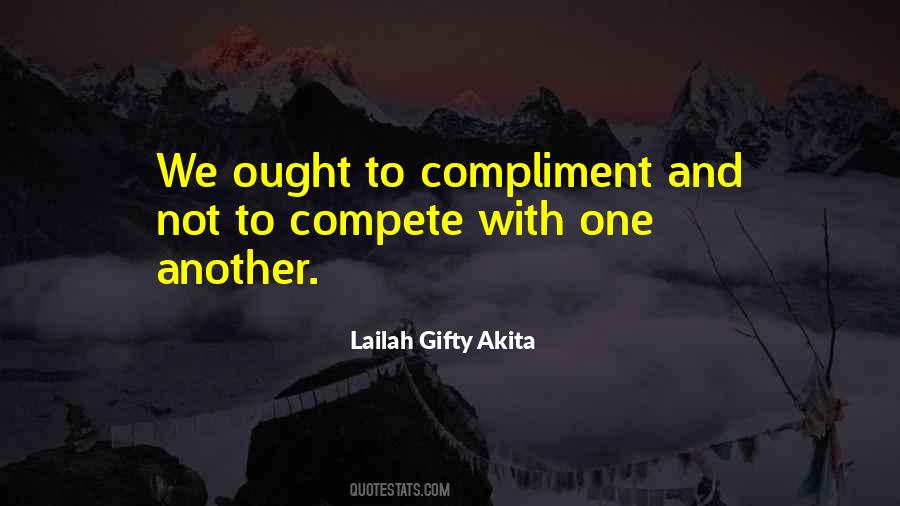 #51. I'm finally beginning to realize that you can only fight with someone over the same thing so many times before you're burned out. - Author: Anna Todd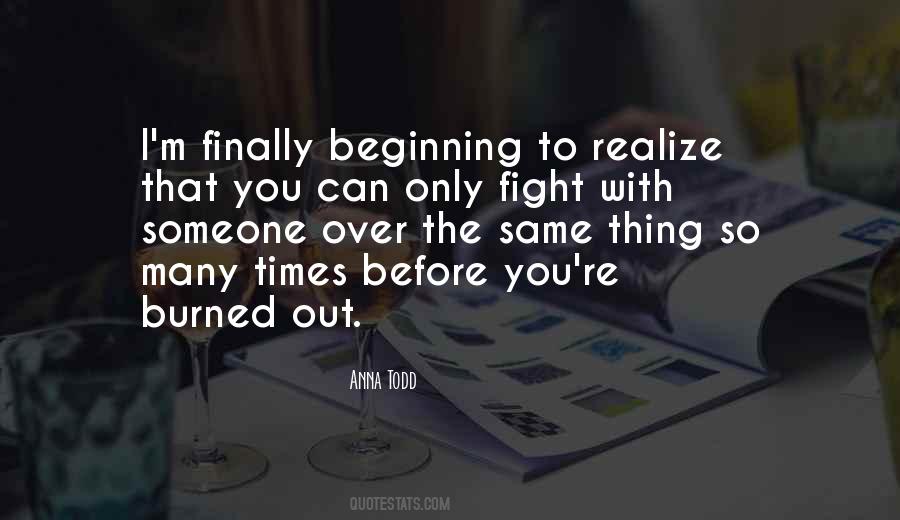 #52. I said: "You don't want to pick a fight with me, Mimi."
She looked at me as if she were going to say I love you, and asked: "Is that a threat? - Author: Dashiell Hammett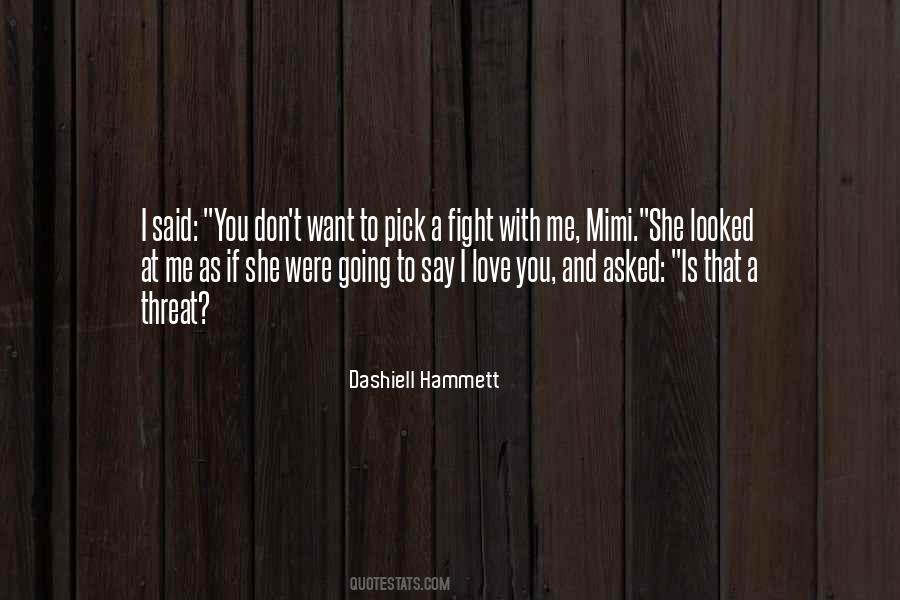 #53. I fell in love with him. But I don't just stay with him by default as if there's no one else available to me. I stay with him because I choose to, every day that I wake up, every day that we fight or lie to each other or disappoint each other. I choose him over and over again, and he chooses me. - Author: Veronica Roth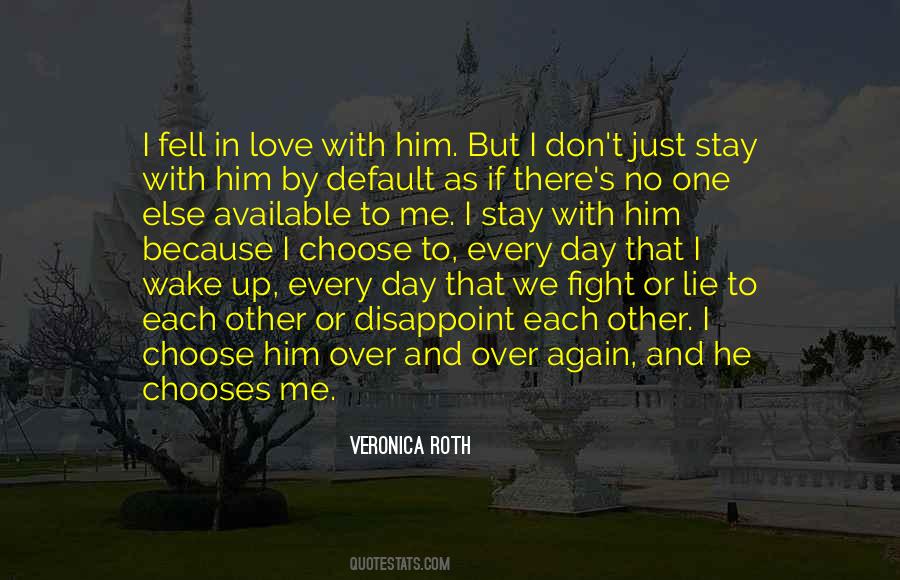 #54. Before my mom decided she was a lesbian, I thought lesbians were all these really nice, earthy, crunchy, let's smother you with our twenty extra pounds of lady love and fight the power people. - Author: Alison Umminger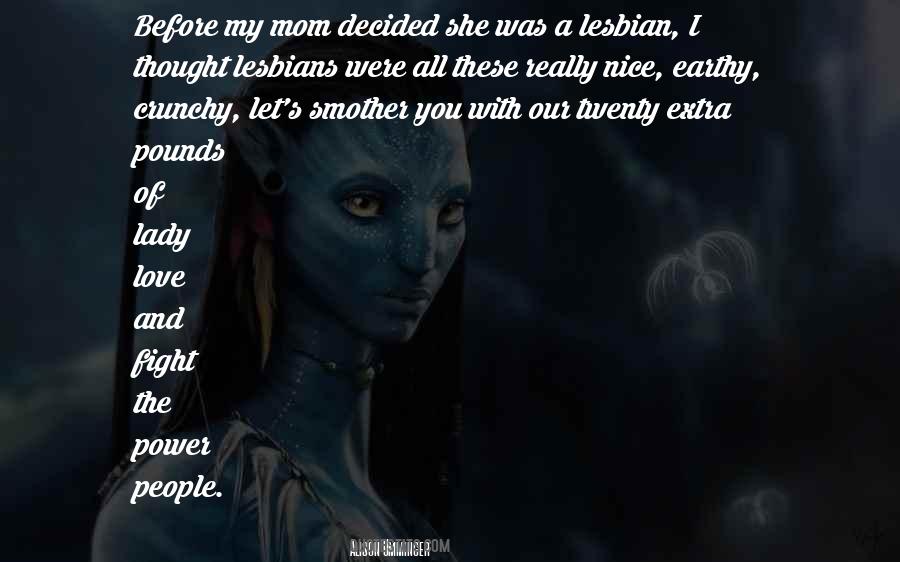 #55. We hit every jazz and blues club on and off Bourbon Street, dancing and drinking until we girls were drunk enough to go with the boys to the strip clubs which outnumbered all other businesses in the French Quarter. Here is where my solution unfolded. - Author: Darwun St. James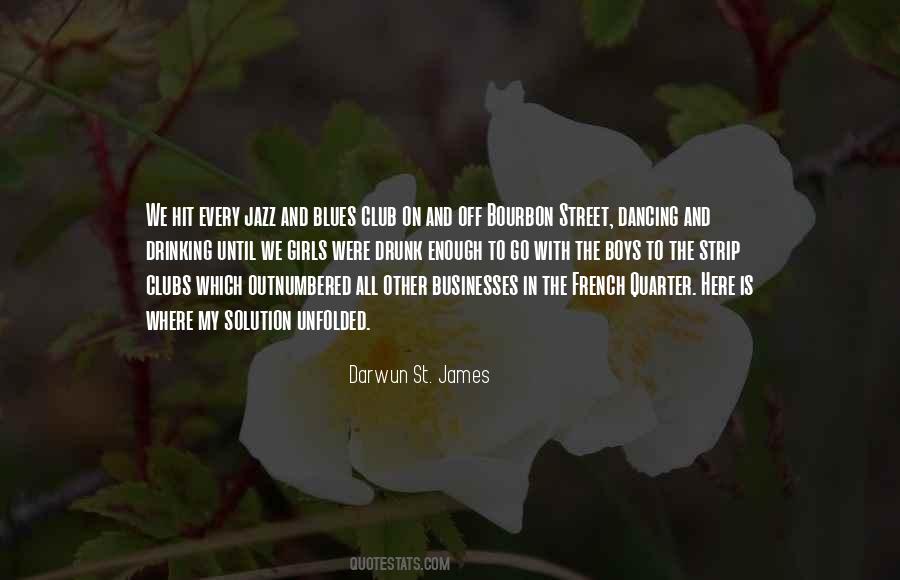 #56. To win peace, fight with love not with violence. - Author: Debasish Mridha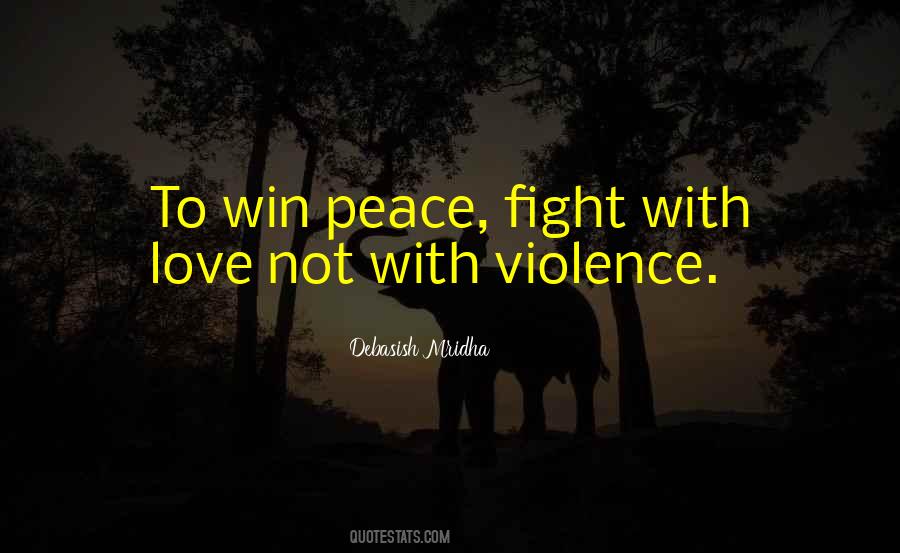 #57. I just want to build the set for the show and be secretly in love with Ryan and not have to fight demons. - Author: Michelle Knudsen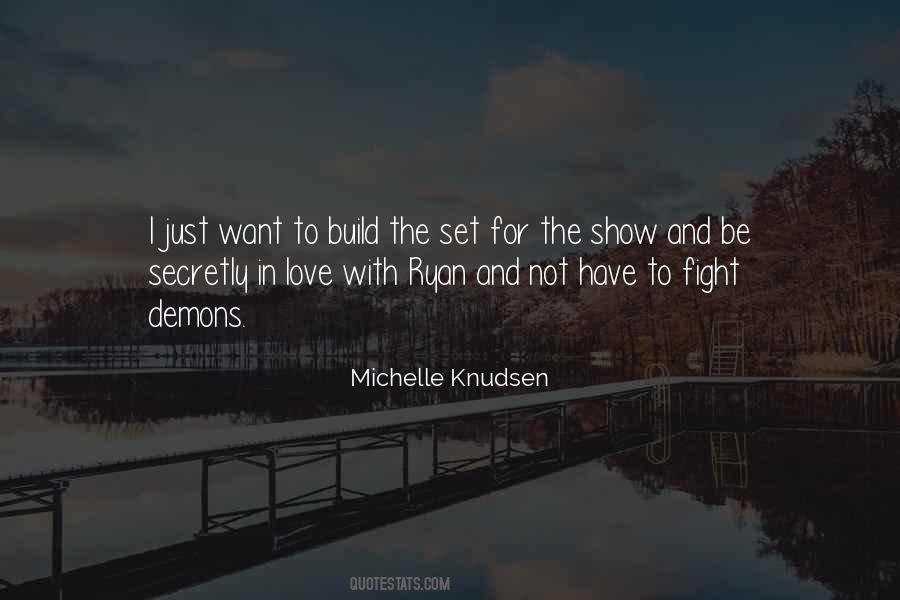 #58. To lose--get angry and fight back. To win--forgive with love. - Author: Debasish Mridha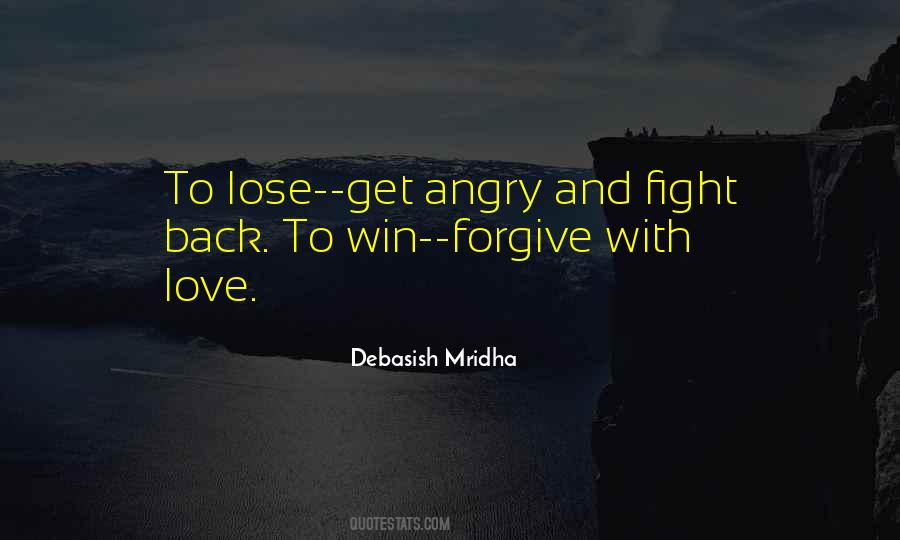 #59. I'm in love with a girl who knows me better.
Fell for the woman just when I met her.
Took my sweet time when I was bitter.
Someone understands,
She knows how treat a fella right.
Give me that feeling every night,
She wants show love when I wanna fight,
Now someone understand me. - Author: Juxtaposition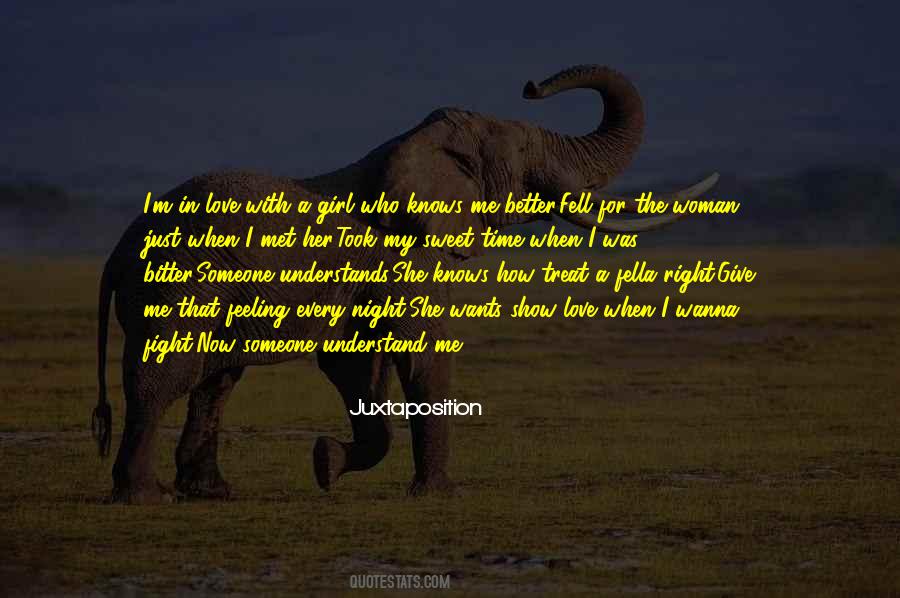 #60. Dar's been through enough in his life, and his legs are only a small part of it. Don't play with him, Cassie. If you're not serious, leave him the hell alone."

"And if I am serious?"

Sean smiled ruefully. "Then you're in for the fight of your life. - Author: Justine Davis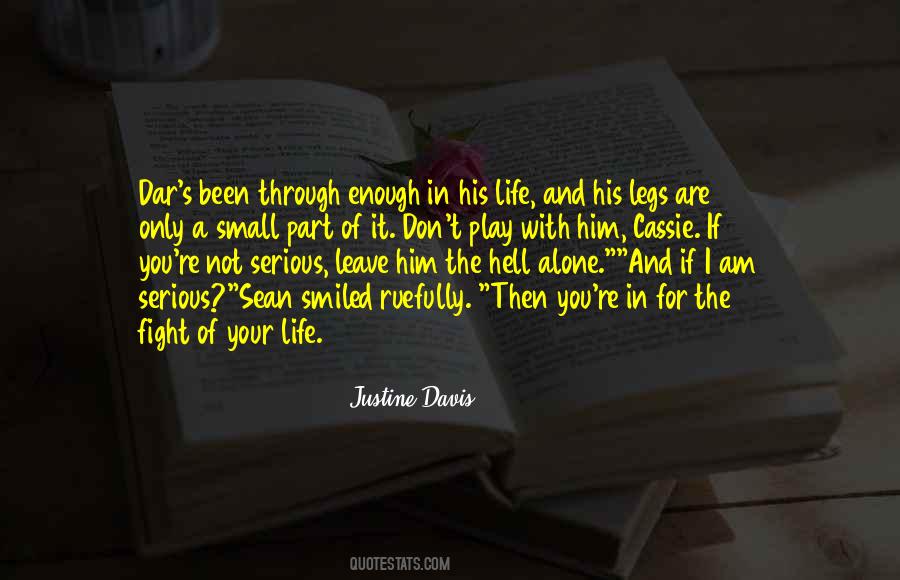 #61. ...go forward with the inclination to live with a faith that embodies action, help a neighbor, fight for a cause, love your family. - Author: William A. Petit Jr.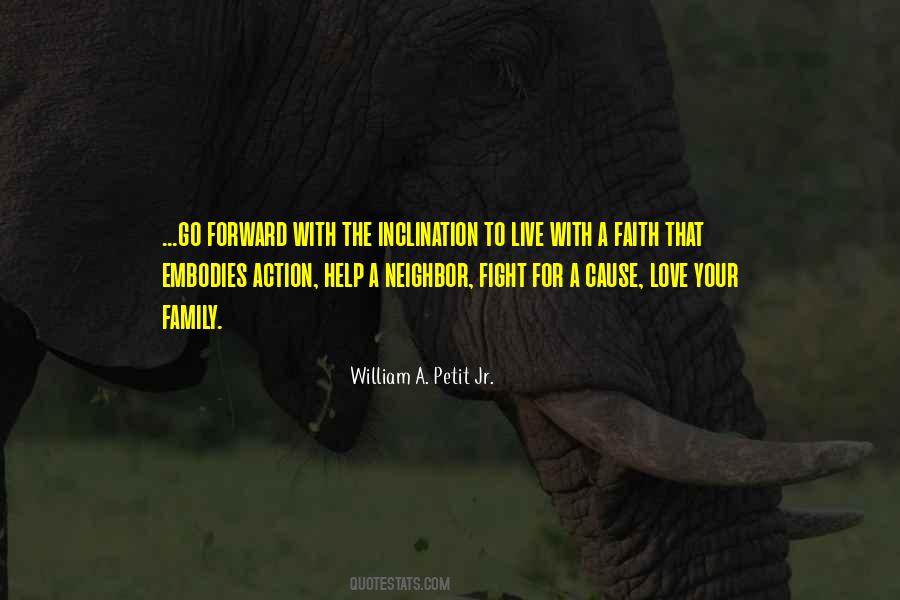 #62. MATAMORE: I never fight with my love face on,
I worry that it might get scratched. - Author: Tony Kushner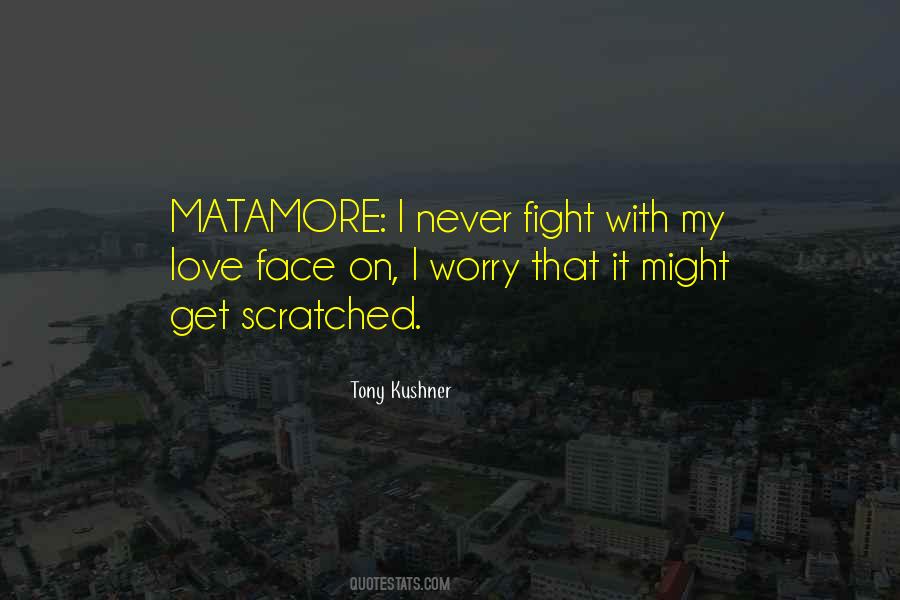 #63. You feel pretty ,manly to me," I breathed out, all jelly-legged with half-mast eyes.
"And you feel like a woman worthy of a fight, Ms.Greene. - Author: L.J. Shen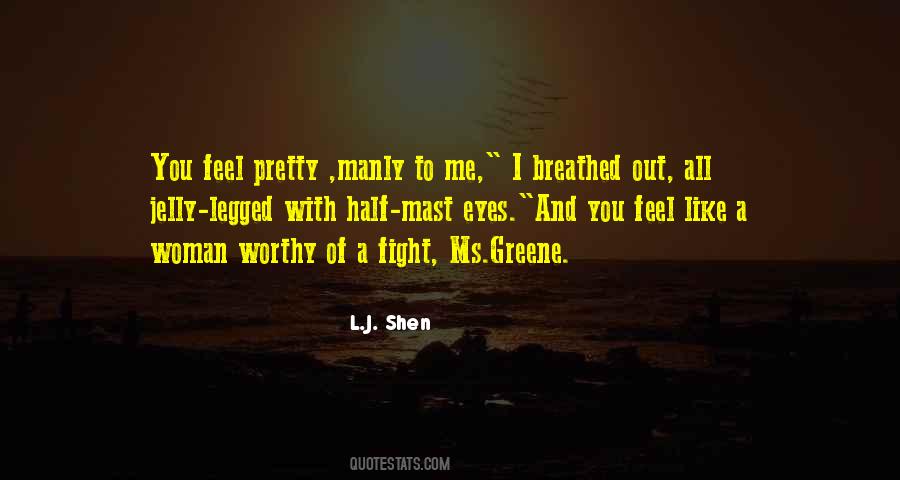 #64. The tips of my overgrown bangs
dip into the wet of my tears.
My fingers, forehead, moisten with sweat.
I fight the slipperiness, press the valves firmly,
play the love, the hate,
the misery, the hope,
the freedom that I wanted, never wanted, can't have;
that doesn't exist. - Author: Stasia Ward Kehoe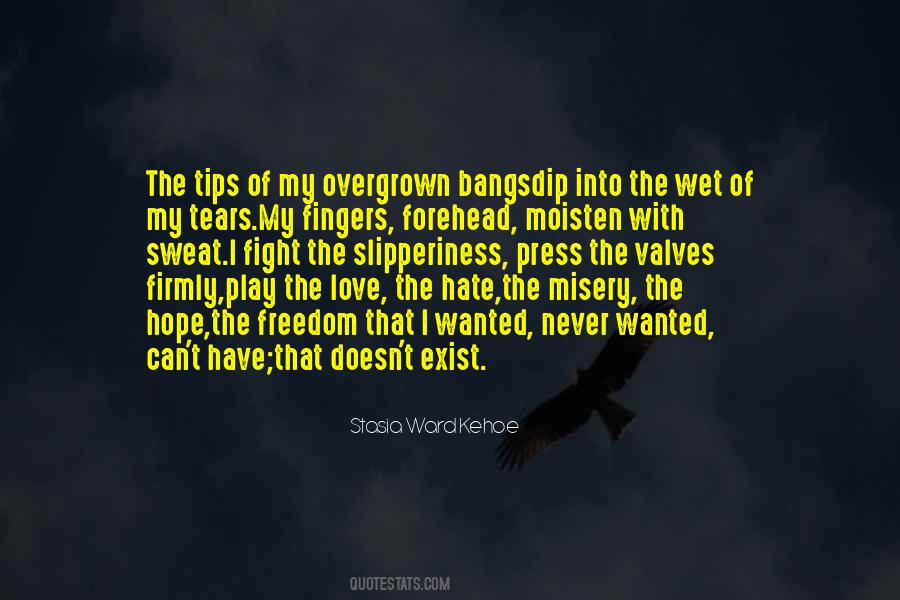 #65. Obviously I love writing with Katy [Pery], I feel like we're the same person when we write together. Even though we fight a lot, we fight over every line and we pull each other's hair and we cat-fight all the time, it's always worth it in the end. - Author: Bonnie McKee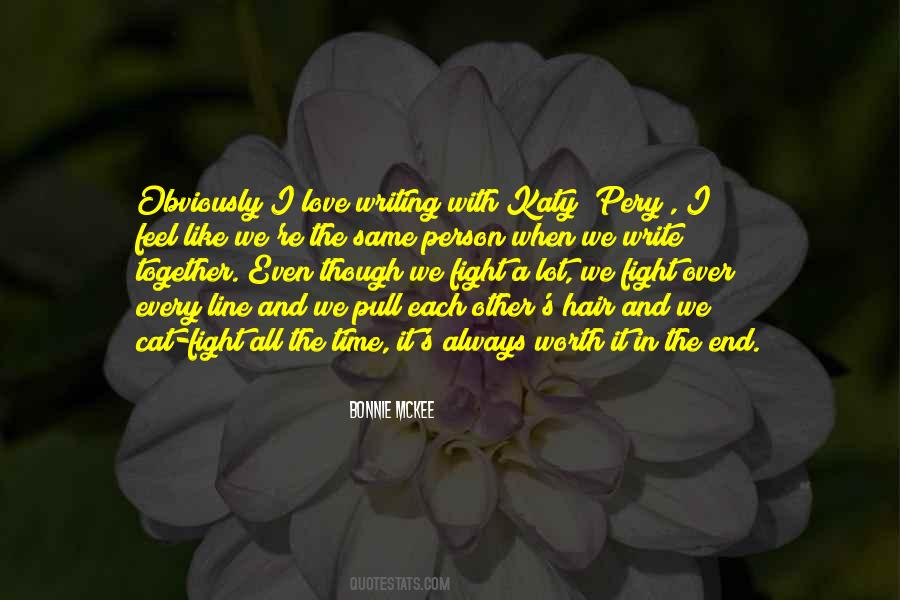 #66. Wisdom doesn't mean that you know how to argue things or you fight with people. No, it doesn't mean that. Wisdom means how you take to the good side of everything to enjoy it. This is wisdom and that you avoid all destructive things and take to something constructive. - Author: Nirmala Srivastava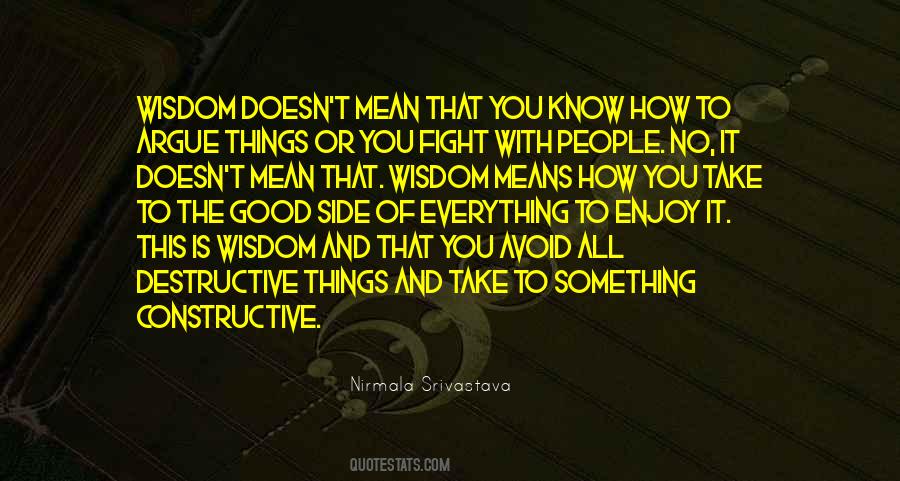 #67. I love controlling a race, chewing up an opponent. Let's get down and dirty. Let's fight it out. It's raw, animalistic, with no one to rely on but yourself. There's no better feeling than that. - Author: Adam Goucher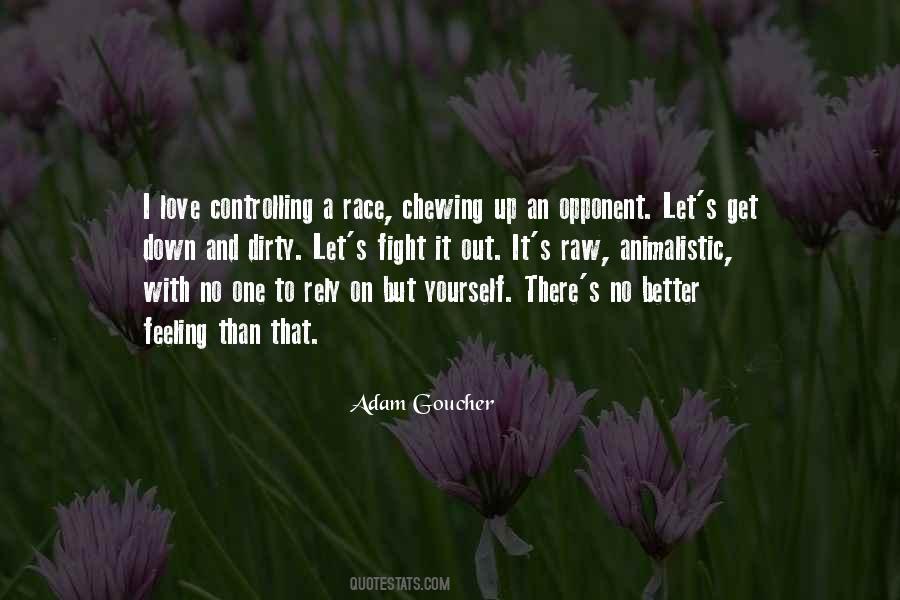 #68. If we fight with love, we will have no chance to lose. - Author: Debasish Mridha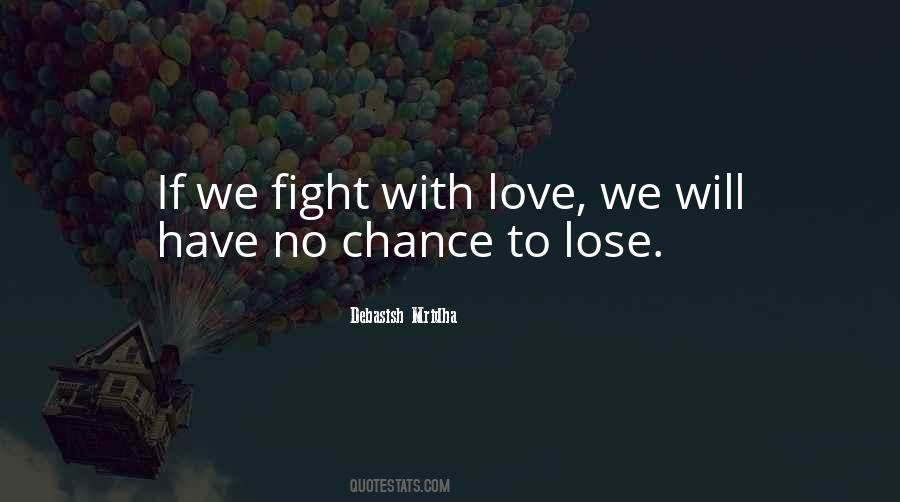 #69. Well, a girlfriend once told me never to fight with anybody you don't love. - Author: Jack Nicholson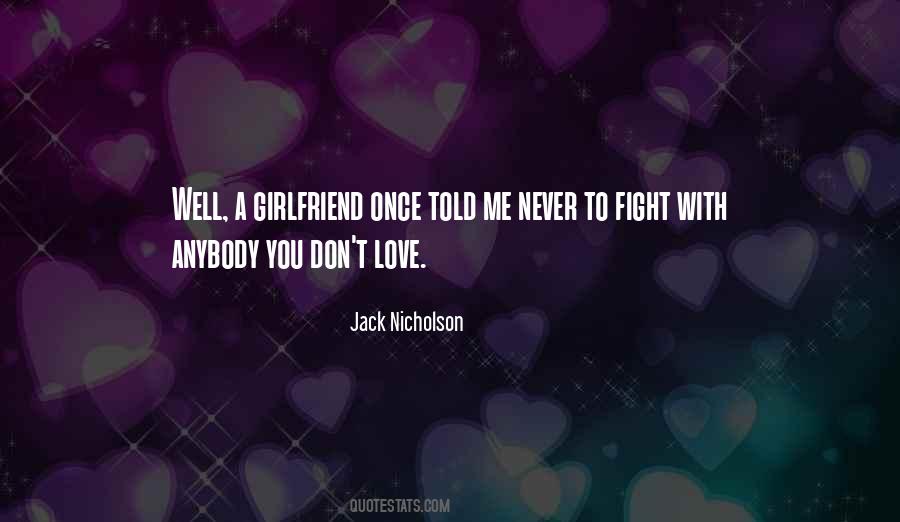 #70. But in that moment, I felt it happen. My heart slowed, took a deep breath, and let out a giant sigh. Just like that, it gave in, unable to fight it anymore. I had no idea how long we had or how things were going to play out, but I knew without a doubt that I was in love with Carter. *** - Author: Penelope Ward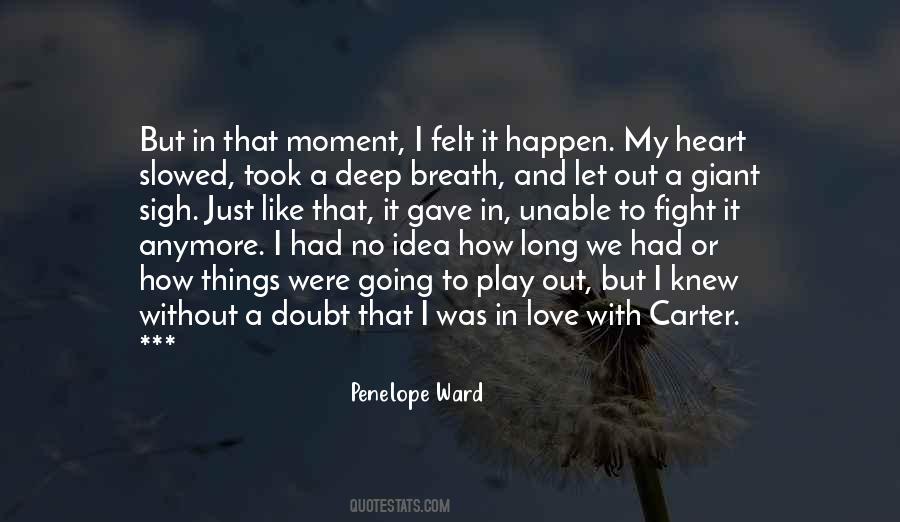 #71. They're a symbol of the whole town, pretending to fight, love, weep and laugh all the time - and they're phonies, all of them. And I head the list ... their phony hearts were dripping with the milk of human kindness. - Author: Ben Hecht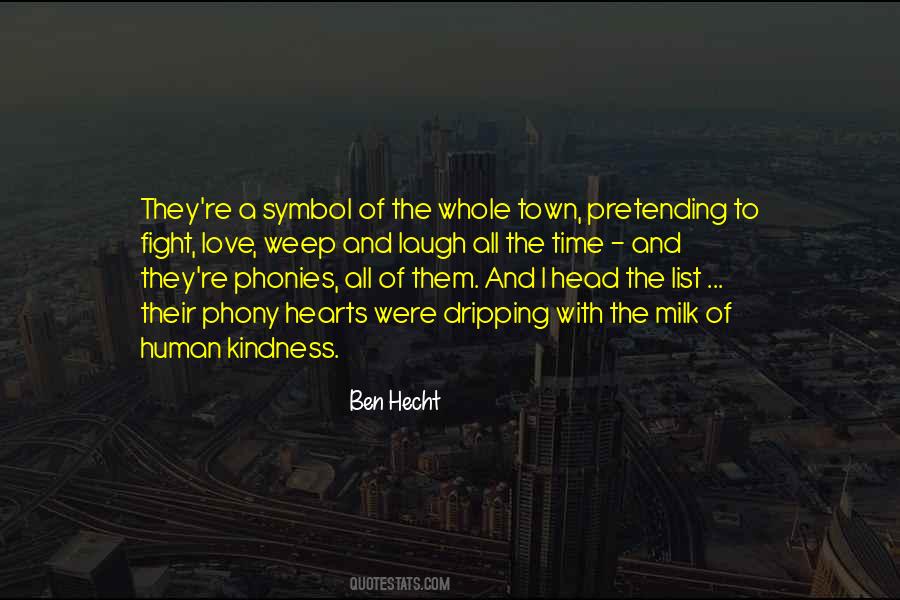 #72. To finally meet Alayna's eyes. Though I'm torn and uncertain, there is one truth that does not waver - I am in love with Alayna Withers. I will do anything for her. She is my light, and I will fight like hell to keep her from my darkness. Whatever that takes. - Author: Laurelin Paige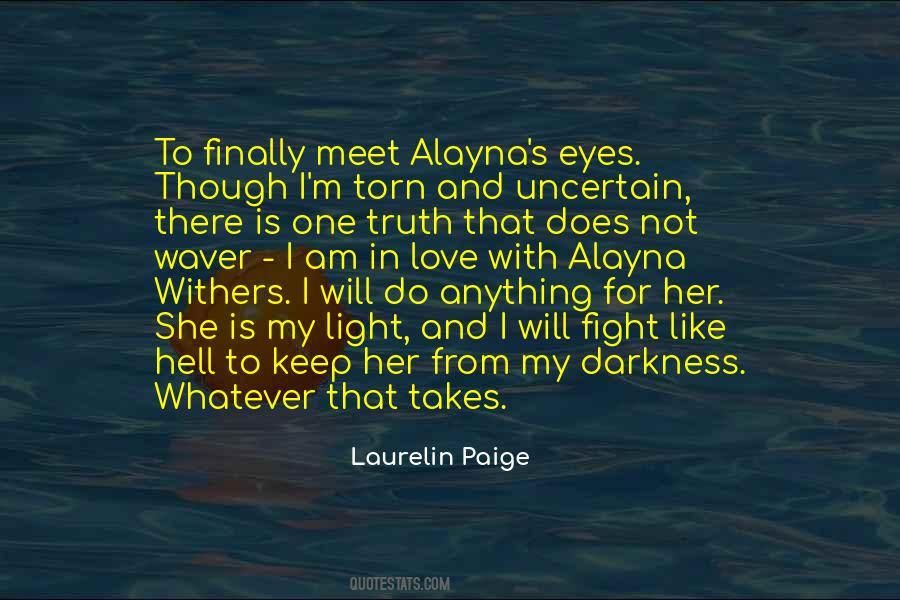 #73. I'm going to fight for you. I'll bring down the Counts, and Chloe, and every Sector in the universe that gets in my way without think twice. I'm not interested in what the future has planned. I want to share everything with you, Skyla. I'm in love with you. - Author: Addison Moore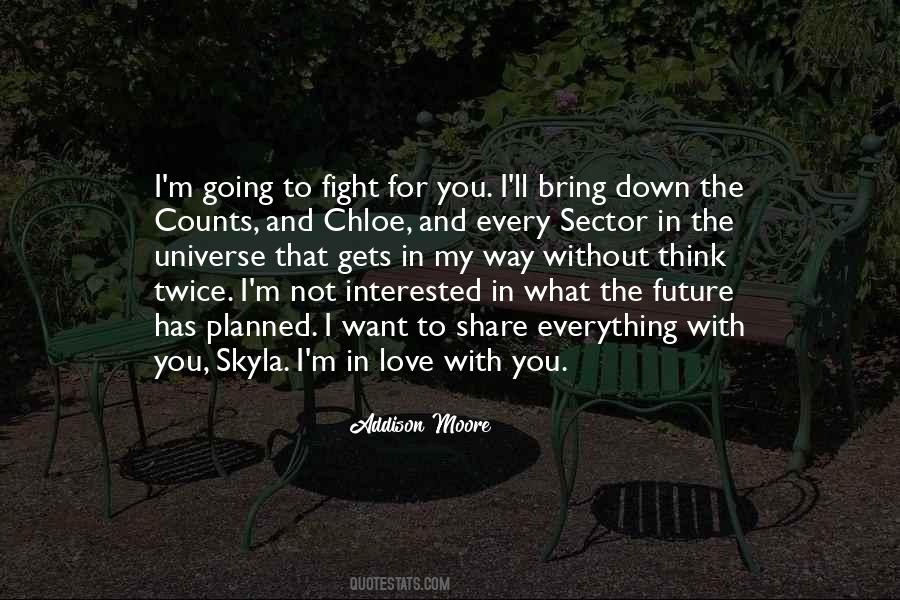 #74. I will do nothing lightly. When I walk, I will walk heavily. When I fight, I will fight with conviction. When I speak, I will speak strongly. When I feel, I will feel everything. When I love, I will love with everything. - Author: Evan Tanner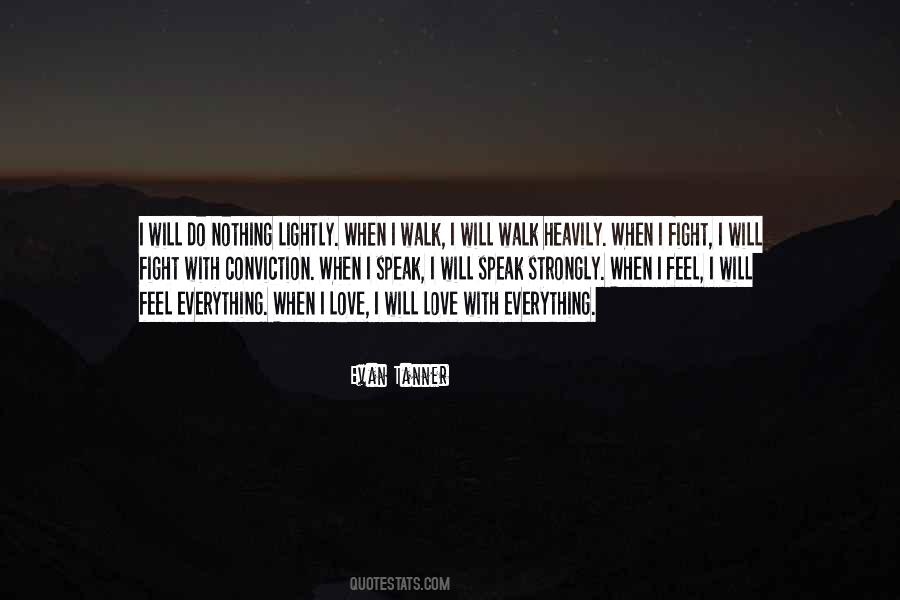 #75. If you love everyone, you will not need to fight with enemy. - Author: Debasish Mridha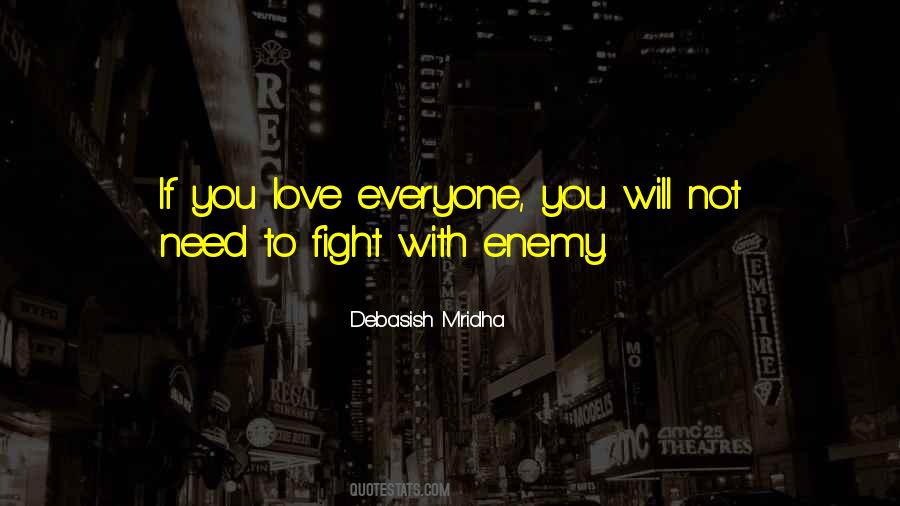 #76. There are few things more confusing than going to war with parents who are diminishing you, particularly when you are very young. If you fight for your dignity, you risk losing the love you need from them to develop. If you don't fight back, you lose your self-respect - Author: Jeff Brown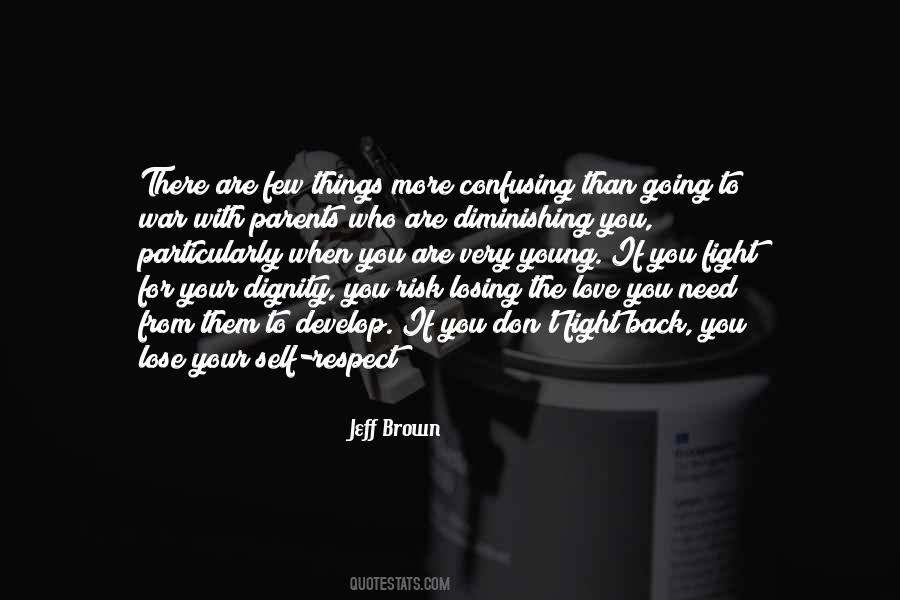 #77. Antonia, if Mark is right and I never see you again, if this really is good-bye, tell me one thing for certain. Tell me I won't die knowing you married him willingly. Fight them both with all you have. - Author: Julie March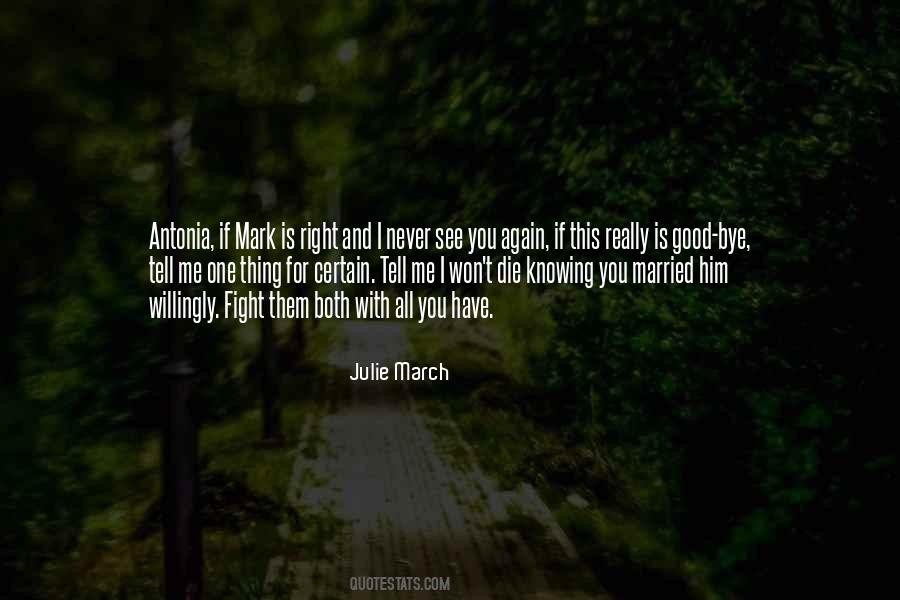 #78. Meg learned to love her husband better for his poverty, because it seem to have made a man of him, giving him the strength and courage to fight his own way, and taught him a tender patience with which to bear and comfort the natural longings and failures of those he loved. - Author: Louisa May Alcott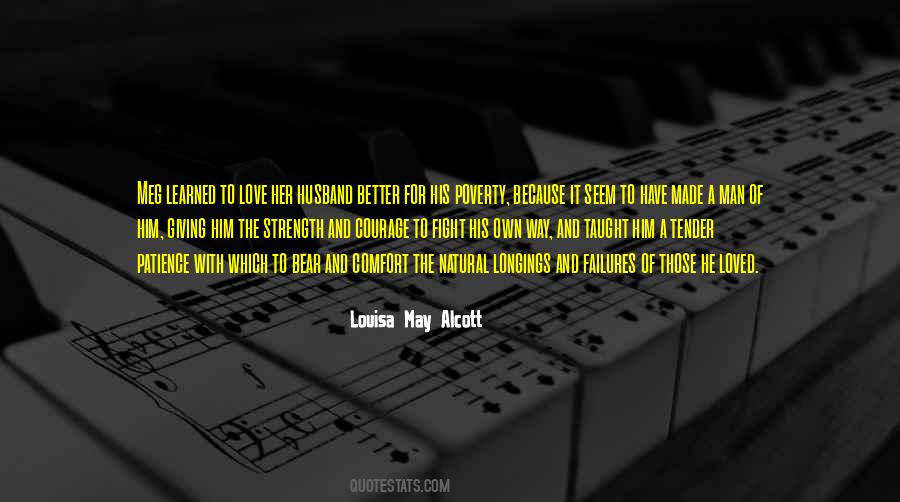 #79. In honor of October, really just hours away now ...
Brew me a cup for a winter's night.
For the wind howls loud and the furies fight;
Spice it with love and stir it with care,
And I'll toast our bright eyes,
my sweetheart fair. - Author: Minna Thomas Antrim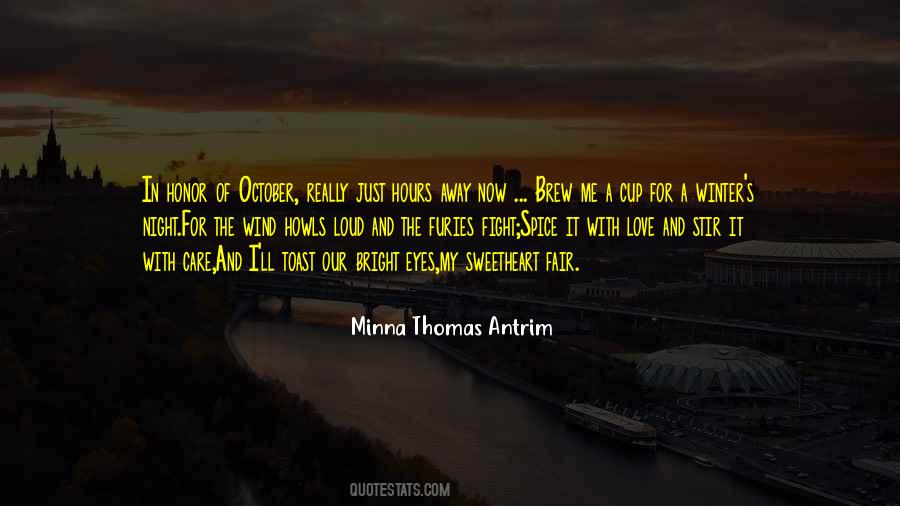 #80. It's much easier to be at peace than it is to hate somebody. It's much easier to love somebody than to fight with them. - Author: Wayne Dyer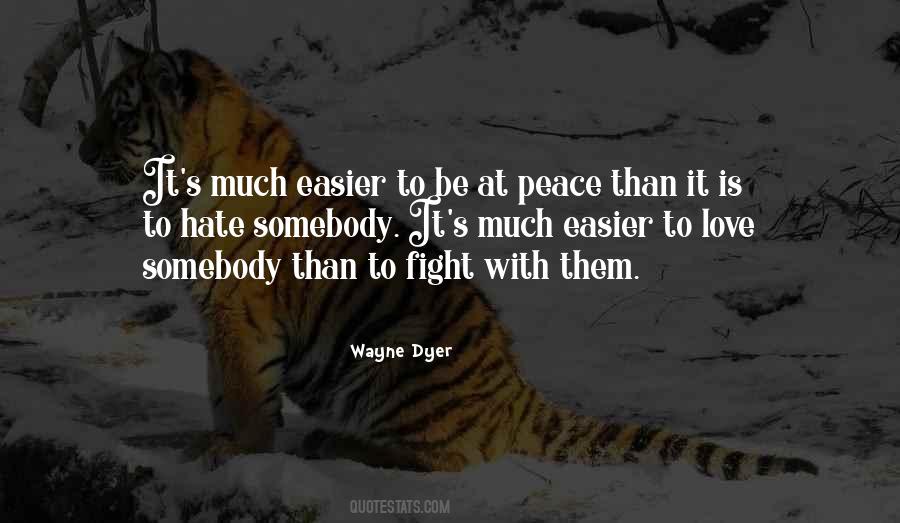 #81. You don't go through things with people and not love them for it. It's like those guys in the army who fight in muddy trenches and drag each other out of harm's way and are blood brothers for life because of it all. Only in our case, my mom and I face eviction notices and power shutoffs together. - Author: Lara Zielin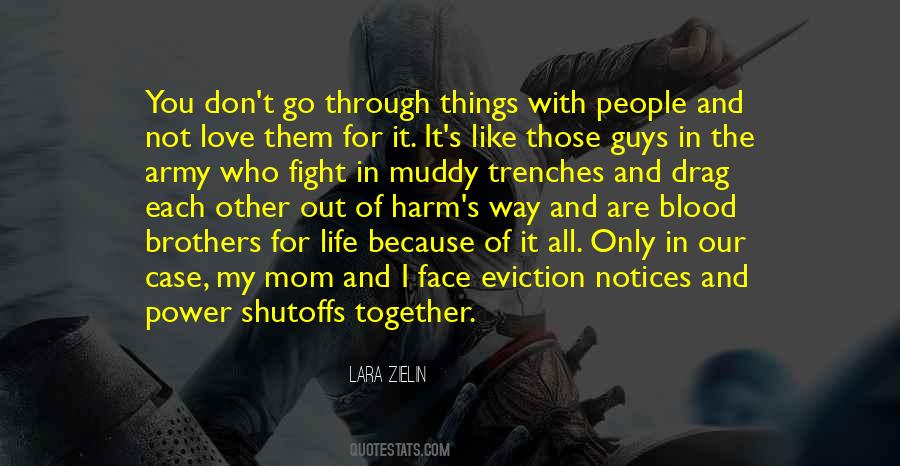 #82. He stared her right in the eyes. "Never . Nila, loving someone means you're willing to fight and die for them. That you'll be there with them no matter what life throws at you. Bring it on. Together, we'll be strong enough to face any future. - Author: Kat Simons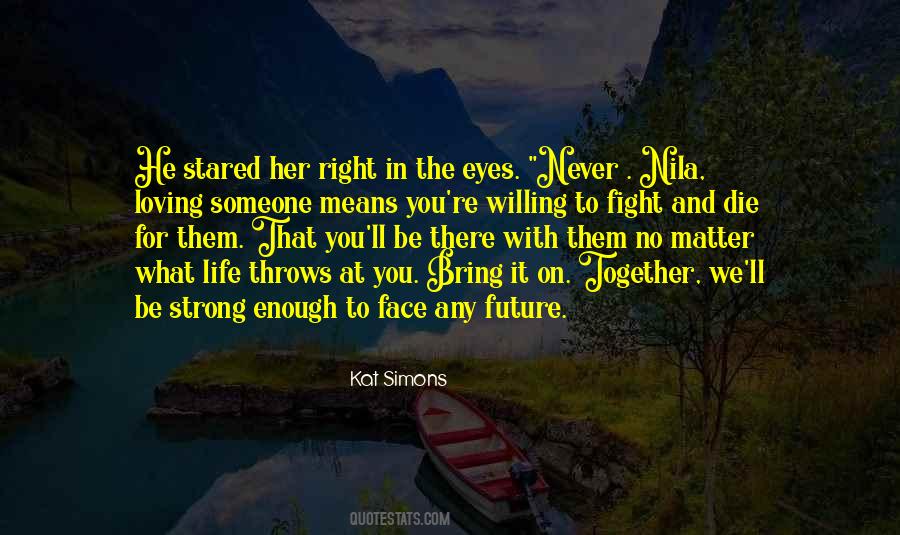 #83. I didn't want to fight with him. And yet I could not promise him what I most wanted to give - my love, the promise that I would stay with him in the Winter Court, that I would throw caution aside and be with him. - Author: Kailin Gow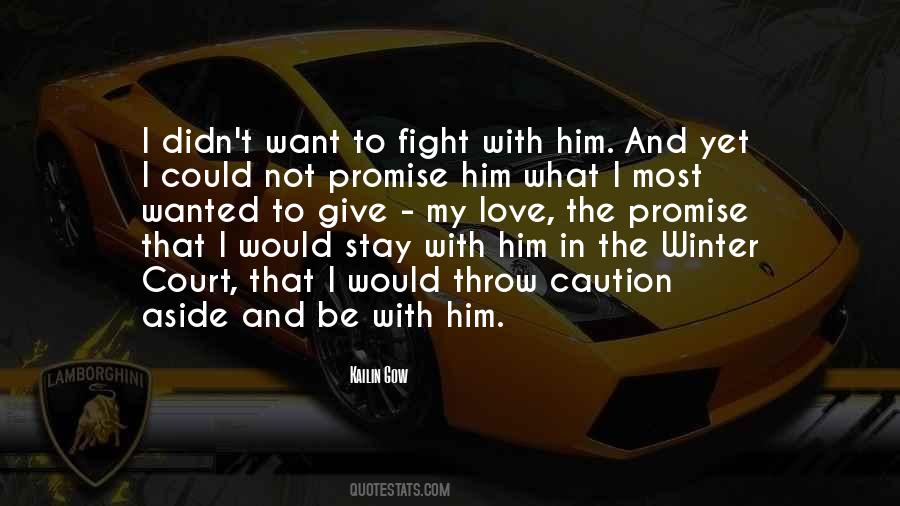 #84. To fight against pride, it is wise to surround ourselves with those who know us and love us enough to speak into our lives with words of correction and rebuke. - Author: Paul Washer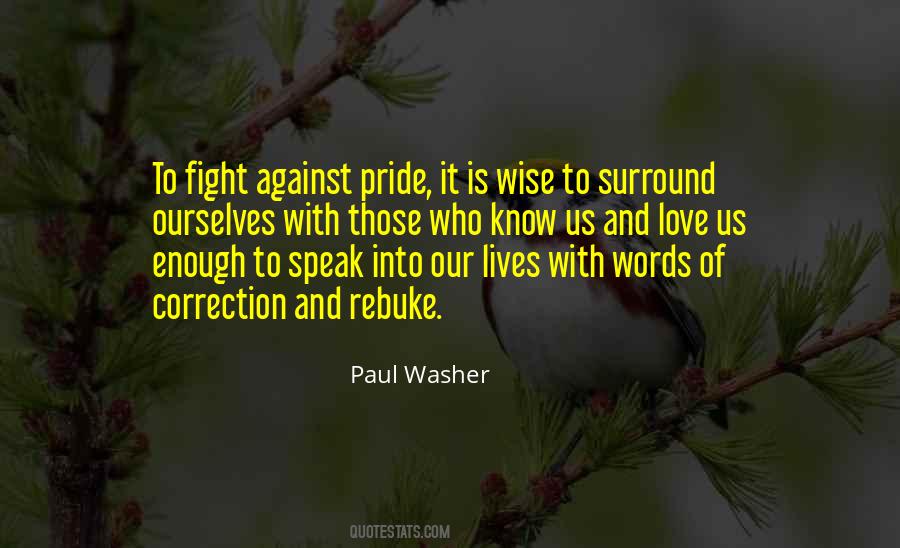 #85. I consider it a public duty to answer falsifications with facts. I will not pretend that I find this an unpleasant duty. I am an old campaigner, and I love a good fight. - Author: Franklin D. Roosevelt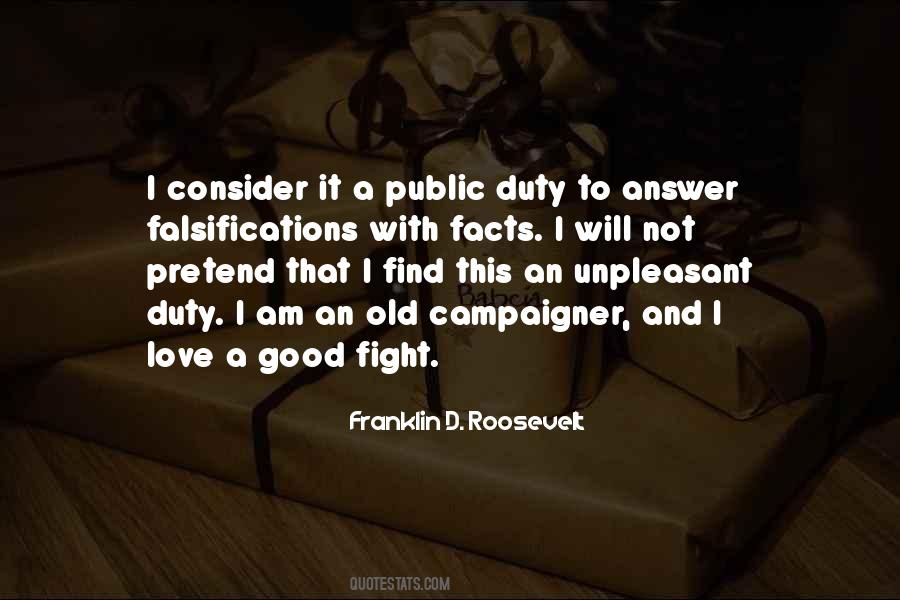 #86. Men don't fight for what is theirs. They work for it and they love it with all their hearts. When they do that, they want for nothing. - Author: Rebecca Steinbeck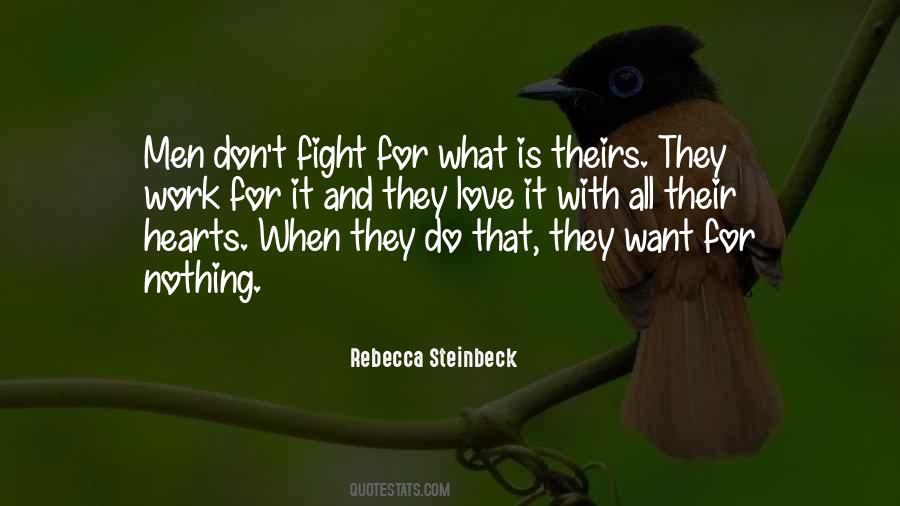 #87. You can't fight an evil disease with sweet medicine,' says the ng'anga. - Author: Panashe Chigumadzi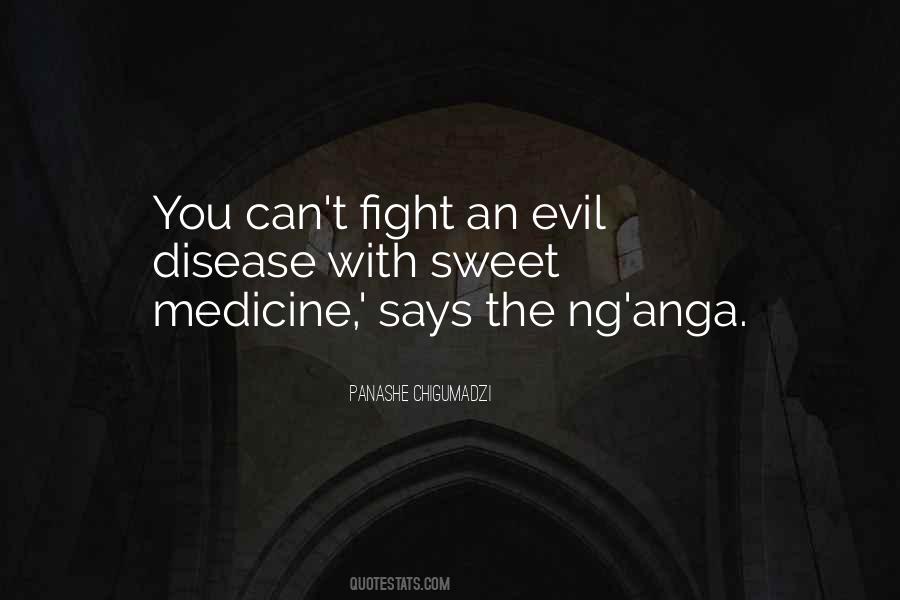 #88. No, I'm not ever letting you go." His words were raw with emotion. "I'll let you leave here right now, but I'm not giving up on you. I'll pursue you like I've never pursued anything in my life. I'll fight until you have no choice but to believe that I love you with everything I am. - Author: Laurelin Paige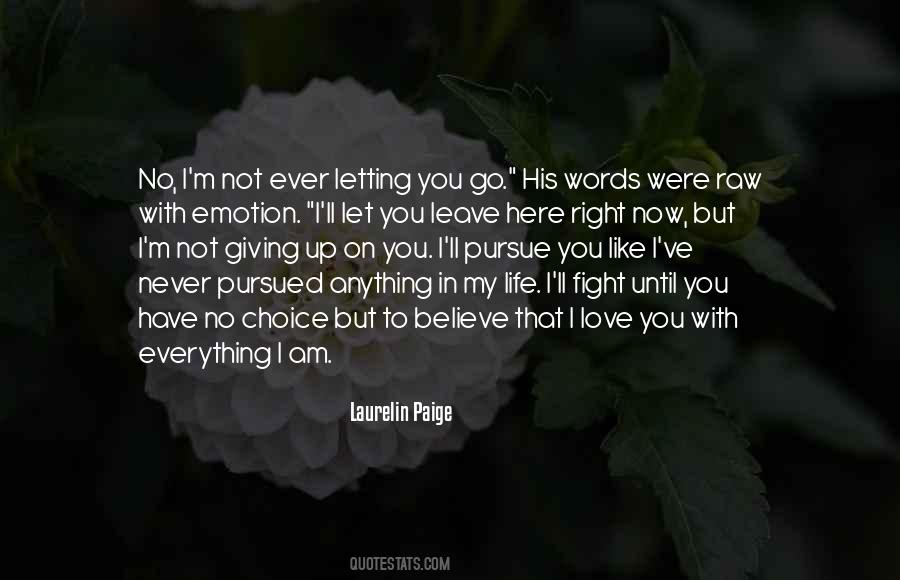 #89. You're love is nothing I can't fight. Can't sleep with a man who dims my shine. - Author: Lady Gaga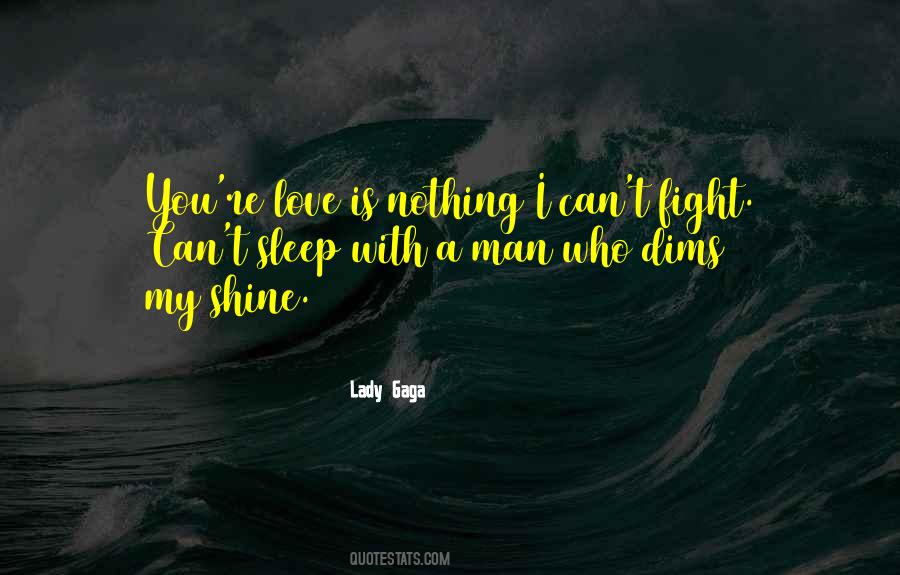 #90. Never fall in love with someone that won't fight for you because when the real battles begin they won't pull your heart to safety, but they will their own. - Author: Shannon L. Alder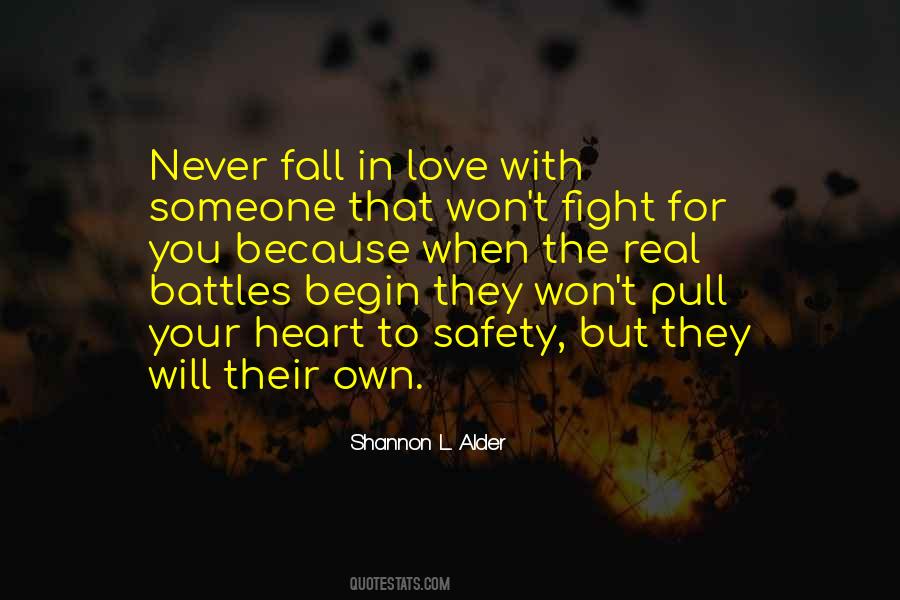 #91. -That's kind of sad.
-I used to think so. Now I think: you're born a certain way. Later you get to decide how much you want to fight/change that. I don't mind being alone.
-You must mind. If you didn't you wouldn't be doing this with me. - Author: Doug Dorst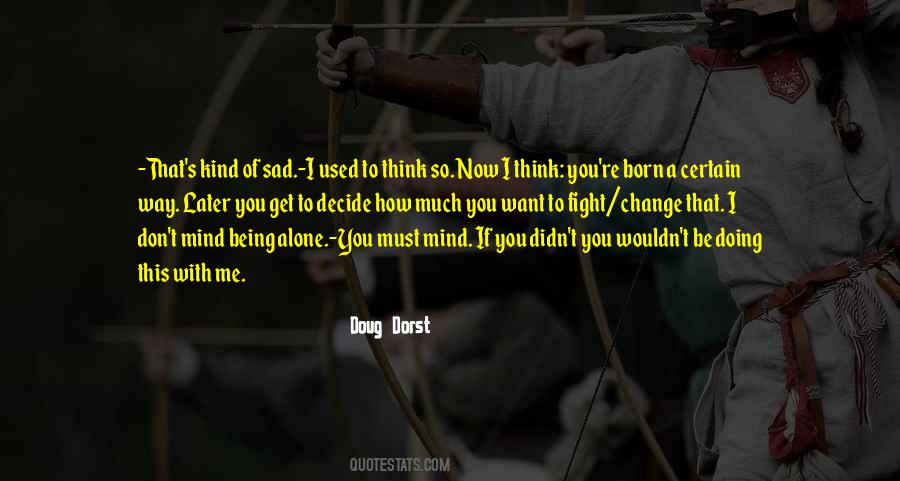 #92. It is a curious psychological fact that those who make their personal love public, and "dear" one another with saccharine epithets, are very often those who when alone quarrel and fight. - Author: Fulton J. Sheen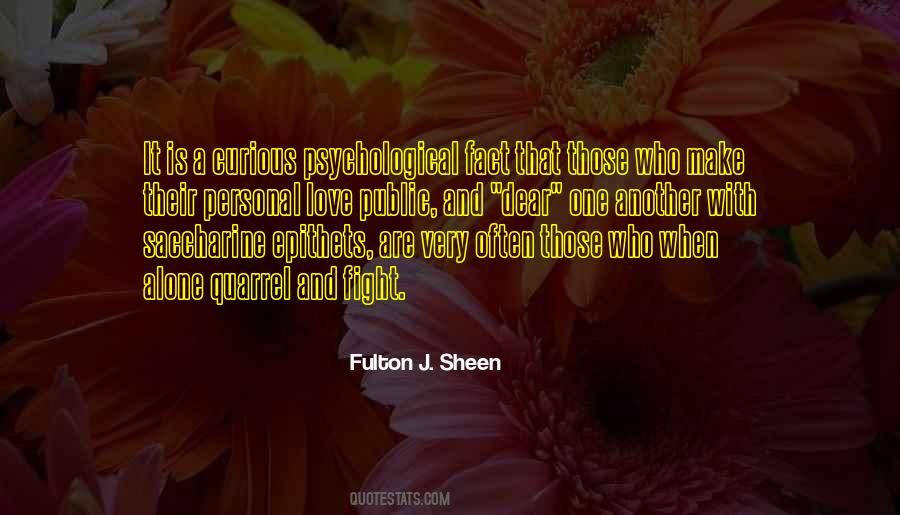 #93. The things we fight for are the things that we keep with us forever. - Author: Shelly Crane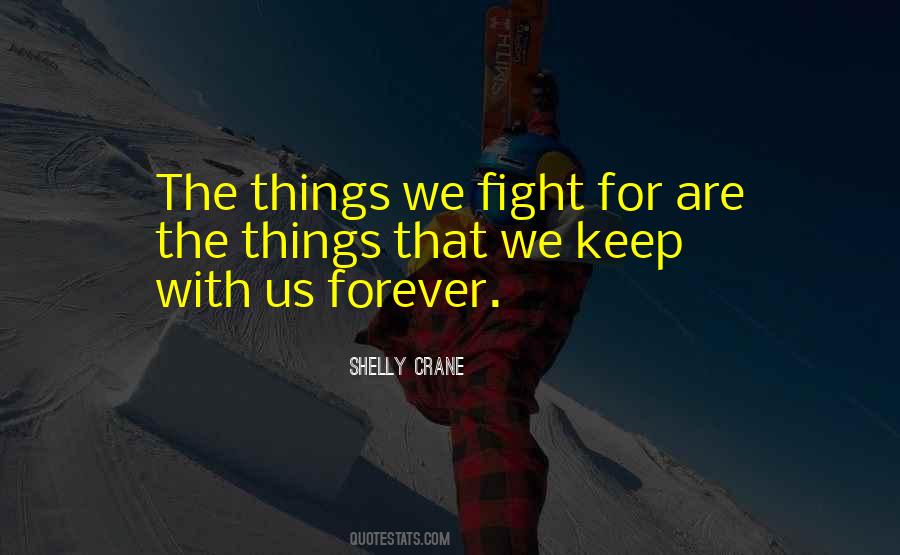 #94. I do not fight with enemies, I try to help them and love them for their ignorance. - Author: Debasish Mridha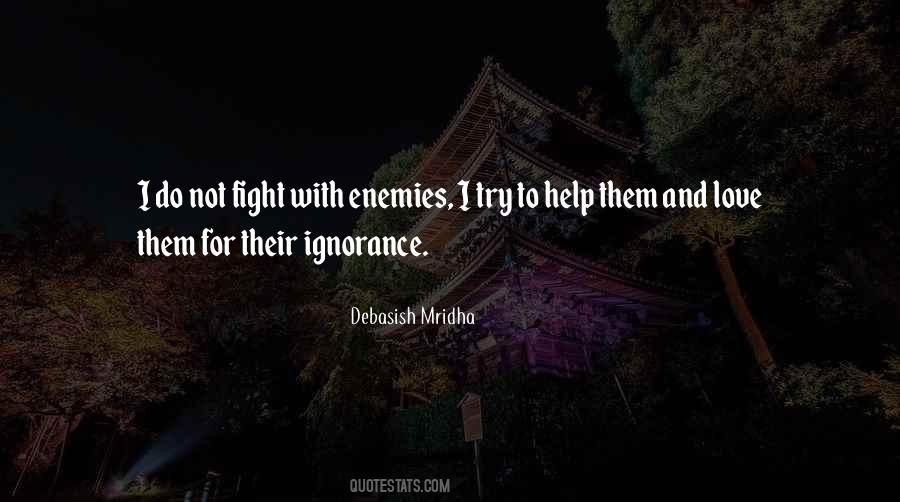 #95. My legion has won many victories. And since you are my dearest friend, we will fight that much harder." His intense, dark eyes locked with hers. "I swear to you: Ker-Ys will not fall. - Author: Jennifer McKeithen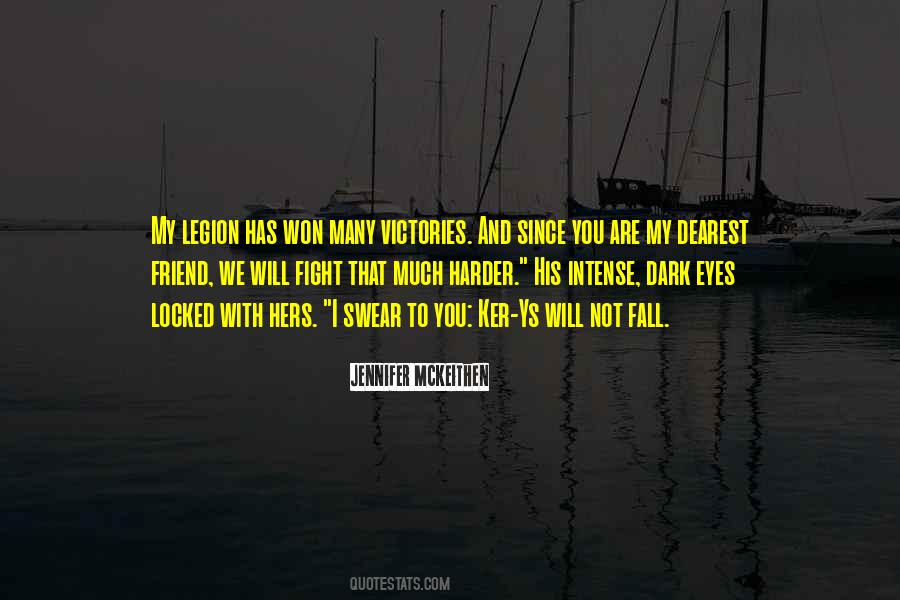 #96. Literature is the adventure. It's the story, it's the fight, it's people falling in love, it's people with deep personality disorders who succeed anyway beyond themselves. That's what great literature is. - Author: Walter Mosley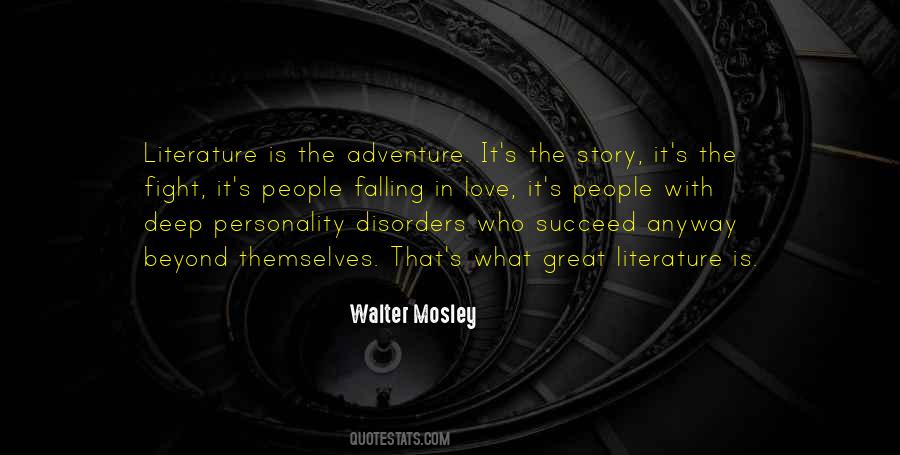 #97. I love your eyes. Your mouth. Your body. The way you lose your temper when you're flustered. Your ass is so fucking hot. I love the sounds you make when you fuck me. I love that you fight with me, and I love the way you make up with me. I love you, Tracy. I love you so fucking much. - Author: Mercy Celeste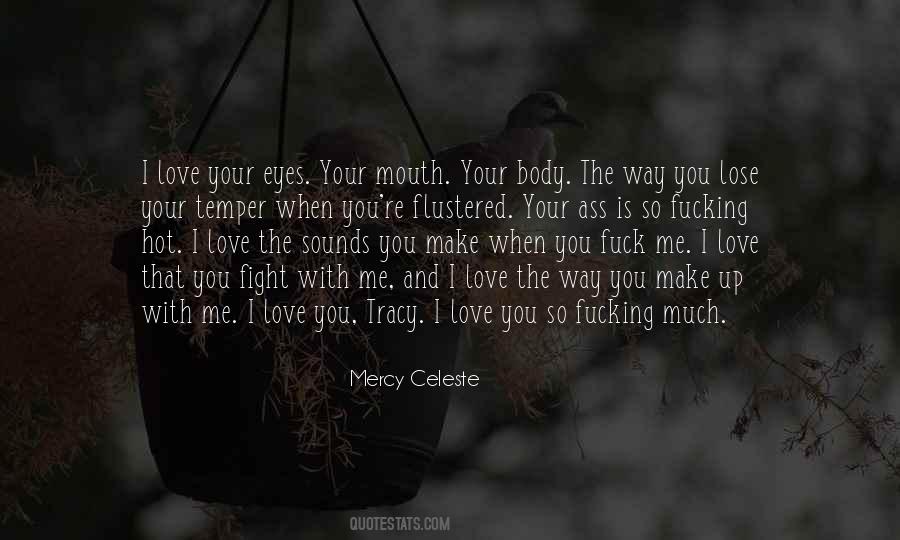 #98. What I have learned lately is that people deal with death in all sorts of ways. Some of us fight against it, doing everything we can to make it not true. Some of us lose our selves to grief. Some of us lose ourselves to anger. - Author: Carrie Jones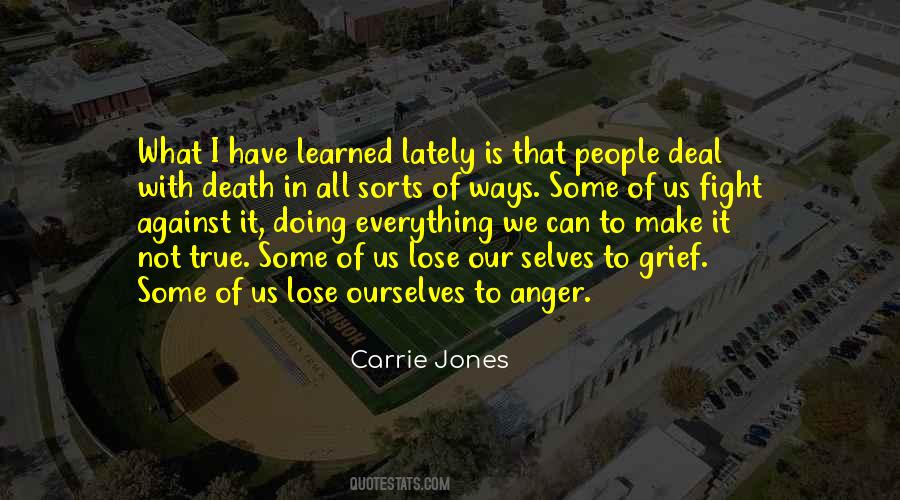 #99. Love isn't a mistake. But I know true love is rare enough that when you find it you fight for it. Marry me, Kate. Come back to Charleston with me and be with me for the rest of our lives. - Author: Beatriz Williams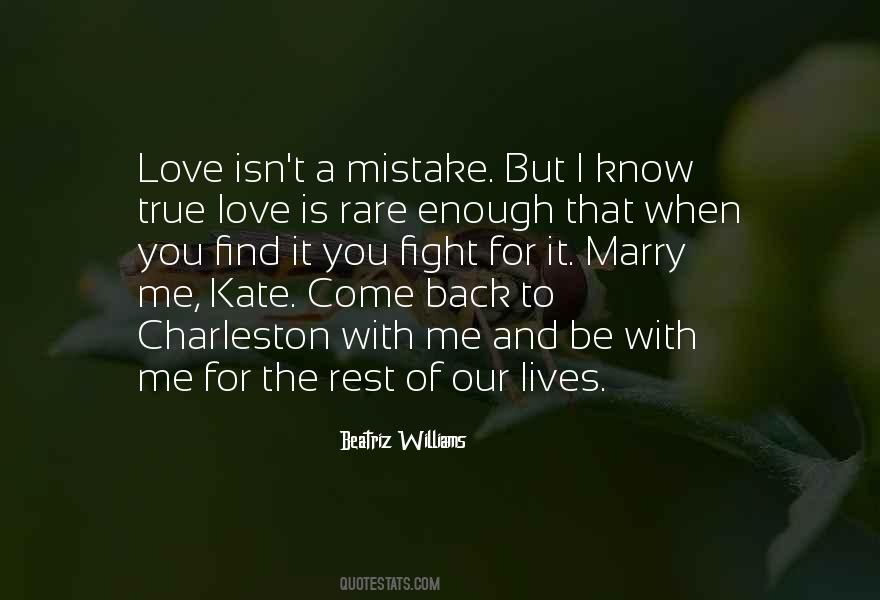 #100. I don't see myself as being injured by a landmine or the Taliban; I was injured by ignorance and hatred. When people do these things, they want to create more hatred. Fight it with love and education. - Author: Giles Duley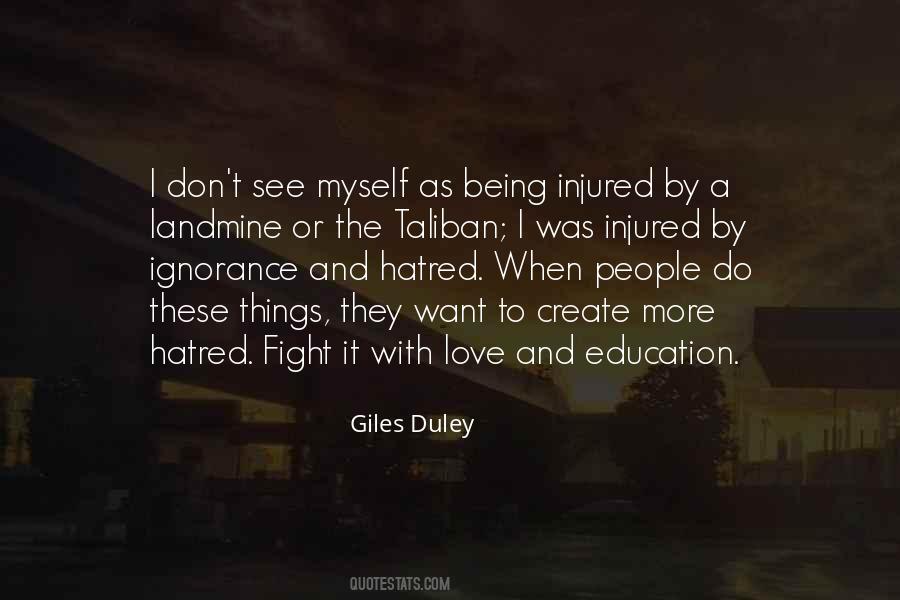 Famous Authors
Popular Topics