Festival Famous Quotes & Sayings
List of top 100 famous quotes and sayings about festival to read and share with friends on your Facebook, Twitter, blogs.
Top 100 Festival Quotes
#1. I owe my discovery of the Hot Club of Cowtown to Kinky Friedman, leader of the Texas Jewboys. When I saw that Bob Wills and his Texas Playboys were headlining the 2003 Santa Clarita Cowboy Poetry and Music Festival, I thought it my duty to check out the band that had inspired the Texas Jewboys. - Author: Clive Sinclair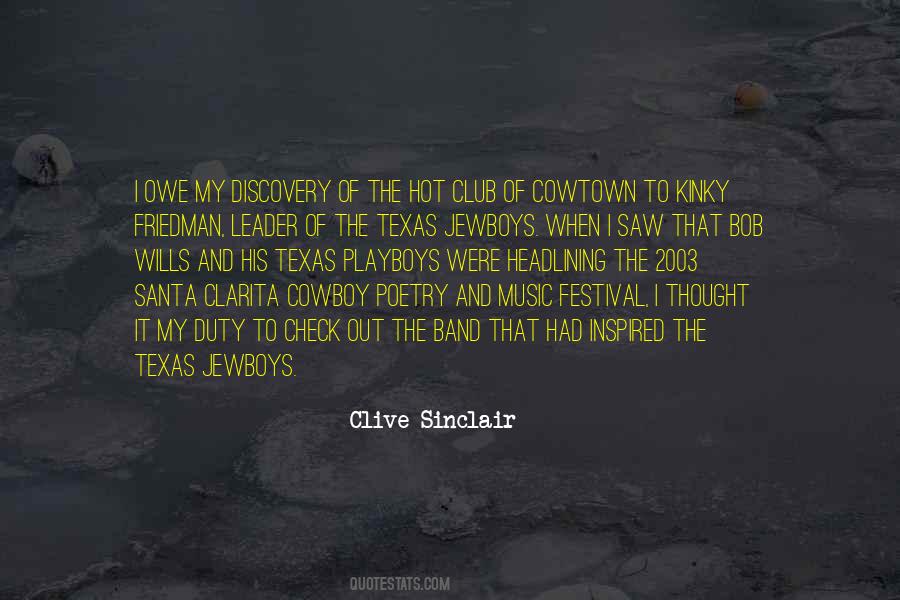 #2. For me, my taste is all over the place, so the festival is the perfect match for me because I can hit, again, Against Me! and SZA, all those different genres and the experience is awesome. - Author: Jennifer Abbott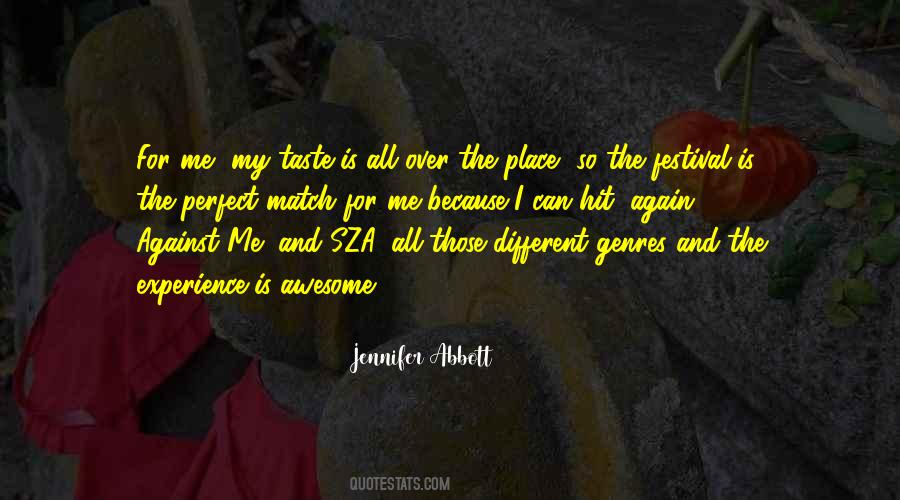 #3. There is a festival where we wear the faces of demons to ward evil spirits from our dead in the vale. Sometimes we
fail. - Author: Pierce Brown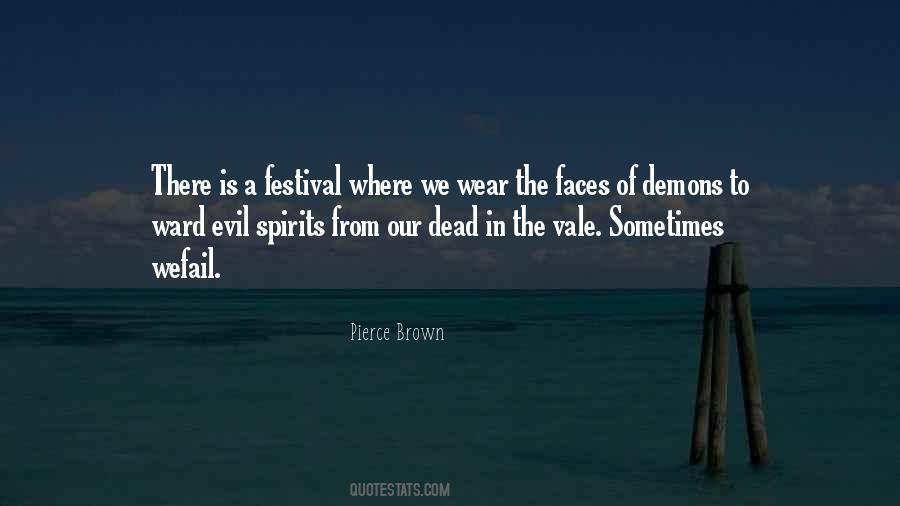 #4. Each year, every city in the world that can should have a multiday festival. More people meeting each other, digging new types of music, new foods, new ideas. You want to stop having so many wars? This could be a step in the right direction. - Author: Henry Rollins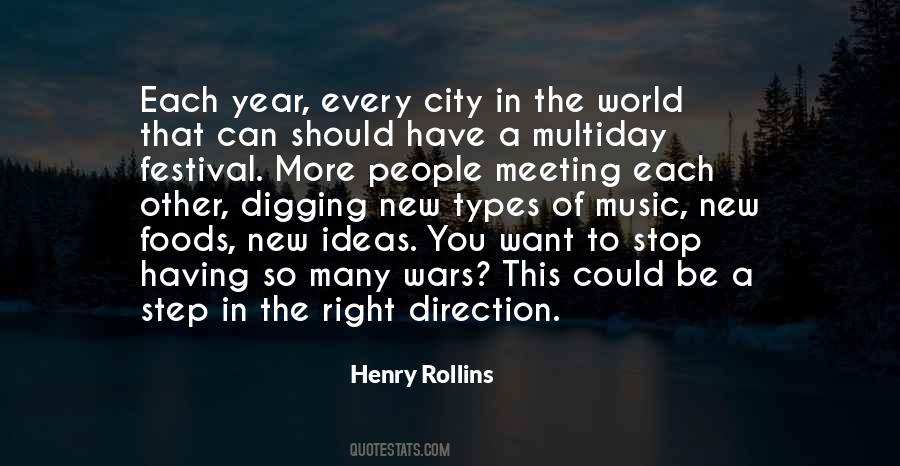 #5. It doesn't matter if I ever win another award or get to play another major jazz festival in America. I would rather not garner any of those things and speak honestly about the things that I see my people endure in this country and all over the world. - Author: Christian Scott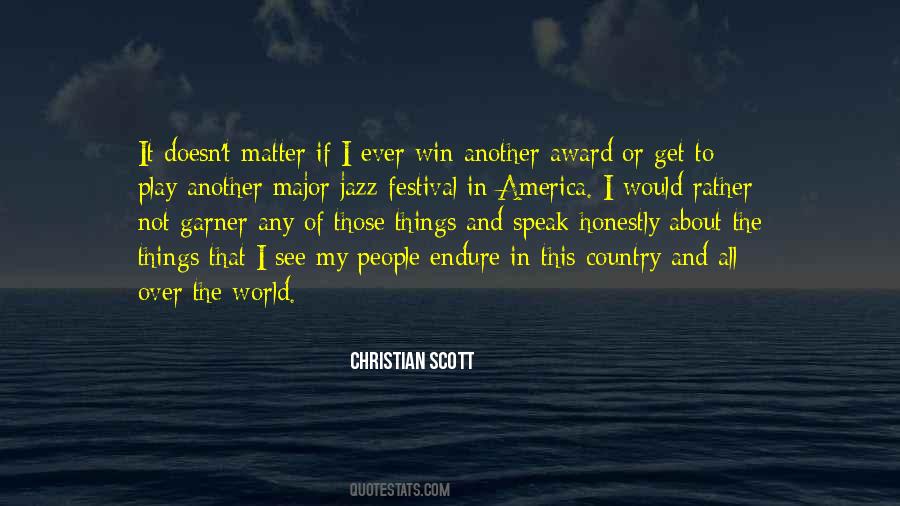 #6. Occasionally, when I run into a great bass backstage at a festival I'll play a few notes on the low E string, just to feel the instrument vibrate against my belly. - Author: Steve Swallow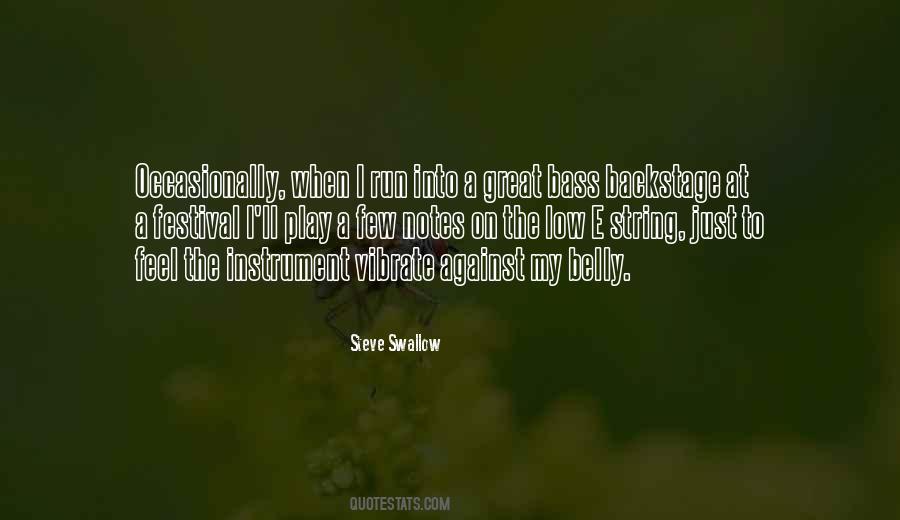 #7. Following the invention of writing, the special form of heightened language, characteristic of the oral tradition and a collective society, gave way to private writing. Records and messages displaced the collective memory. Poetry was written and detached from the collective festival. - Author: Harold Innis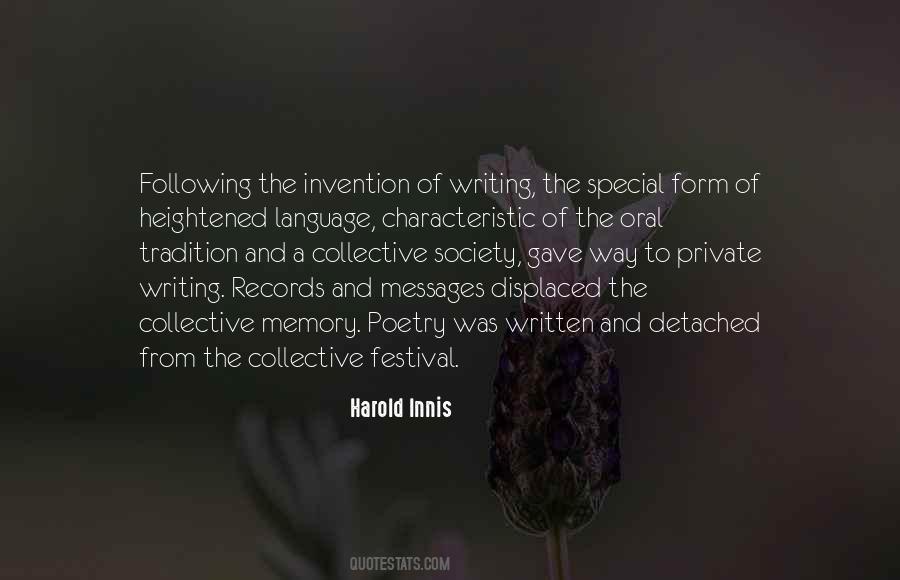 #8. January 26: Marilyn is invited to attend the Foreign Press Association's First Annual International Film Festival at the Club Del Mar in Santa Monica and creates a sensation by wearing an Idaho potato burlap bag designed for her by Billy Travilla. - Author: Carl Rollyson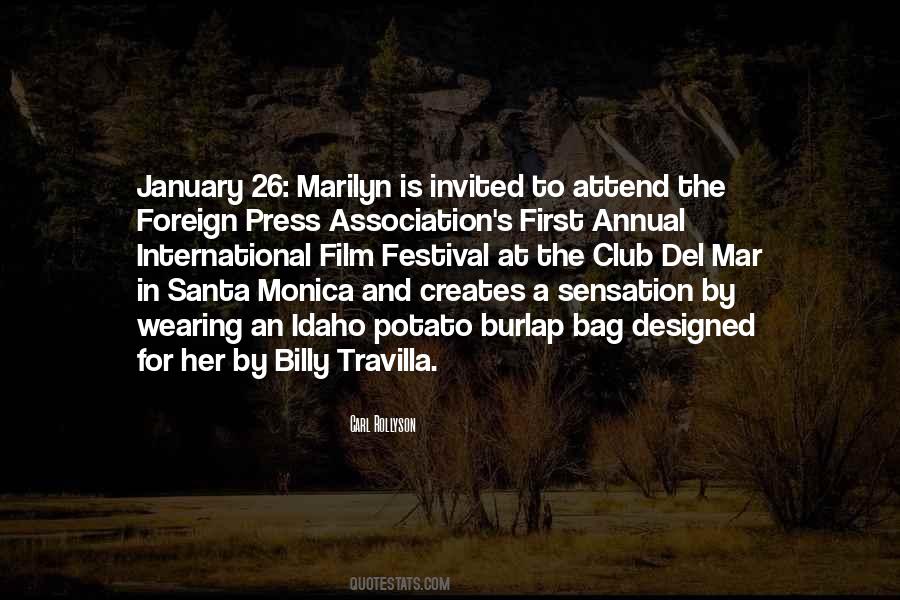 #9. Feast, n. A festival. A religious celebration usually signalized by gluttony and drunkenness, frequently in honor of some holy person distinguished for abstemiousness. - Author: Ambrose Bierce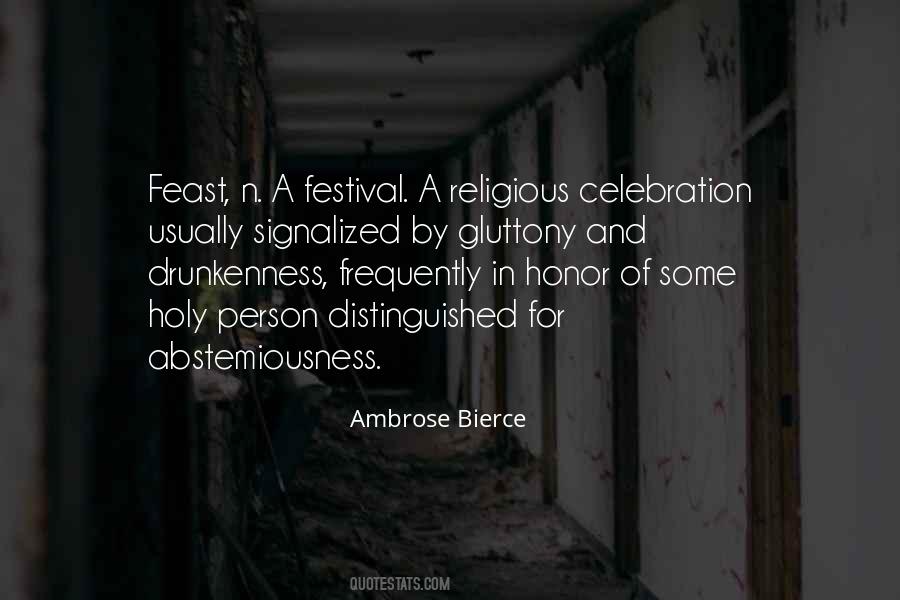 #10. There's another wonderful Italian expression: l'arte d'arrangiarsi-the art of making something out of nothing. The art of turning a few simple ingredients into a feast,or a few gathered friends into a festival. Anyone with a talent of happiness can do this, not only the rich. - Author: Elizabeth Gilbert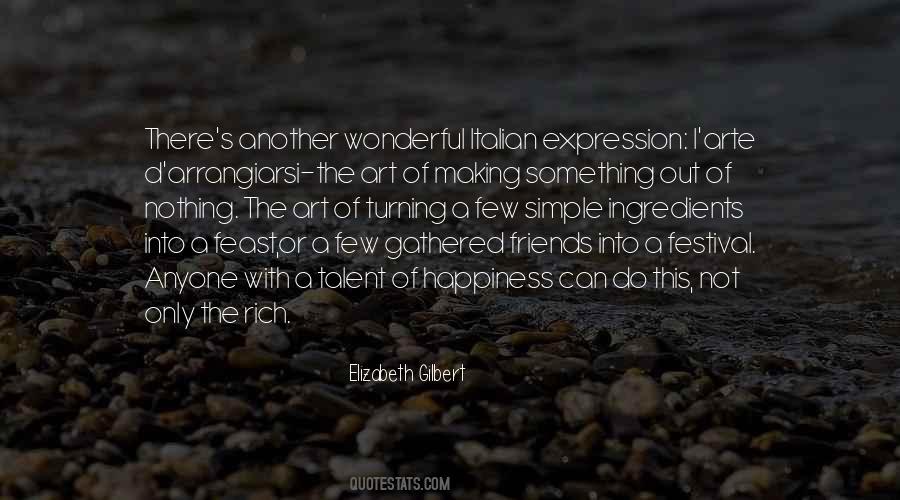 #11. ...love is only a kind of festival of solitude - Author: Henri Barbusse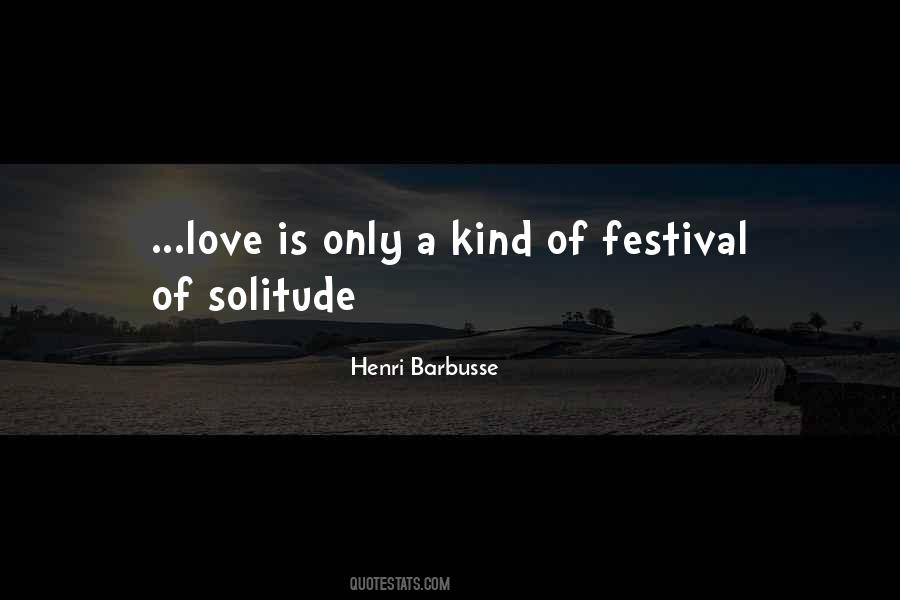 #12. When I started work with LucasArts Computer Division back in 1984, I went to the Palace of Fine Arts and saw the Festival of Animation for the first time. I loved the diverse collection of animated films the festival held. - Author: John Lasseter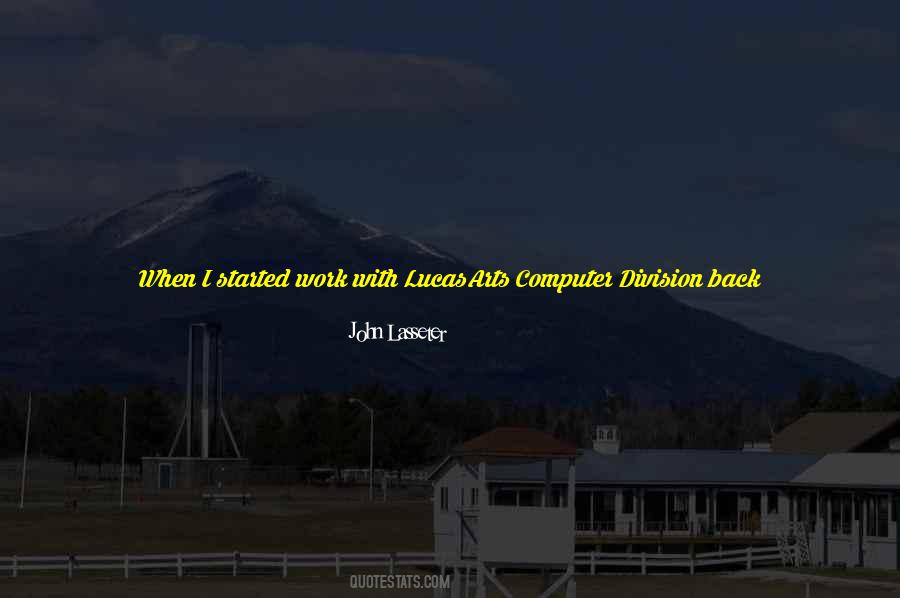 #13. Each year we go to the Cannes film festival and I tend to have all my friends pile in the back of my car and we'll drive from London. The poor production company think they're only putting me up and suddenly they've got eight people sleeping on my hotel room floor. - Author: Jeremy Irvine
#14. He who has no light in his heart, what will he gain from the festival of lamps. - Author: Wasif Ali Wasif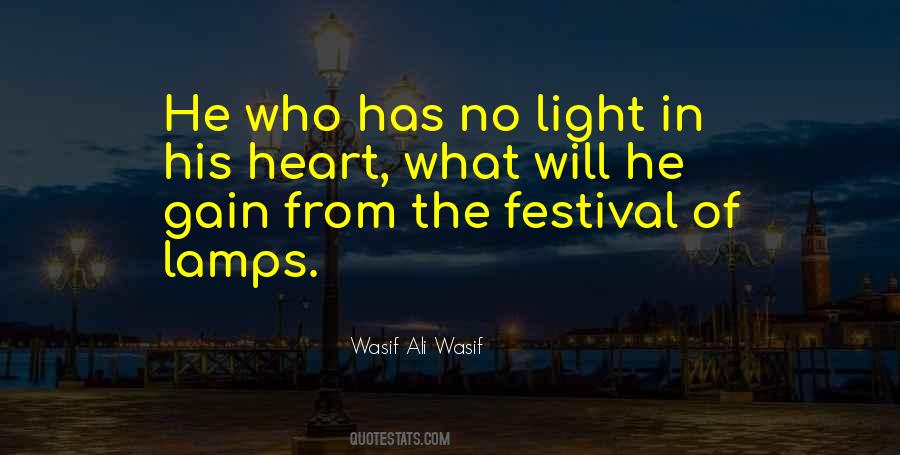 #15. Life should be a continual celebration, a festival of lights the whole year round. Only then can you grow up, can you blossom. - Author: Rajneesh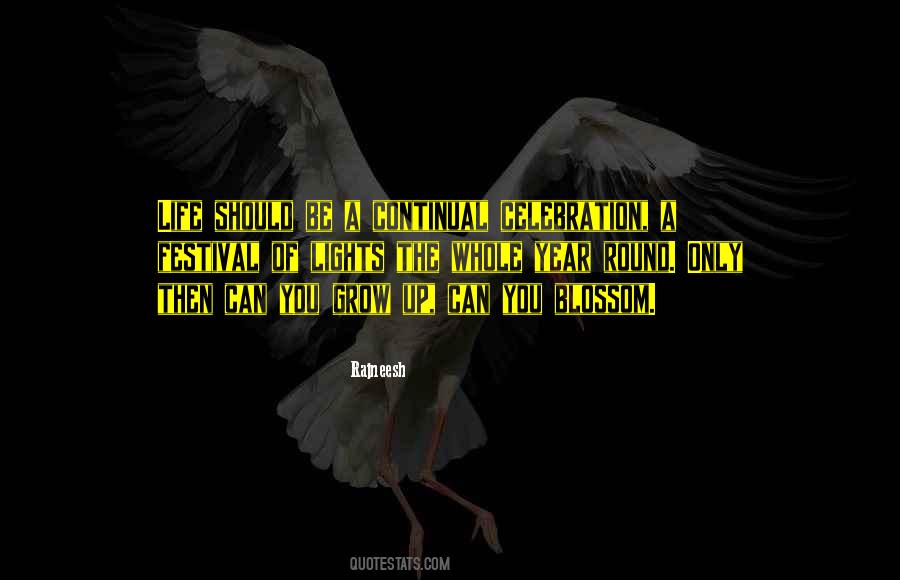 #16. Fatuous words I don't trust you I trust silence
More than beauty more than anything
A festival of understanding - Author: Frantisek Halas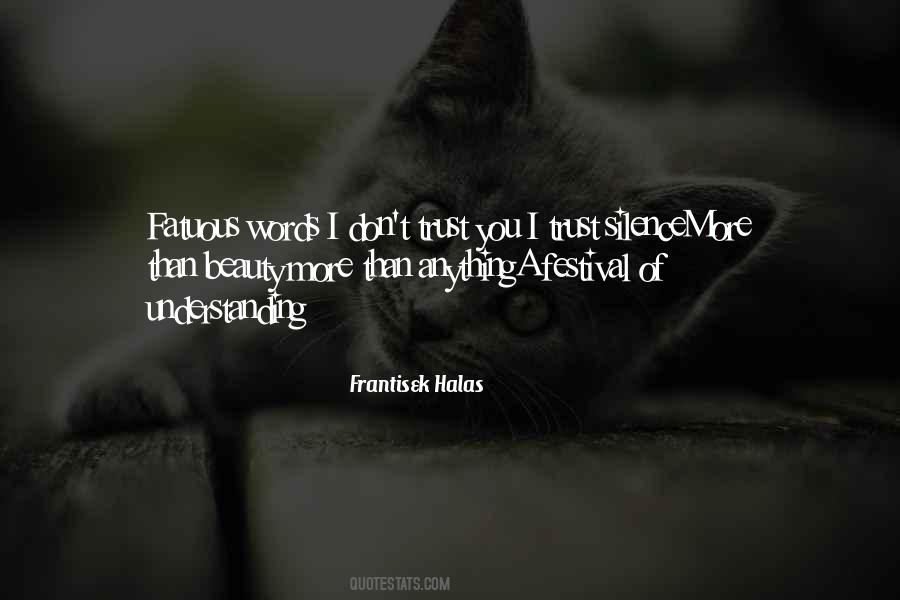 #17. When people say 'stadium songs,' it's really negative. All the festival headliners, I've realised, are usually the worst bands. - Author: Laurent Brancowitz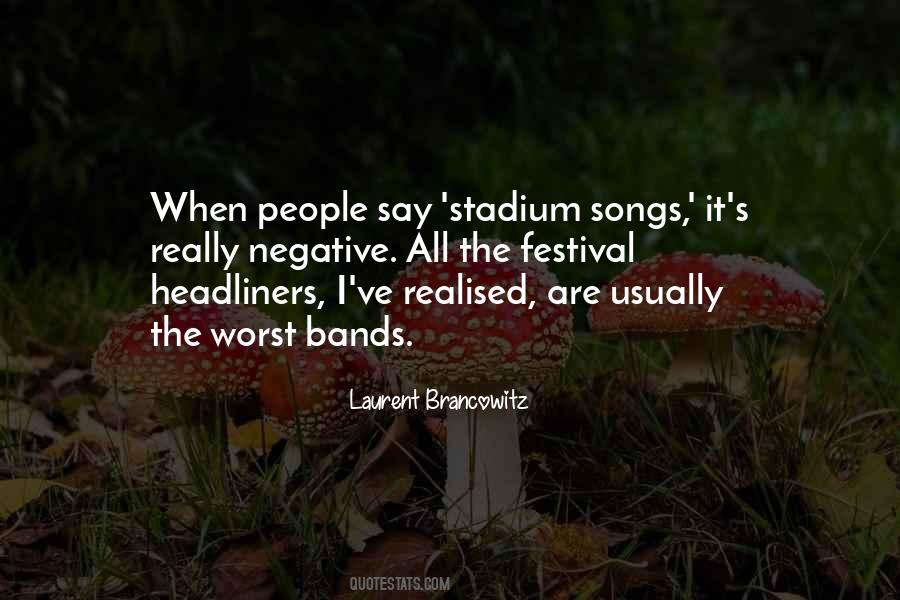 #18. At a festival, a lot of people came to see other artists, so you have to put on a signature set and performance: 'This is what I do, this is why I'm here.' At solo gigs, I'm a DJ - I'll play two-and-a-half hours, and not just my own music, also my favorite songs by other artists. - Author: Afrojack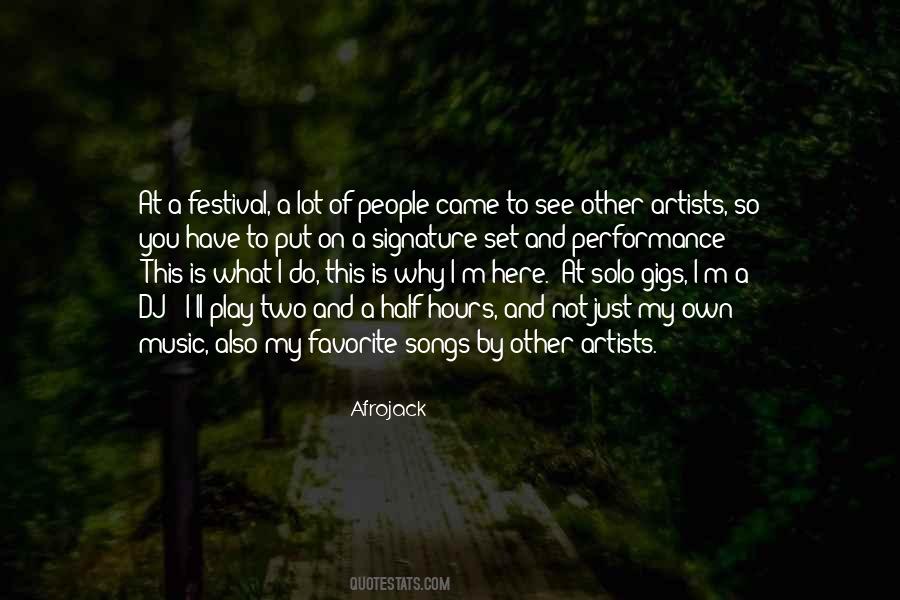 #19. The range of genre that we is very diverse, which makes for a fun and multi-dimensional show, but creating something that flows, depending on what kind of vibe the show is going to be [loud dive bar, small theatre, festival] is a bit of an art a haphazard art at times. - Author: Sarah Burton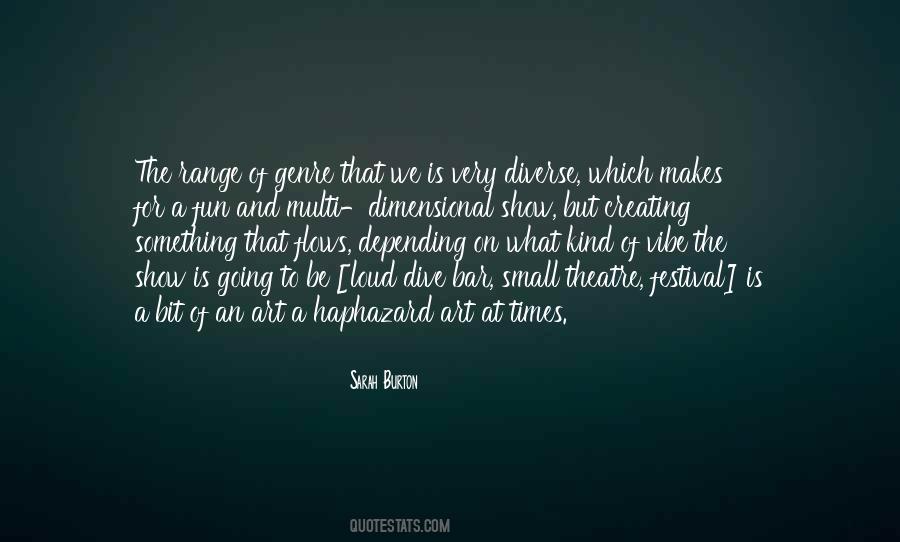 #20. January 14, 2000, was my first time on stage, and I've been hooked ever since. I got discovered nationally in Seattle by the now-defunct HBO Comedy Festival, and that led to an appearance on 'Jimmy Kimmel Live' and a path to a professional comedy career. - Author: Hari Kondabolu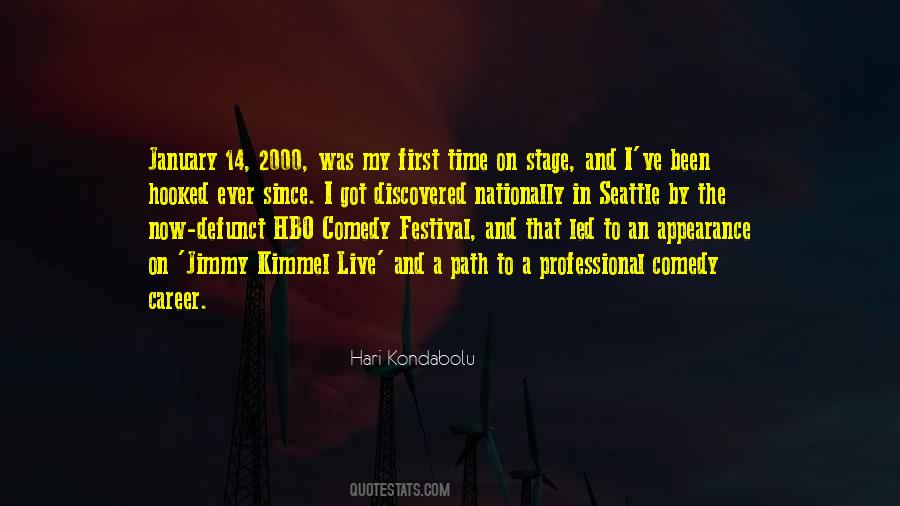 #21. The Olympic Games are not just ordinary world championships but a quadrennial festival of universal youth ... celebrated by each succeeding generation as it arrives on the threshold of adulthood. - Author: Pierre De Coubertin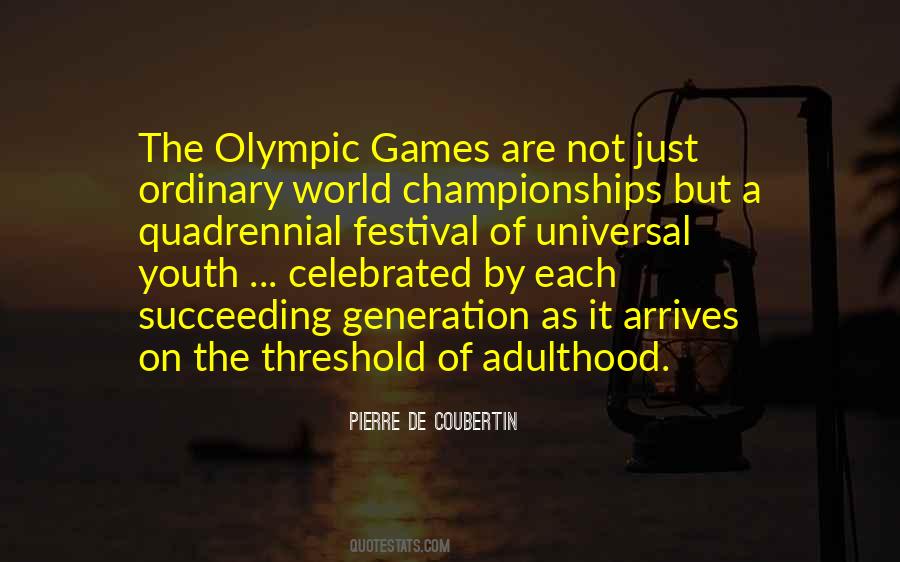 #22. There's an amazing intimate feeling in a small club but an insane rush playing a stadium or festival. - Author: Tiesto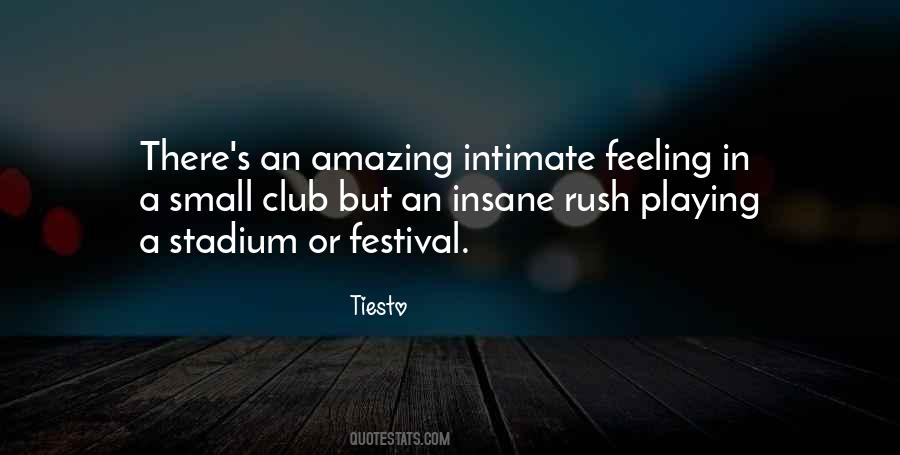 #23. A panel at a beautiful annual literary festival in Brazil, held in the almost Utopian coastal town of Parati, found me matched with Fernando Gabeira. This comparison reduced my own limited charisma value to something like zero: Gabeira has excelled at every cultural activity in Brazil. - Author: Christopher Hitchens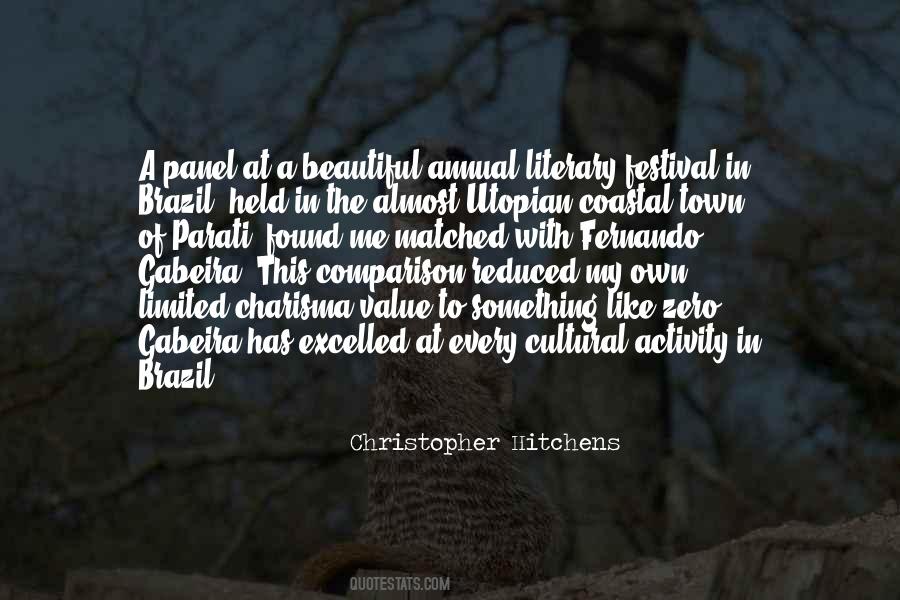 #24. Sundance felt like a natural fit. I love coming here, and I do think that this festival suits my films rather than most of the festivals I've been to. I'm not going to Cannes, you know. - Author: Taika Waititi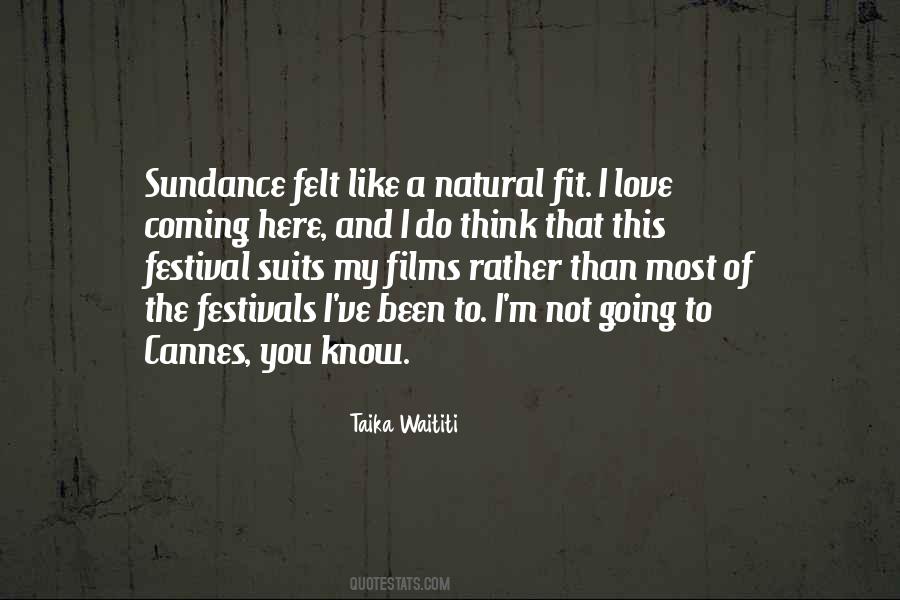 #25. The Cannes film festival is about big-budget films but also remarkable films made in different political regimes by film-makers with little resources. - Author: Kristin Scott Thomas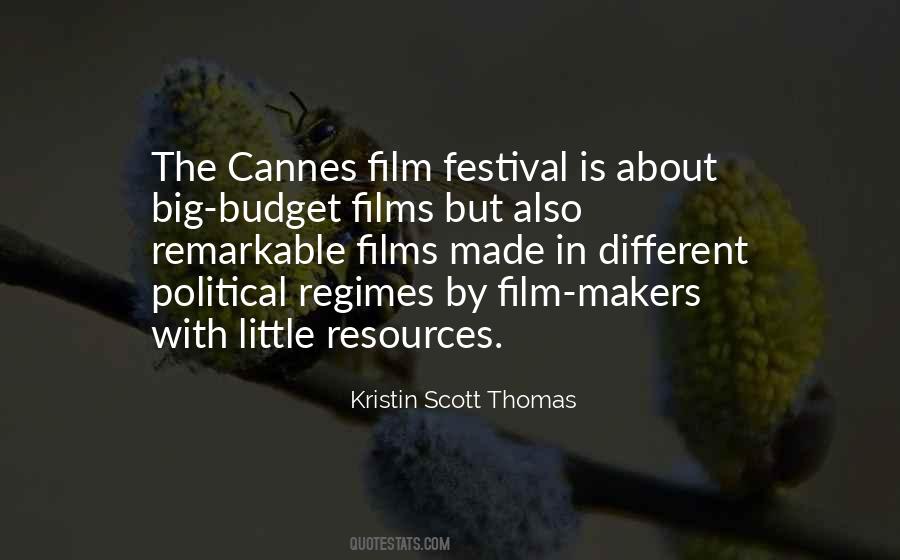 #26. Today I have so much to do: I must kill memory once and for all, I must turn my soul to stone, I must learn to live again Unless ... Summer's ardent rustling Is like a festival outside my window. - Author: Anna Akhmatova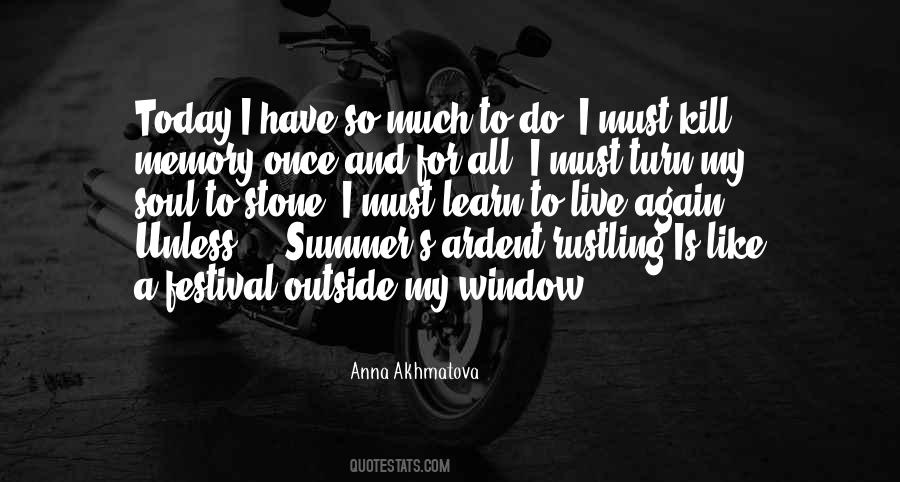 #27. Try to enjoy the great festival of life with other men. - Author: Epictetus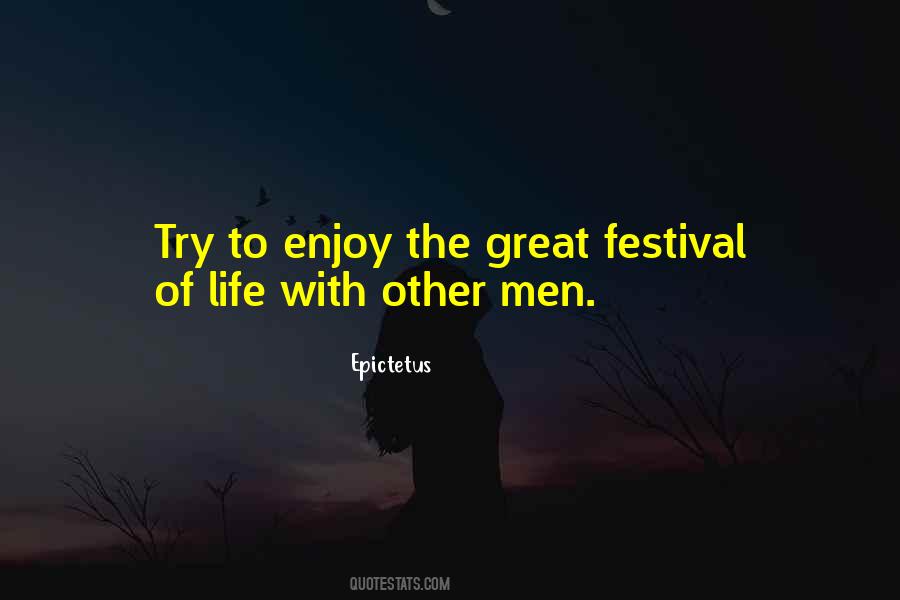 #28. Life is a happy thing, a festival to be enjoyed rather than a drudgery to be endured. - Author: Luci Swindoll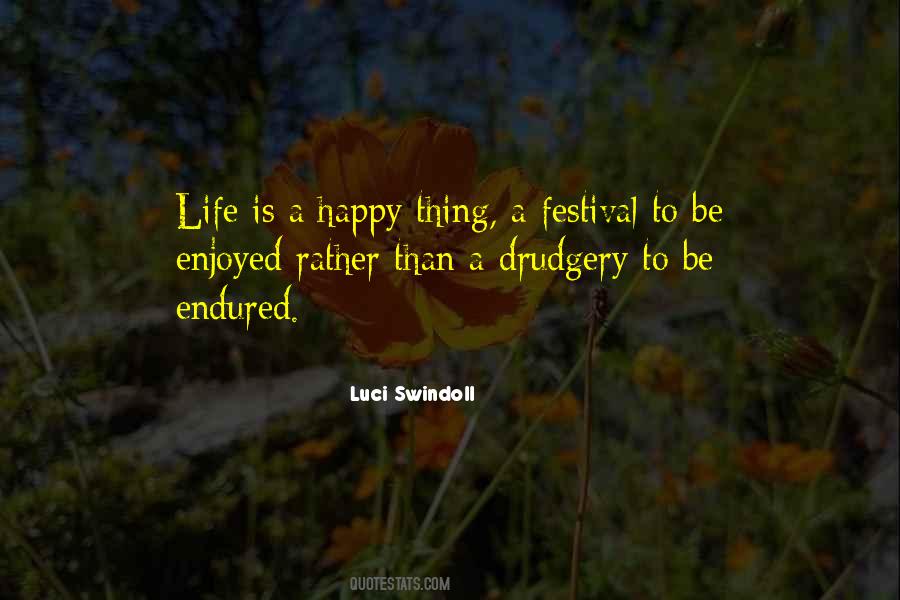 #29. Celebrating a festival called life. - Author: Jagbir Singh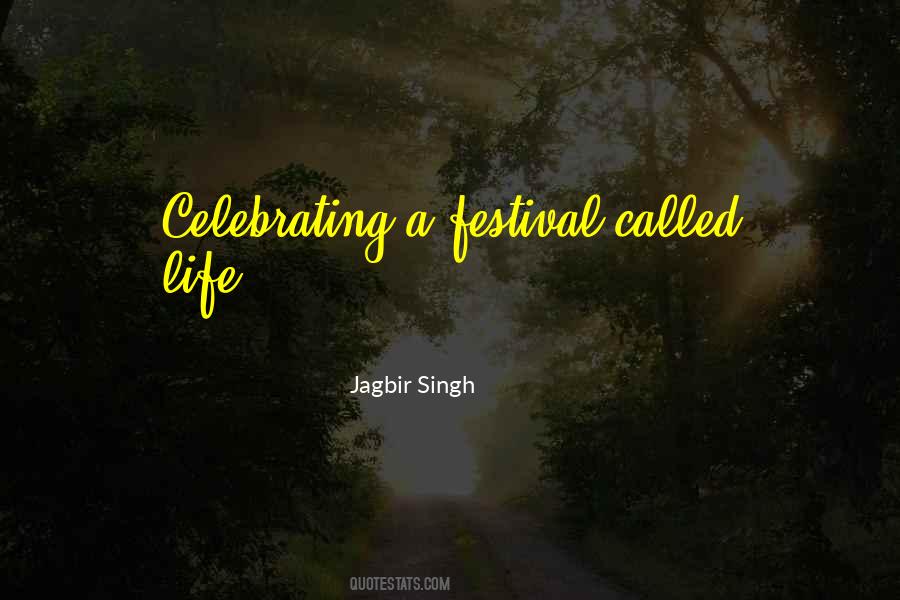 #30. Anyone for a Film Festival?: - Author: Jerome Pitt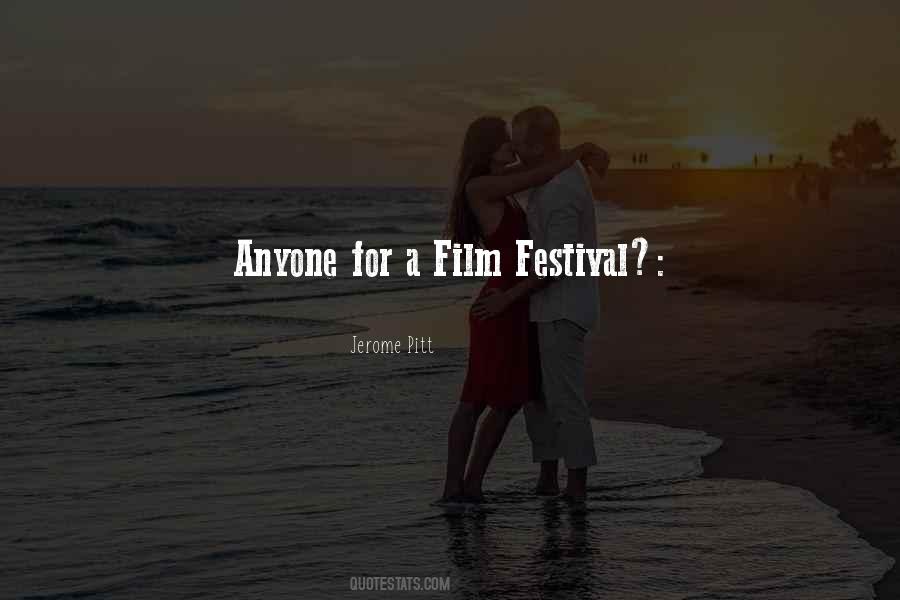 #31. When you go to a film festival as an audience member, it's so much fun. But when you bring your own film there, you carry so much stress and excitement. - Author: Mora Stephens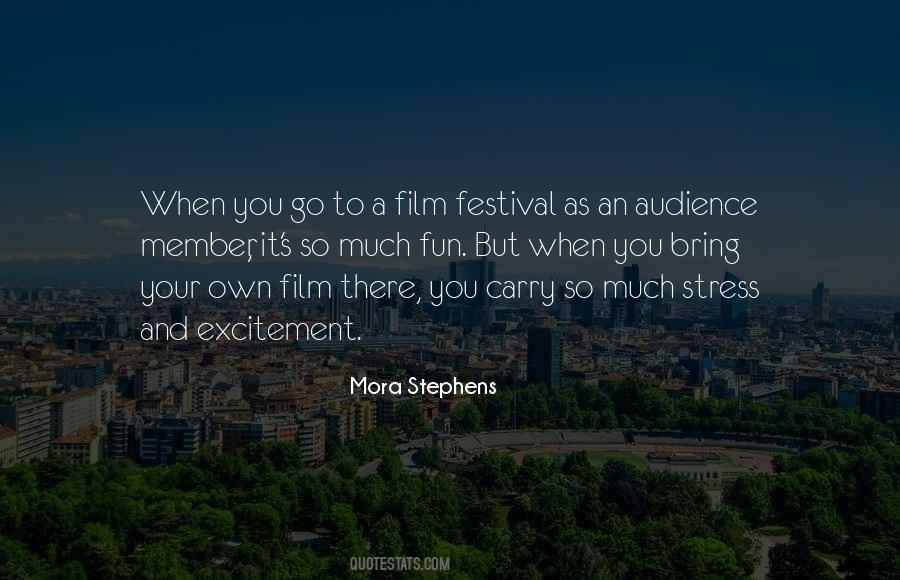 #32. I like the Edinburgh Film Festival, and I've liked what I've experienced of Glasgow's Film Festival too. - Author: Aidan Gillen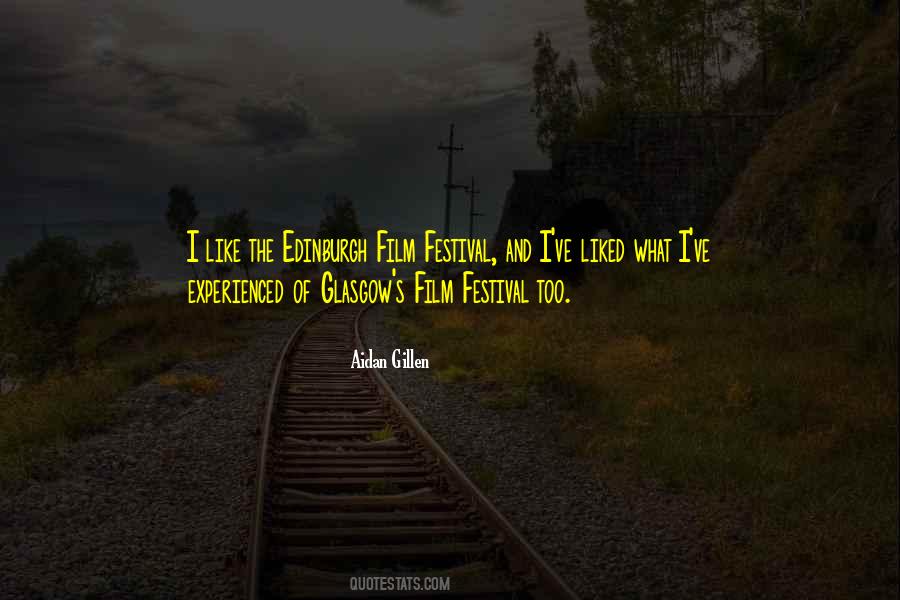 #33. Pagans earn their reputations for relaxed sexual mores, often in rebellion from the repression of their religions during adolescence. At a Pagan festival, one need only lower one's guard to be offered sex under the cloaking of the sacred. - Author: Thomm Quackenbush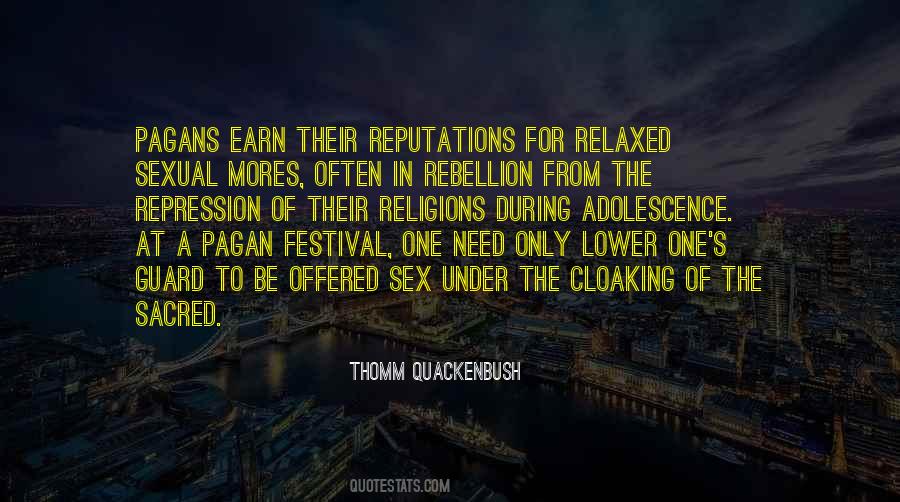 #34. Some people in the town did not seem to care about the festival and were watching football on TV. The players were dotted about in neon green. They looked unreal, the way they might be seen by the forgotten man in the moon and the rabbit if they were watching the floodlit pitch forlornly from above. - Author: Olivia Sudjic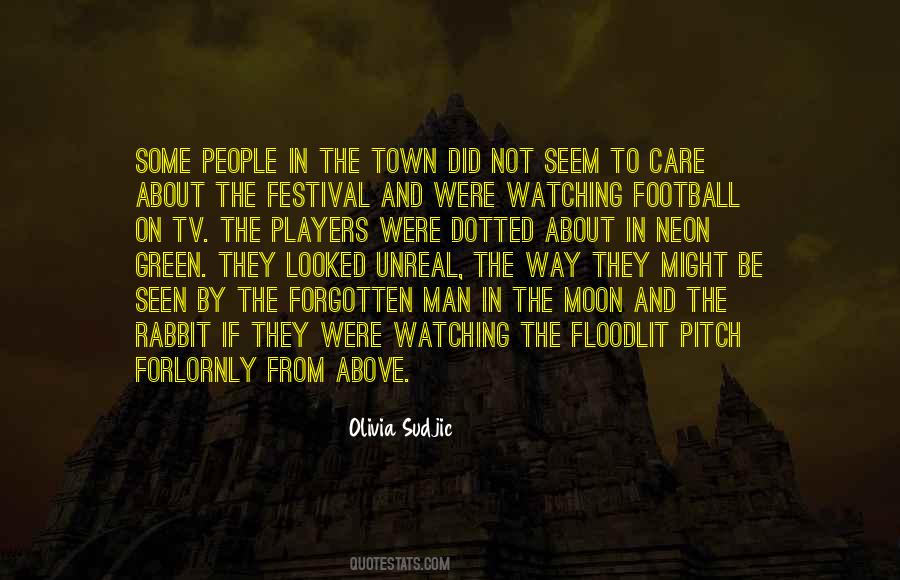 #35. I'll never forget the first screening at the Berlin Film Festival. As soon as the film ended there was an outbreak of booing, which made us look at each other with some surprise. - Author: John Schlesinger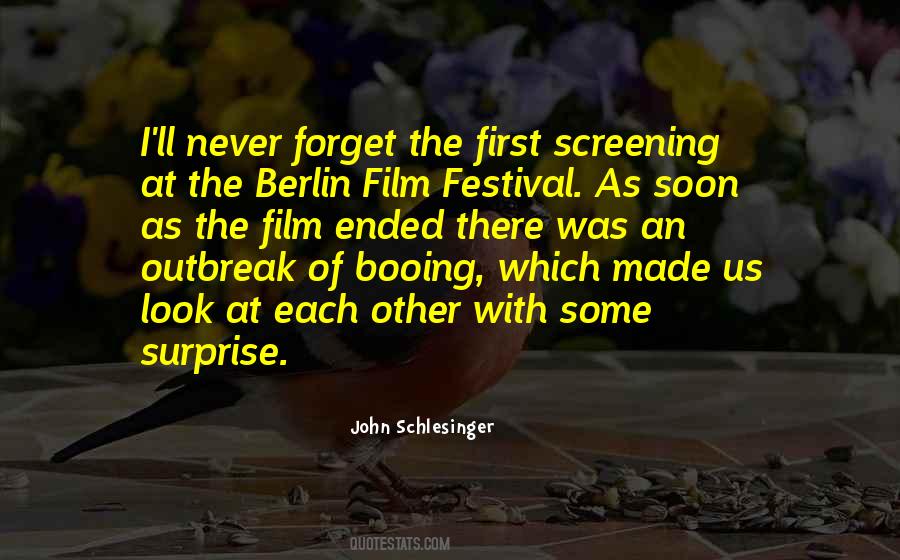 #36. Thus one of Europe's most serious crises will be ended, and all of us, not only in Germany but those far beyond our frontiers, will then in this year for the first time really rejoice at the Christmas festival. It should for us all be a true Festival of Peace. - Author: Adolf Hitler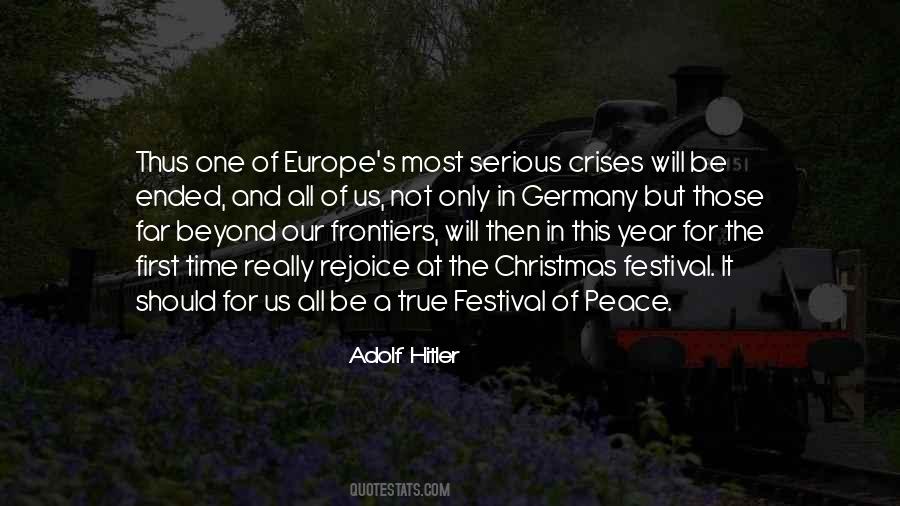 #37. The moon has become a dancer
at this festival of LOVE. - Author: Rumi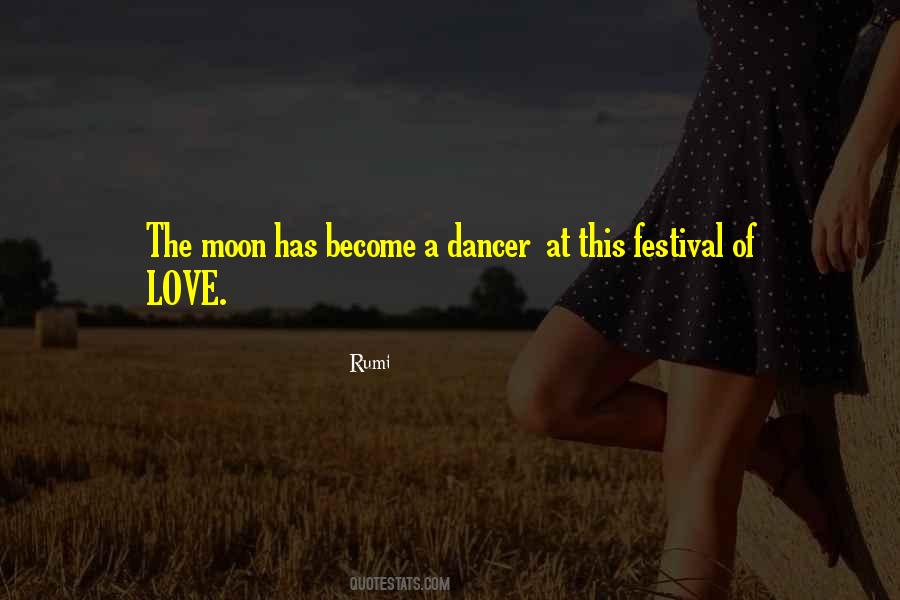 #38. He was deader than a shrunken head at a Hackey Sack festival. - Author: Scott Adams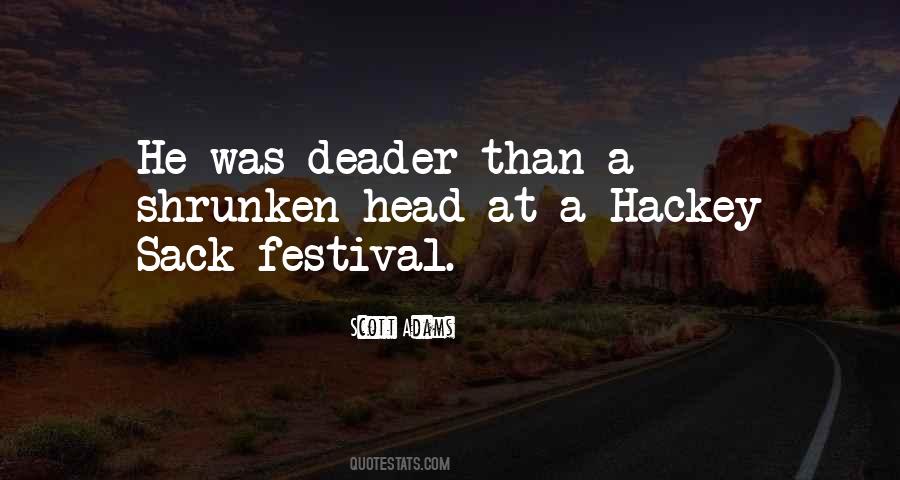 #39. I have known some grim bells, with not a single joyous note in the whole peal, so forced to hurry for a human festival, with their harshness made light of, as though the Bishop of Hereford had again been forced to dance in his boots by a merry highwayman. - Author: Alice Meynell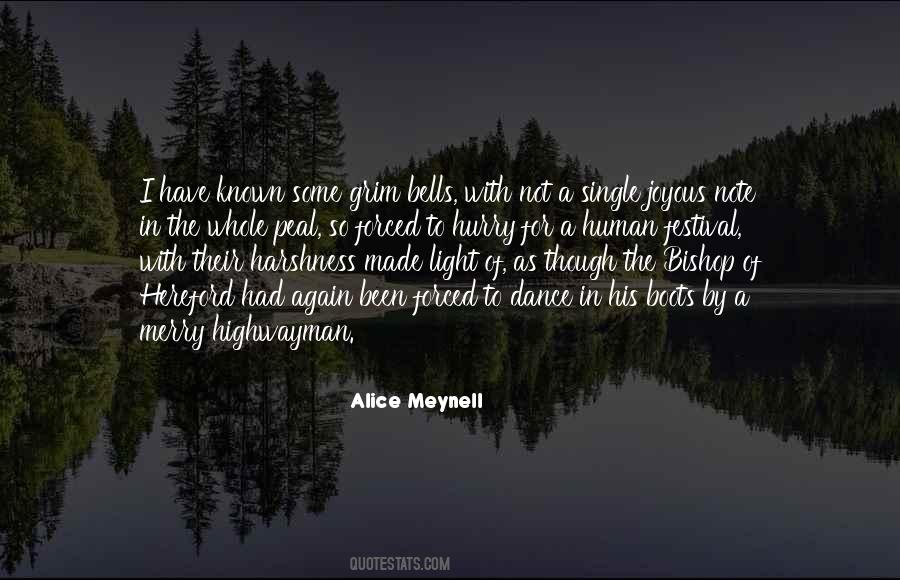 #40. We program the festival, after 20 years, exactly the way we did on the first day. - Author: Robert Redford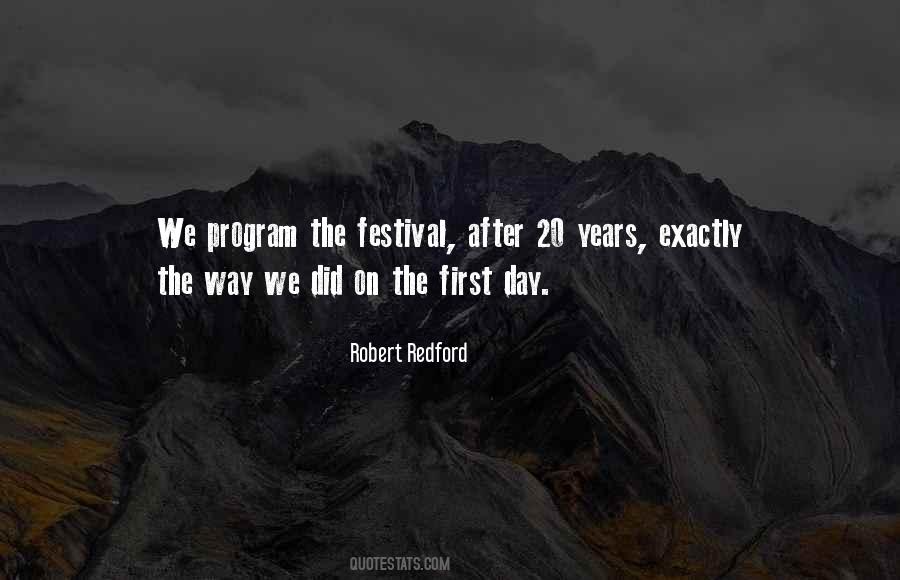 #41. I play the guitar. This year at the Sundance film festival, I joined the band from 'The Guitar' on stage. We warmed up for Patti Smith, and then the director Michel Gondry got on the drums to play some songs from the soundtrack to his film Be Kind Rewind with Mos Def. It was pretty mad. - Author: Saffron Burrows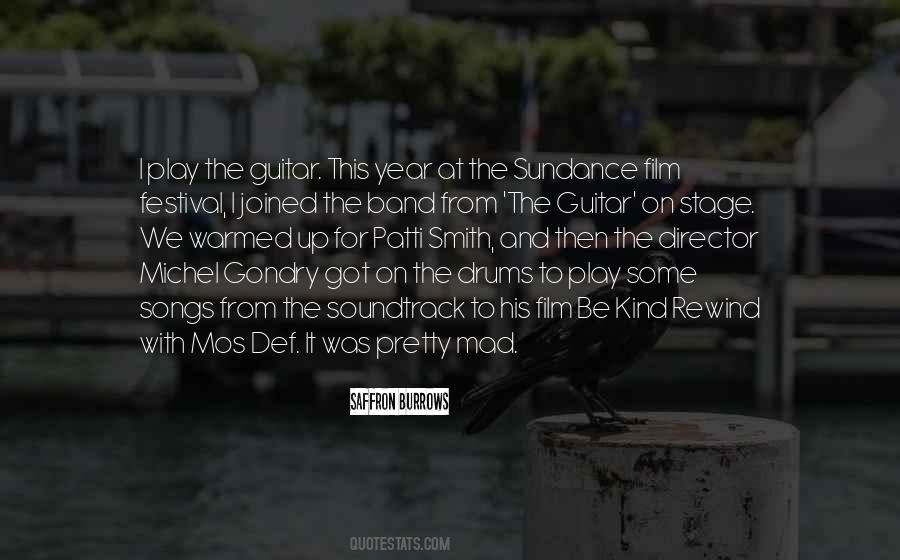 #42. In 2007, I had on-paper success. I got to go to that Aspen comedy festival, which was pretty exclusive, I guess. Then I did Carson Daly. That was enough validation. - Author: Kyle Kinane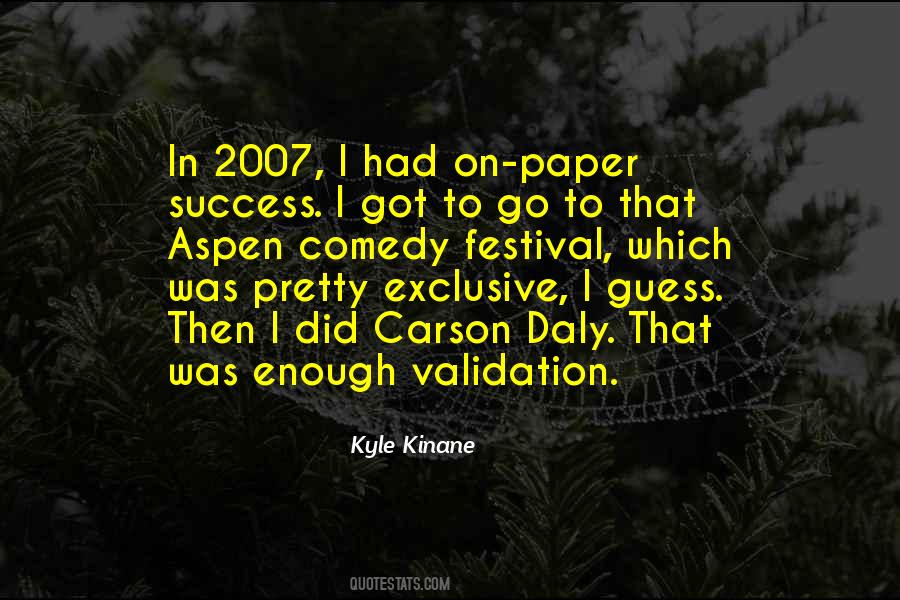 #43. When men and women produce a baby together for the first time, it's an absolute festival of mutual incompetence.
From The Wife Drought - Author: Annabel Crabb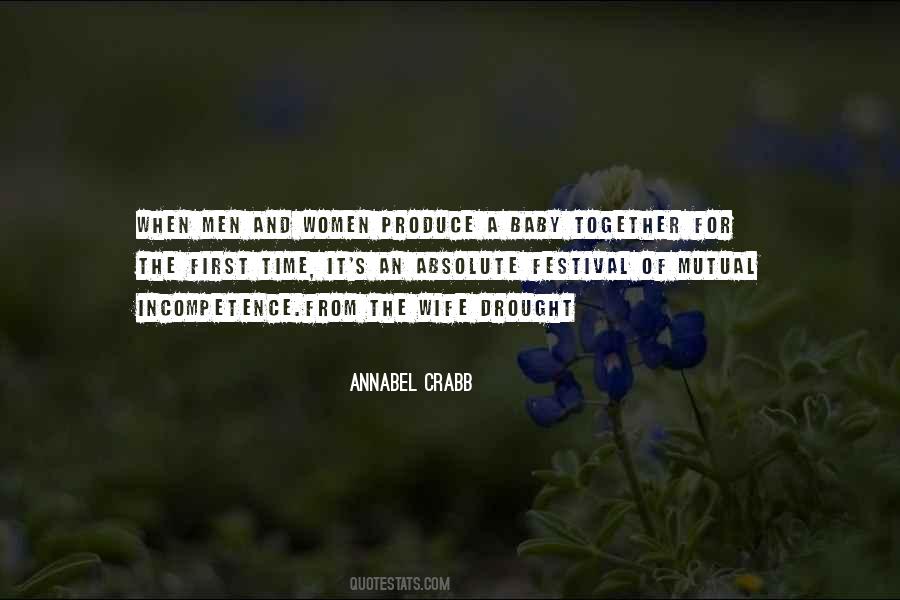 #44. We have a documentary film festival in Mexico. It's really original. It's called Ambulante, and it's a film festival that travels around several cities in Mexico. - Author: Gael Garcia Bernal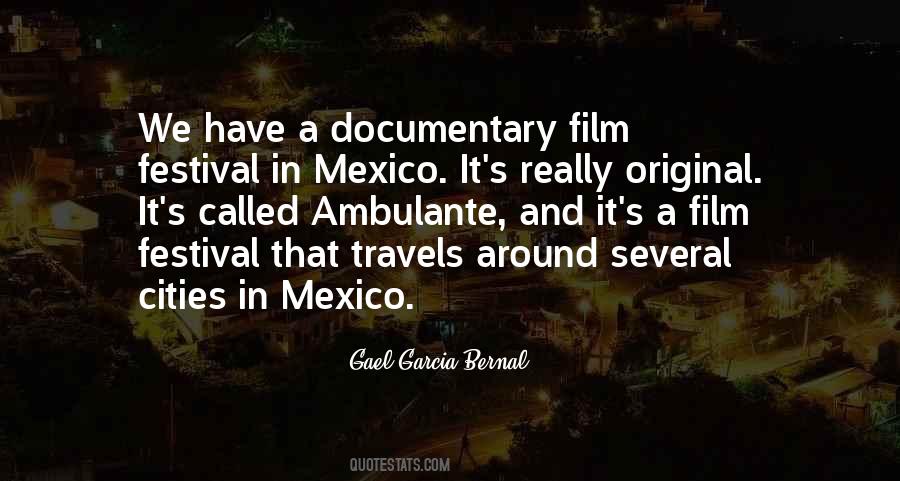 #45. There is a little bit of everybody in everybody. - Author: Leonard Leventon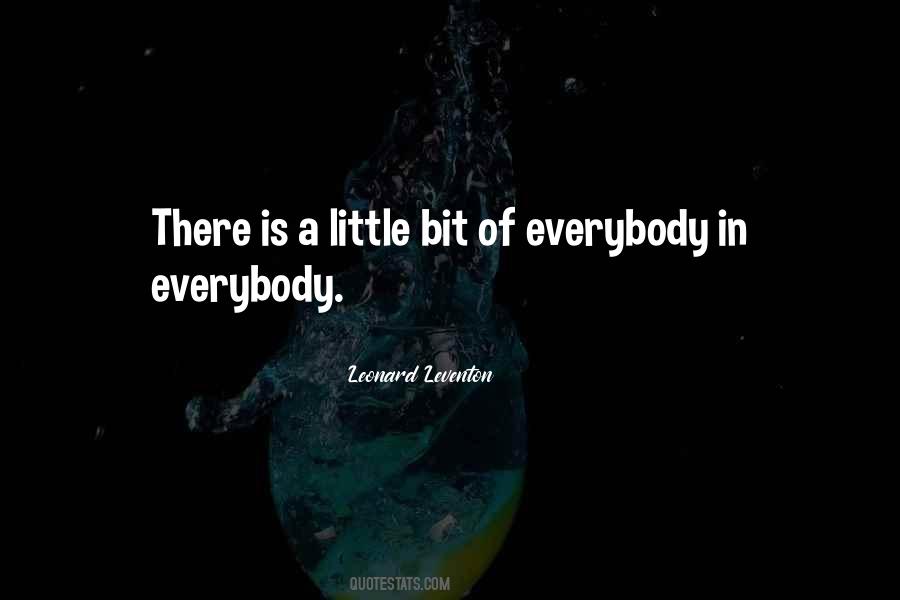 #46. Obviously there is stuff that I wouldn't play in a club that I play at festivals, and vice-versa, but my sets are still dominated largely by my own music. I think that's what makes me stand out a bit. My music is also festival- and club-friendly, so it generally works out well. - Author: Avicii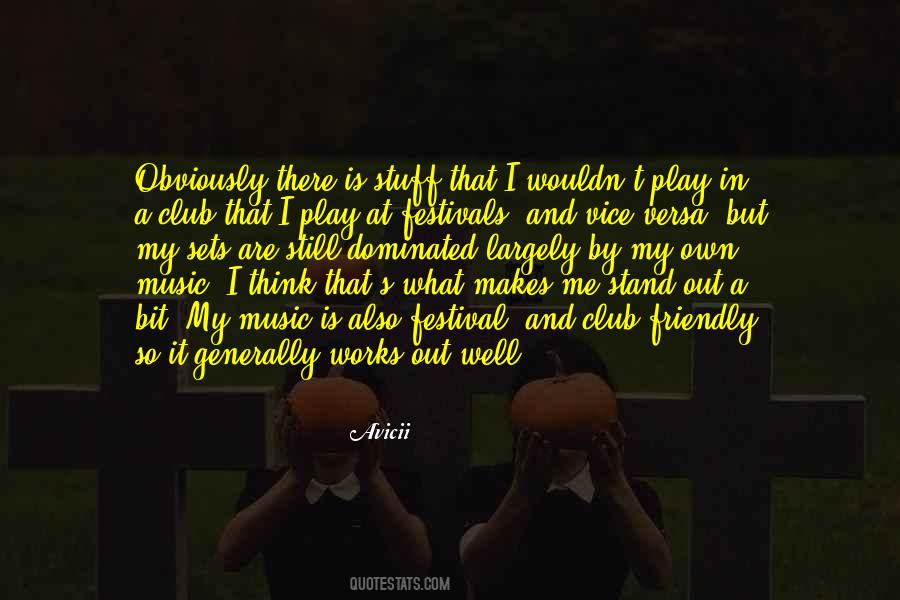 #47. For many years I enjoyed the pleasure of cruising on my yacht all summer long and these were my best holidays. In mid-May, we'd start in St Tropez. I'd collect my bikinis from my home there and then we'd go up to Cannes for the Film Festival, on to Monte Carlo for the Grand Prix and then to Italy. - Author: Ivana Trump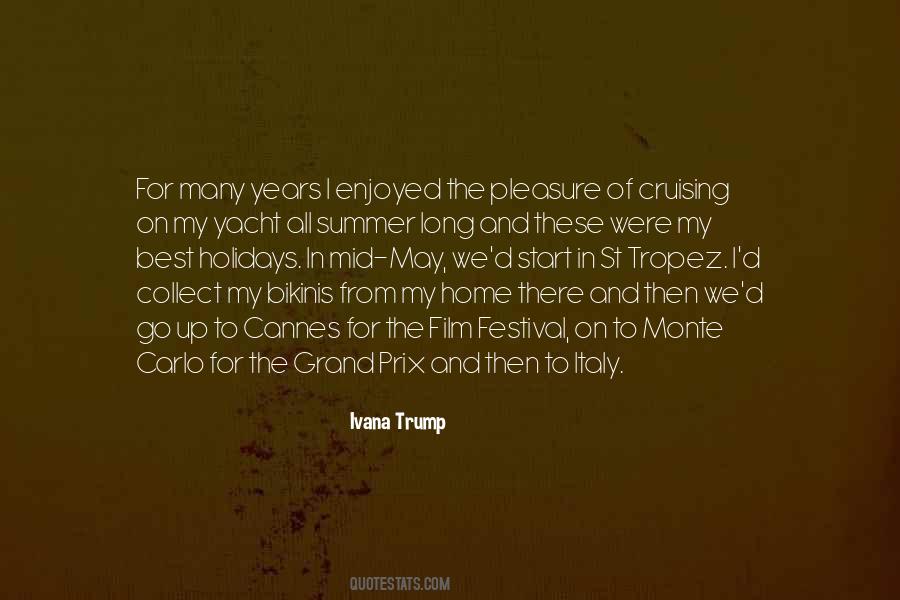 #48. I've signed autographs as Natalie Portman. I was at a Film Festival party where someone asked if I was her, and I didn't want to embarrass them, so I signed the autograph as her. I hope she doesn't mind. - Author: Liane Balaban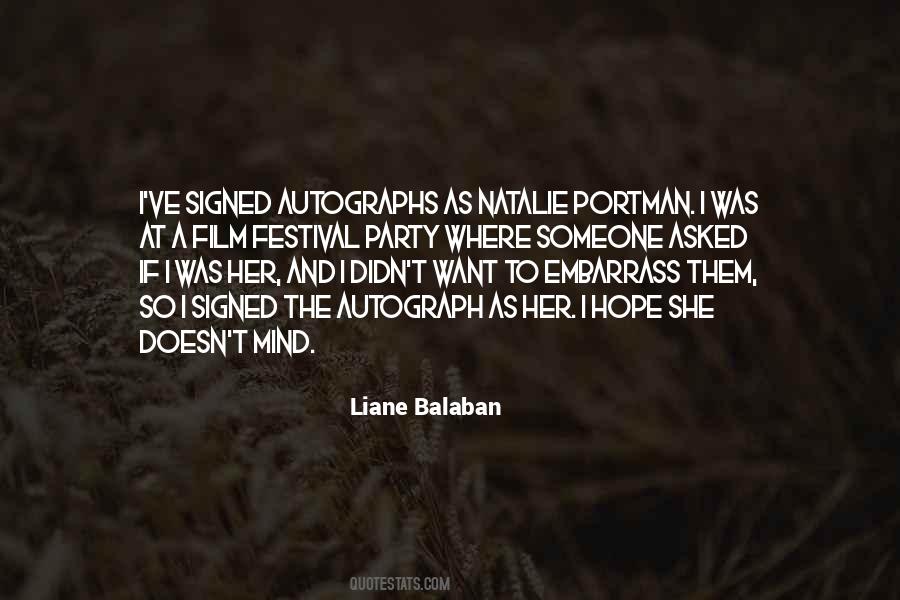 #49. His life was a festival of excess that could not be contained. Deafening music, eye-popping bright colors, sugar added to almost everything he ate. Quinn's life was a bullet in a barrel ready to explode. - Author: Neal Shusterman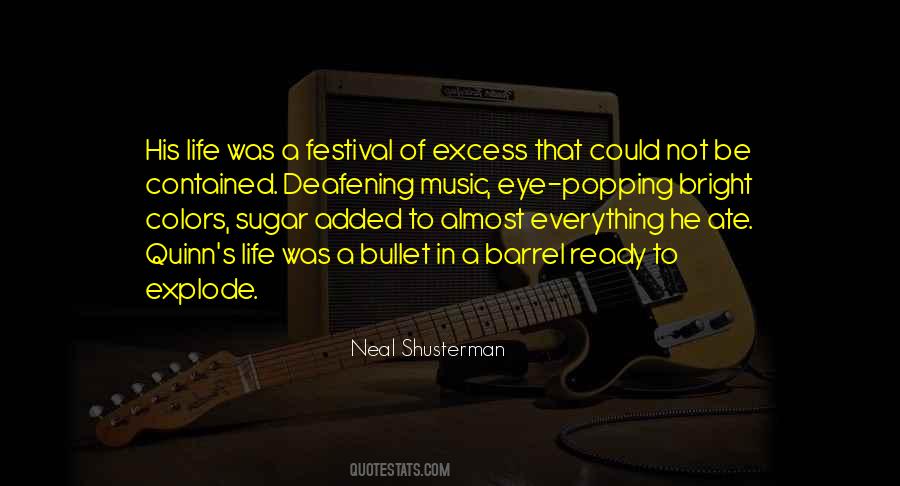 #50. Every year there's a jury at the Cannes Film Festival. Getting on the jury is very competitive in France. Not because the French love cinema, but because they love to judge. - Author: Craig Ferguson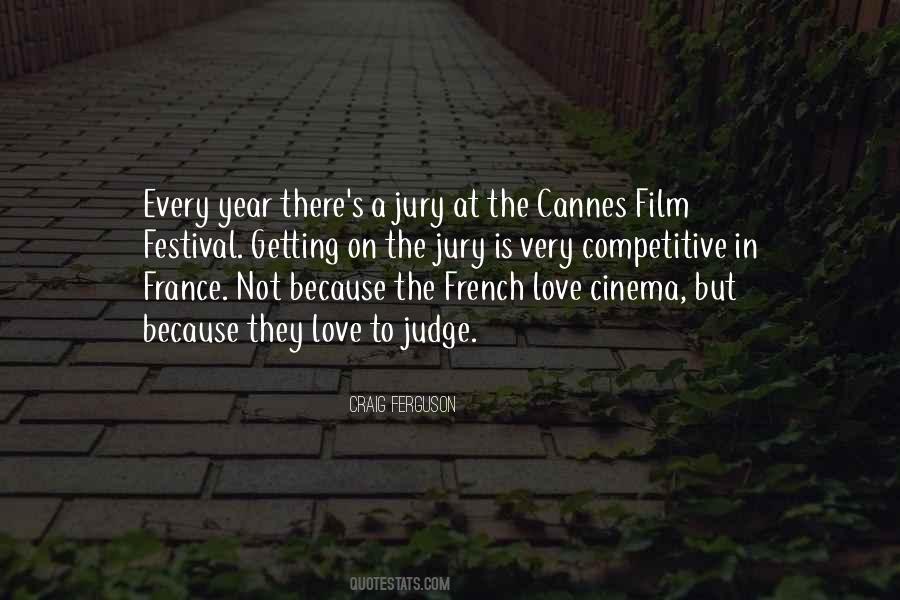 #51. At Performa in New York, there are a lot of commissions, but Manchester Festival is the only festival where everything is fully produced by the festival. - Author: Hans Ulrich Obrist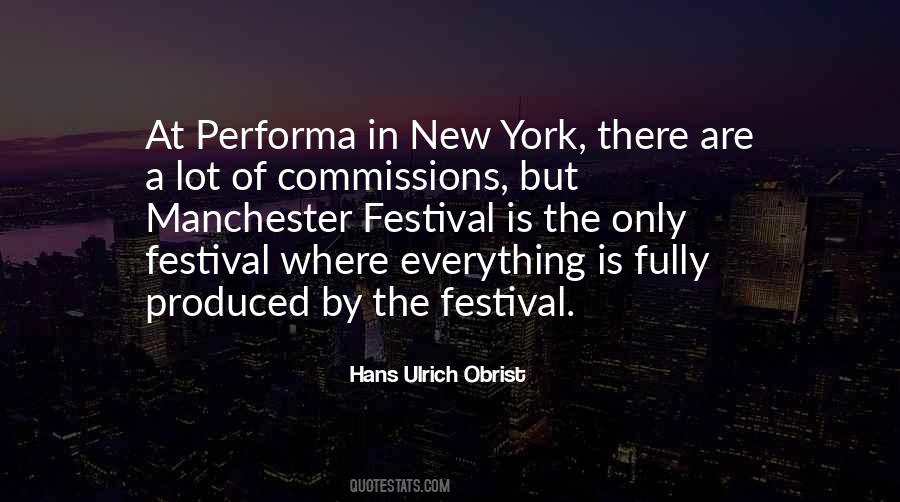 #52. The Christian Sunday should be a festival, gathering up all the life of the week and offering it to God in worship and then spending the day in a way which most truly promotes joy and happiness and refreshment for oneself and for other people. - Author: Olive Wyon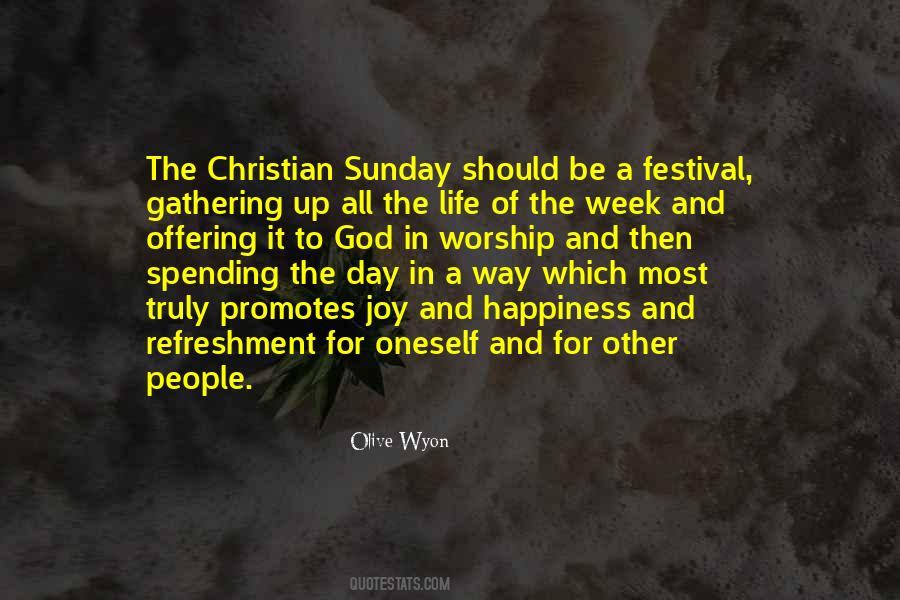 #53. I actually know the moment I became known. It was at the Cannes Film Festival, when they showed 'The Virgin Spring.' I walked into that theater as one person, and I walked out as another. - Author: Max Von Sydow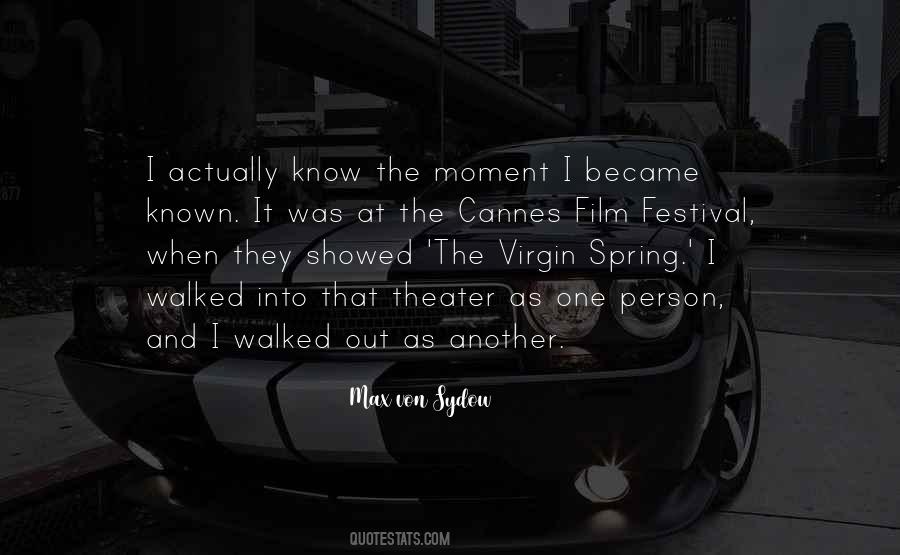 #54. At the Hong Kong festival, we were co-producers of the opening film, 'Aberdeen,' which is the third part in a popular movie series. - Author: Victor Koo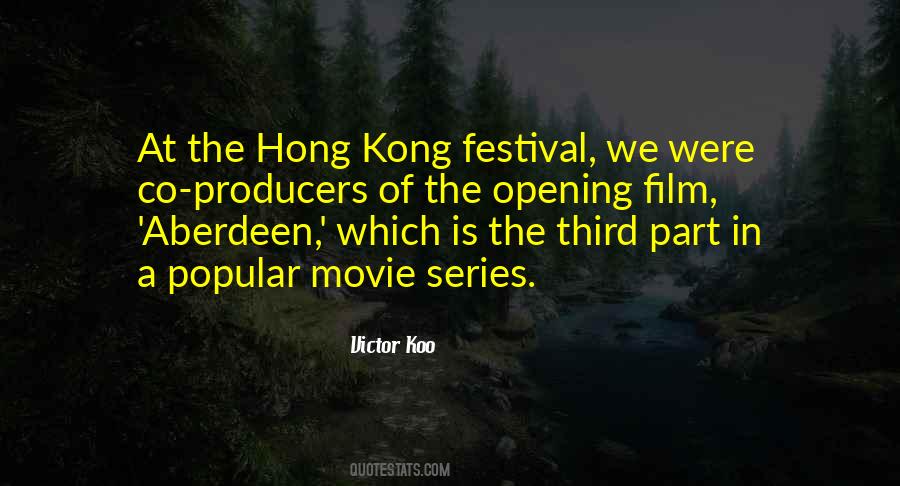 #55. I feel at home in Scotland and go back whenever I can. I've played the Edinburgh Festival twice, and I get the train across the Forth Bridge to Lochgelly, just to see it. - Author: Kenneth Cranham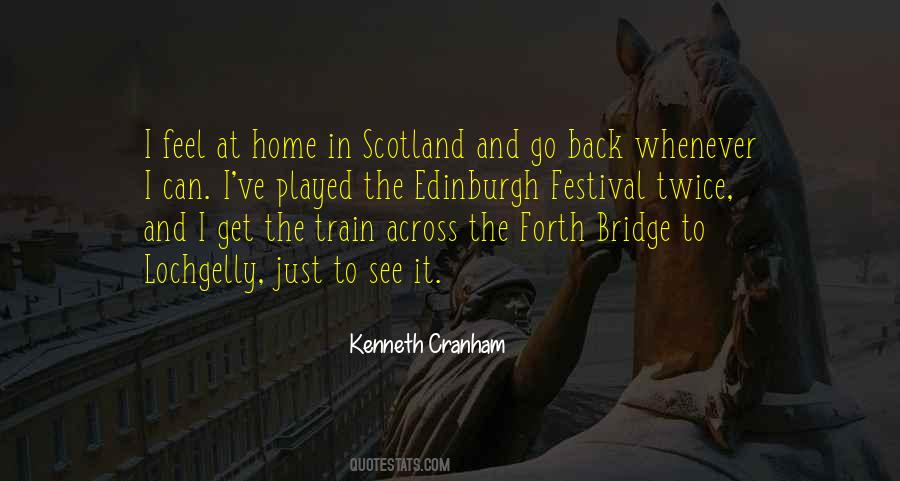 #56. We made basement practice songs.To have them presented in such a huge fashion today - like at Primavera, where it's thousands of people in a festival environment - is surreal. I never thought some of the songs would ever need to be projected at such a volume or to such a wide span of people. - Author: David Pajo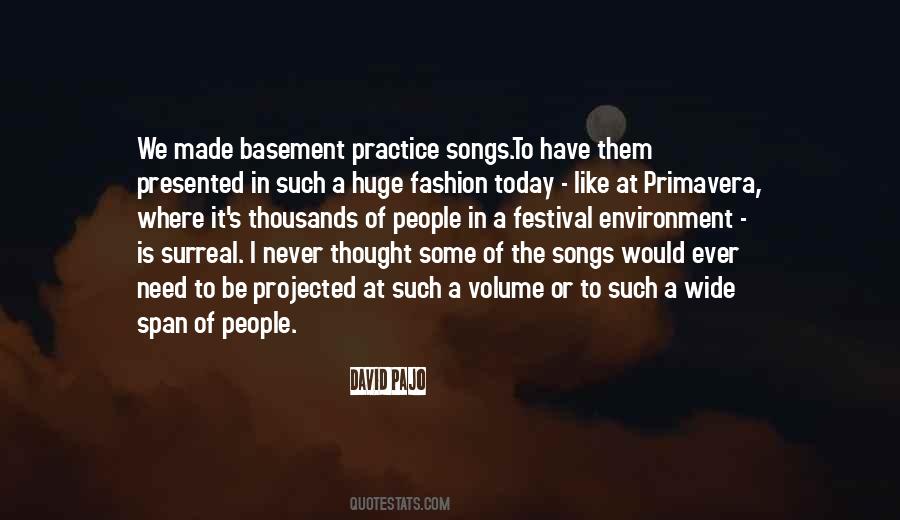 #57. The truth is Christmas evolved from the Roman holiday Saturnalia, a winter festival where men gave gifts to each other. They also would get drunk, have sex with each other and beat their wives - Author: Huey Freeman The Boondocks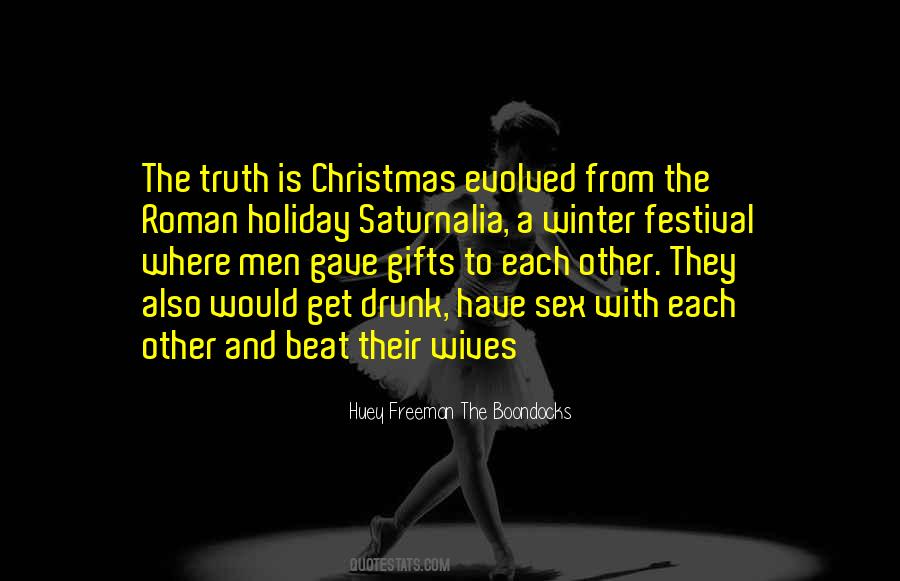 #58. I did a production of 'Journey's End,' an RC Sherriff play about World War I, at the Edinburgh Festival. I was 18 and it was the first time that people I knew and loved and respected came up to me after the show and said, 'You know, you could really do this if you wanted to.' - Author: Tom Hiddleston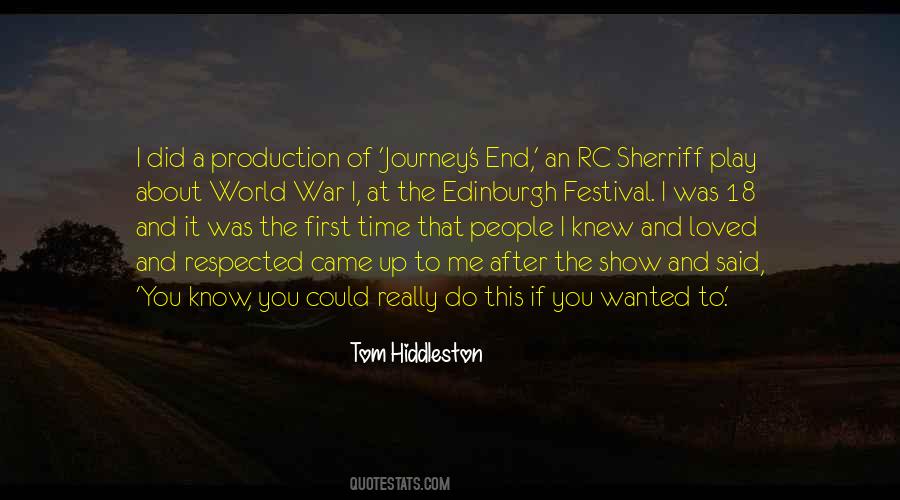 #59. But Aiden sprang from the pool jacked on adrenaline. He screamed and pumped his fists as if he were trying to win first prize at the "Fuck Yeah Festival. - Author: Matt K. Turner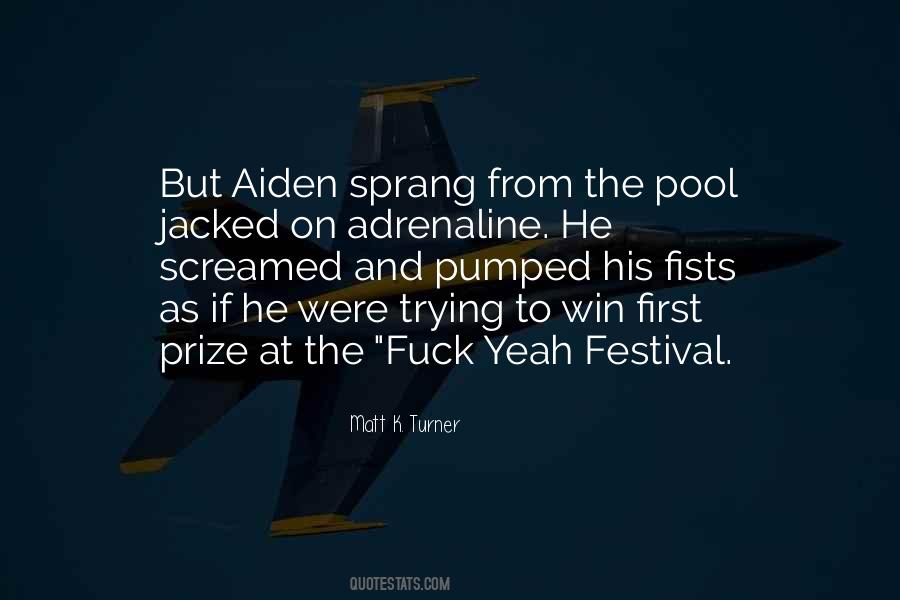 #60. In the festival which concludes the period, before they go to the temple, both wives and children fall on their knees before their husbands or parents and confess everything in which they have either erred or failed in their duty, and beg pardon for it. - Author: Thomas More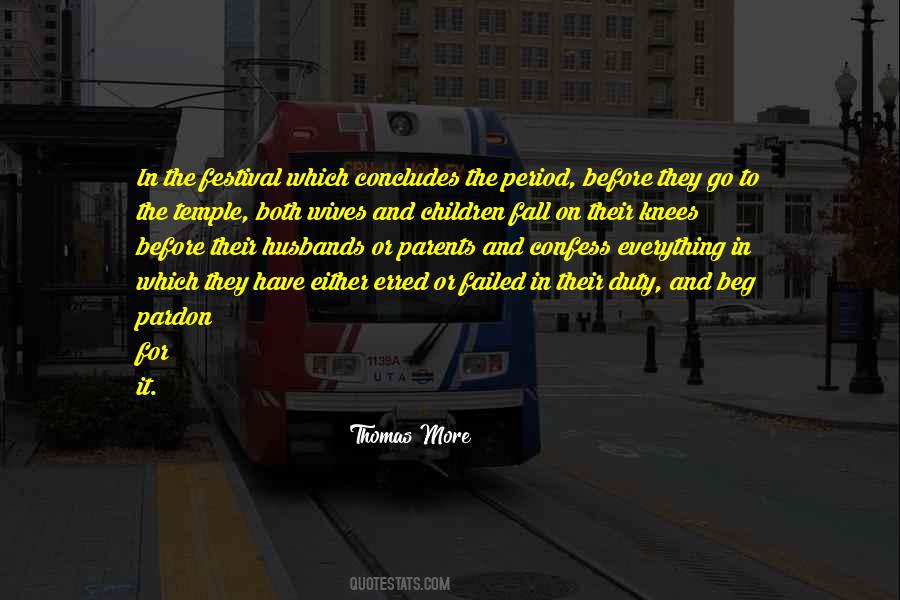 #61. Will you put this in my hair? - Author: Kaori Ozaki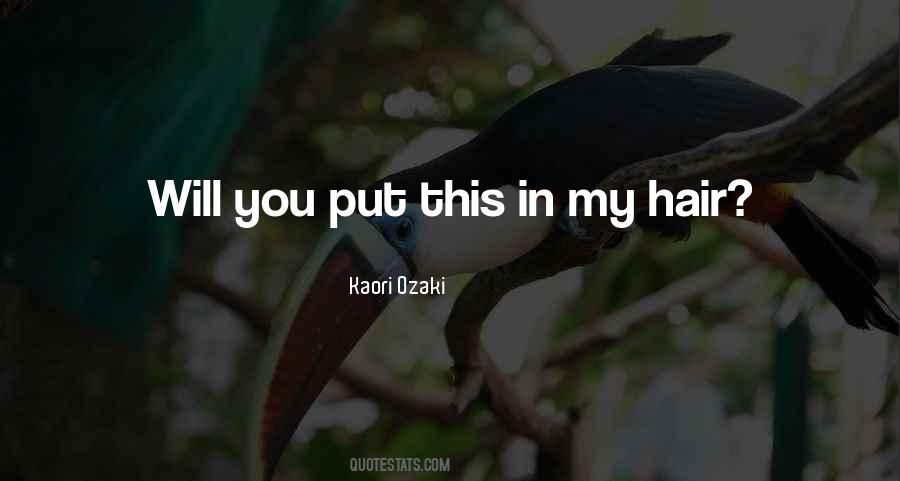 #62. I've never liked what's meant to be cool. I was asked to do Glastonbury the year before last actually, but I couldn't make it. I would have liked to, but I'm not really a festival man. - Author: Tony Blackburn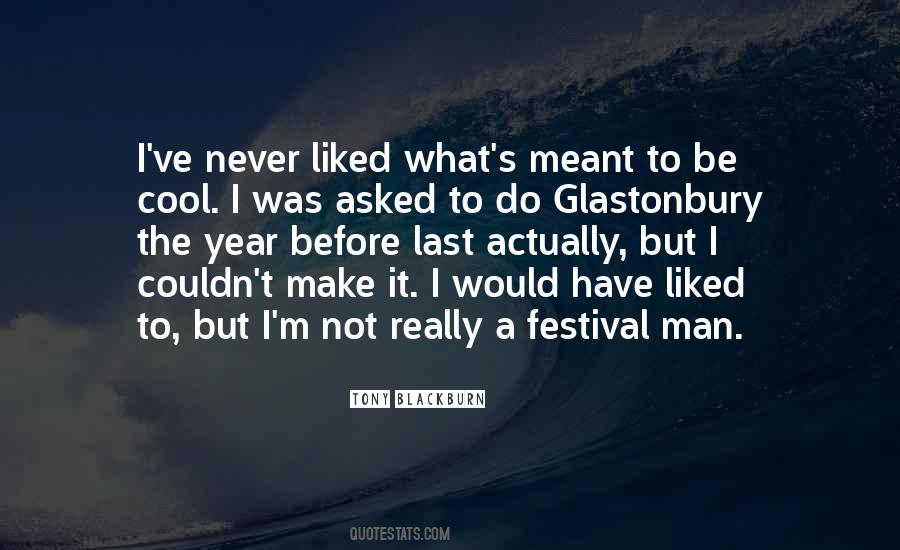 #63. When I do a festival, I want everyone to have a party, I think it is kind of similar to a club where everyone is there to have a good time and celebrate not being at work or just being able to have fun. I love people dancing to my music as well; if I can make them dance I feel happy. - Author: Katy B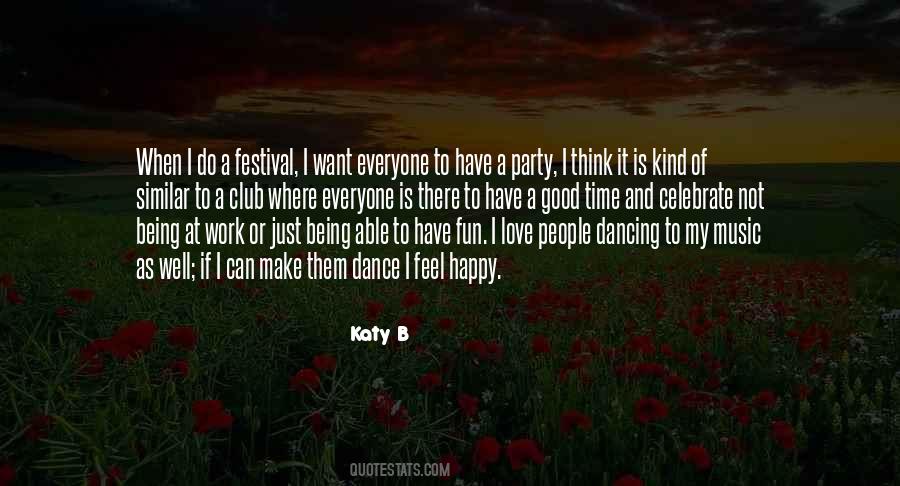 #64. We have different personalities, but in a harmonious way, I'd say. Anyway, we were booked to play at the festival as a duo; and we decided we wouldn't have any rehearsal. - Author: Benny Green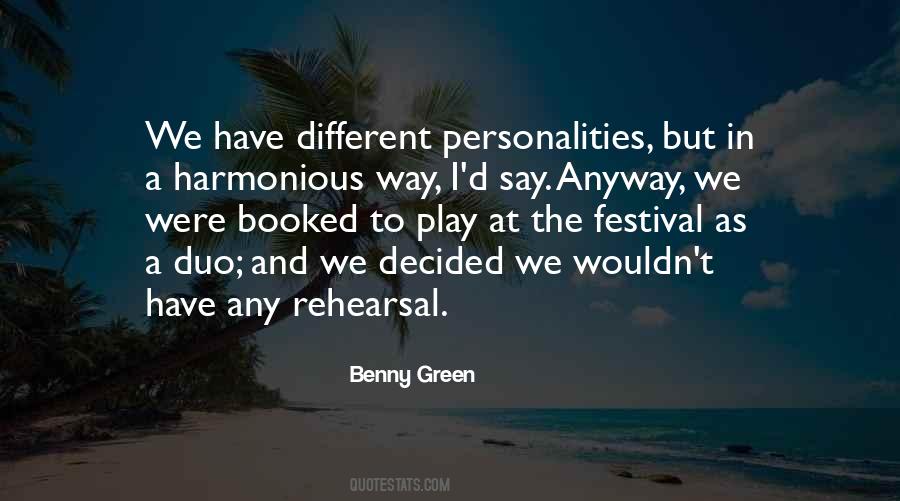 #65. The last time I went to a festival without a hat, two things happened. One: I got sunstroke. Secondly, I had to buy what can only be described as a Jamiroquai hat, which was sartorially incorrect - I'm saying that as a Jamiroquai fan. That was a disaster. I looked like a small clown. - Author: Jamie Cullum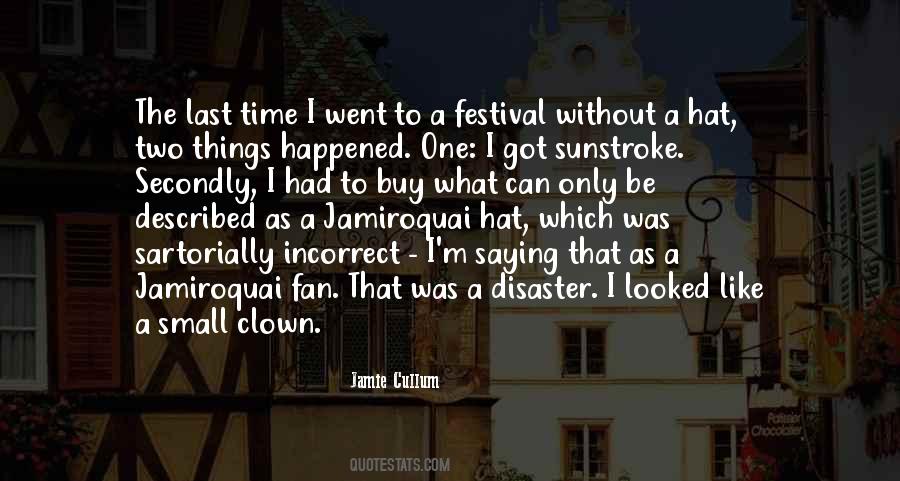 #66. We sent a troupe to Edinborough, and then in Edinborough, there was a producer from the Melbourne Comedy Festival, so we went to Melbourne. So it's one of these shows that kind of organically developed and it started developing momentum way before I even thought there was a show here. - Author: Brian Henson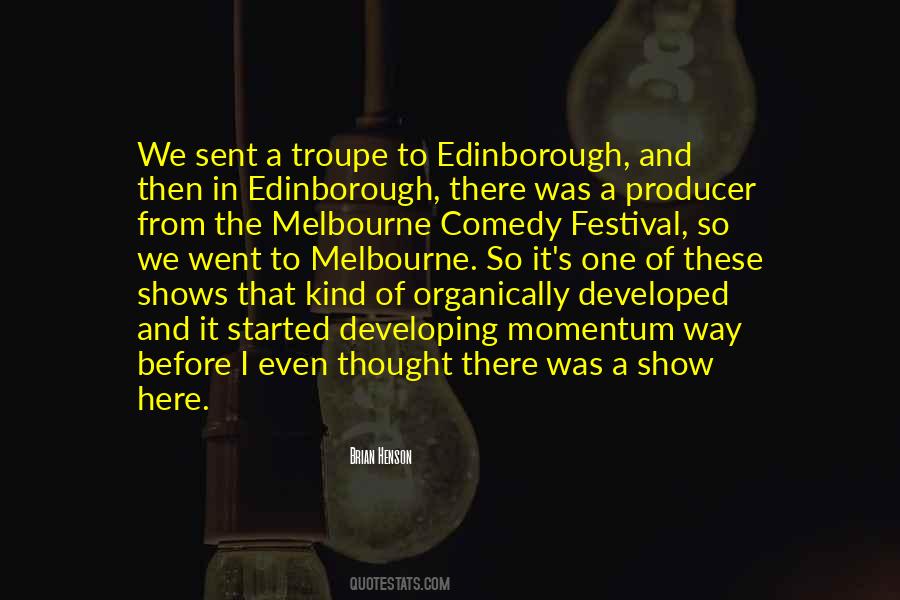 #67. Michael Clarke Duncan and I met at a music festival that was honoring films, and we happened to be seated next to each other at the dinner, and we just hit it off and kept in touch ever since. He was just the gentle giant in real life like you would have expected him to be. - Author: Nikki Blonsky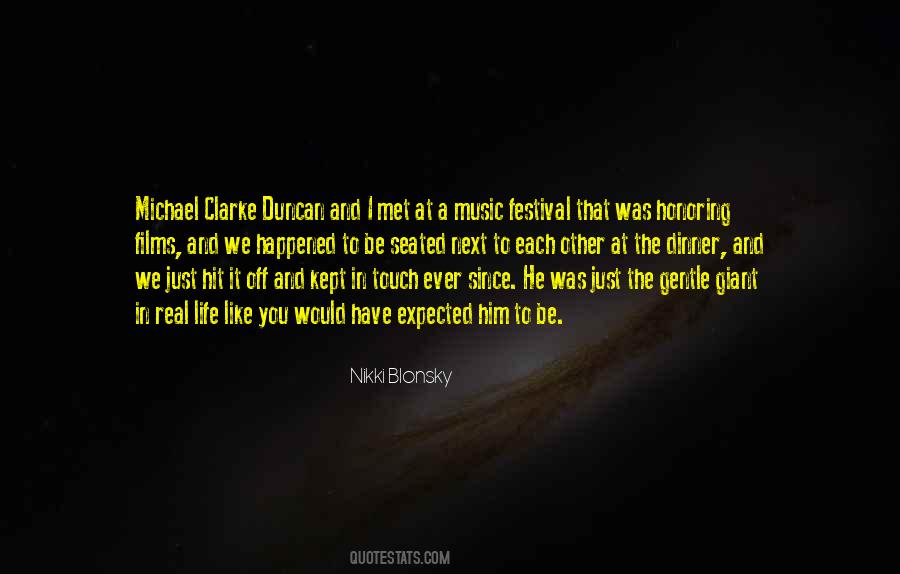 #68. Rightly understood the New Year festival is an act of faith. It is easier for the year to change than to change ourselves. But we believe that somehow, magically, one will lead to the other. - Author: R. Joseph Hoffmann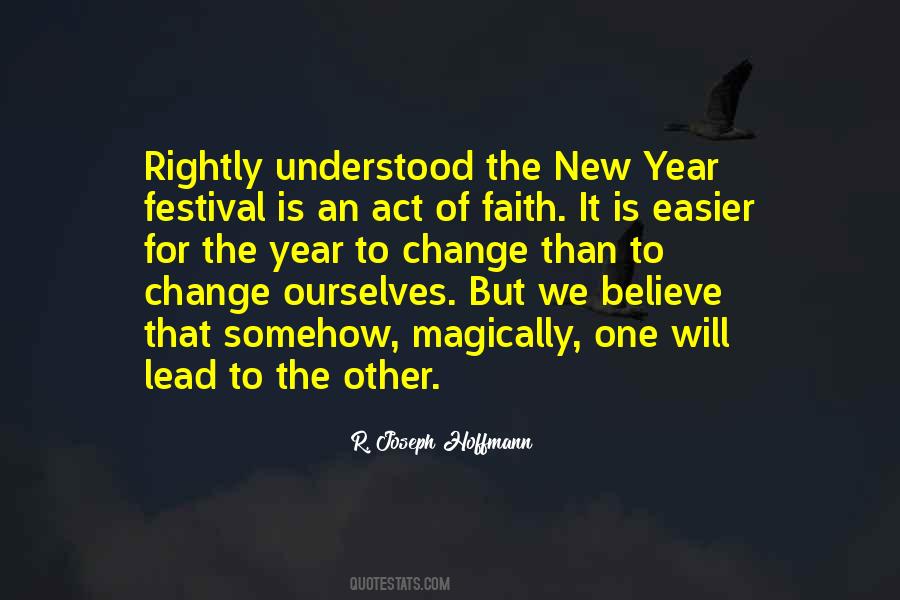 #69. Jewish people, we're repulsed by Hitler, but we're obsessed with him. If you ever want to rob a Jewish person's house, all you have to do is call them up and tell them there's a Hitler film festival down at the multiplex - watch them file out. - Author: Andy Kindler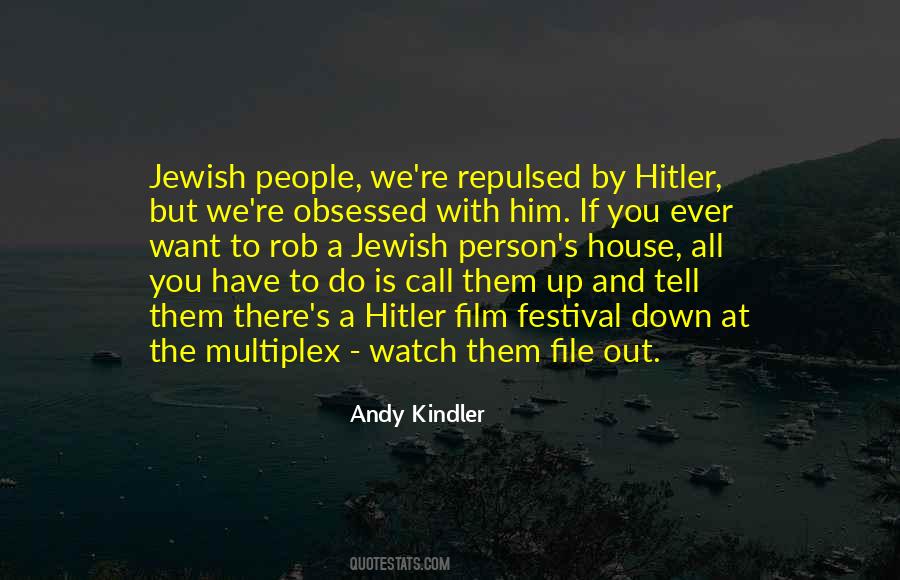 #70. For the wise man, every day is a festival. - Author: Plutarch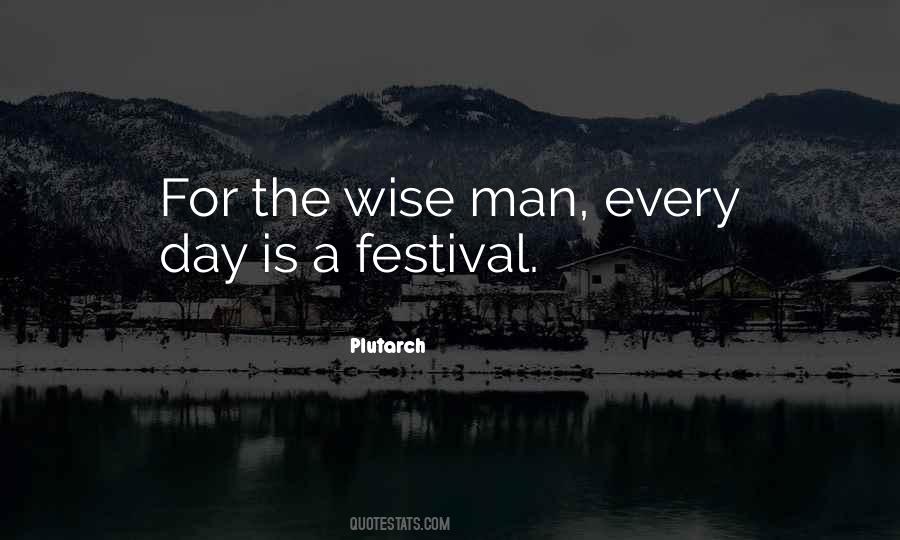 #71. I went to the Tokyo Film Festival in Japan because I love Japanese cinema. - Author: Leslie Caron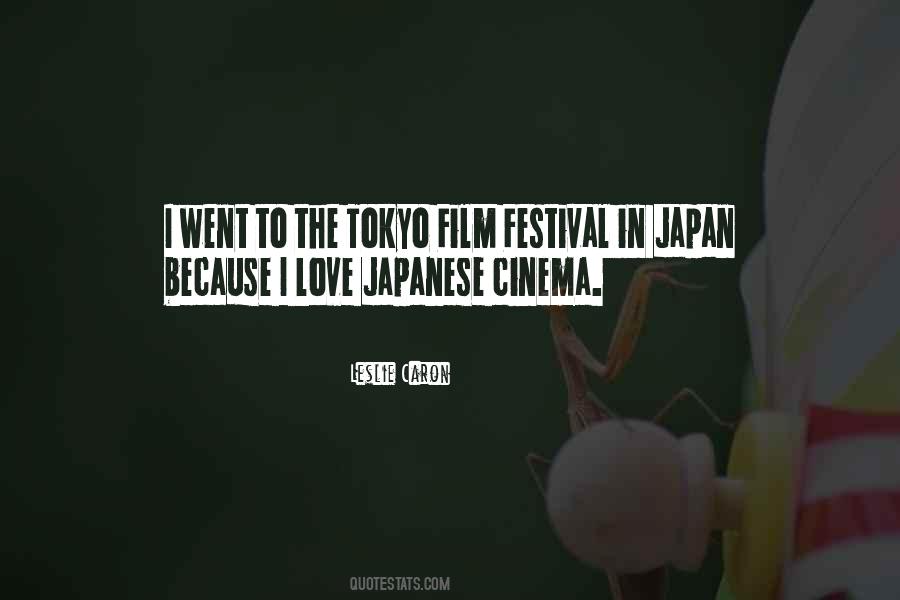 #72. Socrates said that an unexamined life is not worth living. But you know, an over-examined life can be a real crap festival, too. - Author: Alex Bosworth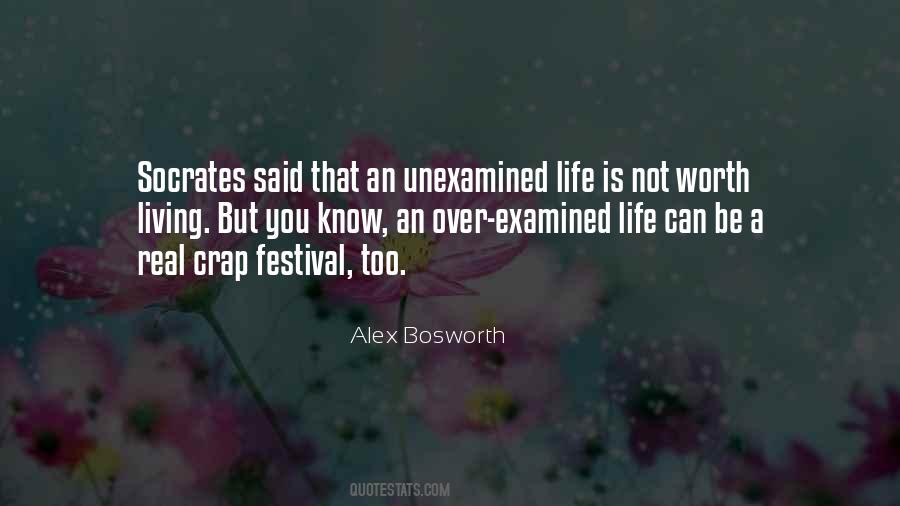 #73. Then when I got to Hollywood, the first musical I did was Festival in 1977. - Author: Gregory Harrison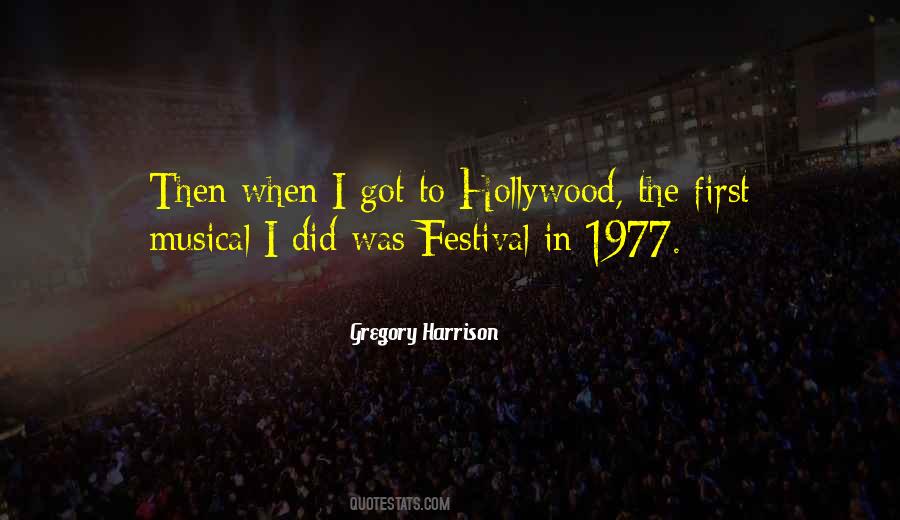 #74. I think one of the things the writers' festival does that is very good is that it brings writers from around the world and around the country and locally and puts them all in the one spot together, and that's what a lot of the world's great writers' festivals do. - Author: Nick Earls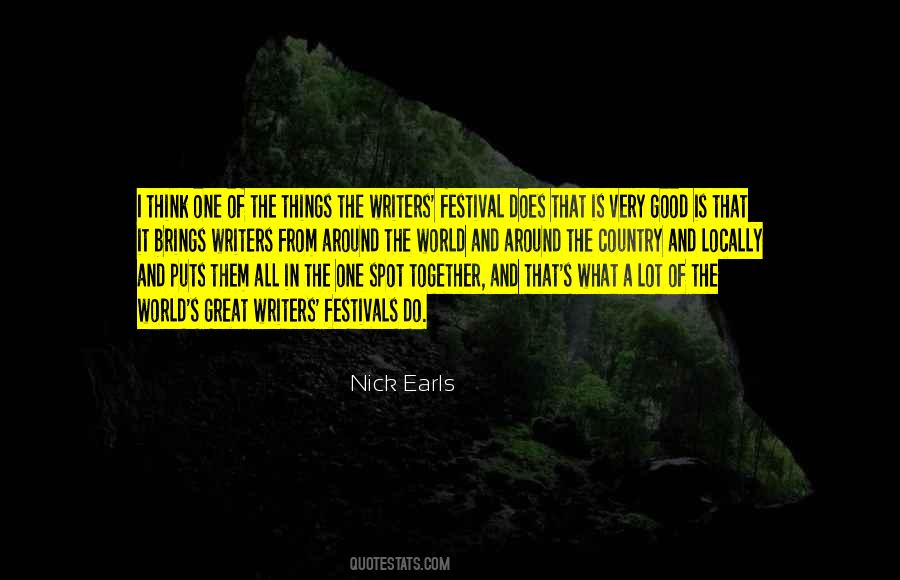 #75. I have a second bedroom I don't use. I'm going to start the Second Bedroom Film Festival. You're all invited. - Author: Vincent Schiavelli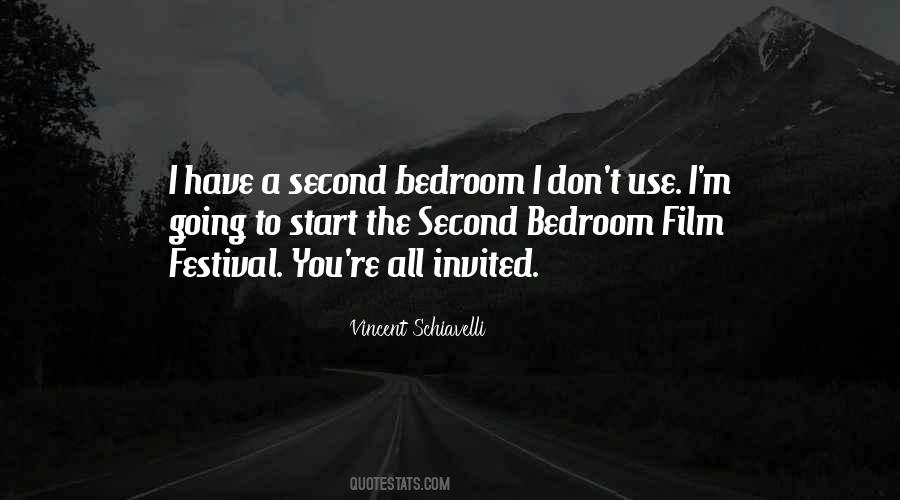 #76. Nothing is absolutely dead: every meaning will have its homecoming festival. - Author: Mikhail Bakhtin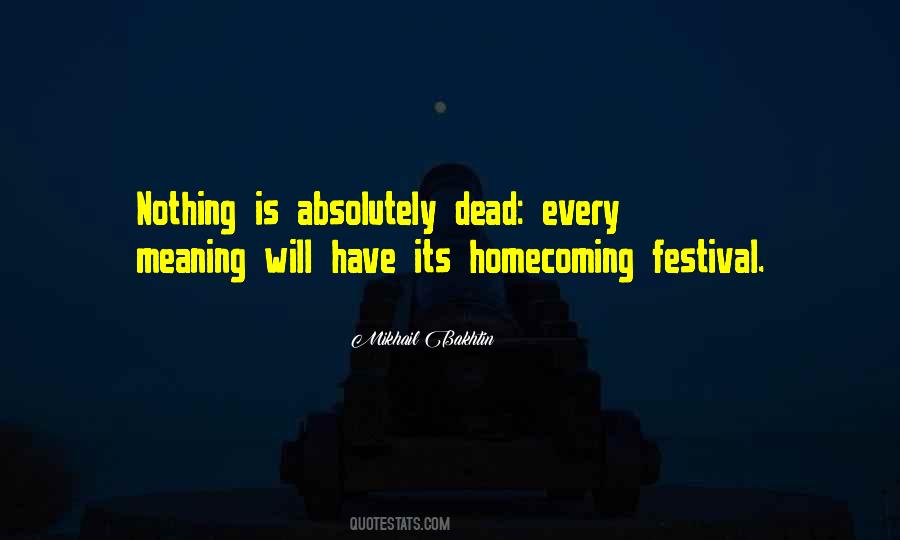 #77. I suppose my little Martin acoustic guitar is quickly becoming a prize possession. It's a lovely guitar. I bought it at the Cambridge Folk Festival in 2001 before I had cleaned up. - Author: Graham Coxon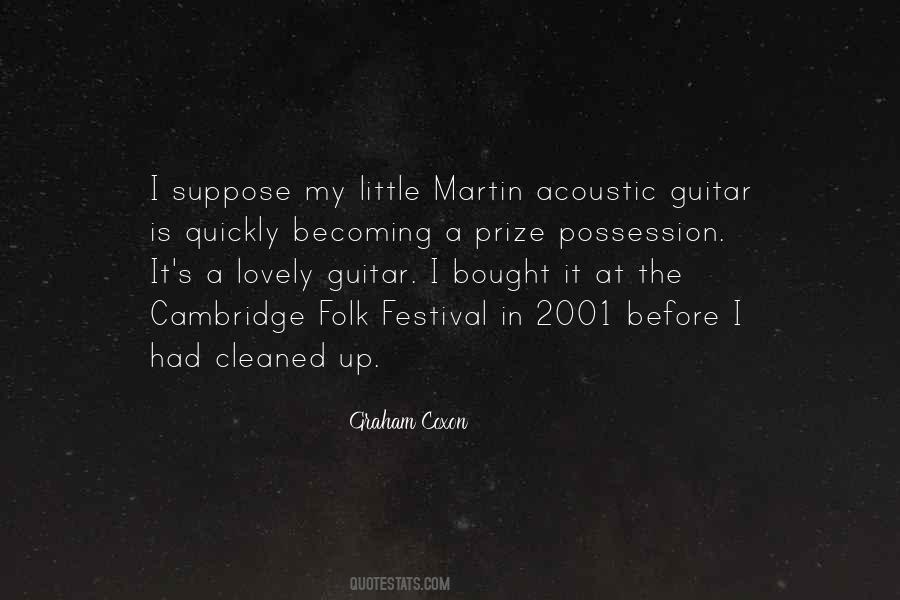 #78. Qing Ming, the festival of the dead, - Author: Yangsze Choo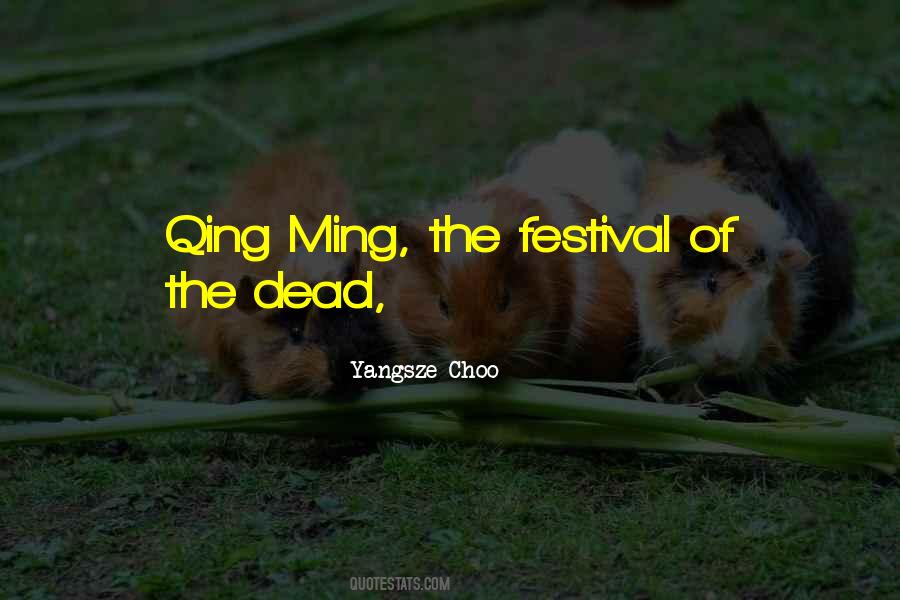 #79. Life will be a party for you, a grand festival, because life is the moment we're living right now." Two - Author: Paulo Coelho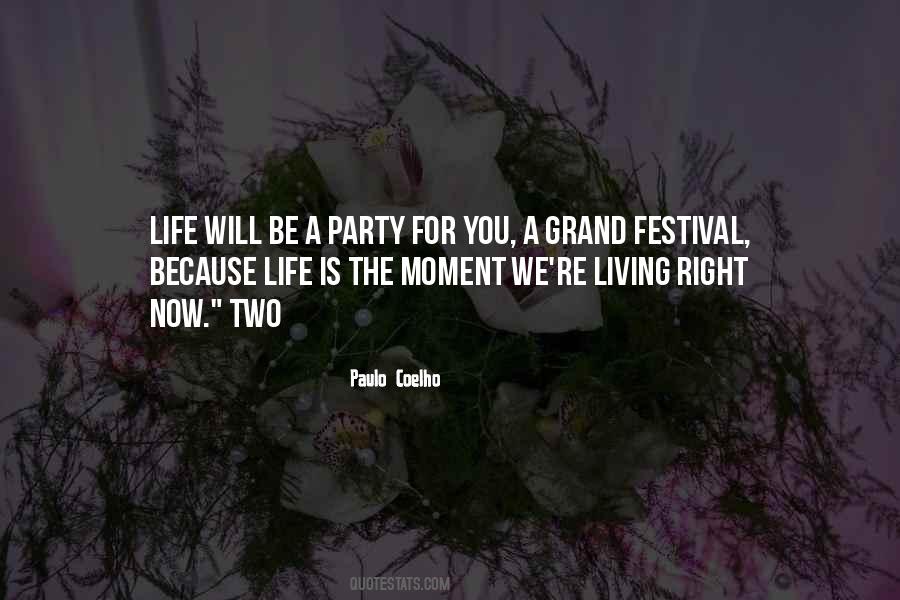 #80. Now I'm doing a film festival for kids and writing a script about a kidnapped journalist in Afghanistan. - Author: Olivia Wilde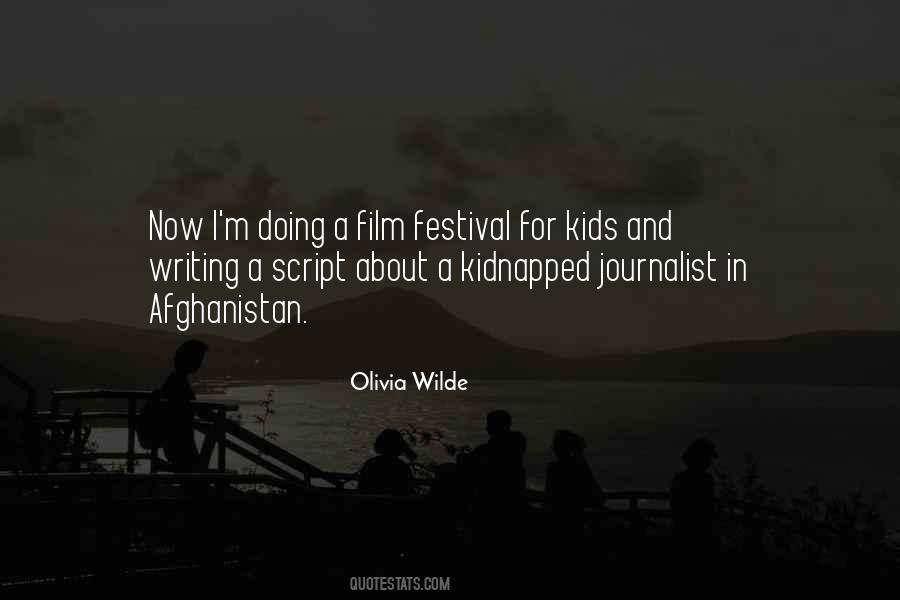 #81. How about we go through the festival once before picking a spot?"
"Why?" I ask.
"Because I enjoy apples," he replies. Rosie giggles. "Because then we can go if there's a spot that would be particularly easy to grab a girl from," he answers again, voice serious this time. - Author: Jackson Pearce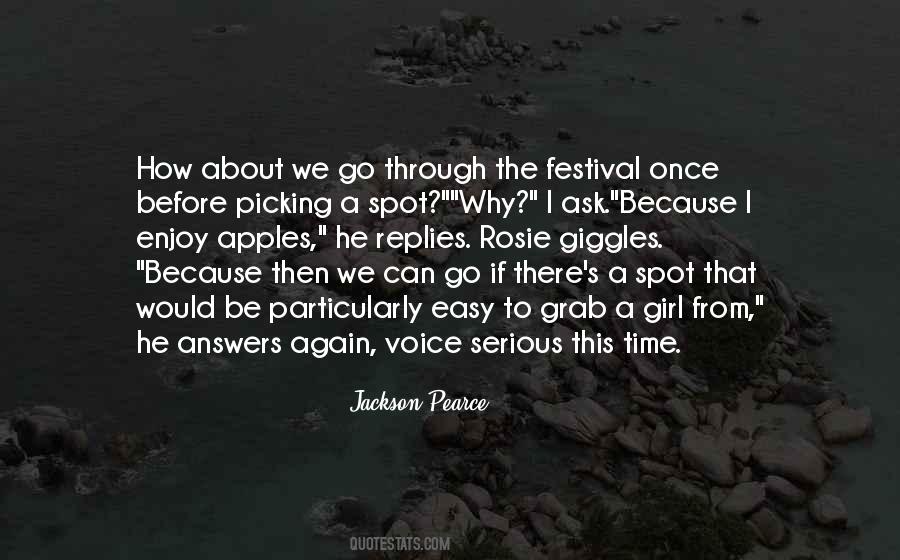 #82. My favorite drawings at the Muhammad cartoon festival in Texas were the two chalk outlines out front. - Author: Evan Sayet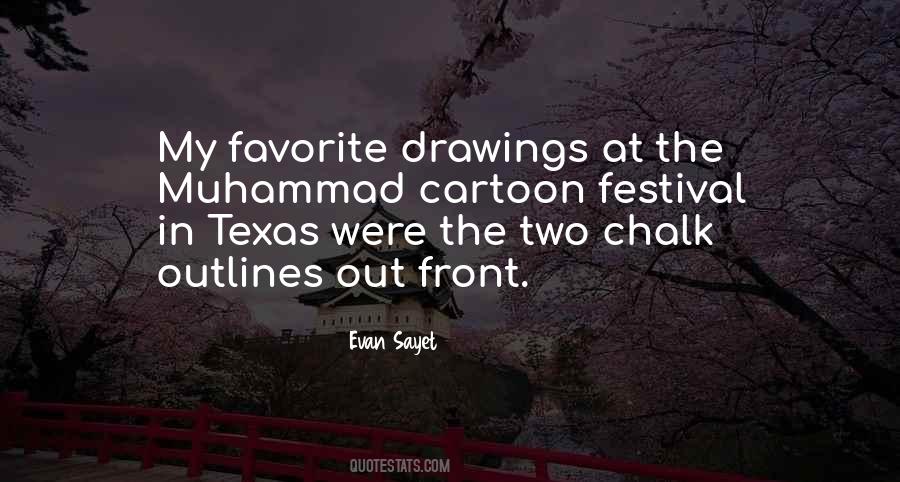 #83. As the future ripens in the past, so the past rots in the future
a terrible festival of dead leaves. - Author: Anna Akhmatova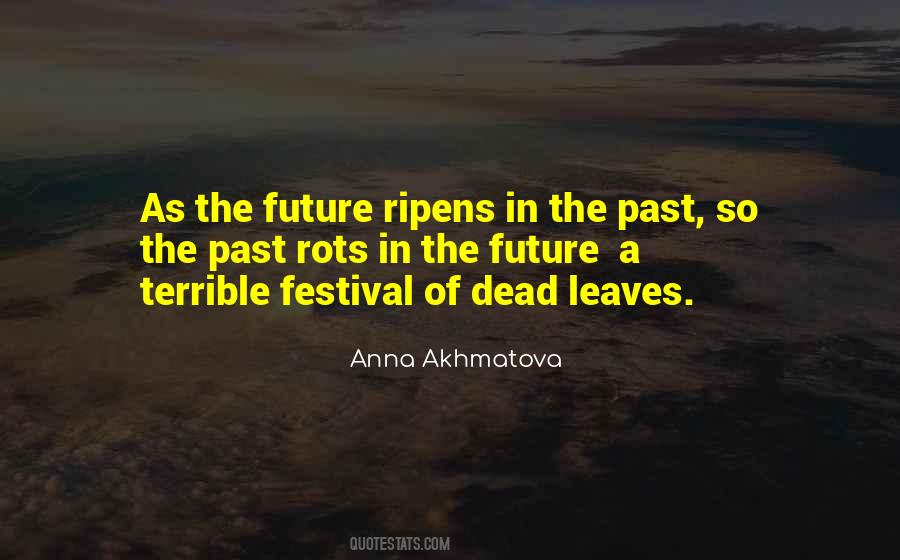 #84. If singing a couple of songs in a benefit will help keep the Festival alive and known, well, how can I say no to that? - Author: Stephanie D'Abruzzo
#85. Bonnaroo is the most significant festival in the country. I can sometimes just get caught up in the moment and listening and say, 'Oops, I gotta go sing now.' - Author: Richie Furay
#86. Without cruelty there is no festival: thus the longest and most ancient part of human history teaches and in punishment there is so much that is festive! - Author: Friedrich Nietzsche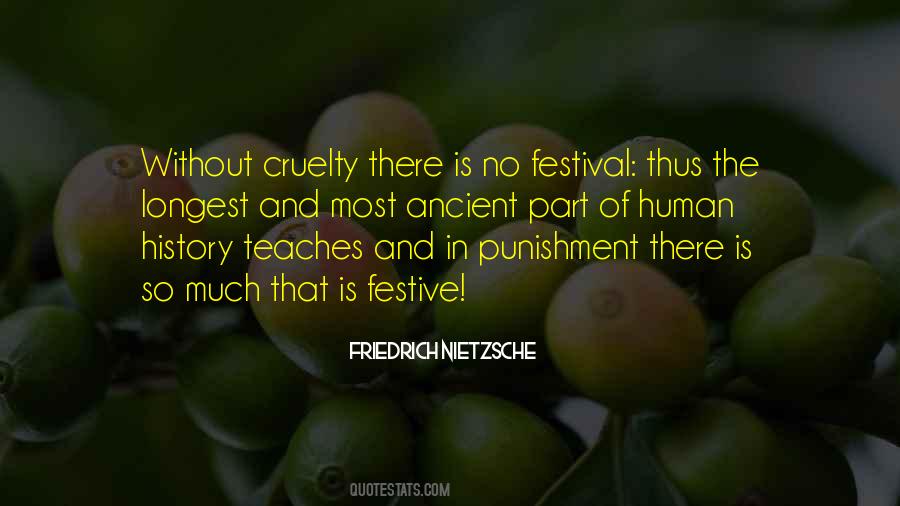 #87. Women have made of themselves such a weapon to act upon the senses that a young man, and even an old man, cannot remain tranquil in their presence. Watch a popular festival, or our receptions or ball-rooms. Woman well knows her influence there. You will see it in her triumphant smiles. - Author: Leo Tolstoy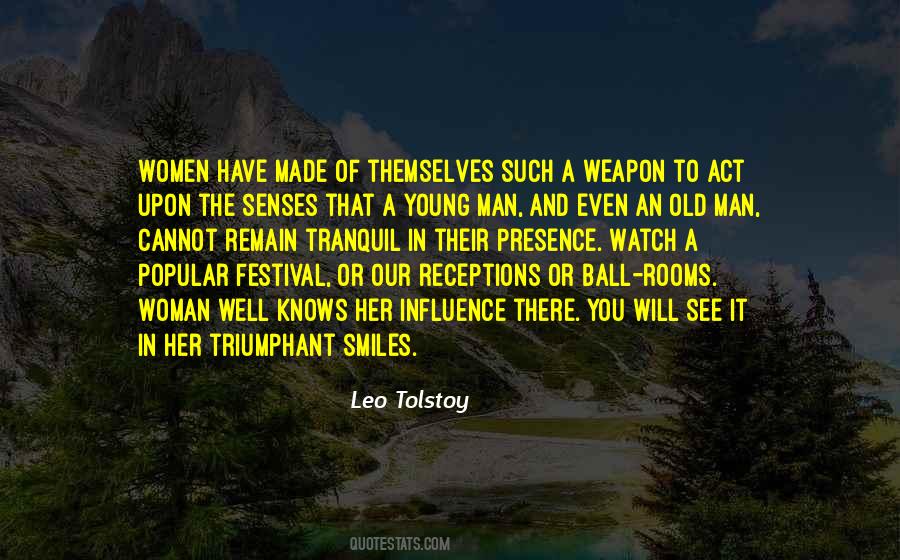 #88. When it's a folk festival, there's more of an intention on the song and connecting with people. - Author: Jenny O.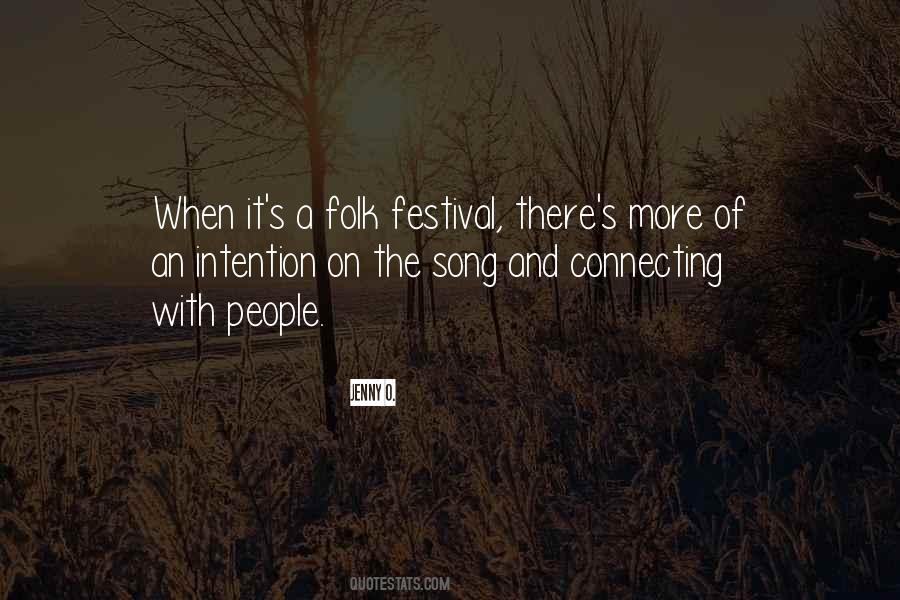 #89. It's strange to play outdoors, especially in the daytime. But we're figuring it out. The rules are different for festival shows - how you talk to the crowd, how you can try to get them involved. Things are just a little different, and I think we've learned to adapt our show. - Author: Andrew Dost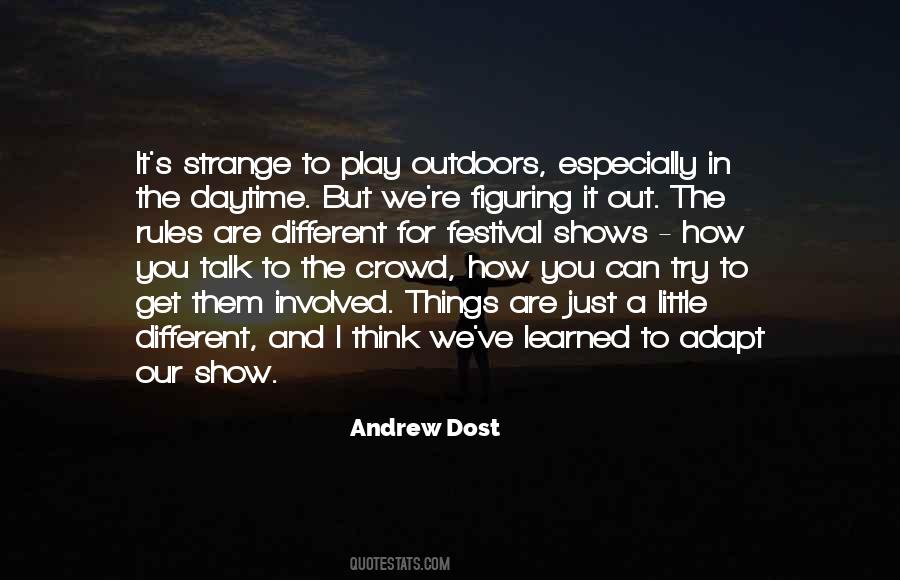 #90. When I was 3, I recited a poem at a festival in Passaic, New Jersey. The applause was tremendous, and it hit me that I could affect people positively by performing. - Author: Nina Arianda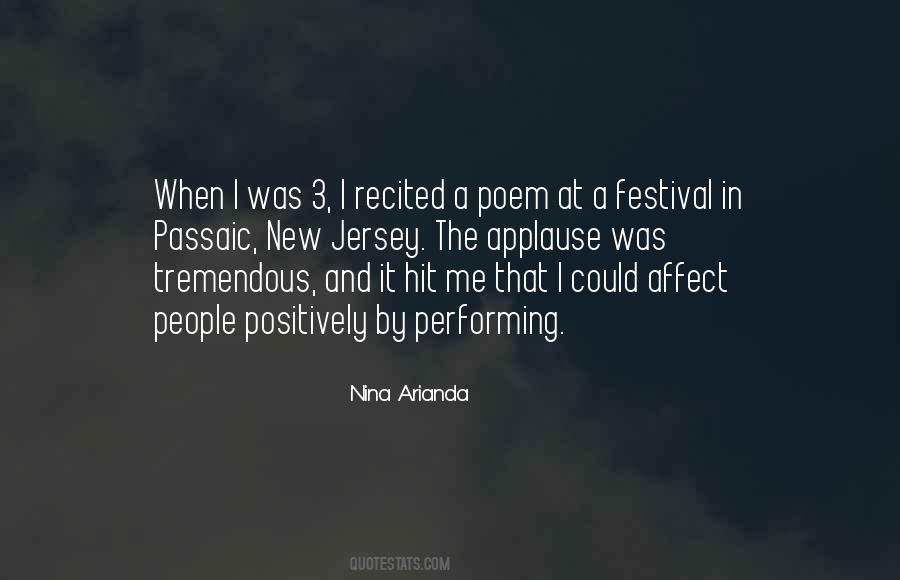 #91. Martin's Monsanto poem holds devastating power. I heard the first public reading at the Resurgence Festival of well-being in London. It brought truth with clarity, not least with a kind of conviction and passion that is all too rare - Author: Tony Juniper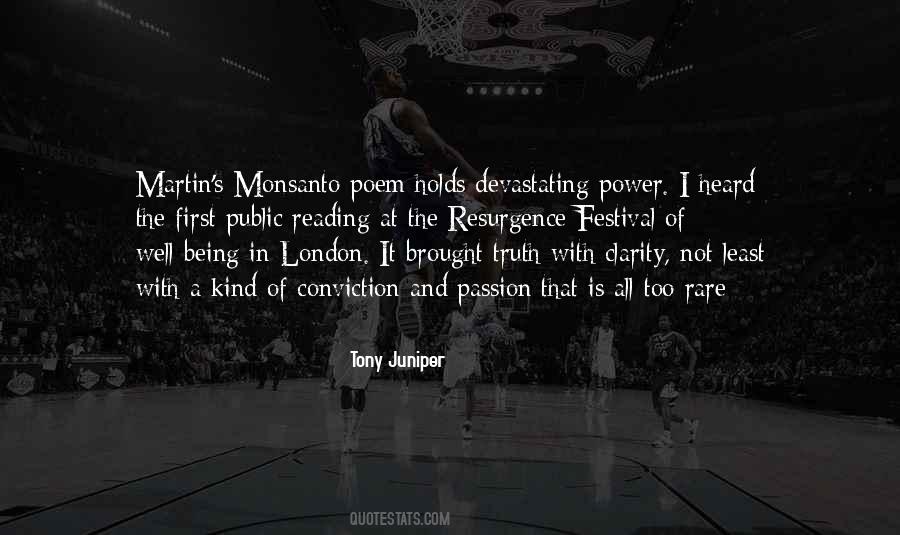 #92. I've been to the Reading festival twice before-as a punter, though I stayed backstage in the hospitality tent! - Author: Bruce Dickinson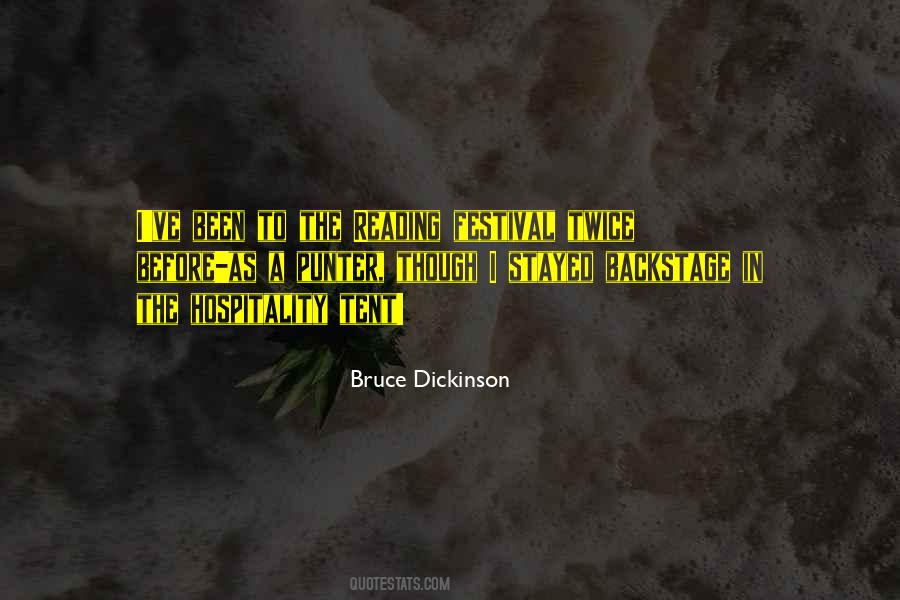 #93. Only in Texas can mesquite have its own festival, then there's a crawfish festival, a festival for strawberries, everything has its own festival, with each town having their own yearly thing. - Author: Kevin Fowler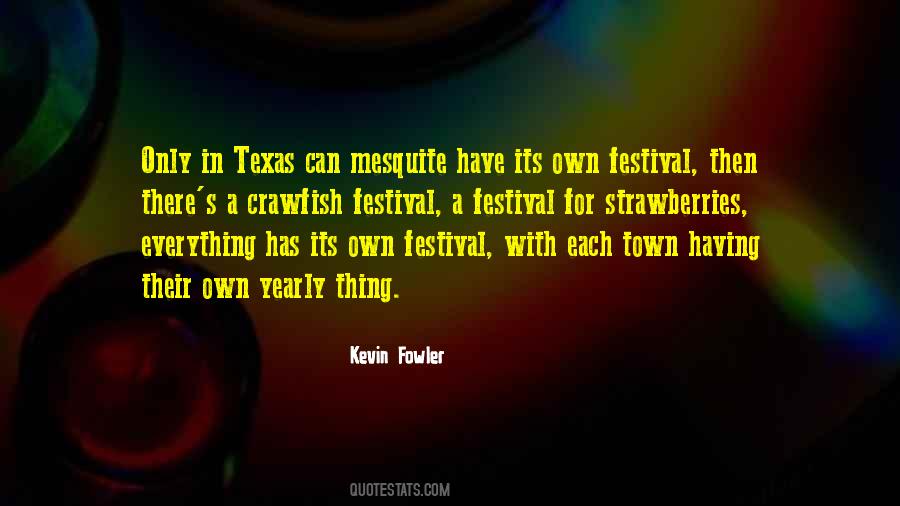 #94. Doing that, then doing a lot of theater, which I love. Doing guest stars, did two independent films that are going around to all these festivals. Both of them are going to be at the Lake Tahoe Film Festival. - Author: Austin Peck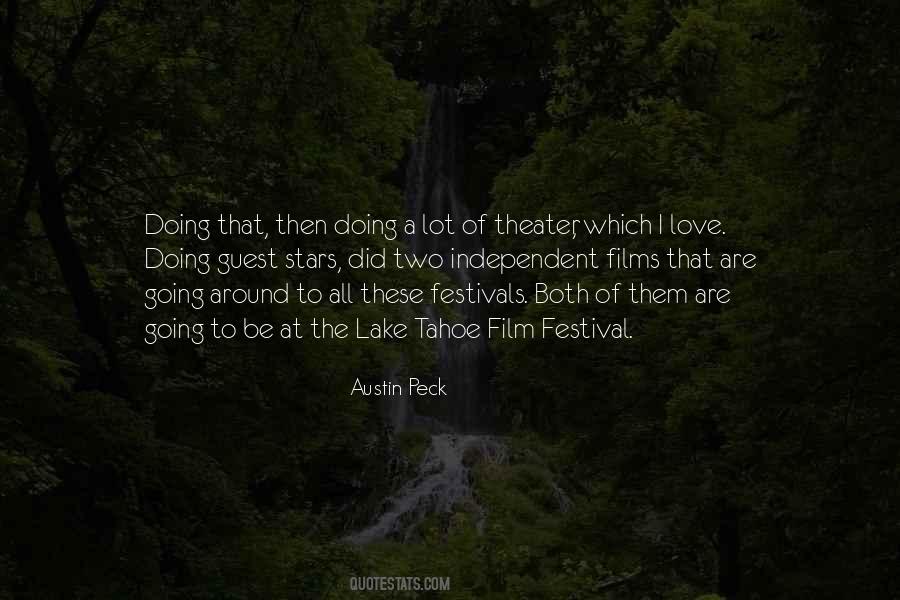 #95. It's always really special to be at the New York Film Festival, and always a real privilege. - Author: Noah Baumbach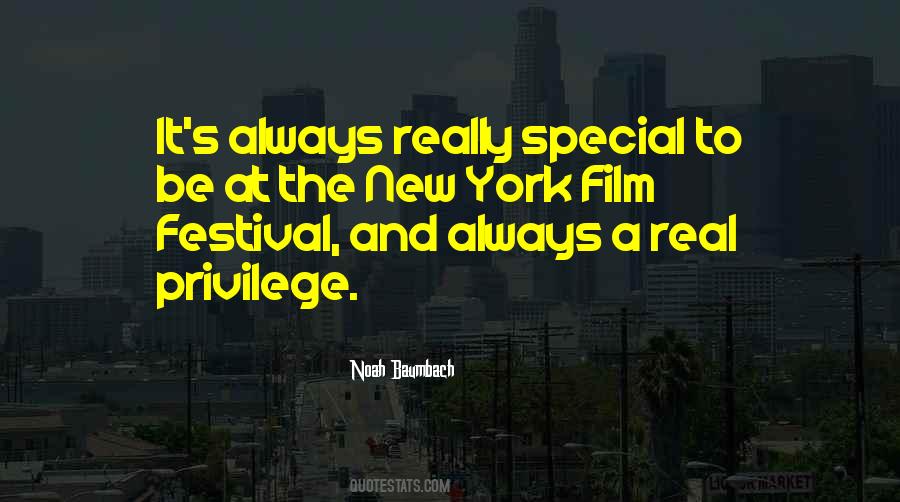 #96. At the heart of the celebration, there are the poor. If [they] are excluded, it is not longer a celebration. [ ... ] A celebration must always be a festival of the poor. - Author: Jean Vanier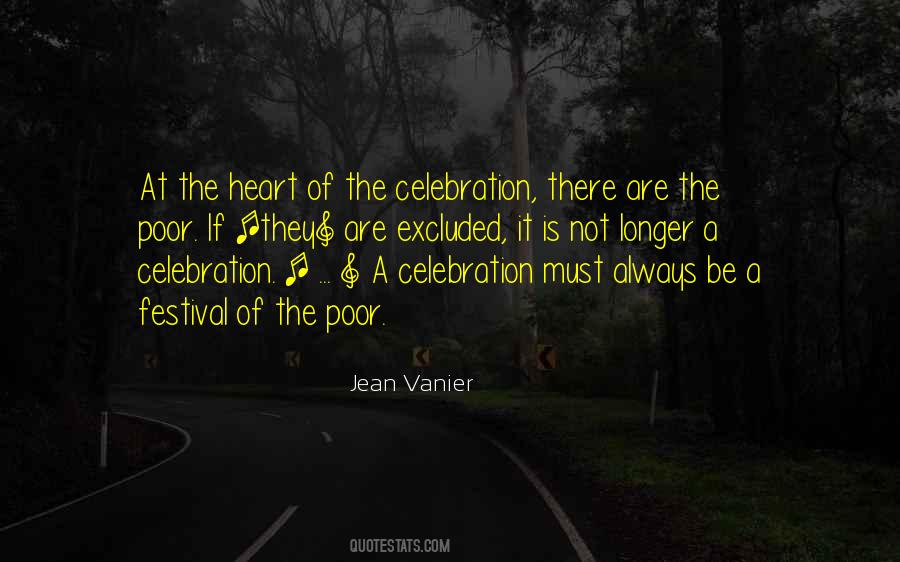 #97. Line of control should be a garden, a place of art and cultural festival. - Author: Amit Ray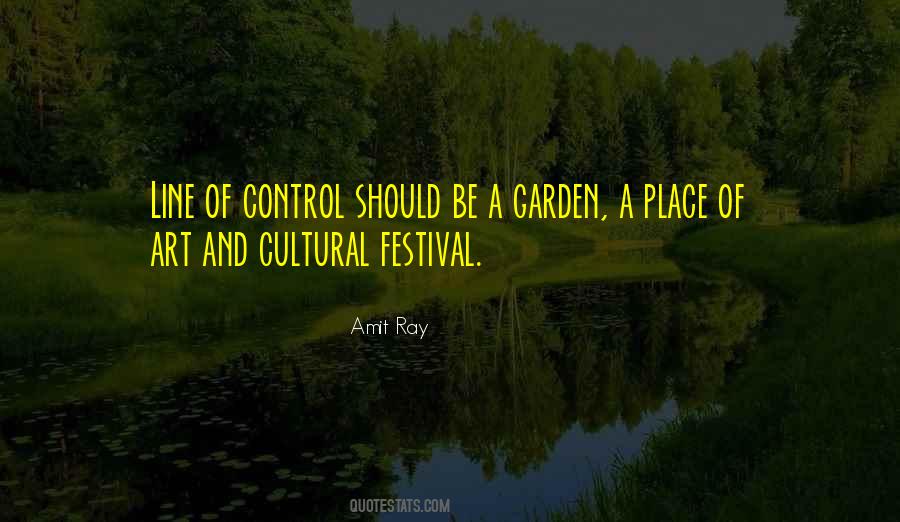 #98. My very first acting job ever, the first time I got paid to be an actress, was in 2001, right between my sophomore and junior year in college, when I was just 19 years old. I got paid $250 every two weeks, 10 shows a week, to be in the Utah Shakespearean Festival. I was Calpurnia in 'Julius Caesar.' - Author: Katy Mixon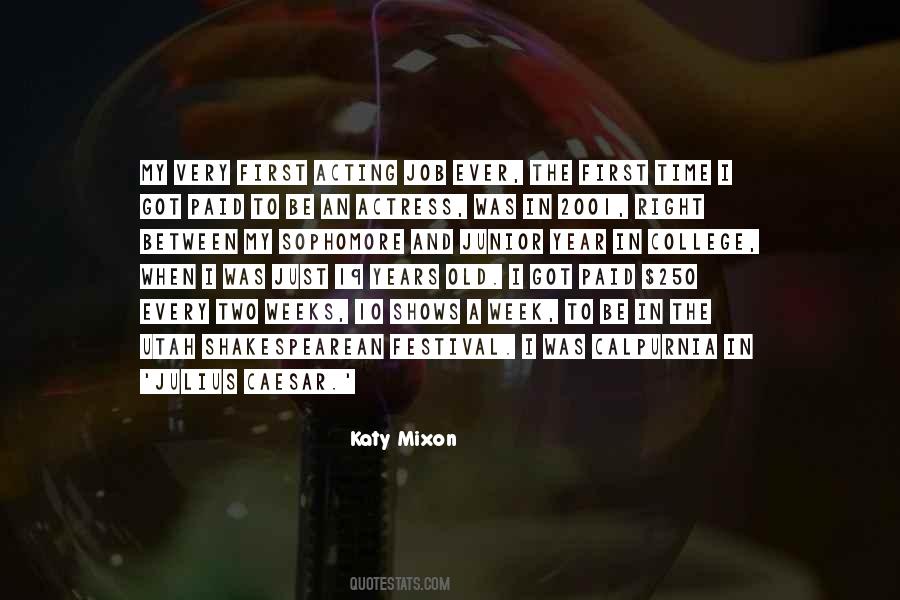 #99. The first record I bought was a Carl Perkins record, because I saw him at The Festival at Sandpoint, Idaho. I loved Elvis and I found out that he wrote 'Blue Suede Shoes' ... so connecting that experience of going to see him play was pretty awesome. That's when I realised I wanted to play guitar. - Author: Josh Homme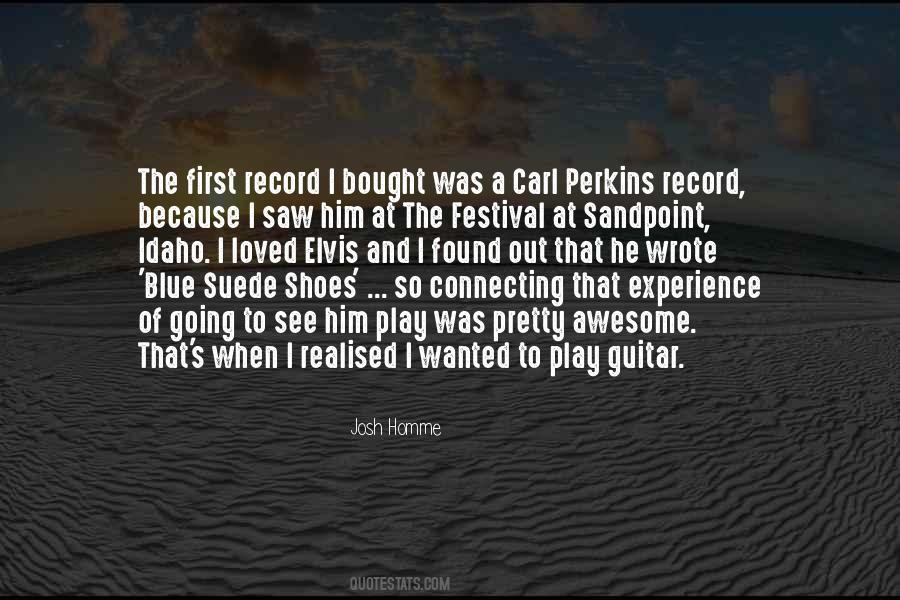 #100. Toronto Film Festival is one of those festivals where there are 400 movies, and unless you have a distributor who is super confident and puts a lot of money into it, sometimes movies can go unwatched or unnoticed. - Author: Viggo Mortensen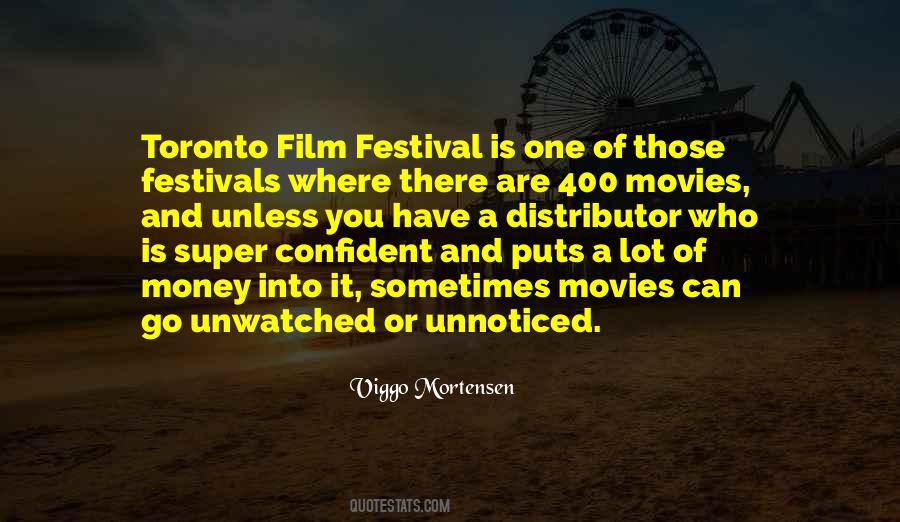 Famous Authors
Popular Topics