Feel About You Famous Quotes & Sayings
List of top 100 famous quotes and sayings about feel about you to read and share with friends on your Facebook, Twitter, blogs.
Top 100 Feel About You Quotes
#1. Songs for me are like a message in a bottle. You send them out to the world, and maybe the person who you feel that way about will hear about it someday. - Author: Taylor Swift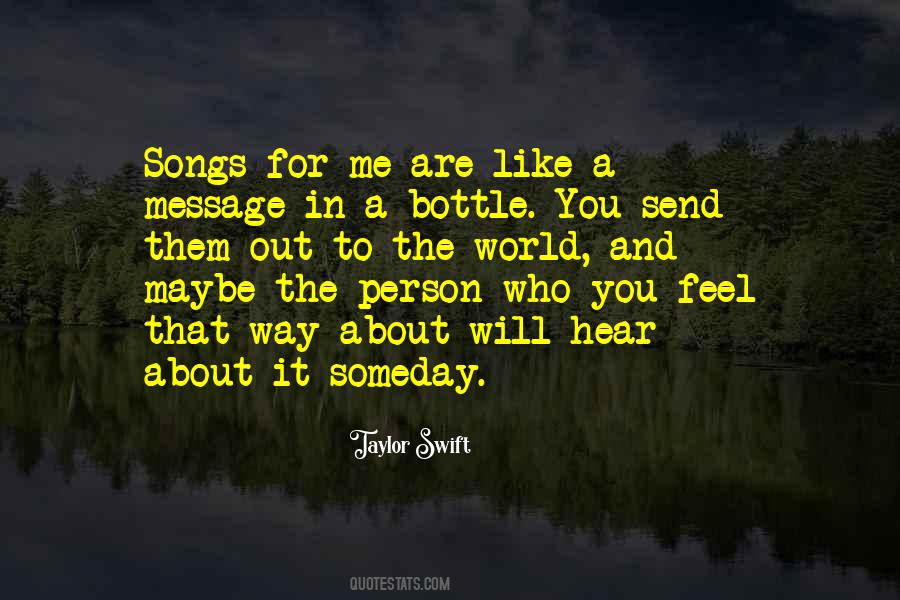 #2. So much of what folks want in the world turns out to be just a thing they say. Words change the way you feel for a small time and that just about goes as far as it can go toward being a true thing. - Author: Robert Bausch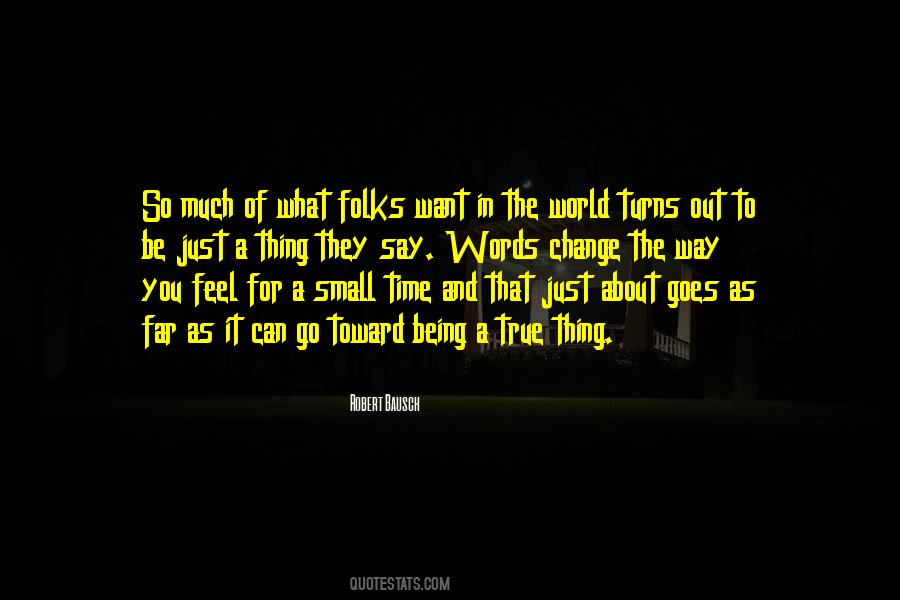 #3. Music gets inside you, music captures you. Music becomes your heartbeat. It's a drug and makes you feel whatever the song's about. - Author: Ed Westwick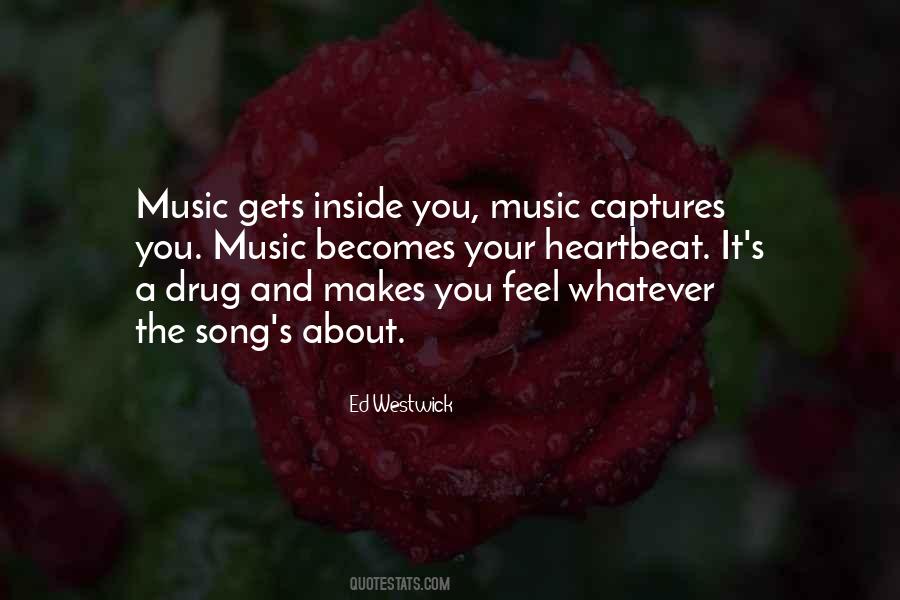 #4. ... there was something about her that made you feel it was safe to tell her secrets. - Author: L.M. Montgomery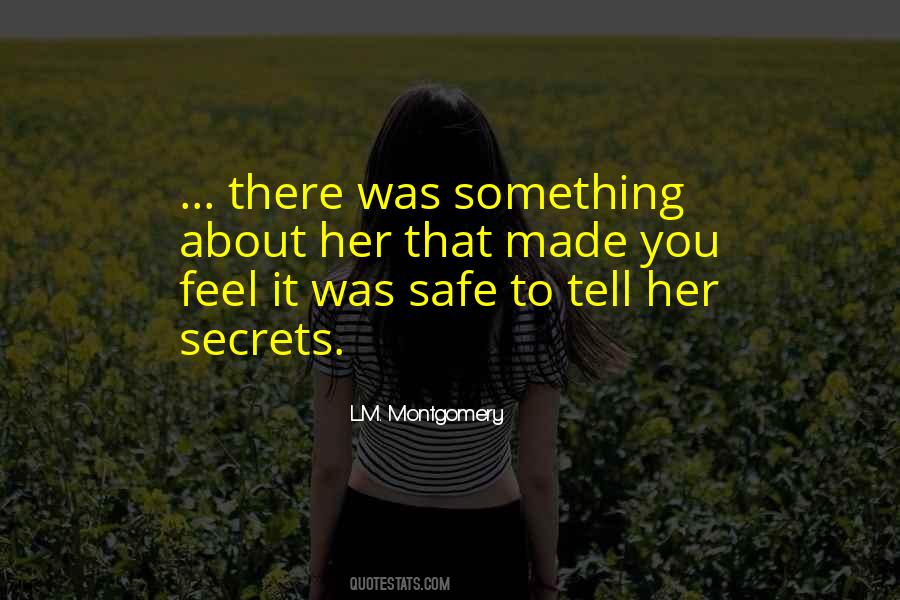 #5. Memories and emotions are all tied up. The morestrongly you feel about a situation influences how youremember it. - Author: Myra McEntire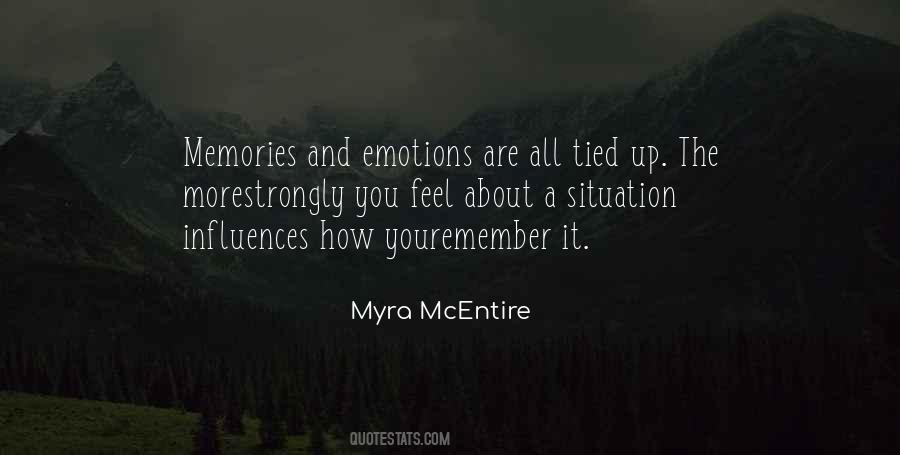 #6. If I don't get five [titles], I won't be happy with myself as a basketball player. I don't know how you guys will feel about me. - Author: Shaquille O'Neal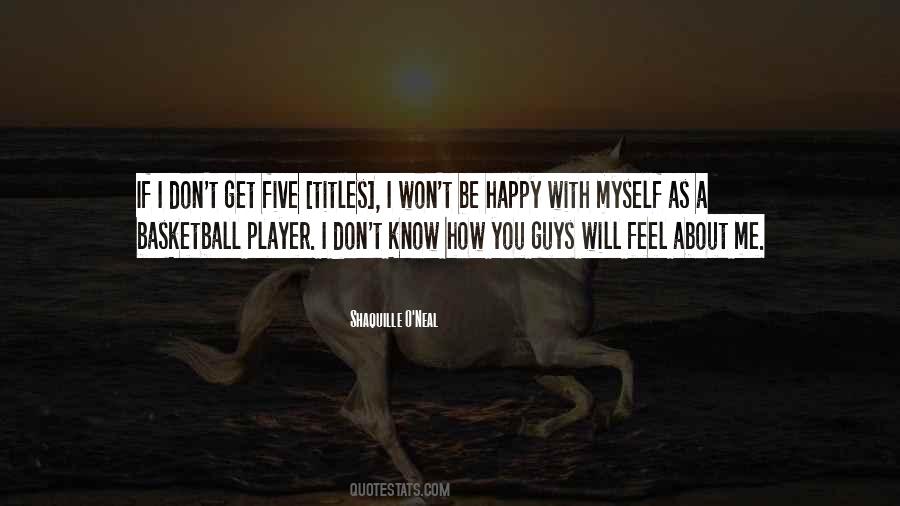 #7. Life is filled with challenges to be accomplished one by one
But, when you feel good about yourself
There's no hurdle you can't overcome! - Author: Annette Whitaker-Moss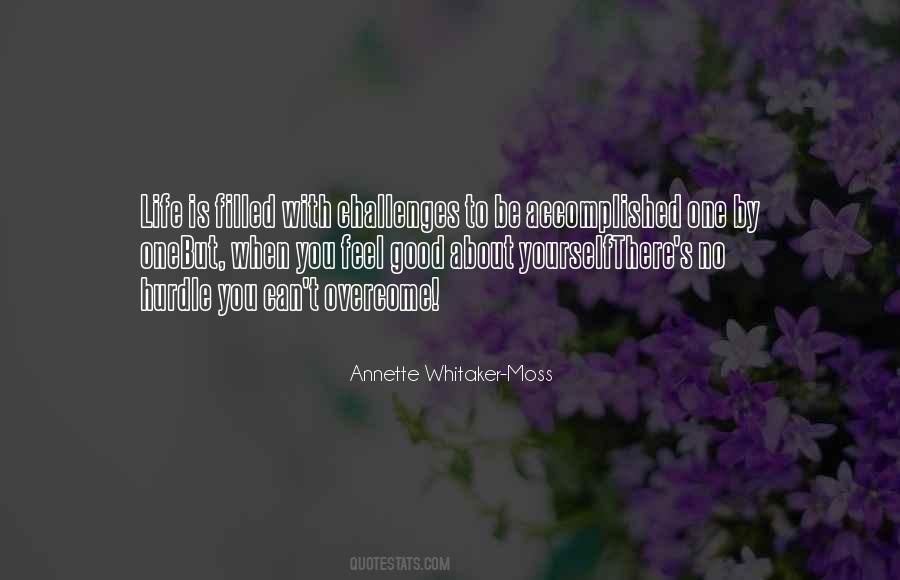 #8. A funny thing about charisma: the same people who can make you feel an inch tall can also make you feel huge, fortified, sometimes almost simultaneously. - Author: Garth Risk Hallberg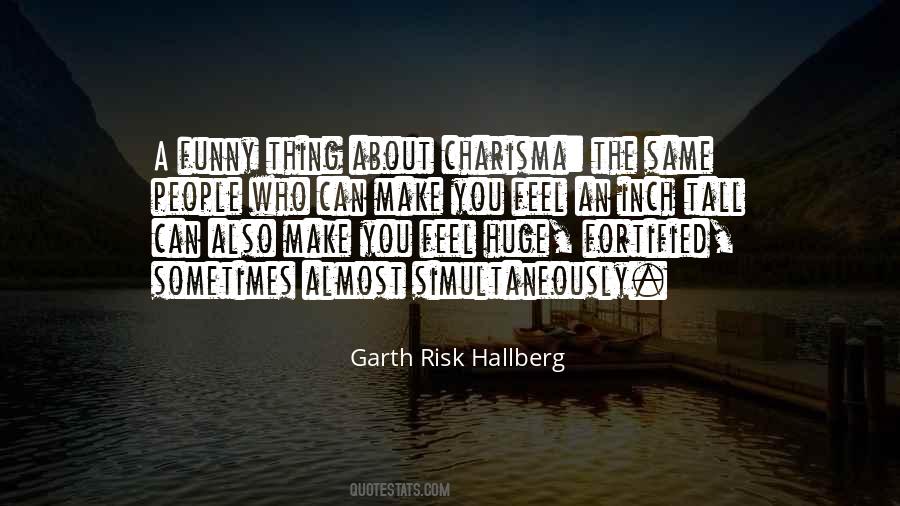 #9. One uproar after another, every day. Like the whole world's turned upside down. Don't you feel bad that you're missing out? The world isn't that easily turned upside down, Haida replied. It's people who are turned upside down. I don't feel bad about missing that. - Author: Haruki Murakami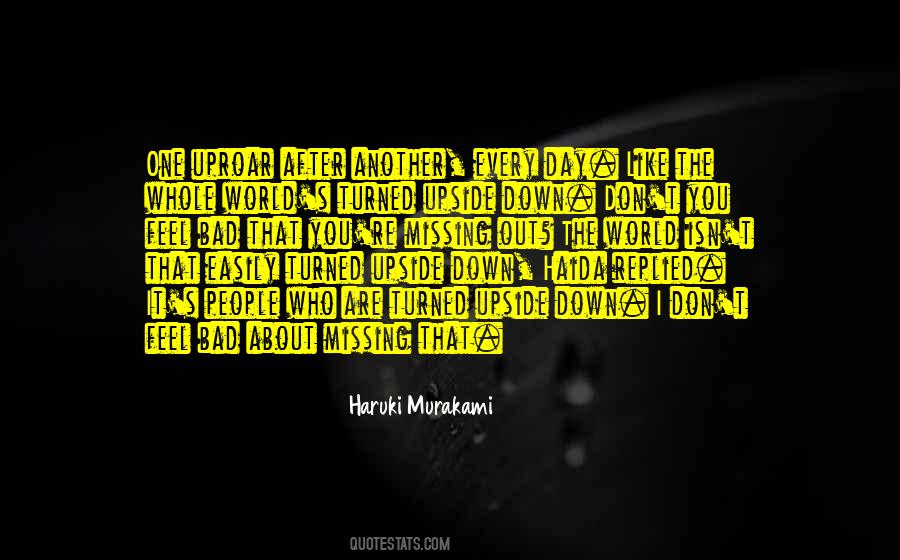 #10. When you least feel like it, do something for someone else. You forget about your own situation. It gives you a purpose, as opposed being sorrowful and lonely. - Author: Dana Reeve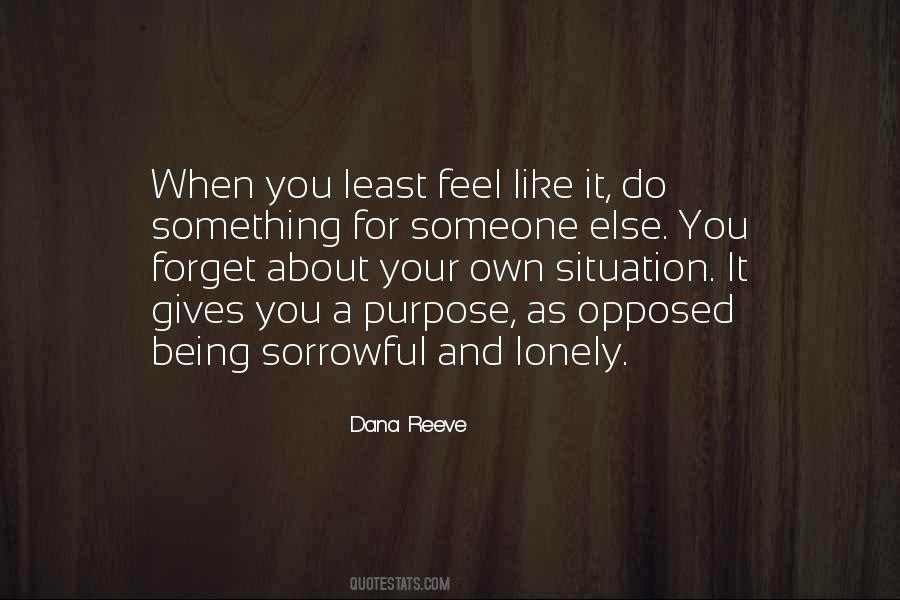 #11. My point is,' Jamie continued, 'not everything's perfect, especially at the beginning. And it's all right to have a little bit of regret every once in a while. It's when you feel it all the time and can't do anything about it ... that's when you get into trouble.'
pg 169-170 - Author: Sarah Dessen
#12. Ella, being a royal bitch won't make you like me any less. It also won't change how I feel about you. - Author: A.M. Madden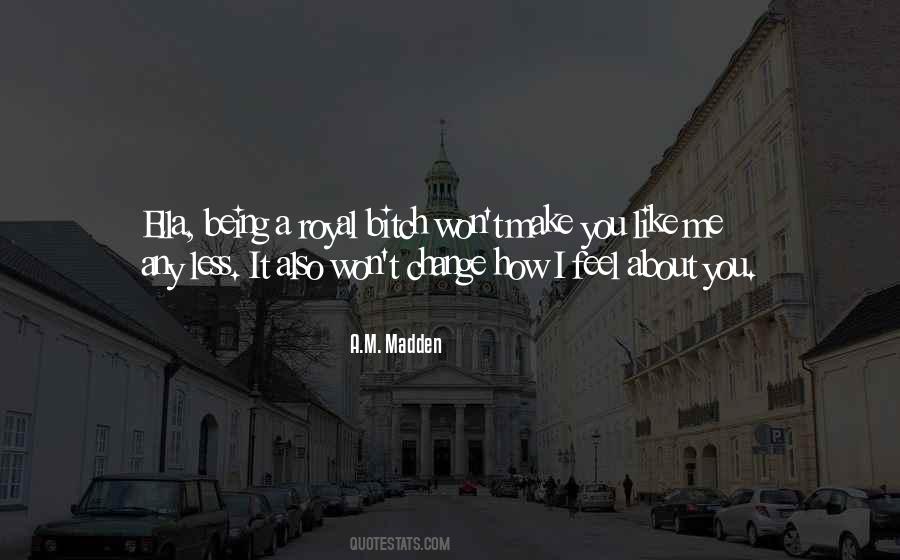 #13. There's a power in words. There's a power in being able to explain and describe and articulate what you know and feel and believe about the world, and about yourself. - Author: Tracy Chapman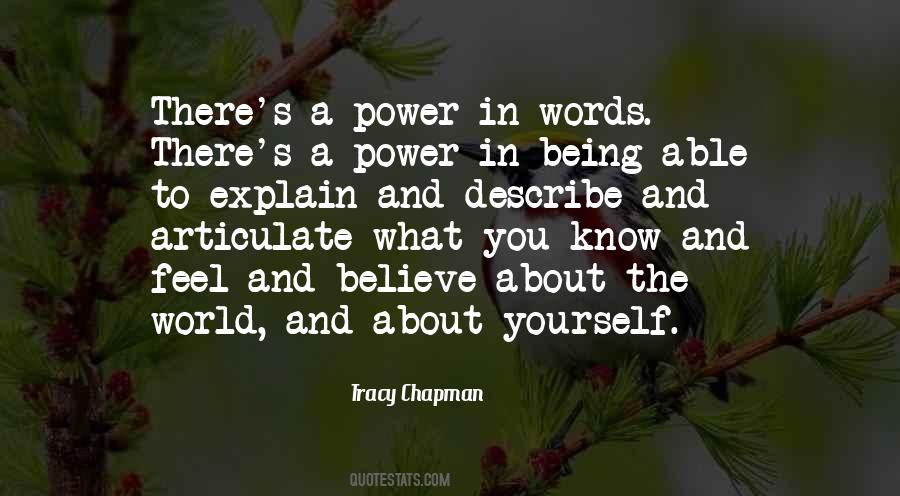 #14. I really feel the novel has certain conveniences about it and has something so fundamental about it you could almost say that as long as there is paper, there is going to be the novel. - Author: William Golding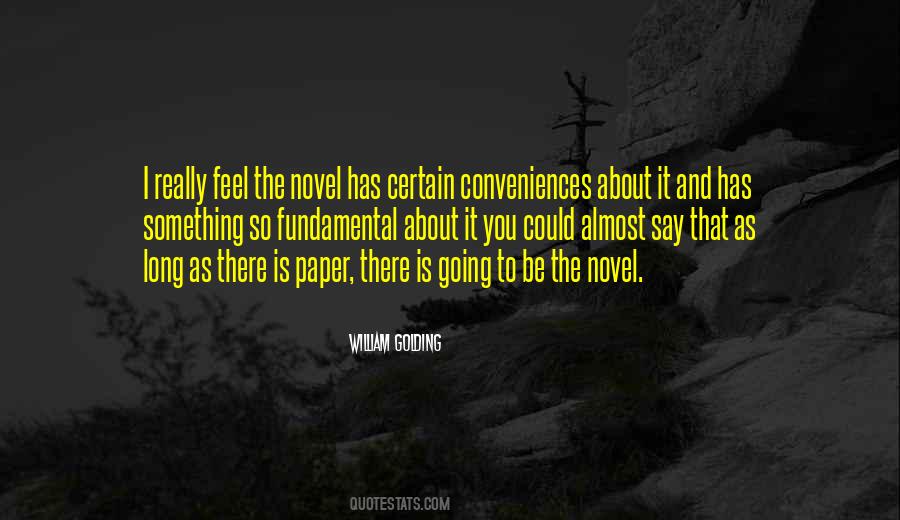 #15. He looked tired. And not the kind of tired you feel after a long day, but the kind of tired that lingers no matter how much sleep you get or how much coffee you ingest. The kind of tired that is less about rest and more about unrest. I - Author: T.M. Frazier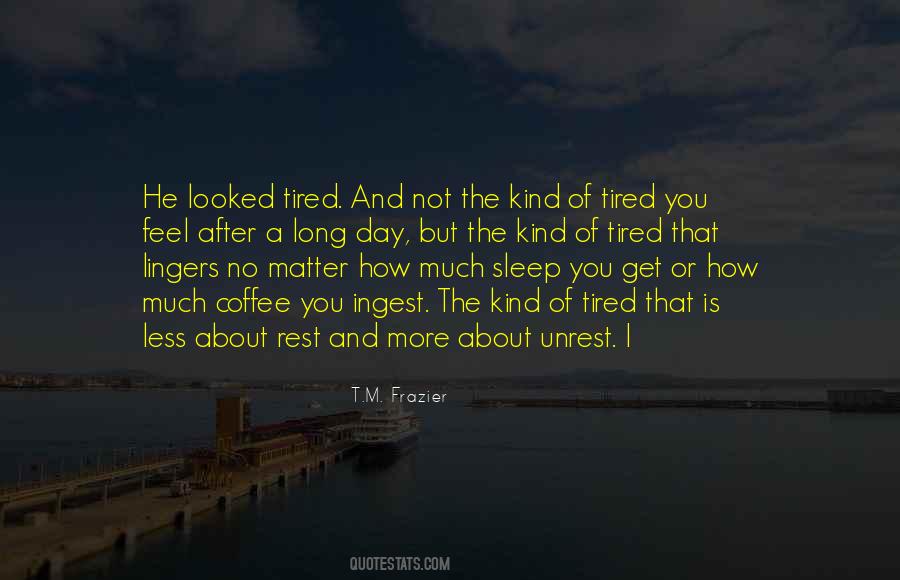 #16. It's like when you are excited about a girl and you see a couple holding hands, and you feel so happy for them. And other times you see the same couple, and they make you so mad. And all you want is to always feel happy for them because you know that if you do, then it means that you're happy, too. - Author: Stephen Chbosky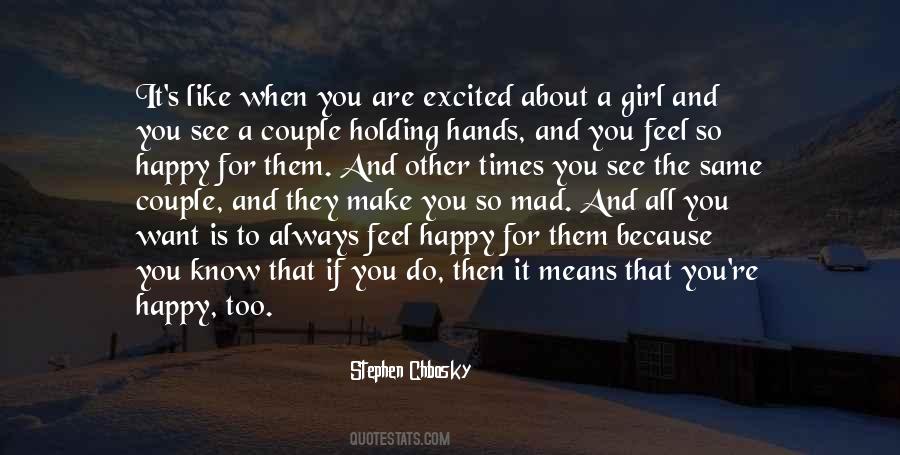 #17. There are the jobs you get that do something for your confidence, like "I can do this with my life" kind of thing. And then, there are the jobs that maybe bring a certain level of awareness about you as an actor where other people feel like they can hire you. - Author: Rosemarie DeWitt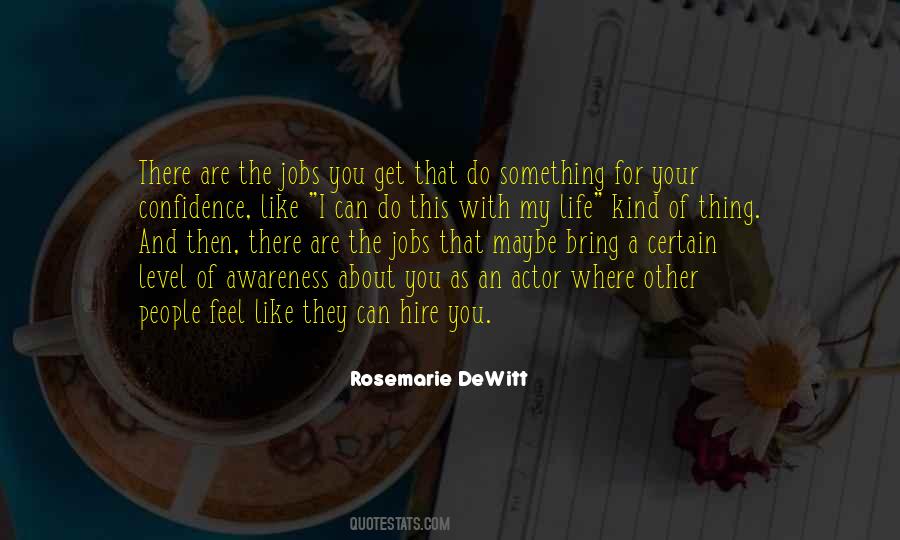 #18. When it comes to true dance, it's not about how you look, it's all about the joy you feel. - Author: David Levithan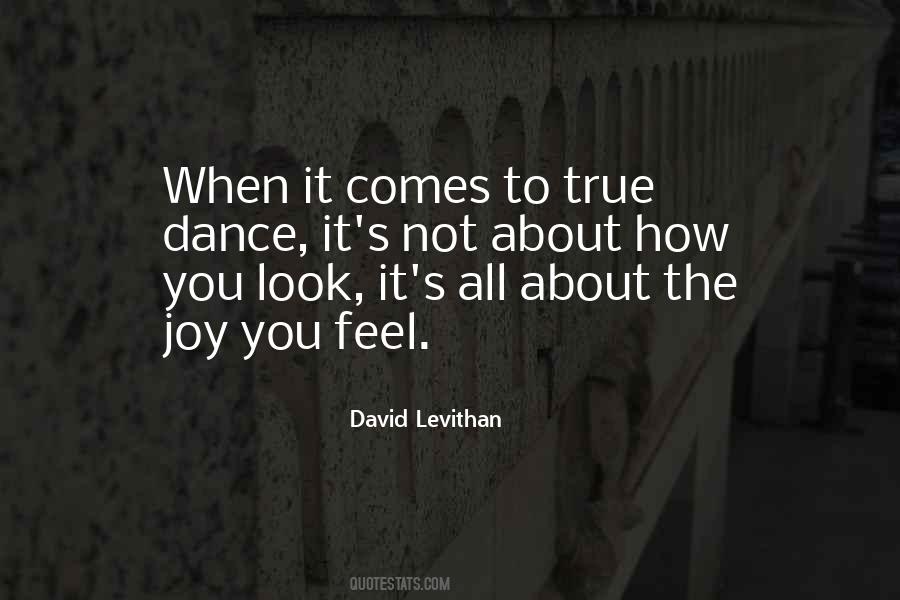 #19. The problem with looking in the mirror is that you never know how you will feel about what you see. Sometimes, when my hormones are out of sync, I have no interest in the mirror, and if I do look I think everything is all wrong. Other times, I am quite pleased with what I see. - Author: Chimamanda Ngozi Adichie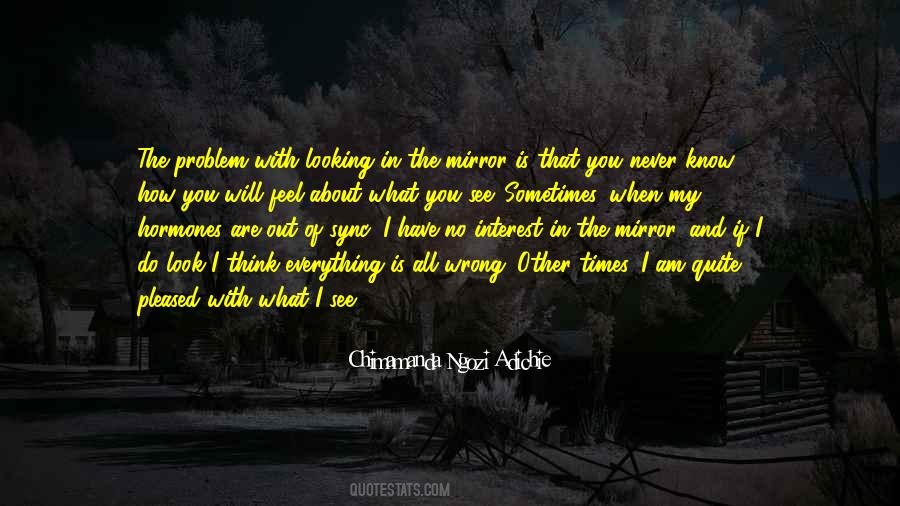 #20. I think we must all feel that there are people out there who know things about our young selves, you know, our early, early lives, that no one else can ever know. - Author: Rebecca Stead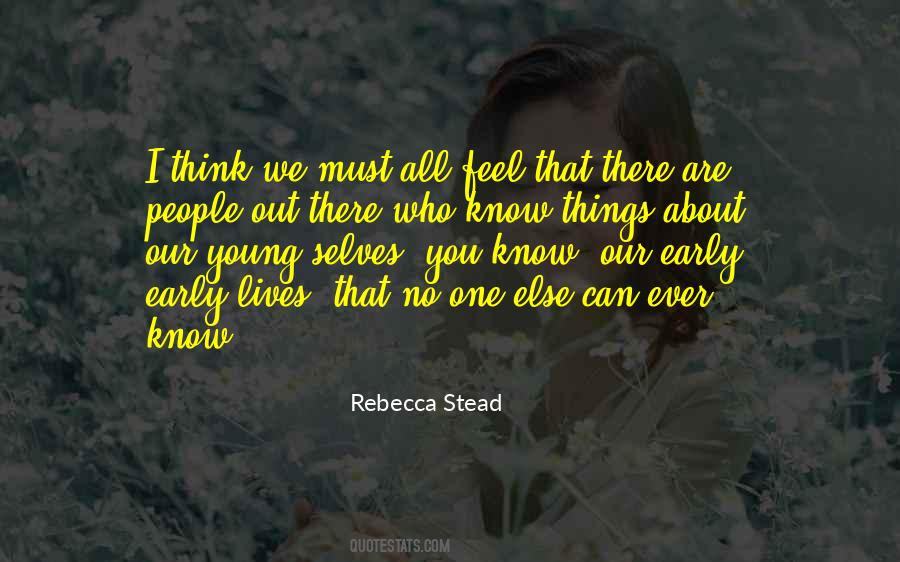 #21. I really don't over-theorize about design. I'd rather feel it than talk it to death. A lot happens as you unroll the design. - Author: Colleen Atwood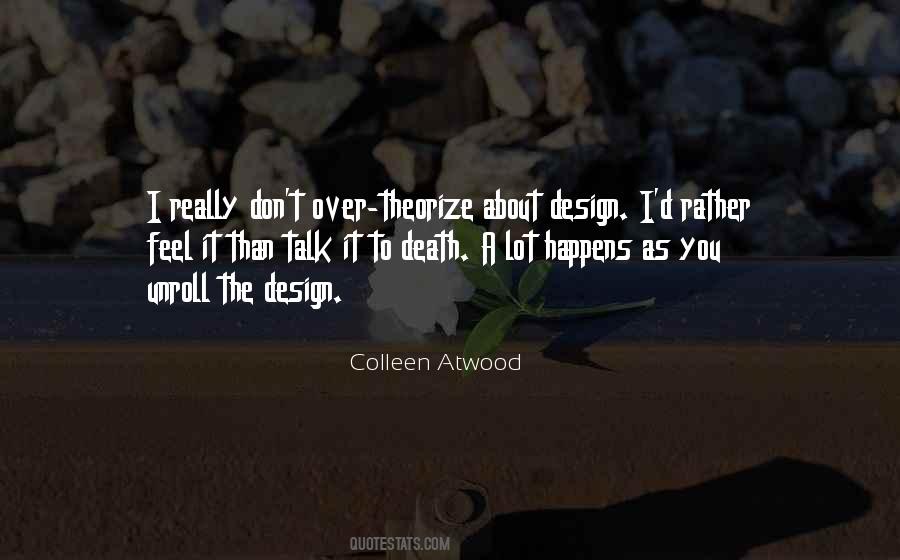 #22. Yeah, right. I don't believe that one for a minute. What do you think? I fell off a turnip truck? (Simone)
Honestly? All I was thinking about was how beautiful you are. How much I wanted to feel your skin against mine and how I've never been this attracted to a woman before. (Xypher) - Author: Sherrilyn Kenyon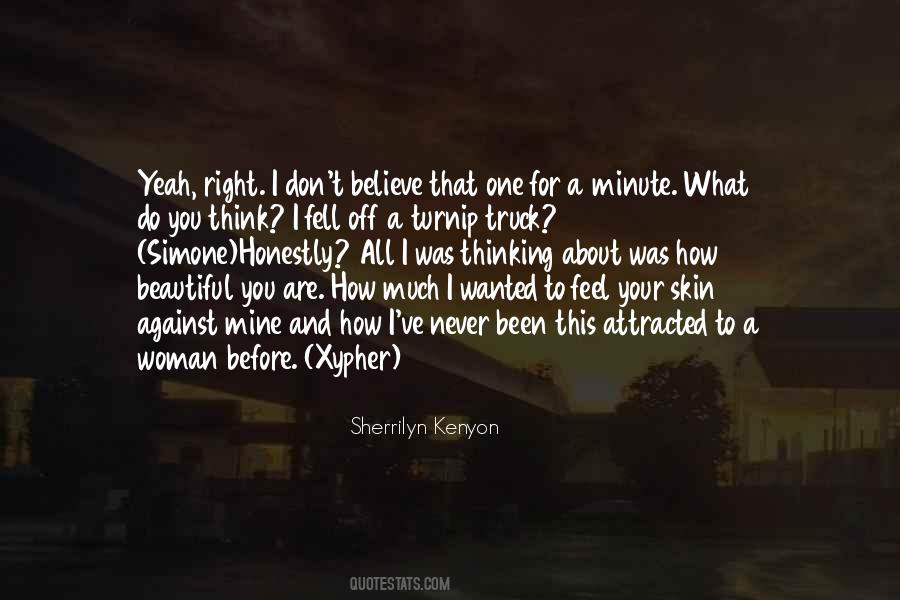 #23. New York City revived around the team. I don't think you can look at the recovery of New York from the 1970s without, on some level, talking about Steinbrenner. Even if you're just talking about the feel of the city, he was part of a creation of a new sense of optimism. - Author: Jonathan Mahler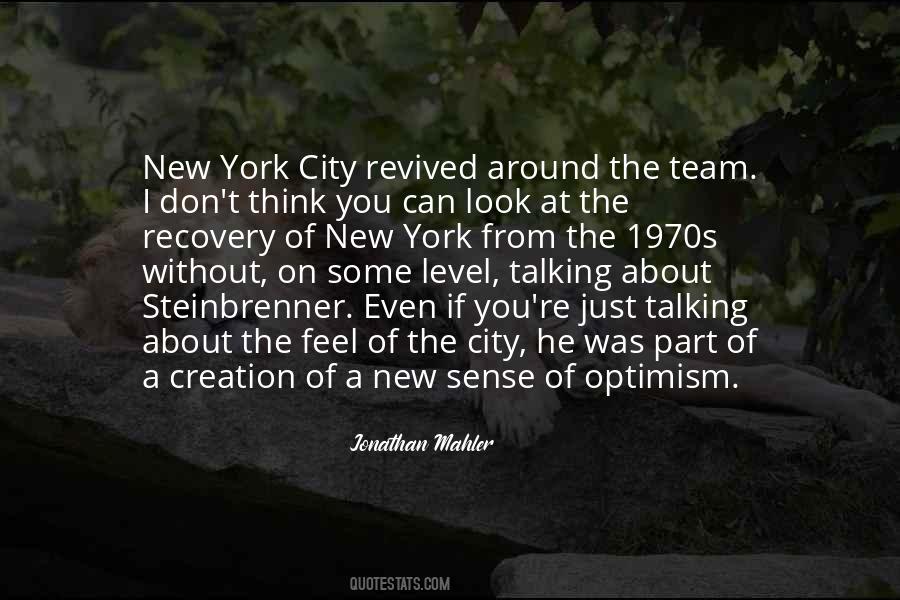 #24. It may feel like the more you know about depression and the many forms it can take, the more questions you have. That's how I feel. - Author: Jane Pauley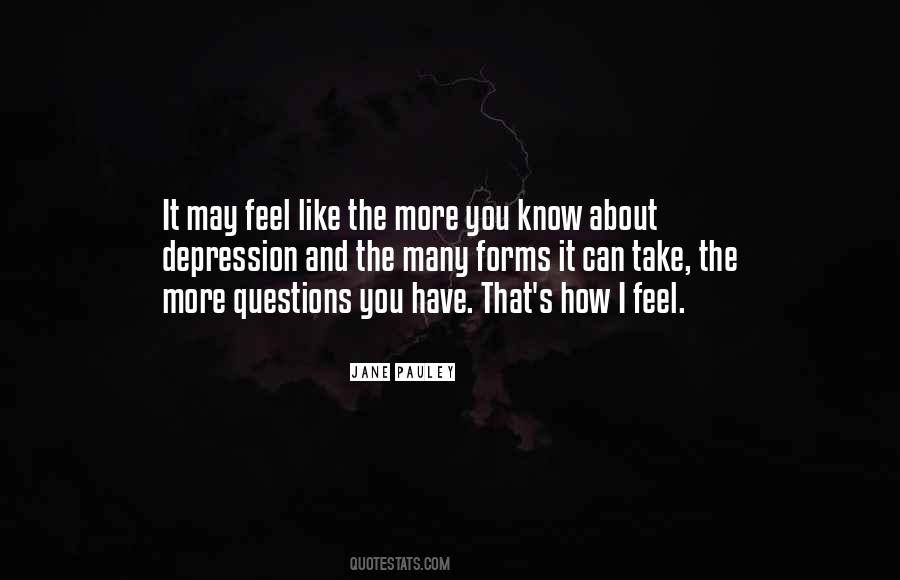 #25. Don't you hate that? Uncomfortable silences. Why do we feel it's necessary to yak about bullshit in order to be comfortable? That's when you know you've found somebody special. When you can just shut the fuck up for a minute and comfortably enjoy the silence. - Author: Quentin Tarantino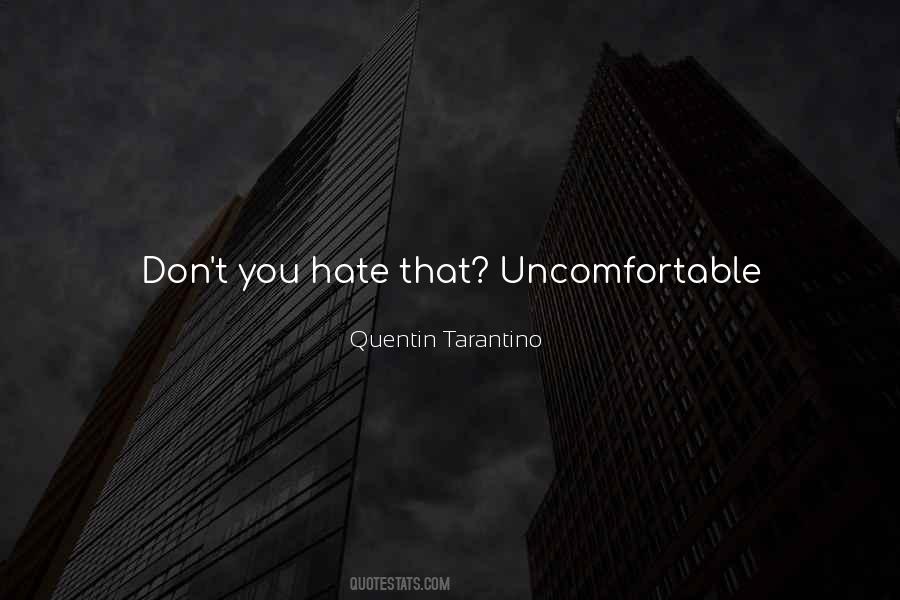 #26. I think you always, as an artist, feel like you would like to be more and more specific about your intent and your interests. - Author: Jeff Koons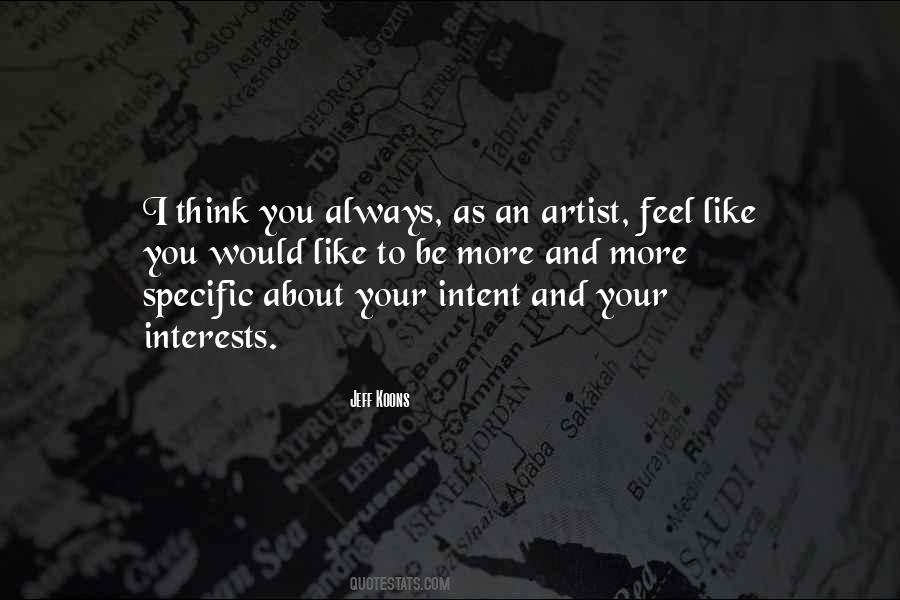 #27. An actor's career doesn't feel like just one career to me. It feels like about five or six. Because every six or seven years, you look in the mirror and you have a completely different product. - Author: Ron Livingston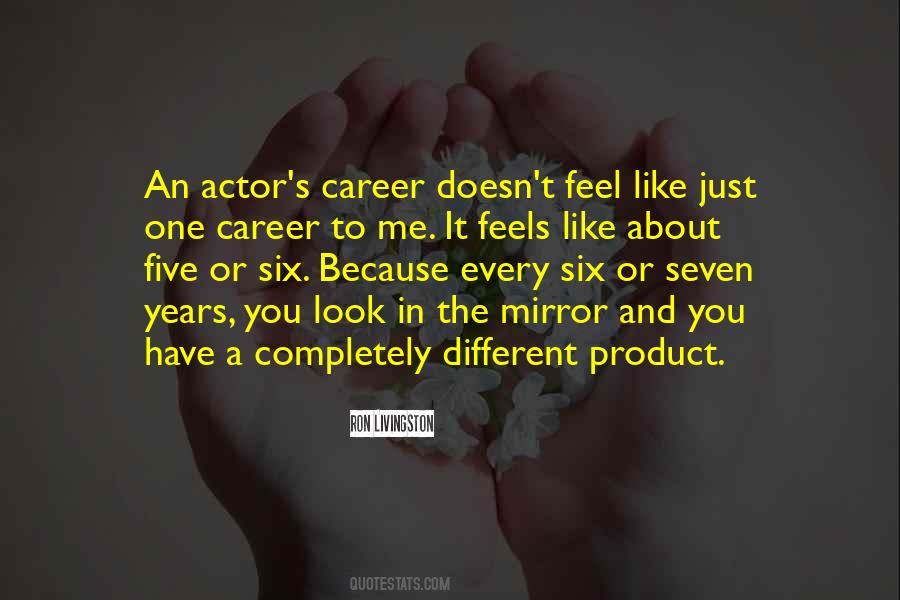 #28. When I feel like I'm stuck, I do something - not like I'm Mother Teresa or anything, but there's someone that's forgotten about in your life, all the time. Someone that could use an 'Attaboy' or a 'How you doin' out there. - Author: Bill Murray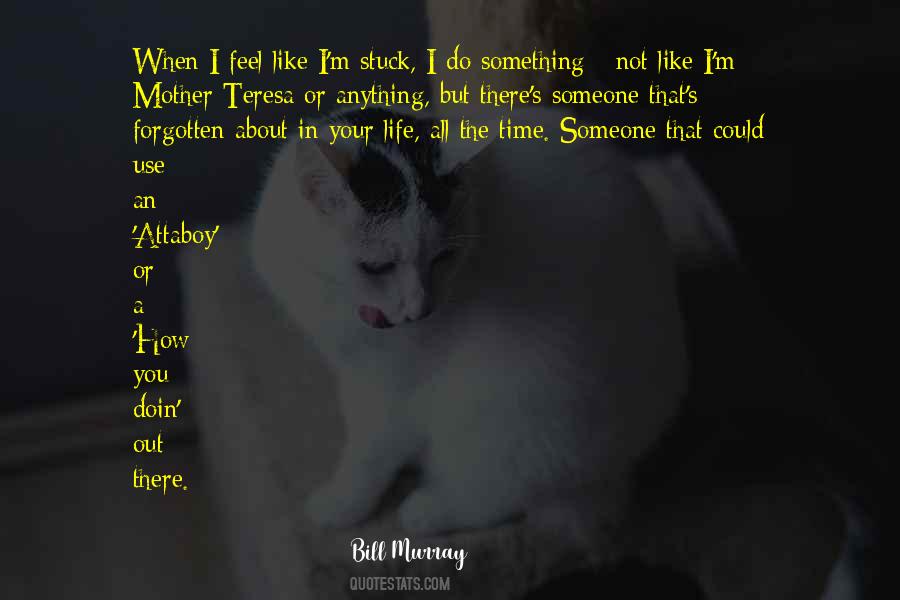 #29. Don't let the actions of a few determine the way you feel about an entire group. Remember, not all German's were Nazis. - Author: Erin Gruwell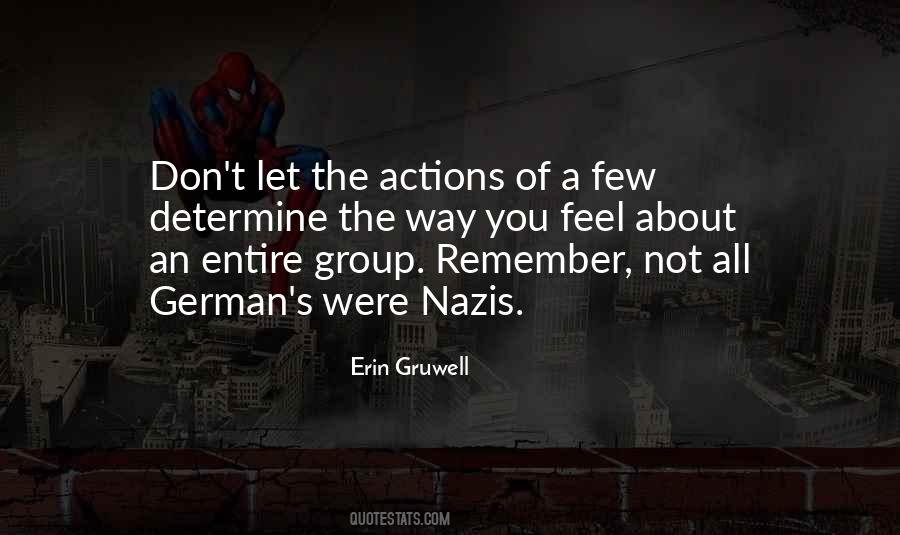 #30. I couldn't love anyone more than I do you, it would kill me. And I couldn't love anyone less because it would always feel like less. Even if I loved some other girl, that's all I would ever think about, the difference between loving her and loving you. - Author: Rainbow Rowell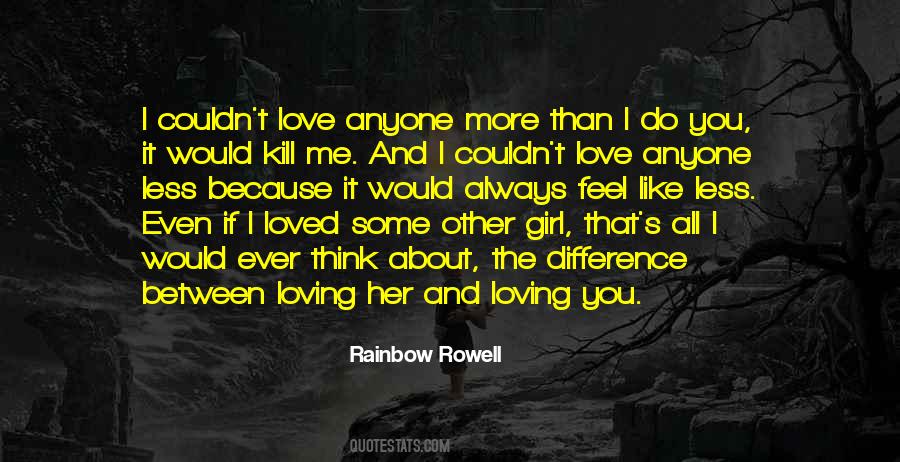 #31. We have to learn not to feel guilty about letting our imagination browse around, and you know, in writing fiction particularly. But I think, in any kind of writing, we have to learn to allow ourselves to approach it in a contemplative way. - Author: Sue Monk Kidd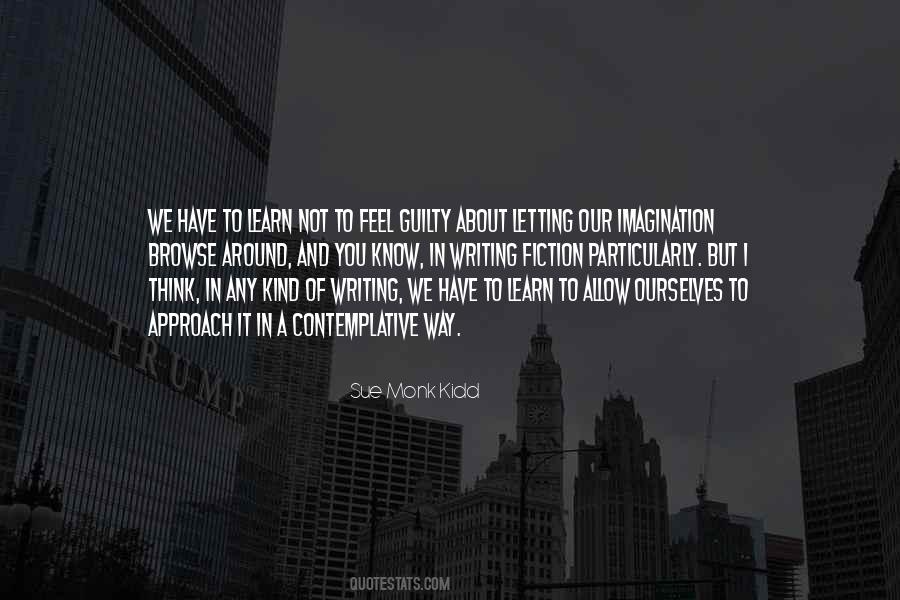 #32. Lighting affects everything light falls upon. How you see what you see, how you feel
about it, and how you hear what you are hearing. Replace the 'a' with an 'e' and you get lighting effects! - Author: Jean Rosenthal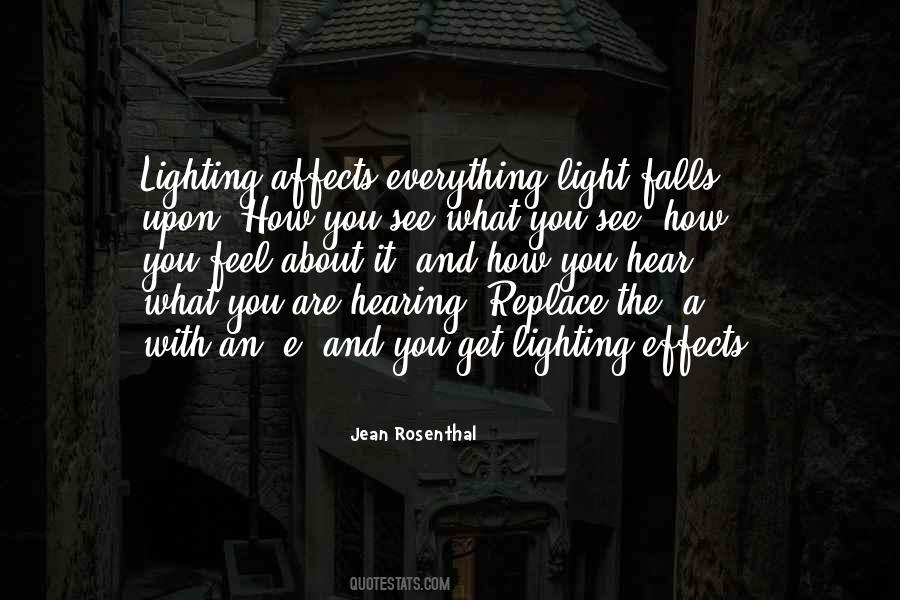 #33. I'm sayin' that I care about you, I do it deeply and I have for a really fuckin' long time. We're gonna explore this and I hope to God the feelin' I got is not wrong because I tried time and again to make it feel wrong but all it ever felt was right. - Author: Kristen Ashley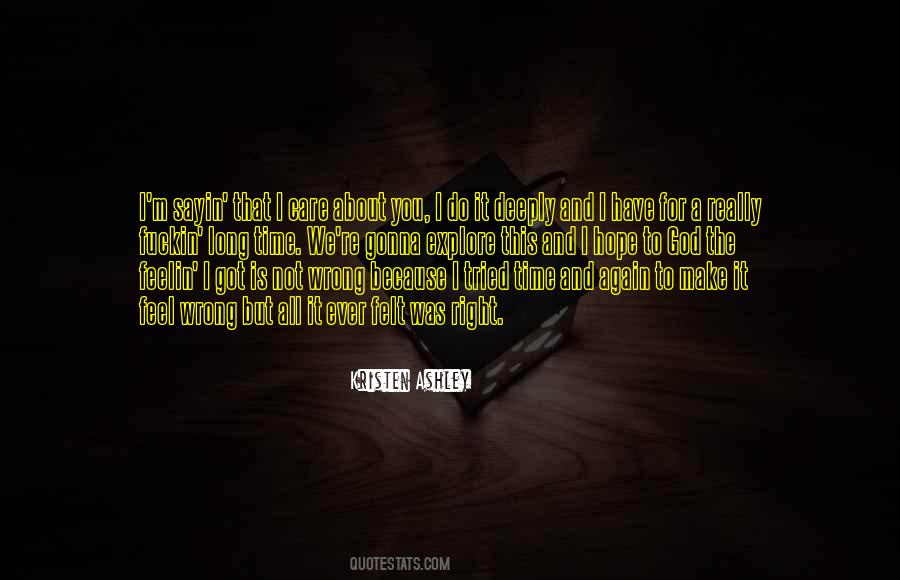 #34. The wonderful thing about age is that your knees don't work as well, you can't run down steps quite as easily and obviously you can't lift heavy weights. But your mind doesn't feel any different. - Author: Roger Moore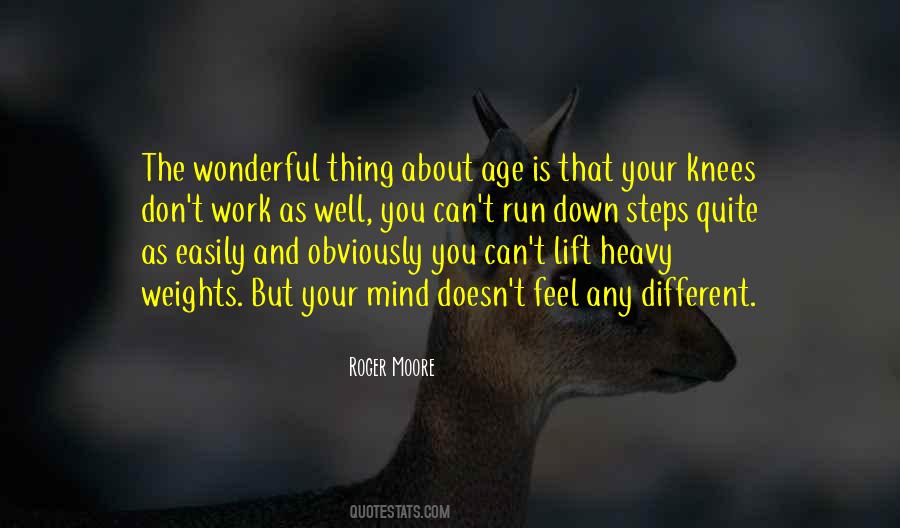 #35. You see, things being good has nothing to do with how you feel outside, it is all to do with how you are inside. - Author: Helen Fielding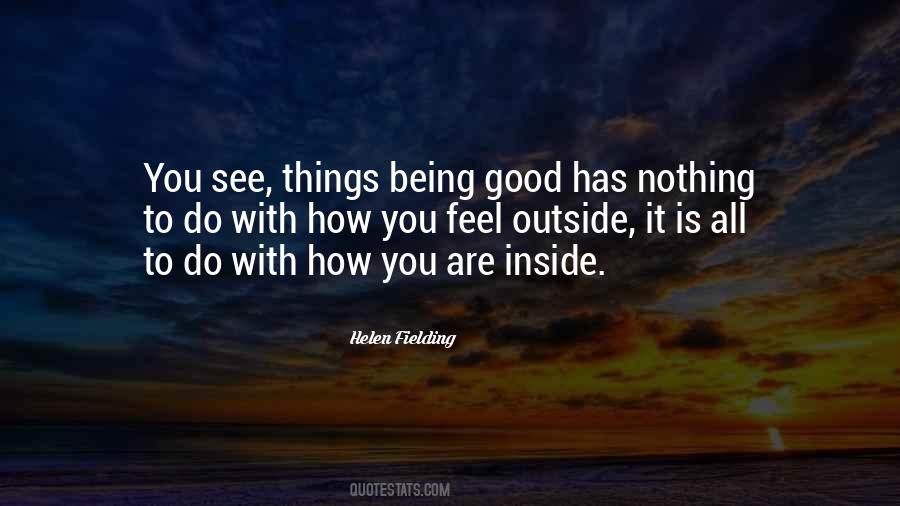 #36. Things somehow seem more real and vivid when one can apply somebody else's ready-made phrase about them ( ... ) you bring them out triumphantly, and feel you've clinched the argument with the mere magical sound of them. That's what comes of the higher education. - Author: Aldous Huxley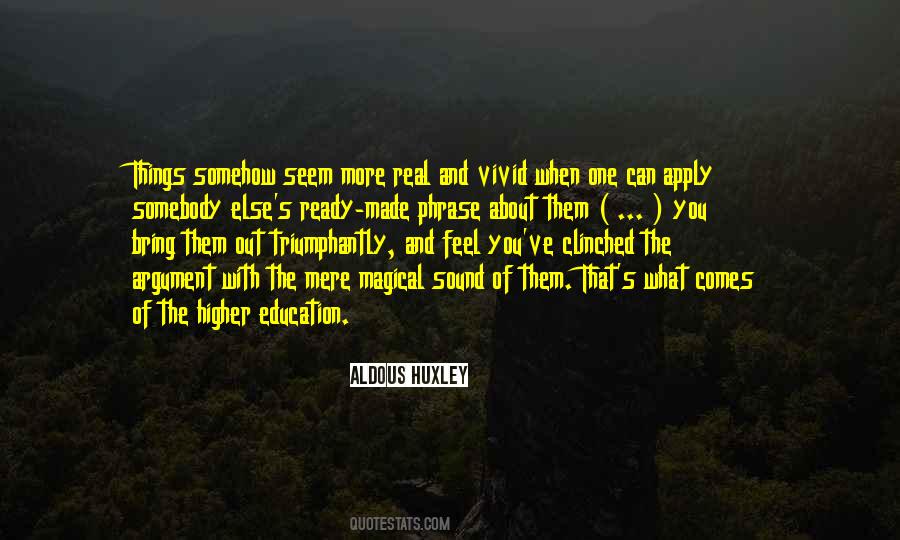 #37. When I think about you with him, it guts me. I feel like you ripped open my chest and tore out my damn heart. Do you even realize that? I know I should want you to be happy, but I can't wish it for anyone else other than me. I belong to you, and that's never going to change. - Author: Ashleigh Z.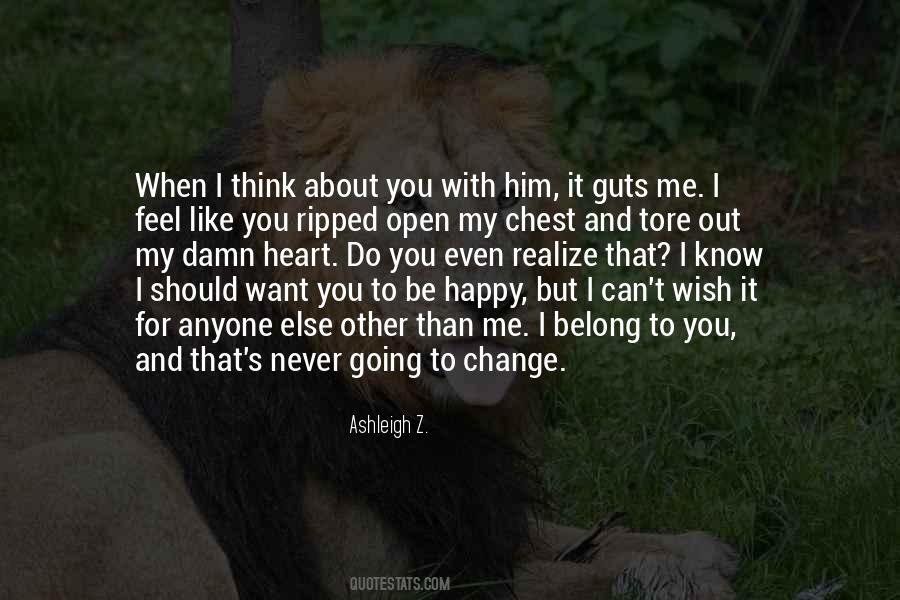 #38. Living in a house where domestic violence goes on every day never feels like home. You don't have to suffer in silence. I'm giving my full support to this website as it will give proper and practical advice about what to do if you feel afraid. Remember, you're not alone. - Author: Beverley Knight
#39. It's hard to describe, but there are times when ... you feel a surge of the Spirit. Somehow you just know: others have chosen, when talking to the Author of all creation, to lift us up - to speak to Him about us! - Author: Tony Snow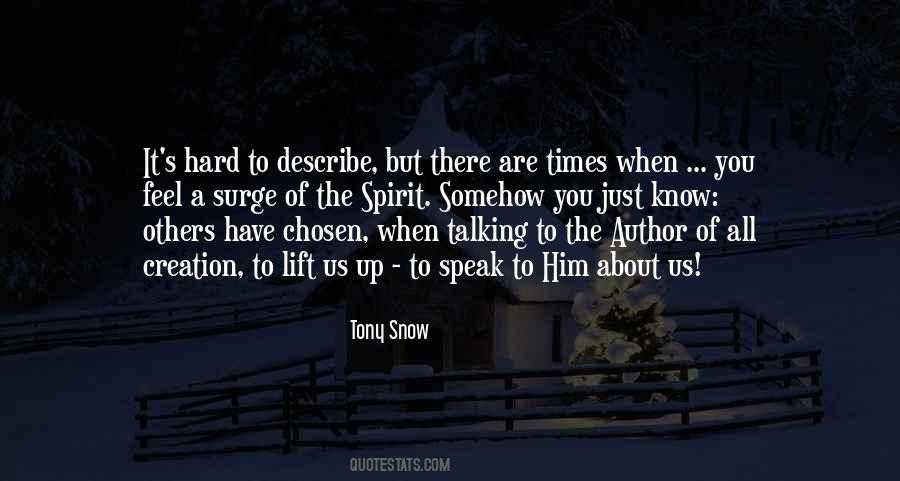 #40. Read. Read every chance you get. Read to keep growing. Read history. Read poetry. Read for pure enjoyment. Read a book called Life on a Little Known Planet. It's about insects. It will make you feel better. - Author: David McCullough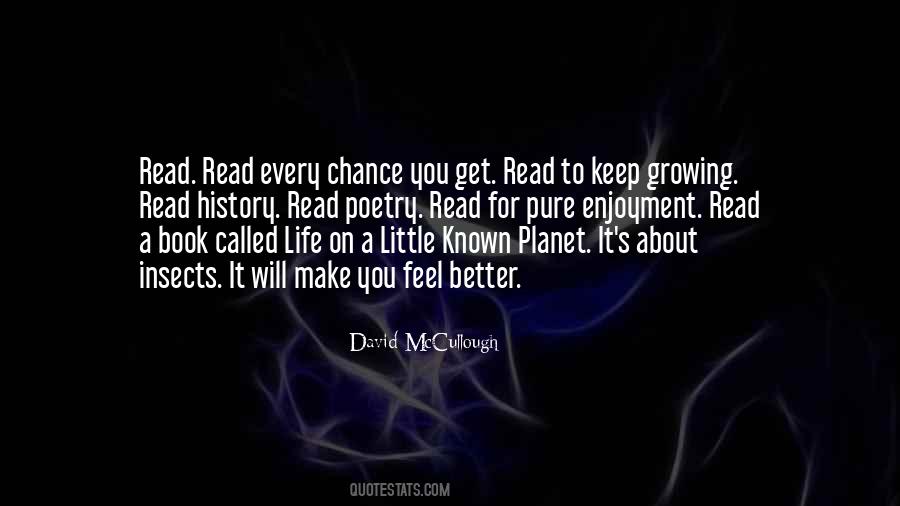 #41. I have cultivated a little crew of people whose opinions I understand. It's like the way you'd follow certain film critics because you know what their criteria are, and you may not agree with them, but you can glean from their opinion how you will feel about a film. - Author: Daniel Clowes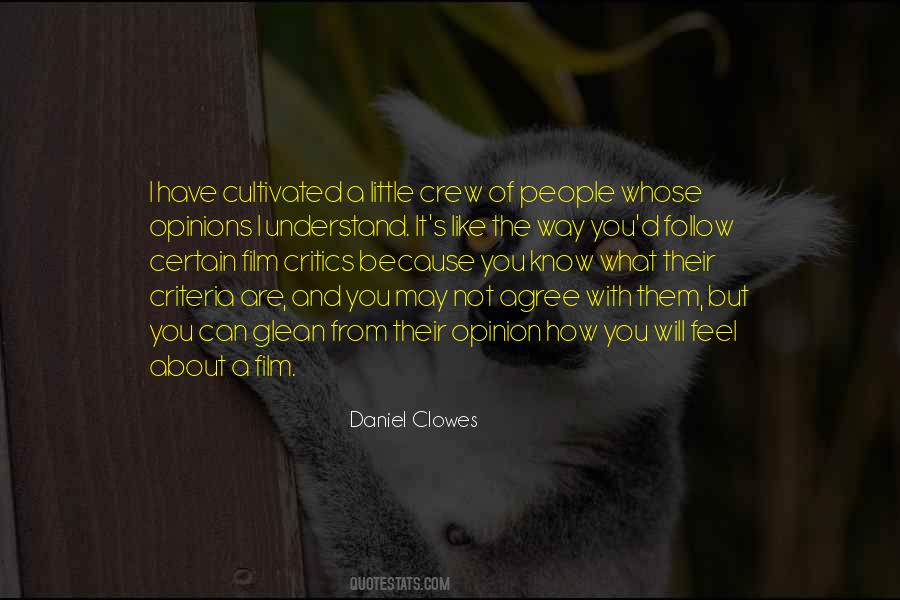 #42. I feel the world is over-saturated with [brand] products, and it isn't about what you're wearing as much as it is about what message you are trying to convey. - Author: Ronnie Radke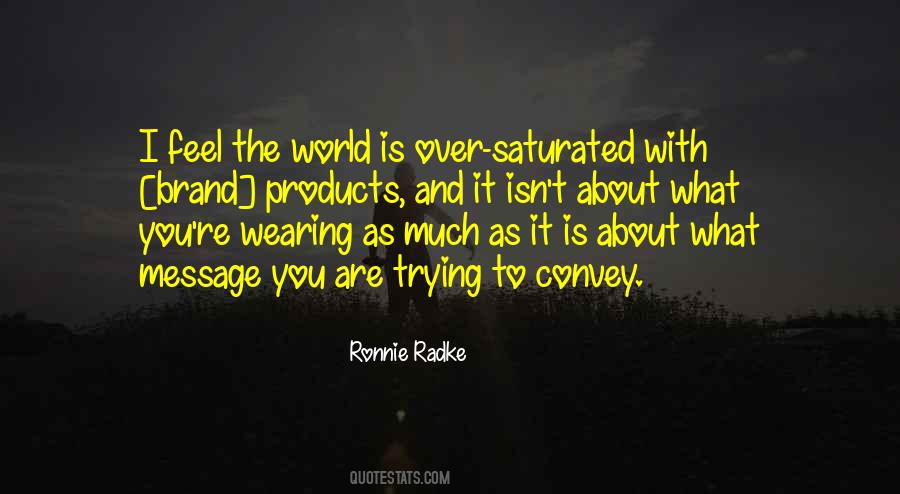 #43. I dress for myself because when I feel good, it doesn't matter what other people say. I think it's all about confidence and the way you carry yourself that draws people to you. - Author: Emma Roberts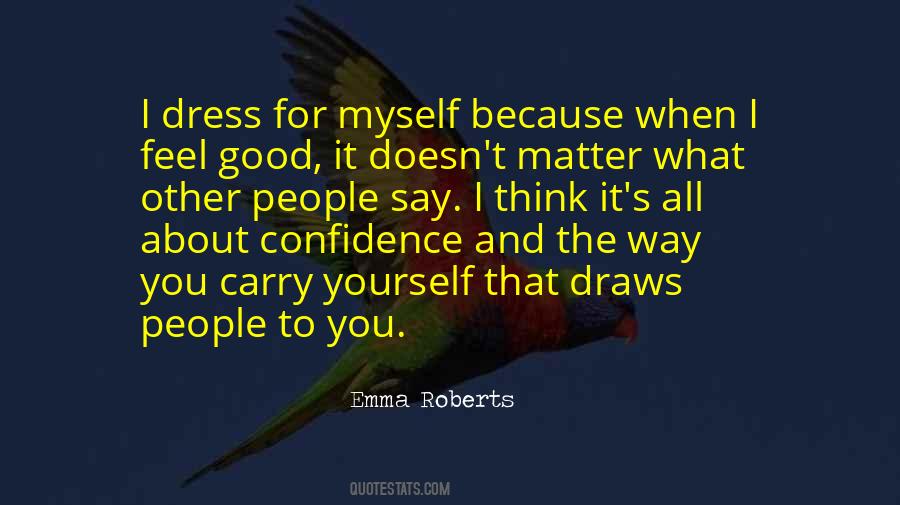 #44. It's all about how you feel, not how you look - Author: Sean Covey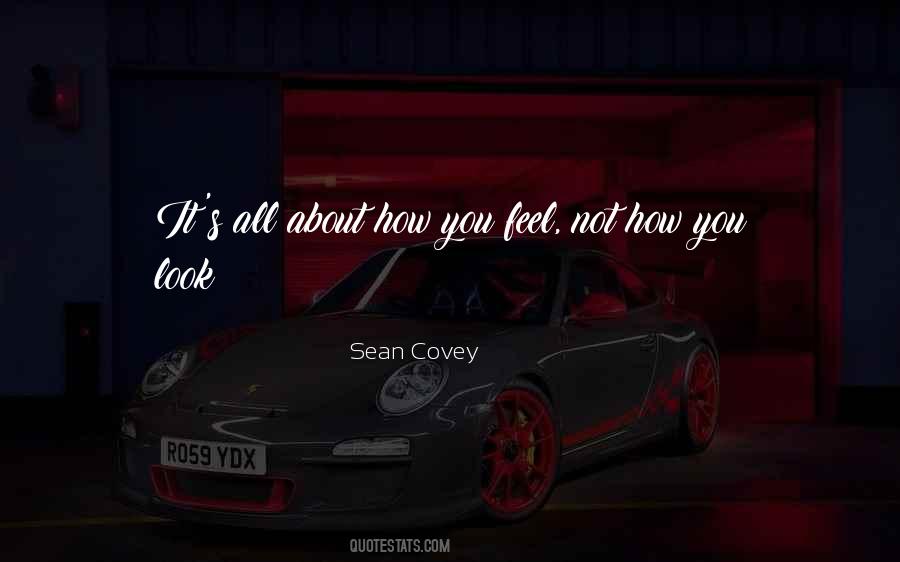 #45. First you will feel your inner transformation in your outer relationships, and then you will go deep. Then only will you begin to feel something inner. But we have a settled attitude about ourselves. We don't want to look into relationship at all, because then the naked face comes up. - Author: Rajneesh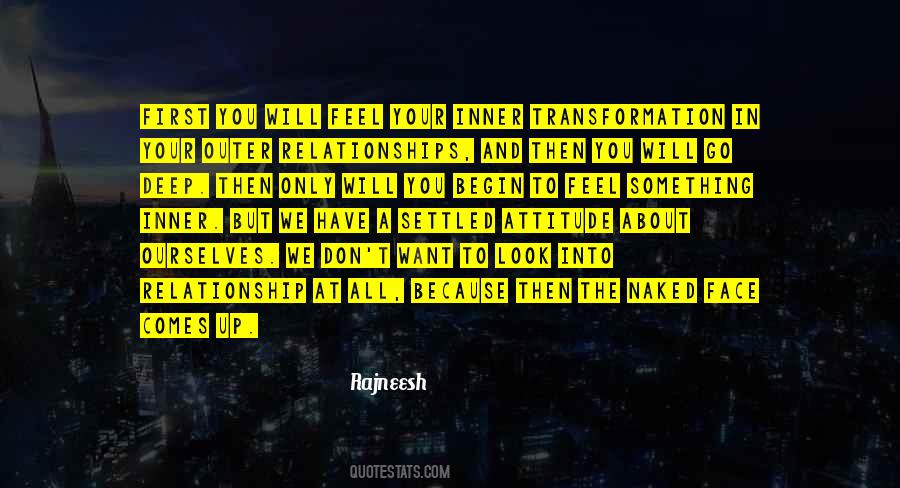 #46. I just feel like growing up in Los Angeles, you learn, 'Well you're never gonna be the prettiest girl in the room, so just don't even try.' I mean, I care about being pretty, but it's not my most valued thing. - Author: Zooey Deschanel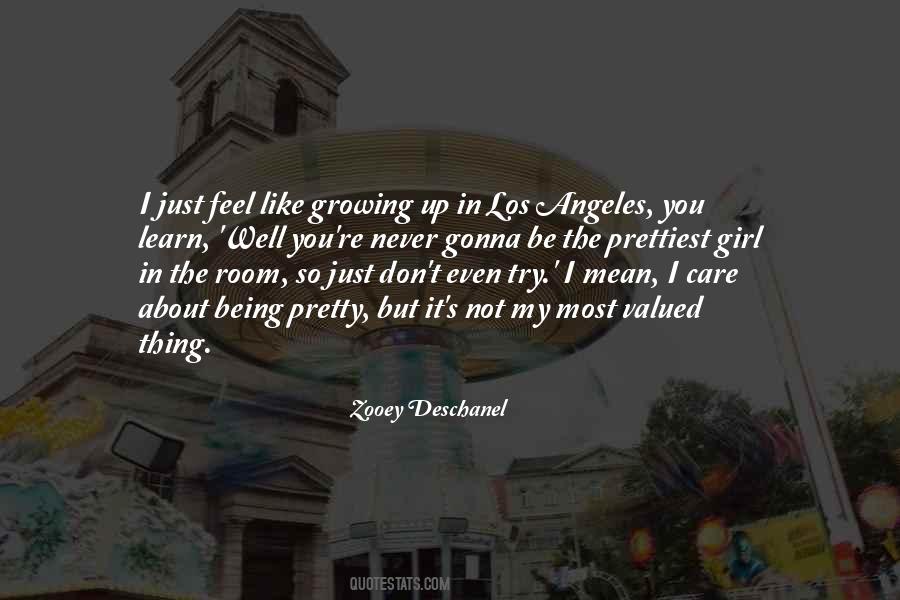 #47. Stinging words! You re critical of everyone," observes Iris. "Oh, not everyone," says Clara in an offhand manner. "Only everybody who's alive as well as most people who are dead. I feel quite neutral about anybody not yet born. - Author: Gregory Maguire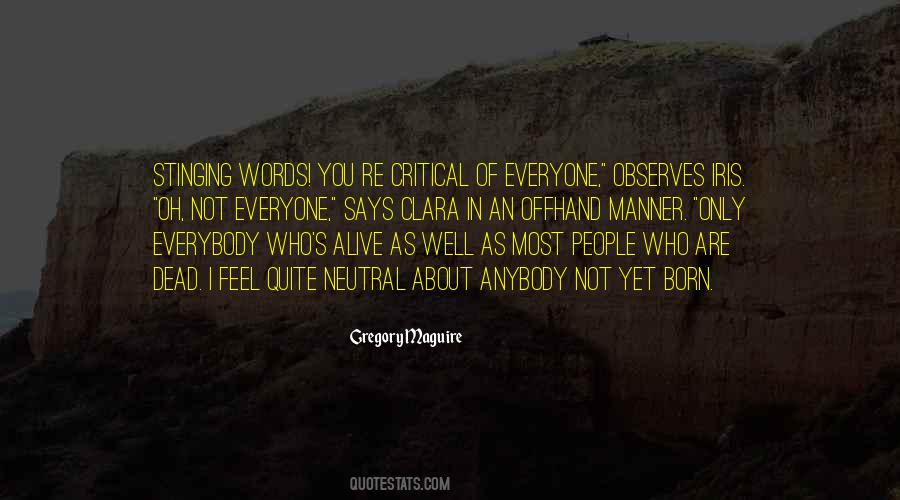 #48. For me, it's all about who you are. Some athletes may feel a responsibility. Some may not. One thing I've talked with my family and team about is doing more. Trying to make an impact. - Author: Chris Paul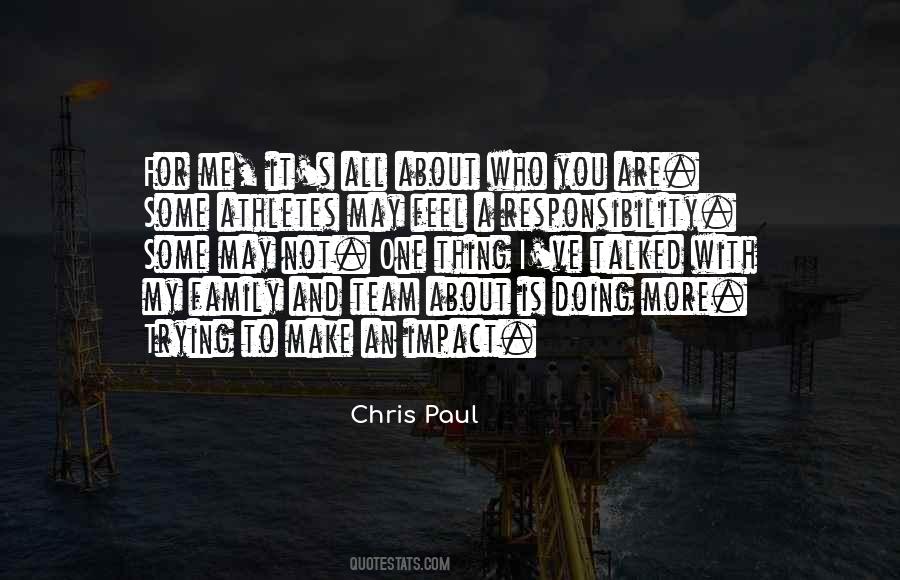 #49. Don't you know that's what college is about ... students spending years gathering useless information they'll never use again, going hopelessly into debt, just so they feel smarter than the rest of their family? I mean, that's why I worked so hard to get here, anyway. - Author: A.L. Jackson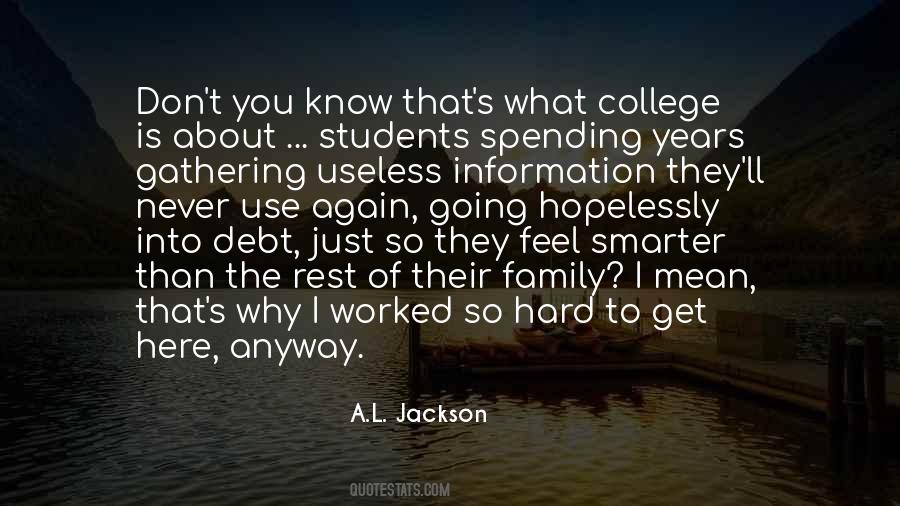 #50. Ella, just stay here. Stay safe."
"Safe," Ella repeated. "Ella likes being safe. Safety in numbers. Safety deposit boxes. Ella will go with Tyson."
"What?" Percy said. "Oh ... fine, whatever. Just don't get hurt. And Mrs. O'Leary - "
"ROOOF."
"How do you feel about pulling a chariot? - Author: Rick Riordan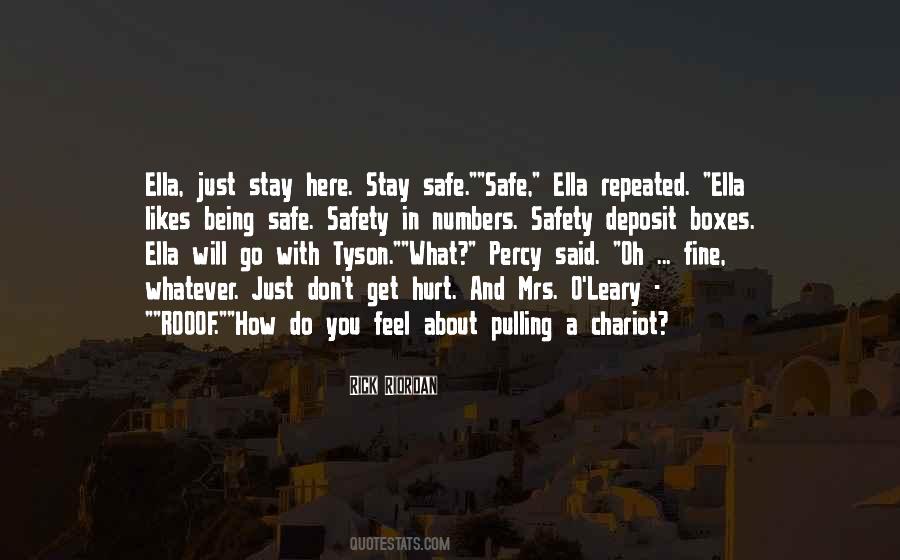 #51. The transition from painter to artist comes when you cross the line of painting what you see to painting what you feel about what you see. - Author: T. Allen Lawson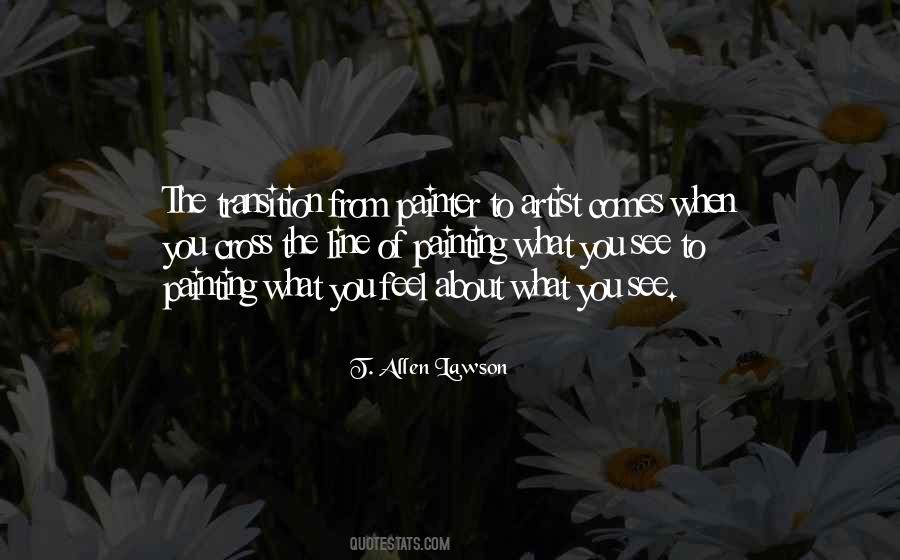 #52. Charles had more respect for Adam after he knew about the prison. He felt the warmth for his brother you can feel only for one who is not perfect and therefore no target for your hatred. - Author: John Steinbeck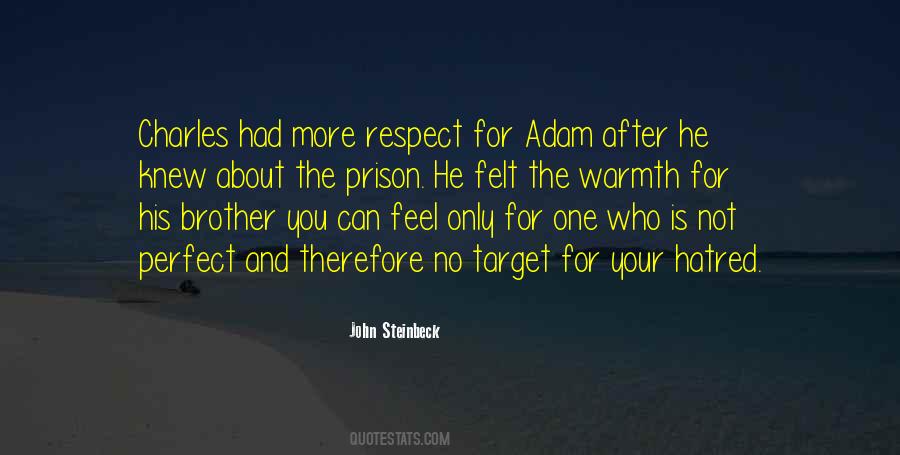 #53. In my career I defined myself by my music, and the danger is that one defines oneself based on popularity. As you know, that goes up and down, and you can't judge how you feel about yourself based on what your sales is. - Author: Kenny Loggins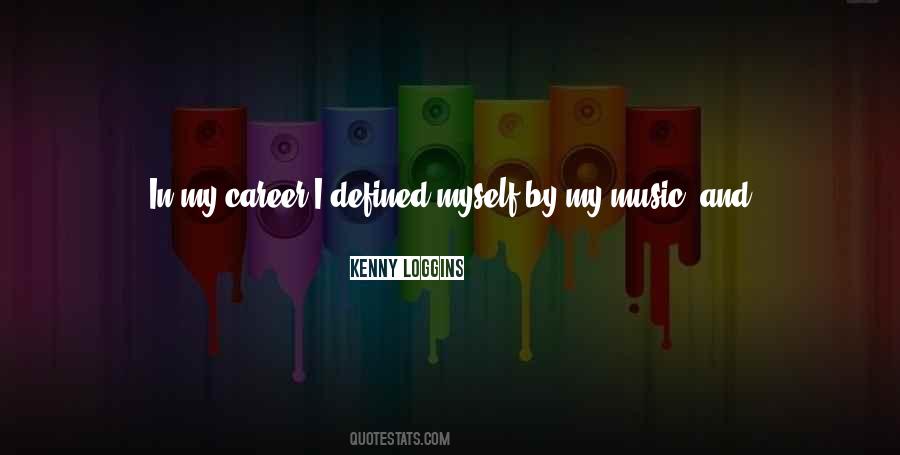 #54. The best thing about liver is how virtuous it makes you feel after you've eaten some. - Author: Bruce Jay Friedman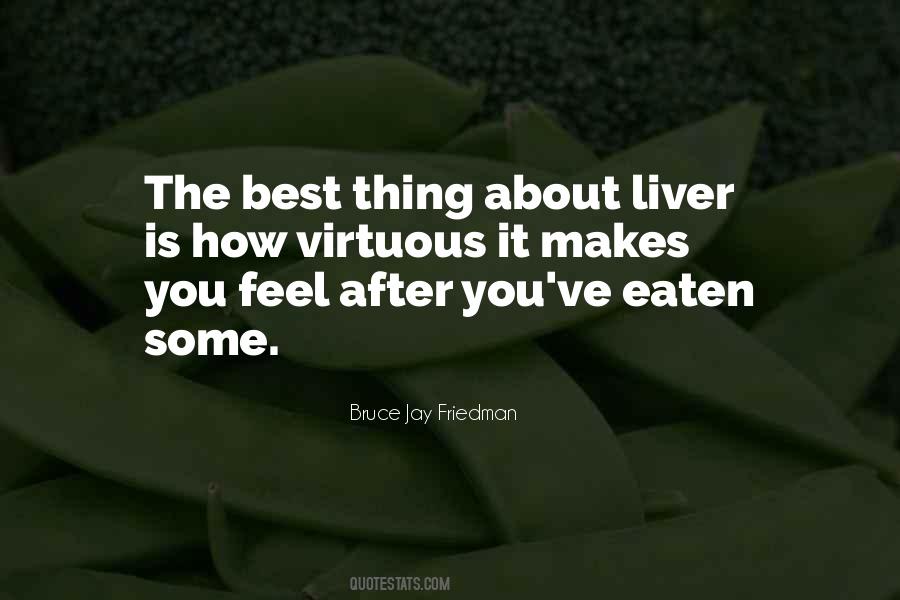 #55. I just think that's the job of an actor. I guess that's the variation that you're talking about. It's probably a byproduct of just constantly looking for something different, because that's what I feel like I'm supposed to do. - Author: Eric Bana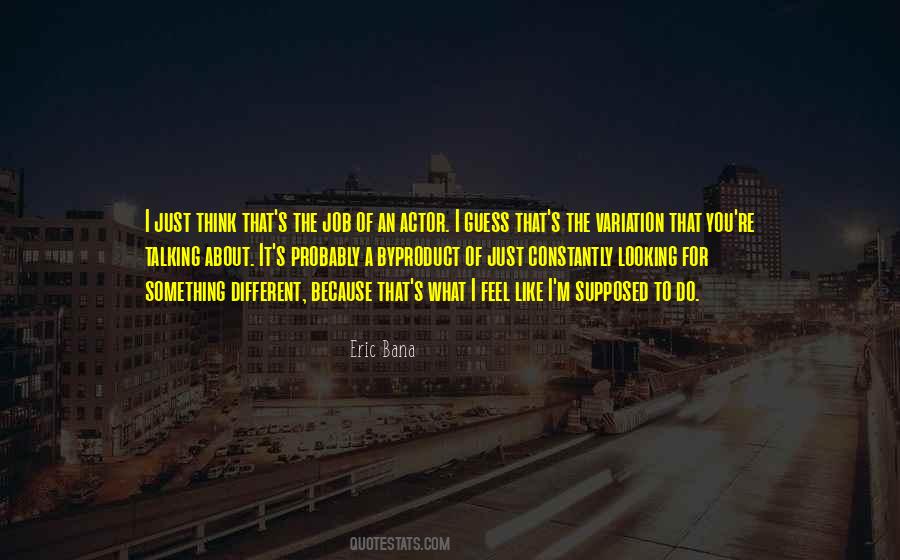 #56. By putting you into an enchanted sleep and allowing you to postpone the moment when you would have to think about what has happened tonight, I would do it. But I know better. Numbing the pain for a while will make it worse when you finally feel it. You - Author: J.K. Rowling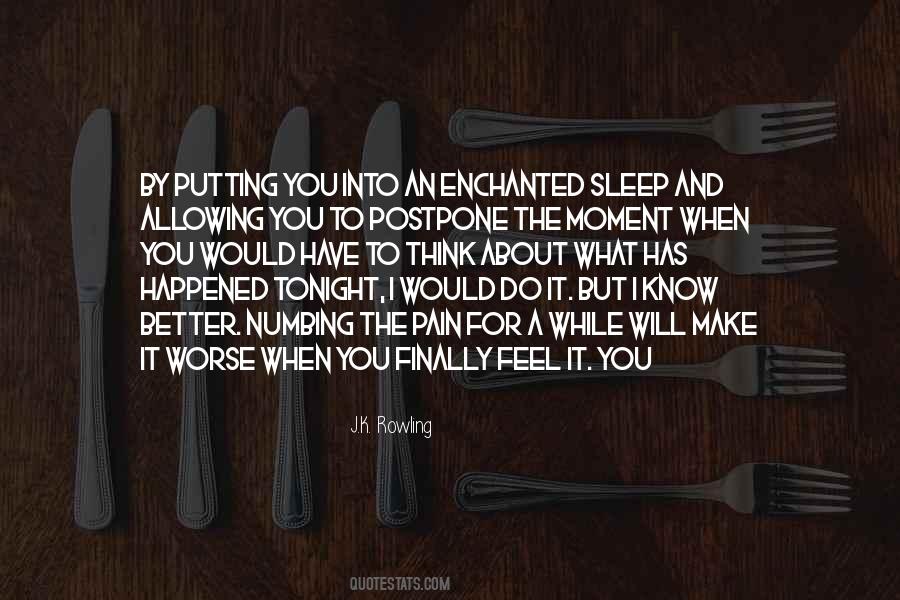 #57. I felt total bad about it, and empty. Granpa said he knew how I felt, for he was feeling the same way. But Granpa said everything you lost which you had loved give you that feeling. He said the only way round it was not to love anything, which was worse because you would feel empty all the time. - Author: Forrest Carter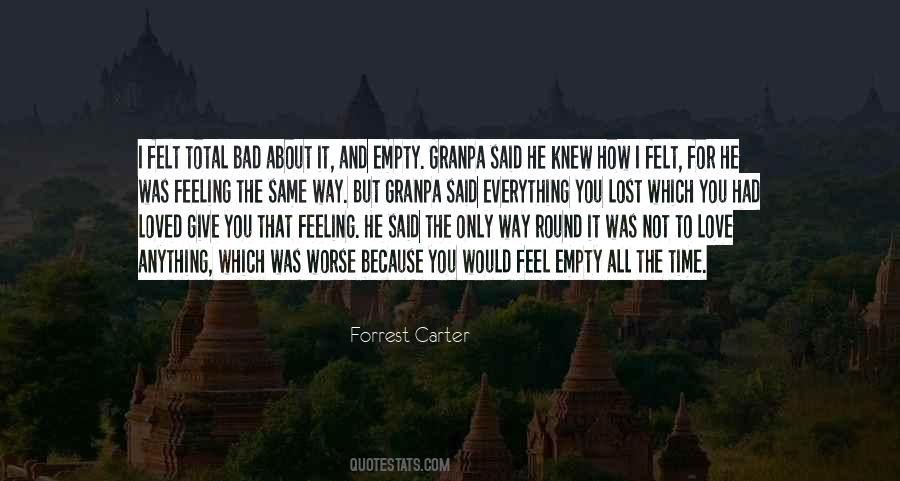 #58. There is something eminently Chilean about avoiding confrontation, or about not clarifying the way you feel sometimes. It's a particular culture, where emotions are not discussed as profusely with your family or friends, nor shown in an explicit manner. - Author: Omar Zuniga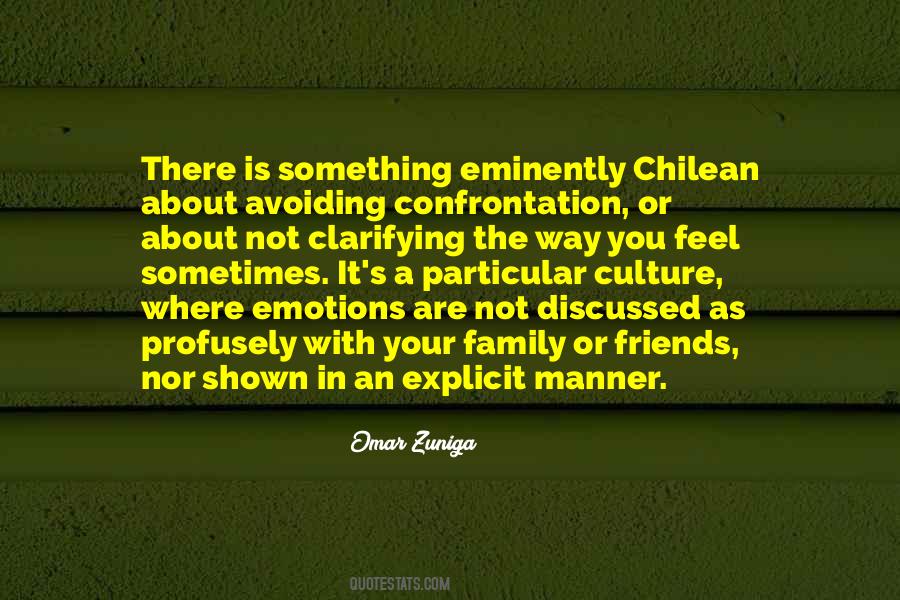 #59. It's important to raise your voice in things you feel passionate about and things that you know about. Don't raise your voice just to raise your voice if you have nothing behind it and don't know what you're talking about. - Author: Zendaya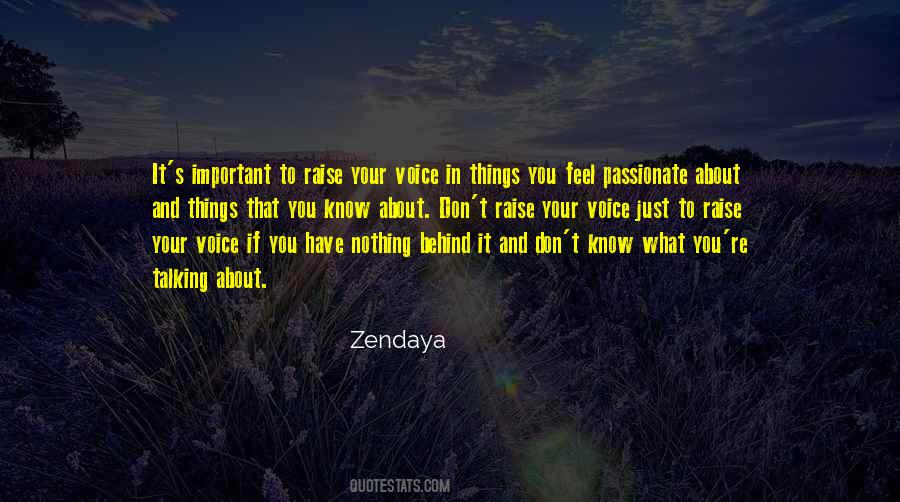 #60. When you meditate, don't think about what is happening. Rather, let your awareness be seated in the tender warmth you feel in your body. If you do this, any meditation practice you do will be fruitful. - Author: Gil Fronsdal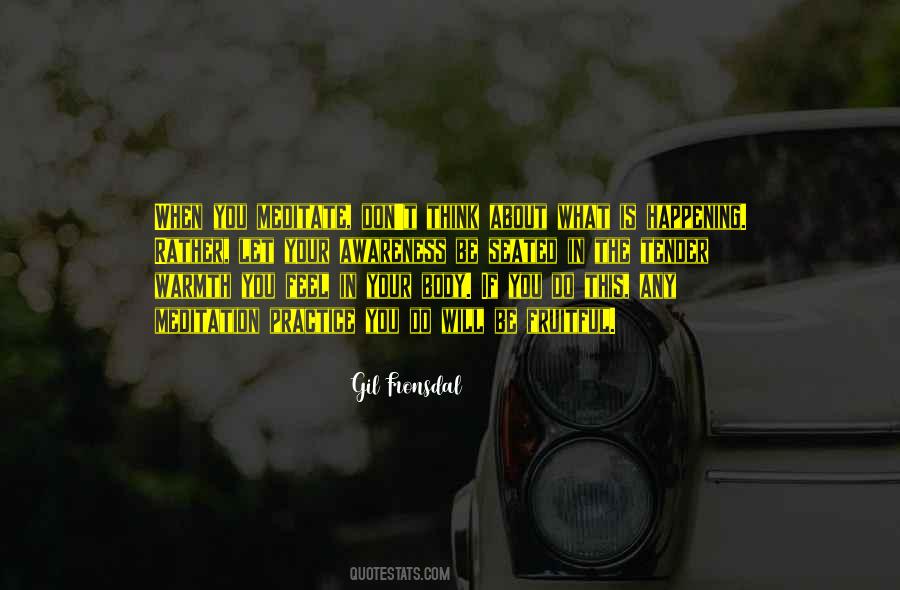 #61. You have to go out onto the pitch feeling good about yourself. That can give you that extra 30 per cent. - Author: Alan Shearer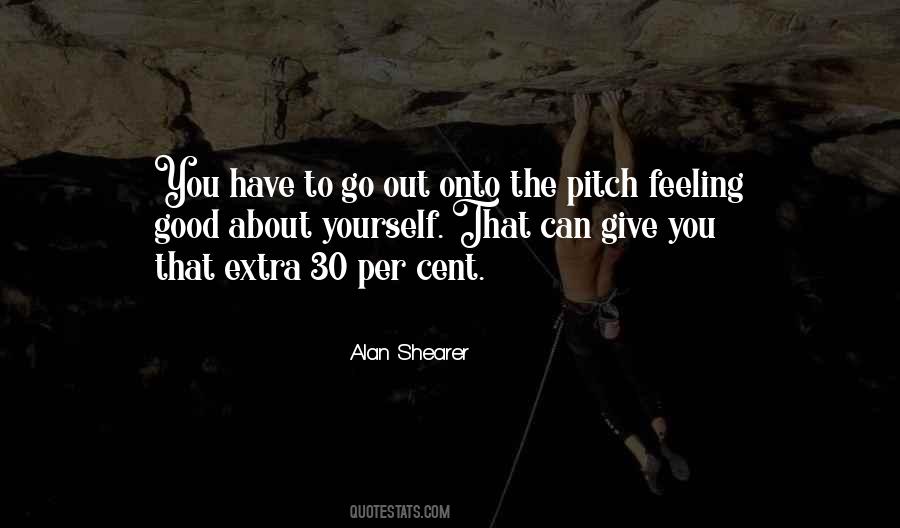 #62. If you want to live forever, figure out what it is that you feel passionate about, then follow that dream. - Author: Meg Cabot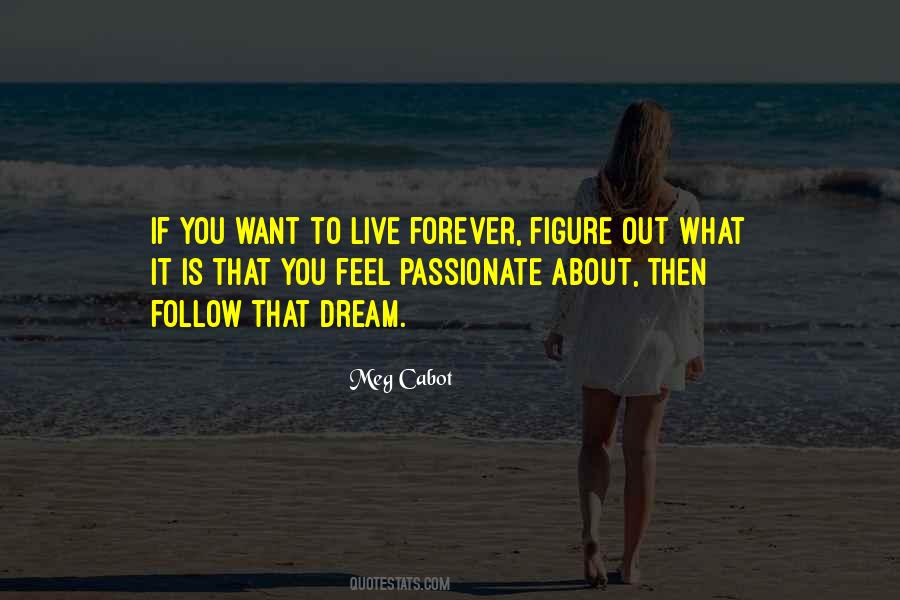 #63. I'm just basically spillin' out my emotions to the world. 'Cause rap is about emotion. And I want you to feel what I'm feelin', 'cause that's what it's all about. - Author: Ludacris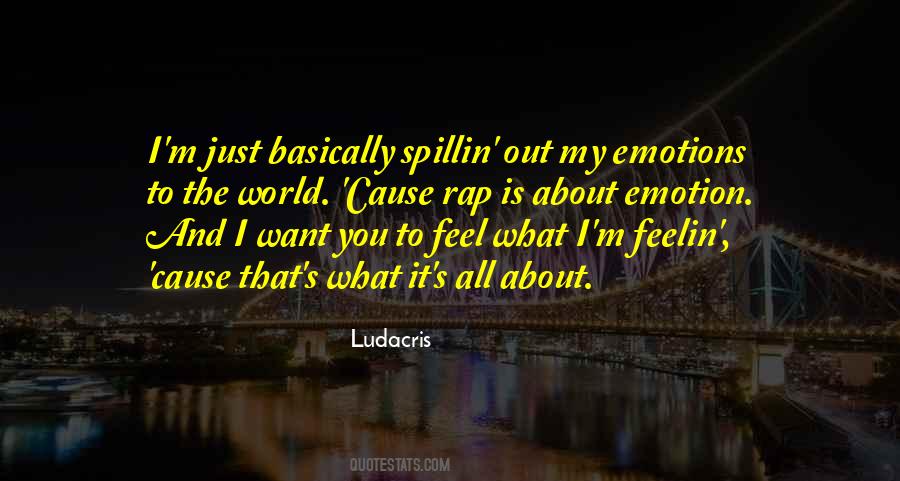 #64. When you feel things deeply and you think about things a lot and you think about how you feel, you learn a lot about yourself. - Author: Fiona Apple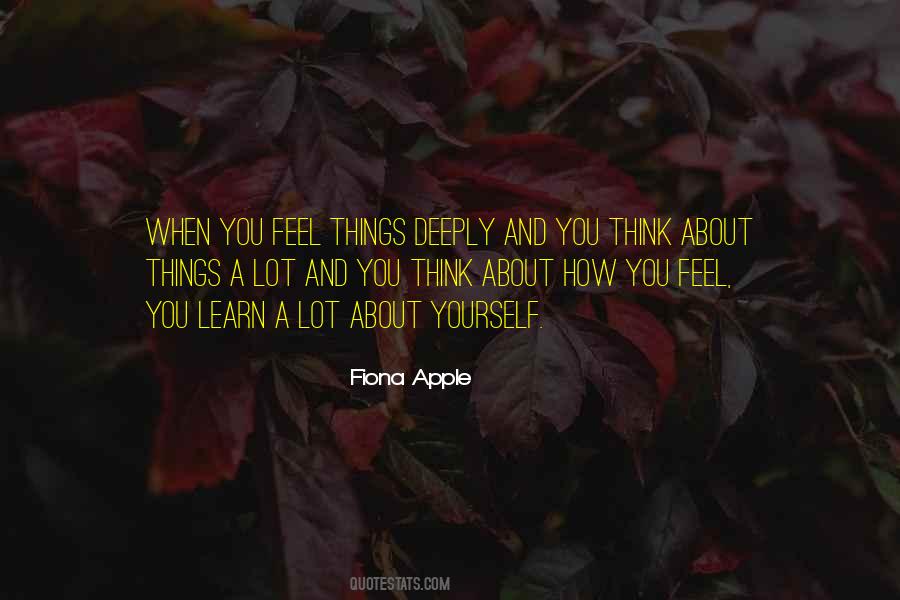 #65. I like you but you mightn't feel the same way about me, and I wouldn't blame you. To save us both from any awkward moments I've figured out an easy way to do this. Nod if you're even slightly interested in getting to know me. Write a ten page explanation if you're not. - Author: Bill Condon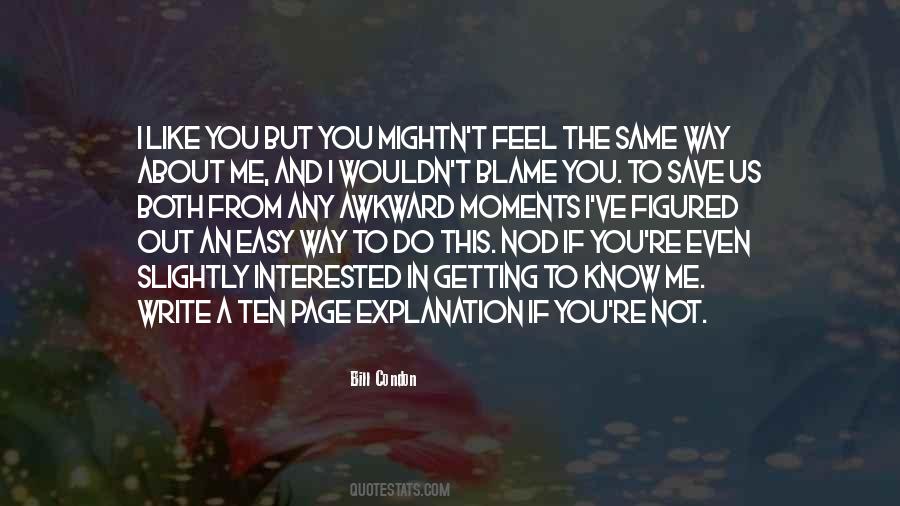 #66. A lot of young musicians get the money at the wrong time. They get it for something they don't feel great about, and it'll make you feel so bad it'll destroy you and kill you. - Author: Iggy Pop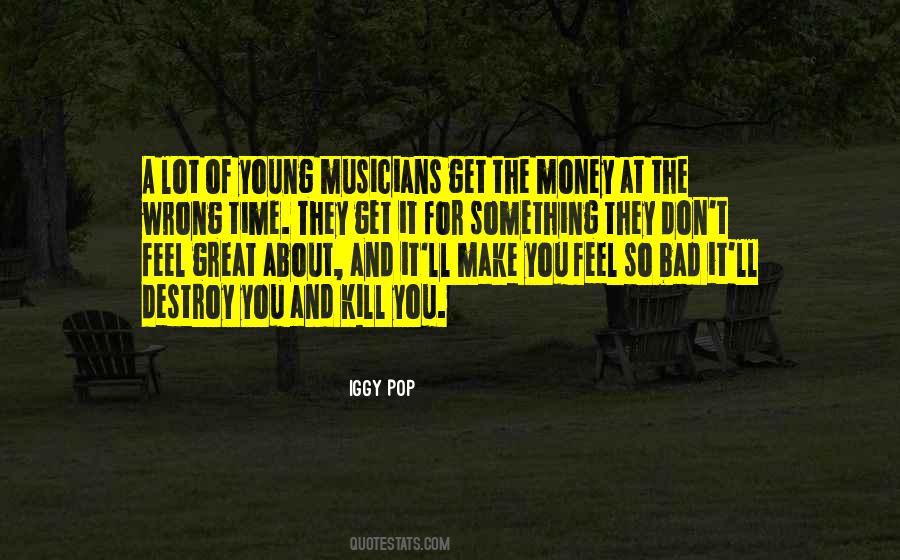 #67. Are you calling me your gift?"
"Yes." She smiled. "How do you feel about that?"
"Like it's my turn to be unwrapped."
He nibbled at her mouth. "Do it slow. - Author: Nalini Singh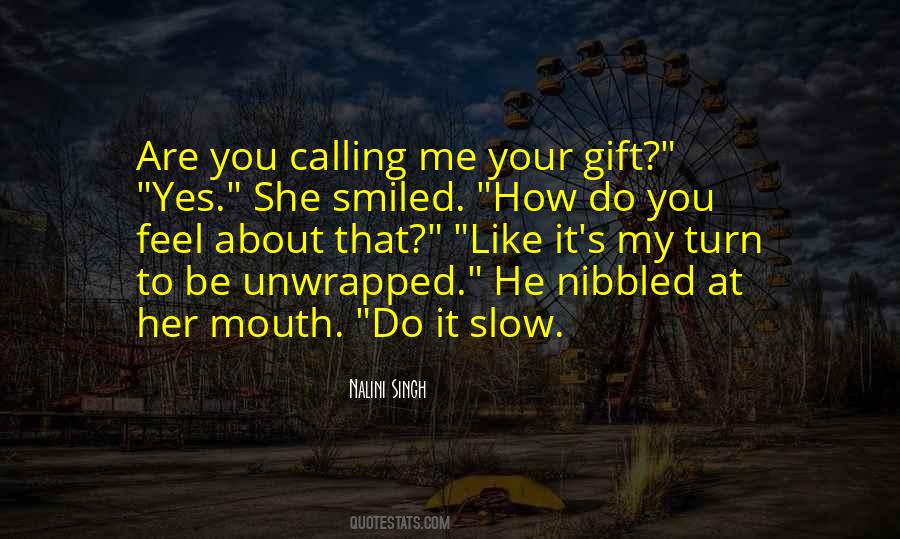 #68. Almost always, jealousy is rooted in some sort of fear: of abandonment, of being replaced, of losing the attention of someone you love, of being alone. Jealousy isn't really about the person you feel jealous of. It's about you: your feeling that you might lose something precious. - Author: Franklin Veaux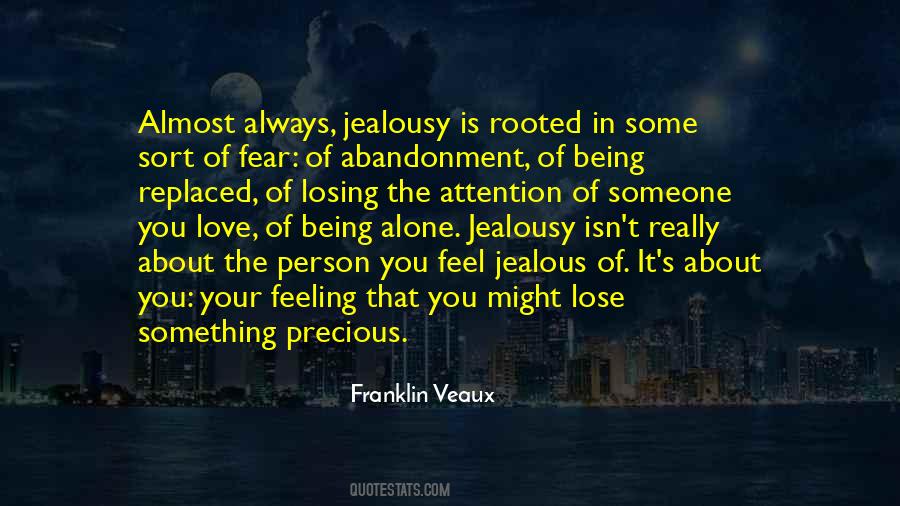 #69. Don't feel guilty about the pleasures you take in the things you enjoy. - Author: Austin Kleon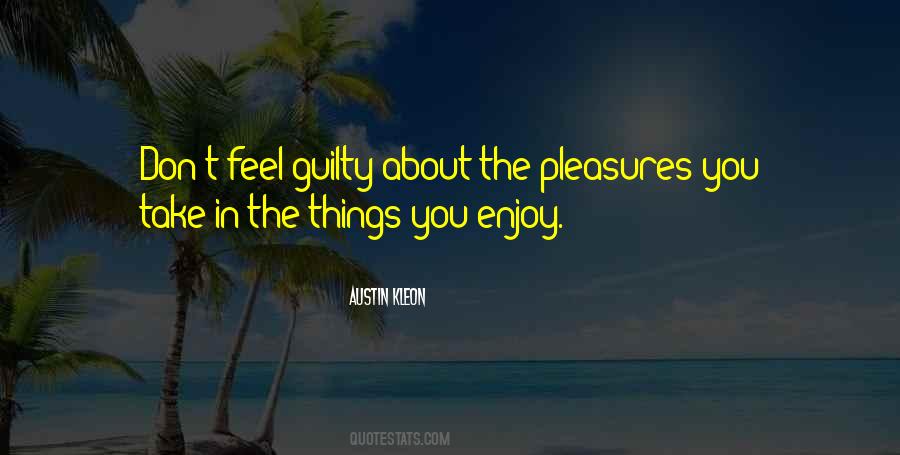 #70. I almost feel like we do live in a world like 'Caprica.' The fact that it's so close to home is why it appeals to me so much. You're making statements about what's going on right now. You take Facebook and Wii and add it together, and that's what the virtual world in 'Caprica' is. - Author: Magda Apanowicz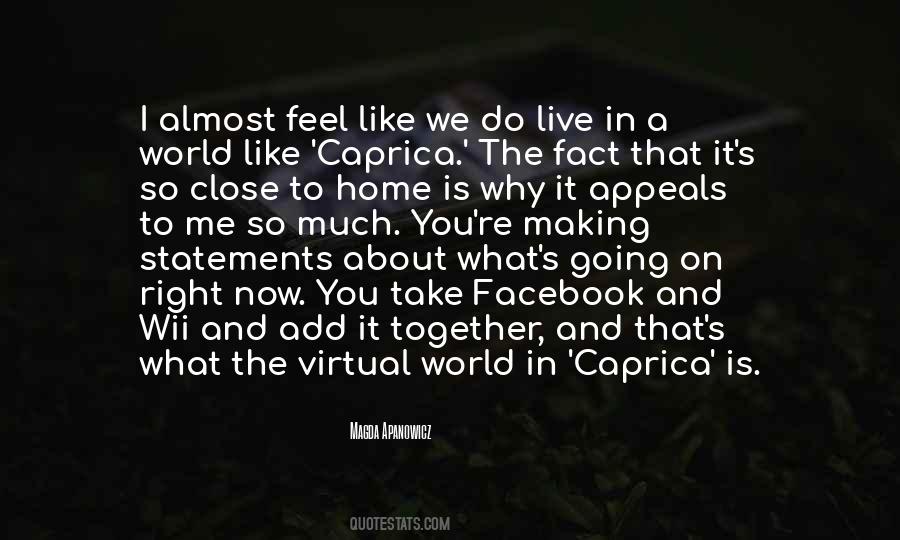 #71. When you feel weak in spirit, think about the agreements you made with yourself about how to live an honourable life. We all have them, but unfortunately the contracts are often written in invisible ink when they should be signed in blood. - Author: Suzanne Hayes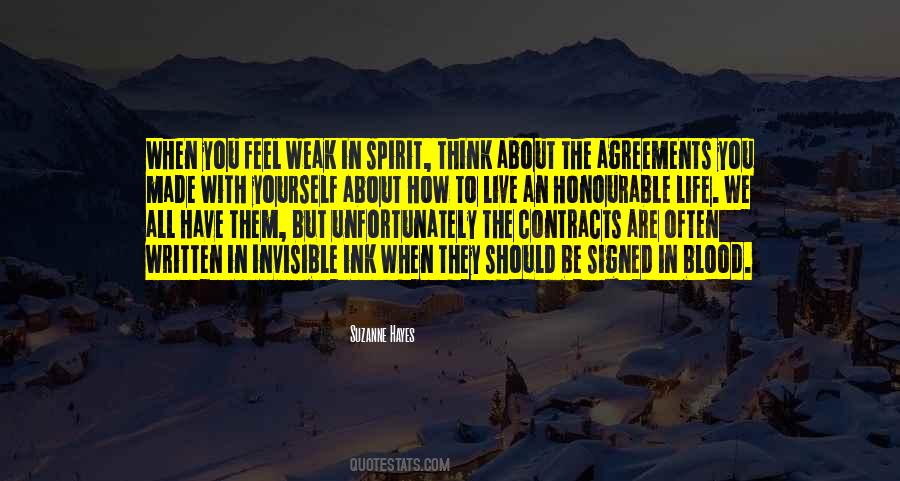 #72. It's better to write about things you feel than about things you know about. - Author: L.P. Hartley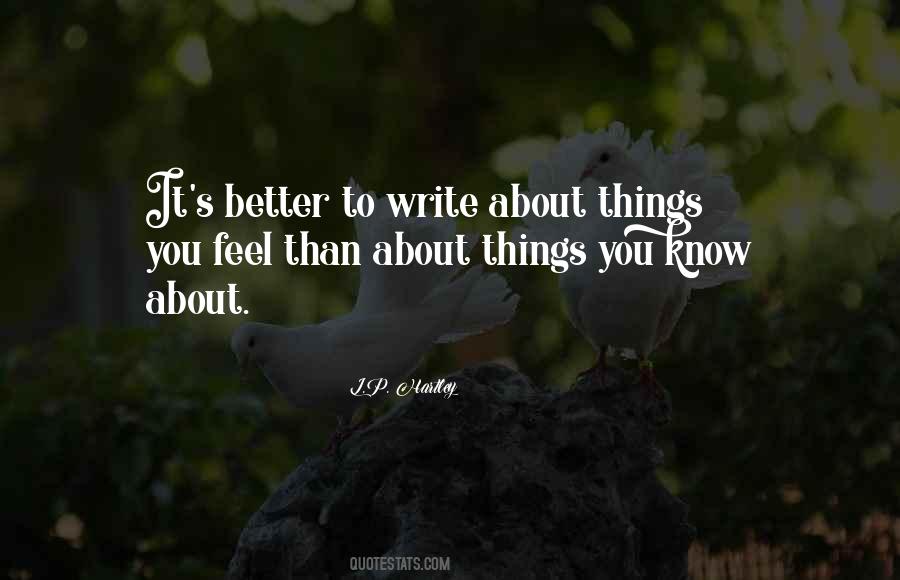 #73. Feel good about yourself. Feel good about who you are. - Author: Arden Cho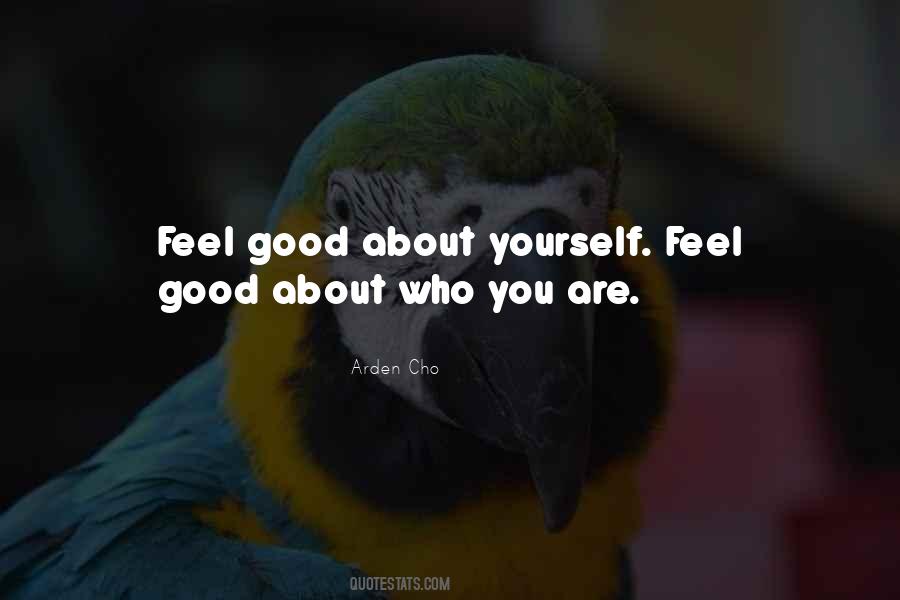 #74. When you express "purity" which is the truth about yourself, you feel a love for yourself that is expressed by self-respect, self-esteem, and self-confidence! - Author: Tae Yun Kim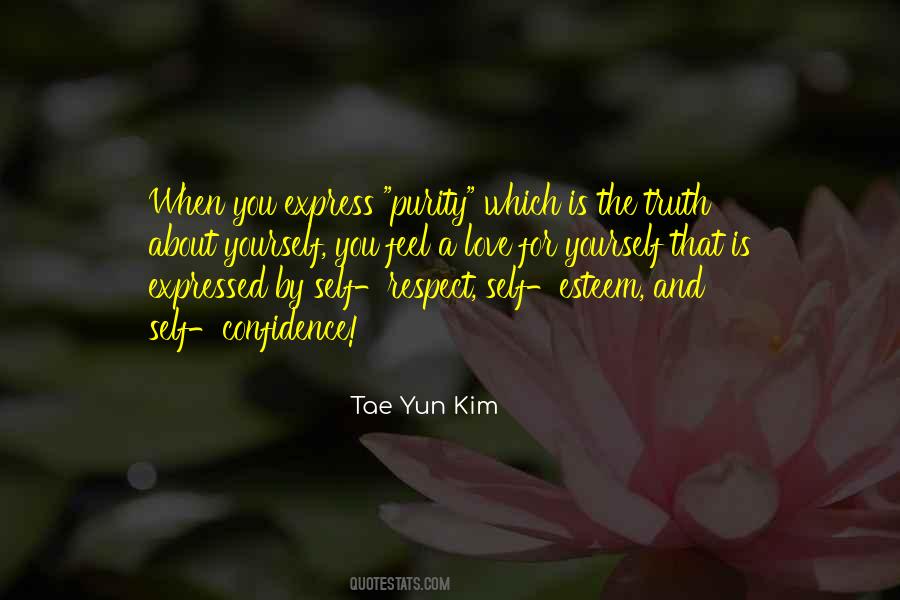 #75. This thing I feel for you... I've never felt like this about anyone, Tegan. - Author: Katie Reus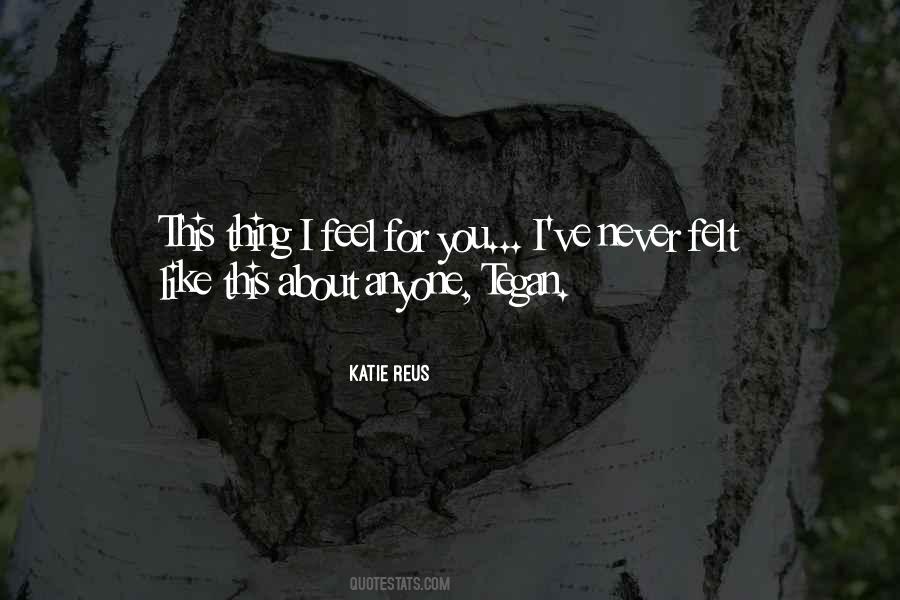 #76. I think it's better to find somebody who's worse at everything than you. It just makes you constantly feel so good about yourself. And then, you can constantly talk about how good you are at everything, and how terrible they are at everything. - Author: Katherine Heigl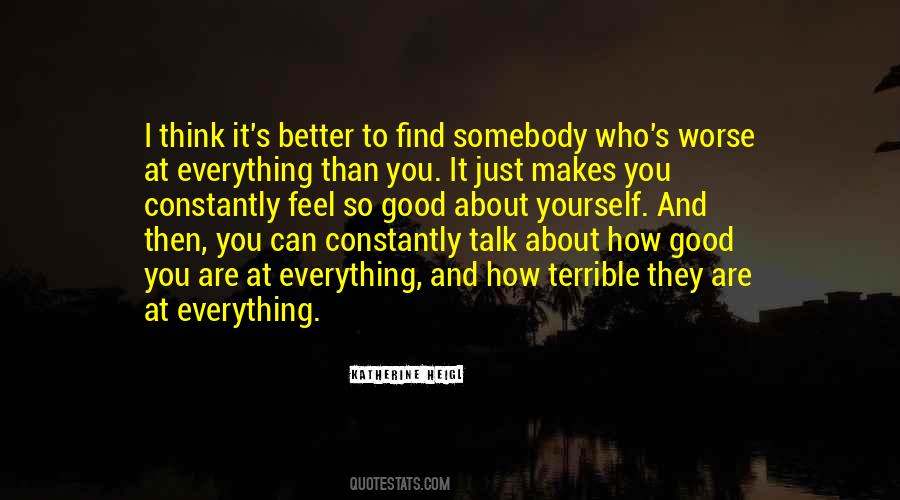 #77. That's how I feel about the work. The work is solid, the work exists and will stay the same, but if you can have it playing and interacting with light, then it will always be different. - Author: Kesh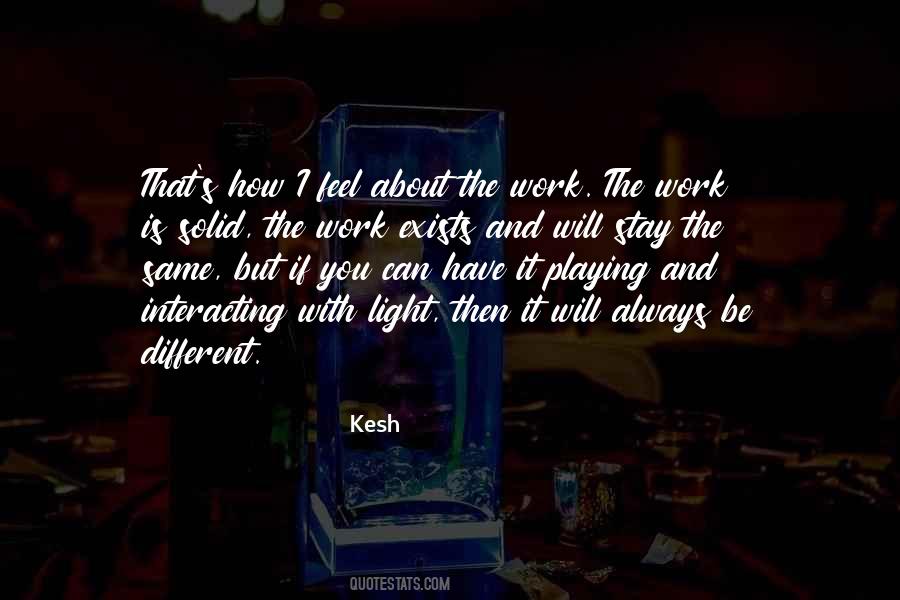 #78. Asher smiled beatifically, as if he'd been waiting his whole life for someone to ask just that question. How would you feel about some Mentos and Diet Coke? - Author: Jennifer Lynn Barnes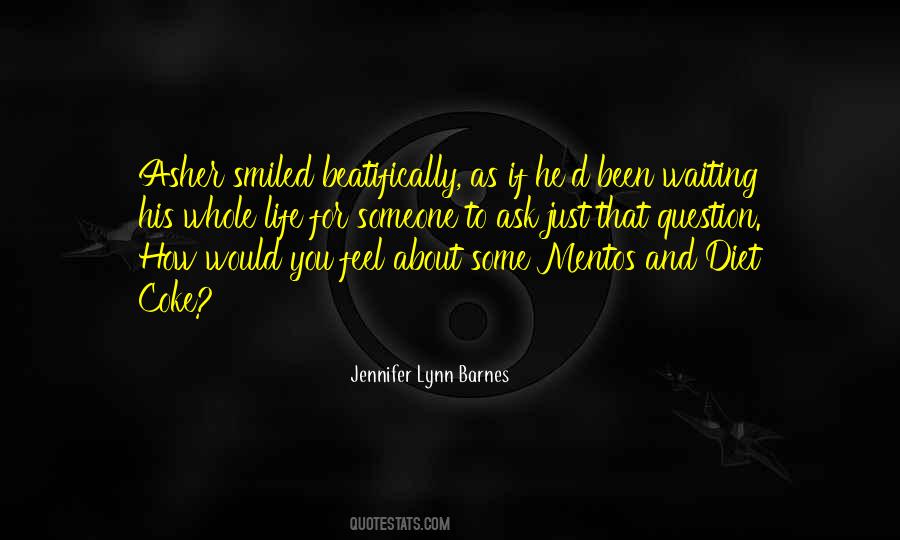 #79. Women can learn a lot about a guy because women, for the most part, want a guy to care about their feelings, to be a guy that is responsible. Women want to attract you, but they want you to know more how they feel. When a guy has a great relationship with a dog, it really says a lot about him. - Author: Cesar Millan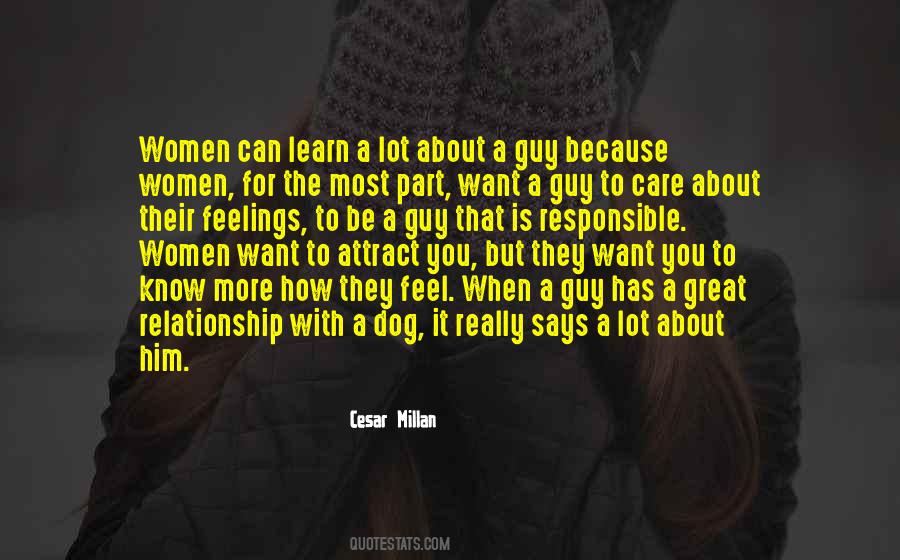 #80. The only thing that isn't free is you. You do as you're told. You sit in your seat until they say 'Stand'. You stay put til they say 'Go'. Maybe that's the way you like it. It's easy. It's all there. You don't have to think about. You don't even have to feel it. - Author: Melvin Burgess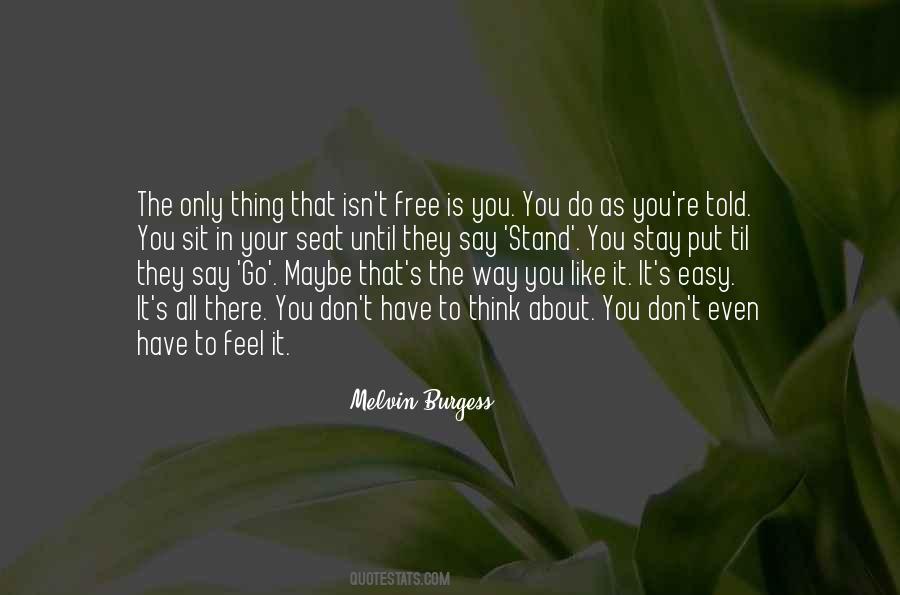 #81. You're never quite sure how you feel about a neighbor until a 'For Sale' sign suddenly appears in front of his house. - Author: Orlando Aloysius Battista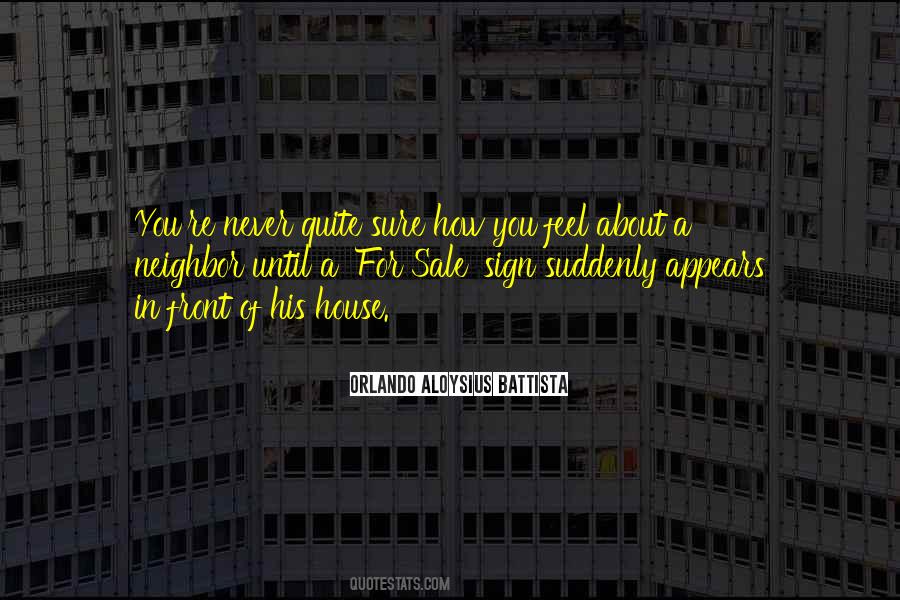 #82. You'll never be able to let him go. You'll always feel wrong about being with me. - Author: Suzanne Collins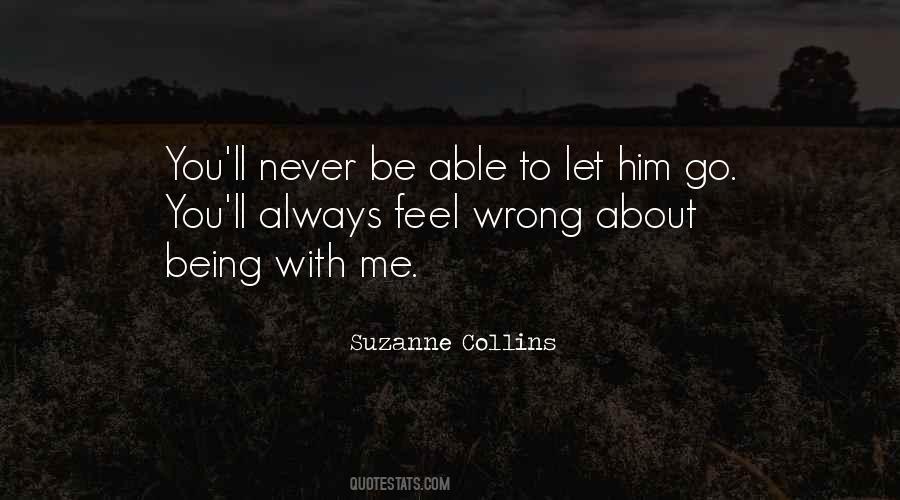 #83. I am a control freak but it's important to feel strongly about the material you're working on. - Author: Shane Carruth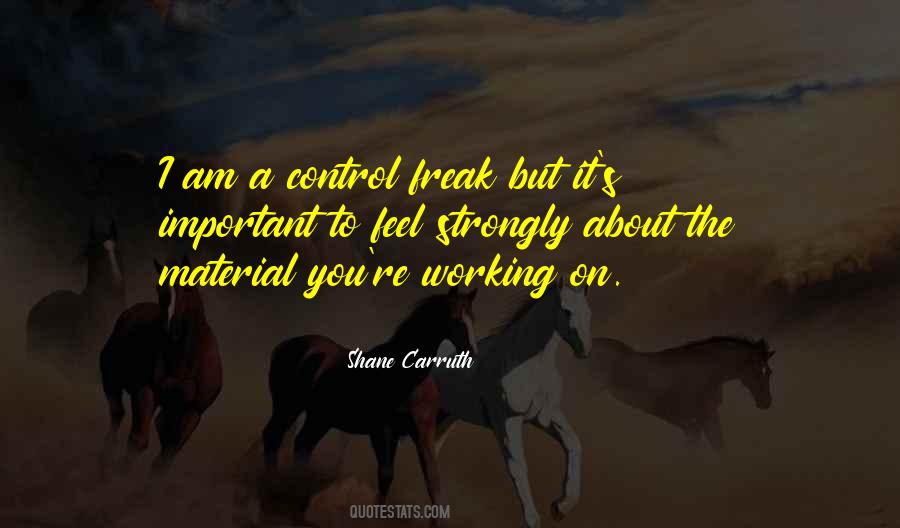 #84. I feel like you only have so much time to make stuff. I'm definitely aware of that. I'm also excited about it. - Author: Spike Jonze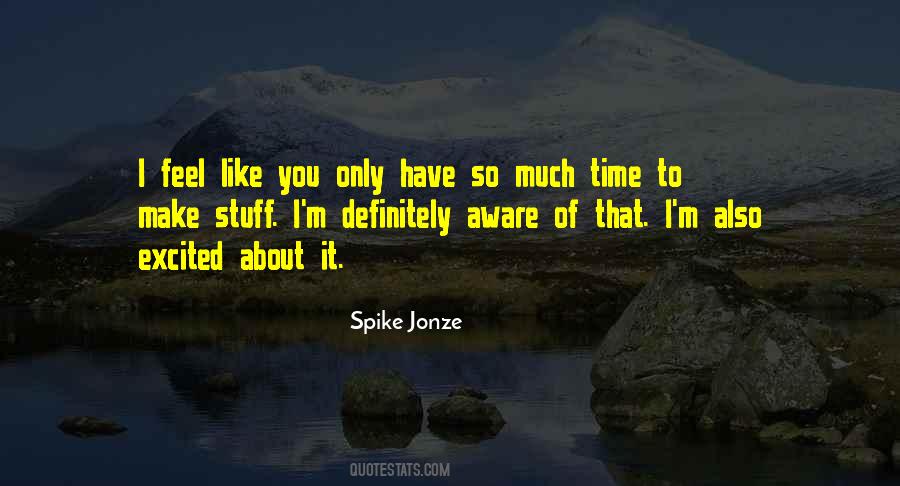 #85. The great thing about gurus is not that they make you feel everybody's love. It's that they make you feel that you can love everybody. - Author: Larry Brilliant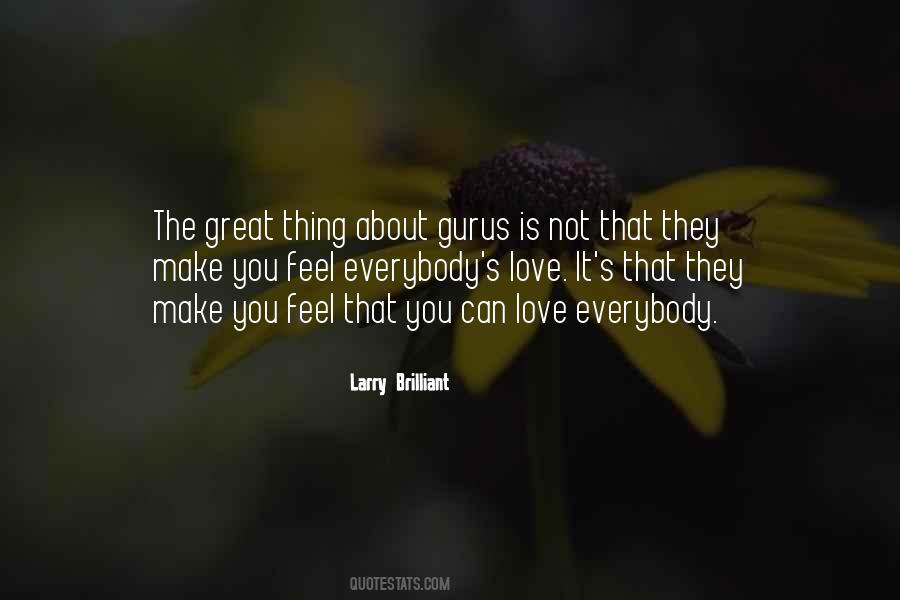 #86. I'm 77. The only reason I'm ever shy about it is that people tend to think of you in terms of what they think that age is. I certainly don't feel any different than I did when I was 35, and my energy seems to be more than it was then. - Author: Robert Osborne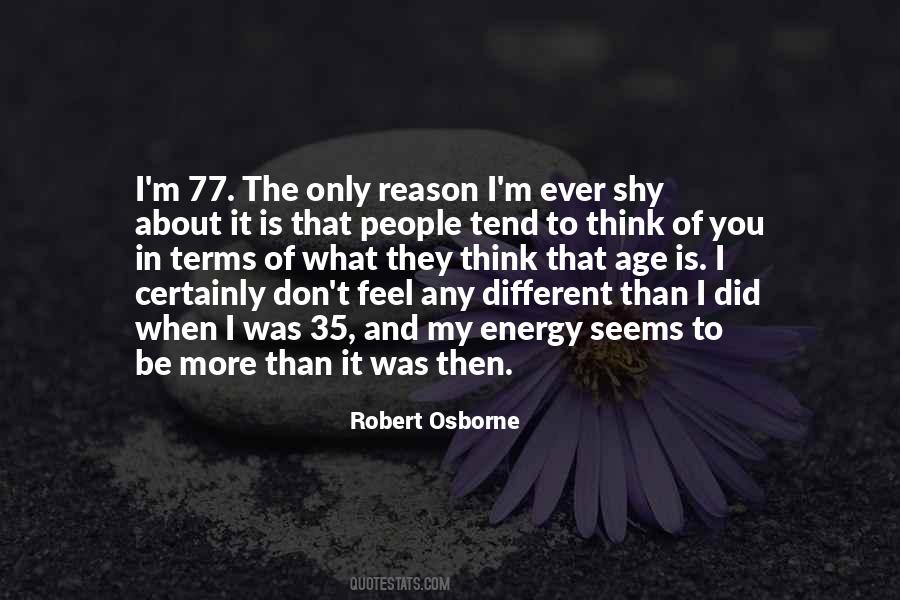 #87. A lot of foreign people say, when asking about eating habits, 'What is your guilty pleasure?' I have no guilt. Whatever I do, I enjoy and it's the point. I think if you start to feel guilty about it, that's a problem. So, no guilty pleasures. I have pleasure and no guilt at all. - Author: Eric Ripert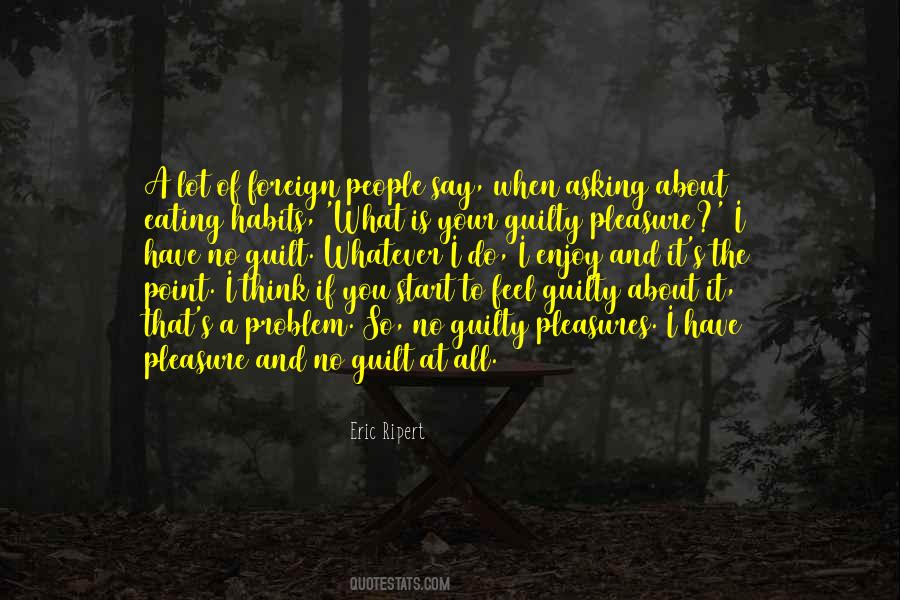 #88. It's not about how old you are, it's about how old you feel. - Author: Mimi Kirk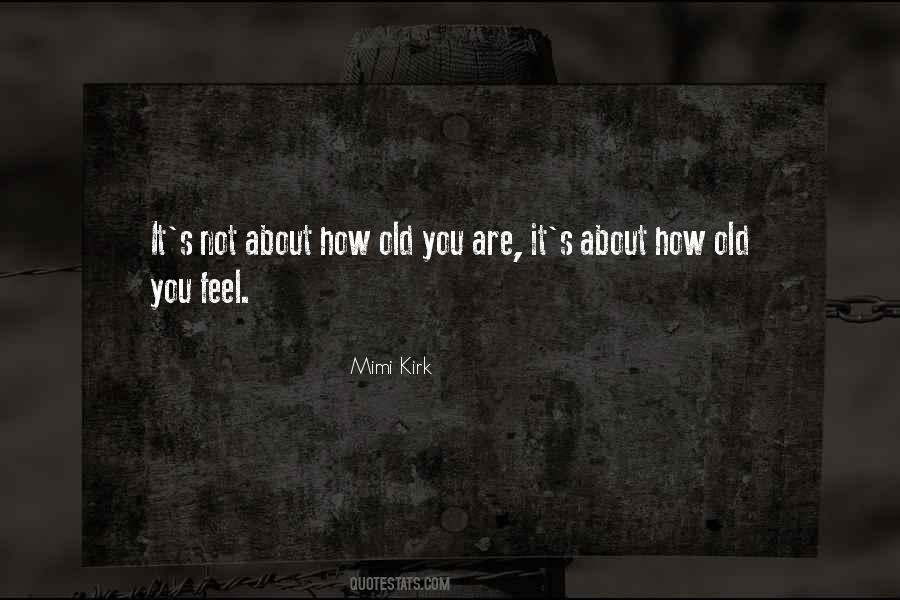 #89. If more men would see a story of what it was like to be pregnant, and how it felt to be in a place where you had to make a decision about whether to keep a pregnancy, maybe they would feel differently about women's health care. - Author: Reese Witherspoon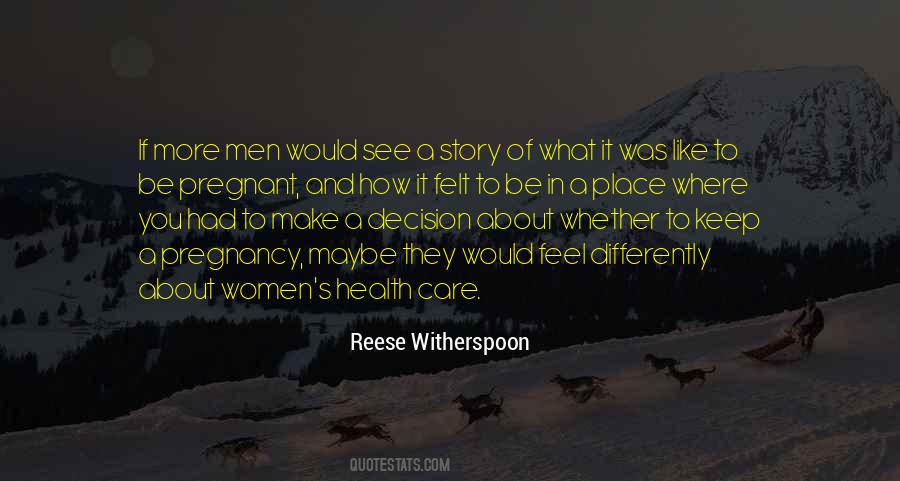 #90. The issue is: how do you engage the audience? And one of the things I talk to our communicators about is: The outline is great; the stories are great. But how do you engage them? How do you make it feel like we are on a journey, not you are just up there giving me information. - Author: Andy Stanley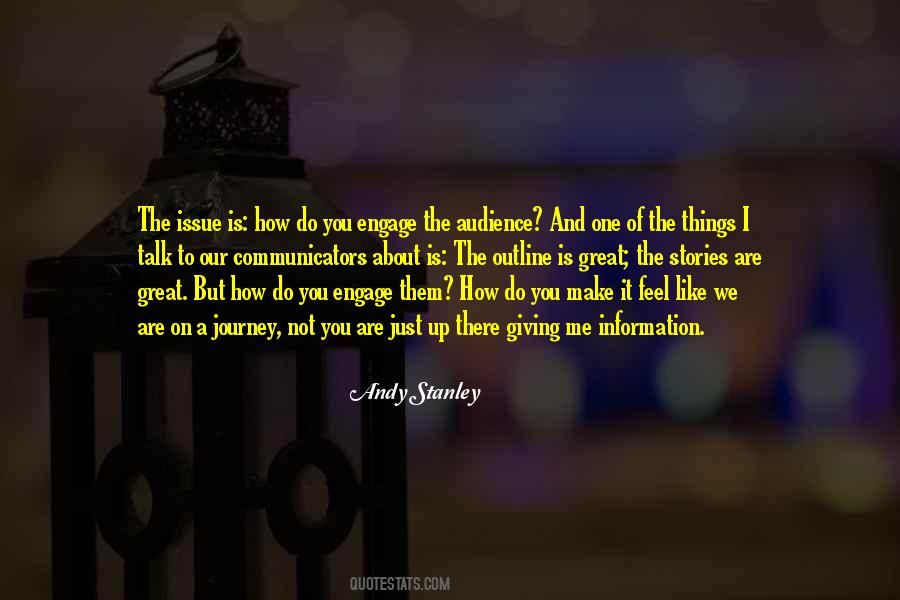 #91. Yes, I'm having a baby. I think it's so hard as a woman to give yourself a break. It's great to be healthy but you have to set a good example for your kids and know that it's not about a number on a scale but how you feel. - Author: Busy Philipps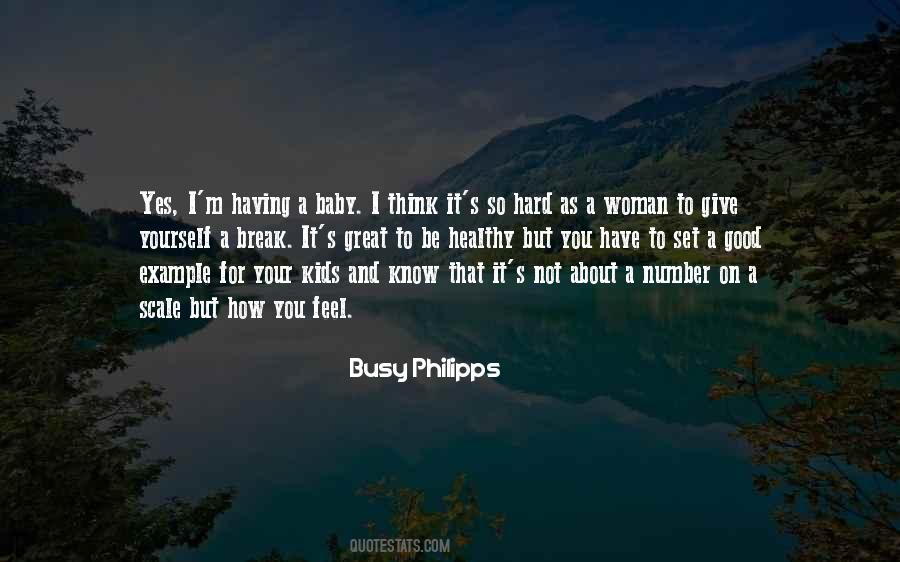 #92. I'm not in the clubs; I'm a homebody. I go out when I feel I have to for work or if there's a special function. You might catch me at the grocery store, but you won't see me out and about in Atlanta. - Author: Keith Sweat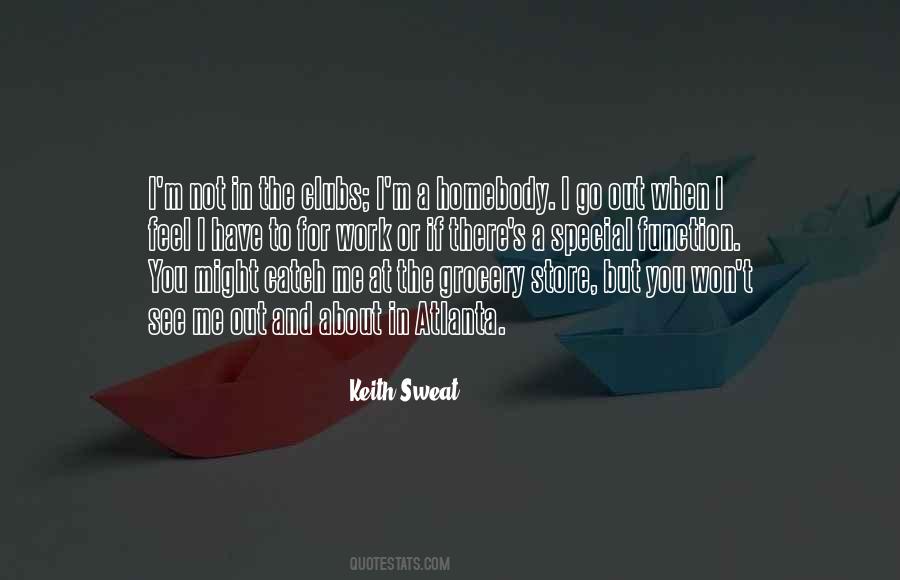 #93. If I thought about it, I could be bitter, but I don't feel like being bitter. Being bitter makes you immobile, and there's too much that I still want to do. - Author: Richard Pryor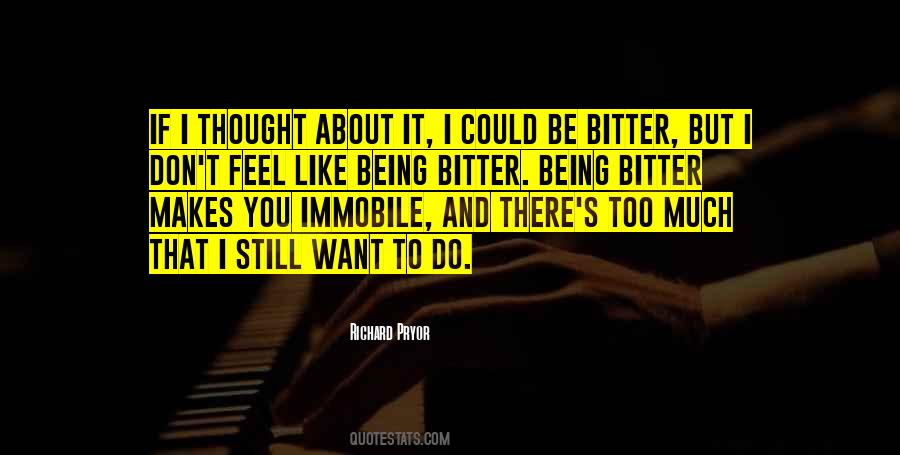 #94. These are all personal crises, I'm sure, that I manifest in a song format and project into physical situations. You make little stories up about how you feel. It's as simple as that. - Author: David Bowie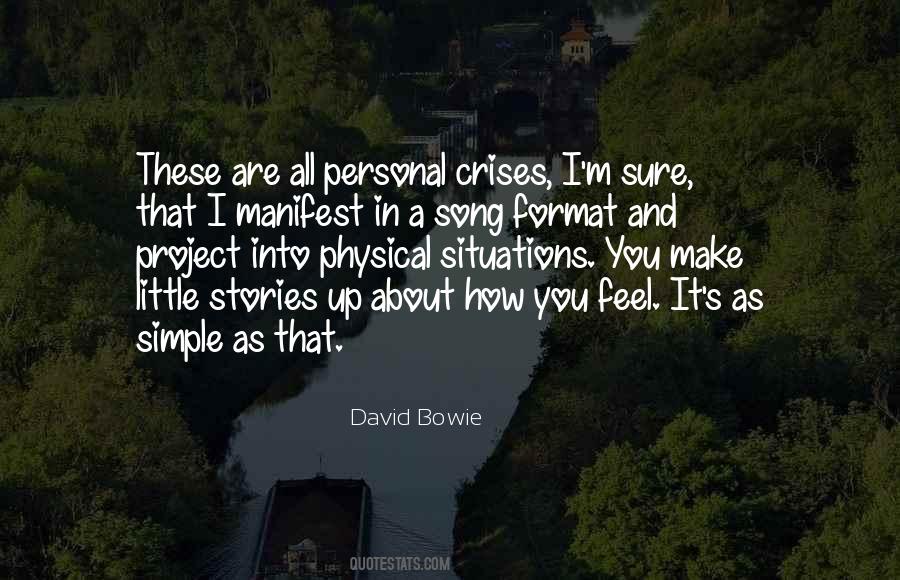 #95. You're gonna check my computer records? Is that important? I don't think the government needs to know how I feel about teen Asian sluts in order to fight terrorism. - Author: Greg Giraldo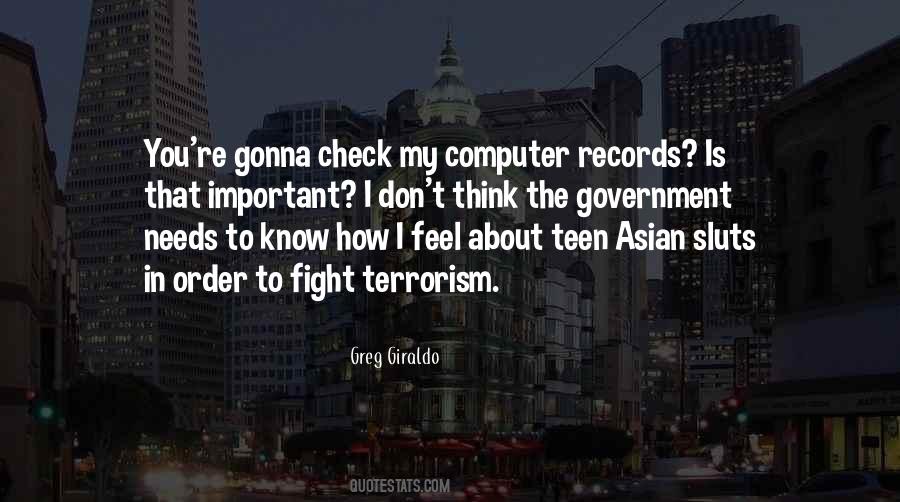 #96. You will never be powerful in life until you are powerful over your own money. How you think about it, how you feel about it and how you invest it. - Author: Suze Orman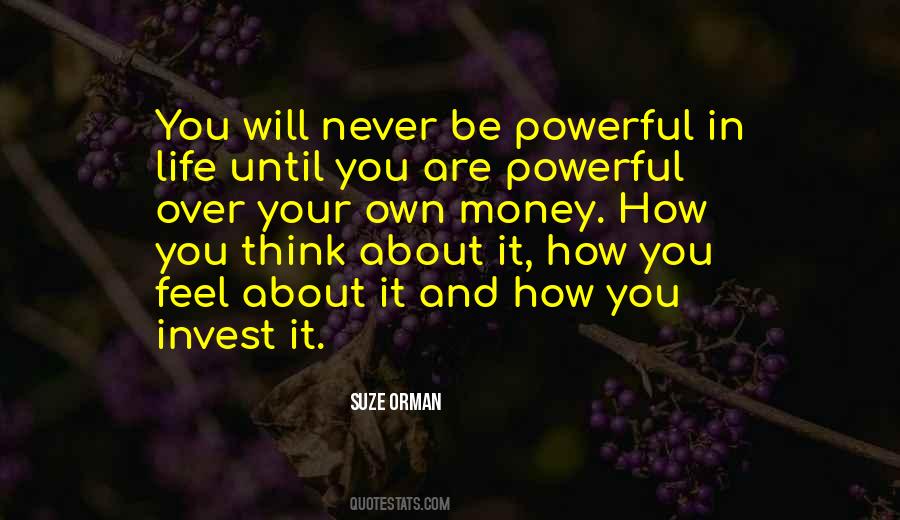 #97. The mystery of the artist is something that the 70's made, but it's not the same these days, and I don't know ... to me, I feel like letting your fans know about you is awesome. - Author: Ryan Follese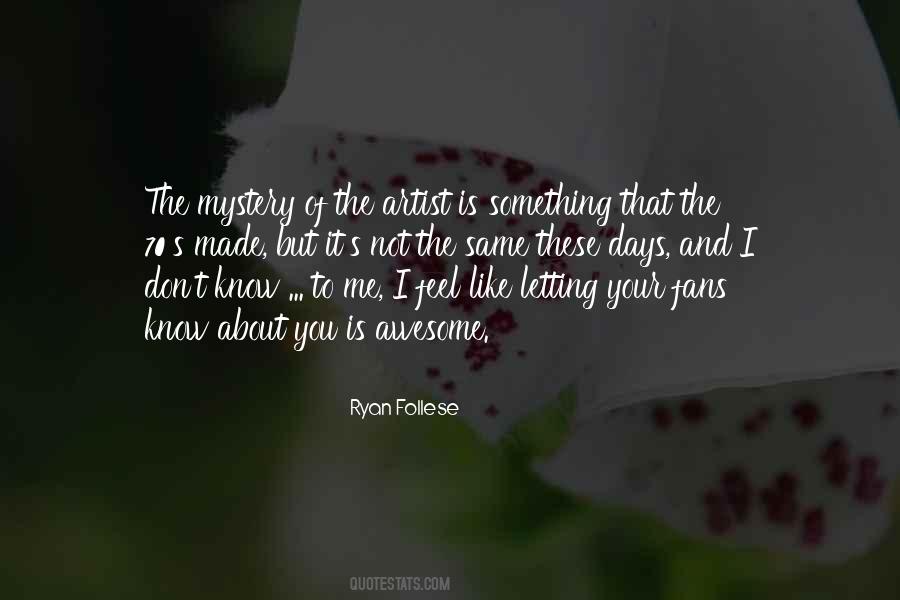 #98. Smartass Disciple: Master, I feel really really confused about the truth.
Master of Stupidity: Only confused? Walk in my shoes then you tell me. - Author: Toba Beta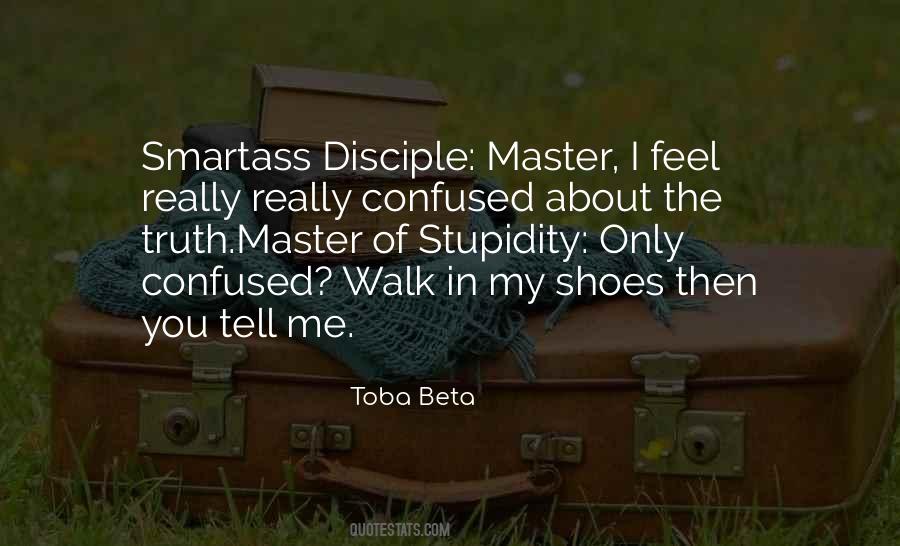 #99. No one's ever dared come out and say it before, but there's not a man among us that doesn't think it, that doesn't feel just as you do about her and the whole business - feel it somewhere down deep in his scared little soul. - Author: Ken Kesey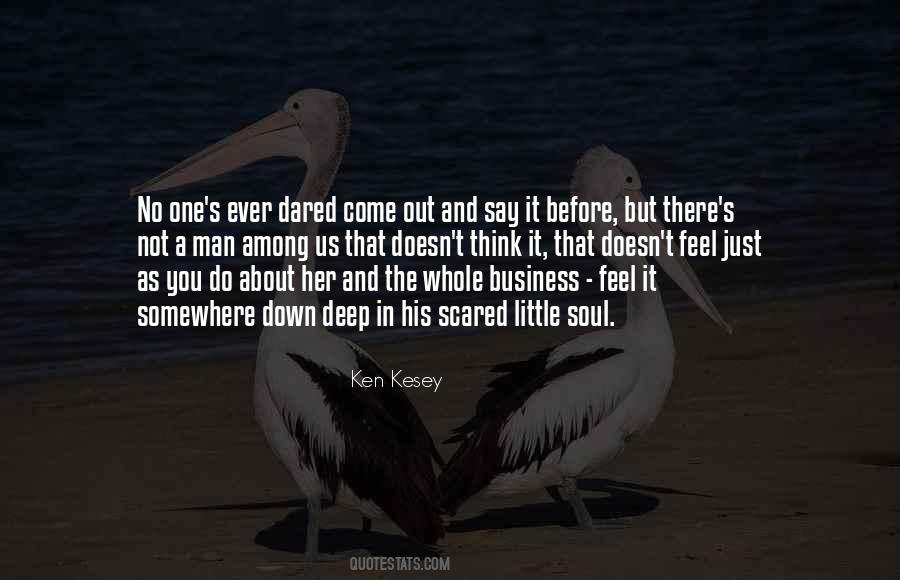 #100. When a woman isn't feeling good about herself and you combine that with her period, eventually she'll ask you if you like her body. You have to say no. - Author: Chris Klein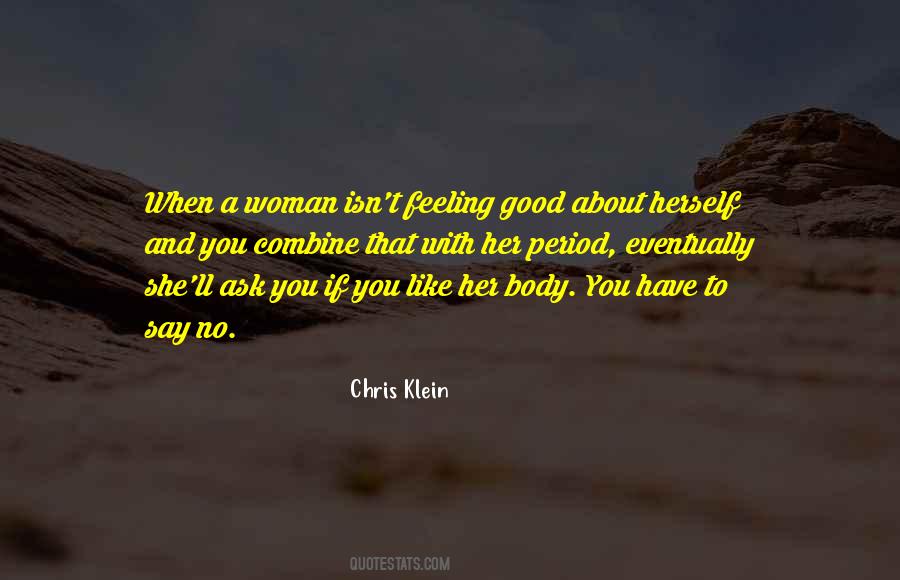 Famous Authors
Popular Topics