Don't Let The Past Famous Quotes & Sayings
List of top 67 famous quotes and sayings about don't let the past to read and share with friends on your Facebook, Twitter, blogs.
Top 67 Don't Let The Past Quotes
#1. take a deep breath. Keep your body fully in the present and your mind in the recent future. Don't let the past get in your way. - Author: Linda Kohanov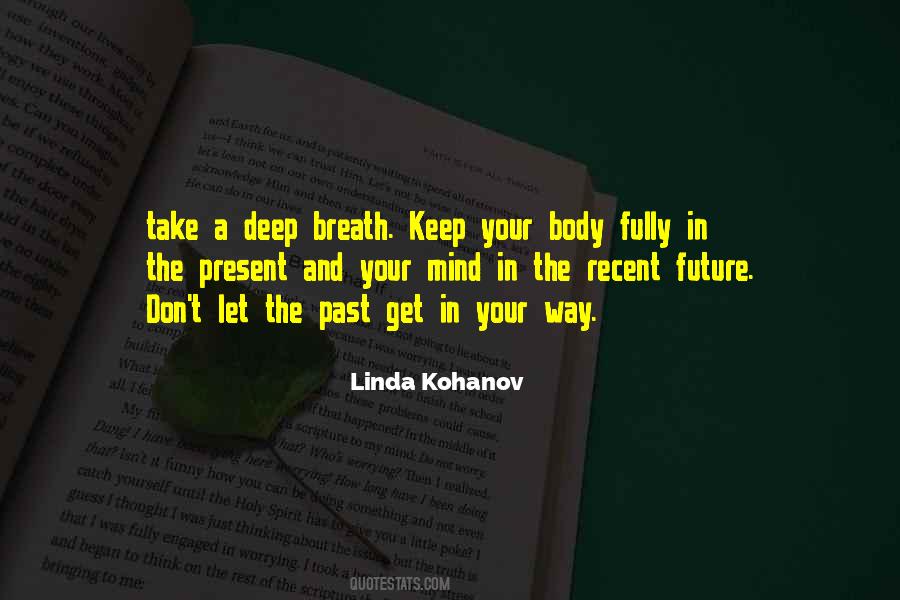 #2. Don't let others define you. Don't let the past confine you. Take charge of your life with confidence and determination and there are no limits on what you can do or be. - Author: Michael Josephson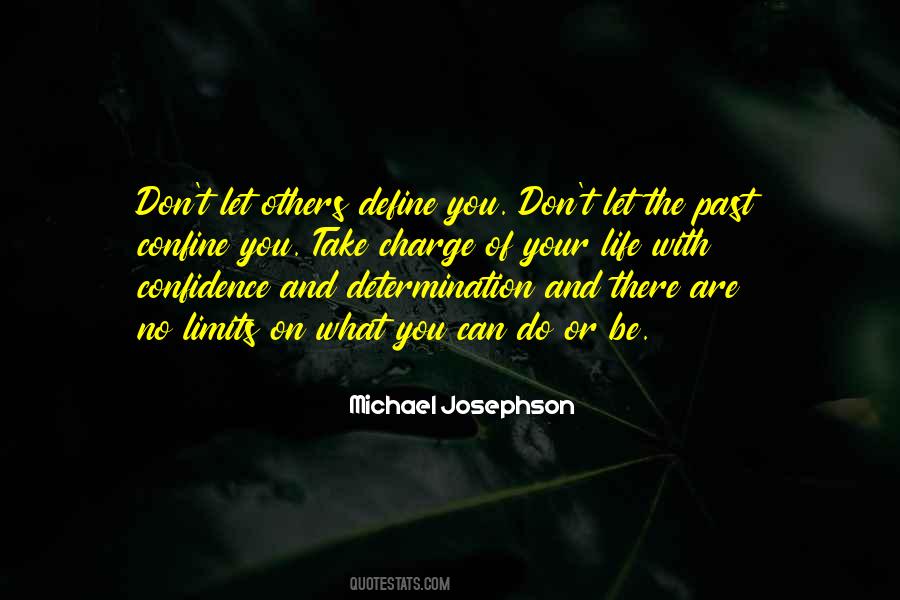 #3. ... everyone regrets something, but you can't change the past. You've got to let go and make new memories until the old ones fade enough that they don't hold any power over you. - Author: Olivia Arran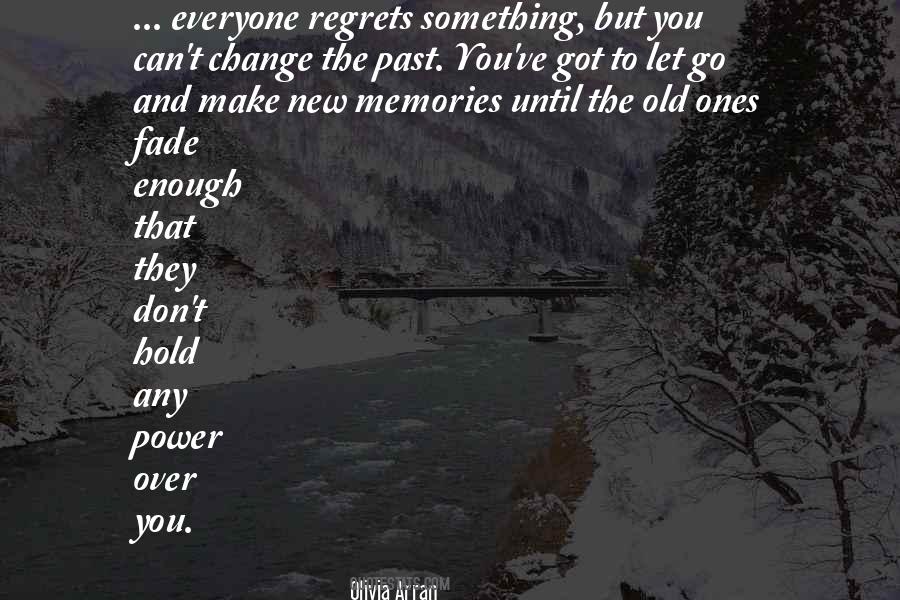 #4. The past is the past. Don't let it kill you. - Author: Taylor Swift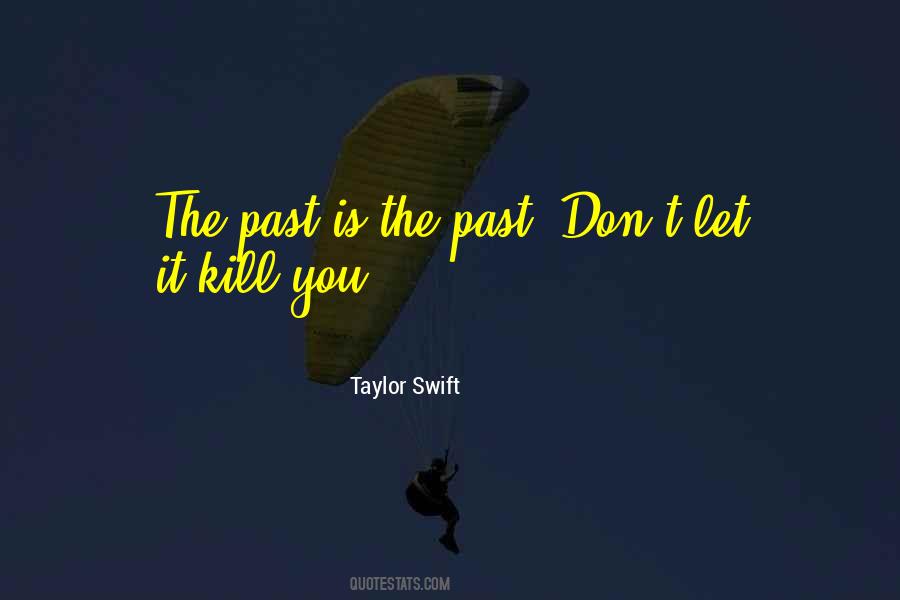 #5. Don't ever let the demons of your past tarnish your present. - Author: Mia Asher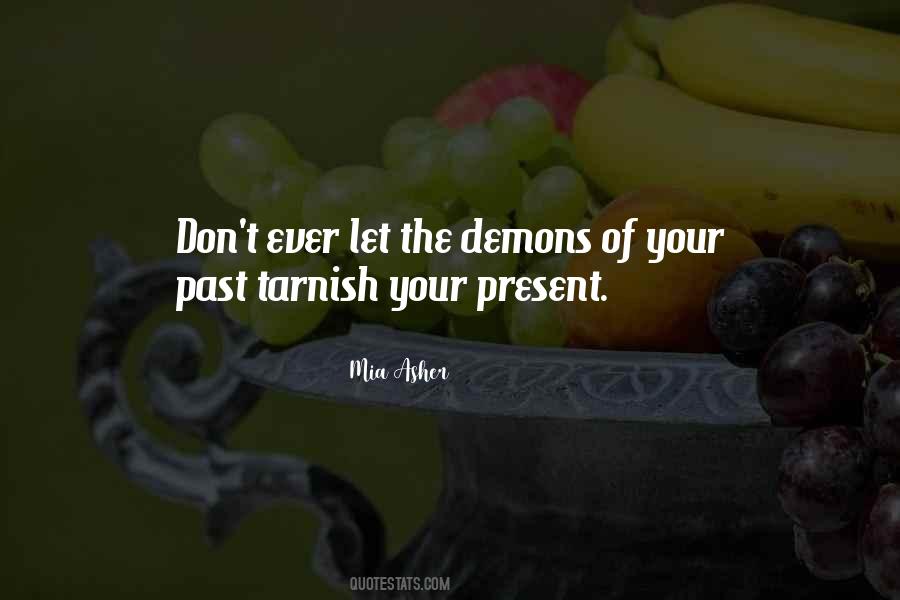 #6. Don't project his mistakes from the past onto him now. Don't let past choices define present actions. - Author: Nicole Williams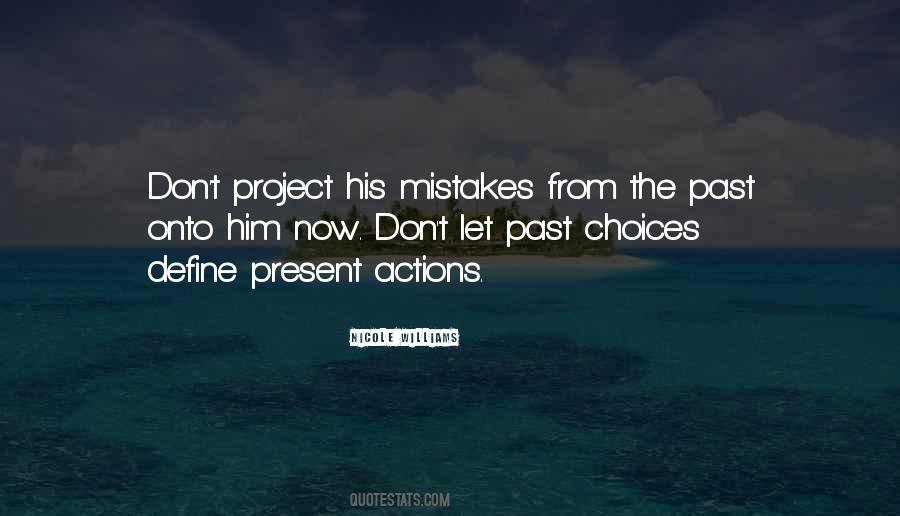 #7. Don't let the sadness from the past and fear of the future ruin the happiness of the present. - Author: Kid Cudi
#8. we, as a society, archive our history. We don't want to forget where we've been and what we've seen. The past informs us, and can easily transform us, if we choose to let it. Q. - Author: Susan Meissner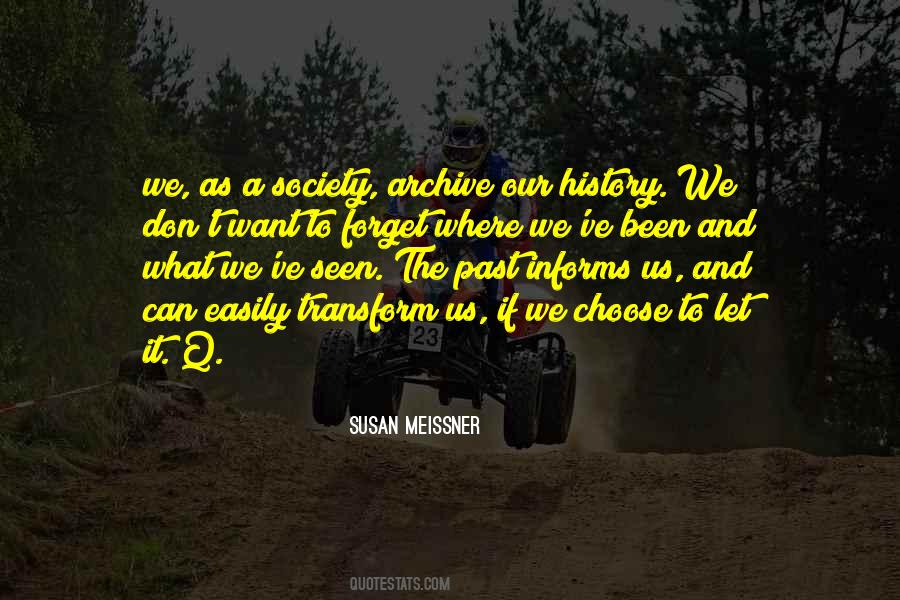 #9. Don't let the poison of the past spoil a fruitful future. - Author: A.D. Posey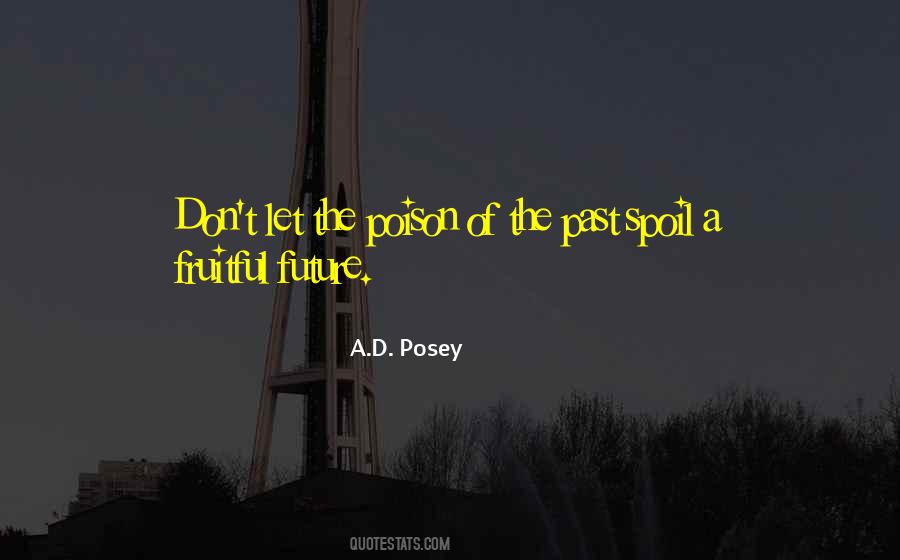 #10. You said we should let go of the past, but I don't know if the past will let go of me. - Author: Kate Kae Myers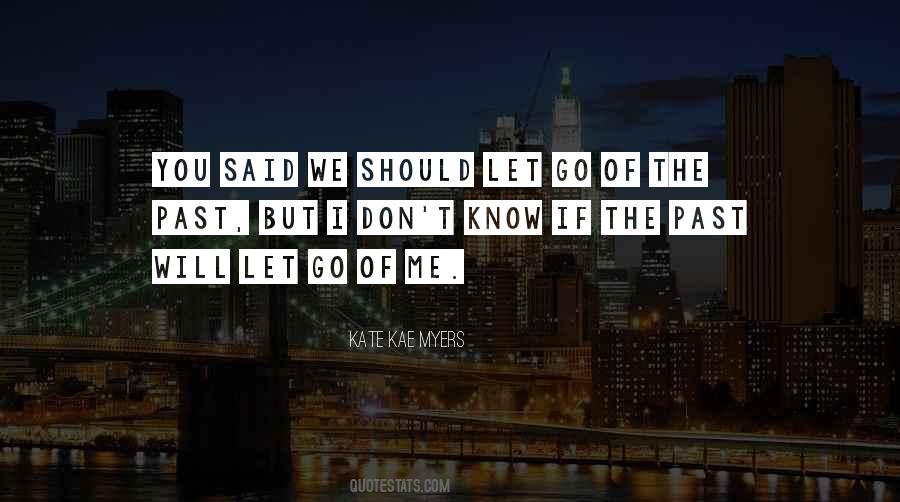 #11. Don't worry about tomorrow or let the past ruin today. - Author: Carolyn Brown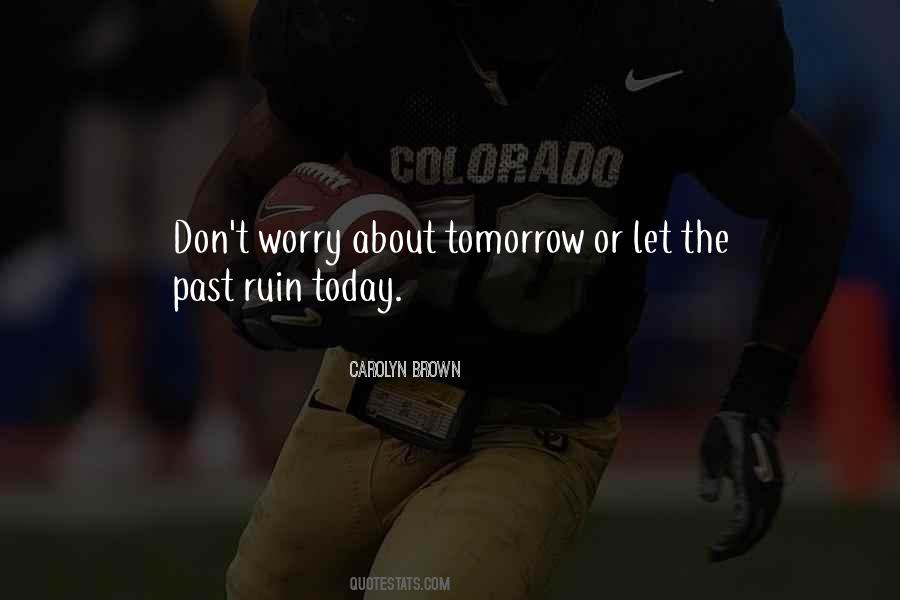 #12. Don't be so harsh on yourself because of your bad decisions you've made in the past and don't let them hinder your life progress. Try to forgive yourself and accept it as a learning curve for you and thank God you have managed to turn things .around. - Author: Euginia Herlihy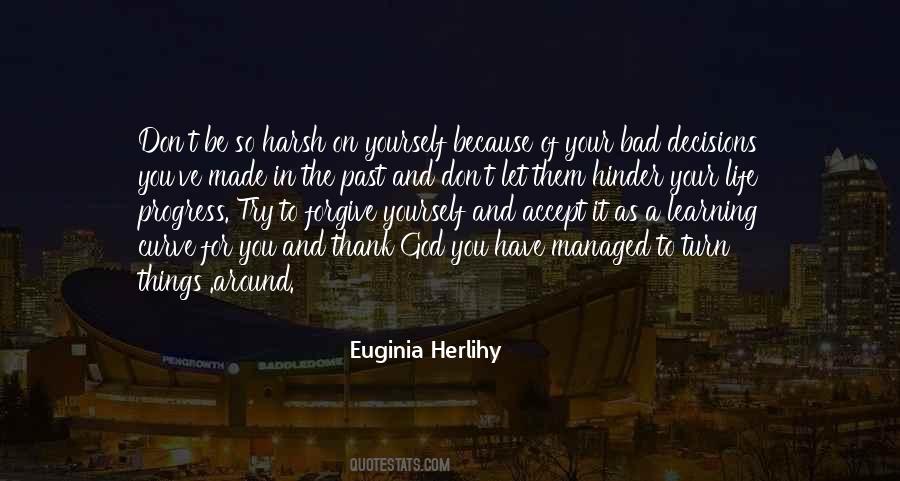 #13. Be simple, don't carry the baggage the past, open your hands, and let it go. - Author: Debasish Mridha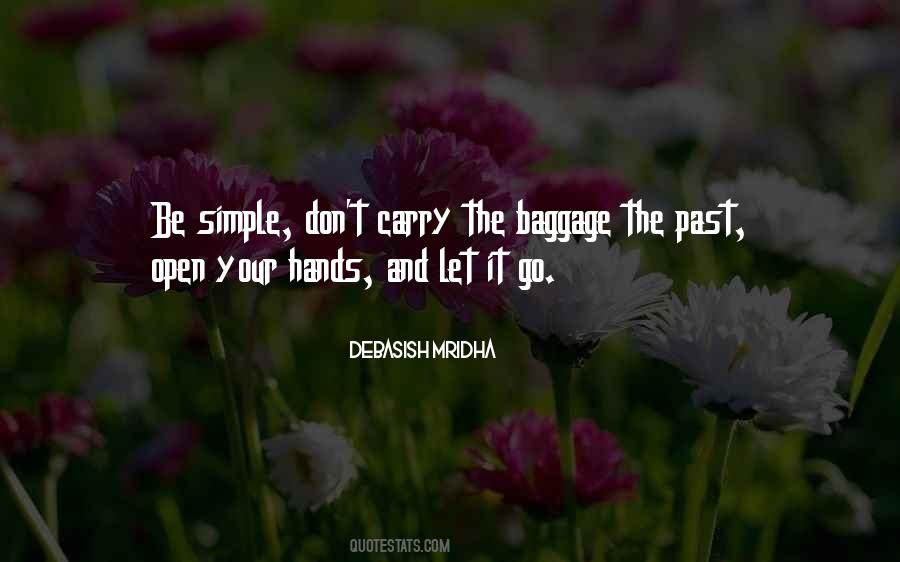 #14. Don't let past mistakes make you lose hope of achieving good. Some of those with the worst past have made a great future for themselves. - Author: Mufti Ismail Menk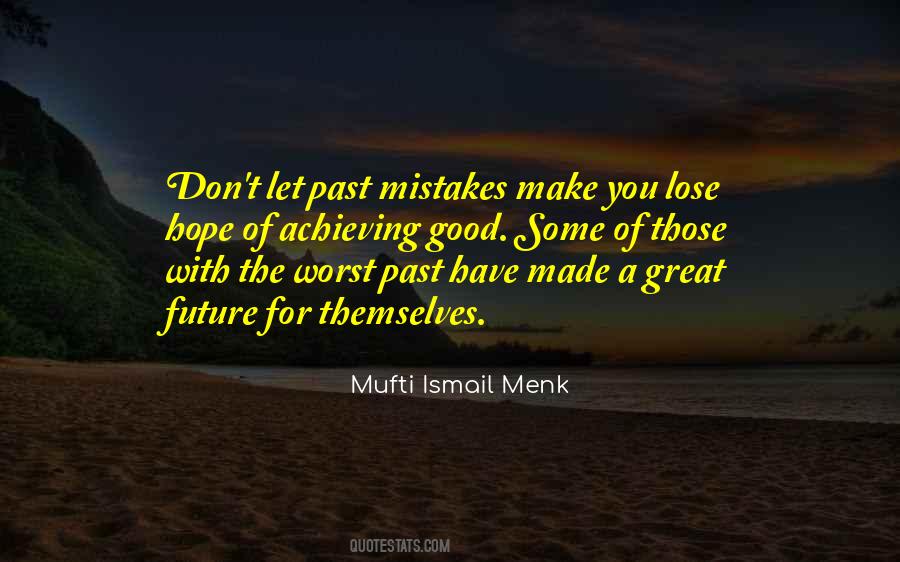 #15. By the way, I've been homeless for the past two years. Some of you may think, Aw, how sad. Others may think, Ha, ha, loser! But if you saw me on the street, ninety-nine percent of you would walk right past like I'm invisible. You'd pray, Don't let him ask me for money. - Author: Rick Riordan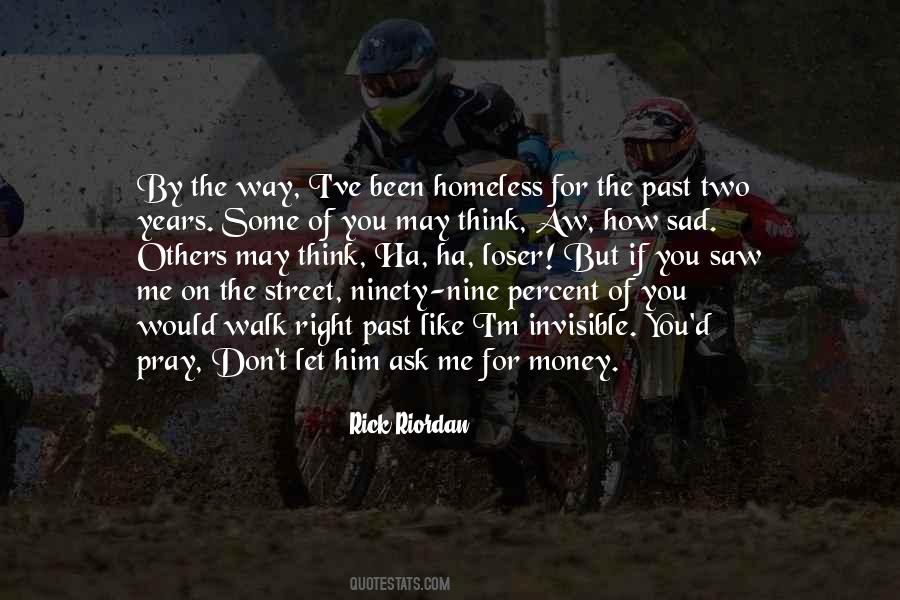 #16. God is excited about your future, and I hope you are also. Don't let the discouragement of the past steal the amazing future that is yours. - Author: Joyce Meyer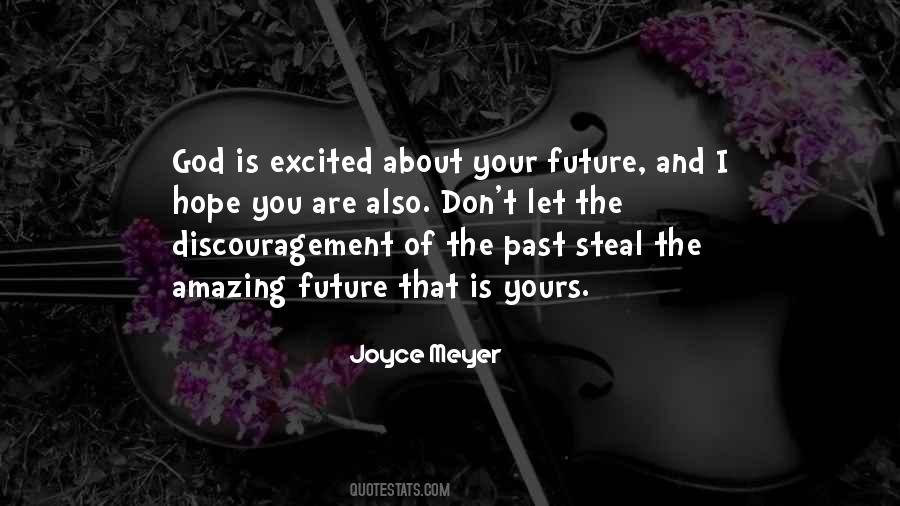 #17. Love yourself.
Love your soul and let go of the past.
Past pain is keeping you in pain.
You don't have to deteriorate. - Author: Harbhajan Singh Yogi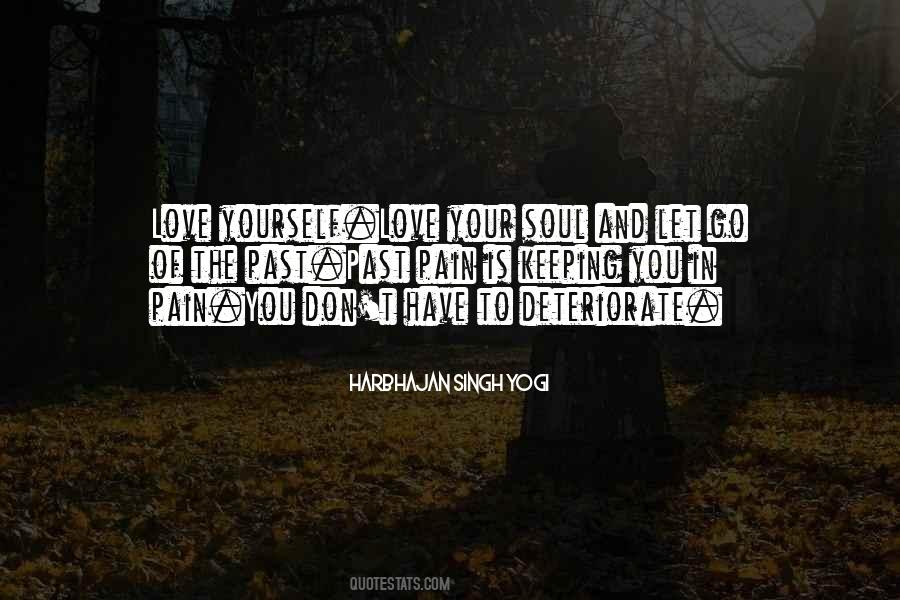 #18. Don't regret what's happened.
If it's in the past, LET IT GO.
Don't even remember it! - Author: Rumi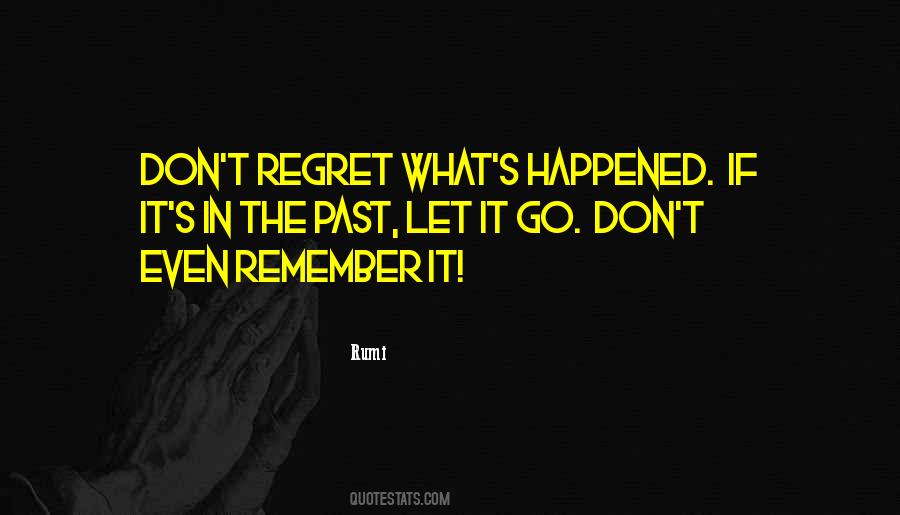 #19. Don't let yourself be defined by the past. It's done. All you have is now and the future. - Author: Jason Evert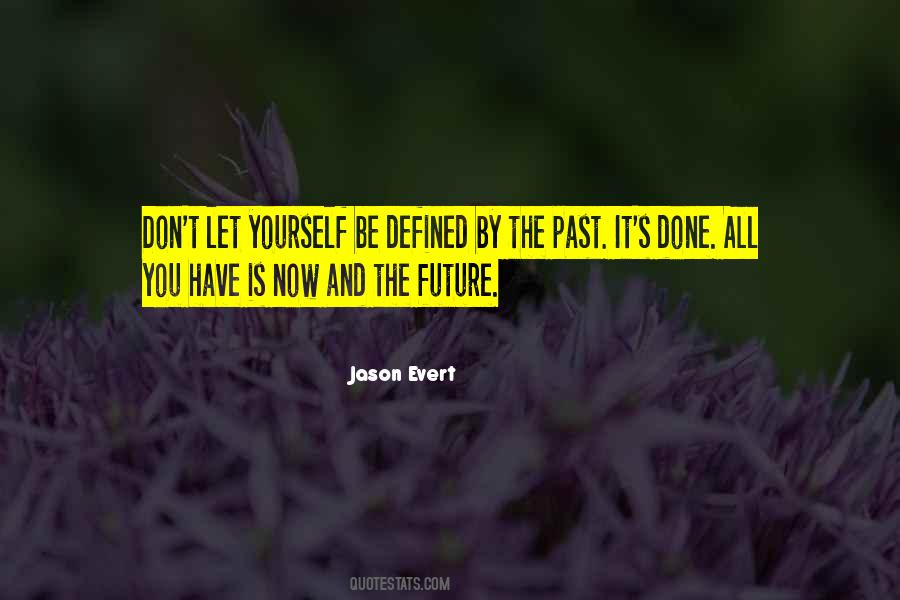 #20. Well, let me go and wake Soap."
"Oh, no need to disturb him."
"Course there's need. Why do you think I was set to watch the hatch? Waiting on the ghost of boilers past? He'll box my ears if I don't tell him you came. - Author: Gail Carriger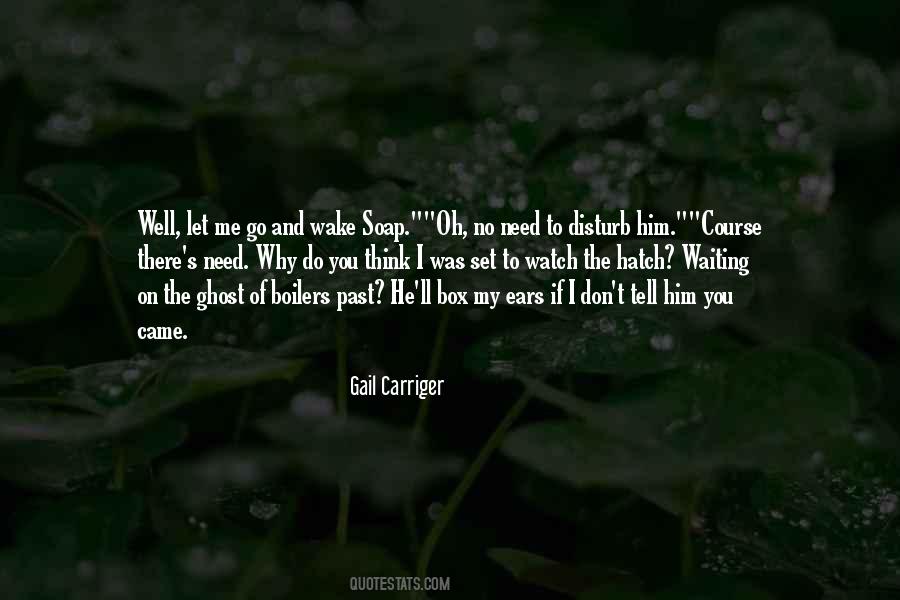 #21. No looking back. Life goes one way only. And whatever opinions you hold about the past have nothing to do with anything but your own damn weakness. Nothing changes what already happened. It will always have happened. You either let it break you down or you don't. A simple enough lesson ... - Author: Charles Frazier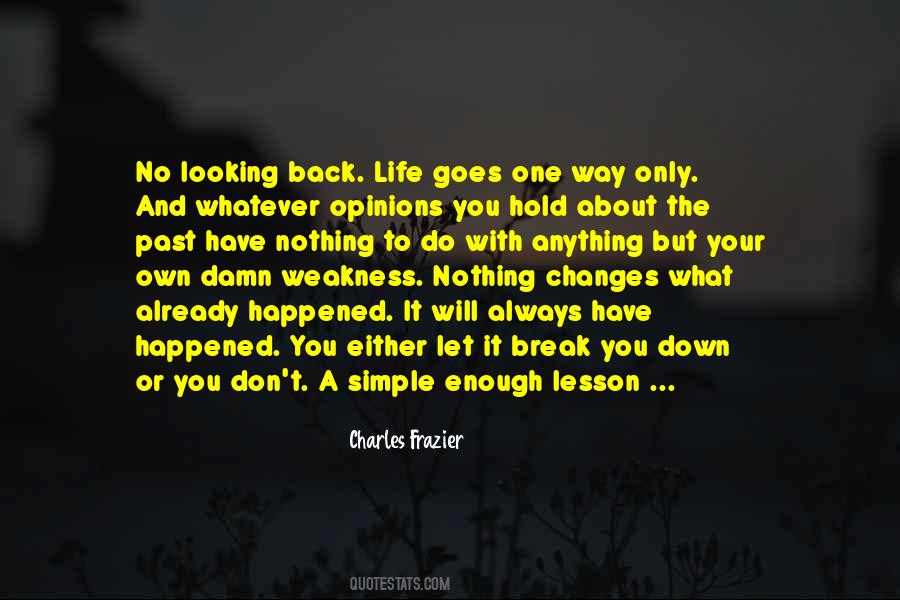 #22. Don't expect the future to look like the past. Clear away expectations, and let yourself picture a wild, grand new world. - Author: Martha Beck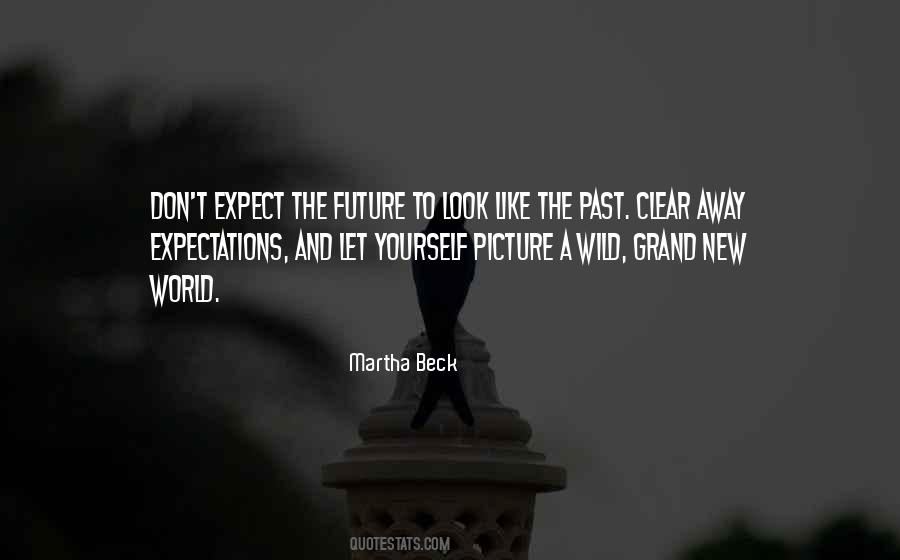 #23. Your dream is a reality that is waiting for you to materialize. Today is a new day! Don't let your history interfere with your destiny! Learn from your past so that it can empower your present and propel you to greatness - Author: Steve Maraboli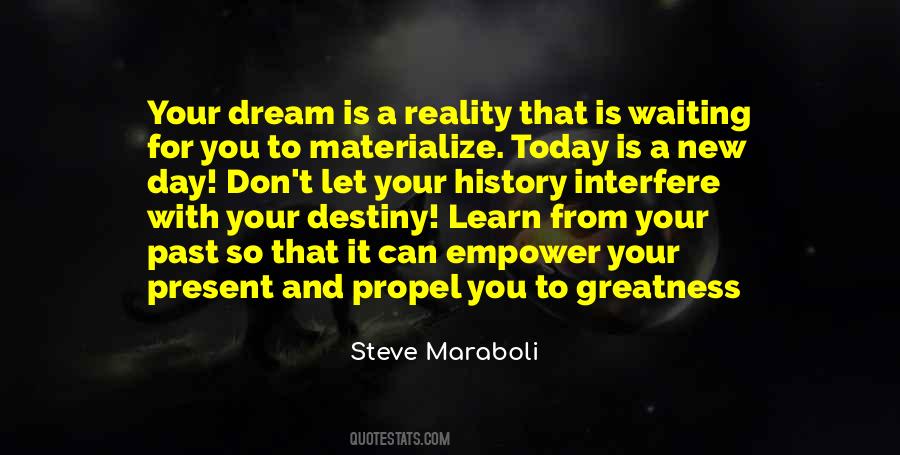 #24. You can never go back to a specific moment. That's why it's important to live in the present and not the past. Don't let foolish memories get in the way of the makings of new ones. - Author: Emily Coussons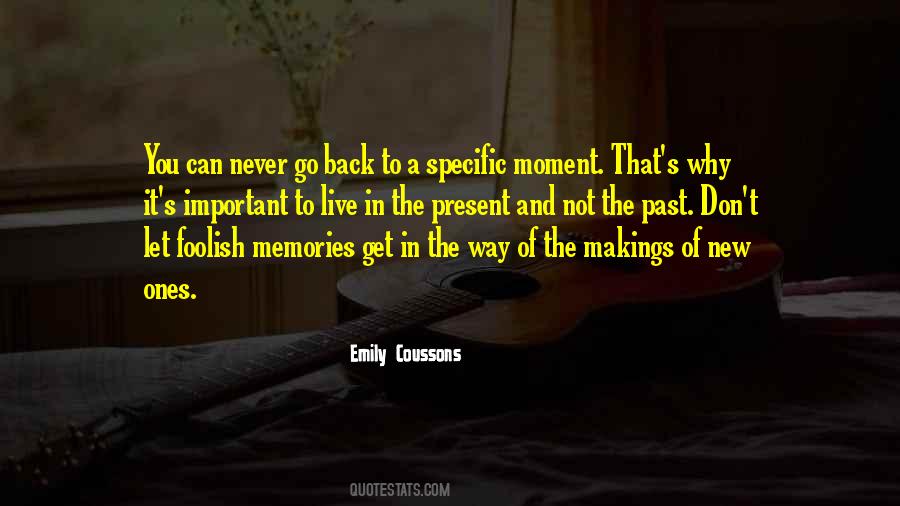 #25. All the king's horses and all the king's men can't put the past together again. So let's remember: Don't try to saw sawdust. - Author: Dale Carnegie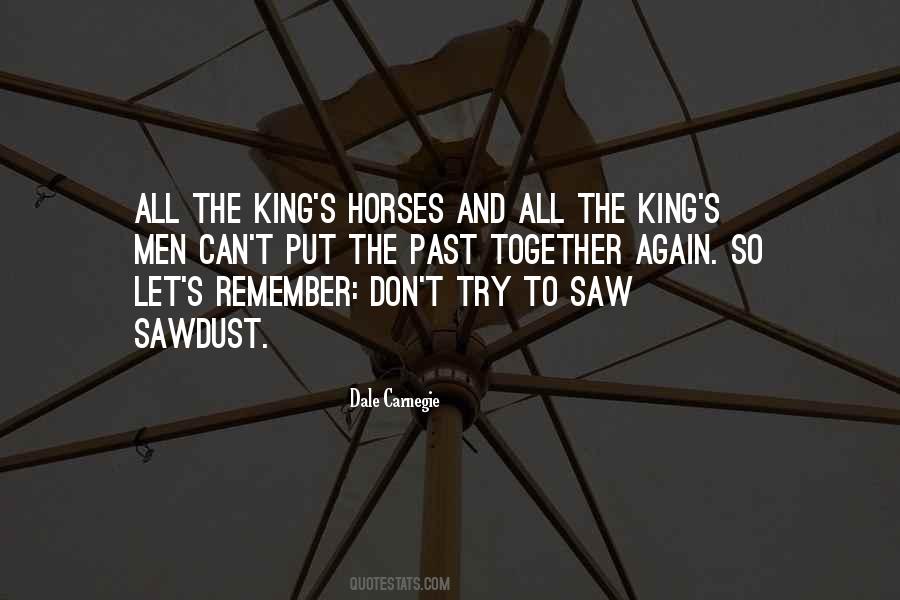 #26. Don't let life's challenges discourage you. Some things are just out of your control. Make it work for you! The most painful lessons of the past can teach you how to survive in the present . - Author: Carlos Wallace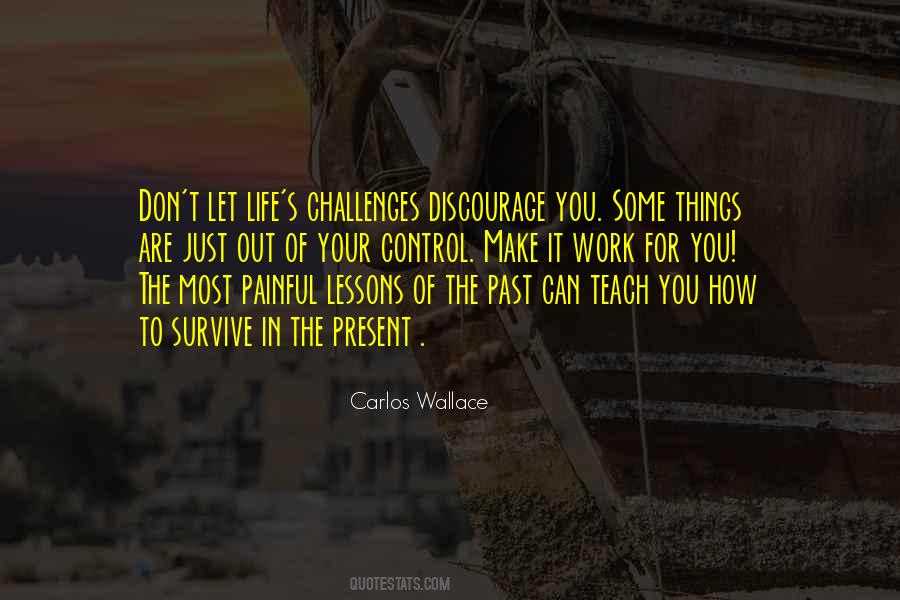 #27. I don't keep diaries; I consider them like birds; I set them free and let them fly to the depths of the past where they belong! - Author: Mehmet Murat Ildan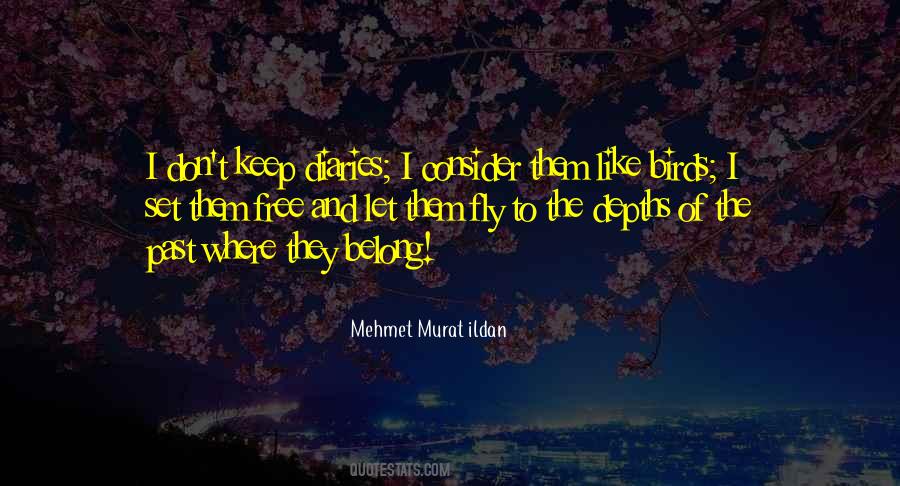 #28. Don't let your past pollute your present and disable you from progressing in the future. - Author: Maddy Malhotra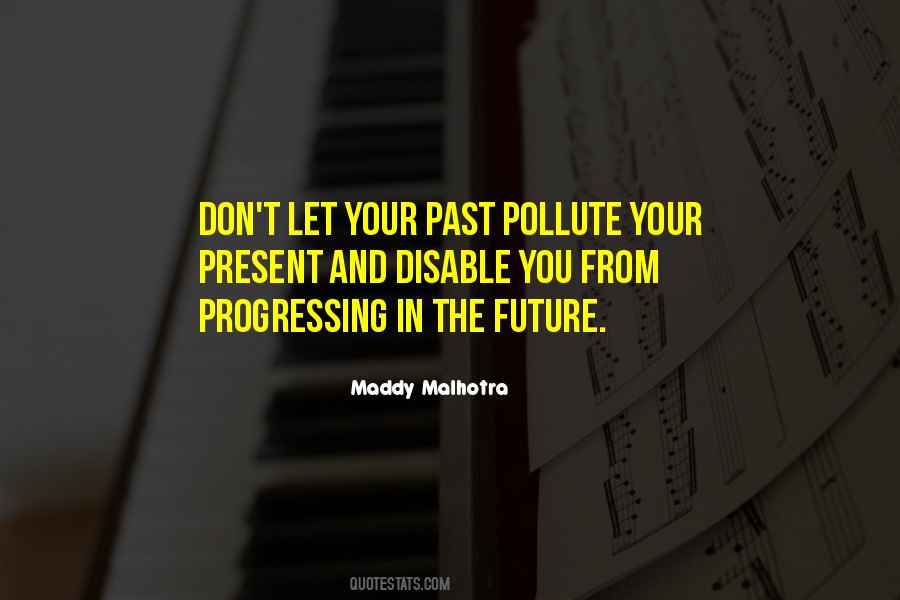 #29. Sit and quiet yourself. Luxuriate in a certain memory and the details will come. Let the images flow. You'll be amazed at what will come out on paper. I'm still learning what it is about the past that I want to write. I don't worry about it. It will emerge. It will insist on being told. - Author: Frank McCourt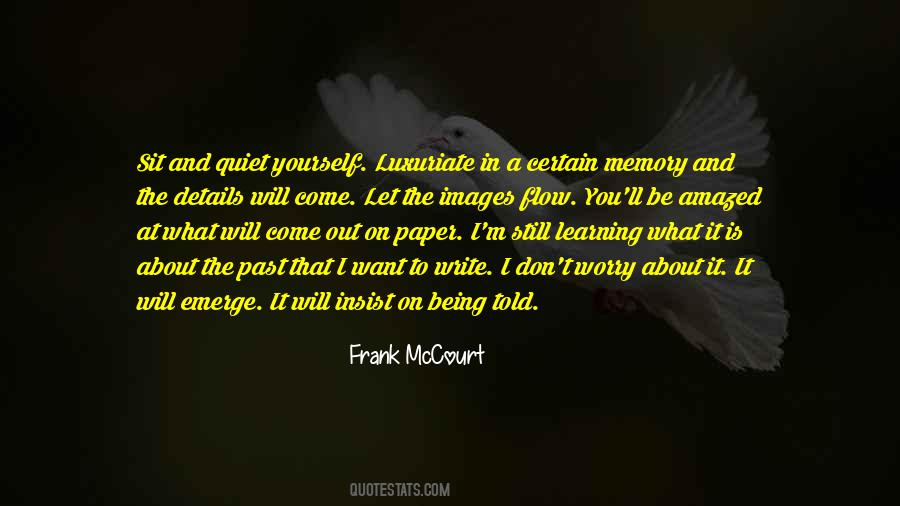 #30. If it's over, then don't let the past screw up the rest of your life. - Author: Nicholas Sparks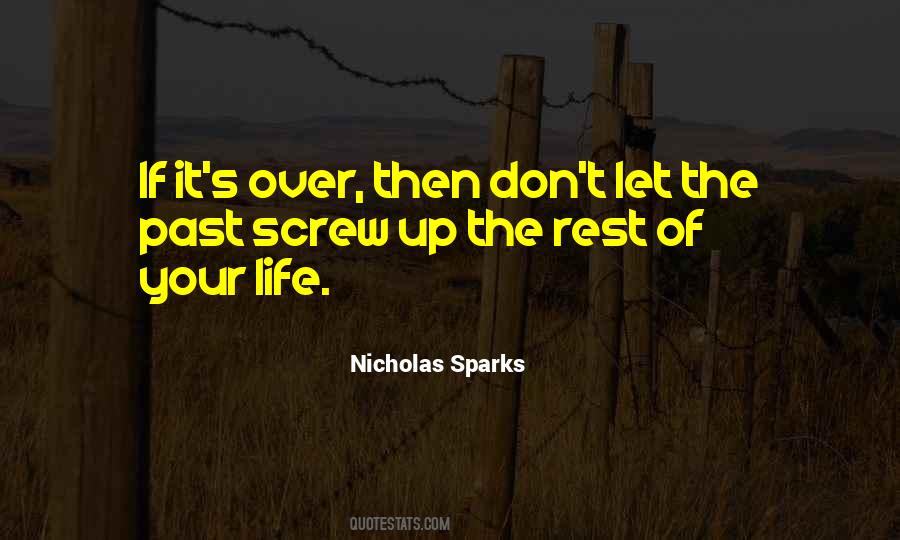 #31. Don't let the past steal your present. This is the message of Christmas: We are never alone. - Author: Taylor Caldwell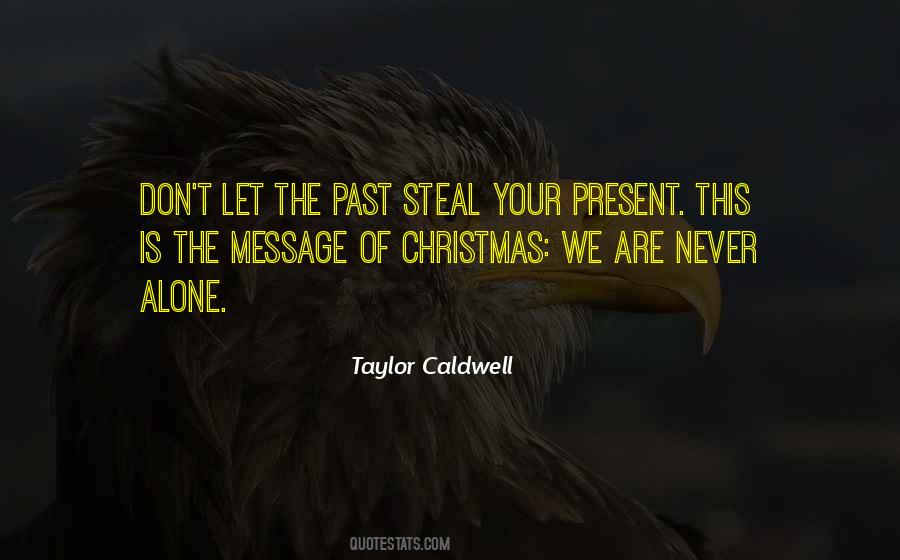 #32. Don't let the guilt of the past keep you from the victories of the future. - Author: Todd Stocker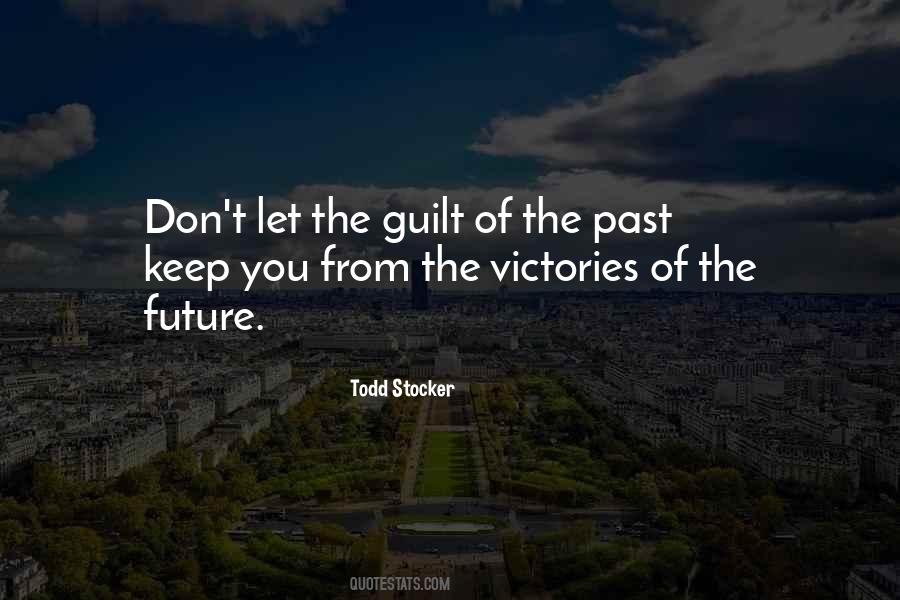 #33. Whatever you are doing, don't let past move your mind;don't let future disturb you. Because the past is no more, and the future is not yet. - Author: Rajneesh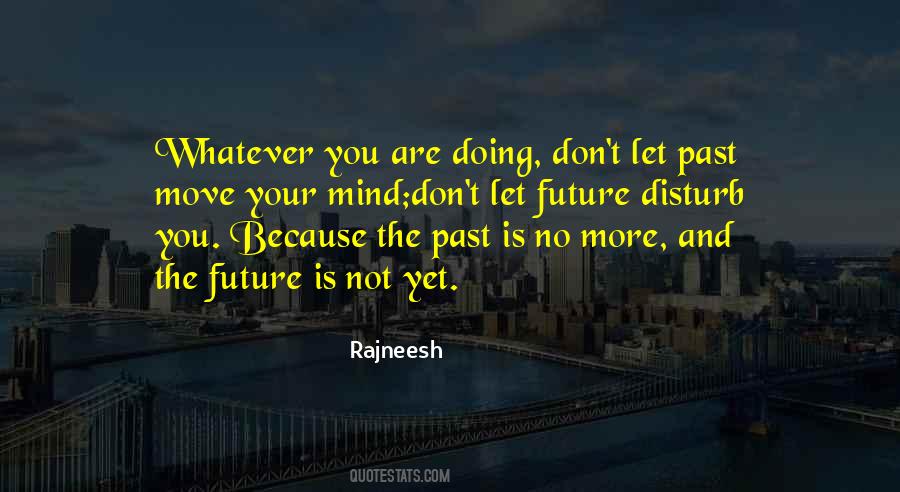 #34. Tonight go to sleep as though your whole past has been dropped. Die to the past. And in the morning wake up as a new man in a new morning. Don't let the same one who went to bed get up. Let him go to sleep for good. - Author: Osho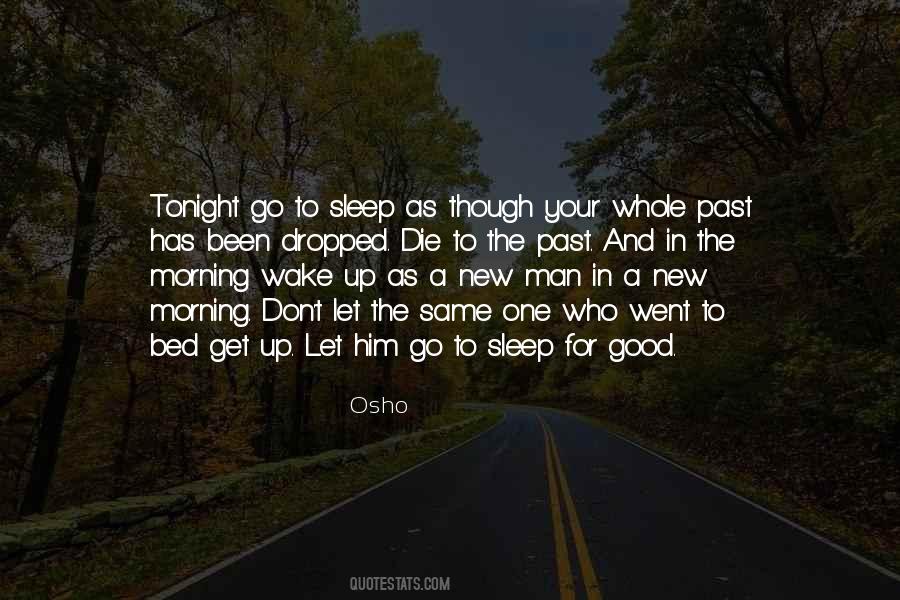 #35. Don't let your life be a tape recorder of the misery of the past. You can do nothing about the past. -RVM - Author: R.v.m.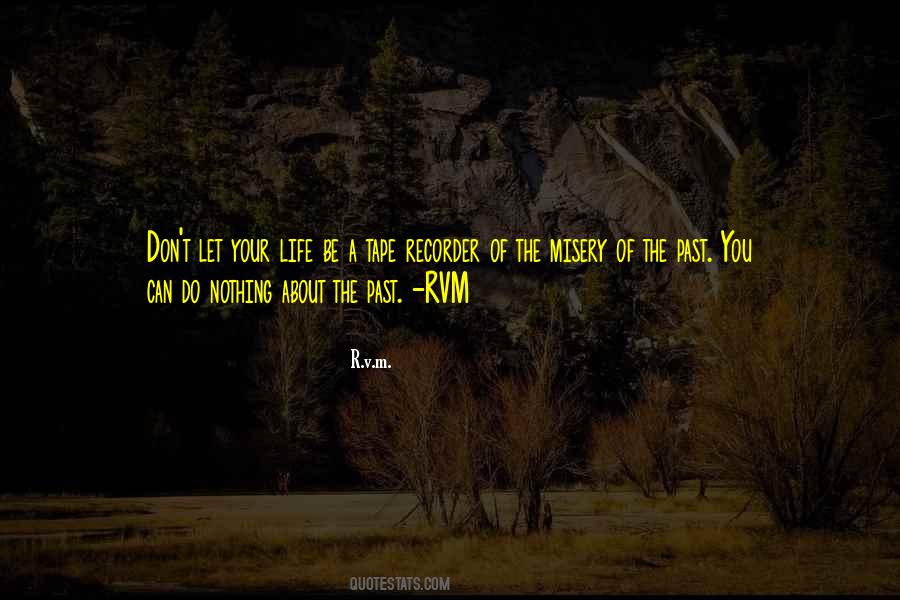 #36. Bring awareness to each act. Walking on the road, walk fully alert; eating, eat with awareness. Whatsoever you are doing, don't let the past and the future interfere. Be in the present. That's what awareness is all about. - Author: Rajneesh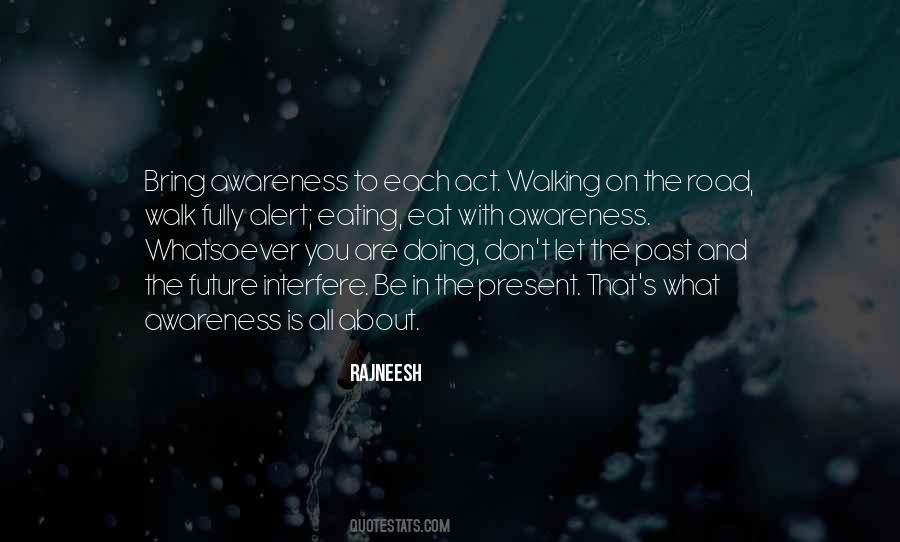 #37. Don't let this anger ruin your life any more than it already has. If you want to every achieve happiness, don't dwell on the past. Instead, start living. What is the point of obsessing that has already happened, and that you cannot change? Live! And be merry. - Author: Kien Nguyen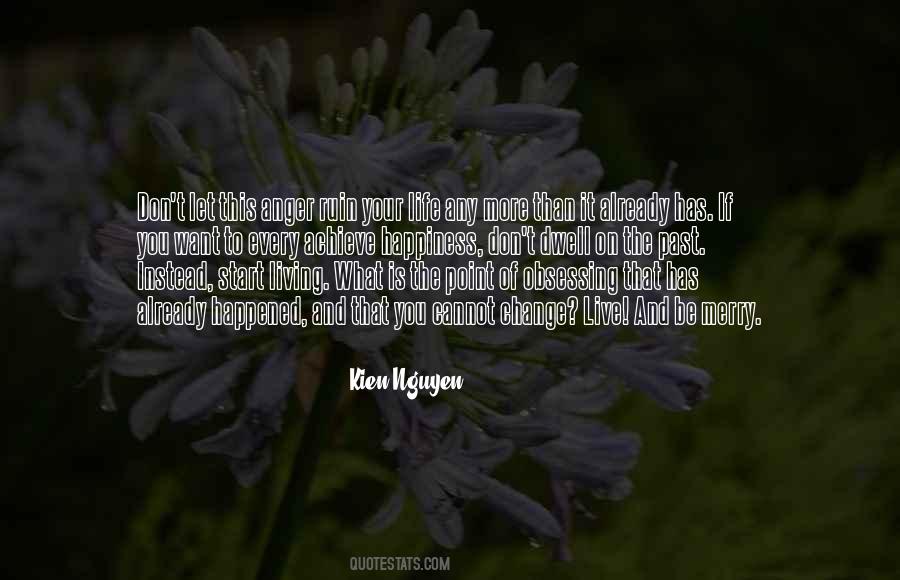 #38. Please don't let the unhappiness you knew in the past keep you from accepting happiness now. - Author: Susan Meissner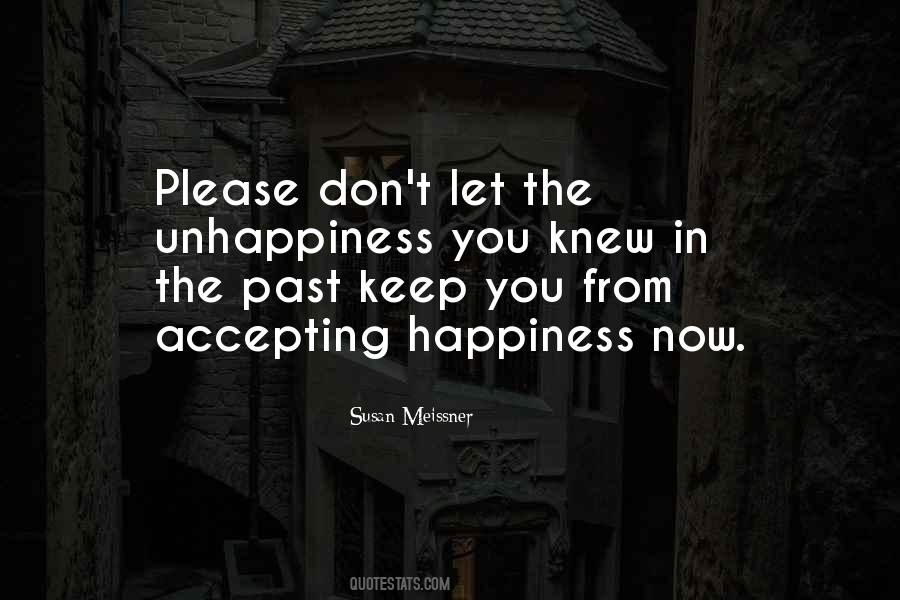 #39. Don't let the doom criers and the cynics persuade you that the best is past. - Author: Ronald Reagan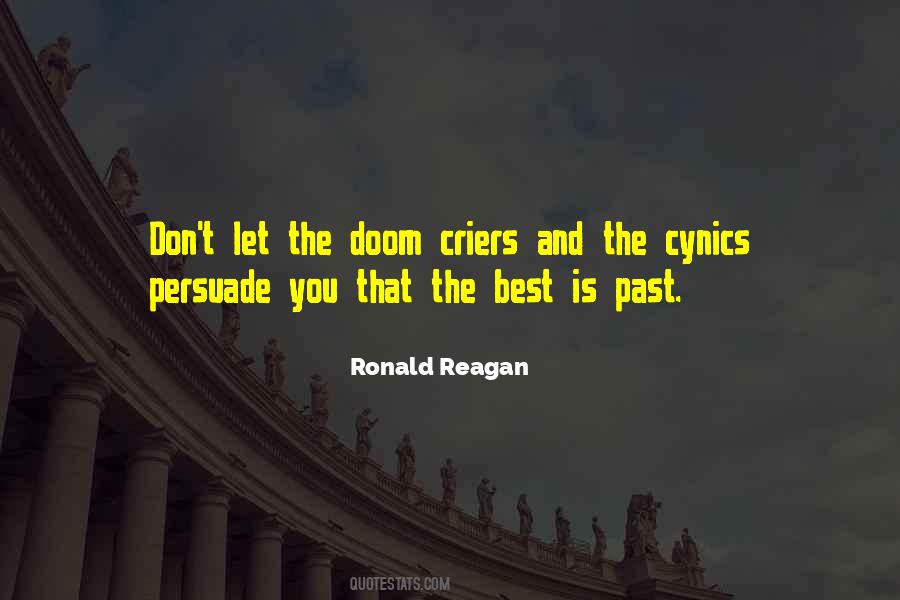 #40. Don't let the past ruin your future. (Acheron) Meaning what, oh great Yoda? (Kyrian) You take care of the kid. I'll take care of your patrol tonight. I could use the target practice. (Acheron) - Author: Sherrilyn Kenyon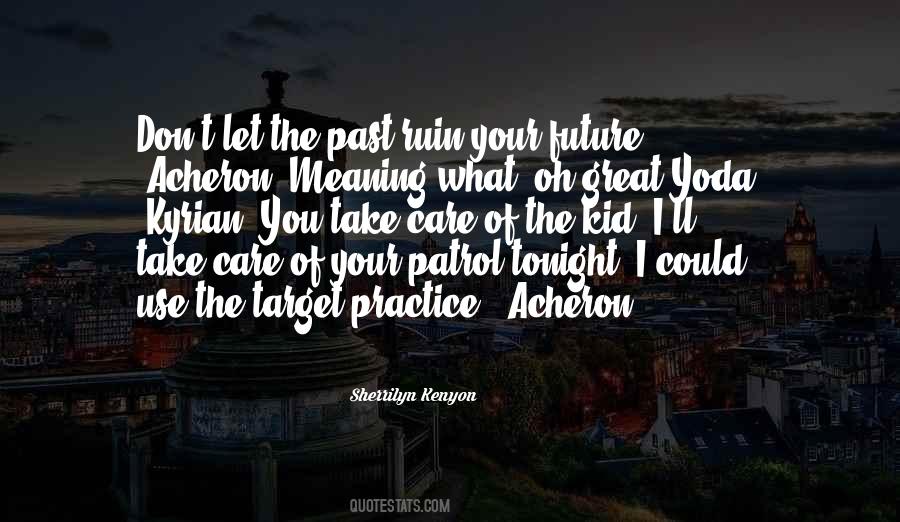 #41. Don't let the shadows of the past smother the possibility for a bright future." It - Author: Elise Kova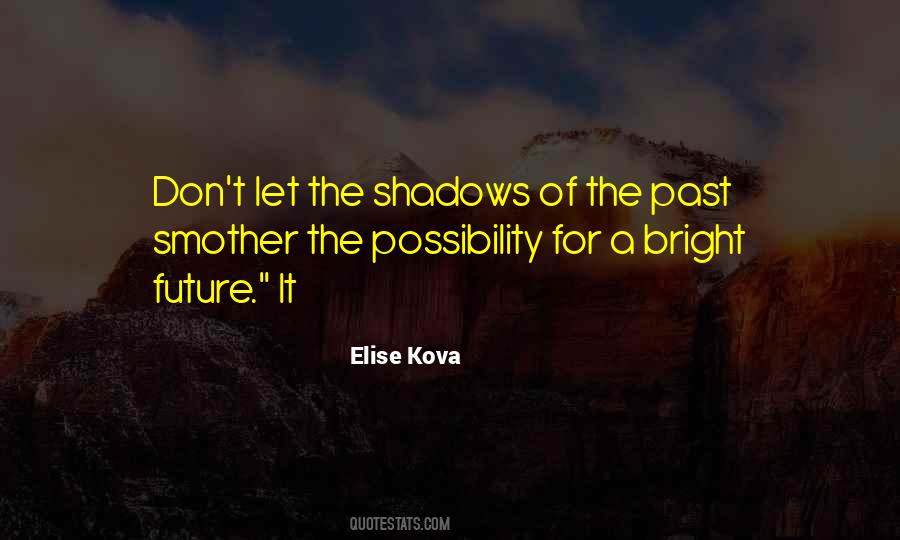 #42. Don't let him push you around. You got this," he said. "You get on the bull, and you ride until he sees who the master is. Relentless. Unforgiving. Merciless. You know the drill. The only place the broken past has in our present, is the place we give it. So, don't give it, and don't let him give it. - Author: Lucian Bane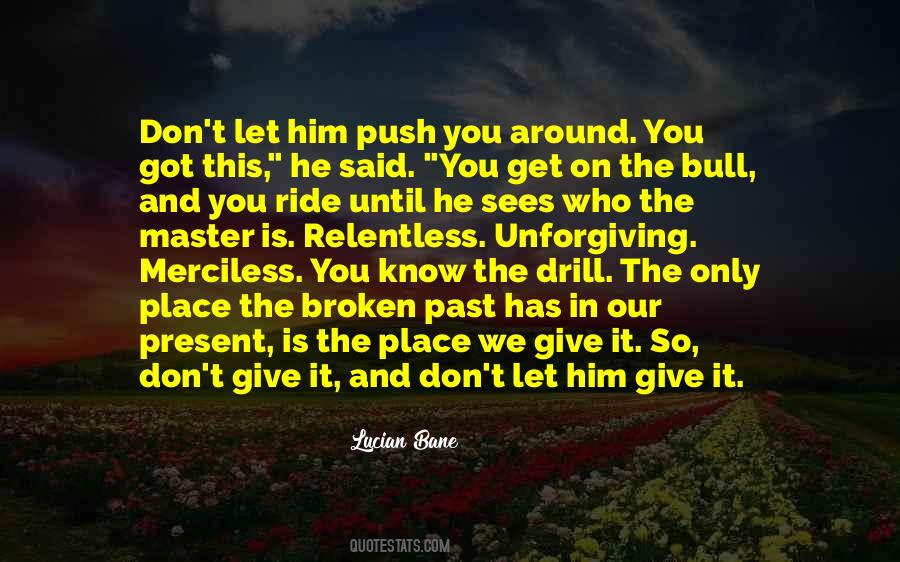 #43. But wait, wait," Ivan was laughing, "don't get so excited. A fantasy, you say? Let it be. Of course it's a fantasy. But still, let me ask: do you really think that this whole Catholic movement of the past few centuries is really nothing but the lust for power only for the sake of filthy lucre? - Author: Fyodor Dostoyevsky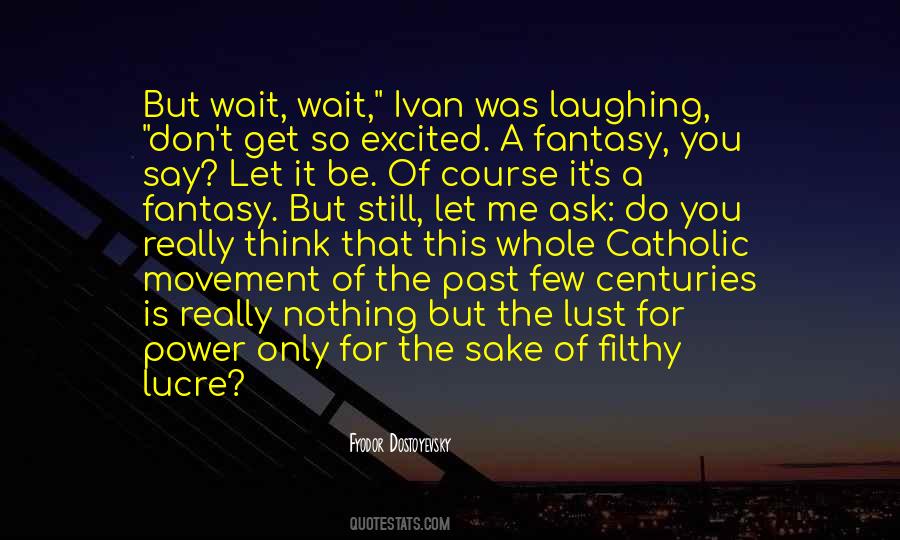 #44. I don't know what happened in your past, what he did to you, how he hurt you, but I'm not that guy. The only thing I want from you is you. I would never use you, Clair. I can't make you trust me, but if you let me, I'll prove to you that you can. What good is life without taking a chance? - Author: Loni Flowers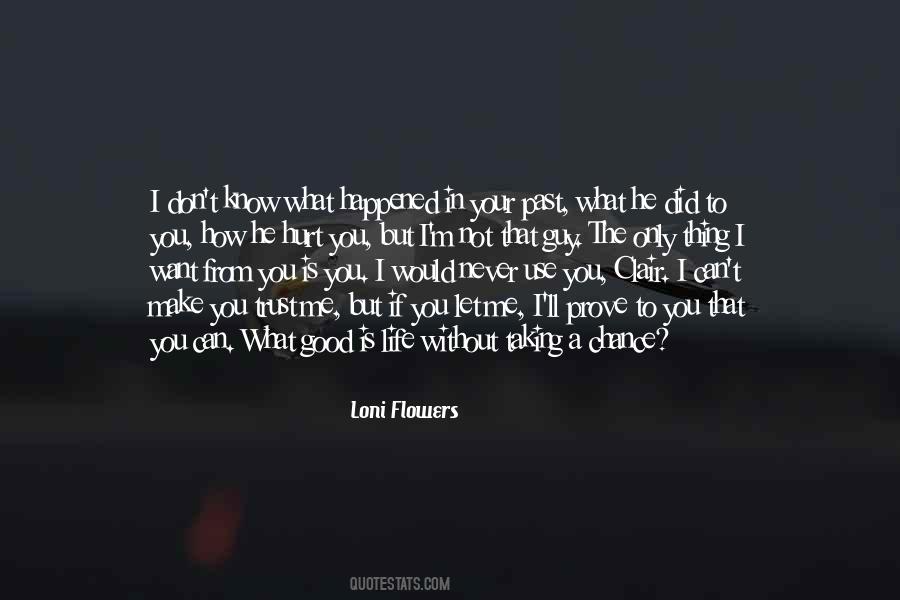 #45. Don't let the darkness of your past block the light of joy in your present. What happened is done. Stop giving time to things that no longer exist when there is so much joy to be found in the here and now. - Author: Karen Salmansohn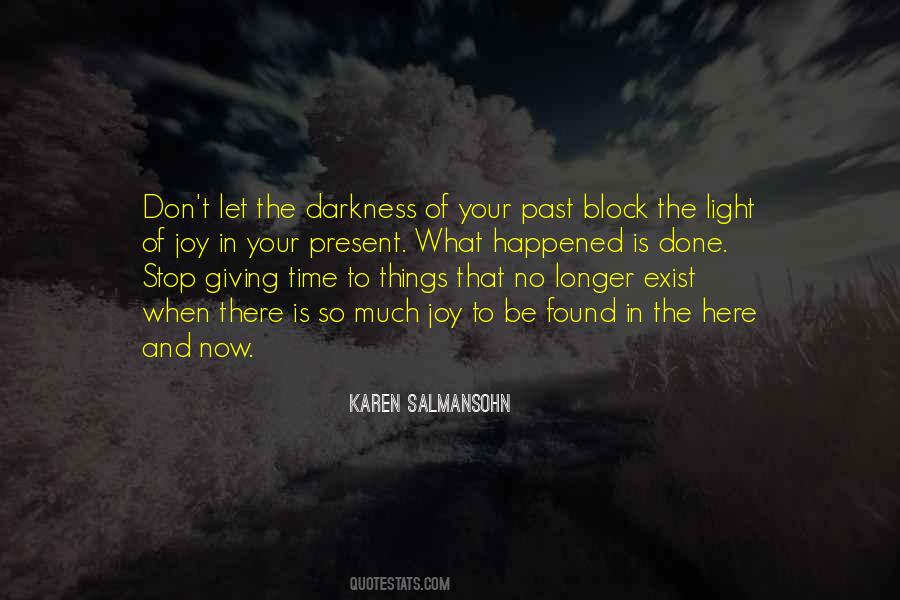 #46. This moment in which you experience stillness is every moment. Don't let the mind seduce you into the past or future. Stay in the moment, and dare to consider that you can be free now. - Author: Adyashanti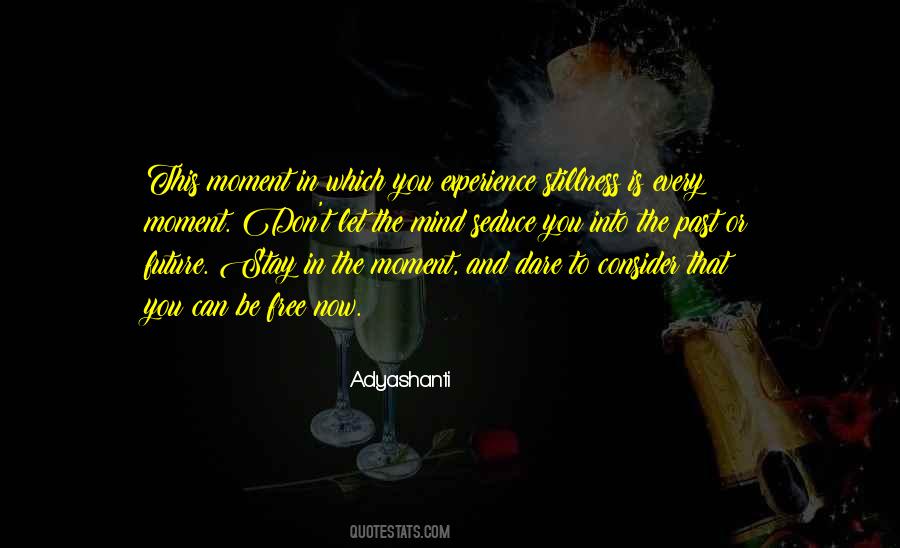 #47. I don't want to just model. Anyone can do that. I've let myself be in magazines in the past without participating as much as I should have. - Author: Evangeline Lilly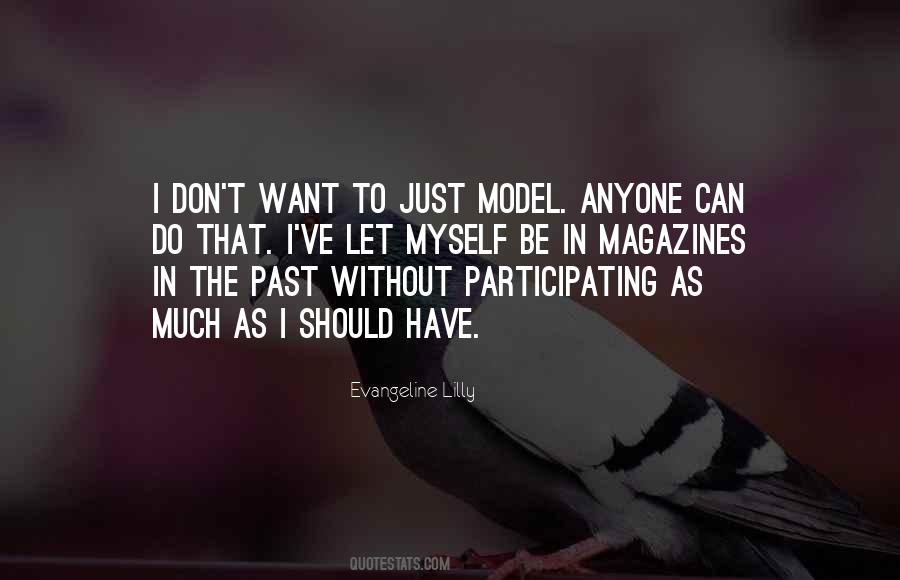 #48. You build on failure. You use it as a stepping stone. Close the door on the past. You don't try to forget the mistakes, but you don't dwell on it. You don't let it have any of your energy, or any of your time, or any of your space. - Author: Johnny Cash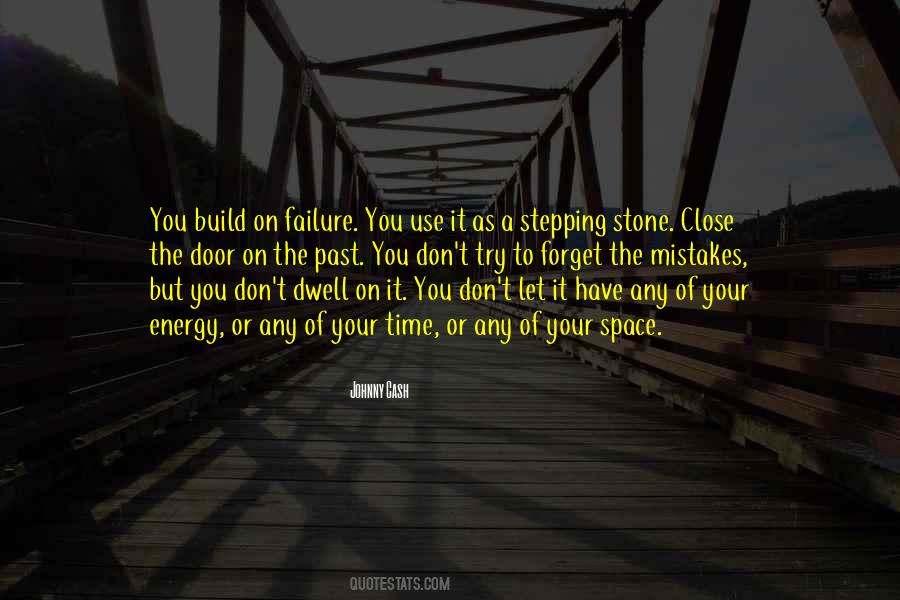 #49. Don't let the mistakes and disappointments of the past control and direct your future. - Author: Zig Ziglar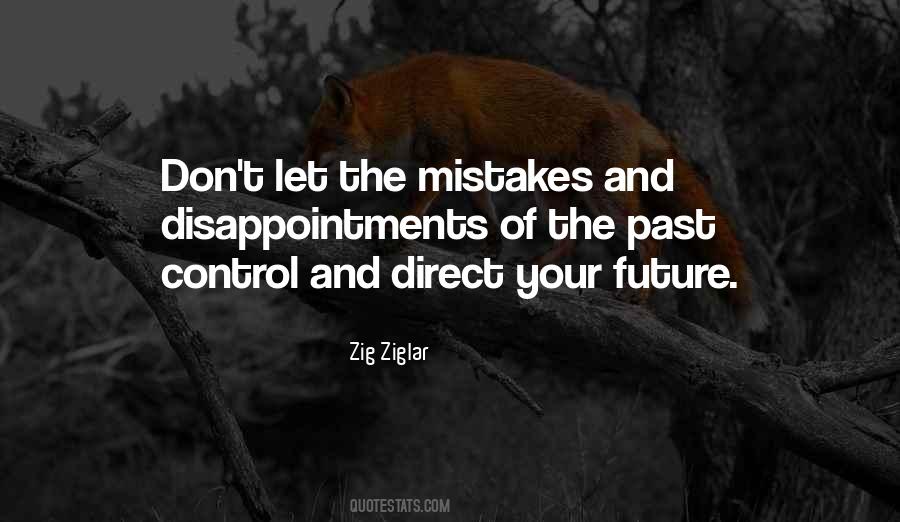 #50. Don't believe the ugly. It's not true. The only fatal thing is to give up."
"But..."
"If you can't let go of the past, you'll never be anything but a slave to it. - Author: E.J. Squires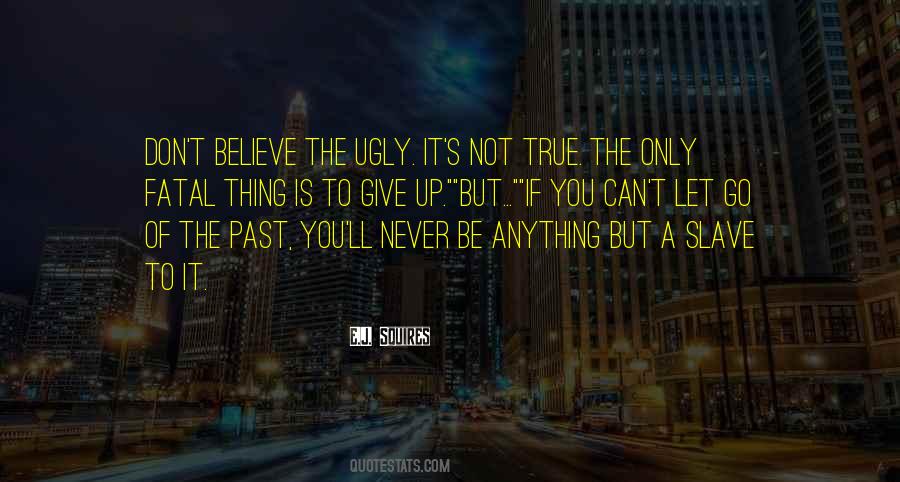 #51. We shouldn't fuel the future with the polluting methods of the past, ... We have the technology to power our future in ways that don't threaten our health or poison our planet. Let's choose to use it. - Author: Denis Hayes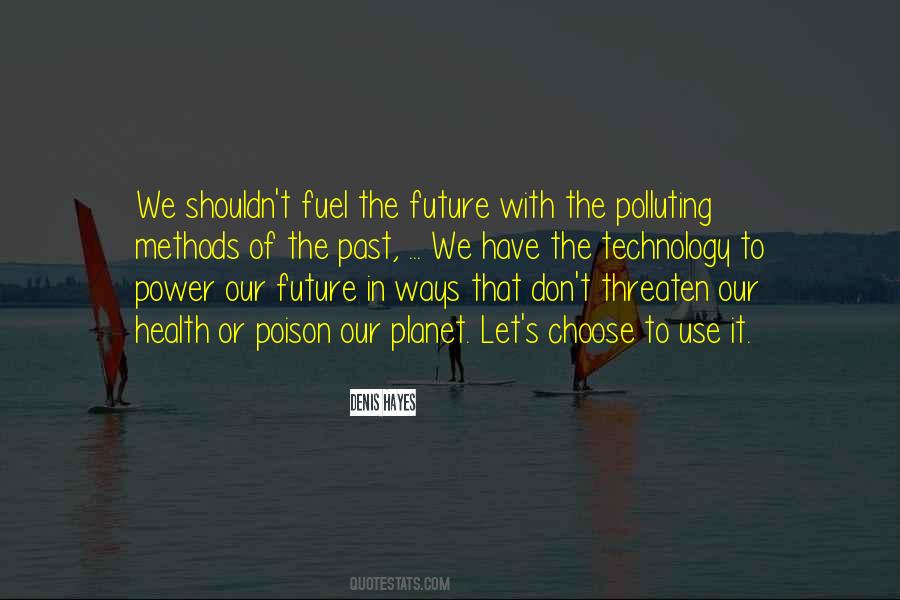 #52. We don't let the past determine the future unless we allow it too. - Author: Drew Pinsky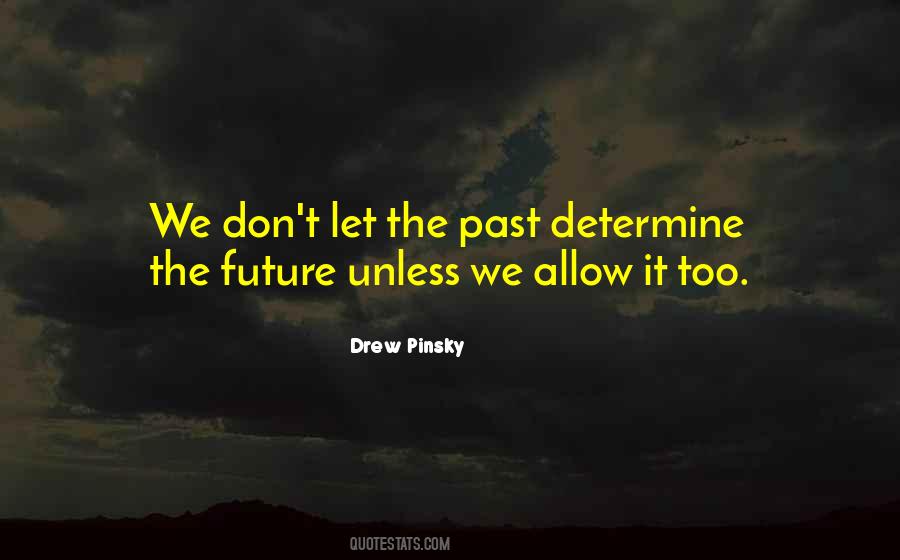 #53. Don't live life hiding behind your past. Live for the moment. When you find someone you want to spend forever with, you don't let them go, whether forever turns out to be a day, a year or fifty years - Author: Nicole Williams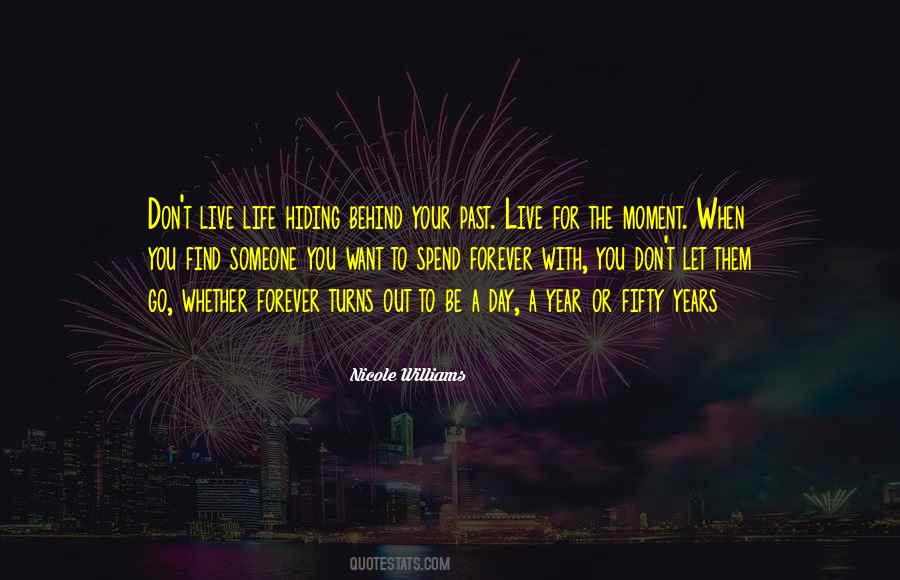 #54. No matter what the past has dealt you, don't let it destroy your future. - Author: Nelson Mandela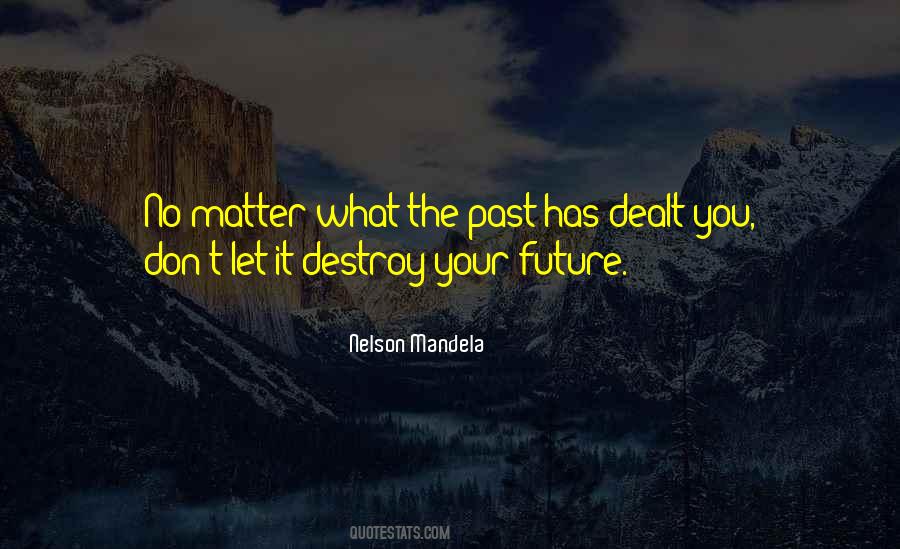 #55. Forgive yourself first. Release the need to replay a negative situation over and over again in your mind. Don't become a hostage to your past by always reviewing and reliving your mistakes. Don't remind yourself of what should have, could have or would have been. Release it and let it go. Move on. - Author: Les Brown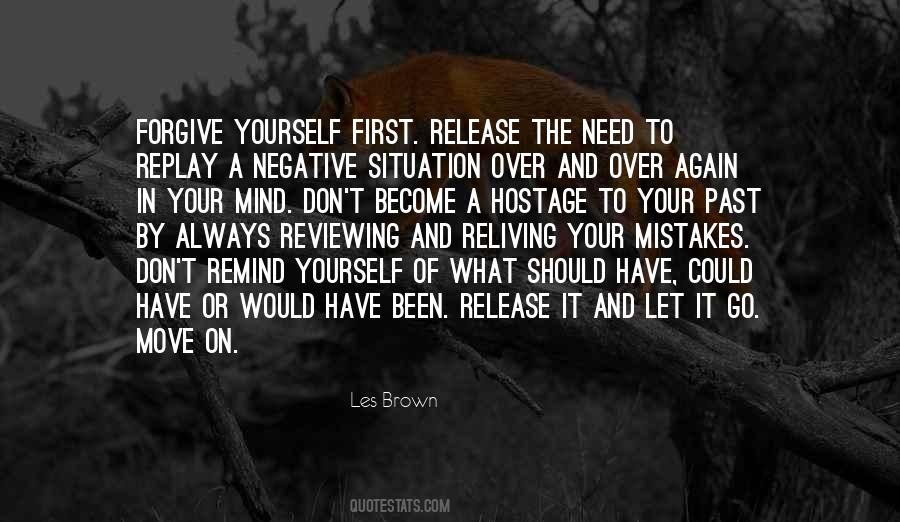 #56. Running a marathon with a backpack is tough and may hinder you from winning the race. Don't let the baggage from your past - heavy with fear, guilt, and anger - slow you down. - Author: Maddy Malhotra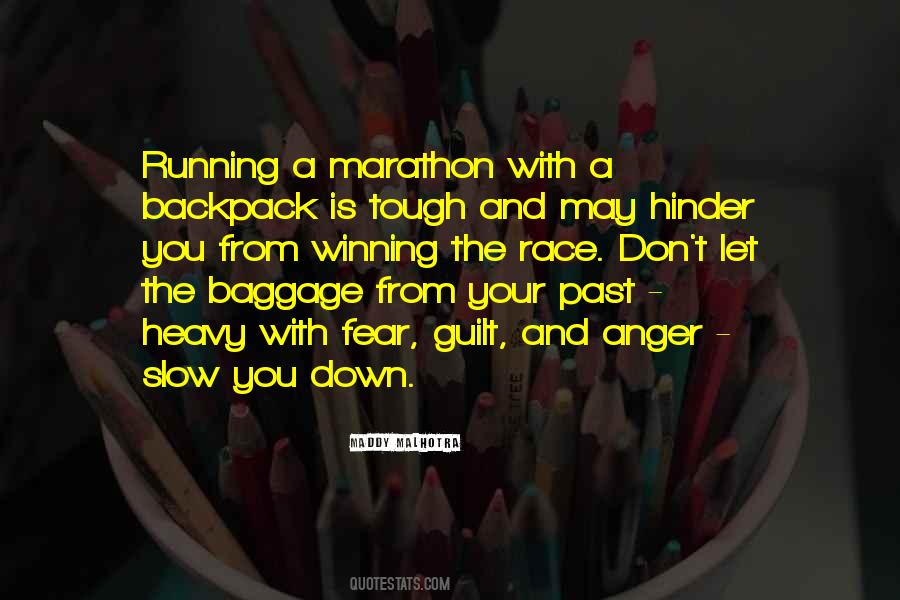 #57. People really do change. Don't let anyone tell you differently. That the future does not conform to the past is not the exception, but the rule. - Author: Jonathan Evison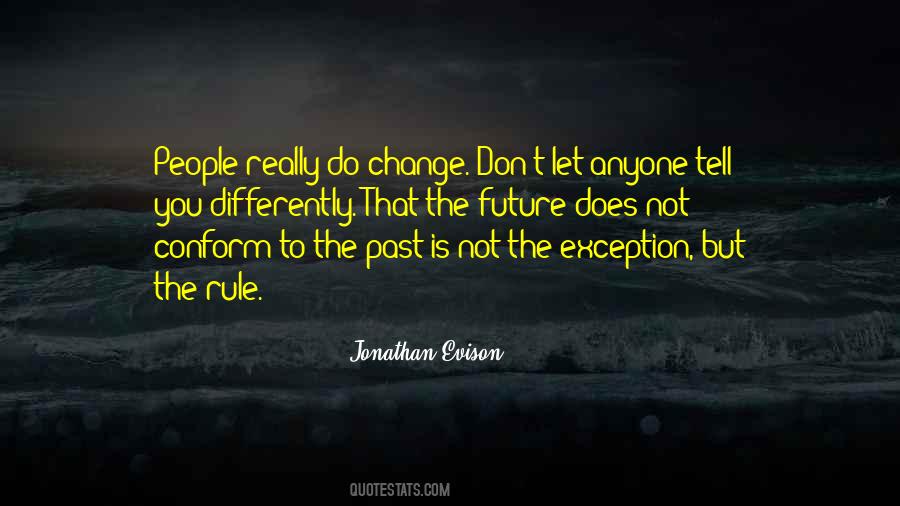 #58. Don't let regrets about the past or worries about the future rob you of your enjoyment of the present. - Author: Nicky Gumbel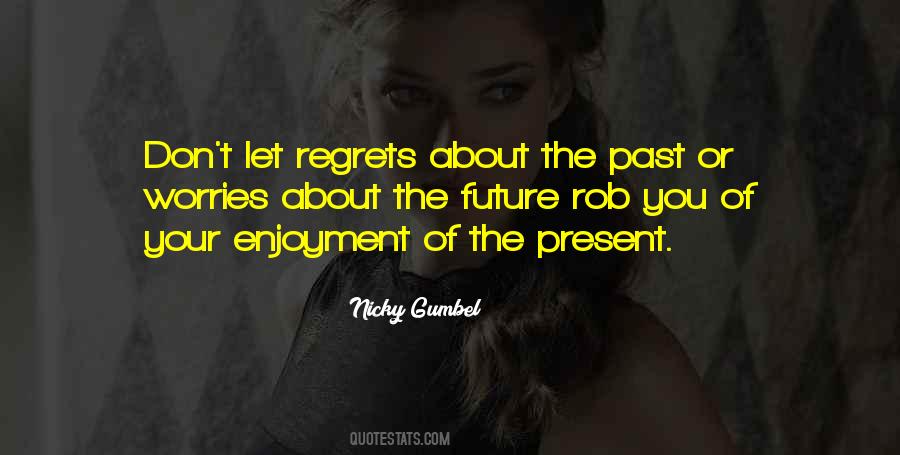 #59. Don't let the regret of the past take the better part of you,because you are a precious child of God.And our God needs you to stop living in the shadows of the past and be whole again with Him. - Author: Rhodalyne Doku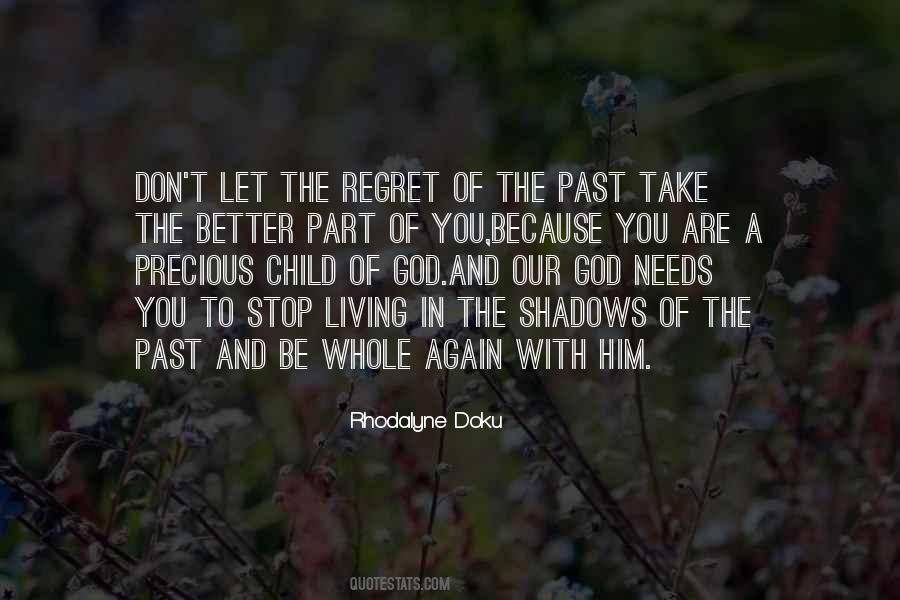 #60. Don't remain in bondage to the negative energy produced by past pain and disappointment. Let forgiveness be your freedom. - Author: Stephan Labossiere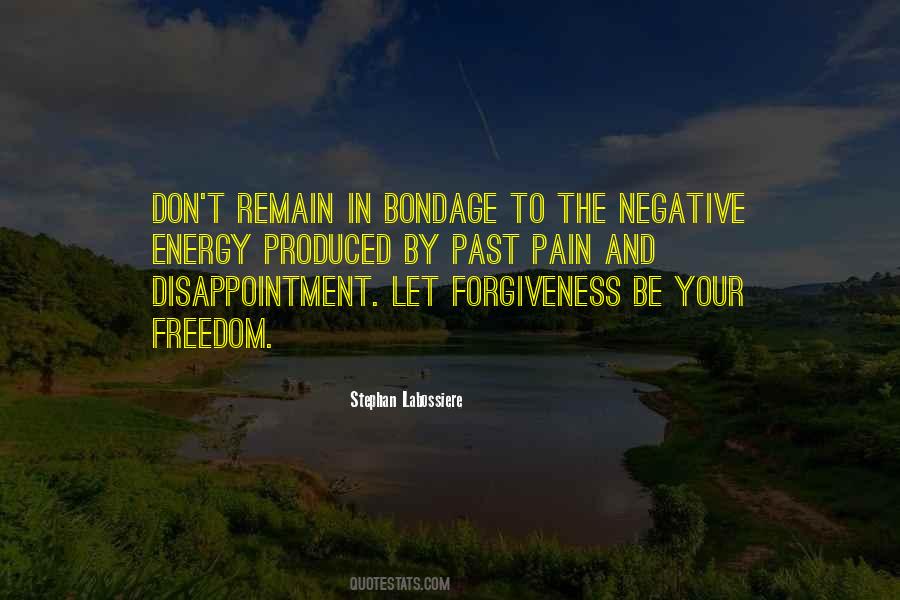 #61. Don't go back over the past. Let it depart, never to return. - Author: Naguib Mahfouz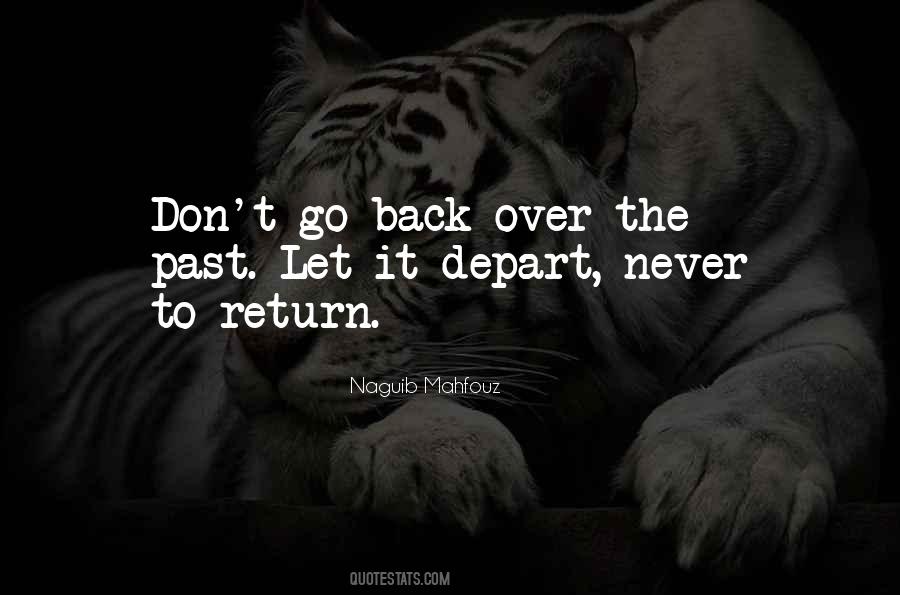 #62. Don't let your imagination to be crushed by life as a whole. Don't try to pictures everything bad that could possibly happen. Stick with the situation at hand ... Then remind yourself that past and present have no power over you. Only the present. - Author: Marcus Aurelius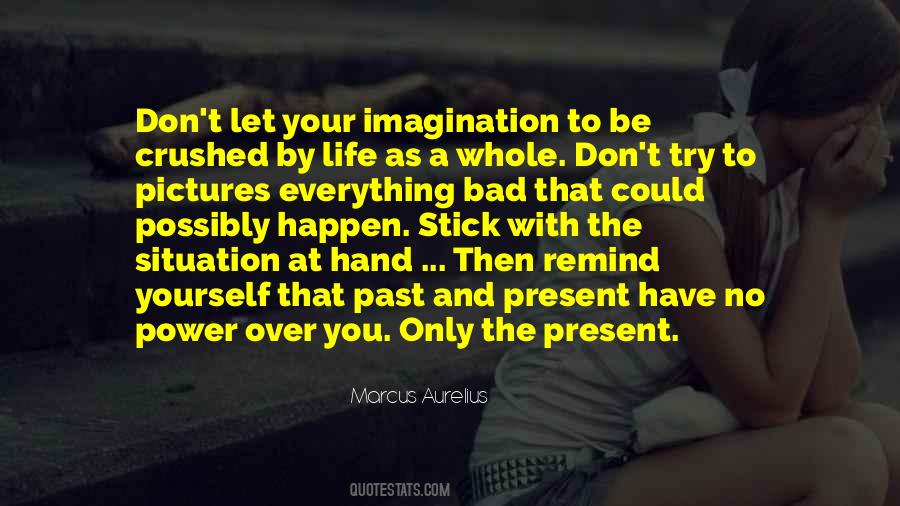 #63. Caring for someone is scary [ ... ] But you can't fear dictate your life [ ... ] Don't live life hiding behind your past, live right now. When you find someone you want to spend forever with, you don't let them go, whether forever turns out to be a day or a year or a hundred years - Author: Nicole Williams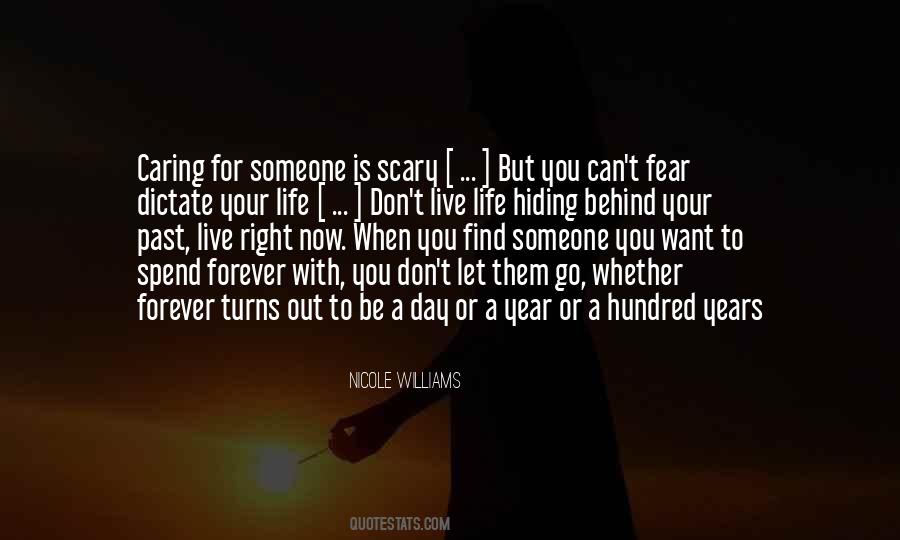 #64. You can't change the past so don't let it haunt you. You can change the future but first you've got to want to. - Author: Pat Benatar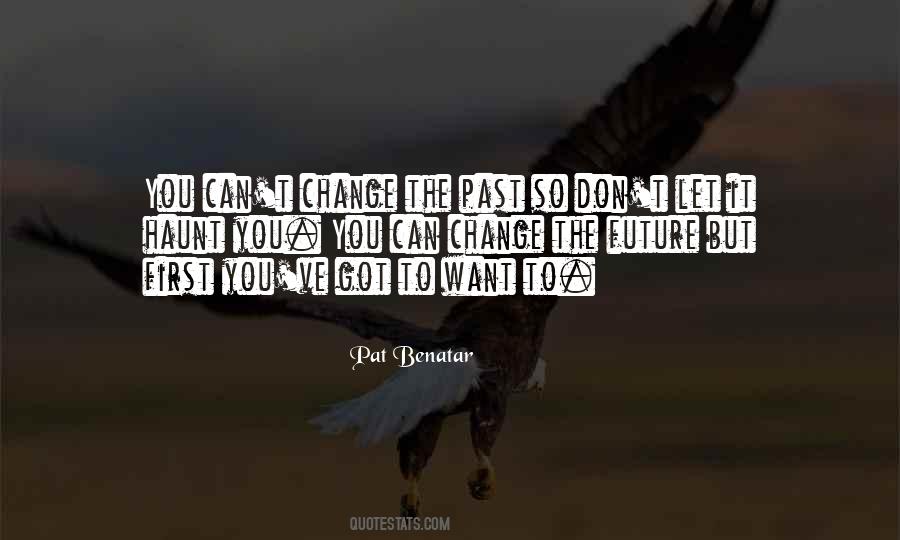 #65. I've spent most of my life trying to make it to a future that still hasn't happened, or avoid a past that won't let me go. I don't remember when I've ever just stopped to live in the present, to hold on to the seconds I'm in. ~ Emma - Author: Rebecca Donovan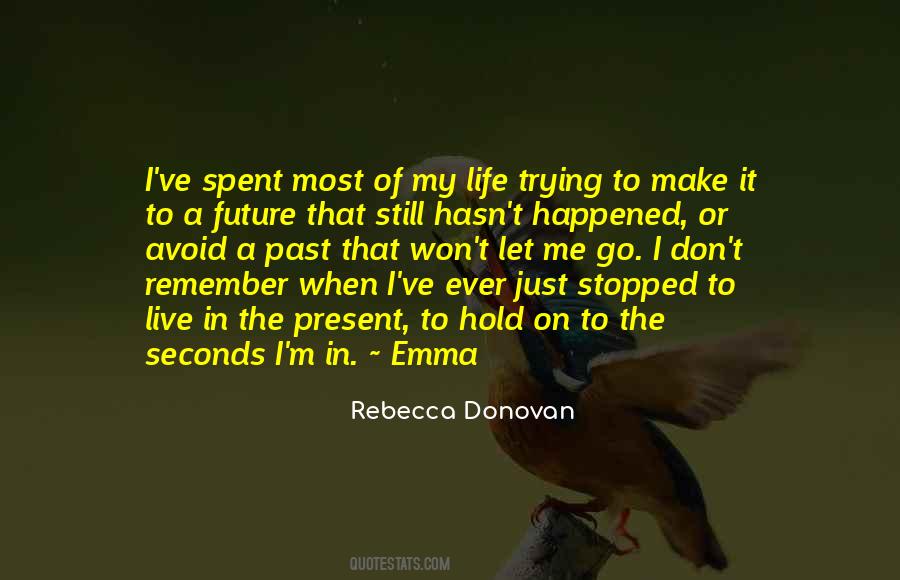 #66. You know people don't get better as we get older- we just get more of who we are. - Author: Jonathan Carroll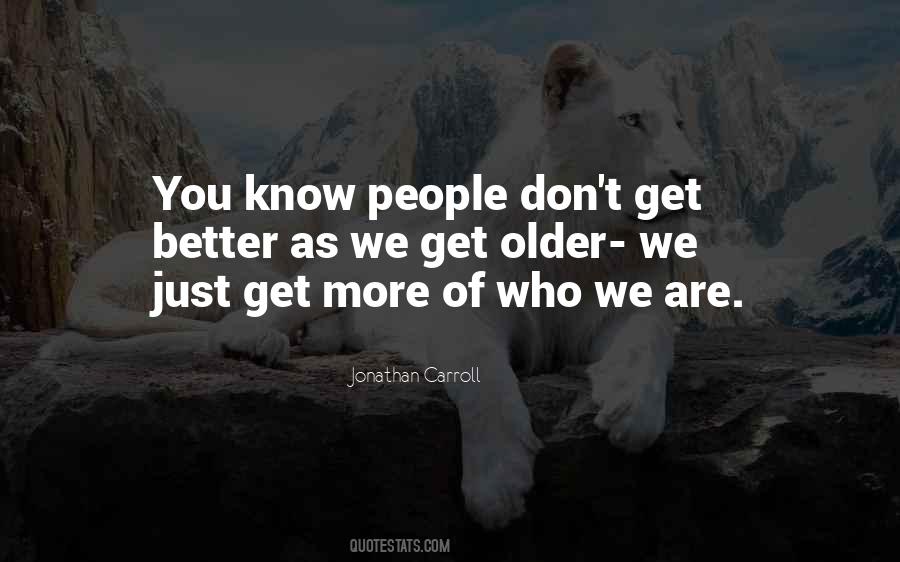 #67. I don't have time to beat myself up over my fallible nature. Instead I use my energy to learn from my past and let it inform my future. It's time to own all of our glory, mistakes, mess and light and be gentle to ourselves. Let's be kind to our spirits and celebrate the truth of our hearts. - Author: Grace Gealey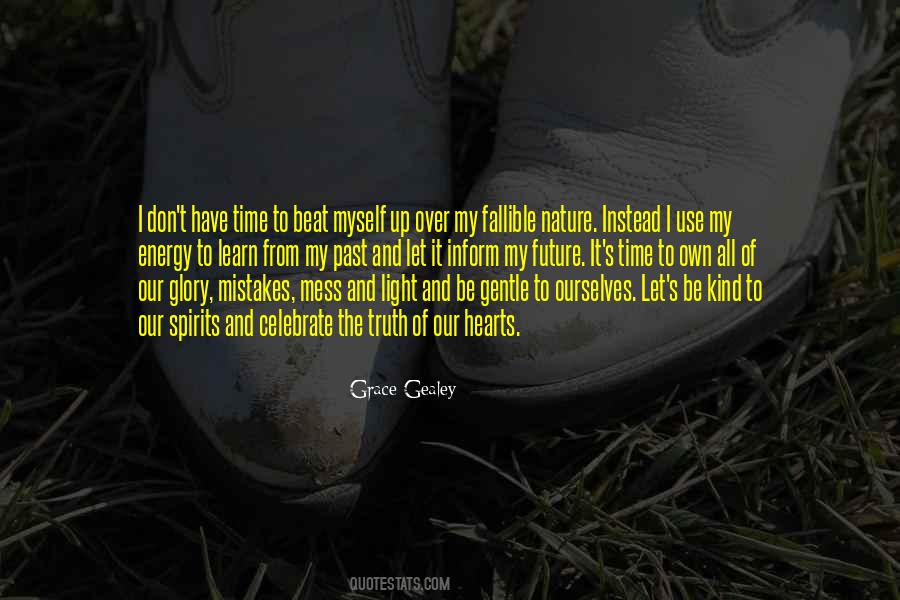 Famous Authors
Popular Topics