Don't Hold Me Back Famous Quotes & Sayings
List of top 86 famous quotes and sayings about don't hold me back to read and share with friends on your Facebook, Twitter, blogs.
Top 86 Don't Hold Me Back Quotes
#1. Making excuses as to why you cannot do something based on what you don't have, or what hasn't happened yet, only serves to hold you back even further. WAIT FOR NOTHING & NO-ONE. - Author: Miya Yamanouchi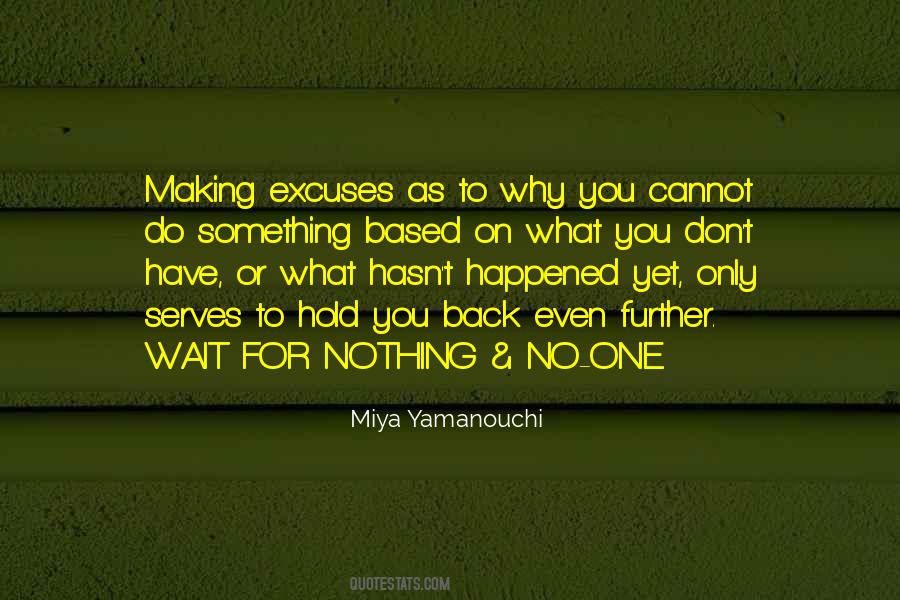 #2. If you like the story then don't hold back in telling me about it, and if you don't then please keep your opinions to yourself! - Author: Erle Stanley Gardner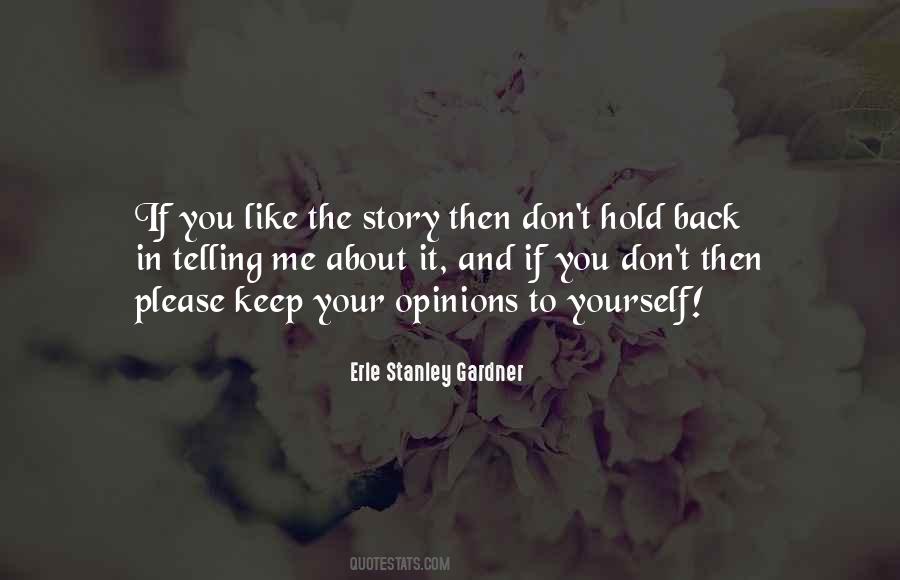 #3. People think edges are bad, but they are really there to keep up from falling to pieces. They don't hold us back, they hold us in. They hold us together. - Author: Lisa Mangum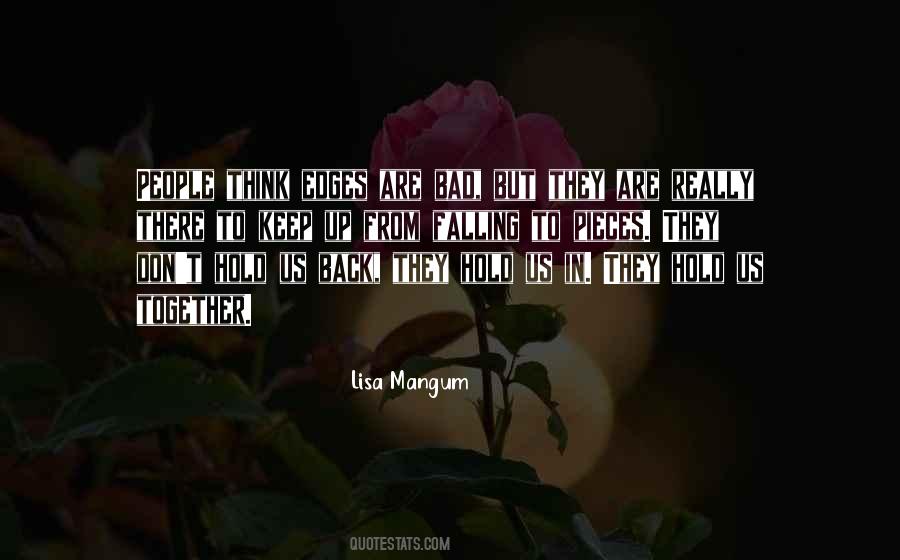 #4. I like to write with people I have a relationship with; otherwise it's kind of scary, and you hold back because you don't want to pour your guts out to someone you never met. - Author: Miranda Lambert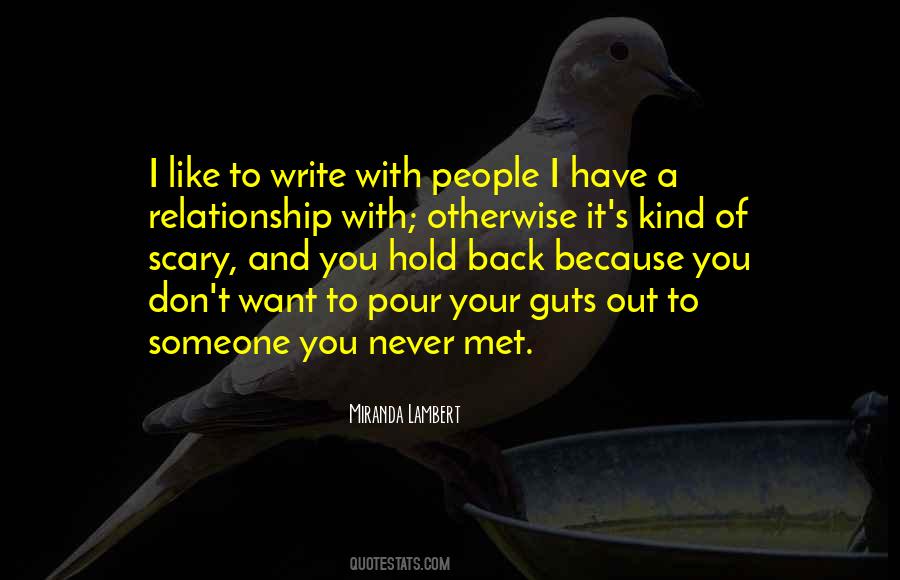 #5. You get what you give, and not only that, the giving is already the getting. So don't hold back. Don't look back or forward too much. Just be there where you are now. You're always only in the day you're in. - Author: Kim Stanley Robinson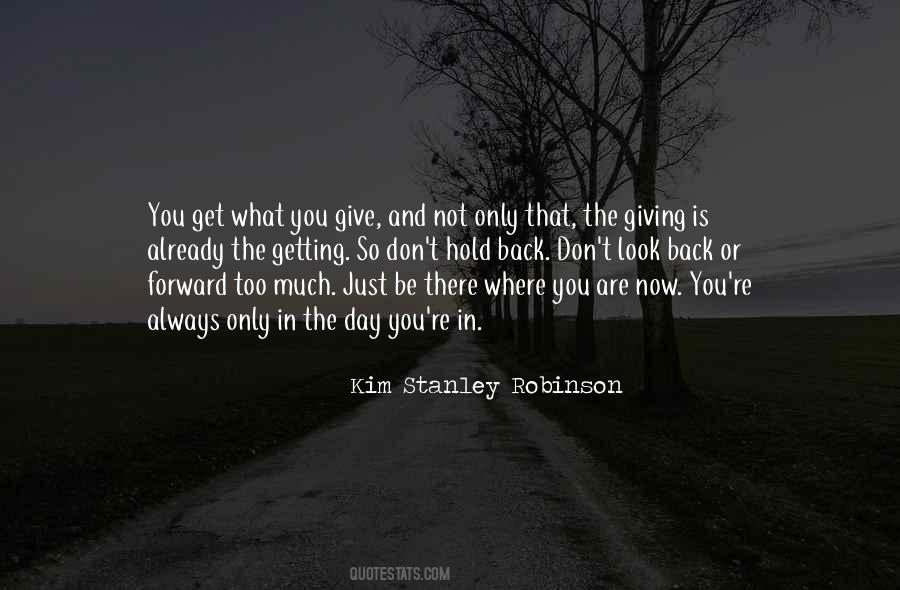 #6. To me, the job of a playwright is to explore and bring to light our lives. You can't hold back; you have to give in to this. Sometimes, you say things people don't want to hear. - Author: Ted Lange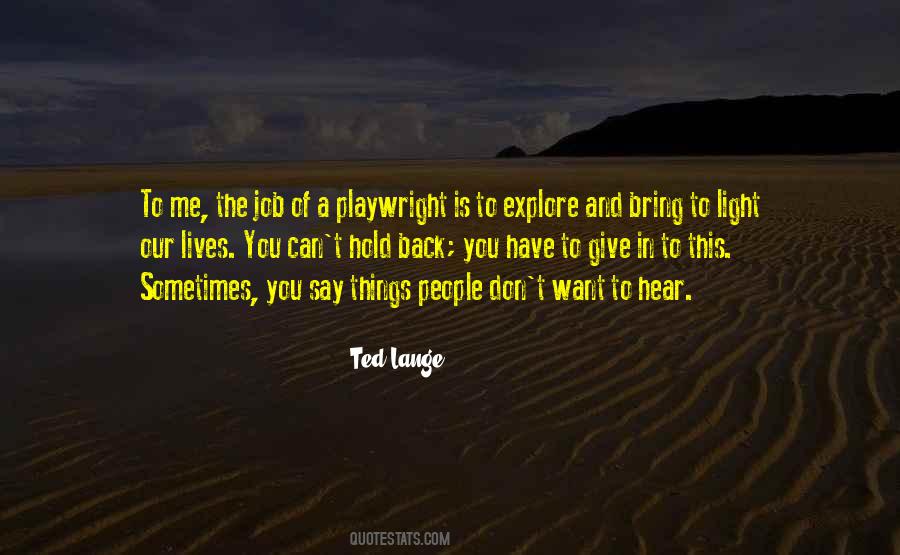 #7. Dont ever hold back anything back from me. I want to now ... I want to know what you're feeling , even if you think I don't, even if you have trouble saying it - Author: S.C. Stephens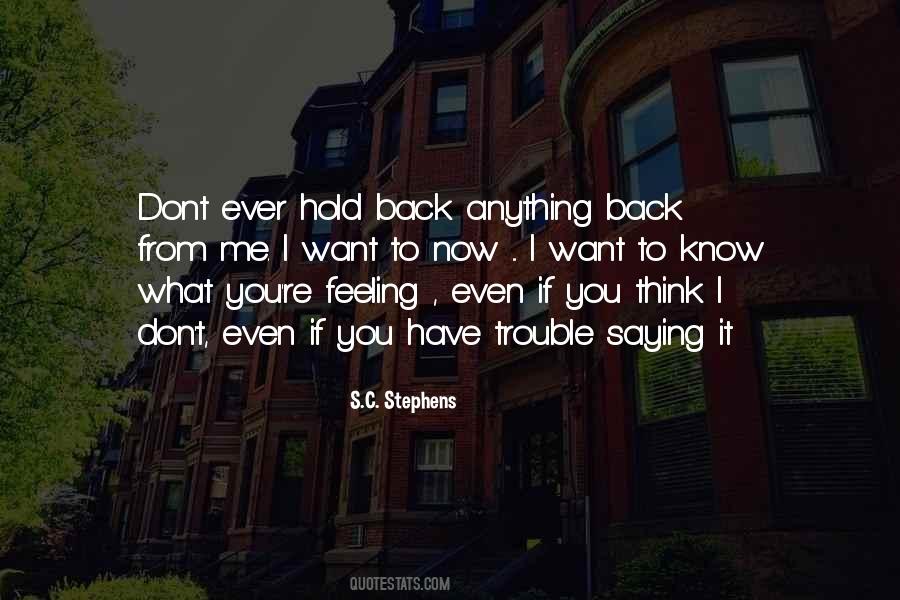 #8. I can give you the King's English and then I can take it to the street, but do both or do one and don't do one knowing only the street. That's going to hold you back because what comes out is going to impress people, and it will impress them negatively. - Author: Angela Bassett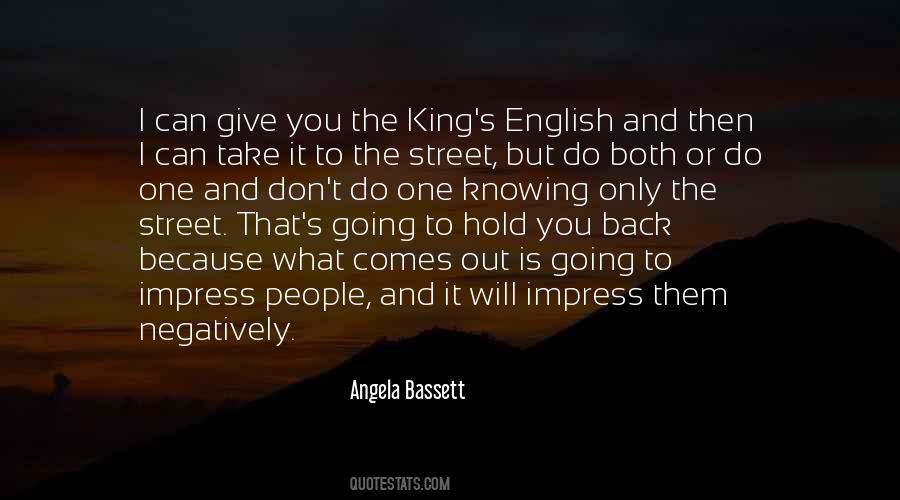 #9. True friends don't hold us back spiritually or pull us down when we're trying to rise and progress. True friends protect us. True friends help us be better than we would be on our own. - Author: Robert D. Hales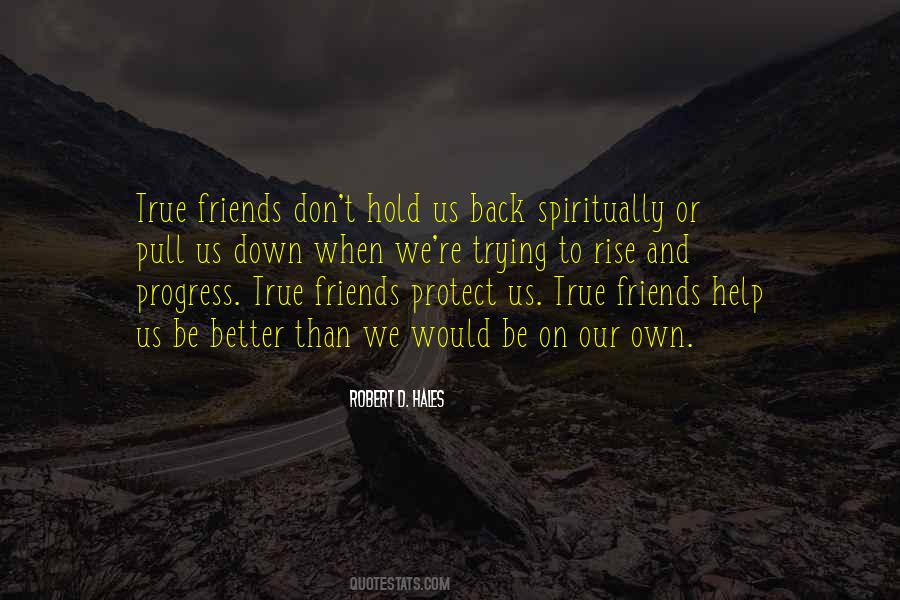 #10. The thing about kids is that they express emotion. They don't hold back. If they want to cry, they cry, and if they are in a good mood, they're in a good mood. - Author: Eddie Murphy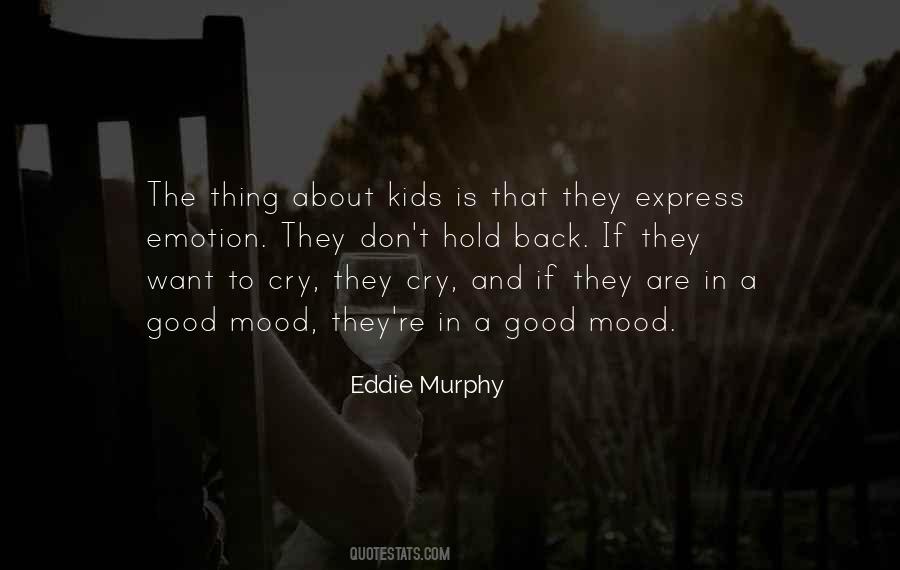 #11. I don't hold back when I make love, Freckles, and I'll make sure you don't, so this is neither the place nor time to make you mine. - Author: Ednah Walters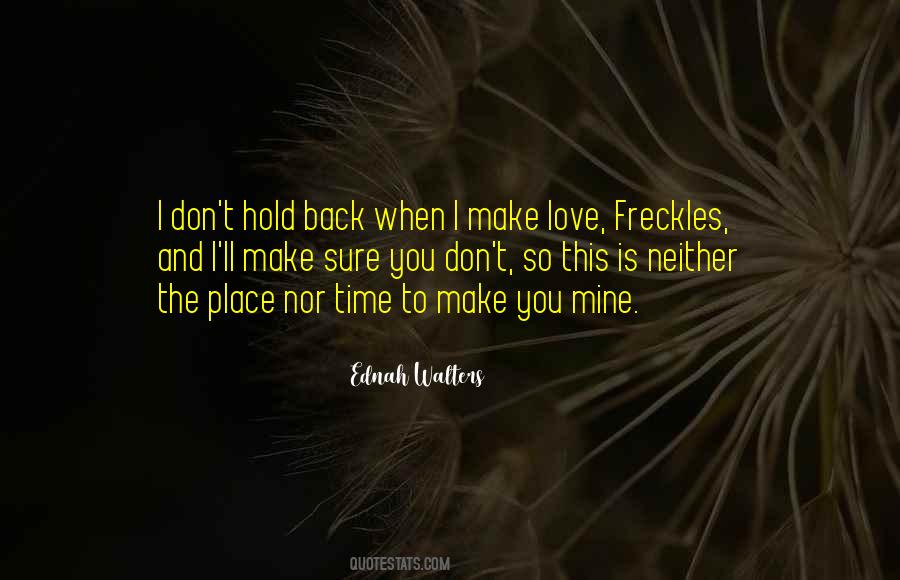 #12. Whenever I start dating someone new, I just can't hold back. No matter how often my girlfriends warn me,'Take it slow, let him win you over, don't give it away so quickly,'I just can't resist-I have to cook for him... - Author: Giulia Melucci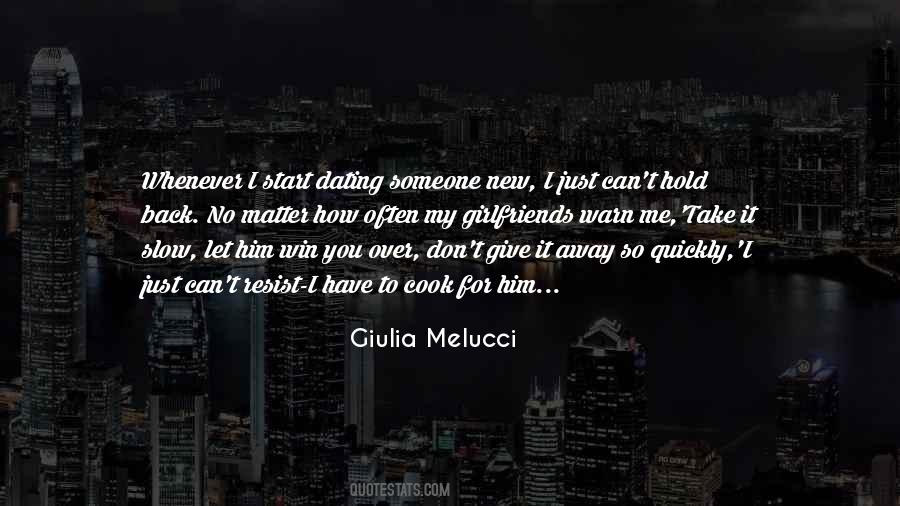 #13. Don't let your fear hold you back, Jaz." - Alf Abrahamsen - Author: A.Z. Green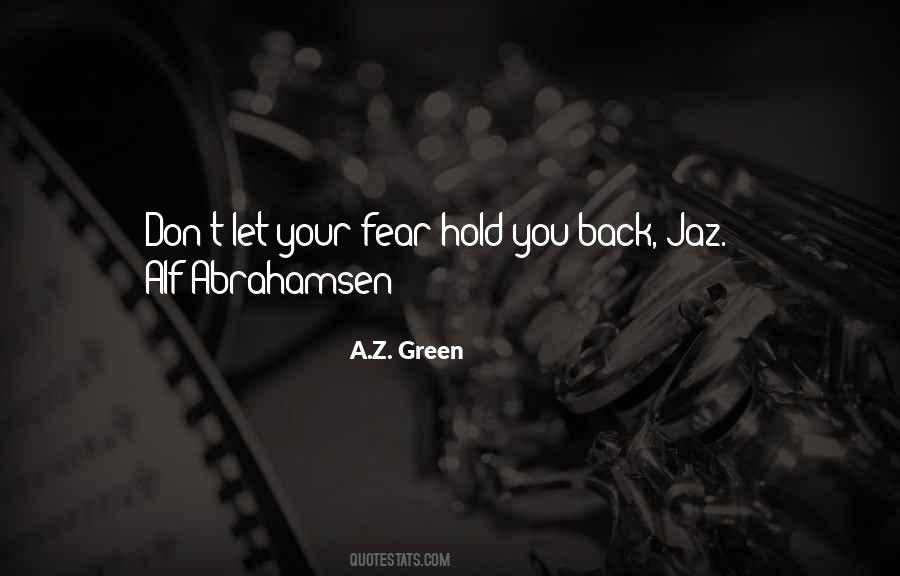 #14. When love itself comes to kiss you, don't hold back! - Author: Rumi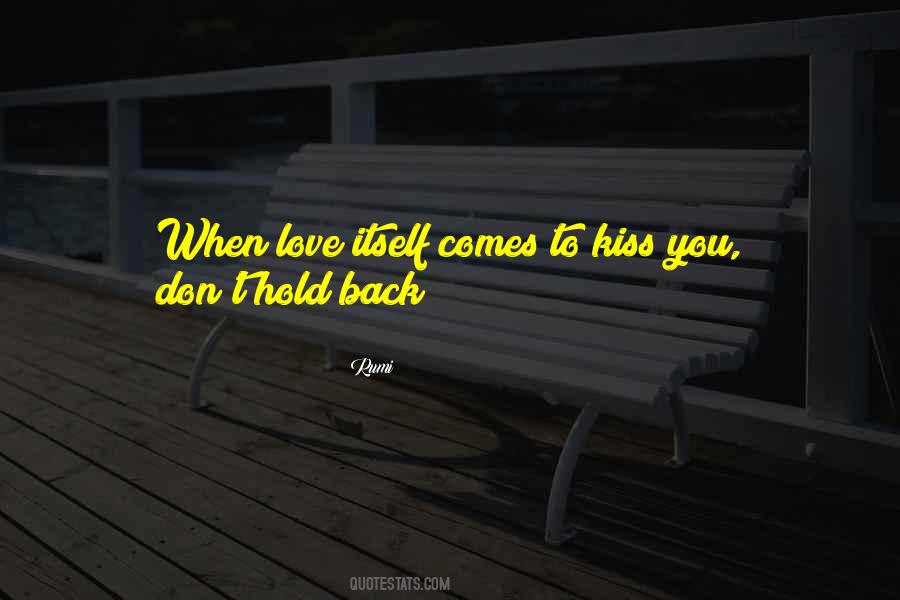 #15. I don't want to eke out my life like a resource in short supply. The only selfish life is a timid one. To hold back, to withdraw, to keep the best in reserve, both overvalues the self, and undervalues what the self is. - Author: Jeanette Winterson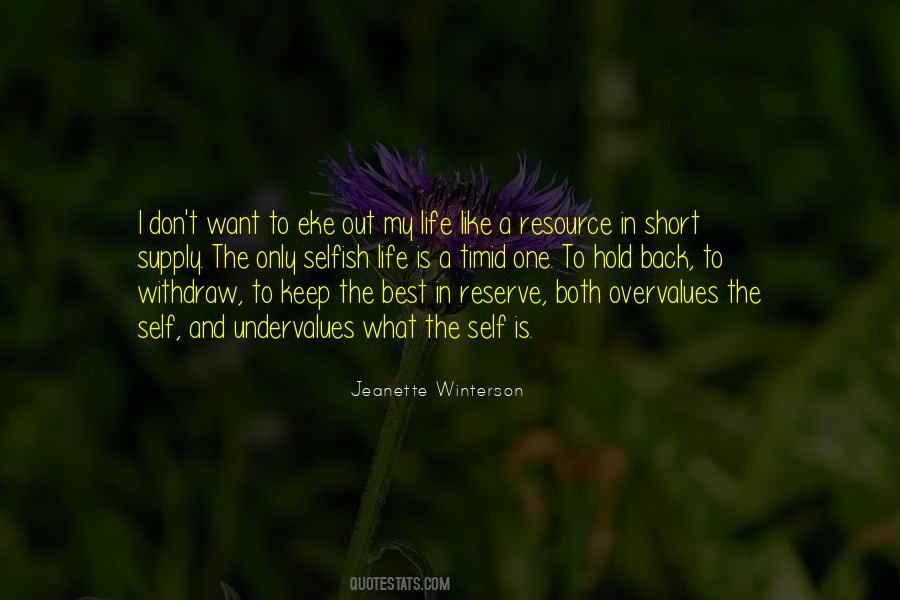 #16. Just don't hold back. Don't be afraid to make mistakes and stuff.. - Author: Kristen Stewart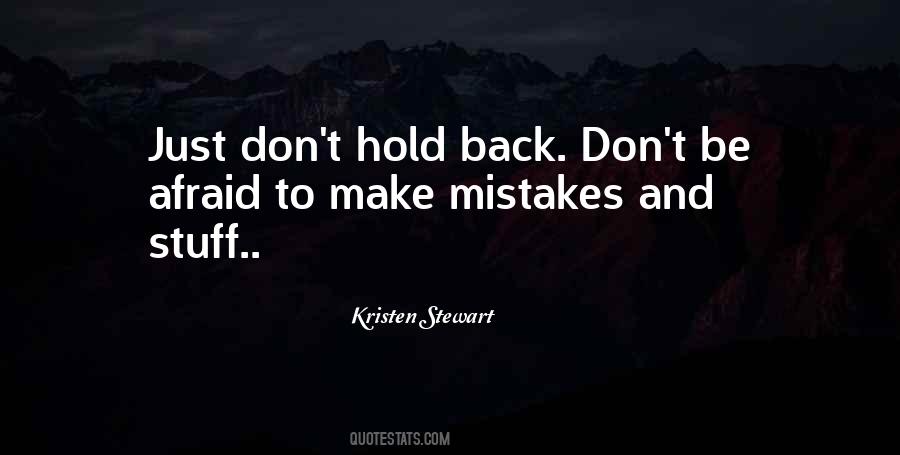 #17. I spent the past two years fearing the worst, that I chose safe arms to hold me when his arms weren't the arms I longed to be in, nor were they really safe. I thought it's what I deserved. I thought I couldn't belong in the arms I wanted to really hold me. - Author: Andrea Michelle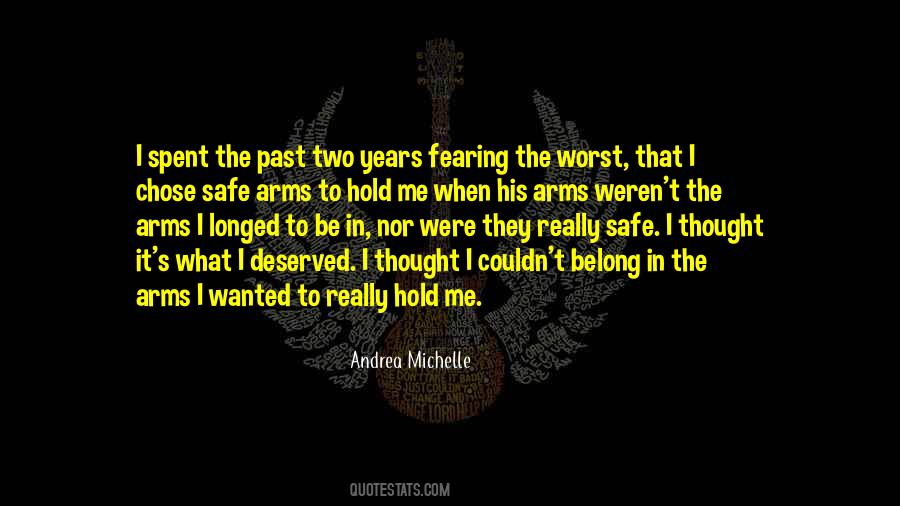 #18. Tell the story that's in your heart, and don't hold back. Write a book the reader will want to melt into. - Author: Susan Wiggs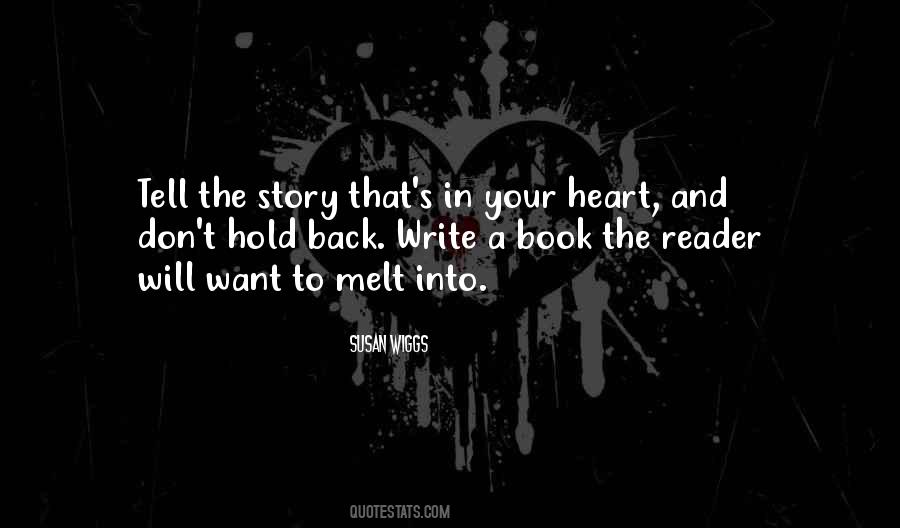 #19. Don't save something good for a later place. Don't hold back from your students, from the poor, don't try to keep anything for yourself 'cause it'll turn to ashes. - Author: Annie Dillard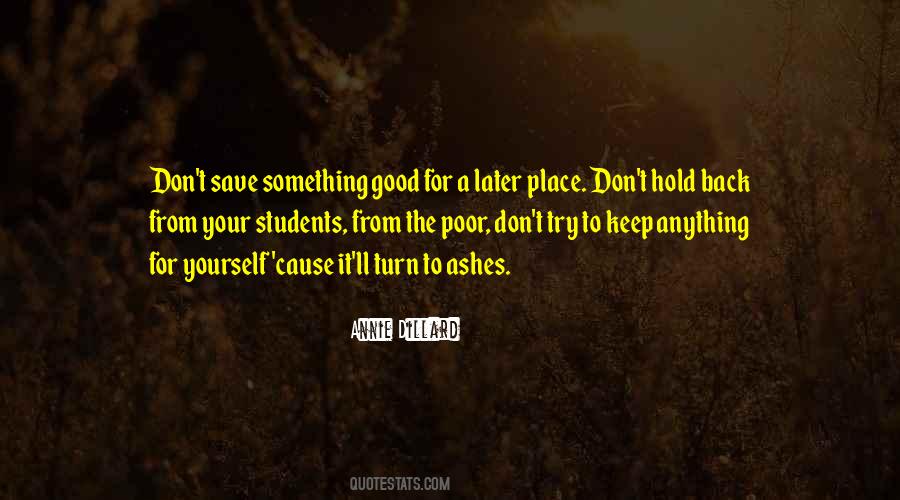 #20. I promised, I will not leave you. I will not hold back anymore. I will not allow anyone to get in between us. They don't have to deal with just you anymore. They'll have to deal with me too. - Author: Tijan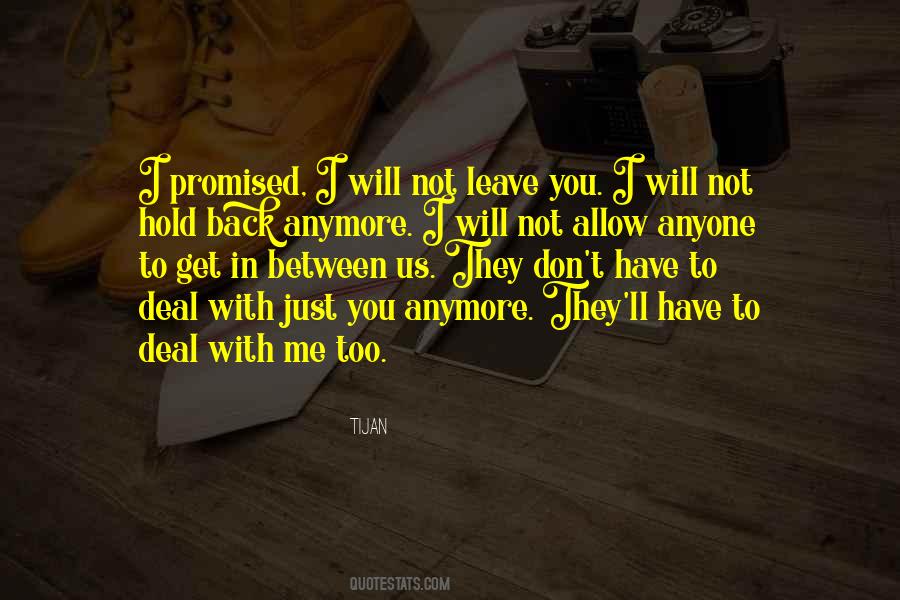 #21. In life it's not how you fall but how you get up that really counts! Don't let mistakes from your past haunt and hold you back ... always keep moving forward in your life - Author: Timothy Pina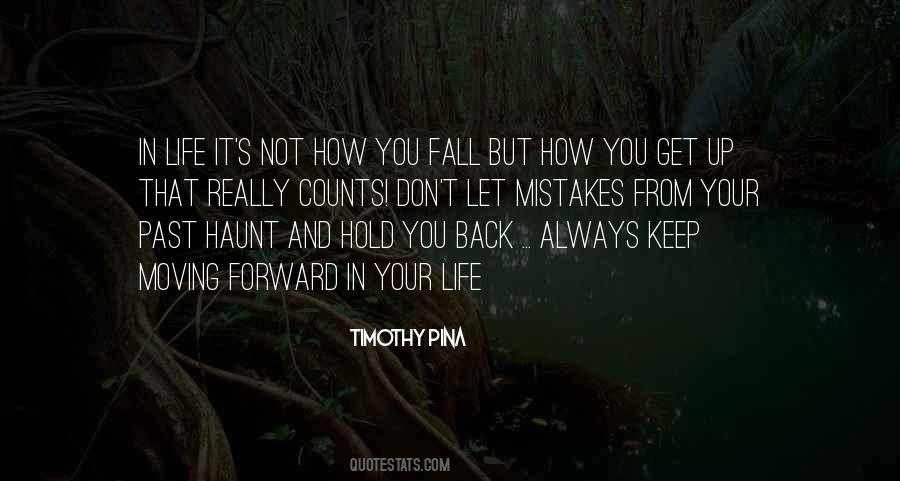 #22. There are people out there who don't actively hold you back as much as they work quietly on your insecurities so that you hold yourself back. - Author: Michael James Jackson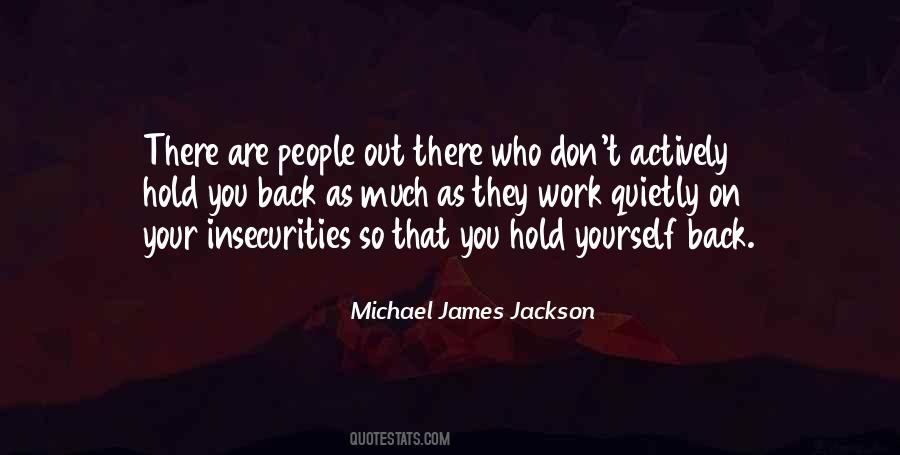 #23. Just don't lean forward too much. It's meant for people to sit back, hold onto each other and relax. The lover's ride. - Author: Alexia Purdy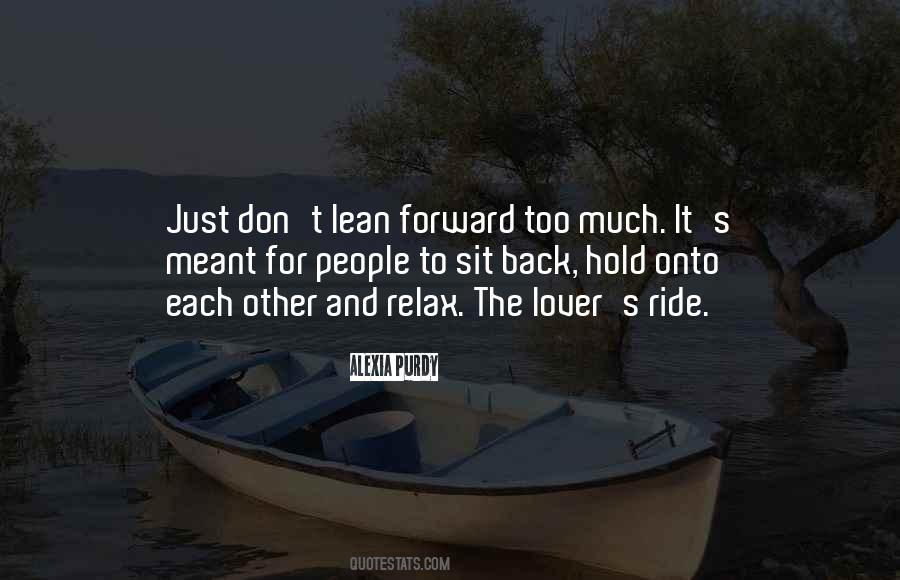 #24. Just don't give up on us. Please, don't give up. I'm a shell without you, Alayna. I can barely breathe when you aren't near me, when I'm not touching you. Right now, it's all I can do to hold myself back from taking you in my arms. - Author: Laurelin Paige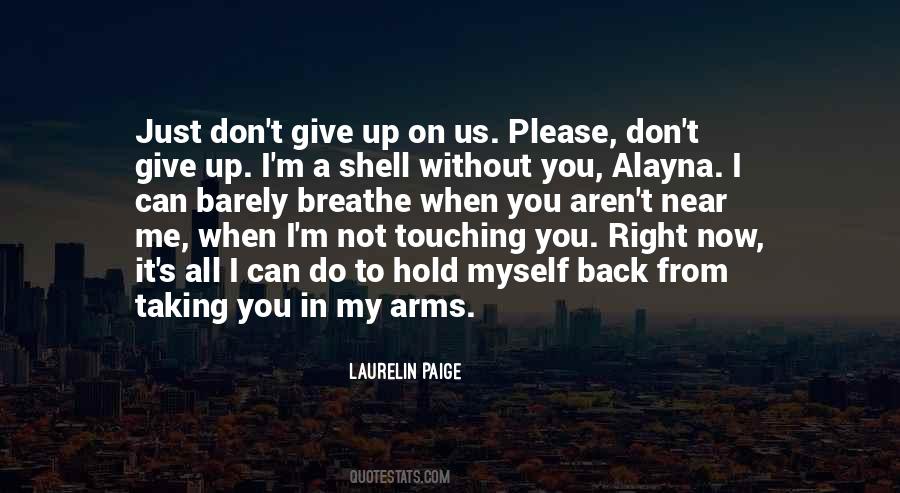 #25. You don't wanna breathe, babe. You wanna find time to repair your shield to hold me back. - Author: Kristen Ashley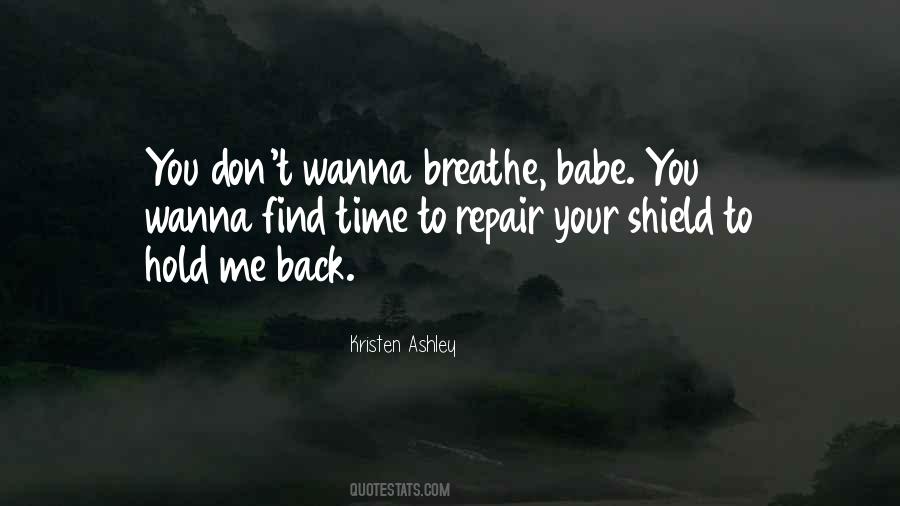 #26. That's one thing about me, and I think that's what most of my fans enjoy about me, that I don't hold nothing back. I do exactly what I want to do, and say exactly what I want to say. - Author: Lil' Wayne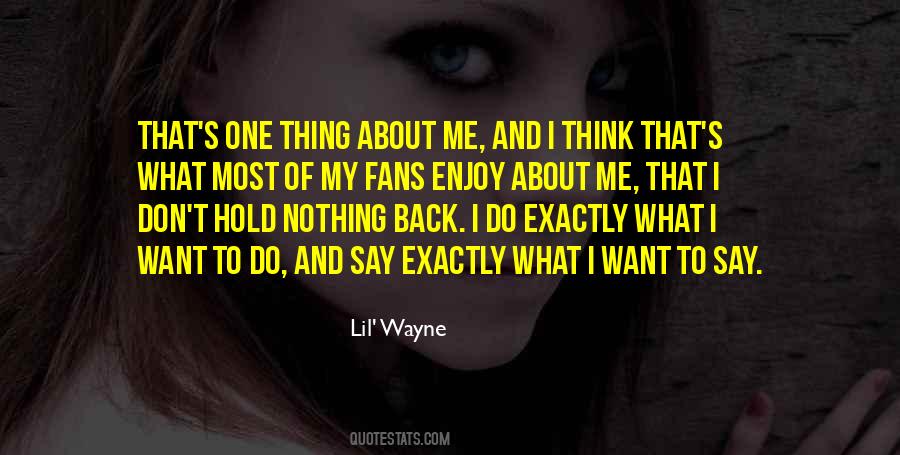 #27. Mama you hold the fuck on! You promised me! Don't you leave me woman or I swear to fucking Christ I will find a way to follow you and drag your fucking ass back here! NICOLE!!" - Author: Jordan Marie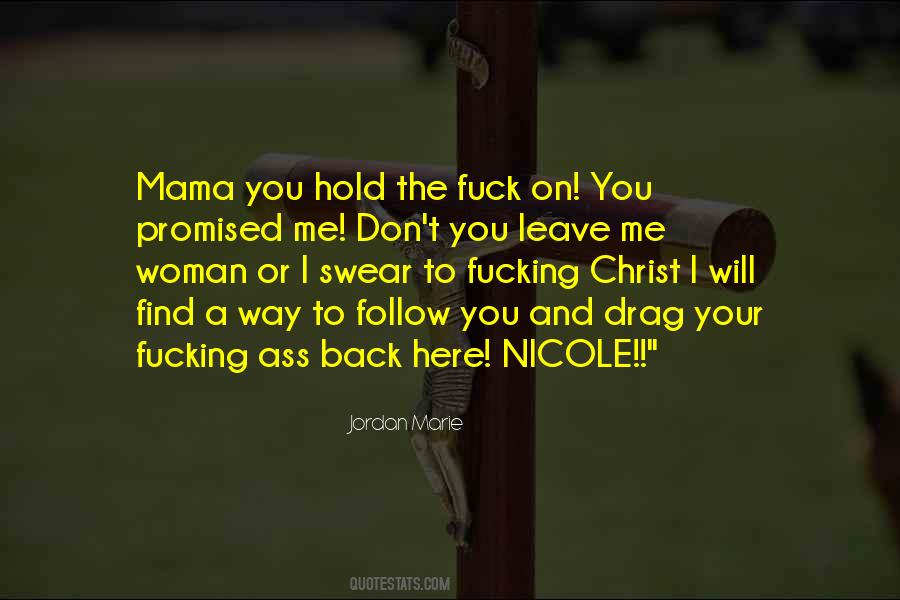 #28. Don't let thoughts of me hold you back. Just do what you want to do. Otherwise, I might end up taking you with me, and that is the one thing I don't want to do. I don't want to interfere with your life. - Author: Haruki Murakami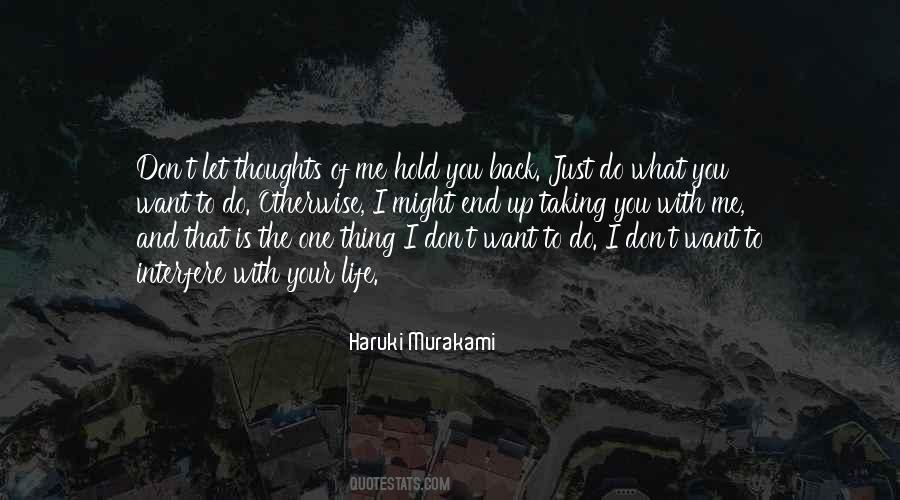 #29. I have seen what a handful of girls can do. They can hold back an army if necessary, so please don't tell me it isn't possible. - Author: Libba Bray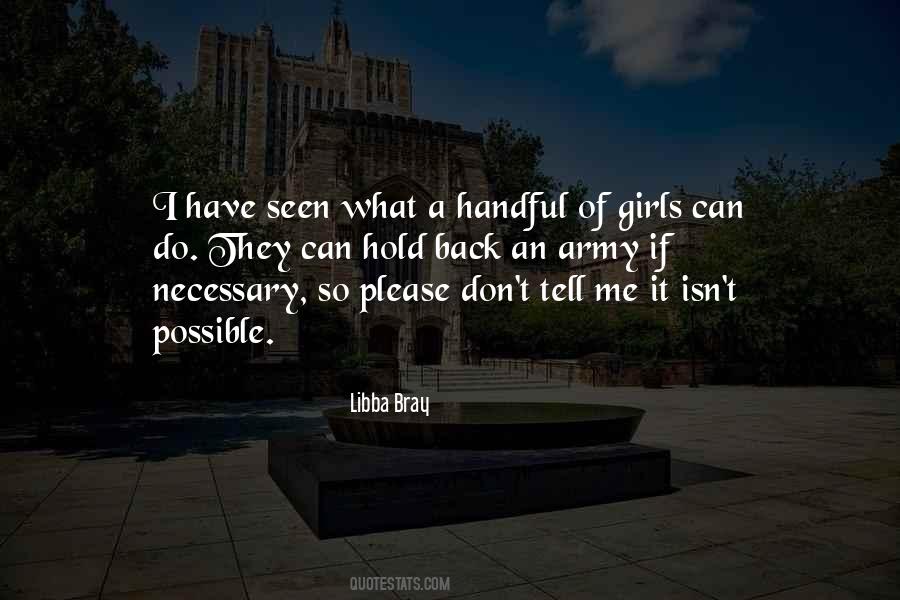 #30. I don't want to forget any of this. The way he's looking at me at this very moment. How, when he kisses me, I still get shivers down my back, every time. I want to hold on to everything so tight. - Author: Jenny Han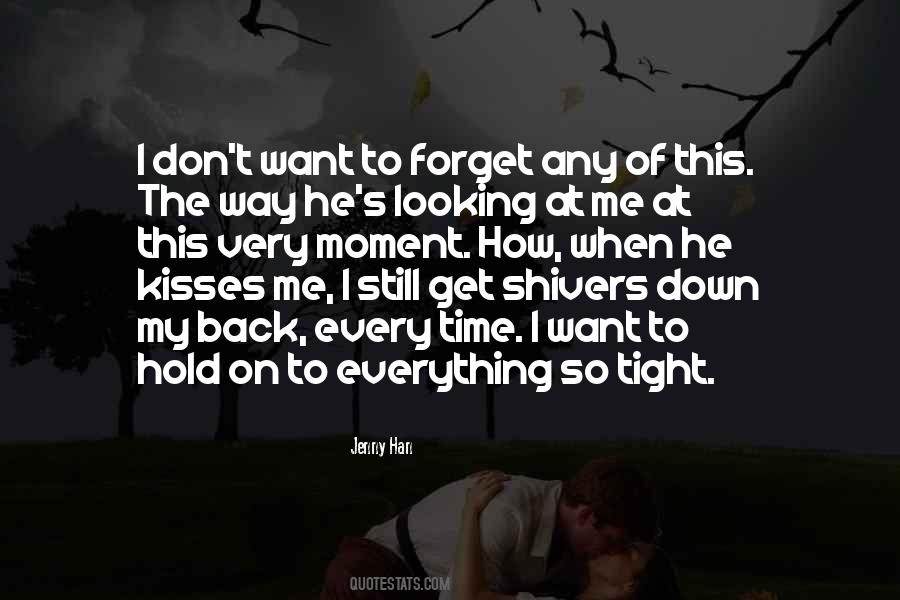 #31. Move on, don't let the little things of Life hold you back. Forget, Forgive, and Move on. - RVM. - Author: R.v.m.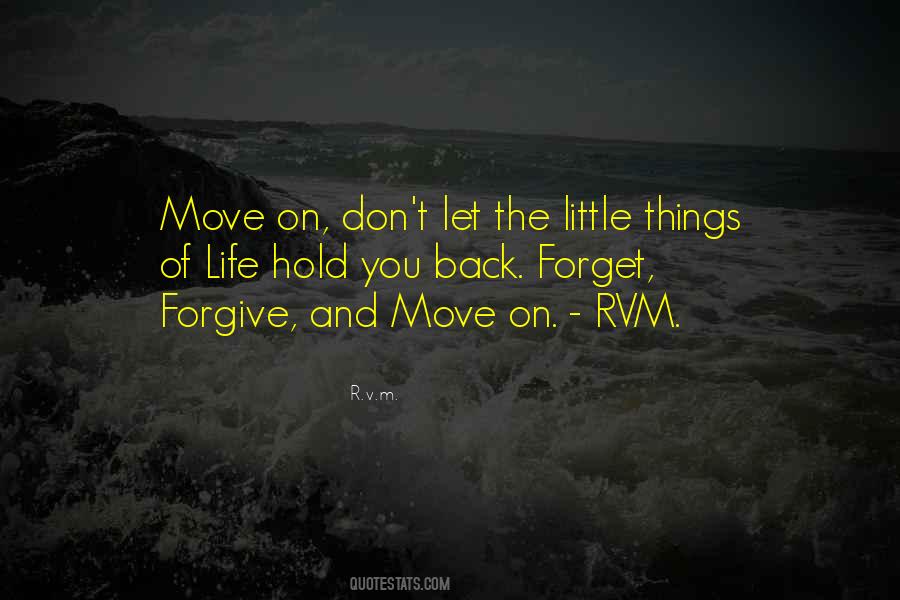 #32. Writing a book is exactly like love. You don't hold back. You give it everything you have. If it doesn't work out, you're heartbroken, but you move forward and start again anyway. You have to.
You don't hold some of yourself in reserve. It's all or nothing. There are no guarantees. - Author: Heather Sellers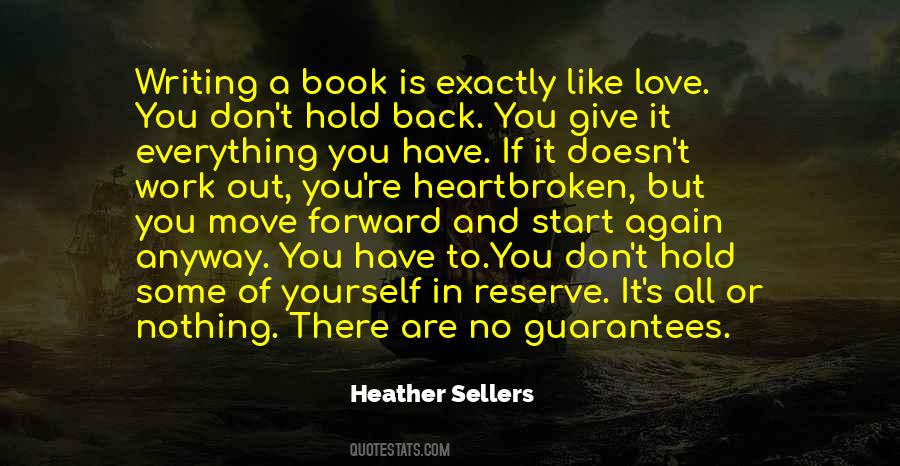 #33. If you love somebody; You better let it out; Don't hold it back; While you're trying to figure it out; Cause the only real pain a heart can ever know; Is the sorrow of regret; When you don't let your feelings show. So, did you say it, Did you mean it? - Author: Jewel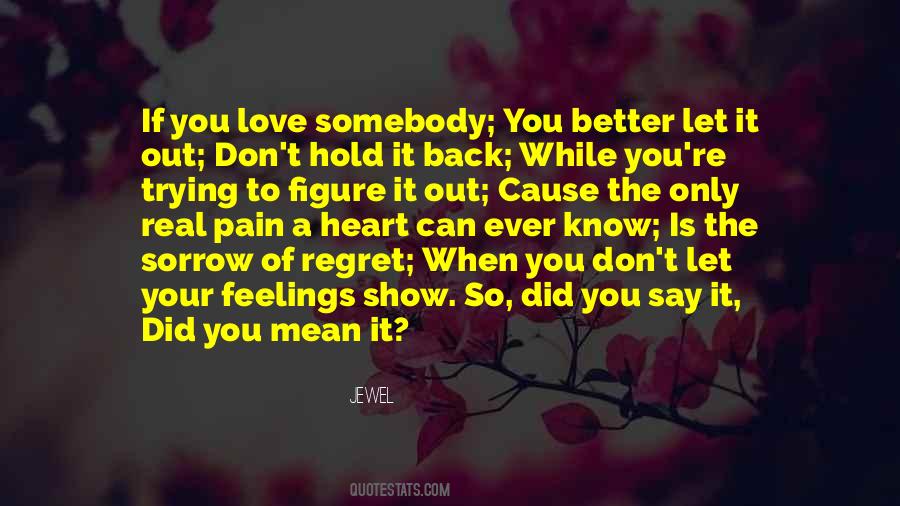 #34. This isn't fair. I tell you guys everything. I don't hold back anything."
"Believe me, I know," Della said. "I know more about you and Perry's relationship than the law allows. - Author: C.C. Hunter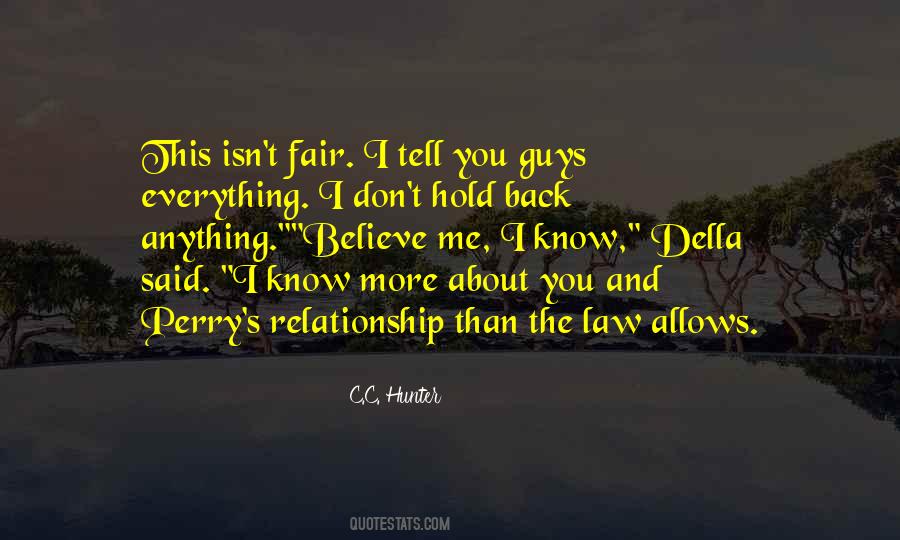 #35. Don't hold back in your writing. Take risks. Go ahead and tackle that crazy idea that you think will never fly, because that may be the one that makes you stand out from the crowd. Keep pushing the envelope. - Author: Carrie Vaughn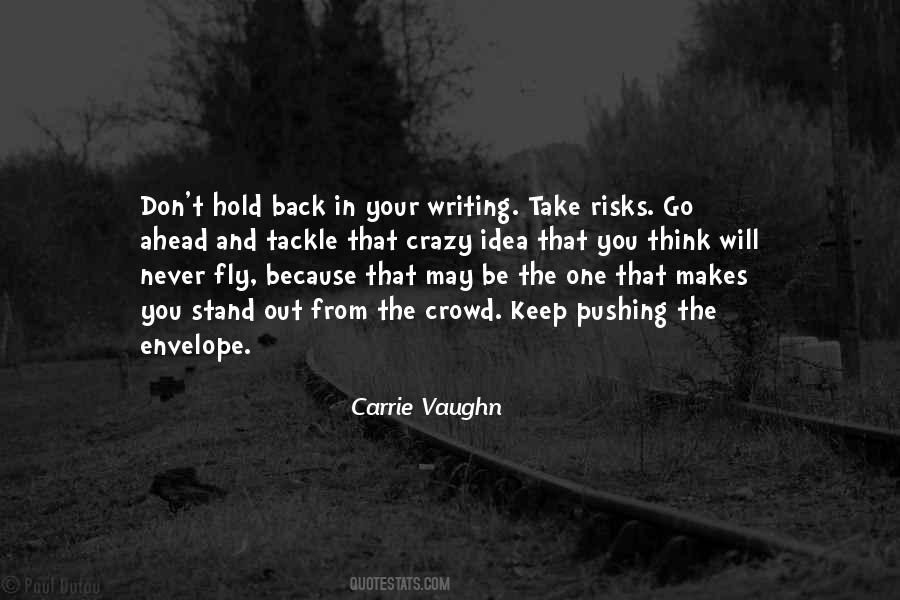 #36. I see it Kia, and I get this is gonna take effort. But what I'm sensin' is, you don't notice I'm makin' that effort. Don't fuck up, baby, and, out of habit, reinforce your shields to hold back a threat that doesn't exist. You get me? - Author: Kristen Ashley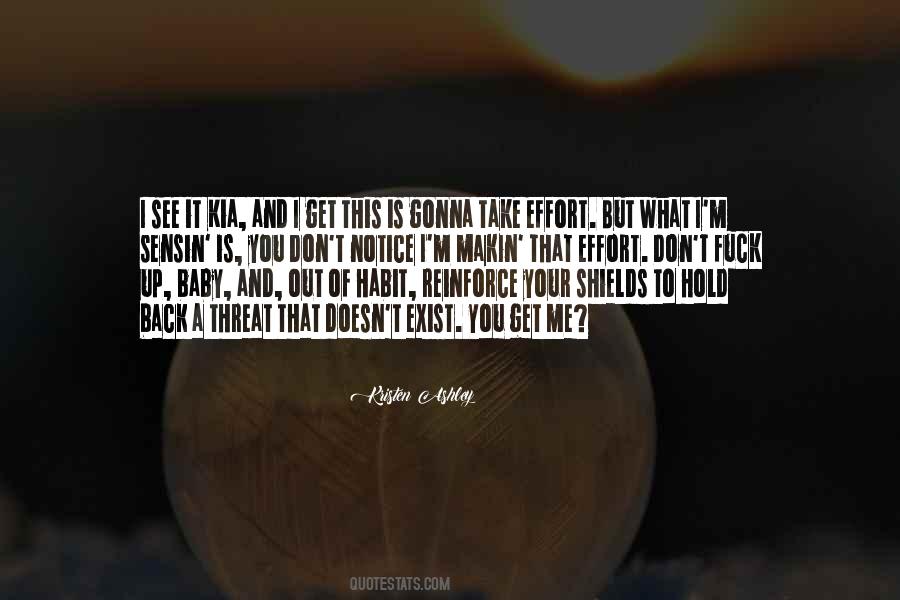 #37. I have legendary massive breakfasts at hotels. I don't hold back. I'll get there at 7A.M. and I'll be the last out at 11 A.M., having gone up and down the buffet seven times. - Author: Calvin Harris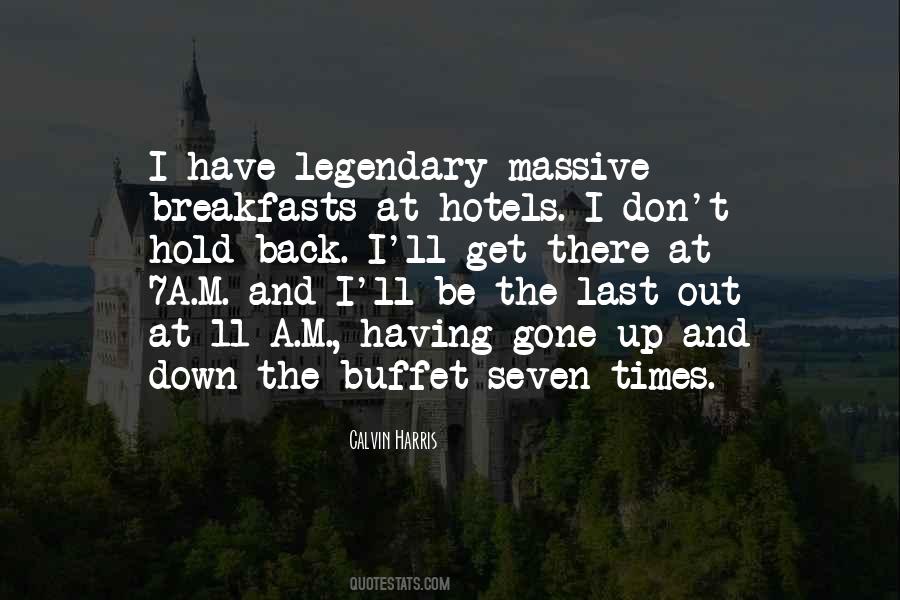 #38. Name the fears that are holding you back. It's the equivalent of flooding the boogeyman with light. - Author: Gina Greenlee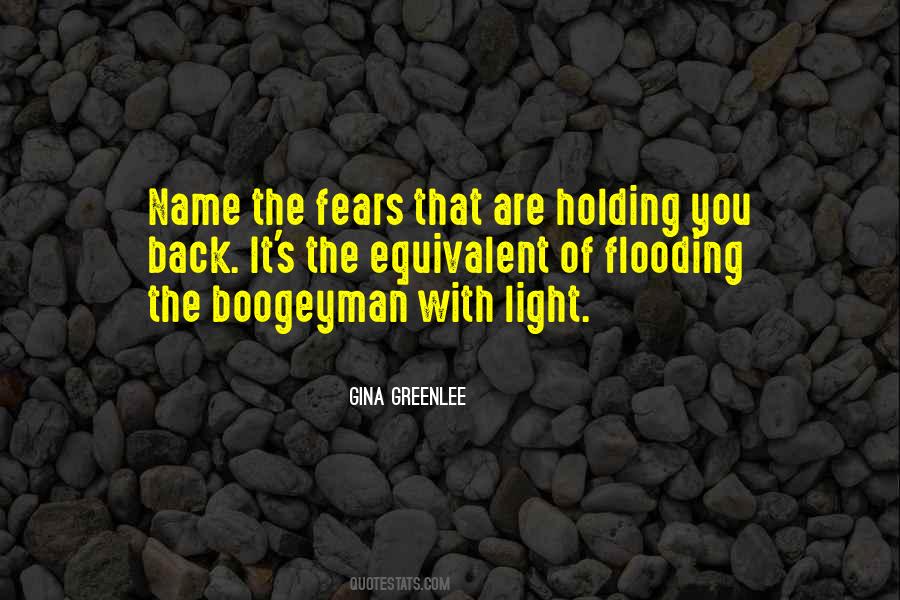 #39. It's so dark," she said lamely.
"You want me to hold your hand?"
Clary put both her hands behind her back like a small child.
"Don't talk down to me."
"Well, I could hardly talk up to you. You're too short. - Author: Cassandra Clare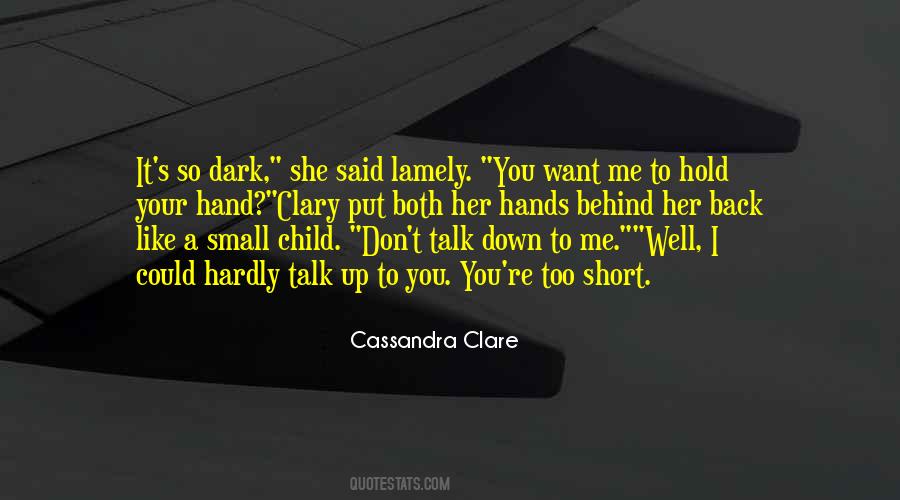 #40. You told me you weren't a victim ... Don't let that attack hold you back from living. - Author: Lisa Kessler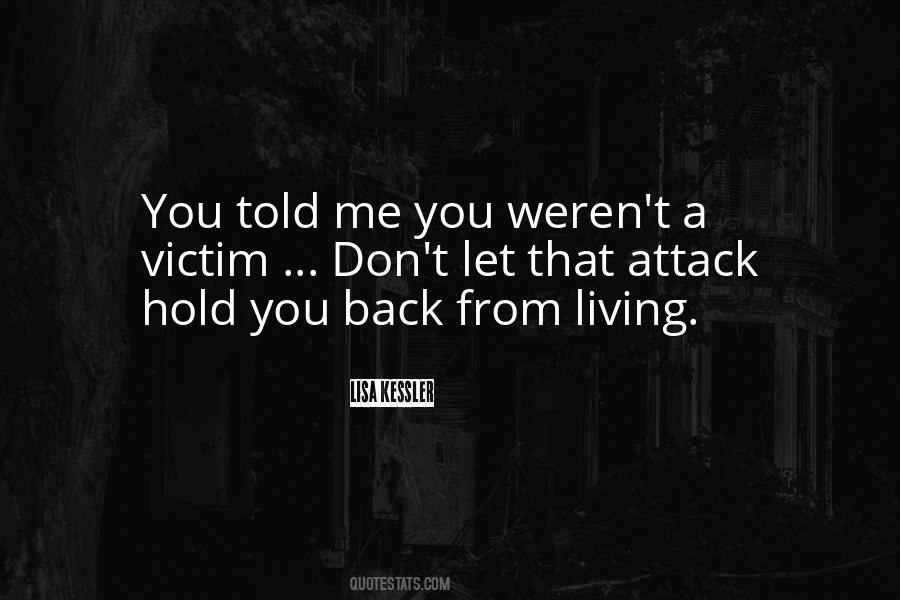 #41. The details are the life of it, I insist, say everything on your mind, don't hold back, don't analyze or anything as you go along, say it out. - Author: Jack Kerouac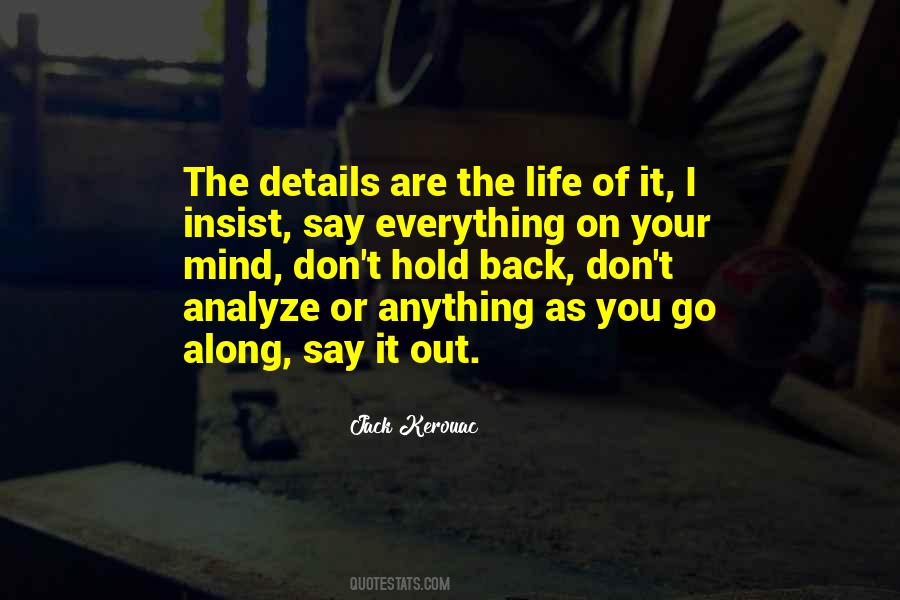 #42. I have a bad habit of inserting my ideas into shots and things. I don't know, I don't hold back on suggesting things, but I don't have any connection to what actually happens, so I'll make a suggestion on something and then just let it go. - Author: Bryan Cranston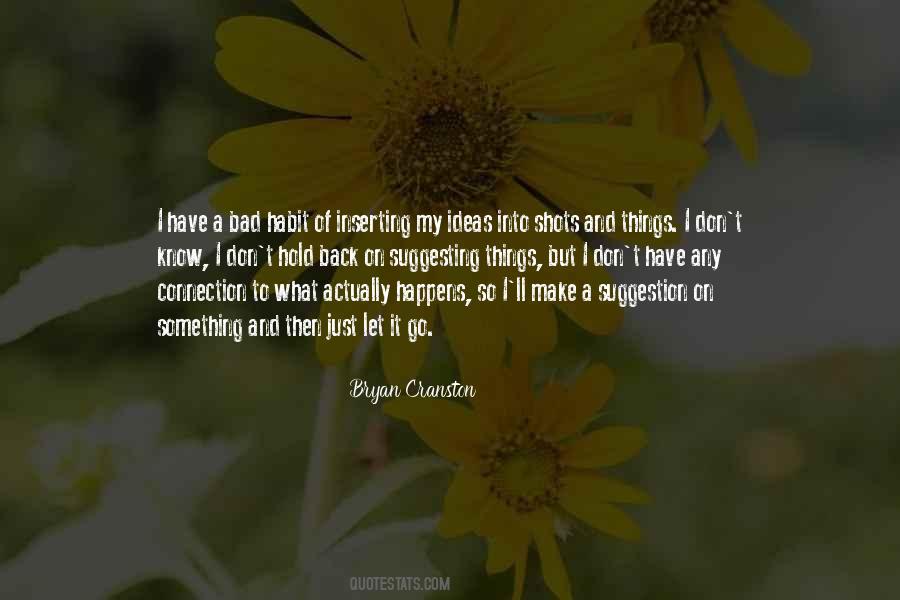 #43. It's important to hold something back, though, because quite frankly my personal life is pretty dull and I don't want to bore people with it. - Author: Matt Lucas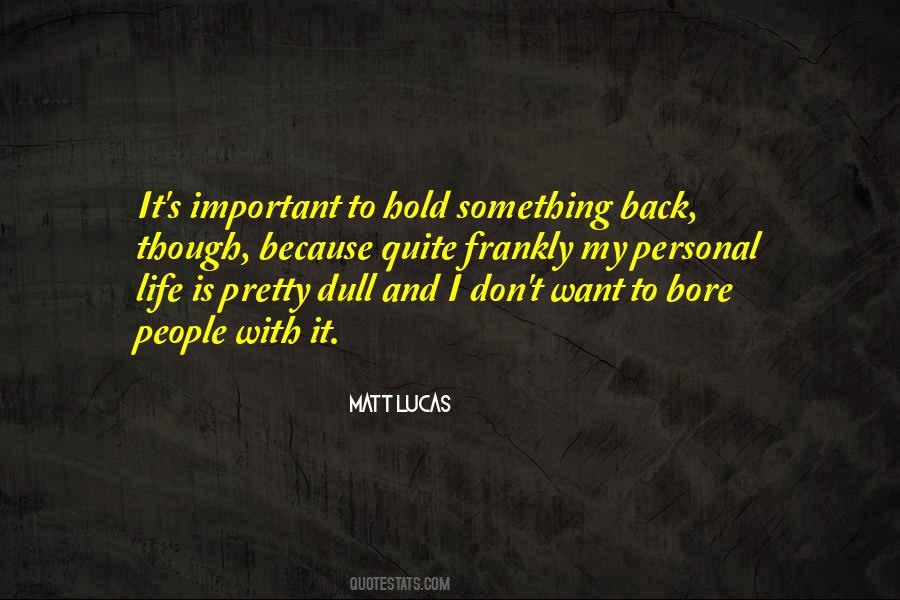 #44. Many 'experts' don't possess the imagination or vision or any of the logistical expertise required to achieve malaria eradication. Their opinions shouldn't be allowed to hold back men and women who do possess these qualities from achieving the 'impossible. - Author: T.K. Naliaka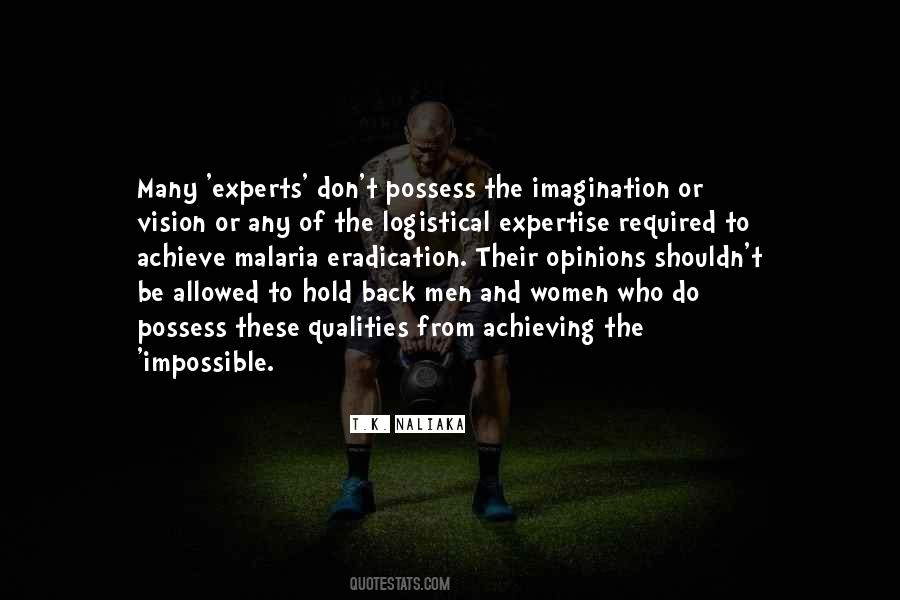 #45. When we don't throw ourselves completely into it and we hold back our best efforts because of what happened in the past, we are letting the past decide the future. - Author: Rob Bell
#46. Don't let anyone hold you back.
Decide that you will not be held back by anyone for any reason. Life is a forward moving force! - Author: Michelle Word Hollis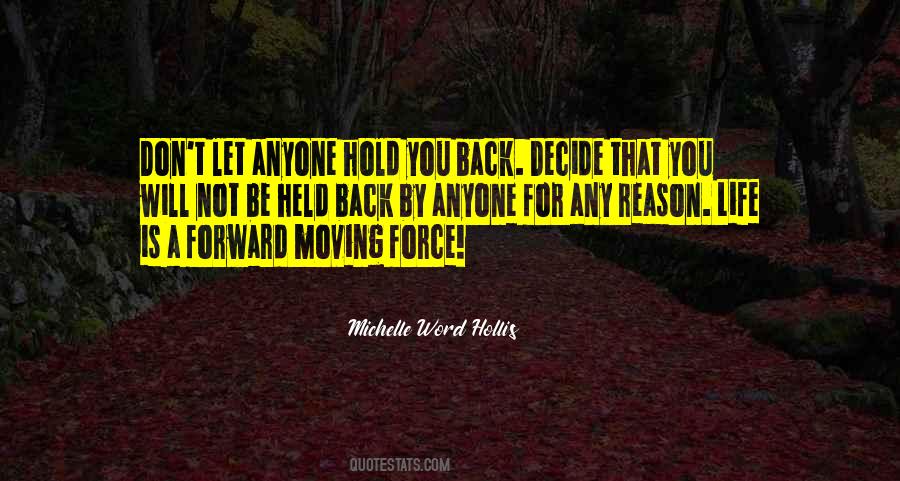 #47. That first night, I didn't have it all. And I still don't have it all but every piece you give me, baby, I like. So now I want it all and I'm gonna fuckin' get it, Trya. You aren't gonna hold back, you aren't gonna retreat, you aren't gonna push me away and I sure as fuck am not gonna let go. - Author: Kristen Ashley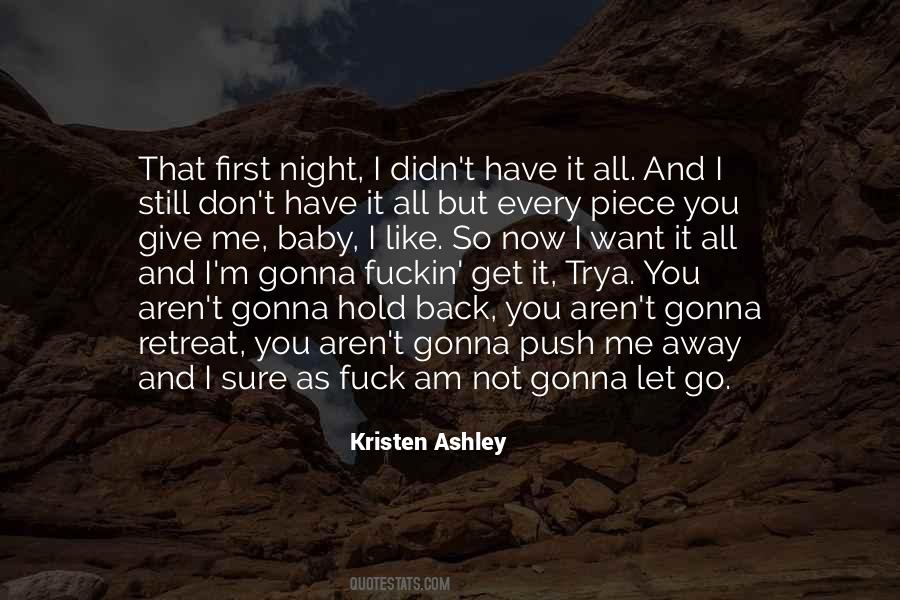 #48. Women are now more aggressive than men! And I don't put them down for it. I think it's great. My attitude with sex with any woman I've ever been with is, I want you to be exactly who you want to be behind closed doors. Don't ever hold back with me. - Author: Andrew Dice Clay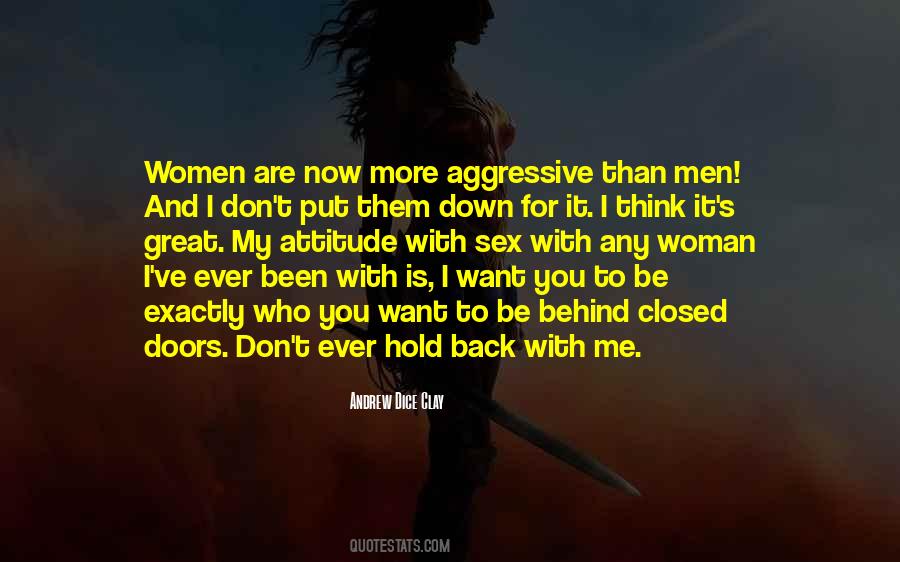 #49. Girls love guys who dance, and I'm definitely going to be the first one on the dance floor. Usually, you just see guys sitting around, but I definitely don't hold back when it comes to dancing. - Author: Jacob Artist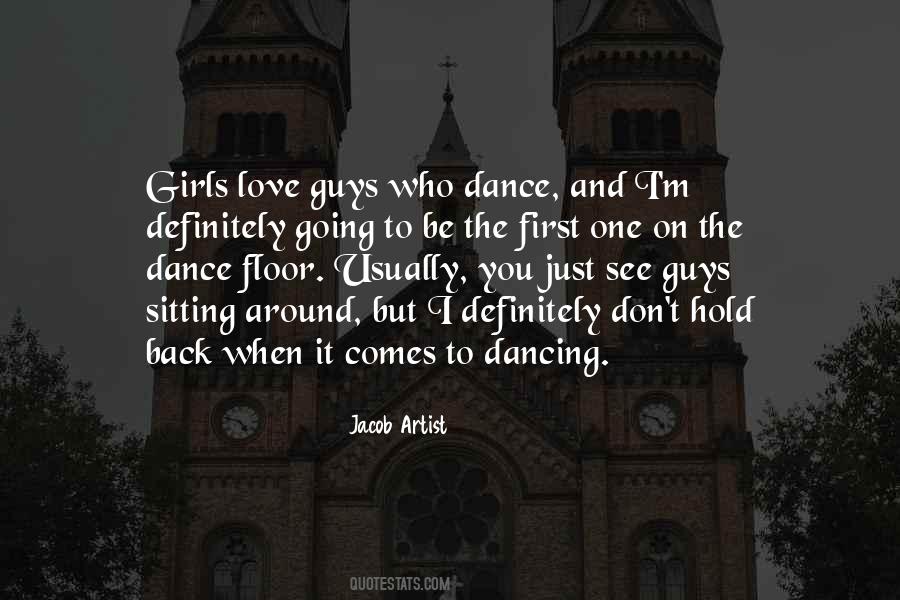 #50. I can't hold back from wanting you right now, Ava."
"Don't!" I commanded. - Author: Nicole Gulla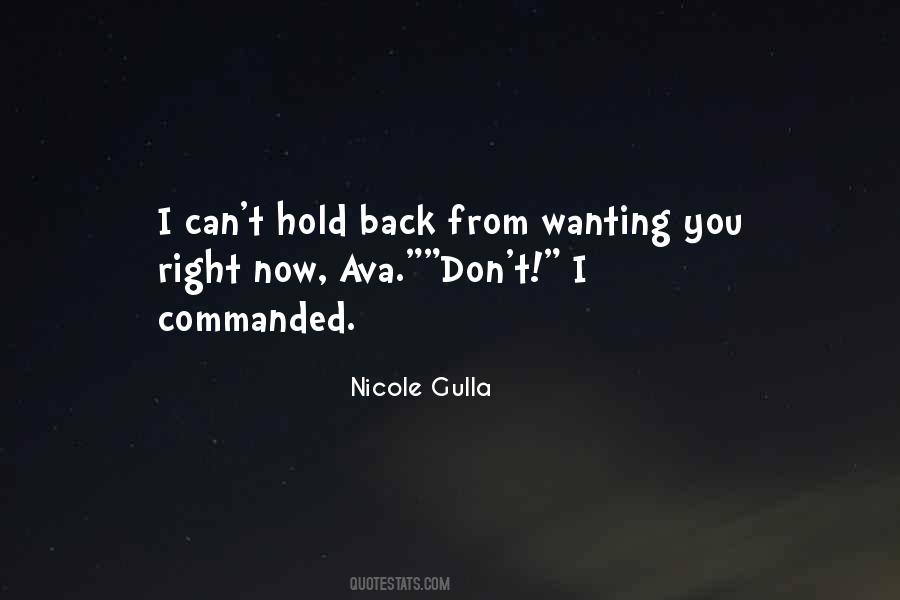 #51. No! That's not the way! This is not the time! Hold it back! Tame it! Don't waste it! Send it back! It'll come when you call! - Author: Terry Pratchett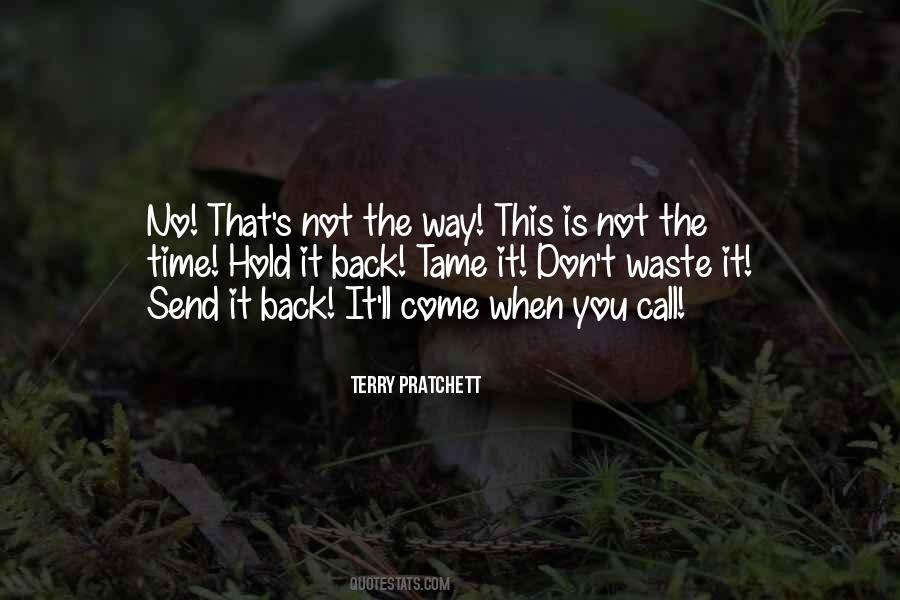 #52. It's daylight. Shouldn't you have burned to a crisp, or something? Don't you have to crawl into a coffin? Where do you keep it stashed, anyway?"
"I've never owned a coffin," he admitted, unable to hold back a smile. - Author: Linda Howard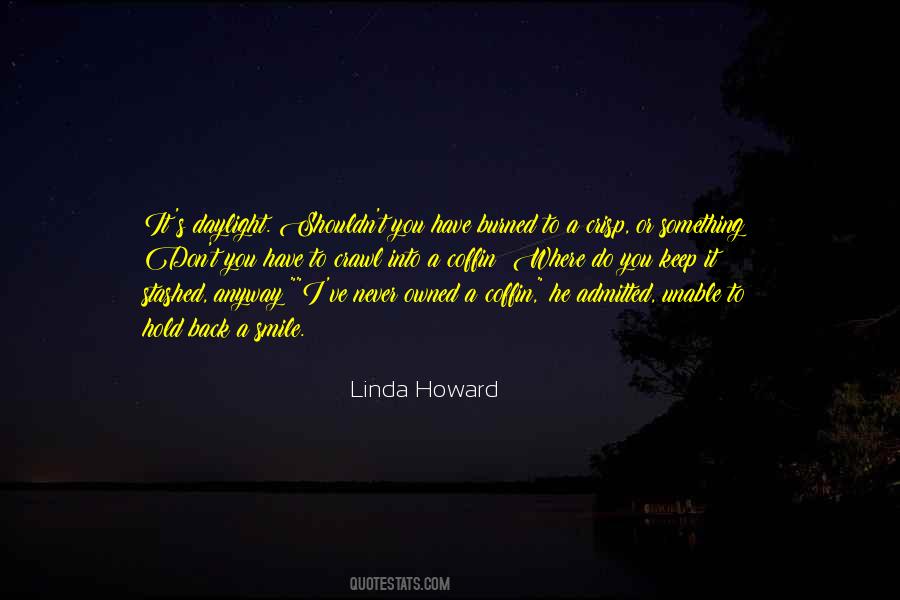 #53. The key to life is to set goals and go after those goals, don't hold anything back. - Author: Benson Henderson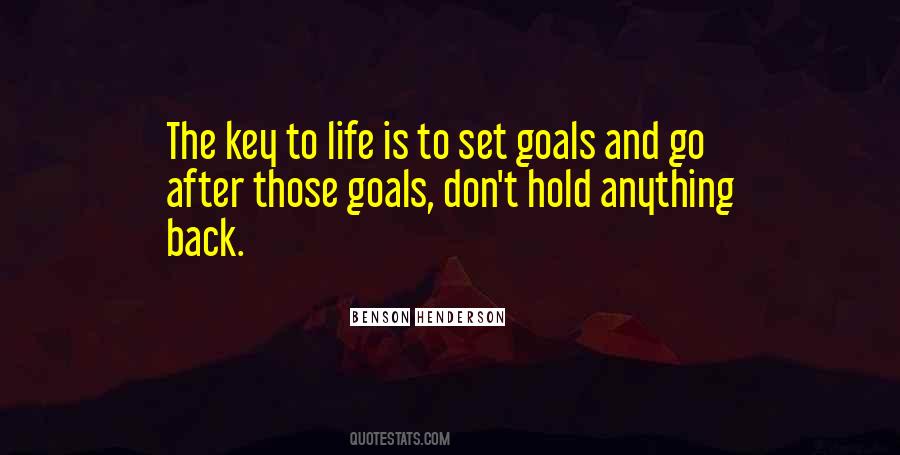 #54. I don't want women to hold themselves back. I think there are too many women who are self-conscious about the way they look - the way they see themselves in the mirror. - Author: Ashley Graham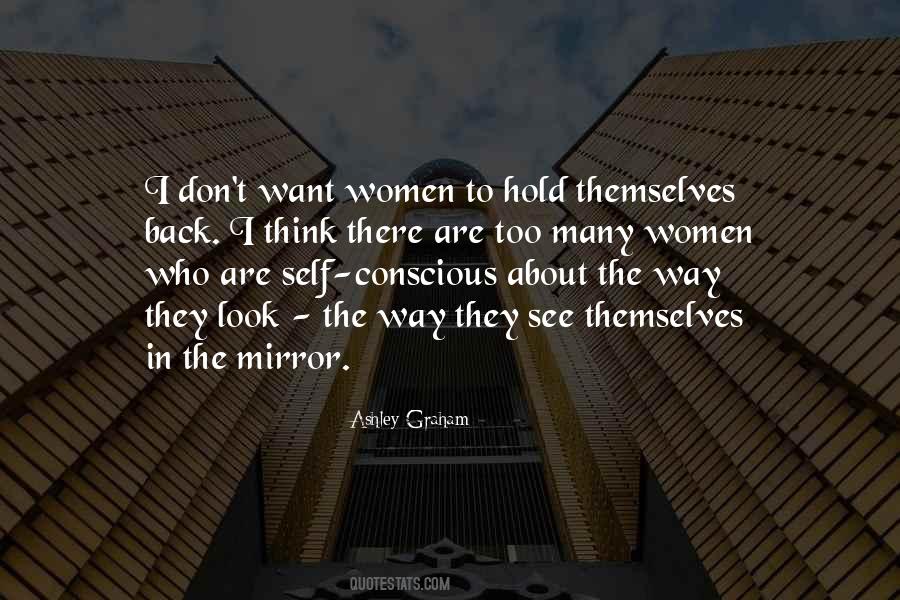 #55. He's gonna try and stand back, mess me about a bit, be cagey and hold on the inside and make it one of them fights that are boring. I don't wanna make a boring fight. I don't like to be involved in boring fights! - Author: Joe Calzaghe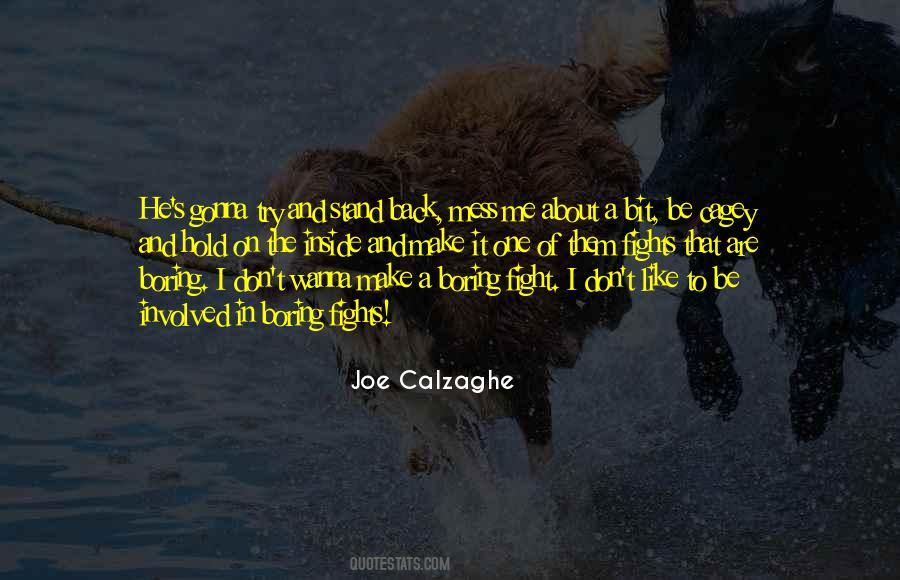 #56. Don't hold yourself back because you're afraid or because you've been hurt ... acknowle dge your fear, accept it, and walk through it with confidence. - Author: Iyanla Vanzant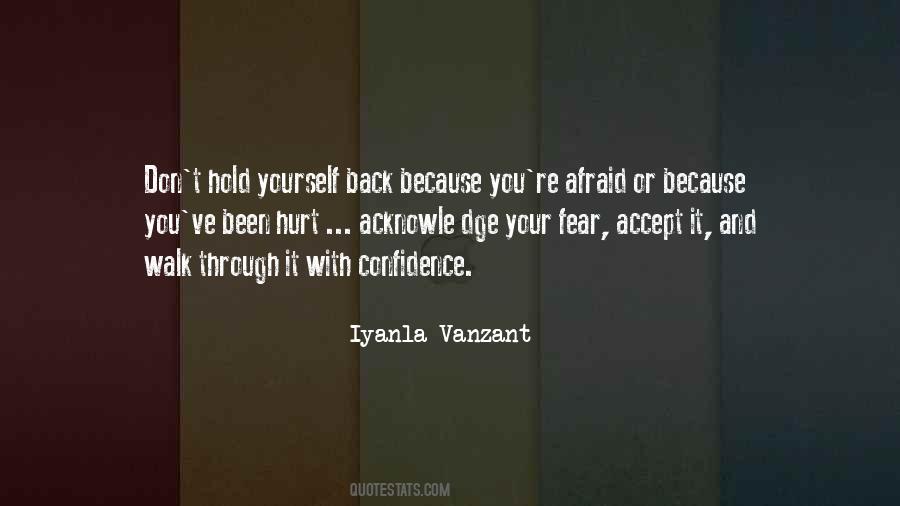 #57. Do you think that people ever really do believe they will die, that the world will just go along as always without them? I wonder if we aren't all a little surprised at the moment of crossover, if we don't look back over our shoulders saying, Now hold on. - Author: Elizabeth Berg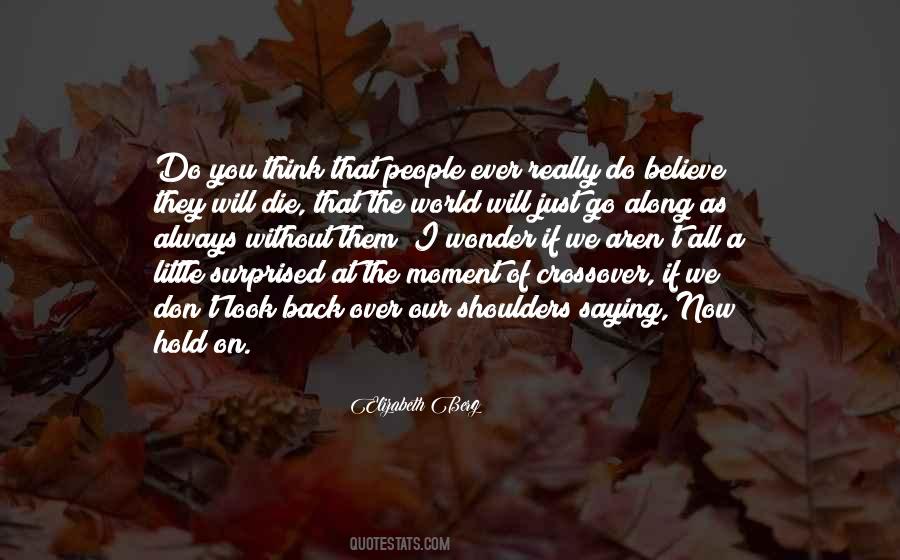 #58. Let your attacker worry about his life. Don't hold back. Strike no more after he is incapable of further action, but see that he is stopped. - Author: Jeff Cooper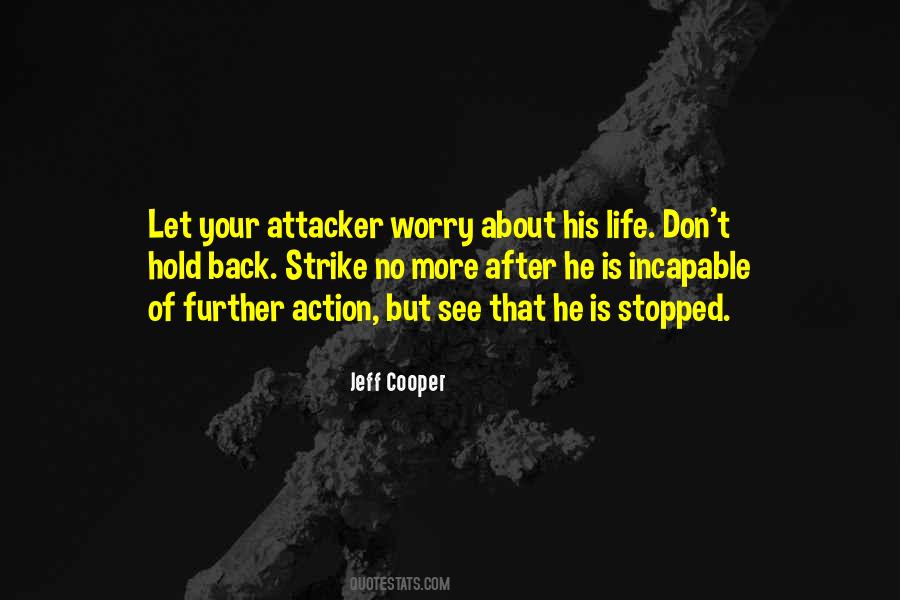 #59. Despite what you think you know, most people don't want to fight, especially when evenly matched. ... That's why you see those pissed young men doing the dance of "don't hold me back" while desperately hoping someone likes them enough to hold them back. - Author: Ben Aaronovitch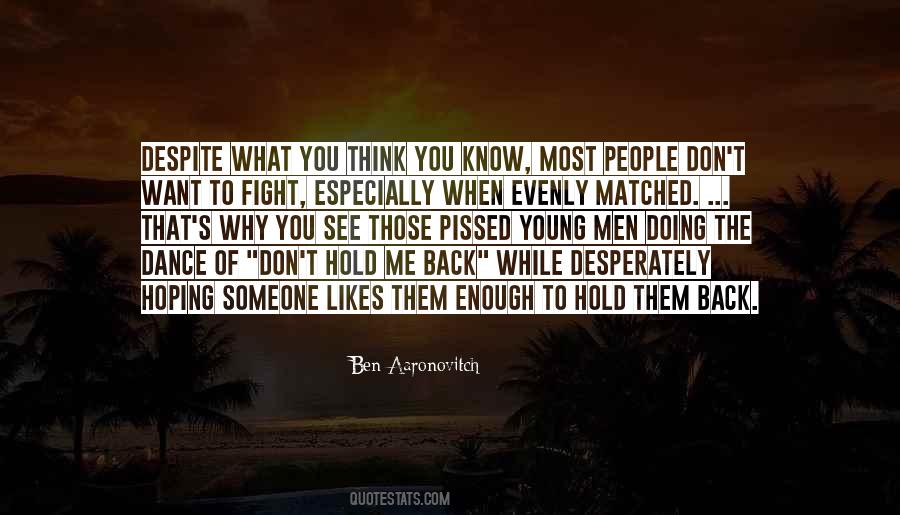 #60. Be real. Make connections with people. Look them in the eye. Tell them how you feel. Don't be afraid to say what you mean. When you let go of the stuff you hold inside, you'll be amazed at what comes back to you. - Author: Rachael Ray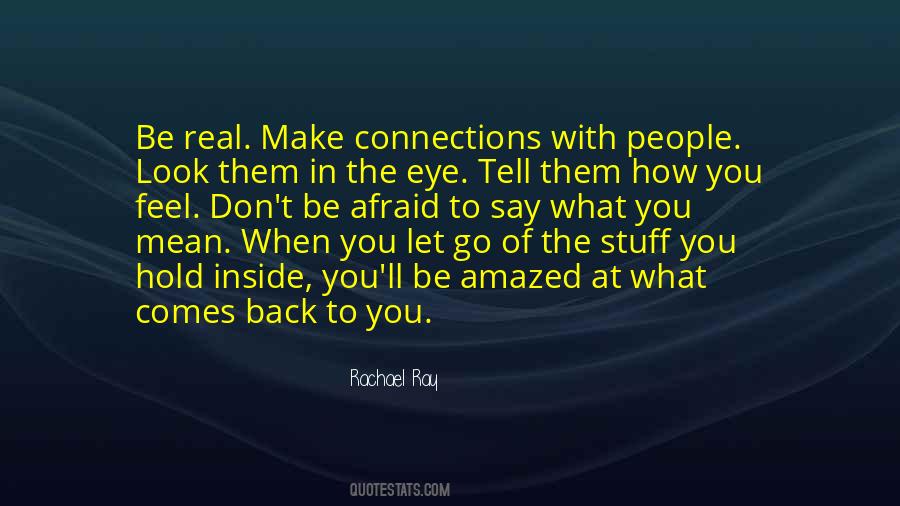 #61. Security is, I would say, our top priority because for all the exciting things you will be able to do with computers - organizing your lives, staying in touch with people, being creative - if we don't solve these security problems, then people will hold back. - Author: Bill Gates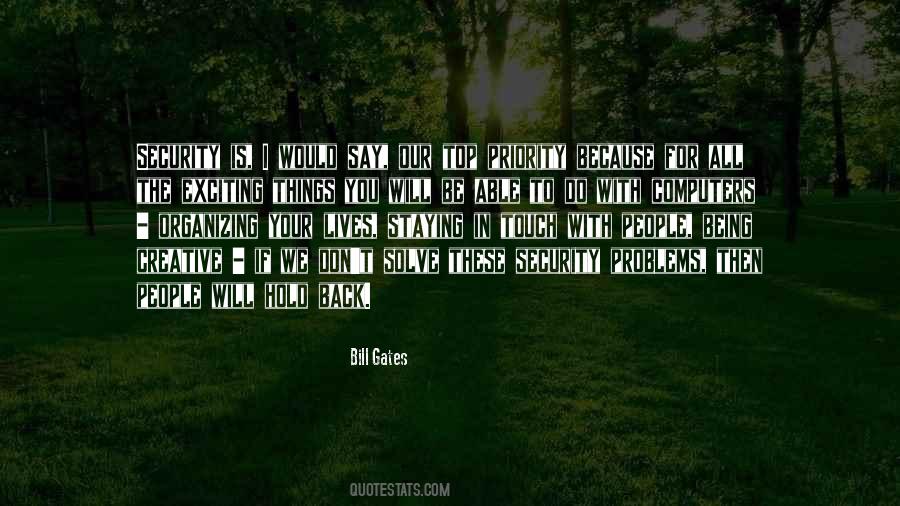 #62. You don't turn your back on love." He went on without missing a beat. "Love isn't easy, not for anyone, but you don't push it away. You hold even tighter. - Author: Cambria Hebert
#63. Everyone likes ice cream," he said, white with rage. The mask of patience was slipping, and I don't know how I managed to hold back my tears. "Everyone except you, son, because you're a moron. - Author: Cesar Aira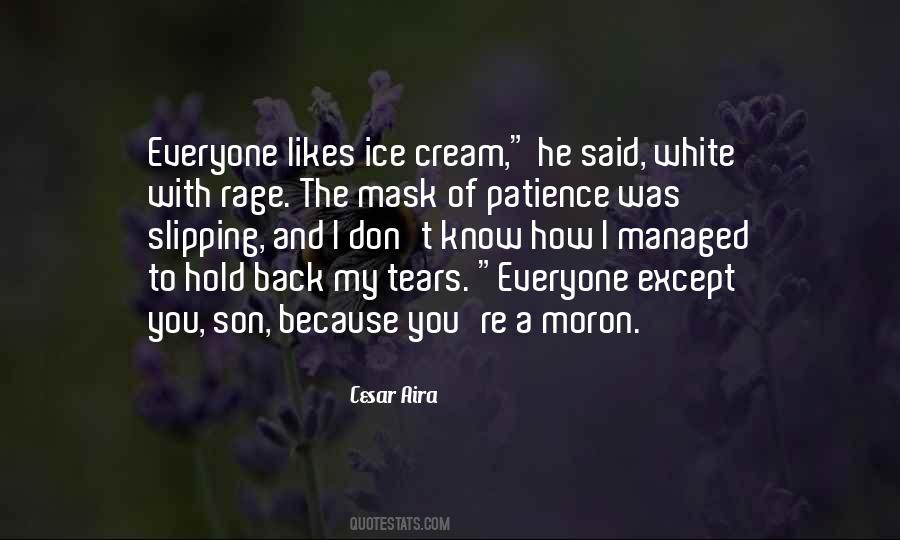 #64. Now, you've been dealt some tough blows along the way, but those trials don't define you. You can't let them hold you back from getting out there and living. - Author: Melissa Brayden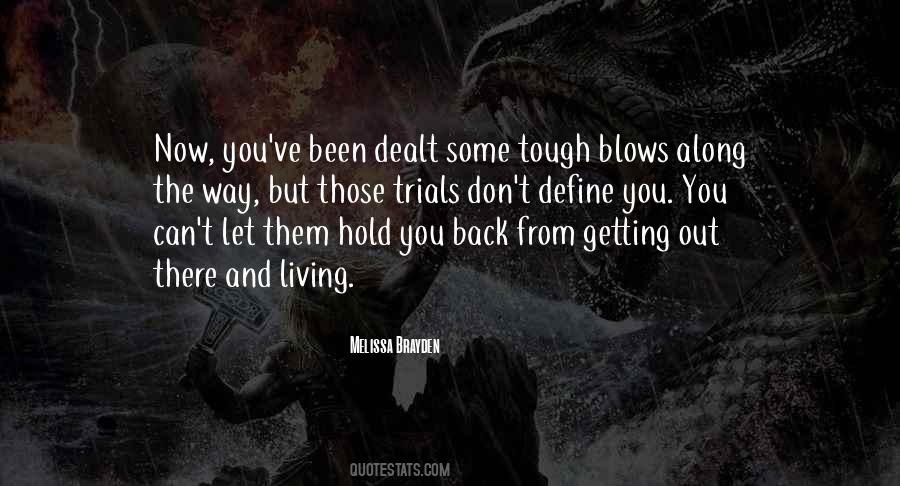 #65. Kye had scowled and said, "I don't like you anymore; you didn't come back when you said you would." Then he'd wrapped himself around her leg and said, "Okay, I forgive you." The kid didn't hold a grudge long. - Author: Suzanne Wright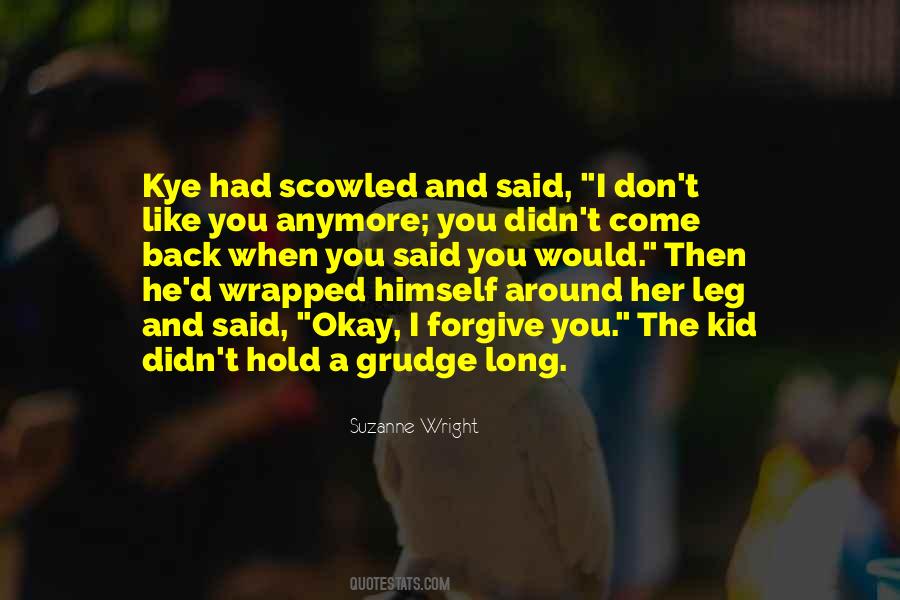 #66. Pray don't hold back," Robert said politely. "You can tell me what you really think of my valet." Stewart broke in to a reluctant grin."Sorry fer bein' so forward, sir, but that valet o' yers is nothin' but a Frenchified piece o' lace. - Author: Karen Hawkins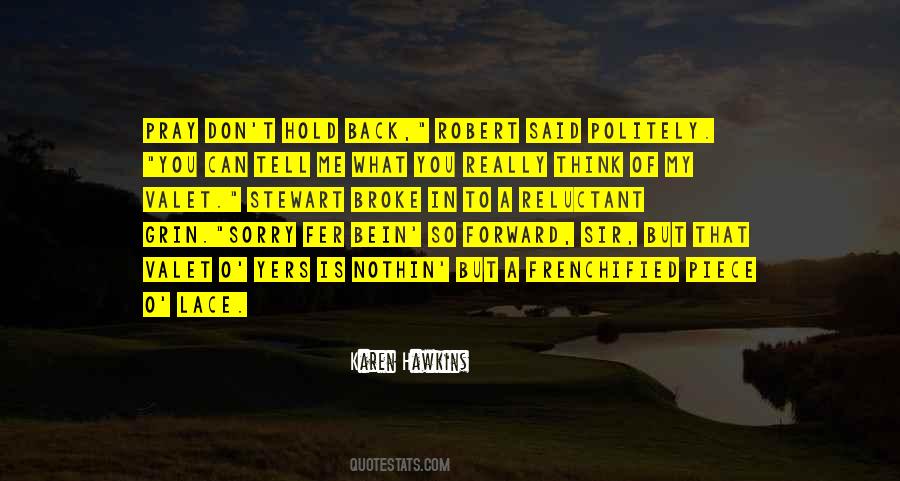 #67. Work hard, believe in your dreams, follow your dreams, don't give up, don't let failures hold you back. Those things were preached to me. They've taken a firm rooting system in my beliefs and what I'm passing on to my kids. - Author: Kevin Sorbo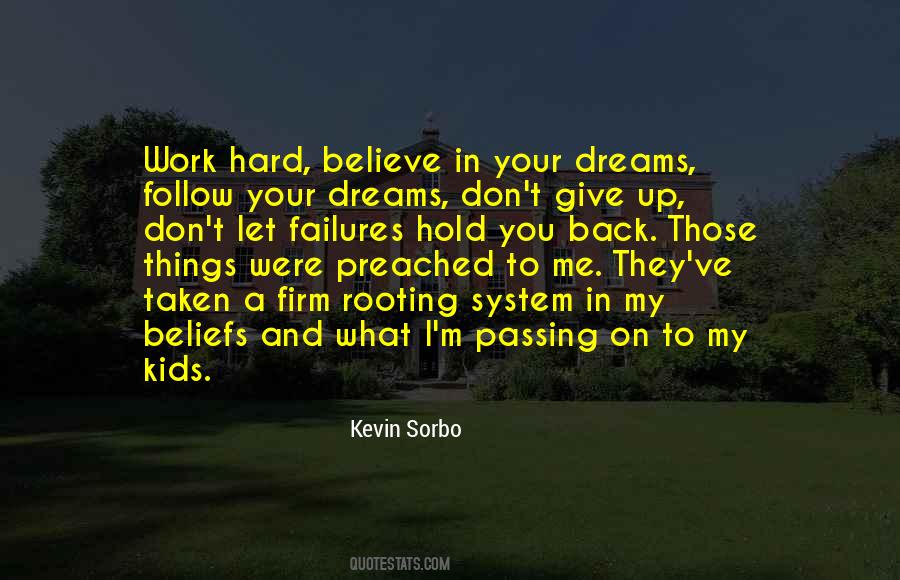 #68. What I do as a director is really create a safe environment that everyone can feel very comfortable in and experiment within so that they don't hold back anything. You never ever want someone to go, 'Oh I shouldn't have done that.' There isn't anything you shouldn't try. If it's terrible, who cares? - Author: Paul Feig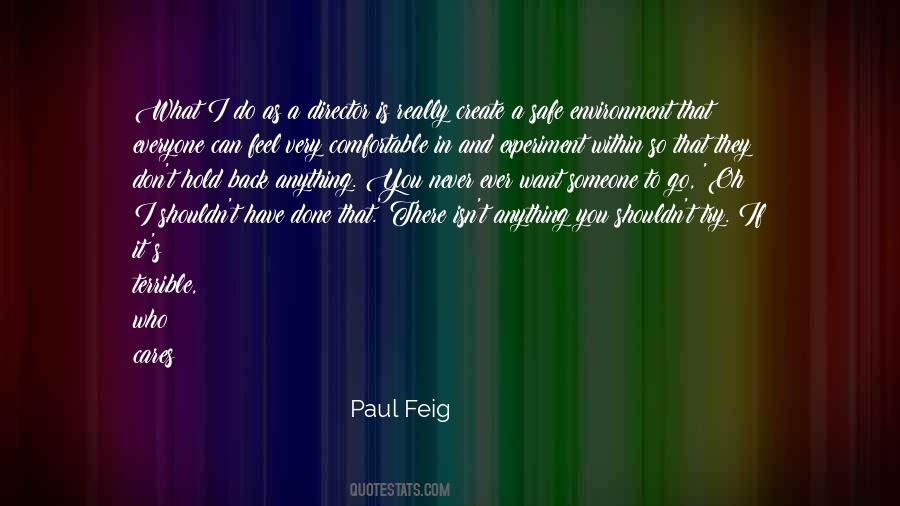 #69. I don't want anyone to be afraid. I don't anyone to hold back who they are. - Author: Connor Franta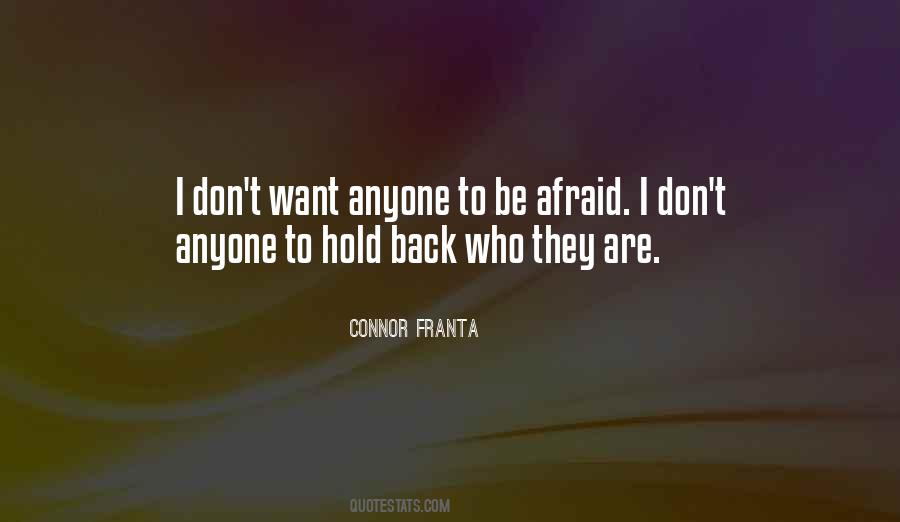 #70. Don't you know that you're blowing my mind? What you do to me I can't describe. Baby, I can't hold back anymore. I just can't conceal it. You're the one I really adore. - Author: Mariah Carey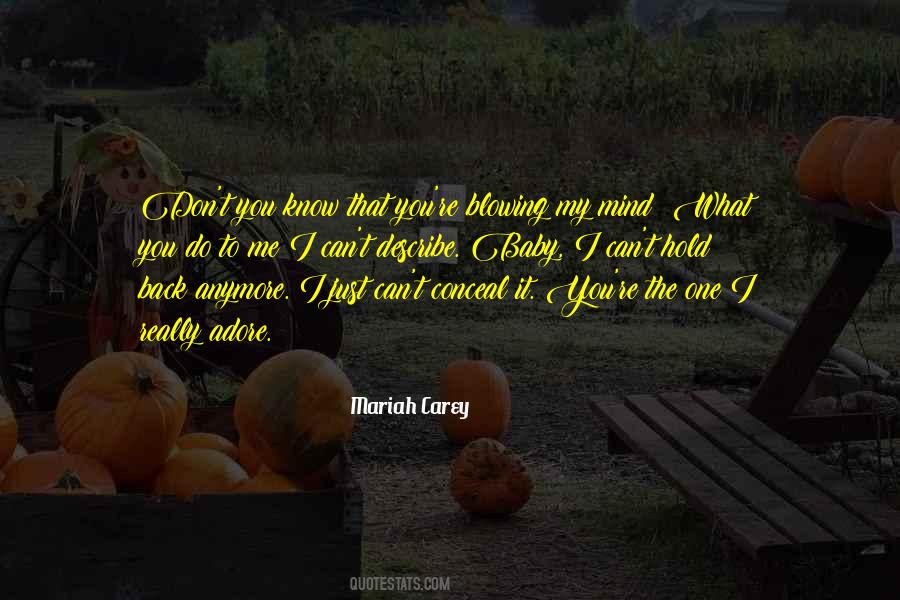 #71. When you look to the past, don't sit and dwell on your regrets. Instead, focus on the things you learned from each experience and how they may enrich your future. Use the past not as something to hold you back, but as a method for reaffirming the drive to move forward on your chosen path. - Author: Jack Davenport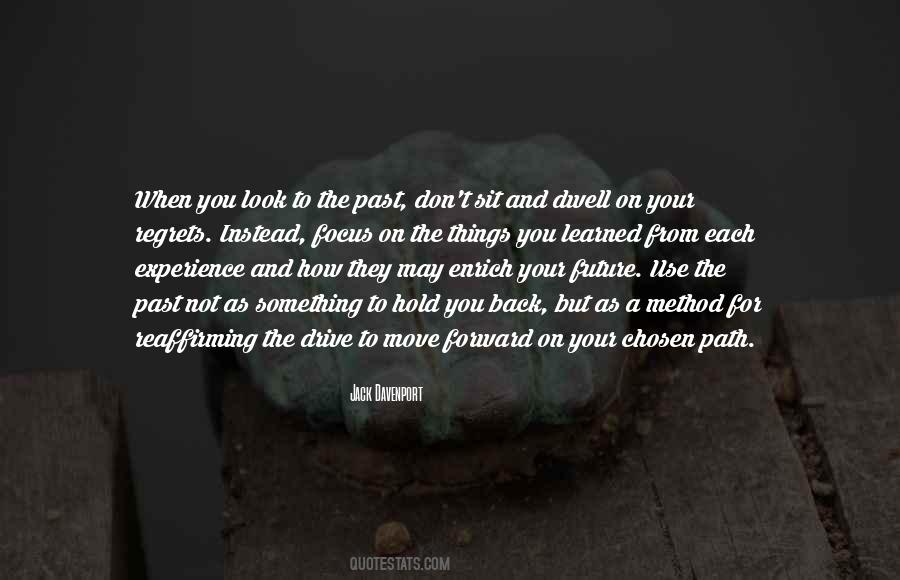 #72. Map Your Own Journey Go on your own journey. Don't let others hold you back; don't hold them back. Don't judge their journey, and don't let them judge yours. All persons are free to have the experiences their souls lead them to. - Author: Melody Beattie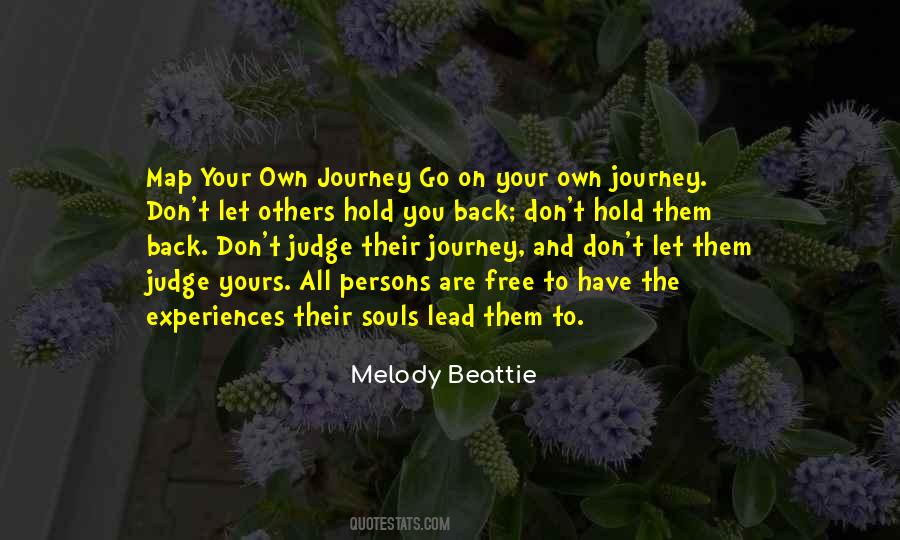 #73. Don't let the fear of striking out hold you back - Author: Babe Ruth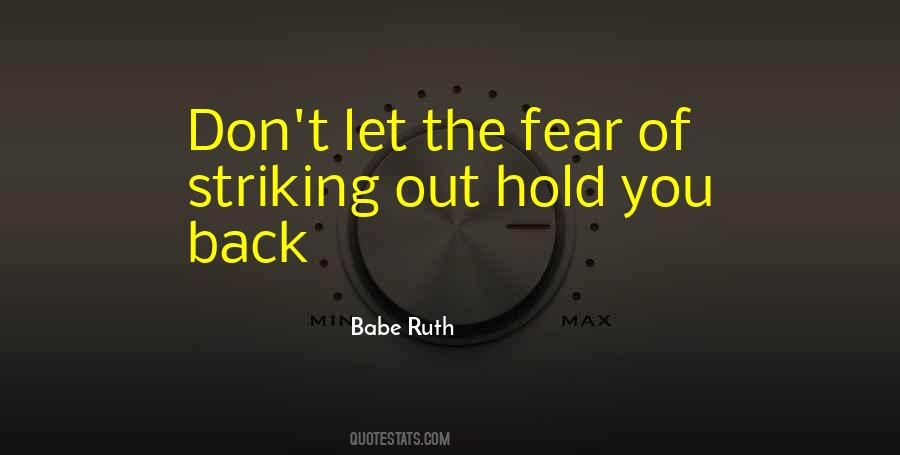 #74. If you're around someone who makes you feel good, you have to go for it. Don't hold back. - Author: Faith Sullivan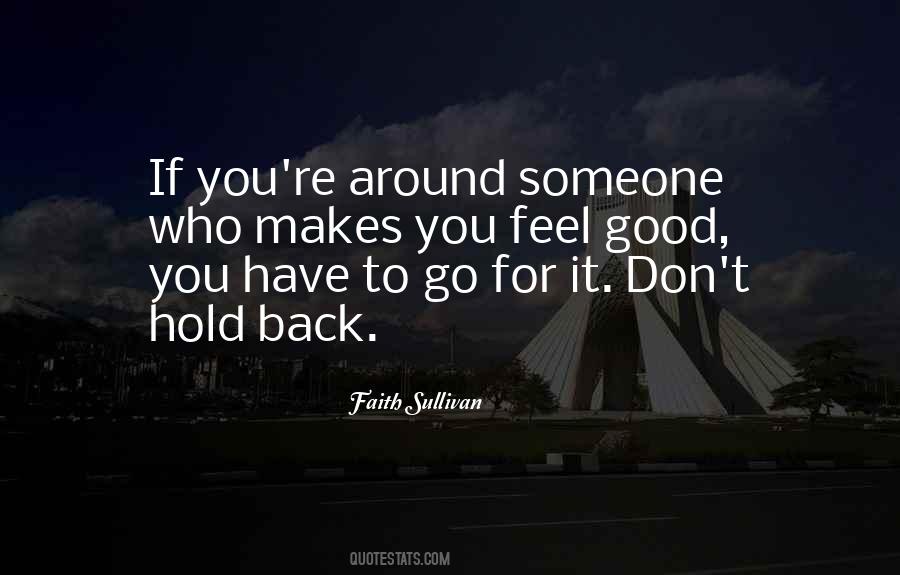 #75. I don't care if the world or anyone in it tries to drag me down. Because I know that in the end, they will be the ones left tired from the struggle to hold me back. - Author: Hayley Williams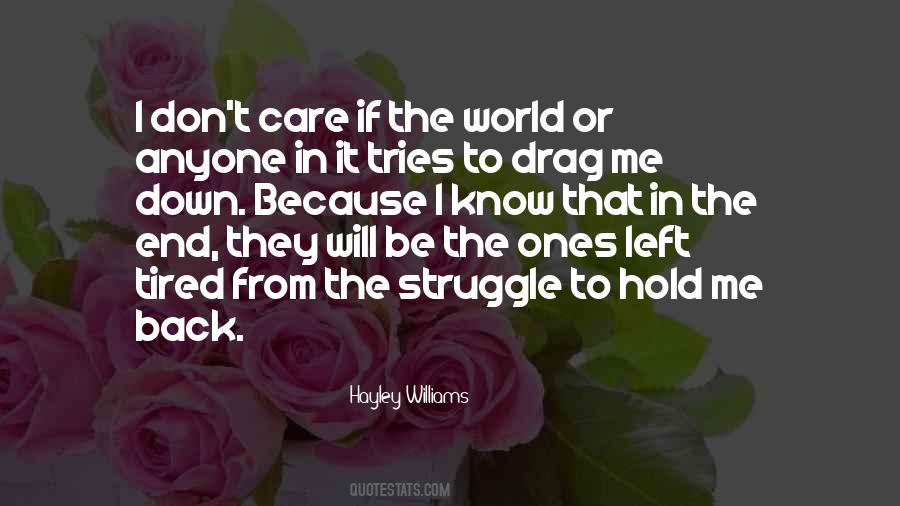 #76. Being fearless doesn't mean living a life devoid of fear, but living a life in which our fears don't hold us back - Author: Arianna Huffington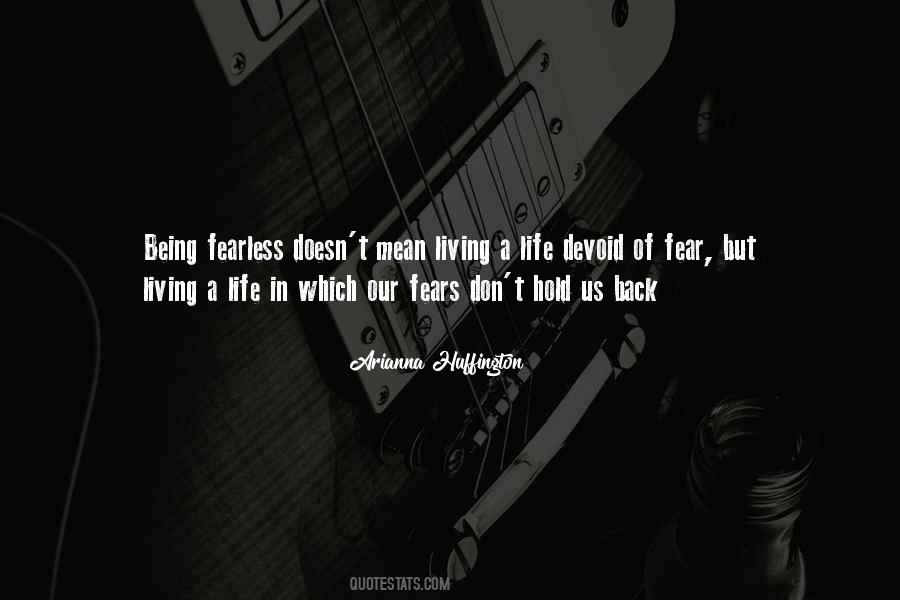 #77. I call it like I see it. I don't hold back when it comes to being candid on the hot issues. - Author: Jerry Doyle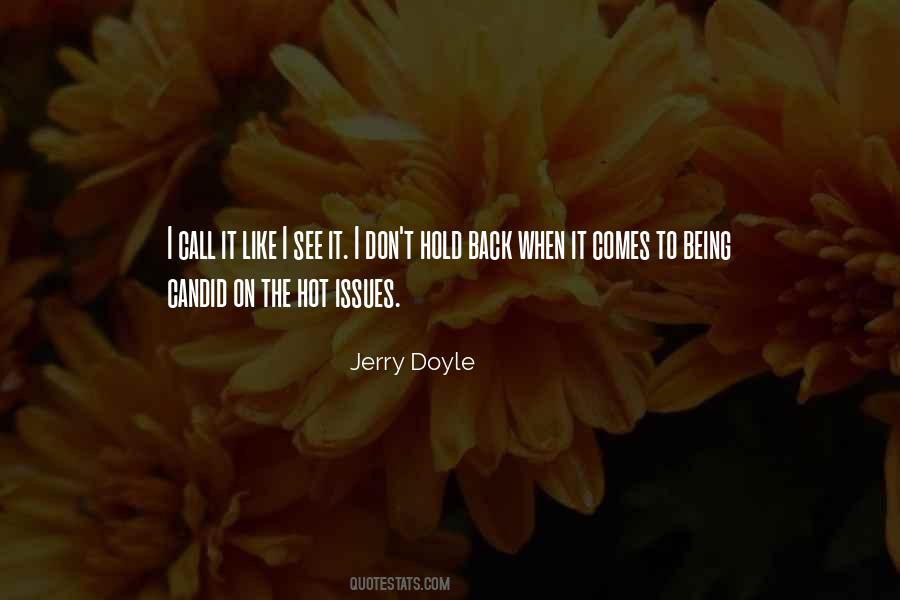 #78. If people knew of ethics violations, they should have sent them to the Ethics Committee. If you think there was serious ethics violation that ought to be looked at, you don't hold it back for retaliatory purposes. - Author: Barney Frank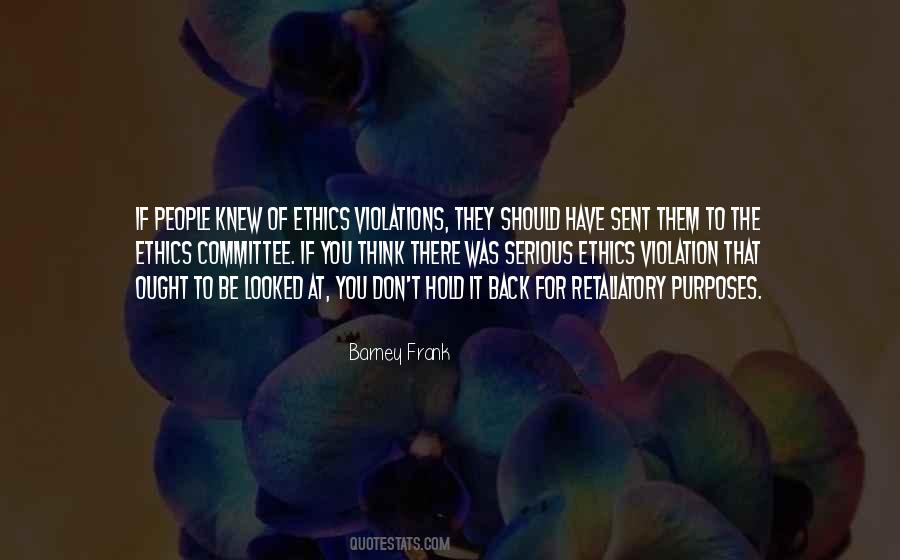 #79. I have a bad back partially from playing the drums and singing. I used to have to hold my body in such a position that my spine got out of alignment. - Author: Don Henley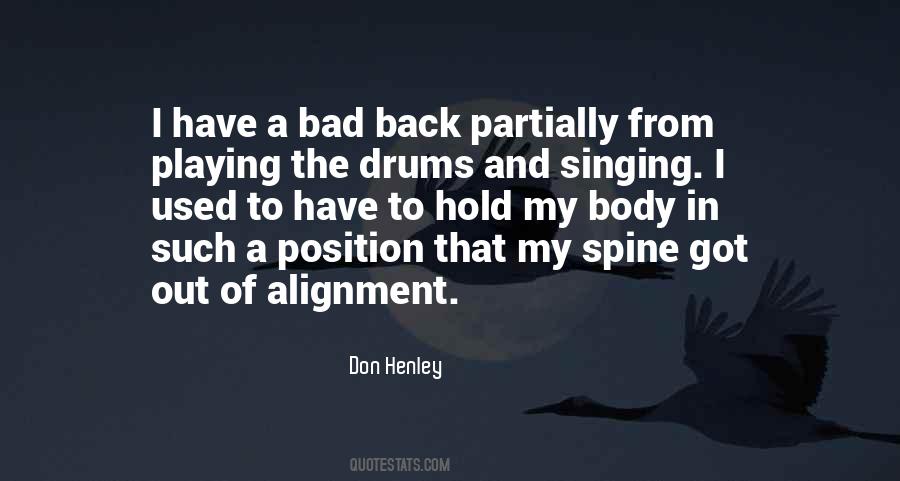 #80. Baltsaros's face was flushed, his lip curled into a slight sneer as he stared back at Jon. He felt a rush of adrenaline as he realized what the captain wanted from him.

"Hit him again," Jon said. "And don't hold back this time. - Author: Bey Deckard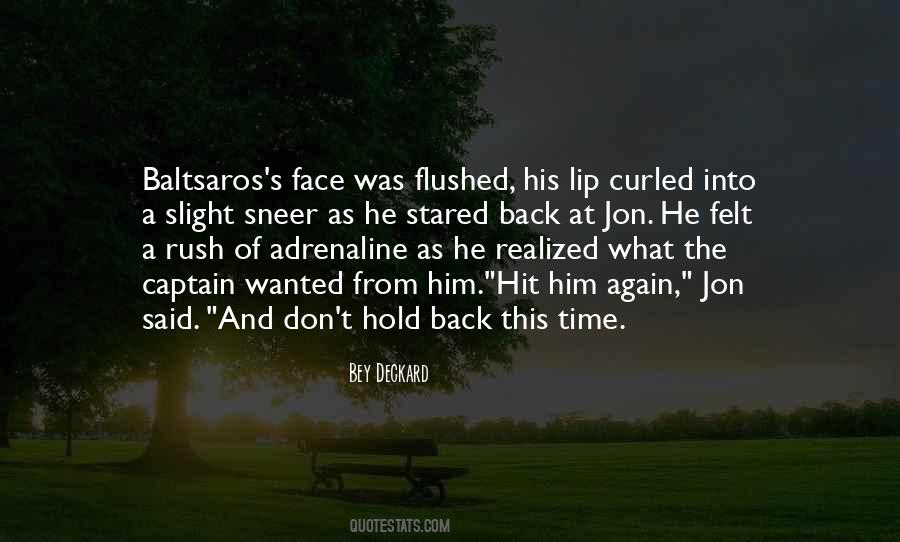 #81. Do the things that you always wanted to, without me there to hold you back, don't think just do, more than anything I want to see you go, take a glorious bite out of the whole world - Author: Snow Patrol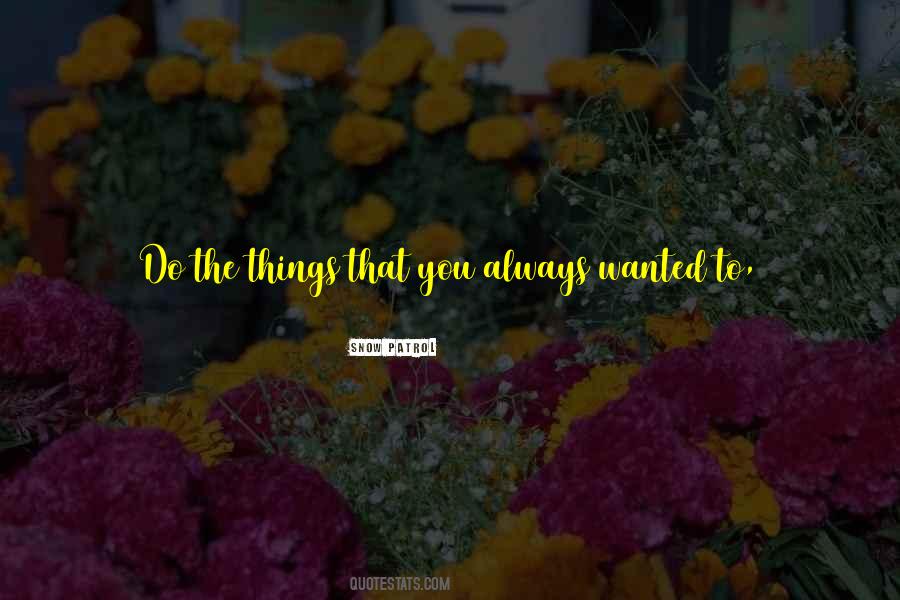 #82. Dogs don't hold back. They see something they want and go after it. No matter what obstacles get in the way, the sheer act of chasing becomes the reward in and of itself. - Author: Gila Kurtz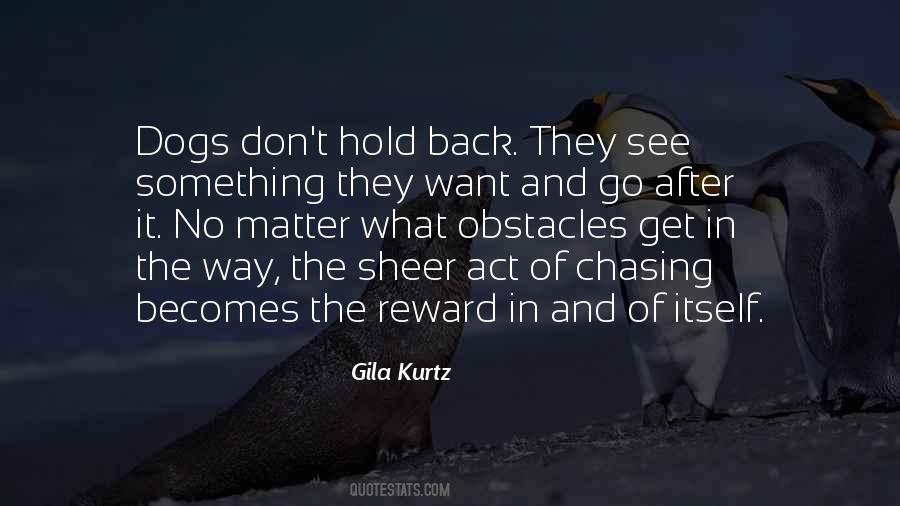 #83. What comes with a job as a staff member of the BBC is a certain self-censoring that you get utterly used to. You don't say everything you think. You hold back on some things. - Author: Evan Davis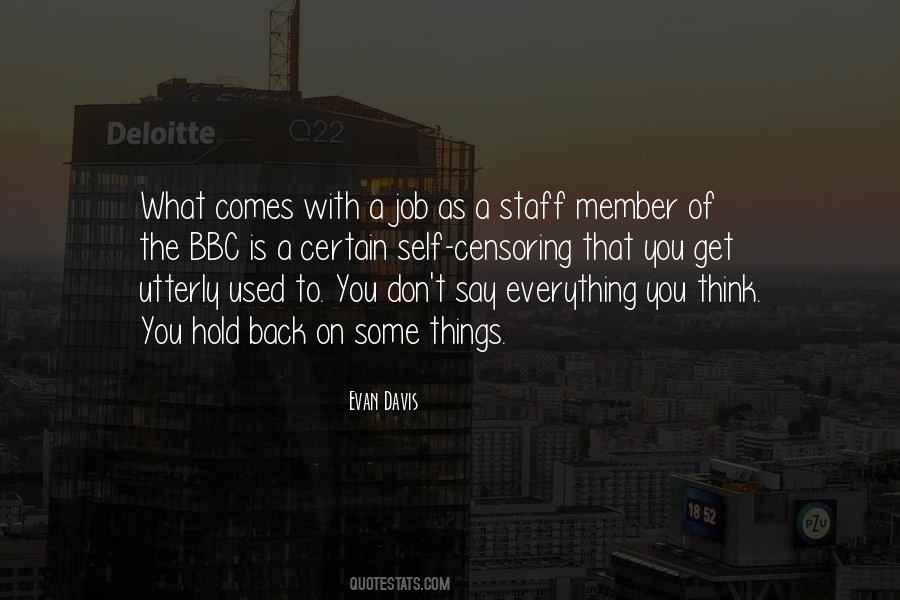 #84. Don't let your image, don't let your size, hold you back. If I had let my hips or my jiggly thighs hold me back or the fact that I've got these big heavy breasts, then I would not be where I am today. - Author: Ashley Graham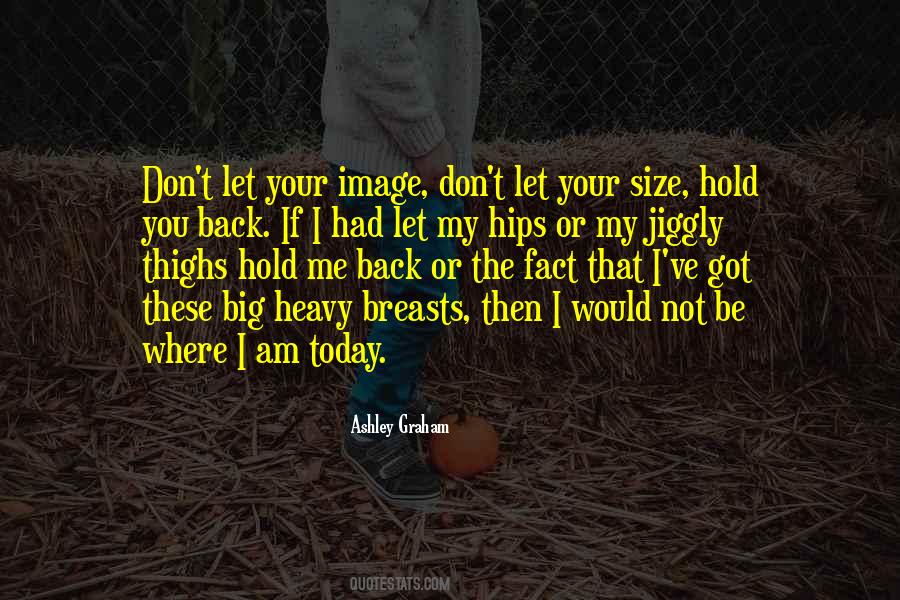 #85. There are going to be more moments in your life that you regret not doing than there will be moments you regret doing. So do them, and please, don't hold back. - Author: Sophie Abbott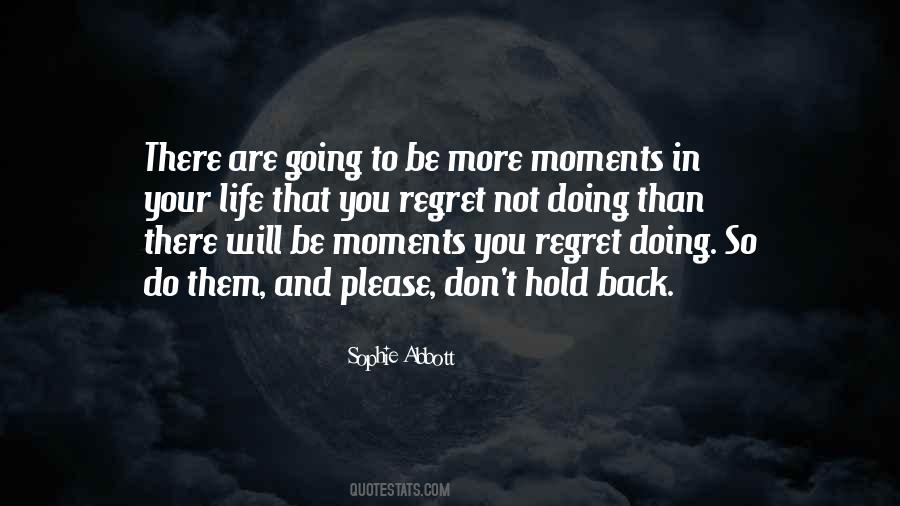 #86. It's not the gifts you don't have that hold you back as much as the gifts you do have that you don't use. - Author: Orrin Woodward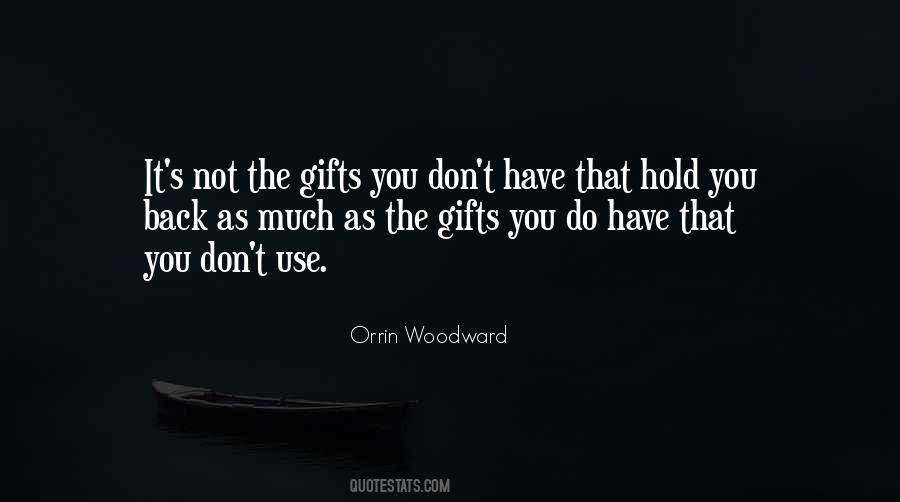 Famous Authors
Popular Topics