Do You Think Famous Quotes & Sayings
List of top 100 famous quotes and sayings about do you think to read and share with friends on your Facebook, Twitter, blogs.
Top 100 Do You Think Quotes
#1. Firefly: Now that you're Secretary of War, what kind of an army do you think we oughta have? Chicolini: Well, I tell you what I think. I think we should have a standing army. Firefly: Why should we have a standing army? Chicolini: Because then we save money on chairs. - Author: Groucho Marx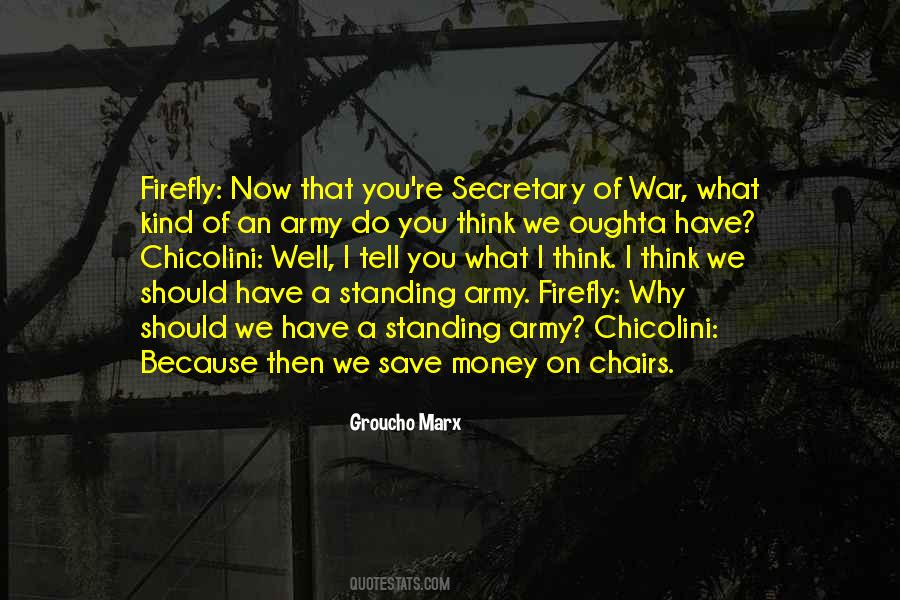 #2. I don't think you should do things in your personal life differently because you're a role model. - Author: Shannen Doherty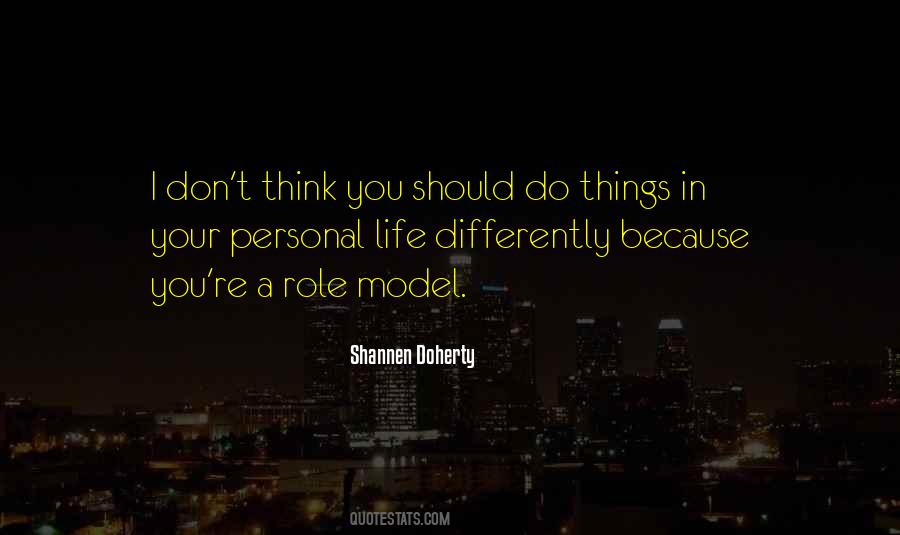 #3. Do you believe in an afterlife?" the gunslinger asked him as Brown dropped three ears of hot corn onto his plate.
Brown nodded. "I think this is it. - Author: Stephen King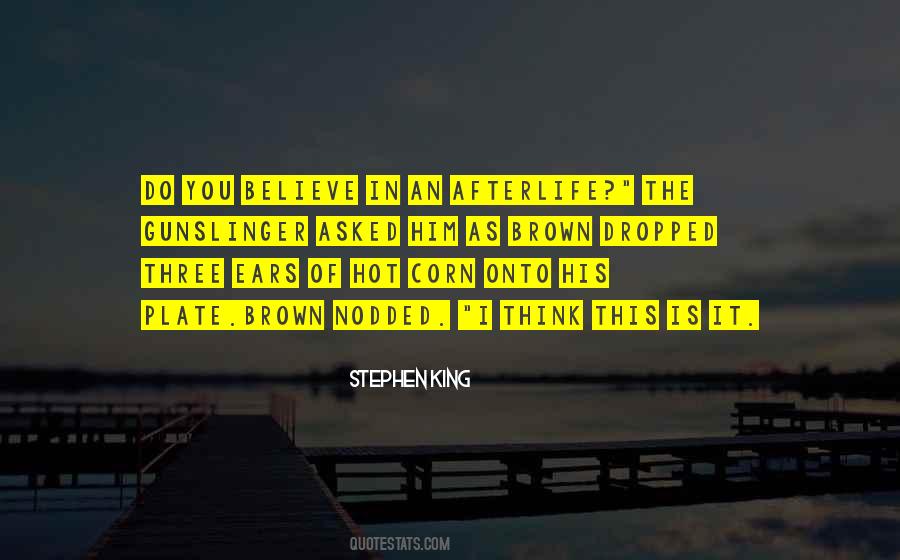 #4. Do you think in many ways, sir, you're the victim of circumstance now? - Author: Peter Jennings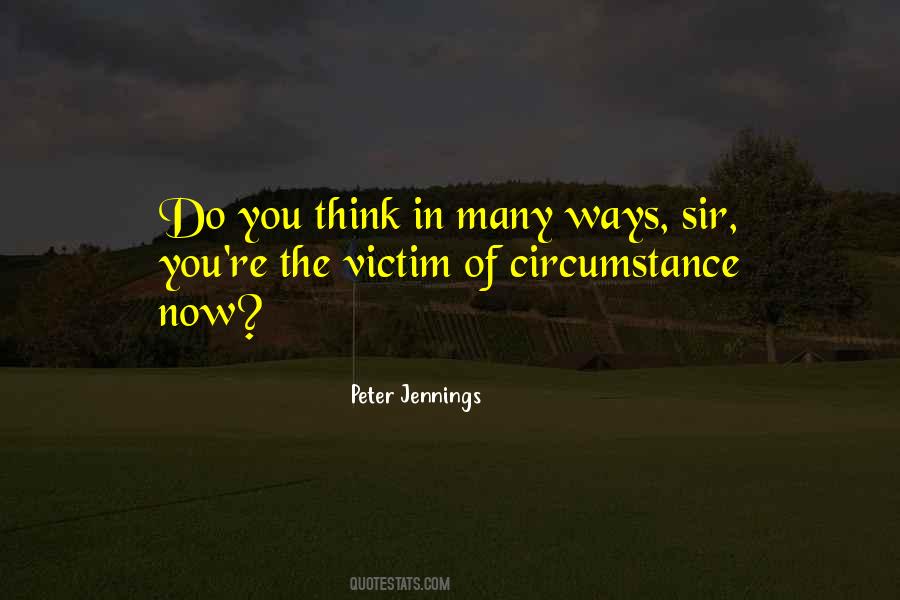 #5. Maybe I think you're cute and funny. Maybe I wanna do what bunnies do with you, if you know what I mean. - Author: Ingrid Michaelson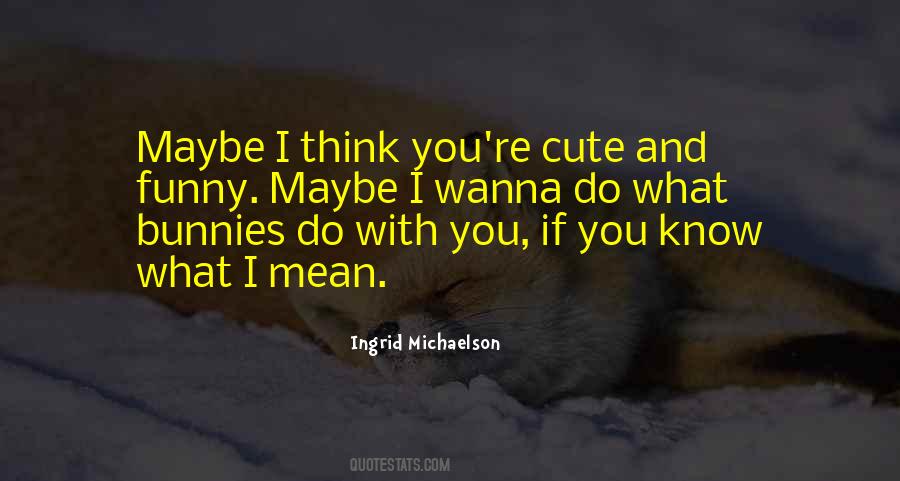 #6. When one's dead, one's dead ... This squirrel will become earth all in his time. And still later on, there'll grow new trees from him, with new squirrels skipping about in them. Do you think that's so very sad? - Author: Tove Jansson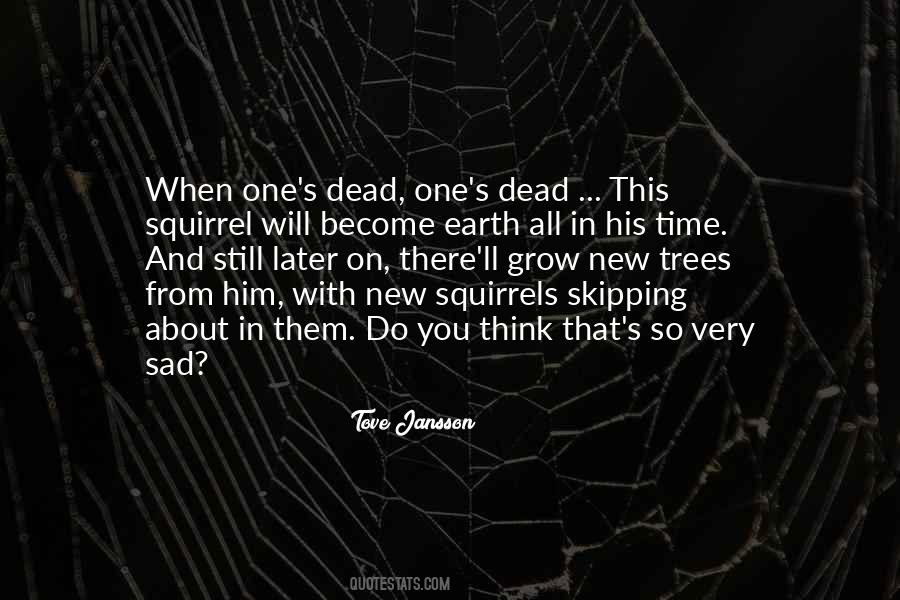 #7. The whole of science, and one is tempted to think the whole of the life of any thinking man, is trying to come to terms with the relationship between yourself and the natural world. Why are you here, and how do you fit in, and what's it all about. - Author: David Attenborough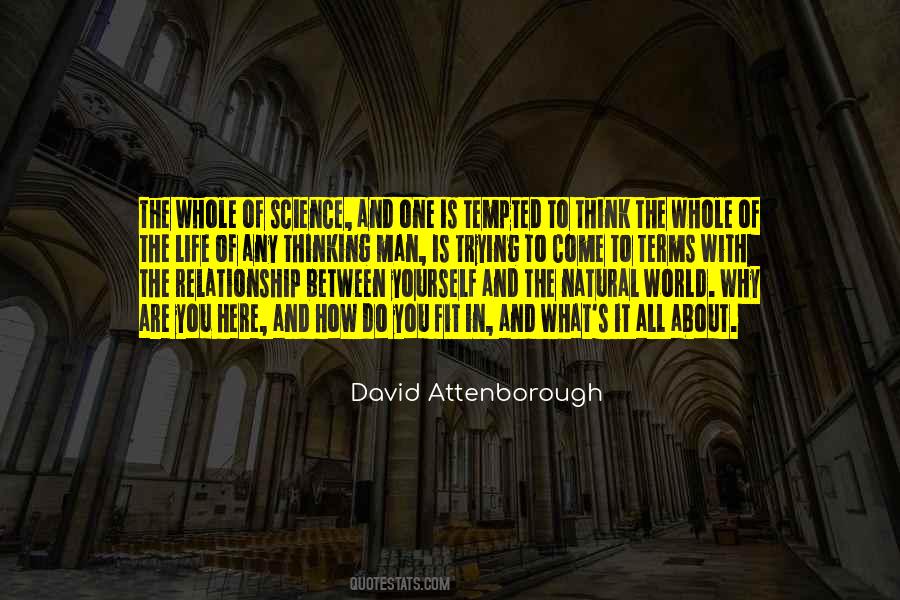 #8. I don't spend a lot of time thinking of what they'll do musically, I try to imagine being locked into a windowless room with this person for twelve hours at a time. If you can look at that and think it might be fun then maybe you've got the right musician. - Author: Leo Kottke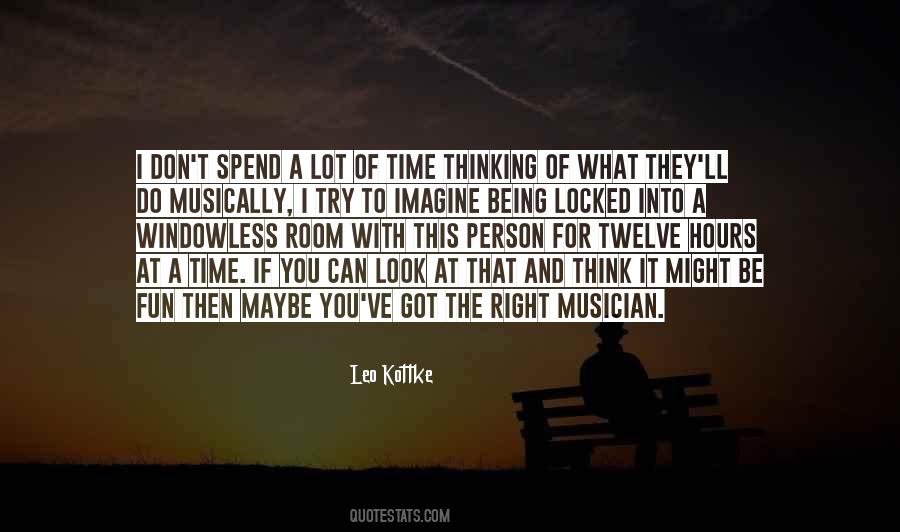 #9. The Oscar is not a curse. The real curse is that once you have an Oscar they think you can do anything. - Author: Luise Rainer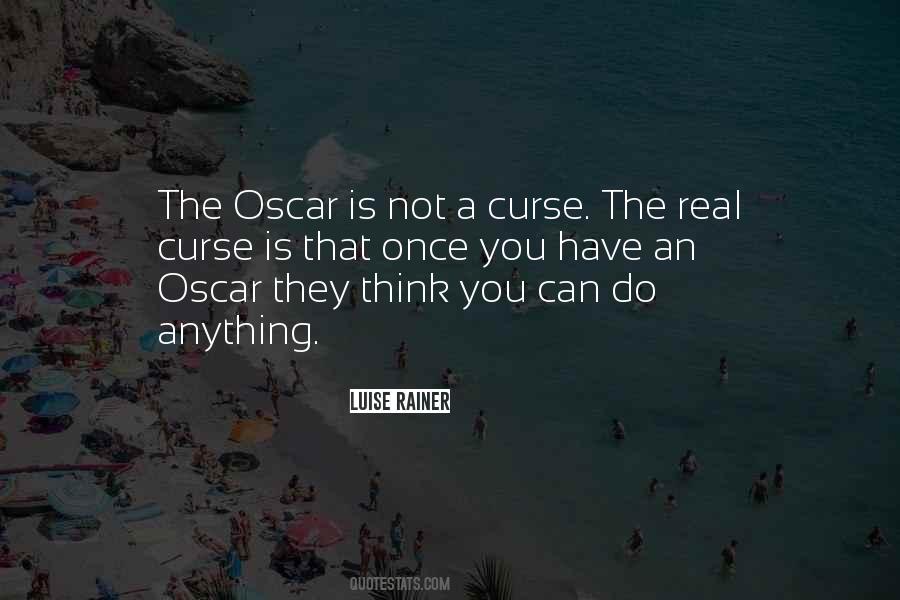 #10. Unless you think you can do better than Tolstoy, we don't need you. - Author: James A. Michener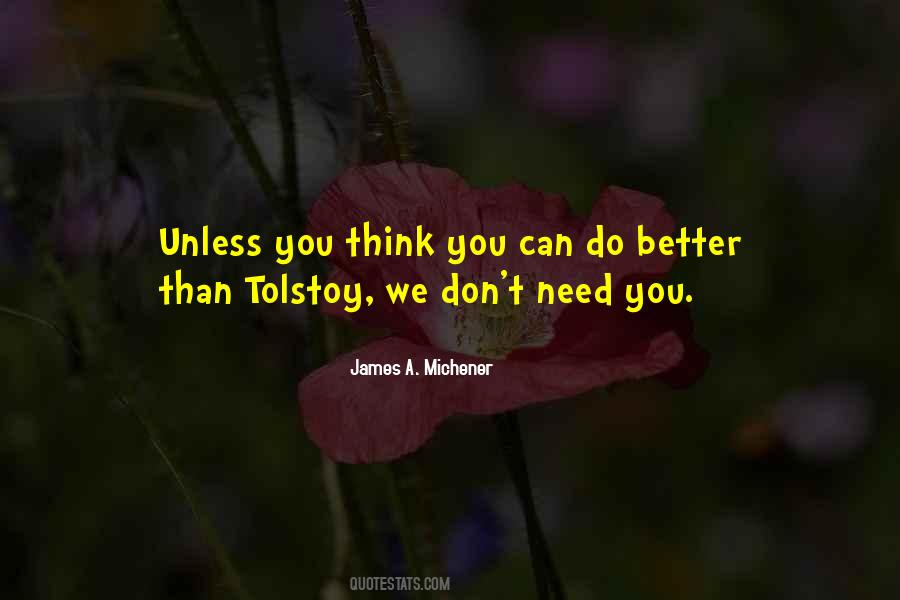 #11. I feel like I have to do the best job I can to basically say, "OK, I understand - you have every right to be angry, but anger is not a plan. Here's what I want to do, and that's why I hope you will support me, because I think it will actually improve the lives of Americans." - Author: Hillary Clinton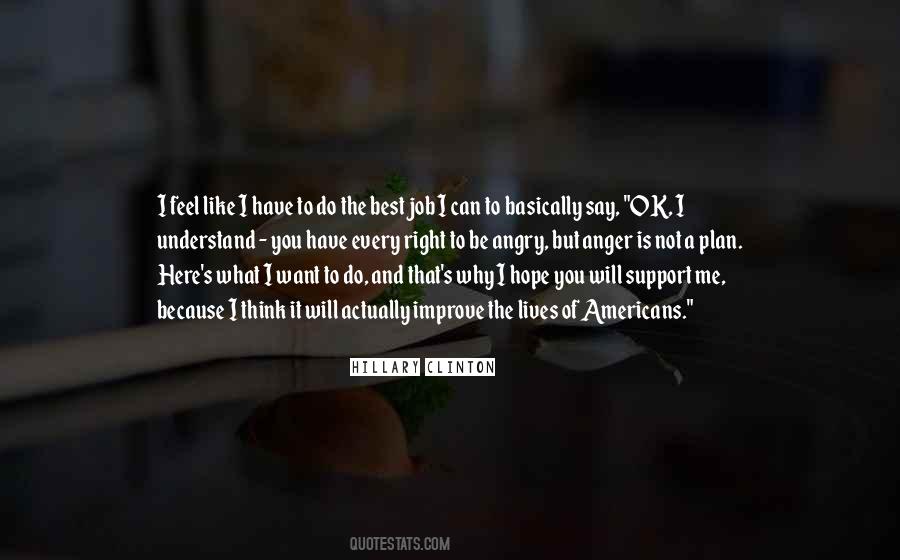 #12. It's like an emotional dance party: Some dances will be your favorites
others more awkward or difficult to learn. Some will be boring or make you mad. some you will wish you never needed to do again. But AHA! You think. I will dance all the dances I can. - Author: SARK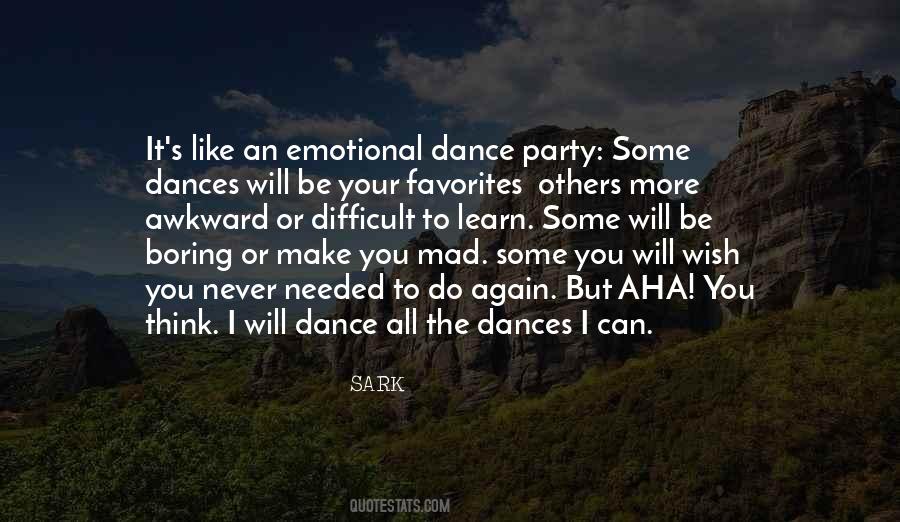 #13. Colin mustered a perfunctory leer, but his mind was obviously elsewhere. 'Do you know ... ' he began.
I knew many things, but I didn't think he needed to hear the entirety of the Prologue to the Canterbury Tales right at just this moment. - Author: Lauren Willig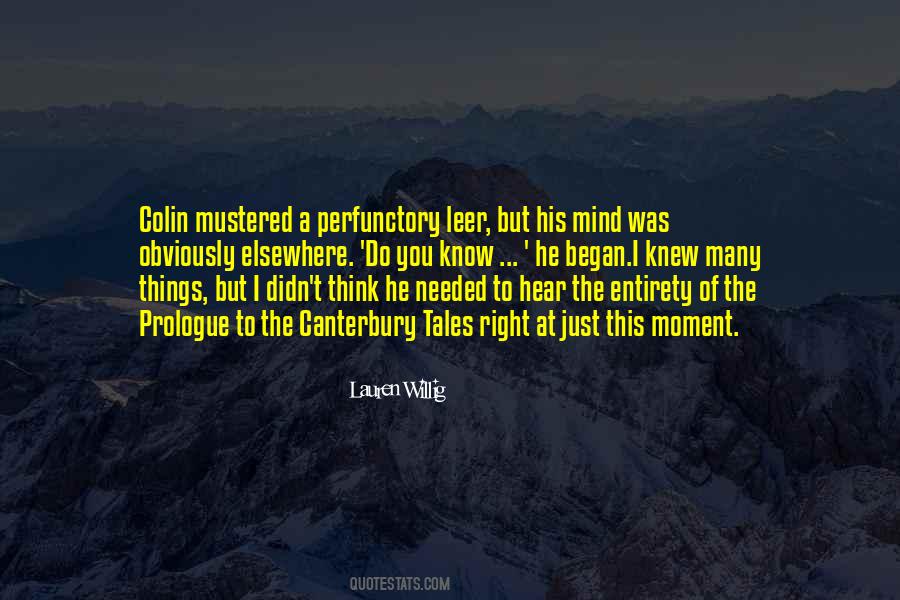 #14. I think you end up doing the stuff you were supposed to do at the time you were supposed to do it. - Author: Robert Downey Jr.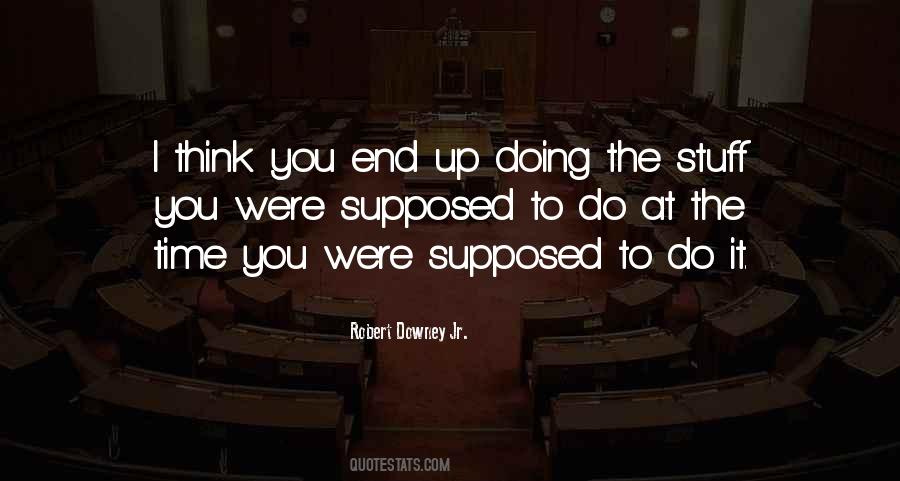 #15. You ever go to shop for tuna, and it says "dolphin safe", and you look at it and kind of go, "Yeah, but"-like somehow you think it's not going to be as good? Like, "I want to do the right thing-but it's probably kind of bland without the dolphin." - Author: Louis C.K.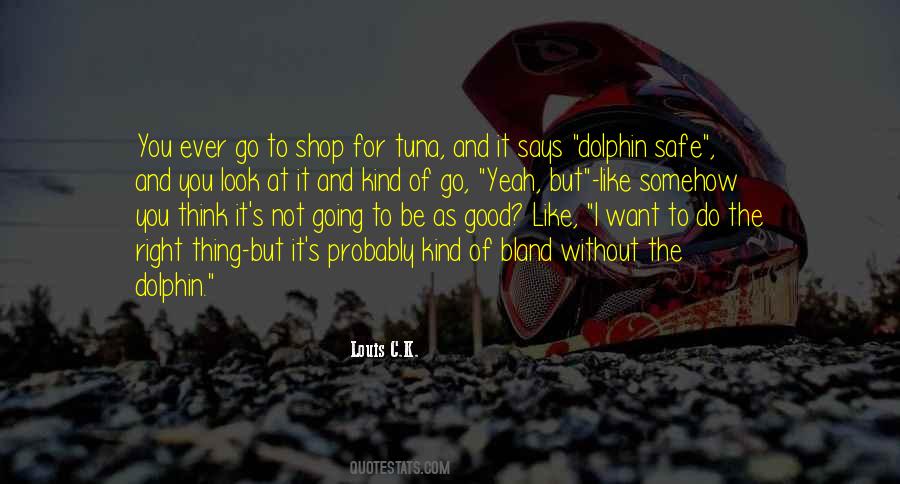 #16. To be a good writer, you not only have to write a great deal but you have to care. You do not have to have a complicated moral philosophy. But a writer always tries, I think, to be a part of a solution, to understand a little about life and to pass this on. - Author: Anne Lamott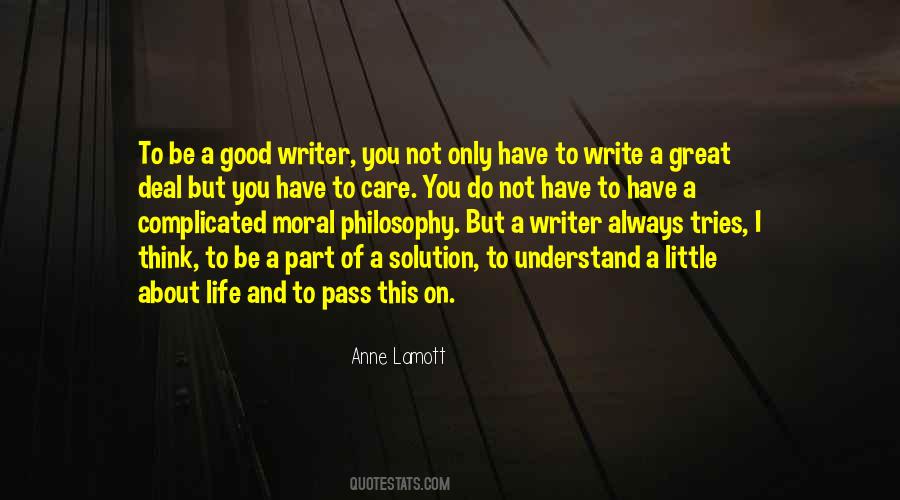 #17. My mom was always pretty supportive. She saw me do plays and she'd always act out the parts I did. My aunt, who played a big part in my life, was a little bit more reserved, because if they don't see you on TV every week they think you must be starving. - Author: Angela Bassett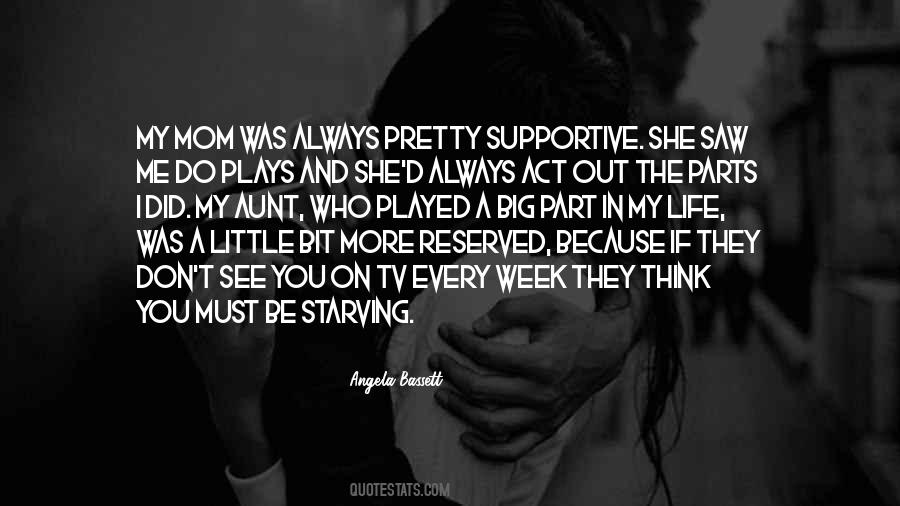 #18. You think that because I want to do what's right, because I want to make things better, I'm weak," Claire said. "Or that I'm stupid. But I'm not. It takes a lot more strength to know how bad the world is and not want to be part of that, give in to it. And I do know, Kim. Believe me. - Author: Rachel Caine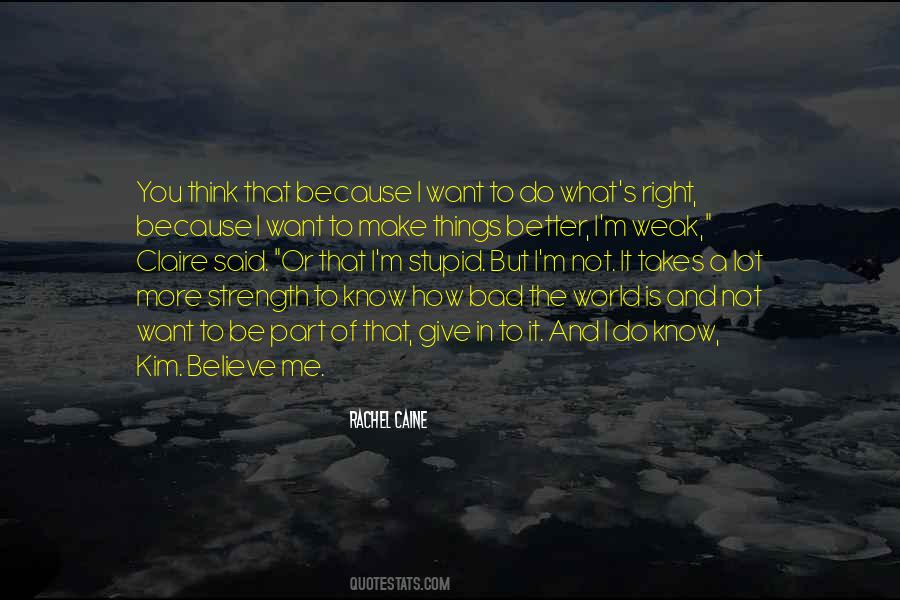 #19. ("Tell me," a rabbi asked Daniel Bell when he said, as a child, that he did not believe in God. "Do you think God cares?") - Author: Joan Didion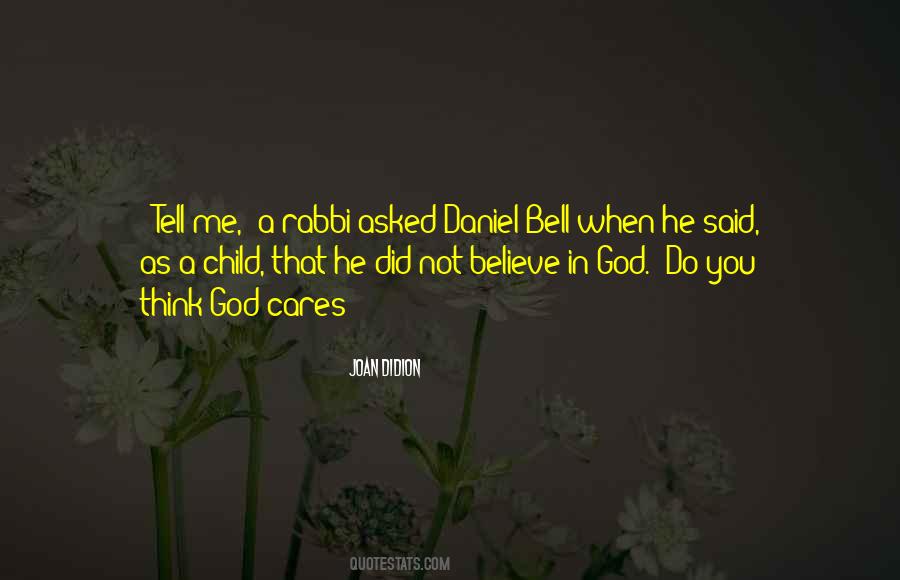 #20. Every once in a while you definitely have to film someone for half an hour saying something that you do not think is funny because for the previous two hours they said a bunch of stuff that you think is really funny. - Author: Seth Rogen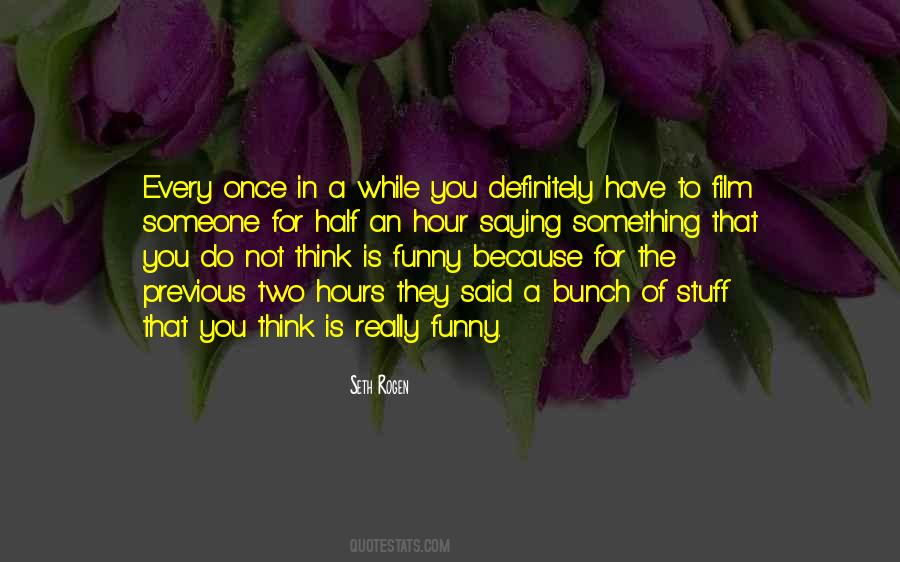 #21. Do you think too long a period of nightlessness," mused Sandra, "could drive you insane, the way they say sleeplessness can? - Author: Julia Glass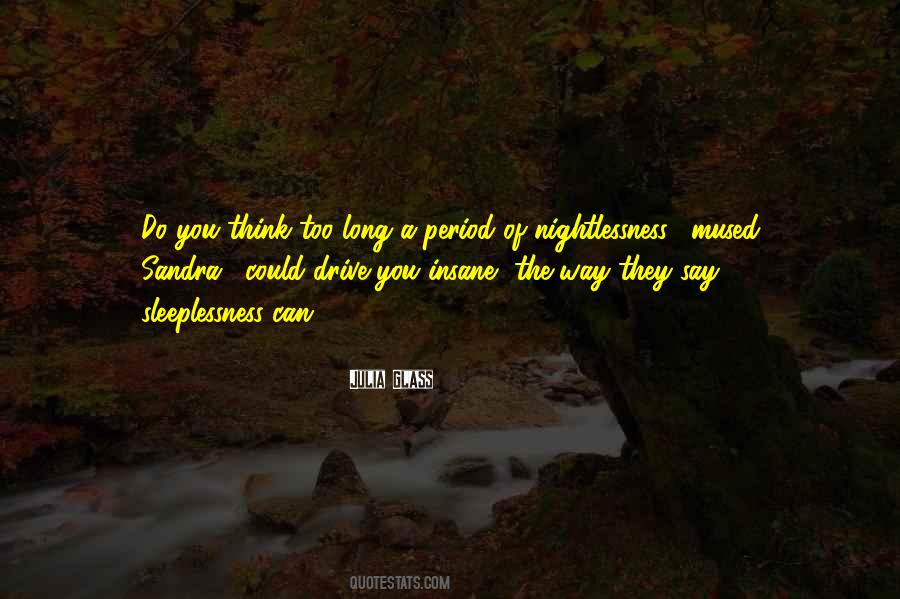 #22. Do you think someone can change? Like maybe in a year or two? Like, do you think if maybe two people aren't right for each other right now, maybe they could be later? - Author: Stephen Emond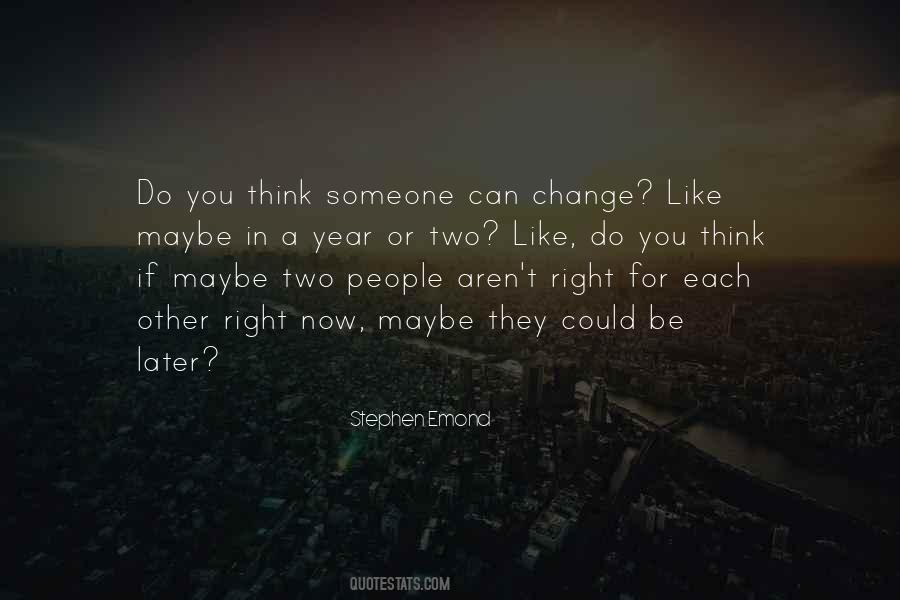 #23. I think, if you spend a day or as many people do a life working only with that aspect of your being, the cerebrum connected to a finger, I feel that the rest of you atrophies, essentially. - Author: Brian Eno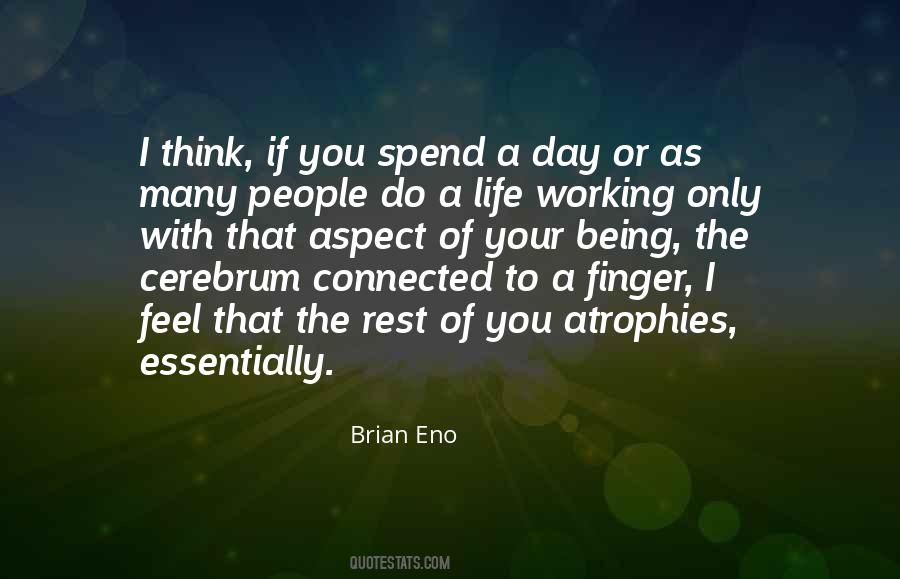 #24. The first thing that has to be broken down is your relationship to authority. Your insecurity could possibly be the wedge that opens up your perspective on what you think is possible for you to do. - Author: Ross Bleckner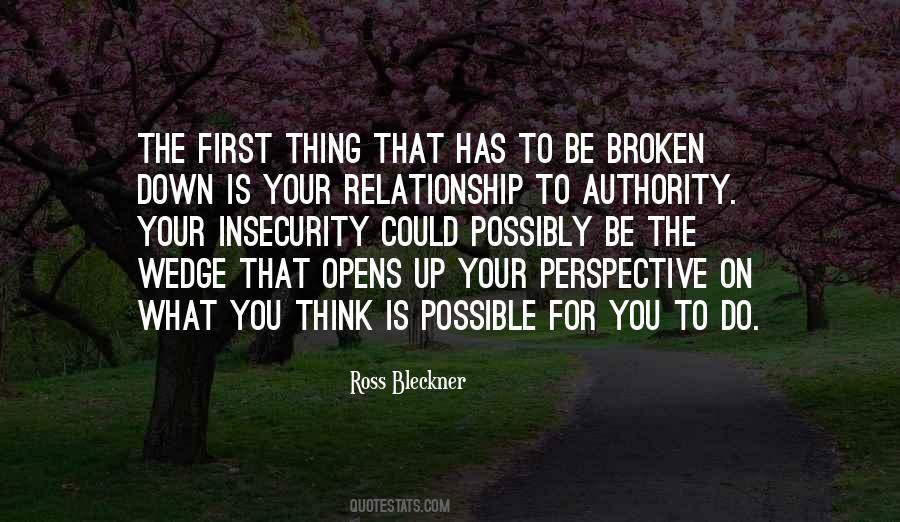 #25. Do you have a problem? Think carefully! Is it really a problem or is it just your mind's invention, your mind's exaggeration? Is your problem really a problem? Think carefully, because mostly it is not! - Author: Mehmet Murat Ildan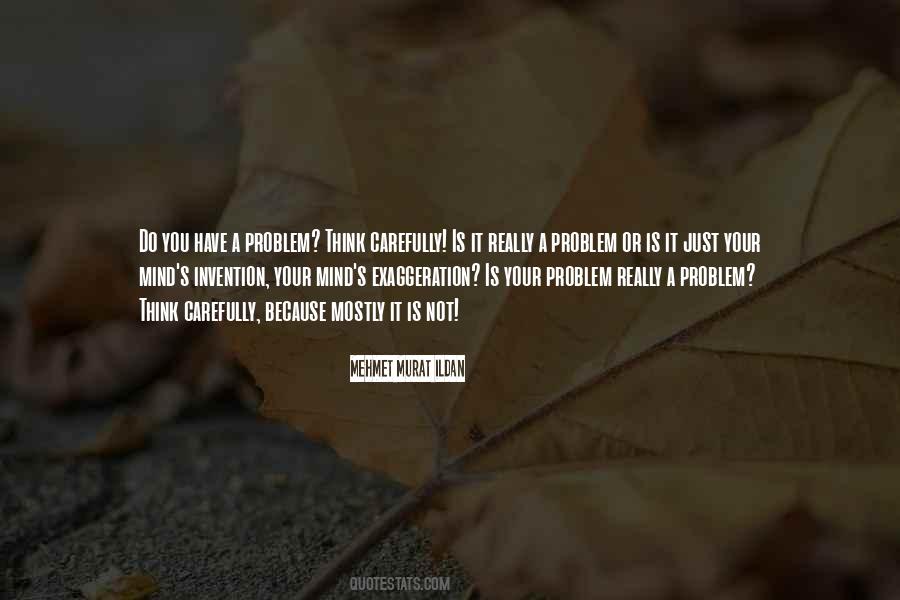 #26. You'd think God would come right out and tell us what to do in the Bible, but He doesn't. He mostly tells stories, and He rarely stops the story to say what the point is. He just lets the characters and conflict hang in the air like smoke. - Author: Donald Miller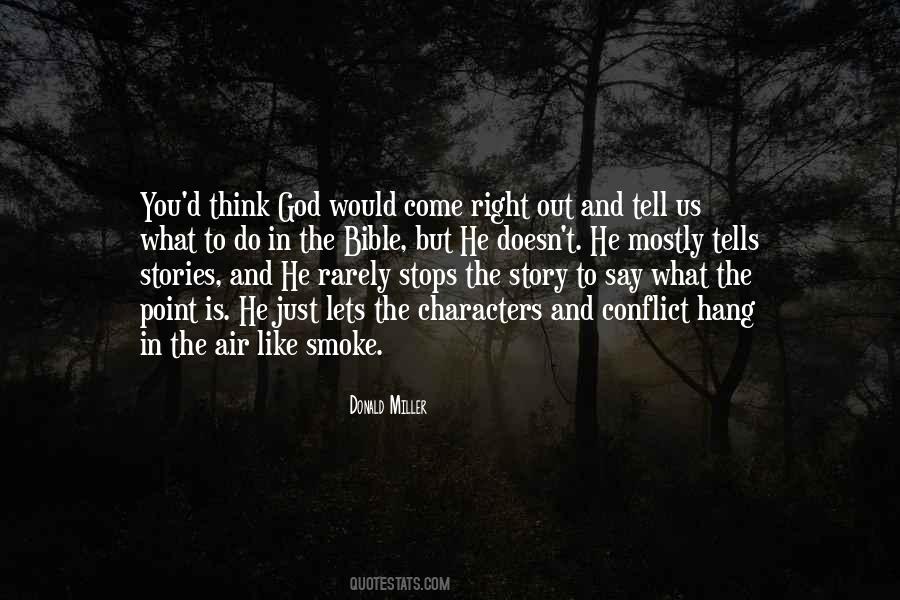 #27. So that all the people who say, you know, "All the media hates America." A lot of the media does hate America but this is a case of, actually, the press doing its best, I think, to do the right by national security. So good for them. - Author: Tucker Carlson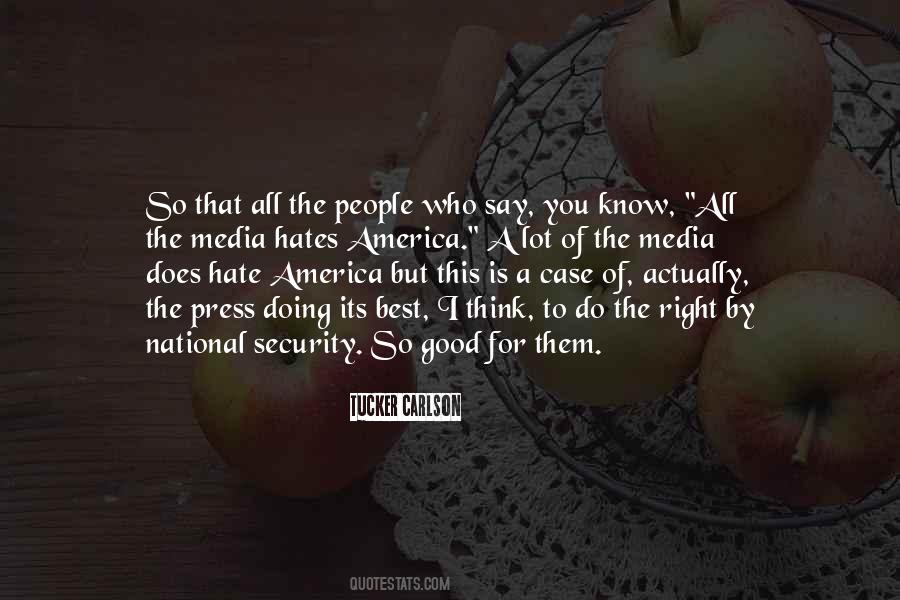 #28. That's what it means to be a man. You do what you think is right, regardless of who it hurts, and whether it works out, because in the end you have to live with yourself. - Author: Mark Goldblatt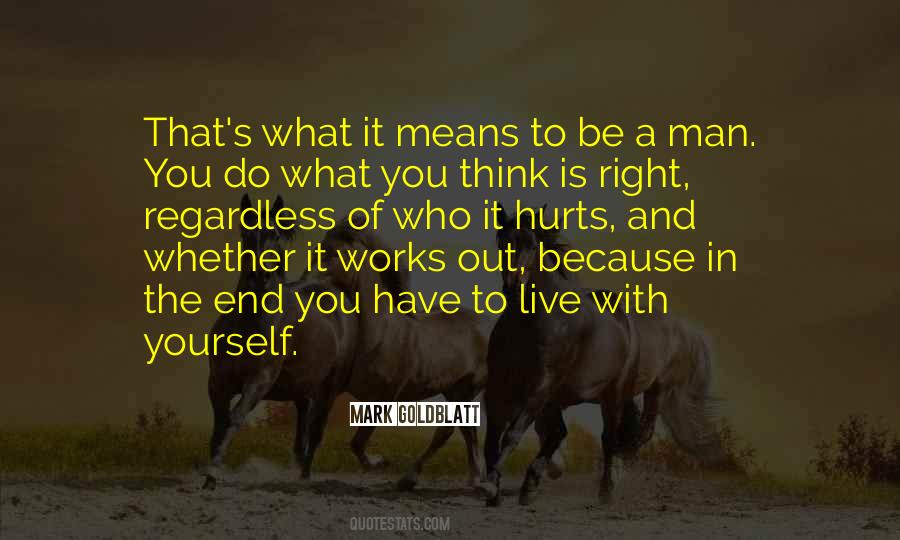 #29. I think it's the most responsible thing you can do, to have kids. It's not something to be taken lightly. I don't have that gene that people have to replicate. - Author: George Clooney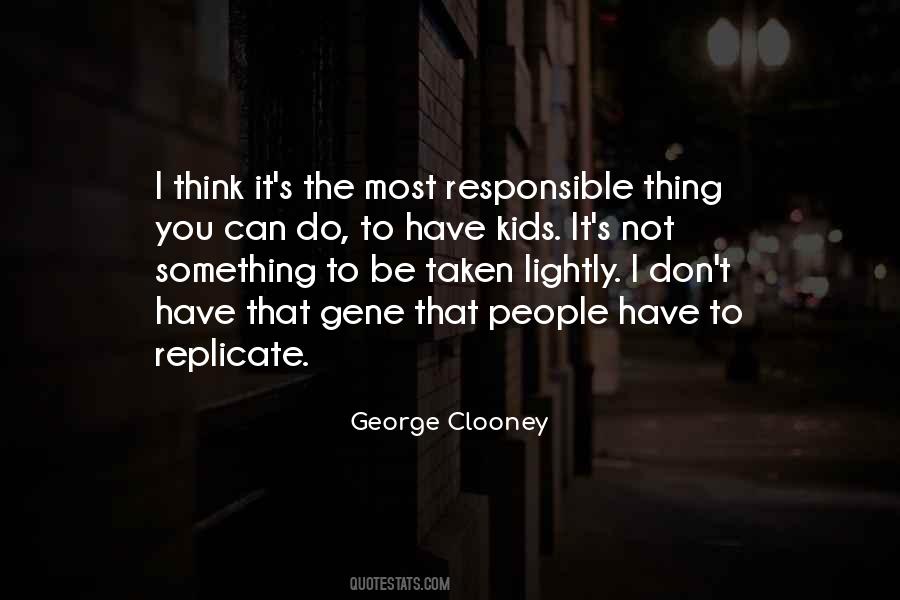 #30. Well, I'm sure I hope your health may be good, Louisa; for if your head begins to split as soon as you are married, which was the case with mine, I cannot consider that you are to be envied, though I have no doubt you think you are, as all girls do. - Author: Charles Dickens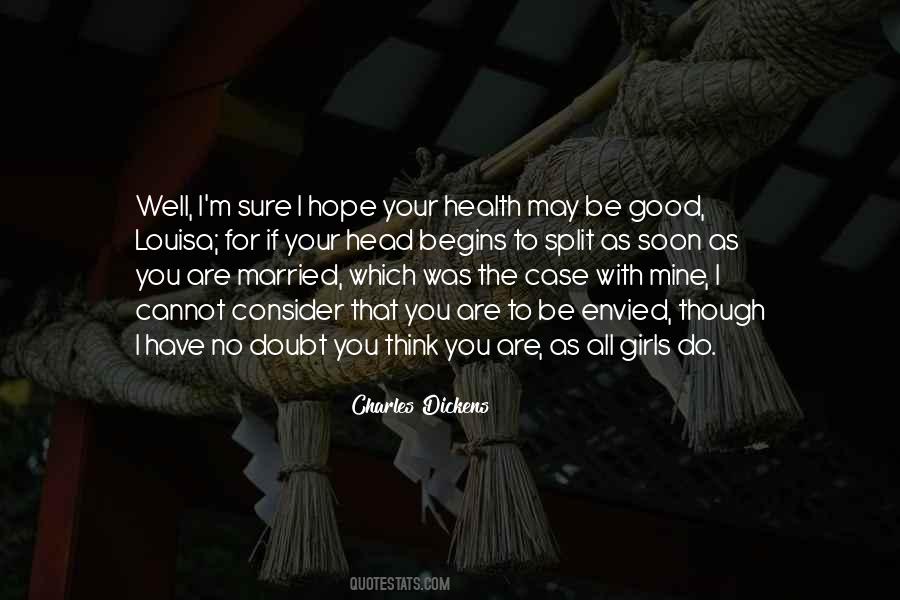 #31. God says to me with a kind of smile, "Hey how would you like to be God awhile And steer the world?" ... "How much do I get? What time is lunch?" ... "Gimme back that wheel," says God. "I don't think you're quite ready yet." - Author: Shel Silverstein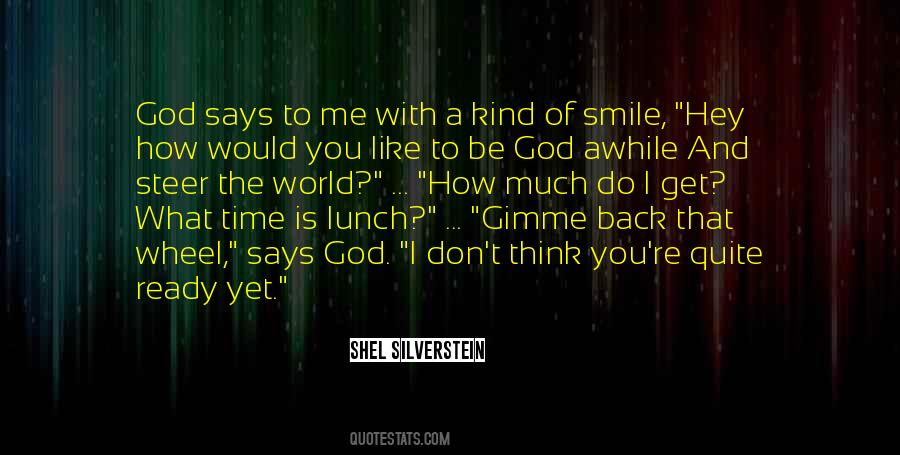 #32. Do you think it's so snobbish, to want to see something besides one's fellow citizens abroad? - Author: Sinclair Lewis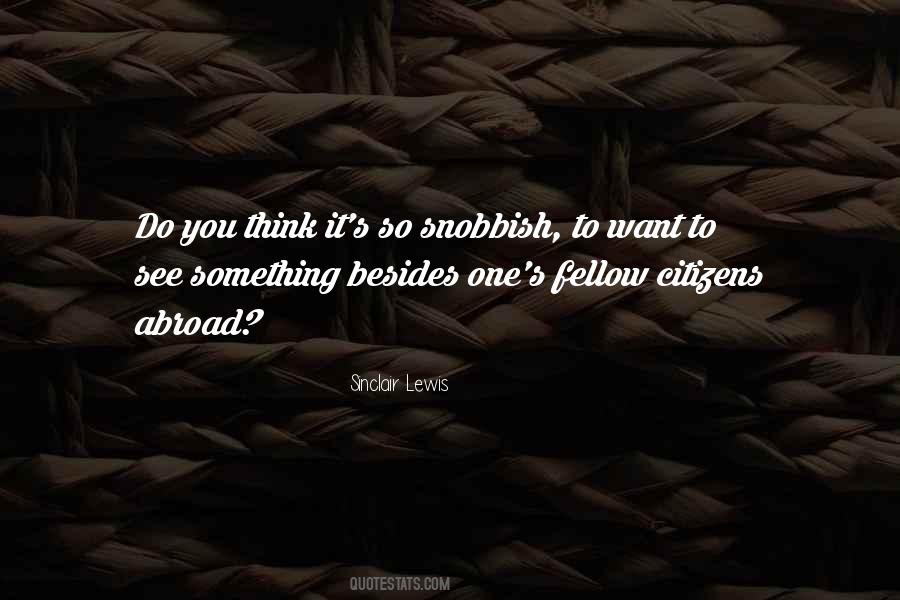 #33. If you walk by something that I've done and you like it then I don't think I did what I was supposed to do. It should hit, it should either make you feel uncomfortable, or it should make you feel great, as long as it makes you feel something. - Author: Jason Shawn Alexander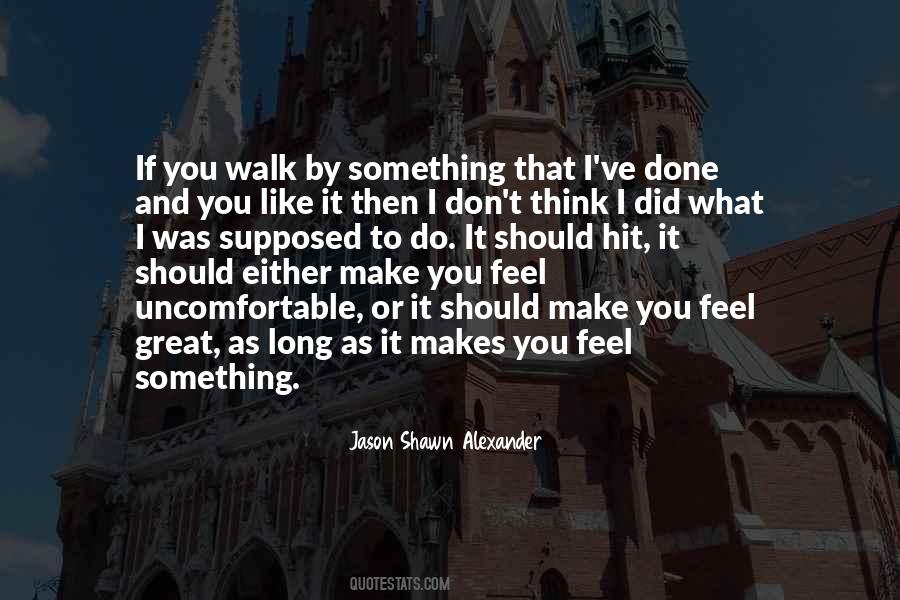 #34. Do you really think he untied you? .. He was just checking his kids handiwork. - Author: Kelley Armstrong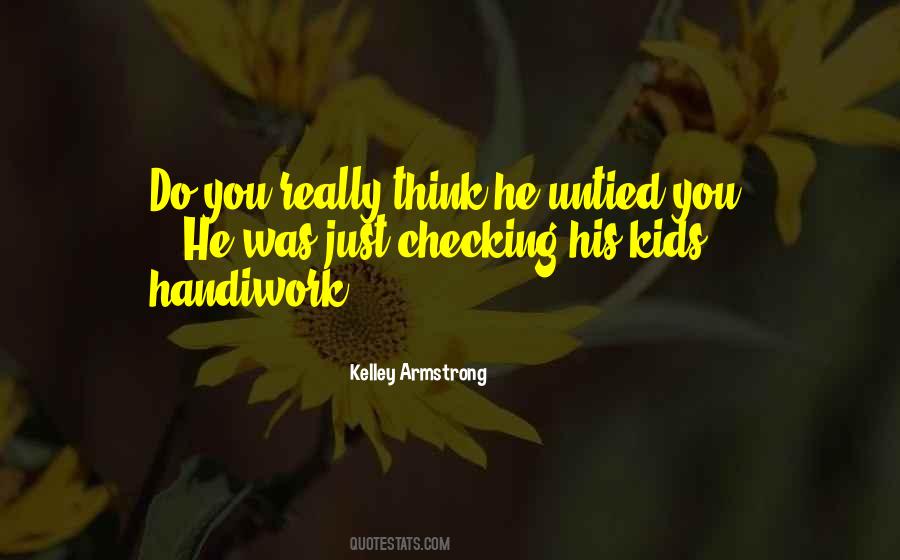 #35. I think the way you build a company for the future has to include social impact; it has to be part of the fabric of your company. I think when you do that, you invariably end up with much better outcomes, even in the short-term. - Author: Leila Janah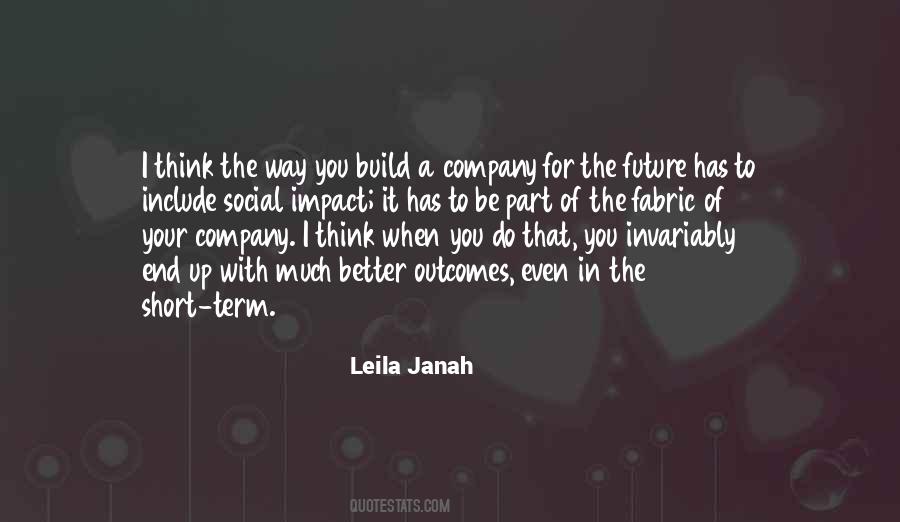 #36. I think when you wear the brand anyway, why not go out and try to promote it and make it as cool as you can? The fact that I can continue to do what I've always done and kind of become the face of that brand is to me, kind of just makes sense. It doesn't make sense not to do it I guess. - Author: Jason Aldean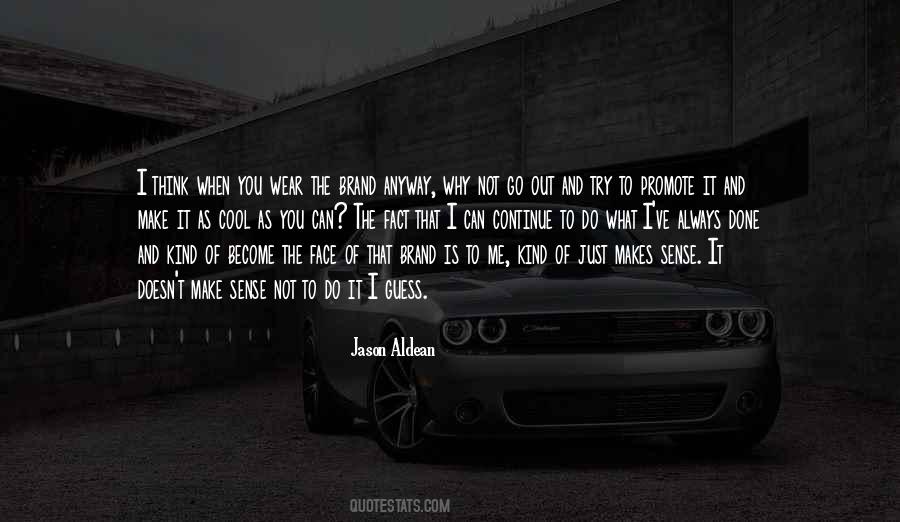 #37. Some people think that nothing moves in this world without leave of the woman. Do not know more, but I can say that war never happened, nor can there be, when you do not want to leave sovereign - Author: Jose De Alencar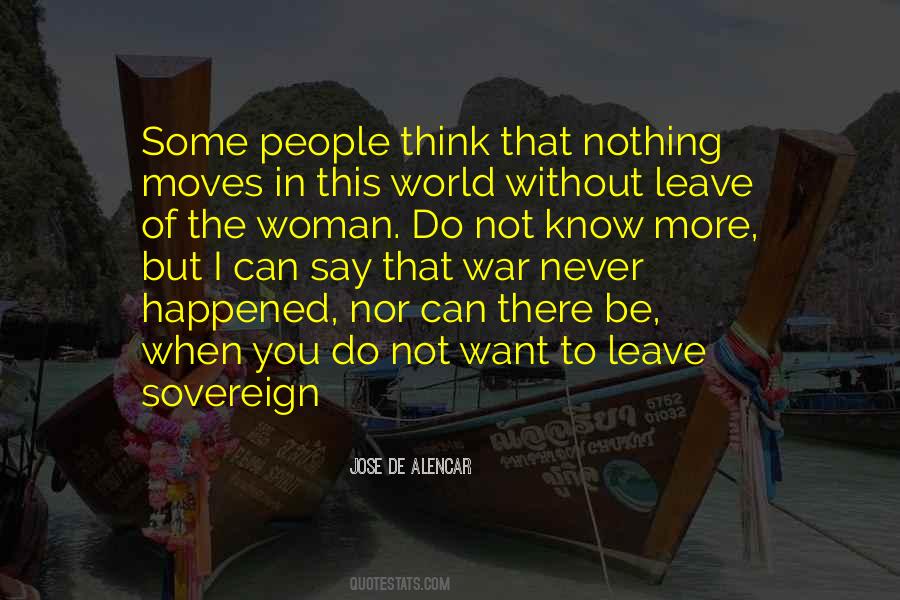 #38. Hey, er ... " said Zaphod, "what's your name?"
The man looked at them doubtfully.
"I don't know. Why, do you think I should have one? It seems very odd to
give a bundle of vague sensory perceptions a name. - Author: Douglas Adams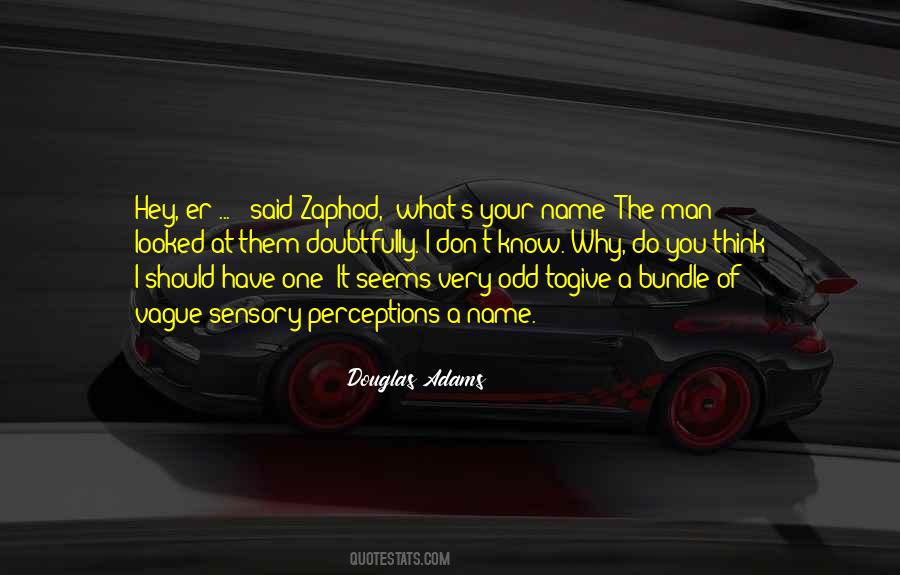 #39. But it is a perfect world, and you have a perfect life. You do have the power to control your day. You do have the power to think good thoughts. You do have the power to live your dreams! - Author: Robin S. Sharma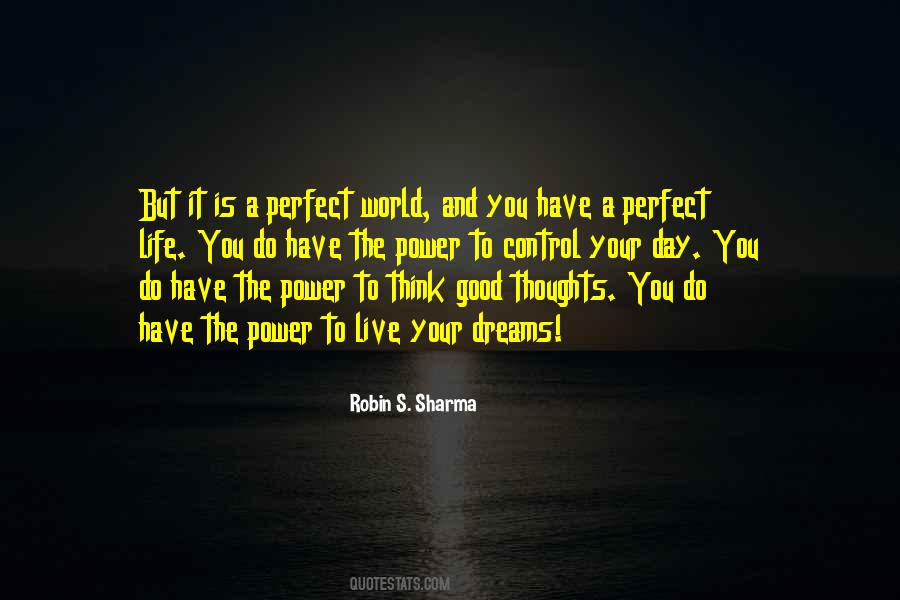 #40. I do think that when you make repeated mistakes, it's usually because you're just not coming to grips with something. - Author: Ben Folds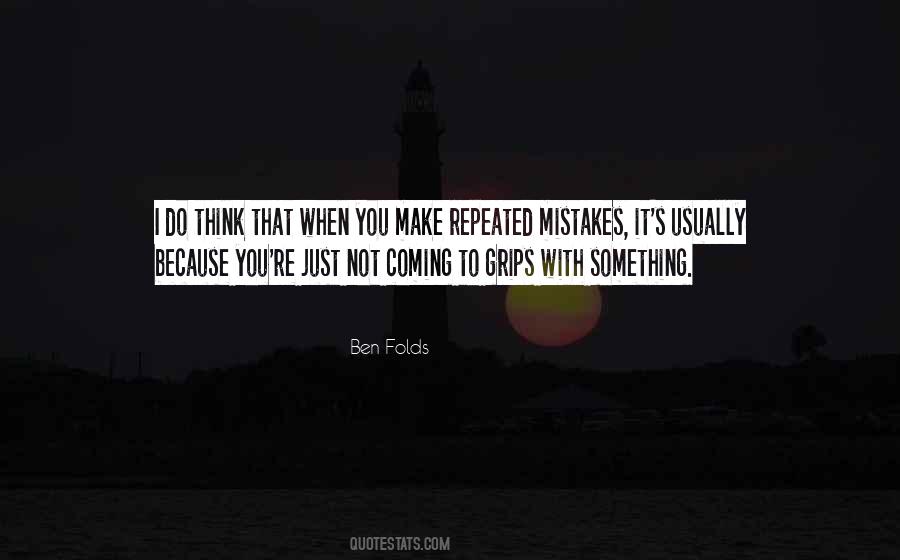 #41. If you pretend to belong, people often think you do. - Author: Ruth Silver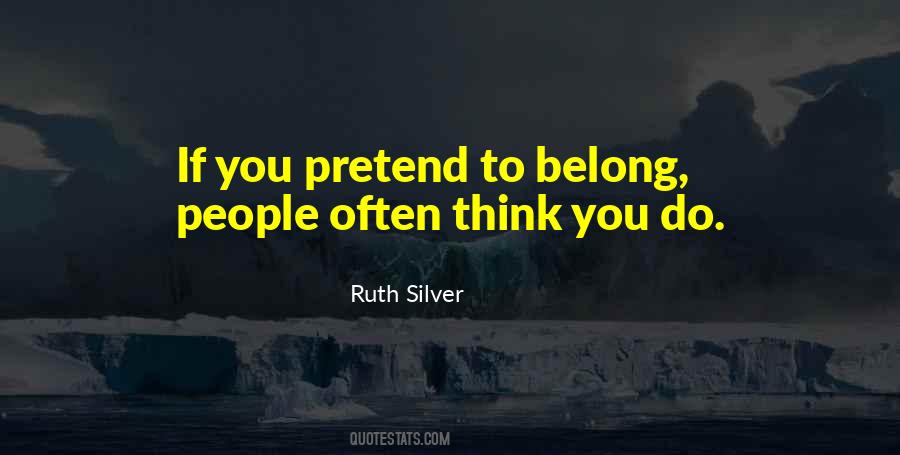 #42. I lost you once, I think I can do it again. - Author: Nicholas Sparks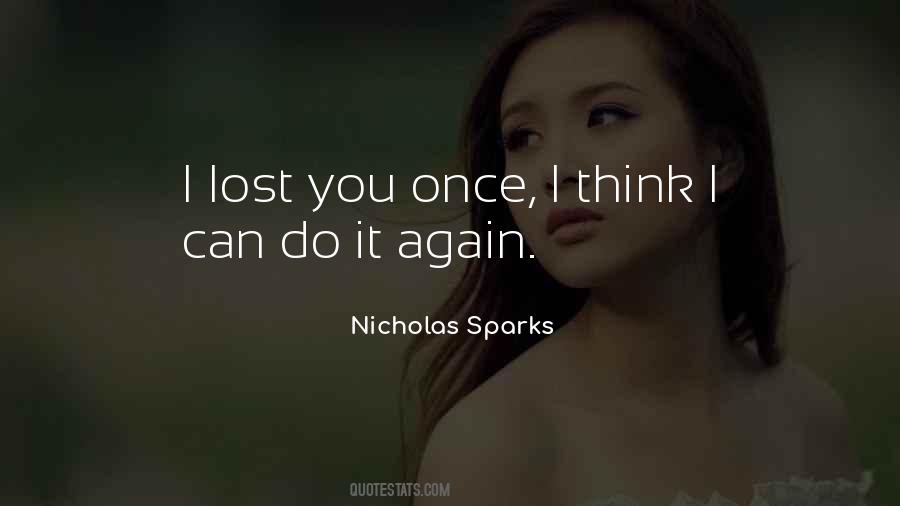 #43. You'll be bothered from time to time by storms, fog, snow. When you are, think to yourself, 'What they could do, I can do. - Author: Antoine De Saint-Exupery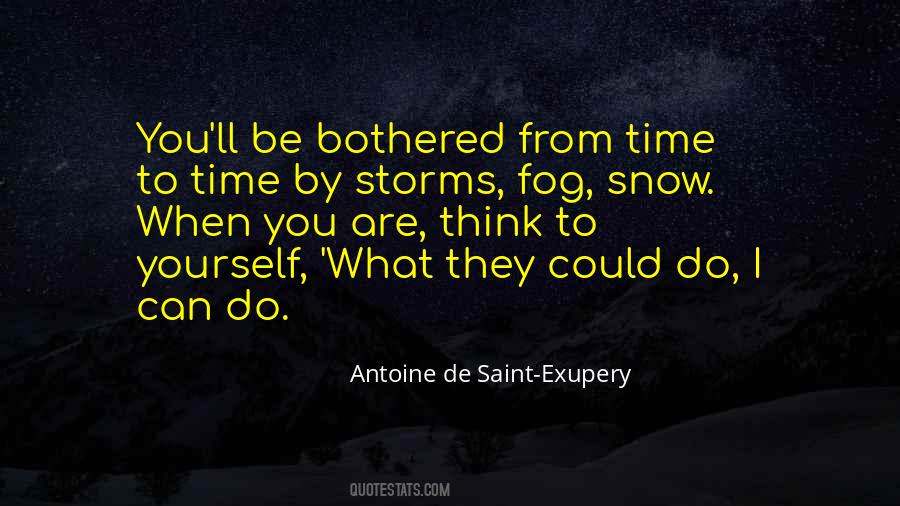 #44. Emphasis must be put on learning: there is no substitute to education. It can be briefly formulated in a few words: always, whatever you do in life, think higher and feel deeper. - Author: Elie Wiesel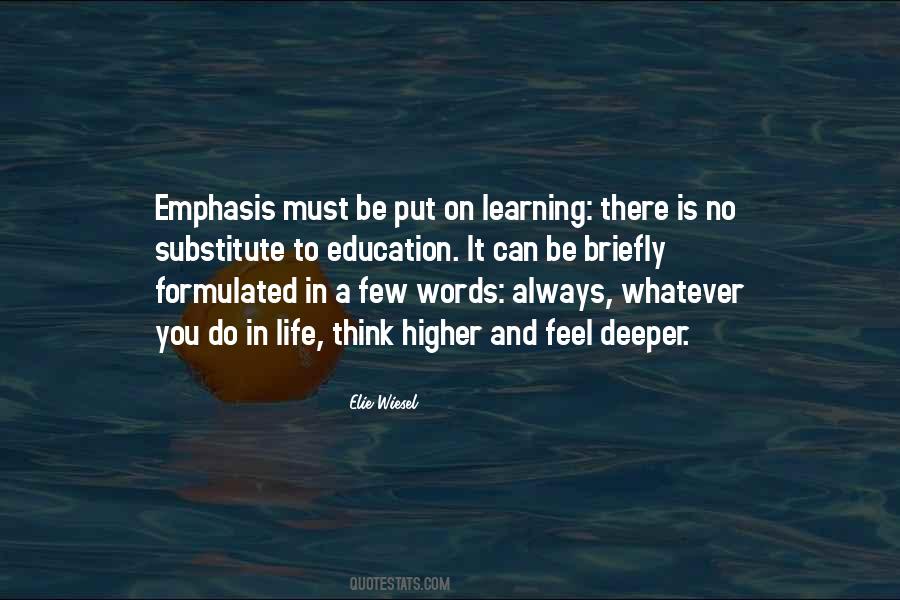 #45. I think the crucial thing in the writing career is to find what you want to do and how you fit in. What somebody else does is of no concern whatever except as an interesting variation. - Author: James A. Michener
#46. 'Why do you think it is ... ', I asked Dr. Cook ... 'that brain surgery, above all else-even rocket science-gets singled out as the most challenging of human feats, the one demanding the utmost of human intelligence?' [Dr. Cook answered,] 'No margin for error.' - Author: Michael J. Fox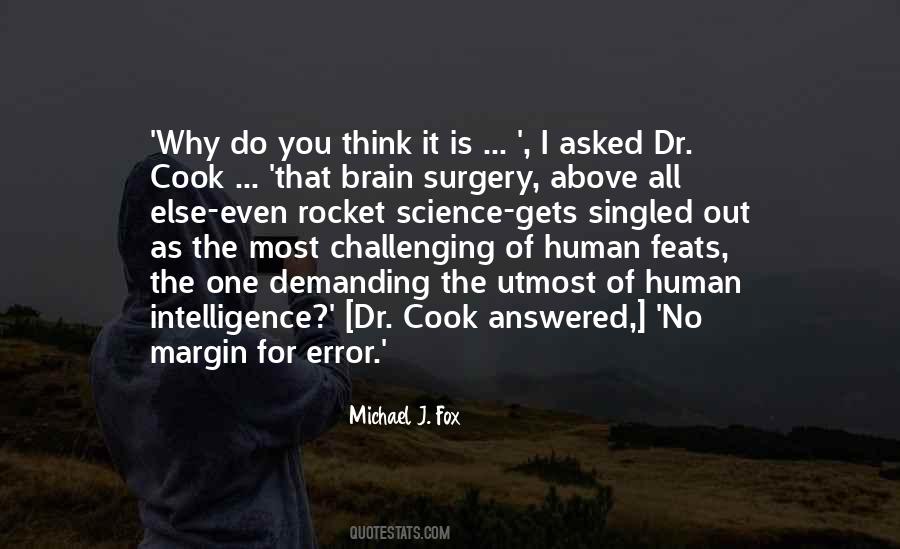 #47. I think our concept of revolution, in terms of getting the power to do things, is too focused on the state. We have a scenario of revolution that first, you know, comes from 1917, that first you take the state power, and then you change things. And we don't realize it's collapsed. - Author: Grace Lee Boggs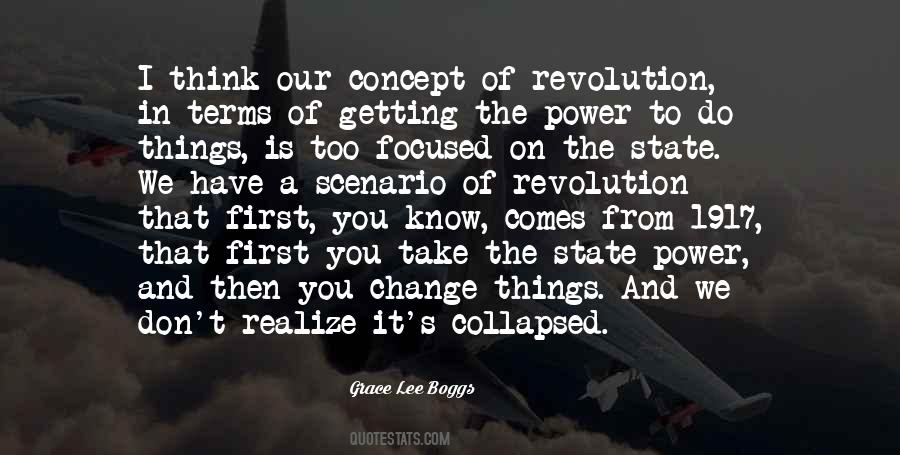 #48. "I've done your dog. It's got nine eyes down the side, I made his head all square, 15 legs. What do you think of that?" "Fido looks a bit weird." - Author: Eddie Izzard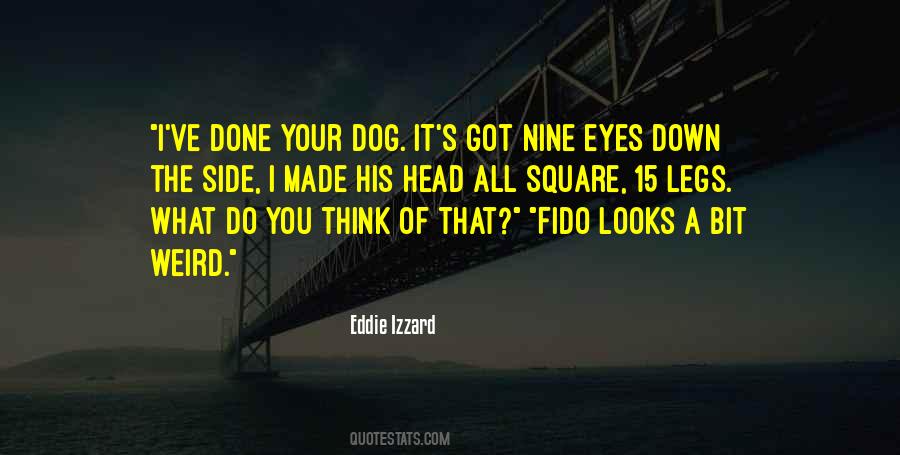 #49. I think you want a little unofficial help. Three undetected murders in one year won't do, Lestrade. But you handled the Molesey Mystery with less than your usual - that's to say, you handled it fairly well. - Author: Arthur Conan Doyle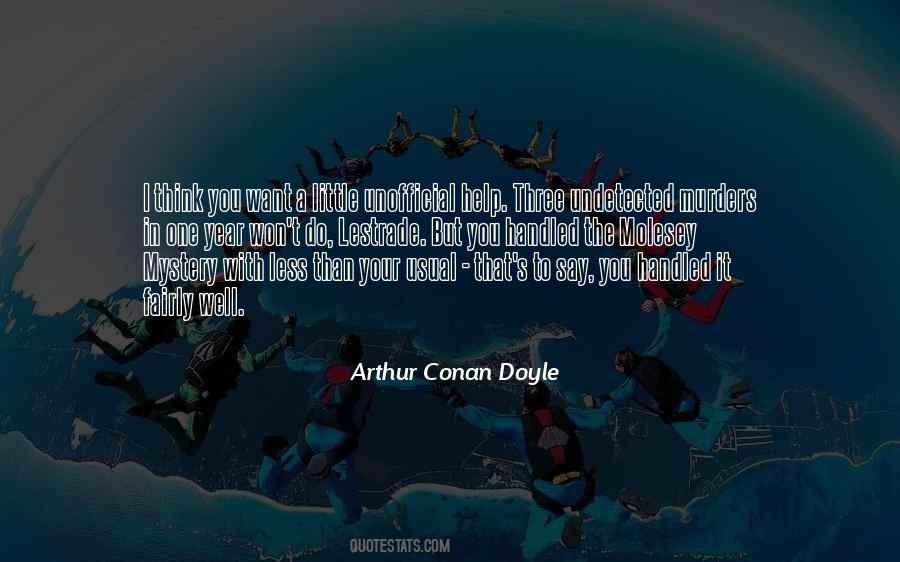 #50. What the hell do you think you're doing going and getting yourself kidnapped? You almost gave me apoplexy!" "Well, excuse me Queen of the World. I'm so sorry I inconvenienced you! - Author: Tamara Hoffa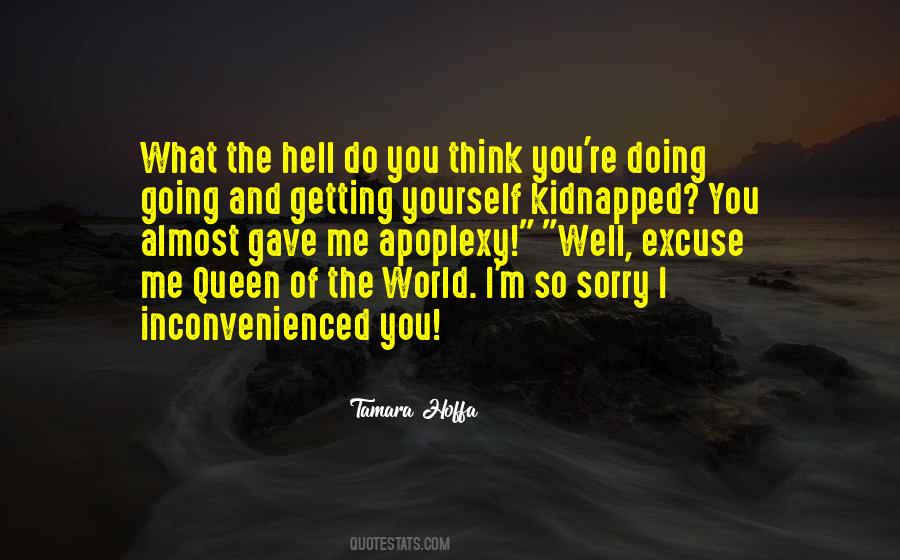 #51. Look at what President Kennedy managed to achieve during the Cuban missile crisis. If Bush had been president in 1962, do you think he would have avoided a nuclear war? - Author: Bianca Jagger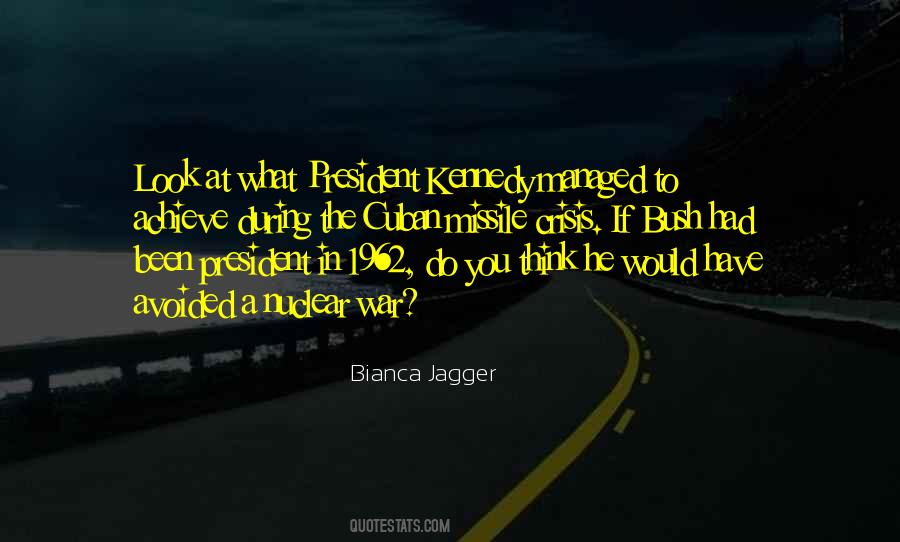 #52. You should really think about buying another new tractor. I hear the current models have air conditioning and Wi-Fi."
"What the fuck do we need Wi-Fi for out in the field?"
"Don't know. Cows might be into the beefcake of the month sites. You never know about them heifers - Author: Mercy Celeste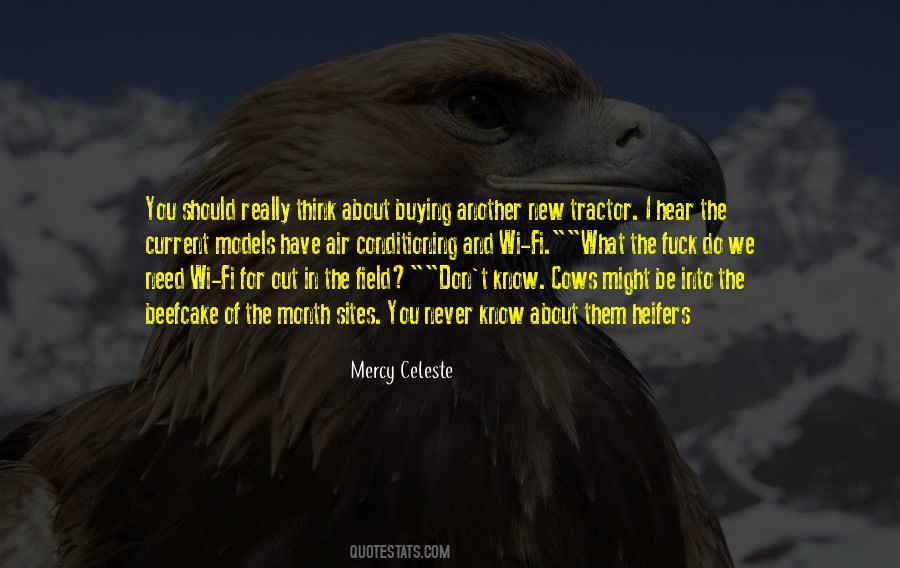 #53. What do you think will be more effective when it comes to succeeding, believing you can or KNOWING you will? Let today be the last day you took timid steps of belief and start taking confident steps of purpose-driven knowing! - Author: Steve Maraboli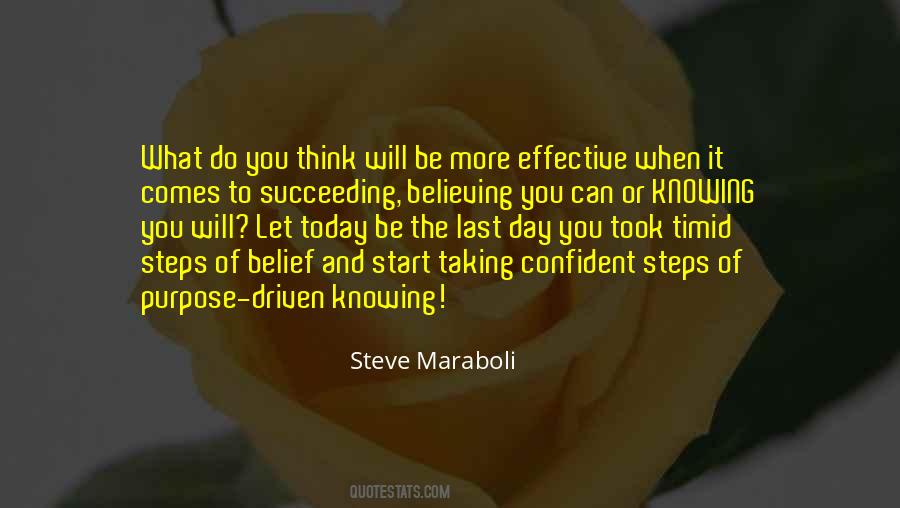 #54. Your father is proud of us for having a
baby."
Gabriel nodded, as he continued brushing.
"That means he's proud of us for having sex and you for impregnating me. Do you think they make T-shirts for grandfathers that express those sentiments? - Author: Sylvain Reynard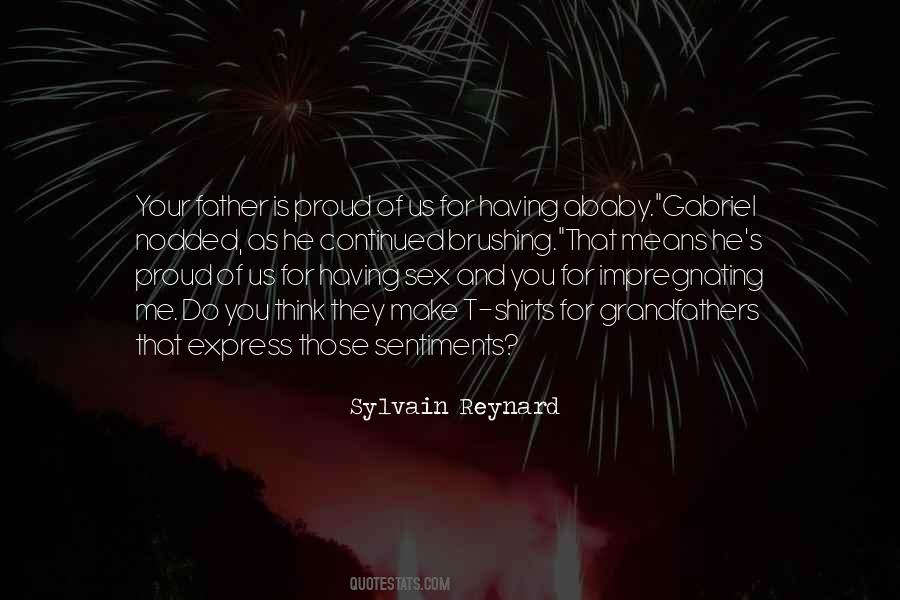 #55. I know crazy when I see it." The moment the words flew out of my mouth I regretted them. Sometimes when you see the line, you think it's a good idea to cross it--until you do.~Noah - Author: Katie McGarry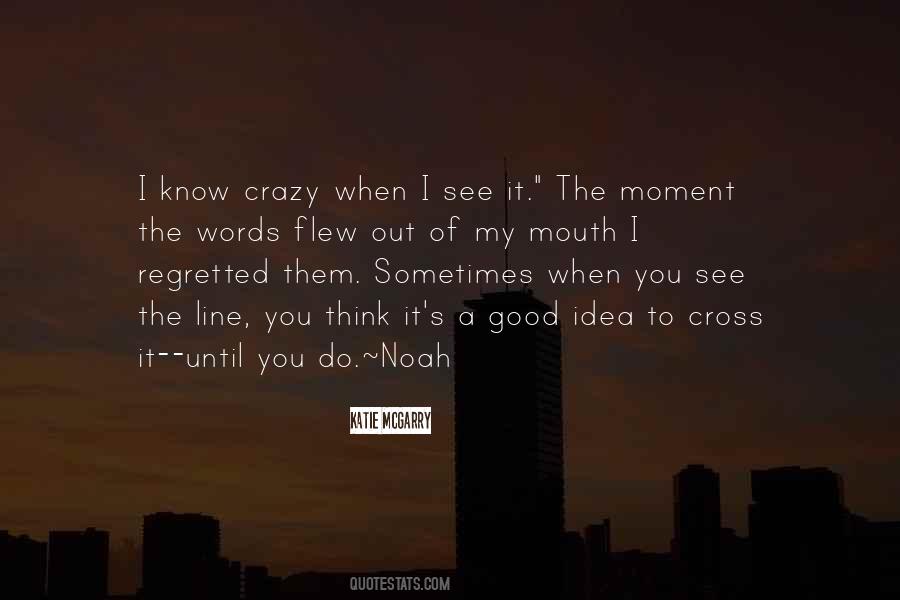 #56. I find with television, you have to play personality, whereas onstage, everyone talks about 'the character,' and what you do. It's a very different thing, because stage is much bigger, but on television, for things to come across to the public, I think you have to play a bit of your personality. - Author: John Barrowman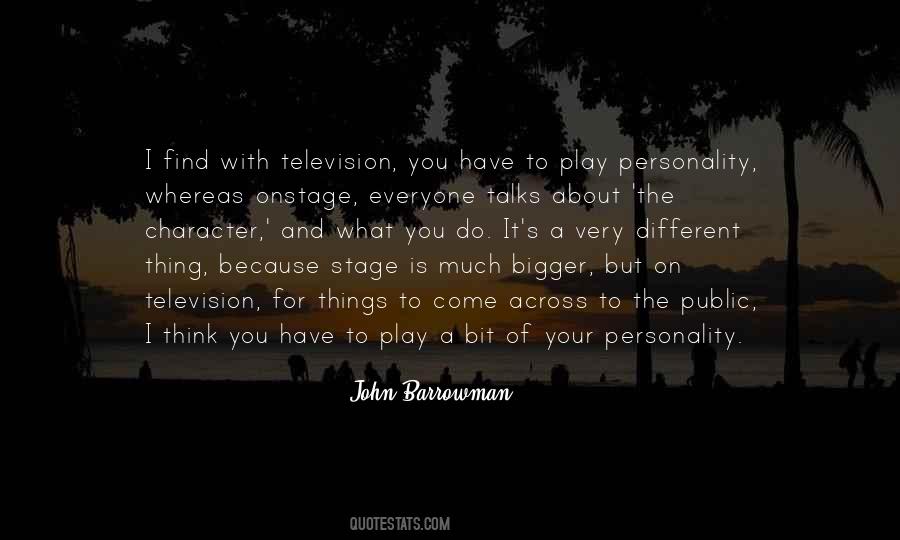 #57. I think it would be best if you came down from there before I explained that."
"I think I'll stay right where I am, thank you," I said. "And you, you stay where you are, or I'll ... I don't know what I'll do, but it will really hurt. You, I mean. - Author: Molly Harper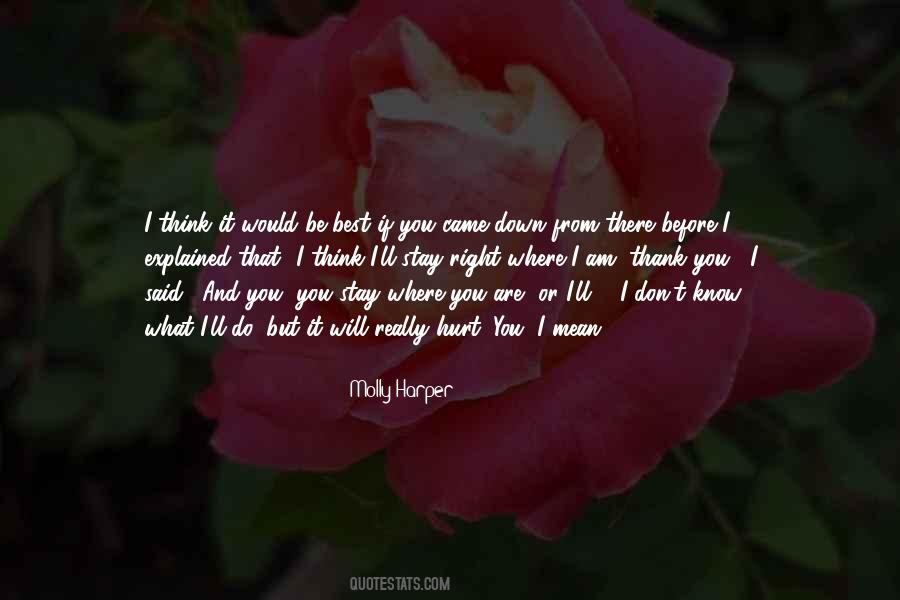 #58. The problem with looking in the mirror is that you never know how you will feel about what you see. Sometimes, when my hormones are out of sync, I have no interest in the mirror, and if I do look I think everything is all wrong. Other times, I am quite pleased with what I see. - Author: Chimamanda Ngozi Adichie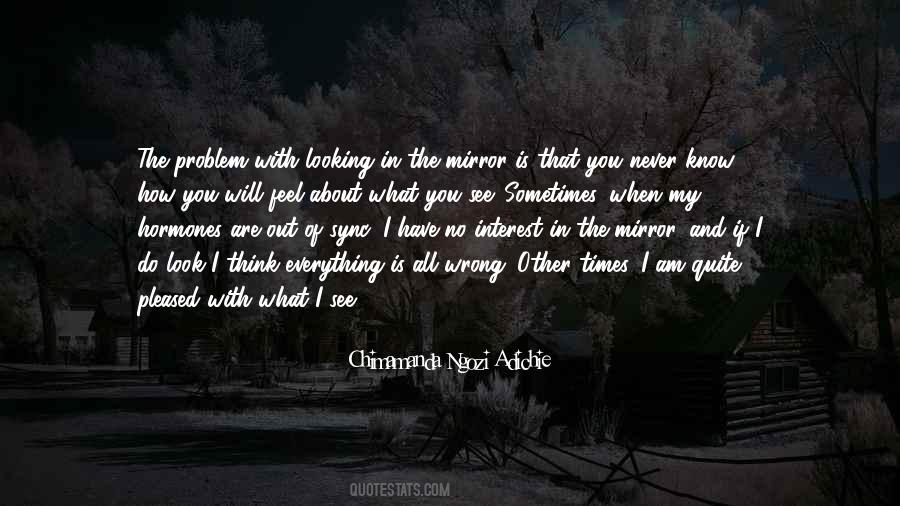 #59. It's odd, how those things happen to actors. A thing where you think, "I have no idea how to do this," something will happen in your life comes up and you just get it. I don't know how you get it, but actors are pretty extraordinary, in that regard. I think it's fear that happens. - Author: Michael Keaton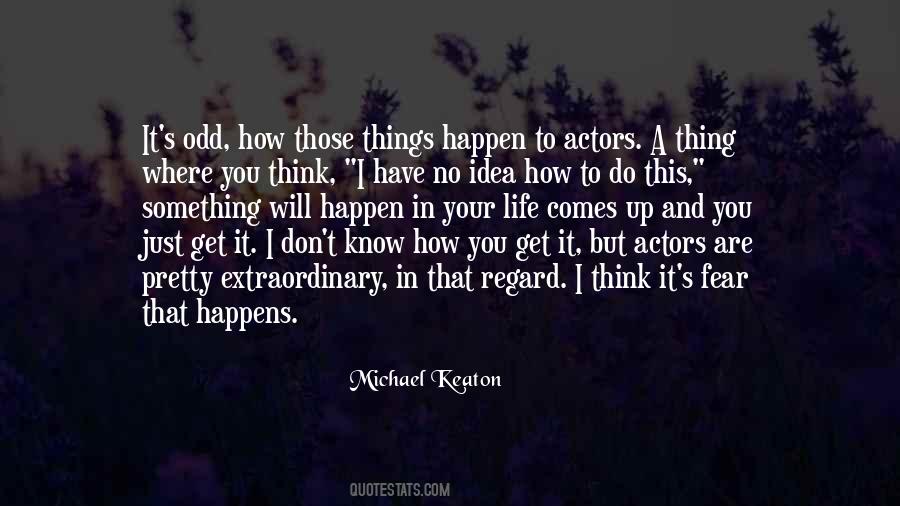 #60. Over time, I have realized that at 20, you can wear too much makeup and people assume you're a slut. Do it at 40 and they think you're a sea witch. - Author: Melodie Ramone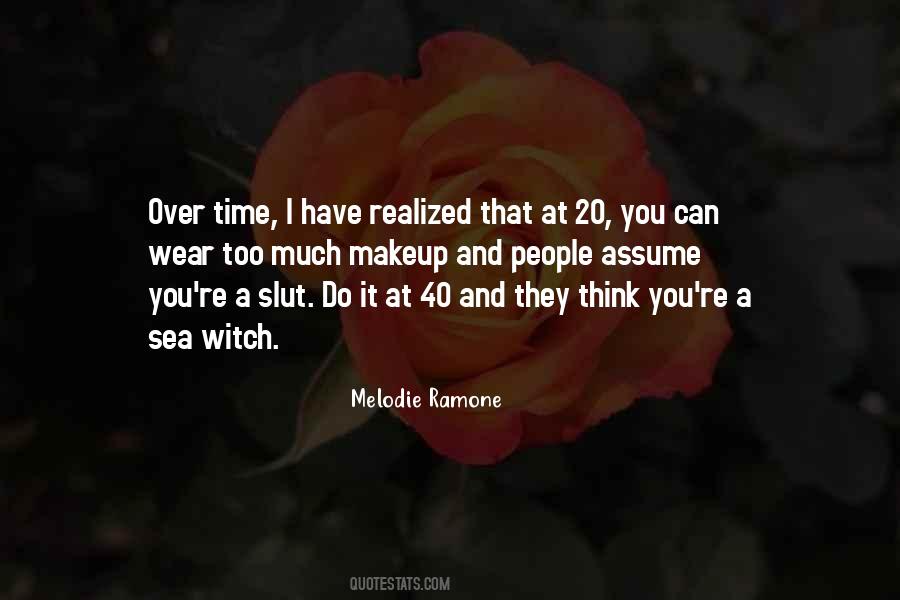 #61. To think of criticism as a conversation is to think of it as a social act, something that puts you in touch with other people who may think the way you do. - Author: Arlene Croce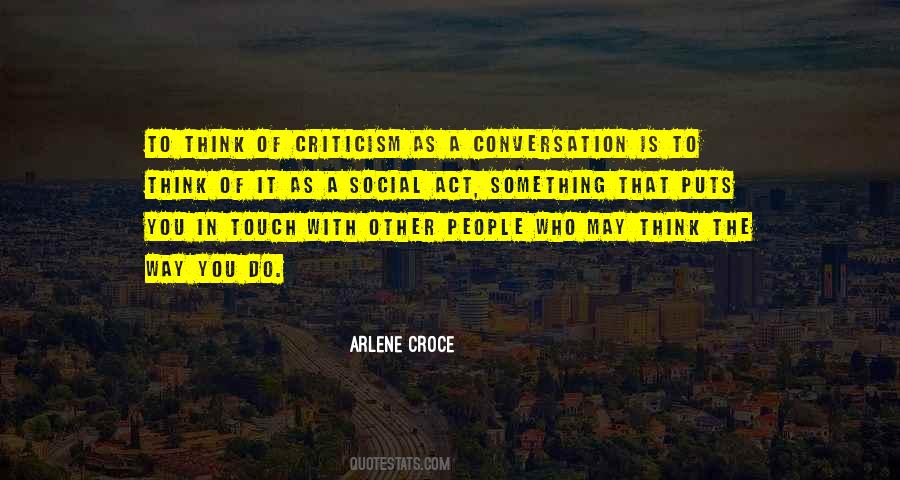 #62. America is a magical place, and I think my job, or the job of a lot of us European filmmakers is to just hold up America to Americans and present it to you in a new way. All I wanted to do is in a funny way say, "Look at your country. It's magnificent." - Author: Hans Zimmer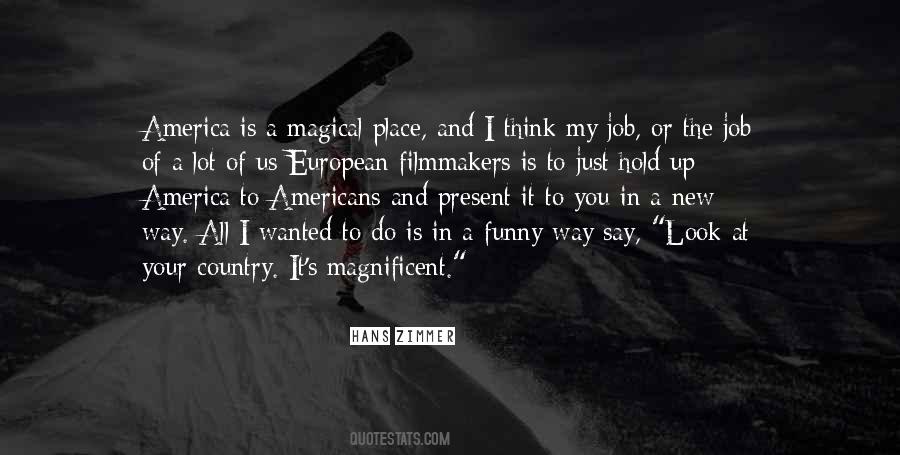 #63. I like to think of my books and the movies of my books living in two separate universes. Each is very nice, but only one is correct - the book. But that doesn't mean you can't enjoy the other versions, and I always do. - Author: Meg Cabot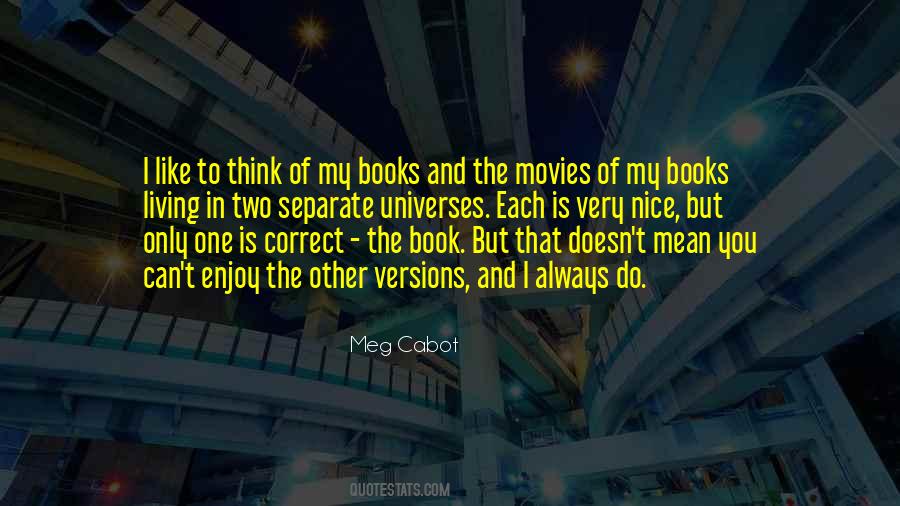 #64. I have a real worker-bee mentality. Just show up, just do it. Even if you feel like s
t and you think you're terrible and you'll never get better and it will never go anywhere, just show up and do it. And, eventually, something happens. - Author: Rosanne Cash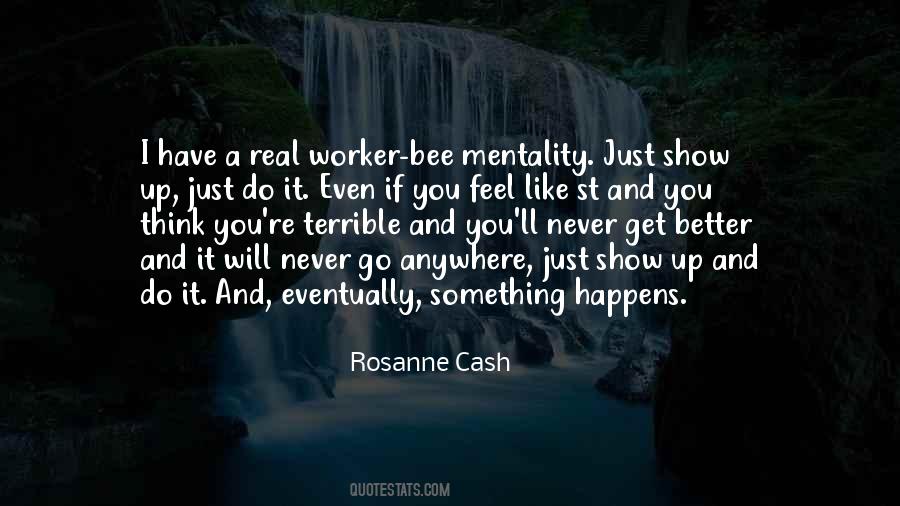 #65. You're born with some things inside you that will allow you to lead, but I think you have to take the bull by the horns. You have to want that leadership position, and then there are things you can do to develop that. - Author: Tony Dungy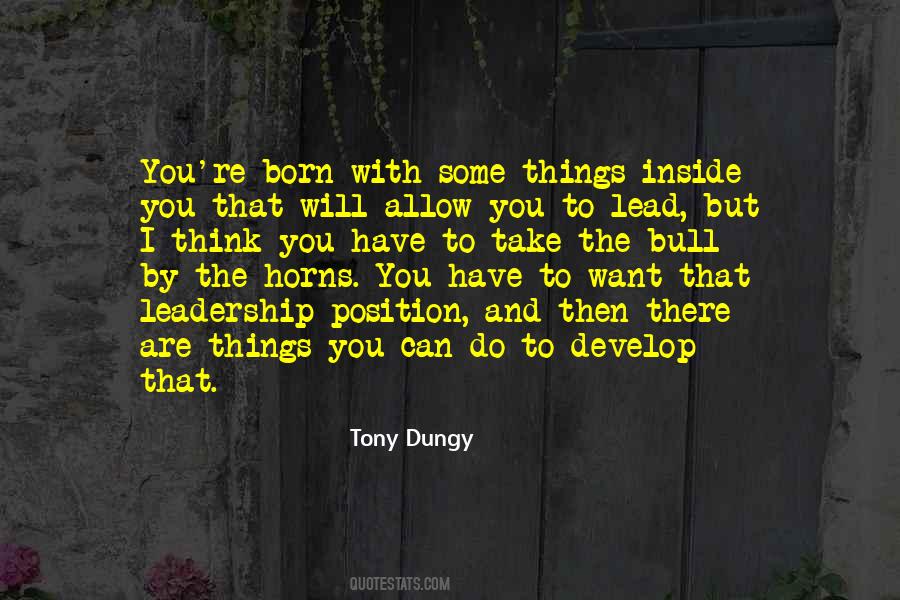 #66. You've got the top 400 Americans owning more wealth than the bottom 150 million Americans. Most folks do not think that is right. - Author: Bernie Sanders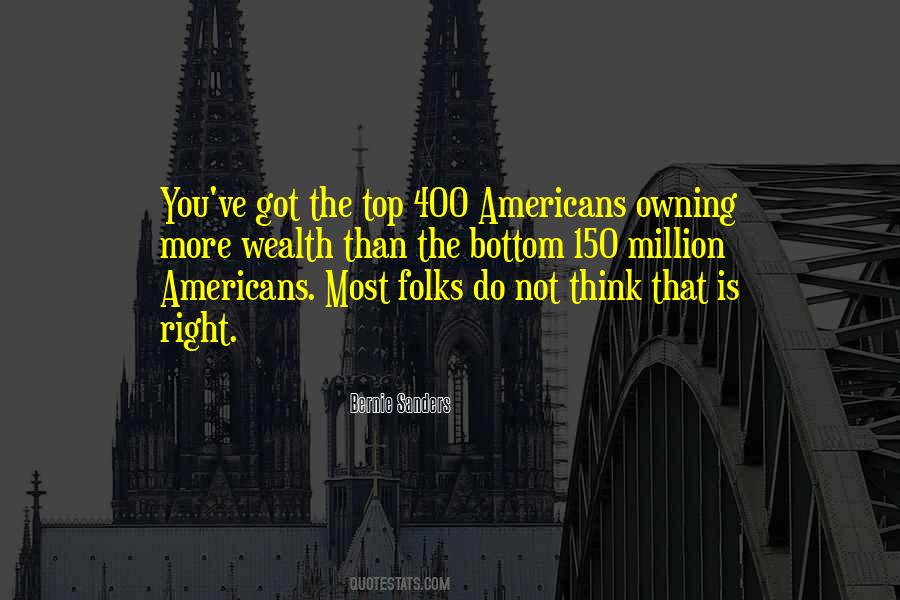 #67. They move, don't they? Who do you think sets things to moving? Nothing that moves lacks a soul. - Author: Mark Helprin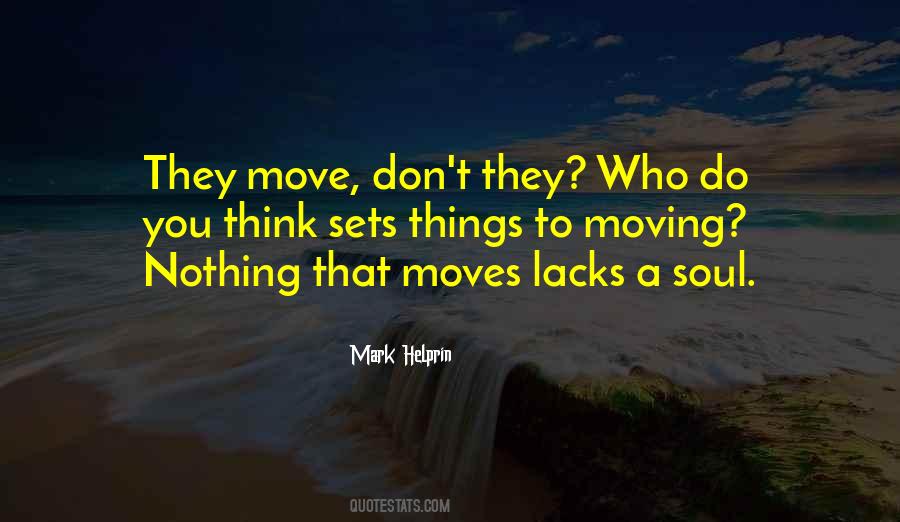 #68. Yeah, right. I don't believe that one for a minute. What do you think? I fell off a turnip truck? (Simone)
Honestly? All I was thinking about was how beautiful you are. How much I wanted to feel your skin against mine and how I've never been this attracted to a woman before. (Xypher) - Author: Sherrilyn Kenyon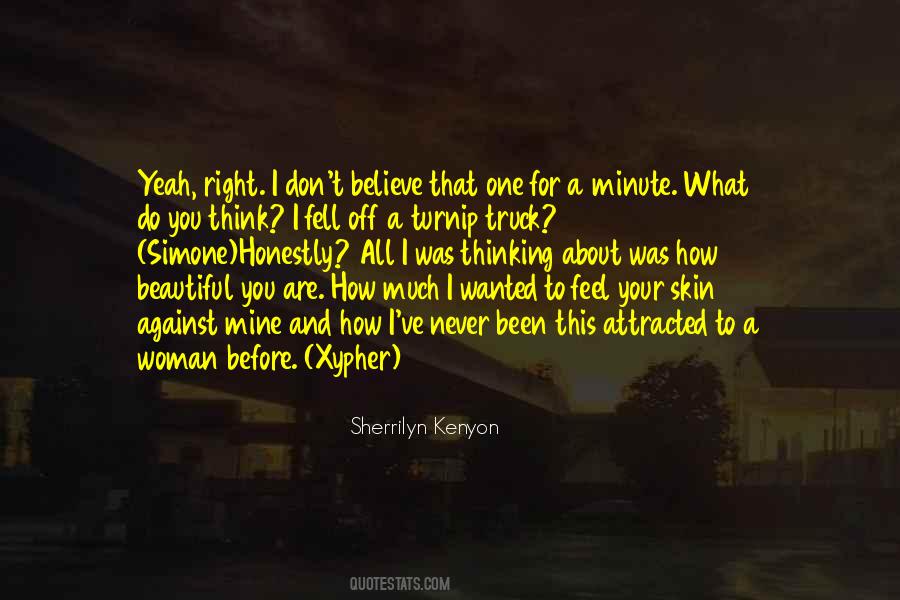 #69. Do what you love, think what you feel and live the way you want. - Author: Santosh Kalwar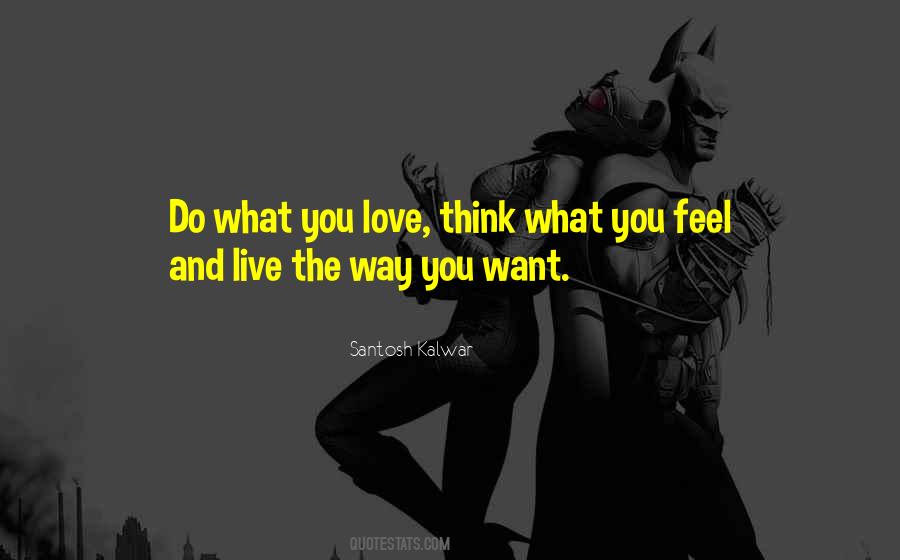 #70. I'm worthless," Lionheart says. "I couldn't save her. I couldn't redeem my honor." "You never can," the Prince replies. He takes Lionheart by the shoulders and forces him to sit up, to face him. "But do you think my grace insufficient to forgive you? - Author: Anne Elisabeth Stengl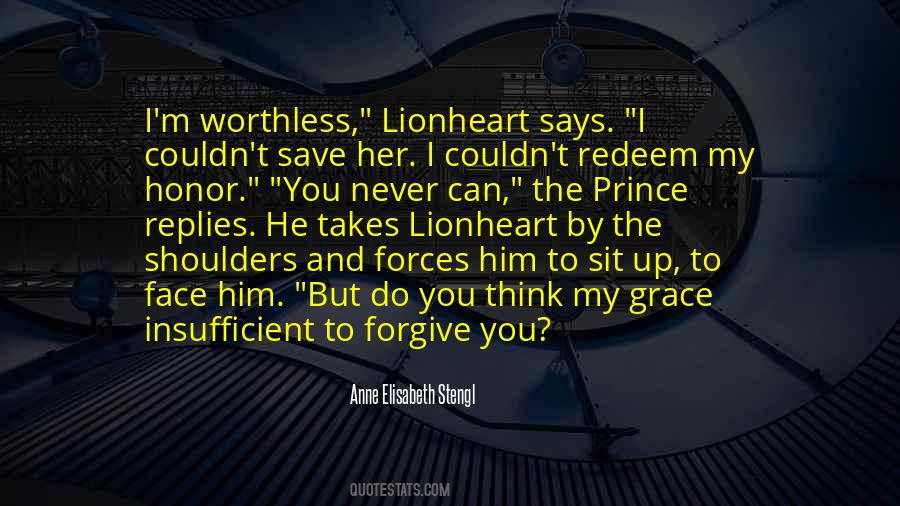 #71. How bad do you want cancer? Bad enough to eat a rainbow of it? Personally, I think the red cancer would be the worst, but anything you swallow with artificial hues in it is going to pop a tumor out of your body the day after you eat it. - Author: Laurie Notaro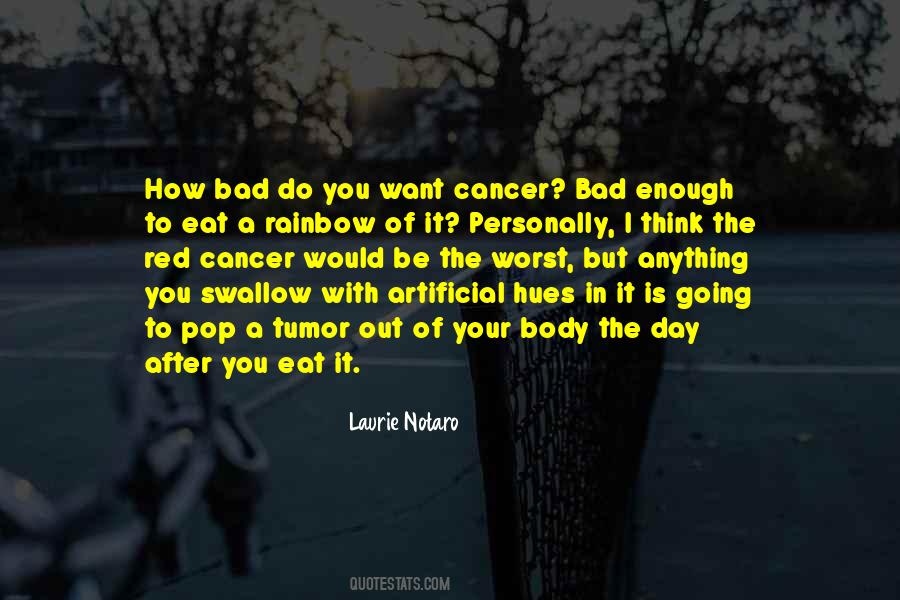 #72. But I was ready for it and I knew I could do it. I've just turned 40, I have a son and I feel more settled and driven than ever. I think my 40s will be my most prolific time. It's a very rare life you get to lead as a sitcom guy. - Author: Eric McCormack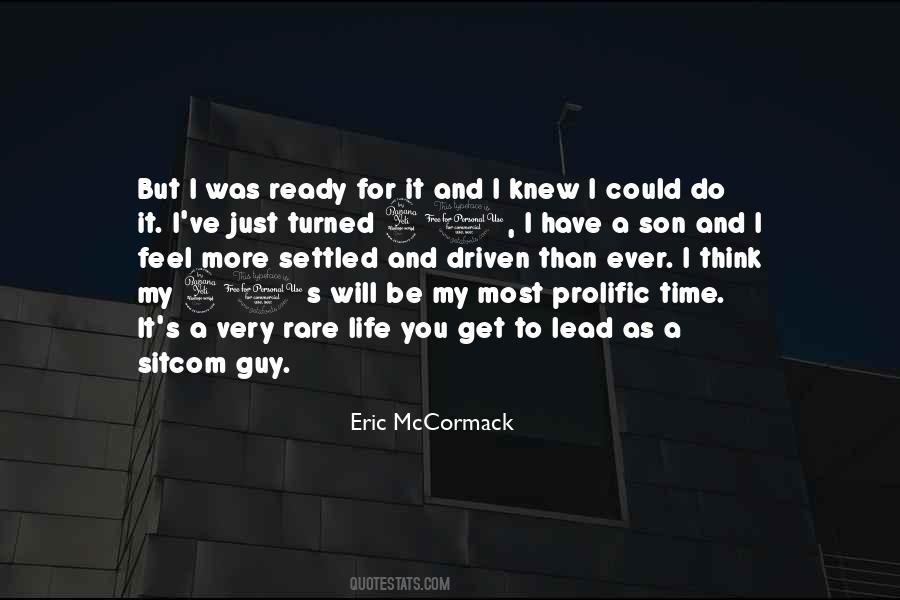 #73. Any fear is an illusion. You think something is standing in your way, but nothing is really there. What is there is an opportunity to do your best and gain some success. - Author: Michael Jordan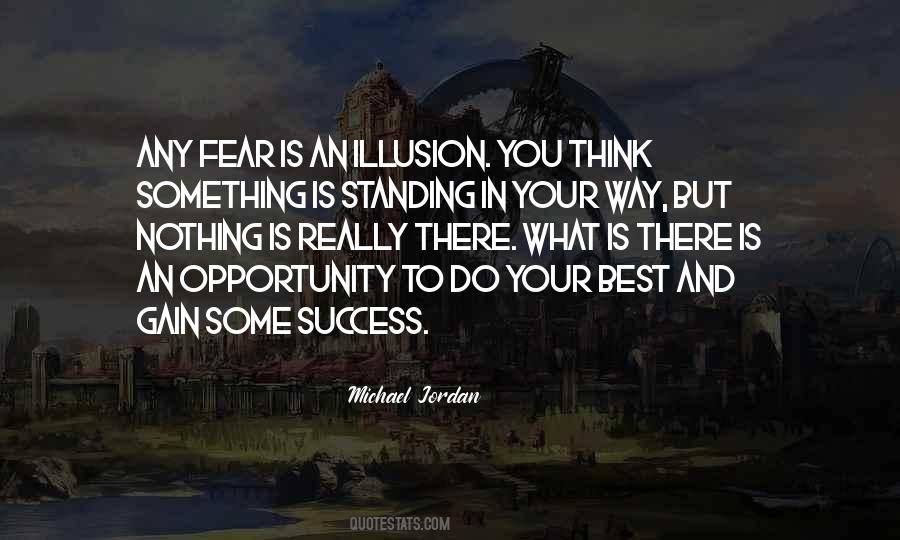 #74. I do think it's important to be honest about your feelings in a long term relationship because it's totally human to be attracted to other people. It's just about what you do about that attraction. - Author: Zoe Lister-Jones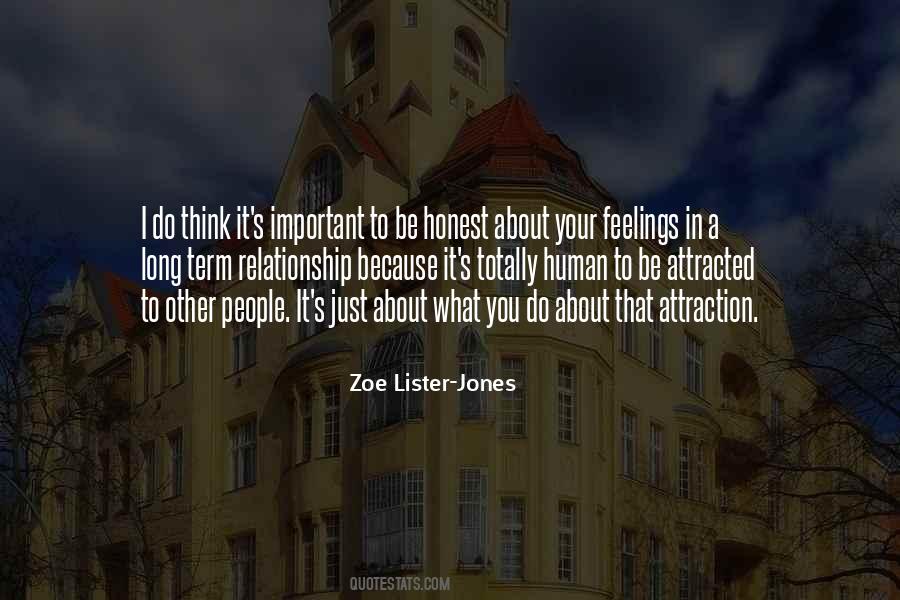 #75. I do feel almost violent when I'm watching things that I don't think are good enough. I get furious for the audience. I want to say to them, 'This play is not supposed to be like this. They've got it completely wrong. You should be electrified by this.' - Author: Lindsay Duncan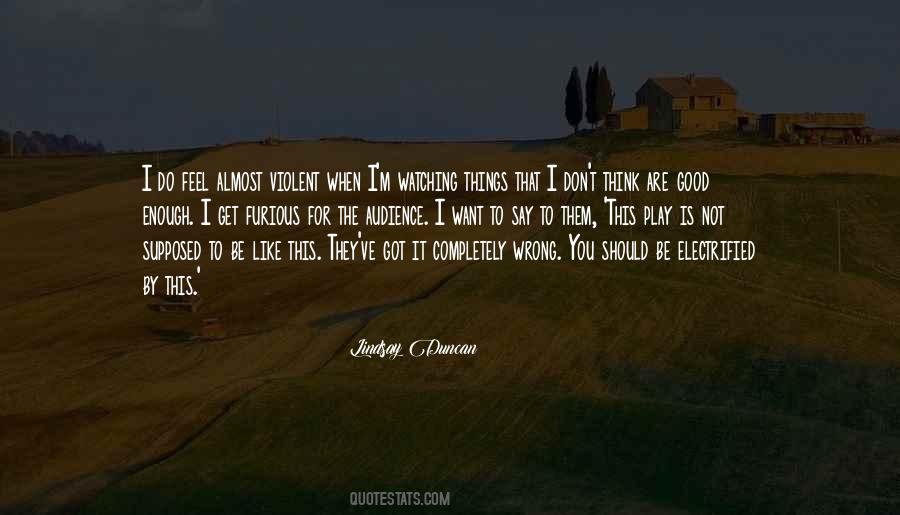 #76. Buddhists make it very simple for you to reach your heavenly reward. To reach Nirvana, all you have to do is live right, think right, and deny yourself just about everything. - Author: Catherine Coulter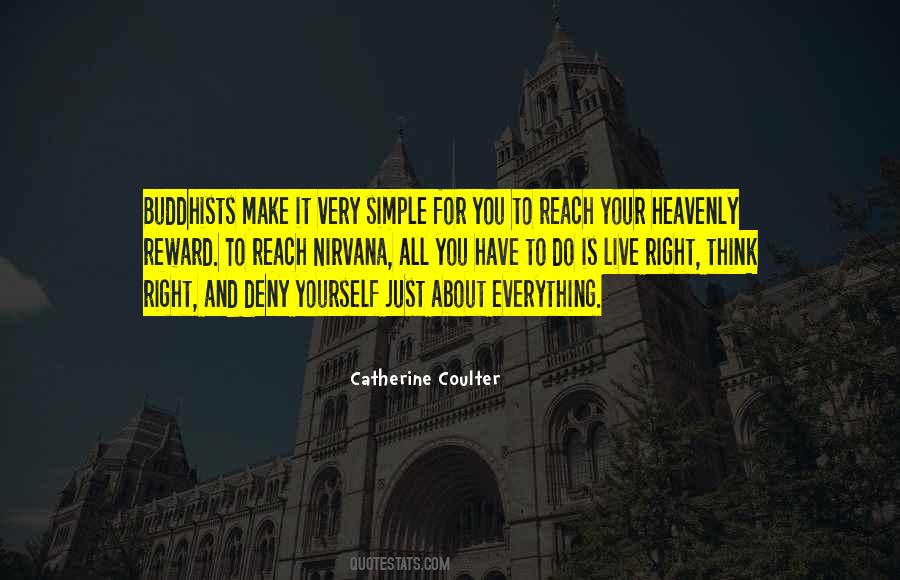 #77. Don't patronize me, Caro", he said, sounding even angrier. "You think I don't know what it means to make this commitment but I do ... Don't dismiss how I feel just because ... just because I'm younger than you. - Author: Jane Harvey-Berrick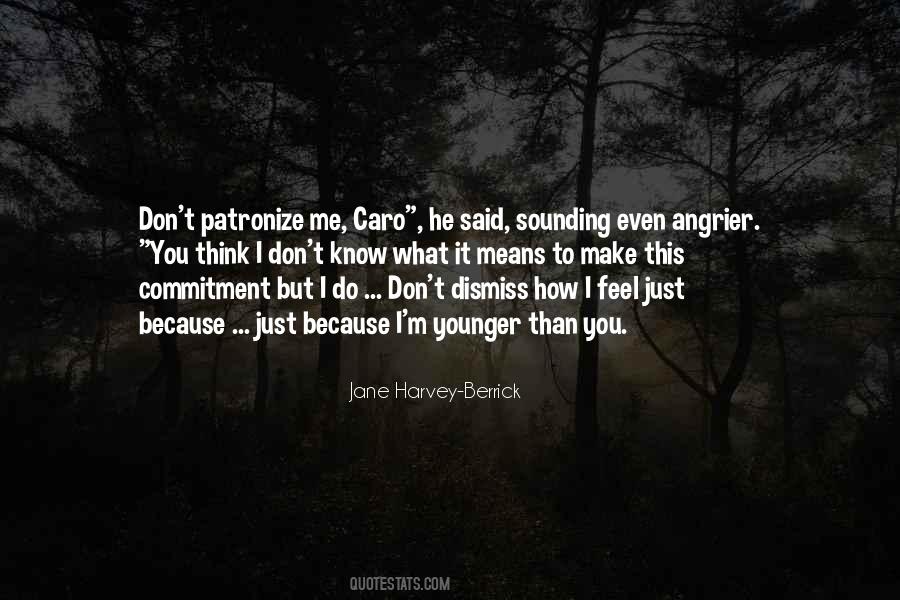 #78. I often think we do not take this business of photography in a sufficiently serious spirit. Issuing a photograph is like marriage: you can only undo the mischief with infinite woe ... - Author: H.G.Wells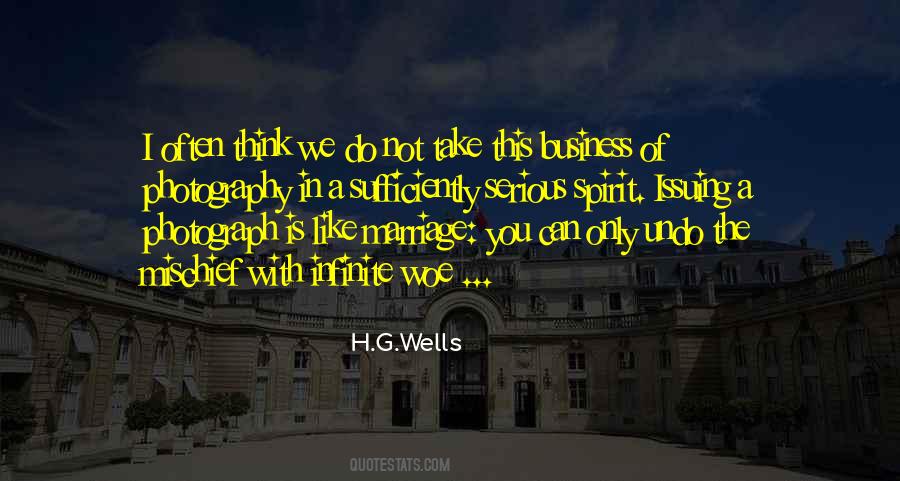 #79. When I first came to NBC, I thought it was going to be swimming with the sharks, all men for themselves, be careful and all that. I have to tell you I learned that you can be kind and a hard worker and move up. You don't have to play dirty or do things that you think happens at big corporations. - Author: Hoda Kotb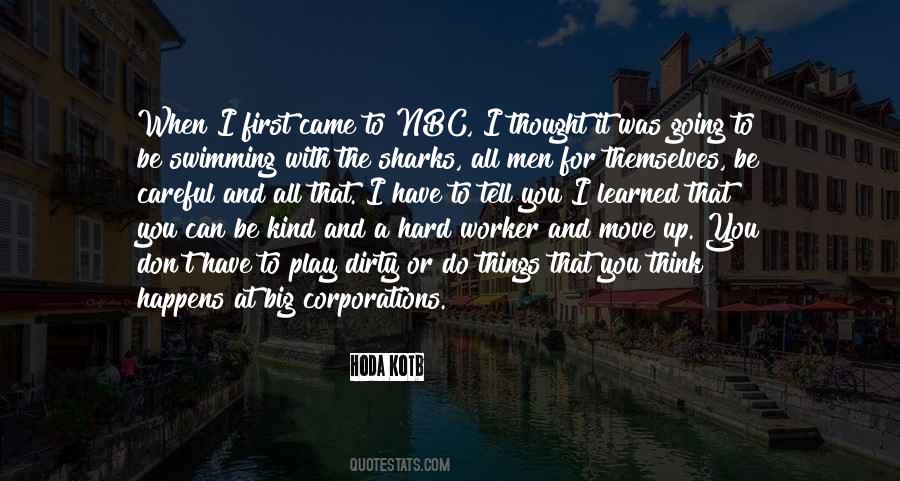 #80. Suning Appliance has no problem of financial risk. Do you think I'm risky? I'm definitely not risky. - Author: Zhang Jindong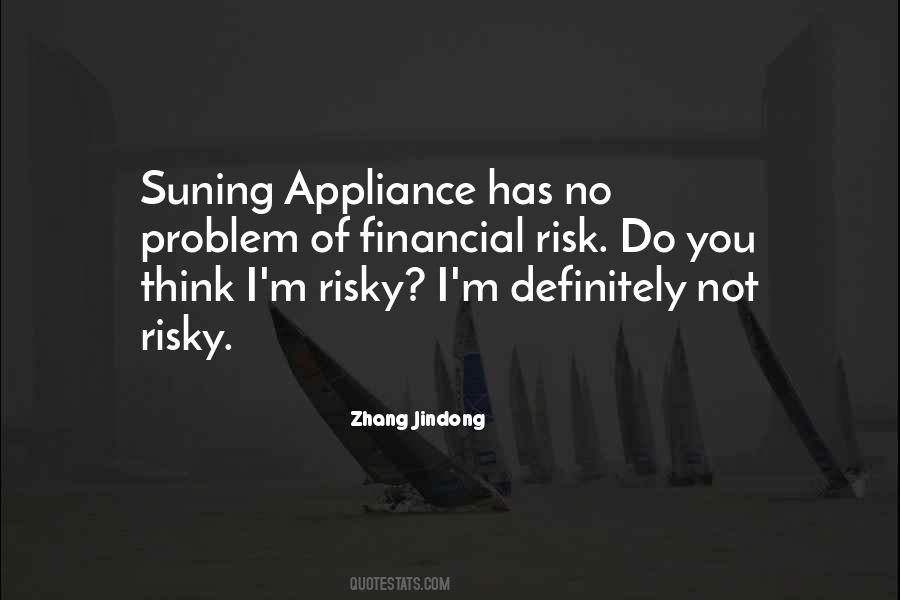 #81. I think it's a shame when you come across young actors and musicians who haven't had the time to learn their craft. It doesn't matter if it's acting or music; you really have to learn how to do it from the bottom up because unless you have a great work ethic ... fame is a terrible thing to have. - Author: Denis Leary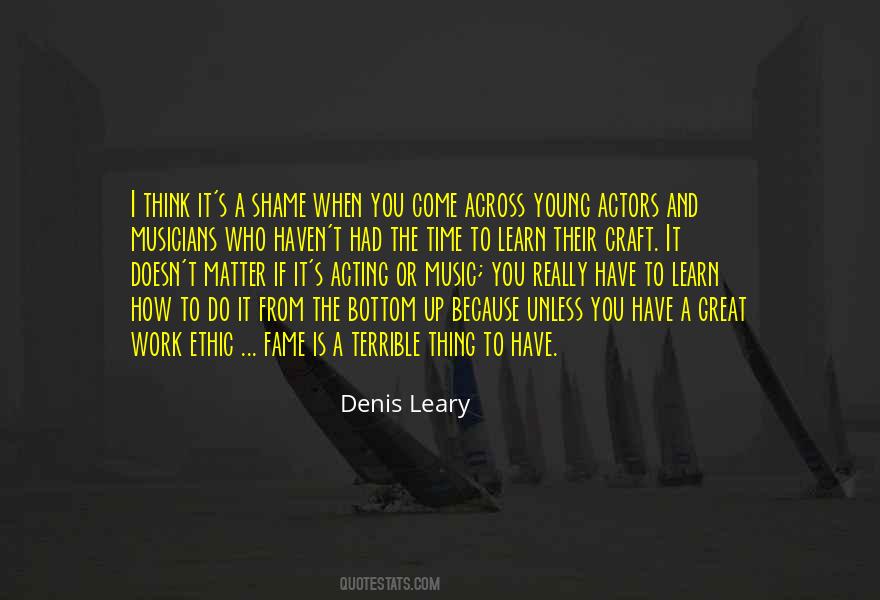 #82. There's something I want to show you. Do you think anyone would notice if we slipped away for a bit?" He raised an eyebrow at her. "Given that we make up a full quarter of the guest list, I would be a little insulted if they didn't notice." "It was a rhetorical question. - Author: Marissa Meyer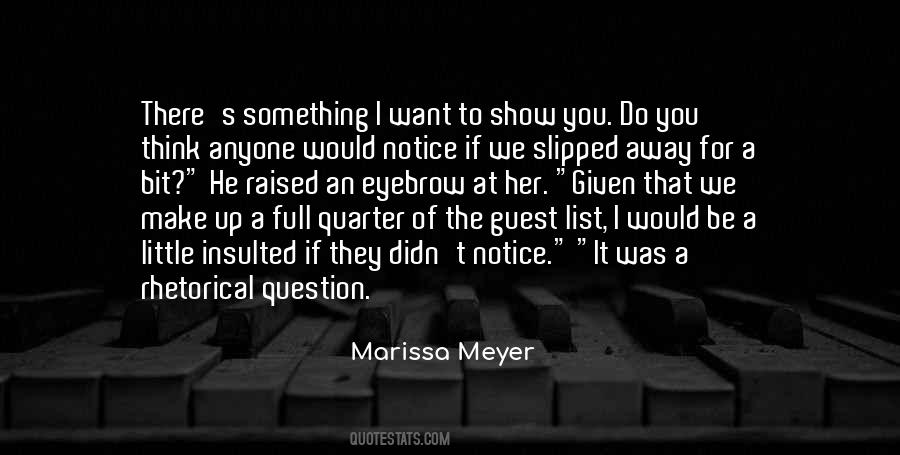 #83. I don't think you're happier if you're thin or beautiful or rich or married. You have to make your own happiness. My heroines do not become beautiful elegant swans, they become confident ducks and get on with life. - Author: Maeve Binchy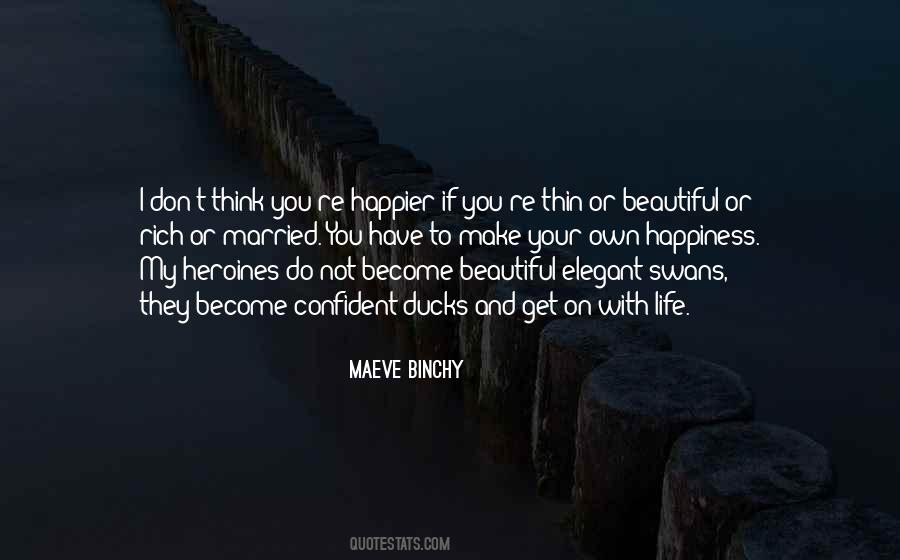 #84. [Takashi] Murakami, do you think he is spiritual? He is more like de-spiritualized. De-spiritualized might be the most contemporary aspect of the human mind. - Author: Hiroshi Sugimoto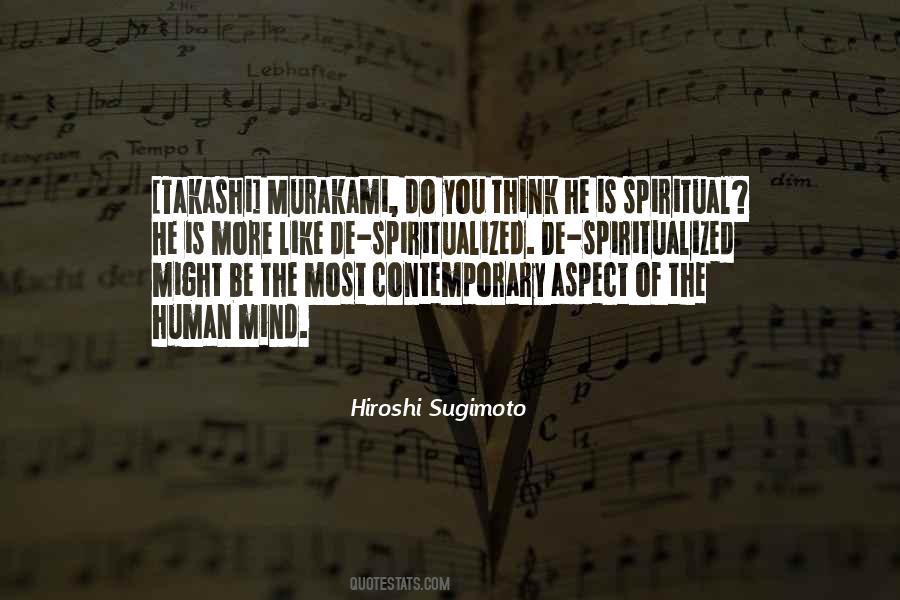 #85. I couldn't love anyone more than I do you, it would kill me. And I couldn't love anyone less because it would always feel like less. Even if I loved some other girl, that's all I would ever think about, the difference between loving her and loving you. - Author: Rainbow Rowell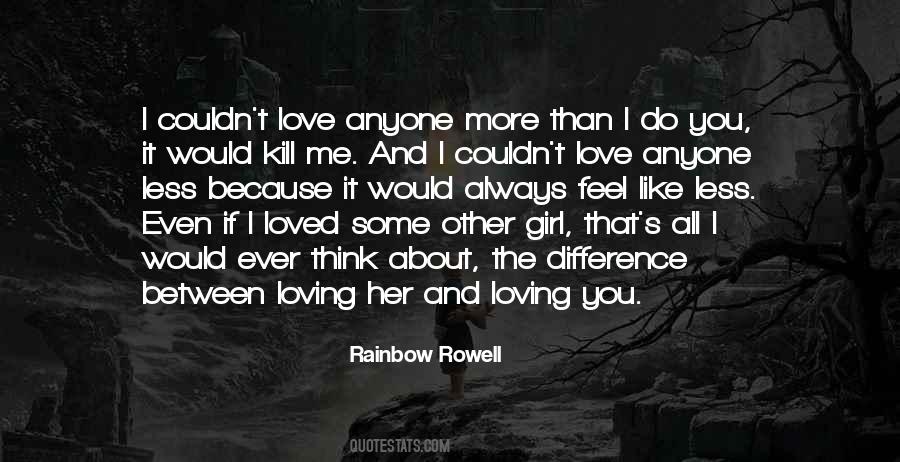 #86. Let me persuade you then
oh, do let me persuade you," said the child, "to think no more of gains or losses, and to try no fortune but the fortune we pursue together. - Author: Charles Dickens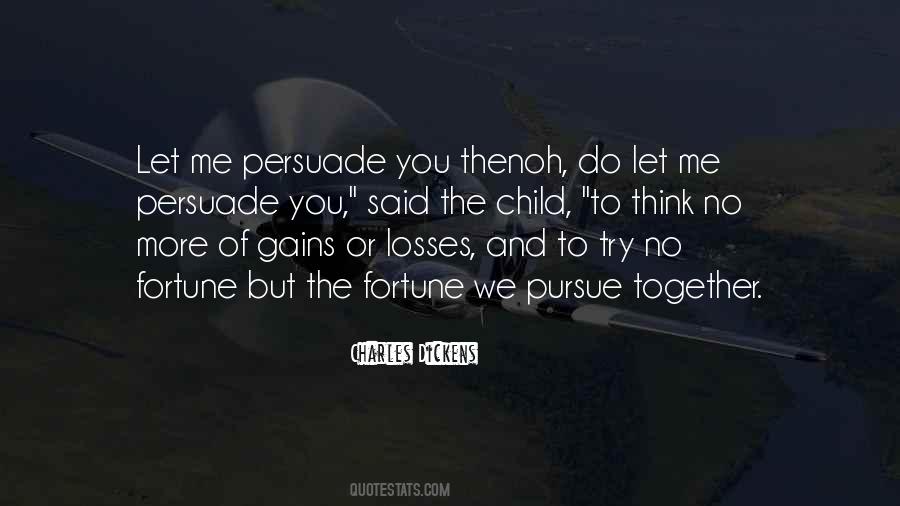 #87. I don't think there is a question as to whether or not I want you, because that is painfully blatant right now, but did I miss you? It was so much more than that. And do I need you? Yes. I need you. My heart needs you, Delilah. - Author: Lindy Zart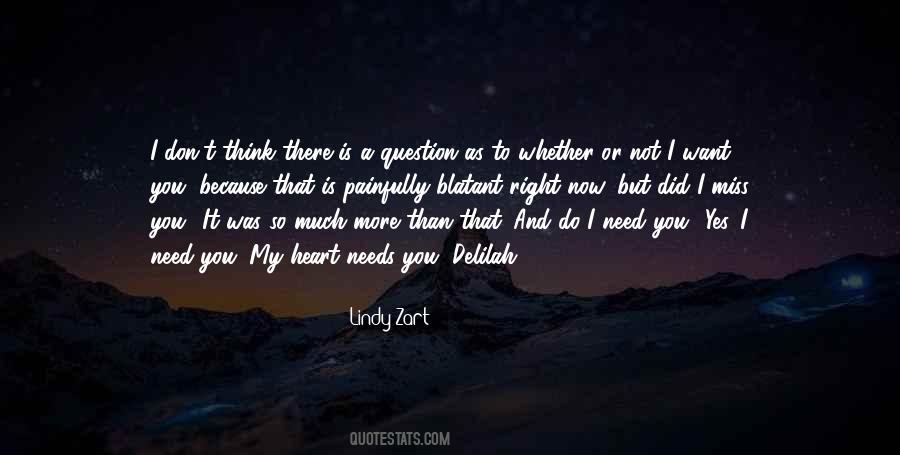 #88. When you do something moral and upright and wander off by yourself, well, everyone doesn't always follow you, do they, right? You pat yourself on your sanctimonious back but it doesn't mean the crowd rewards you for doing what you think is right. - Author: Amity Shlaes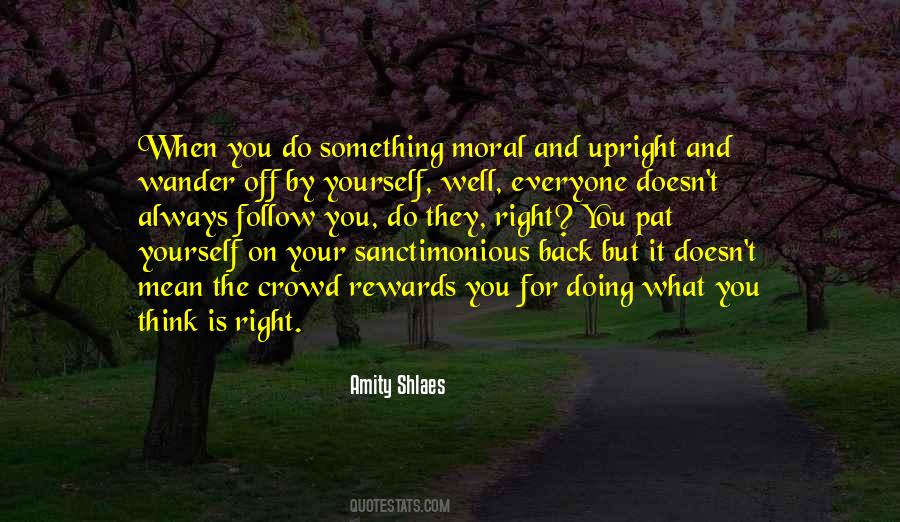 #89. Well, how do you usually meet women?" "They have a way of suddenly appearing. Like the birds in that song." She had to think about that for a minute. "You mean 'Close to You' by the Carpenters? - Author: Tracey Garvis-Graves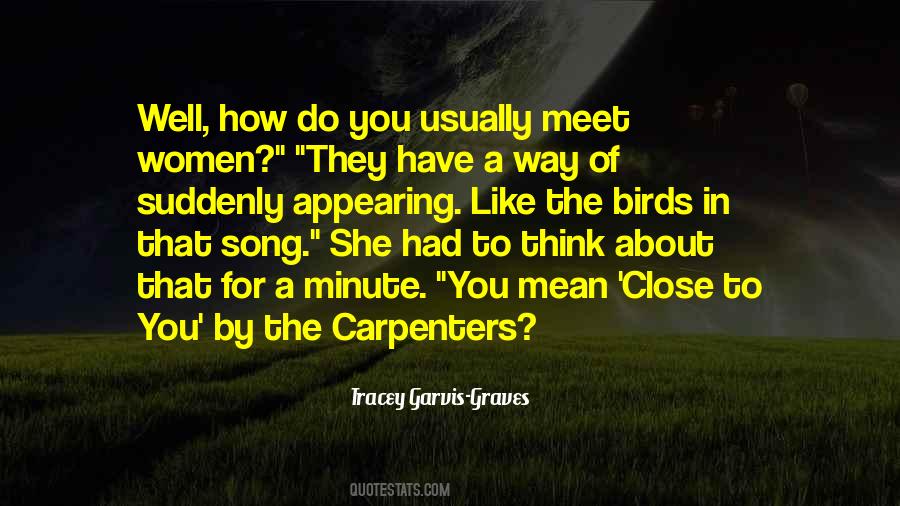 #90. If you wish to kill yourself but lack the courage to, I think a visit to Palmerston North will do the trick, - Author: John Cleese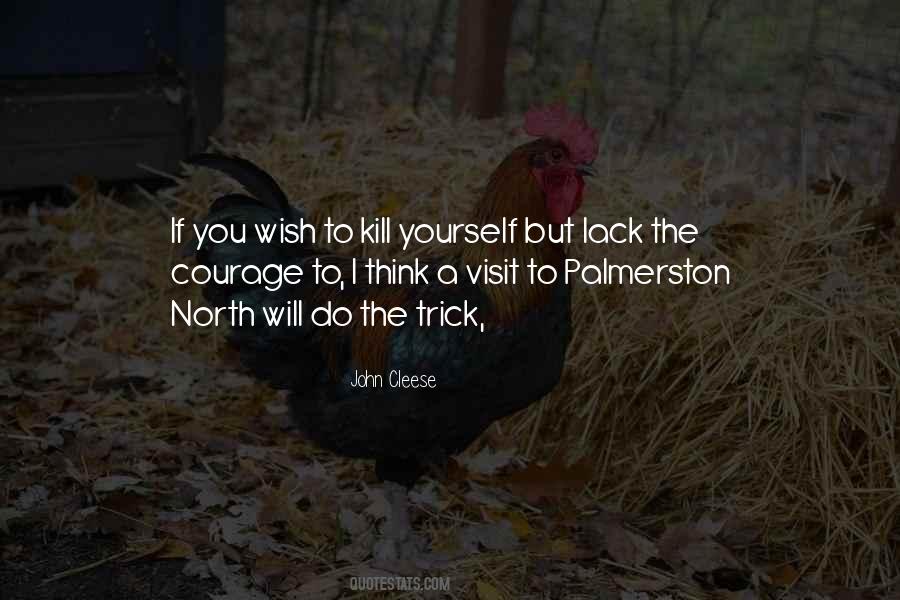 #91. Do you think anger is a sincere emotion or the timid motion of a fragile heart trying to beat away its pain? - Author: Andrea Gibson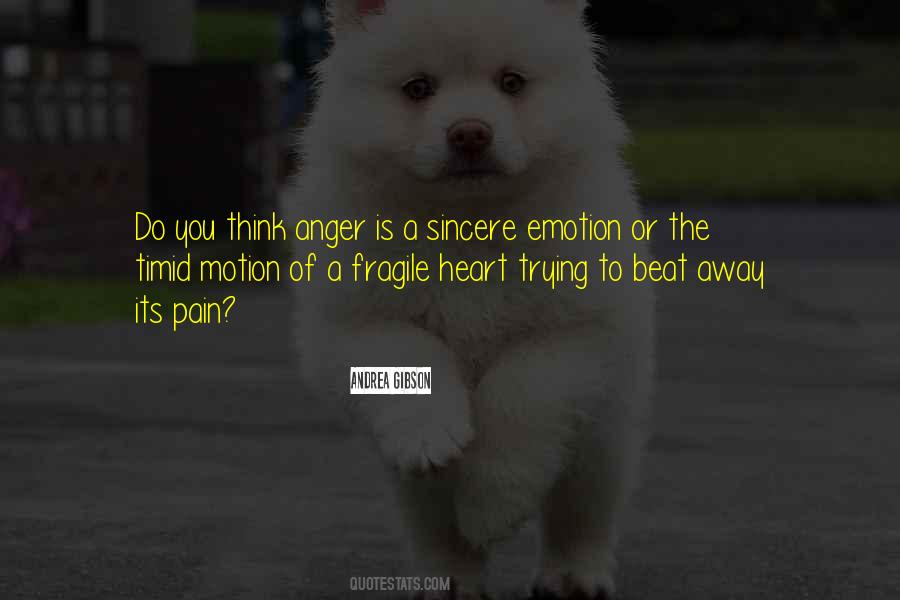 #92. I think I've gotten more attention after the Olympics than any other U.S. athlete, and it's really great that people are recognizing who I am and what I do. You look at Shaq and you see a basketball player. You look at Tiger Woods and you see a golfer. But people are responding to who I am. - Author: Johnny Weir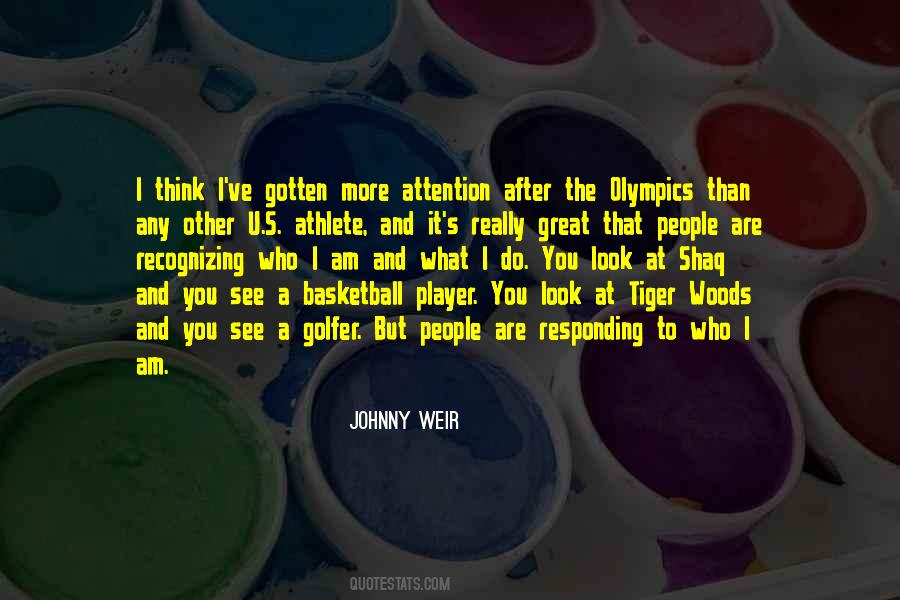 #93. Interestingly enough, my more high-profile things are in uniform. But if you look at my full body of work, there's a lot of stuff that's not in uniform. But I do a lot of stuff in the service, and I think that's just how I'm built physically. It just serves the roles. - Author: Michael Cudlitz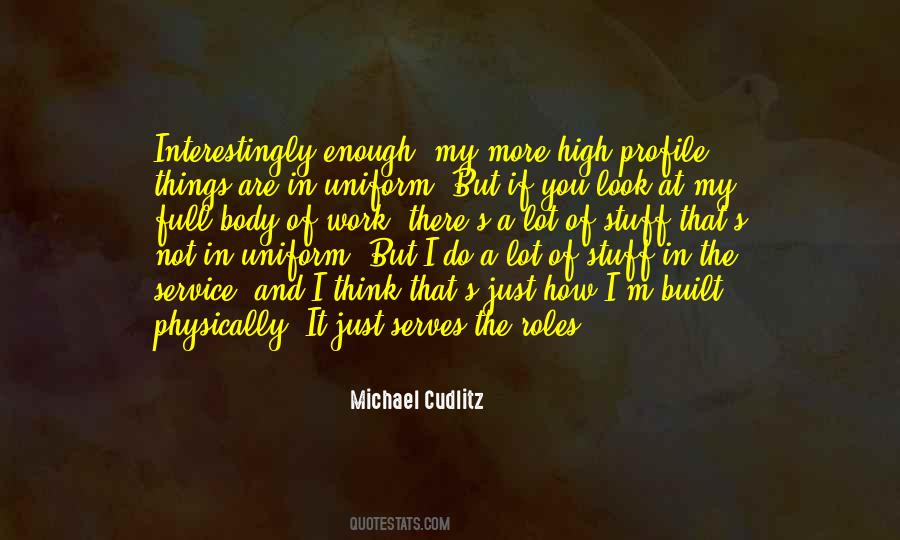 #94. I think the advice, regardless of gender, is always be open to conversations with people who do things differently than you do. If you're starting to work in tech, talk to the artists, talk to the lawyers, talk to the people who are interested in other things. - Author: Beth Simone Noveck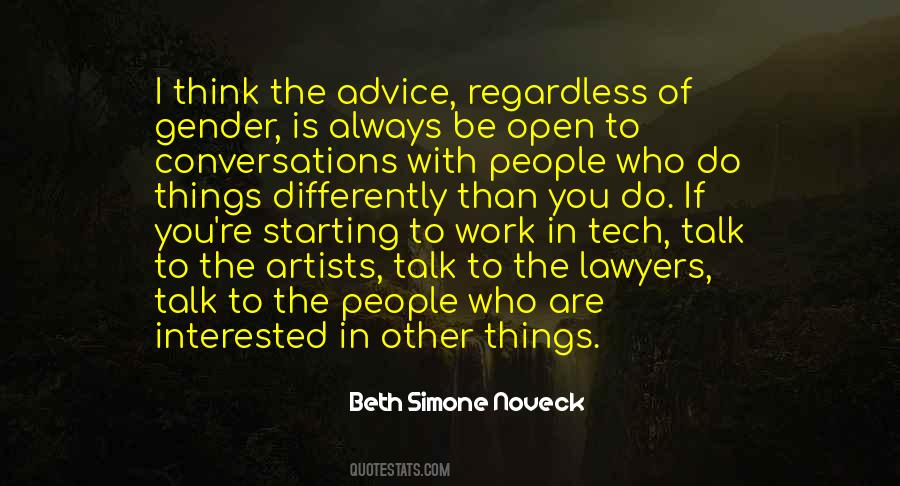 #95. Washington tends to be full of too many traps. I think reporters there do a lot of attending news briefings and news conferences expecting to get the real news out of those relatively sterile environments. But you've got to deal with the obscure people as well as the names. - Author: Tom Brokaw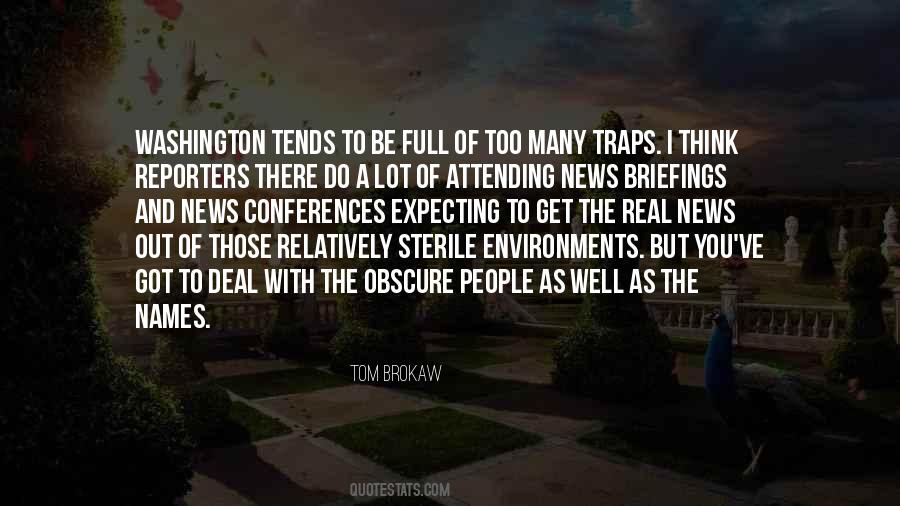 #96. I've gotten very good at scheduling my life, scheduling the scene and preparing myself for knowing, saving the energy, consuming the energy, knowing when to go for it and having the available reserves to be able to do that. You have to think about that, because it's endurance. - Author: Tom Cruise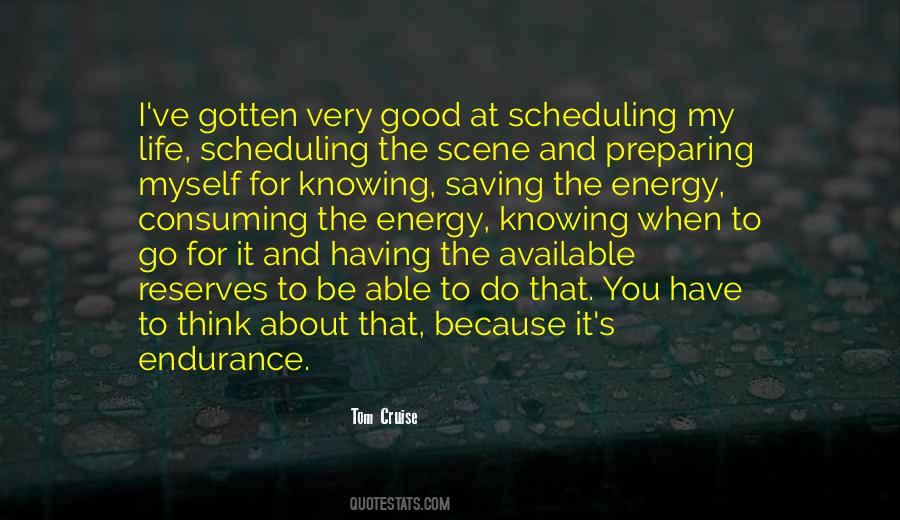 #97. I try not to think about that [getting Oscar] ahead of time. You just try to do the best work you can, and then you get the movie out there, and we've been hearing good things. But you never know, you don't want to get too high, and you don't want to get too low. - Author: Denzel Washington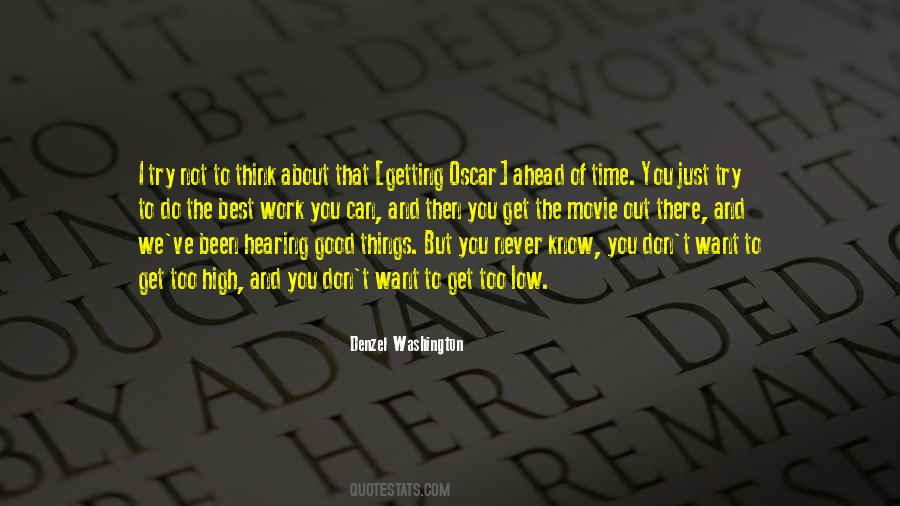 #98. I think I let go of the need for approval, ... It certainly feels good when you get it, but I used to be more desperate for it. Once I felt better inside about myself ... I could do everything based on how I want to do things. - Author: Ellen DeGeneres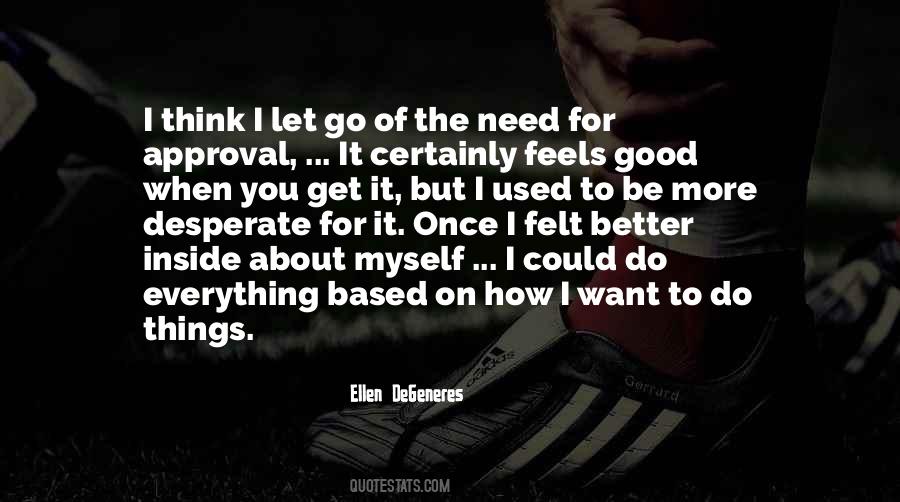 #99. Wait a second Why should you care what they think of you? When you're all alone, by yourself, do you like you? Do you like you? You don't have to try so hard, you don't have to give it all away, you just have to get up You don't have to change a single thing. - Author: Colbie Caillat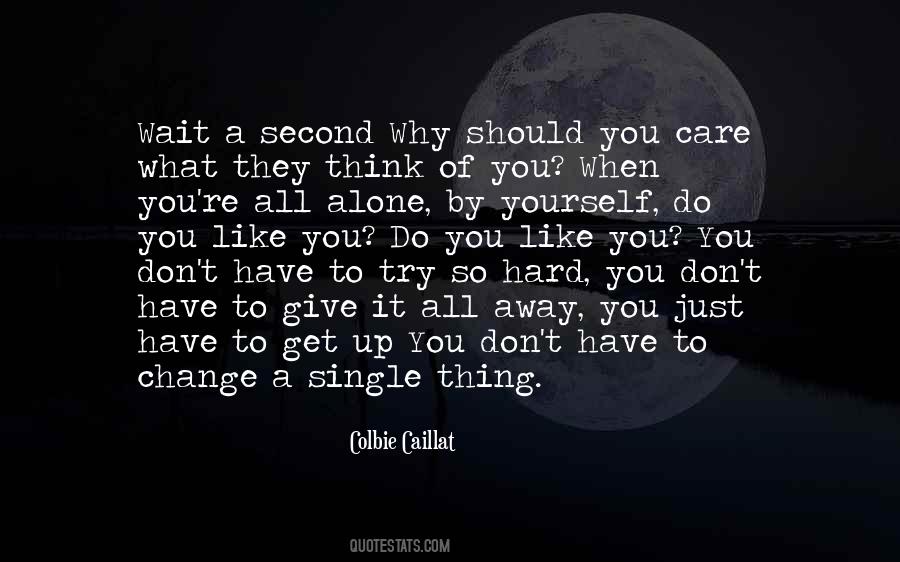 #100. I think in life, there are certain choices you make that are timeless and universal, and don't necessarily have anything to do with the particulars of a certain decade. - Author: Bret Easton Ellis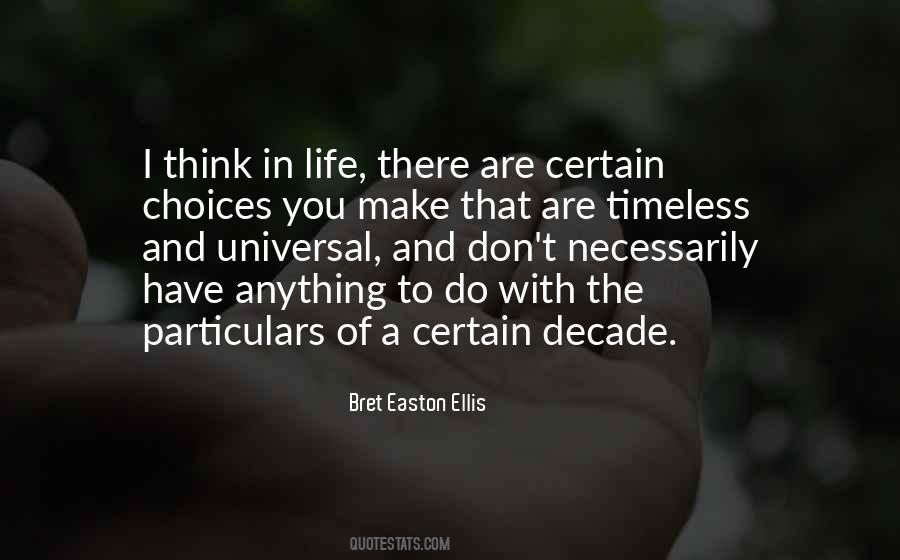 Famous Authors
Popular Topics