Die And Live Famous Quotes & Sayings
List of top 100 famous quotes and sayings about die and live to read and share with friends on your Facebook, Twitter, blogs.
Top 100 Die And Live Quotes
#1. Make us worthy, Lord, to serve those people throughout the world who live and die in poverty and hunger. Give them through our hands, this day, their daily bread, and by our understanding love,give them peace and joy. - Author: Mother Teresa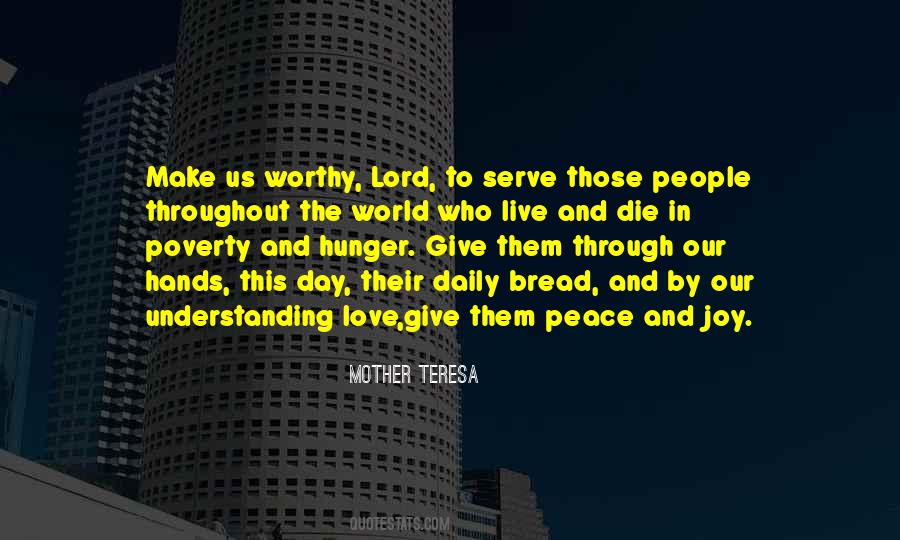 #2. Still, it is the primary right of men to die and kill for the land they live in, and to punish with exceptional severity all members of their own race who have warmed their hands at the invaders' hearth. - Author: Winston S. Churchill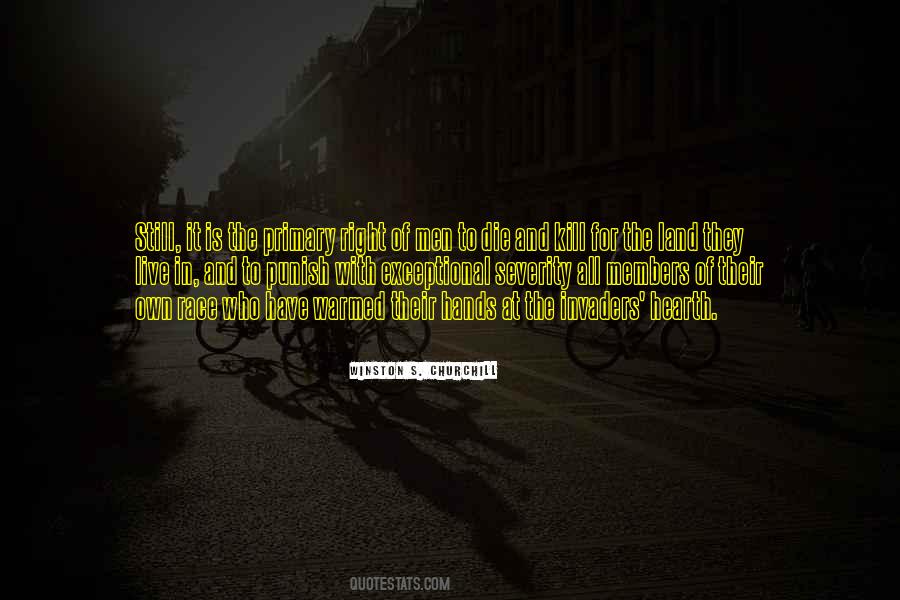 #3. I try to imagine how we would live if we didn't know we were going to die. Would we live our lives differently? Less careful, maybe? Less scared? These are beautiful things to think about and build a song around. - Author: Beth Gibbons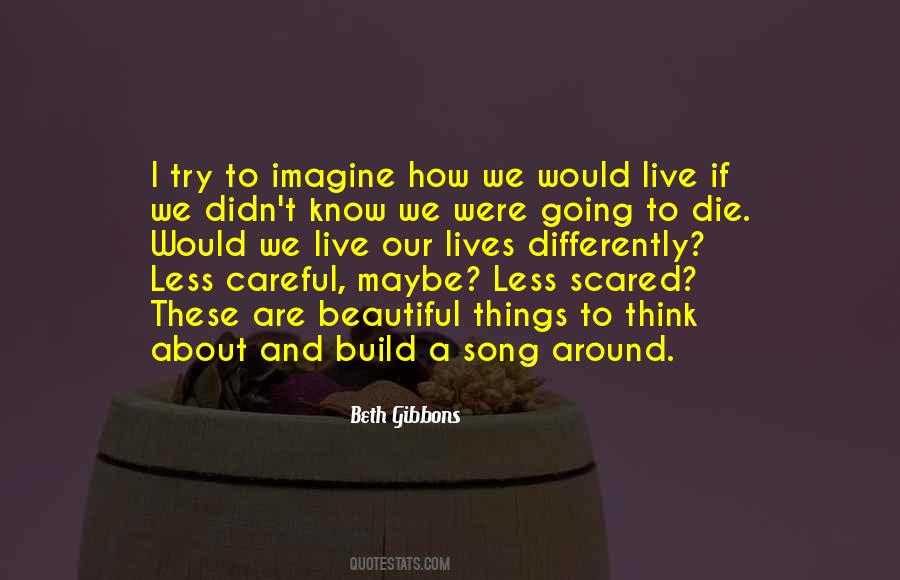 #4. May you live forever, and may I never die. - Author: Elaine Viets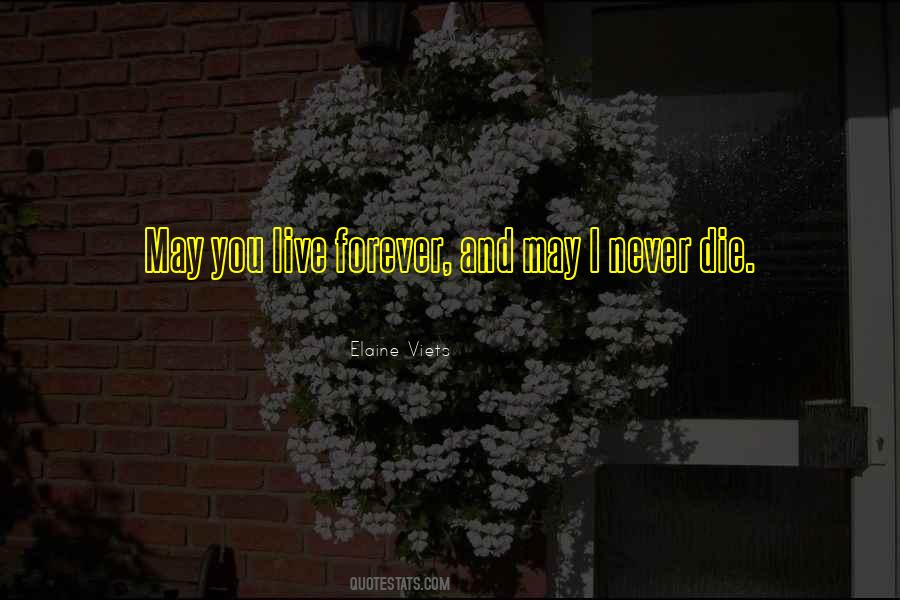 #5. People have hearts, they have kids, they get jobs, they get sick, they cry, they dance. They live, they love, and they die. And that matters. - Author: Elizabeth Warren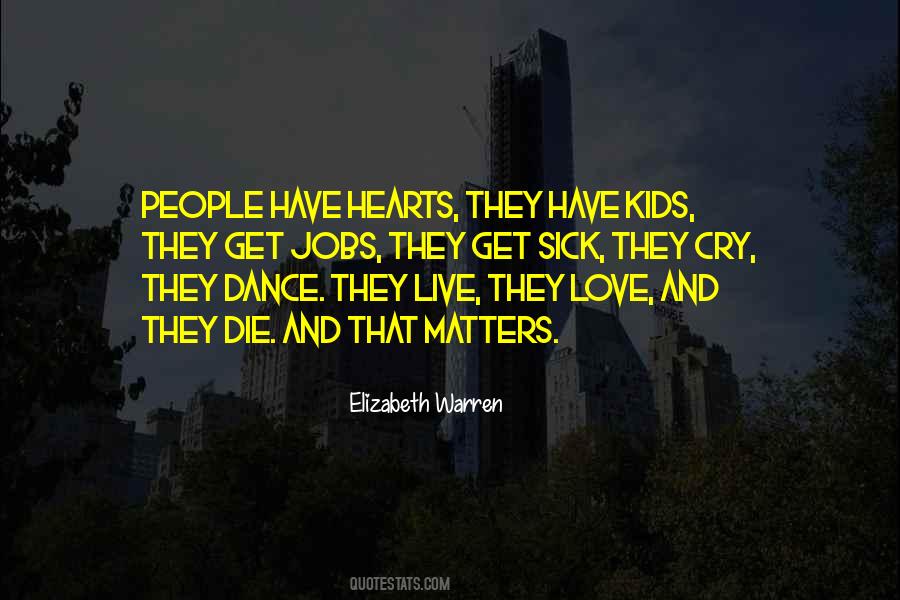 #6. I would rather die in the adventure of noble achievements than live in obscure and sluggish security. - Author: Margaret Cavendish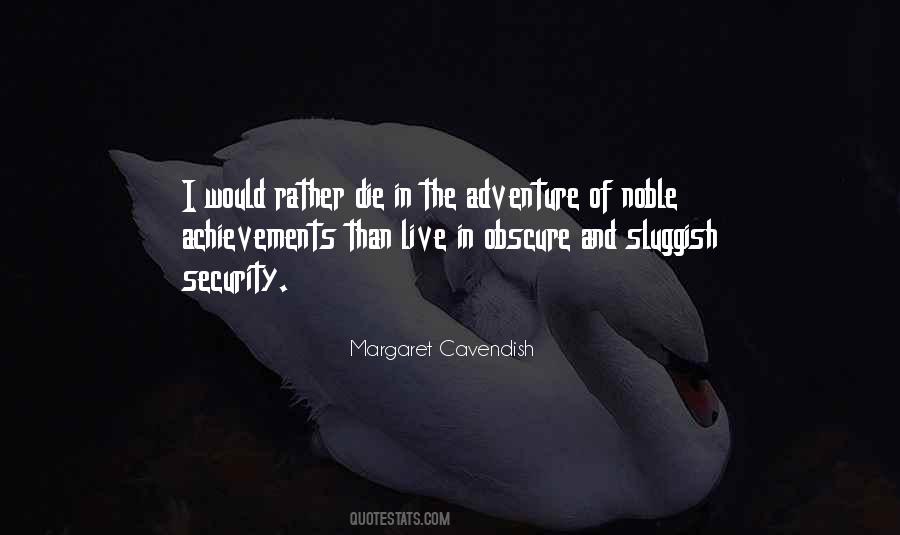 #7. But mad people never die. That's a well-known fact. They've nothing to trouble them, and they live for ever. - Author: Anthony Trollope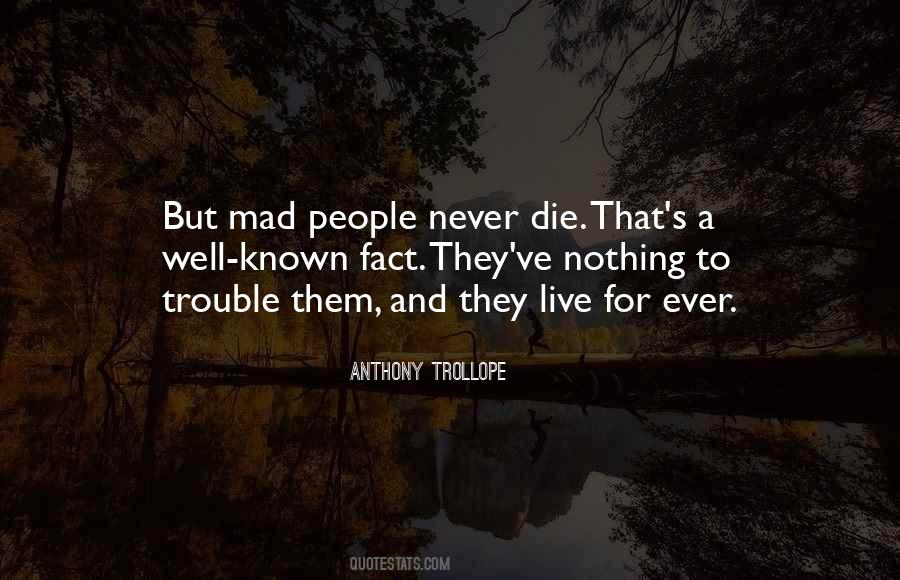 #8. I was born not to die but to live and never born. - Author: Santosh Kalwar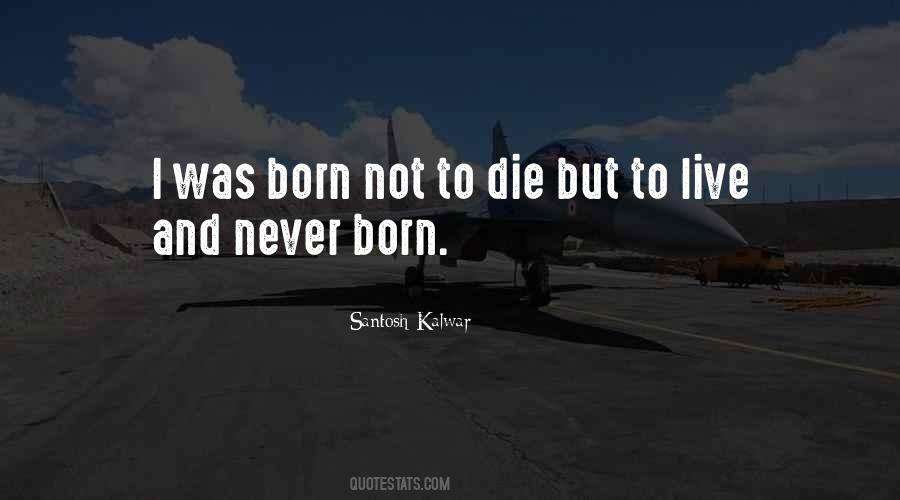 #9. What you don't want is always going to be with you
What you want is never going to be with you
Where you don't want to go, you have to go
And the moment you think you're going to live more, you're going to die - Author: Katherine Boo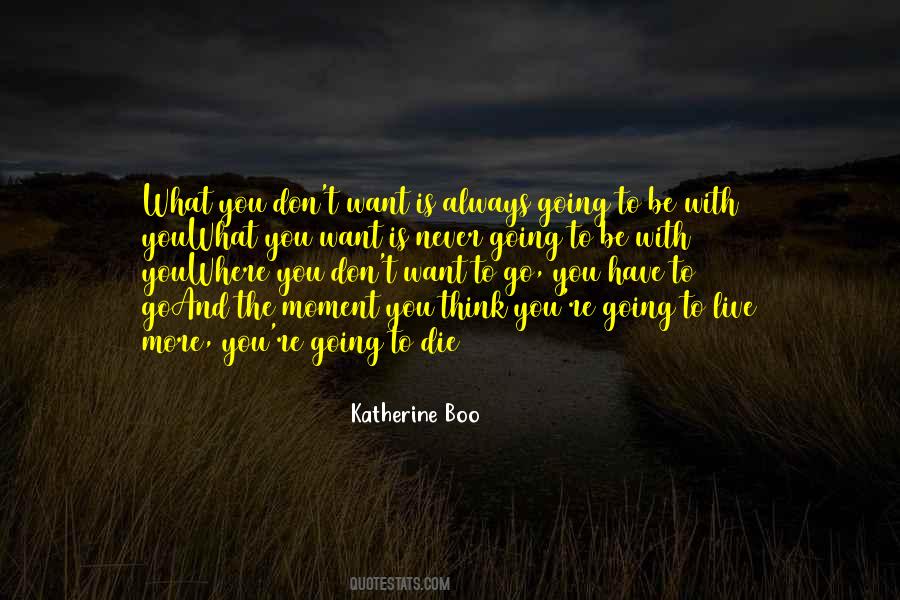 #10. Nobody stops to think about the world anymore. We live in a world where they make
children pay to see the fish eat. Nowadays even fish are exploited, she thought. Exploited, and then poisoned. The ocean out there is filling up with poison. The fish will die too - Author: Julian Barnes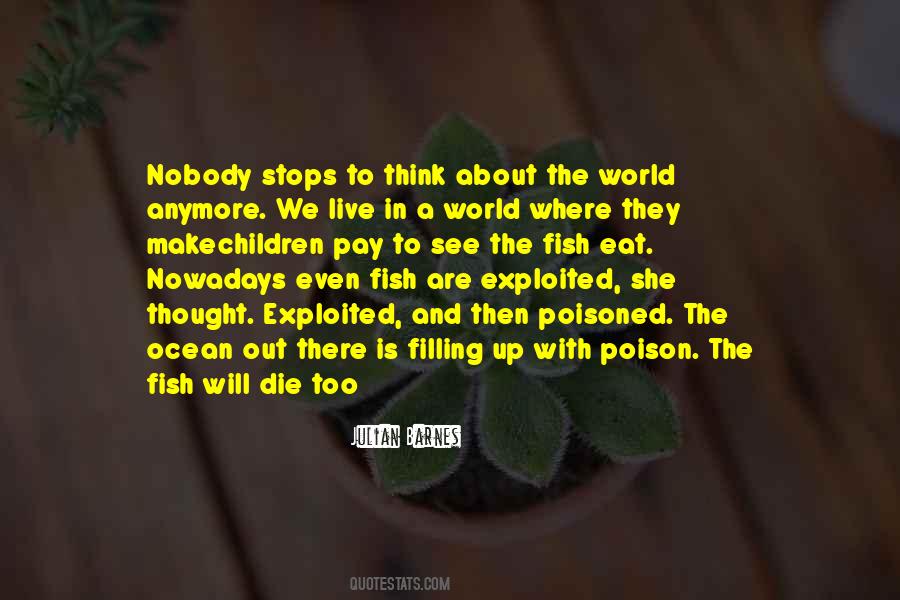 #11. To change is to live, to live is to change, and not to change is to die. - Author: Tennessee Williams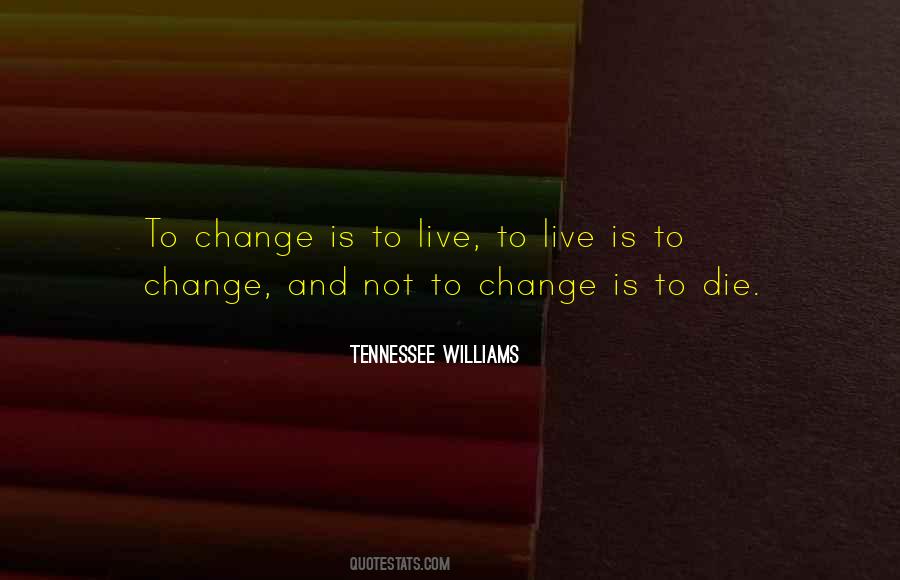 #12. All live to die, and rise to fall. - Author: Christopher Marlowe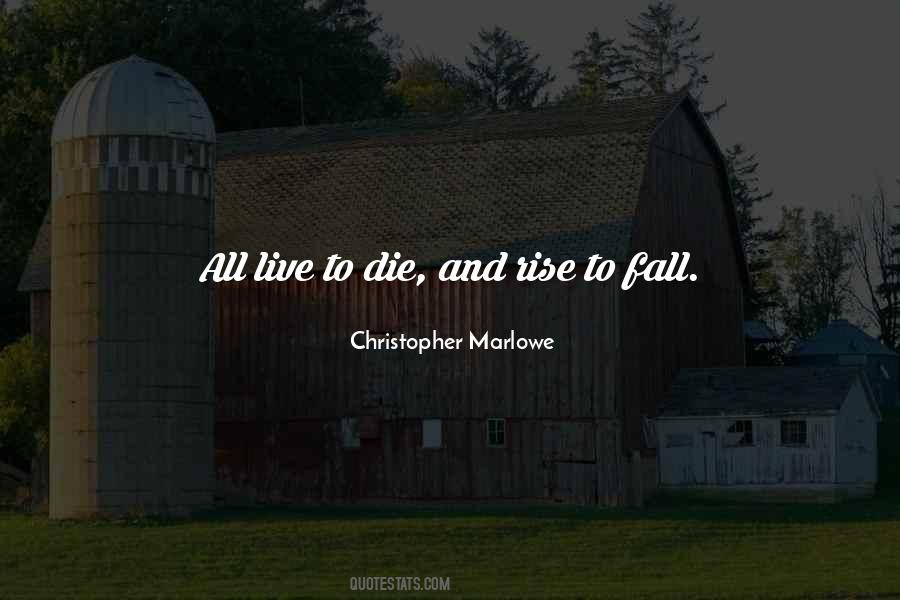 #13. God, she'd never even been able to imagine this much cold before.
How could people live someplace that so obviously didn't want them? All that romance about snow and seasons ... You shouldn't have to make a special effort not to die every time you left your house. - Author: Rainbow Rowell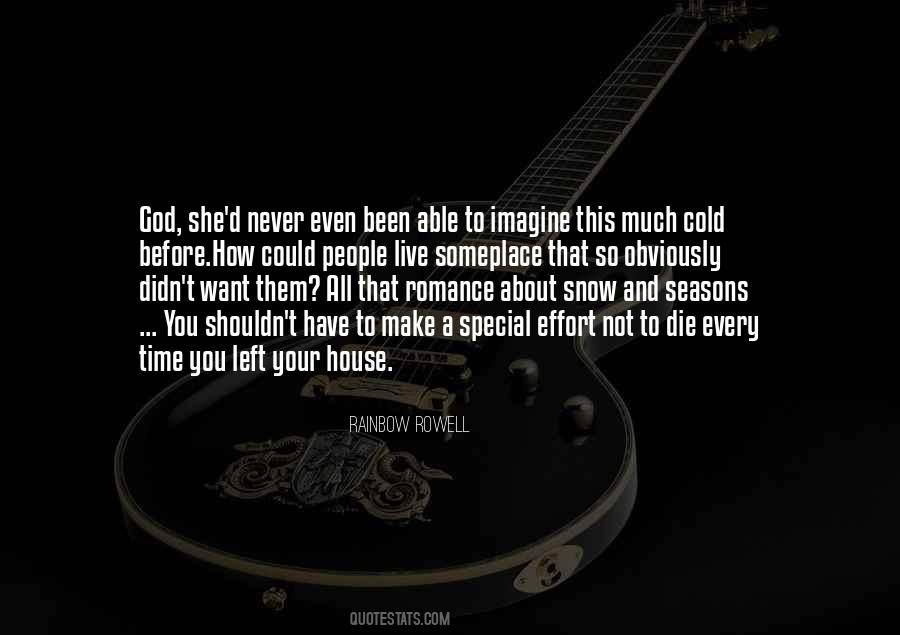 #14. I have now concentrated all my prayers into one, and that one prayer is this, that I may die to self, and live wholly to Him. - Author: Charles Haddon Spurgeon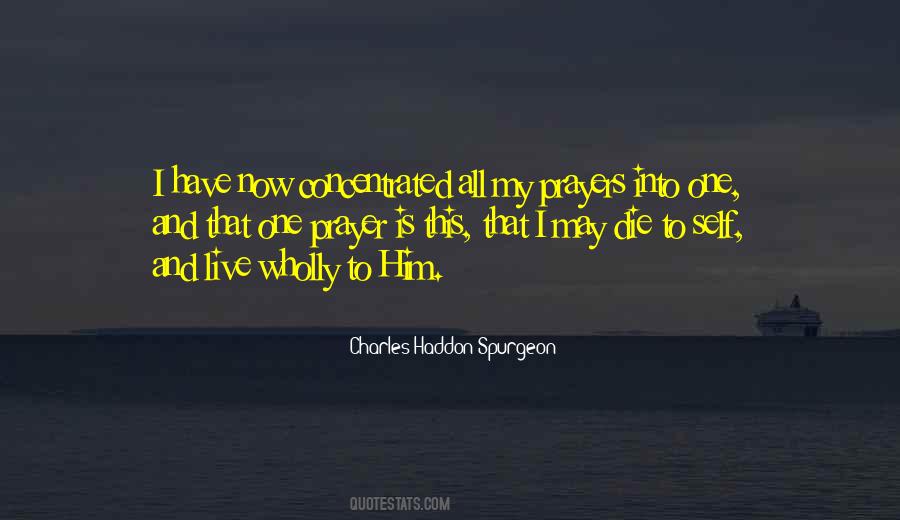 #15. So many people die though they live, and it is not as if they don't have life; they only refuse to keep breathing! - Author: Ernest Agyemang Yeboah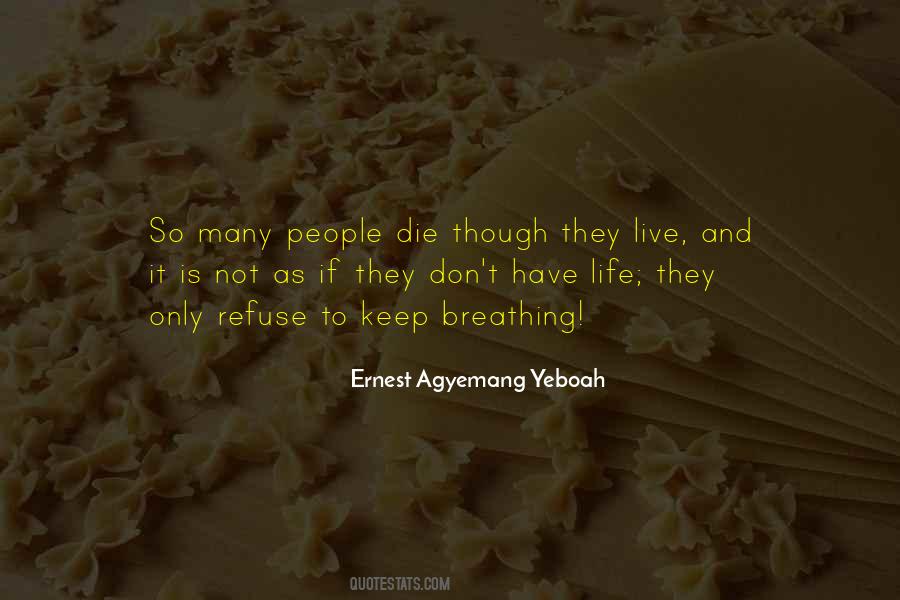 #16. There is soul in side body all life we live with it but we do not meet with our soul and our soul leaves our body when we die But Our soul meet with us when we on dead bed. - Author: Mohammed Zaki Ansari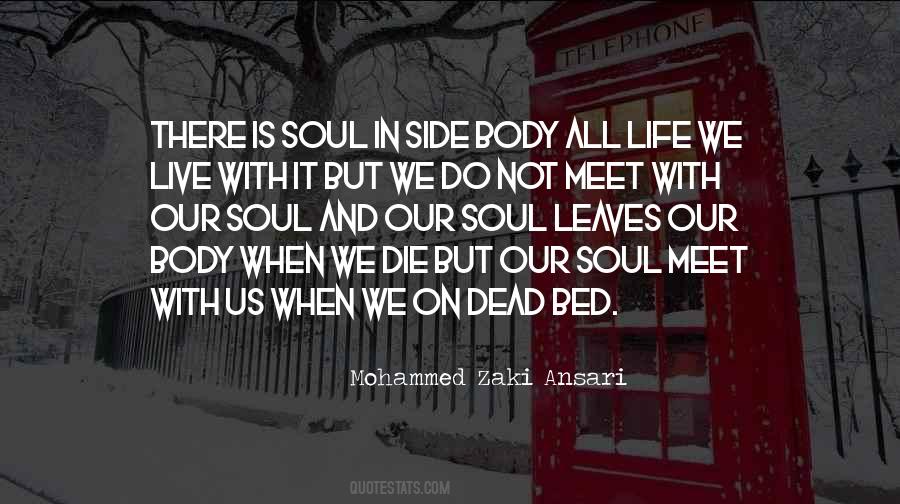 #17. You are always laughing at the wrong moment; you are considered cruel and heartless when in reality you are only tough and durable. But if you would laugh when others laugh and weep when they weep then you must be prepared to die as they die and live as they live. - Author: Henry Miller
#18. O good Horatio, what a wounded name,
Things standing thus unknown, shall live behind me!
If thou didst ever hold me in thy heart
Absent thee from felicity awhile,
And in this harsh world draw thy breath in pain,
To tell my story ...
O, I die, Horatio; - Author: William Shakespeare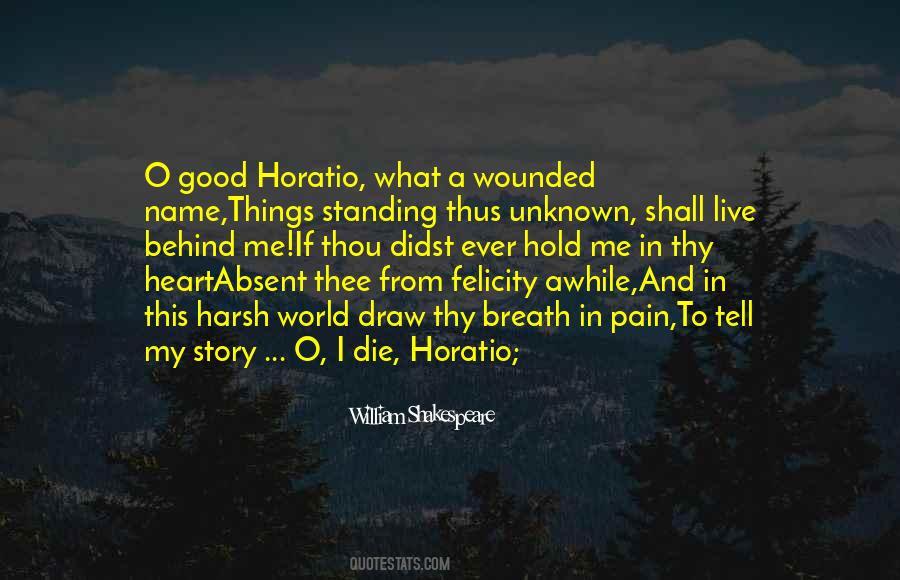 #19. If this ever changing world in which we live in makes you give in and cry, say live and let die. - Author: Paul McCartney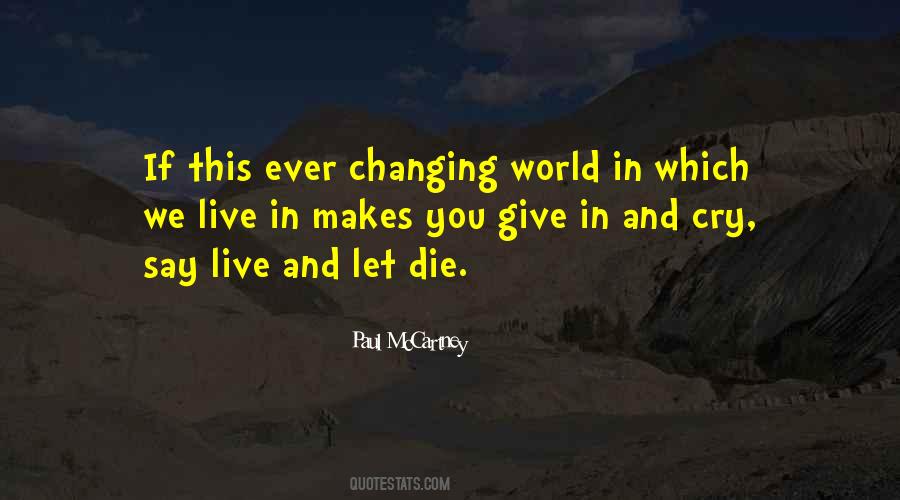 #20. For me to live is Christ and to die is gain
Phillippians 1:21 - Author: Anonymous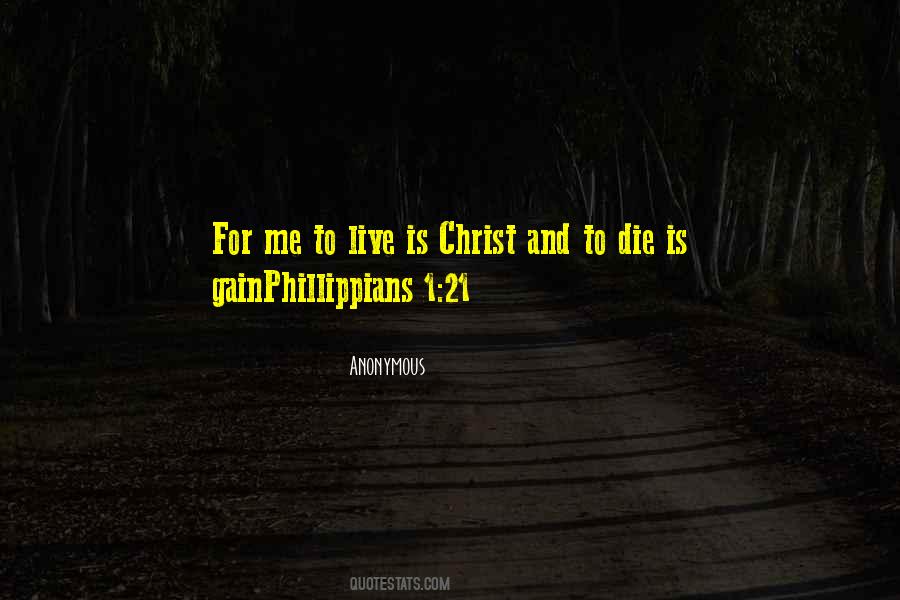 #21. There's been rumors of war and wars that have been The meaning of life has been lost in the wind And some people thinkin' that the end is close by 'Stead of learnin' to live they are learnin' to die - Author: Bob Dylan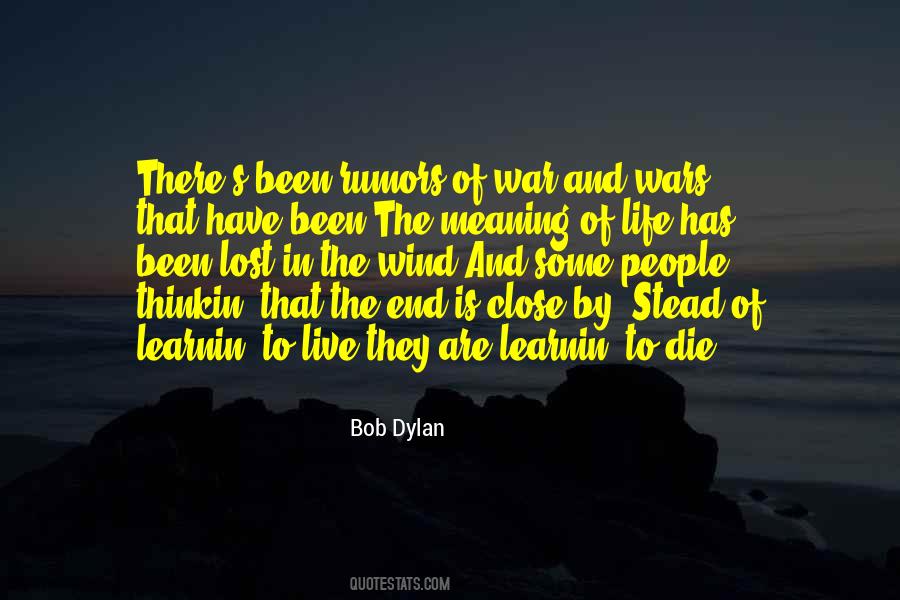 #22. "If you die, you get to heaven; and if you win, you enjoy the earth" (Gita). Even if you die in this attempt, well and good, many will take up the work, following your example. And if you succeed, you will live a life of great opulence. - Author: Swami Vivekananda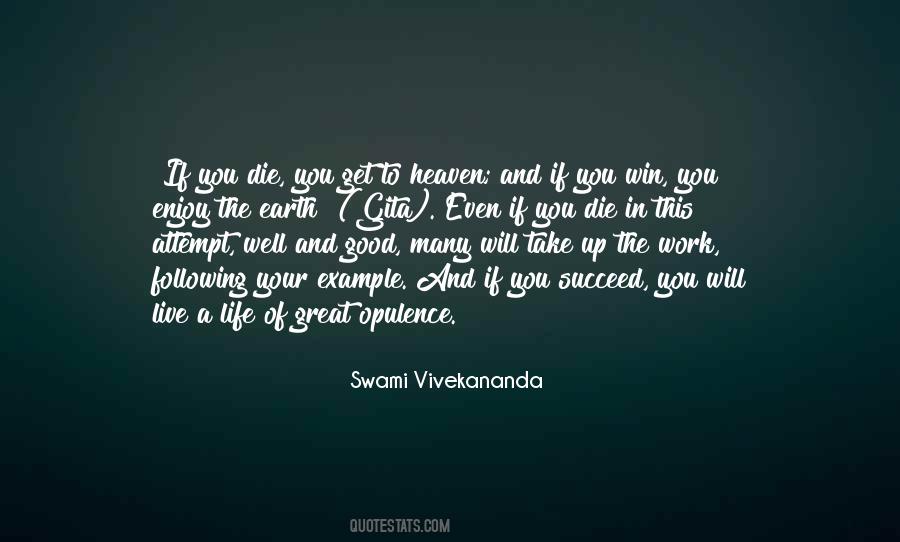 #23. You don't know who you are until you know God and you don't know how to live until you've settled the question of how to die. - Author: Alistair Begg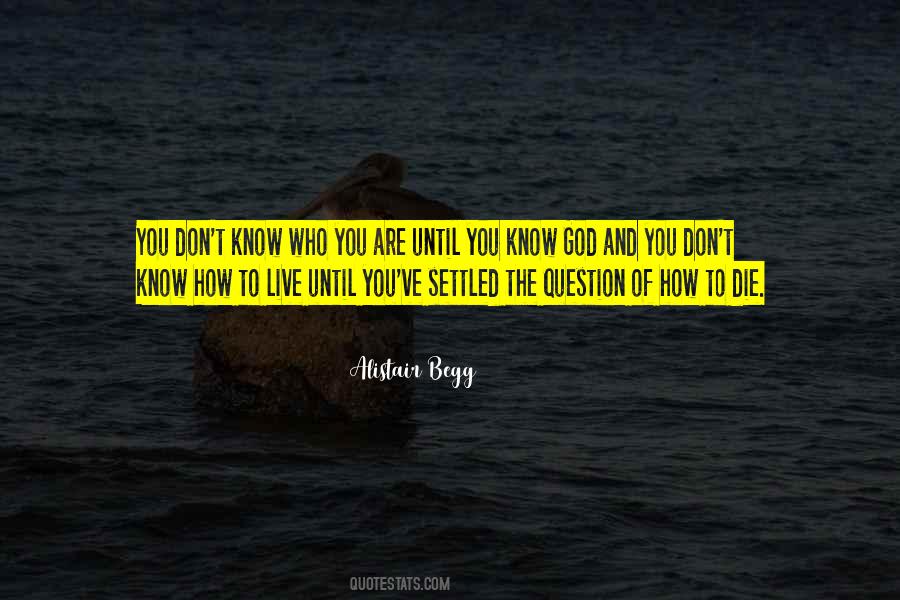 #24. 25Jesus said unto her, I am the resurrection, and the life: he that believeth in me, though he were dead, yet shall he live: + 26and whosoever liveth and believeth in me shall never die. Believest - Author: Anonymous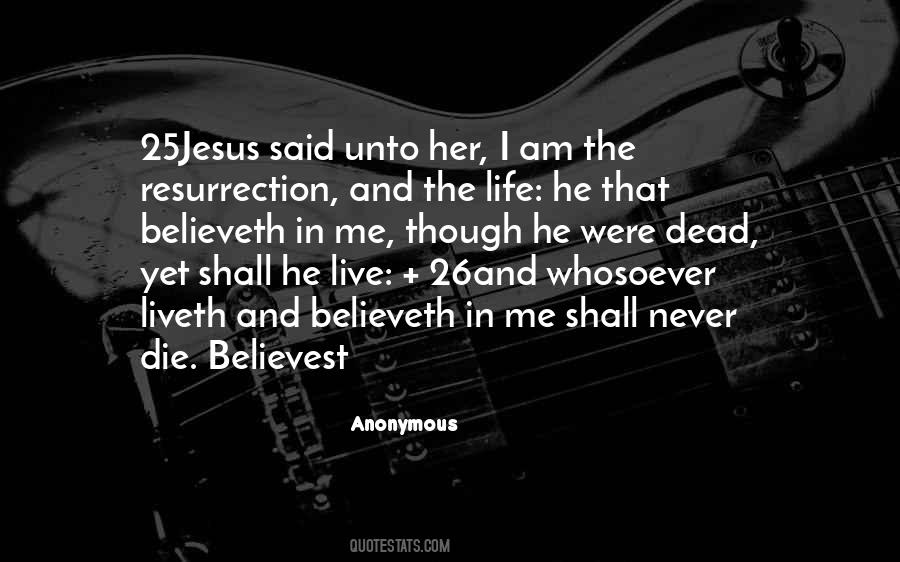 #25. People should make up their minds whether to live or to die and do one or the other with the least inconvenience to others. - Author: P.D. James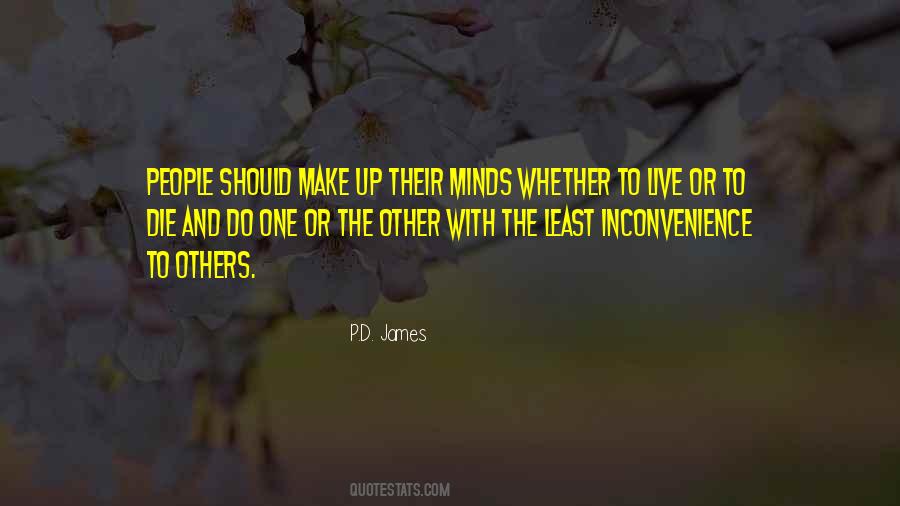 #26. It's the same in real life: Notorious murderers get off scot-free and live happily all their lives, while good people die - sometimes the very best people. That's the way of the world. - Author: Cornelia Funke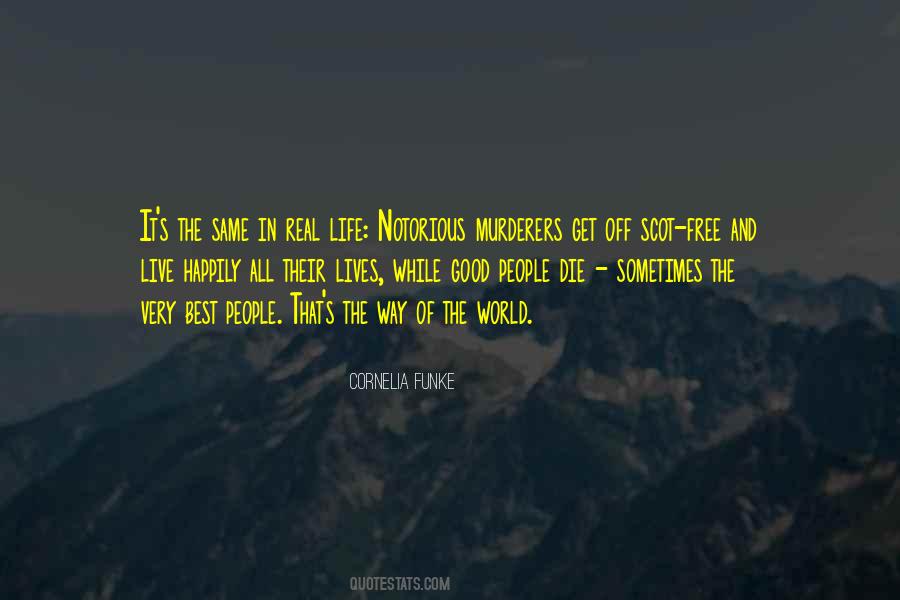 #27. Live each moment as if you were going to die the next, and then there will be a great intensity and a great passion. You will be aflame with life. That being aflame is what being divine is to me. - Author: Rajneesh
#28. You know what, my faith is like this - when I die, I'm going to live with God forever and ever. But I believe He wants us to have a good life here on Earth. - Author: Victoria Osteen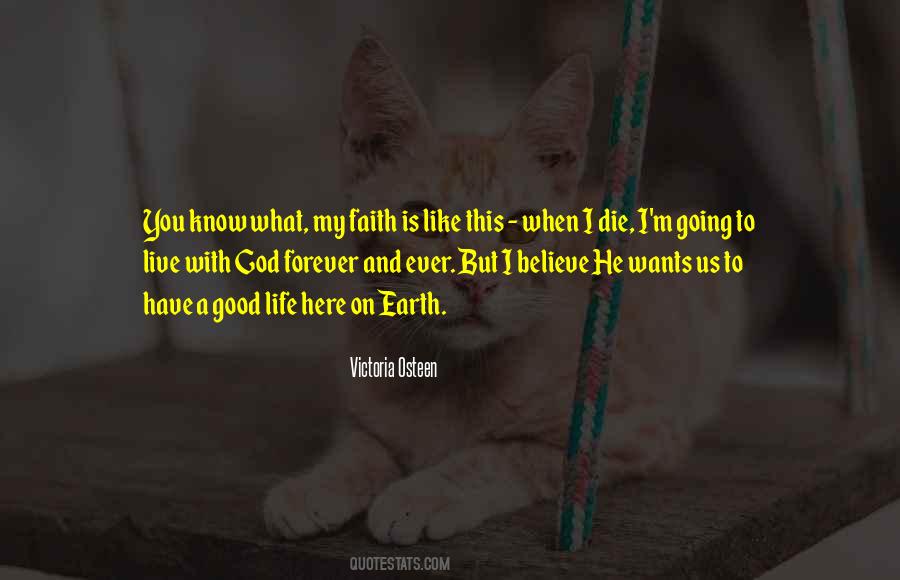 #29. And if the day I die they ask me just how heaven was, I'll be glad I spent it with you. - Author: Brian Logan Dales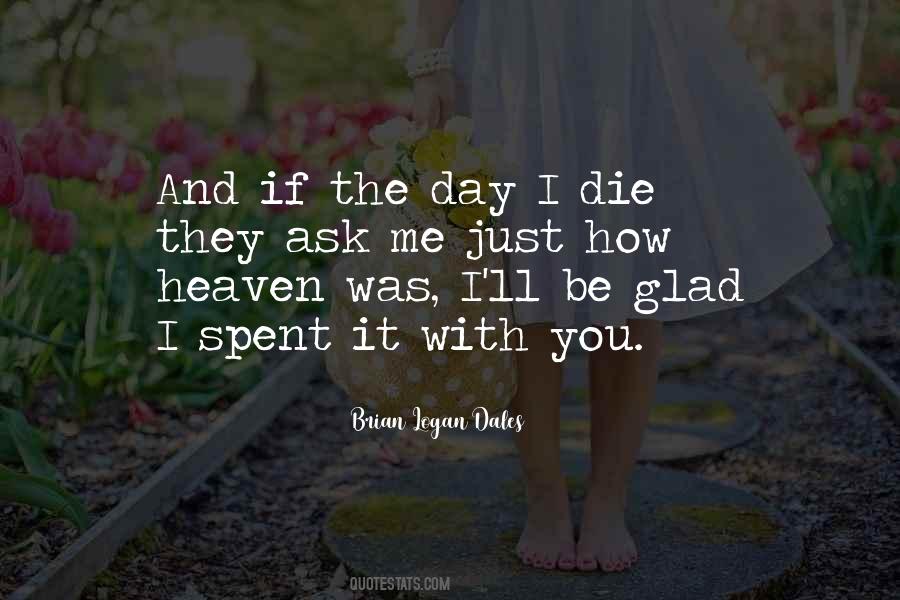 #30. Alone: it was no way to live and it was no way to die. - Author: Rob Thurman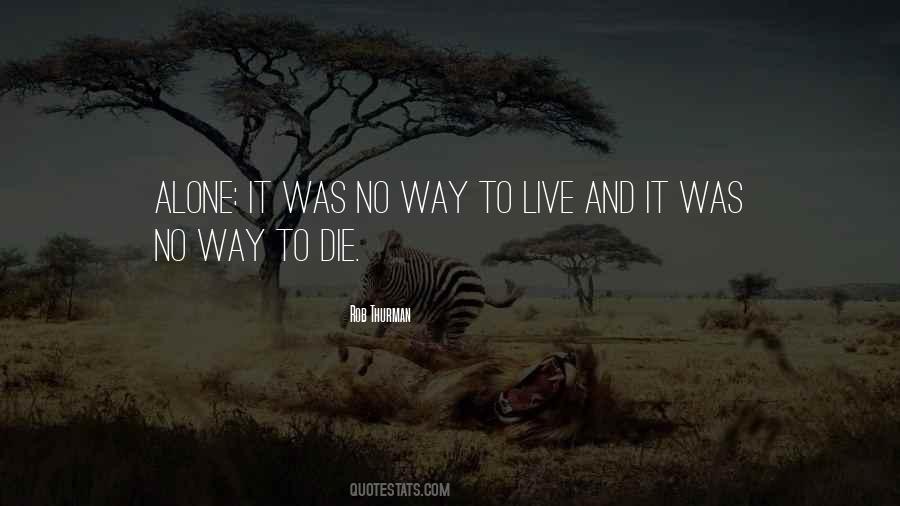 #31. The obsession with suicide is characteristic of the man who can neither live nor die, and whose attention never swerves from this double impossibility. - Author: Emil Cioran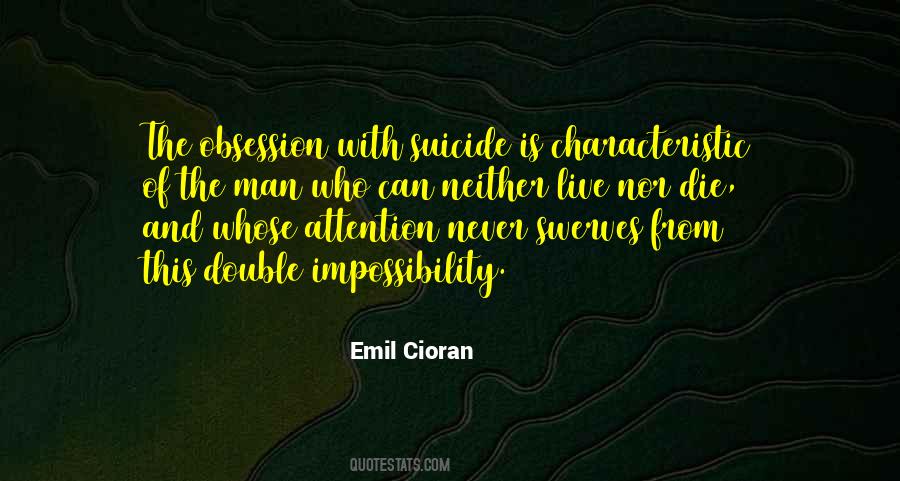 #32. Learn how to live and you'll know how to die; learn how to die, and you'll know how to live. - Author: Morrie Schwartz.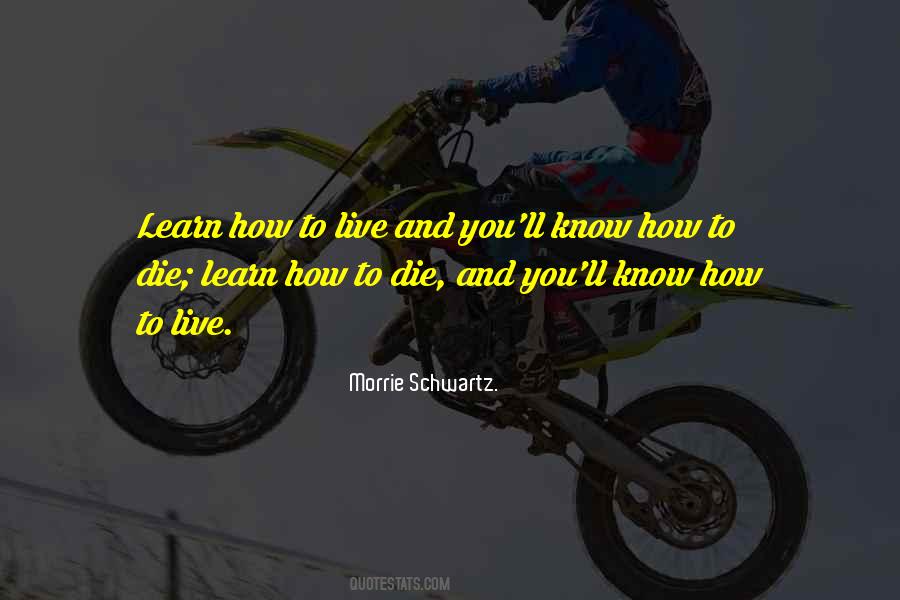 #33. We were born beggars, we will live like beggars and we will die like beggars. - Author: M.F. Moonzajer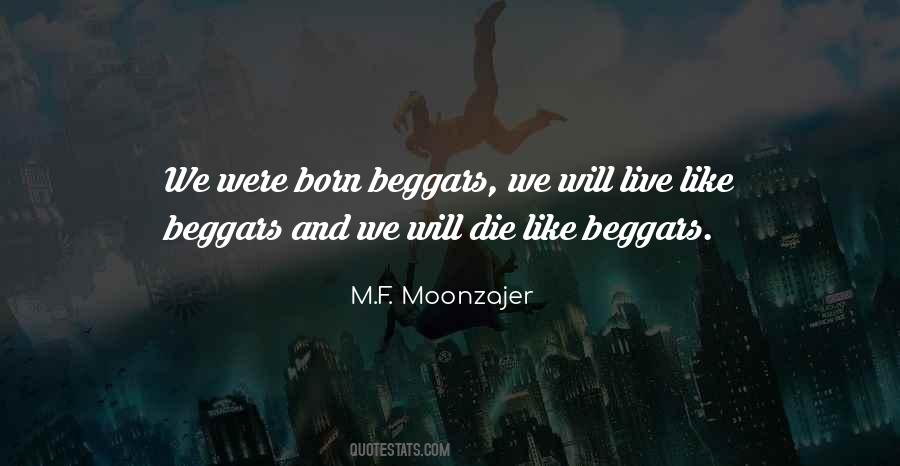 #34. All I want to be is very young always and very irresponsible and to feel that my life is my own-to live and be happy and die in my own way to please myself - Author: Zelda Fitzgerald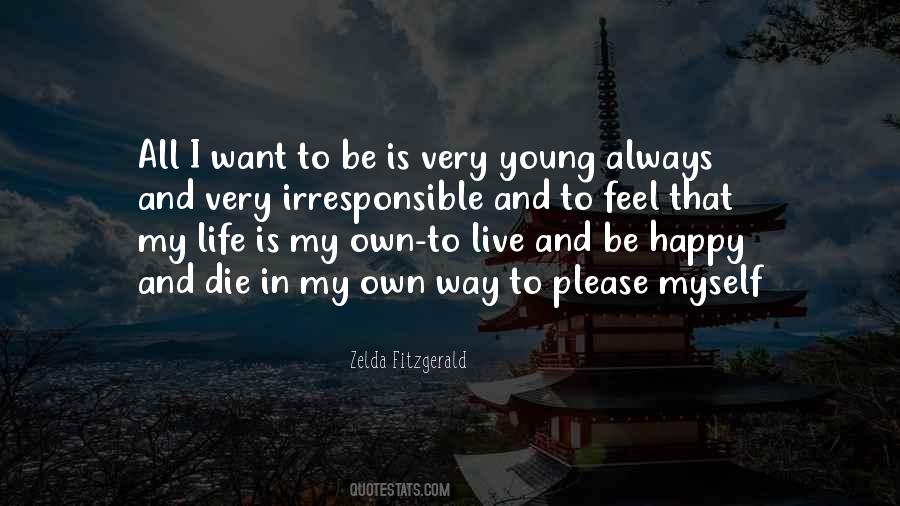 #35. Now you die while we live on, and you've no one to blame but your selves. So do not speak of betrayal behind my back, humans. For the Great Betrayal is your shame, not mine. ~ Ayden - Author: Rachel Haimowitz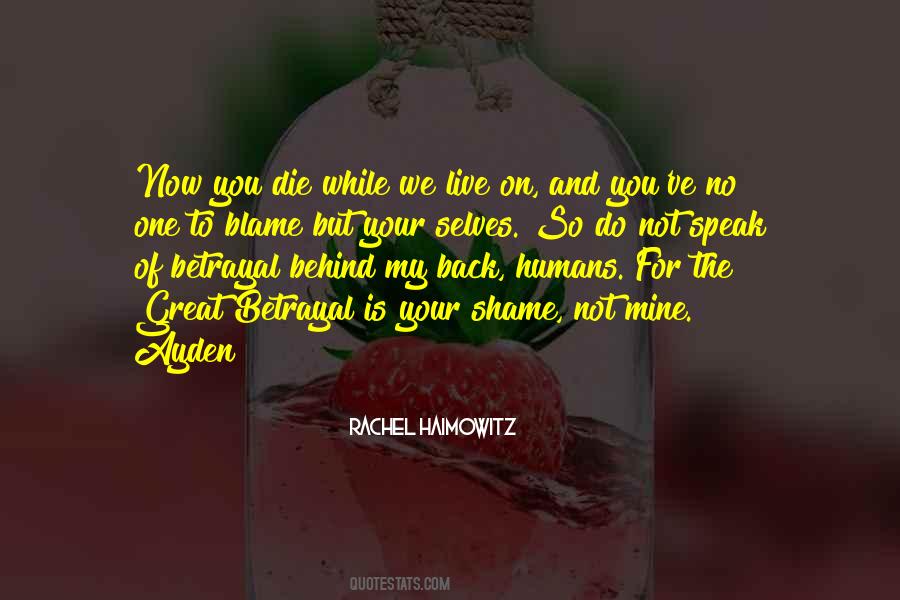 #36. We don't get to choose how we're born, Miranda, and very rarely how we die; but we get to choose how we live. Life is too short to spend in dread and guilt. - Author: Dianne Sylvan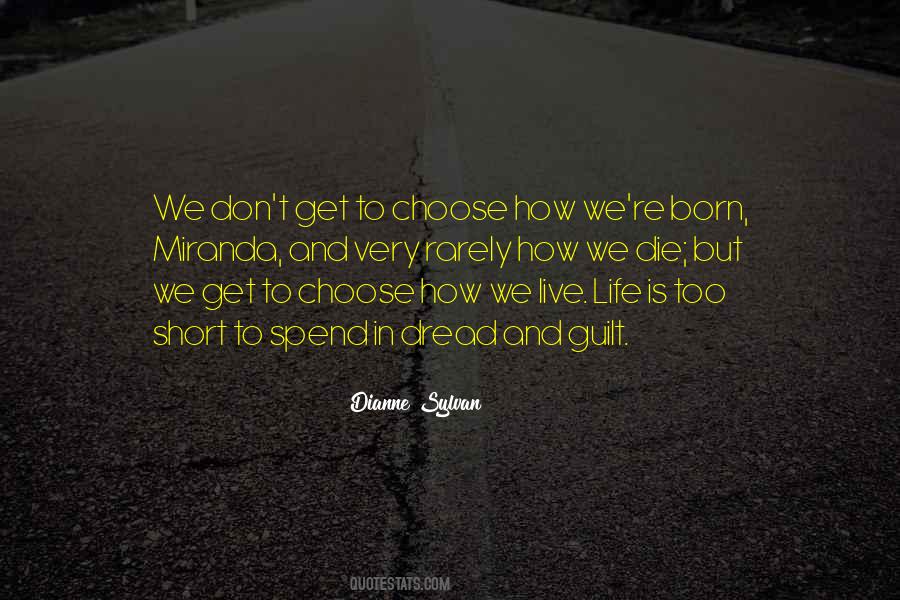 #37. Every Betrayal begins with trust-Phish
Dream as if you'll live forever, live as if you'll die today-James Dean
Laugh as much as you breathe and love as long as you live-Anonymous - Author: Brian Jacques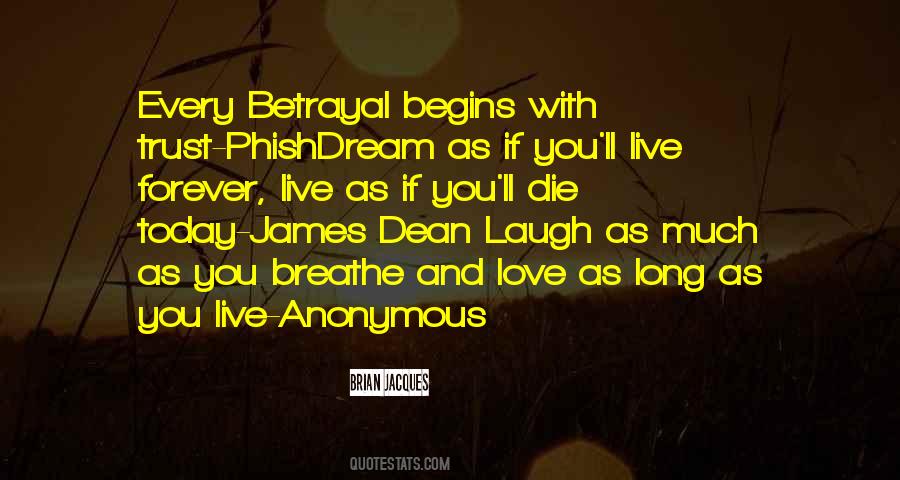 #38. Clouds buzz by, unaware of the scary world below them. I envy them. I envy the easy way that they live and die. They never have to worry about tomorrow and what horrors or death it might bring. - Author: Dannielle Wicks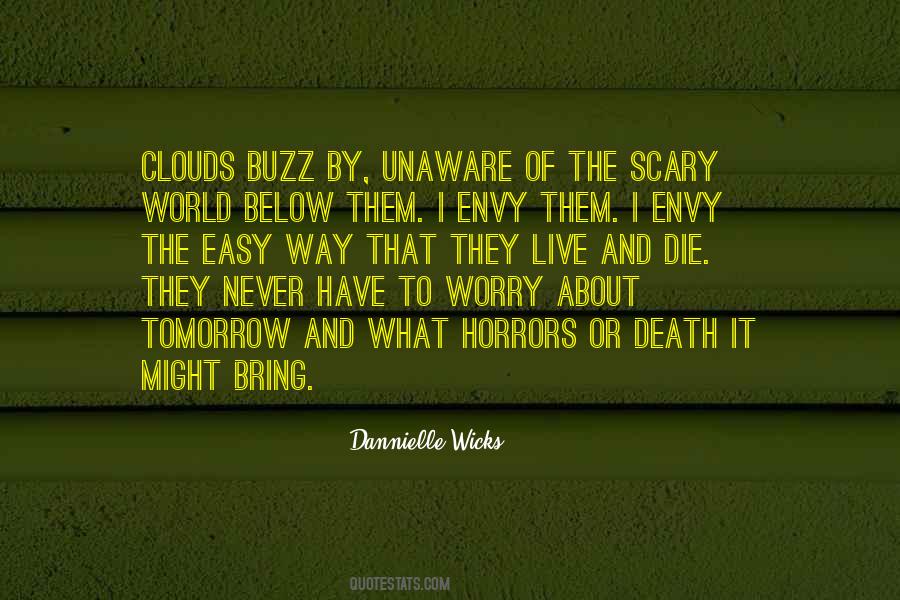 #39. We die unconsciously, we are born unconsciously and we live unconsciously as well - Author: Anatoliy Obraztsov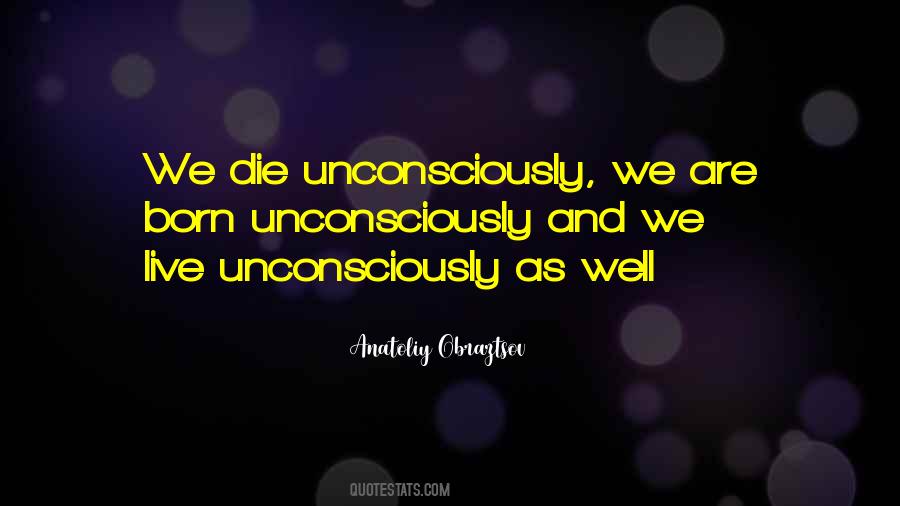 #40. There are those that are born to die and stay dead, and those who are born to die and live on forever. - Author: R.M. Grace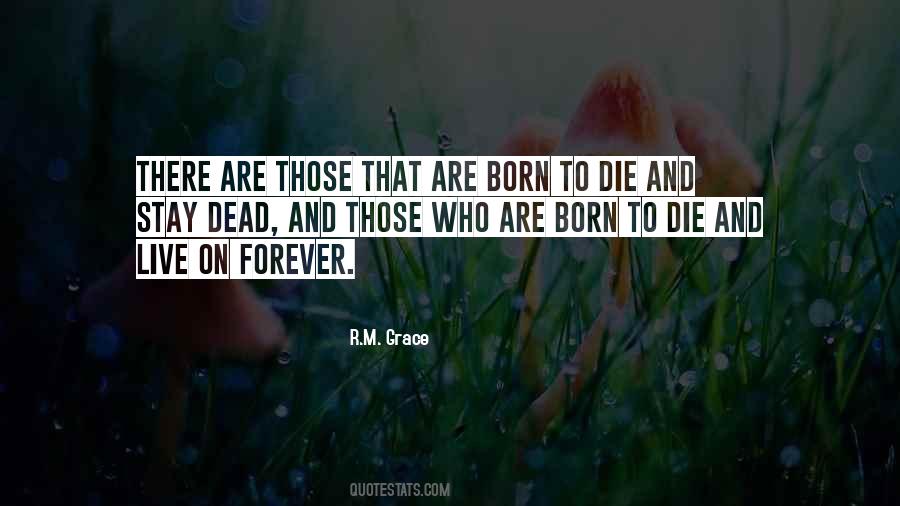 #41. In a world where very few people care if you live or die, there is a light that shines in the distance. It has a name that they call hope and it carries with it people that never stop caring. They learned long ago that extending mercy was not a choice, but a place where God lives. - Author: Shannon L. Alder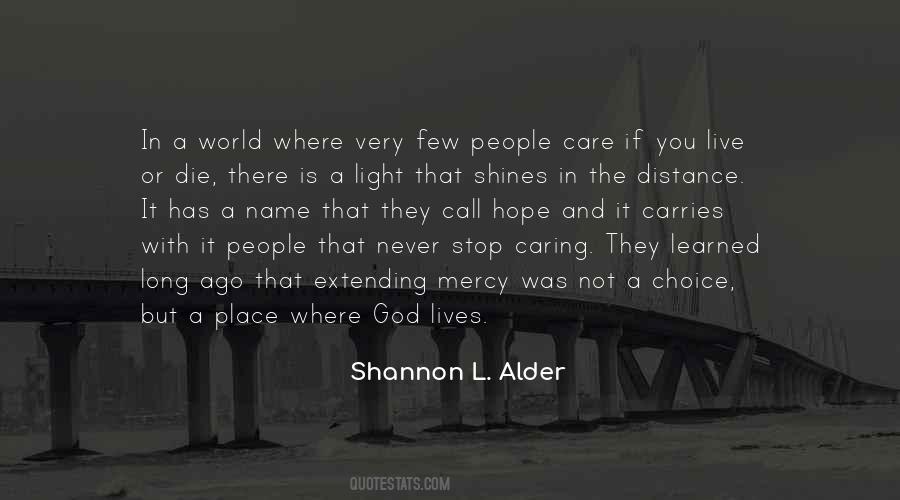 #42. And that inverted Bowl we call The Sky,
Whereunder crawling coop't we live and die,
Lift not thy hands to it for help
for It
Rolls impotently on as Thou or I. - Author: Omar Khayyam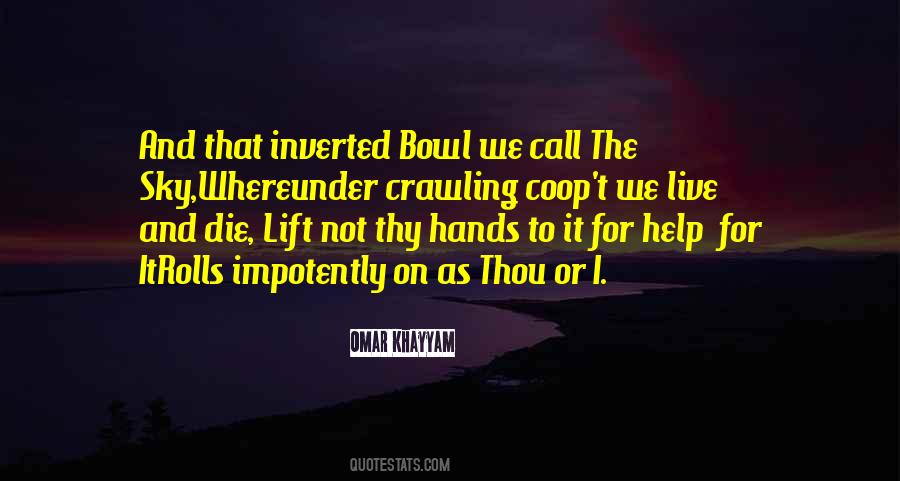 #43. Live and die on this day ... Live and die on this day ... - Author: Liam Neeson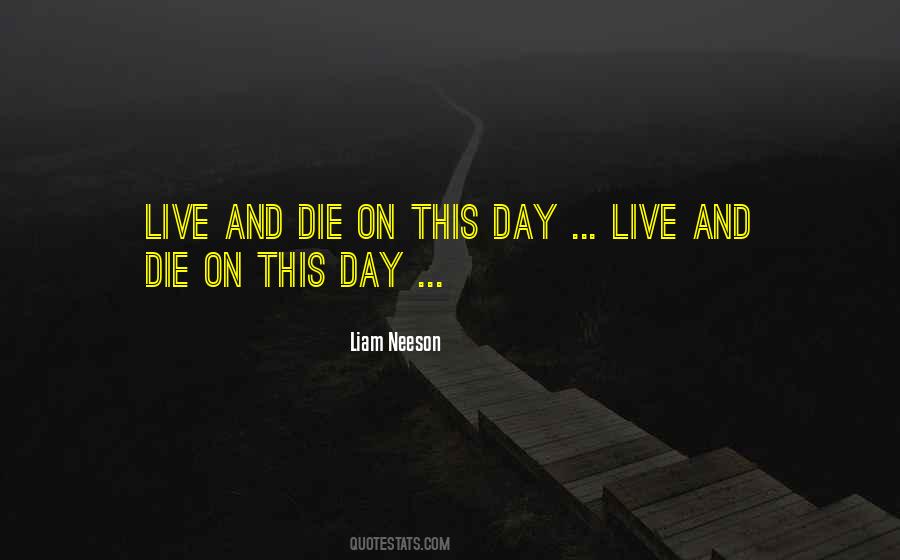 #44. Set thy house in order, for thou shalt die and not live." ~ Isaiah 38:1 - Author: Bible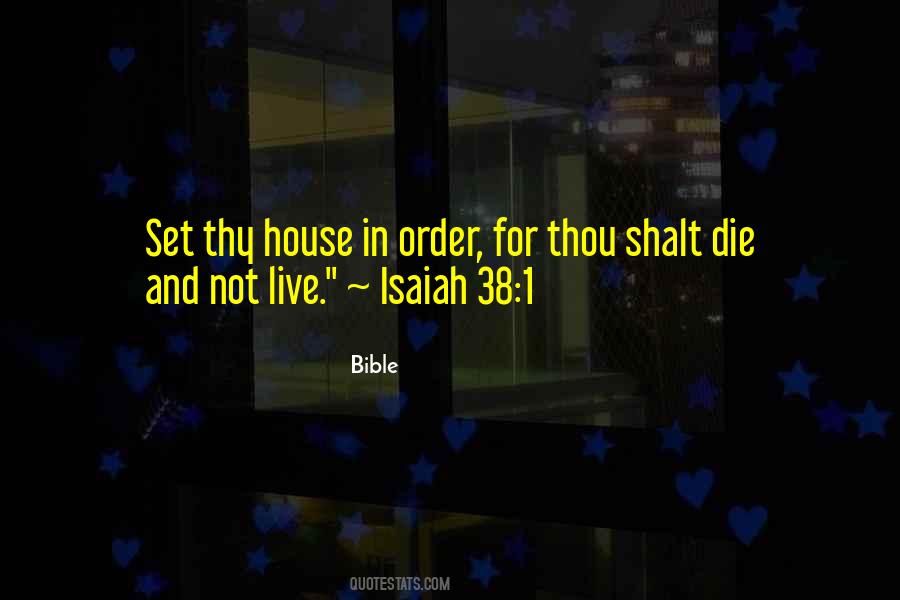 #45. I want to live, and die with you. - Author: Horace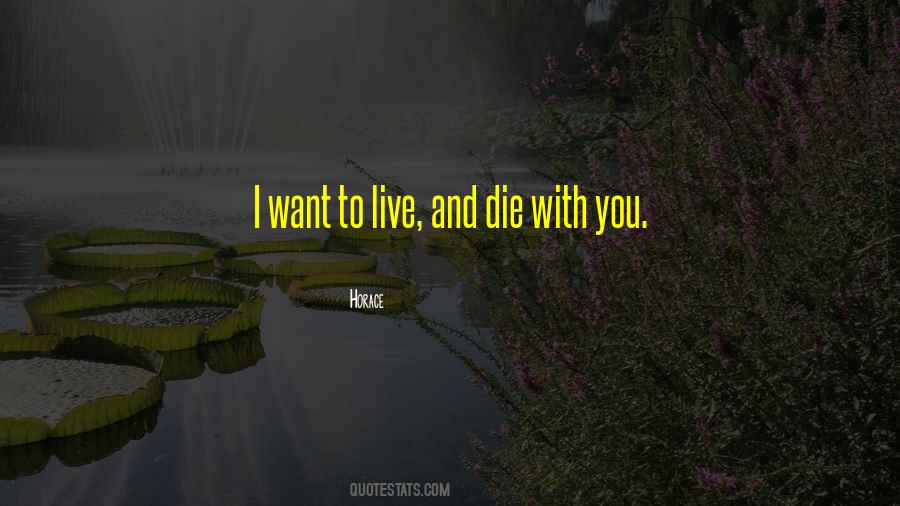 #46. Most people think the biggest sacrifice, the greates act of love you can give is to die for someone. And probably it is. But Sometimes it is the opposite. The biggest thing you can do for someone is to live. - Author: Sarah Wylie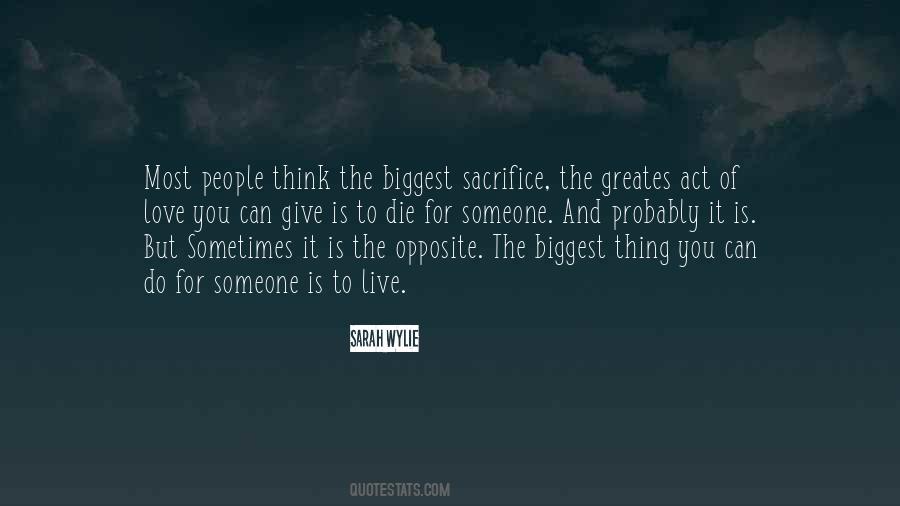 #47. We who are so lucky as to be born into the light - who see it every day and never think about it, we're blessed. We could have been born shadow souls who live and die in crimson darkness, never even knowing that somewhere there is something better. - Author: L.J.Smith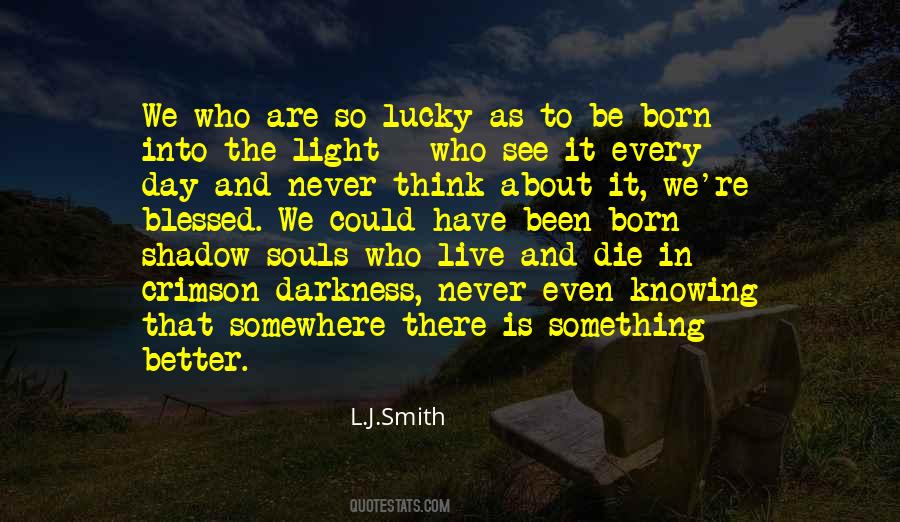 #48. Better live a crossing-sweeper than die and be made to talk twaddle by a "medium" hired at a guinea a seance. - Author: Thomas Huxley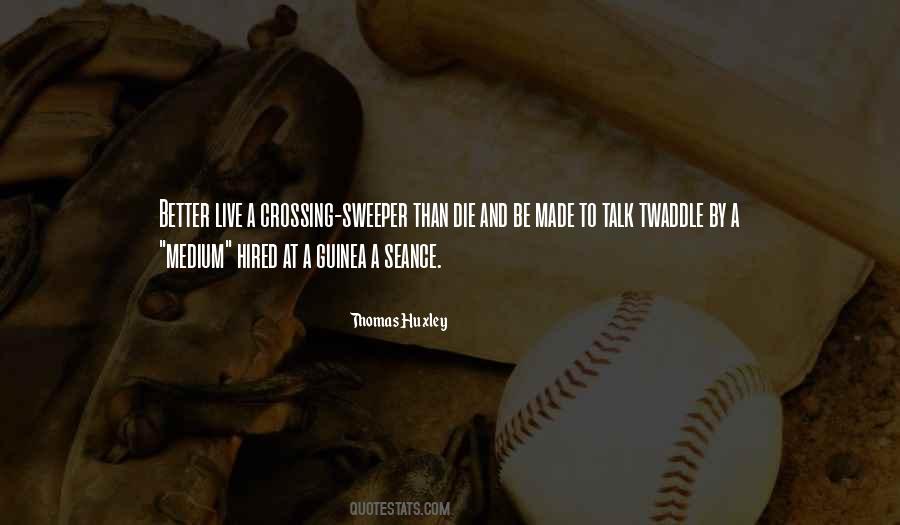 #49. Live Like a Raj Thakare and Die Like a Balasaheb Thakare. - Author: Sagar Ugale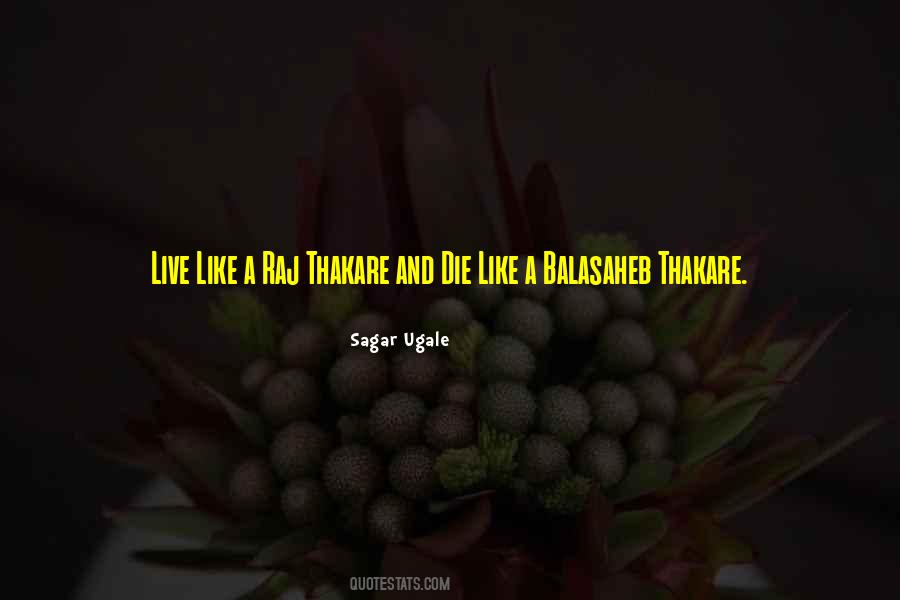 #50. Either we live by accident and die by accident, or we live by plan and die by plan. - Author: Thornton Wilder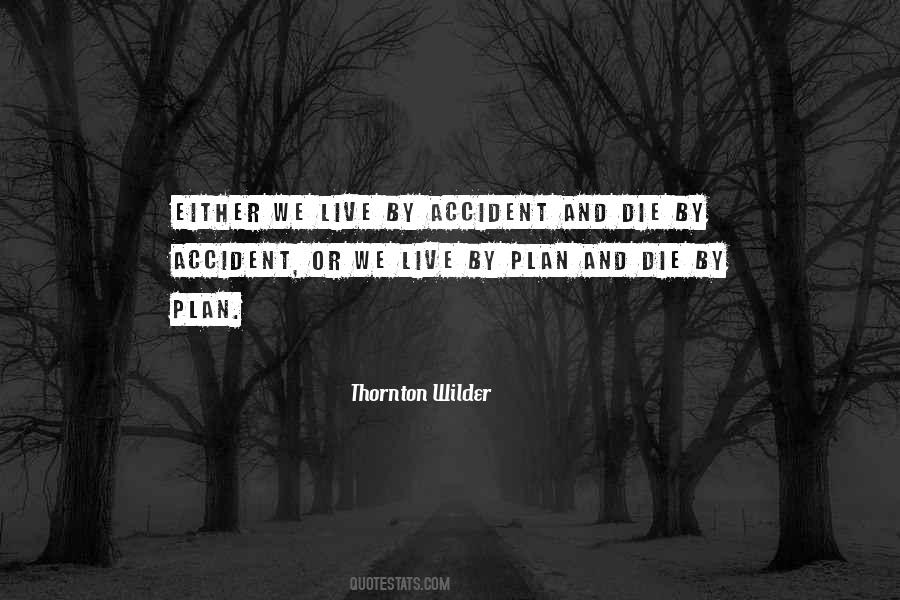 #51. The gospel is so valuable that no risk is unreasonable. Life is gained by laying it down for the gospel. If I live, I win and get to keep on preaching Christ. If I die, I win bigger by going directly to be with Christ... - Author: David Sitton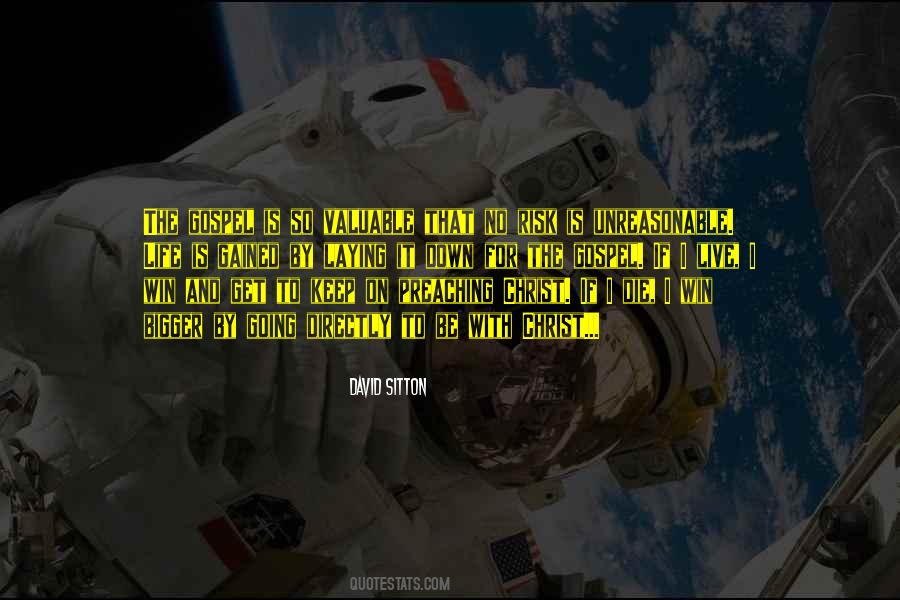 #52. No, Governor Romney, corporations are not people. People have hearts, they have kids, they get jobs, they get sick, they cry, they dance. They live, they love, and they die. And that matters. That matters because we don't run this country for corporations, we run it for people. - Author: Elizabeth Warren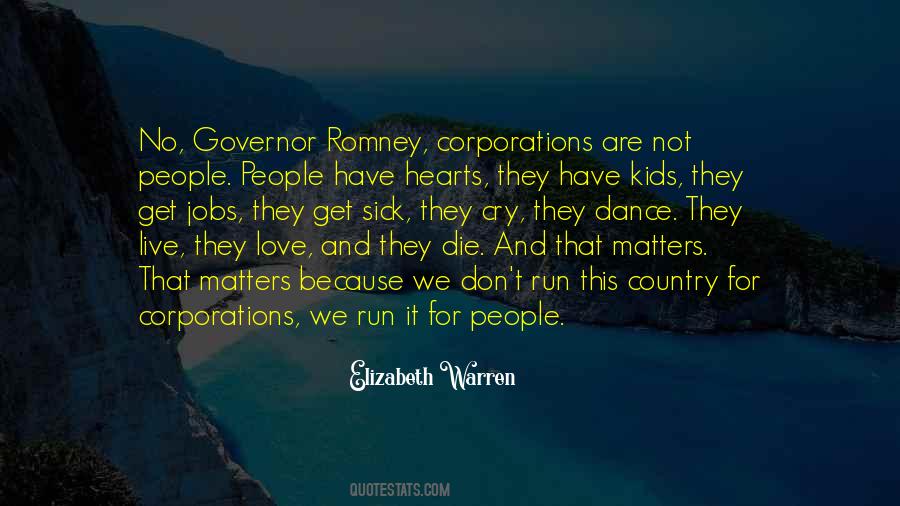 #53. Greta, Greta, he whispered, eyes shut in rapture, on thy breast I write my Edda, at thy feet I lay the keys of Niflheim, by thy leave alone, I live, and breathe, and die. - Author: Catherynne M Valente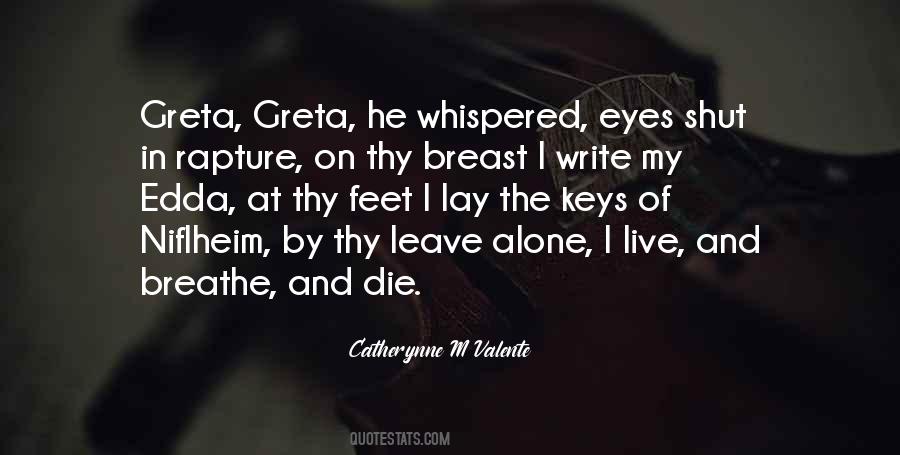 #54. It is sweet and right to die for the homeland, but it is sweeter to live for the homeland, and the sweetest to drink for it. Therefore, let us drink to the health of the homeland. - Author: Horace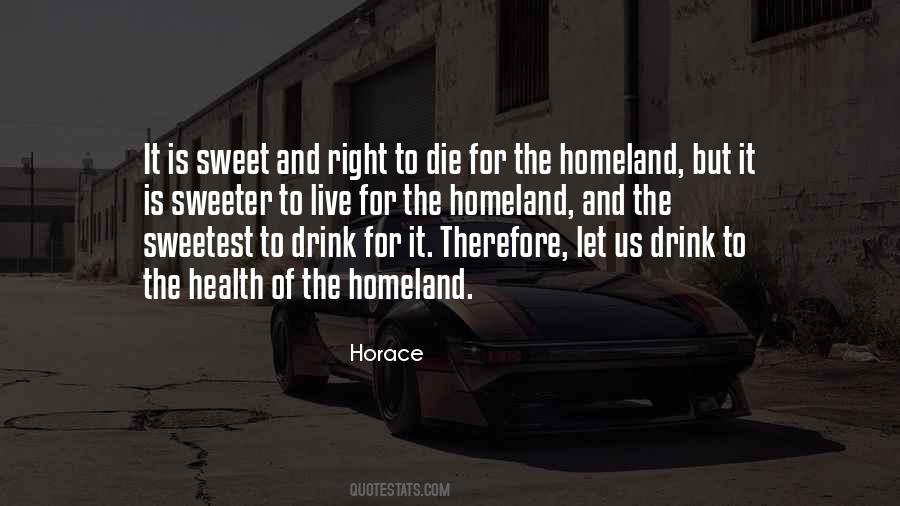 #55. It seems sensible to me that we should look to the medical profession, that over the centuries has helped us to live longer and healthier lives, to help us die peacefully among our loved ones in our own home without a long stay in God's waiting room. - Author: Terry Pratchett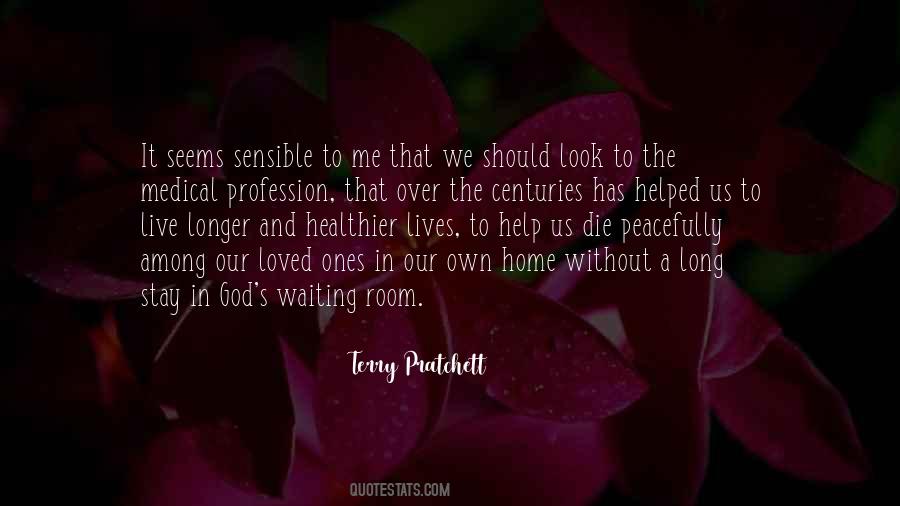 #56. We are like other animals; we live and die as they do. If there is any afterlife, I believe we are in together. - Author: Bangambiki Habyarimana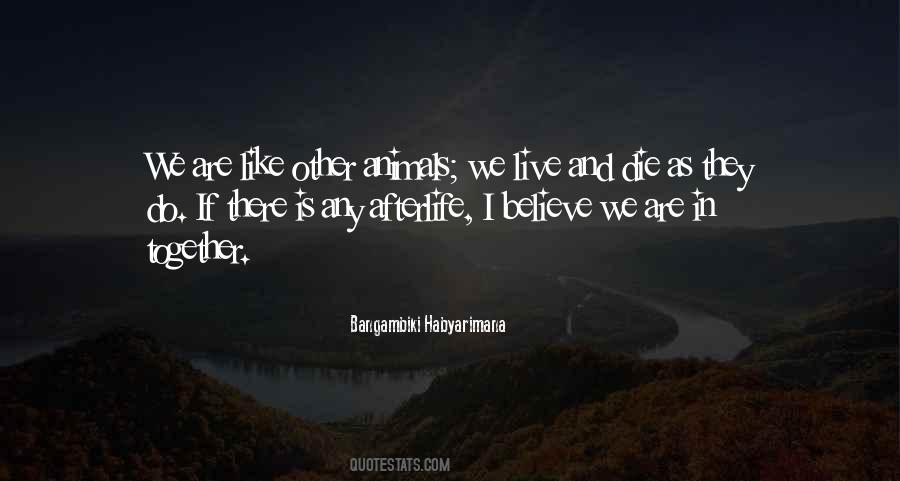 #57. The first lessons with which we should irrigate his mind should be those which teach him to know himself, and to know how to die ... and to live. - Author: Michel De Montaigne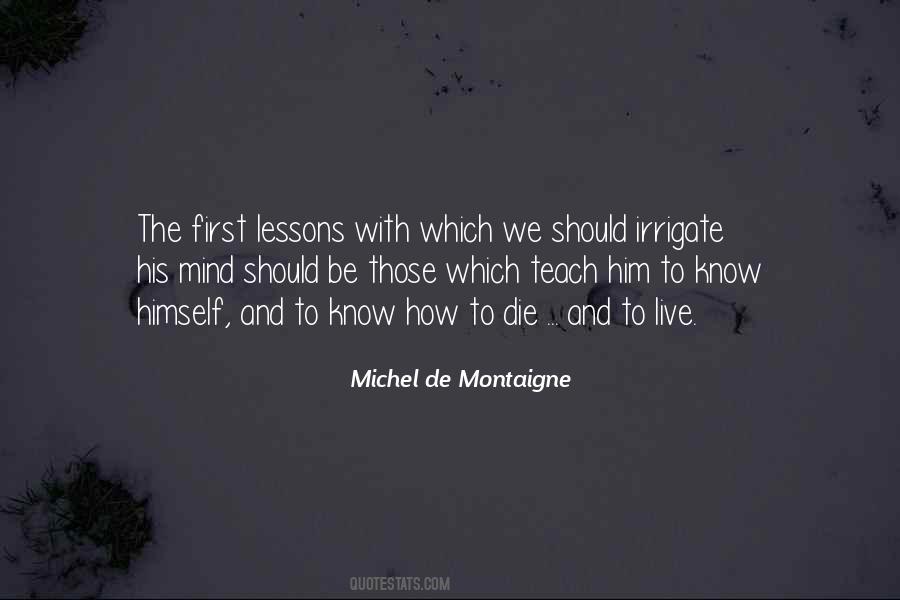 #58. I canna let you die like Da," he said softly.
"And yet ye canna let me live," she replied. - Author: Madeline Martin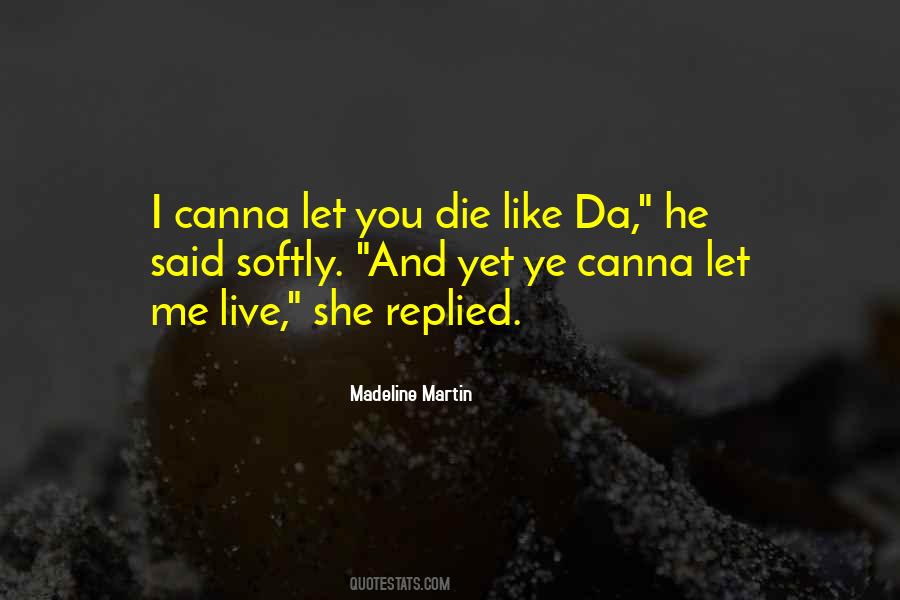 #59. The spirit who inhabits her animates us all. Destroy the host, you destroy the power. The young die first; the old wither slowly; the eldest perhaps would go last. But she is the Queen of the Damned, and the Damned can't live without her. - Author: Anne Rice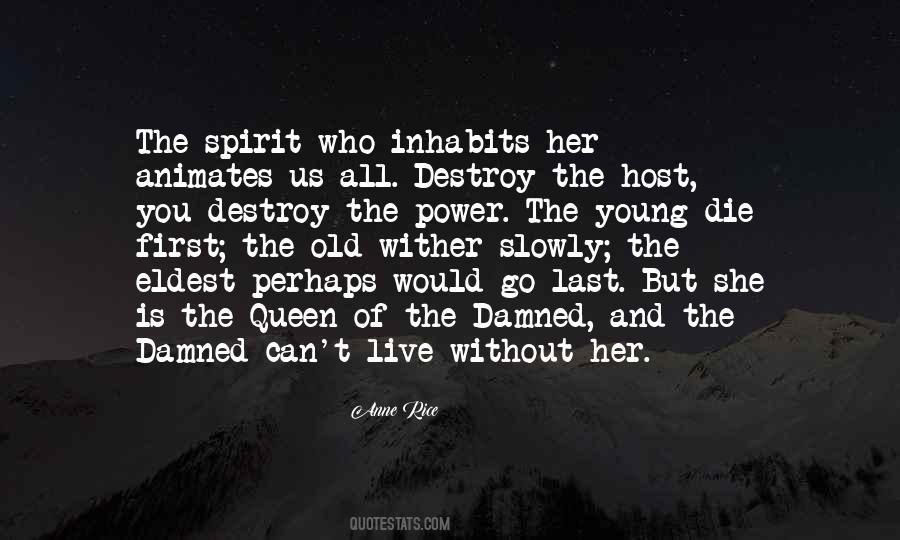 #60. You of all people would know people who commit suicide... can't go to the paradise of the stars. Even if you did commit a horrible crime... you have to live! You can't just give up and die! You have to live and atone for your wrongs! - Author: Noriko Ogiwara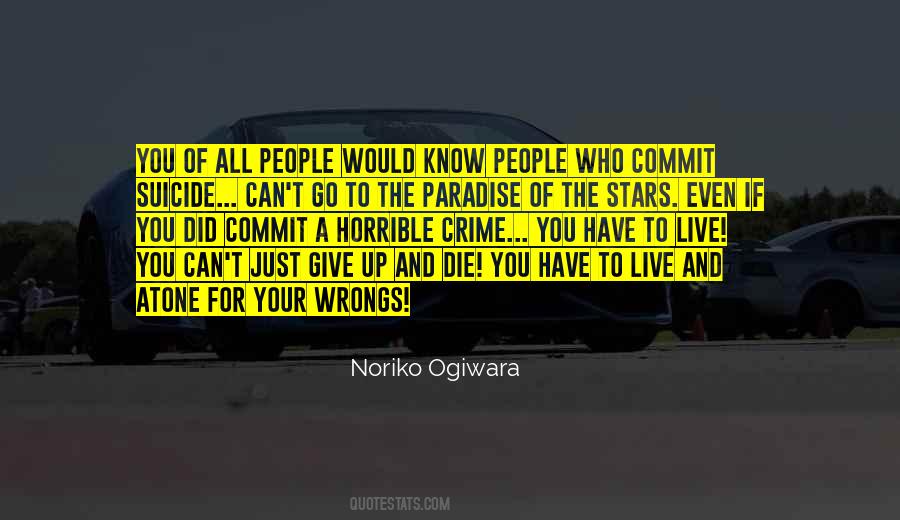 #61. I think we are just insects, we live a bit and then die and that's the lot. There's no mercy in things. There's not even a Great Beyond. There's nothing. - Author: John Fowles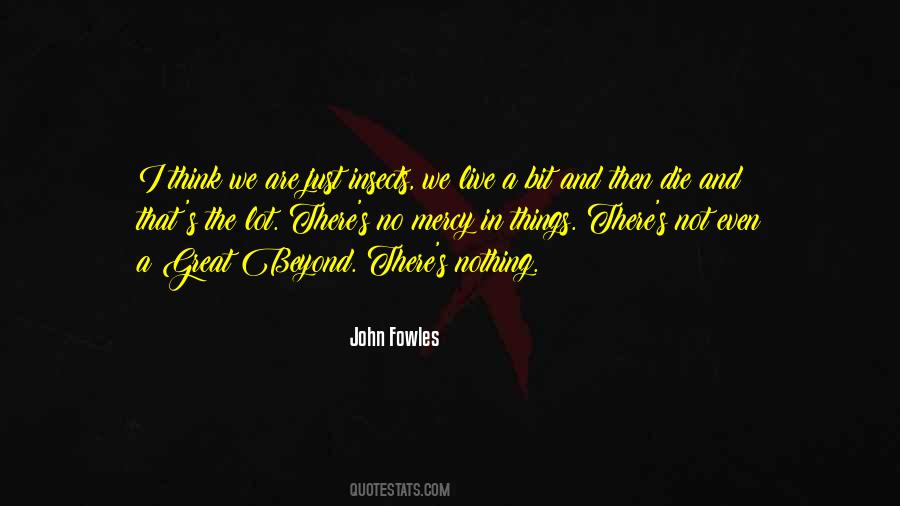 #62. All things are yours and you are Christ's - and Christ is God's. If we live, we live unto God. If we die, we die unto God - whether we live or die, we are God's possession." What more could anyone ask? - Author: Thomas Merton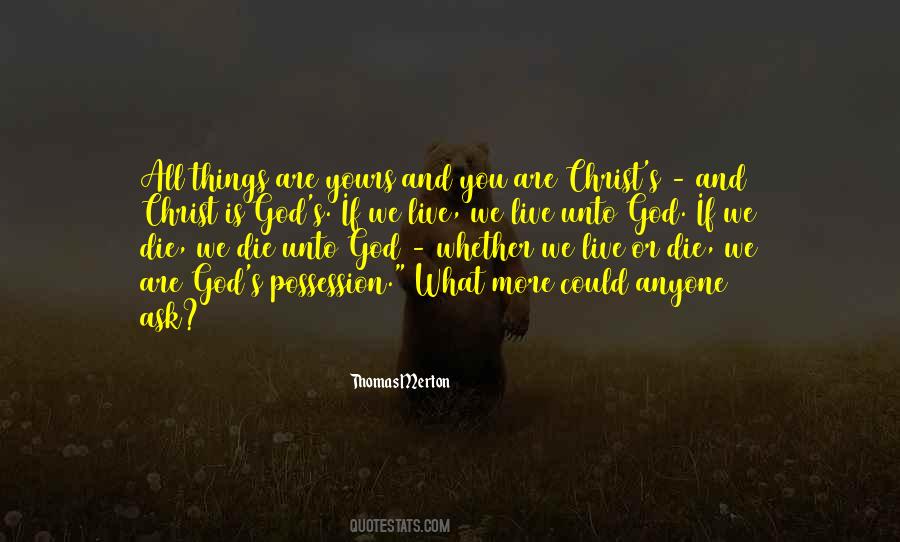 #63. Nothing is more durable than the dynasty of Doubt; for he reigns in the hearts of all his people, but gives satisfaction to none of them, and yet he is the only despot who can never die, while any of his subjects live. - Author: Charles Caleb Colton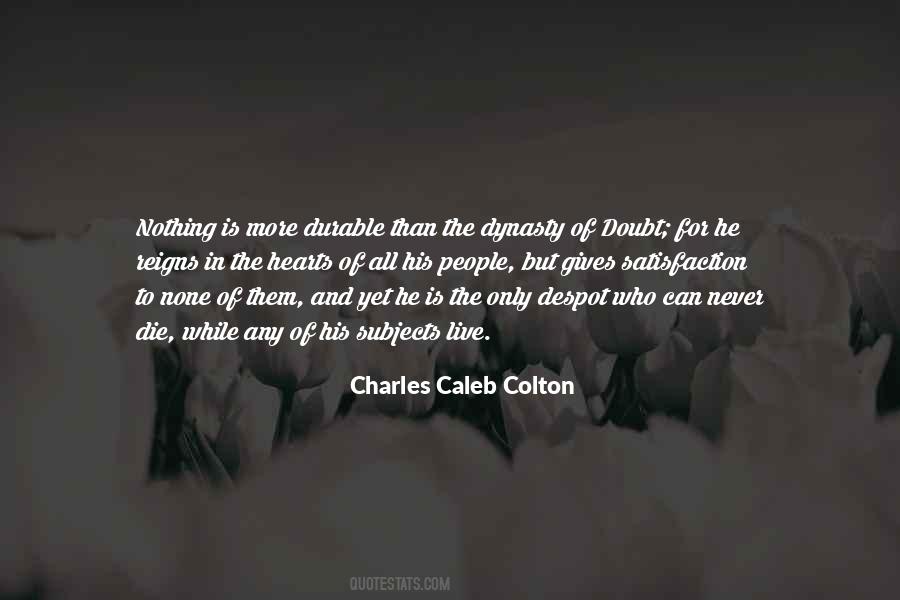 #64. Honoring Christ, magnifying Christ, making much of Christ. That was the meaning of Paul's life. It should be the meaning of ours. And Paul prays it will be the meaning of his death as well. We live and we die to make much of Christ. - Author: John Piper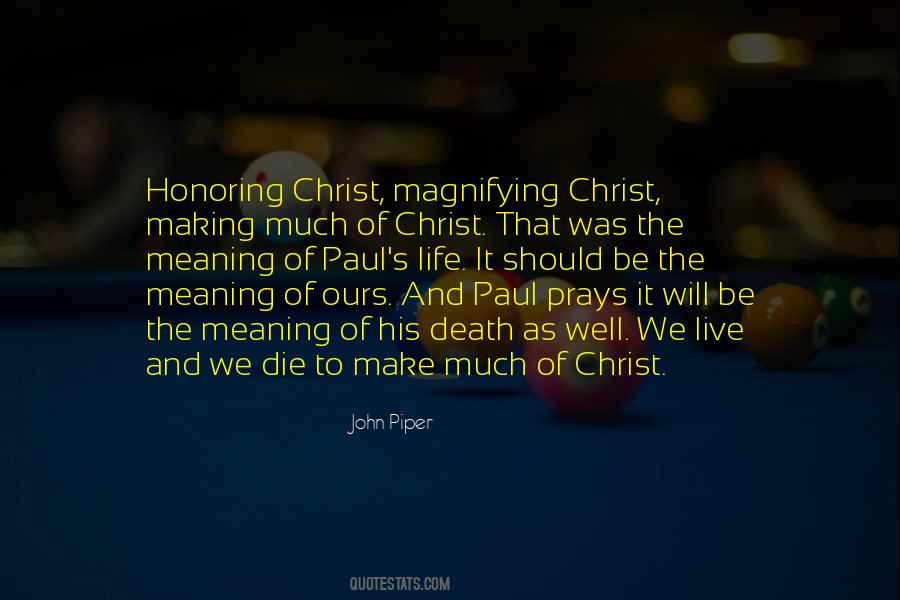 #65. William James said, "You cannot travel without until you have travelled within." Socrates said, "The unexamined life is not worth living." People who discover their sweet spot are people who take the inward journey and examine themselves. They make the choice to live until they die. - Author: Scott M. Fay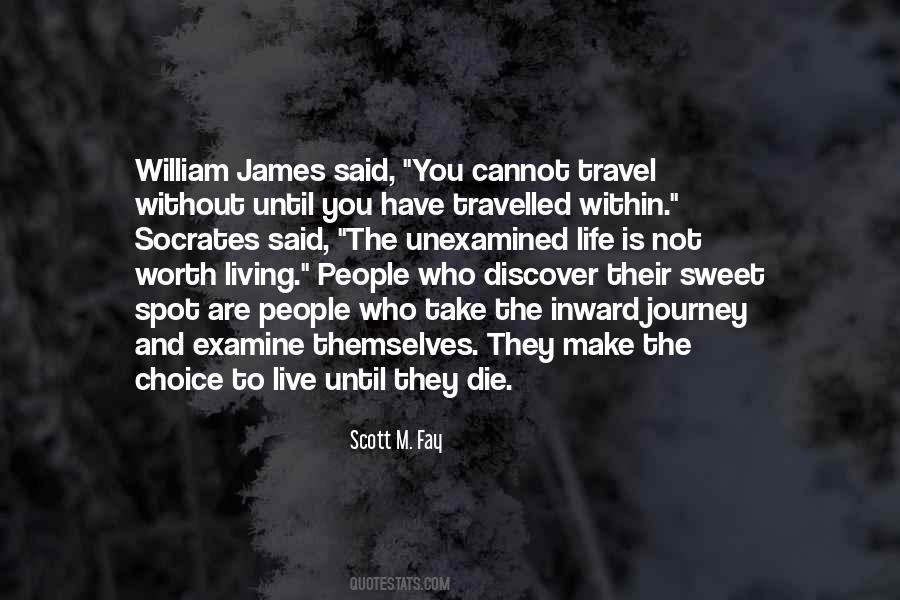 #66. If you like to be immortal, live for others and die for others. - Author: Debasish Mridha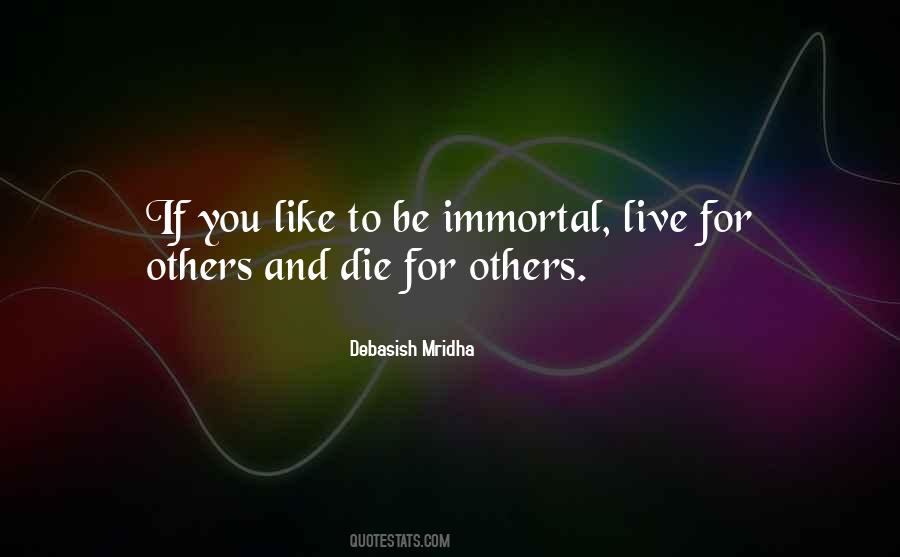 #67. I just want to live till I Die. I want to open my wings and fly. - RVM. - Author: R.v.m.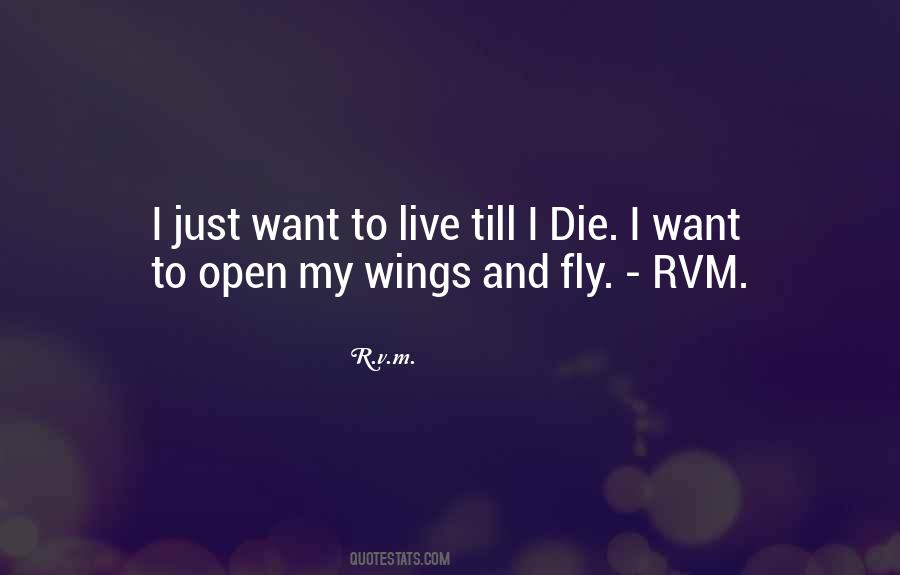 #68. You live and die according to what goes on in yourself, which no one else can even begin to know, not even father, mother, wife, son, or daughter. - Author: William, Saroyan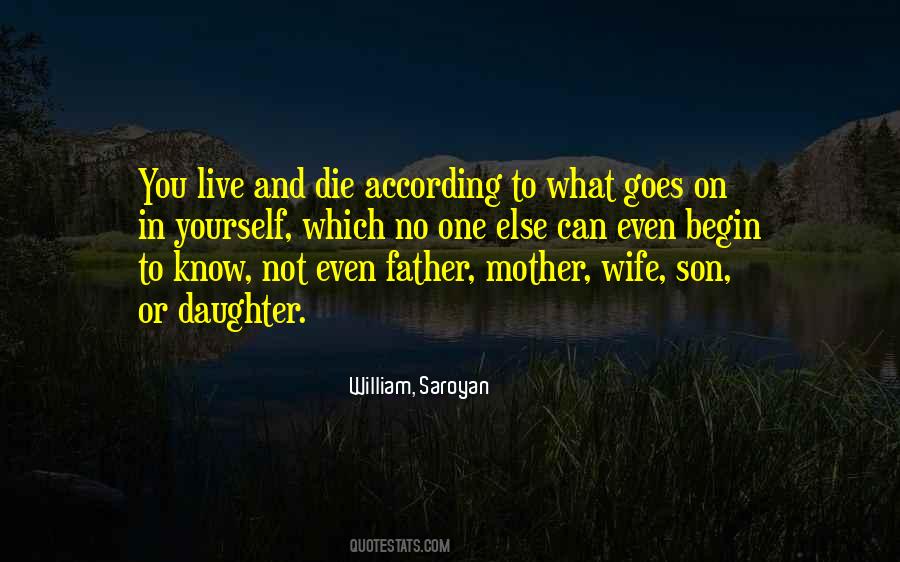 #69. Facing that was my ultimate fear and my biggest freedom. I was alone. I was tiny. I was no one. Live or die, the world wouldn't know or care. - Author: Pepper Winters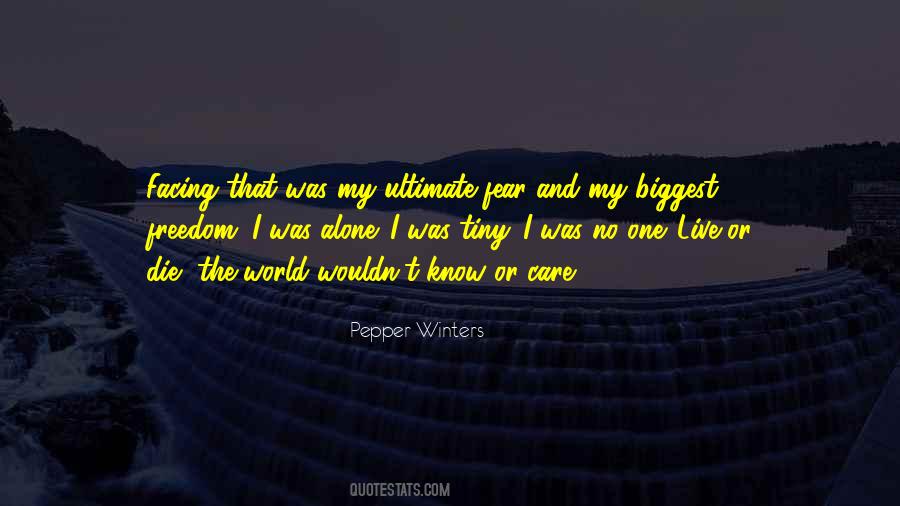 #70. Man may live and man may die searching for the question why. But if he tries to rule the sky, he must fall. - Author: Cat Stevens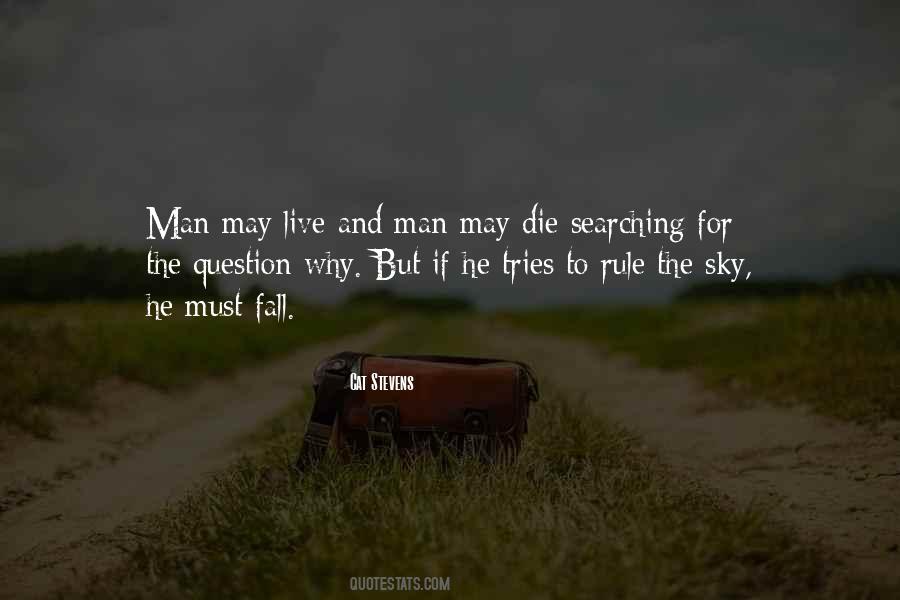 #71. Everybody now seems to be talking about democracy. I don't understand this. As I think of it, democracy isn't like a Sunday suit to be brought out and worn only for parades. It's the kind of a life a decent man leads, it's something to live for and to die for. - Author: Dalton Trumbo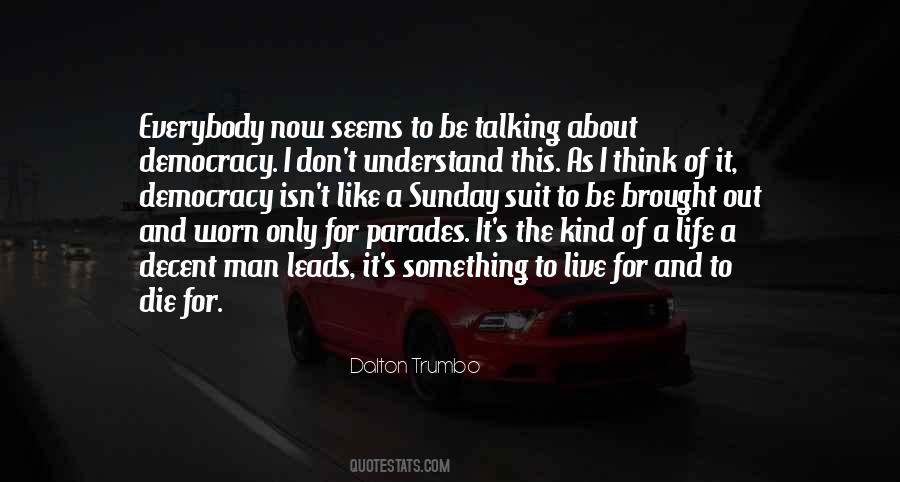 #72. Everybody has to die, Firdaus. I will die, and you will die. The important thing is how to live until you die. - Author: Nawal El Saadawi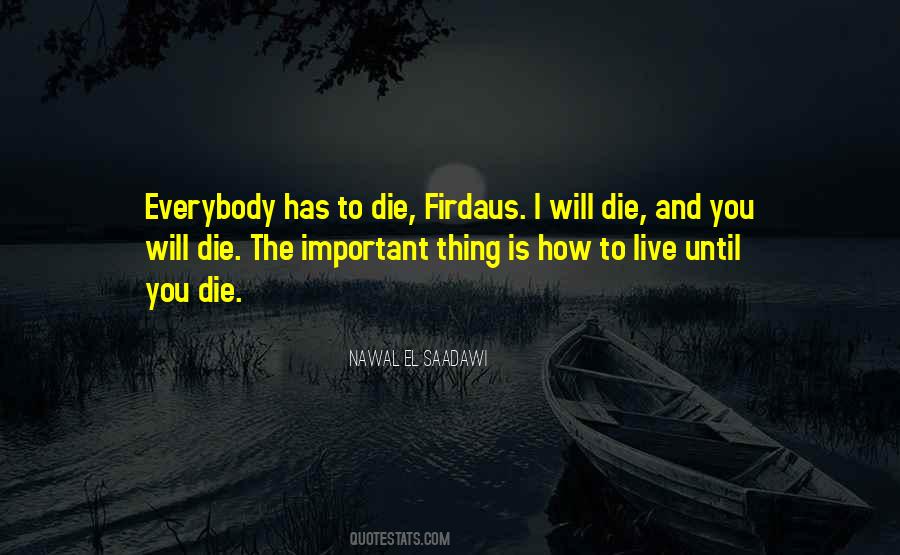 #73. And one of the things I learned is that one should live in spite of. Although, one should eat. Although, one should love. Although, it must die. Even it is often the same even though it pushes us forward. It was despite the fact that it gave me an unhappy anguish that was the creator of my own life. - Author: Clarice Lispector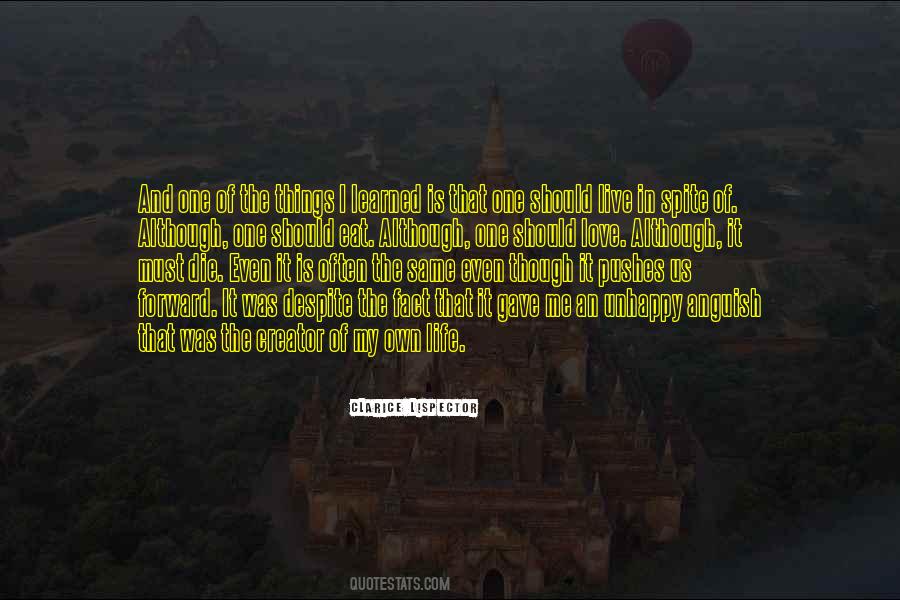 #74. We all gotta die, and we all gotta live with the things our dark sides do. People are afraid of their darkness, though. Spend their whole lives so scared of dyin' that they never get to live. Spend their whole lives pushin' down that darkness, until there ain't no light at all. - Author: Suzanne Palmieri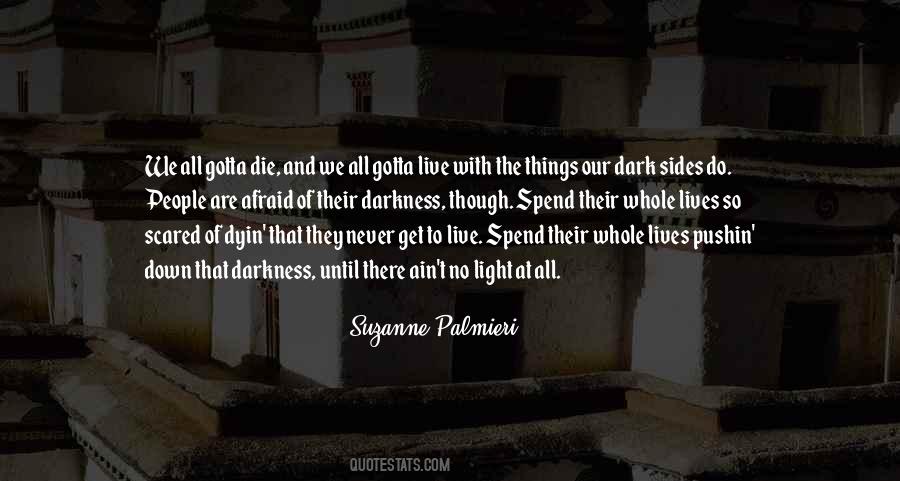 #75. Let us fear to leave Him. Let us be always with Him. Let us live and die in His presence. - Author: Brother Lawrence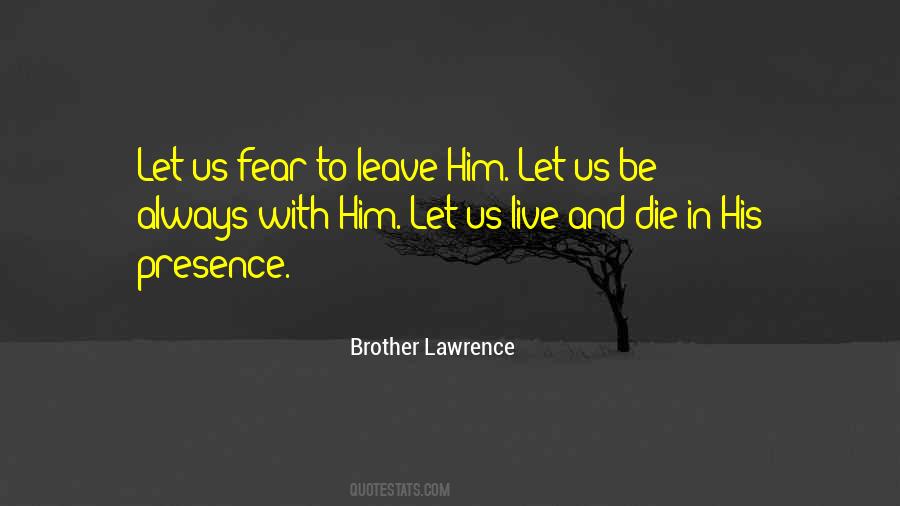 #76. You can't hurt me the way you think you can. But even if you could? I would rather die with the taste of you on my tongue than live and never touch you again. I'm in love with you, Mara. I love you. No matter what you do. - Author: Michelle Hodkin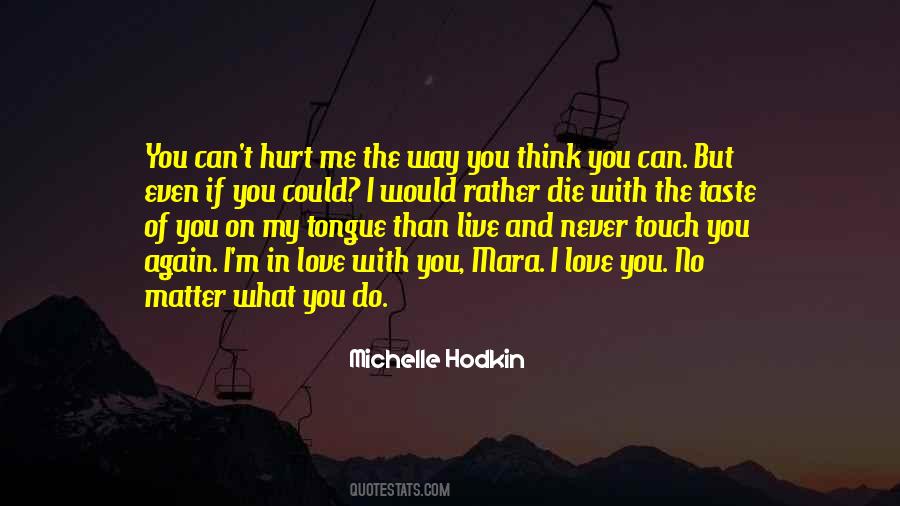 #77. Life is as dear to a mute creature as it is to man. Just as one wants happiness and fears pain, just as one wants to live and not die, so do other creatures. - Author: Dalai Lama XIV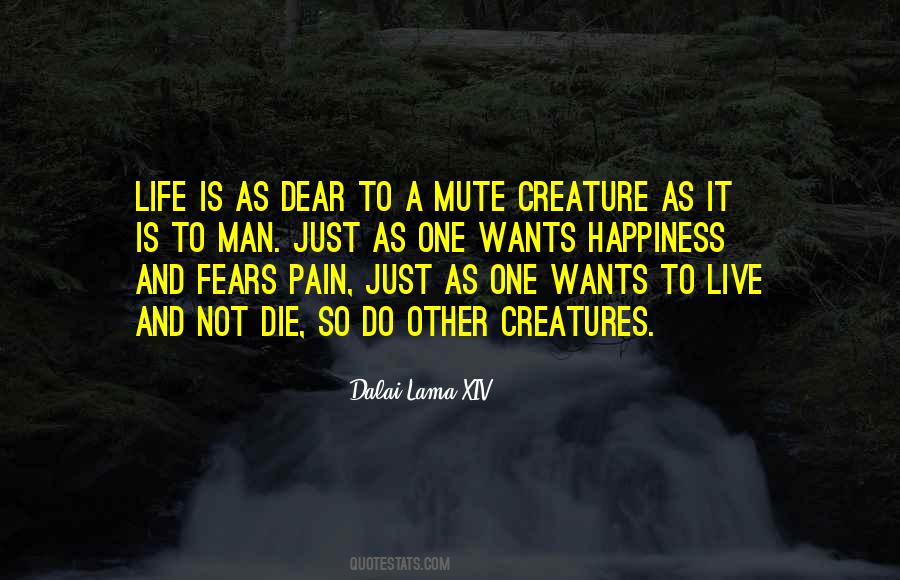 #78. We may have to learn to live with cancer rather than die of it. It means a big change in our mindset and how we do research. We haven't quite reached there yet. - Author: Siddhartha Mukherjee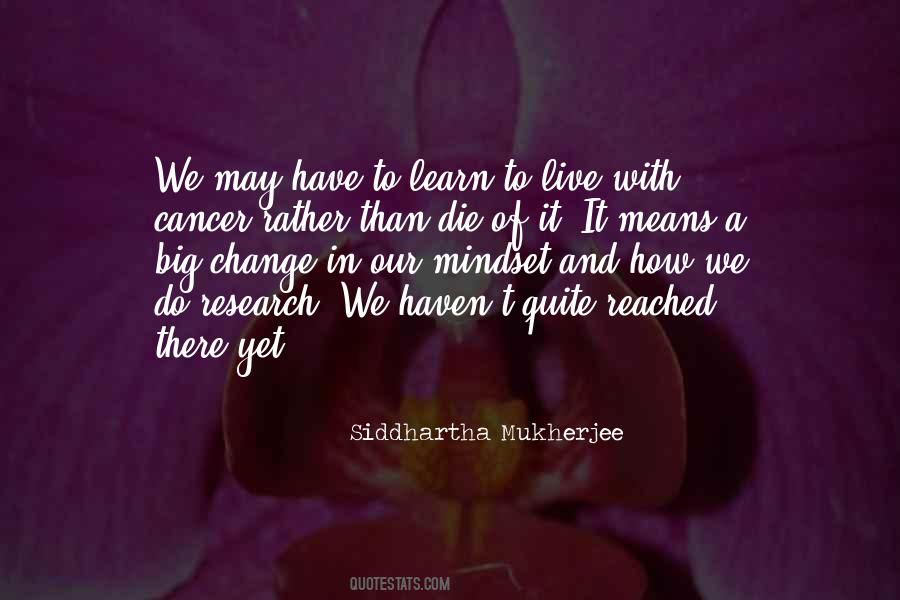 #79. In this game of baseball, you live by the sword and die by it. You hit and get hit. Remember that. - Author: Alvin Dark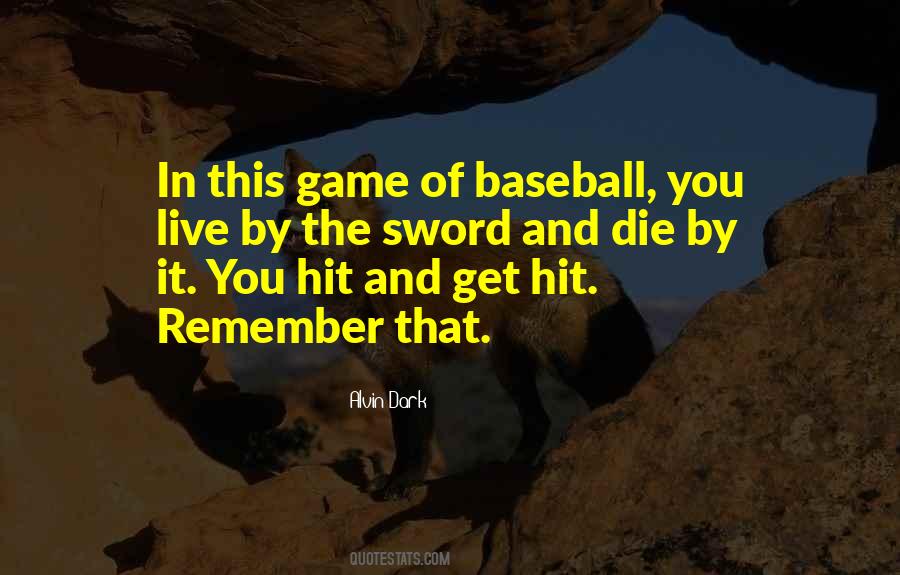 #80. I am proud to be from an ideology. Our ideology is that the Nation is bigger than party. We will live and die for the nation. Our ideology is not about aspiring for posts, it's based of sacrifice. - Author: Narendra Modi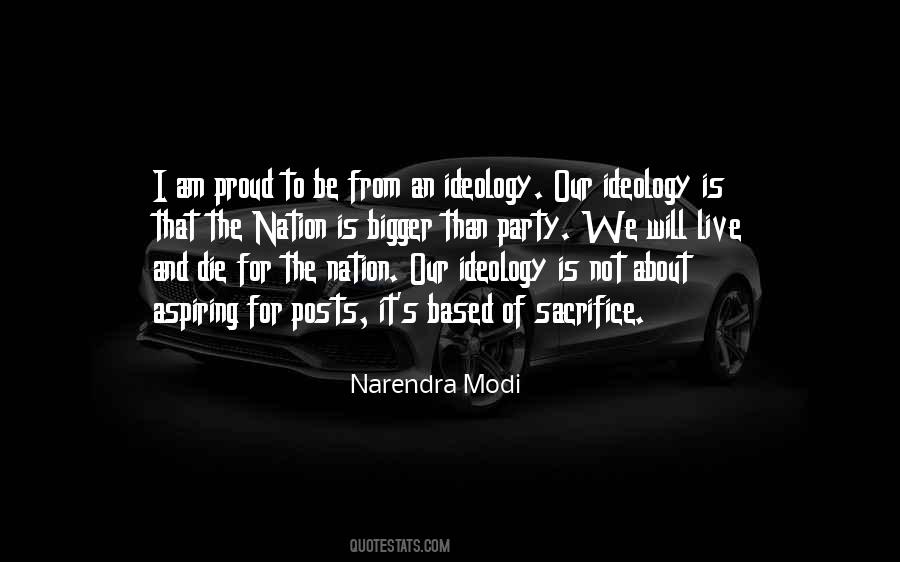 #81. My love has placed her little hand With noble faith in mine, And vowed that wedlock's sacred band Our nature shall entwine. My love has sworn, with sealing kiss, With me to live
to die; I have at last my nameless bliss: As I love
loved am I! - Author: Charlotte Bronte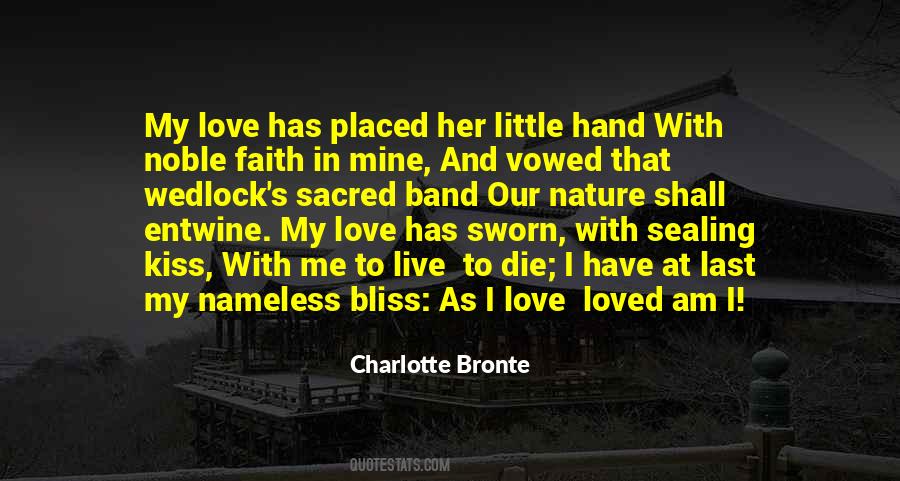 #82. There is in every one of us an unending see-saw between the will to live and the will to die. - Author: Rebecca West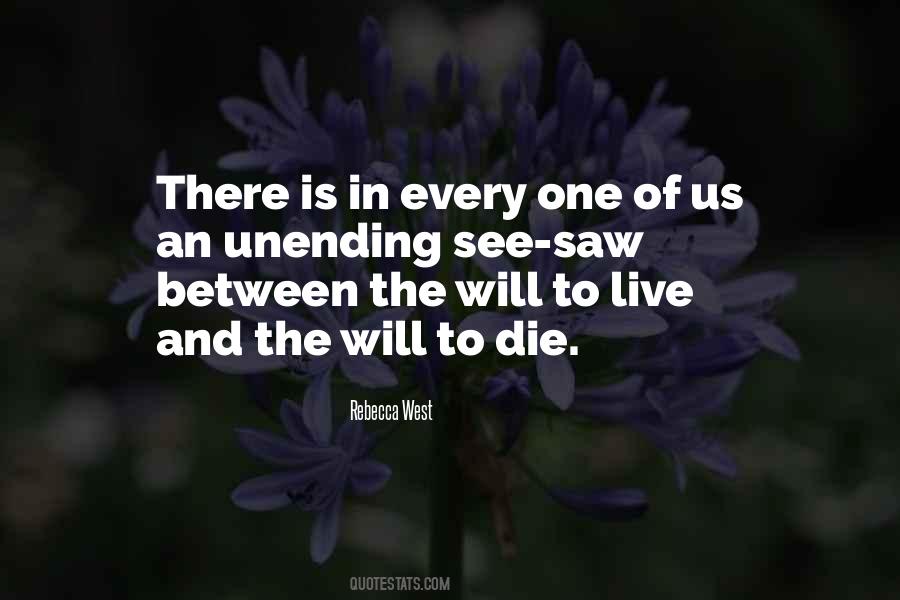 #83. However and wherever we are, we must live as if we will never die. - Author: Nazim Hikmet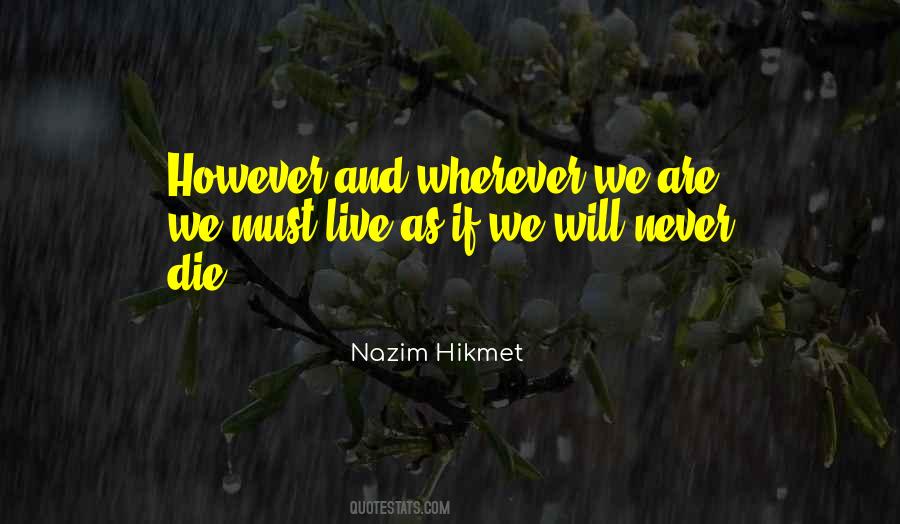 #84. Whether religion be true or false, it must be necessarily granted to be the only wise principle and safe hypothesis for a man to live and die by. - Author: John Tillotson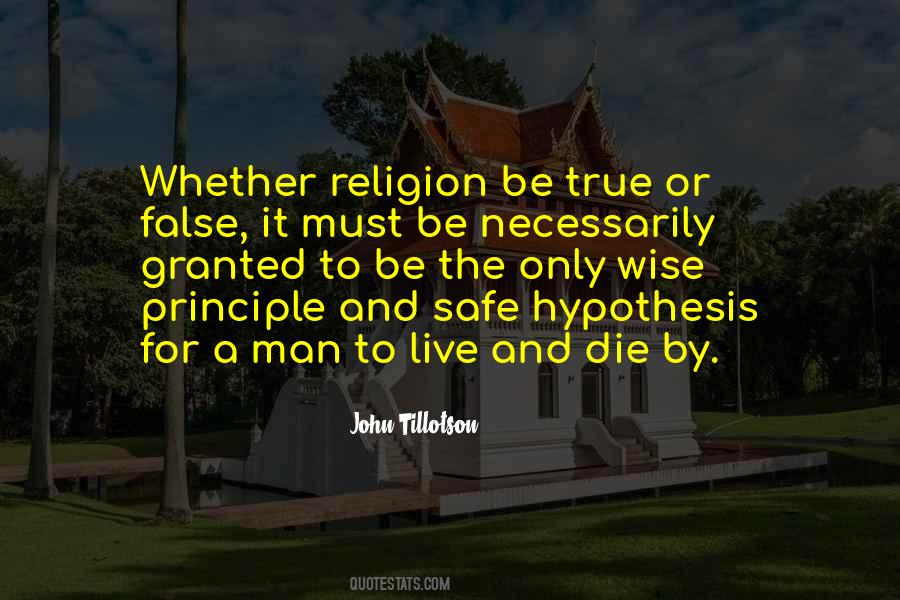 #85. I used to say that if something happened to my mother, I wanted to die with her. That's because I loved her so much. I want to live so I can carry out the essence of what she has shown me: kindness and goodness. - Author: Stevie Wonder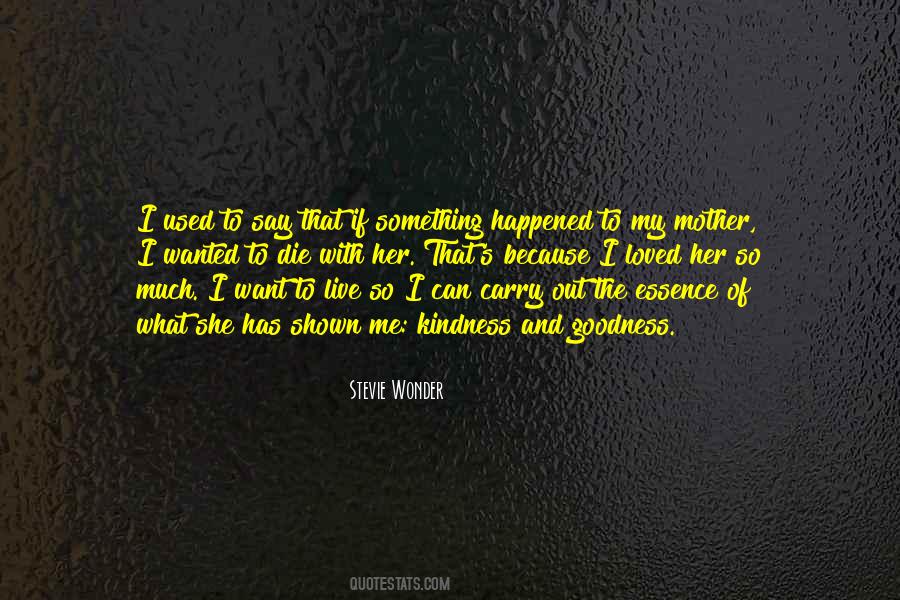 #86. Follow your heart and what it's saying,
after you die, an when you live.

What he/ she lives is what she/he is giving to you .
Enjoy it and you'll be happy.
Love isn't a game ,love is a portrait, of a beautiful butterfly flapping it's wings to the horizon. - Author: Avis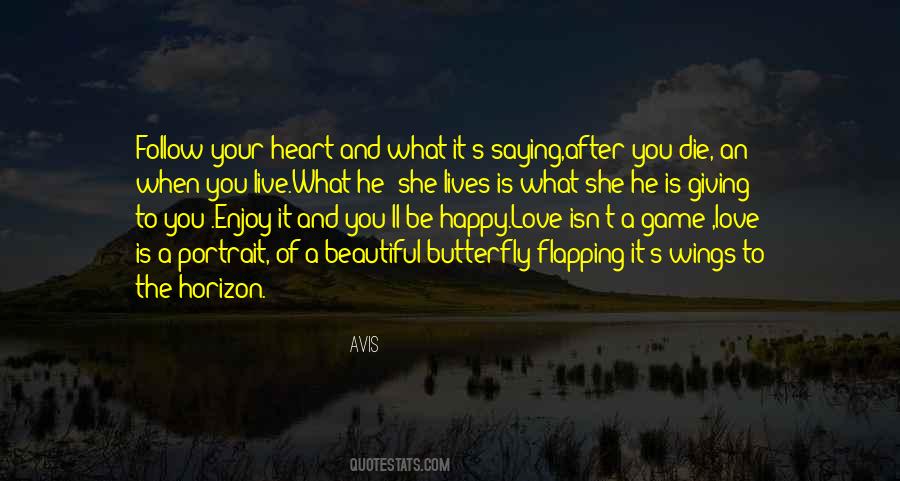 #87. After I die if I am buried I will rot. If I am burnt I will become ash but if my body is donated I will live to give life and happiness to many."
"Live life after death - pledge to donate your body. - Author: Amit Abraham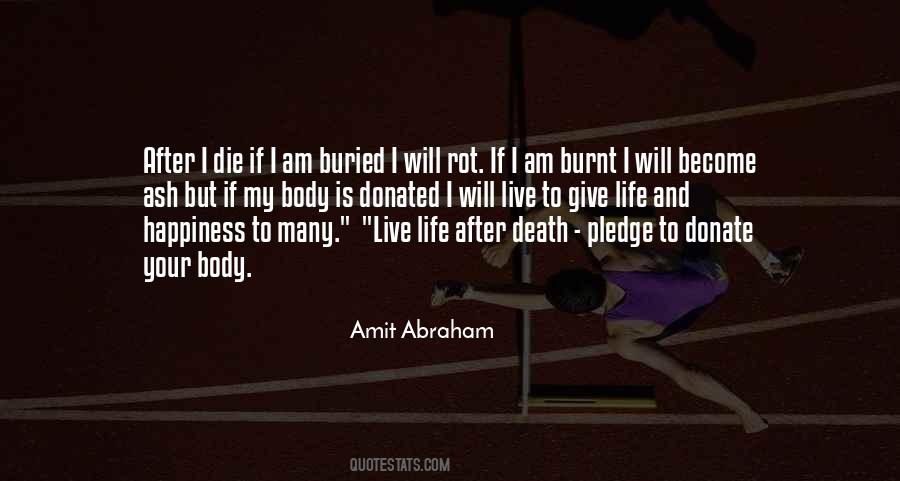 #88. Vacant heart, and hand, and eye, Easy live and quiet die. - Author: Walter Scott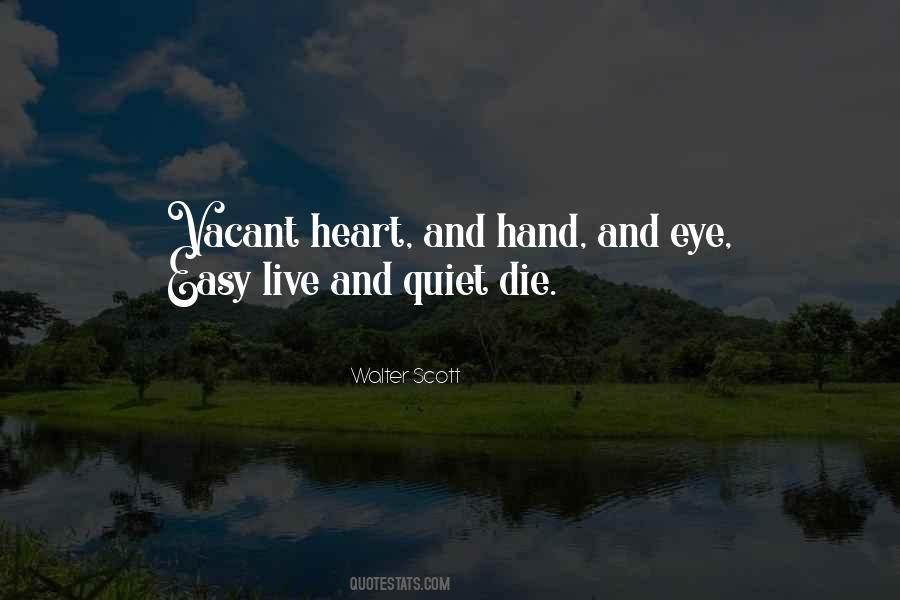 #89. We live in a world of wars and wars alarms, of famines, of oppression. While there are many wonderful people in this world, you'll notice one curious fact about them, they all suffer, they all die, and sometimes those who are the nicest seem to suffer the most. - Author: Frederick Lenz
#90. All those who possess in its pure state the love of their neighbour and the acceptance of the order of the world, inclucing affliction-all those, even should they live and die to all appearances atheists, are surely saved. - Author: Simone Weil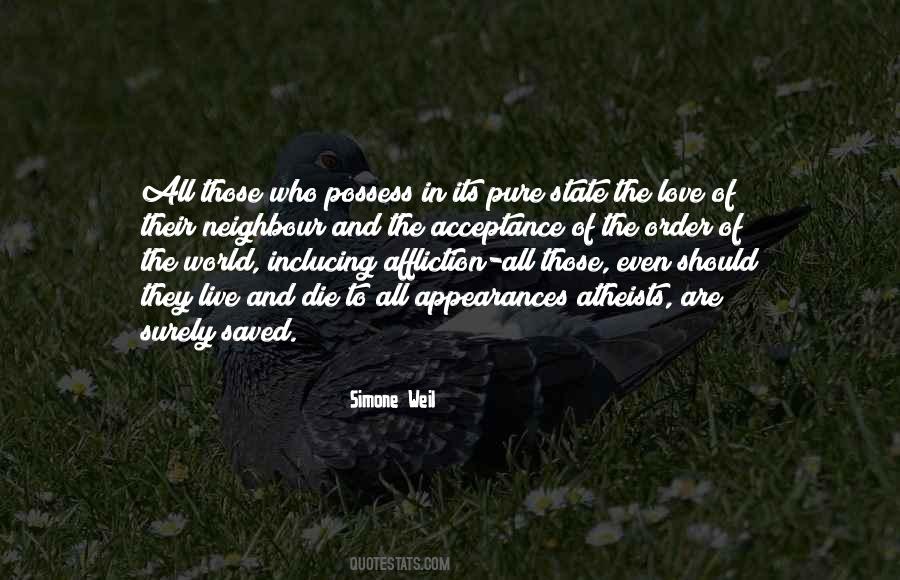 #91. *Live fast, die young, and, leave a good looking corpse.* is dumb. When dead, looks matters not. (Furthermore, the corpse will only look good for a day, or, twelve.) - Author: Mokokoma Mokhonoana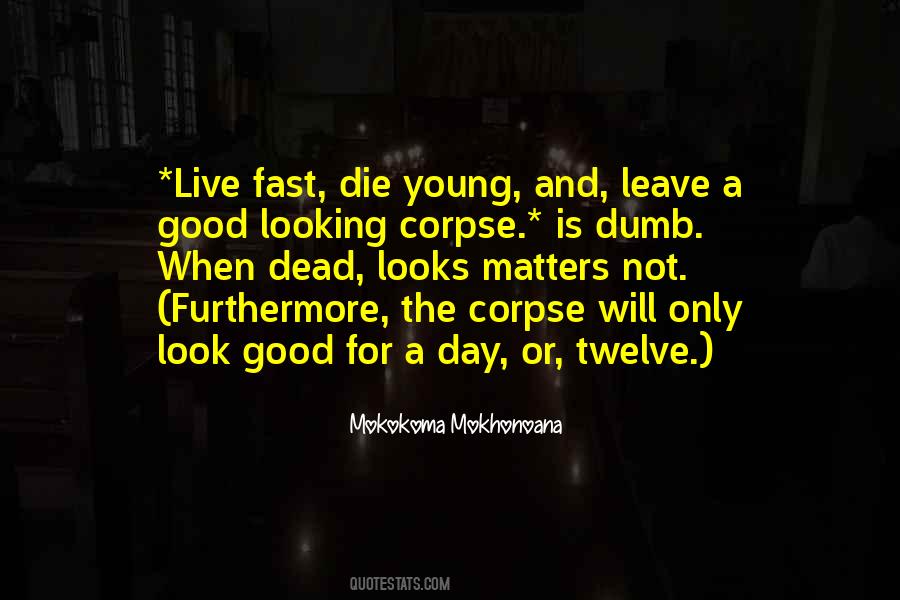 #92. As all entrepreneurs know, you live and die by your ability to prioritize. You must focus on the most important, mission-critical tasks each day and night, and then share, delegate, delay or skip the rest. - Author: Jessica Jackley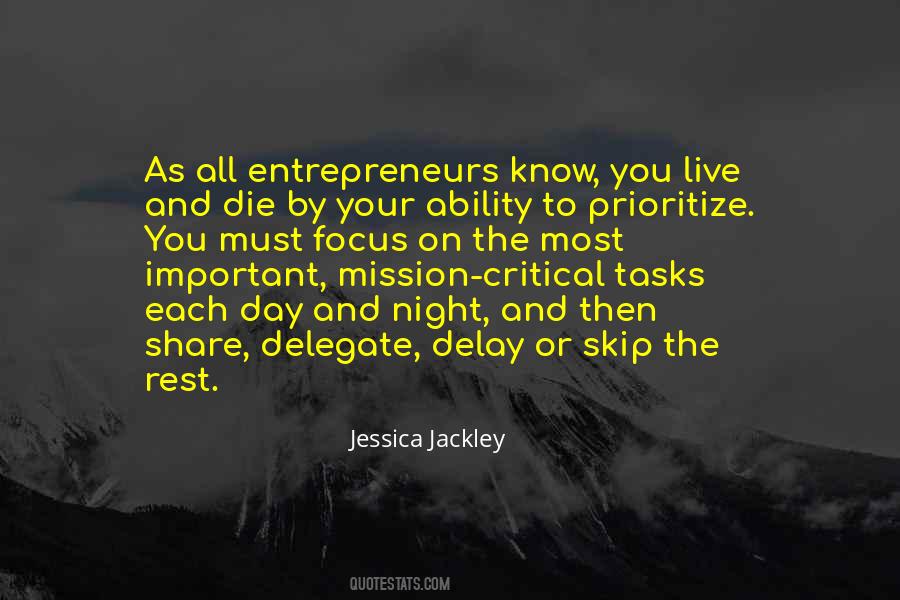 #93. Those who eat porridge and those who drink gruel live and die.
Even though the faces change,
porridge eaters and gruel drinkers continue to manifest. - Author: Santosh Lamichhane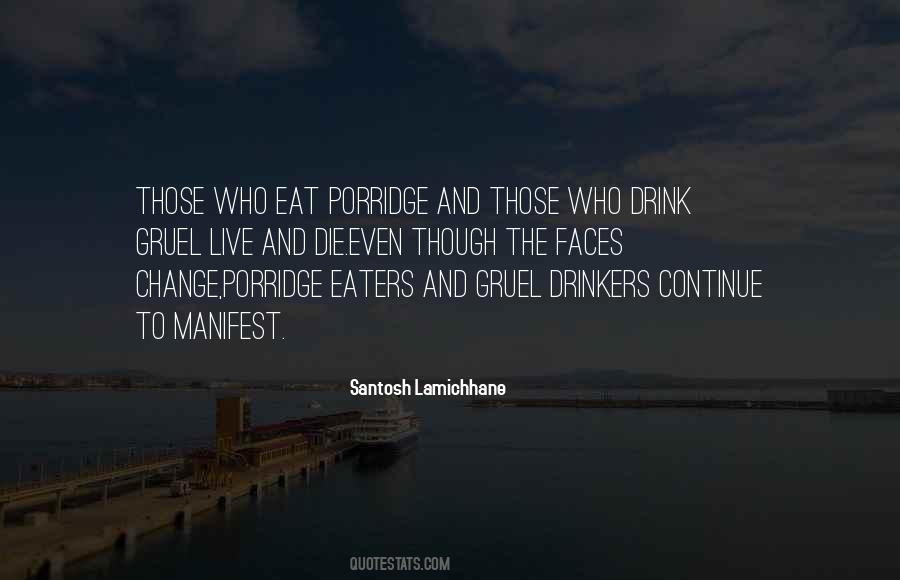 #94. I'm an optimistic agnostic. I think the second we die, within a matter of seconds, everybody else arrives, and that's the party, and you live your hell on earth. - Author: Mike Dirnt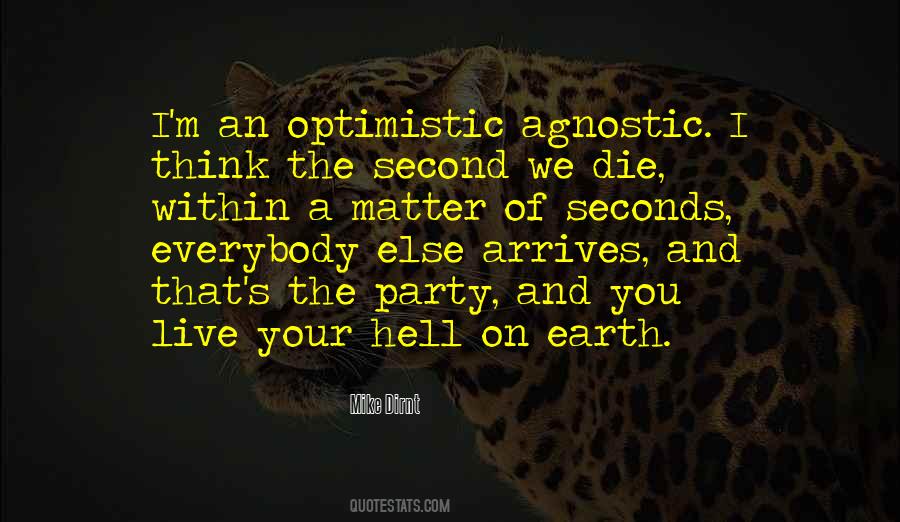 #95. Men could not have too much. Ecstasy and vulnerability belonged in the same dish. The fear the cup would be snatched away was what gave the wine its savor and as Zhirem's cup was sure, so was his joylessness ... to die is a fear, but to live is a fear, also. - Author: Tanith Lee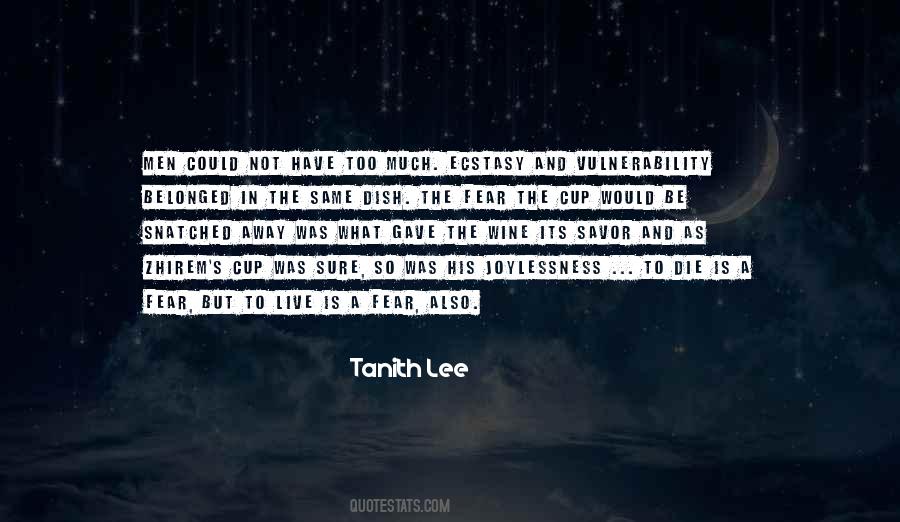 #96. To live more for God and others one must die more to self and sin. - Author: Orrin Woodward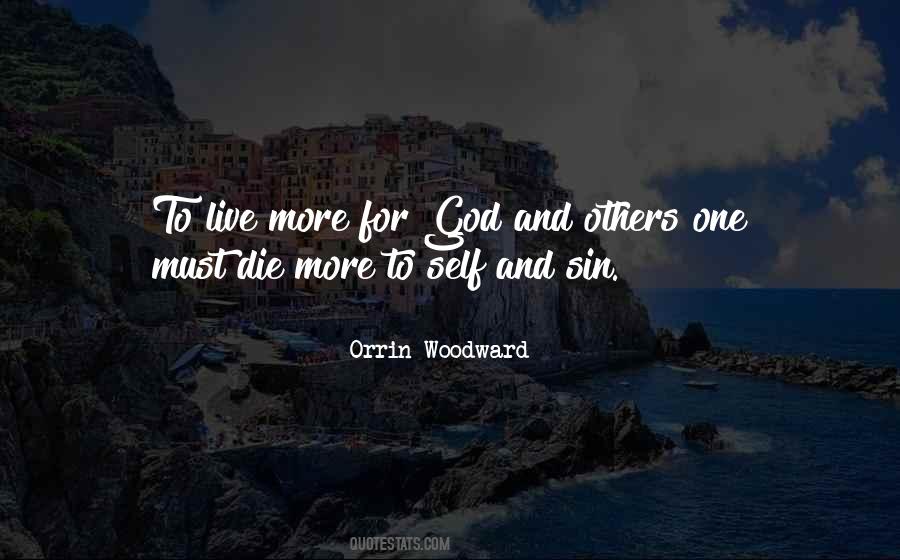 #97. No, the point is not only does time fly and do we die, but that in these reckless conditions we live at all, and are vouchsafed, for the duration of certain inexplicable moments, to know it. - Author: Annie Dillard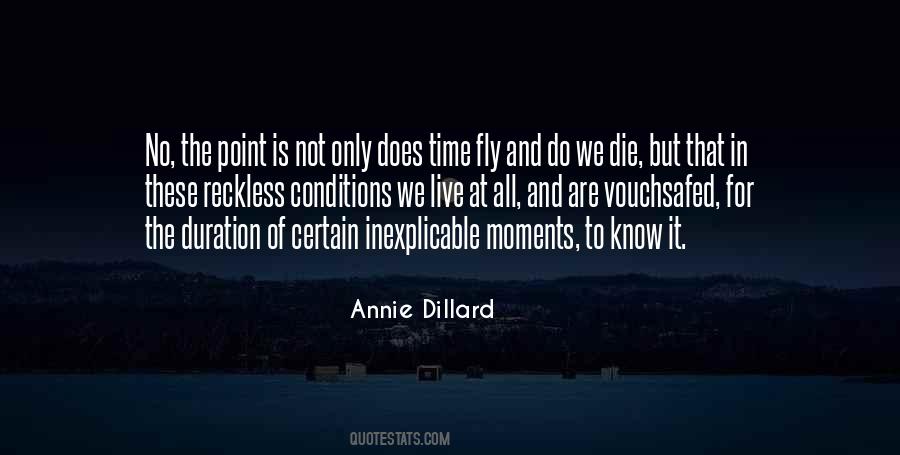 #98. And I won't be laughing at the lies when I'm goneAnd I can't question how or when or why when I'm goneCan't live proud enough to die when I'm goneSo I guess I'll have to do it while I'm here. - Author: Phil Ochs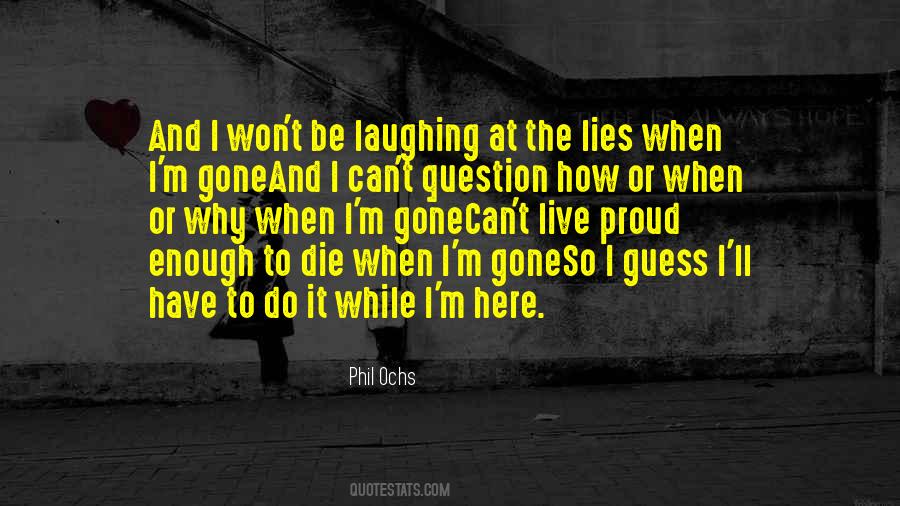 #99. We die, he said.
We die, I said. And kn owing this how do we live?
Knowing this, we live.
We live. - Author: Alan Spence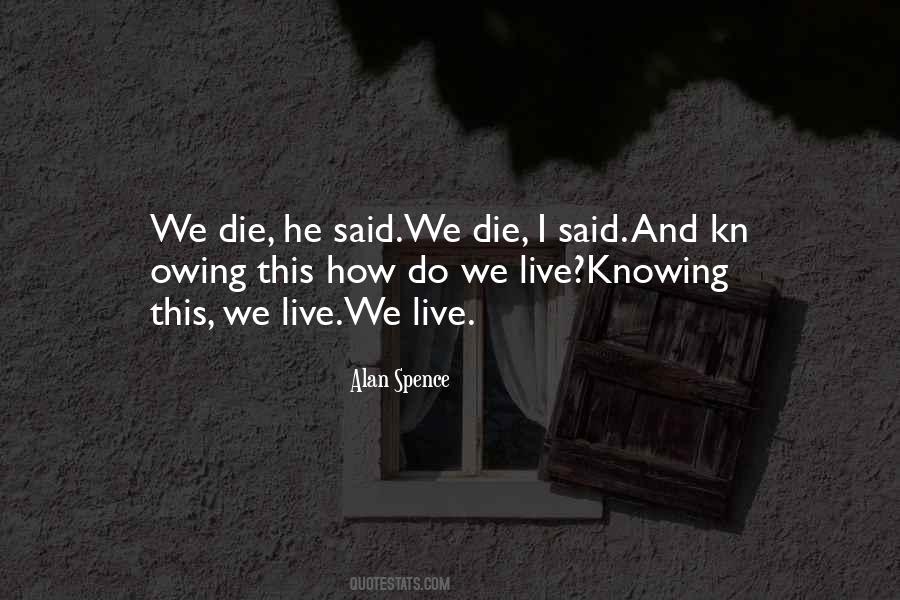 #100. The old who refuse to die merely on principle live on forever, to hate life and complain of all the things they could have been spared had they the good sense to die young. - Author: Michelle Franklin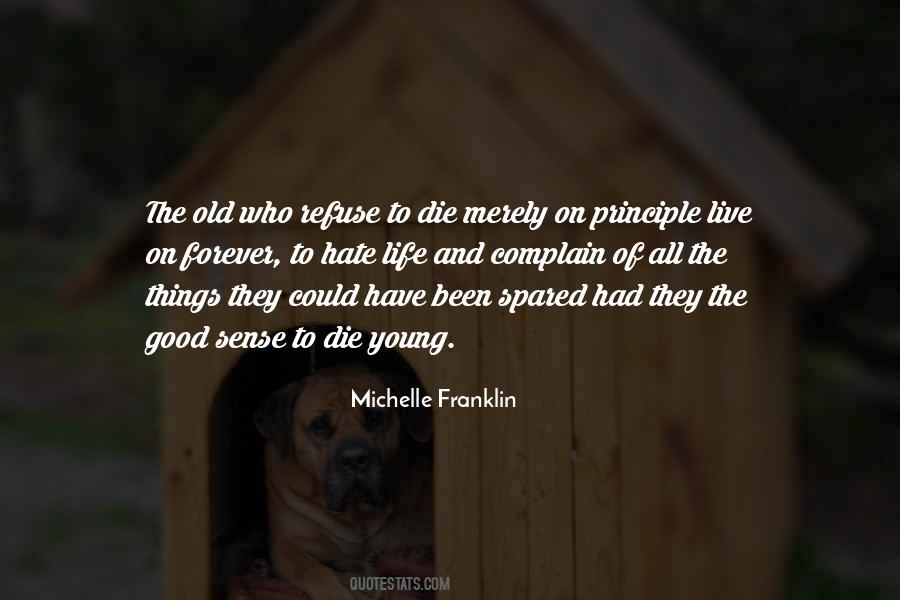 Famous Authors
Popular Topics