Child And Parent Famous Quotes & Sayings
List of top 100 famous quotes and sayings about child and parent to read and share with friends on your Facebook, Twitter, blogs.
Top 100 Child And Parent Quotes
#1. You gotta love the cops. They start the night ready to shoot someone's eyes off and at the same time ready to carry a child with a grandmother's tenderness. Ready to shatter and ready to soothe at the touch of a trigger, a good cop is an amazing animal. - Author: Marc Parent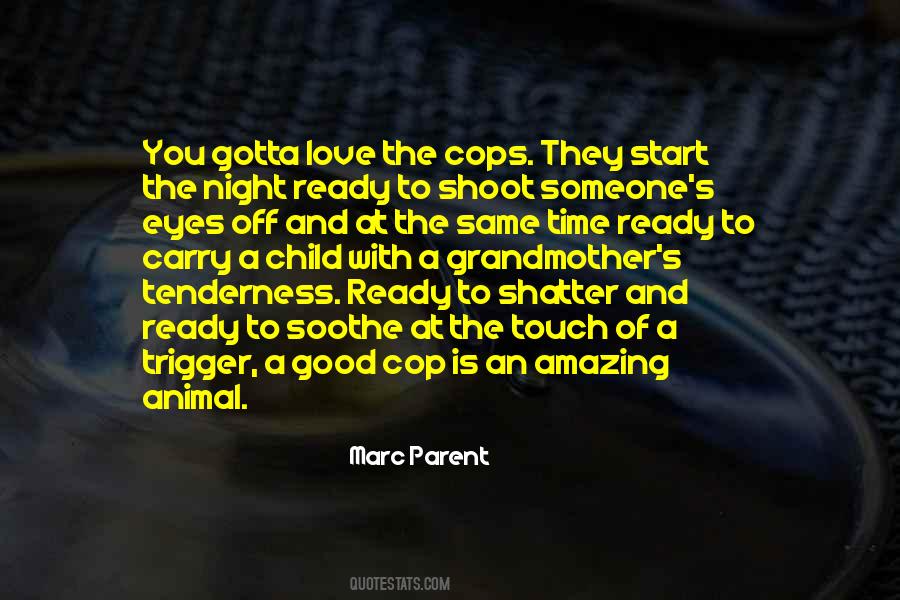 #2. The birth of a child is a joy to the parent and the world. - Author: Lailah Gifty Akita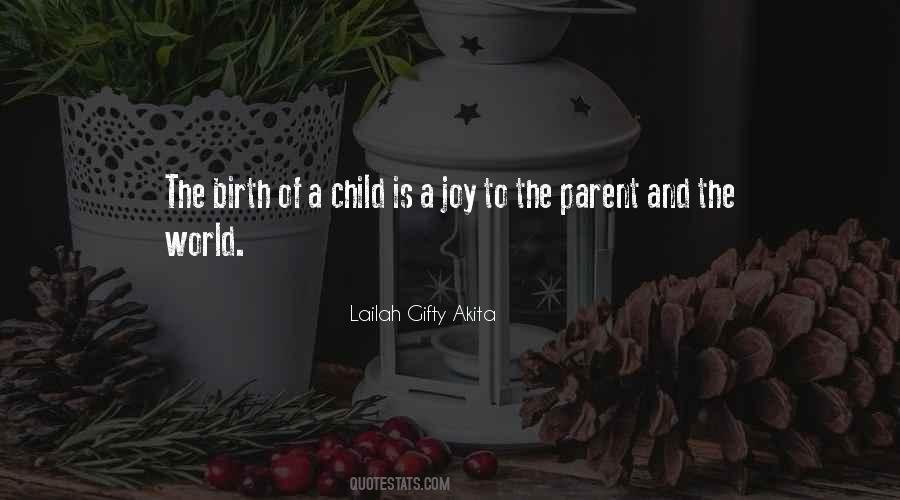 #3. No child should be raised in a system. A system isn't a parent. Even the system knows this, which is why the Children and Family Services Division puts so much effort into finding permanent homes for the kids who are never going to be reunited with their birth parents. - Author: Rhea Perlman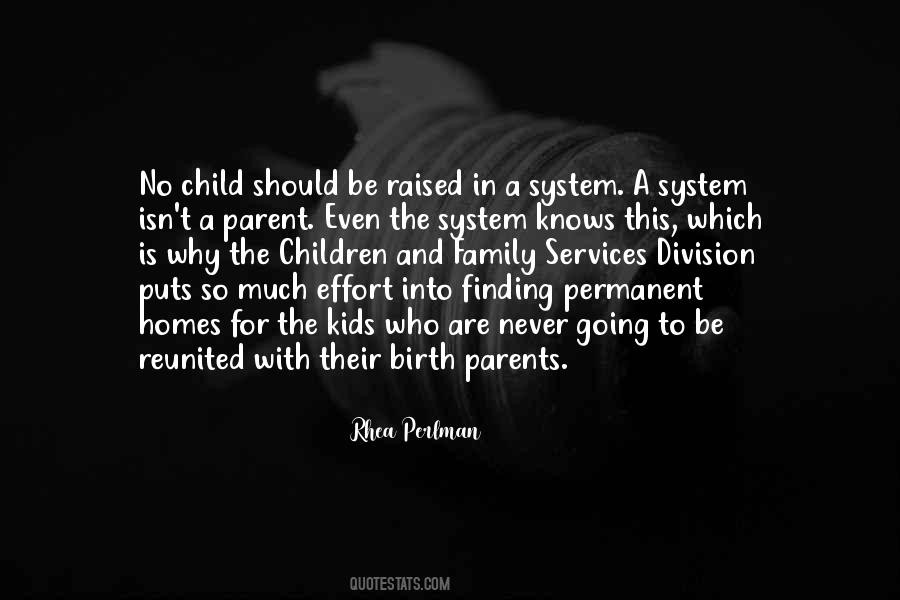 #4. Obviously, for the majority of parents and certainly me you gain a million worlds when you have a child. Certainly, it's the thing that's changed my life and made me unbelievably happy. - Author: Kate Winslet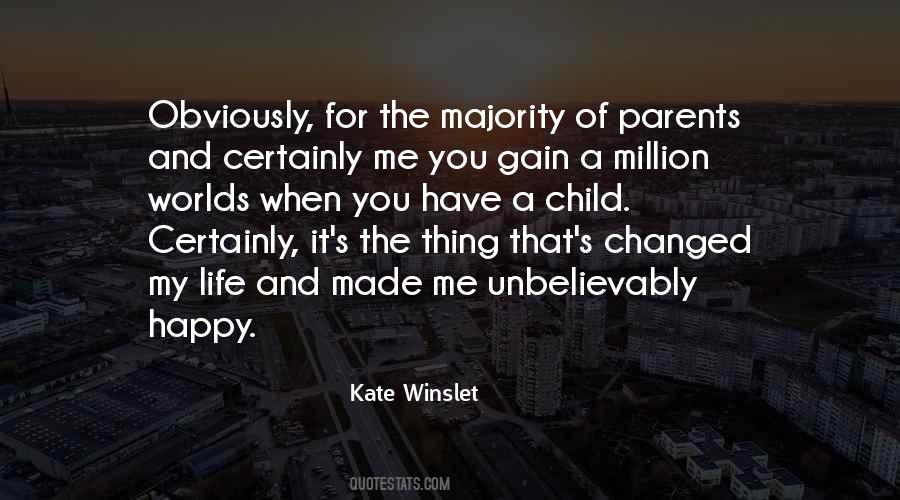 #5. I have always been motivated by a greater good. As a child, I was taught by my parents to be good and to do good at all times and in all ways! - Author: James May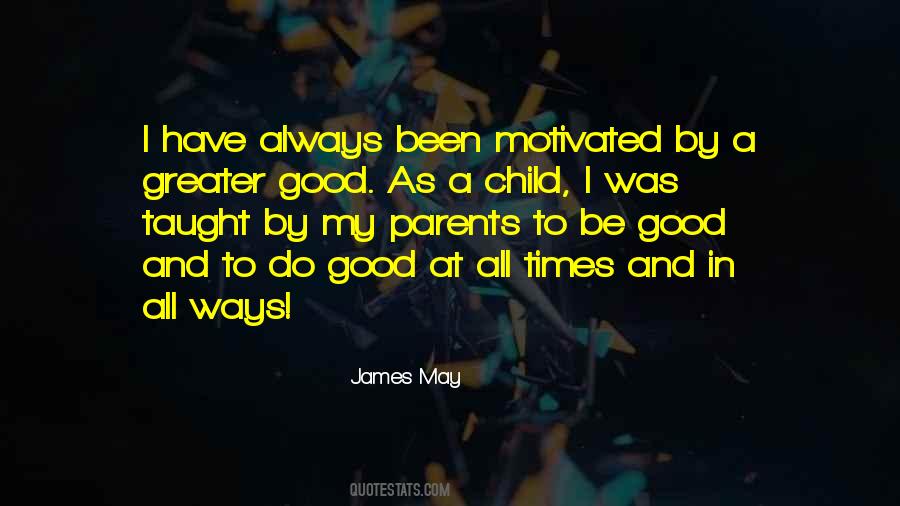 #6. A mindful parent is one who is committed to practicing being present and awake, and to listening deeply to her child, moment by moment. Mindfulness depends upon awareness. - Author: Shauna L. Shapiro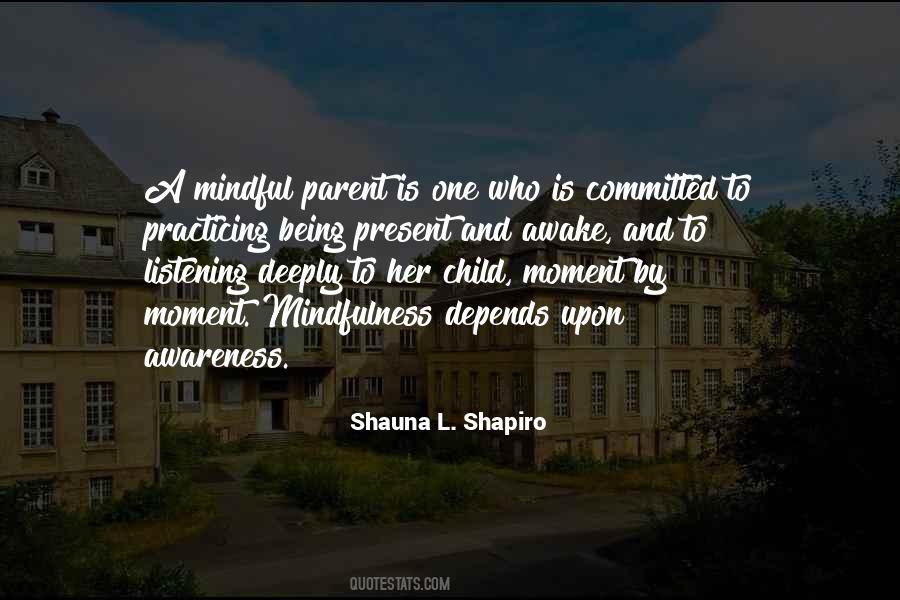 #7. It is better to tolerate the rare instance of a parent refusing to let his child be educated, than to shock the common feelings and ideas by forcible asportation and education of the infant against the will of the father. - Author: Thomas Jefferson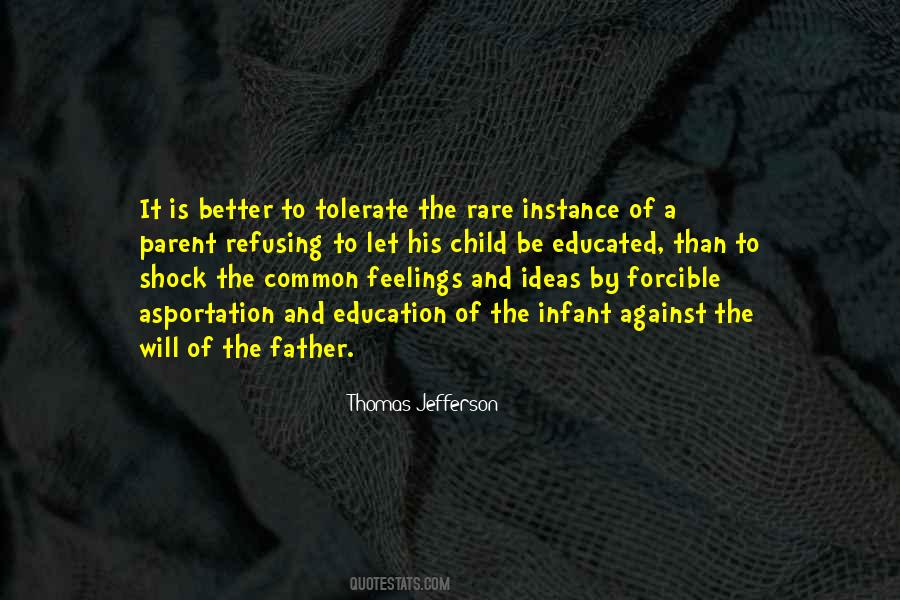 #8. My personal philosophy is that, as a parent, it is my job to find that balance of when my child is ready to try something on her own and when she needs help. - Author: Alice Callahan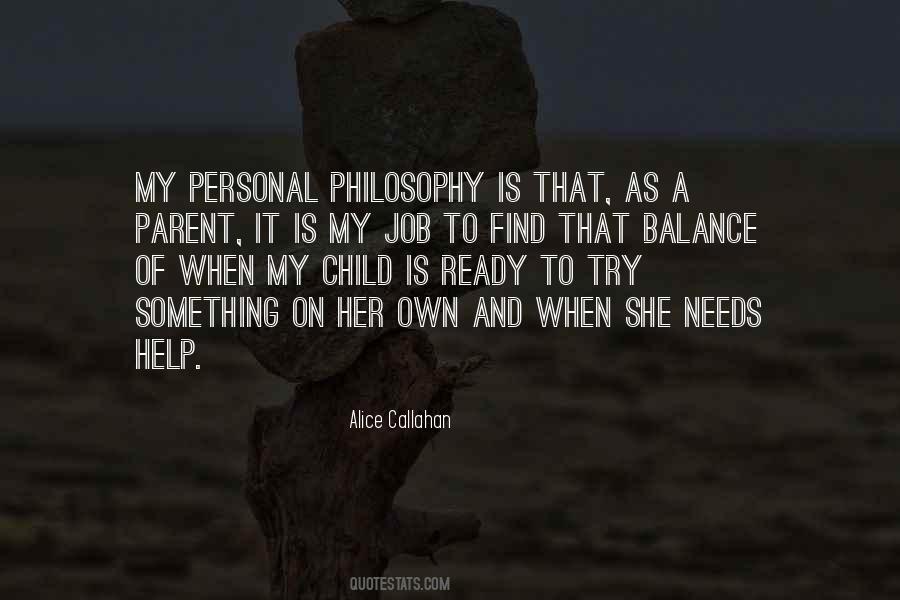 #9. A mother deserves a day off to care for a sick child or sick parent without running into hardship - and you know what, a father does, too. It's time to do away with workplace policies that belong in a 'Mad Men' episode. - Author: Barack Obama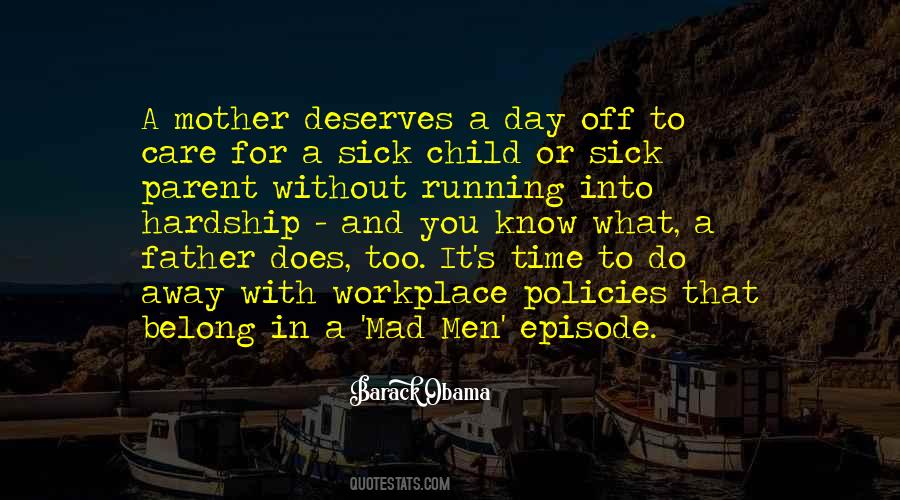 #10. I do not tell you often enough, dear Mother, how very grateful I am that I am yours. It is a rare parent
who would offer a child such latitude and understanding. It is an even rarer one who calls a daughter
friend. I do love you, dear Mama. - Author: Julia Quinn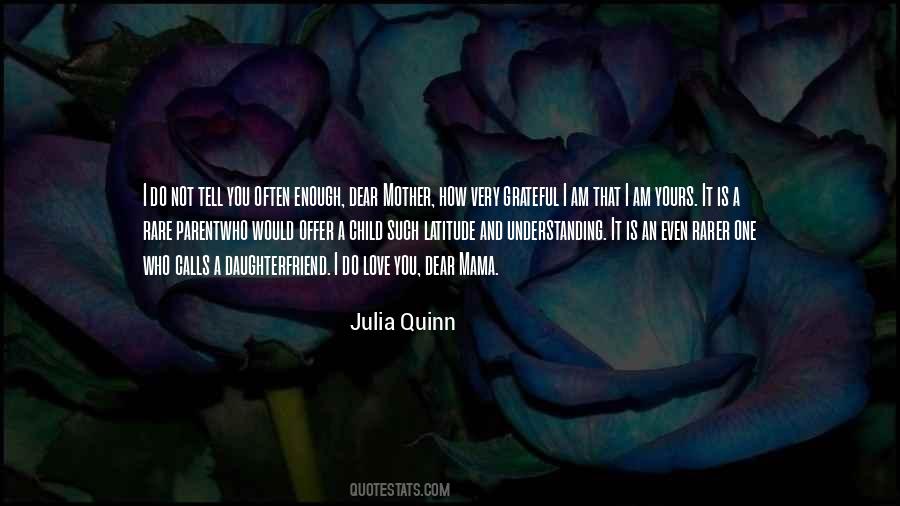 #11. And most of the failures in parent-child relationships, from my observation, begin when the child begins to acquire a mind and a will of its own, to make independent decisions and to question the omnipotence or the wisdom of the parent. - Author: Sydney J. Harris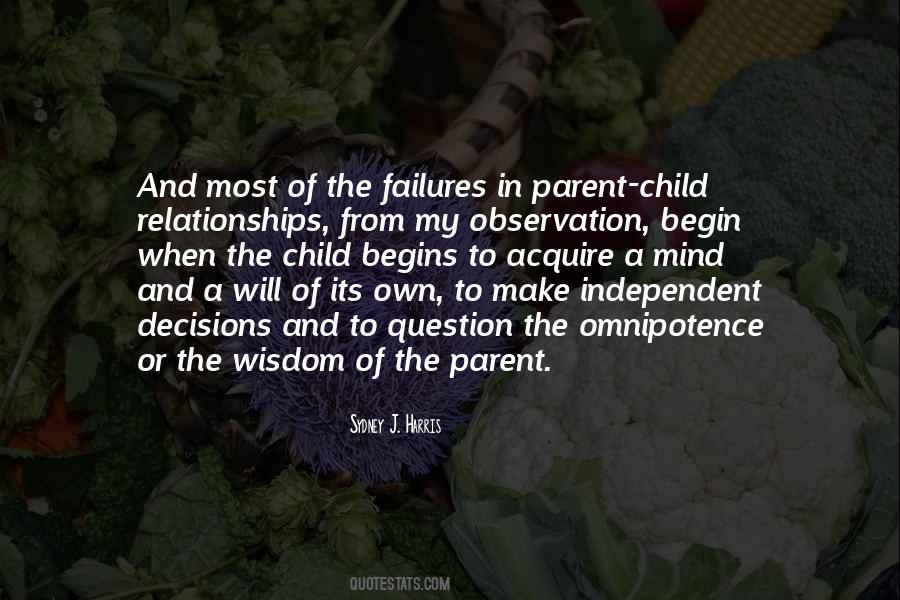 #12. The child is thinking and receiving vibrational thought from you on the day that he enters your environment. That is the reason that beliefs are transmitted so easily from parent to child. - Author: Esther Hicks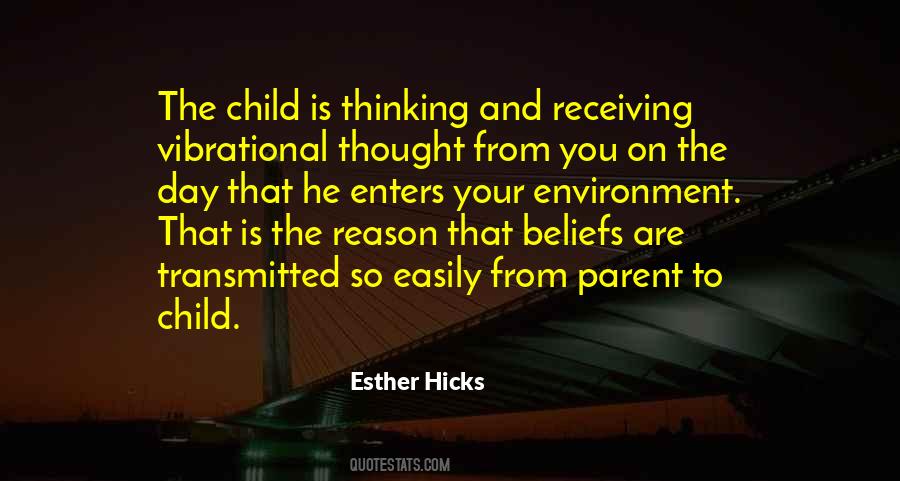 #13. To be a husband or wife, to be a parent, is inevitably to be aware of so many disappointing, exasperating things about your mate or child, but at the same time to see those people in depth, to see them with both eyes, and to be reminded of why you still love them. - Author: Harold S. Kushner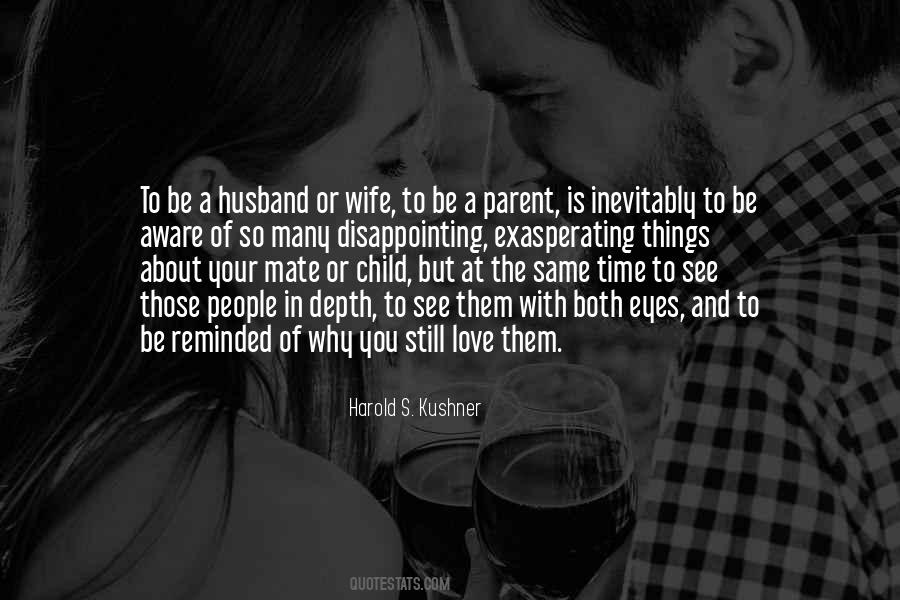 #14. There is no relation more intimately personal than that of parents to the child they have brought into the world; and there is therefore no relationship in which the community should be slower to interfere. - Author: Suzanne La Follette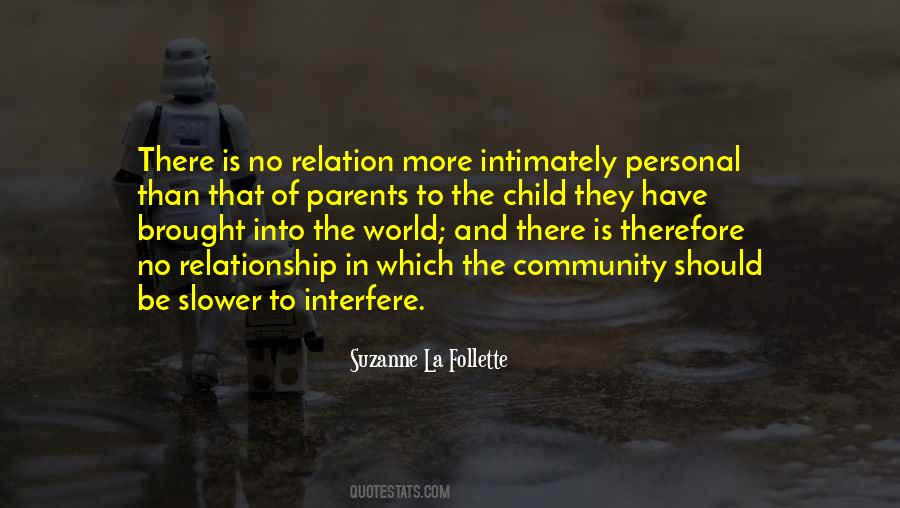 #15. I have never understood why it is called losing a child. No parent is that careless. We all know exactly where our sons and daughters are; we just don't necessarily want them to be there - Author: Jodi Picoult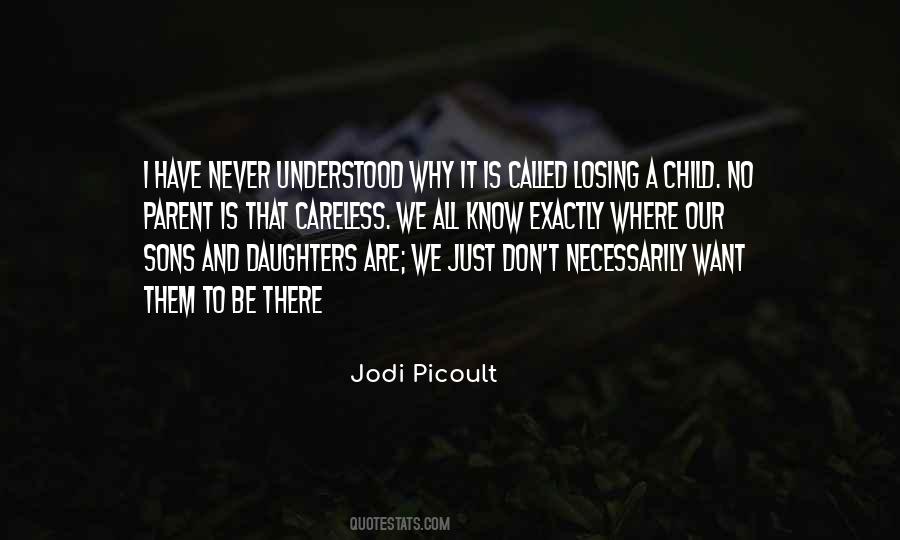 #16. It is in the encounter of the maternal guiding instincts with the sensitive periods of the newly born that conscious love develops between parent and child. - Author: Maria Montessori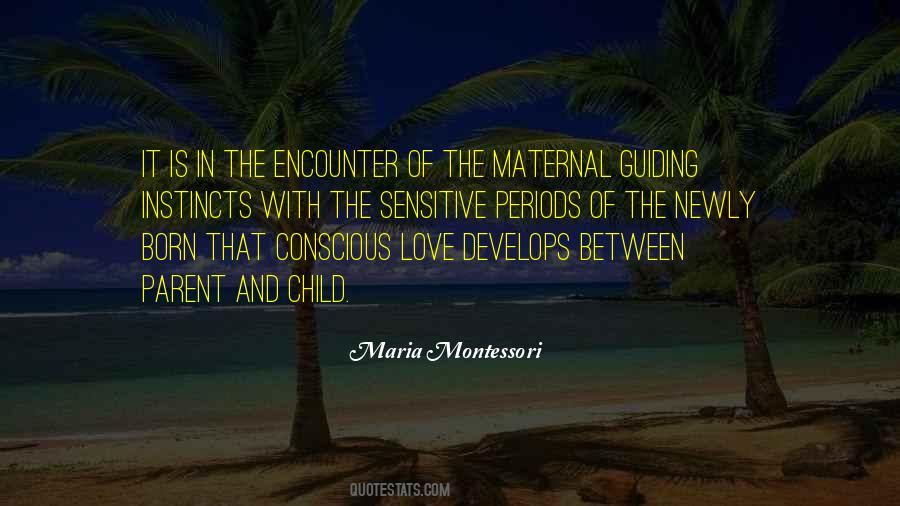 #17. The depth of the love of parents for their children cannot be measured. It is like no other relationship. It exceeds concern for life itself. The love of a parent for a child is continuous and transcends heartbreak and disappointment. - Author: James E. Faust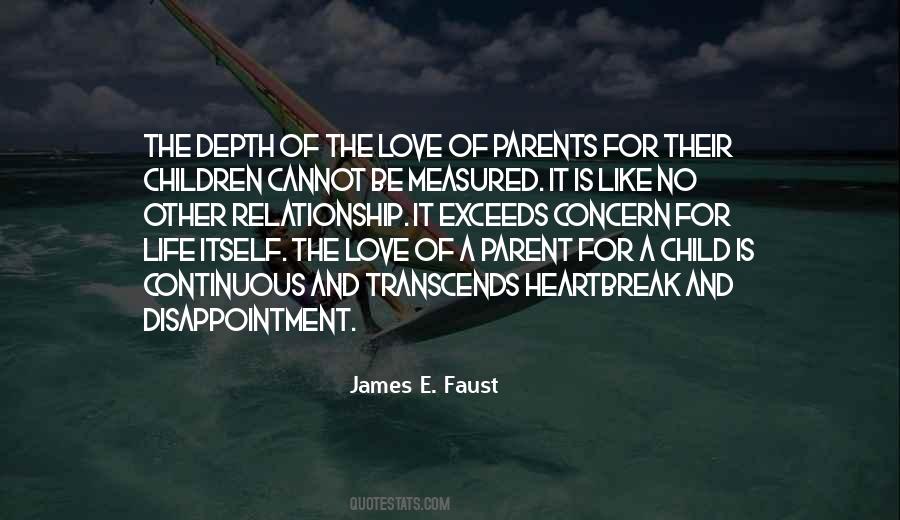 #18. Though all the daughters eventually succeeded in escaping from their families, they felt, even at this time of the interview (while in their 20s and 30s) that they would never be safe with their fathers, and that they would have to defend themselves as long as their fathers lived. - Author: Judith Lewis Herman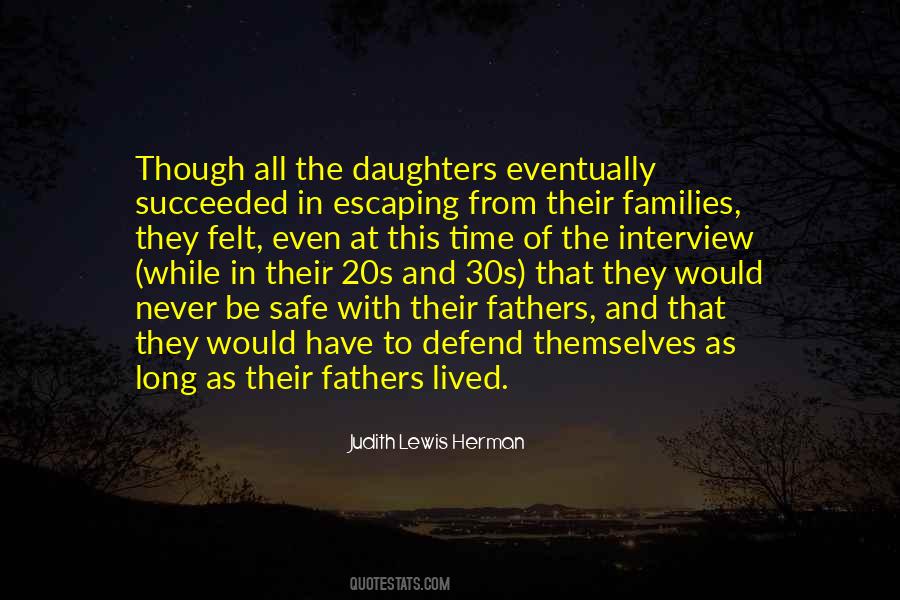 #19. A message To the children who have read this book. When you grow up and have children of your own, do please remember something important. A stodgy parent is no fun at all! What a child wants -and DESERVES- is a parent who is SPARKY! - Danny, the champion of the world. - Author: Roald Dahl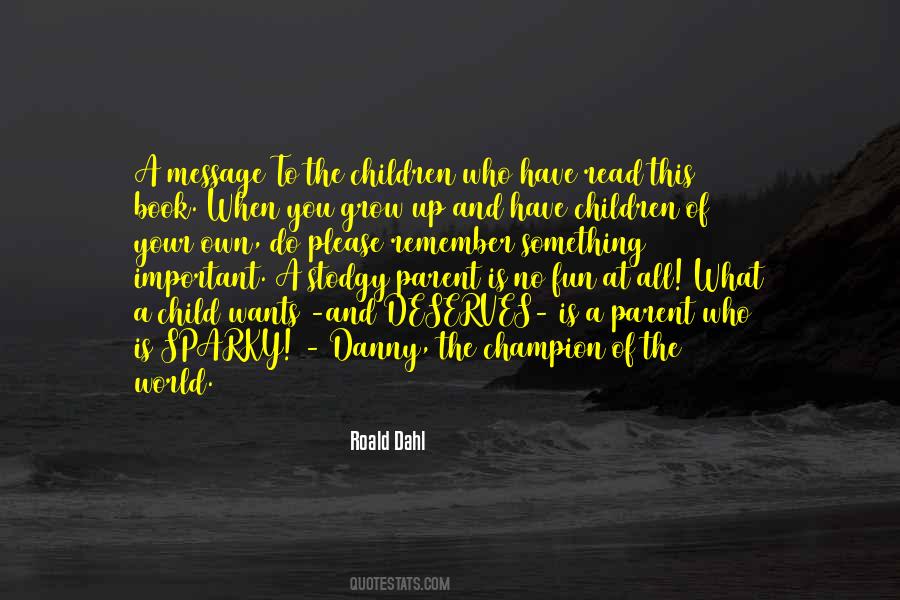 #20. We need to make sure that the fast-growing States and the balance of States in this country have as much information as available because I cannot imagine the pain as a parent myself of having my child molested by someone in our schools. - Author: Jon Porter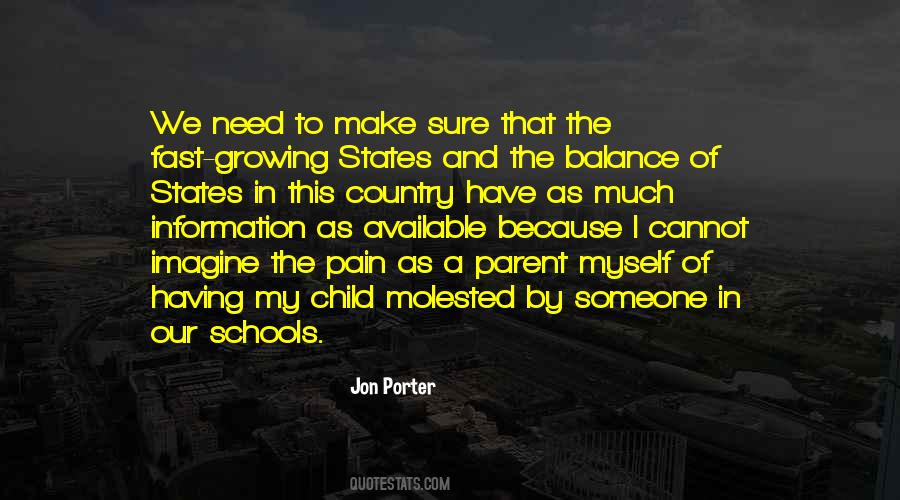 #21. Just because a child doesn't have both parents raising him or her, doesn't mean that child becomes half the person they were meant to be. One wonderful parent can love enough for two, and love will always be the biggest influence in a child's life. - Author: Ron Baratono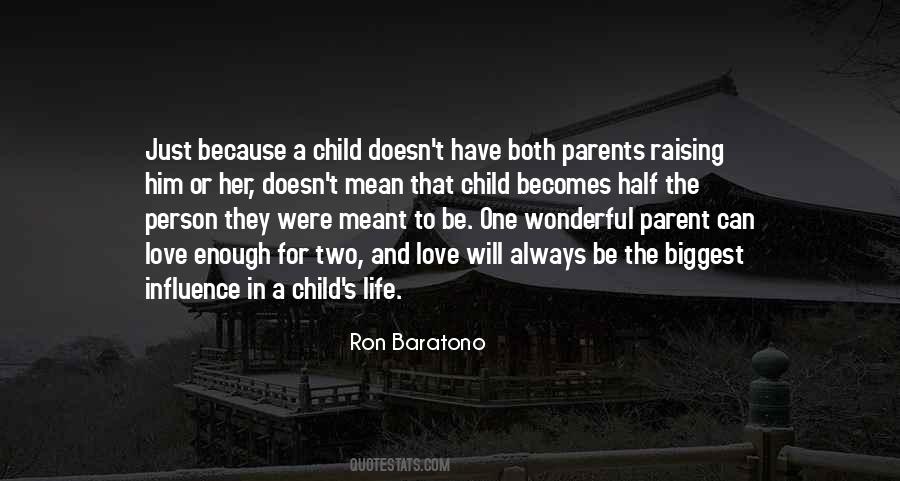 #22. Any statements from the parents may seem like criticism or judgment by the child or adolescent. It's very important that the child or adolescent does most of the talking and the parent asks questions curiously to understand the perspective of the child or adolescent. - Author: Timothy Carey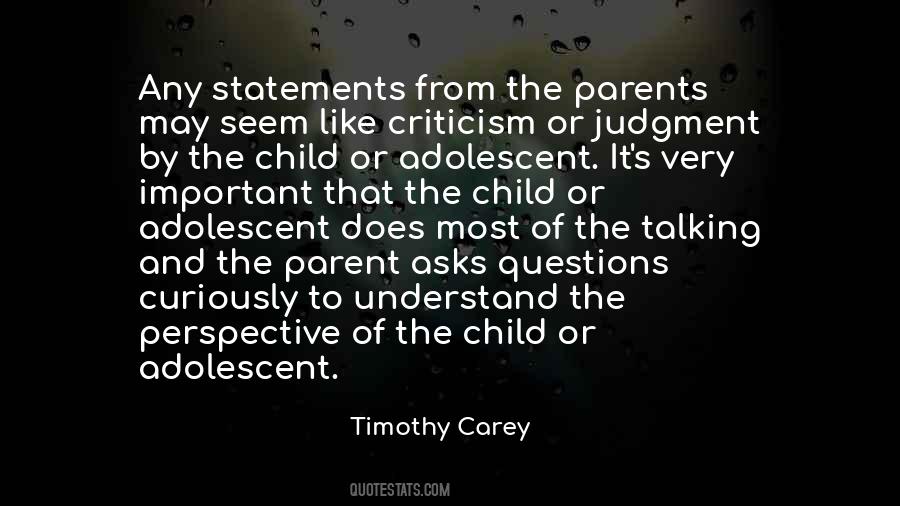 #23. Being a 'good' parent is more about the parent, and, less about the 'supposedly-could-have-been-bad' child. - Author: Mokokoma Mokhonoana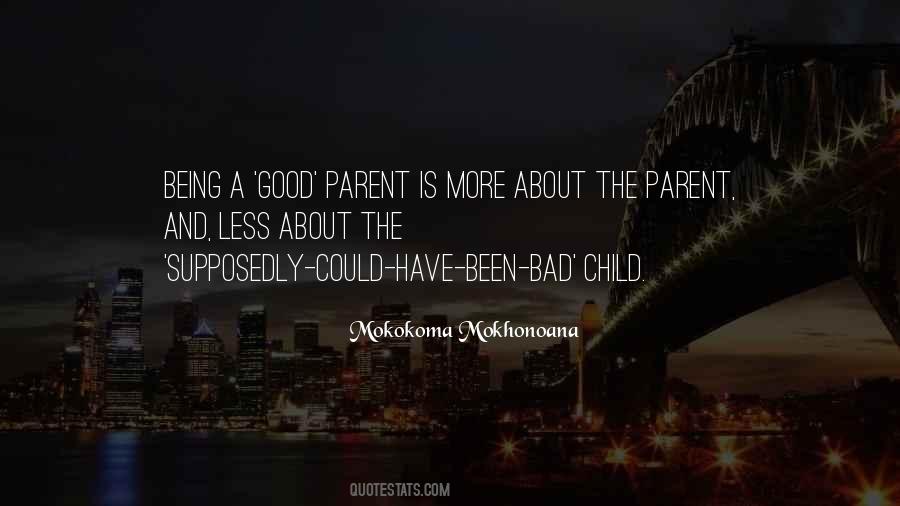 #24. A treasure trove for parents and for professionals in the child-development fields. - Author: Jeffrey K. Zeig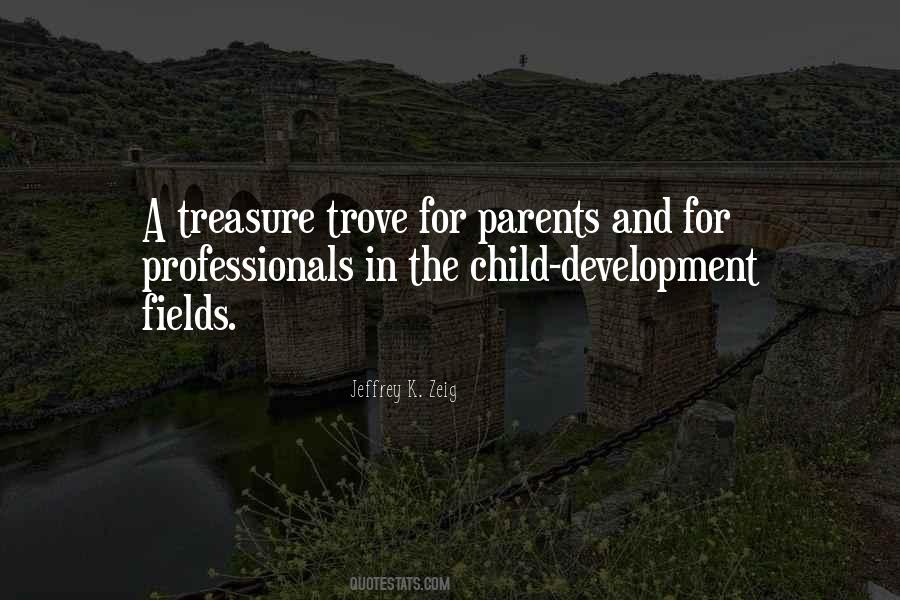 #25. Having a parent incarcerated increases a child's chances of juvenile delinquency between 300 and 400 percent; it increases the odds of a serious psychiatric disorder by 250 percent. - Author: Malcolm Gladwell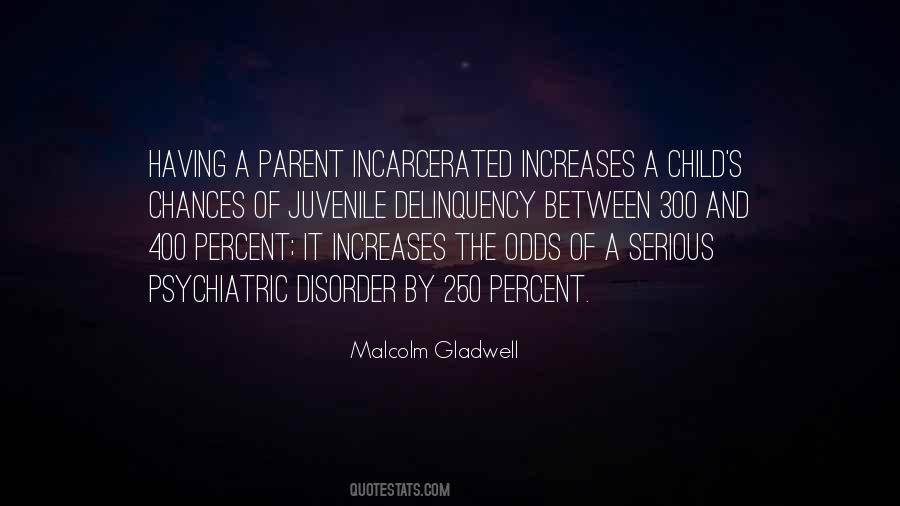 #26. I'm just curious, who's more fit to raise a child? A loving committed same-sex couple or an unmarried 15-year-old with no income and really no skills to parent? - Author: Ellen Barkin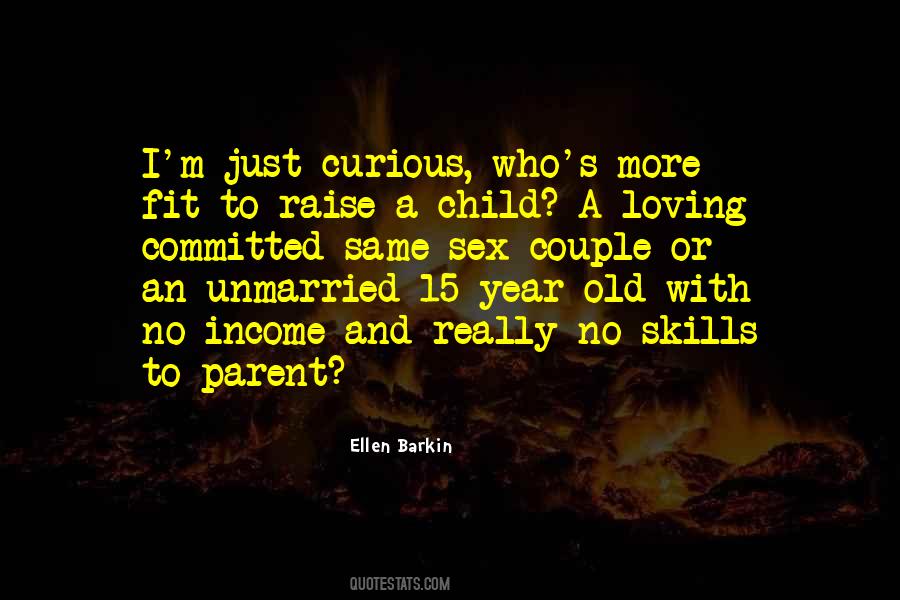 #27. Ten thousand pounds is the legal value of a negligently taken life, of a child or a parent. A cold and somewhat mean-spirited calculation: you would do better if you slipped on a paving-stone and broke a front tooth. - Author: Nina Bawden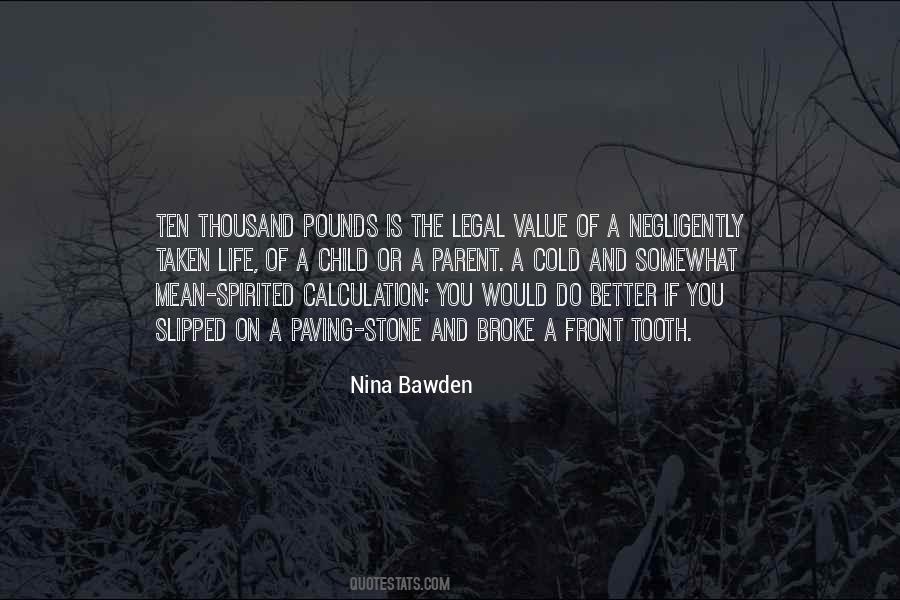 #28. Faithfully disciplining (training, educating, correcting) your child in a manner that pleases the Lord is an expression of biblical love. It also is a step of obedience for you as a parent and provides godly direction for your child. - Author: John C. Broger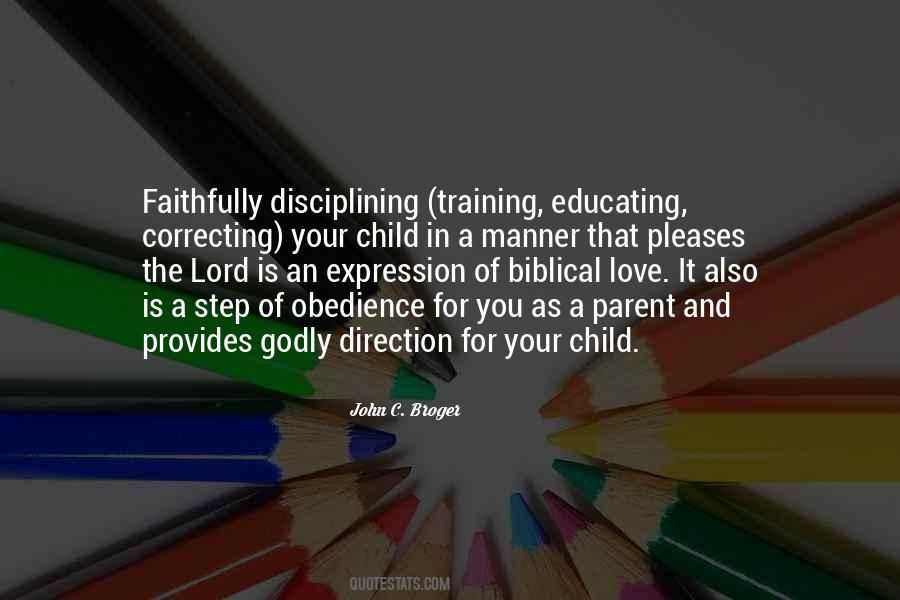 #29. The child gets two confusing messages when a parent tells him which is the right fork to use, and then proceeds to use the wrong one. So does the child who listens to parents bicker and fuss, yet is told to be nice to his brothers and sisters. - Author: Rachel Blanchard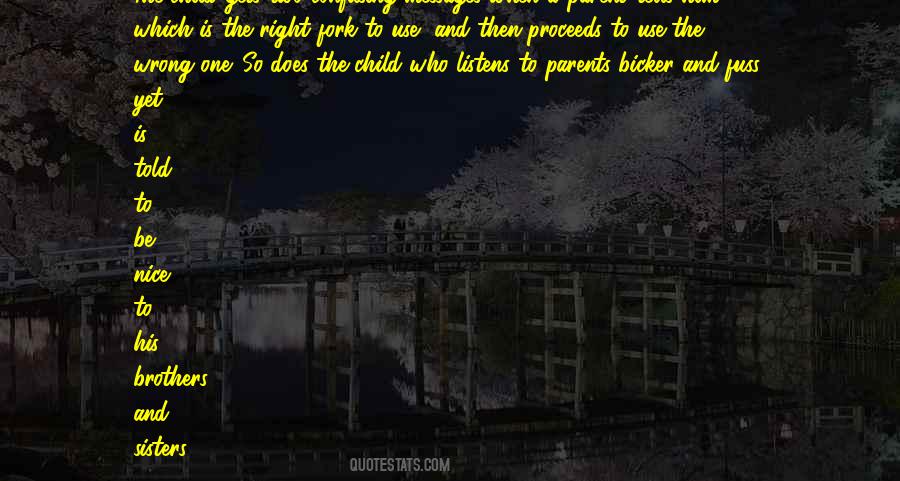 #30. The Child is the Alpha and the Omega of a parent's happiness. - Author: Amit Abraham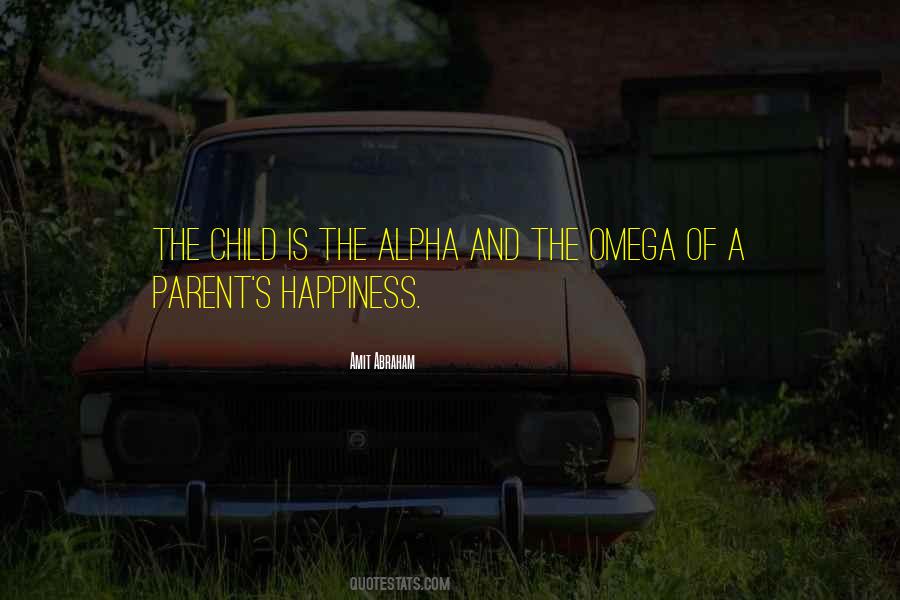 #31. The most important thing about a child's education is to have a great teacher in front of the classroom and a lot of choice and accountability with parents. - Author: Carly Fiorina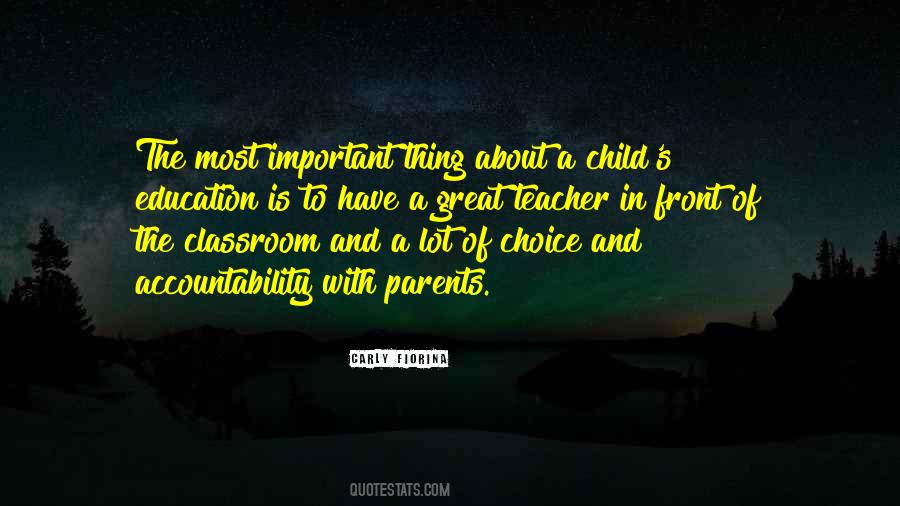 #32. There is nothing more pathetically sad than a parent who teaches a child not to hit by spanking them. Well, that, and adults who think hitting someone will solve a problem. - Author: Anitra Lynn McLeod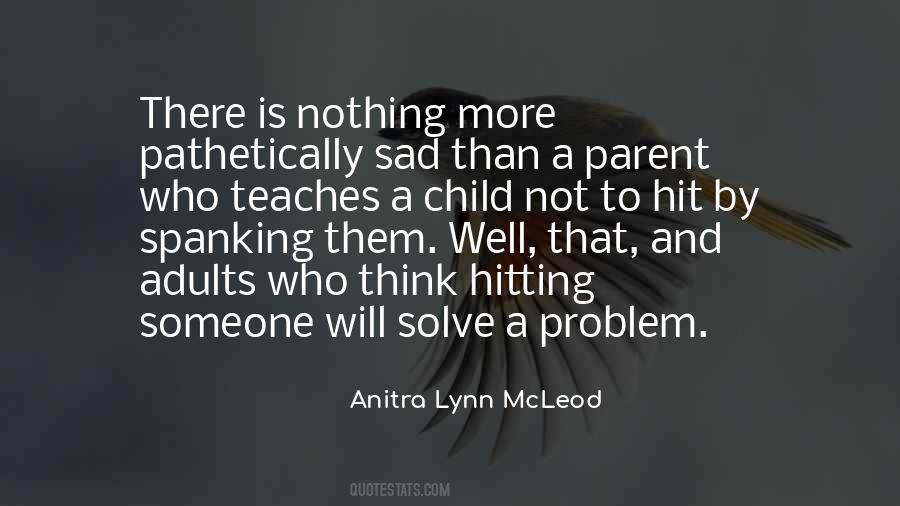 #33. I acknowledged Gabe and his attempts at flight the way a legless child might view a hopeful but misguided parent buying a house full of stairs. After a while, when Gabe offered me a morning greeting, it didn't feel like he was greeting me but rather a giant pair of wings; no girl, just feathers. - Author: Leslye Walton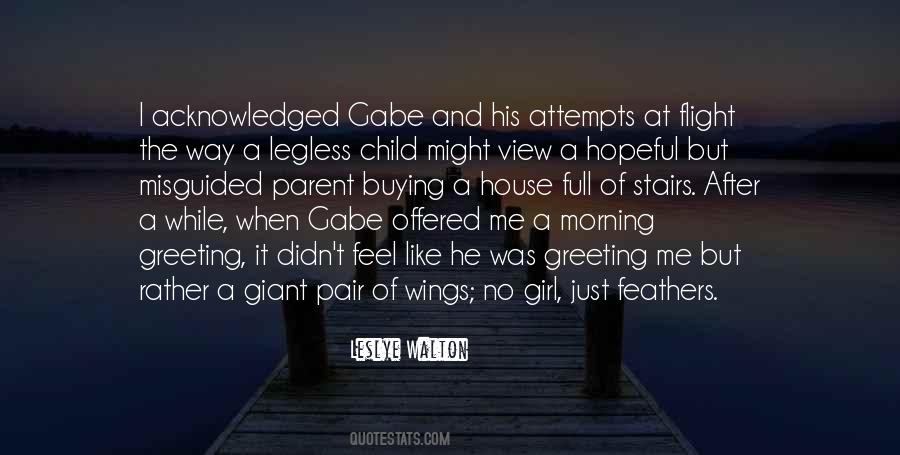 #34. Every parent's first responsibility is to teach his child that there is a God to whom he's accountable and that God has certain commands that we're obligated to obey. - Author: Robert Jeffress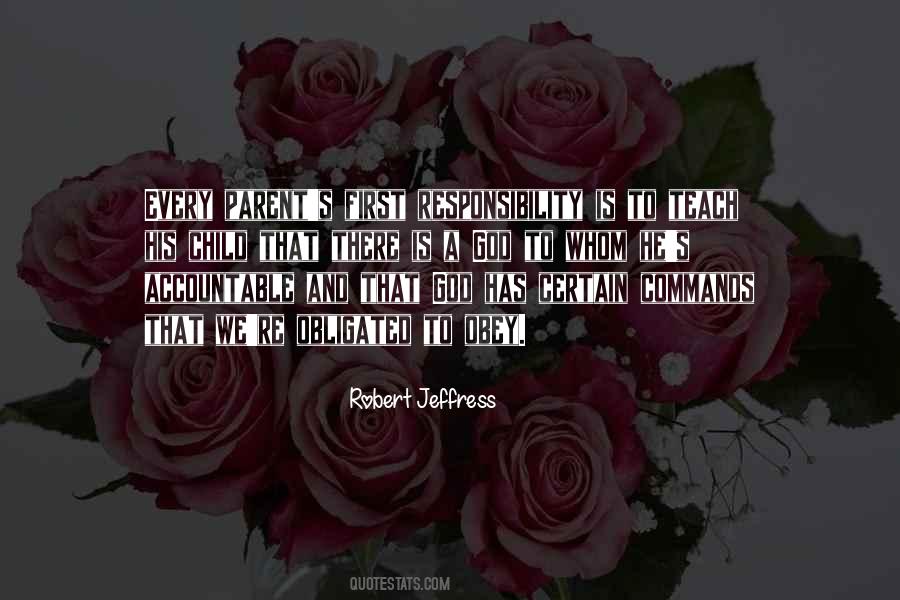 #35. I want to be the perfect child. I owe so much to my parents and the way I was brought up. - Author: Leonardo DiCaprio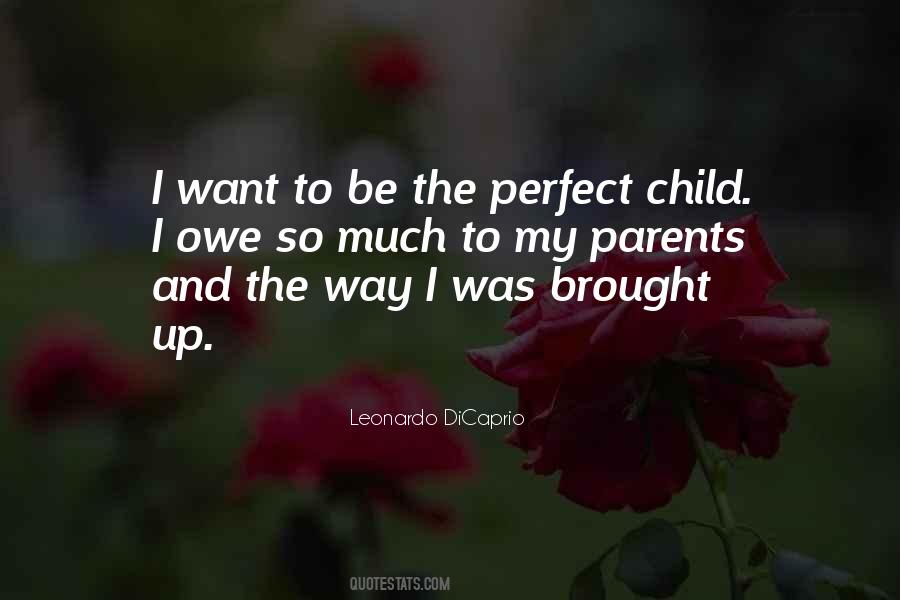 #36. I ... understand how a parent might hit a child- it's because you can look into their eyes and see a reflection of yourself that you wish you hadn't. - Author: Jodi Picoult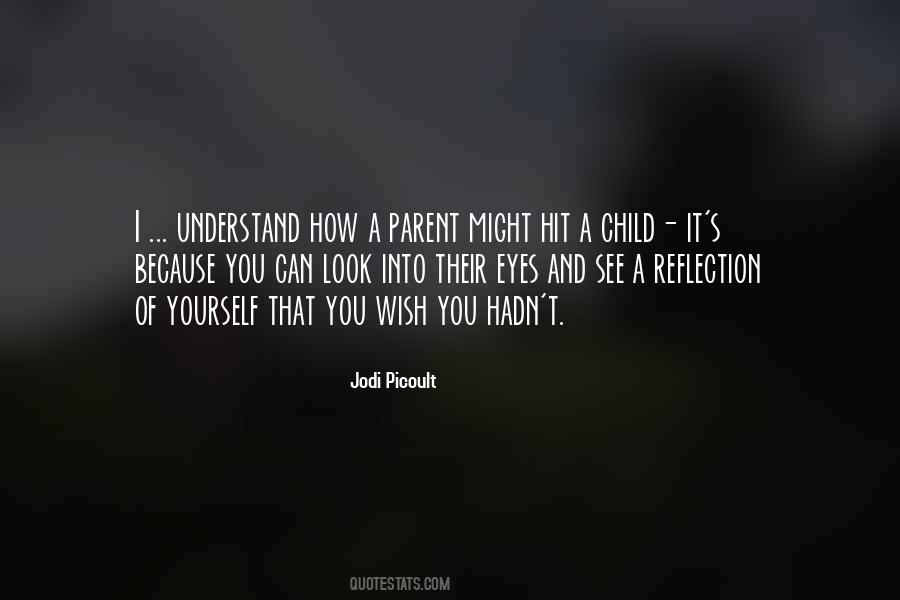 #37. The parent knows instinctively that if they're working and setting an example for their child that means that child is more likely to be in school, more likely to stay out of trouble and more likely to complete their education. - Author: John Engler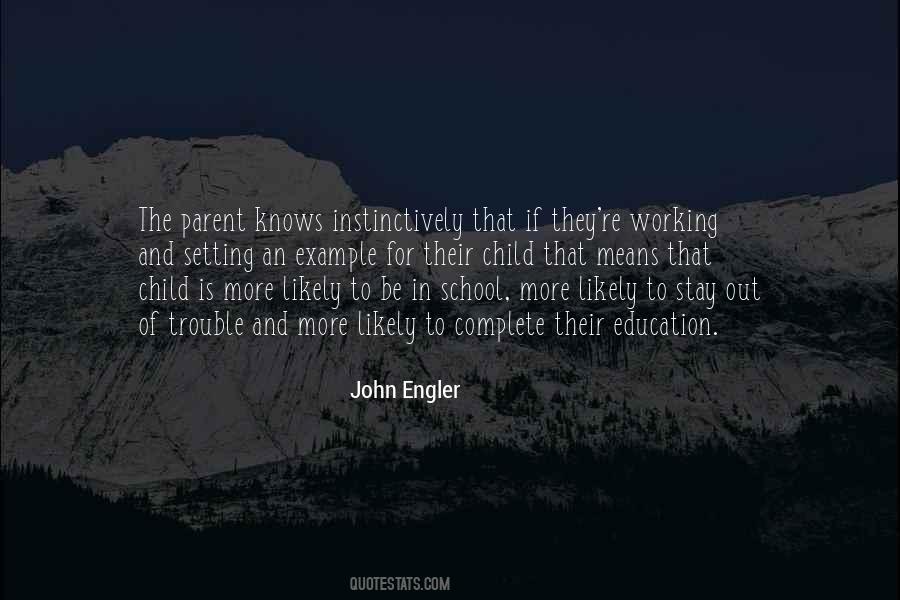 #38. On the Brevity of Our Ties
Ties in this world last only for a time. We are husband and wife, parent and child, for a short period only. Once this reality sinks in, we cannot help treasuring each moment of our brief association. - Author: Kentetsu Takamori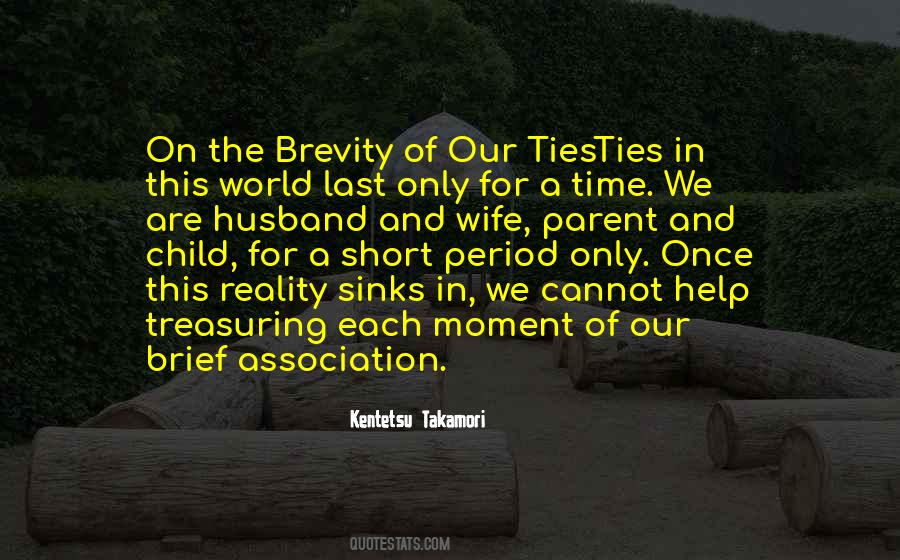 #39. The nature of the love between a parent and child really is literally stronger than death. As long as either person in that relationship is alive, that relationship is still alive. - Author: John Green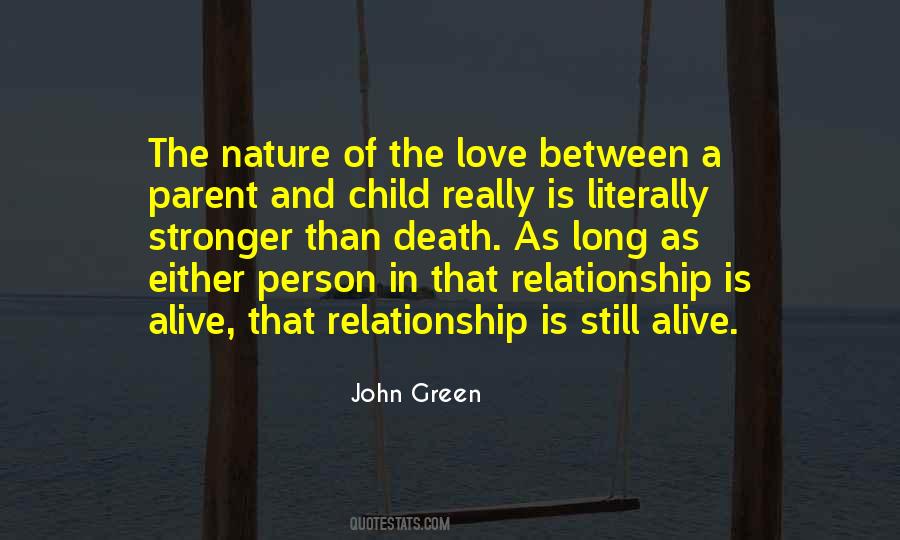 #40. The classics tell us that, in relationships, the one between teacher and student comes second only to the one between parent and child. - Author: Lisa See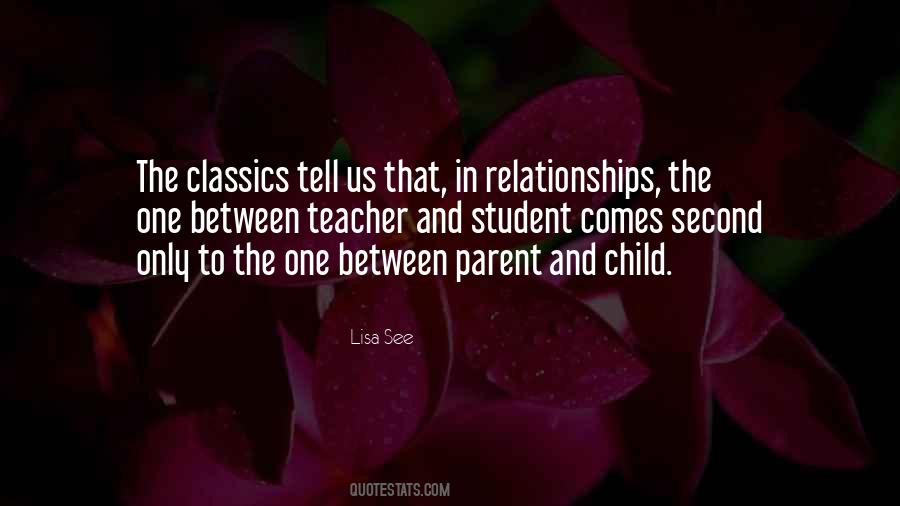 #41. I'm very proud that the first bill I had the opportunity to sign into law as President was the Family and Medical Leave Act No parent should ever have to choose between work and family; between earning a decent wage and caring for a child. - Author: William J. Clinton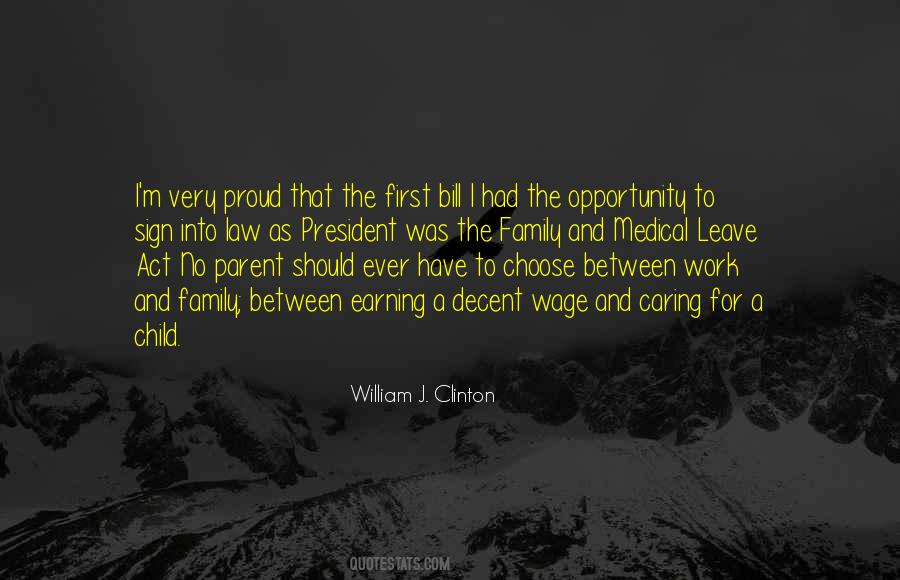 #42. Especially with our first child, we tend to take too much responsibility
both credit and blame
for everything. The more we wantto be good parents, the more we tend to see ourselves as making or breaking our children. - Author: Polly Berrien Berends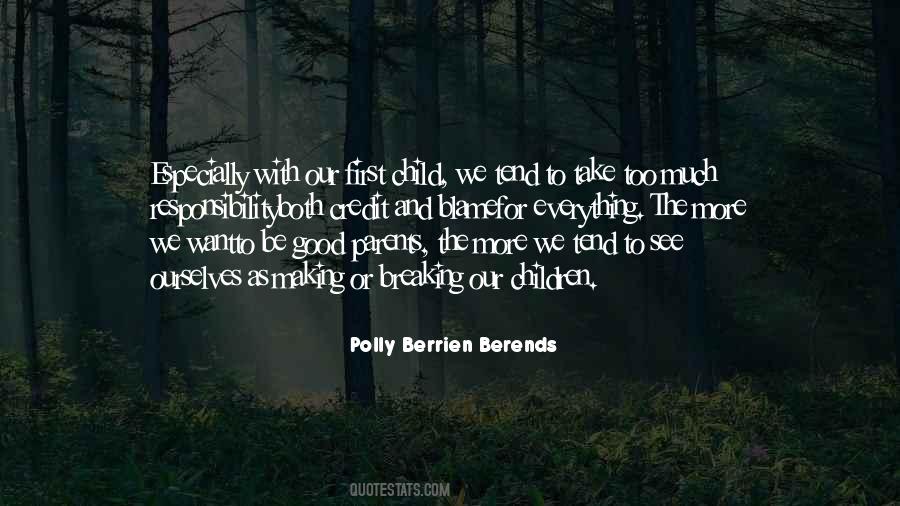 #43. Cindy and I are adoptive parents. We know what a treasure and joy it is to have an adopted child in our lives. - Author: John McCain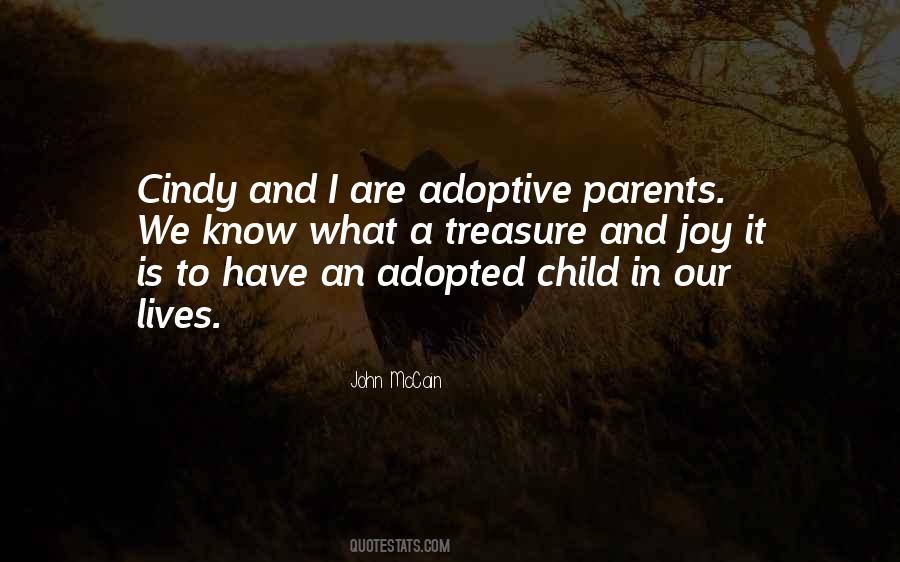 #44. The character and history of each child may be a new and poetic experience to the parent, if he will let it. - Author: Margaret Fuller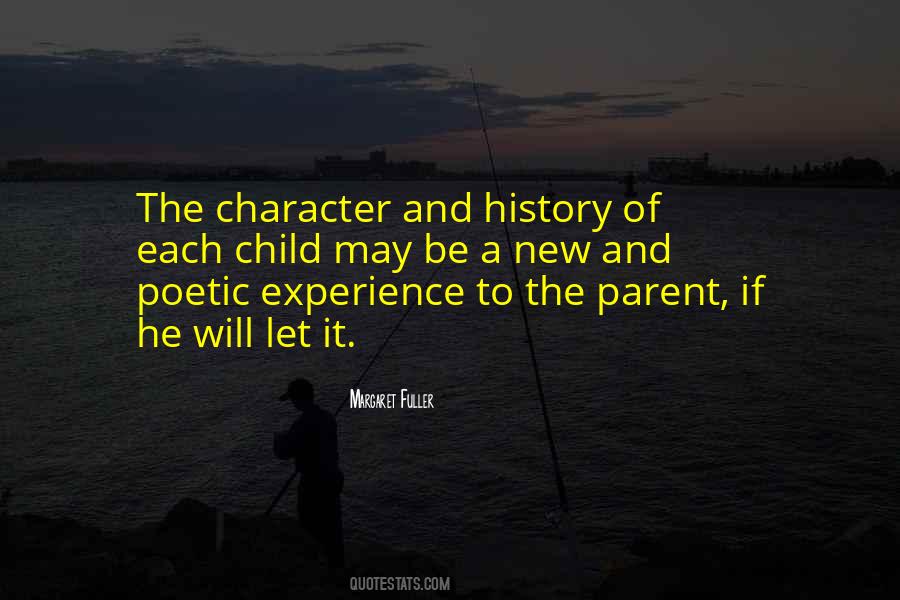 #45. Love without humility results in the inclination to act as everyone's parent, humility without love results in the need to be everyone's child, and love with humility results in the desire to be a friend. - Author: Criss Jami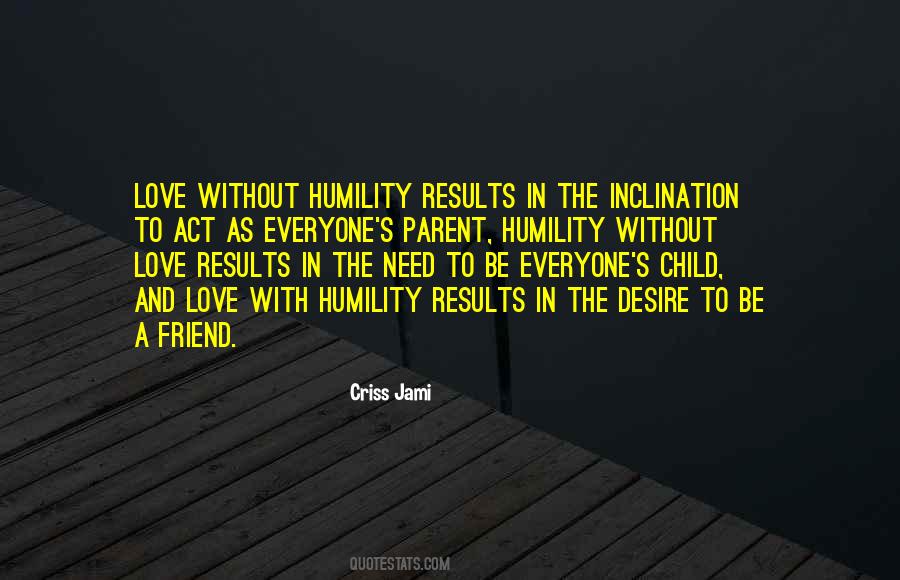 #46. Love is the child of illusion and the parent of disillusion. - Author: Miguel De Unamuno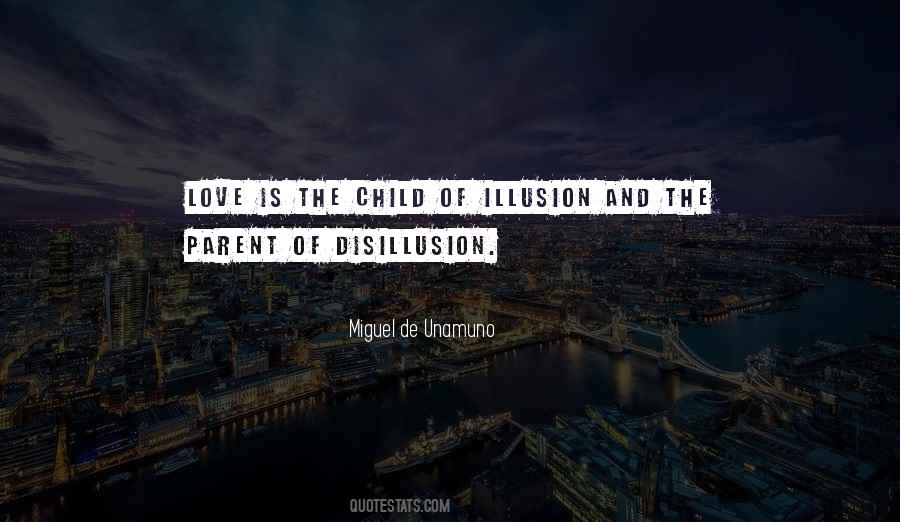 #47. that is the rub of being a parent. You have infinite capacity to forgive, and infinite capacity to grieve every time your child stumbles." "I - Author: Molly Jameson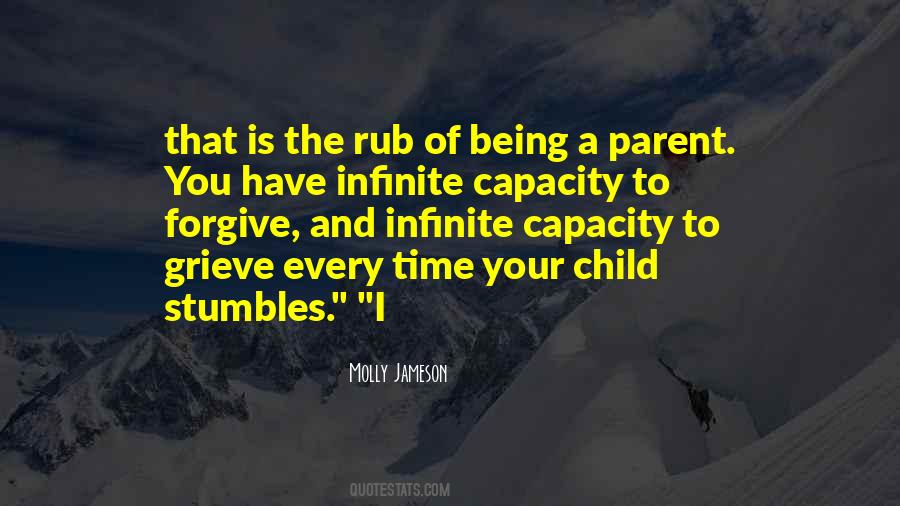 #48. Nothing's scarier than having a sick child, and one so newly born, and so vulnerable. It's the worst thing for a parent. - Author: Kenneth Oppel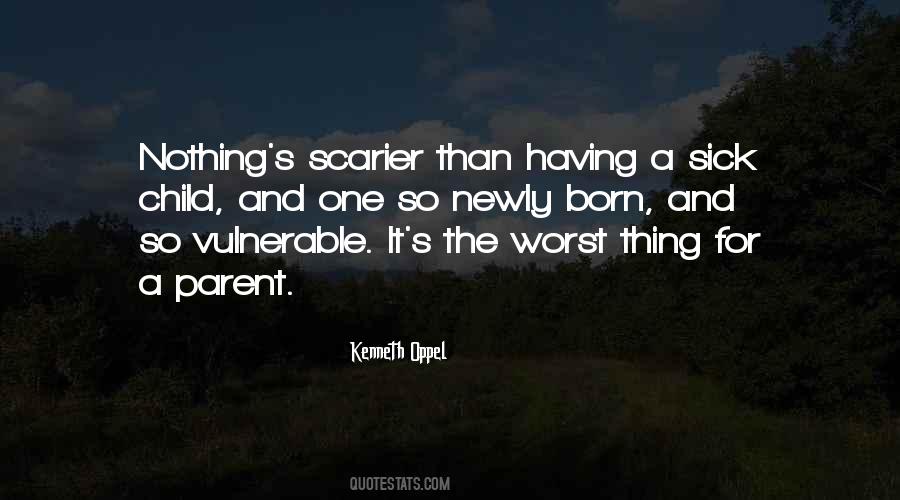 #49. Allow yourself to think that the possibility of failure is a necessary part of parenting well ... Avoiding the possibility of failure means avoiding the possibility of being an extraordinary parent-and avoiding what you want for your child. - Author: Lisa Coyne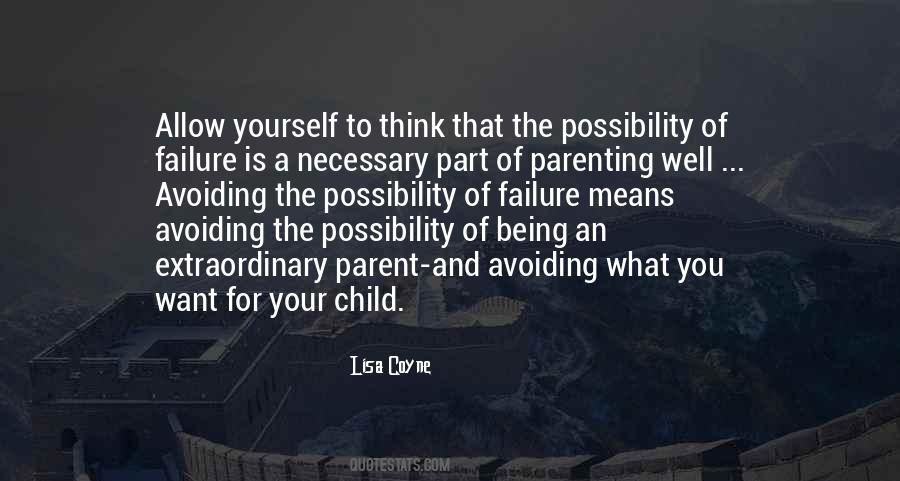 #50. I have a child and I'm a parent first of all. - Author: Izabella Scorupco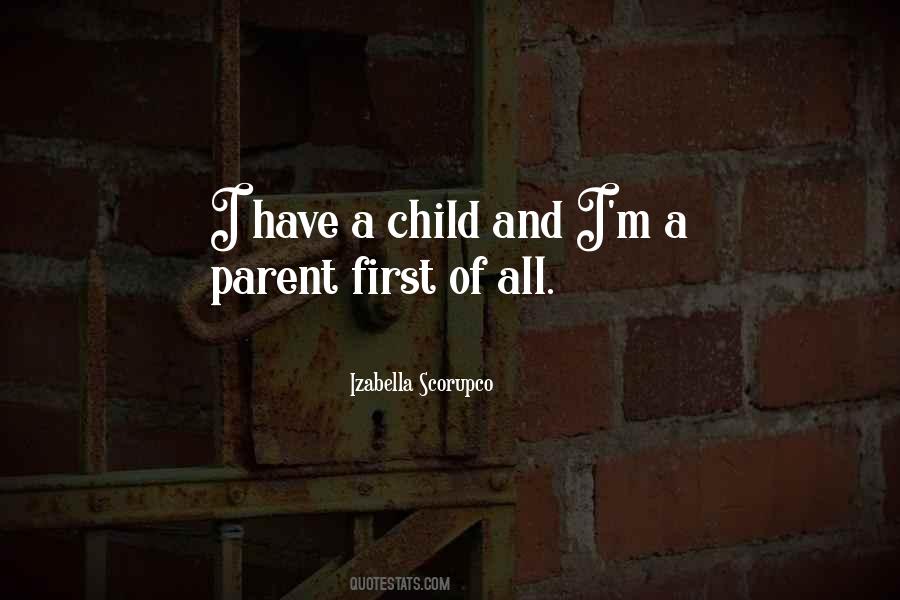 #51. Parents needs to spend more time with who they're trusting their kids with. That's one of the nuggets going forward. Find out who these coaches are. Figure out their environment and what kind of problems they have, and see if you want your child involved with that. - Author: Ray Lewis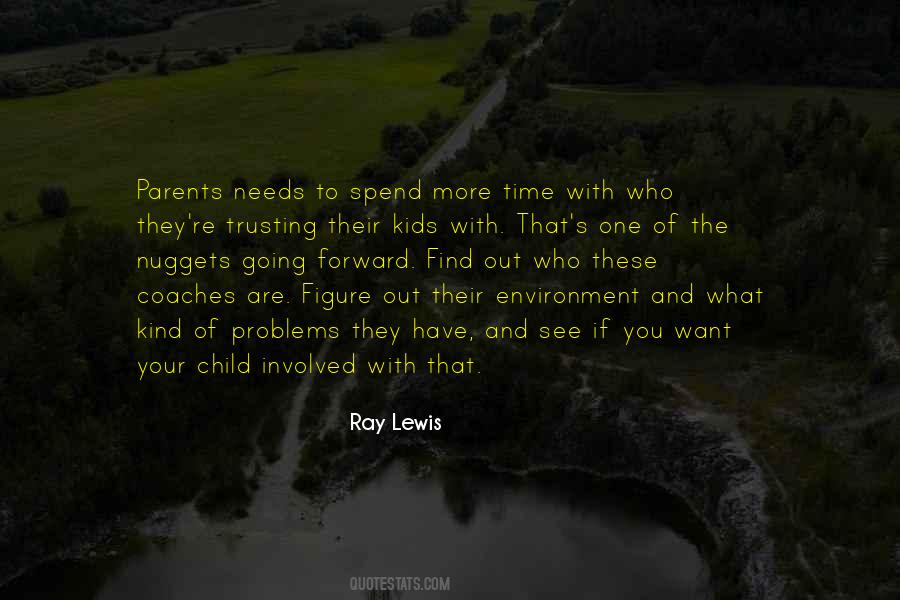 #52. It's so very important as to what a child watches on TV. I feel for every parent that knows this, and cares, because they only have control of the child's viewing to a certain point. - Author: Ruth Buzzi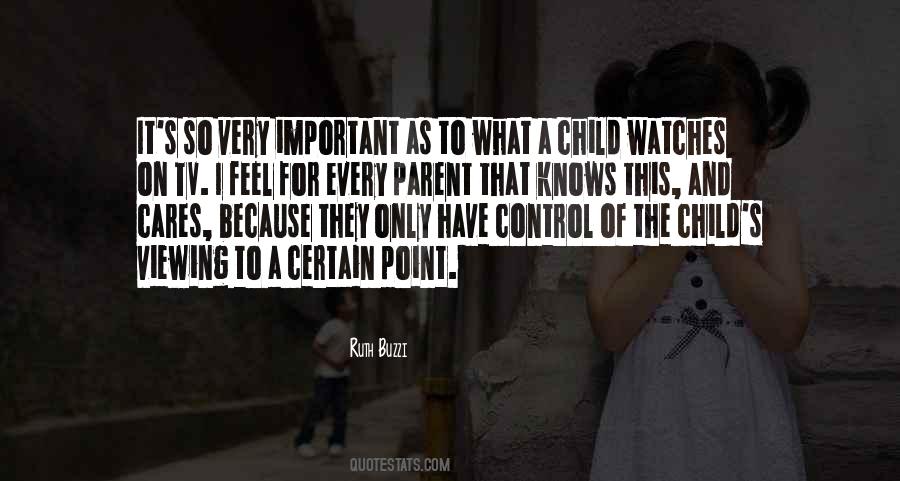 #53. What is a parent, really, but somebody who picks up the things a child leaves behind - a trail made of stripped off clothing, orphaned shoes, tiny bright plastic game pieces, and nostalgia - and who hands back each of these when its needed? - Author: Jodi Picoult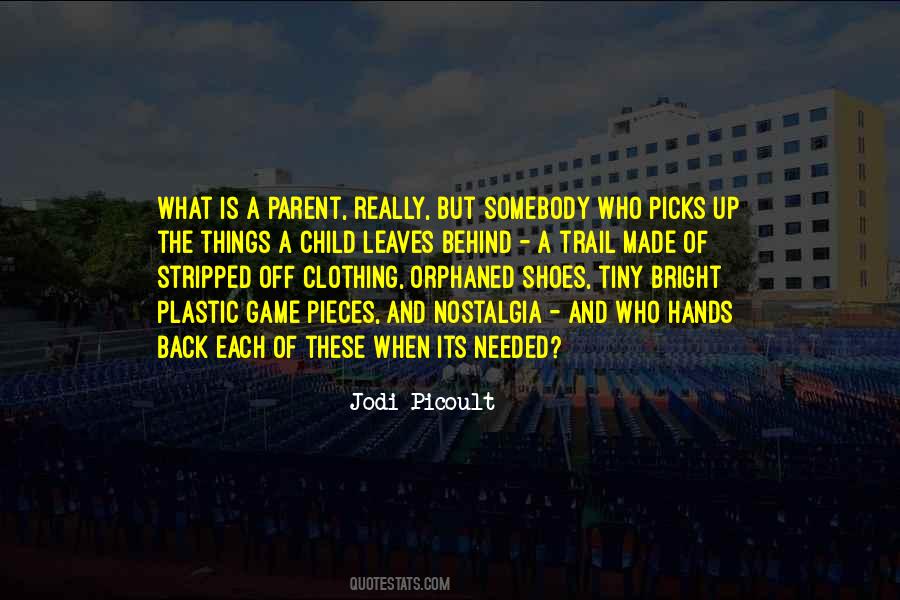 #54. Raising a child is a time of RAPID CHANGE! From the ages of 0 to 19, a PARENT can age over 30 years! - Author: Tanya Masse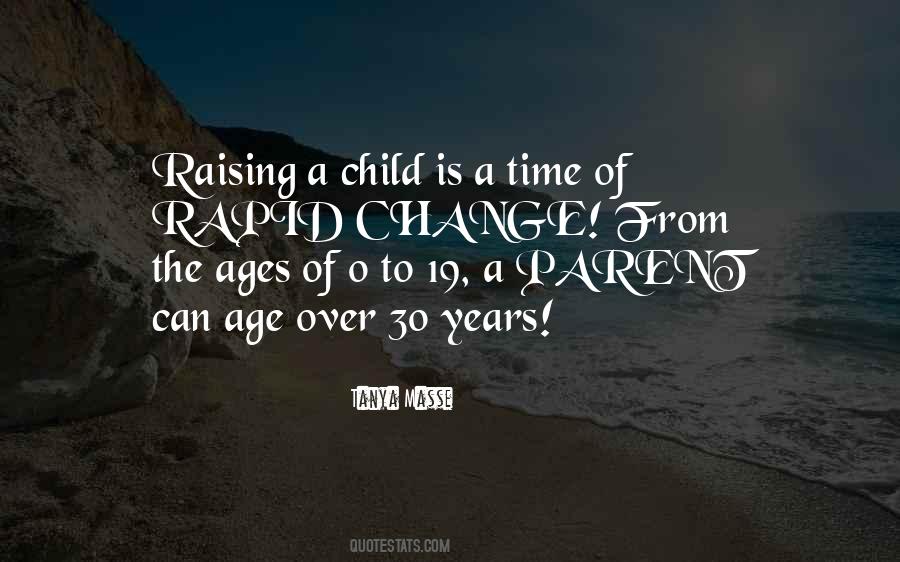 #55. The interests of the deaf child and his parents may best be served by accepting that he is a deaf person, with an elaborate cultural and linguistic heritage that can enrich his parent's life as it will his own. - Author: Harlan Lane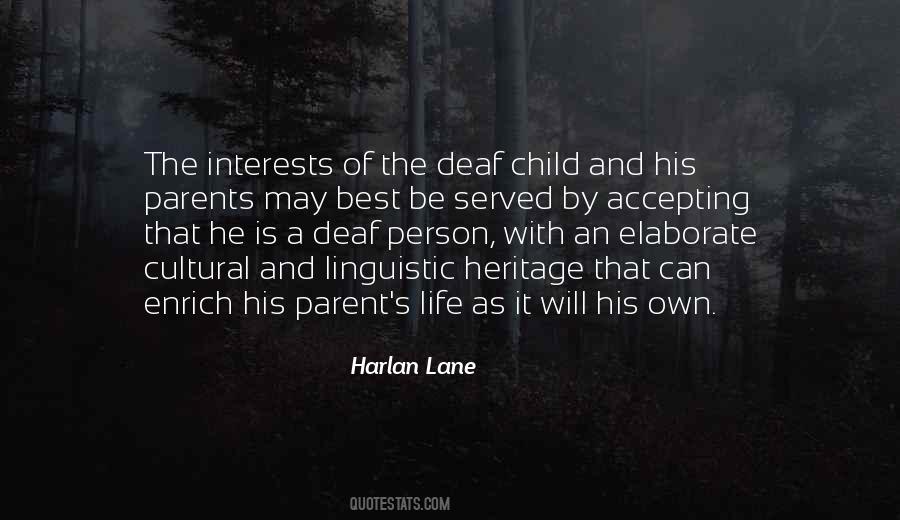 #56. Isn't that an odd thing for a parent to wish for a child? That he would be less than what he is? - Author: Tracy Guzeman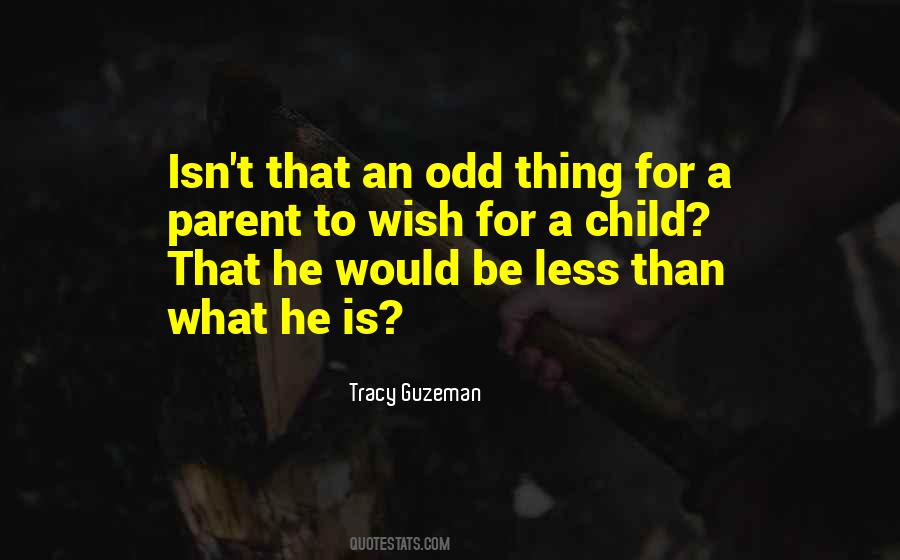 #57. I was an only child. I lost both my parents. By the time I was twenty I was bald. I'm homosexual. In the way of circumstances and background to transcend I had everything an artist could possibly want. It was practically a blueprint. - Author: Alan Bennett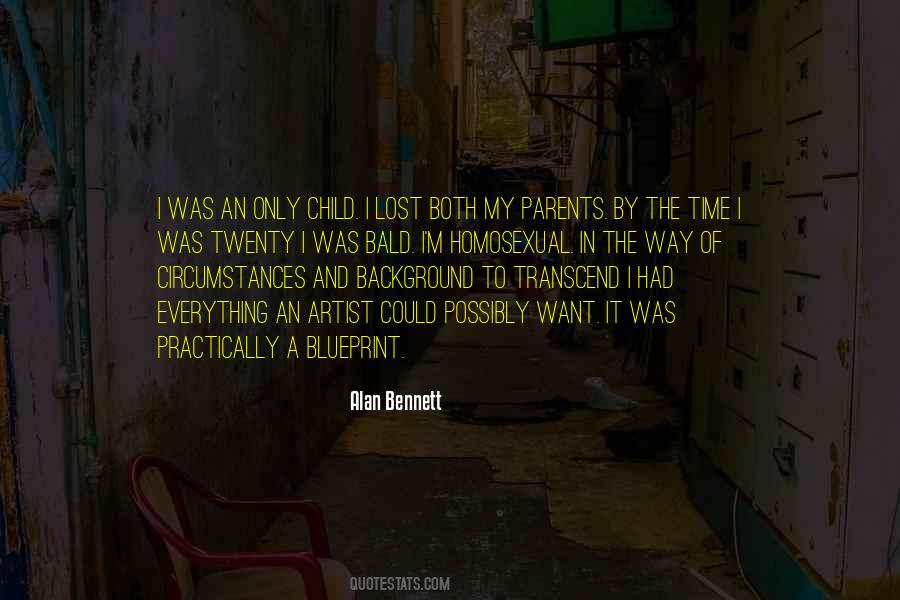 #58. A woman who loses a husband is called a widow, a man who loses his wife is called a widower, and a child who loses his/her parents is called an orphan, but there is no word in the English language for a parent who loses a child (Jay Neugeboren). - Author: David Asay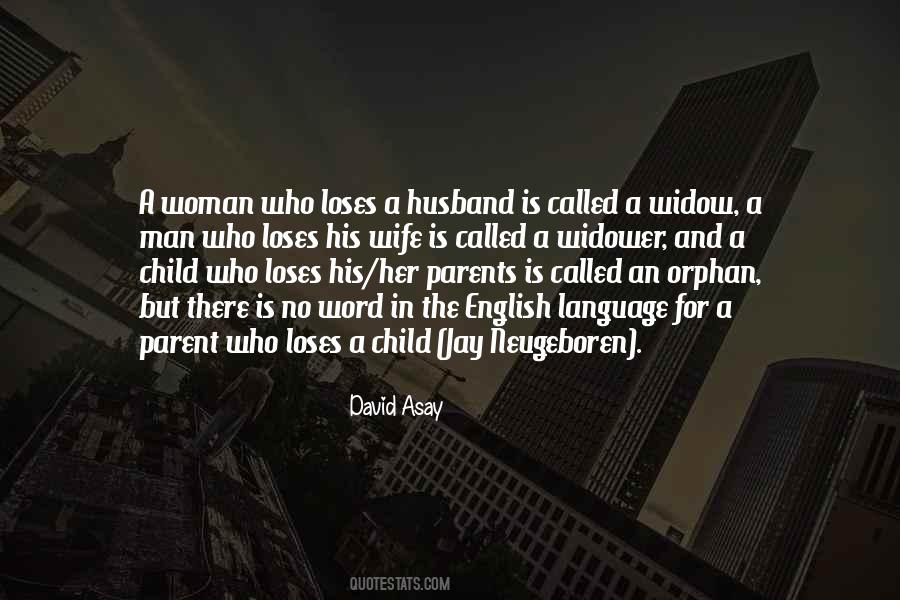 #59. Parents and children seldom act in concert:
each child endeavors to appropriate
the esteem or fondness of the parents,
and the parents, with yet less temptation,
betray each other to their children. - Author: Samuel Johnson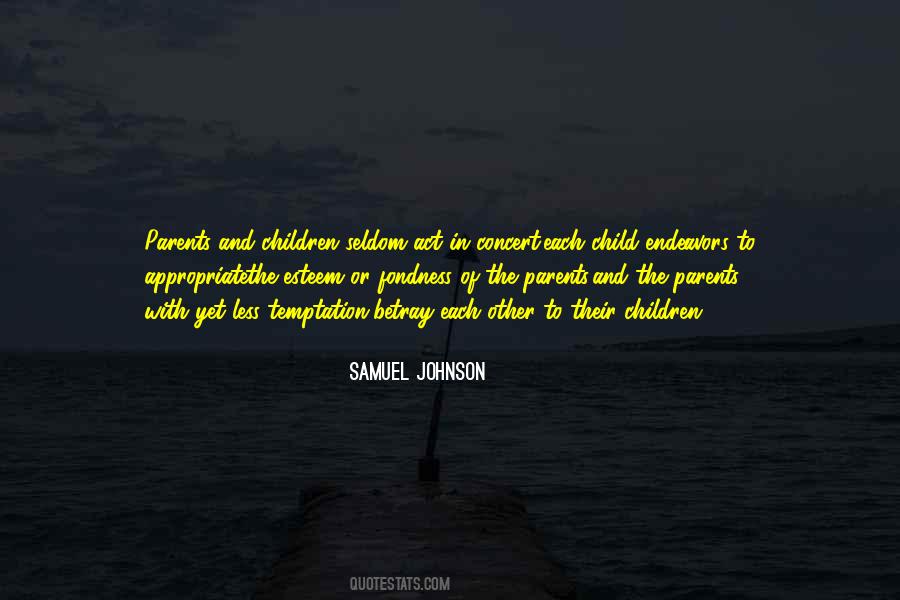 #60. I'd definitely be the kind of parent who enabled my child's dreams. I'd just watch and nurture and guide them. I have the blueprints of what not to do ... I think I'd be a good parent, actually. - Author: Drew Barrymore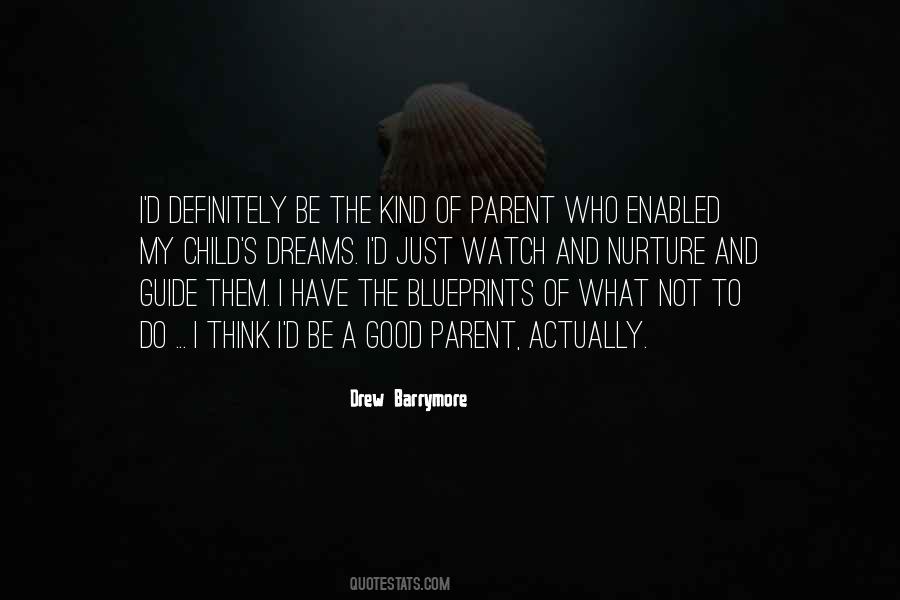 #61. I think too often in our society parents, who may have good impulses, overreach and try to mold and shape and direct their child. - Author: Michael Sandel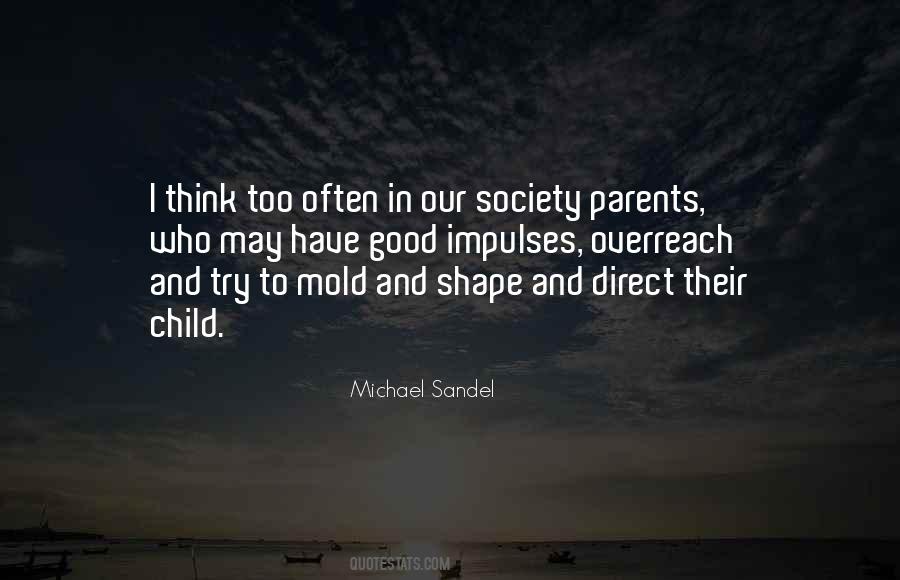 #62. There are no words to describe the pain of burying a child, and specifically there is no word to label their new, lifelong status. If you lose a spouse, you are a widow; if you lose a parent, you are an orphan. But what about when you lose a child? How do you name something you cannot comprehend? - Author: Lisa Belkin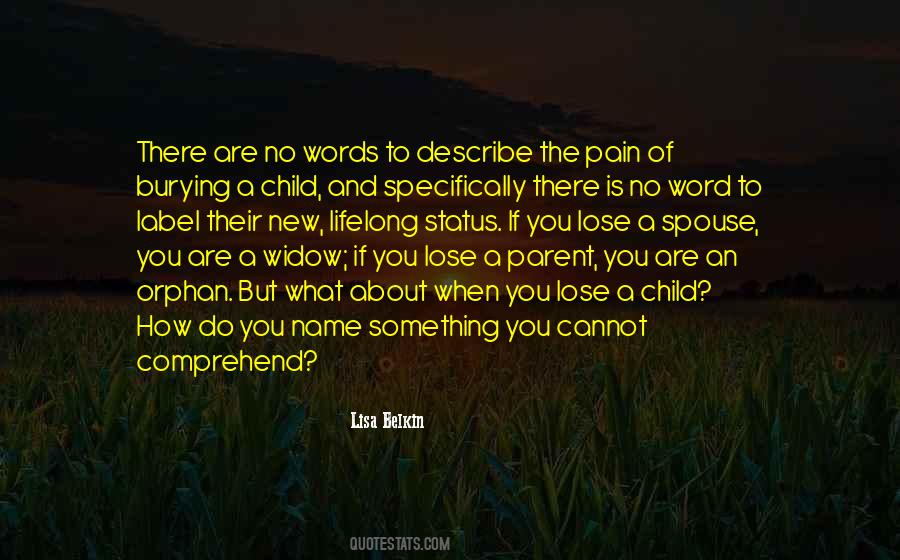 #63. I might be better able to help parents of dying children, but for quite a while I felt less able, too emotionally involved. And from that time on, I could rarely discuss the death of a child without tears welling up into my eyes. - Author: C. Everett Koop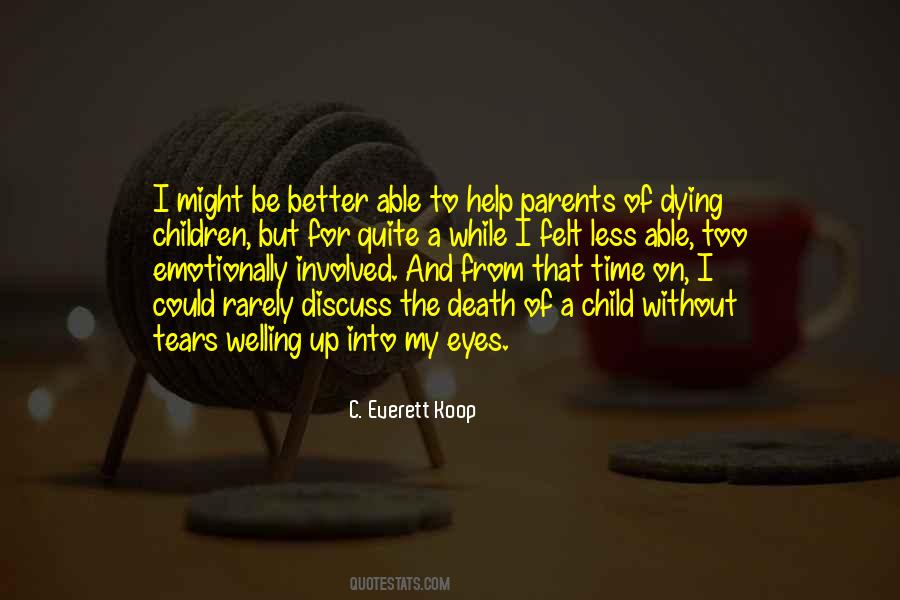 #64. If you have a smothering parent, the effect it can apparently have on a child is to give them, in equal doses, a sense of too much self-esteem, because they are mummy's little princess or prince, and low self-esteem. It affects future relationships. - Author: Hugh Grant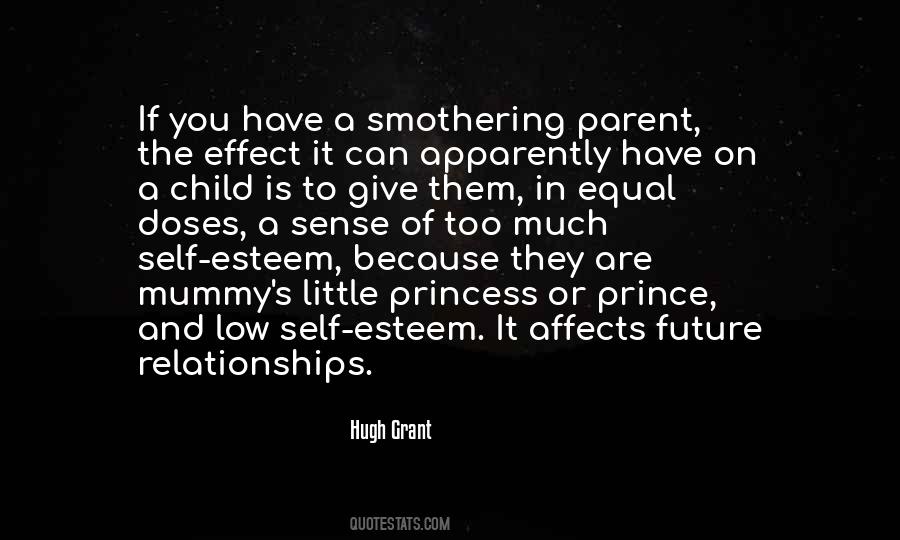 #65. Start a program for gifted children, and every parent demands that his child be enrolled. - Author: Thomas A. Bailey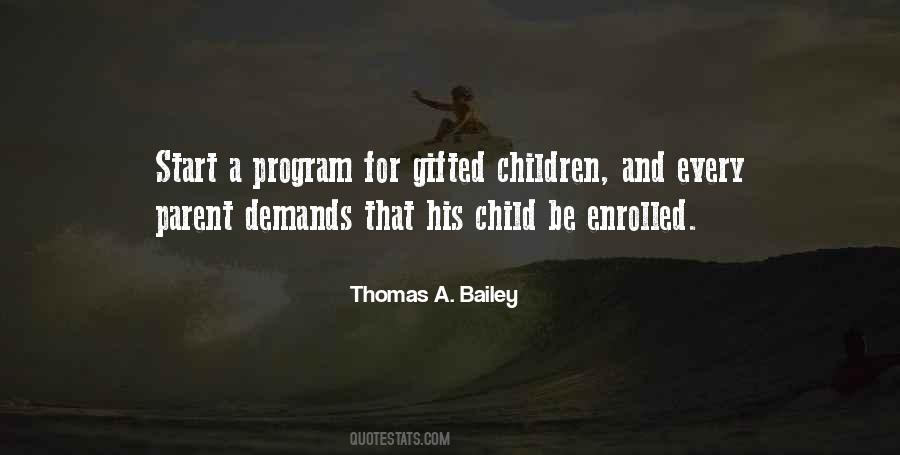 #66. Had Mother Nature been a real parent, she would have been in jail for child abuse and murder. - Author: Nick Bostrom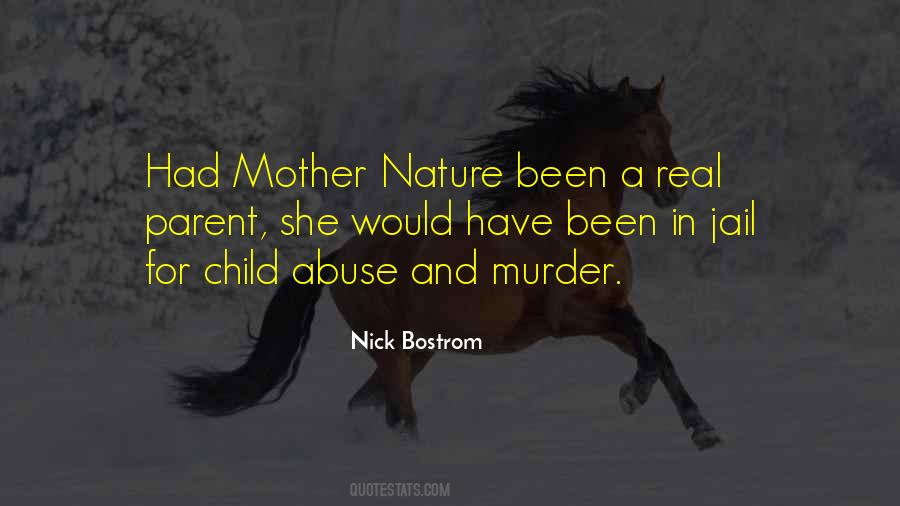 #67. As children develop, their brains "mirror" their parent's brain. In other words, the parent's own growth and development, or lack of those, impact the child's brain. As parents become more aware and emotionally healthy, their children reap the rewards and move toward health as well. - Author: Daniel J. Siegel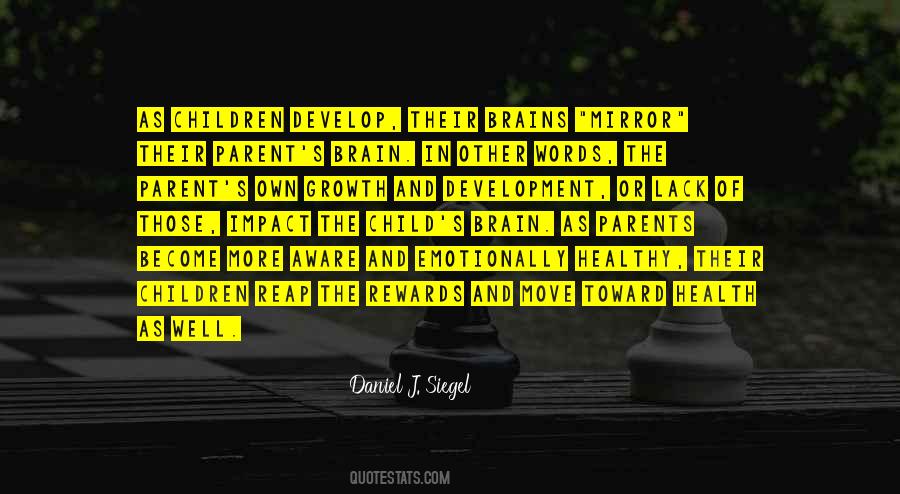 #68. No parent or coach can be true to any child and say he's ready for the N.F.L. out of high school. - Author: Tony Dorsett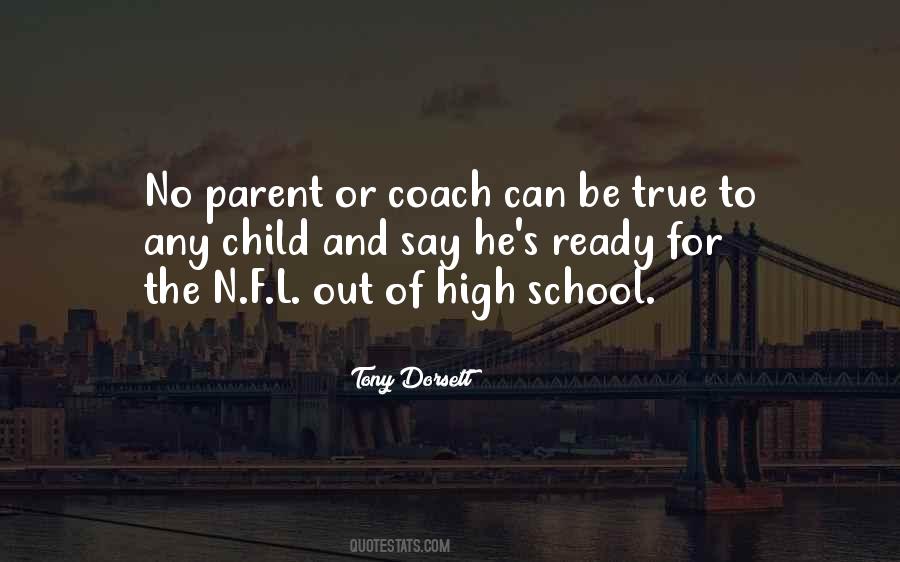 #69. The parent must not give in to his desire to try to create the child he would like to have, but rather help the child to develop
in his own good time
to the fullest, into what he wishes to be and can be, in line with his natural endowment and as the consequence of his unique life in history. - Author: Bruno Bettelheim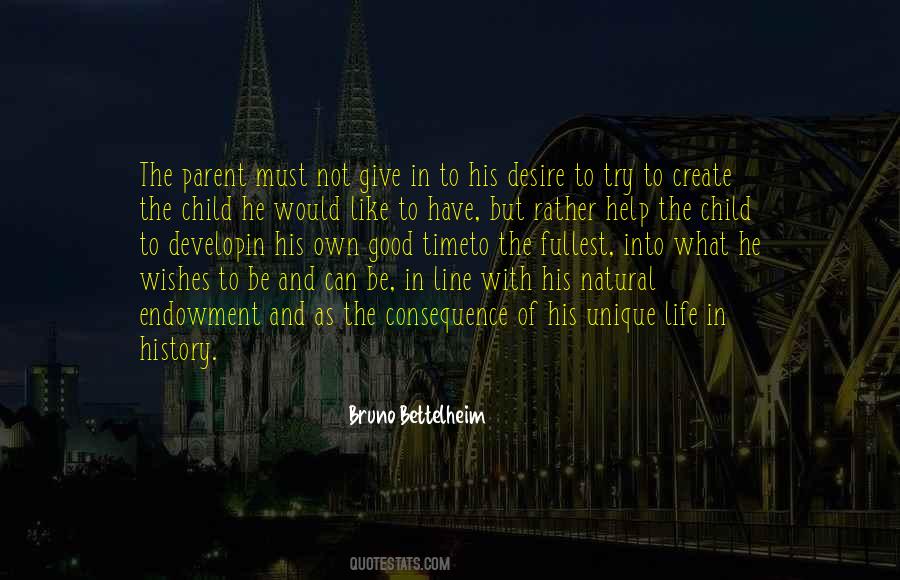 #70. It was a love story about a father and a son. The rest was window dressing. As a love story between a parent and a child, it was universal. Didn't matter that I was gay, that he was deaf, that we didn't fit in, that we were each outcasts in our own way - Author: Nick Wilgus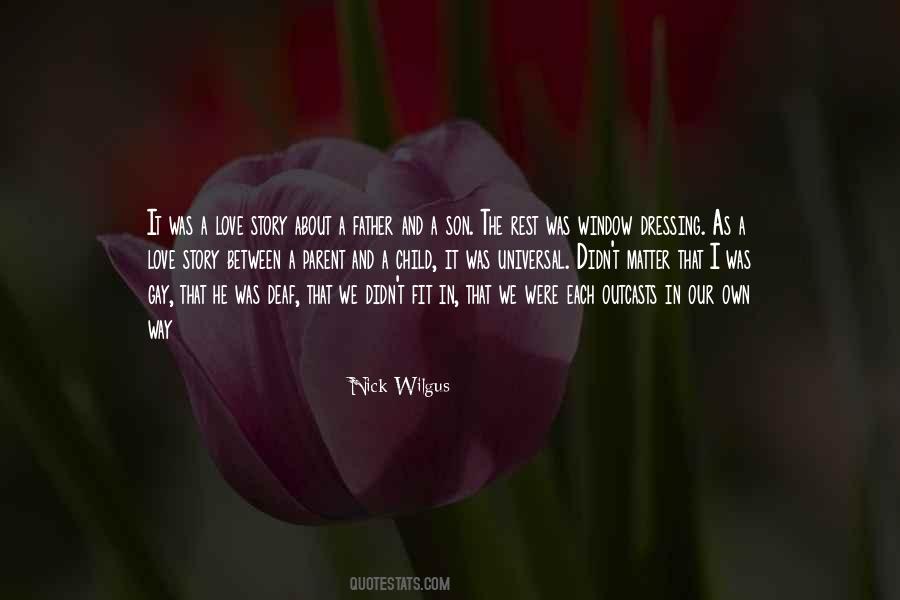 #71. A good parent gives their child roots and wings. - Author: Jonas Salk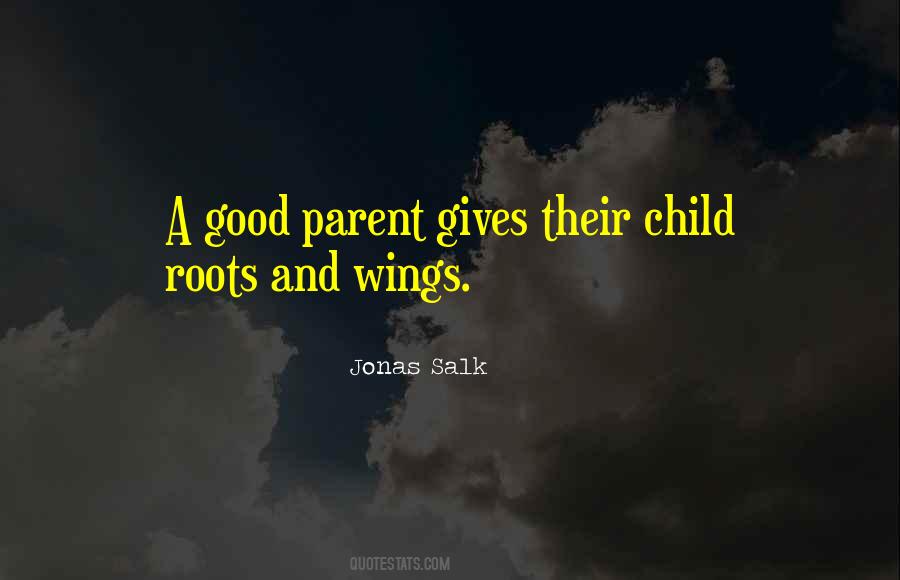 #72. The parent-child connection was as deep and wide as the ocean, as mysterious as heaven, as impossible to explain as love. - Author: Barbara Bretton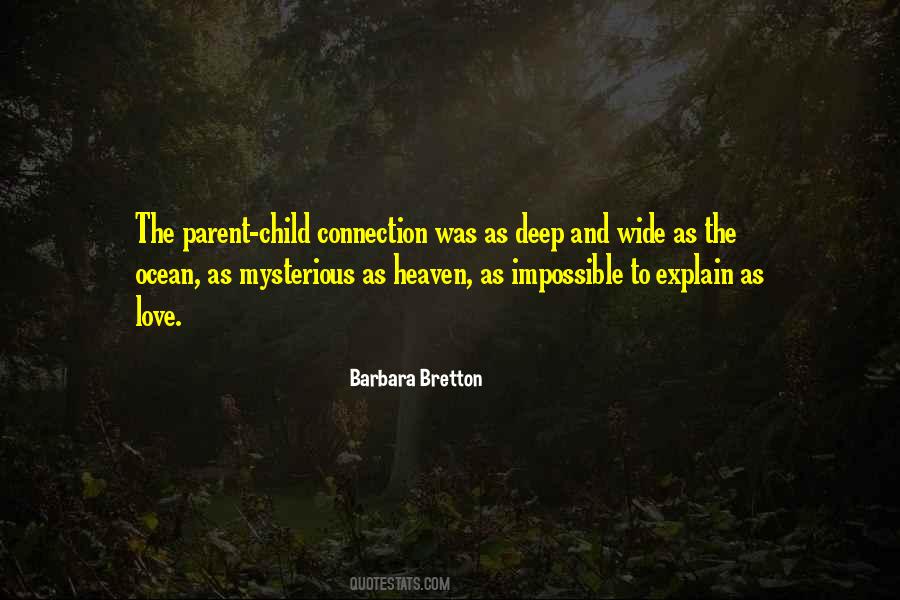 #73. There are many times as a parent when you realize that your job is not to be the parent you always imagined you'd be, the parent you always wished you had. Your job is to be the parent your child needs, given the particulars of his or her own life and nature. - Author: Ayelet Waldman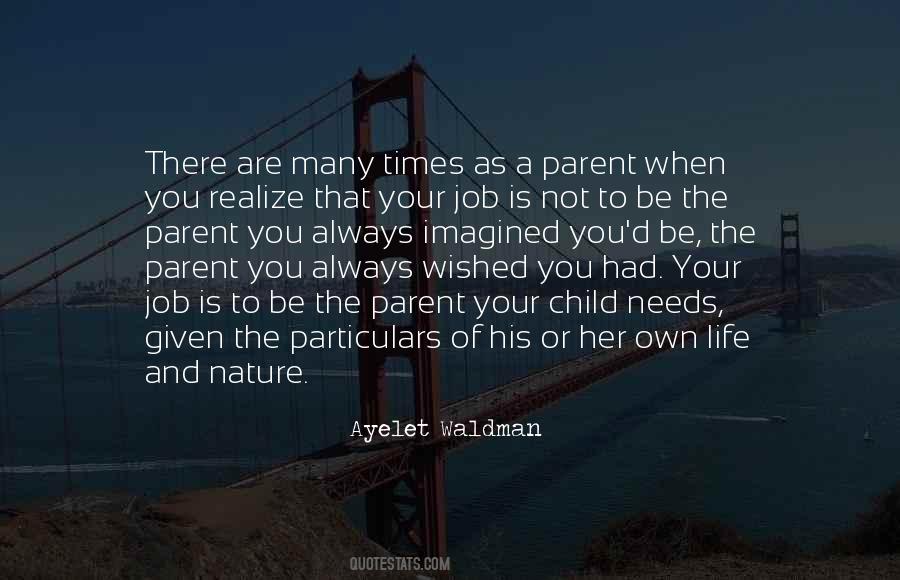 #74. He spoke about Africa in an unusual way. He spoke of Africa as though Africa was a sick child and he was the parent. - Author: V.S. Naipaul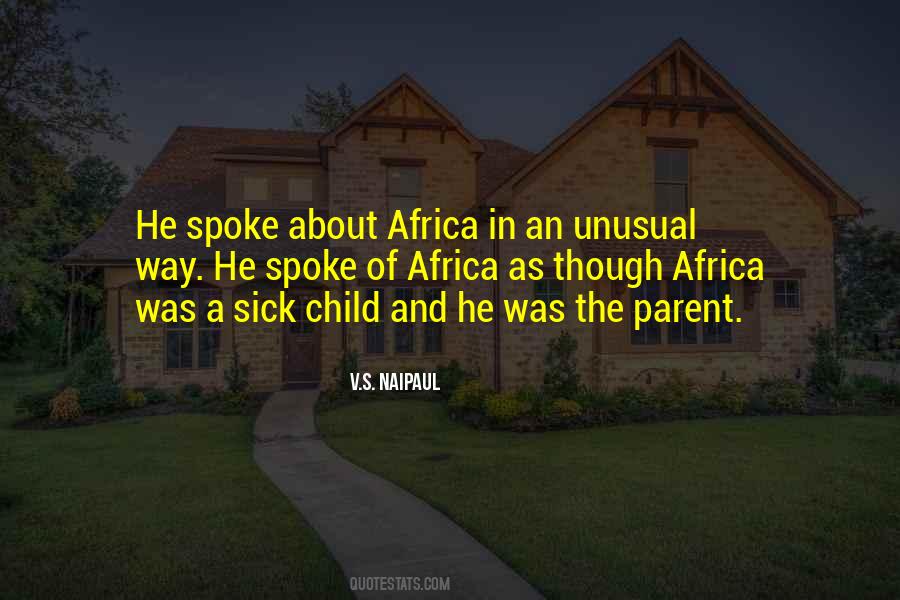 #75. As both a local resident and a parent with a CF-afflicted child, I'm thankful for companies like Canon, Chase and Outback who believe that giving back to the community is critical to their role as corporate citizens. - Author: Boomer Esiason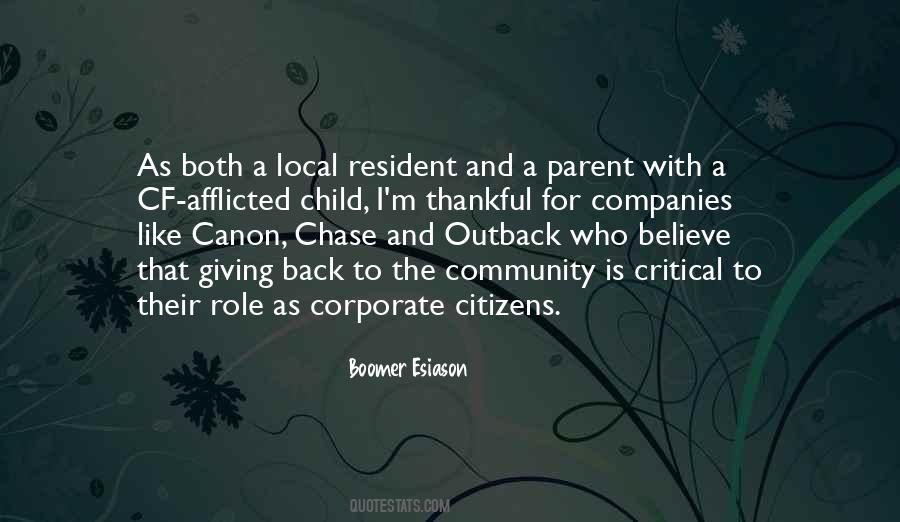 #76. What can be more clear and sound in explanation, than the love of a parent to his child? - Author: William Godwin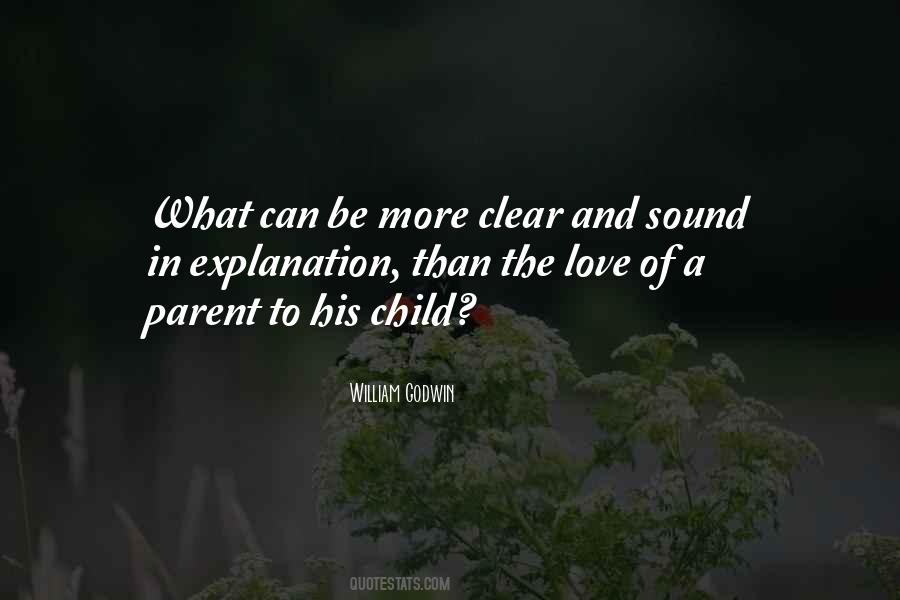 #77. Today is the child of yesterday and the parent of tomorrow. The work you produce today will create your future. - Author: Bruce Mau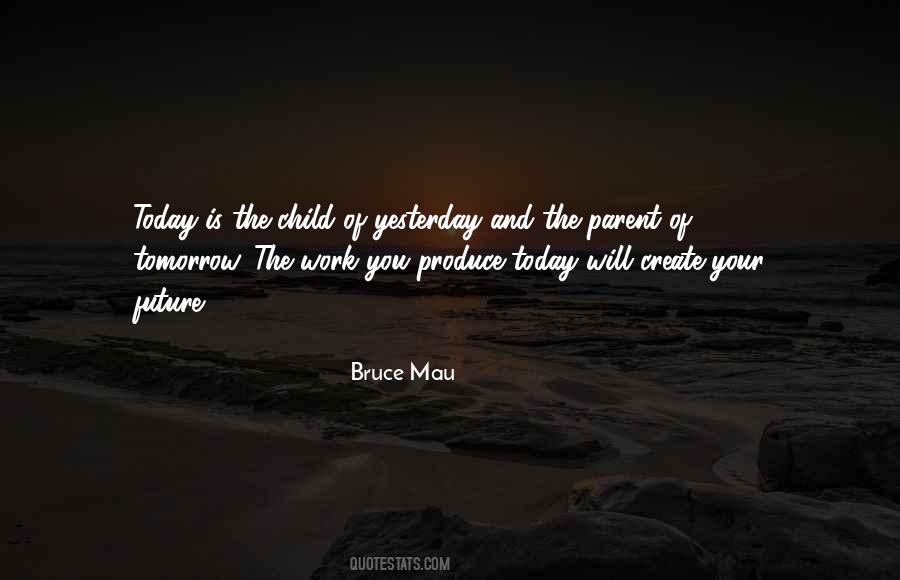 #78. If it's your child, it's different. You don't care about those things. It's so minor. You become a parent and nothing else really matters. - Author: Kevin Federline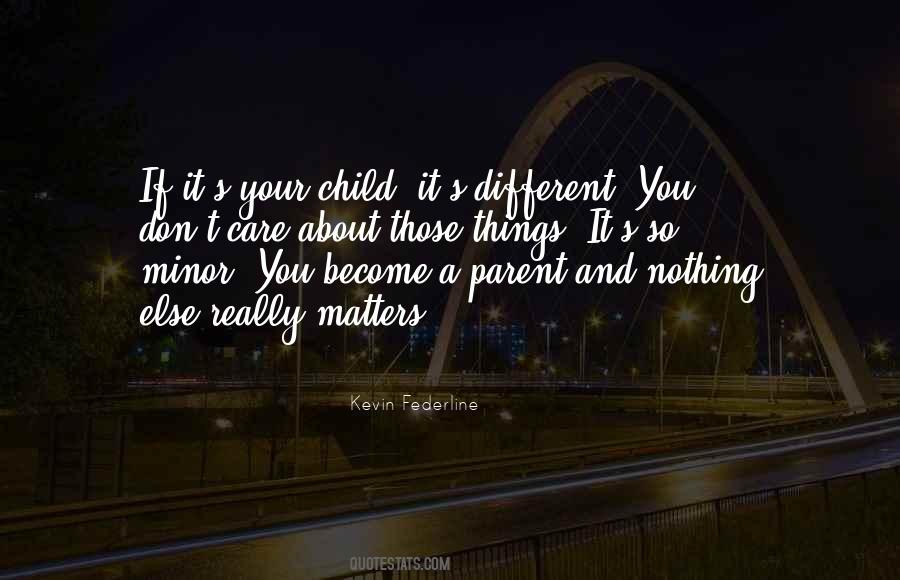 #79. Feeling the security and constancy of love from a spouse, a parent or a child is a rich blessing. Such love nurtures and sustains faith in God. Such love is a source of strength and casts out fear. Such love is the desire of every human soul. - Author: David A. Bednar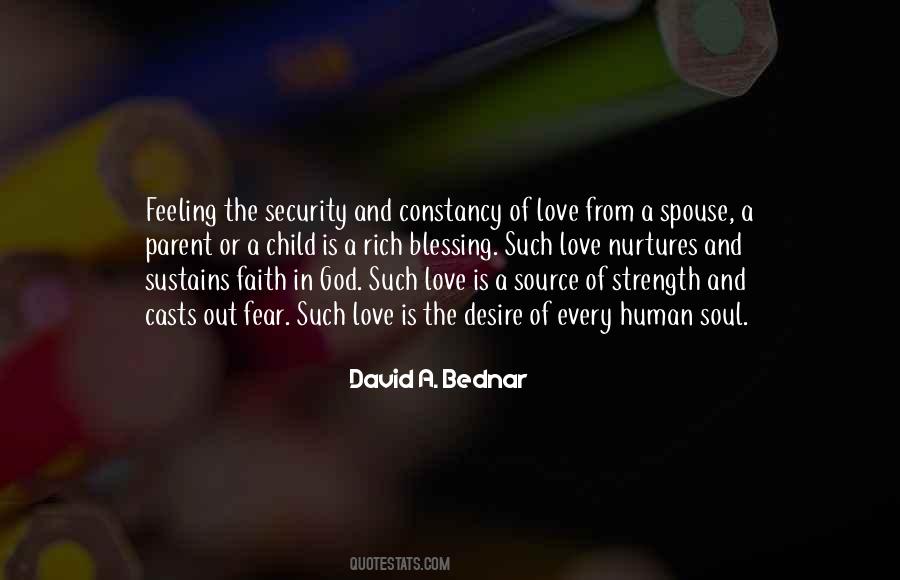 #80. Education has for its object to develop the child into a man of well proportioned and harmonious nature-this is alike the aim of parent and teacher. - Author: Herbert Spencer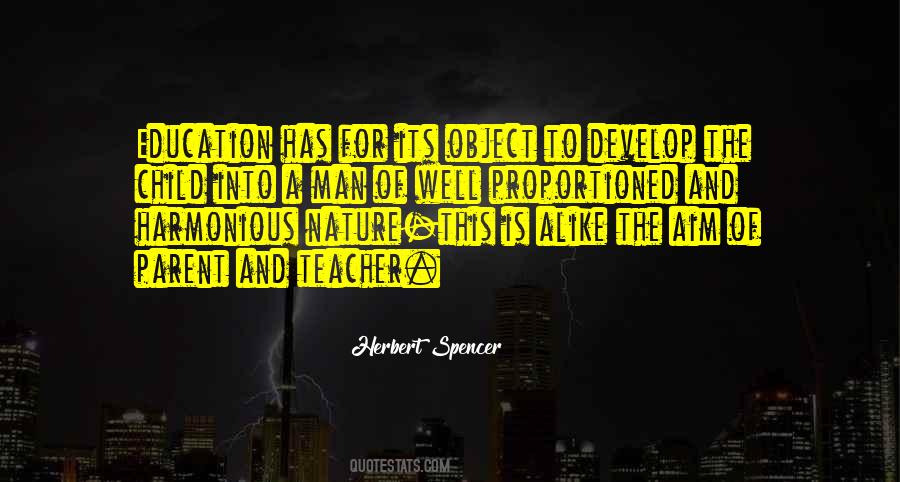 #81. It's a natural thing for a child to lose a parent. I lost my mom too young but it happened. And I'm happy she's out of pain, 'cause I love her and she's my friend. - Author: Angelina Jolie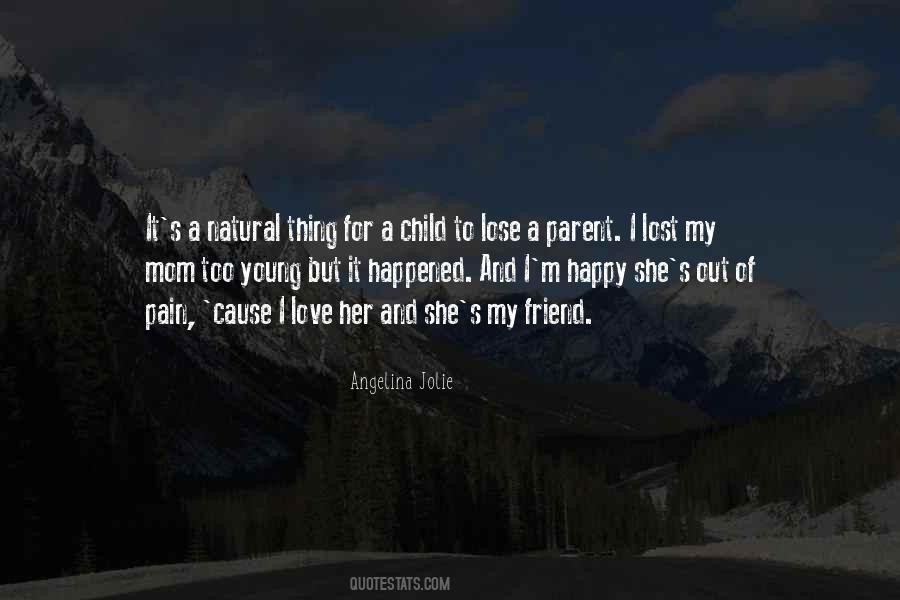 #82. Through the Adult the little person can begin to tell the difference between life as it was taught and demonstrated to him (Parent), life as he felt it or wished it or fantasied it (Child), and life as he figures it out by himself (Adult). - Author: Thomas A. Harris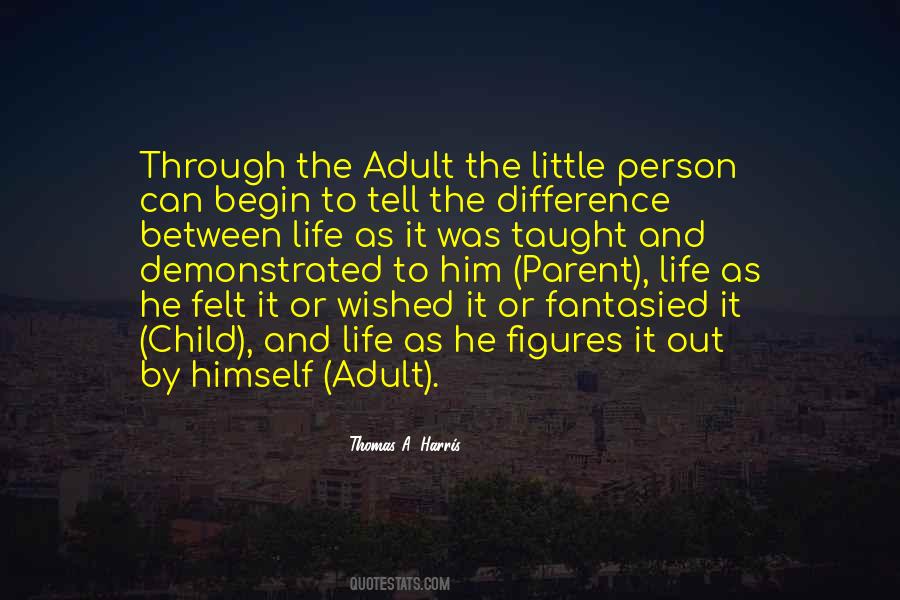 #83. How many hopes and fears, how many ardent wishes and anxious apprehensions are twisted together in the threads that connect the parent with the child! - Author: Samuel Griswold Goodrich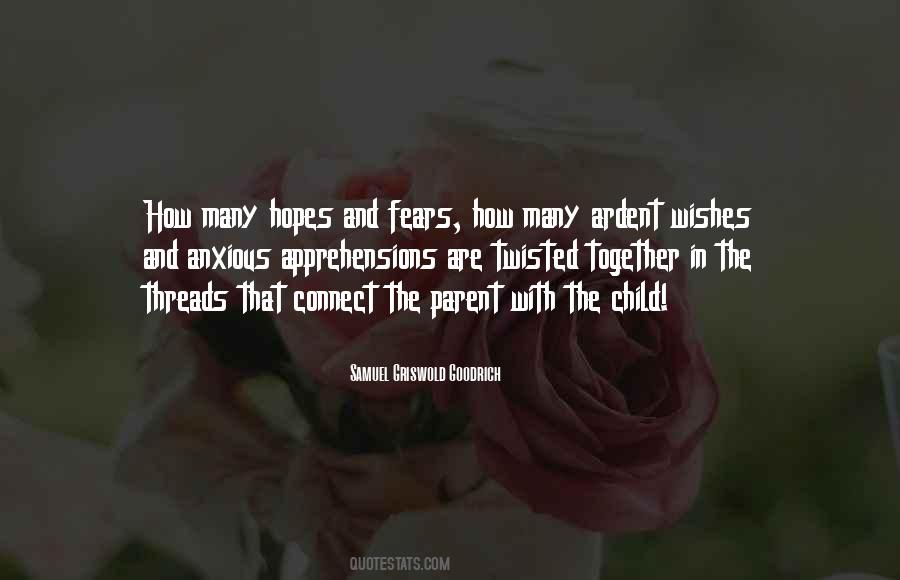 #84. To be a good enough parent one must be able to feel secure in one's parenthood, and one's relation to one's child ... The security of the parent about being a parent will eventually become the source of the child's feeling secure about himself. - Author: Bruno Bettelheim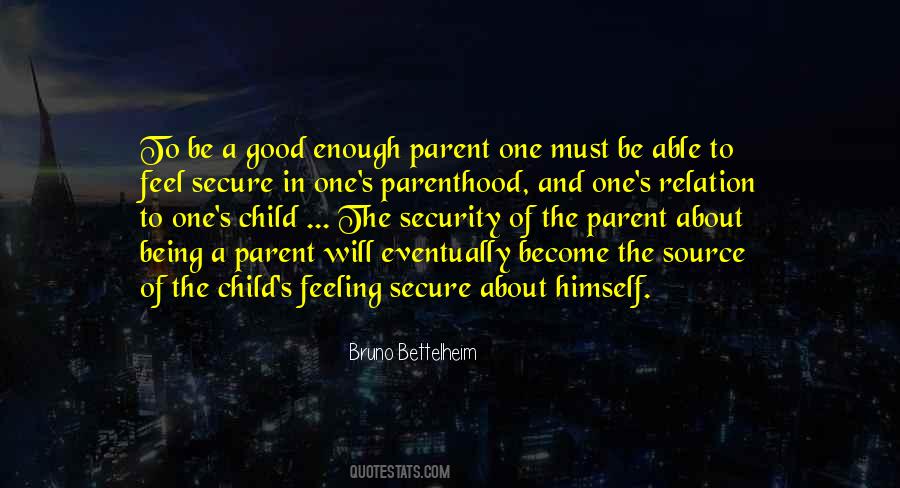 #85. Both kinds of parenting, finally, are forms of overidentification. The helicopter parent turns the child into an instrument of her will. The overindulgent parent projects his own need for limitless freedom and security. In either case, the child is made to function as an extension of somebody else. - Author: William Deresiewicz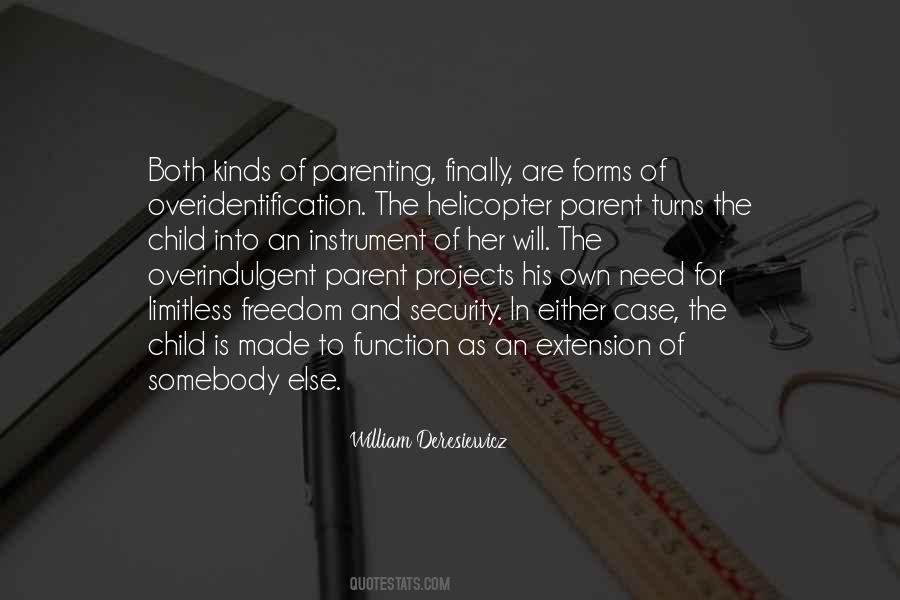 #86. There are subtle ways and overt ways of alienating a child from a parent, but either way it's evil - Author: Dennis Prager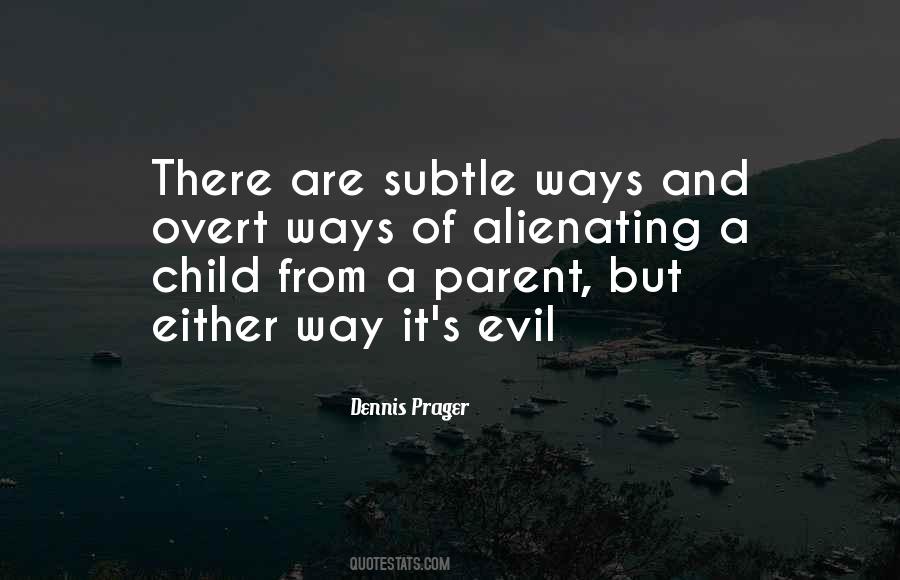 #87. It is easy to be a good parent to a good child, but what makes a good parent, is dealing and being there for a difficult child, that is a real good parent! - Author: Beta Metani'Marashi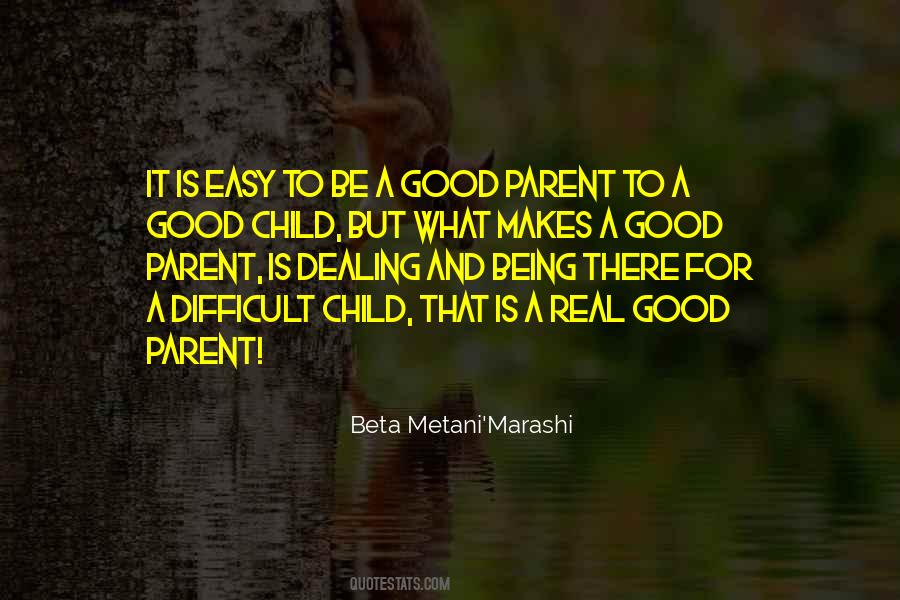 #88. I hope everyone can examine what is the most important relationship in life - the relationship between parent and child. - Author: Jet Li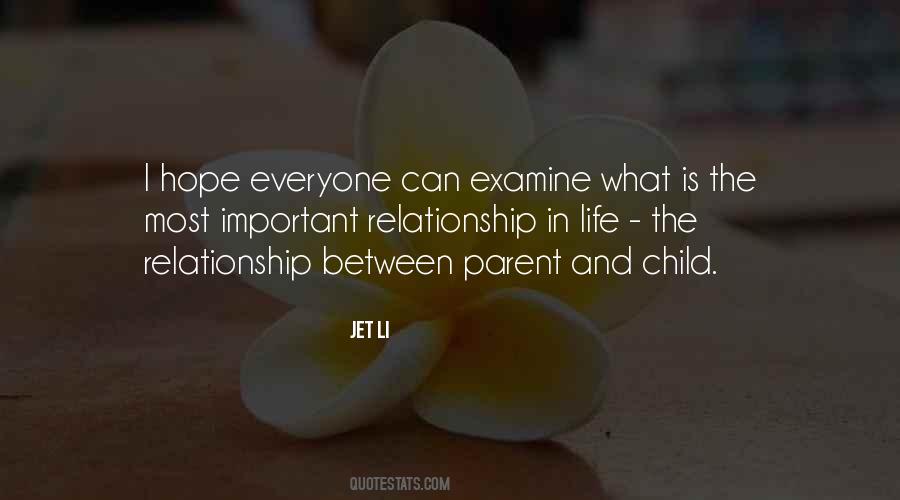 #89. The business of both parent and teacher is to enable and to help the child to educate himself, to develop his own intellectual, moral, aesthetic and practical capacities and to grow freely as an organic being, not to be kneaded and pressured into form like an inert plastic material - Author: Sri Aurobindo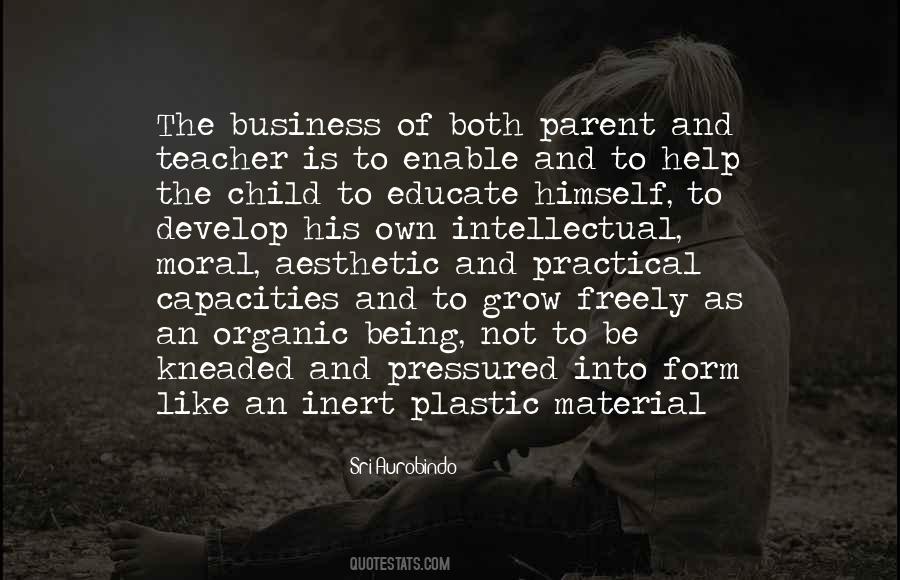 #90. Education is the best gift my parent gave me. - Author: Lailah Gifty Akita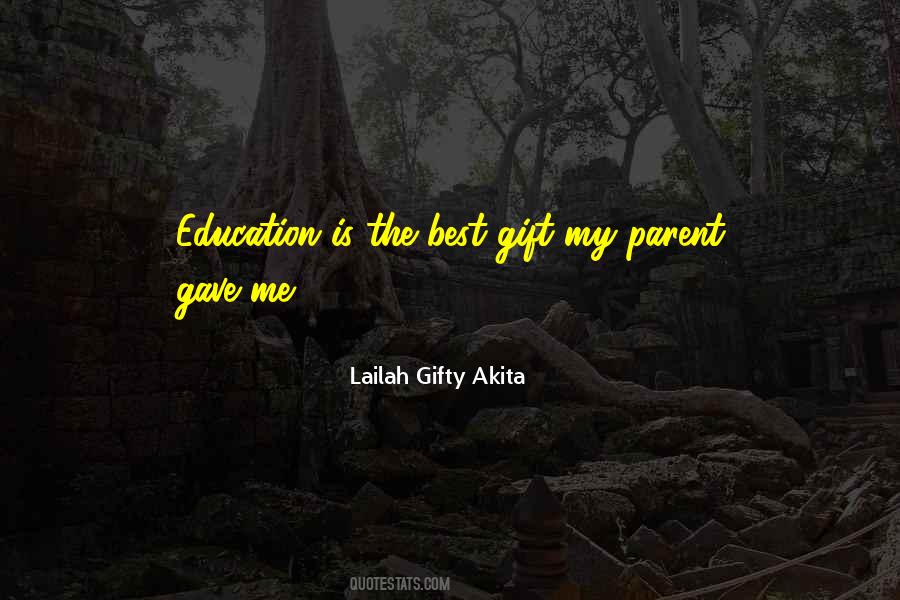 #91. It takes a tremendous amount of strength to be a single mother. To hold down the forte of a home, a life and your child's entire happiness. - Author: Nikki Rowe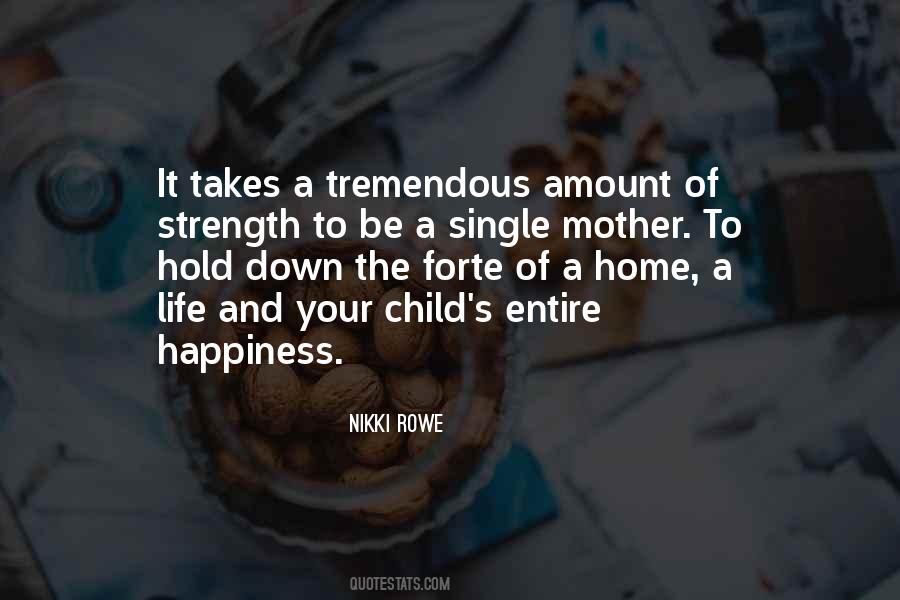 #92. Often, when there is a conflict between parent and child, at its very hub is an expectation that the child should be acting differently. Sometimes these expectations run counter what is known about children's growth. They stem from remembering oneself, but usually at a slightly older age. - Author: Ellen Galinsky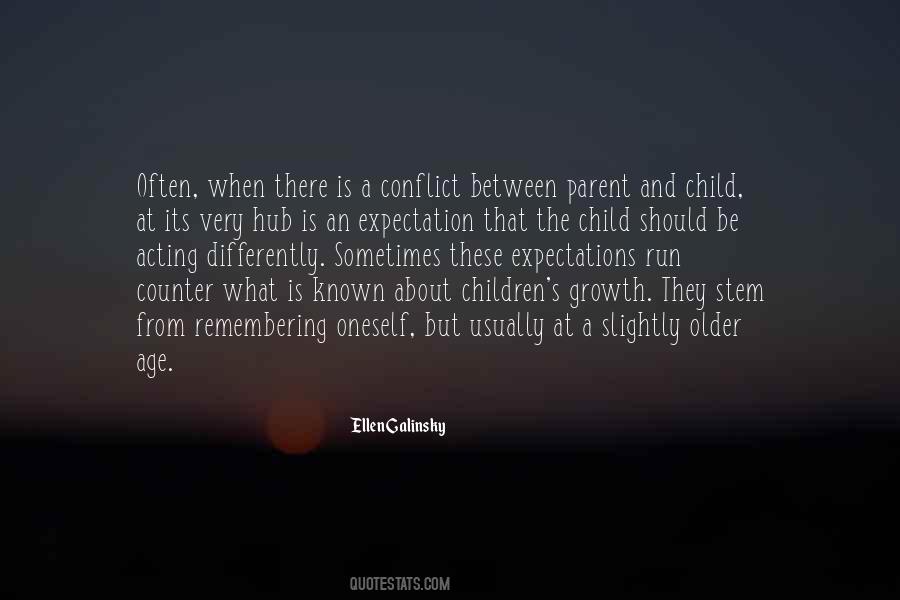 #93. Birthdays;They never cease to exist, and like birthdays you will never cease to exist in my heart - Author: Xela Ffonrims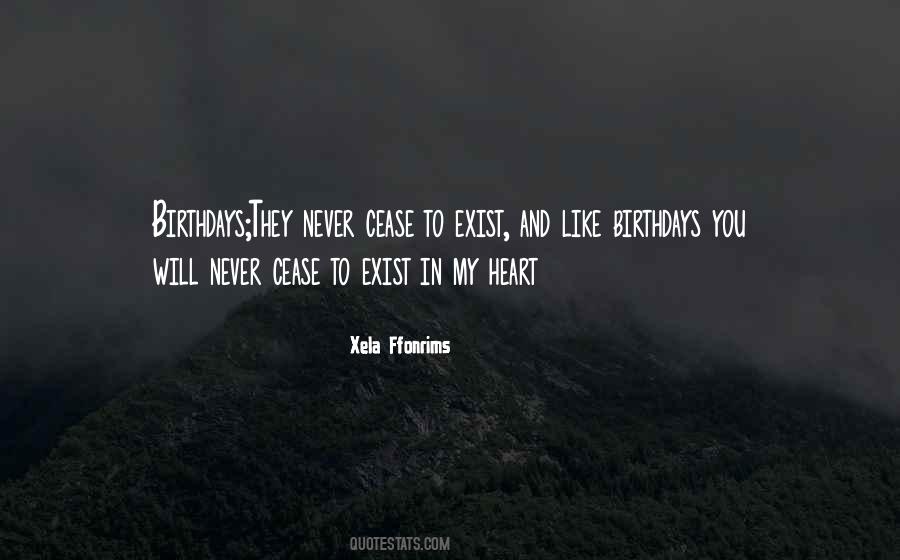 #94. And that the love of a parent for a child is the most powerful force on earth. - Author: Lucinda Riley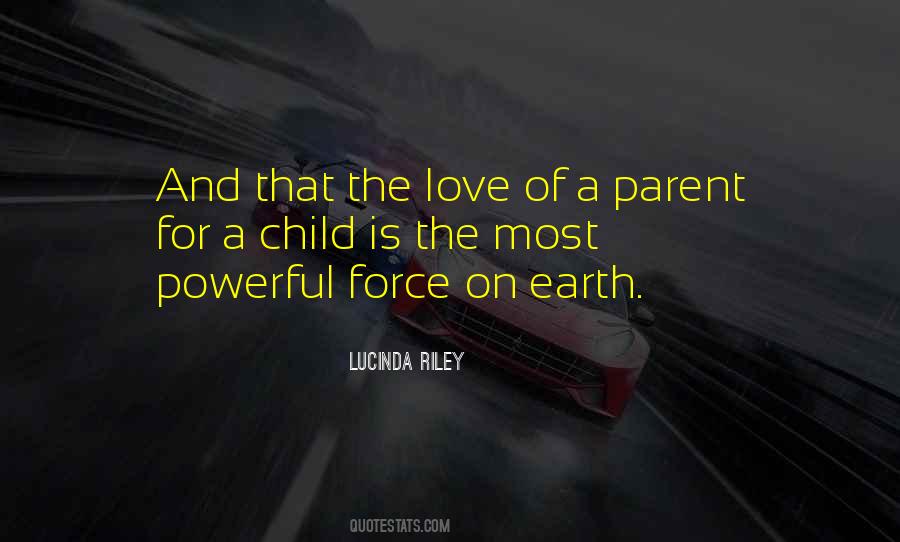 #95. There is a saying: 'The child is parent to the adult', which means whatever happens to you as a child or teenager affects the adult you become. You are forged in your history. And fiction is an incredibly important force in shaping children, and that's why fiction needs to be diverse. - Author: Malorie Blackman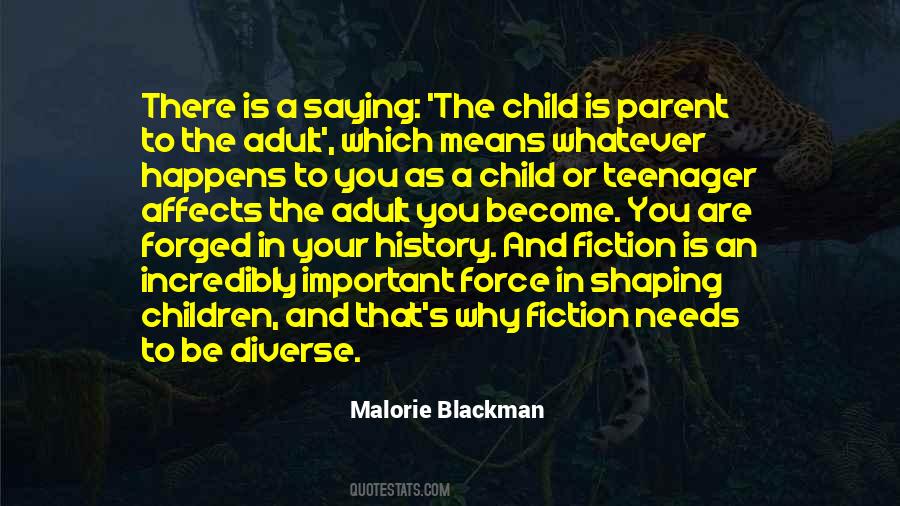 #96. Wouldn't life be easier for both parents and infants if parents would observe, relax and enjoy what their child is doing, rather than keep teaching what the child is not yet capable of? - Author: Magda Gerber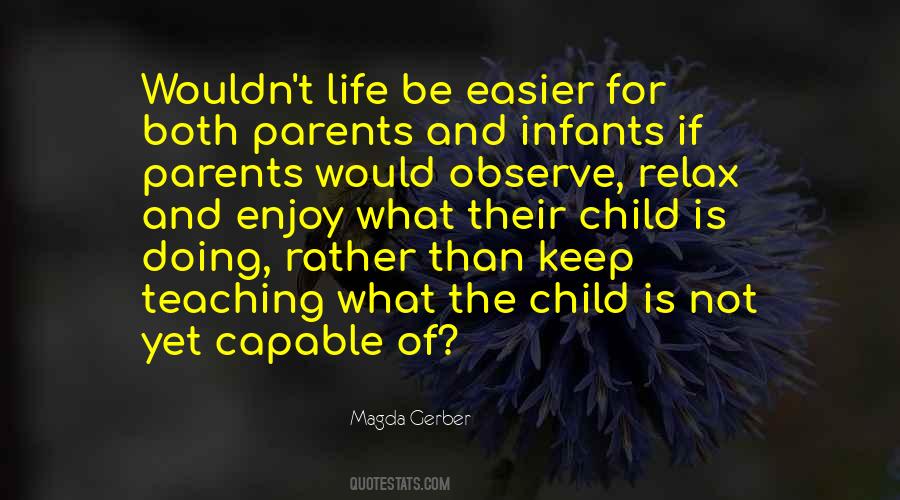 #97. The parent is the strongest statement that the child hears regarding what it means to be alive and real. More than what we say or do, the way we are expresses what we think it means to be alive. So the articulate parent is less a telling than a listening individual. - Author: Polly Berrien Berends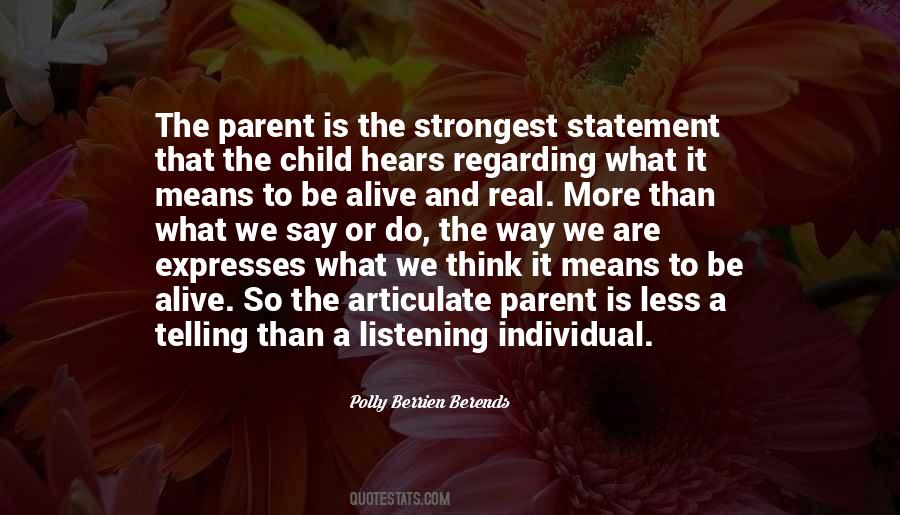 #98. Don't box your children in and tell them that everything is a sin. You'll produce either rebels, or very boring people. - Author: C. JoyBell C.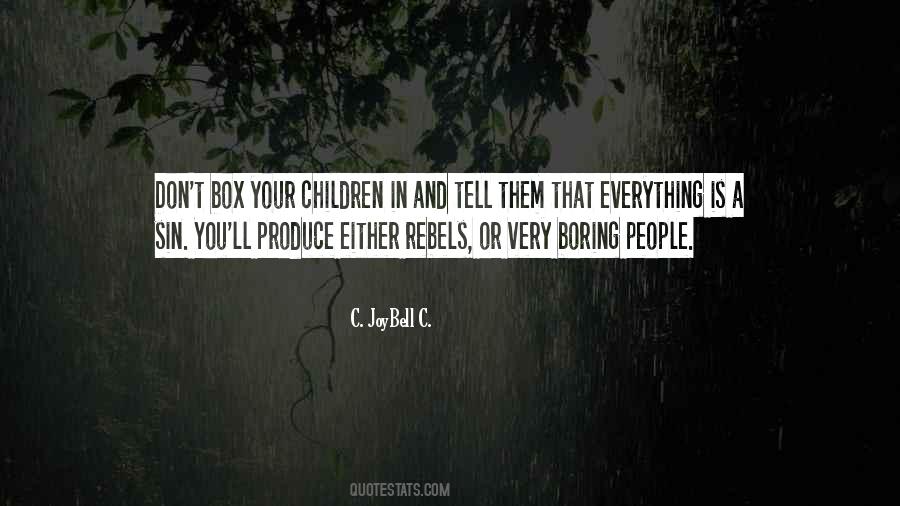 #99. My kids know you can make it if you take risks and work hard. That we can work in the system you lunkers set up. That's all a parent really needs to give his child. That, and how to love someone with all your soul. - Author: Kim Harrison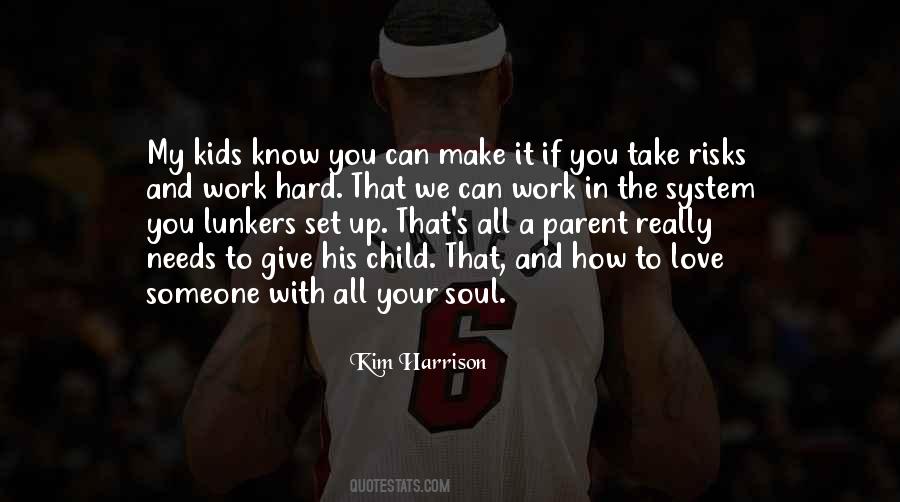 #100. Remember that every child and every parent has a completely unique and special rela- tionship. That child knows his dad and loves his dad. Our job is to watch that communication, to nurture it, and to support the parents in their heart-to-heart relationships with their children - Author: Vimala McClure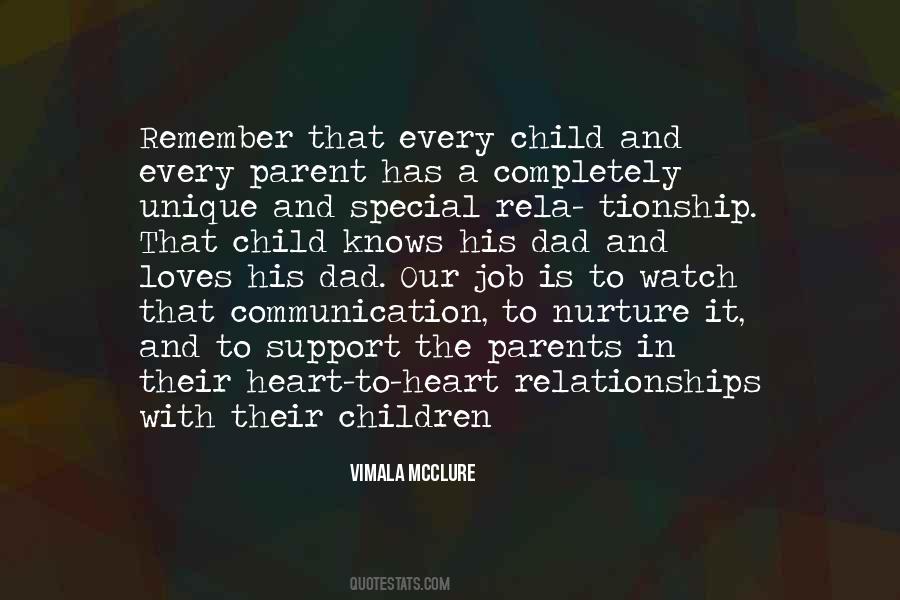 Famous Authors
Popular Topics