Best Movie Famous Quotes & Sayings
List of top 100 famous quotes and sayings about best movie to read and share with friends on your Facebook, Twitter, blogs.
Top 100 Best Movie Quotes
#1. Your good friends can write a book on you; but Your best friends can create an embarrassing full fledged 3 hours movie on you, with silliest jingles and animation made ever. - Author: Vikrmn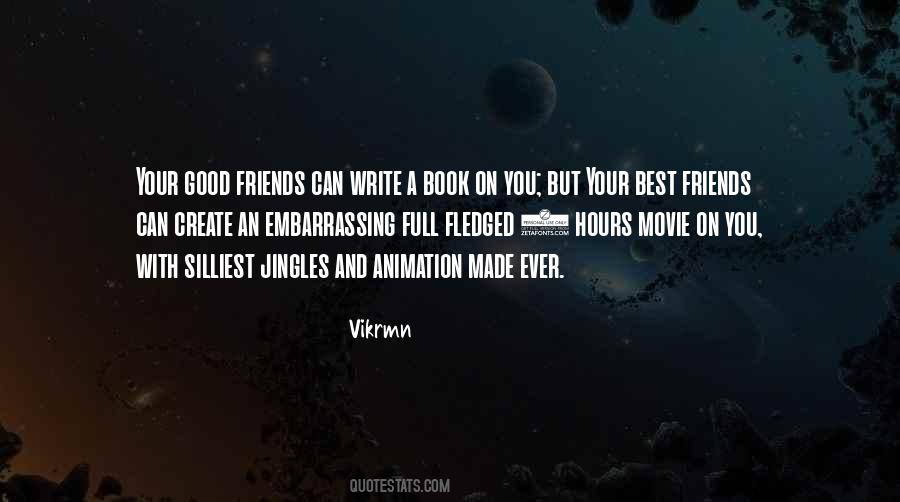 #2. Being on a Paul Thomas Anderson film, the best decision an actor can make is to listen to Paul Thomas Anderson. Because he's probably not going to steer anyone in the wrong direction. I would always say go with your gut on any other movie set, but with Paul, I would say go with Paul's gut. - Author: Rami Malek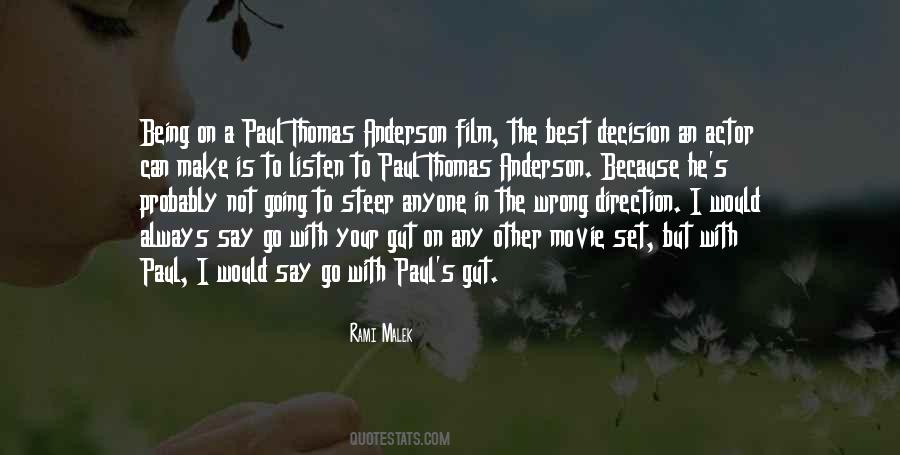 #3. For some of the large indignities of life, the best remedy is direct action. For the small indignities, the best remedy is a Charlie Chaplin movie. The hard part is knowing the difference. - Author: Carol Tavris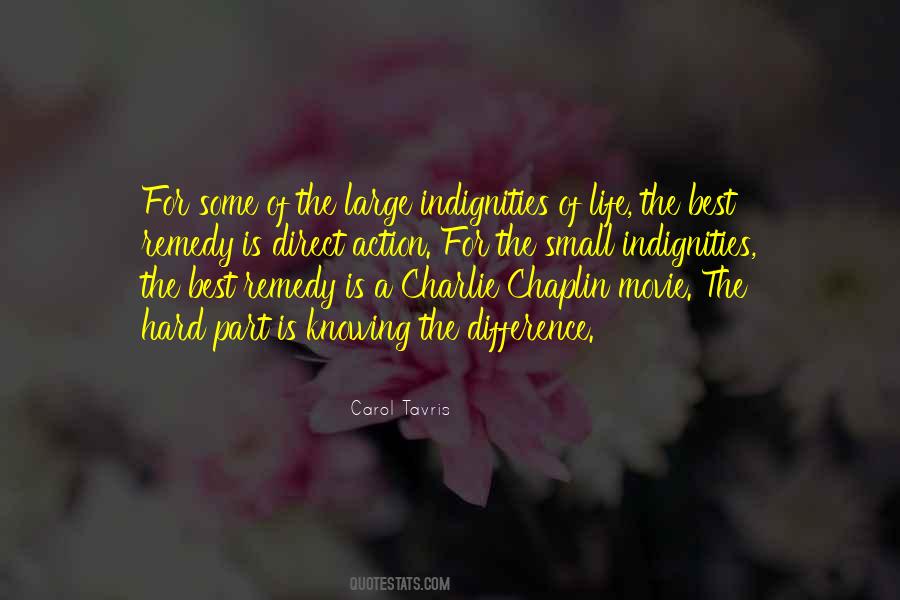 #4. The script's always important, but there are some things that have come out in the past year that, when we read them, everyone was like, "Oh my god, this is going to be the next best thing!" Then the movie falls completely flat on its face. - Author: Douglas Booth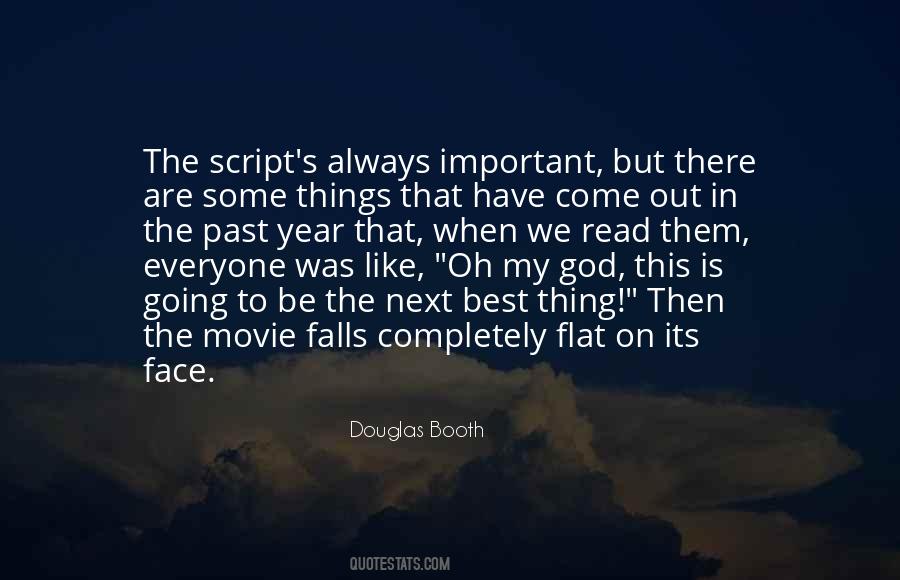 #5. For me, the best part is people who watch the movie and tell me it inspired them to collaborate with their friend who's a photographer or filmmaker. - Author: Feist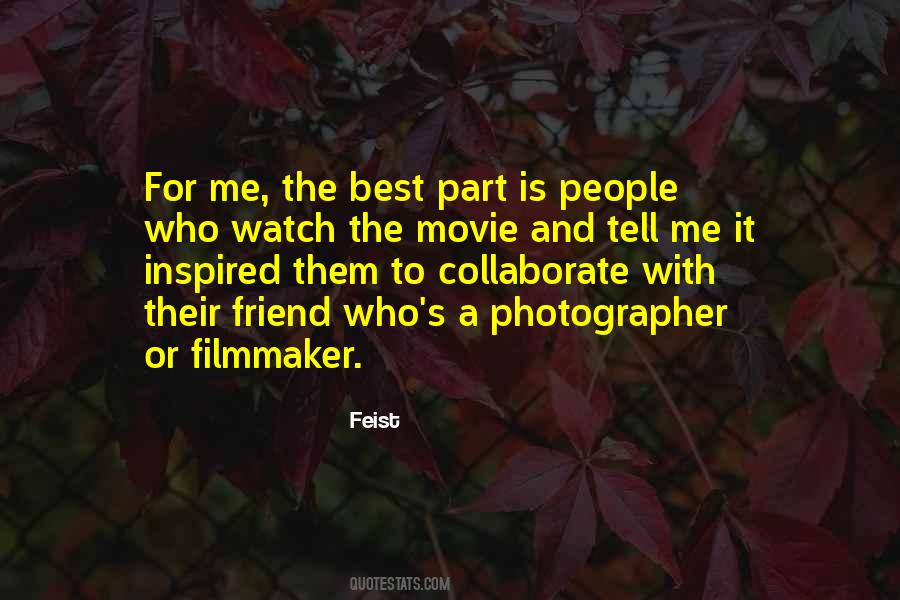 #6. I try not to think about that [getting Oscar] ahead of time. You just try to do the best work you can, and then you get the movie out there, and we've been hearing good things. But you never know, you don't want to get too high, and you don't want to get too low. - Author: Denzel Washington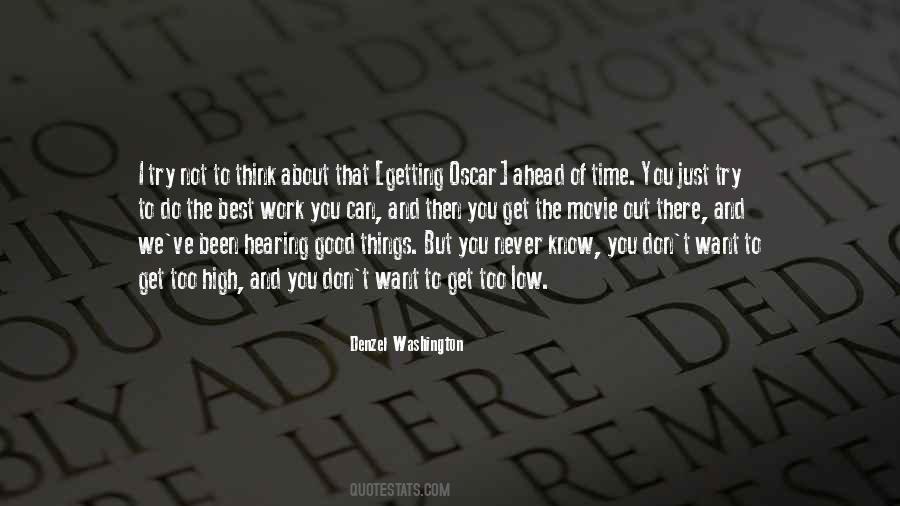 #7. I think the best movie ever made was 'Dumbo.' - Author: John Lasseter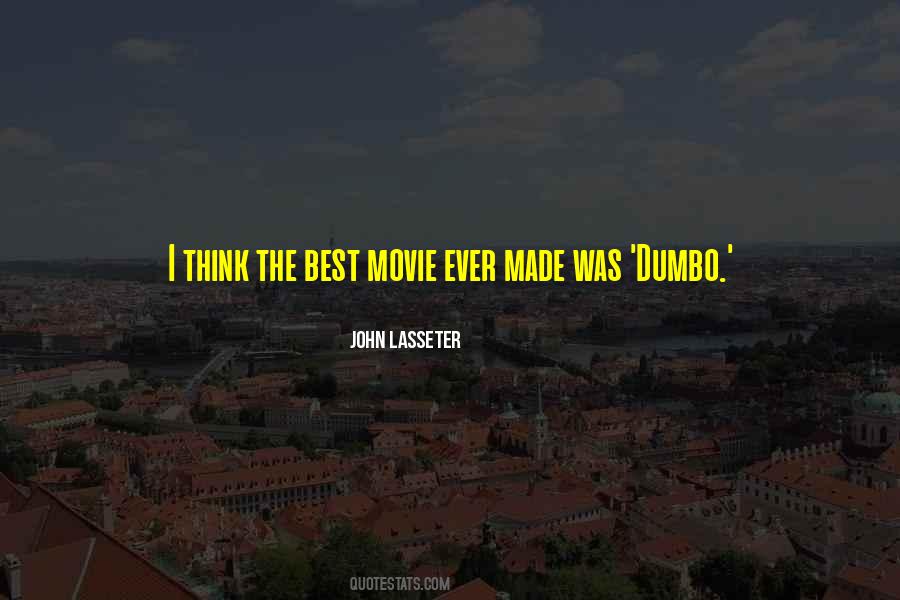 #8. Basically, when I was filming John Tucker the guy that I was seeing for two years was cheating on me. Sophia, Ashanti, and Arielle really became the same girls they are in the movie, and we became best friends. They were there for me so much. - Author: Brittany Snow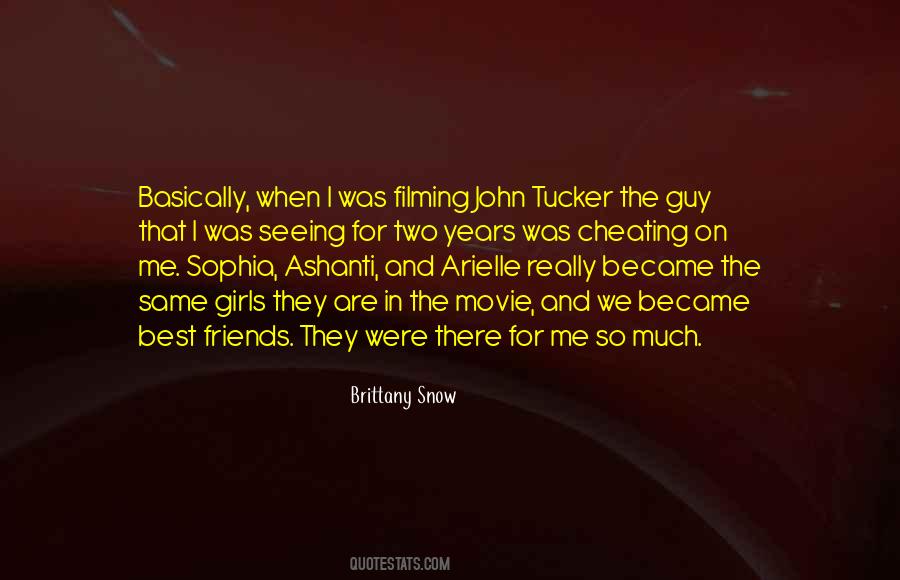 #9. If I have to pee during the movie, I'm using this cup."
"It's what you do best," Gabe said. - Author: Rainbow Rowell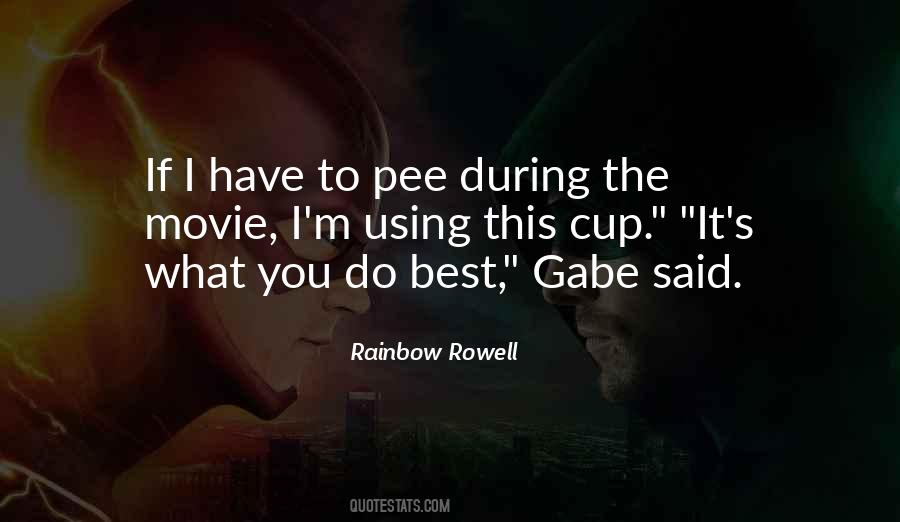 #10. 'Macbeth' is one of the best operas ever, and doing it was a great experience. I added some things to the opera based from my experience on the movie - such as some of the special effects and bits of film - to make it new and interesting. It was a very good work and a very good experience. - Author: Dario Argento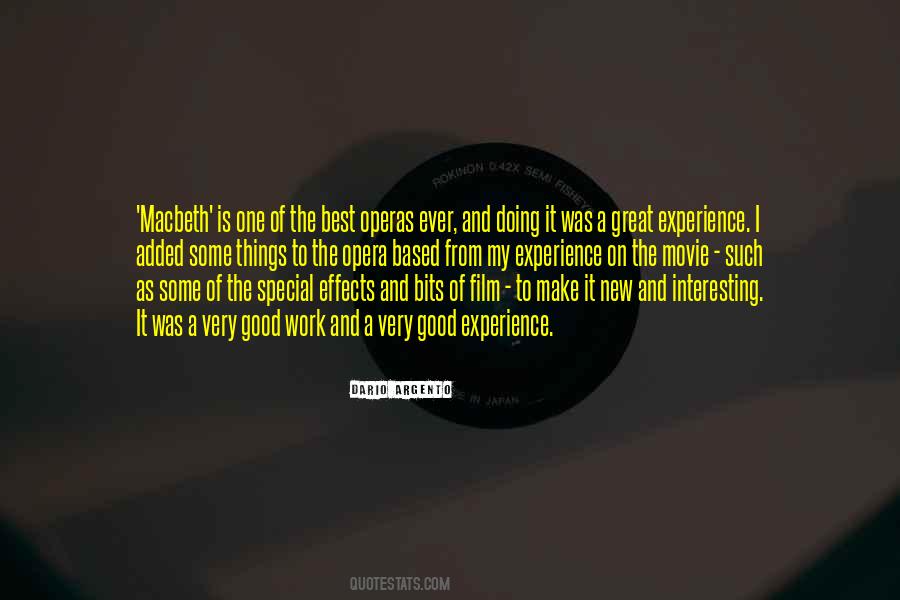 #11. If you picked up the Life of Frank movie case at Scarecrow Video, the best review on the back would just say, 'Meh. - Author: Lish McBride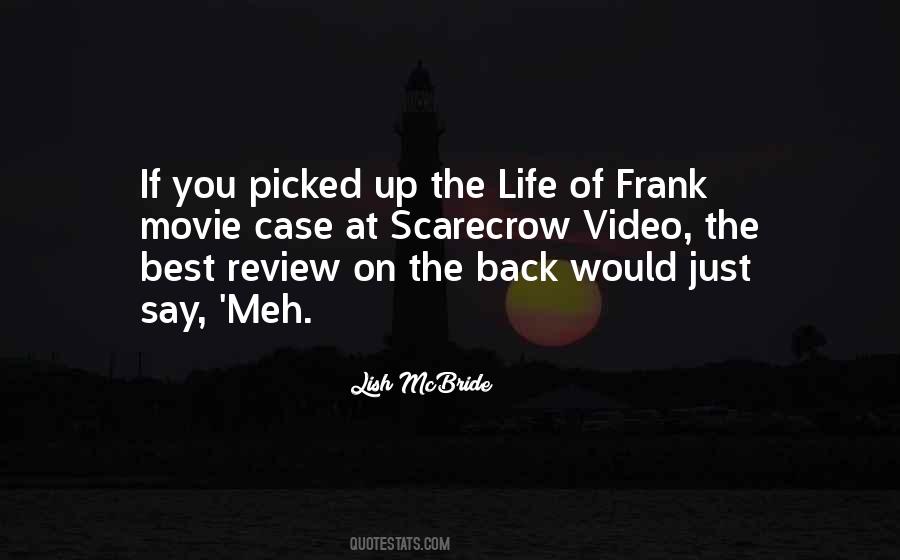 #12. If one of your best friends is making a Star Wars movie, you're not gonna not abuse that privilege. I defy anybody to say otherwise! - Author: Simon Pegg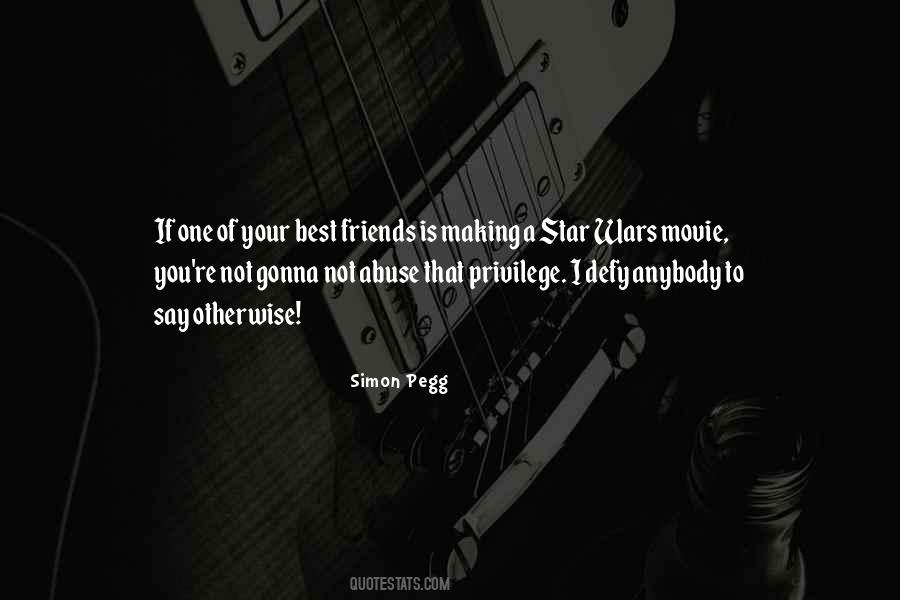 #13. Television is like the movie business. It's not the least-objectionable program - it's the best program that gets positioned. Same in the movie business. It's not just everything automatically gets done by the "in" crowd. - Author: Henry Blodget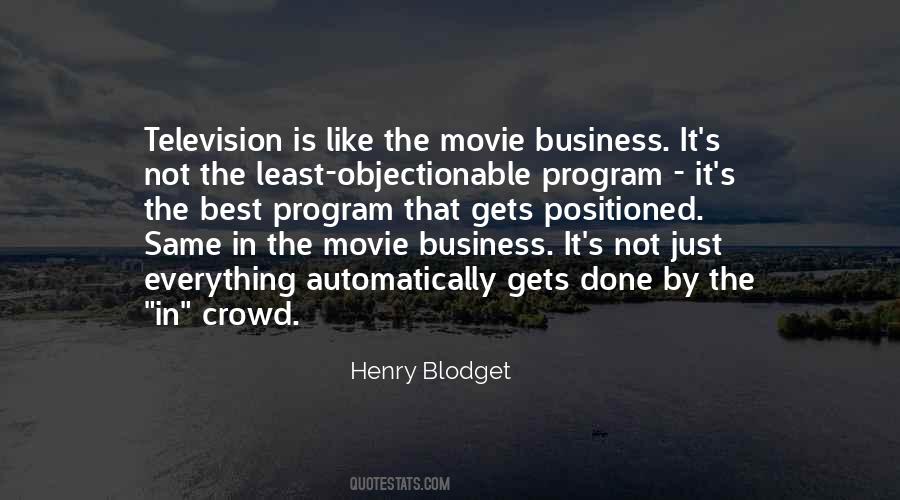 #14. memories are like your favorite movie you remember the best parts and the worst parts. - Author: Jim Long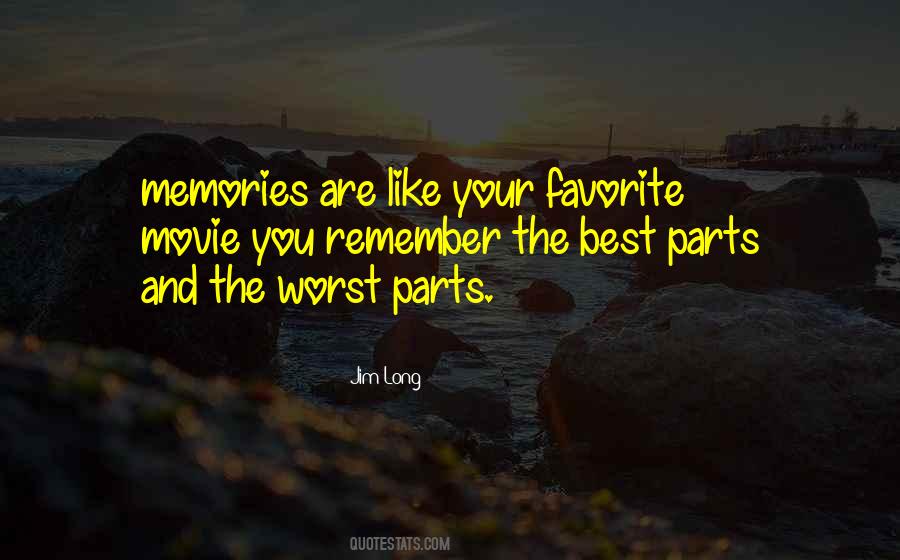 #15. Perhaps it sounds ridiculous, but the best thing that young filmmakers should do is to get hold of a camera and some film and make a movie of any kind at all. - Author: Stanley Kubrick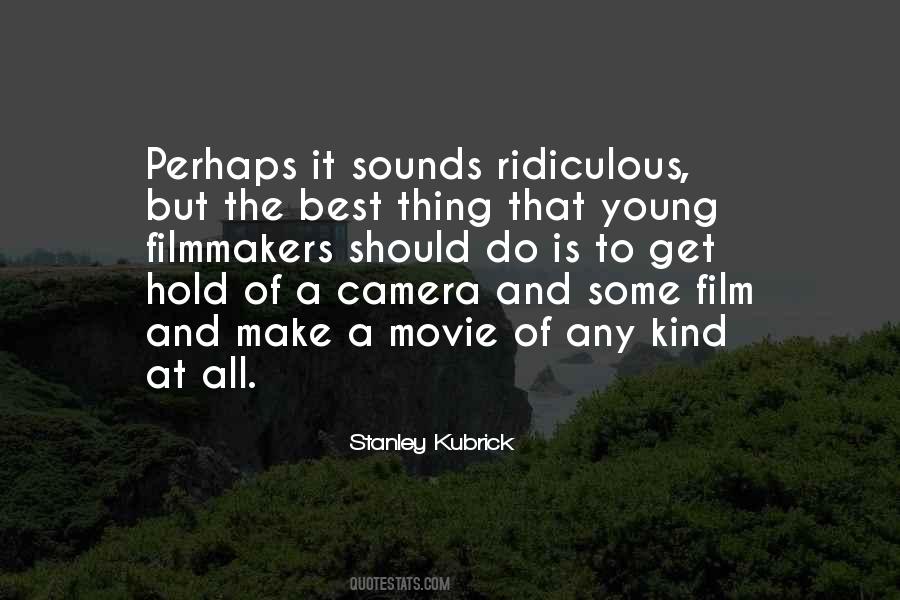 #16. There's always something going on on movie sets. Even just from, you know, maybe you come in tired some days and you're not in your best mood. It's different when you're shooting movies because you're on a schedule and you gotta come with your A-game every day. - Author: Ja Rule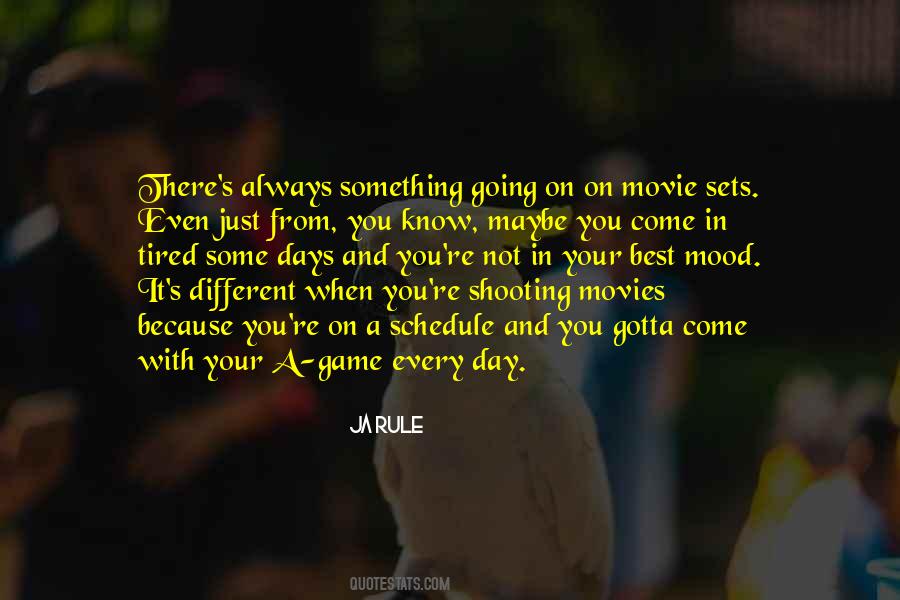 #17. The thing is, making movies as an actress, you learn so many things. Like when you're making a movie with Quentin Tarantino you're just at the best cinema school ever. - Author: Melanie Laurent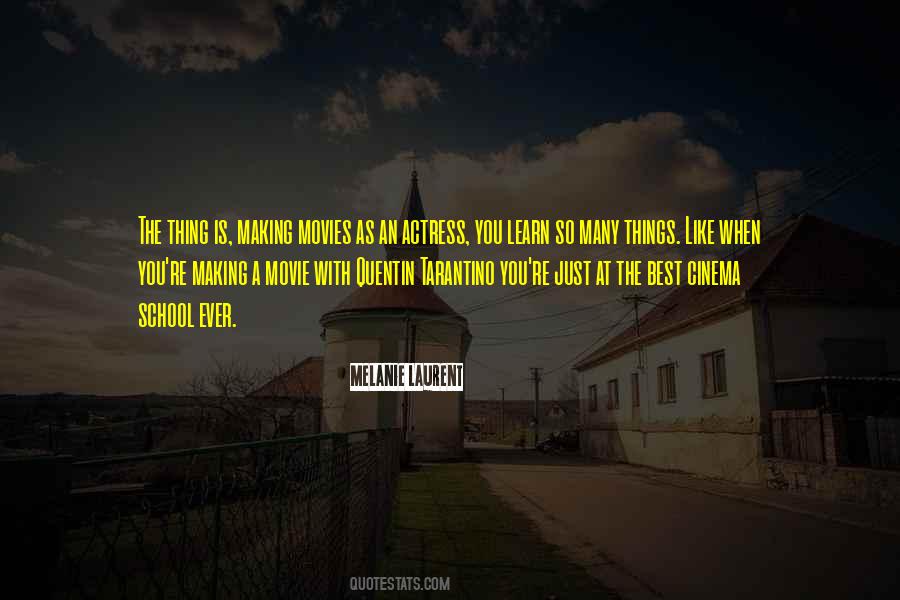 #18. In every movie and every TV show, the dads are morons. And dads tend to react by doing what dads do best: They check out. They say, 'Ask your mother.' - Author: Steve Schirripa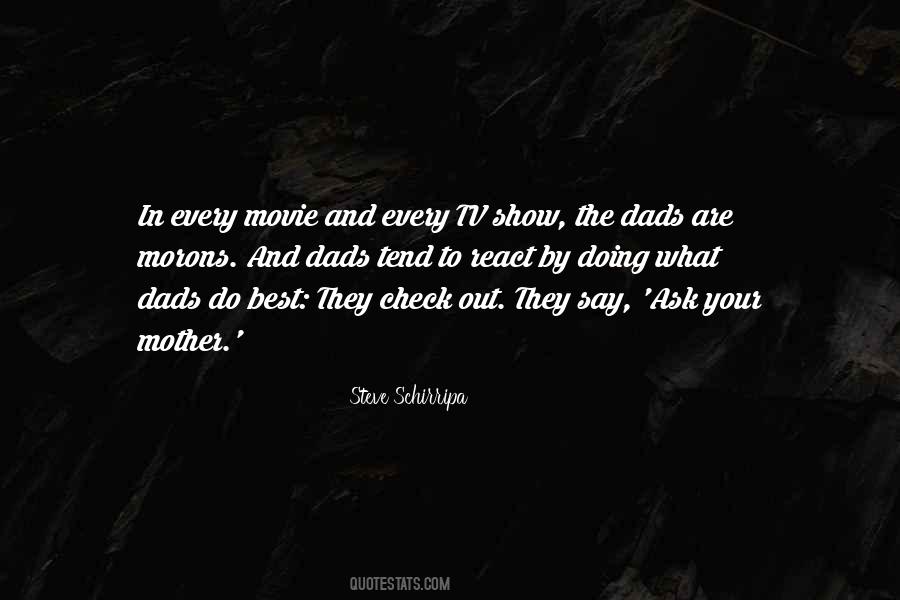 #19. I want to be the best actor that I can be; I want to be working in this business absolutely, and if that means being a movie star, then OK, that's fine. But to me, movie star, celebrity, all that stuff means something very different than being an actor. - Author: Bryce Dallas Howard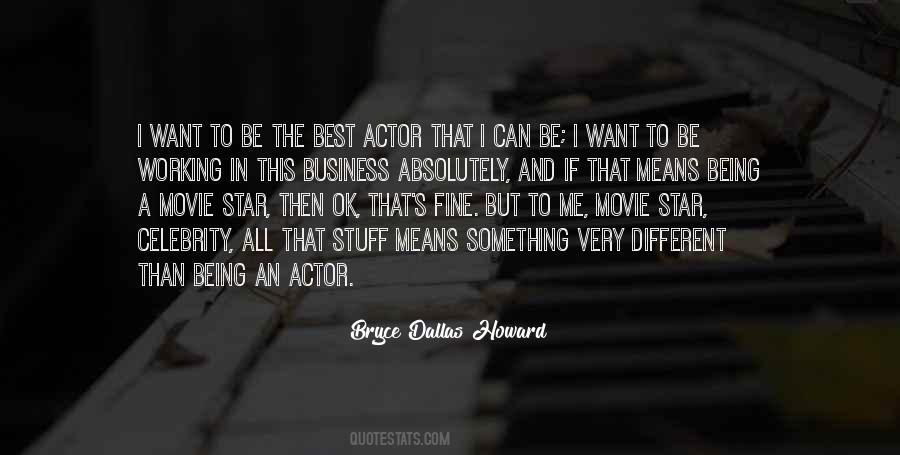 #20. If you look at 'The Best Man,' there's a lot of humor in that, but I never consider that movie a comedy. I felt that it was a drama with comedic elements and comedic parts to it. - Author: Malcolm D. Lee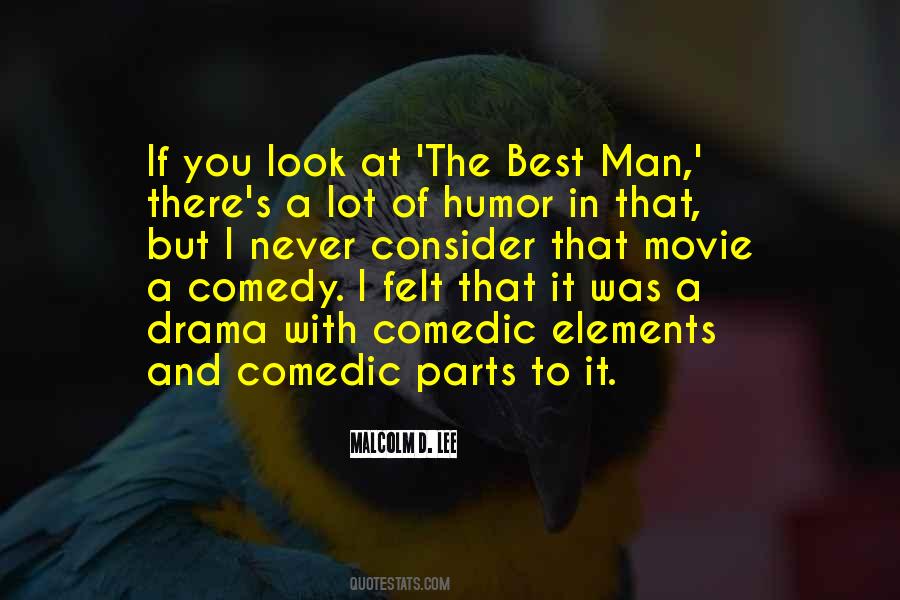 #21. 'Y Tu Mama Tambien' is one of the first unrated movies to be nominated for an Academy Award for Best Original Screenplay. But many video stores won't take a movie that's not rated, so I had to make the movie an R. - Author: Alfonso Cuaron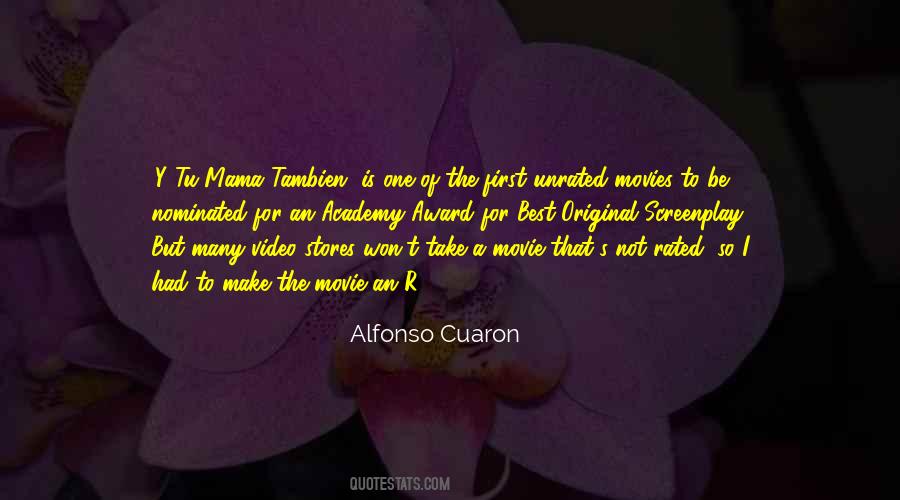 #22. I say I'm the best actor in America who's never done a movie. - Author: Ed O'Neill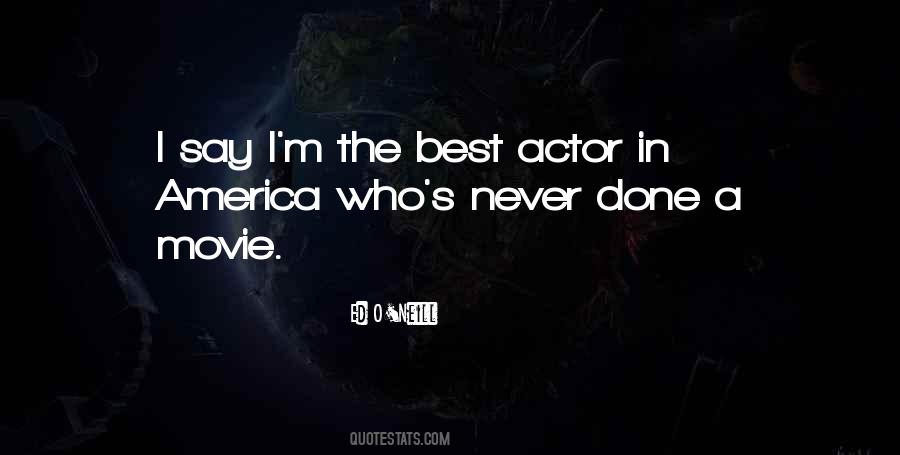 #23. A movie studio is the best toy a boy ever had. - Author: Orson Welles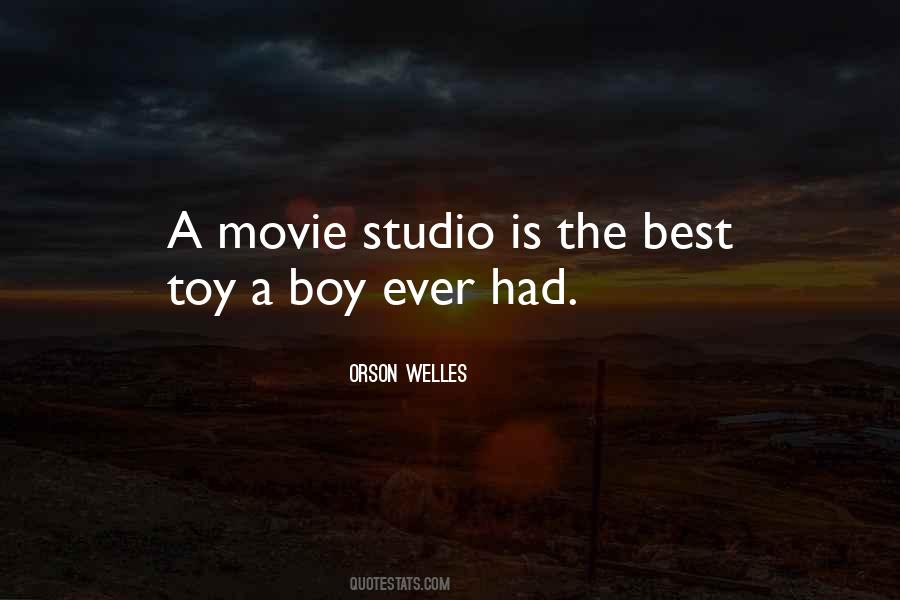 #24. Woody Allen has done some excellent serious movies, too, like Crimes And Misdemeanors. Very overlooked movie, I think, and really his best. And currently I like Big Fish! - Author: David Zucker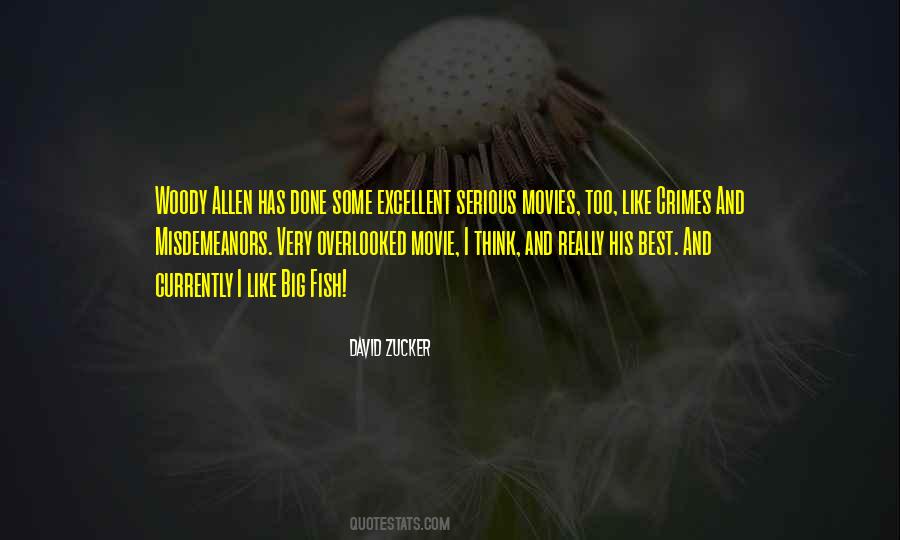 #25. Movies get found in the editing room. The movie that you make is not always necessarily the movie that comes out of the editing room. The trick is to perfect the movie that you have and make it the best version of what you've shot, regardless of what the intent may have been. - Author: Joe Dante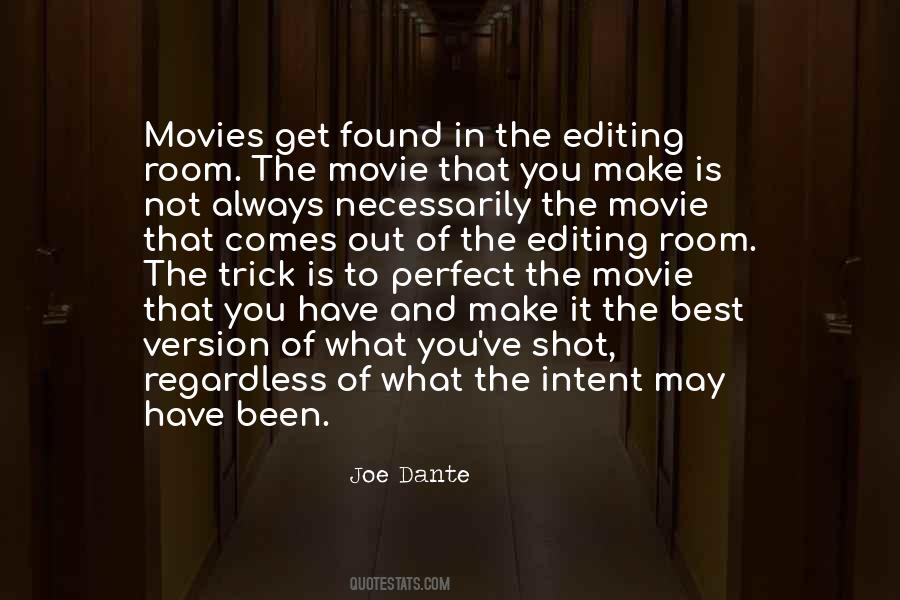 #26. I also love Australian movies. I love Muriel's Wedding - I've seen in six times. Baz Luhrmann's best movie is strictly ballroom ... without question. - Author: Ridley Scott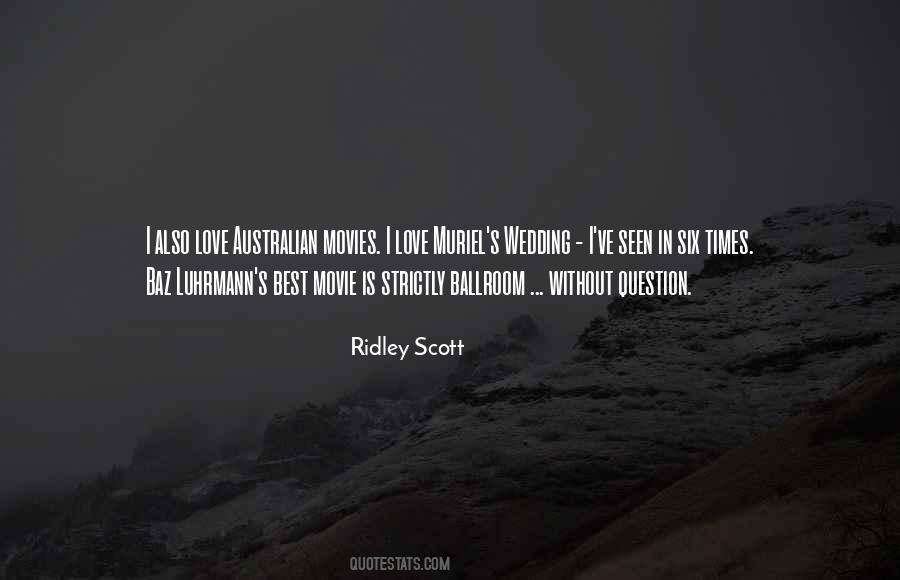 #27. 'Birdman' is basically 'All About Eve' - the 1950 comedy about rehearsal rivalries in a Broadway show, and another Best Picture laureate - reimagined as a Batman suicide mission. The movie couldn't be actor-ier. - Author: Richard Corliss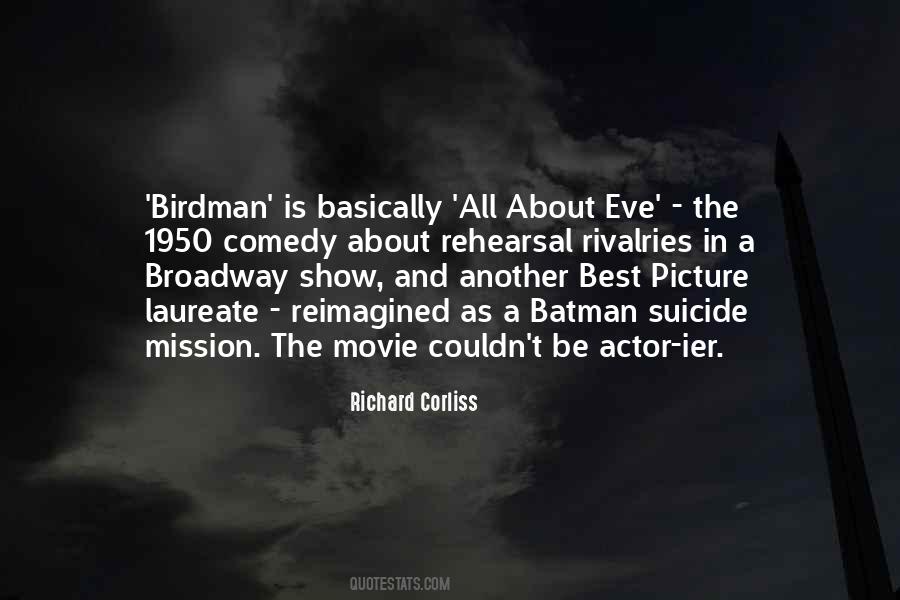 #28. I love Chicago, but in a lot of ways it's a disappointment. You can work there for years and years, and because you're in Chicago, you don't get the recognition. It has some of the best theater in the country, but when they shoot a movie there, they bring in all their actors. - Author: John Malkovich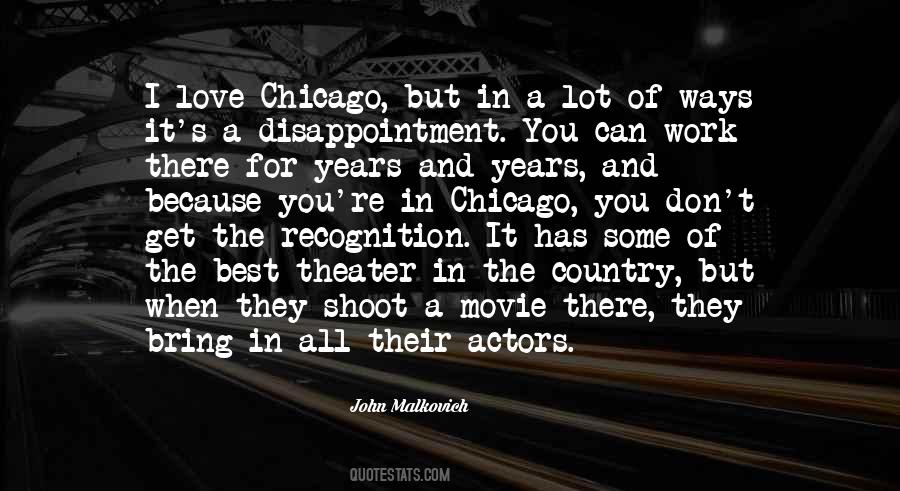 #29. Every movie has its uniqueness. You just do your best and go with it. - Author: Brenton Thwaites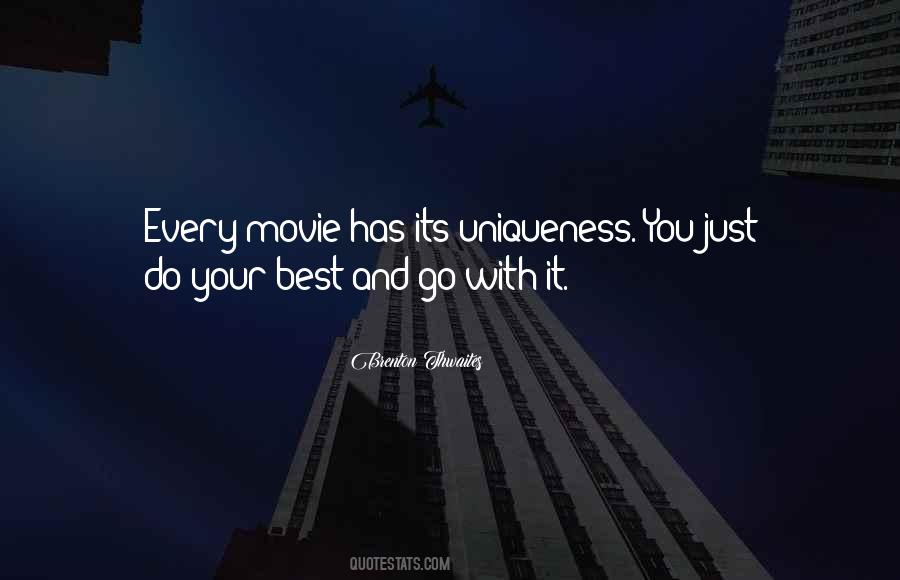 #30. I always say to myself that if I can make a movie that makes a kid smile or gives them some hope or something to get excited about, then I'm applying myself in the best way that I can. I don't think that just goes for kids. I think that it goes for adults, as well, and for families. - Author: Nicolas Cage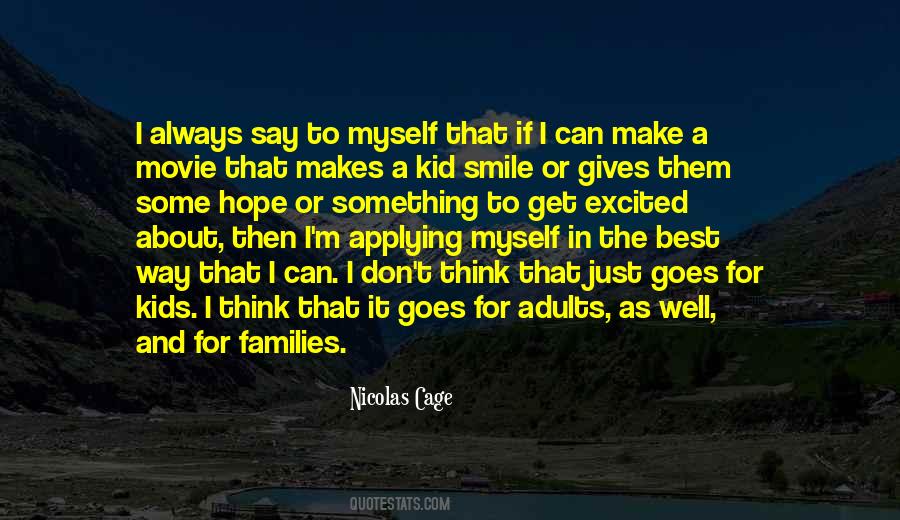 #31. I've cut myself out ... I've cut scenes out that I was in and that's when you realize that you've got to make the best movie you can. - Author: Jon Favreau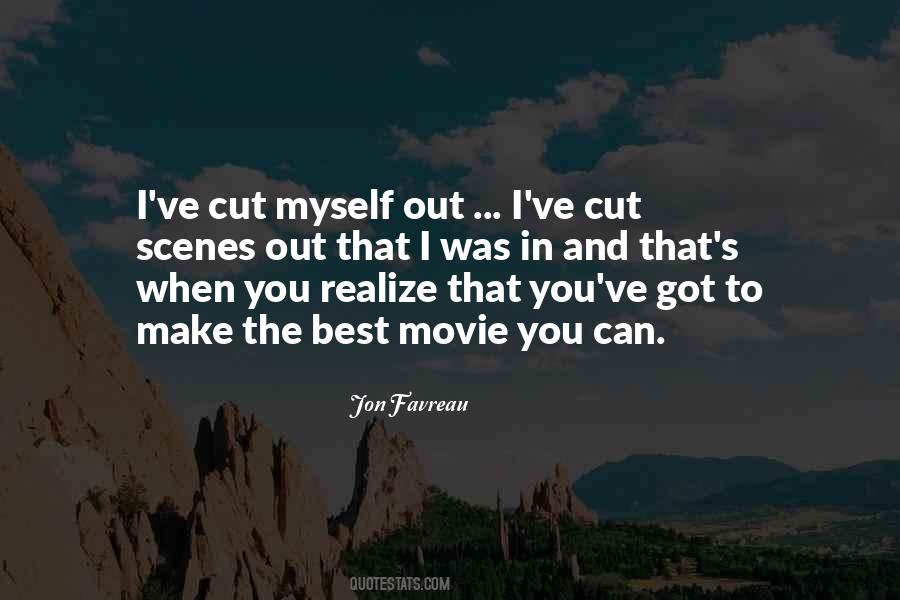 #32. I produce the way I would love to be produced: In ways to create the best conditions to make your movie, but also to create a space in which the director calls the shots. - Author: Alfonso Cuaron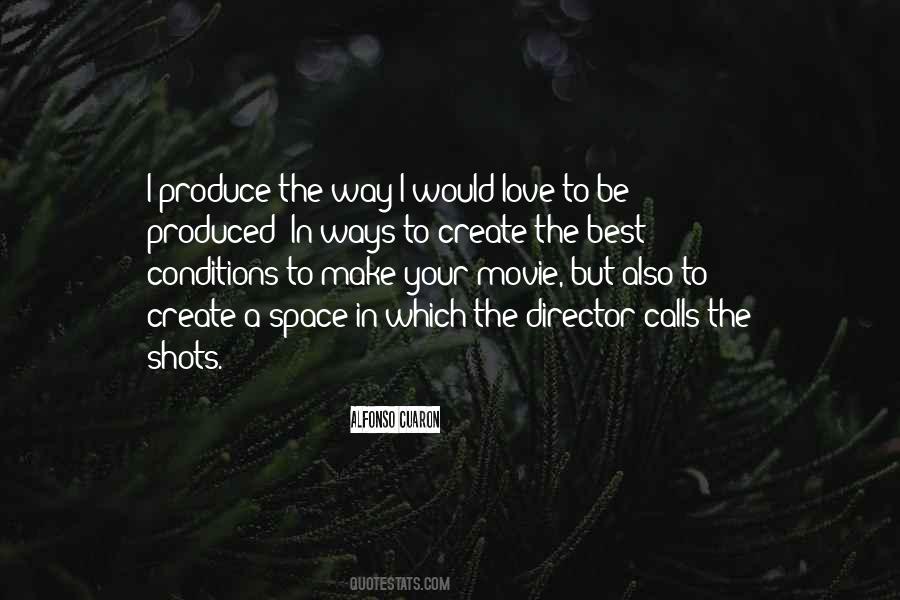 #33. I'm just following my own art, and I just think that the only thing I can do to be a great artist is do the best job I can in whatever movie I do. - Author: Justin Chon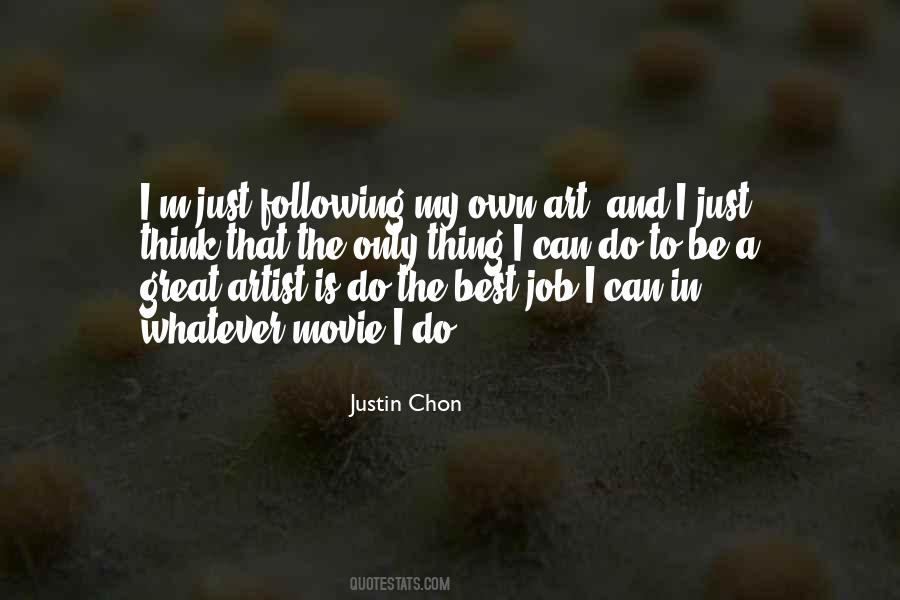 #34. 'Close Encounters of the Third Kind' is the best movie for a guy like me. A cerebral adventure. A moving story. A bunch of little green men. - Author: Tom DeLonge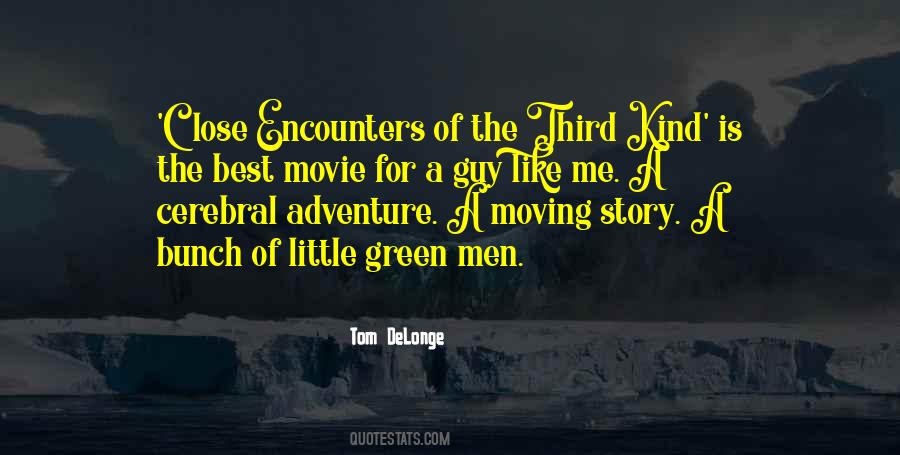 #35. But I would say maybe just from an actress's perspective, probably 'Woman Under the Influence' is the best movie of all time. The style of filmmaking and the performances ... you don't feel like you're watching a film. - Author: Olivia Thirlby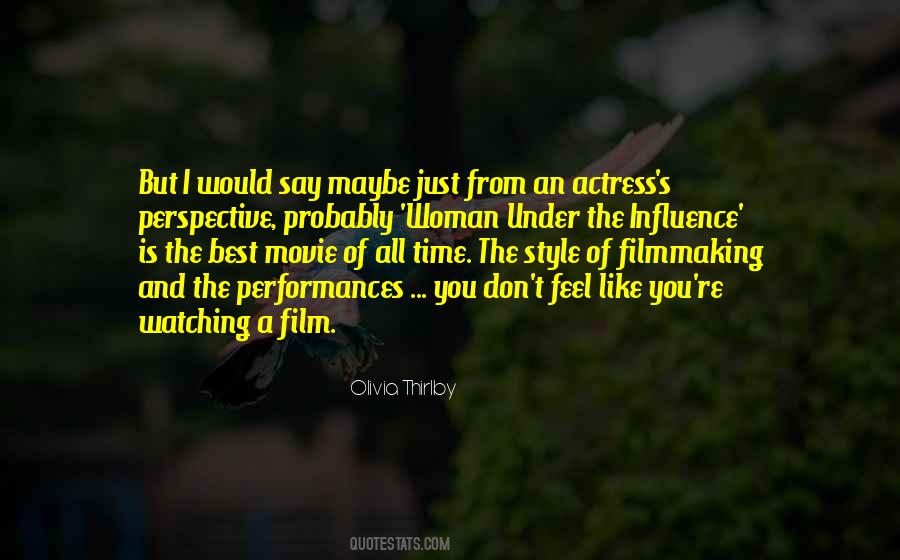 #36. "You're a sex icon." Why? Because I played a vampire in a movie? It's all very unearned. If I had the best freaking abs in the world or if I looked like Brad Pitt does in Fight Club, then cool, but I'm not starving myself. - Author: Kellan Lutz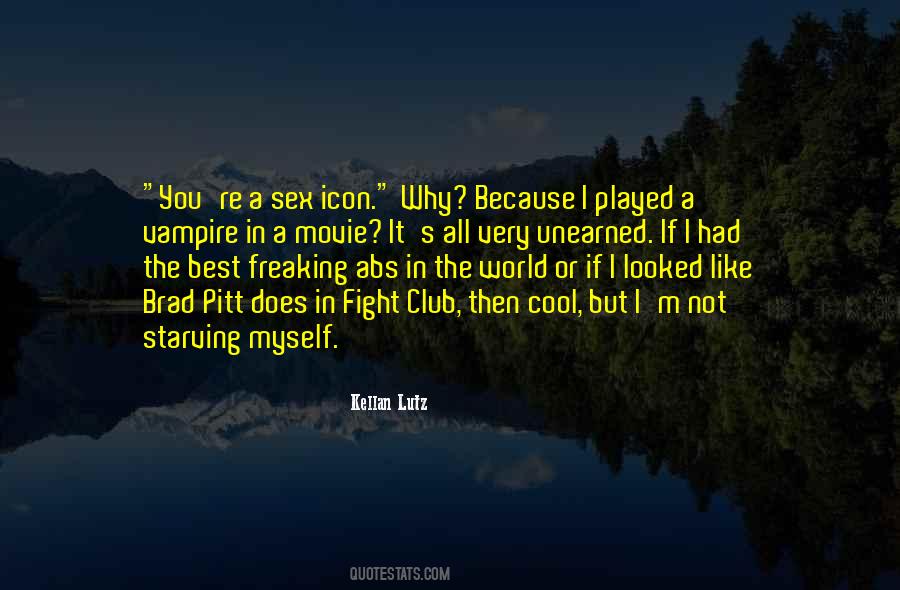 #37. I do know that the best way to make a mediocre movie is to just transcribe the book. - Author: Andy Weir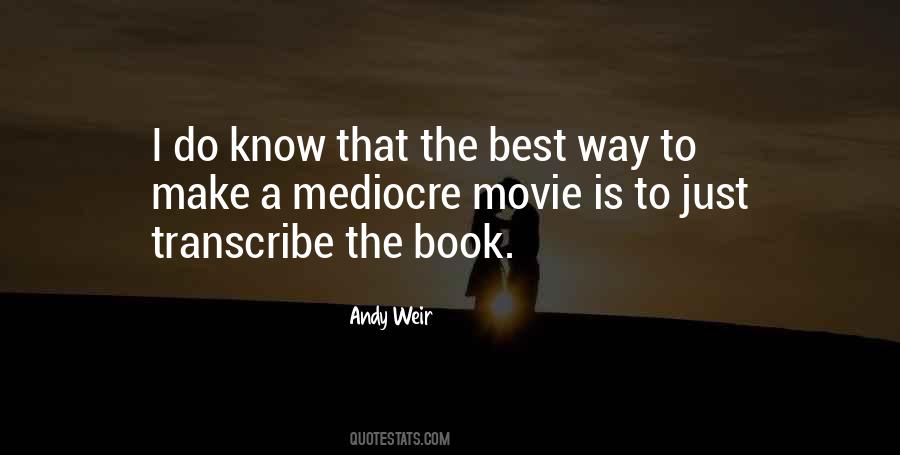 #38. It's the best part of the whole movie. John Malkovich with a pink pig is - you can't get better than that. Then John Malkovich alone and then you add a pink pig. - Author: Mary-Louise Parker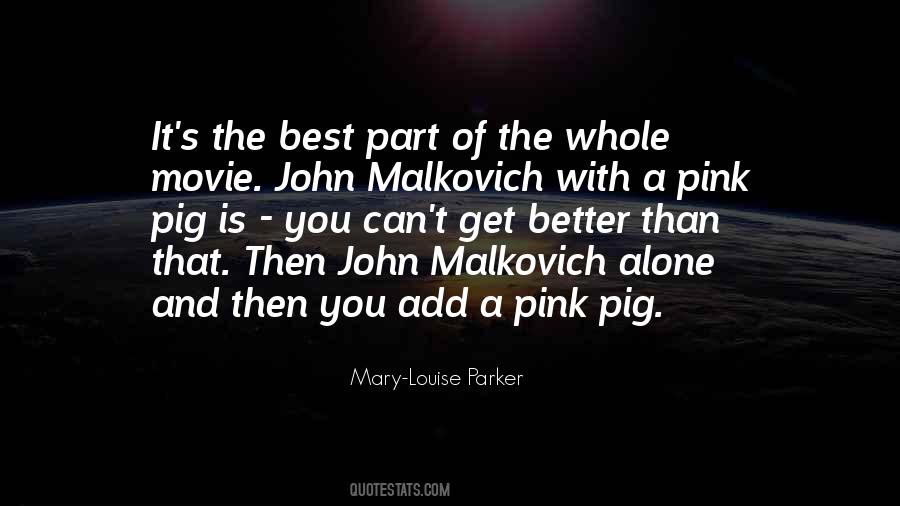 #39. Bette Davis taught Hollywood to follow an actress instead of the actress following the camera, and she's probably the best movie actress there's ever been. - Author: Elaine Stritch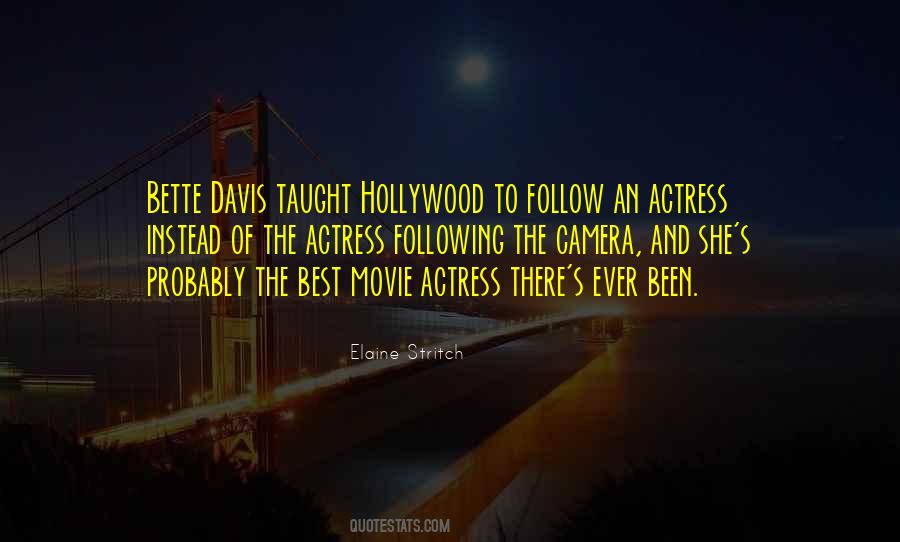 #40. I spent my childhood watching every scary movie that Hollywood ever made. And I think that gave me the best education for storytelling. It also made me want to reproduce the scary moments that I felt, sitting in a theater at the age of 5. - Author: Tess Gerritsen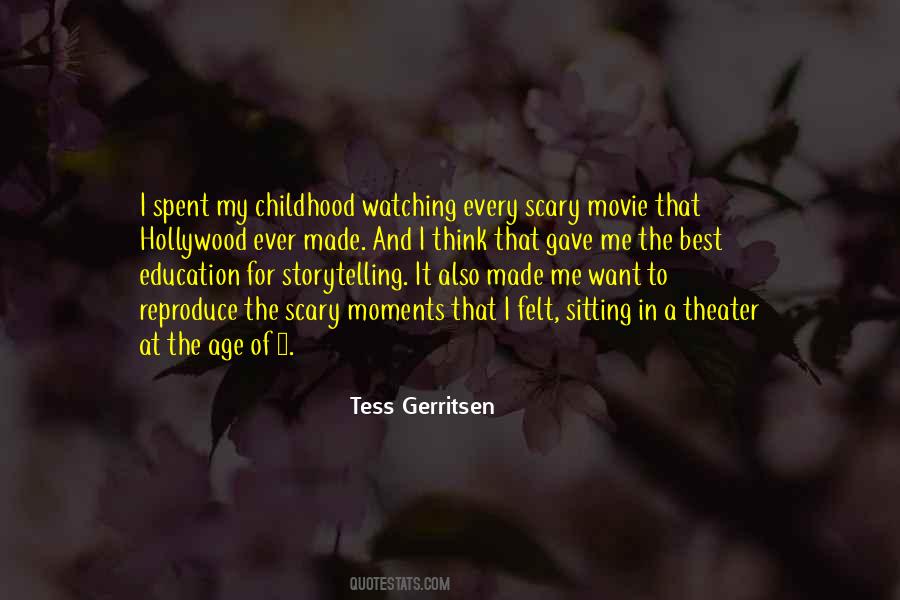 #41. The Academy Awards ceremony is designed to be without irony, but Chris Rock supplied it anyway with filmed movie-theater interviews with black men and women who had never heard of the movies nominated for Best Picture. - Author: Suzanne Fields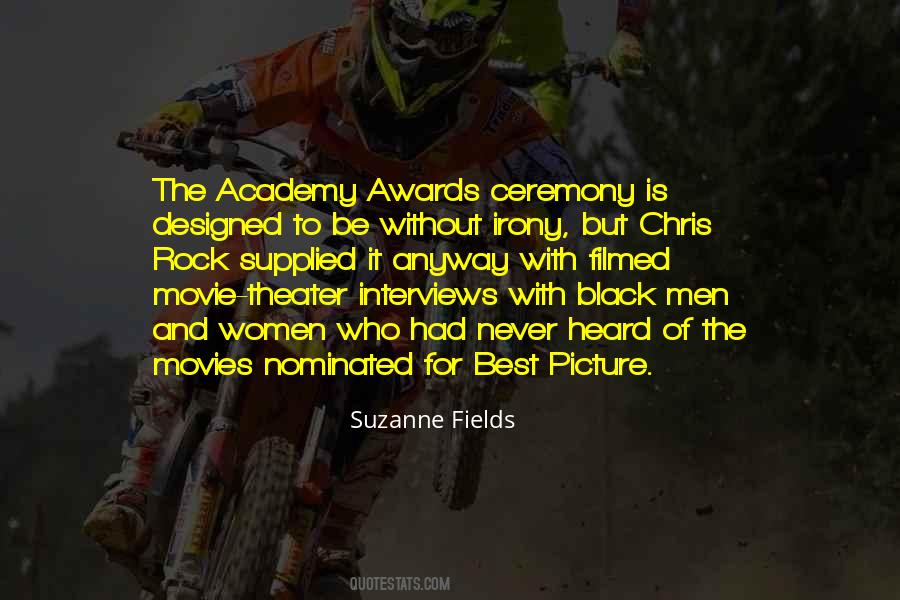 #42. Remember where you're standing when the spotlight goes off," Lovell warned me once, when our book was a best-seller and the movie it spawned was in theatres. "You'll have to find your own way off the stage. - Author: Jeffrey Kluger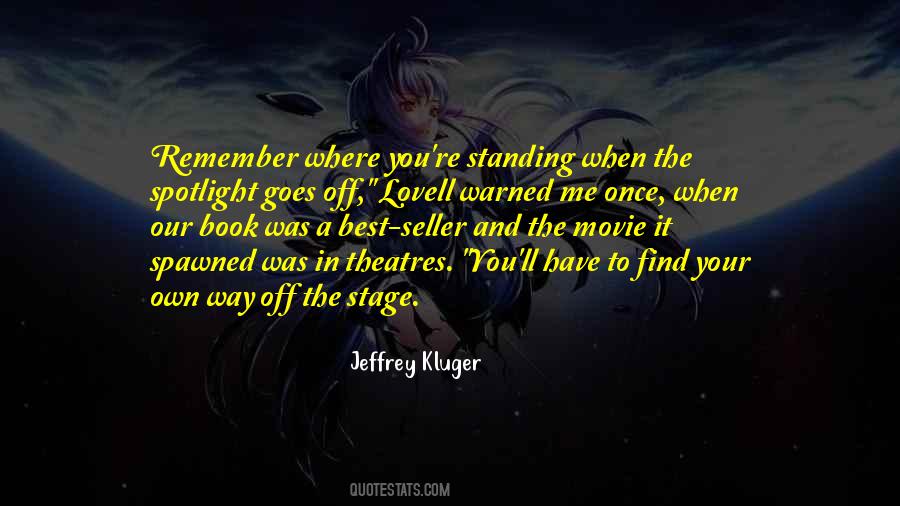 #43. Your best days are ahead of you. The movie starts when the guy gets sober and puts his life back together; it doesn't end there. - Author: Bucky Sinister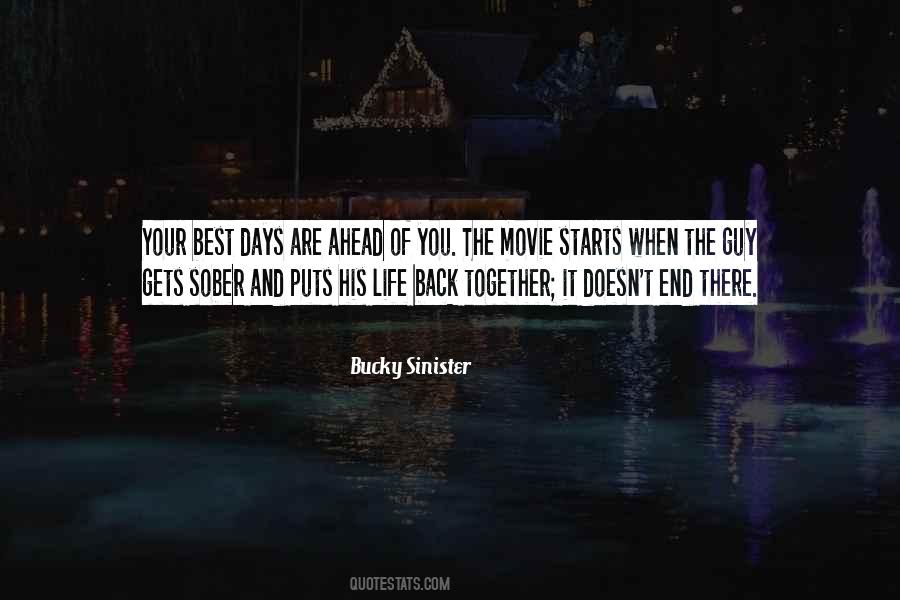 #44. With action movies, that's just fun stuff for me. That's me being a kid again. Same with 'The Best of Me' and these romantic dramas. It's such a freedom from reality and social constructions. You get to just have fun and play and be in a movie. - Author: Luke Bracey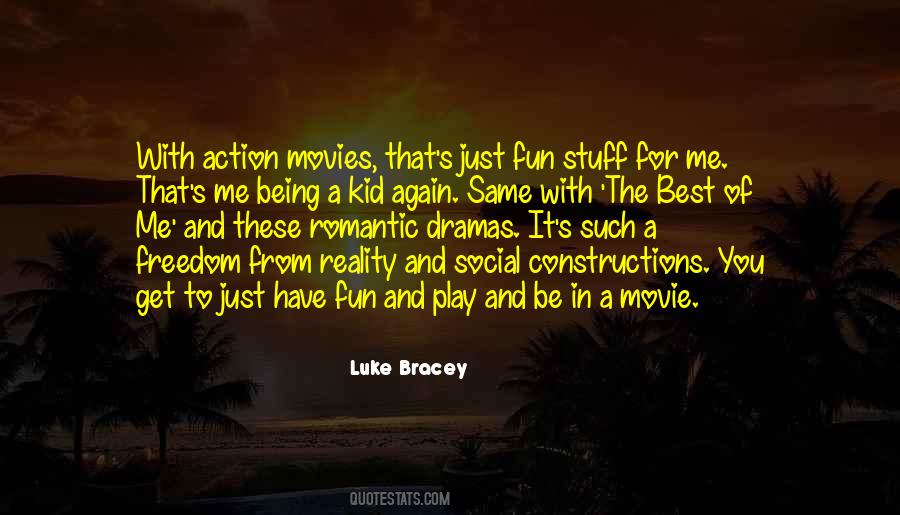 #45. It's so hard to actually get the money to make your movie. When you actually have the chance to do it, you have to be absolutely ruthless in order to make the best movie you can make. - Author: Jamie Babbit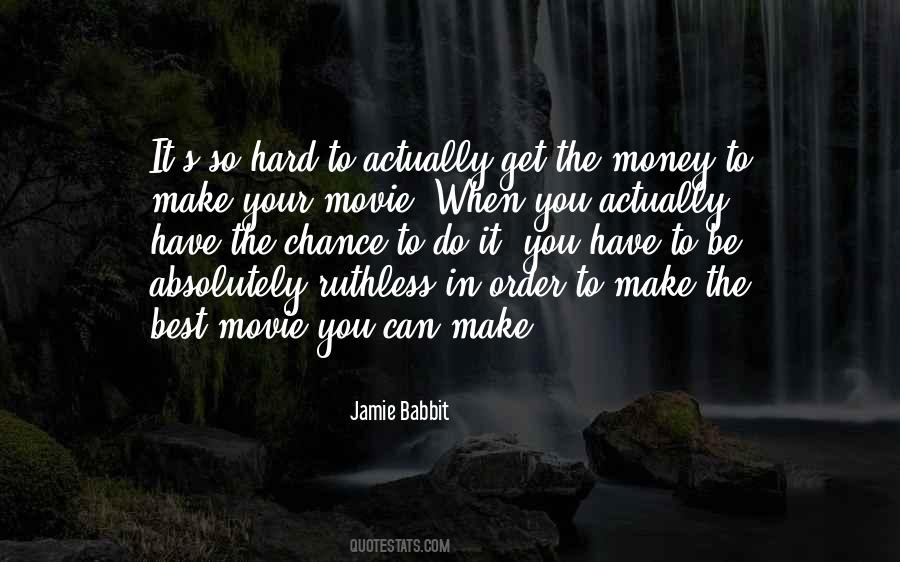 #46. Fatherhood is the best thing I ever did. It changes your perspective. You can write a book, you can make a movie, you can paint a painting, but having kids is really the most extraordinary thing I have taken on. - Author: Brad Pitt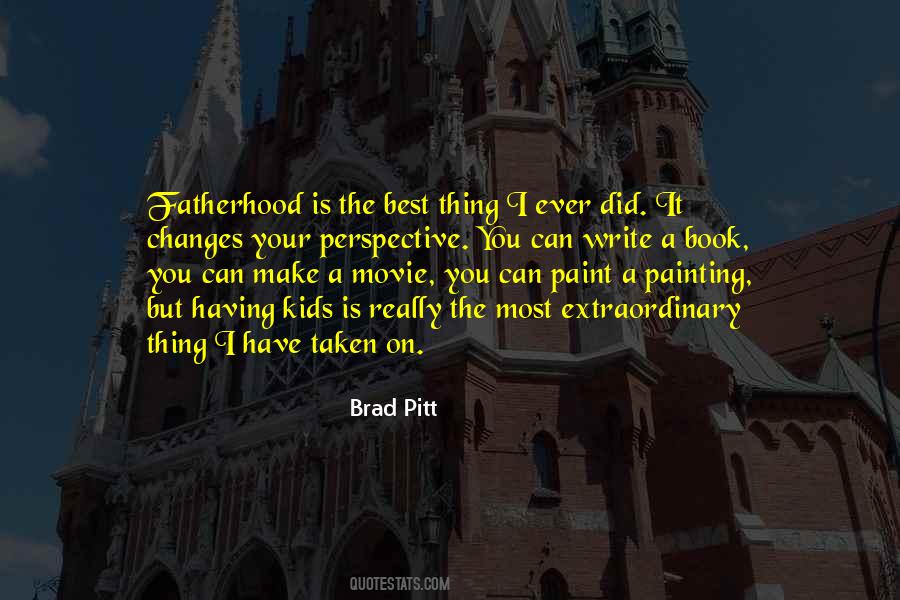 #47. As somebody who makes his living in the movie business and wants to contribute to it, I think that the best chance I have of doing that is just consistently working with great directors. - Author: Matt Damon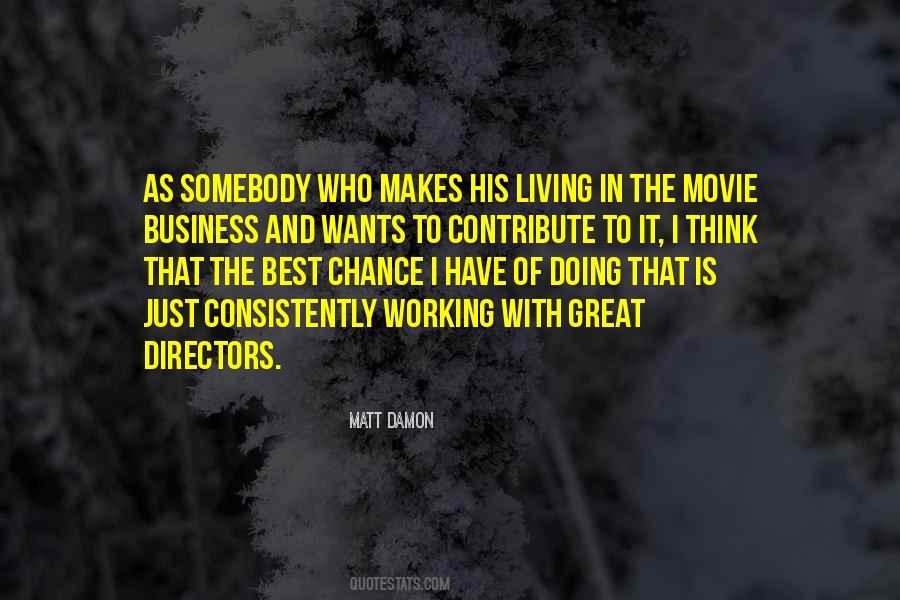 #48. One thing I am really dying to do, while I'm still young and in shape, is an action movie. I would love to do a Lara Croft type of thing that's really physical and tough. I want to have a gun and do martial arts. I would love to get paid to get into the best shape of my life. - Author: Megalyn Echikunwoke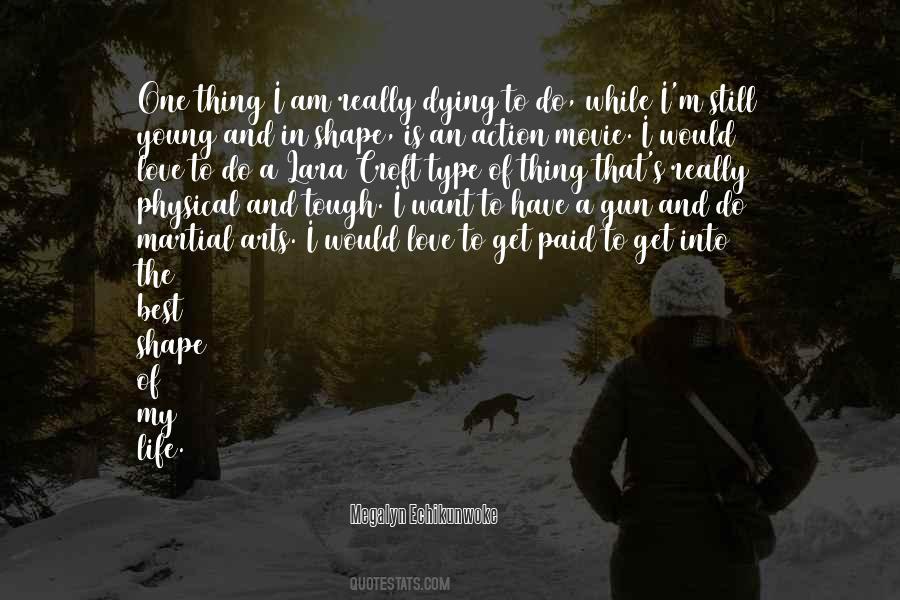 #49. I would like Albert Brooks to have received the Oscars for best actor, best director and best screenplay for 'Modern Romance.' I love that movie. - Author: Andy Kindler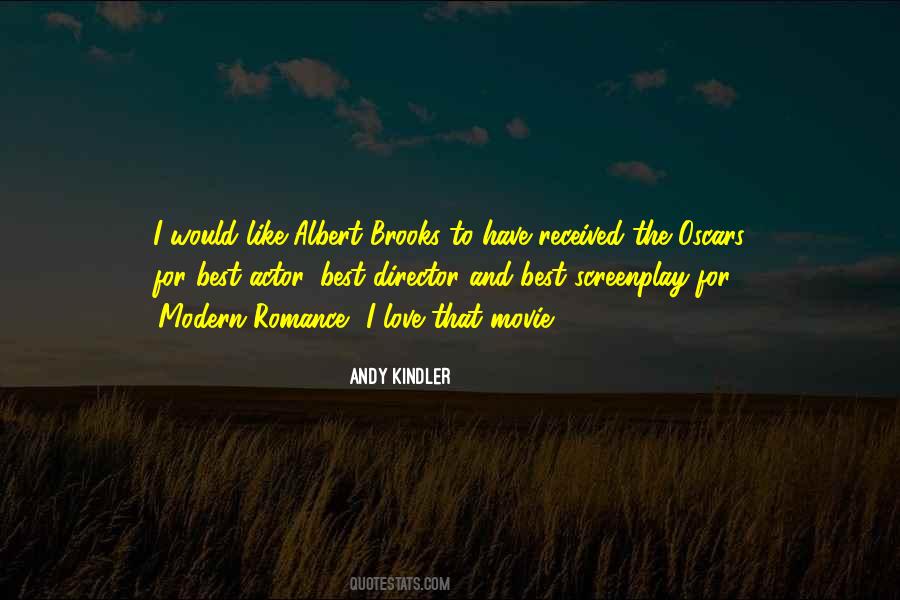 #50. Best fight ever in a movie: 'They Live.' I want to do a martial arts version of that, where you think it's ended, and it just keeps on going. I love that fight. It was funny as well. Unexpected. - Author: Scott Adkins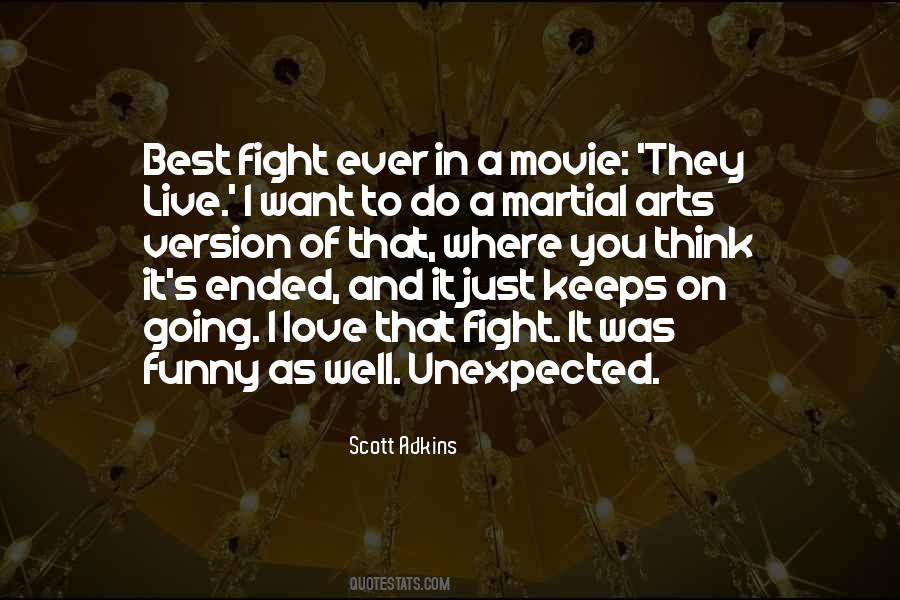 #51. I think the best type of action movie combines a love story with the action. - Author: Morris Chestnut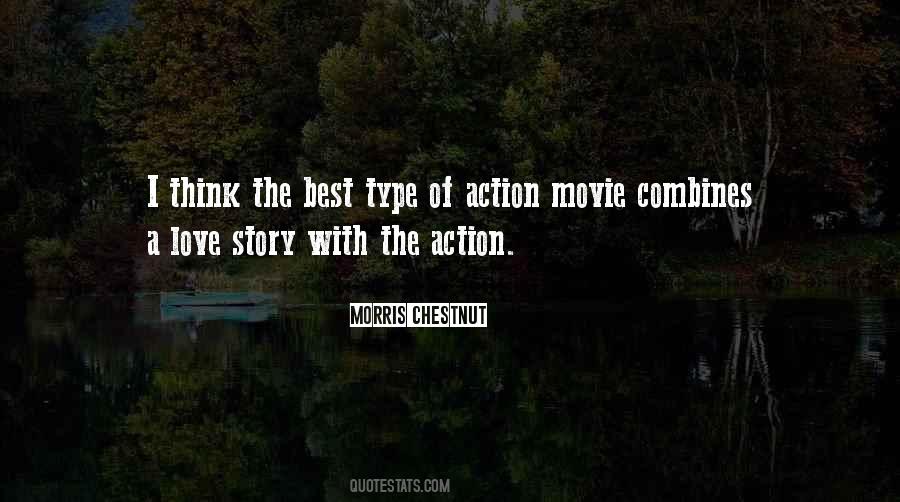 #52. Most of the time when you see a movie, the best character in the movie is not "the guy," it's the guy next to the guy. - Author: Anthony Mackie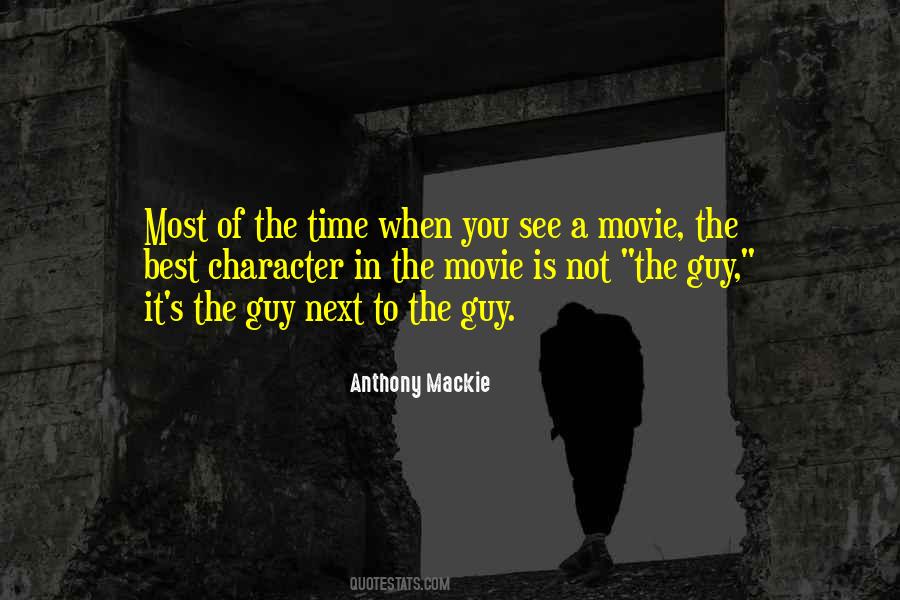 #53. It's impossible to tell you what I'm going to do except to say that I expect to make the best movie ever made. - Author: Stanley Kubrick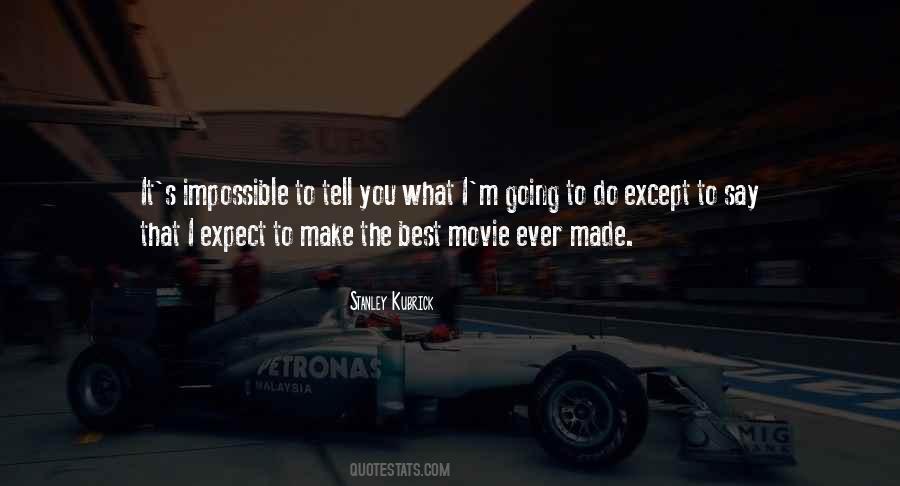 #54. It's horrible to see her, like walking out of the best movie ever into some old afternoon. - Author: Jandy Nelson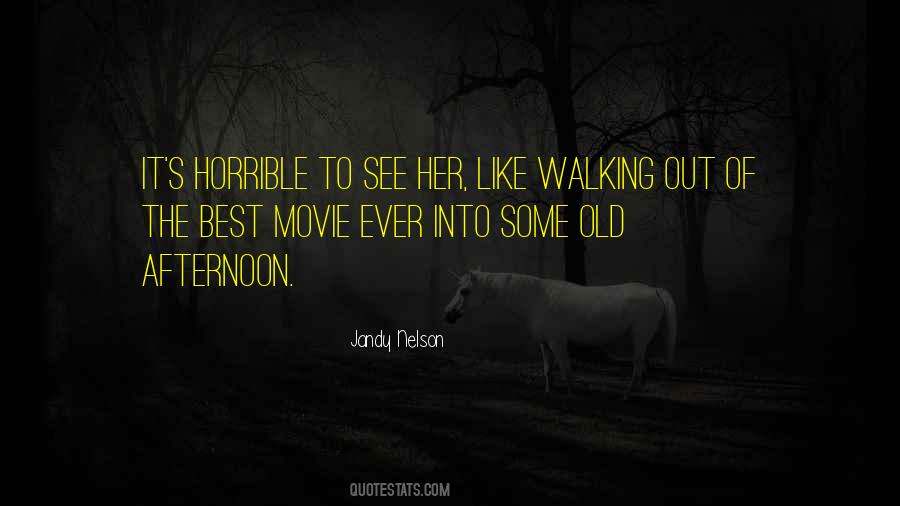 #55. We do like digital projection. We like shooting on film, finishing digitally, and projection digitally. That's what I like best. It's still a movie. It's not someone's camcorder and it got projected. That's mean, I know. - Author: Zack Snyder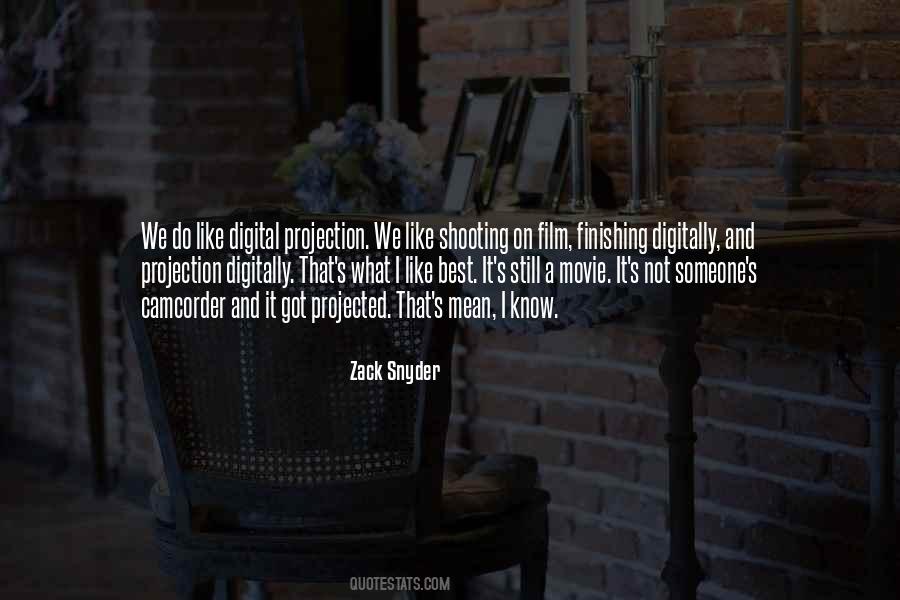 #56. Tim Burton is underrated. I loved Big Fish, loved that movie, think it's the best movie of the year, hands down. Really impressed with that. - Author: David Zucker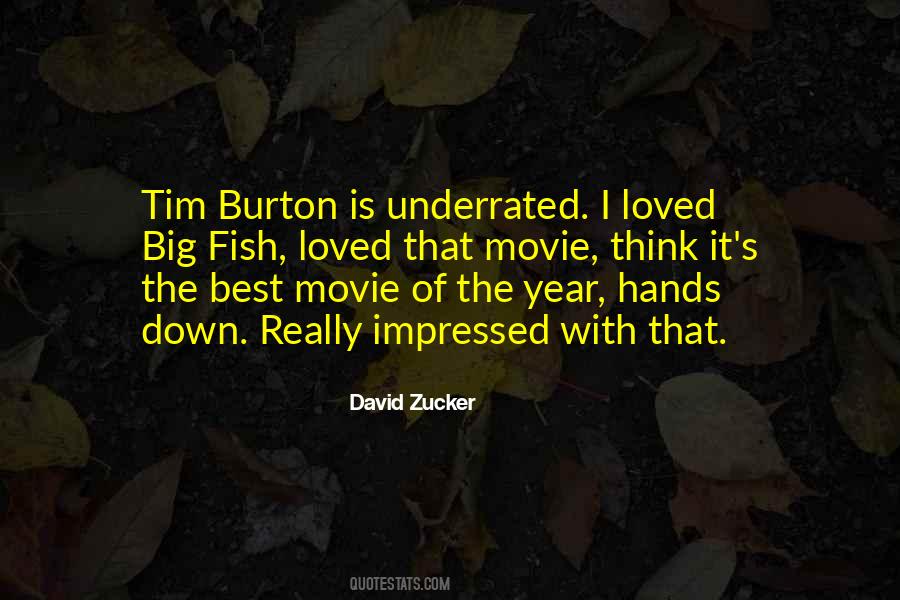 #57. I'd played a lot of best friends, and/or bad guys, which seems to be my lot in life. In romantic comedies there's always a best friend and the woman has a best friend and they always antagonise each other and then they end up together at the end of the movie. - Author: Rob Corddry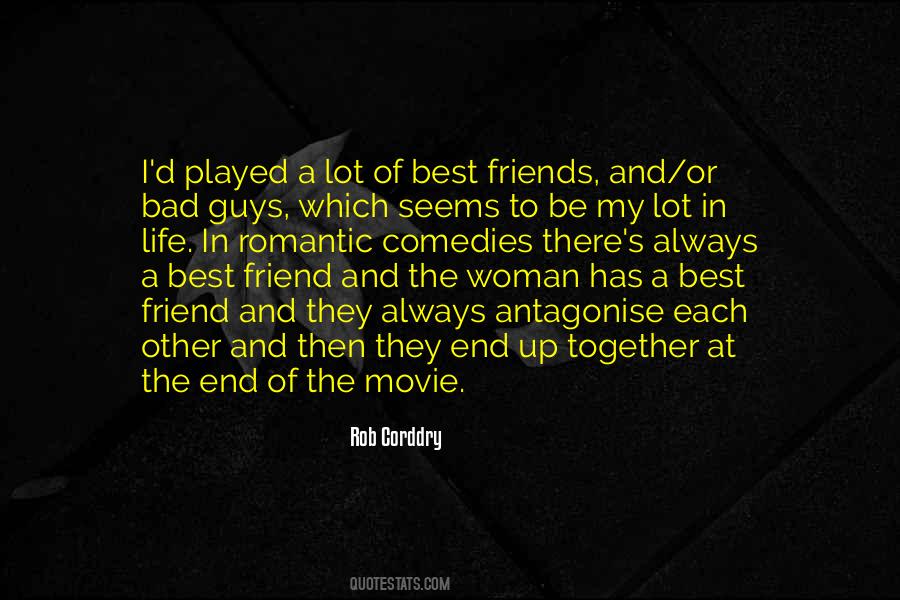 #58. I like it when a movie scares the s - t out of me. That, for me, is just the best. - Author: Lea Michele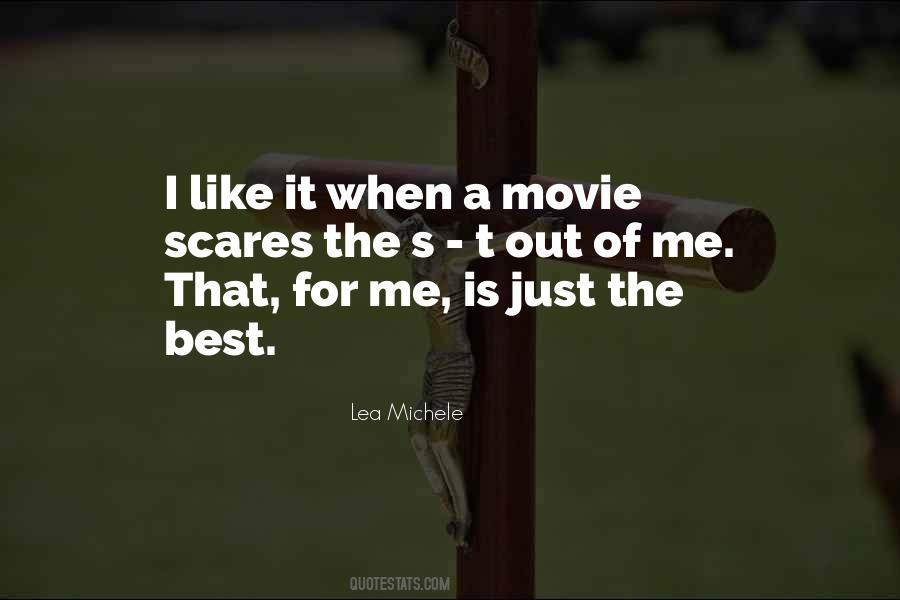 #59. I was focused on The Hunger Games movie with my director, with the studio, and with the cast and crew. We all just focused on making the best possible movie we could, and earning the right to do more. - Author: Nina Jacobson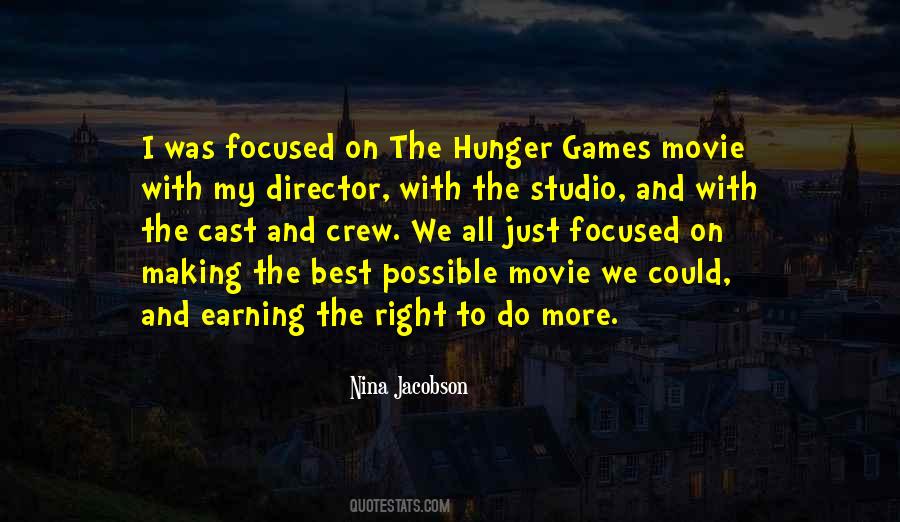 #60. We'd watch A Christmas Story over and over because that's the best fuckin' movie ever. - Author: Vi Keeland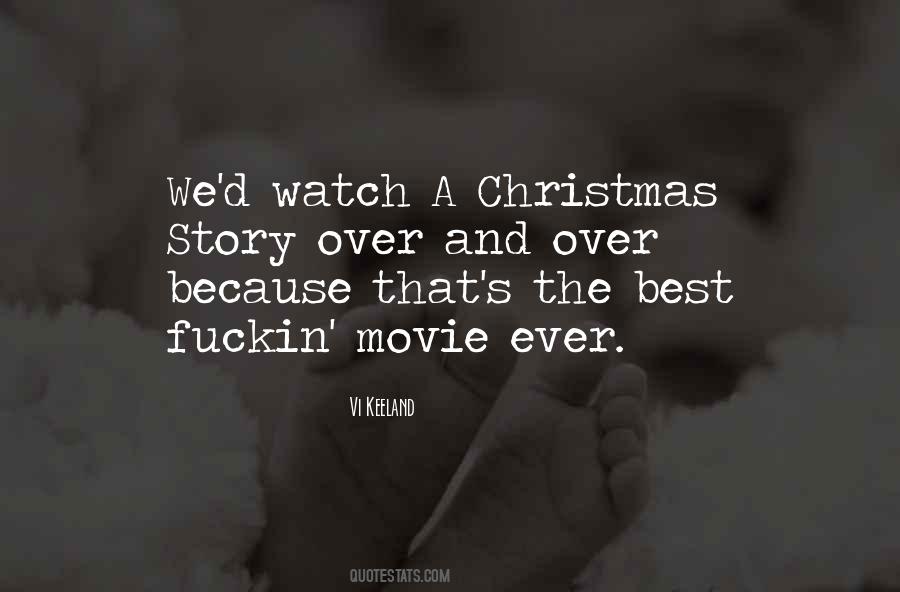 #61. I was bookish and dorky in high school, so the best part of this movie was getting to be on the other side. - Author: Piper Perabo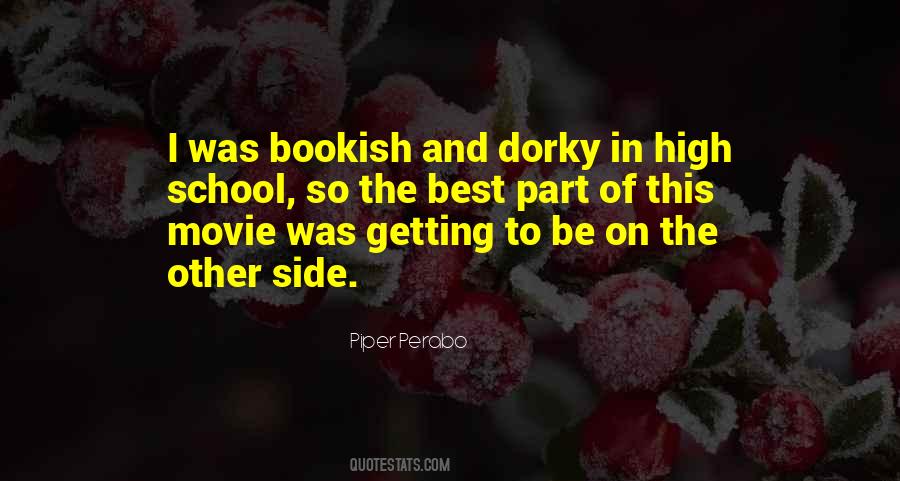 #62. Our generation seems to be facing a crisis of critique. We want to know what's best, we want to know where to eat and what movie to see, but we've begun to forget that real opinion, real critique, must always come out of an absence of voices - from a singular subjective viewpoint. You - Author: Michael Harris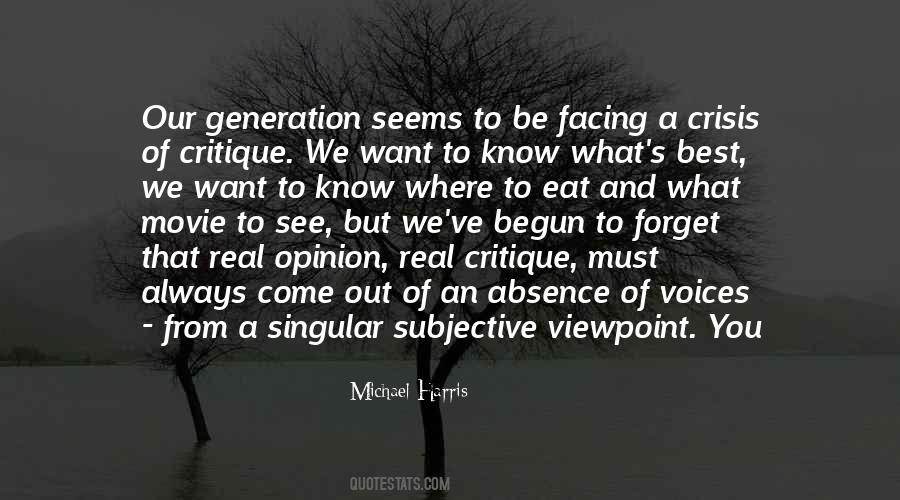 #63. There's really no difference between what I do and what a male filmmaker might do. I mean we all try to make our days, we all try to give the best performances we can, we try to make our budget, we try to make the best movie we possibly can. - Author: Kathryn Bigelow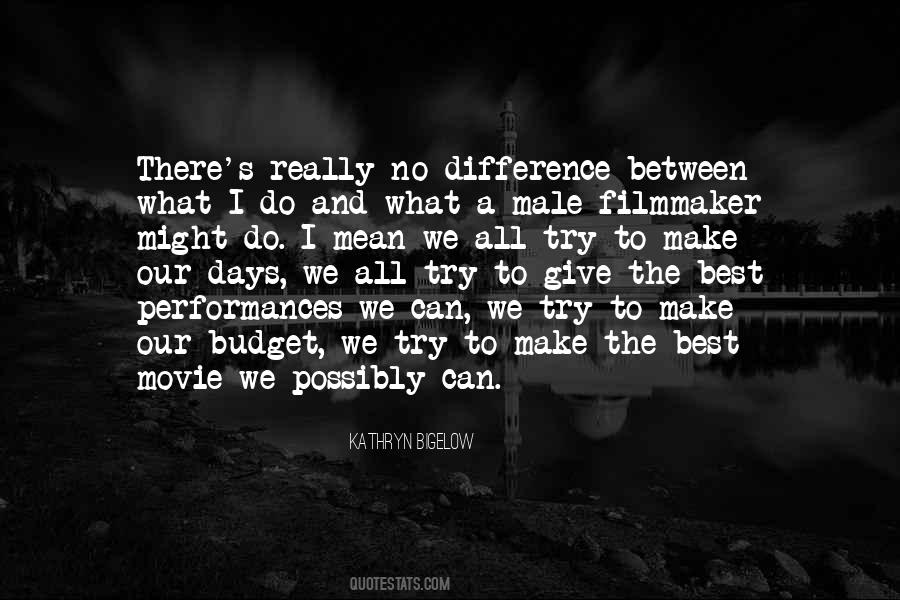 #64. I don't like the term 'chick flick.' I think it denigrates a movie. It has overtones of talking down to women, like they are second best. - Author: Mike Newell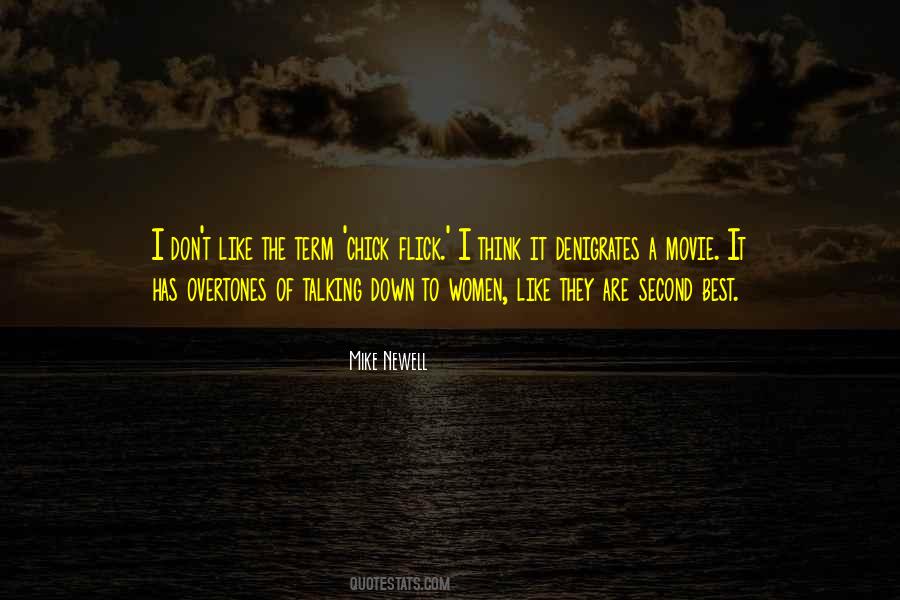 #65. Without a great man writing and directing for me, I realised I was a mediocre movie star at best. - Author: Diane Keaton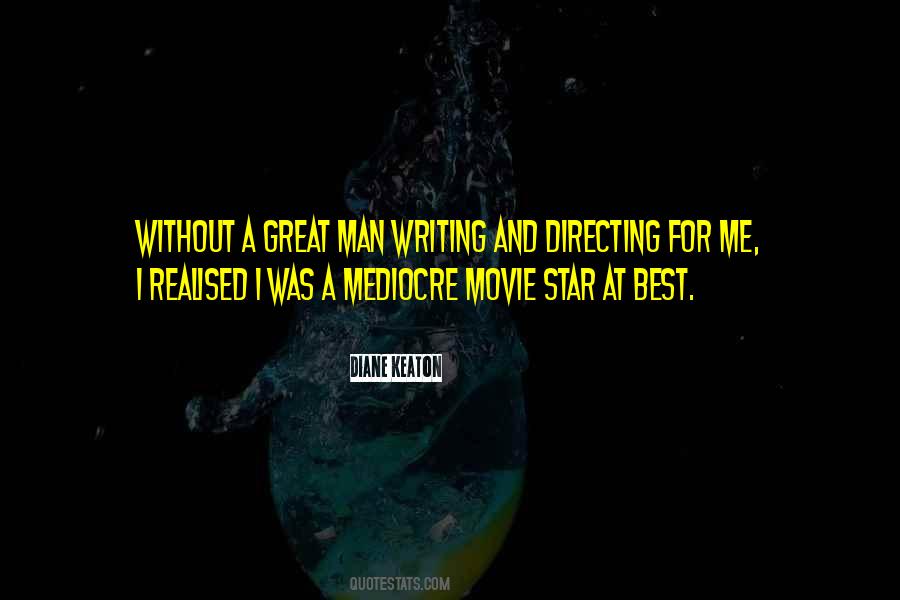 #66. Josh Radnor is that rare thing: a writer-director who thinks like an actor but still knows how to create a comedy with shape and vision. Liberal Arts is the best movie about college I've seen since I don't know what ... Dryly affectionate and super-sharp. Elizabeth Olsen is every inch a star. - Author: Owen Gleiberman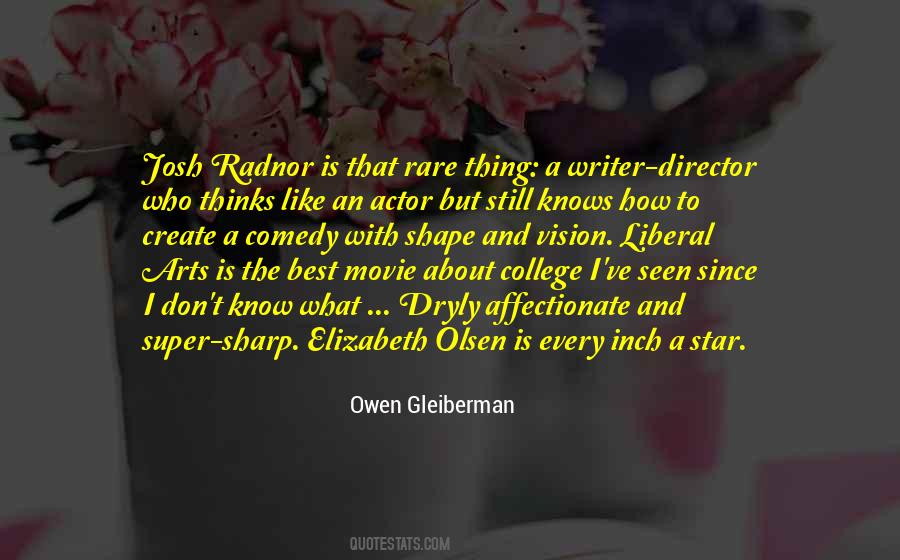 #67. One of the best animated films I've seen come out of Disney was the Tarzan movie. I wasn't crazy about the story or the design on Tarzan's face, but the traditional animation was spectacular. - Author: Ralph Bakshi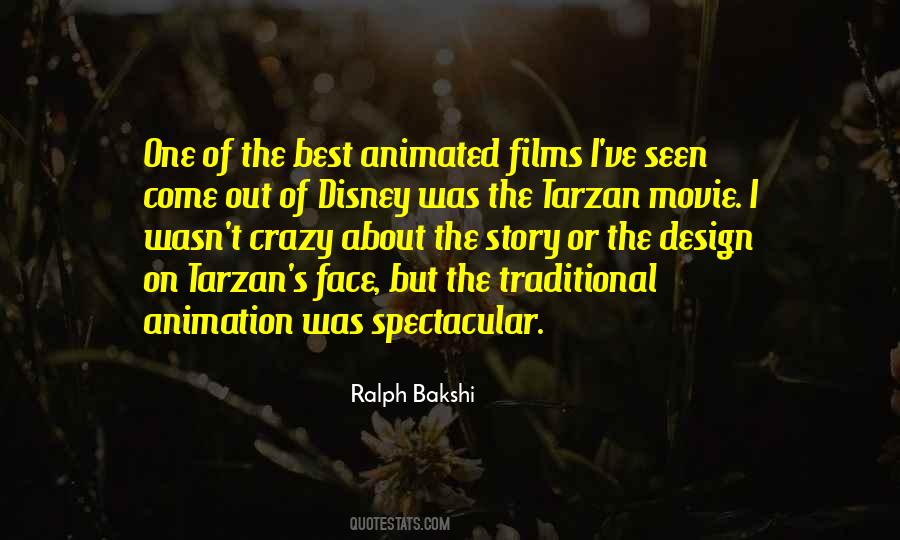 #68. What's the best part of a movie? I love to know what my name is. It's just so fun. That's the first thing I ask. It's just fun because you have a different name in every movie. - Author: Elle Fanning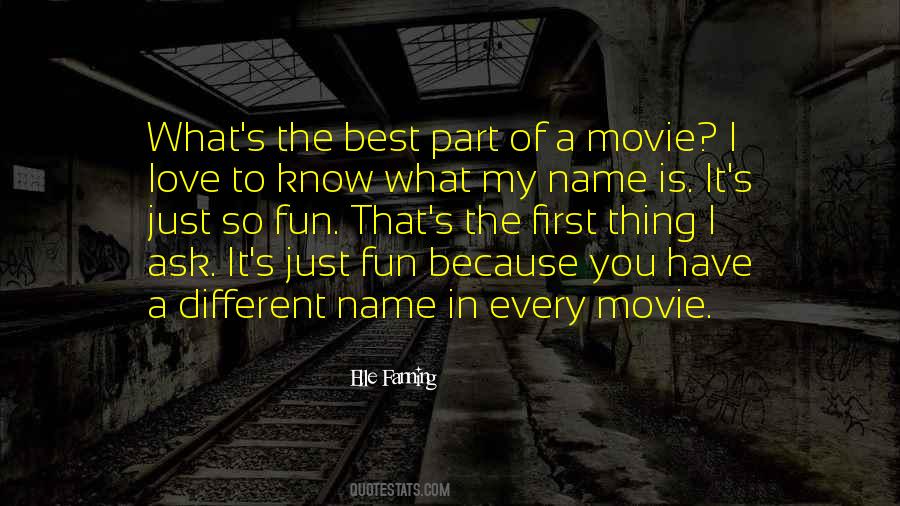 #69. I like something simple and traditional, like dinner and a movie. The best way to get to know someone is to have a conversation over dinner. And steak houses have a nice atmosphere - the lights are dim, and they usually have a band playing. - Author: Kevin Durant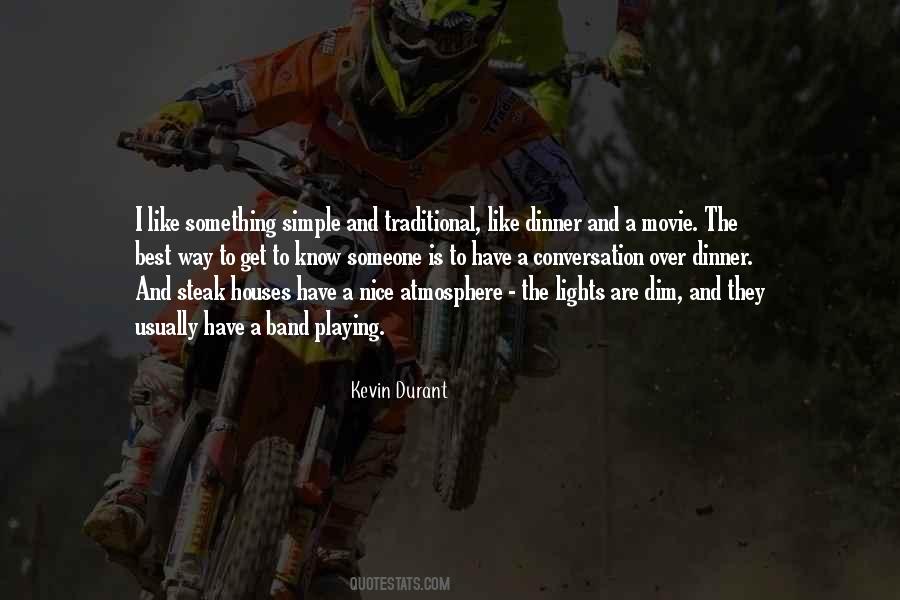 #70. For something to be profitable doesn't necessarily mean it's the best thing in the world for the director. You judge a movie by different standards - I've worked on comedies, and now I've worked on superhero movies, and the reviews are almost parenthetical in both of those genres. - Author: Jon Favreau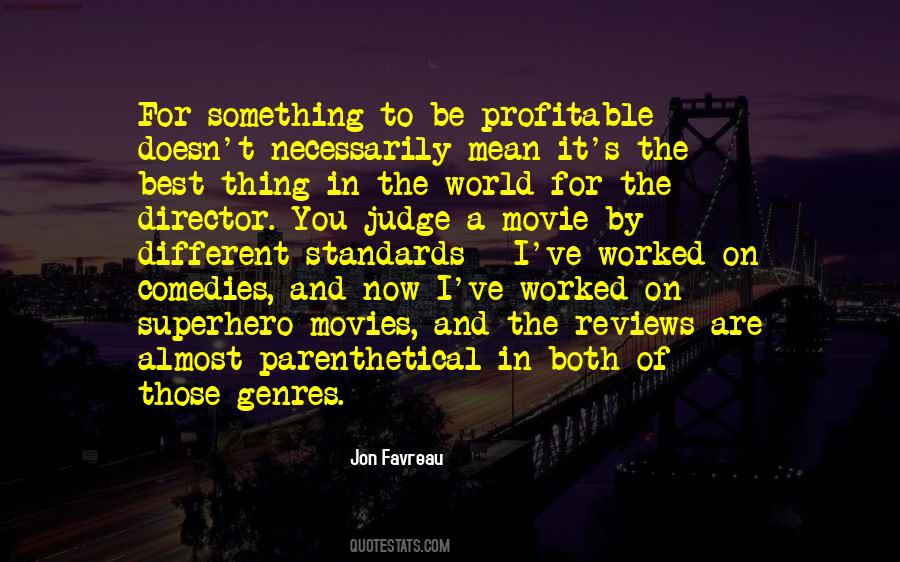 #71. Even if a movie's not a hit, it still has to have something to do with the big thing, which is the stand-up. It pays the most, first of all. It's the thing that I can do at a high, high level. Amongst the best. - Author: Scott Raab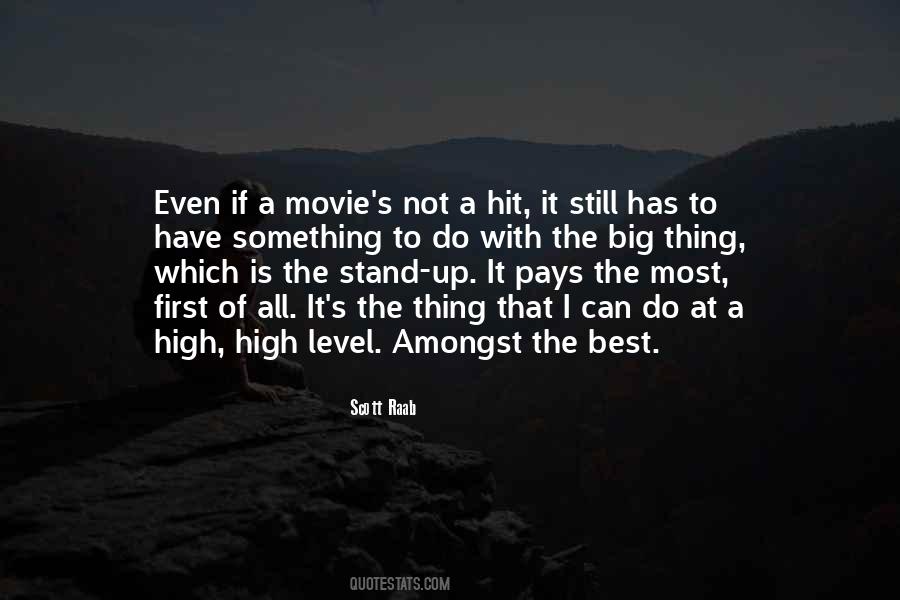 #72. I think making a movie or a record, the best things happen by accident - and those end up being the magic. Every time I've followed my gut it's been better than when I've tried to do what I was supposed to do. - Author: Zooey Deschanel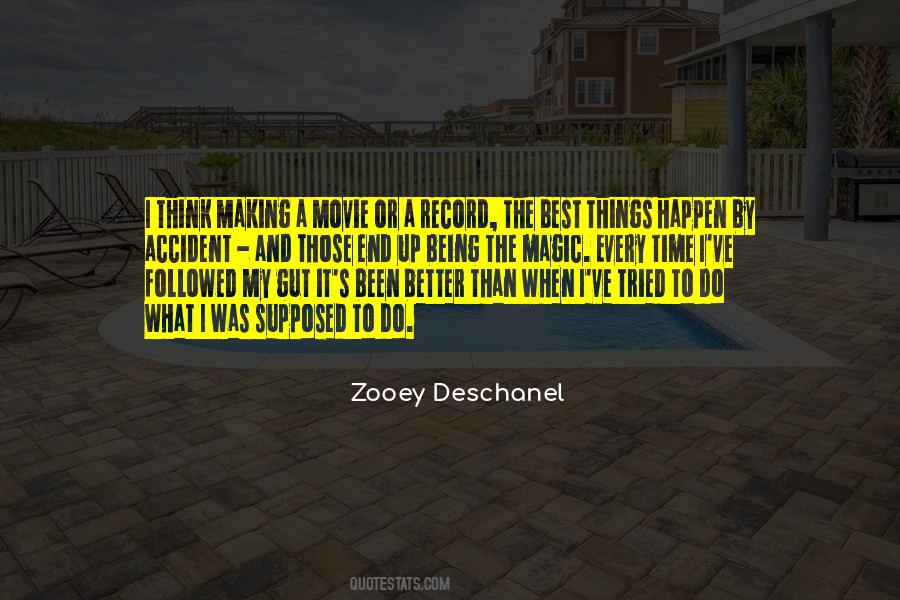 #73. I just consider myself a committed actor. If a movie is a success, that's great; I'm happy for that. But I've learned just to concentrate on my job and do the best that I can. - Author: Giovanni Ribisi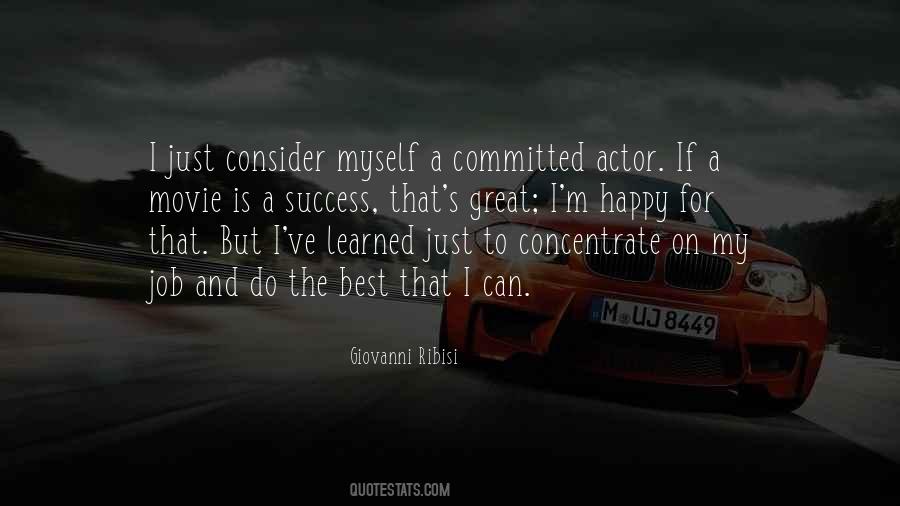 #74. First of all, you make a movie that you want to see and then you just hope for the best. - Author: Tim Burton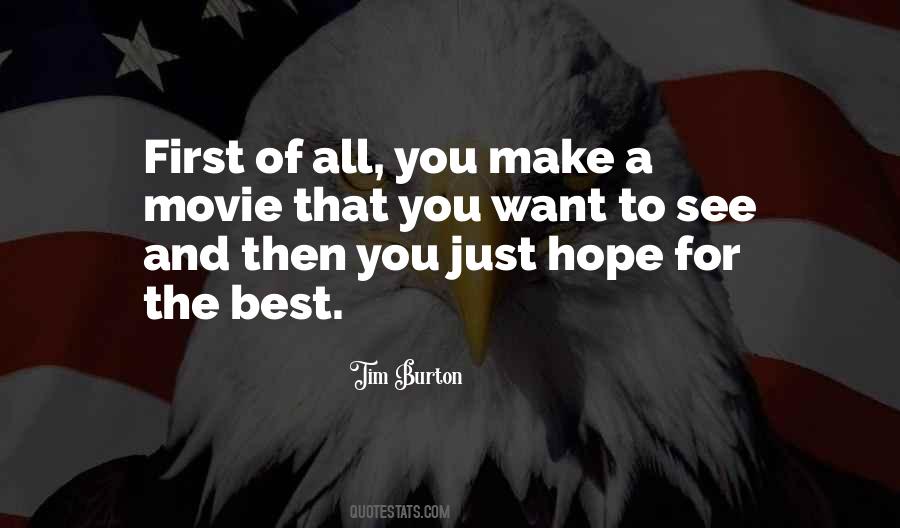 #75. For everything bad, there's a million really exciting things, whether it's someone puts out a really great book, there's a new movie, there's a new detective, the sky is unbelievably golden, or you have the best cup of coffee you ever had in your life. - Author: Patti Smith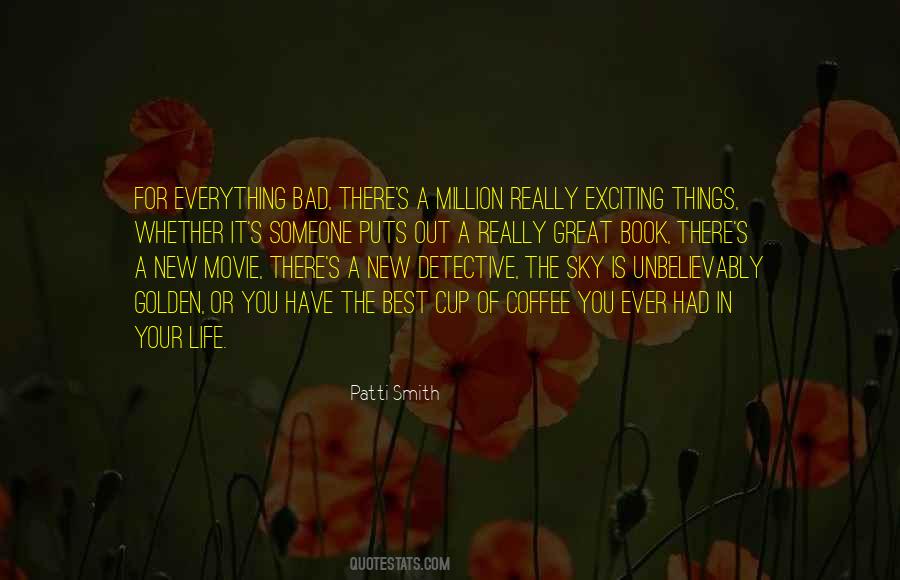 #76. More often than not, the experience of shooting the movie has been disappointing and the end product has been a mere shadow of what I hoped it would be. But immersing myself in the story - that's what I like best of all. - Author: Viggo Mortensen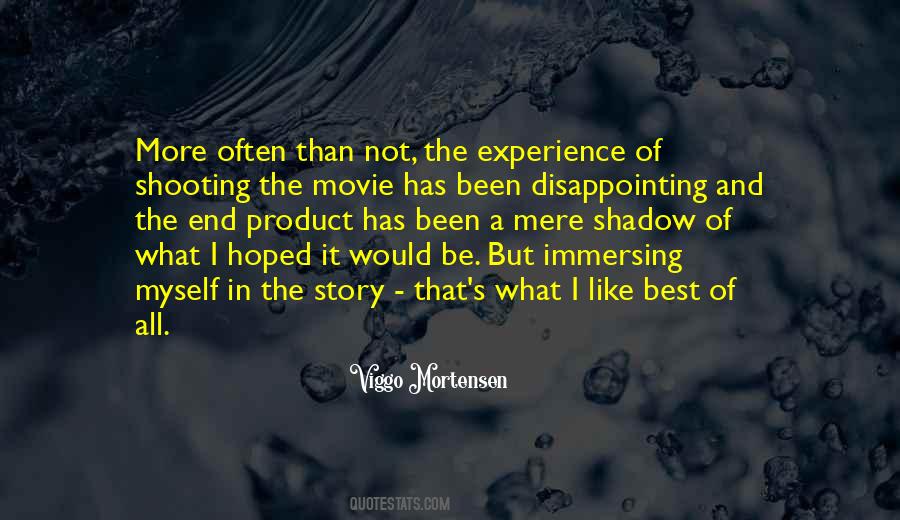 #77. I made a handshake agreement with my best friend in college, Michael Shamberg, who is now a movie producer. We used to write shows together, and we said, "Let's only do what's fun. Let's never take a job where we have to dress up in a suit." - Author: Harold Ramis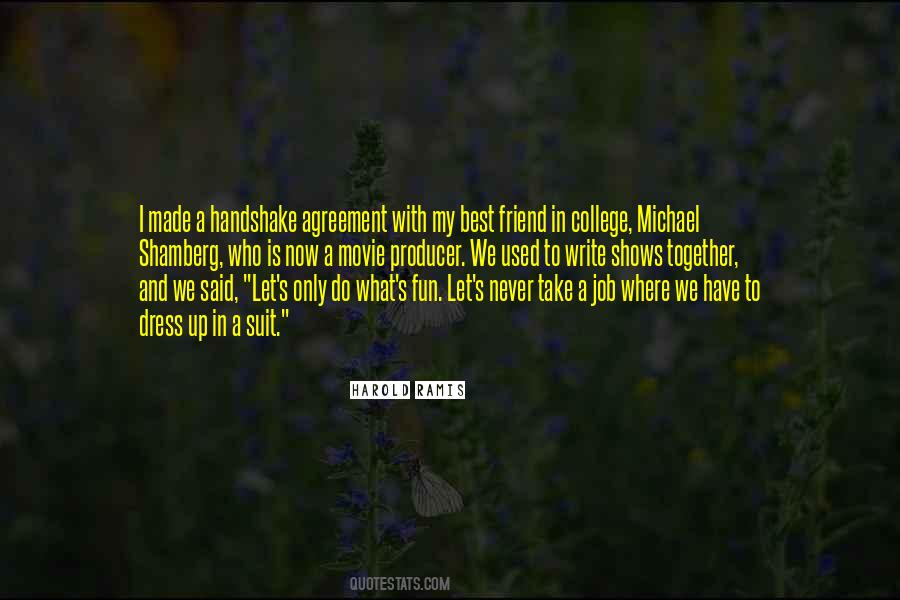 #78. The Incredibles was the best movie ever made. Ever. Made. BSTL. - Author: Nathan Fillion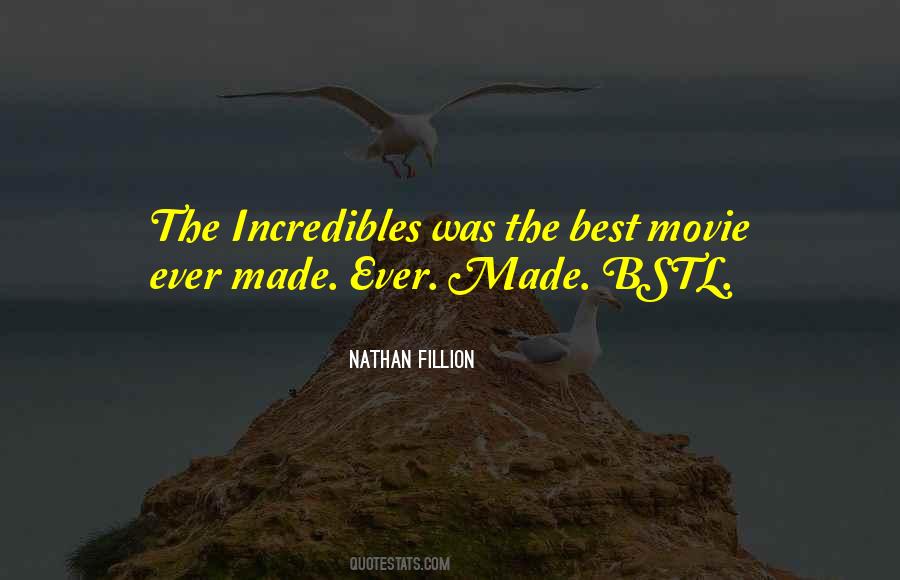 #79. Honestly, when you're making a movie, you never say, 'Oh, this one's going to suck and go straight to video.' When you're in it, you think you're doing the best work you can do. You're surrounded by people who are working hard. Everybody's hopeful. - Author: Justin Timberlake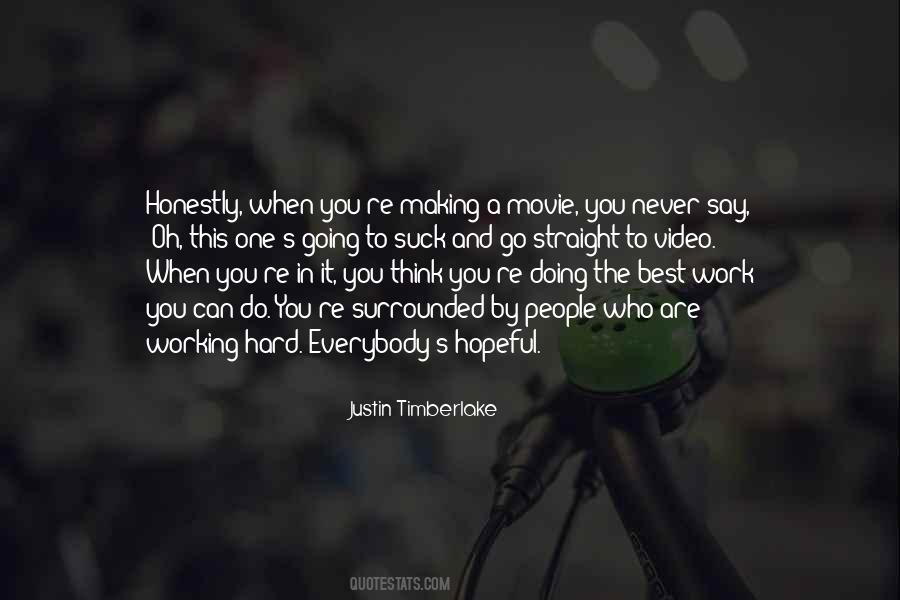 #80. I've always wanted to work with Barbra Streisand because she's worked with some of the best background singers in the world who are friends of mine, worked with them in concert or on movie soundtracks, and I always say 'Now, where was I? Where was I when she was hiring people to work with her?' - Author: Darlene Love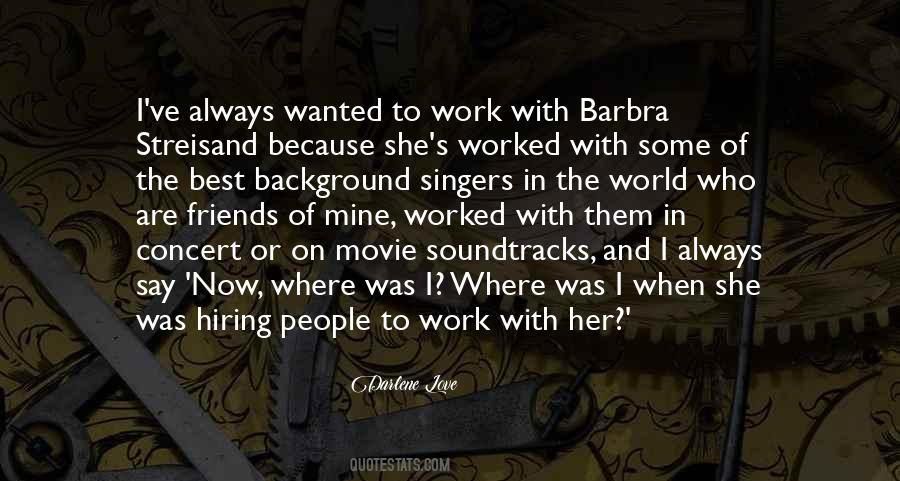 #81. Doris Day was such a big movie and TV star, people overlooked her singing. The proof is in the package. She's one of the best singers there ever was. - Author: Margaret Whiting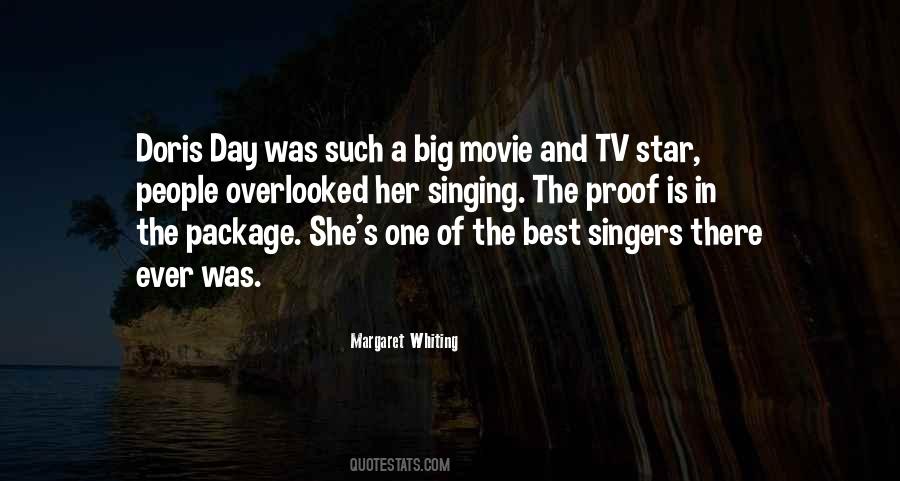 #82. I think characters are most terrifying when they're relatable. It's best when your most horrible characters make sense, and are believable. That's when a movie is most terrifying. - Author: Eli Roth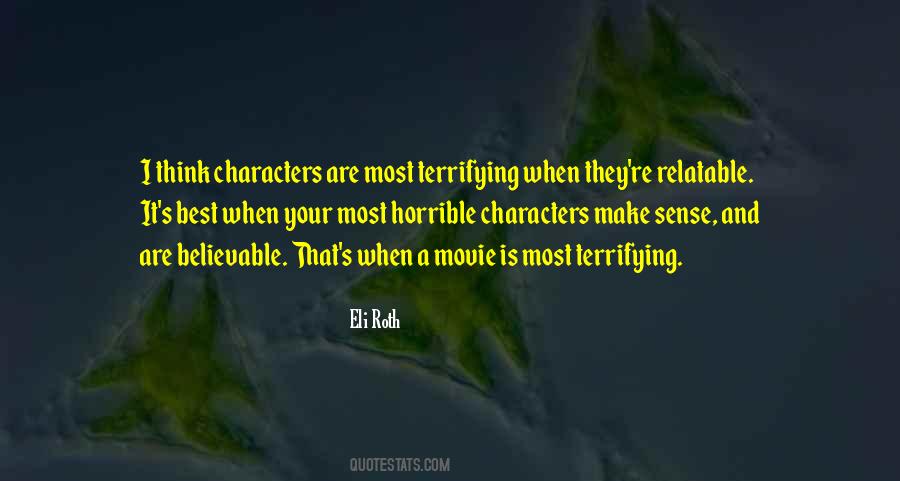 #83. 'Up' was the best. The first 10 minutes of that movie made me weep. It was so well done ... even if that montage was all I'd seen, just as a short film, that was great. That was my favorite thing of the year. - Author: Charlyne Yi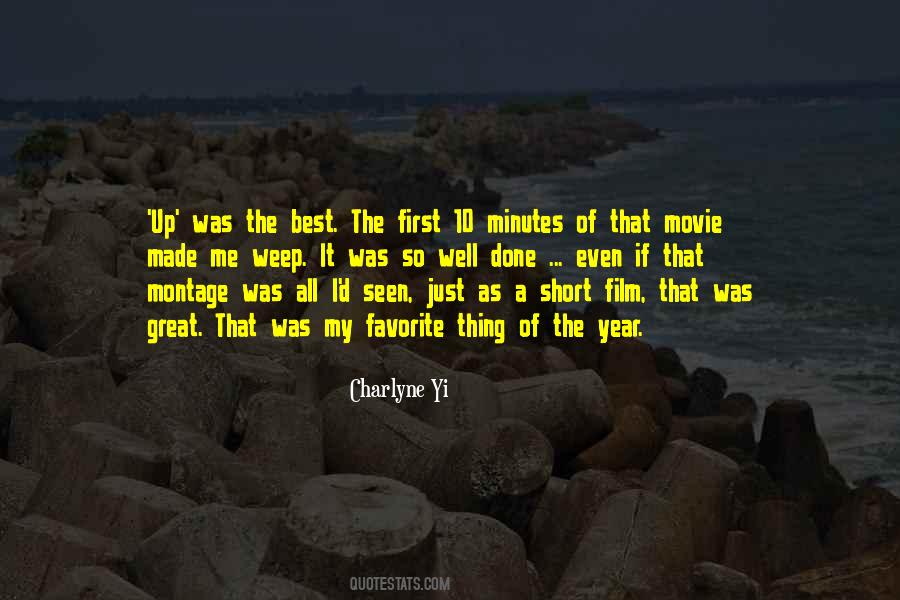 #84. Maybe by his second year in Hogwarts, Harry Potter will learn the trick to making a movie this good, but don't bet on it. The Lord of the Rings: The Fellowship of the Ring is one of the best films of the year. - Author: Joel Siegel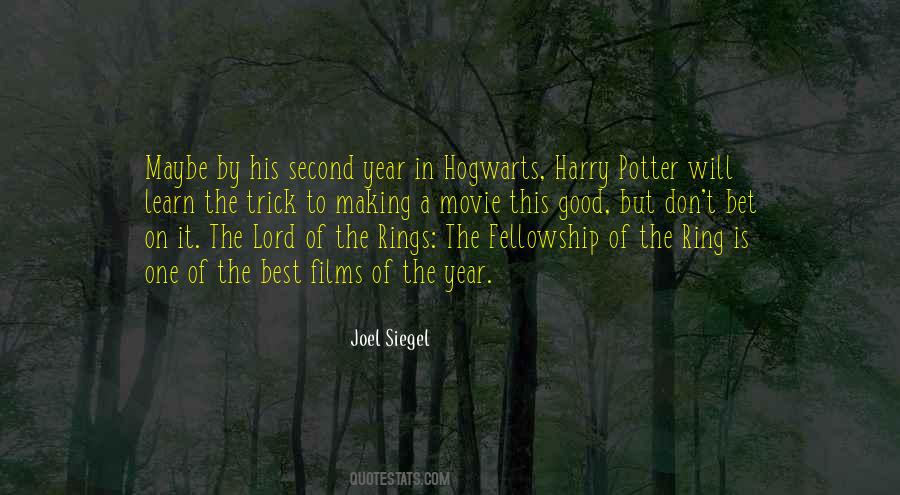 #85. Amazon, being a provider - not just on the playing field - is, of course, opening up a whole new set of possibilities. At the same time, Amazon also understands platforms. For them, theatrical is an extremely important event. I also believe it's the best way of seeing a movie. - Author: Nicolas Winding Refn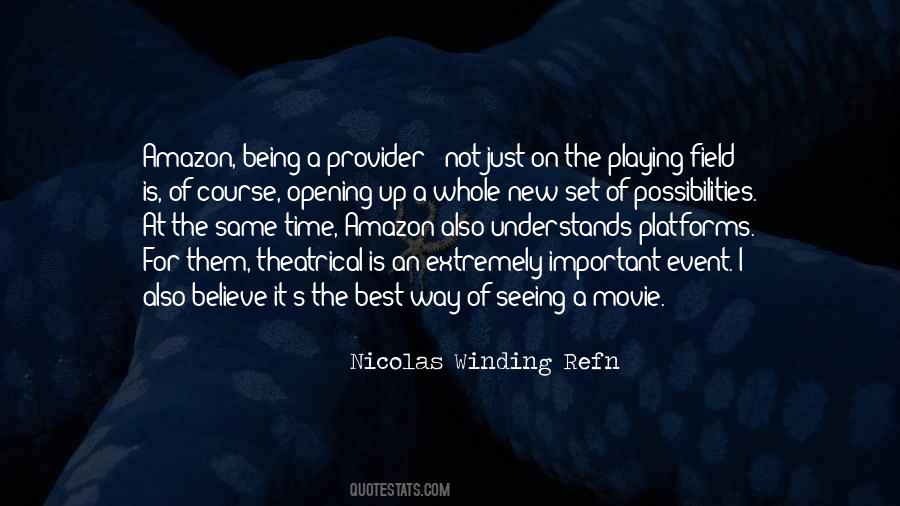 #86. Even when you're acting with a producing hat, when you're in every scene, you're really conscious of trying to make everybody as good as they are, because ultimately you're trying to make the best movie possible. - Author: Michael Douglas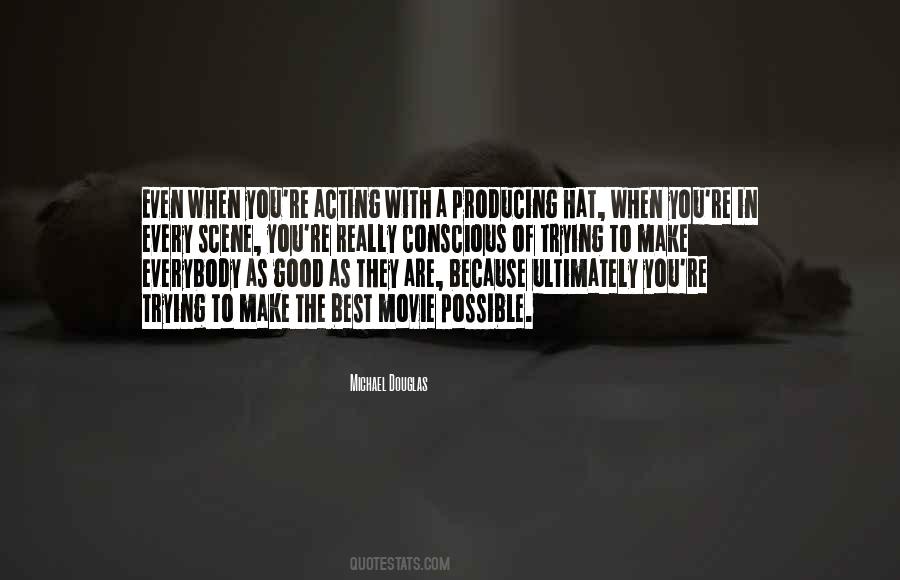 #87. [Before introducing the nominees for best animated film] If you're at the awards party with the guys who made the Lego Movie, now would be a good time to distract them. - Author: Neil Patrick Harris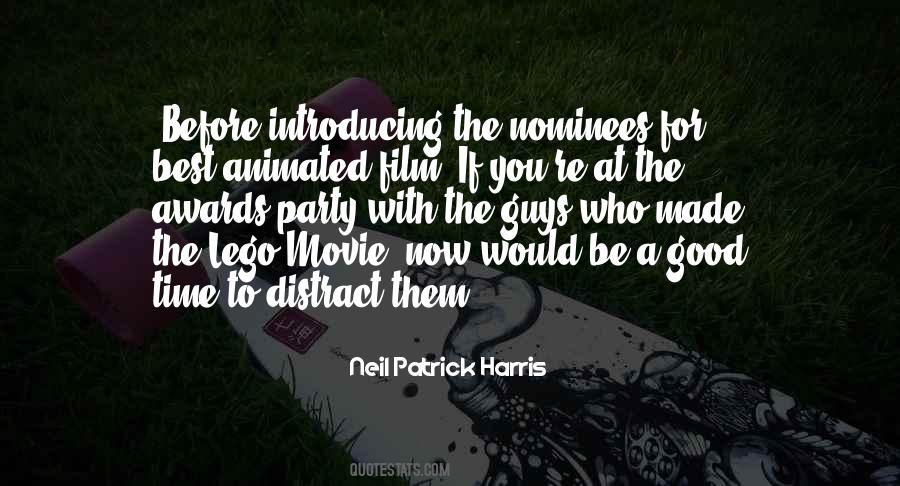 #88. The best complement I ever got from the public or producers or directors is that I just totally blend in and become the character and they don't notice me and that the play happens or the movie happens or the TV show happens. - Author: J.K. Simmons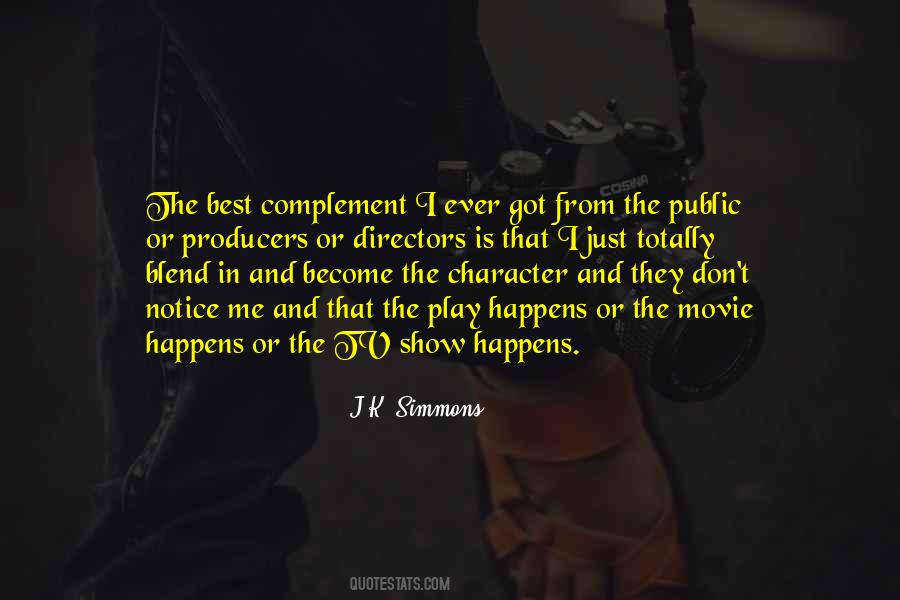 #89. It's all about this abstract entity called the story. It's all about the best way to tell the story, and to make a movie about the issues that this story is about. Filmmaking is storytelling, for me. - Author: Jose Padilha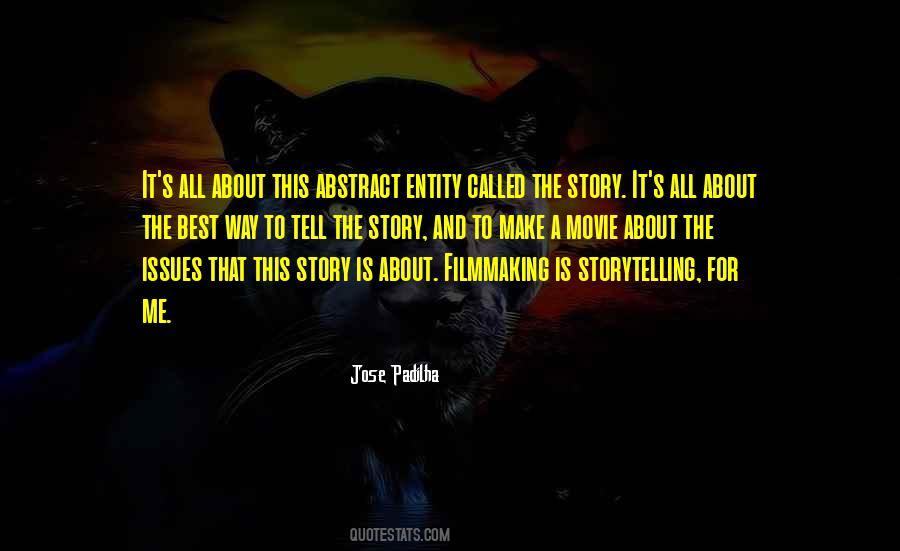 #90. I'm an expert in hookers. I'm an expert in doormats. I'm an expert in victims. They were the best parts. And when I woke up
sociologically, politically, and creatively
I could no longer take those parts and look in the mirror. - Author: Shirley Maclaine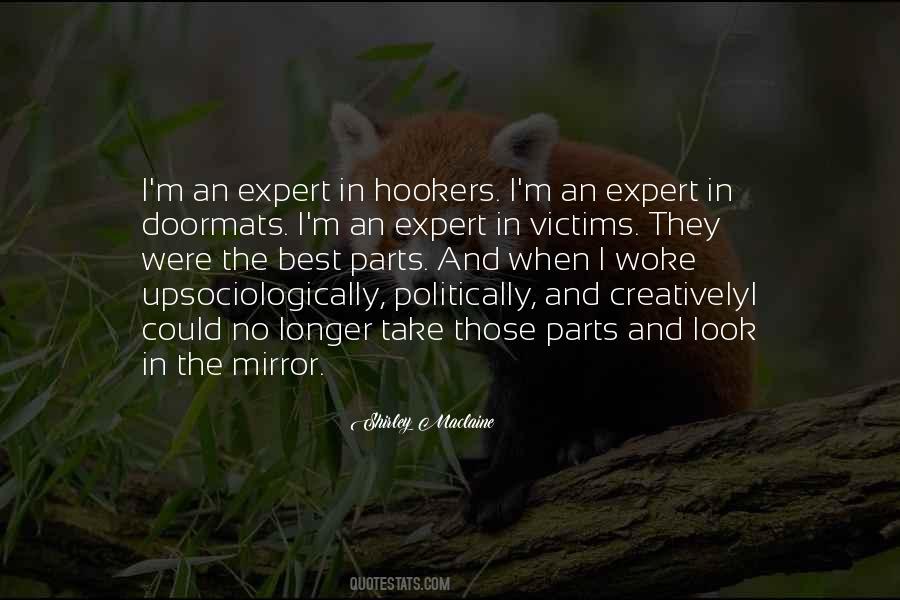 #91. 'The Sopranos,' for instance, is arguably the best cable show of all time. They could have made a movie, but that show ended so perfectly, it would almost be a disadvantage to make a movie like that. Then again, if you made a 'Sopranos' movie, people would be lined around the block to go see it. - Author: Jerry Ferrara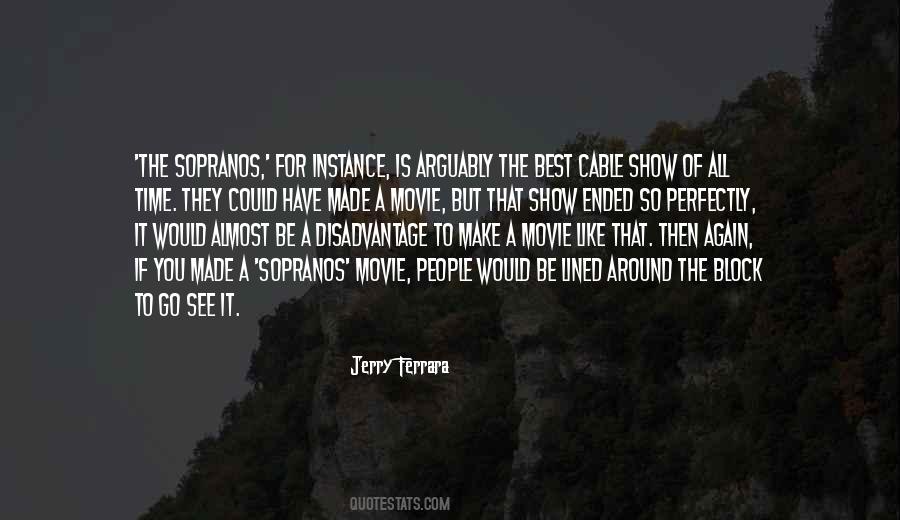 #92. 'Cliffhanger' got me in the best shape of my life, working at 10,000 feet up in the mountains. And everybody was great. I lived in Italy for seven months doing that movie. It was a great vacation. - Author: Michael Rooker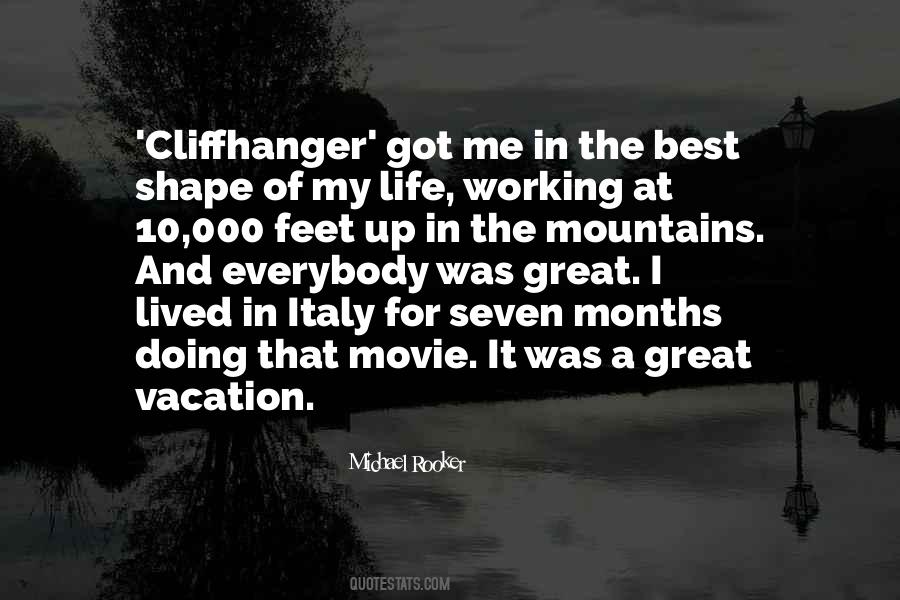 #93. A movie is a creative process from its conception, through its writing, to its execution, to the editing. I think with the best films there is some kind of contribution from one person all the way through that. The best films are made by people who write, direct, and edit, so there's continuity. - Author: Simon Pegg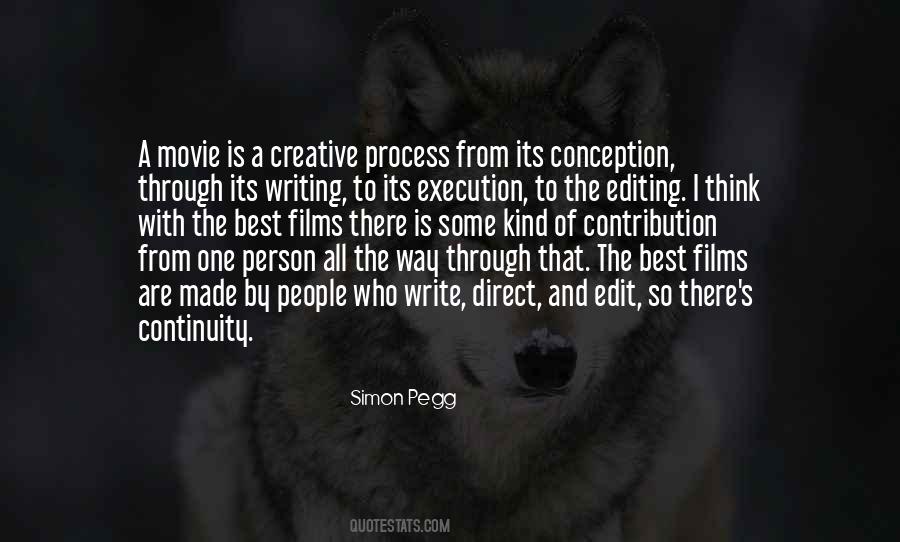 #94. We actually try our best to be non-biased, but for me, that was the best movie ["Sicario"], filmmaking-wise and storytelling-wise, and connected to me the most. I thought it was great. - Author: John Krasinski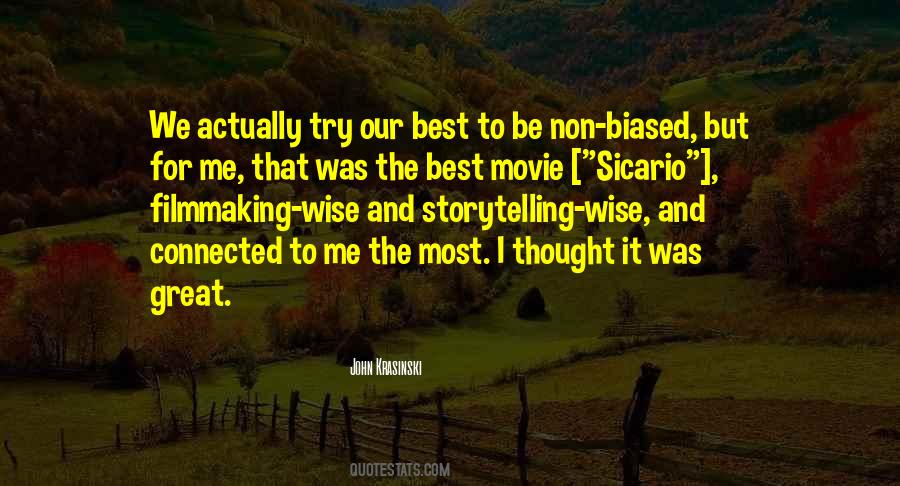 #95. I had a video made of my recent knee operation. The doctor said it was the best movie I ever starred in. - Author: Shirley Maclaine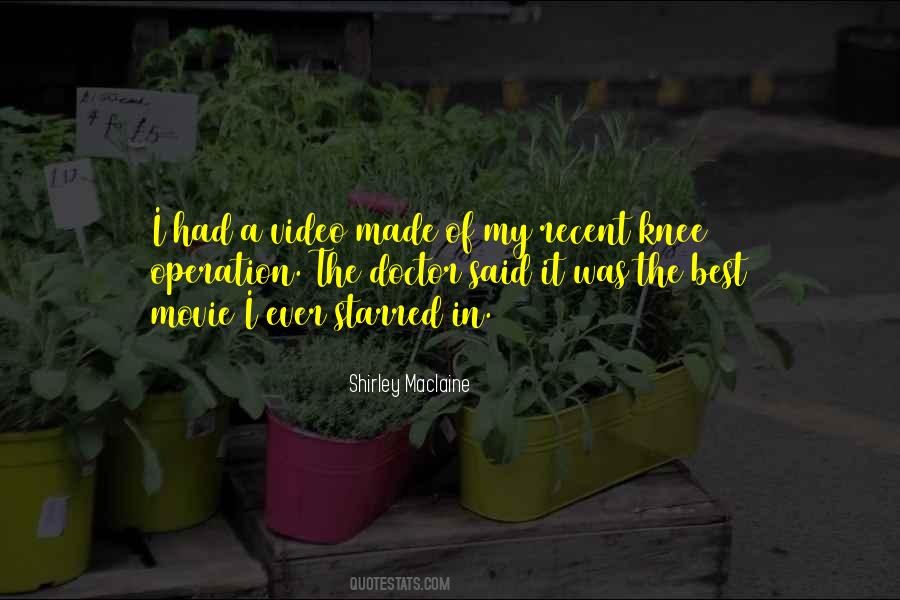 #96. It's my responsibility to make the movie work with the schedule and money we have. It's my job to get the best movie we can do in the time we have. - Author: George Tillman Jr.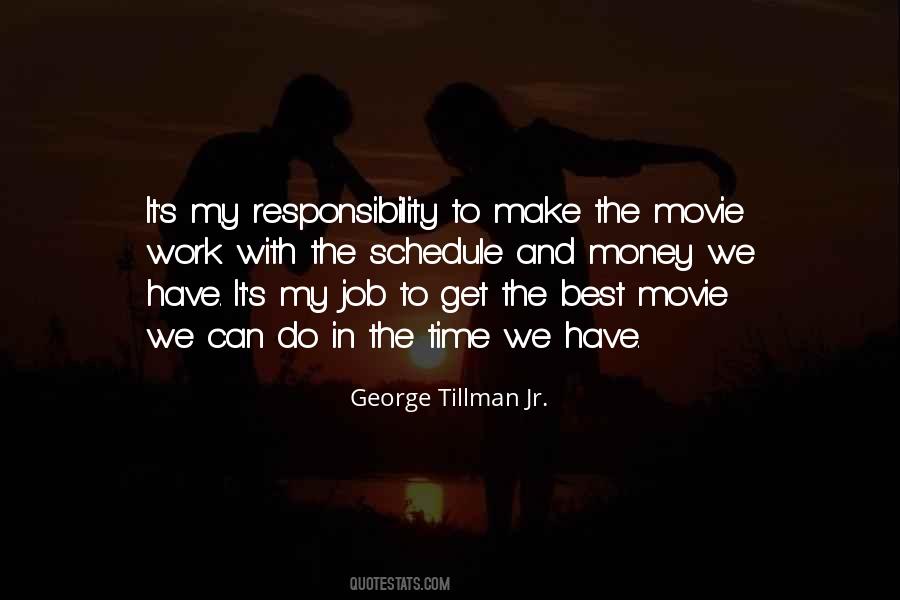 #97. I love movie sets. It's another home for me. Movie theaters and movie sets - they're just the best places to be. I love them. - Author: Logan Lerman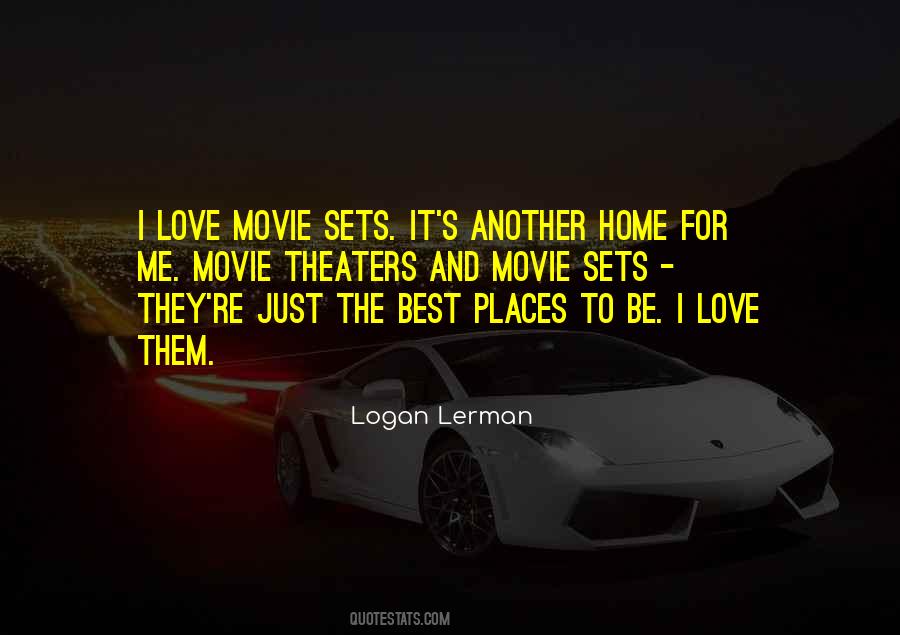 #98. The best date movies give you something to talk about. A movie that's a downer is a great way to find out about someone. - Author: Henry Adams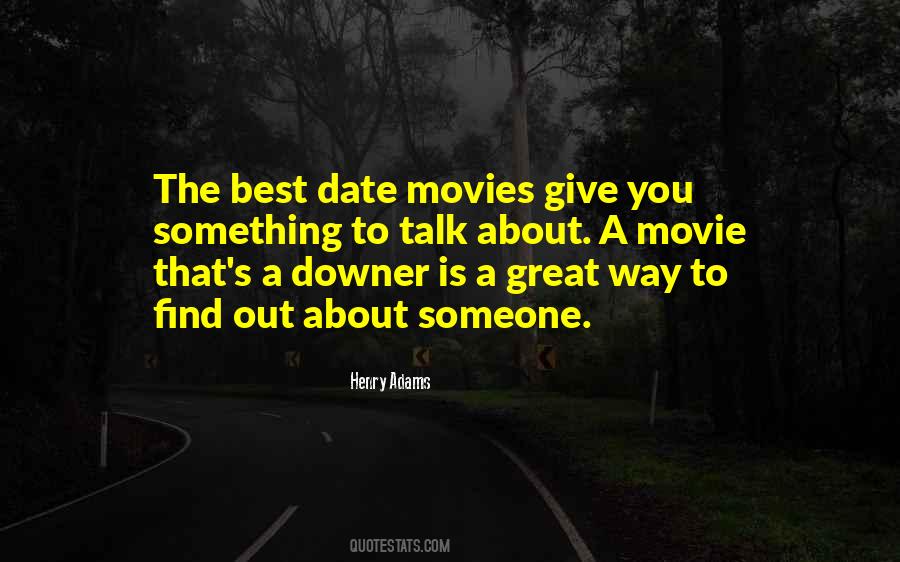 #99. A song in a musical works best when a character has to sing - when words won't do the trick anymore. The same idea applies to a long speech in a play or a movie or on television. You want to force the character out of a conversational pattern. - Author: Aaron Sorkin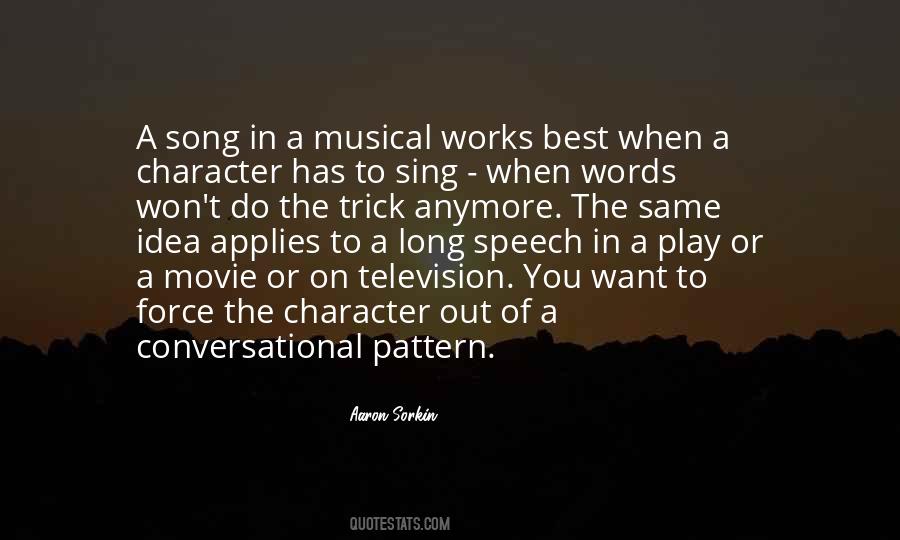 #100. Every time you start a movie is to explore with a director and if you can with the actors and with the other collaborators and try to figure out what's the best way to tell the specific story. - Author: Emmanuel Lubezki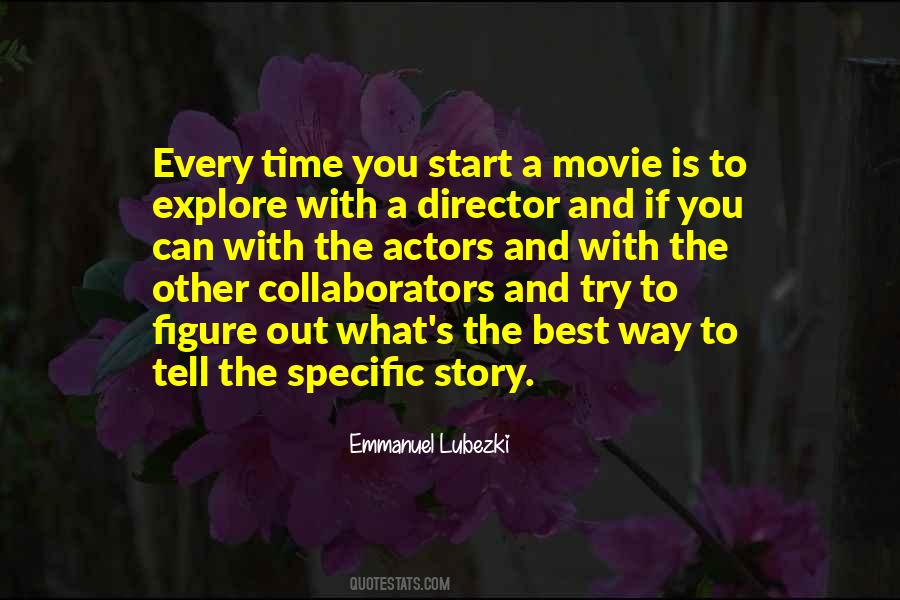 Famous Authors
Popular Topics