You Make It Famous Quotes & Sayings
List of top 100 famous quotes and sayings about you make it to read and share with friends on your Facebook, Twitter, blogs.
Top 100 You Make It Quotes
#1. Oh, hon, it's the little courtesies that make life bearable, I find, wouldn't you agree? - Author: Andrew Ashling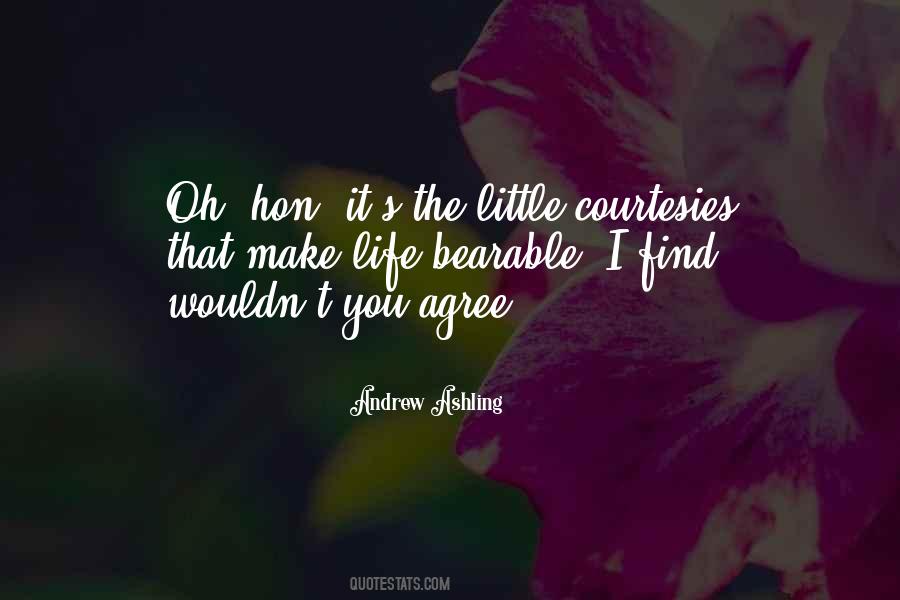 #2. Use Time. Make it easy. Get your money to work for you. The key is to get in the market, as it is not about timing the market, but time in the market that matters. - Author: Ann Wilson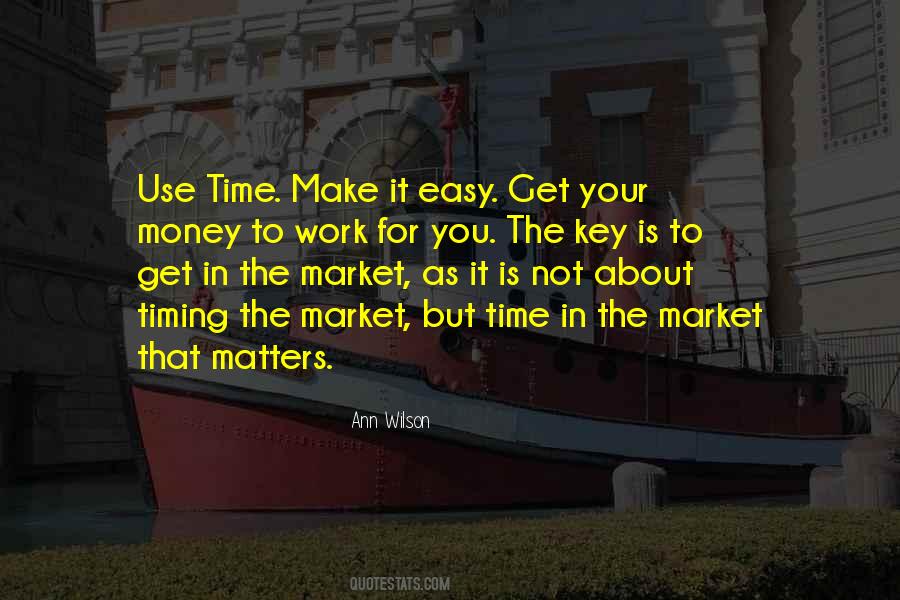 #3. If they make you put on a suit, it's because they are going to do something horrible to you. I guarantee it. - Author: Jesse Ball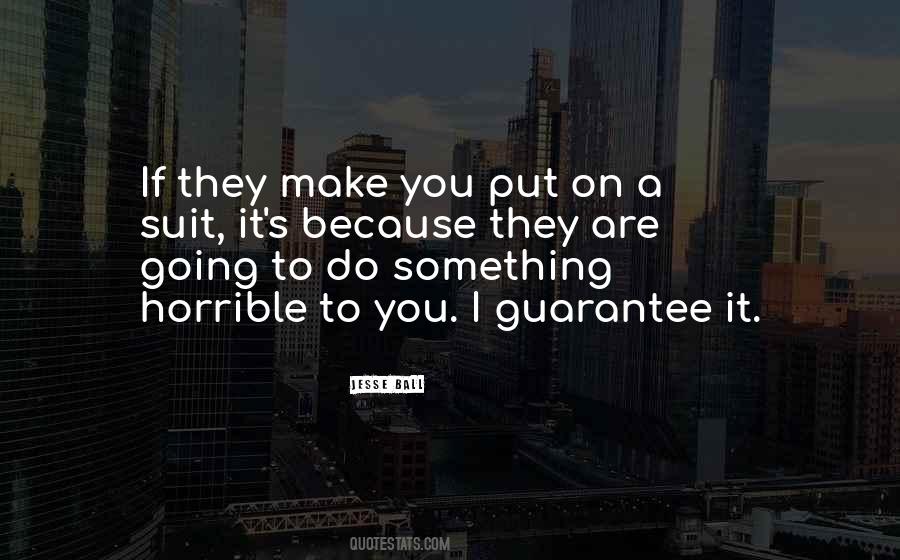 #4. Sometimes, you have to make the choice to forgive 10 times a day when you have these pockets of anger come up. That's a lot of work, but to me it's worthwhile. - Author: Amanda Lindhout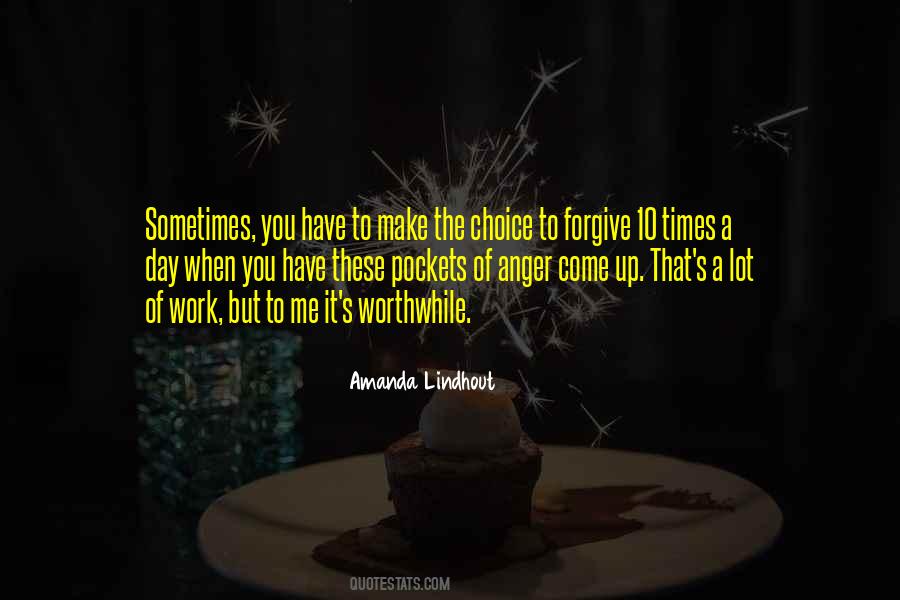 #5. You'll see, you'll come to understand. These big things, these terrible things, are not the important ones. If they were, how could one go on living? No, it is the small, little things that make up a day, that bring fullness and happiness to a life. - Author: Benedict Freedman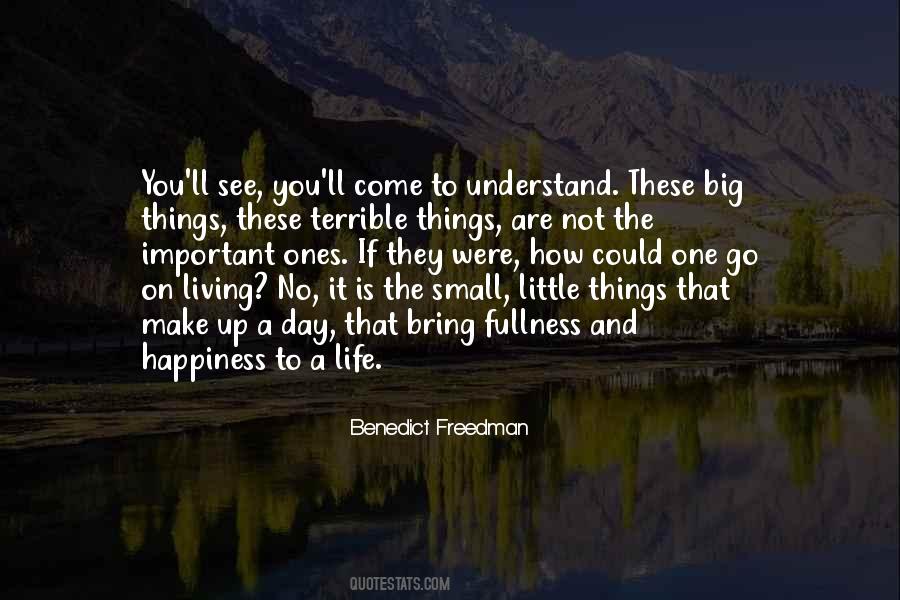 #6. Somebody came up to me after a talk I had given, and say, "You make mathematics seem like fun." I was inspired to reply, "If it isn't fun, why do it?" - Author: Ralph P. Boas Jr.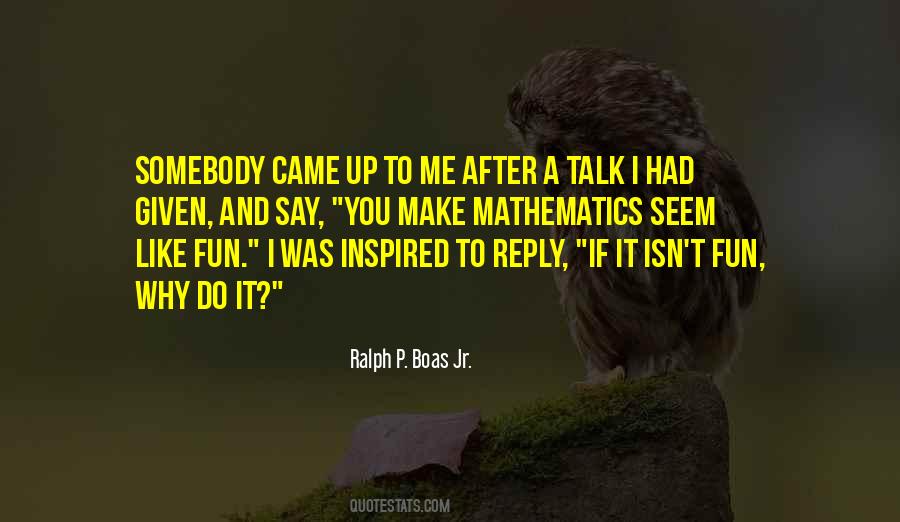 #7. Exposure and attention make a work famous - the more you talk about it, the more attention it gets, the more validity it achieves. - Author: Andy Warhol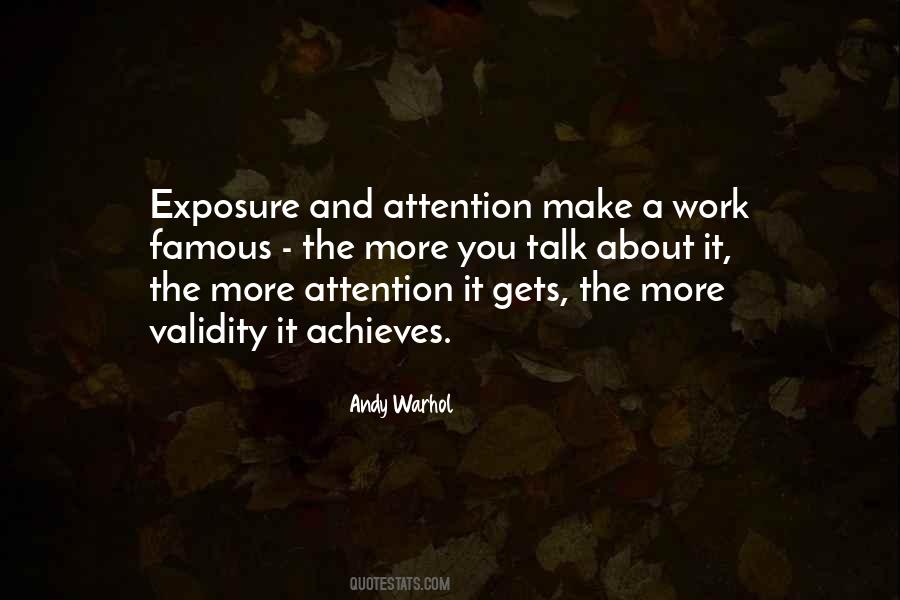 #8. Food is like clay; you can sculpt with it. Also it has an odor, and you can eat it. I don't eat a lot of cake, but I do make cakes! And unlike the Campbell's Soup Cans, my food is a humanized form and scale. - Author: Claes Oldenburg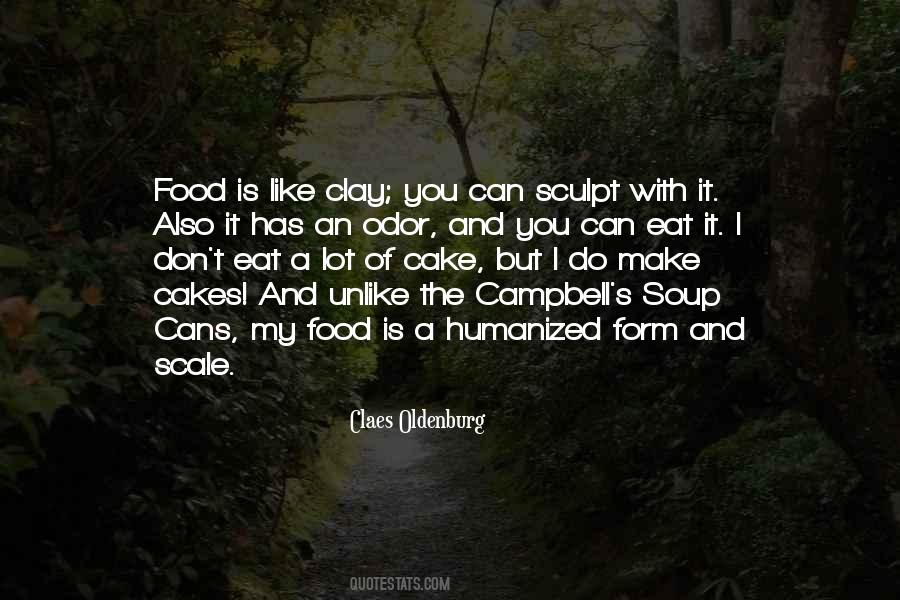 #9. Yes," said Jalem as he returned to his brushing. "You've obviously done a superb job so far. Tell me, do I need to make an appointment to try and kill Drothe, or is it simply on a first-come, first-served basis? I can never keep kin etiquette straight. - Author: Douglas Hulick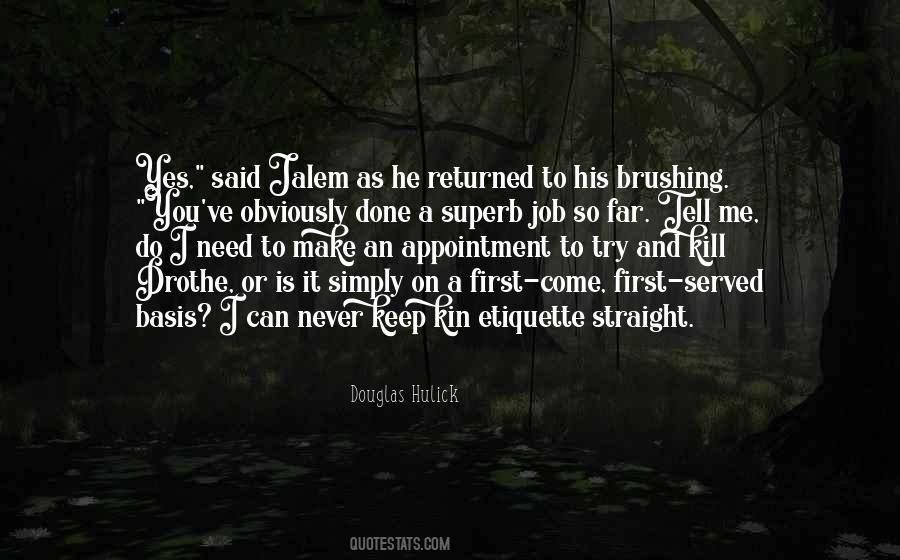 #10. And I mean to hear ye groan like that again. And to moan and sob, even though you dinna wish to, for ye canna help it. I mean to make you sigh as though your heart would break, and scream with the wanting, and at last to cry out in my arms, and I shall know that I've served ye well. - Author: Diana Gabaldon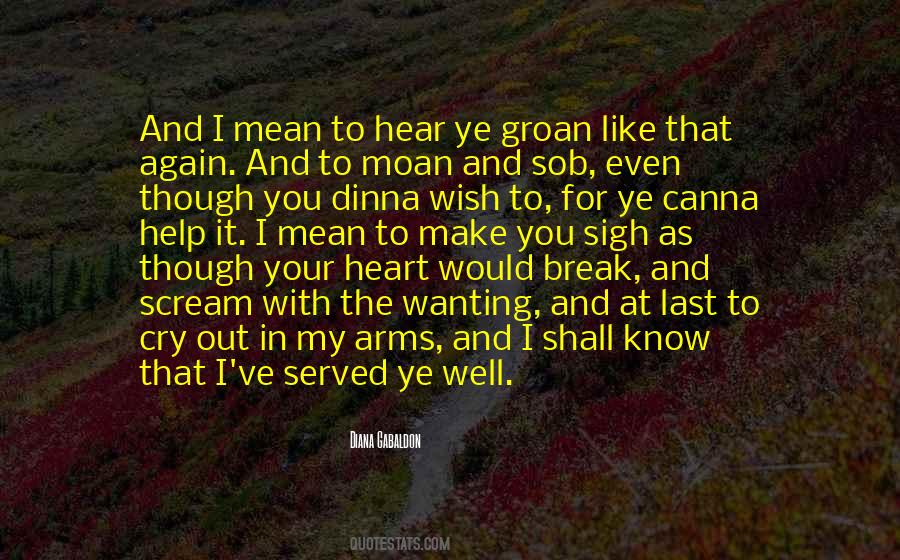 #11. Blaze your own trail in life. Make your own choices and make your own mistakes. It's the only way you'll find your own happiness, not someone else's. - Author: M. Leighton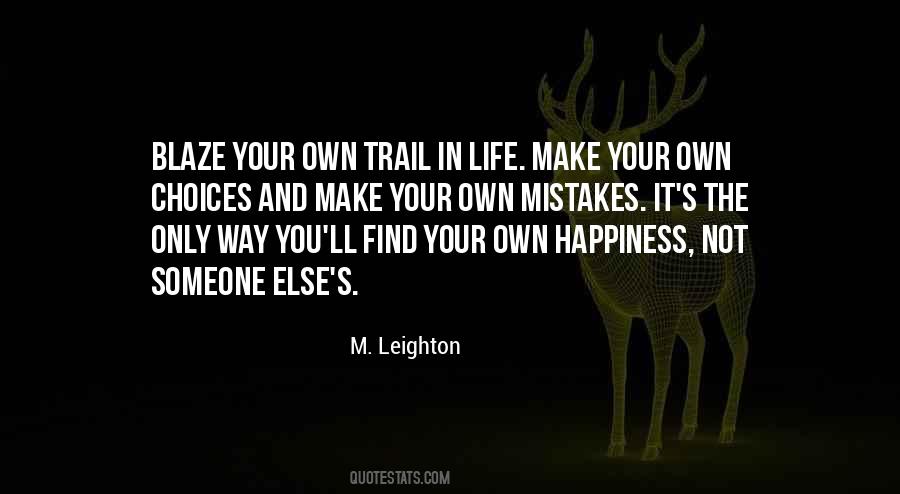 #12. Making music is like being the president: You can't tell people you're going to make health care free to get them behind you, but when you get that role, you don't do it. - Author: Tyga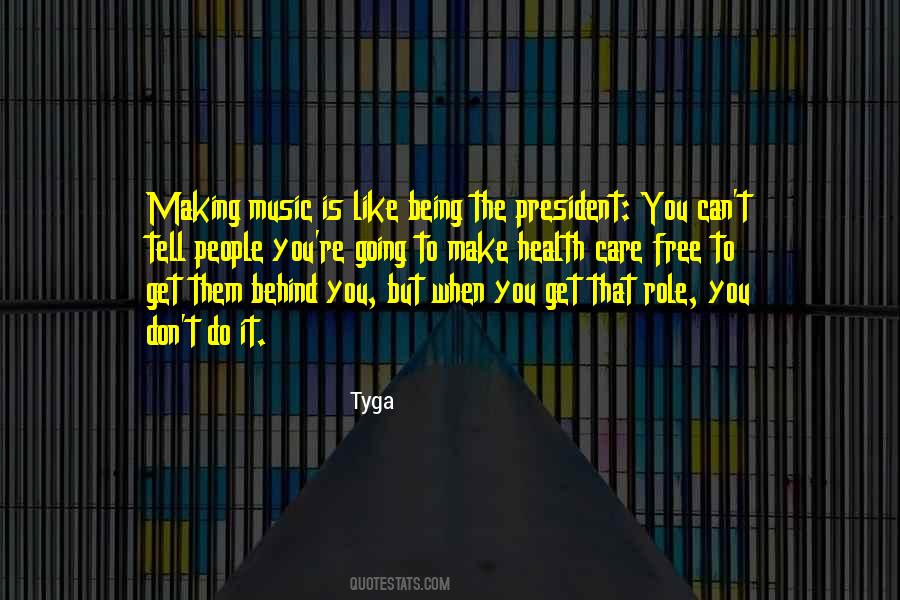 #13. I don't want to be in some relationship that's just about trading apologies when things get hard. Doing that won't make it all OK, you know? So, no, I don't forgive you. But I fucking accept you, including all the shit you do that tests my patience. Because I love you. - Author: Liora Blake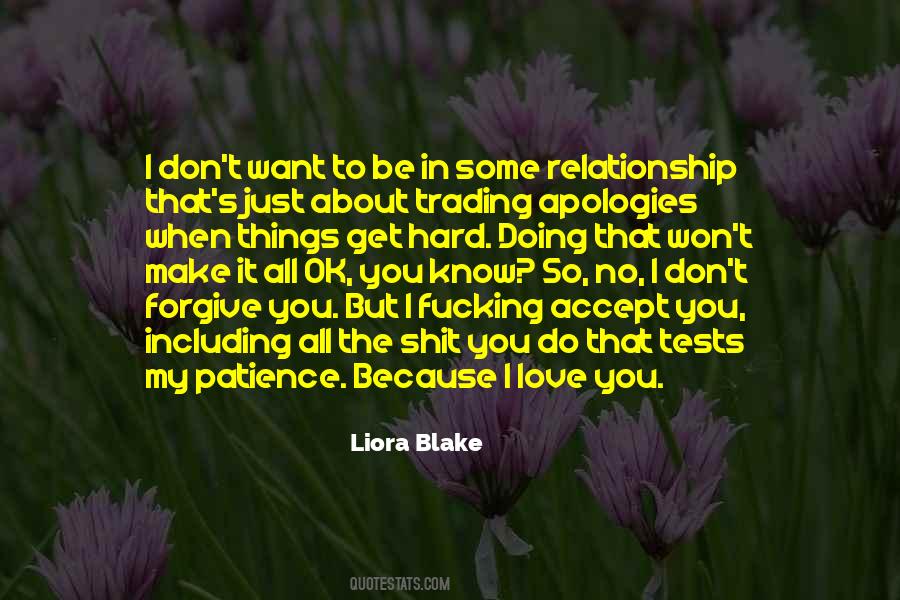 #14. Politics is theater. It doesn't matter if you win. You make a statement. You say, I'm here, pay attention to me - Author: Harvey Milk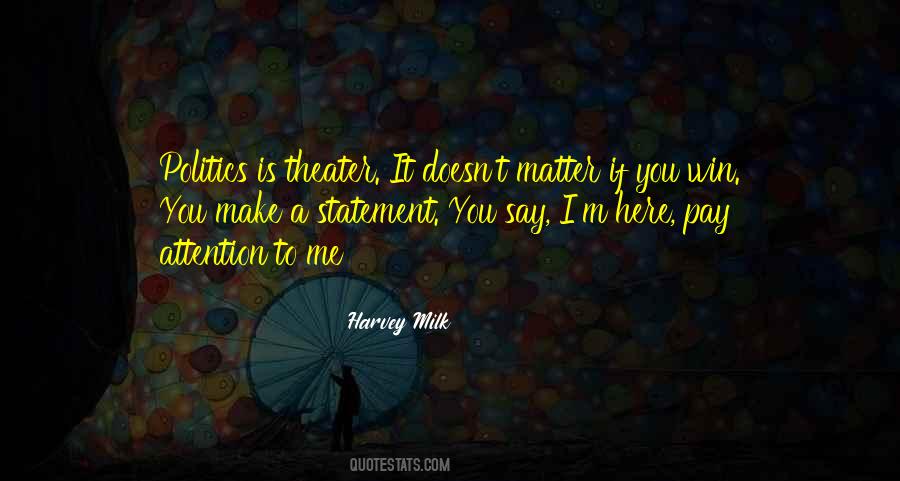 #15. I'm just smart enough to know what it is I don't know and try to learn as I go along and accept that you're going to make mistakes, and there are going to be things that are not going to be perfect. - Author: Ronald D. Moore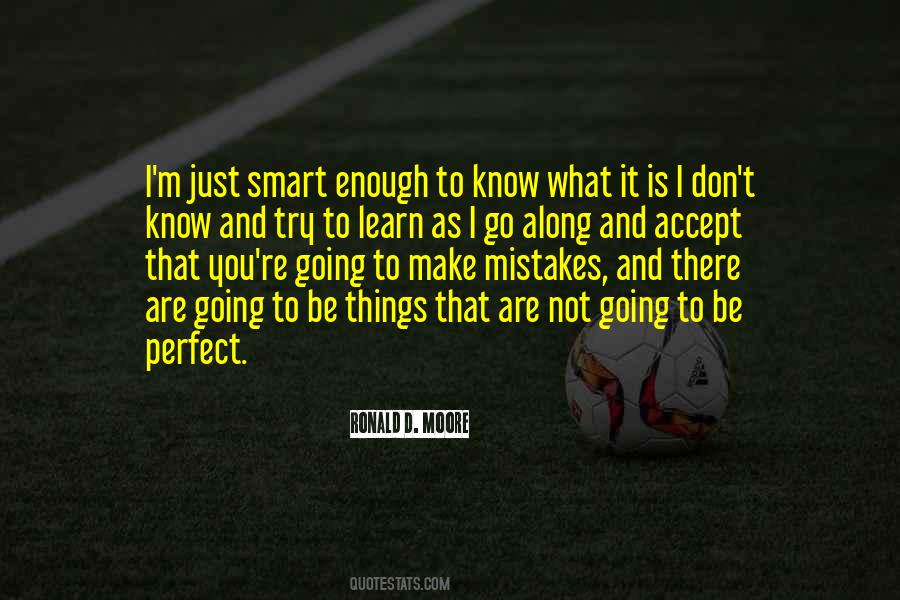 #16. A world turned into a stereotype, a society converted into a regiment, a life translated into a routine, make it difficult for either art or artists to survive. Crush individuality in society and you crush art as well. Nourish the conditions of a free life and you nourish the arts, too. - Author: Franklin D. Roosevelt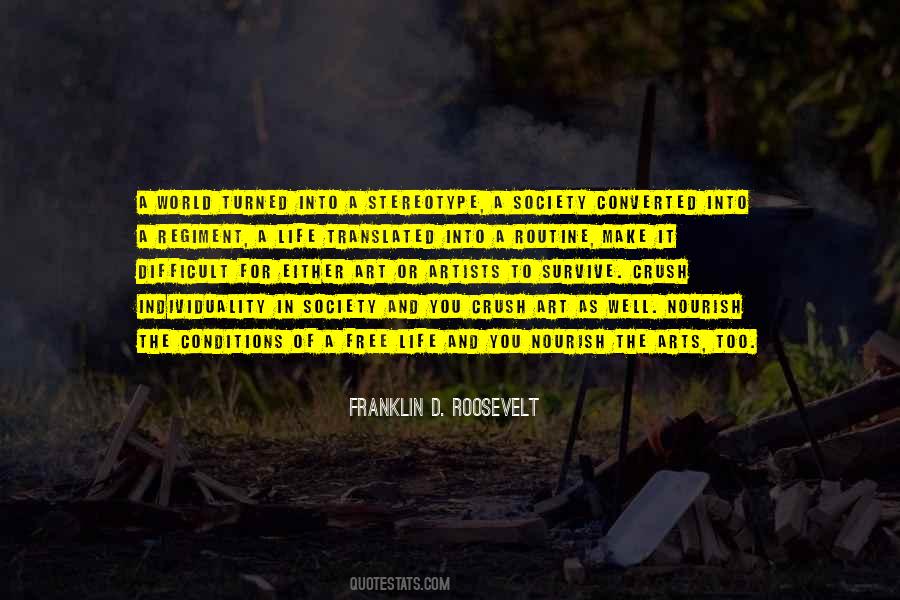 #17. Yes, I will probably be that way. I am sure I will. I think that it shouldn't stop you. I think of course my life is going to change, and I definitely will make sacrifices, but you know, I think I will be able to bring hopefully my little rider with me. - Author: Beyonce Knowles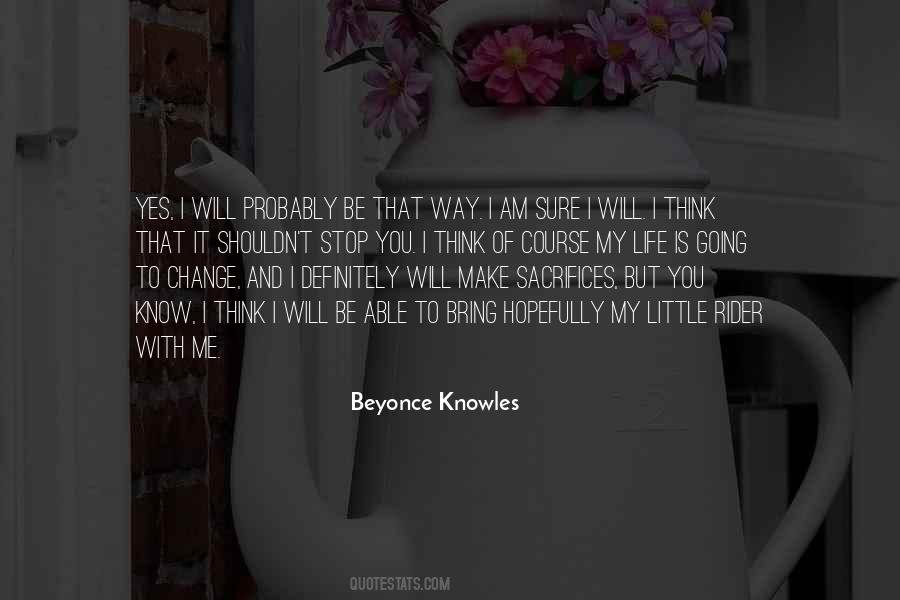 #18. Can I ask what you're reading?" ... She turned the book so the cover faced me. Wuthering Heights. "Have you read it?" She said. I nodded. I could feel the pulsating beat of my heart behind my eyes. "It's a sad story." "Sad stories make good books," She said. "They do. - Author: Khaled Hosseini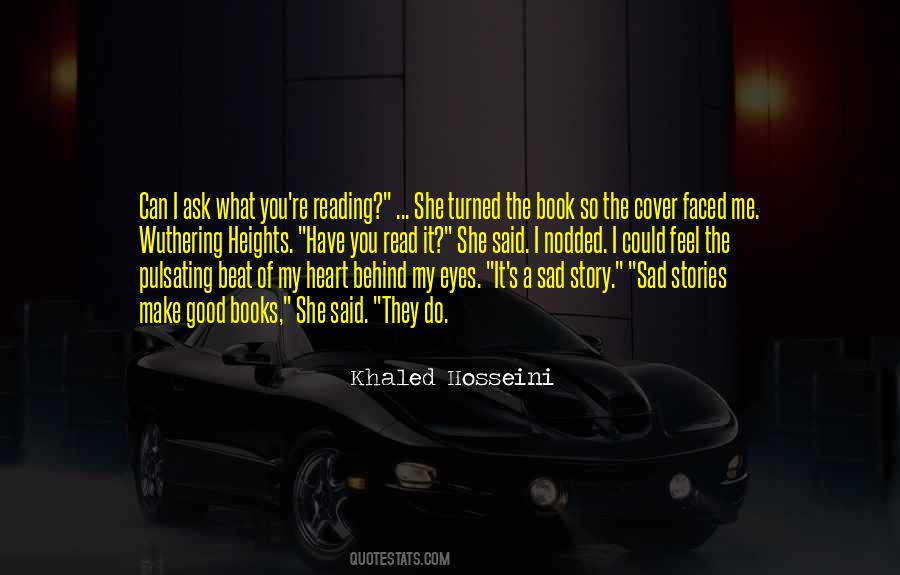 #19. We have some decisions to make. You'd just be going back and forth to his room to report when you might as well take all his objections at once and be done with it. The decisions aren't going to change. - Author: Erin Kellison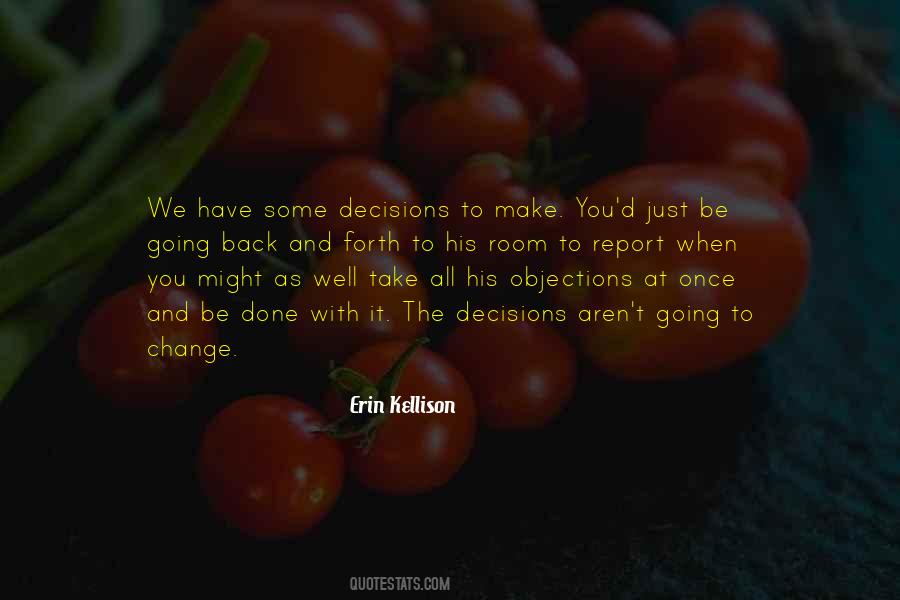 #20. It's not unlike a marriage, the partnership. All the effort and good intentions in the world can't make things right if you choose poorly in the first place. - Author: Cecilia Grant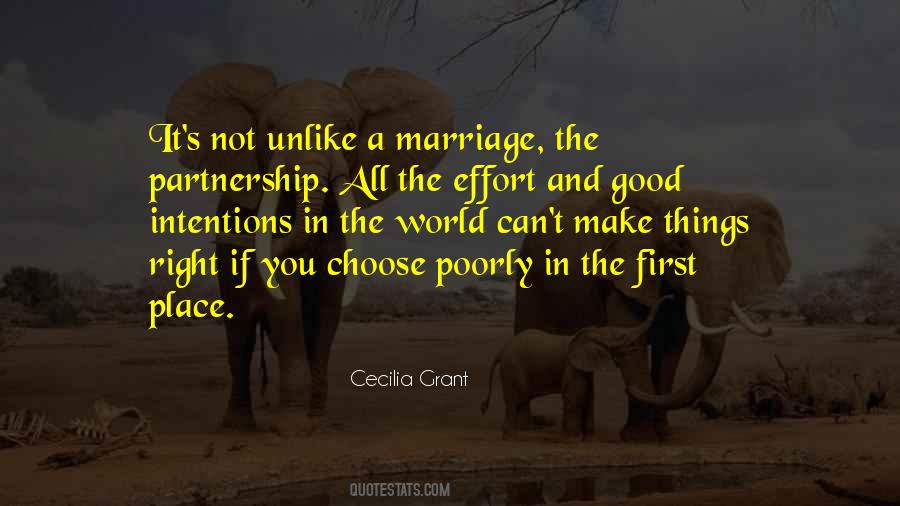 #21. The reality is that everybody makes mistakes. The issue isn't whether you will make them, it's what you will do about them. It's whether you will choose the path of humility and courage or the path of ego and pride. - Author: Stephen Covey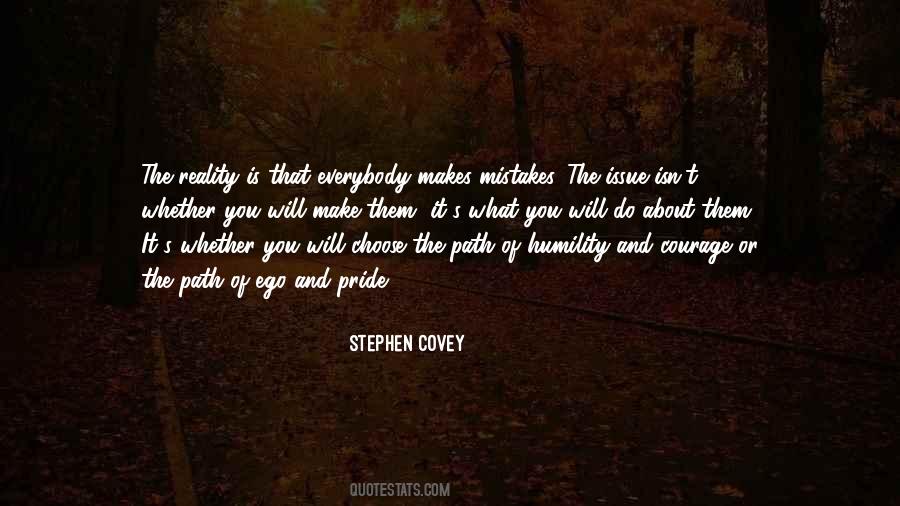 #22. In my era of wrestling, there were no guaranteed contracts, so it was inherent that you draw the crowd in to make money. - Author: Jesse Ventura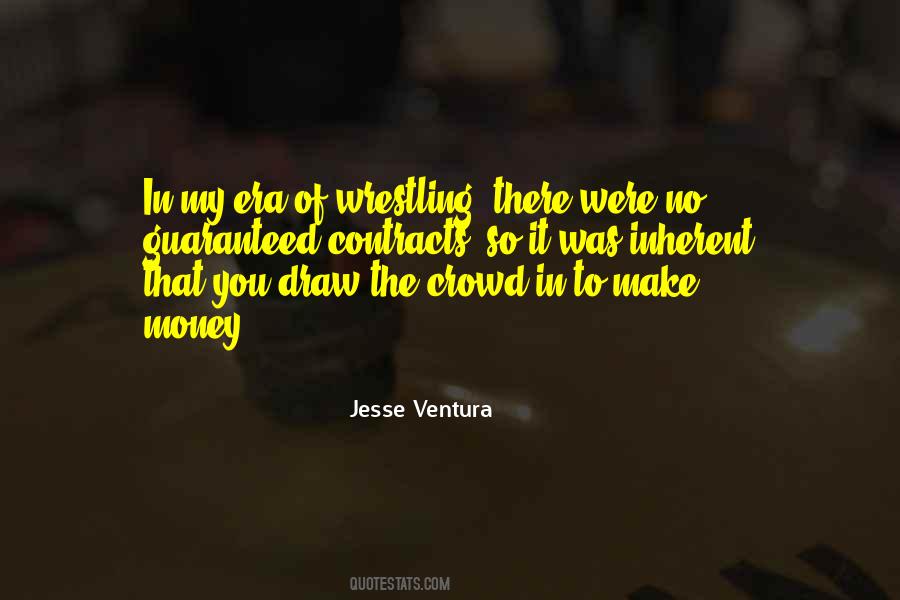 #23. To have a film where there's an evil figure and a good person fights against the evil figure and everything becomes a happy ending, that's one way to make a film. But then that means you have to draw, as an animator, the evil figure. And it's not very pleasant to draw evil figures - Author: Hayao Miyazaki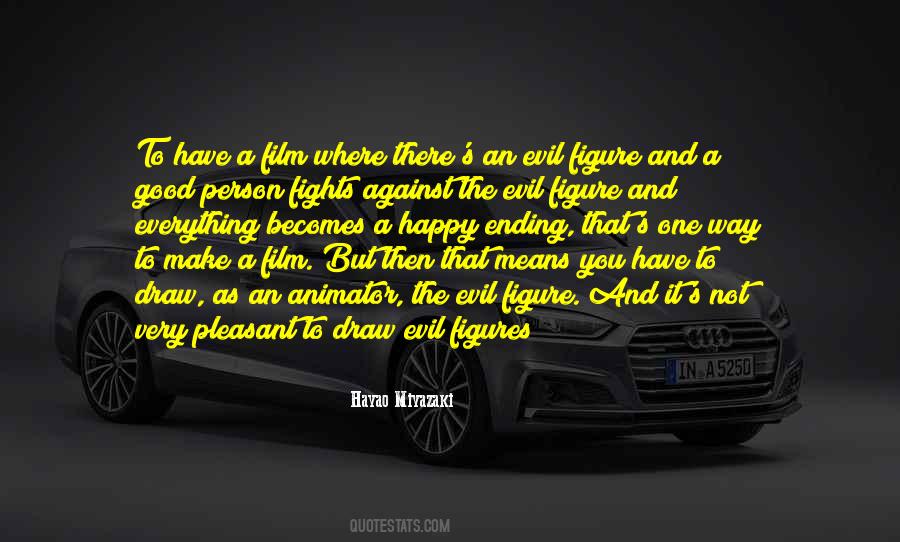 #24. One rule that will work if it is used everywhere, is that when you have a free-kick, the referee puts the mark on the floor to make sure the defenders keep their distance. - Author: Cristiano Ronaldo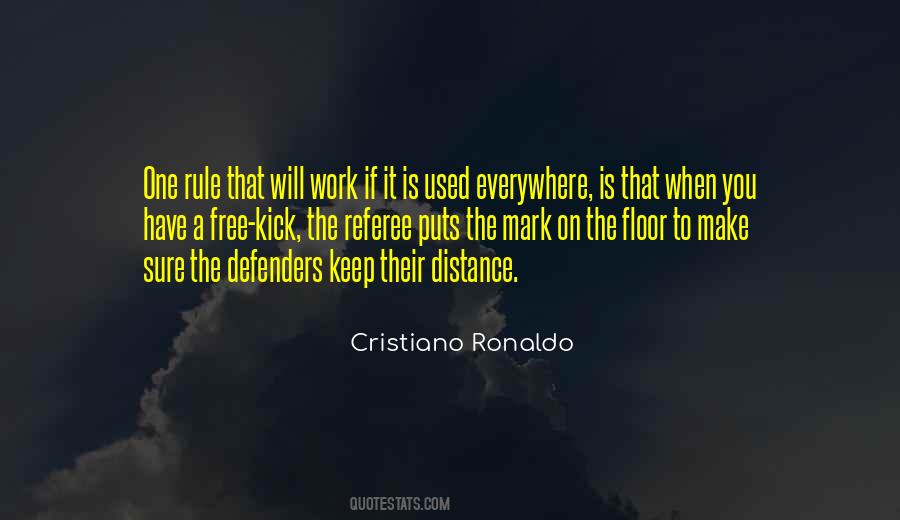 #25. You have become so good that every mistake you make has a spotlight on it. - Author: Michael Sokolove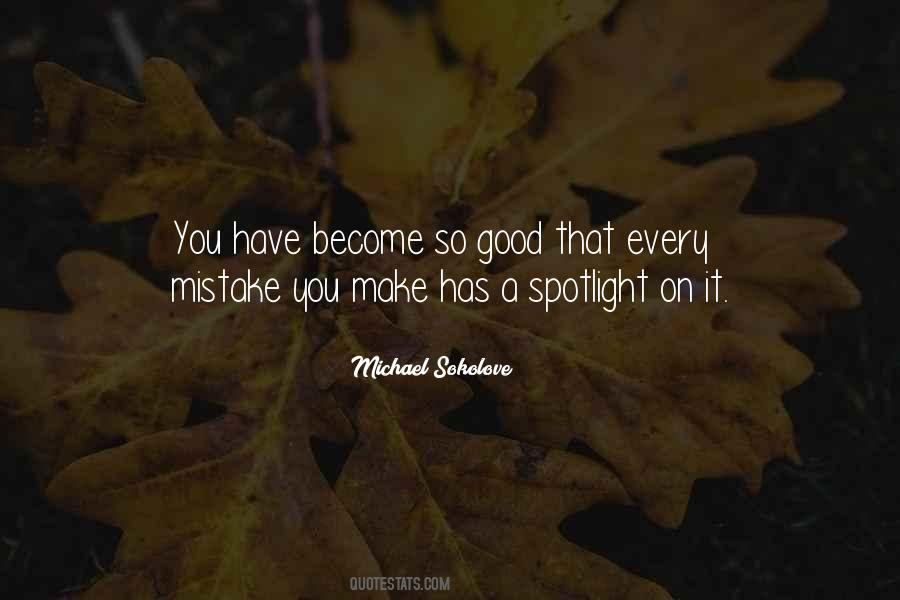 #26. Just because one of your films does well at the box office, that doesn't make you a good person. It doesn't make you strong, smart, or secure, either. - Author: Tina Majorino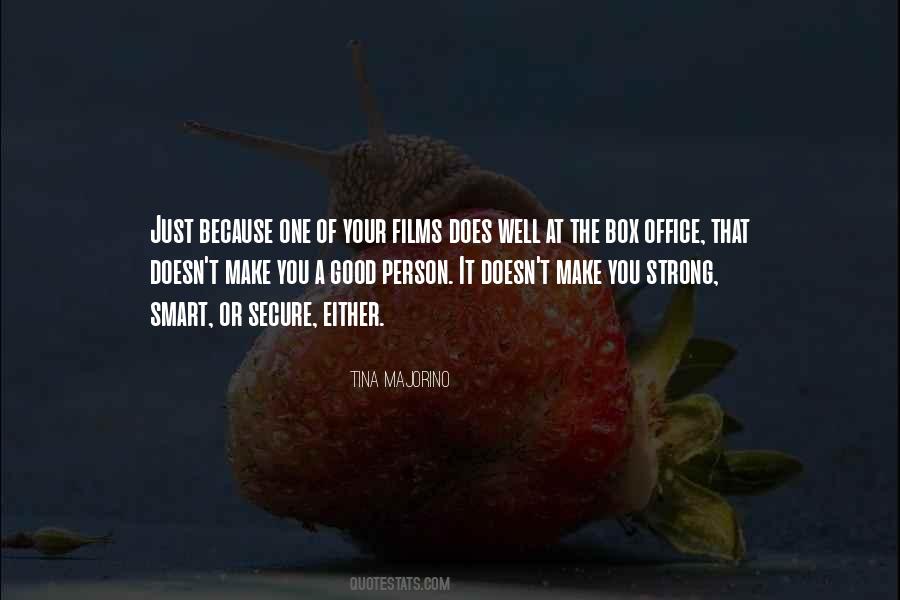 #27. It's like an emotional dance party: Some dances will be your favorites
others more awkward or difficult to learn. Some will be boring or make you mad. some you will wish you never needed to do again. But AHA! You think. I will dance all the dances I can. - Author: SARK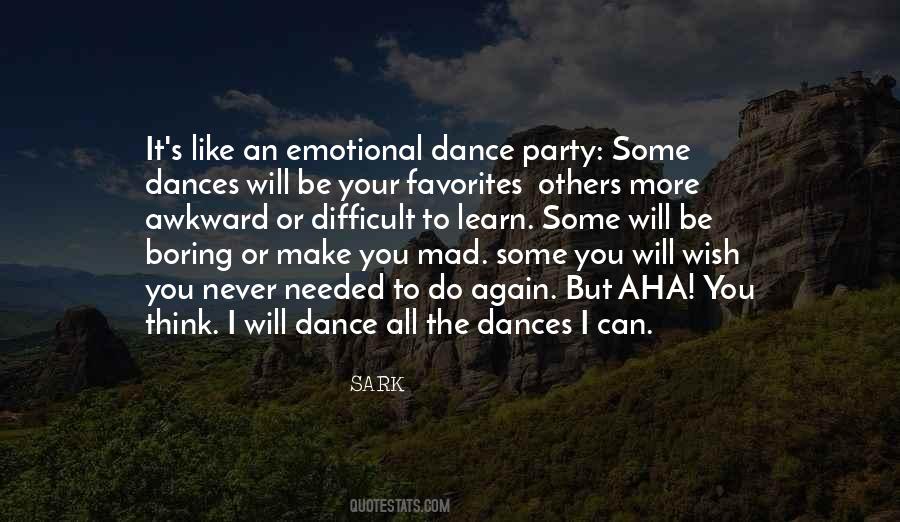 #28. There's shit that's random and shit you can control. It's up to you to choose what you'll react to and how to make your mark. What do you choose to control? - Author: Cat Porter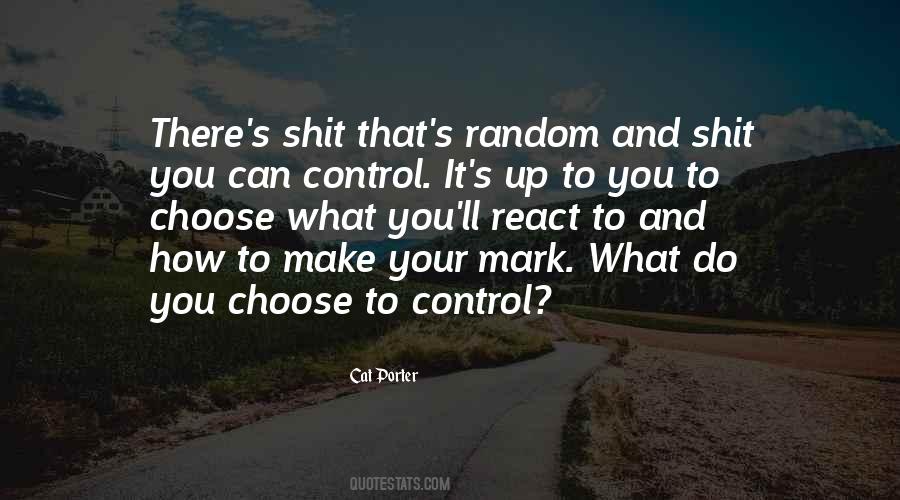 #29. I like songs that make me feel tough. Like 'Back in Black.' You want to hear it again and get in a fight. - Author: Chris Stapleton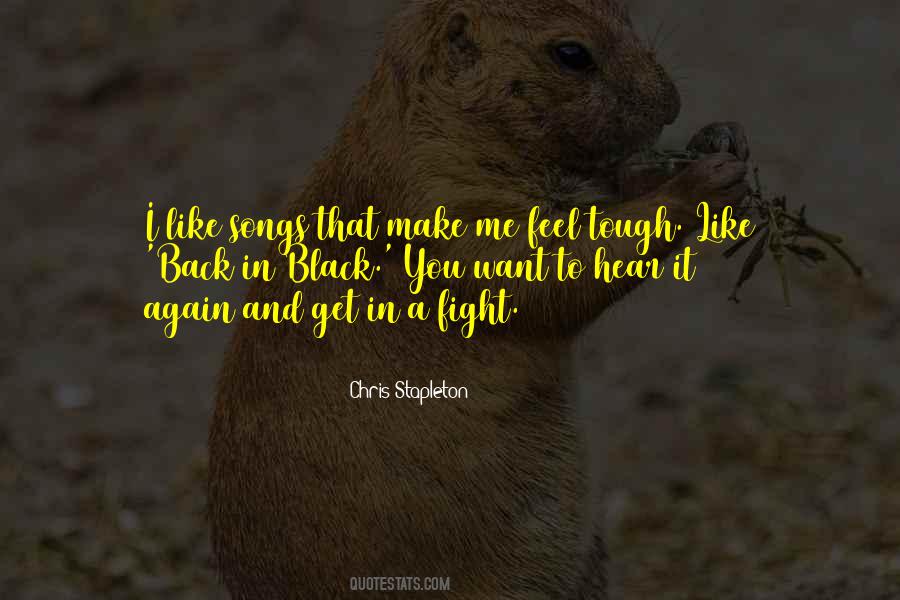 #30. I've got the greatest job in the world. There's no other job in government where cause and effect is so tightly coupled where you can make a difference every day in so many different ways and in so many different people's lives. It's a great challenge. - Author: Michael Bloomberg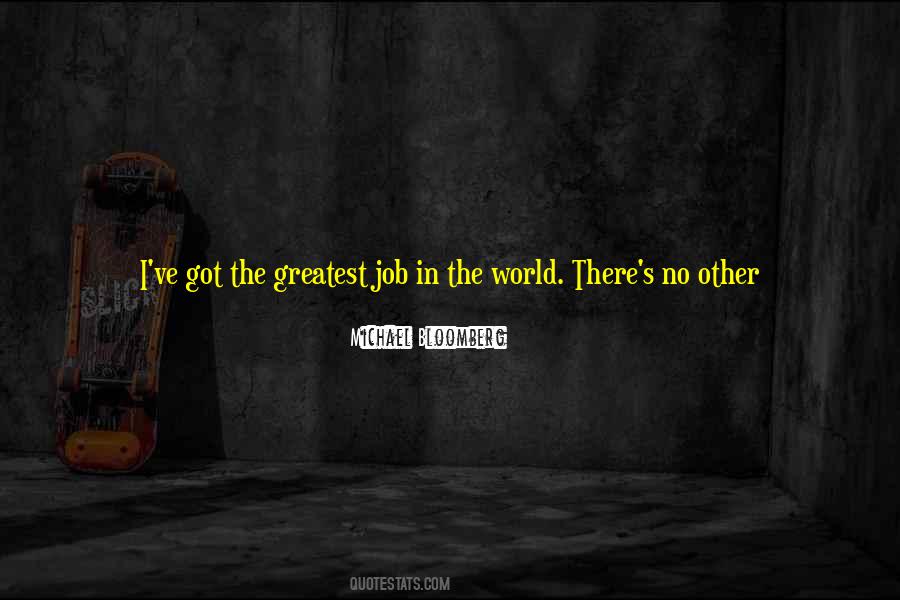 #31. I think there's nothing better than laughing in life, so that's nice, to be thought of as someone who can make someone laugh. It's 'cause I think life is hard. You know, my dad was a really silly man. A great Irish silly man. And that's fine. - Author: Joan Cusack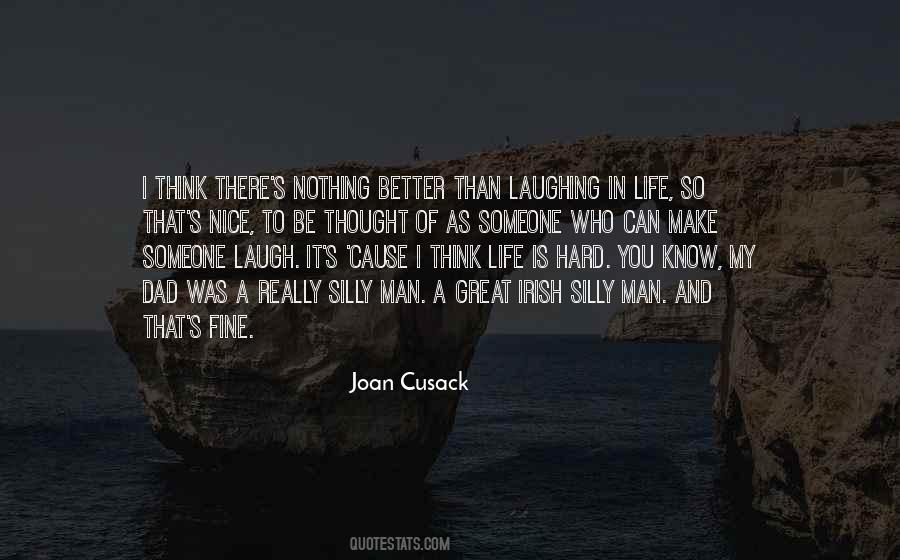 #32. It's good to believe in yourself, but there are people out there who can make or break you. - Author: Johnny Cash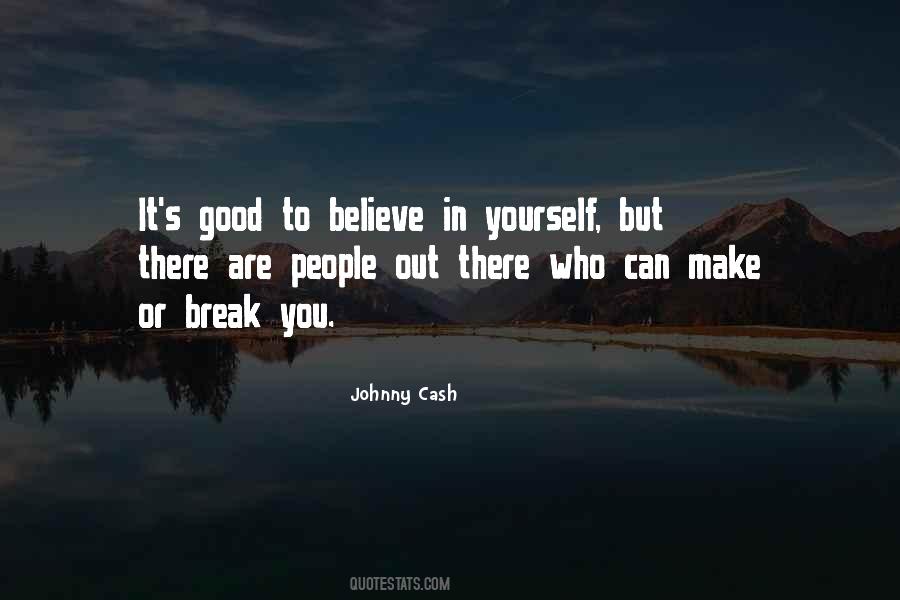 #33. What you're about to read is based on true events. It will make you laugh. It will make you cry. And it will break your heart. Don't say I didn't warn you. - Author: Melissa M. Futrell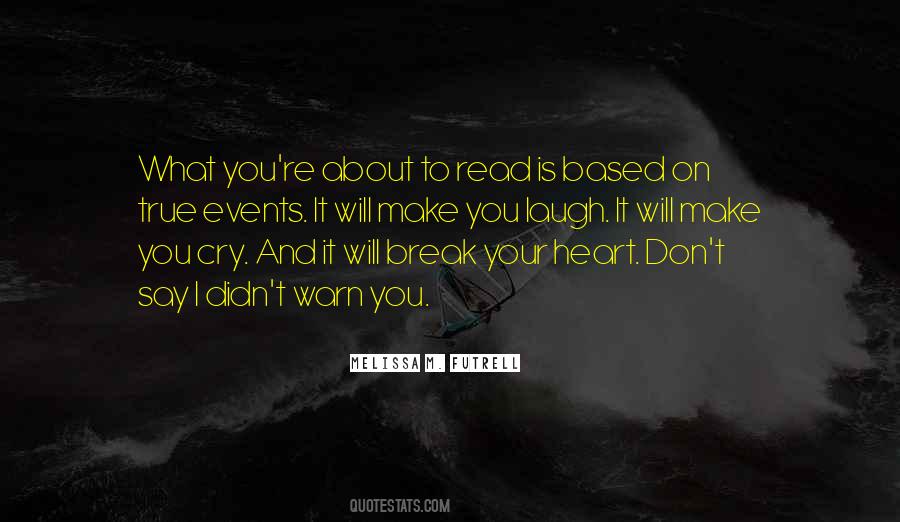 #34. To be honest, I think we should find first the possibility to make it. Research is first - if you're not interested, you never can find something. Many things happen from forgotten machines - ones that are no longer used. - Author: Issey Miyake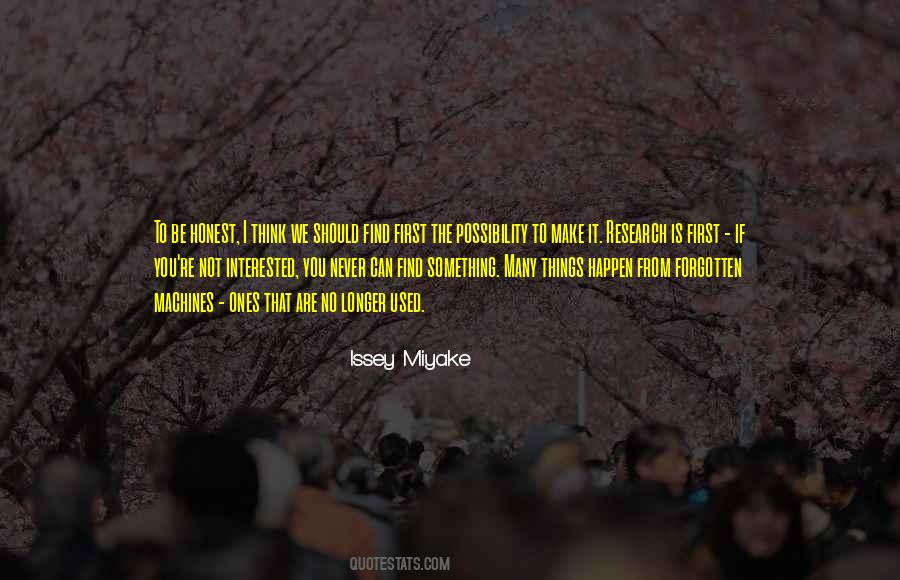 #35. I'm a cartoonist, it's what I am at heart, so cartoons take reality and deform it and make it grotesque, you make it funny, but you alter it. If it works, it's based on reality. That's what I try to do. - Author: Terry Gilliam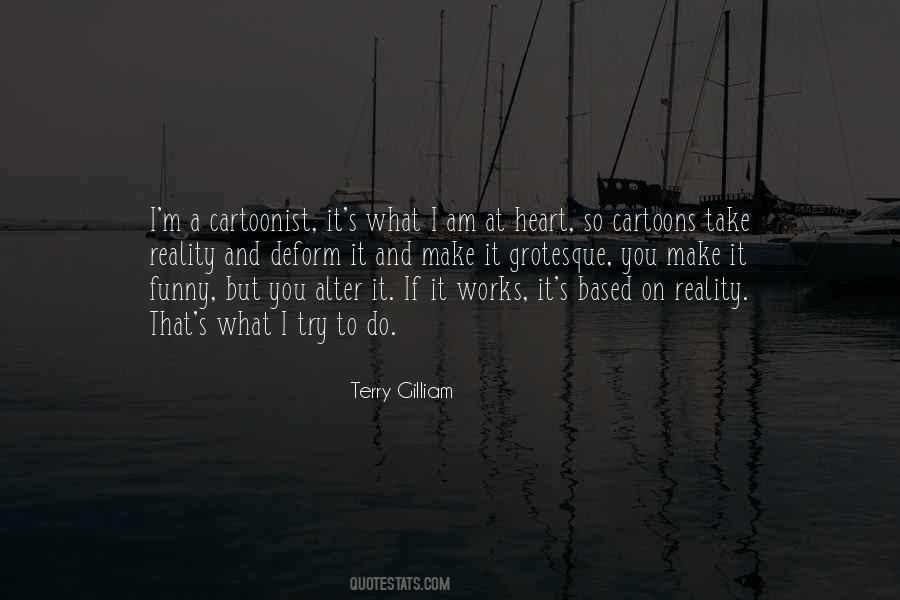 #36. You think that because I want to do what's right, because I want to make things better, I'm weak," Claire said. "Or that I'm stupid. But I'm not. It takes a lot more strength to know how bad the world is and not want to be part of that, give in to it. And I do know, Kim. Believe me. - Author: Rachel Caine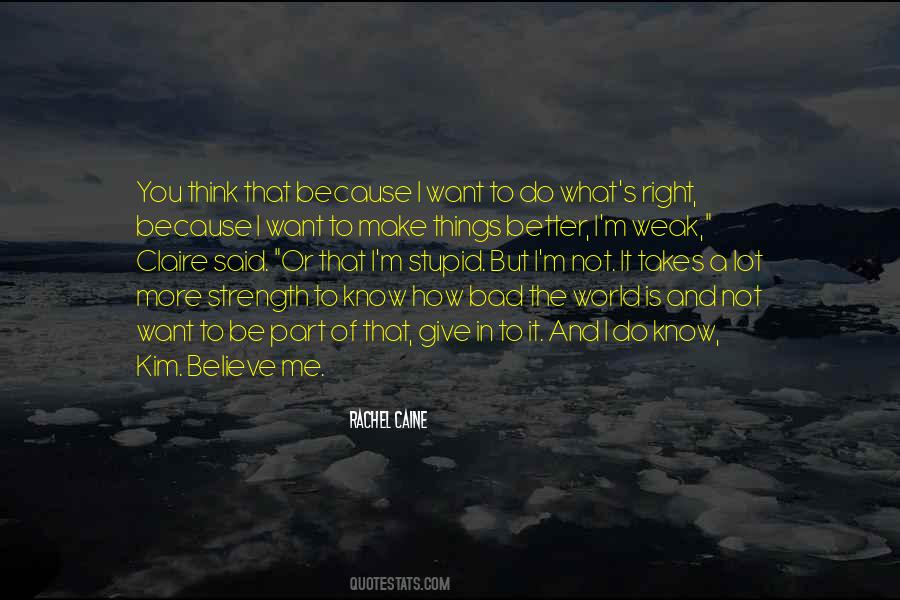 #37. Too many people, right now are playing it small. If you want to be SUCCESSFUL, Live BIG, Think BIG, & make every day of your life COUNT! - Author: Joel Brown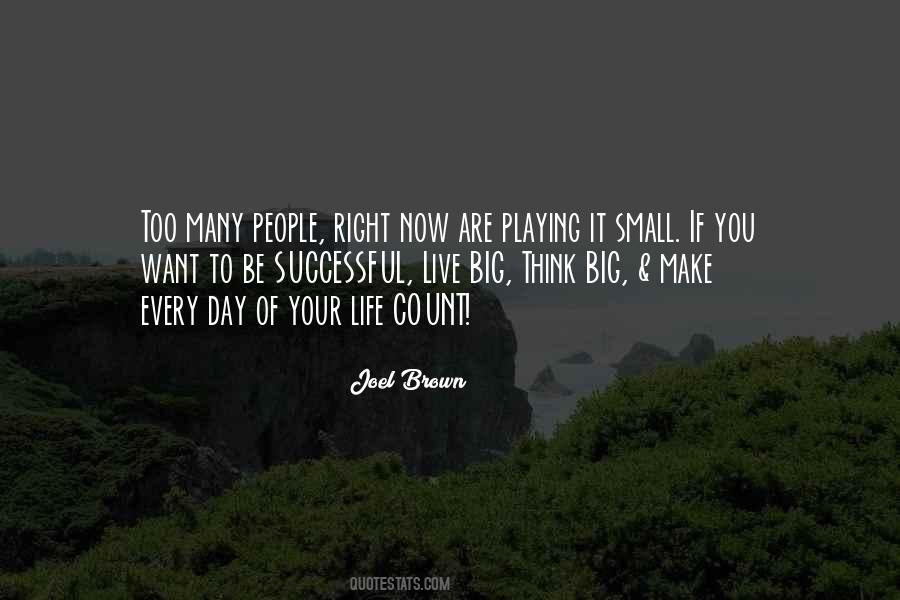 #38. The thing about interviews is that if someone interviews you, and they're an idiot, then they make you sound like an idiot, too. They ask you stupid questions, and they bring you down to their level. It's tempting to not ever want to talk to anybody, but you can't do that. - Author: Dean Wareham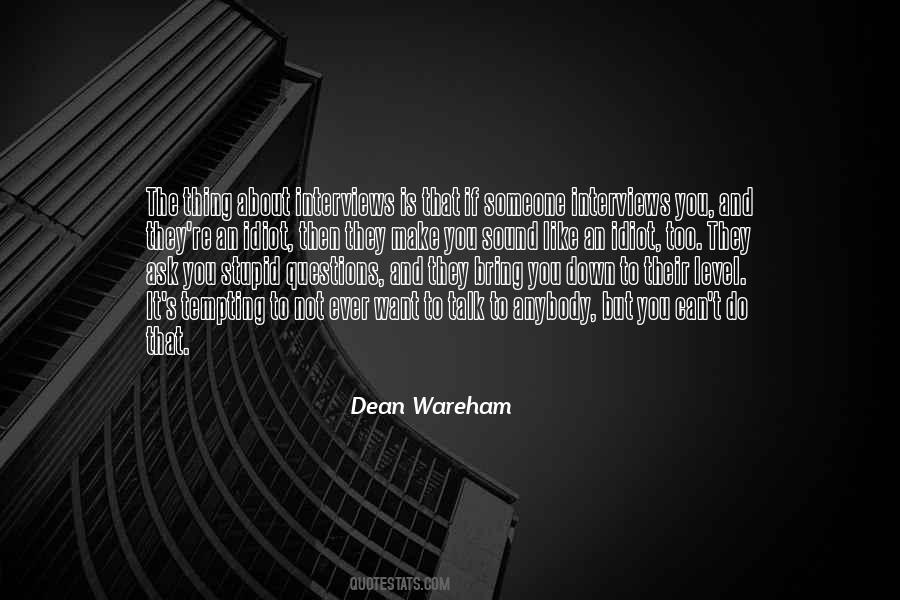 #39. I wasn't trying to make you jealous. But if jealousy does this to you, I might need to consider it." He gripped my sides firmly, letting his lips gently dance over mine, "Mags, I'm yours. You have nothing to worry about. - Author: Kristen Hope Mazzola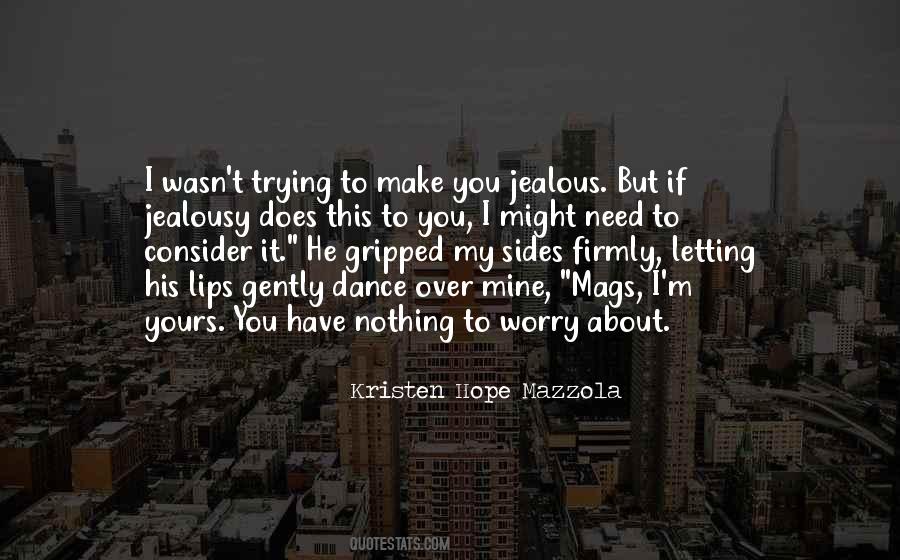 #40. I couldn't make ends meet. I tried Red Lobster. I tried Wal-Mart. I tried all these places and I couldn't make it. I couldn't. So, I tried this gentlemen's club, and, you know, I worked there, and it was just awful in those places. It was terrible. - Author: Anna Nicole Smith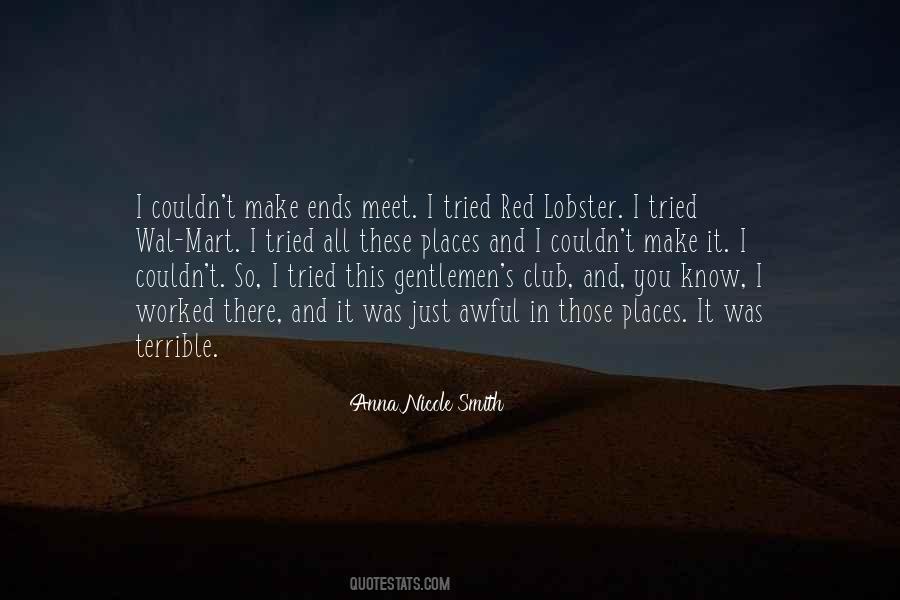 #41. The real metric of success isn't the size of your bank account. It's the number of lives in whom you might be able to make a positive difference. - Author: Naveen Jain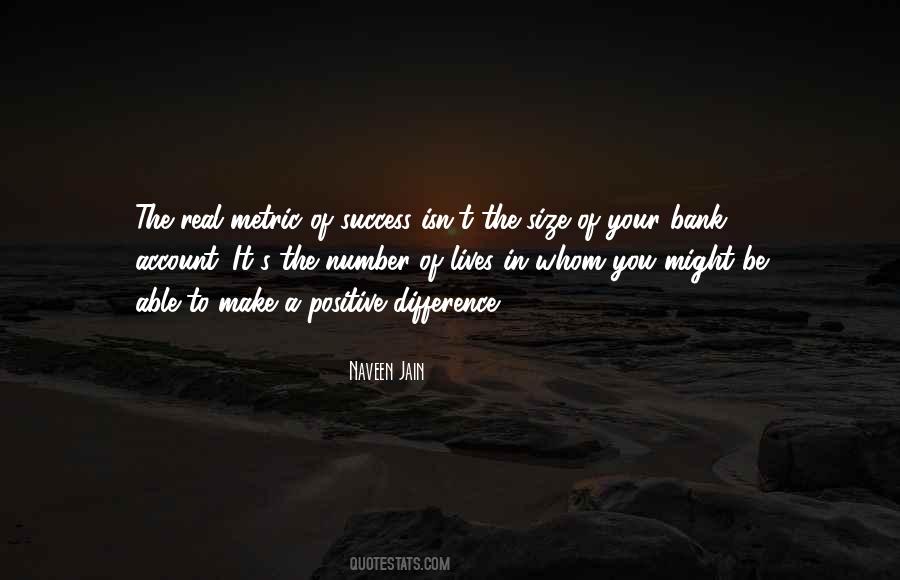 #42. Marriage is what you make of it, and God has many versions of what that looks like based on what different souls need, in order to grow. - Author: Shannon L. Alder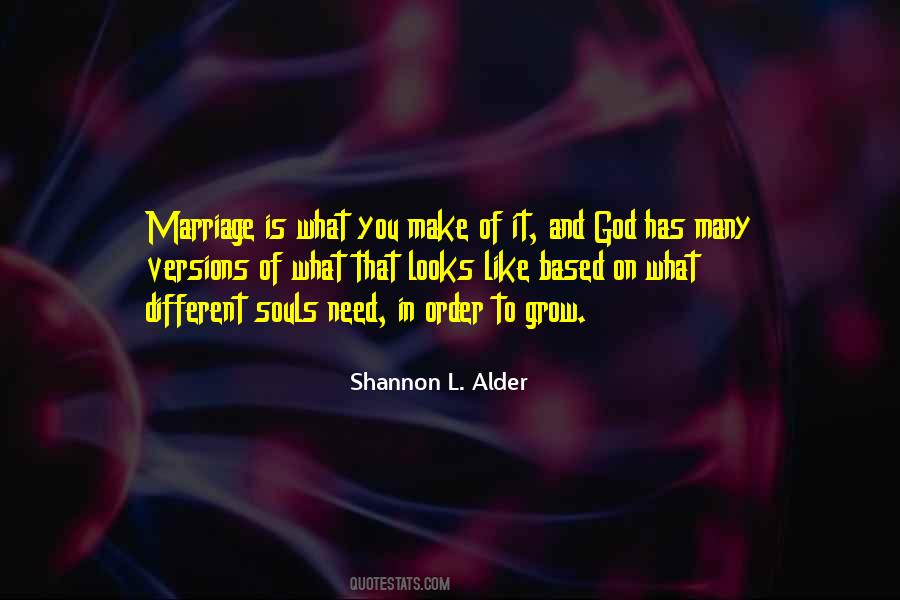 #43. It's easier to die when you have lived, than it is to die when you haven't. So I say to all young people, go make memories; beautiful memories. Because when the time comes to go, you won't go alone. - Author: Dorian "Doc" Paskowitz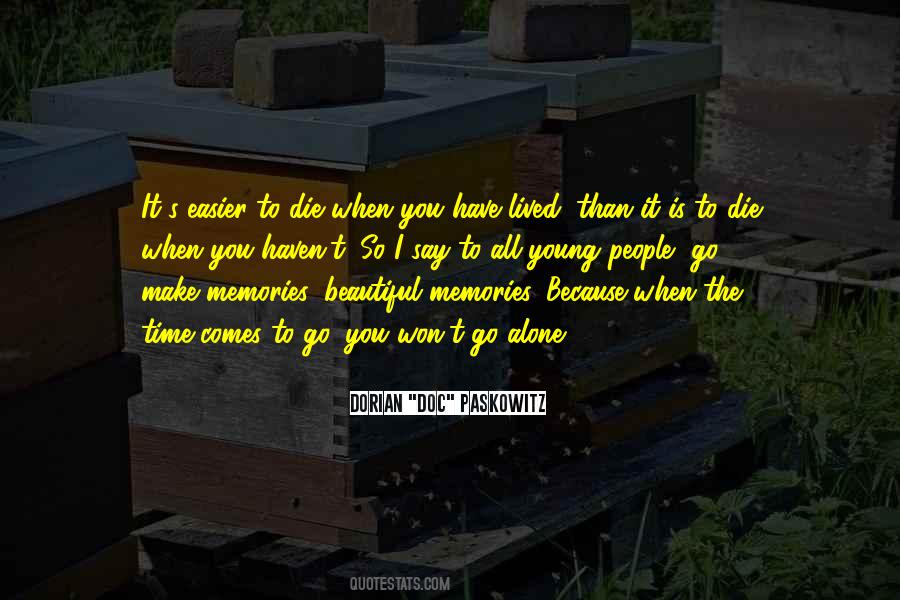 #44. You have just got to face the facts, don't you? I face it head-on. I knew what I was coming in to. I didn't make the impact I hoped for and I believed in. - Author: Ole Gunnar Solskjaer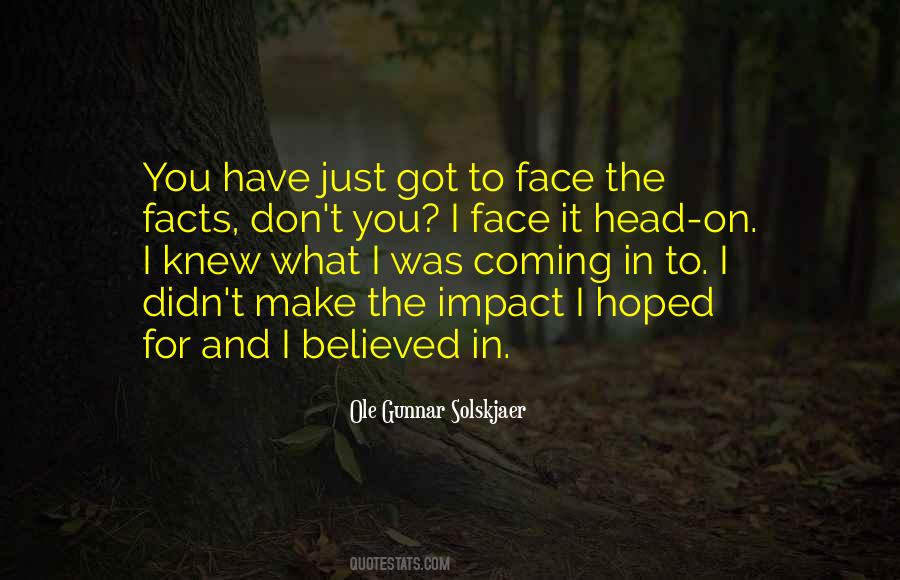 #45. I mean, I always think when you're an actor you have to be the guy running into the burning building rather than running out of it, if you want to make some noise as an actor. - Author: Dylan McDermott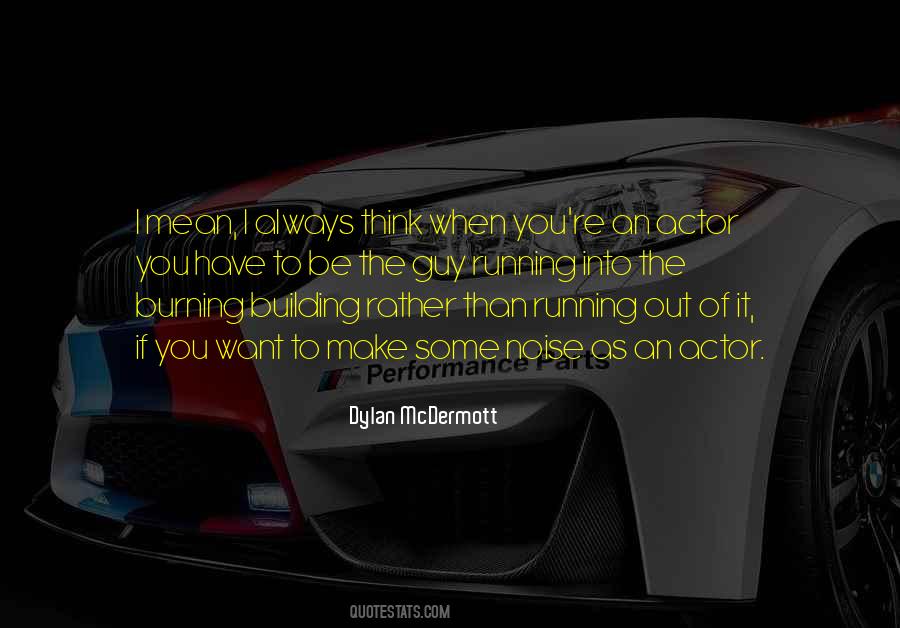 #46. Writers spend three years rearranging 26 letters of the alphabet. It's enough to make you lose your mind day by day. - Author: Richard Price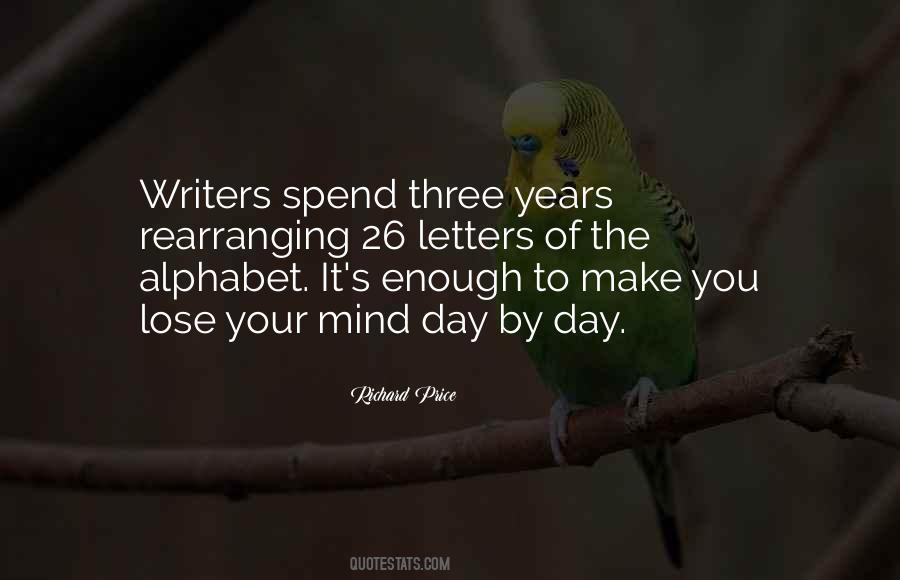 #47. It's the choices you make that construct your future. You can choose to become a victim or you can choose to make decisions that empower you. Surround yourself with people who support your vision so you can keep your focus, and your energy! - Author: Rashmi Bansal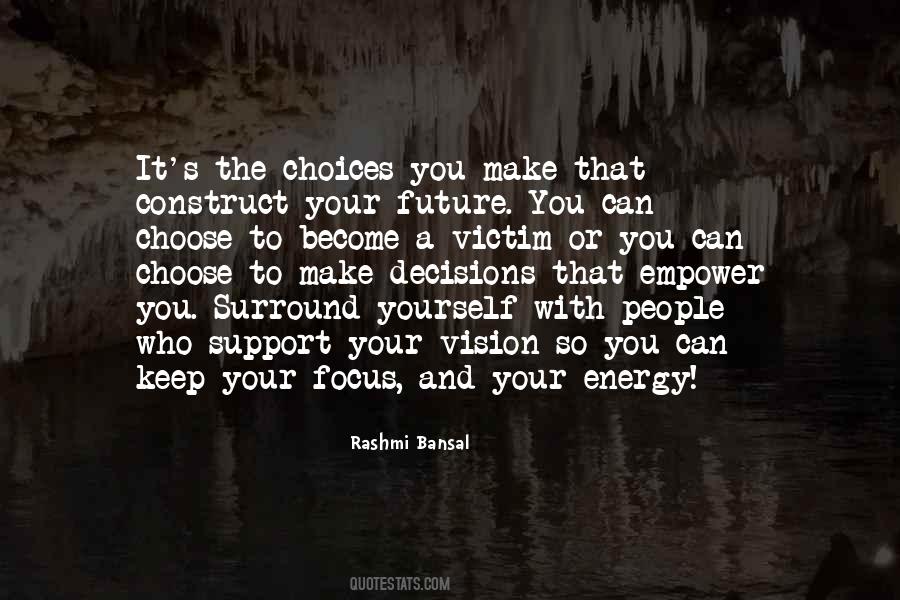 #48. Ignore them. They don't know what it is to make a difficult decision."
"You wouldn't have done it, I bet."
"That is only because I have been taught to be cautious when I don't know all the information, and you have been taught that risks can produce great rewards. - Author: Veronica Roth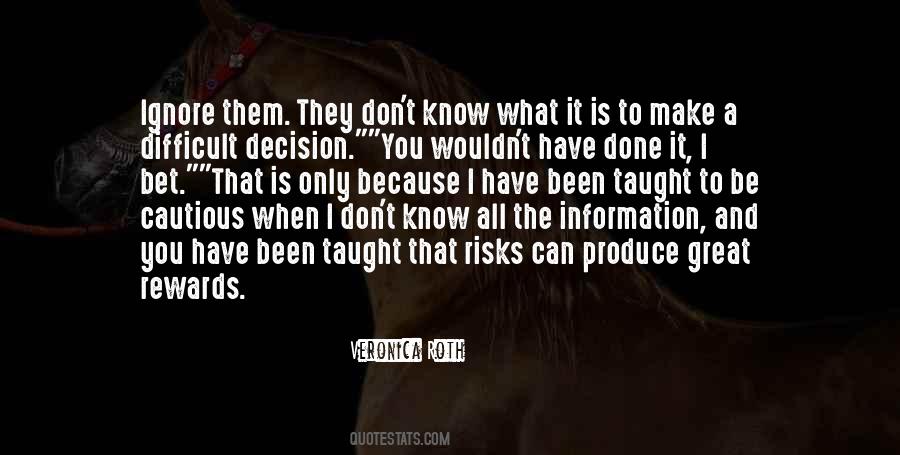 #49. You can't make me mad by calling me names that are true. Certainly I'm a rascal, and why not? It's a free country and a man may be a rascal if he chooses. It's only hypocrites like you, my dear lady, just as black at heart but trying to hide it, who becomes enraged when called by their right names. - Author: Margaret Mitchell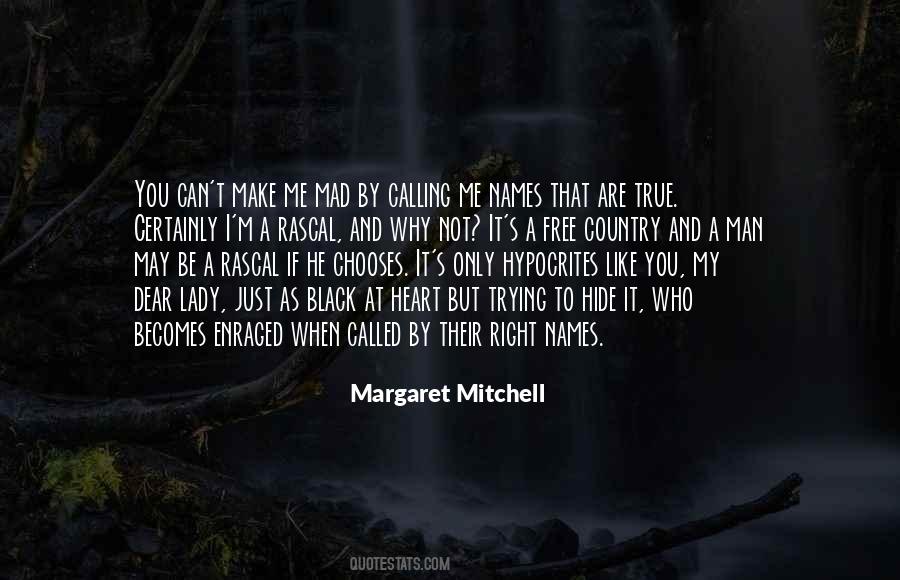 #50. A joke is like building a mousetrap from scratch. You have to work pretty hard to make the thing snap when it is supposed to snap. - Author: Kurt Vonnegut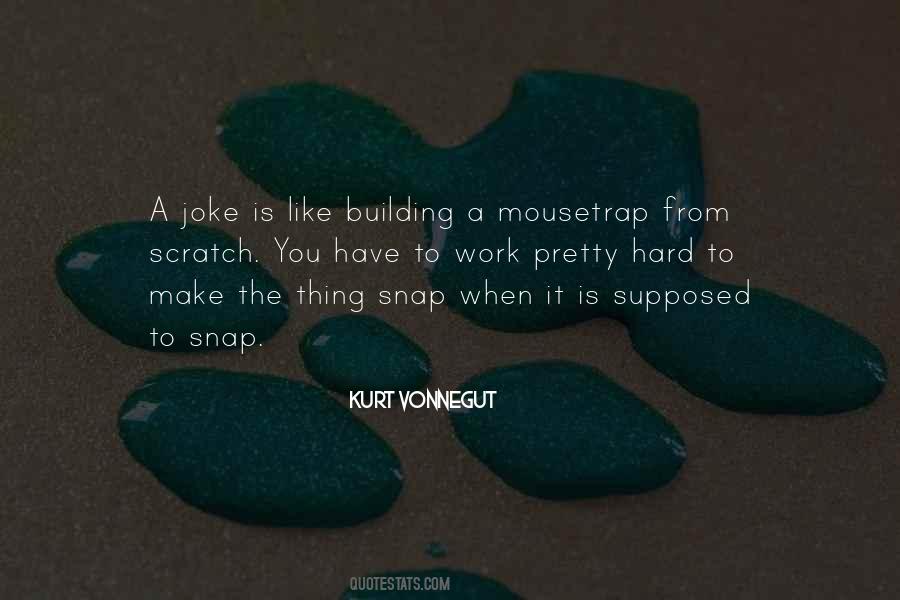 #51. I think the Internet has definitely made it easier for people to have stuff seen, but it's also encouraged a level of ADD, where you see so much that if it doesn't make an impact on you immediately, you don't look at it. - Author: Shepard Fairey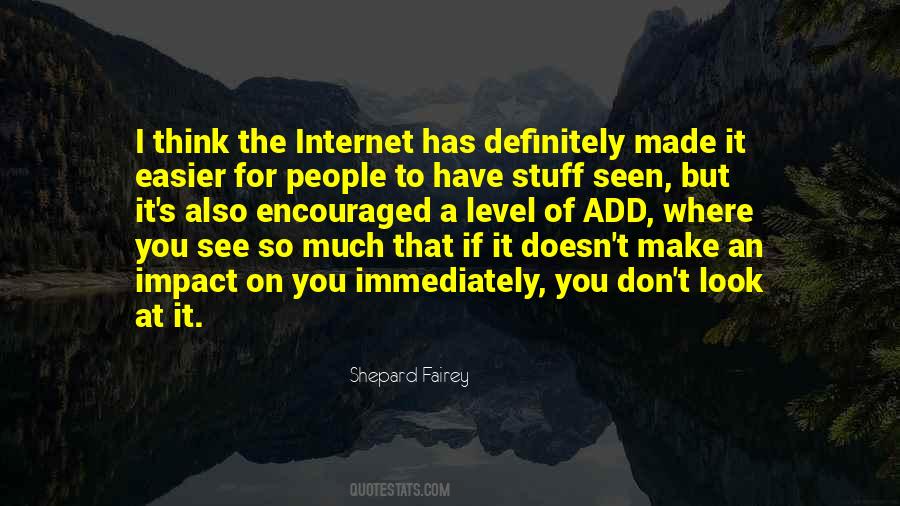 #52. We do not want to be told what we know. We do not want to call things by their names, although we're willing to call one another bad ones. We call meanness nobility and hatred honor. The way to make yourself a hero is to make me out a scoundrel. You won't admit that either, but it's true. - Author: Thomas Wolfe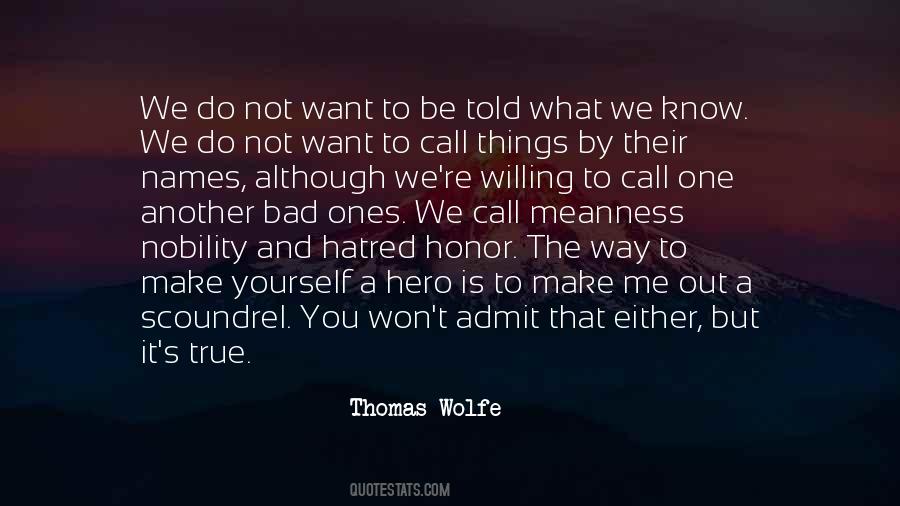 #53. Life Lesson 3: You can't rush grief. It has its own timetable. All you can do is make sure there are lots of soft places around
beds, pillows, arms, laps. - Author: Patti Davis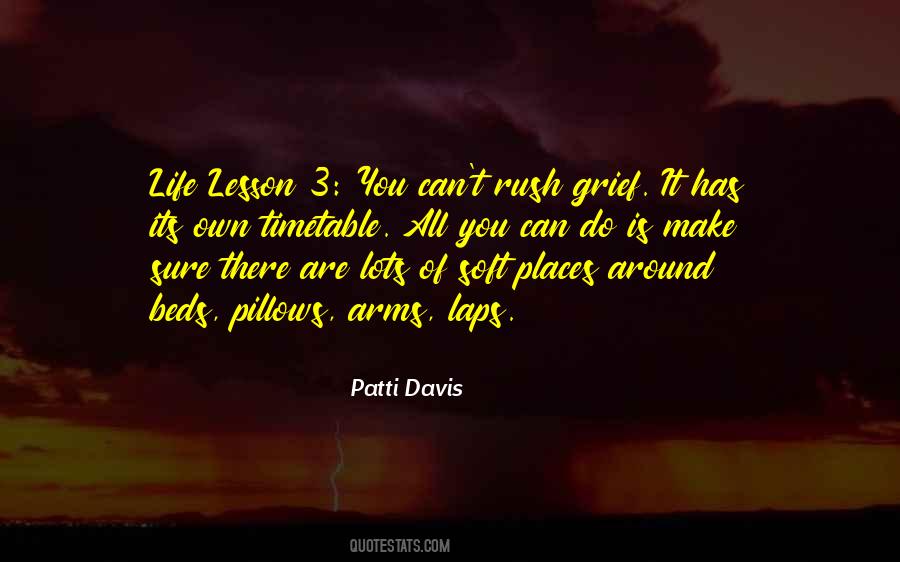 #54. Remember to enjoy everything. The things that feel good, the things that hurt. It's all gonna make you better. Stronger. - Author: Hayley Williams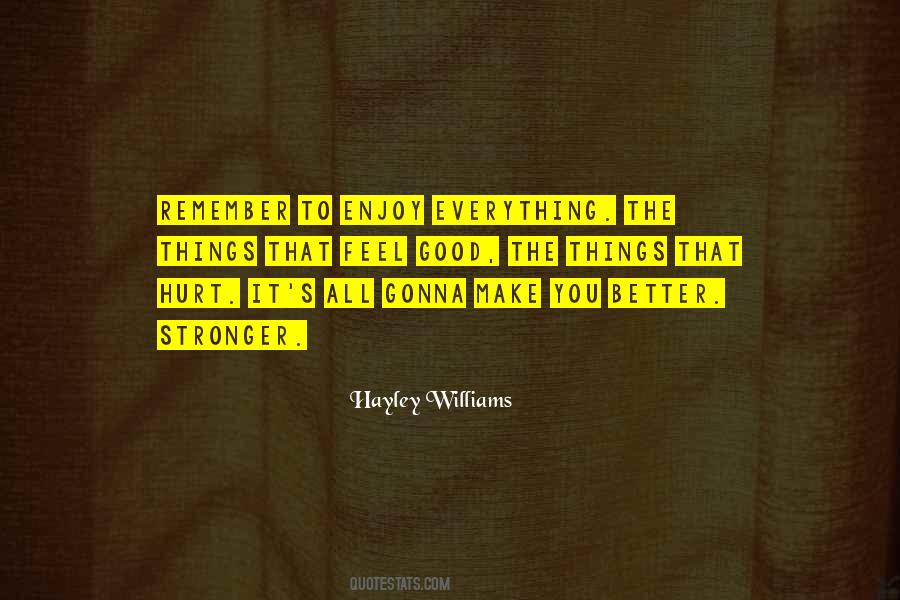 #55. I've learned several lessons over the years. First, never take yourself too seriously, or work is boring. Next, people make the difference. You can have great technology, but if it's not complemented by great people, it won't go anywhere. Finally, customers buy from people they like. - Author: John W. Thompson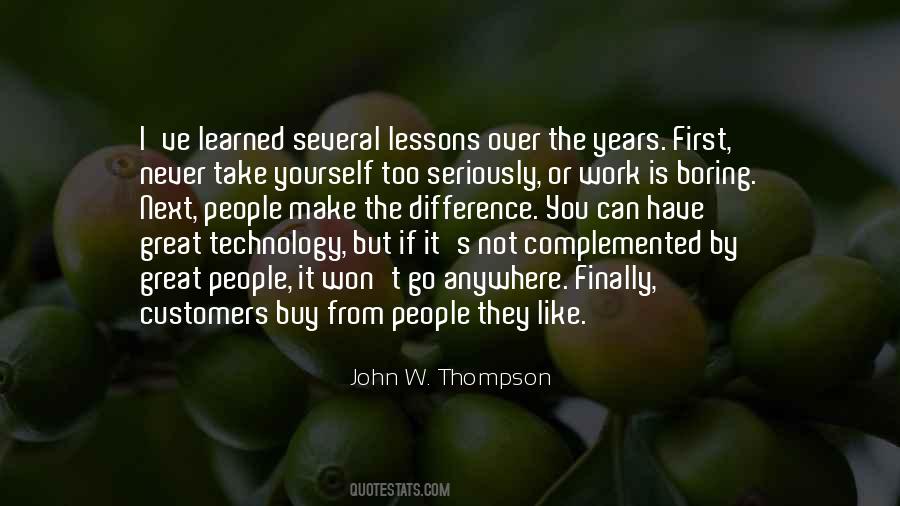 #56. When you walk into a room, you assess it instantaneously, habitually, before you're even aware of it. I mean, you make sure there's not a hole you're going to fall into, but mostly you're not even aware of what you're thinking. - Author: Robert Irwin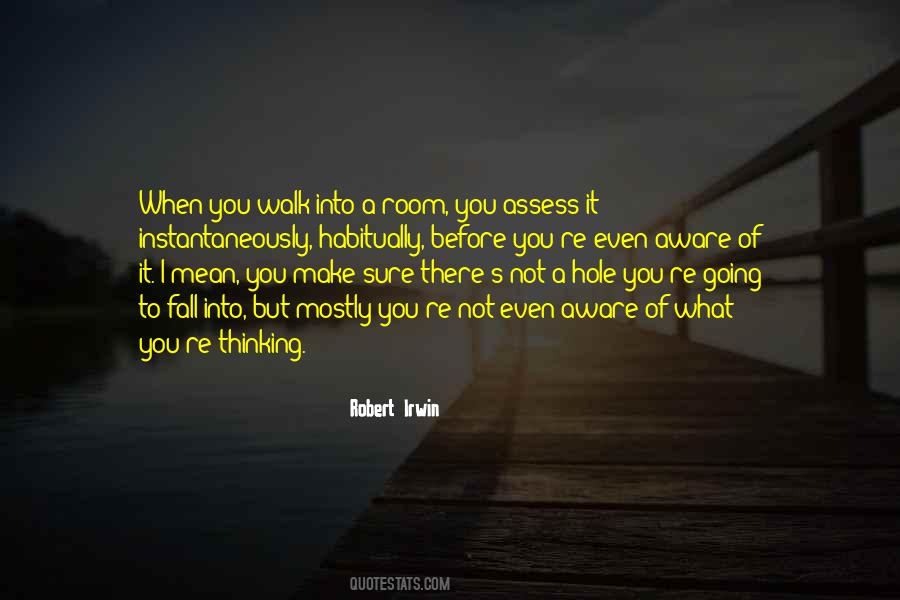 #57. I am no fan of books. And chances are, if you're reading this, you and I share a healthy skepticism about the printed word. Well, I want you to know that this is the first book I've ever written, and I hope it's the first book you've ever read. Don't make a habit of it. - Author: Stephen Colbert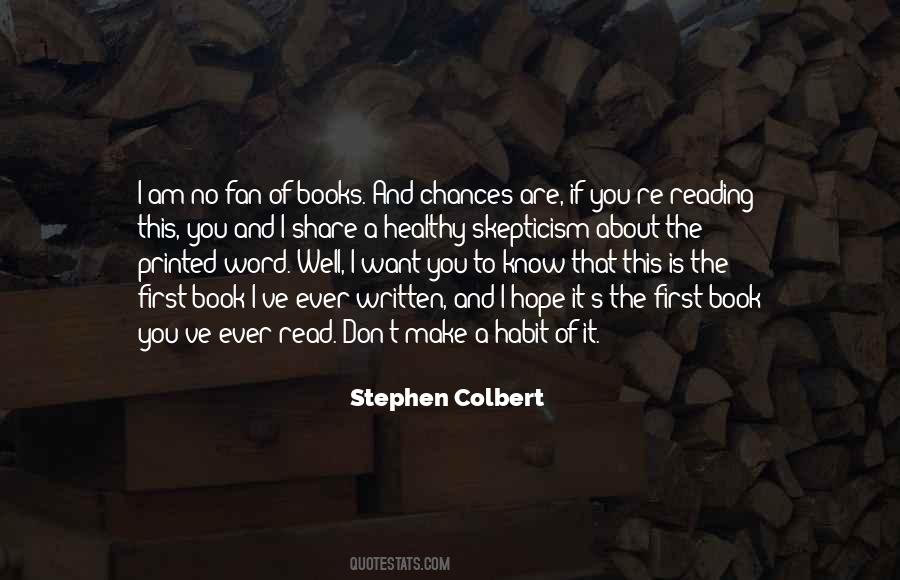 #58. What is Gornite? Why can't you heat it? Will it make you laugh? - I hope so - Author: Lucas Riddle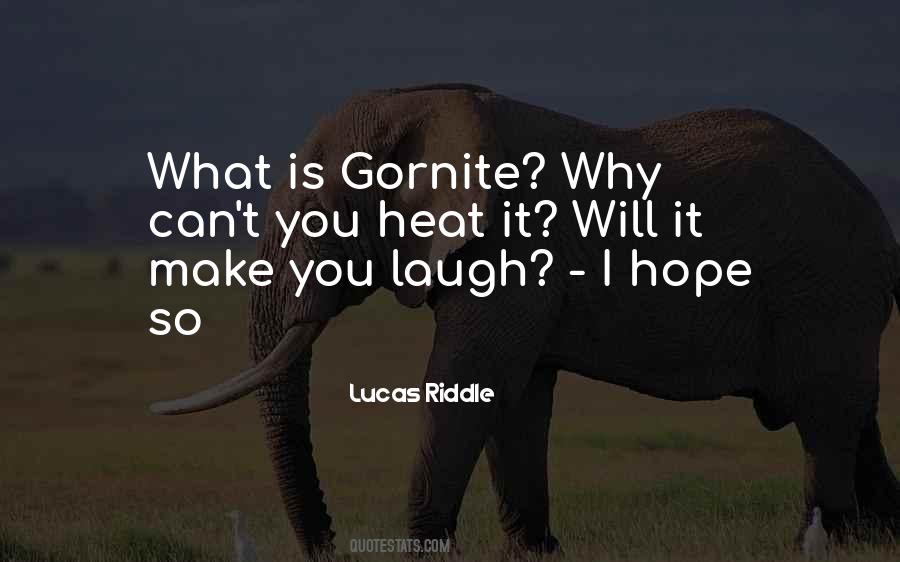 #59. Ella, being a royal bitch won't make you like me any less. It also won't change how I feel about you. - Author: A.M. Madden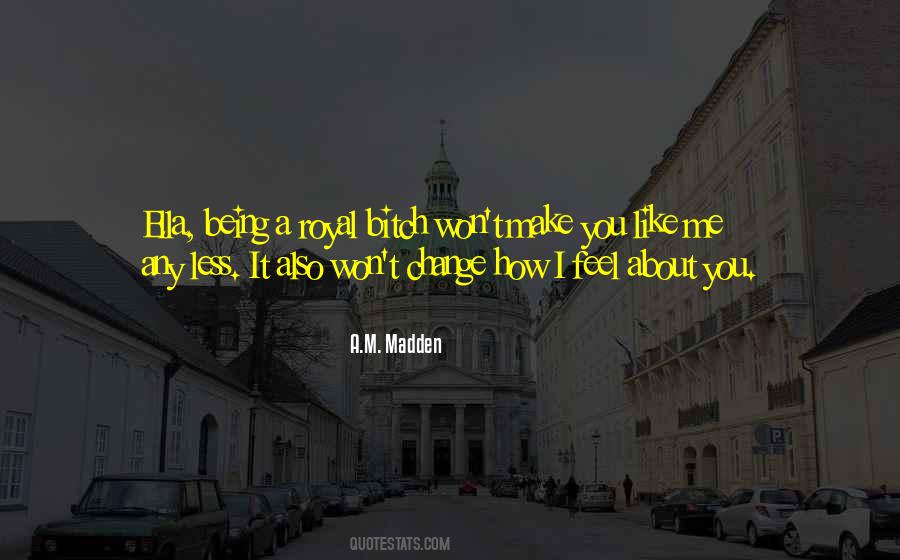 #60. You know how some people, when they're together, they somehow make you feel more hopeful? Make you feel like the world is not the insane place it really is? - Author: Rebecca Wells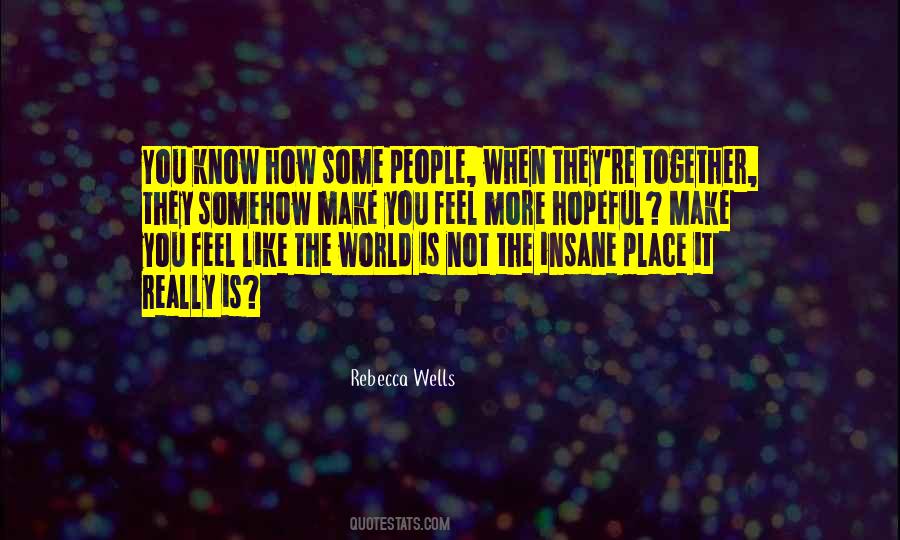 #61. If you walk by something that I've done and you like it then I don't think I did what I was supposed to do. It should hit, it should either make you feel uncomfortable, or it should make you feel great, as long as it makes you feel something. - Author: Jason Shawn Alexander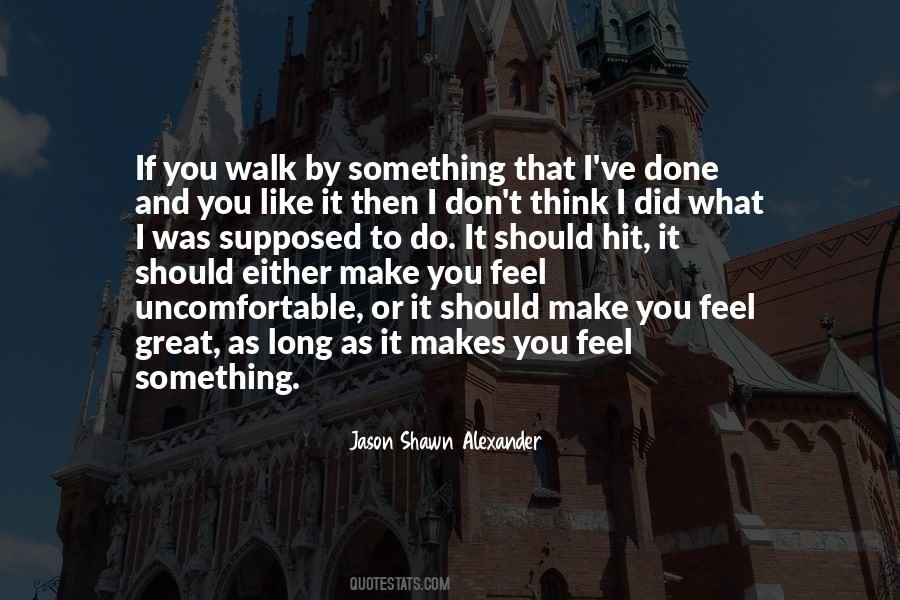 #62. One of the most ironic things about capitalism is that the capitalist will sell you the rope to hang himself with. Actually they will give you the money to make a movie that makes them look bad, if they believe they can make money off it. - Author: Michael Moore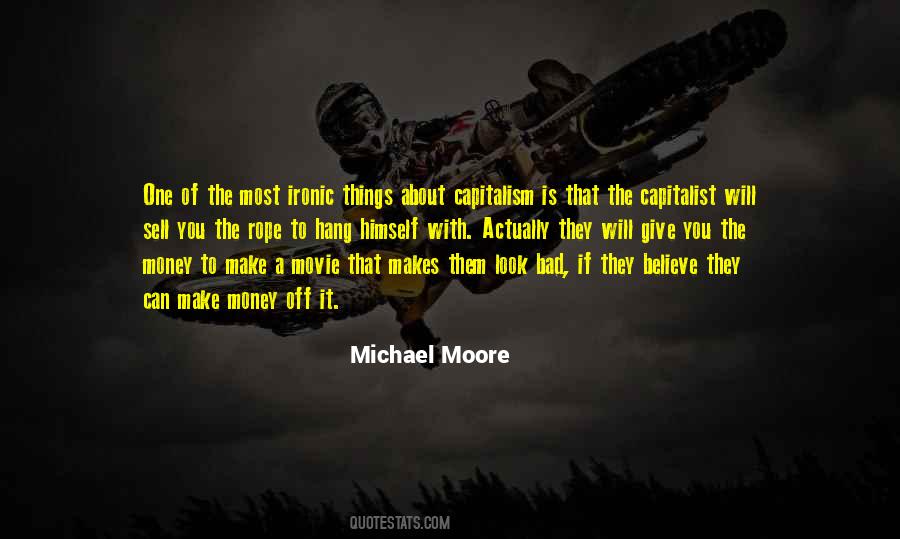 #63. After you read the script, then you actually just have to be in the moment you're in, in order to make it believable. You can't give it away. You can't tip it off. For me, it's always about being truthful in the moment I'm in. Hopefully, being able to reveal what I'm feeling, you have to believe it. - Author: Victor Garber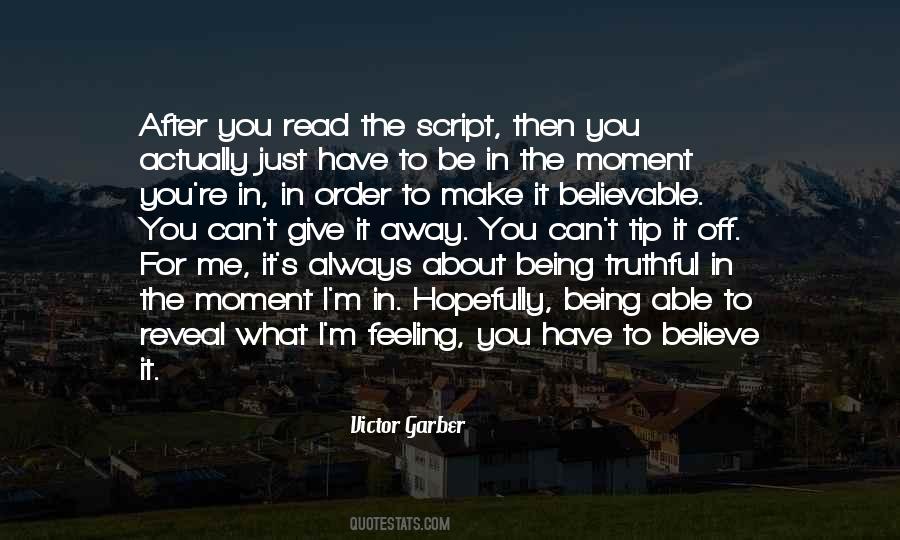 #64. What is a decision? It's a tool to remove confusion! Are you confused? If so, then make the decision and let's move on! - Author: Brian Valentine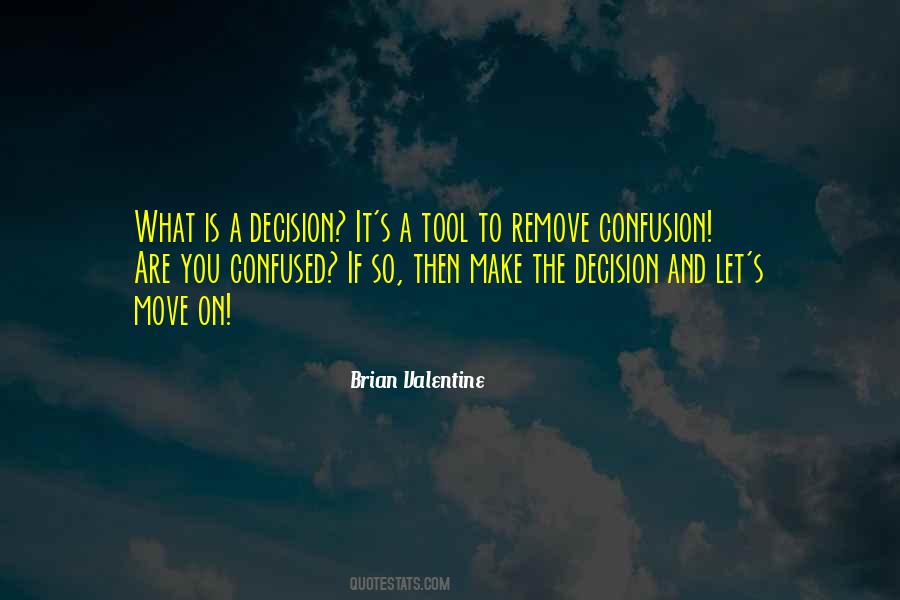 #65. The study of the traditions doesn't necessarily make you want to convert to another tradition, but it helps you to see your own differently and expands your outlook. - Author: Karen Armstrong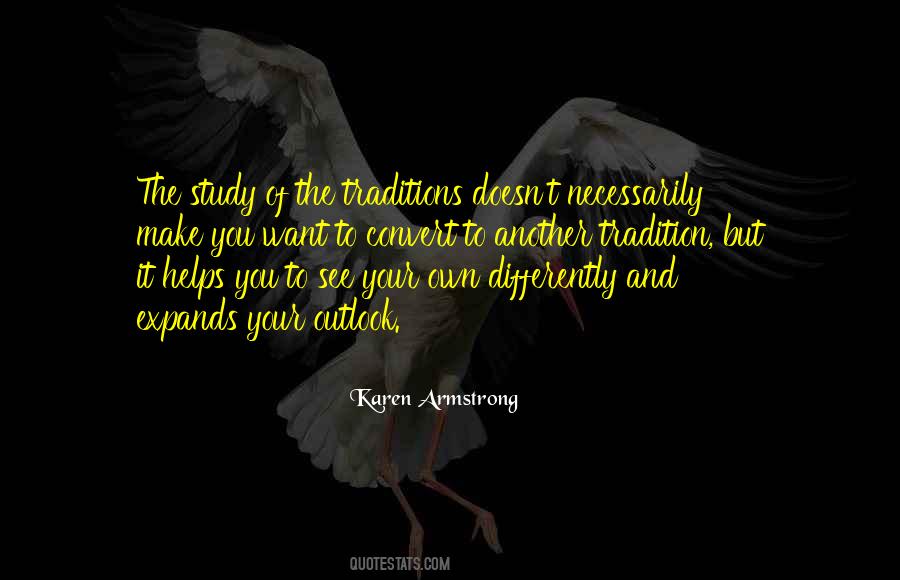 #66. I wish that you knew you could never make it without love for your goddamned self, and that you'll never ever find it in anybody else. - Author: Angel Haze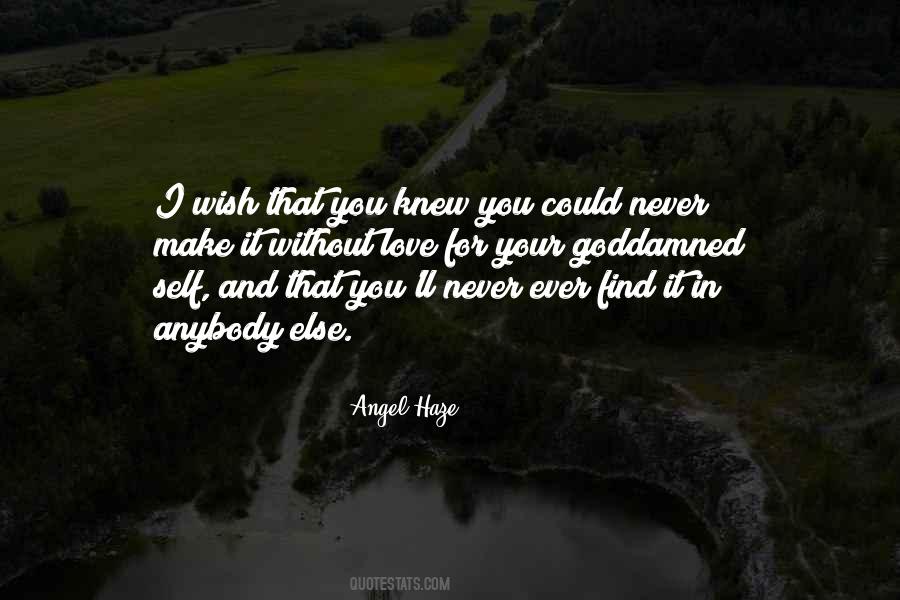 #67. The cap-and-trade plan is more market driven than anything else. If you want to discourage carbon use, you have to make it more expensive, but what is crucial is that this be a worldwide program that includes China and India. - Author: Phil Gramm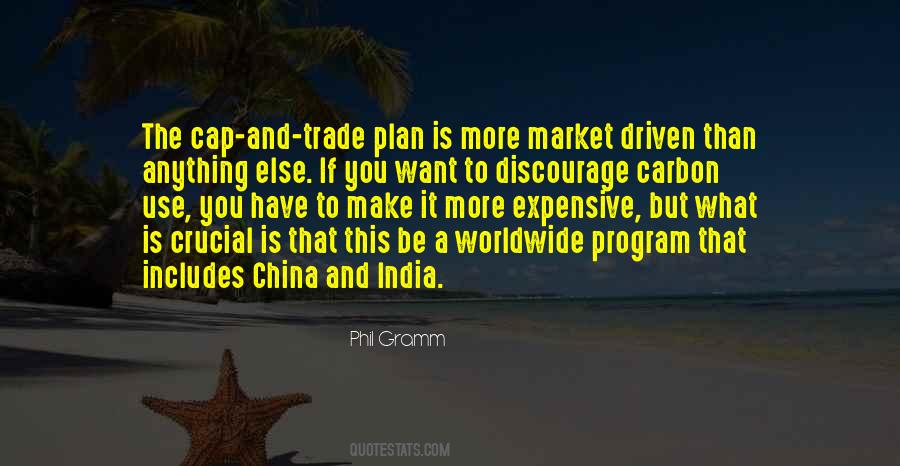 #68. It takes courage to stay young, to make your enthusiasms work for you. Don't let anyone drag you down. - Author: Ken Adam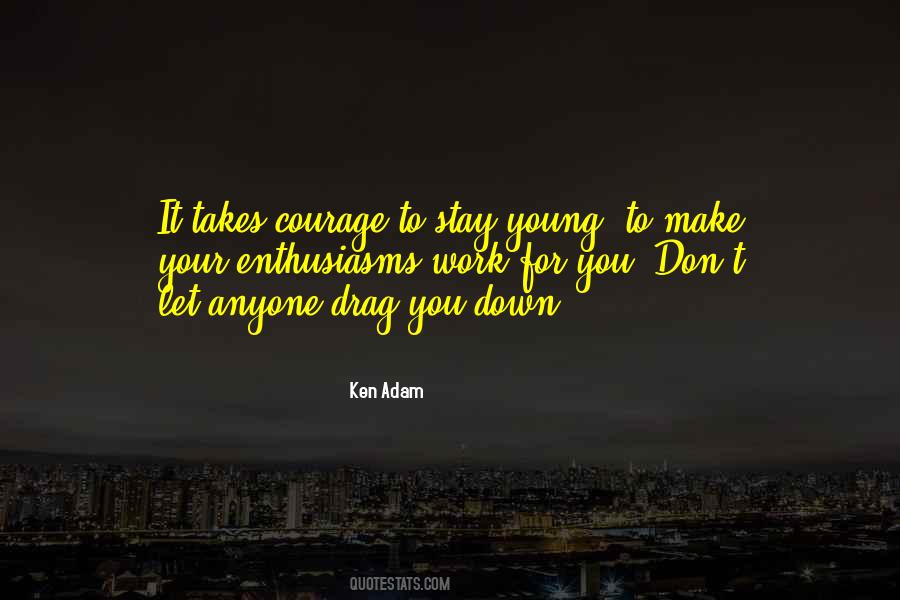 #69. When Jim Irsay called me five years ago, he told me, 'I want you to be our coach and help us win the Super Bowl.' He told me, 'We are going win it the right way. We are going to win it with great guys; win it with class and dignity. We are going to win it in a way that will make Indianapolis proud.' - Author: Tony Dungy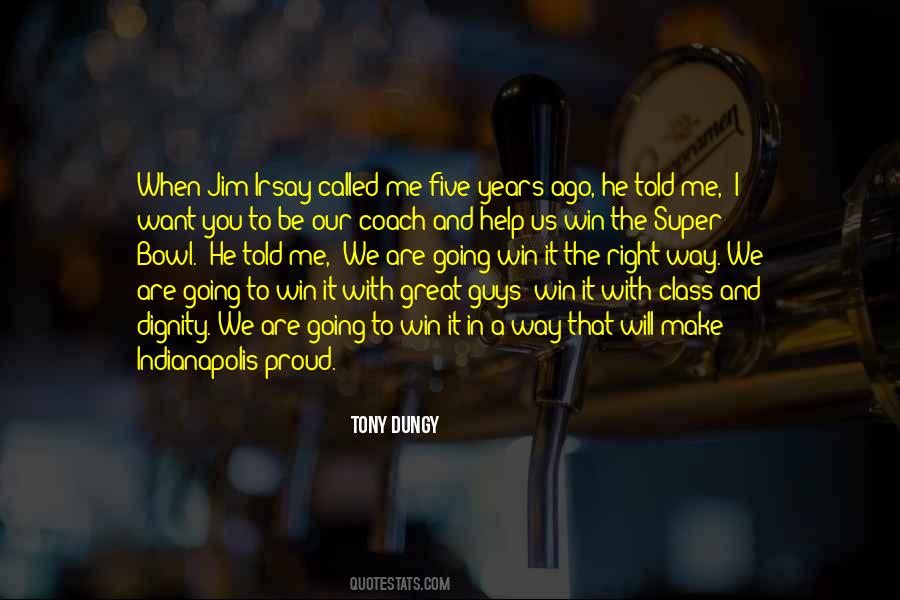 #70. Life is so interesting that sometimes it can make you bored. - Author: Debasish Mridha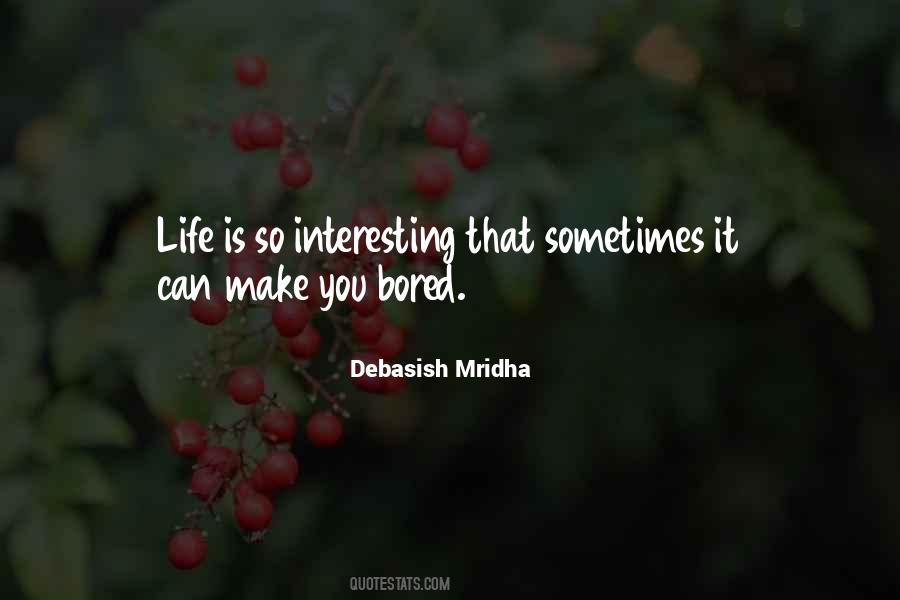 #71. I think when you wear the brand anyway, why not go out and try to promote it and make it as cool as you can? The fact that I can continue to do what I've always done and kind of become the face of that brand is to me, kind of just makes sense. It doesn't make sense not to do it I guess. - Author: Jason Aldean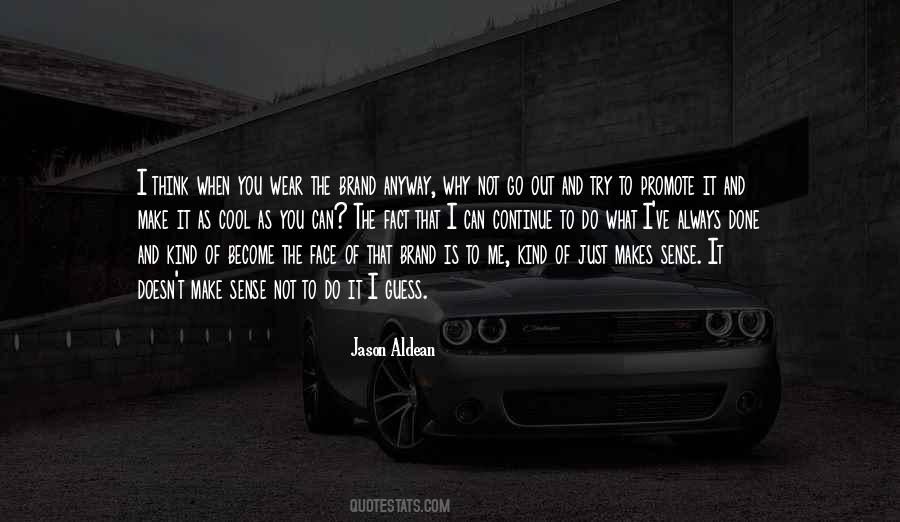 #72. So much emotion can be brought in an animated film that's very hard to get in a live-action film. I haven't quite put my finger on why, but it might be because the characters can make facial expression that, if you made them in a movie, they'd call them corny. - Author: Steve Martin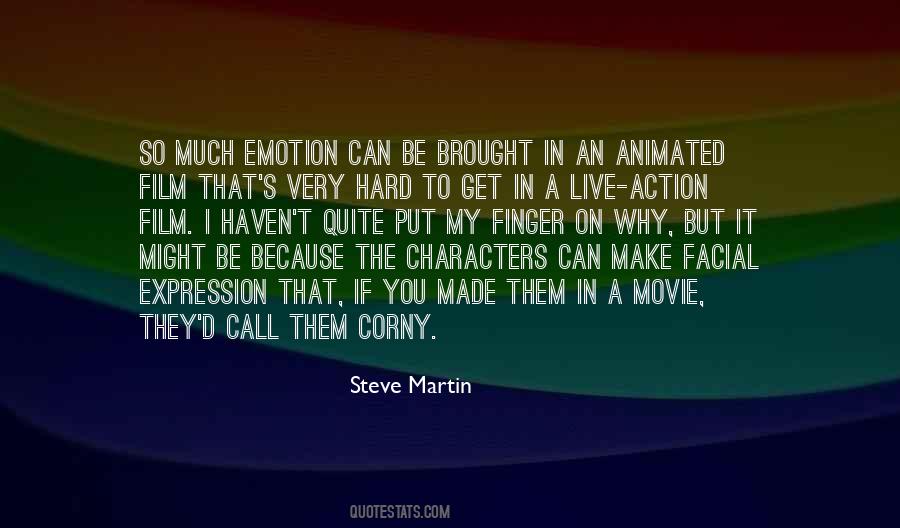 #73. But you can't feel bad every second, I wanted to tell her. Laughing doesn't make bad things worse any more than crying makes them better. It doesn't mean you don't care, or that you've forgotten. It just means you're human. - Author: Ransom Riggs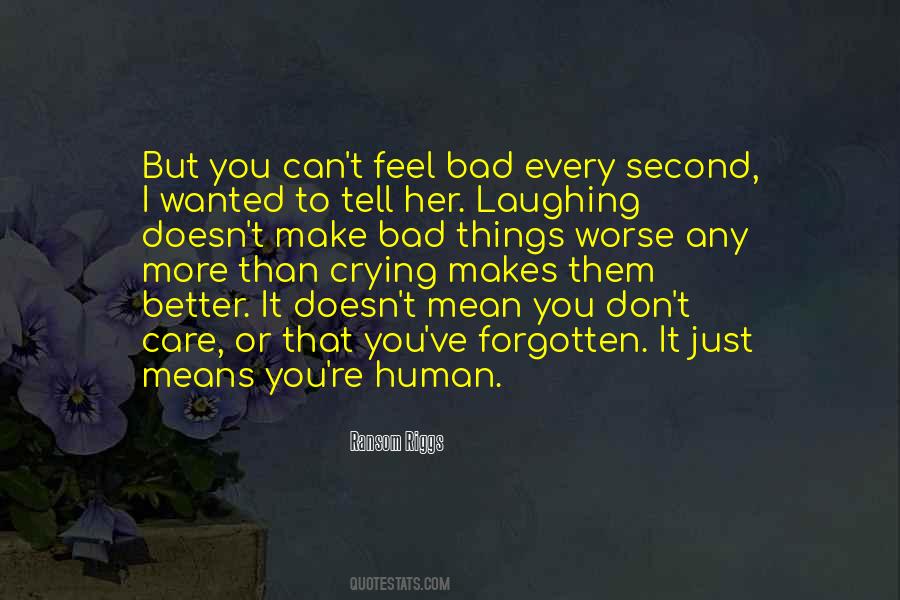 #74. When you read a book, the neurons in your brain fire overtime, deciding what the characters are wearing, how they're standing, and what it feels like the first time they kiss. No one shows you. The words make suggestions. Your brain paints the pictures. - Author: Meg Rosoff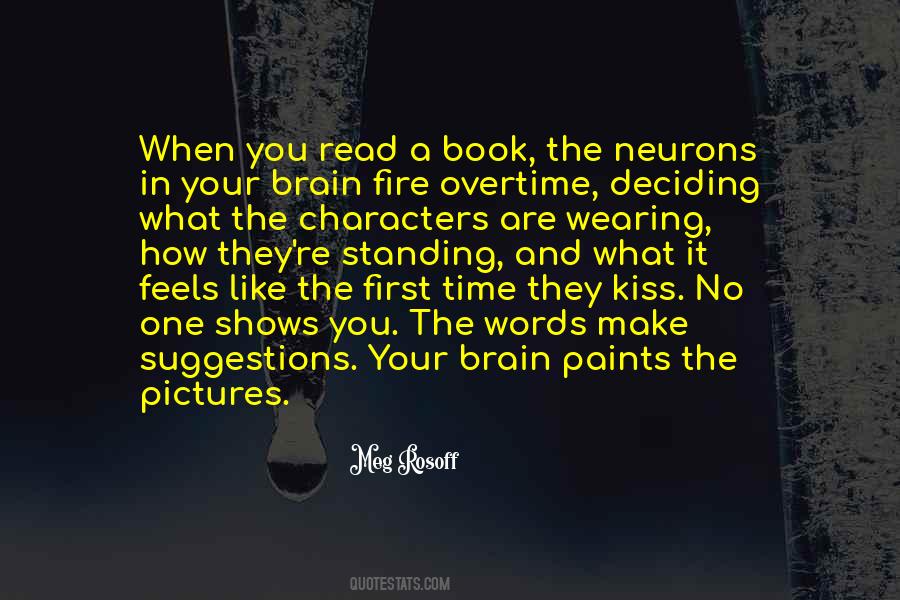 #75. You name any horrific thing, and I can make a joke out of it. - Author: Quentin Tarantino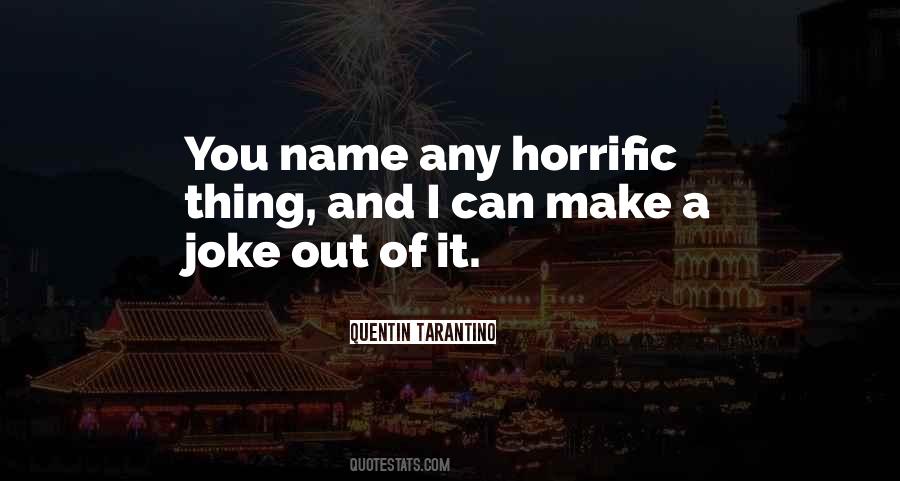 #76. It's like when you are excited about a girl and you see a couple holding hands, and you feel so happy for them. And other times you see the same couple, and they make you so mad. And all you want is to always feel happy for them because you know that if you do, then it means that you're happy, too. - Author: Stephen Chbosky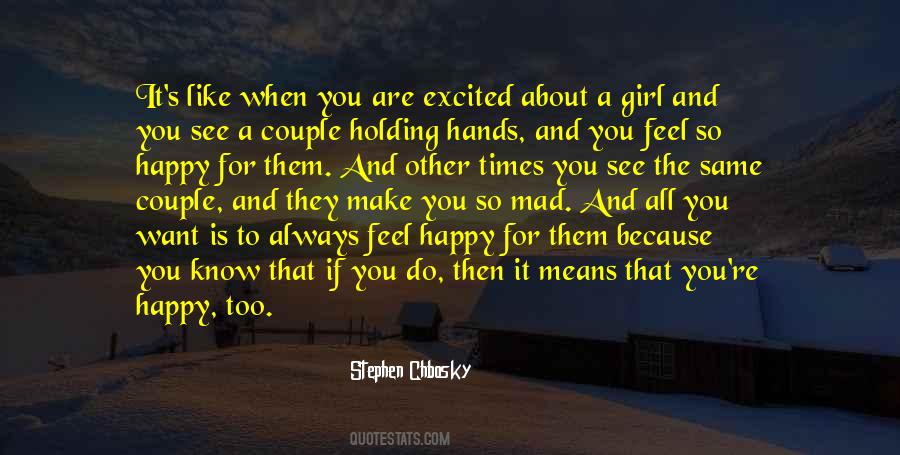 #77. I do think that when you make repeated mistakes, it's usually because you're just not coming to grips with something. - Author: Ben Folds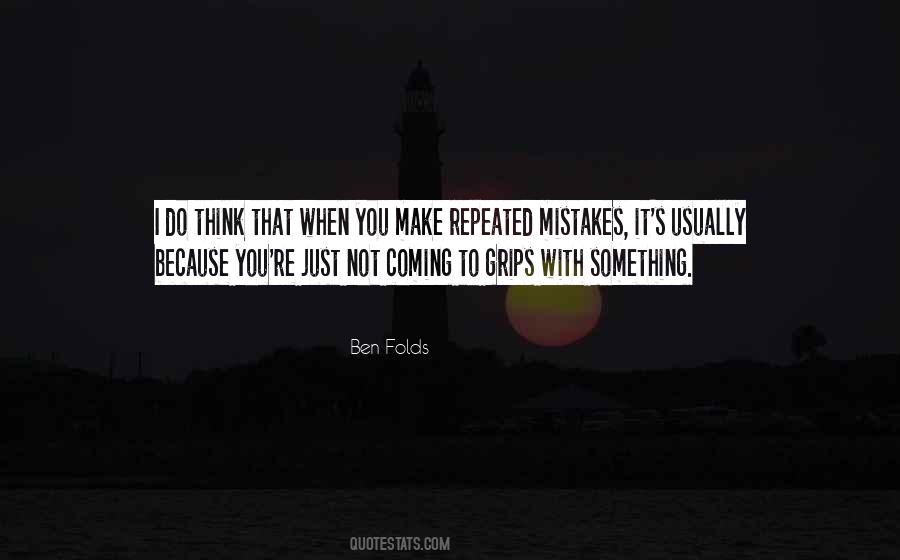 #78. It's not like I idolize this one guy Machiavelli. I idolize that type of thinking where you do whatever's gonna make you achieve your goal. - Author: Tupac Shakur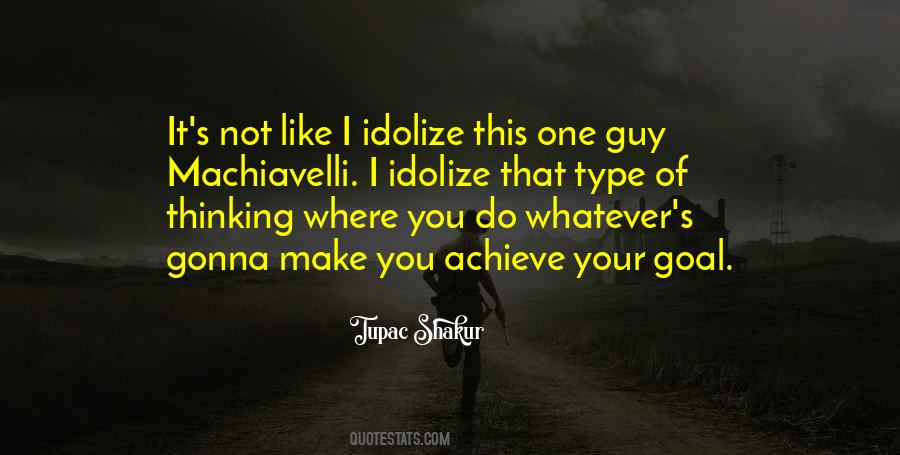 #79. Life is like watching Fast and the Furious 6. Its not easy, most of the time its just dumb and pointless, everything is fake, there is a lot of noise, but if you close your eyes and picture yourself in an open field or a quiet forest, you can maybe make it to the end without killing yourself - Author: Jon Lajoie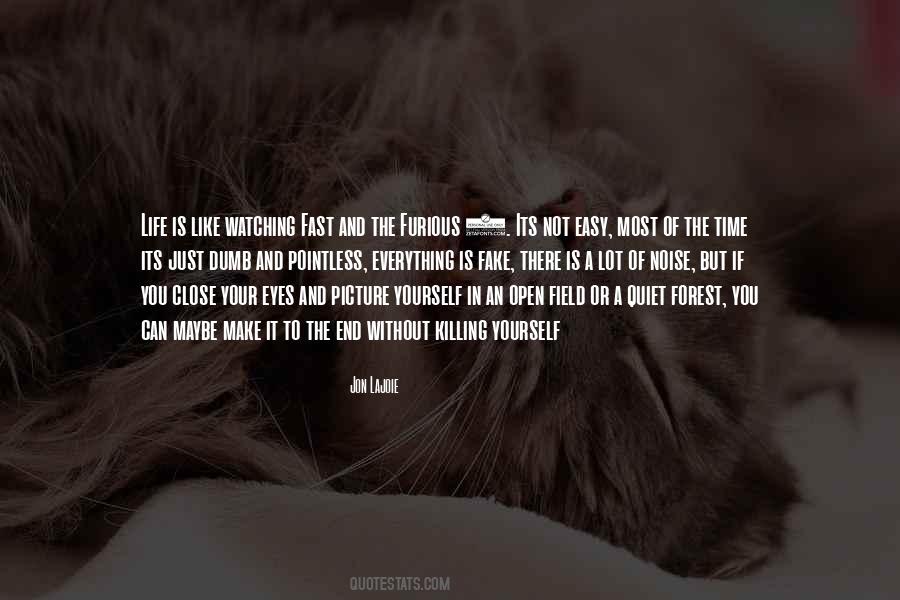 #80. The idea was always going to be that each year is a stand-alone story, which did make it easier on some level. It also requires the network to have the creative imagination to say, 'This is also 'Fargo,' you know what I mean? - Author: Noah Hawley
#81. It sometimes happens that what you feel is not returned for one reason or another-but that does not make your feeling less valuable and good. - Author: John Steinbeck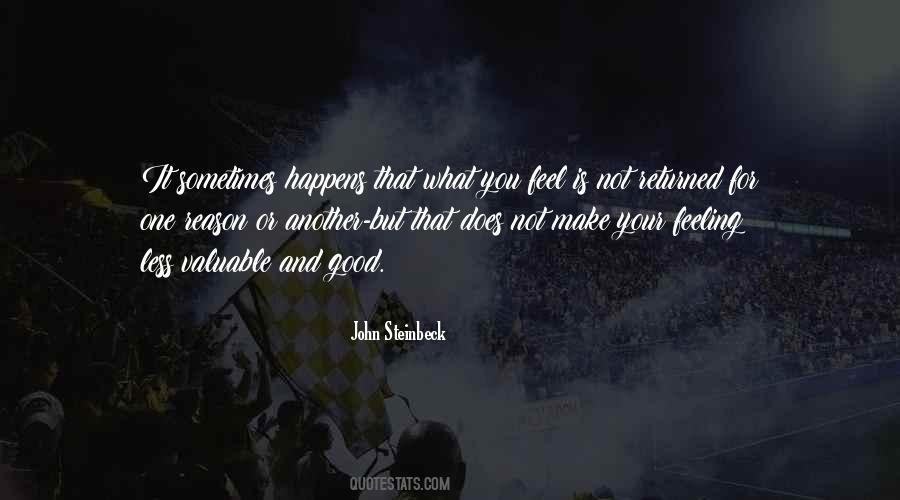 #82. Preseason football is hard to evaluate. It's never going to be clean for the quarterbacks. You have to overcome the ugly plays and be productive. It's a component of leadership that is necessary. The guys that make it in the league survive that. - Author: Mike McCarthy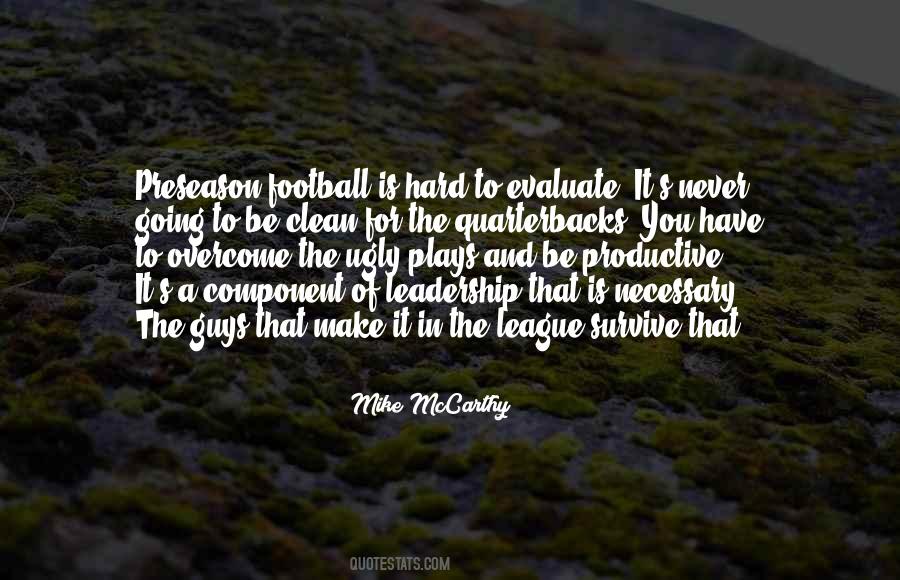 #83. When you make a film that is based in reality, reality will come up all around it. - Author: Mario Van Peebles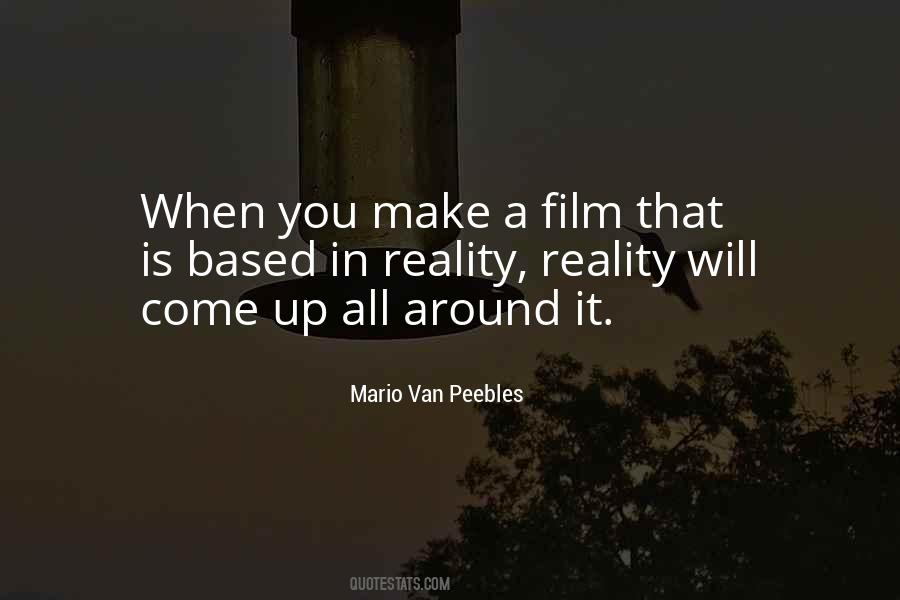 #84. Well, I was making a record, and I had to choose a name, because they said, you know, you can't make a record under the name of Reg Dwight, because it's never going to - you know, it's not attractive enough. - Author: Elton John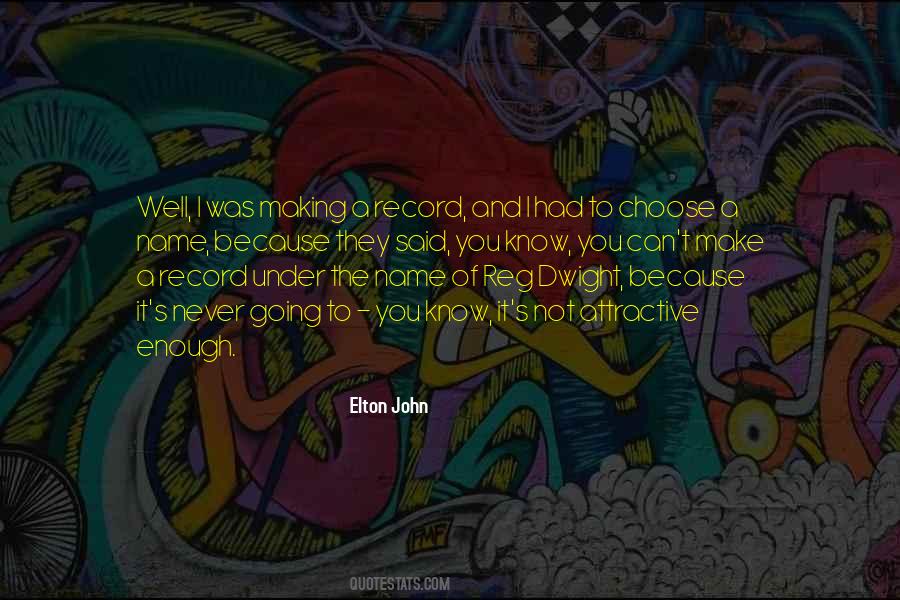 #85. The good thing about the truth is it's true, and there's no arguing with the truth. You may not like it, but that doesn't make it any less true. - Author: Kami Garcia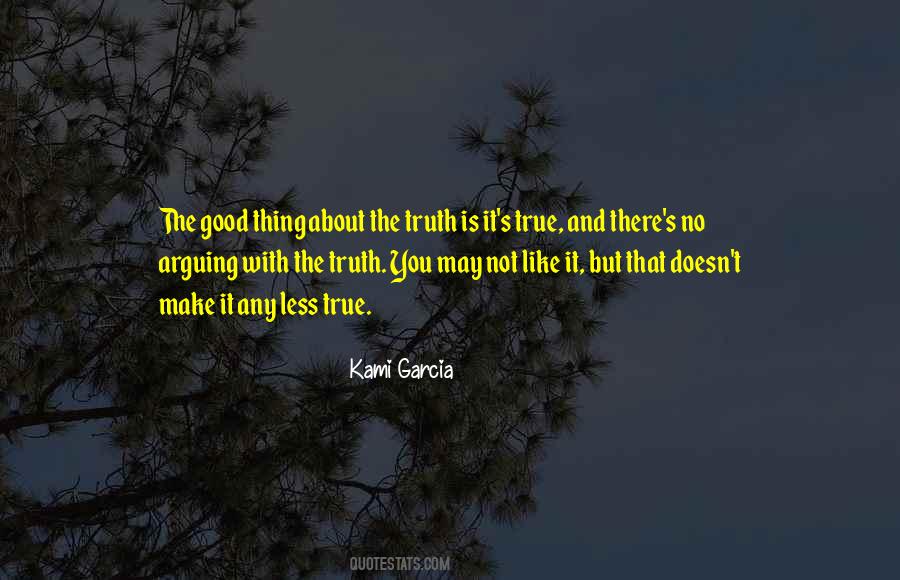 #86. Yeah, I know what your English Professor tried to tell you. But if your English Professor could make a living writing fiction, they would have been doing it. - Author: Dean Wesley Smith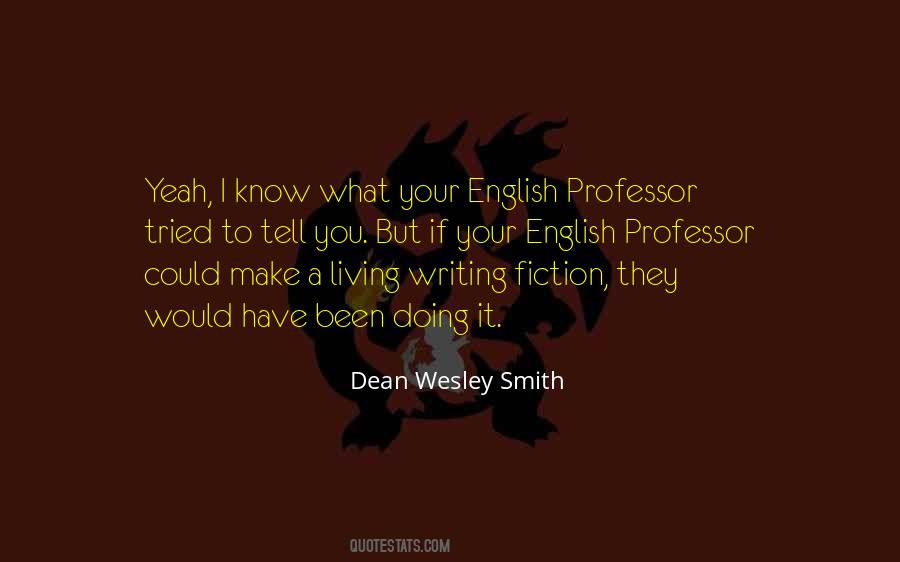 #87. It's only after the fact that we trace the lines, join dots between things, skip over anything that doesn't fit. We make stories to account for everything that's happened. It's nice to think the world makes sense. It's nice to think that you make sense. But sometimes things just happen. - Author: Kirsty Logan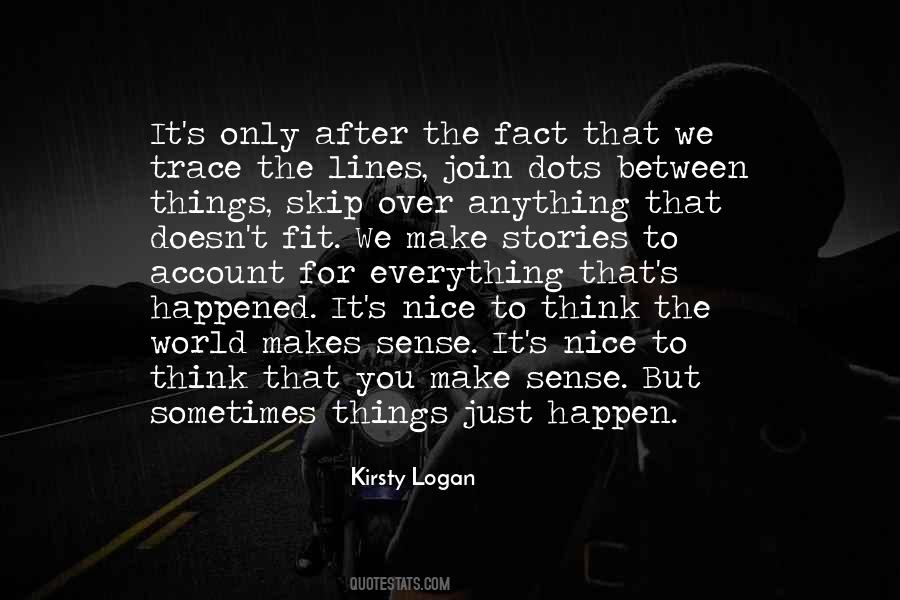 #88. Every day is your day if you claim it. If you wait for somebody else to make it for you, you're going to be disappointed. - Author: Iyanla Vanzant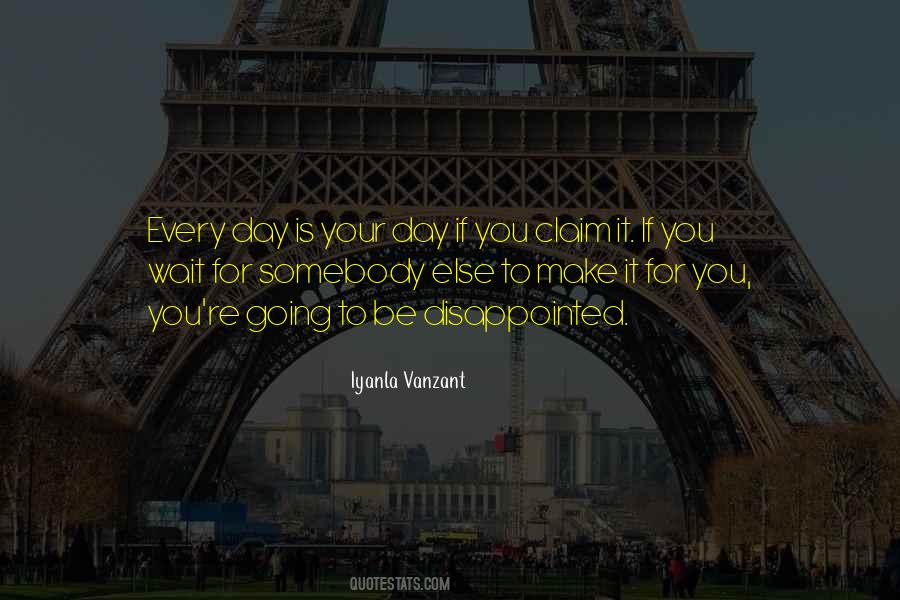 #89. We know You love us. We love You, too. I mean, six, seven thousand years from now ... won't make no difference, will it? Everybody gonna be so mixed up by then that far in the future that they all gonna be the same color by then, ain't they? - Author: Larry Brown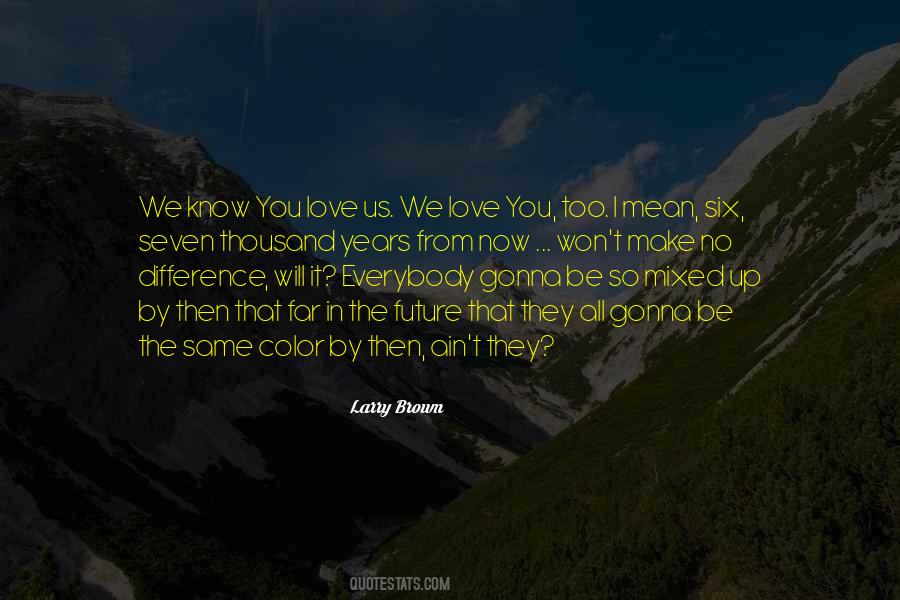 #90. What's it mean; are you determined
To make modern all mankind?
If so, you should be be-sermoned
And brought back to healthy mind. - Author: Charles C. Abbott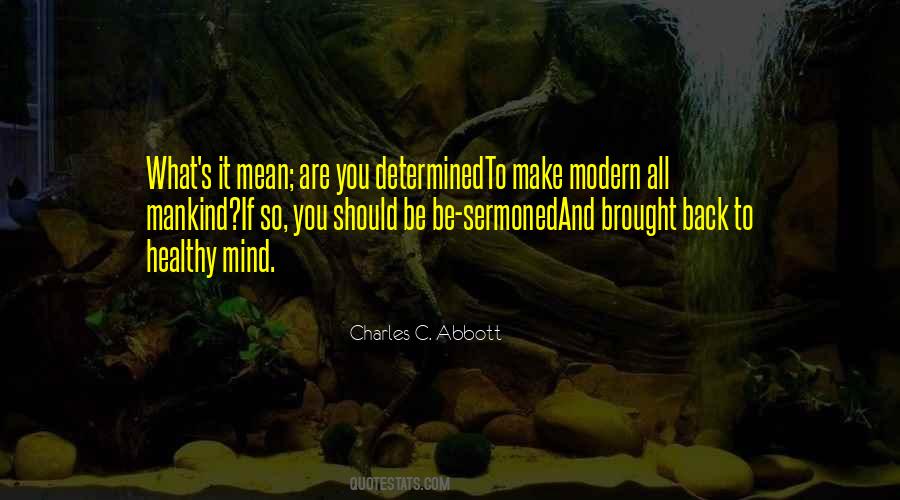 #91. When you die, they can make you into diamonds now. It's scientific. That's how I want to be remembered. I want to shine. - Author: Neil Gaiman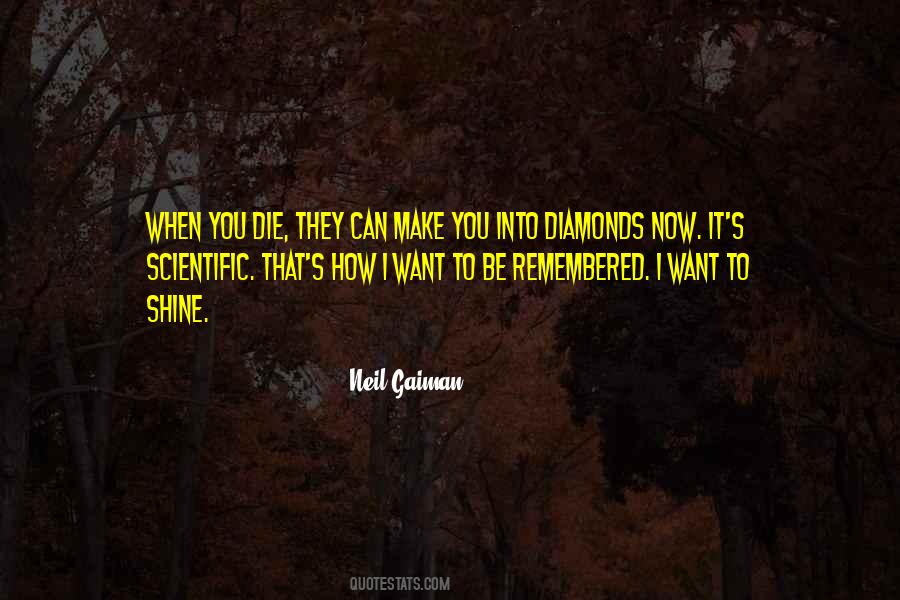 #92. Nothing has happened to you unless you make much of it. - Author: Menander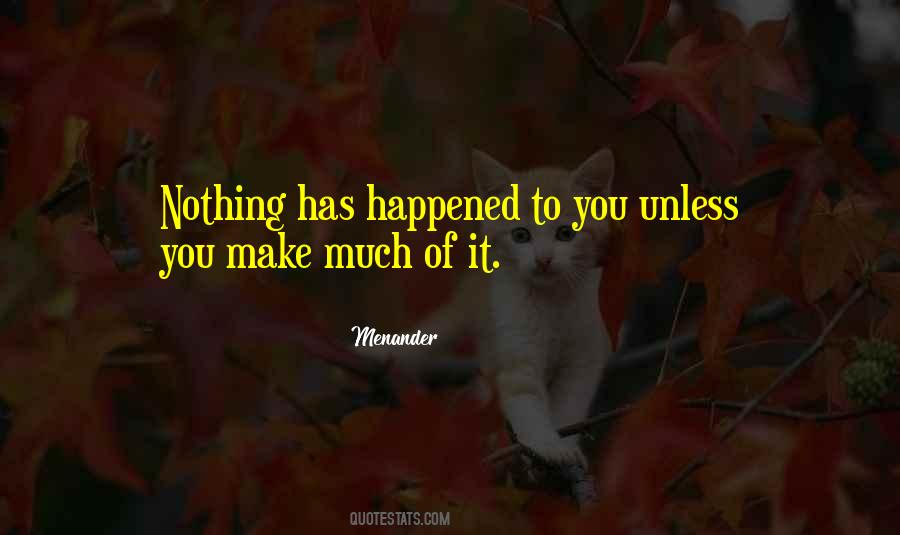 #93. You've got to be happy, you have to do this thing [music] for the love. It's not like you go into music because it's going to make a lot of money. It's something you do ... that's the thing. You got to accept all that hard work with it, too. And enjoy it, and love it. - Author: Creed Bratton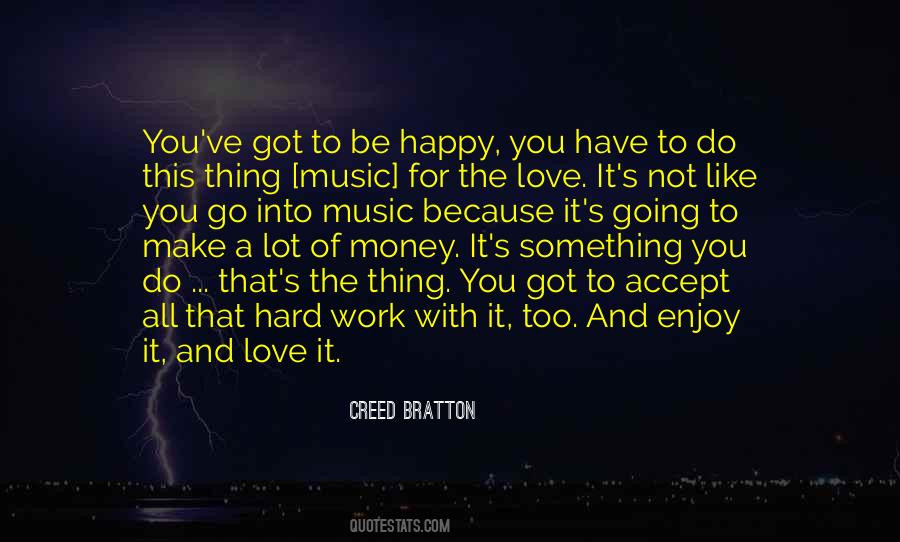 #94. People don't realize that doing a horror movie is hard work. You're out there all day screaming your lungs out, breathing in toxic make-up fumes, rolling around in the dirt, getting your eyebrows burned off - it's not like doing a sitcom. - Author: Clint Howard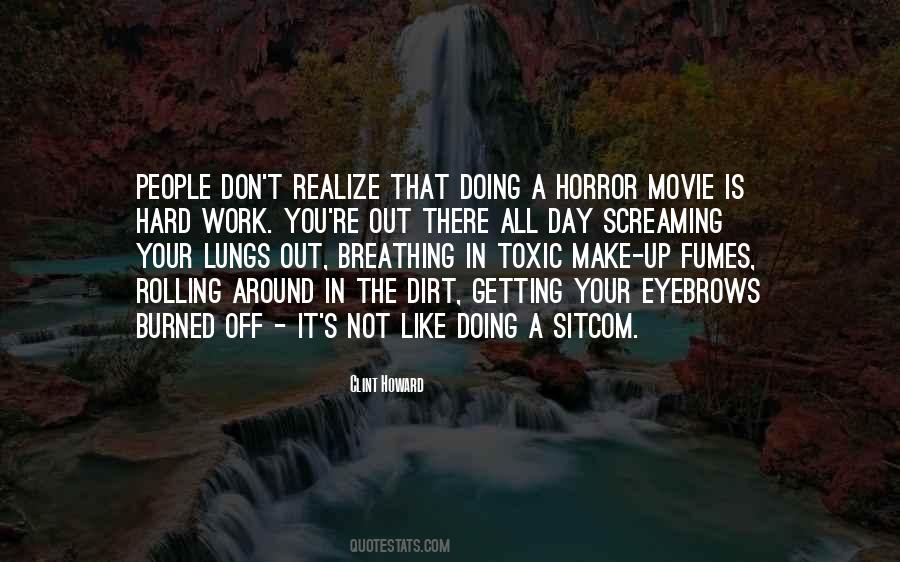 #95. But for the love of piss, make some sort of decision. If you don't want to eat babies and nail bloodbags to walls, that's your choice. What Sarren did or made you do in the past has nothing to do with it now. You're a vampire. Do whatever the hell you want. - Author: Julie Kagawa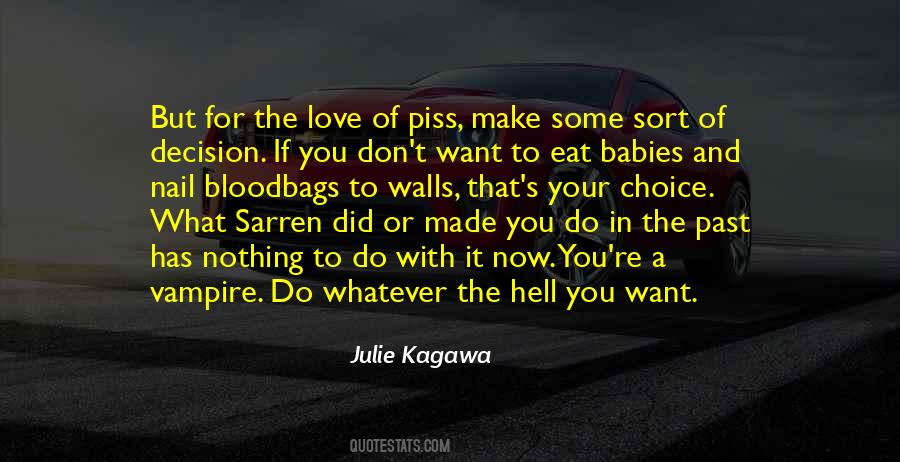 #96. Set a goal when you're ready for it, make a plan, and stick with it. - Author: Auliq Ice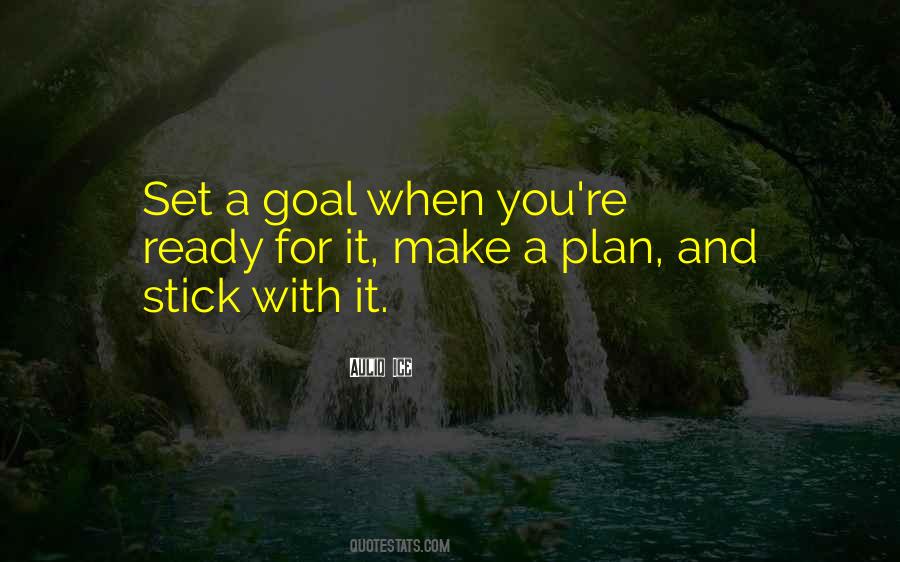 #97. You could go so wrong with a 'Planet of the Apes' reboot; you could make it melodramatic, you could make it campy, you could fall into so many traps with it. - Author: Andy Serkis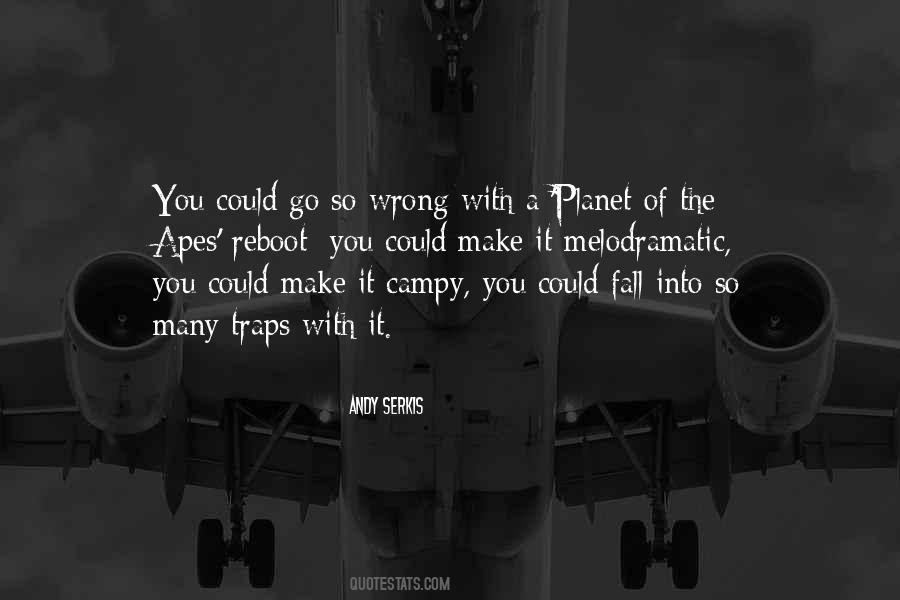 #98. I learnt that no matter what names they give you, nothing applies until you wish it to. No insult, no barb yours to bear unless you want it to. Use it, if you want. Make it into a weapon and let it boomerang back to those who uttered it. Just don't let it overpower your life. - Author: Sweety Shinde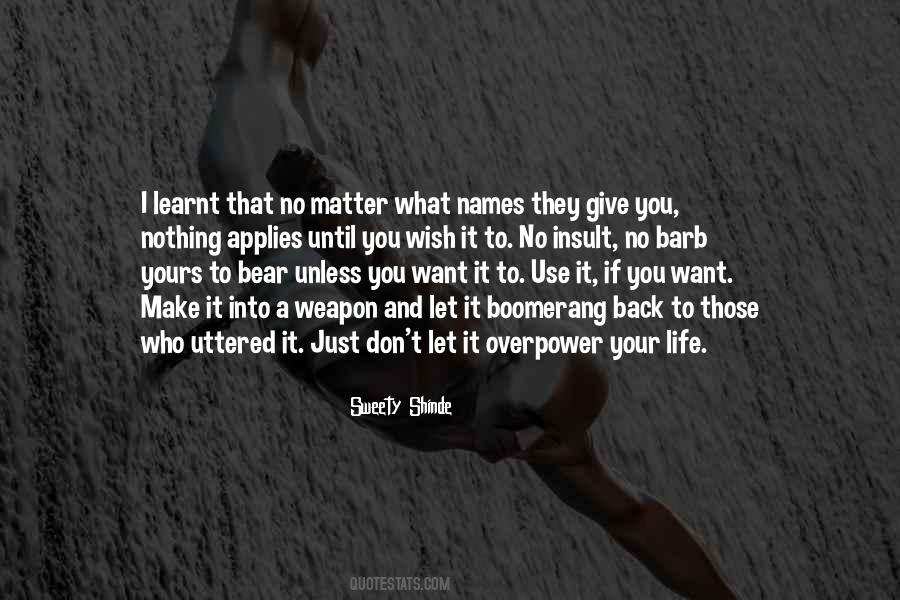 #99. Hiking is great because it's a lifelong sport and you're outdoors, active, so whether you call that a sport or a hobby or a recreation, I think the wording - it's a great way to get exercise, and it can be as challenging as you want to make it. - Author: Jennifer Pharr Davis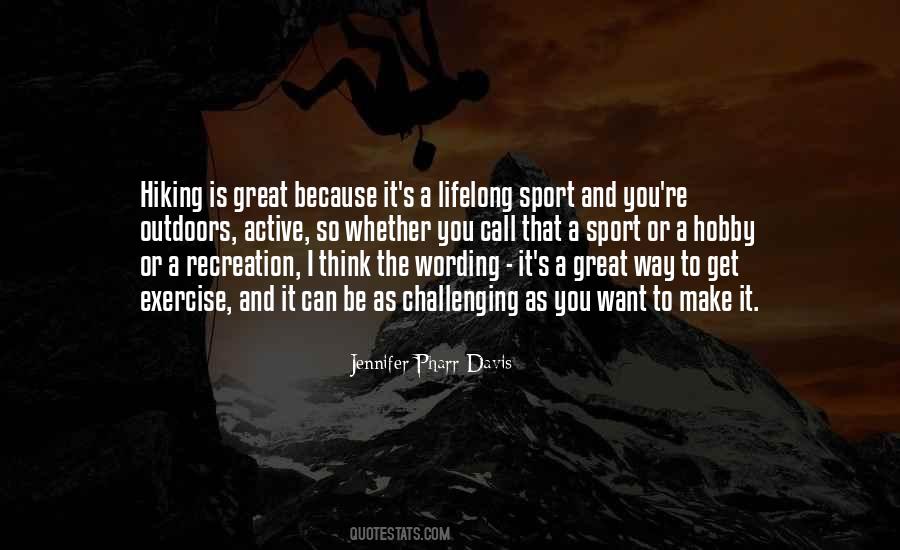 #100. You are to make your own way prosperous ... Even God cannot do it for you; you will have to do it yourself by doing the right things; taking right decisions, talking right, thinking right, being at the right place with the right-kind of people and by reading the right materials. - Author: Jaachynma N.E. Agu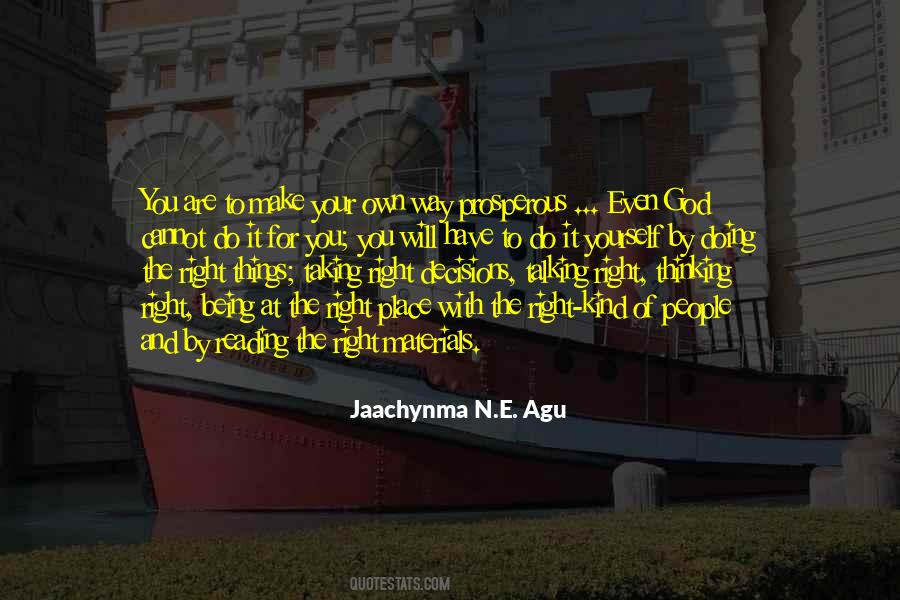 Famous Authors
Popular Topics