Writing Is Art Famous Quotes & Sayings
List of top 99 famous quotes and sayings about writing is art to read and share with friends on your Facebook, Twitter, blogs.
Top 99 Writing Is Art Quotes
#1. Only after a writer lets literature shape her can she perhaps shape literature. In working-class France, when an apprentice got hurt, or when he got tired, the experienced workers said, "It is the trade entering his body." The art must enter the body, too. - Author: Annie Dillard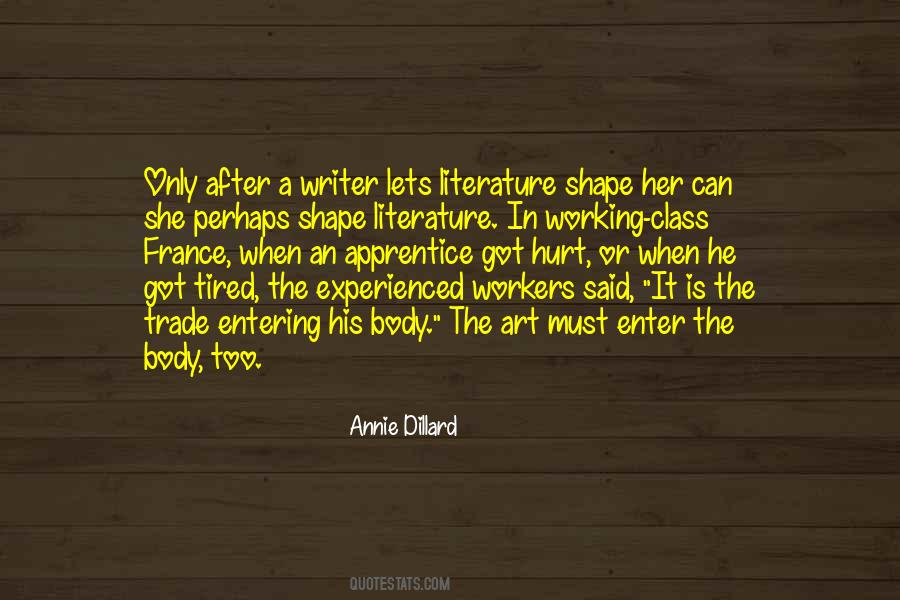 #2. No matter what your age or your life path, whether making art is your career or your hobby or your dream, it is not too late or too egotistical or too selfish or too silly to work on your creativity. - Author: Julia Cameron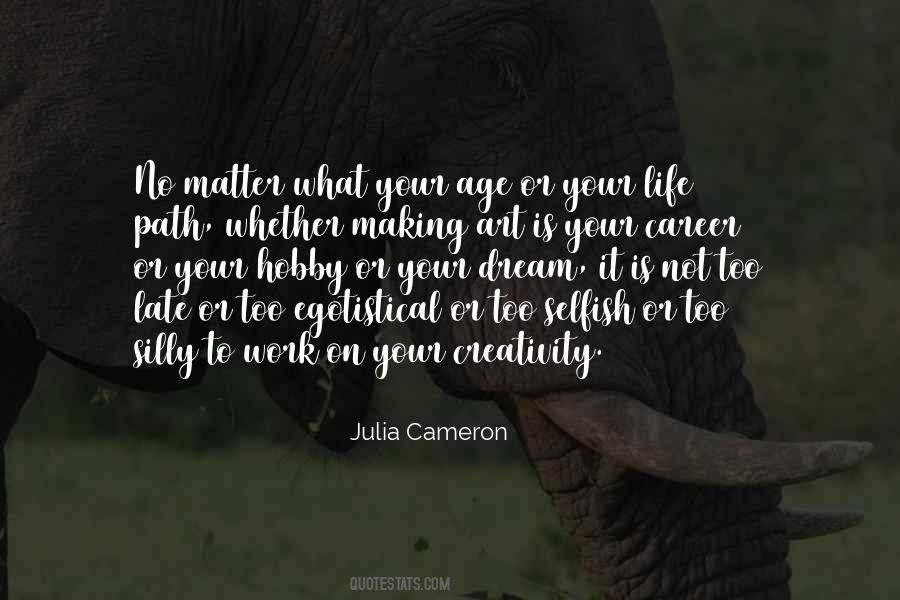 #3. Writing is a channeling of an individual experience; so is reading. That's what's so exciting about this art form - it's interactive. - Author: T.C. Boyle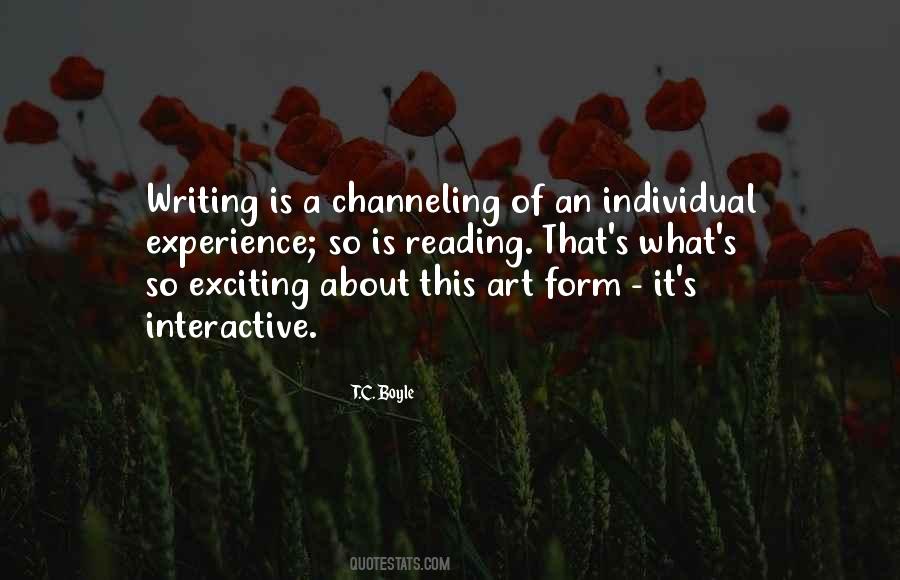 #4. It is a sad fact about our culture that a poet can earn much more money writing or talking about his art than he can by practicing it. - Author: W. H. Auden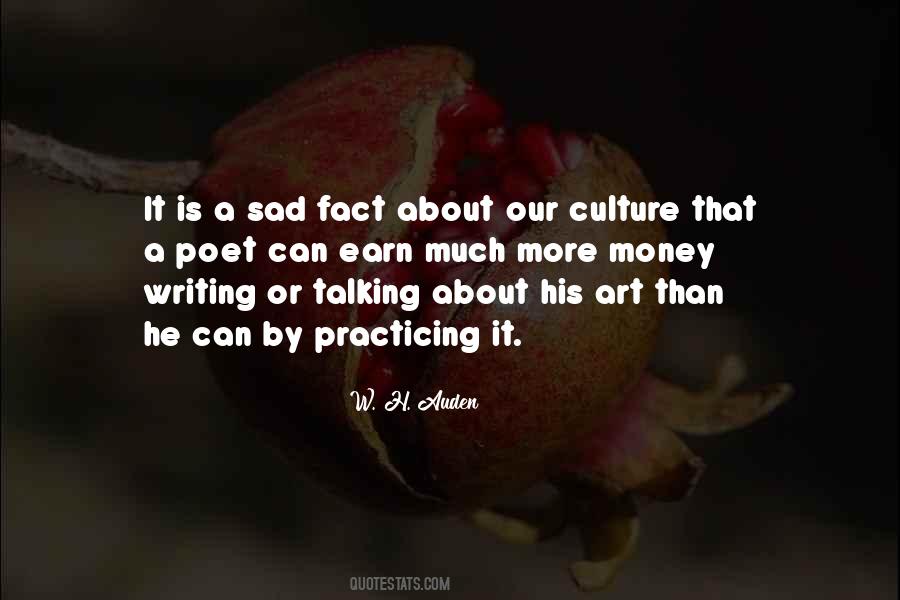 #5. For me, art that's alive and urgent is about what it is to be a human being. - Author: David Foster Wallace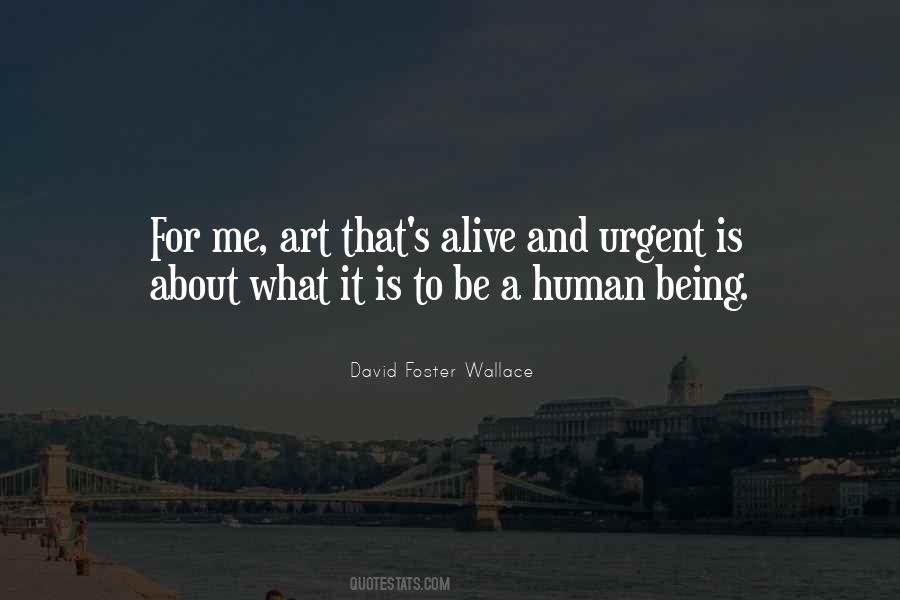 #6. Those who were still able to write beautiful melodies were kitsch composers like Tchaikovsky. Tchaikovsky approaches true art not in his numerous beautiful melodies, but when a melodic line is thwarted. - Author: Slavoj Zizek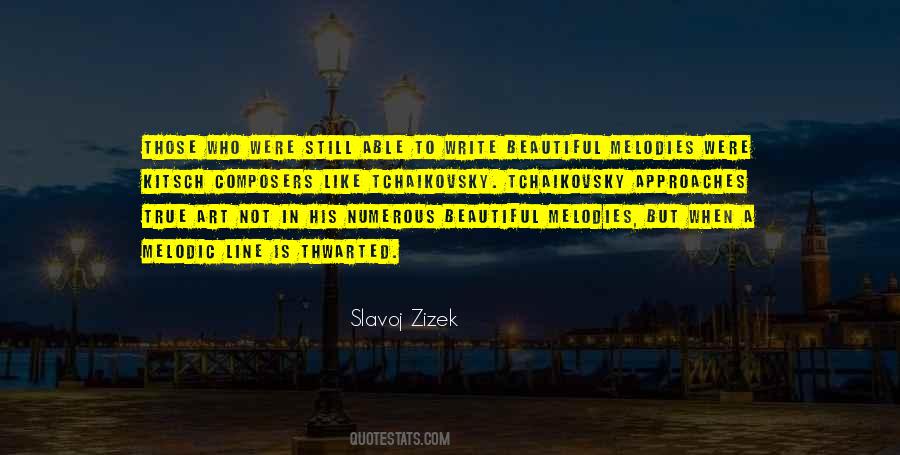 #7. I know Shakespeare said art is holding up a mirror to nature- but you're actually bending and refracting it through your interior dialogue ... - Author: John Geddes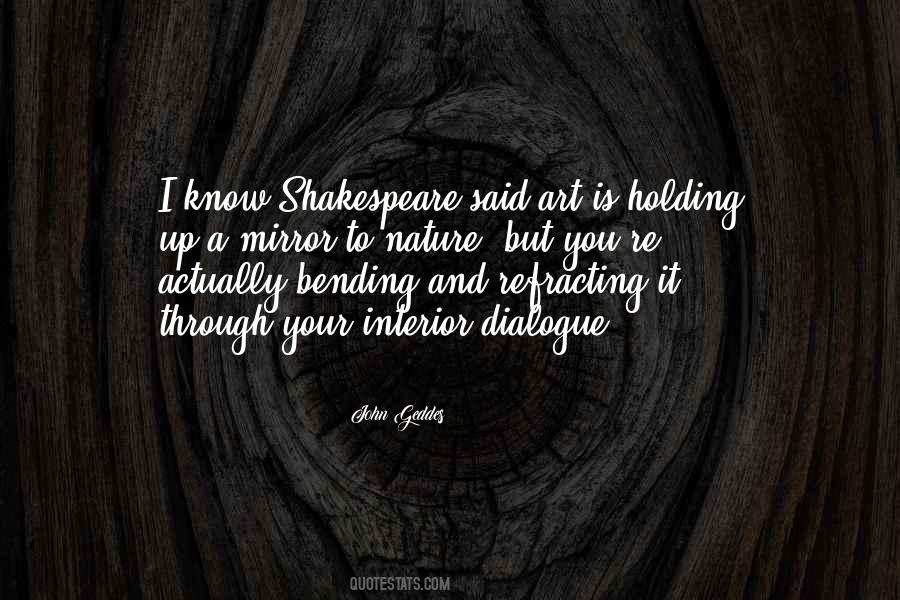 #8. If an art form is marginalized it's because it's not speaking to people. - Author: David Foster Wallace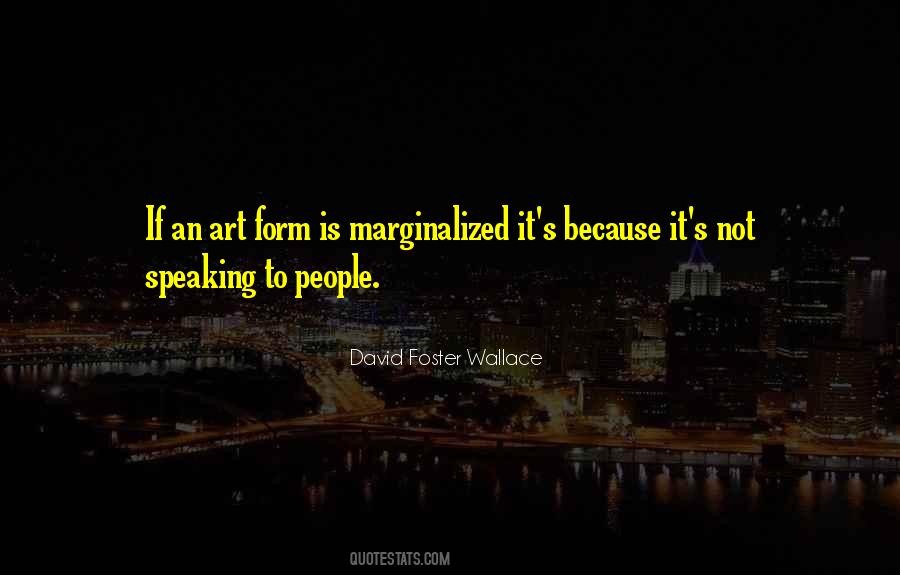 #9. Writing for children is an art in itself, and a most interesting one. - Author: Enid Blyton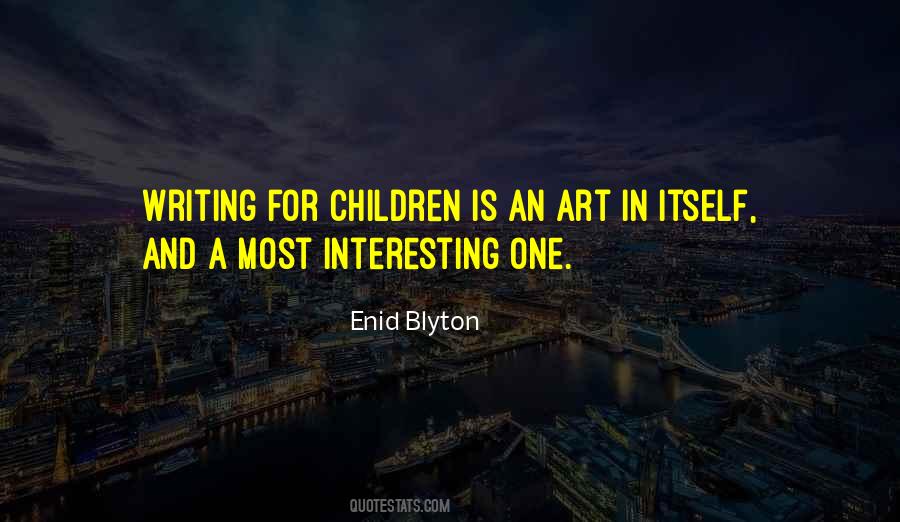 #10. One of the great things about art is you get to see what your concerns are, what those things tumbling around inside you are. - Author: Jonathan Safran Foer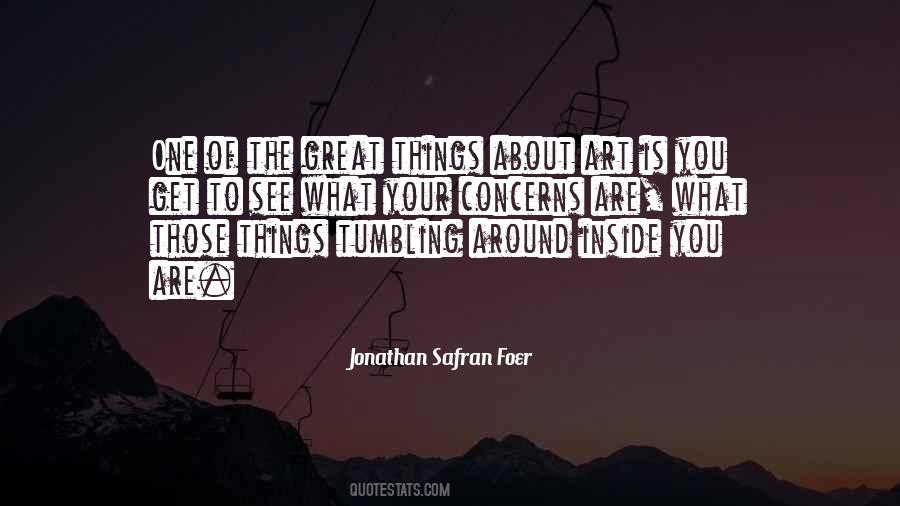 #11. The art of writing is the art of applying the seat of the pants to the seat of the chair. - Author: Mary Heaton Vorse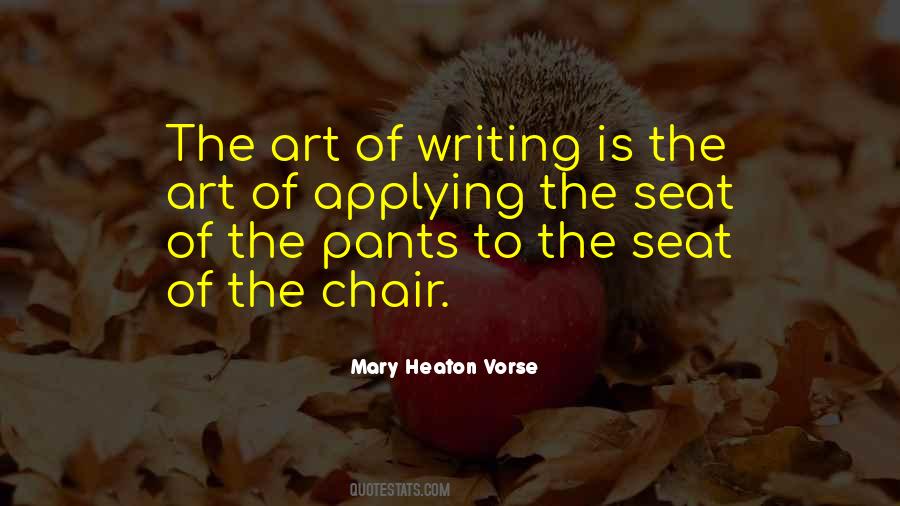 #12. Writing is a master craft in the finest art,
the loneliest profession in the most social science,
the most influential medium in the toughest industry,
yet is the most under-rated profession. - Author: Grant McLachlan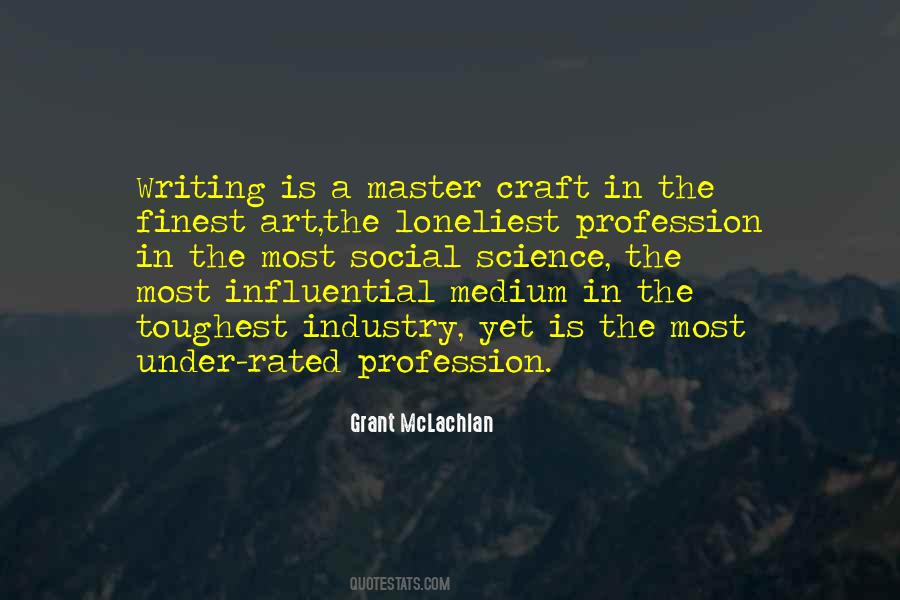 #13. Movie making is not like other art forms, like painting, or writing a novel, because that can be digested or interpreted ... It takes two years to make each one of these, and it's always judged on money. - Author: M. Night Shyamalan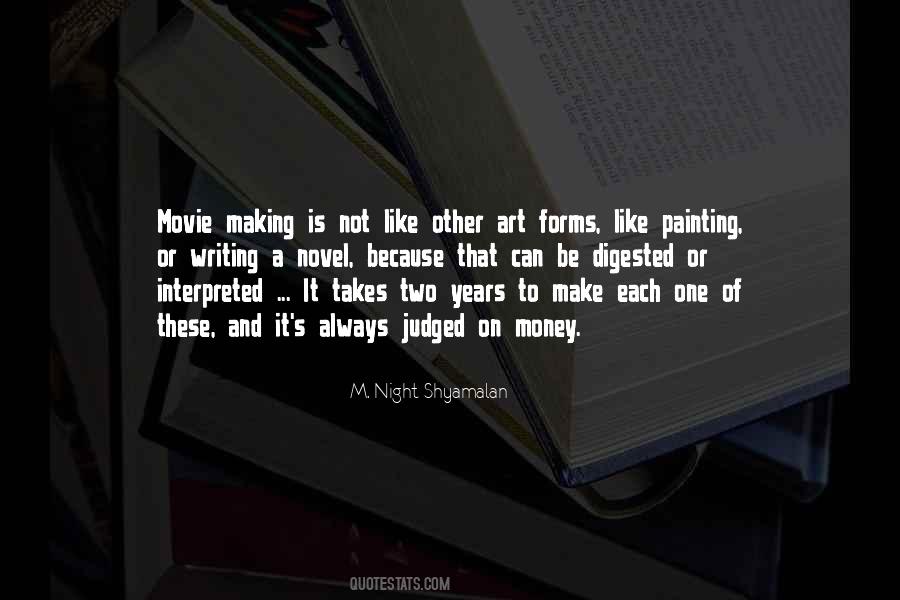 #14. Everybody is original, if he tells the truth, if he speaks from himself. But it must be from his *true* self and not from the self he thinks he *should* be. - Author: Brenda Ueland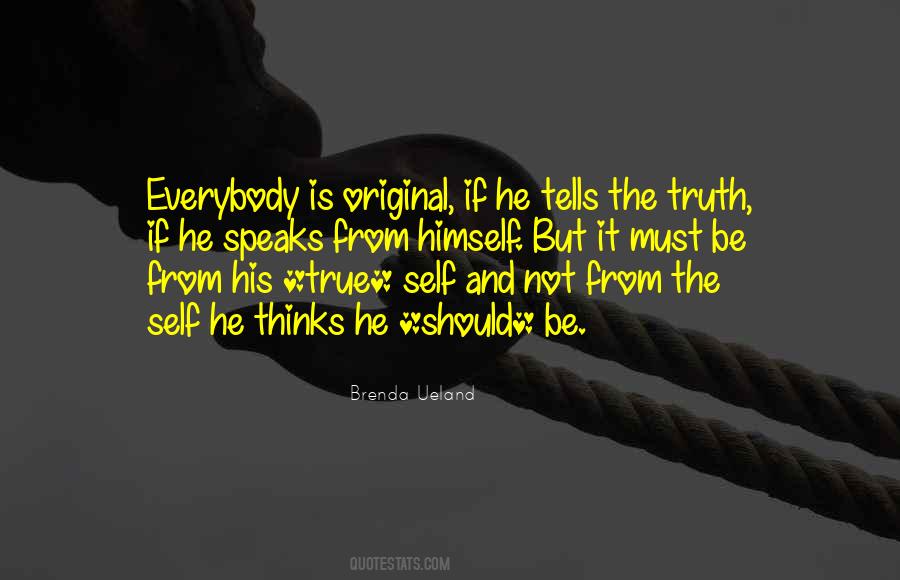 #15. When you write something new about science, other scientists may not like it but they pay attention because it is subject to proof. When you write something new about art, it is subject only to the reader's discomfort, and will probably be rejected. - Author: Walter Darby Bannard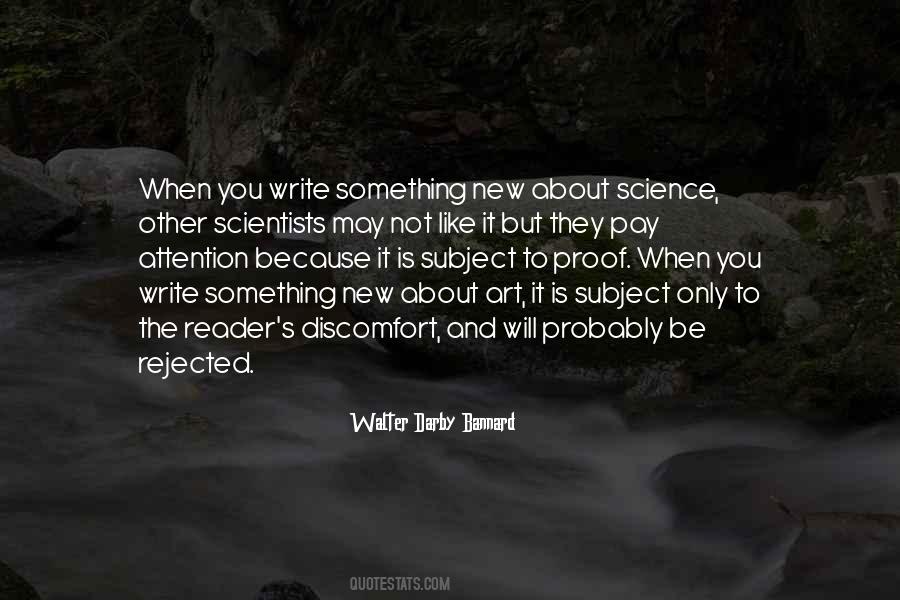 #16. Writing is a unique art-form. You are painting a detailed image in someone's mind, and it will be different for every single reader. - Author: Giuseppe Bianco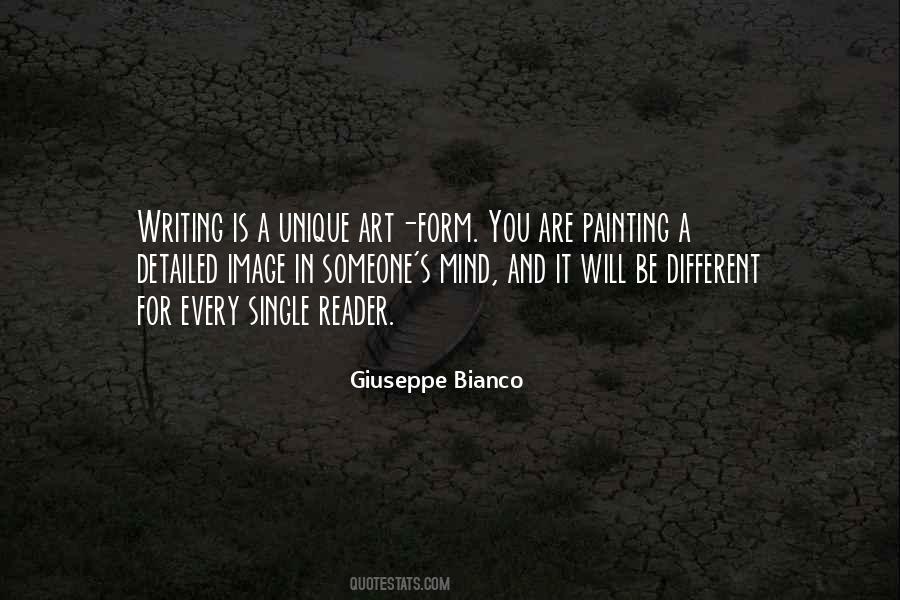 #17. Rather than feeling that every moment you've got to exert this enormous control, you can take the attitude that your job as a writer is not to control everything, but to set things in motion. - Author: Stuart Dybek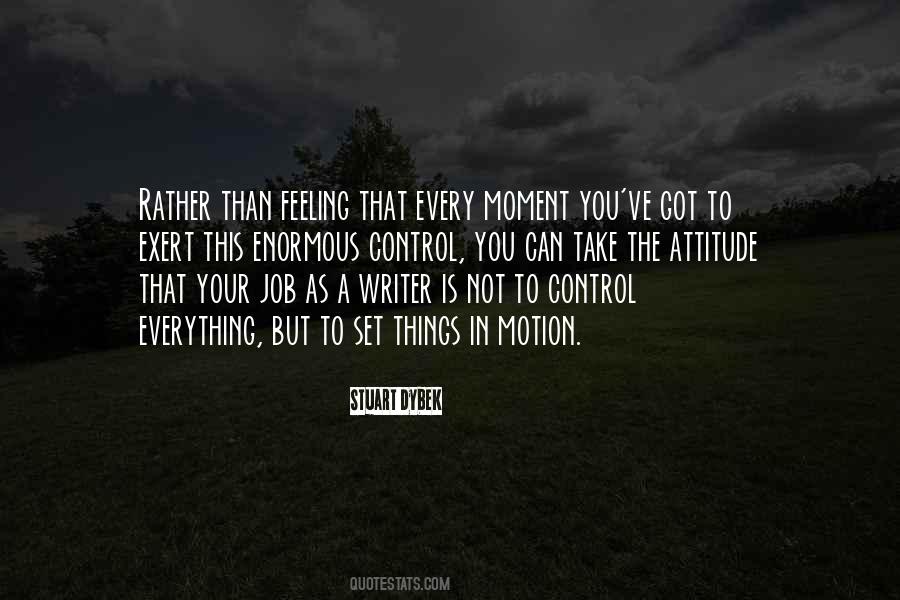 #18. Many great authors of the 19th century wrote under conditions of strict censorship. The great thing about the art of writing a novel, is that you can write about anything. All you have to say is that it's fiction. - Author: Orhan Pamuk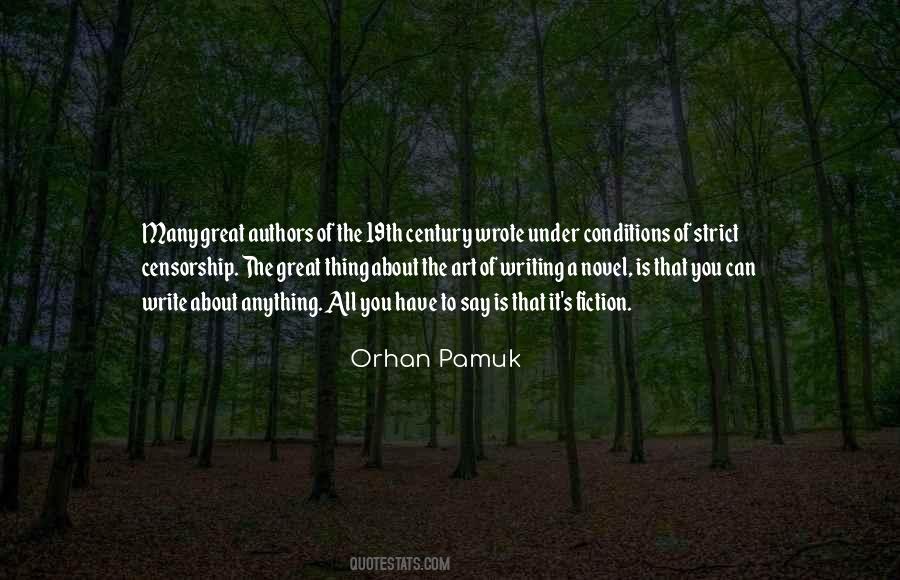 #19. In the future, as in the present, as in the past, black people will build many new worlds.
This is true. I will make it so. And you will help me. - Author: N.K. Jemisin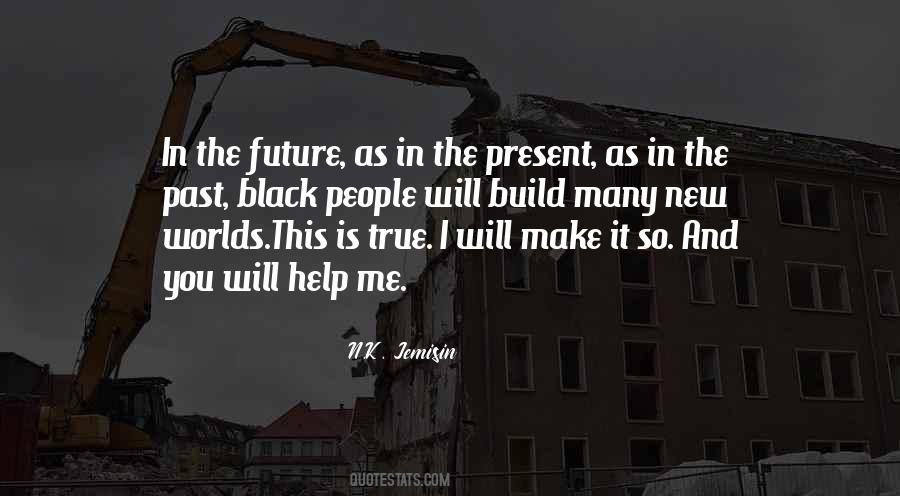 #20. There is no such thing as reproduction, only acts of production. - Author: Andrew Solomon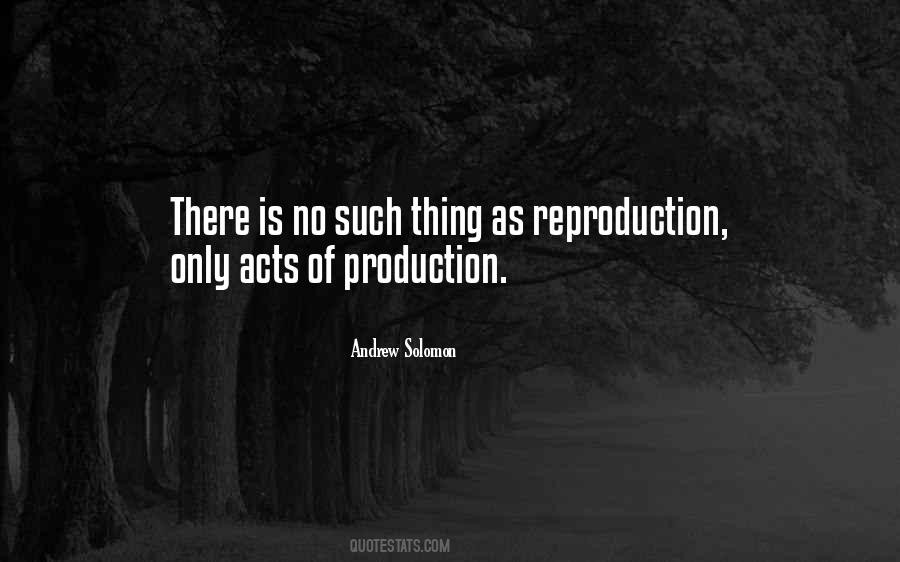 #21. Writing, like any art, is a continuing process of discovering the infinite possibilities of Life. - Author: Hubert Selby Jr.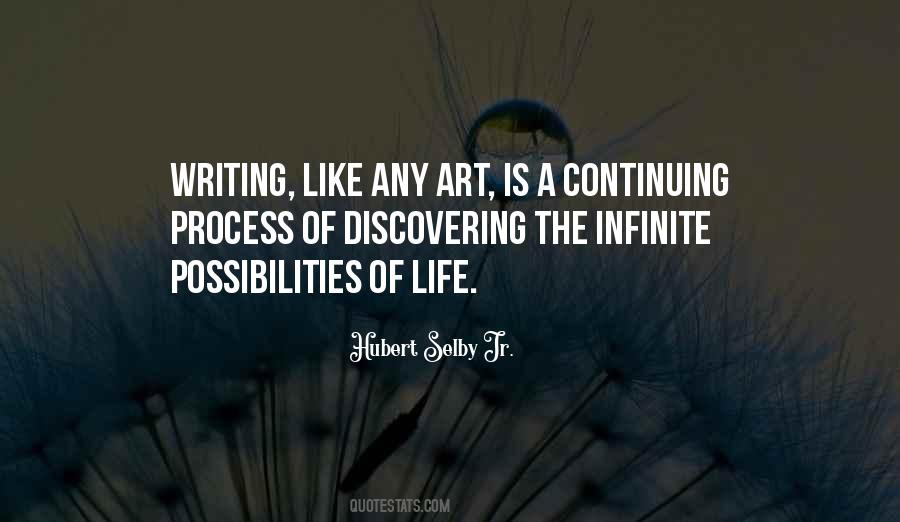 #22. If a novel's salient aim is virtue, I want to throw it against the wall. - Author: Cynthia Ozick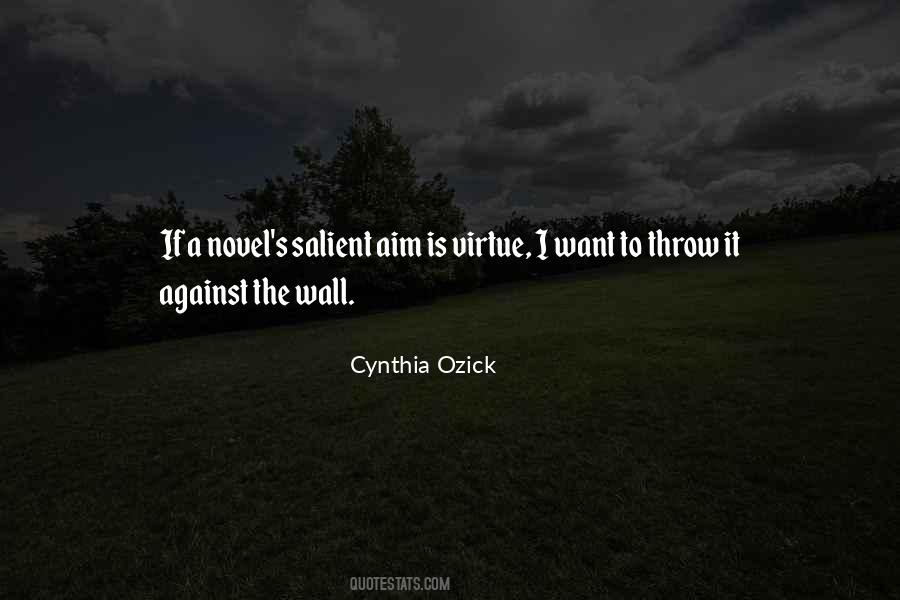 #23. When I write I don't aim to shock people, and I'm surprised when I do. But I don't think that anything that occurs in life should be omitted from art, though the artist should present it in a fashion that is artistic and not ugly. I set out to tell the truth. And sometimes the truth is shocking. - Author: Tennessee Williams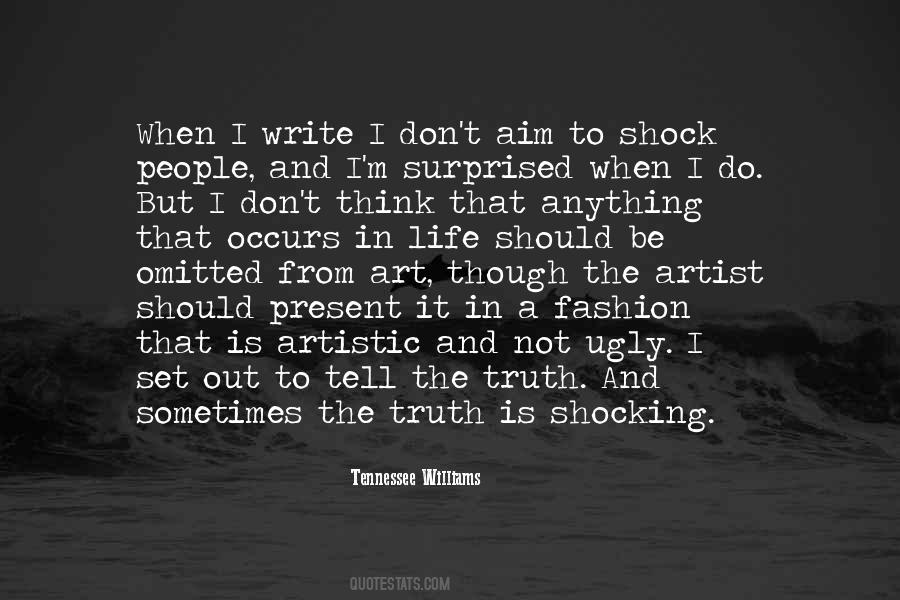 #24. There are so many opportunities in life, that the loss of two or three capabilities is not necessarily debilitating. A handicap can give you the opportunity to focus more on art, writing, or music. - Author: Jim Davis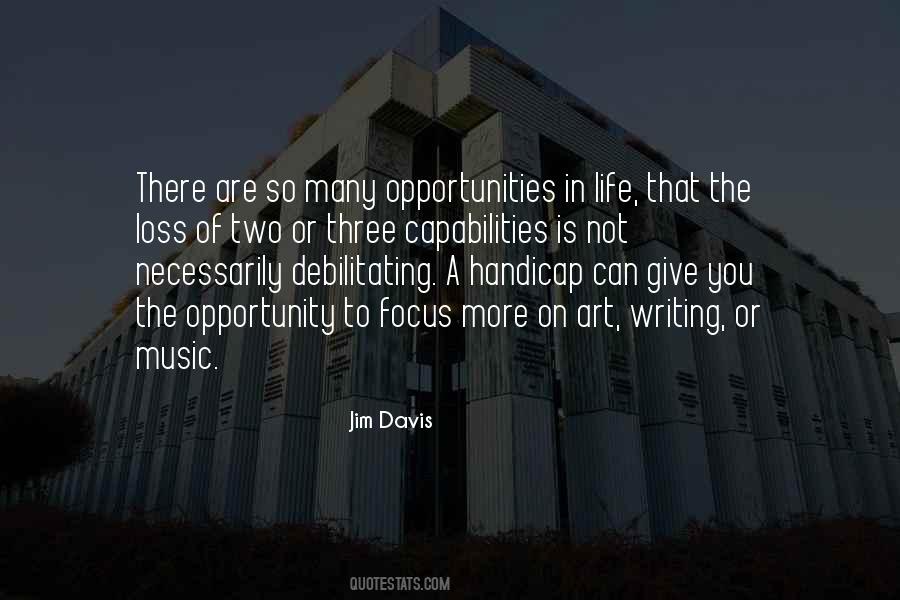 #25. Writing is no dying art form in America because most published writers here accept the wisdom and the necessity of encouraging the talent that follows in their footsteps. - Author: Elizabeth George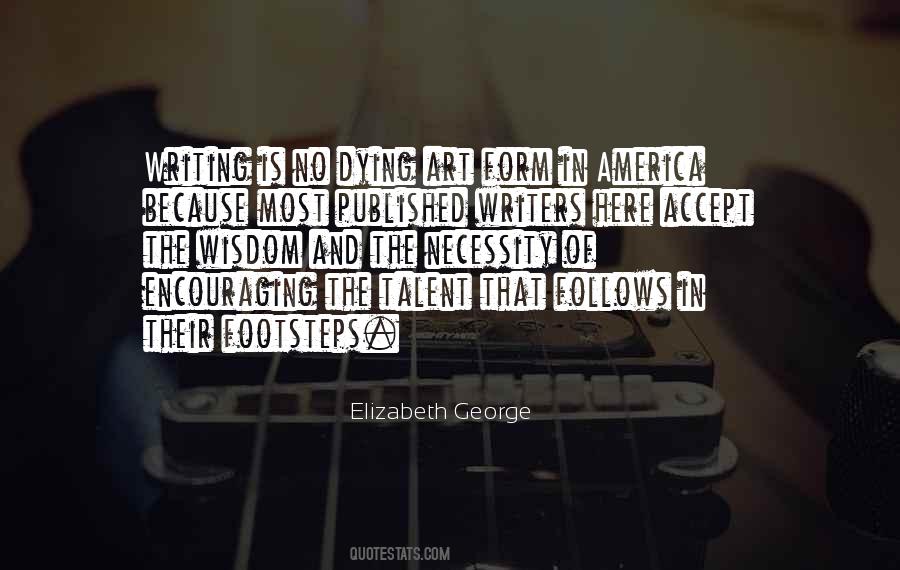 #26. Art is a journey of excellence not a goal of perfection. - Author: Jacqueline Patricks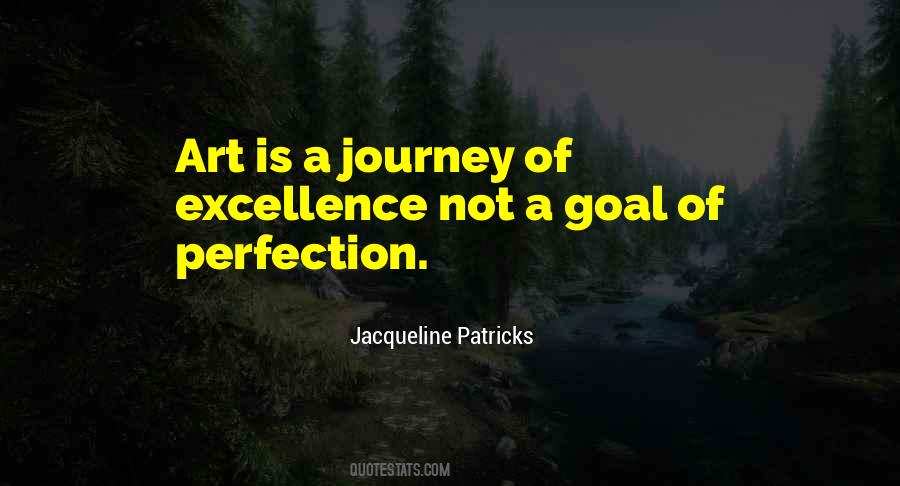 #27. For anyone who wants to write, and hopes some day to publish what he or she has written, it is far more important to write than it is to study about writing. - Author: Edith Schaeffer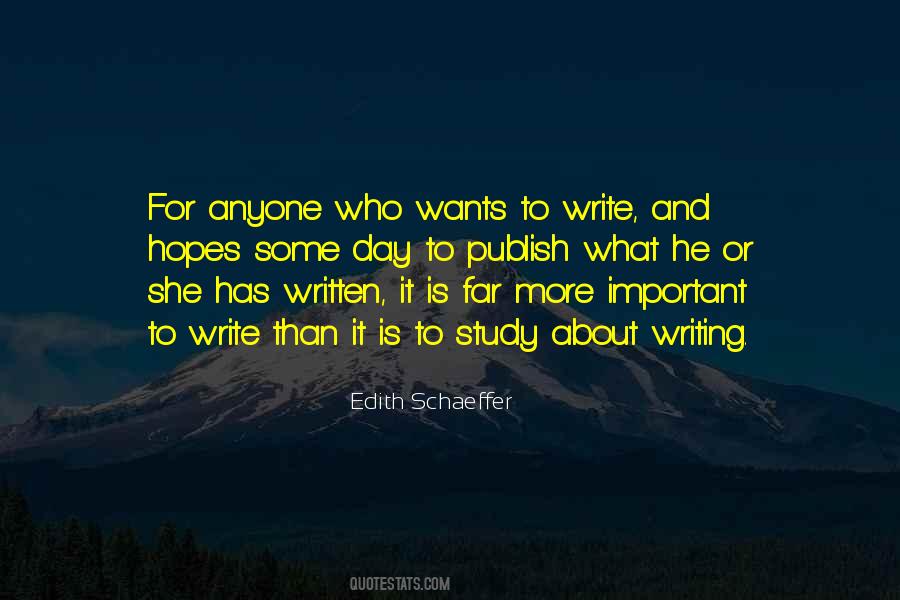 #28. If there is no mystery, for the artist, to solve inside of his art, then there's no point in it ... for me, every act of art is the act of solving a mystery. - Author: Truman Capote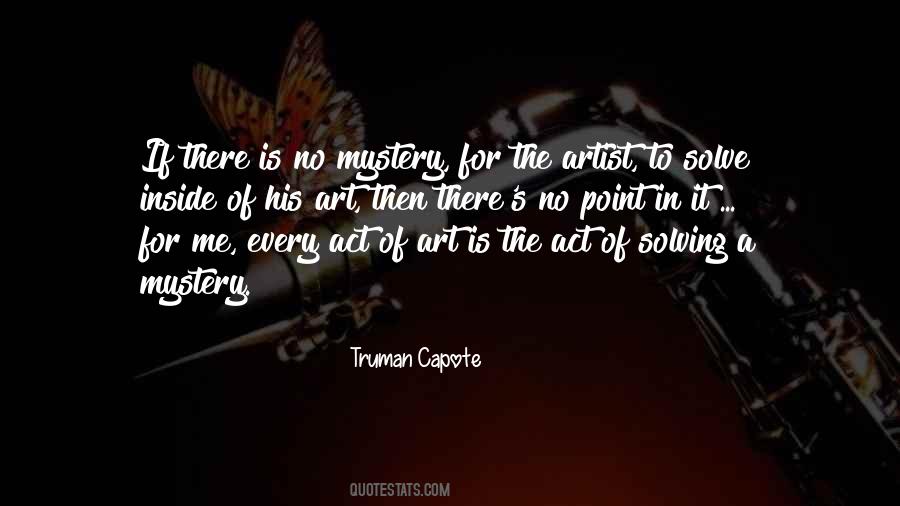 #29. A book can never be anything more than the impress of its author's thoughts; and the value of these will lie either in the matter about which he has thought, or in the form which his thoughts take, in other words, what it is that he has thought about it. - Author: Arthur Schopenhauer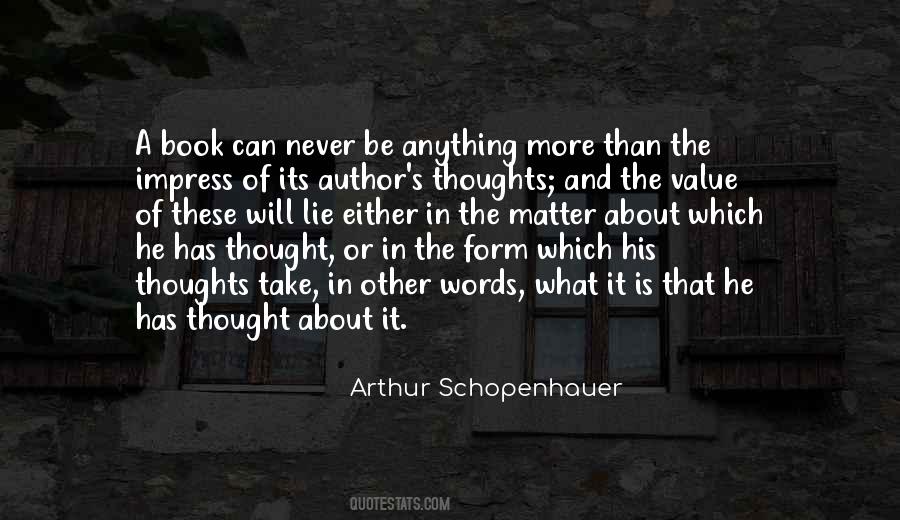 #30. Art is not difficult because it wishes to be difficult, but because it wishes to be art. - Author: Donald Barthelme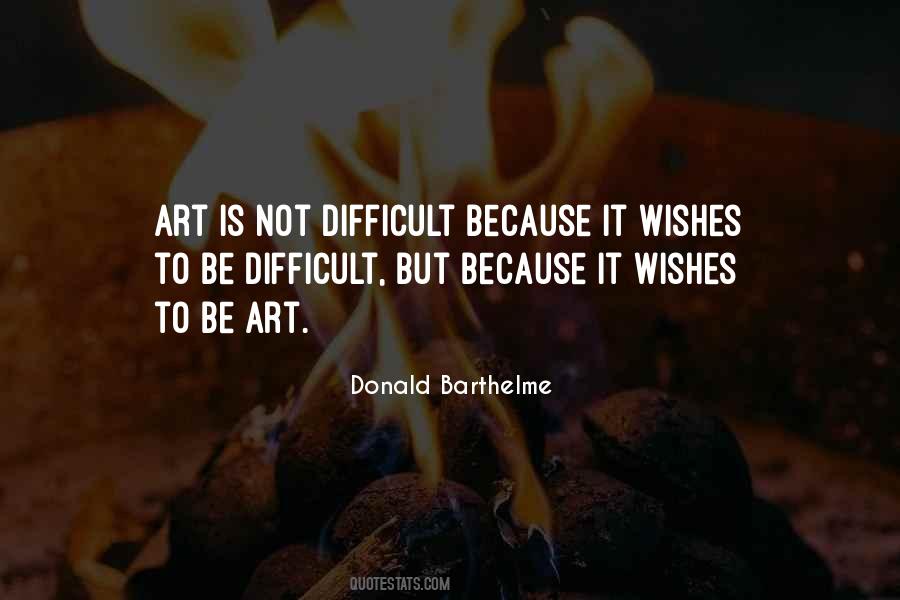 #31. I think the business of music has really taken a huge hit. There's no doubt about it. But an artist is always going to produce their art, their music. They're going to paint, they're going to write. - Author: Gloria Estefan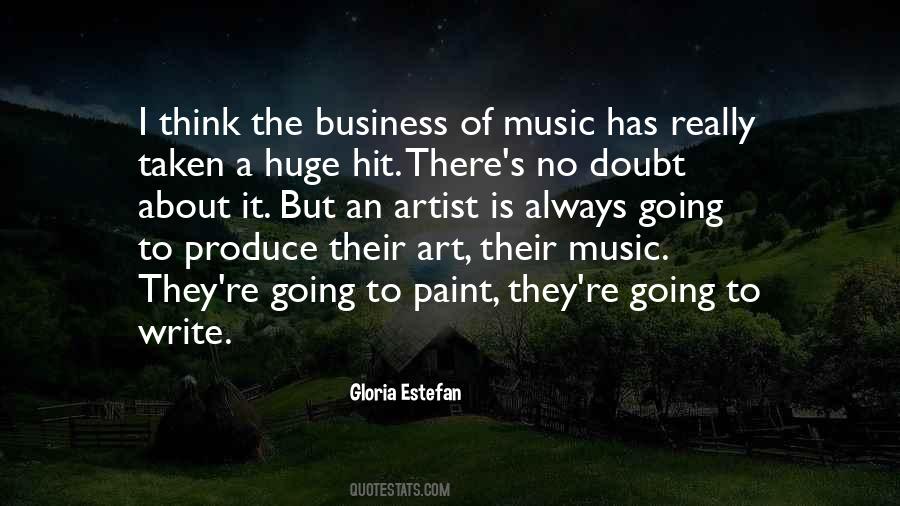 #32. Industry in art is a necessity - not a virtue - and any evidence of the same, in the production, is a blemish, not a quality; a proof, not of achievement, but of absolutely insufficient work, for work alone will efface the footsteps of work. - Author: James McNeill Whistler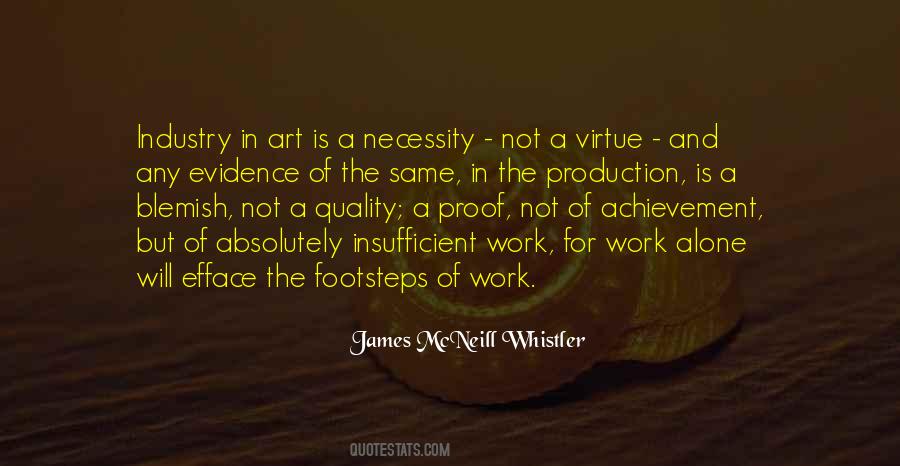 #33. There is no excuse for anyone to write fiction for public consumption unless he has been called to do so by the presence of a gift. It is the nature of fiction not to be good for much unless it is good in itself. - Author: Flannery O'Connor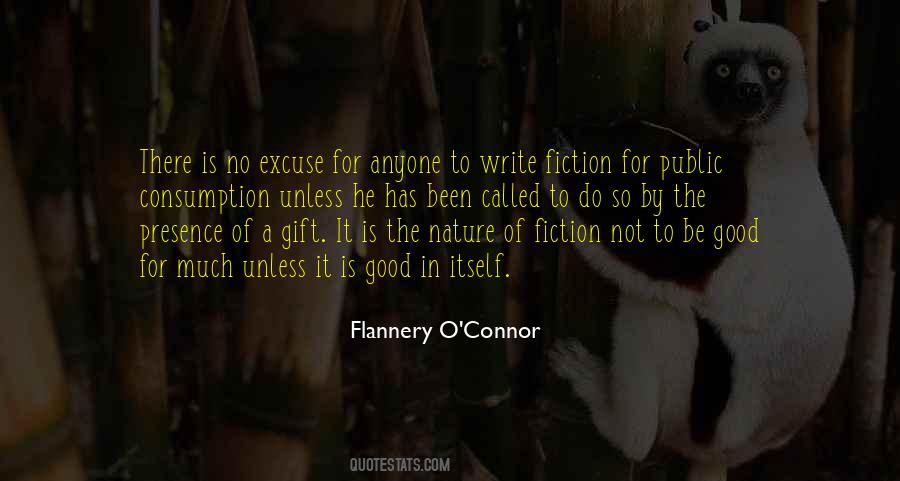 #34. The ironic, too-cool meta satire, the sneering and mocking? Is actually just a contemporary version of the bourgeois sentimentality it's trying to mock. It is not new. Really it's almost quaint. The backlash has already outlasted it. - Author: Tony Tulathimutte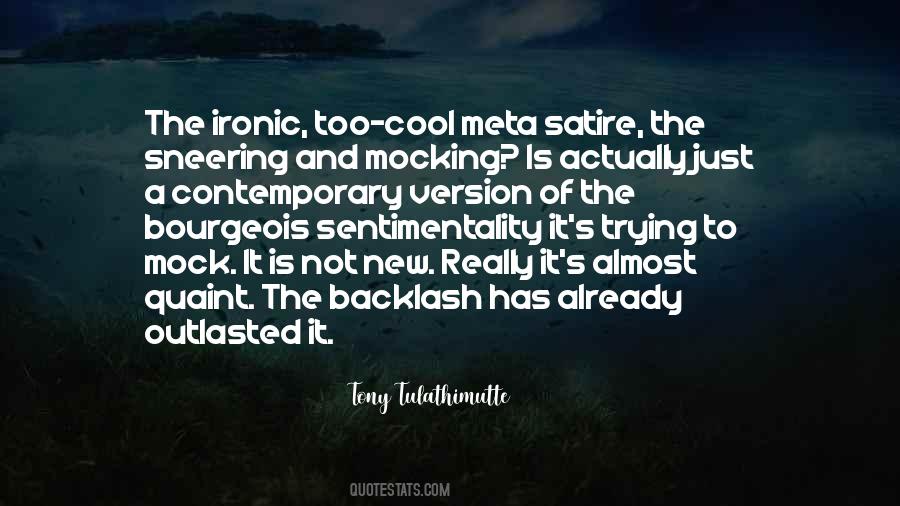 #35. Art is no longer snobbish or cowardly. It teaches peasants to use tractors, gives lyrics to young soldiers, designs textiles for factory women's dresses, writes burlesque for factory theatres, does a hundred other useful tasks. Art is as usueful as bread. - Author: Azar Nafisi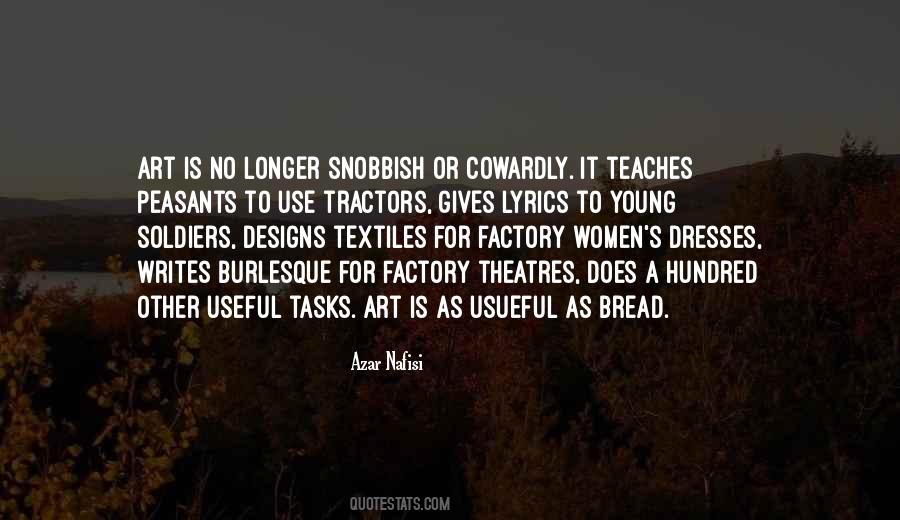 #36. But if what interests you are stories of the fantastic, I must warn you that this kind of story demands more art and judgment than is ordinarily imagined. - Author: Charles Nodier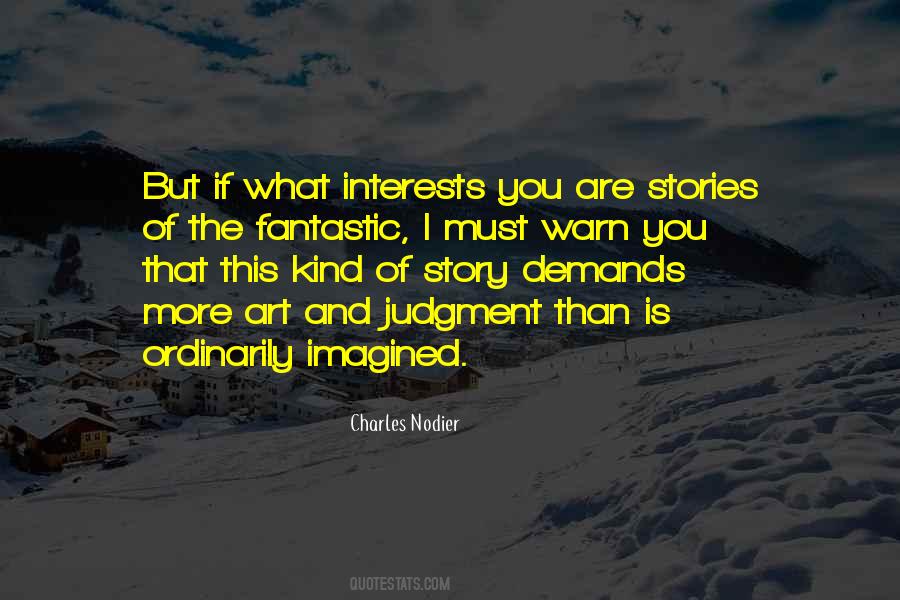 #37. Reading haiku is as much an art as writing it. The reader needs to pause and listen to the silences, to feel the spaces between the words, and to journey into the depths of many multi-colored worlds. - Author: Harley King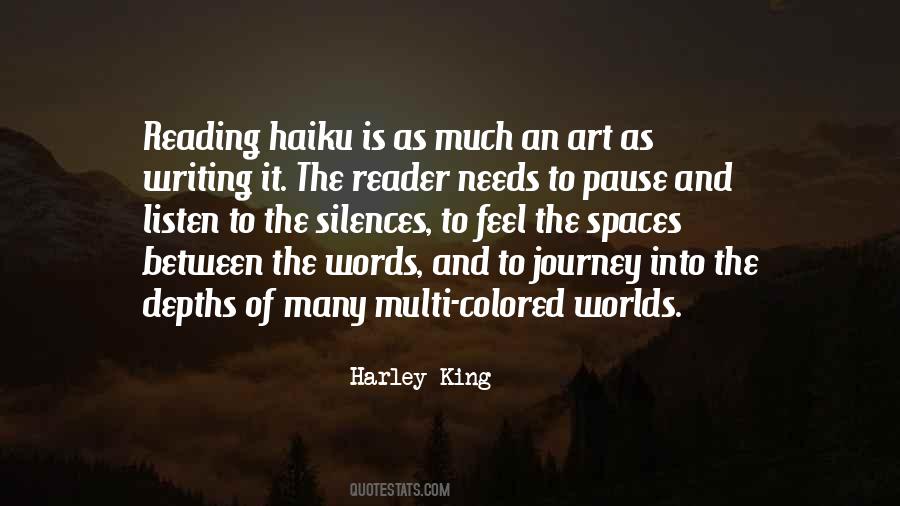 #38. The most important thing about writing a book is having book parties. - Author: Art Buchwald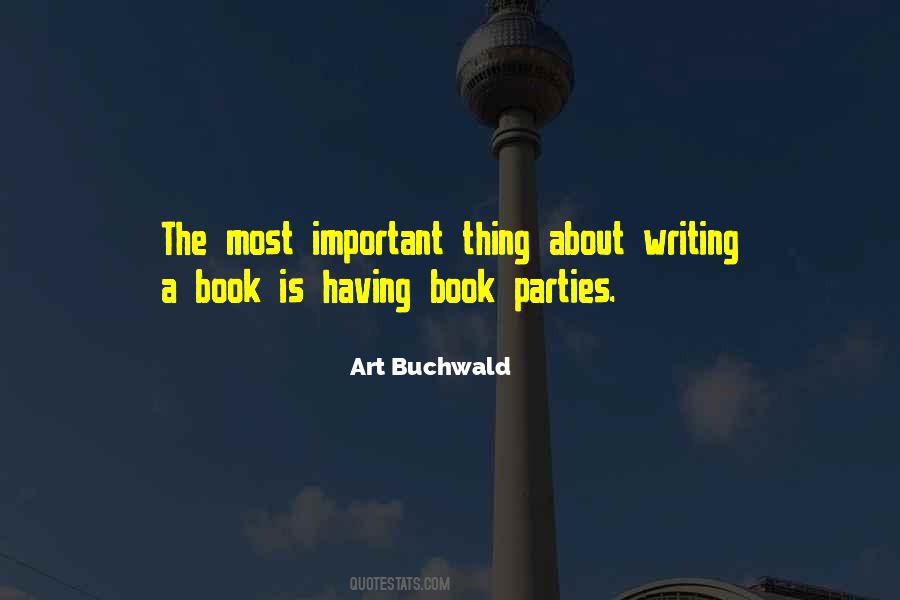 #39. Art is much more confined by materials than writing is. - Author: Molly Crabapple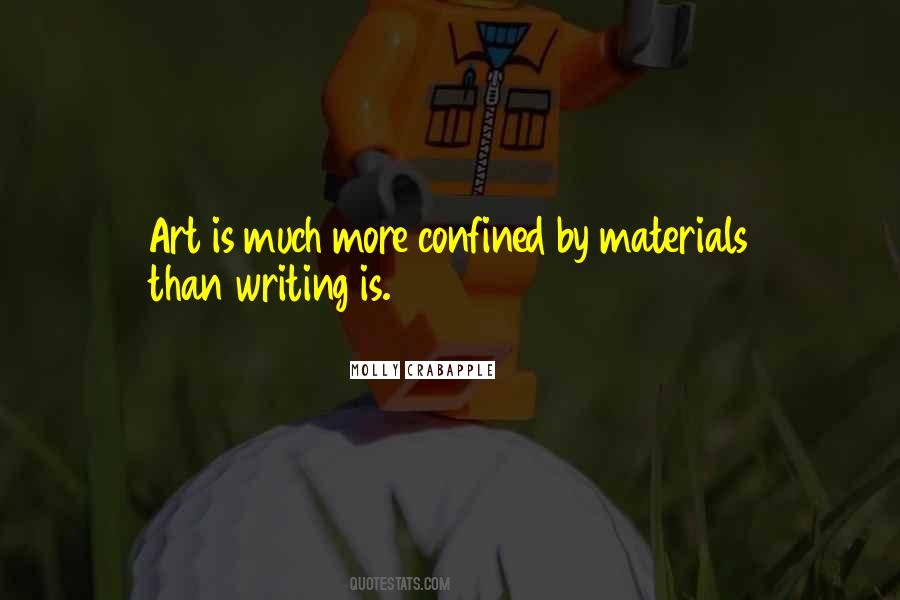 #40. The core of my writing is not art but truth. - Author: Philip K. Dick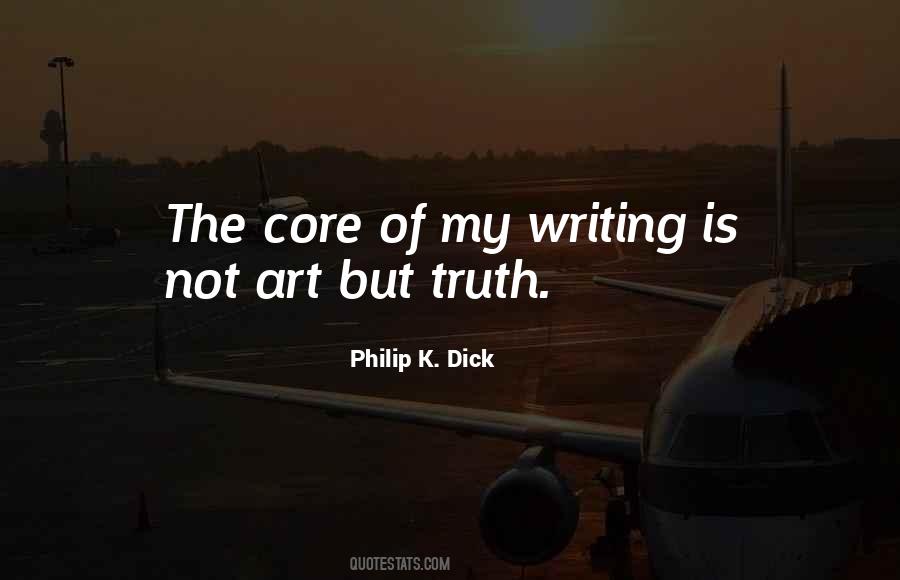 #41. Film is the ultimate canvas, the elixir of art, and the magic of life. - Author: A.D. Posey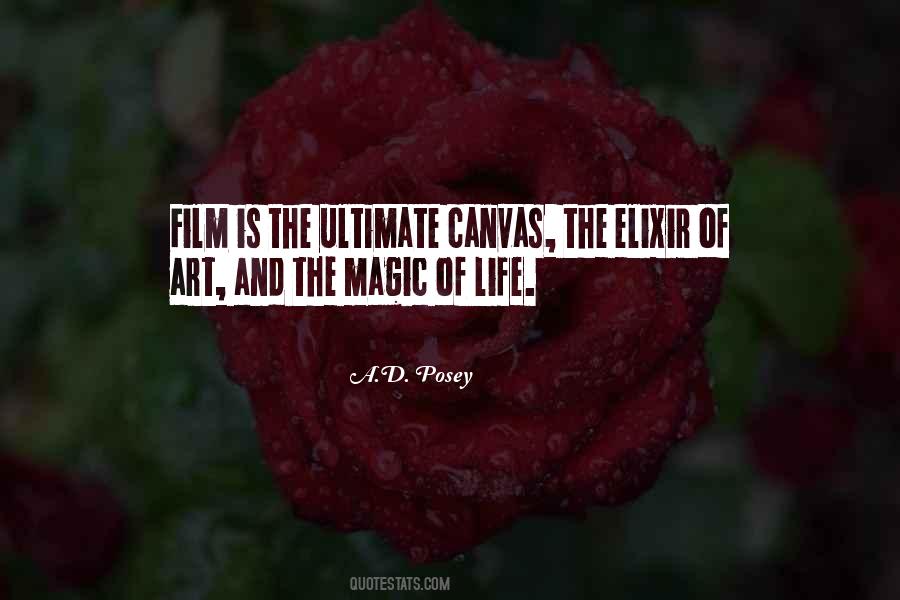 #42. Collect books, even if you don't plan on reading them right away. Nothing is more important than an unread library. - Author: John Waters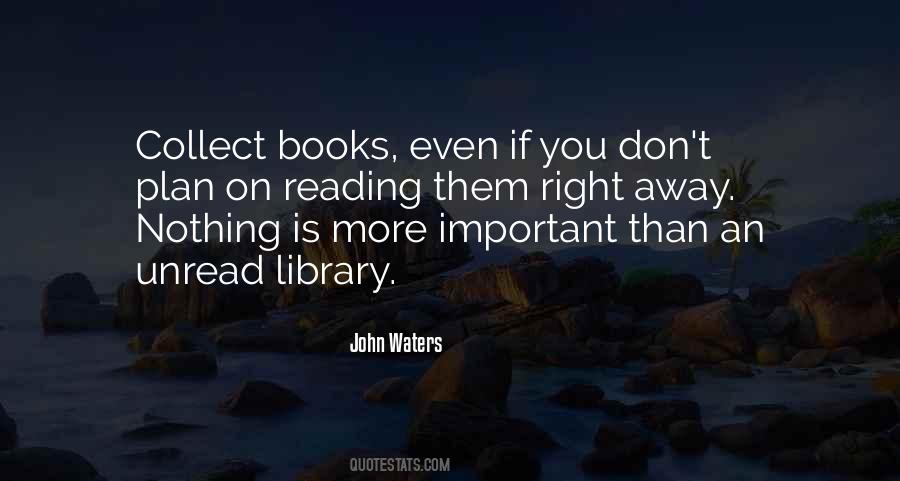 #43. Writing is the one art form that really should allow you to hang yourself. - Author: Peter Sotos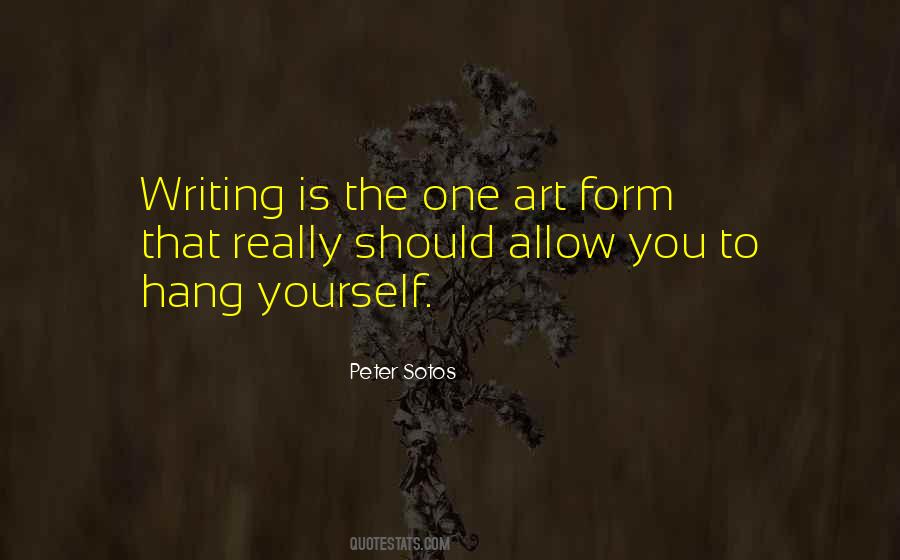 #44. For it is now to us itself ancient; and yet its maker was telling of things already old and weighted with regret, and he expended his art in making keen that touch upon the heart which sorrows have that are both poignant and remote. - Author: J.R.R. Tolkien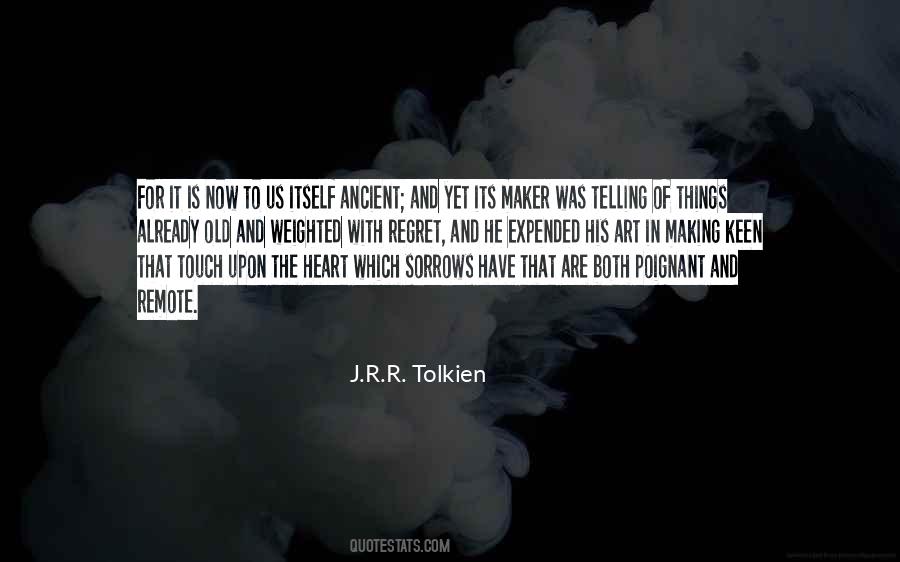 #45. It is to be remembered that the origin of all the arts-music, painting and writing-is magical and evocative; and that magic is always used to obtain some definite result. - Author: William S. Burroughs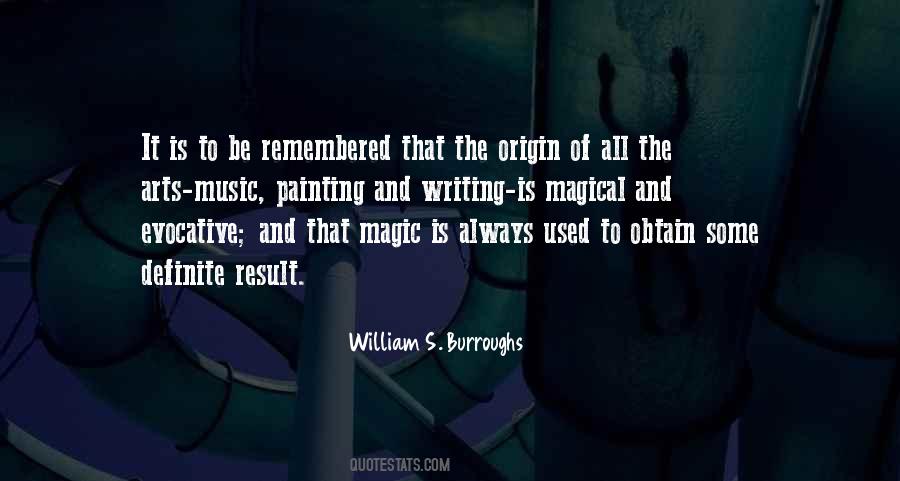 #46. Travel is a state of mind. It has nothing to do with existence or the exotic. It is almost always an inner experience. - Author: Paul Theroux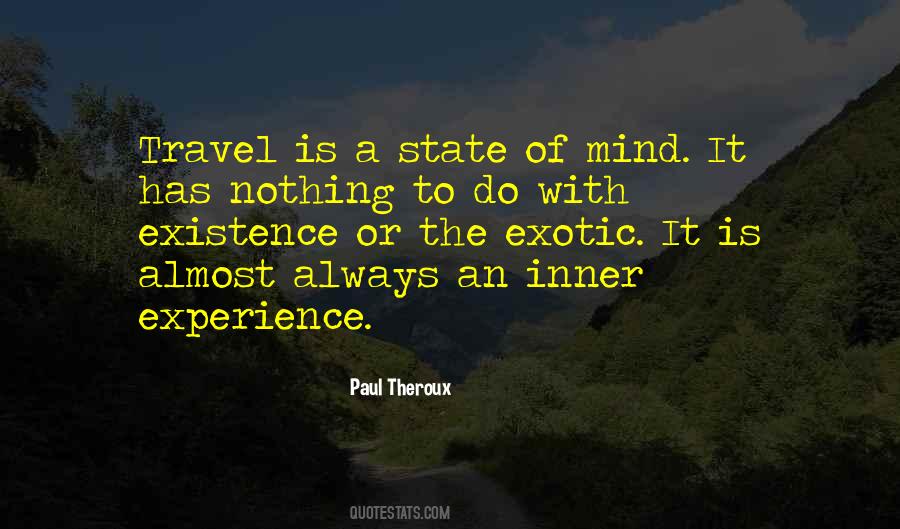 #47. Fiction is about telling a good story, first and foremost. But of course, everything I'm interested in or angry about leaks into my writing, from art to violence against women. - Author: Lauren Beukes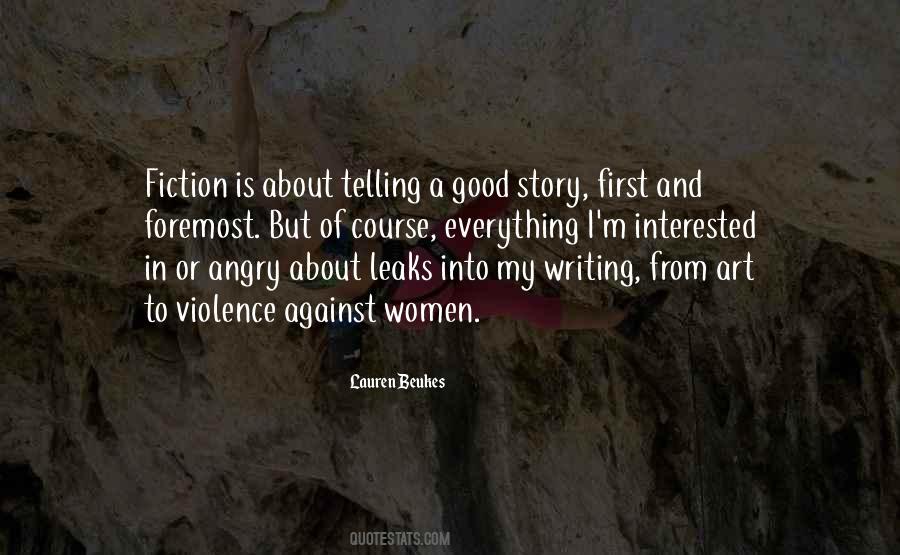 #48. Style is the art of getting yourself out of the way, not putting yourself in it. - Author: David Hare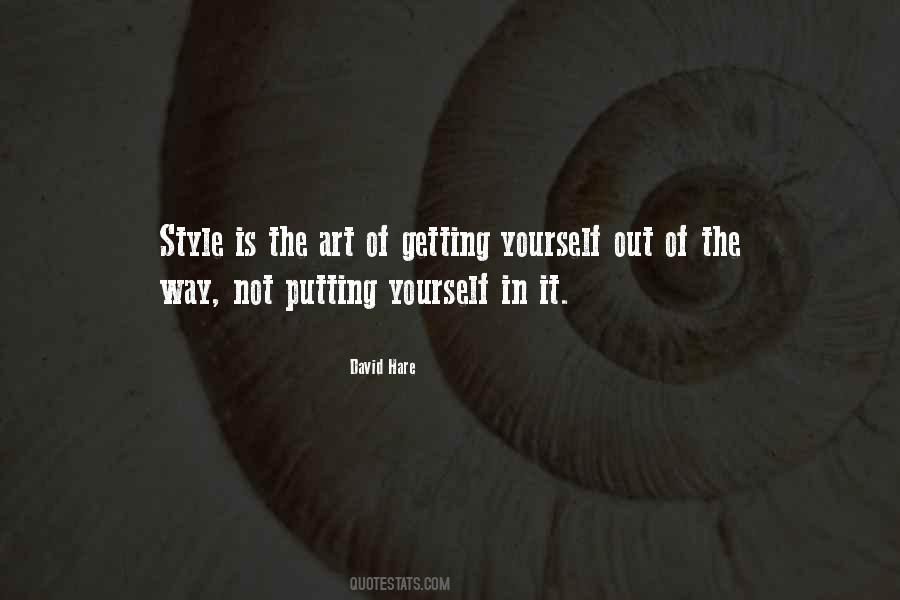 #49. Writing, more than any other art, is indexed to the worthiness of the self because it is identified in people's minds with emotion. - Author: Rachel Cusk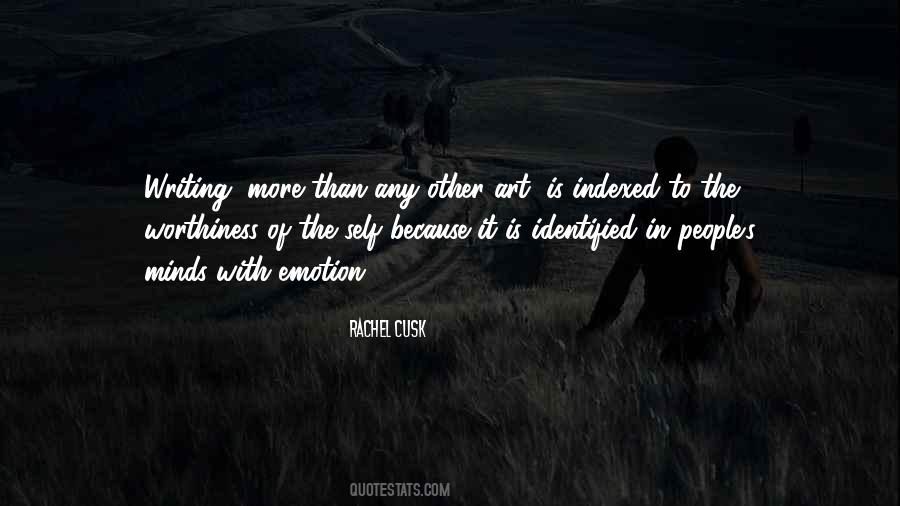 #50. But perhaps it is always so, that men form their conceptions from fictitious, conventional types, and then - all the combinations made - they are tired of the fictitious figures and begin to invent more natural, true figures. - Author: Leo Tolstoy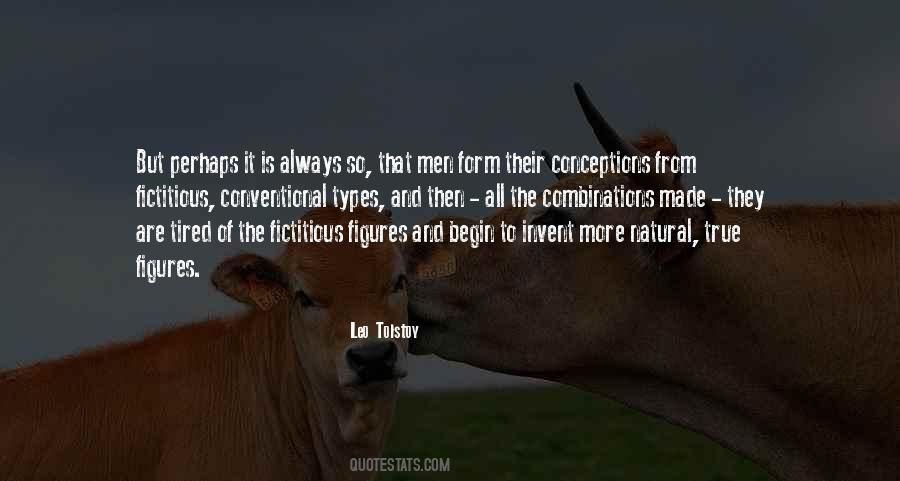 #51. When a good poet is confronted with difficult facts that he knows to be true but also are inimical to poetry, he has no choice but to flee to the margins; it was ... this very retreat that allowed him to hear the hidden music that is the source of all art. - Author: Orhan Pamuk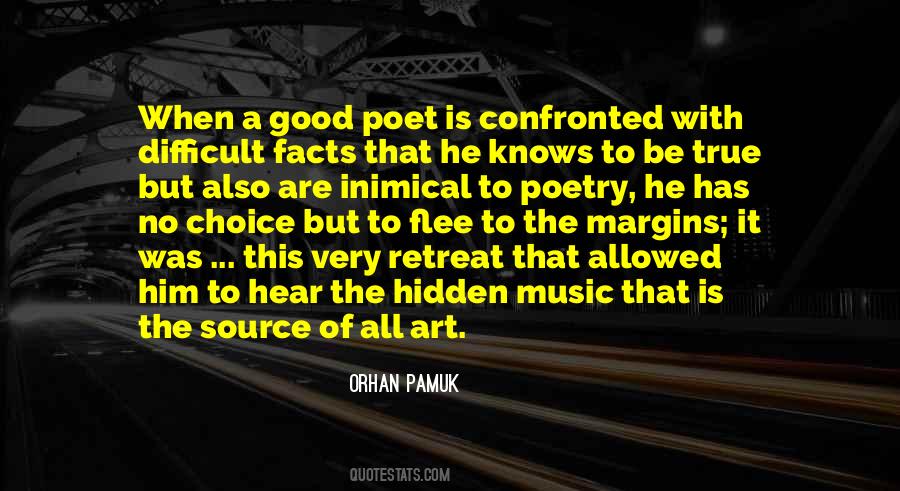 #52. Writing is also an art. - Author: Marc Mullo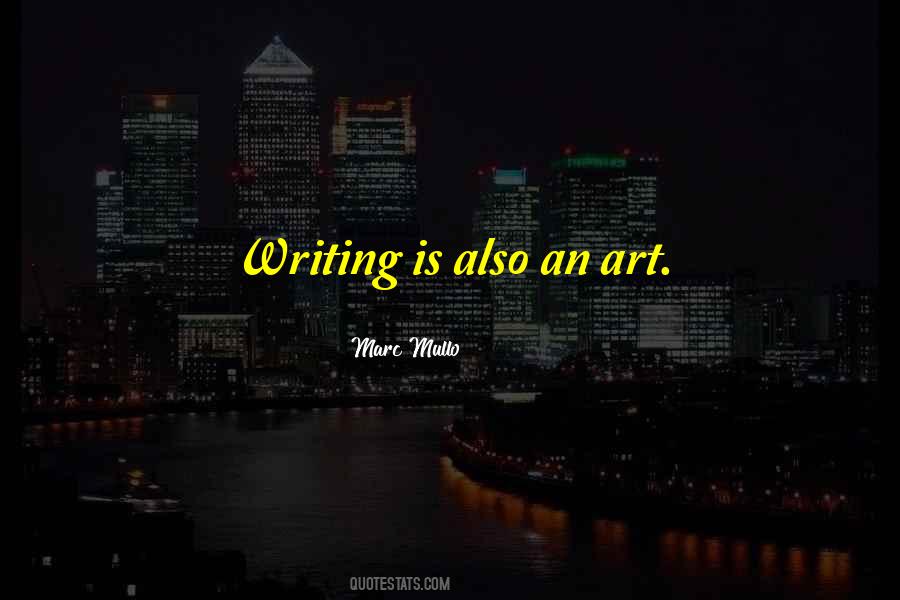 #53. Art is craft, not inspiration. - Author: Stephen Sondheim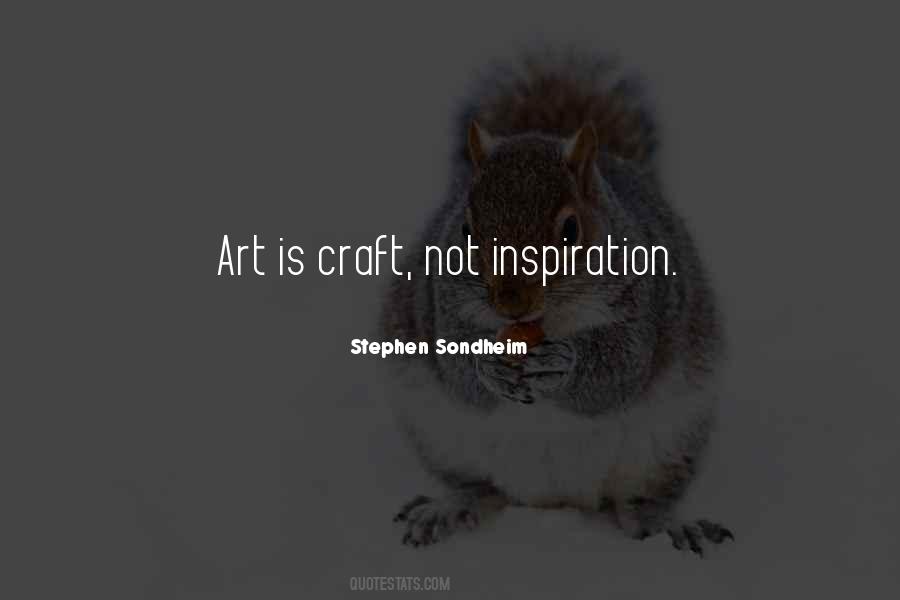 #54. Writing is my job. I don't think of it as art. - Author: Isabel Allende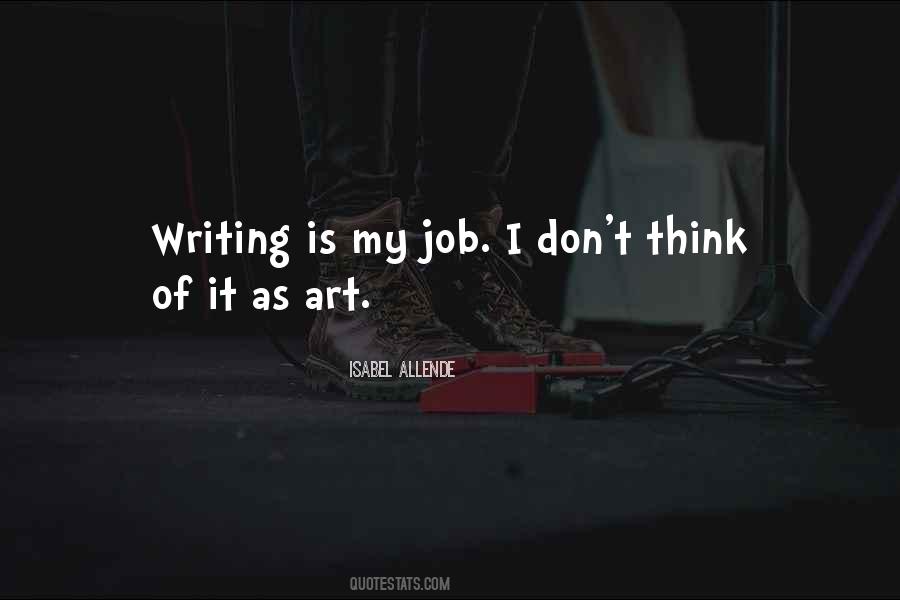 #55. Deliver me from writers who say the way they live doesn't matter. I'm not sure a bad person can write a good book. If art doesn't make us better, then what on earth is it for. - Author: Alice Walker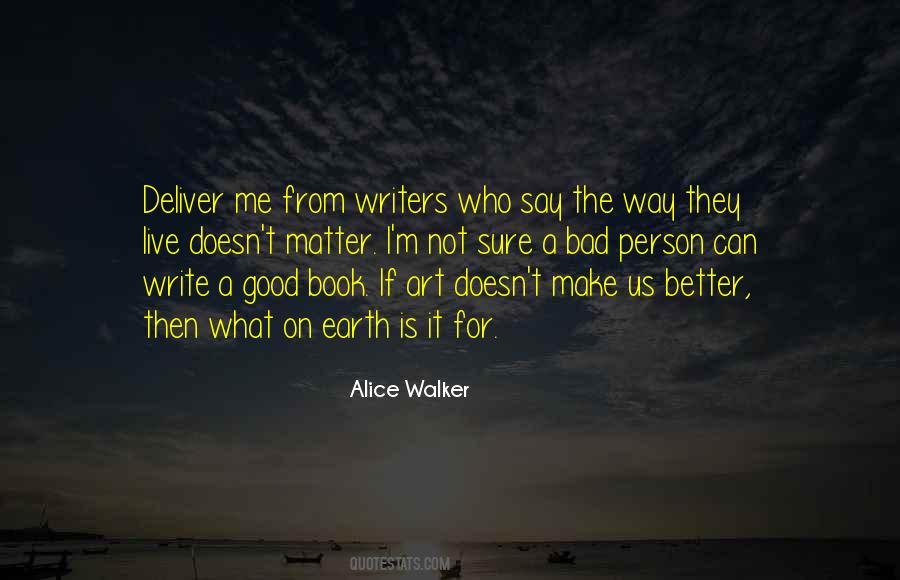 #56. I don't believe that art and politics or social issues must be separated. In writing about marriage, for example, money can be a big factor, and money is linked to earning, and earning is influenced by politics. - Author: Chimamanda Ngozi Adichie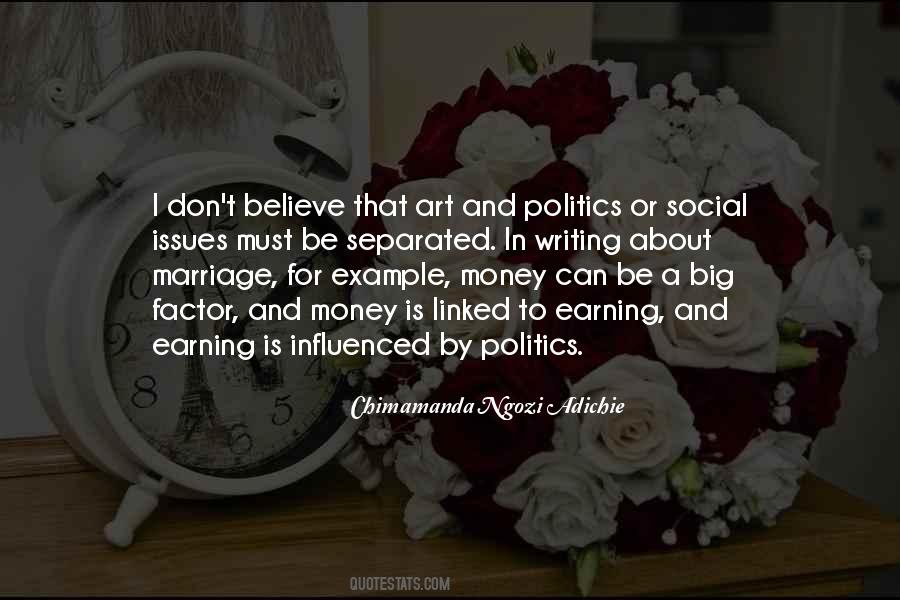 #57. The writing of headline is one of the great journalistic arts. They either conceal or reveal am interest - Author: Claude C. Hopkins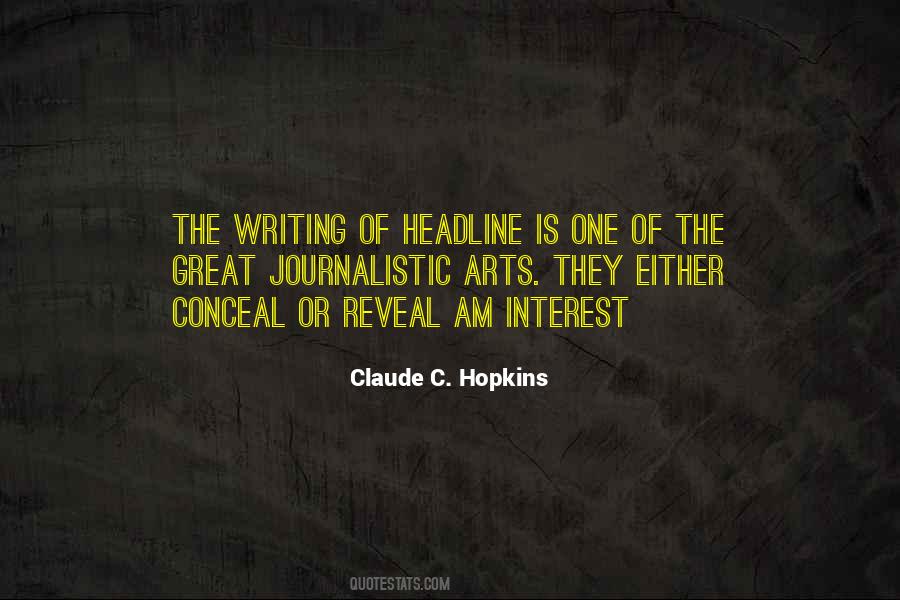 #58. I look at composers and conductors, anybody involved in music or writing or art in general; they got more done as they got older. If I can, I'll be one of those people because what I do is my passion. - Author: Sarah Brightman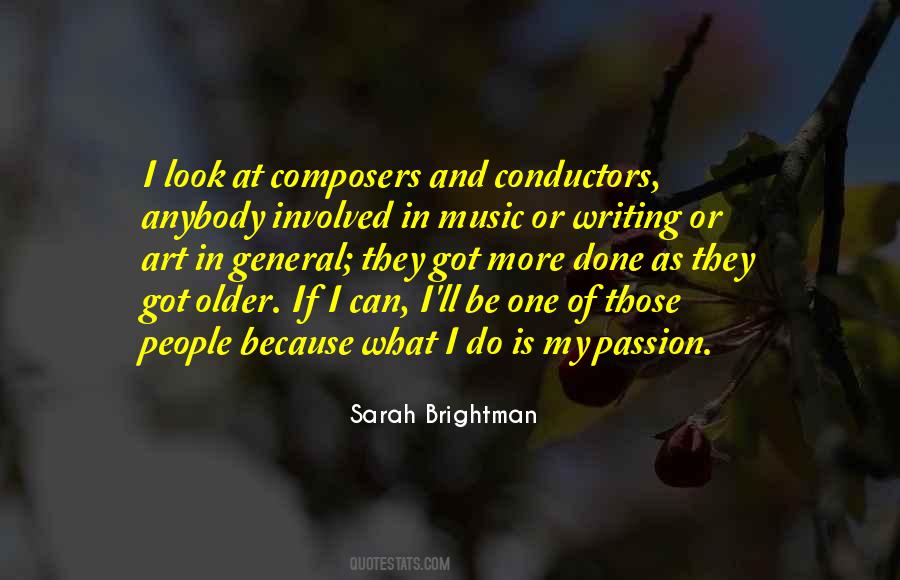 #59. Trying to live up to yourself is the most trying thing. - Author: Ren Garcia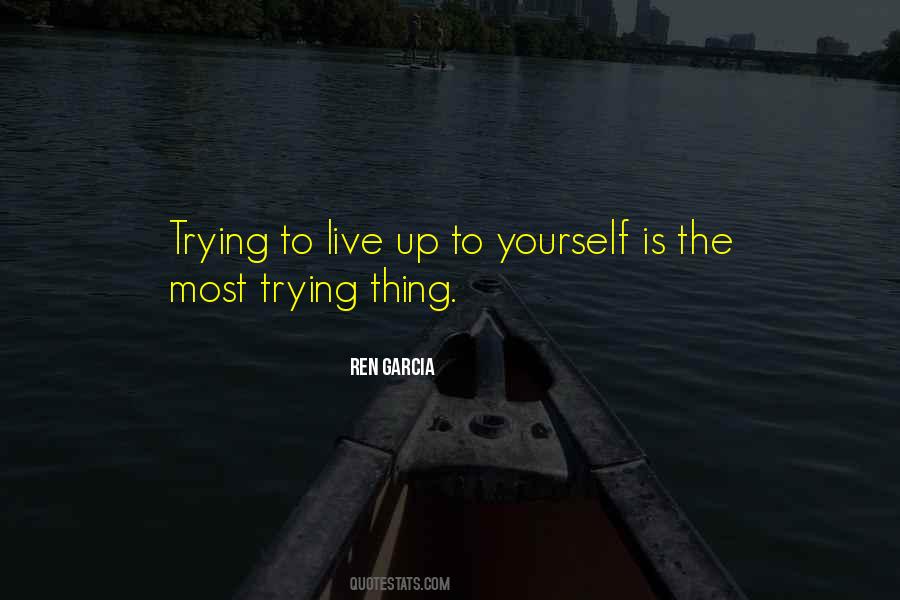 #60. God, what a ghastly enterprise to be in, though
and what an odd way to achieve success. I'm an exhibitionist who wants to hide, but is unsuccessful at hiding; therefore, somehow I succeed. - Author: David Foster Wallace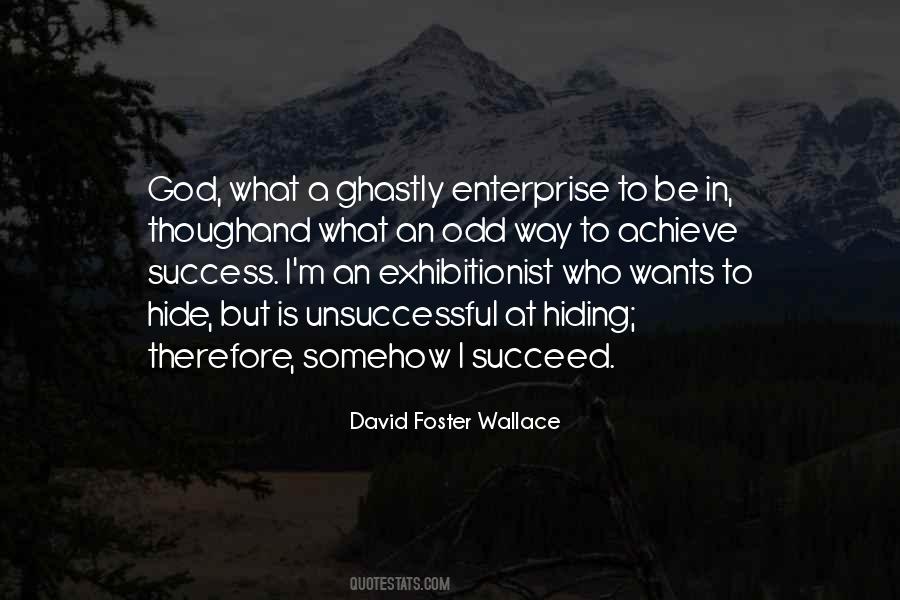 #61. "Look into thy heart and write!" is good advice, but not if interpreted to mean, "Look nowhere else!" The poet should know his world and, so far as his art is concerned, any kind of battering from his world is better than his own self-indulgent brooding. - Author: Harriet Monroe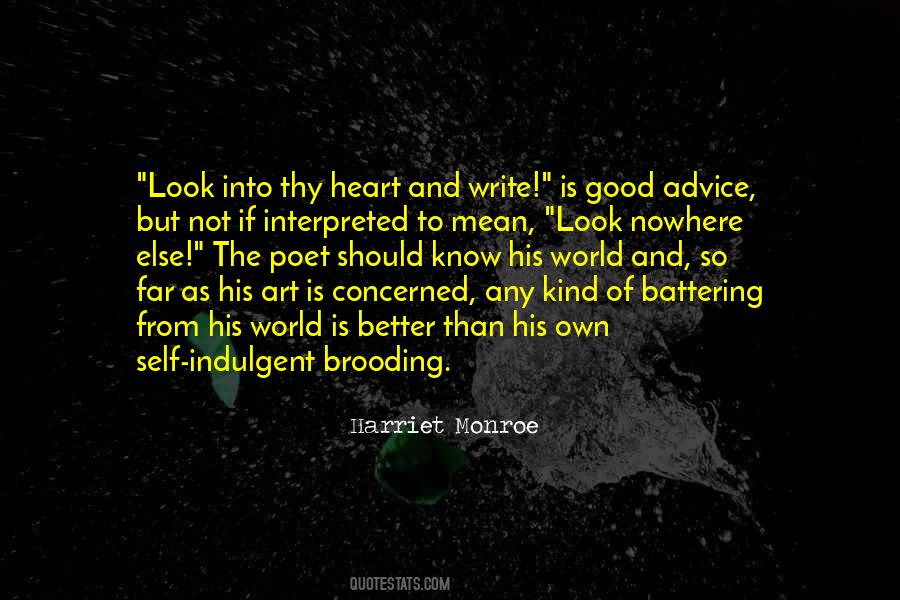 #62. Whatever may be our natural talents, the art of writing is not acquired all at once. - Author: Jean-Jacques Rousseau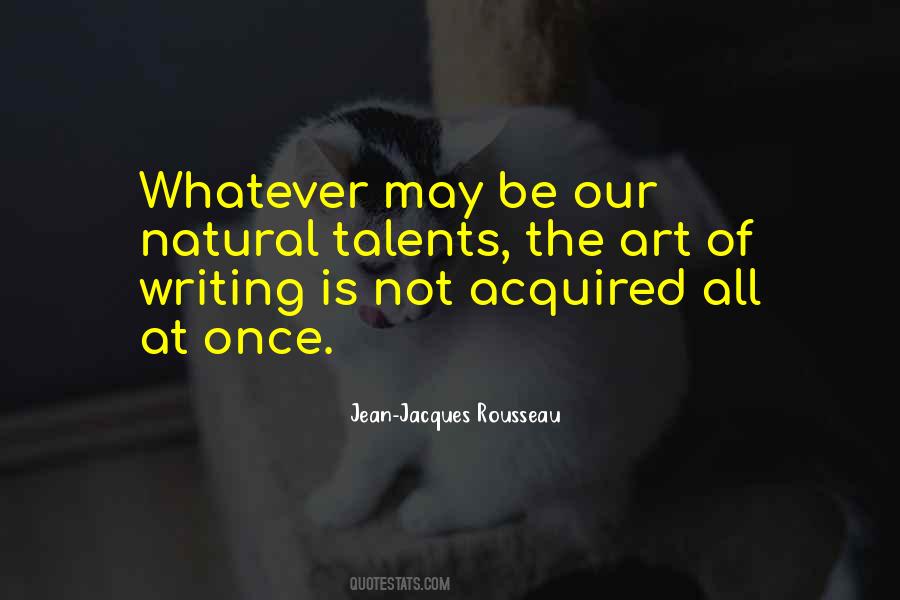 #63. The art of writing is to explain the complications of the human soul with the simplicity that can be universally understood. - Author: Alan Sillitoe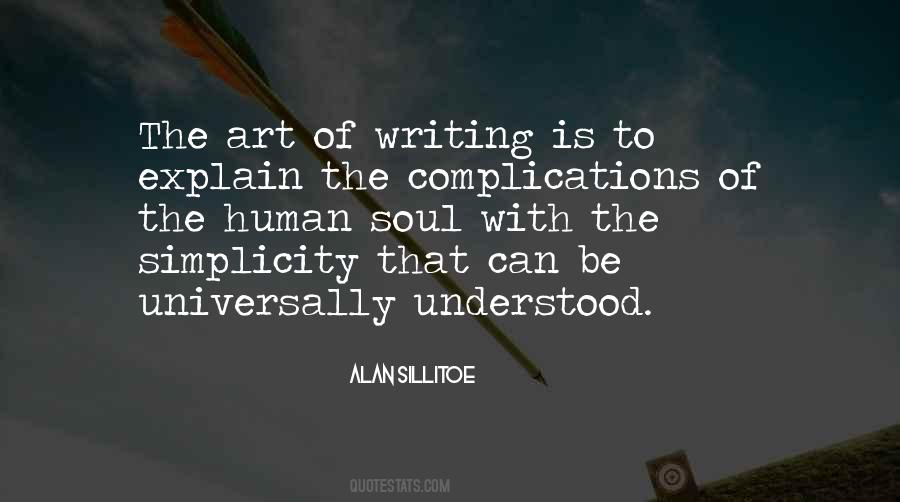 #64. A script arrived, and on the front cover - scrawled really big, as if it were a book report - is 'Django Unchained, written by Quentin Tarantino.' And I thought, 'Well, no art department came up with this; this is Quentin's writing.' - Author: Dennis Christopher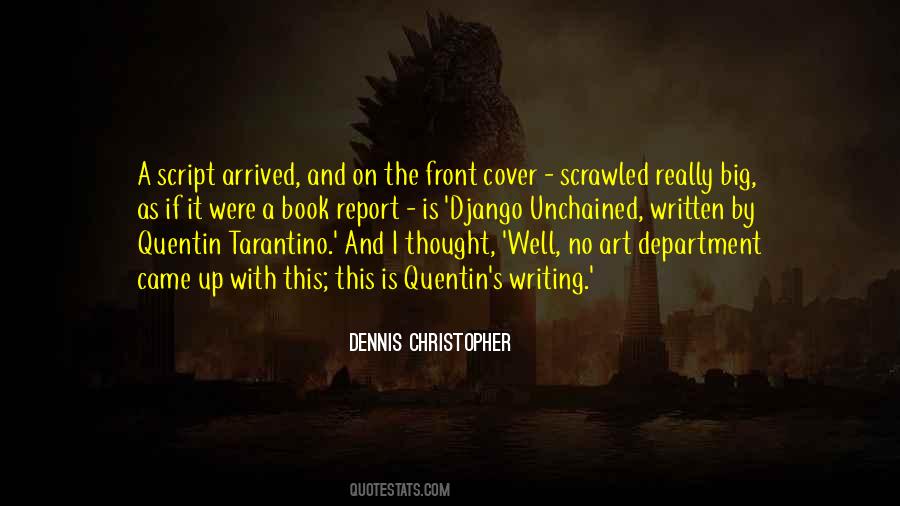 #65. Above all else, it is about leaving a mark that I existed: I was here. I was hungry. I was defeated. I was happy. I was sad. I was in love. I was afraid. I was hopeful. I had an idea and I had a good purpose and that's why I made works of art. - Author: Felix Gonzalez-Torres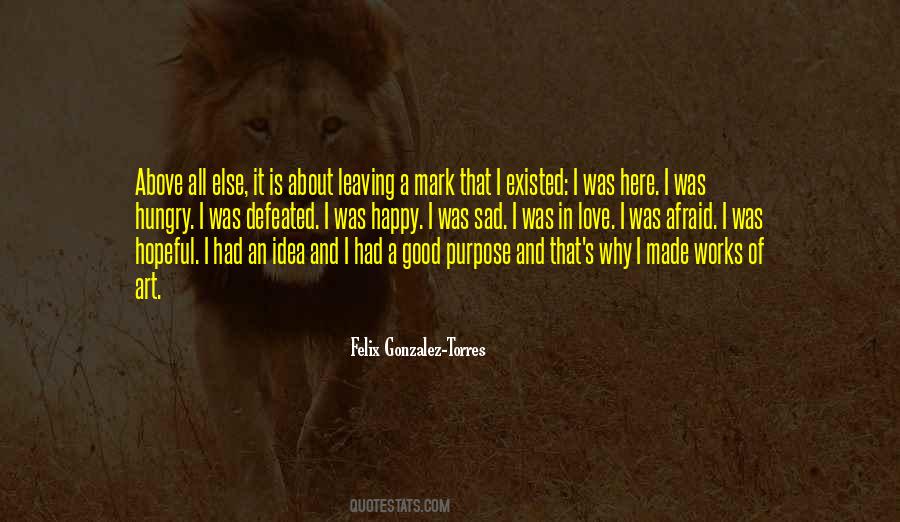 #66. The world before us is a postcard, and I imagine the story we are writing on it. - Author: Mary E. Pearson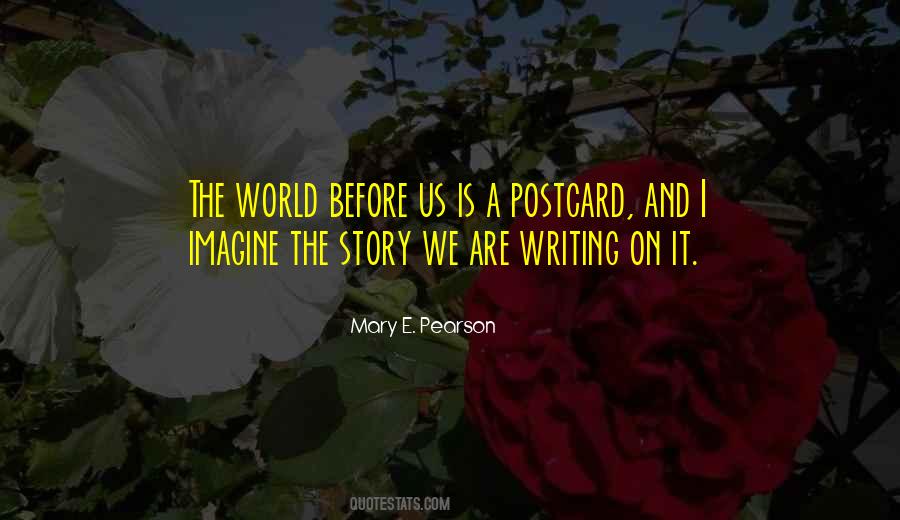 #67. The art of fiction is freedom of will for your characters. - Author: Cynthia Ozick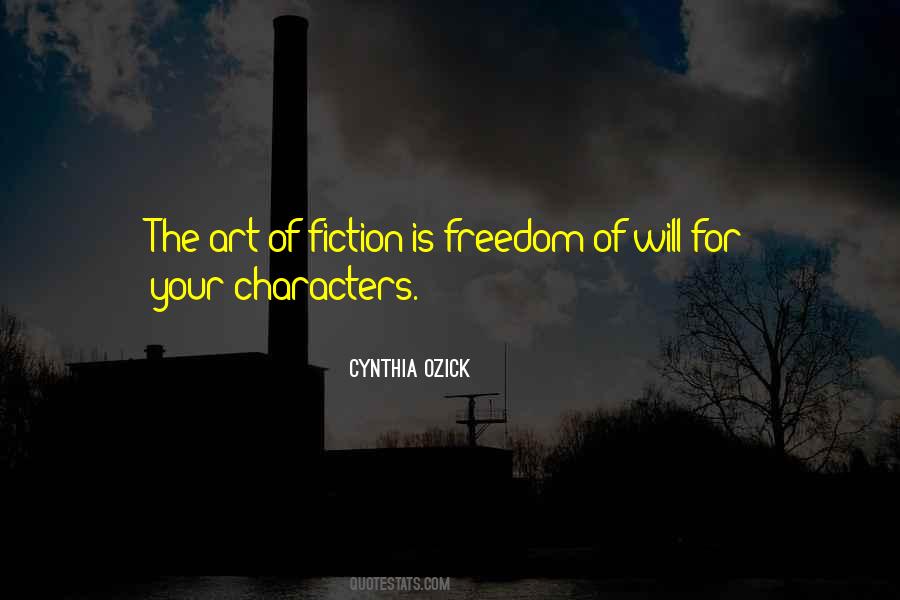 #68. Art comes from a visceral need and is usually generated by something I have seen; writing comes from something that happens in my head and my heart. - Author: E.L. Konigsburg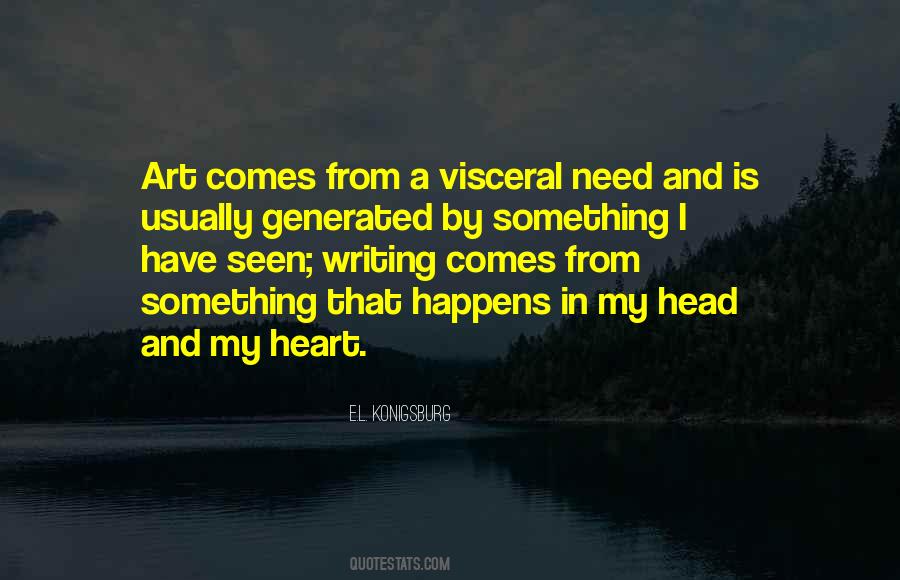 #69. Writing is a performance art for me. They're very closely aligned, writing and performing. But I'm a writer, not a performer. - Author: Clive James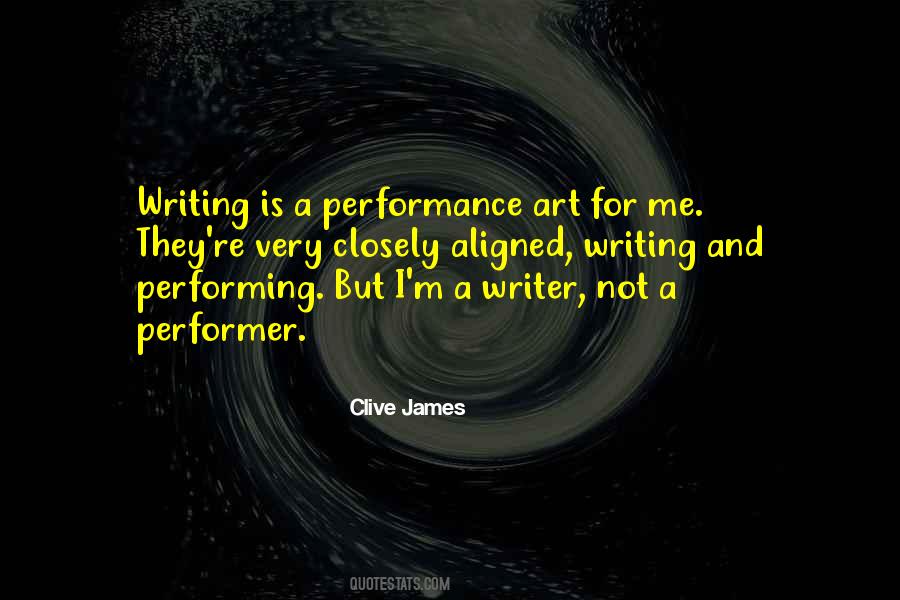 #70. In no way am I demeaning writing or any other form of art because it's popular. What I'm saying is that anything fed into the industrial machinery to comply with rules of size and length and shelf-life has a hard time surviving as art. - Author: Alberto Manguel
#71. Writing about art is only useful when it leads to the experience of art. - Author: Walter Darby Bannard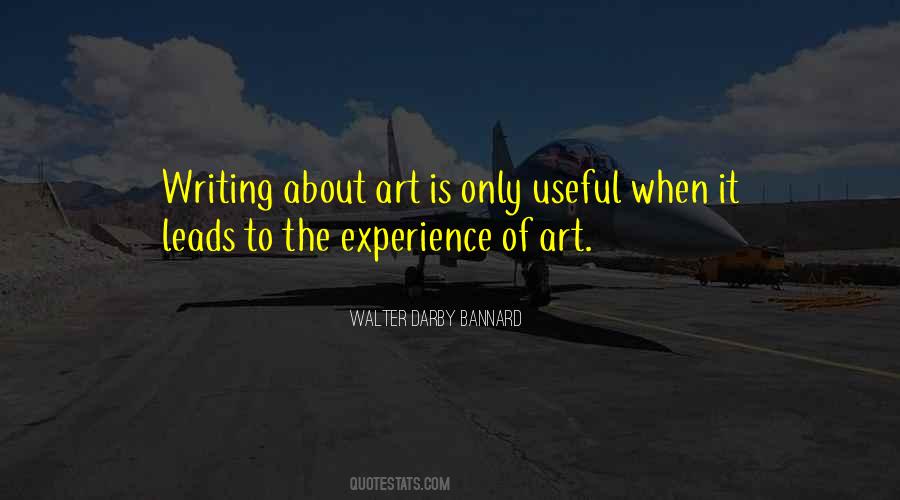 #72. The shock of recognition is a moment of excitement that shakes the soul. It may be hard to describe, but like other forms of love, you will know it when you feel it. - Author: Stephen Koch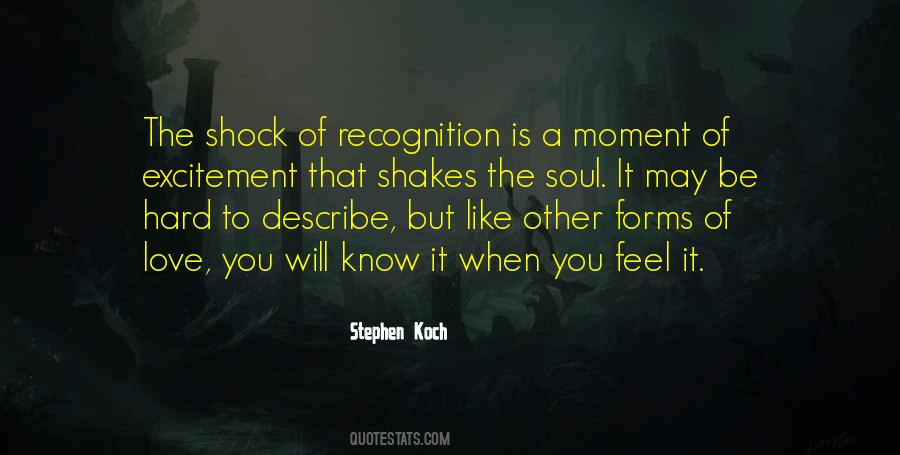 #73. In art nothing is more secondary than the author's intentions. - Author: Jorge Luis Borges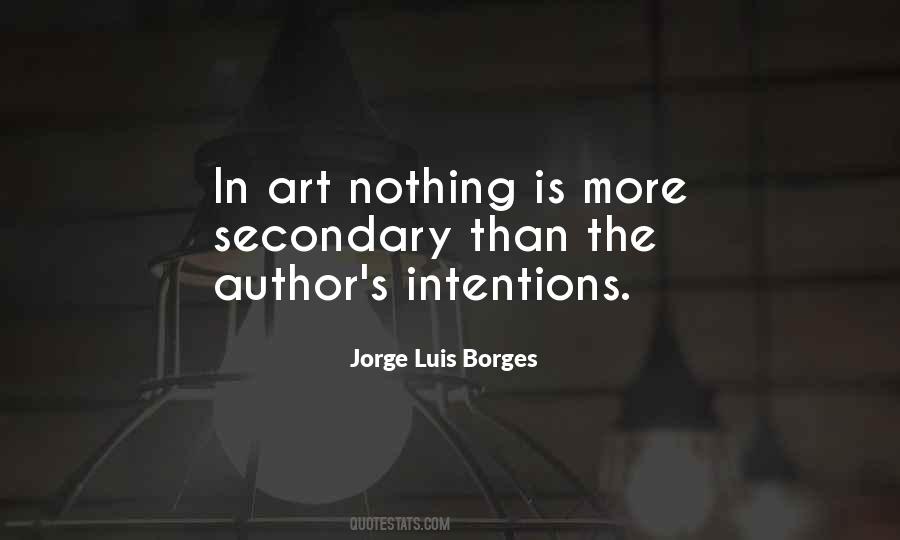 #74. The default mode of modern writing about art is to despise any notion of singularity as so much overheated genius-fetishism. - Author: Simon Schama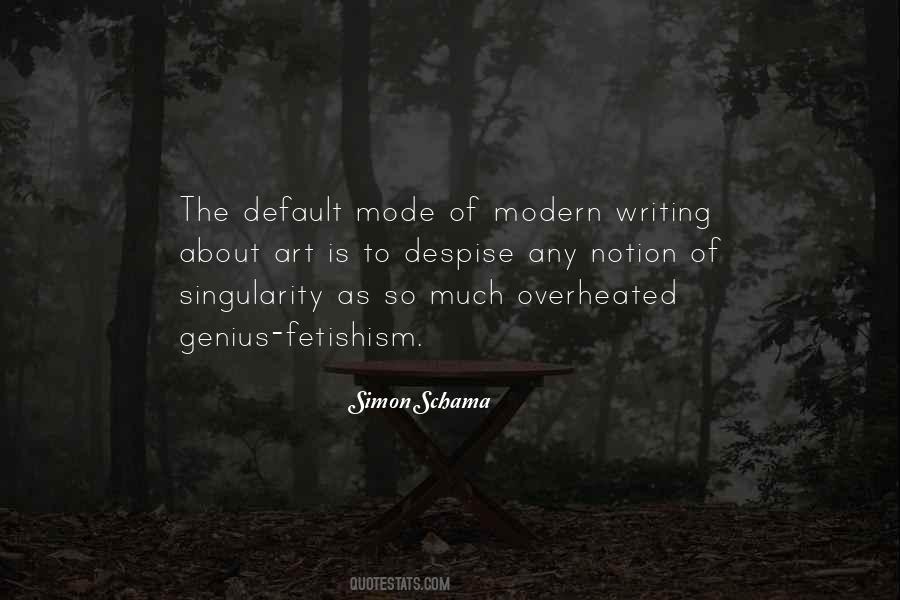 #75. Art is the overflow of emotion into action. - Author: Brian Raif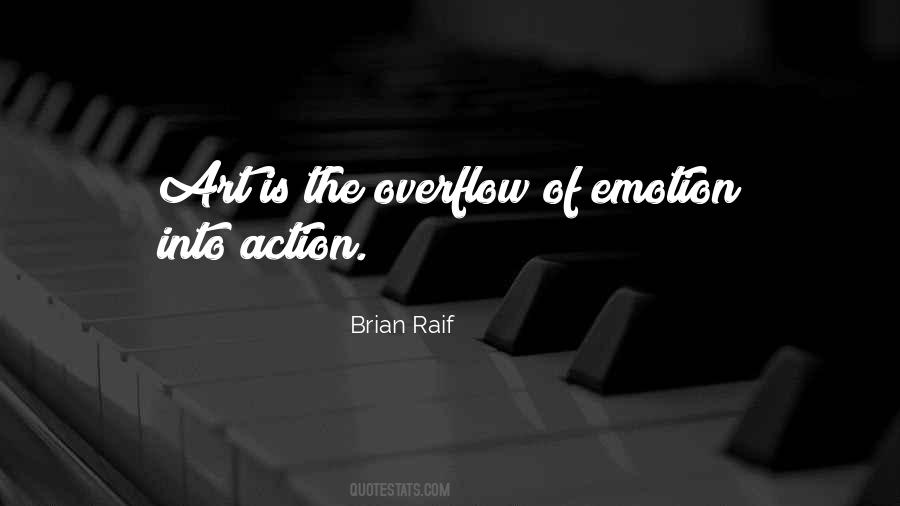 #76. I've always felt writing is an art. Publishing is a business. I felt strongly if I was going to write, I would write what I wanted to, and if the 'market' didn't respond, there was nothing I could really do about it. - Author: M.J. Rose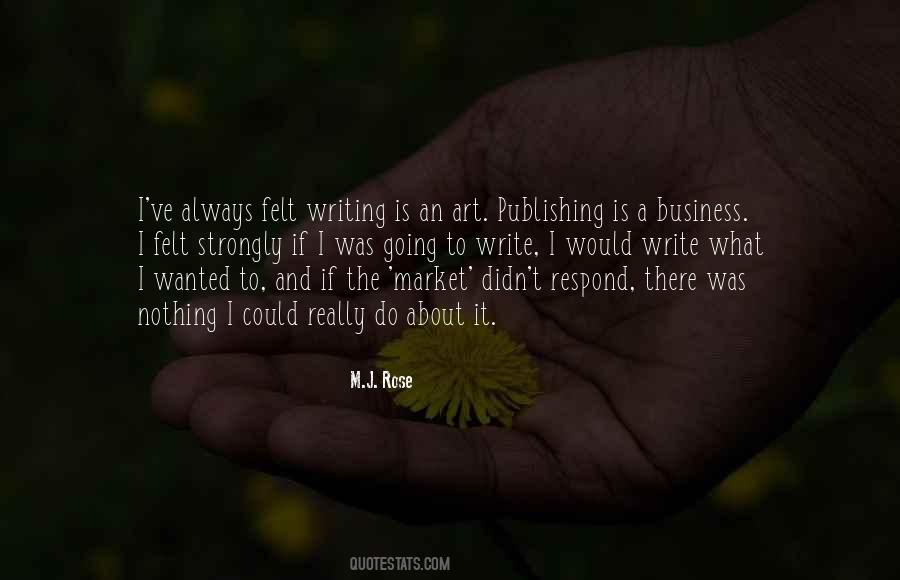 #77. Suffering has as much right to be expressed as a martyr has to cry out. So it may have been false to say that writing poetry after Auschwitz is impossible. - Author: Theodor Adorno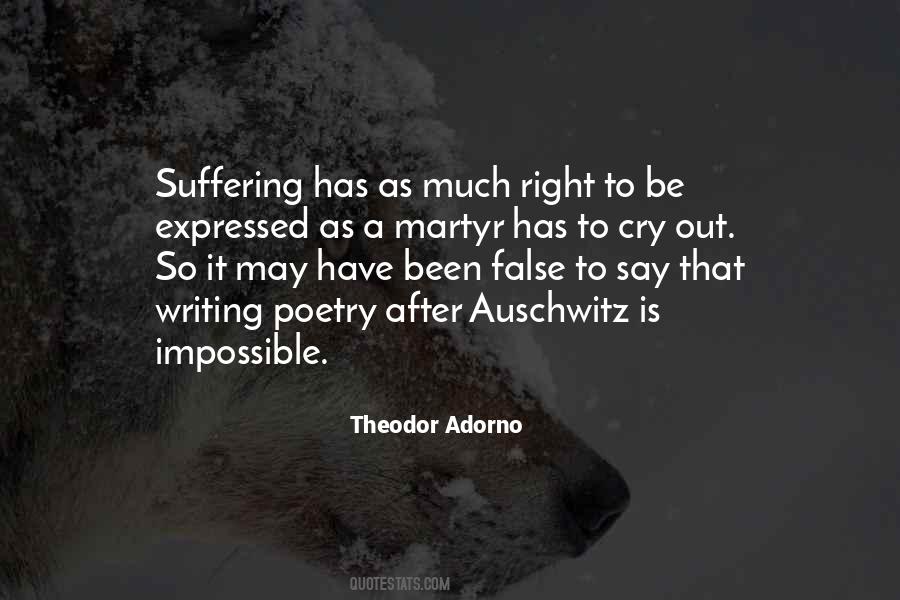 #78. Why is joy not considered a fit subject for an artist? - Author: Eugene Manlove Rhodes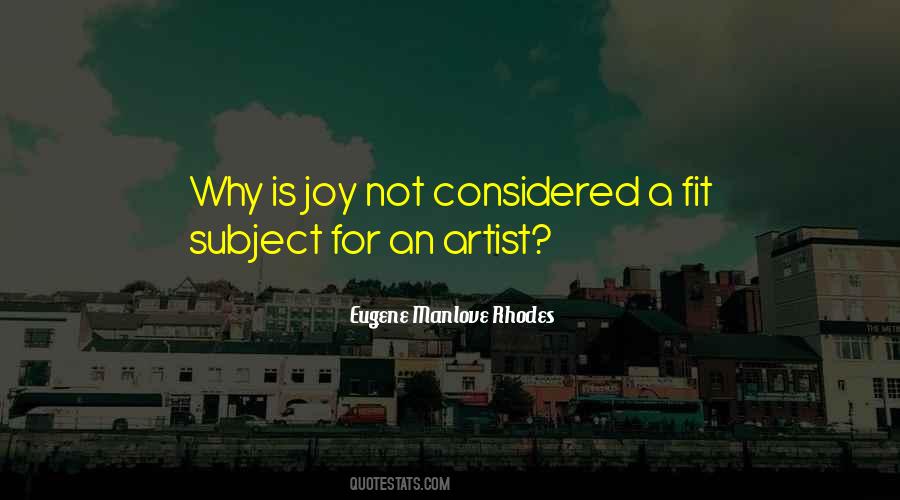 #79. The life of sensation is the life of greed; it requires more and more. The life of the spirit requires less and less; time is ample and its passage sweet. - Author: Annie Dillard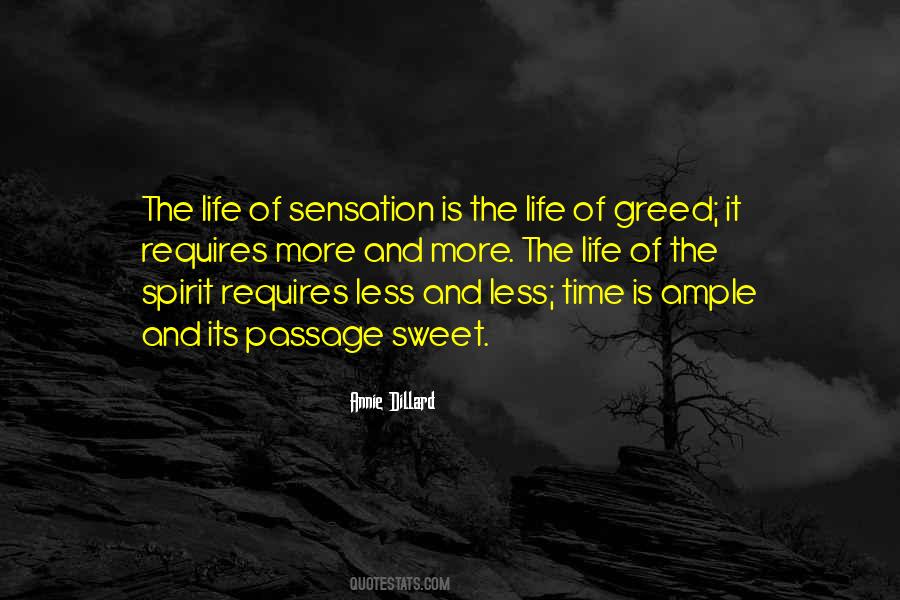 #80. Not only is writing more important than ever, but visual literacy is vital. We don't teach enough design, art, visual things. We have to recognize what we're seeing. It matters if you send someone a cluttered design. It matters more than ever. - Author: Marissa Moss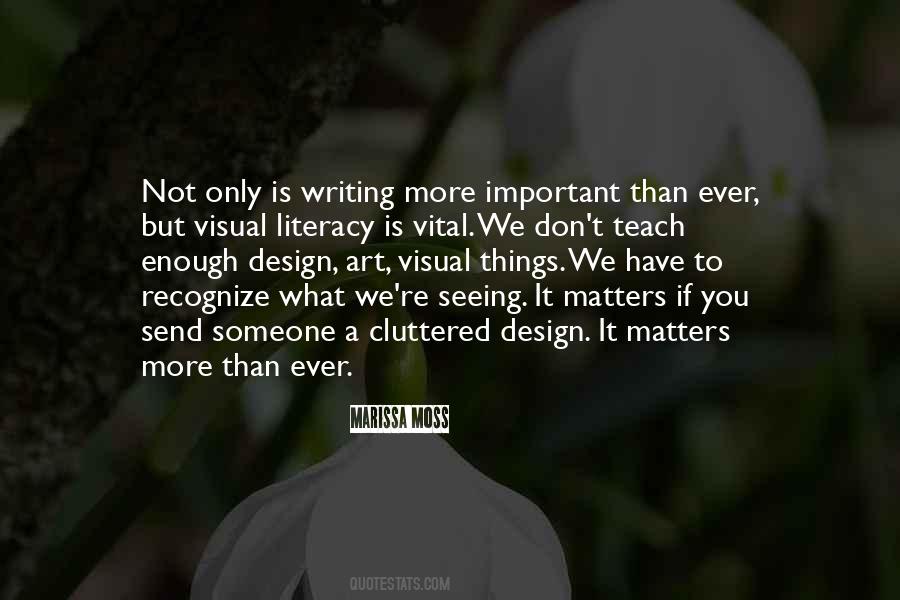 #81. Literature is painting, architecture, and music. - Author: Yevgeny Zamyatin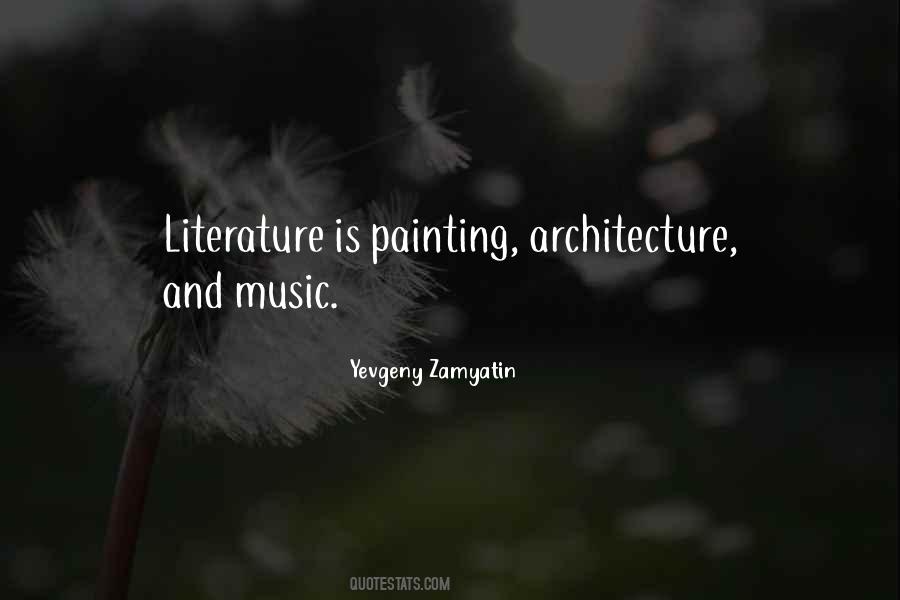 #82. In other words, if your boy is a poet, horse manure can only mean flowers to him; which is, of course, what horse manure has always been about. - Author: Ray Bradbury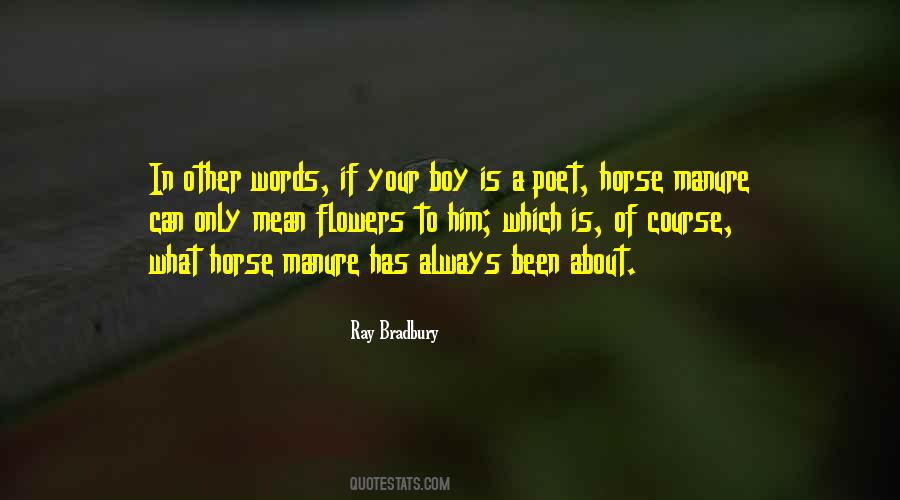 #83. To be a writer and political is a dangerous thing. To be a writer and apolitical is even more dangerous. Art is right, left; in truth, it has only one direction and that is forward. - Author: Chris Campanioni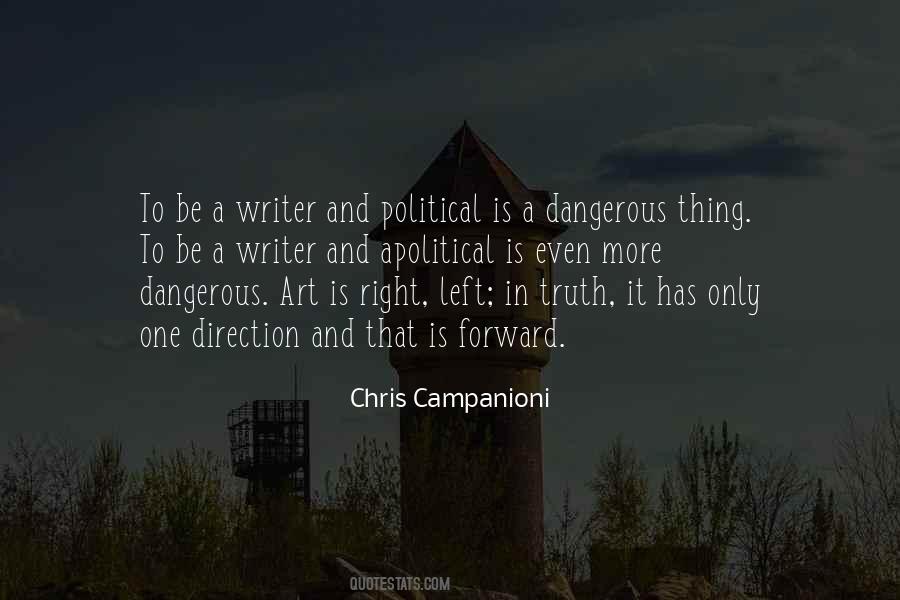 #84. Romanticizing the act of writing or any other art is not very helpful to the artist or the art. It's much better if one simply does. - Author: Anne Roiphe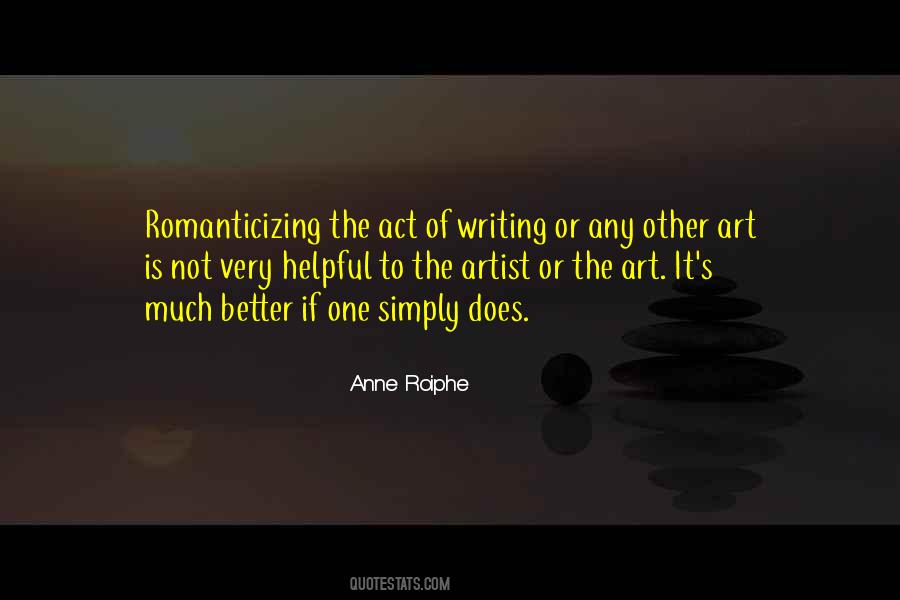 #85. The fear of Mortality is the base of Immortality - Author: Udayveer Singh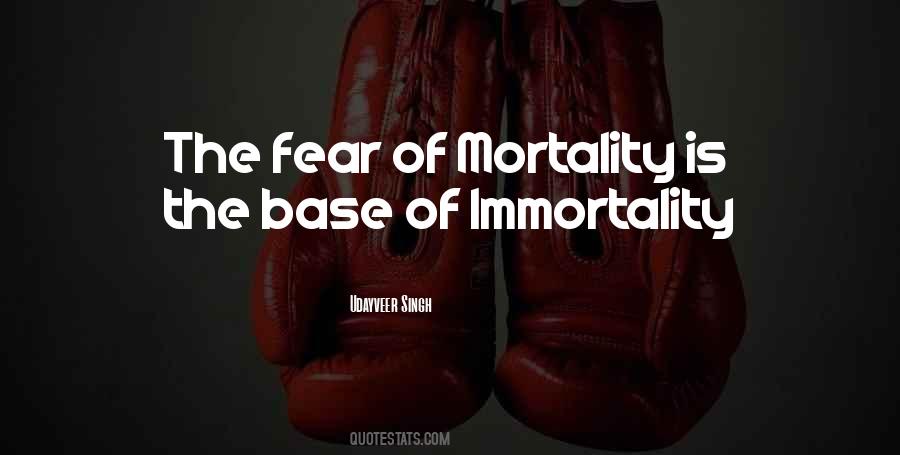 #86. Programming is the art of writing essays in crystal clear prose and making them executable - Author: Per Brinch Hansen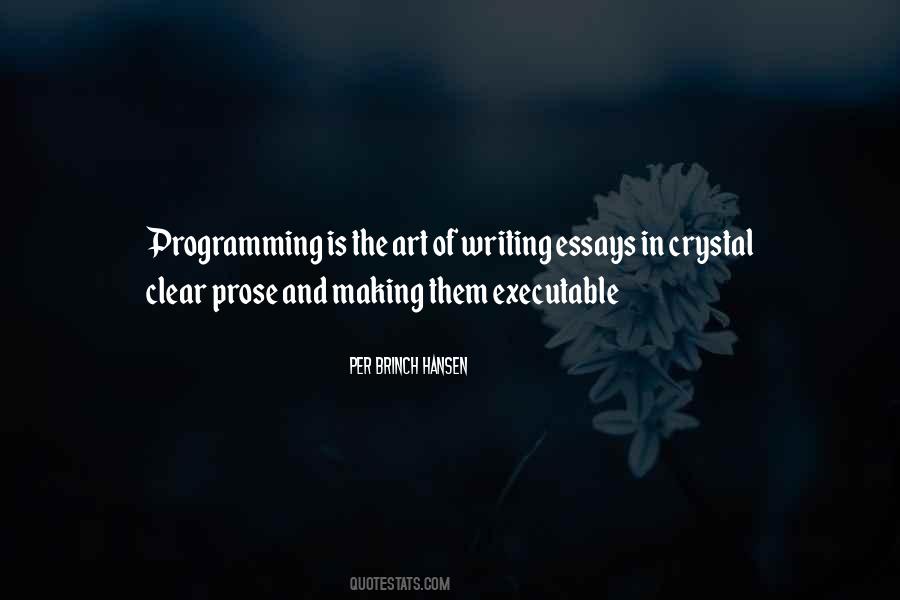 #87. I don't care about truth; I care about art and style and writing and occupying the wall. For me, my writing style is very linked to the fact that it is a work of art on the wall. I had to find a way to write in concise, effective phrases that people standing or walking into a room could read. - Author: Sophie Calle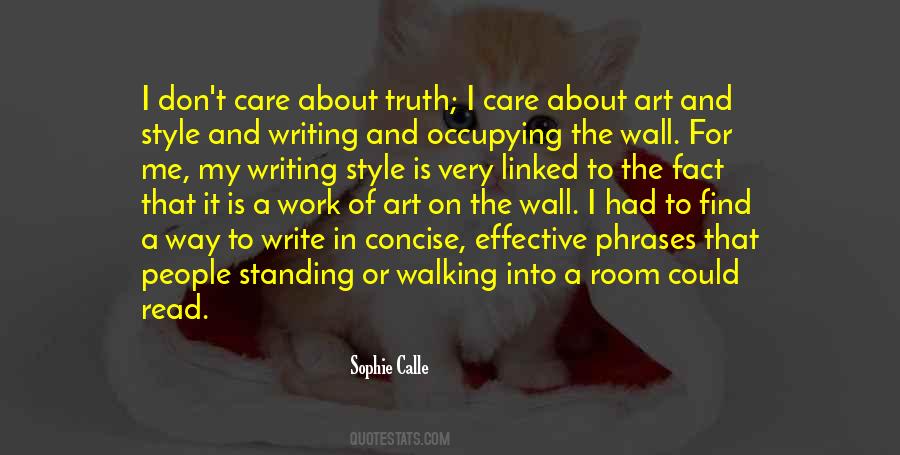 #88. Because I'm an art historian, I have some experience of writing that comes out of close attention. That's what really art history is. You're looking at something very closely, and you try to write in a meticulous way about it. - Author: Teju Cole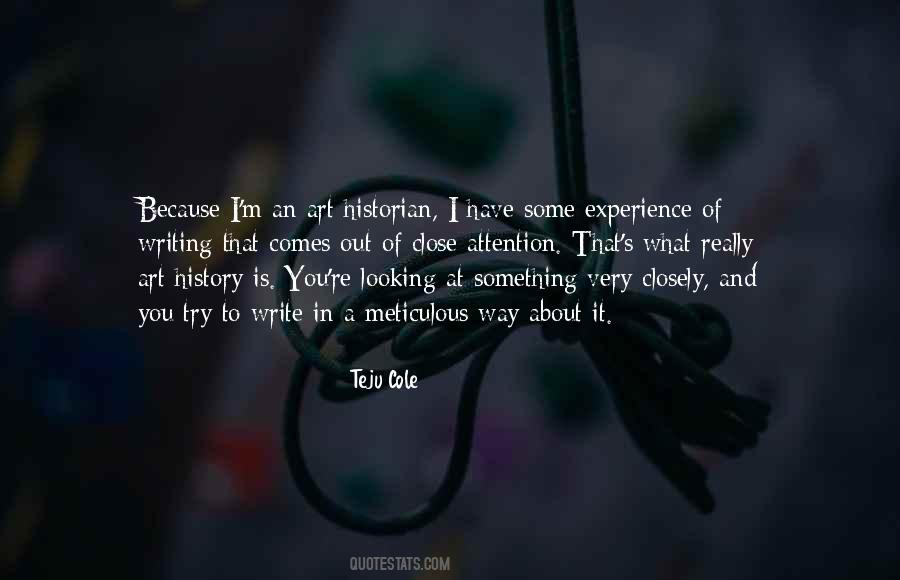 #89. The best thing about Art is that the people who create it live forever. - Author: Jonathan Heatt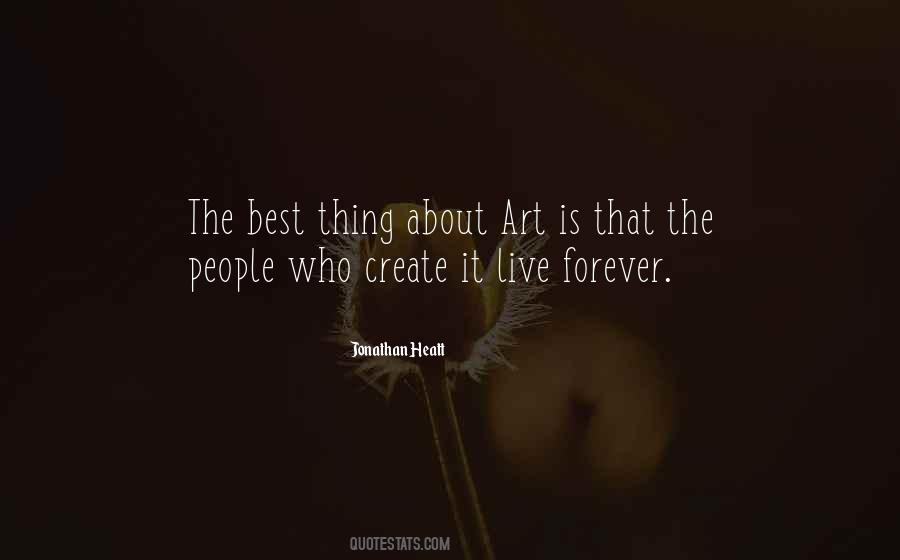 #90. My work is not my life. I started writing quite late, I didn't have that 'writing is everything, my art is all.' You have to be able to recognise the difference between the two. - Author: Kate Atkinson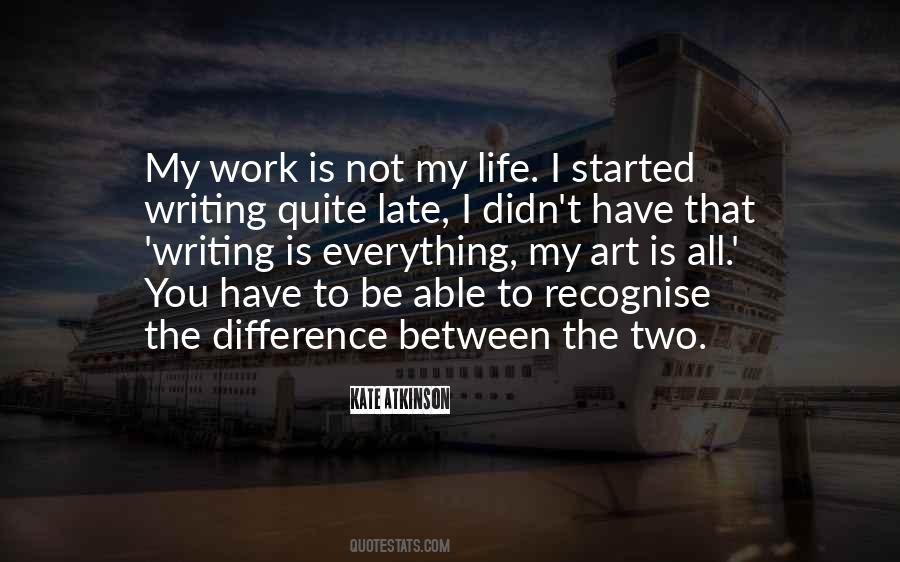 #91. Writing is a kind of performing art, and I can't sit down to write unless I'm dressed. I don't mean dressed in a suit, but dressed well and comfortably and I have to be shaved and bathed. - Author: Peter O'Toole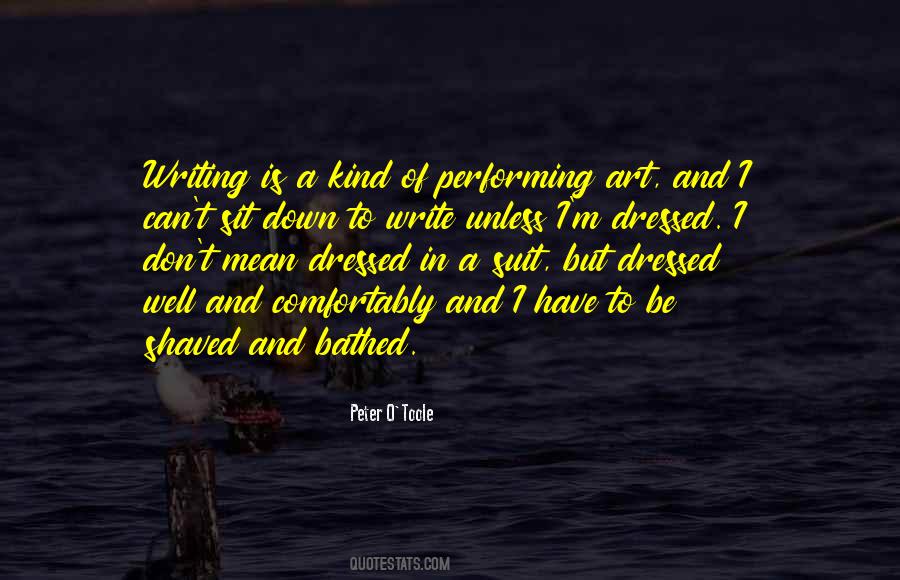 #92. I think all writing about art is in some way dancing to architecture. It's all about similitude, being analogous, metaphorical, adjectival, etc. - Author: Rob Chapman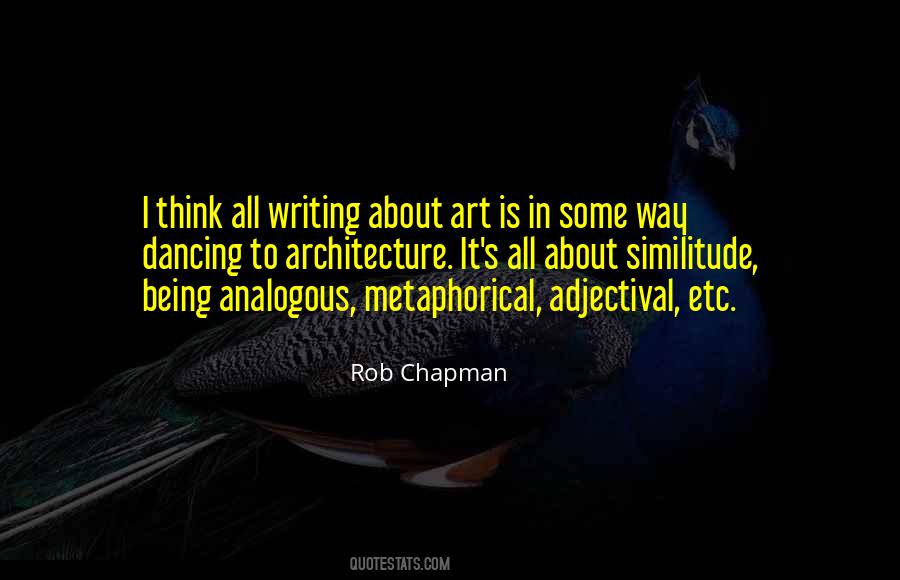 #93. Storytelling is the art of unfolding knowledge in a way that makes each piece contribute to a larger truth. - Author: Philip Gerard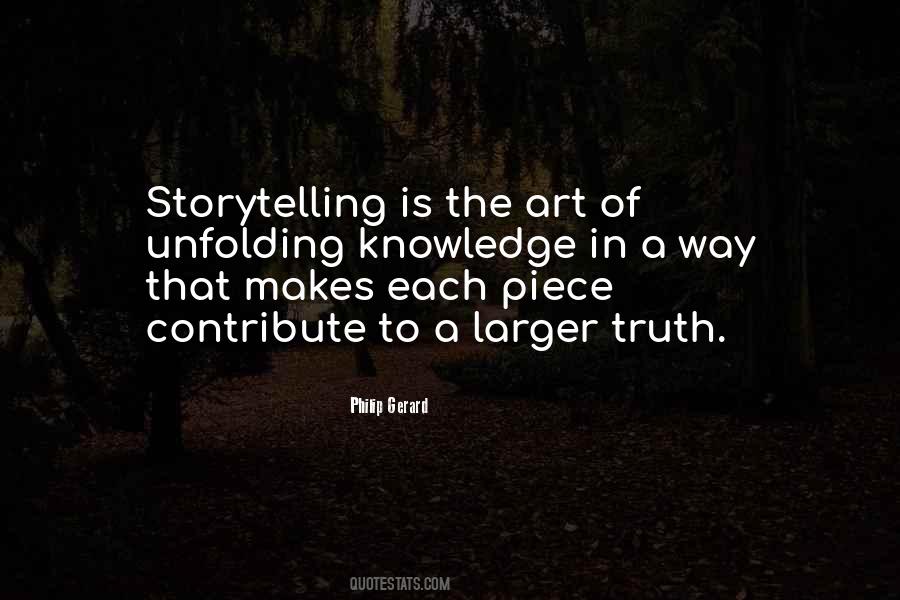 #94. All art, be it writing, painting, film, dance, whatever, is a manipulation of time and space. It's an interpretation and a recreation of the facts, using various artifacts that point us in the direction of our personal truths. - Author: Elisa Lorello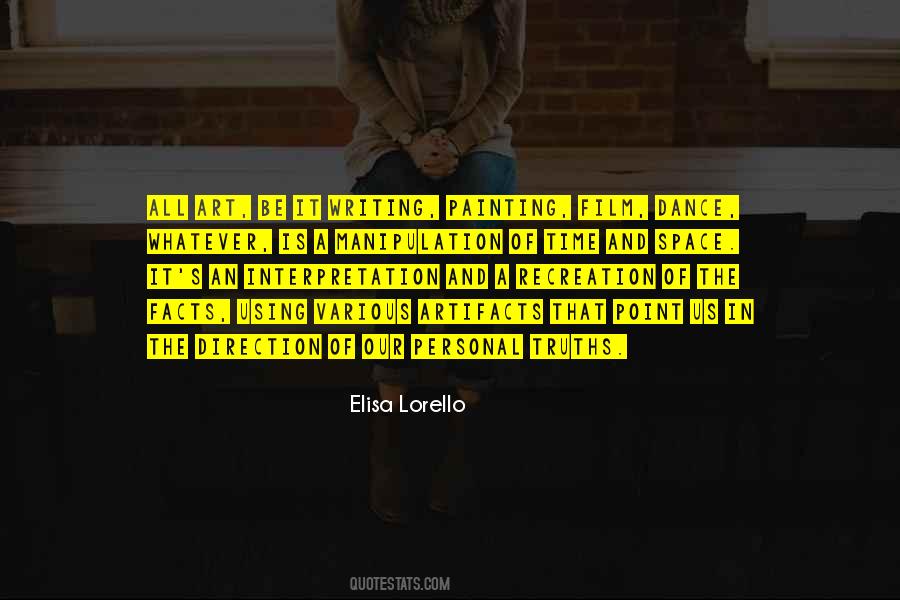 #95. The sign of the amateur is overglorification of and preoccupation with the mystery. The professional shuts up. She doesn't talk about it. She does her work. - Author: Steven Pressfield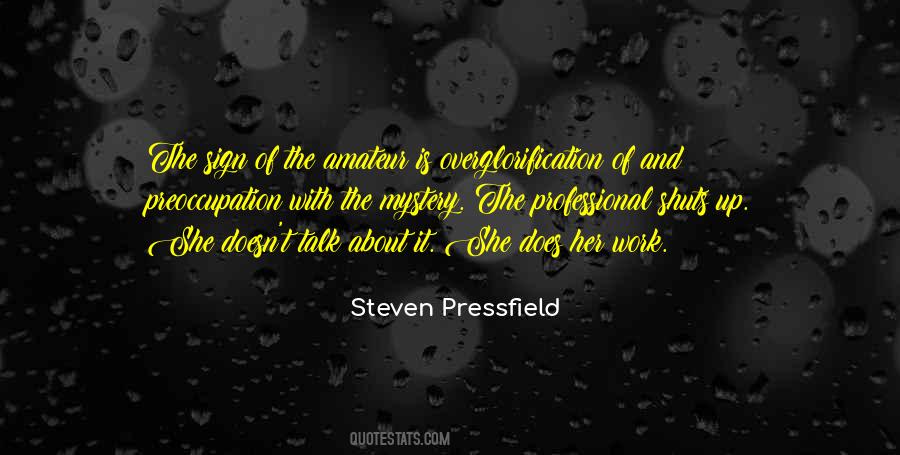 #96. The artist cannot hold back; it is impossible, because writing, or any other discipline of art, involves participation in suffering, in the ills and the occasional stabbing joys that come from being part of the human drama. - Author: Madeleine L'Engle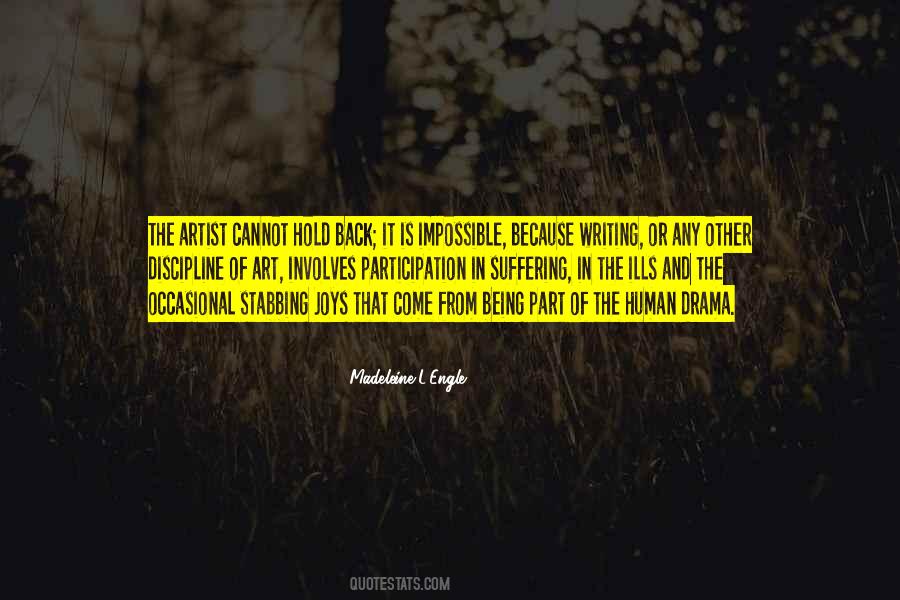 #97. Storytelling is a gift, but writing is a learned art. - Author: Beem Weeks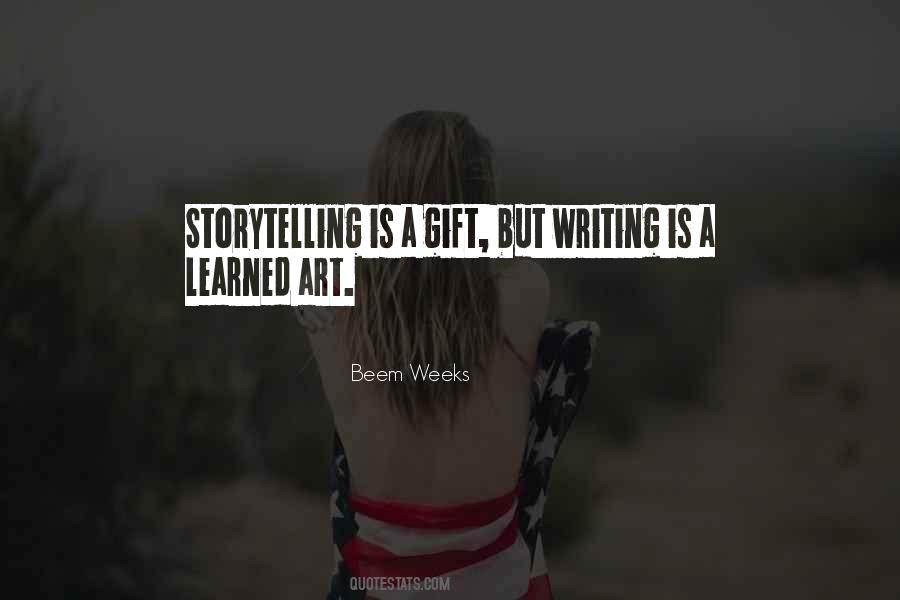 #98. The last thing we discover in composing a work is what to put down first. - Author: Blaise Pascal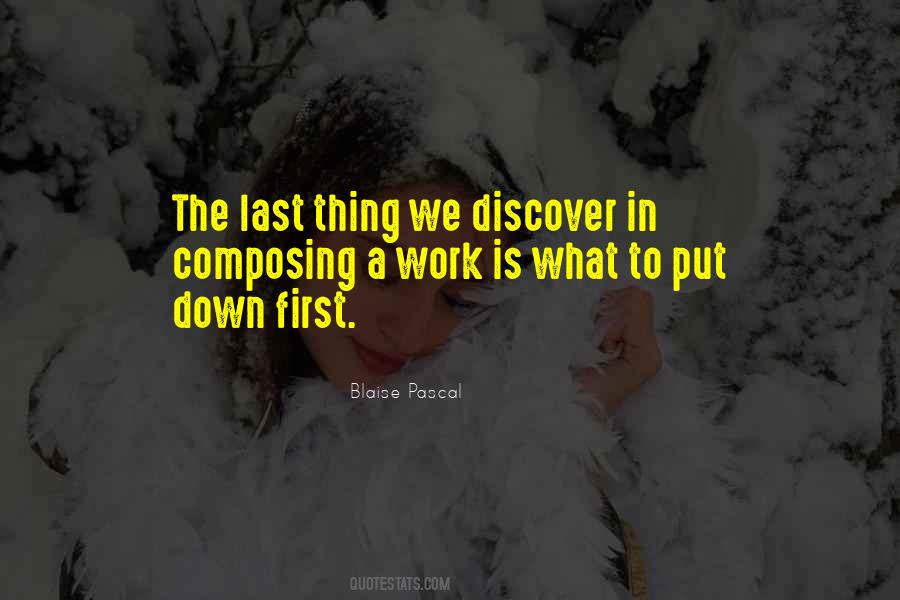 #99. Literature is the art of writing something that will be read twice. - Author: Cyril Connolly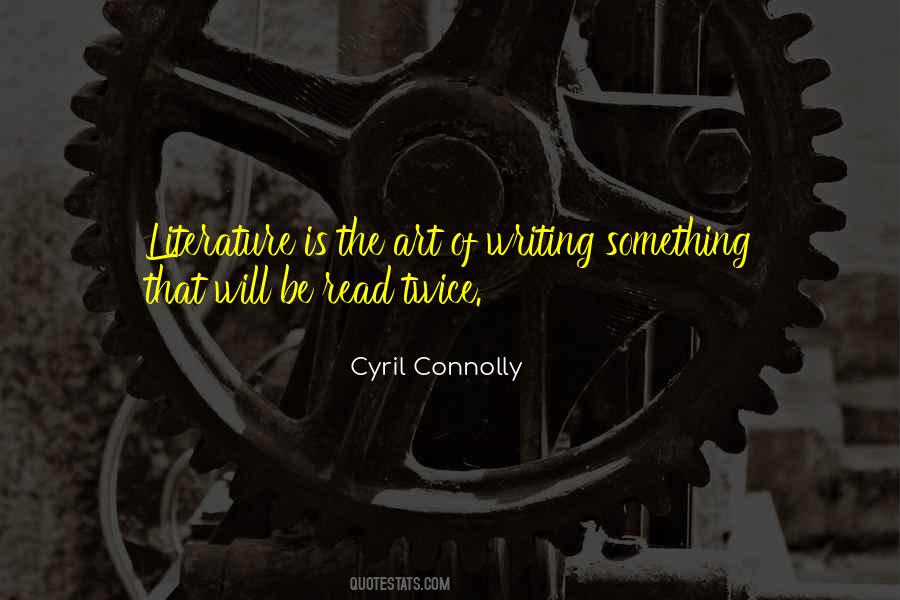 Famous Authors
Popular Topics