When Love Hurt Famous Quotes & Sayings
List of top 100 famous quotes and sayings about when love hurt to read and share with friends on your Facebook, Twitter, blogs.
Top 100 When Love Hurt Quotes
#1. I made such a fool of myself," she lamented.
"Love does not make you a fool."
"He didn't love me back."
"That does not make you a fool, either."
"Just tell me ... " Her voice cracked. "When does it stop hurting?"
"Sometimes never. - Author: Mitch Albom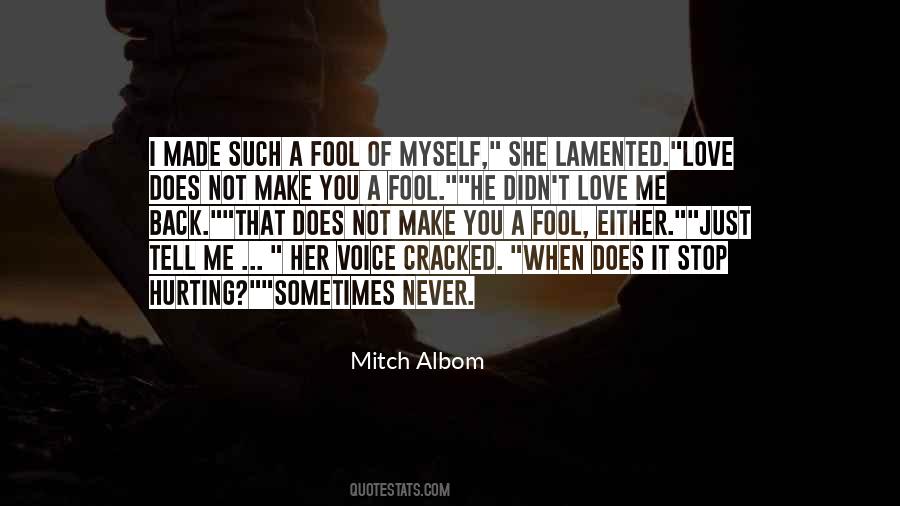 #2. Falling in love with someone is the surest highway to hurt that I know. When the door to love opens, the window to control closes. - Author: Ellen Hopkins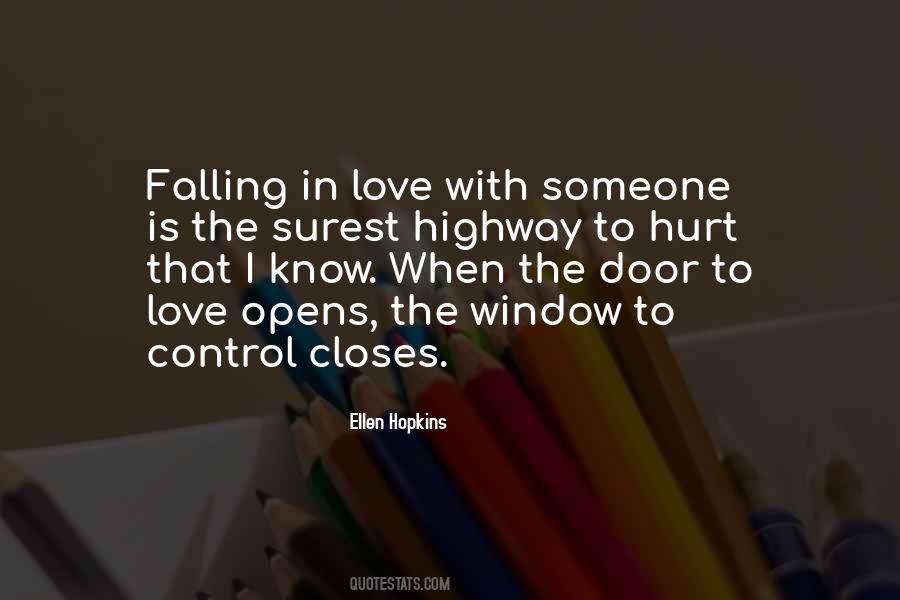 #3. It's a very brave thing for anyone to do, offering love to another person. We make ourselves so vulnerable when we do it, don't we? We give that other person such power to hurt us and to rob us of our dignity. No one should ever belittle that gift, nor the giver. - Author: Lynn Hall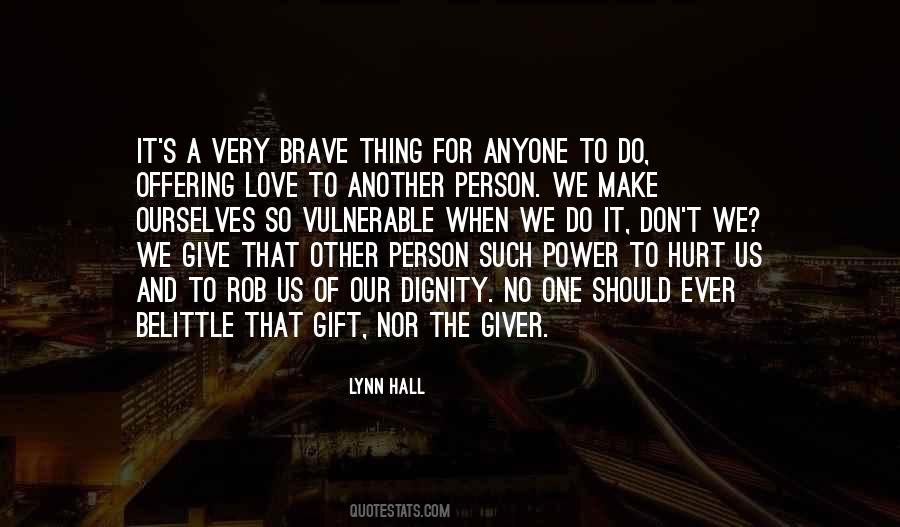 #4. When [our secrets] are sad and hurtful secrets, like my father's death, we can in a way honor the hurt by letting ourselves feel it as we never let ourselves feel it before, and then, having felt it, by laying it aside; we can start to take care of ourselves the way we take care of people we love. - Author: Frederick Buechner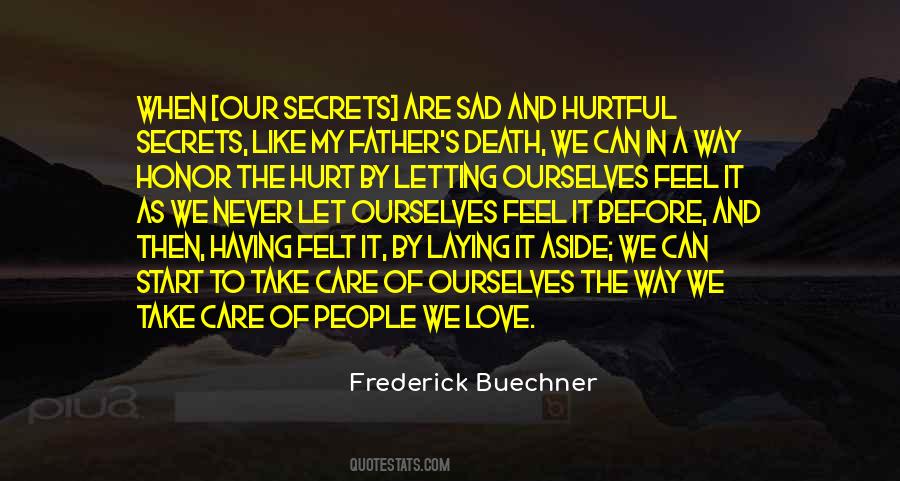 #5. I'm unhappy. I don't want to fall in love with you. It'll hurt far too much when it's over - Author: Stieg Larsson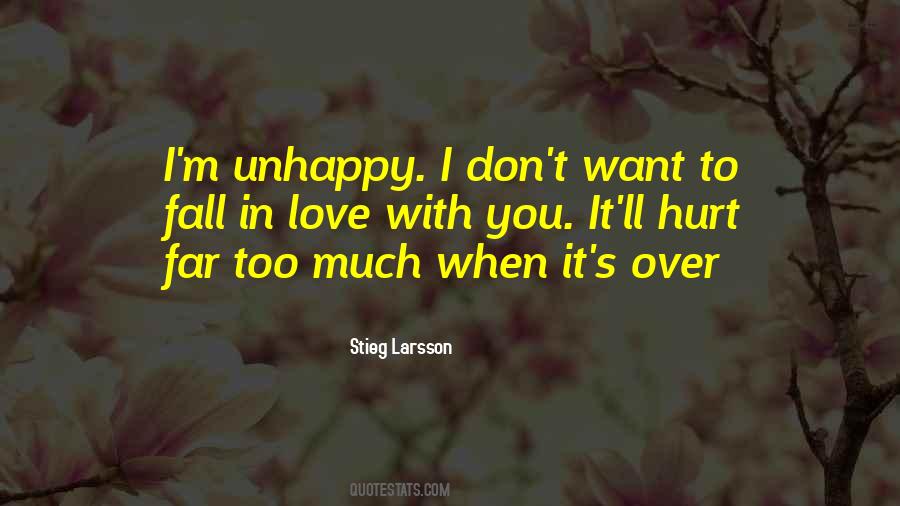 #6. The thing is ... I was a very proud girl. I never wanted to take the chance I might get hurt. Isn't that funny? I was game for any exciting adventure that came my way, but when it came to risking my heart, I was a coward. - Author: Nicole Christie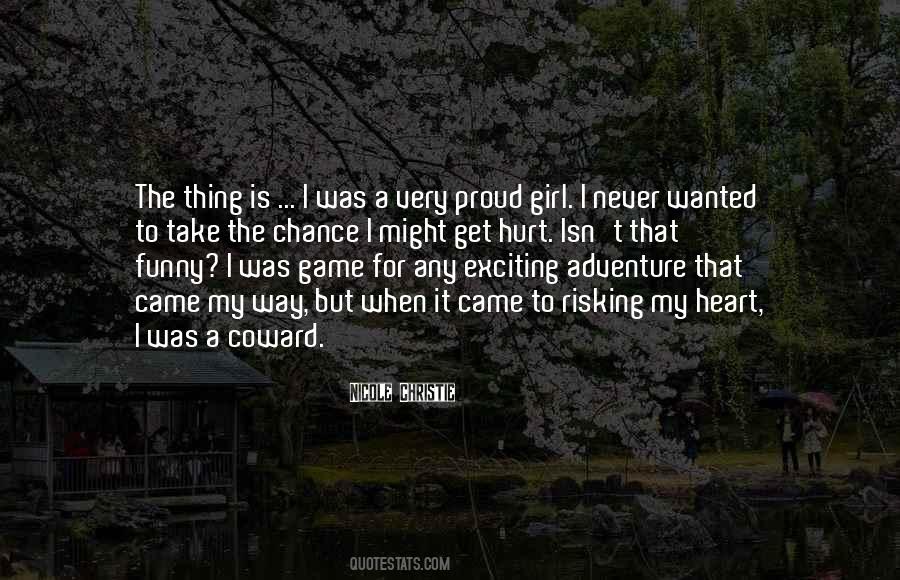 #7. As the light begins to intensify, so does my misery, and I wonder how it is possible to hurt so much when nothing is wrong. - Author: Tabitha Suzuma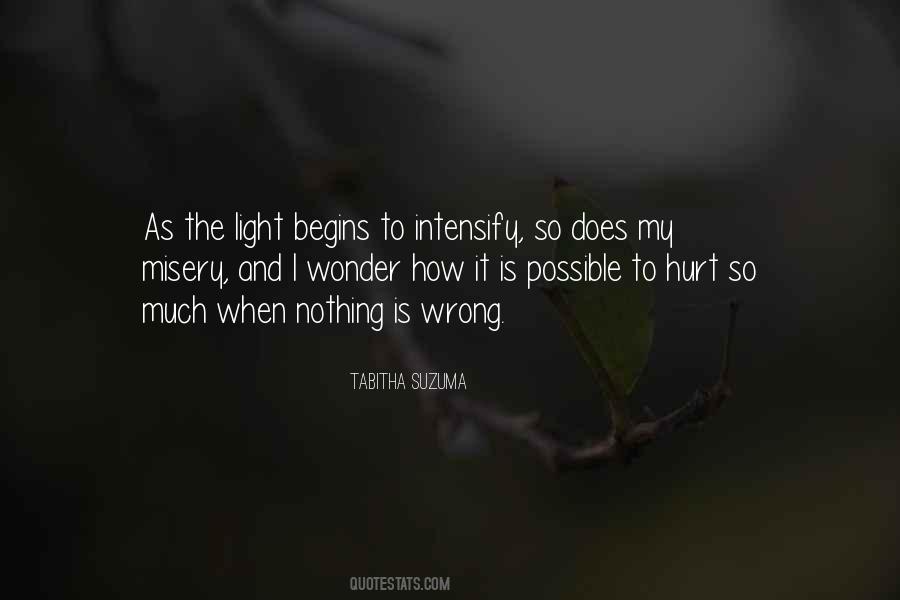 #8. He hurt me," I whispered, feeling a lump in my throat.
"And he'll probably hurt you again. But you know what? You'll hurt him too. When you're with someone for a long time, it's impossible not to feel hurt." - Larene. - Author: Emilia Winters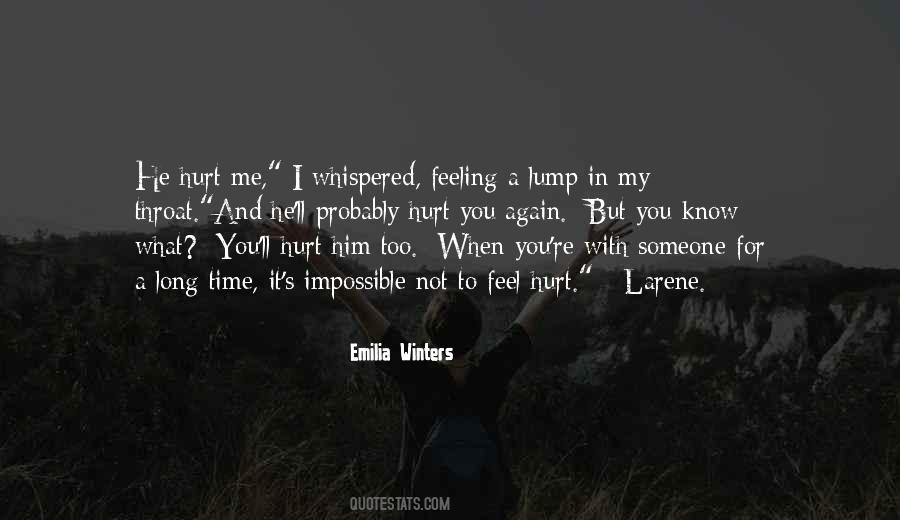 #9. When you love and it hurt, love more and love without expectation. - Author: Debasish Mridha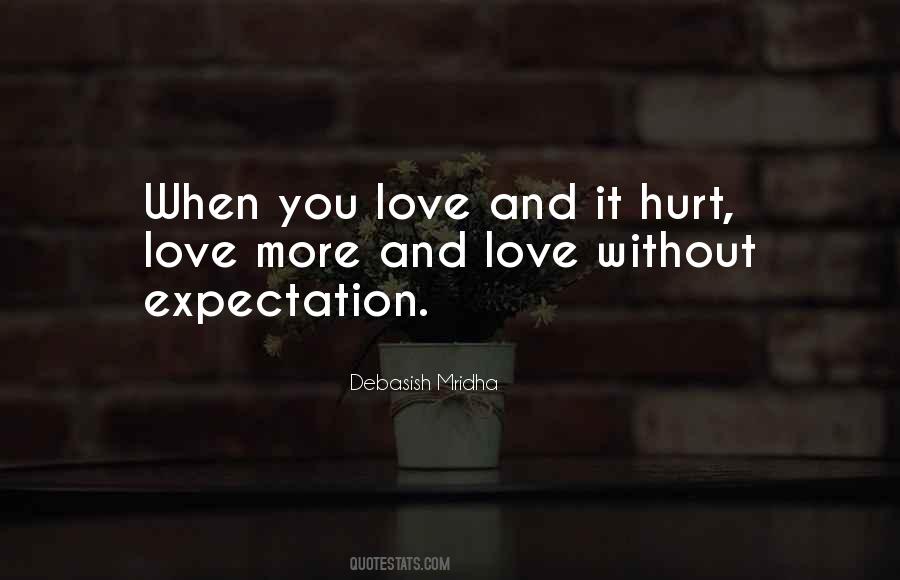 #10. We will be asked, "what did you love most in this world? What did you spend life doing? What did you run after? Will it last? The things that you chased, will they last? Will they help you, or will they hurt you when the illusion of this life has passed?" - Author: Yasmin Mogahed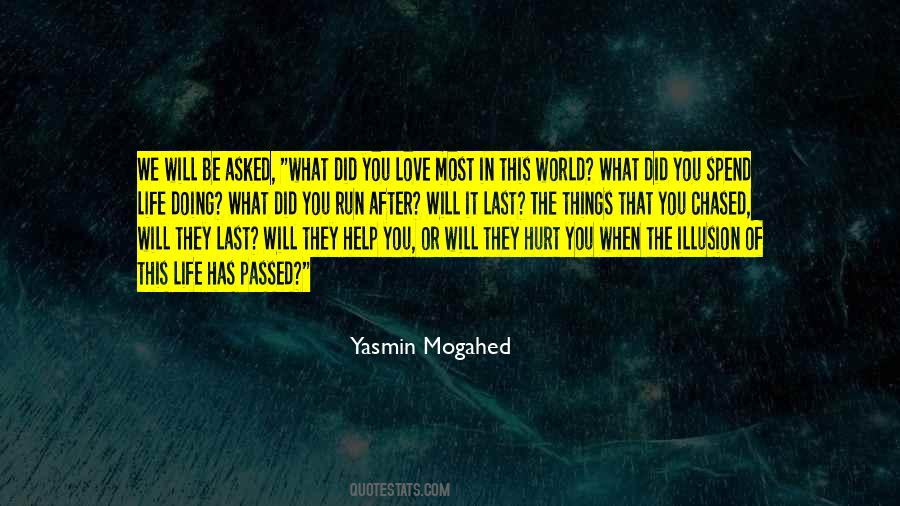 #11. Then tell me Mark, how can I do it? How do I watch her life fade everyday but not hurt? How do I continue to breath, when I know she takes one less breath everyday? Why Mark, Why is this happening to someone so precious? - Author: D. Love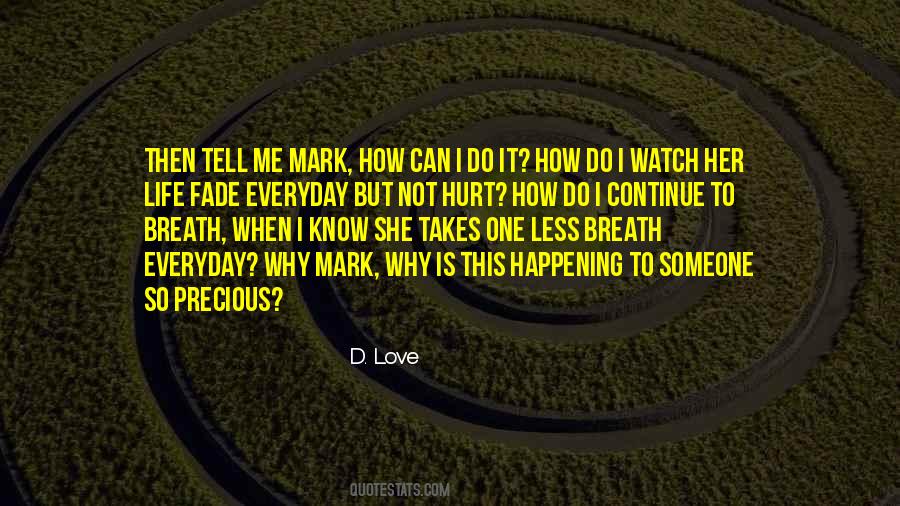 #12. I've managed to keep him for three months, but in no way does that mean I get to keep him forever. That's the whole idea, isn't it? That is what the theories prepare us for. This is why, when he's finally gone for good it won't hurt as much. - Author: Alexis Bass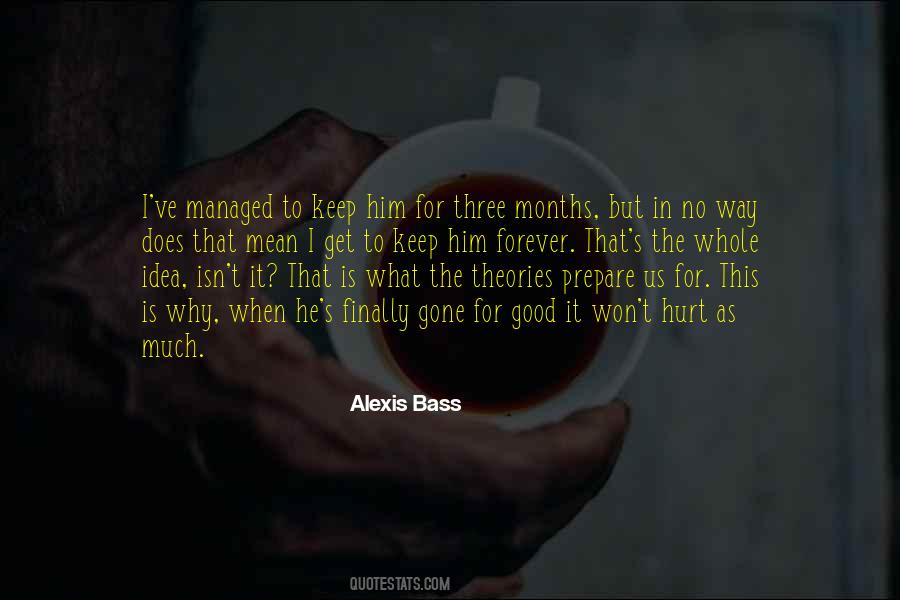 #13. I'm sorry. I know I have hurt you, but I would like to make the future different. I would like to love you in your language. I would like to meet your needs. I have seen marriages rescued from the brink of divorce when couples make the choice to love. - Author: Gary Chapman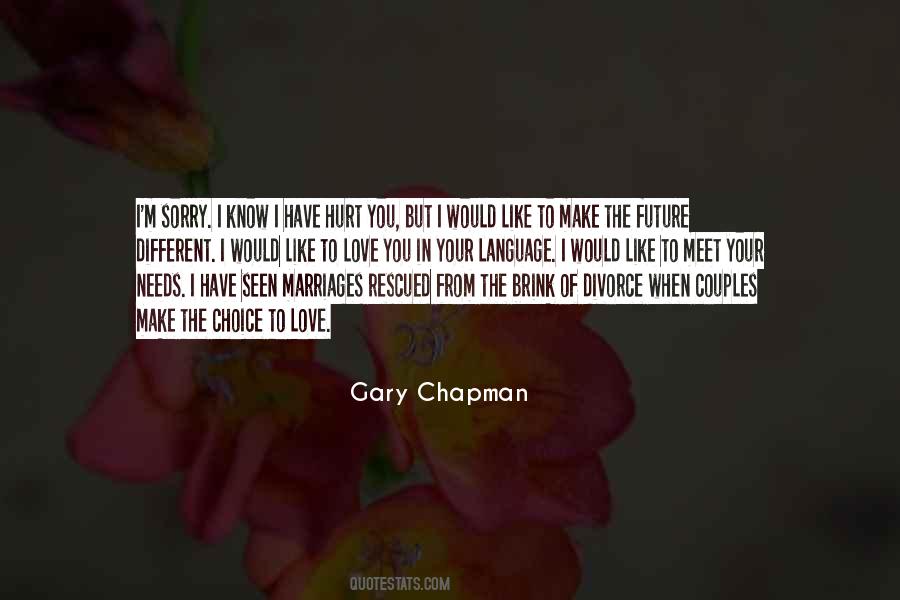 #14. But even when I stop crying, even when we fall asleep and I'm nestled in his arms, this will leave another scar. No one will see it. No one will know. But it will be there. And eventually all of the scars will have scars, and that's all I'll be
one big scar of a love gone wrong. - Author: Amanda Grace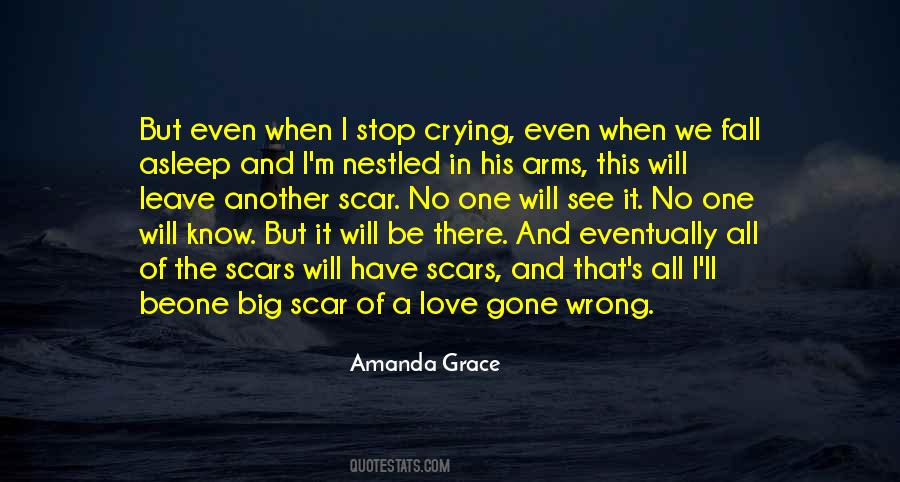 #15. Snuggle in God's arms. When you are hurting, when you feel lonely, left out. let Him cradle you, comfort you, reassure you of His all-sufficient power and love. - Author: Kay Arthur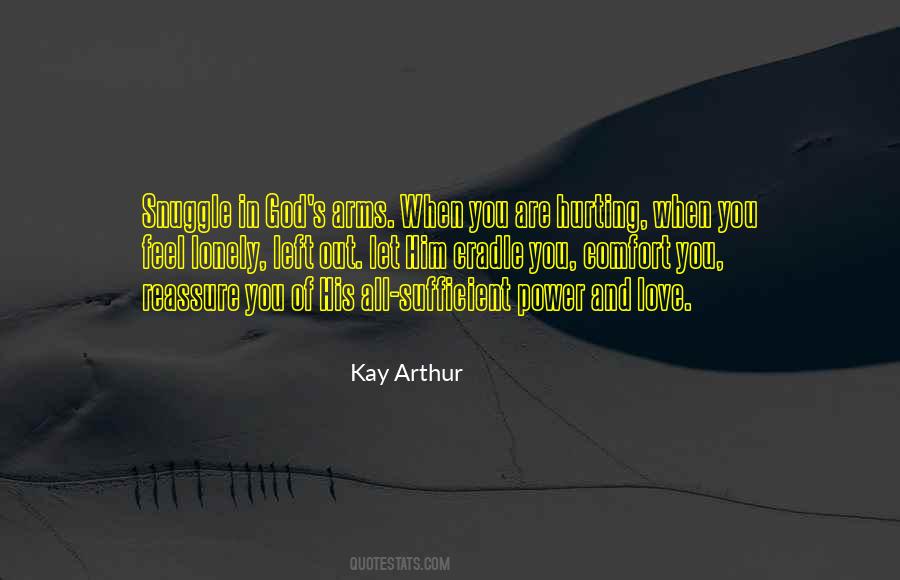 #16. You're making something new. Don't forget that when it starts to hurt. - Author: Paula McLain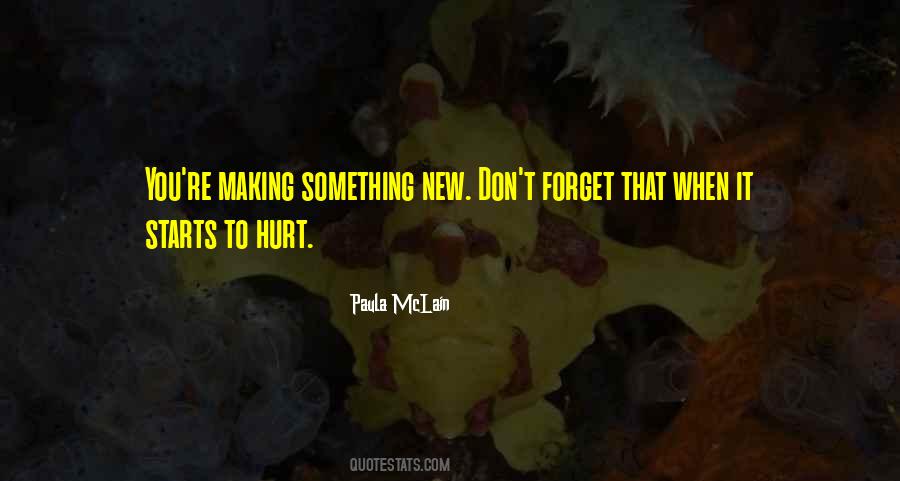 #17. When you love someone, sometimes it means that they strip you down, peel you open, and you have to let them and not worry about how much it's going to hurt. - Author: Brenna Yovanoff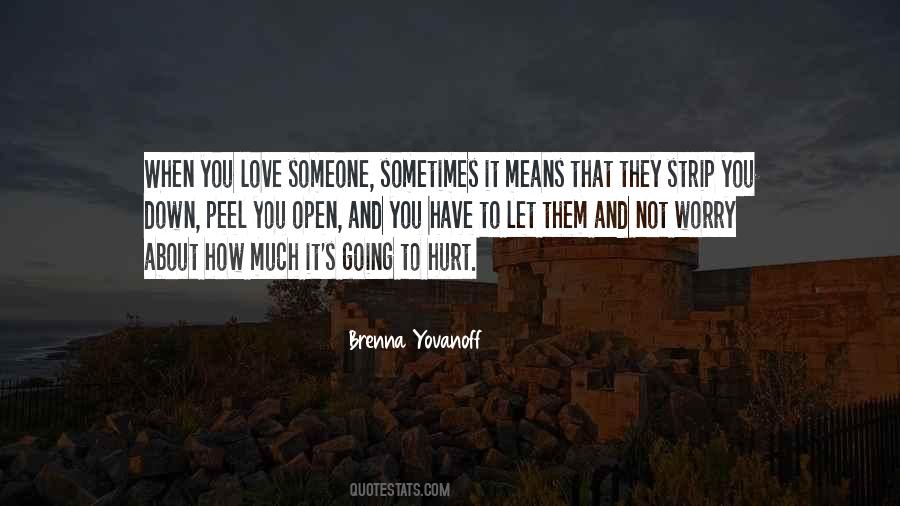 #18. When you're talking about truth and love, you can wield your profession, your craft, in a way that hurts people because you're so good, and so when someone can present it in a way that is inviting people into their joy, that's when the most beautiful things are formed. - Author: Josh Garrels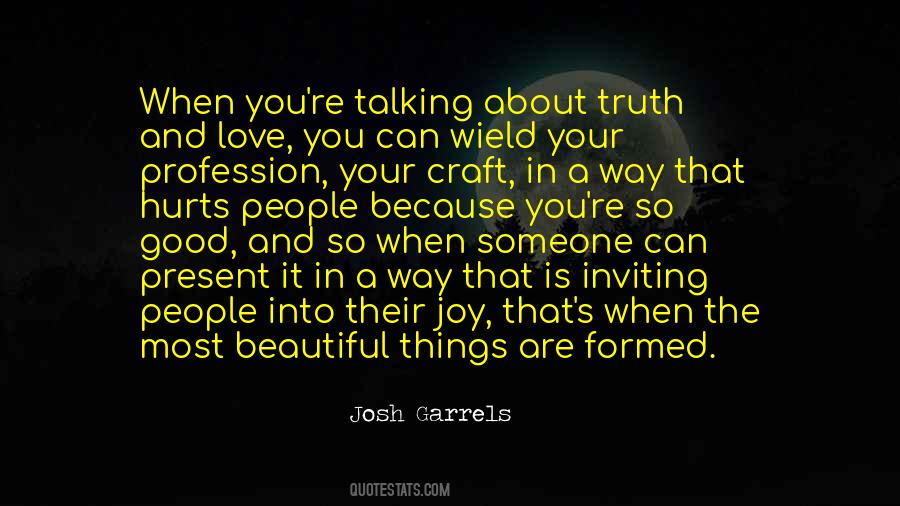 #19. The danger with relationships when we are vulnerable is that we may not be able to evaluate them honestly and from a godly perspective. What is bitter may look sweet because of our weakened position. - Author: Lois Mowday Rabey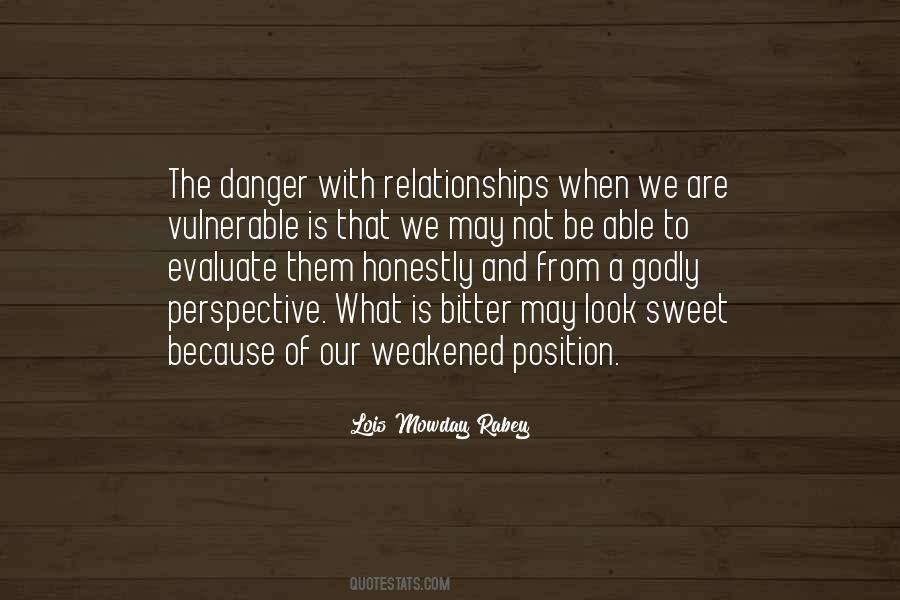 #20. As it turned out, hell wasn't watching the people you love get hurt; it was coming in during the second act, when it was already too late to stop it from happening. - Author: Jodi Picoult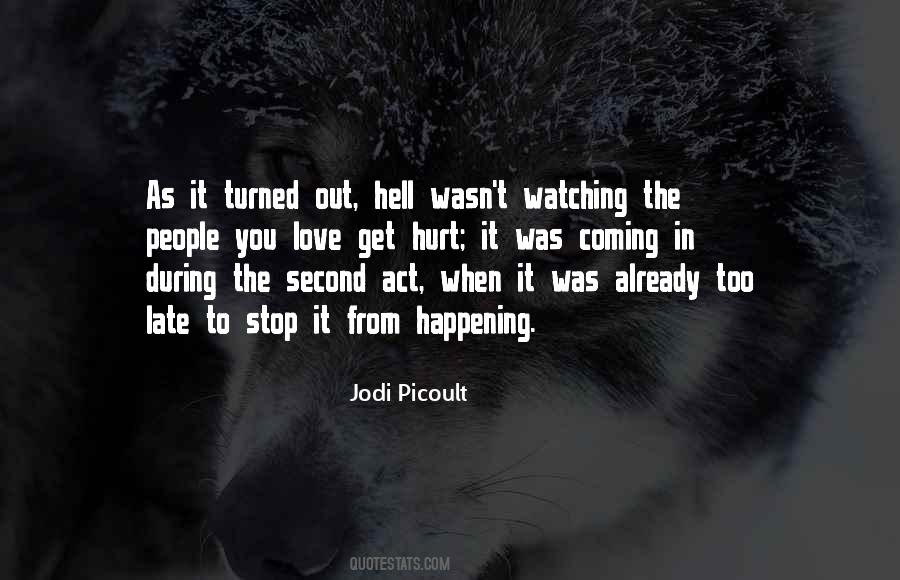 #21. When you love, dear girl, you give another the power to hurt you. If you love deeply enough, you give another the power to destroy you. - Author: George Bryan Polivka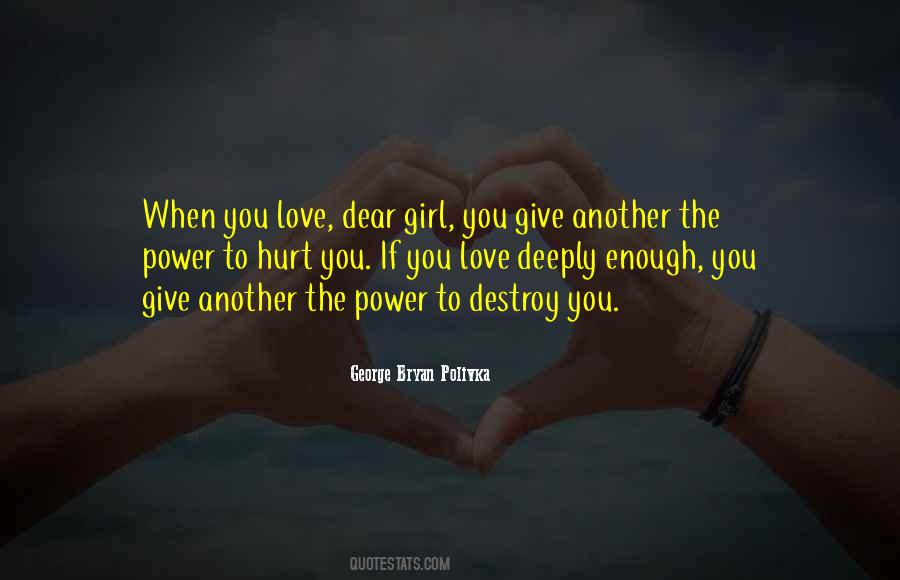 #22. The longer we try to hold on to each other, the more it will hurt when we finally fall apart. - Author: Ellen Hopkins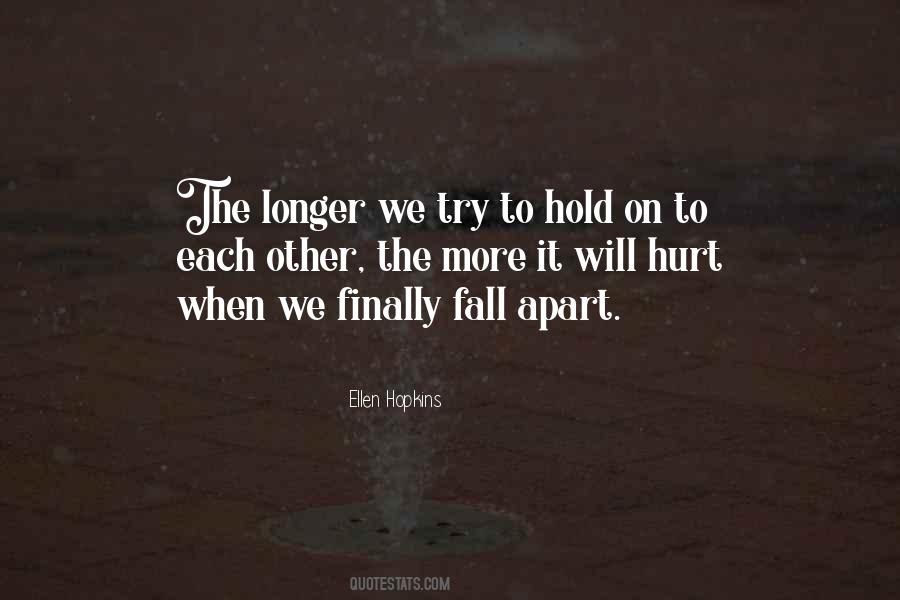 #23. There was a savagery to his smile, and a darkness in his eyes when he watched her. He was in love with her. And it hurt him. - Author: Courtney Milan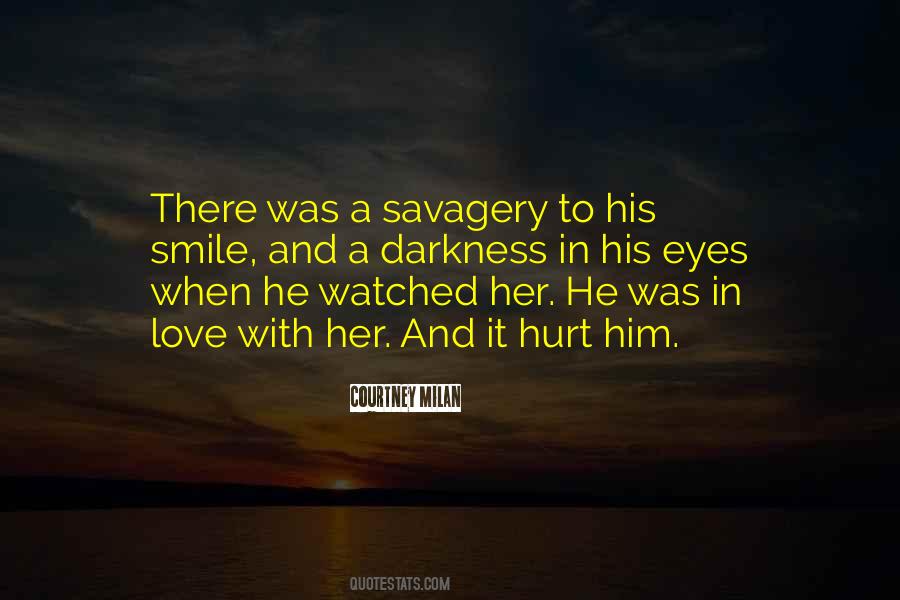 #24. If you pretend he's perfect, it's just going to hurt more when you realize he's not. - Author: Marian Tee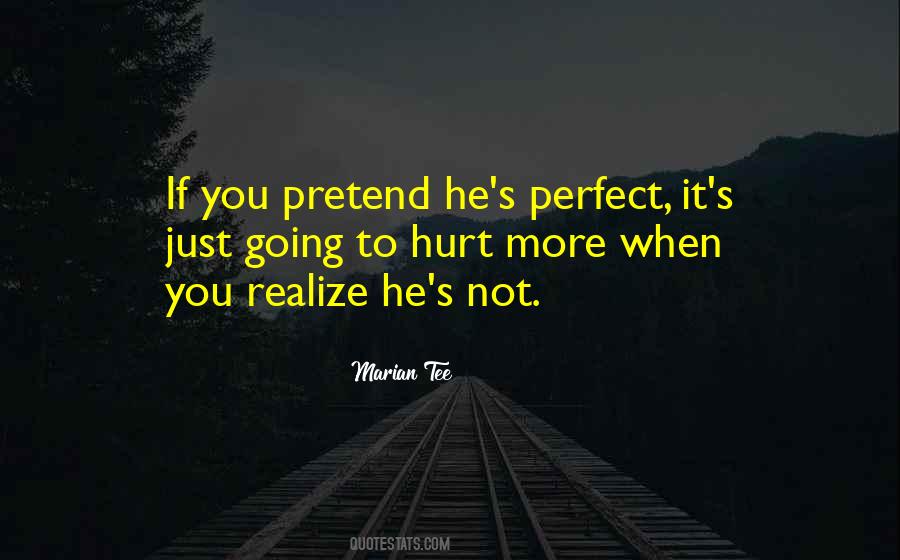 #25. When you judge someone, you are judging yourself. When you hate someone, you are hating yourself. When you love someone, you are loving yourself. Nobody will ever betray, humiliate or hurt you, if you have not first betrayed, humiliated or hurt yourself. - Author: Human Angels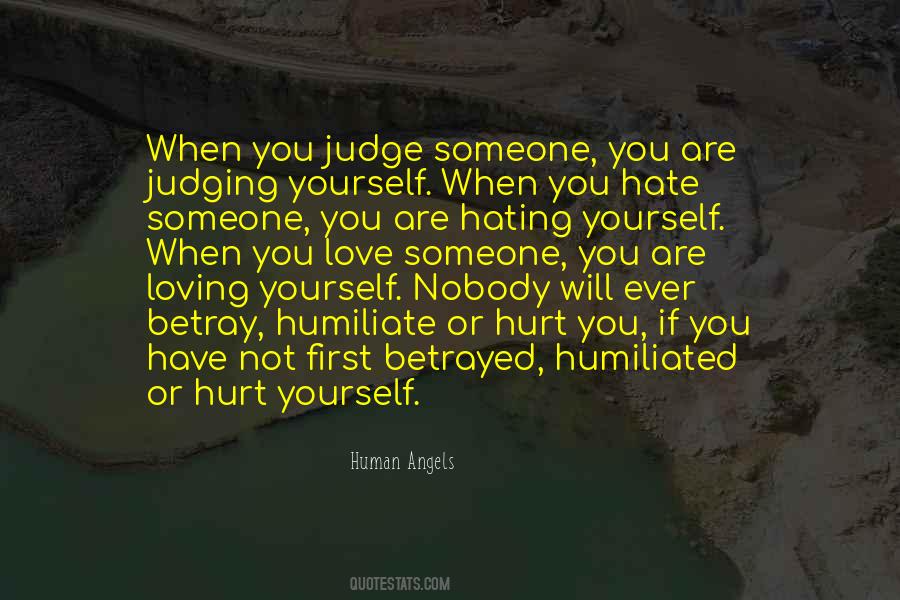 #26. Matthew feels deeply. It is a blessing as well as a burden to love to love so much that you can hurt badly when love is gone. - Author: Deborah Harkness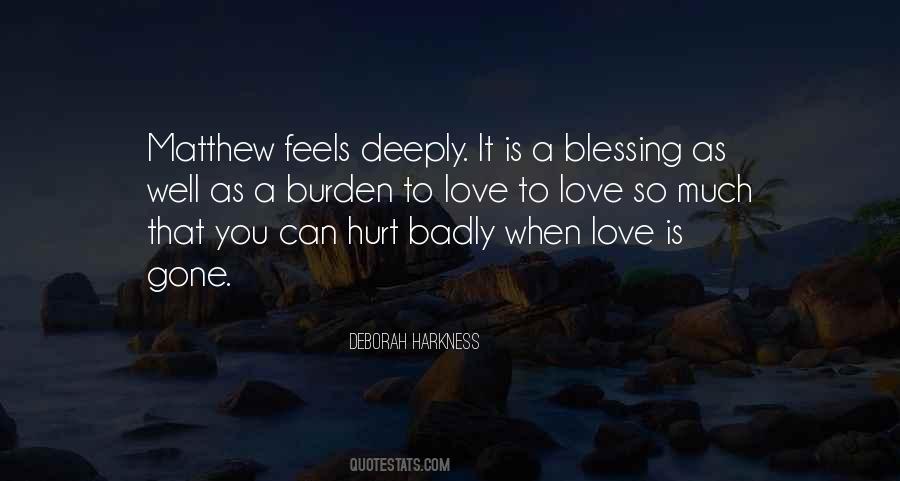 #27. When we respond to our pain and suffering with love, understanding, and acceptance - for ourselves, as well as others - over time, we can let go of our anger, even when we've been hurt to the core. But that doesn't mean we ever forget. - Author: Sharon Salzberg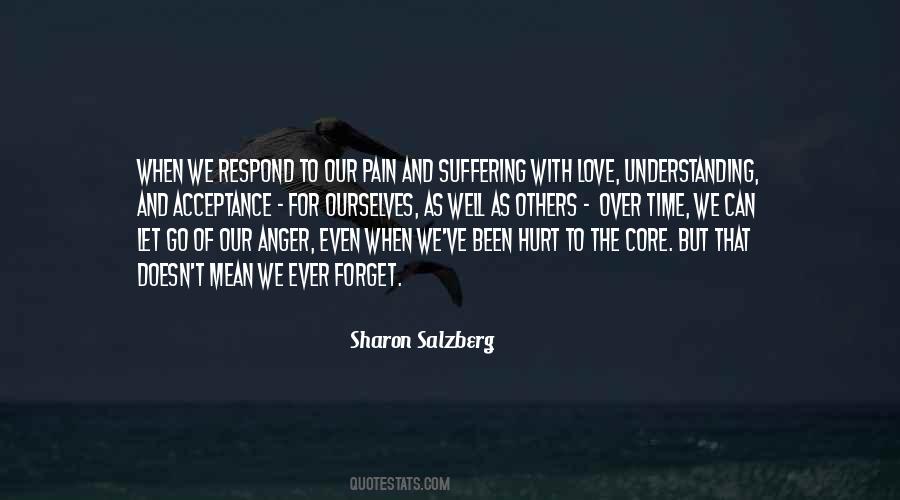 #28. Just remember that when nobody else was there for you I was.
And when nobody else gave a damn I did. - Author: Lil' Wayne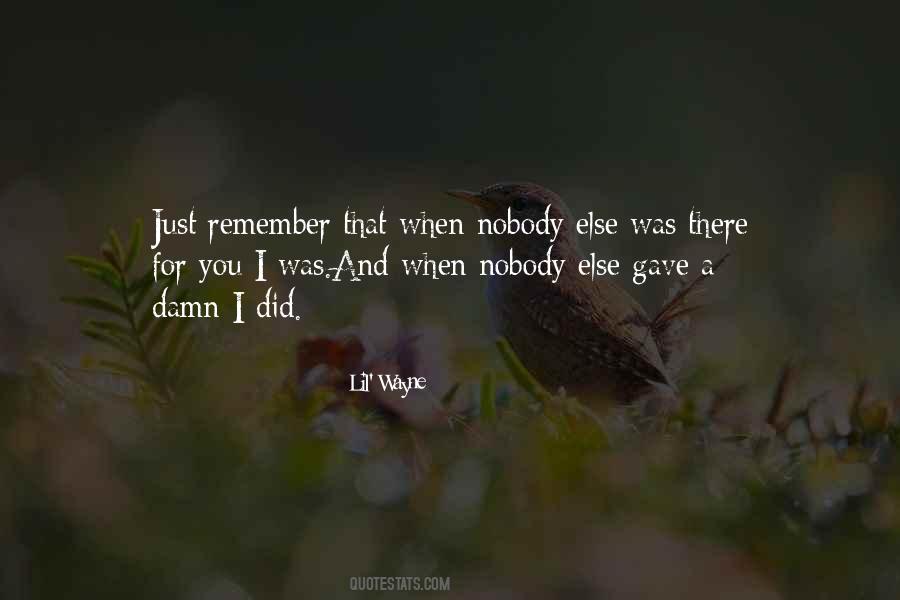 #29. It hurts me when you do not want to hurt me. - Author: Jonathan Safran Foer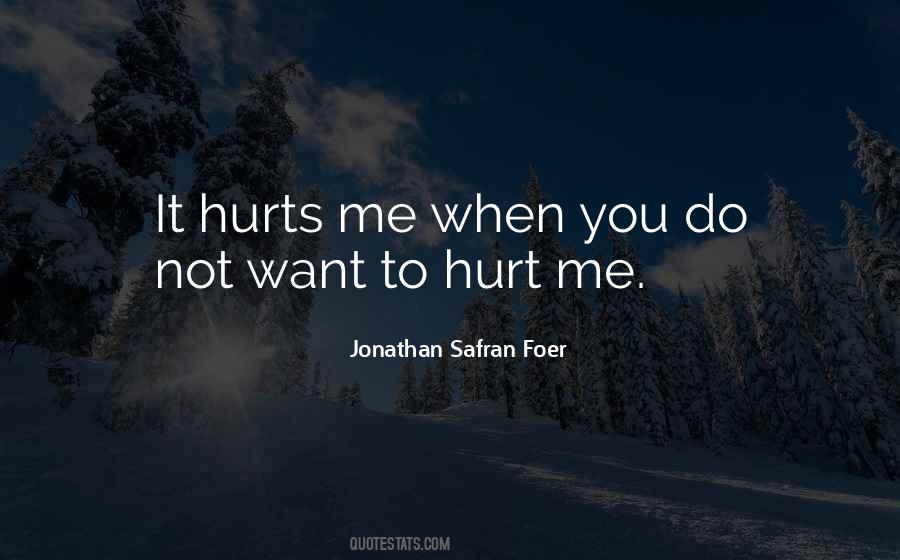 #30. The thing I am most afraid of is love. When you say you love someone you are giving them license to hurt you. - Author: Dorothy Koomson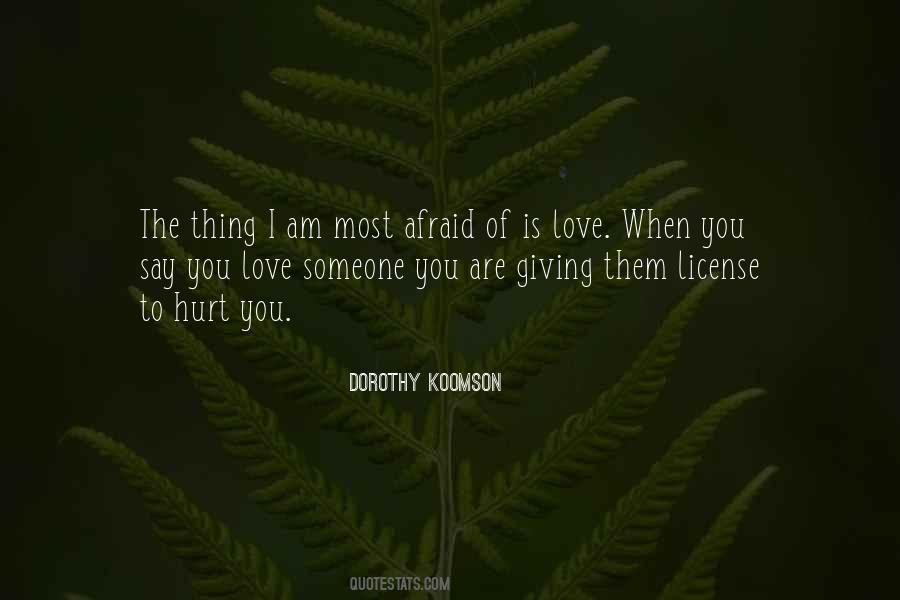 #31. I know what it feels like to miss everything about him
the way he smells, the way his mouth curls up when he laughs, his voice. - Author: Travis Neighbor Ward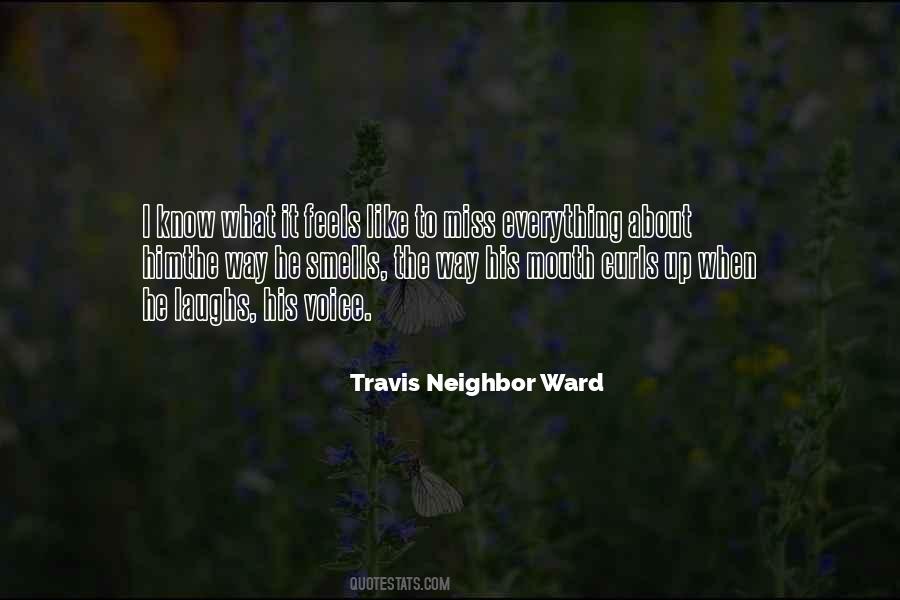 #32. Travis pushed me behind him a few feet and stood tall. I hope you know, Benny, that when I take out your men, I mean no disrespect. But I'm in love with this girl, and I can't let you hurt her. - Author: Jamie McGuire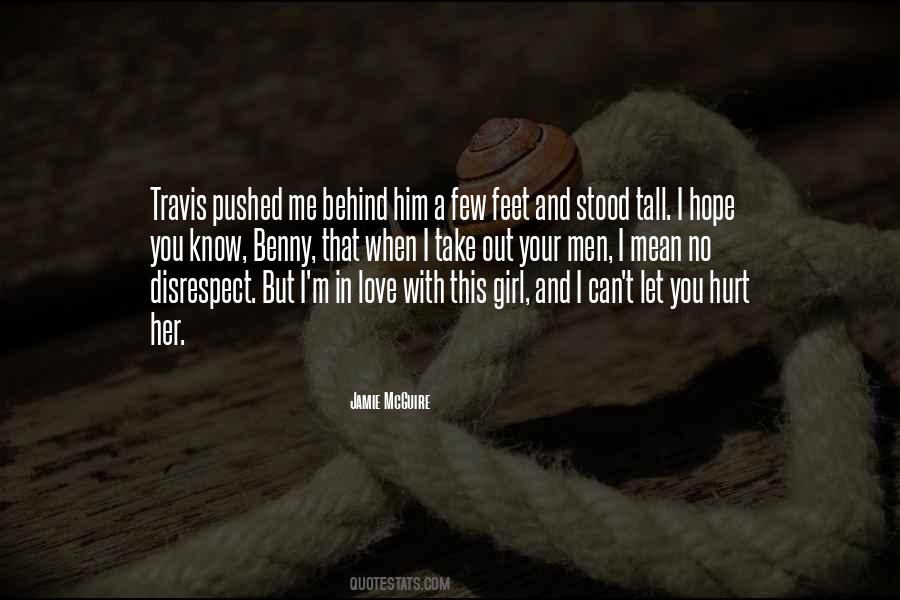 #33. There comes a moment in life when one must acknowledge that you just can't keep looking back into your past for reasons to keep someone in your present and future. Regardless of how much looking that cruel reality in the eye hurts ... memories can't be enough. - Author: Eiry Nieves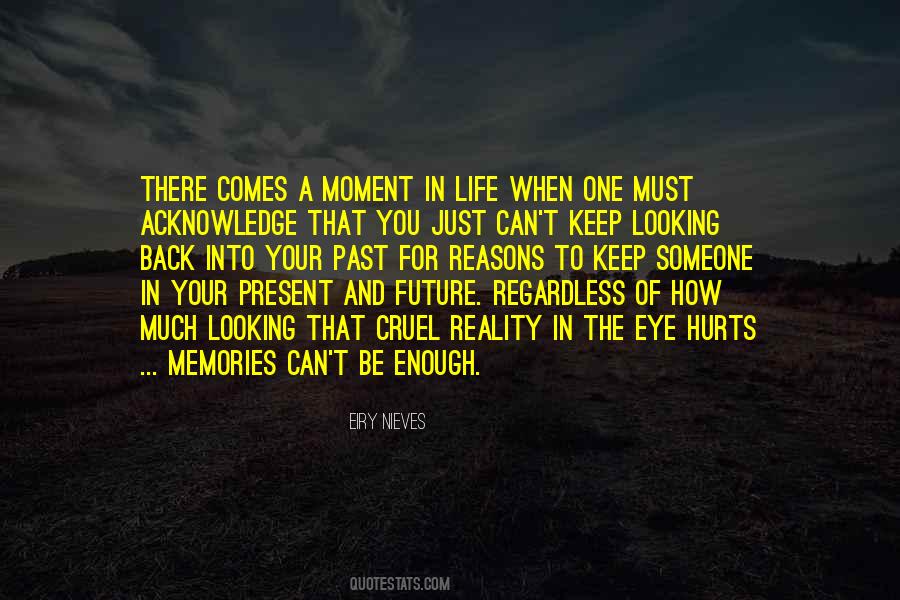 #34. Love grants us the power to forgive, to love when we're hurt, but it also gives us the courage to let go, and the understanding that to love, we love freely - at our own choice. - Author: J.C. Reed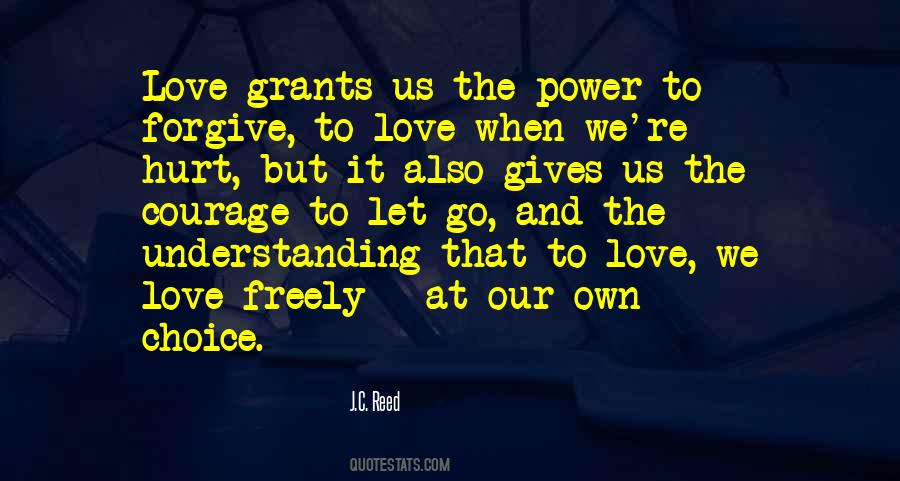 #35. When you love someone, their struggles become yours, and their hurt is your hurt. - Author: Alexa Riley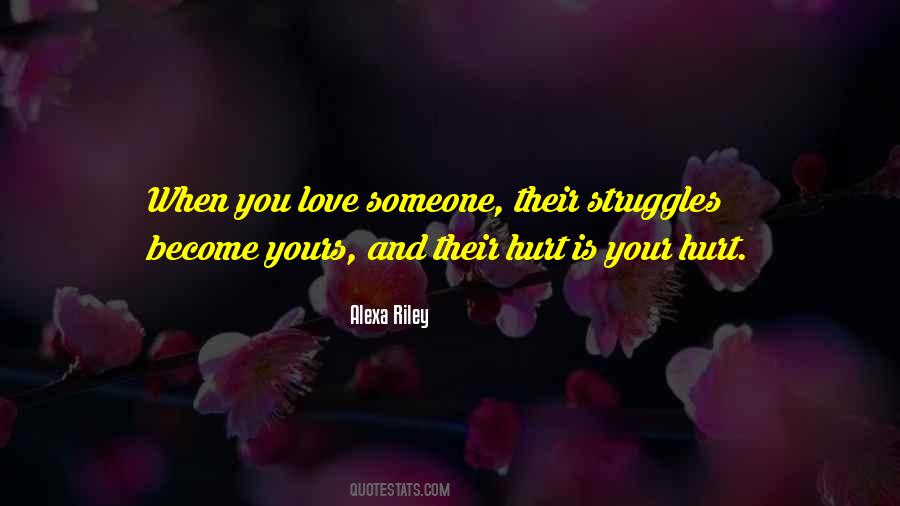 #36. Tell me if you ever cared,
if a single thought
for me was spared.
Tell me when you lie in bed,
do you think of something
I once said.
Tell me if you hurt at all,
when someone says
my name with yours.
It may have been so long ago,
but I would give
the world to know. - Author: Lang Leav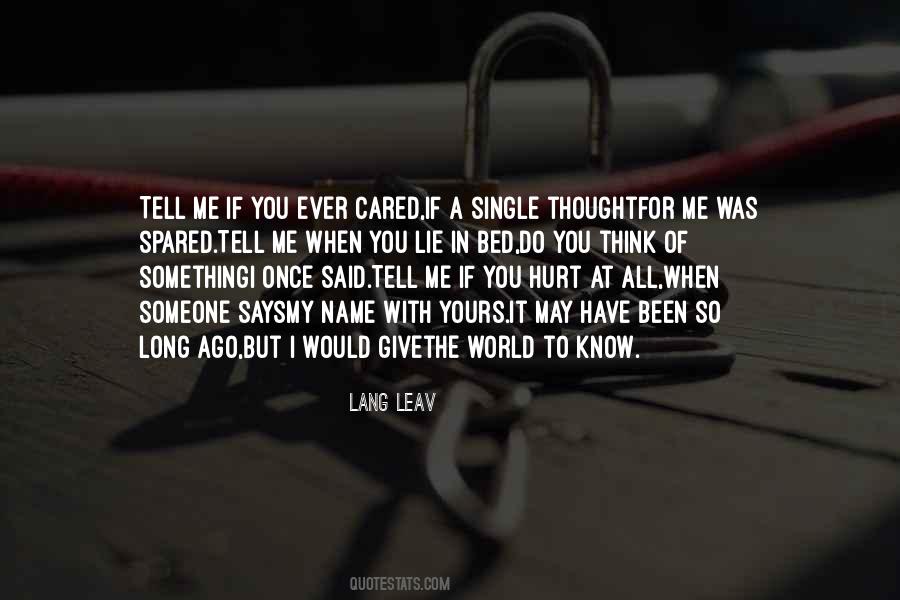 #37. When you are used to being hurt, you will push people away - even those who really love you. Stop. Embrace love. It will change you. - Author: Paula Heller Garland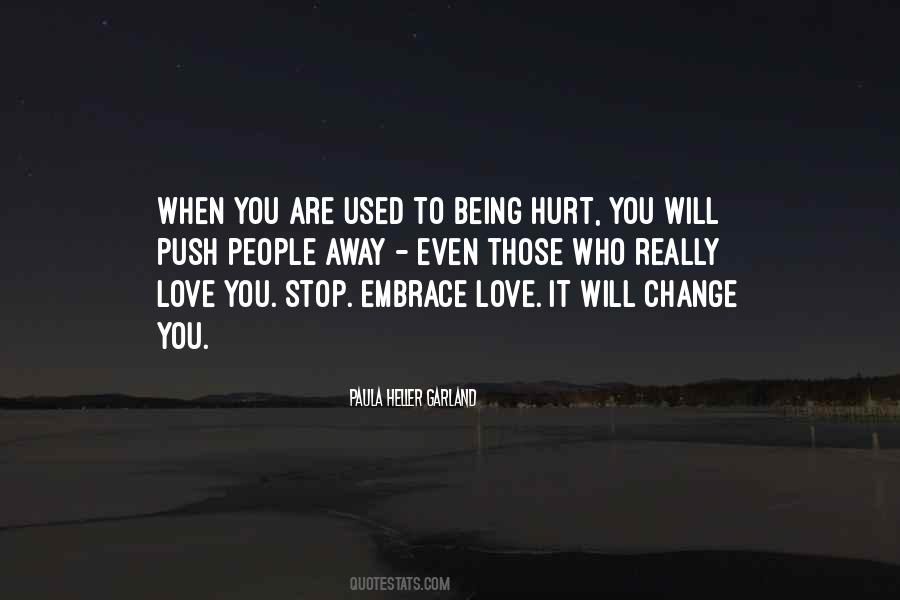 #38. When our hearts are in a state of coherence, we more easily experience feelings such as love, care, appreciation, and kindness. On the other hand, feelings such as irritation, anger, hurt, and envy are more likely to occur when the head and heart are out of alignment. - Author: Jed Diamond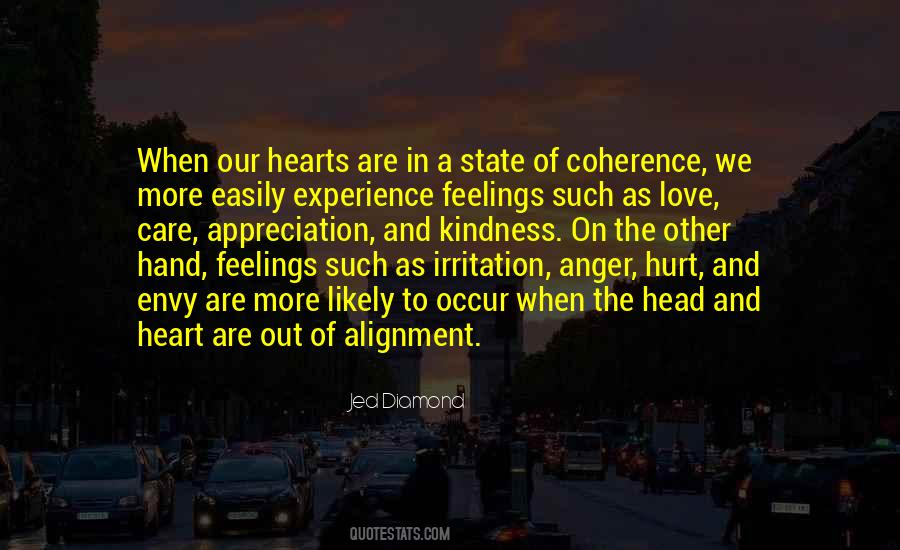 #39. You laugh as hard as you cry. And you give pain as beautifully as you take it. And when you love, you love harder than anyone I have ever known so it's no surprise you hurt this much. - Author: Tiffany Reisz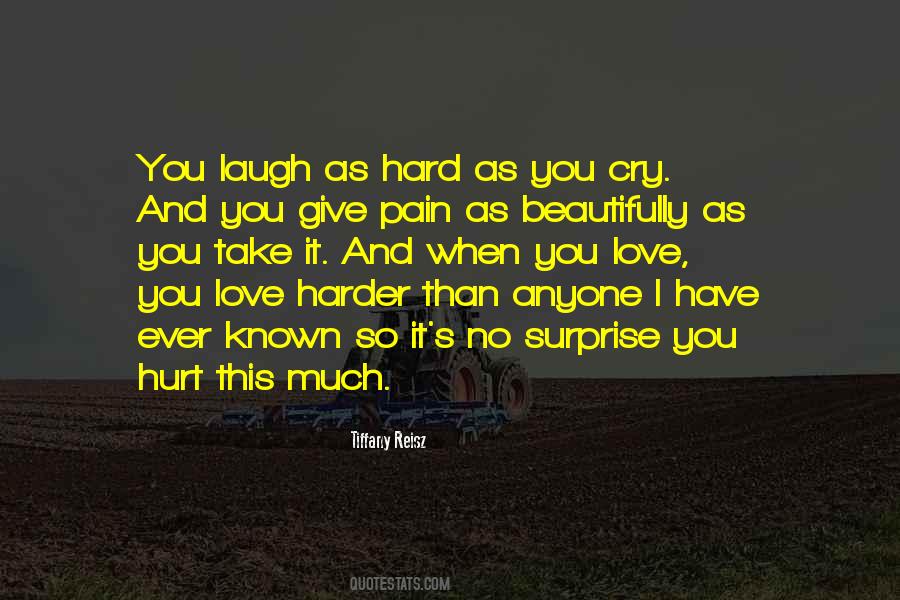 #40. It's unfair because the people booing, I believe, wouldn't want to have their child booed. Fans don't understand our lives and what we go through. They don't look at us as humans. We love the fans because they support and love the game, but at the same time it hurts when they turn their back on us. - Author: Allen Iverson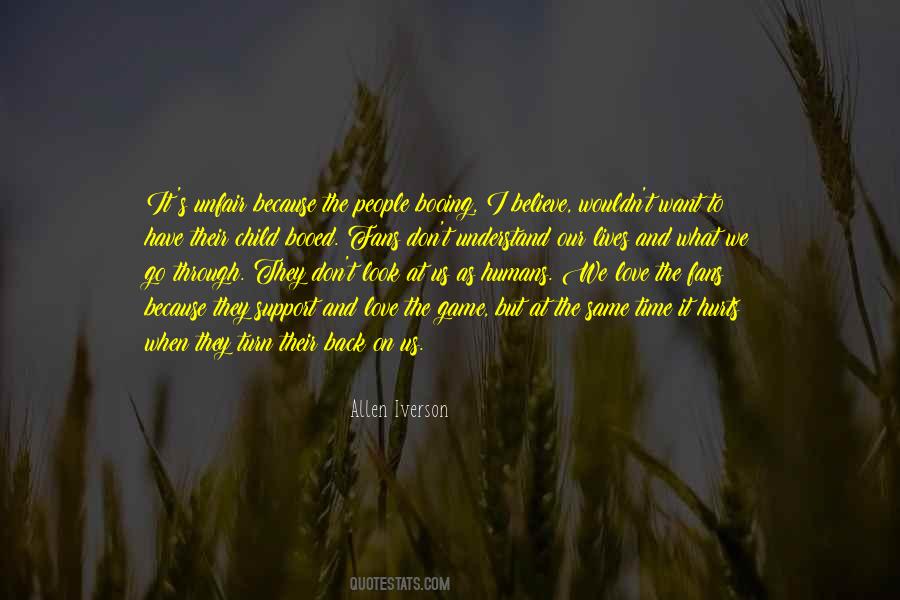 #41. Love isn't about trusting you'll never hurt me. It's about being sure you'll never do it on purpose and forgiving you when you unintentionally do. - Author: L.L. Kellogg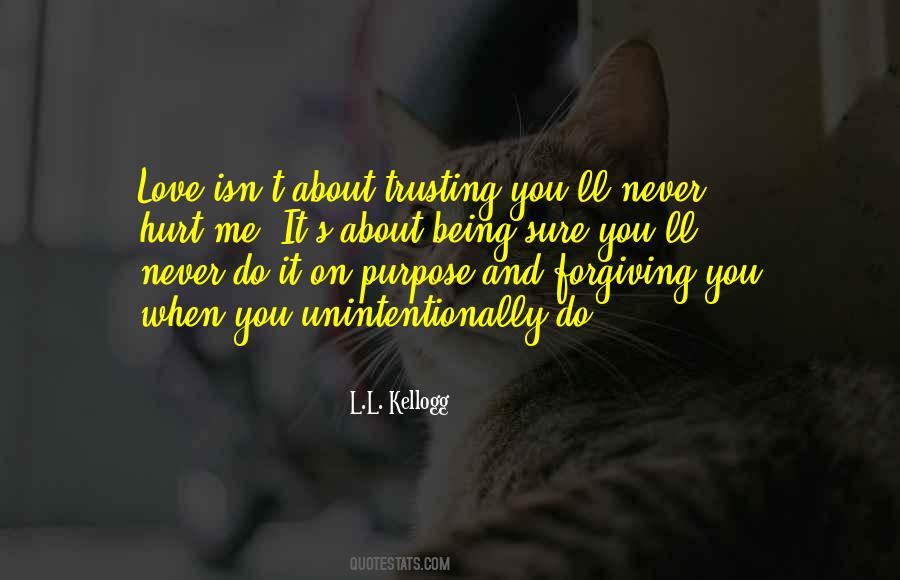 #42. They are not embarrassed to cry with you when you are hurting or laugh with you when you make a fool of yourself. - Author: Bob Marley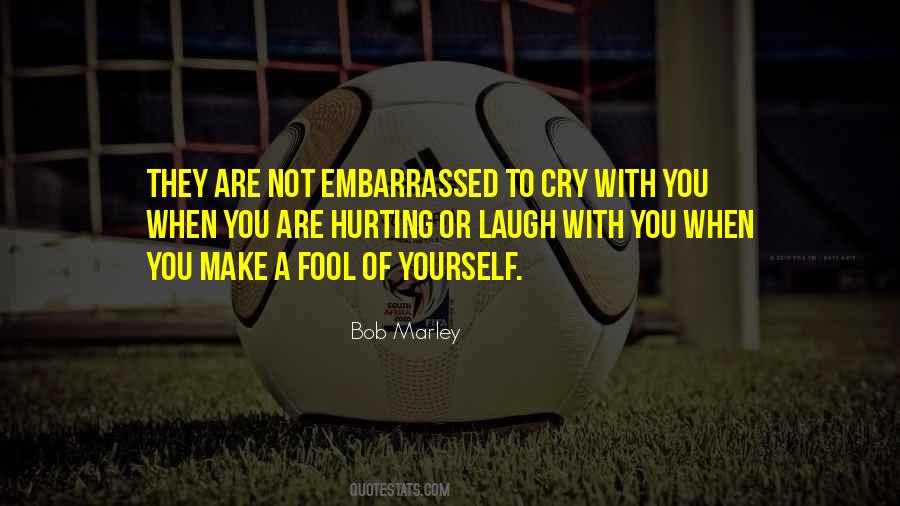 #43. In friendship you are free, you don't hurt much. But love when comes to hurt hollows your identity, peace, mind and body so intensely making blank mind. - Author: Sadashivan Nair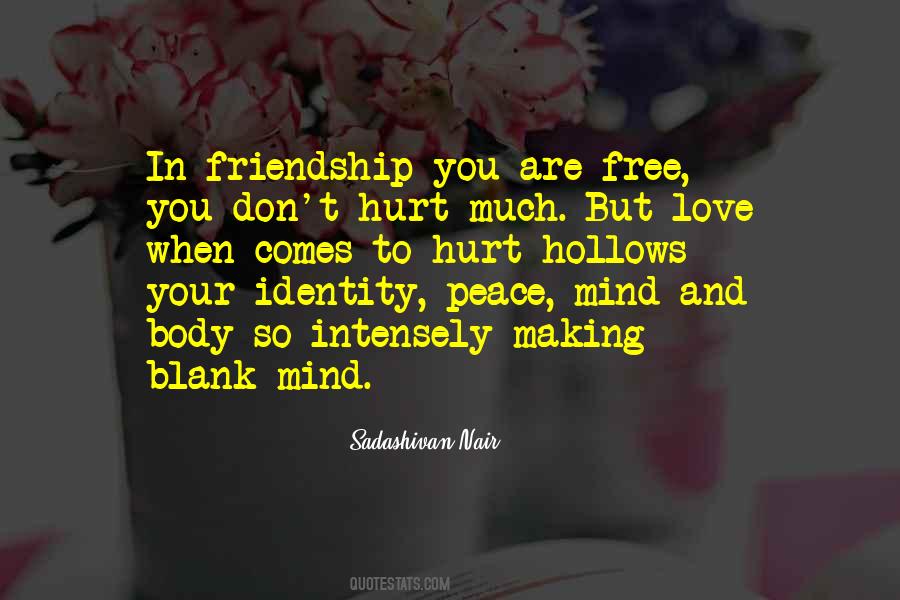 #44. I couldn't stand here, hanging on, when the very thing I held disappeared more with each passing day. - Author: Becca Fitzpatrick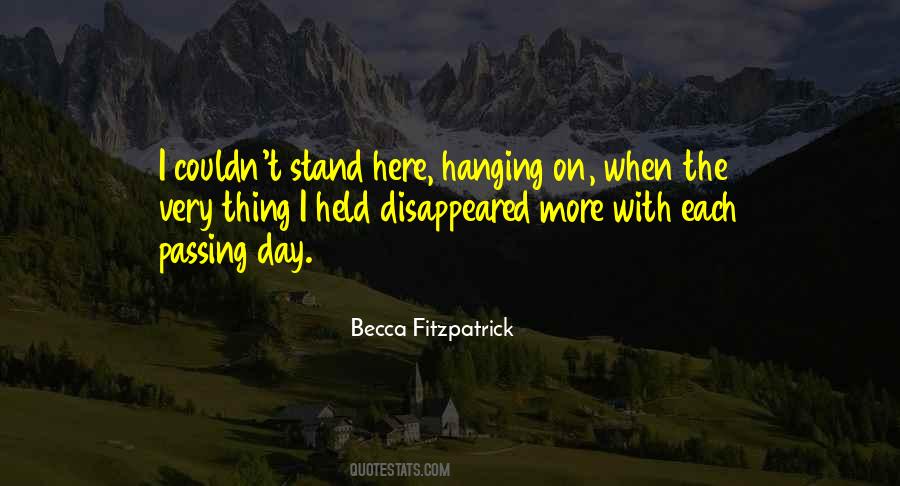 #45. You're my brother, I miss you when you're away, I hate you when you hurt me, I love you when you're just yourself, I'm your sister when you do stupid things ... - Author: C.M.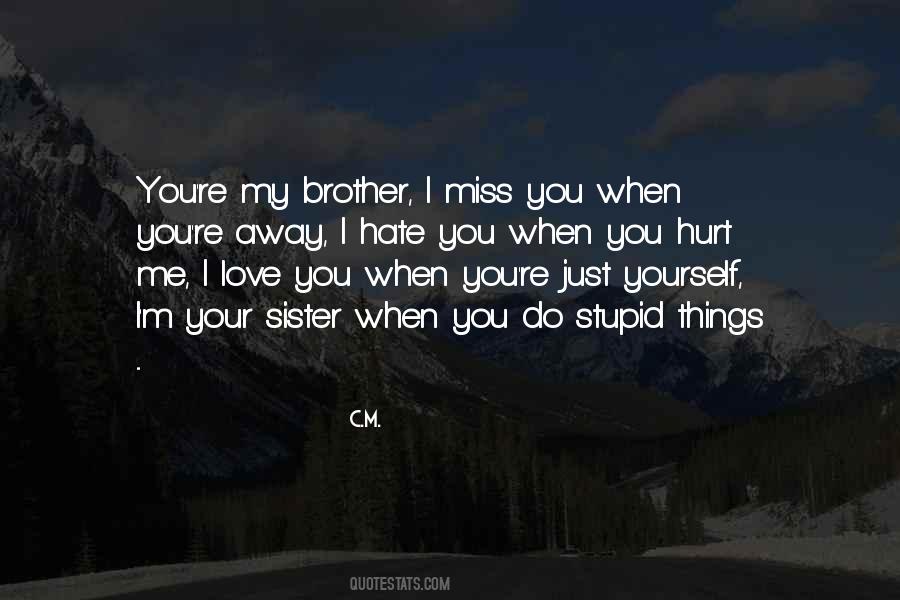 #46. I regret if my actions hurt anyone or harmed the United States. It was never my intent to hurt anyone. When I chose to disclose classified information, I did so out of a love for my country and a sense of duty to others. - Author: Chelsea Manning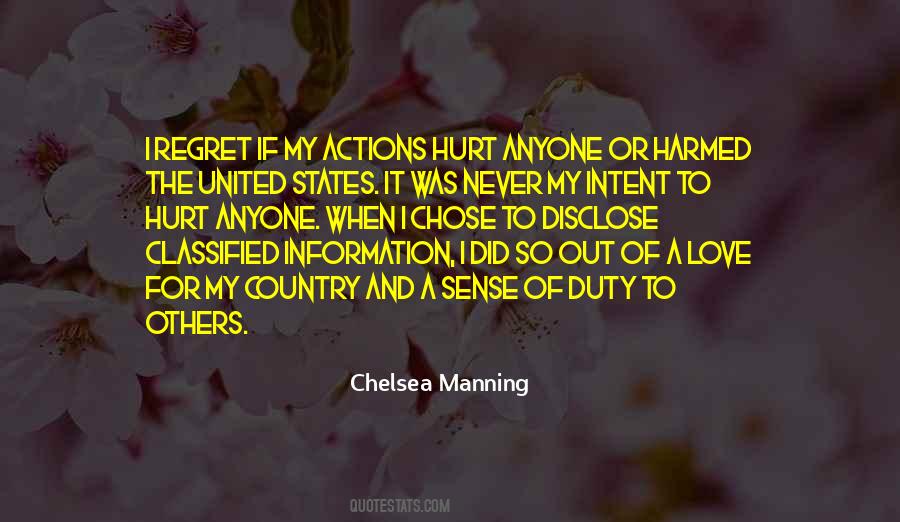 #47. Love is when you'd rather be hurt than hurt the one you love. - Author: J.C. Reed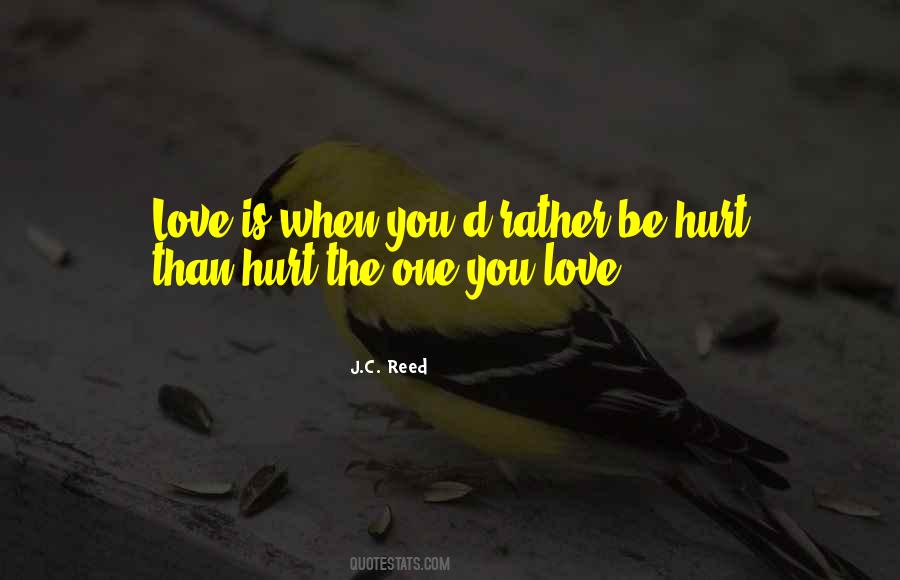 #48. Our job is to love people. When it hurts. When it's awkward. When it's uncool and embarrassing. Our job is to stand together, to carry the burdens of one another and to meet each other in our questions. - Author: Jamie Tworkowski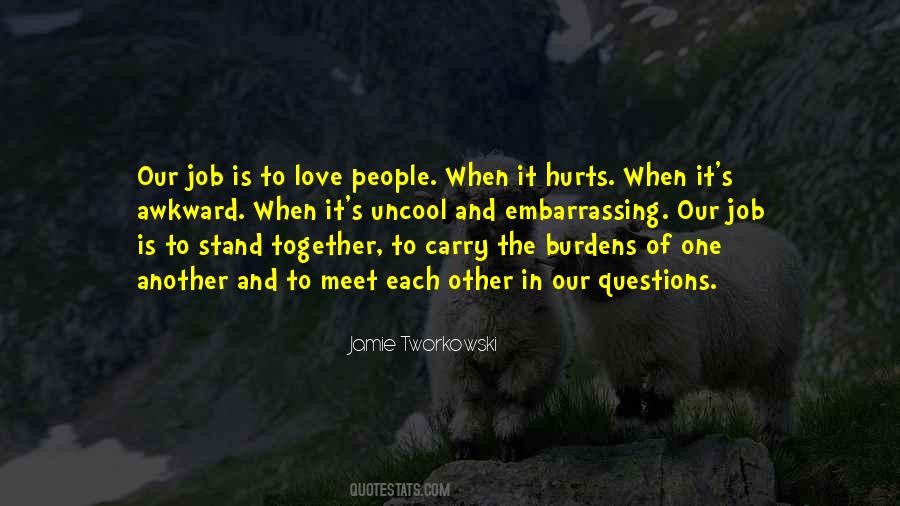 #49. My heart kind of hurt when I looked at her. Not because I was in love, but because I could tell from looking at her that she didn't hate herself. Not only didn't she seem to hate herself, she barely seemed to think about herself. How fucking glorious must that be? - Author: Susan Juby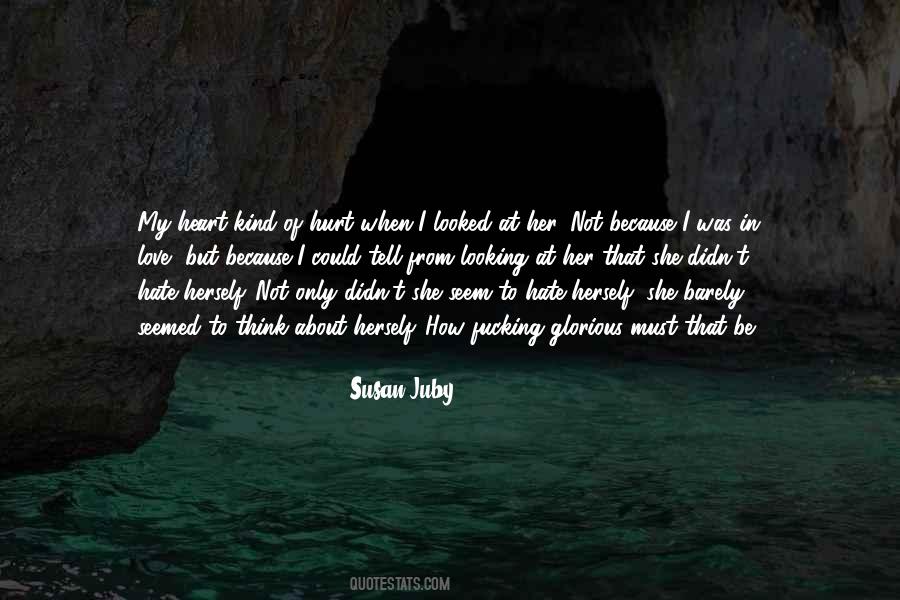 #50. Now he knew that it was only love when you knew there could be no end to it. When it was as inevitable as gravity. Falling in love, a helpless descent in which the only way to avoid being hurt was to keep going. Keep falling. - Author: Lisa Kleypas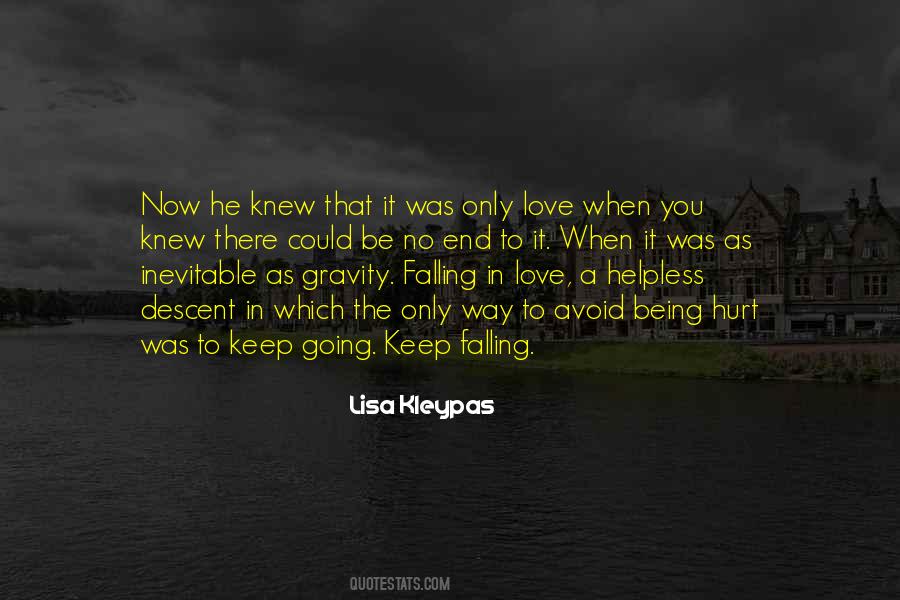 #51. When I asked her about her marriage, she'd only say that sometimes people, even those who love each other, can hurt each other just by being themselves. - Author: Cate Rowan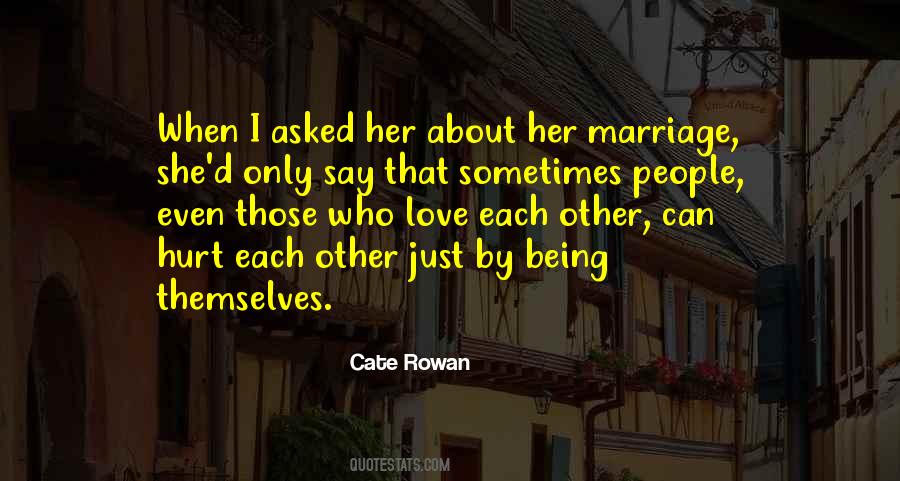 #52. When the people we love stop paying attention, trust begins to slip away and hurt starts seeping in. - Author: Brene Brown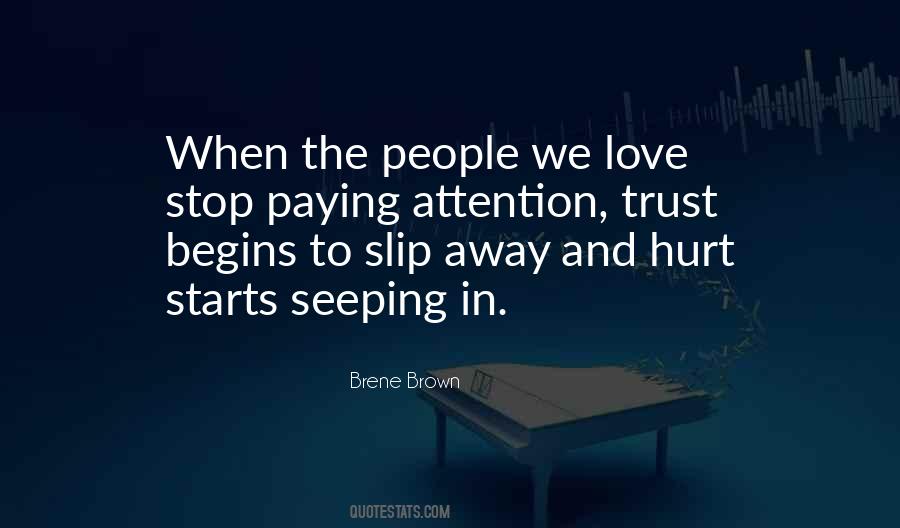 #53. Truth is we are all tragedies waiting to happen; we just have to remember to have the rescue crew nearby when it strikes. - Author: S. Elle Cameron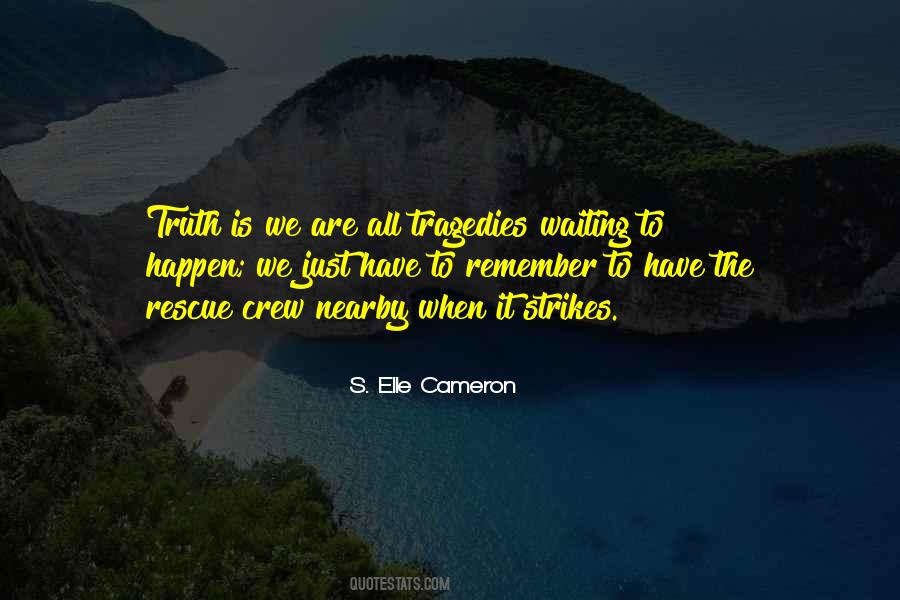 #54. A small, forced smile played at Aidan's lips. "I don't like it when someone hurts what's mine," he said. He reached out, brushing a thumb across my bottom lip, an intimate gesture, one that made me blush. "And he hurt you. - Author: Ashley Stoyanoff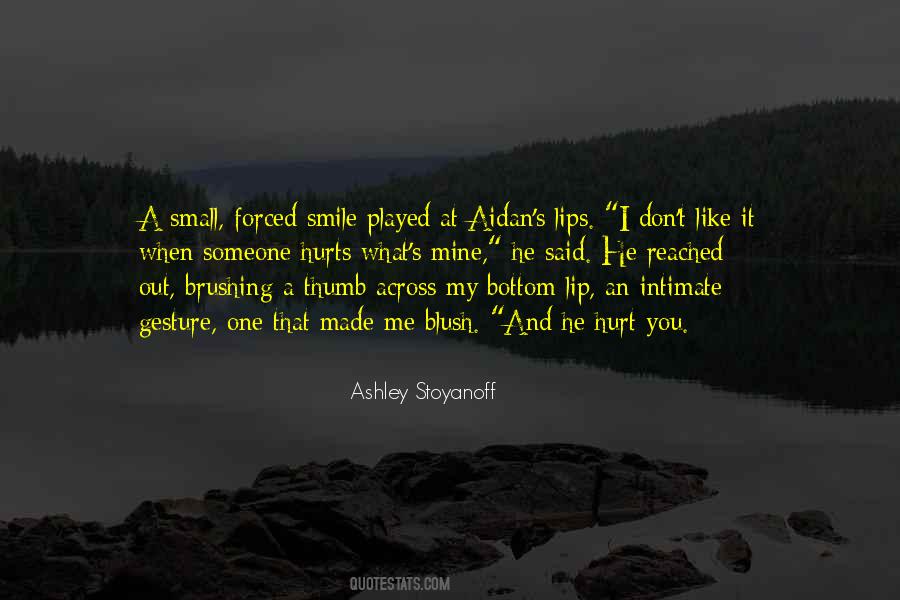 #55. When humanity truly learns that it is far better to help and love than hurt and destroy each other ... then we will all live in a better world! - Author: Timothy Pina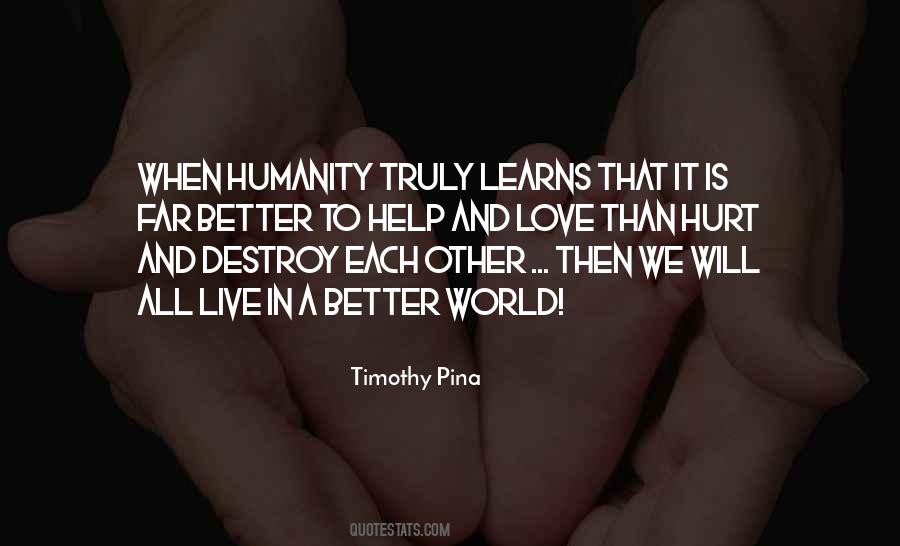 #56. In a contagious world,we learn to keep our distance. If we get too close to those who are suffering, we might get infected by their pain. It may not be convenient or comfortable. But only when you get close enough to catch their hurt will they be close enough to catch your love. - Author: John Ortberg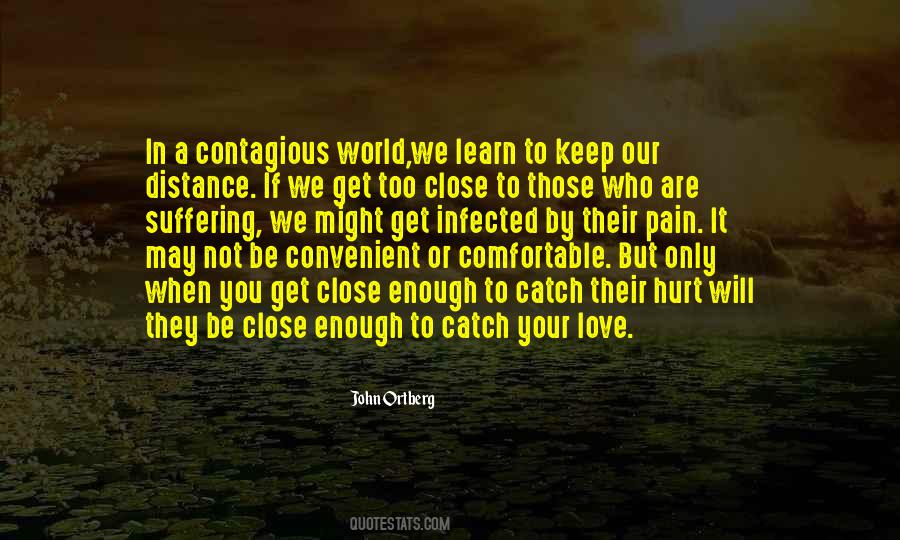 #57. When someone hurts you, don't hurt him back but hit him with your unconditional love. - Author: Debasish Mridha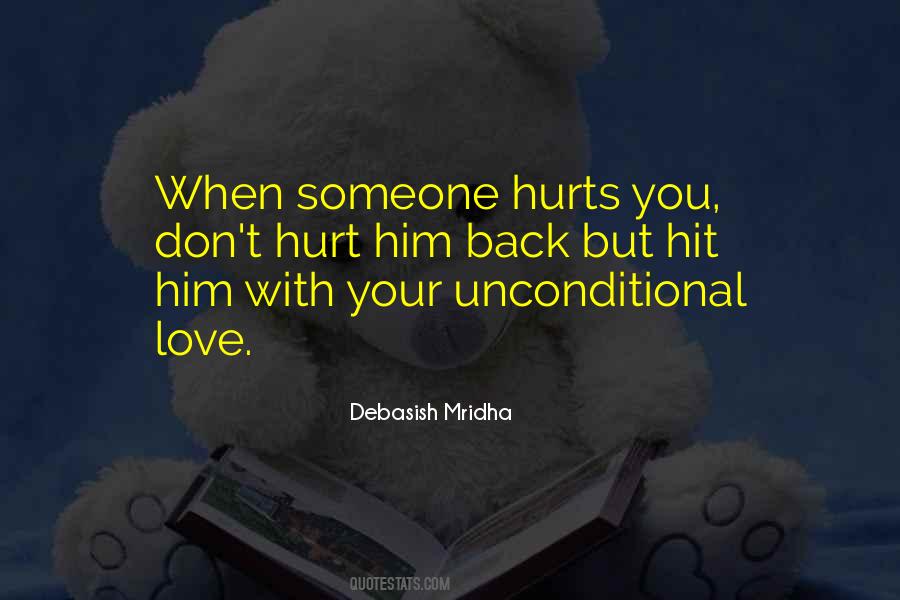 #58. Its hard to make the decisions to find it in your heart to love someone when your heart is still in love with someone else. But it's even harder to make when you know that it has already been hurt by that someone its still in love with. - Author: Jerome D. Williams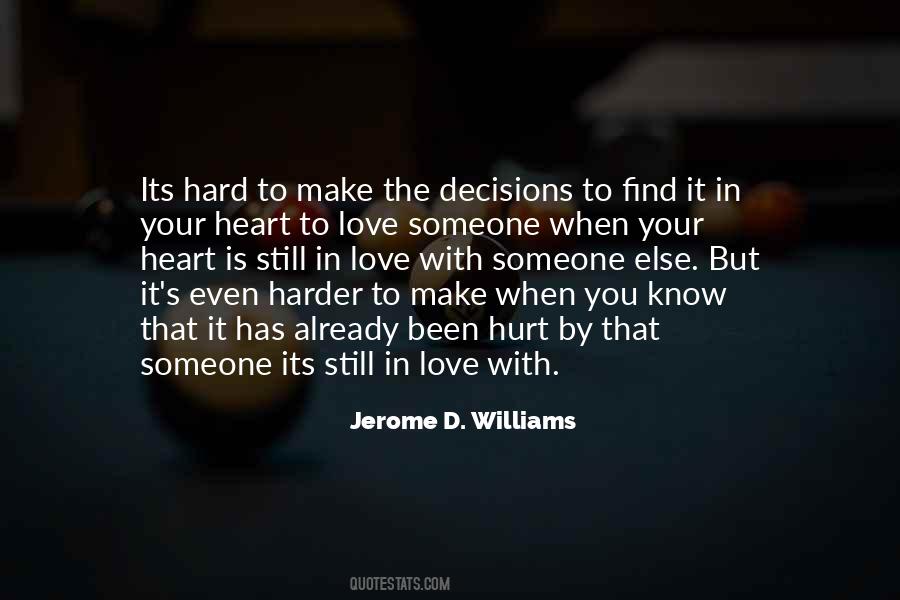 #59. I love when I finish reading a chapter that I wrote and my cheeks hurt from smiling and all I can utter is, 'Wow.' - Author: Richelle E. Goodrich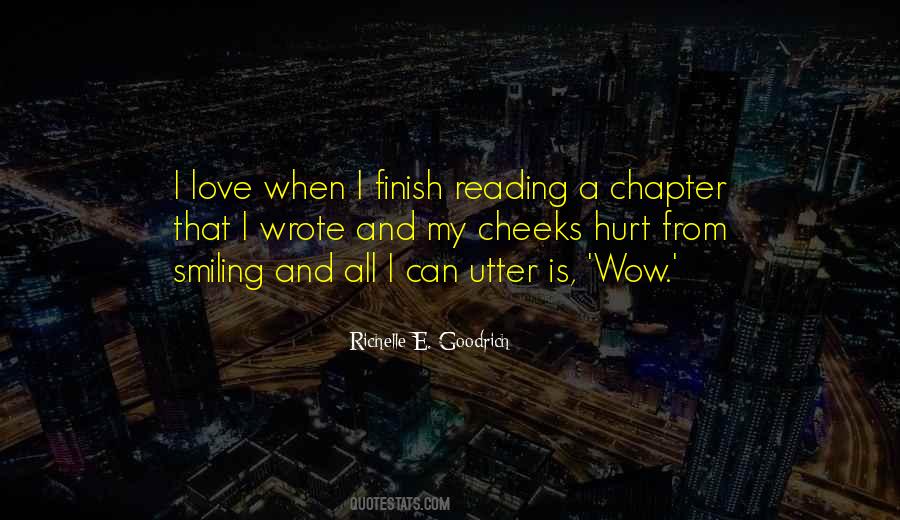 #60. There is soul in side body all life we live with it but we do not meet with our soul and our soul leaves our body when we die But Our soul meet with us when we on dead bed. - Author: Mohammed Zaki Ansari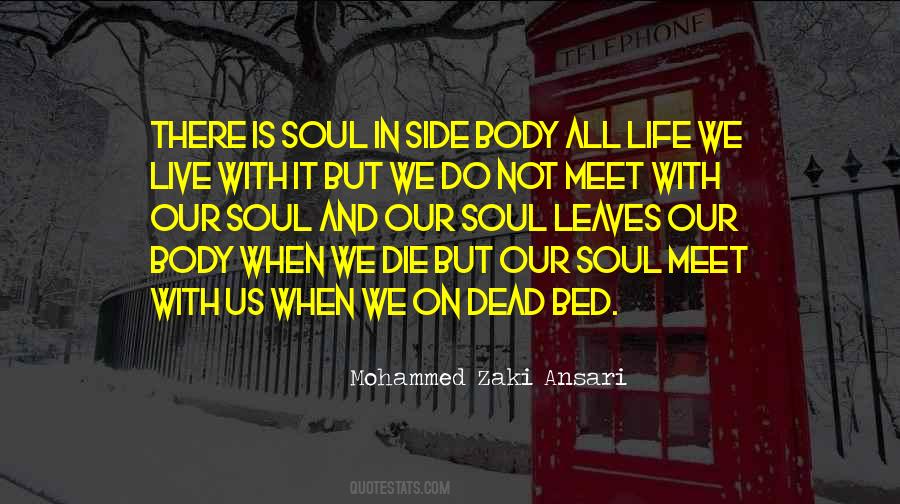 #61. I think this man realized how important it is for you to love yourself, to find your self-worth. Those who truly love you don't just stop when you hurt them." Keeley's - Author: Lora Ann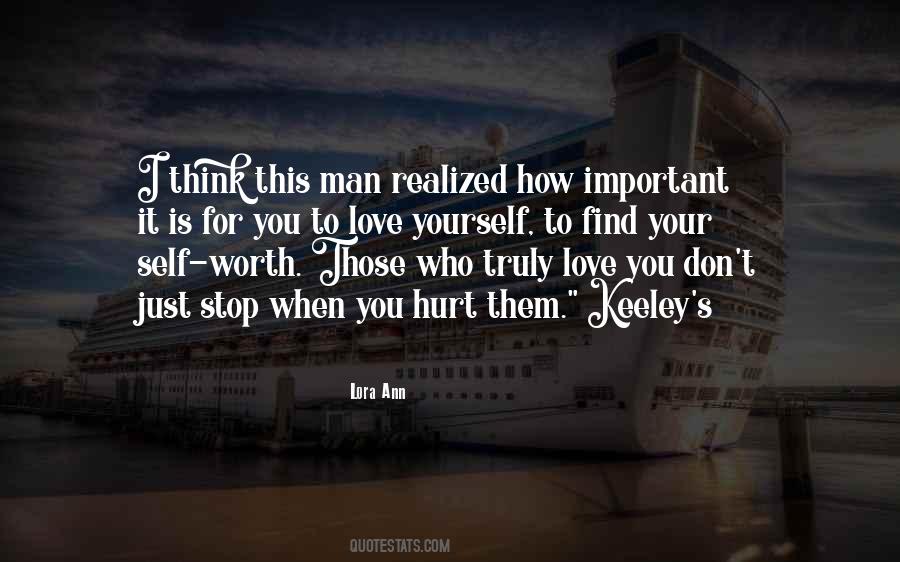 #62. When you forgive those that hurt you, they no longer have control over your future happiness. Their anger keeps them a prisoner to your past, while you enjoy the present. - Author: Shannon L. Alder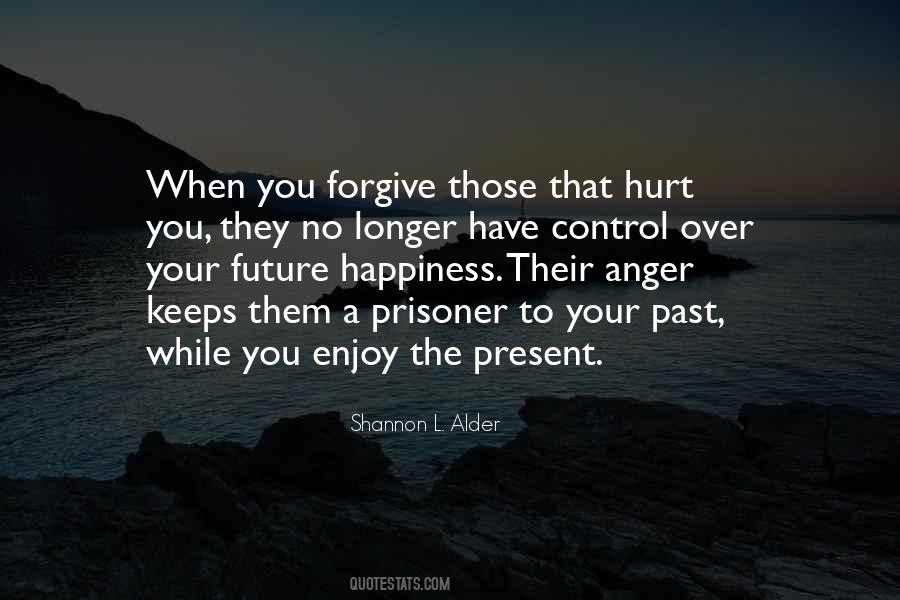 #63. When you forgive, you heal your own anger and hurt and are able to let love lead again. It's like spring cleaning for your heart. - Author: Marci Shimoff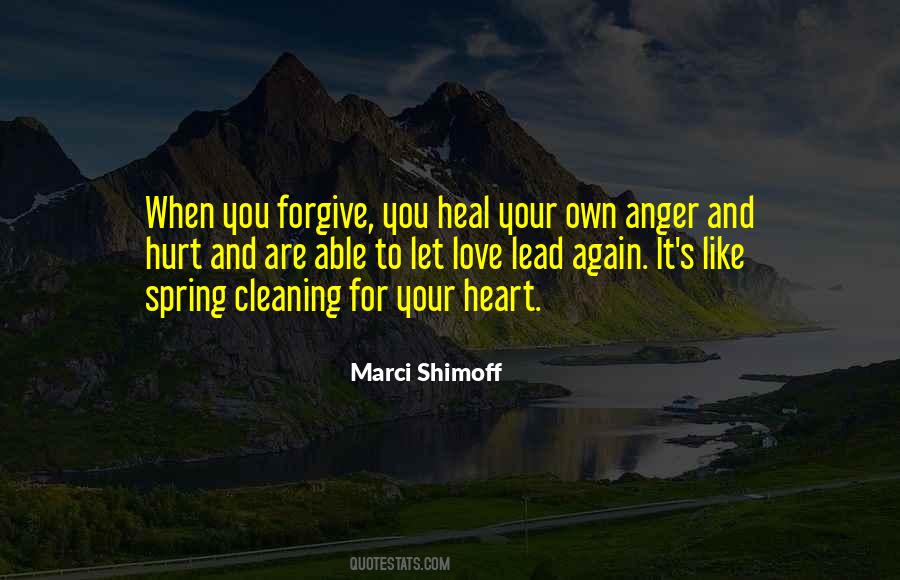 #64. I think we've all been kind of ... everyone's been hurt, everyone's felt loss, everyone has exultation, everyone has a need to be loved, or to have lost love, so when you play a character, you're pulling out those little threads and turning them up a bit. - Author: Mark Ruffalo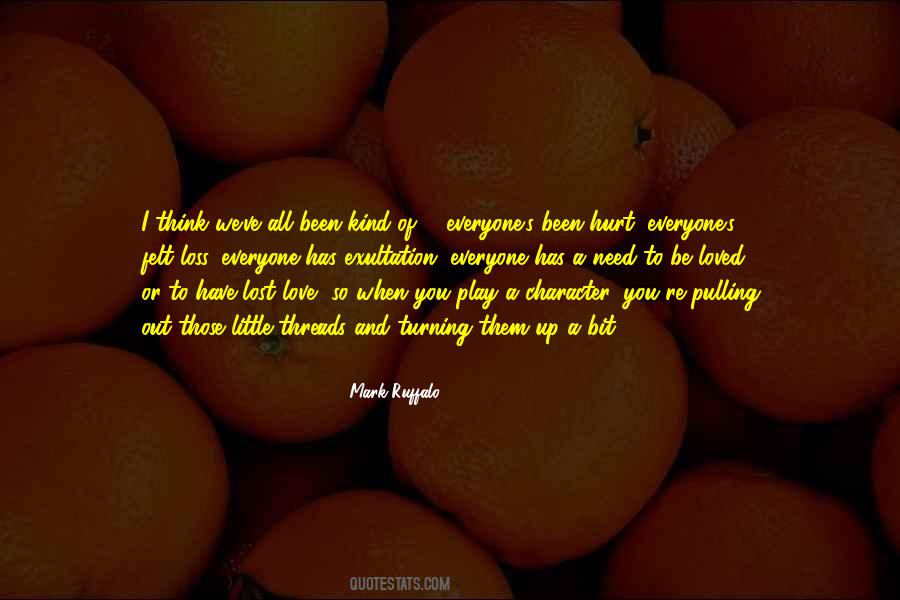 #65. Life is a beautiful journey, full of joy and pain
You never know when it will end, don't let a moment pass in vain ...
In the whole ruckus of life, nothing had I gained,
I just wanted freedom, no more did I wanted to be chained ... - Author: Mehek Bassi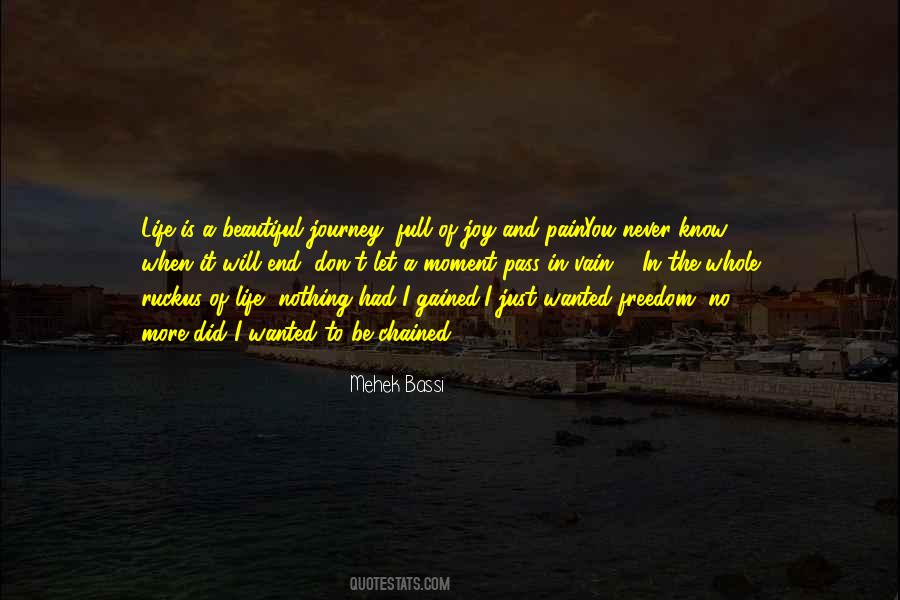 #66. When you are deeply in love,. even the smallest thing can hurt u like hell and break u into pieces ... - Author: BHARAT SHARMA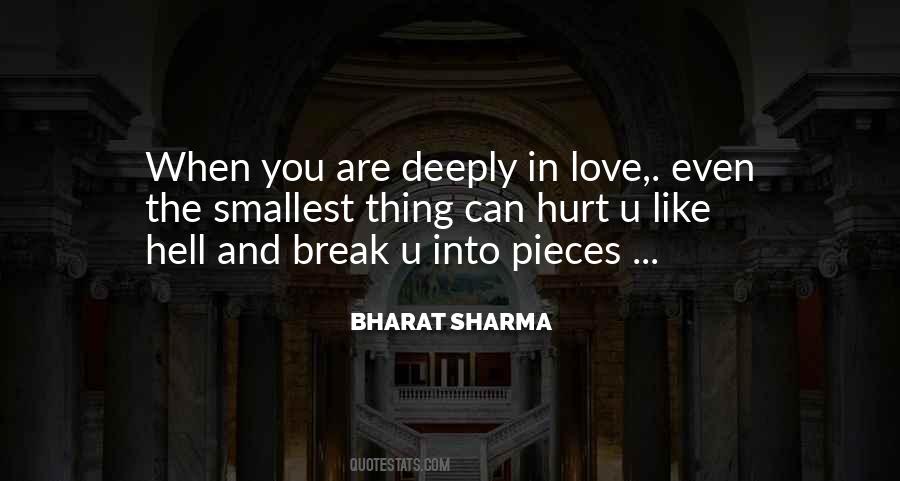 #67. When we make ourselves vulnerable, we do open ourselves to pain, sometimes excruciating pain. The more people we love, the more we are liable to be hurt, and not only by the people we love, but for the people we love. - Author: Madeleine L'Engle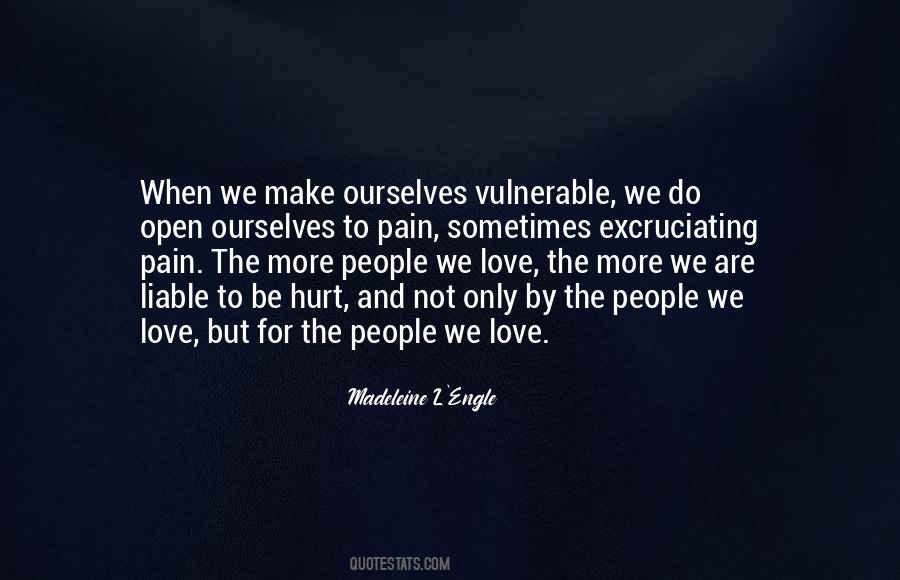 #68. All we have in love are two unprotected hearts in an open field. And that's why our hearts bleed so much when we get hurt. - Author: Uday Mukerji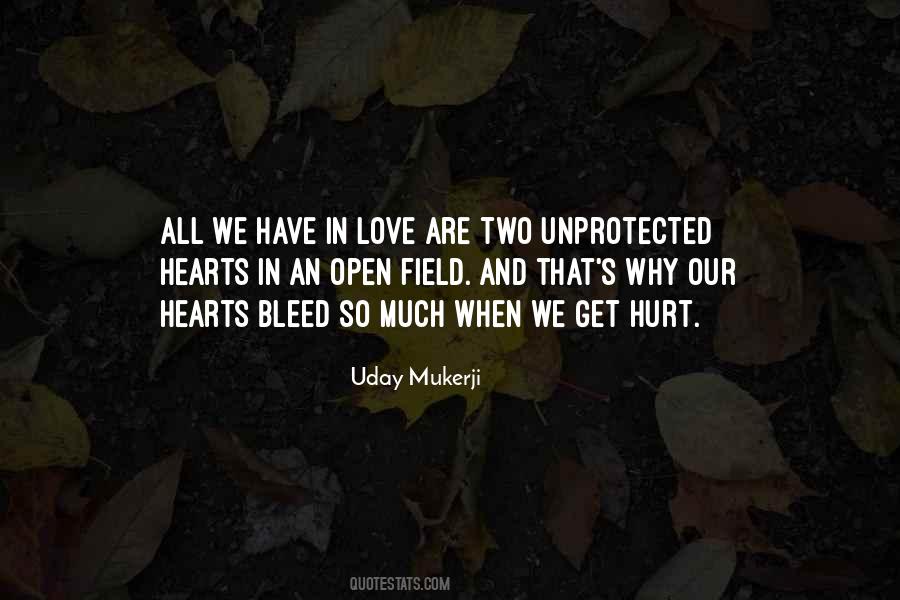 #69. Any fool can love somebody who's perfect, somebody who does everything right. But that doesn't stretch your soul. Your soul only gets stretched when you can still love somebody after they've hurt you. - Author: Susan Elizabeth Phillips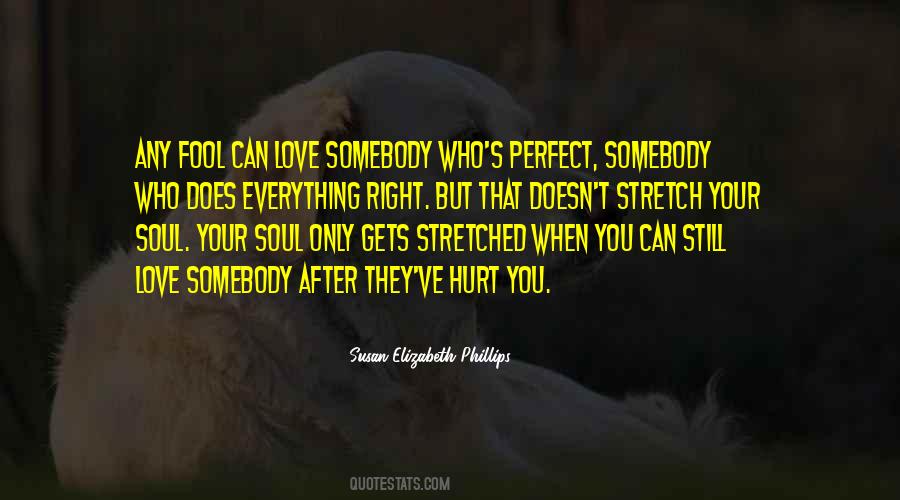 #70. That was the thing about love, though, wasn't it? When you loved somebody, you wanted to give them everything you could. You wanted what was best for them, no matter what. You wanted them to move beyond what was awful and terrible, beyond anything that had ever hurt them. - Author: Megan Hart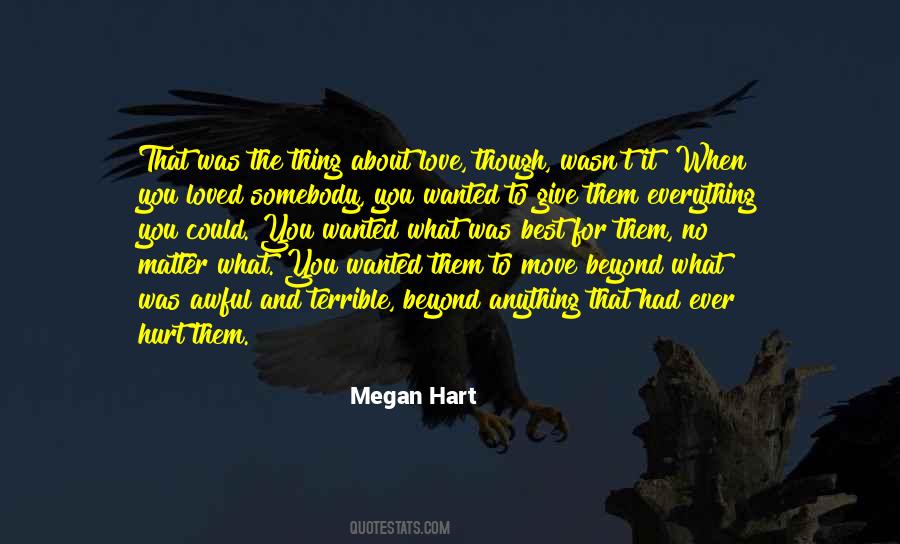 #71. A best friend is he who hurts you with their love and feels you when you're hurt. - Author: Debasish Mridha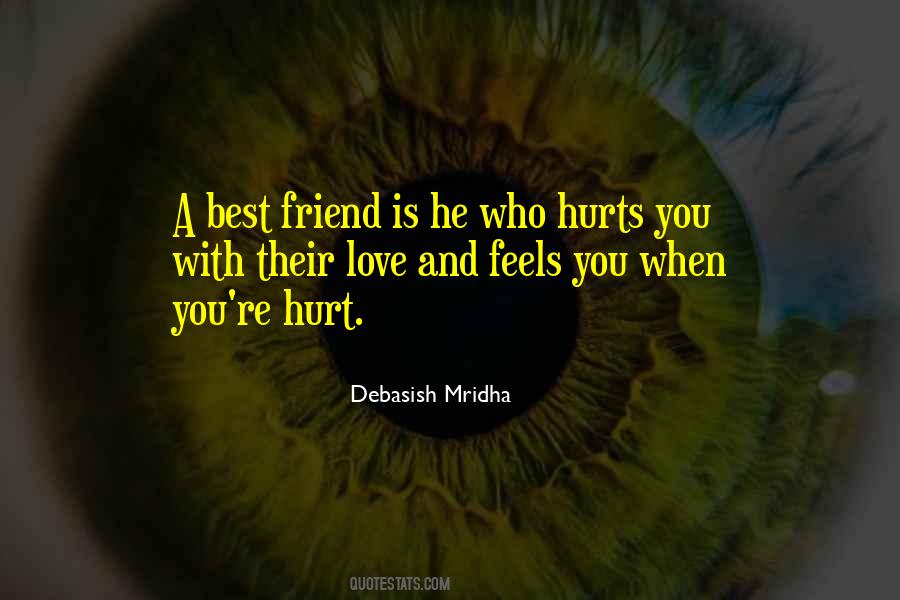 #72. When something flipping out to the worse, don't feel bad. But be strong and make yourself hard so that the situations stop taking chance to hurt you. - Author: Giridhar Alwar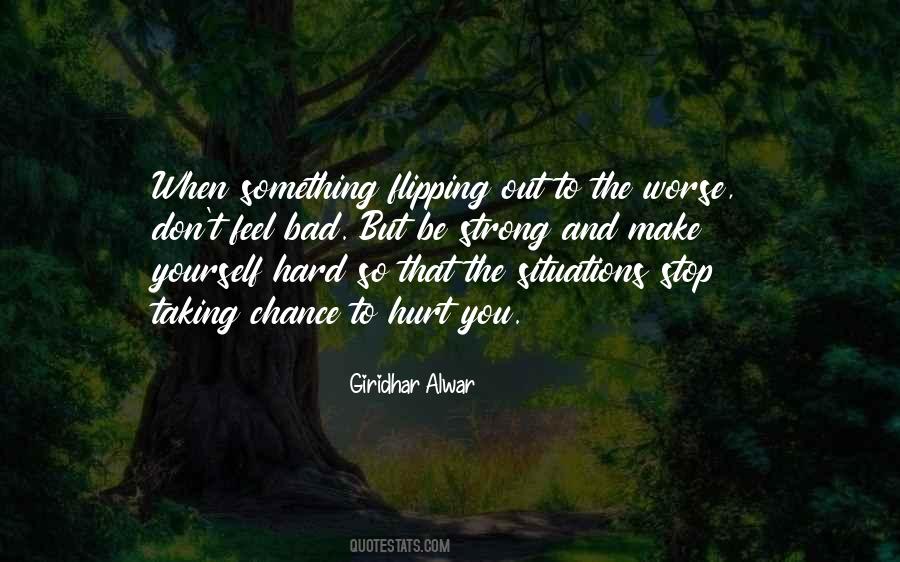 #73. Hearts everywhere bear scars of one form of hurt or the other, and it is necessary to keep this in mind when trying to understand why a person is the way he or she is. - Author: Innocent Mwatsikesimbe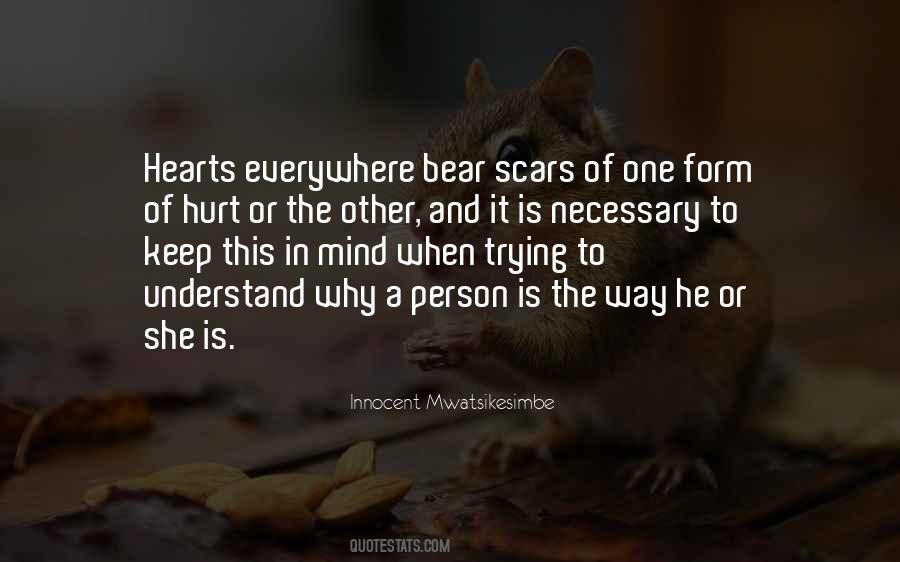 #74. I was completely crazy and mad when I was young. I was absolutely in love with the dissolute. - Author: John Hurt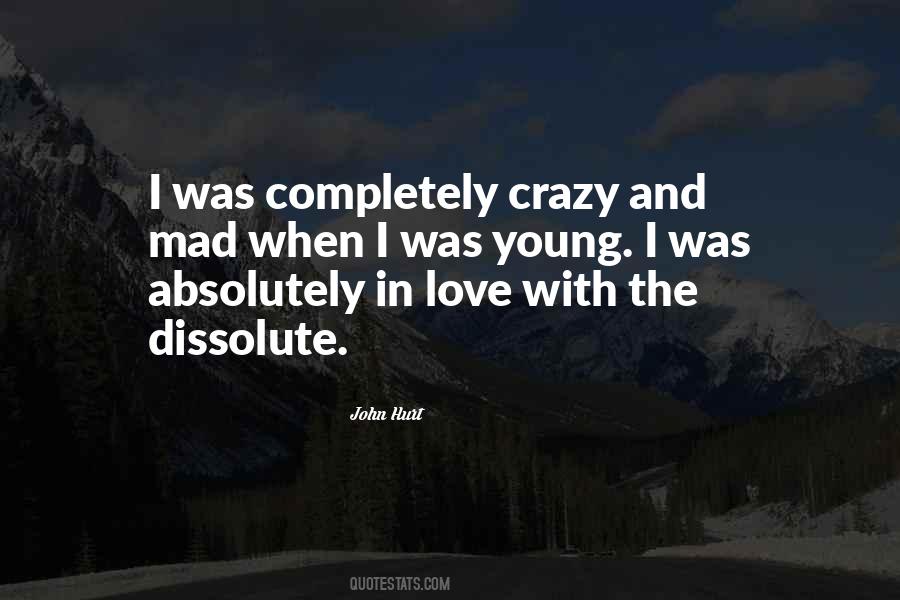 #75. When two people were in love you had to leave them to it. Especially when you weren't in love and wished that you were. That could embarrass. That could hurt. - Author: Irvine Welsh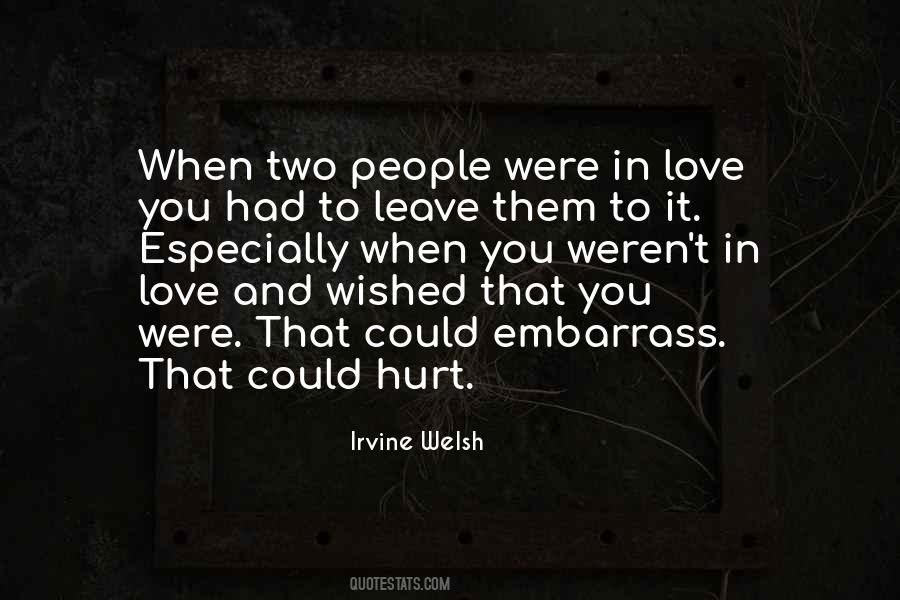 #76. Why does it hurt when you love someone? What is it with the human heart? What was it with my heart? I wondered if there was a way to keep her in this world forever. - Author: Benjamin Alire Saenz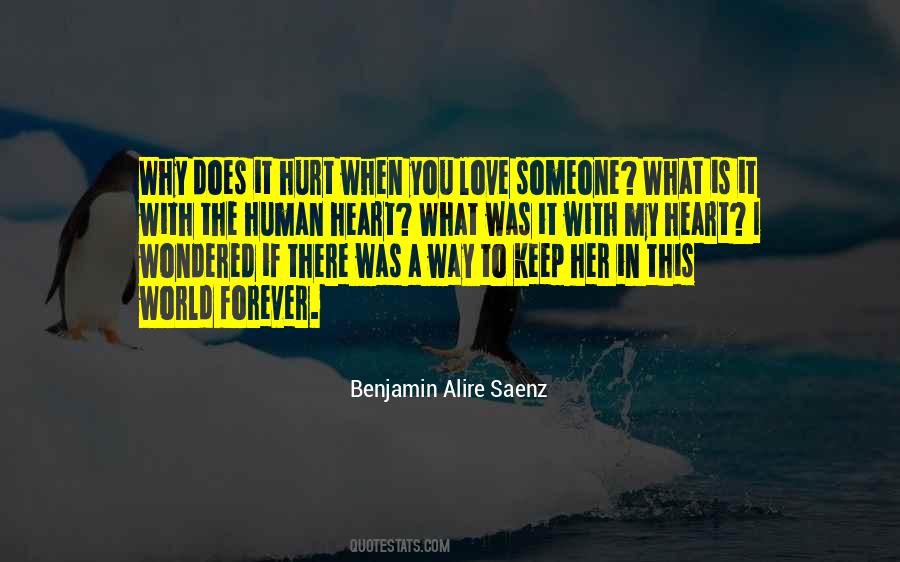 #77. If I hurt your feelings we ought to discuss it. I don't like this kiss-and-forget.'
'But I don't want to argue. I think it's wonderful that we can kiss and forget, and when we can't it'll be time to argue. - Author: F Scott Fitzgerald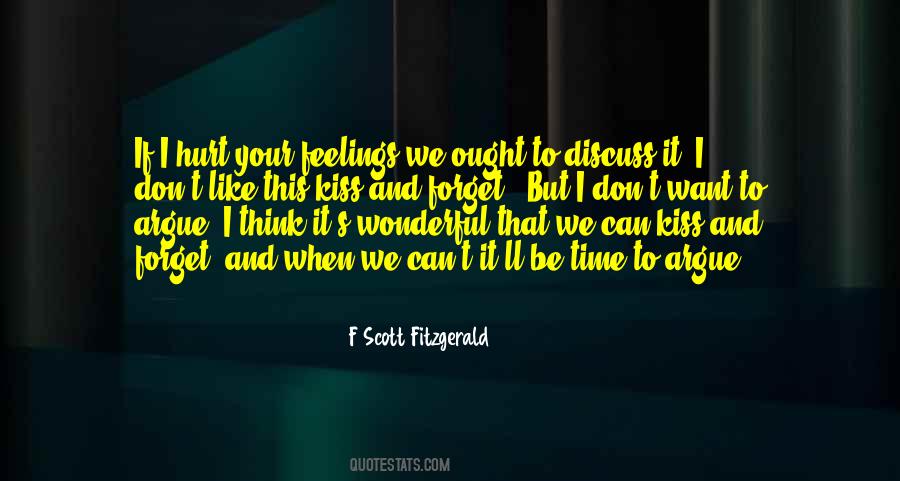 #78. When you love something, you can't be happy all the time, can you? Like, that's why you love it. It makes you feel all kinds of things, not just happy. It can hurt, it can make you fucking mad, but... it makes you feel something, you know? - Author: Emma Mills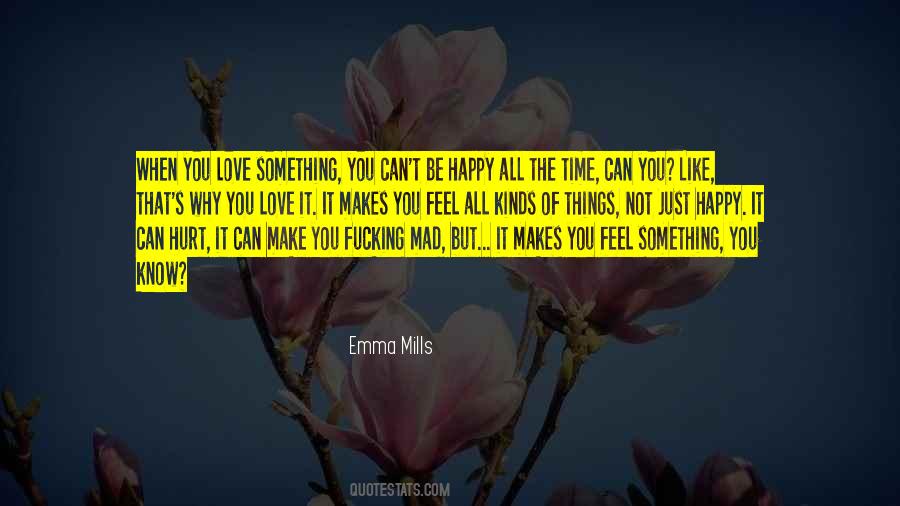 #79. The love was so passionate. Neither were happy with anyone else. But when a time came that they were able to be together, too much had been left unsaid. Too much time had passed and too much hurt filled their hearts. - Author: Paula Heller Garland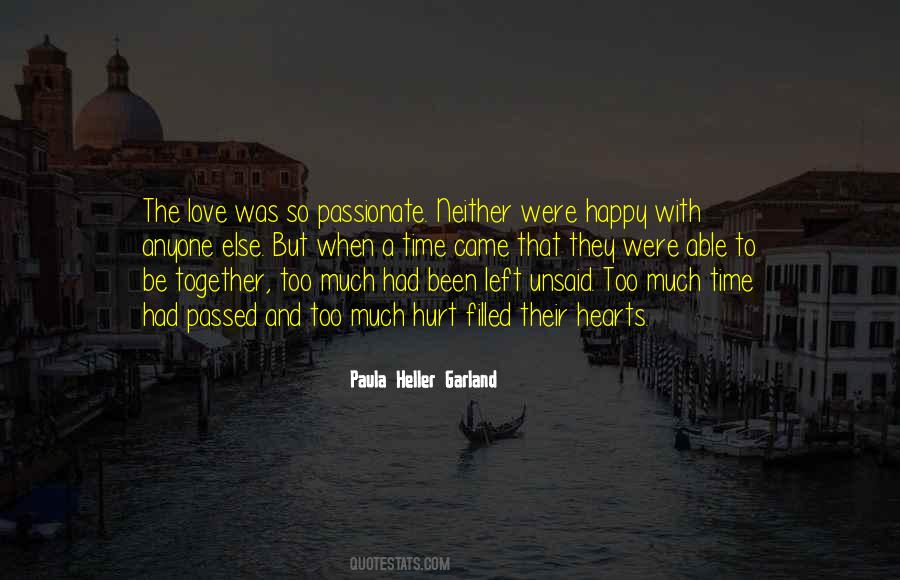 #80. I told Kate I didn't love her in an argument. But I do! Those heated moments are the worst, because that's when you can do the most damage. And they're bad, because you always hit them in the spot where you know it hurts. - Author: Peter Andre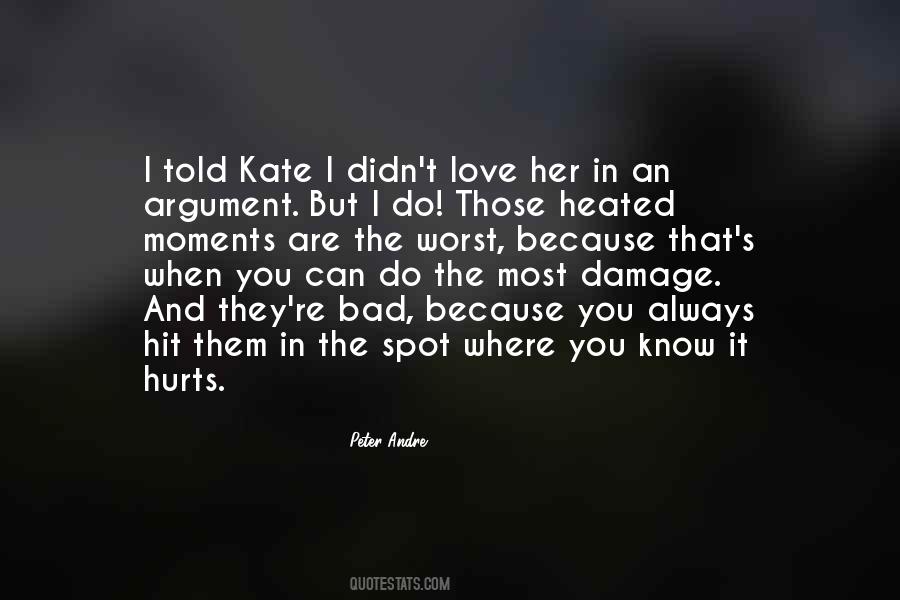 #81. When you love someone deeply, you cannot stop it, because how much you try that much it hurts - Author: M.F. Moonzajer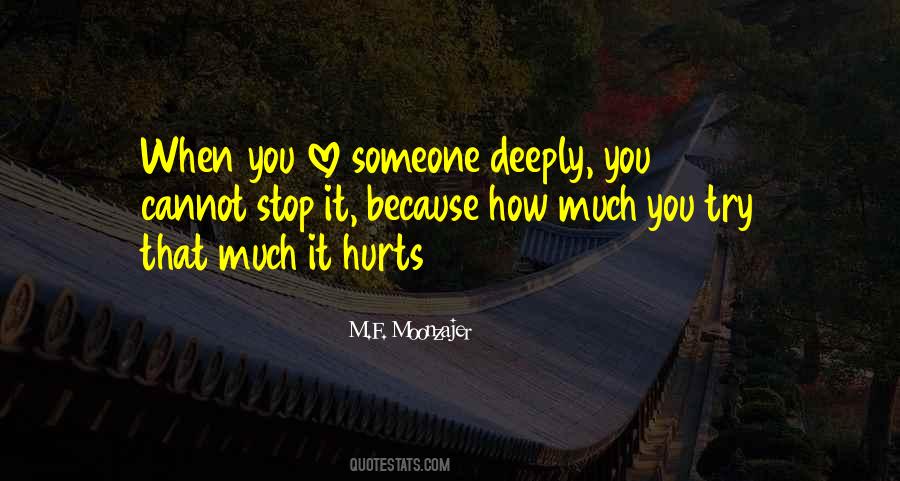 #82. Love and friendship are a respect of the beauty of these feelings when they hurt deeply the respect stopped - Author: Adele Mandez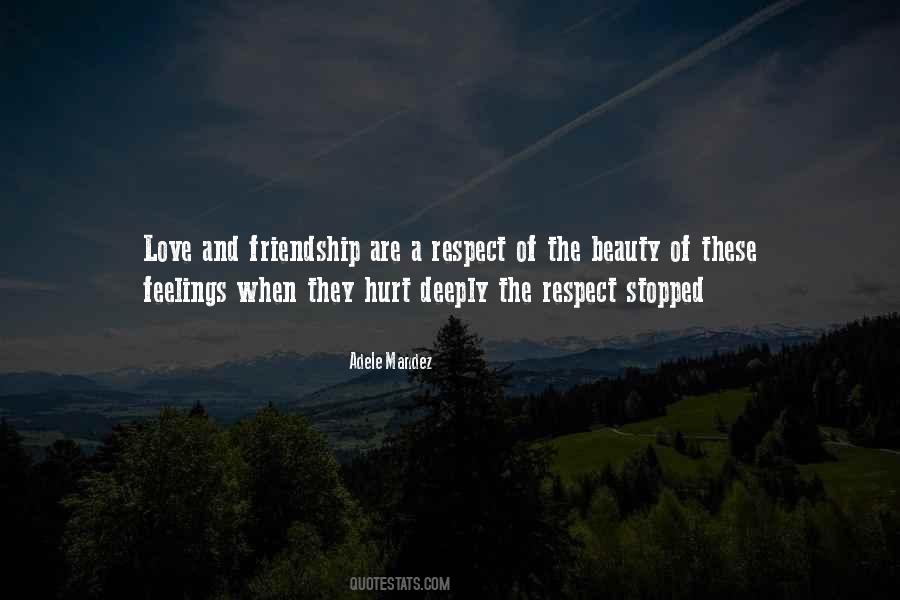 #83. He doesn't love me. He might still love me as I was at fifteen, when I didn't know any better. When I trusted everyone. I'm not that person any more. He's just a boy. He was the first to really hurt me, but he's just a boy. There were a lot of them. - Author: Sarah Dessen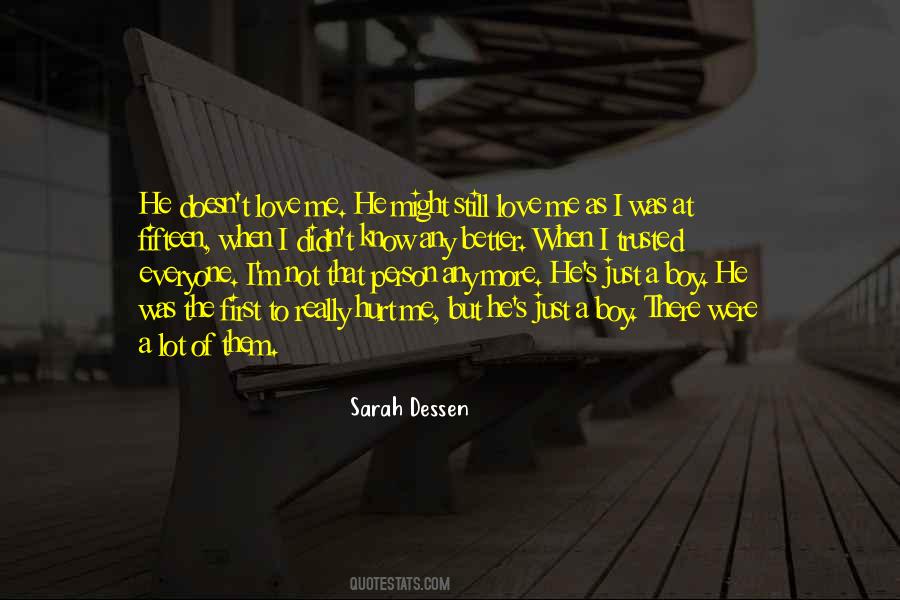 #84. If one believed in angels one would feel that they must love us best when we are asleep and cannot hurt each other; and what a mercy it is that once in every twenty-four hours we are too utterly weary to go on being unkind. - Author: Elizabeth Von Arnim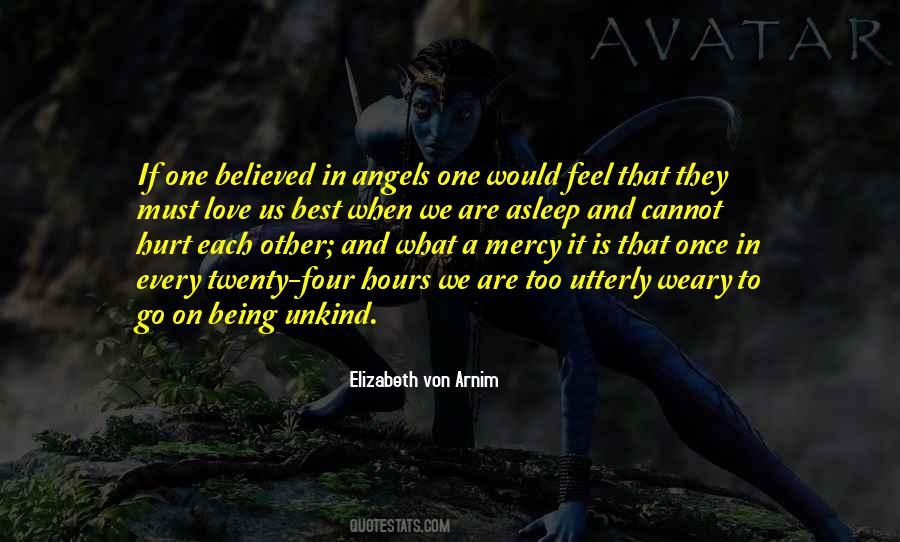 #85. When you love someone, you become immune to the hurt they cause you. You don't love hoping to get something in return, you love because you have to. In its extreme form, it is a need to give, not a need to get. - Author: Faraaz Kazi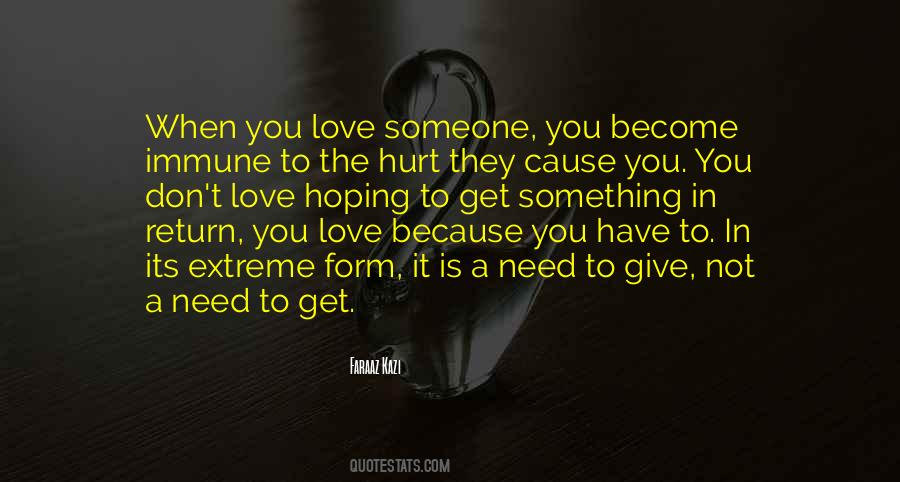 #86. When you are enlightened, your physical body will still feel pain if you get hurt, but you will not be overwhelmed even by extreme physical pain, because your mind is filled with light, love and understanding. - Author: Frederick Lenz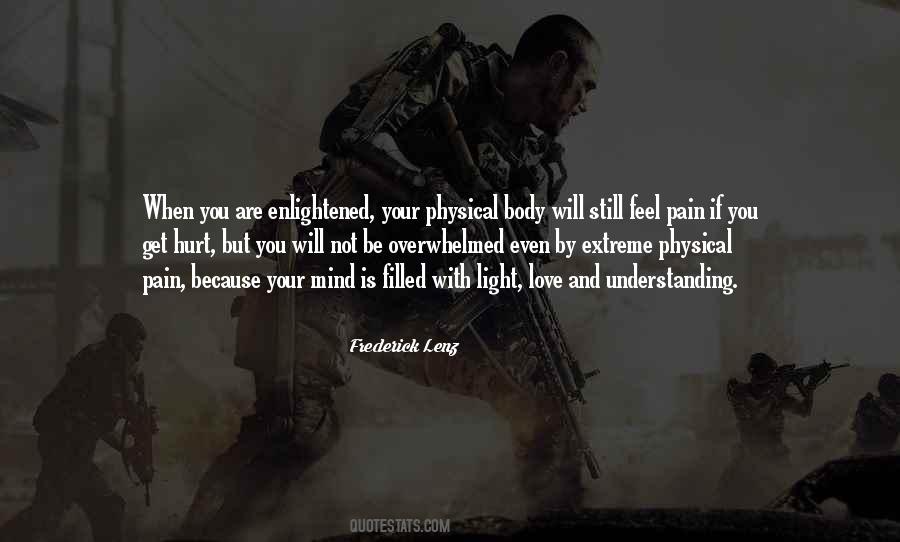 #87. Love. Yes. That's what I feel for you. Your smile makes me happy and your pain makes me hurt with you. Your unhappiness makes me unhappy. Your body makes me ache and you make me hard with need to be inside you. You are always on my mind and when I am not with you, I want you with me. - Author: Laurann Dohner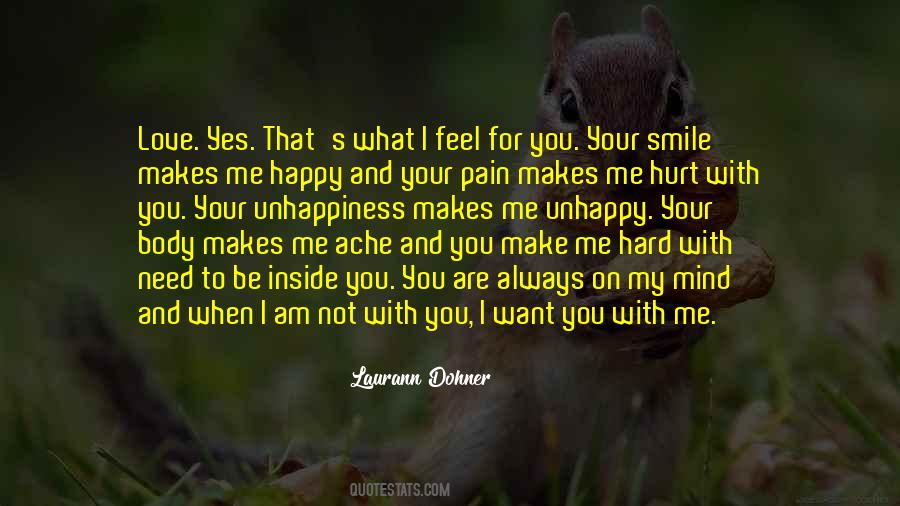 #88. You don't know what love is until you find it," he whispered, "but when you do, promise me you won't let it go. Promise you'll seek it out even when you're scared it'll hurt. - Author: Caroline George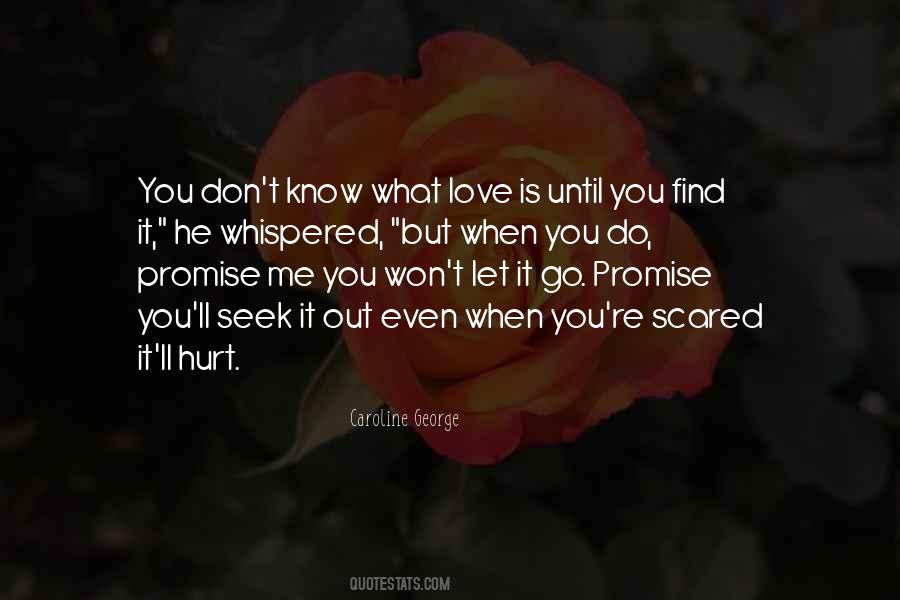 #89. In my opinion in art nothing can go too far as long as you don't physically hurt people or animals. Art is there to push boundaries. I love it when my work freaks people out but it's all fake! - Author: Tom Six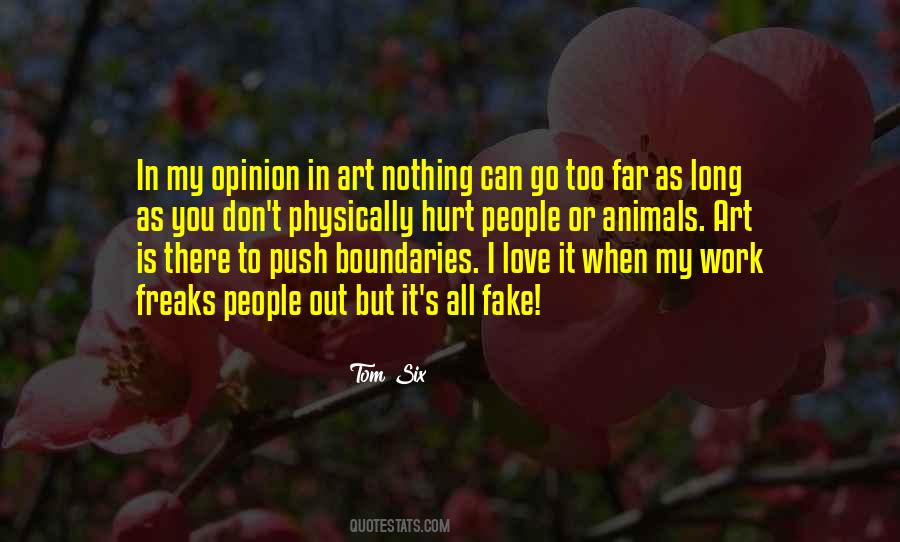 #90. We experience what life and death really are when we love, for in love we go out of ourselves, become capable of happiness and at the same time can be hurt. - Author: Jurgen Moltmann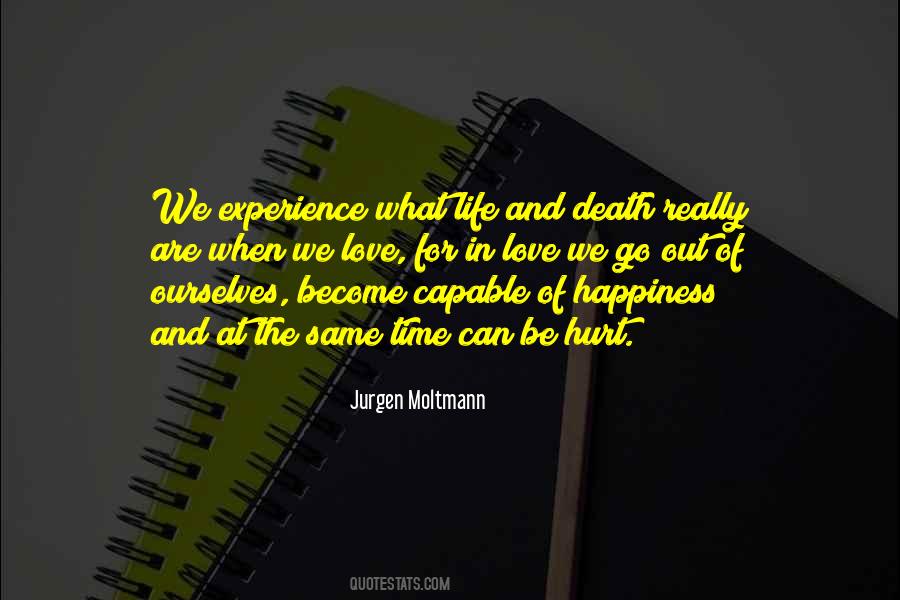 #91. That was when I realized all love does is hurt people. It lulls you into a false sense of security, and then bam! You slam into a brick wall of pain. A shit ton of pain. Love destroys people to the point where they don't even care who else they hurt in the process. - Author: Kate Evangelista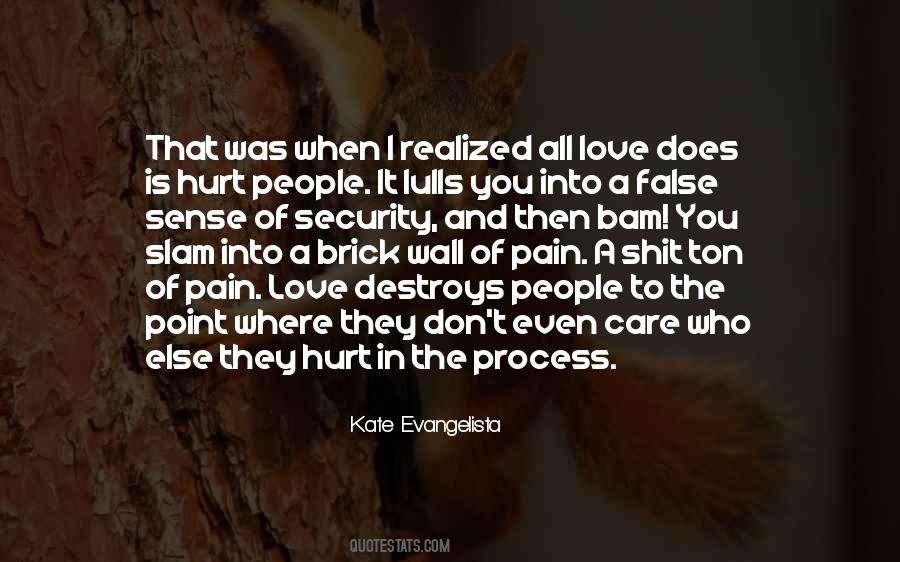 #92. It was the look on her face when she said it. And how much she meant it. It suddenly made everything seem like it really was. I felt terrible. Just terrible. - Author: Stephen Chbosky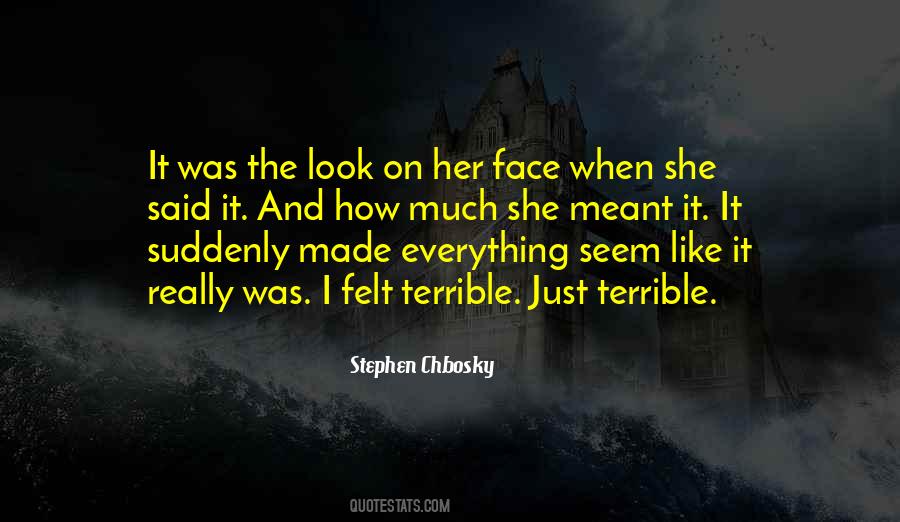 #93. When we can step back even briefly from our hurt, sorrow, and anger, when we put our faith in the possibility of change, we create the possibility for non-judgmental inquiry that aims for healing rather than victory. - Author: Sharon Salzberg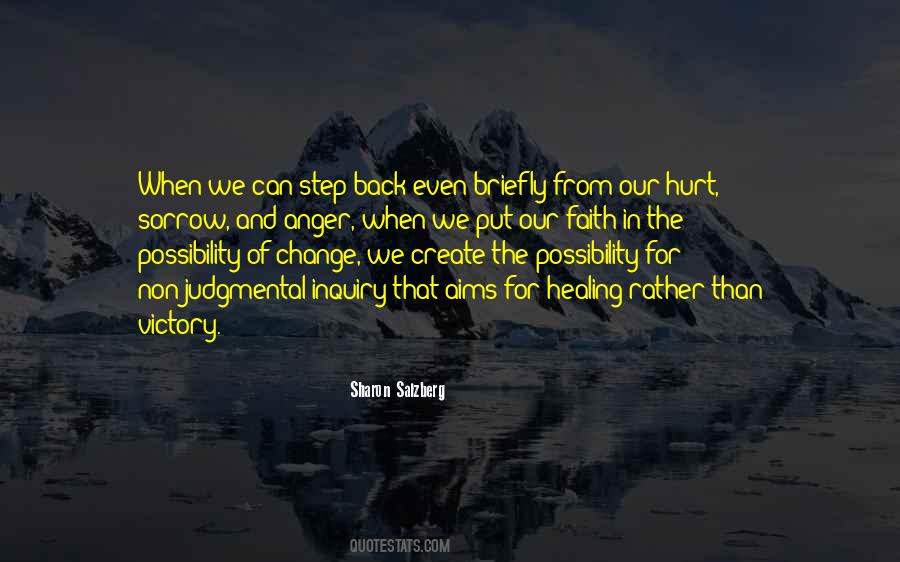 #94. Emma:"He broke your heart! How can you call it love when he
hurt you so badly?"
Kellan:"It was love
because it was worth it. - Author: Jay Asher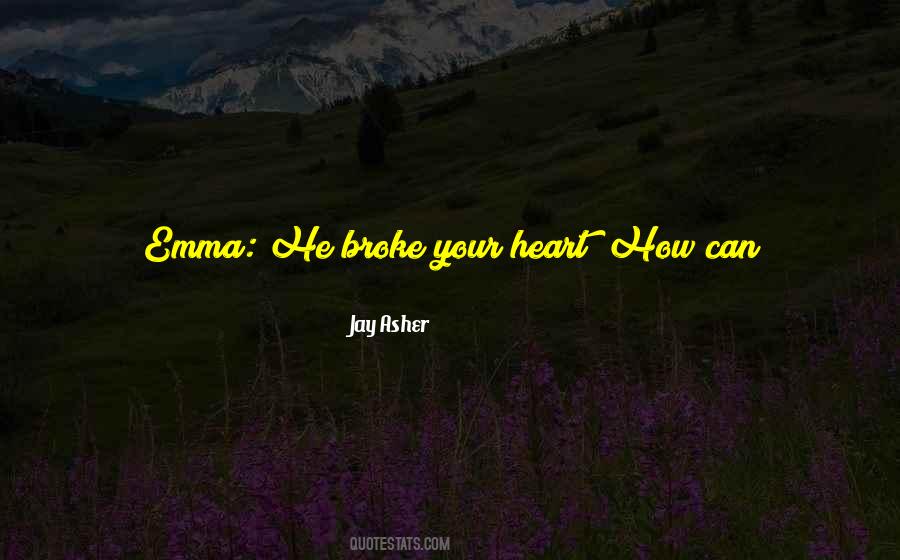 #95. It hurts deeper is when somebody you love becomes someone you loved. - Author: Vikrmn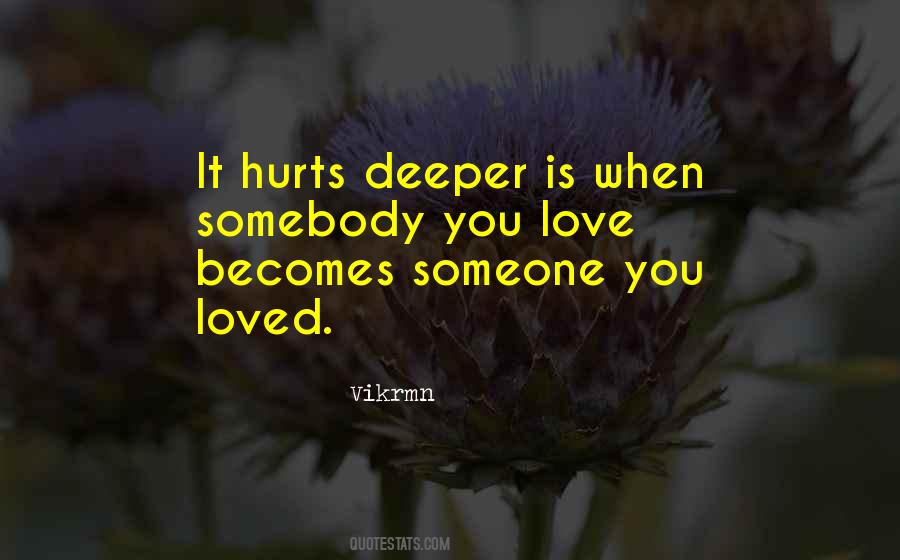 #96. A selfish person can still love someone else, can't they? Even when they've hurt them and let them down. - Author: Rosamund Lupton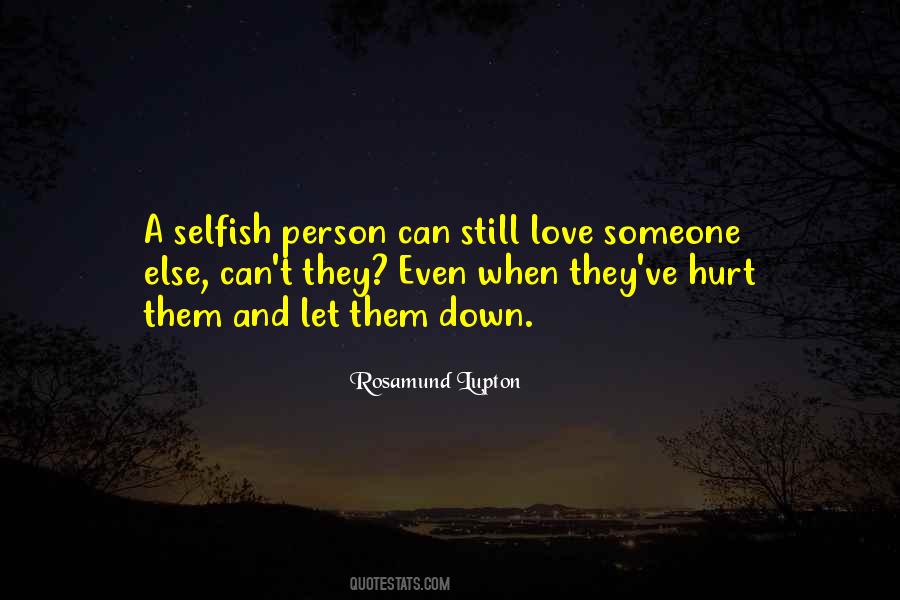 #97. When i angry, i unload my anger on my self
When i overflow with love, i distribute it. - Author: Mohammed Zaki Ansari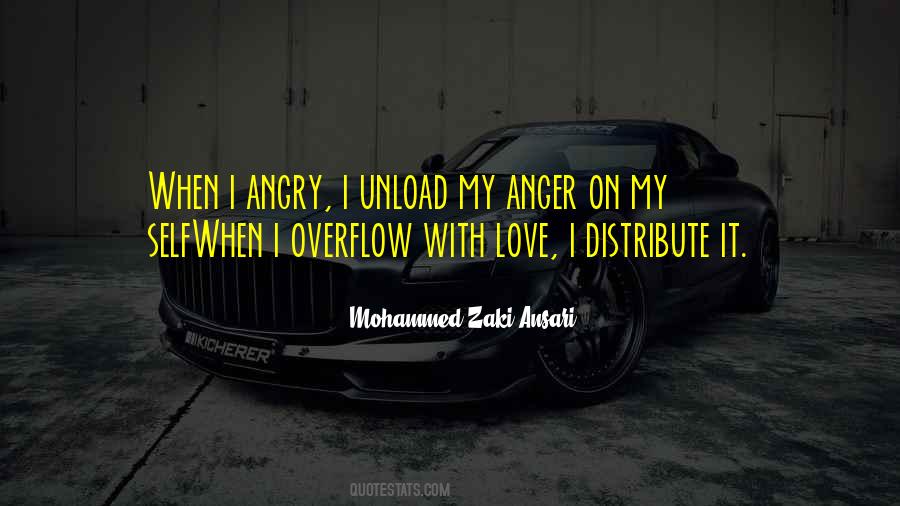 #98. If you never love anyone, then you'll never be hurt when they don't love you back or when they leave you. - Author: Raine Miller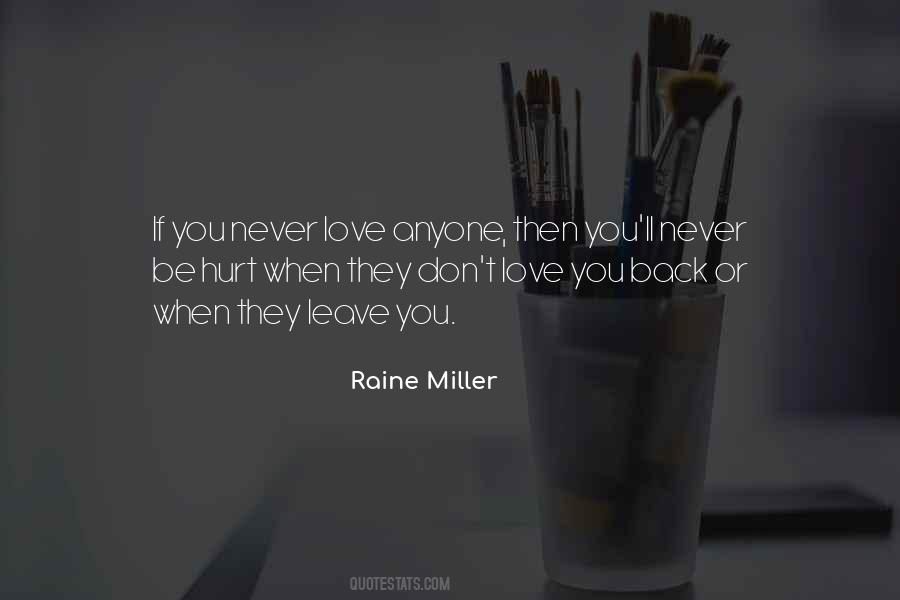 #99. when you betray to someone , first you betray to yourself, who speak somewhere inside you that you are a good human - Author: Mohammed Zaki Ansari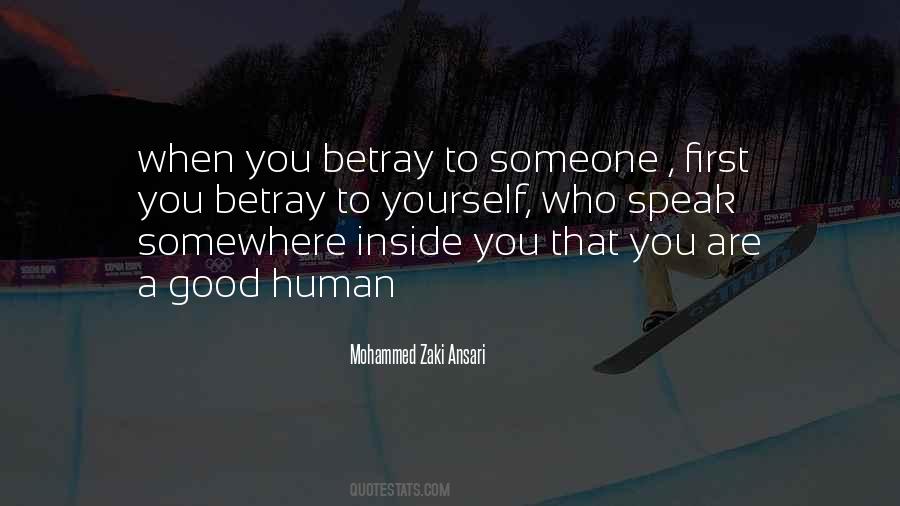 #100. No matter how I think we grow, you always seem to let me know it ain't working, and when I try to walk away you hurt yourself to make me stay, this is crazy - Author: Lauryn Hill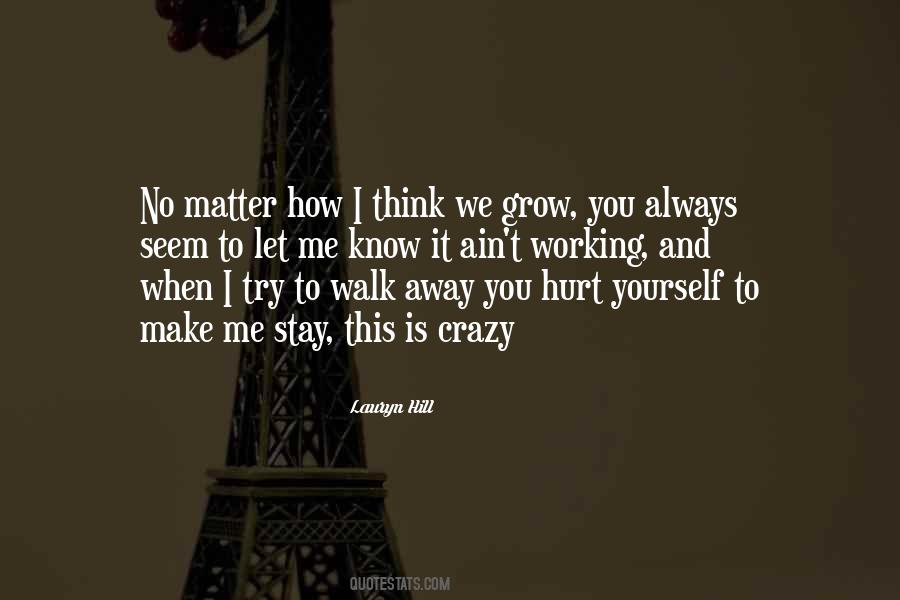 Famous Authors
Popular Topics