What Happened Friend Famous Quotes & Sayings
List of top 53 famous quotes and sayings about what happened friend to read and share with friends on your Facebook, Twitter, blogs.
Top 53 What Happened Friend Quotes
#1. Oh God, this is my fantasy! Where those just-friend boys suddenly realize they love me.'
'I don't know if this was like that.'
'What happened?'
He thought for a moment. 'Well. I realized I loved her.'
Hannah gasped. 'Oh God, that's so sweet. - Author: Cammie McGovern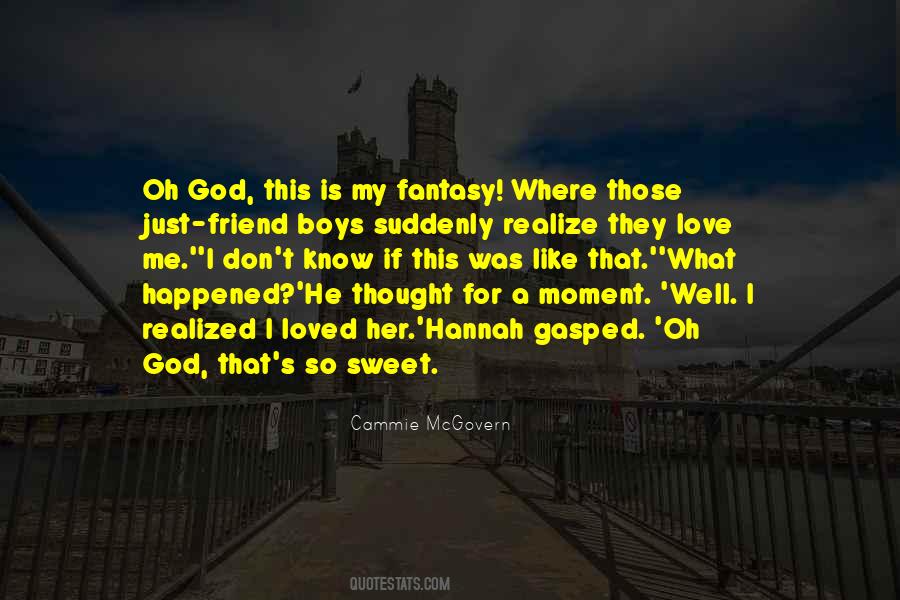 #2. As it happened, I had a friend who was a good person who liked to present himself as a dreadful one. Using him as a role model, I created the first Buck Godot strip. - Author: Phil Foglio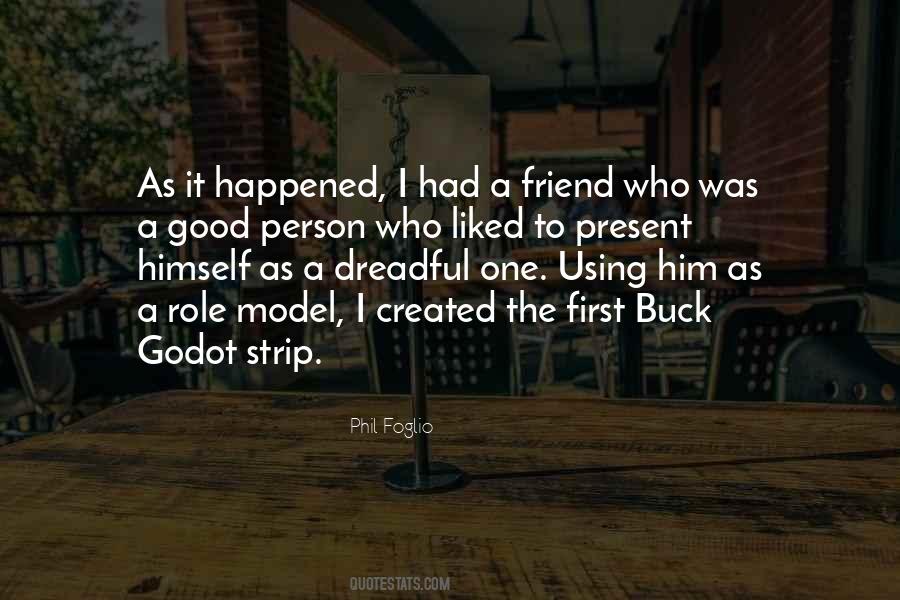 #3. Well, I don't want to talk too much about my children, but a friend of one of my children, something really terrible happened to her. I just felt like I had to speak about growing up again, because I felt that there's no way I can talk about difficulties of life. I had to talk about possibilities. - Author: Lukas Moodysson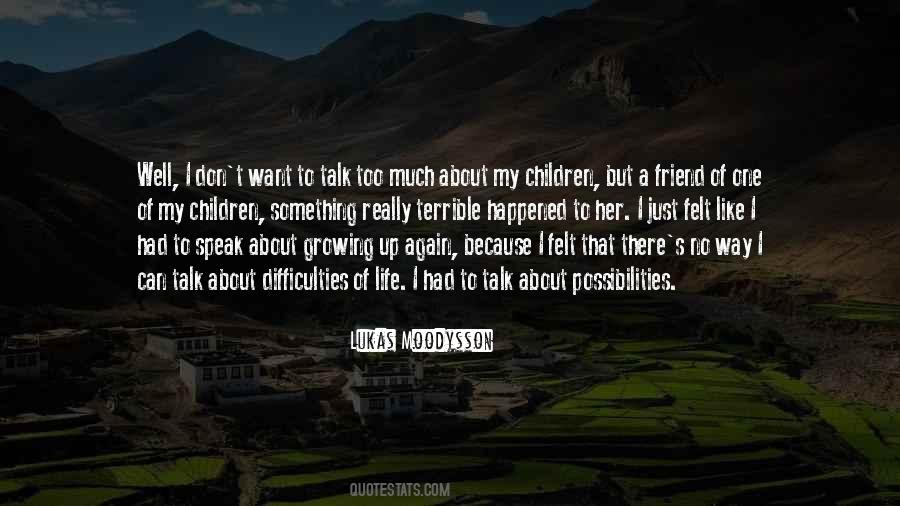 #4. A friend who cannot at a pinch remember a thing or two that never happened is as bad as one who does not know how to forget. - Author: Samuel Butler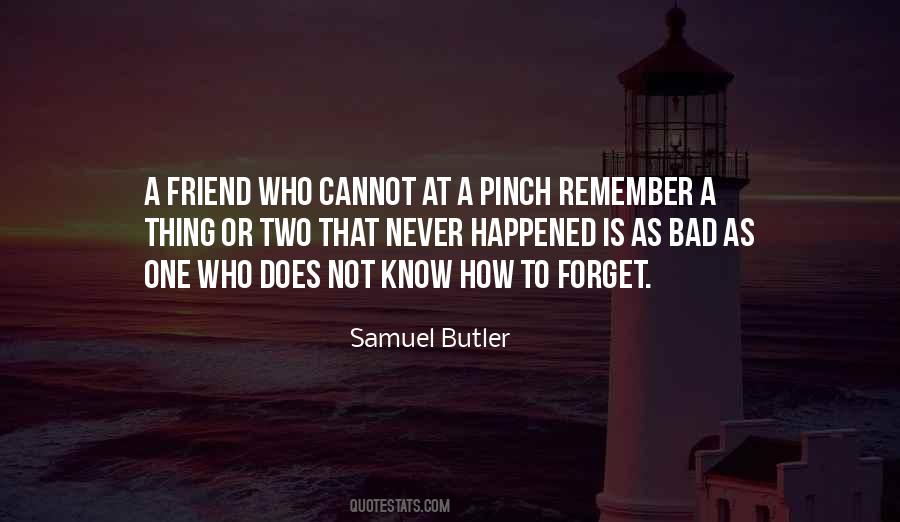 #5. What happened after my best friend left is that I couldn't make friends anymore, or I could make them but I couldn't enjoy them, I couldn't relate to them. - Author: Bryan Lee O'Malley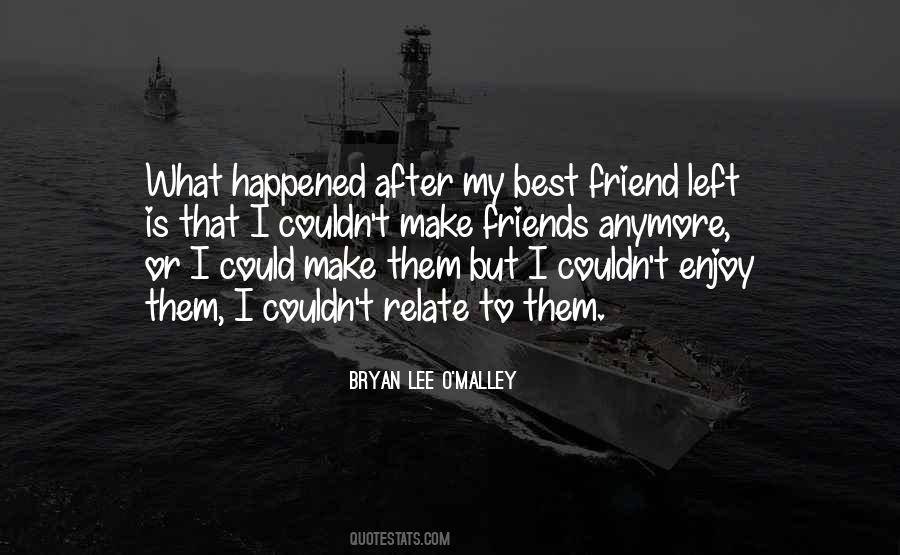 #6. Do not expect, my friend, that the whole world will rejoice if you become Christian. You will probably receive enmity and hatred and persecution from certain people. It happened in the case of our Lord, and His followers must always be ready to meet it. - Author: Martyn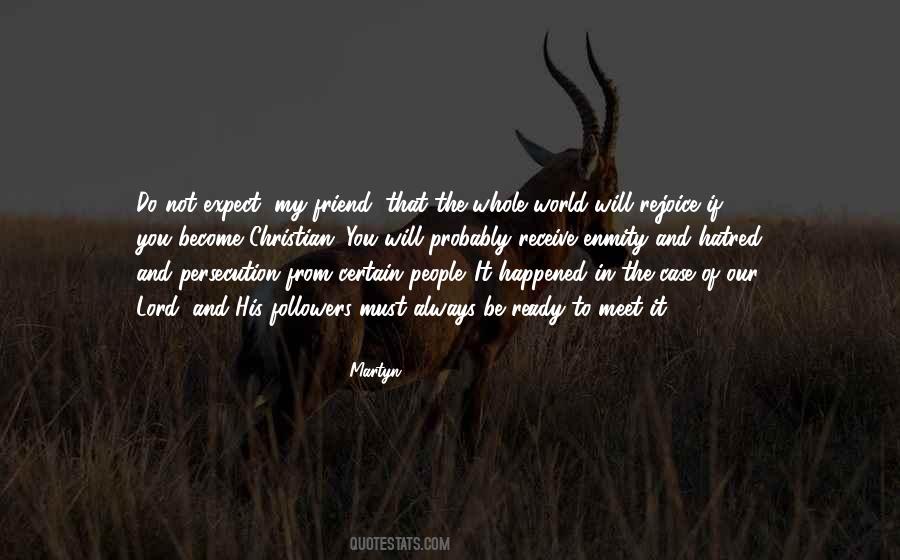 #7. When I was 18, I was halfway up the Eiffel Tower with my friend, Tom, when we decided to stick our heads through the railings. The gap between the railings was exactly the right size to be able to put your head through and nearly get stuck. Which is exactly what happened. - Author: Robert Webb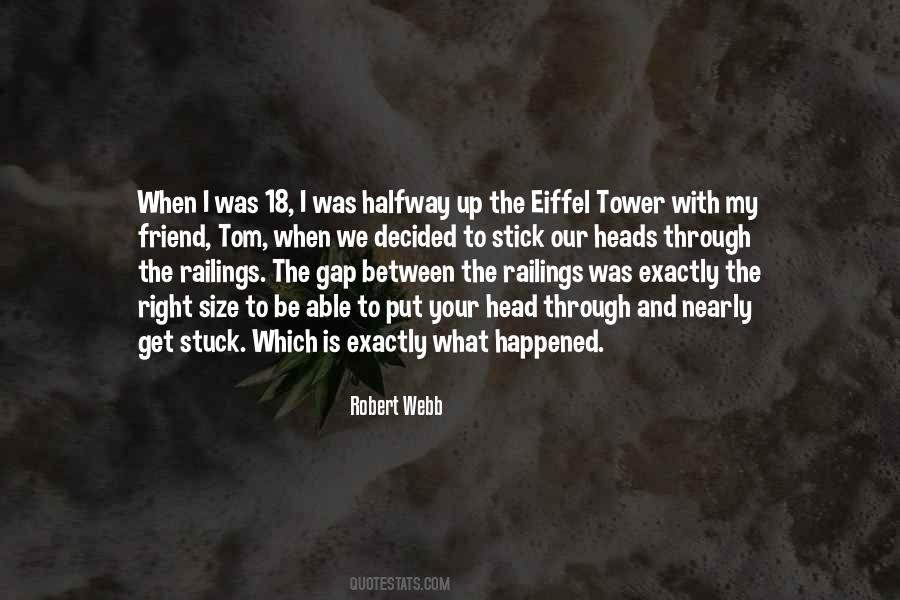 #8. You know the funny thing about the end of the world, my old friend? We always talk about it as if it hasn't happened already. Because of course the world has ended many times. And when it ends for some people, other people report it in the papers or on TV as a new beginning. - Author: Bee Ridgway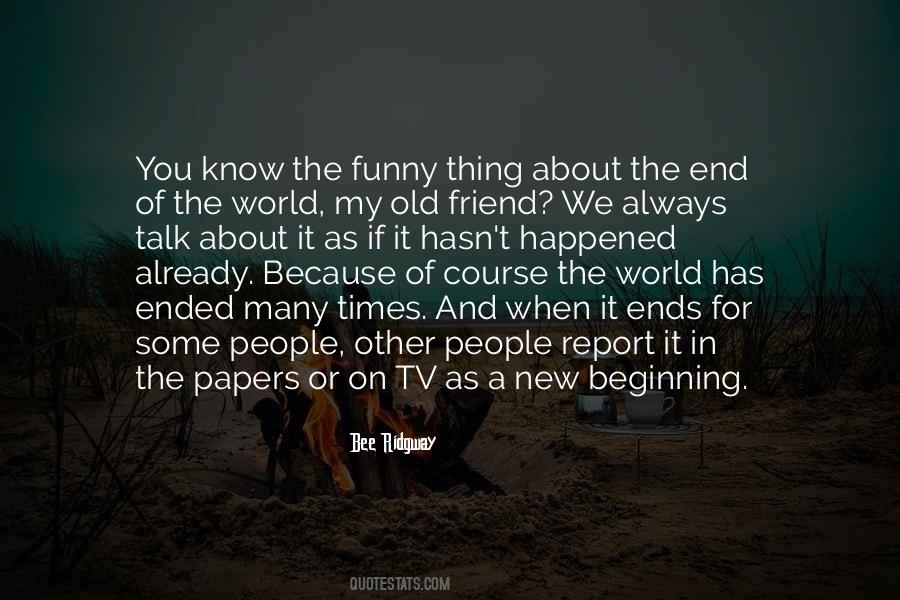 #9. Classical music is one of the best things that ever happened to mankind. If you get introduced to it in the right way, it becomes your friend for life. - Author: Yo-Yo Ma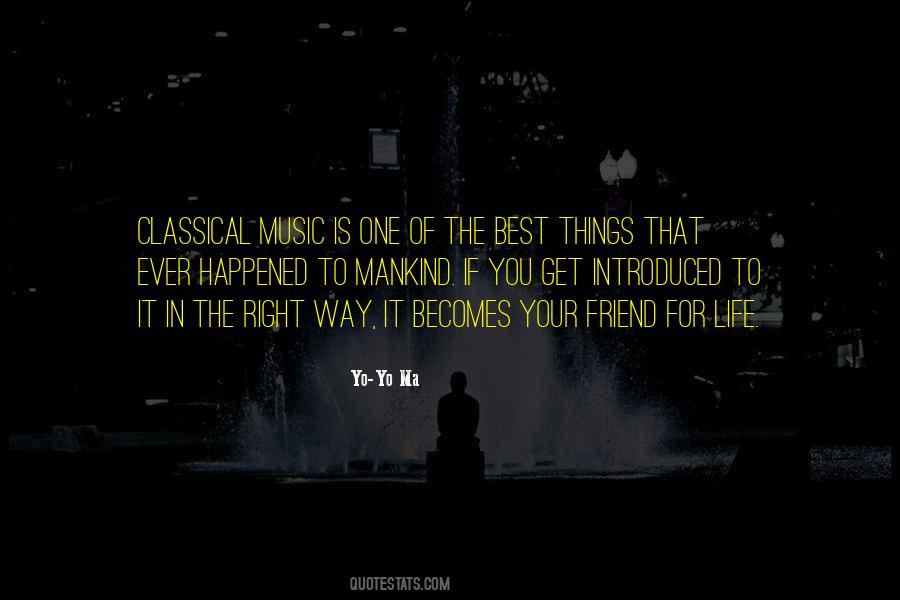 #10. I am your friend," Gous said. "I drank with you, didn't I?"
Kline tried to nod but nothing happened. He could see the wrappings around Gous' hand staining with blood.
"Besides," said Gous, "friendship is one thing, God another. - Author: Brian Evenson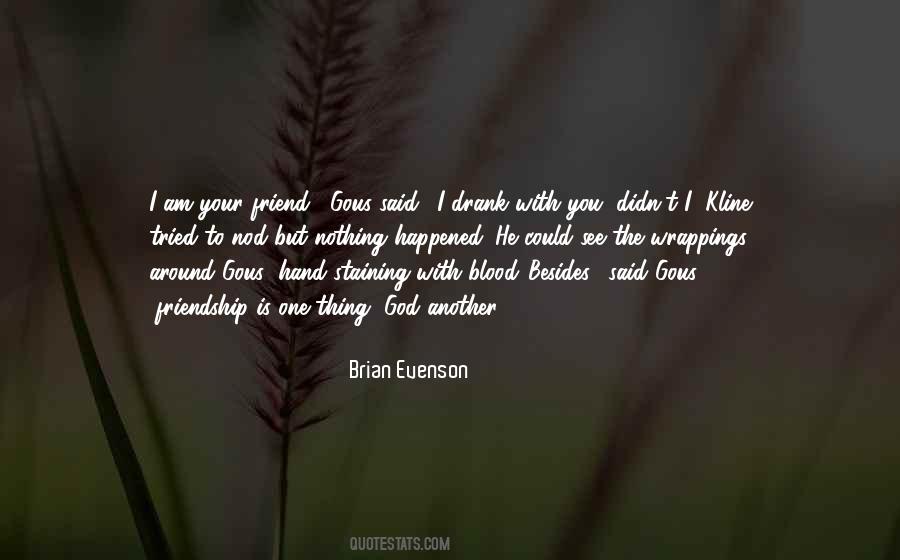 #11. Once upon a time, I tried to have dinner with my best friend, and the apocalypse happened. - Author: Chloe Neill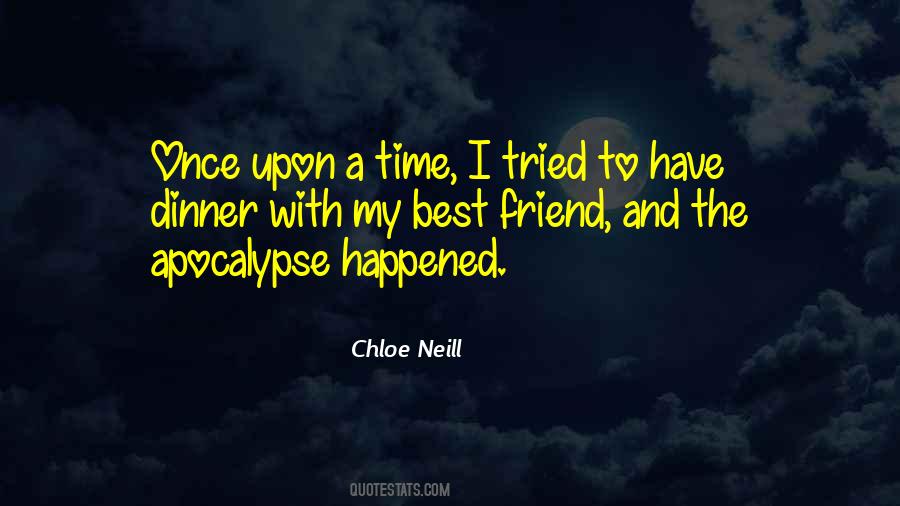 #12. Artemis turned and stared at his friend with the blue eyes. Holly was staring back, and she was smiling.
"I remember," she said aloud. "You saved me."
Artemis smiled back. "It never happened," he said. - Author: Eoin Colfer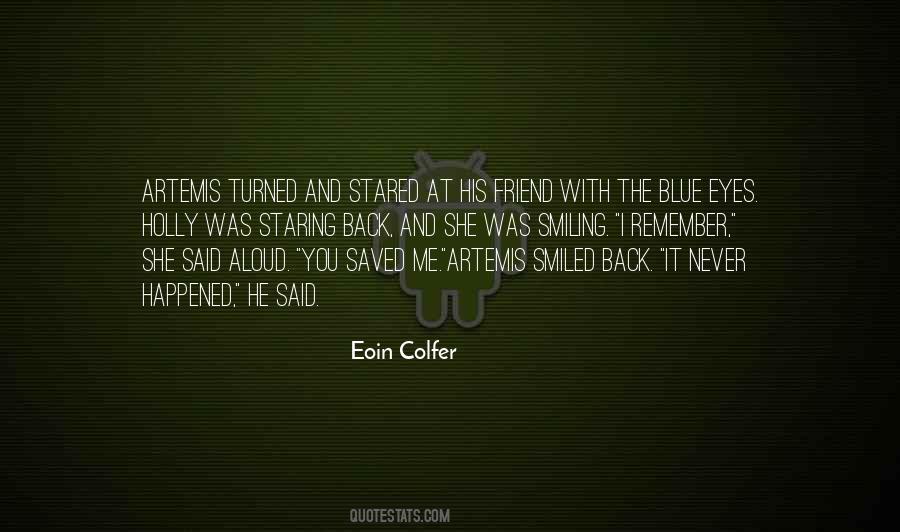 #13. She started coming to the meetings. We talked, mostly about you, and it sorta..."
"Just happened," Tori finished, staring at the floor.

"Unh-uh." Cara shook her head, trying to clear it like an Etch a Sketch. "A zit just happens. My best friend going after my ex doesn't just happen. - Author: Melissa Landers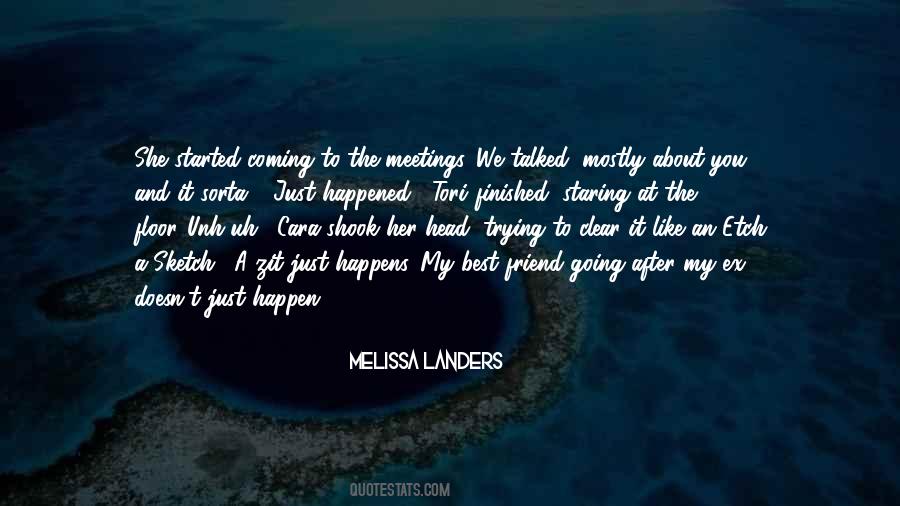 #14. friend's face that something terrible had happened. The fact that he was seeing Jamie Fraser's face at all was evidence enough of that, never mind the look of the man. - Author: Diana Gabaldon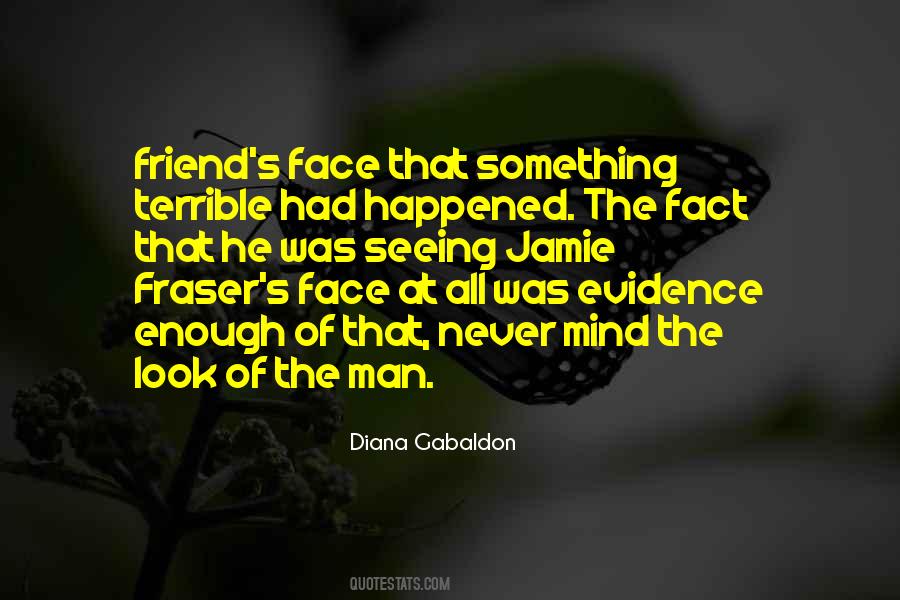 #15. This whole thing happened because I got up last night, because my cat got hungry and I had to go find a fork, and I stumbled into that conference room and saw Will and Ling and their cop friend messing with a severed hand." Budd said, "A severed what?" and Andre said, "Your cat eats with a fork? - Author: David Wong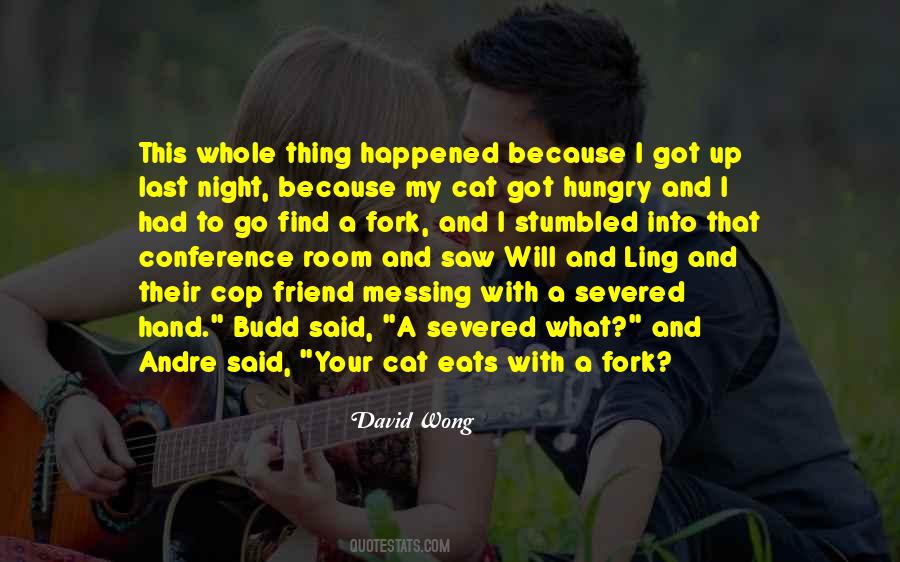 #16. A friend gave me a drug for attention deficit disorder, because he's afflicted, but I'm not. So what happened to me is I suddenly had an extra-long attention span. People would tell me a story, and it would end, and I'd get all mad. "Come on, man, there has to be more to that story." - Author: Mitch Hedberg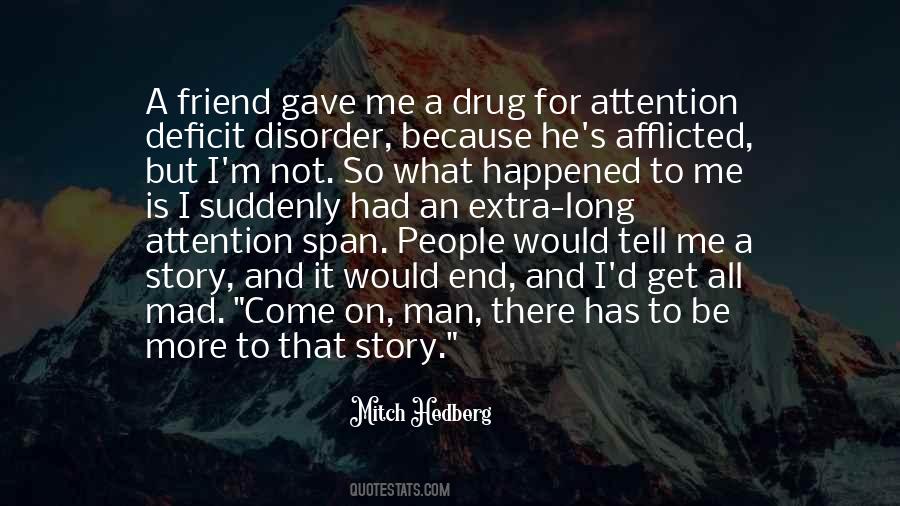 #17. But I was a lonely creature, and although I would have been very happy to have a friend I just never happened to meet one. - Author: Robertson Davies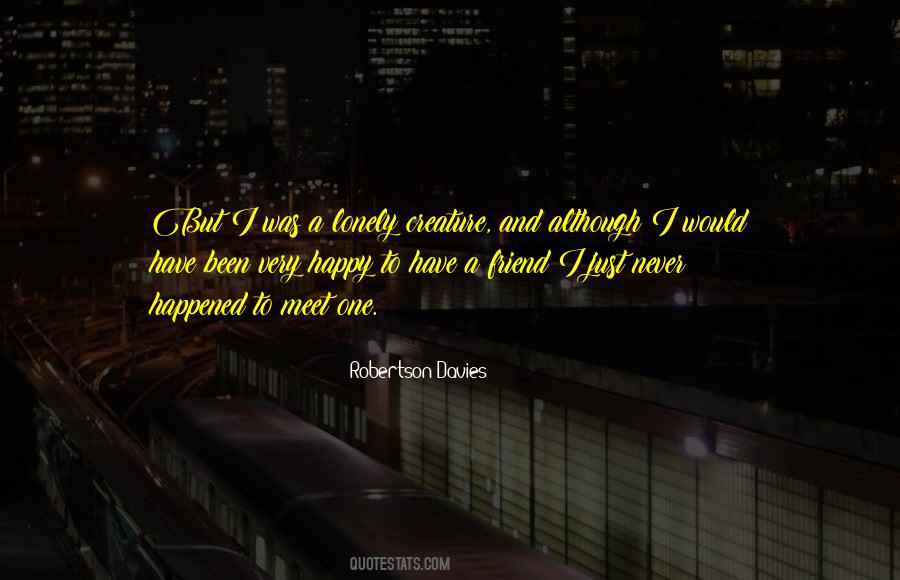 #18. One of my mentors early on was Eli Harari, the founder of SanDisk, who happened to be a friend of my dad's. - Author: Nick Woodman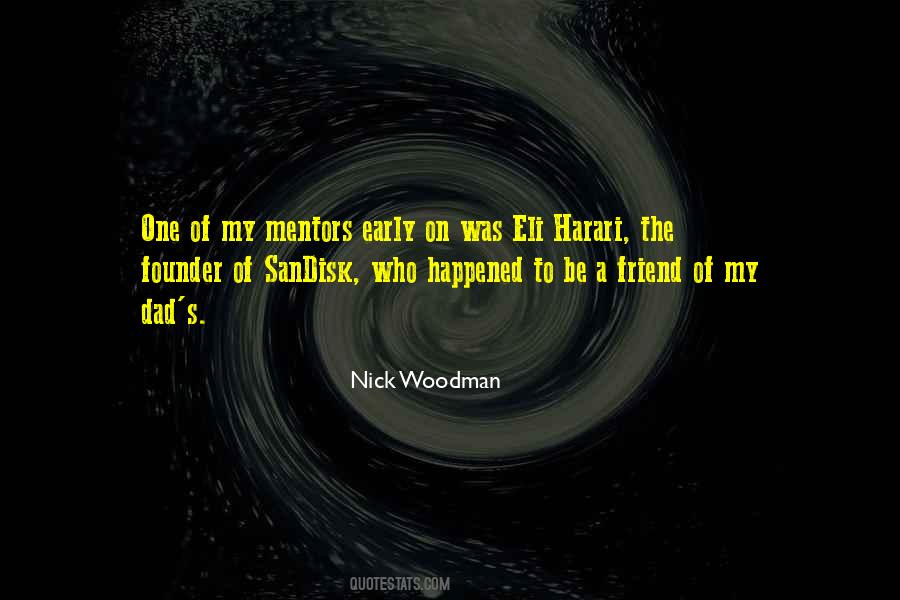 #19. I don't even know what made me start wanting to do music. It just ... happened. Because I sat in my basement all the time, and music was my best friend, and I just wanted to be a part of it. - Author: Clinton Sparks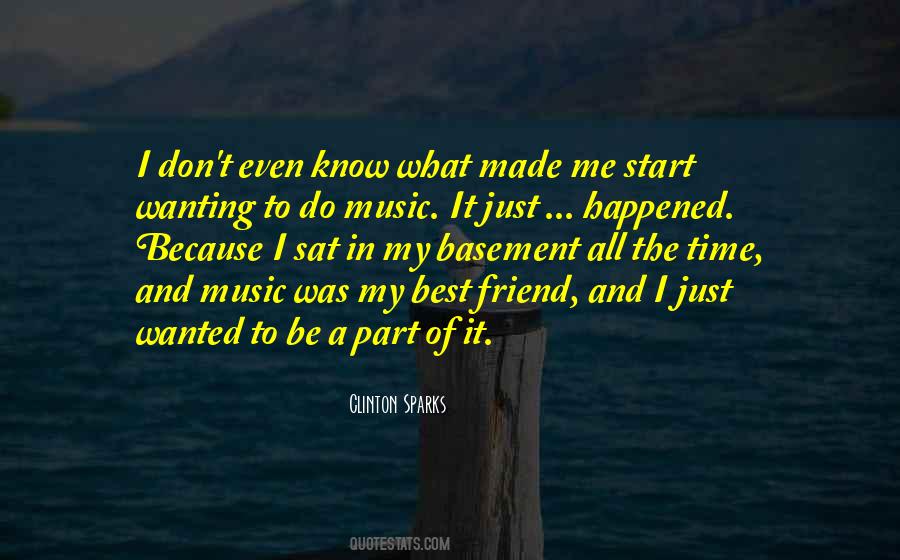 #20. Without a best friend to tell stories to, it almost didn't matter if they even happened. - Author: Leila Howland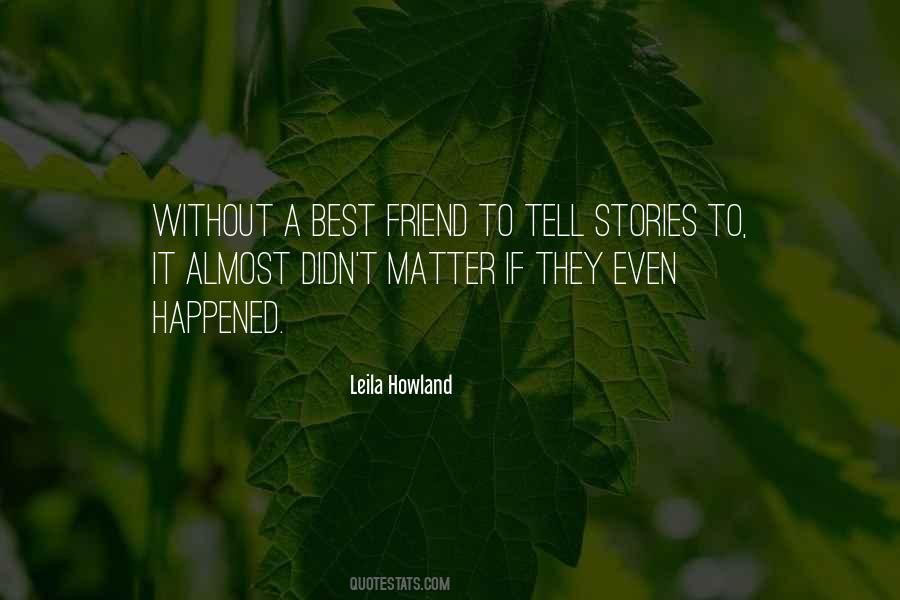 #21. It is amazing to think after all that has happened in this country in the last few years, the last few decades, that so many people have this blind faith that government is our friend and therefore, so we don't need protections against it. - Author: James Bovard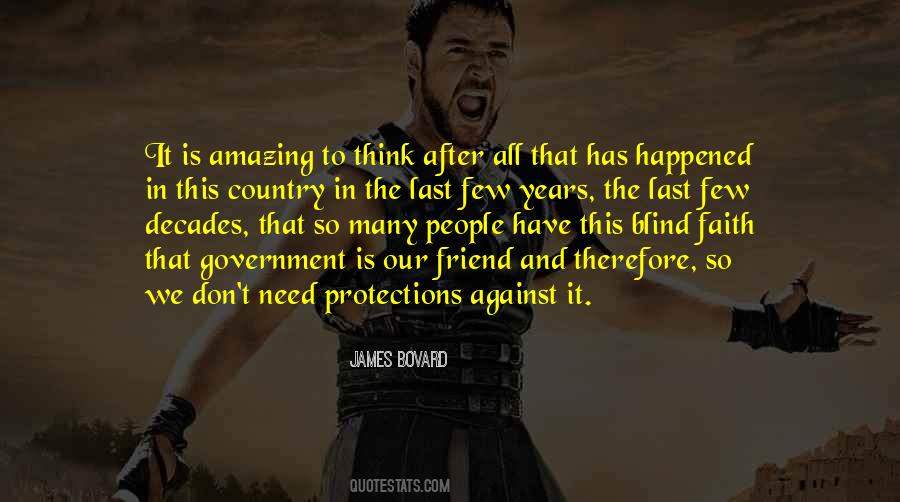 #22. A friend of mine that happened to be a DJ at another club actually offered me a job [as a DJ]. I didn't think I could do it but he said, "You know all the music. You are at all the parties, and everybody knows you." - Author: Frankie Knuckles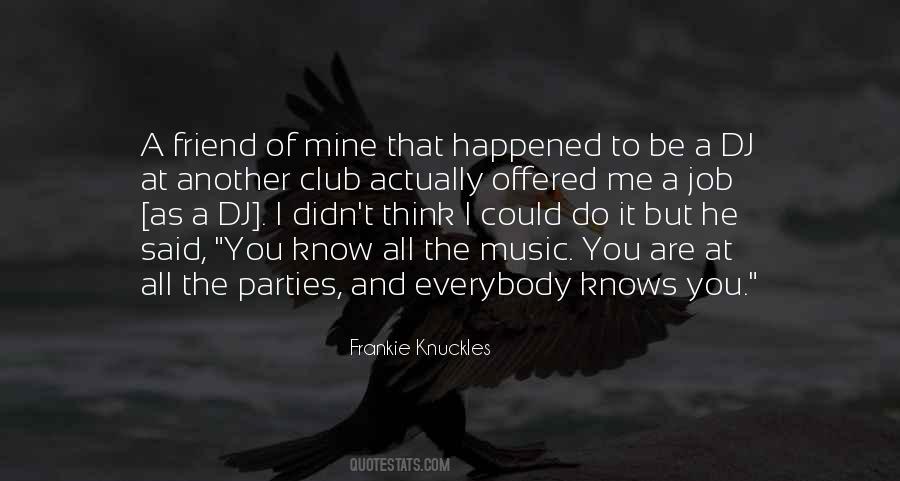 #23. I have had it all tested for poison," he assured Harry. "Had a house-elf taste every bottle after what happened to your poor friend Rupert. - Author: J.K. Rowling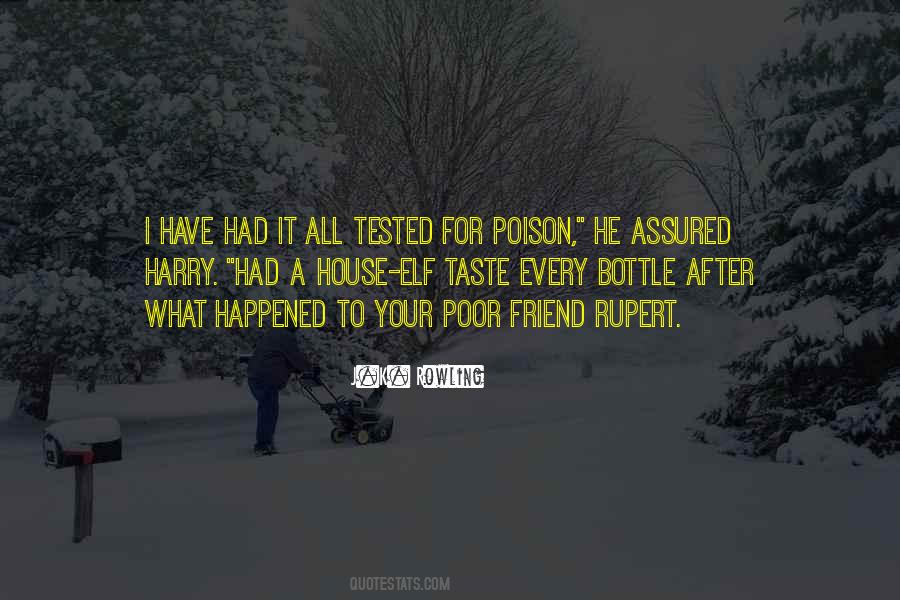 #24. He didn't know how to be someone's friend. That had been proven by the brilliant idea of murdering someone as a present. He definitely didn't know how to approach someone as a lover. That had been more than proven by what had happened at the hotel in France. - Author: Santino Hassell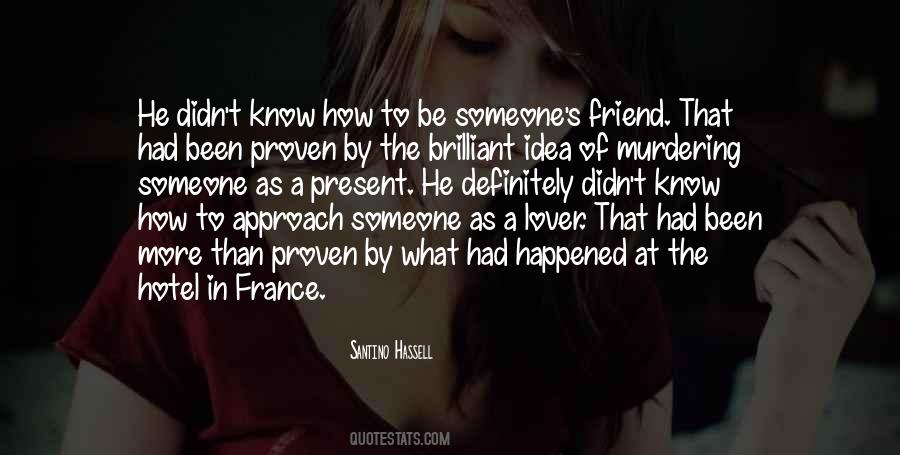 #25. I plays Joe's best friend. I am the only one he has ever been able to trust in his life, so I help him understand what happened to him when he was younger. - Author: Michelle Trachtenberg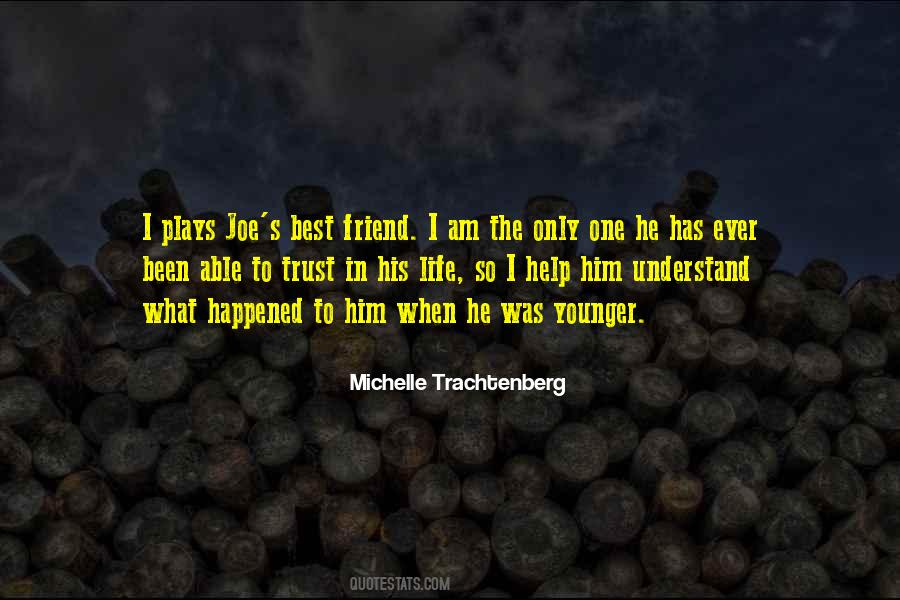 #26. There's a tendency to look at anybody who joined the military as if they underwrote everything that happened policy-wise. That's not really the case. I have a friend who both protested the Iraq War and joined the military, and ended up serving two deployments in Afghanistan. - Author: Phil Klay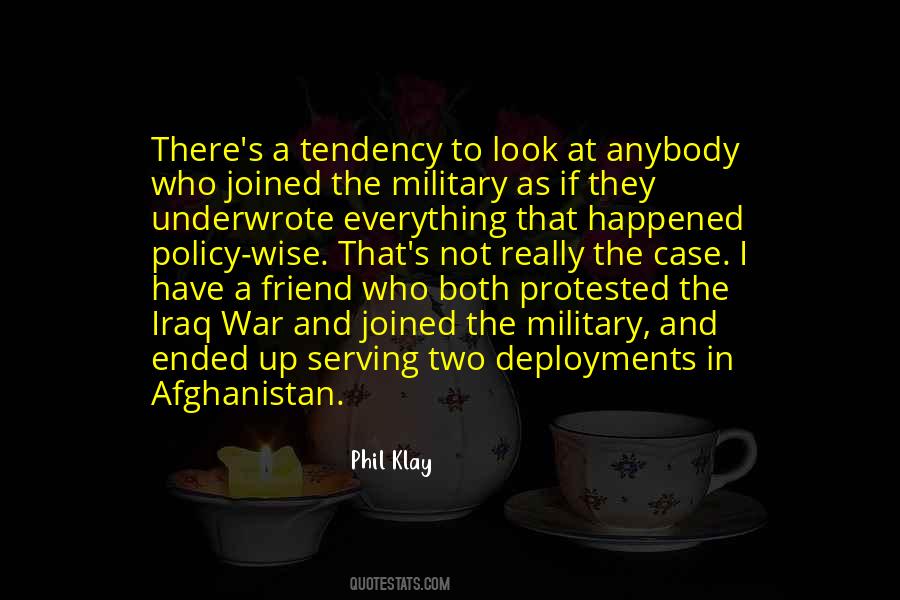 #27. And, let me compliment your fashionable attire, my friend. Is naked the new black?" said Rodrigo. Apparently, the two men could see each other. That figures; all monsters can see in dark. "I am uncertain of what happened to the old black while I have been indisposed," Niccolo replied flatly. - Author: Mimi Jean Pamfiloff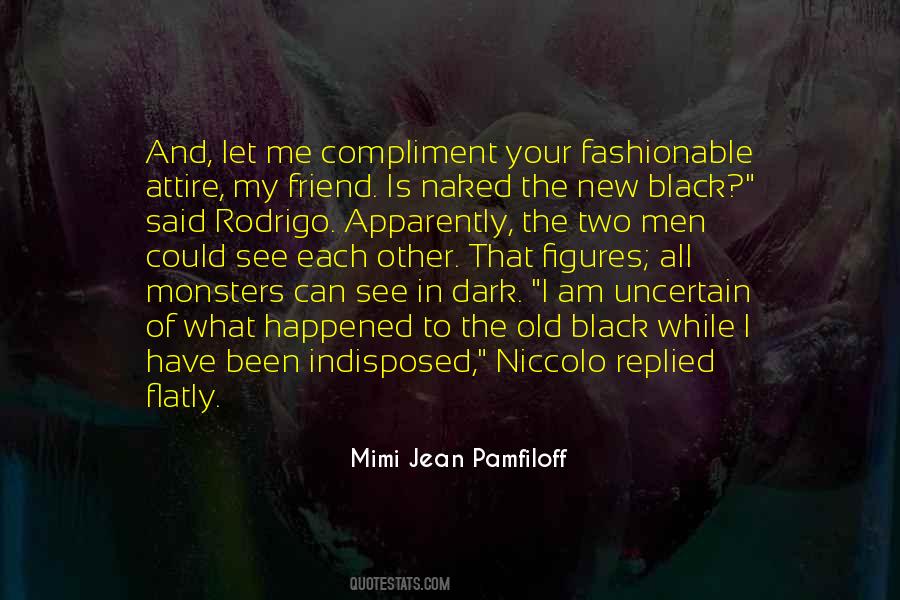 #28. As my friend Amy observed: "Divorce is like a Polaroid picture. What truly happened will develop over time and you will see. - Author: Augusten Burroughs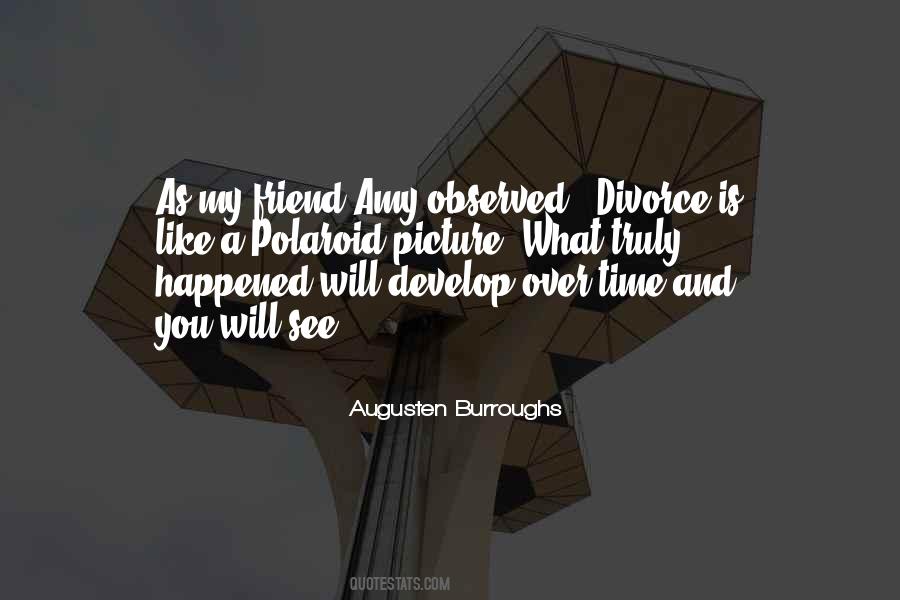 #29. I have a beautiful address book a friend gave me in 1966. I literally cannot open it again. Ever. It sits on the shelf with over a hundred names crossed out. What is there to say? There are no words. I'll never understand why it happened to us. - Author: Jerry Herman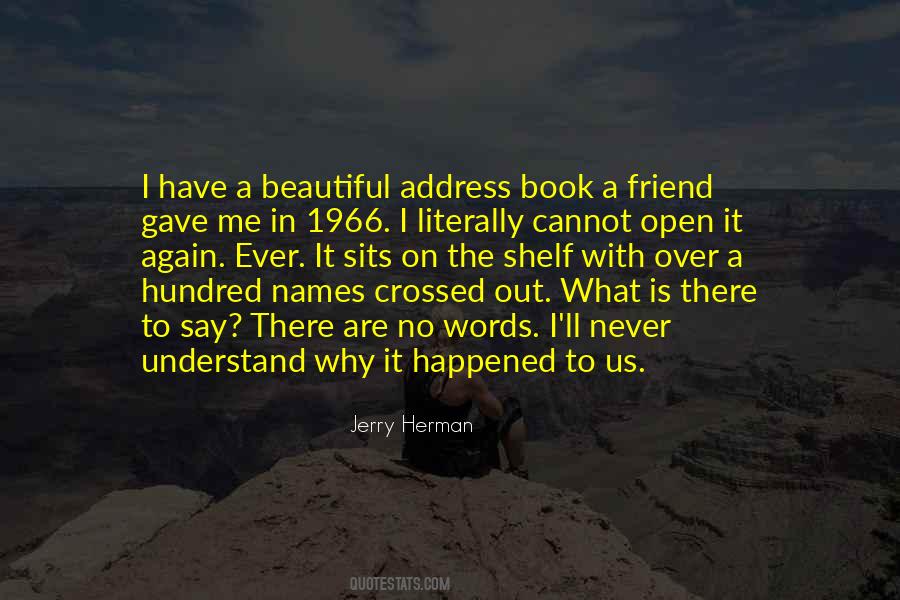 #30. Oh, she just happened to be a friend of the producer's. Or, oh, they've been trying to get her from the beginning and she just had a spot open up. There are always little loopholes, so I don't take anything personally anymore. - Author: Ellen Muth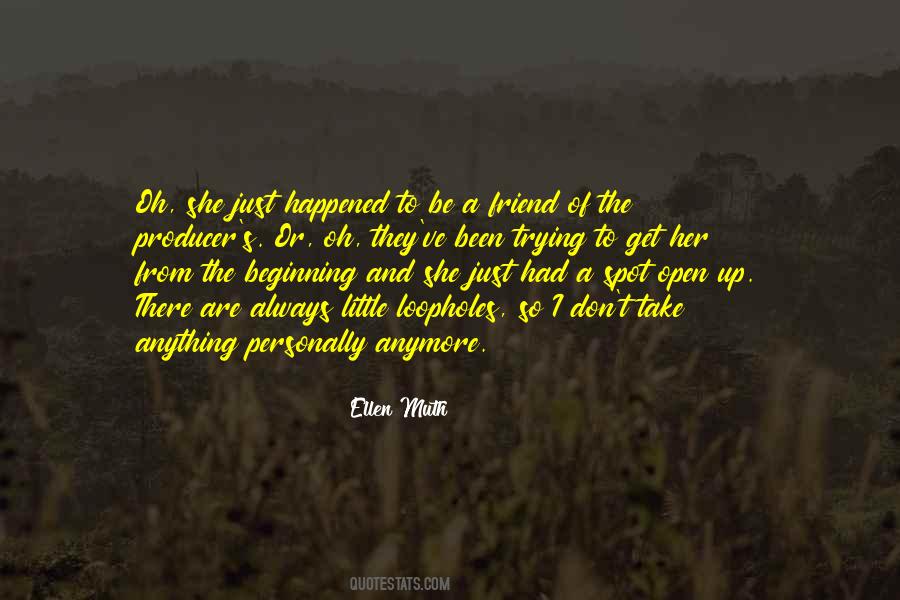 #31. I'll tell you how it happened. The phone rang. Paul, my agent, goes, 'Would you like to play Meryl Streep's?' I said, 'Yeeees! I'll do it, whatever it is.' He said, 'It's Mamma Mia!.' I said, 'Oh no, which character? The fat friend? - Author: Julie Walters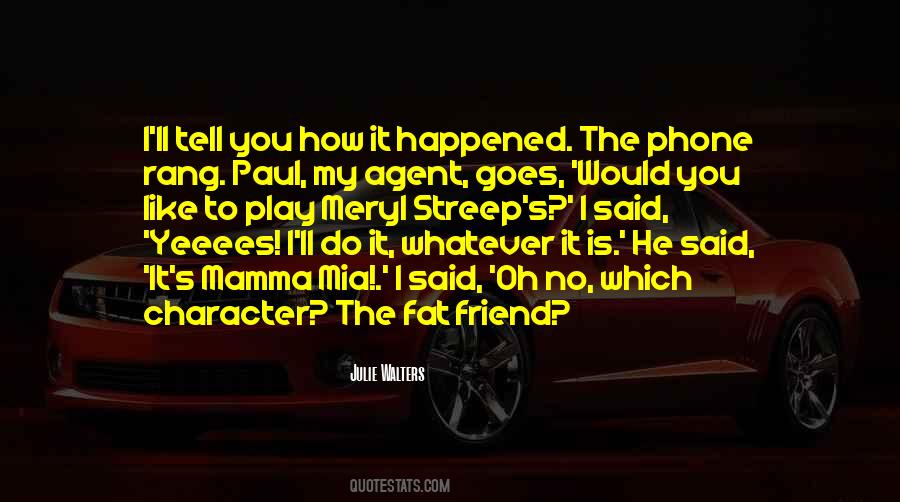 #32. Makin, my friend, I thought you were just seeing her safely home."
"I was."
"What happened?"
"I couldn't let her go. - Author: Jane Porter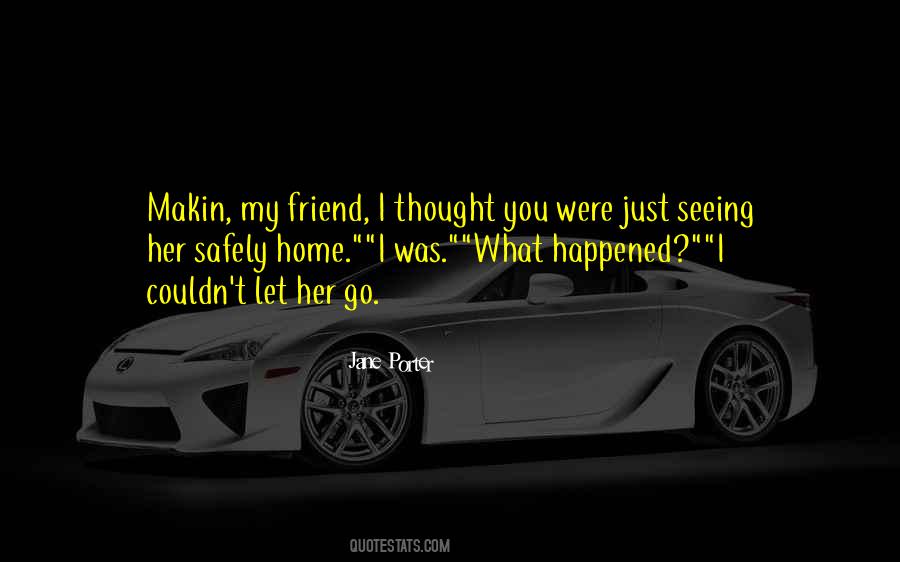 #33. I don't think "I'm going to publish this as fiction" but I think "I'm going to tell this story to a friend" and then I start telling the story in my mind as the experience transpires as a way of pretending it's already happened. - Author: Ben Lerner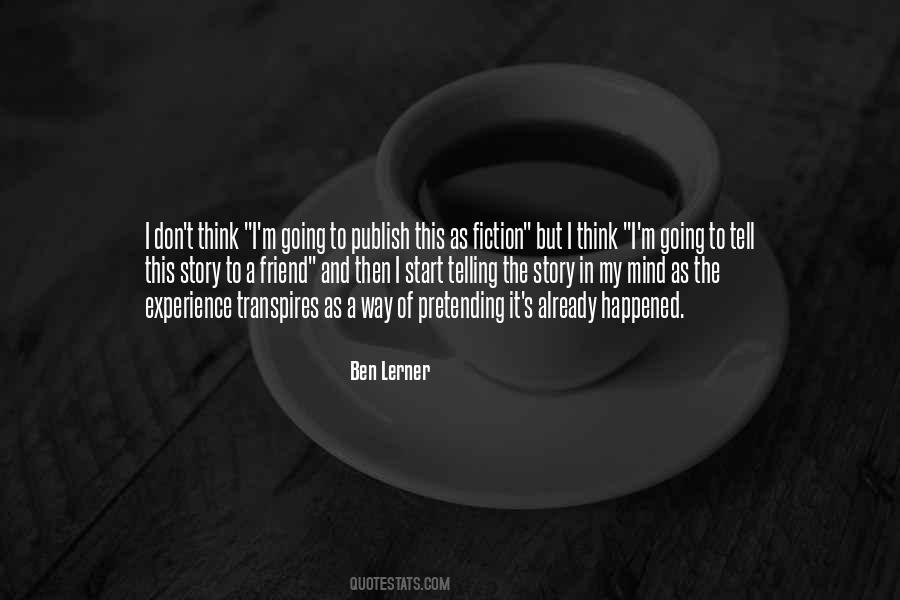 #34. Maybe having a friend and caring for them no matter what happened was what being brave was all about. - Author: Kerry Alan Denney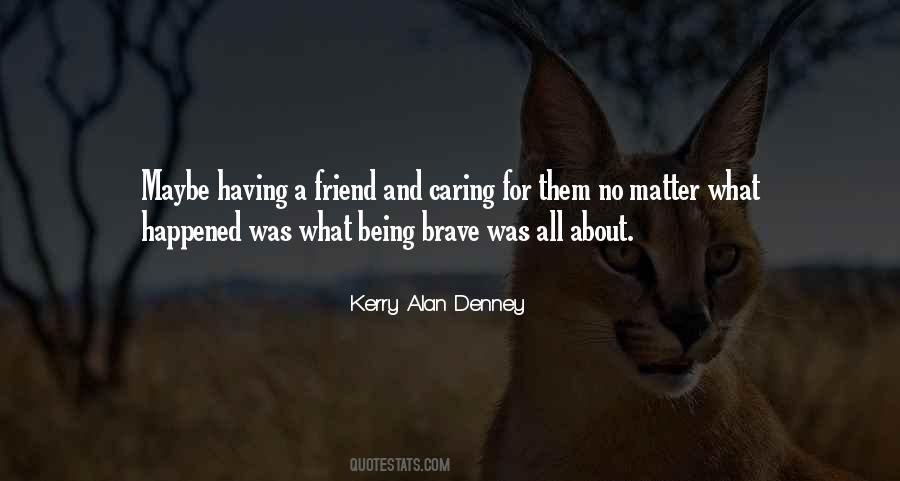 #35. I want my best friend back. I want the best thing that ever happened to me back. And I promise you I will make you fall in love with me all over again. This time, it'll be the forever kind. - Author: Christine Zolendz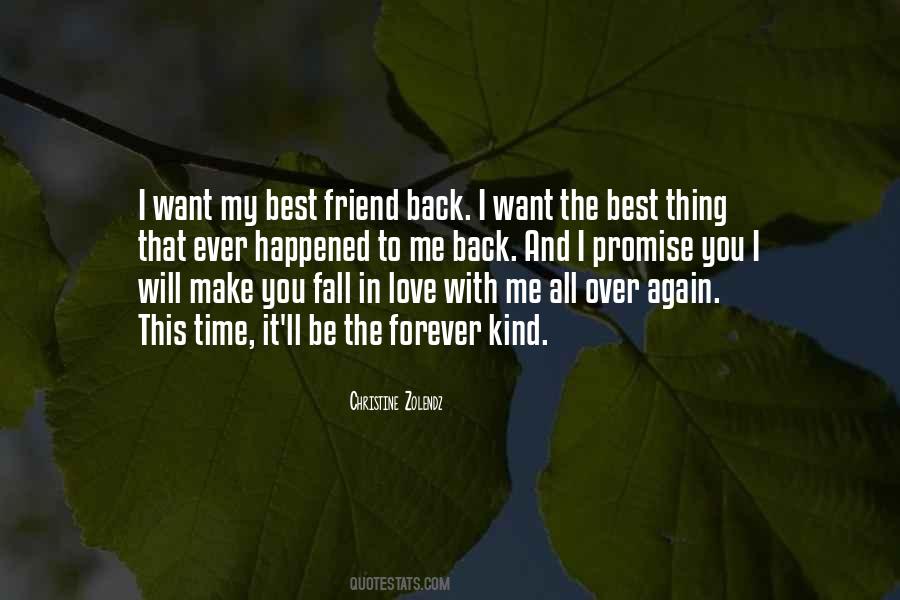 #36. Right after 'Backspacer,' my best friend got killed tragically. Something happened to me then where I got super motivated. I had a shelf of all this unfinished music ... So I just went to work and made a conscious decision that I was going to finish a bunch of stuff. Life's short. - Author: Jeff Ament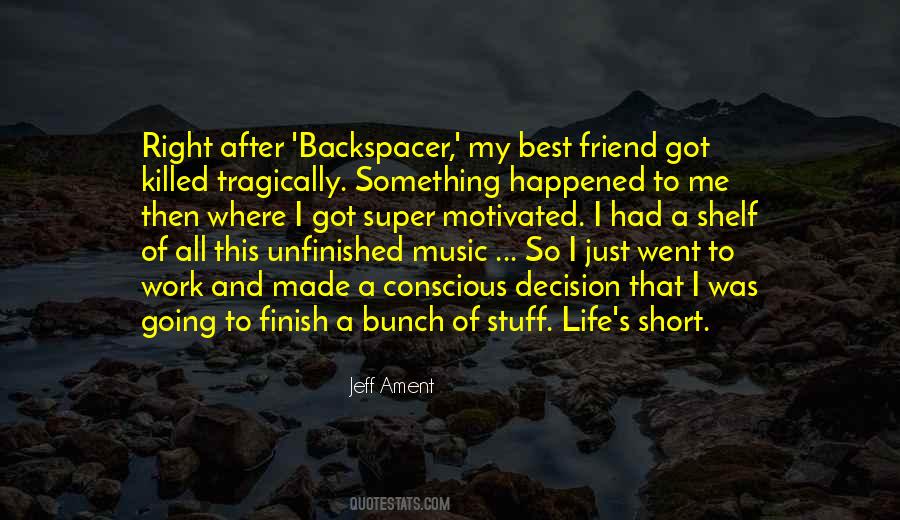 #37. It's a natural thing for a child to lose a parent. I lost my mom too young but it happened. And I'm happy she's out of pain, 'cause I love her and she's my friend. - Author: Angelina Jolie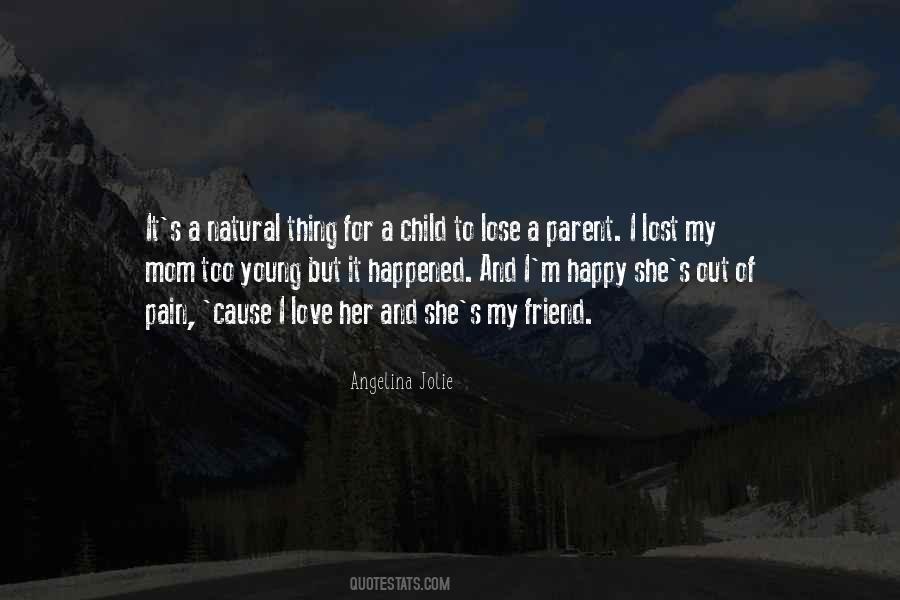 #38. what has happened is out of your and my control, we can't change that ever, but what we can do is forget. The worse things of past and accept your present with its purity and its real shine, remember my friend this is the only way you can live happily - Author: Pritesh Bhosale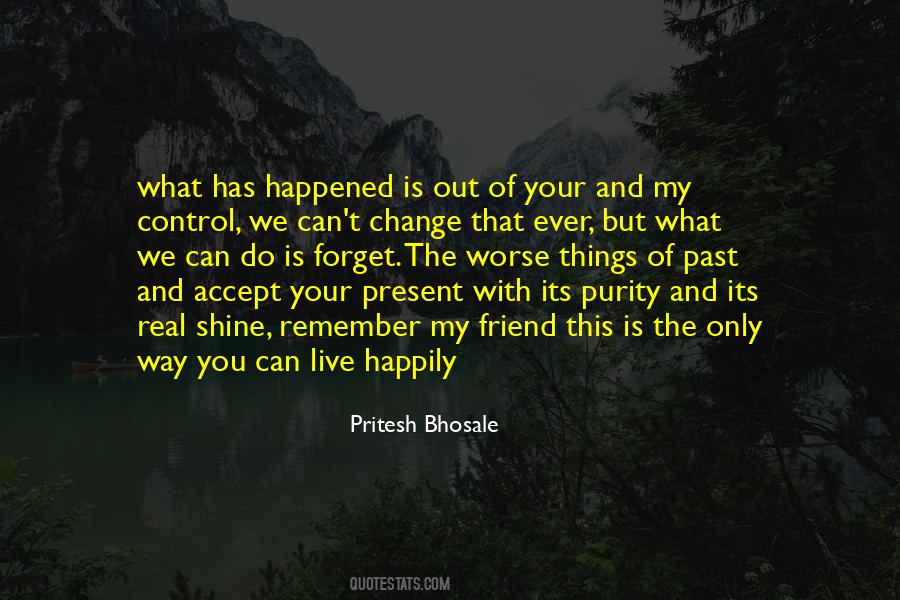 #39. There have been times when I reread - or at least leafed through - something because I'd sent a copy to a friend, and what usually happened was that I noticed dozens and dozens of clumsy phrases I wished I could rewrite. - Author: Peter Straub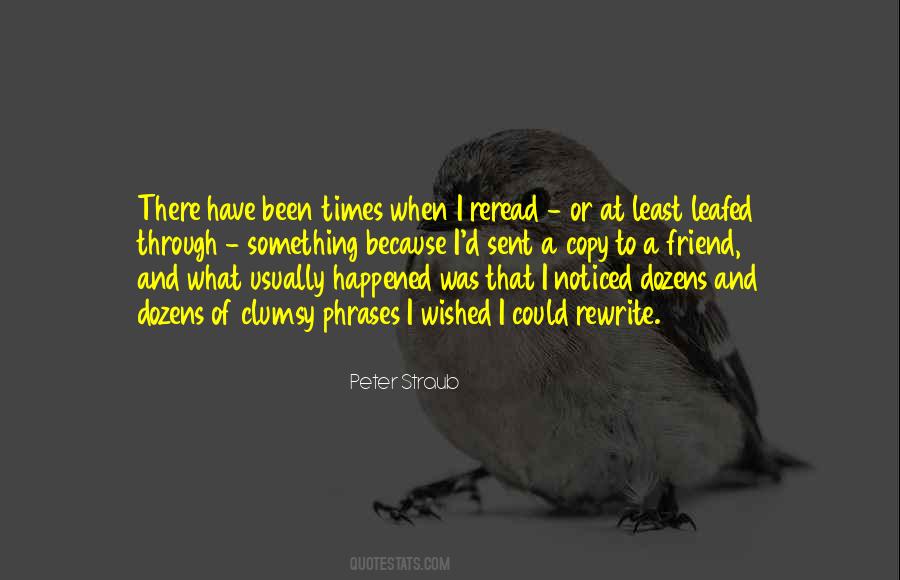 #40. Do you believe that a man in need can call soundlessly to another?"
"Perhaps, my lord. It has happened to me that thinking of a friend and meeting him are connected. But does thinking draw him or his coming draw the thought? - Author: John Steinbeck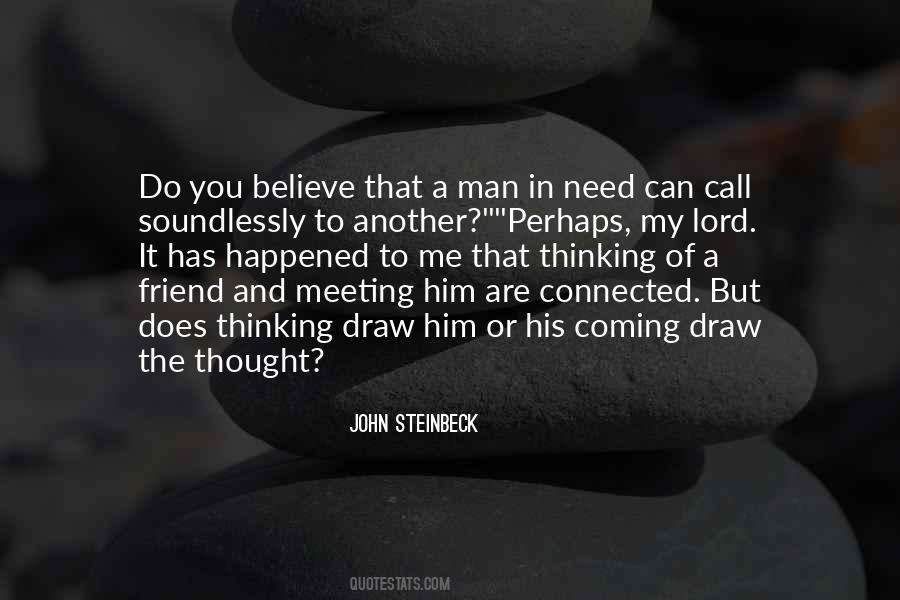 #41. I married my best friend. And I listen! Ultimately I've been very fortunate - I understand that that doesn't happen for everybody but it happened for us and we take it very seriously. - Author: Harry Connick Jr.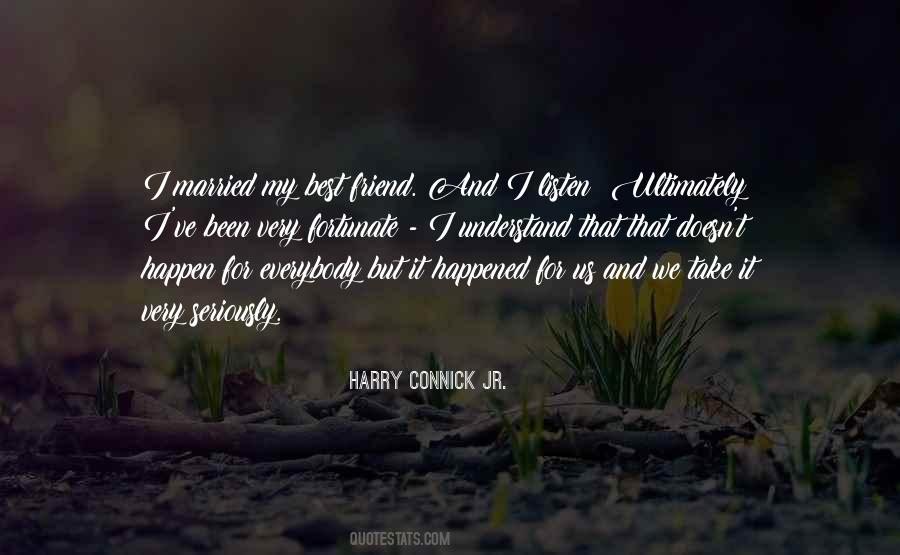 #42. I would have taken Zeb, purely for entertainment value, but he had an actual date, with a real girl. That hadn't happened in a while, so I was a good friend and put my own needs second to the possibility of him actual sex with a real girl. - Author: Molly Harper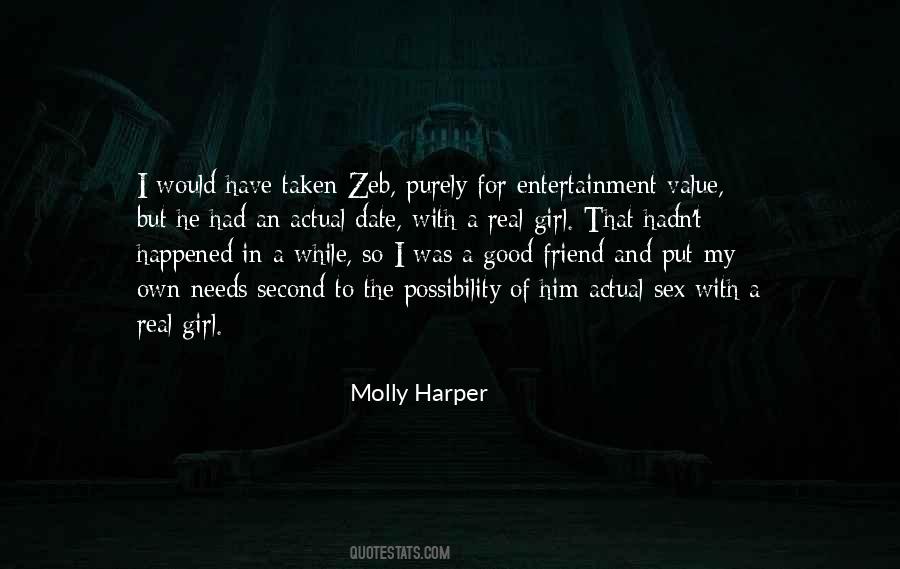 #43. When Jefferson visited Adams in England in the spring of 1786, the two former revolutionaries were presented at court and George III ostentatiously turned his back on them both. Neither man ever forgot the insult or the friend standing next to him when it happened. - Author: Joseph J. Ellis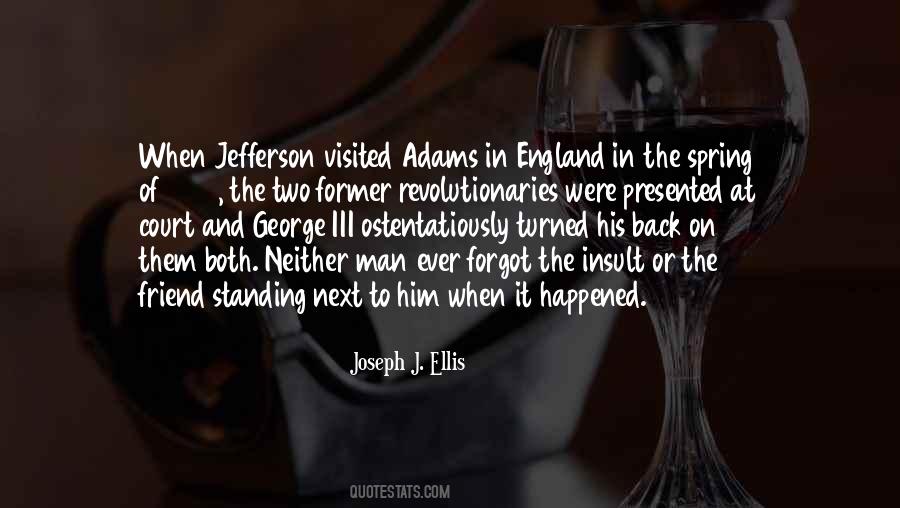 #44. Falling in love with him was completely unexpected. When you only see someone as a friend, you don't expect anything else. There was definitely a moment when something quite magical happened and we both agree that it transformed our relationship. - Author: Helena Bonham Carter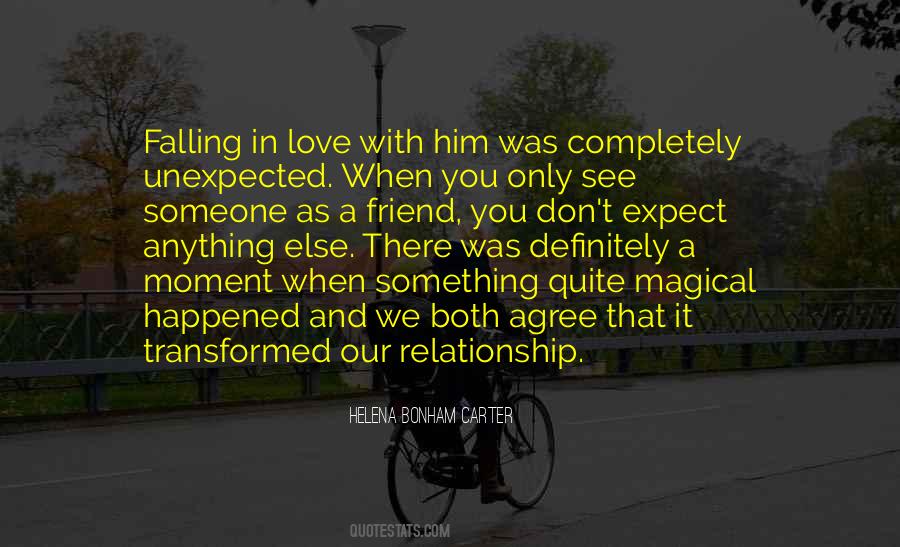 #45. A cop friend downstate had once described what he called the 'pucker effect,' the body's automatic response when something just wasn't right. He wasn't talking about the lips; the puckering happened farther south, and every cop learned to trust that instinct. - Author: Jim C. Hines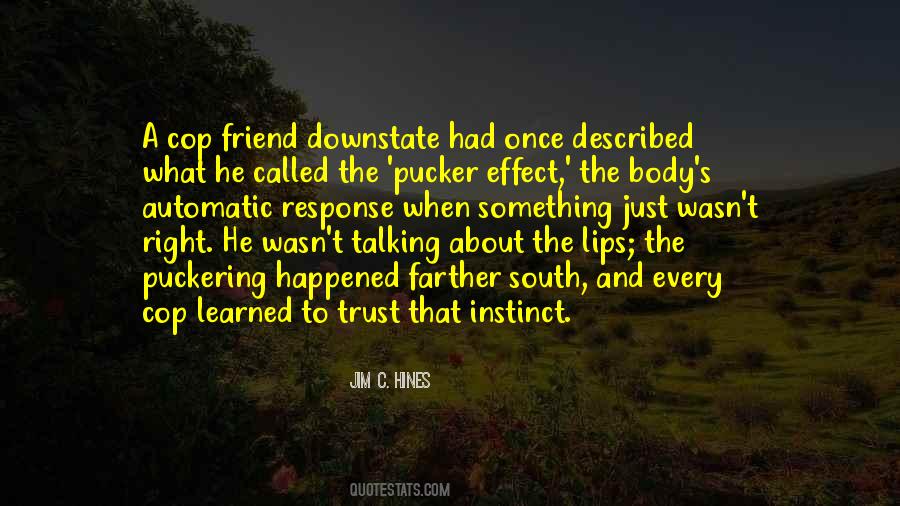 #46. Sometimes my lyrics may describe a situation that happened to a friend. Other times, I create a story from the ground up. - Author: Bridgit Mendler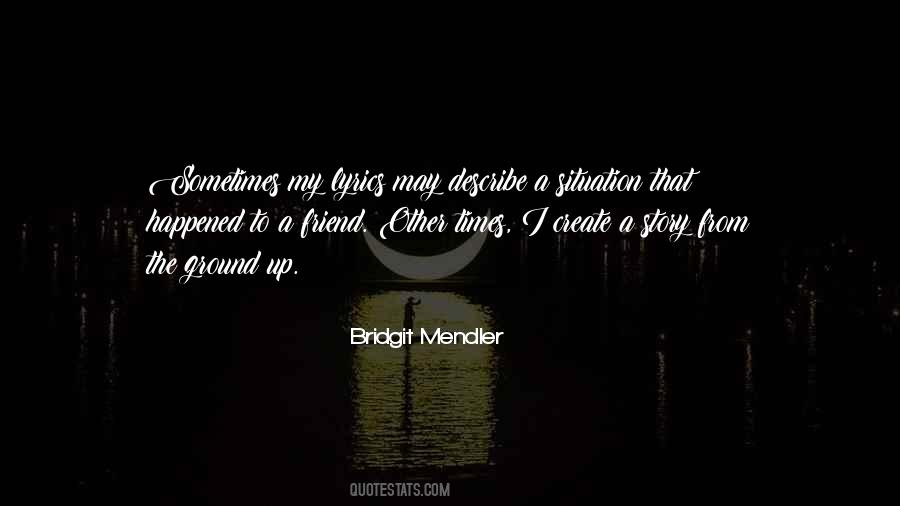 #47. My best friend. I had my best friend back. If I had her, I could recover from what had happened in Siberia. I could go on with my life. - Author: Richelle Mead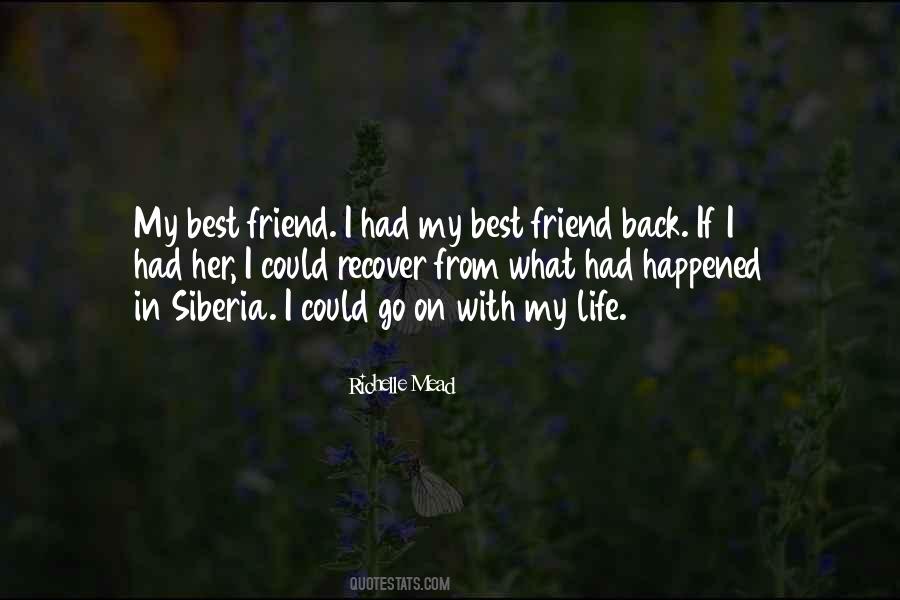 #48. After school, I got a job in a shop in Hollywood and shared an apartment with a friend. I promptly lost my job and got evicted from my apartment, and that happened several times. - Author: Patrick DeWitt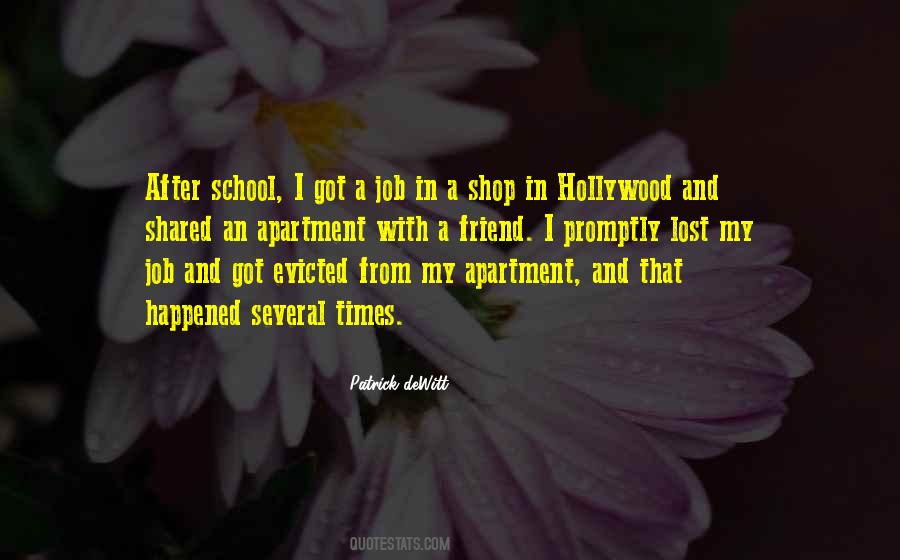 #49. I just feel that if somebody happened to fancy somebody else, well, then, I should be a friend that he can say it to. - Author: Andrea Corr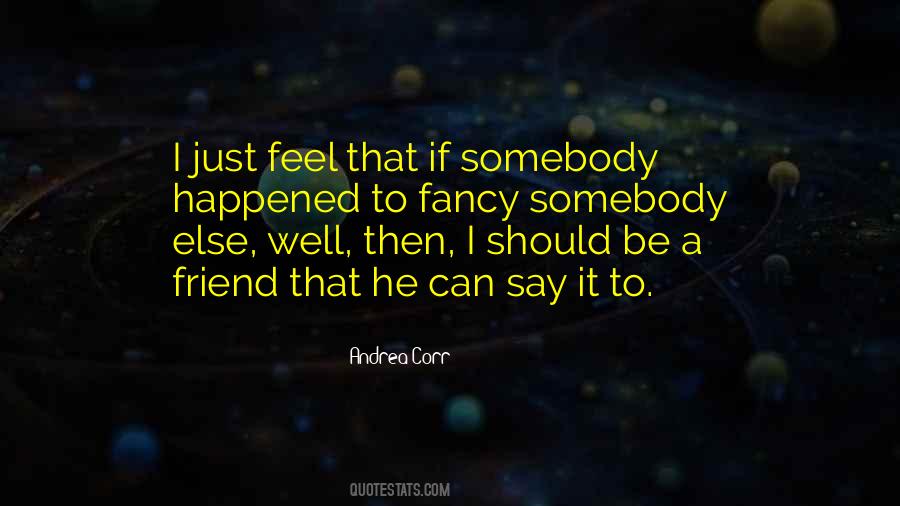 #50. Because of my interest in songwriting, I was invited to visit a friend in L.A. for songwriting sessions with him and his friends. We wrote six songs by the end of the weekend, and 'Hide Away' happened to be one of them! - Author: Daya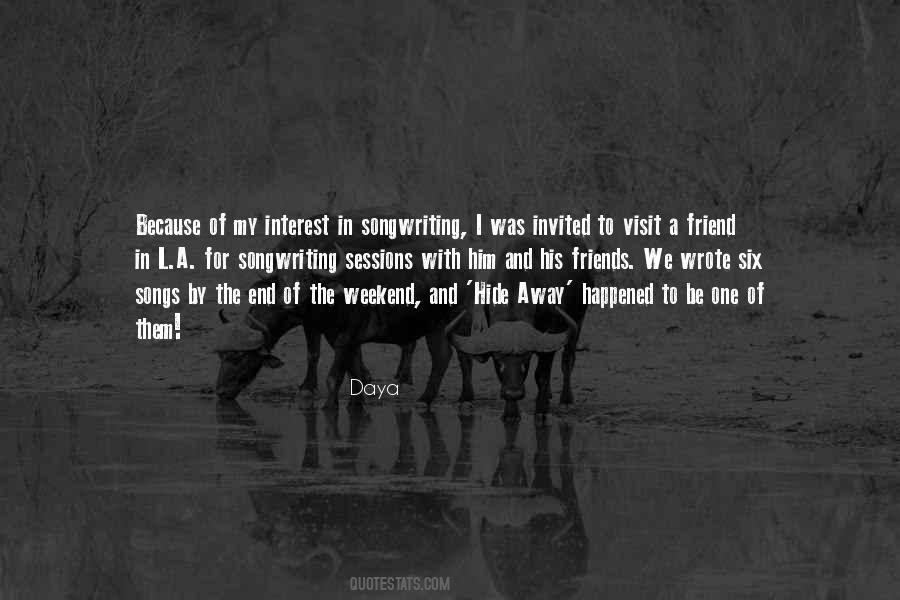 #51. It's the classic story form. All staying equal, or proving equal, or being equal, this will all continue, and the next time around, we'll move on to see what happened to Harry after he dove in the river, or who his friend John really was, and so on. - Author: Robert Creeley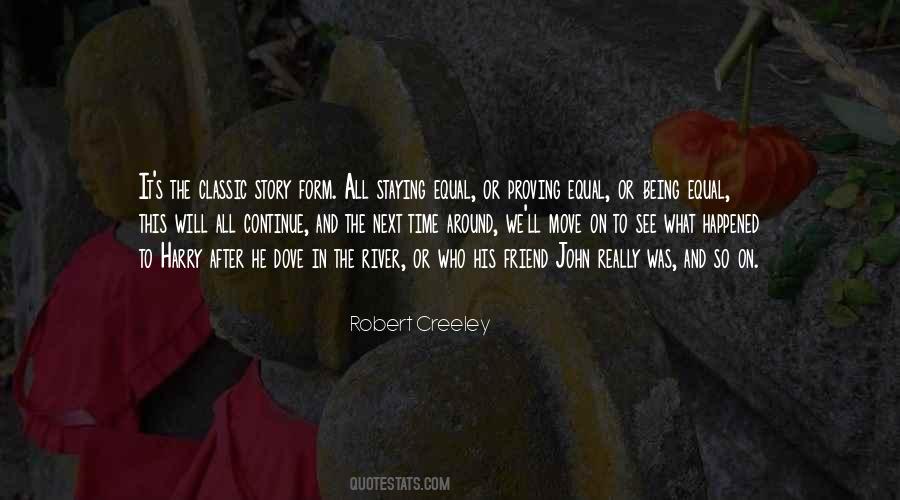 #52. I have no clue what happened to my best friend, the one who played with me on the playground when no one else would. But this Logan ... " She gestured from my shoes on up. "This Logan can kiss my ass. - Author: Lisa Kessler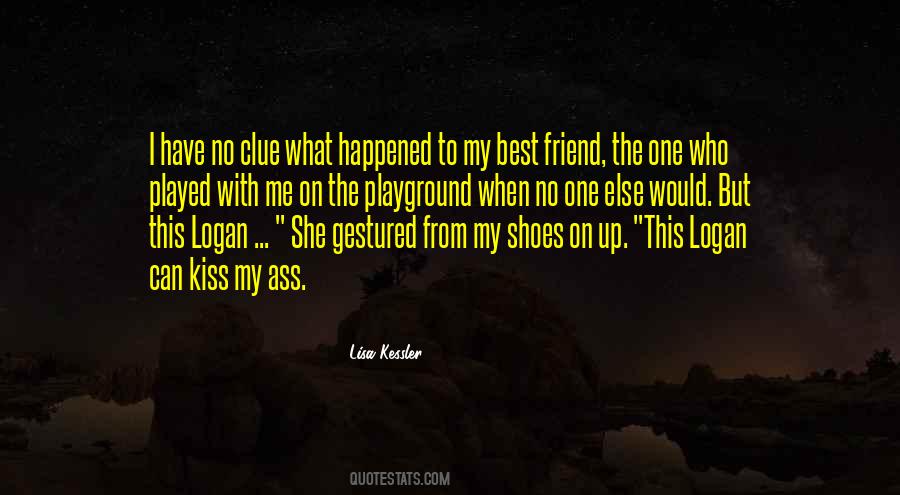 #53. I told him he wasn't my friend. Before he could protest I said that real friends don't wake up other friends in the middle of the night for money for drugs. (Even as I said it I thought of at least half a dozen occasions when that has happened to me, but that wasn't the point.) - Author: Peter Moore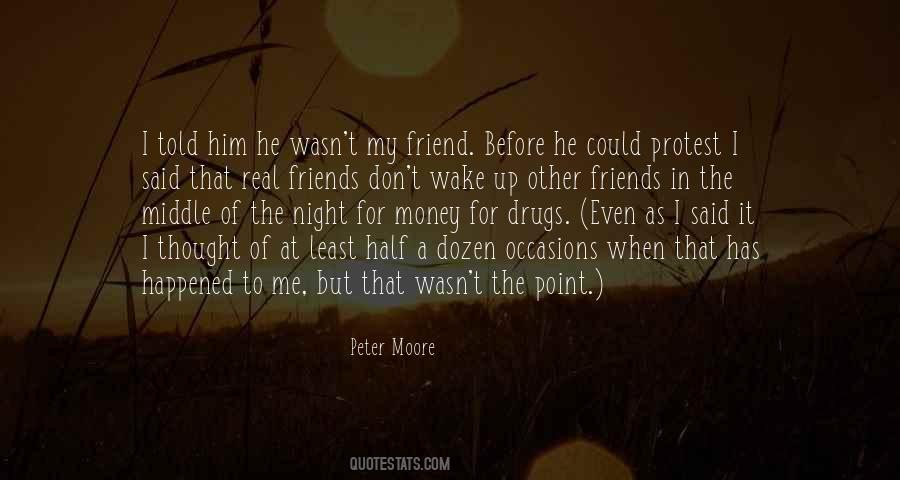 Famous Authors
Popular Topics