Walk Alone Famous Quotes & Sayings
List of top 100 famous quotes and sayings about walk alone to read and share with friends on your Facebook, Twitter, blogs.
Top 100 Walk Alone Quotes
#1. Think me not unkind and rude
That I walk alone in grove and glen;
I go to the god of the wood
To fetch his word to men. - Author: Ralph Waldo Emerson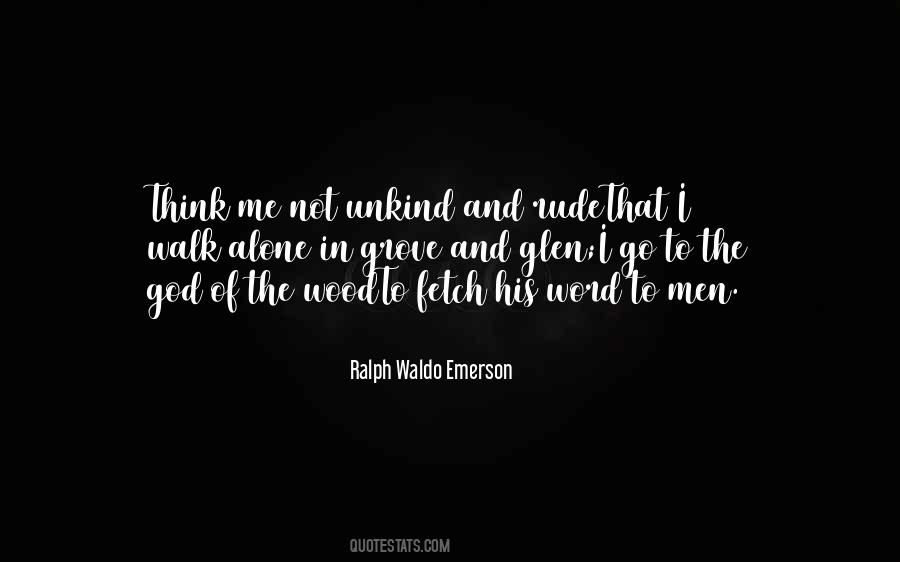 #2. Bear one another's burdens, and so fulfill the law of Christ. Ladies and gentlemen, this is what Christianity is all about. God never intended for us to walk this world alone, and Christ did not die for us to keep His love all to ourselves. - Author: Jen Stephens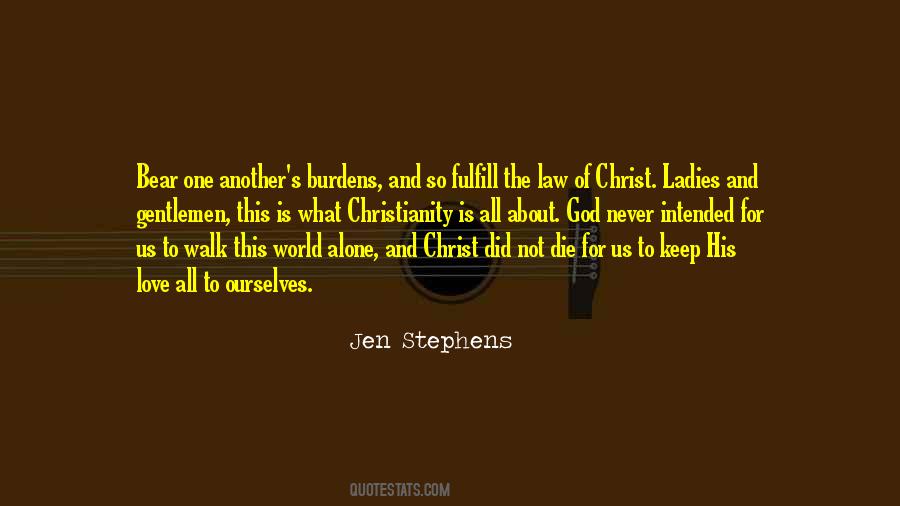 #3. Young people discovering their sexuality must know they walk with a strong tradition and that they are not alone. They have a right to information without being pressured. - Author: Jasmine Guy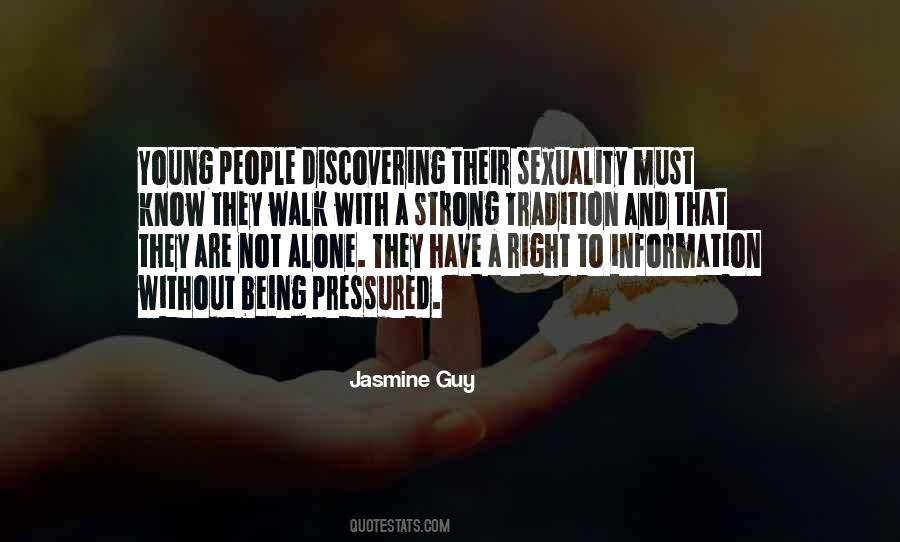 #4. We cannot walk alone. And as we walk, we must make the pledge that we shall always march ahead. We cannot turn back. - Author: Martin Luther King Jr.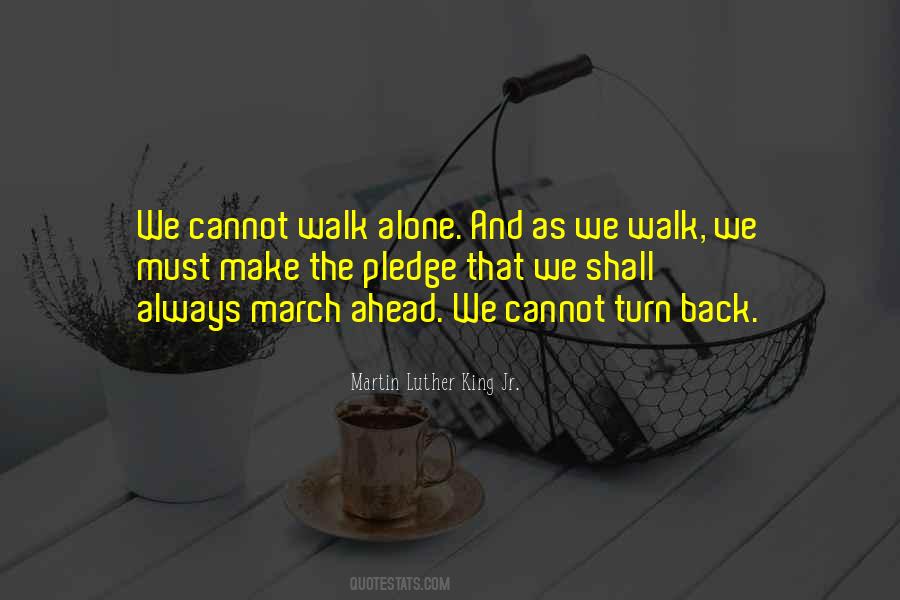 #5. I walk alone, absorbed in my fantastic play,
Fencing with rhymes, which, parrying nimbly, back away;
Tripping on words, as on rough paving in the street,
Or bumping into verses I long had dreamed to meet. - Author: Charles Baudelaire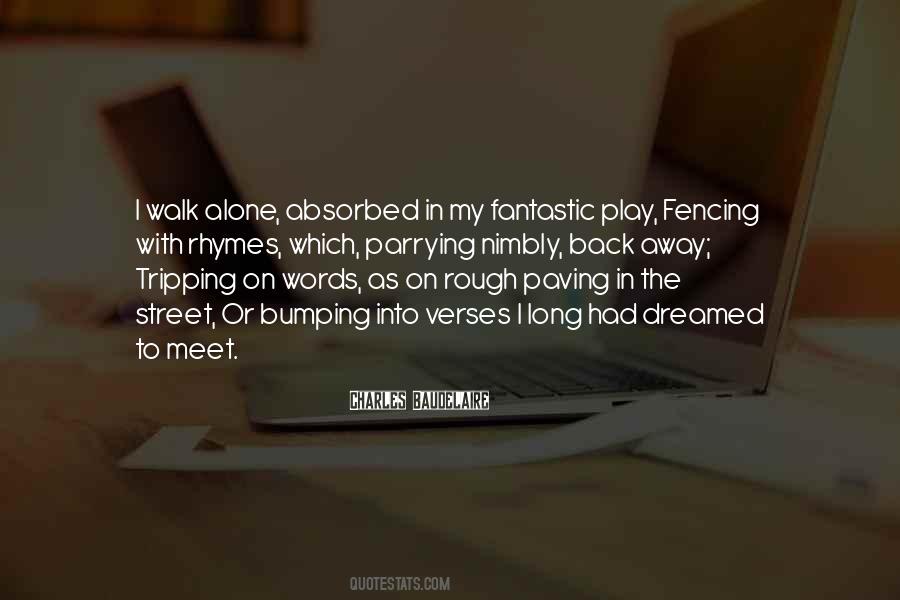 #6. When you have to walk further, wherever it might be, I beg you, never to go alone anymore. I think that as a lesson for us all. I believe it was a warning. If Dad had been alone, he surely would have died. - Author: Gigi Sedlmayer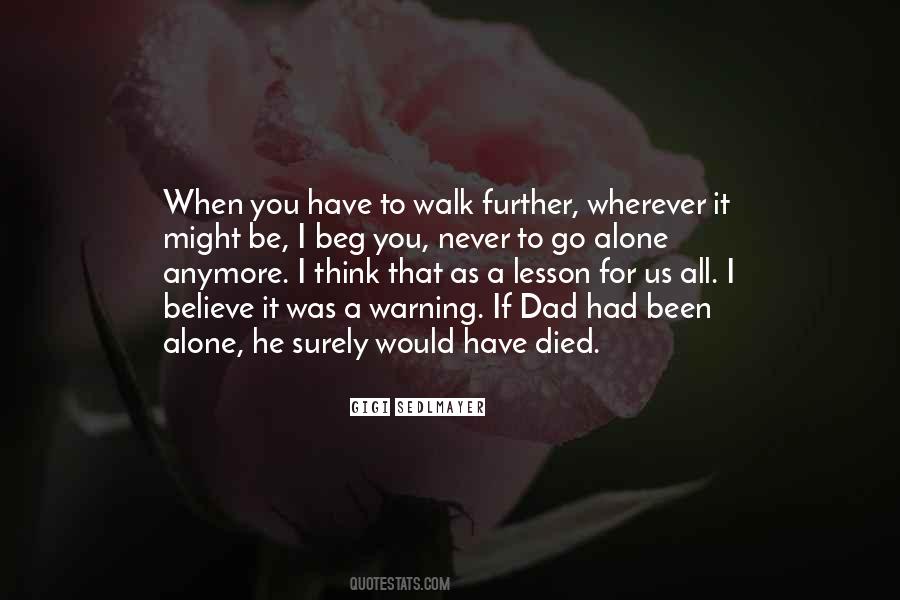 #7. Photography can never grow up if it imitates some other medium. It has to walk alone; it has to be itself. - Author: Berenice Abbott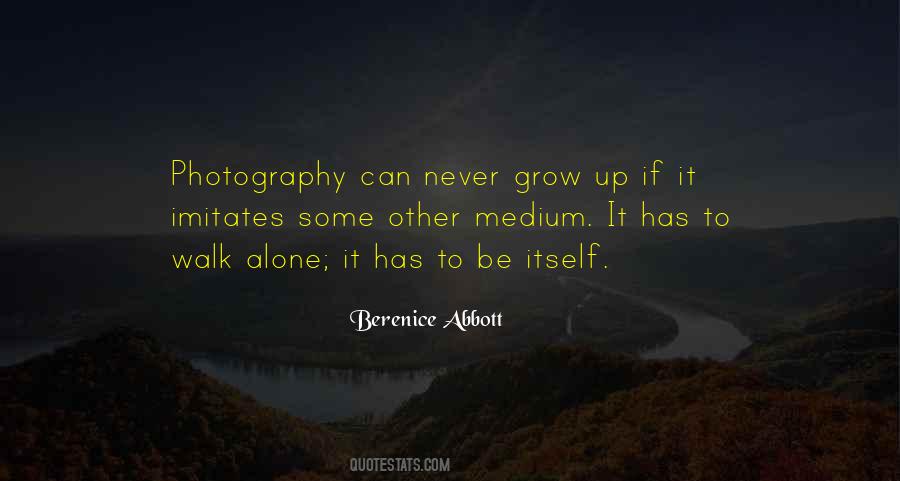 #8. It's not proper for seventeen-year-old princesses to be alone with young men who have questionable intentions."
She laughed. "And what about young men who she's been best friends with since she was barely old enough to walk?"
He shook his head. "Those are the worst. - Author: Marissa Meyer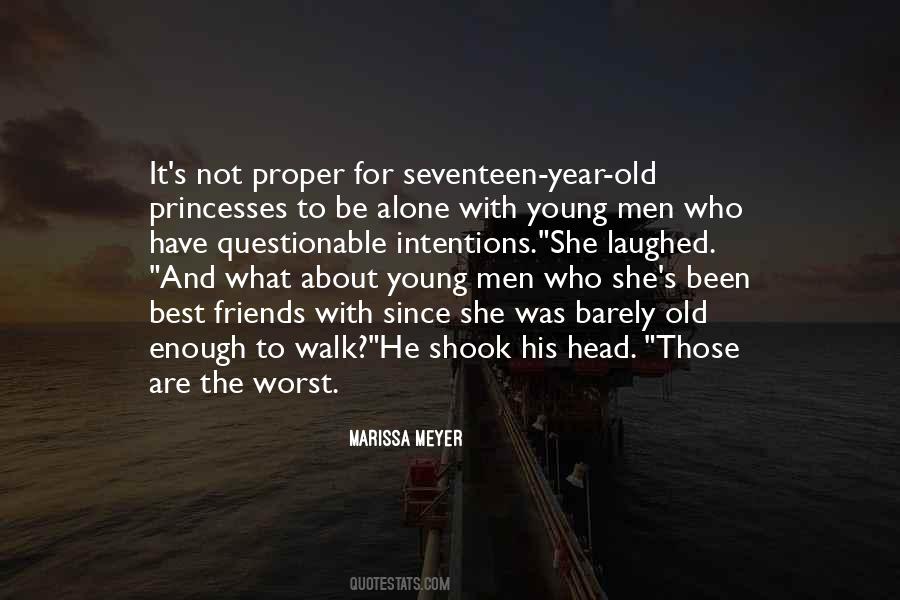 #9. The soul that has been enriched by communion with God will not be dismayed by isolation but will welcome solitude. He will seek not the crowd but the closet, and emerging will never walk alone, for he has unseen companionship. - Author: Frances J Roberts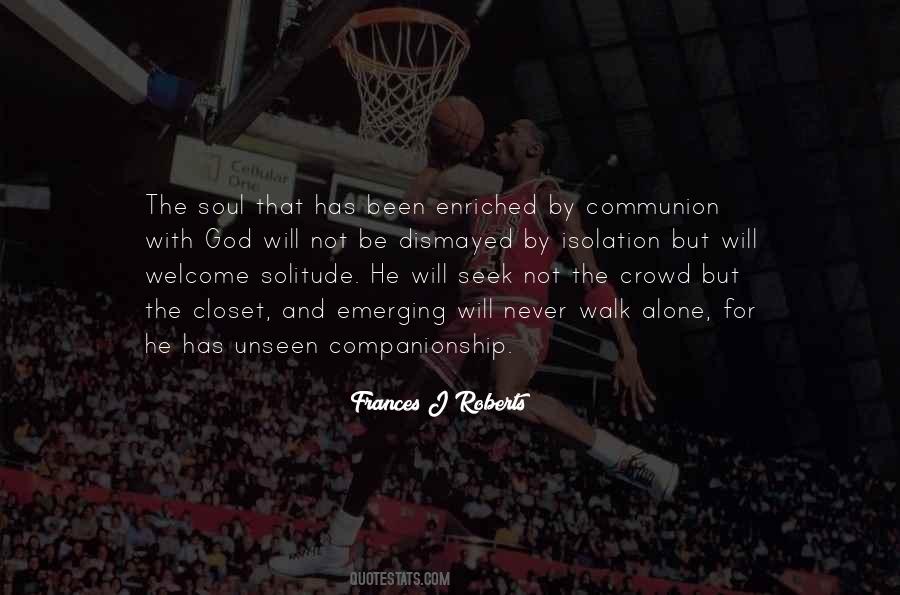 #10. Like a boxer in a title fight, you have to walk in that ring alone. - Author: Billy Joel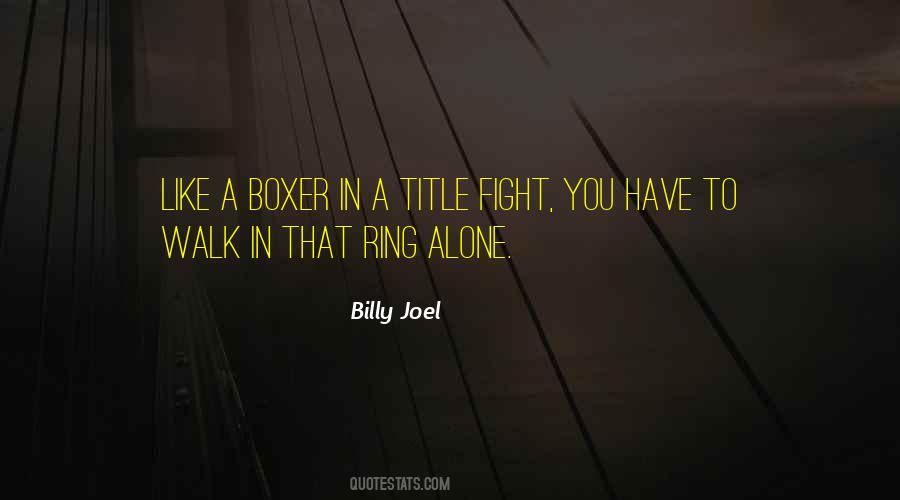 #11. Blackness is a state of mind, and I identify with the black community. Mainly, because I realized, early on, when I walk into a room, people see a black woman, they don't see a white woman. So out of that reason alone, I identify more with the black community. - Author: Halle Berry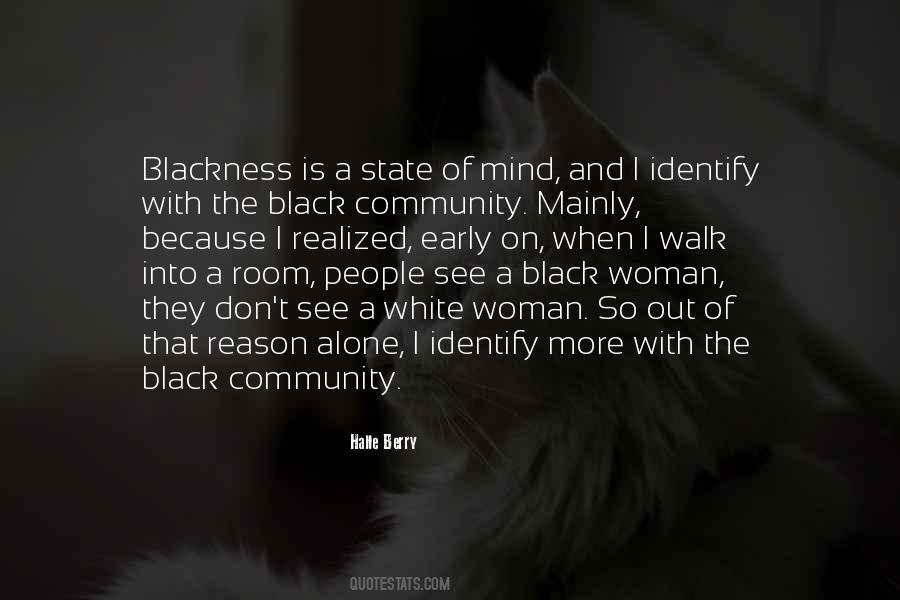 #12. Reflection must be reserved for solitary hours; whenever she was alone, she gave way to it as the greatest relief; and not a day went by without a solitary walk, in which she might indulge in all the delight of unpleasant recollections. - Author: Jane Austen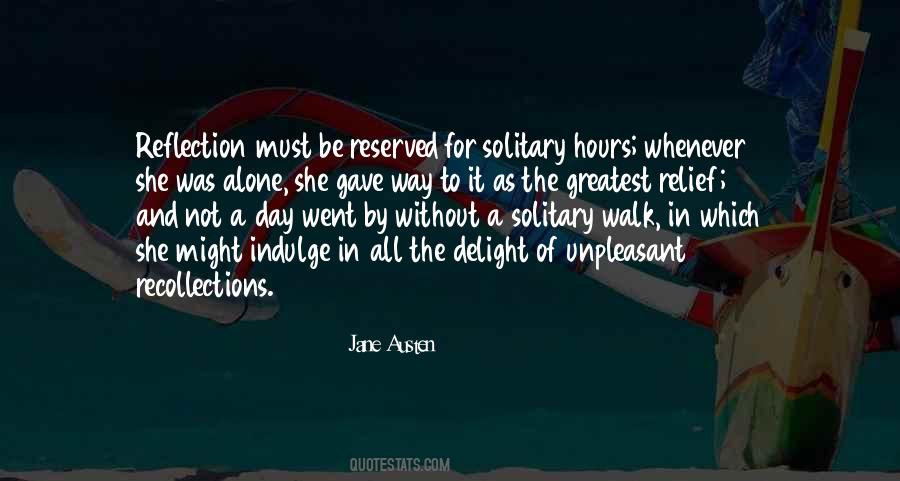 #13. Life on the open road is liberty ... to be alone, to have few needs, to be unknown, everywhere a foreigner and at home, and to walk grandly and solitarily in conquest of the world. - Author: Isabelle Eberhardt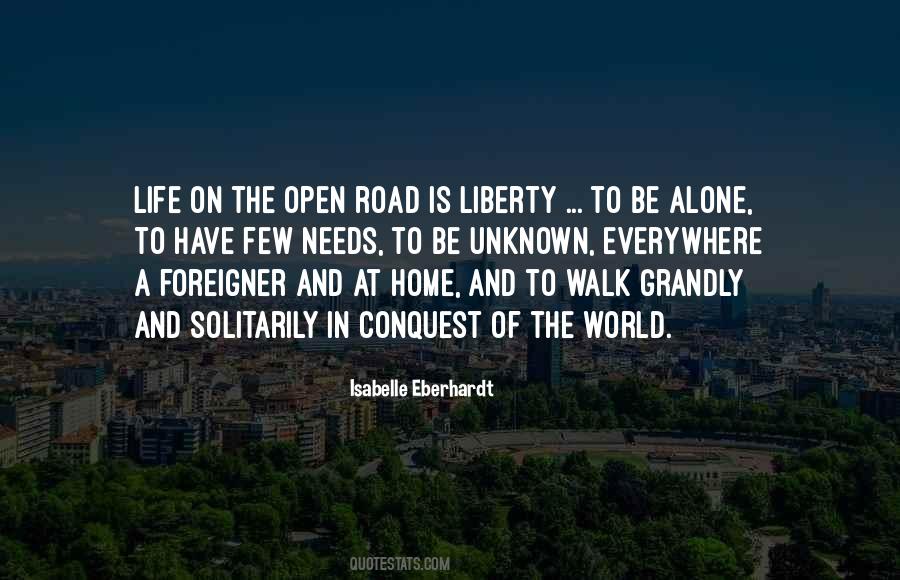 #14. So now, all alone or not, you gotta walk ahead. Thing to remember is if we're all alone, then we're all together in that too. - Author: Cecelia Ahern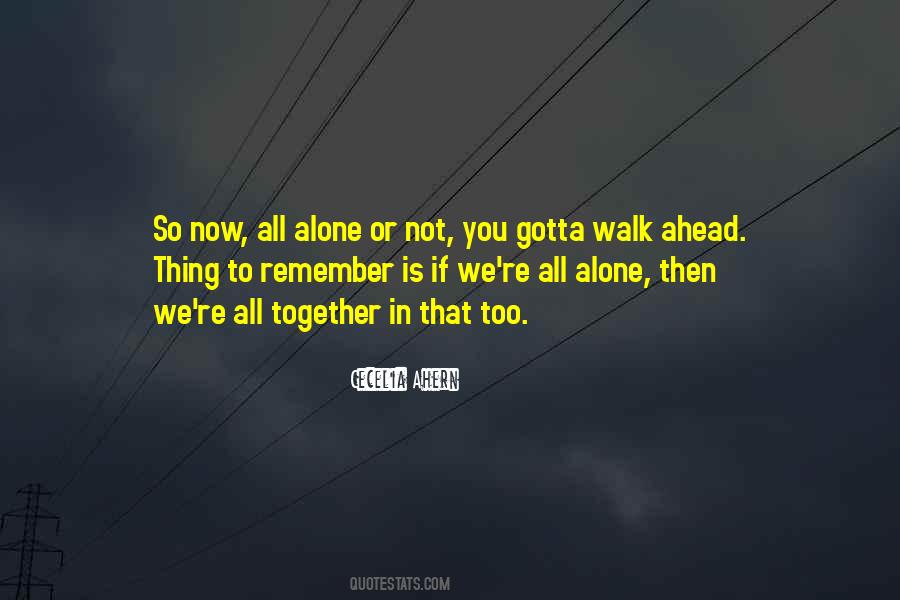 #15. You never walk alone. Even the devil is the lord of flies. - Author: Gilles Deleuze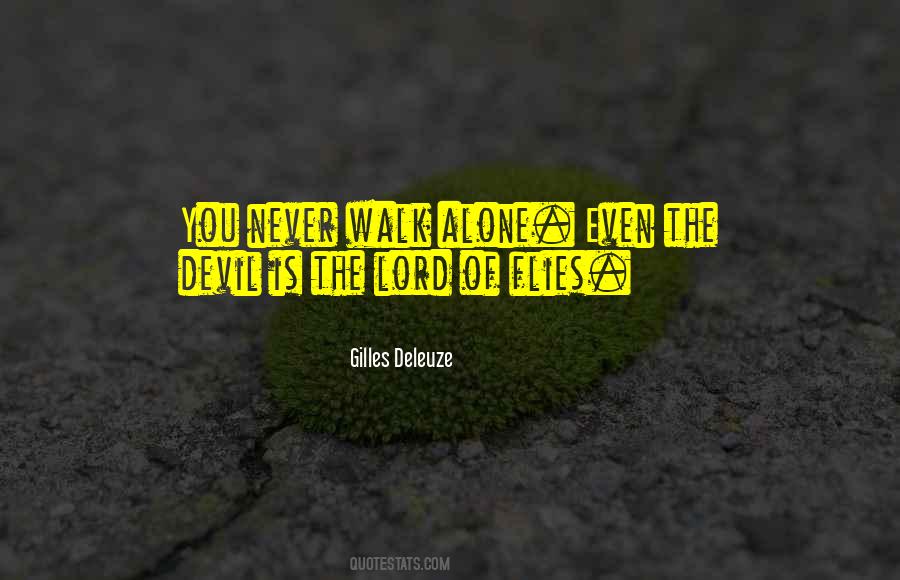 #16. With fools, there is no companionship. Rather than to live with men who are selfish, vain, quarrelsome, and obstinate, let a man walk alone. - Author: Buddha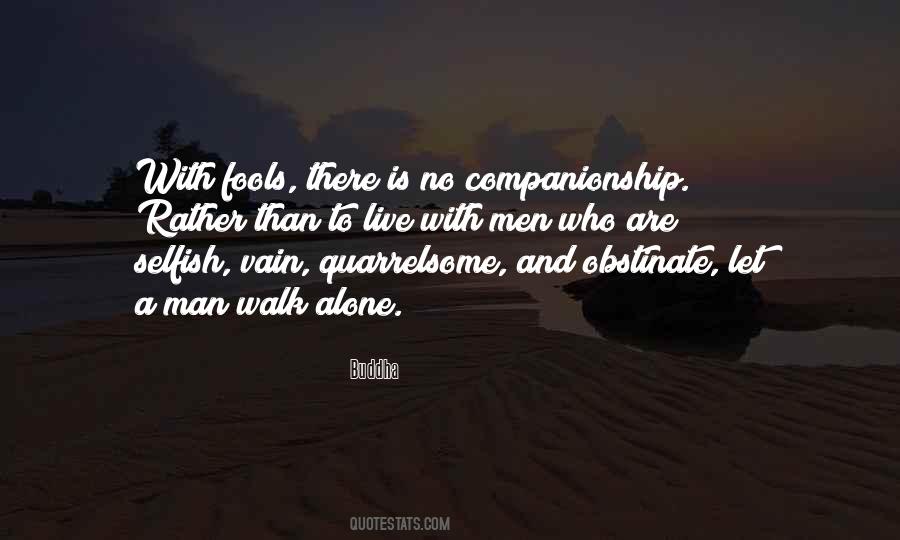 #17. It's your road & yours alone. Others may walk it with you, but no one can walk it for you - Author: Rumi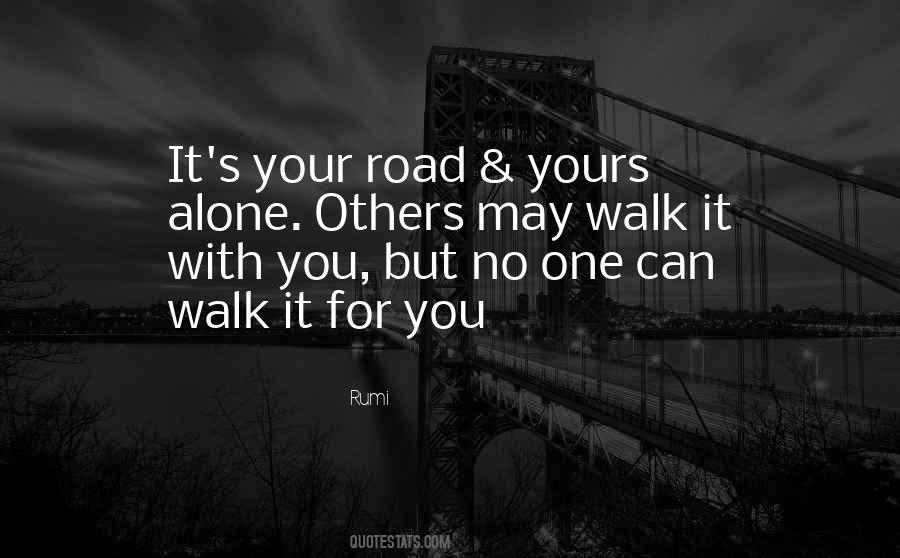 #18. To walk alone through life is a challenge; it sometime means adrenaline and a path full of surprises, but being with somebody means a lot more. And being with the right person means everything. - Author: Andres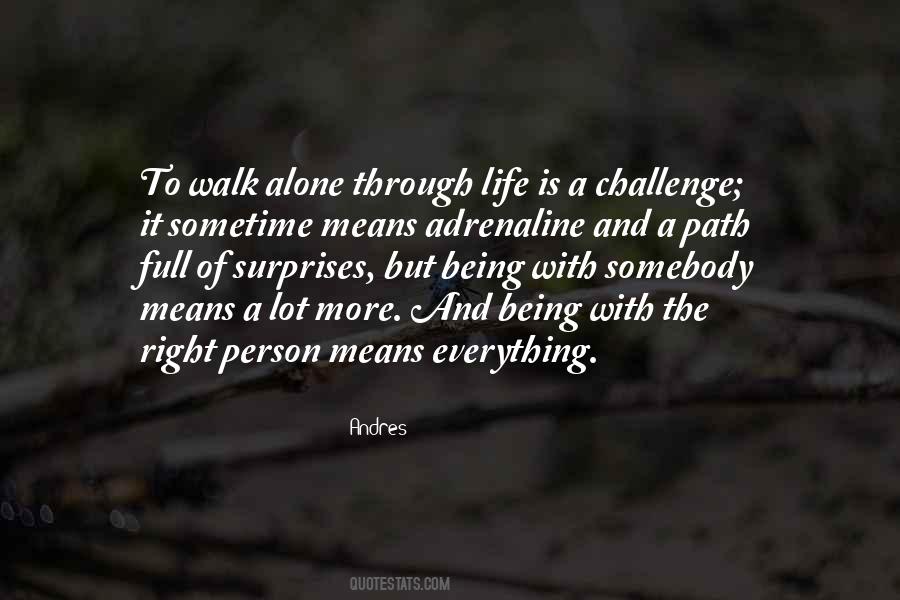 #19. I don't want to beg or promise you things I can't give you. There isn't much of me to give, but what I have is yours. This is all up to you, Sadie. If you want me, I'm yours. If you can't do this, then I'll walk away and leave you alone. I swear. - Author: Abbi Glines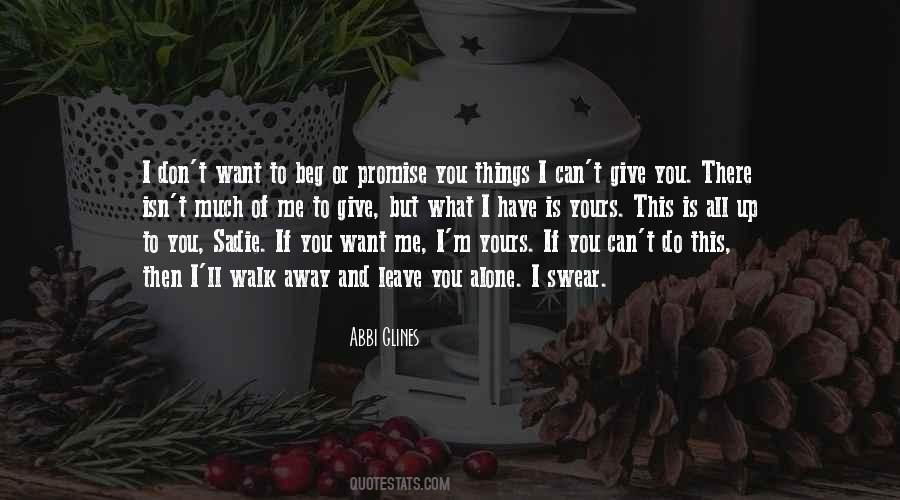 #20. It has ever been thus. The way is hard and narrow, it is true. But it is a path beaten smooth by the countless others who have gone before us. And good news! We do not have to walk it alone. God Himself is with us and has blessed us with friends for the journey. - Author: Stephen R. Lawhead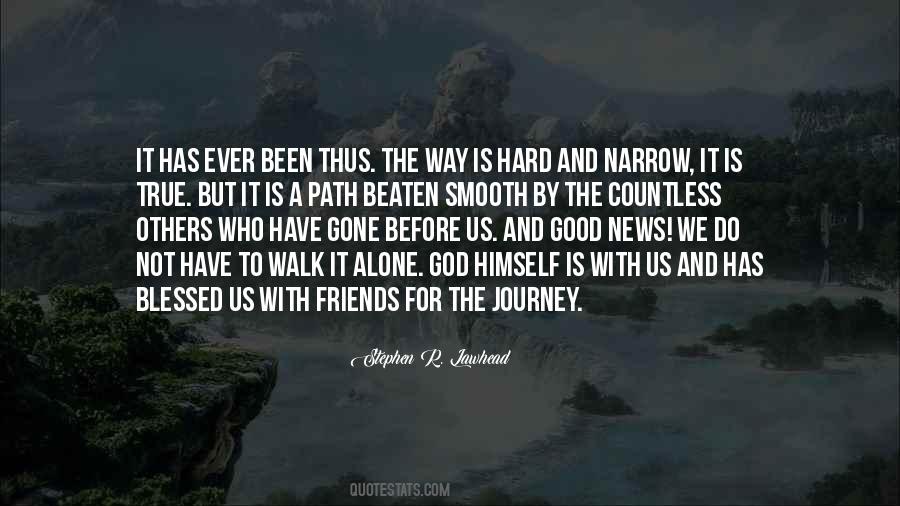 #21. When my daughter Paula died, I was in the deepest pain, and my mother said, "This kind of sorrow is like a long, narrow, dark channel. You have to walk this channel alone and be sure that there is light at the other ending. Just keep walking." - Author: Isabel Allende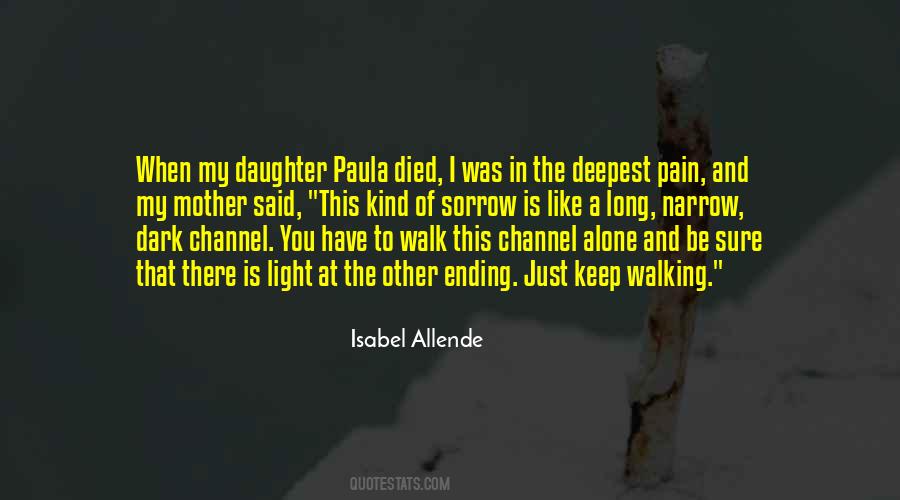 #22. On quiet nights, when I'm alone, I like to run our wedding video backwards, just to watch myself walk out of the church a free man. - Author: Jim Davidson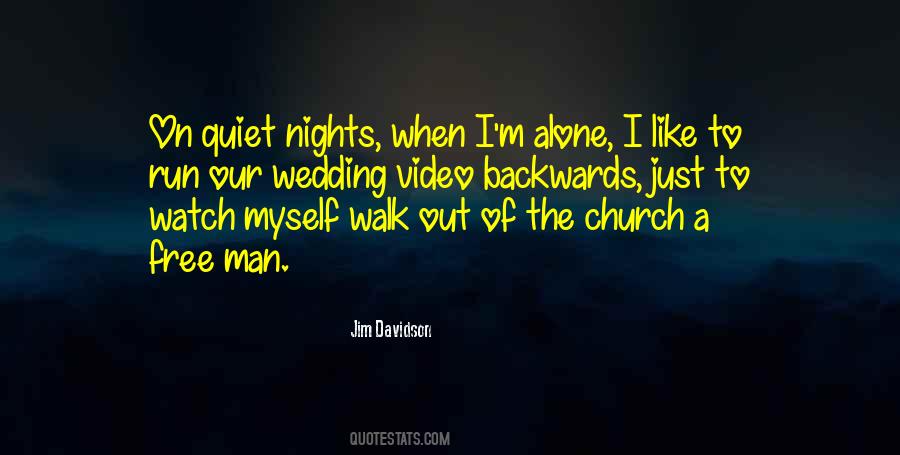 #23. Fame, on its best day, is kind of like a friendly wave from a stranger by the side of the road. And when it's not so good, it's like a long walk home, all alone, with nobody in when you get there. - Author: Bruce Springsteen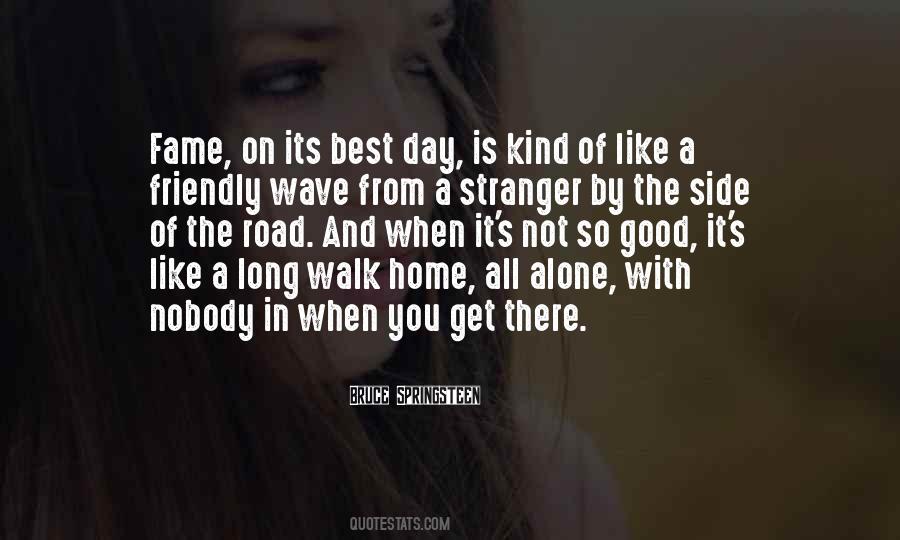 #24. I knelt in front of life, folded my hands and prayed for some more time; there couldn't be any. My heart bled and so did my tearful eyes.
Time, they say, flies, but I saw it slowly passing by taking each of my tardy breaths with it as it walked out of my life ... - Author: Sanhita Baruah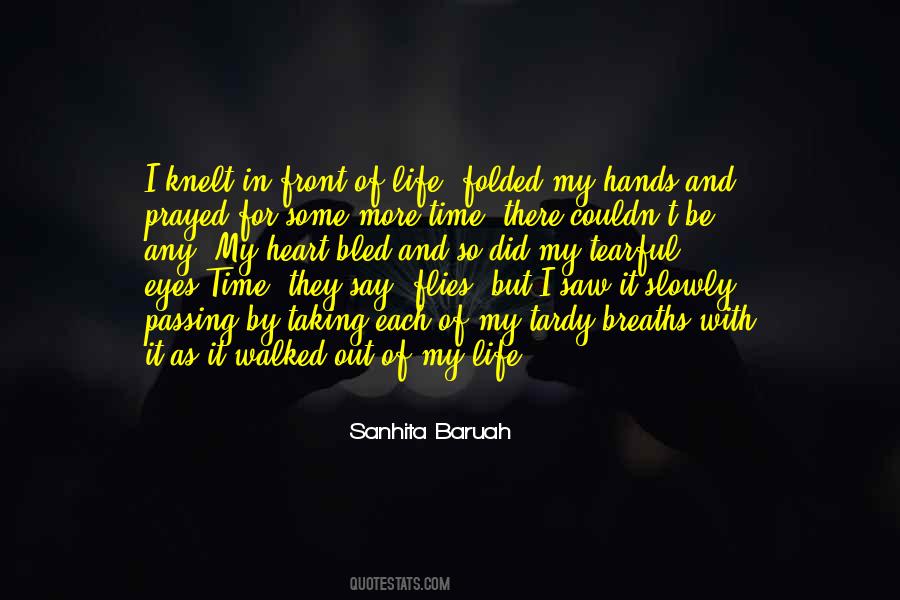 #25. The simplest consequence of walking on crutches is that you walk slower. Every step must be a necessary one. When you hurry, you get where you're going, but you get there alone. When you go slow, you get where you're going, but you get there with a community you've built along the way. - Author: Bruce Feiler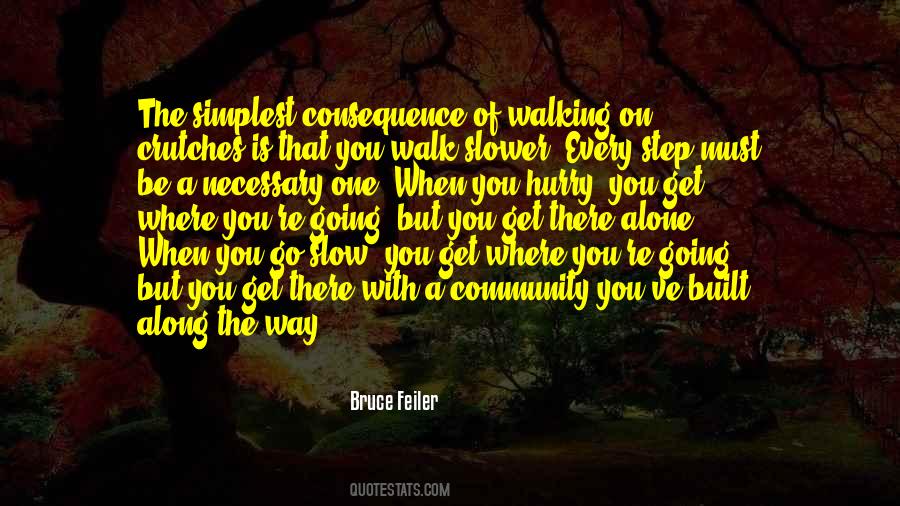 #26. I walk this road of flames and danger alone. To see the ocean of dreams. And drink from its endless freedom that flows though or vein's to be someone much more than human. - Author: Sequence Kye Kenneth Young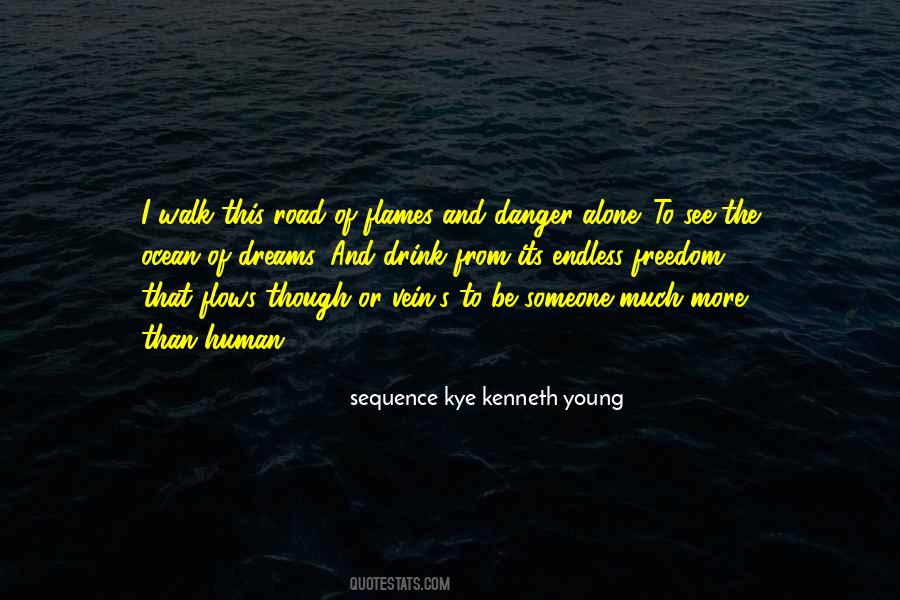 #27. From this day forward, you won't walk alone. My heart will be your shelter and my arms will be your home. - Author: Jamie McGuire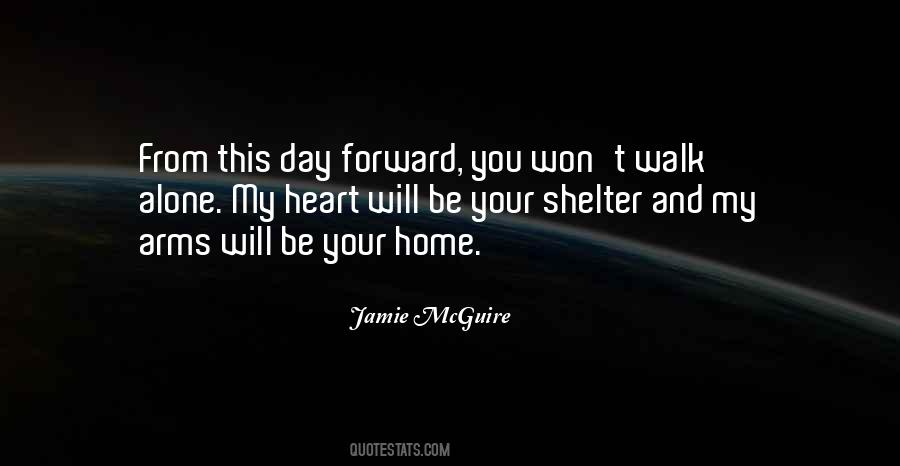 #28. If people trust and love you, you will never walk alone. - Author: Philippos Syrigos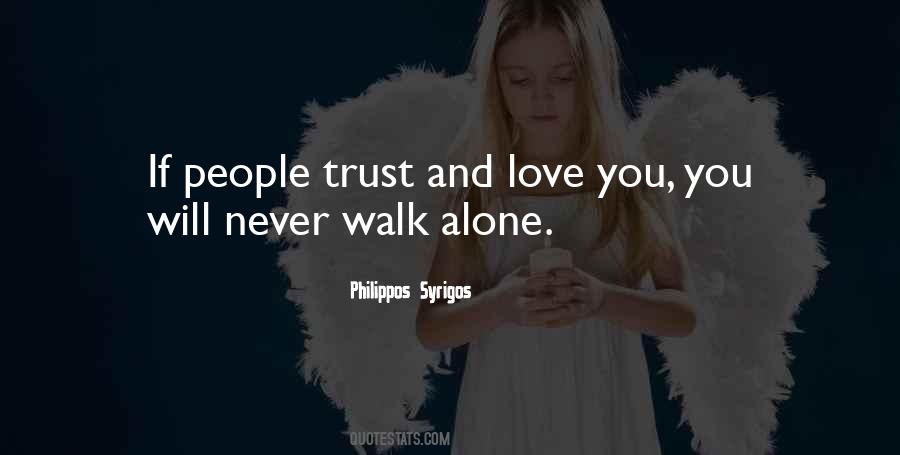 #29. I can't do everything for you. You must walk alone to find your soul. - Author: Laurie Halse Anderson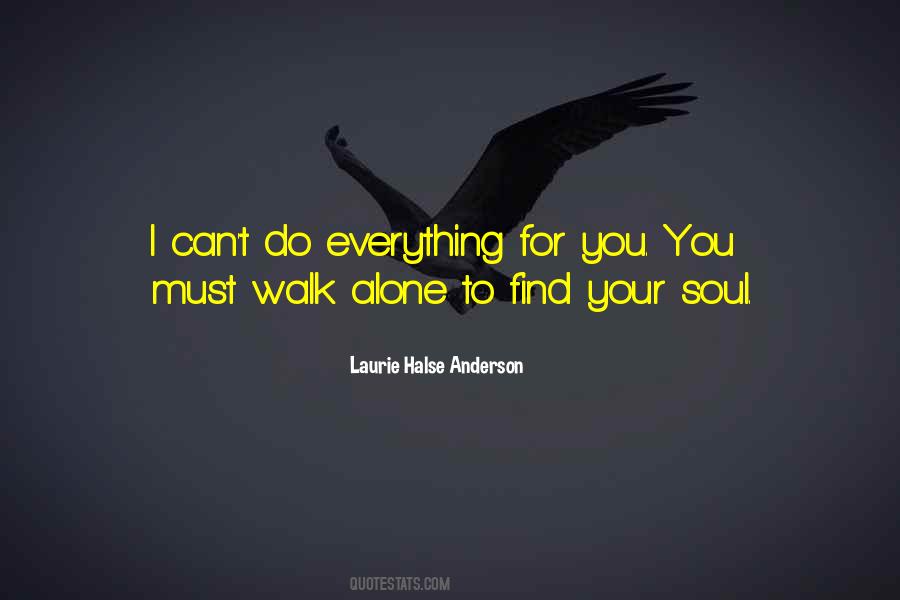 #30. Sometimes the path we must walk is long and must be traveled alone. Even when others are by our side, there is no one with us. - Author: L.J. Baker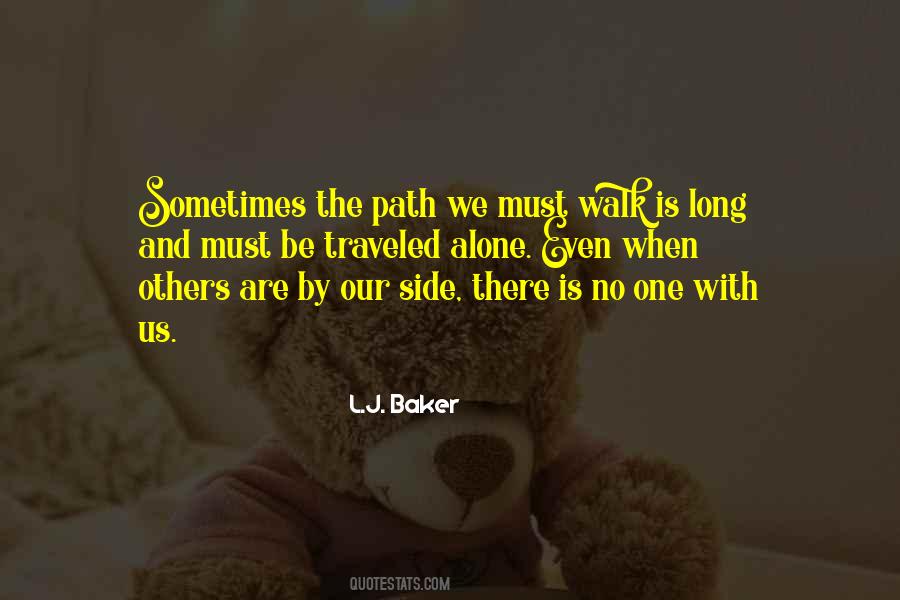 #31. Walk on, walk on with hope in your heart, and you'll never walk alone, you'll never walk alone. - Author: Oscar Hammerstein II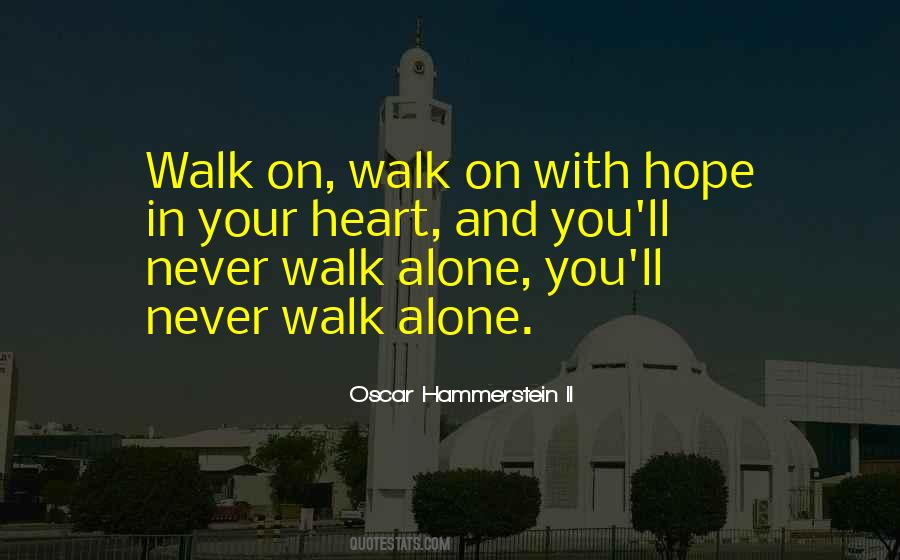 #32. Wish there was something that I could say or do, I can resist anything but the temptation from you. But I'd rather walk alone than chase you around, I'd rather fall myself then let you drag me on down. - Author: Ben Harper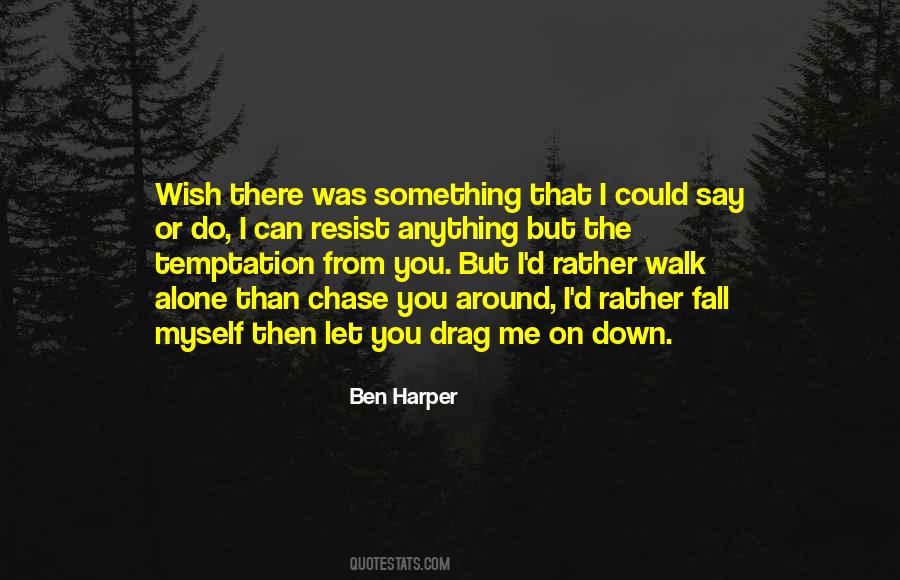 #33. We walk alone in the world. - Author: Ralph Waldo Emerson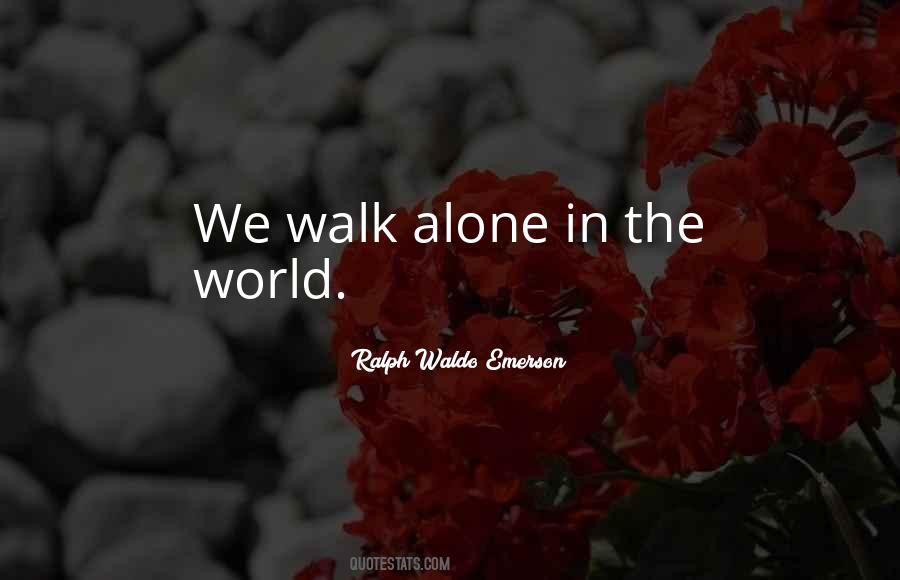 #34. The soul that loves God has its rest in God and in God alone. In all the paths that men walk in in the world, they do not attain peace until they draw nigh to hope in God. - Author: Isaac Of Nineveh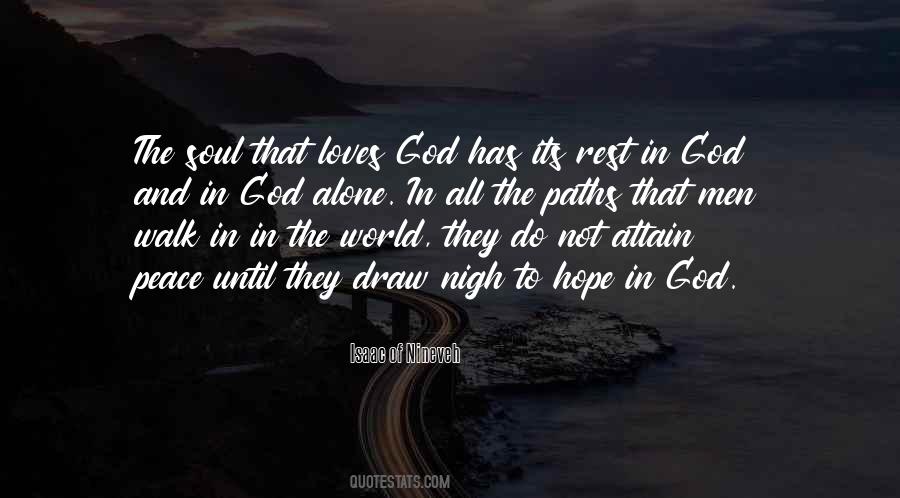 #35. For beautiful eyes, look for the good in others; for beautiful lips, speak only words of kindness; and for poise, walk with the knowledge that you are never alone. - Author: Sam Levenson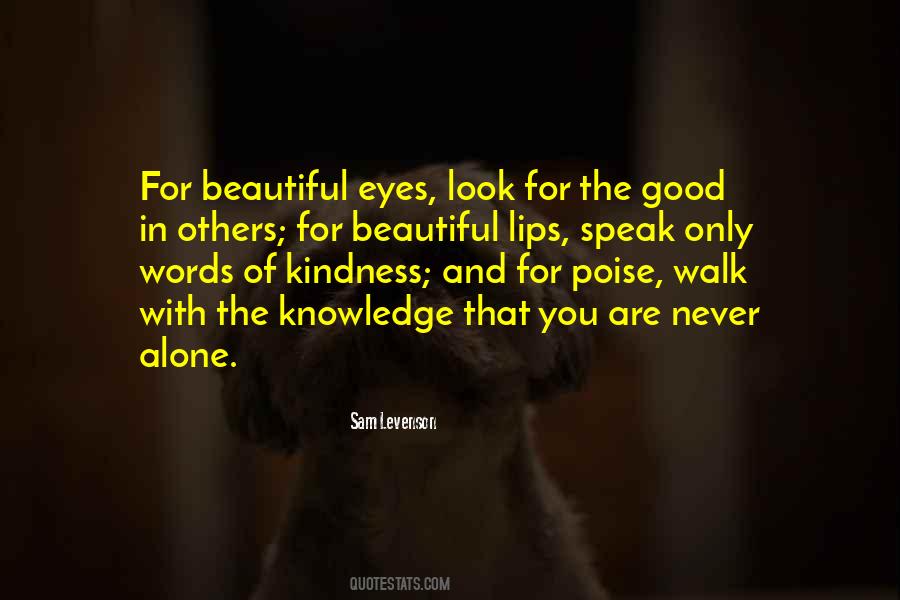 #36. It's your road ... and yours alone ... Others may walk it with you, but no one can walk it for you. No matter what path you choose, really walk it. - Author: Gautama Buddha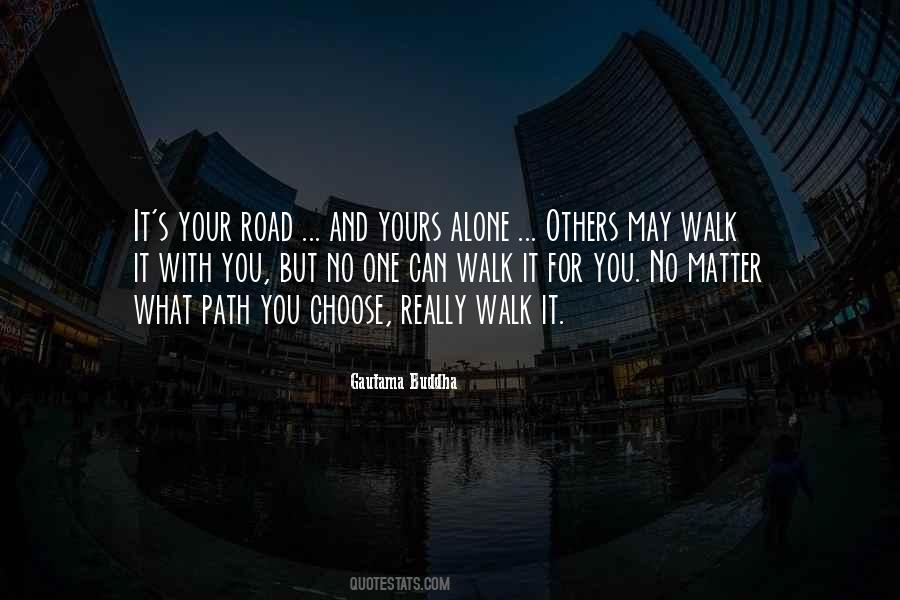 #37. You have to stop thinking about Billystorm in that way, right now! You have a different destiny, one that involves the future of the whole Clan. And it is a path that you must walk alone. - Author: Erin Hunter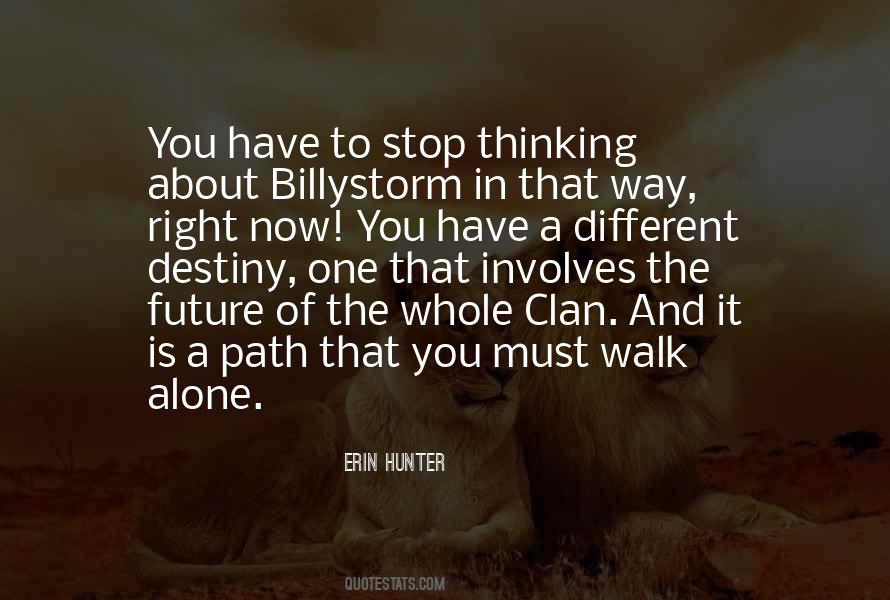 #38. Alone or not, you gotta walk forward. - Author: Cecelia Ahern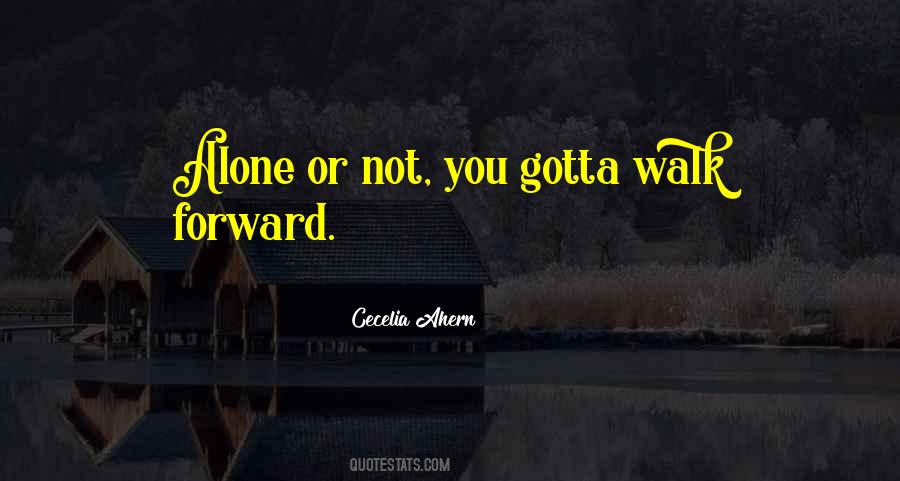 #39. I would rather walk with a friend in the dark, than alone in the light. - Author: Helen Keller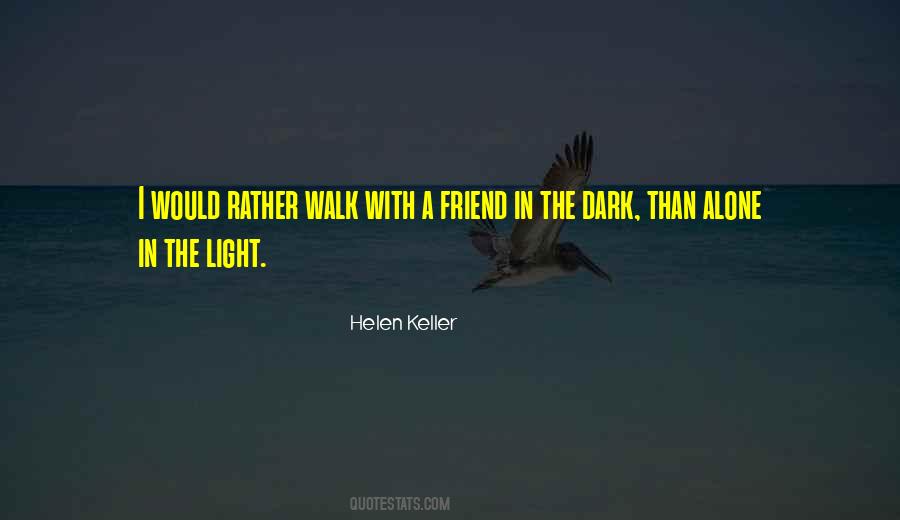 #40. When we touched ... it all clicked into place. He was my soul mate; I could feel it when he was near. Our bodies together made sense; our lives on a whole had new meaning. We were no longer condemned to walk alone like the undead. - Author: K.I. Lynn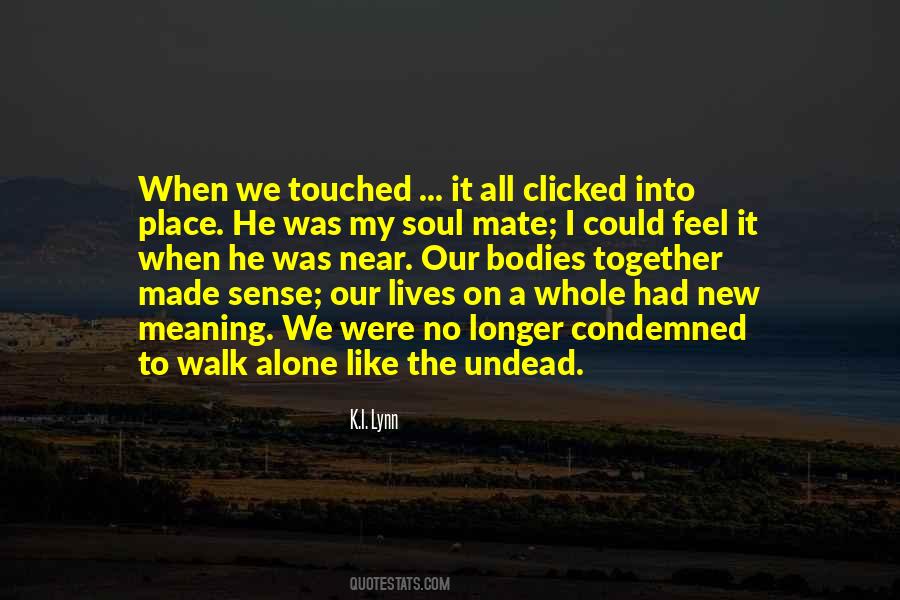 #41. Wisdom holds a candle to experience, but you've got to take the candle and walk alone. - Author: Lauren Kate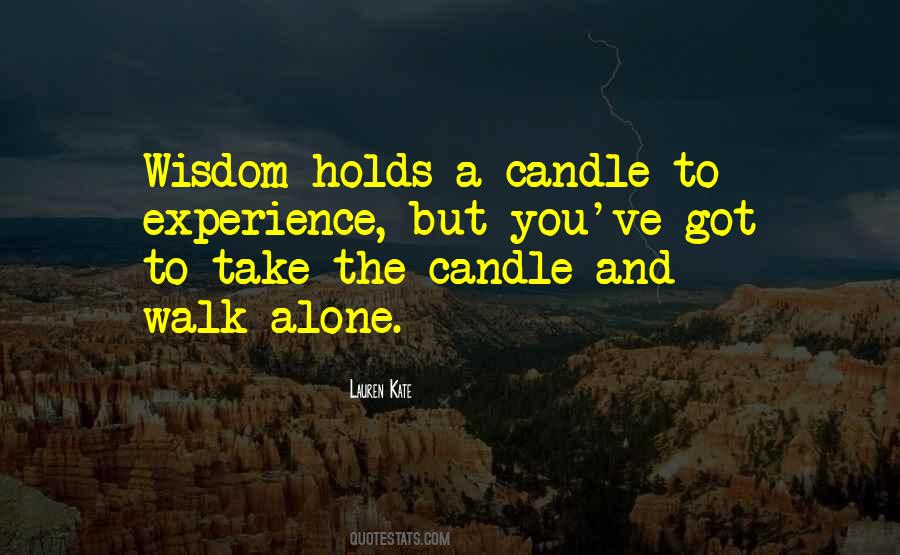 #42. We'll never Walk Alone. - Author: Fernando Torres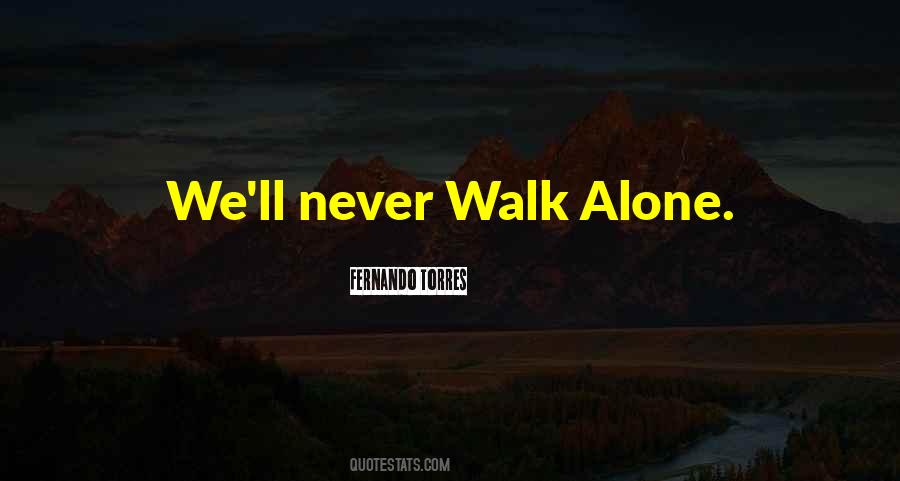 #43. And from Michael - as well as Damon, Will, and Kai - I learned to breathe fire. I learned to walk as if the path were carved for me and me alone, and to treat the world as if it should know I was coming. - Author: Penelope Douglas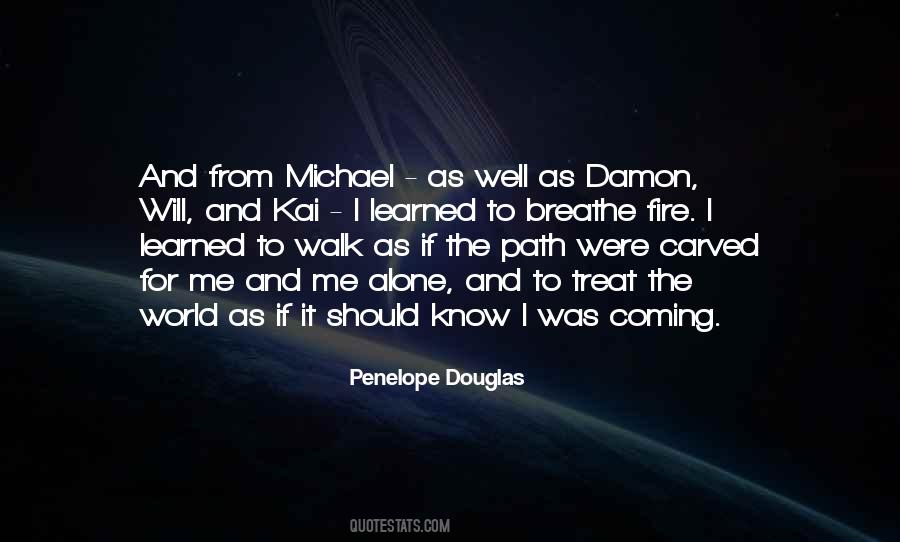 #44. If you have taught your child how to walk when he is all alone, it means that you have taught him everything! - Author: Mehmet Murat Ildan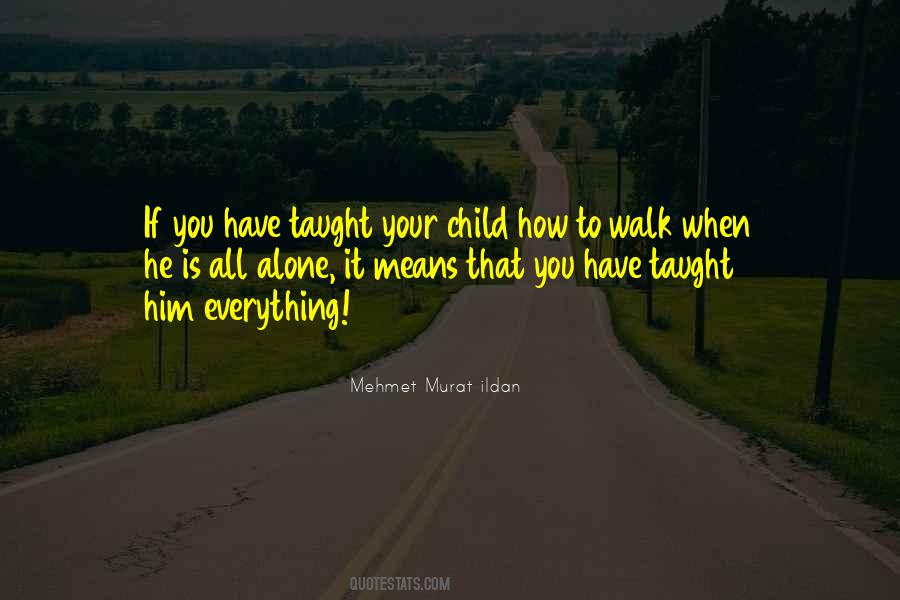 #45. Millions of fathers in rain
Millions of mothers in pain
Millions of brothers in woe
Millions of sisters nowhere to go
Millions of daughters walk in the mud
Millions of children wash in the flood
A million girls vomit and groan
Millions of families hopeless alone - Author: Allen Ginsberg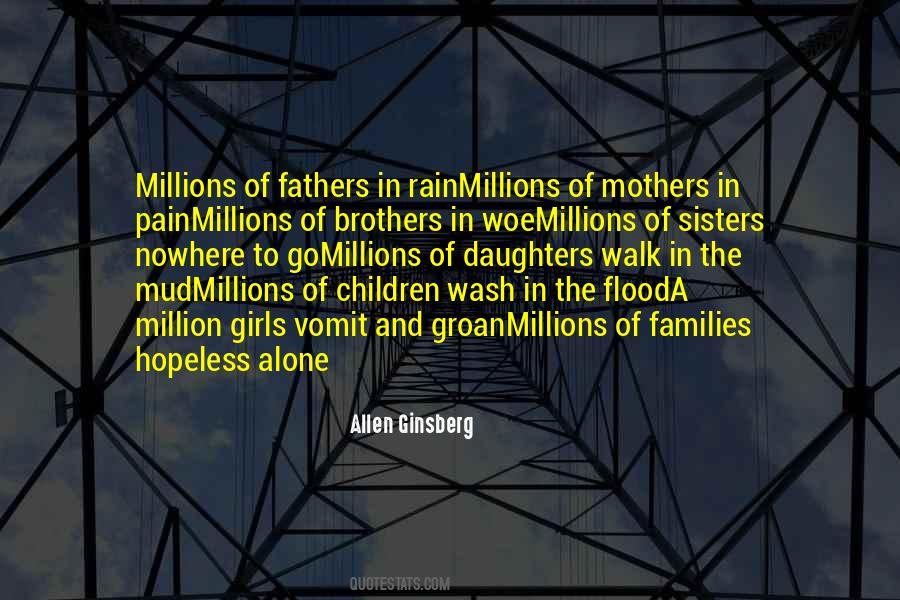 #46. To walk three miles, or four miles, or five miles, or whatever it is, above her ankles in dirt, and alone, quite alone! What could she mean by it? It seems to me to show an abominable sort of conceited independence, a most country-town indifference to decorum. - Author: Jane Austen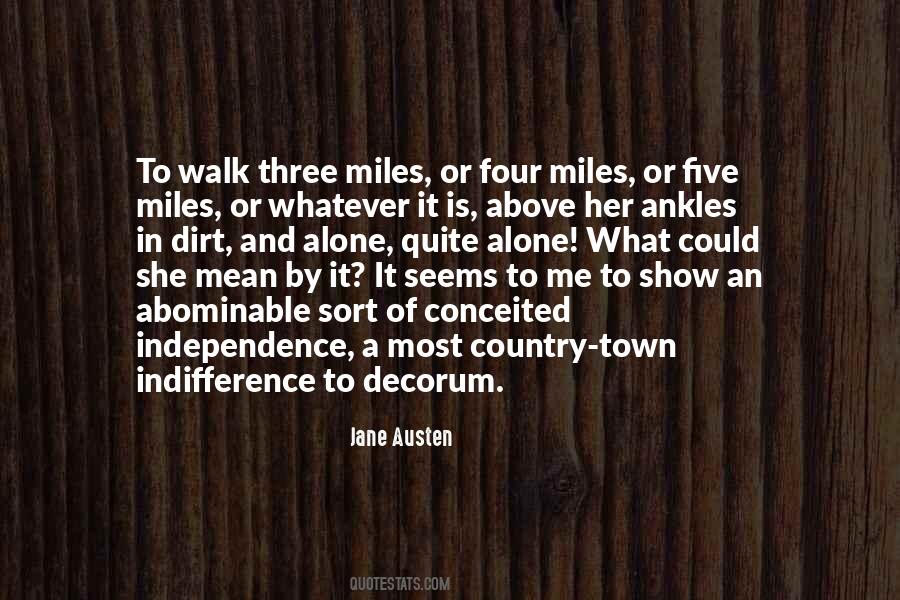 #47. To have her meals, and her daily walk, and her fill of novels, and to be left alone, was all that she asked of the gods. - Author: Anthony Trollope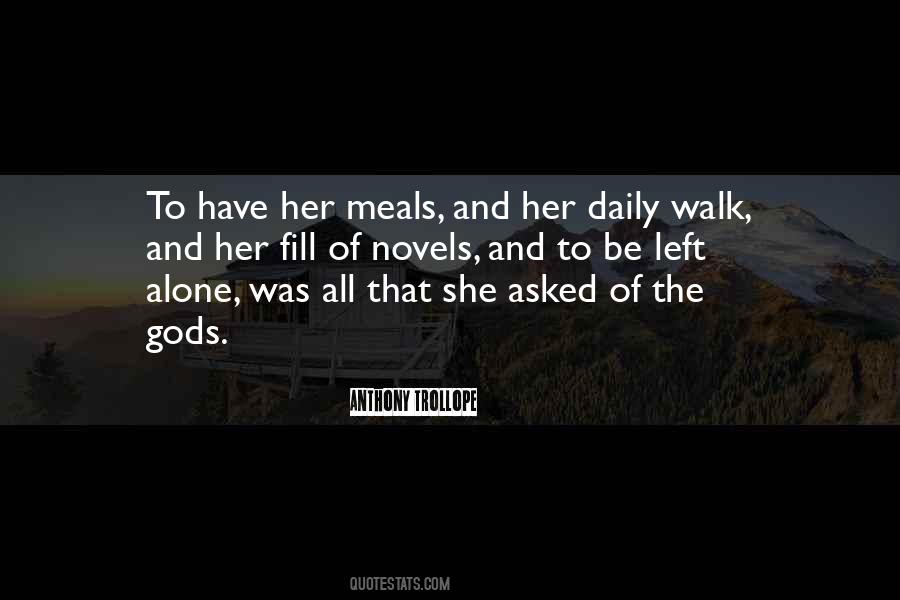 #48. I walk alone in the darkness and wonder how a person would begin to determine the circumference of the earth. I have no idea. I'd probably just google it. - Author: Robin Sloan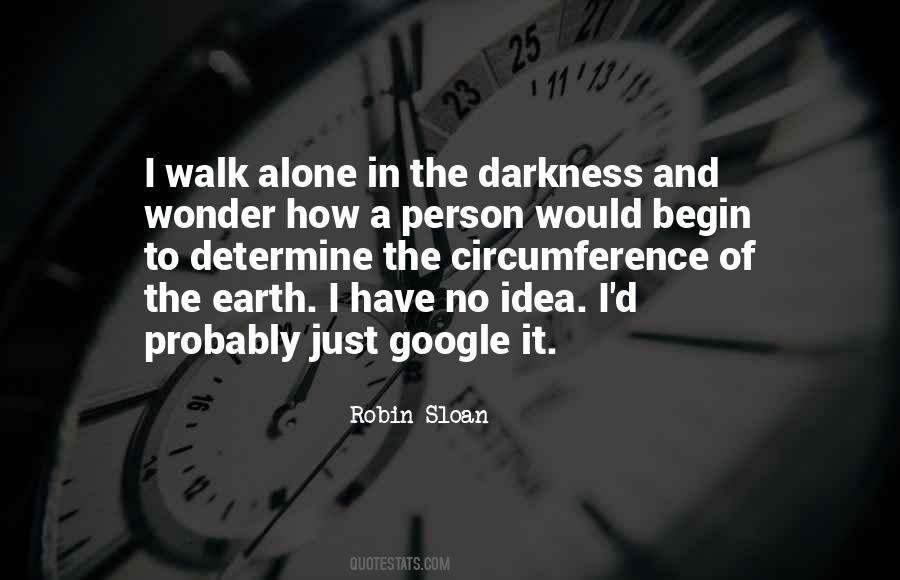 #49. Now, I'm going to walk you home, and you're going to let me. And tomorrow night I'll make sure you're not walking home alone, and you're going to trust me to take care of that. Understand? She simply nodded, because for the first time in her life, she was speechless. - Author: Lorna Seilstad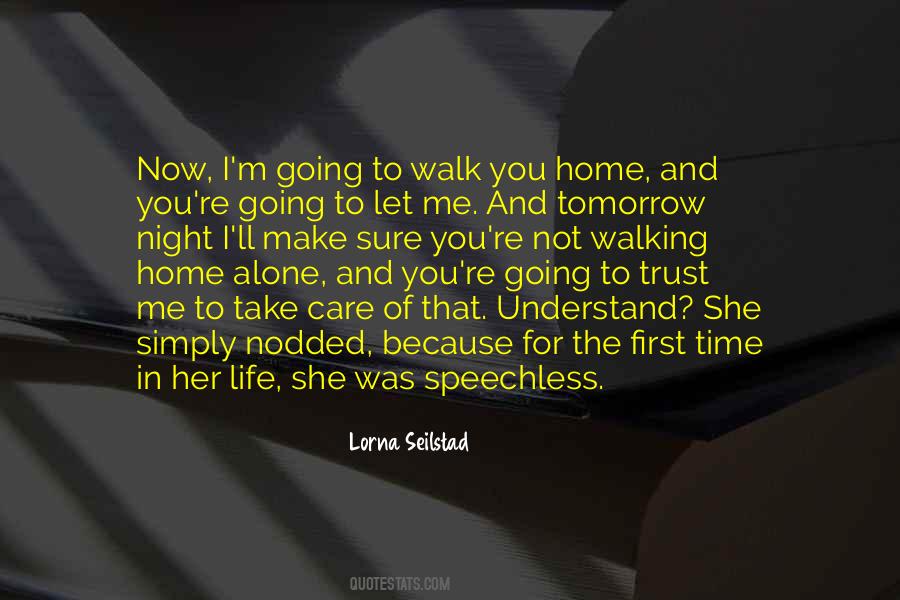 #50. I'm not afraid to take a stand. Everybody come take my hand. We'll walk this road together, through the storm. Whatever weather, cold or warm. Just let you know that, you're not alone. Holla if you feel that you've been down the same road. - Author: Eminem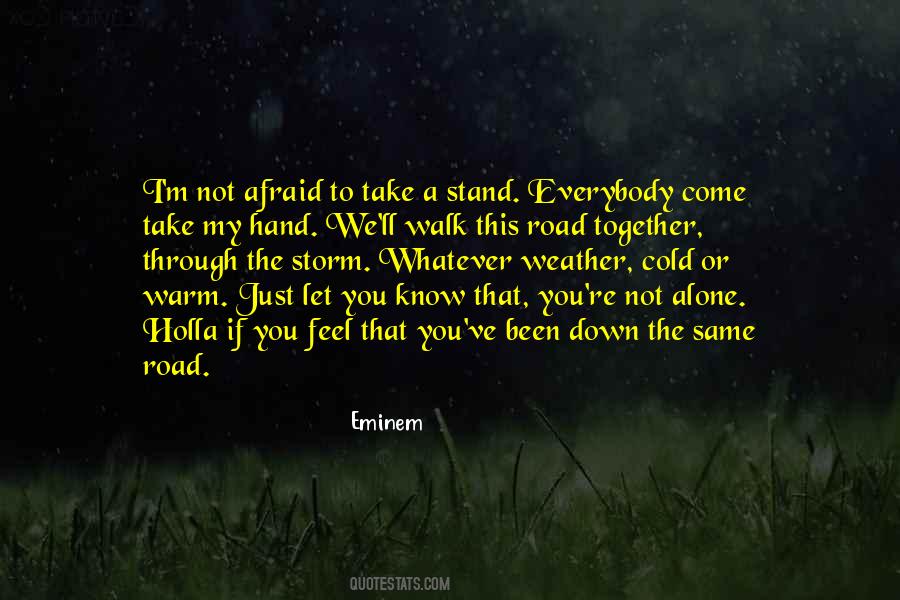 #51. I examined the ten feet I would have to walk alone and remembered my left mind made me a moron. - Author: Ashlan Thomas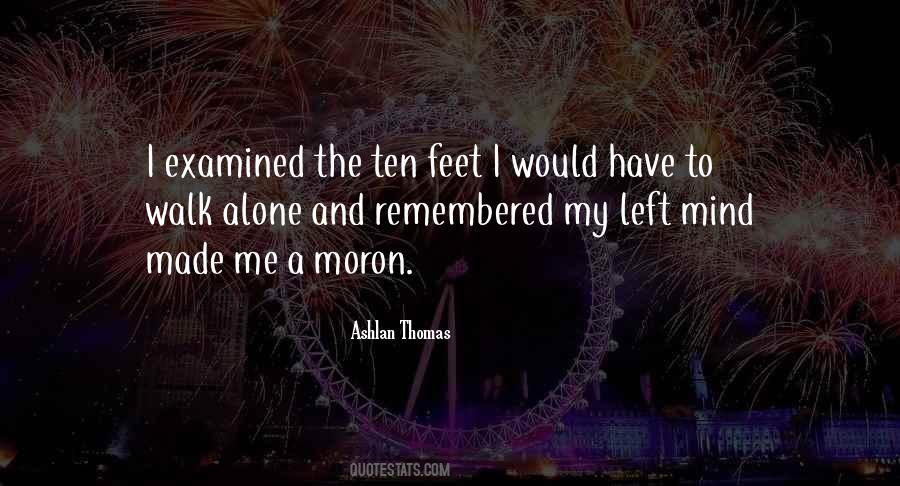 #52. Those we love can but walk down to the pier with us - the voyage we must make alone. - Author: William Makepeace Thackeray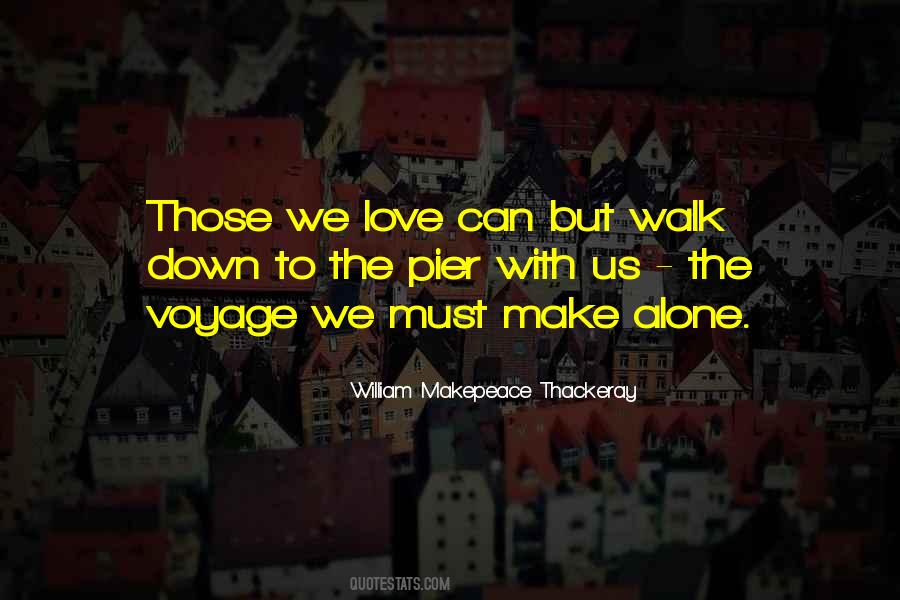 #53. It's better to walk alone, than with a crowd going in the wrong direction. - Author: Jennifer Grant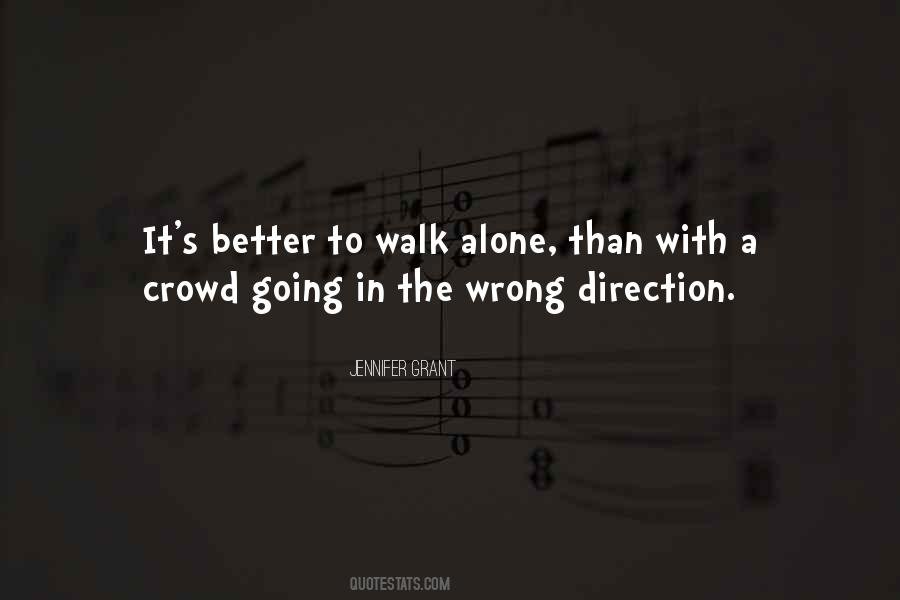 #54. As I walk alone in Hell, my mind becomes my only ally, and even he cannot be trusted. - Author: K. Trap Jones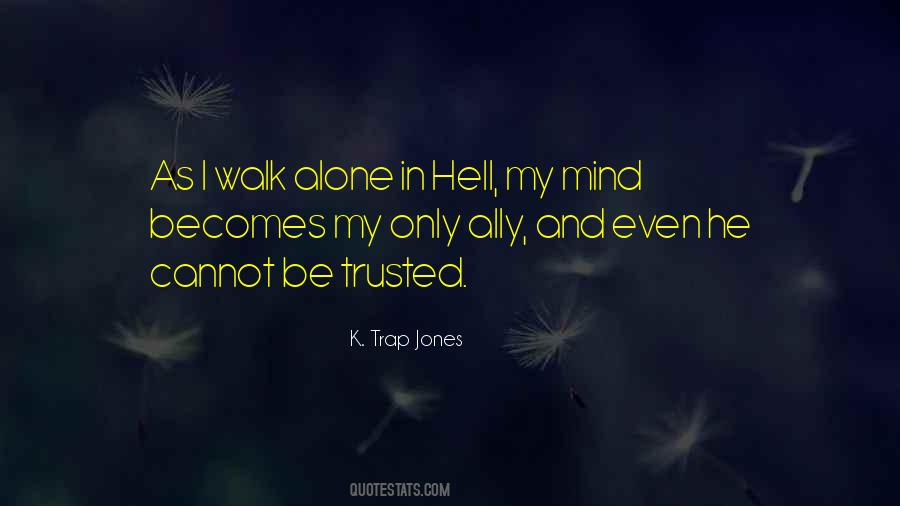 #55. While each of us must walk this path alone, we need not do so without the empathy, the encouragement and the love of others who are travelling, or have travelled, this terrain - or those who having lived life long and deep and can meet us there, with wisdom and compassion. - Author: Meryn G. Callander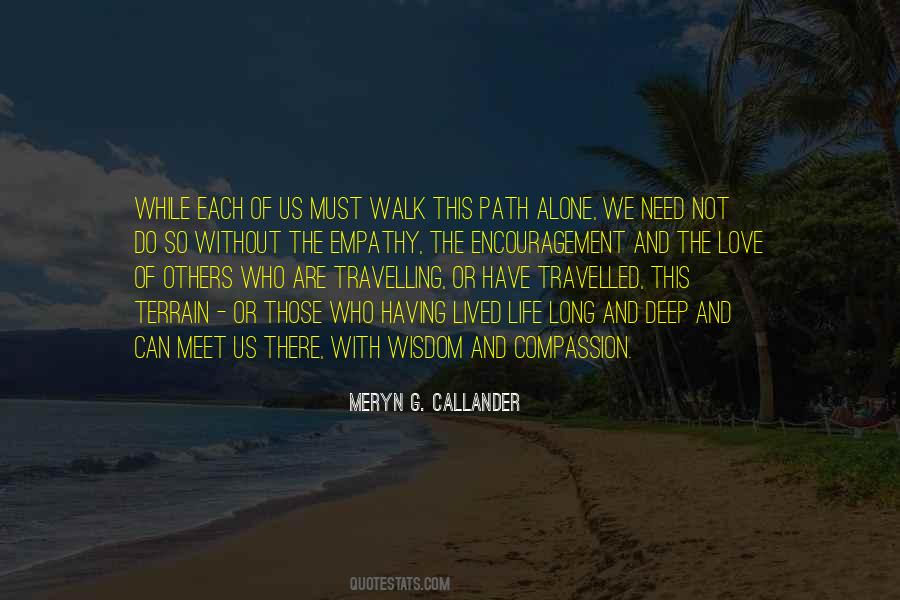 #56. I have different routines for different types of chaos. When I find myself swamped with work and surrounded by people, I try to carve out time to walk my dog alone so I can organize my thoughts. - Author: Amanda Schull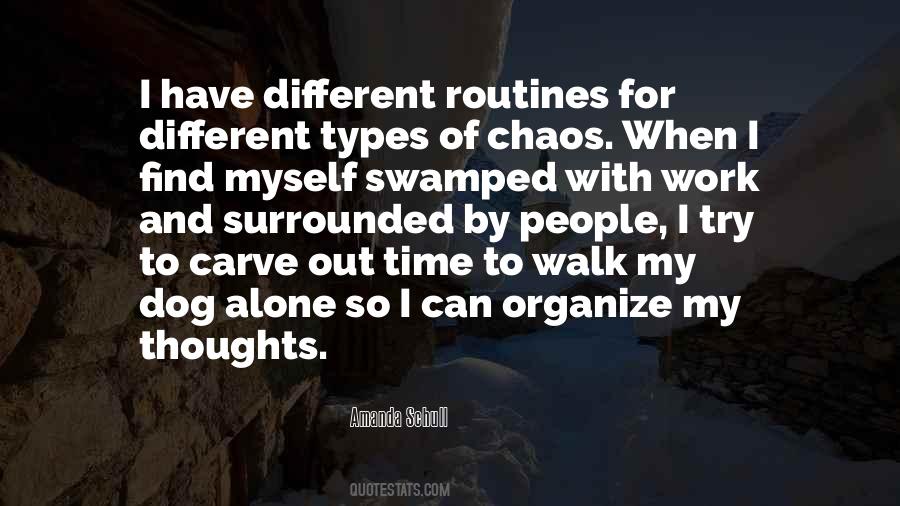 #57. Normally Connor would walk away from a conversation like this. His life is about tangibles: things you can see, hear and touch. God, souls, and all that has always been like a secret in a black box he couldn't see into, so it was easier just to leave it alone. Only now, he's inside the black box. - Author: Neal Shusterman
#58. We are the cats inside. We are the cats who cannot walk alone, and for us there is only one place. - Author: William S. Burroughs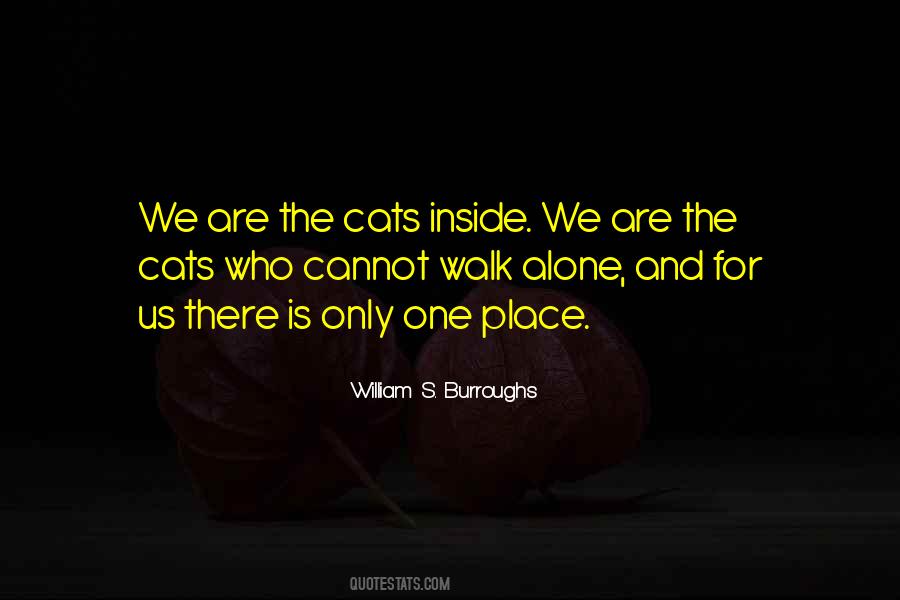 #59. I have come to believe that we do not walk alone in this life. There are others, fellow sojourners, whose journeys are interwoven with ours in seemingly random patterns, yet, in the end, have been carefully placed to reveal a remarkable tapestry. I believe God is the weaver at that loom. - Author: Richard Paul Evans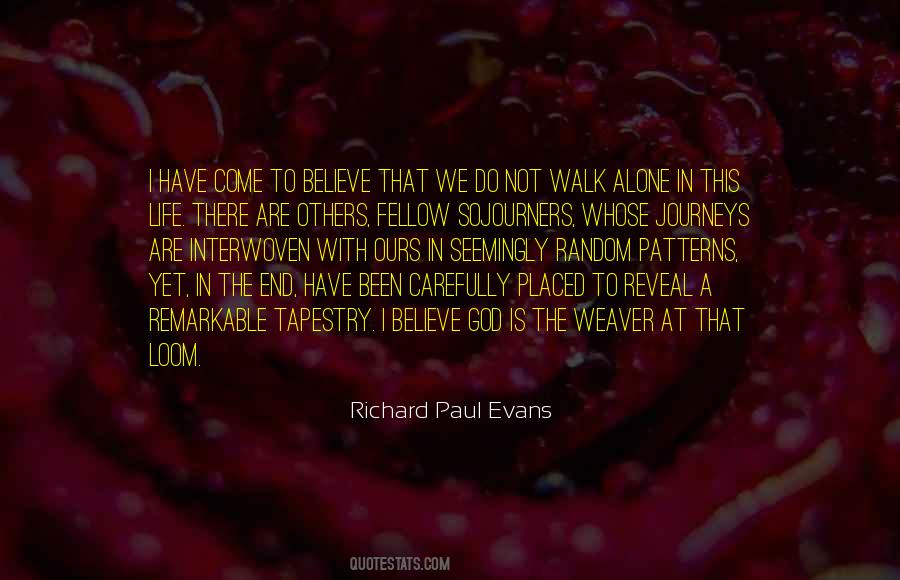 #60. When I dance, I dance; when I sleep, I sleep; yes, and when I walk alone in a beautiful orchard, if my thoughts drift to far-off matters for some part of the time for some other part I lead them back again to the walk, the orchard, to the sweetness of this solitude, to myself. - Author: Michel De Montaigne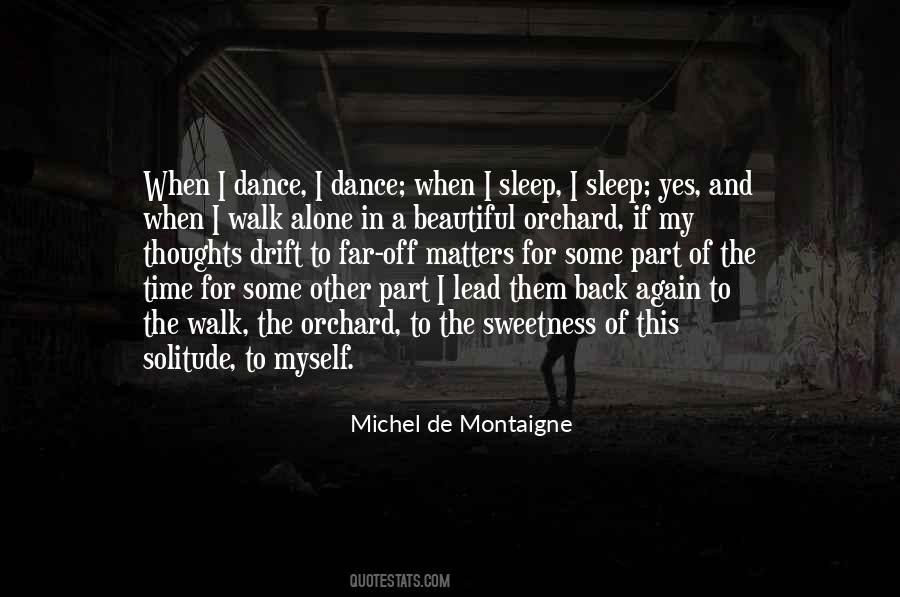 #61. To obsess too virulently is to walk alone in anxiety. But to obsess too little is to wall oneself off from one's own creativity. - Author: Eric Maisel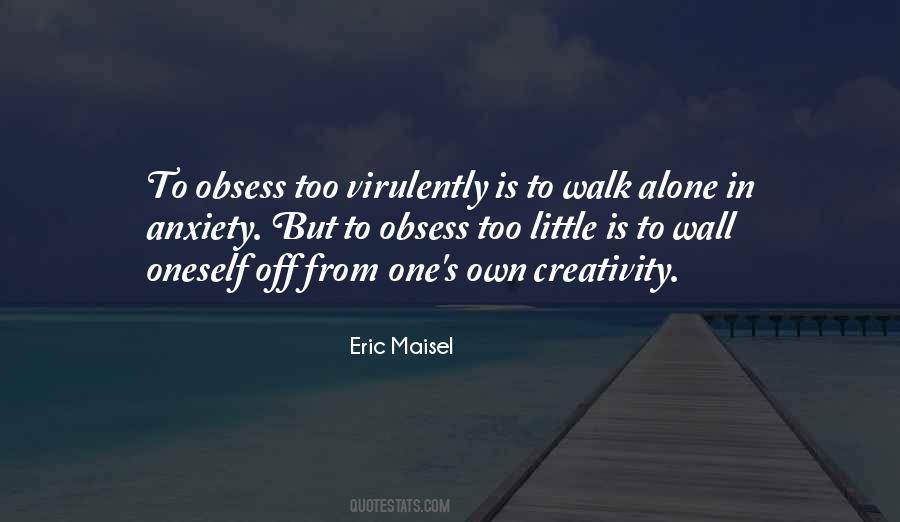 #62. A few birds sang in the distance; everything was still. We were truly alone. This was it, no turning back now. Even if we did, it was a long walk home. - Author: Dennis R. Blanchard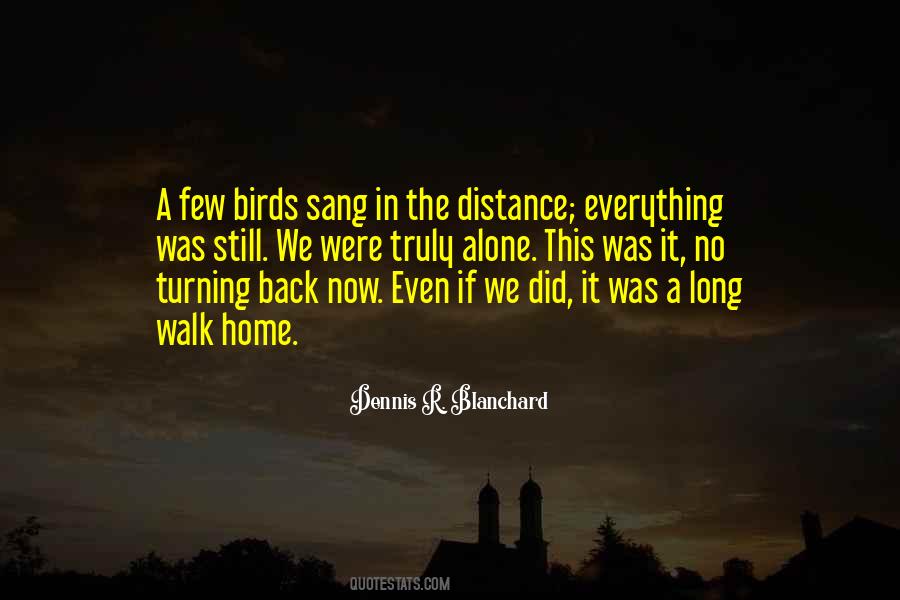 #63. Many of us feel we walk alone without a friend
Never communicating with the one who lives within. - Author: Stevie Wonder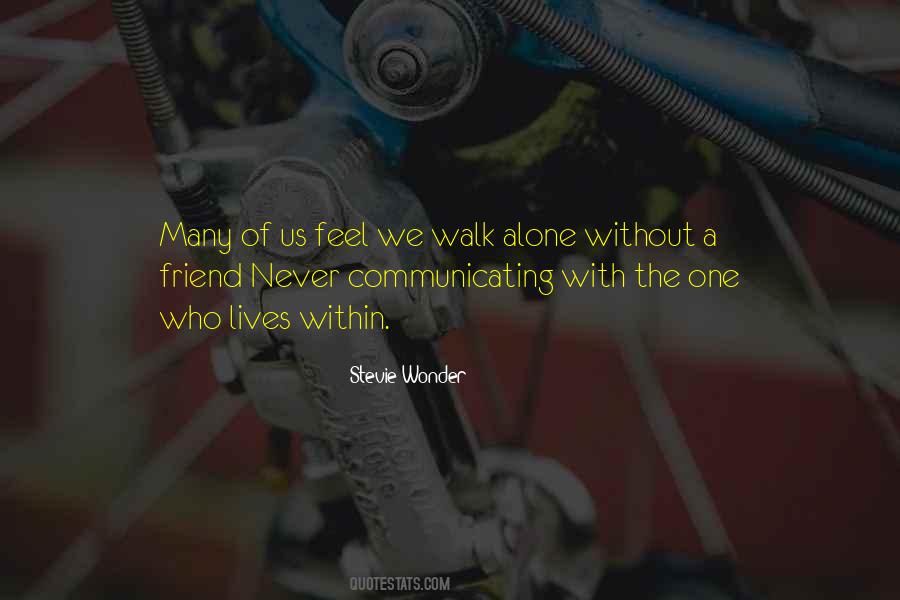 #64. Here was the freedom I desired, long sought-for, not yet known Freedom to write, to walk, to wander, freedom to climb hills, to pull a boat, to be alone. - Author: Daphne Du Maurier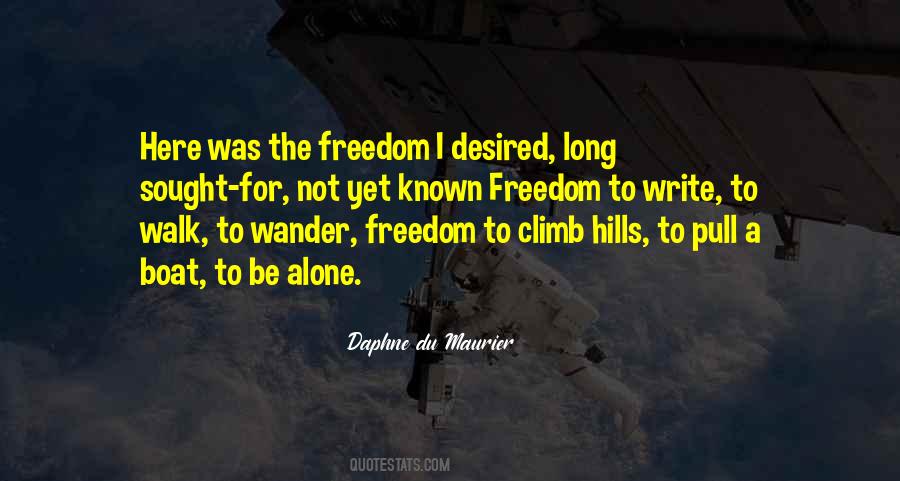 #65. No friend have I. I must live by myself alone; but I know well that God is nearer to me than others in my art, so I will walk fearlessly with Him. - Author: Ludwig Van Beethoven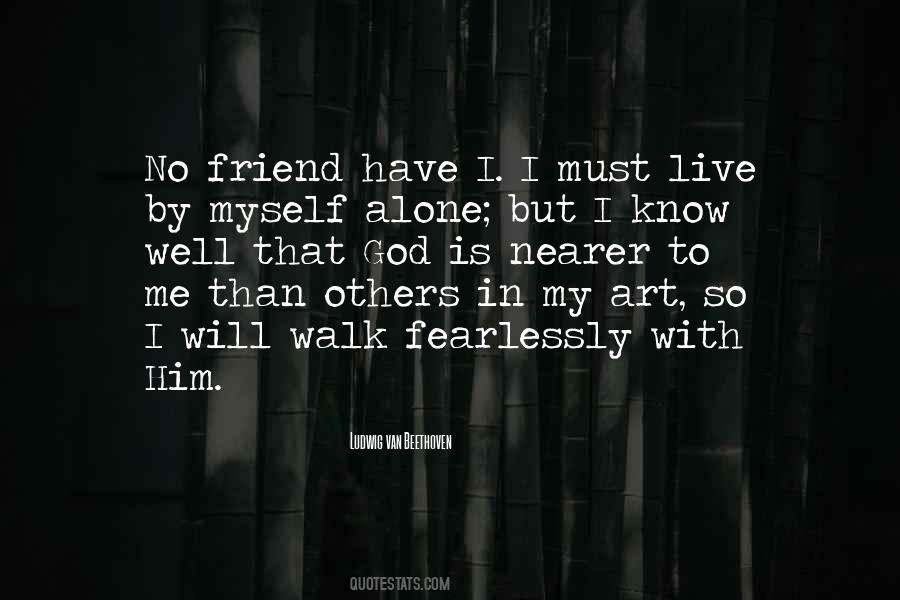 #66. I cannot help but wonder how many of us walk through our lives, day after day, feeling slightly broken and alone, surrounded all the time by others who feel exactly the same way. - Author: Patrick Rothfuss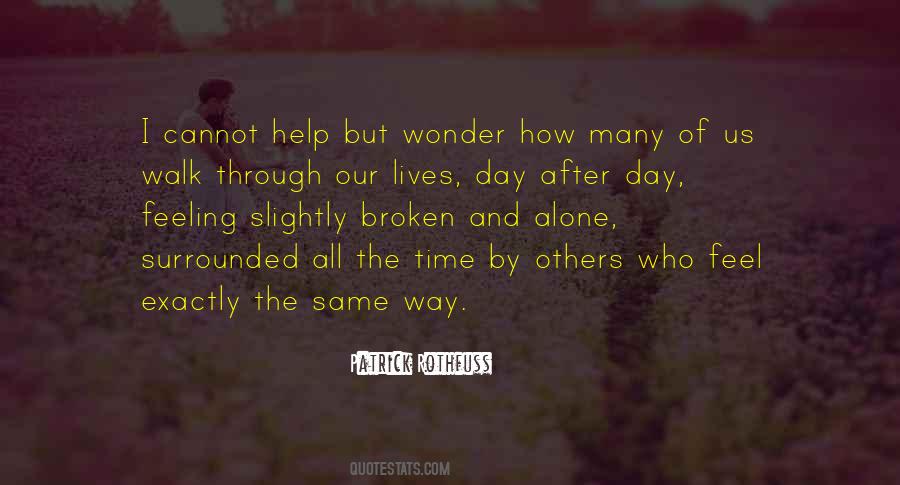 #67. Let's just say, by the end of her second quarter Beli could walk down the hall without fear that anyone would crack on her. The downside of this of course was that she was completely alone. - Author: Junot Diaz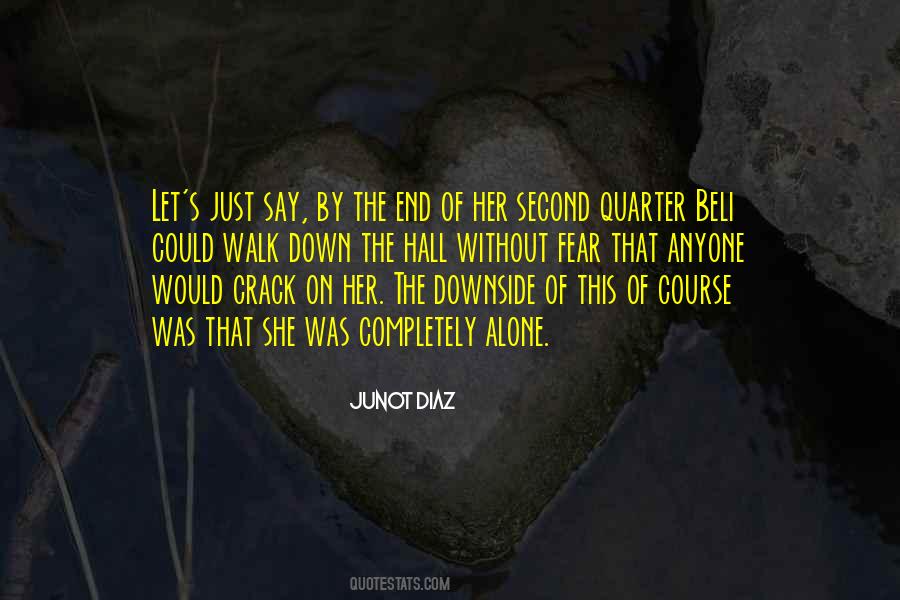 #68. Suddenly, quietly, you realize that - from this moment forth - you will no longer walk through this life alone. Like a new sun this awareness arises within you, freeing you from fear, opening your life. It is the beginning of love, and the end of all that came before. - Author: Robert Frost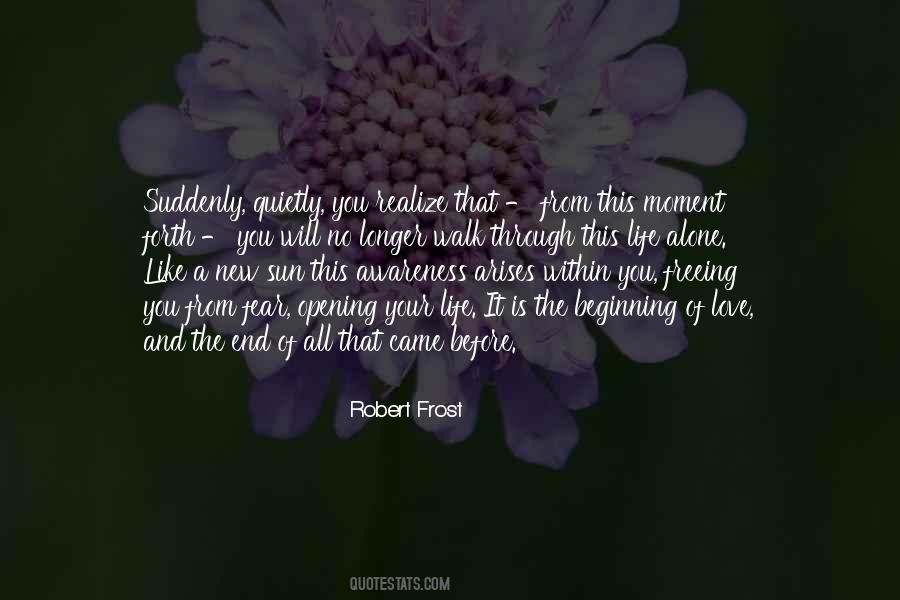 #69. I never in my wildest dreams thought I would get even one play at Indiana, let alone 25 years later, walk Bruin Walk, walk UCLA where Coach Wooden built his legacy. - Author: Steve Alford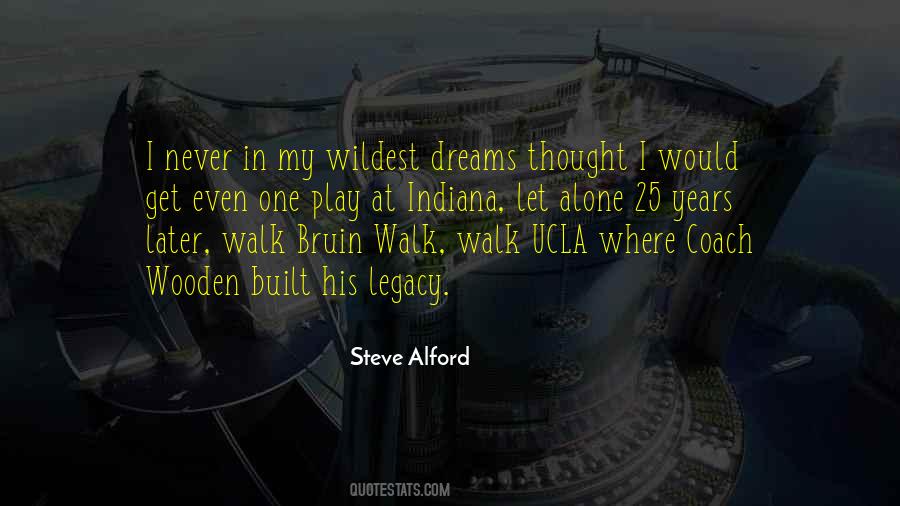 #70. Following Jesus in faith is to walk with him in the communion of the Church. You cannot follow Jesus alone. - Author: Pope Benedict XVI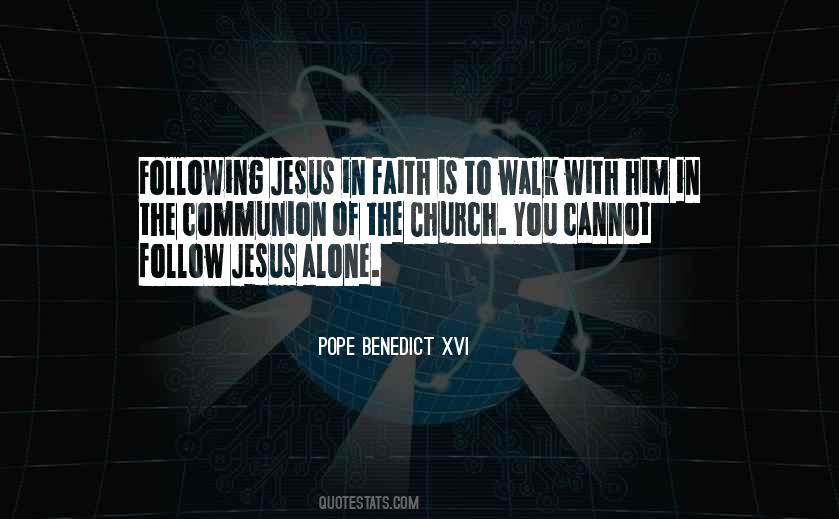 #71. I never live alone,
I never walk alone.
My posse's always ready
And they're waitin' in my zone. - Author: Chuck D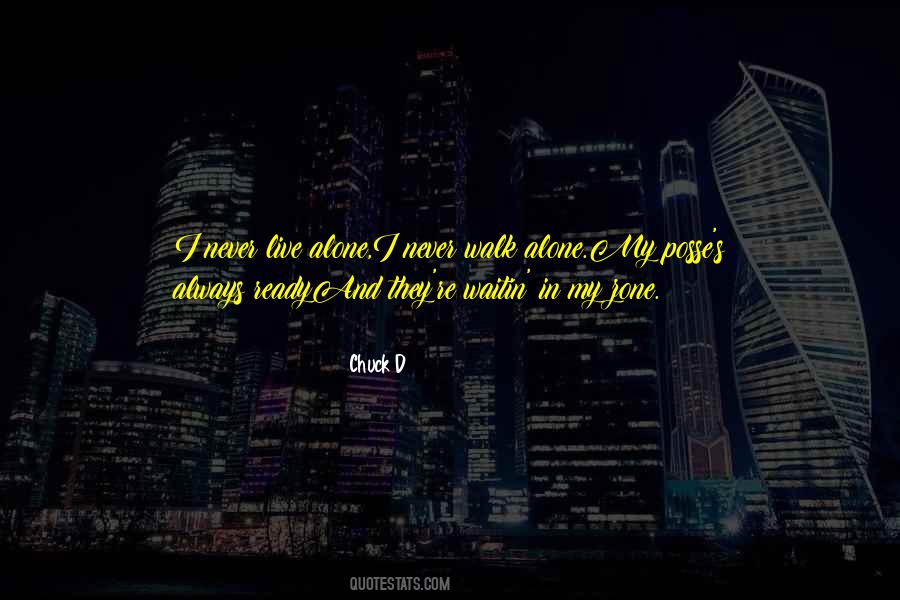 #72. MARIA MADE A LIST of things she would never do. She would never: walk through the Sands or Caesar's alone after midnight. She would never: ball at a party, do S-M unless she wanted to, borrow furs from Abe Lipsey, deal. She would never: carry a Yorkshire in Beverly Hills. - Author: Joan Didion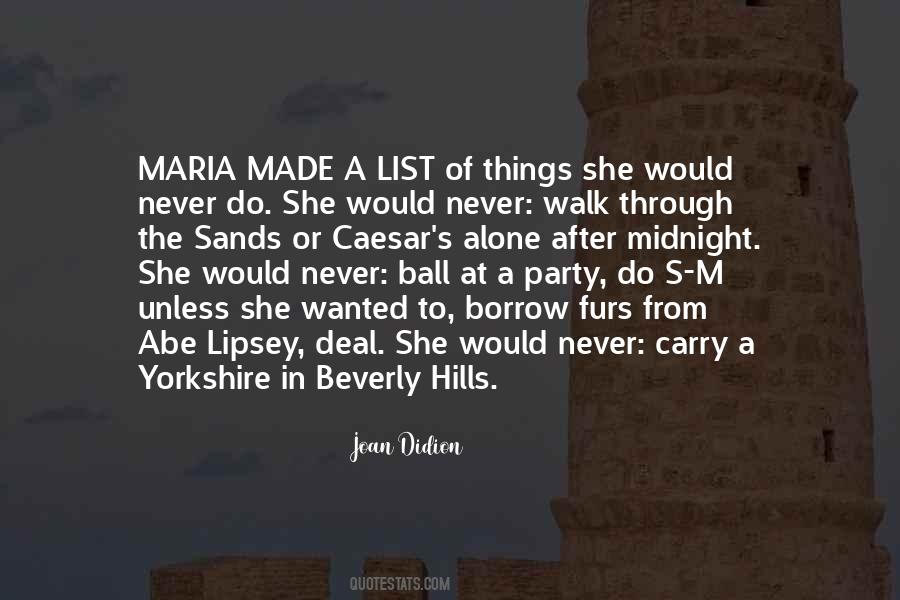 #73. When we are busy at work and busy at home, an hour's walking every day becomes a real luxury. If done alone, the walk injects a period of meditation into the day, and if done in company, it allows space for some really good conversation. - Author: Tom Hodgkinson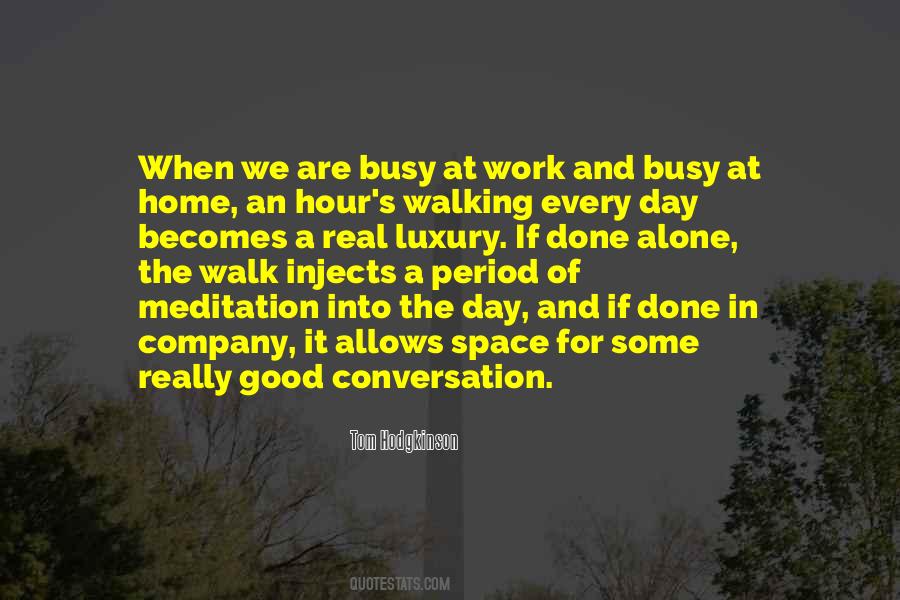 #74. You'll Never Walk Alone - Author: Gerry Marsden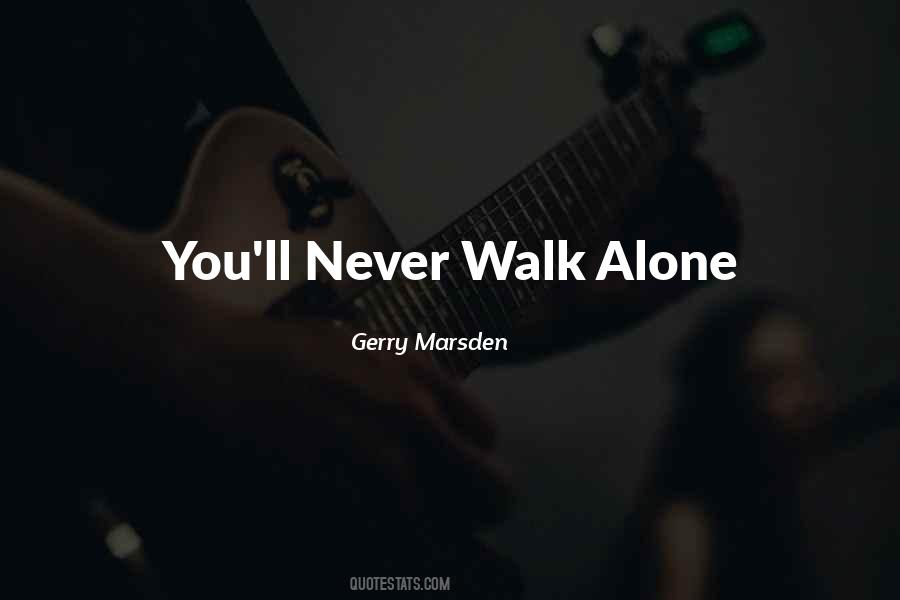 #75. Trusting yourself means you dare walk alone. - Author: Lailah Gifty Akita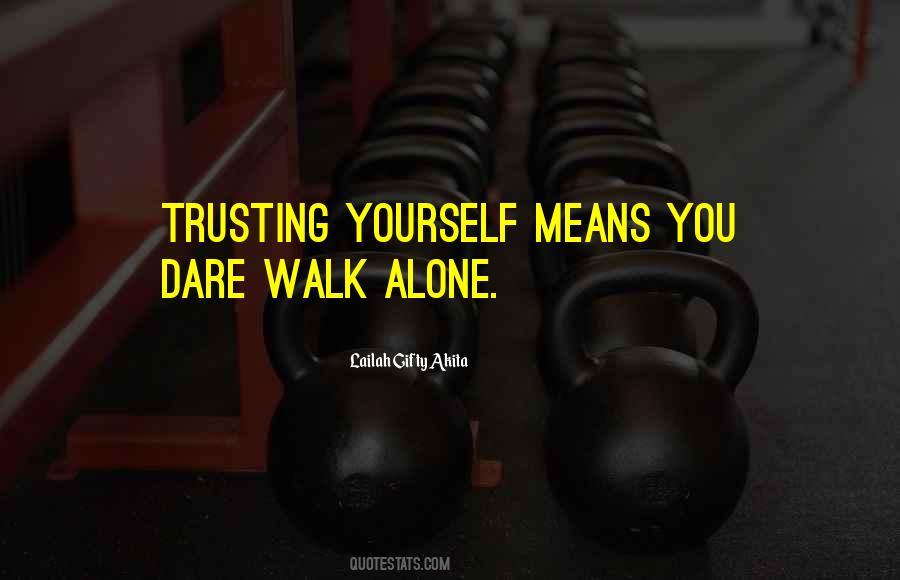 #76. We cannot walk alone. - Author: Martin Luther King Jr.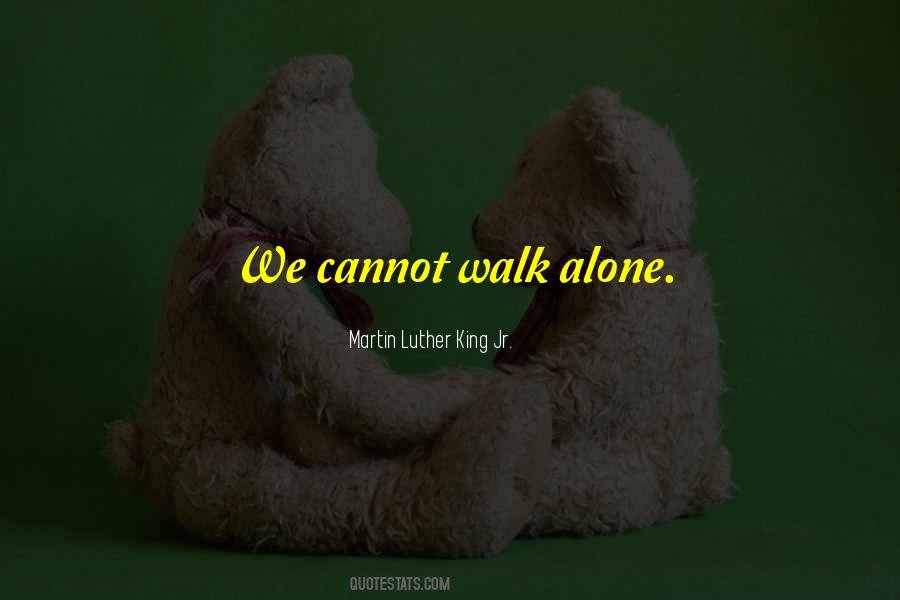 #77. Rule #1 of Traveling-
Don't even think of answering questions that contain the word "plan"? - Author: Sanhita Baruah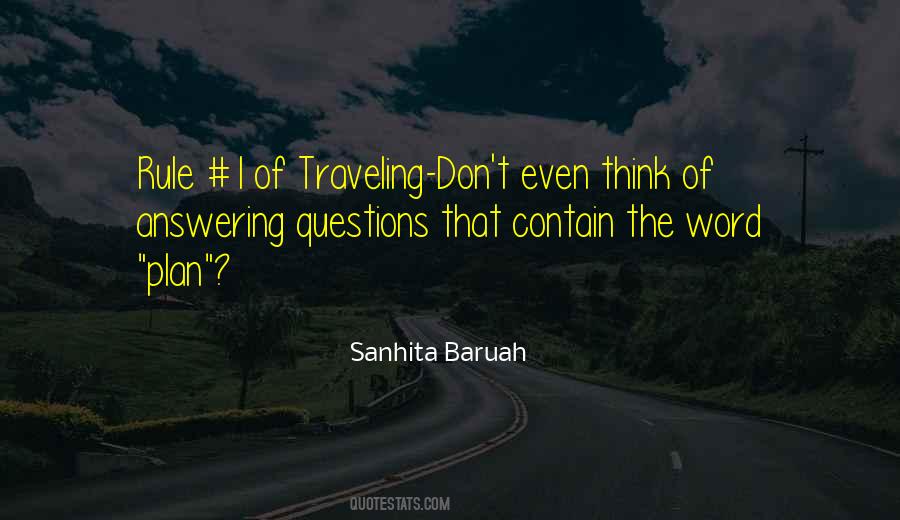 #78. She can't even chew gum and walk in a straight line, let alone write a book. - Author: Liam Gallagher
#79. want to travel far ? take a companion along . but , want to travel fast ? better walk alone...... - Author: Shreya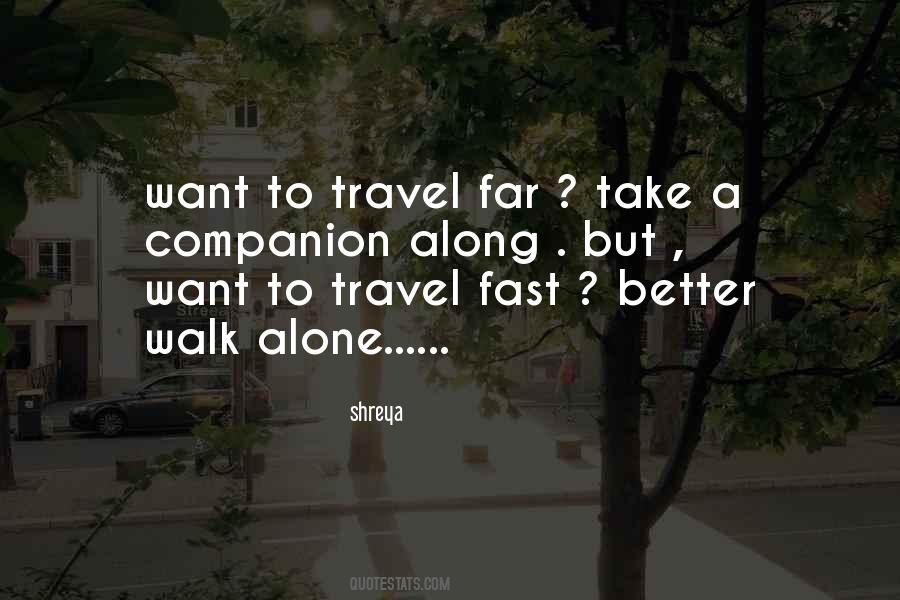 #80. Why did you take me down this road if you don't want to walk with me? Why do you exist all alone, when you could just talk to me? - Author: Sara Quin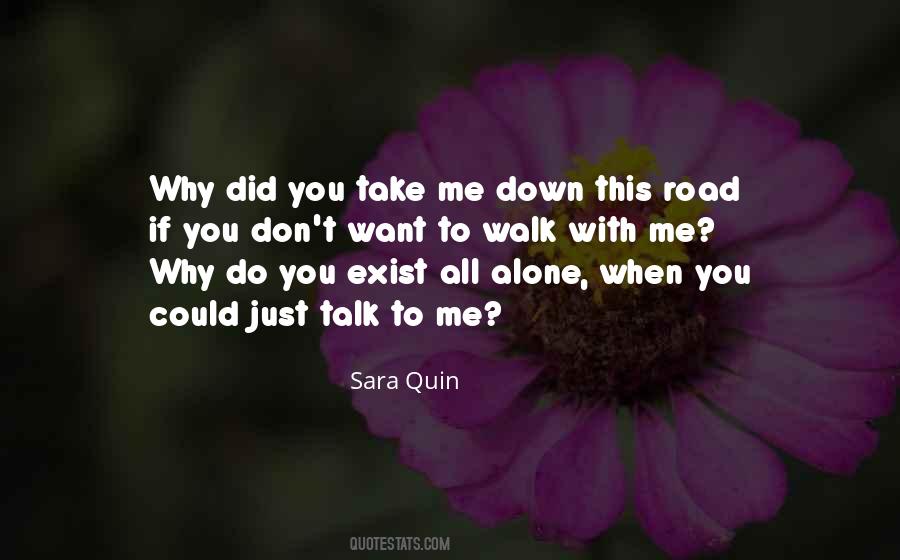 #81. Who is he who walks always beside you? No-fucking-body, thank you very much. I walk alone. - Author: Claire Messud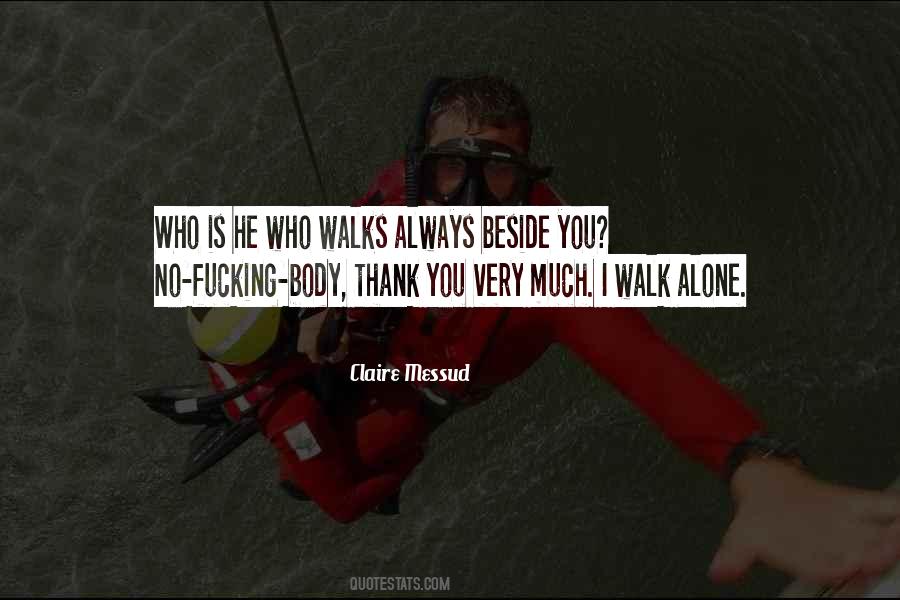 #82. But you didn't try it with Maddox. The inner voice refused to shut up. That could be you. Someone to text. Someone to make your favorite foods. Someone in your bed. Someone to bring home surprises to. Someone to go places with. Never walk into a gathering alone again. That could be you happy. Fuck. - Author: Annabeth Albert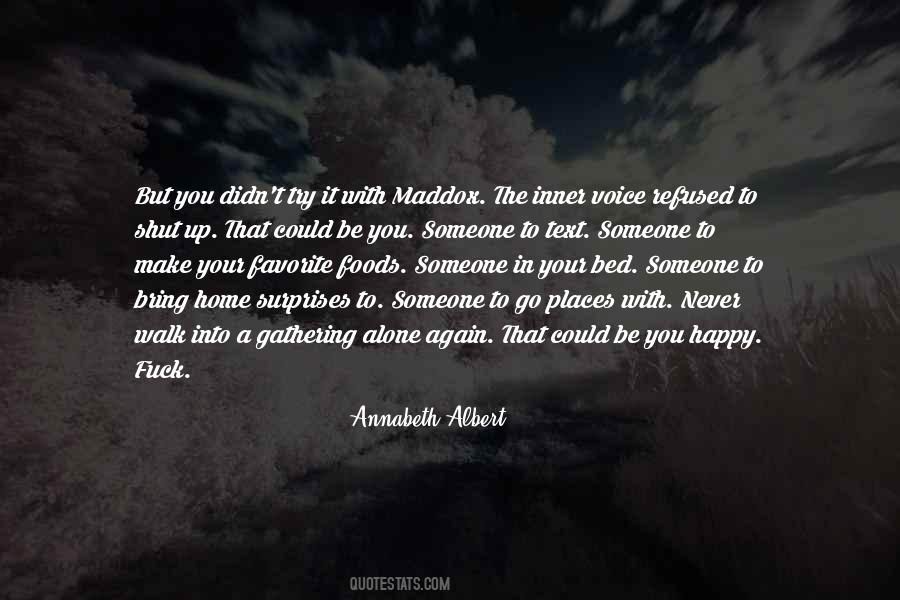 #83. If you dwell in the darkness, you can see in the dark and look into the light.
But in choosing the darkness, you know you are destined to walk alone. - Author: Colin Bateman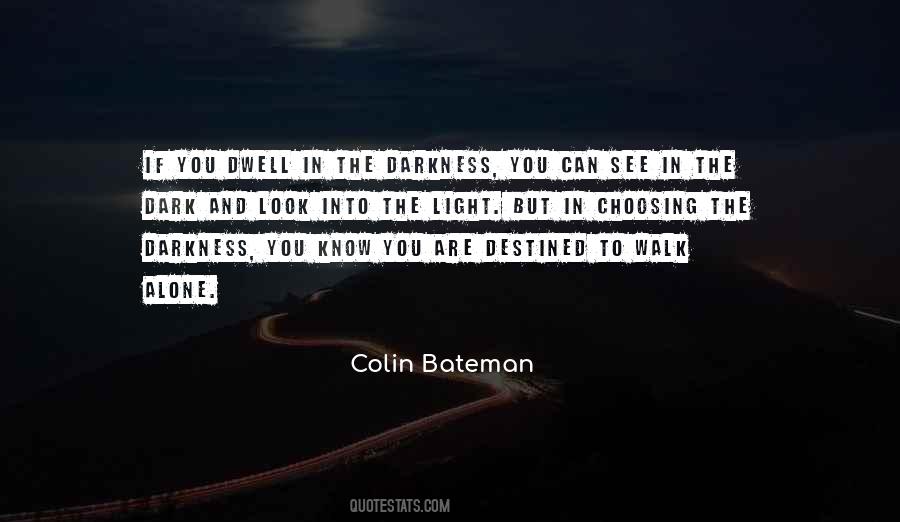 #84. No person can walk all alone because to walk all alone one must have no memories at all from the past! - Author: Mehmet Murat Ildan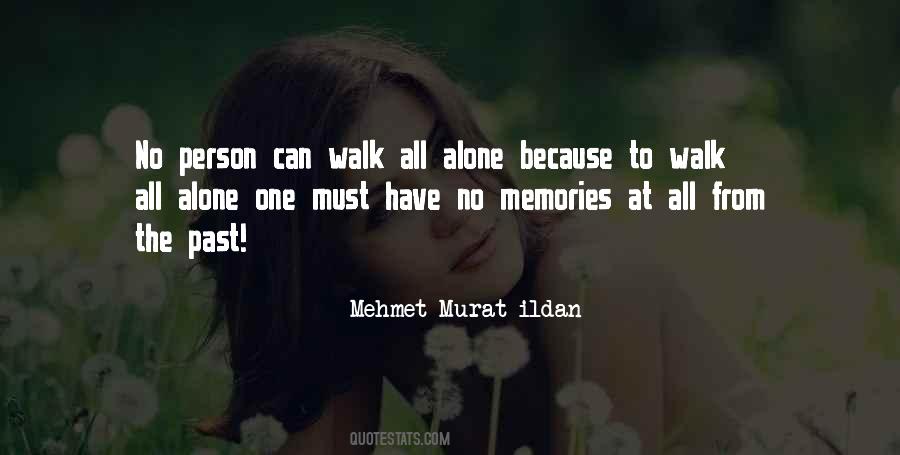 #85. . . . to walk alone in London is the greatest rest. - Author: Virginia Woolf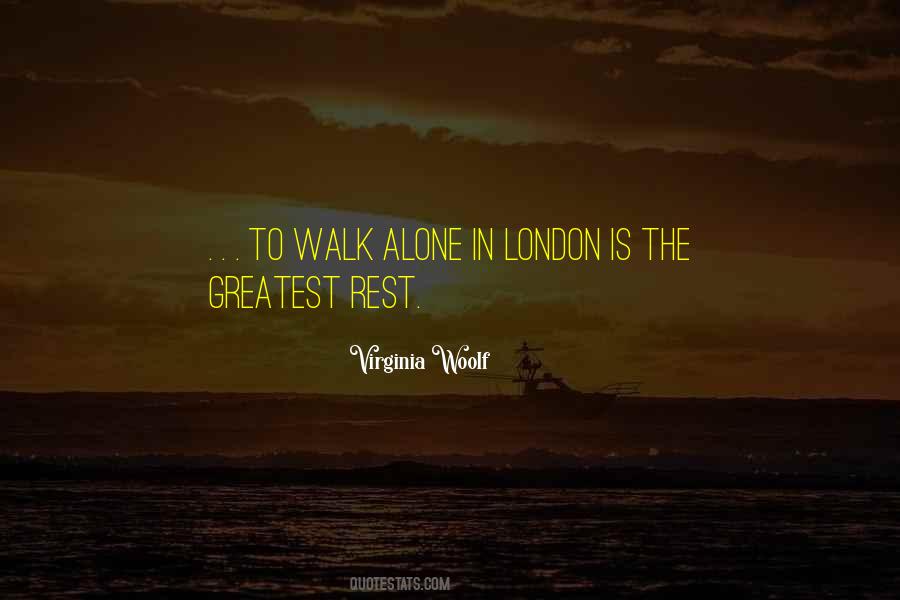 #86. Hello my lovely, Hello my sweetheart.
Can you see me in the dark?
When you walk alone in the park.
Will you remember the smell of my touch?
Will you know the touch of my breath?
Will you see the pulse of my life?
When you feel the blade of my knife. - Author: Daniel Dark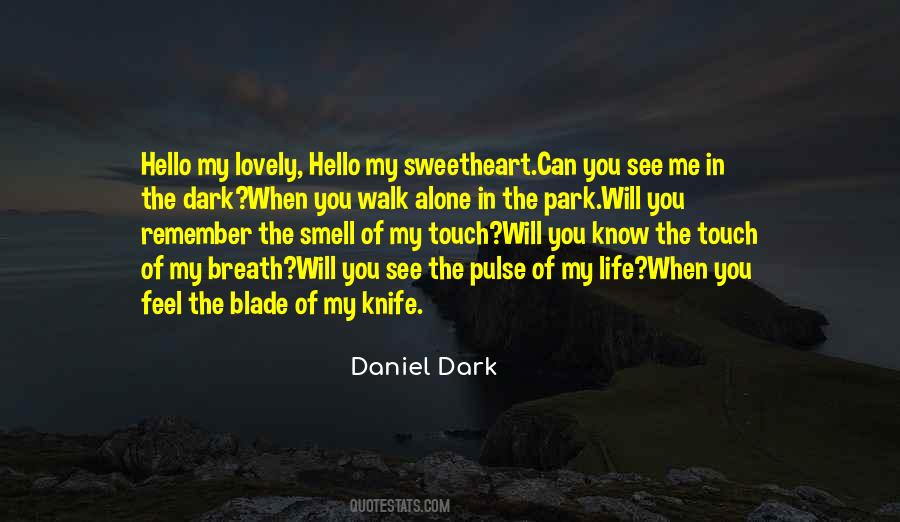 #87. Whoever decides to hate others has chosen to walk alone. - Author: Robin Sacredfire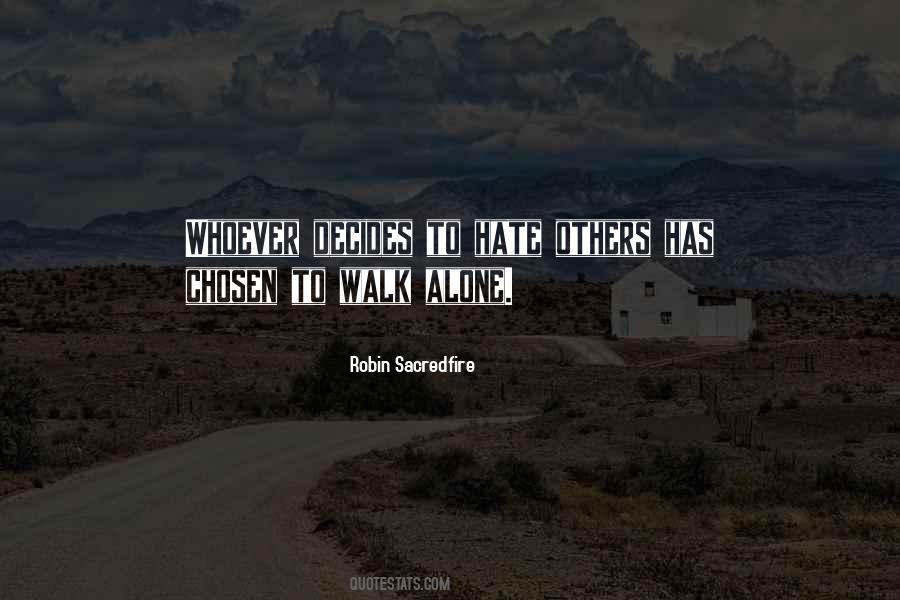 #88. How do I know you'll stay? How do I know, if I let myself love you, that one day there wouldn't be someone else, something else, and you'd just walk away? I can handle being alone now, I know how. But I can't
I won't be left again. - Author: Nora Roberts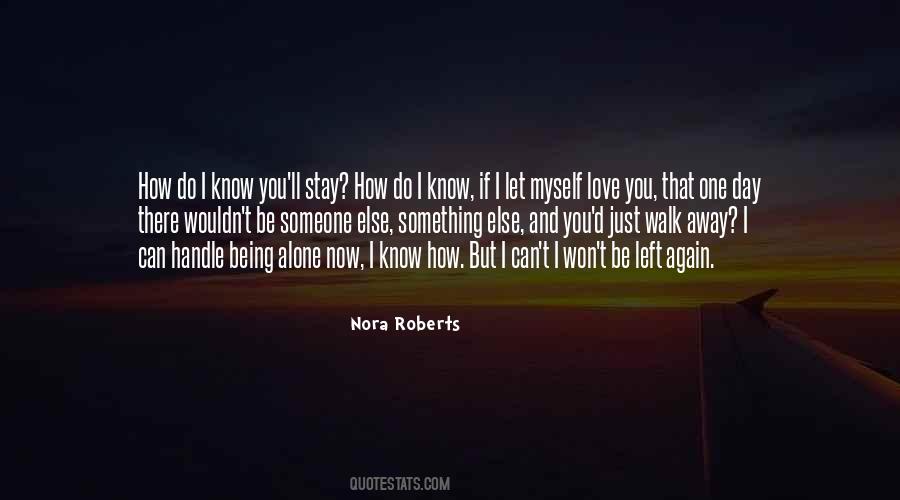 #89. Alone I walk on paths I know, looking for a friendly face, I look to meet you, the one I gave my whole heart to. I want to see you once again, and dance again with, my love. - Author: Amanda Hocking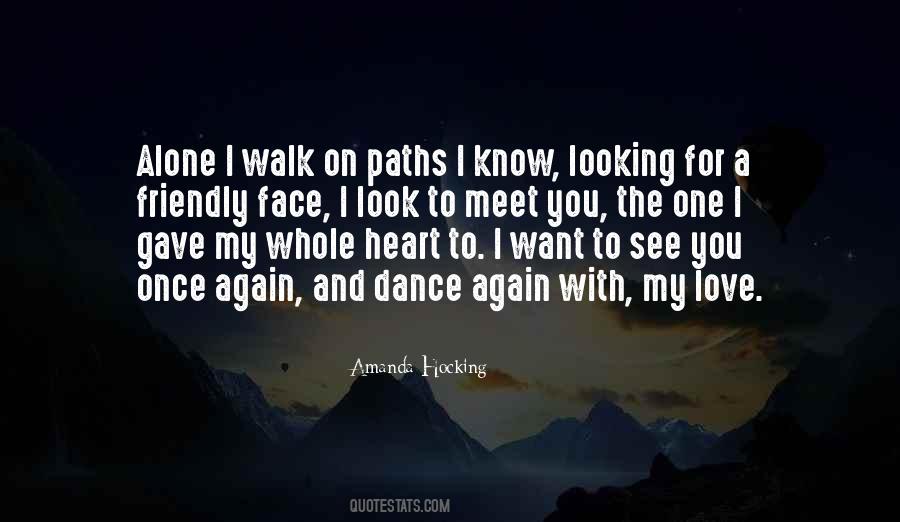 #90. I know I'm not alone and I don't walk alone. That I won't. When the thin whisper of a veil between what I can't see and what I can is pulled back and for one brief second I get a glimpse of what will be. Where the words 'might' and 'hope' intersect. - Author: Charles Martin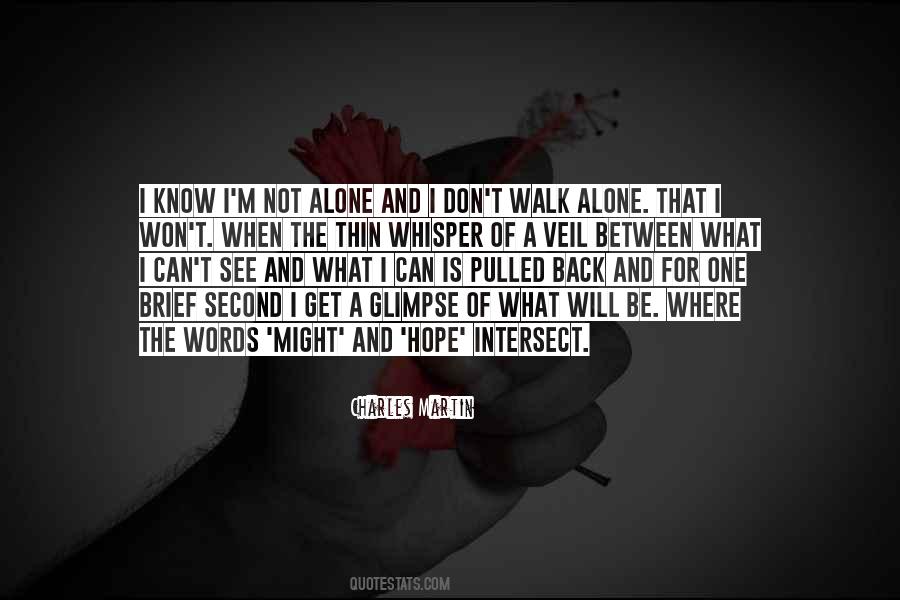 #91. You can go to the moon or walk under the sea, or anything else you like, but painting remains painting because it eludes such investigation. It remains there like a question. And it alone gives the answer. - Author: Pablo Picasso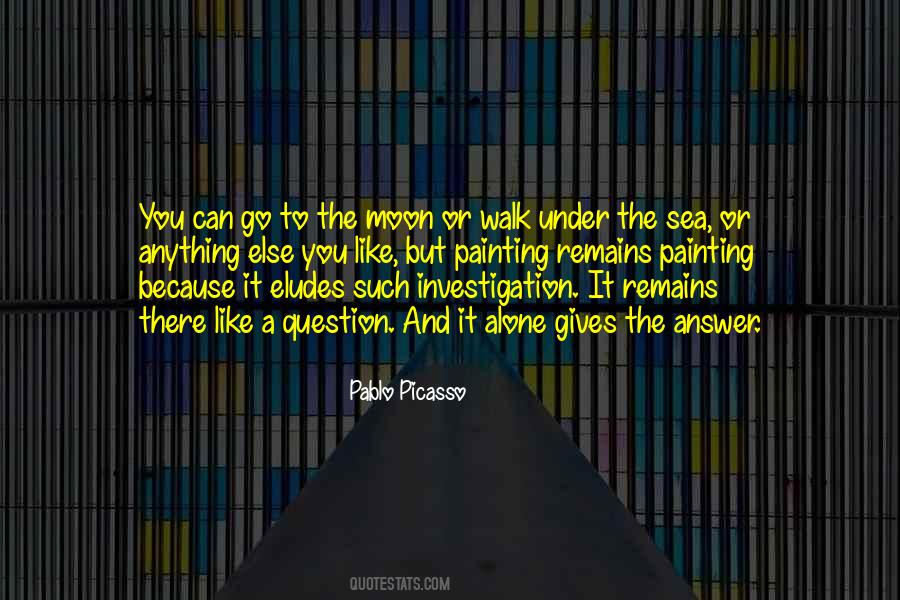 #92. I would rather walk alone in light than with many in the darkness. - Author: Lailah Gifty Akita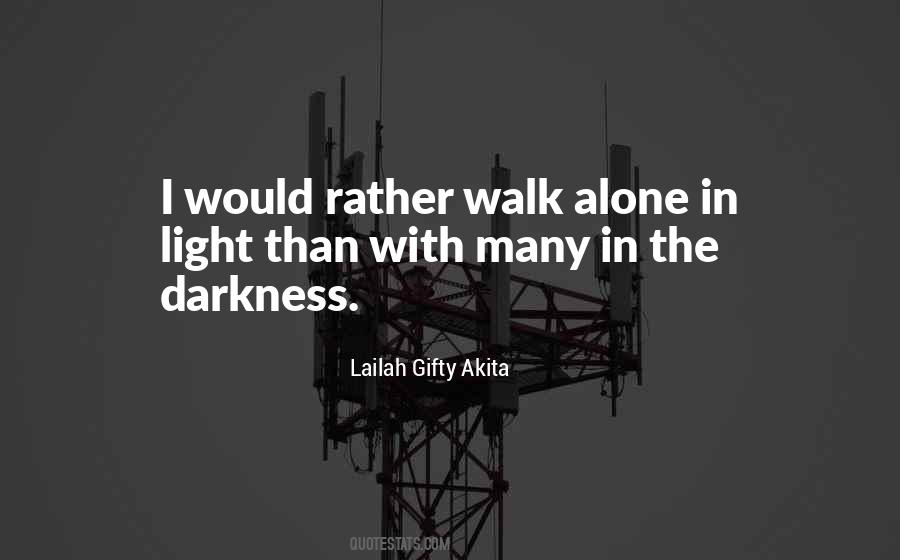 #93. Found my foundation it was underneath me all along. On this path I'm on I never walk alone - Author: Jack Johnson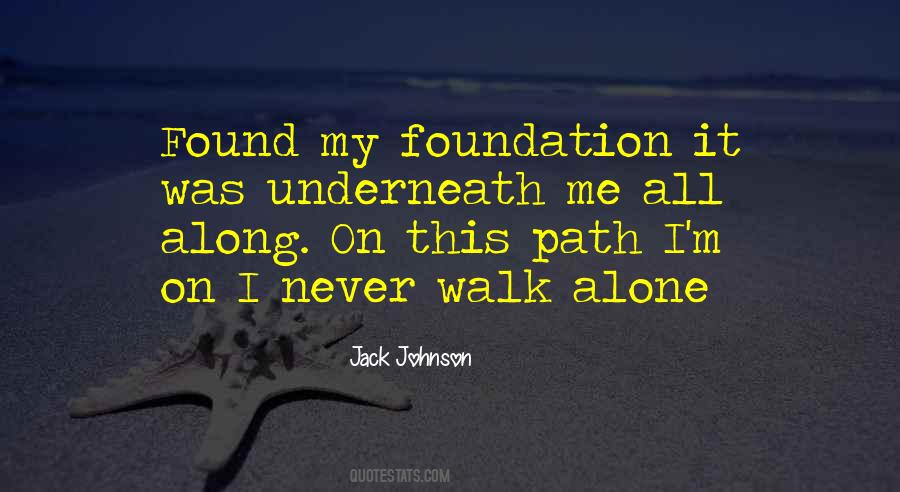 #94. I want to do something absolutely different, or perhaps nothing at all: just stay where I am, in my home, and absorb each hour, each day, and be alone; and read and think; and walk about the garden in the night; and wait, wait... - Author: Rosamond Lehmann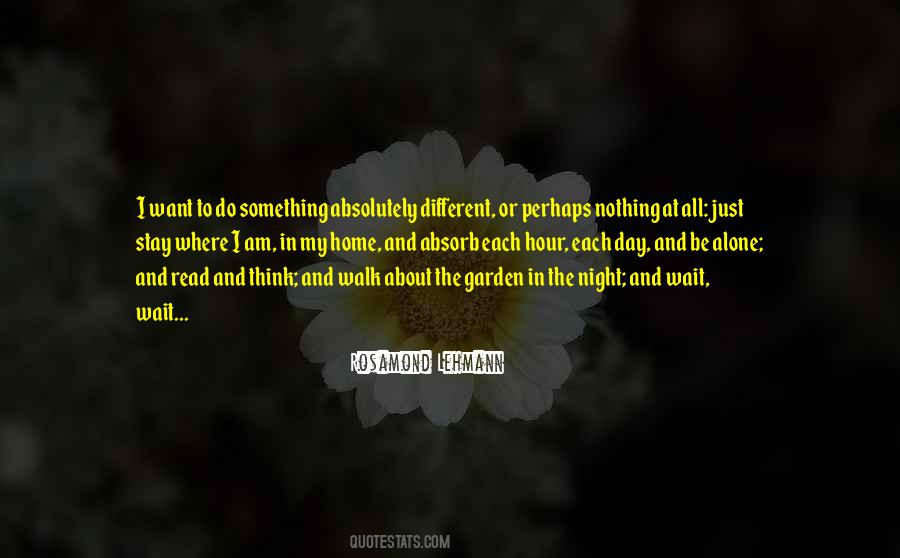 #95. I walk alone and on my own. - Author: Parul Wadhwa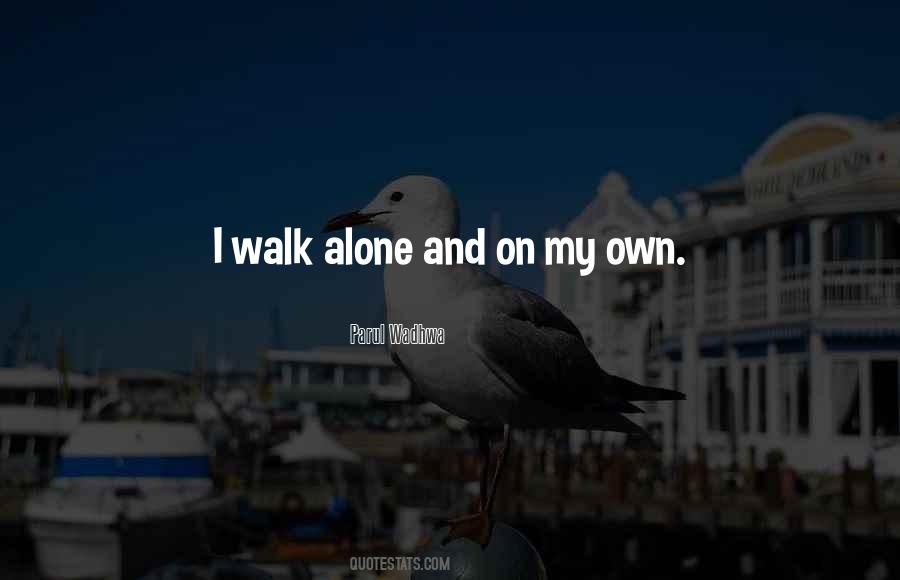 #96. When I'm in turmoil, when I can't think, when I'm exhausted and afraid and feeling very, very alone, I go for walks. It's just one of those things I do. I walk and I walk and sooner or later something comes to me, something to make me feel less like jumping off a building. - Author: Jim Butcher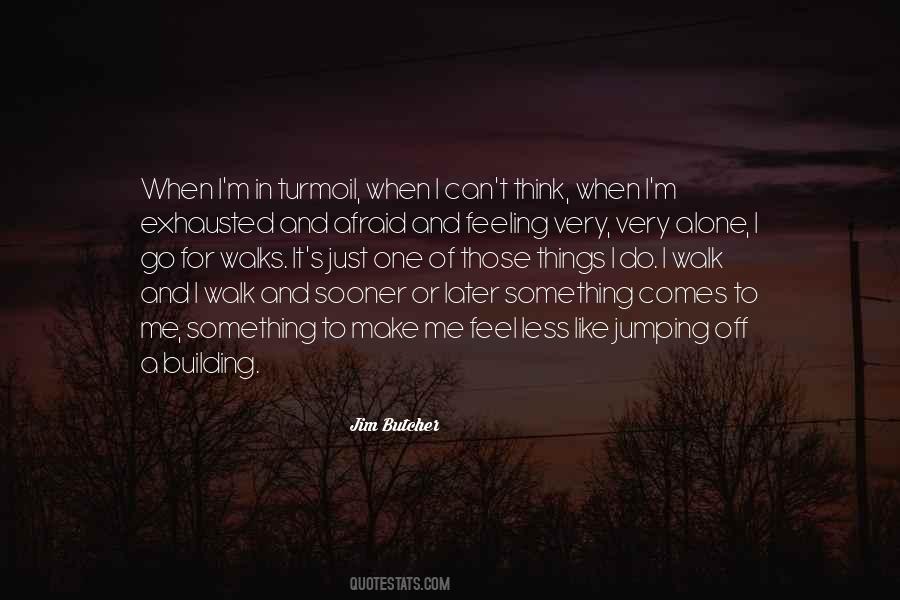 #97. Try to avoid falseness and strain. Write what you really know about. Make it new. Don't invent melodrama for the sake of it. Don't try to run, let alone fly, before you can walk with ease. - Author: A.S. Byatt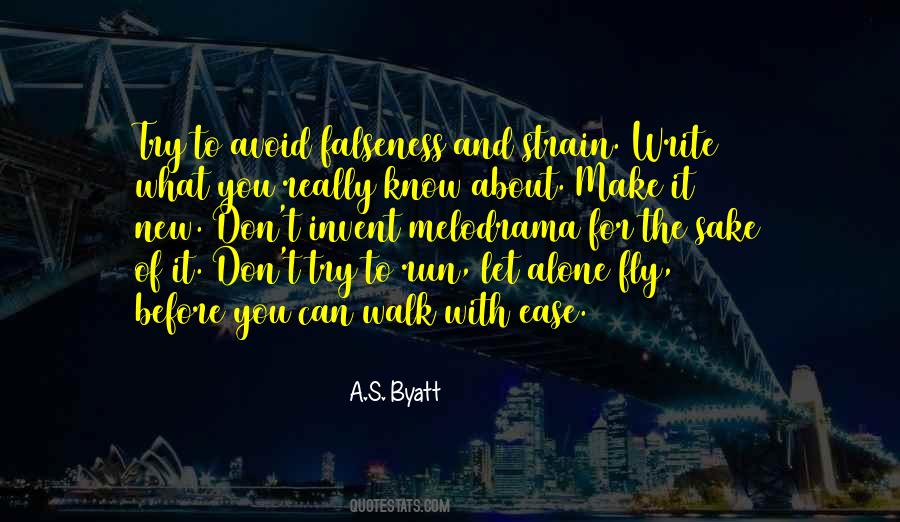 #98. To all who struggle with depression or suicidal thoughts: you are not alone. we are all on this journey together. I promise you that there is hope. Let us reach out to one another and walk together in the sunlight. - Author: Seth Adam Smith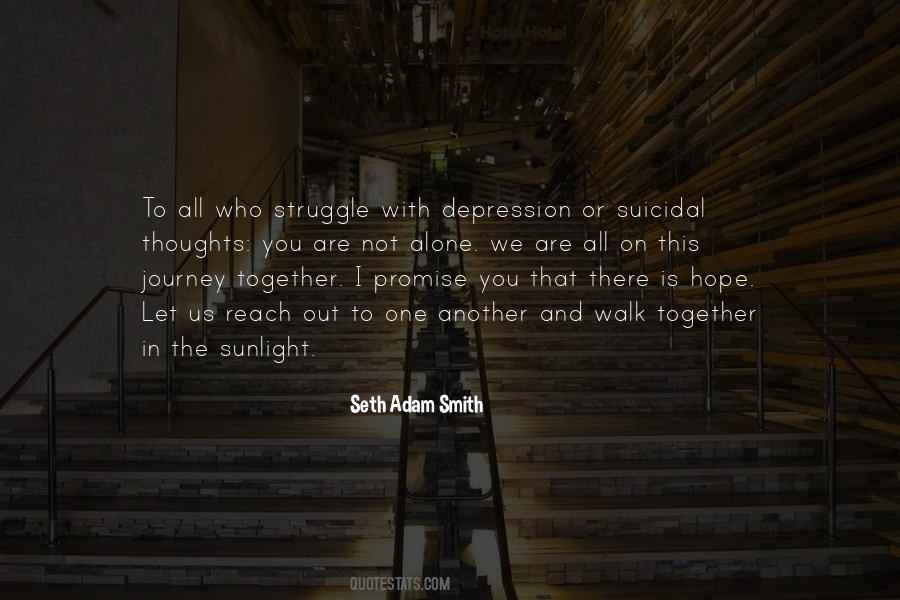 #99. And though I walk home alone, my faith in love is still devout. - Author: Morrissey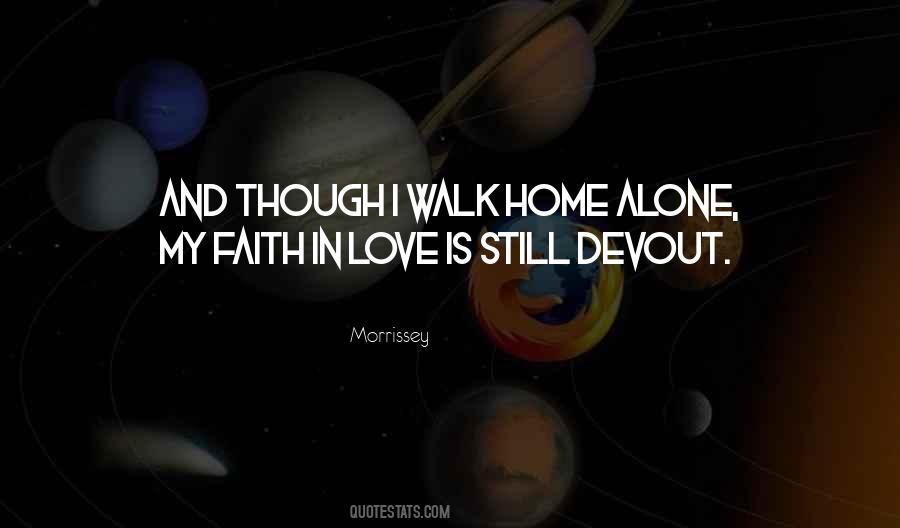 #100. There are dread secrets that none may know and have peace. More, secrets that render whosoever knoweth them an alien unto the tribe he belongs to, that cause him to walk alone on earth, for he who takes, pays. - Author: E. Hoffmann Price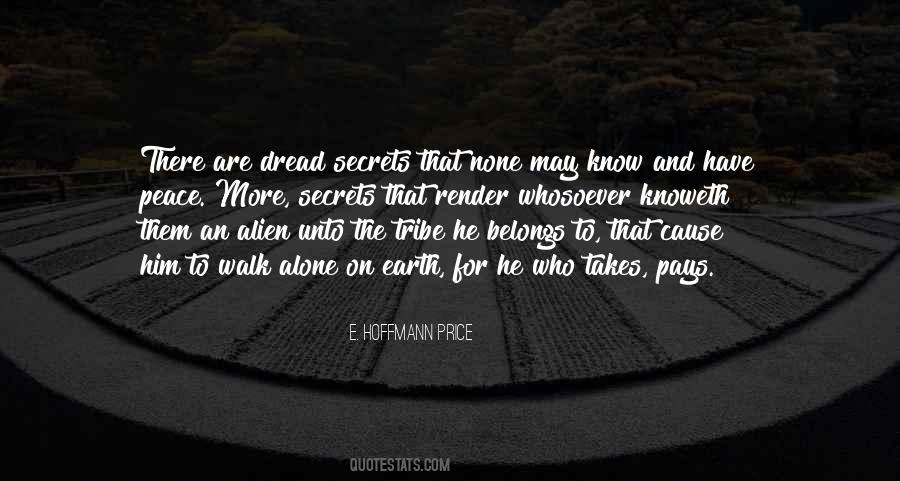 Famous Authors
Popular Topics