They Can't Hurt You Famous Quotes & Sayings
List of top 100 famous quotes and sayings about they can't hurt you to read and share with friends on your Facebook, Twitter, blogs.
Top 100 They Can't Hurt You Quotes
#1. You can see when someone's been hurt the way I was. It's obvious. Something changes in their eyes; pain becomes their center, even when they try to hide it. - Author: Cheryl Rainfield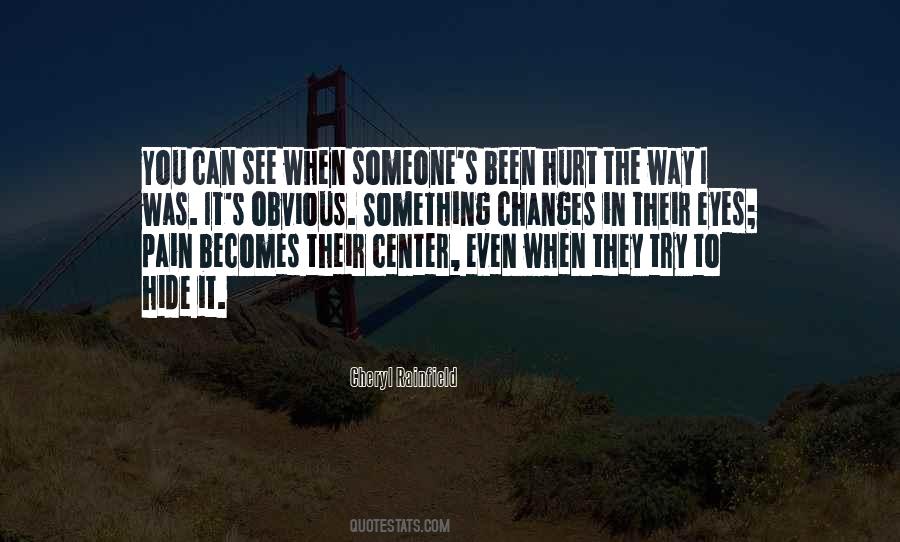 #2. And they can't understand, what hurts more - Missing the other person, or pretending not to. - Author: Khadija Rupa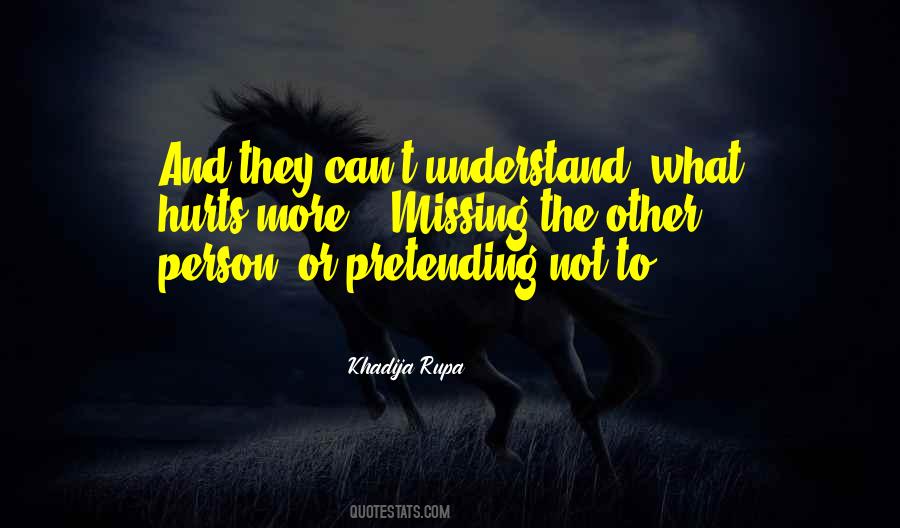 #3. Words can break someone into a million pieces, but they can also put them back together. I hope you use yours for good, because the only words you'll regret more than the ones left unsaid are the ones you use to intentionally hurt someone. - Author: Taylor Swift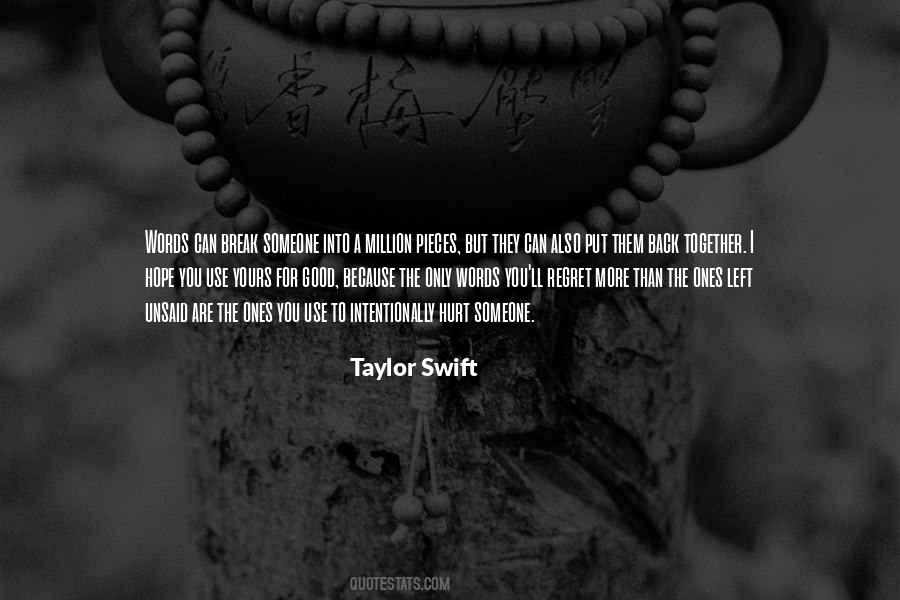 #4. Once you've got a child to the point that they've discovered books, they're safe. There's a world of the imagination that when they're hurt or upset, they can move into, and it is wonderful. - Author: John Rhys-Davies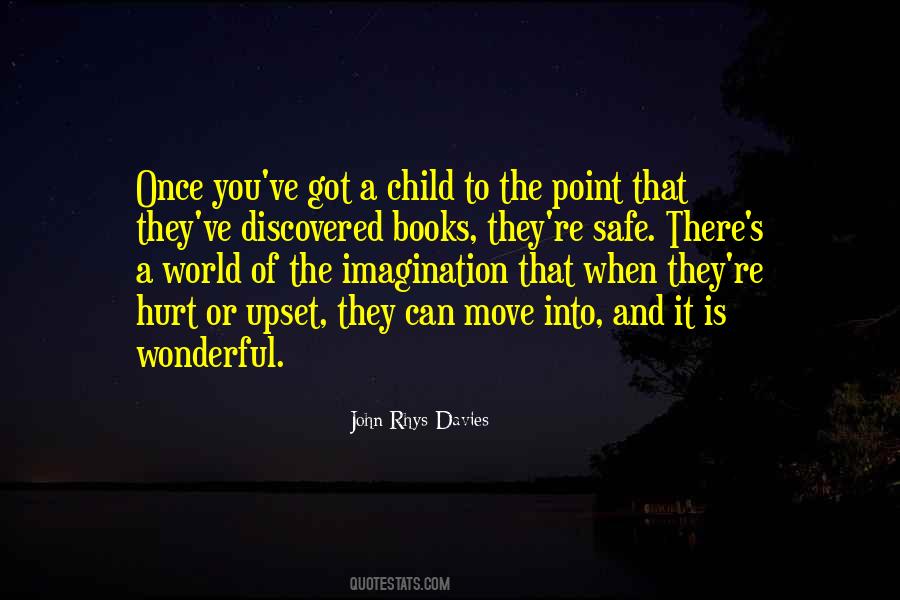 #5. When we really see other people as they are without taking it personally, we can never be hurt by what they say or do. Even if others lie to you, it is okay. They are lying to you because they are afraid. They are afraid you will discover that they are not perfect. - Author: Miguel Ruiz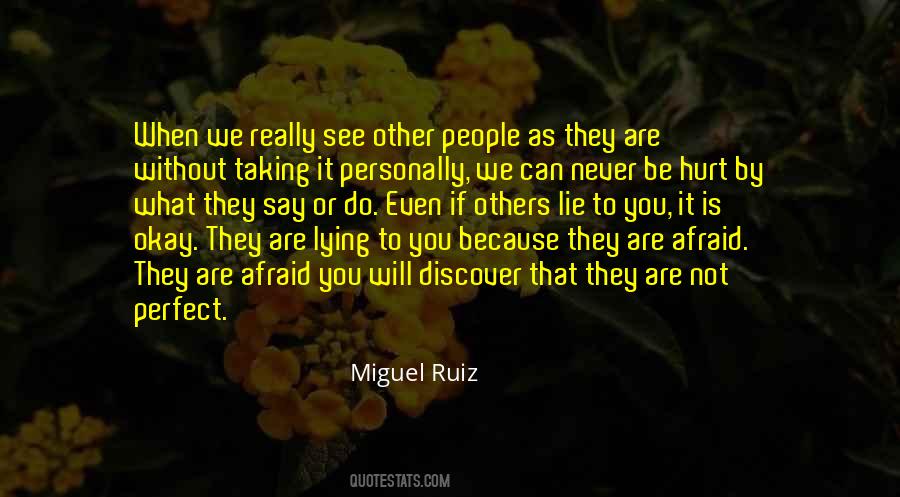 #6. Any fool can love somebody who's perfect, somebody who does everything right. But that doesn't stretch your soul. Your soul only gets stretched when you can still love somebody after they've hurt you. - Author: Susan Elizabeth Phillips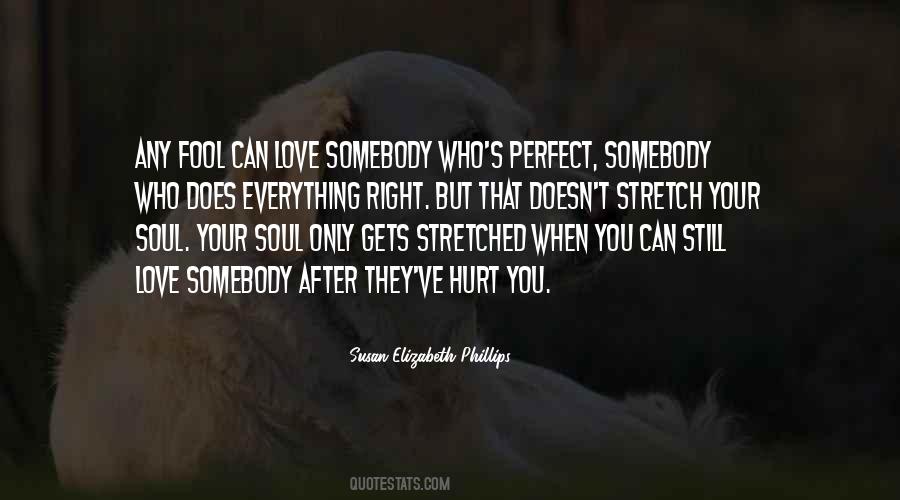 #7. Listen to me, Ember. I couldn't hurt you. I can't." Hayden settled his eyes on me. They were softer than I'd ever seen. "I love you - I've loved you since the first time I saw you. - Author: Jennifer L. Armentrout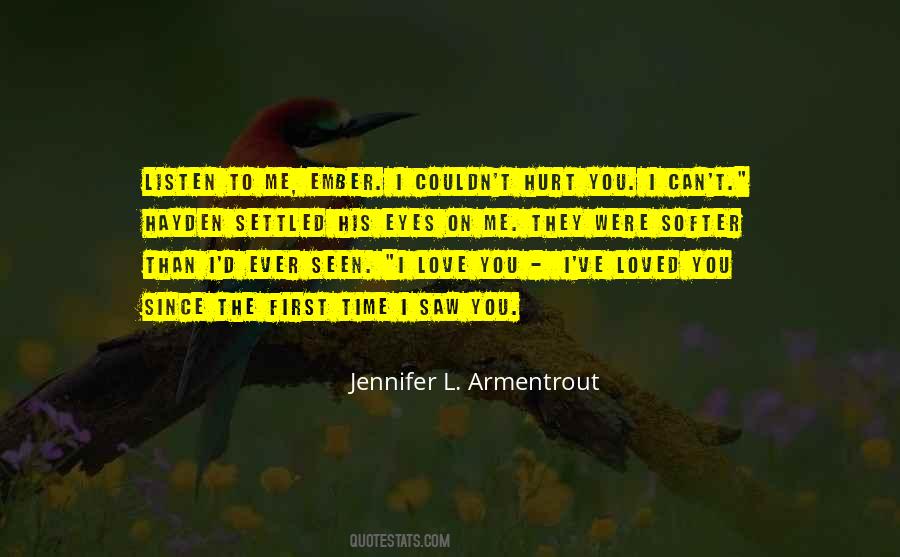 #8. Puck winced. Ouch. Well, you know what they say - you always hurt the one you love. Or is that the one you hate? I can never remember. - Author: Julie Kagawa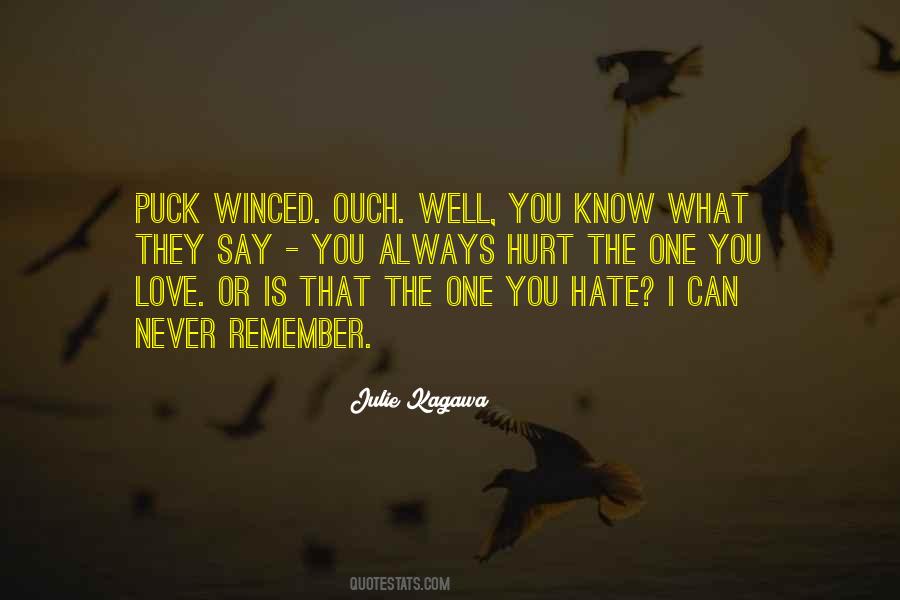 #9. People may oppose you, but when they realize you can hurt them, they'll join your side. - Author: Condoleezza Rice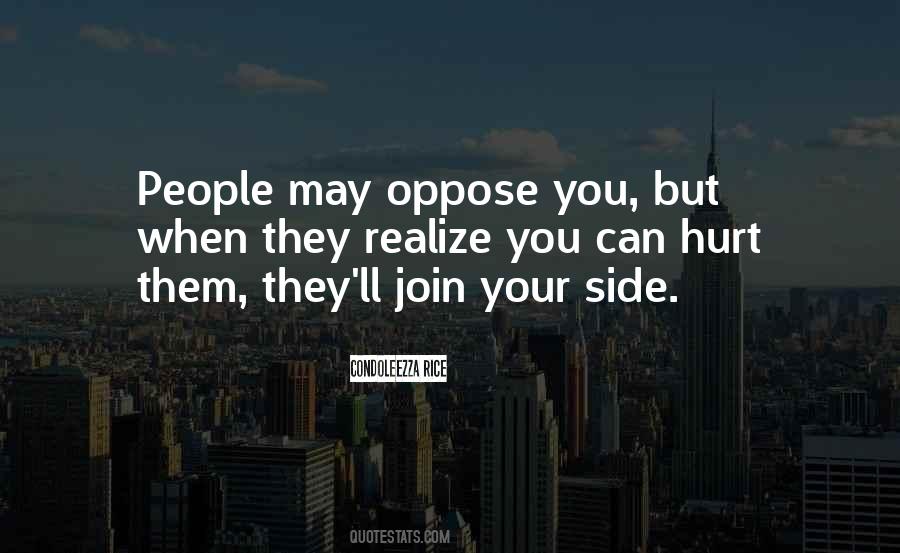 #10. Cameras aren't guns. They can't really hurt you. - Author: Matthew McConaughey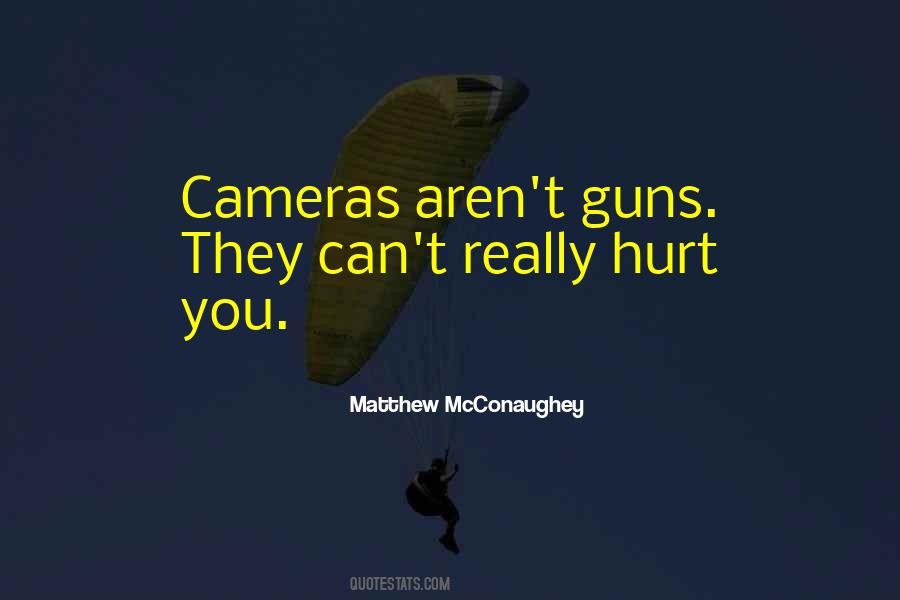 #11. Is that why you push people away?" he whispered. "So they can't get close enough to hurt you when they're gone? - Author: Jodi Picoult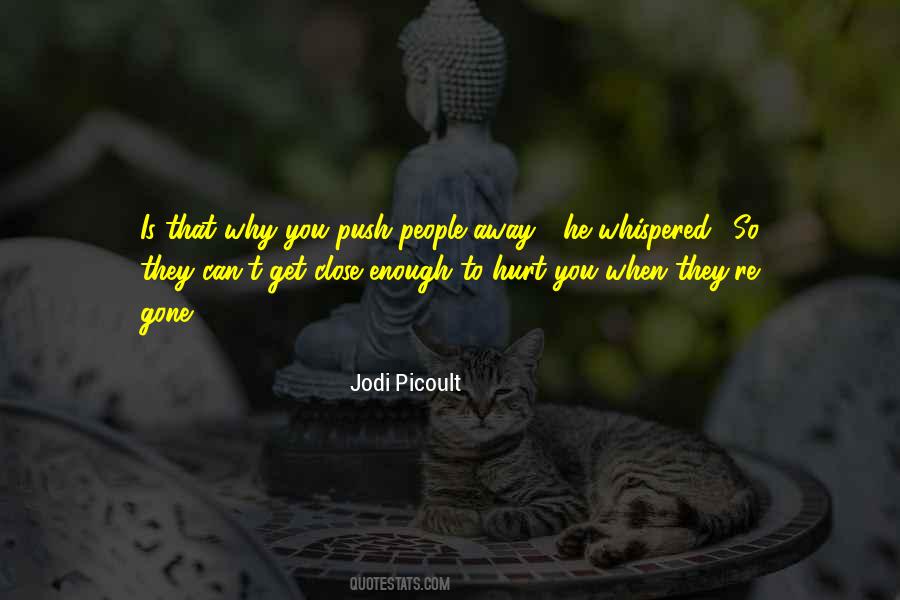 #12. It took me a couple of years to realize that ghosts can't hurt you. All they can really do to people is scare them. - Author: Kerstin Gier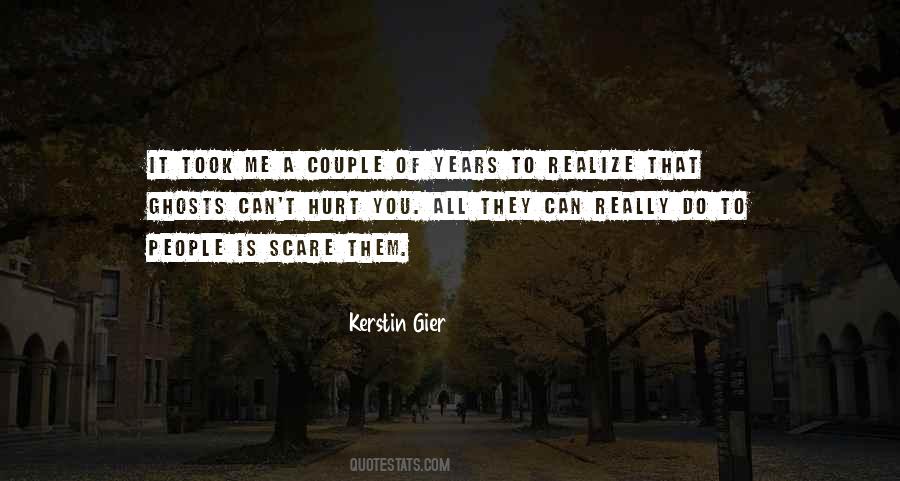 #13. I don't mean you should despise people for being weak, if it's a kind of weakness they can't help. But when they're weak on purpose, it's another thing. When they don't even try. When they let people hurt them and don't fight back. It's gross. It's letting down the whole human race. - Author: Mary Gaitskill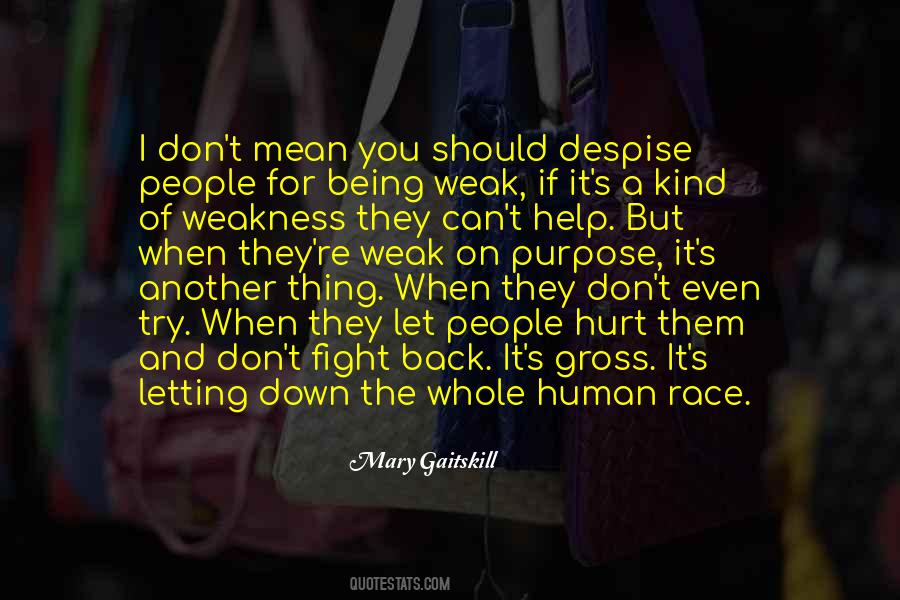 #14. The dead can't hurt you, they're dead. Living things can hurt you, living people can hurt you but the dead can't. - Author: Neil Gaiman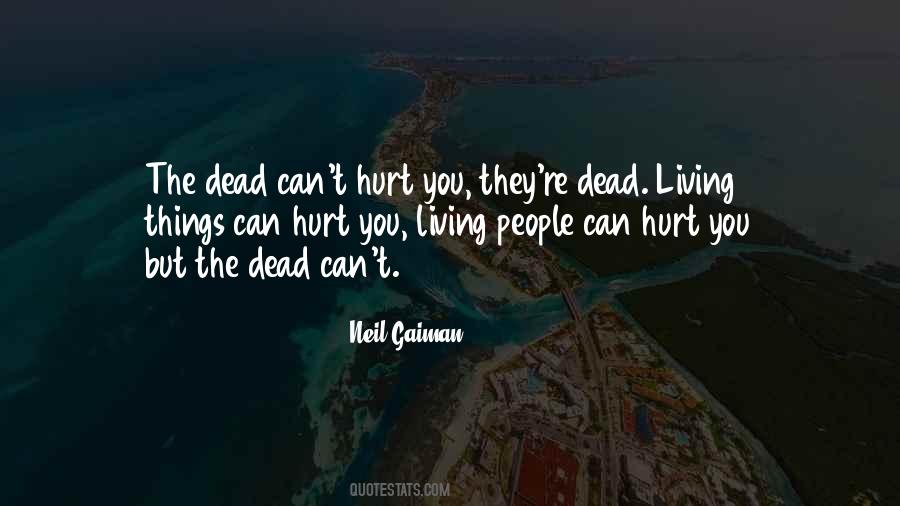 #15. Sometimes romance is of less importance than the feeling of being absolutely safe: of knowing that nothing and no one can hurt you, because the person who loves you most in all the world will destroy them if they try. - Author: Seanan McGuire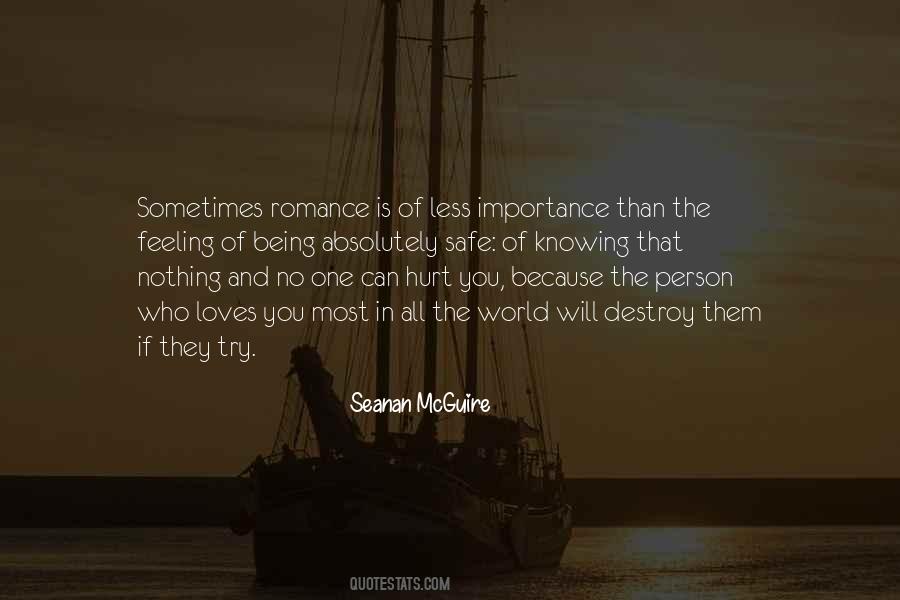 #16. They can only hurt you if you let them. - Author: Wallis Warfield Simpson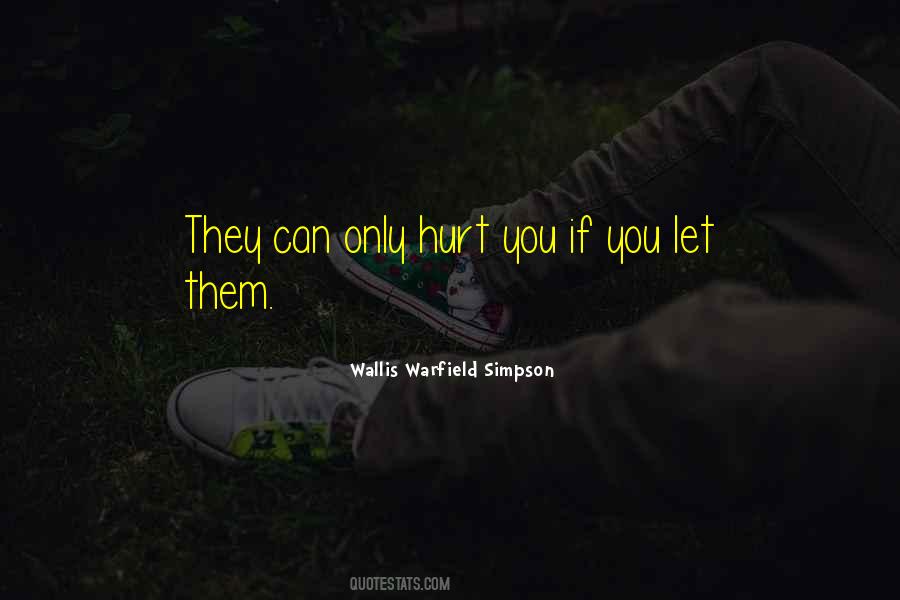 #17. Being a mother is about protecting your children from every conceivable thing that might cause them hurt, but it's also about trusting them to live the best way for them, the best way they can; and trusting that even when you are not there to hold their hand, they can succeed. - Author: Rowan Coleman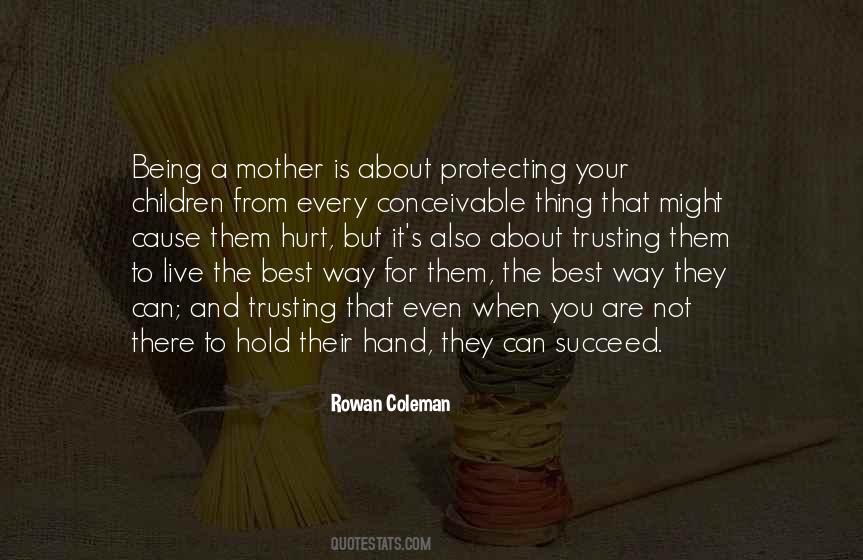 #18. You support me when I falter, and give me strength to bear the pain of my past. You make me laugh until I hurt, and soothe me when I'm tied up inside. It's funny how things work out, how life can throw curveballs, yet two people wind up exactly where they're supposed to be. - Author: Kristin Miller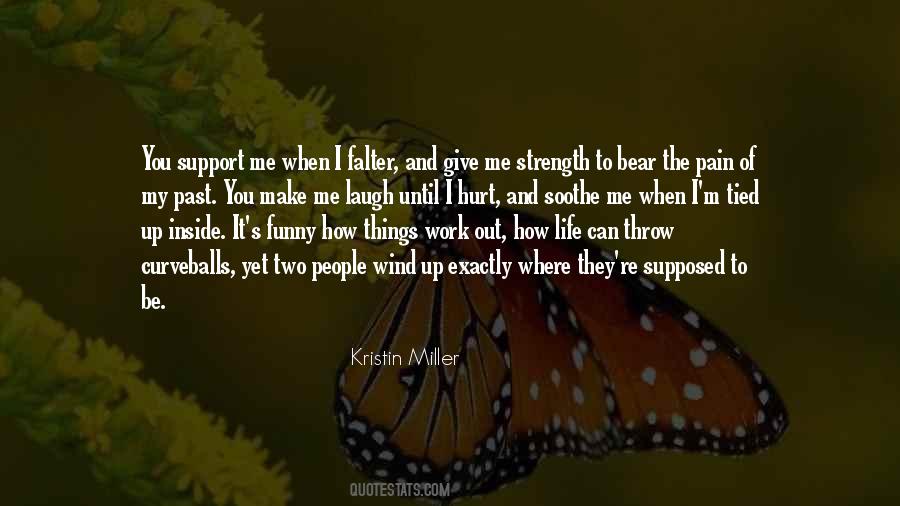 #19. Hearts don't really get broken, but if you practice too hard with them, they can get quite hurt. It feels like they won't get better, but they do. - Author: Kate Le Vann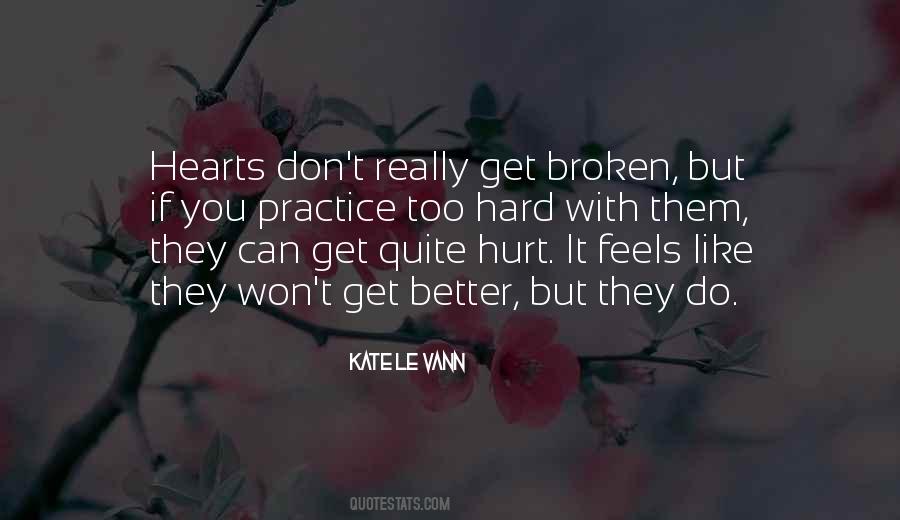 #20. Girls like you can't understand, Julia said, and it was true. Ellie had been popular. She didn't know that some hurts were like a once-broken bone. In the right weather, they could ache for a lifetime. - Author: Kristin Hannah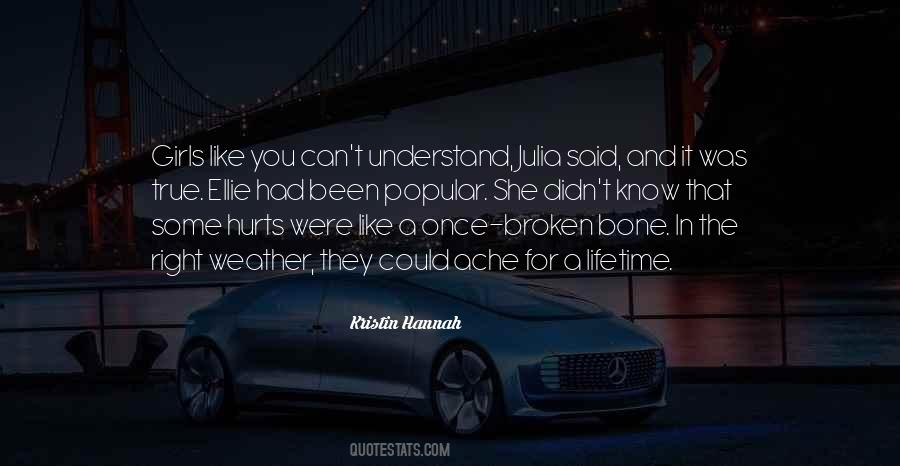 #21. Those you love will not drown or burn. They will fly away.' ... 'Now we both have people we love who are like birds. They have flown far from anything in this world that can hurt them. They're flying away still. - Author: Alice Hoffman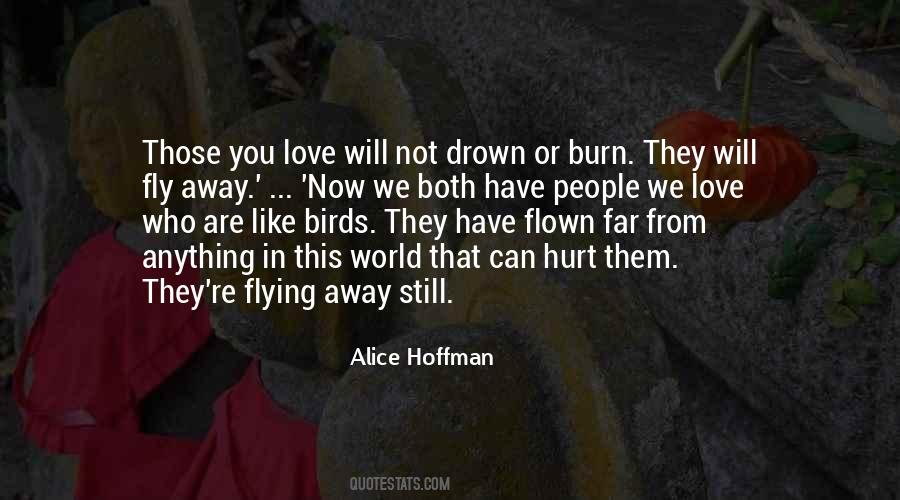 #22. I was never afraid of dead folk. You know that? They never hurt you. So many things in this town can hurt you, but the dead don't hurt hurt you. Living people hurt you. They hurt you so bad. - Author: Neil Gaiman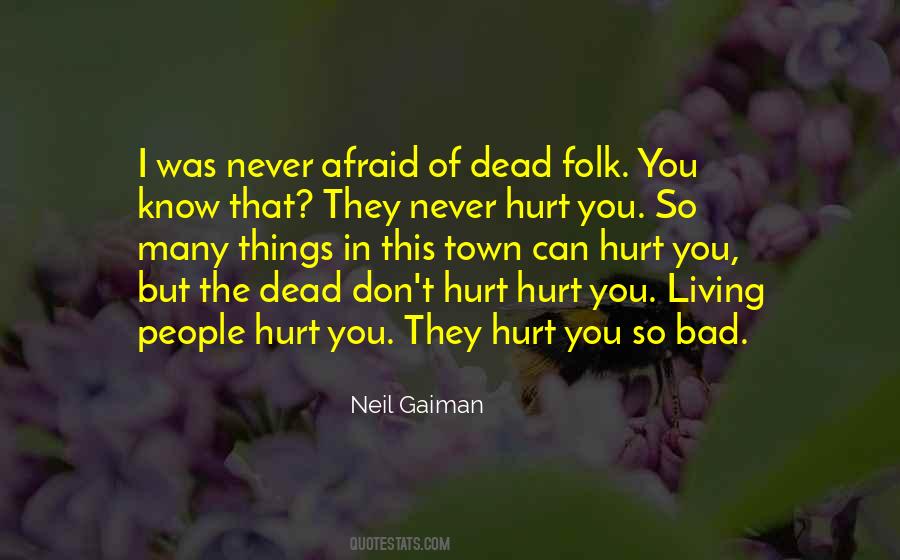 #23. I'm here. You're safe now. It's okay to
remember. They can never hurt you again. - Author: Karen Marie Moning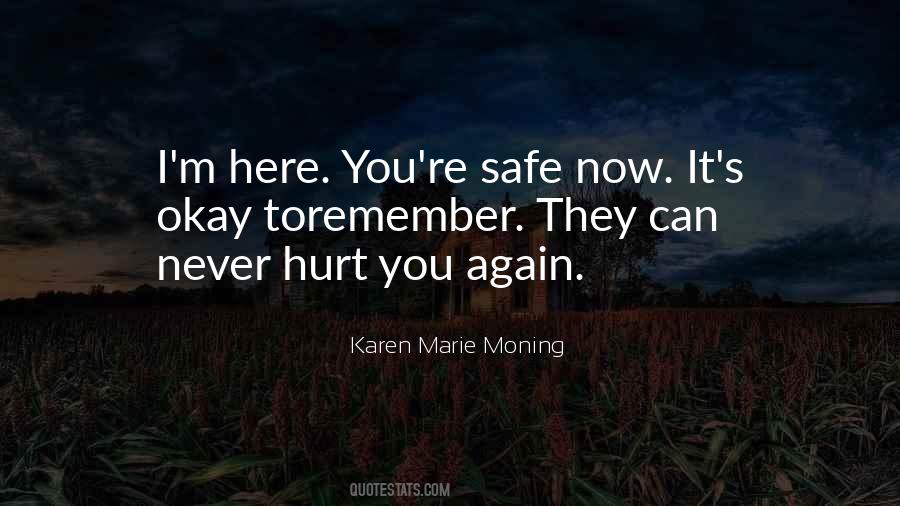 #24. Sometimes I think that when people become famous, there's a public perception that they are not human beings any more. They don't have feelings; they don't get hurt; you can act and say as you like about them. - Author: Salman Rushdie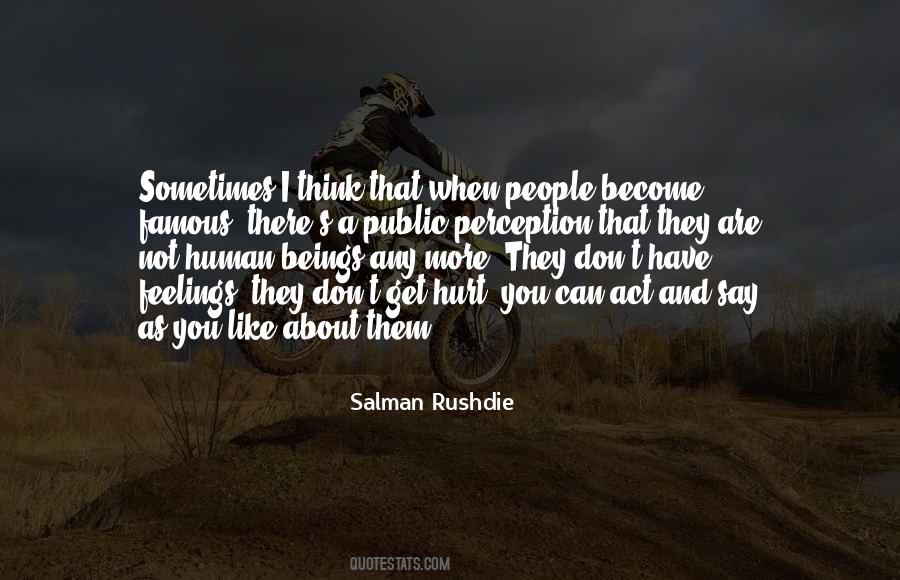 #25. It is easier with strangers, for they touch your life but for an instant. You will not disappoint them, for you owe them nothing; neither do they expect anything. Friends you can hurt, for they expect everything. - Author: David Gemmell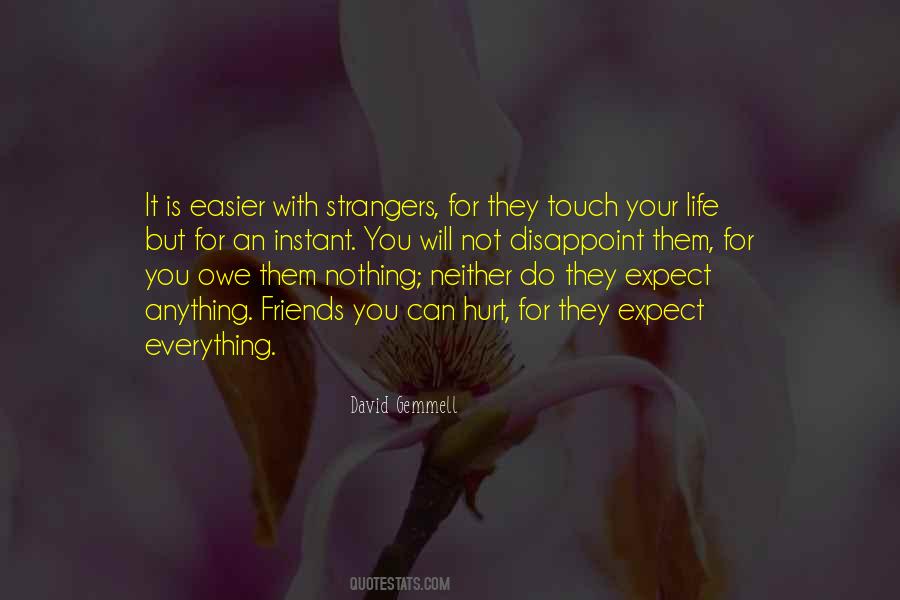 #26. As Eleanor Roosevelt observed, "No one can hurt you without your consent." In the words of Gandhi, "They cannot take away our self respect if we do not give it to them. - Author: Anonymous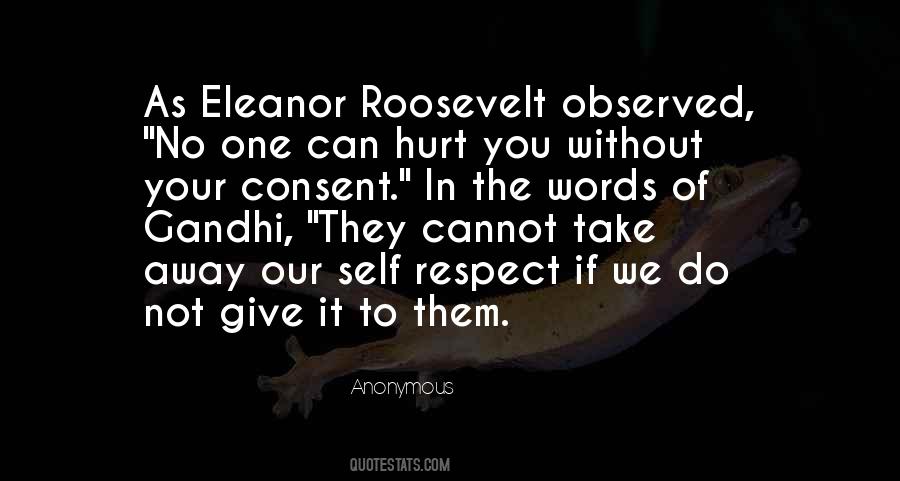 #27. The thing is, when we do fight scenes, when we kill people in the movies, they bring in experts to choreograph it bit by bit, because you can't really kill someone, and you don't want to really hurt them. - Author: Annabella Sciorra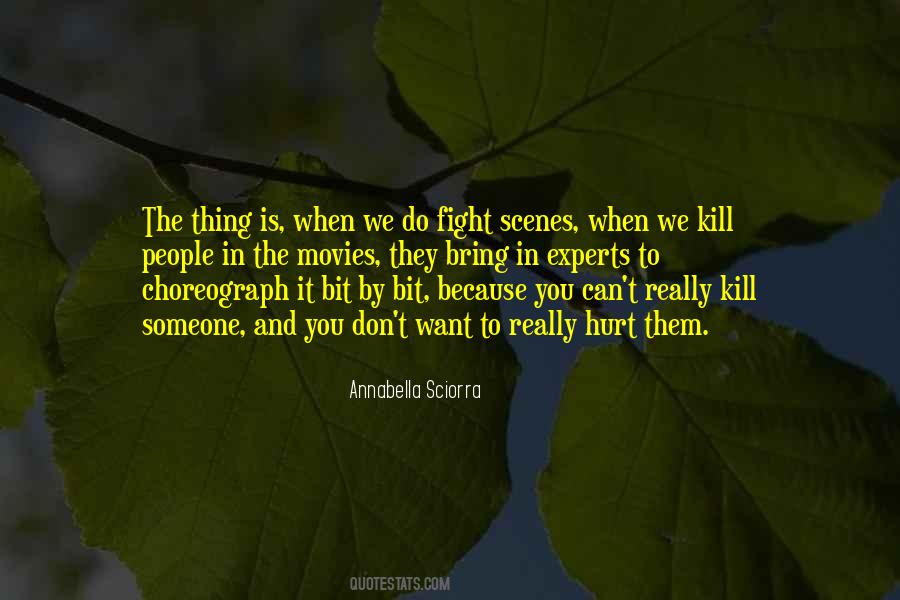 #28. That's the problem with people who are not human. You can't tell how badly they're hurt, or how much they need your help, and until you ask, they don't always know how to tell you. - Author: Jeff VanderMeer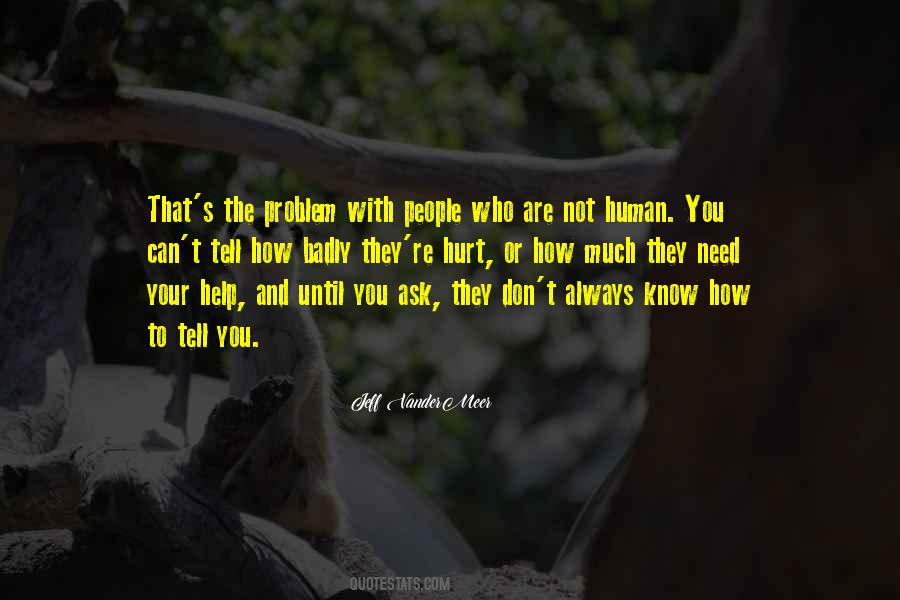 #29. I told Kate I didn't love her in an argument. But I do! Those heated moments are the worst, because that's when you can do the most damage. And they're bad, because you always hit them in the spot where you know it hurts. - Author: Peter Andre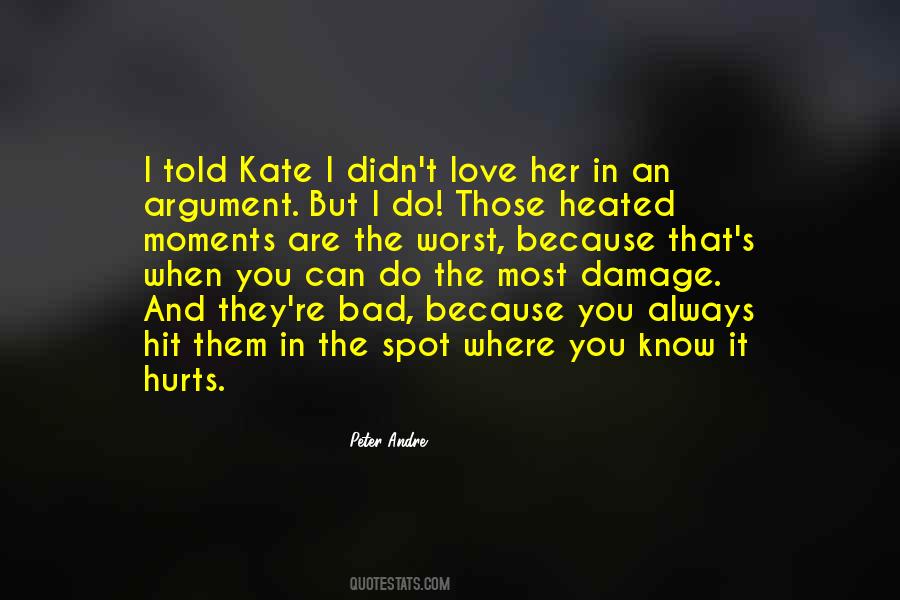 #30. Change hurts. It makes people insecure, confused, and angry. People want things to be the same as they've always been, because that makes life easier. But, if you're a leader, you can't let your people hang on to the past. - Author: Richard Marcinko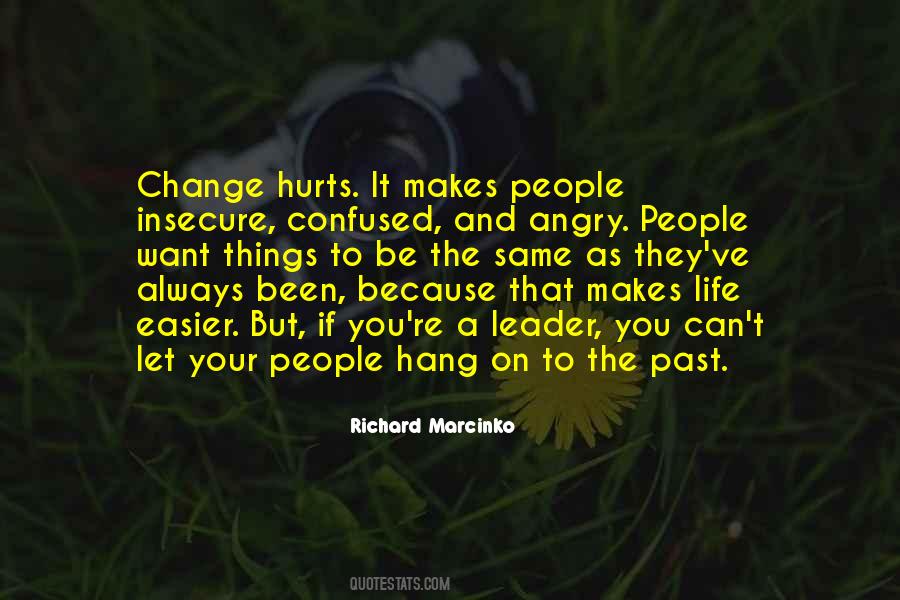 #31. In case you haven't noticed, people get hard-hearted against the people they hurt. Because they can't stand it. Literally. To think we did that to someone. I did that. So we think of all the reasons why it's okay we did whatever we did. - Author: Elizabeth Strout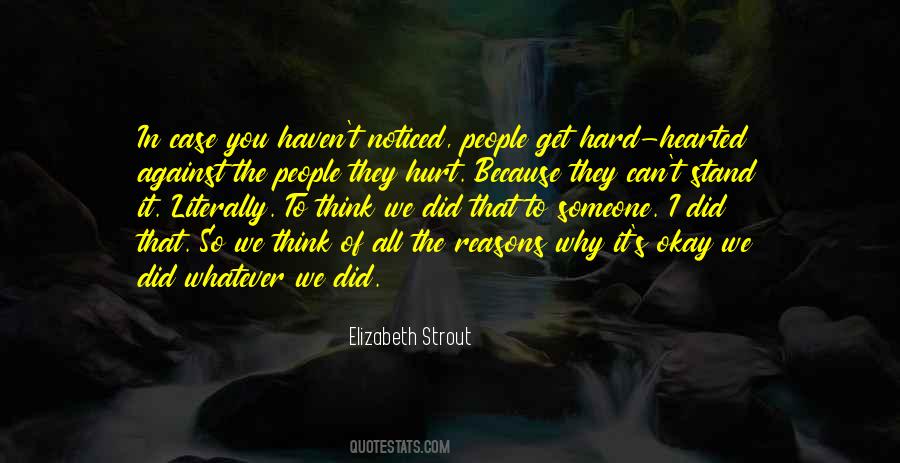 #32. Don't call me Lord Snow."
The dwarf lifted an eyebrow. "Would you rather be called the Imp? Let them see that their words can cut you and you'll never be free of the mockery. If they want to give you a name take it make it your own. Then they can't hurt you with it anymore. - Author: George R R Martin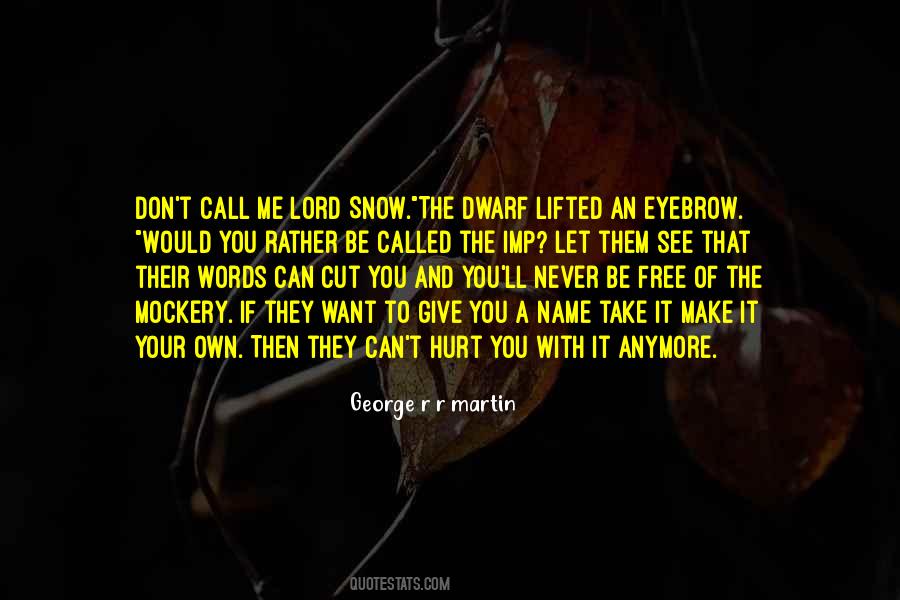 #33. What did I really think fifteen years ago? A nonbeliever, I felt guilty in the midst of all those believers. And since it seemed to me that they were in the right, I decided to believe, as you might decide to take an aspirin: It can't hurt and you might get better. - Author: Umberto Eco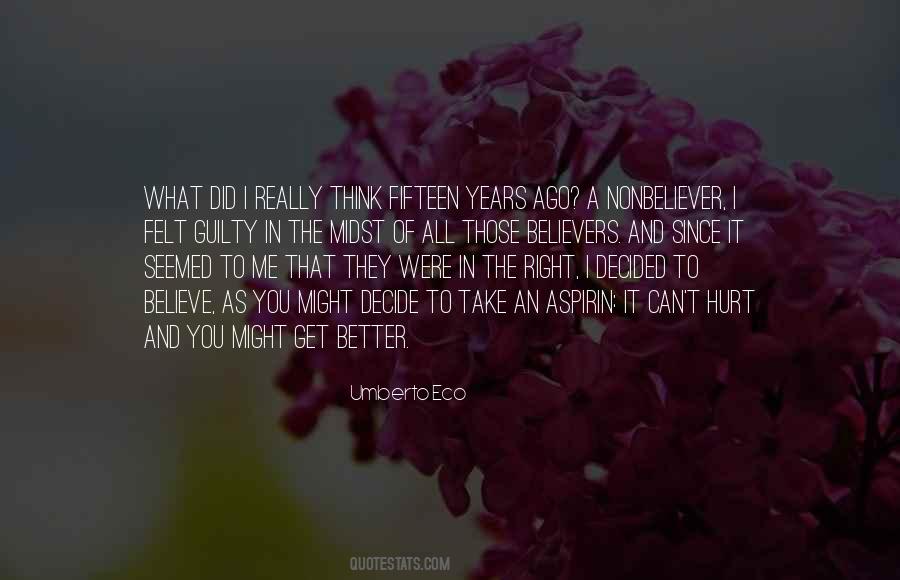 #34. Well, but you can eat Grandma's cookies. They're not bad for you. They were made by Grandma. Grandma wouldn't hurt you. - Author: John Green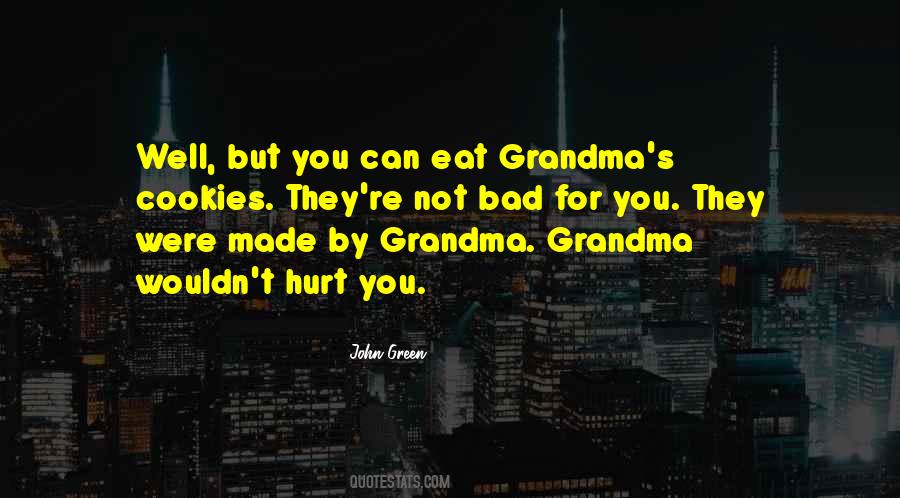 #35. They say scars don't hurt, but that's a lie. I'm not sure what hurts worse - the ones you can see or the ones so far beneath that they'll never really heal. - Author: Lily Paradis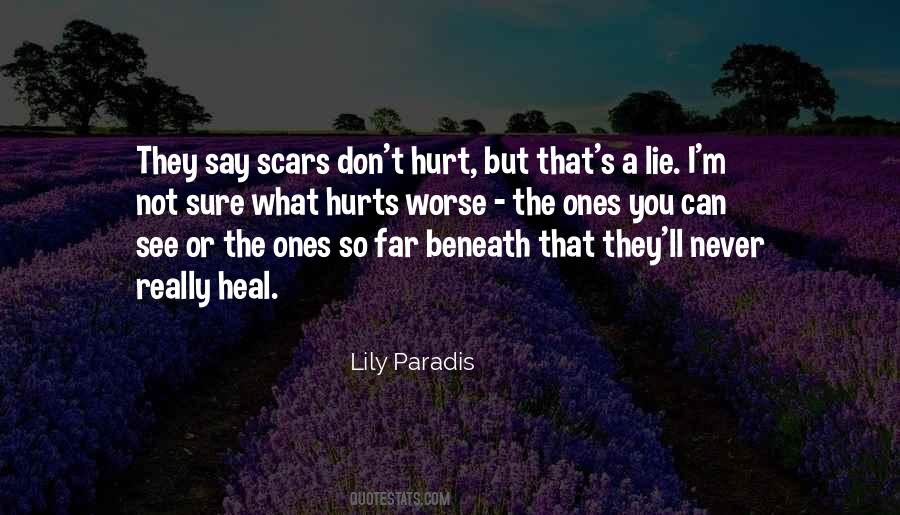 #36. Censure and criticism never hurt anybody. If false, they can't hurt you unless you are wanting in manly character; and if true, they show a man his weak points, and forewarn him against failure and trouble. - Author: William E. Gladstone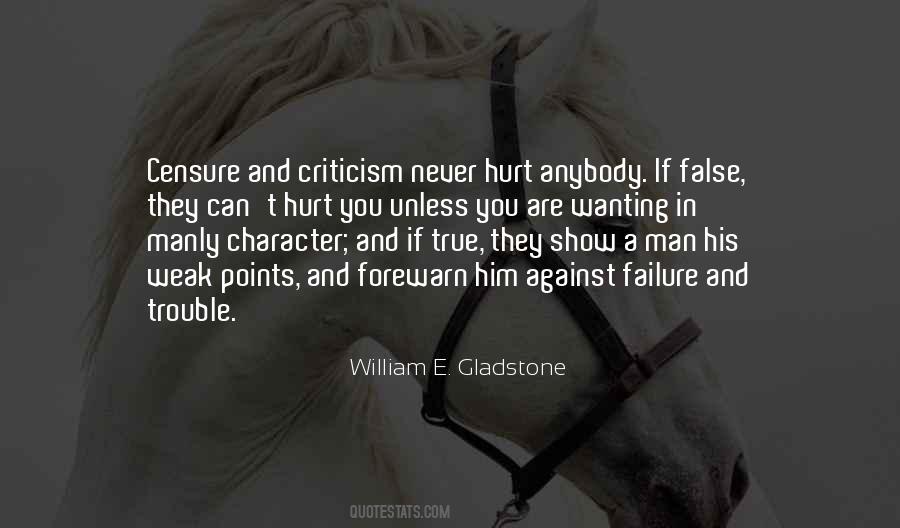 #37. This is a cruel thing to do because when someone knows your story they know you. And they can hurt you. It's why I give mine away in pieces, even to Cassia. - Author: Ally Condie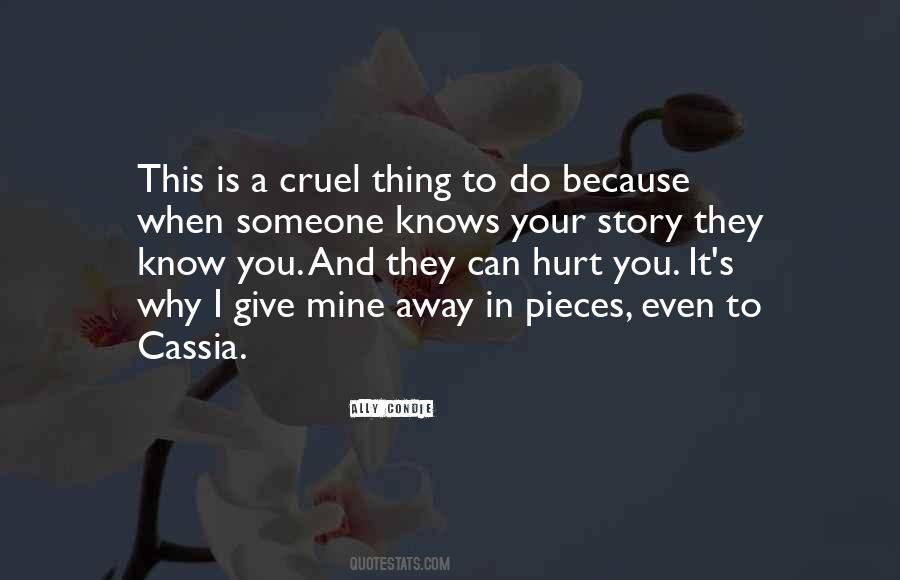 #38. If someone decides they're not going to be happy, it's not your problem. You don't have to spend your time and energy trying to cheer up someone who has already decided to stay in a bad mood. Believe it or not, you can actually hurt people by playing into their self-pity. - Author: Joyce Meyer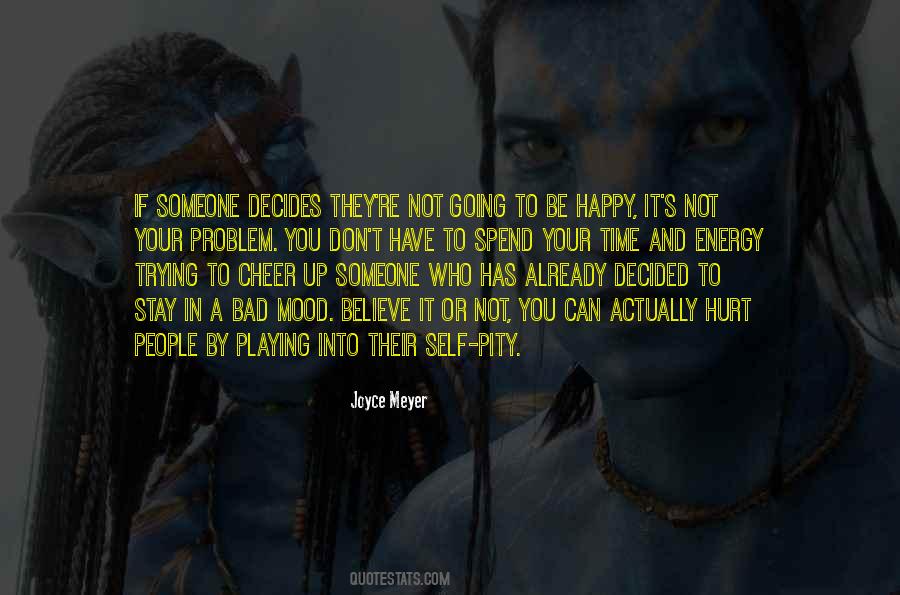 #39. If you don't know a name, you can't be hurt when they go. I have no friends anymore, all are lost. - Author: Patricia Hamill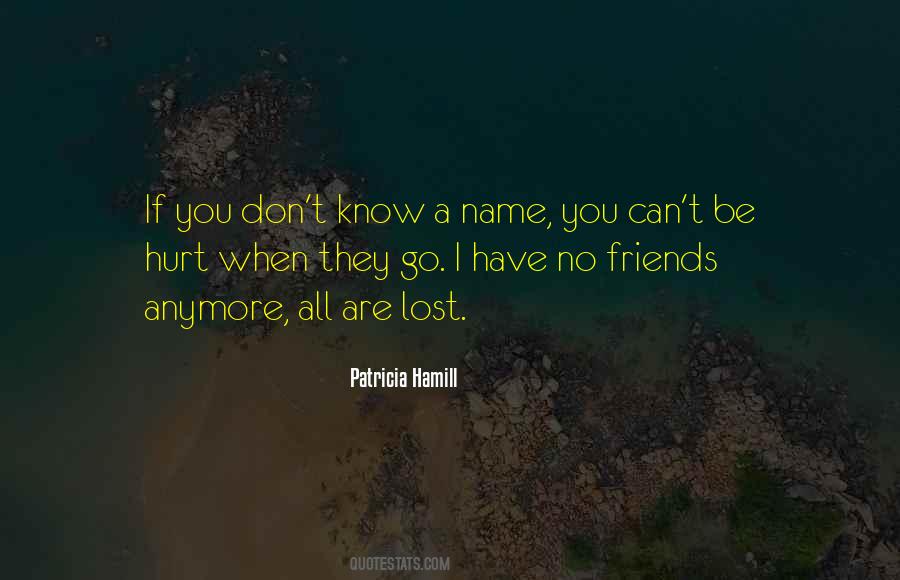 #40. No matter how much you really think you know and love a person, you can never, ever, really know what's going on in their head? That they can hurt you worse than anything in the world because of the fact that you love them? - Author: Nikki Rae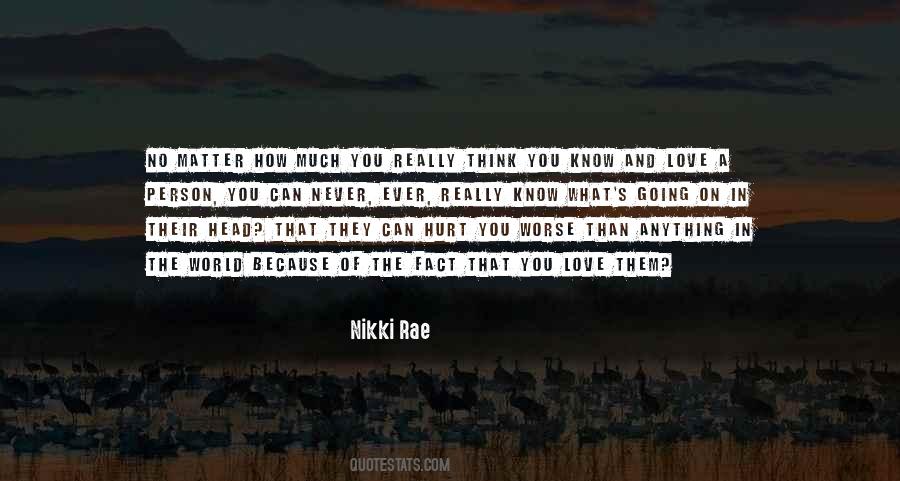 #41. You can't force someone to care ... You can only come to the realization that if you stay, they'll keep hurting you. I wish you the wisdom and courage to walk away and begin the healing process. - Author: Steve Maraboli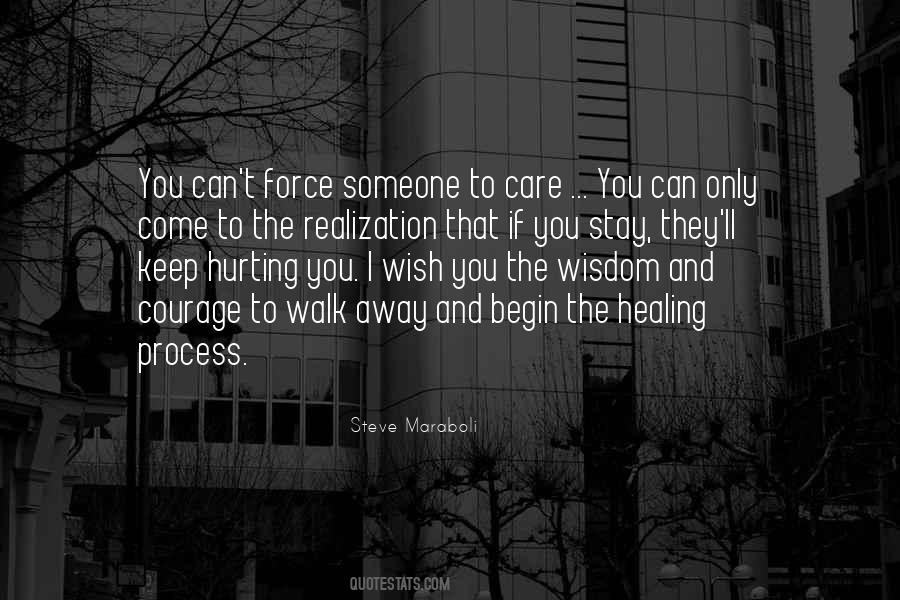 #42. You can't lose your concentration at all. And there are times when you're on the stage, and you've got silence, which is wonderful, but you have to have the confidence to make you realize it's fine. You can't suddenly wobble and think, 'They're not interested.' - Author: John Hurt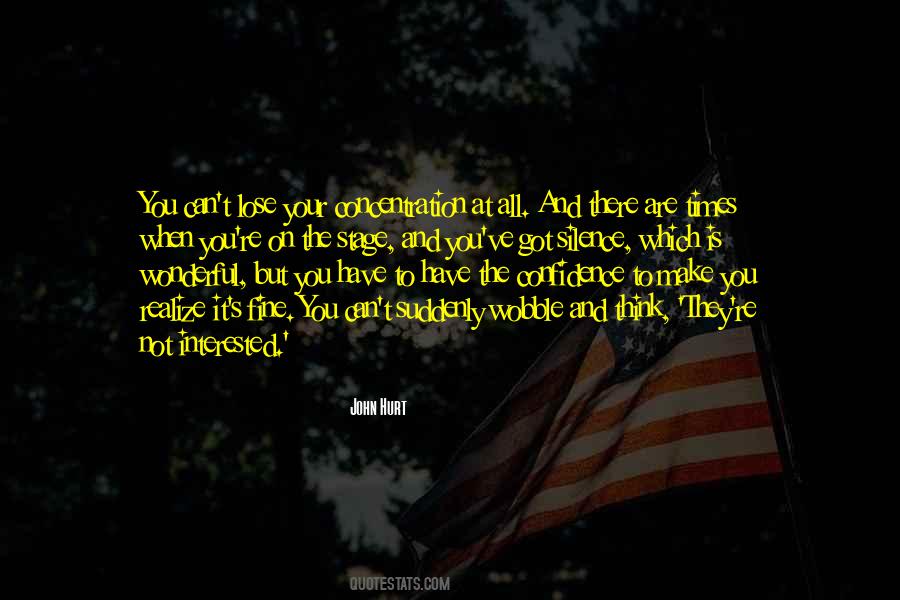 #43. There is solemn satisfaction in doing the best you can for eight billion people. Perhaps their lives have no cosmic significance, but they have feelings. They can hurt. - Author: Robert A. Heinlein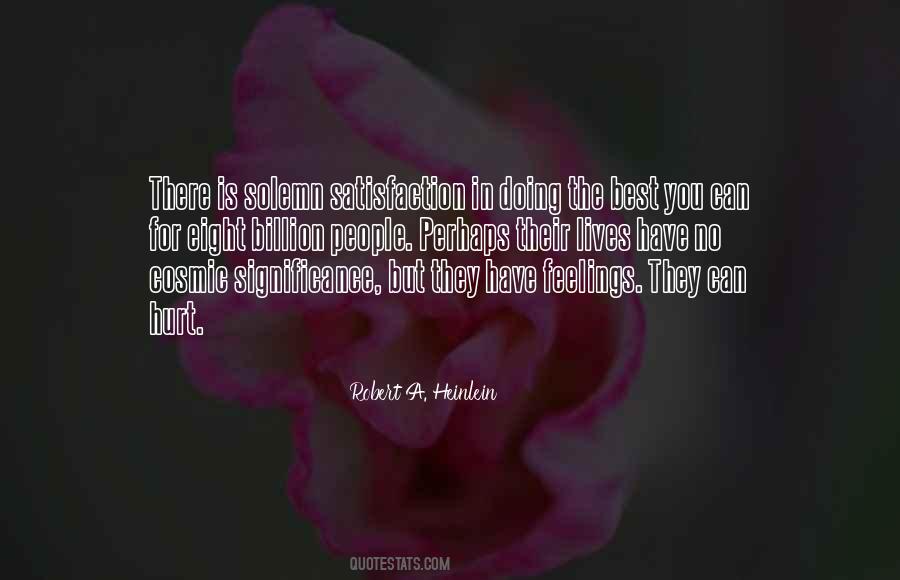 #44. It considered trying to explain their error to them, but what would be the use? They would only go away with hurt feelings. You can't always expect people, or squirrels, to be rational. - Author: Thomas M. Disch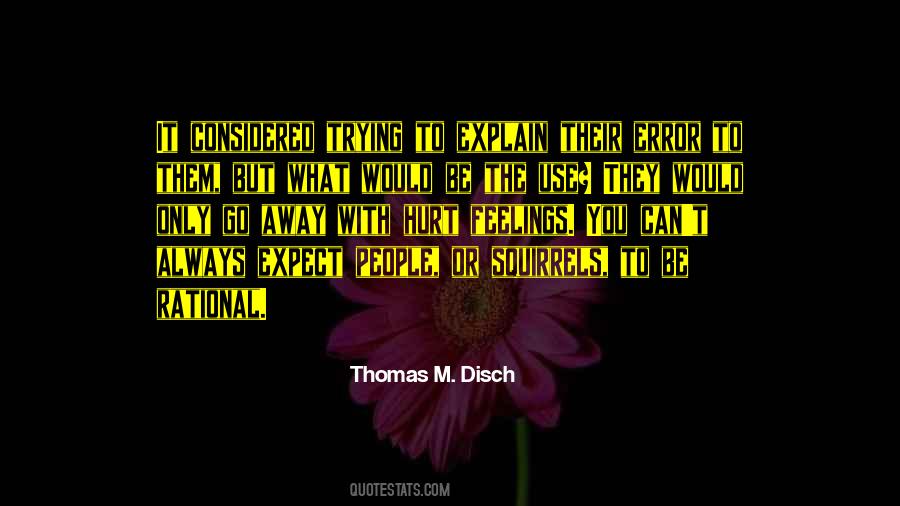 #45. DON'T GET TOO CLOSE.
friends can only hurt you.
DON'T SAY A WORD.
it may be your last.
DON'T SLOW DOWN.
they will catch you. - Author: Michelle Gagnon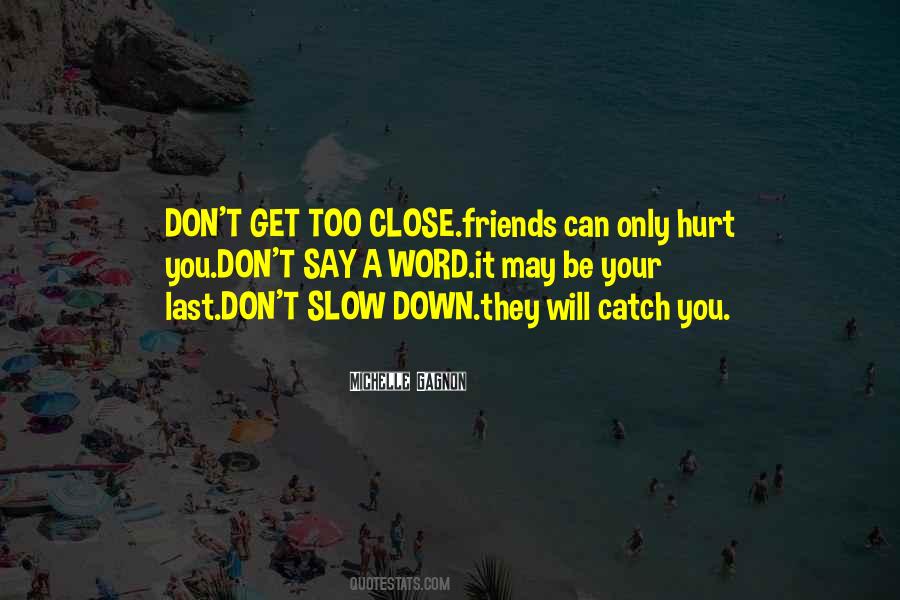 #46. Honey, you hurt him and men don't take that well. They shove their emotions deep inside where you can't hurt them again. In many ways they're a lot like women, though they'd deny that. - Author: Jaci Burton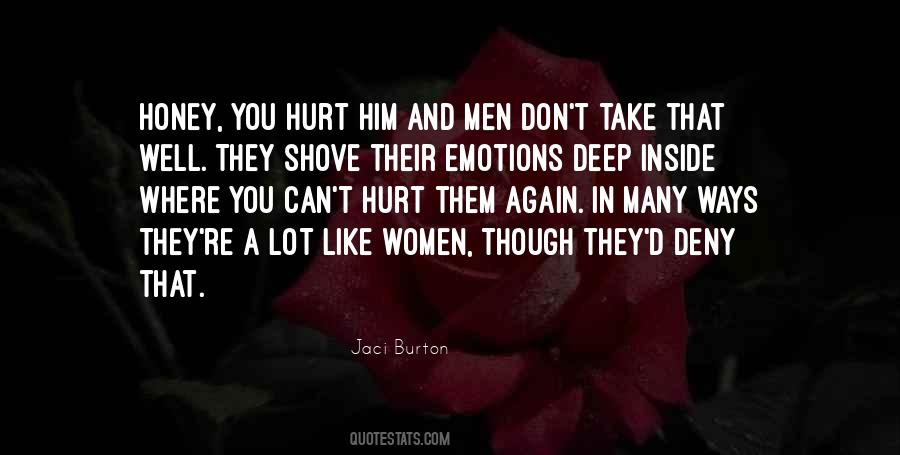 #47. Ouch. Well, you know what they say - you always hurt the one you love. Or is that the one you hate? I can never remember. - Puck - Author: Julie Kagawa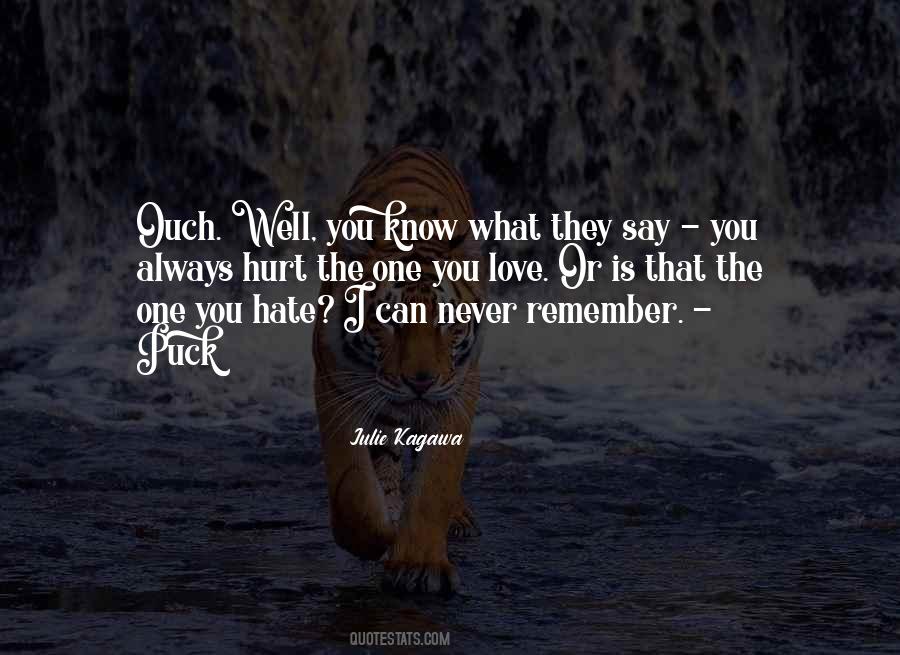 #48. I know many of the critics and I don't think of them as God-like figures. What can they do to hurt me? Sure, I might be slightly embarrassed for a day, but then you just go your own way. - Author: Elia Kazan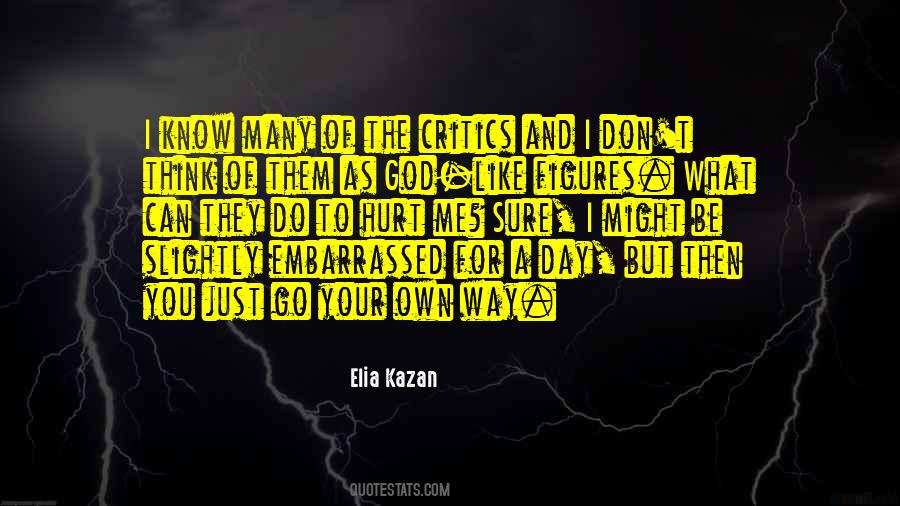 #49. All feminine claws, he said to himself, are sheathed in velvet; but they can hurt a good deal if they touch you on the sore places of the defects of your qualities
even merely with the velvet. - Author: Ford Madox Ford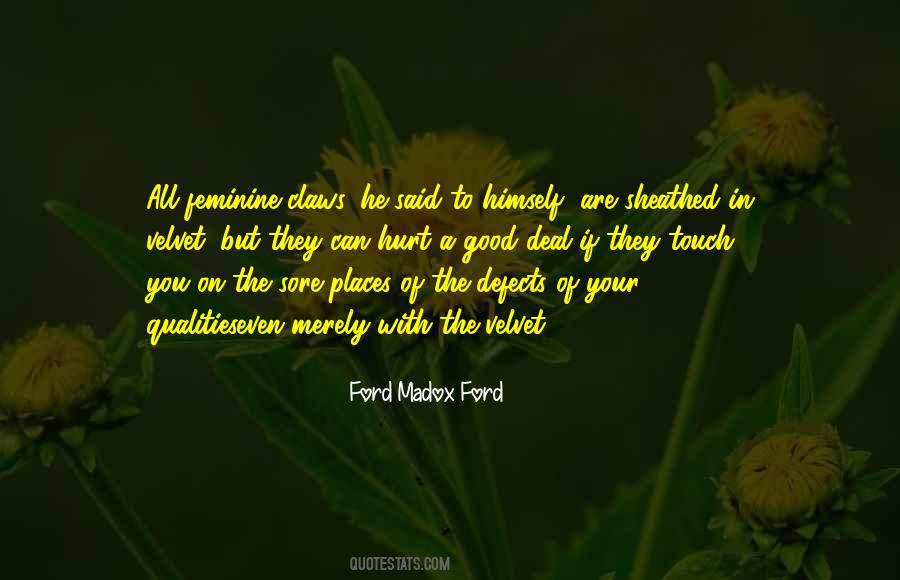 #50. You hurt her by starving yourself, you hurt her with your lies, and by fighting everybody who tries to help you. Emma can only sleep a couple of hours a night now. She's haunted by nightmares of monsters that eat our whole family. They eat us slowly, she says, so we can feel their sharp teeth. - Author: Laurie Halse Anderson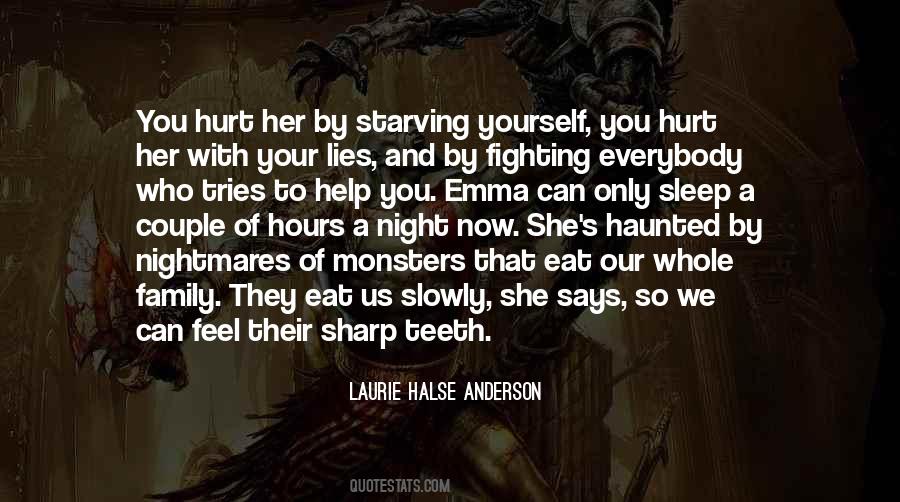 #51. I look for women I know are gonna bust me up good. Come on, man, who can resist that? Who can resist that emotional pain? Yeah, they all have the same line, they're so sweet: I'm not gonna hurt you like all the others. Really I'm not. I'm gonna introduce you to a whole new level of pain! - Author: Sam Kinison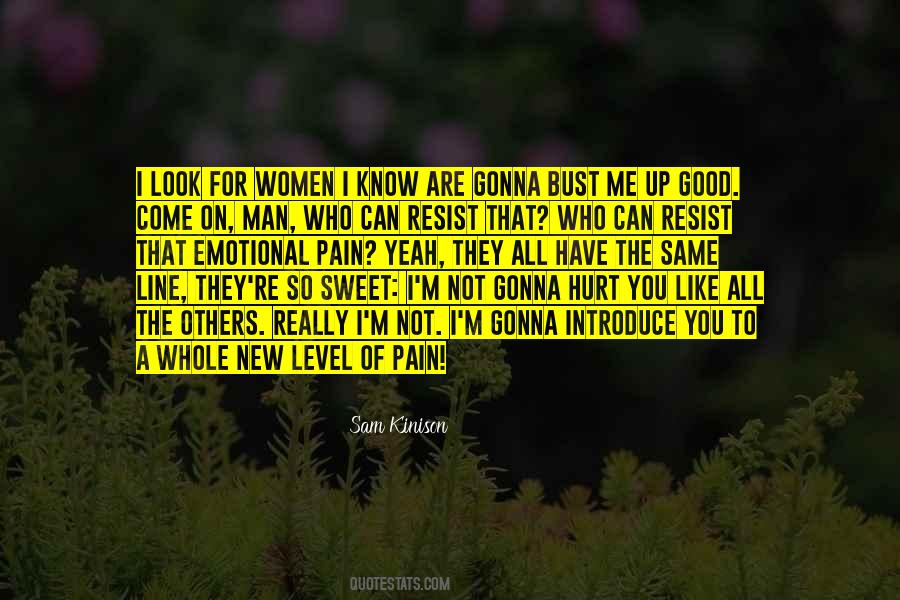 #52. You can't go through life striking out at people who hurt or scare you. All that does is show them that you're weak. It tells them that they've wounded you, and a strong woman never shows her wounds unless it serves a purpose. - Author: Lisa Cach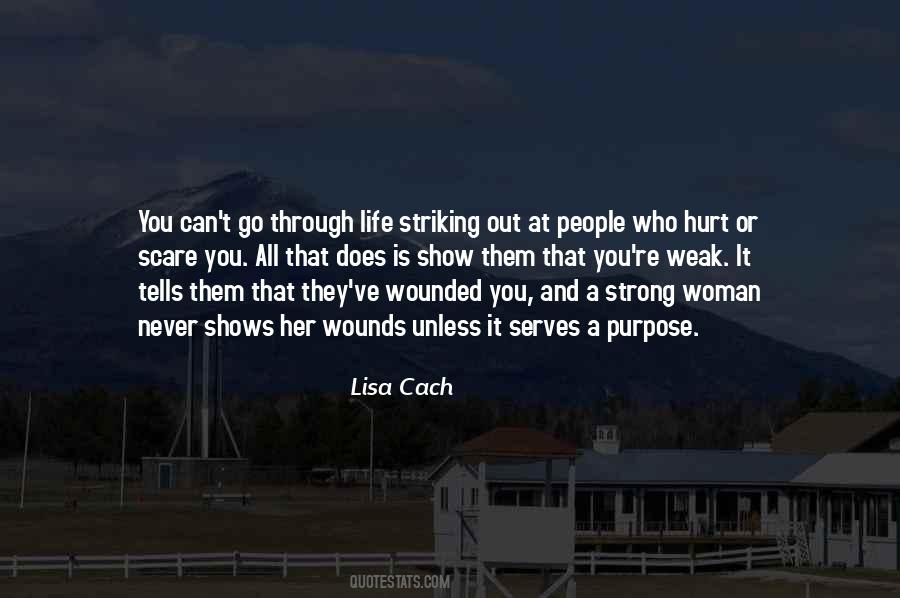 #53. If you hit somebody hard enough, they will give up. You can feel their body go limp and they'll just surrender. So every time I hit somebody, the goal is to knock myself out. I know that if I hit somebody hard enough that I can feel it, it's hurting them 10 times worse. - Author: Bob Sanders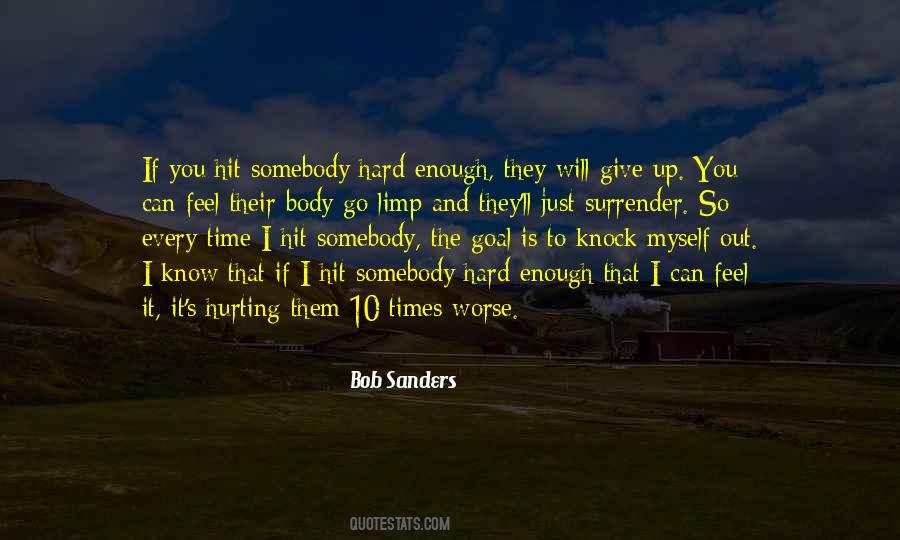 #54. You can love someone even when they cause you the greatest pain of your life. Even when they intentionally hurt you every second, every hour, every day with every fiber of their being. - Author: Julia Kent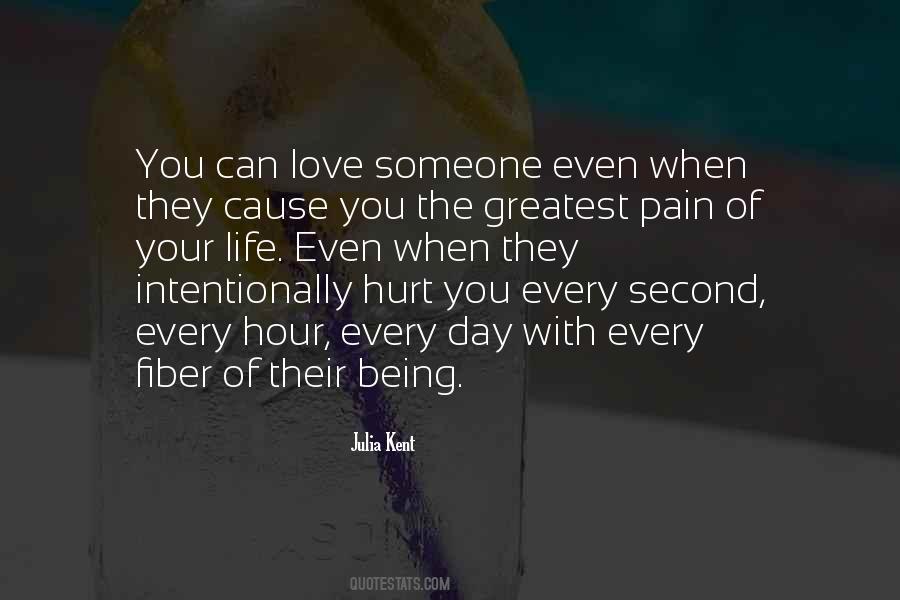 #55. Every day is getting worse
Do the same things and they hurt
I don't know if I should cry
All I know is that I'm tryin'
I wanna believe in you, I wanna believe in you
So why can't you be, be good to me ... - Author: Grace Norwich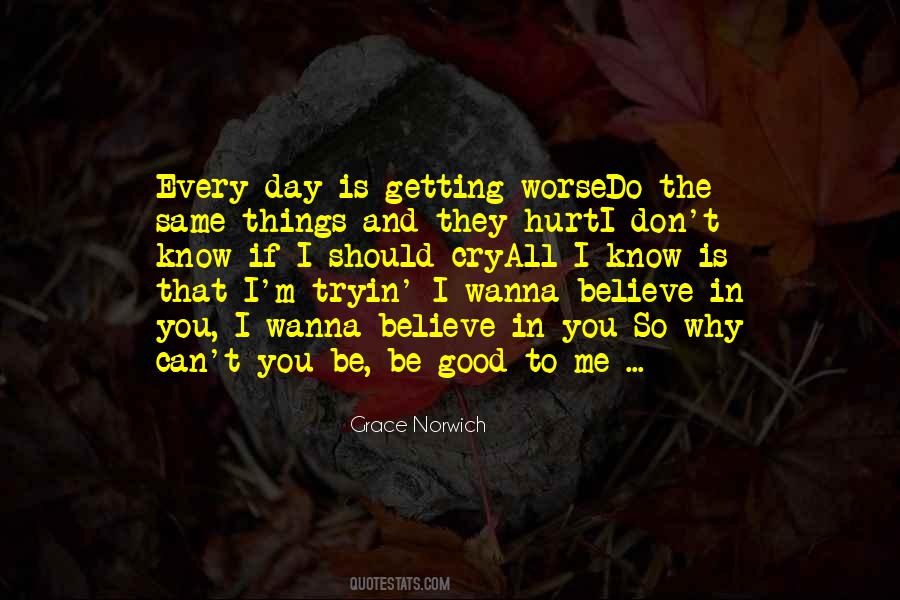 #56. You know you truly love somebody ...
When they hurt you
And you still forgive them
And they let you down
But you don't leave them
And they leave you
But you can't help thinking about them - Author: Mouloud Benzadi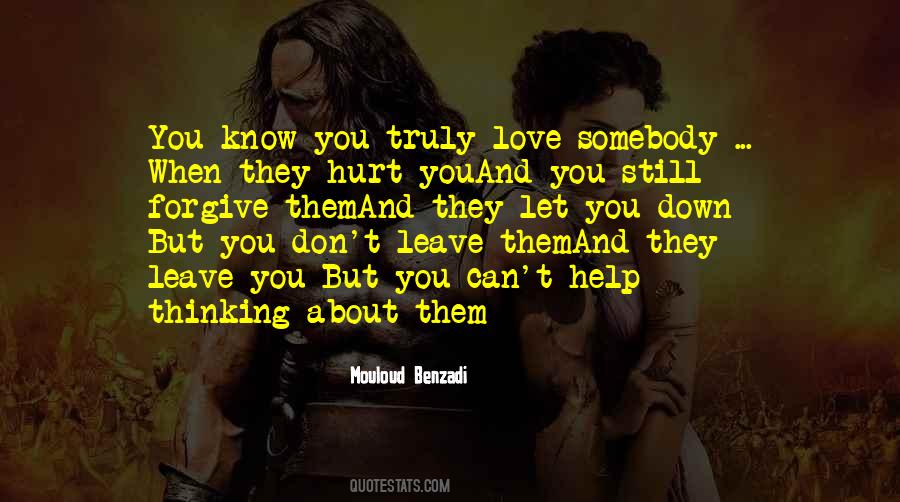 #57. Tiny fists can hurt quite a lot when they hit you in the face. - Author: Robin McKinley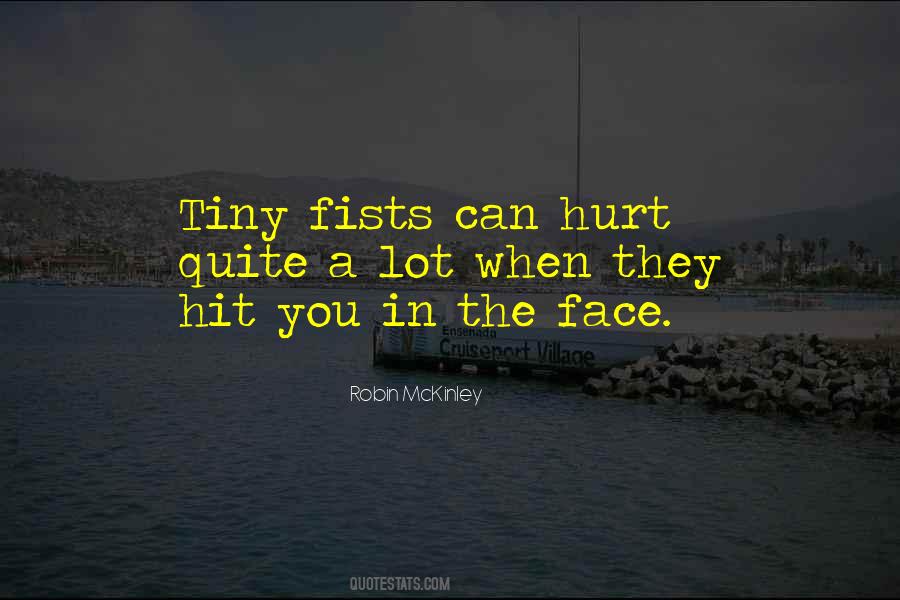 #58. They can't hurt you unless you let them. - Author: John C. Maxwell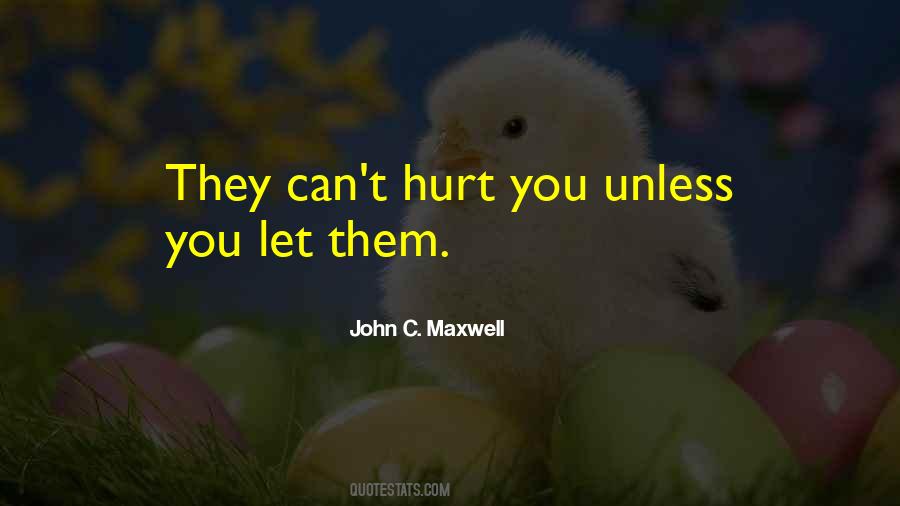 #59. They can't hurt us, you big babies! We're intangible! Why are you guys acting like you just died yesterday? - Author: Brian K. Vaughan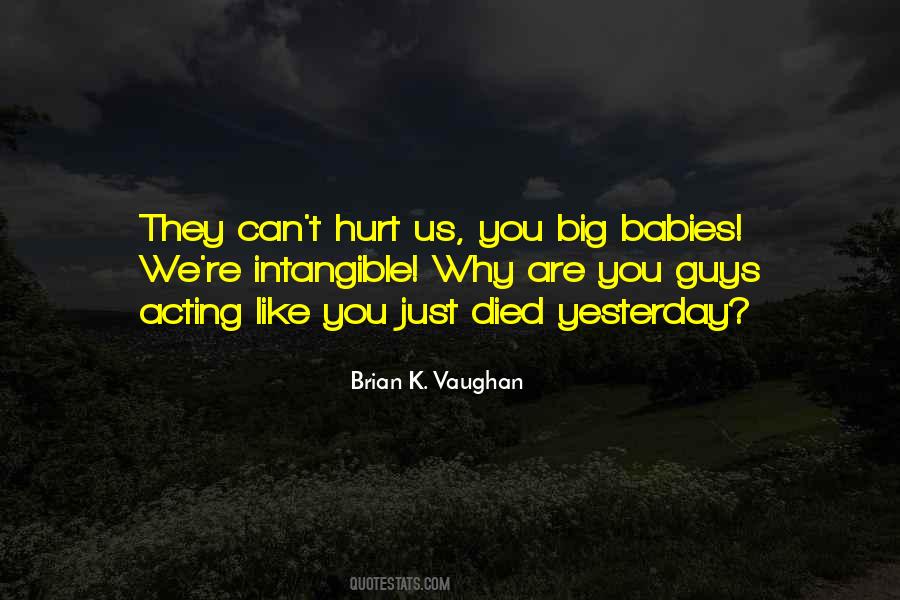 #60. Dead men always have the last laugh. They win. They're dead. You can't hurt their feelings anymore. - Author: Cass McCombs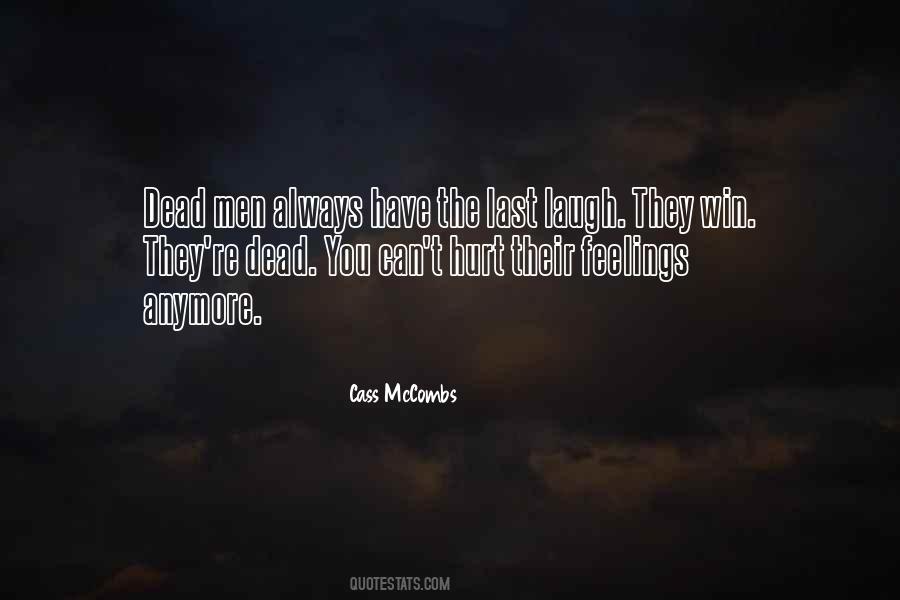 #61. How did you learn to stop crying? (Leta)
I nailed my heart shut and learned to stop caring about anyone except me. They can't make you cry when you don't give a shit about them or their opinions. You can only be hurt by the ones you love. (Aiden) - Author: Sherrilyn Kenyon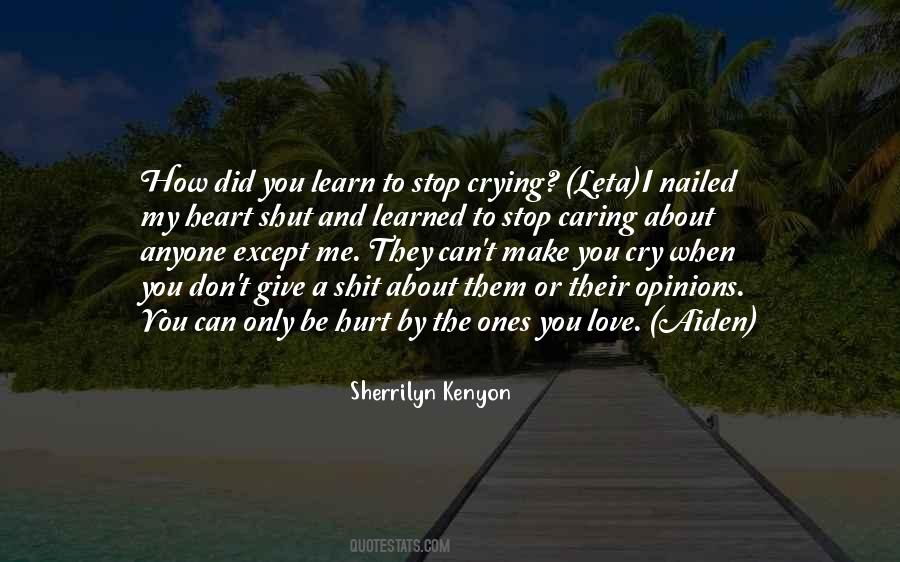 #62. People have reasons for what they do, Beatrice. And even if those reasons can't be justified, that doesn't make them bad people, just flawed. You have to remember," she said, "someone or something has hurt them too. - Author: Tiffanie DeBartolo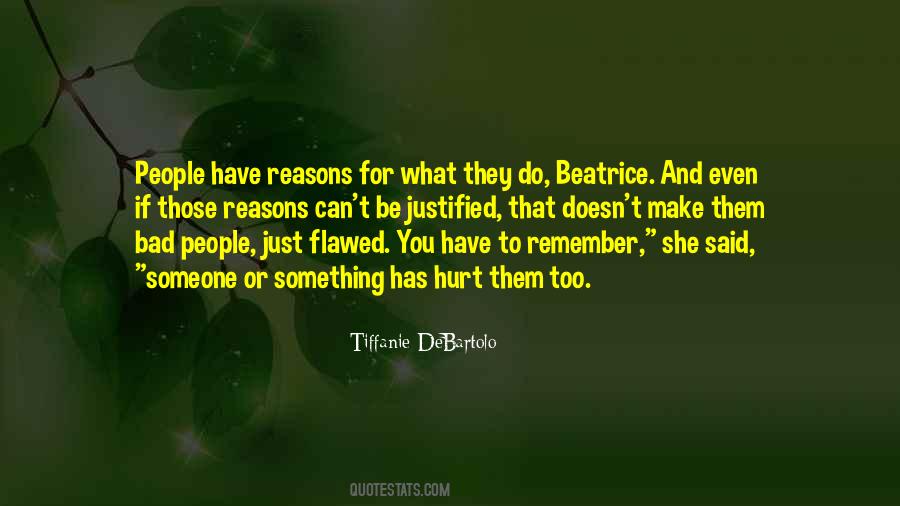 #63. They say you can do anything with plastique except play with sparks, but I still treat things that can blow you apart with respect. It can't hurt. - Author: L.E. Modesitt Jr.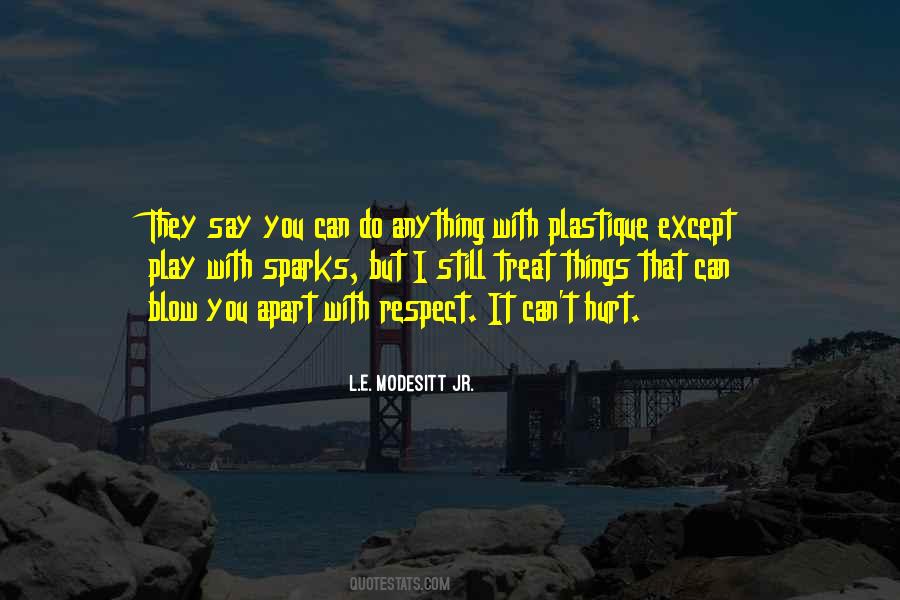 #64. They can't hurt me. I'm not like the rest of you. There's no one left I love. - Author: Suzanne Collins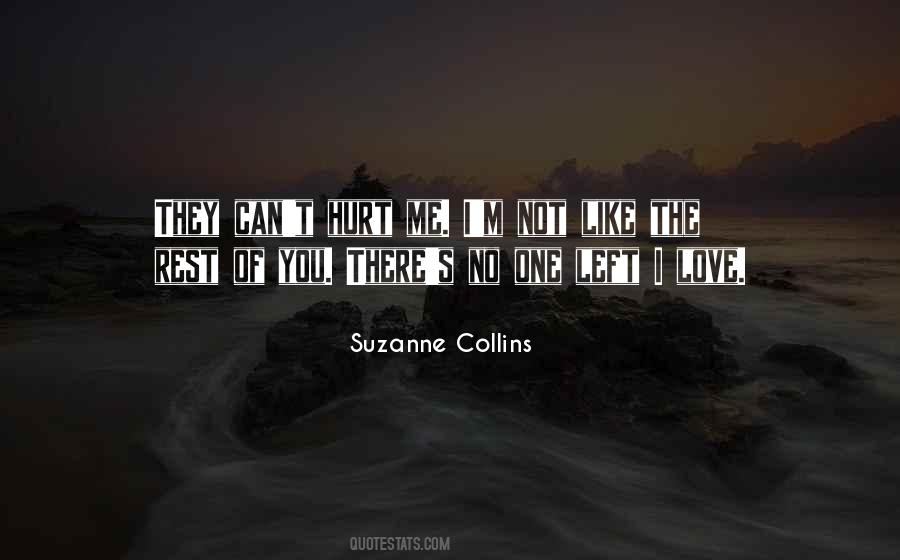 #65. I believe very much that the most damning thing you can say about Muslims is that you're afraid to say anything because they'll hurt you. - Author: Penn Jillette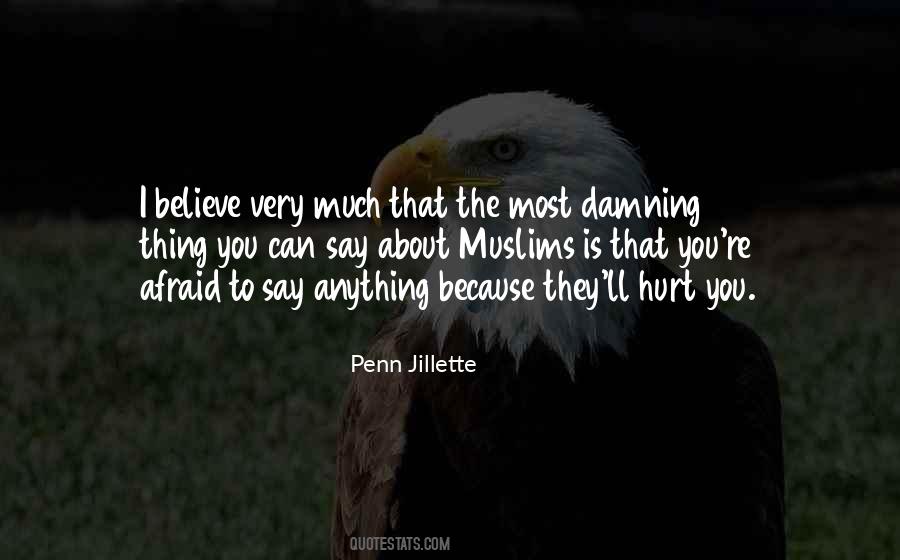 #66. Love isn't safe. And whoever you love will hurt you. It's part of the human experience. No one is perfect...People make mistakes. The secret is to focus on what they do right and decide what quirks you can live with. - Author: Kristin Billerbeck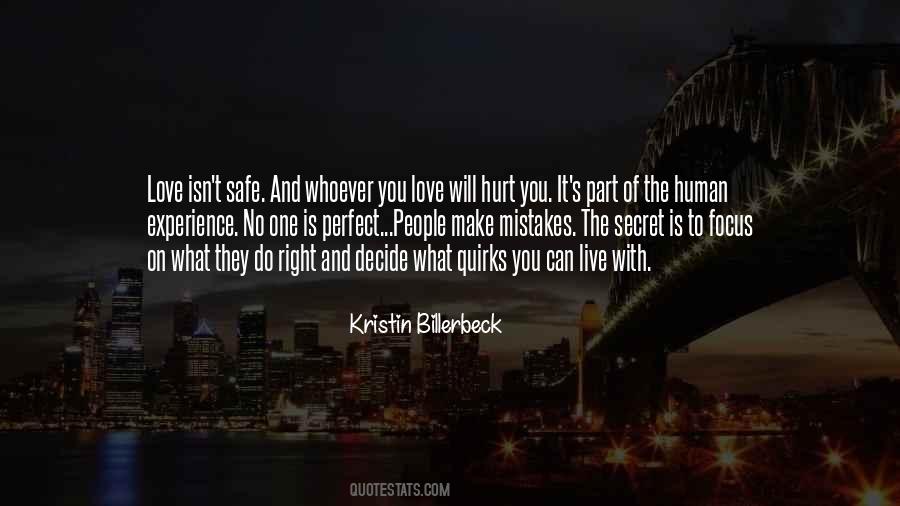 #67. I keep my eyes closed as tightly as I can, but in my mind, everyone in the square looks like my father and they all have his voice. I hate you all. I imagine my hands at their throats, choking, silencing them, one by one. - Author: Marie Lu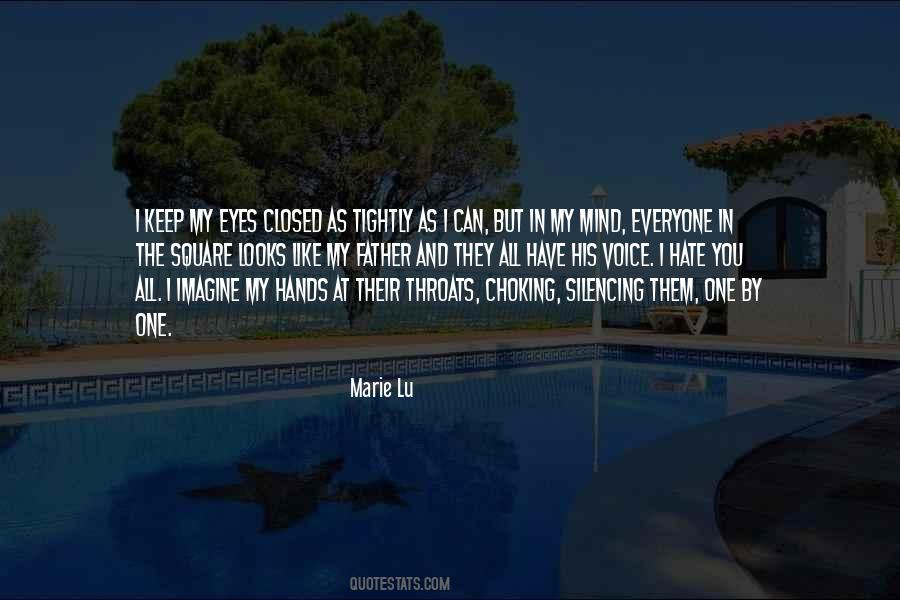 #68. Then be human. Let go and move on. They who hurt you cannot expand their mind. But surely you can. - Author: Devdutt Pattanaik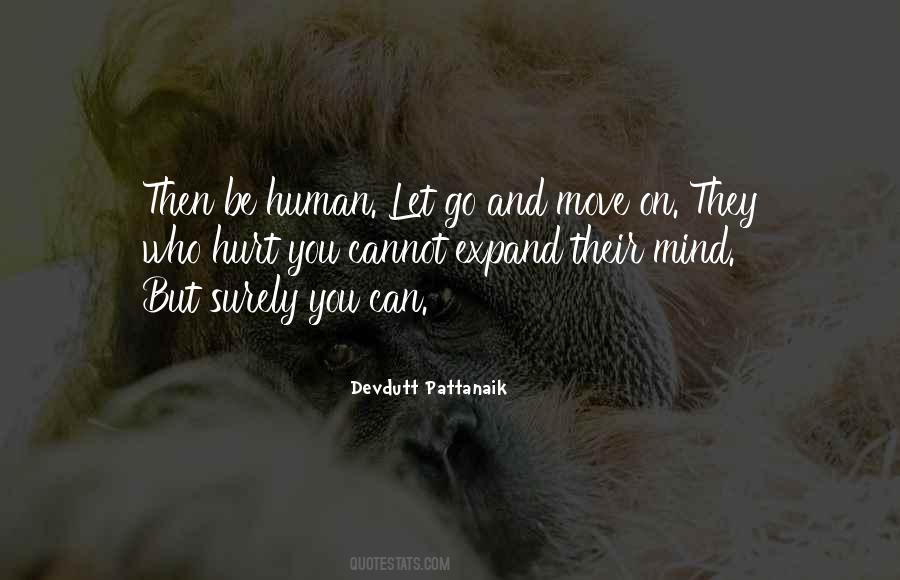 #69. I have this theory: If you forgive someone, they can't hurt you anymore. - Author: Candace Bushnell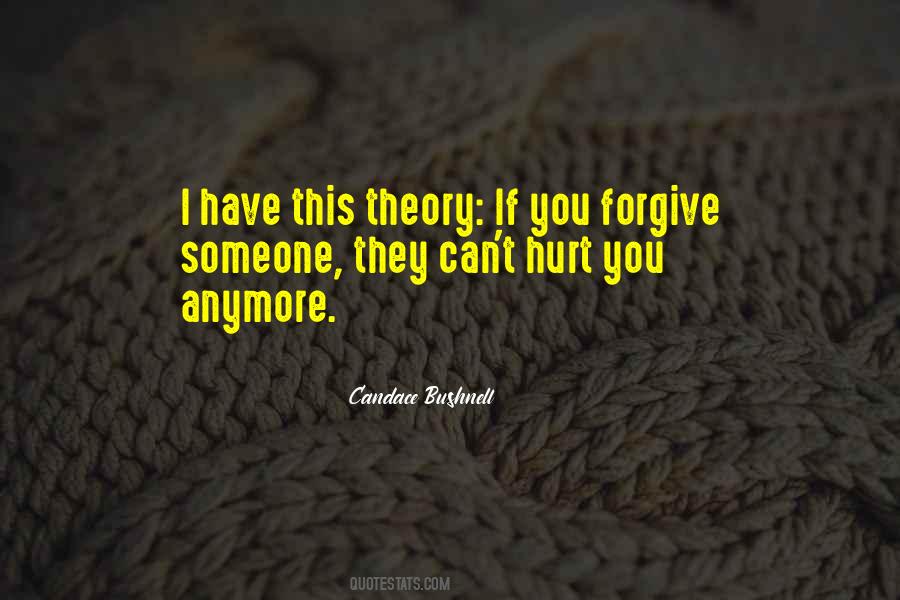 #70. You can't lie to kids about drugs. They know about drugs. You can't say they're just all bad. They know life is a little more complicated. I have never done heroin. I would never recommend heroin, but it hasn't hurt my record collection. - Author: Bill Maher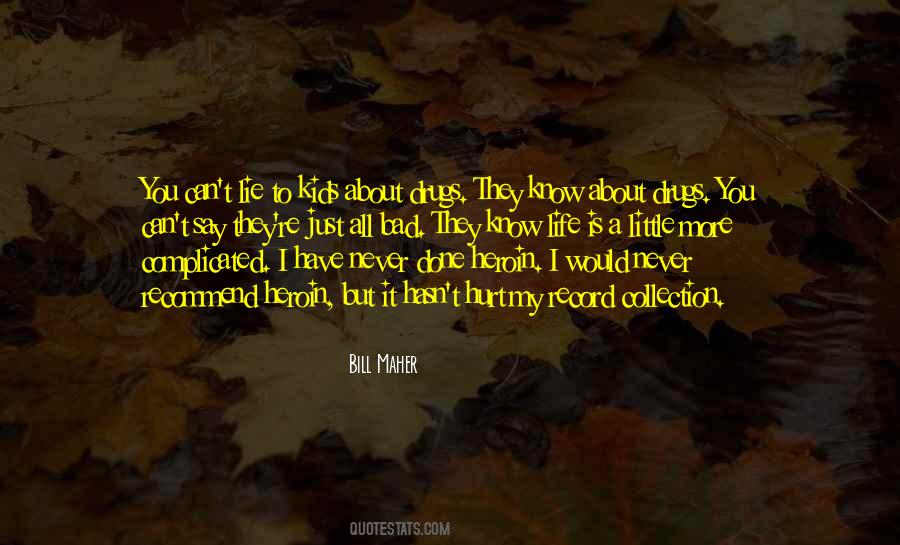 #71. And for any victim of a violent crime, when you actually get to go in and realize and see their faces and know that they can't hurt you any more, there is no feeling like that. It finally frees you from a lot of demons. - Author: Patty Hearst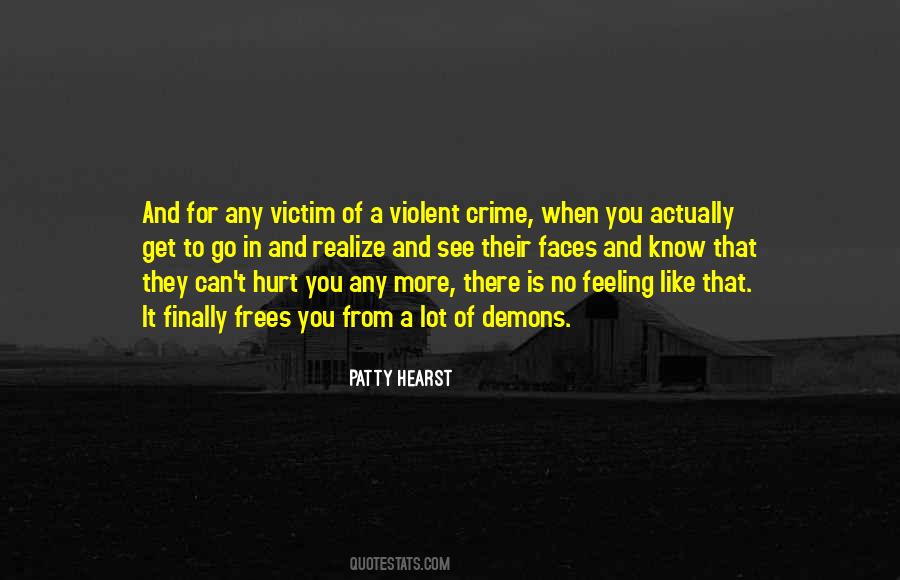 #72. Loving someone is kind of like offering forgiveness. There's no guarantee that they're not going to hurt you again. You can't promise perfection. But you choose to love and you choose to forgive, because living in fear of being hurt again is just a facsimile of life. - Author: Liz Johnson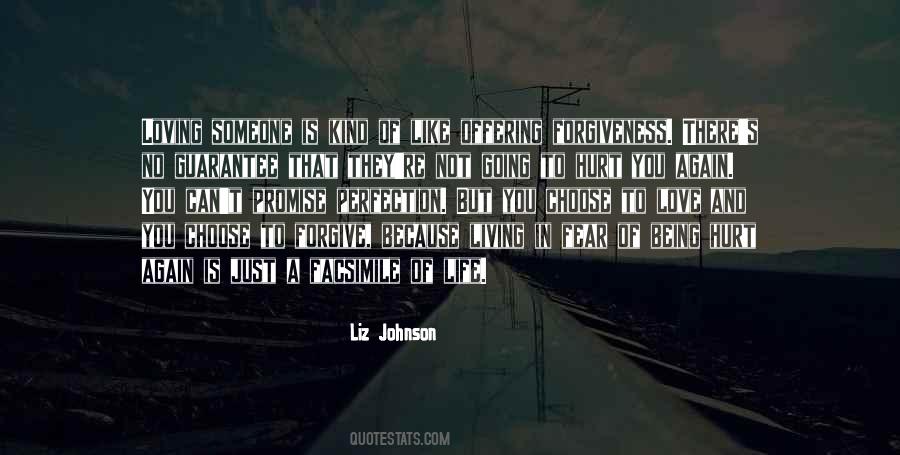 #73. I needed to let them know they couldn't hurt me. I've learned that the best way to stay safe is to make your enemies think you can't be hurt. - Author: Patrick Rothfuss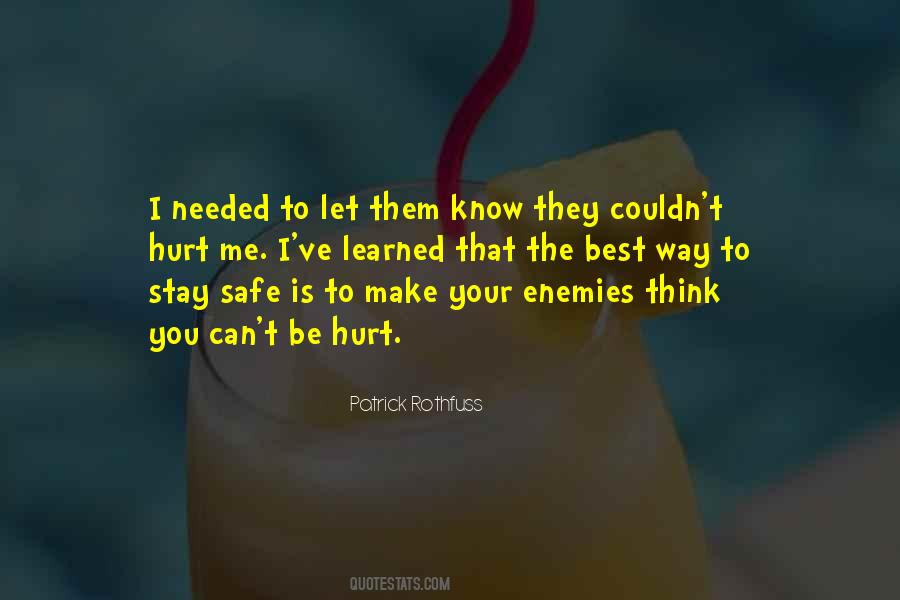 #74. Certainly, you may have been hurt beofre in love, but just because you get one bad apple doesn't mean they are all bad - and you can learn from the difficult ones. - Author: Frederick Lenz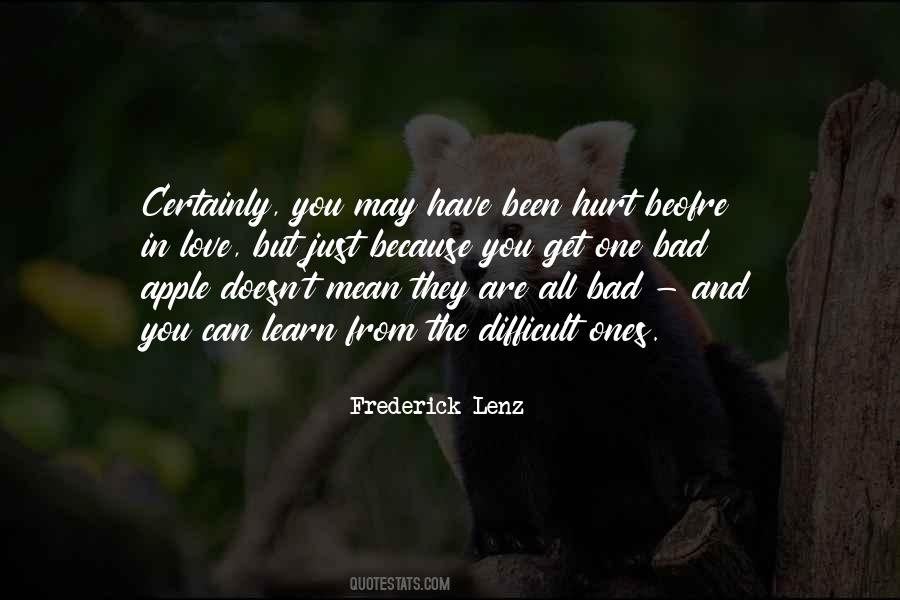 #75. People say sticks and stones may break your bones, but names can never hurt you, but that's not true. Words can hurt. They hurt me. Things were said to me that I still haven't forgotten. - Author: Demi Lovato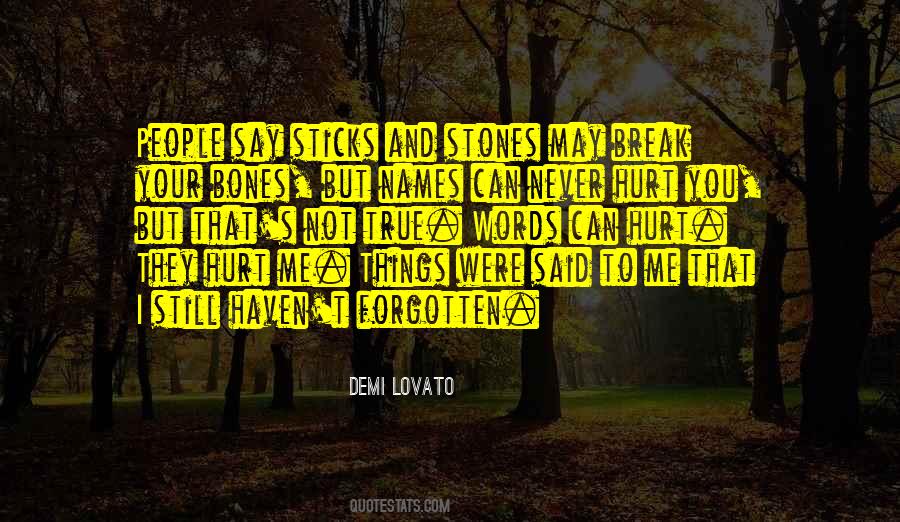 #76. You don't unconditionally adore your friends every moment of every day. They can unintentionally hurt your feelings, or make you mad, or upset you by doing something you consider totally inappropriate. You take what they dish out because accepting they're not perfect is part of a true friendship. - Author: Linda Welch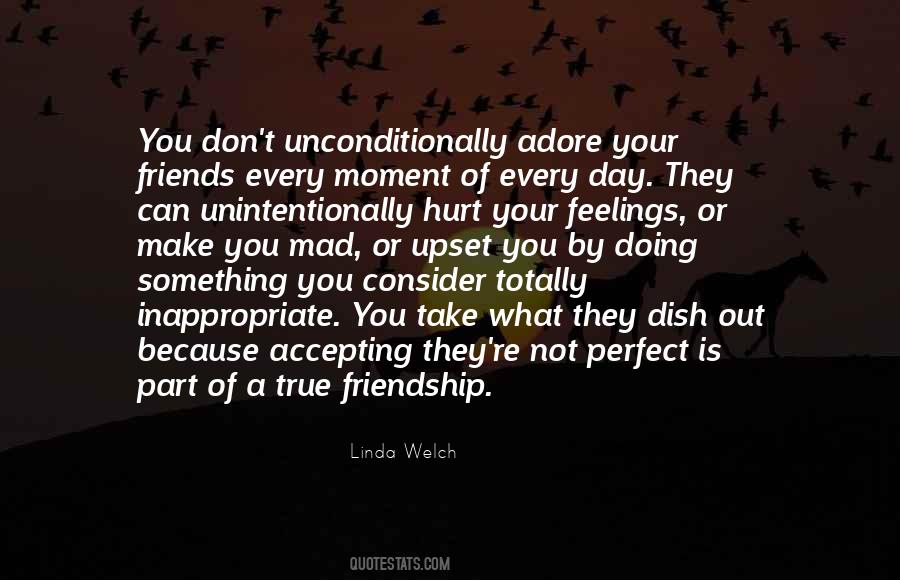 #77. Some people have different ways than yours of having fun. You can't judge 'em, you can't dismiss 'em, and you can't say, 'what an idiot, what a food.' You just have to accept their truth of
their harmony with what they wanna do in their heart. As long as it's not hurting anyone. - Author: Gary Busey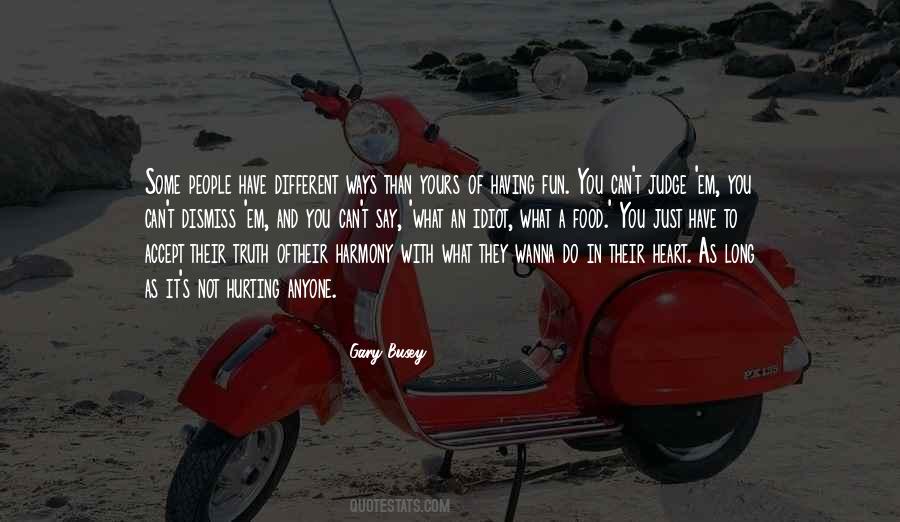 #78. You'd think wouldn't hurt a little one, but the pain is a great as if they'd been with yoy all your life. You can't remember what it was like before they touched your heart and you can never forget them - Author: Lorraine Heath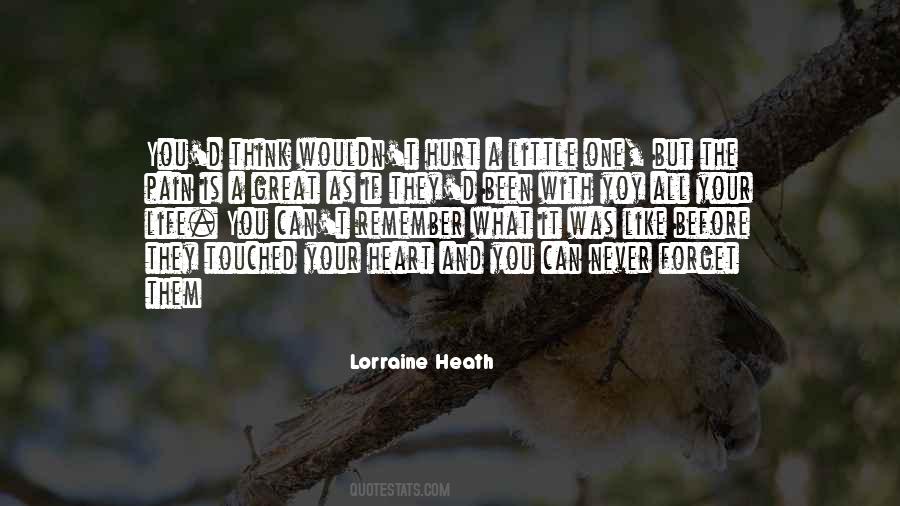 #79. You can't look at someone and tell what they've been through. The scars that hurt the most are never visible on the surface.
~Caillen, page 243. - Author: Sherrilyn Kenyon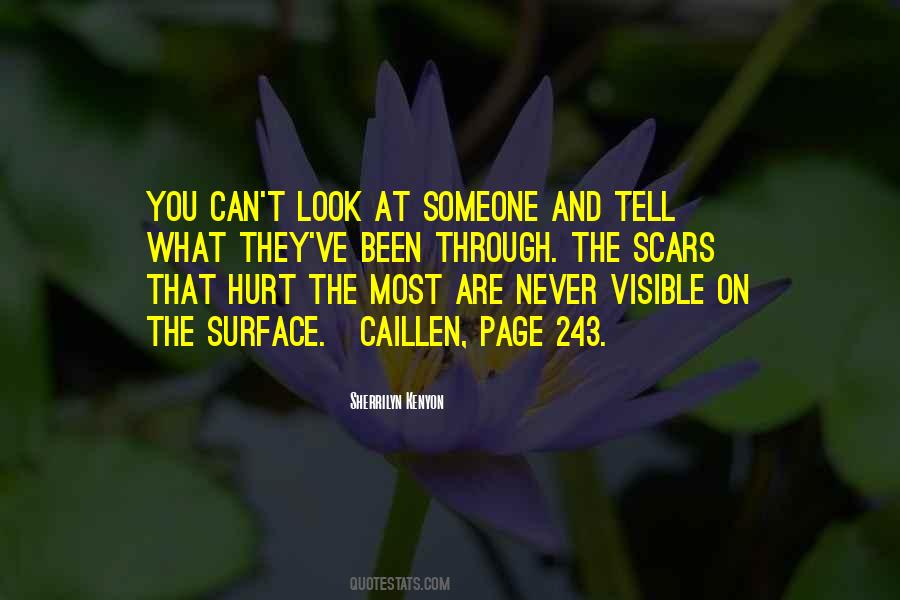 #80. Sometimes you can't prevent things from happening, and once they're done, you can't change the past. There is a way to deal with the pain, though, because you always control your response. You cry, if you need to. You hurt for a while. But then you look for a way to make a difference. - Author: Carlene O'Neil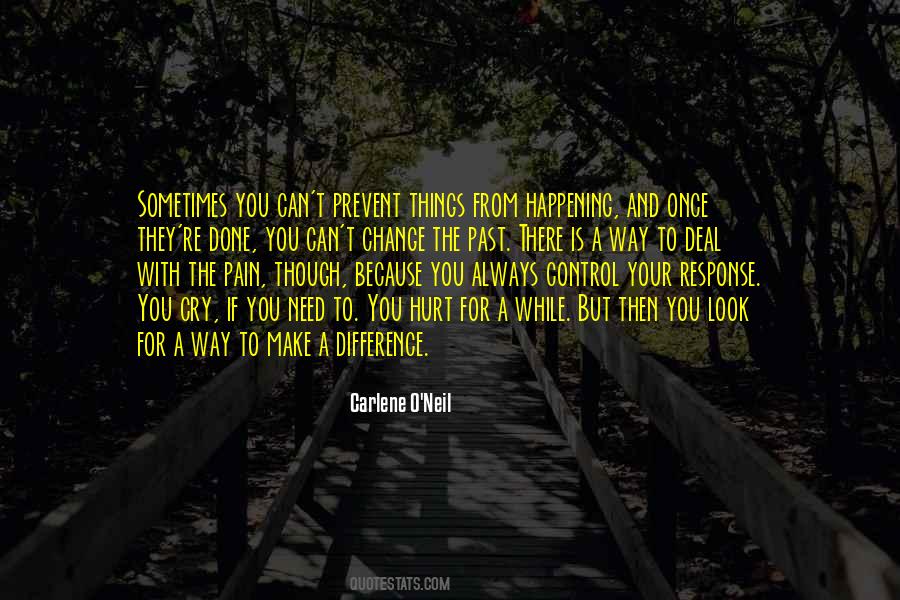 #81. When you laugh at yourself, you gain perspective. Then you realize that the mistakes you made, as long as they didn't hurt anyone but yourself - well, you can forgive yourself for those. - Author: Dean Koontz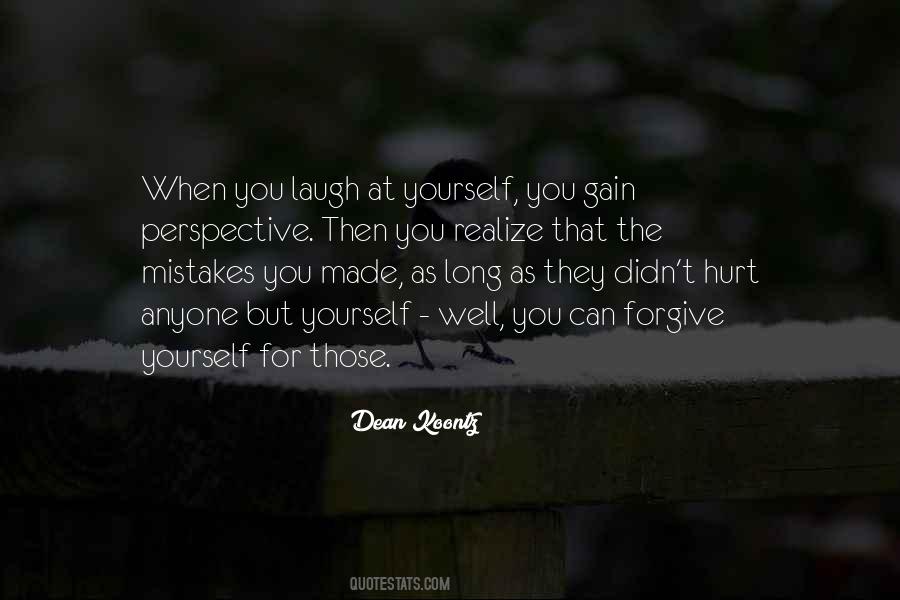 #82. I like to bring people together so we don't waste opportunities and resources and keep doing the wrong things when we know better. Corporate America makes great things and things that can hurt us. They have to be part of the solutions. There's nothing to say you don't make a profit by doing good. - Author: Teresa Heinz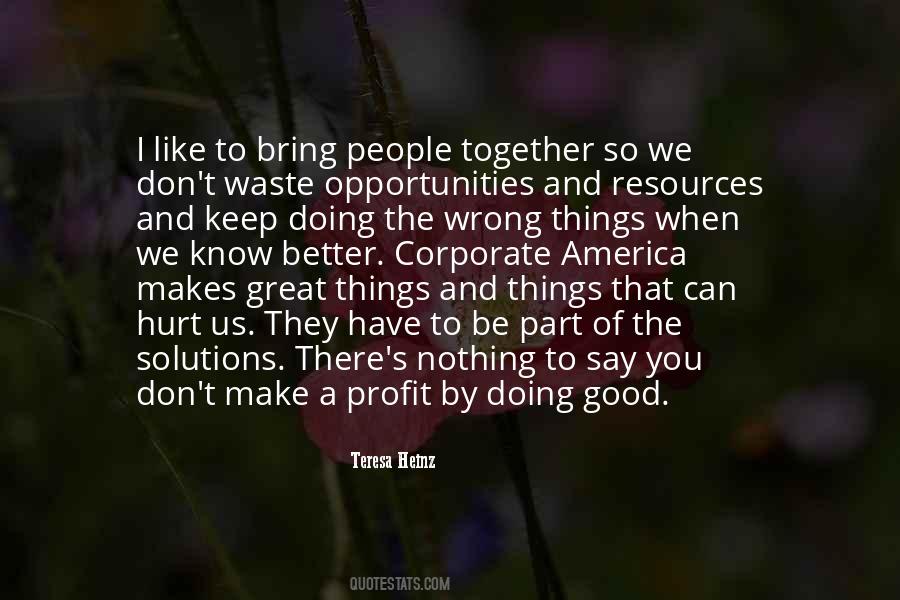 #83. When you're hurt very badly in your childhood, the area that it has the greatest effect on is relationships. Once you feel like you can't trust people, once you feel like that they don't care about you, that they're really not going to take care of you, it gets very difficult in relationships. - Author: Joyce Meyer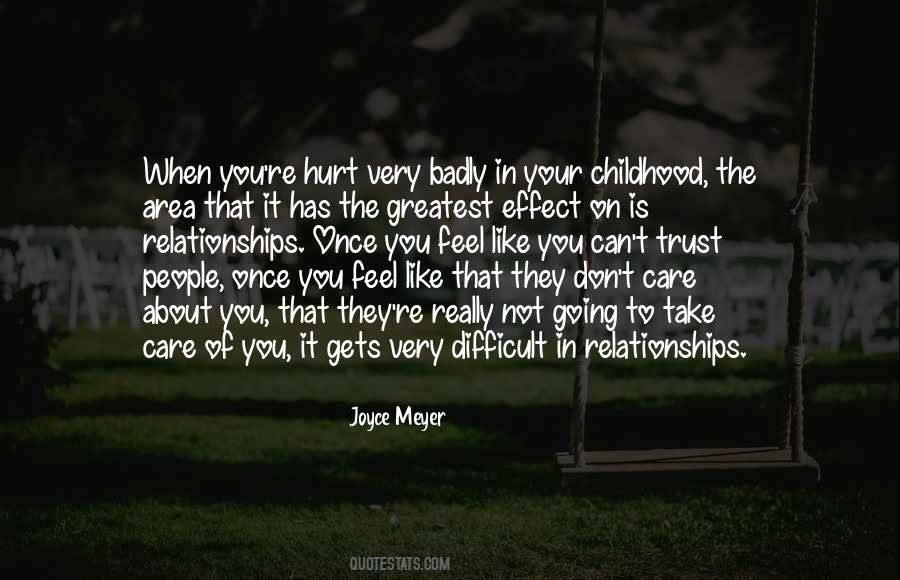 #84. Nobody likes the ball low and away, but that's where you're going to get it from me. I been pitching it there 50 years, away from them. That way they can't hurt you. You keep the ball in the park. - Author: Satchel Paige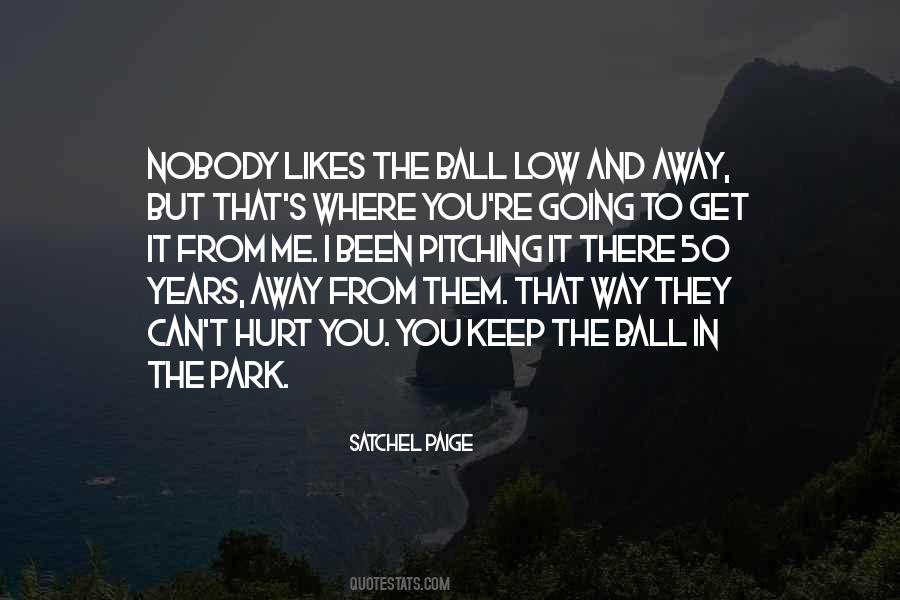 #85. Do you know how a gun works?" "They hurt you." "They can. I shot a bullet into the back of Molly's head so she wouldn't be sick or sad anymore." "Did it hurt her? - Author: Blake Crouch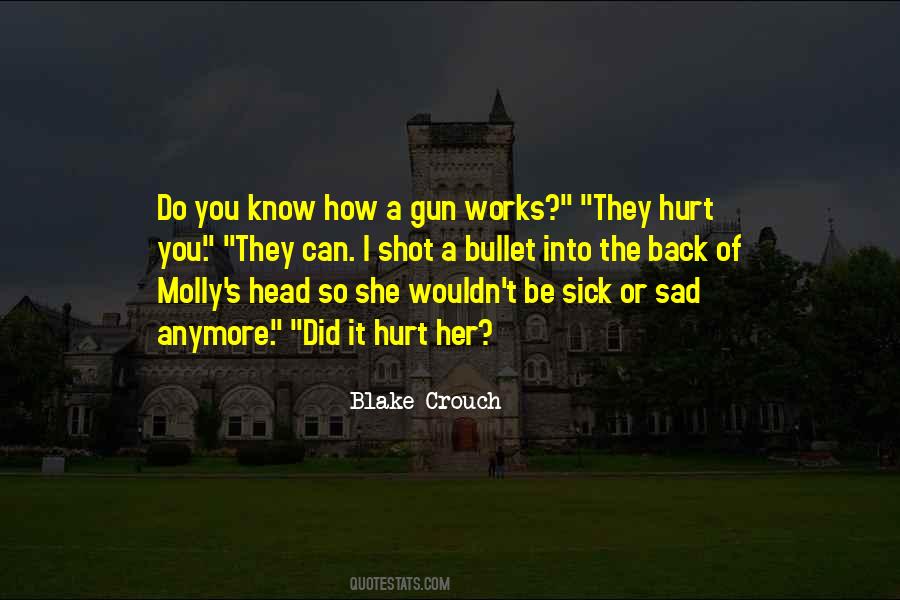 #86. Words are really powerful. I don't believe that axiom at all - words can absolutely hurt you. Words can wound. They can do a lot of damage. I think they can do way more damage than sticks and stones. I'll take sticks and stones. - Author: Mary-Louise Parker
#87. I've never guided my life. I've just been whipped along by the waves I'm sitting in. I don't make plans at all. Plans are what make God laugh. You can make plans, you can make so many plans, but they never go right, do they? - Author: John Hurt
#88. I want you to learn that if you don't keep picking at old wounds, over time they will eventually heal. Oh sure, sometimes they will leave a nasty, jagged scar, but at least it won't hurt like it did anymore, and if you don't look at it, sometimes you can almost forget it's there. - Author: K. Martin Beckner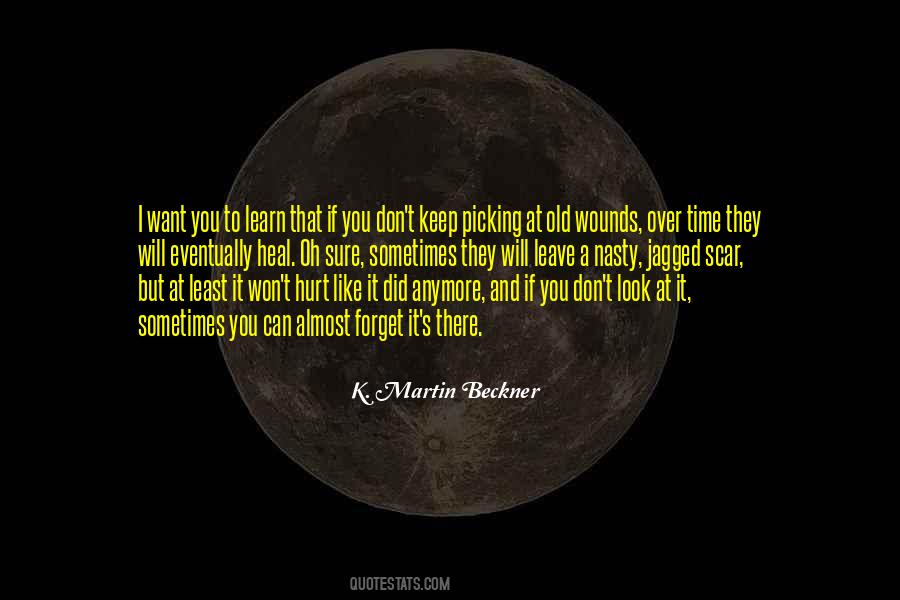 #89. If you aren't willing to face your demons-if you can't find the courage to take on your fear and hurt and anger-you might as well wrap them up with a bow and give them to your children. Because they will be carrying the same thing ... unless you are willing to do the work - Author: R.A. Dickey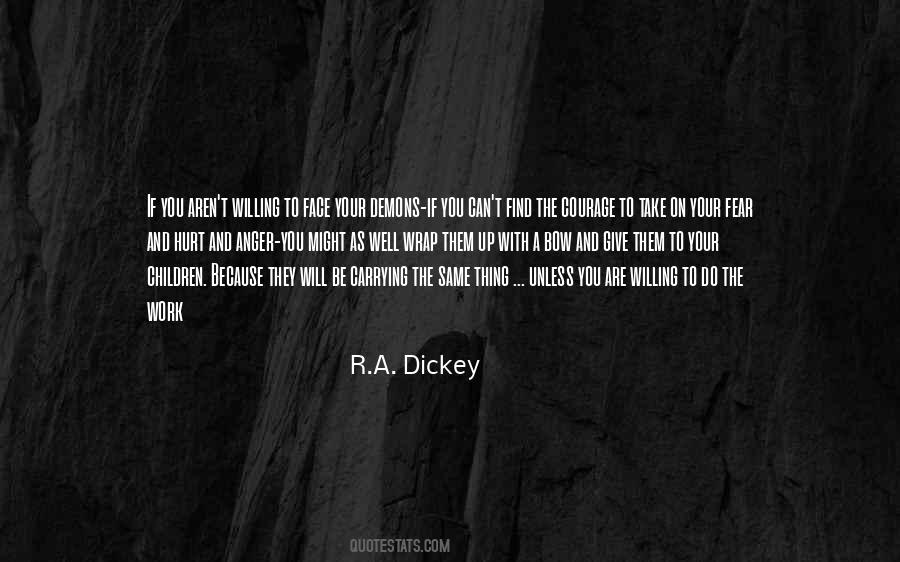 #90. Red roses lure you in with beauty and passion, which is why they suit Halston so well. Can they hurt you? Yes. If you don't know how to handle them. Beautiful things should be that way, difficult to get to, to touch. Otherwise it'd be too easy for people to destroy them. - Author: Jessica Hawkins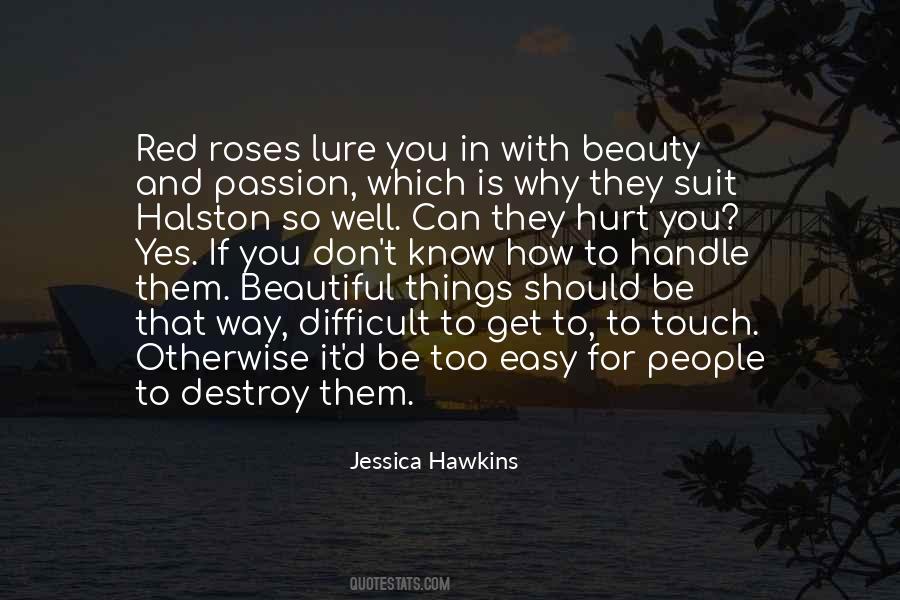 #91. They can't hurt me. Sure, they can crush you and kill you. They can lay you out on 42nd and Broadway and put hoses on you and flush you in the sewers and put you on the subway and carry you out to Coney island and bury you on the Ferris wheel. But I refuse to sit here and worry about dying. - Author: Bob Dylan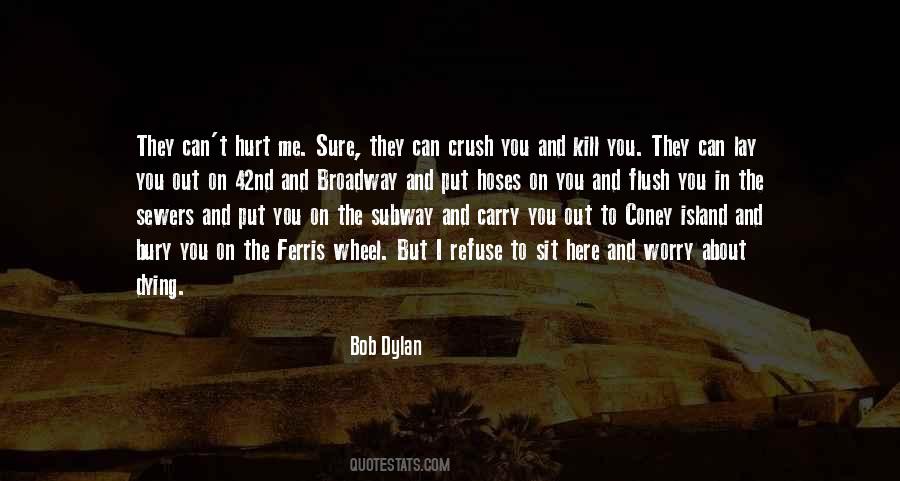 #92. Those who really love you don't mean to hurt you and if they do, you can't see it in their eyes but it hurts them too. - Author: Holly Black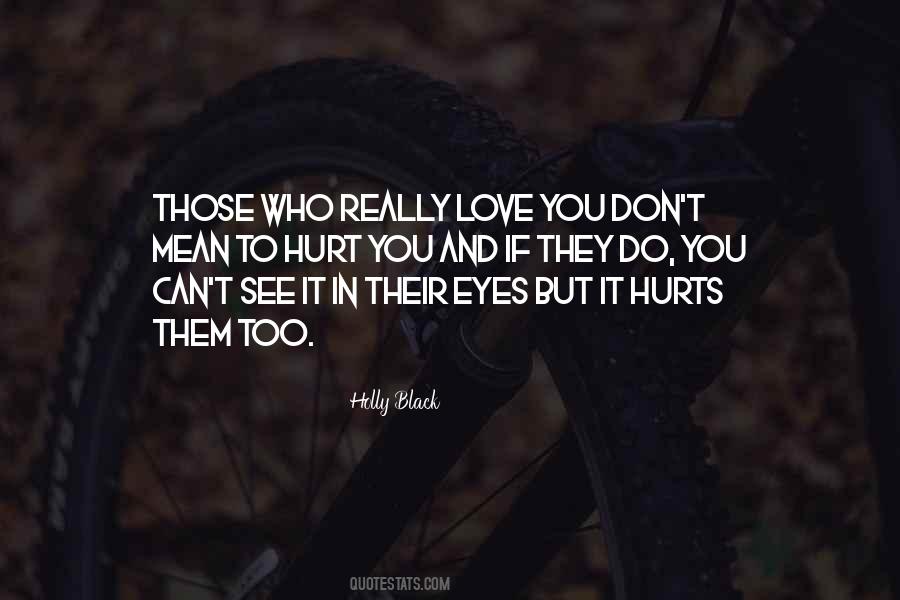 #93. Sometimes we have to face the things that hurt us most. Maybe you won't heal till you do. You haven't yet." They both knew that was true. "You can't move ahead until you bury the past. - Author: Danielle Steel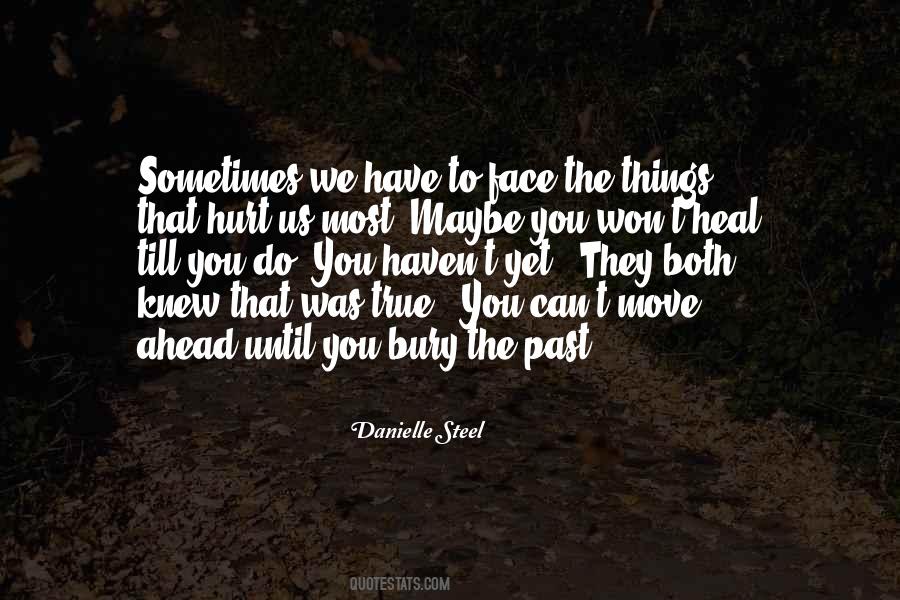 #94. Some people treat seeing me as if they just won a car on 'The Price is Right.' The feet get going, and the hands start flapping, and it's really quite amazing. It's a little scary: you can't have more than two or three of them at the same time because someone might get hurt. But it's great fun. - Author: John Schneider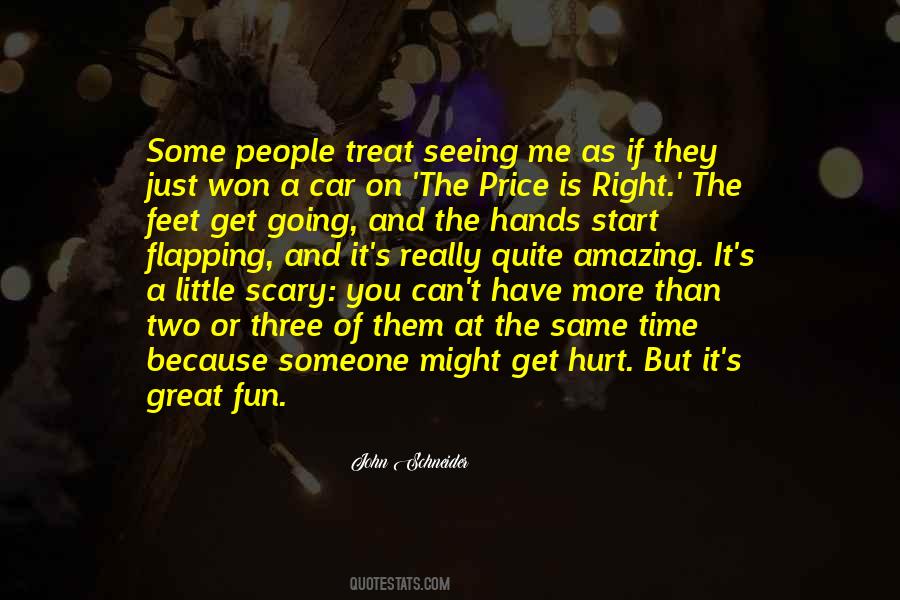 #95. Thoughts are just thoughts, and they can't hurt you. My thoughts land in my mind like a butterfly; they stay for a while, then flutter away. The butterfly isn't me. I can step away from it, and watch it, learn from it, enjoy it, without needing to absorb it into my identity. - Author: Julie Farrell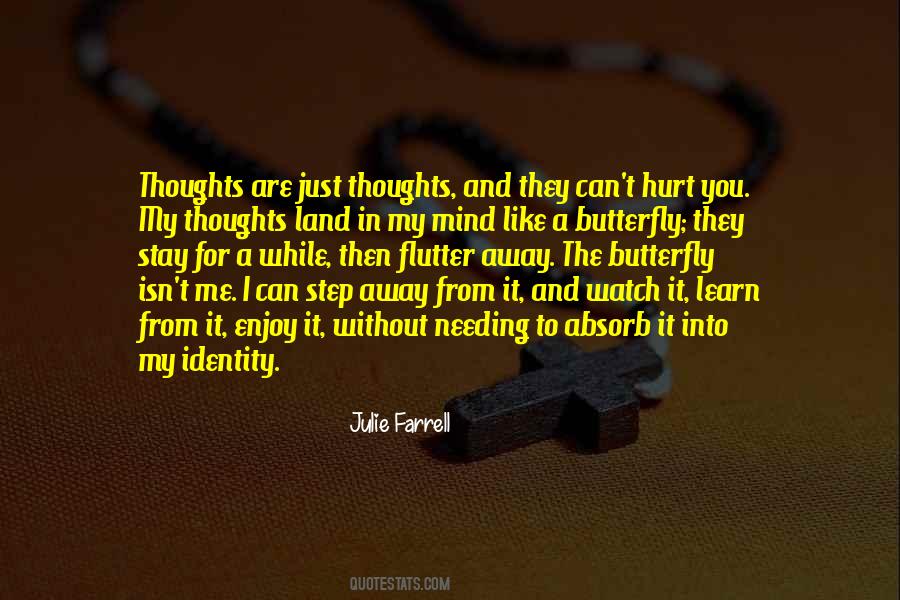 #96. You can spot people who don't know Jesus very well because the world they see is always so ugly. Even if they use all sorts of religious language, don't be misled - people who get touched by Jesus don't ignore the hurt and pain in the world, and yet they see so much beauty in it. - Author: Jonathan Martin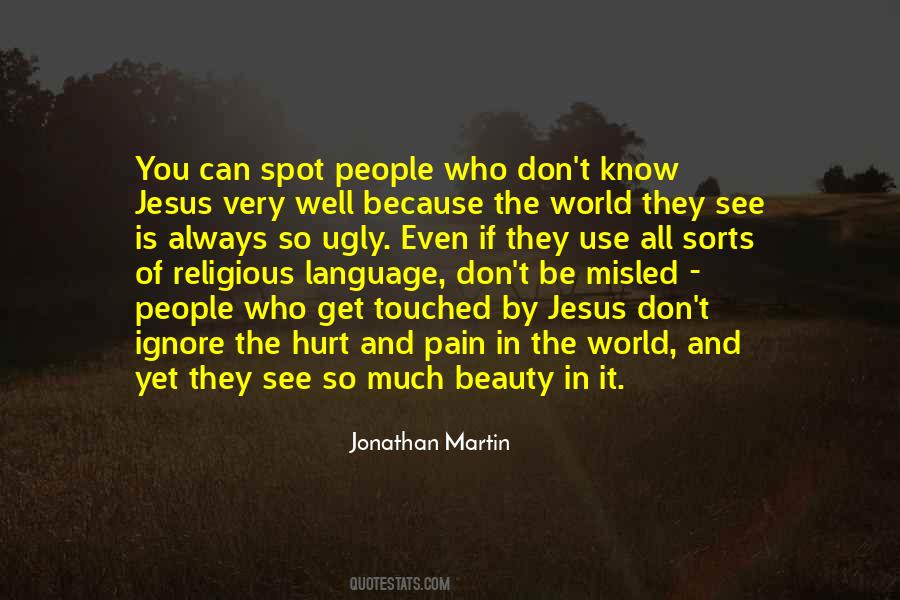 #97. If you don't like people, they can't hurt you. - Author: Fredrik Backman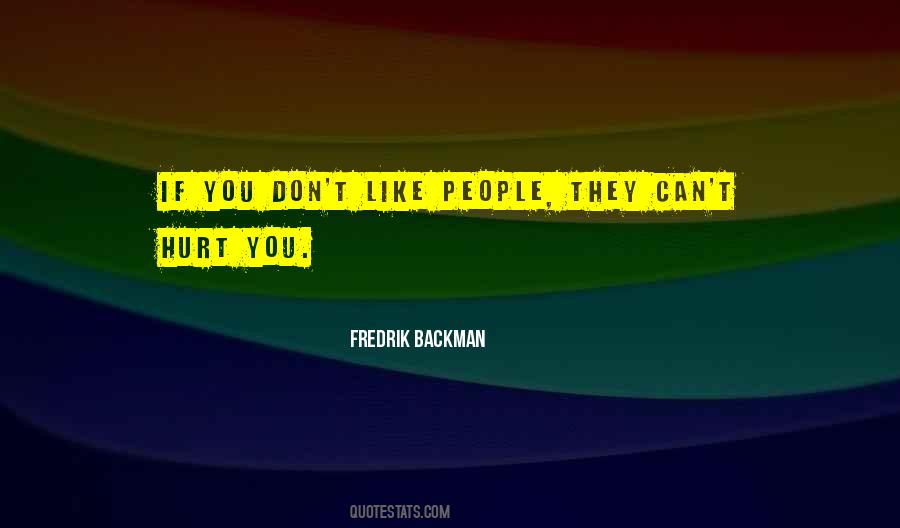 #98. Men cheat. They lie. They love porn. The don't respect you and don't care if they hurt you. It's the fucking breaks. Women divorce 'em 'cause we can't tame 'em or train 'em or control 'em like we do household pets. End of story. - Author: Terry McMillan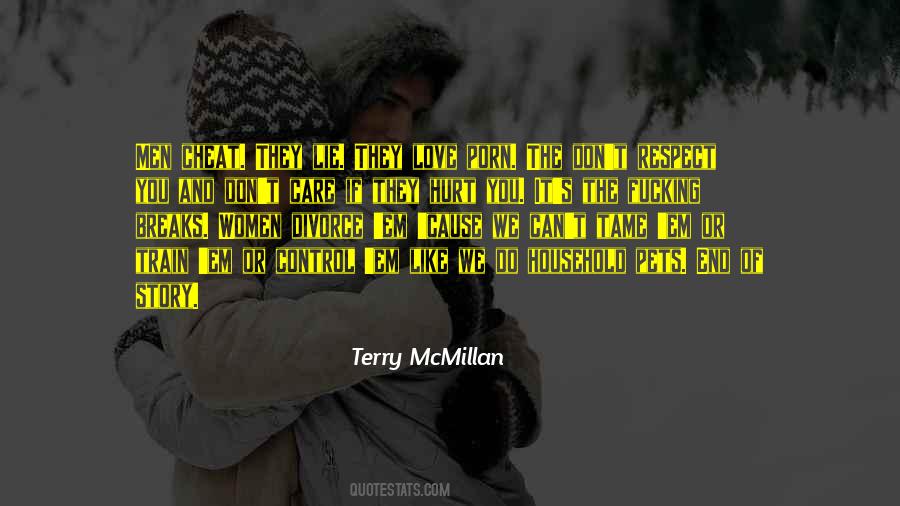 #99. I'm sorry he hurt you, but hurting yourself isn't going to change that. You can't control what people do or how they treat you. You can only control how you react to it. - Author: Jay McLean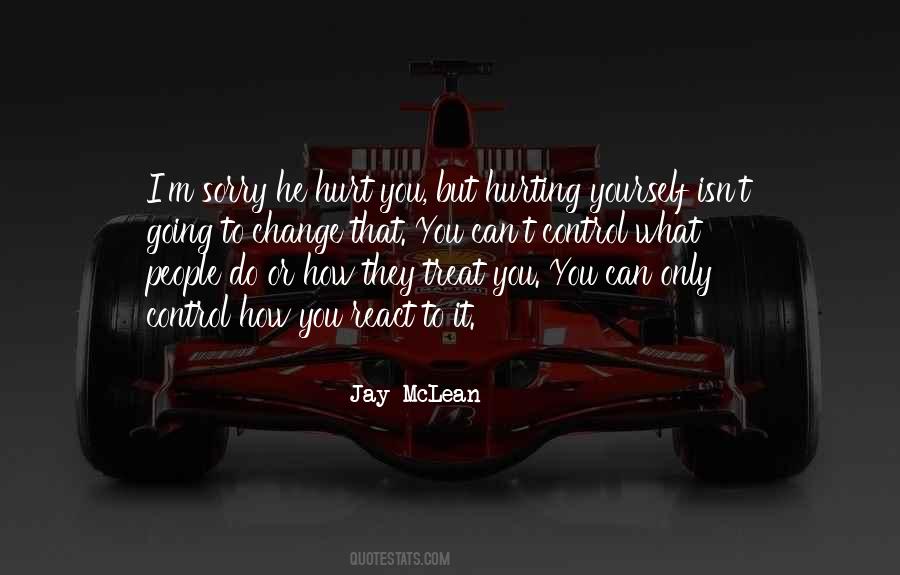 #100. Humans don't exist on the same level as immortals. They can't even be hurt by our weapons. But you,Percy - you are part god,part human.You live in both worlds.You can be harmed by both,and you can affect both. That's what makes heroes so special. - Author: Rick Riordan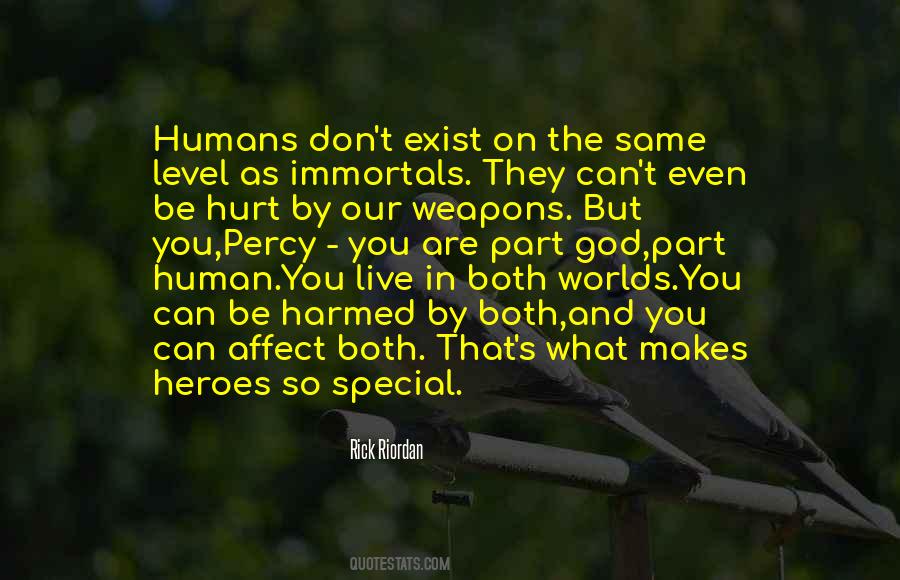 Famous Authors
Popular Topics