The Heart Knows Famous Quotes & Sayings
List of top 100 famous quotes and sayings about the heart knows to read and share with friends on your Facebook, Twitter, blogs.
Top 100 The Heart Knows Quotes
#1. The heart knows no logic, and rarely corresponds with the brain. - Author: Alyson Noel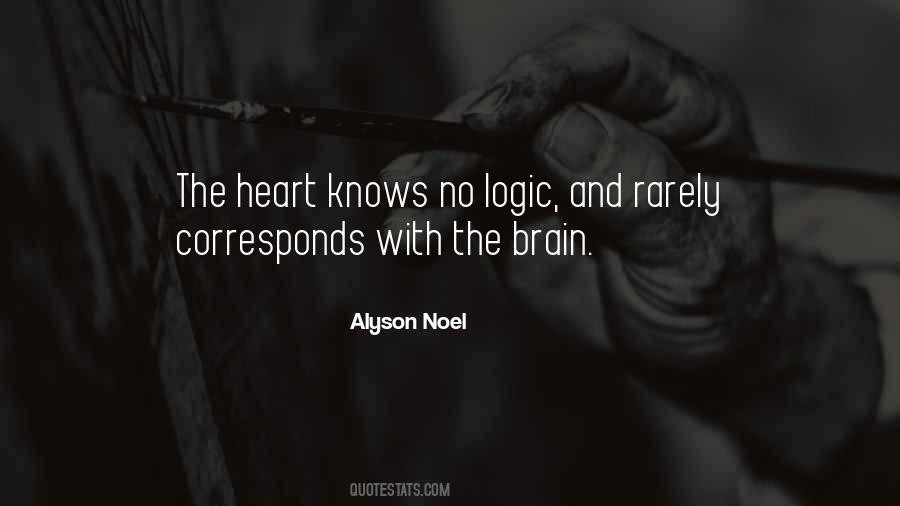 #2. The body knows. When your heart sinks. When you feel sick to your gut. When something blossoms in your chest. When your brain gloriously pops. That's your body telling you the One True Thing. Listen to it. - Author: Cheryl Strayed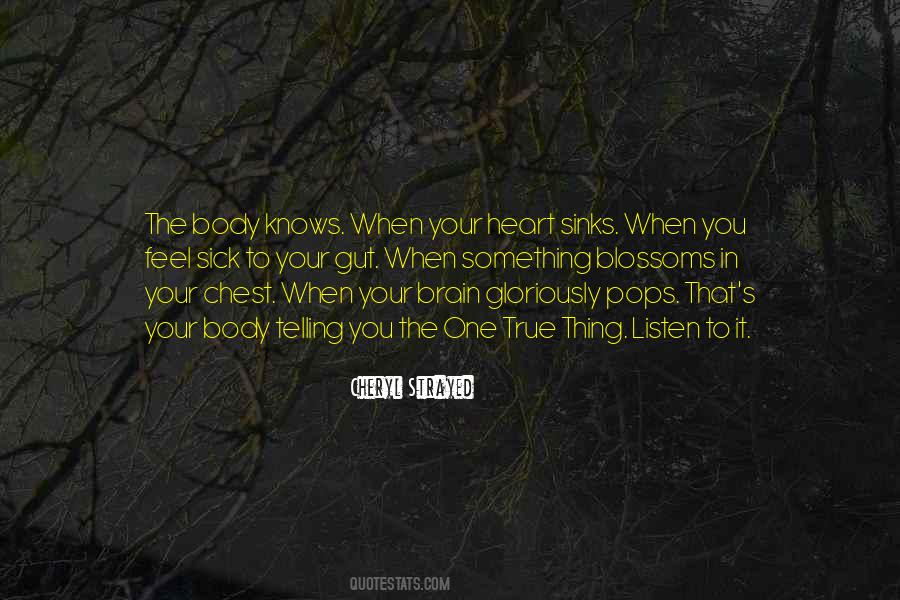 #3. The mind knows only what lies near the heart. - Author: Edith Hamilton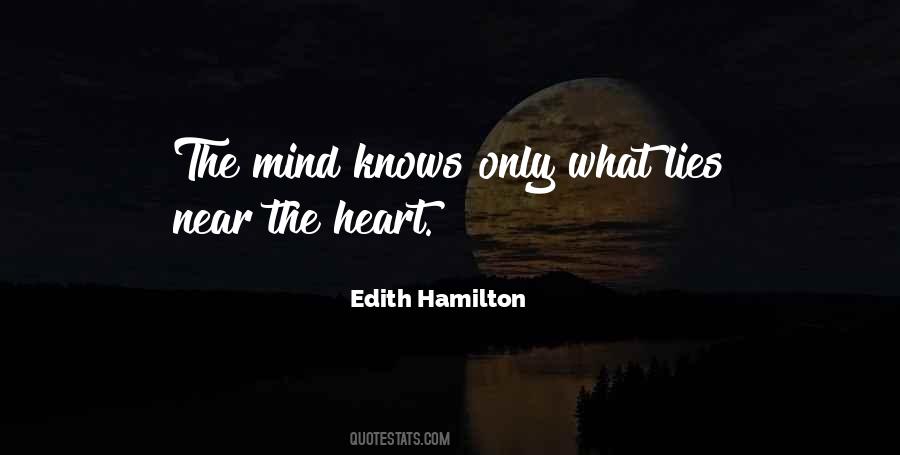 #4. The beauty of each heart beat is the fact that the heart knows another heart beats for it. - Author: Vincent Edwards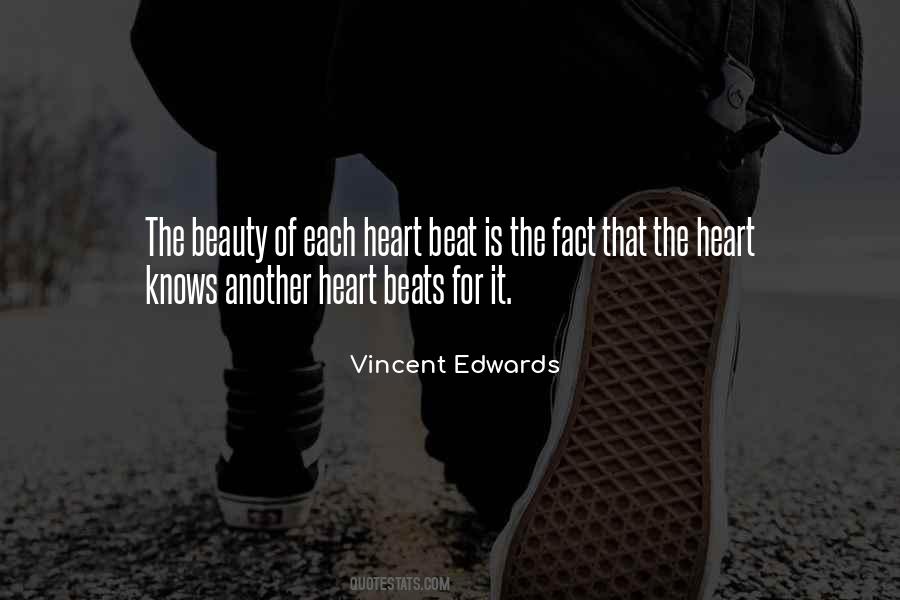 #5. No one knows,
the heart of a child,
how it grows
until it is too late. - Author: Hilda Doolittle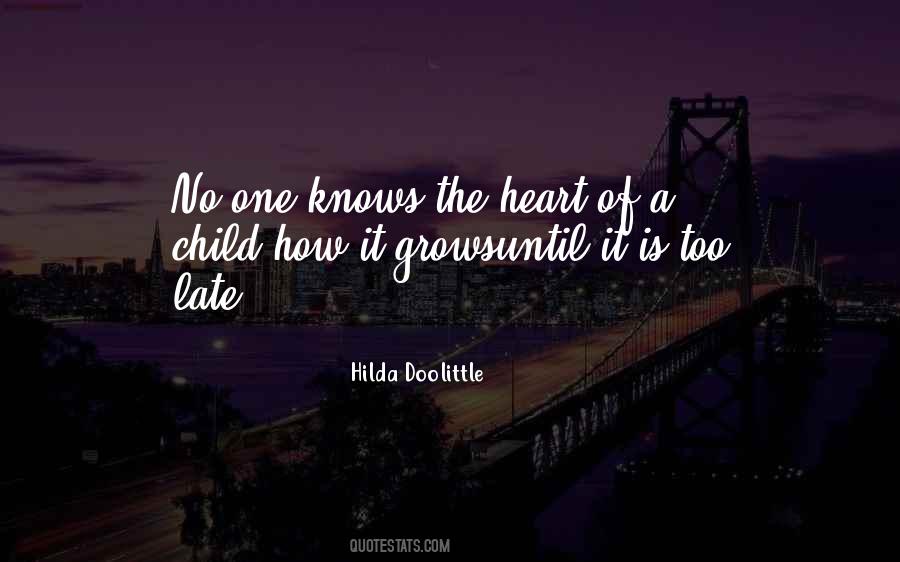 #6. The head thinks. The heart knows. - Author: Rasheed Ogunlaru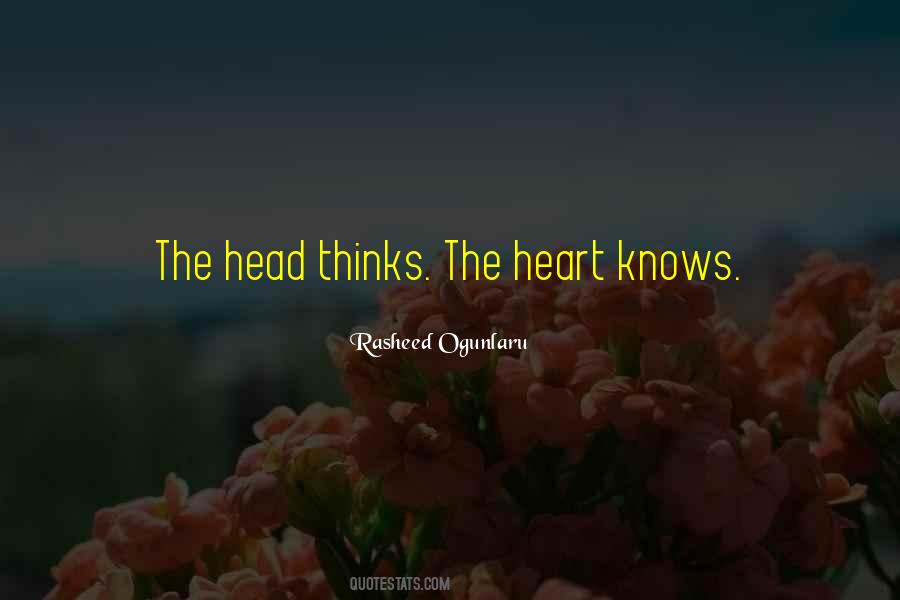 #7. An effective speaker knows that the success or failure of his talk is not for him to decide - it will be decided in the minds and hearts of his hearers. - Author: Dale Carnegie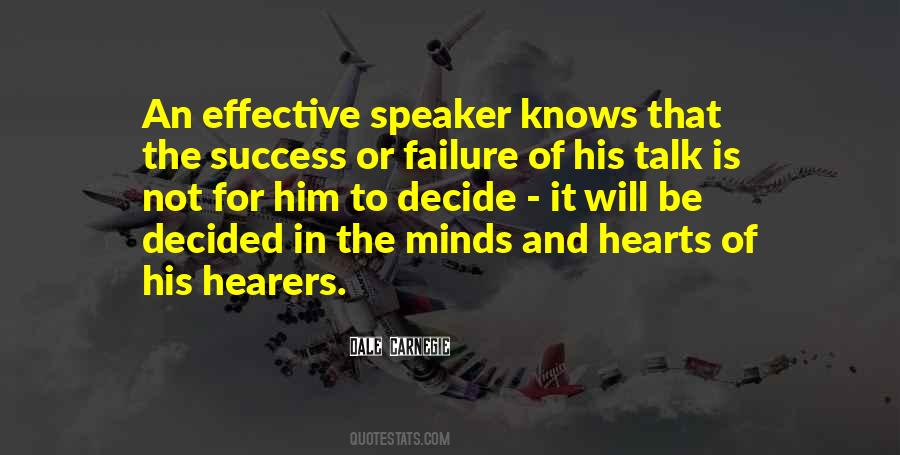 #8. The Bible knows nothing of any contrast between truth and experience, head and heart, theology and practical living. - Author: Michael S. Horton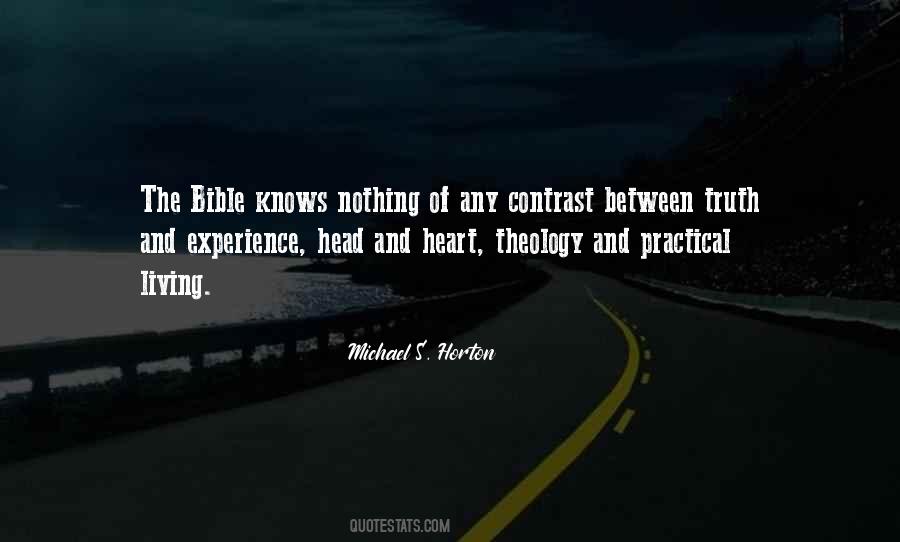 #9. The world is always full of the sound of waves.
The little fishes, abandoning themselves to the waves, dance and sing, and play, but who knows the heart of the sea, a hundred feet down? Who knows it depth? - Author: Eiji Yoshikawa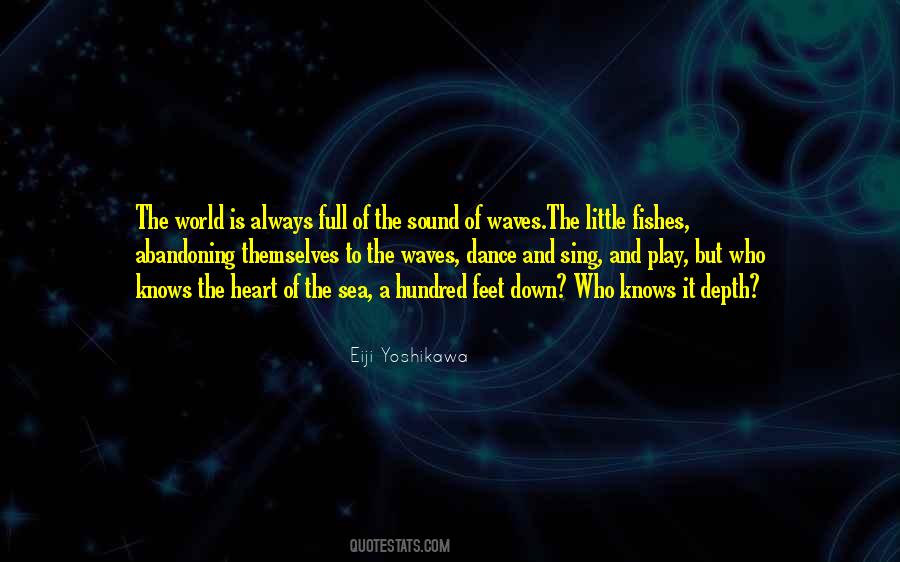 #10. The mind can calculate, but the spirit yearns, and the heart knows what the heart knows - Author: Stephen King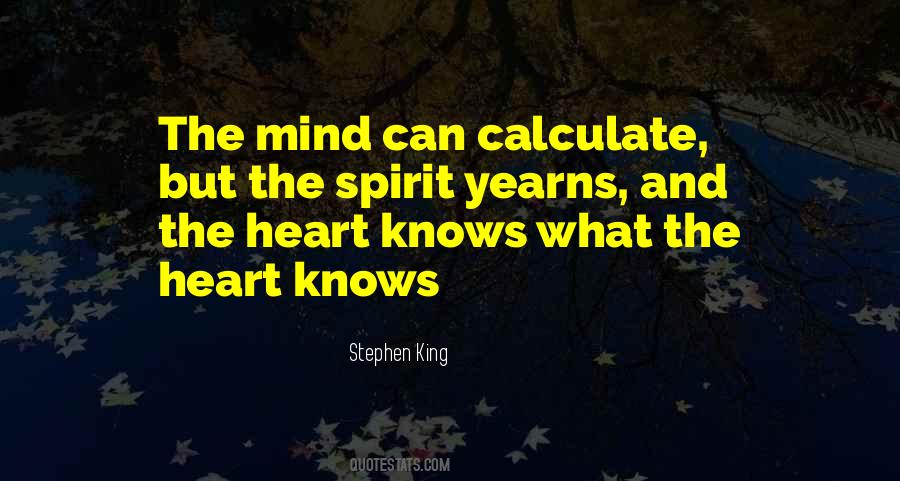 #11. A friend knows the song in my heart and sings it to me when my memory fails. - Author: Donna Roberts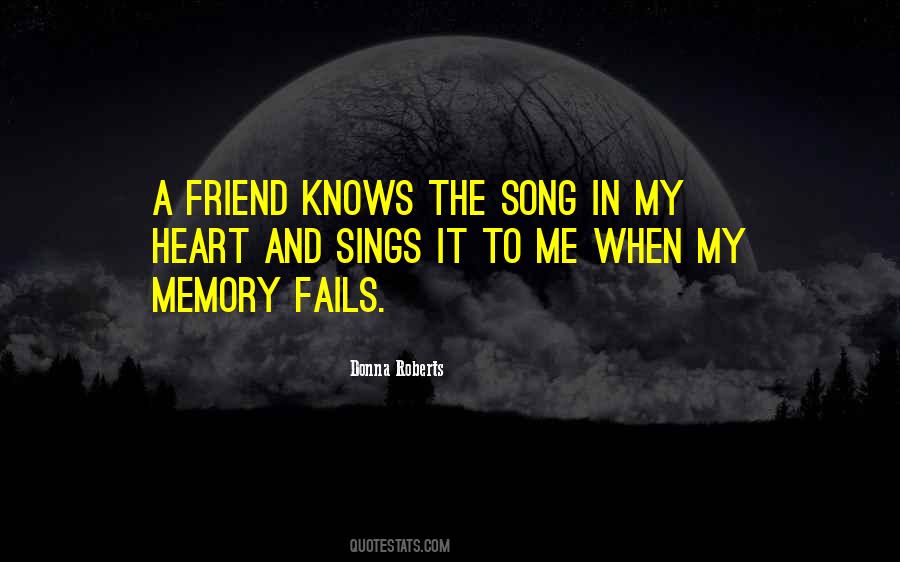 #12. A heart that has lost knows every other heart that has lost. Late and soon, loss is all the same. - Author: Gary D.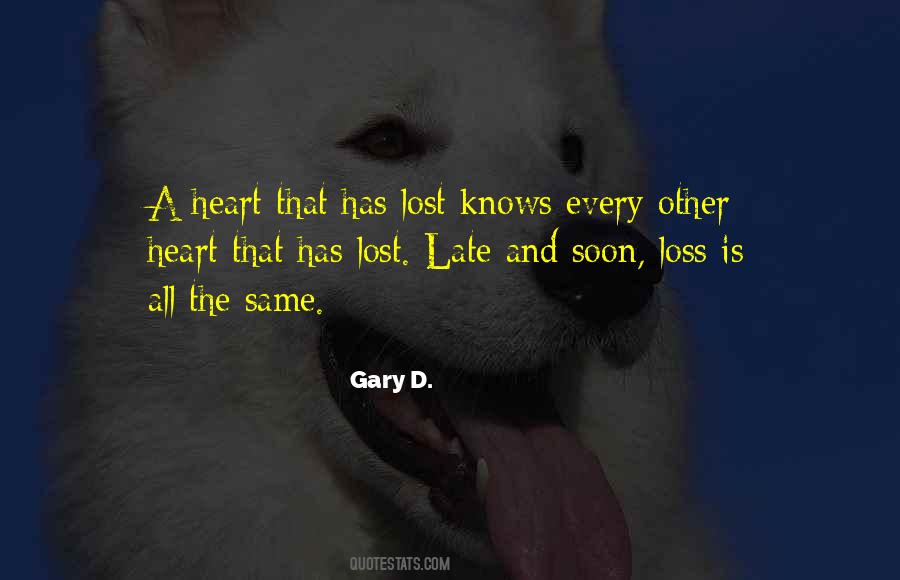 #13. I appear at times merry and in good heart, talk, too, before others quite reasonably, and it looks as if I felt, too, God knows how well within my skin. Yet the soul maintains its deathly sleep and the heart bleeds from a thousand wounds. - Author: Hugo Wolf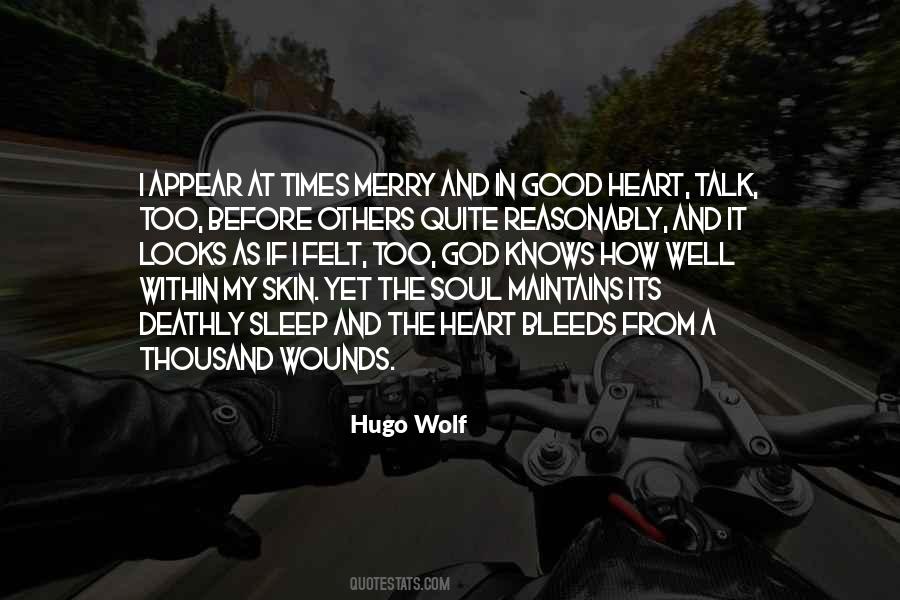 #14. Ours is a love that won't be dispelled simply by ignoring it. It can't be concealed by separation. The heart knows no distance, only misery. It will never let me forget her, and I'm a fool if I think I can. - Author: K.J. Bell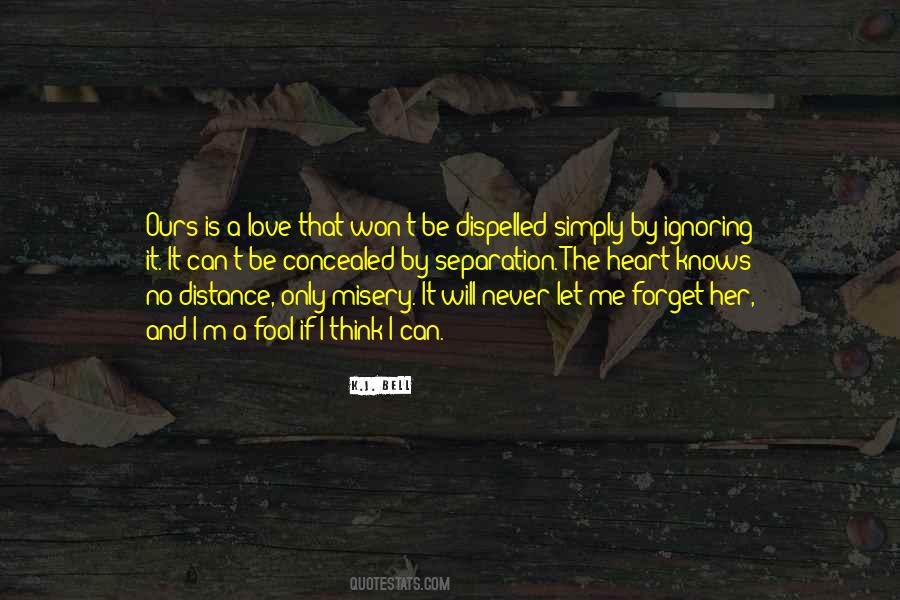 #15. If you rely exclusively on the advice of others, you may make terrible mistakes. Your heart knows what you need. Other people have other agendas. - Author: Brian L. Weiss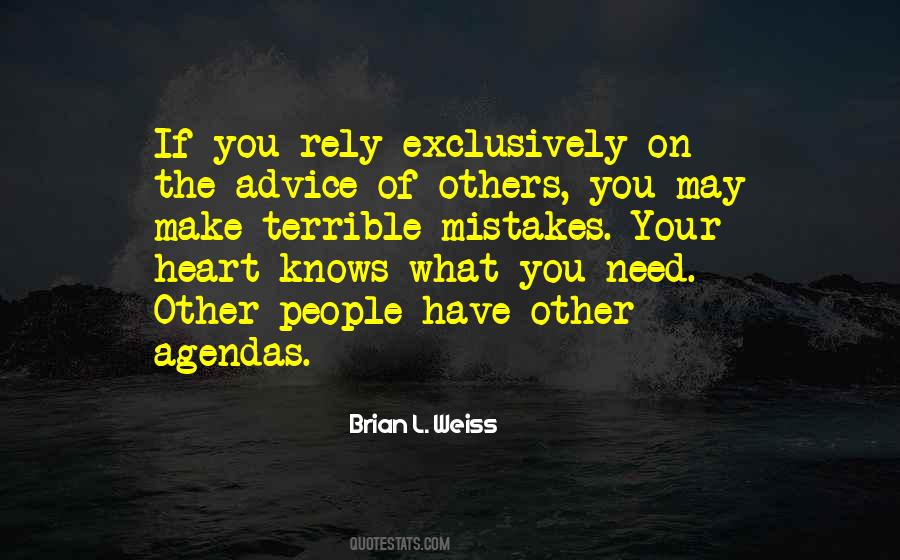 #16. Choose your battles wisely and remember, what the heart knows, walks afar from reason. It simply is. - Author: Angelo Tsanatelis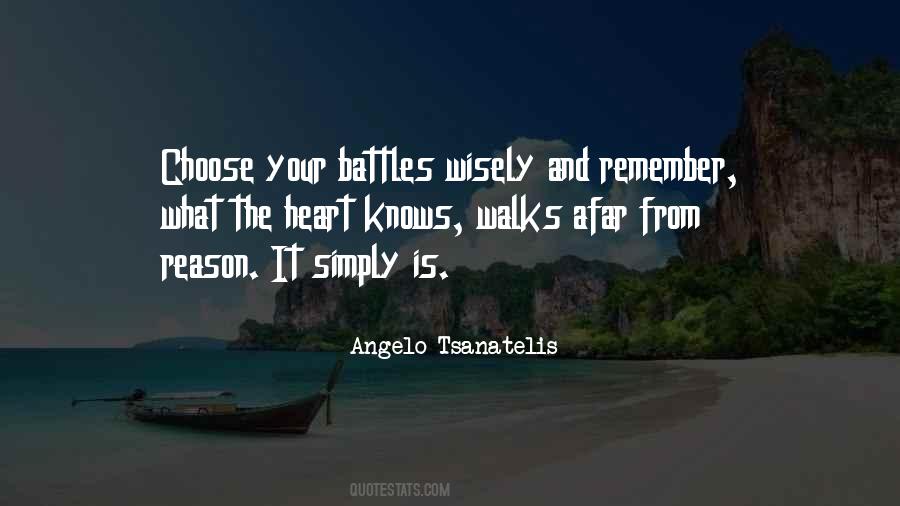 #17. The story of your life is the story of the long and brutal assault on your heart by the one who knows what you could be and fears it. - Author: John Eldredge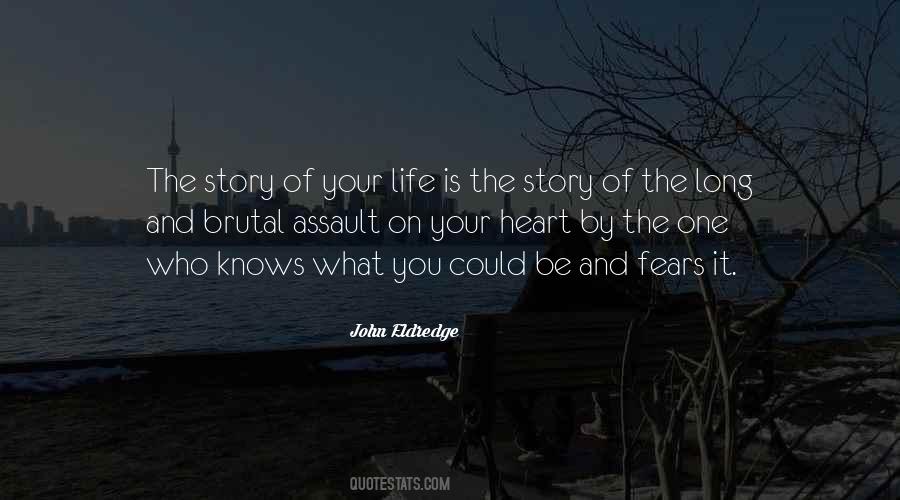 #18. Each of us when he appears before his fellows is clothed in a certain dignity. But every man knows what unconfessable things pass within the secrecy of his own heart. - Author: Luigi Pirandello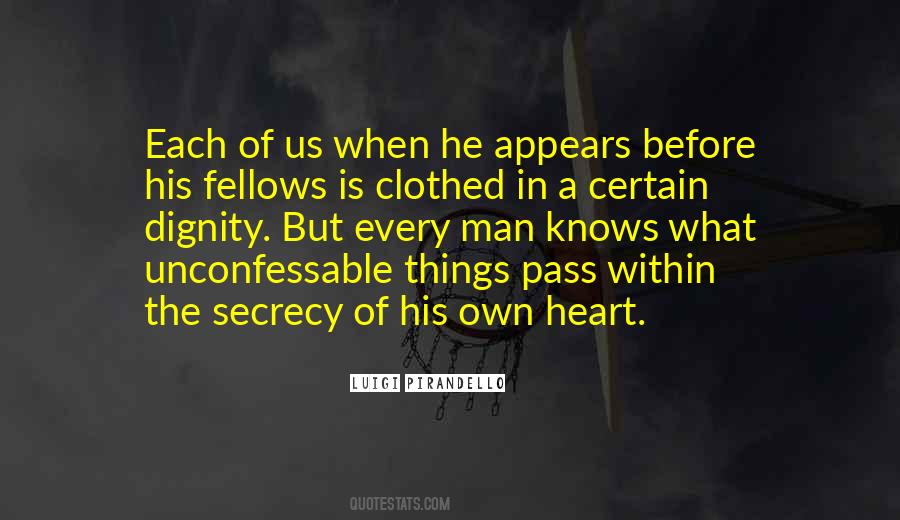 #19. The heart has its reasons that the mind knows not? - Author: S.M. Stirling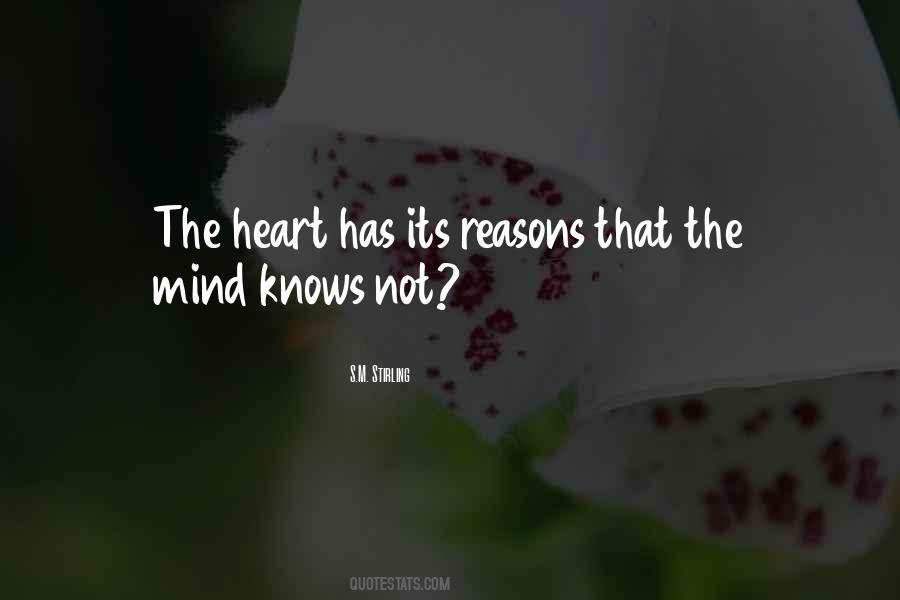 #20. Foolish. Stupid. I knew it. I knew my reaction was unreasonable, bu the heart has its reasons of which reason knows nothing. Blaise Pascal said that, and I've always found it to be true. - Author: Megan Hart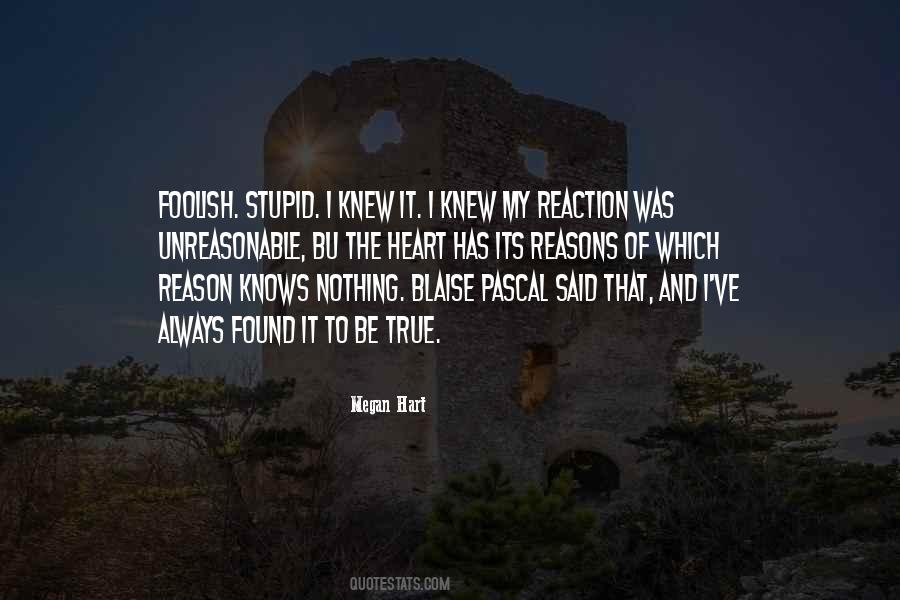 #21. And perhaps this is what Tukten knows - that the journey to Dolpo, step by step and day by day, is the Jewel in the Heart of the Lotus, the Tao, the Way, the Path, but no more so than small events of days at home. - Author: Peter Matthiessen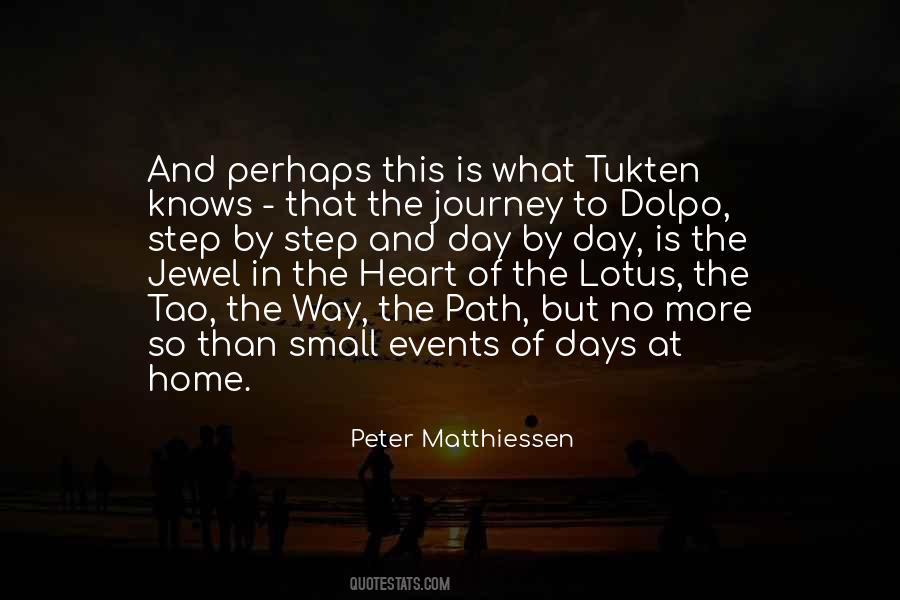 #22. He who is certain he knows the ending of things when he is only beginning them is either extremely wise or extremely foolish; no matter which is true, he is certainly an unhappy man, for he has put a knife in the heart of wonder. - Author: Tad Williams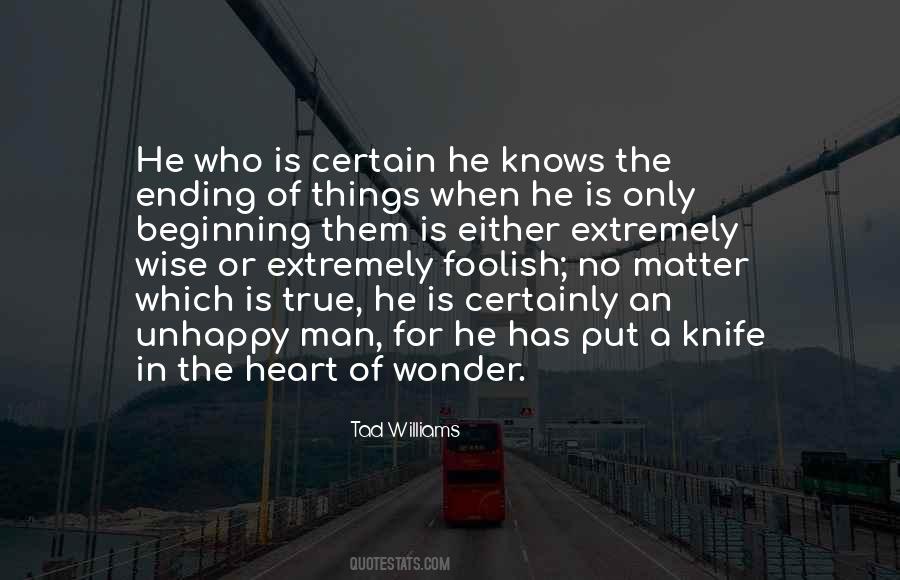 #23. the heart knows nothing except its own mind - Author: David Levithan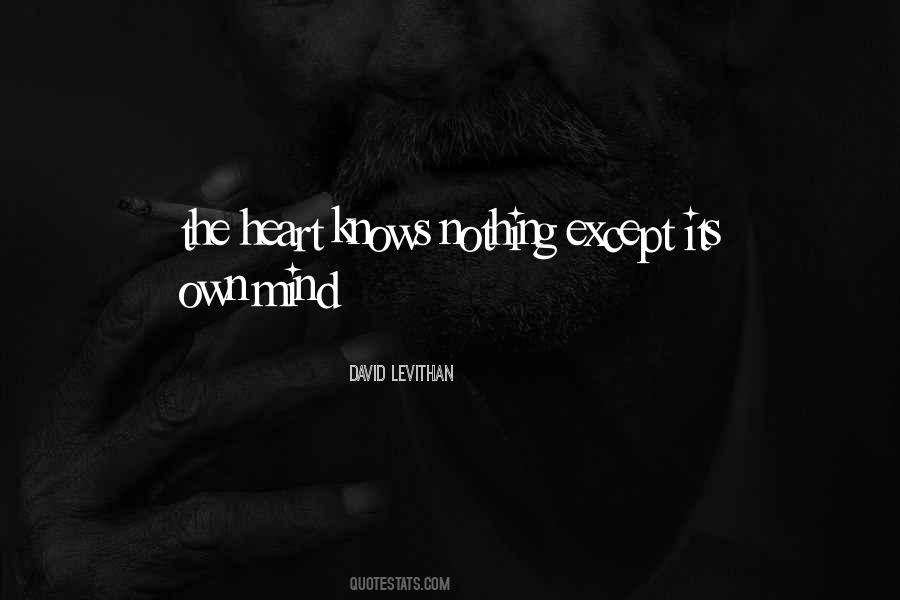 #24. Jesus knows the burdens we carry and the tears we shed, but He is the healer of broken hearts, broken dreams, and broken lives. Trust him. He never fails. - Author: John Hagee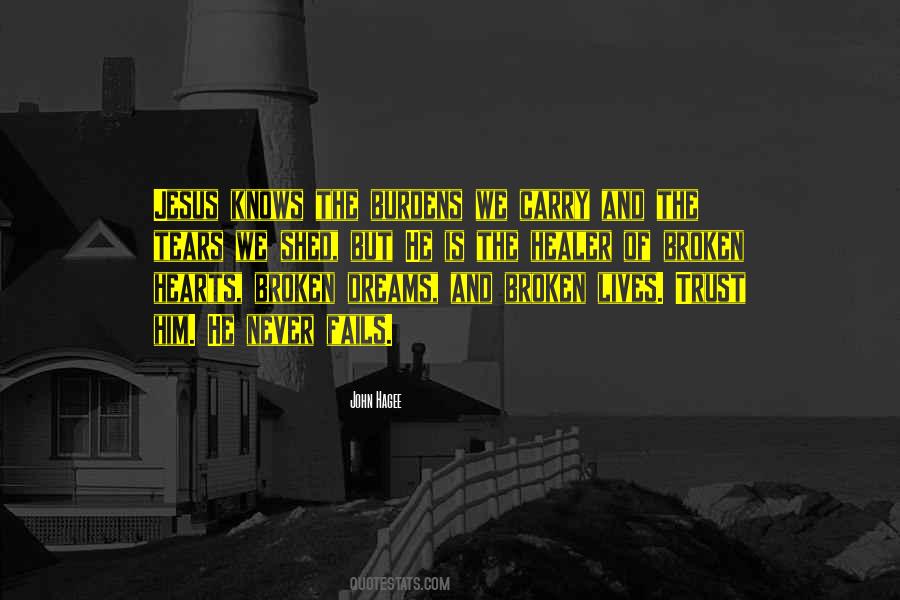 #25. [...] sometimes mystery defies what our head knows and we feel God reach down into the ordinariness of nightly ritual and speak to our heart with a whisper. - Author: Lindsey O'Connor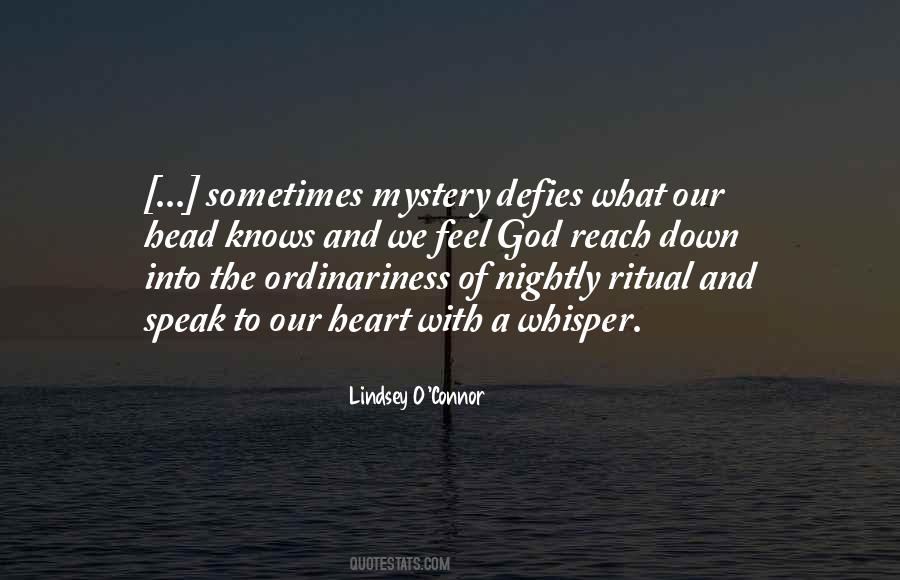 #26. The heartstone burns, fierce an true. I bin missin him so deep. It hurts my heart to see him agin. I open my mouth to call his name. I stop myself. His head snaps in my direction. Like he knows I'm here. - Author: Moira Young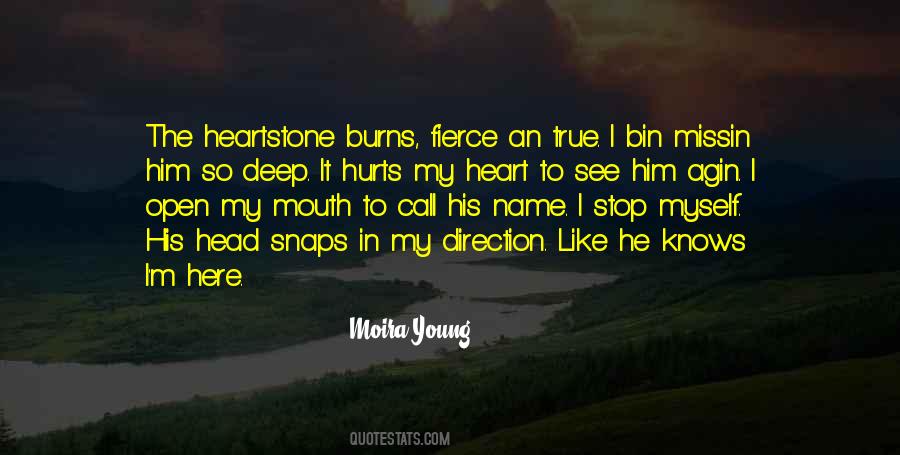 #27. The terms which, in his inmost heart, each man knows. As I know mine. As all know. For that is the truth of it - that we all know, God, that we know, that we know, we know, we know. - Author: Saul Bellow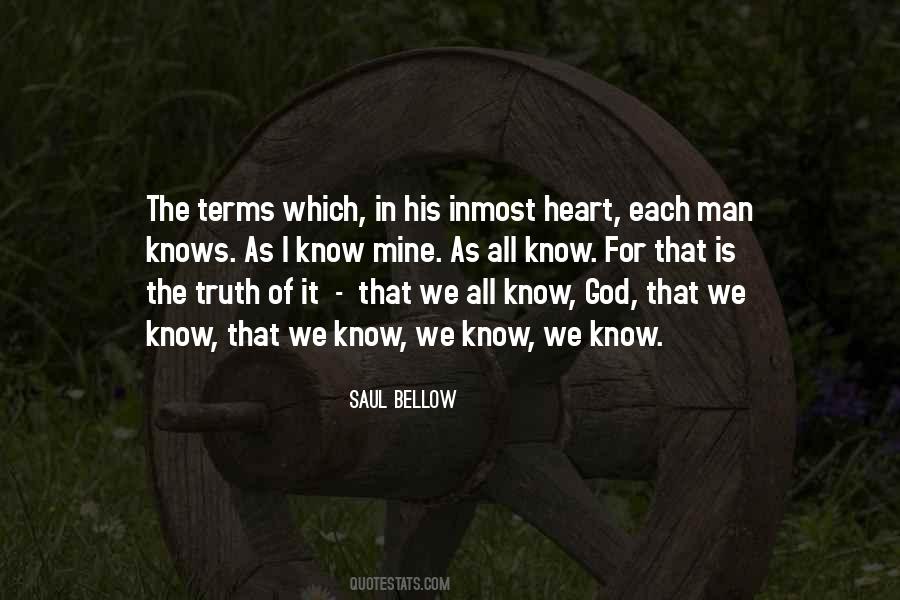 #28. A good woman's heart knows no bounds. And love is the most powerful and wondrous gift in the world. Yes, it is. - Author: Dorothea Benton Frank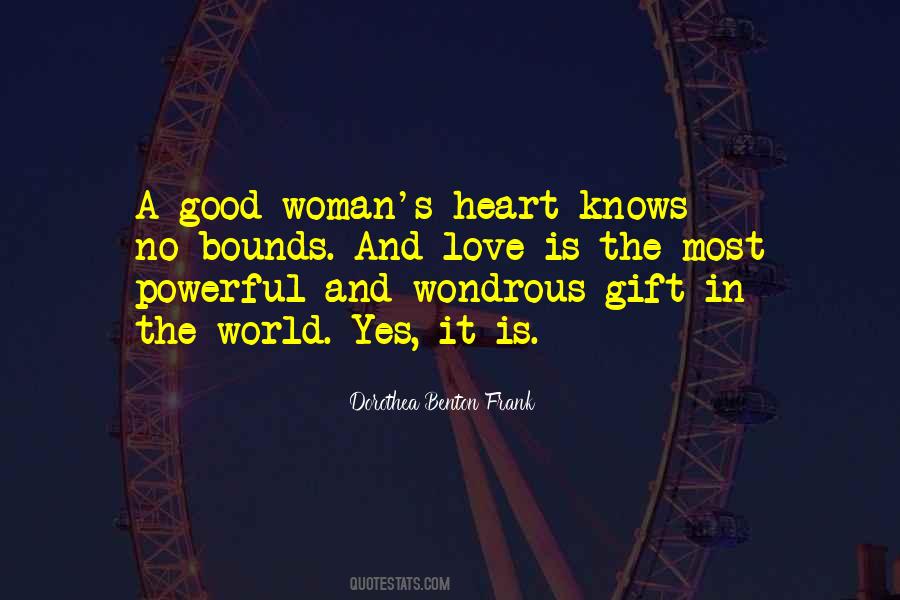 #29. Remember that every child and every parent has a completely unique and special rela- tionship. That child knows his dad and loves his dad. Our job is to watch that communication, to nurture it, and to support the parents in their heart-to-heart relationships with their children - Author: Vimala McClure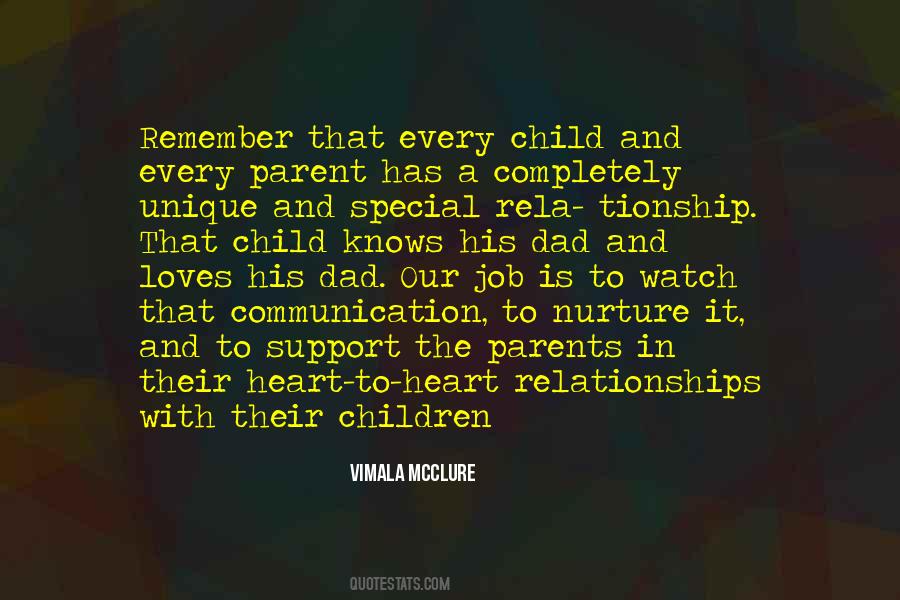 #30. These words of prayer are among the most basic words Dr. Gatewood knows. When he has forgotten everything else, those words are the words he will have. Those words have formed his heart, and - regardless of what he feels or remembers on any particular morning - they continue to form his heart still. - Author: Lauren F. Winner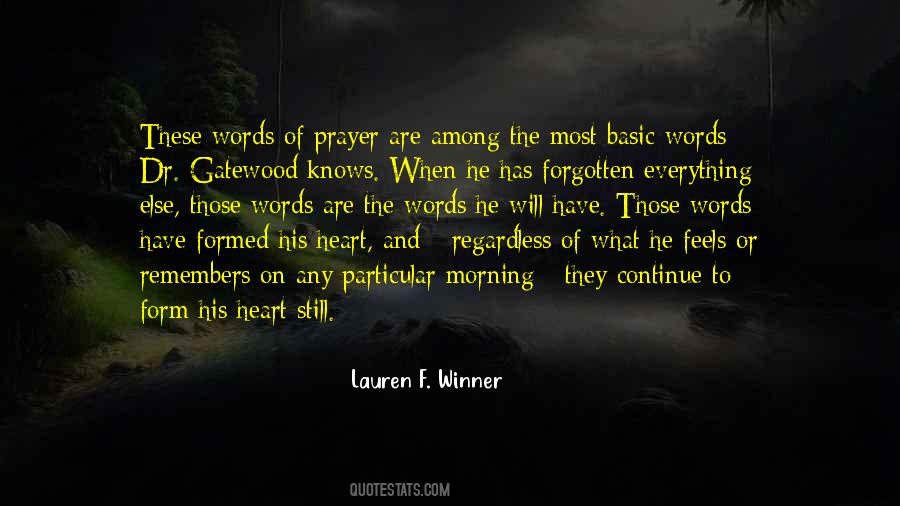 #31. God knows all that is done in the most secret caverns of the heart. No place is deprived of his presence. - Author: Stephen Charnock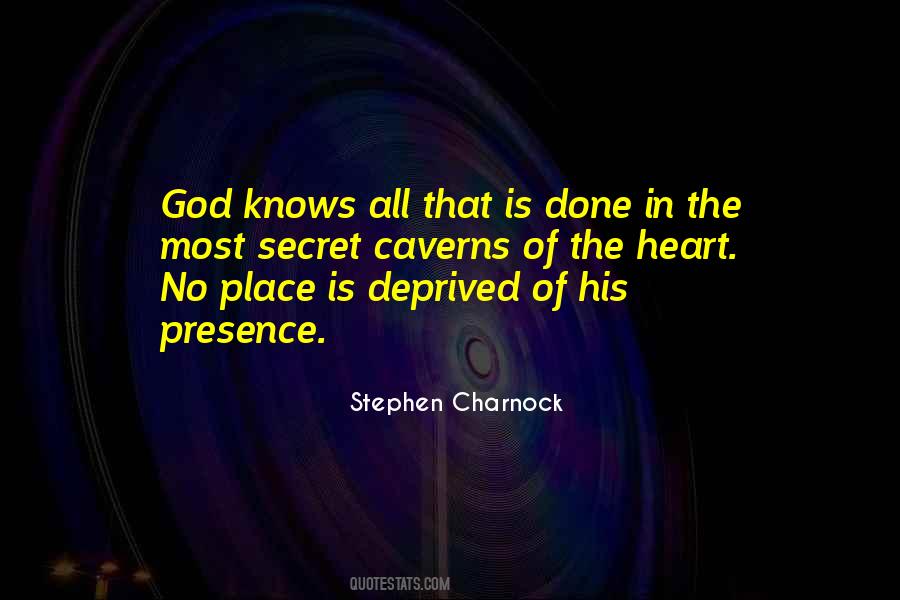 #32. Our heart knows what our mind has forgotten - it knows the sacred that is within all that exists, and through a depth of feeling we can once again experience this connection, this belonging. - Author: Llewellyn Vaughan-Lee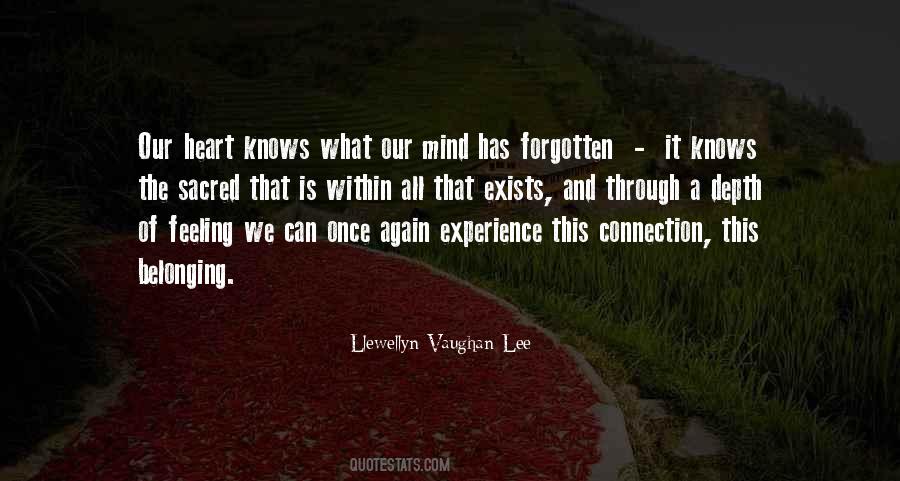 #33. The heart that knows God can find God anywhere. - Author: Aiden Wilson Tozer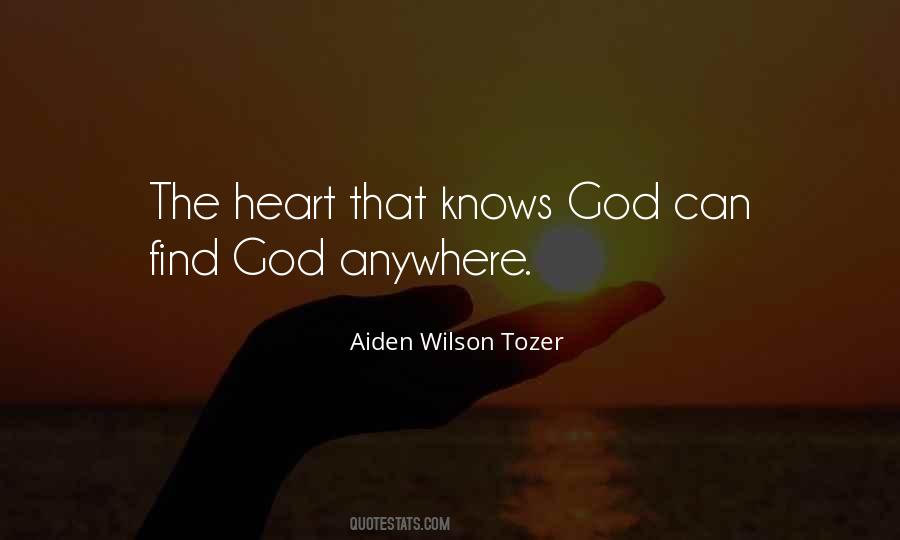 #34. The heart can't learn to heal until it knows it's been broken. - Author: Bette Lee Crosby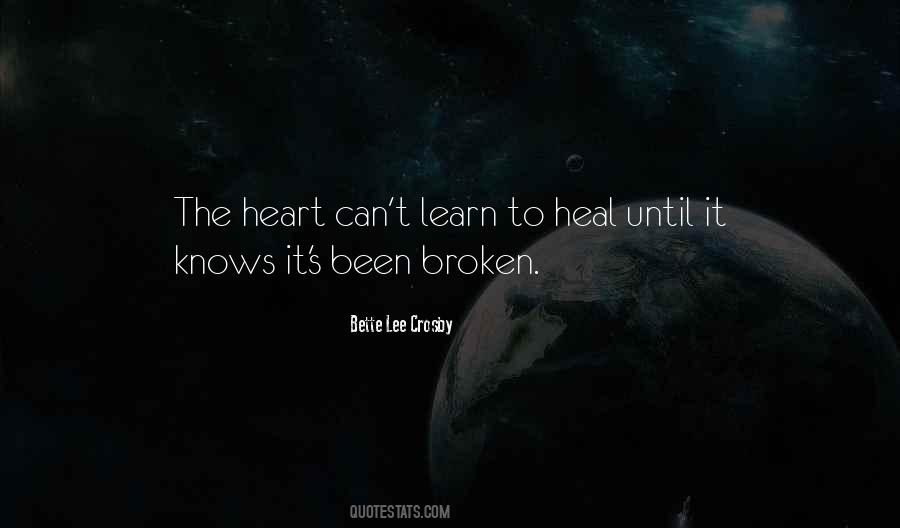 #35. Blessed is the match, consumed in kindling flame.
Blessed is the flame that burns in the heart's secret places.
Blessed is the heart that knows, for honors sake, to stop its beating.
Blessed is the match, consumed in kindling flame. - Author: Hannah Senesh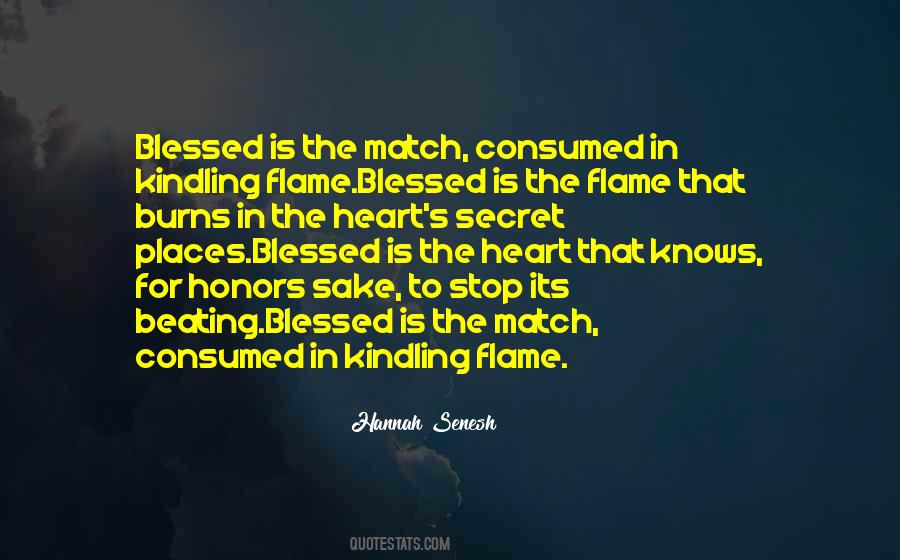 #36. The heart has eyes which the brain knows nothing of - Author: Charles Henry Parkhurst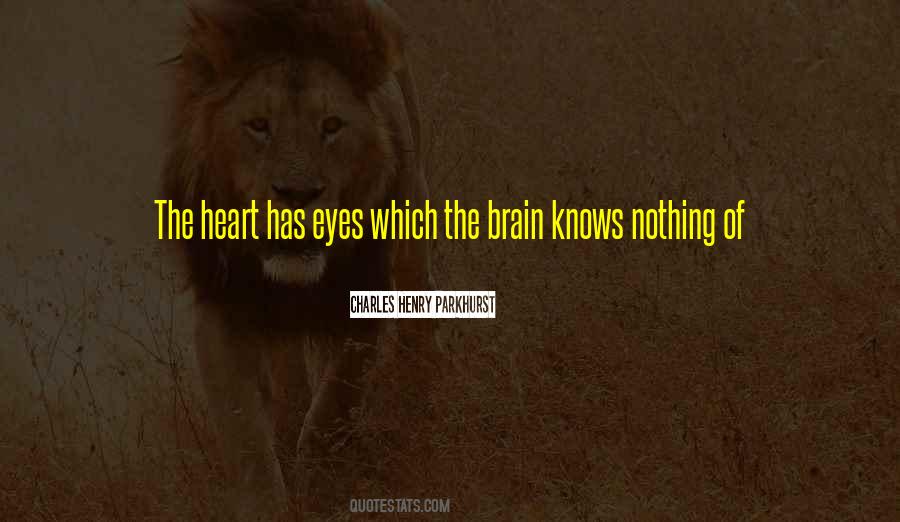 #37. Happy is the soul that has a friend. Happier is the soul that trusts in the truth of the heart of a friend. Happiest is the soul that knows the solemnity of friendship and honours its laws. - Author: Ogwo David Emenike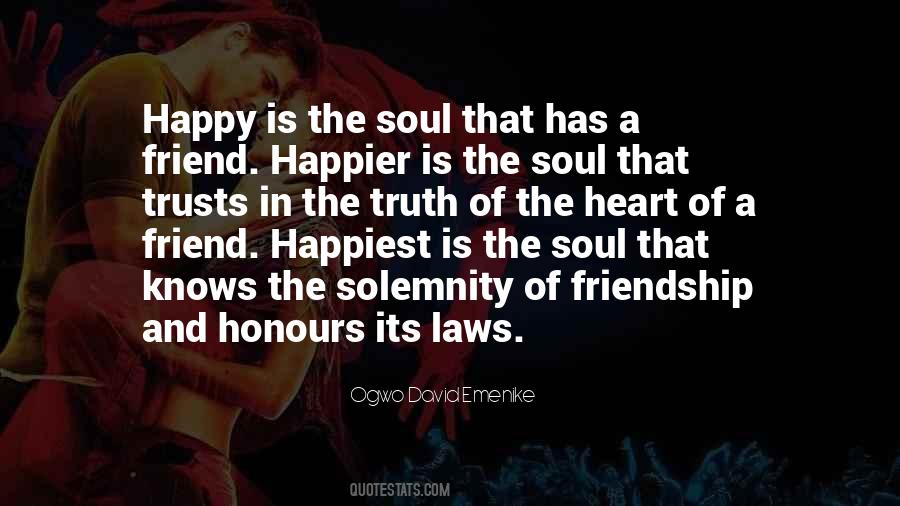 #38. The human heart has always dreamed of a fairer world than the one it knows - Author: Carleton Noyes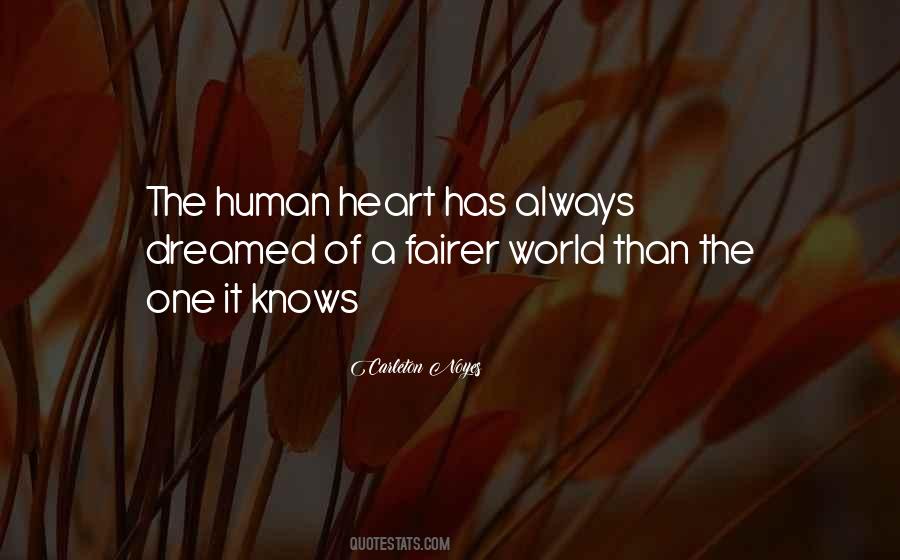 #39. But in the end, in the end one is alone. We are all of us alone. I mean I'm told these days we have to consider ourselves as being in society ... but in the end one knows one is alone, that one lives at the heart of a solitude. - Author: Harold Bloom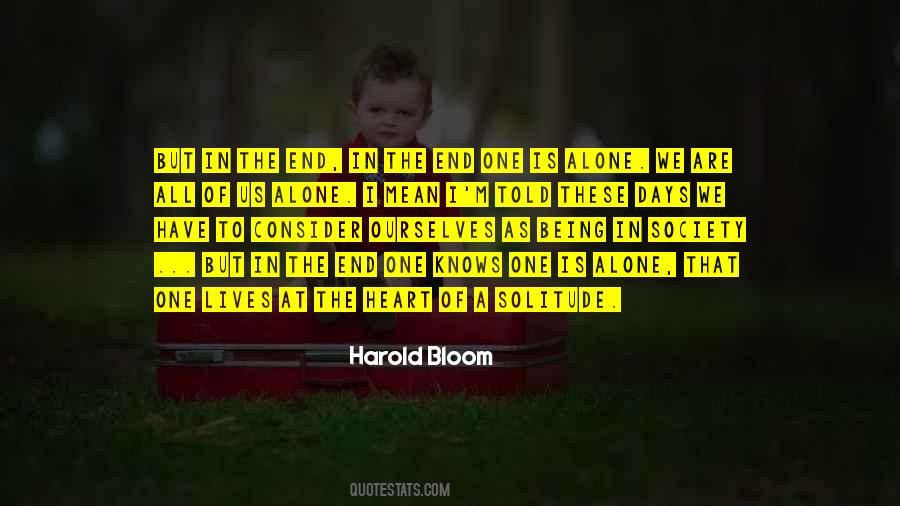 #40. The cynic makes fun of all earnestness; he makes fun of everything and everyone who feels that something can be done ... But in his heart of hearts he knows that he is a defeated man and that his cynicism is merely an expression of the fact that he has lost courage and is beaten. - Author: George Edgar Vincent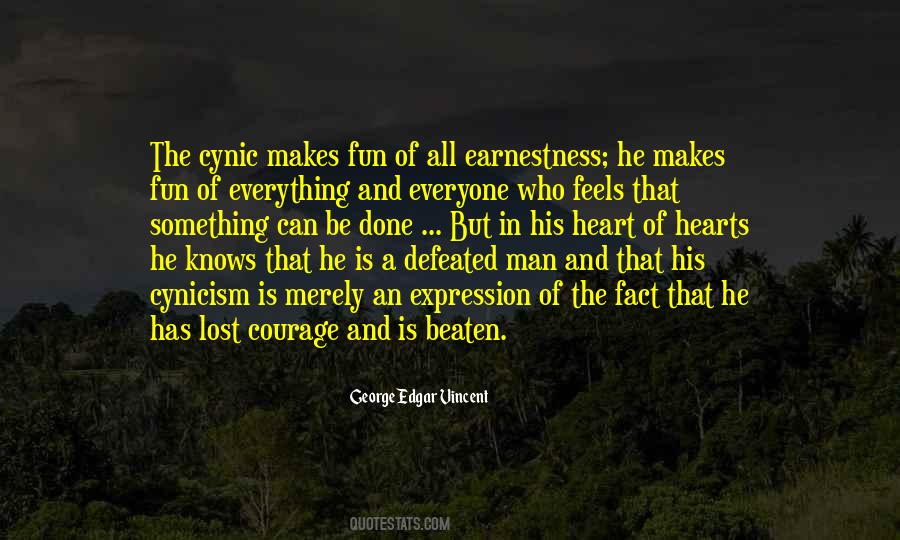 #41. Whatever you know in your heart, live at the expense of anything else. - Author: John De Ruiter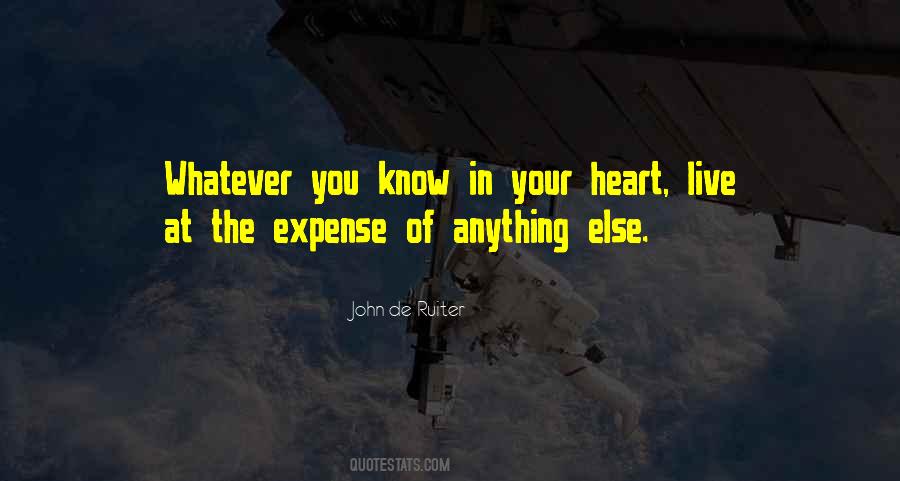 #42. When exercising gifted will-power, move boldly without hesitation. The reward for such decisiveness is increased confidence in what the heart knows, which the mind does not feel - Author: T.F. Hodge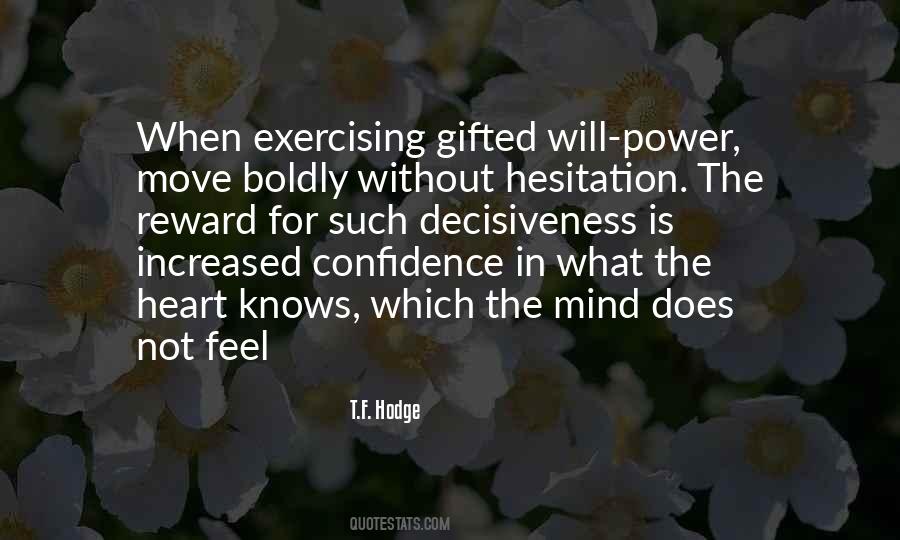 #43. As a child he used to wonder why Eve was taken from Adam's rib. Now, at the other end of his life, these decades later, he knows it was because the rib is close to the heart. - Author: Nadeem Aslam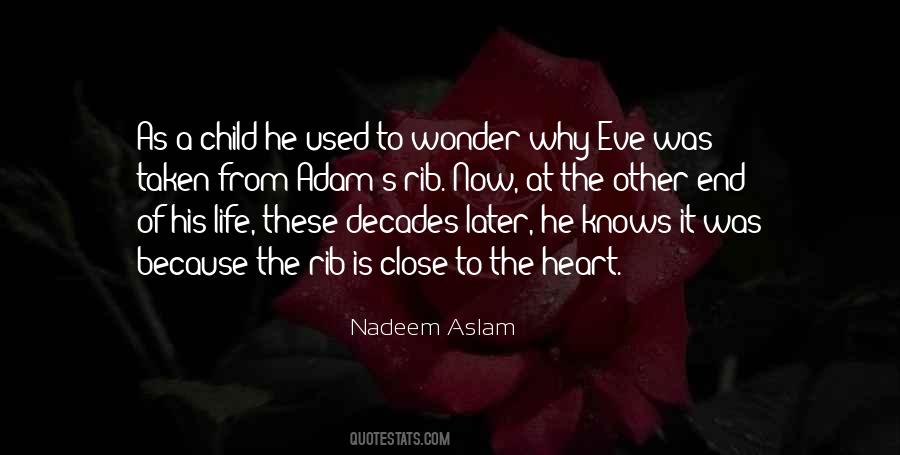 #44. When it comes to forks in the road, your heart always knows the answer, not your mind. - Author: Marie Forleo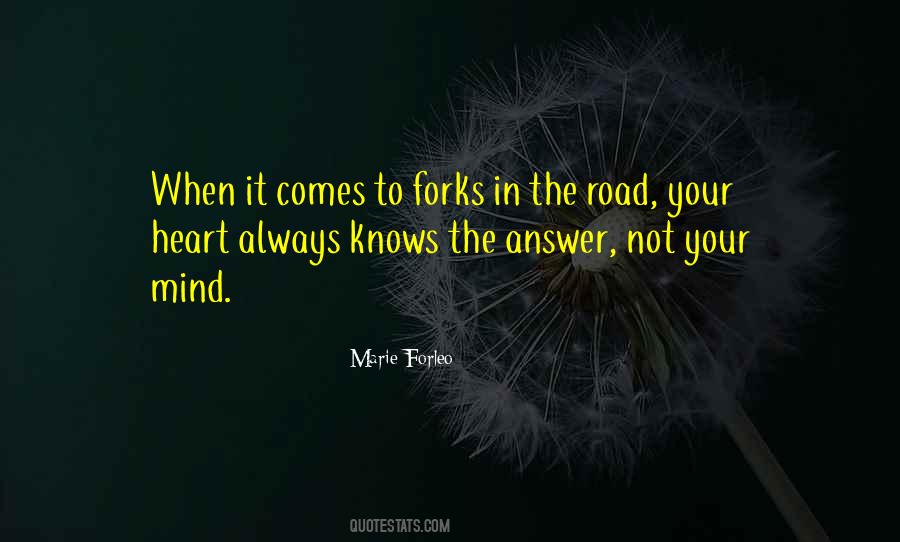 #45. But you just know when someone's there, don't you? You can feel them in the house, as if--oh, I don't know, I'm an old woman rambling--but it's as if your heart knows that their heart is beating somewhere and everything's all right. - Author: Jacqueline Winspear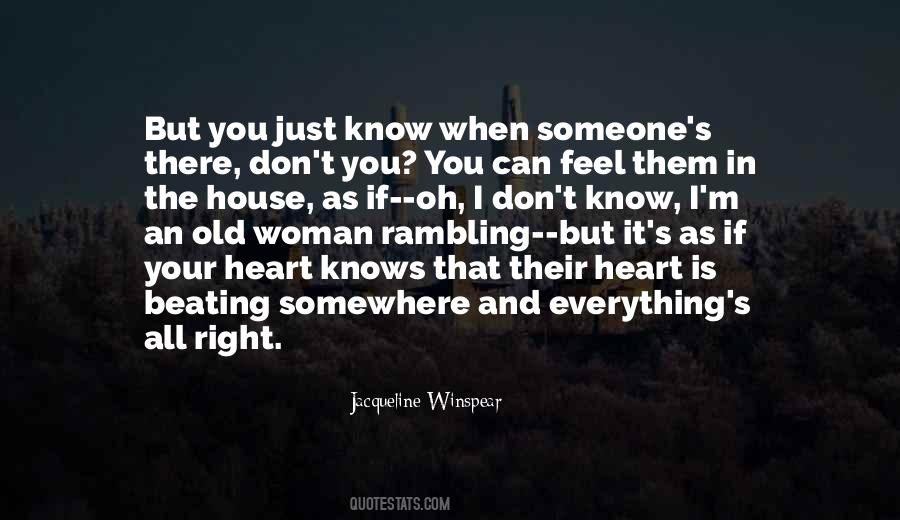 #46. Only the Lord knows how many children lose heart because their fathers have hard days. - Author: R. Kent Hughes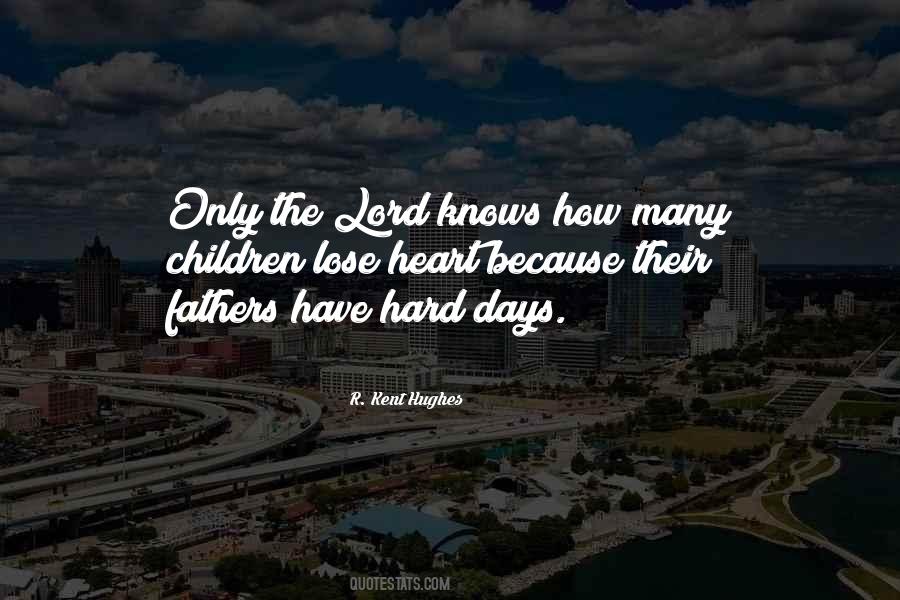 #47. Every story has a villain. Every story also has a hero. The Great Love Story the Scriptures are telling us about also reveals a Lover who longs for you. The story of your life is also the story of the long and passionate pursuit of your heart by the One who knows you best and loves you most. - Author: John Eldredge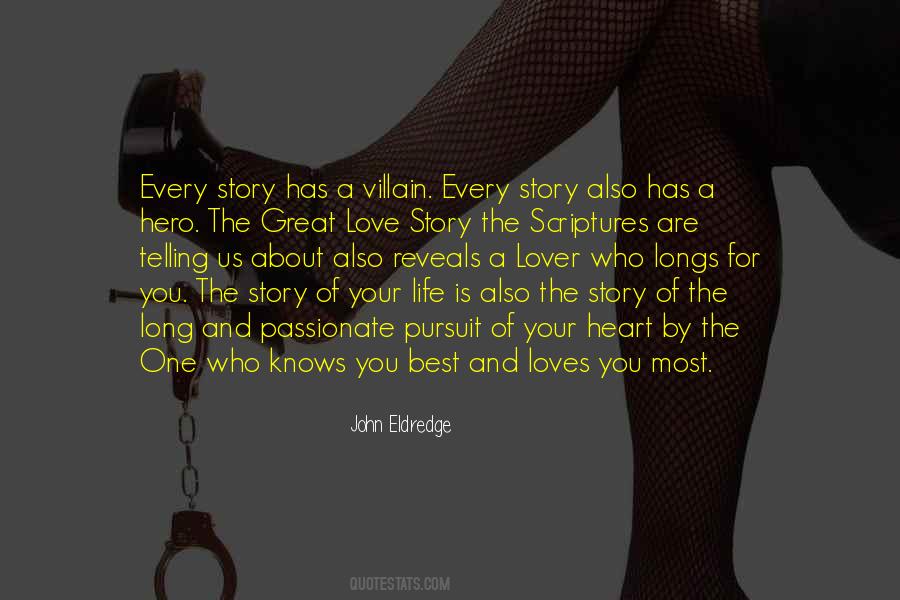 #48. If I was someone else, I'd leave and give them privacy, but I'm not. I won't leave her out here with him. My brain knows he'd never hurt her and she doesn't have feelings for him. My heart, however, tells me to take her by the waist and pull her away... - Author: Michelle Dare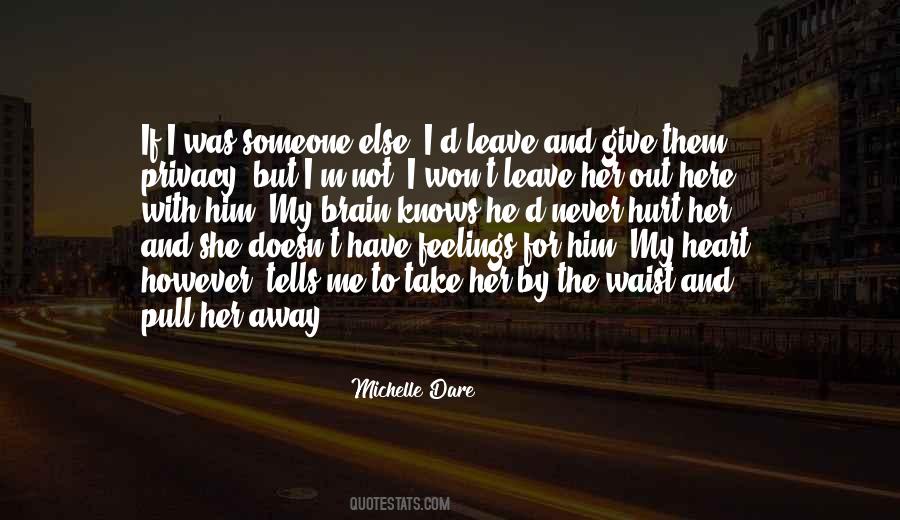 #49. Your heart knows the way. Run in that direction. - Author: Rumi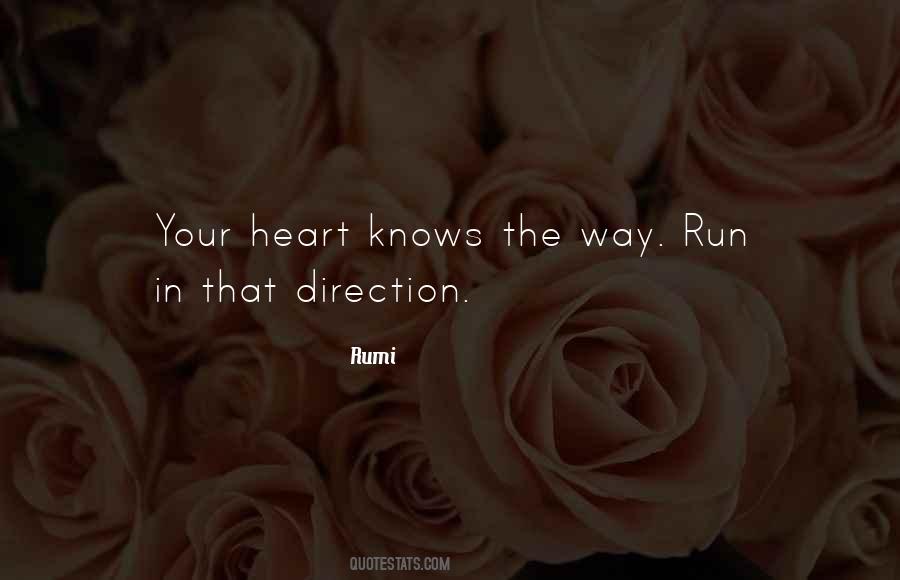 #50. No matter how much you tell yourself your over someone, your heart knows the truth - Author: Lauren Barnholdt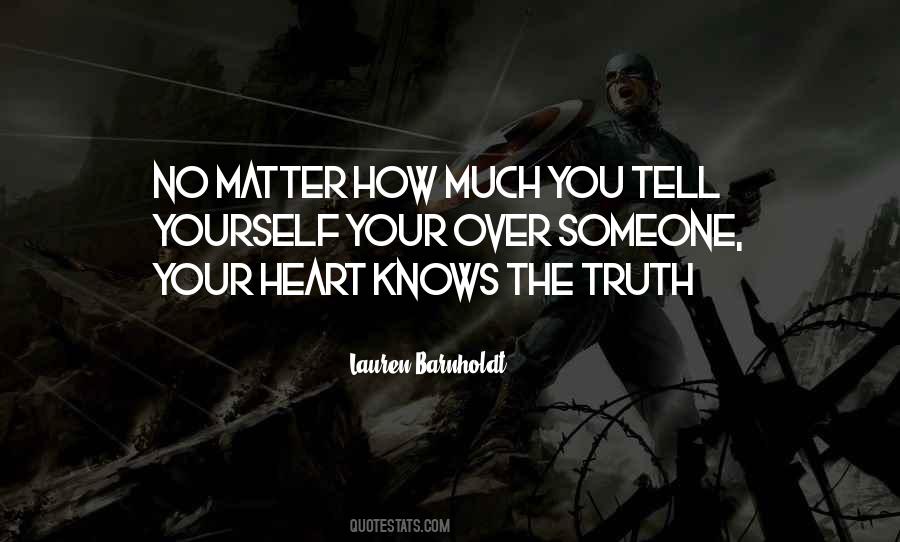 #51. WHO KNOWS WHAT EVIL LURKS IN THE HEART OF MEN?
The Death of Rats looked up from the feast of the potato. SQUEAK, he said.
Death waved a hand dismissively. WELL, YES, OBVIOUSLY ME, he said. I JUST WONDERED IF THERE WAS ANYONE ELSE. - Author: Terry Pratchett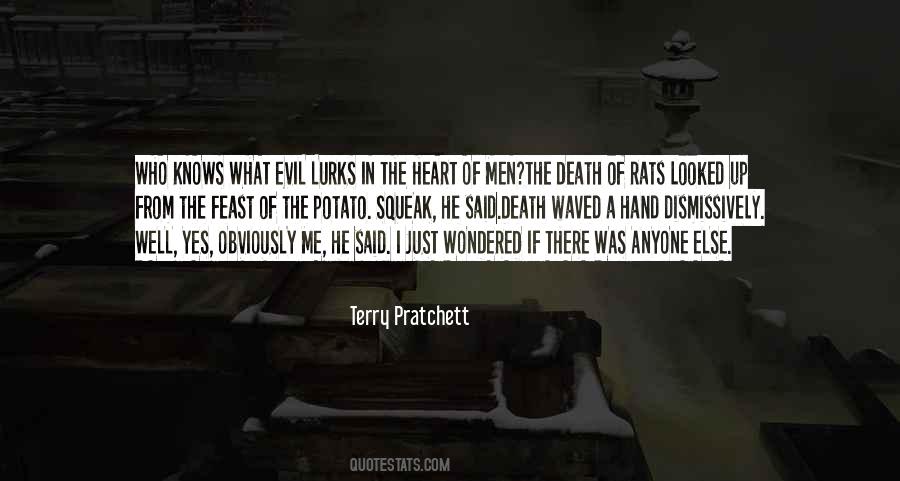 #52. Your best friend knows some of your secrets,
your life partner knows many of them,
you know most of them,
but God knows all of the secrets of your heart. - Author: Matshona Dhliwayo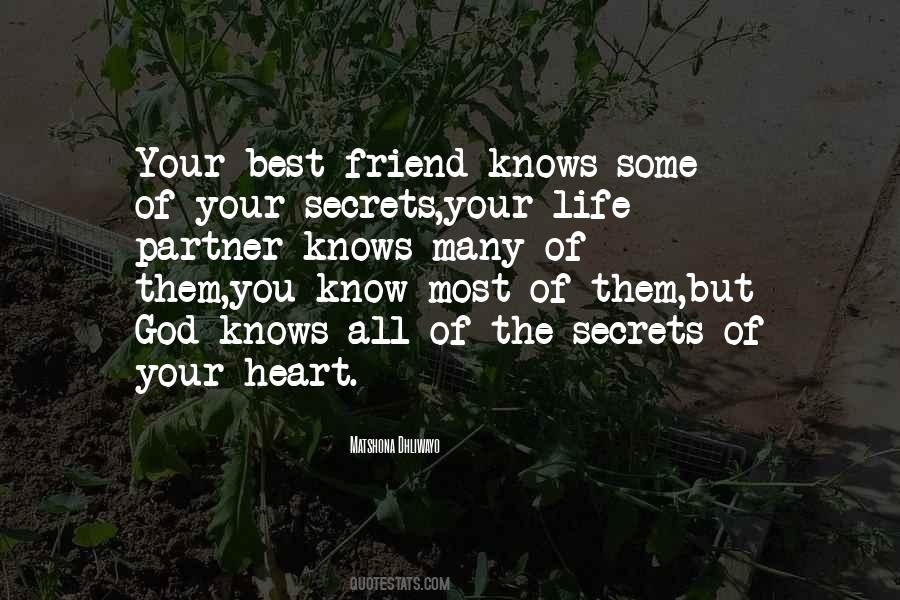 #53. The child inside of you knows how to take things as they come, how to deal most effectively and happily with everything and everyone it encounters on this planet. If you can recapture that childlike essence of your being, you can stay 'forever young at heart.' - Author: Wayne Dyer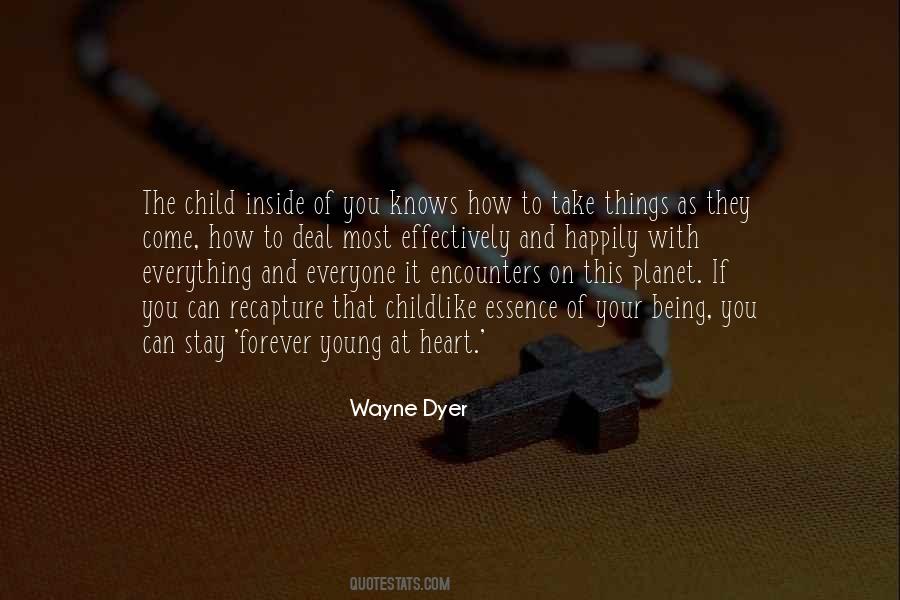 #54. It is spring again. The earth is like a child that knows poems by heart. - Author: Rainer Maria Rilke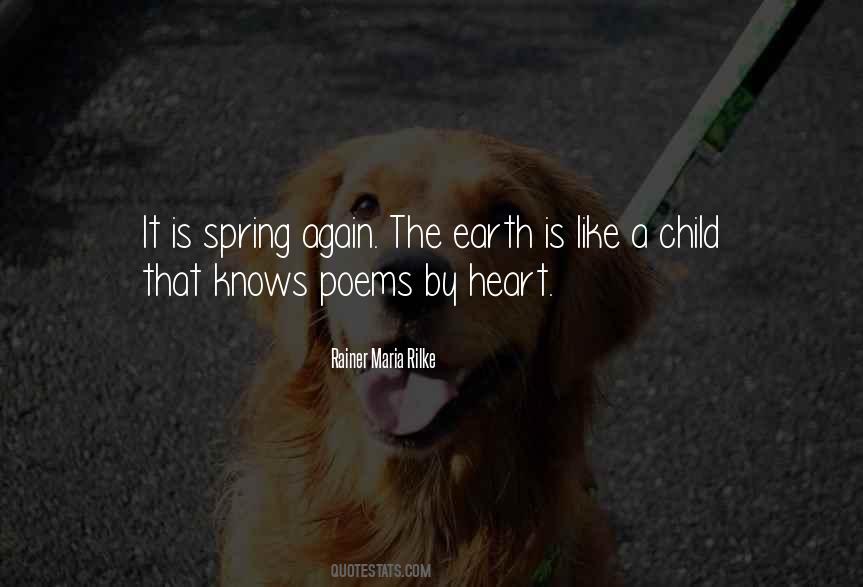 #55. Love's sweetest meanings are unspoken; the full heart knows no rhetoric of words. - Author: Christian Nestell Bovee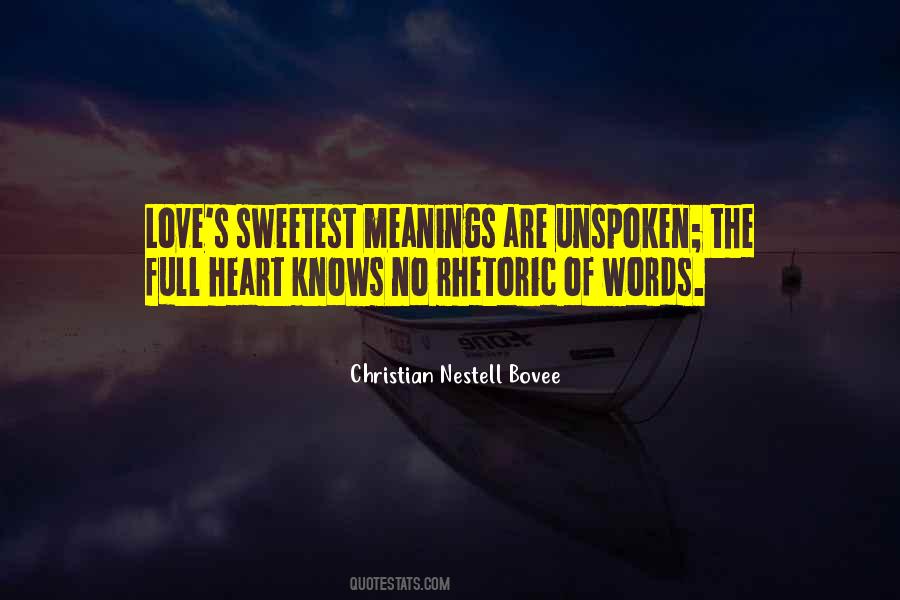 #56. After all, she knows how painful it can be not to follow your heart and she knows about the obstacles and about loyalty and duty and about the countless kinds of love. If only Eve and Myles were freer to make the right choices, she thinks. - Author: Claire Dyer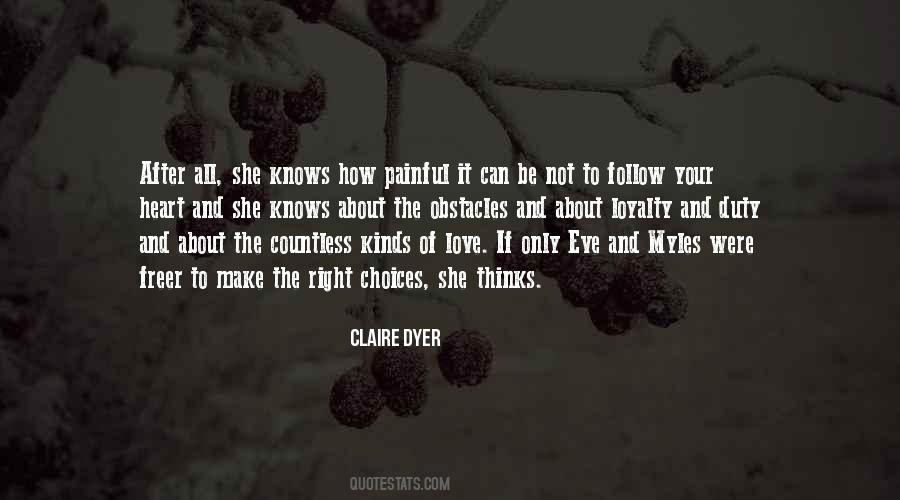 #57. The brain speculates but the heart knows. - Author: Morrissey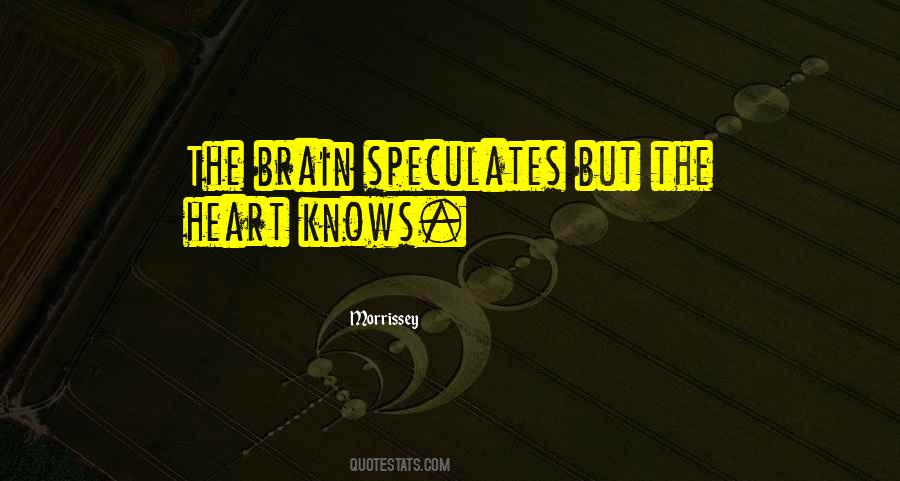 #58. As warmth makes even glaciers trickle, and opens streams in the ribs of frozen mountains, so the heart knows the full flow and life of its grief only when it begins to melt and pass away. - Author: Henry Ward Beecher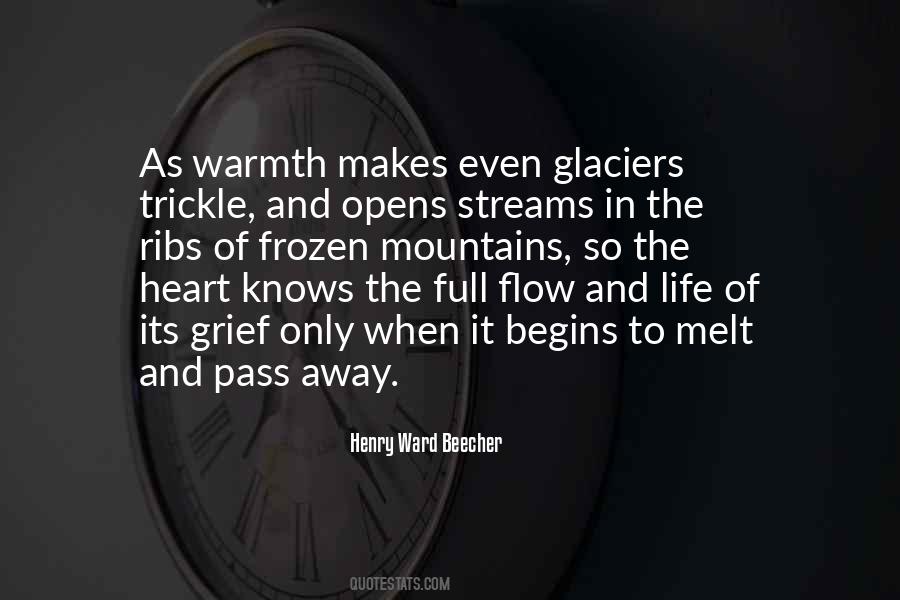 #59. The devil is not terribly frightened of our human efforts and credentials. But he knows his kingdom will be damaged when we begin to lift up our hearts to God. - Author: Jim Cymbala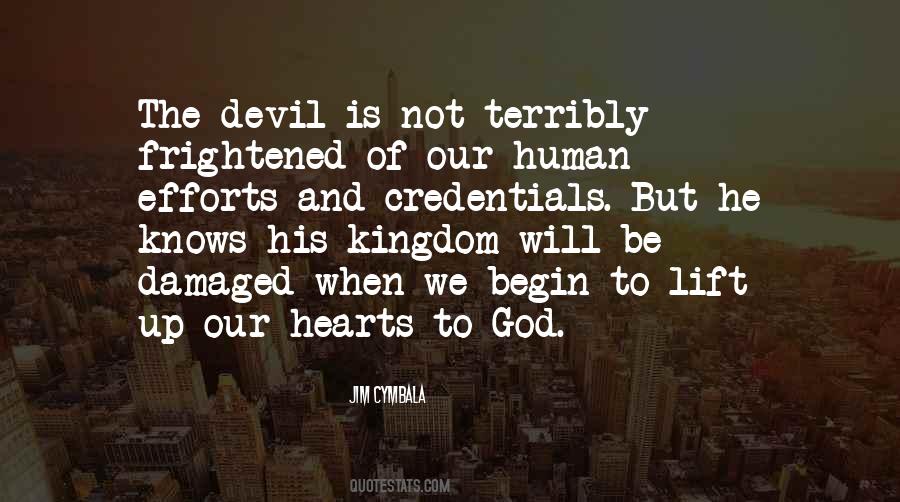 #60. The most precise and thoughtful scholar is limited in what he knows and wrong in some things that he affirms; the most devoted saint is stained with sin and full of error; the bravest heart among us will fail and break; but Christ is altogether lovely, holy, and unfailing. - Author: Paul Washer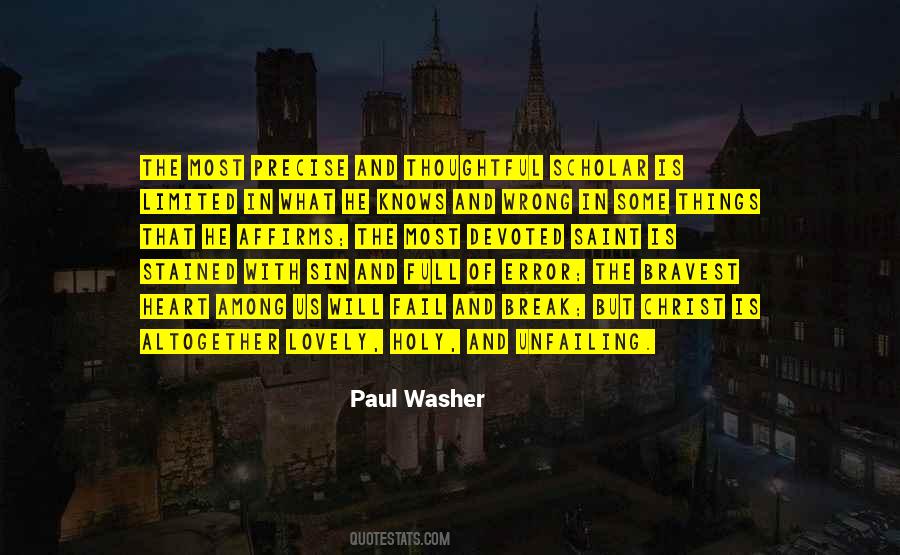 #61. The saint is a good Welshwoman, and knows her countrymen. We are not quick in respect to rank or riches, we do not doff and bow and scrape when any man flaunts himself before us. We are blunt and familiar even in praise. What we value we value in the heart, and - Author: Ellis Peters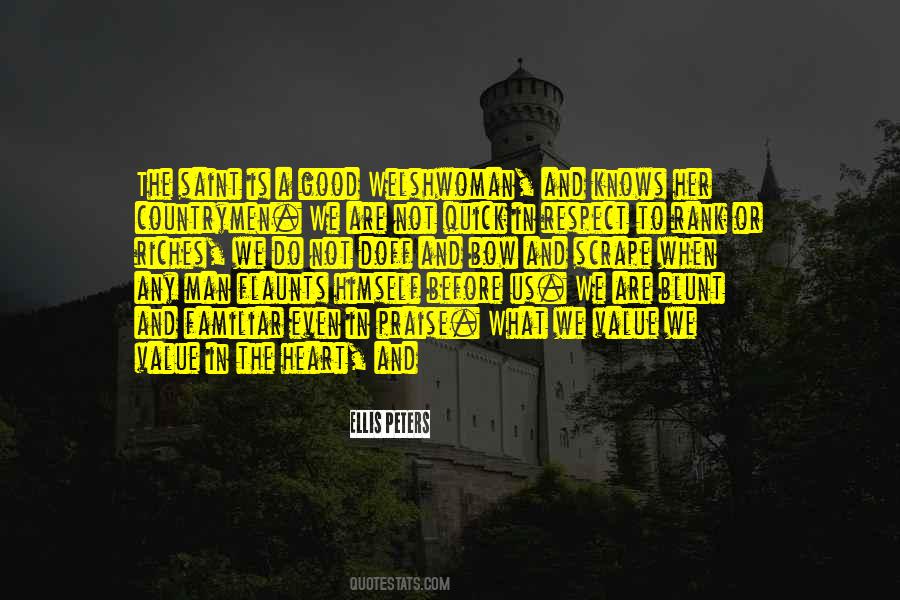 #62. We have got too many kids around the house to have a romantic meal at home. But Danielle is a fantastic cook. She does a brilliant lasagne, great roasts and a great chilli dish. She knows the way to my heart. - Author: Gary Lineker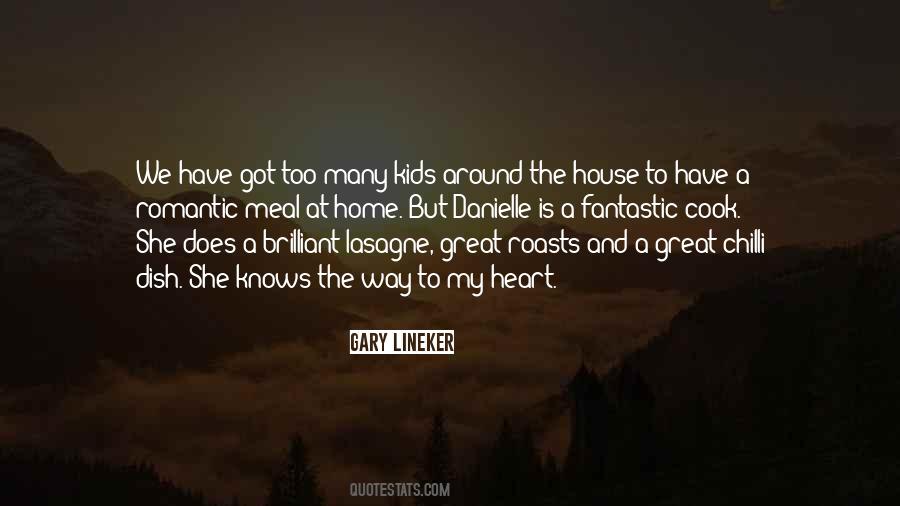 #63. No person knows better than you do that the domination of England is the sole and blighting curse of this country. It is the incubus that sits on our energies, stops the pulsation of the nation's heart and leaves to Ireland not gay vitality but horrid the convulsions of a troubled dream. - Author: Daniel O'Connell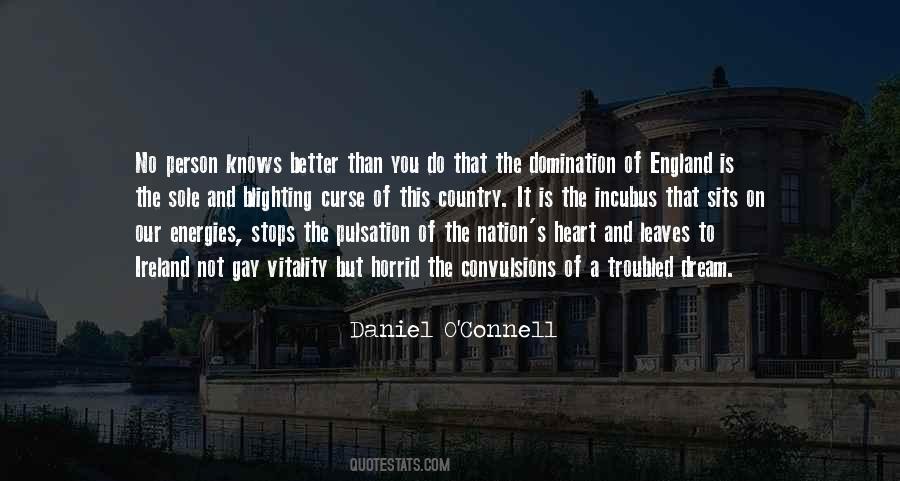 #64. I've been playing in the field of life on my own for a while now and it's fair to say I have gained myself along the way, I gotta admit though, after all this time I am damn well excited to fall insanely inLove with someone who knows how to take my breath away. - Author: Nikki Rowe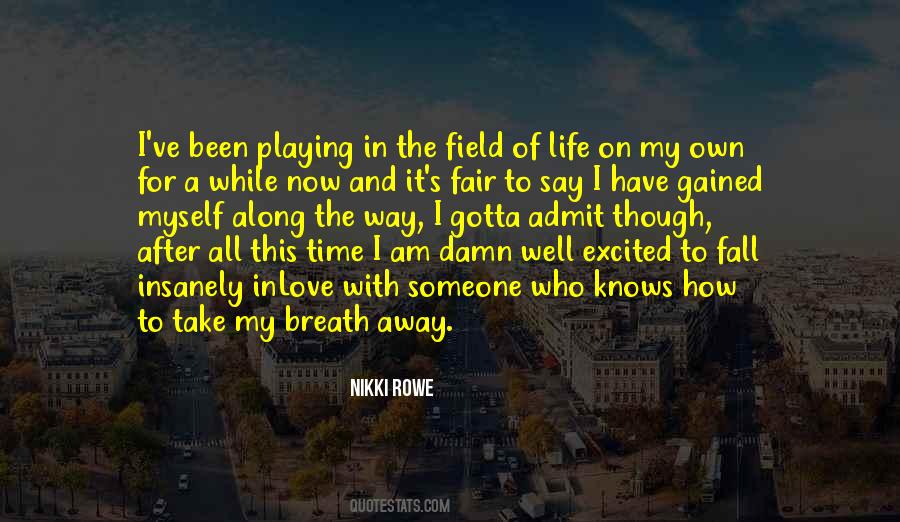 #65. This is the last moment of contentment untainted by sorrow, when the brain hesitates before delivering the message to the heart that it knows it must. - Author: Dexter Palmer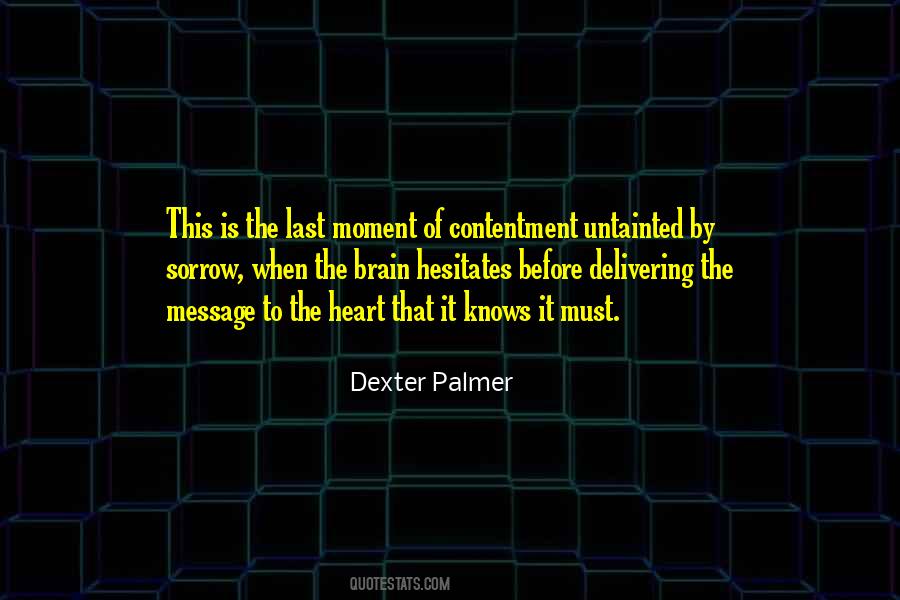 #66. How can the confessor teach/ those who are lost and sick at heart,/ when he himself, among the sinners,/ is worst, and most forsaken?/ It is only a game we play/ with other people's sins./ Besides, everyone knows/ that everyone lies confessing. - Author: Yevgeny Yevtushenko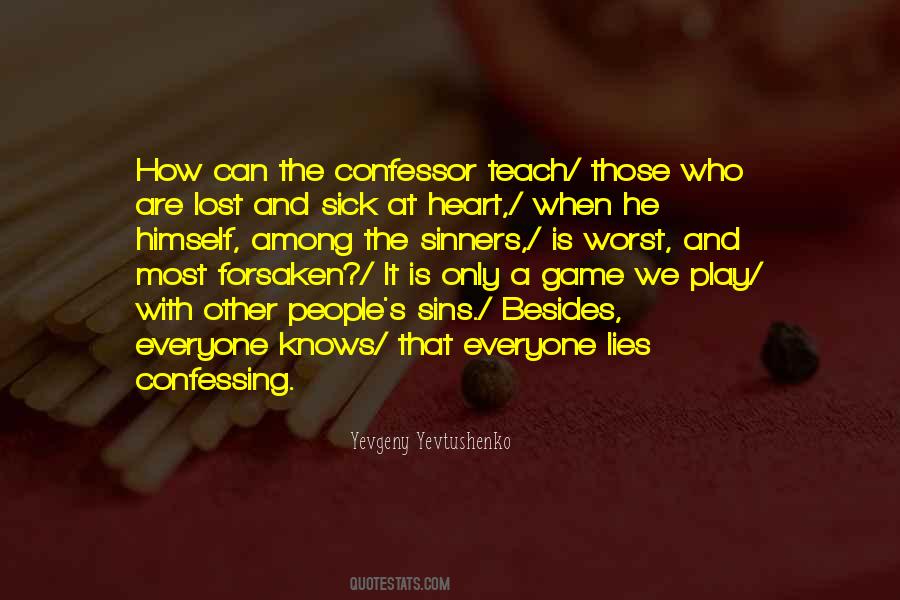 #67. The heart has reasons of which the mind knows nothing. - Author: Blaise Pascal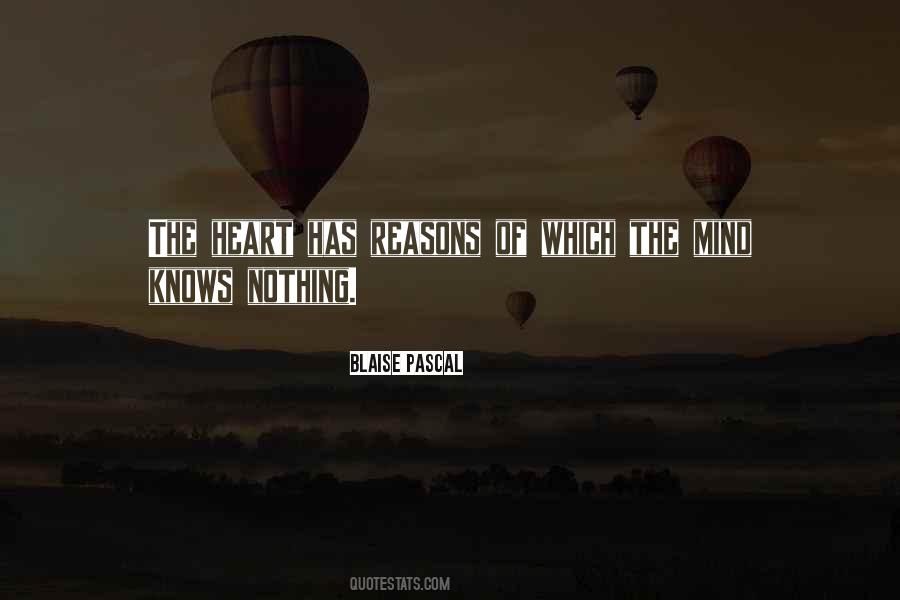 #68. Now I know that at the heart of the universe is joy. - Author: Paul Claudel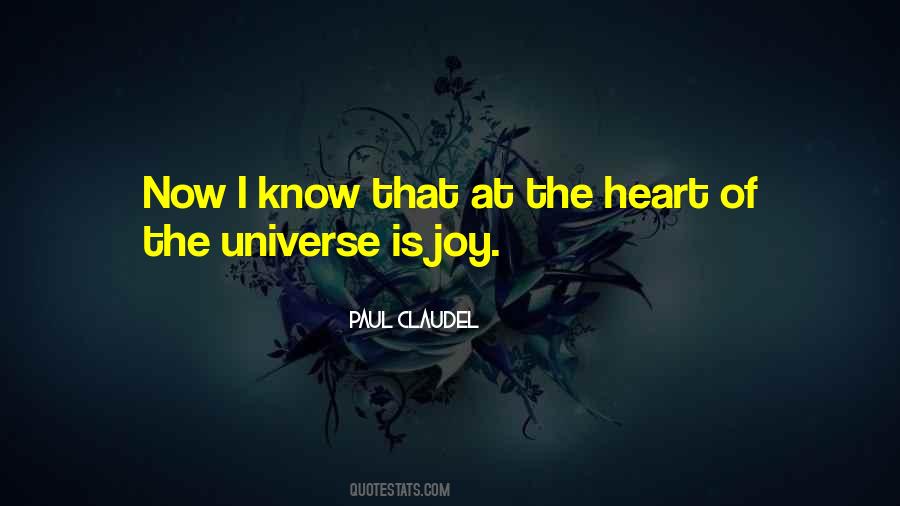 #69. . . . because she knows the secret: that humans need contact to thrive, that a broken heart is only one crack away from a broken spirit, and that both can be mended by smoothing on thin layers of love. - Author: Amy Matayo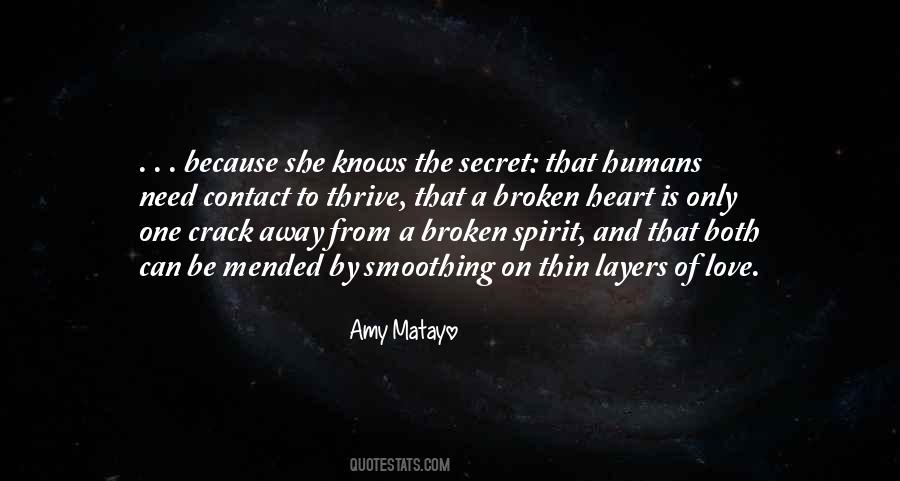 #70. The happiest moments my heart knows are those in which it is pouring forth its affections to a few esteemed characters. - Author: Thomas Jefferson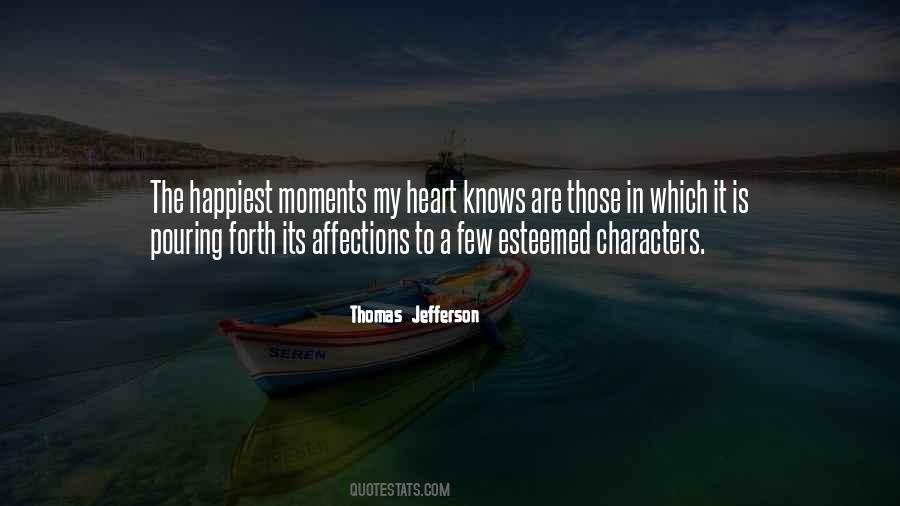 #71. Ah, the violence: tearing, killing, ripping. Lila, between fascination and horror, spoke to me in a mixture of dialect, Italian, and very educated quotations that she had taken from who knows where and remembered by heart. The entire planet, she said, is a big Fosso Carbonario. - Author: Elena Ferrante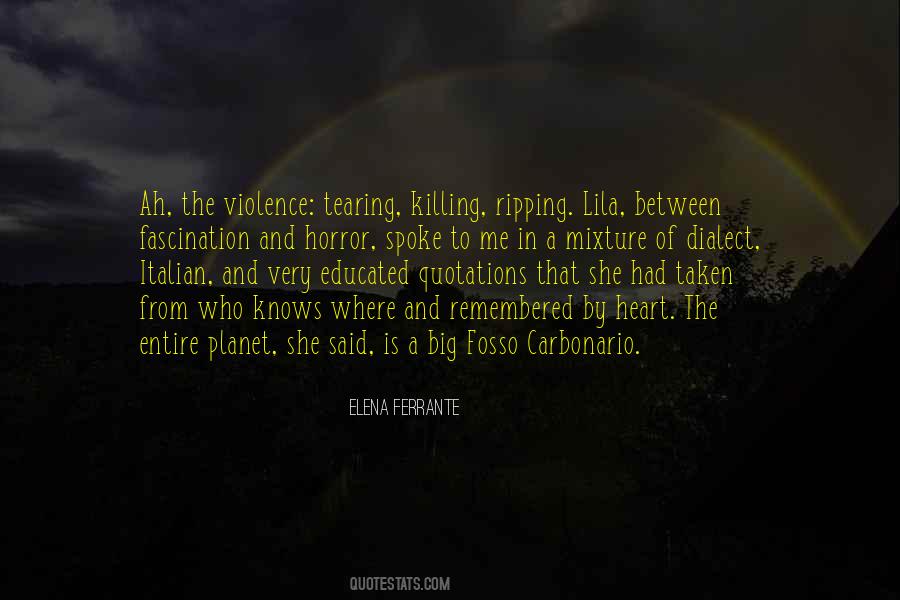 #72. It's a saying they have, that a man has a false heart in his mouth for the world to see, another in his breast to show to his special friends and his family, and the real one, the true one, the secret one, which is never known to anyone except to himself alone, hidden only God knows where. - Author: James Clavell
#73. How to catch a crook? Ask him if he knows anybody strait. - Author: Bangambiki Habyarimana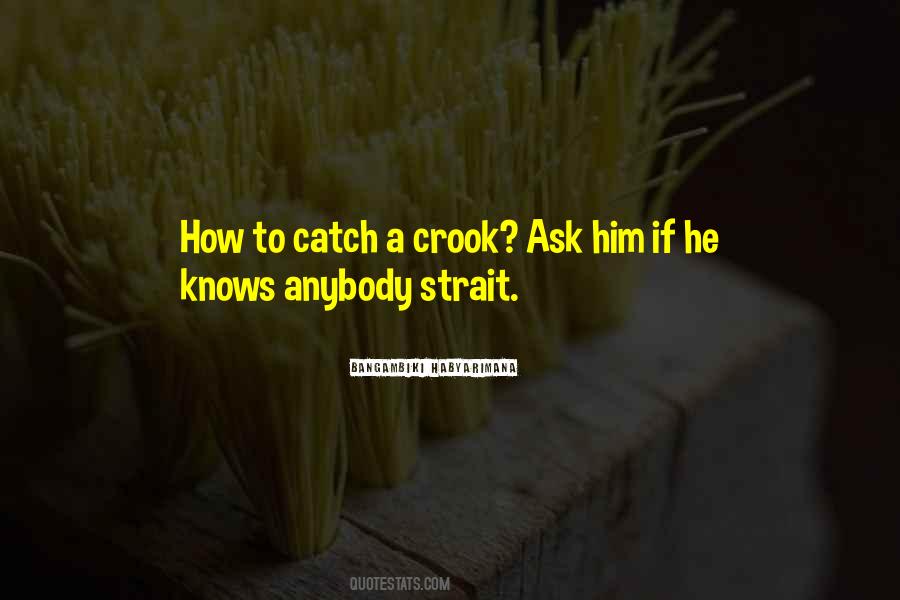 #74. The heart may not always be practical, but it is always right. - Author: Debasish Mridha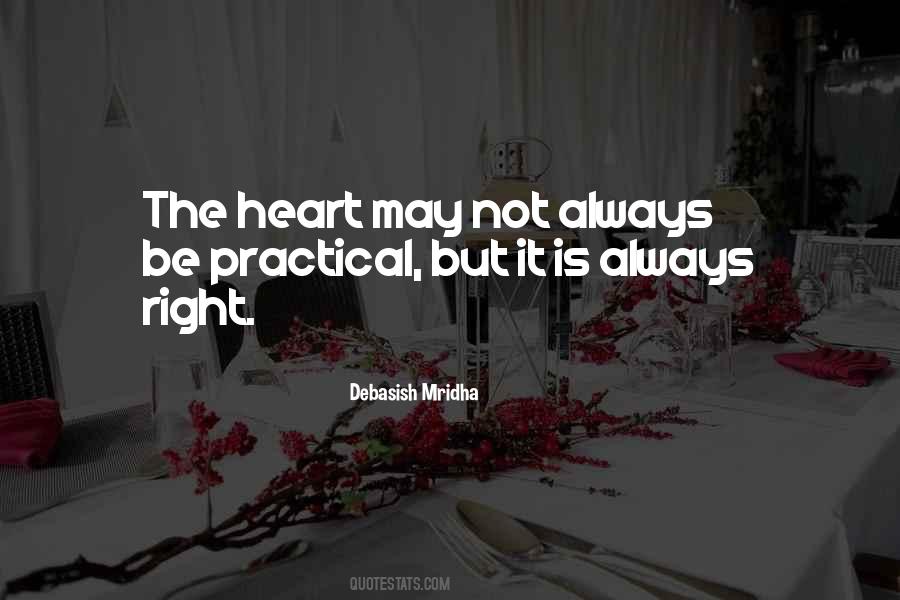 #75. The reason God commands us to love Him with all our heart is not because He is an egomaniac! It is because He knows that anything we love more than Him will betray us. Eventually, we lose it by its death . . . or ours. - Author: Matt Papa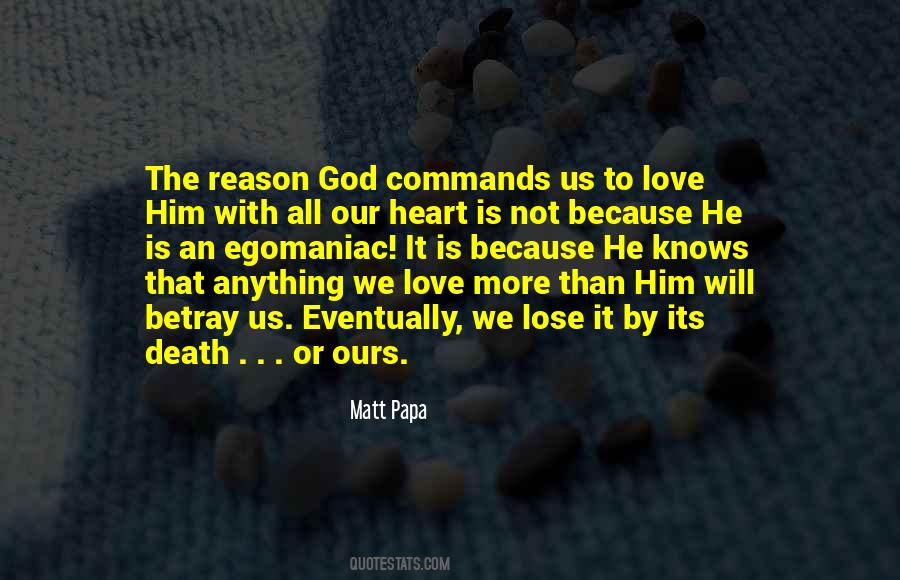 #76. He who goes to the bottom of his own heart knows his own nature;
And knowing his own nature, he knows heaven. - Author: Mencius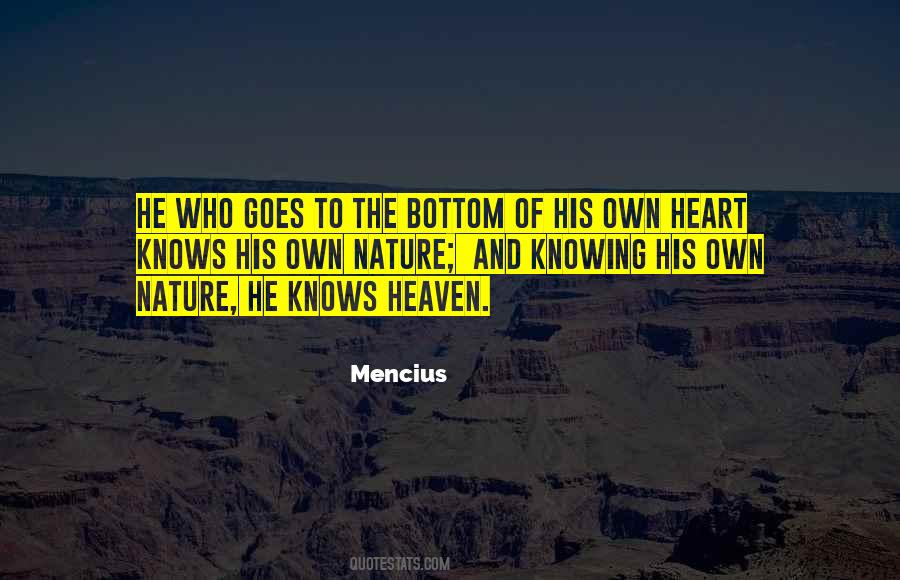 #77. No creative writer knows what is commercial and what isn't. You just write from your heart, you write from the deepest, creative urges in you, and you write from your soul, and you just either get lucky or not. - Author: Mel Brooks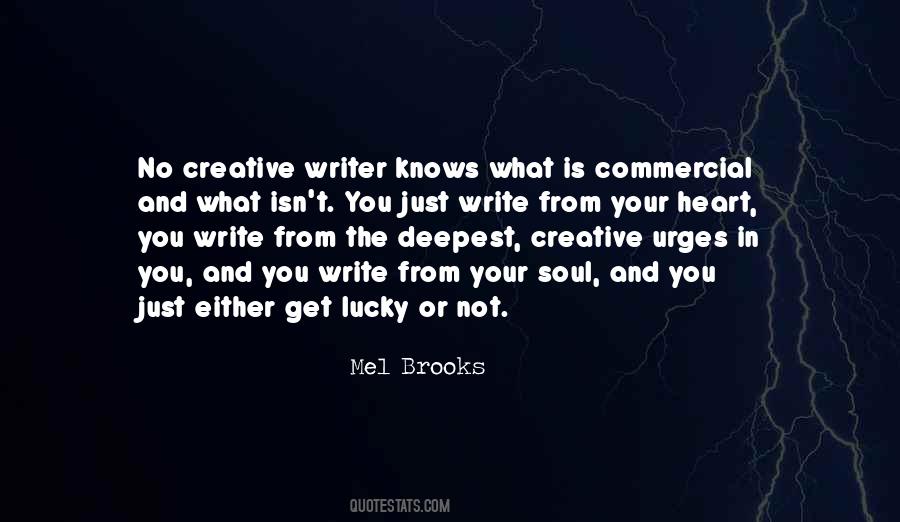 #78. Silently he traces out a new constellation, one only he knows. One with Noemi at the very heart. - Author: Claudia Gray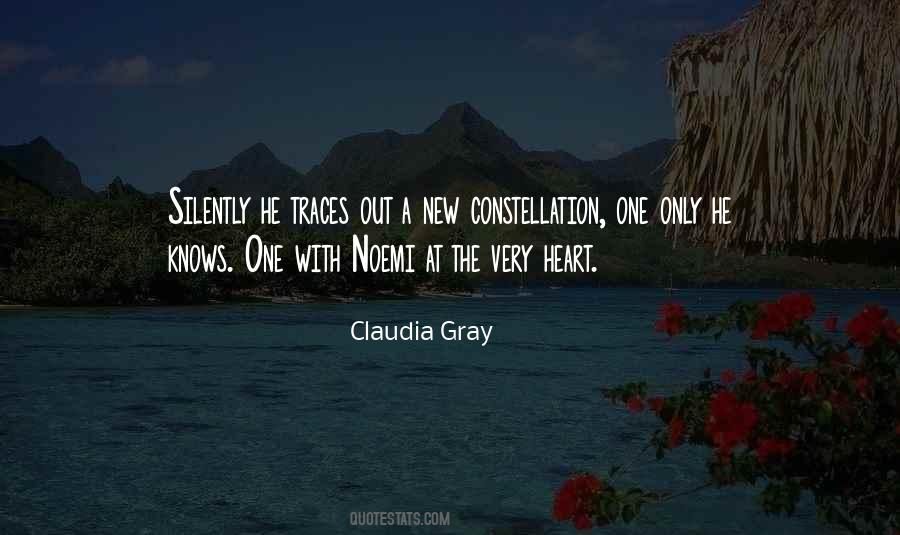 #79. A flower is beautiful not because she knows what the new fashion is, but because she knows the desires of your heart. - Author: Debasish Mridha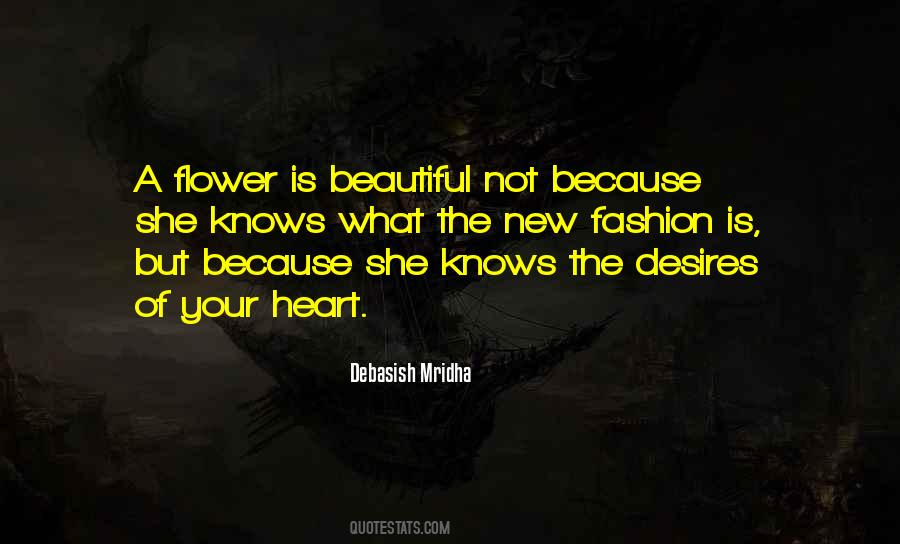 #80. No one has the right to judge you, because no one really knows what you have been through. They might have heard the stories, but they didn't feel what you felt in your heart. - Author: G.M.B. Akash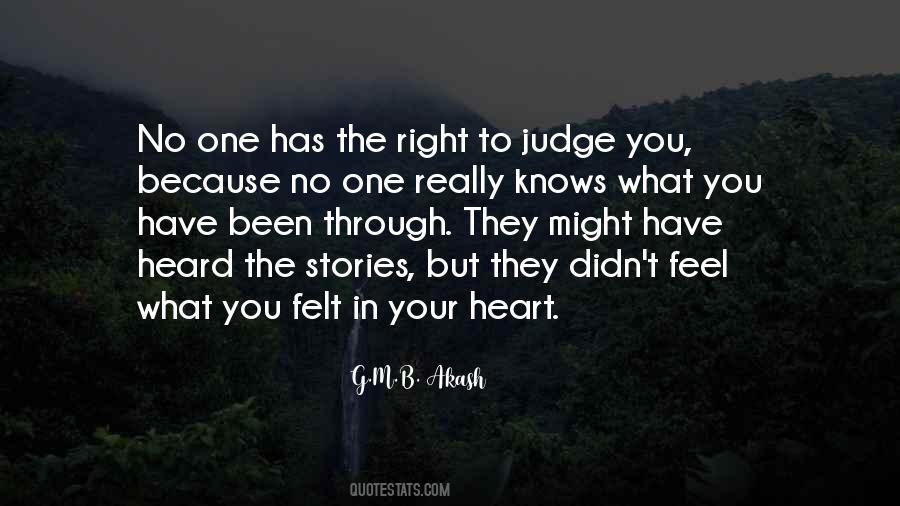 #81. She was few inches taller than him and when for the first time her promising eyes met with his, he knew it would be more than friendship. He was too young to name that feeling then. But love...above all relationships knows no age. - Author: Viraj J. Mahajan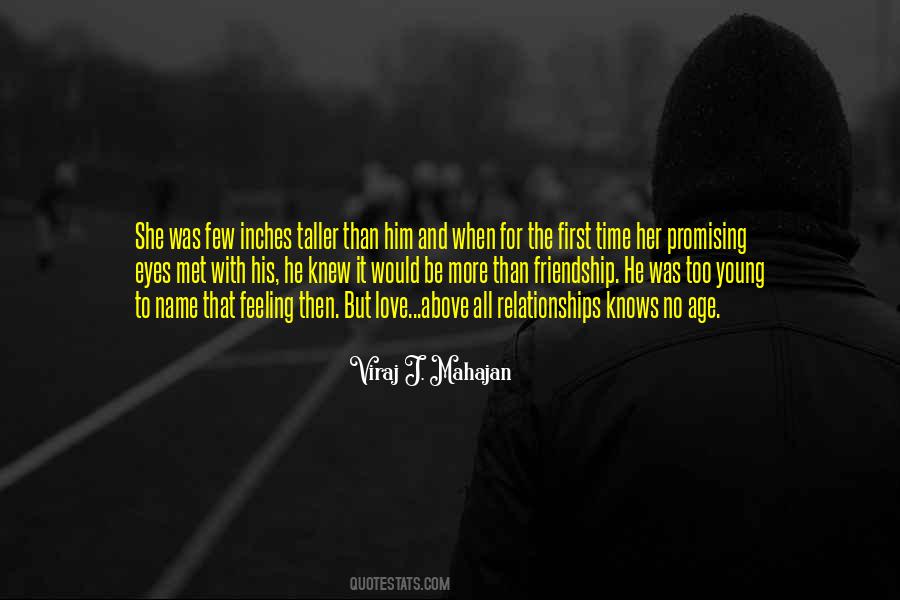 #82. If there were a race among all artists to the human heart, my money would be on music to win. It knows a shortcut. - Author: Marie-Helene Bertino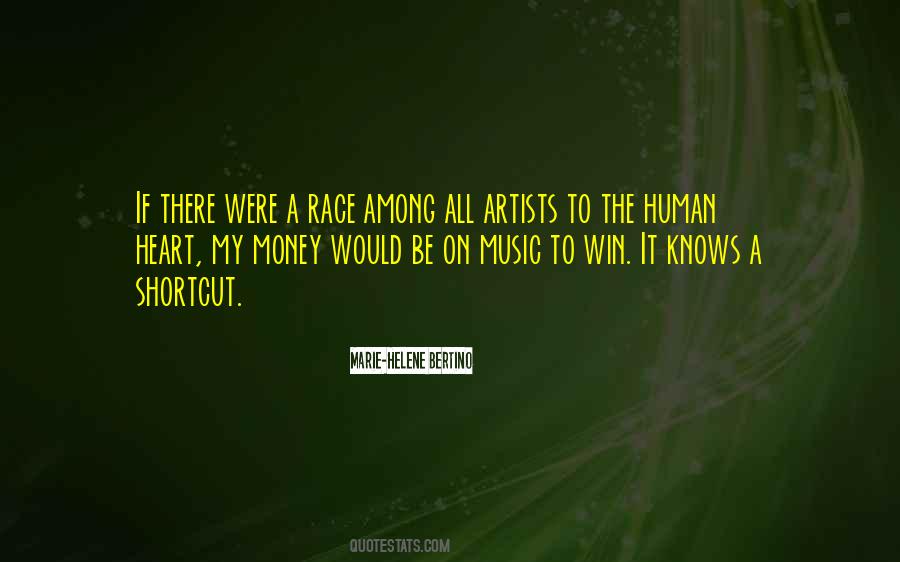 #83. A friend is someone who knows the song in your heart and can sing it back to you when you have forgotten the words - Author: Shania Twain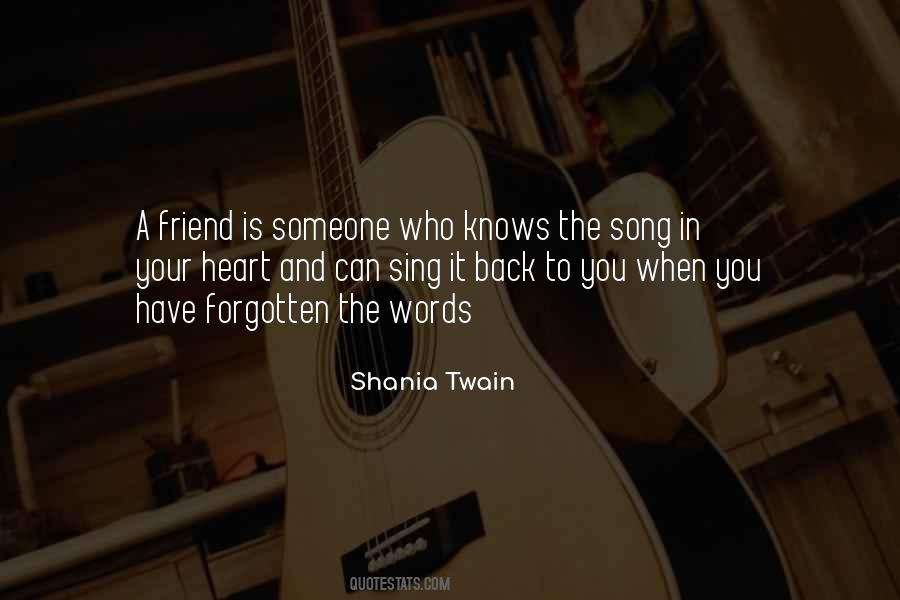 #84. Listen with your heart, not your brain. the heart only knows TRUTH! - Author: Sherri Bridges Fox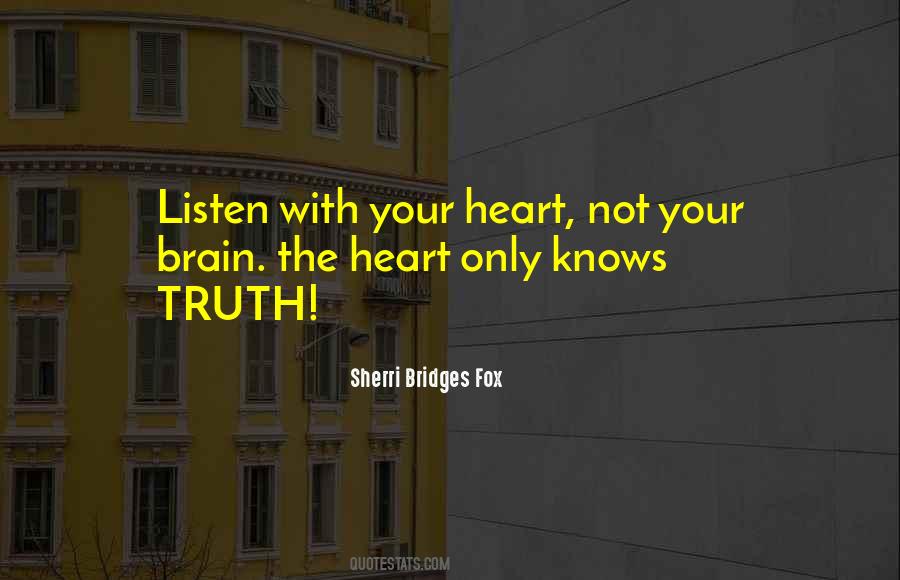 #85. She knows what it's like to love someone who cannot love you back. Someone who needs you, holds you, yes, but someone who will never know that love is the knife in your heart. - Author: John Dufresne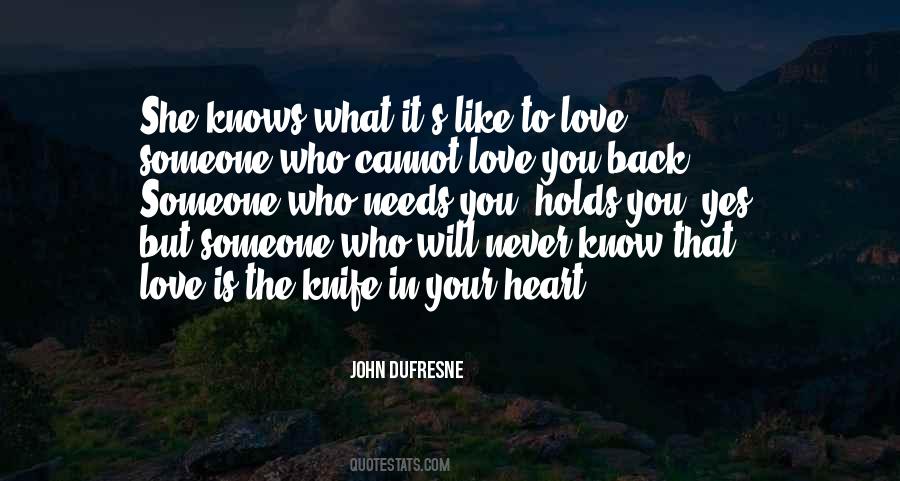 #86. Who has known heights and depths shall not again Know peace - not as the calm heart knows
Low, ivied walls; a garden close;
And though he tread the humble ways of men
He shall not speak the common tongue again. - Author: Wheston Chancellor Grove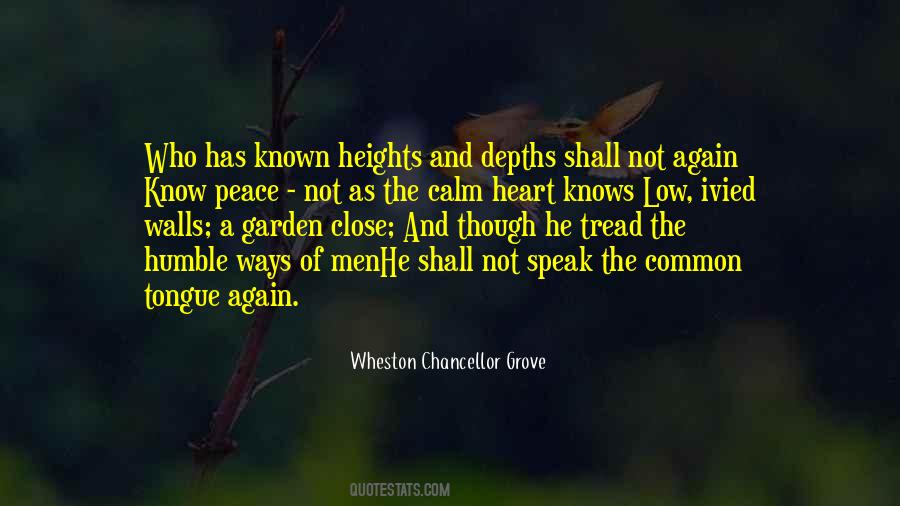 #87. There is the story in every man's heart of human progress. I believe every one of us knows that his major job on Earth is to make some contributions, no matter how small, to this inexorable movement of human progress. - Author: King Vidor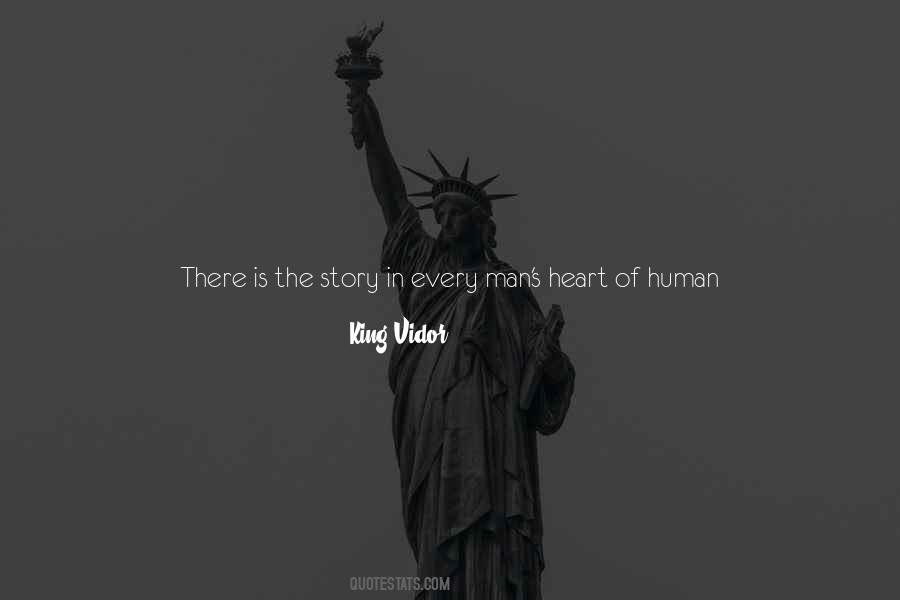 #88. Nowadays he doesn't think of his wife, though he knows he can turn around and evoke every move of her, describe any aspect of her, the weigh of her wrist on his heart during the night. - Author: Michael Ondaatje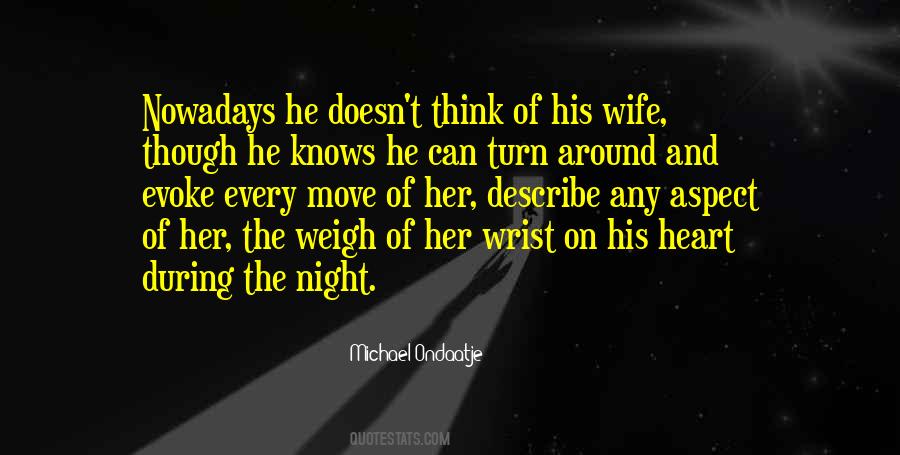 #89. And remember it takes great courage and heart for a man who knows no kindness to show it to another. Even the wildest of beasts can be tamed by a patient and gentle hand. - Author: Sherrilyn Kenyon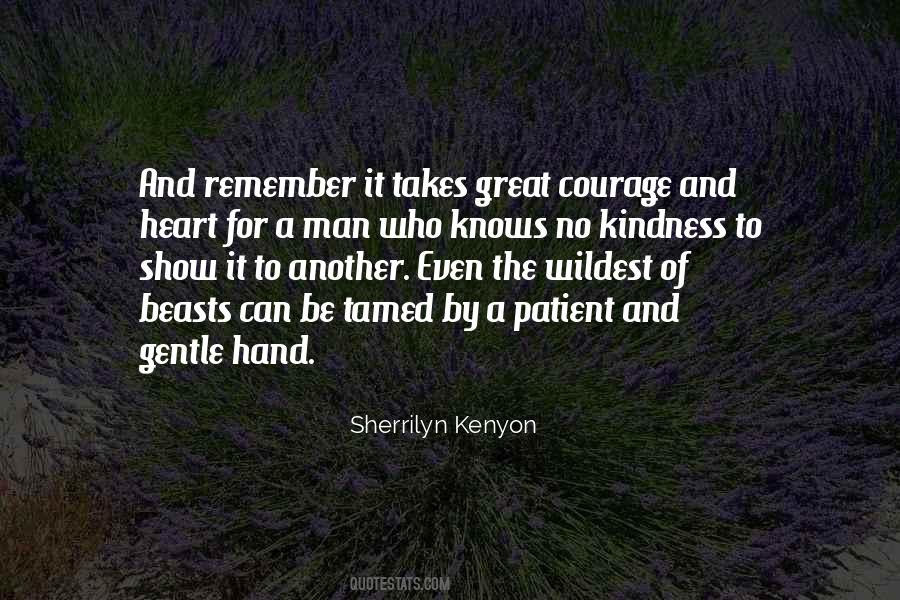 #90. Comparatively, we can excuse any offense against the heart, but not against the imagination. The imagination knows
nothing escapes its glance from out its eyry
and it controls the breast. - Author: Henry David Thoreau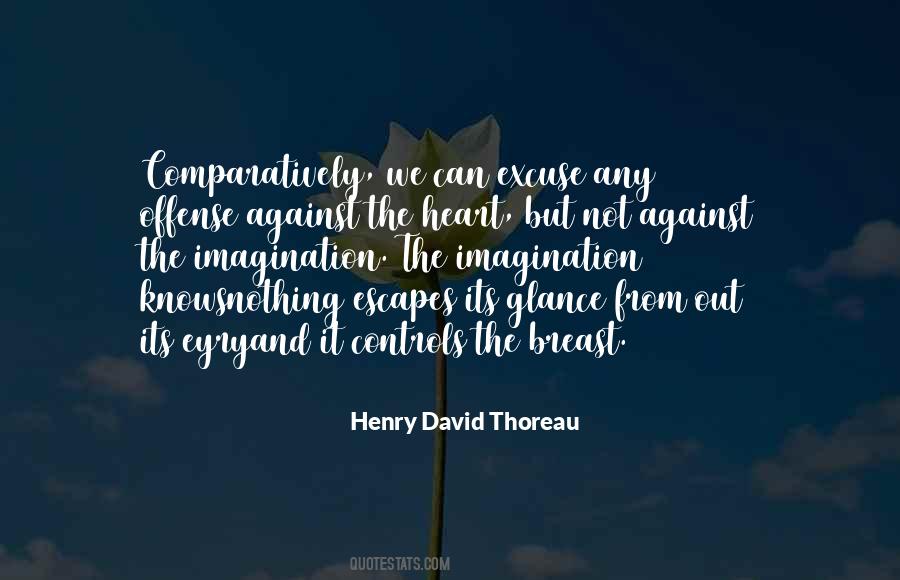 #91. No one knows exactly where thought comes from, but it can be said that thought comes from the same place as whatever it is that beats our heart ... it comes from being alive. - Author: Richard Carlson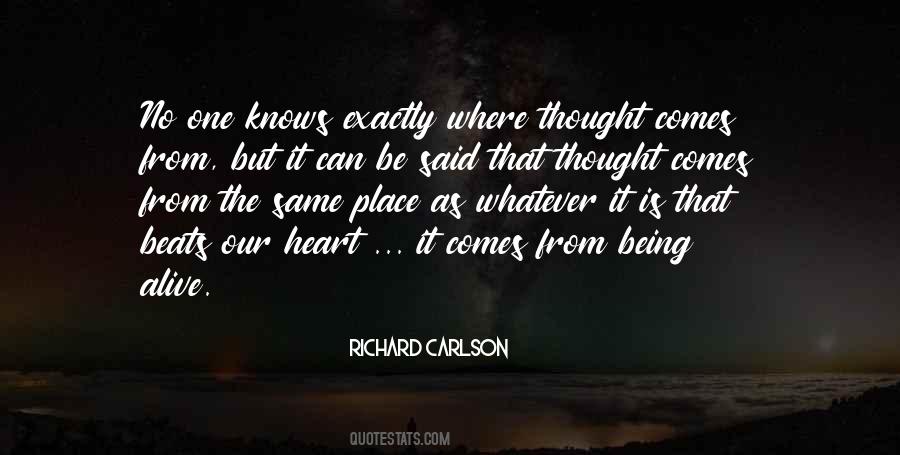 #92. Only the knife knows what goes on in the heart of a pumpkin. - Author: Simone Schwarz-Bart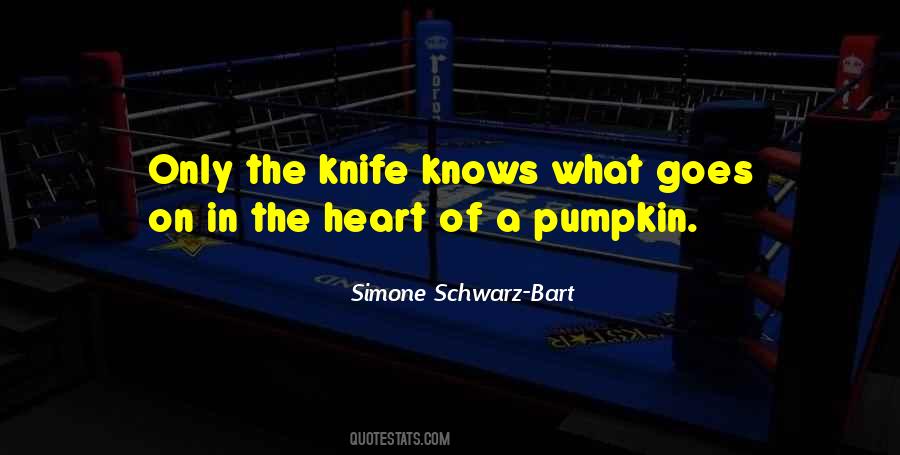 #93. But Fr Gaunt was so clipped and trim he had no antennae at all for grief. He was like a singer who knows the words and can sing, but cannot sing the song as conceived in the heart of the composer. Mostly he was dry. He spoke over young and old with the same dry music. But - Author: Sebastian Barry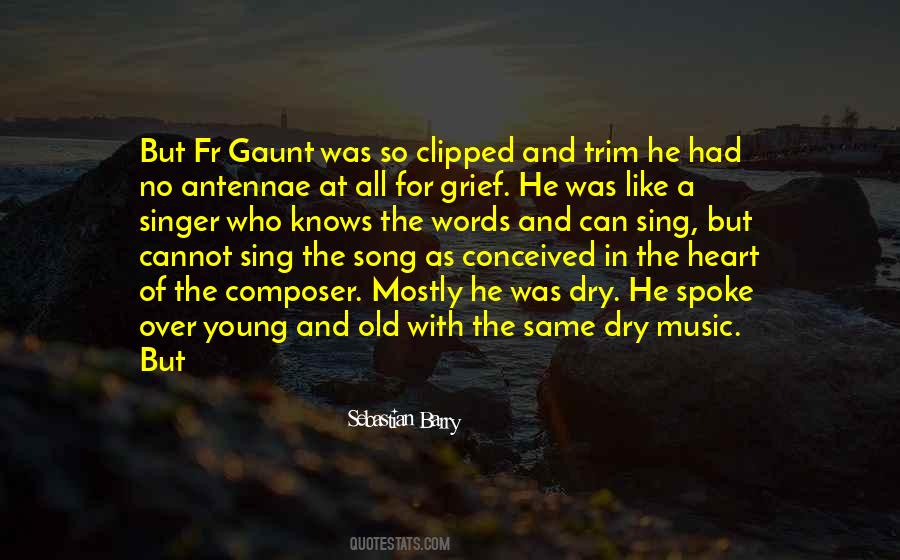 #94. Richard Christian Matheson is a master of compression. He knows how to catch a moment in words and convey it straight to the reader's heart. - Author: Clive Barker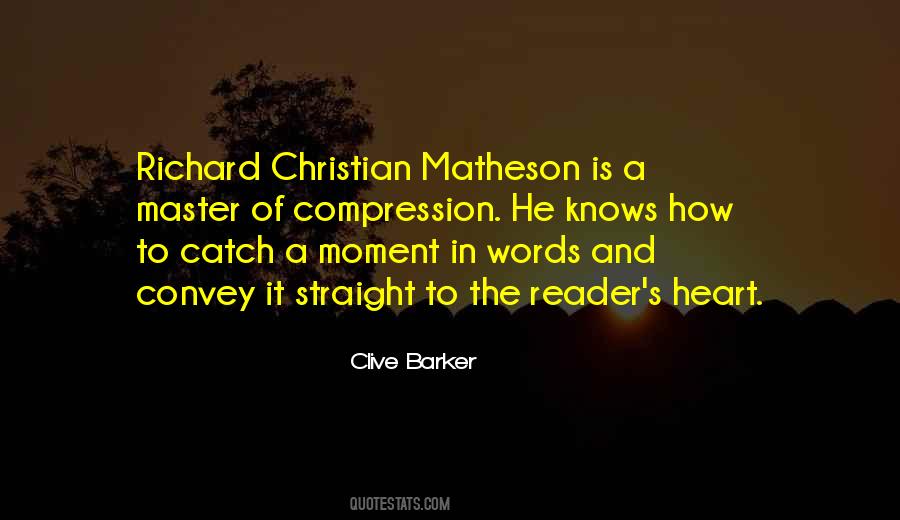 #95. O thou who art the sparrow's friend," he said, "have mercy on this world that knows not even when it sins. O holy dove, descend and roost on Godric here so that a heart may hatch in him at last. Amen - Author: Frederick Buechner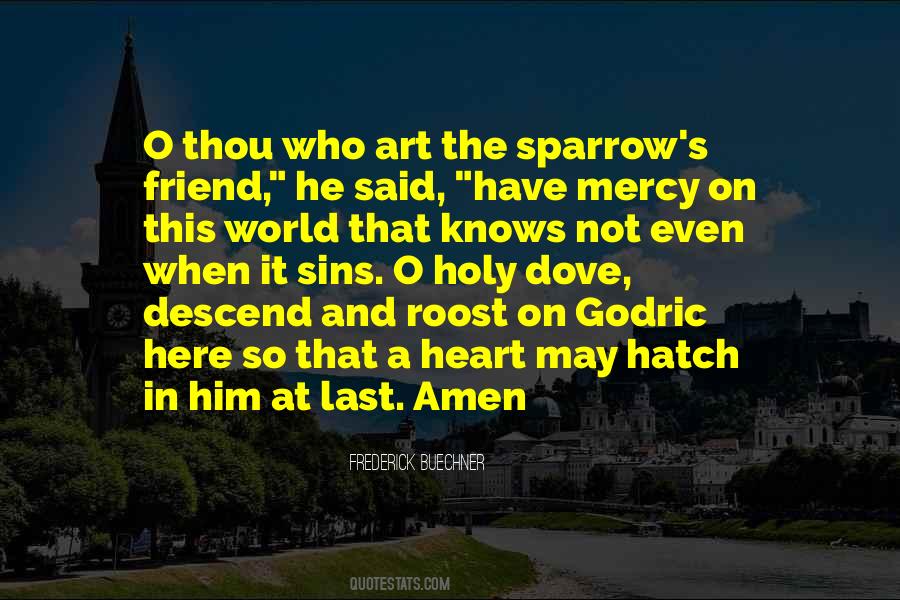 #96. Fortunate is the one who knows the name of their heart. They are the ones whose hearts are never truly lost. They can always call their heart back home.
Do you remember the name of your heart, Simon Lewis?"
"I think so," Simon whispered. - Author: Cassandra Clare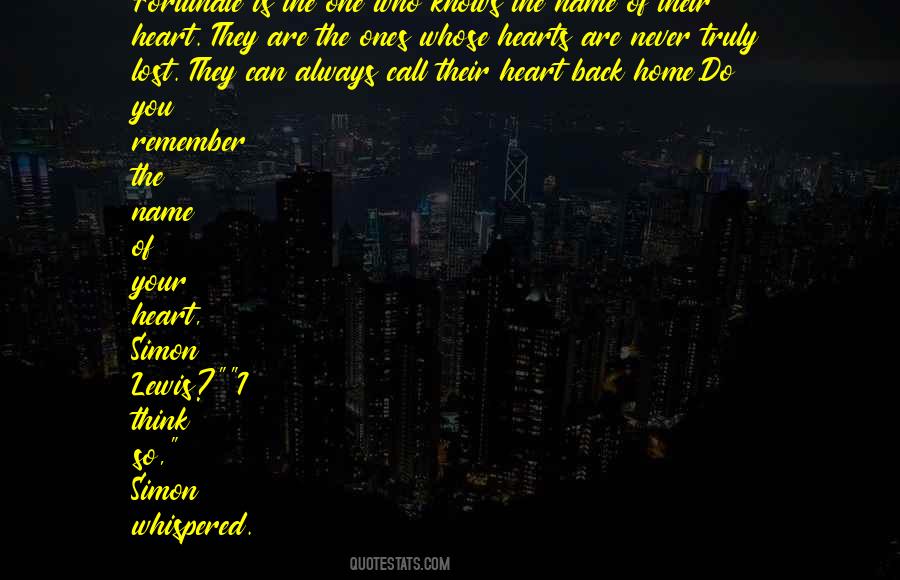 #97. A Christian will part with anything rather than his hope; he knows that hope will keep the heart both from aching and breaking, from fainting and sinking; he knows that hope is a beam of God, a spark of glory, and that nothing shall extinguish it till the soul be filled with glory. - Author: Thomas Brooks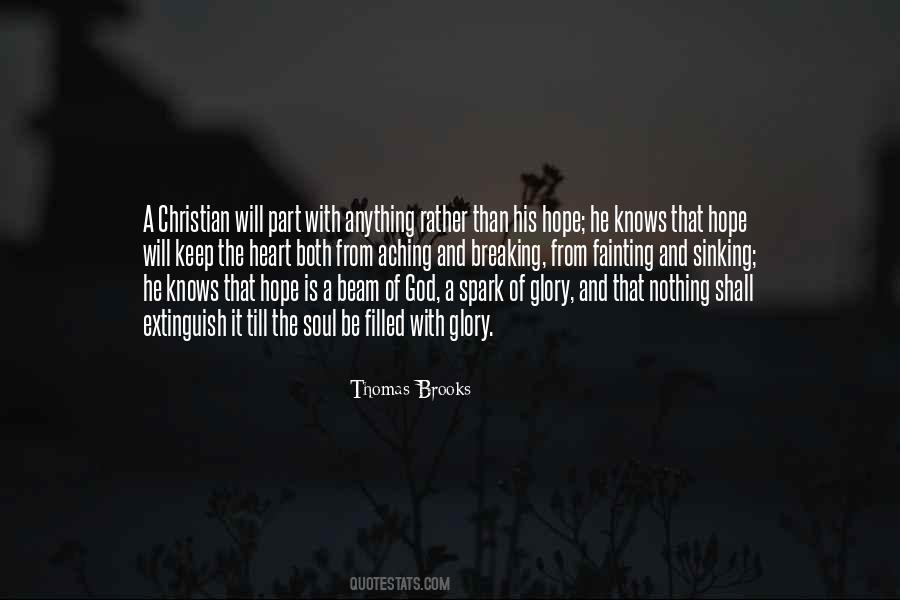 #98. If it's not in your heart you're not gonna make it. At the end looking back, you know its worth it. - Author: Amy Dumas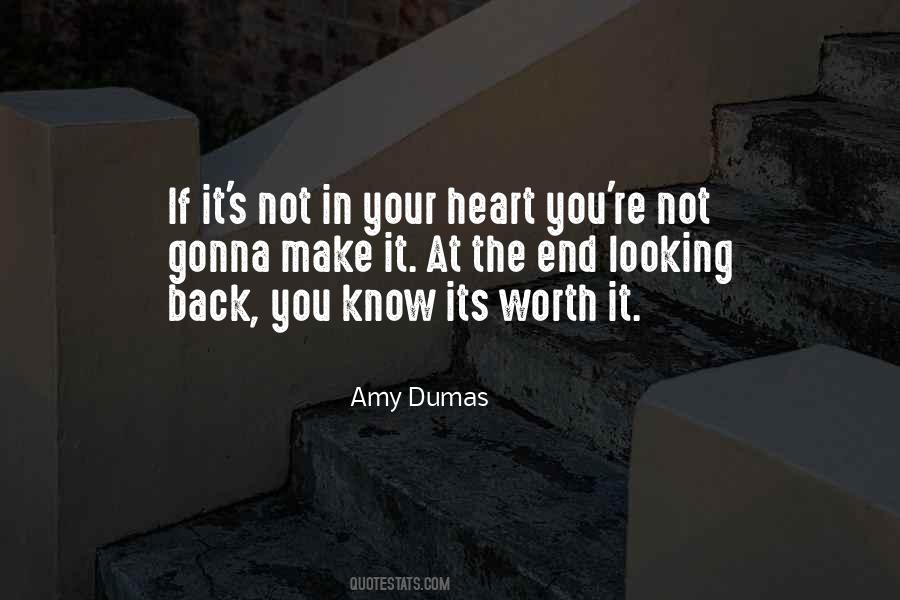 #99. I got a head full of headaches, a heart that's full of woes.
I'm constantly singin' them down home blues, and not many people knows
That leaves me with a twisted view of the whole wide world as I know it ...
And I guess I got no choice but to be a poet. - Author: Aceyalone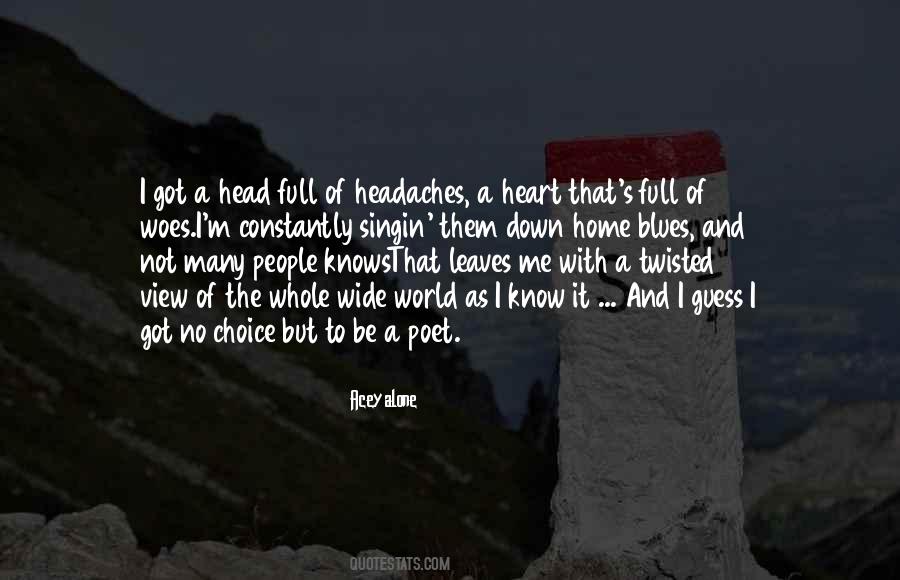 #100. To people who think I'm happy, just look again; the scars of my past will lead you to a place no one knows, a place no other person can imagine, a place that echoes with the desolate cries of a lonely heart, a place where I'm being stabbed to death hundreds of times. - Author: Manoj Kumar Duppala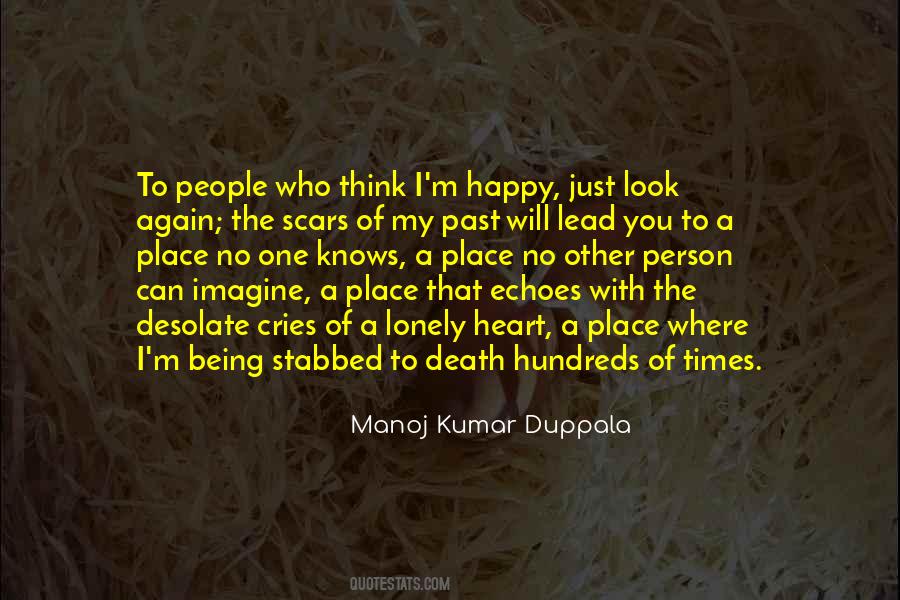 Famous Authors
Popular Topics