Taking A Step Famous Quotes & Sayings
List of top 100 famous quotes and sayings about taking a step to read and share with friends on your Facebook, Twitter, blogs.
Top 100 Taking A Step Quotes
#1. To experience the agony of defeat makes you stronger. It's like taking one step back and two steps forward. To experience the agony of defeat makes you appreciate the experience of winning. That's what makes a champion. - Author: Leon Spinks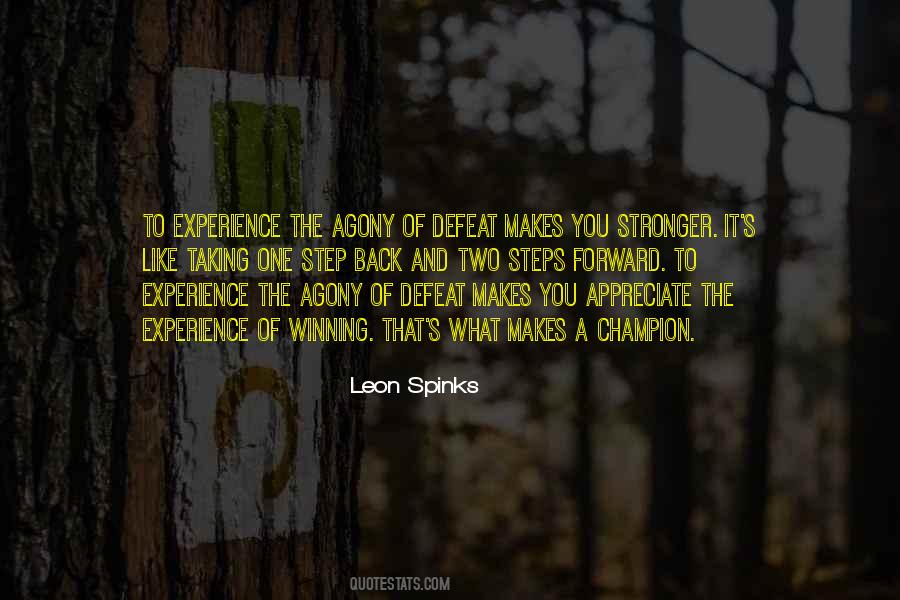 #2. I want to grow as an artist, and I'm taking a step out. I want my music to mature. - Author: Justin Bieber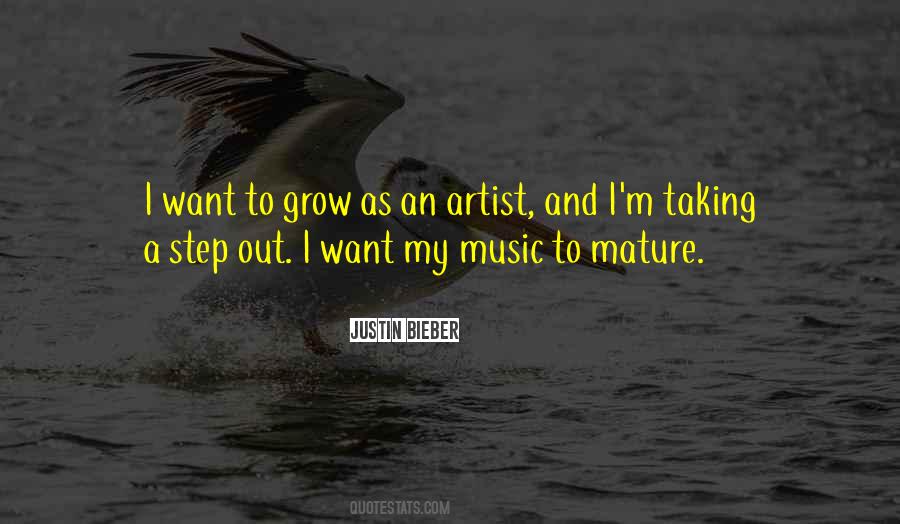 #3. Never be discouraged, because every wrong turn attempt, when left behind you, is another step forward taking you closer to your goals. - Author: Thomas A. Edison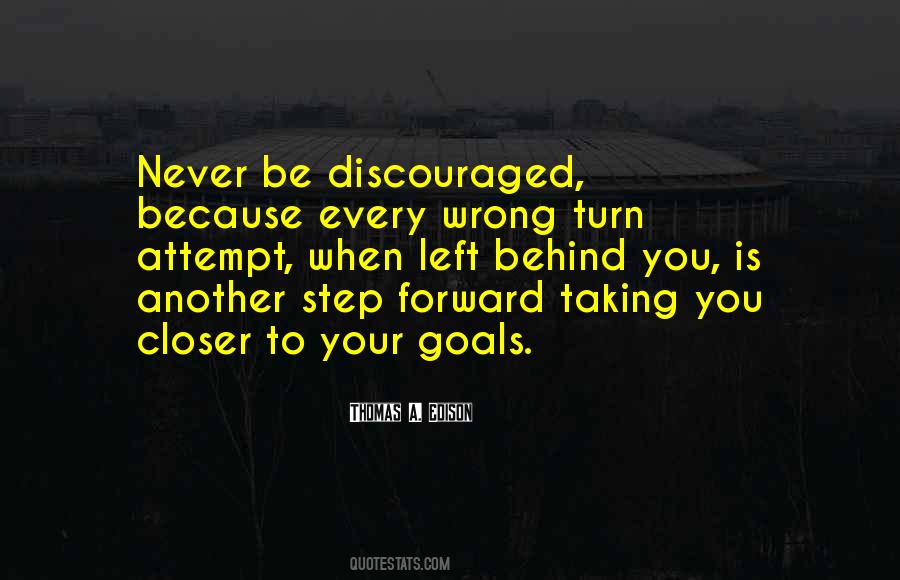 #4. Sometimes we make the process more complicated than we need to. We will never make a journey of a thousand miles by fretting about how long it will take or how hard it will be. We make the journey by taking each day step by step and then repeating it again and again until we reach our destination. - Author: Joseph B. Wirthlin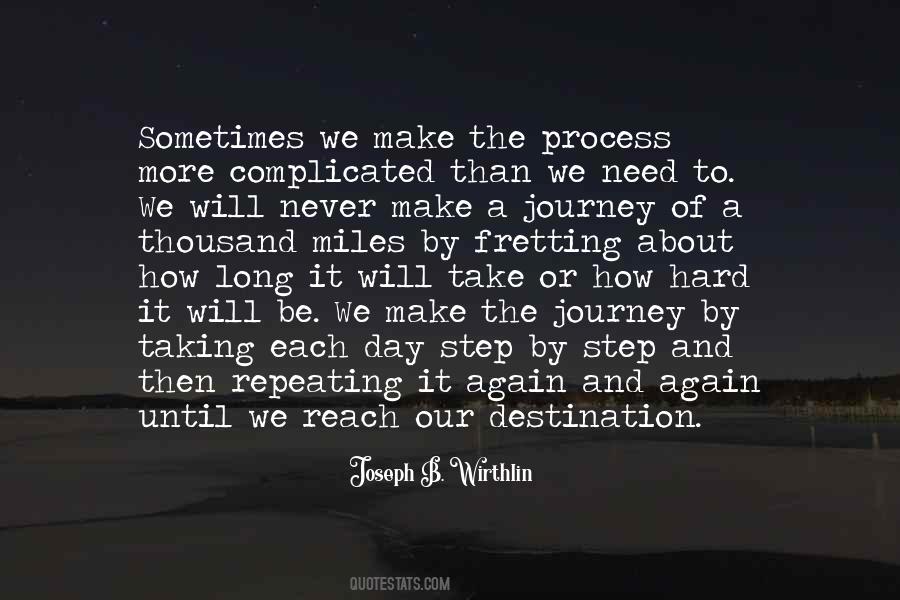 #5. I thought that day was the end of my life. It was the end of the world as I knew and understood it. I was taking another step into the unknown, again, onto a path unknown, grappled with fear and anxiety. - Author: Sharon E. Rainey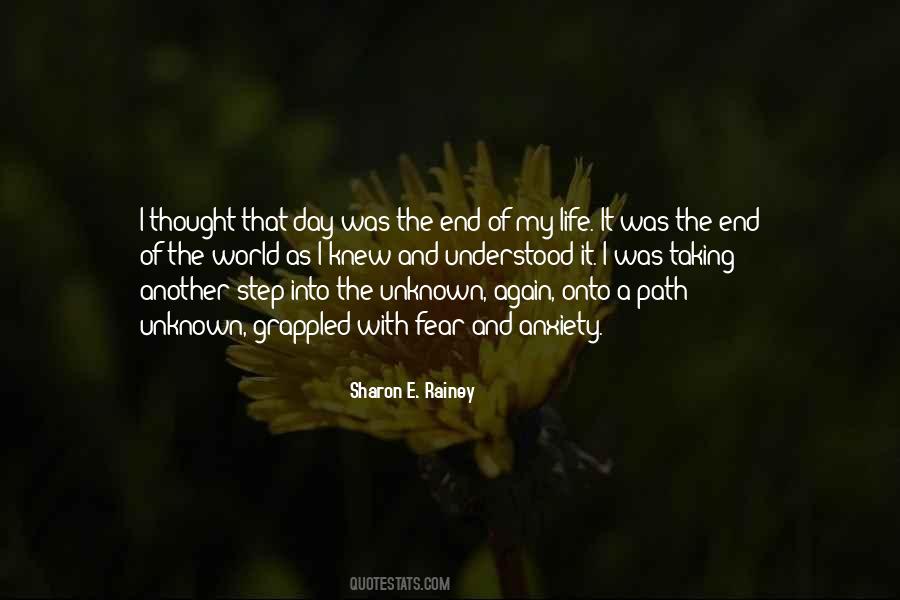 #6. Feet, she thought. Sea legs. When you pass the last spit of land and commit to the ocean, you are taking a step into the infinite and might set your foot down anywhere. - Author: Morgan Llywelyn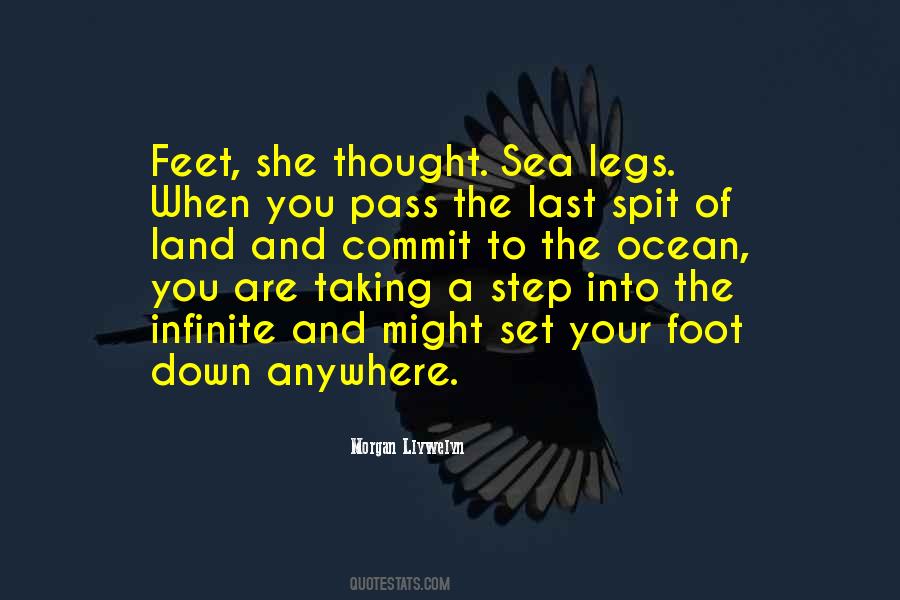 #7. A kid who has just started to lie is taking the first step as a storyteller. - Author: Young-Ha Kim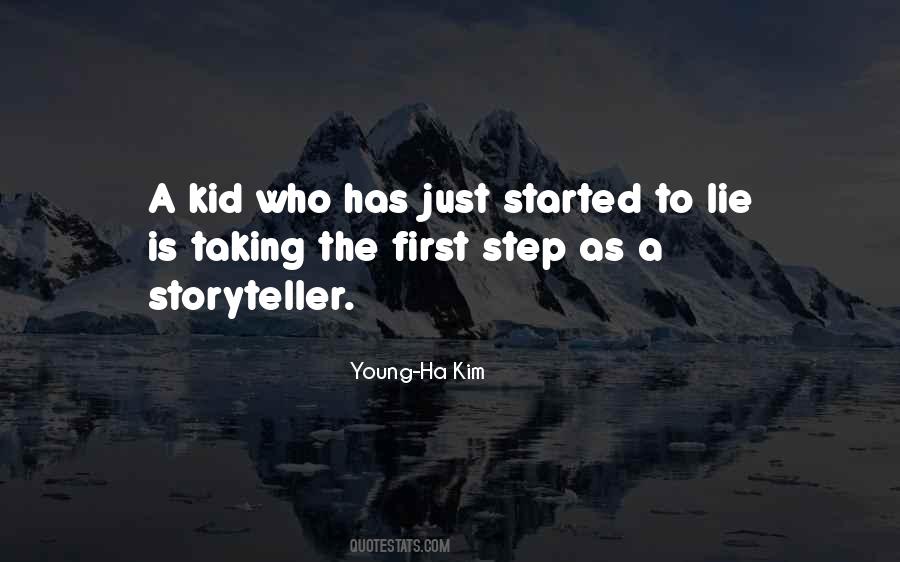 #8. I'm going to walk over to you," I say, taking one step at a time in her direction like I'm talking down a jumper. "I'm going to put my arms around you and I'm going to hold you," I pause before taking the last step, "and you're going to let me. - Author: Katja Millay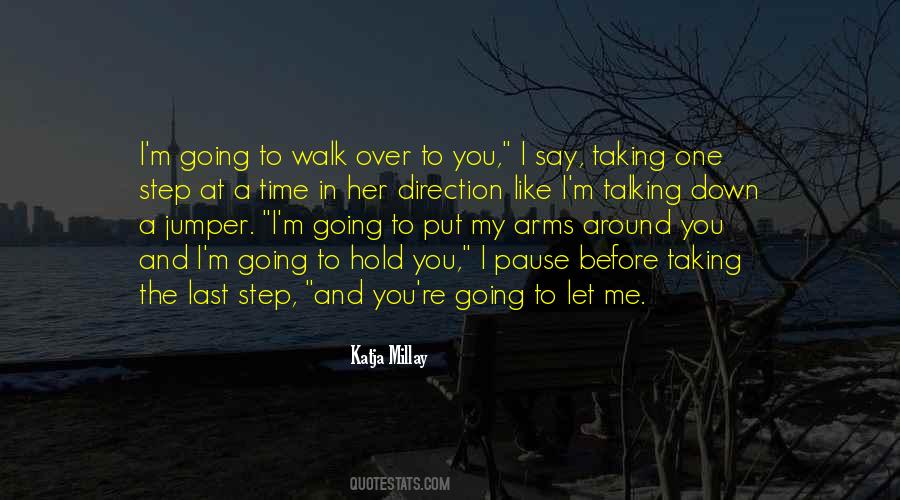 #9. The hardest thing to do in talking to a woman was taking the first step, but the most important thing to do was not to think. - Author: Viet Thanh Nguyen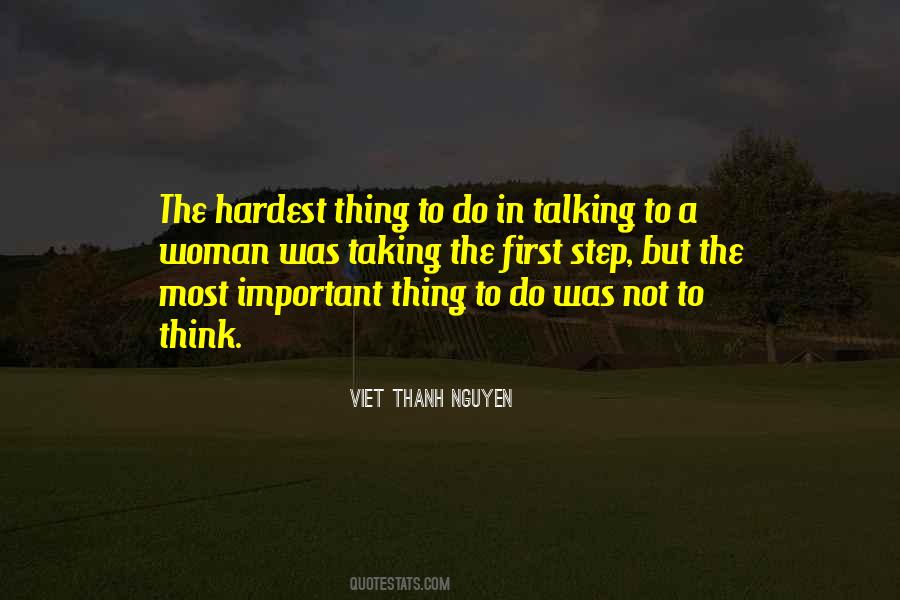 #10. Adversity is a call to action, and your freedom lies in taking the first step. Don't worry about the entire staircase, just take one step, and then tomorrow take another. - Author: Kris Carr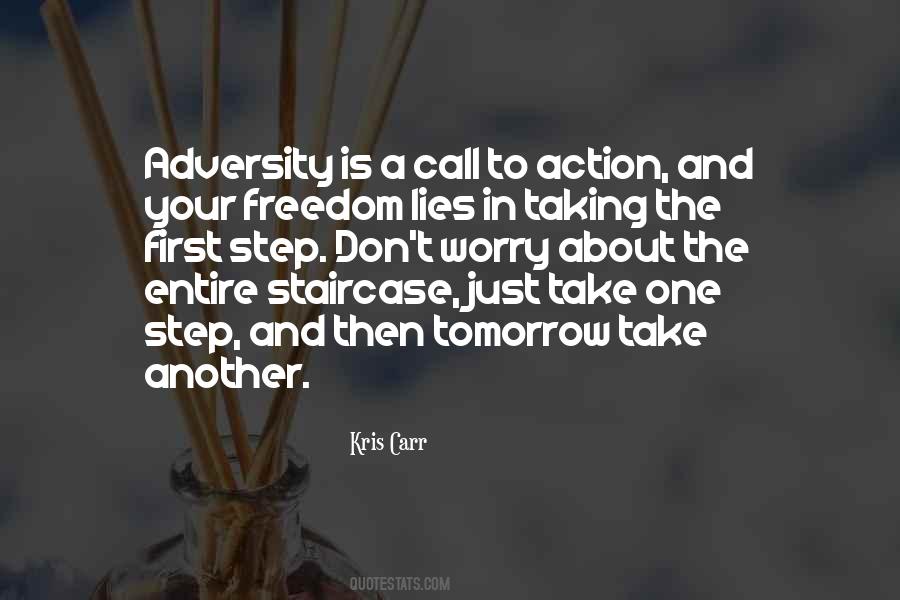 #11. Sometimes in your life, you will get to the point where you are not even trying or worthy even taking a step a head of you, but you will have to go to the next step without thinking more. - Author: Auliq Ice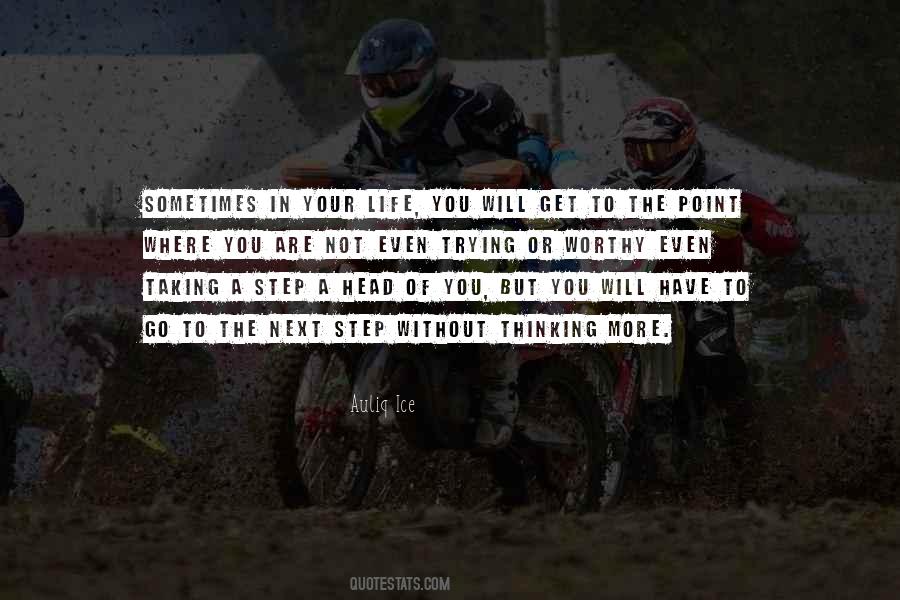 #12. I took a little break - I was coming back to work and the last thing I was going to do was take a step backwards, so I knew that if I was going to take a feature it was going to have to be taking a step forward. - Author: Nia Long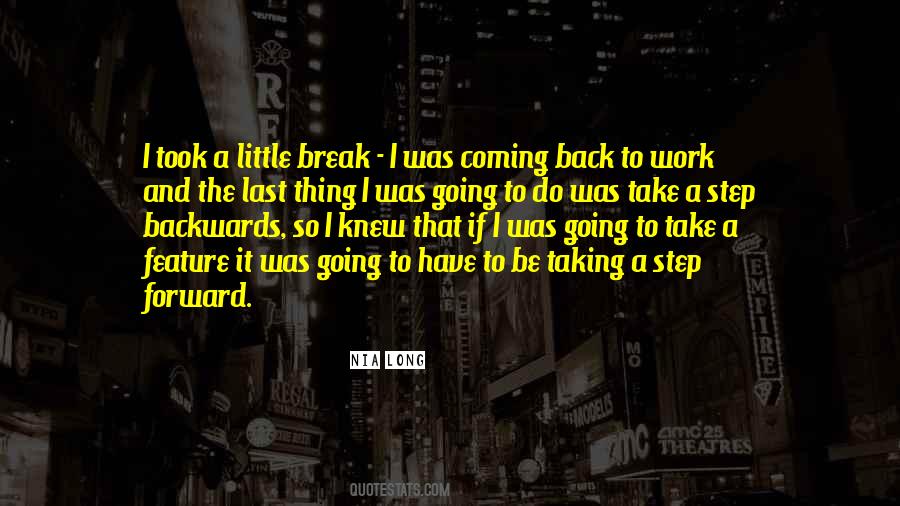 #13. I'm just taking one step at a time. I could zigzag one way, but it's not usually on purpose. - Author: Beck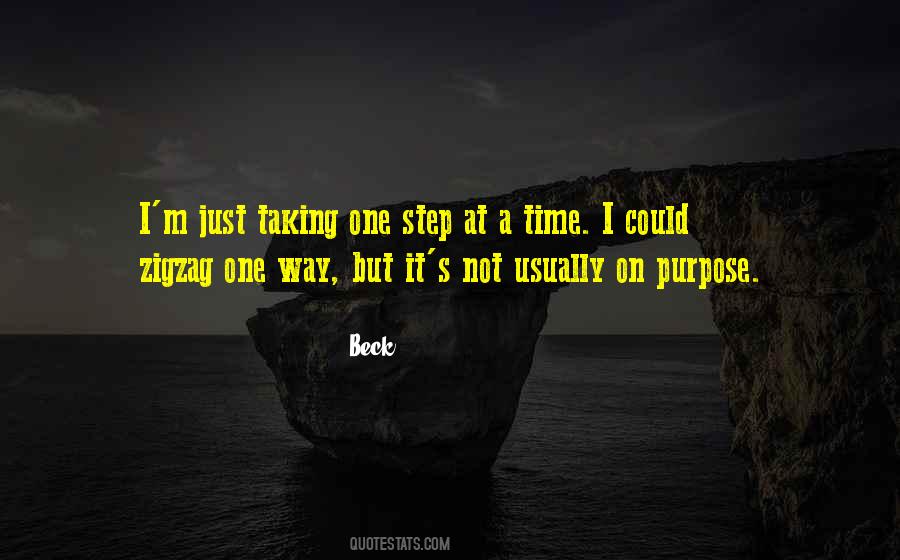 #14. If you're going to look at me that way, I might need to warn you about me," he says, taking a step toward me. Instinctively, I retreat. One side of his mouth quirks into a wry grin. "Or maybe you already know. - Author: M. Leighton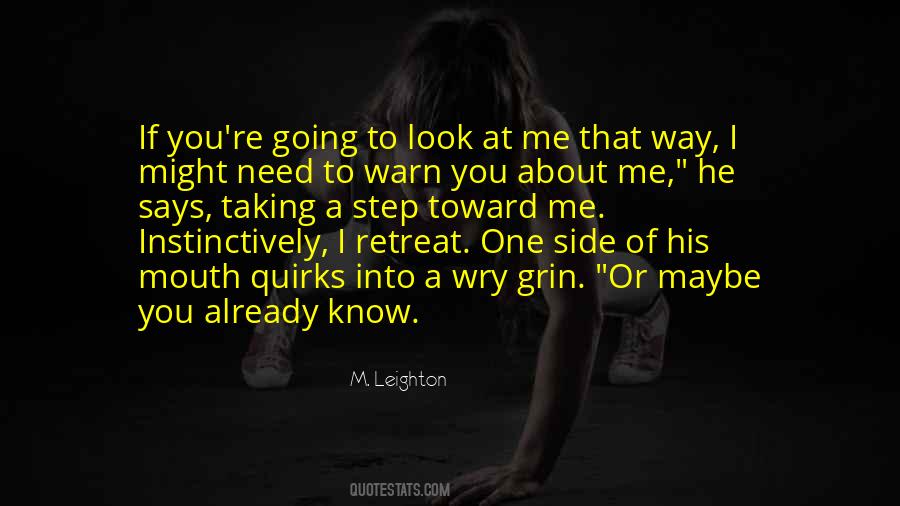 #15. The Plan Of Redemption Culminated In Taking A giant Step - Author: Sunday Adelaja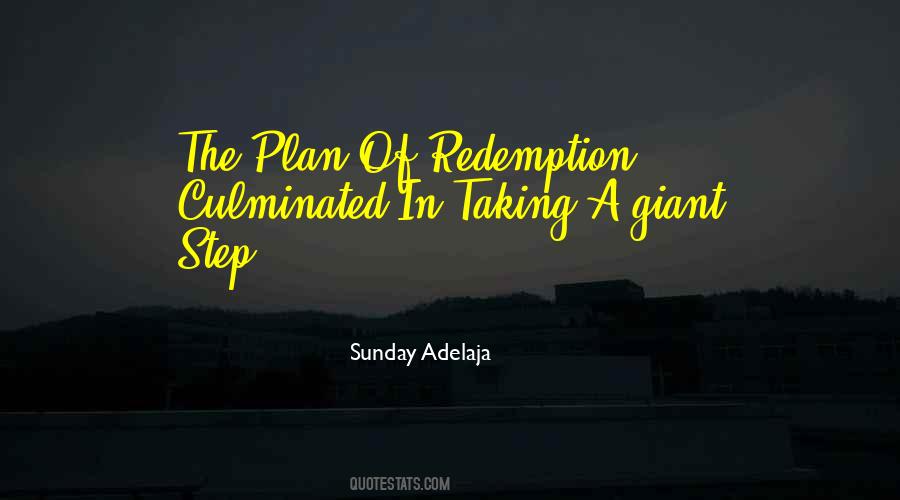 #16. Life is never a static journey. Life goes on! Life is about step taking. For everything I need to know about life, I need to take a step - Author: Ernest Agyemang Yeboah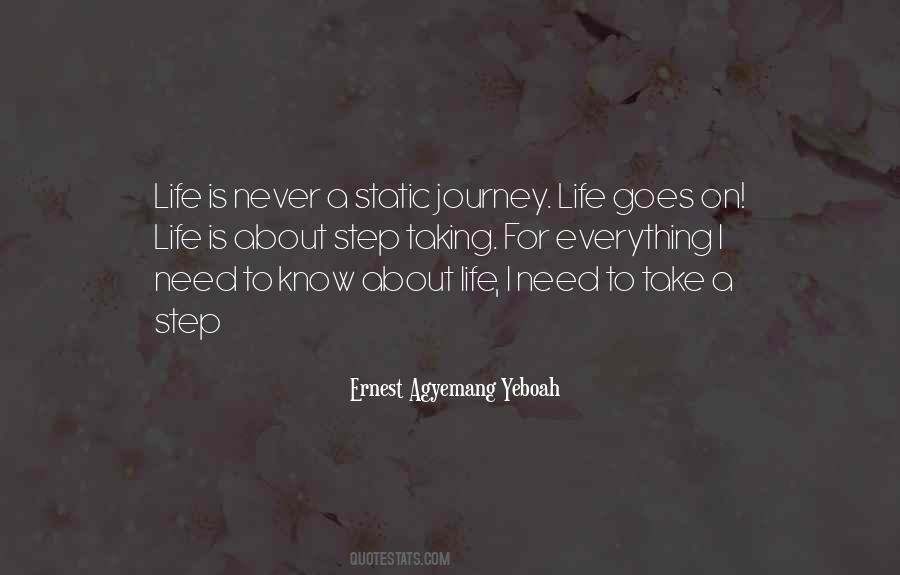 #17. Substitution is a true test of strength. The real performance of a player is seen not only during playing time but also and more especially when the player is substituted. - Author: Ernest Agyemang Yeboah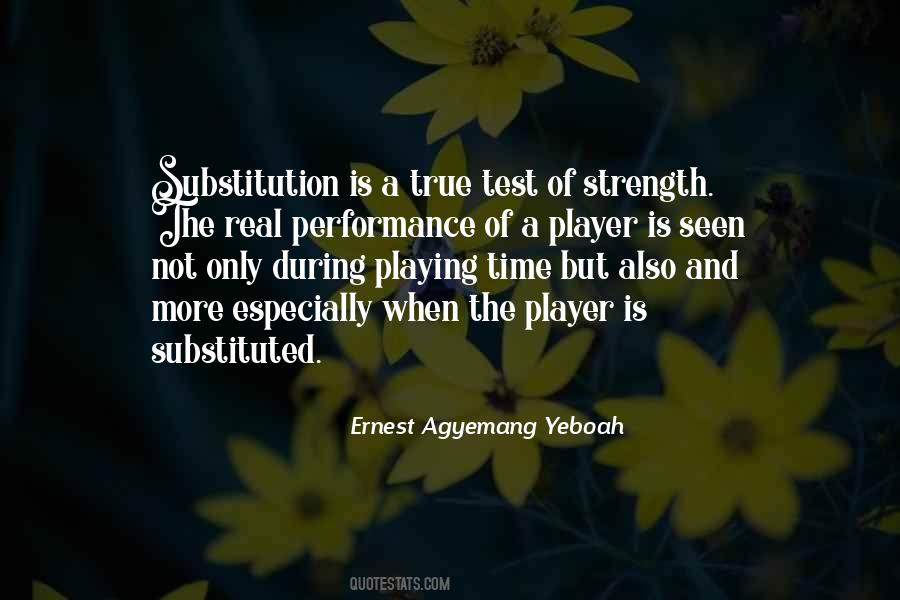 #18. I seem to remember a certain someone swearing that she couldn't dance at all. Obviously I must have been with her twin sister, because i was expecting you to step on my toes all night. Been taking lessons, Princess?
-Puck - Author: Julie Kagawa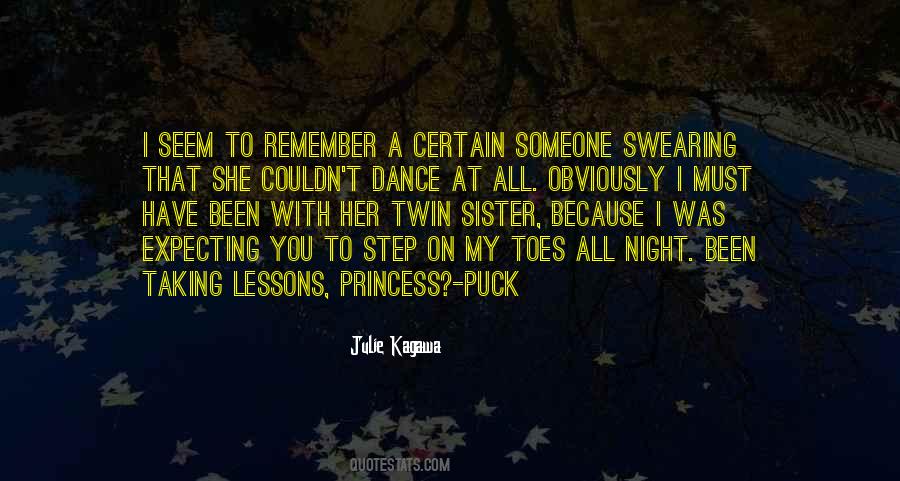 #19. If you feel tempted to use a picture of two hands shaking in front of a globe, put the pencil down, step away from the desk, and think about taking a vacation or investigating aromatherapy. - Author: Nancy Duarte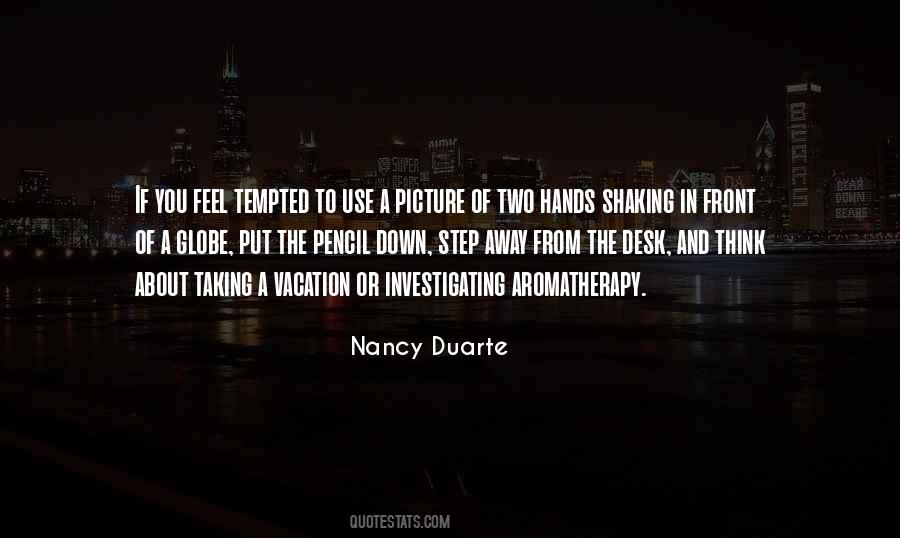 #20. Spending some time getting quiet can really be the best remedy for tangled situations. Taking a step back from all the emotion, frustration, and exhaustion to sit quietly with Jesus will do more to untangle a mess than anything else I've ever found. - Author: Lysa TerKeurst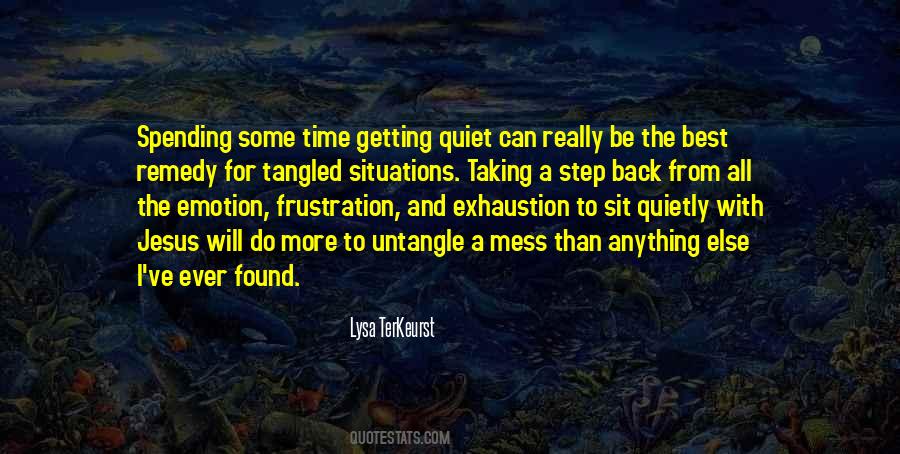 #21. It's time, Perry. He let her go. She took a step back, taking in his face one last time. His green eyes. The bend in his nose and the scars on his cheek. All the tiny inperfections that made him beautiful. Without a word, she turned and made her way downhill. - Author: Veronica Rossi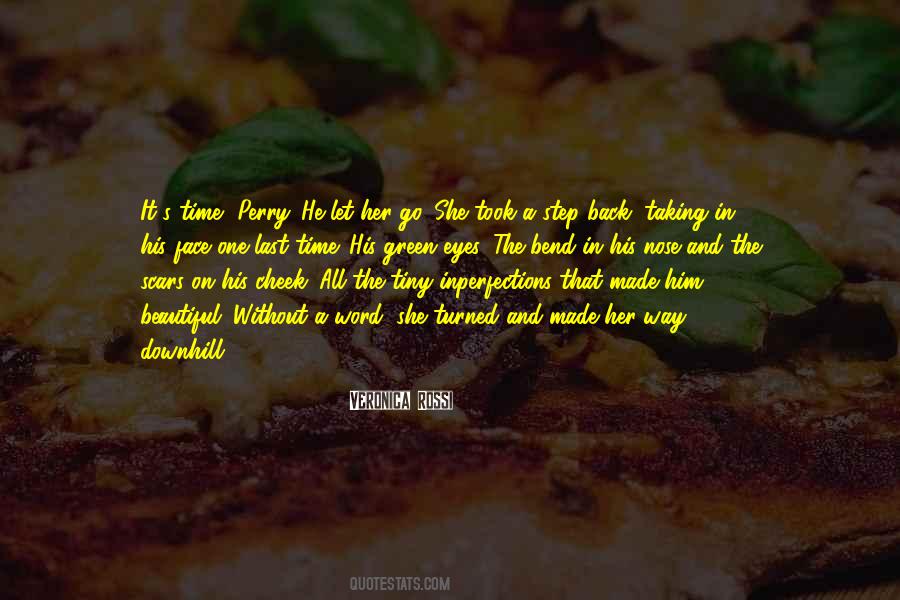 #22. If everyone howled at every injustice, every act of barbarism, every act of unkindness, then we would be taking the first step towards a real humanity. - Author: Nelson DeMille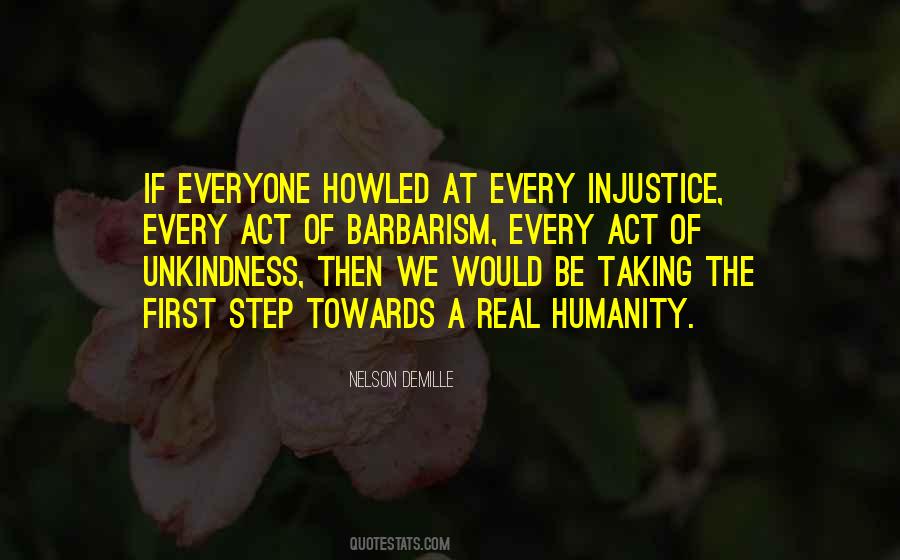 #23. Little progress is better than no progress at all. Success comes in taking many small steps. If you stumble in a small step, it rarely matters. Don't gift wrap the garbage. Let little failures go. - Author: John C. Maxwell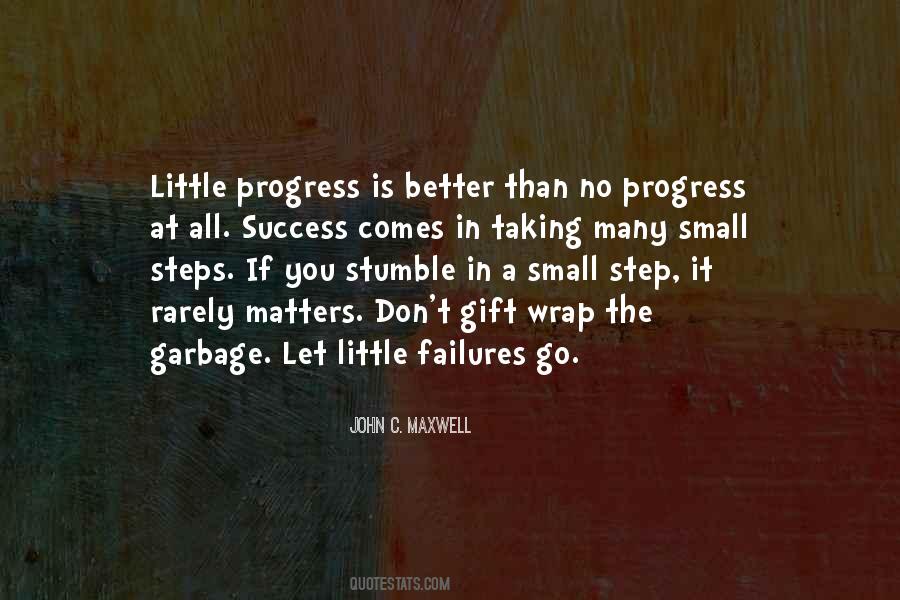 #24. It was a very bold step for Sports Illustrated, and a lot of people are taking notice. I want it to be so normal that people don't even notice anymore. - Author: Ronda Rousey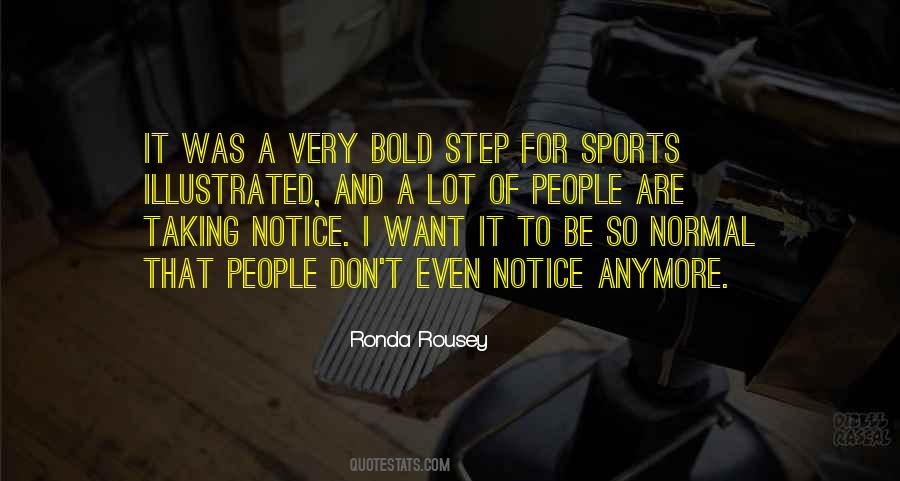 #25. To me, it is like a diabetic with insulin. If that diabetic stops taking insulin, they will die, and I believe that if I don't follow the 12-step programme, I will regress, and that could eventually be the death of me. - Author: Trinny Woodall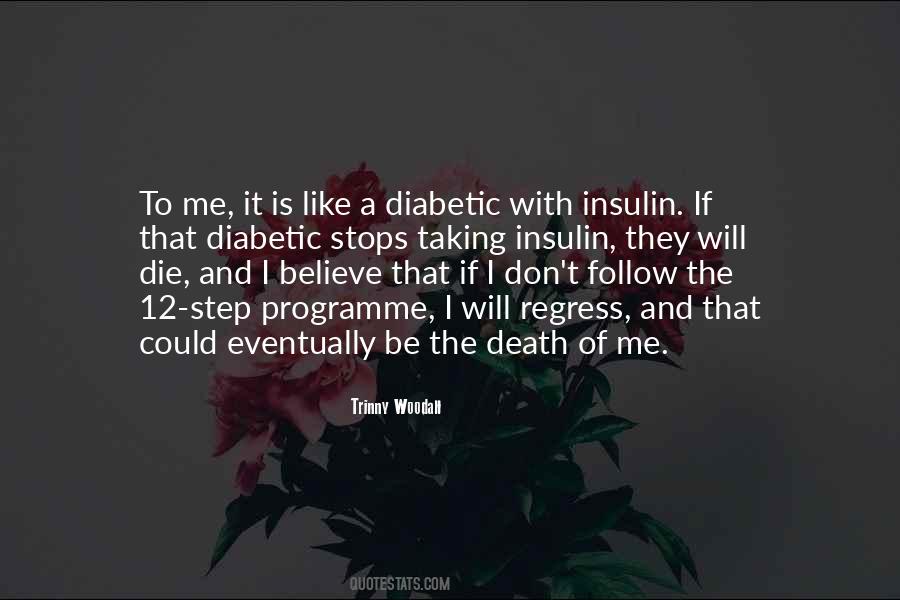 #26. Great Leadership sometimes requires taking a step backward in order to take a leap forward. - Author: Todd Stocker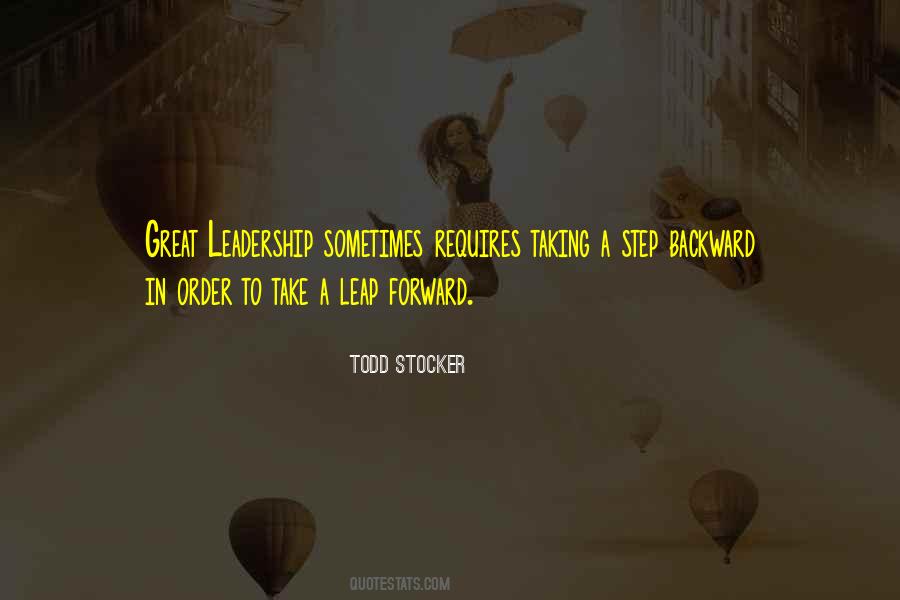 #27. Taking a new step ... is what people fear most. - Author: Fyodor Dostoevsky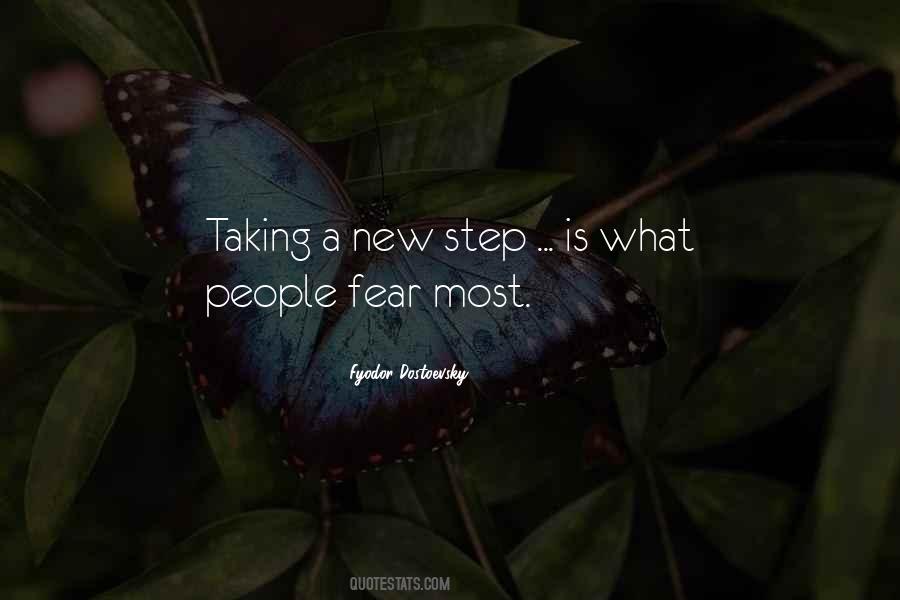 #28. People go to college to find who they are as a person and find what they want to do in life, and I kind of already know that so it would be like I'd be taking a step back or something. - Author: Lindsay Lohan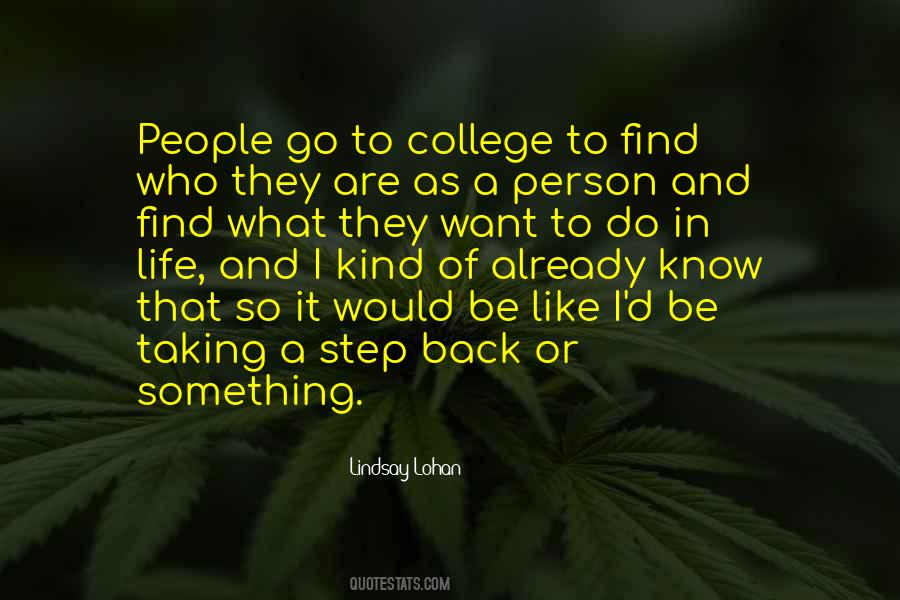 #29. Part of the lesbian consciousness is an absolute recognition of the erotic within our lives and, taking that a step further, dealing with the erotic not only in sexual terms. - Author: Audre Lorde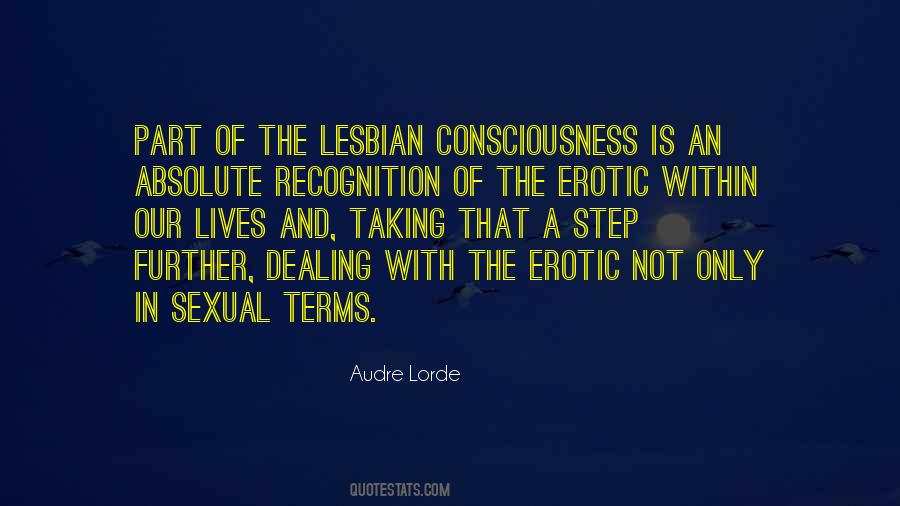 #30. Dealing with our negative emotions is a crucial preparatory step to taking effective action. You have to grapple with the hard stuff, with the hard realities of the world. This builds your confidence that you can handle those intense situations when they arise. - Author: Tim DeChristopher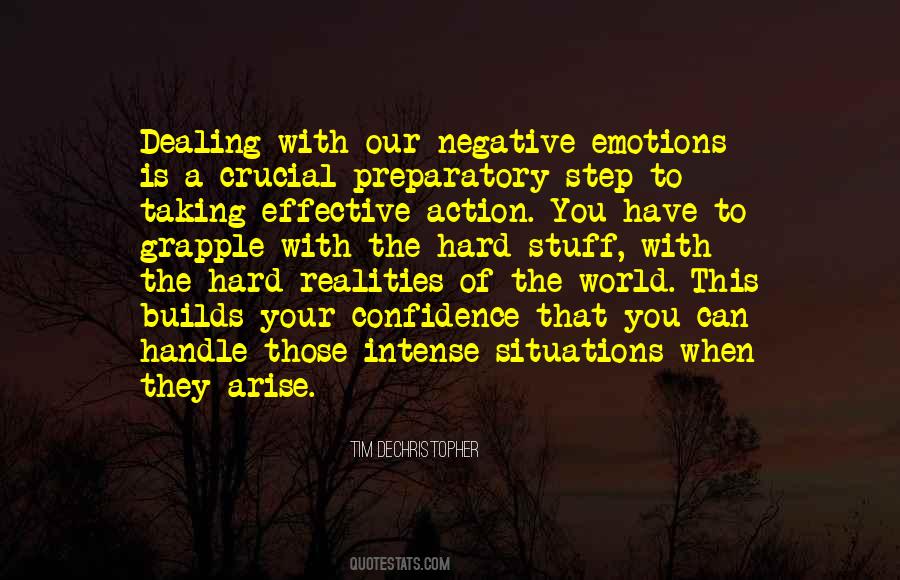 #31. I'm glad they're taking a step back. A lot of this is happening so quickly that people can't keep up with it. - Author: Clementa C. Pinckney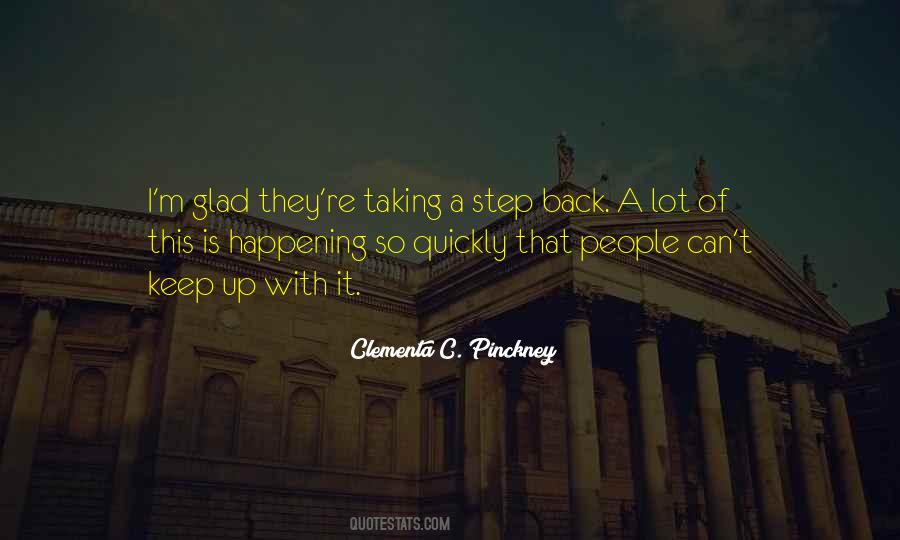 #32. Don't you agree? Swordplay is a dance of sorts, an understanding of the logical, most sophisticated next step. Except that in a fight, one must take the unexpected step. In dance it is all about taking the right, expected step. - Author: Lisa Tawn Bergren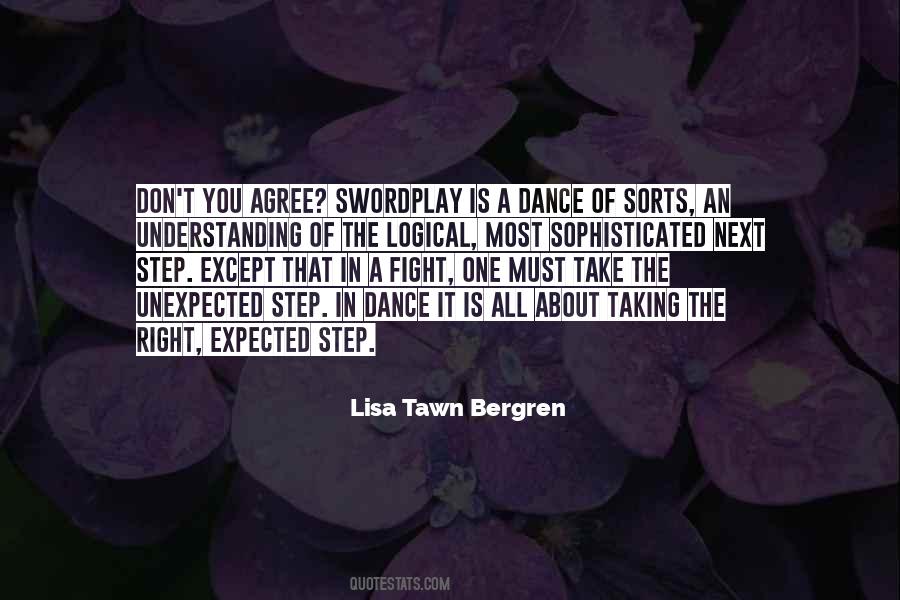 #33. Mankind progresses not smoothly, as by a sliding carpet ascent, but by rugged steps broken by gaps. He halts long on one stage before taking the next. Often he remains stationary, unable to form resolution to step forward - sometimes even has turned round and retrograded. - Author: Sabine Baring-Gould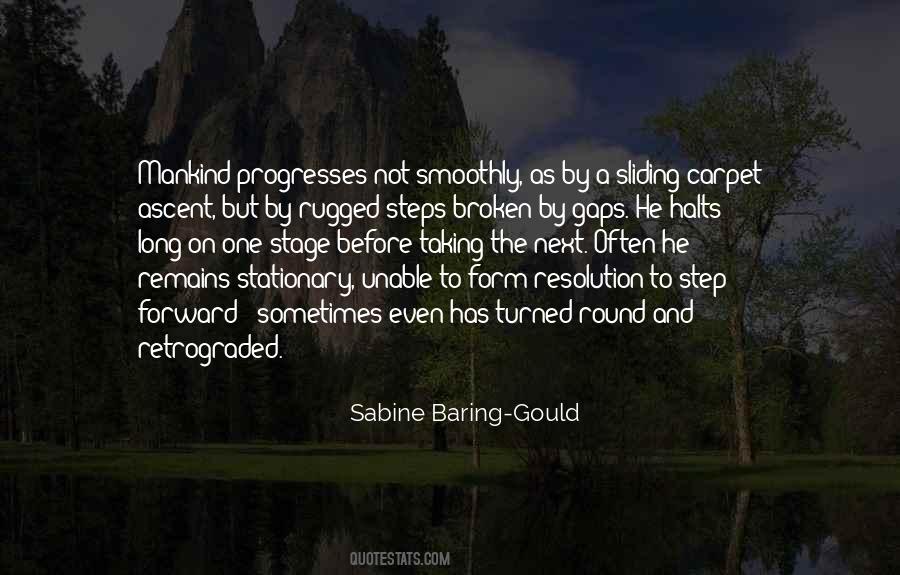 #34. No one is born a sprinter. We all learn to push ourselves up from the floor and then balance before taking that first, wobbly step. It is an individual choice where to go from there. - Author: Richelle E. Goodrich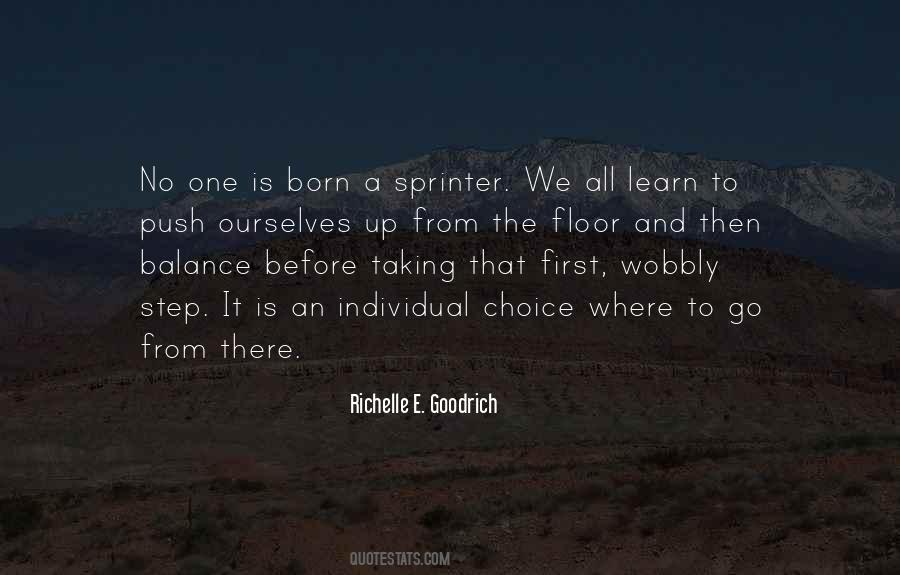 #35. It is a very strong rule in drama, and in life, that people remain true to their basic natures. They change, and their change is essential for drama, but typically they only change a little, taking a single step towards integrating a forgotten or rejected quality into their natures. - Author: Christopher Vogler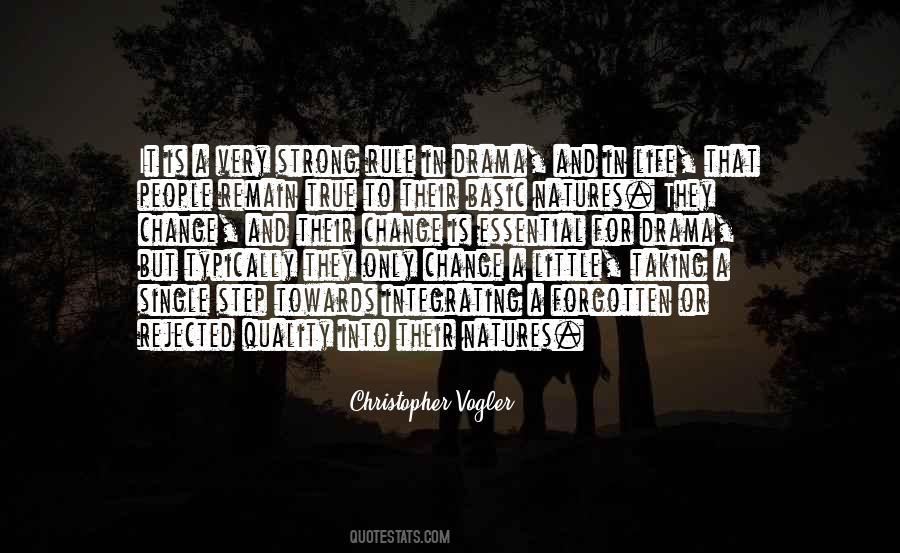 #36. We [My Chemical Romance] didn't push ourselves to that next level. I think we purposefully held ourselves back, feeling like maybe in order to advance, we need to regress. There was definitely a sense of fear within the band about taking that next step. - Author: Gerard Way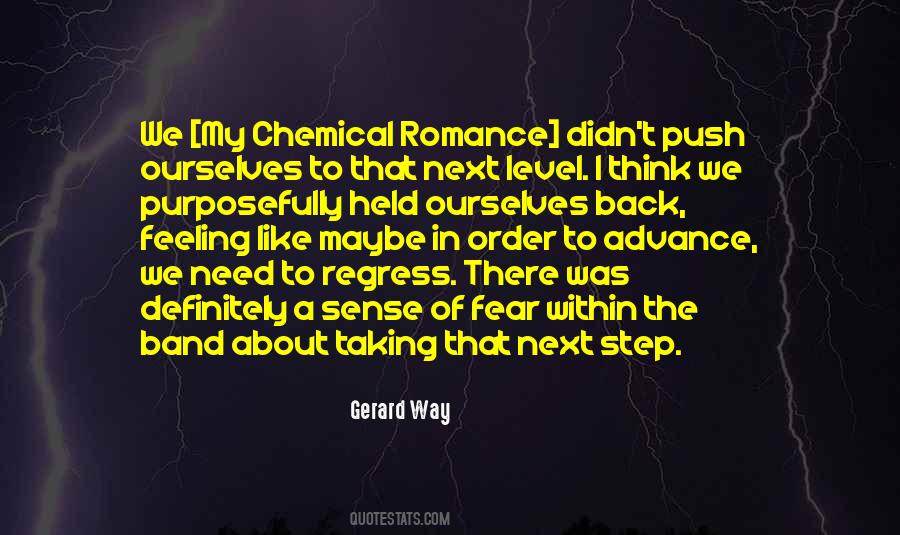 #37. Procrastination is a common reaction to feeling overwhelmed or fear of failure. Instead of taking on too much at once and overwhelming yourself, break things down and take one small action step at a time. - Author: Lauren Mackler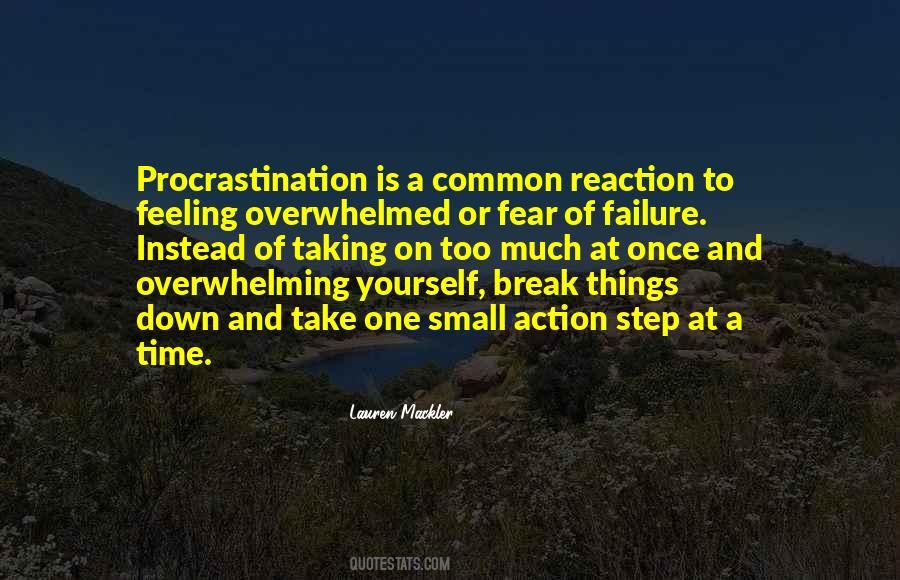 #38. I had to have a lot of jobs until I was supporting myself through music, but I knew that those jobs were all leading me to something. It was all about taking things one step at a time, one day at a time. - Author: Jason Mraz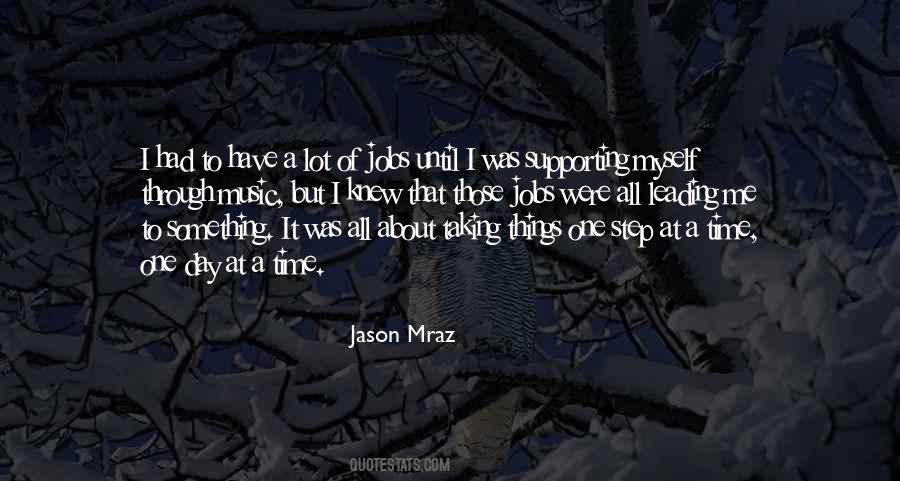 #39. It's important for a guy to know and understand me before he can even think about taking things to the next step. - Author: Mollie King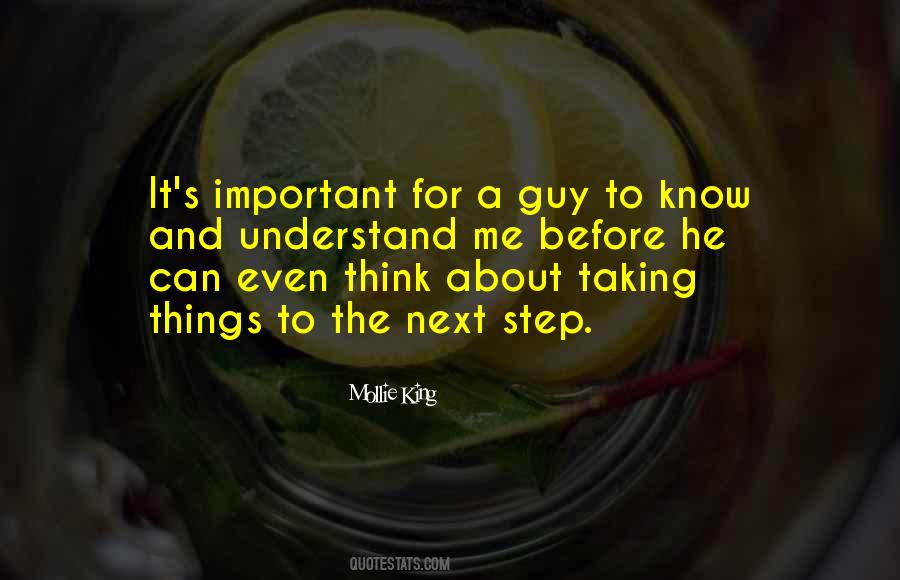 #40. Do not be afraid of taking a big step-you cannot cross a chasm in two steps. - Author: David Lloyd George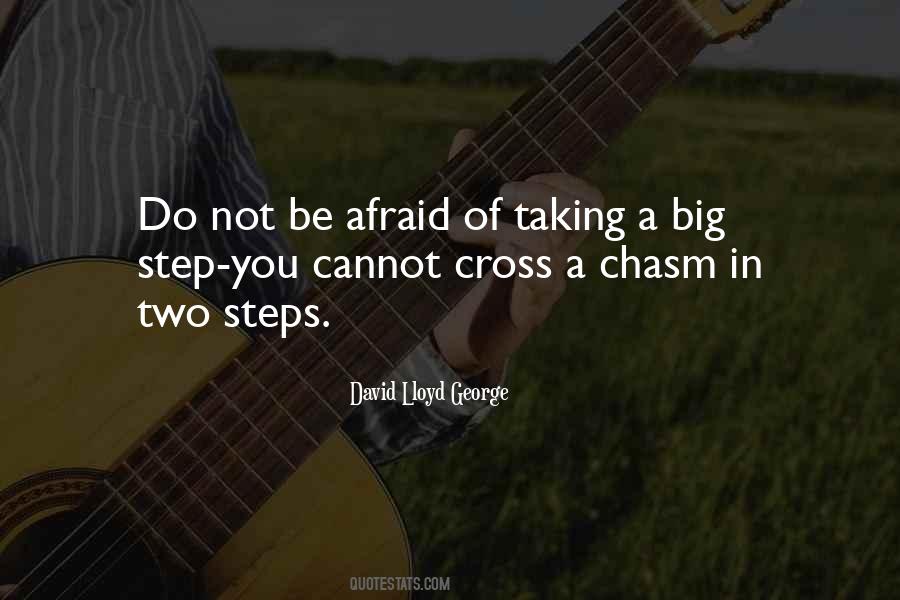 #41. That's the great thing about university: you've got people around you who are taking a risk and trying things out themselves. It gives you the confidence to try and take it to the next step, which was drama school. - Author: Adam Rayner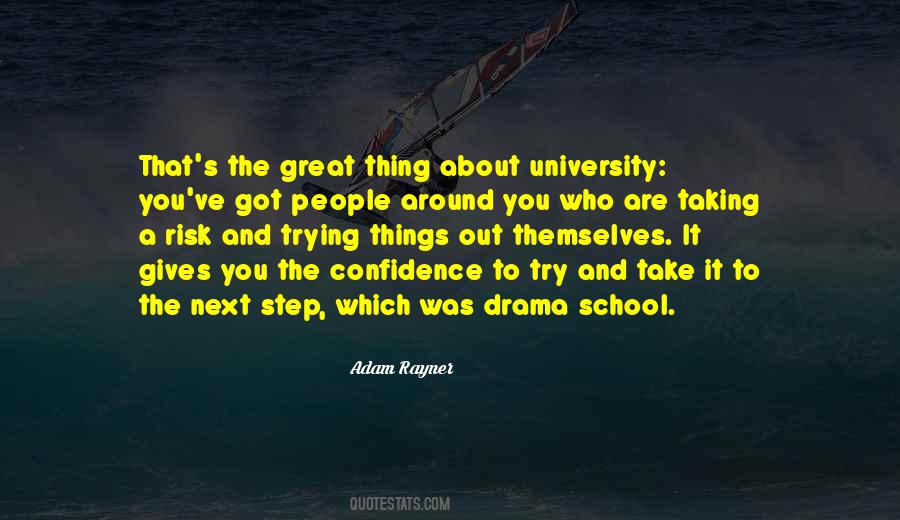 #42. Optimist: Someone who figures that taking a step backward
after taking a step forward is not a disaster, it's a cha-cha. - Author: Robert Brault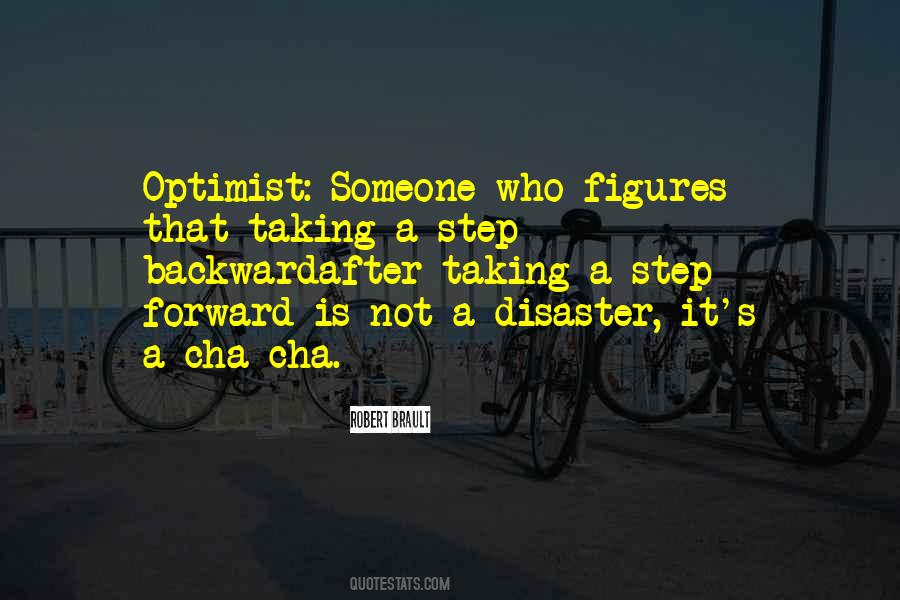 #43. When we talk with our children about sexual abuse, we are not only taking a proactive step toward protecting them, we are building our relationship with them
grounded in honesty and trust. It's a win-win situation. - Author: Carolyn Byers Ruch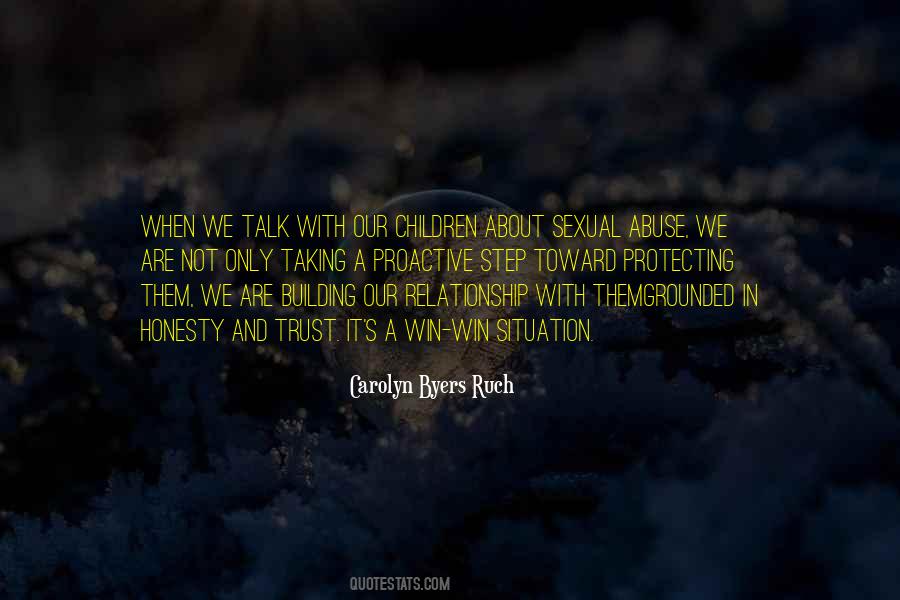 #44. Courage wasn't a matter of taking the whole mountain in a single massive leap. Courage was taking it one step at a time, doing what was necessary now, preparing for the next step, and refusing to worry about whether some step in the future would be the one that would break him. - Author: Timothy Zahn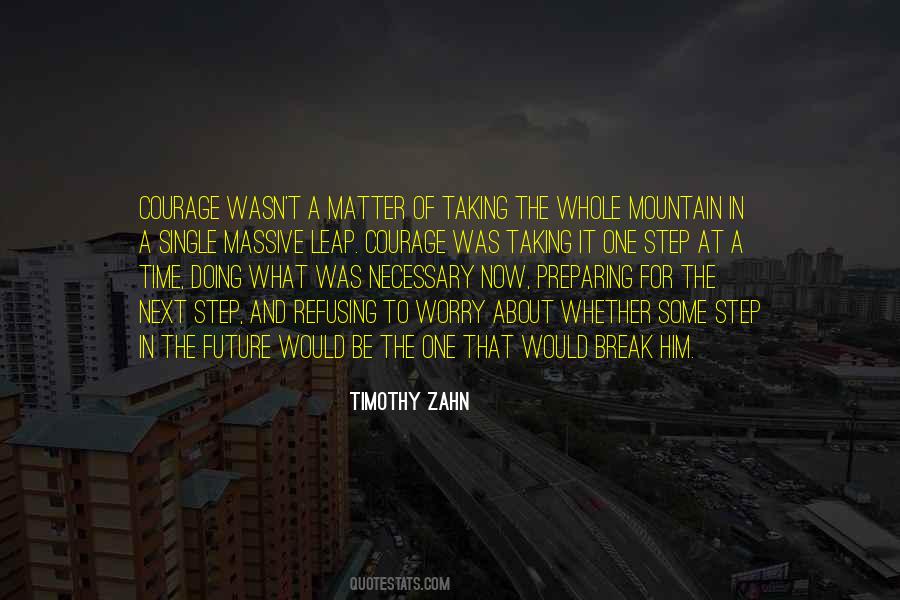 #45. Sometimes taking a first step is the biggest and most important journey of them all. - Author: Darlene Craviotto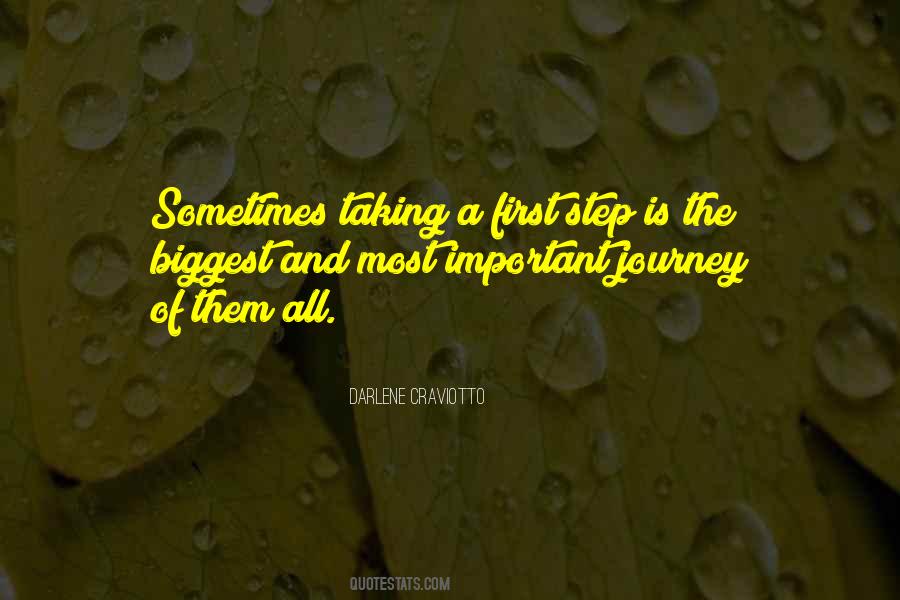 #46. Captain," the canoeist named Eric began, taking a step forward. "Have we been Bermuda triangulated? - Author: Talia R. Blackwood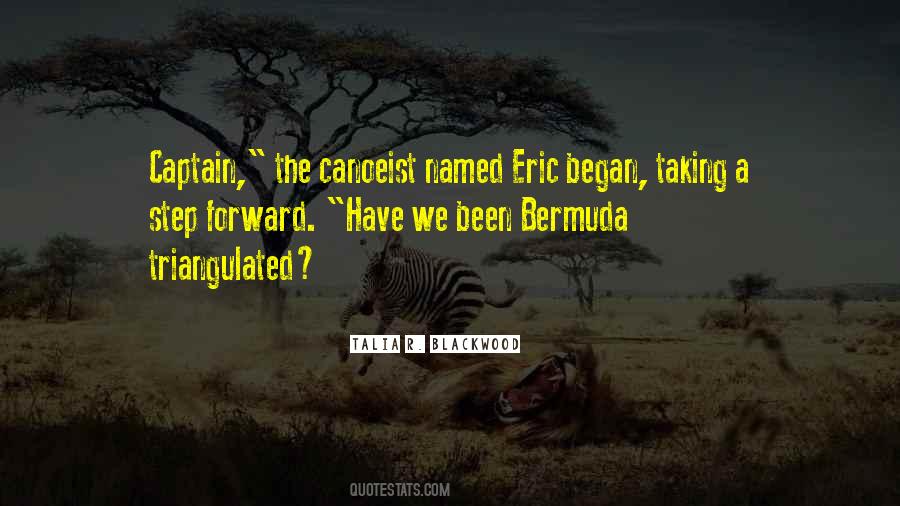 #47. Faith is taking a step in the same direction that the evidence is pointing. - Author: Lee Strobel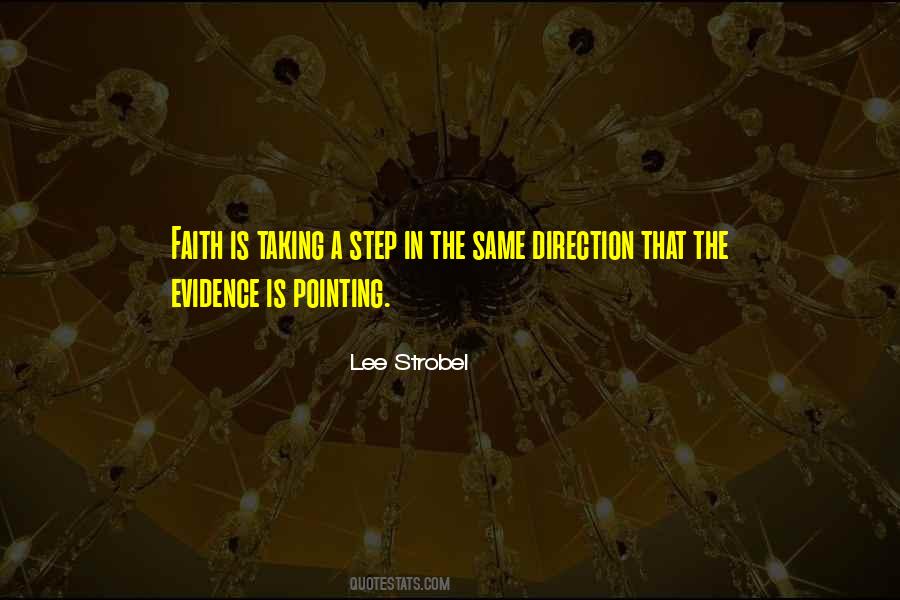 #48. The writer has to make pleasure for the reader - which, I think, is done by taking one's character's seriously and taking one's readers seriously -don't condescend or try to be tricky. Be a friend to your reader - I'd say that's a pretty good first step. - Author: George Saunders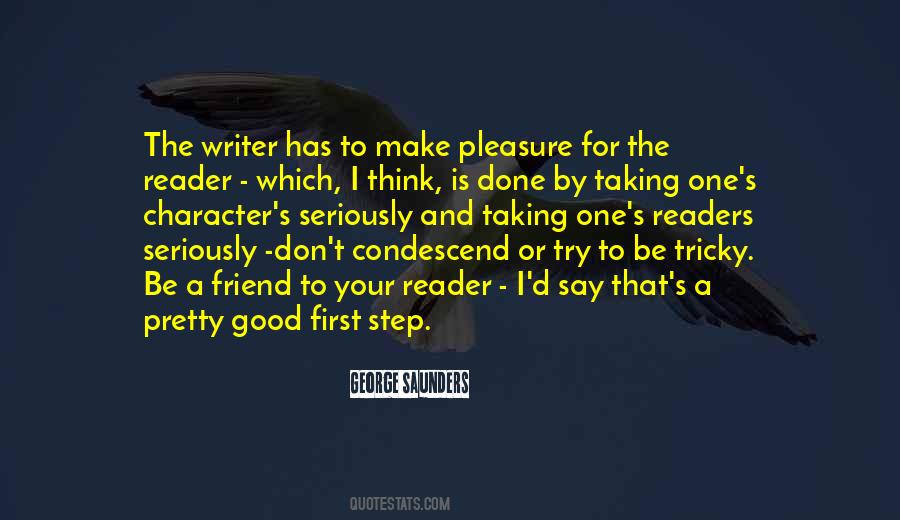 #49. Everyone shush now,' I said, taking a step towards the guards. 'I'm about to be impressive. - Author: Sebastien De Castell
#50. Nobody has to tell nobody nothing," I say, taking another step forward.
"You never were a poet, were you, Todd?" he says. - Author: Patrick Ness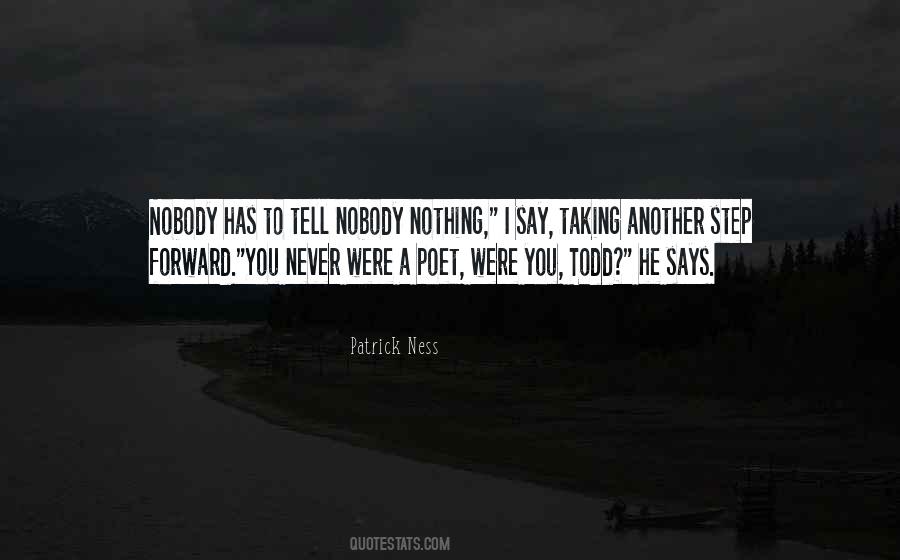 #51. It was like falling off a building and suddenly, bang, you hit the bottom. The first time it happened was on an ordinary day at home. I was taking down some curtains. I took one step, turned around, took another step and then I fell and hit my head hard on the rowing machine. - Author: Jonah Lomu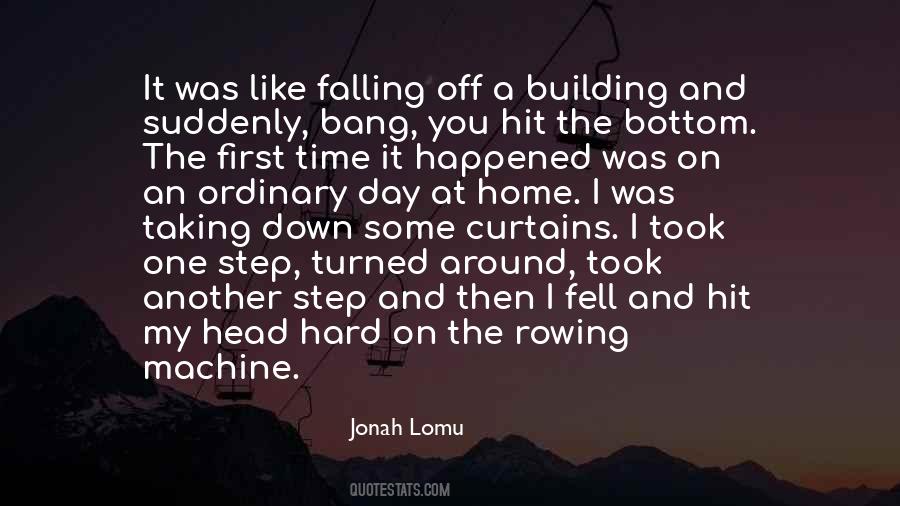 #52. Living is a risk,' I snapped at him. 'Every decision, every interaction, every step, every time you get out of bed in the morning, you take a risk. To survive is to know you're taking that risk and to not get out of bed clutching illusions of safety. - Author: Maria V. Snyder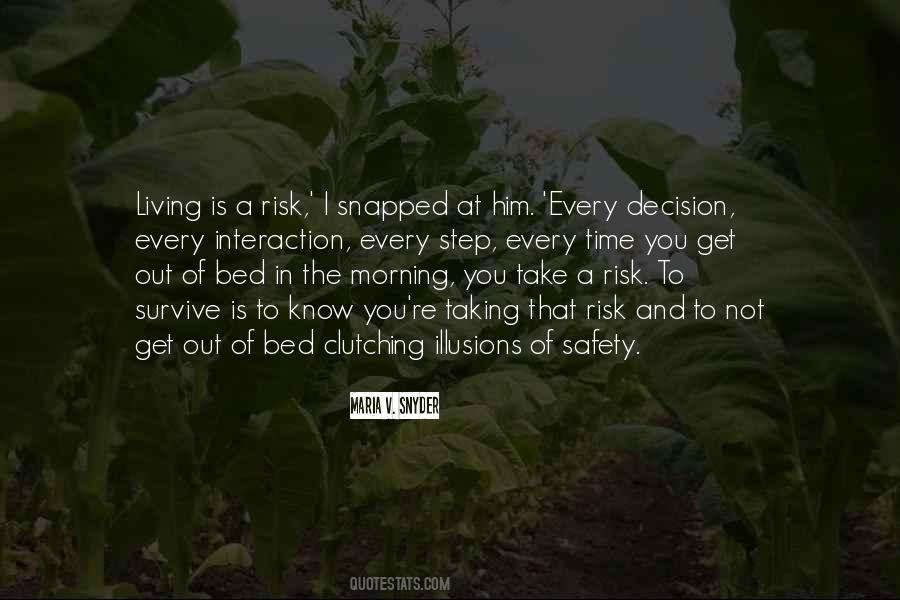 #53. The opportunity before all of us is living up to the dream of the Library of Alexandria and then taking it a step further - universal access to all knowledge. Interestingly, it is now technically doable - Author: Brewster Kahle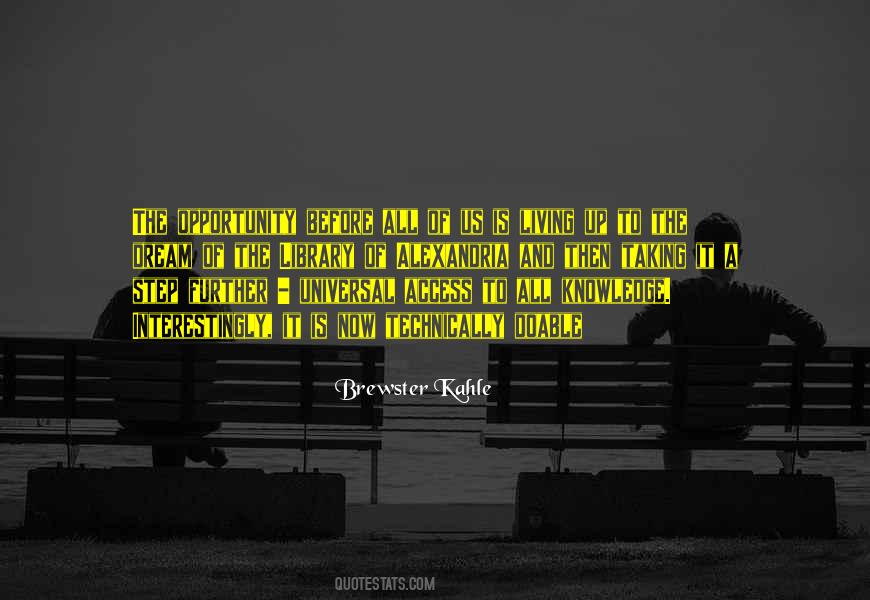 #54. He was definitely taking his bodyguard duties seriously tonight. He gave off a take-one-step-closer-and-I-will-show-you-Armageddon vibe. - Author: Christina Henry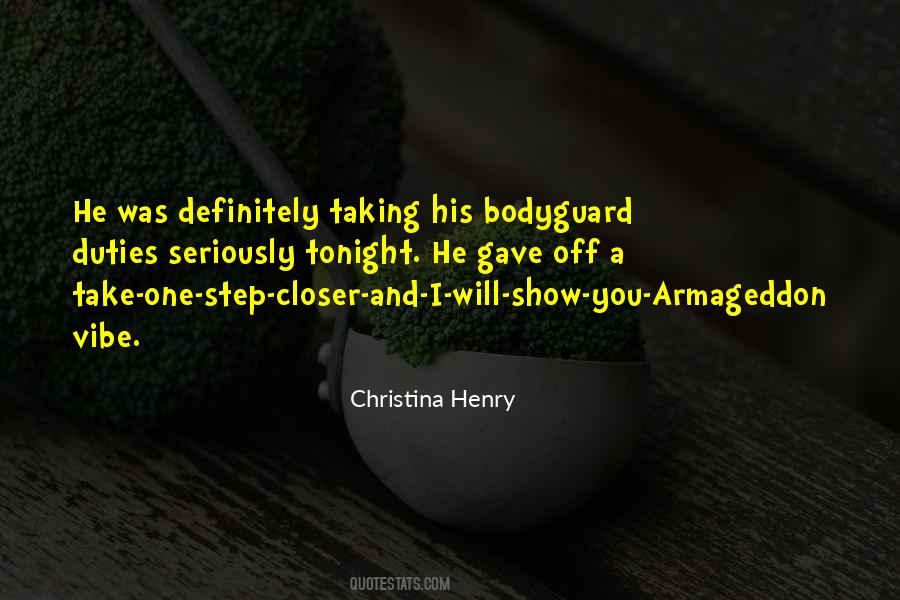 #55. You aren't the enemy," Henry said, dropping his arm to his side once more and taking a step back. "That doesn't mean our goals are aligned. - Author: Jennifer Lynn Barnes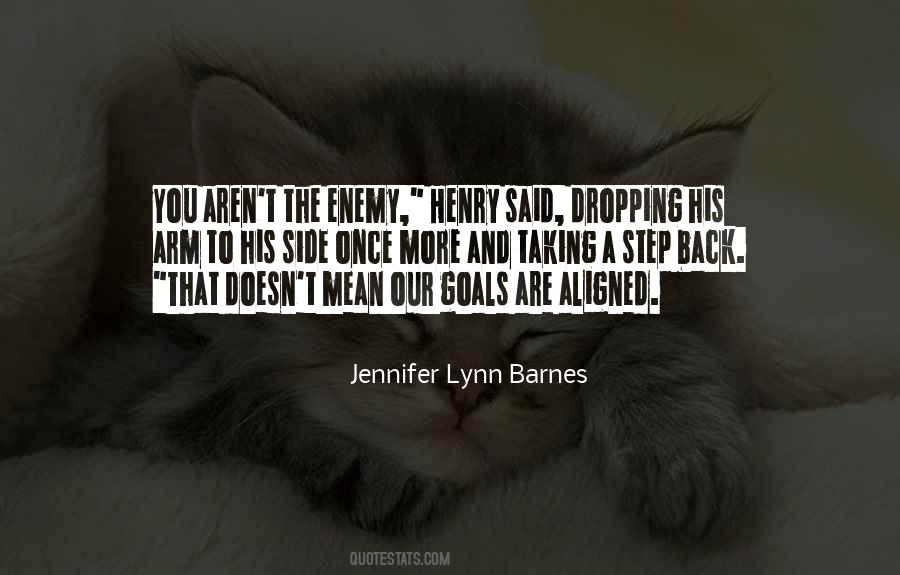 #56. He's putting a lot of cards down on the table," Trey said thoughtfully, taking a step forward. "And Matthias is never one to share something for free if he could charge for it."
"And you're not normally one to think for himself," Matthias said pleasantly. "I suppose we're all growing as people. - Author: Scott Tracey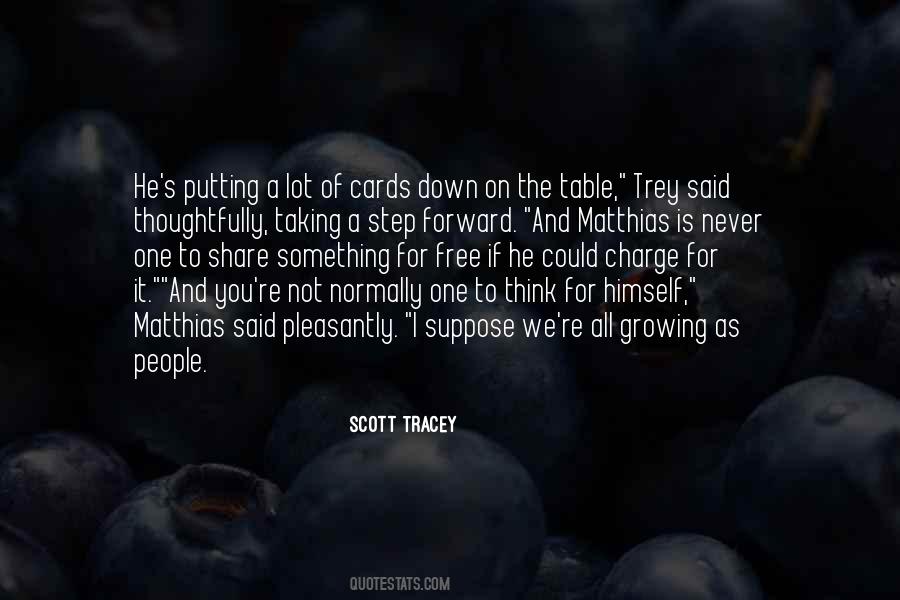 #57. I'm not the number-one guy here ... if it translates to winning, I don't mind taking a step back as far as roles. - Author: Pau Gasol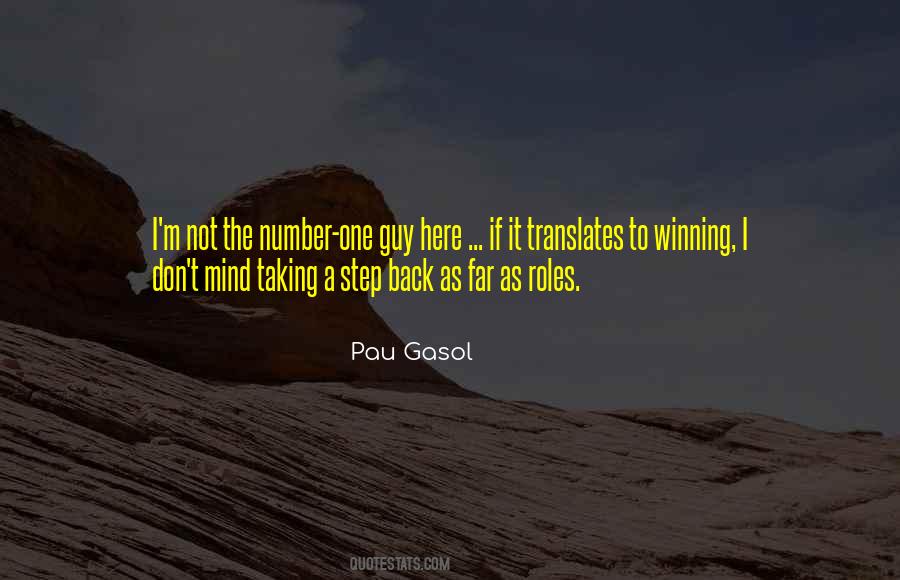 #58. The bond market is debating with itself what the intent of the Fed is. I don't think the Fed has a multi-step process. They are taking it step by step. - Author: Paul McCulley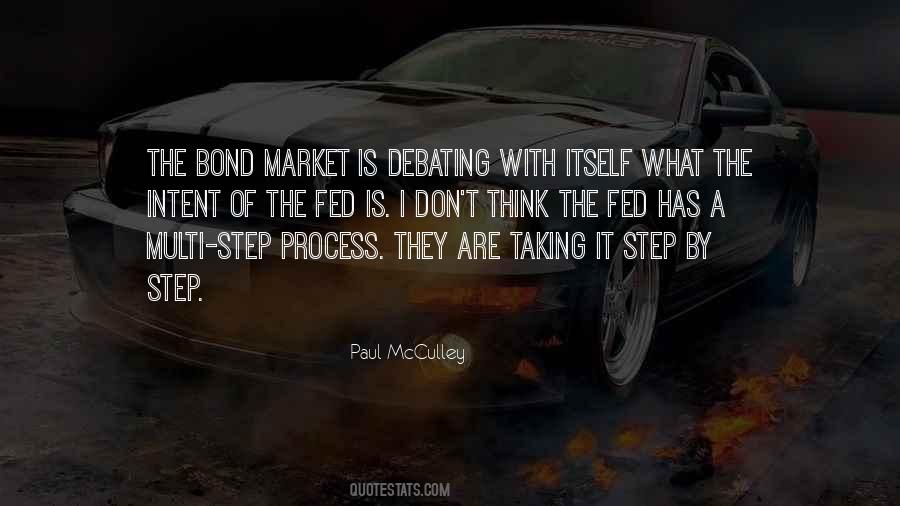 #59. The journey starts with a single step - not with thinking about taking a step. - Author: Jeff Olson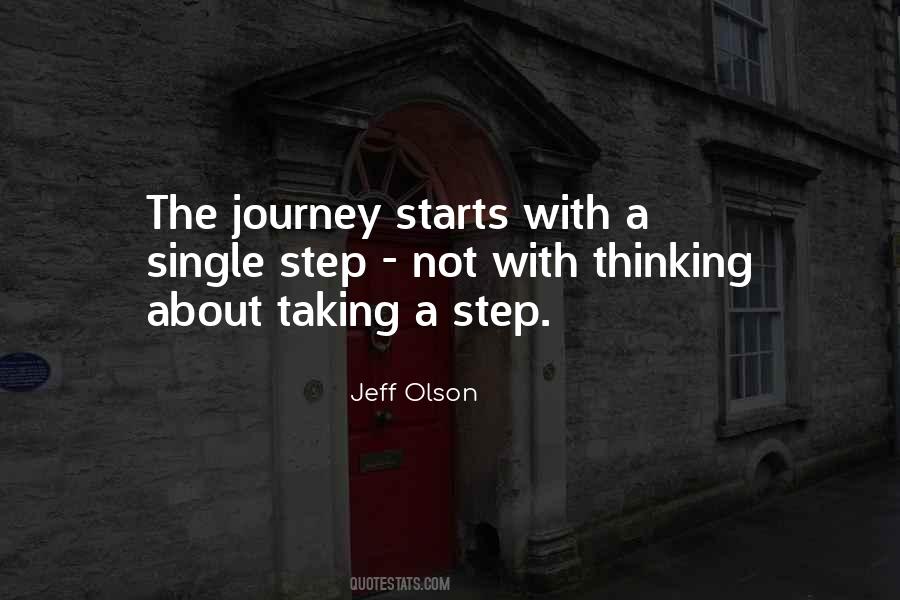 #60. I need to do a concert to celebrate David Bowie's electronic music. And in so doing, I'm not taking a step back, I'm taking a step forward and presenting it in its entirety so people can understand this type of visionary. - Author: Carlos Alomar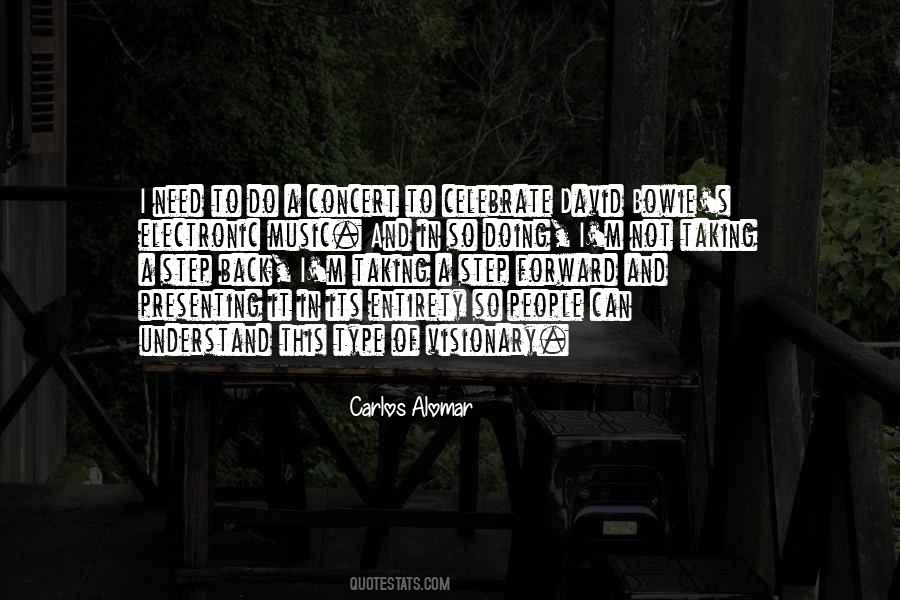 #61. In the Philippines, formalizing home ownership was until recently a 168-step process involving fifty-three public and private agencies and taking between thirteen and twenty-five years. - Author: Niall Ferguson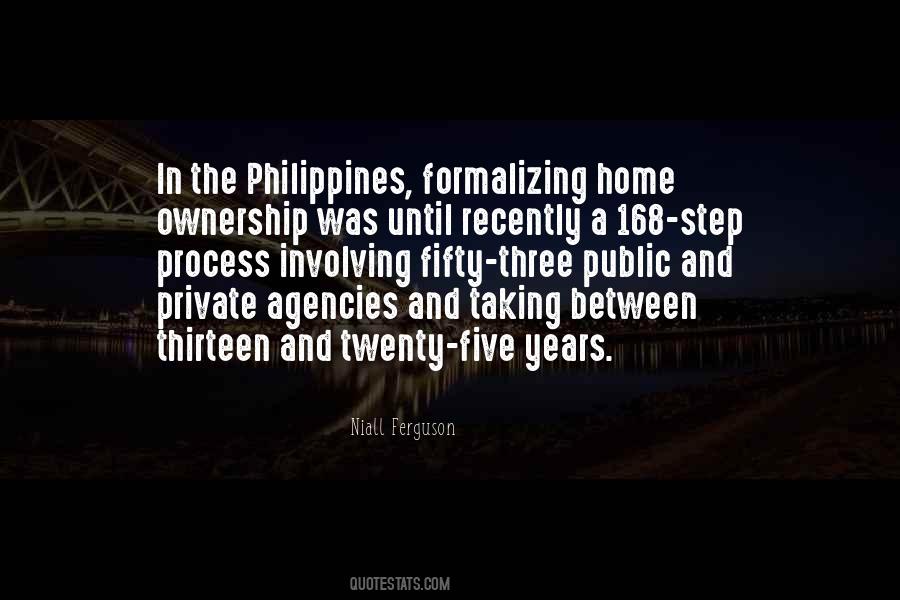 #62. Taking a new step, uttering a new word, is what people fear most. - Author: Fyodor Dostoyevsky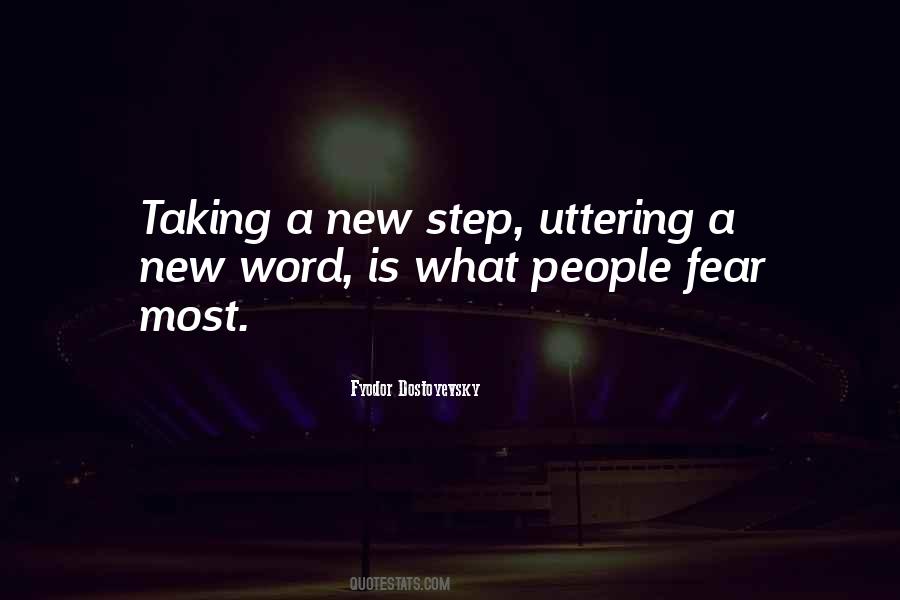 #63. The truth," said Amar, taking a step closer to me, "is that you look neither lovely nor demure. You look like edges and thunderstorms. And I would not have you any other way. - Author: Roshani Chokshi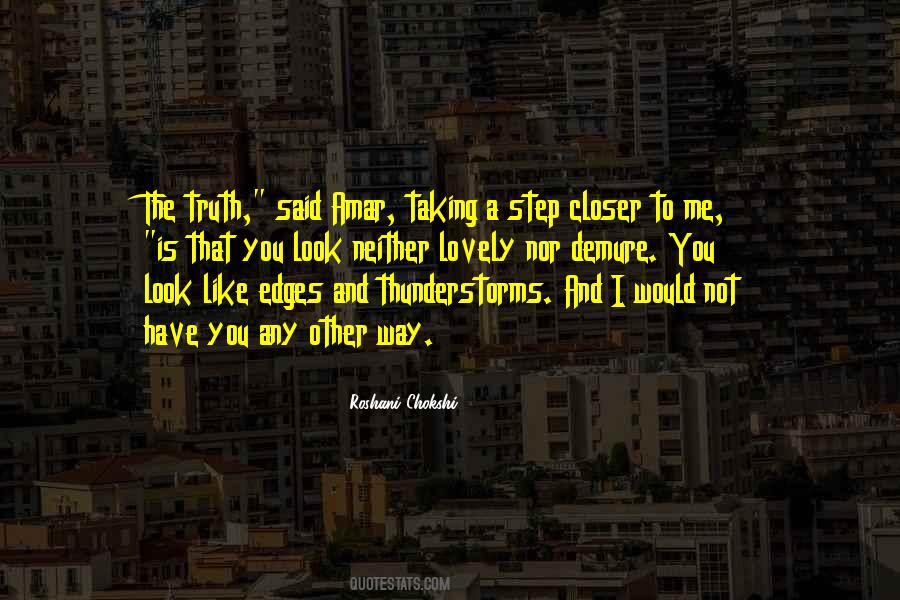 #64. Your outer journey may contain a million steps; your inner journey only has one: the step you are taking right now. - Author: Eckhart Tolle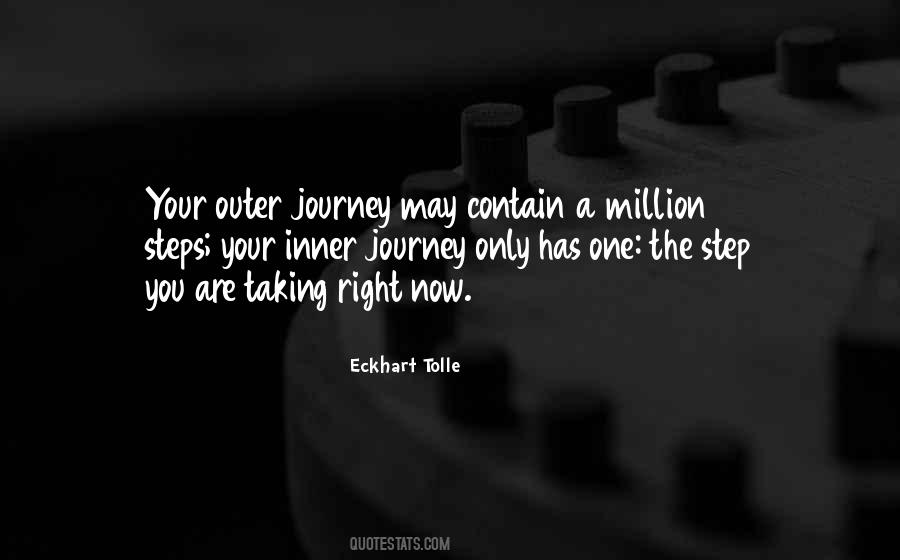 #65. Are you repeating someone else's narrative, taking it for granted? Talk therapy sessions and 12-step recovery shares help develop the ability to present a coherent life narrative through the safe structure of clear rules of communication that support healthy self-expression and self-awareness. - Author: Alexandra Katehakis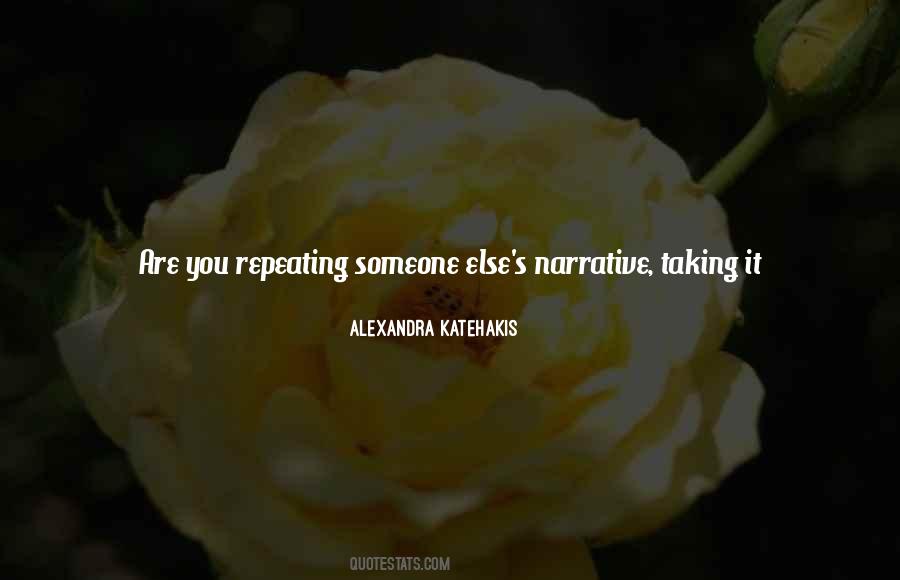 #66. The first step in taking control of a nation, Arteth, is the simplest. You find someone to hate. - Author: Brandon Sanderson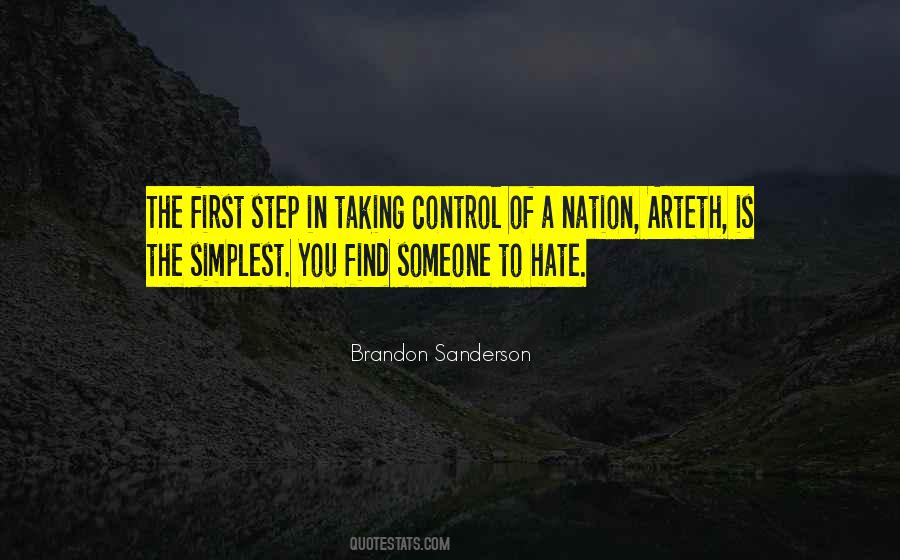 #67. We do food every single day! Conscious Eating is a big step toward Conscious Living. Quality and Quantity of Food is directly related to our Health and state of mind. We can use food to help us recover from Stress and Disease. Not taking food seriously will eventually lead to Stress or/and Disease. - Author: Natasa Nuit Pantovic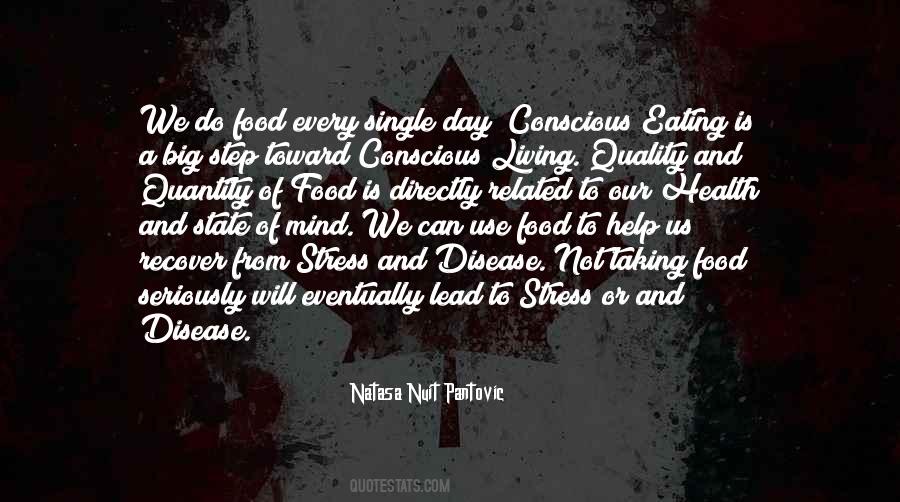 #68. It's funny. We have all these ceremonies and traditions for putting rings on, but there's nothing for taking them off. But really, that's just as a big step. Letting go. - Author: Thea Dawson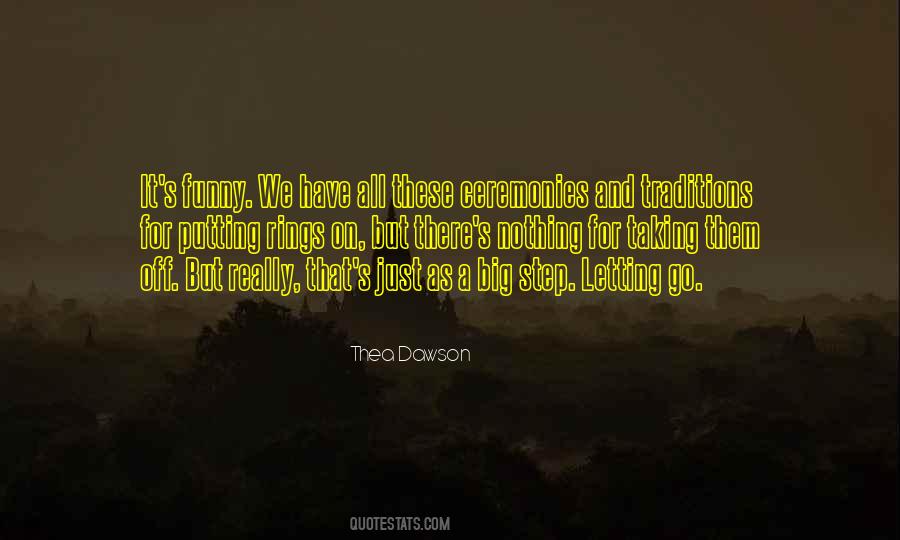 #69. Imagine: If shifting from one universe to another is like moving up or down to parallel layers, overlapping with one universe, then going to another timeline is like taking a jump to the left.'
'Or a step to the right,' Jena said wryly. - Author: E.C. Myers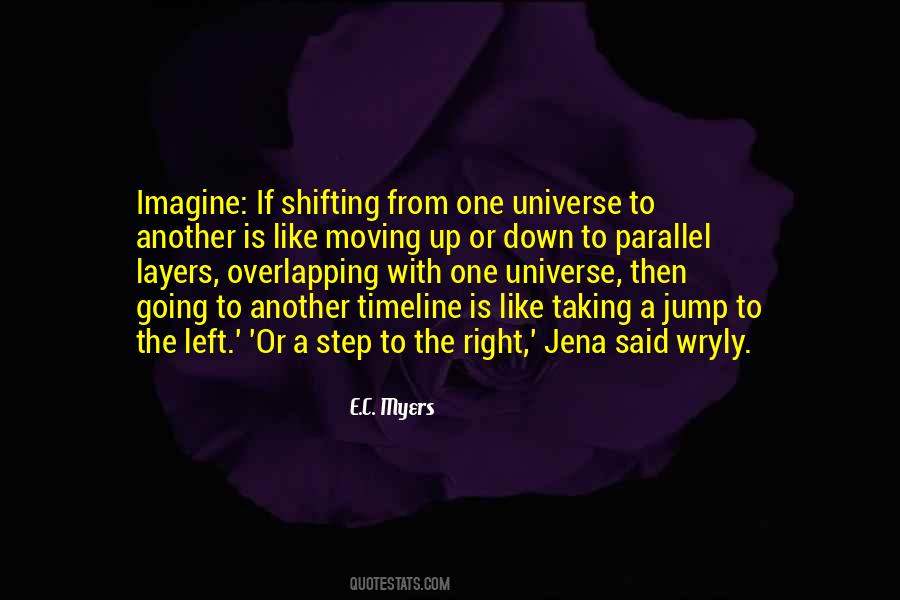 #70. A resolution to exercise or eat more nutritious foods is a step taking you back to the well-being from which you originated. - Author: Wayne Dyer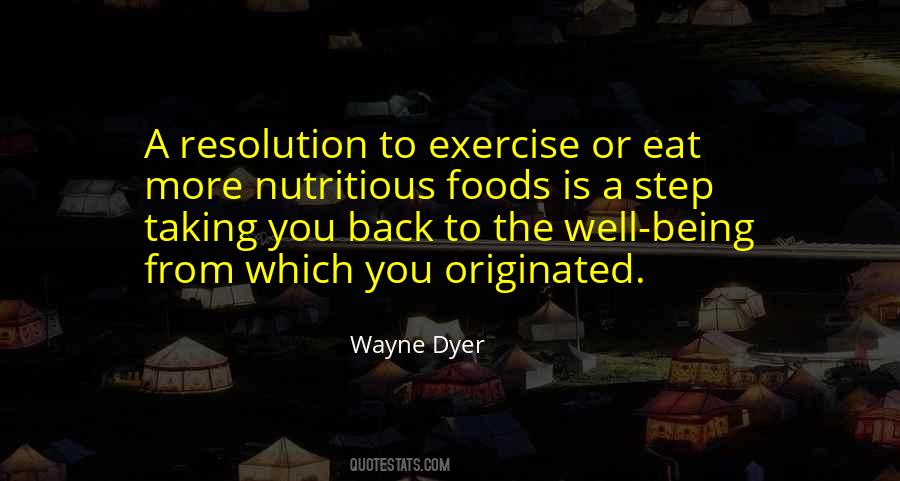 #71. I have long been aware that when an independent intellectual stands up to an autocratic state, step one toward freedom is often a step into prison. Now I am taking that step; and true freedom is that much nearer. - Author: Liu Xia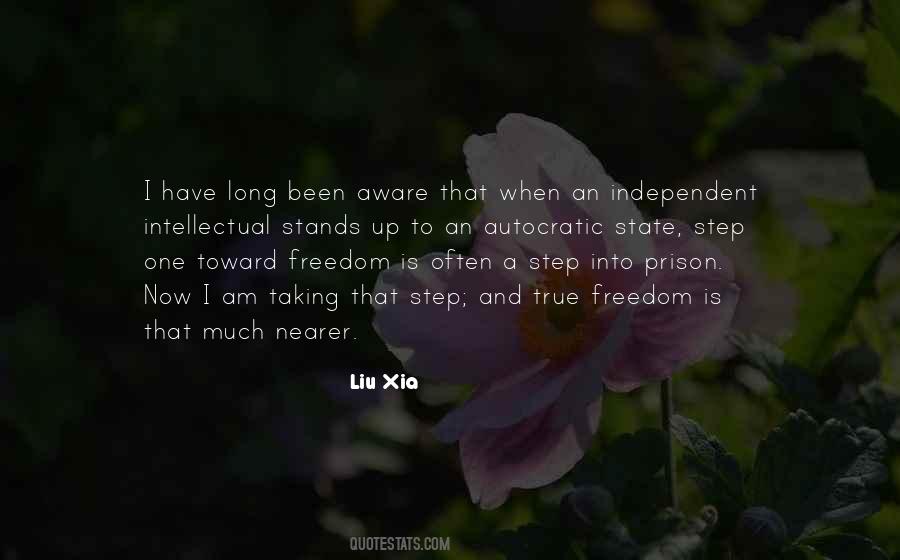 #72. I remember it was hard to believe that I was taking a step onto the lunar surface. - Author: Buzz Aldrin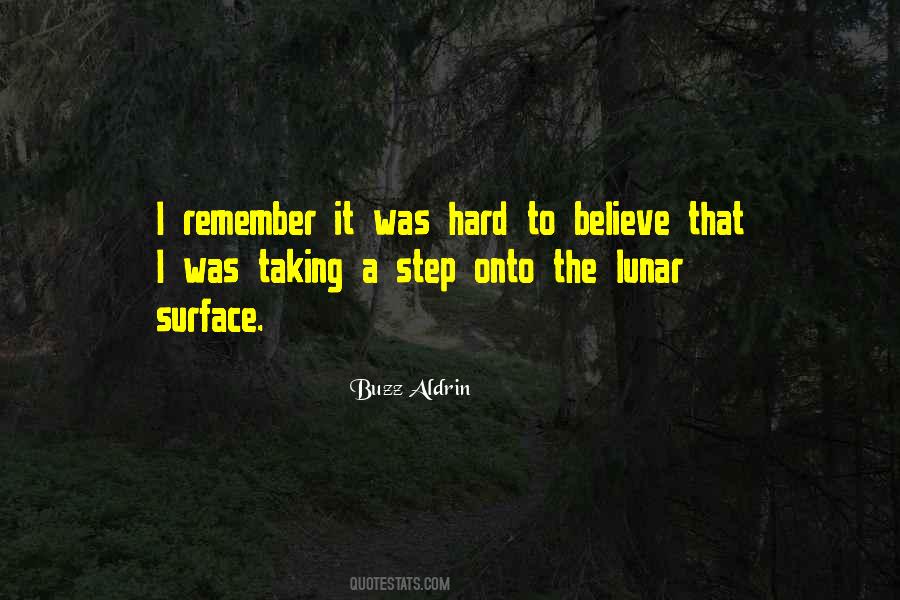 #73. But I have fun with the fright, work with it. You have to - that's your timing, that beat of excitement. And when I go on stage, it's just like taking a step into heaven. Poof, you know? Poof - and there I am. - Author: Eddie Bracken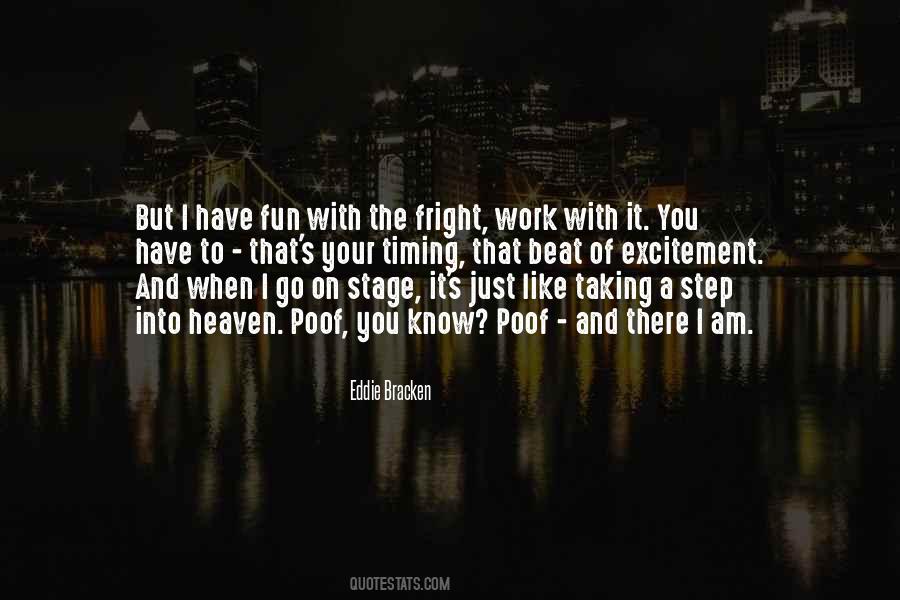 #74. Moving away from someone or something Is like taking a step back to see better when you are too close to capture the details. - Author: Rajuda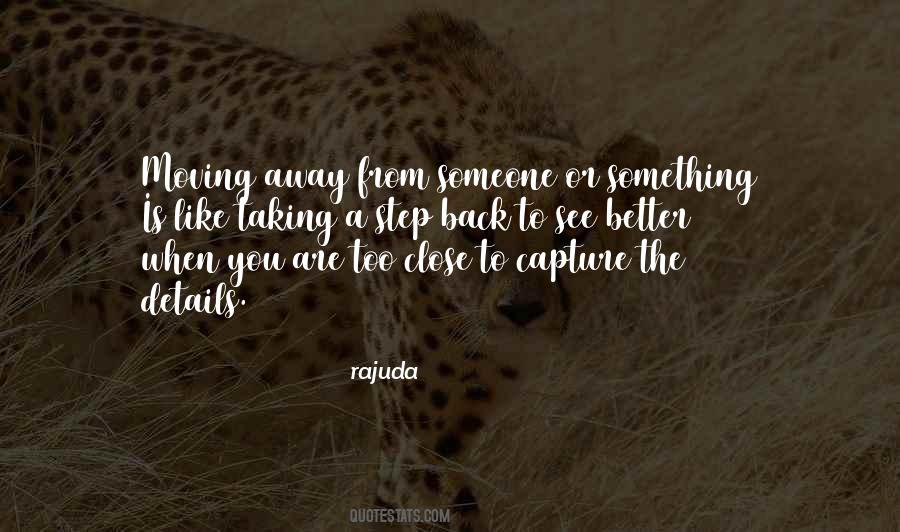 #75. He closes the door and turns around to face me with his hands behind his back. He studies me intensely, and it makes me squirm. "You know, you're not like I thought you'd be," he says, taking a step forward. "Yet, at the same time - Author: Jessica Sorensen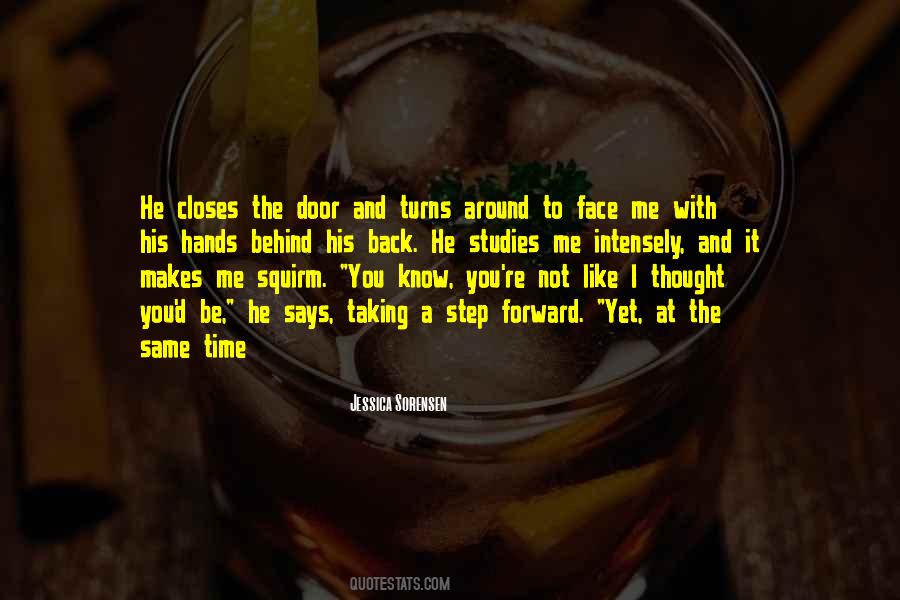 #76. I enjoy poetry where I can talk as bizarre as I please, but theology or philosophy, I always respect the truth by taking it a step further. - Author: Criss Jami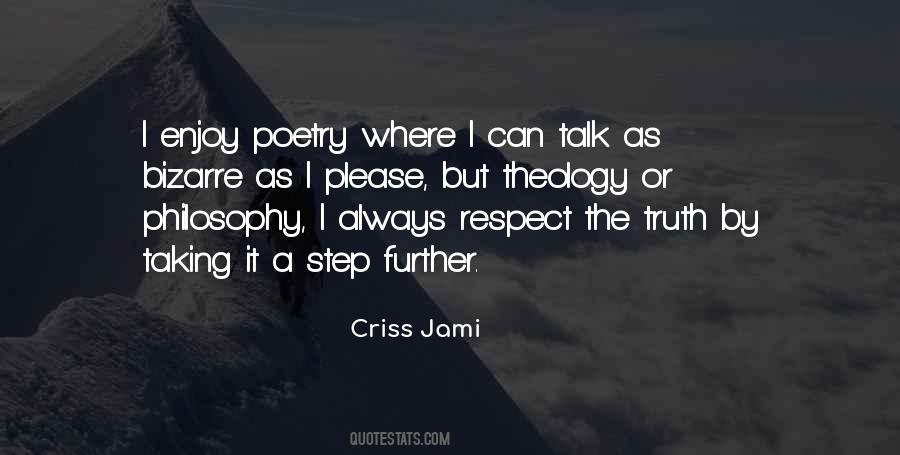 #77. And the first step, as you know, is always what matters most, particularly when we are dealing with those who are young and tender. That is the time when they are taking shape and when any impression we choose to make leaves a permanent mark. - Author: Plato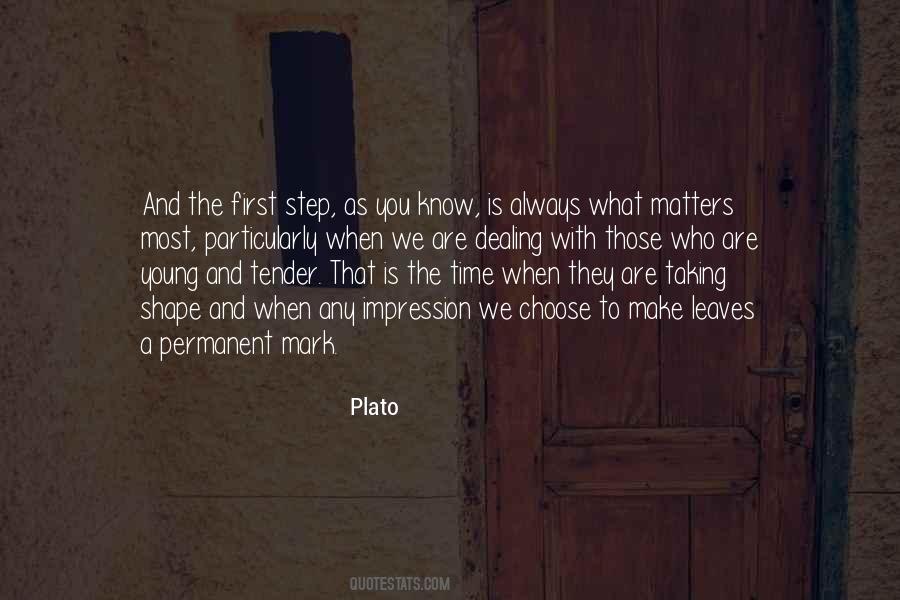 #78. The process of education in the oldest profession in the world is like any other educational process, in that it requires time andeffort and patience; it can only be acquired by taking one step at a time, though the steps become accelerated after the first few. - Author: Madeleine Albright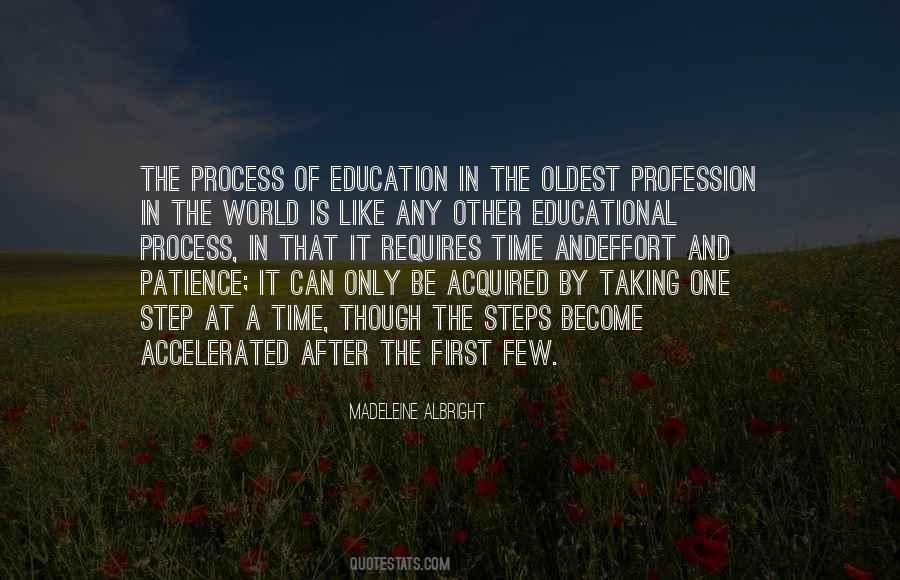 #79. Love is like taking a leap, Darragh. You don't know when you step off the ledge if the drop is six inches or six thousand feet. What matters is you jump. - Author: Inda Herwood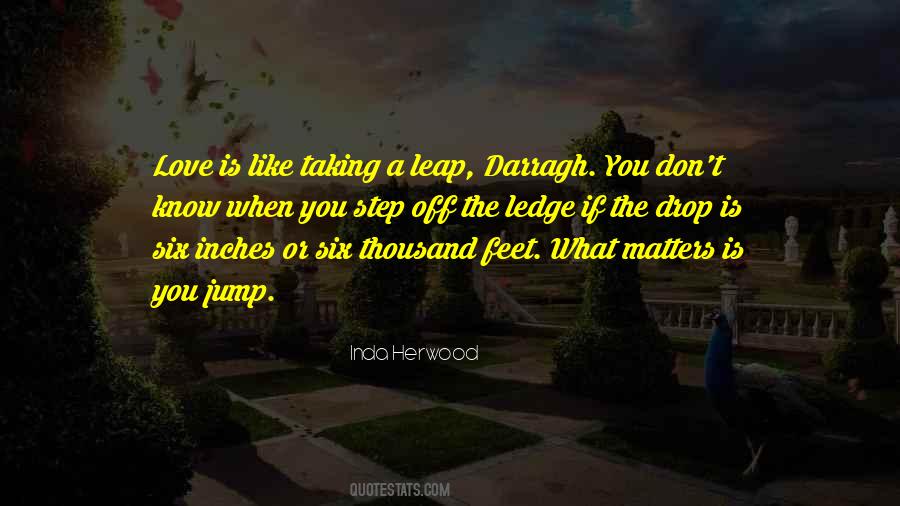 #80. She believed being so free with her sexuality was empowering, but I wouldn't say taking home a douchebag who would laugh about the encounter with his friend later is a step forward in the feminist movement.-Lily - Author: Teresa Lo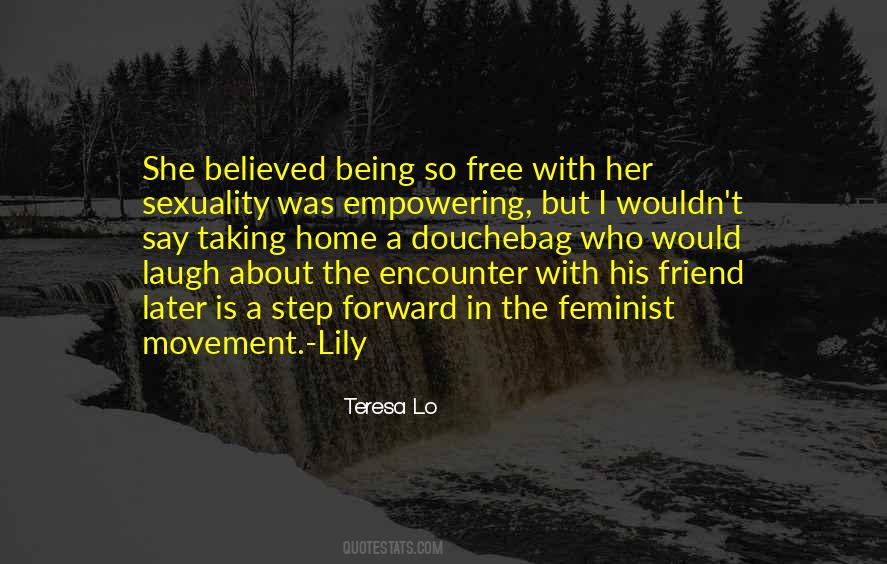 #81. But he'd learned long ago that a life lived without risks pretty much wasn't worth living. Life rewarded courage, even when that first step was taken neck-deep in fear. - Author: Tamera Alexander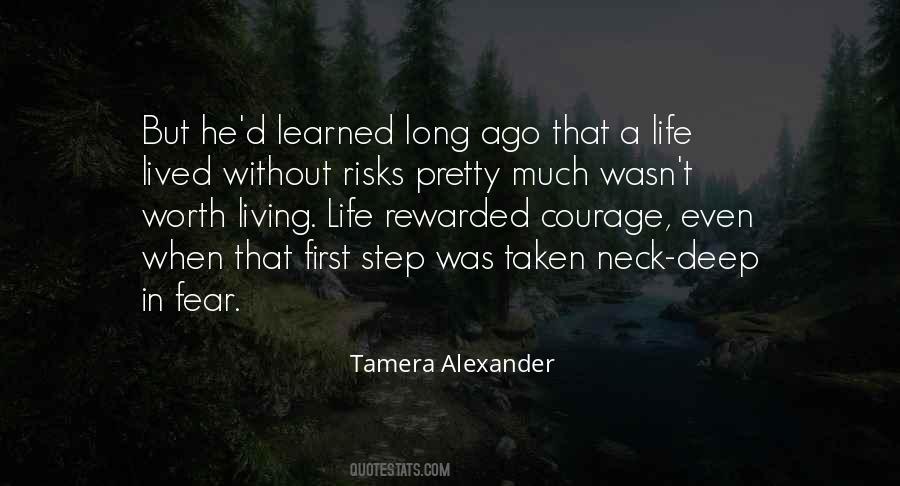 #82. The obvious path to a two-state solution would be for the United States and the rest of the world to simply recognize the State of Palestine, regardless of Israeli objections, but no president has seriously contemplated taking that step. - Author: Charles Kurzman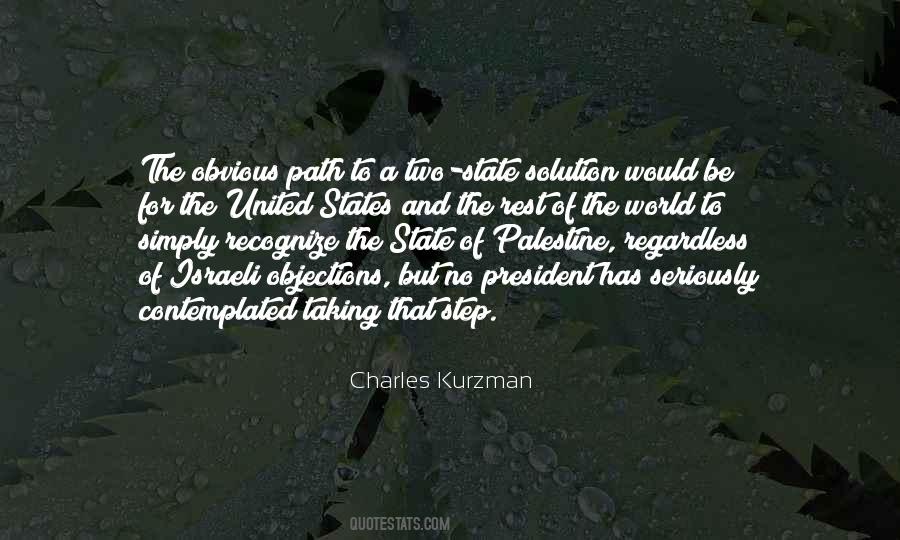 #83. The end is the matter! A step to the end is a factor! - Author: Ernest Agyemang Yeboah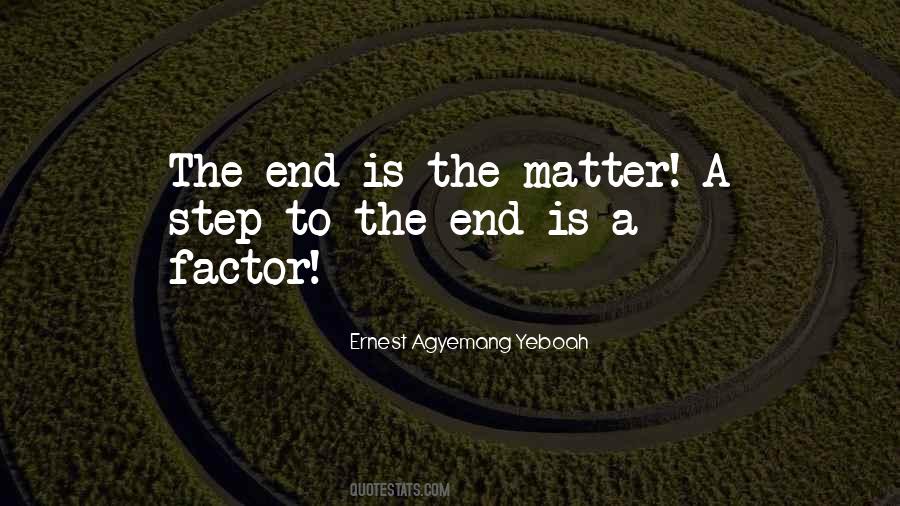 #84. when you are surrendering your all to God and if God is taking you somewhere, focus less where He is taking you to, For He will definitely take you somewhere. Only surrender - Author: Ernest Agyemang Yeboah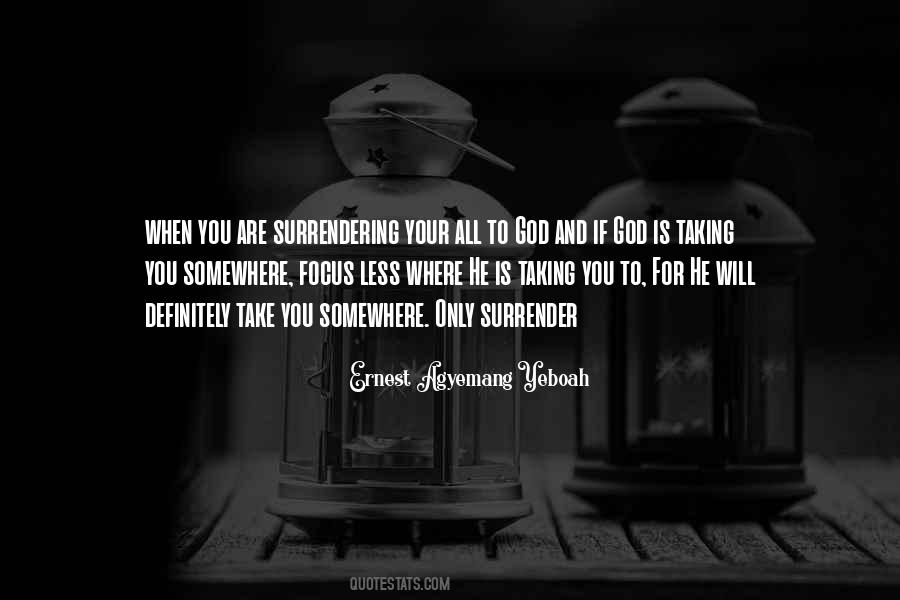 #85. Sometimes you don't know when you're taking the first step through a door until you're already inside. - Author: Ann Voskamp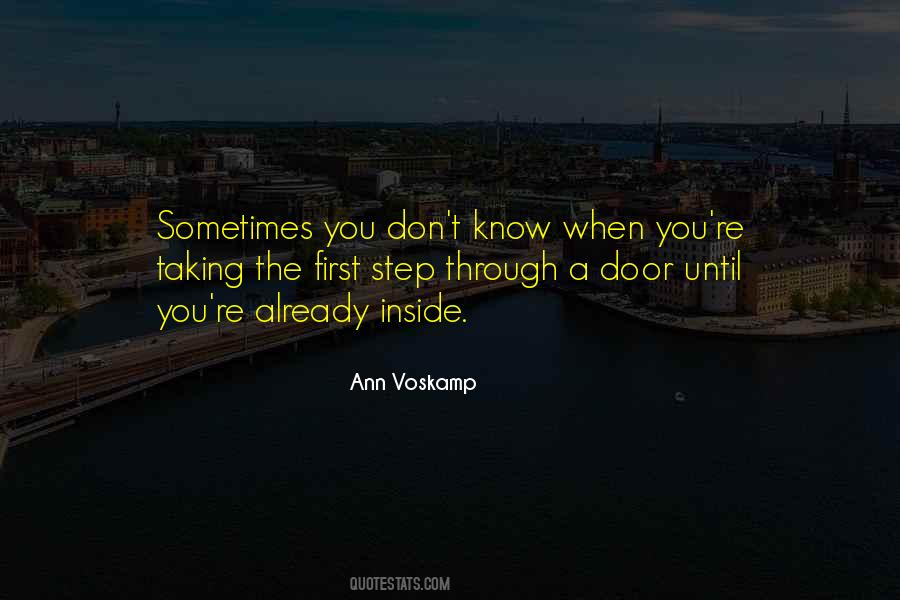 #86. My eyes filled with tears. "Get out."
"Pigeon," he said, taking a step toward me.
"Get OUT!" I said, grabbing the glass from the night stand and throwing it at him. He ducked, and it shattered against the wall in hundreds of tiny, glistening shards. "I hate you! - Author: Jamie McGuire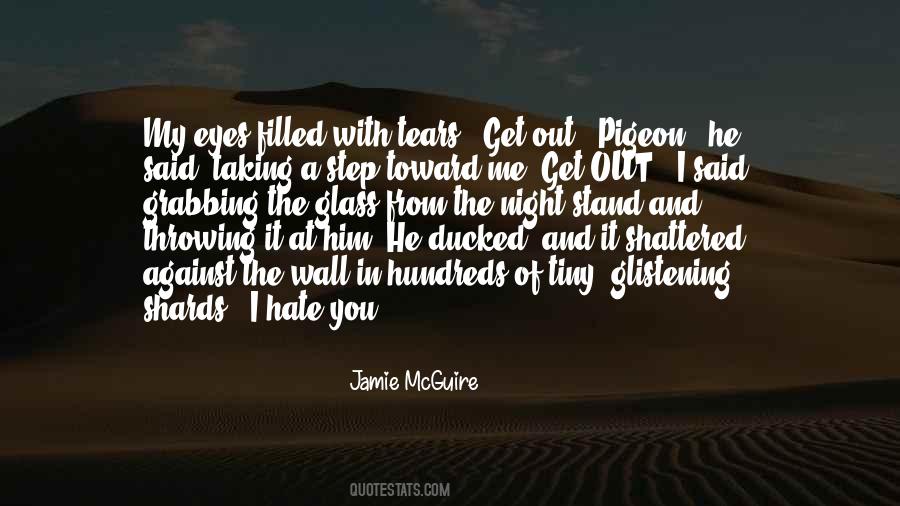 #87. Our loving Heavenly Father wants us to become more like him. God understands that we get there not in an instant, but by taking one step at a time. - Author: Dieter F. Uchtdorf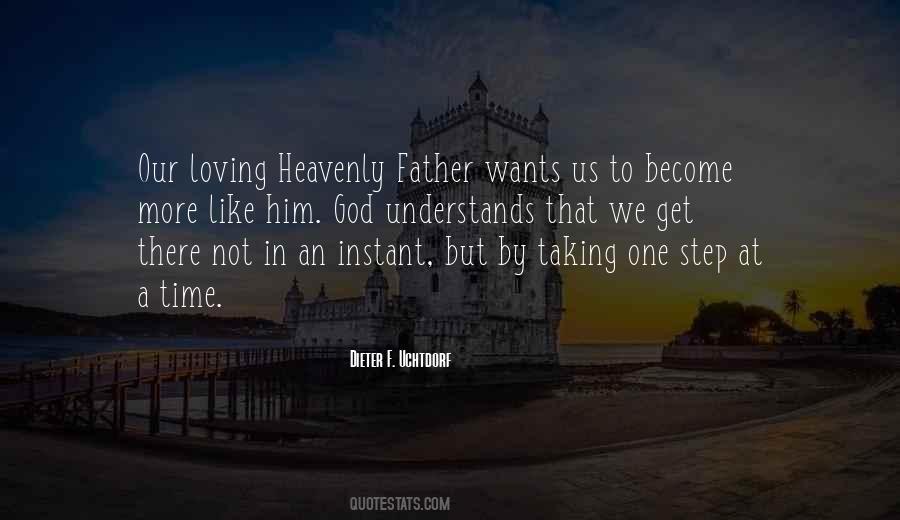 #88. As long as there are history books, Neil Armstrong will be included in them, remembered for taking humankind's first small step on a world beyond our own. - Author: Charles Bolden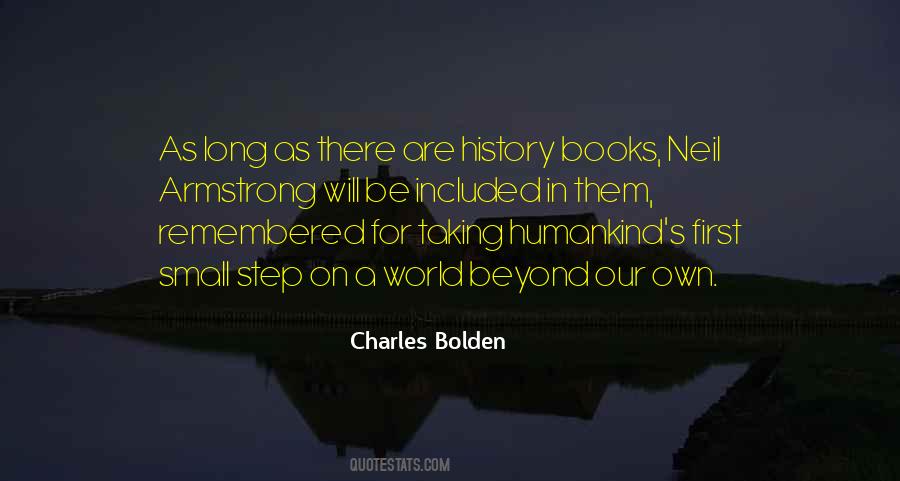 #89. Taking a step without knowing the end result is the only way we develop faith and not only this, it's a practice that connects us with a power greater than ourselves. - Author: Louise Hay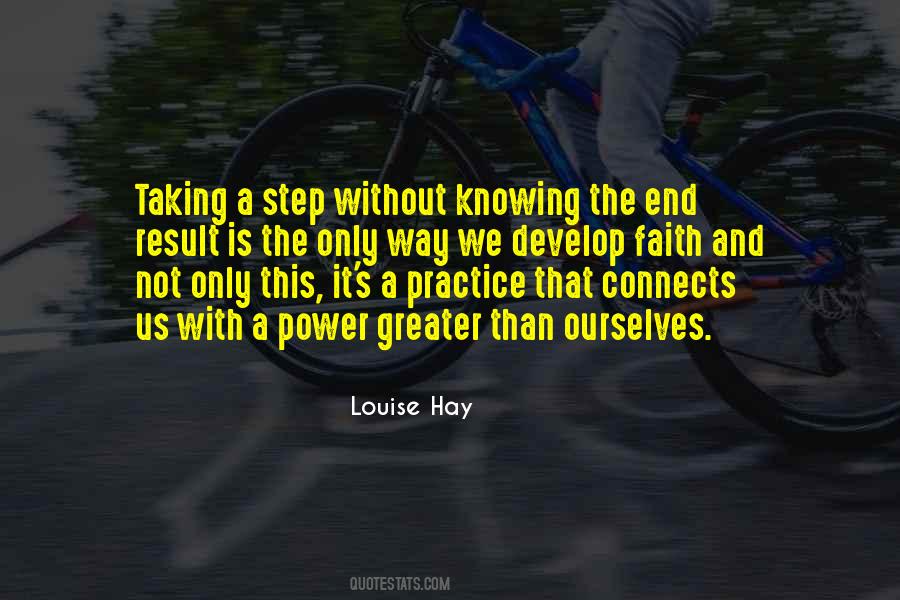 #90. Sharp. Intense. Powerful. Intoxicating.
Just like Killian.
Damn it all.
Before she could stop herself, Sadie took an involuntary step back.
Killian countered, taking one step closer, and his lips tilted into a lopsided grin.
Shit on a stick.
How annoying. - Author: Sara Humphreys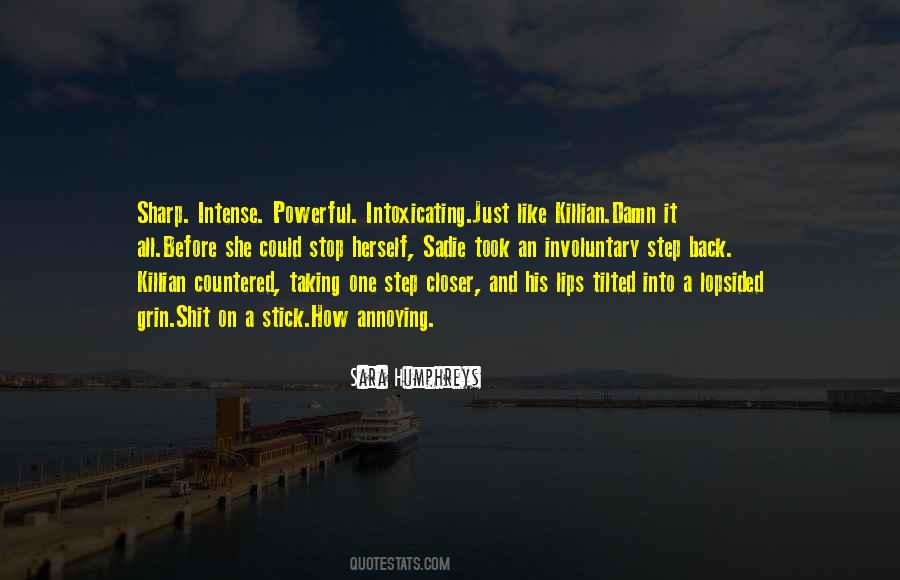 #91. How are you? How was your flight? He hit the Send button without recognizing that in writing to her he was taking a step back from his life as he knew it and into the unknown future, for one cannot embark upon the new without giving up something in return. - Author: Jill Bialosky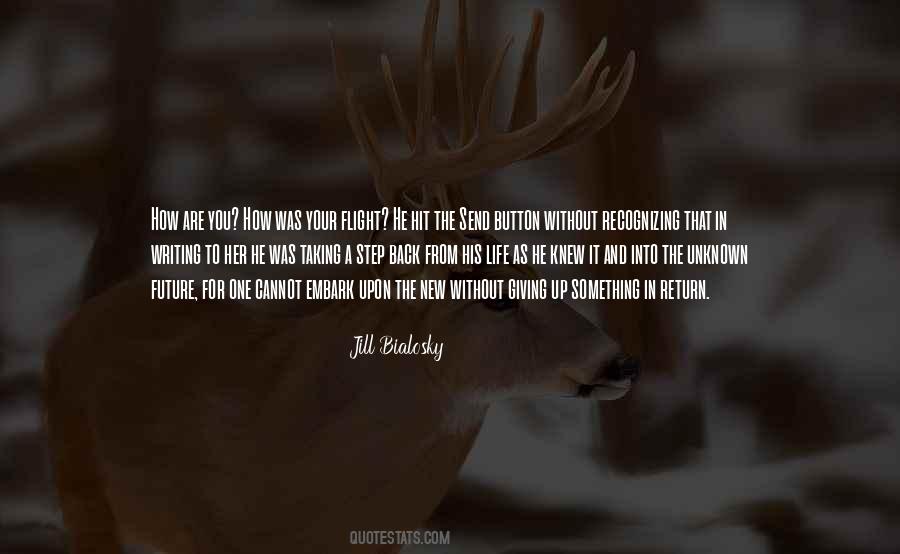 #92. Golden Rule Living is the great simplifier. It places us in another soul's shoes, taking what can appear to be a com- plex decision that involves another and streamlining it to a one-step process of deciding, If I wouldn't like this done to me, then I shall not do it to another. - Author: Molly Friedenfeld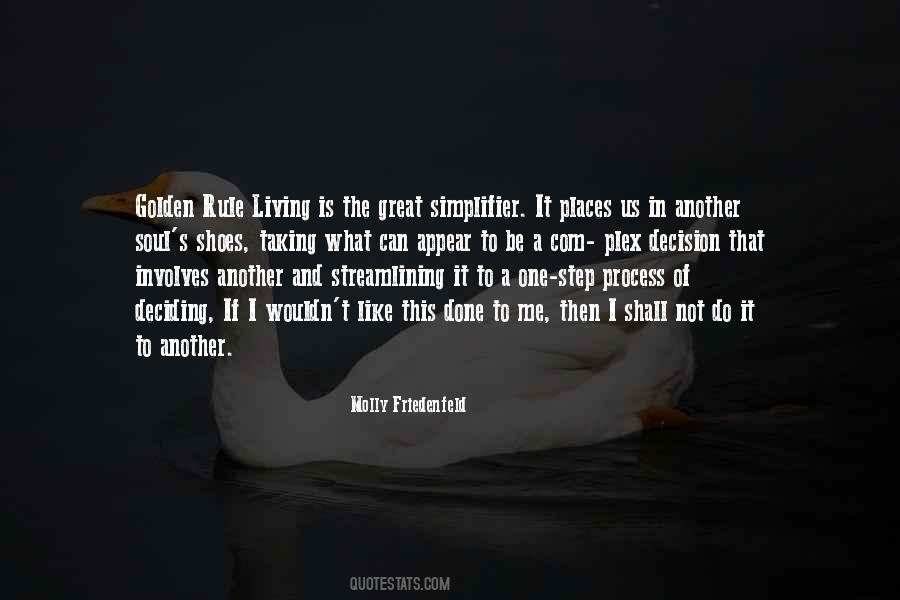 #93. If you blunder by accident into a secret it's like you've pushed open a door where you thought was just a wall. You can look through, if you're brave or reckless enough you can even step inside-taking a chance what you'll learn is worth what it costs. - Author: Joyce Carol Oates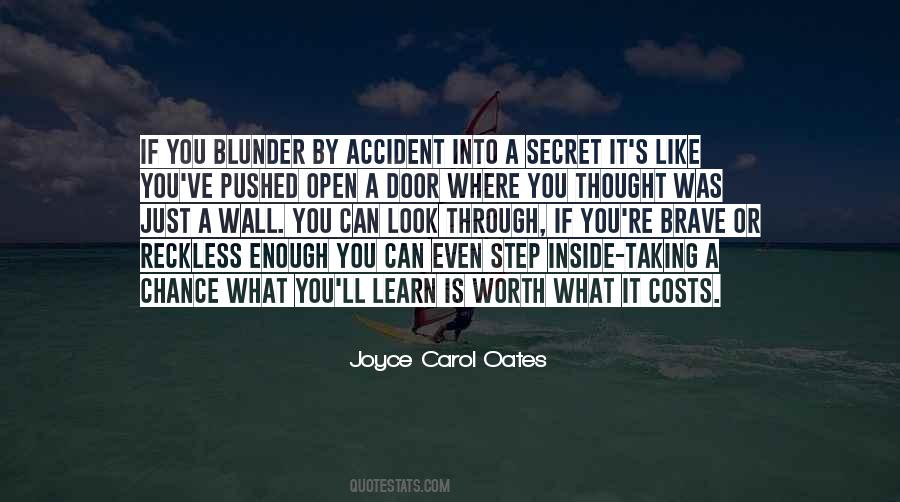 #94. Be willing to step outside your comfort zone once in a while; take the risks in life that seem worth taking. The ride might not be as predictable if you'd just planted your feet and stayed put, but it will be a heck of a lot more interesting. - Author: Edward Whitacre Jr.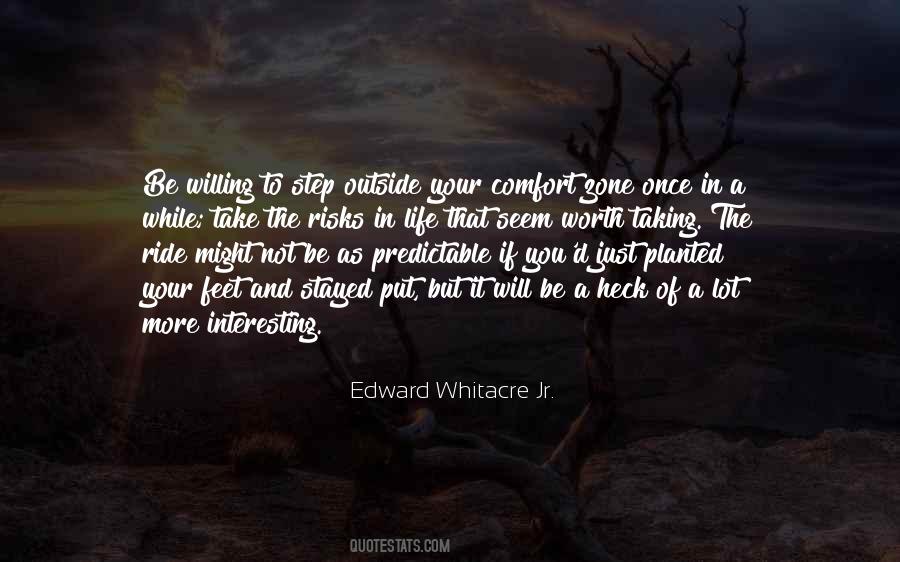 #95. Taking a step forward, I stood in the light, tilted my head back and closed my eyes. It held my face and wrapped its arms around my shoulders, and for the very first time, I let hope in. (Lillian Hunt) - Author: Jennifer DeLucy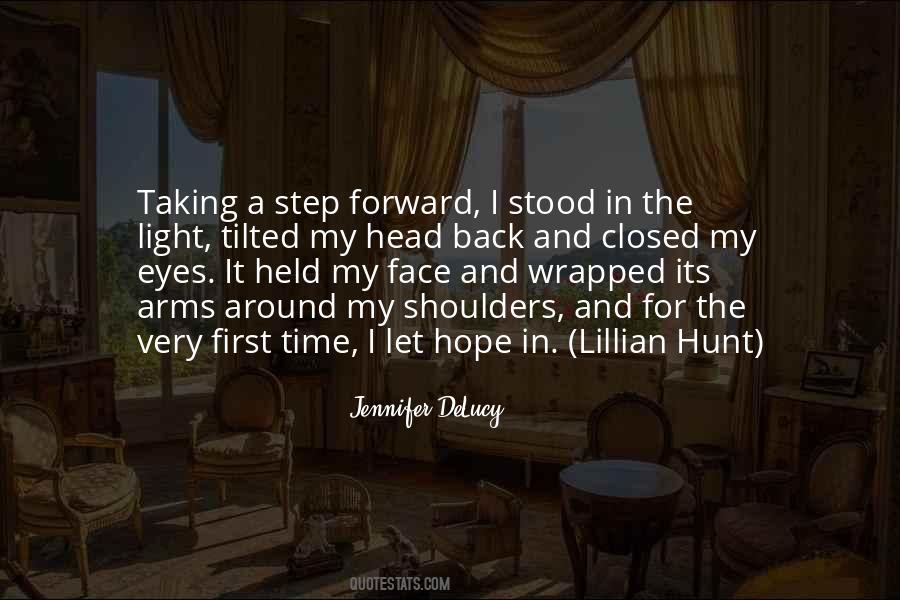 #96. I'm taking it step by step and not thinking at all about a new contract. - Author: Paul Ince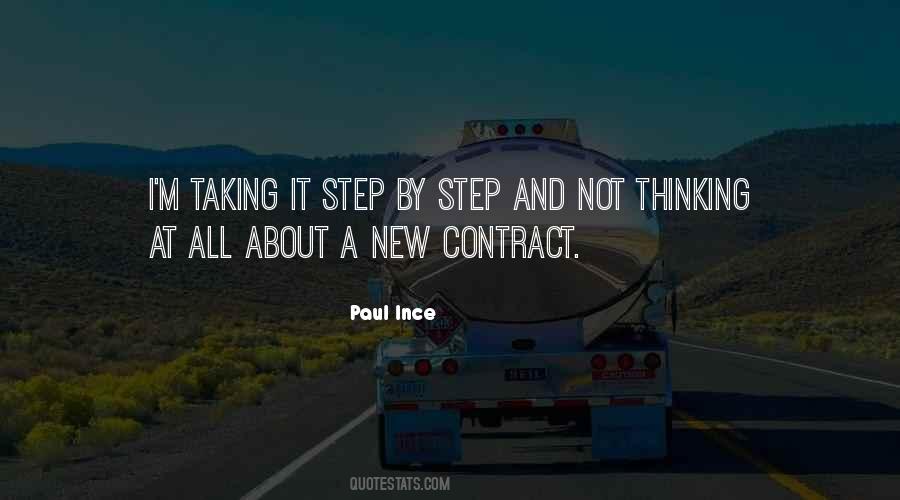 #97. To me, curiosity is married to optimism. And that's where a lot of my motivation comes from. A lot of my way out of depression and anxiety is that intersection between optimism and curiosity. Because it means taking a step forward with the hope that there will be discovery. - Author: Carrie Brownstein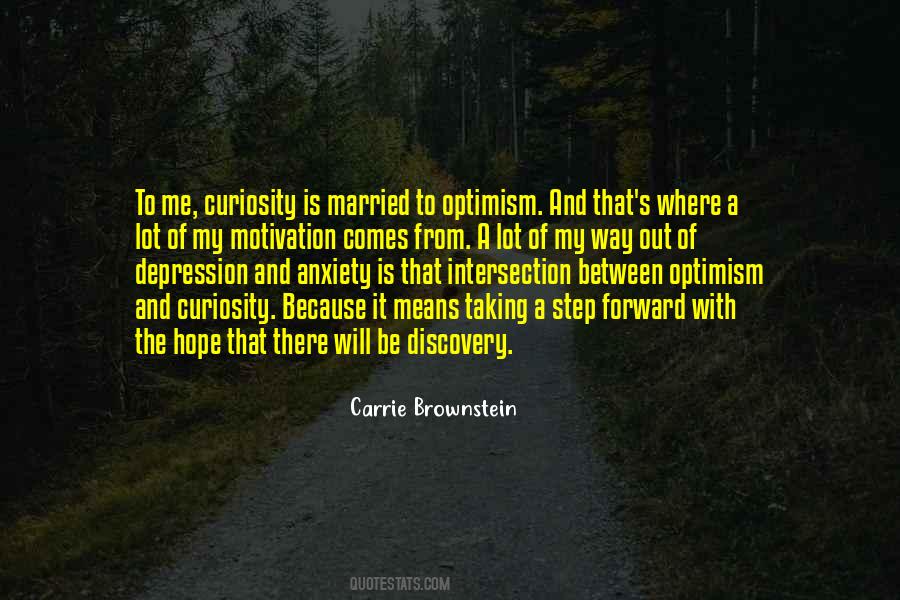 #98. I started to think about what drives innovation and what its social significance might be. The next step was to think innovators are taking a leap into the unknown. That led me to the thought that it is also a source of fun and employee engagement. - Author: Edmund Phelps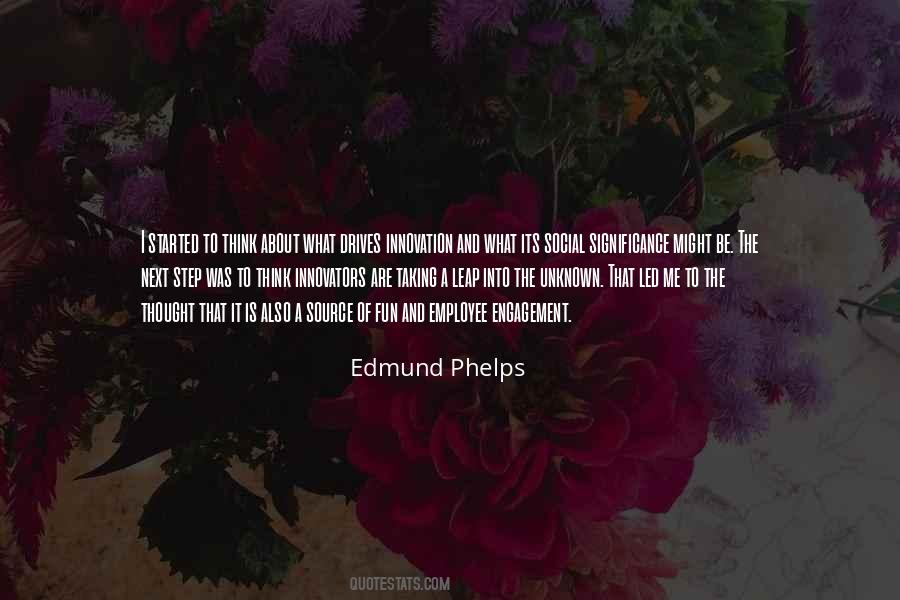 #99. The past can hold a weak man down like an anchor. It takes a strong man to remember the past, but forgive. Forgive and forget. Taking the first step forward is difficult. But take it. Save a backward glance for the times when you're uncertain, just to make sure your past is where it belongs, - Author: Scott Hildreth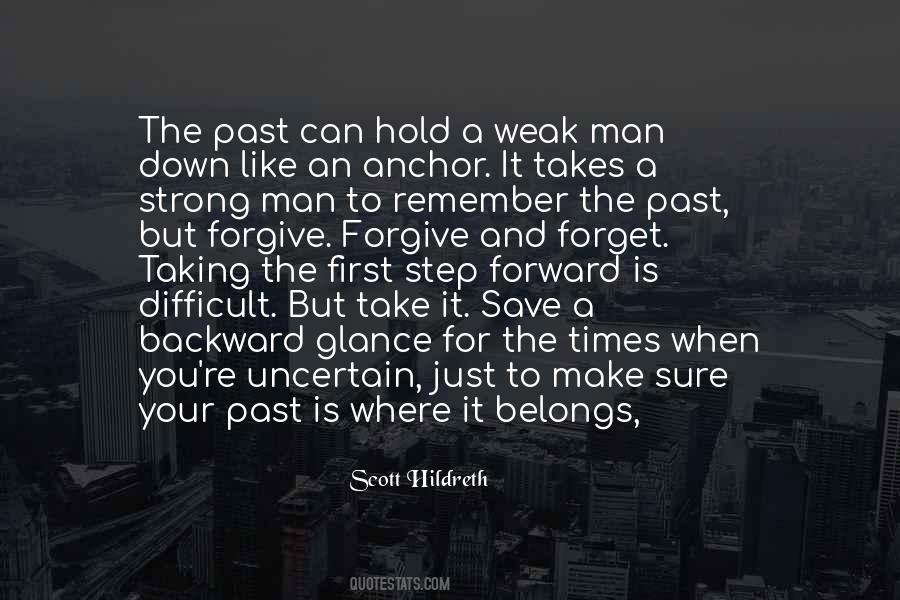 #100. Using the scientific knowledge that we currently possess, we can take simple logical steps, backed by the strongest evidence that we have, to come to the best and most reasonable conclusion that God is the cause of everything - all without ever taking even a single step of blind faith. - Author: Lewis N. Roe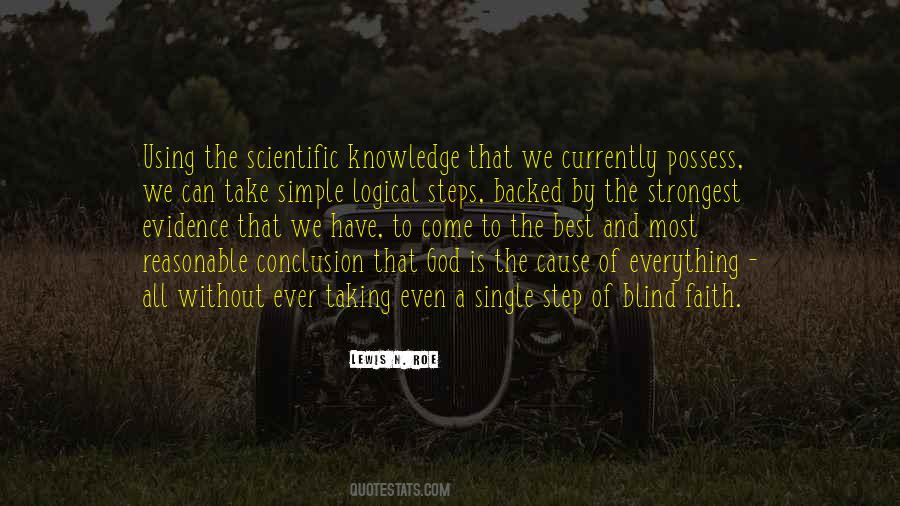 Famous Authors
Popular Topics