Sure Thing Famous Quotes & Sayings
List of top 100 famous quotes and sayings about sure thing to read and share with friends on your Facebook, Twitter, blogs.
Top 100 Sure Thing Quotes
#1. No, I'm not a horse better. Every once in a while somebody will give me a sure thing and of course it's not. - Author: M. Emmet Walsh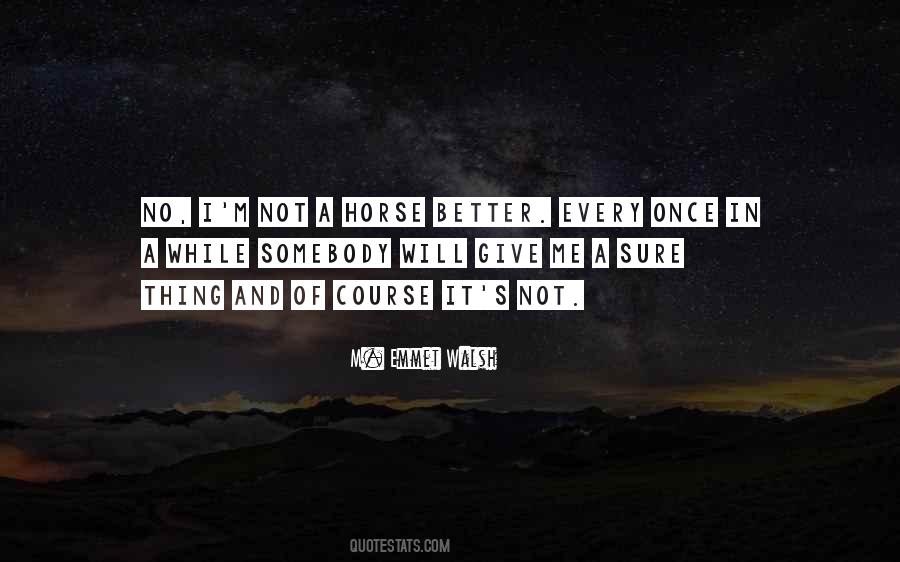 #2. The weird thing about this business - and I'm sure this operates in many other things, but it's very present and acute in this business - is that a lot of people don't realize that they have power. Particularly actors. - Author: Lili Taylor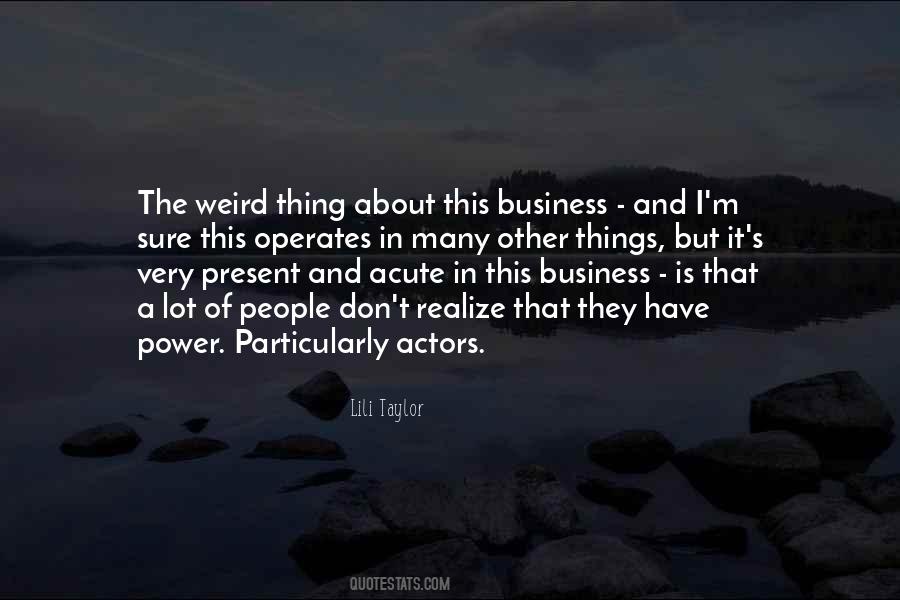 #3. It's the most charming thing about humans. You are all so sure that the lesser animals are bleeding with envy because they didn't have the good fortune to be born Homo sapiens. - Author: Orson Scott Card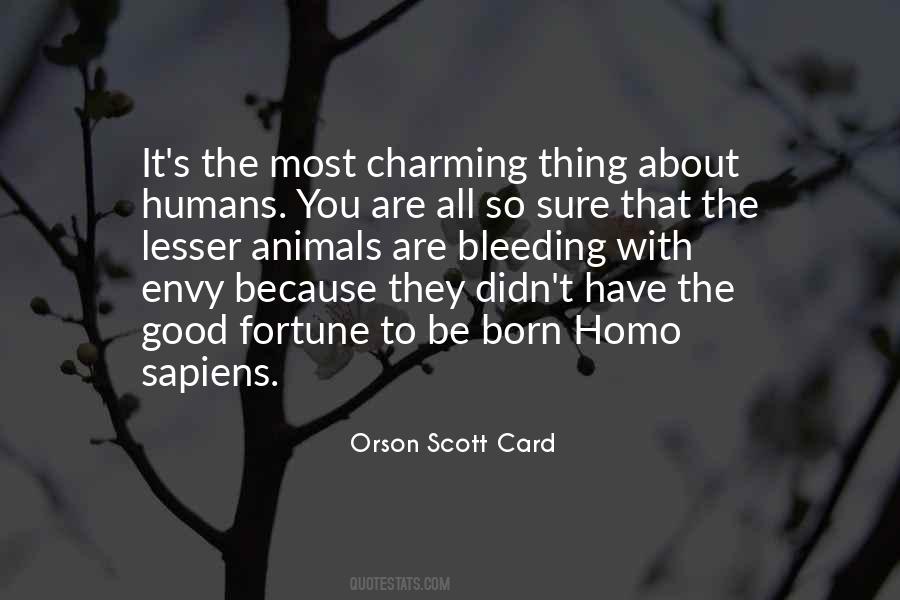 #4. Nothing is as dangerous as a sure thing. - Author: Stanley Kubrick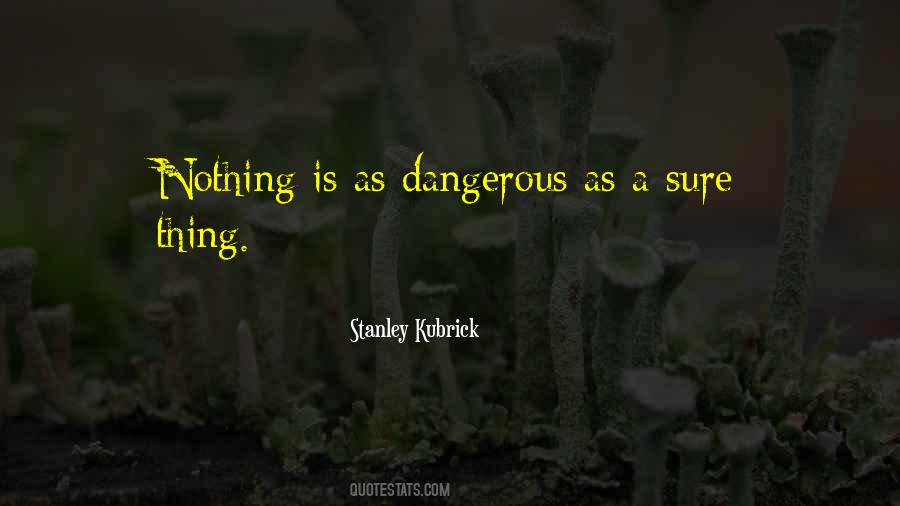 #5. For I was sure of one thing, it wasn't always the hero who saved the world. It was the person most willing to die first. - Author: R.K. Ryals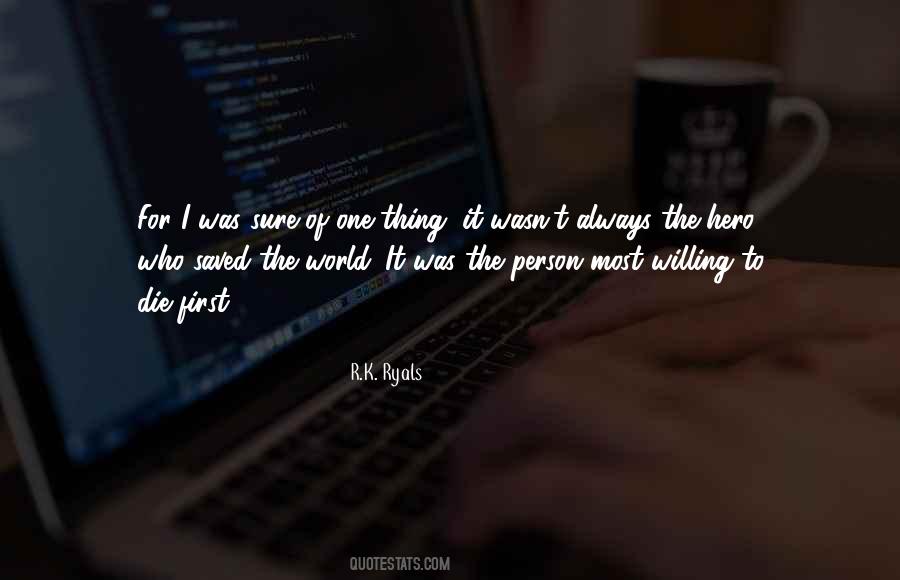 #6. Let every dawn of the morning be to you as the beginning of life. And let every setting of the sun be to you as its close. Then let everyone of these short lives leave its sure record of some kindly thing done for others; some good strength of knowledge gained for yourself. - Author: John Ruskin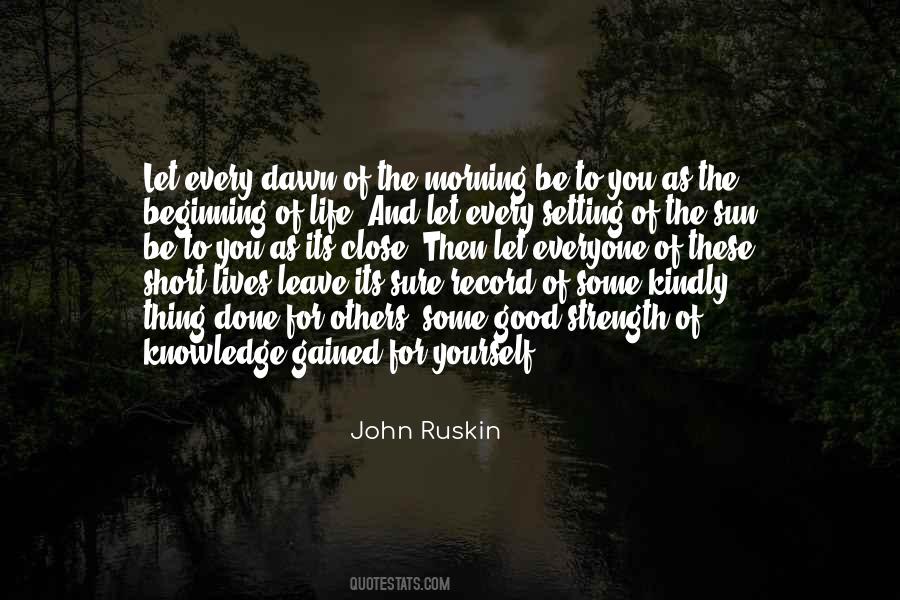 #7. After all, is it not wondrous that we are allowed to be both witnesses and victims of the sepulchral pomp of wasting tissue? And one thing we know is real: horror. It is so real, in fact, that we cannot be sure it could not exist without us. - Author: Thomas Ligotti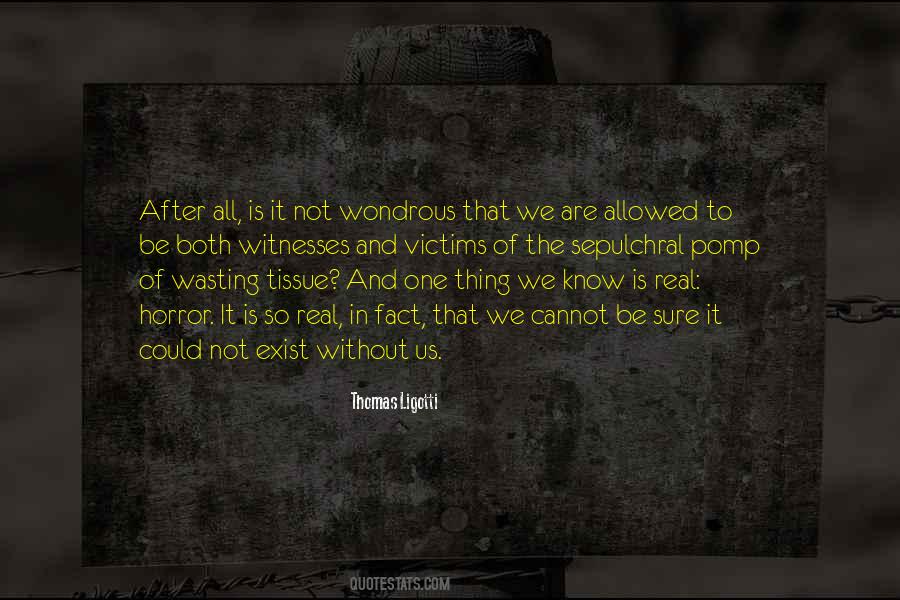 #8. I am quitting this thing, but not what you think. I am not going away. I will give you this, my love, and I will not bargain or barter any longer. I will love you, as sure as He has loved - Author: Donald Miller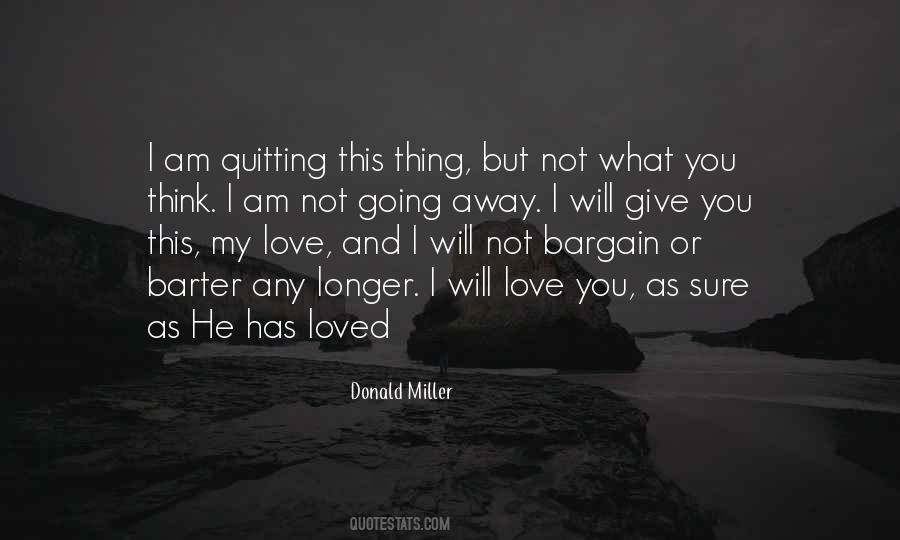 #9. Because the truth is, we never know for sure about ourselves. Who we'll sleep with if given the opportunity, who we'll betray in the right circumstance, whose faith and love we will reward with our own ... Only after we've done a thing do we know what we'll do ... - Author: Richard Russo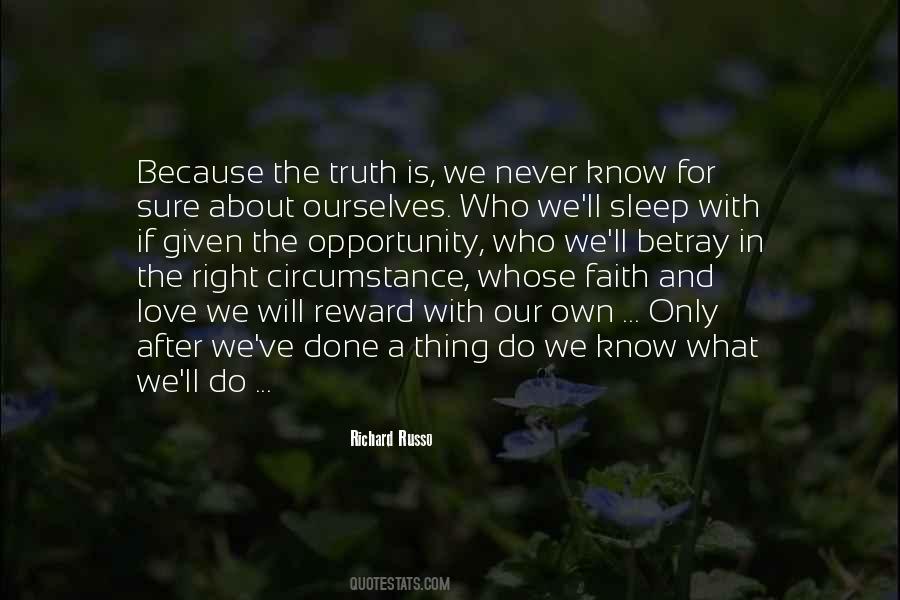 #10. If it takes lots of patience,sacrifice and devotion to achieve the thing you've desired, for sure you have set your targets high and you're going through immense pain to reach there.
Just don't quit. - Author: Himmilicious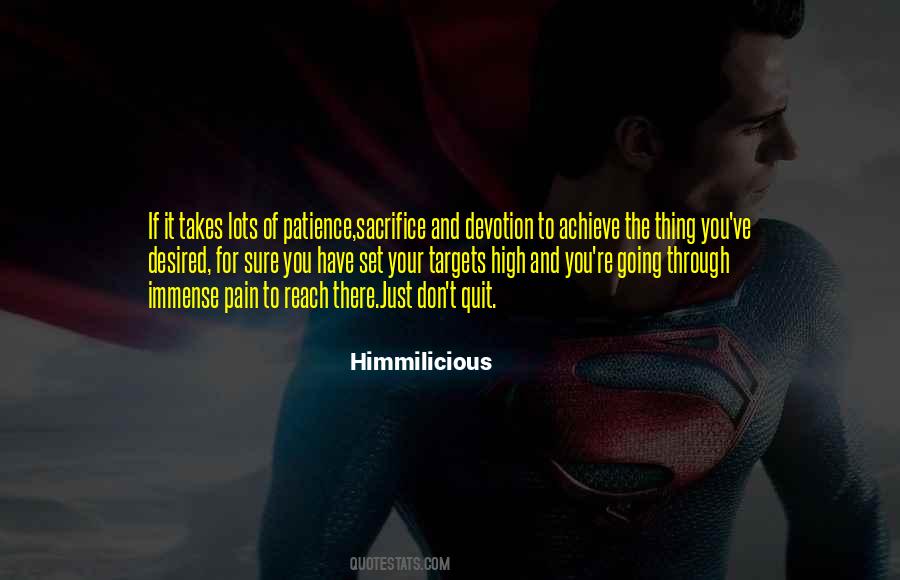 #11. Dash is for sure straight!" Boomer announced. "He has a super-pretty ex-girlfriend named Sofia, who I think he still has a thing for, and also, in seventh grade, there was a game of spin the bottle and it was my turn and I spun and it landed at Dash, but he wouldn't let me kiss him. - Author: David Levithan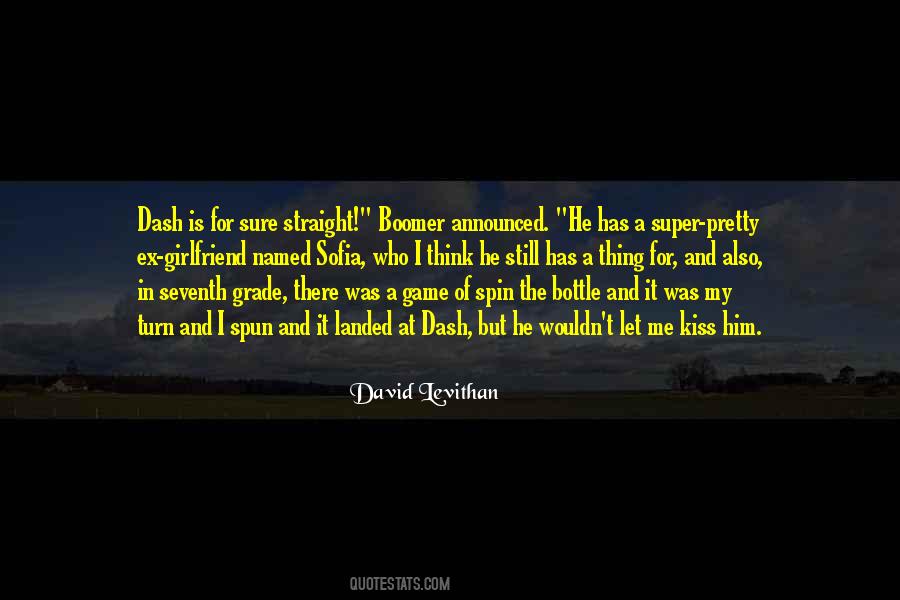 #12. We don't know what will happen tomorrow, but one thing is guaranteed-God's overarching care for His children. We can be sure enough of that. In a world where nothing is sure, He is sure. - Author: David Jeremiah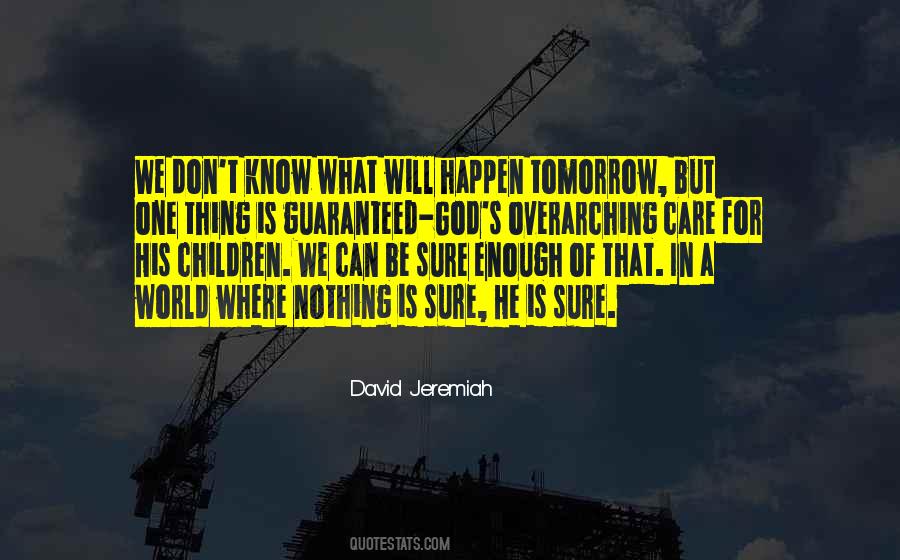 #13. I mean that if you are not absolutely sure of a thing, it is so difficult to commit yourself to a definite course of action. - Author: Agatha Christie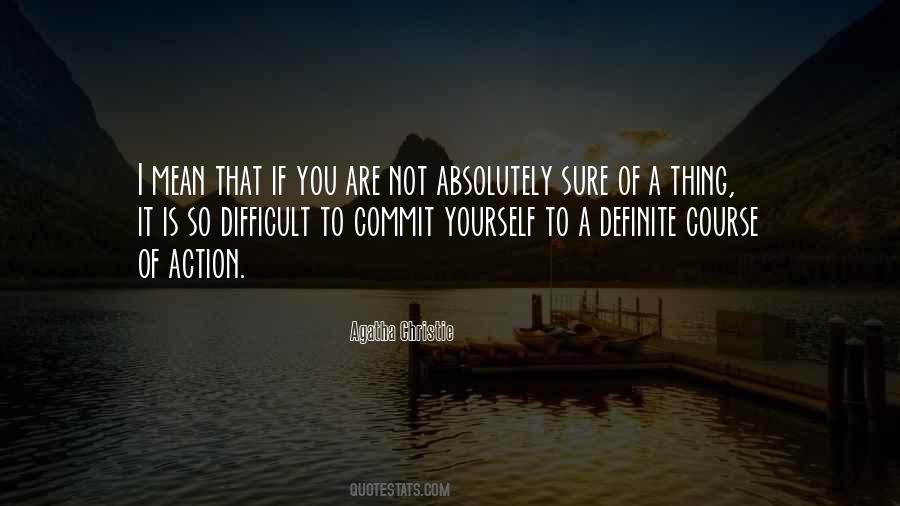 #14. They're only askin' you to do one thing. From what Rogue says, you ain't exactly reluctant."
"F**k myself into a coma. Sure, I can do that. Then what?"
"Uh, wait an hour? - Author: Michelle O'Leary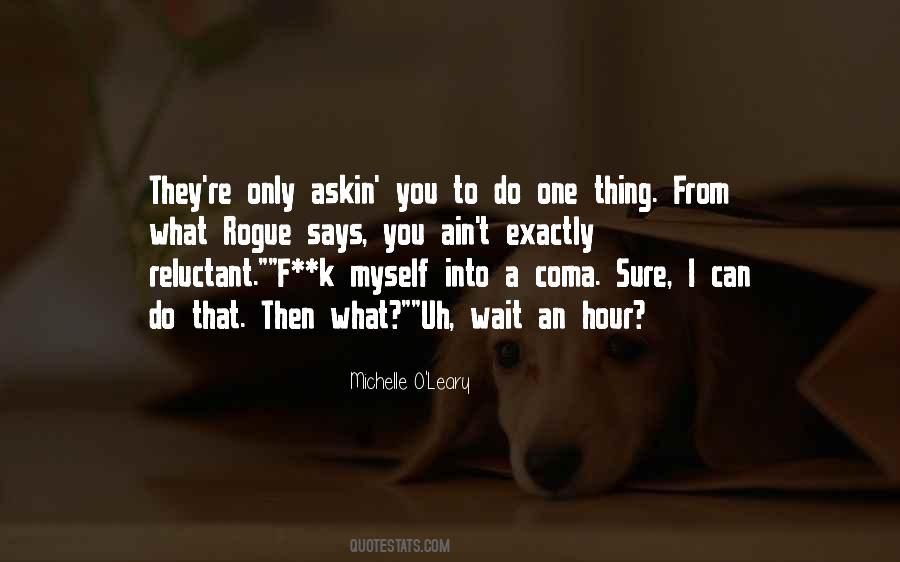 #15. That is one good thing about this world ... there are always sure to be more springs. - Author: Lucy Maud Montgomery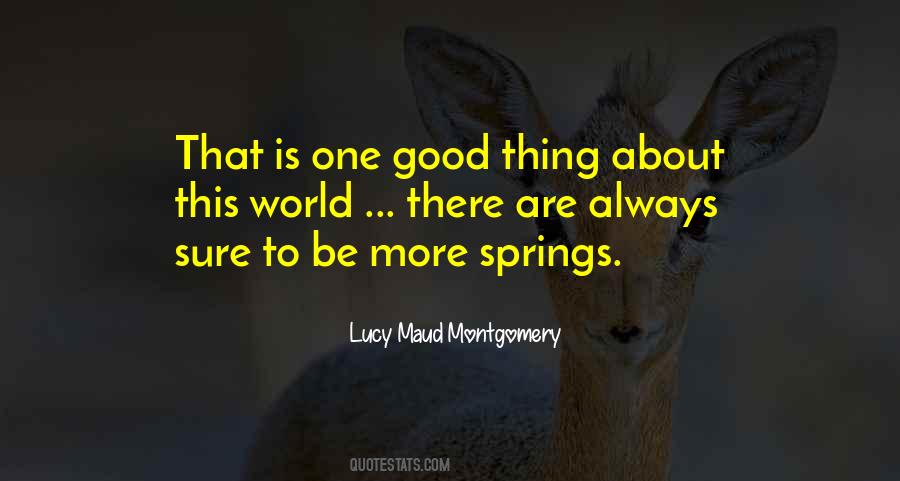 #16. That is the first thing I know for sure: (1.) If the questions don't make sense, neither will the answers. - Author: Kurt Vonnegut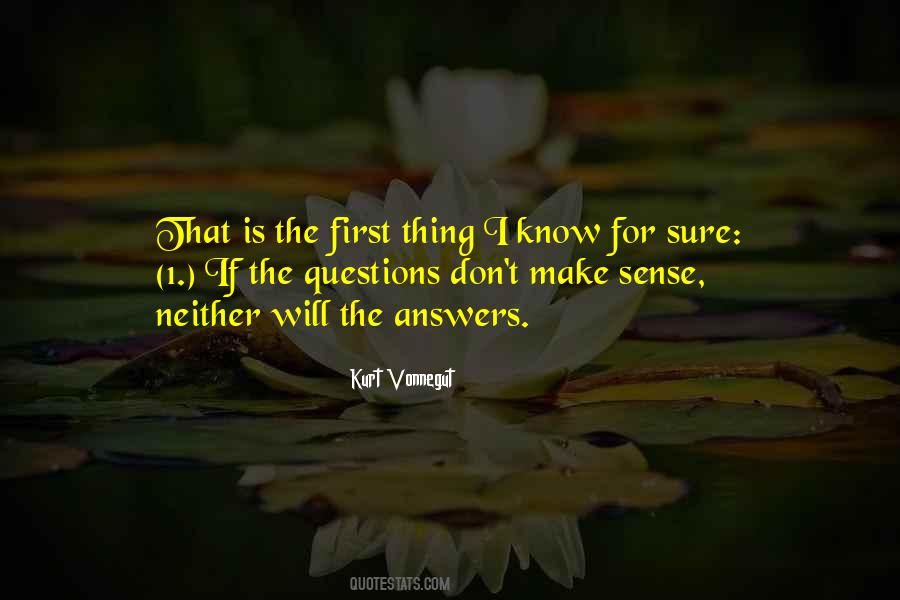 #17. Incompetency begets incompetency. The last thing a guy who isn't sure of himself wants is a guy backing him up who is sure of himself. - Author: Lee Iacocca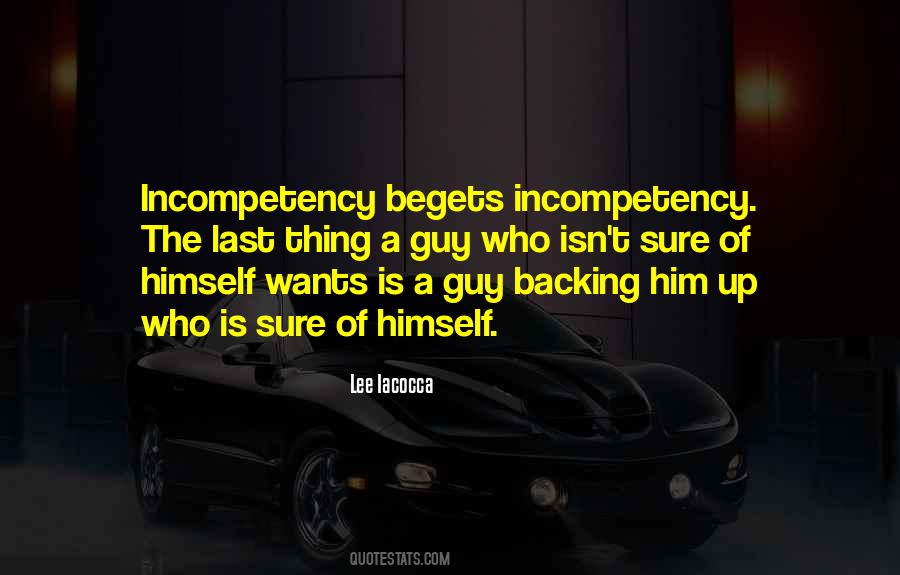 #18. I'm sure it was a good house in its time as well, but sometimes what is left behind when something has been lost is even better than the thing that came before. - Author: Susanna Kearsley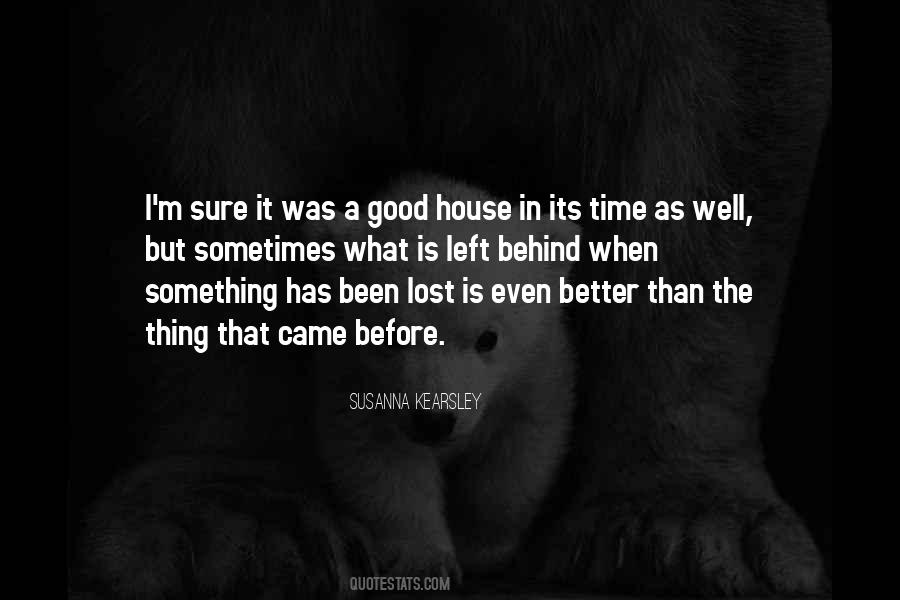 #19. I don't know secret to success, but I'm pretty sure the closest thing is preparation - Author: Michelle Kwan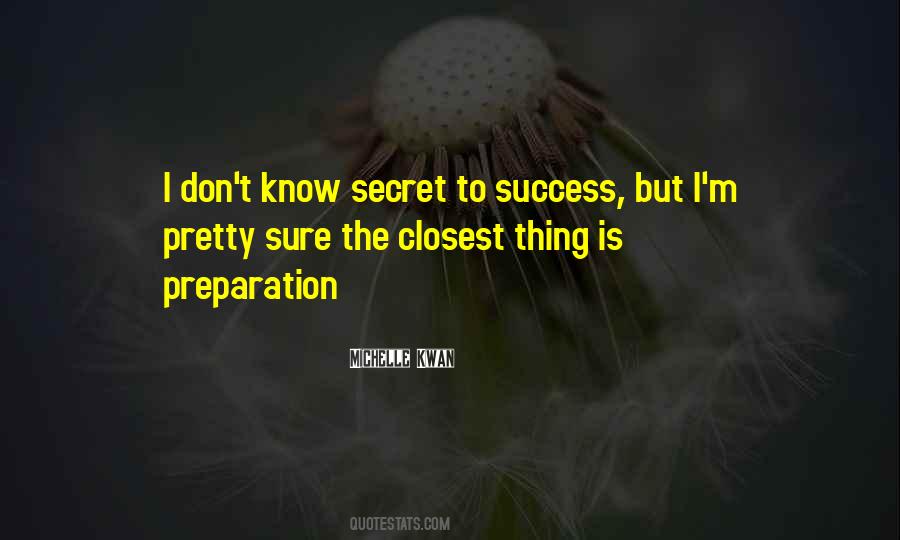 #20. The Only Thing I Know For Sure Is That I Know Nothing At All, For Sure - Author: Socrates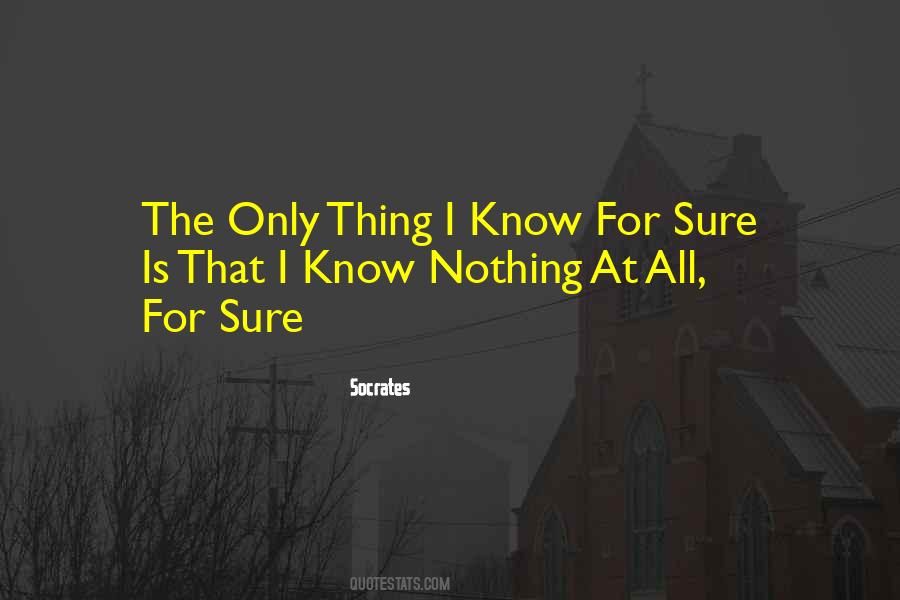 #21. Where you're born is sometimes all that separates a sure thing from a long shot. - Author: Tupelo Hassman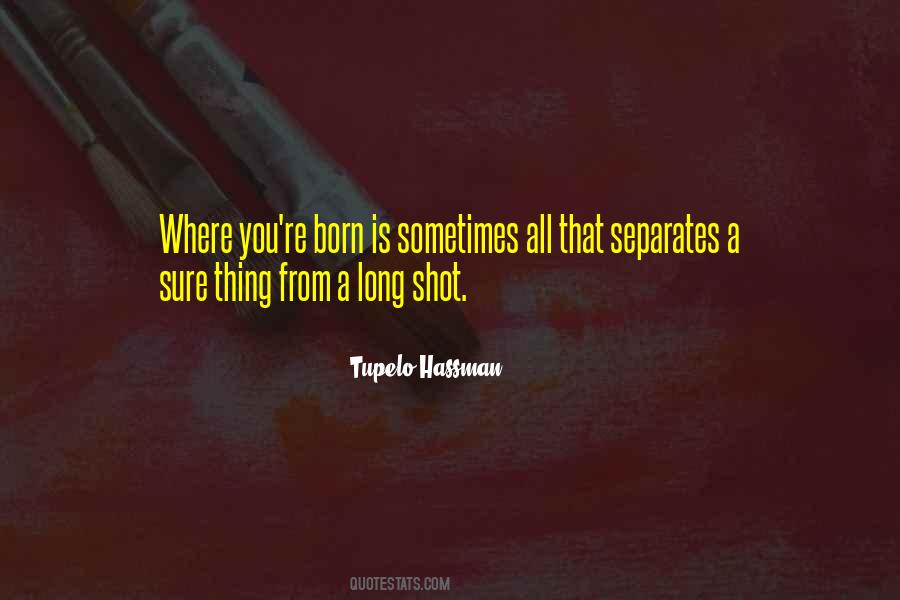 #22. Tears begin to well in my eyes. I have no idea how or if I even deserve him, but there's one thing I know for sure. As long as he's part of it, I'll never live a life of mediocrity. - Author: Colleen Hoover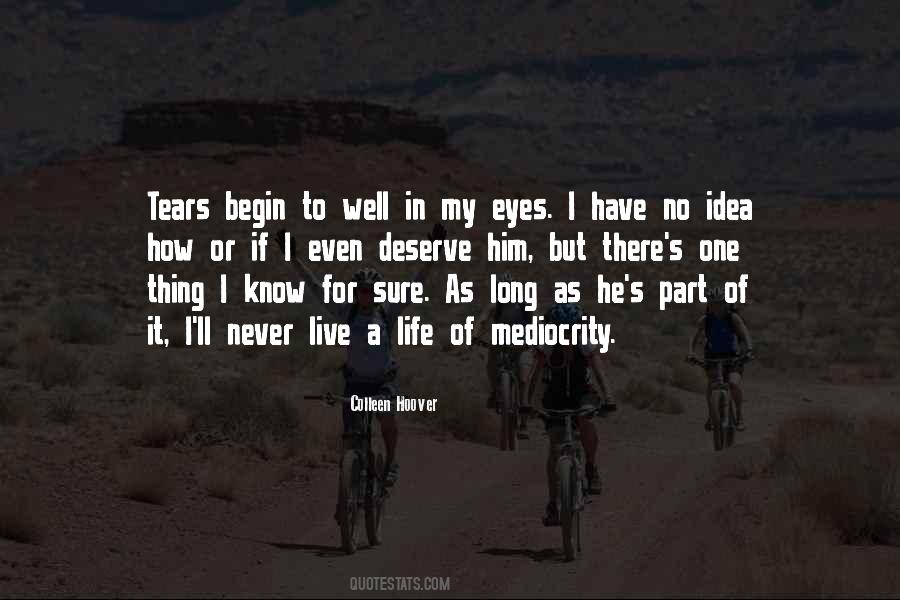 #23. I'm sure at one point I will do some acting again, but it would have to be the right thing. I'm not going to do it just because people are offering it to me. Not for those box-office, bullshit, money, noncreative people. But I'll do it when it's right to do it. - Author: Lenny Kravitz
#24. Well, promise me one thing, Liesel. If I die anytime soon, you make sure they bury me right. - Author: Markus Zusak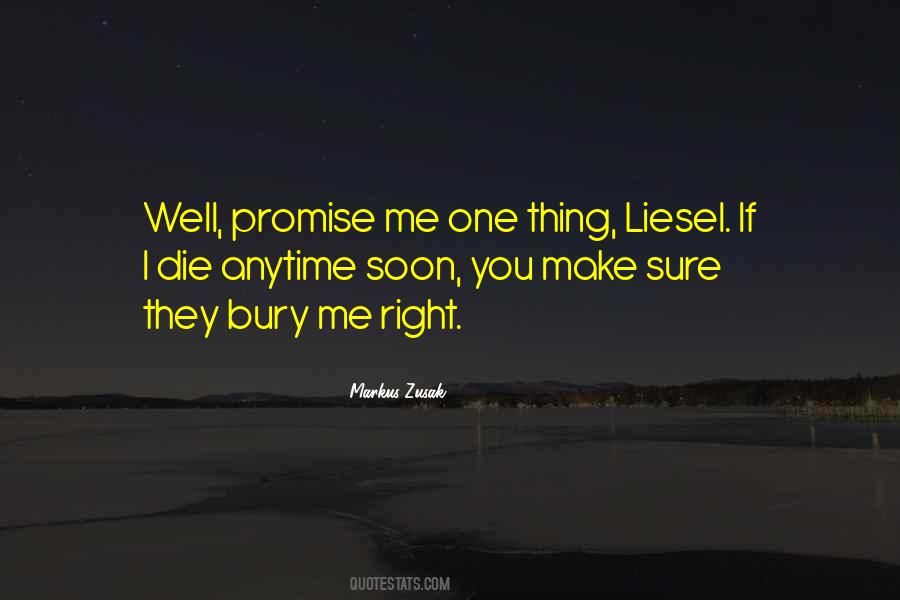 #25. I know this - a man got to do what he got to do, I can't tell you. I don't think they's luck or bad luck. On'y one thing in the worl' I'm sure of, an' that's I'm sure nobody got a right to mess with a fella's life. He got to do it all hisself, Help im, maybe, but not tell him what to do. - Author: John Steinbeck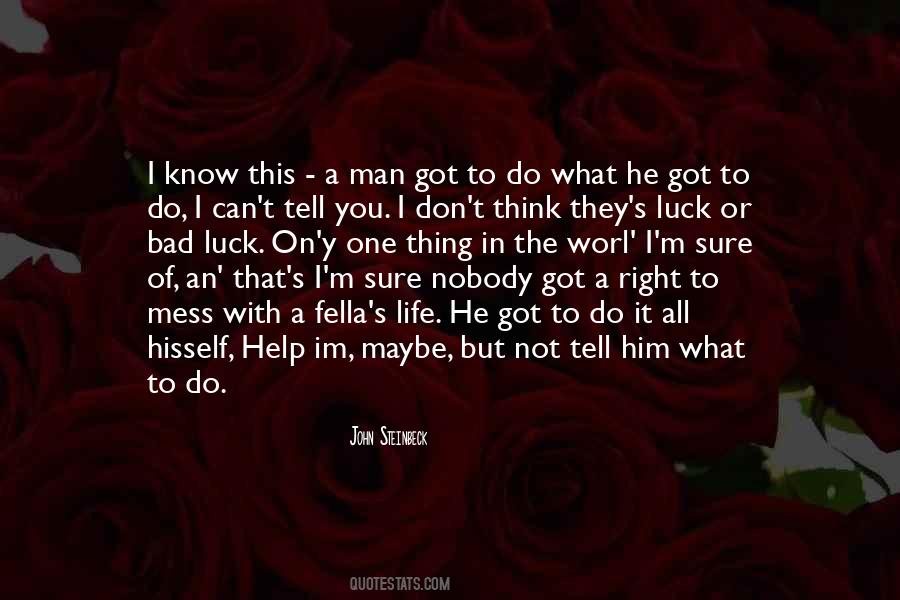 #26. Sure thing, Gumdrop. -Scott - Author: Becca Fitzpatrick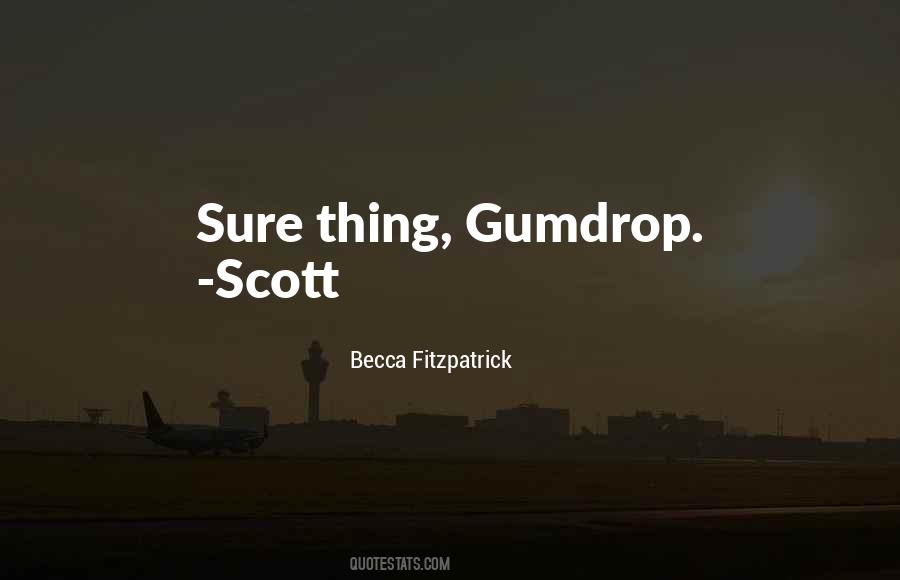 #27. I think the main thing is trying to be fair, sometimes there has to be a little bit of discipline, maybe even punishment involved in trying to make your child understand, learn from bad experiences and make sure they don't happen again. - Author: Archie Manning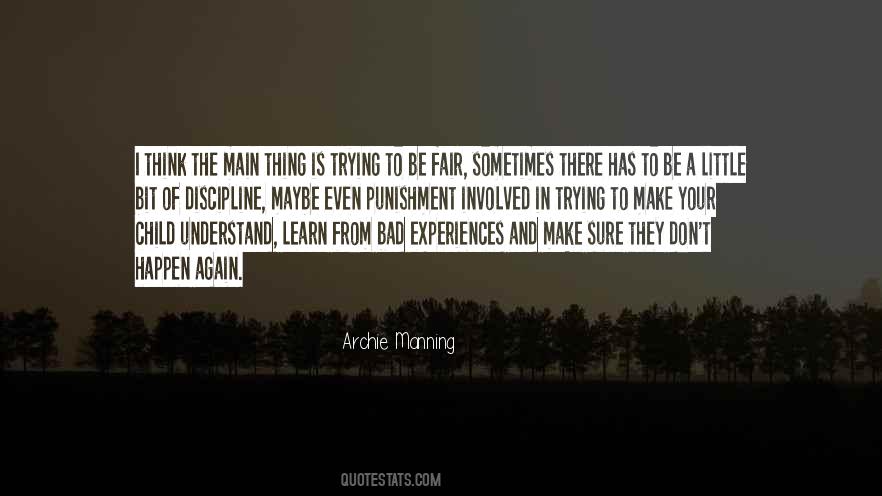 #28. We need not suppose that we can serve two masters. If we try, we may be sure of one thing- that our master will not be the Christ, for He will not accept us on those terms. - Author: Mark E. Peterson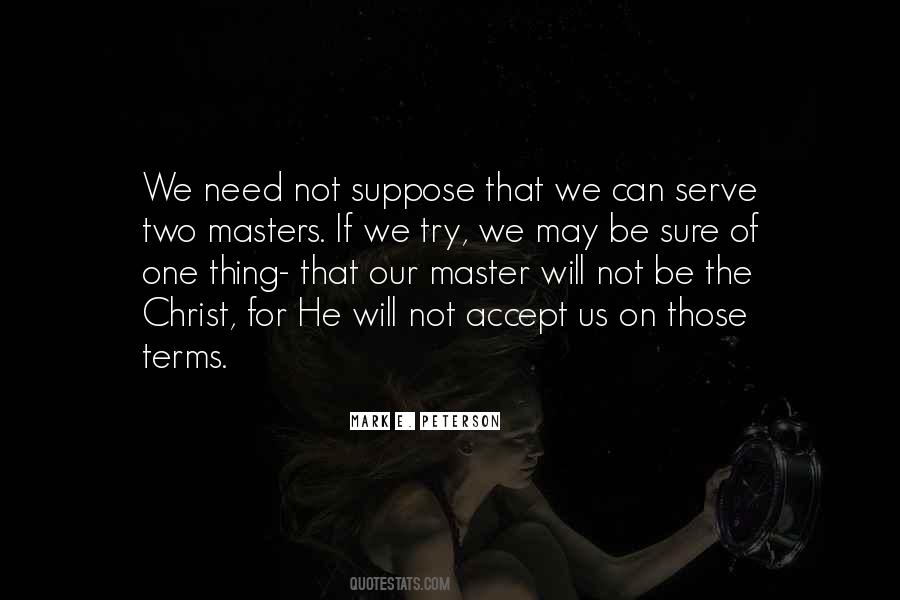 #29. There is one thing in this good old world that is positively sure - happiness is for all who strive to be happy - and those who laugh are happy. Everybody is eligible - you - me - the other fellow. Happiness is fundamentally a state of mind - not a state of body. - Author: Douglas Fairbanks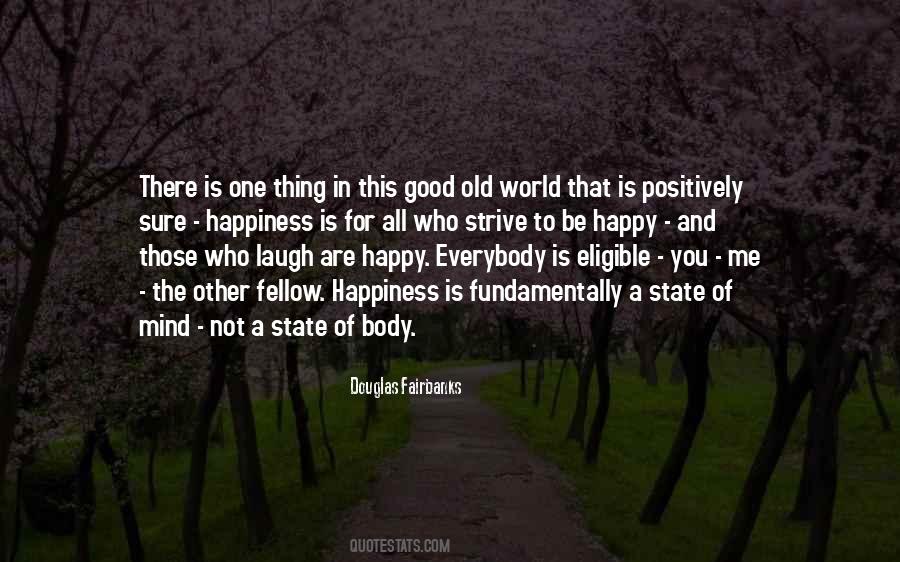 #30. But you need to make sure that the last thing you remember about today isn't that you fell down, it's that you got back up again. That's what we do when bad things happen to us. - Author: Michael Rowe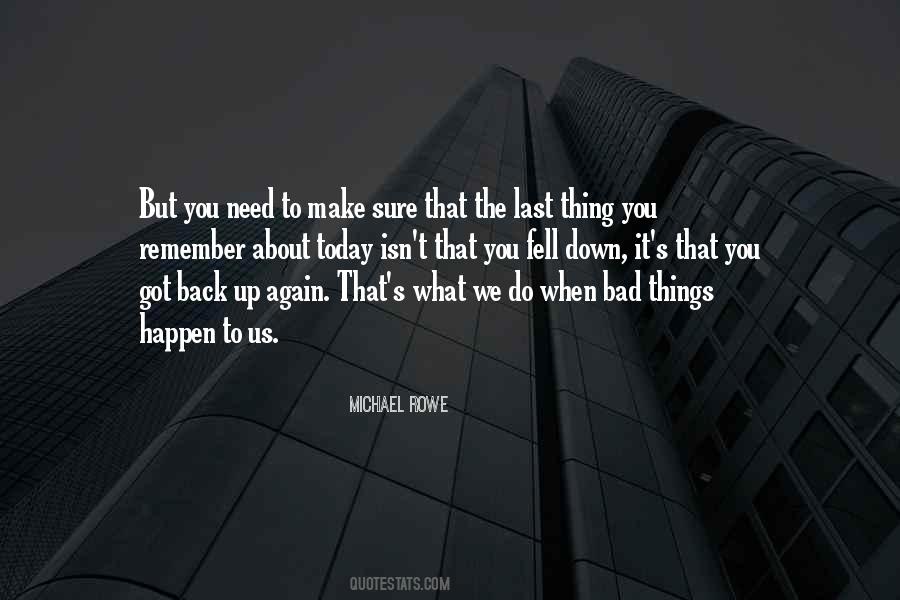 #31. I'm already yours. I'm not sure there's a damn thing I wouldn't do for you. - Author: Nyrae Dawn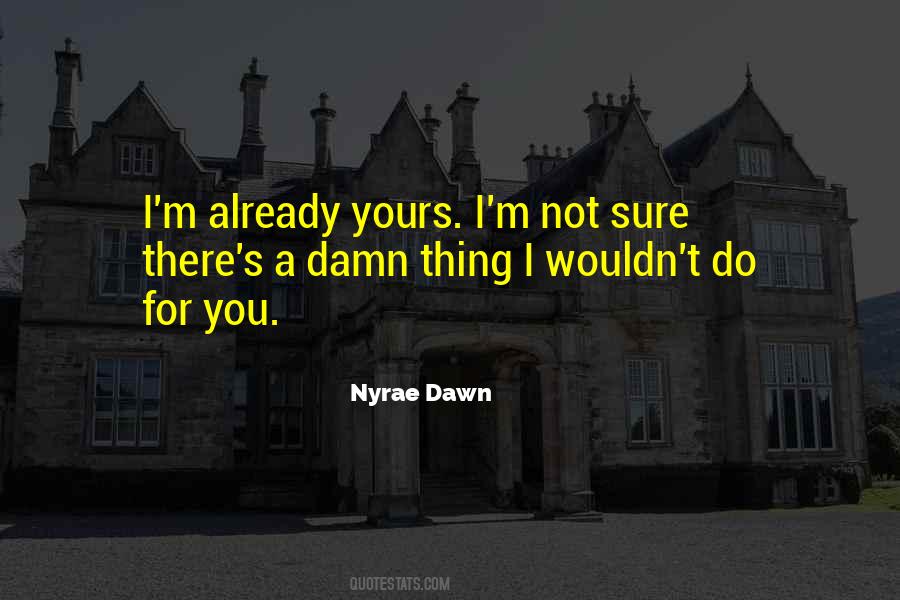 #32. One day you may make wake up and think your all alone.
One day you may feel this house is not my home.
One day you may find that things around you have change.
But one thing for sure God still knows your first and last name. - Author: E.R. Turner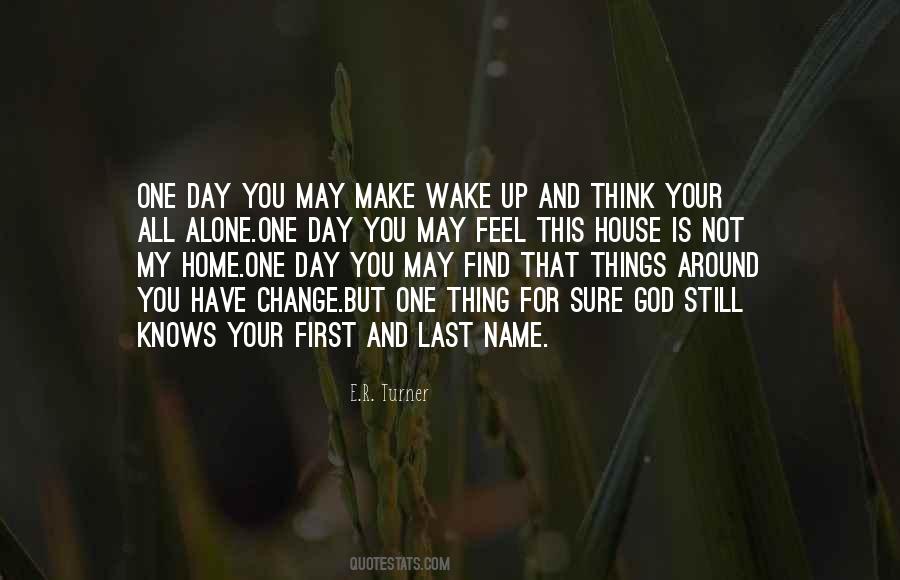 #33. If Dhoni plays till the end, one thing is for sure..He will make his team Win. - Author: Harsha Bhogle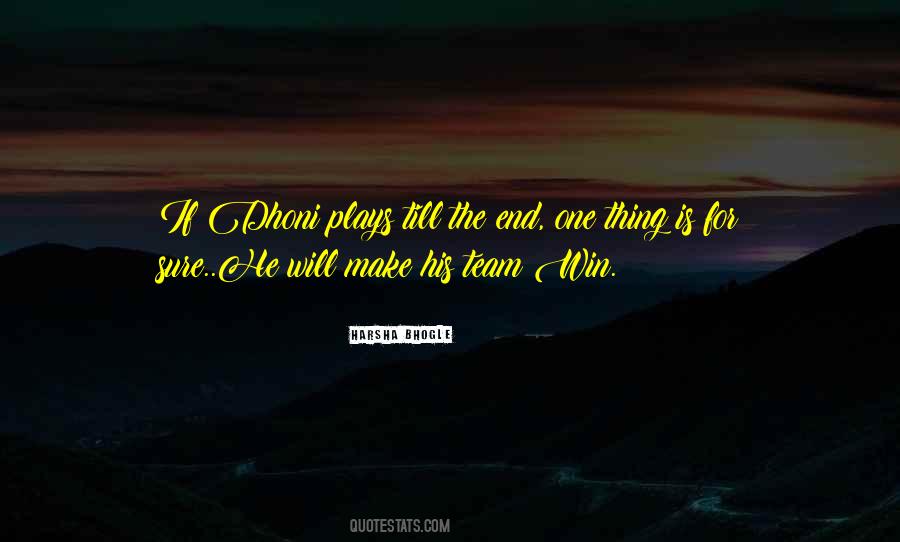 #34. It's a strange thing, you have said it thousands of times I am sure ... you will never know what you can do until you try. However the sad truth is, that most people never try anything until they know they can do it. - Author: Bob Proctor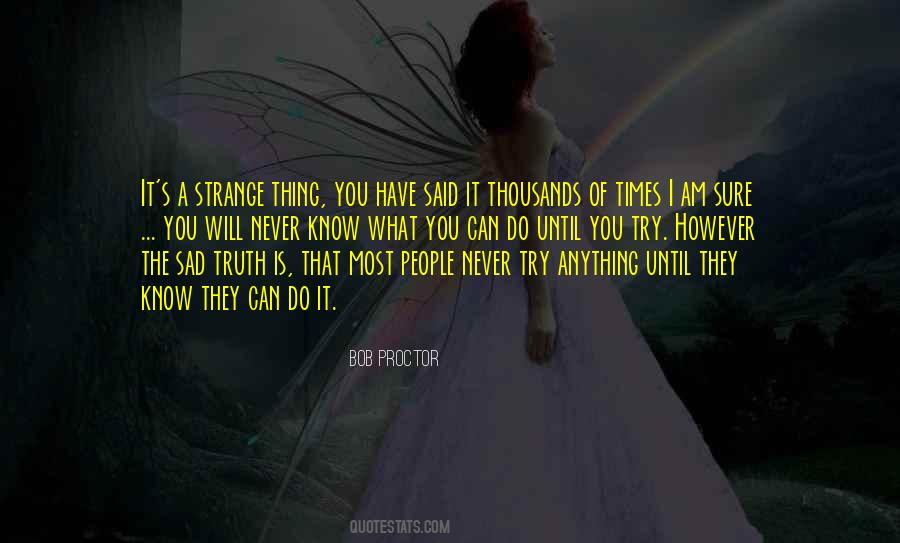 #35. It's a sure thing that you will not finish if you don't start. The most difficult part of any job is getting started. - Author: Napoleon Hill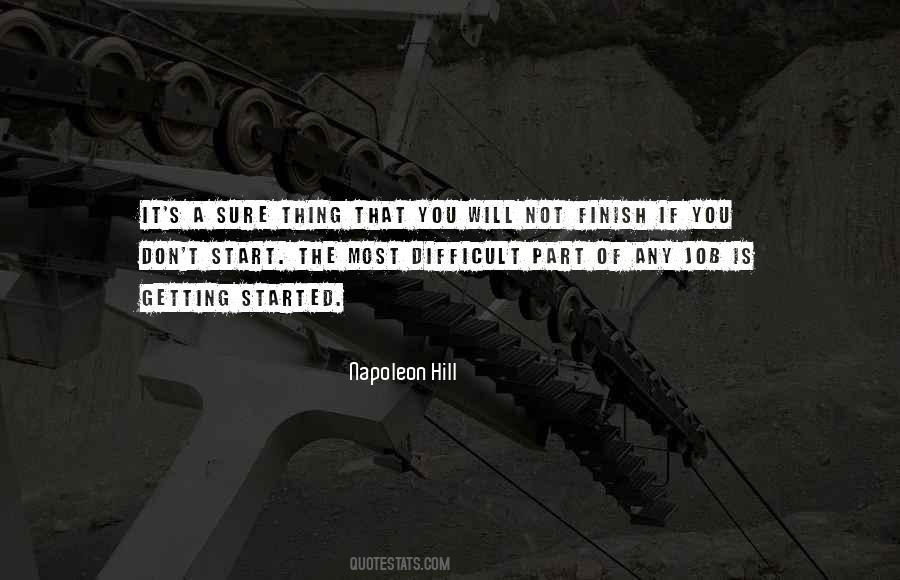 #36. I think the only thing I knew for sure is that I wanted to, whatever I did, I wanted to travel with my work, an adventurous spirit. - Author: Cate Blanchett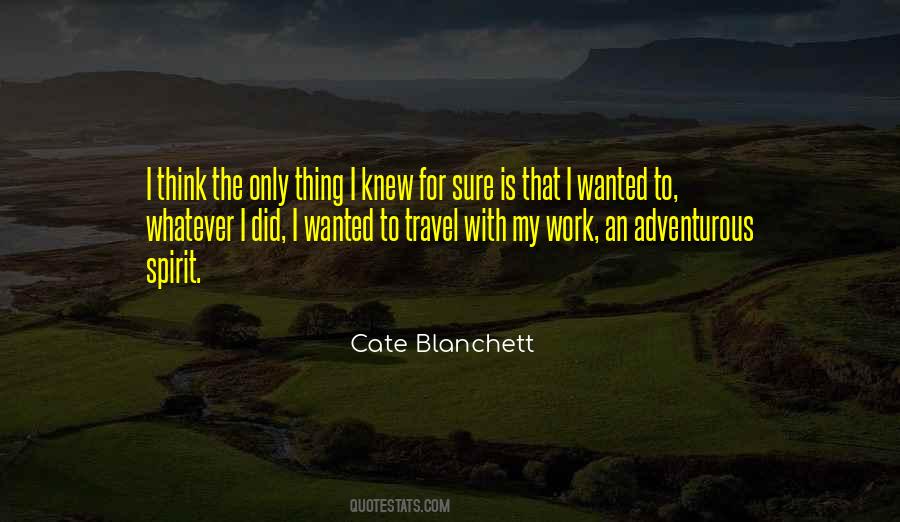 #37. I'm pretty sure this is it for the teen movie thing. It's so frustrating to read when you get to page 20 and you're like, Oy! It's the same thing again! - Author: Marla Sokoloff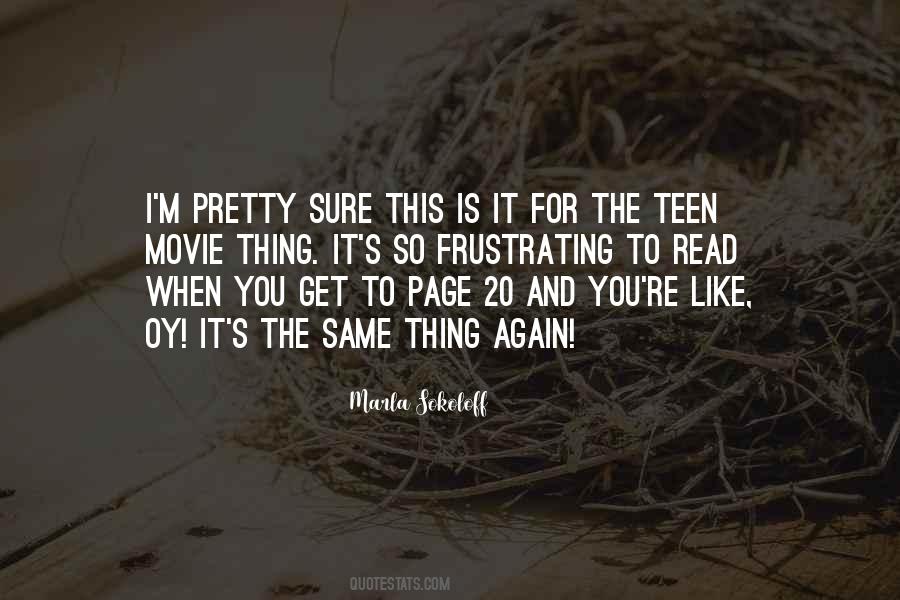 #38. Every celebrity case I've been involved in - I've been involved in a great many - the one thing you can be sure of is they don't get the same justice as everybody else. It could be worse, it could be better, it's never the same. - Author: Alan Dershowitz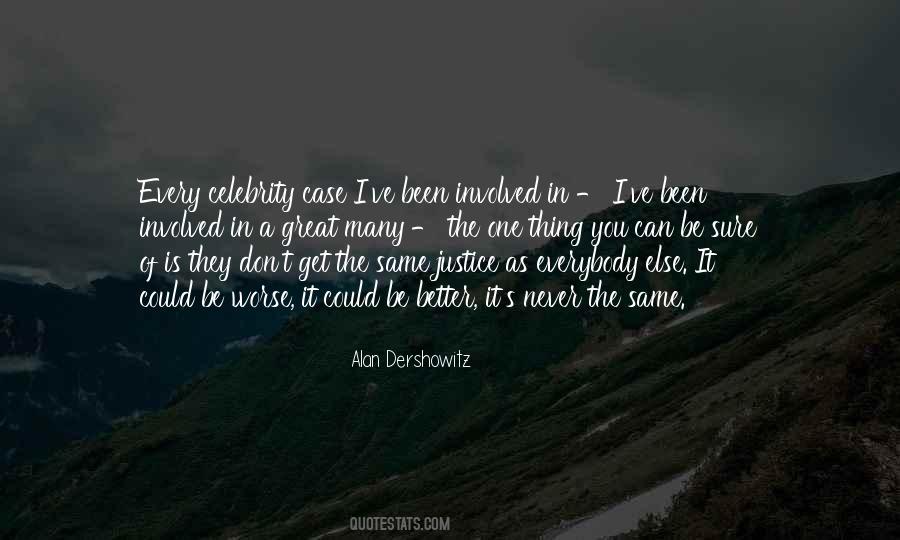 #39. Yes, risk-taking is inherently failure-prone. Otherwise, it would be called sure-thing-taking. - Author: Jim McMahon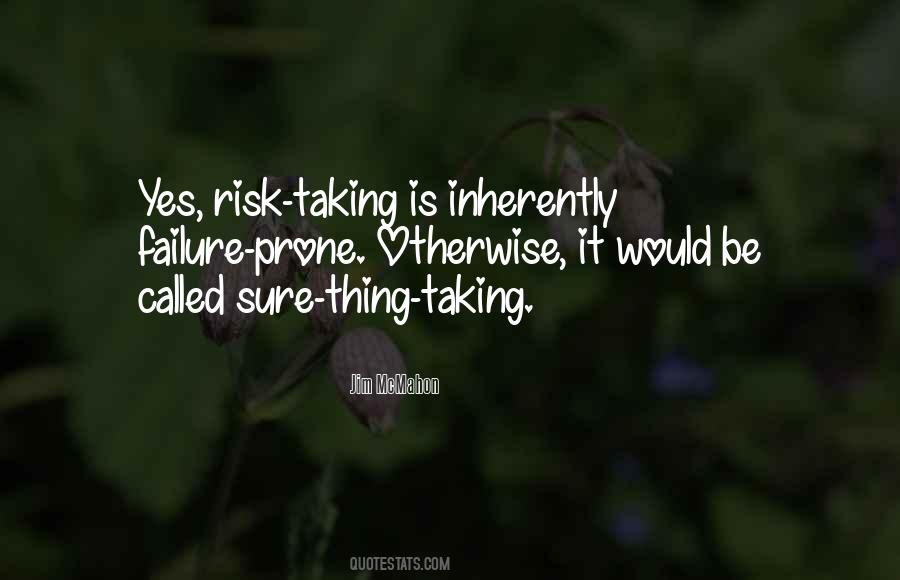 #40. The hardest thing you will ever do in life is to know for sure what is true. - Author: G.P. Ching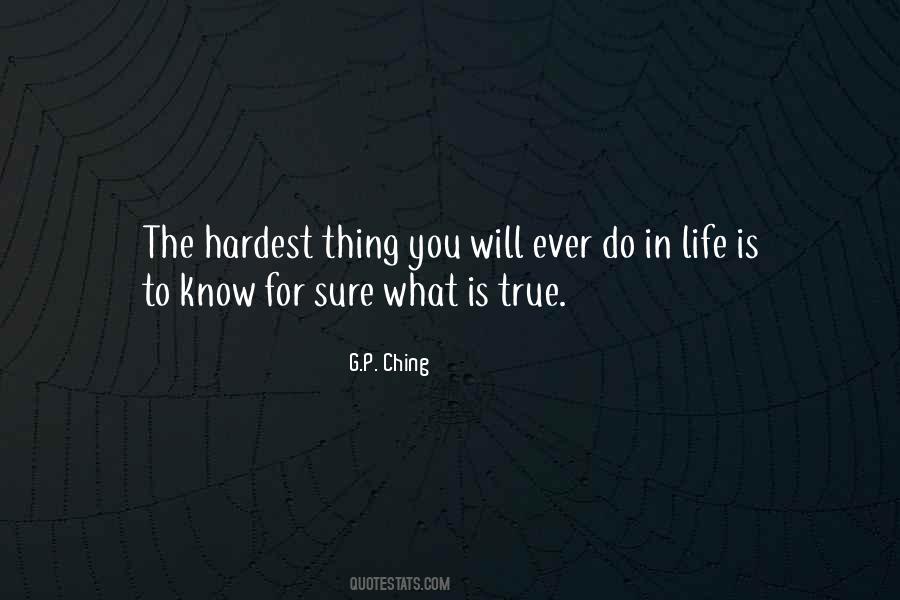 #41. You would die of boredom in my body." "No, I'd take that young thing out for a spin and liven things up a little." I roll my eyes. "I'm sure you would. You'd have me screwing my way through greater Atlanta." "Breakin' hearts and blowin' minds! Or blowin' something," she says with a devilish wink. - Author: M. Leighton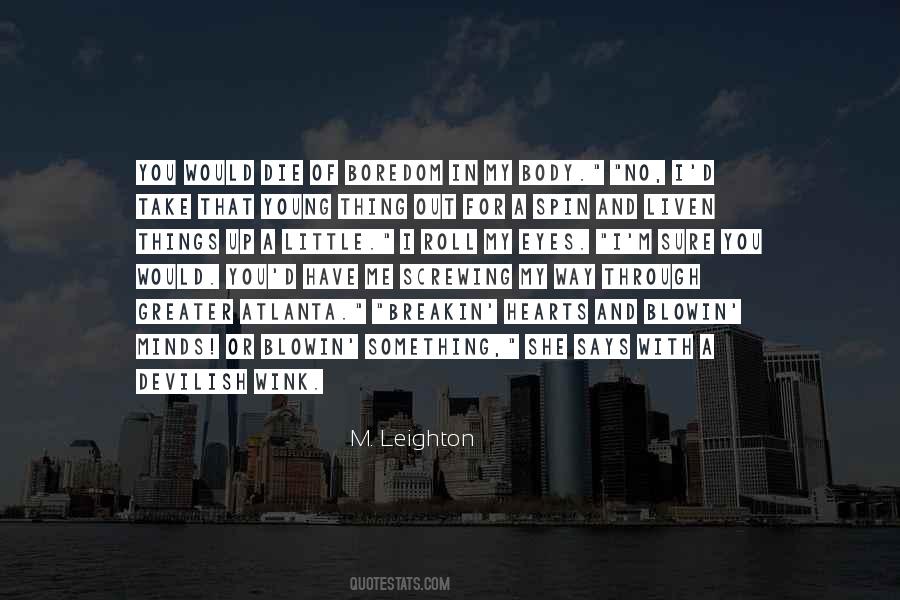 #42. All women are lifelong members of the Secret Service...So, if you must lie, better make sure you cover your tracks because there is no such thing as a 'dumb blonde'... - Author: Virginia Alison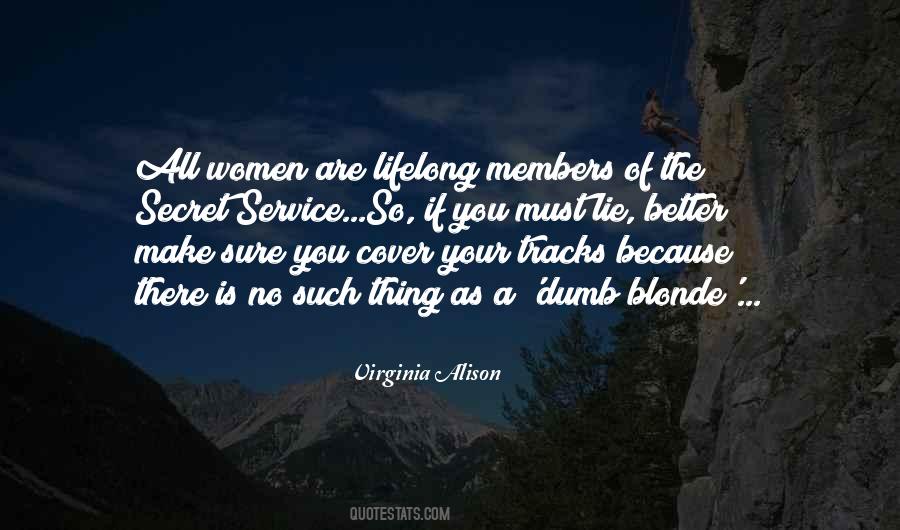 #43. I know for sure that's what we're here to do: Keep the joy thing going for all seasons. - Author: Oprah Winfrey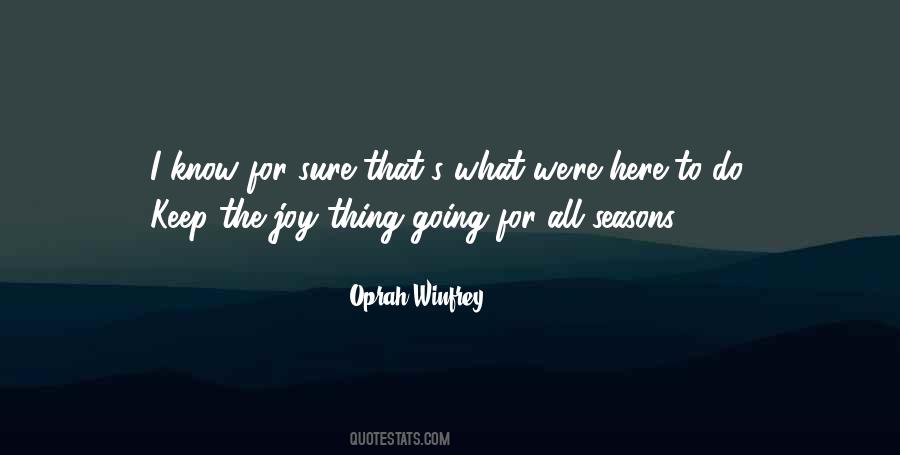 #44. Sometimes, we feel conscious but unable to move our body.
The first thing to do is focus in a prayer, then start to wink frequently.
By this way, slowly but sure our body can be moved totally by our persistent willpower. - Author: Toba Beta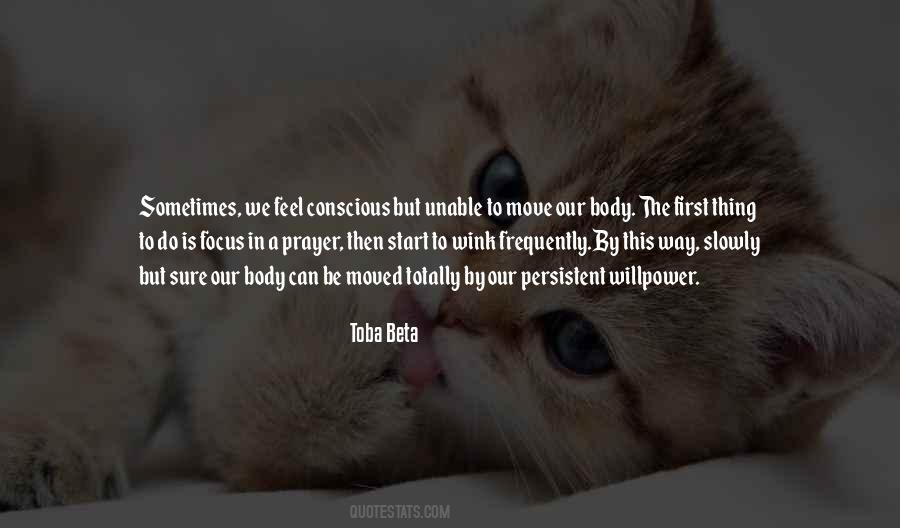 #45. The funny thing is you oddly don't really say goodbye to all the characters you've played. There's like a chest of drawers in your head that you can always access. They're always around. I'm not sure if that's healthy. But they're all there. - Author: Johnny Depp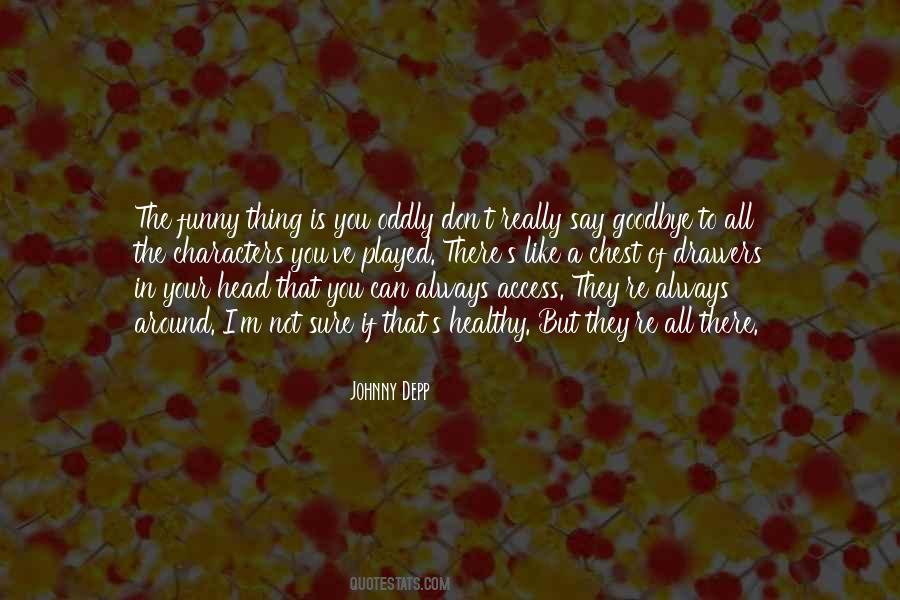 #46. I wanted to say the right thing, more than I'd ever wanted to say the right thing in my life, but I wasn't sure what the right thing was. I'd have to make a guess. - Author: Laurelin Paige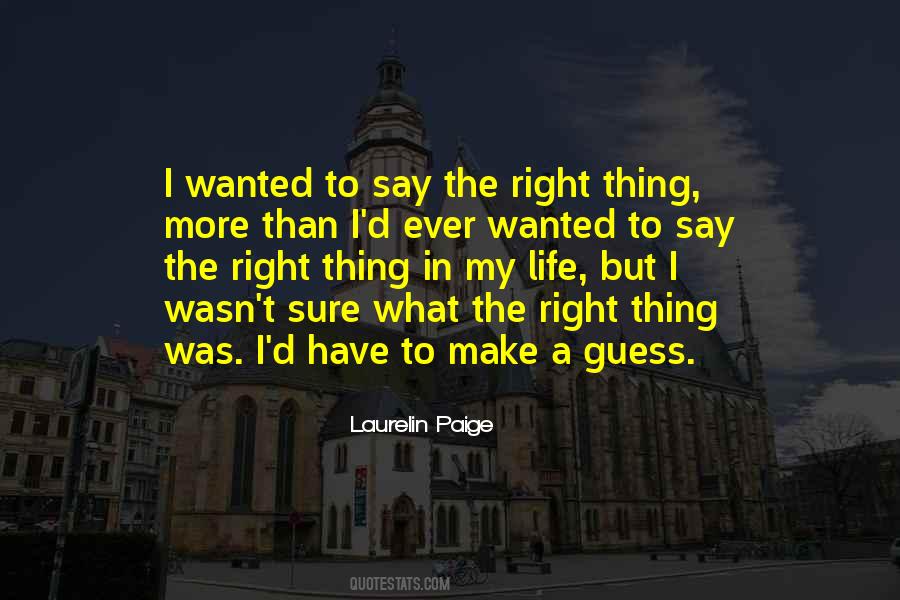 #47. Whether it was the delicious food they filled us with, their humorous antics, or the extreme warmth and acceptance they provided the family, one thing is for sure, nothing could replace the love for and the love felt from Italian grandmothers. - Author: Jacqueline Miconi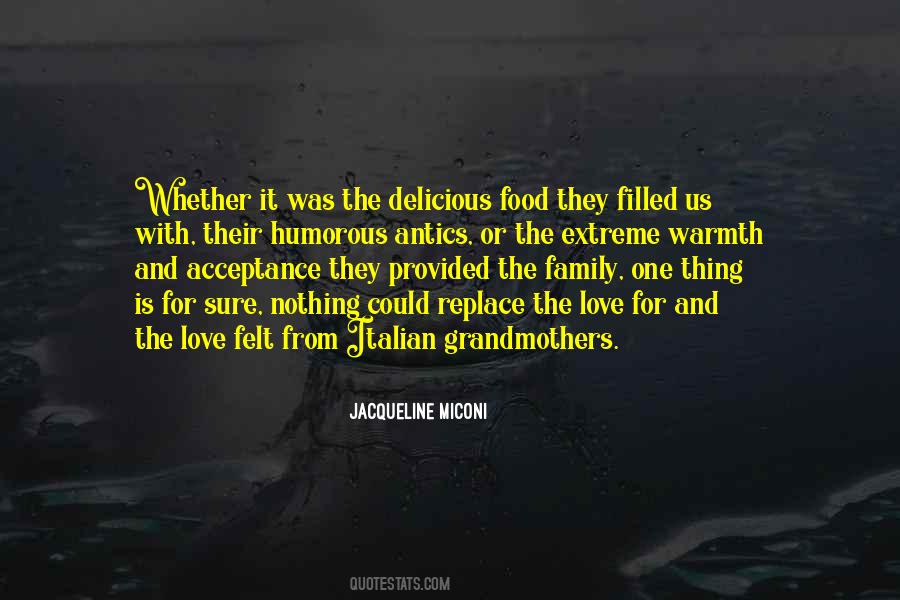 #48. I think there were some programs but in those days art programs were kind of basic. You would do drawing and simple collage type work. But at home I was beginning to get interested in doing my own thing as well. I'm not sure what inspired this, but I became very interested in decorating things. - Author: Paul Smith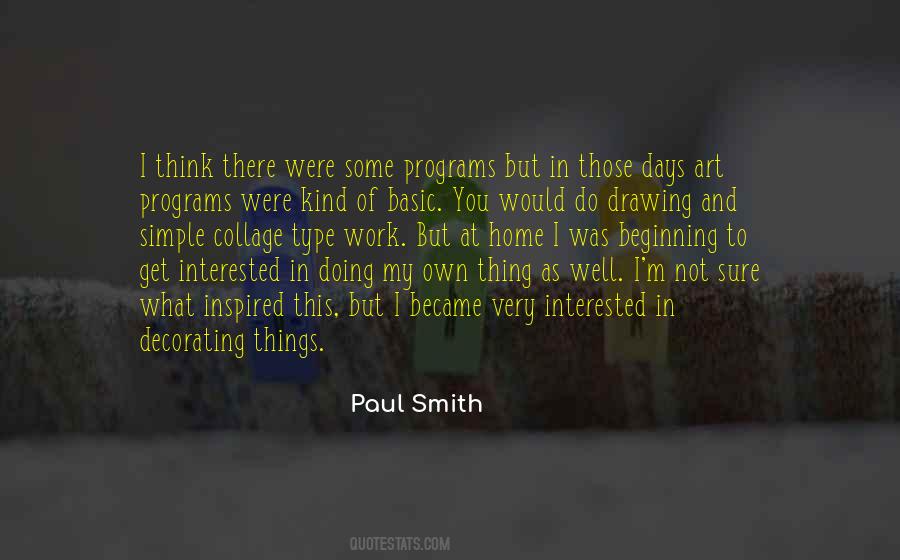 #49. A new thing I've been doing is just making sure I clear off my desk and try to only touch a piece of paper once, so I get the mail, open it up, deal with it then. My son's homework, or what I get from his teachers, the same way. That way, it's not nagging me, things to add to my to-do list. - Author: Adina Porter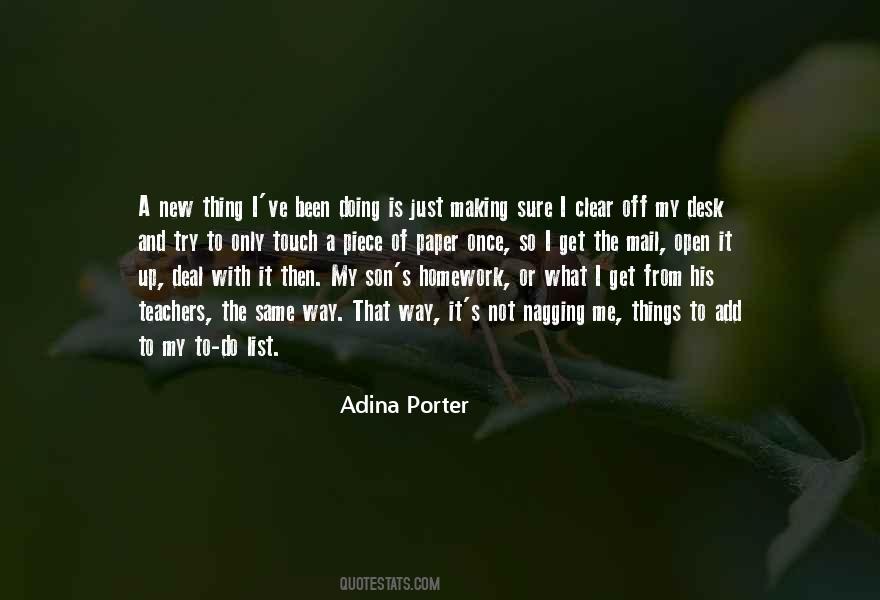 #50. All he wanted to do was shove home and stay there until neither one of them could move, but he found himself saying, "Last chance. You sure about this?" If she had any doubts, now was the time to call the whole thing off. "Oh no. You don't get to take the goddamn noble route now. - Author: Katee Robert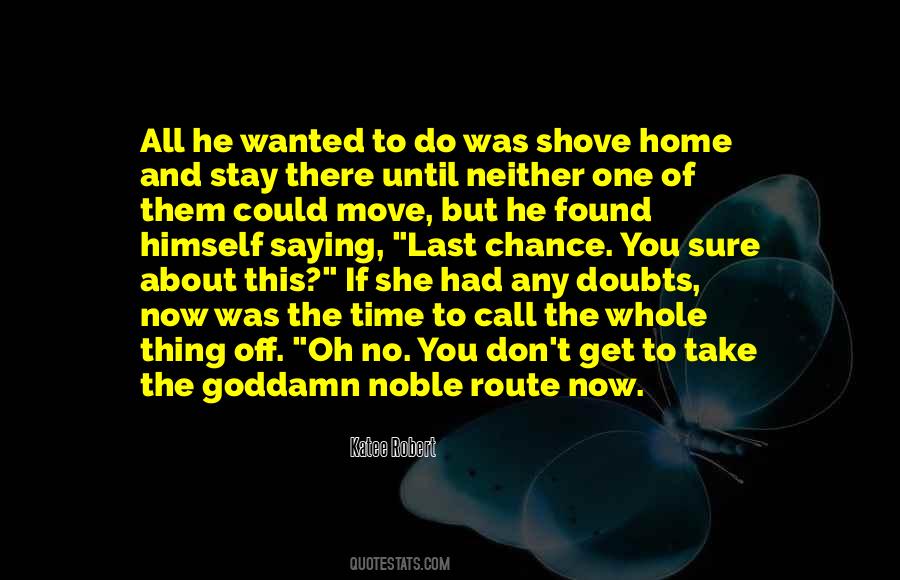 #51. Now I know for sure the soul is an evanescent thing and the body is its temporary container, because I saw it. I saw the body with the soul in it, I saw the body with the soul leaving, and I saw the body with the soul gone. - Author: Elizabeth Alexander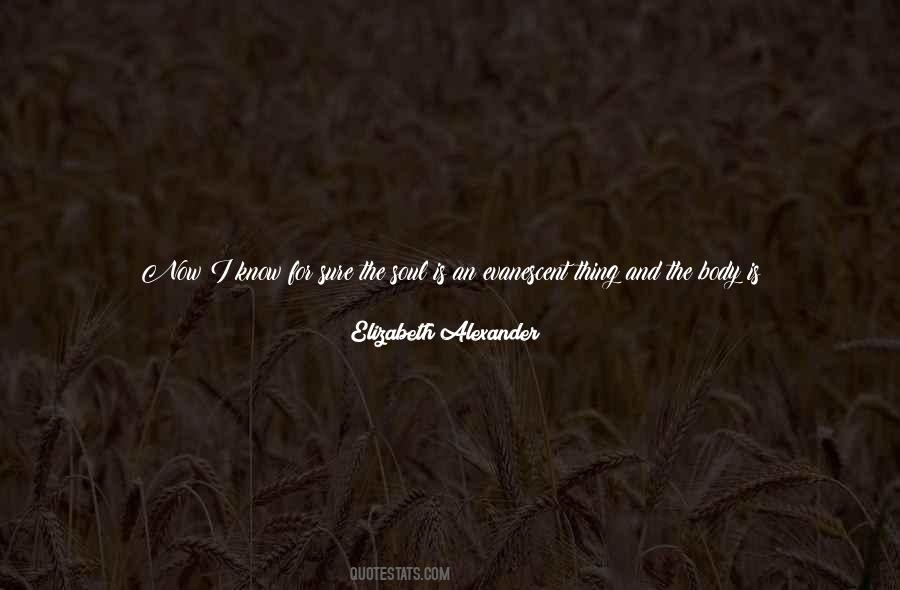 #52. We can always be sure of one thing - that the messengers of discomfort and sacrifice will be stoned and pelted by those who wish to preserve at all costs their own contentment. This is not a lesson that is confined to the Testaments. - Author: Christopher Hitchens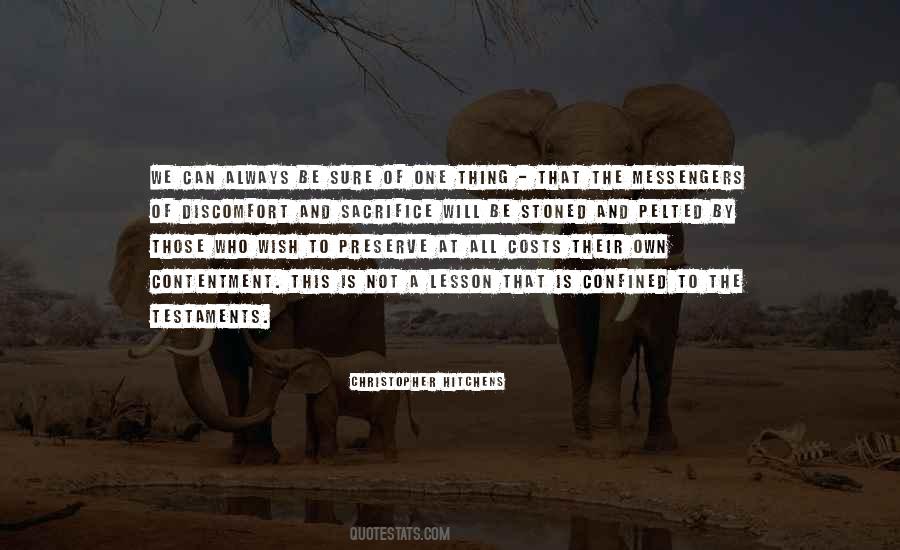 #53. Like Bancroft, MacIntyre had been a man of power, and like all men of power, when he talked of prices worth paying, you could be sure of one thing. Someone else was paying. - Author: Richard K. Morgan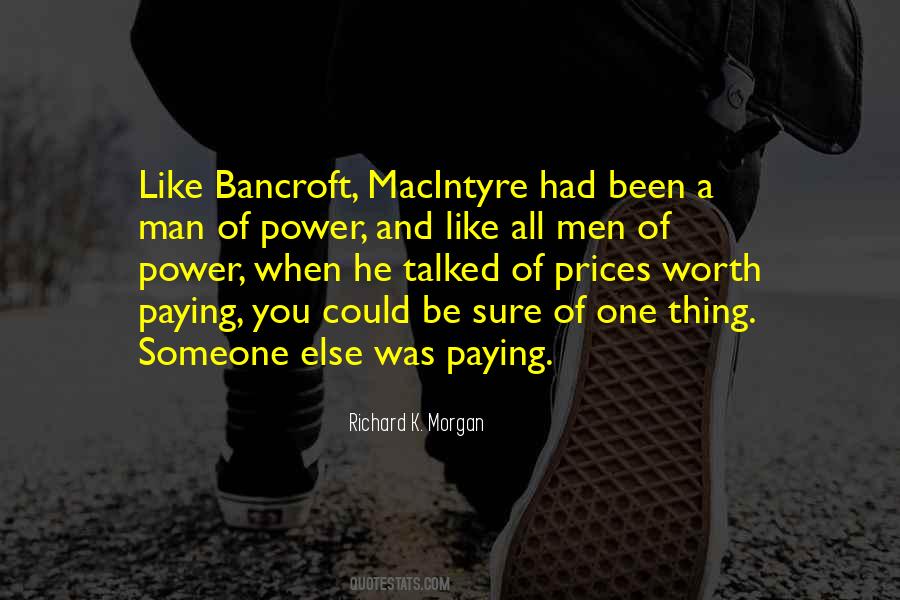 #54. I didn't know for sure whether Miss Sarah's feelings came from love or guilt. I didn't know whether mine came from love or a need to be safe. She loved me and pitied me. And I loved her and used her. It never was a simple thing. - Author: Sue Monk Kidd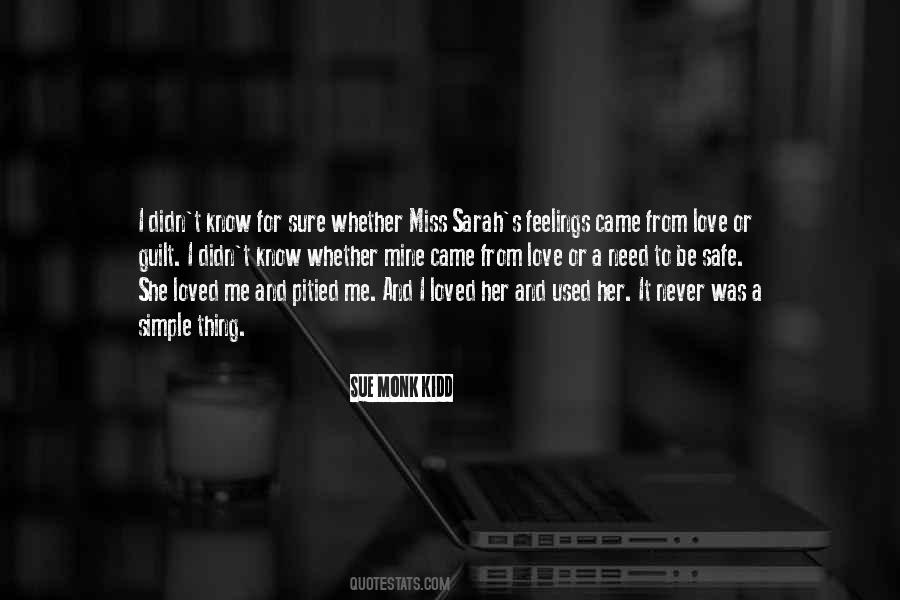 #55. The thing about Tolkien, about The Lord of the Rings, is that it's perfect. It's this whole world, this whole process of immersion, this journey. It's not, I'm pretty sure, actually true, but that makes it more amazing, that someone could make it all up. Reading it changes everything. - Author: Jo Walton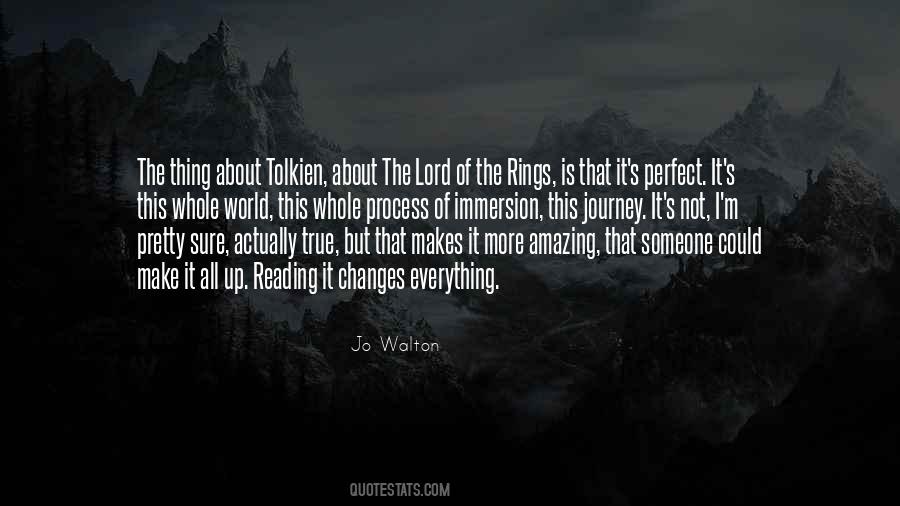 #56. The ancestral voices were prophesying war because ancestral voices never shut up, and they hate to be wrong, and war is a sure thing, sooner or later. - Author: Margaret Atwood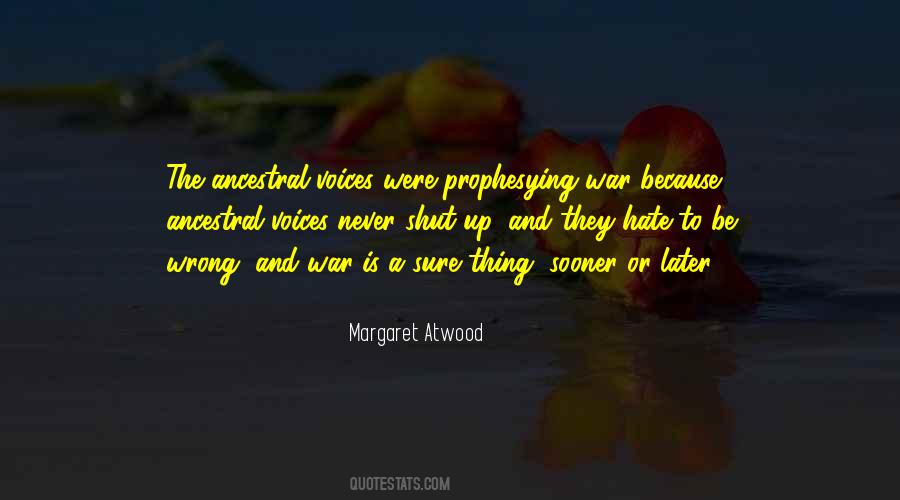 #57. I think one thing for sure that you learn the more films that you make is how important it is to choose your collaborators. - Author: Brit Marling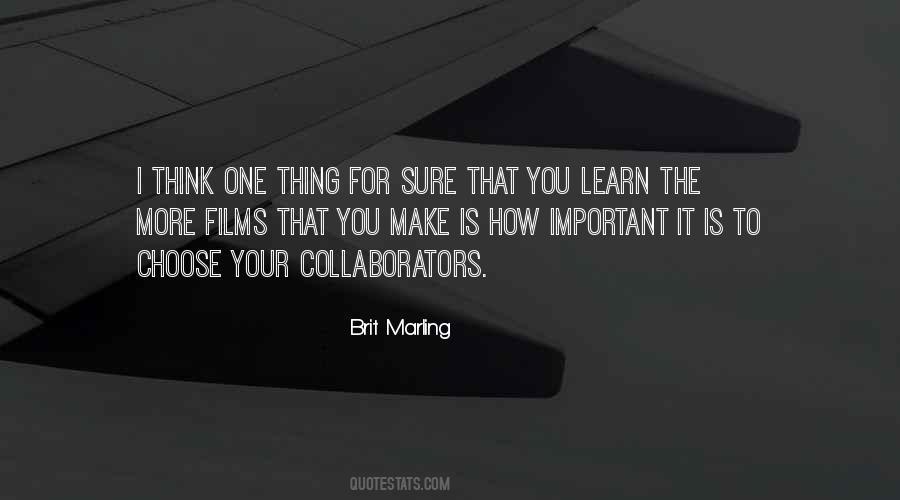 #58. The one thing for sure is, I don't ever want to waste a movie. I don't ever want to waste effort. - Author: Adam McKay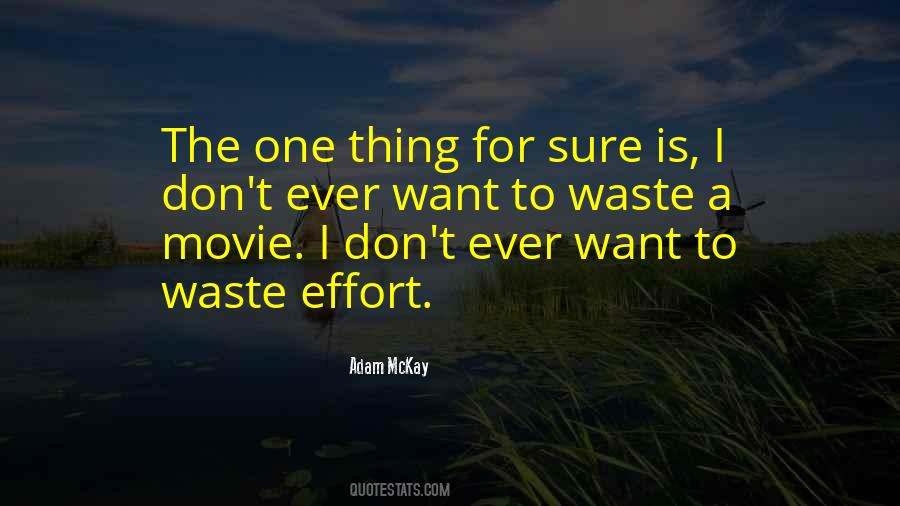 #59. You agree - I'm sure you agree that beauty is the only thing worth living for. - Author: Agatha Christie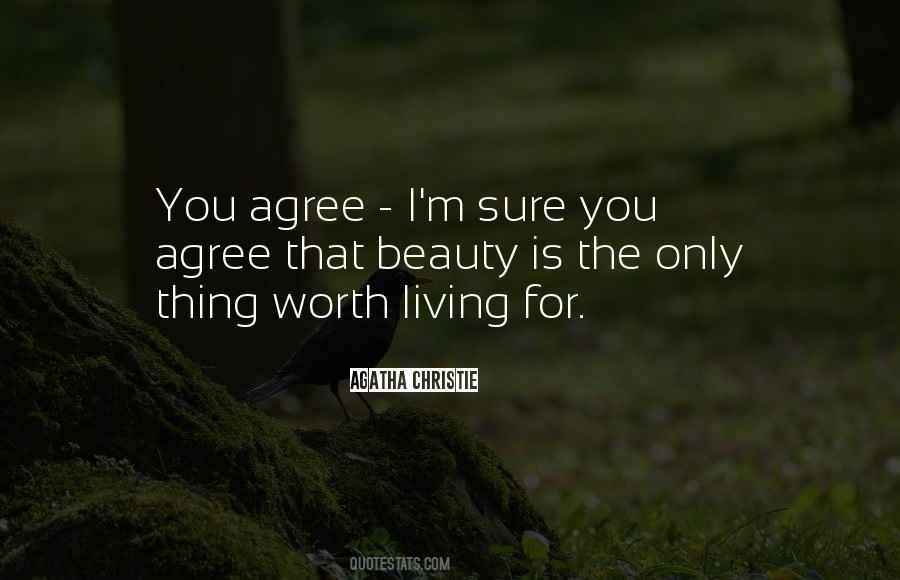 #60. In the realms of legend and lore, as well as in real life, the triumph of true love is never a sure thing. - Author: Kate Emerson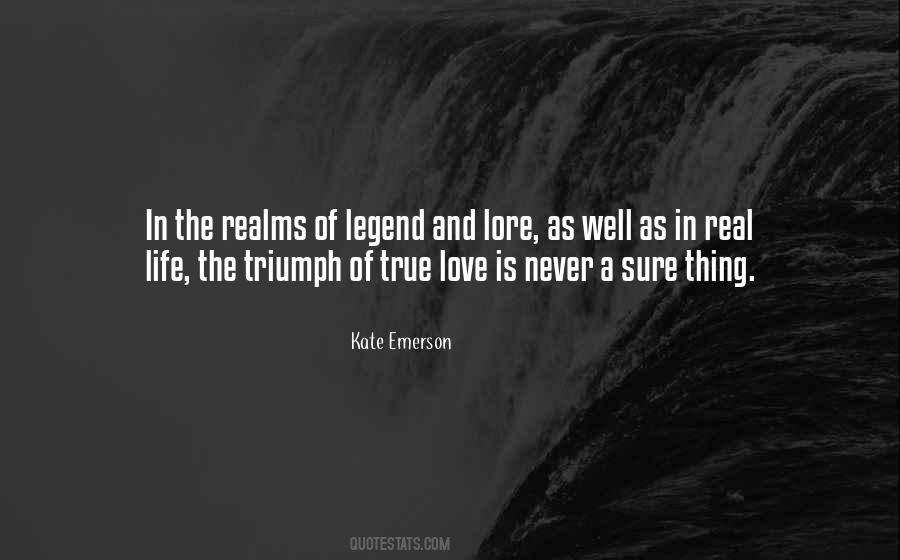 #61. You wish for something, you've wanted it for years, and you're sure you want it, as long as you know you can't have it. But if all at once it looks as though your wish might come true, you suddenly find yourself wishing you had never wished for any such thing. - Author: Michael Ende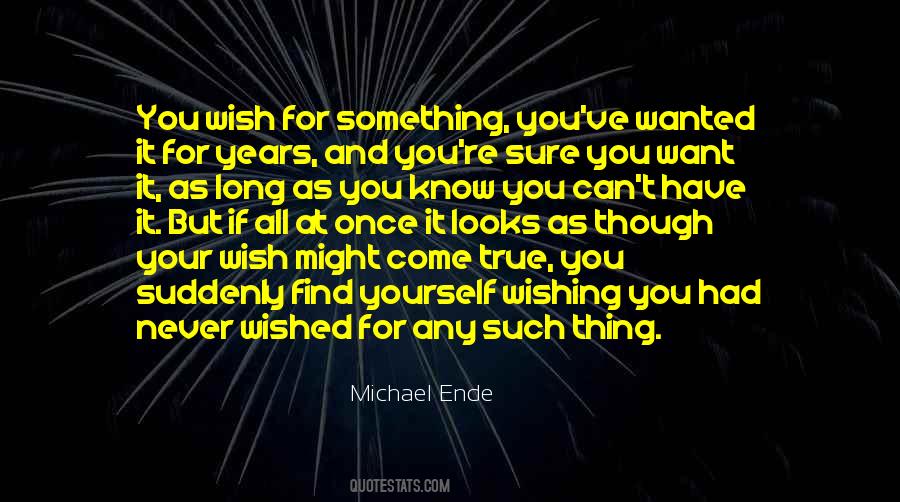 #62. Funny thing how when you reach out, people tend to reach right back. Best, then, to make sure your hand is open and not fisted. - Author: Richelle E. Goodrich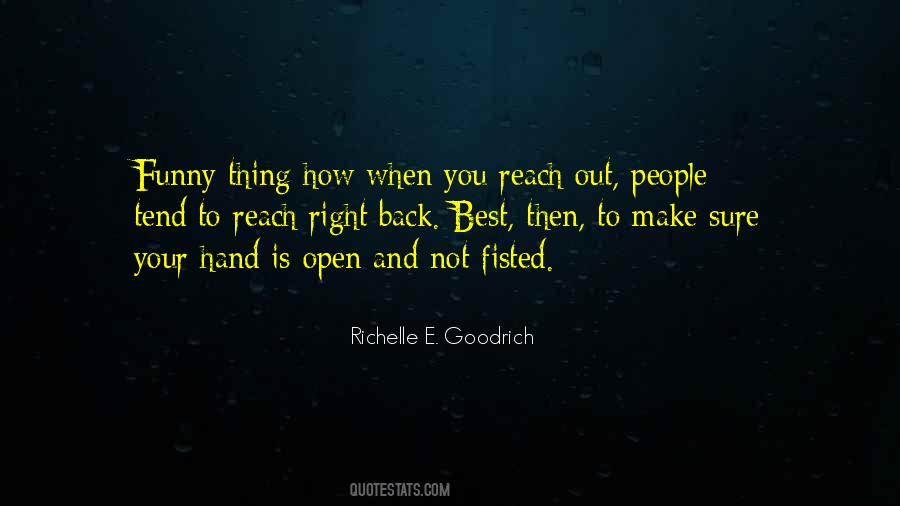 #63. The only thing I wouldn't like to do is to play roles as a musician. I'm not sure that I would be comfortable doing that, and I'm not sure I'd be very good at it. I think I would be better served, and would be a better partner, if I was in something outside of myself. - Author: Larry Mullen Jr.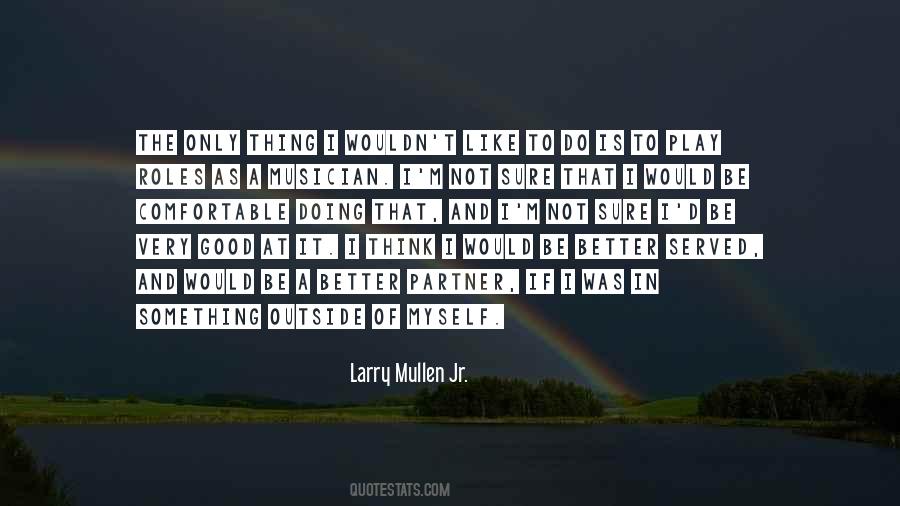 #64. The only thing you can be sure of, Herr March, is that - whoever wins - still standing when the smoke of battle clears will be the banks of the cantons of Switzerland. - Author: Robert Harris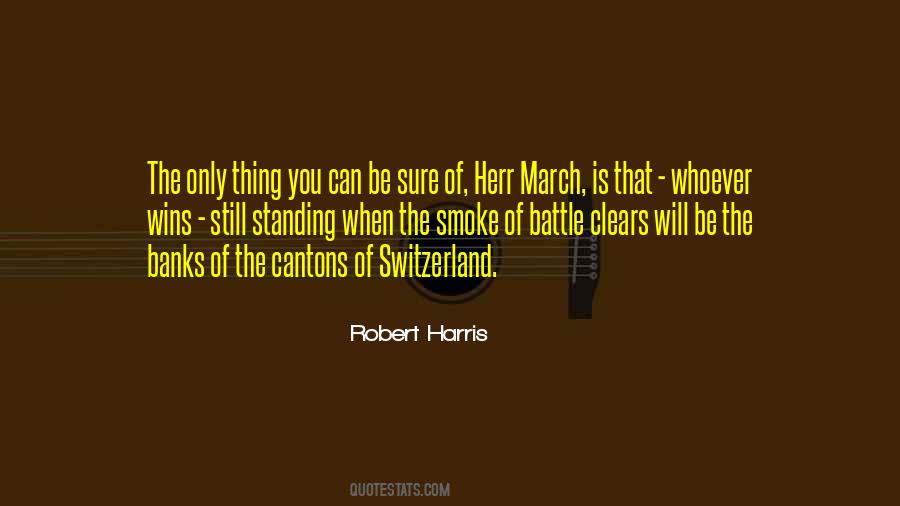 #65. I know now that everybody in the arts is forever a beginner. Experience counts for a great deal and very little. Every night onstage I feel I am starting from scratch, still not quite sure what I am doing and where I am going, thrown by the simplest thing that goes wrong. - Author: Joan Rivers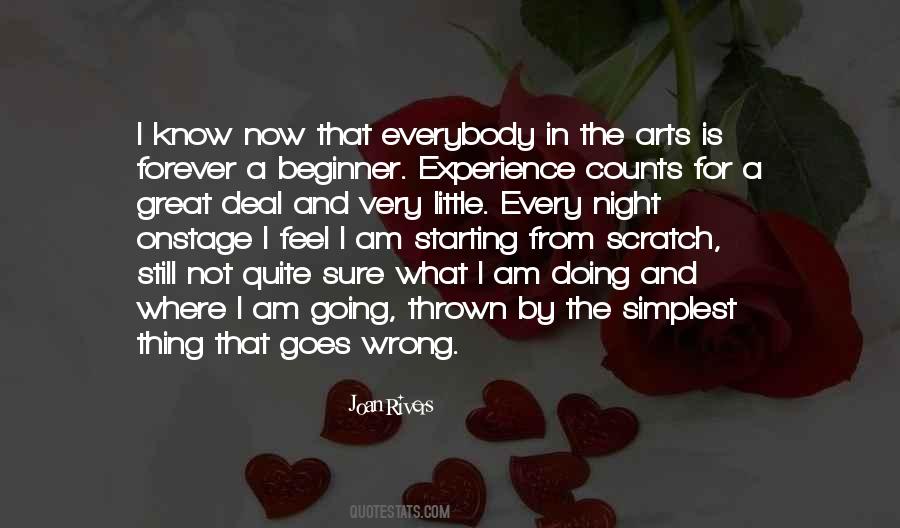 #66. It's fall coming, I kept thinking, fall coming; just like that was the strangest thing ever happened. Fall. Right outside here it was spring a while back, then it was summer, and now it's fall-that's sure a curious idea. - Author: Ken Kesey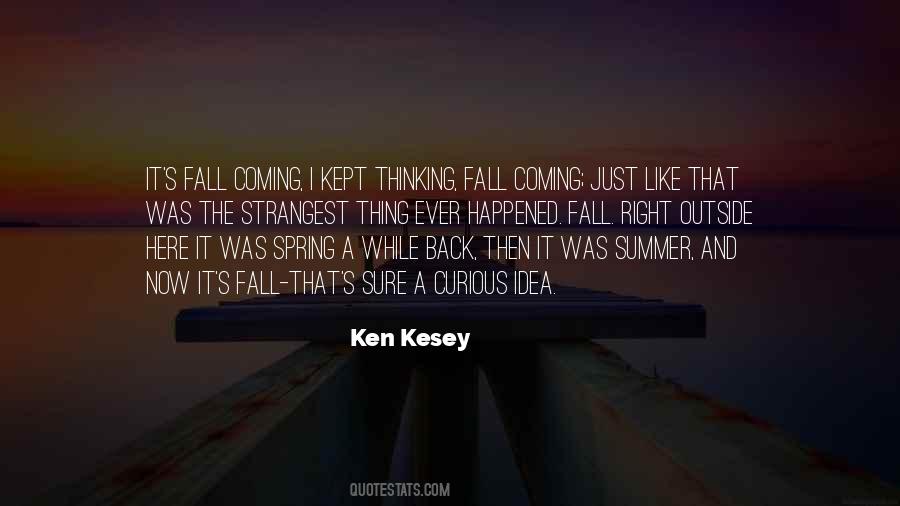 #67. If you took me to Coachella for our first date, it would probably be a done deal. It would be a sure thing. - Author: Eva Mendes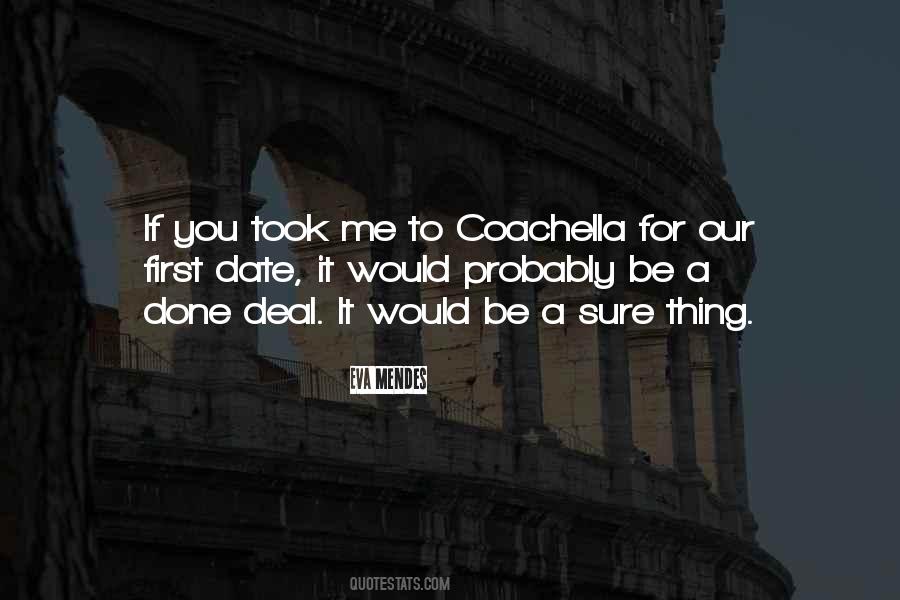 #68. One thing I know for sure is that family is not defined by blood. - Author: Jessica Scott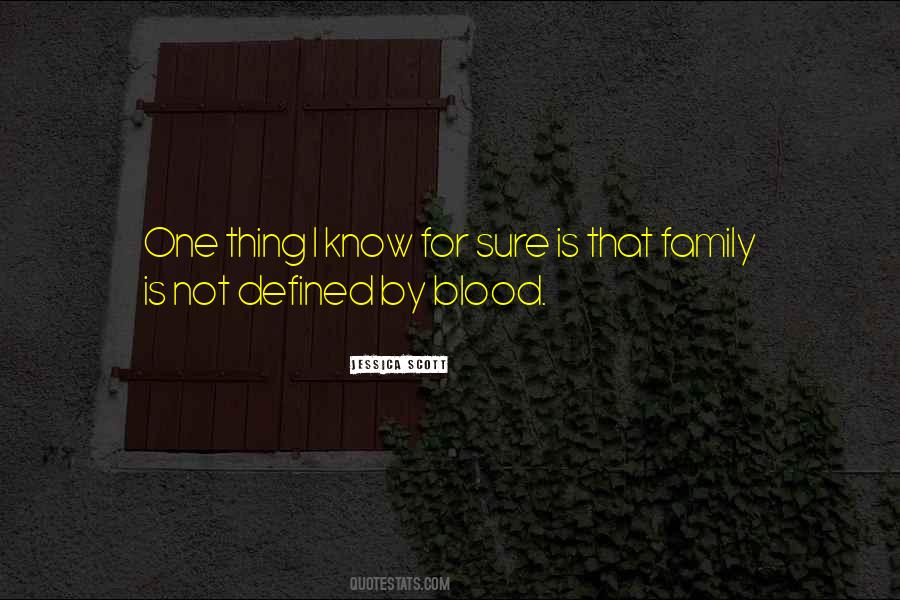 #69. Chemistry cannot be manufactured or forced, so Wild Flag was not a sure thing, it was a 'maybe,' a 'possibility.' But after a handful of practice sessions, spread out over a period of months, I think we all realized that we could be greater than the sum of our parts. - Author: Carrie Brownstein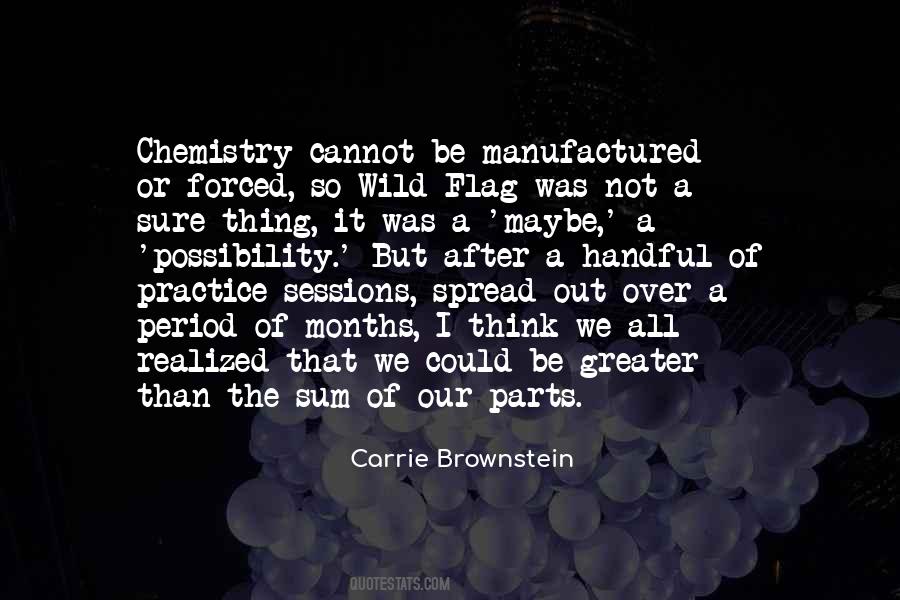 #70. The best thing to do is try and make sure you're getting something at your end. We had stretches where we didn't get that. - Author: Bo Ryan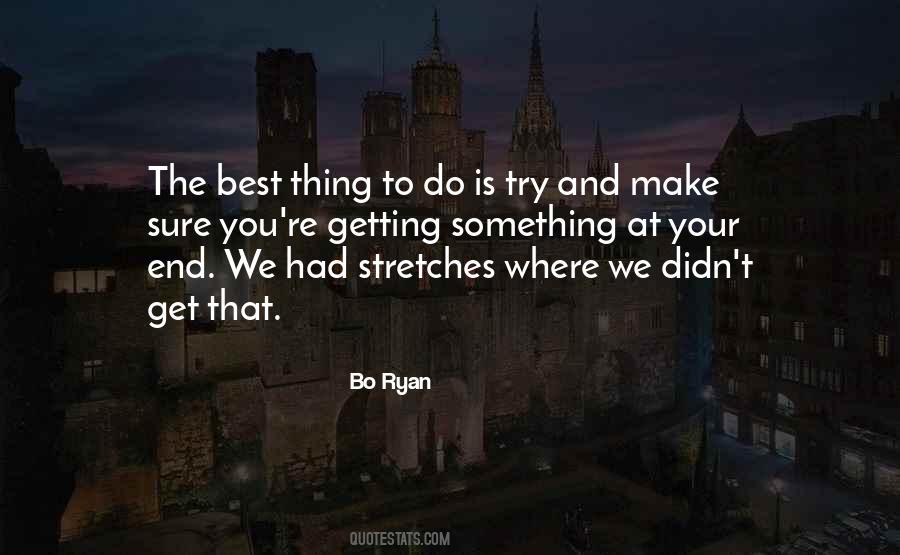 #71. I don't think they's luck or bad luck. On'y one thing in this worl' I'm sure of, an' that's I'm sure nobody got a right to mess with a fella's life. He got to do it all hisself. Help him, maybe, but not tell him what to do. - Author: John Steinbeck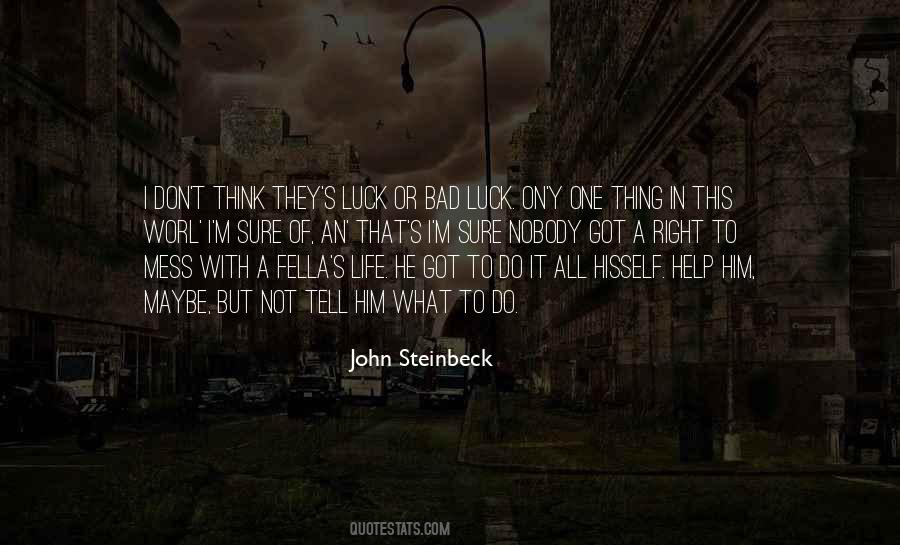 #72. Motherhood is a choice you make everyday, to put someone else's happiness and well-being ahead of your own, to teach the hard lessons, to do the right thing even when you're not sure what the right thing is ... and to forgive yourself, over and over again, for doing everything wrong. - Author: Donna Ball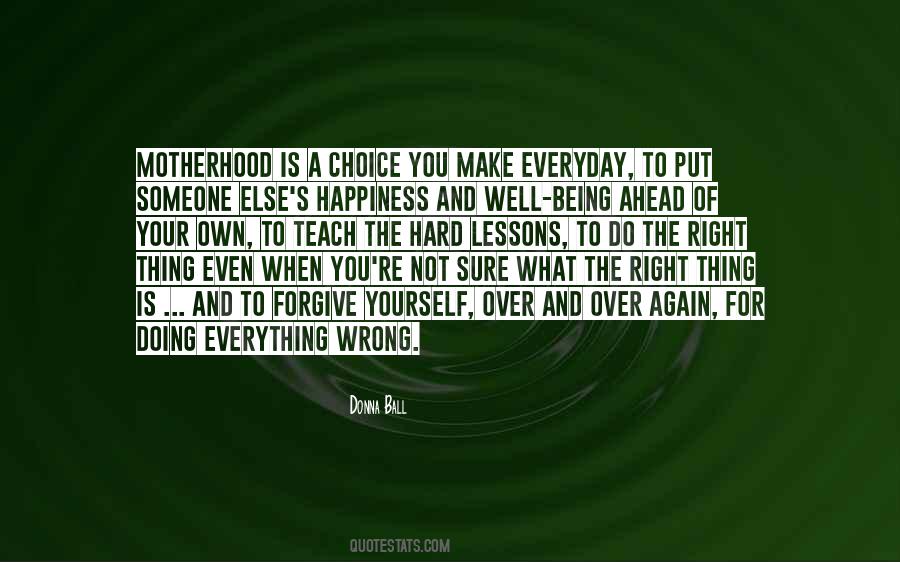 #73. Even if gas prices fall, consumers will continue to be gouged at the pump the only thing that we can be sure rises faster that the price of gasoline is the skyrocketing profits of oil companies. - Author: Major Owens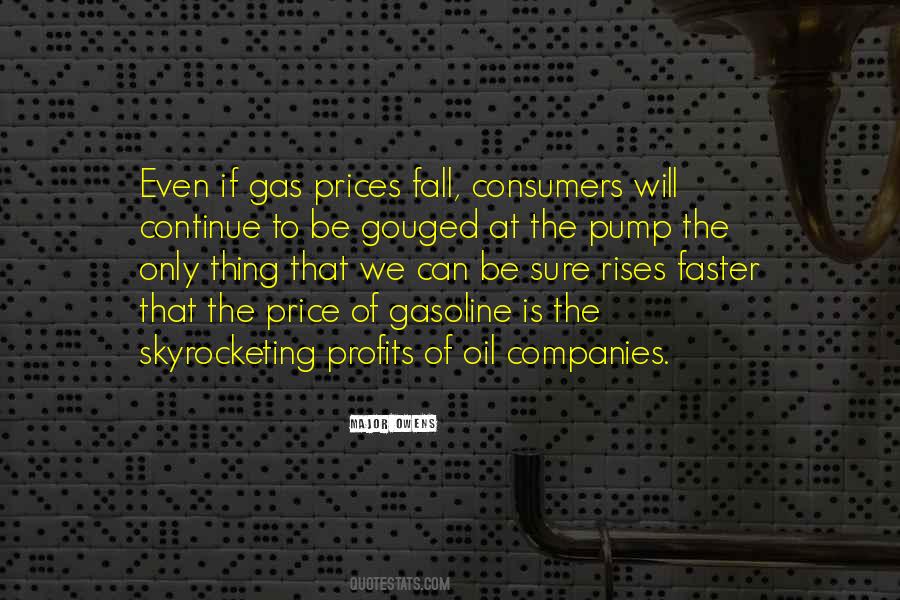 #74. The most interesting thing about the idea of money is that it makes it possible to measure something in previous ages we couldn't be sure about, and that something is power. - Author: Daniel Keys Moran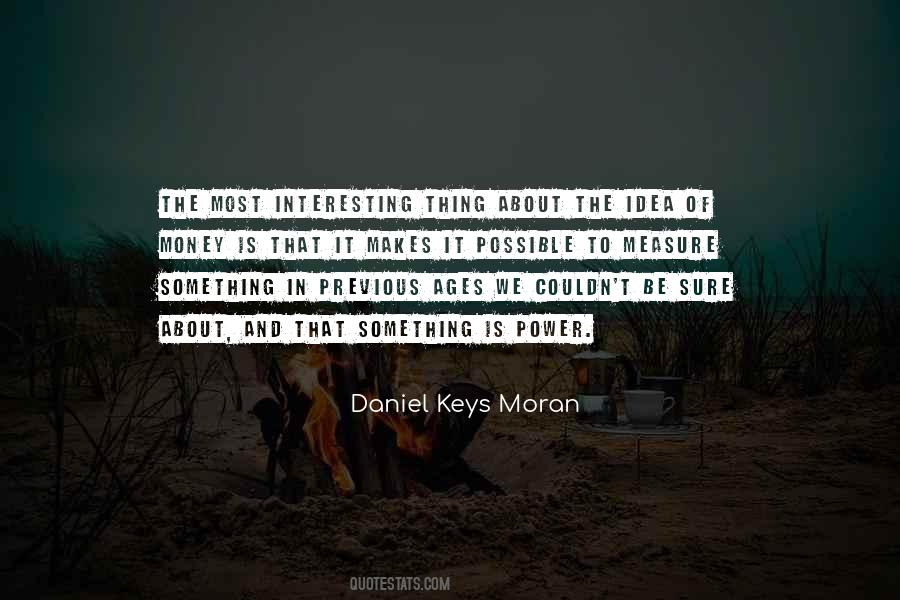 #75. One damn sure thing! - he wasn't going to let them be rough with that Smith lad. He was a nuisance, granted, but he was a nice lad and rather appealing in a helpless, half-witted way. - Author: Robert A. Heinlein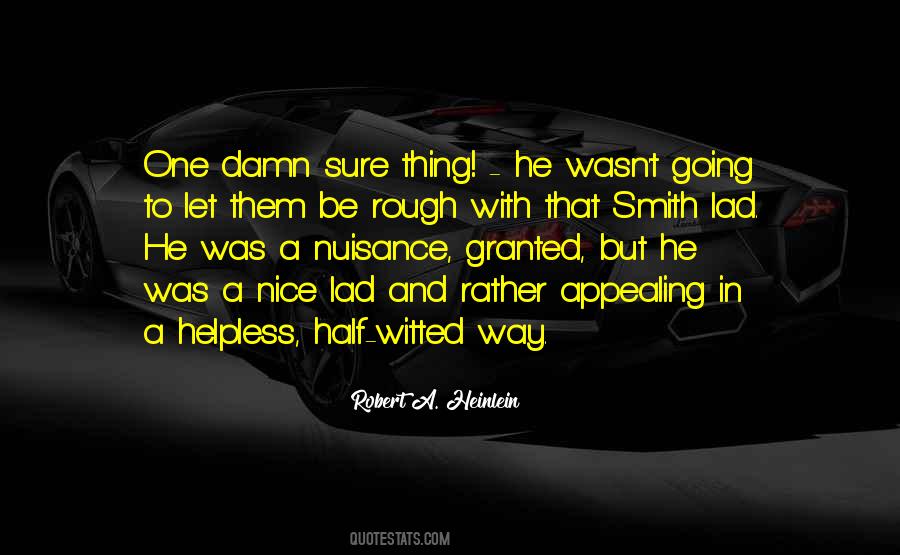 #76. Sure he's dead, and it's a good thing for us. It's hard to argue with a dead man. A dead man can't change his mind or make new rules, or behave like a bastard so no one will listen to him anymore. A dead man stays a saint. - Author: Cherie Priest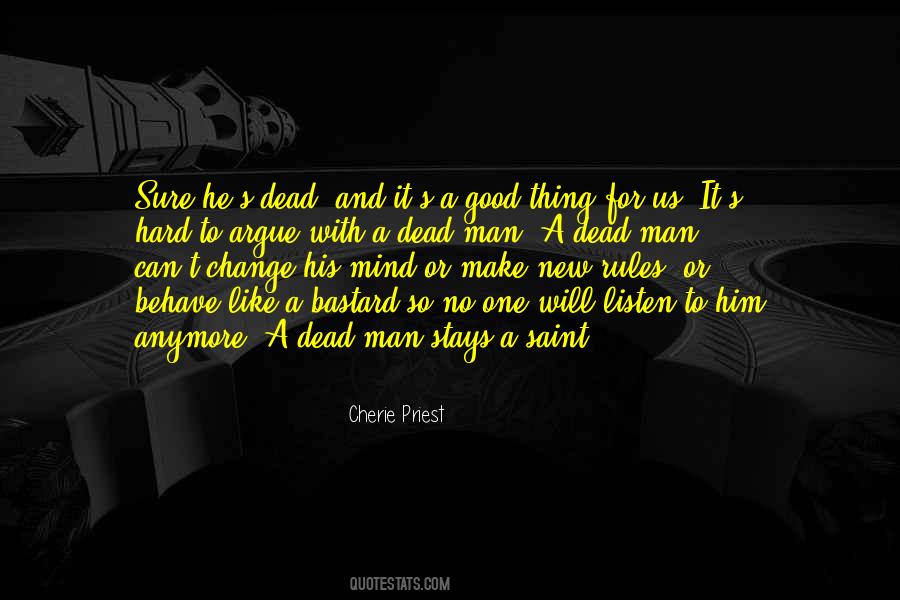 #77. I was meant to be a composer and will be I'm sure. Don't ask me to try to forget this unpleasant thing and go play football - please. - Author: Samuel Barber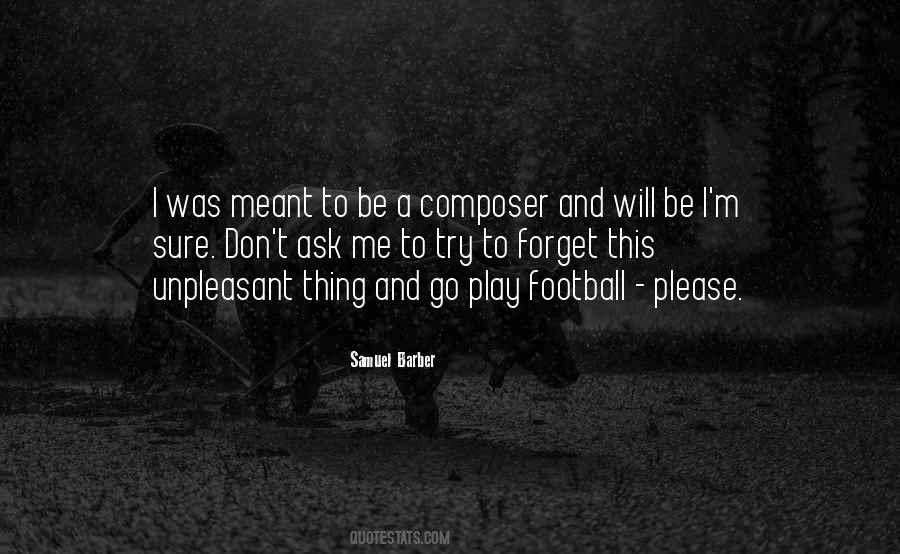 #78. I'm sure you despise me," she sobbed, looking up at him through tearful eyes.
"Despise you?!" Langdon exclaimed. "I don't have the slightest idea who you are! All you've done is lie to me!"
"I know," she said softly. "I'm sorry. I've been trying to do the right thing. - Author: Dan Brown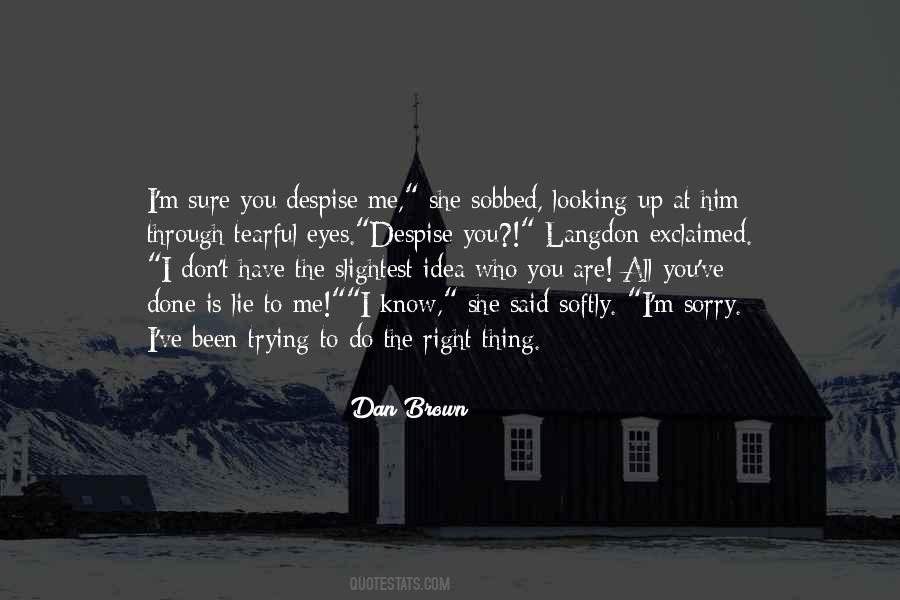 #79. I am so looking forward to it. I made sure I had a strong foundation before I became pregnant and I think that's the most important thing. There were a lot of things that I wanted to do personally so that when the time came, I really knew who I was and could be the best mother. - Author: Beyonce Knowles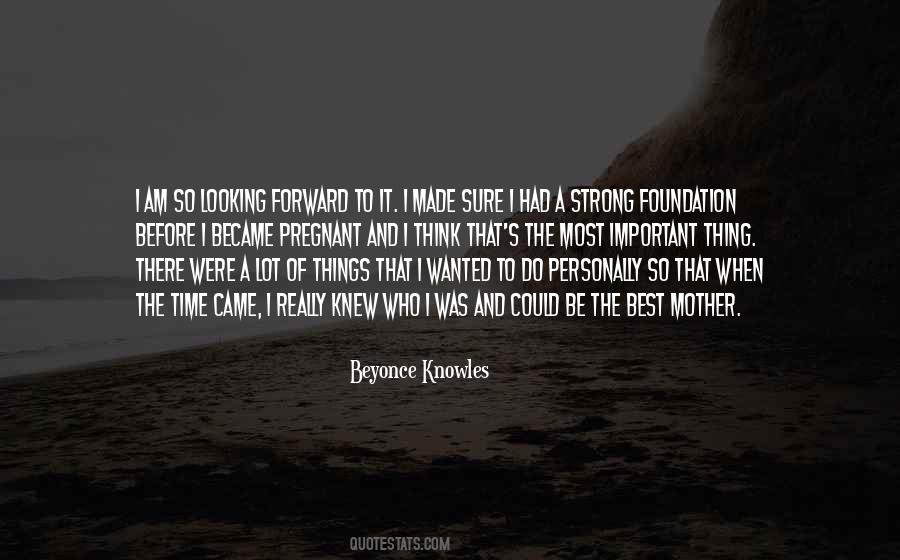 #80. I wanted to change the world. But I have found that the only thing one can be sure of changing is oneself. - Author: Aldous Huxley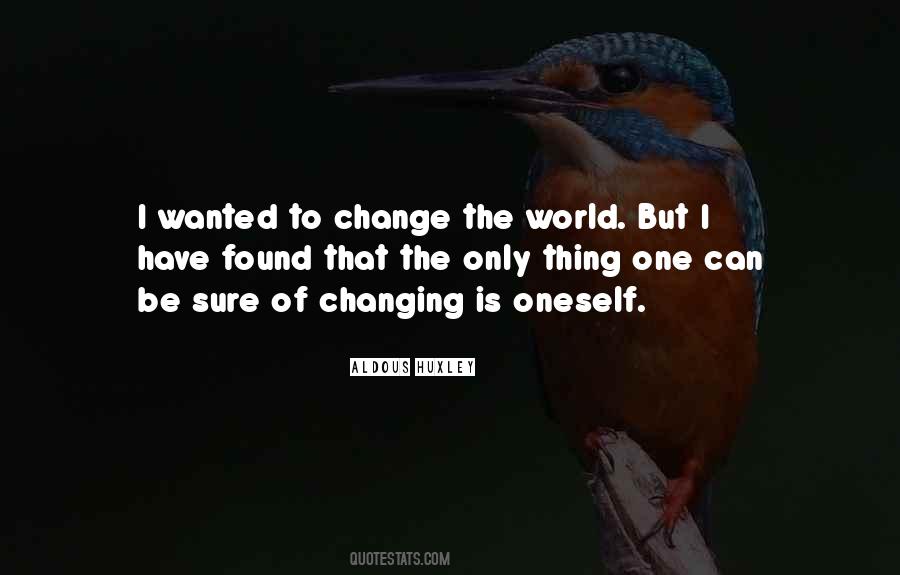 #81. I had an amazing mother. She raised nine kids, practically as a single parent, which is the hardest thing in the world. Nine of us! Day in and day out. She had to make sure we all had an education and that we all felt loved. - Author: Sufe Bradshaw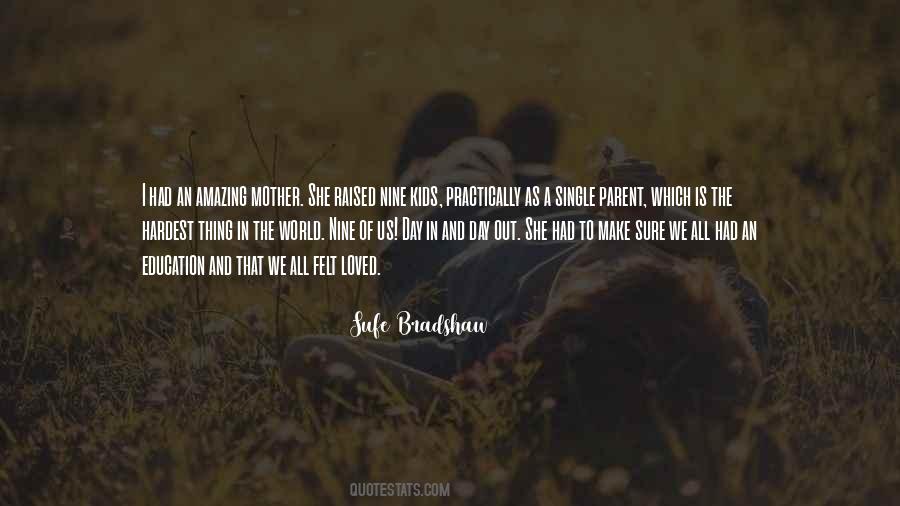 #82. As women, we're nurturers by nature. We want to make sure everyone is happy. That's a good thing, but we also have to put ourselves on that happiness list. - Author: Victoria Osteen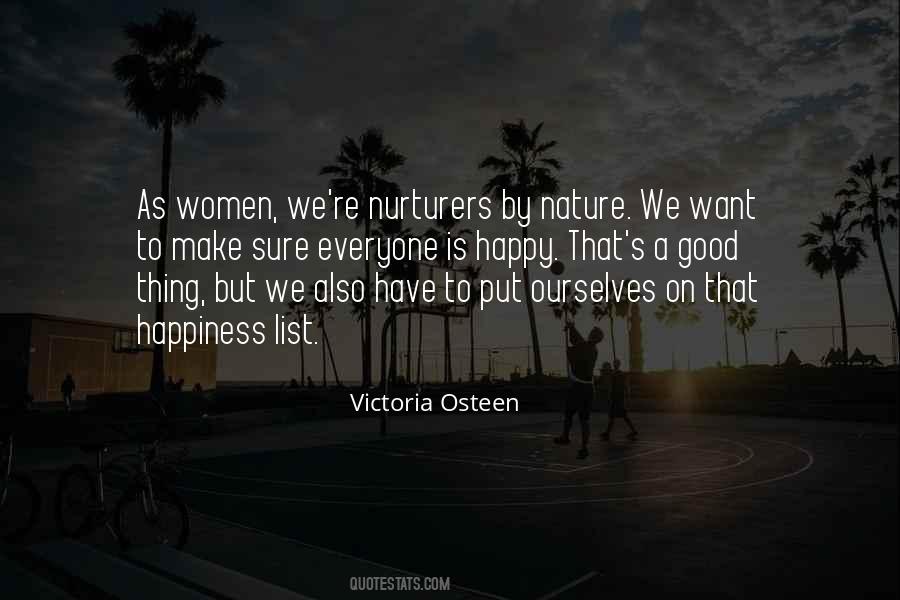 #83. One thing you may be sure of, I was not a party to covering up anything. - Author: Rutherford B. Hayes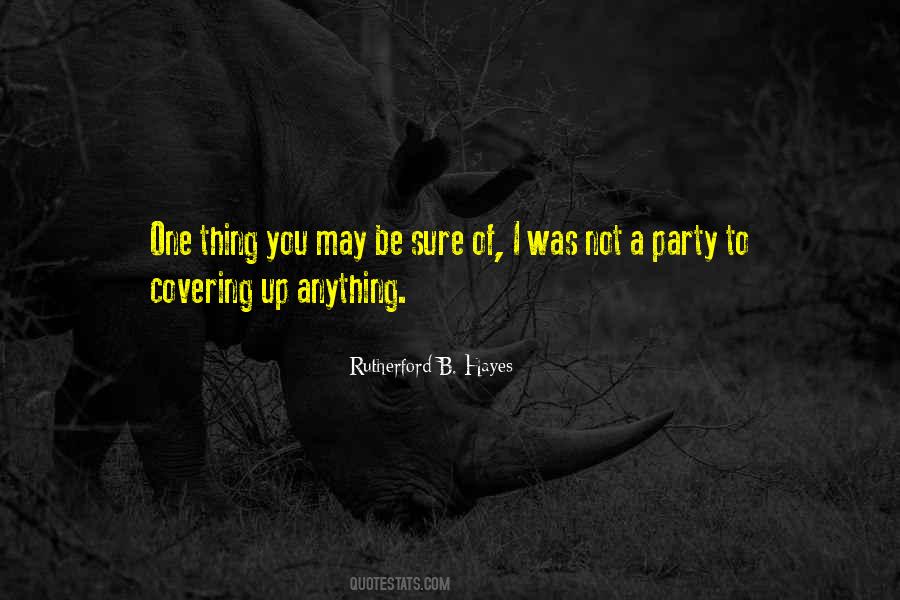 #84. Make sure the thing you are working on is something you love. - Author: Brad Feld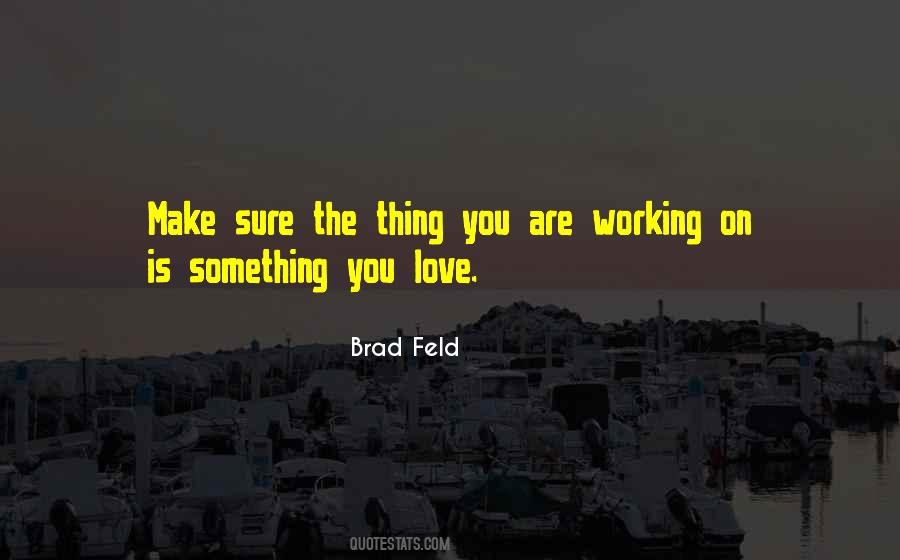 #85. When arguing with a fool, make sure the opponent isn't doing the exact same thing. - Author: Abraham Lincoln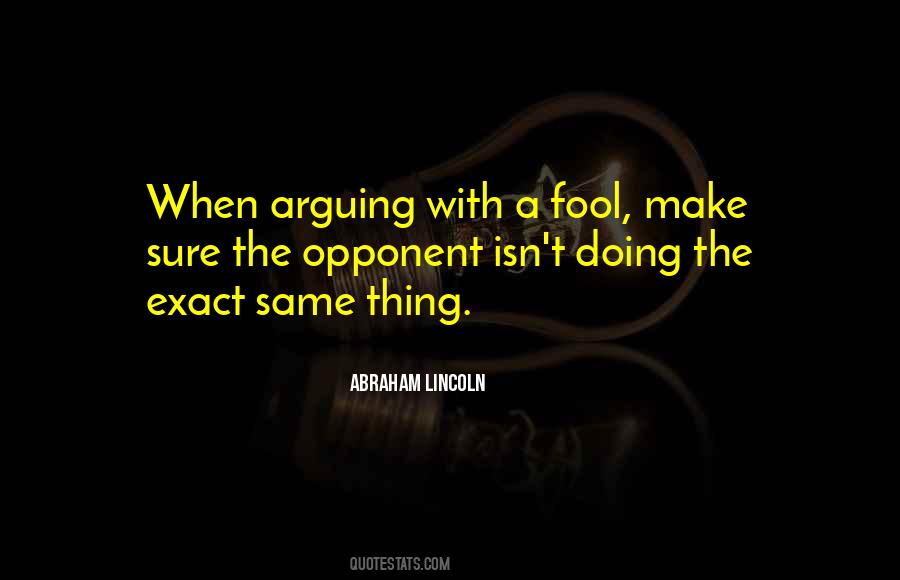 #86. One thing that most comic artists avoid is showing decisions. They show action, sure, and they show results, but they don't show (because it's difficult to show) the hero or the villain making a choice. - Author: Seth Godin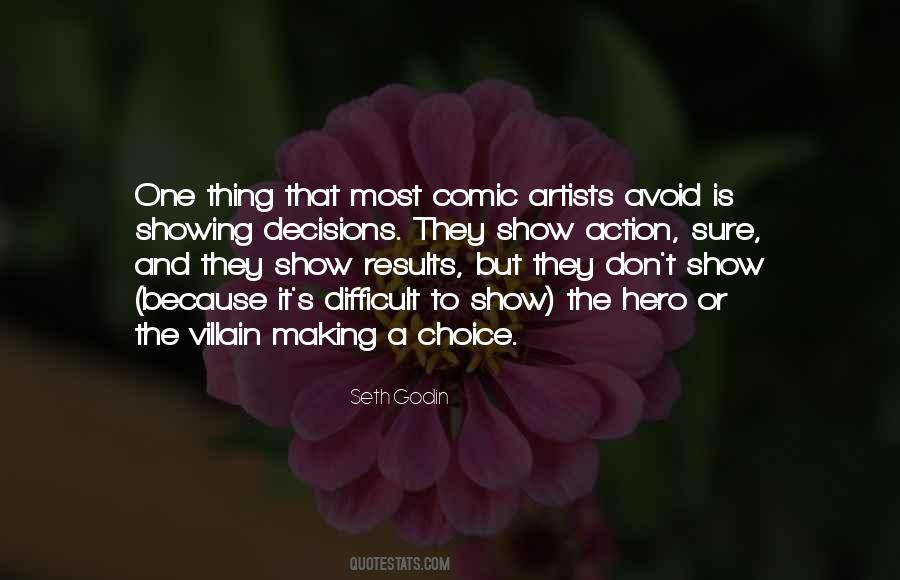 #87. Search your own life for the story only you can tell. The best thing about writing from life is that you can be sure of using original material. And no research is needed beyond the time you spend looking deep inside your own heart. - Author: Elizabeth Held Forsyth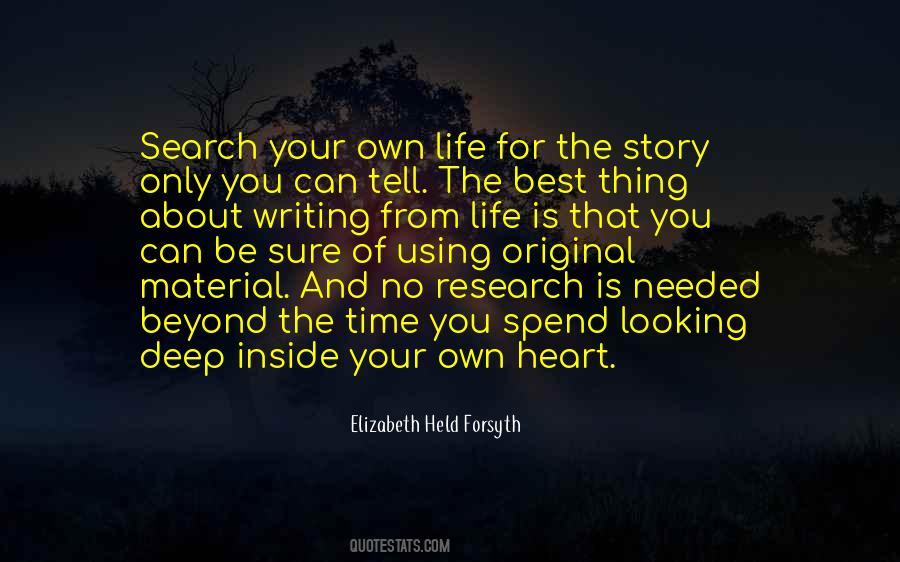 #88. I'm not so sure," Dad said. "Every damn thing in the universe can be broken down into smaller things, even atom, even protons, so theoretically speaking, I guess you had a winning case. A collection of things should be considered one thing. Unfortunately, theory don't always carry the day. - Author: Jeannette Walls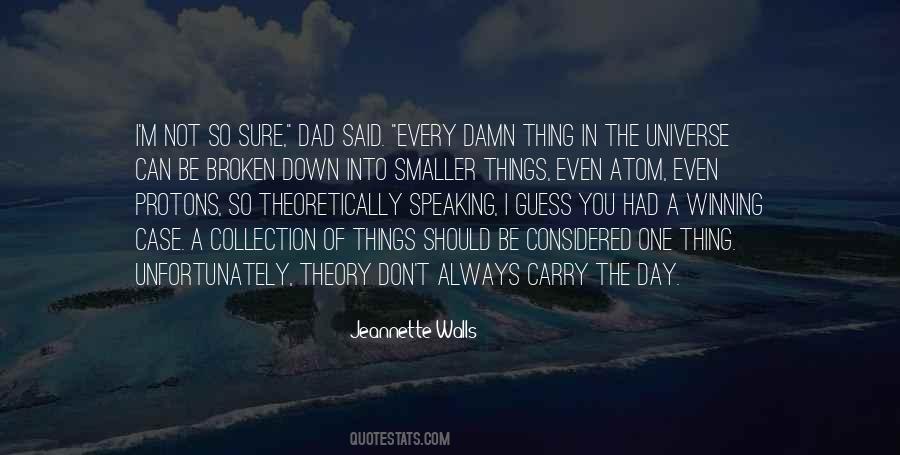 #89. AMELIA: To my friends, and family: You all may be batsh*t crazy, but even if I got to choose, I'd still choose to be with you. Life is fragile, and tomorrow is never a sure thing, so thanks for sharing your lives with me..... - Author: Amelia Hutchins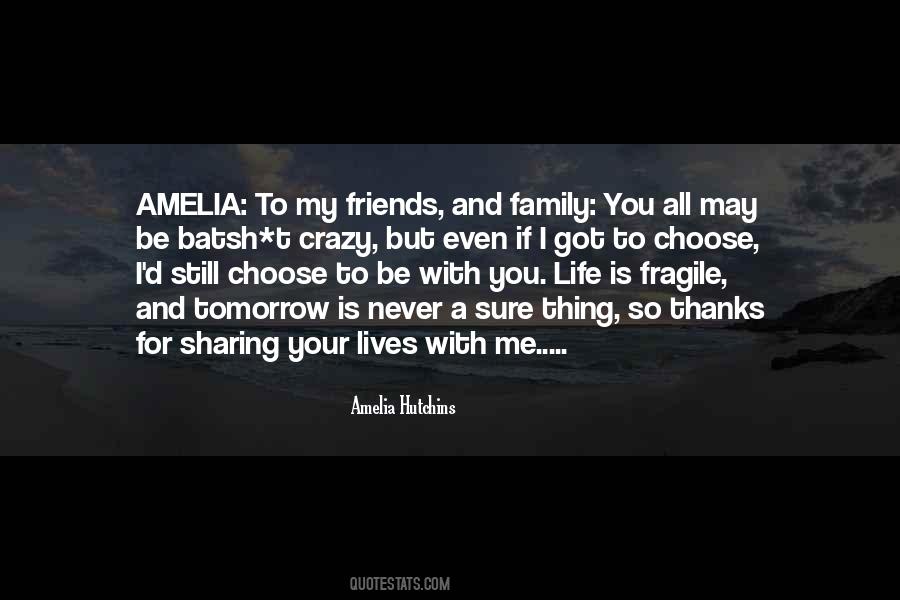 #90. So how exactly was I supposed to wrap my head around the whole thing? I wasn't entirely sure I could trust this guy. I mean, this was it? Really? My life ends and some creep in a grungy leather jacket takes me away? No, I couldn't accept that. -Jen - Author: Nessie Strange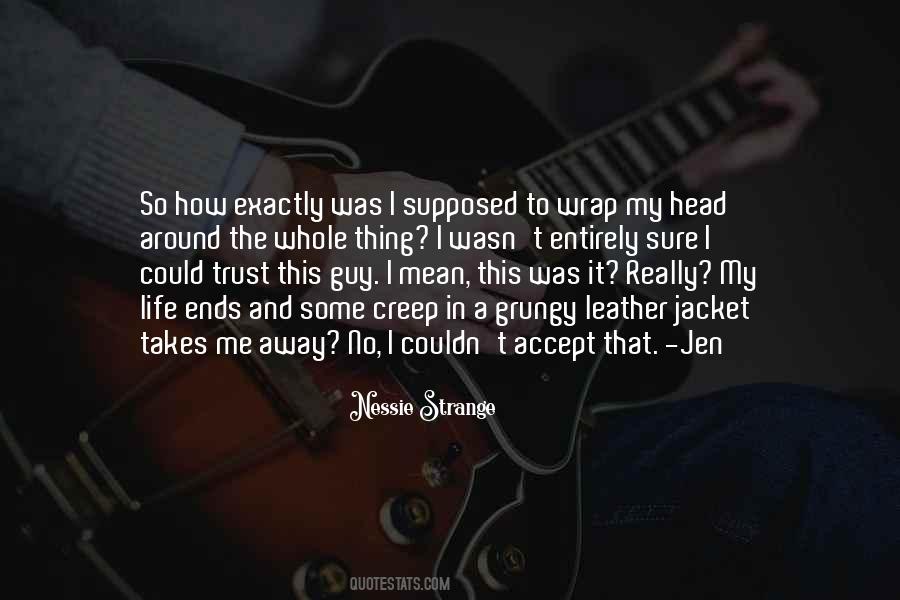 #91. Welcome to the ring. Enter those who dare, and let them share the spoils. Only they have earned it. Will you win? The ring offers no promises. But one thing's for sure: unless you get in the ring today, you don't even stand a damn chance. Decide what really matters, and get in the ring for it - now. - Author: Julien Smith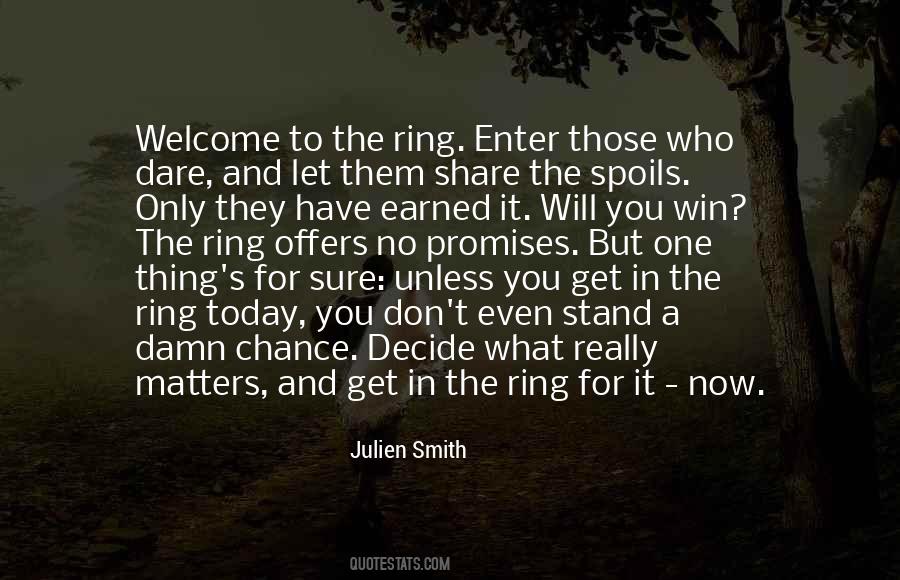 #92. When a belief becomes dominant in American psychological circles one can be sure of one thing: that belief refers to something that no longer exists. - Author: Walter A. Davis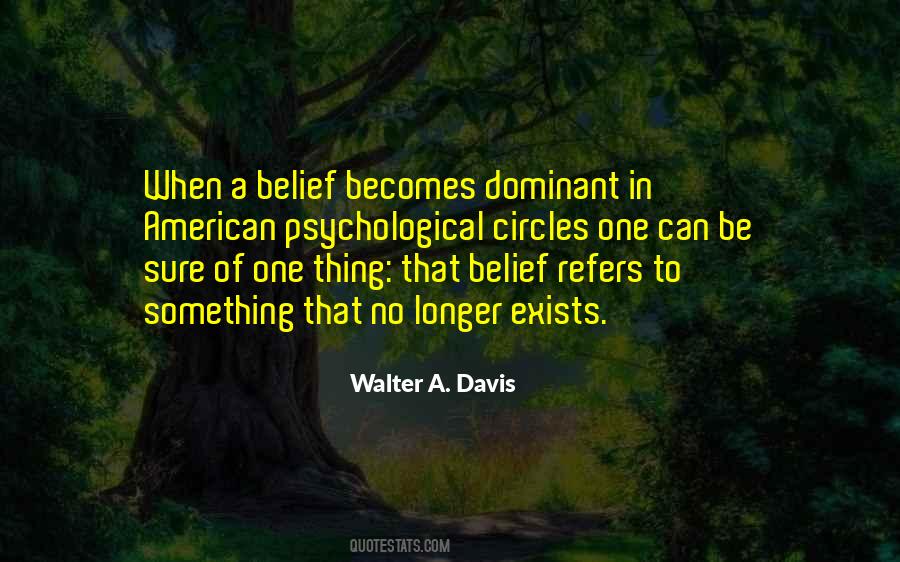 #93. I guess you can snap her garter any time you want to, without much of a struggle. But there's one thing you can be sure of - you're a late comer to the show. - Author: Raymond Chandler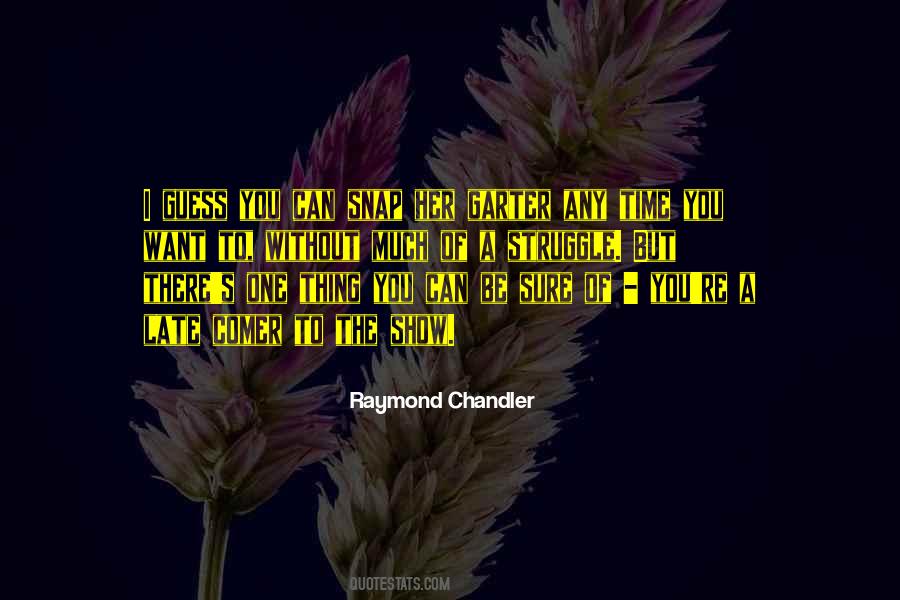 #94. I am sure that no one coming to this ceremony expected a High Court judge to use the occasion to talk about that four-letter word, love. But that's a good thing. In life, never be predictable. It's so uncool. - Author: Michael Kirby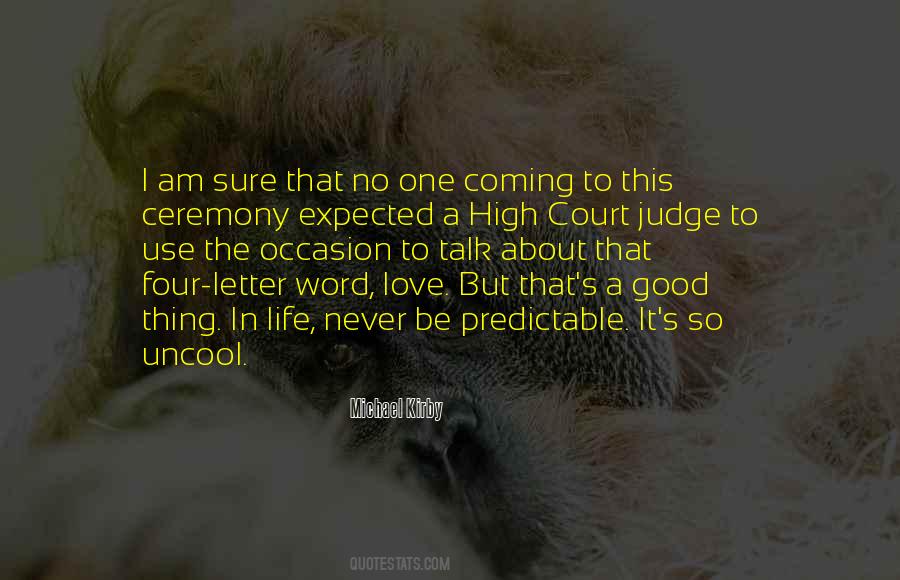 #95. I am trying to make sure that I don't spend on ridiculous things, so that after all this YouTube thing goes, I'm not left there, like, 'Uh oh, I have nothing.' - Author: KSI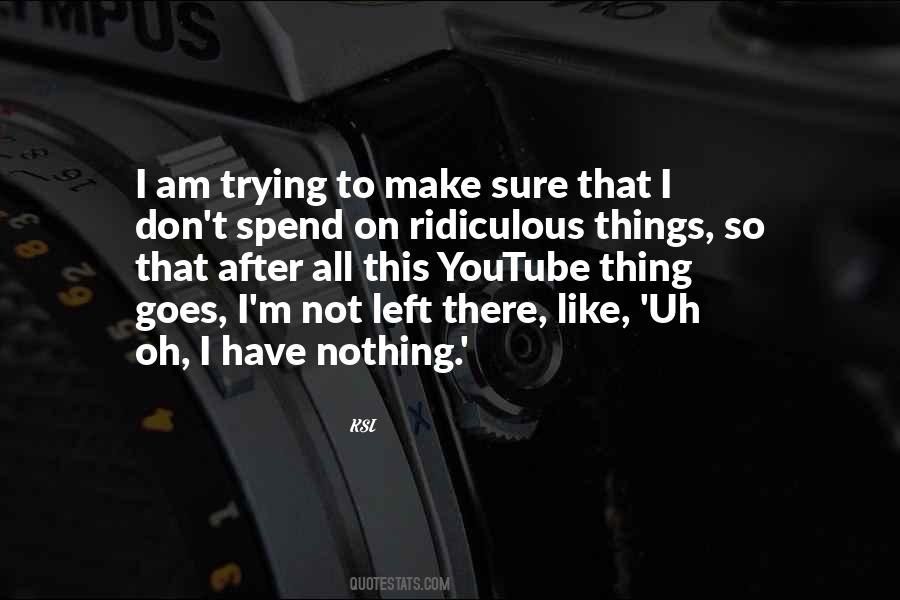 #96. The reason I dislike talking about the creative process is that I do have a creative process that is a winner and it's a sure thing. - Author: Garth Hudson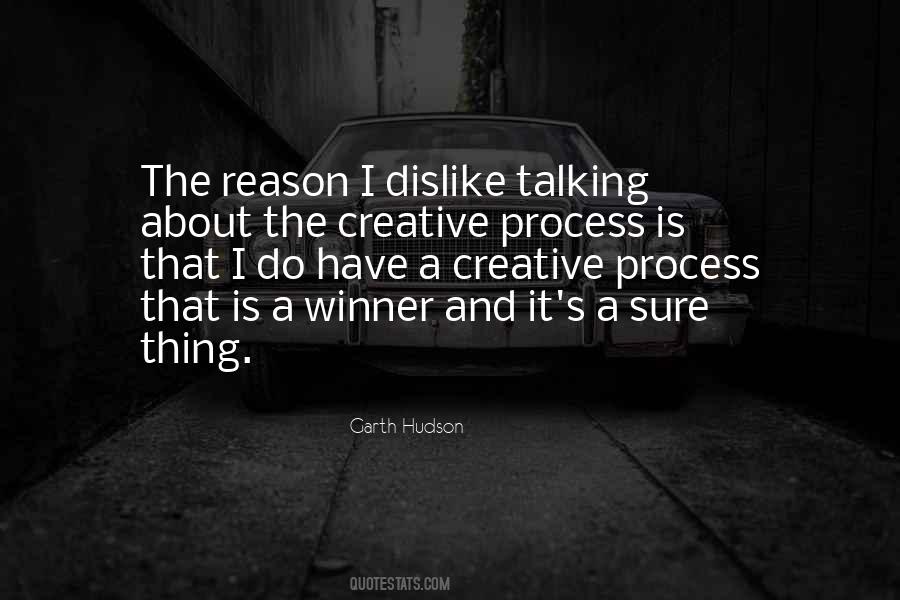 #97. The first thing you have to do is make sure you're still wanted back. I never take that for granted any more. - Author: Tony Dungy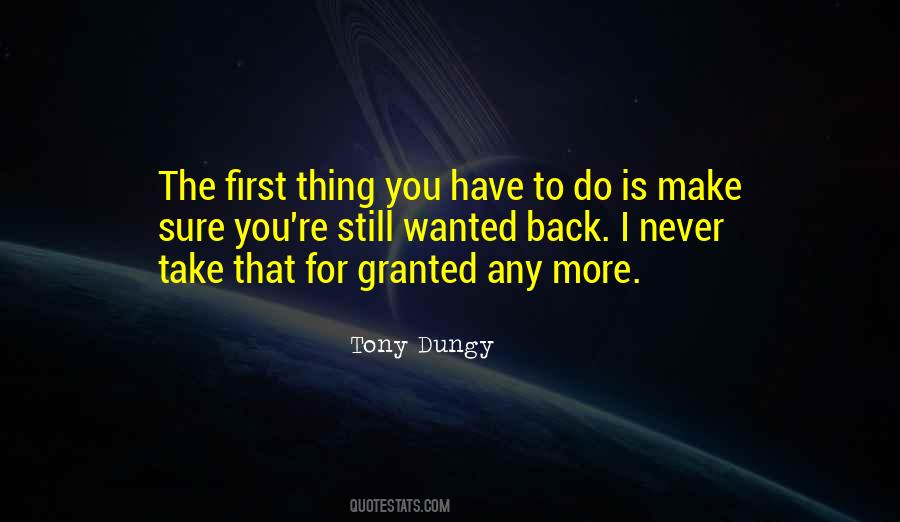 #98. I had to put my kid before my career and all the money I was making. I decided to do the right thing. I was dying inside. If I didn't have my daughter, I would be dead right now, for sure. - Author: Brian Welch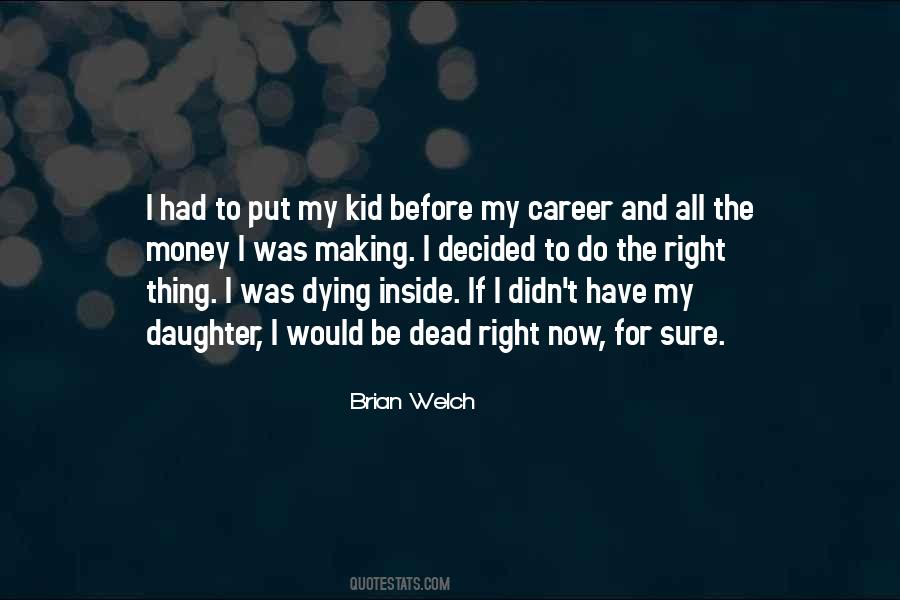 #99. Although just being employed as an actor is a big thing, I'm not sure I'd be satisfied playing the same character for 30 years; it's not why I want to do this for a living. - Author: Jamie Dornan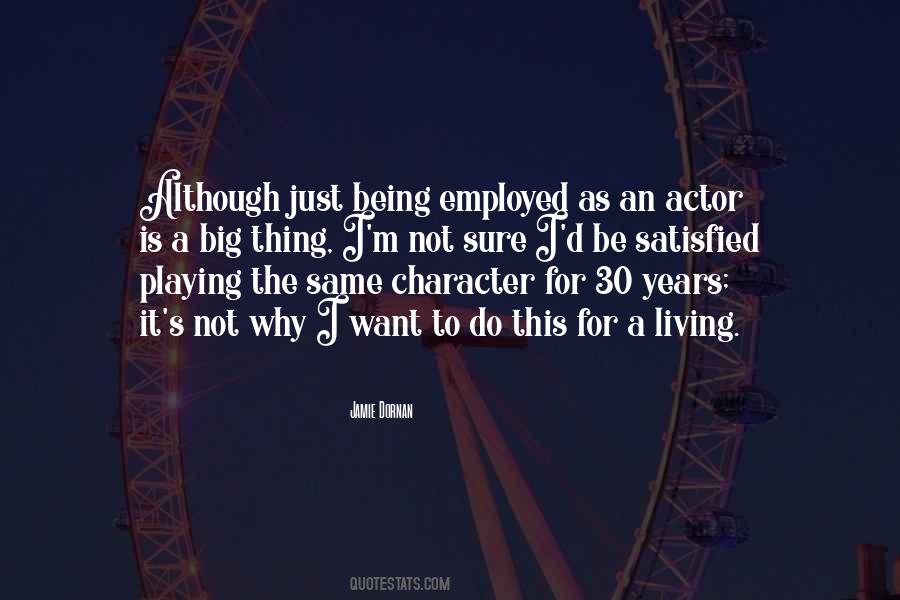 #100. The most important thing is to find the balance between city and nature. I have that 'hippie quality' - my husband is a super-hippie Los Angeles boy - so we'll have to make time to go to Puerto Rico, and upstate New York, and be sure we get to do outdoorsy stuff like that. - Author: Ana Ortiz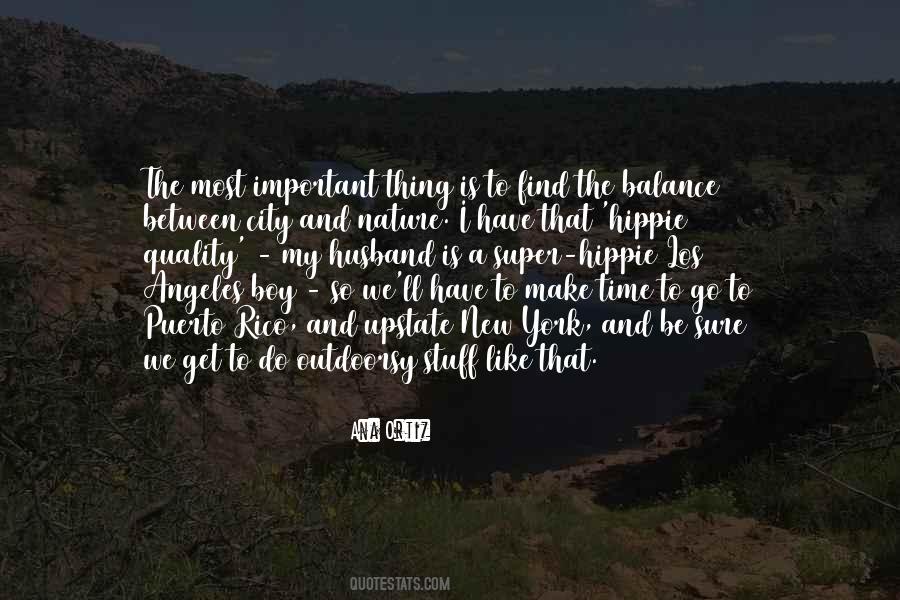 Famous Authors
Popular Topics