Strong Independent Famous Quotes & Sayings
List of top 89 famous quotes and sayings about strong independent to read and share with friends on your Facebook, Twitter, blogs.
Top 89 Strong Independent Quotes
#1. I need to end up with someone who is strong, intelligent, independent, someone I really admire - sensitive, sensuous, warm, a sense of humor. - Author: Pam Dawber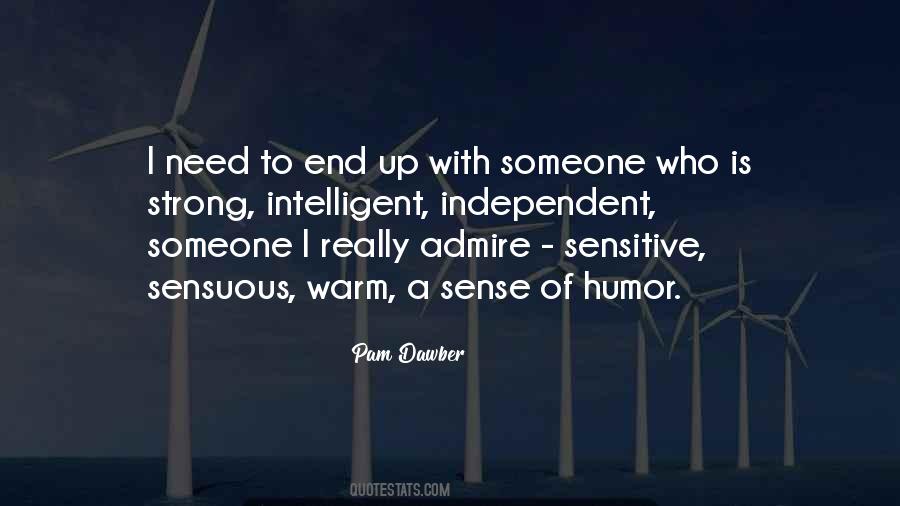 #2. A healthy environment, a strong economy and energy independent America - that would be the purpose of my presidency, is break the strangle hold that people enjoy on fossil fuels who hate our guts. - Author: Lindsey Graham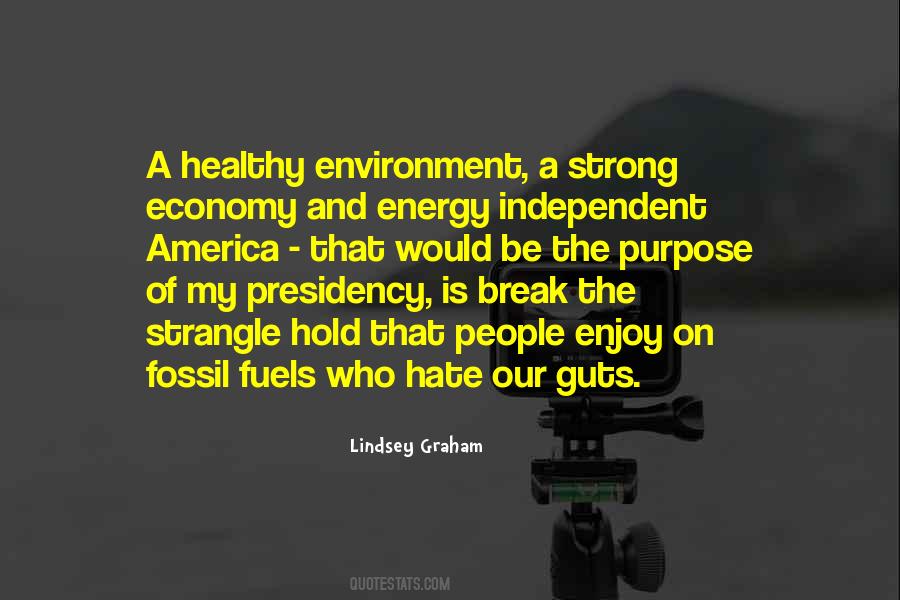 #3. I've been a Democrat, I've been a Republican, and I eventually became an independent because I don't believe either party has a monopoly on good ideas or strong leadership. - Author: Michael Bloomberg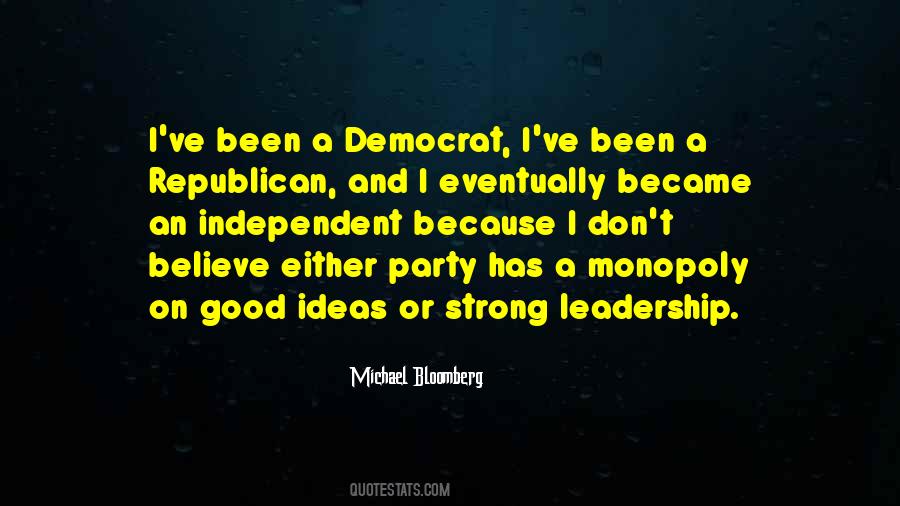 #4. Ideal love is fostered only between two sincere, mature and independent people. Real love is not two people clinging to each other; it can only be fostered between two strong people secure in their individuality. - Author: Daisaku Ikeda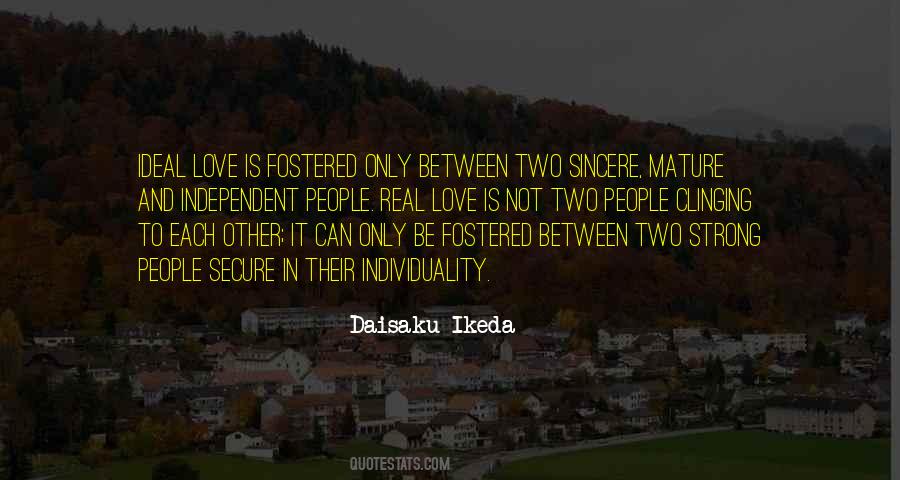 #5. It is better to be looked over than overlooked. - Author: Mae West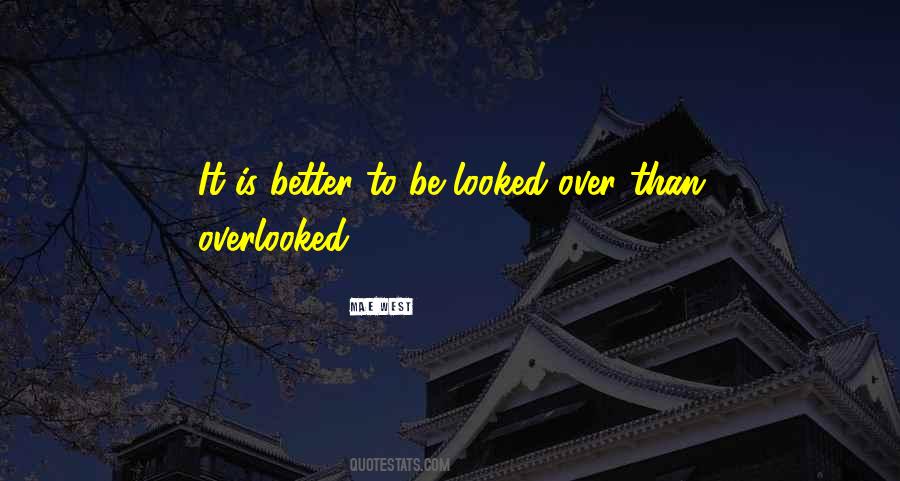 #6. Courage is like a muscle. We strengthen it by use. - Author: Ruth Gordon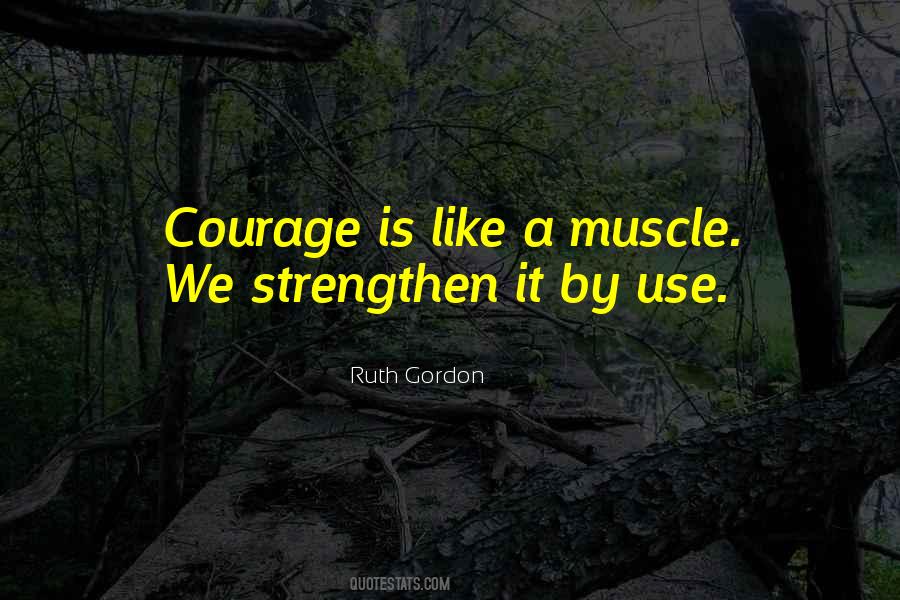 #7. The case against a fully independent central bank is strong indeed. - Author: Milton Friedman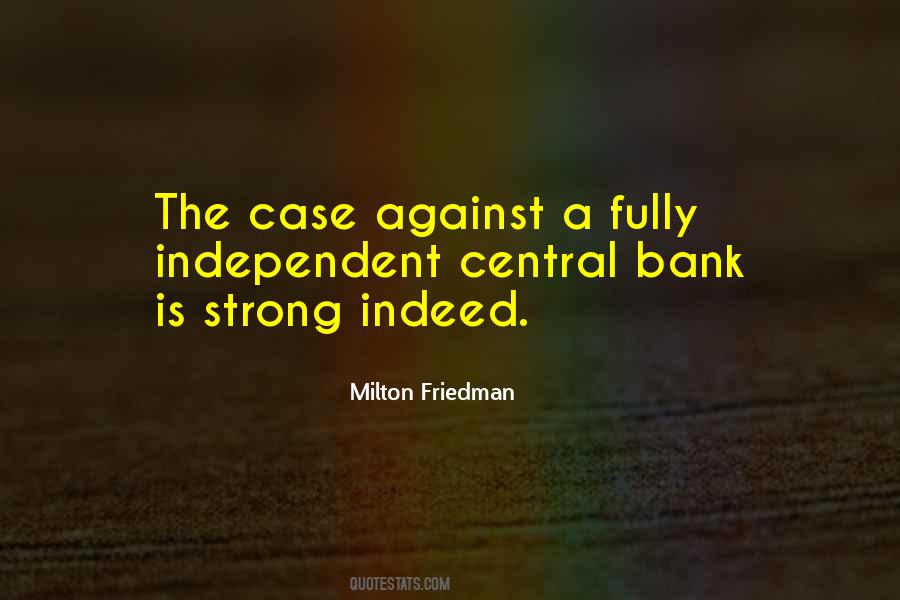 #8. I'm a (kind of) strong, (semi) independent woman, and I can. Handle. Ty. Wilder. - Author: L.J. Shen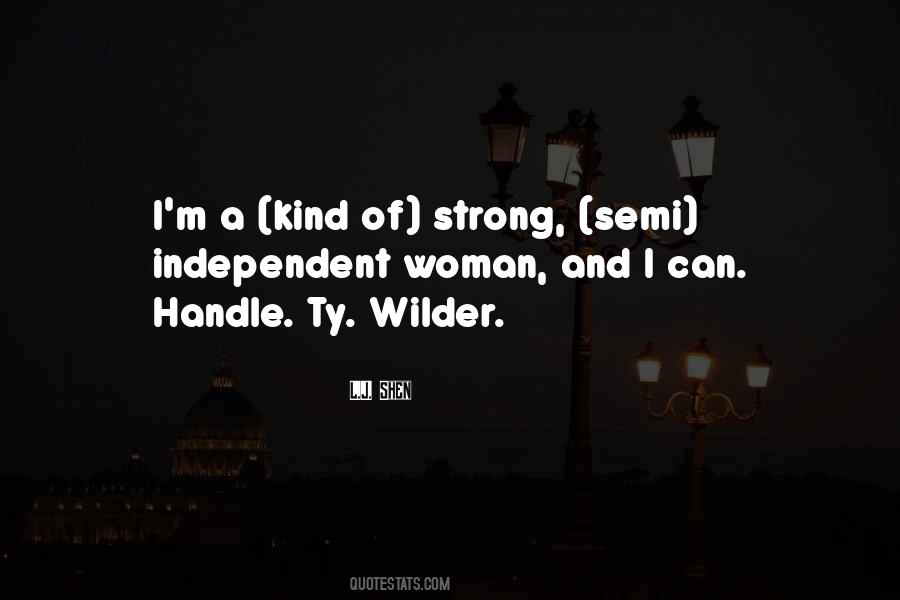 #9. It was a great joy for me to develop a strong female character in the spirit of an Icelandic woman. Icelandic women tend to be very strong and very independent, and I think that came in very handy. - Author: Anita Briem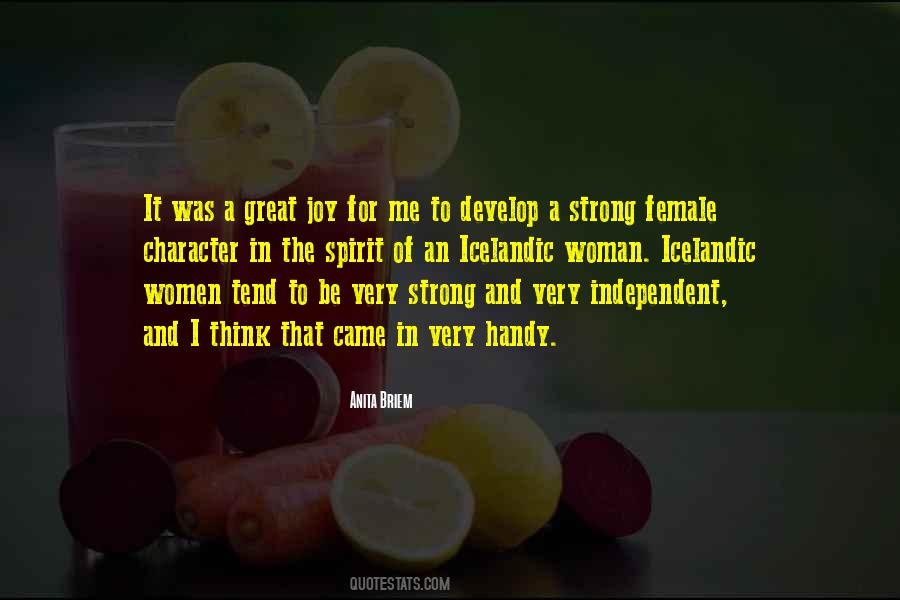 #10. When will being independent and strong and not following the pack and daring to be different and being brave in my opinions, my fashion choices and my hair colour be enough? - Author: Sarra Manning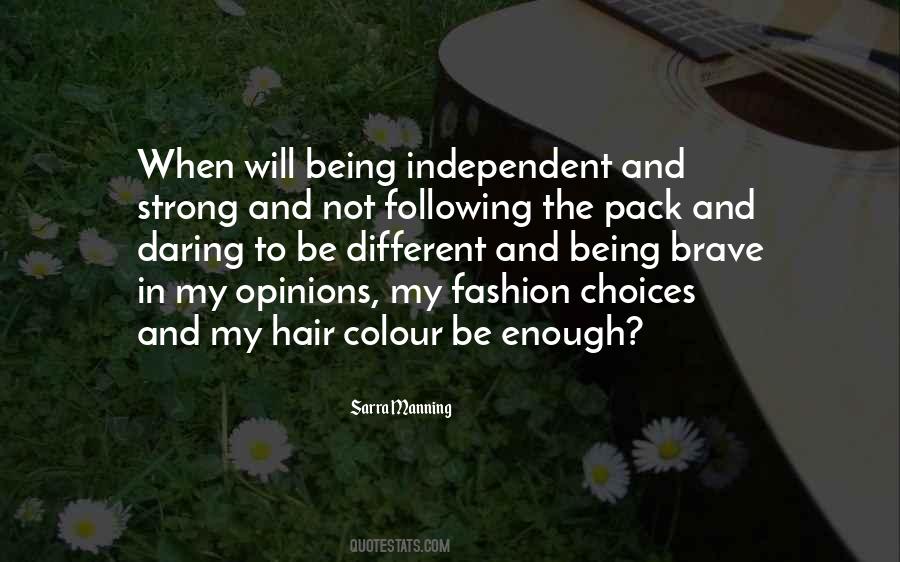 #11. That's your problem Sam, you walk around like you're this strong independent woman, but in actuality, you're a scared little girl. And when something frightens you, you run, escape and hide in the closet. - Author: Xyla Turner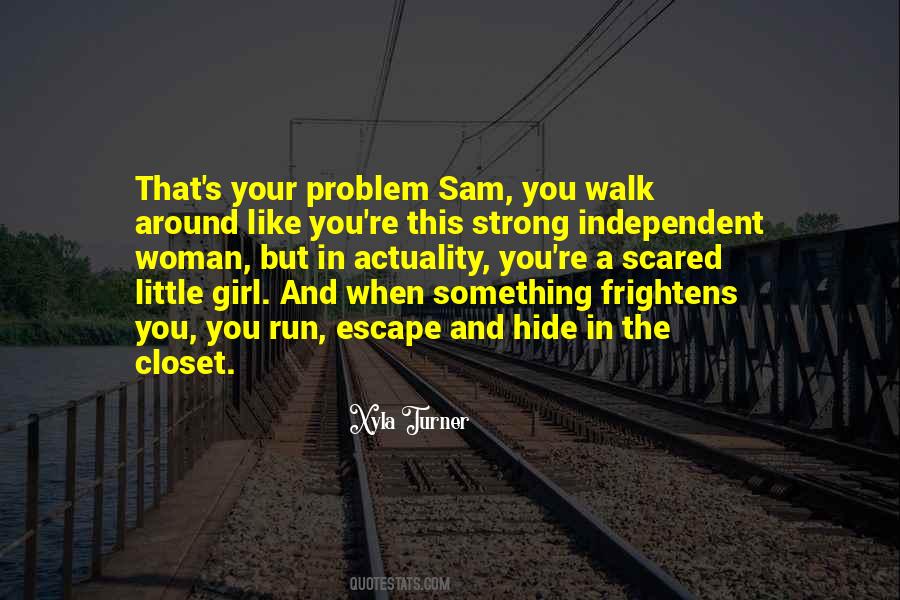 #12. There's a massive part of me that can be bold and courageous ... very strong and very assertive and independent, almost to a fault sometimes. - Author: Evangeline Lilly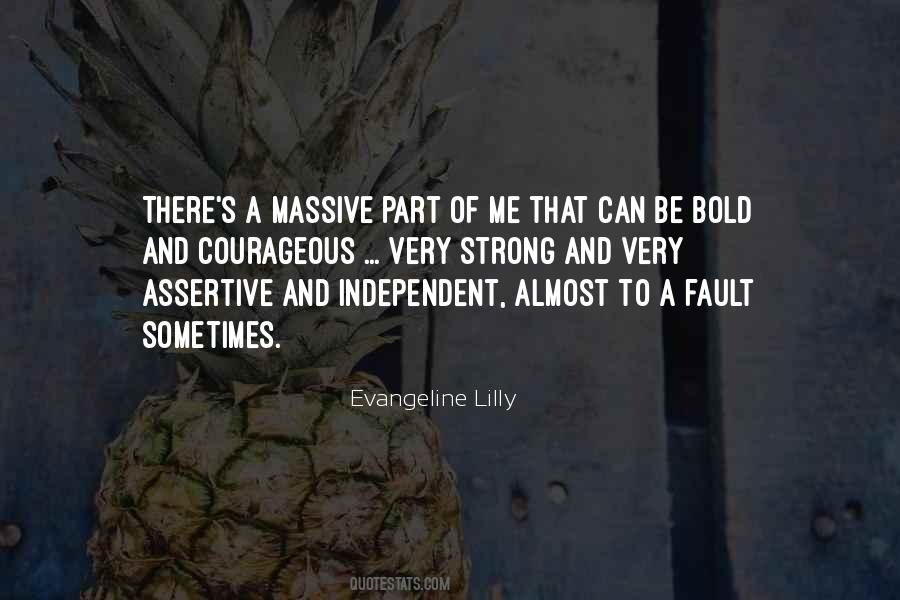 #13. The love of the famous, like all strong passions, is quite abstract. Its intensity can be measured mathematically, and it is independent of persons. - Author: Susan Sontag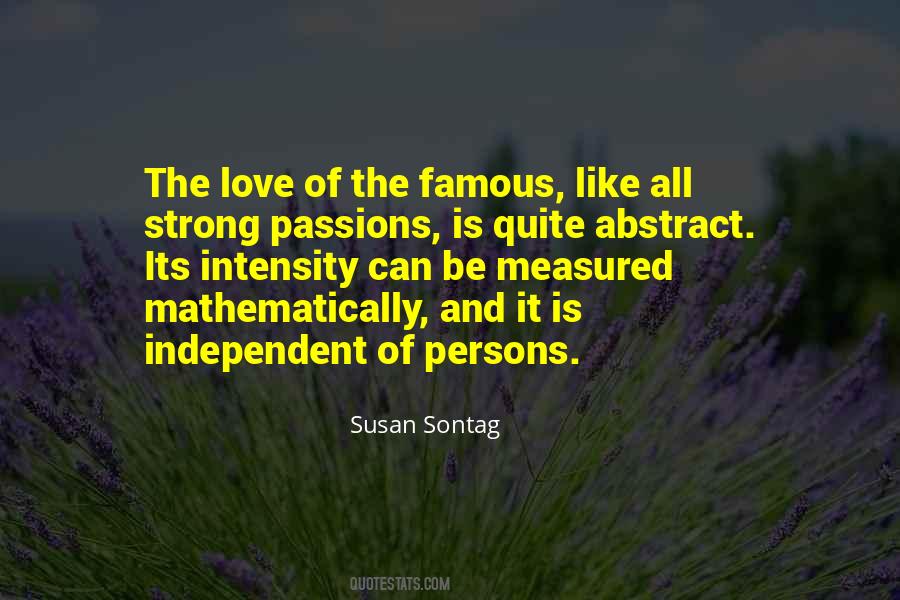 #14. I am beneath or above no one. When I am independent of the good or bad opinion of others, I stand strong in my own divine power. - Author: Deepak Chopra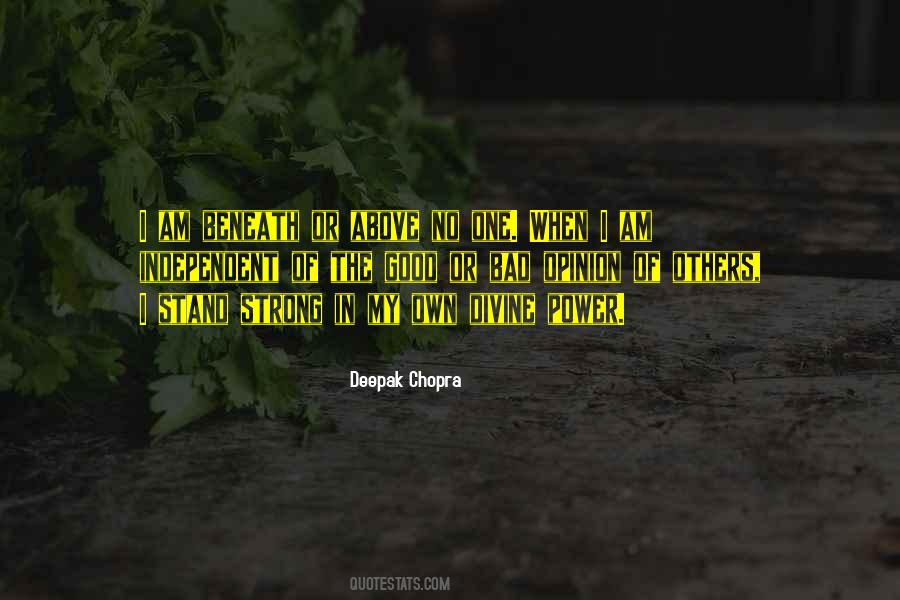 #15. But while Ireland is not free I remain a rebel, unconverted and unconvertible. There is no word strong enough for it. I am pledged as a rebel, an unconvertible rebel, to the one thing - a free and independent Republic. - Author: Constance Markievicz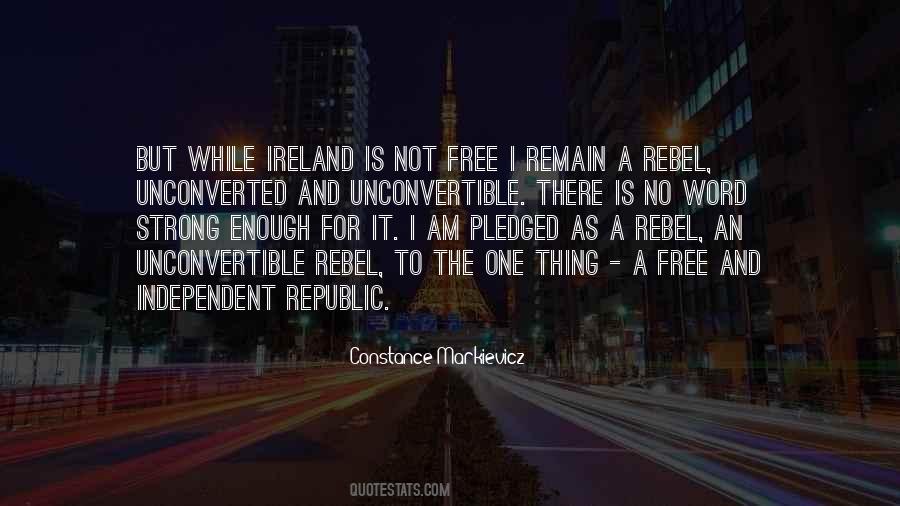 #16. We are all adaptable to changes and self worth is priceless. adapt yourself to be independent (from people, addictions, etc..) and you'll realize how strong you truly are on your own. - Author: Abraham Ruiz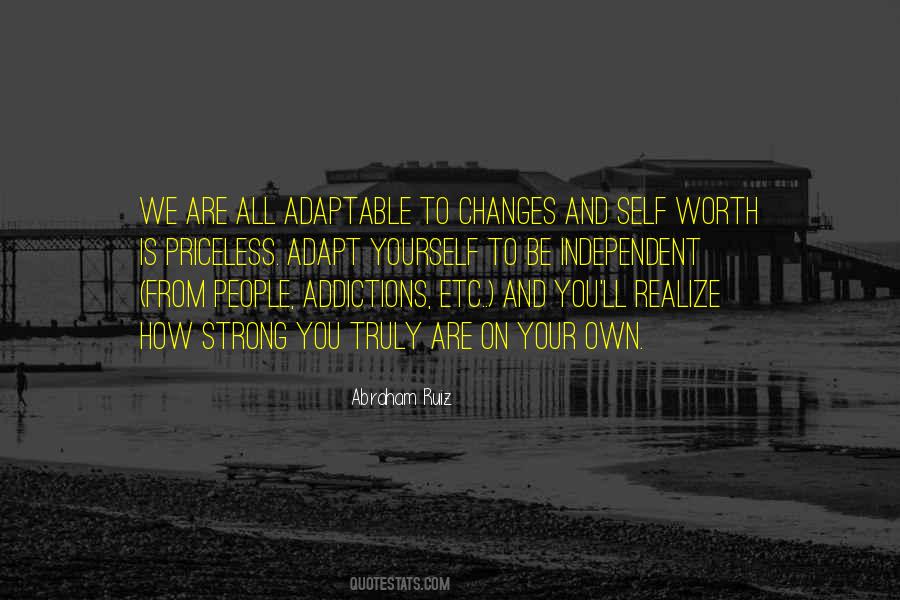 #17. The first time I started listening to Irish music, I had a very strong connection. Strangely enough, there's a great many Japanese melodies and vocal styles that sound very much like Hungarian music. You start seeing all these cross-references and comparative, independent musical cultures. - Author: Tom Waits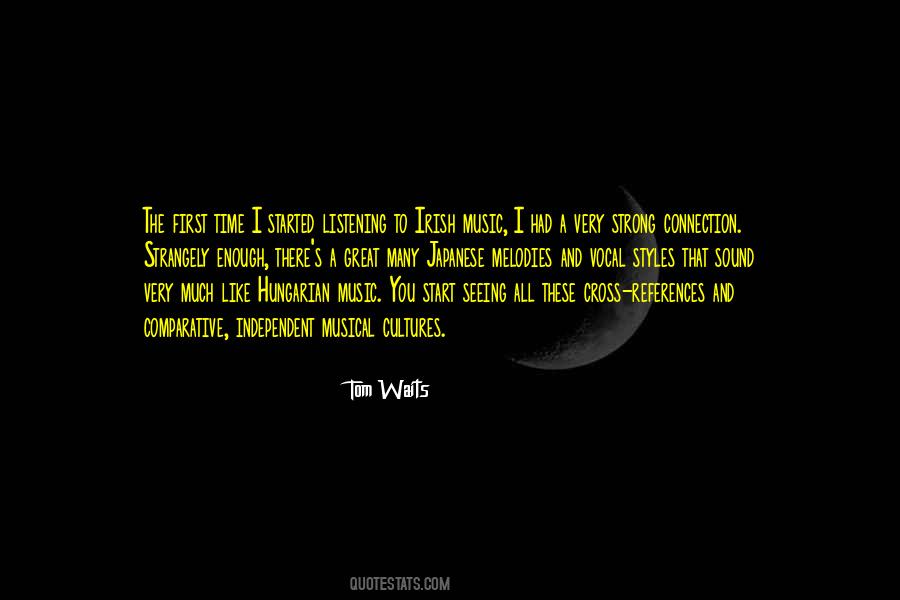 #18. God isn't looking for powerful individuals who are strong, independent, courageous and self-sufficient. Rather, God is seeking vulnerable individuals who have weaknesses, deficiencies, inadequacies and who are willing to stop relying on their own abilities. - Author: Dana Arcuri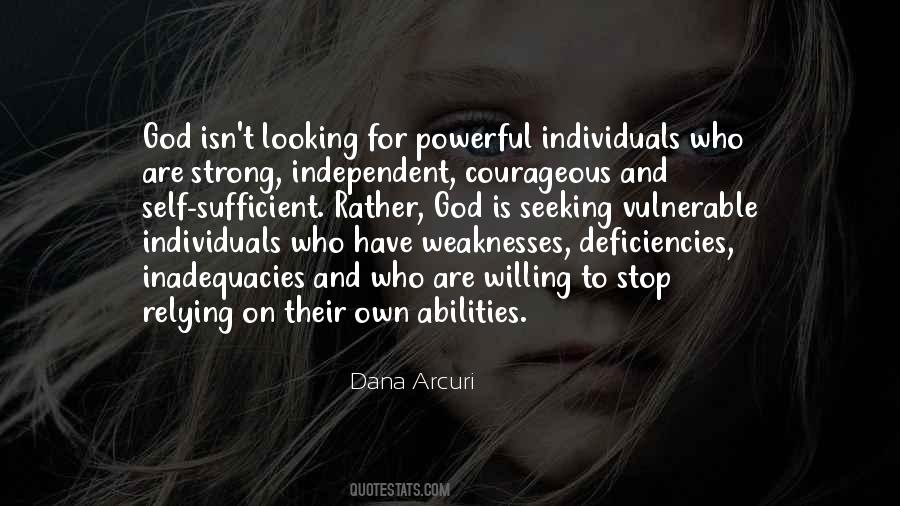 #19. I think maybe my mom thought that Katharine Hepburn would be a good role model of, like, a strong, smart, independent woman. Maybe she steered me in that direction. You know, because she was really so ahead of her time. - Author: Gillian Jacobs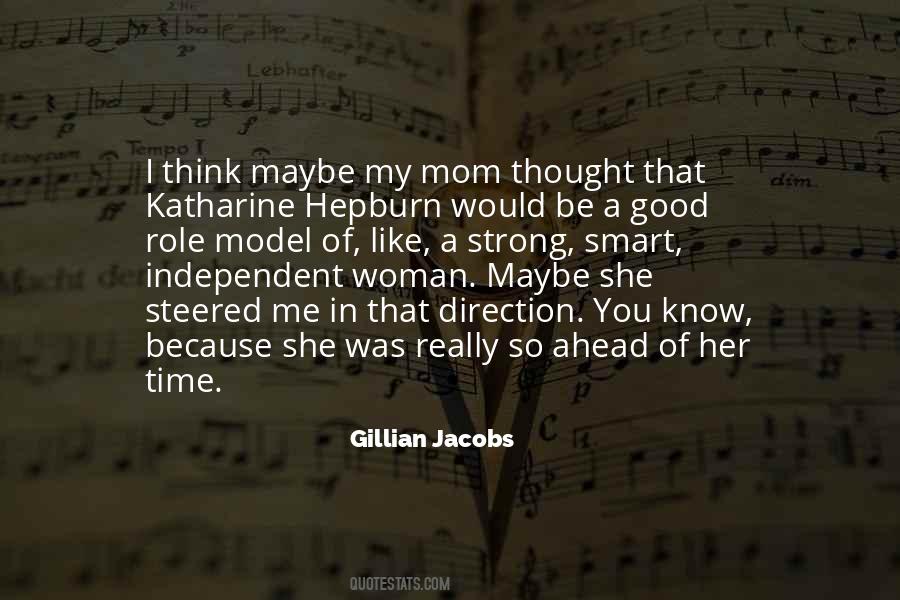 #20. To be strong, independent and still thoroughly enjoy a man who takes charge in the bedroom... - Author: B. Buena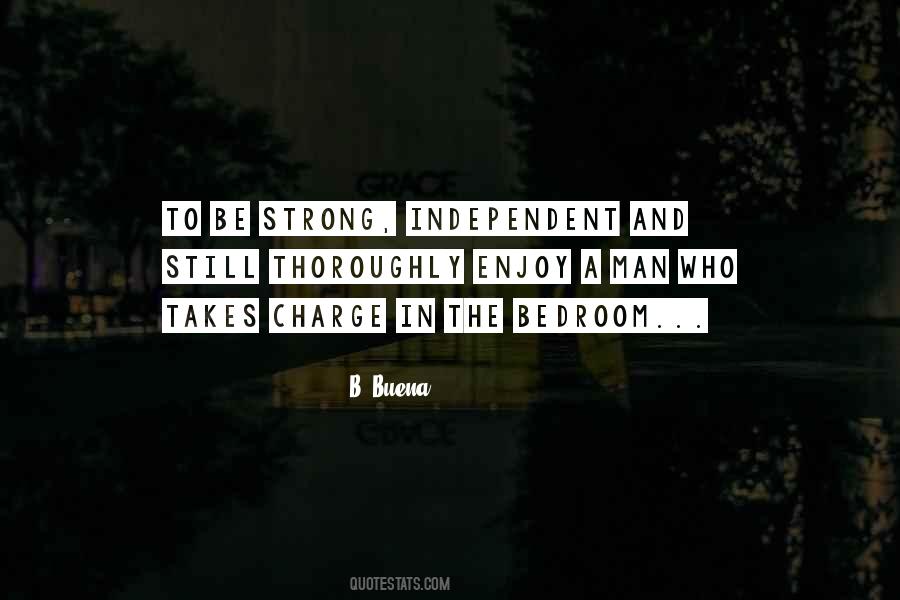 #21. India is an Old country but a young nation ... I am young and I too have a dream, I dream of India Strong, Independent, Self-Reliant and in the front rank of the nations of the world, in the service of mankind. - Author: Rajiv Gandhi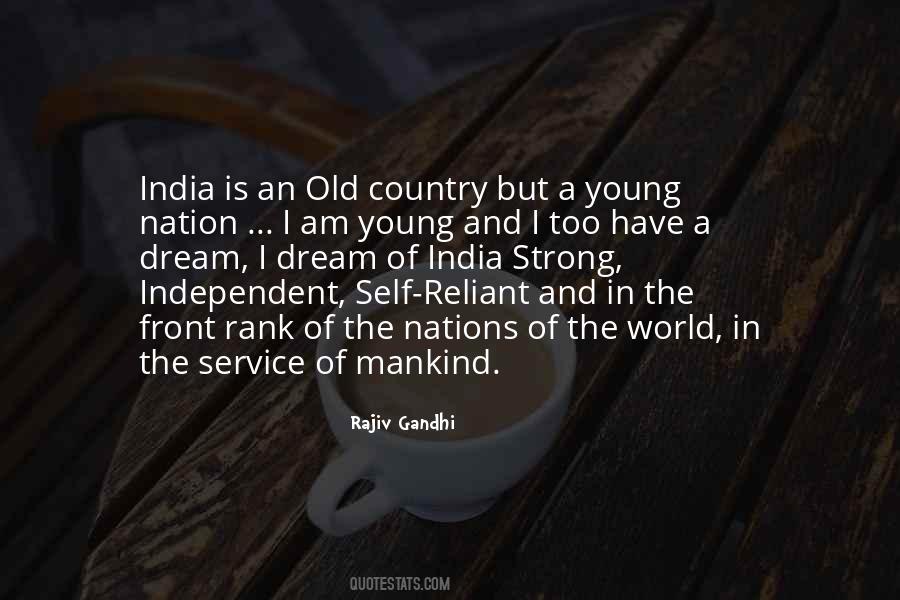 #22. The strong belief that the interests of a particular nation-state are of primary importance. Also, the belief that a people who share a common language, history, and culture should constitute an independent nation, free of foreign domination. - Author: Ernest Gellner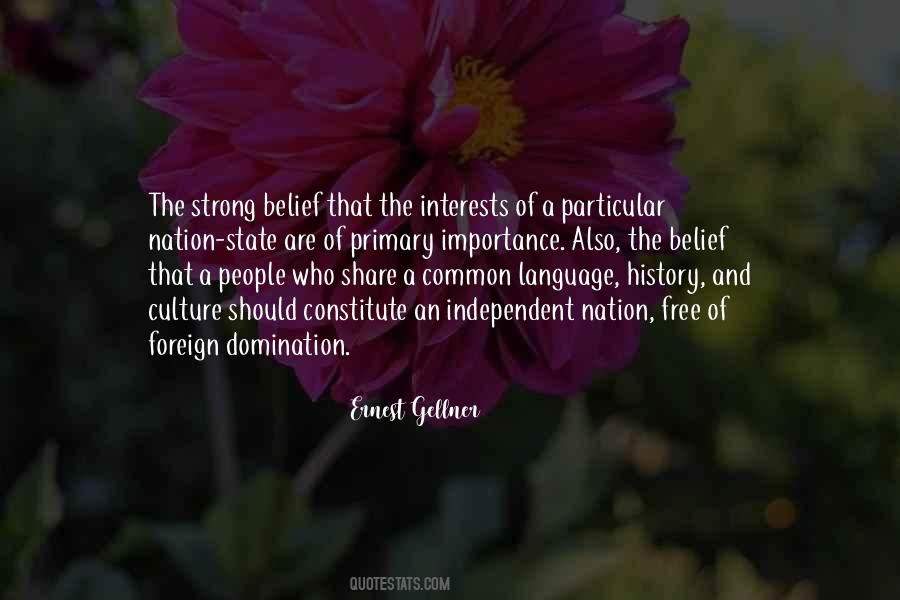 #23. Toddlers are active explorers. They eagerly try new things and use materials in different ways. Toddlers want to be independent and they have a strong sense of ownership. - Author: Janet Gonzalez-Mena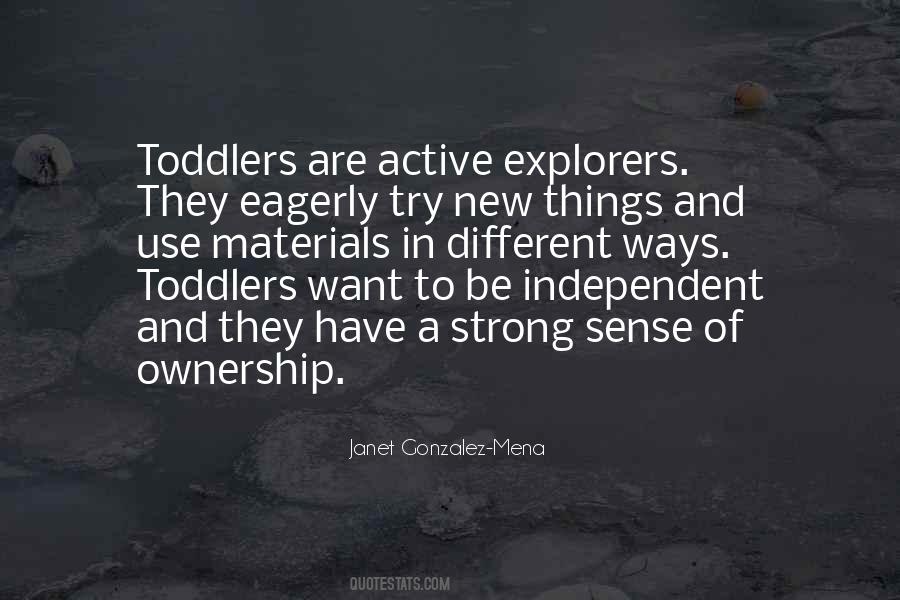 #24. I was raised to respect women, and I really like them to be strong, independent, and have their own identity. My parents are still together, and I grew up with a lot of love, and I feel that kids imitate what they have at home. - Author: Albert Hammond Jr.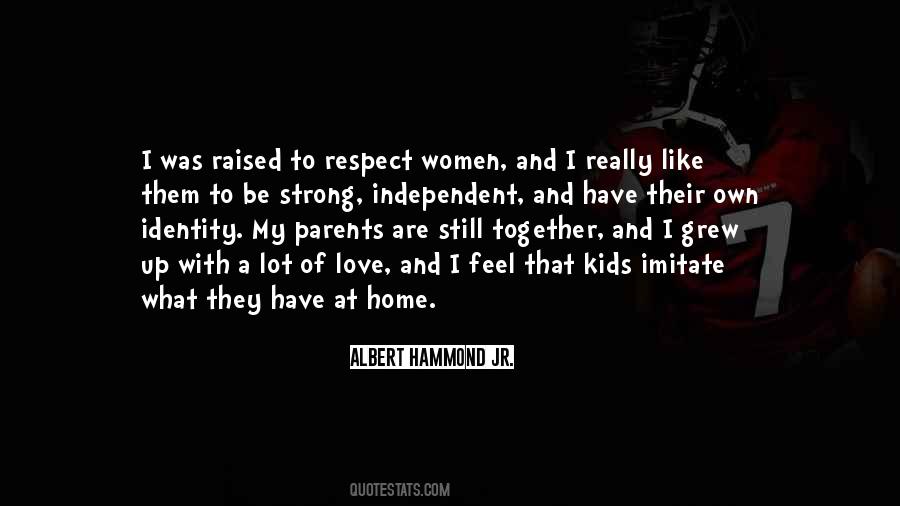 #25. We on our part will stick to our independent foreign policy of peace, acting forever as a strong defender of world peace and a persistent proponent of common development. - Author: Jinato Hu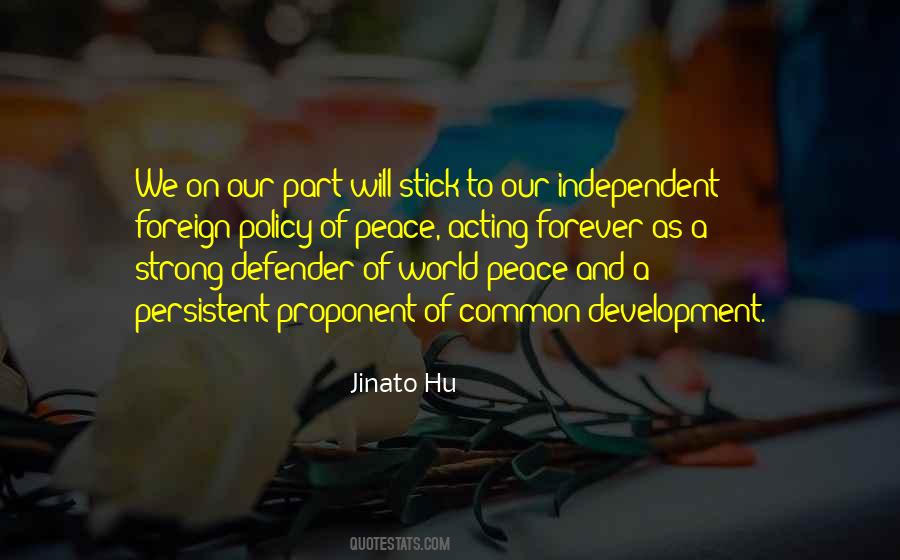 #26. I'm independent and strong, but sometimes ... just sometimes, it's nice to be taken case of. It's nice to be made to feel like a lady - Author: Samantha Towle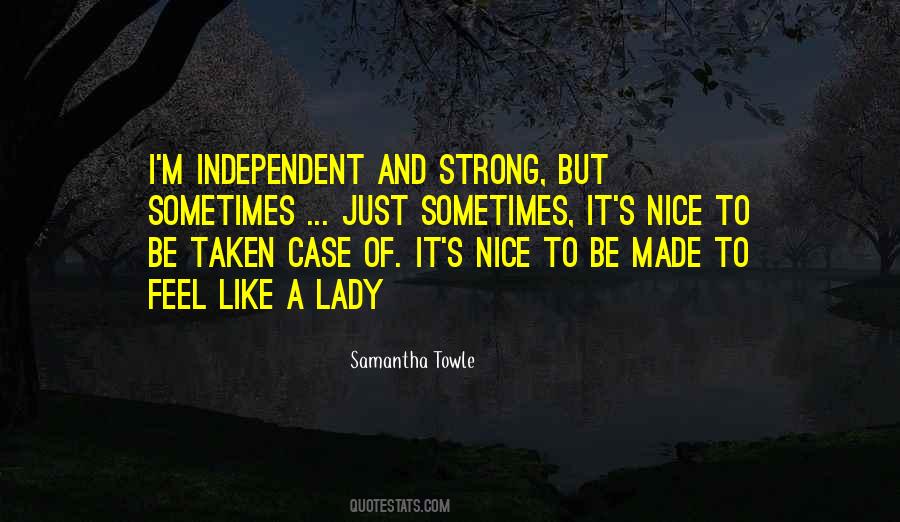 #27. Children are very strong and independent characters and can come up with more interesting things than Marlon Brando, and it's sometimes very difficult to direct or order them to do something. - Author: Abbas Kiarostami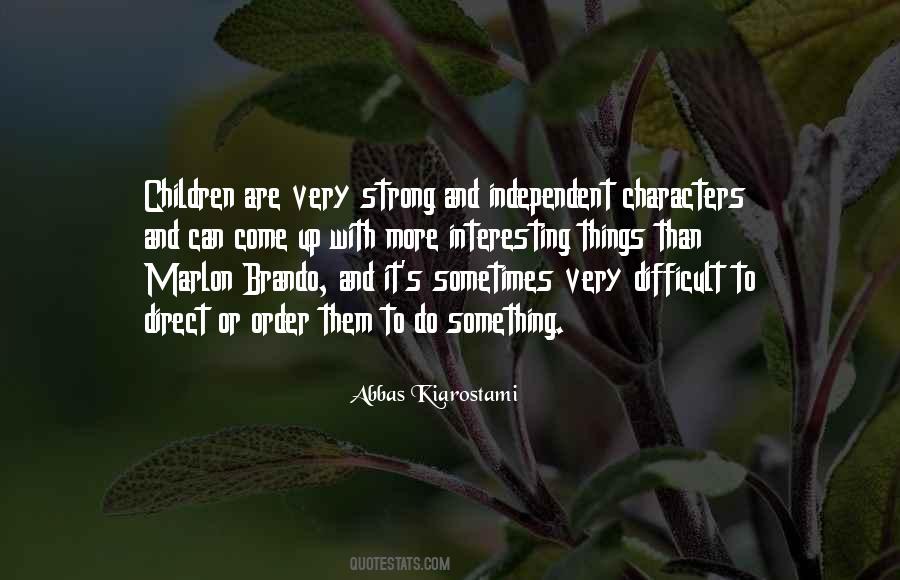 #28. Growing up with three older brothers and being the youngest and the only girl, my mom always made me tough. She's taught me over the years how to be a strong, independent woman, how to carry yourself in a positive way and anything that my brothers can do, I can do. - Author: Diana Lopez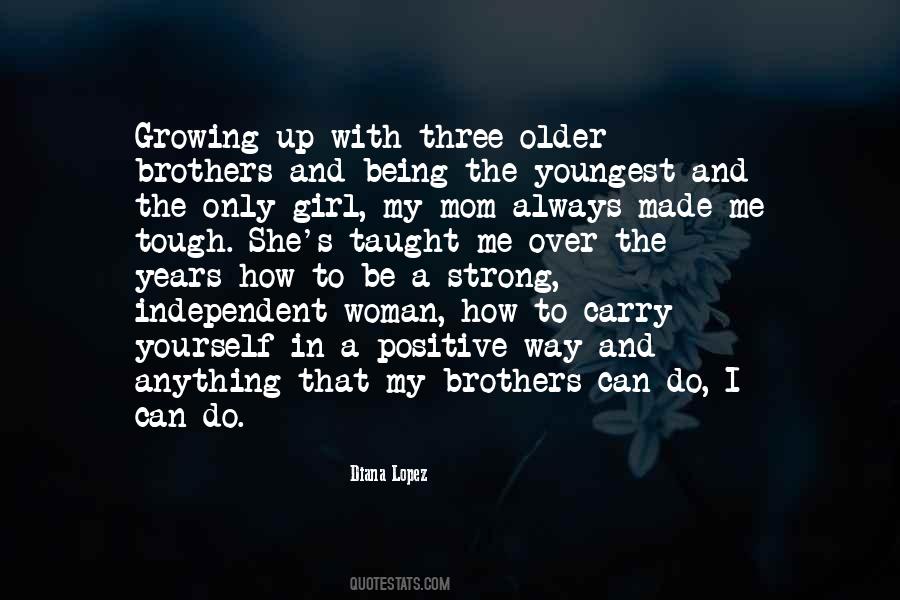 #29. I will never deny that life isn't fair. It seems as though when a woman leaves a man she is strong and independent, but when a man leaves a woman he is a pig and a jerk. - Author: Criss Jami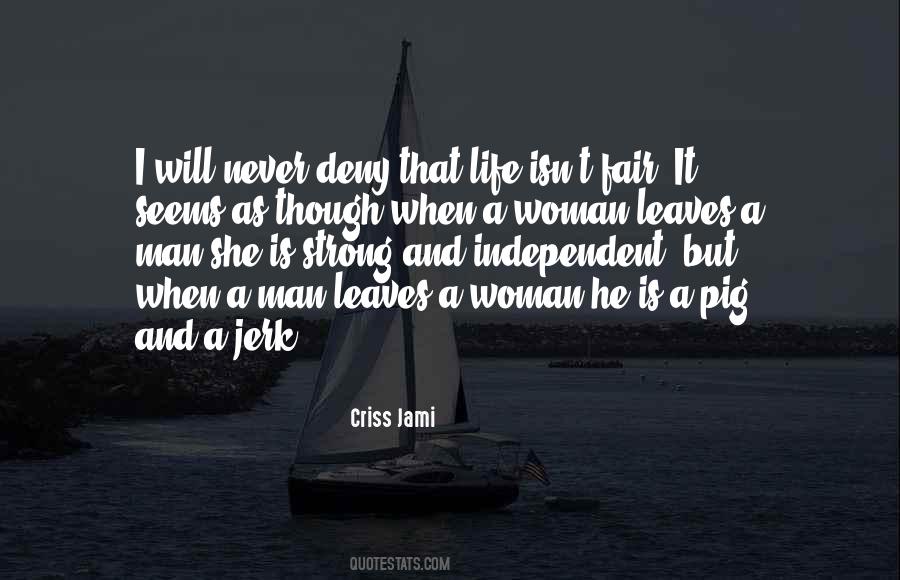 #30. She was beholden to no man, held her tongue for none, she would stand before the gods themselves and inform them of what they could do with their immortal souls. - Author: A.H. Septimius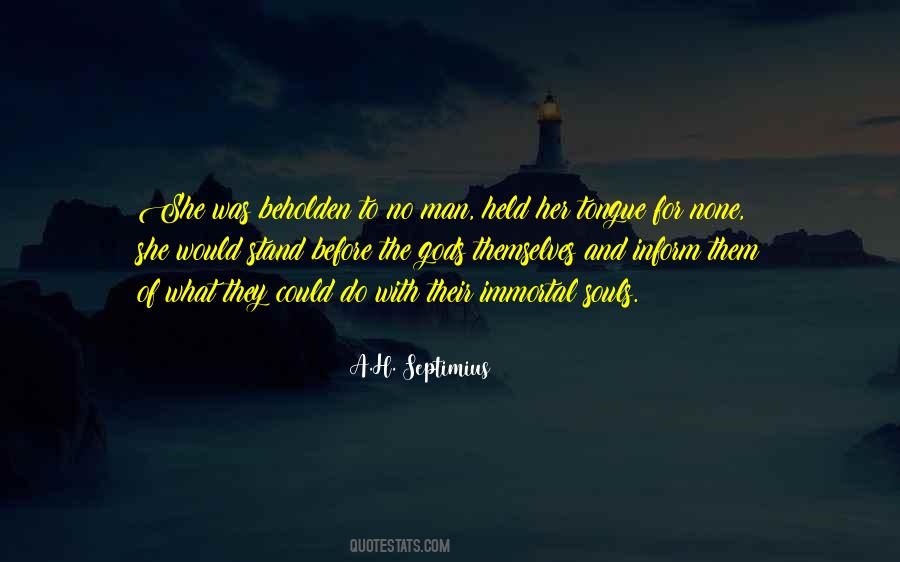 #31. If necessary, I cry. I pray. I rest. I'm fortunate to have quite a few strong, independent, loving, and unbiased women in my life that I can talk things through with. - Author: Grace Gealey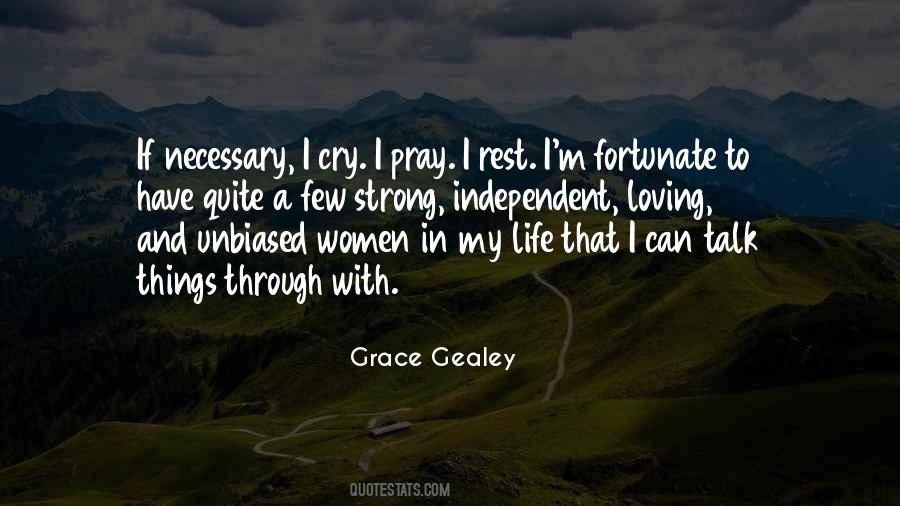 #32. A lot of my girlfriends are always telling me they're really strong independent women, but they've got their boy on the side, and they only go over when he calls. - Author: Estelle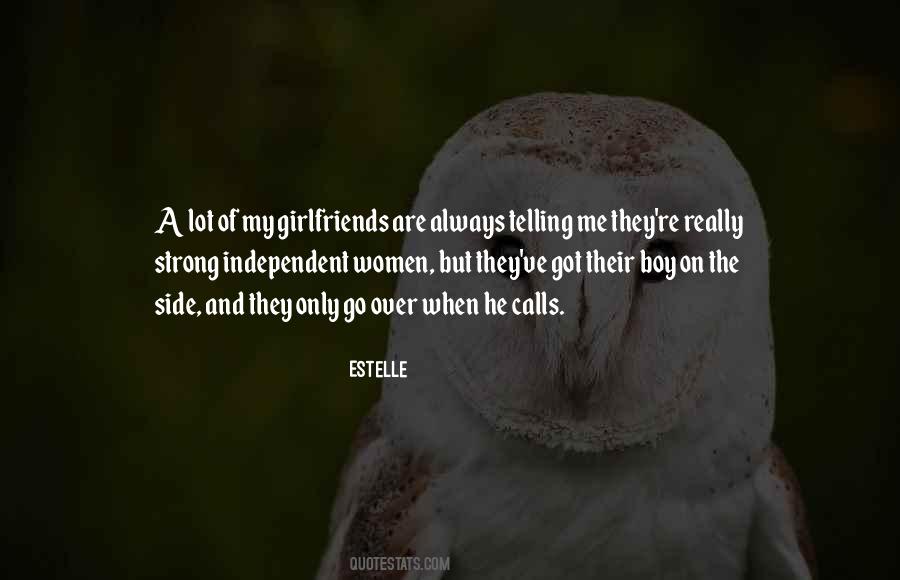 #33. The female characters in my books tend to be independent, frisky, spunky, witty, emotionally strong, erotically daring, spiritually oriented and intellectually generous; in short, the kind of women I admire in real life. - Author: Tom Robbins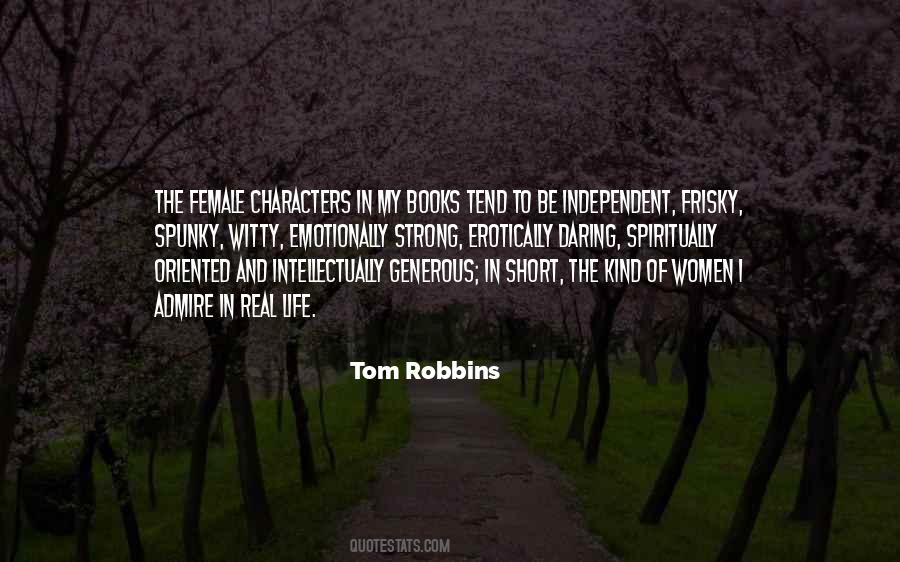 #34. It's been difficult to find roles that are independent, strong, and self-assured; I always say I can't play the princess. I'm not a pretty princess! I'm a tomboy. - Author: Leven Rambin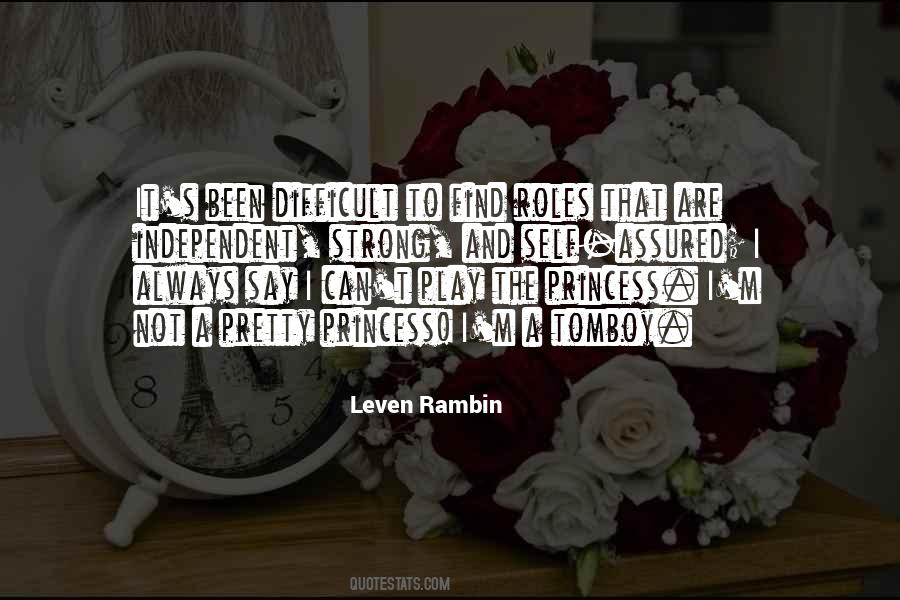 #35. Ladies, you have to be strong and independent, and remember, don't get mad, get everything. - Author: Ivana Trump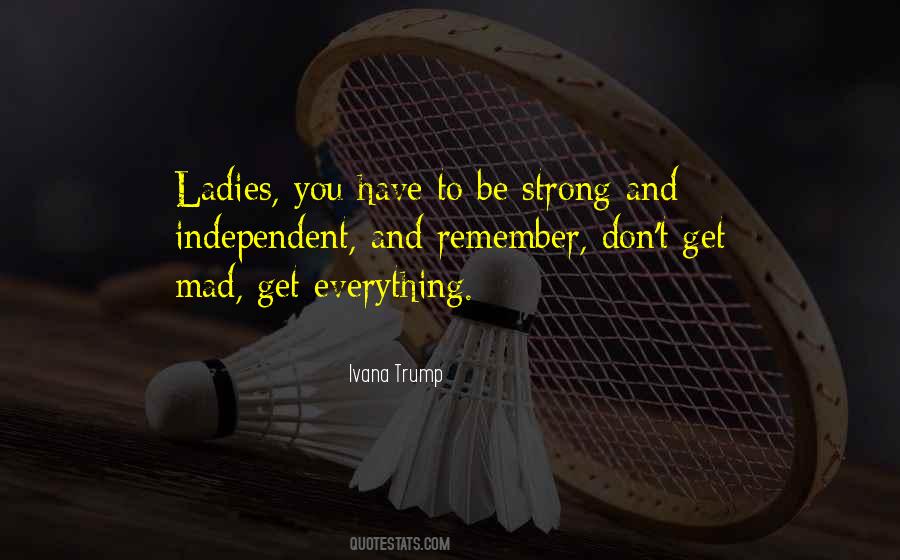 #36. The stronger the culture, the less corporate process a company needs. When the culture is strong, you can trust everyone to do the right thing. People can be independent and autonomous. They can be entrepreneurial. - Author: Brian Chesky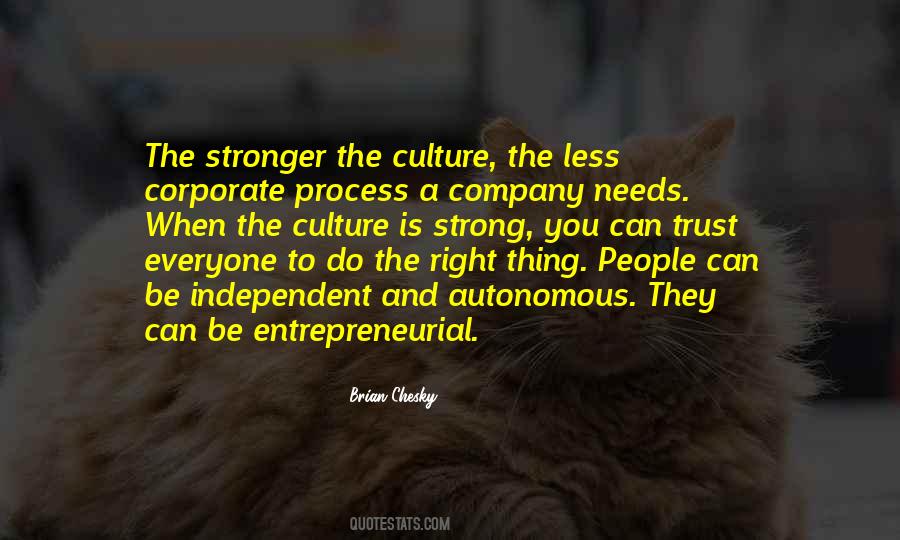 #37. Sometimes, I feel that if you're a strong, independent woman it scares people away, but actually it does the opposite. - Author: Gemma Arterton
#38. Showing that you can be sexy, strong and independent is the best thing about being a Diva. It's a great inspiration for other people. - Author: Torrie Wilson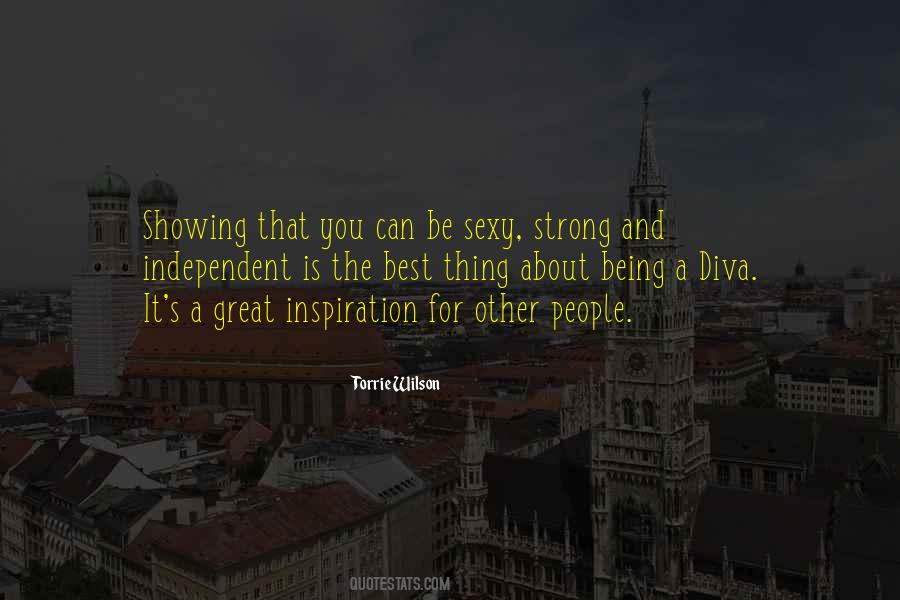 #39. I consider myself to be a very strong, independent woman. - Author: Julie Gonzalo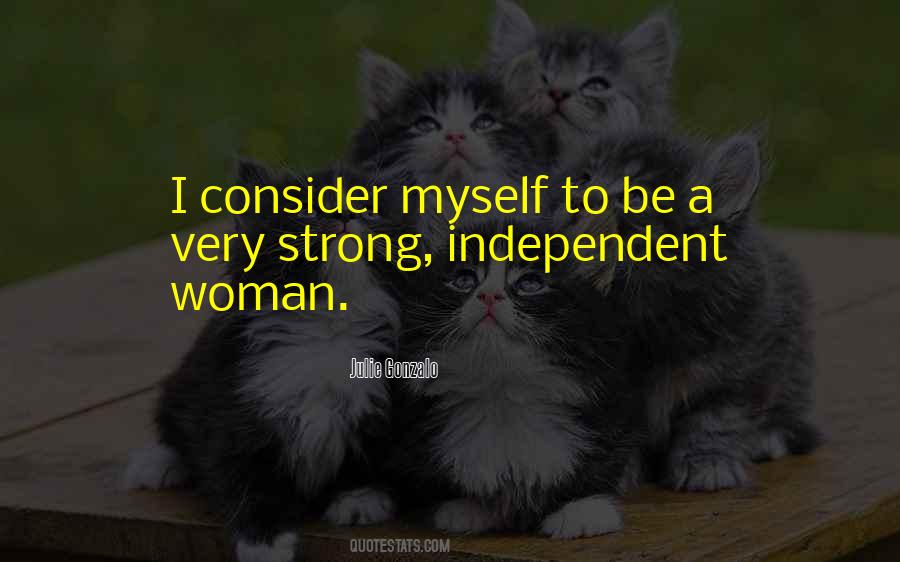 #40. I've done a lot of sci-fi, so I was a little hesitant because you get pigeonholed into that genre and world. But at the same time, I love sci-fi because the women are so strong and independent and smart. - Author: Laura Vandervoort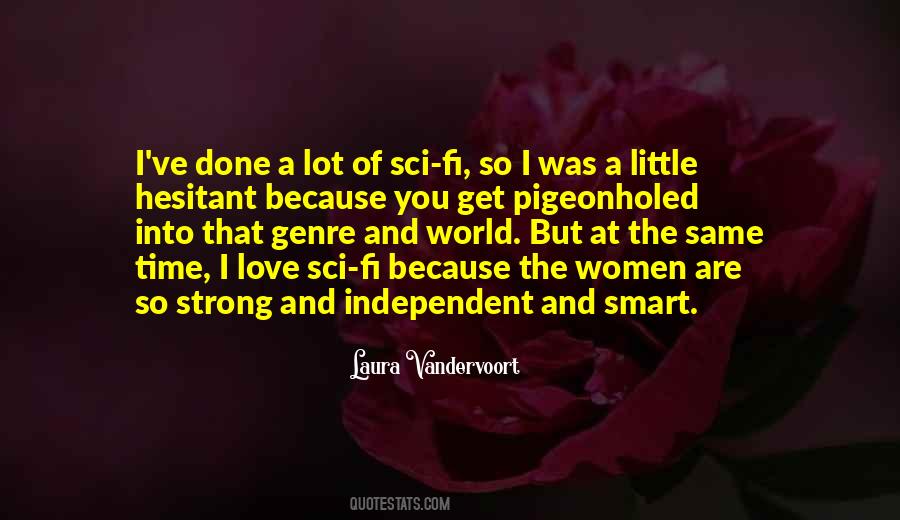 #41. When we do the best we can, we never know what miracles await. - Author: Helen Keller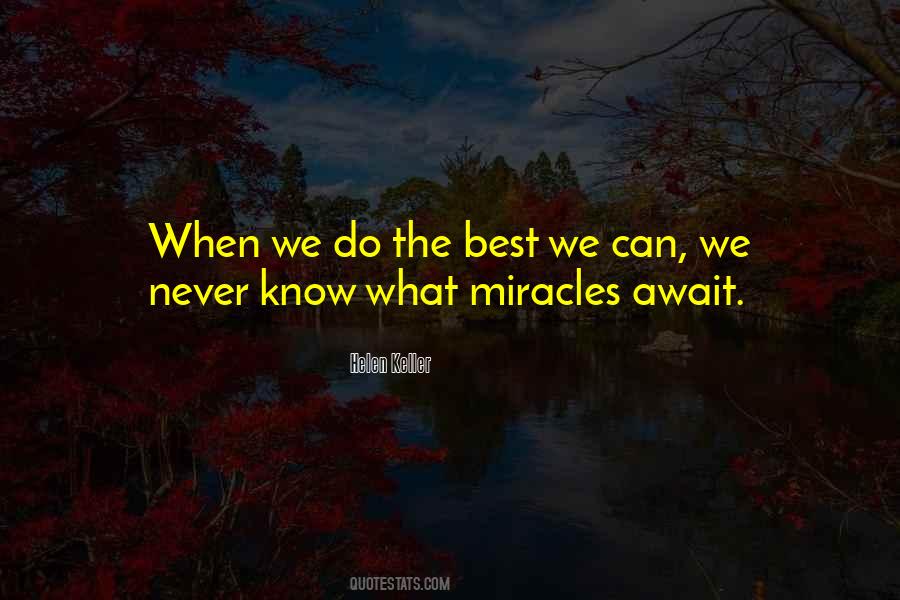 #42. I have a lot of sides to my personality and what you see on 'The Hills' is a strong, independent woman, which I am. But I also have a sensitive side that I don't show too much. - Author: Kristin Cavallari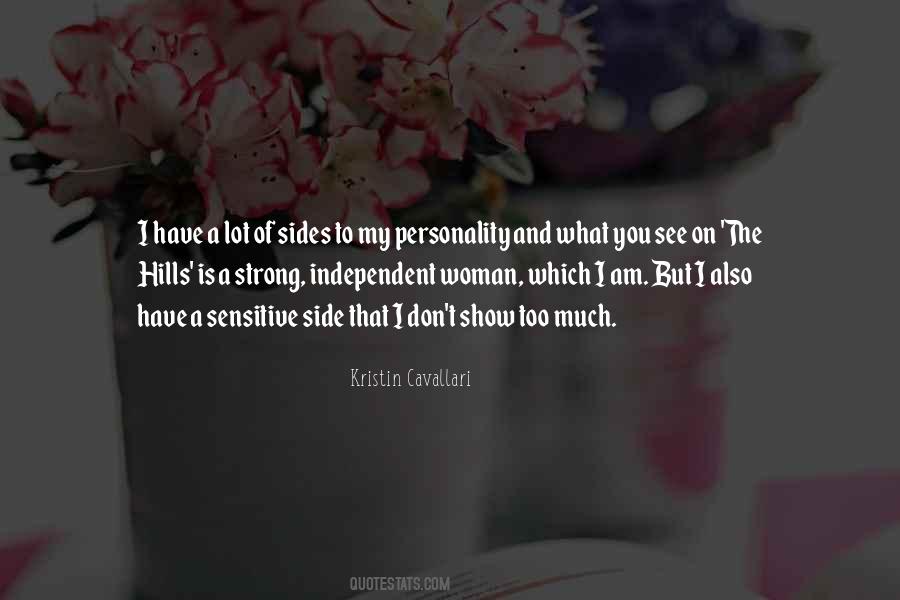 #43. My mom was so lost, so high on him that she forgot herself. Forgot the strong independent woman she was before she got with my dad. - Author: J. Peach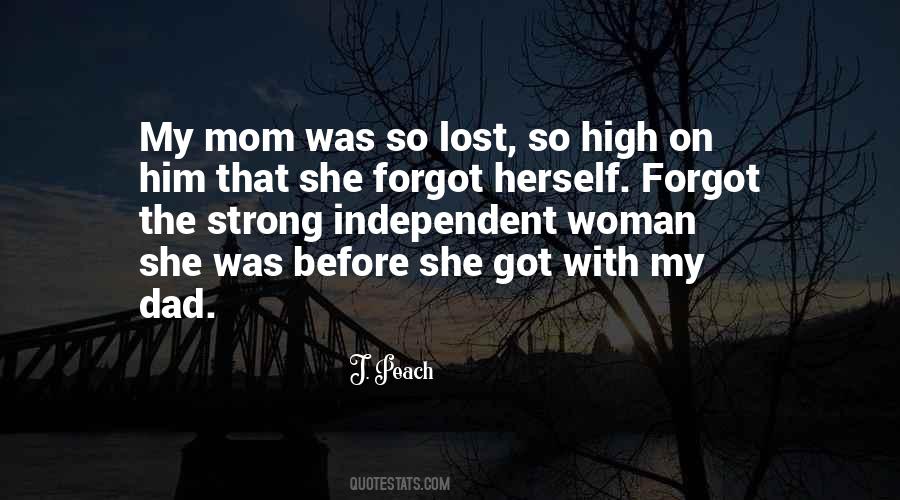 #44. The way of Zen is to become independent and strong. Don't rely on others for perceptions of life and truth. Do it individually. Go to a teacher of Zen to learn how to do that, not to get answers for individual life situations. - Author: Frederick Lenz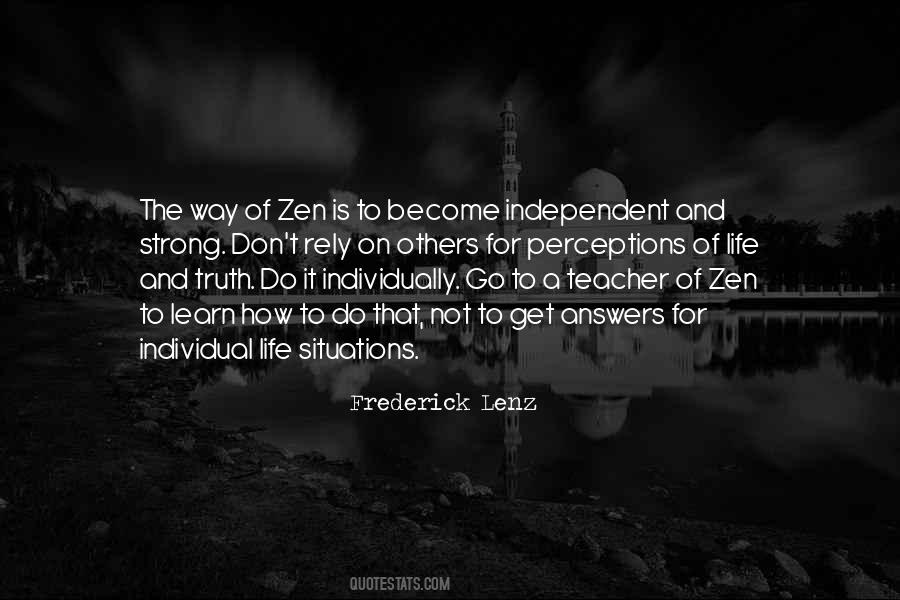 #45. Since a very young age, my mother made sure to tell me about the plight of women. As she raised my awareness about women's issues, she also made sure to ingrain in me the importance of being strong and independent and not to let anybody define me by their images of what women should be. - Author: Zainab Salbi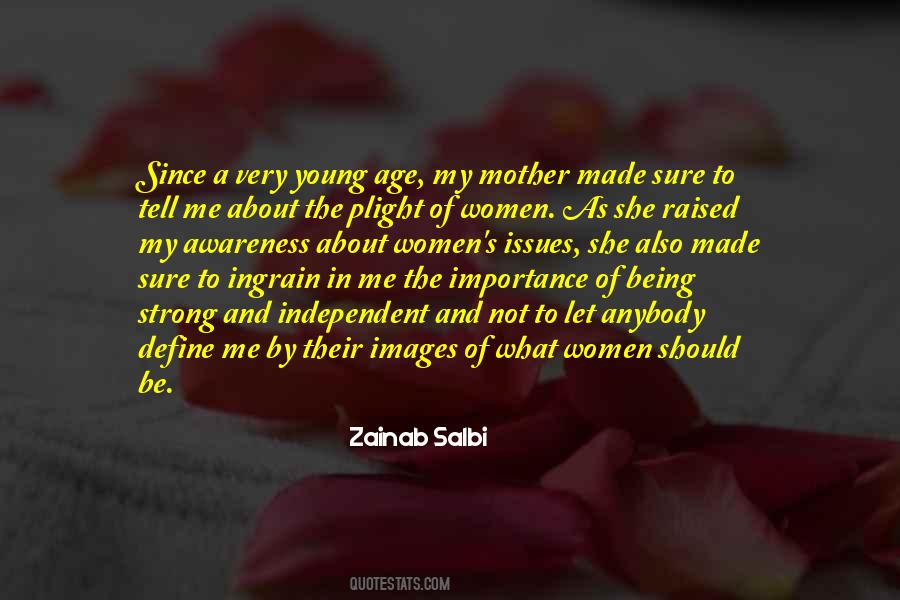 #46. Had I faltered we would have neither the success nor the international reputation we have. Yet when a woman is strong she is strident. If a man is strong, he's a good guy. - Author: Margaret Thatcher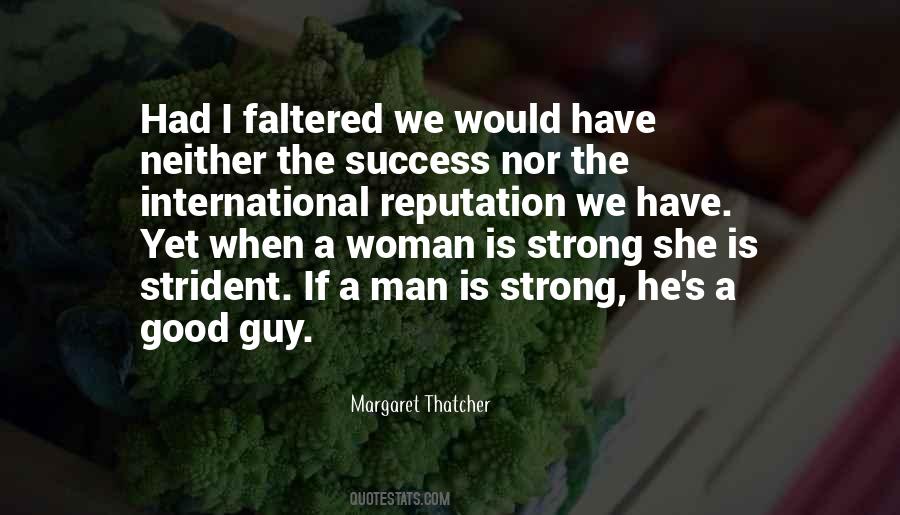 #47. I like being a strong, independent woman, and to be honest, I was never afraid to be on my own. - Author: Dido Armstrong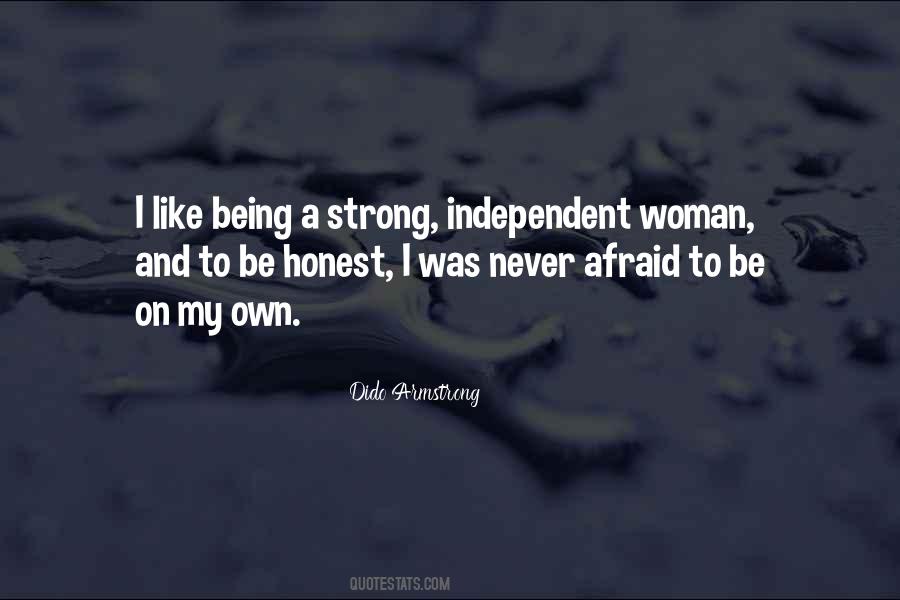 #48. I think some men love the idea of a strong independent woman but they don't want to marry a strong independent woman, - Author: Rebecca Traister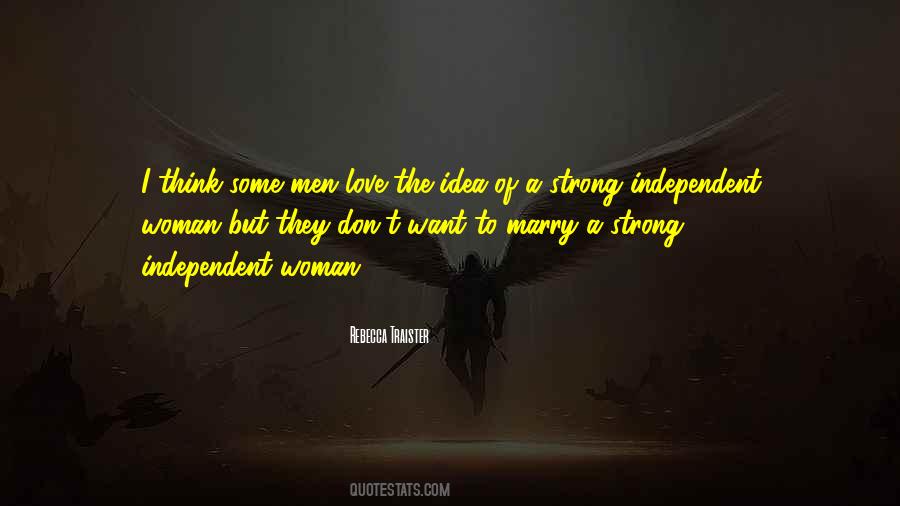 #49. A woman with a voice is by definition a strong woman. But the search to find that voice can be remarkably difficult. - Author: Melinda Gates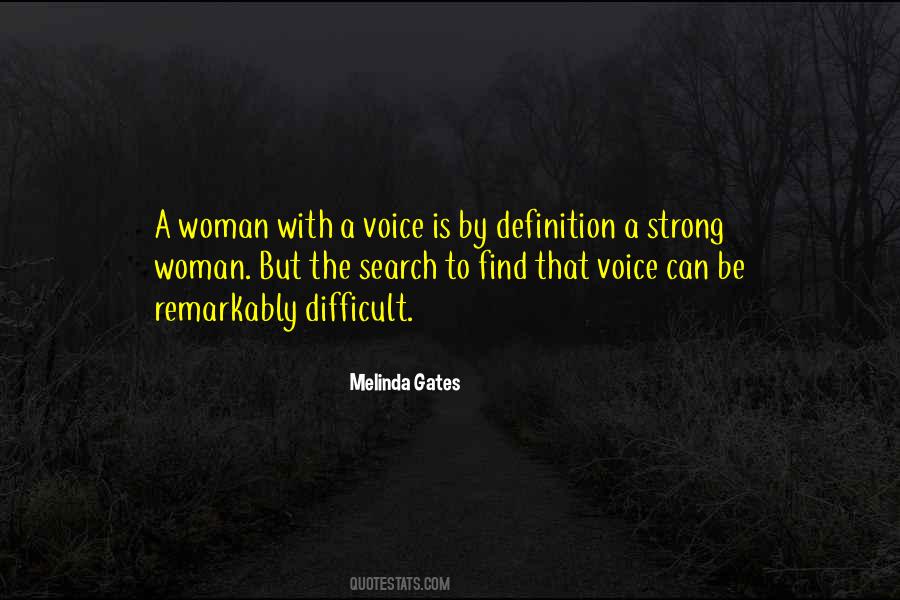 #50. The person who helps you is the person who aids you in becoming independent and strong. Good teachers don't answer your questions, they ask you questions. - Author: Frederick Lenz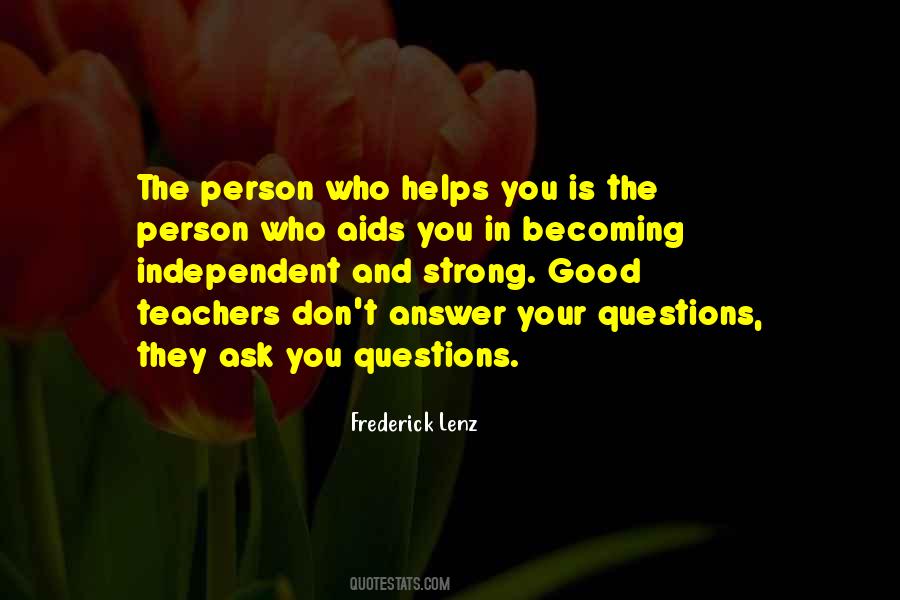 #51. is the business of the very few to be independent; it is a privilege of the strong. And whoever attempts it, even with the best right, but without being OBLIGED to do so, proves that he is probably not only strong, but also daring beyond measure. - Author: Friedrich Nietzsche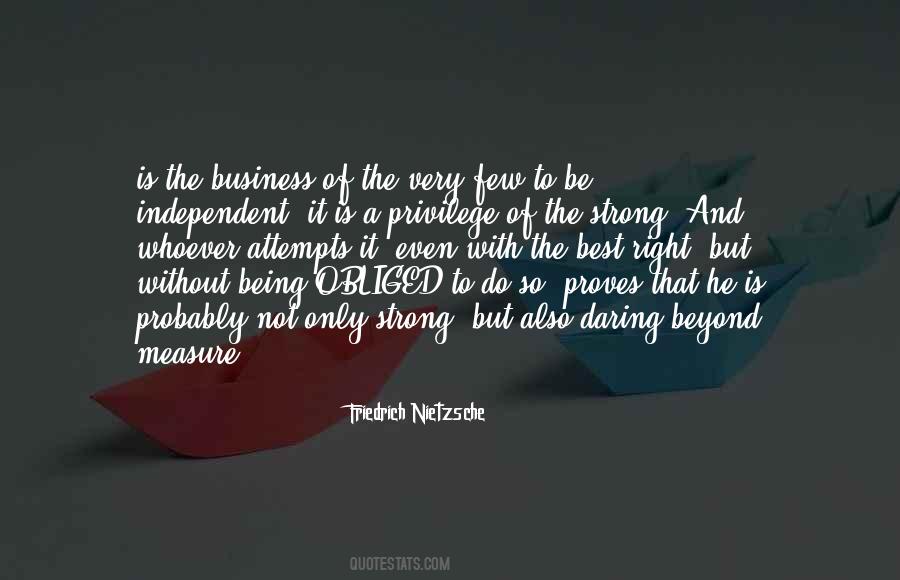 #52. When you're single, you're very independent. Very independent women raised me. We didn't have a lot of male figures as the head of our household, so I got, and took on, a lot of that strong spirit from the matriarchs in my family. - Author: Tichina Arnold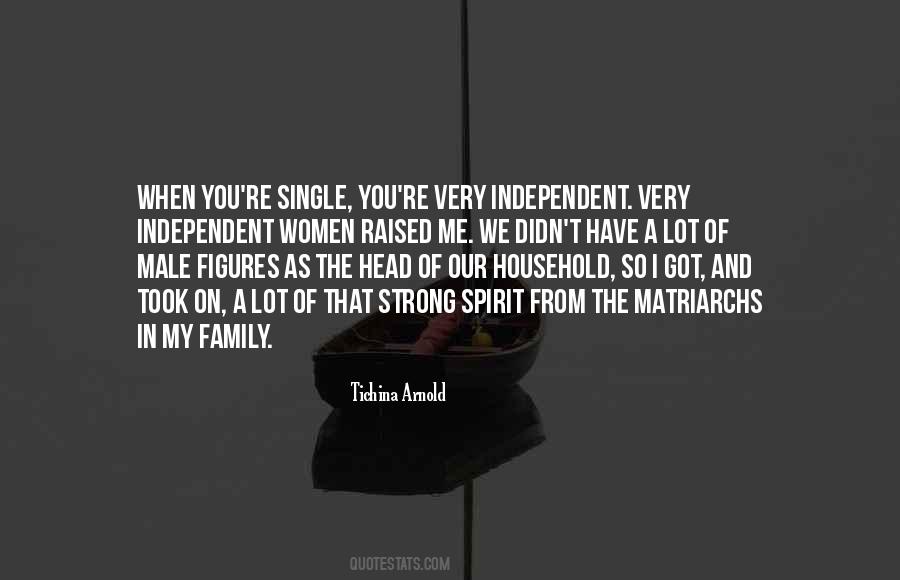 #53. I'm a big fan of independent girls who are strong-willed, vocal in their opinions, and have a sense of humor. - Author: David Lambert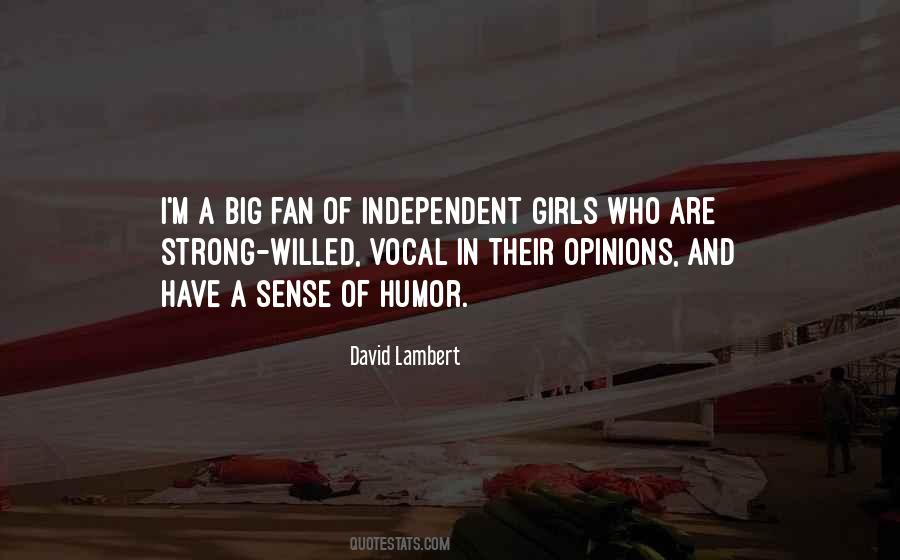 #54. Everyone has a right to a strong and independent future: All of us have the right, and personal obligation, to choose whether or not company-driven hardships and sacrifices, overall, are shackling or strengthening our future. And to keep that right, each of us must be our own best advocate. - Author: Bill Jensen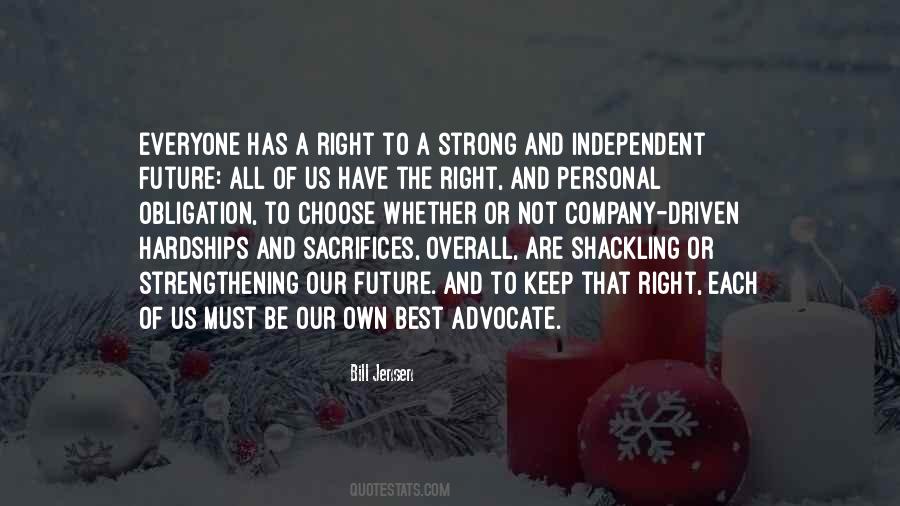 #55. Take control. You are a strong, independent woman. - Author: Bella Swan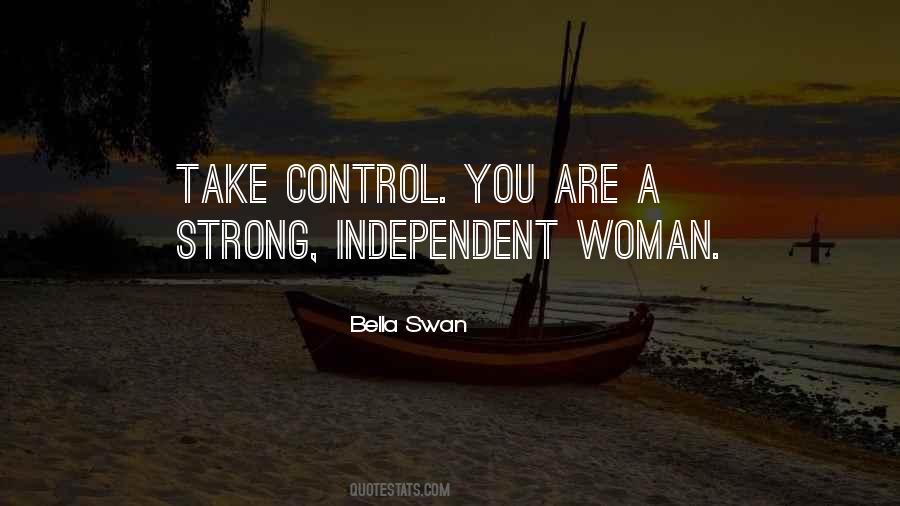 #56. We have successful, strong-willed, independent women who stand up for conservative, traditional values. Women are leading this movement because they've been raised to be unafraid....I didn't grow up feeling oppressed. I didn't grow up feeling like a victim. - Author: S. E. Cupp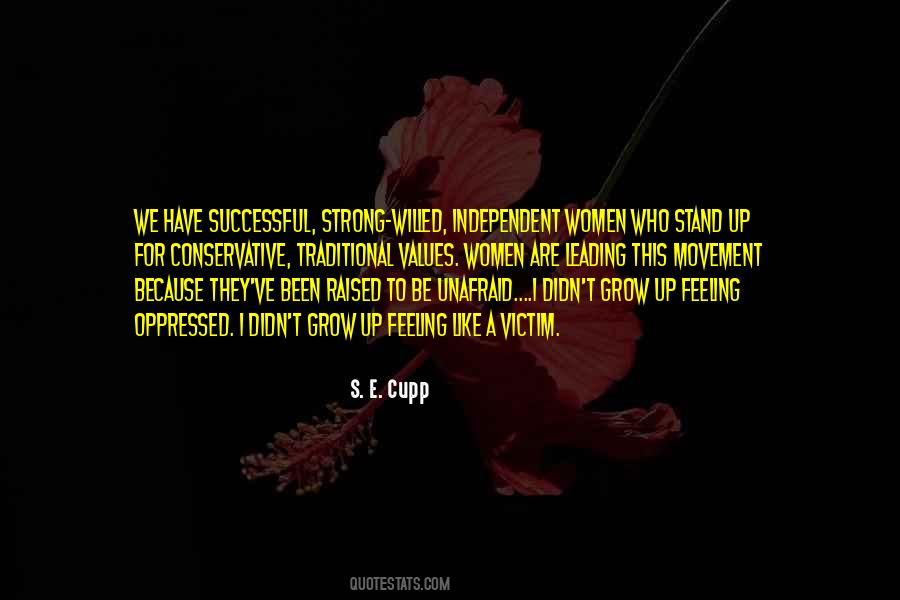 #57. And ultimately, that's what women want, a strong, independent, high status male - a "doesn't take shit from anybody" bad boy - but they want this bad boy to have a depth and a sensitivity that they only open up and show when they're around her. - Author: Mark Manson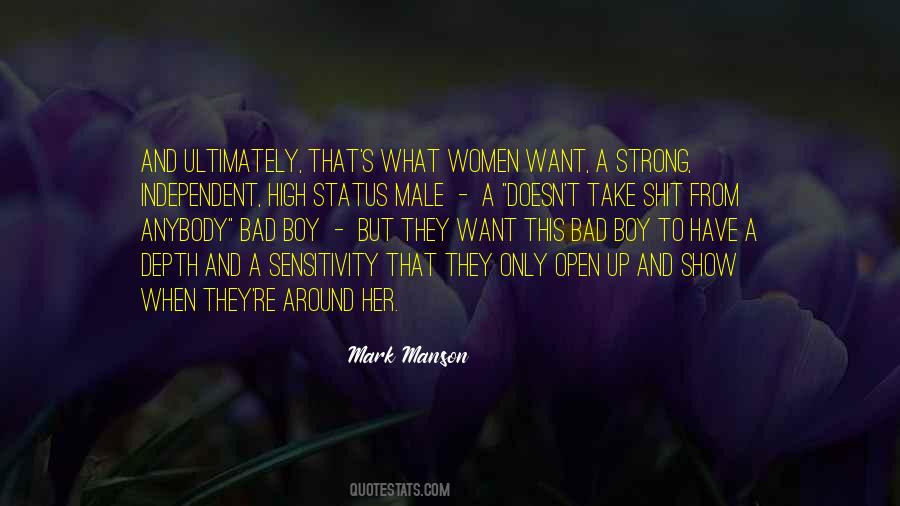 #58. Be sure of yourself, don't let anyone bully you, be a strong and independent woman or boy. - Author: Nicole Polizzi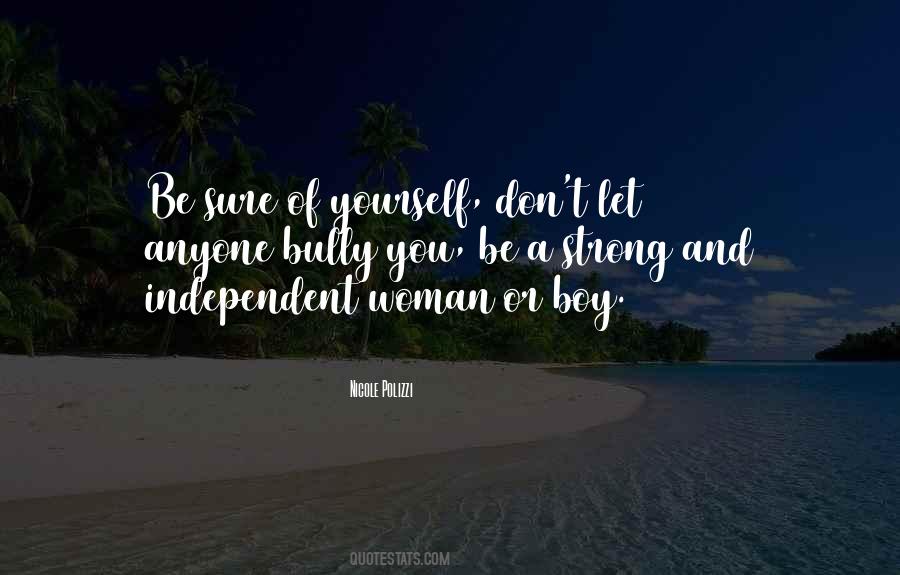 #59. Her voice was erudite, interesting; the voice of someone who straddled two cultures with a surety and style that I wished my boyfriend could find. She was smart, funny, and, above all, completely capable of controlling her life and what happened to it. - Author: Ruth Ahmed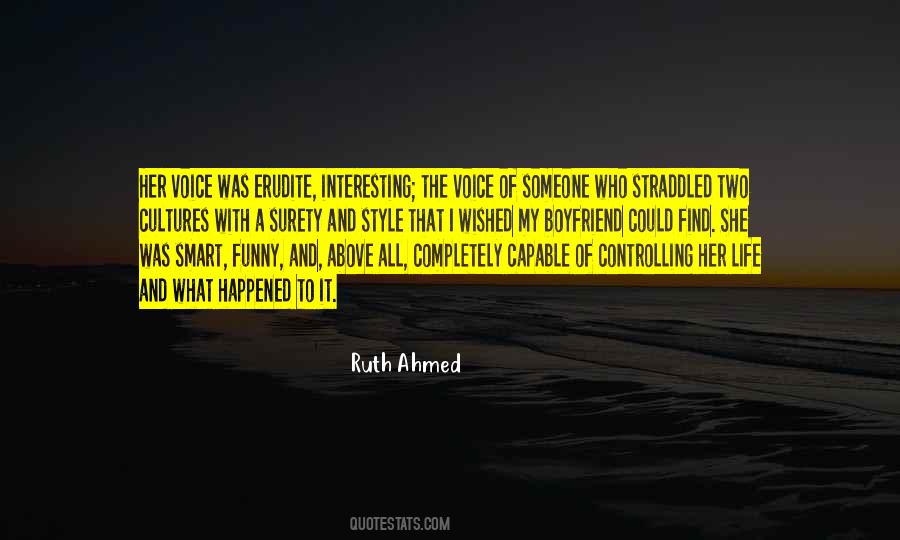 #60. She's the ultimate heroine, strong-willed and independent, intelligent, loyal, but at the same time, she's not flawless, she's not above mistakes, or falling in love. - Author: Tammara Webber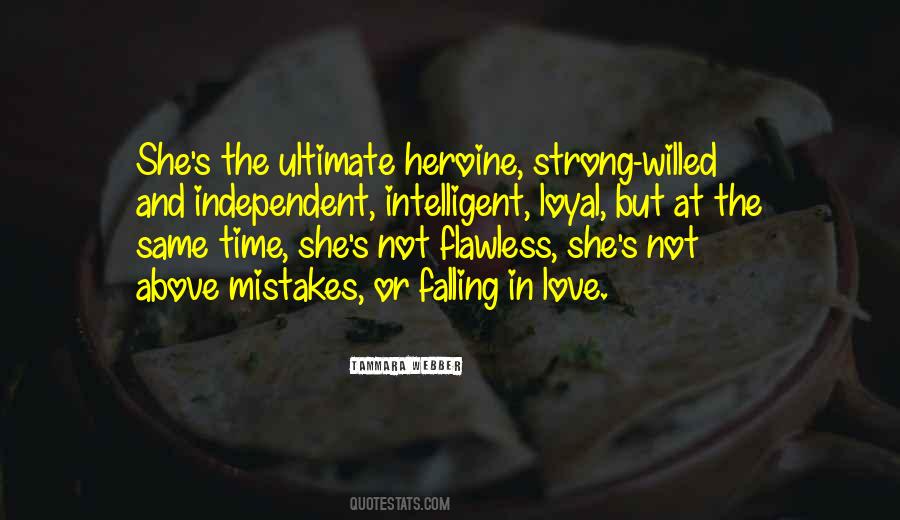 #61. A man unconsciously imagines that where he is strong, where he feels most thoroughly alive, the element of his freedom must lie. - Author: Friedrich Nietzsche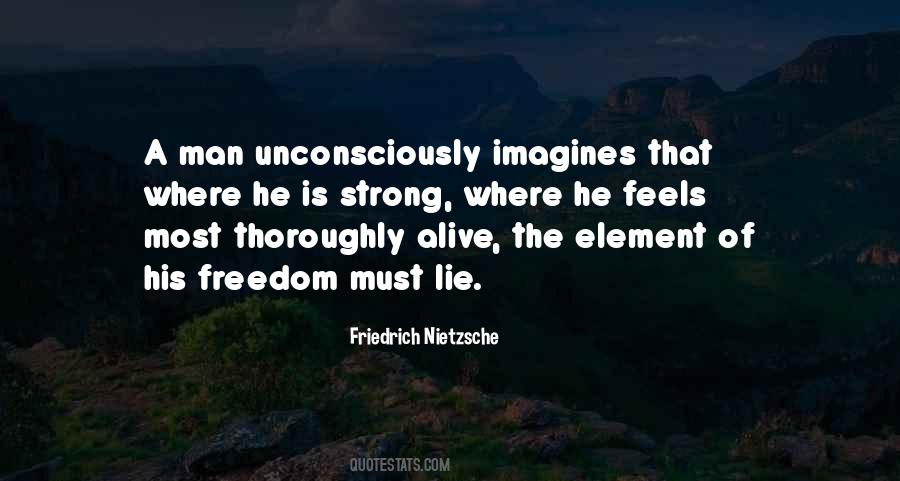 #62. I know that I have raised my sons to be big, strong, independent men who love God, themselves and care for others. I have to learn to let them have space and learn without me. - Author: Kim Alexis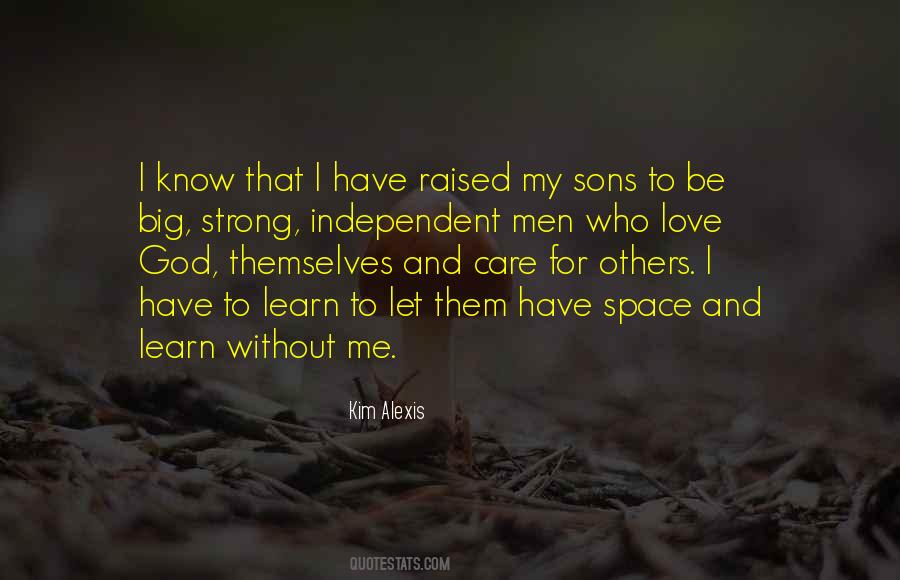 #63. Once a woman is comfortable in her own skin, living her own life and building a foundation by herself; it takes one heck of a man to make her want to sacrifice her independence. - Author: Nikki Rowe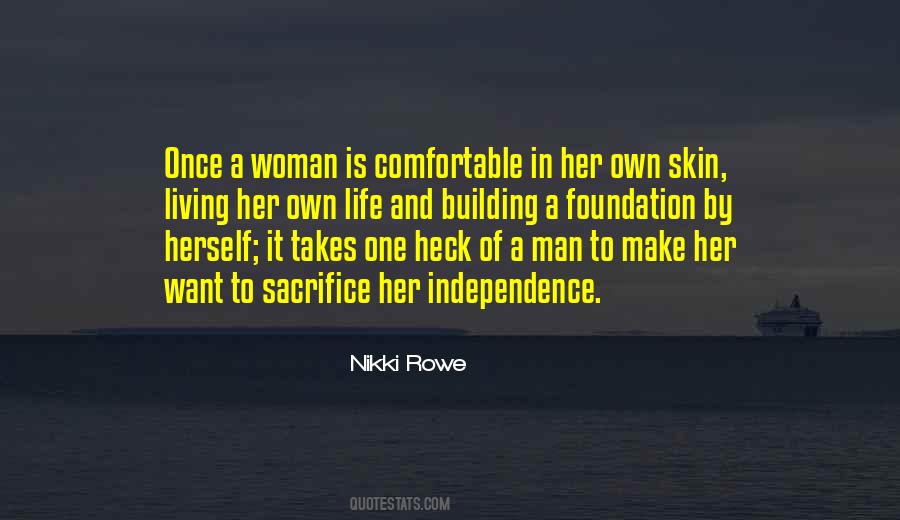 #64. And now the really difficult part: We have to rebuild Iraq into a strong and independent nation that will one day hate the United States. - Author: David Letterman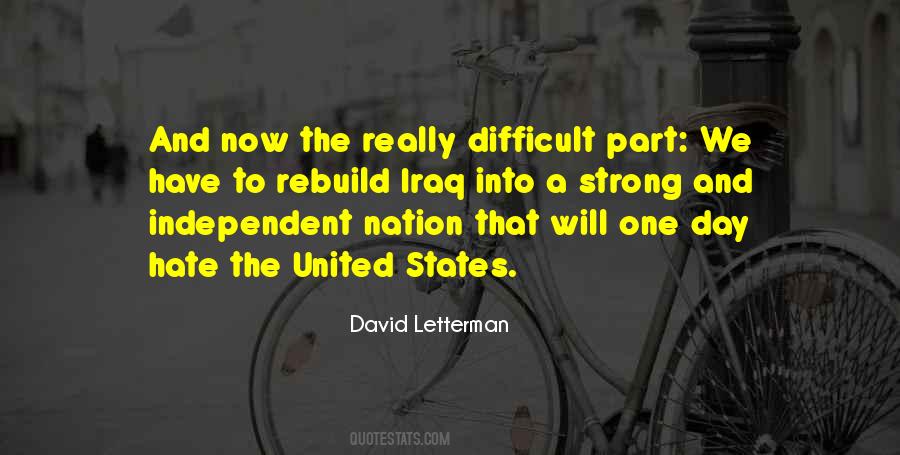 #65. Being single is hard, and it gets harder and harder every day. But sooner or later you'll be happy, independent, wise, strong and everything. Because you've learned lessons in a better way. In a harder way. - Author: Sarvesh Jain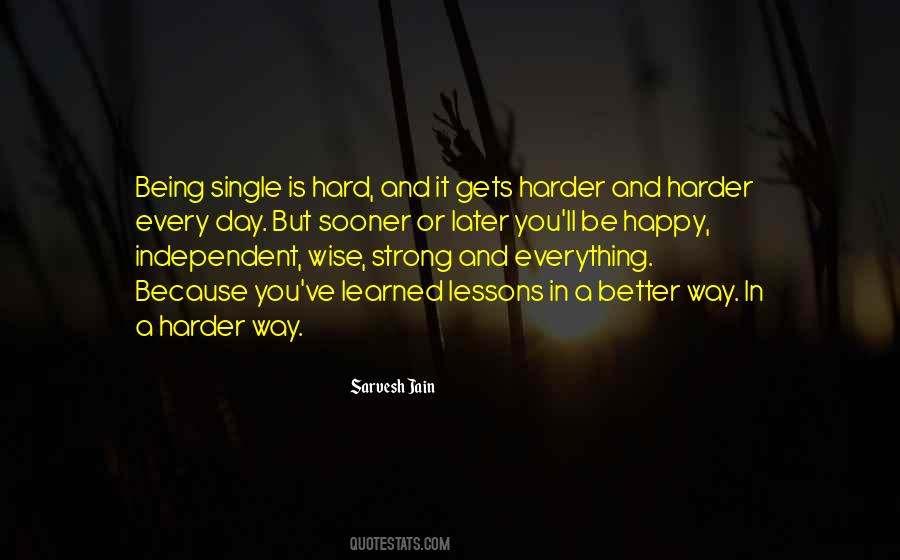 #66. The definite link between all the women who wear my designs is that they are strong, independent, and with their own opinions. - Author: Roksanda Ilincic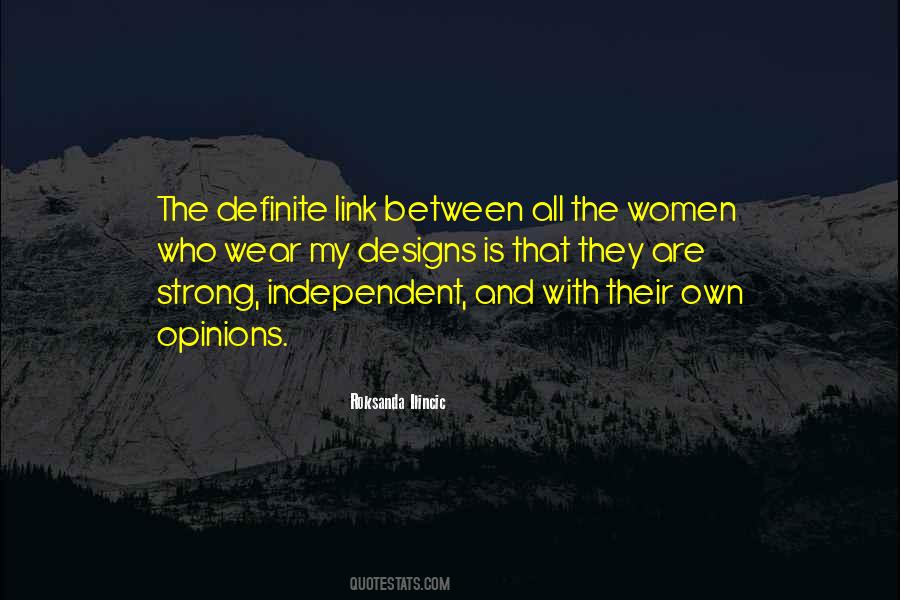 #67. She is that maze,
the one you would love to chase.
She is the faith,
quite missing nowadays.
And her heart is a rave,
with hopeless barricades.
She is the one,
whose tears flow,
just as lavishly,
as her laughter roars! - Author: Jasleen Kaur Gumber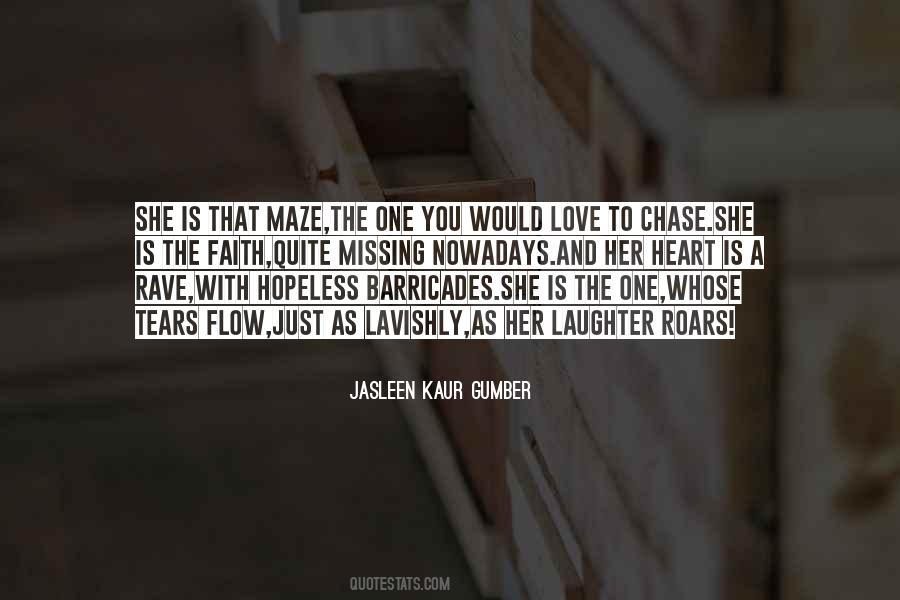 #68. It is our nature to be strong and independent. Yet, there is no room for the ego in suffering. This stripping of my ego opens the doors to authentic relating to others. As I am drawn closer to others, I am experiencing God in the here and now. - Author: Timothy J. Keller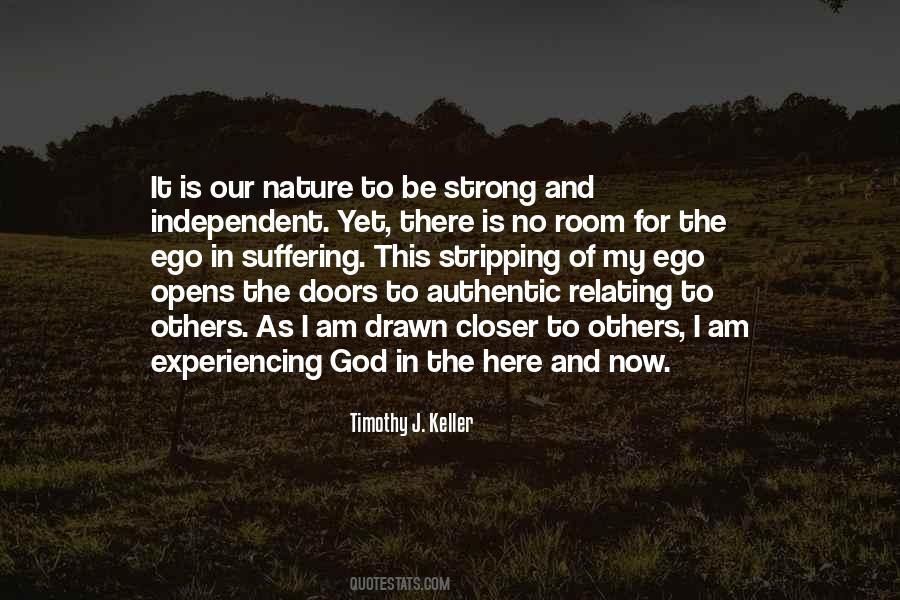 #69. But then I had long mistaken being spoiled for being strong, being defiant for being independent, being reckless for being brave. - Author: Tami Hoag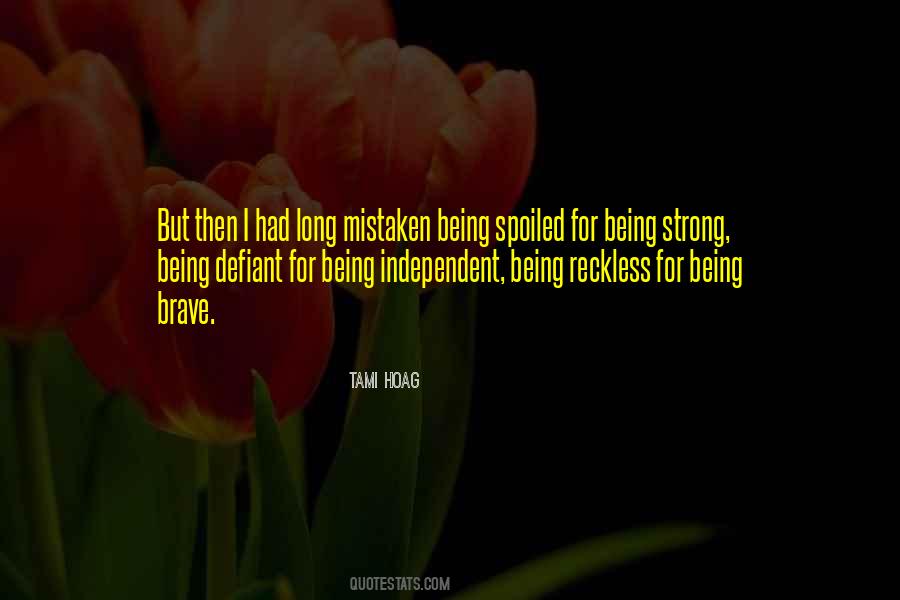 #70. You are strong and independent, I told myself as I unlocked the door. Capable and clever. No males needed. - Author: Susan Dennard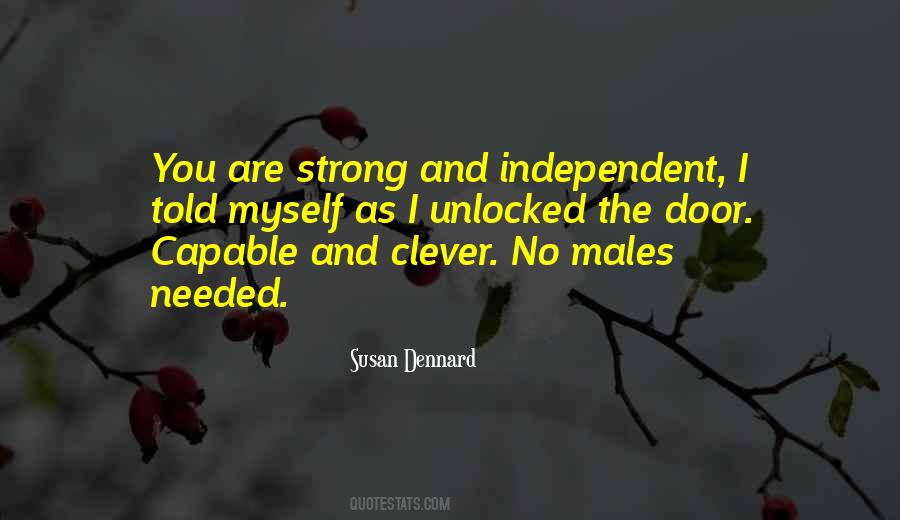 #71. My mom used to say that a man who hates cats is insecure, but a man who likes them is one worth keeping. If he can appreciate a cat, he can appreciate a strong, independent woman.
-Serena - Author: Larissa Ione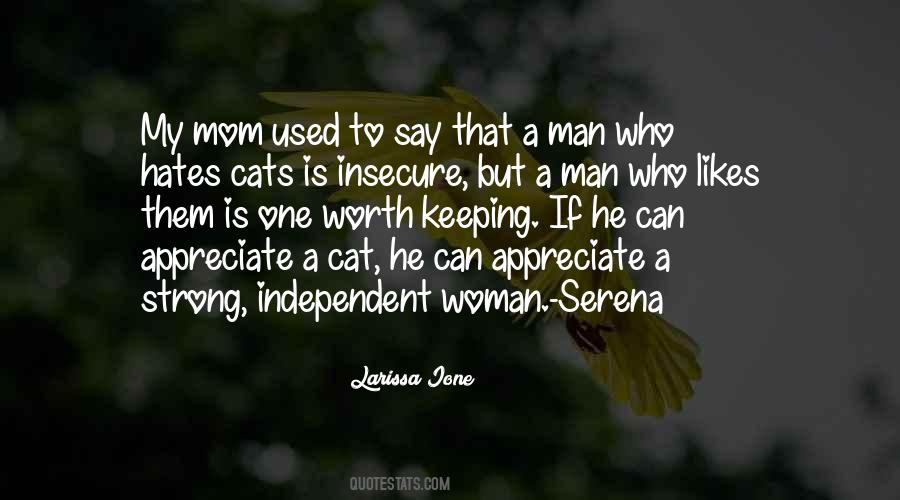 #72. It was all very well being a strong independent woman, but it was hard when boys' confusing behaviour kept making you lose your focus. - Author: Holly Bourne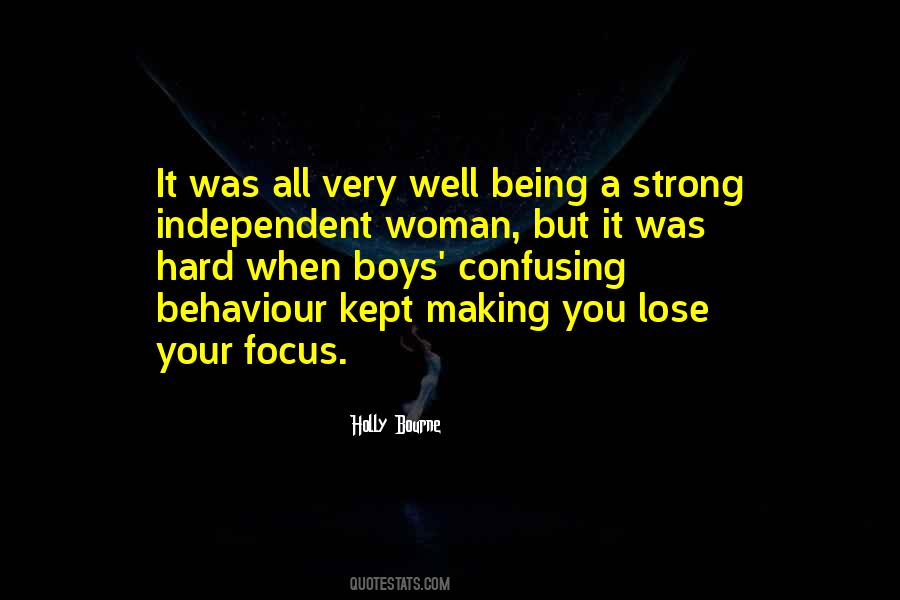 #73. She thought she was independent and strong, but she got one small taste of love and she was hungrier than anyone. She was ravenous. - Author: Ann Brashares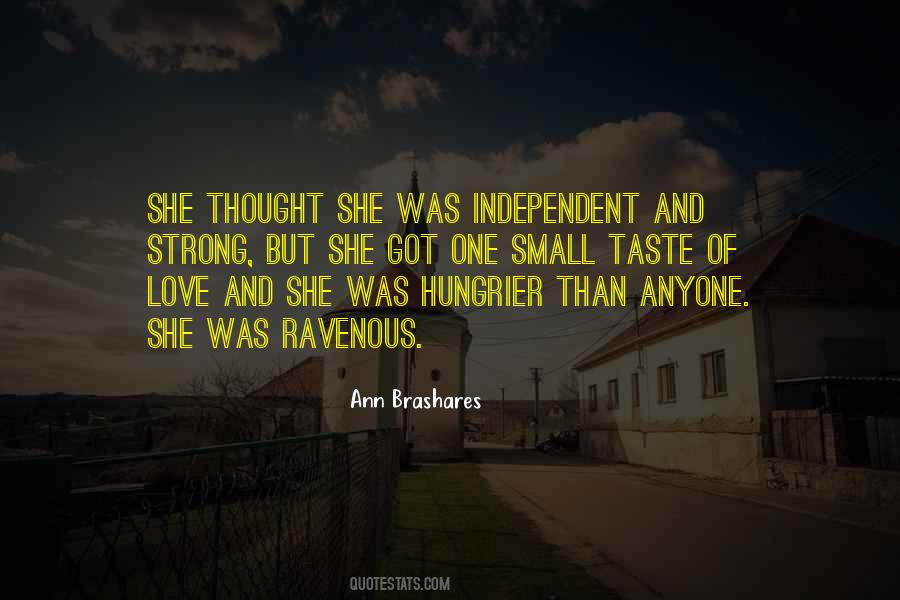 #74. The work that I have been doing on television has been important to me because I have had the opportunity to portray very strong, intelligent women. It has been such a privilege to depict a woman that is independent, unapologetic, and resilient on both shows. - Author: Amanda Schull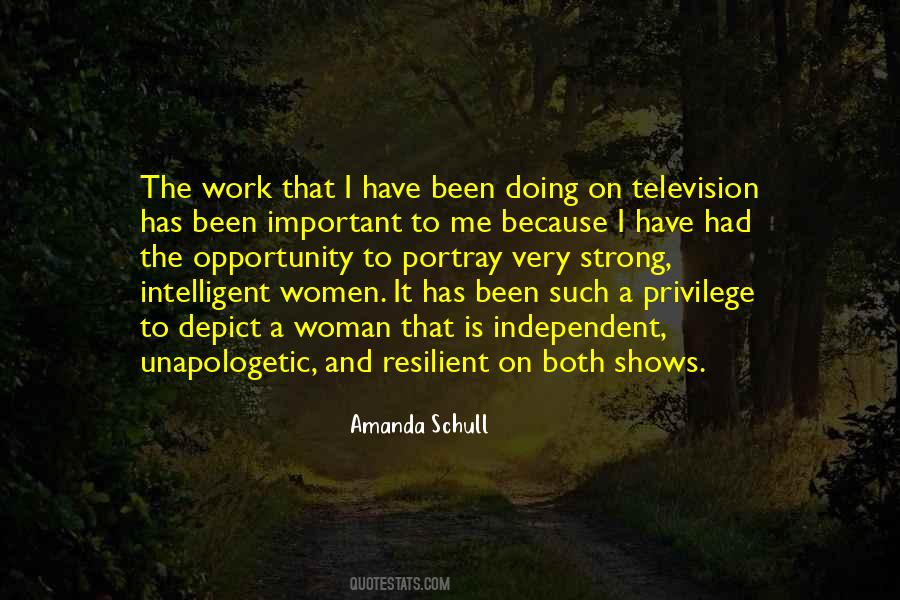 #75. Be that strong girl that everyone knew would make it through the worst, be that fearless girl, the one who would dare to do anything, be that independent girl who didn't need a man; be that girl who never backed down. - Author: Taylor Swift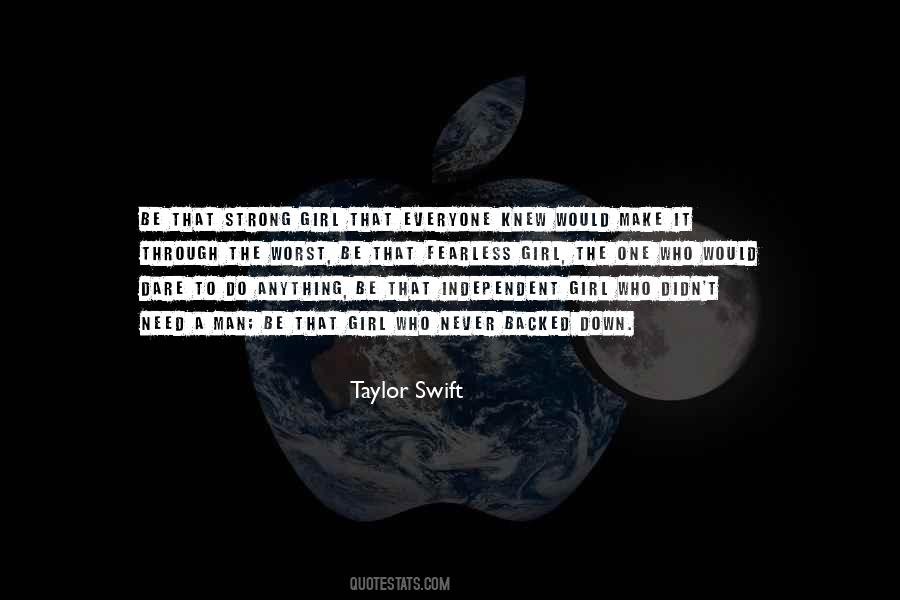 #76. I mean, I like to think of myself as being strong and independent, but I definitely wasn't like that at 14. - Author: Alison Lohman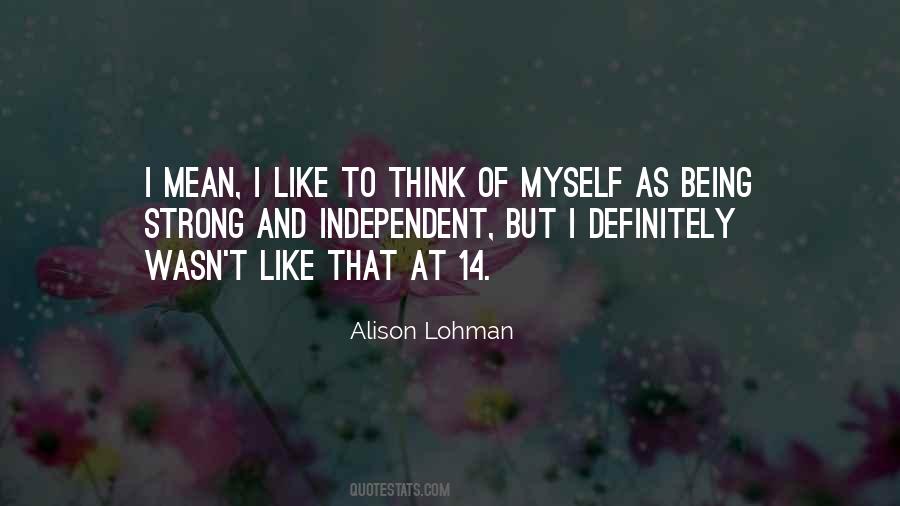 #77. A jury is more apt to be unbiased and independent than a court, but they very seldom stand up against strong public clamor. Judges naturally believe the defendant is guilty. - Author: Clarence Darrow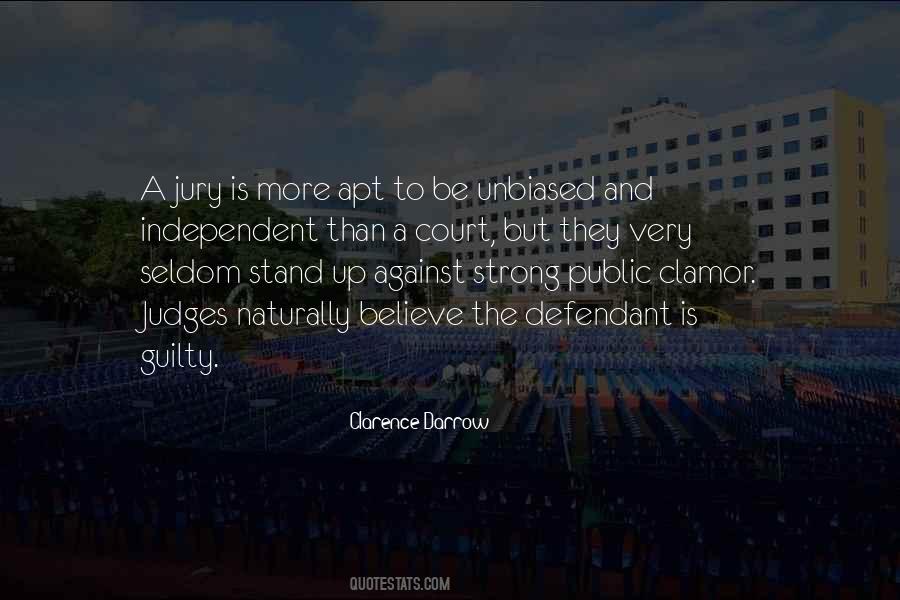 #78. Be an independent thinker at all times, and ignore anyone who attempts to define you in a limiting way. - Author: Sherry Argov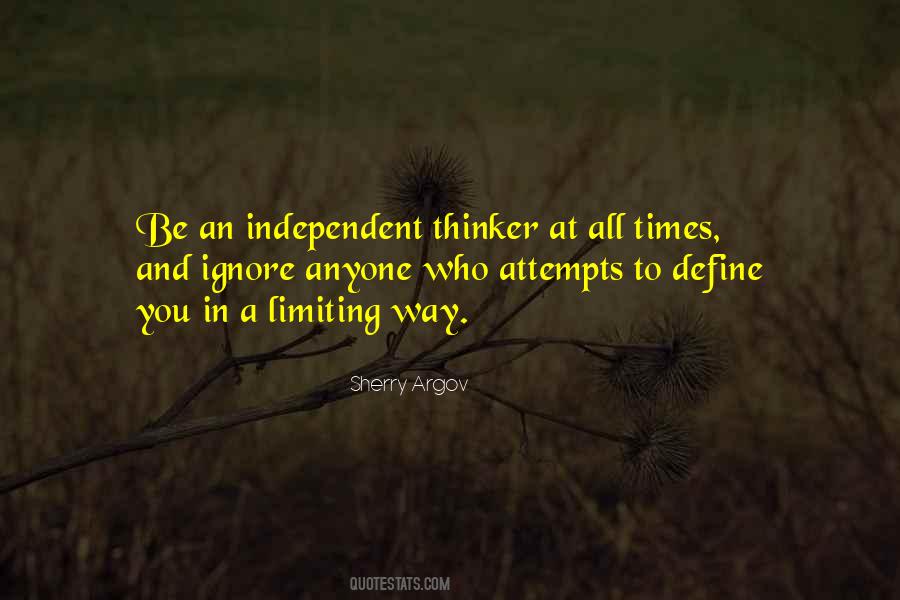 #79. I'd like a relationship that was like two tree trunks side by side, strong but independent. - Author: Agyness Deyn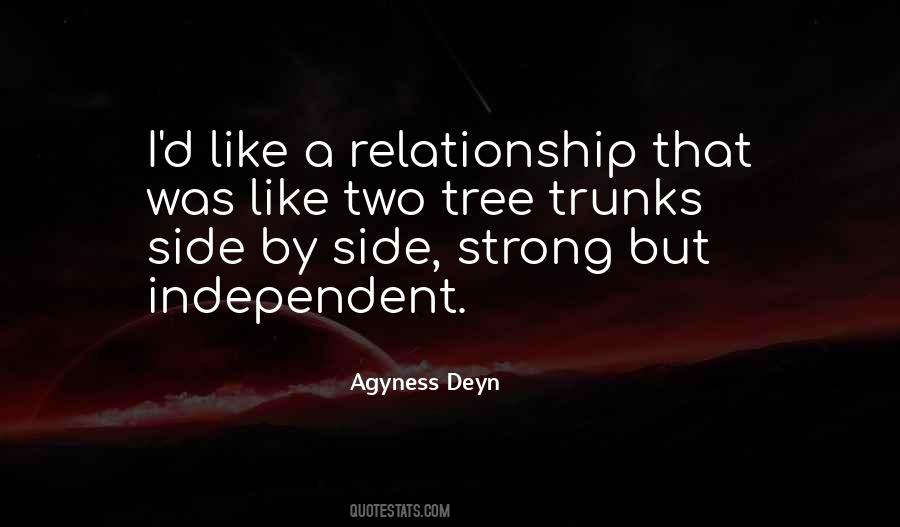 #80. ....there was nothing on this earth sexier than a strong woman. - Author: T.S. Joyce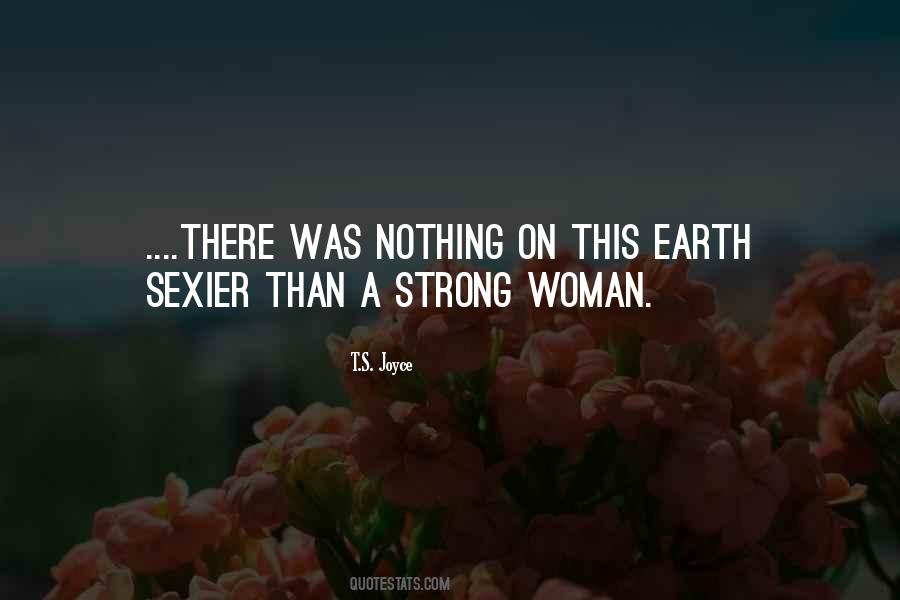 #81. You raised your kids to be independent, strong, and think for themselves. So once they're grown, why is it so hard to let them do it? - Author: Jane A. Adams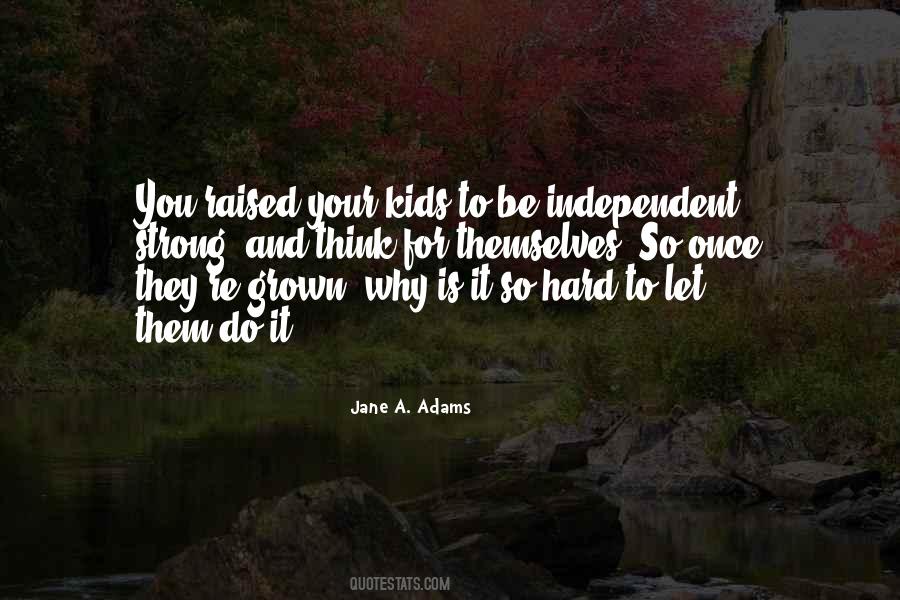 #82. Strong and independent? I'm neither. I'm just being pushed along by reality, whether I like it or not. - Author: Haruki Murakami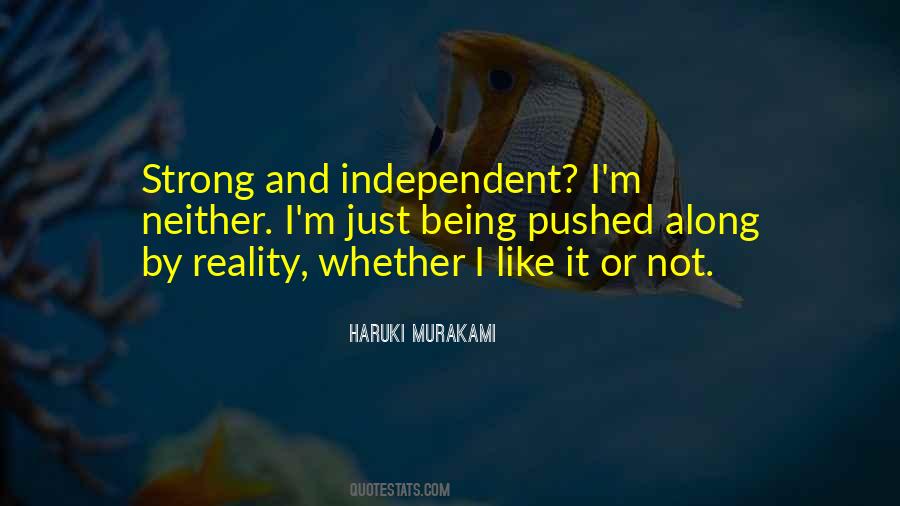 #83. Greeks have always been very confident, very strong people. That is - that is our real, I guess, benefit, is that we are independent thinkers. We will always get up on our feet. We - we sometimes act the best when we are downtrodden. - Author: Pavlos, Crown Prince Of Greece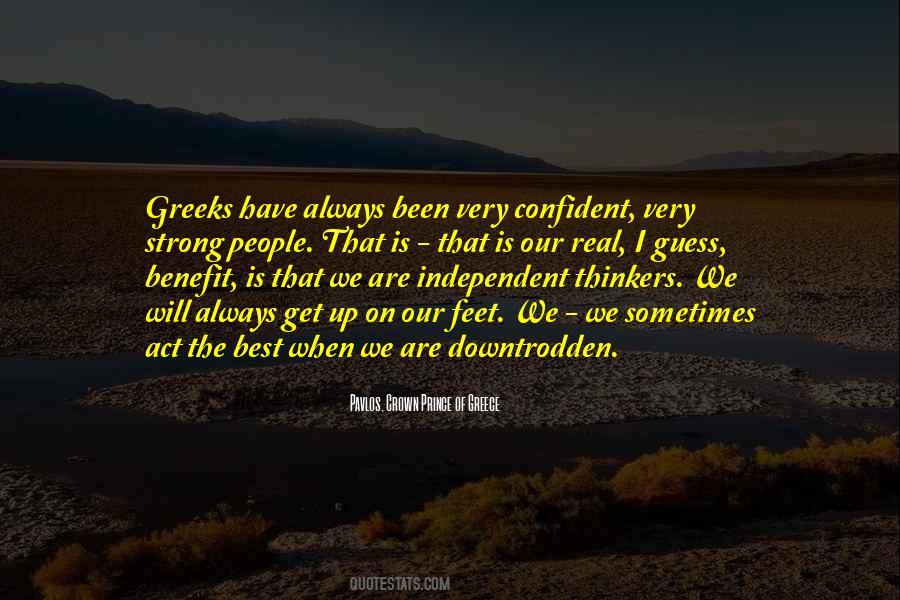 #84. Poland should be strong and prosperous and independent and play its proper role as a great nation in the heart of Europe. - Author: George H. W. Bush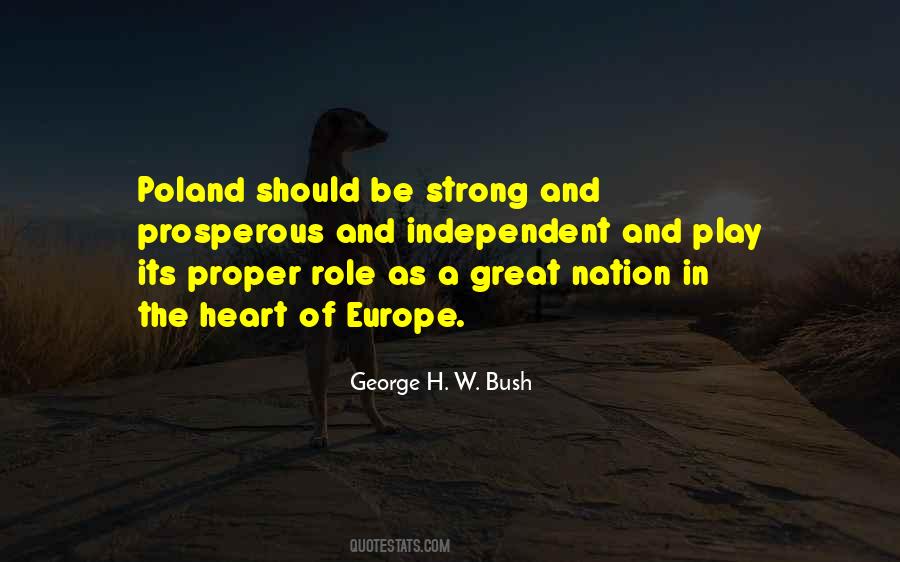 #85. Man who hates cats is insecure, but a man who likes them is one worth keeping. If he can appreciate a cat, he can appreciate a strong, independent woman. - Author: Larissa Ione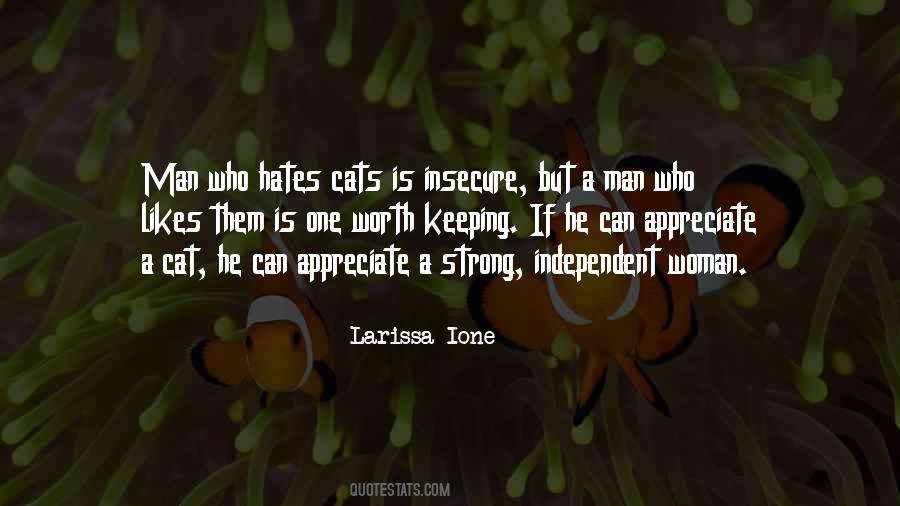 #86. Newspapers, television networks, and magazines have sometimes been outrageously abusive, untruthful, arrogant, and hypocritical. But it hardly follows that elimination of a strong and independent press is the way to eliminate abusiveness ... - Author: Potter Stewart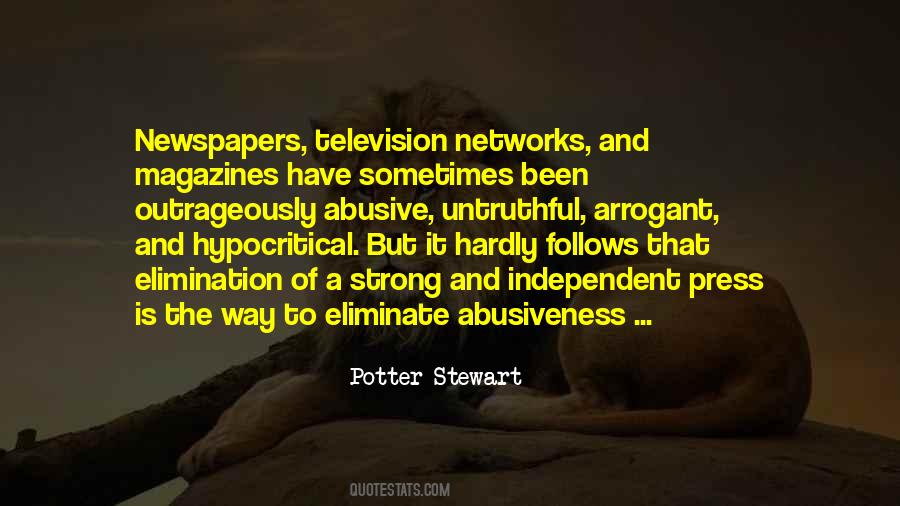 #87. My lyrics are for strong, independent women who are both smart and fashionable. - Author: Shameik Moore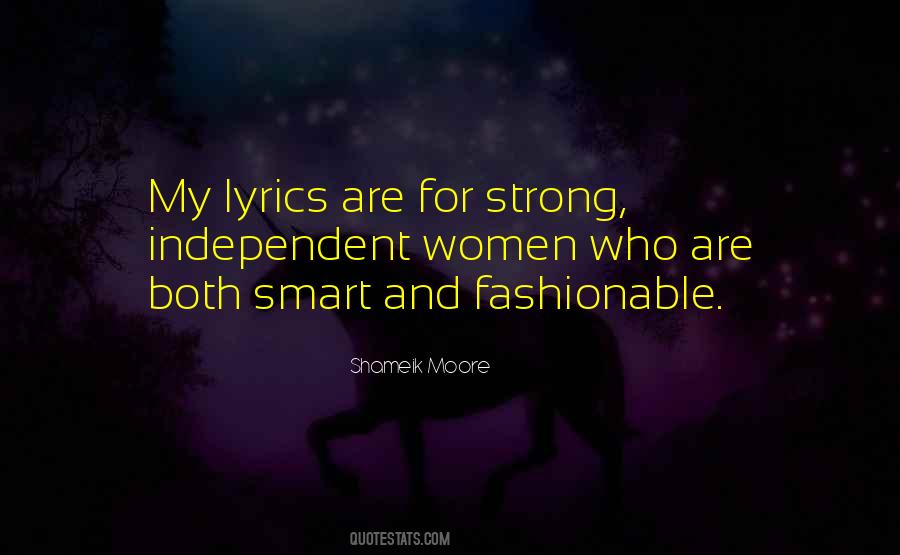 #88. A Bond girl must be a strong and independent woman, but at the same time charming and sensual. Those opposite qualities combined together make her interesting. She must be strong but at the same time feminine. - Author: Olga Kurylenko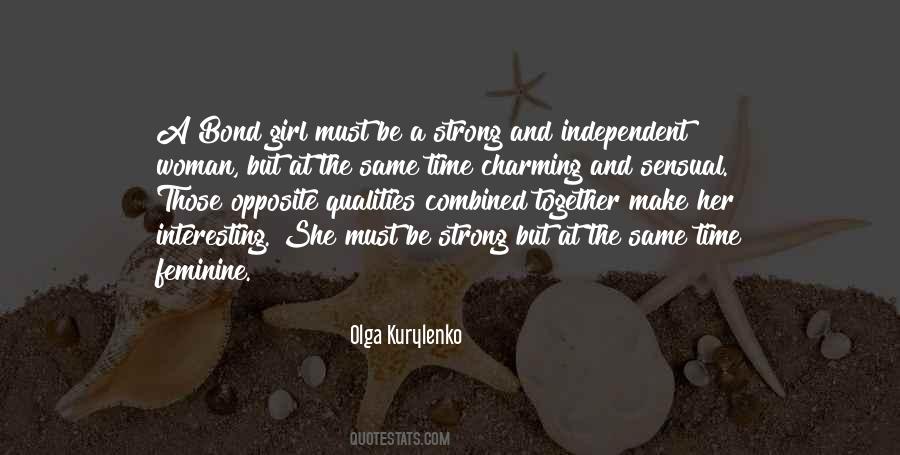 #89. The day will come when men will recognize woman as his peer, not only at the fireside, but in councils of the nation. Then, and not until then, will there be the perfect comradeship, the ideal union between the sexes that shall result in the highest development of the race. - Author: Susan B. Anthony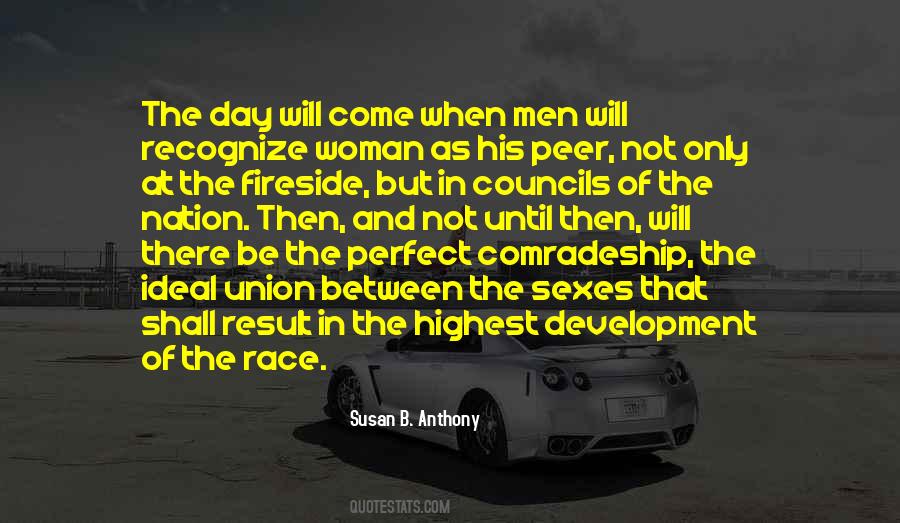 Famous Authors
Popular Topics