Spring Time Famous Quotes & Sayings
List of top 100 famous quotes and sayings about spring time to read and share with friends on your Facebook, Twitter, blogs.
Top 100 Spring Time Quotes
#1. When spring knocks at your door, regardless of the time of year or season of our lives, run, do not walk to that door, throw it open with wild abandon, and say, Yes! Yes, come in! Do me, and do me big! - Author: Jeffrey R. Anderson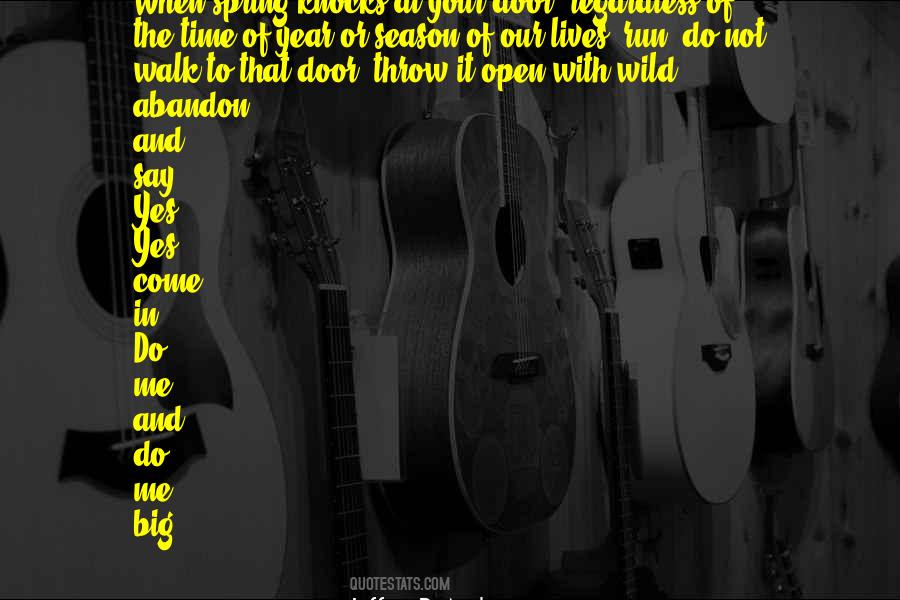 #2. Be a Gardener. Dig a ditch. Toil and sweat. And turn the earth upside down. And seek the deepness. And water plants in time. Continue this labor. And make sweet floods to run, and noble and abundant fruits to spring. Take this food and drink, and carry it to God as your true worship. - Author: Julian Of Norwich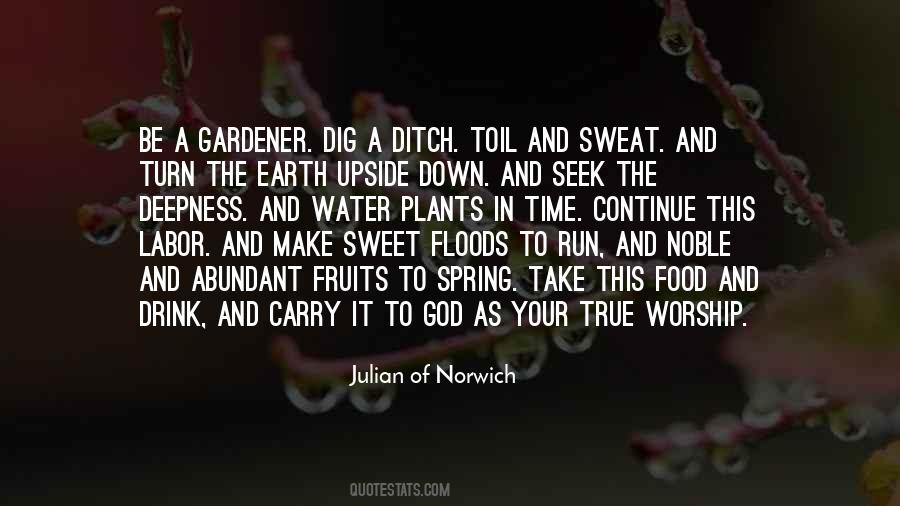 #3. I'm a one-hundred-percent, made-in-Florida, dope-smugglin', time-sharin', spring-breakin', log-flumin', double-occupancy discount vacation. I'm a tall glass of orange juice and a day without sunshine. I'm the wind in your sails, the sun on your burn and the moon over Miami. I am the native. - Author: Tim Dorsey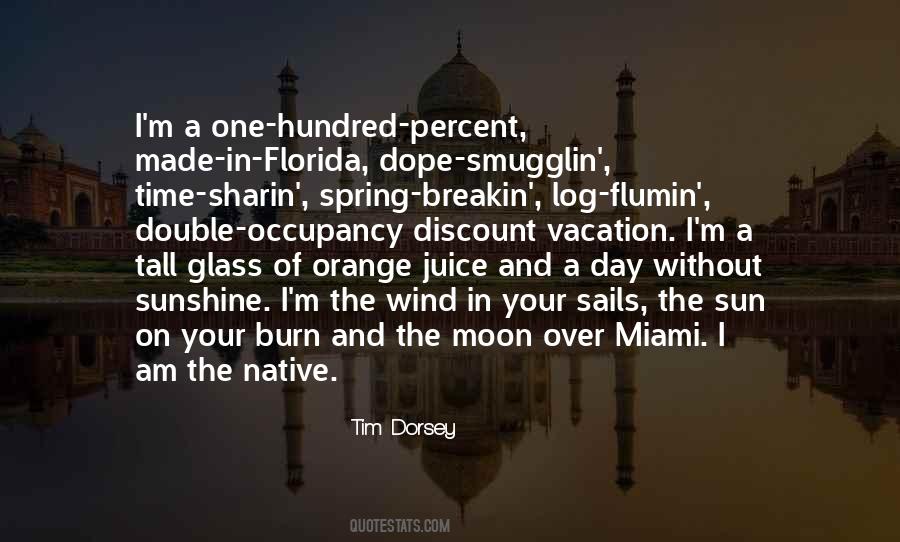 #4. Come, fill the Cup, in the fire of Spring
Your Winter-garment of Repentance fling:
The Bird of Time has but a little way
To flutter--and the Bird is on the Wing - Author: Omar Khayyam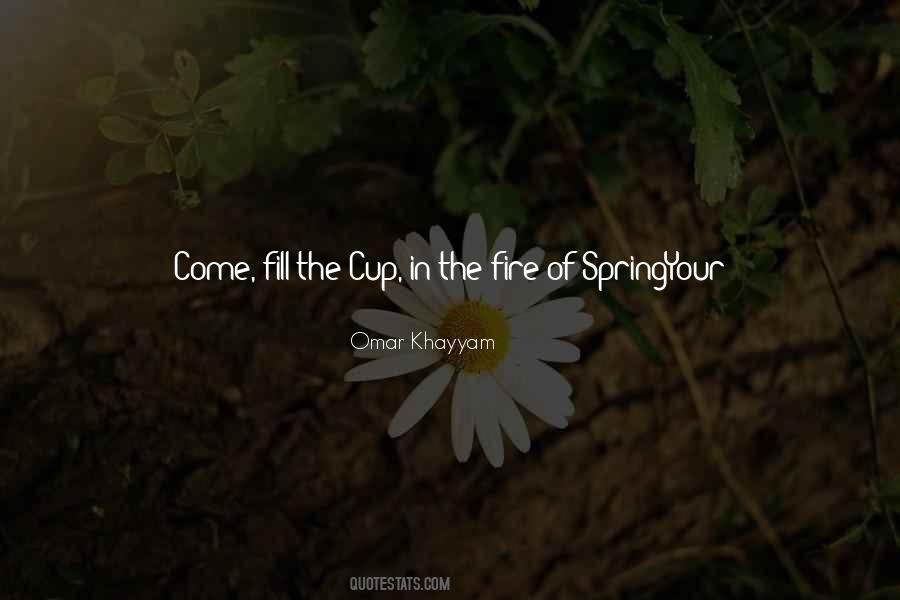 #5. Spring time is nature at its best. - Author: Lailah Gifty Akita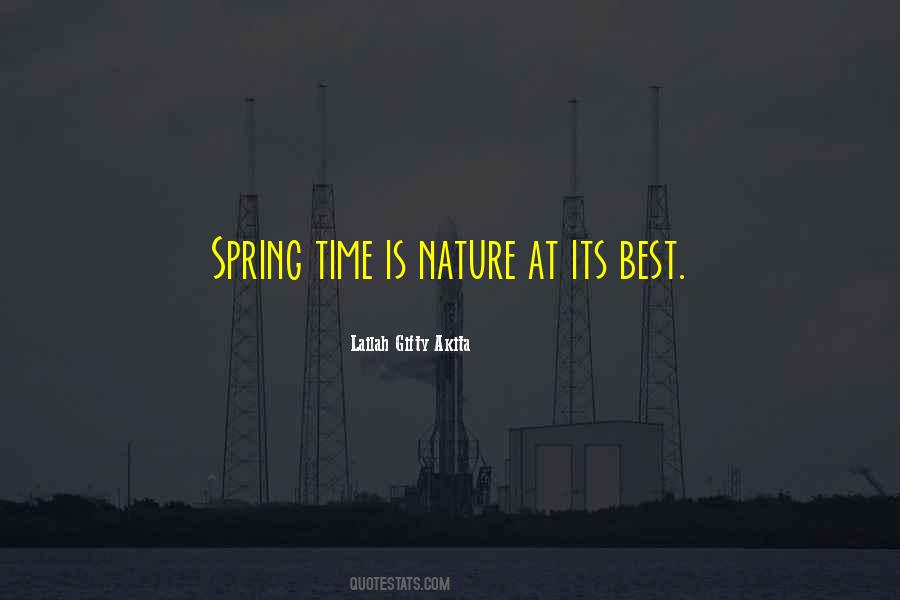 #6. I am sorry you have to live in the time of terraforming, and not in the spring that follows. - Author: Annalee Newitz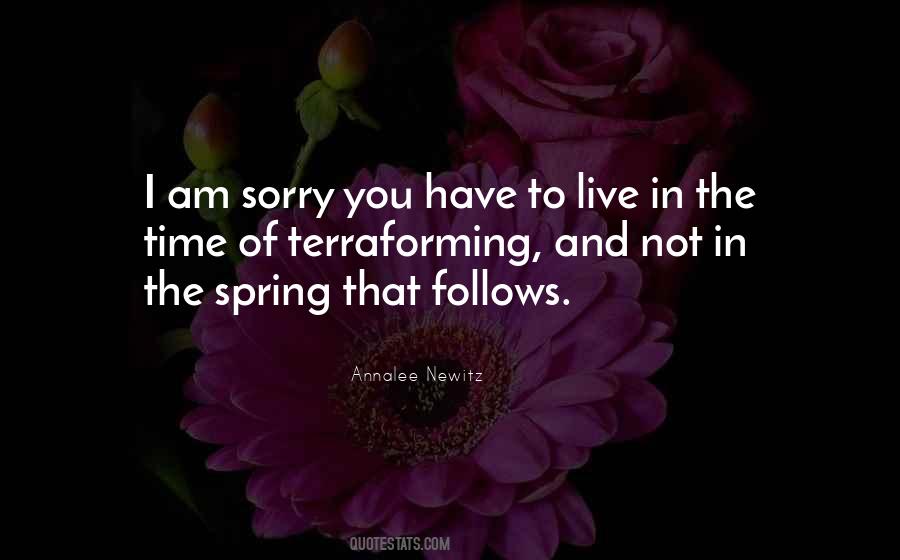 #7. I'm afraid we shall waste an awful lot of time."
"Don't worry," answered Snufkin, "we shall have wonderful dreams, and when we wake up it'll be spring. - Author: Tove Jansson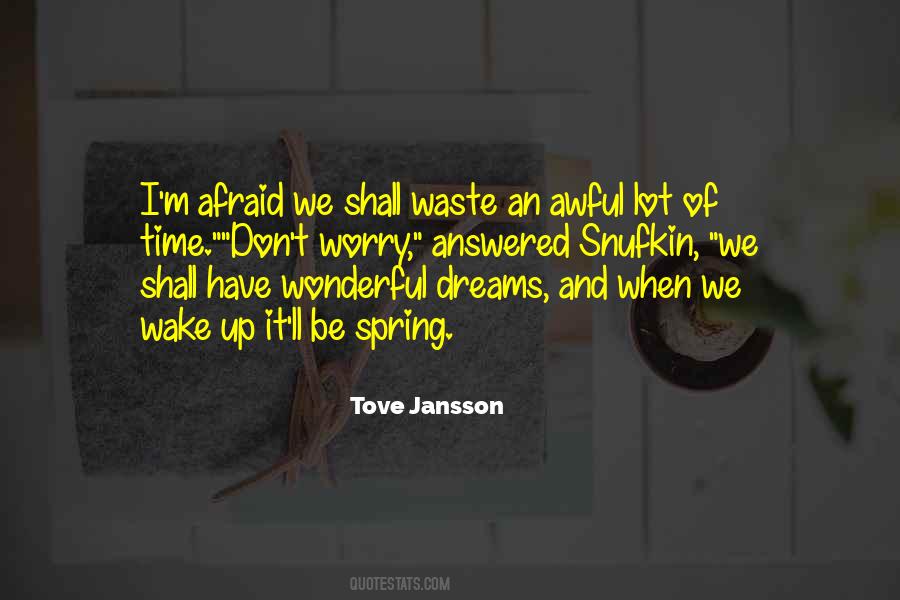 #8. Spring Training is a fun time for me. - Author: Joe Torre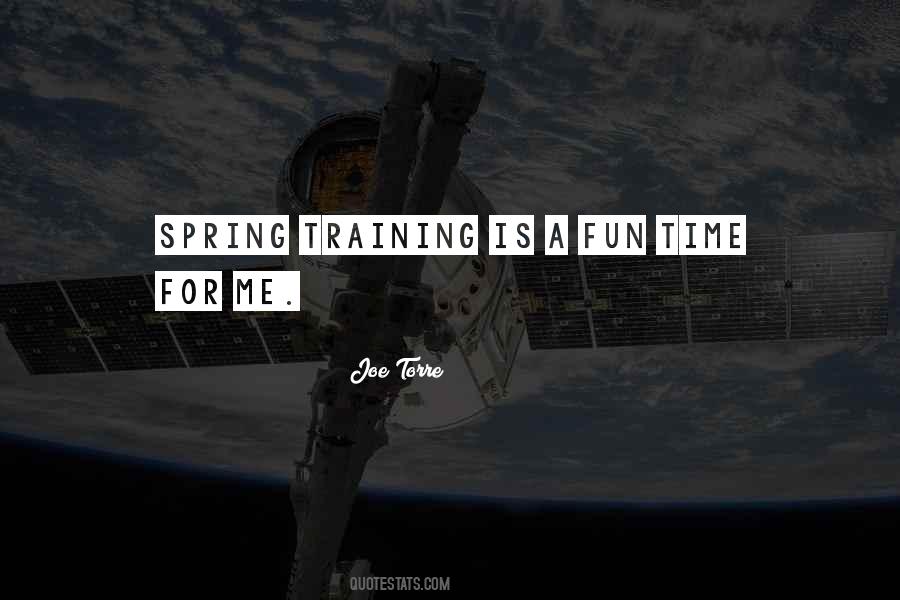 #9. Search, no matter what situation you are in. O thirsty one, search for water constantly. Finally, the time will come when you will reach the spring. - Author: Rumi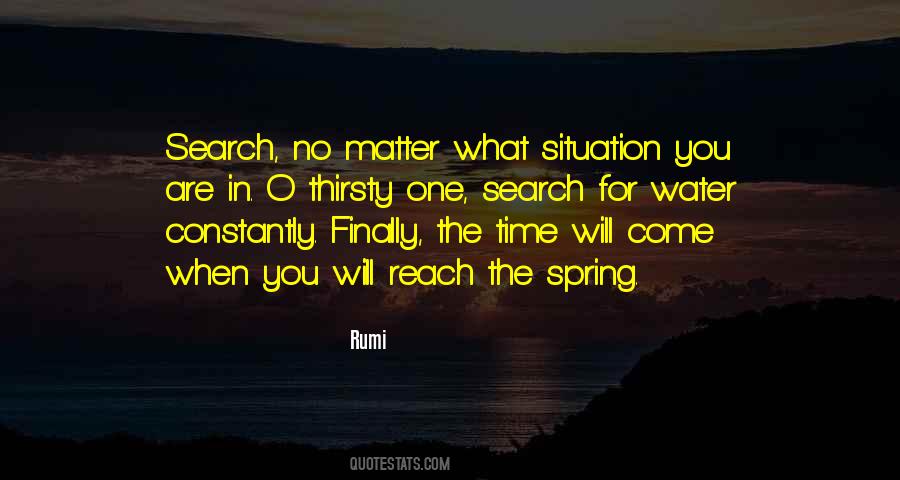 #10. Spring is a time to find out where you are, who you are, and move toward where you are going. - Author: Penelope Trunk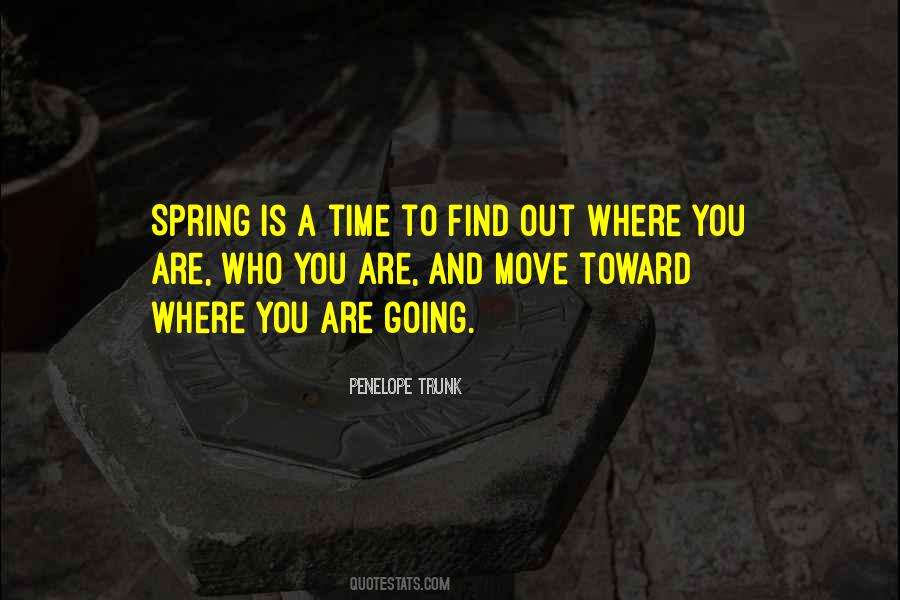 #11. I always wanted to be a dentist from the time I was in high school, and I was accepted to dental school in the spring of 1972. I was planning to go, but after the Olympics there were other opportunities. - Author: Mark Spitz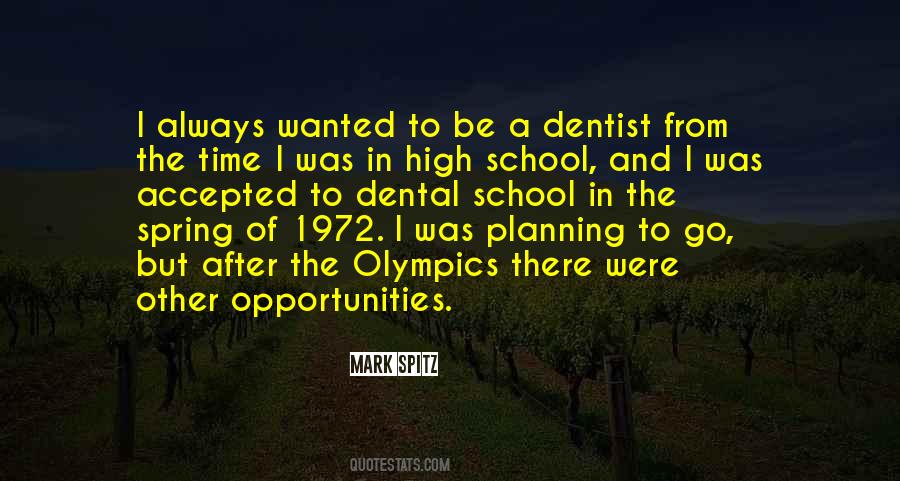 #12. There used to be a middle way, too, when her attention was focused but vast, and time felt like a limpid pool, ringed by sunlit ferns. An underground spring fed the pool from deep below, creating a gentle current of words that bubbled up, while on the surface, breezes shimmered and played. - Author: Ruth Ozeki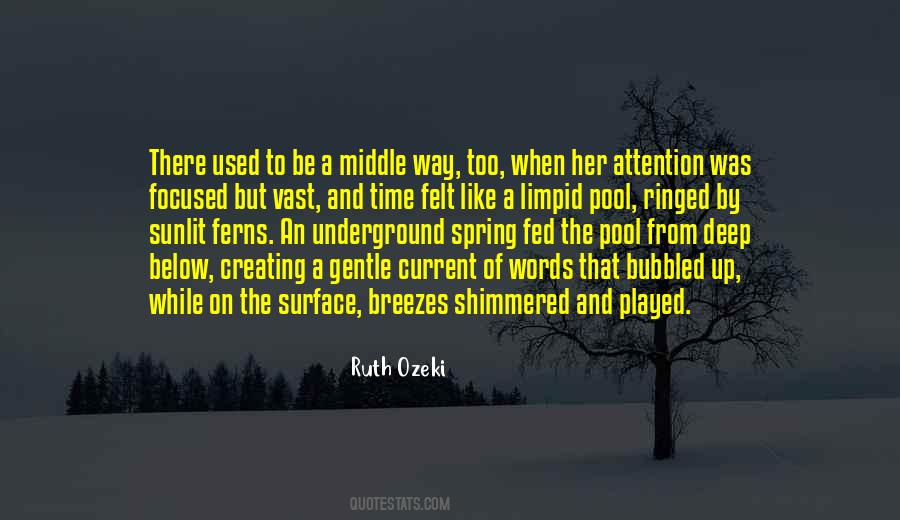 #13. Look at us, said the violets blooming at her feet, all last winter we slept in the seeming death but at the right time God awakened us, and here we are to comfort you. - Author: E.P. Roe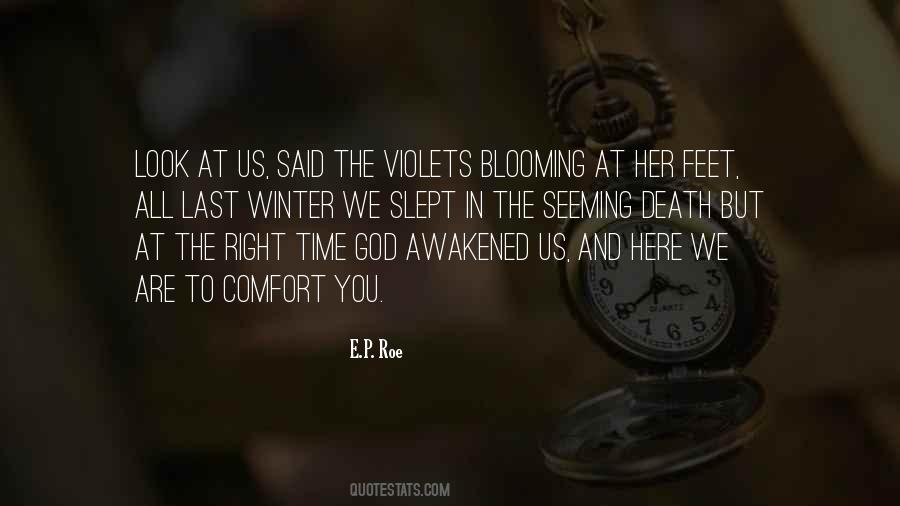 #14. Each tree hears signals from an unseen internal time system ... perhaps even from the stars ... Then the tree renews its conquest of the air every spring. - Author: Ned Hayes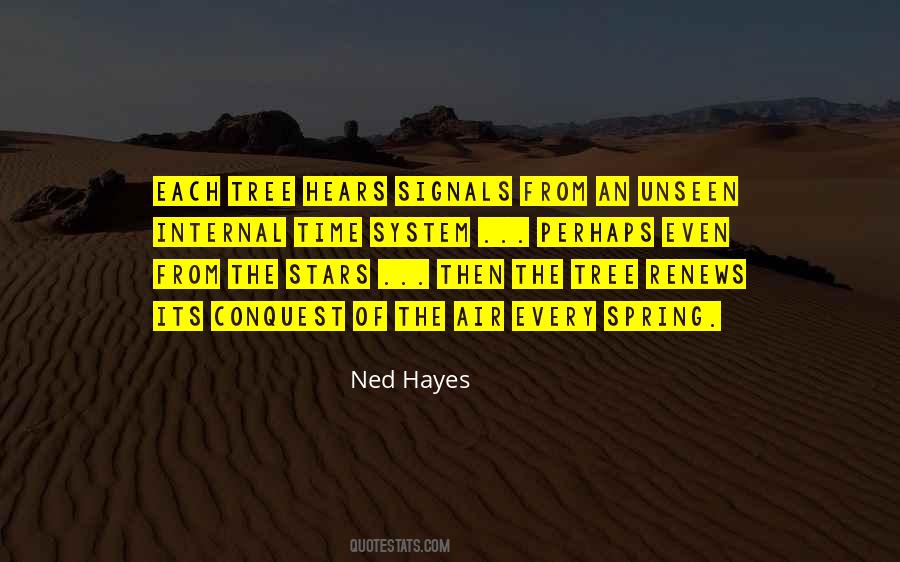 #15. The seasons split at the seams: spring, summer, fall and winter. I've always pictured them as giant sacks filled with air and color and smell. When it's time for one season to be over, the next seasons splits open and pours over the world, drowning its tired and waning predecessor with its strength. - Author: Tarryn Fisher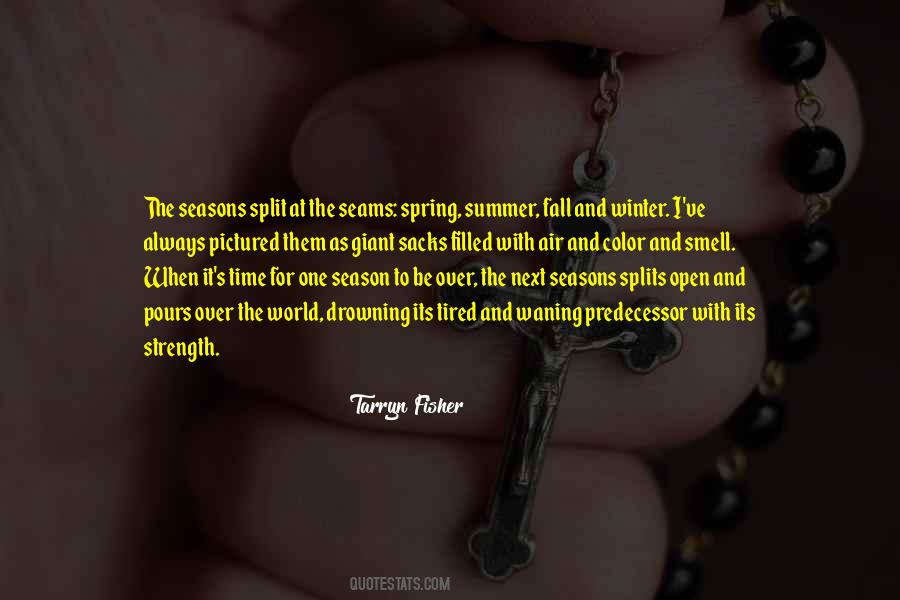 #16. He was swimming in a sea of other people's expectations. Men had drowned in seas like that. - Author: Robert Jordan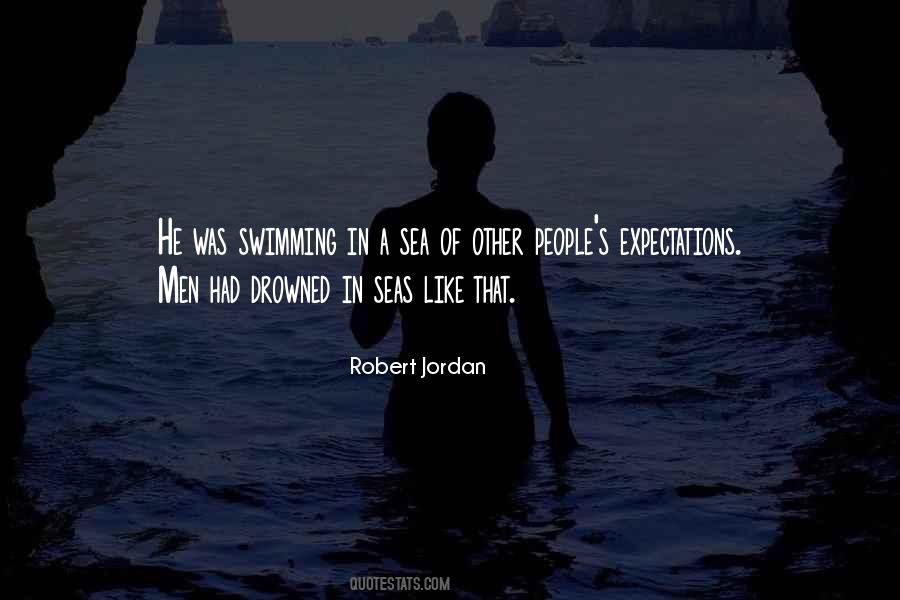 #17. Most volleyball players are made in the winter, spring and summer, for come fall, everyone practices equal time. - Author: John Kessel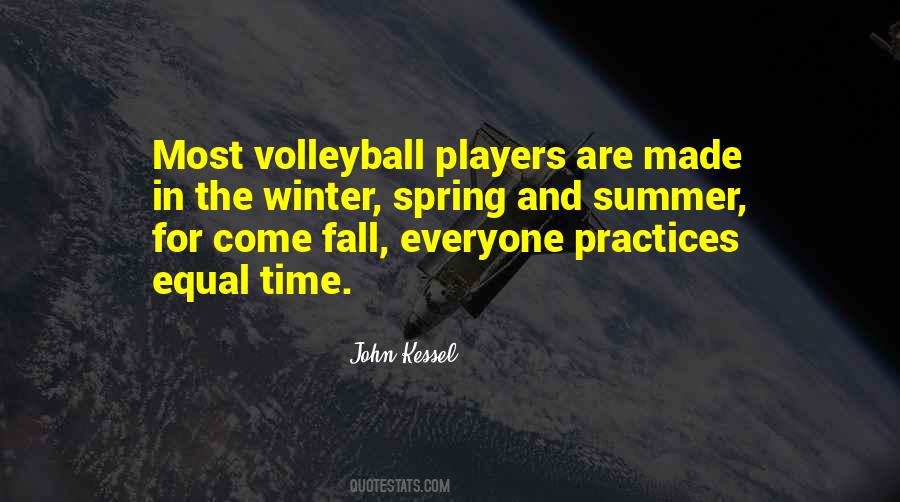 #18. He saw time turn back upon itself, a river flowing upward to the spring. He held the contemporaneity of two moments in his left and right hands; as he moved them apart he smiled to see the moments separate like dividing soap bubbles. - Author: Ursula K. Le Guin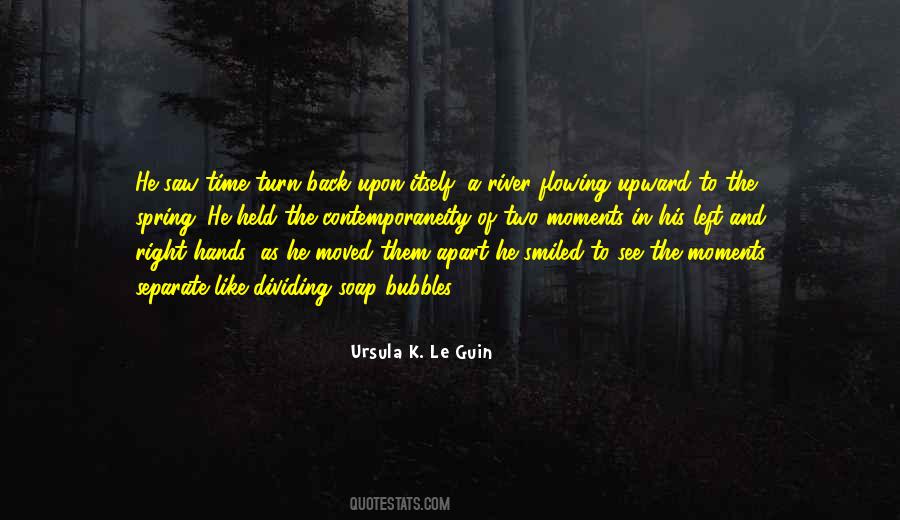 #19. Spring is the time to bloom like a flower with all our beauty. It is the time to spread the fragrance of our love and fill the air with joy. - Author: Debasish Mridha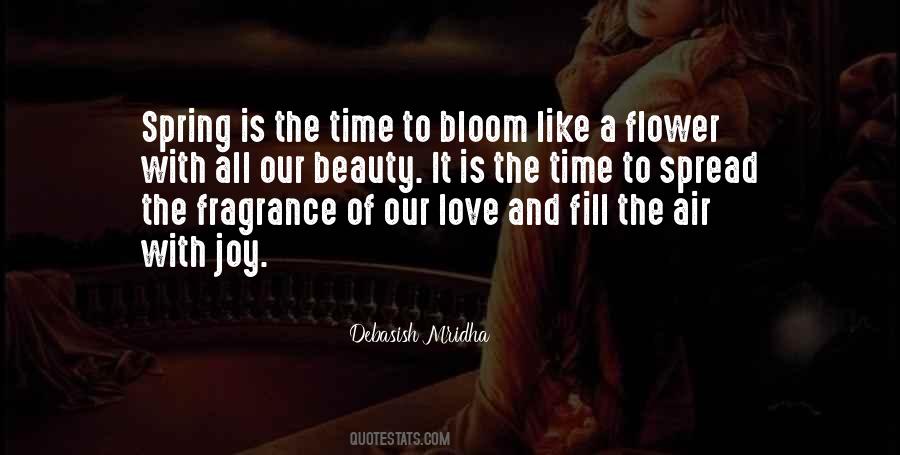 #20. Contentment and happiness didn't exist in my life for more than a few moments at a time, and they were really only illusionary. There was always something hidden. Lying in wait to spring up and ruin everything. - Author: Sylvia Day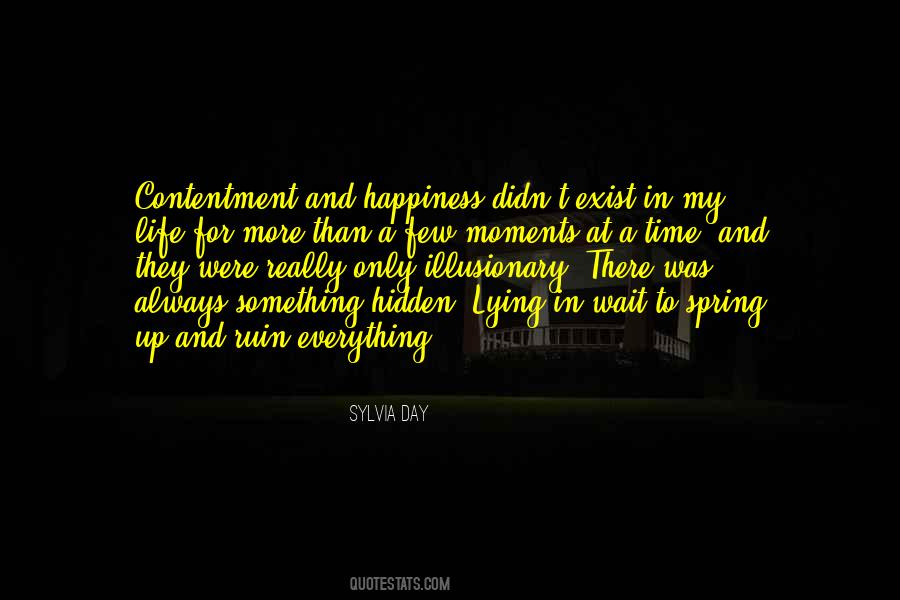 #21. Every flower begins to flourish in spring. - Author: Lailah Gifty Akita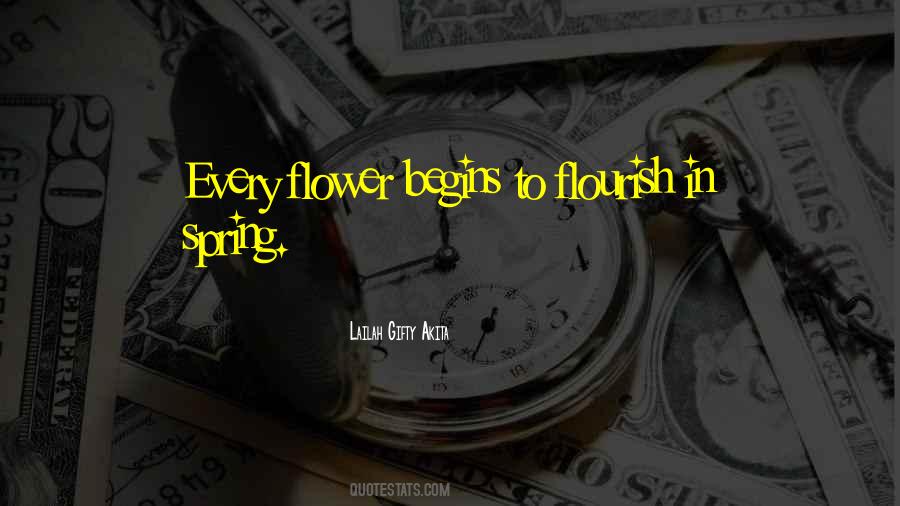 #22. Well I've been locking myself up in my house for some time now Reading and writing and reading and thinking and searching for reasons and missing the seasons The Autumn, the Spring, the Summer, the snow - Author: Colleen Hoover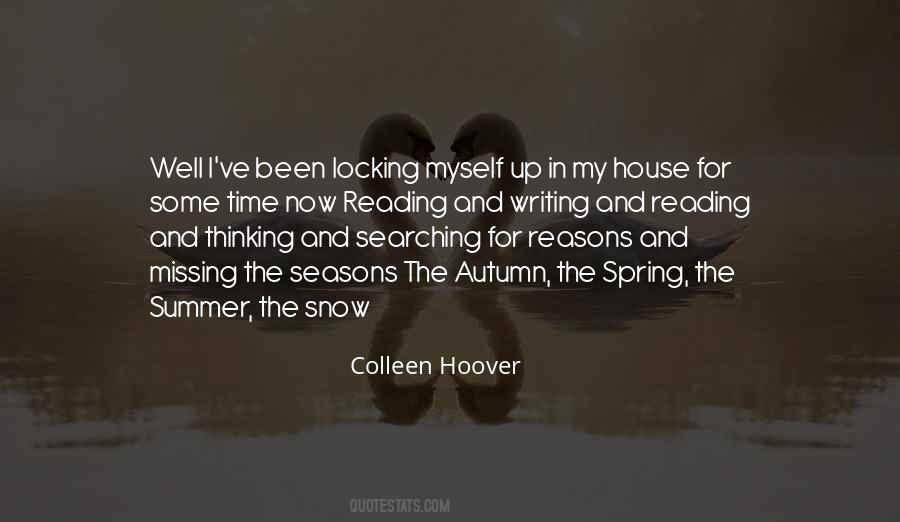 #23. Faster than spring-time showers comes thought on thought. - Author: William Shakespeare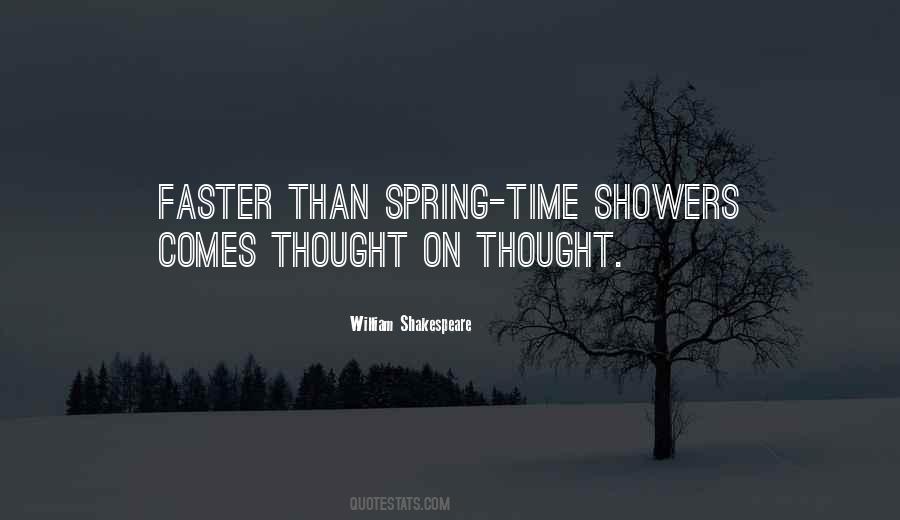 #24. Every season hath its pleasure; Spring may boast her flowery prime, Yet the vineyard's ruby treasuries Brighten Autumn's sob'rer time. - Author: Thomas Moore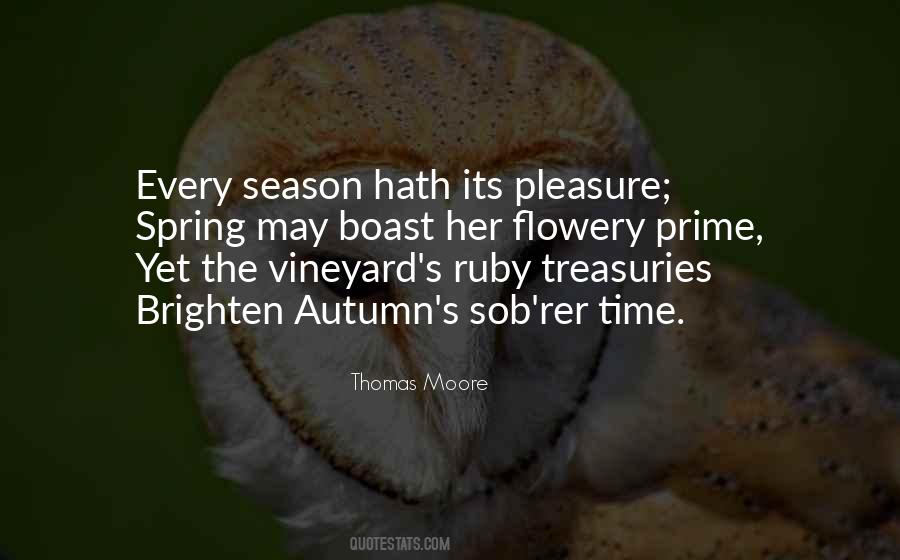 #25. There ain't no time to be wasted, the world is going under ...
Nowadays, can't tell Fall from Spring, and Winter from Summer. - Author: Big K.R.I.T.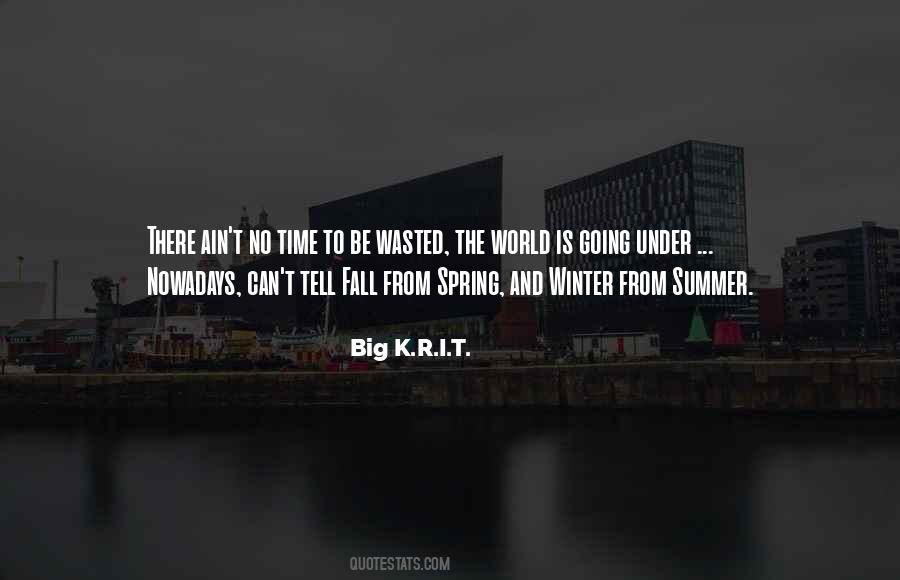 #26. It seemed to him that every time he made one choice in his life, he said no to another. All of those things he could not do or be were huddled inside of him; they might spring up at any moment, and he would be hobbled with regret. - Author: Ayana Mathis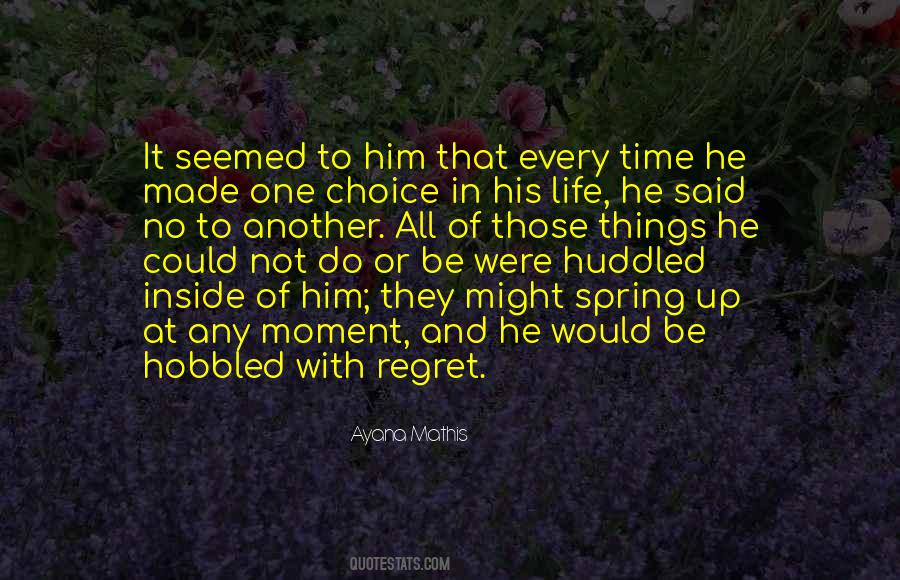 #27. Everyone has a breaking point, turning point, stress point, the game is permeated with it. The fans don't see it because we make it look so efficient. But internally, for a guy to be successful, you have to be like a clock spring, wound but not loose at the same time. - Author: Dave Winfield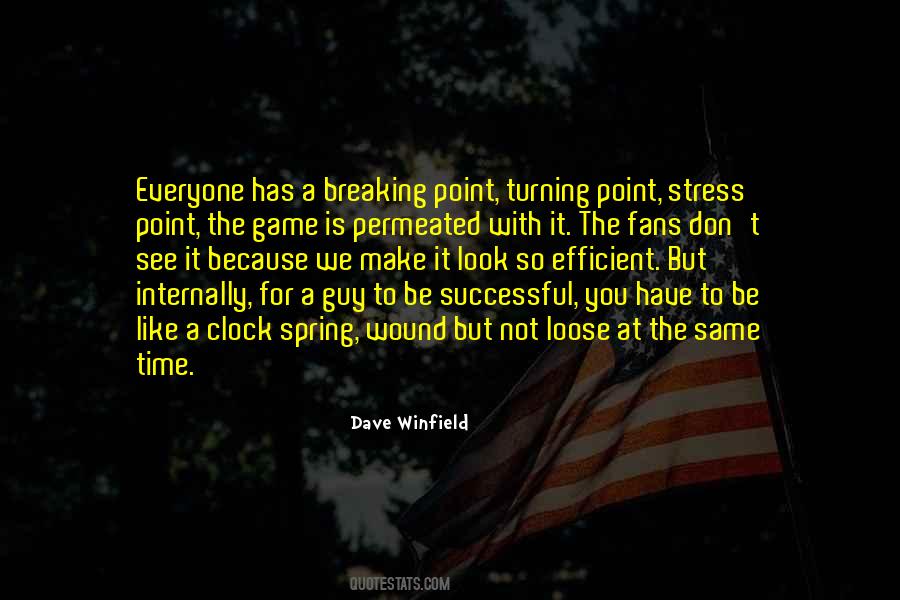 #28. I rode horseback three miles each way to get to high school, and in bad weather it was a problem sometimes to make my eight o'clock class on time. Like others, I often missed school to help on the farm, especially in the fall, until after harvest, and in the spring, during planting season. - Author: Ezra Taft Benson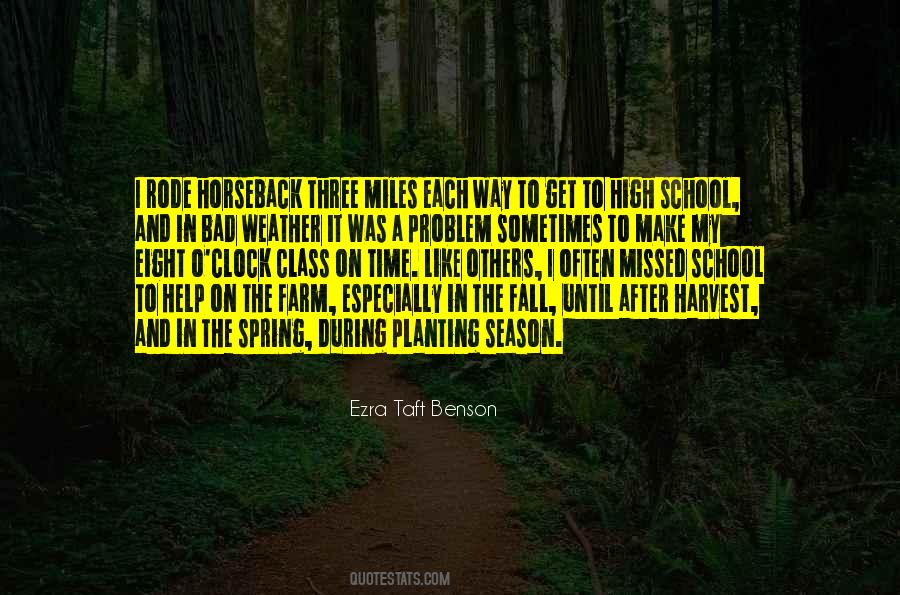 #29. The end of despots is always odd?exhilarating to those who suffered their tyrannies, and to those who hold despotism in contempt, and anti-climatic at the same time, the discovery that these tyrants were petty, frightened men after all. - Author: Fouad Ajami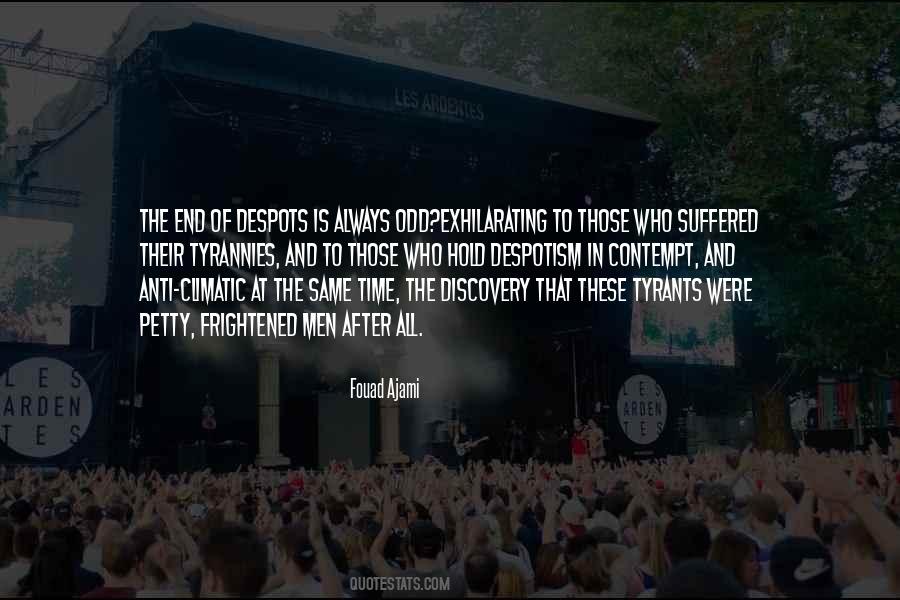 #30. We expect to keep our writing sessions going until late spring, then to play some new material in a few secret club dates. The record will likely take a long time and may not surface until 1999! - Author: Adrian Belew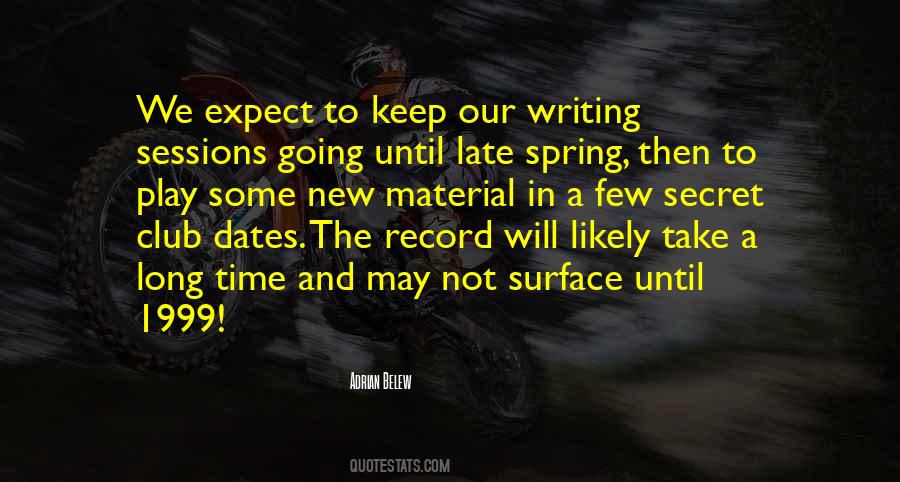 #31. All things are beautiful in the sacred time. - Author: Lailah Gifty Akita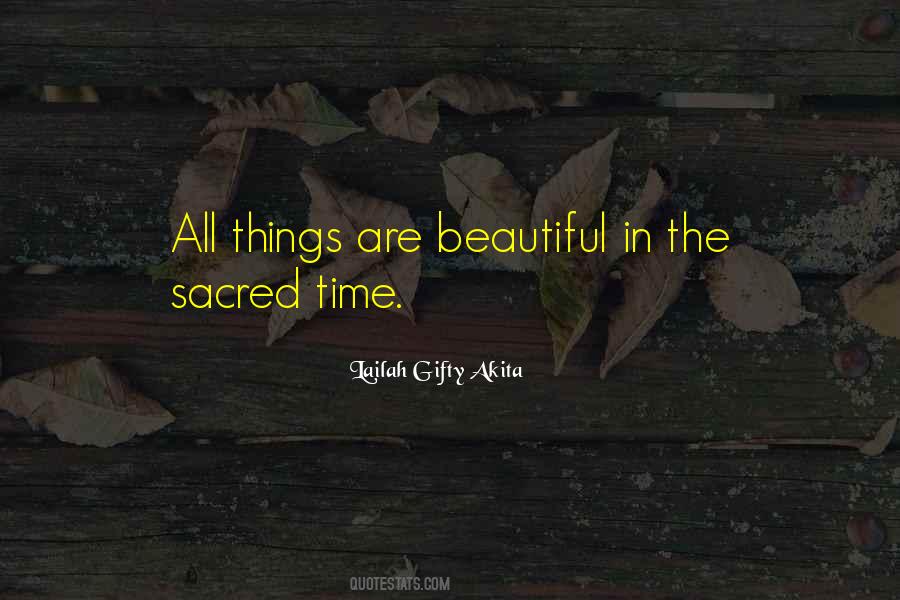 #32. The first time at Louis Vuitton was Spring 2009 season, and I remember that the colors of the clothes were very dreamy. - Author: Liu Wen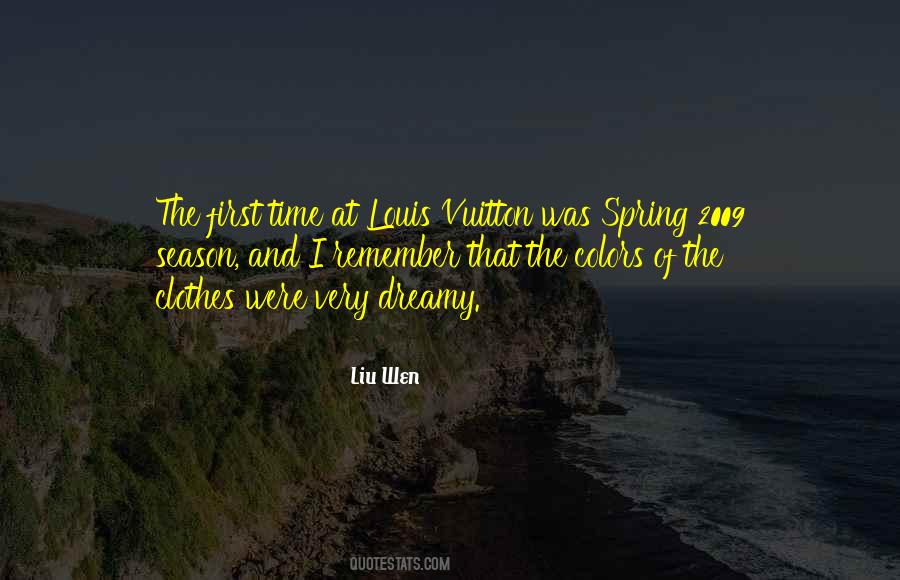 #33. When's the next star party?"
"Spring"
"Spring. Long time to wait."
"The sky's not going anywhere. - Author: Jerry Spinelli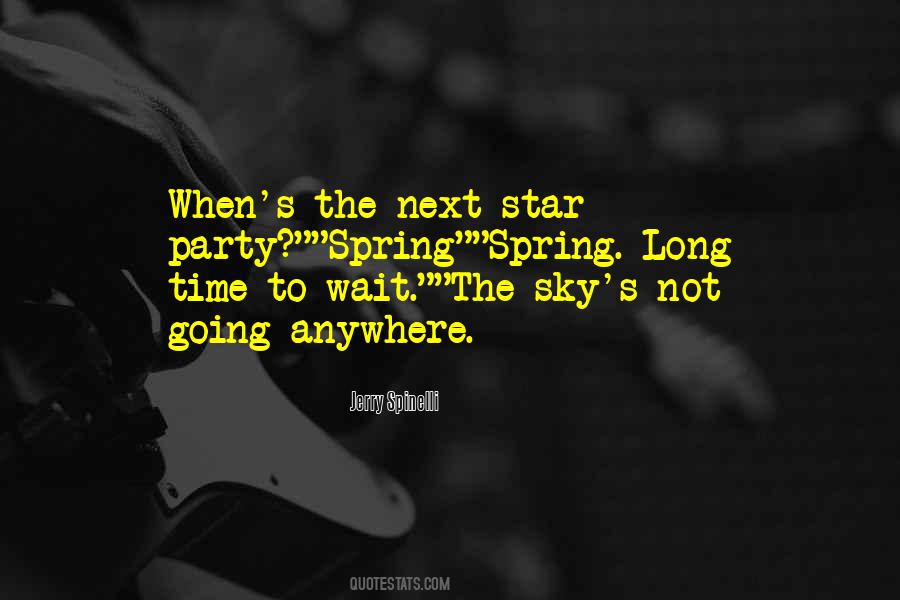 #34. Come, fill the Cup, and in the Fire of Spring The Winter Garment of Repentance fling: The Bird of Time has but a little way To fly-and Lo! the Bird is on the Wing. - Author: Omar Khayyam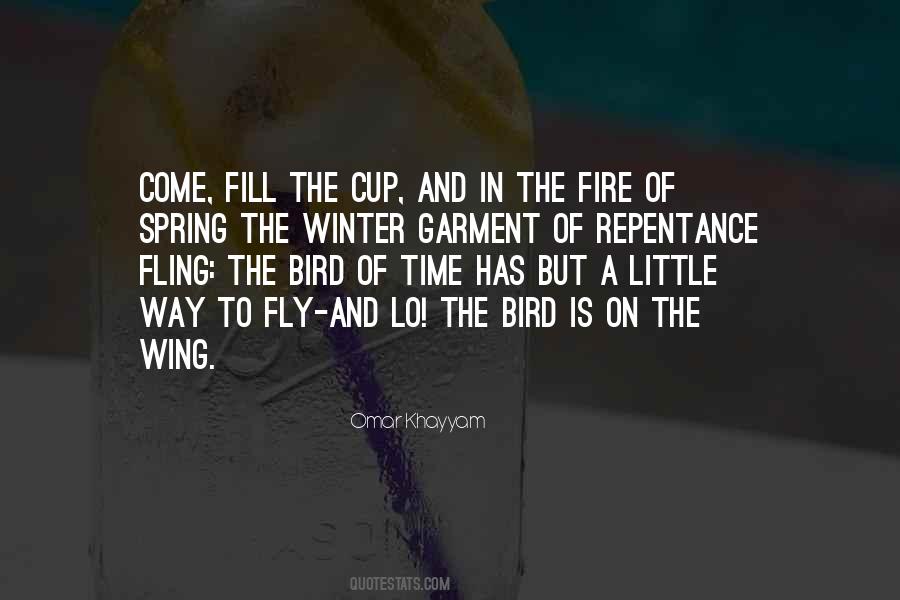 #35. Spring training means flowers, people coming outdoors, sunshine, optimism and baseball. Spring training is a time to think about being young again. - Author: Ernie Banks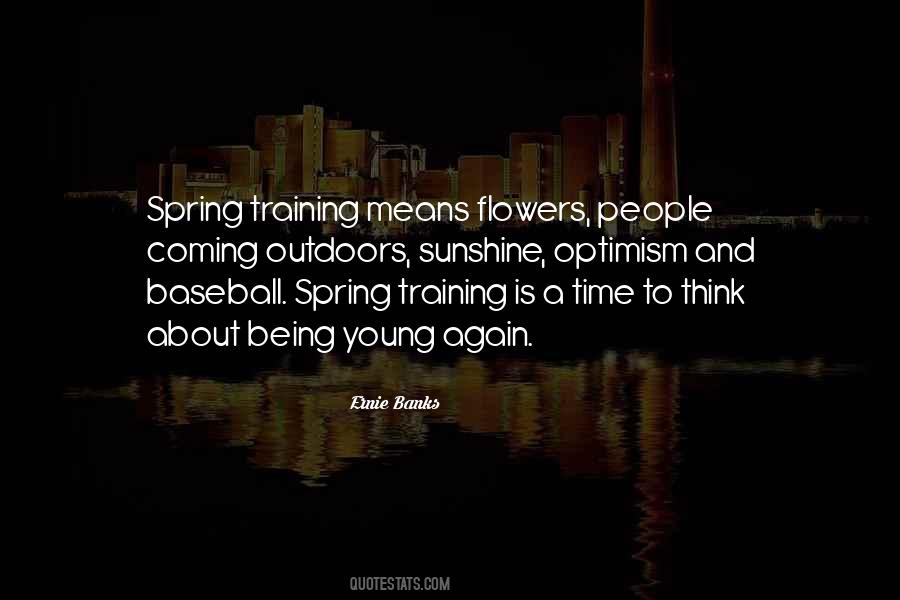 #36. Come against your will' is the toggle of the intellect; 'come willingly' is the spring-time of those who have lost their hearts. - Author: Mevlana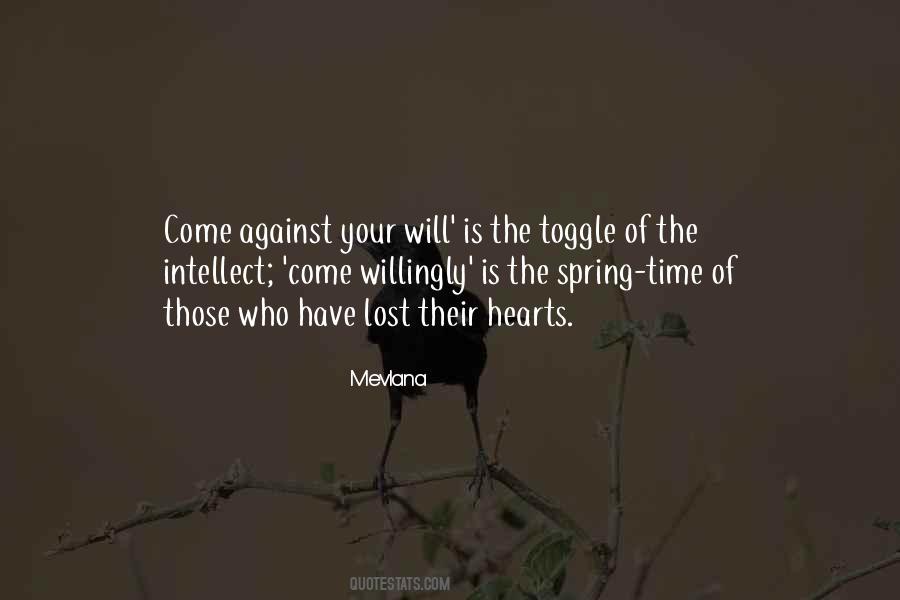 #37. In springtime, the only pretty ring time
Birds sing, hey ding
A-ding, a-ding
Sweet lovers love the spring - - Author: William Shakespeare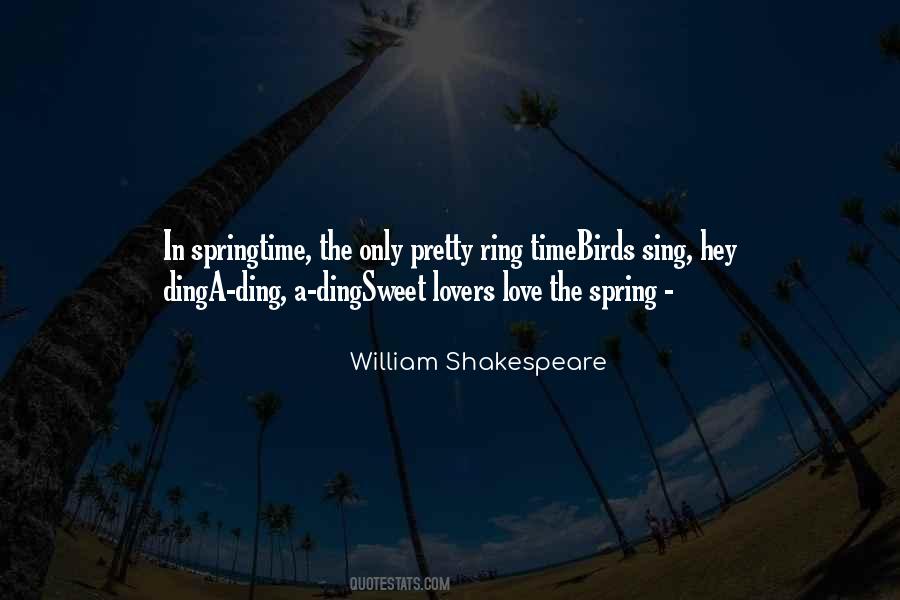 #38. In the spring or warmer weather when the snow thaws in the woods the tracks of winter reappear on slender pedestals and the snow reveals in palimpsest old buried wanderings, struggles, scenes of death. Tales of winter brought to light again like time turned back upon itself. - Author: Cormac McCarthy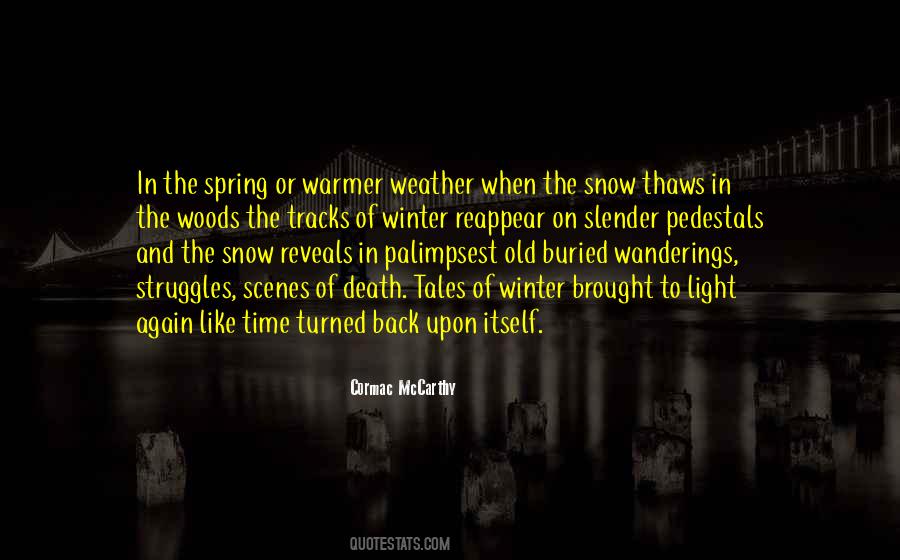 #39. Easter is a time where we are reminded that conclusions in man's mind are beginnings in God's plan. - Author: Craig D. Lounsbrough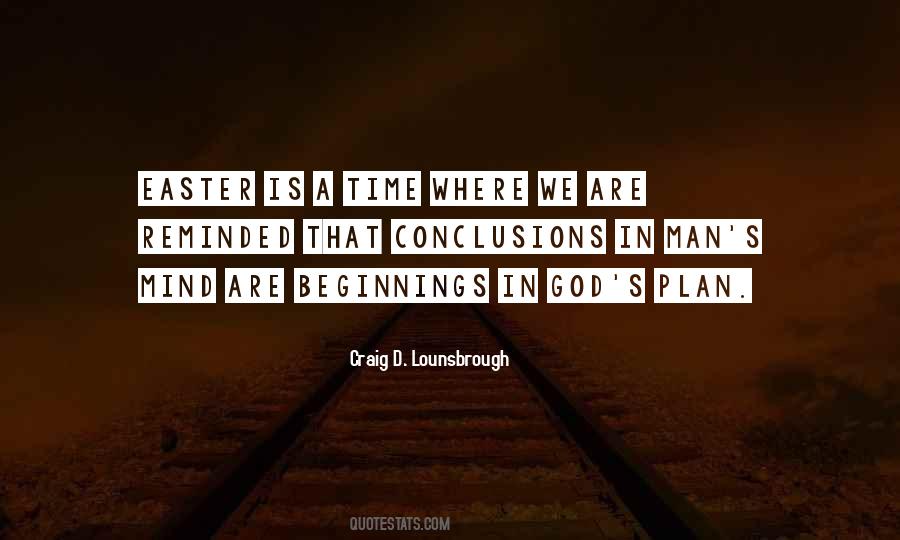 #40. Spring brings warmth and blossom of flowers. - Author: Lailah Gifty Akita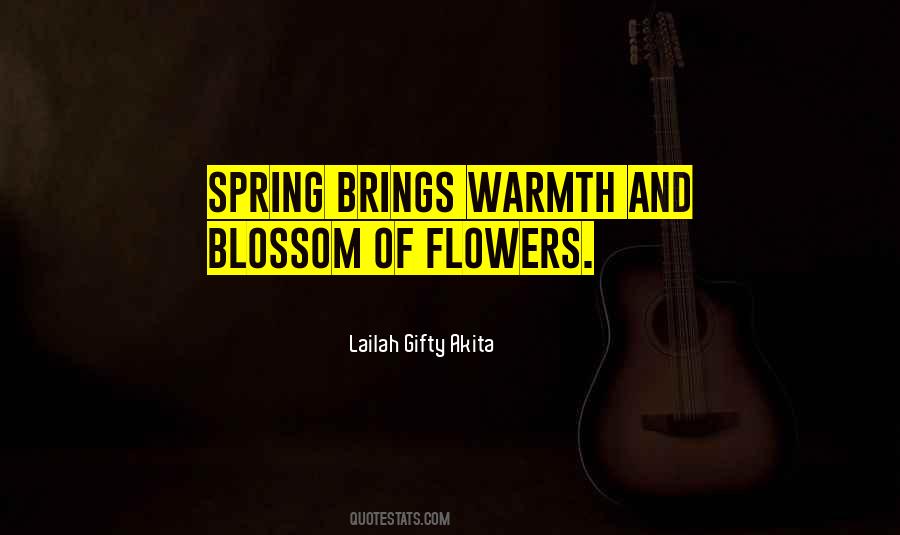 #41. He knew that, in the eyes of God, all things are interlinked; he knew that justice does indeed spring in great surprise from the acts and consequences of ages long forgotten; and he knew that love is not broken by time. - Author: Mark Helprin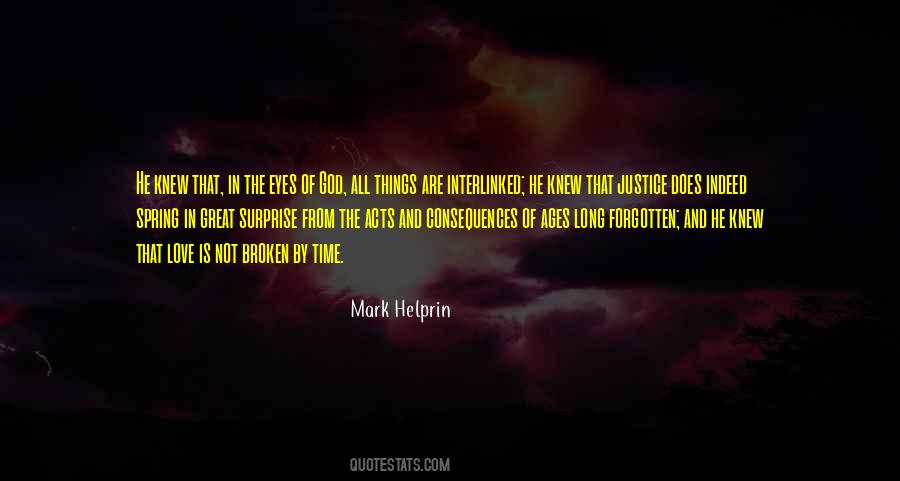 #42. It was a lovely uneventful spring evening. The sky grew darker, painted blue on blue, one stroke at a time, into deeper and deeper shades of night. When - Author: Haruki Murakami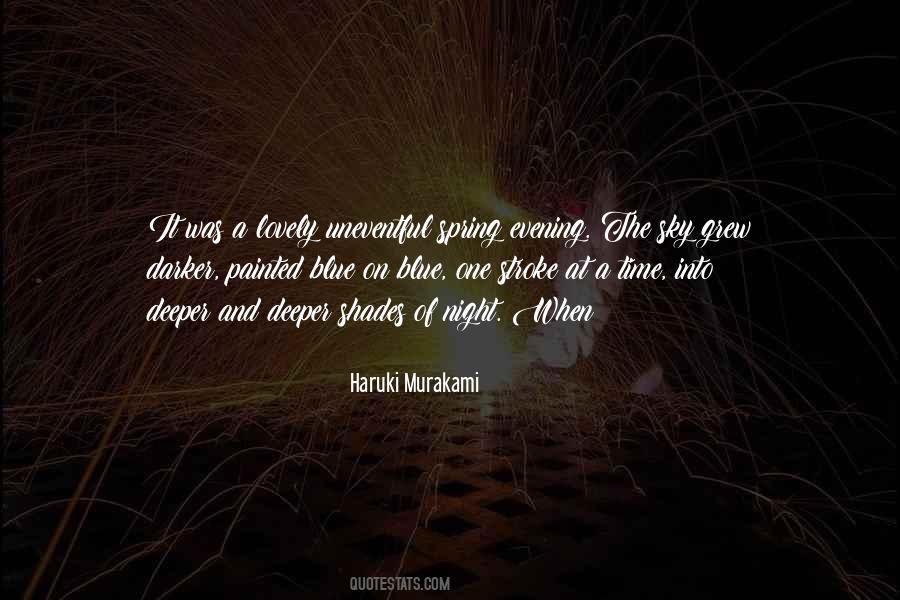 #43. The good thing is we got this over in spring training. We played them three or four times and got all the hugs out of the way. Now it's time to go out there and beat them. - Author: Kevin Millar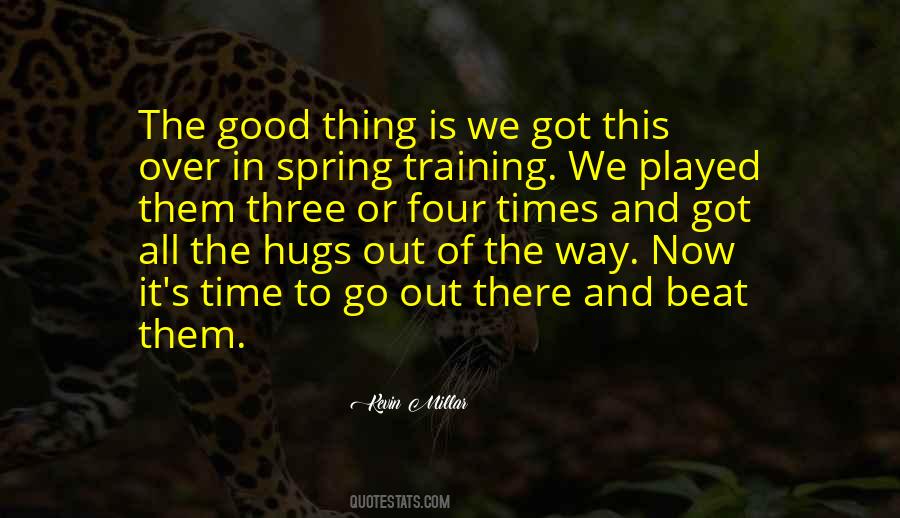 #44. I have been all men known to history , Wondering at the world and at time passing; I have seen evil , and the light blessing Innocent love under a spring sky . - Author: R.S. Thomas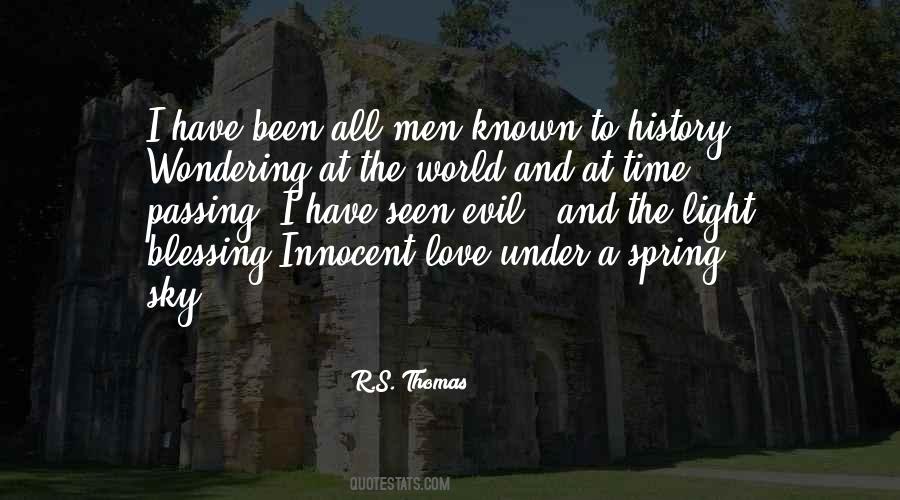 #45. In our spring-time every day has its hidden growths in the mind, as it has in the earth when the little folded blades are getting ready to pierce the ground. - Author: George Eliot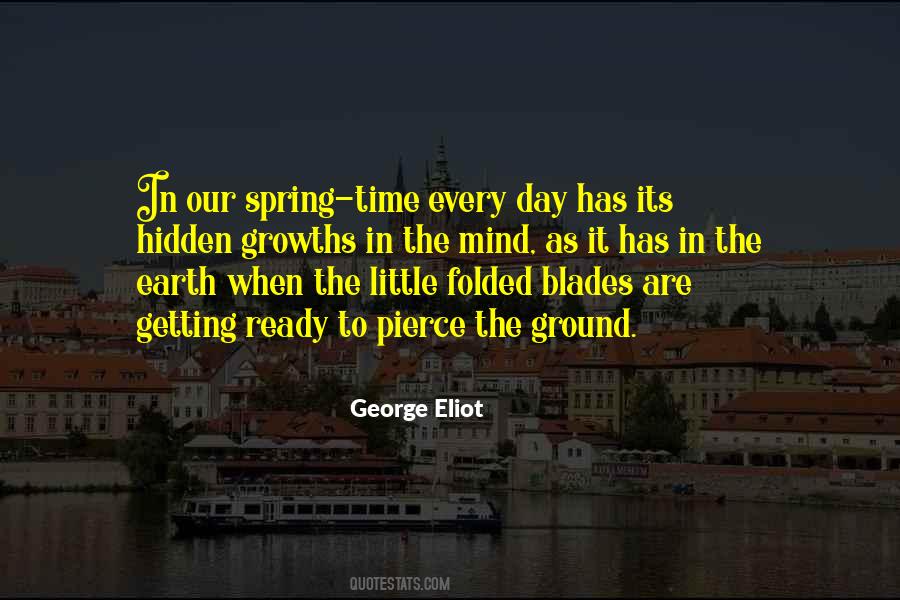 #46. Let a man take time enough for the most trivial deed, though it be but the paring of his nails. The buds swell imperceptibly, without hurry or confusion,
as if the short spring days were an eternity. - Author: Henry David Thoreau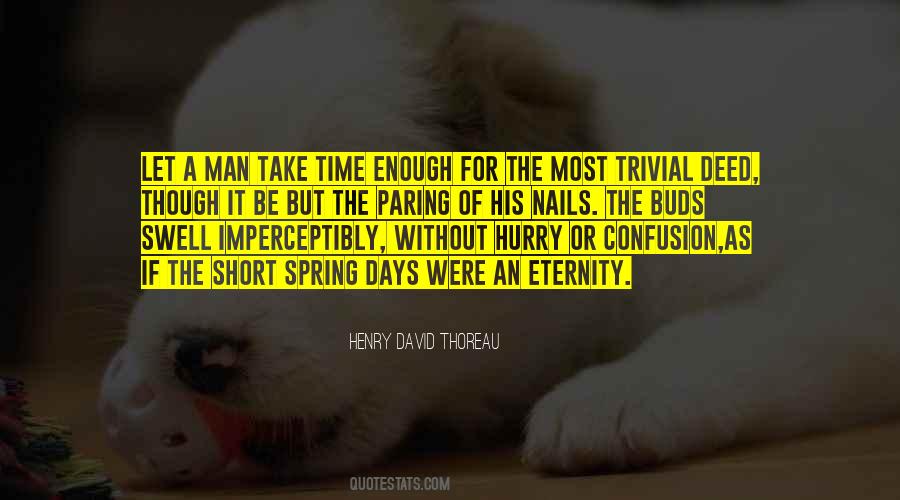 #47. Fantastic! Right in the middle of that long stretch between Christmas and Spring Break, your coats are getting dirty, everything's dark, dingy - what a great time for a movie! - Author: John Hughes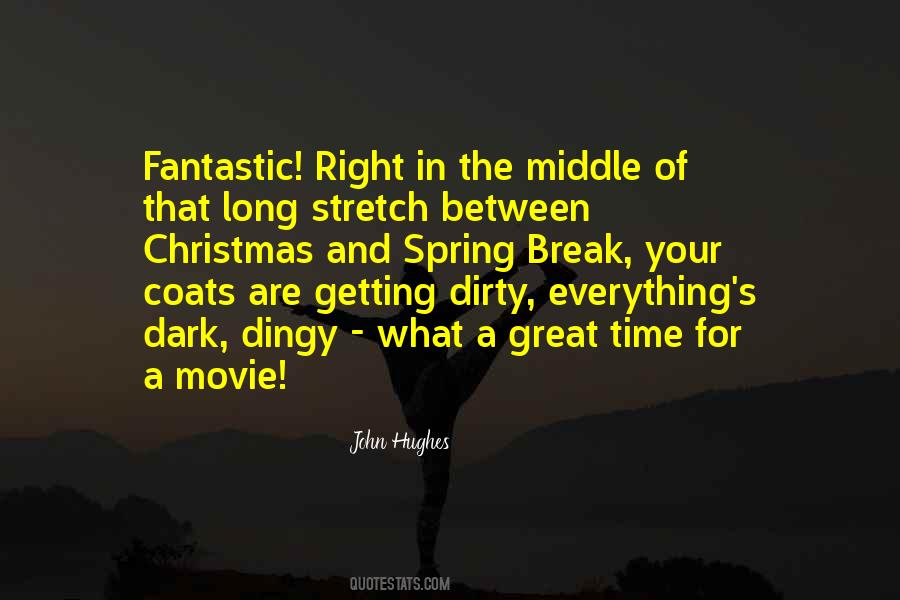 #48. Long afterward Amory thought of sophomore spring as the happiest time of his life. His ideas were in tune with life as he found it; he wanted no more than to drift and dream and enjoy a dozen new-found friendships through the April afternoons. - Author: F Scott Fitzgerald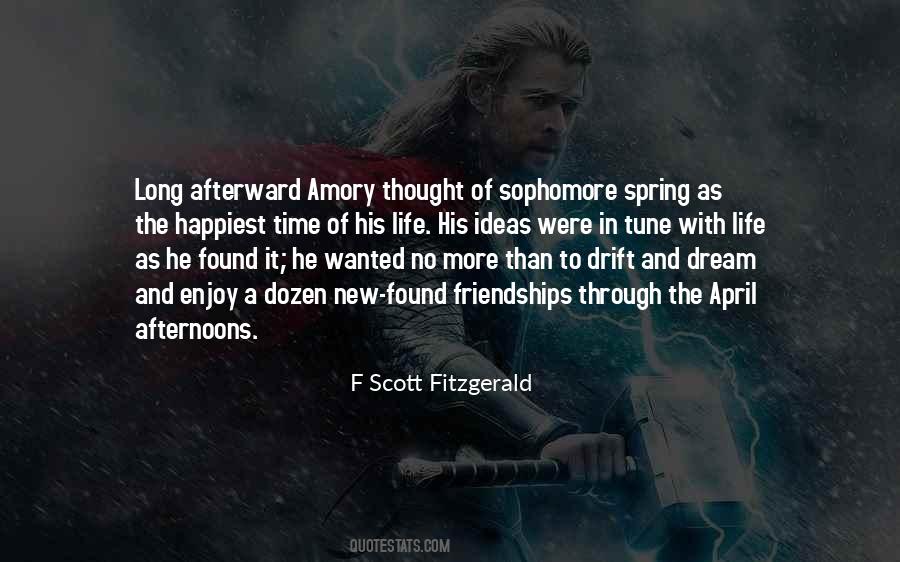 #49. Spring is the time of year when it is summer in the sun and winter in the shade. - Author: Charles Dickens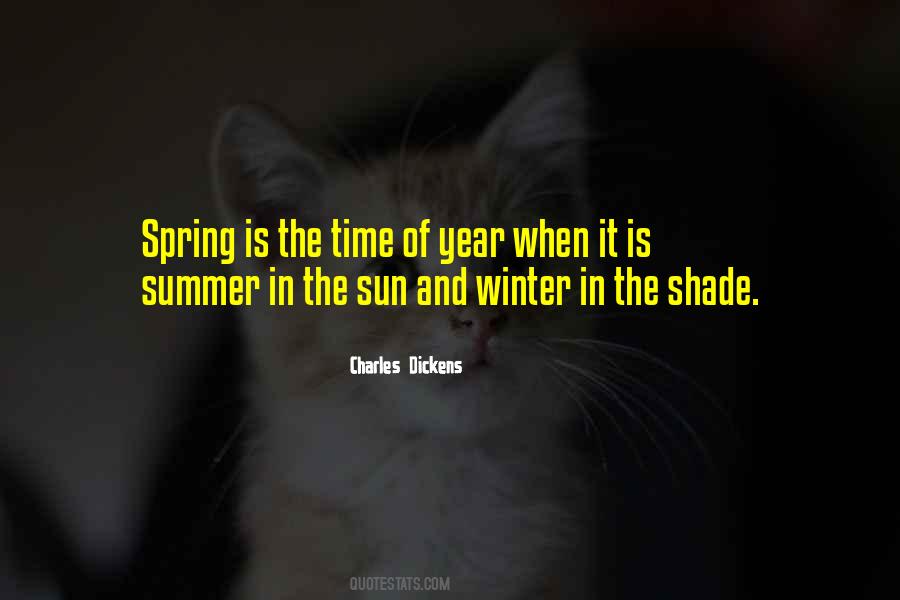 #50. Finally the spring time is here. - Author: Karla M. Nashar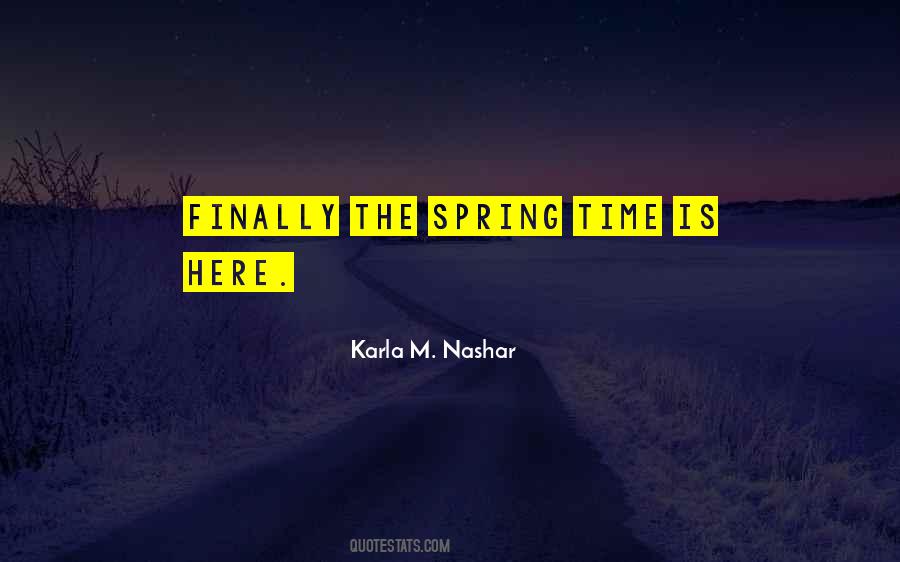 #51. You start in April and cross to the time of May
One has you as it leaves, one as it comes
Since the edges of these months are yours and defer
To you, either of them suits your praises.
The Circus continues and the theatre's lauded palm,
Let this song, too, join the Circus spectacle. - Author: Ovid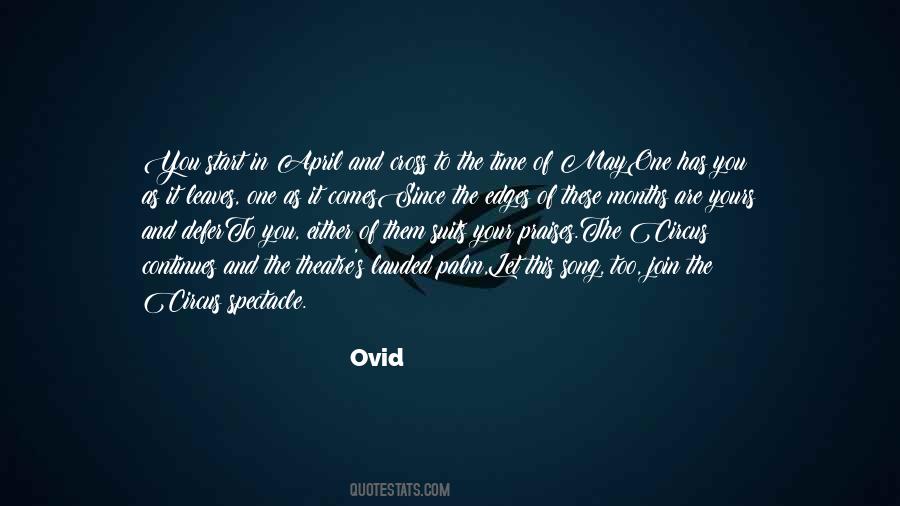 #52. Los Angeles has no seasons, so it's kind of hard to keep track of time here. The lines between spring, summer, fall, and winter all blur like my vision. I get stuck on repeat for different measures of eternity. - Author: Kris Kidd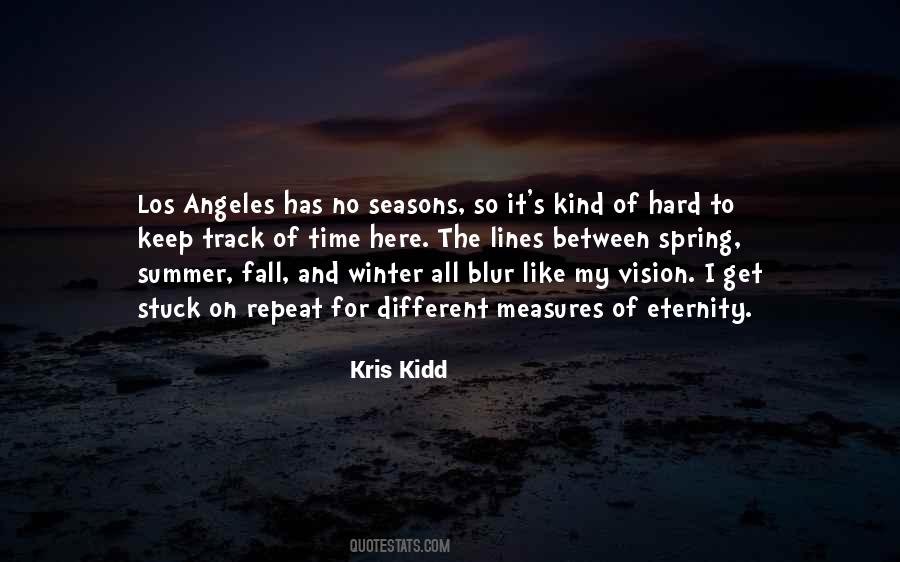 #53. I discovered 'Rite of Spring' when I was 21. As a matter of fact, not with orchestra first, because it was still a work which was not often performed. Don't forget that I was 19 in 1944, still the Occupation time. So it was performed slightly after the end of the war, in 1945. - Author: Pierre Boulez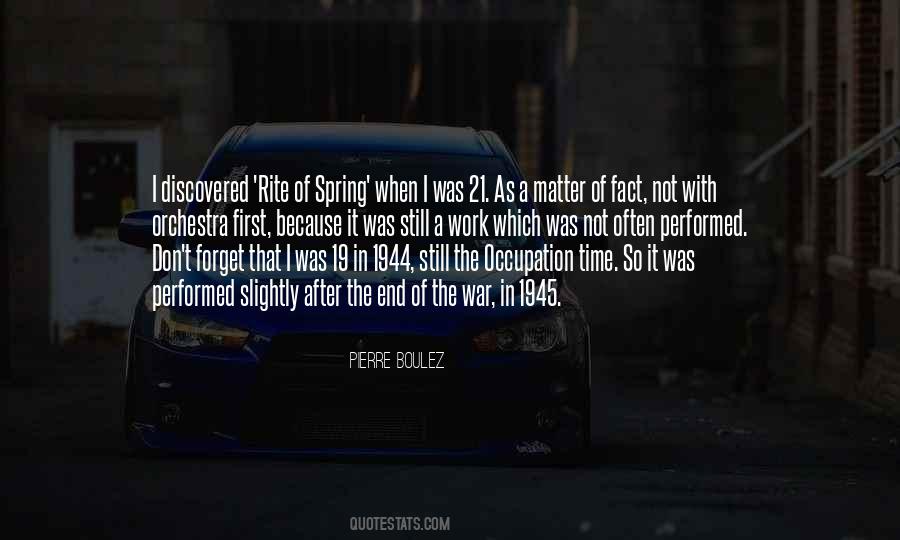 #54. Blackberry winter, the time when the hoarforst lies on the blackberry blossoms; without this frost the berries will not set. It is the forerunner of a rich harvest. - Author: Margaret Mead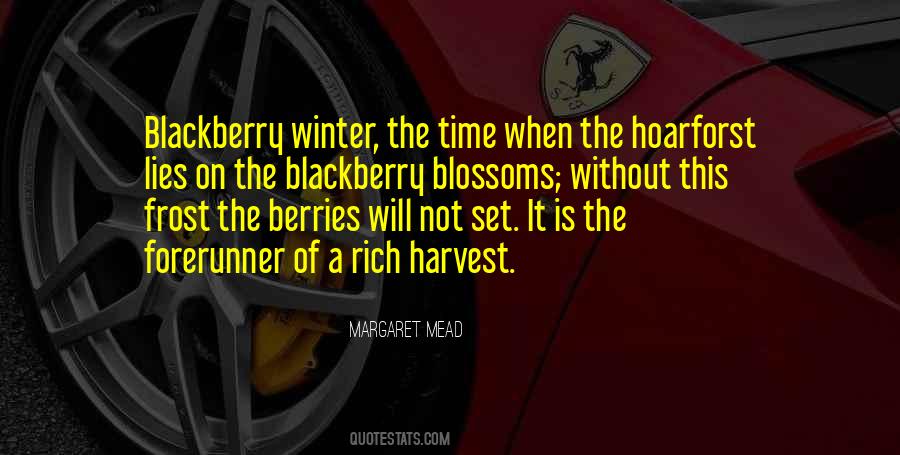 #55. Spring passes and one remembers one's innocence.
Summer passes and one remembers one's exuberance.
Autumn passes and one remembers one's reverence.
Winter passes and one remembers one's perseverance. - Author: Yoko Ono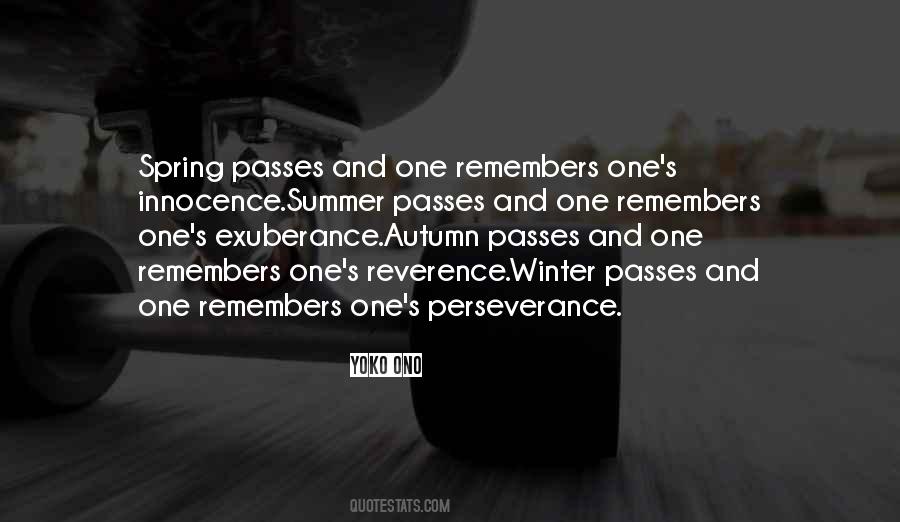 #56. I have learned that bitterness, resentment and self-pity do nothing to lift the gloomy clouds of a spiritual February in my life. If anything, these sins only harden the soil of my heart, making it difficult for new growth to spring forth at God's appointed time. - Author: Katherine J. Walden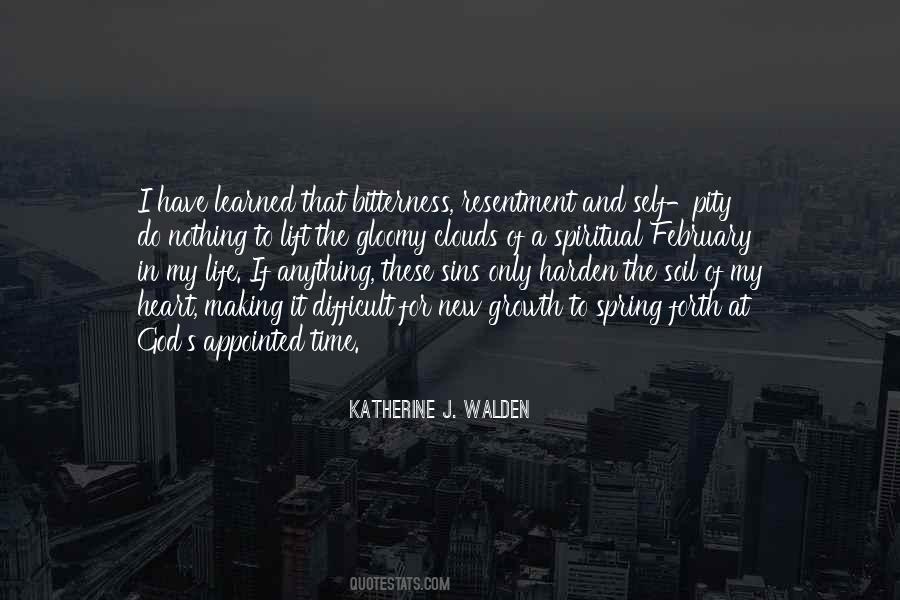 #57. Still deep I burrow, waiting for tomorrow. Closed off, I bear. The open elements don't care. Laid here in this nest, dormant now I rest. Aching to live and roam, though still burrowed in my tomb. When time brings my spring, maybe I'll rise like a king.
-Anonymous - Author: Linda Kage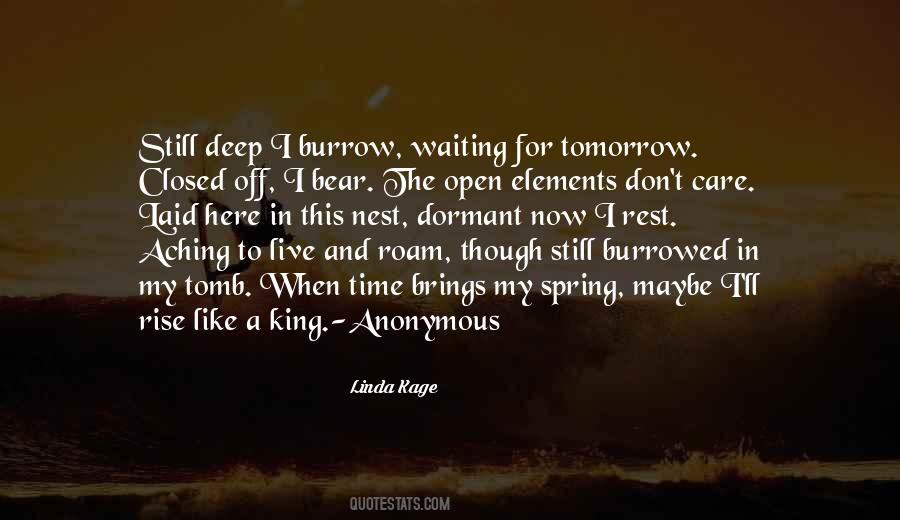 #58. And all my endeavours are unlucky explorers come back, abandoning the expedition; the specimens, the lilies of ambition still spring in their climate, still unpicked; but time, time is all I lacked to find them, as the great collectors before me. - Author: Gavin Douglas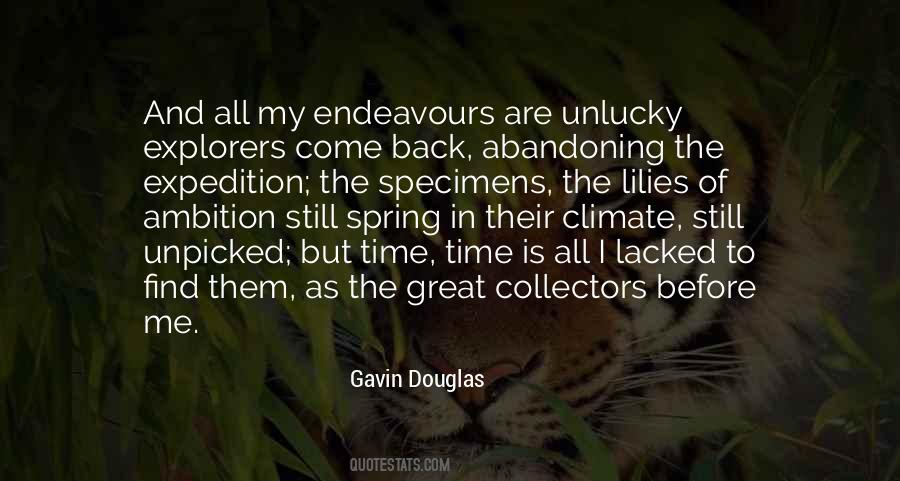 #59. Man is not an aquatic animal, but from the time we stand in youthful wonder beside a Spring brook till we sit in old age and watch the endless roll of the sea, we feel a strong kinship with the waters of this world. - Author: Hal Borland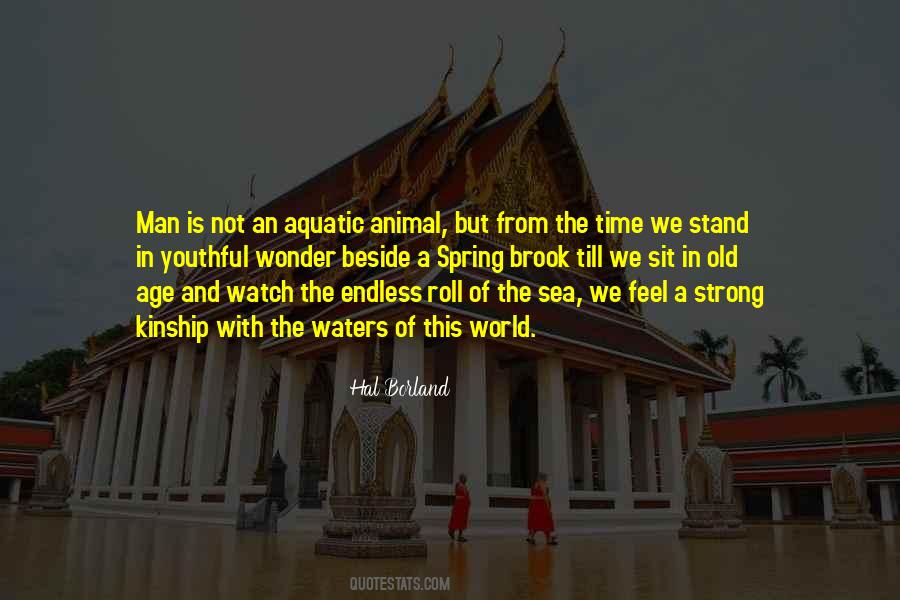 #60. No one is immune from the larger events of his or her time - the Depression, World War II, civil rights, Vietnam, the spring of 1989 in China. These events intrude upon our lives and radically affect our directions. - Author: Paul Tsongas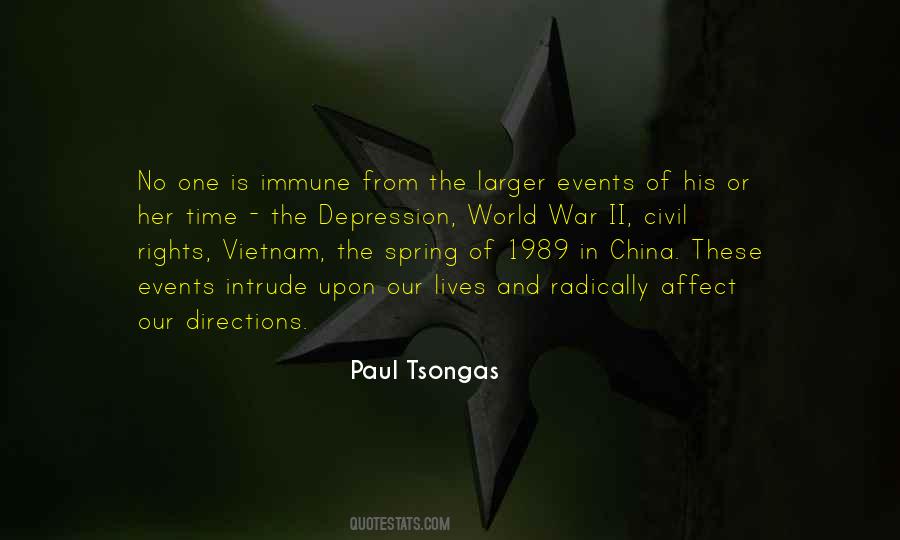 #61. My heart is in a world of water and crystal, My clothes are damp in this time of spring rains. - Author: Du Fu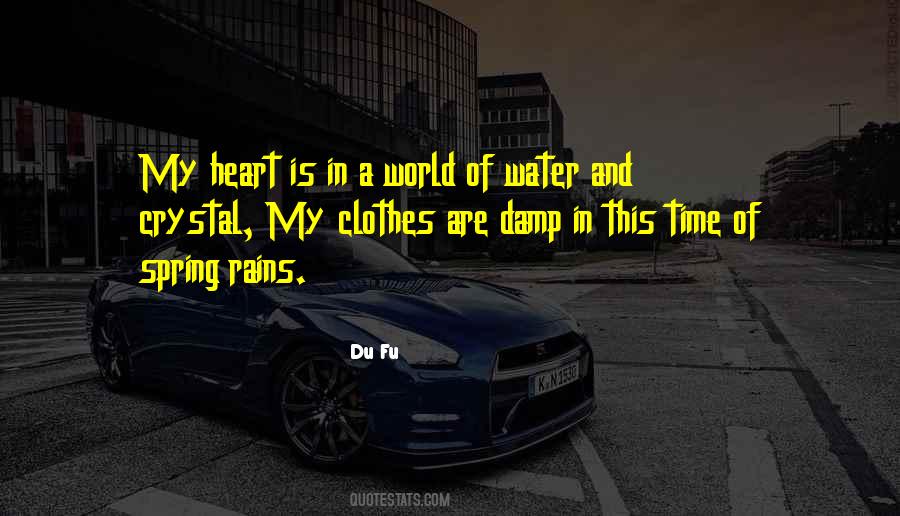 #62. I love better to count time from spring to spring; it seems to me far more cheerful to reckon the year by blossoms than by blight. - Author: Donald G. Mitchell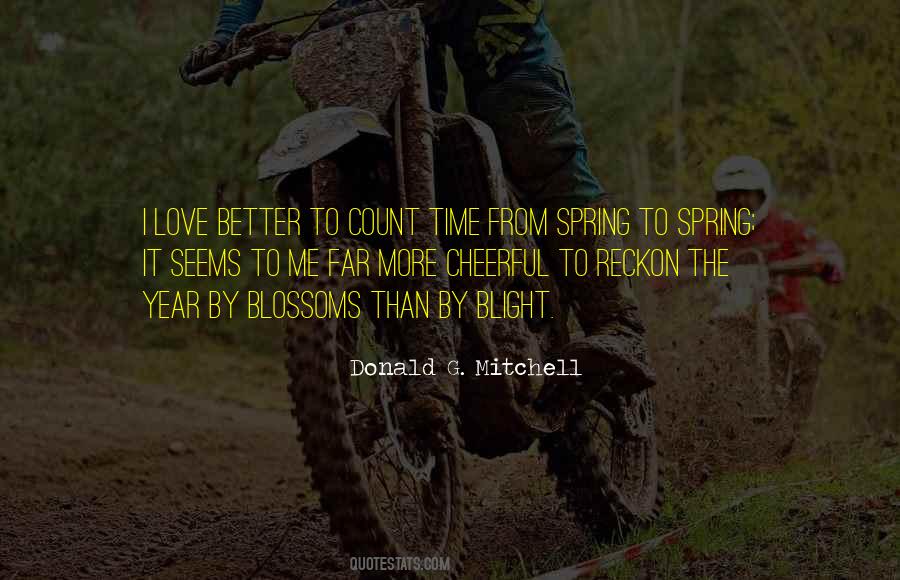 #63. When leaves begin to sprout, we know spring season is here. - Author: Lailah Gifty Akita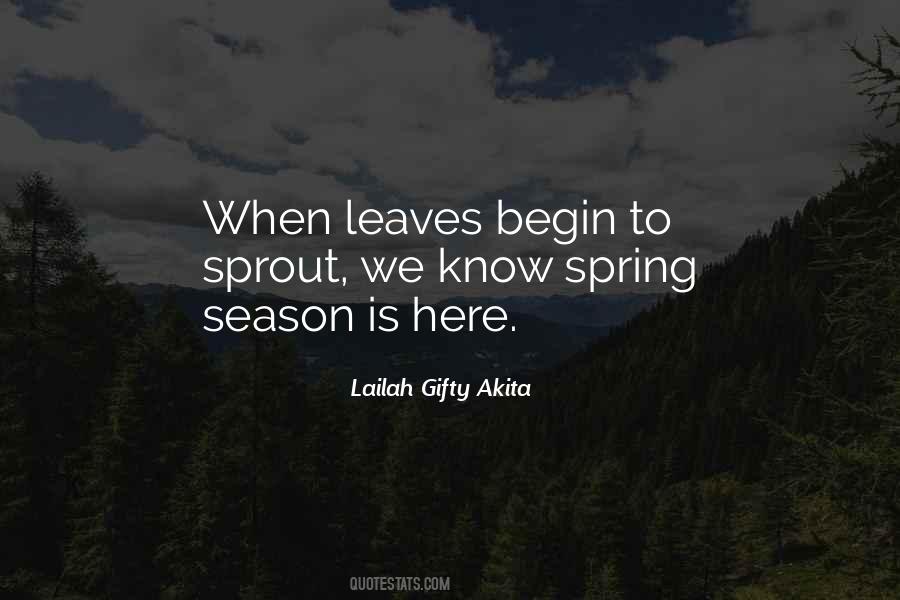 #64. Spring and summer 1942 was probably the worst period of internal terror in Slovakia. It was also the time of mass deportation of Slovak Jews to the extermination camps in Poland. - Author: Alexander Dubcek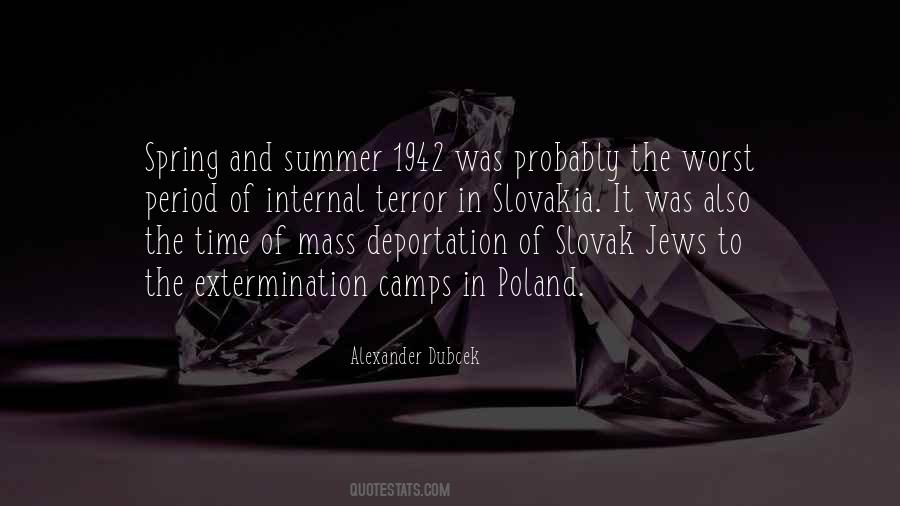 #65. It's easy to understand why the most beautiful poems about England in the spring were written by poets living in Italy at the time. - Author: Philip Dunne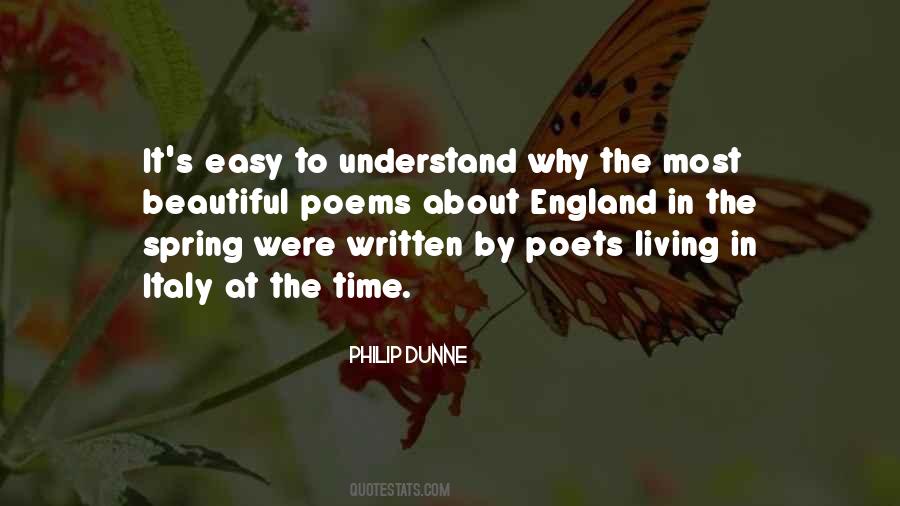 #66. Until spring training in 1946, the only time I pitched was in 1945 in the GI World Series. - Author: Leon Day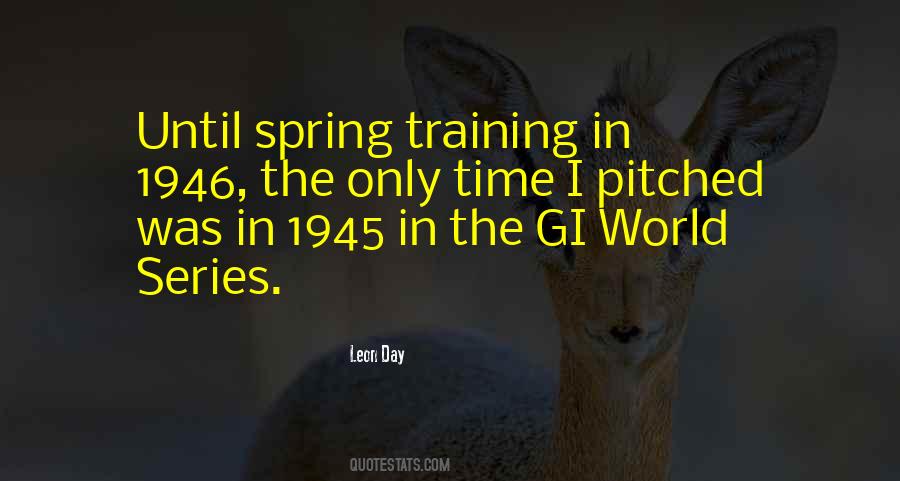 #67. Then in the spring something happened to me. Yes, I remember. I fell in love with James Tyrone and was so happy for time. - Author: Eugene O'Neill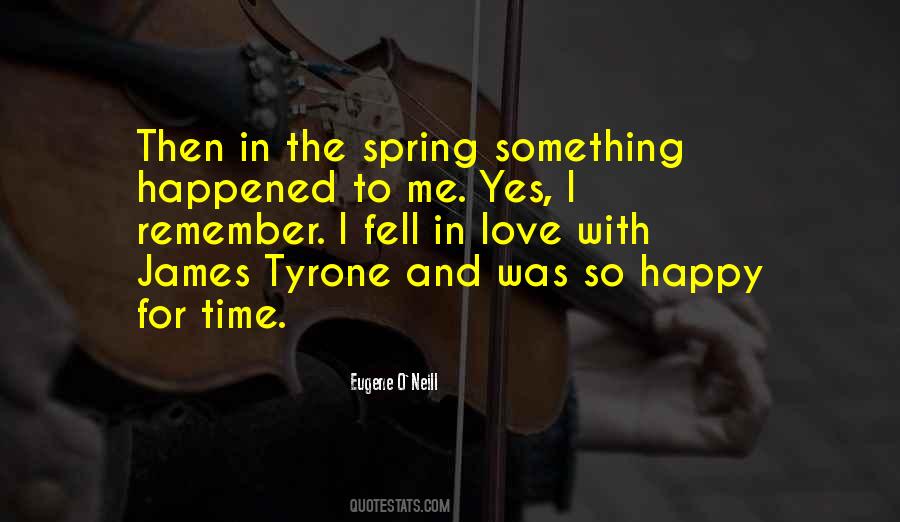 #68. When it's time for the flowers to bloom, they'll bloom.When it's time for spring to come, it'll come. - Author: Atsushi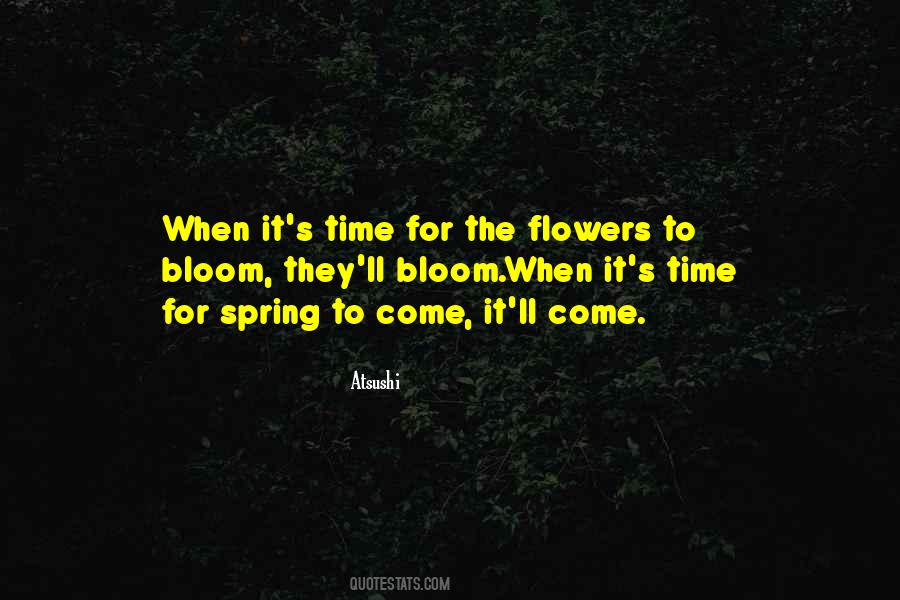 #69. Early spring is the time for vigorous change, a preparation for the heat-driven oppression that is to come. - Author: Henry Rollins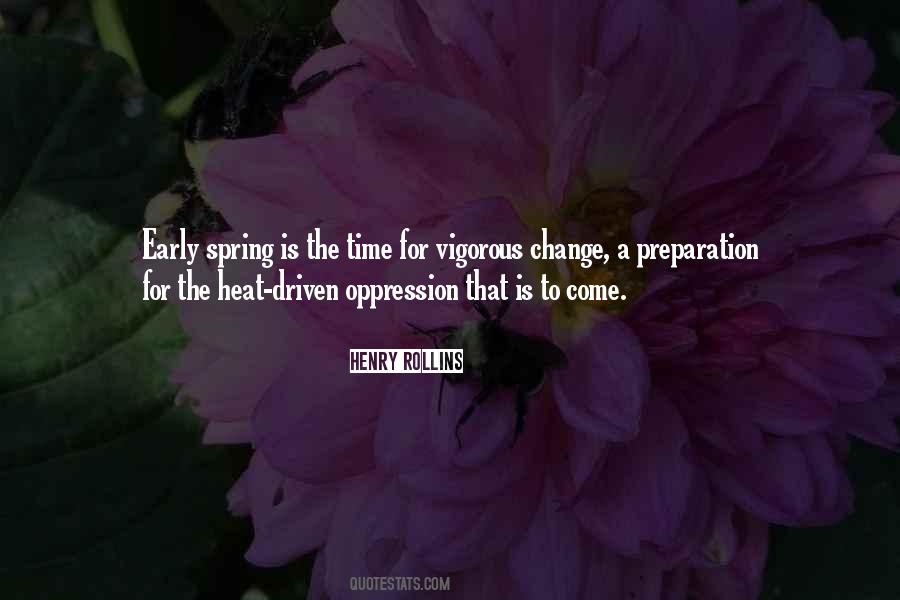 #70. I hope to God that the inner strength that will vindicate my deeds will in good time spring forth from my own people. I have done as I had to on the prompting of my inner voice. - Author: Kurt Huber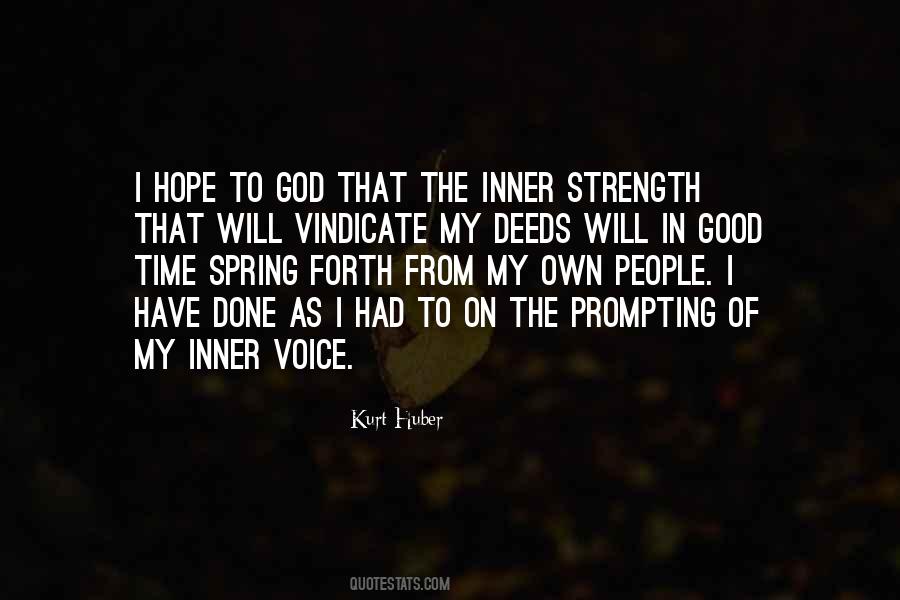 #71. Tax time is the perfect opportunity to jumpstart your spring-cleaning by tackling your financial to-do list. - Author: Alexa Von Tobel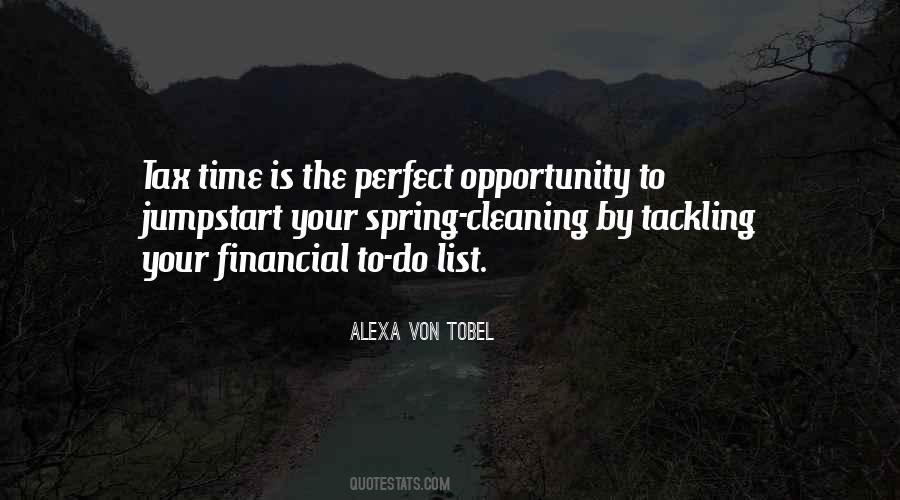 #72. To be rich be diligent; move on
Like heav'ns great movers that enrich the earth;
Whose moment's sloth would show the world undone;
And make the spring straight bury all her birth.
Rich are the diligent who can command
Time
nature's stock. - Author: William Davenant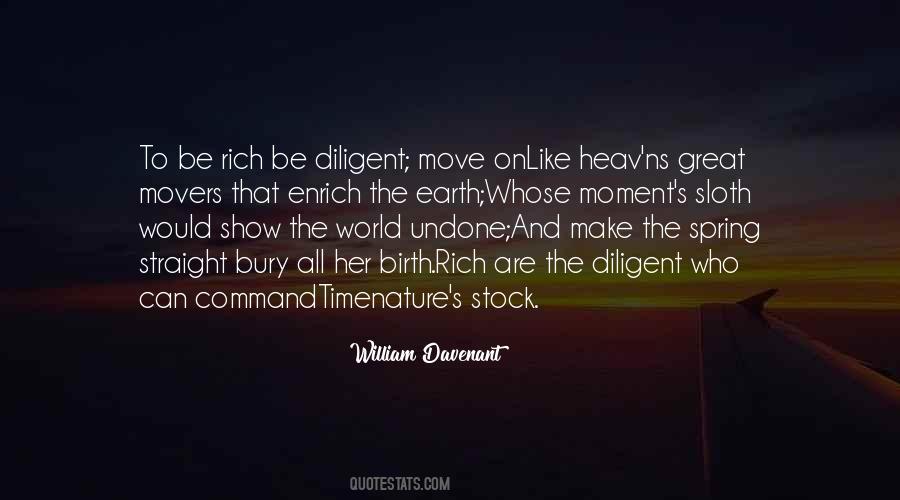 #73. Sweet April-time-O cruel April-time! Year after year returning, with a brow Of promise, and red lips with longing paled, And backward-hidden hands that clutch the joys Of vanished springs, like flowers. - Author: Dinah Maria Murlock Craik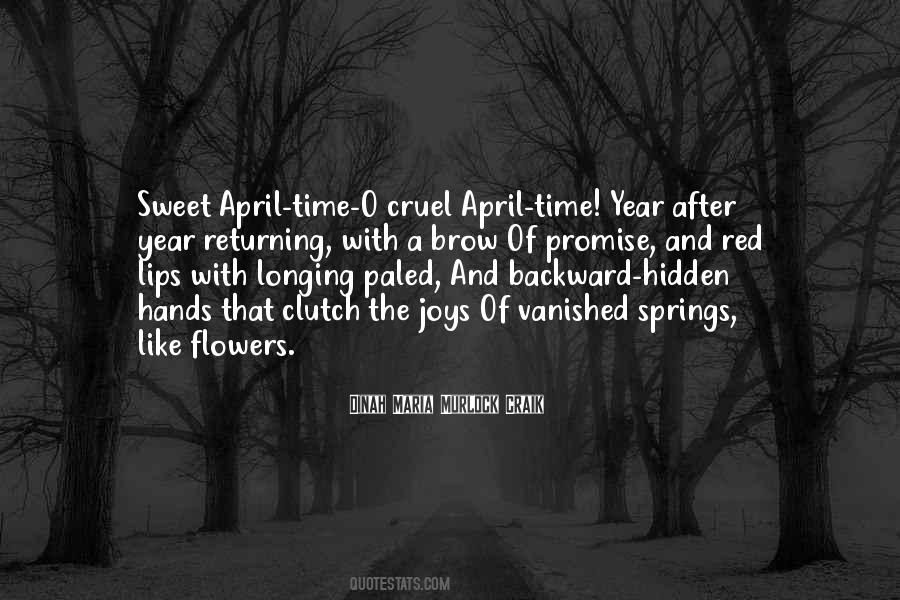 #74. Gardeners celebrate the influence of time. If we have had a late cold spring followed by a desiccating drought, autumn may be the most soft and golden for years; one poor season will sooner or later be compensated for by another. - Author: Susan Hill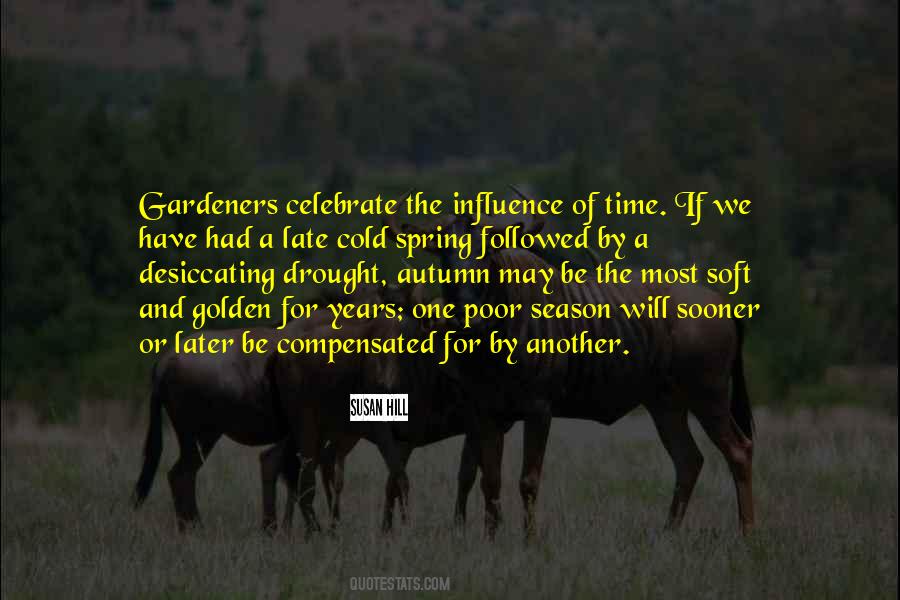 #75. Events of great consequence often spring from trifling circumstances. - Author: Livy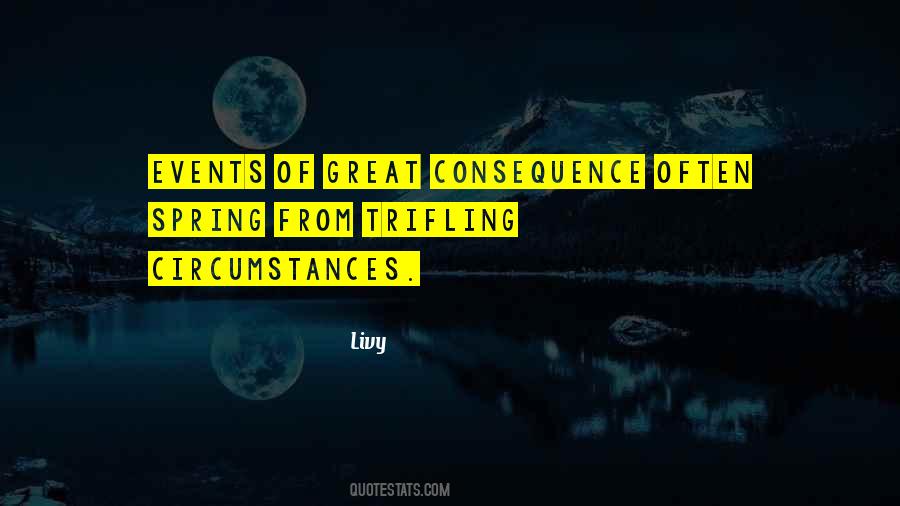 #76. The clocks are all turned forward from Funny Time to Right Time. I always remember, Spring back or Fall in. - Author: Dave Beard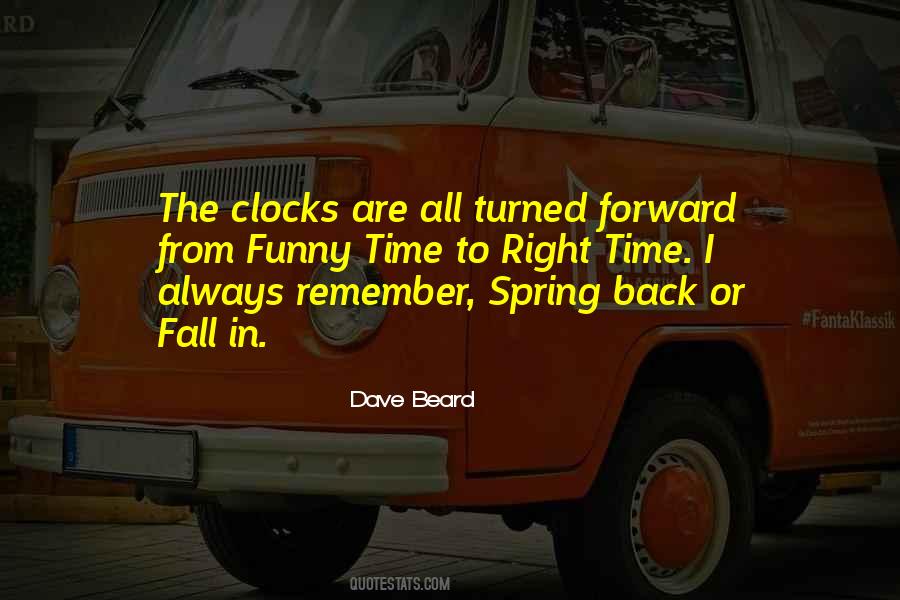 #77. The so-called Arab Spring has proved that the fall of a Mubarak-like presidency does not mean the immediate rise of democracy. In spite of this, I am confident that Egypt will not return to an authoritarian governing system again, and that, with some time, it will achieve its democratic goals. - Author: Ahmed Zewail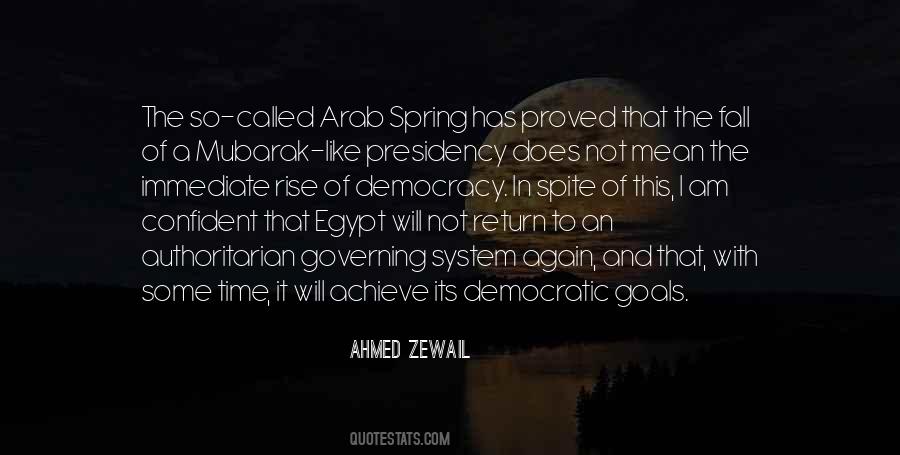 #78. O the wind is a faun in the spring time
When the ways are green for the tread of the May!
List! hark his lay!
Whist! mark his play!
T-r-r-r-l!
Hear how gay! - Author: Clinton Scollard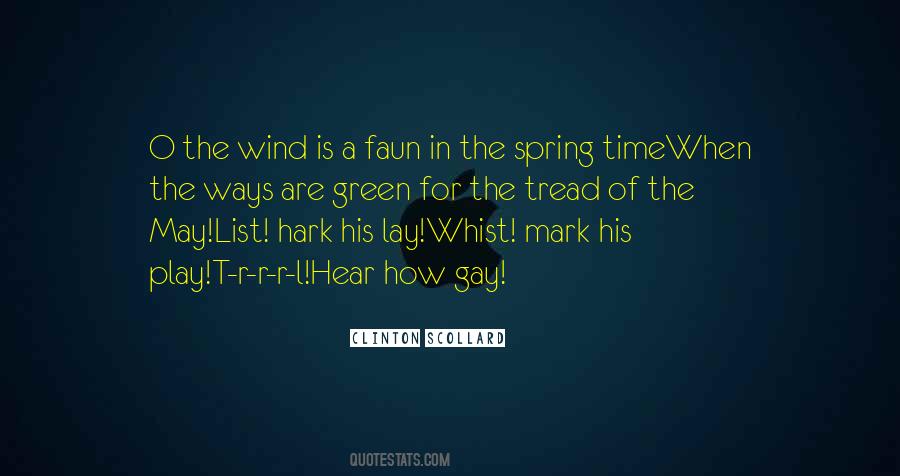 #79. The first real day of spring is like the first time a boy holds your hand. A flood of skin-tingling warmth consumes you, and everything shines with a fresh, colorful glow, making you forget that anything as cold and harsh as winter ever existed. - Author: Richelle E. Goodrich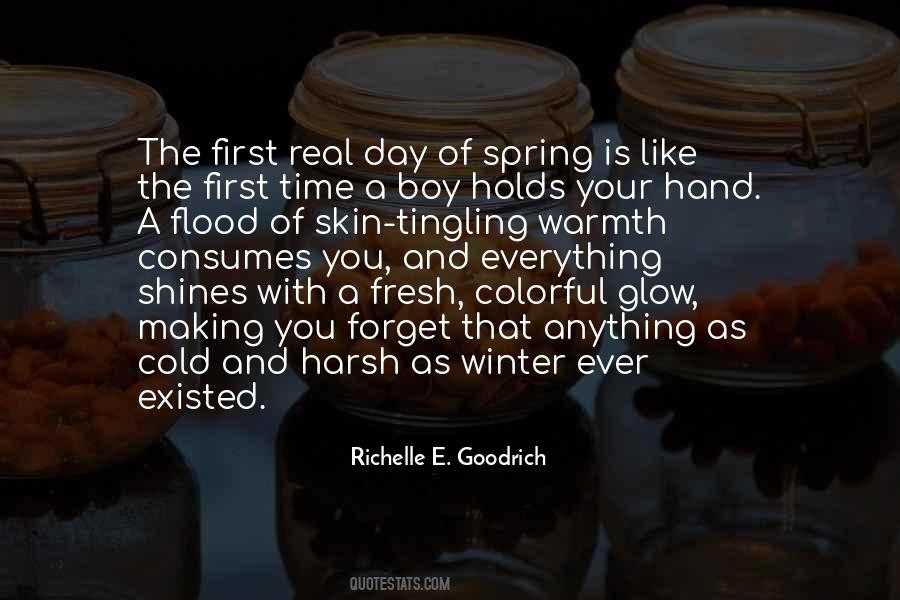 #80. We are constantly telling ourselves what we most want to know, and at the same time are deaf to it. Why does envy have such a fierce bite? Why do we fall silent or get worried just as our story is about to spring out of our control and into its own life? Whose shadow falls across the page? - Author: Bonnie Friedman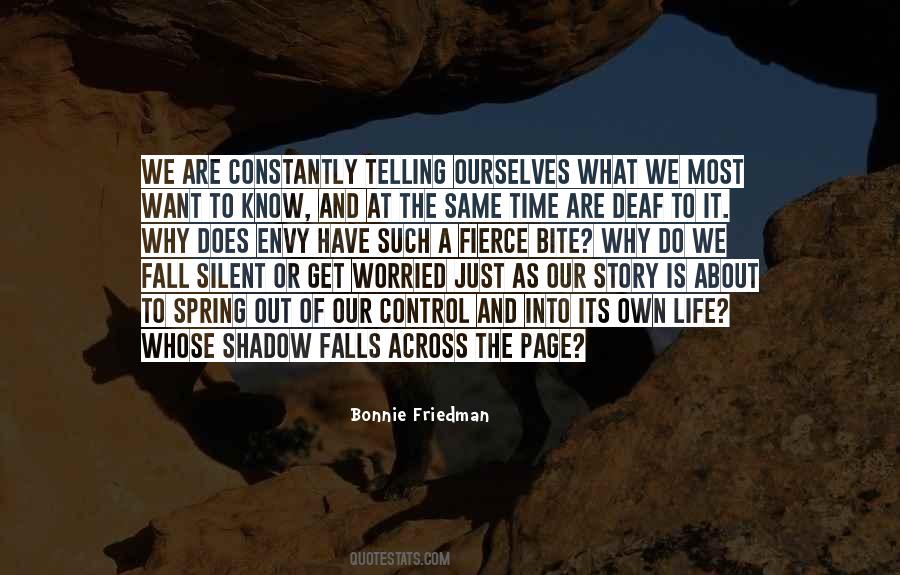 #81. Like rain HOPE trickles little by little at a time so that life may spring up when you're parched. - Author: Tim Liwanag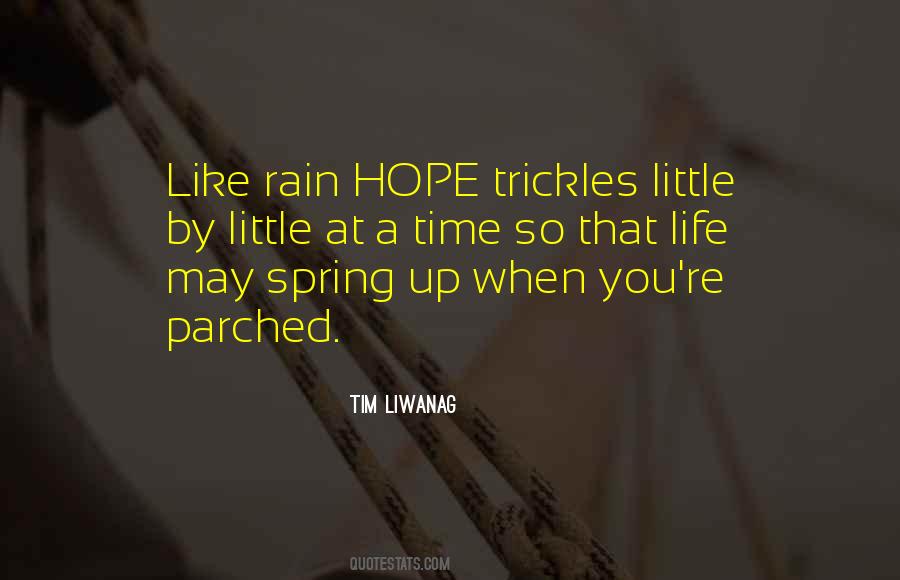 #82. The opener is always very difficult every single year. It Really doesn't matter whom you play. The opener is difficult because you've got more time to prepare for one game than you do any game the rest of the year because you've got all spring, all summer to prepare for this opponent. - Author: Dabo Swinney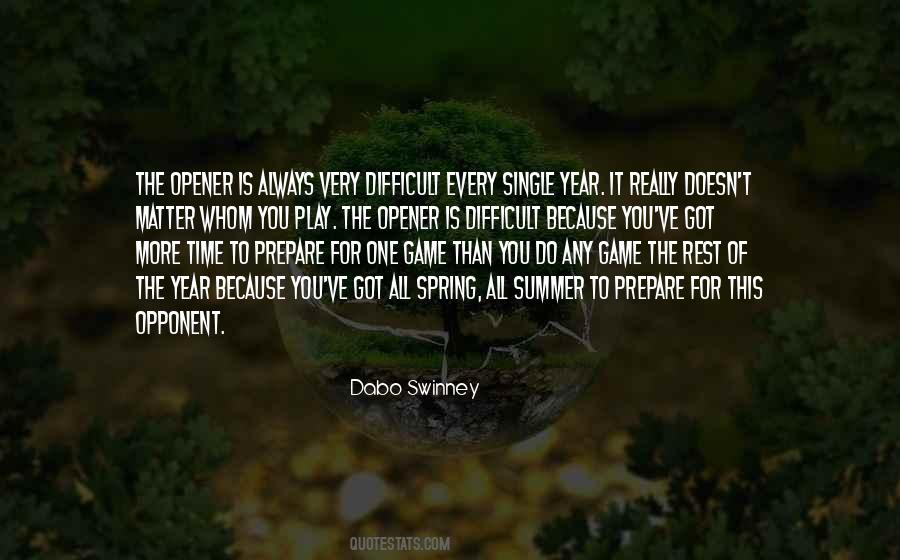 #83. Break open the cherry tree: where are the blossoms? Just wait for spring time to see how they bloom. - Author: Ikkyu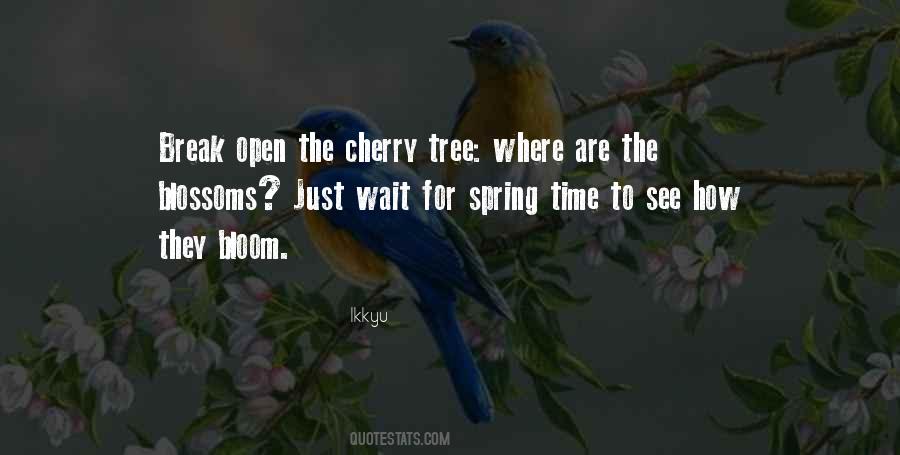 #84. Spring and Autumn
Every season hath its pleasures;
Spring may boast her flowery prime,
Yet the vineyard's ruby treasures
Brighten Autumn's sob'rer time. - Author: Thomas Moore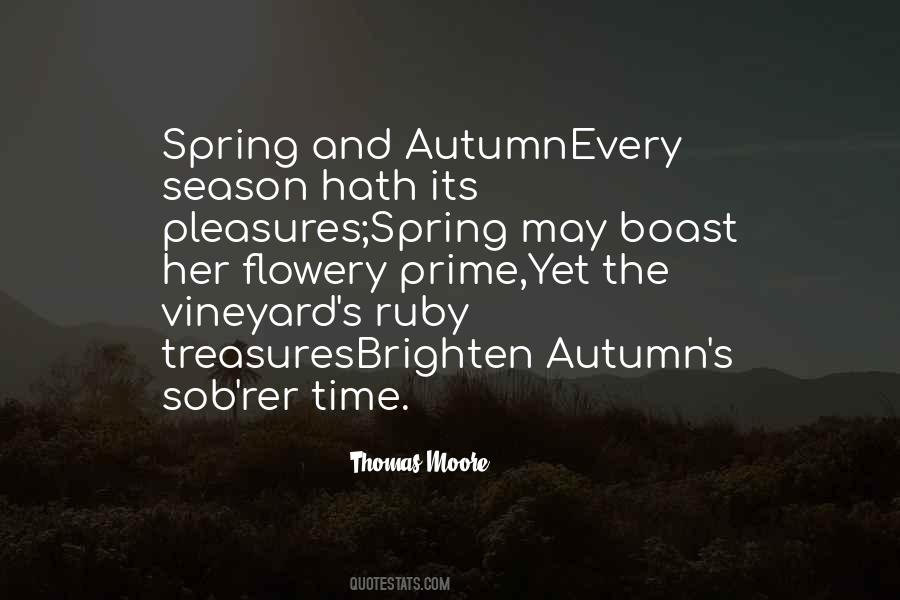 #85. Spring time is the land awakening. - Author: Lewis Grizzard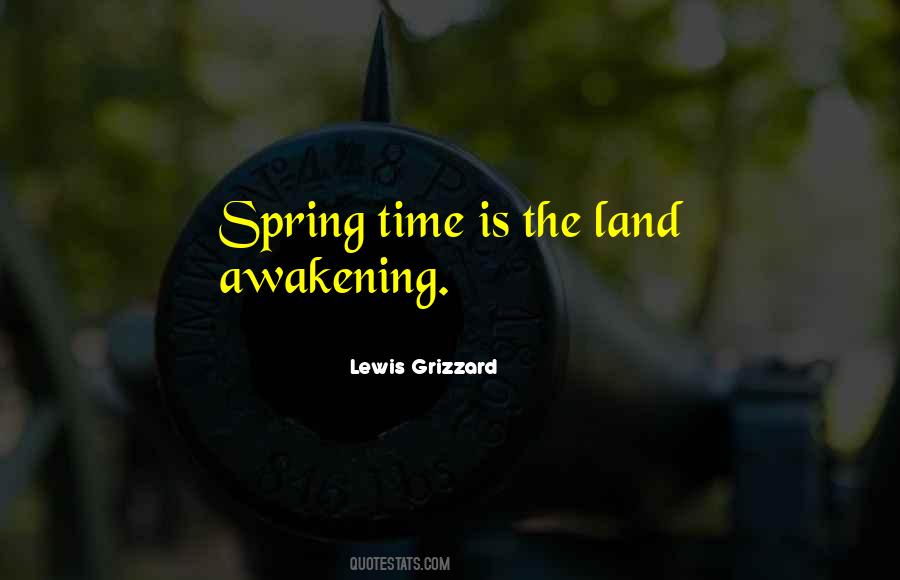 #86. We lived in St. Tropez when I was young, and there were a lot of Vietnamese refugees in France at the time, after the war. My mother had many Vietnamese friends who entertained a lot, and she was taught how to make that spring roll. She would make them all the time. - Author: Eric Ripert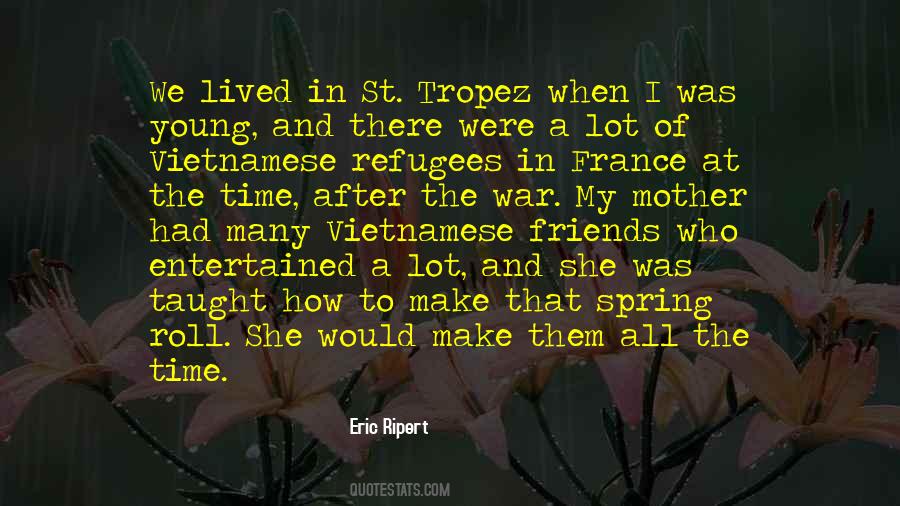 #87. spring time is for lovers because...it's so fresh and new! - Author: Kim Shaw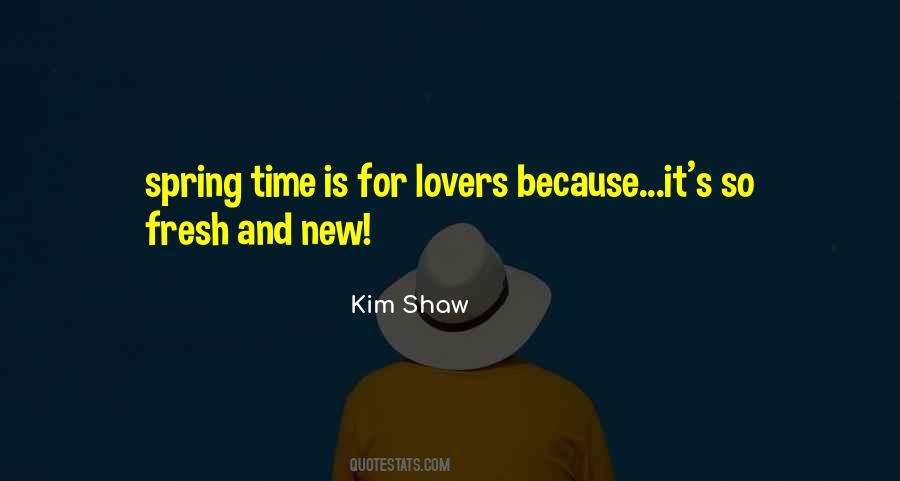 #88. I've spent a lot on clothes. I'm not kidding when I say I could have bought several country homes with the money. I've also given a lot away over time. I had a lovely Yves Saint Laurent jacket that I'd only worn once or twice, but I'm one for spring cleaning rather than storing my clothes. - Author: Donna Air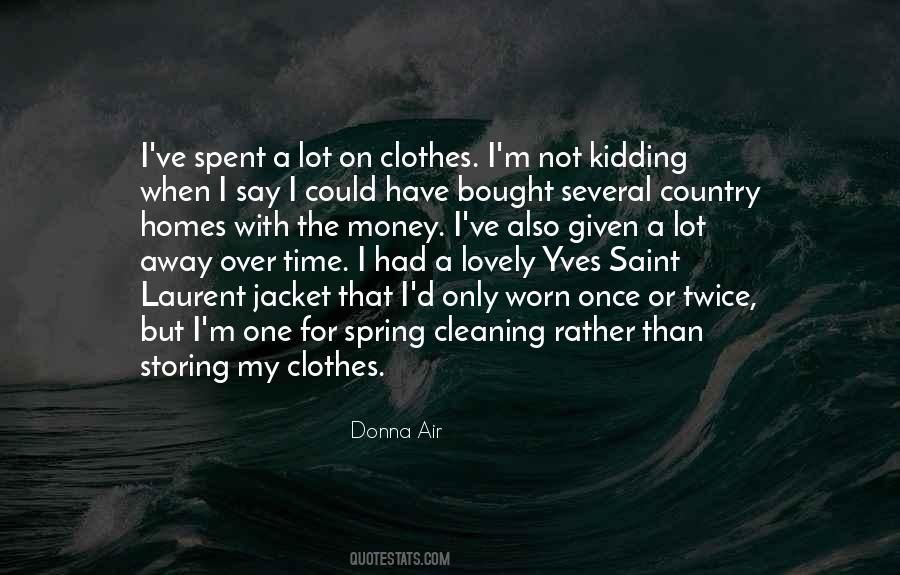 #89. You'd be so lean, that blast of January
Would blow you through and through. Now, my fair'st friend,
I would I had some flowers o' the spring that might
Become your time of day. - Author: William Shakespeare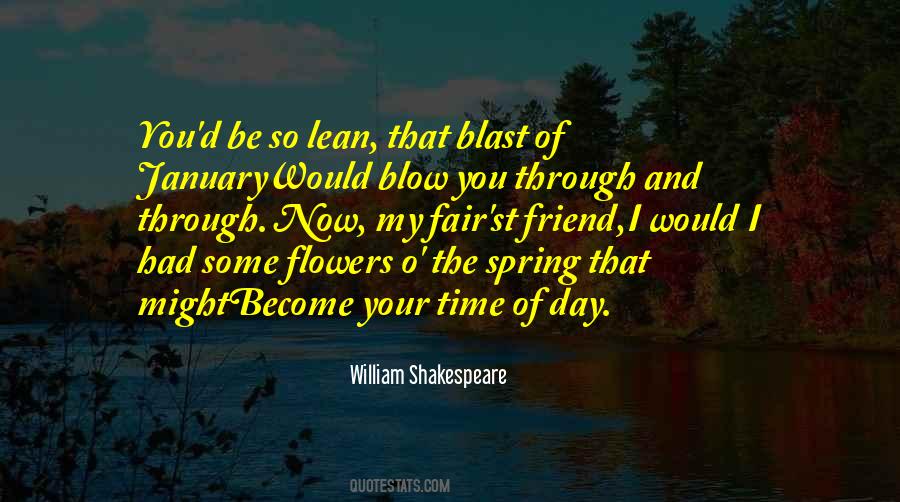 #90. When a country is defeated, there remain only mountains and rivers, and on a ruined castle in spring only grasses thrive. I sat down on my hat and wept bitterly till I almost forgot time.
A thicket of summer grass
Is all that remains
Of the dreams and ambitions
Of ancient warriors. - Author: Matsuo Basho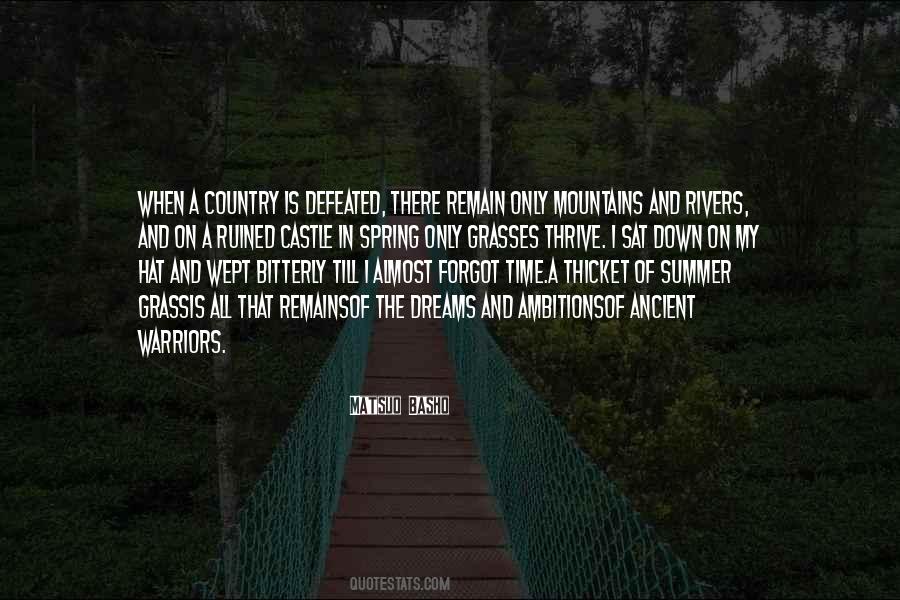 #91. Right now the day length is exactly the same as in spring when birds key into it and begin singing. The birds are a little confused by it all and the singing isn't very intense. It only lasts a week or so each fall, but it's still cool to hear spring bird songs at this time of the year. - Author: Craig Thompson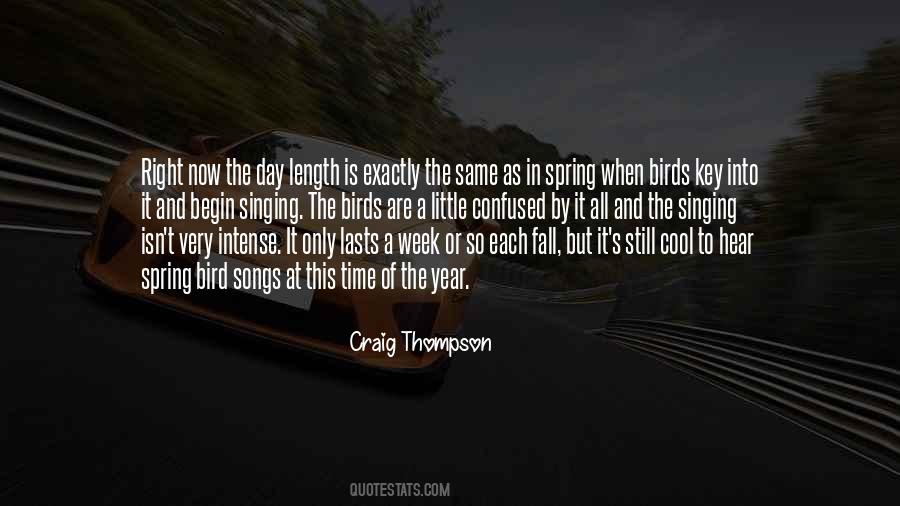 #92. Then I've been drunk, too," admitted Francie.
"On beer?"
"No. Last spring, in McCarren's Park, I saw a tulip for the first time in my life. - Author: Betty Smith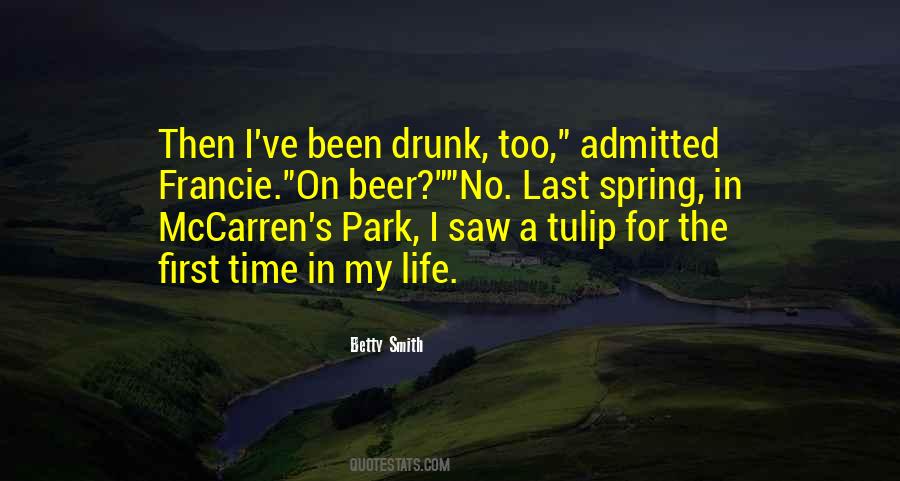 #93. In a way winter is the real spring, the time when the inner things happen, the resurge of nature. - Author: Edna O'Brien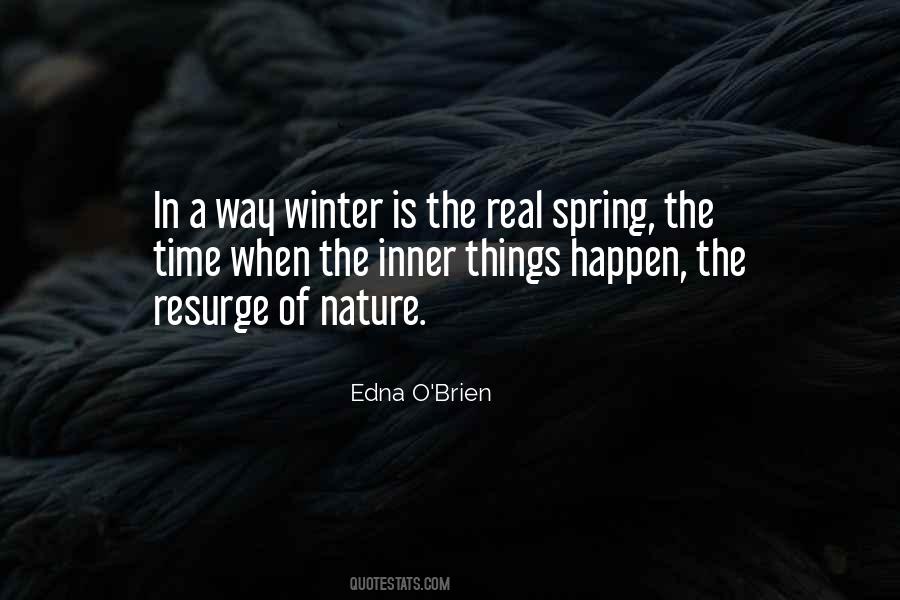 #94. When an author creates a town in her novels, she spends a great deal of time visualizing the streets and buildings, landmarks and topography. And while the town becomes real in her imagination, it's rare for an author to see the place she's created actually spring to life. - Author: Lori Wilde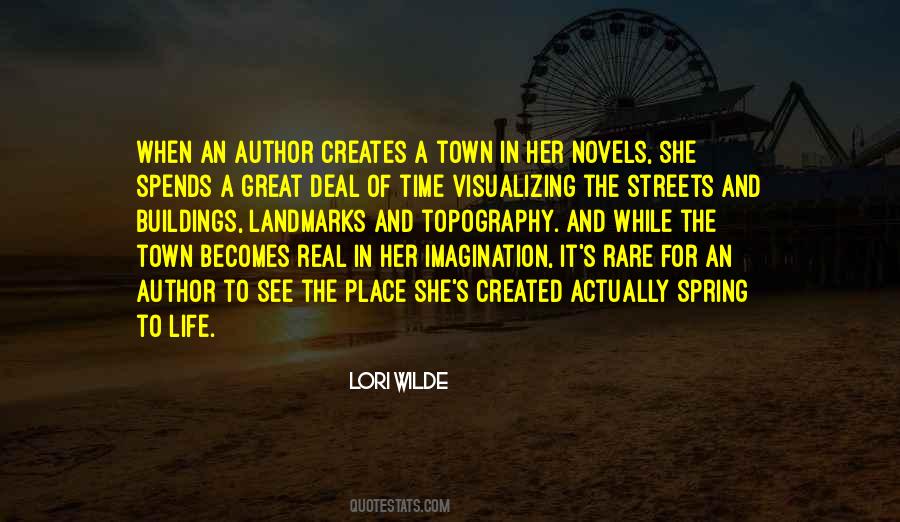 #95. There is no time like Spring
When life's alive in everything,
Before new nestlings sing,
Before cleft swallows speed their journey back
Along the trackless track. - Author: Christina Rossetti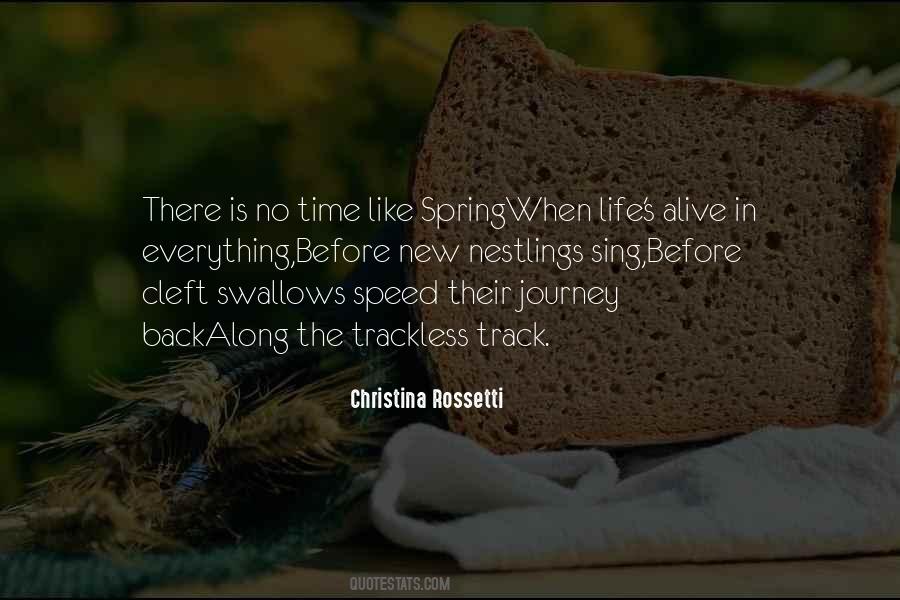 #96. I'm convinced the true history of our time isn't what we read in newspapers or books ... True history is almost invisible. It flows like an underground spring. It takes place in the shadows, and in silence, George. And only a chosen few know what that history is. - Author: Felix J. Palma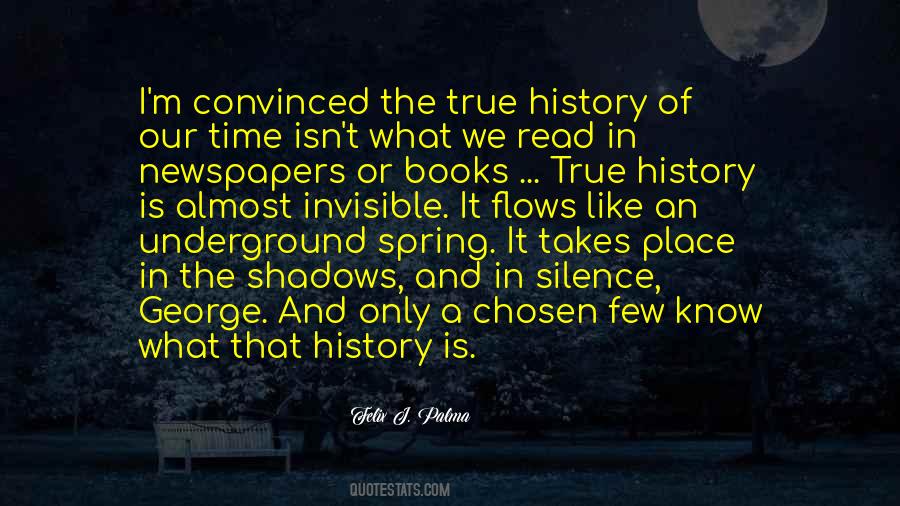 #97. Summer rushes in on the heels of spring, eager to take her turn; and then she dances with wild abandon. But the time soon comes when she gratefully falls, exhausted and sated, into the auburn arms of autumn. - Author: Cristen Rodgers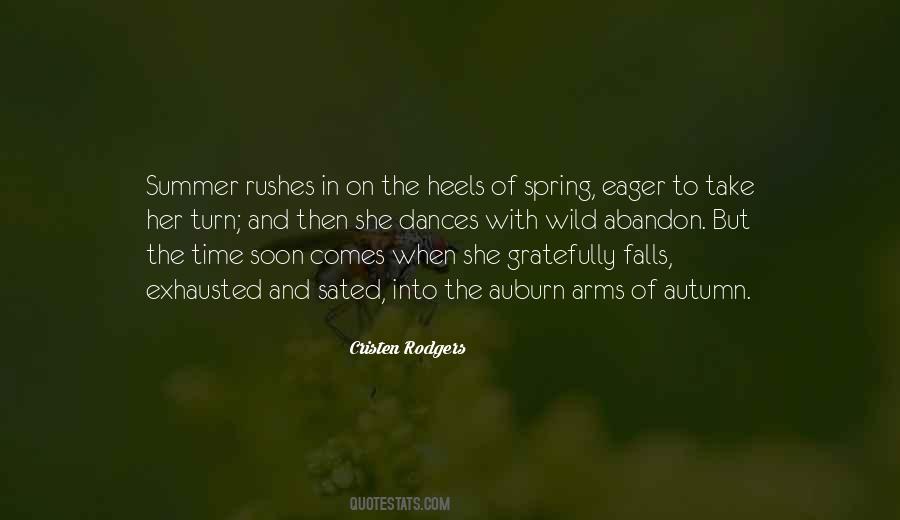 #98. Spring is the time when God's magic is at its grandest. - Author: Toni Sorenson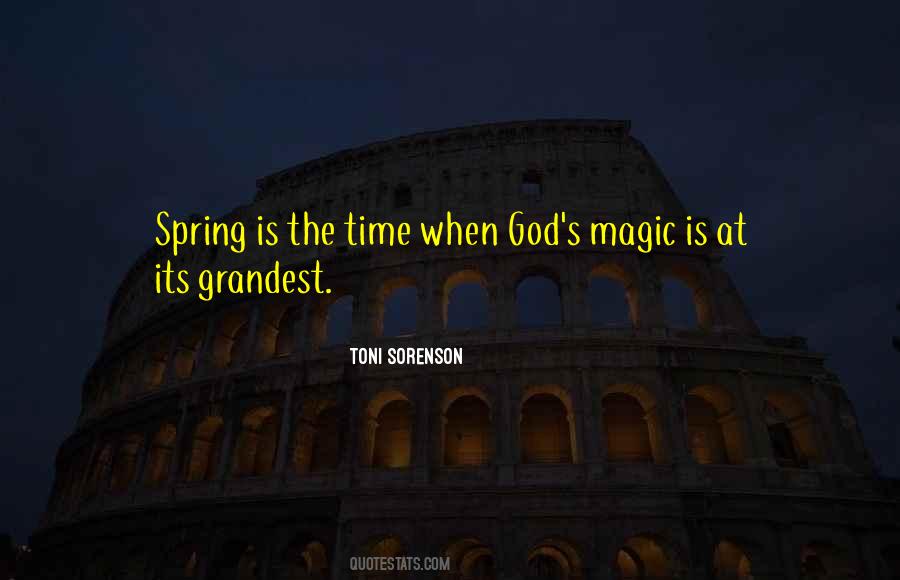 #99. The air's warm with hopeful hints of spring in it. Spring would be a good time for an uprising, I think. Everyone feels less vulnerable once winter passes. - Author: Suzanne Collins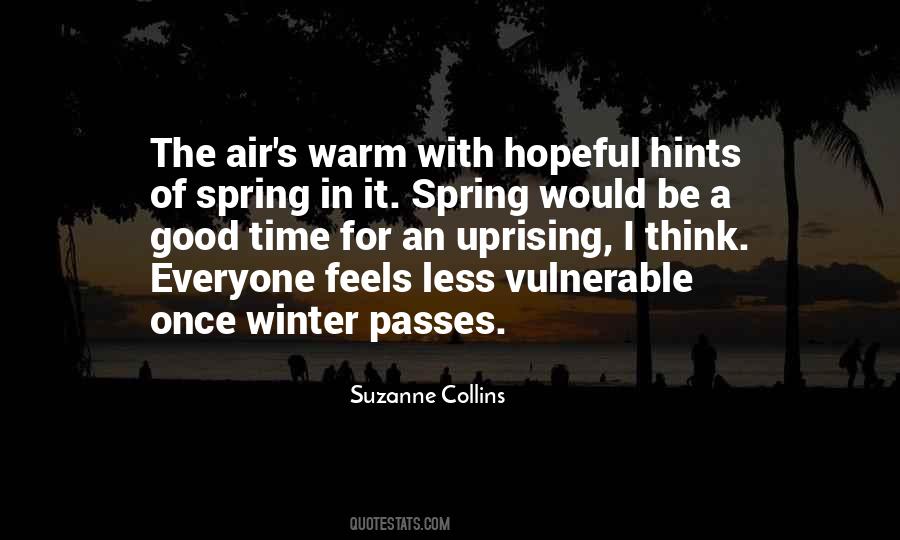 #100. Is it that when these events are in chronological order they are not propelled forward by cause and effect, by need and satisfaction, they do not spring ahead with their own energy but are simply dragged forward by the passage of time? - Author: Lydia Davis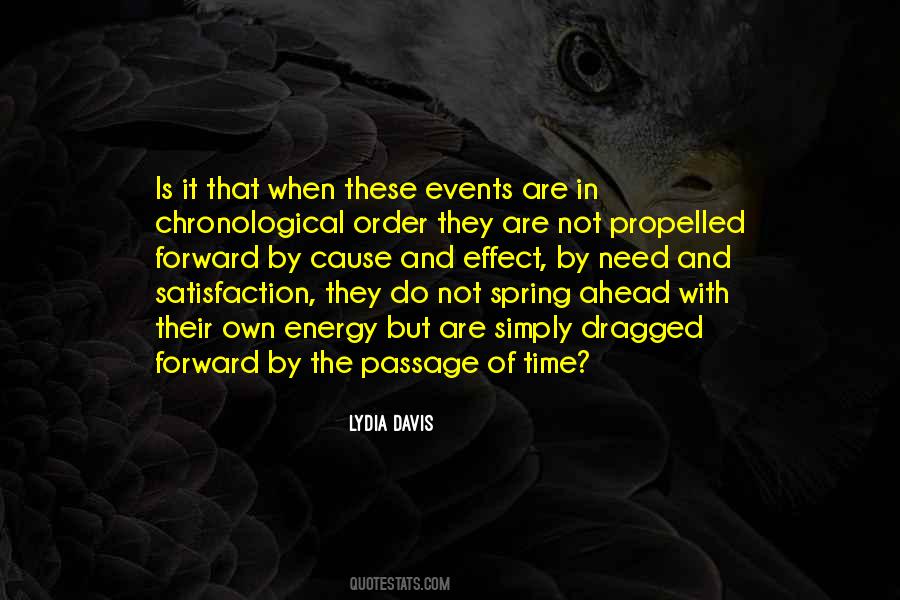 Famous Authors
Popular Topics