Sometimes It Seems Like Famous Quotes & Sayings
List of top 76 famous quotes and sayings about sometimes it seems like to read and share with friends on your Facebook, Twitter, blogs.
Top 76 Sometimes It Seems Like Quotes
#1. Sometimes what seems like surrender isn't surrender at all. It's about what's going on in our hearts. About seeing clearly the way life is and accepting it and being true to it, whatever the pain, because the pain of not being true to it is far, far greater. - Author: Nicholas Evans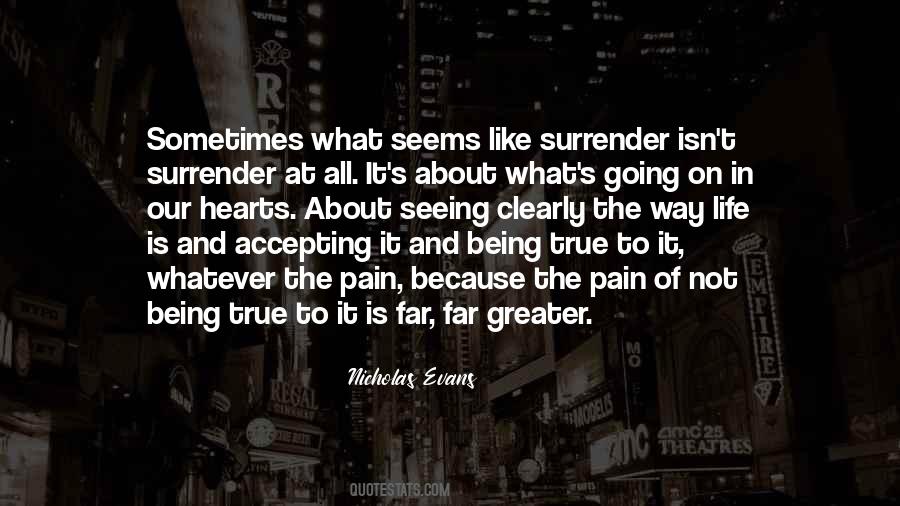 #2. Sometimes it seems like there's more footnotes than text. This isn't something we're proud of, and over time we'd like to see our footnotes steadily shrink. - Author: Barry Diller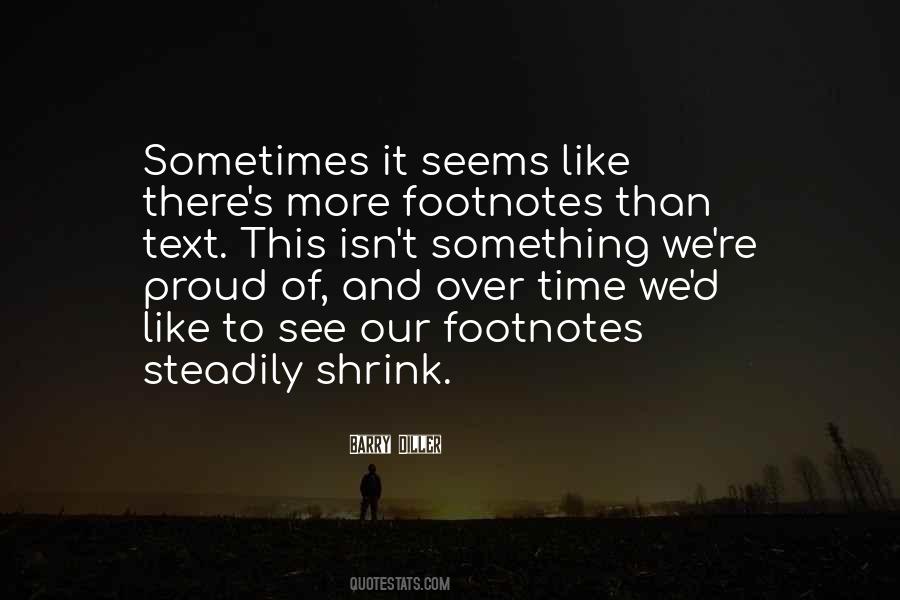 #3. The odd thing about being a writer is you do tend to lose yourself in your books. Sometimes it seems like real life is flickering by and you're hardly a part of it. You remember the events in your books better than you remember the events that actually took place when you were writing them. - Author: George R R Martin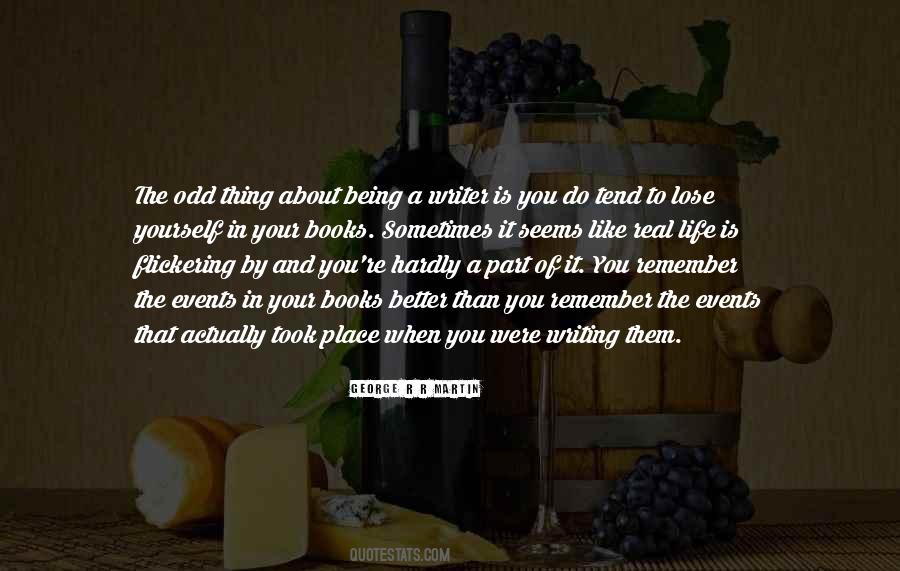 #4. It seems to me that you can't decide to like a person based on their personal circumstances. It seems to me that sometimes you can like a person because of who they are, despite their personal circumstances. - Author: Rowan Coleman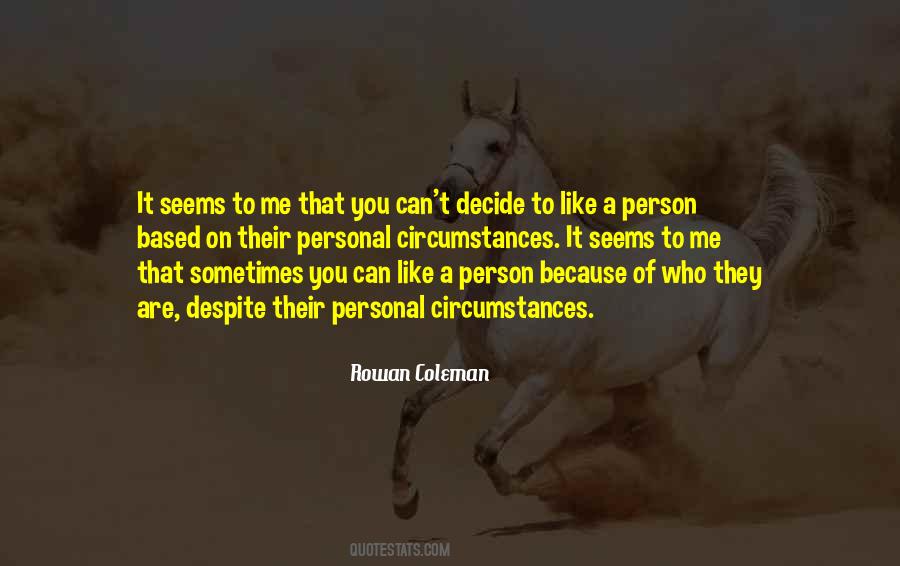 #5. I love Wren and he knows it."
"Yeah, but he seems like he wouldn't welcome it."
"Sometimes he doesn't. But it's like Cherise says, the hardest ones to love are always the ones who
need it most."
(Aimee to Fang) - Author: Sherrilyn Kenyon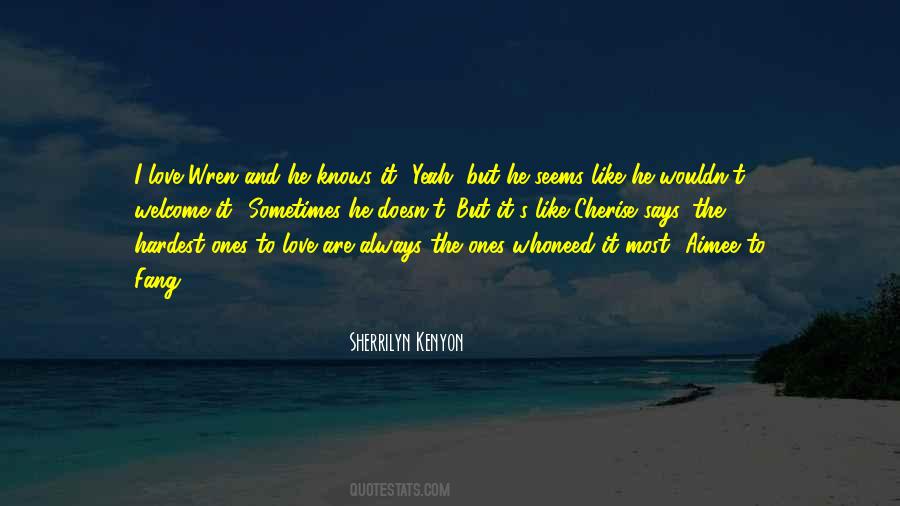 #6. You know how sometimes when you come home and you haven't seen a place for so long that it seems unbelievably beautiful, and you want to cry because you love it so much you think it's going to break your heart? I felt like that, too. I am HOME. - Author: Elizabeth Wein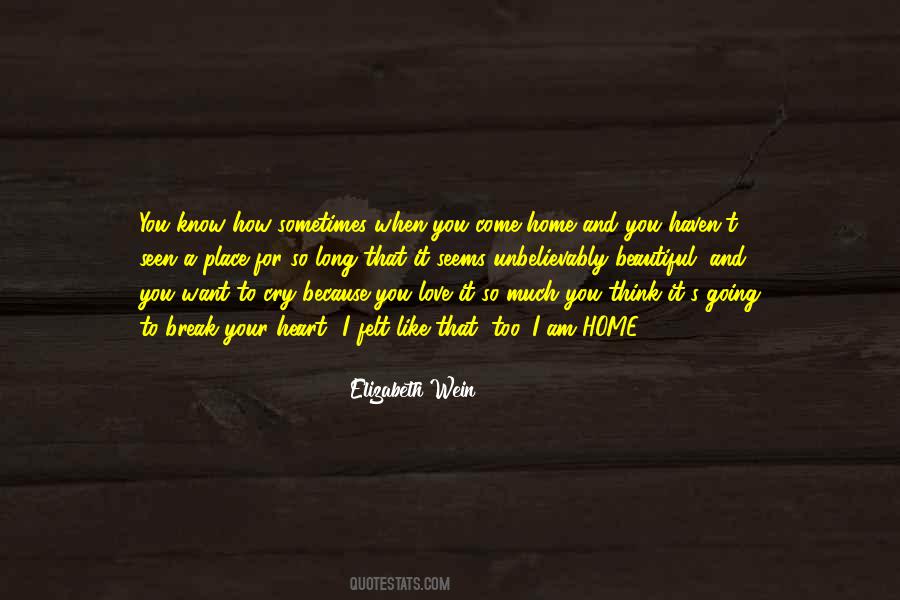 #7. There is no one to tell this to and yet it seems very important to get this right. The reality and what it is like to escape it. That even now it is sometimes too beautiful to bear. - Author: Peter Heller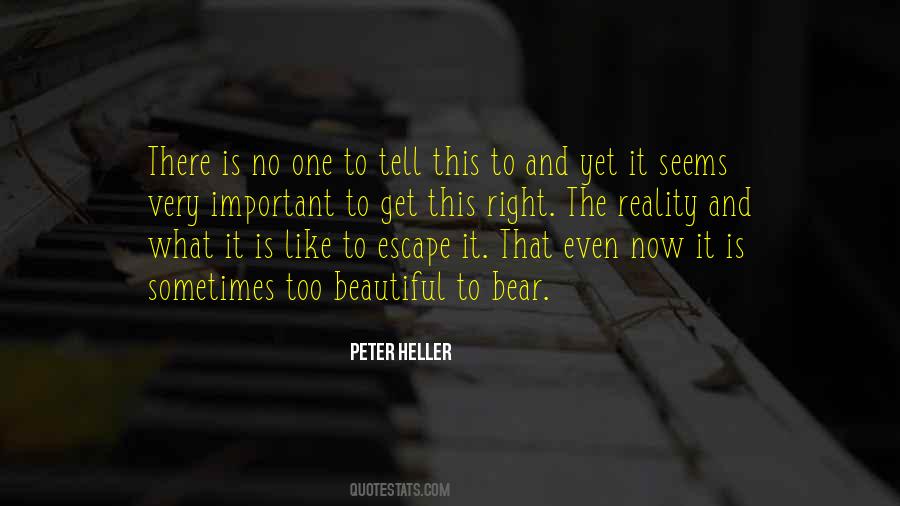 #8. Rock n' roll seems like it's faded away sometimes, but it will never die. - Author: Alex Turner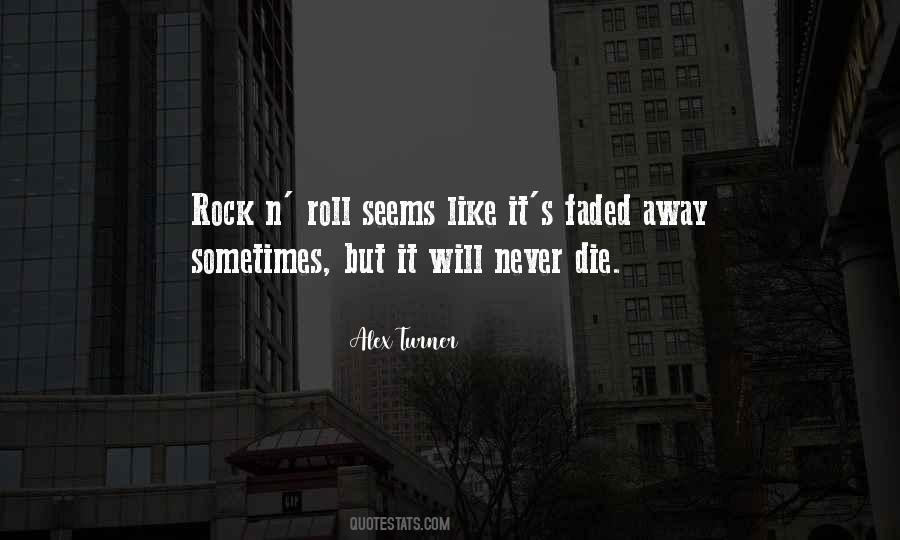 #9. Sometimes it seems like "pain" is too obvious a place to turn for inspiration. Pain isn't always deep, anyway. Sometimes it's awful and that's it. Or boring. Surely other things can be as profound as pain. - Author: Ellen Forney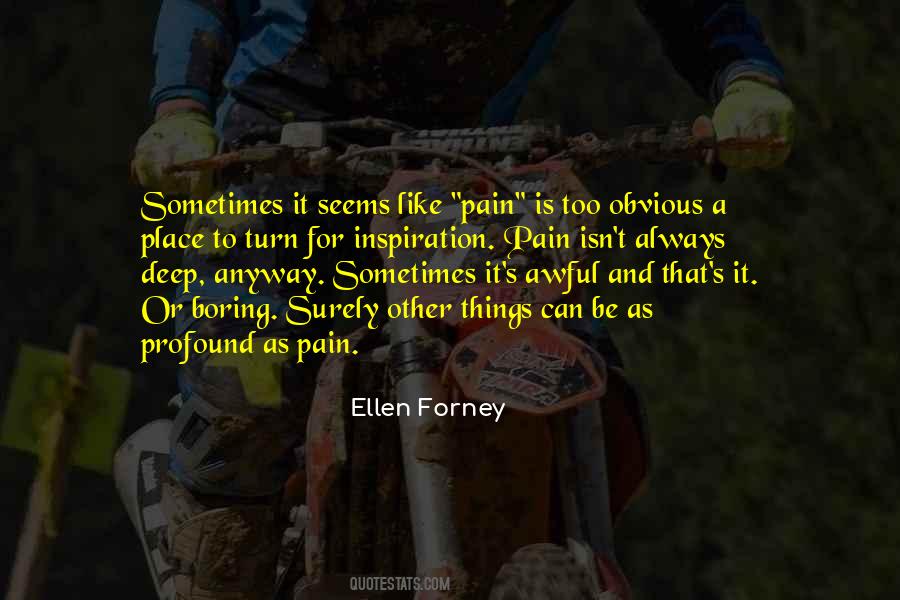 #10. I still feel really hopeless sometimes. I don't like my job. And I've stopped thinking about finding another one. And, even though I hardly ever think about Sam anymore, it still seems impossible that I might have something like that again. A relationship, I guess. - Author: Rainbow Rowell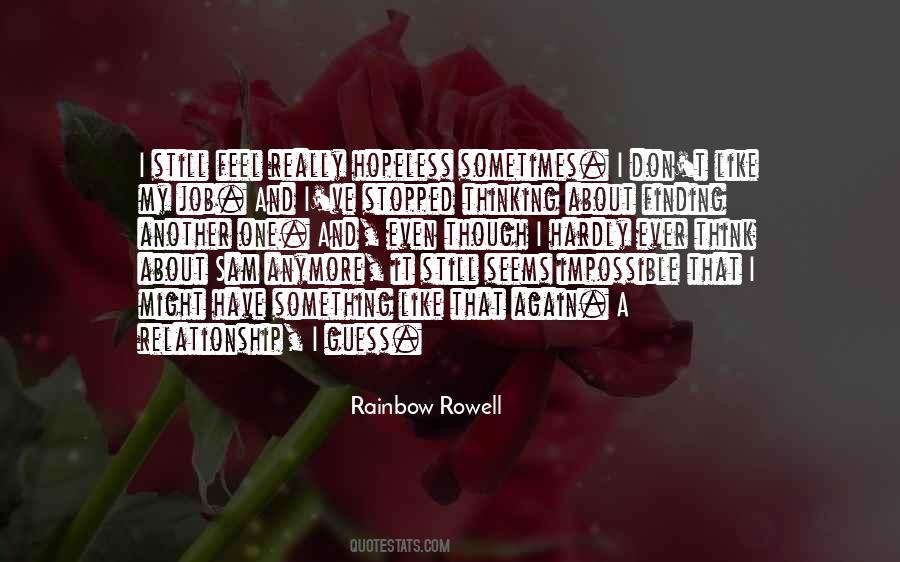 #11. Sometimes it seems that bad luck always flows like the sea to me. Hardly has one wave of bad luck subsided, when another washed into my life. - Author: Chun Yu Wang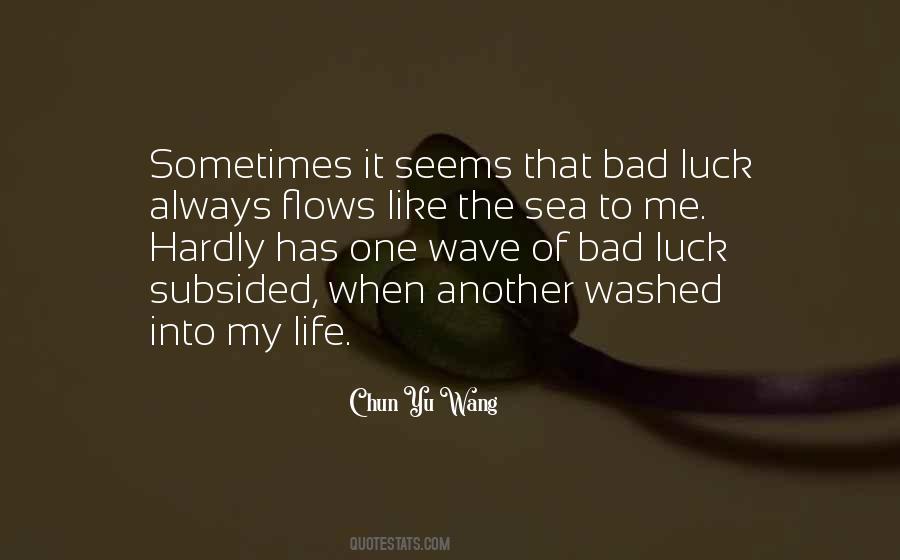 #12. I'm the antidote to Lindsay Lohan. I know she misbehaves terribly, but sometimes it just seems like it's open season on her. - Author: Raquel Welch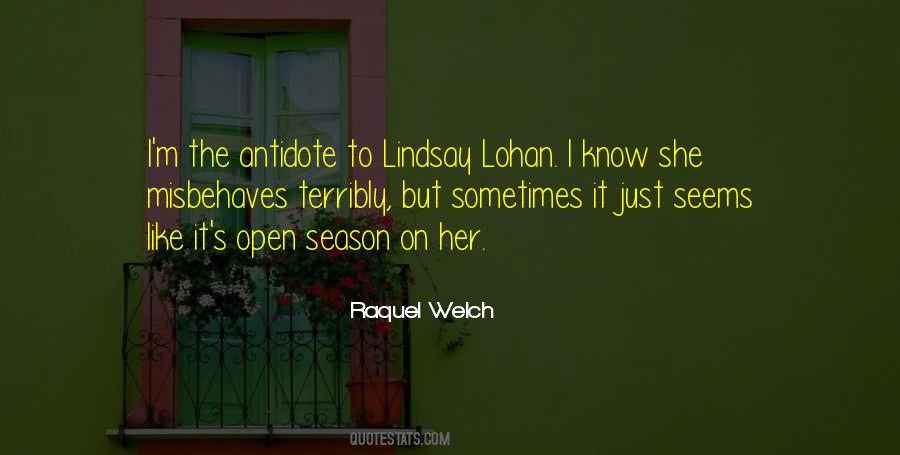 #13. I'm pretty sarcastic, and sometimes that doesn't come across on the Internet. It seems like I'm being rude or stupid. - Author: Sky Ferreira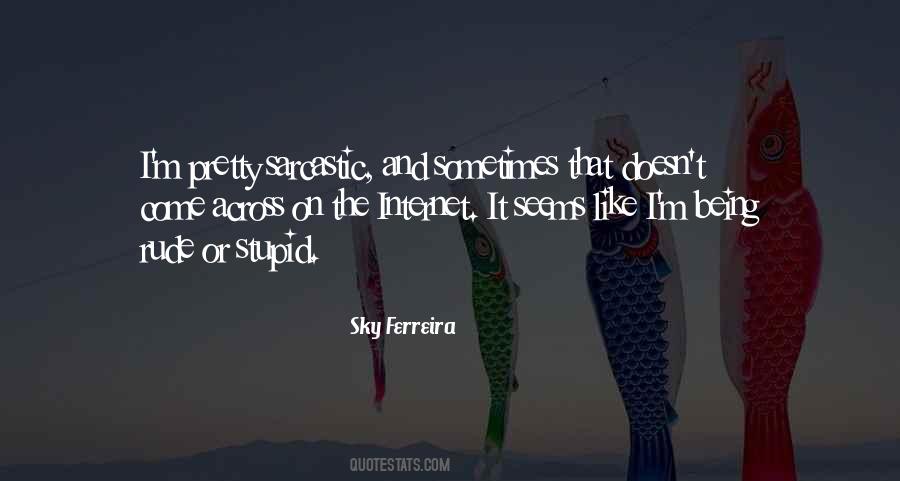 #14. At 60 the sexual preoccupation, when it hits you, seems sometimes sharper, as if it were an elderly malady, like gout. - Author: Edmund Wilson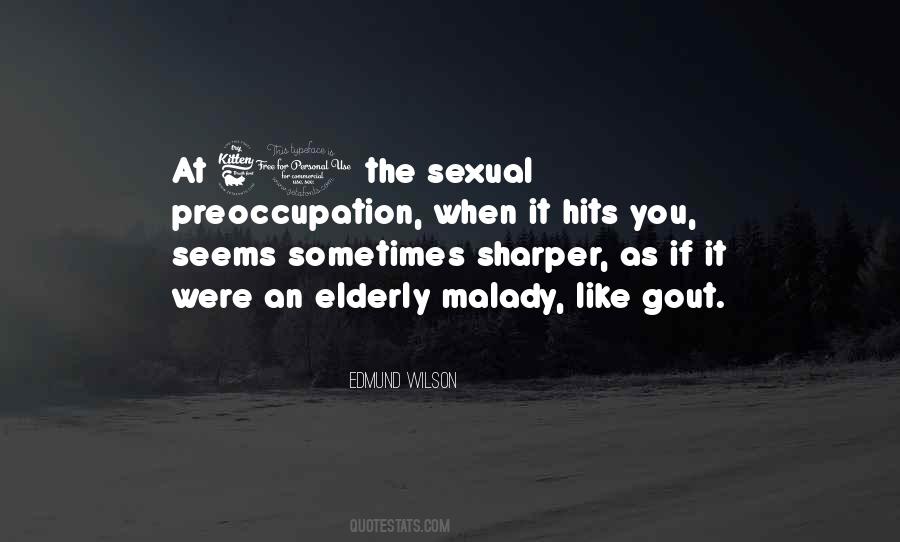 #15. Sometimes it seems as if writing a group of songs is like getting groceries, or doing the laundry - banal things I do more or less on a day-to-day basis. We deal with the issues involved in our mundane activities as they come up, - Author: David Byrne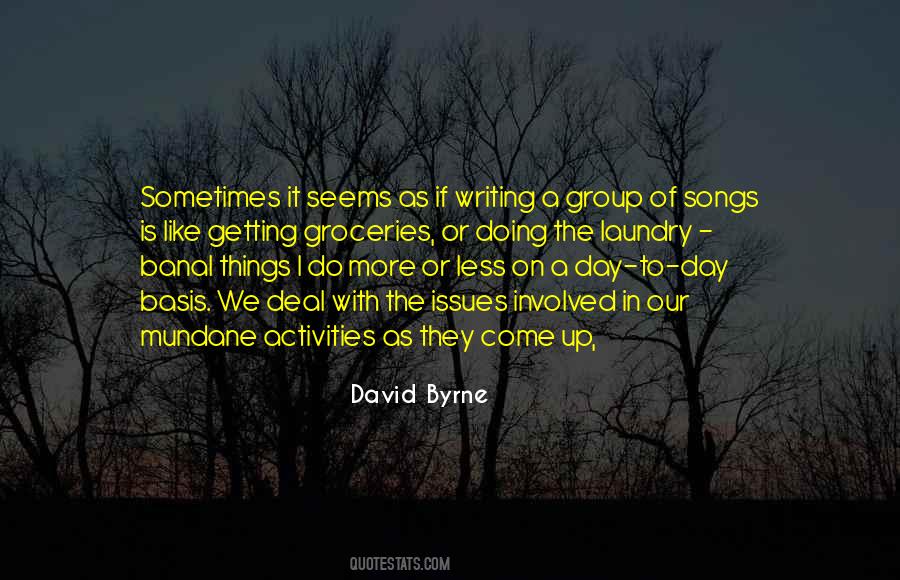 #16. So if it seems like you're doing something different from what everyone else is doing, and if sometimes that feels hard, this is a good thing, not a bad thing. - Author: Craig Groeschel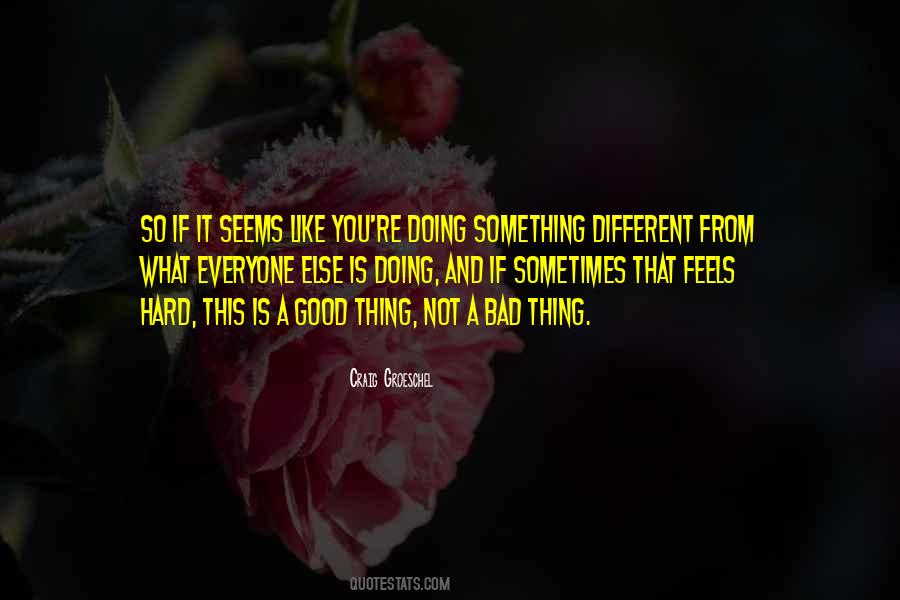 #17. It's not just Pandora who had that inescapable flaw. It seems like everyone has been built in a way that sometimes makes them do wrong and stupid things. - Author: M.R. Carey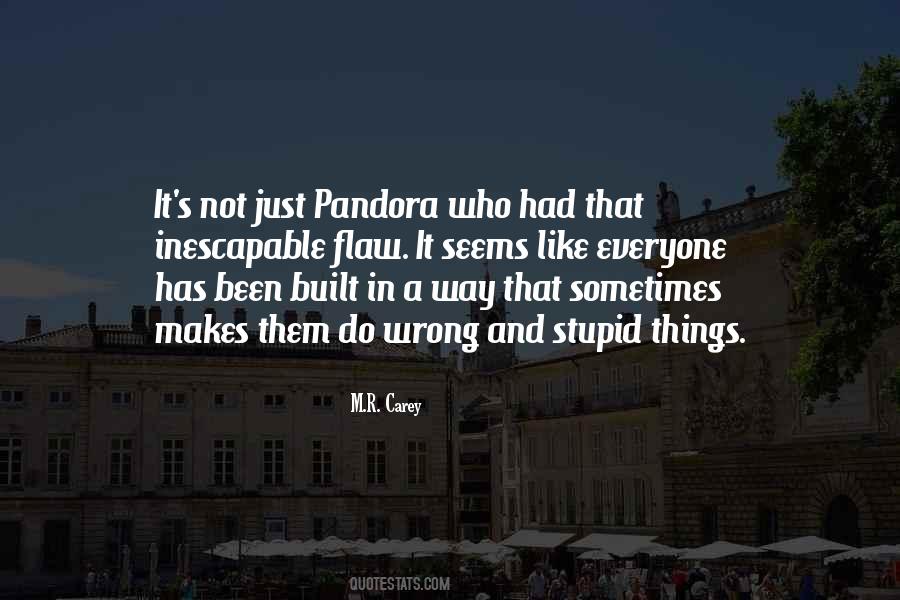 #18. Sometimes you have to protect the life of the play. It seems like spelling out mysterious, musical details can destroy a play by making the motivations too clear, too simplex. - Author: John Guare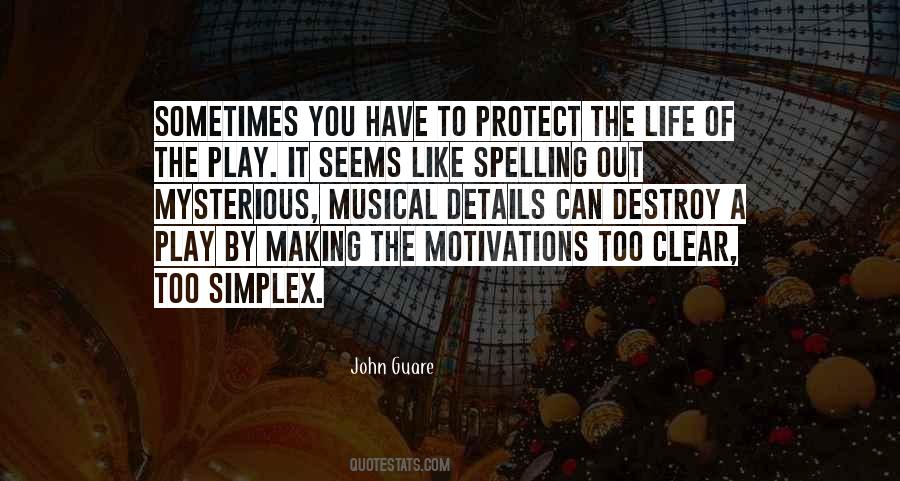 #19. Maybe I grew up too fast, maybe that's my trouble. I feel so lost out here ... hung up between two worlds; half-kid and half-adult, half-boy and half-girl. And sometimes it seems like I get the dirty side of both. - Author: Ann Bannon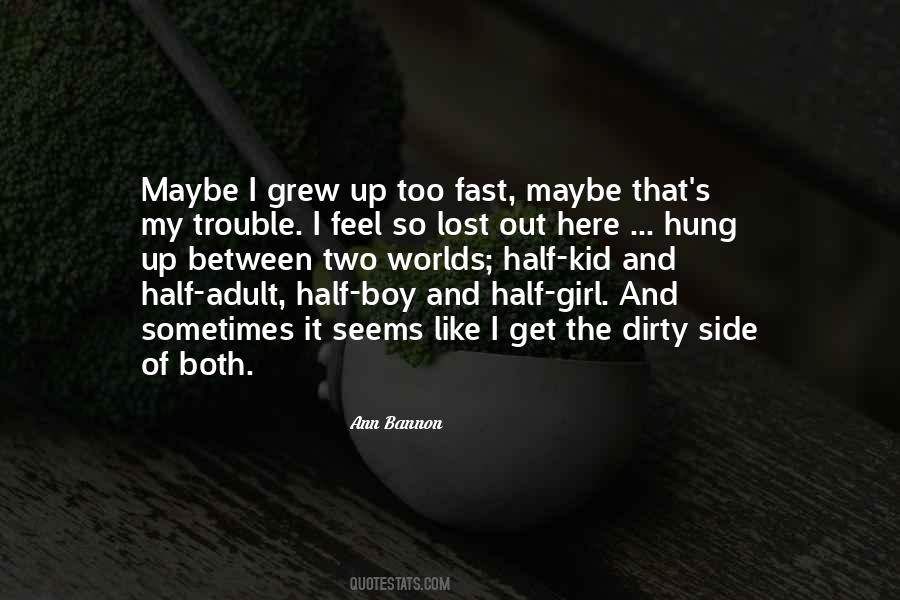 #20. Sometimes it seems like America is the Christian and Israel is the little Jew they love in this fetishistic way. Like, you're my little sister and I'll kick anyone's ass that messes with you. But when we're alone and no one's looking I'll harass you. - Author: Jill Soloway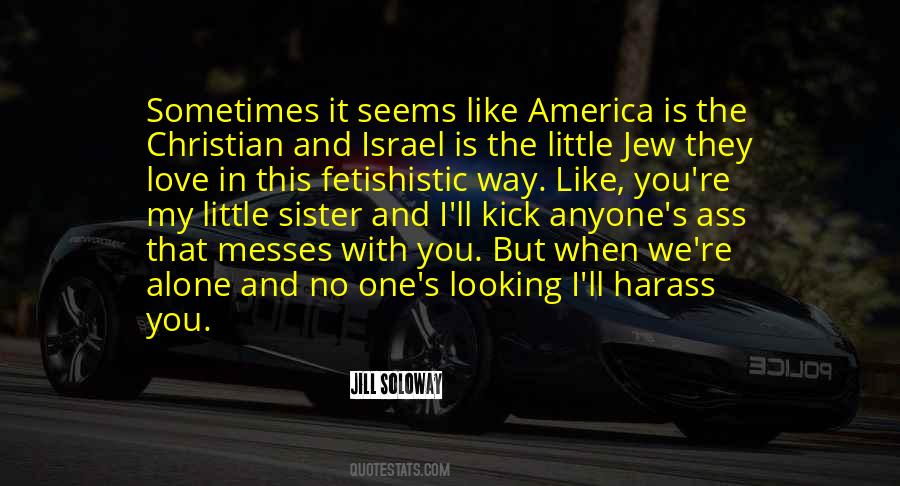 #21. Sometimes I feel like I never actually make any of my own. Choices, I mean. My entire life it just seems I never ... you know, had a real say about any of it. Now this last one, cancer ... all I have left is how I choose to approach this.' - Author: Walter White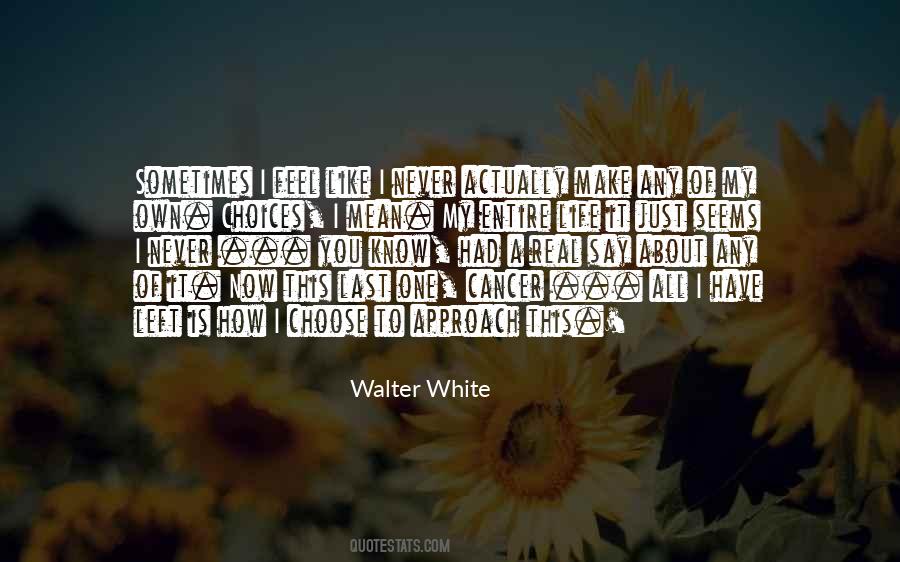 #22. Maybe I just find long-term relationships to be interesting because I've never been in one or seen one that works well without getting fucked up in the end. Sometimes it seems like people are incapable of normal relationships anymore - Author: Santino Hassell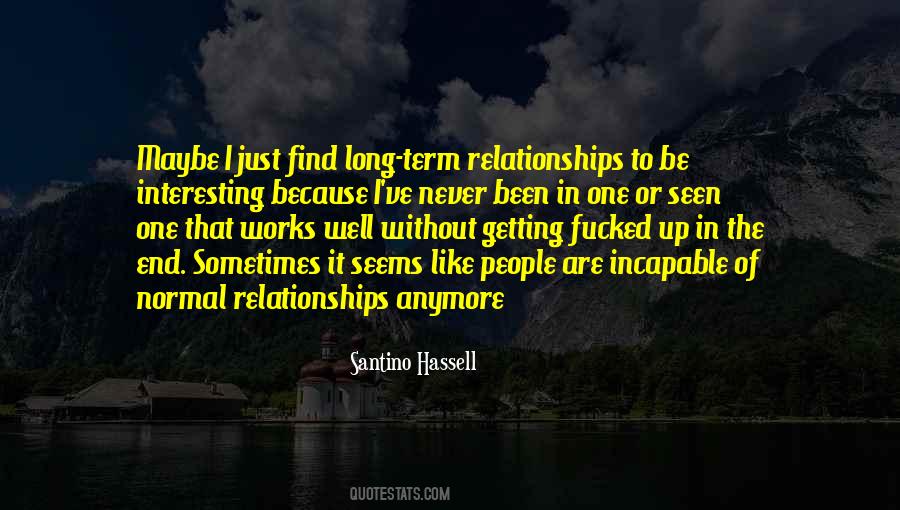 #23. Sometimes it seems to stand still. Like you're in a bag and you can't get out and somebody's always telling you that it will get better with time and time just seems to stand still and laugh at you and your pain. - Author: Hubert Selby Jr.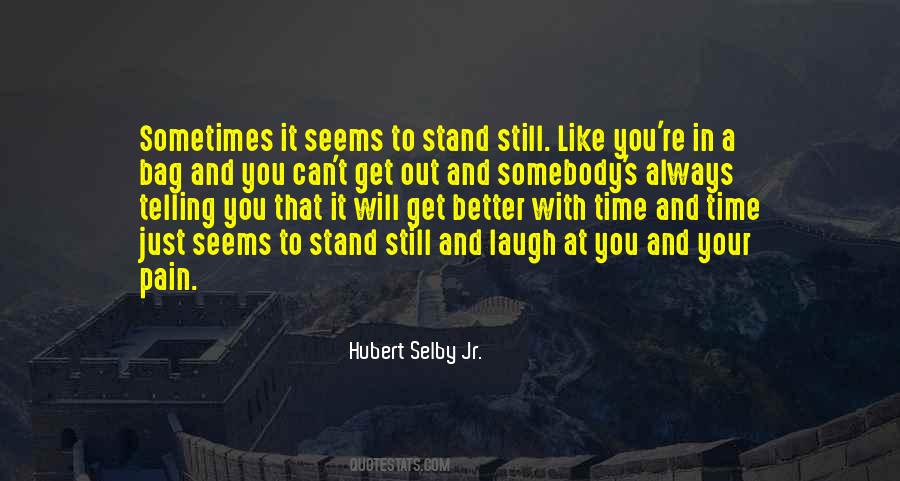 #24. Sometimes the world seems like a big hole. You spend all your life shouting down it and all you hear are echoes of some idiot yelling nonsense down a hole. - Author: Adam Duritz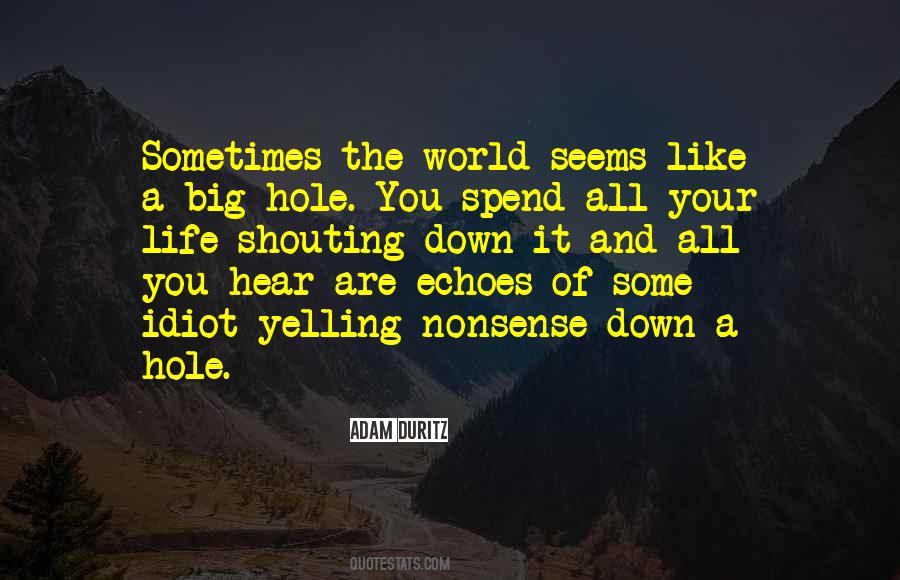 #25. Sometimes things feel hopeless. Not always within my own life - but looking outward, it seems like rough times lie ahead of us. The world seems to be kind of caving in on itself in a lot of ways. But I try to look on the bright side. - Author: Jenny Lewis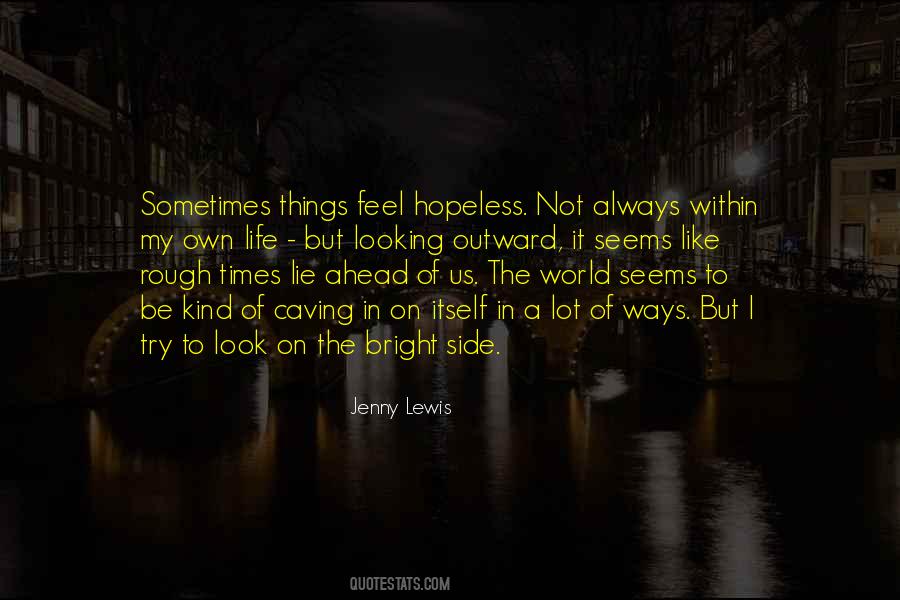 #26. Sometimes my whole life seems like a dream; occasionally I think that someone else has lived it for me. The events and the sensations, the stories and the things that make me what I am in the eyes of other people, the list of facts that make my life ... They could be mine, they might be yours. - Author: Sebastian Faulks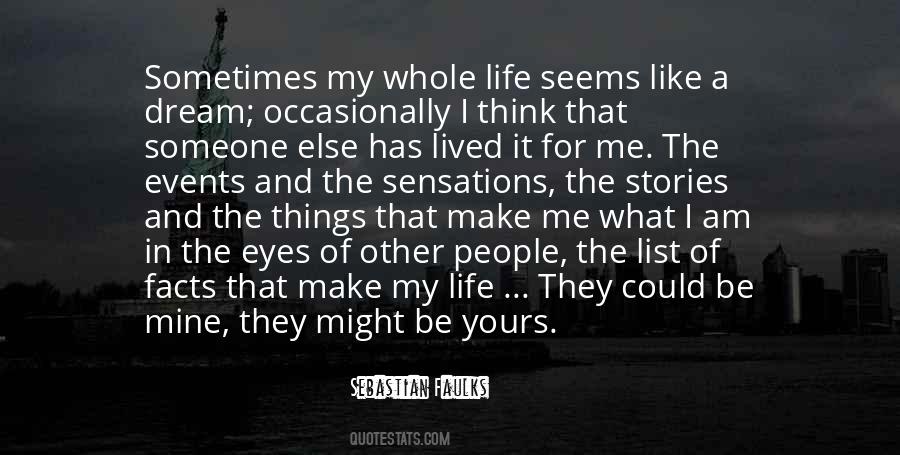 #27. It seems like teams want a guy who can get 10, 11, 12 assists. That's the kind of player I want to be. Sometimes that is more important than scoring 30 points a night. - Author: Deron Williams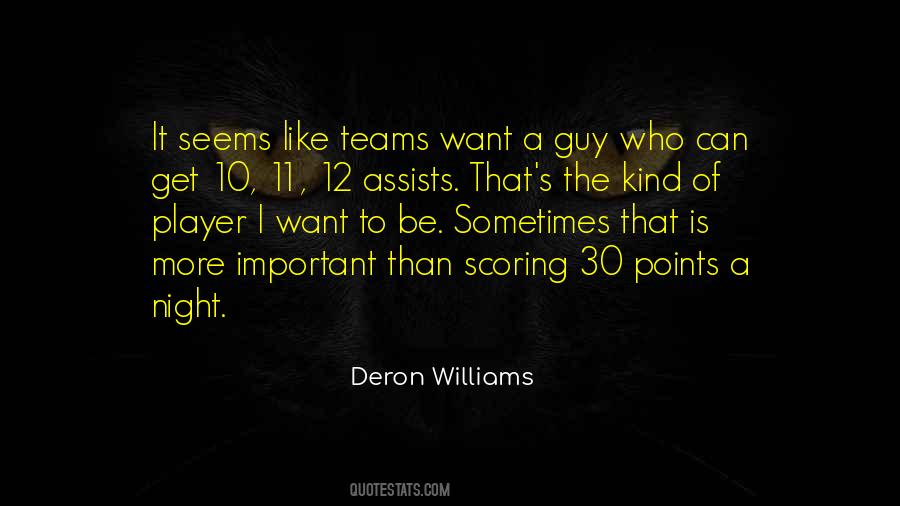 #28. It never seems to occur to some people, that, like beauty, a sense of humor may sometimes be fatal. - Author: Edgar Rice Burroughs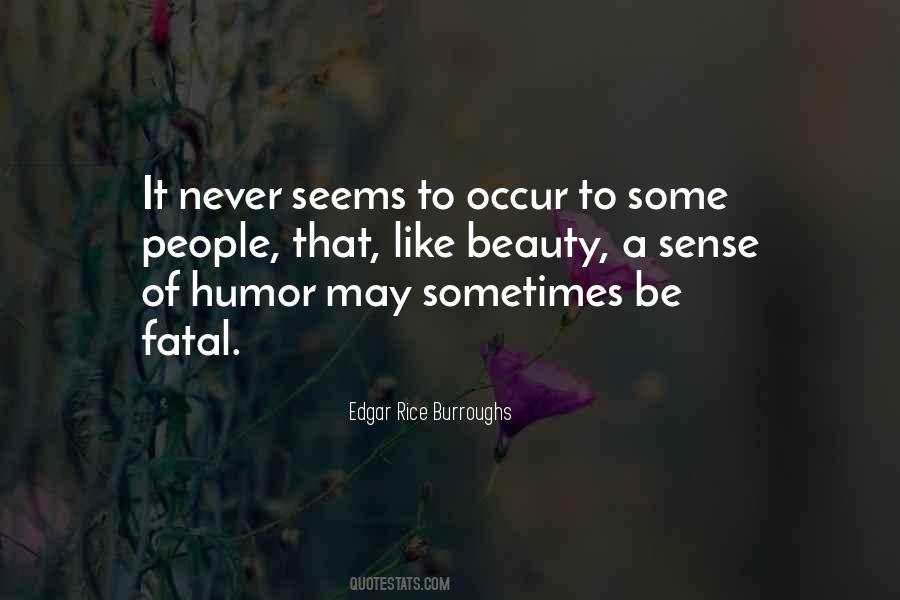 #29. Time becomes very weird. Sometimes it seems as if the hours are rushing by in a blur, the moment of performance hurtling toward me. Other times the clock seems to poke along like a sloth with chronic fatigue syndrome. - Author: Bruce Coville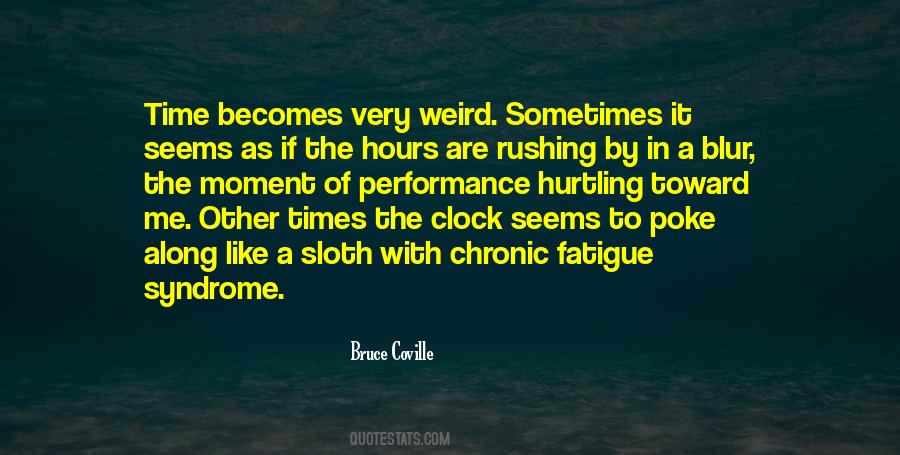 #30. To other people, it sometimes seems like nothing at all. You are walking around with your head on fire and no one can see the flames. - Author: Matt Haig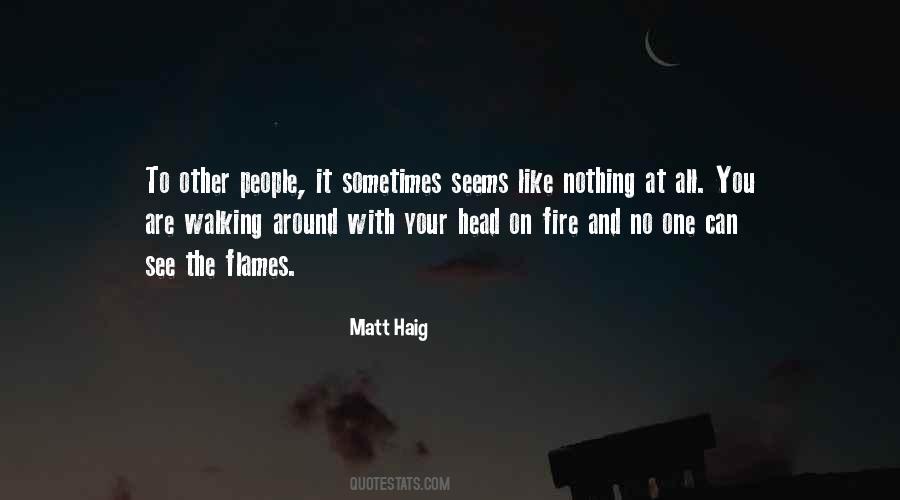 #31. Life's messy," he agreed. "But sometimes amazing things can happen, even when it seems like it's all falling apart. - Author: Lisa Brown Roberts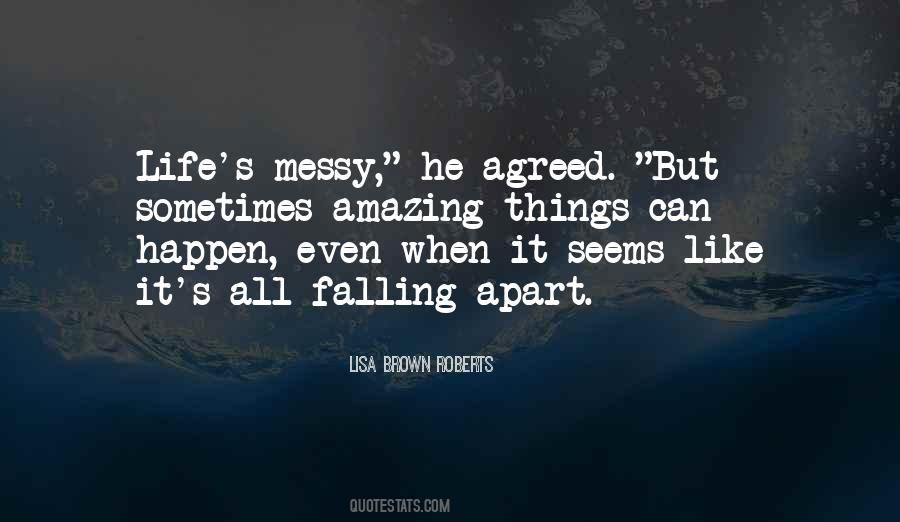 #32. Sometimes it seems like a little moment brings a whole world with it. - Author: Elizabeth Berg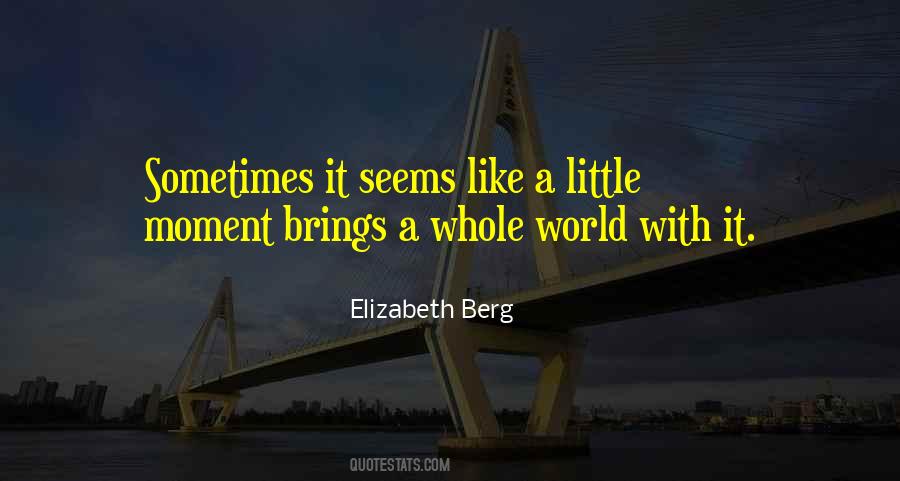 #33. Perhaps it seems odd that a casual meeting on the street could have brought about such change. But sometimes life is like that isn't it - Author: Arthur Golden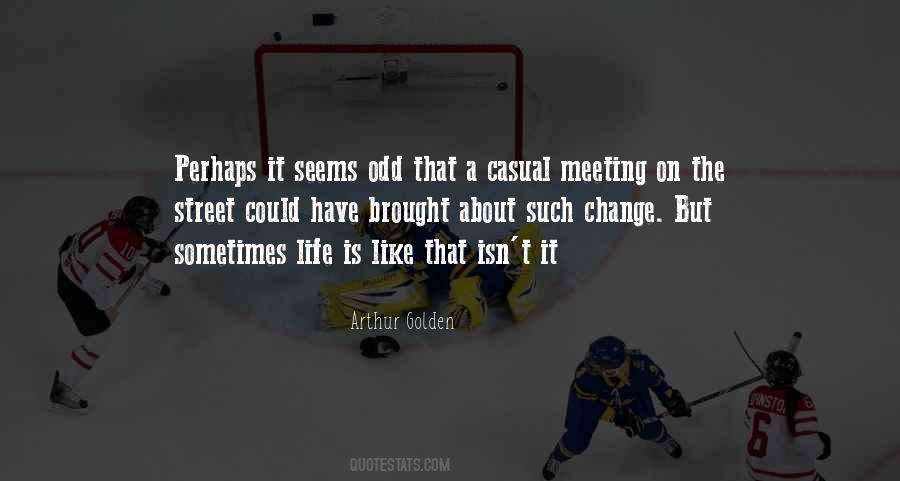 #34. Sometimes it seems like most people are being pulled into a negative energy, but then you meet strong individuals or strong leaders and they are free from it. - Author: Sakyong Mipham
#35. Sometimes it seems like all the things I need to know, I don't. And all the things I do know are completely wrong. - Author: Anna Carey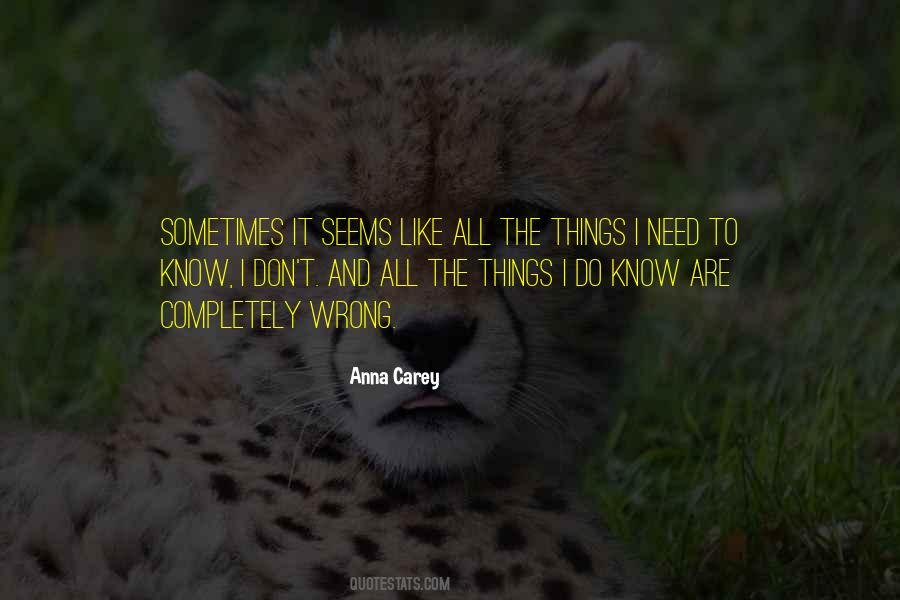 #36. It wasn't that we forgot. But things like that sometimes get stored away, and there never seems to be a good time to dig them up again. It hurts a lot less to keep them buried. That doesn't make it right, but it's just the way it is. - Author: Jennifer E. Smith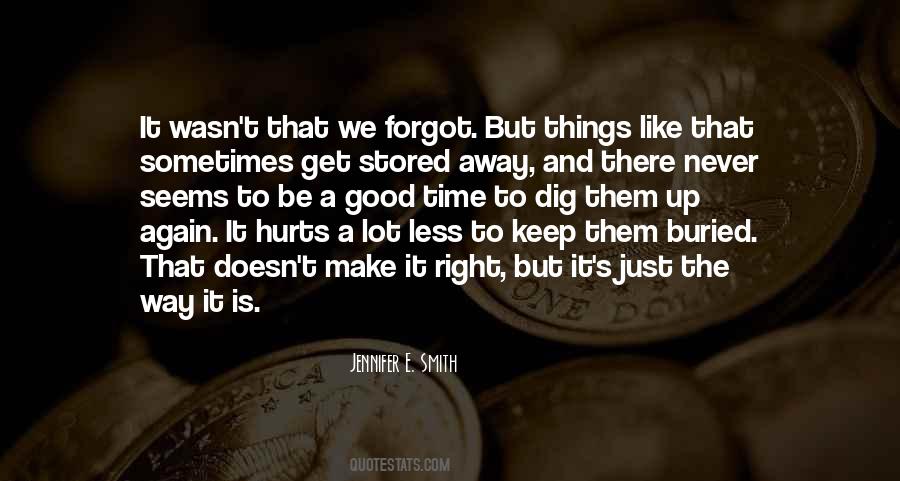 #37. Society now hovers over mankind like a crushing weight, sometimes it seems with a willful malevolence. - Author: Irving Howe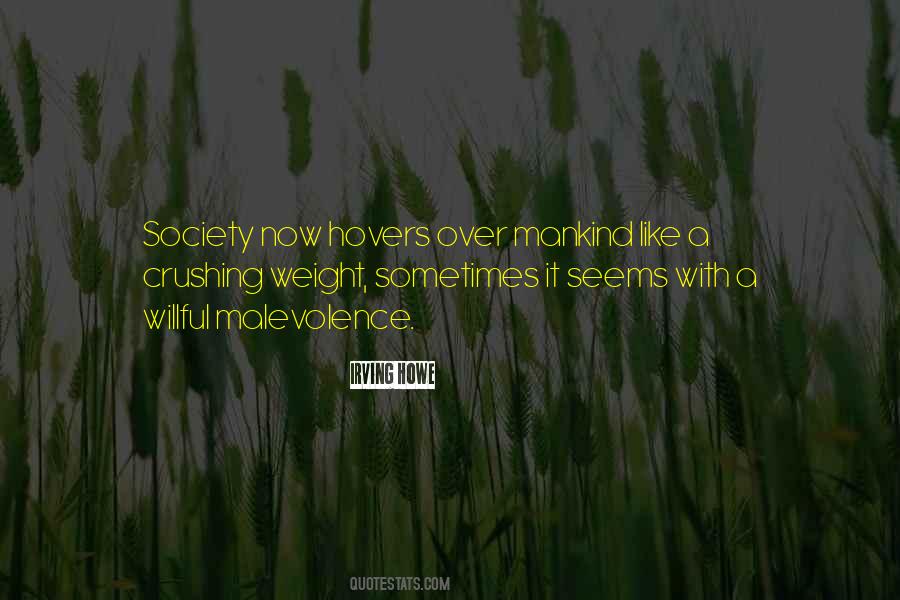 #38. You can be spiritual all by yourself. Everybody has a soul. But to be religious, it seems like you need other people, and then sometimes it becomes more about the people than the soul. - Author: Dan Groat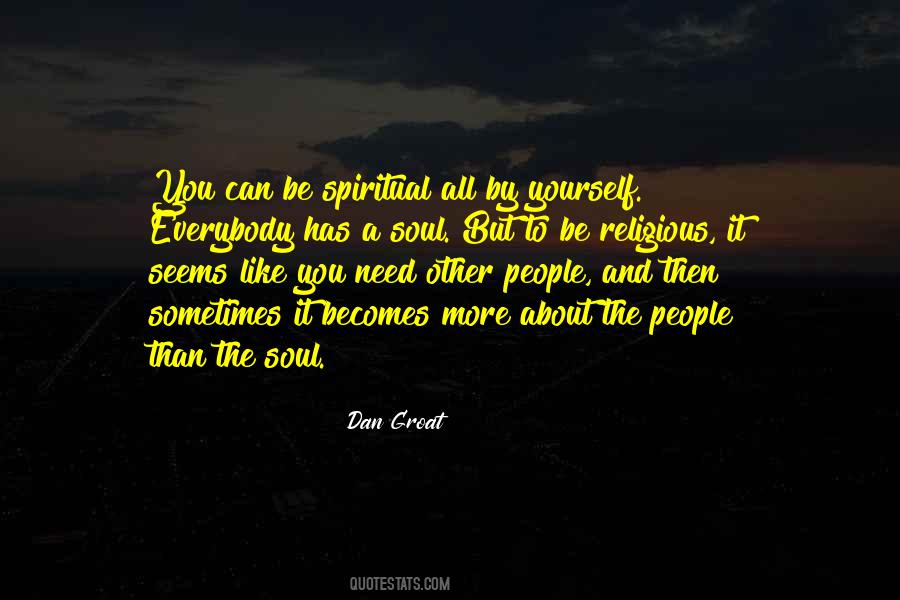 #39. It is possible for science to make the world like the Garden of Eden! Amen. But it is also possible, and sometimes it seems more probable, that science will make the world a very good imitation of hell. - Author: Maude Royden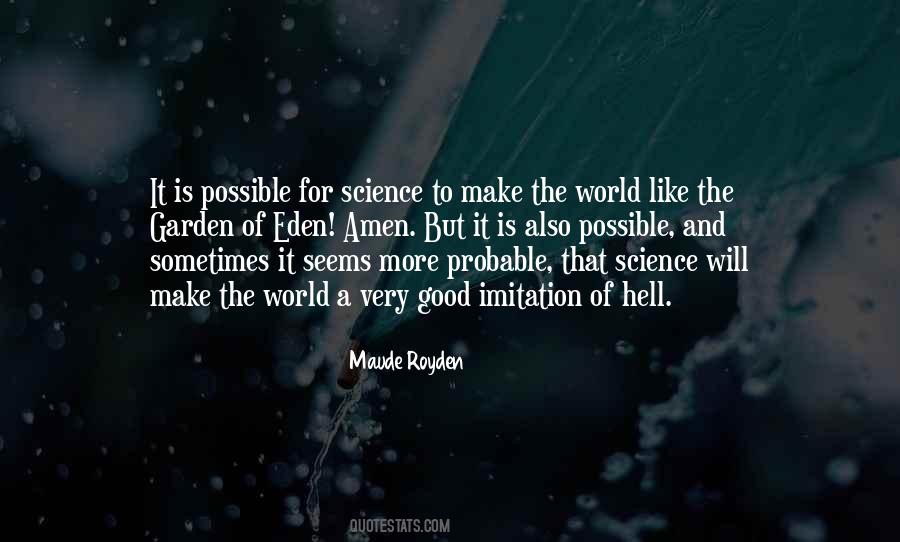 #40. It seems so long ago that he was last afraid of anything. Seventeen, was he then? Eighteen? Sometimes he thinks he's missing a lot by being like this - fear gives life a fillip. He wonders how it is he lost it all, and what there is - if anything - ever to bring it back. ("Jane Brown's Body") - Author: Cornell Woolrich
#41. Sometimes keeping a secret seems like the right thing to do because telling the truth might hurt someone and makes it seem like you don't love them. But really, telling the truth is the right thing to do. It's the most loving thing to do.
-Kaylee - Author: Ginny L. Yttrup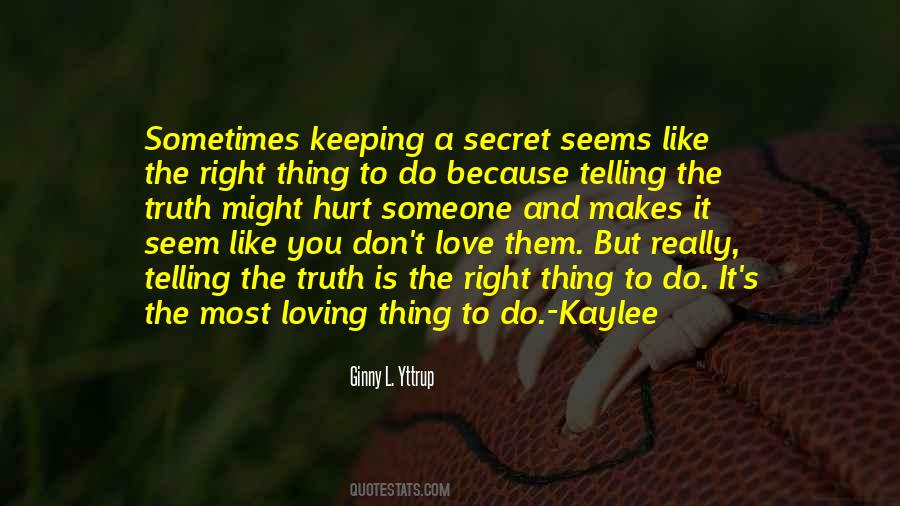 #42. In our democracy and our civic discourse, it seems as if folks who take religion the most seriously are sometimes also those who are suspicious of those not like them. - Author: Barack Obama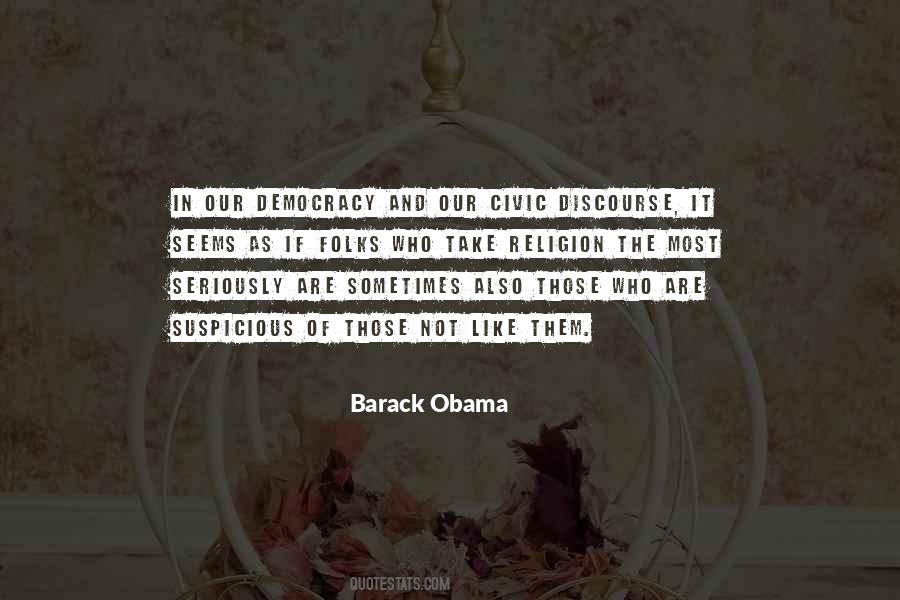 #43. True freedom has more to do with following the North Star than going whichever way the wind blows. Sometimes it seems like freedom is blowing with the winds of the day, but that kind of freedom is really an illusion. It turns your boat in circles. Freedom is sailing toward your dreams. - Author: Mary Pipher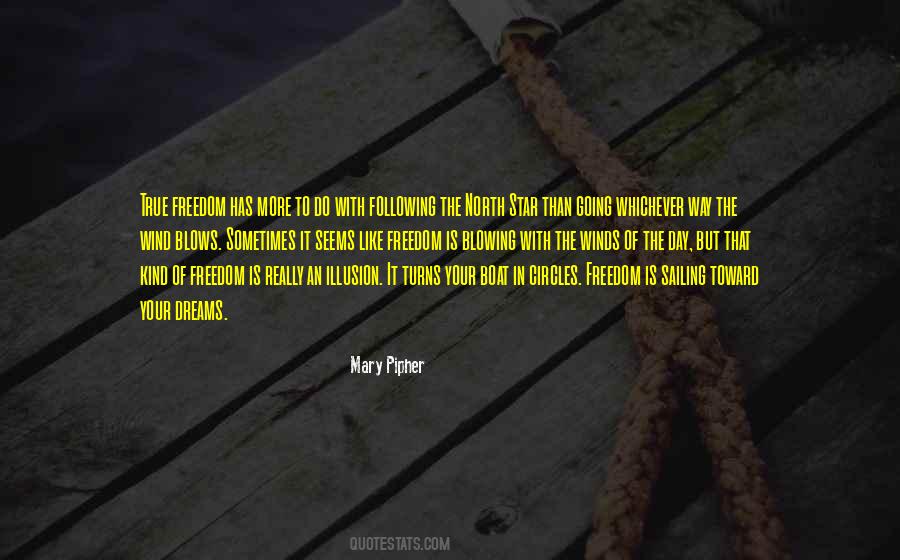 #44. Sometimes, it seems like sighted people can hardly see anything. - Author: Peter Straub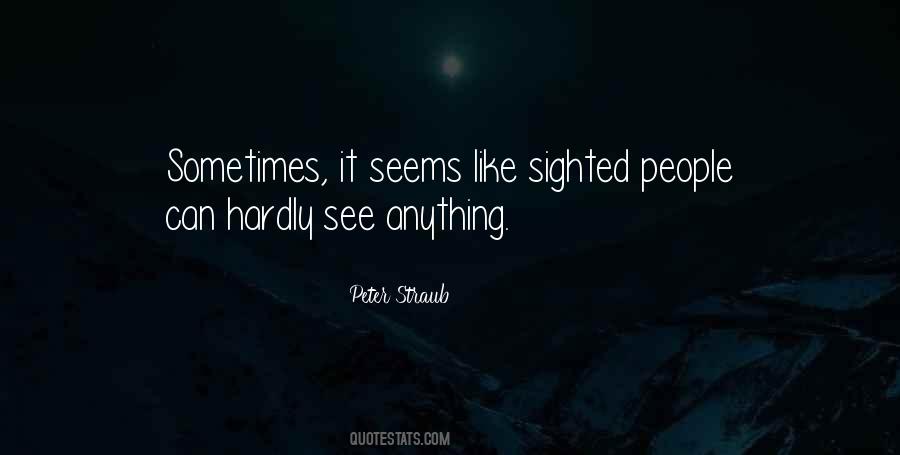 #45. There's times when the crockery seems alive, an' flies out o' your hand like a bird. It's like the glass, sometimes, 'ull crack as it stands. What is to be broke will be broke. - Author: George Eliot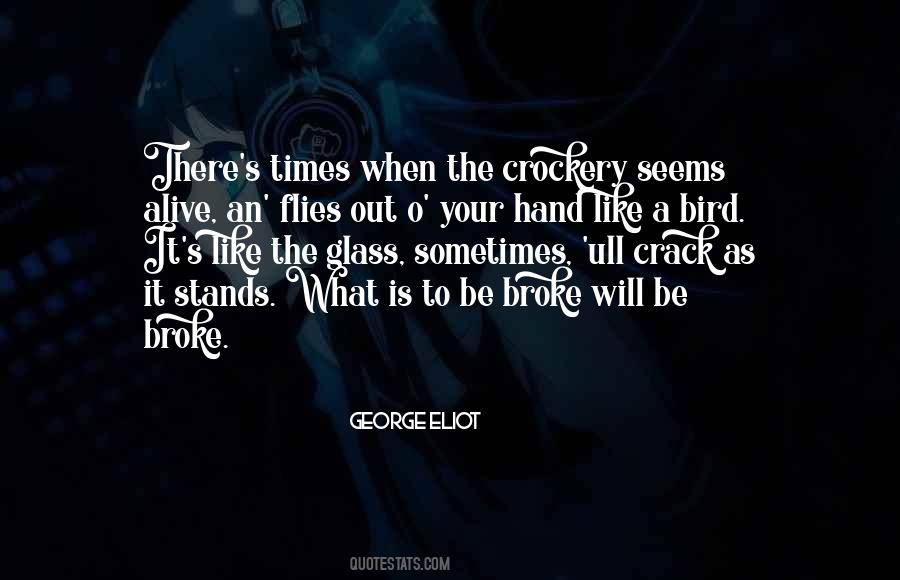 #46. My heart sometimes feels like it will burst for them both. The love has a strange fleeting intangibility about it and seems always to disappear and be converted into the past even before I have properly grasped it. - Author: Ben Hatch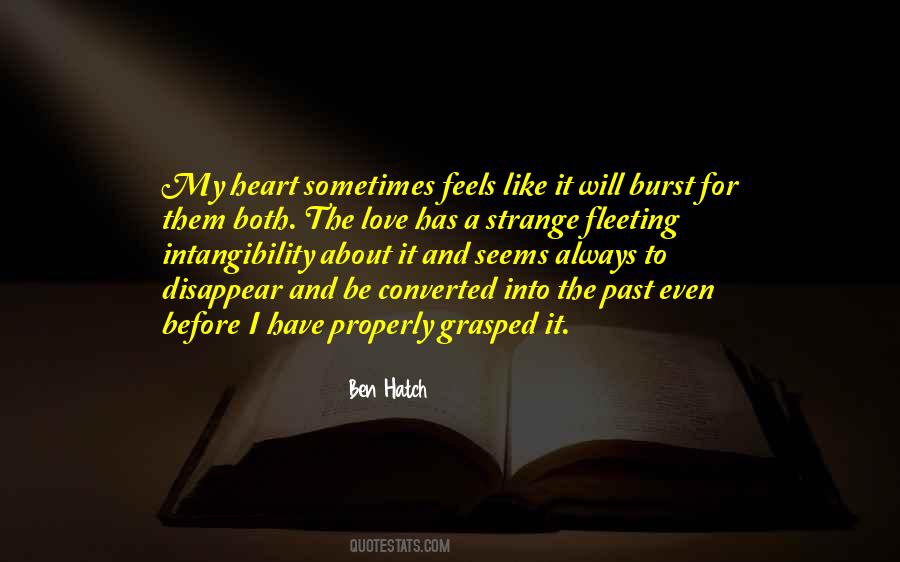 #47. Beauty is subjective. You know how sometimes what makes a person attractive is the way they make you laugh or how it seems like they can read your mind? - Author: Kiera Cass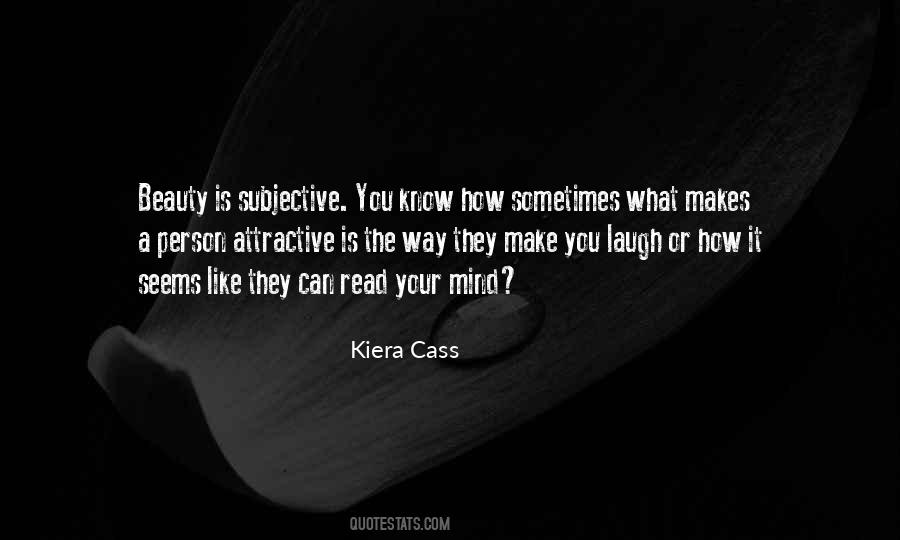 #48. All men are lonely. But sometimes it seems to me that we Americans are the loneliest of all. Our hunger for foreign places and new ways has been with us almost like a national disease. Our literature is stamped with a quality of longing and unrest, and our writers have been great wanderers. - Author: Carson McCullers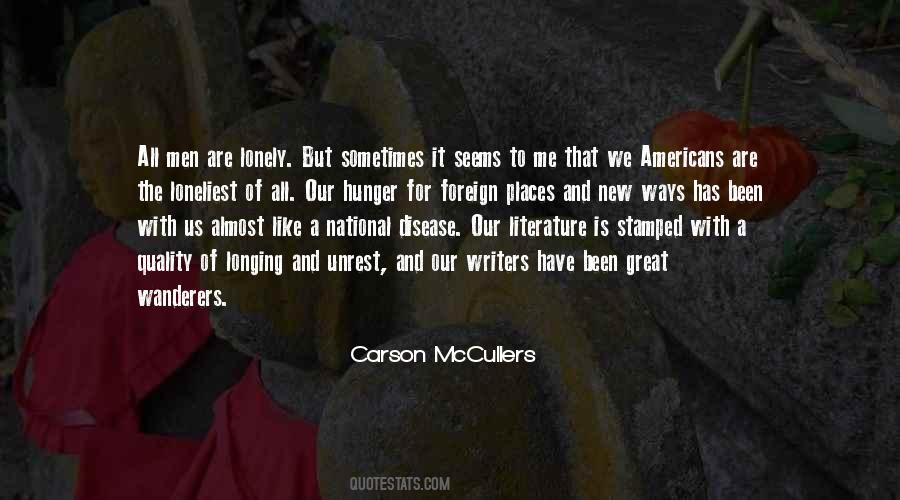 #49. The science of design, or of line-drawing, if you like to use this term, is the source and very essence of painting, sculpture, architecture ... Sometimes ... it seems to me that ... all the works of the human brain and hand are either design itself or a branch of that art. - Author: Michelangelo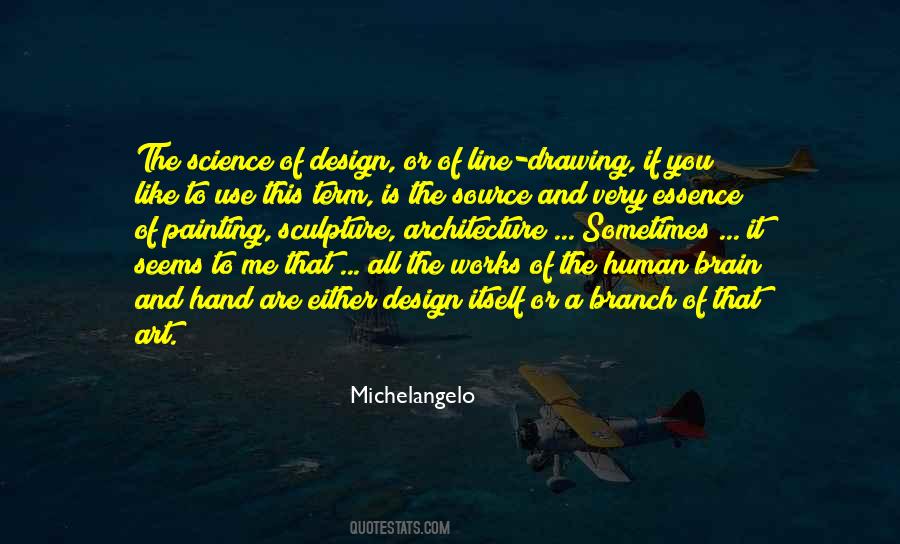 #50. What makes me laugh about politics, sometimes, is it seems like once we get to a point where our problems are seemingly unsolvable, it's because we're looking through a wrong point of view. If we turn the thing on its head, then maybe we might see it differently. - Author: Dave Davies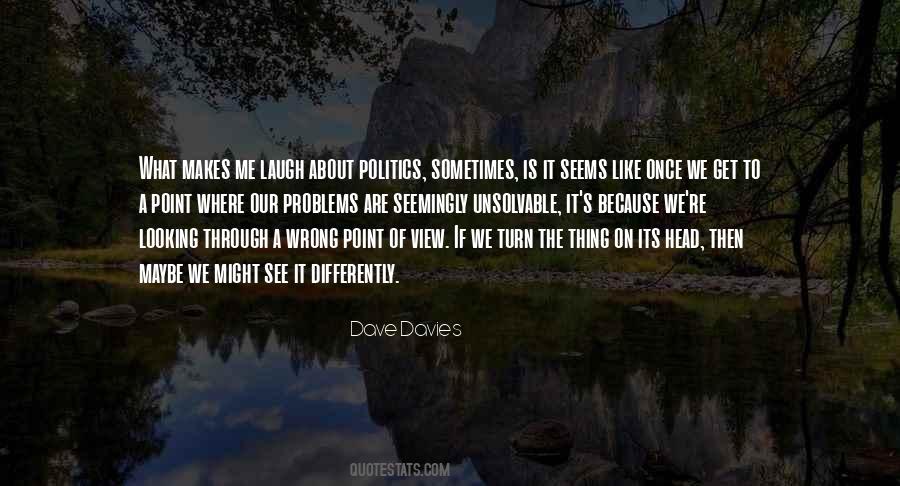 #51. I don't know if this is true to you but for me
sometimes it gets so bad
that anything else
say like
looking at a bird on an overhead
power line
seems as great as a Beethoven symphony.
then you forget it and you're back
again. - Author: Charles Bukowski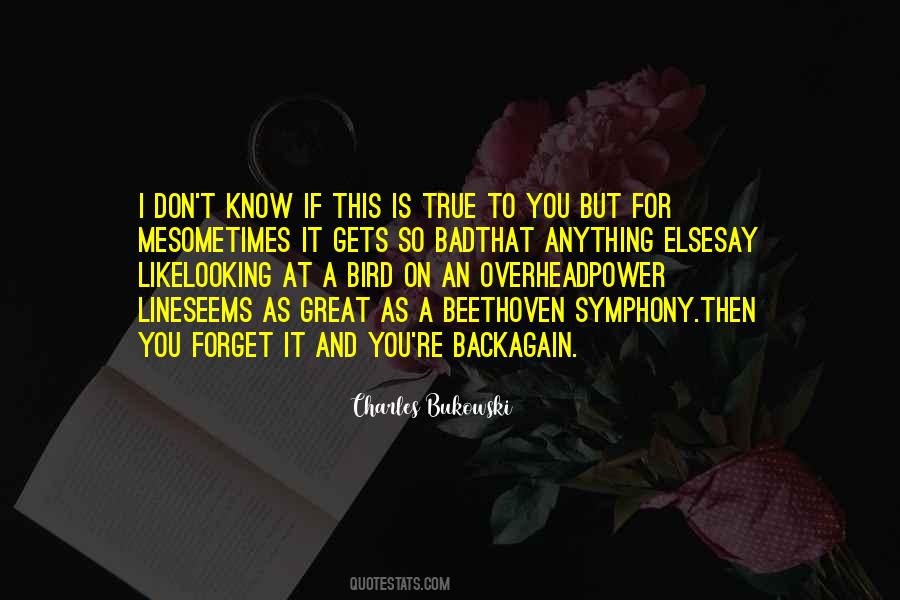 #52. Sometimes life is like this Ferris wheel. Even when everything seems wrong, the sky is black, it's starting to rain, and some lady throws up on you, the wheel will keep right on turning to spite you. (the Old Man) - Author: Michele Young-Stone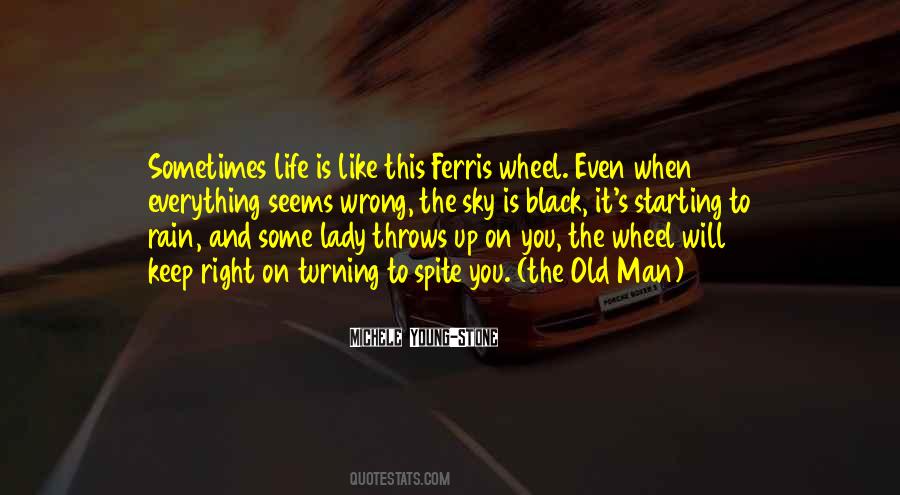 #53. Sometimes you won't feel pleasant during a meditation session; it seems like an uphill run. But when you get to the top, the view is rather breathtaking. - Author: Frederick Lenz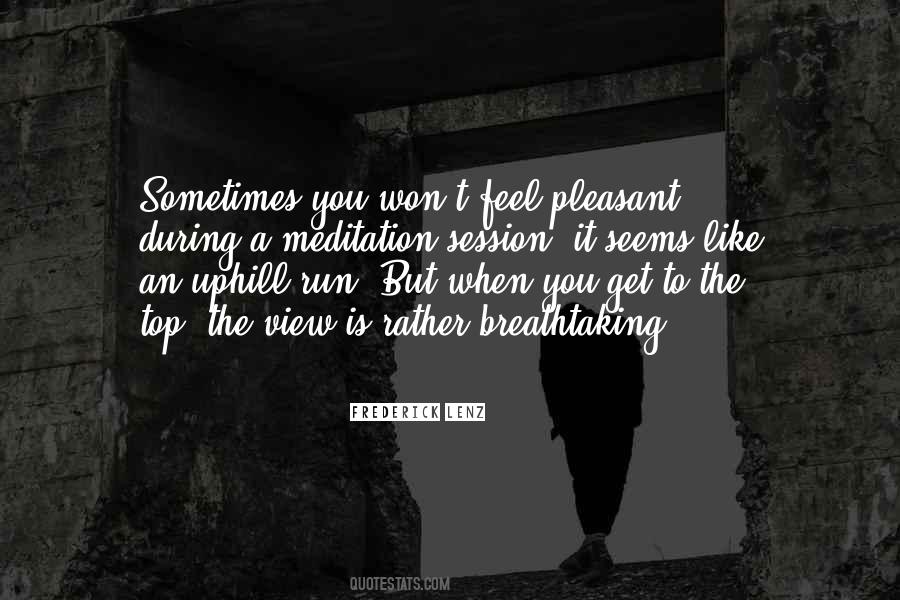 #54. Sometimes it seems like everyone knows who I am except me. - Author: Becky Albertalli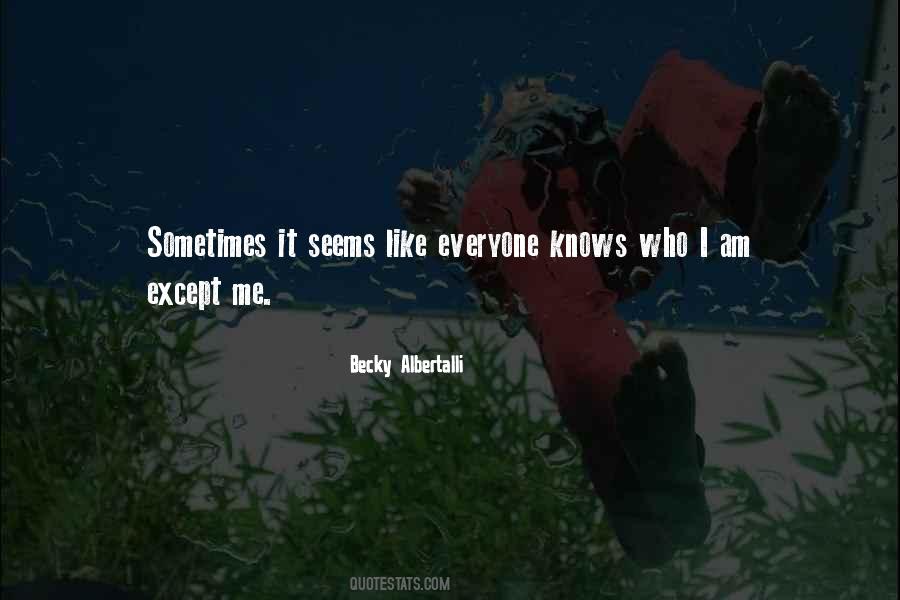 #55. God is like a lover. Sometimes he gives you so much pain that staying alive seems like a punishment but in the next moment he shows you so much love, affection and care that you forget all your pains. Yes, the wounds can't be healed completely but god compensates it with other happiness. - Author: Mayank Kashyap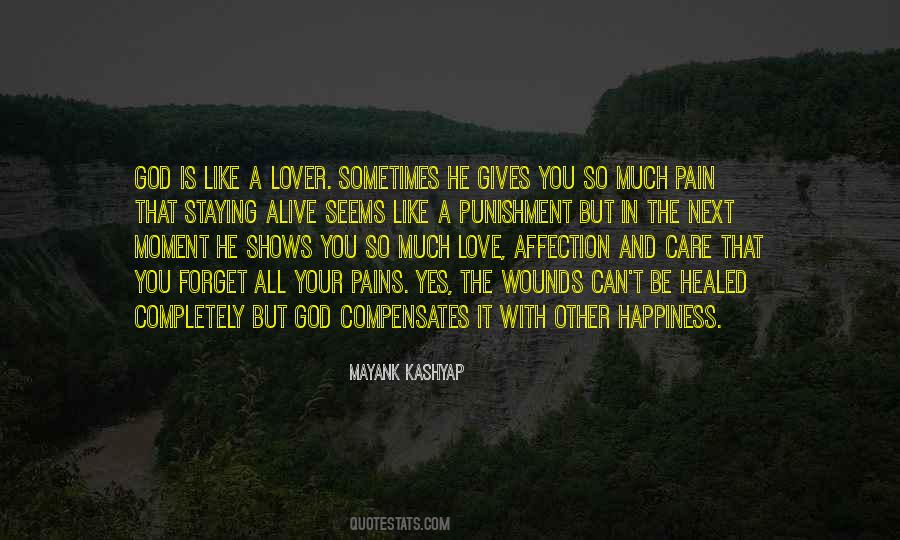 #56. You're the most stubborn person I've ever met, and sometimes it seems like your sole purpose in life is to make mine harder, but I swear, I love you more than I thought I could love anyone. - Author: James Patterson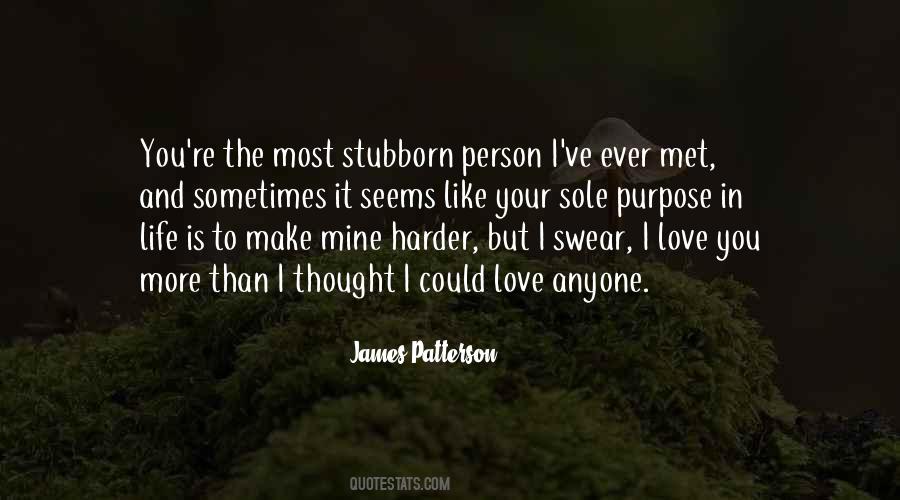 #57. It still is on the run,
time that is.
Sometimes it seems like everything's changing;
my whole world is rearranging.
Everything's different,
and yet everything's the same.
Time is just a crazy game. - Author: Amanda Leigh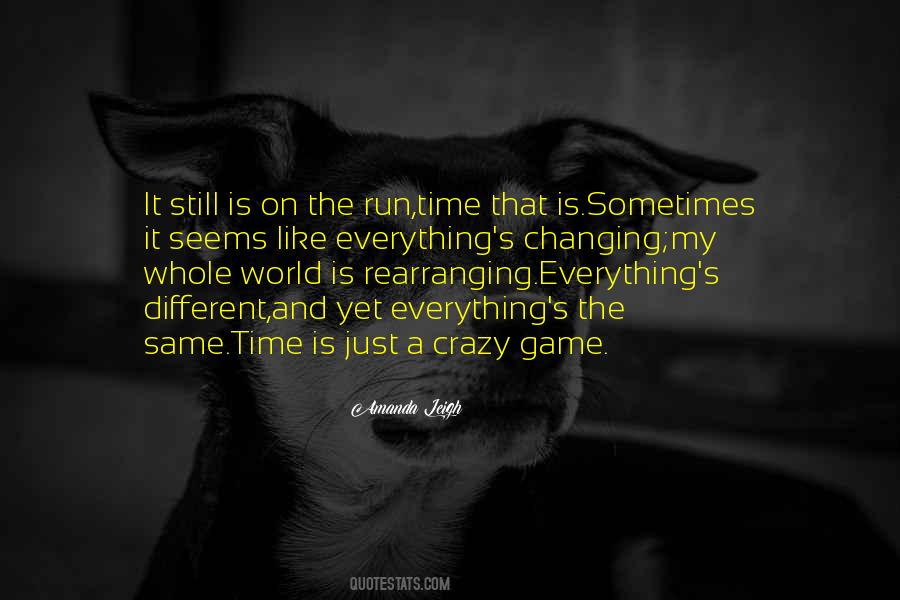 #58. Sometimes it's hard to see what could be, what we hope for, through the hurting part of what is, 'cause sometimes stuff hurts so much that we can't see nothing. But then sometimes what we hope for, well, seems like if we hope it long enough, hard enough, deep enough, it becomes what it. - Author: Charles Martin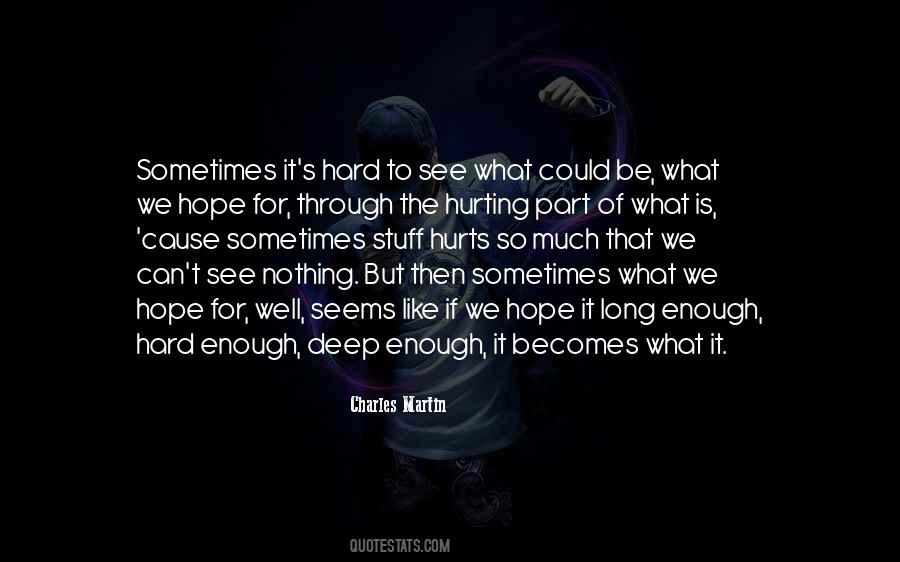 #59. Sometimes it seems like you and me against the world. - Author: Helen Reddy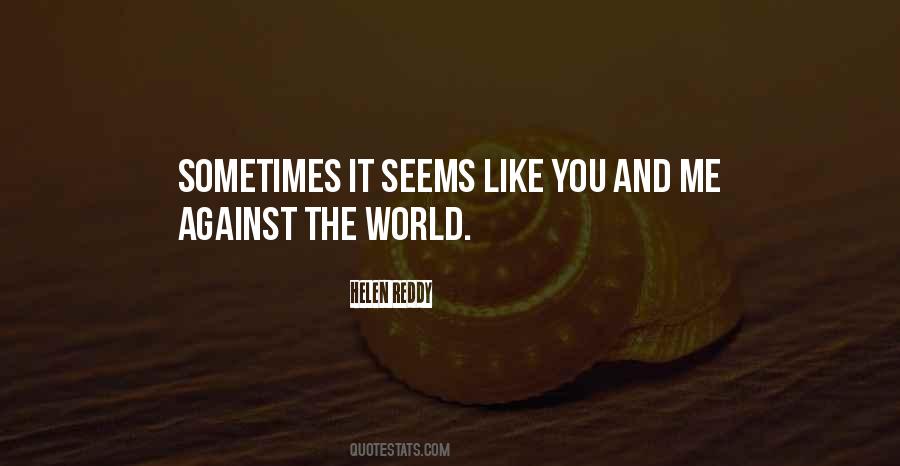 #60. I like to listen to sad music when I'm sad. It seems honest. It makes me cry, and sometimes a
good cry is the only thing that can make you feel better. - Author: Elizabeth Berg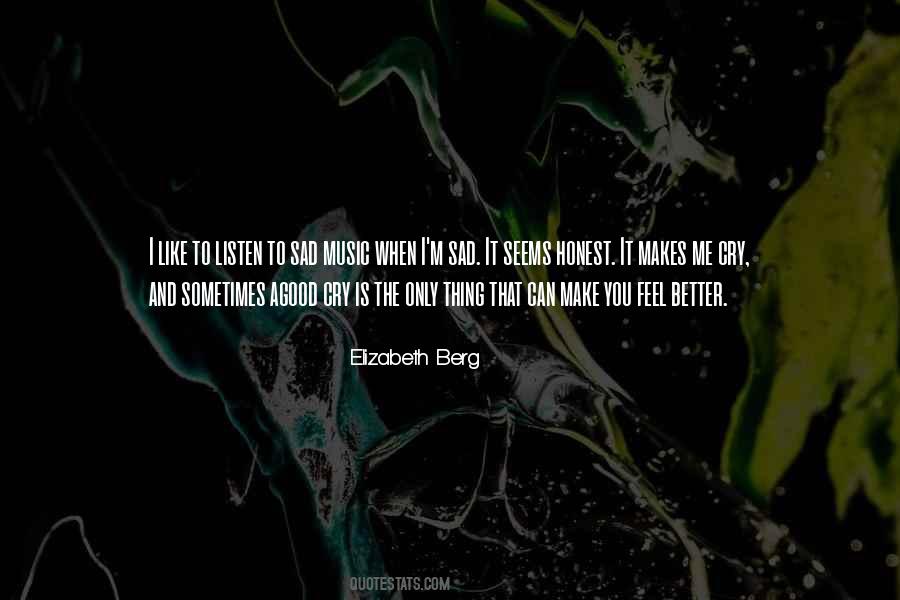 #61. Ultimately, I'm a fan of music. I describe writing music sometimes as hieroglyphics, like, you know, excavating, gently brushing off these artifacts and discovering the song underneath it all. It seems as if it is already written in it. - Author: CeeLo Green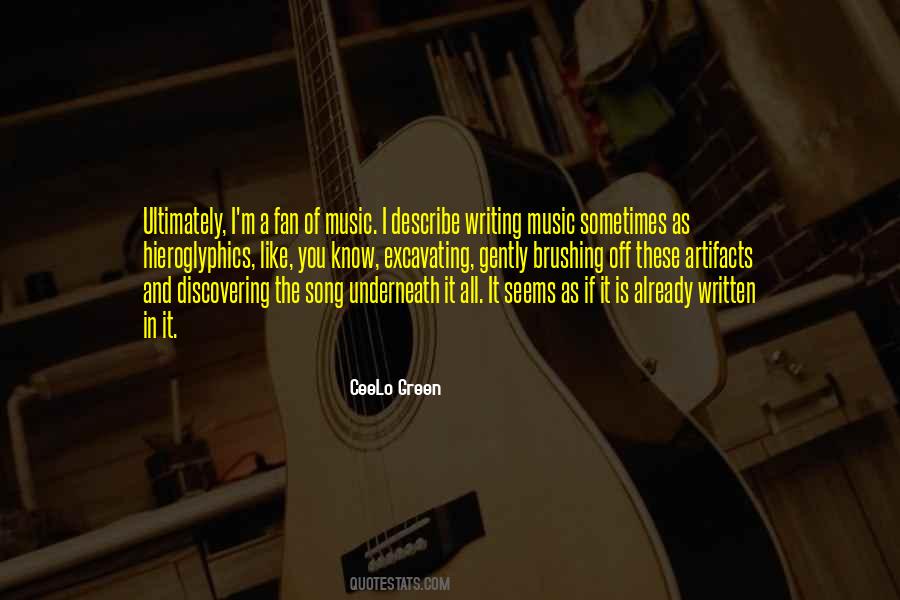 #62. Sometimes it seems like this is the choice - either kick ass or kiss ass. - Author: James Caan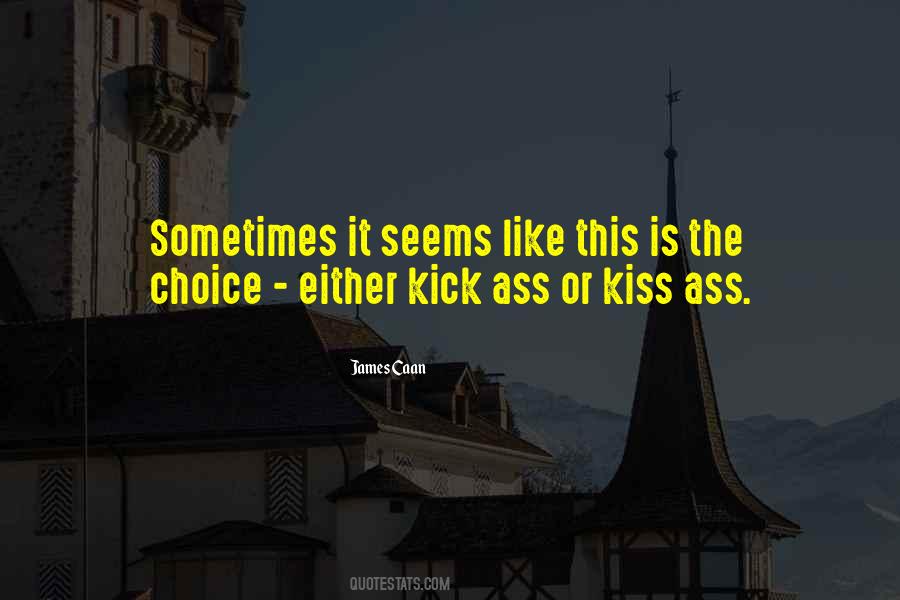 #63. Your confidence is the 15th club in your bag. You'd like it to be a thick headed driver. But it sometimes seems like a pretty weak little stick. - Author: Peter Jacobsen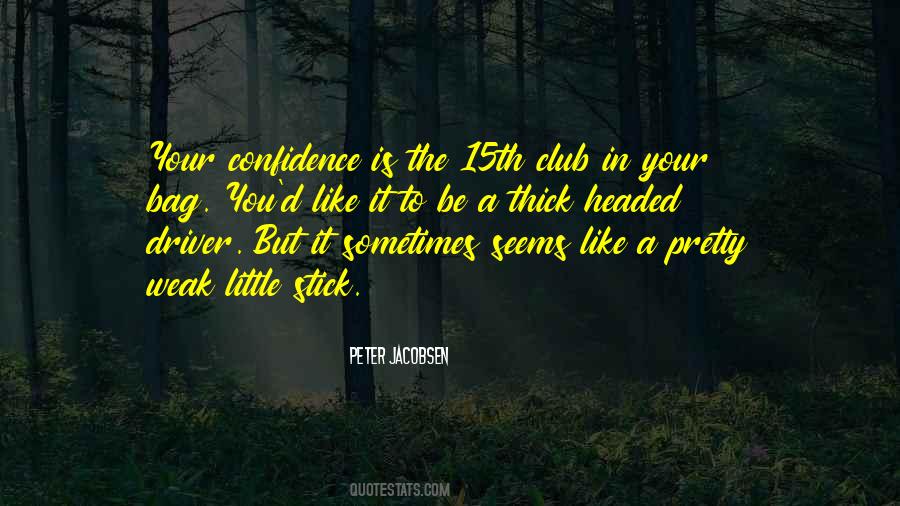 #64. Sometimes it seems like if you open up the door to reality and invite it in, it will just come flowing. - Author: Tobias Lindholm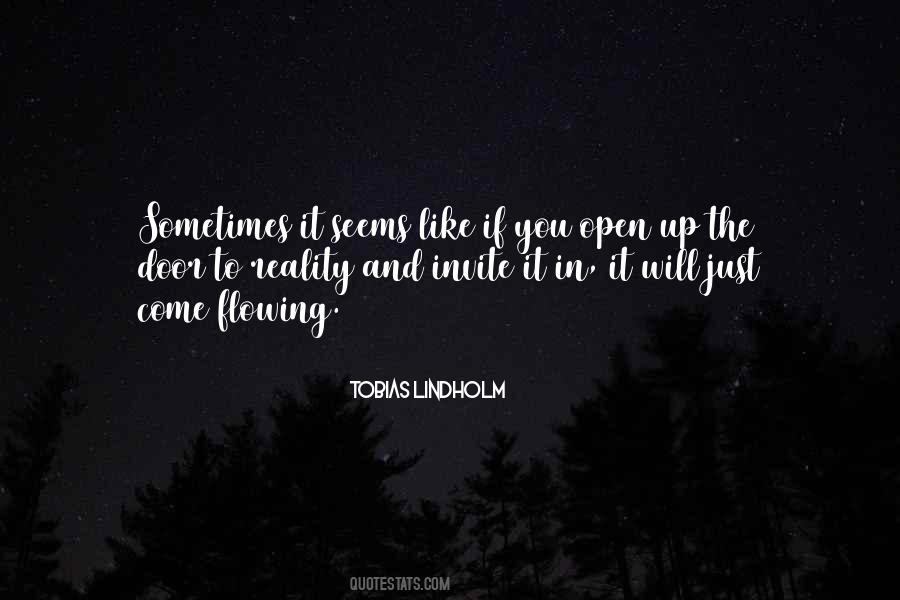 #65. I'm not a big lingerie girl. I see it, and I love it, and I appreciate it, and sometimes I even buy it, and then it never gets worn. It just seems like kind of a wasted middle step. Either you're dressed or you're not. What is this in-between stuff? - Author: Natalie Zea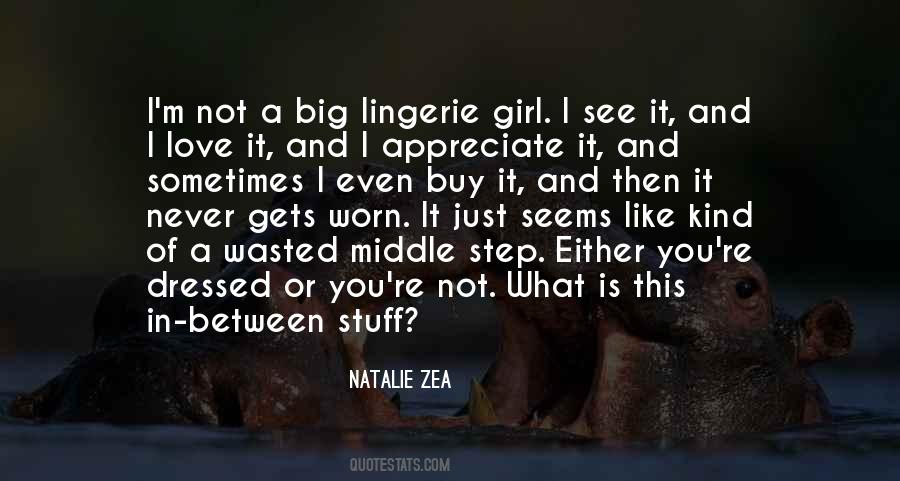 #66. In hacking, like painting, work comes in cycles. Sometimes you get excited about a new project and you want to work sixteen hours a day on it. Other times nothing seems interesting. - Author: Paul Graham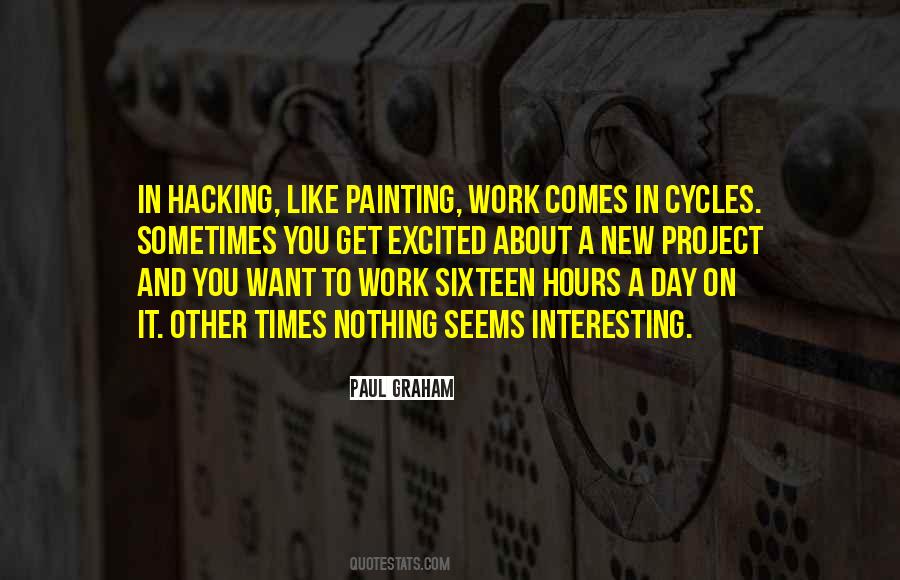 #67. Sometimes I hate being a girl. It seems like you are always on the verge of either crying or going insane. - Author: Elizabeth Storme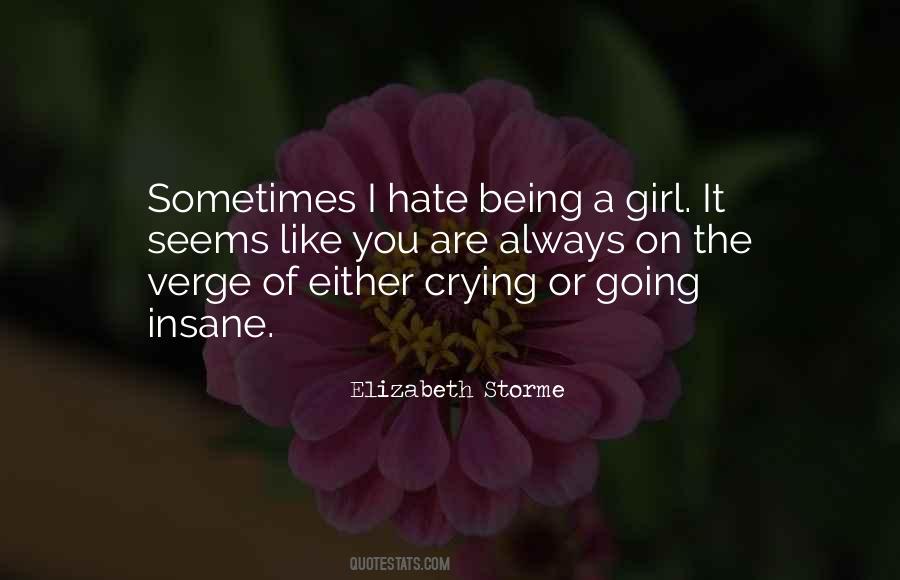 #68. Sometimes, when it seems like the pain is never going to end, I wish I'd gotten a different suite of magical talents from my mother. Like the power to avoid situations that end with me willingly jamming my arm into a door made entirely from animate, apparently angry rose briars. - Author: Seanan McGuire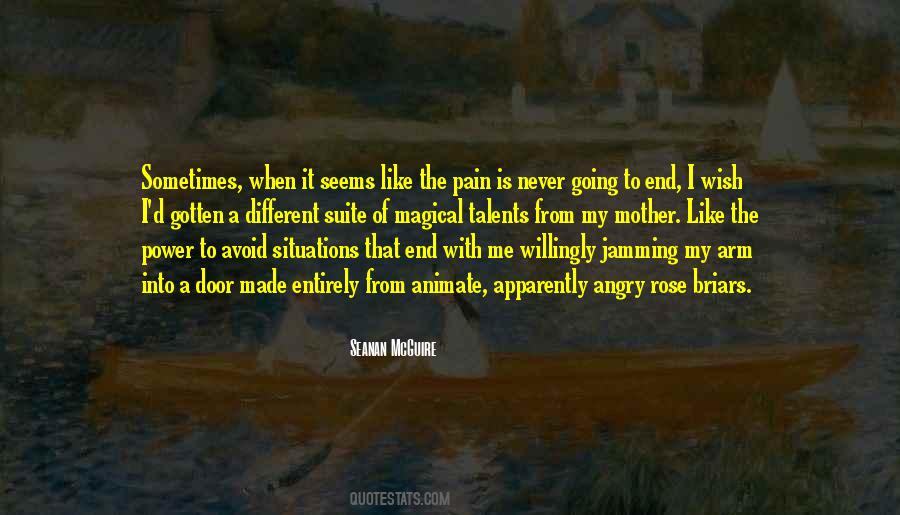 #69. It sometimes seems to me that some of our Western partners do not want Russia to fully recover. They would like Russia to be in a subdued state, and they want Russian resources to be used for the benefit of the U.S. economy. - Author: Mikhail Gorbachev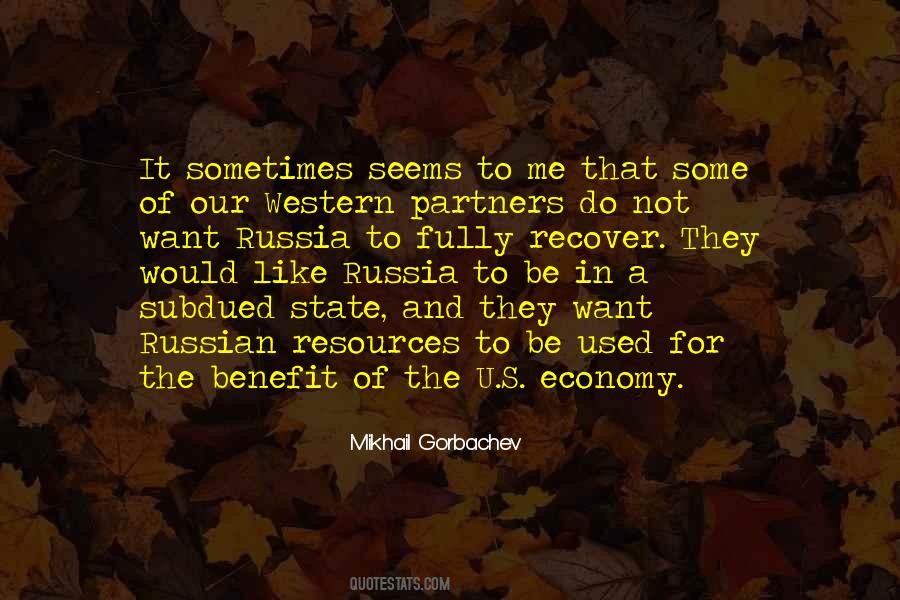 #70. Sometimes a name seems our most arbitrary possession,
and sometimes it seems like the grain in a rock
like a sculptor's hunk of Italian marble: Whack it
and you might get either your first glimpse of a saint
or a pile of rubble. - Author: Lucia Perillo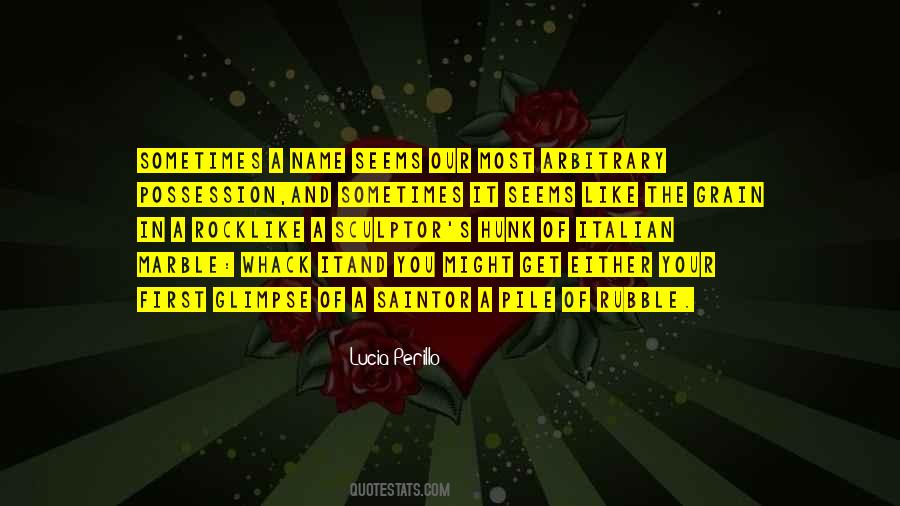 #71. I encourage everyone to know that God has a plan for their life and that God never makes a mistake even though it seems like He is not listening or paying attention sometimes. - Author: Nick Vujicic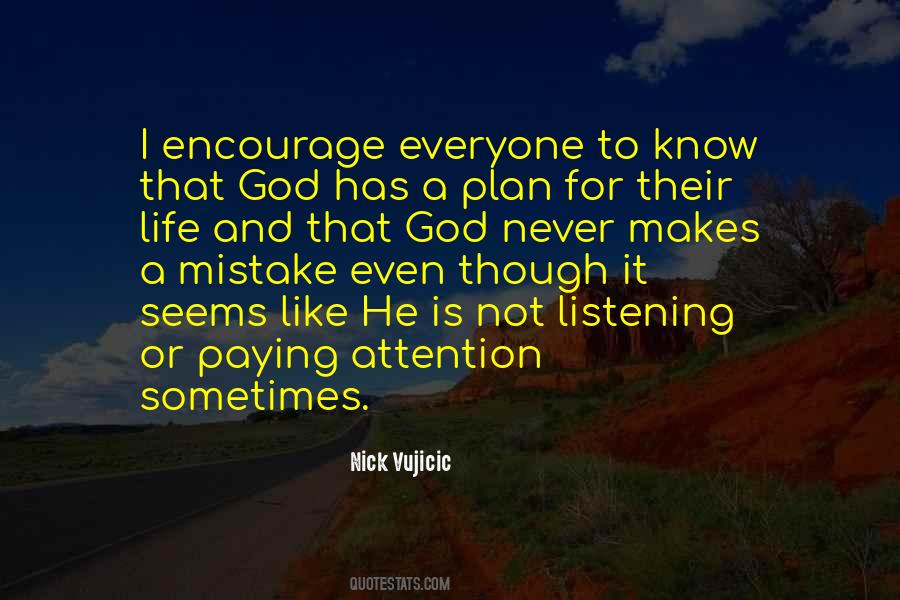 #72. are important sources of emotional, creative and spiritual nourishment for me. It seems there is never enough space at our kitchen table; the children need a surface to draw on, between the flowers and fruit bowls, and sometimes it feels like a game of musical chairs to seat everyone - Author: Louise Westerhout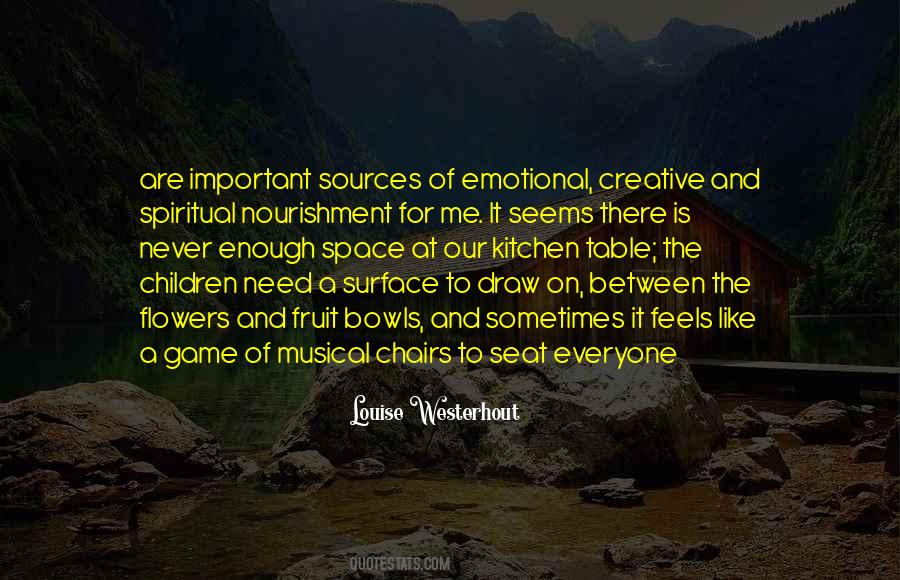 #73. Sometimes it seems like everything's changing;
my whole world is rearranging. - Author: Amanda Leigh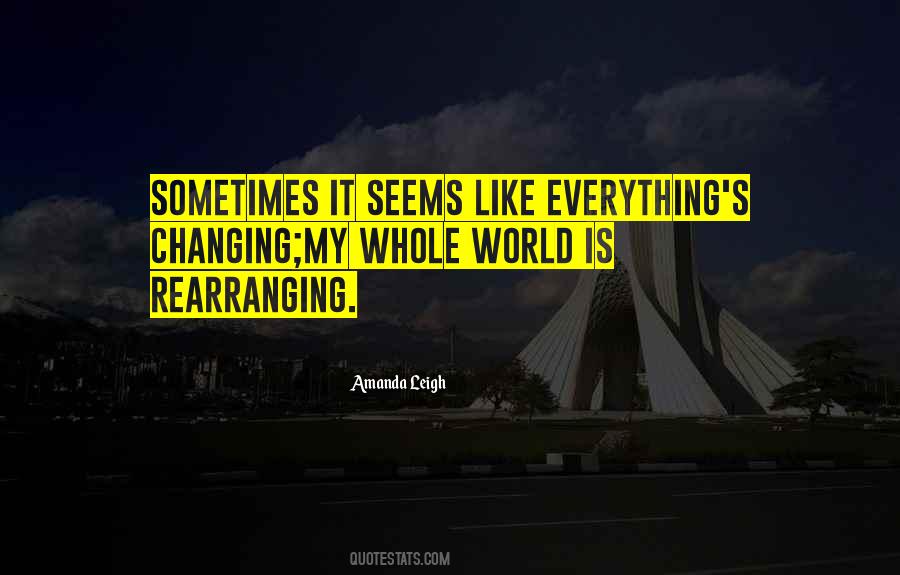 #74. When it comes to underwear, there's nothing worse than a visible panty line. Sometimes it seems like nobody knows that seamless underwear exists. But Calvin Klein makes them. Commando makes them. Hanky Panky makes them. You don't need a drawer full; a few pairs will suffice. - Author: Brad Goreski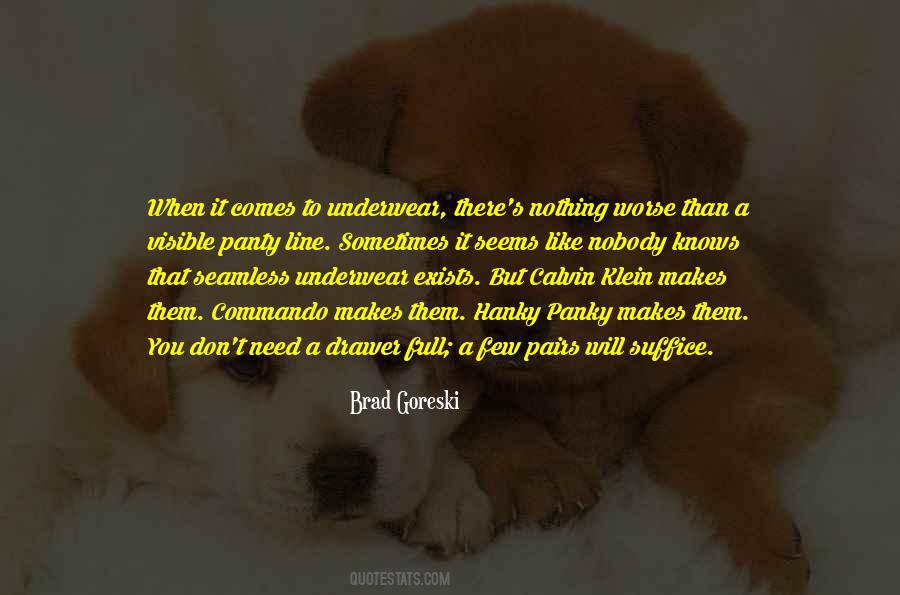 #75. Sometimes it seems like we're closer to our manicurists than we are our own souls. We have to find ways to get in touch with that and to listen to it and to hear it. - Author: Tori Amos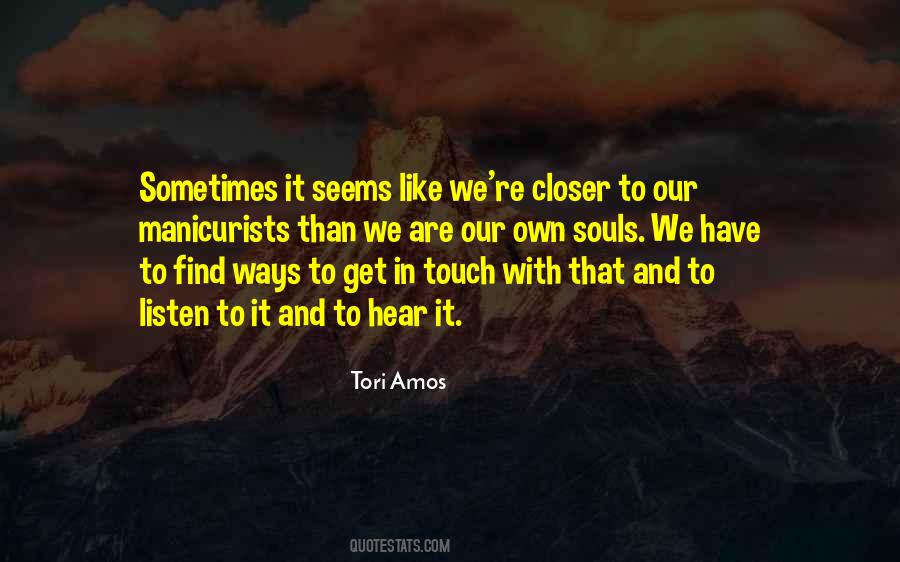 #76. If it doesn't seem like I'm working hard sometimes, that's someone else's problem. - Author: Jim Edmonds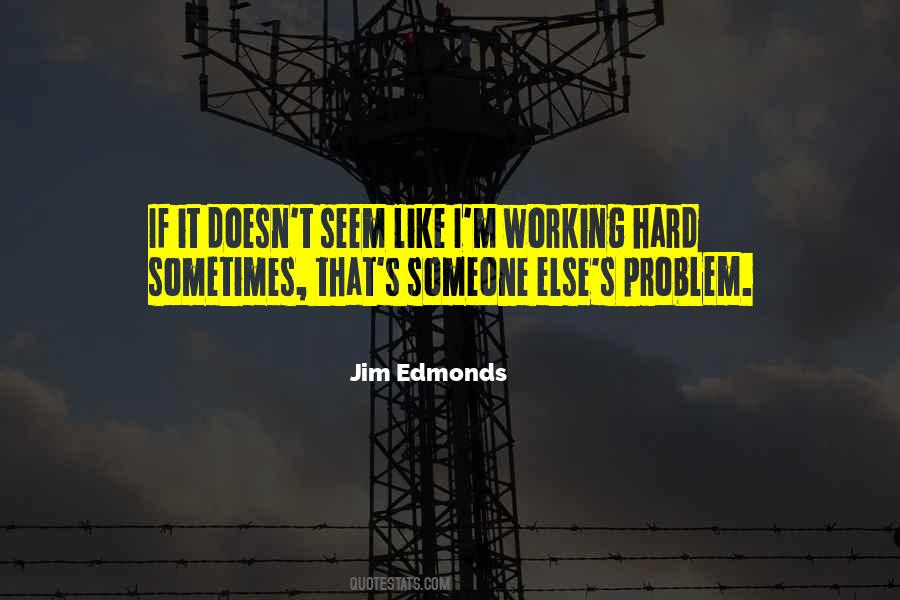 Famous Authors
Popular Topics