List of top 44 famous quotes and sayings about school camp to read and share with friends on your Facebook, Twitter, blogs.
Top 44 School Camp Quotes
#1. In high school, I was performing "forensics." You take a section of a play and portray all the characters. I even went to camp for forensics.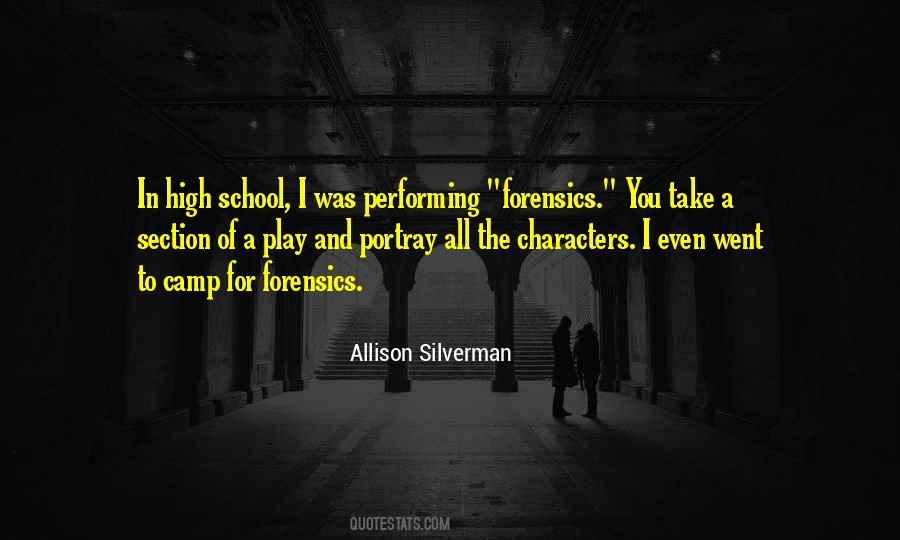 #2. When I was in grade school I was into chess club, Latin club, D&D, computer camp - everything that made vaginas go away.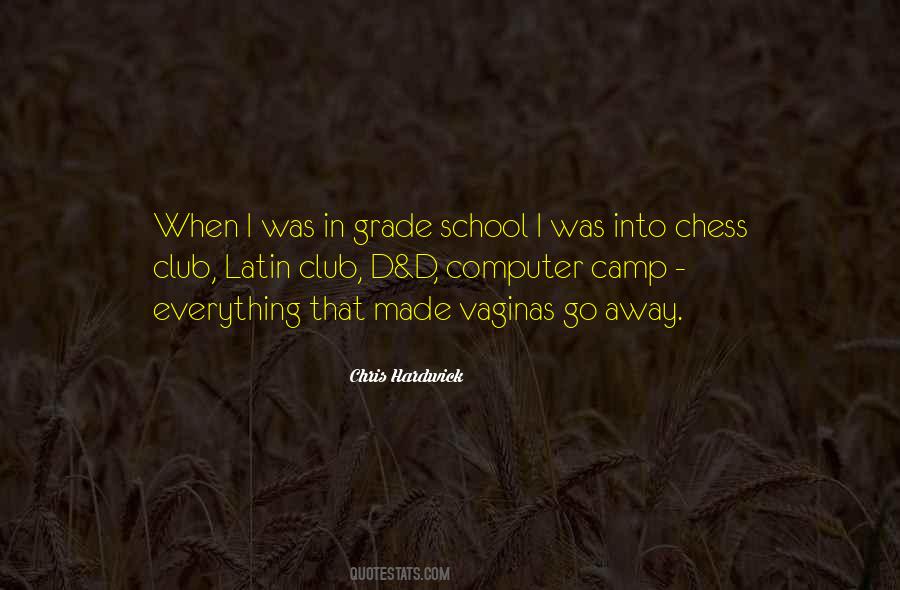 #3. Their world is governed by children, little despots whose needs - school and camp and activities and tutors - dictate every decision, and will for the next ten, fifteen, eighteen years[...] Having children has provided their adulthood with an instant and nonnegotiable sense of purpose and direction.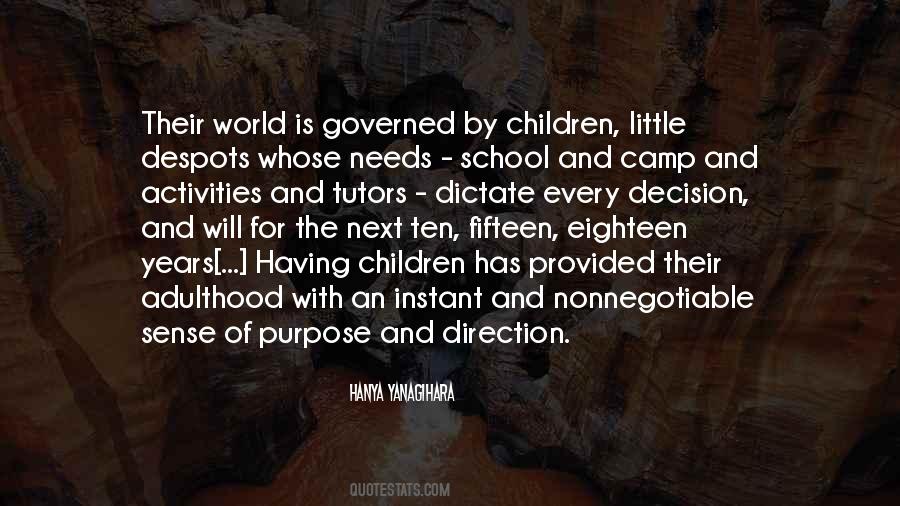 #4. This is real, this is me,' I said.
She blinked. 'Did you just quote Camp Rock at me? That's not very pop punk."
'I've gotta go my own way.'
'Okay, firstly, that's High School Musical...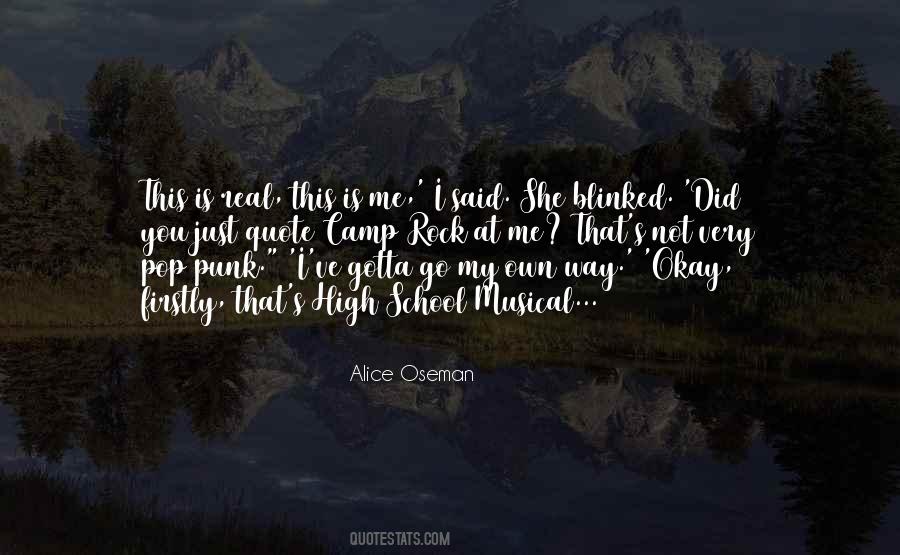 #5. In high school, I was sort of friends with the geeks and friends with the socials and everything else and not solidly in one camp. I've always lived on the borders.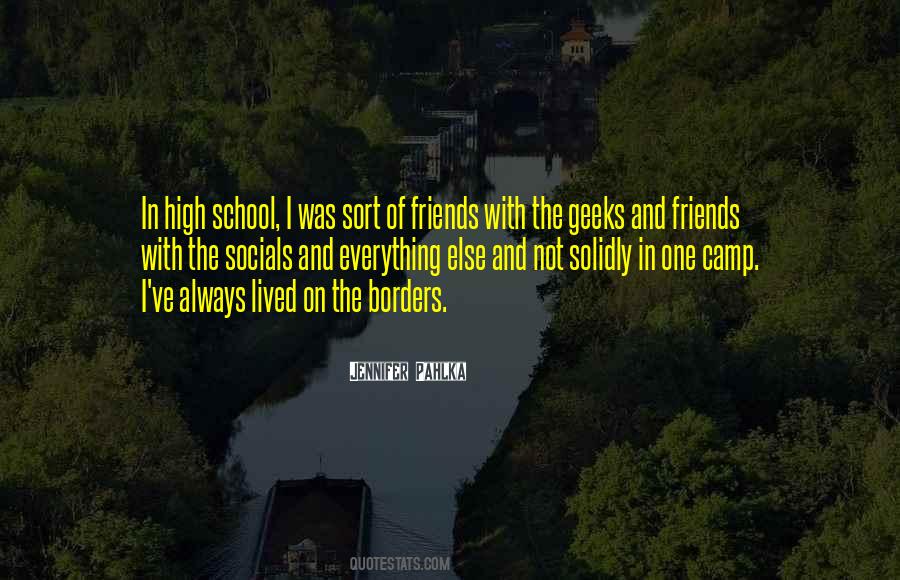 #6. In Michigan, if you want to act, it's local theater, it's high school theater and it's going to camp and putting on plays in the summer, and I always loved doing that. There was something that just drew me to it.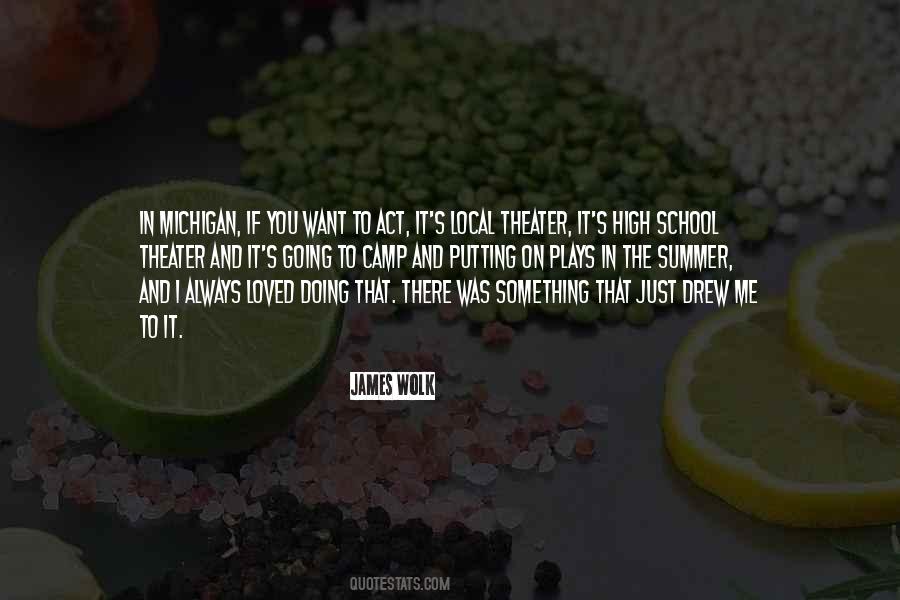 #7. People, when they come up to me, are like, 'Did we go to high school together? Or did I make out with you at sleepaway camp?' And oftentimes, yes, that is the answer, because I went to a giant high school and made out with everybody.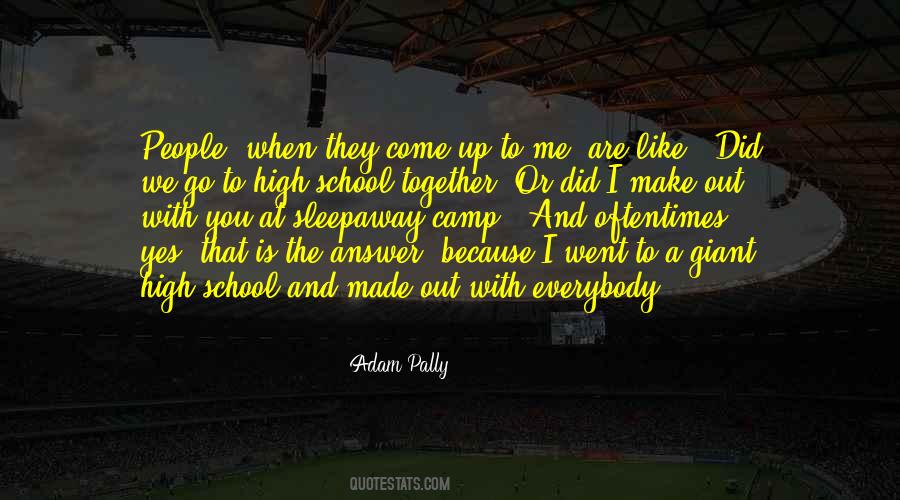 #8. It is the first law of practical courage. To be in the weakest camp is to be in the strongest school.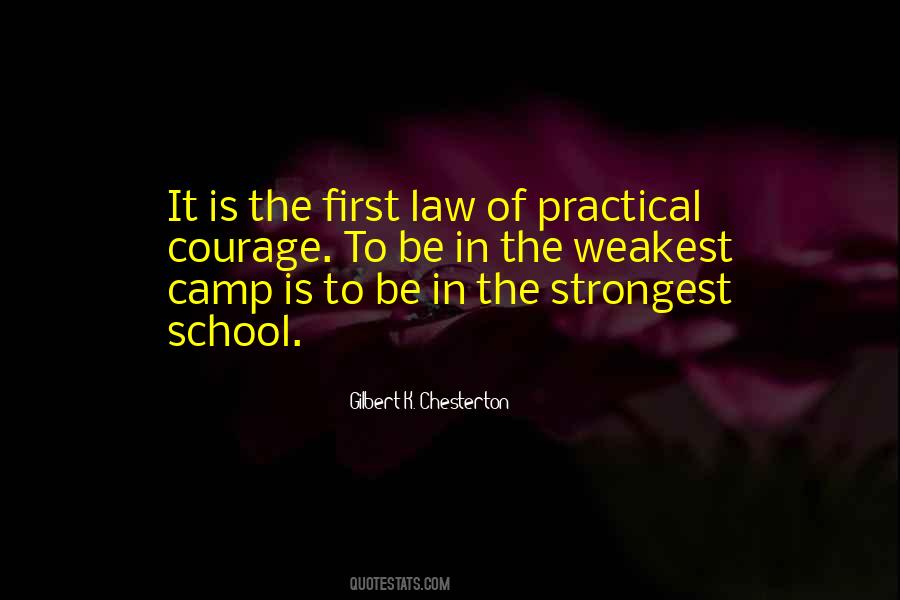 #9. As I held onto Rosemary Telesco for dear life, we both knew the truth. She was going off to camp and eventually, private school. We were on different roads, she and me. Two ships that passed in Sheep Meadow.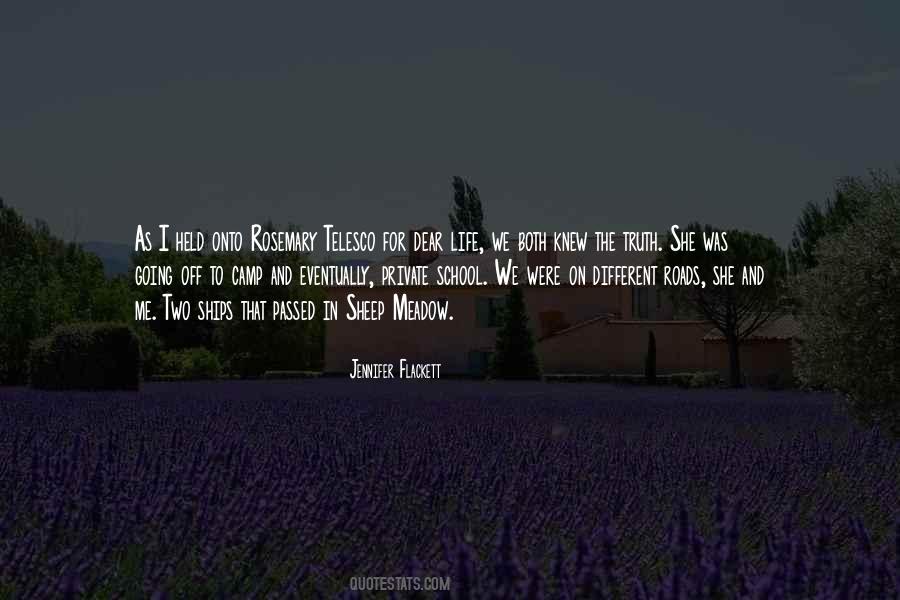 #10. Law school and summer camp are the two experiences that inform pretty much all I do.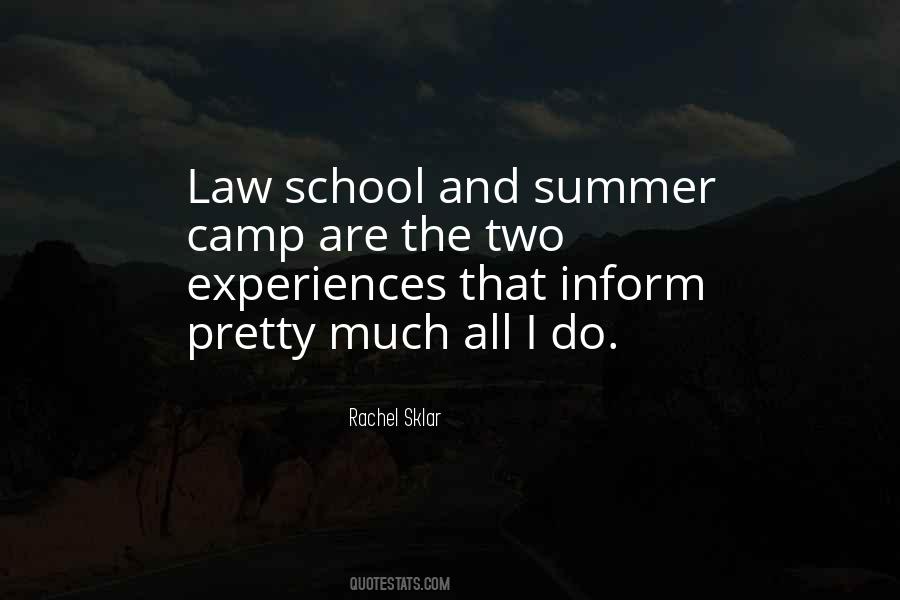 #11. I got sent to a health camp when I was about 6 years old, and we all had to wear the same starchy blue uniform. The lady who took care of me after school knit me a burgundy sweater. It was the only thing that gave me any individuality.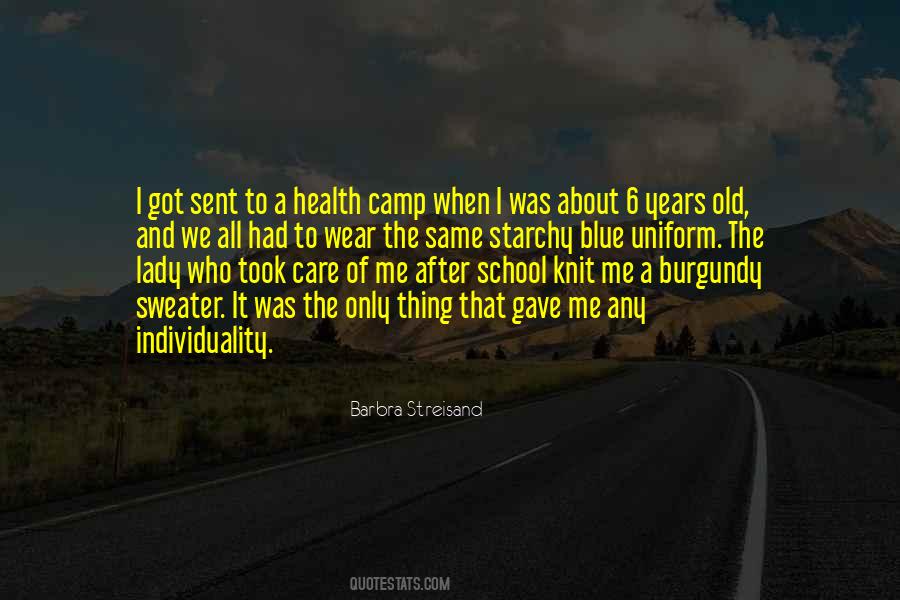 #12. Find your school satyr and get his help. You need to make it to Camp Half-Blood right away.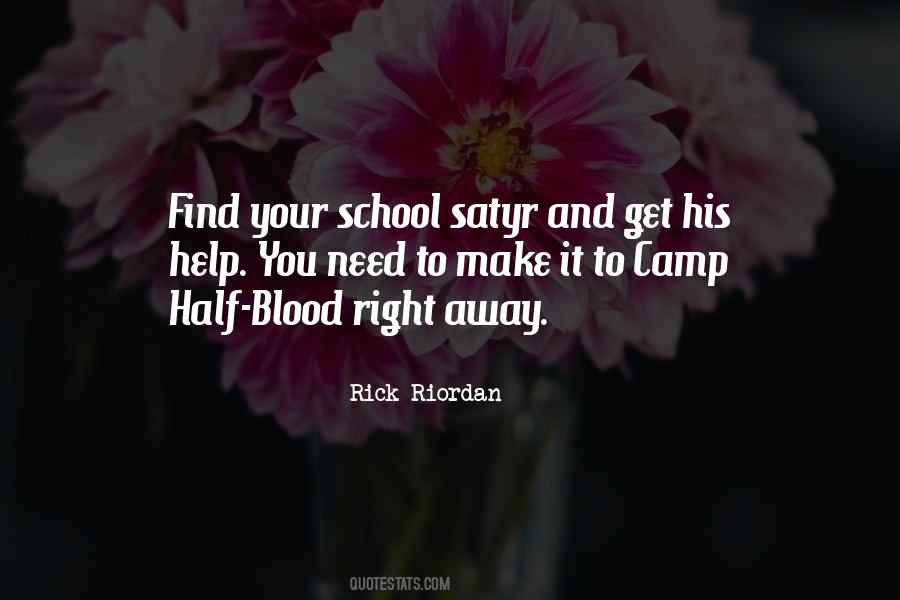 #13. It's a bit like school camp, shooting a film. Everyone's on heat. It's a strange energy. It's full of adrenalin. I funnel my excess energy in funny little ways. I do a lot of dancing in my trailer. I love music.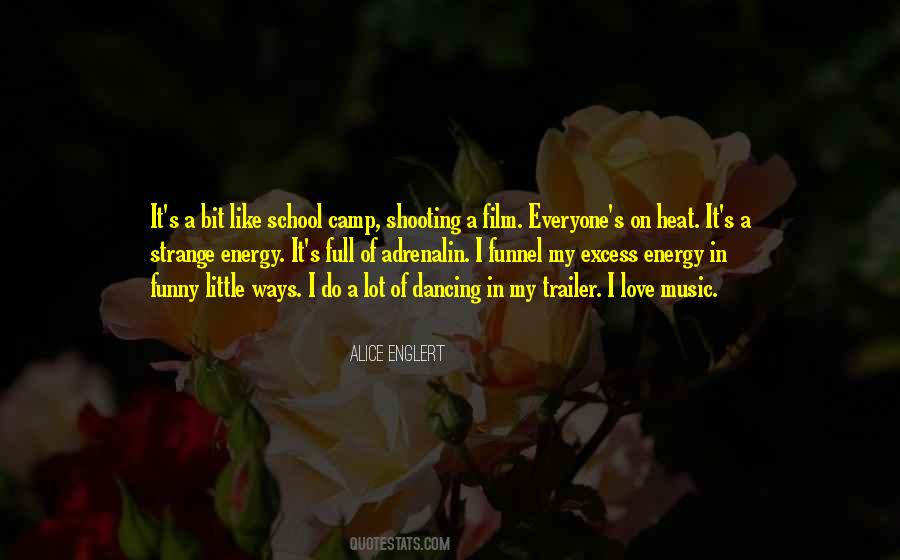 #14. And they all have pretty children,
And the children go to school,
And the children go to summer camp,
And then to the university,
Where they are put in boxes
And they come out all the same.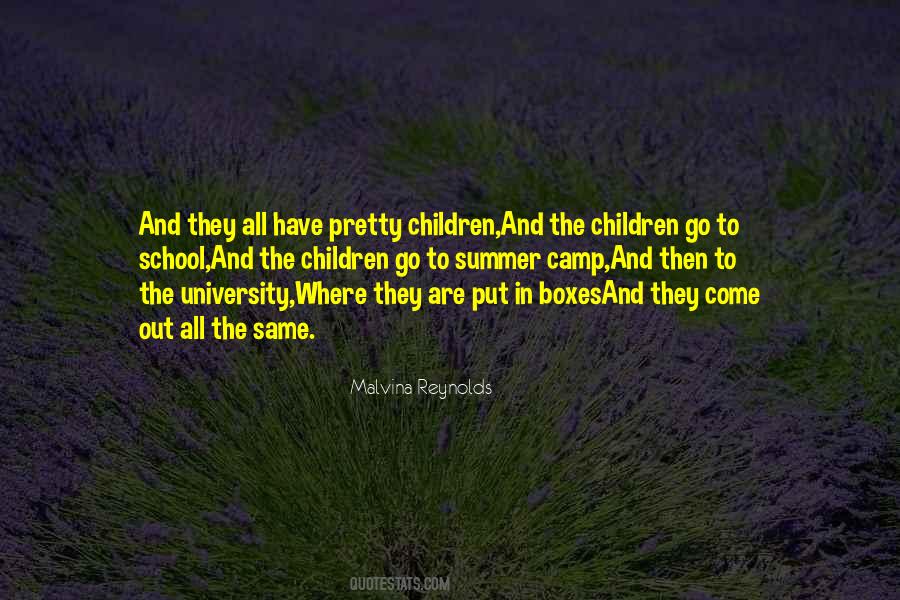 #15. I feel like my early experiences of acting, and I think a lot of other actors' too, are probably at camp or school plays where you get to have great range. At camp, I remember getting to play a 50-year-old man.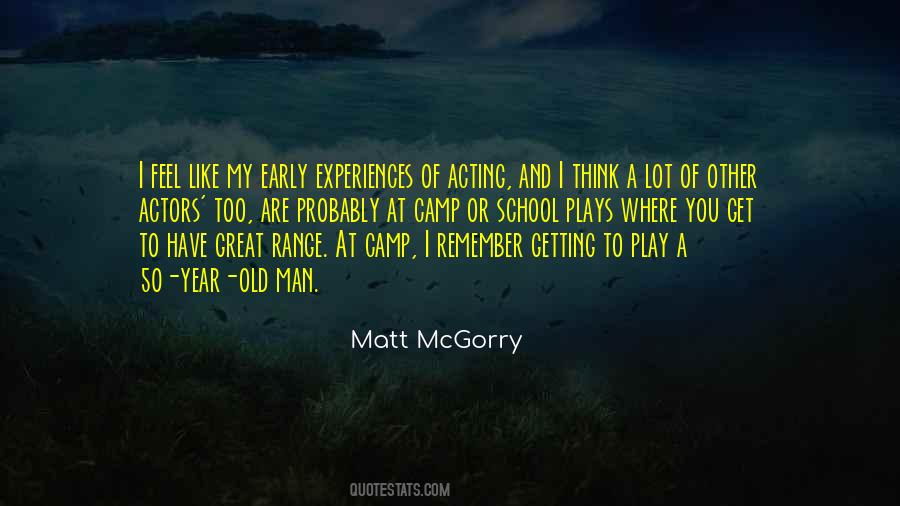 #16. If I had it to do over, I might have finished school first, then devoted all my time to StumbleUpon instead of dividing my time between the two. In the end, however, it was probably good to take the time I did.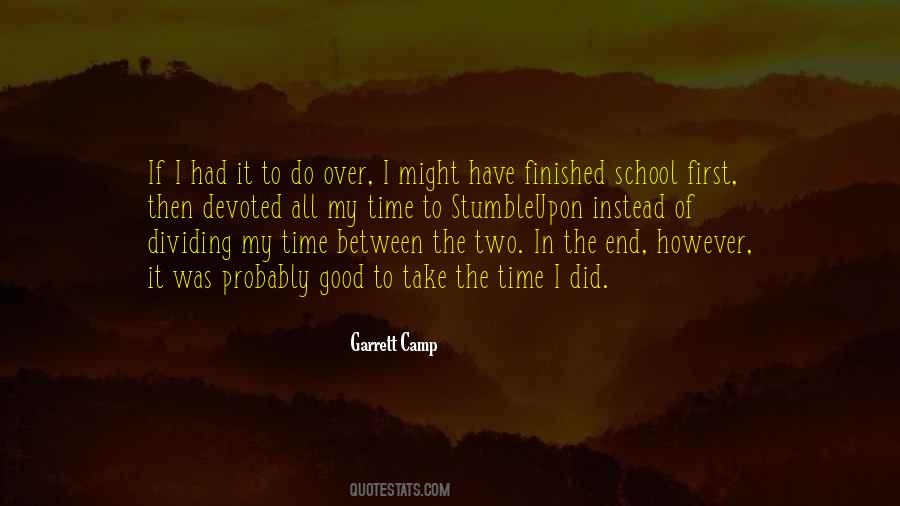 #17. I never went to camp as a kid. I couldn't get into an Ivy League school. I wouldn't join a biker club.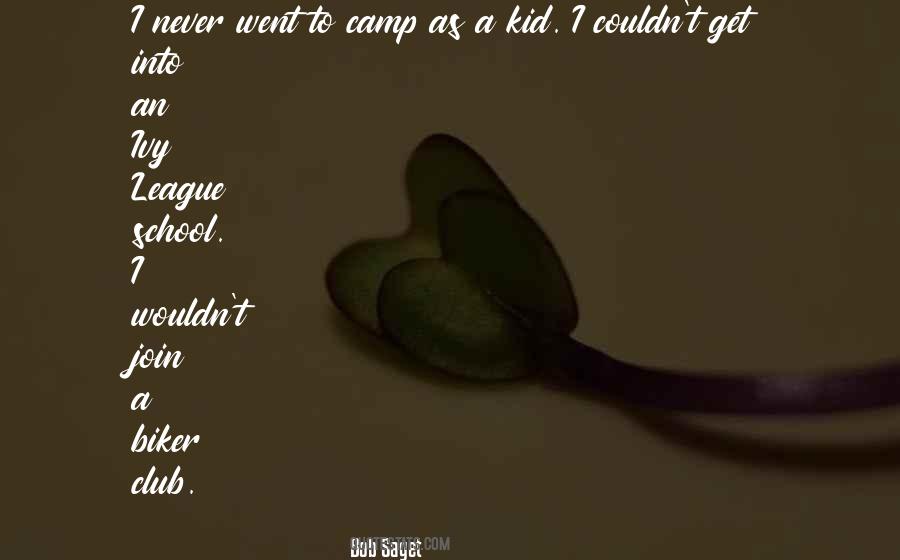 #18. And they all have pretty chilrden, And the children go to school, And the children to go summer camp, And then to the university, Where they are put in bozes And they come out all the same. - Malvina Reynolds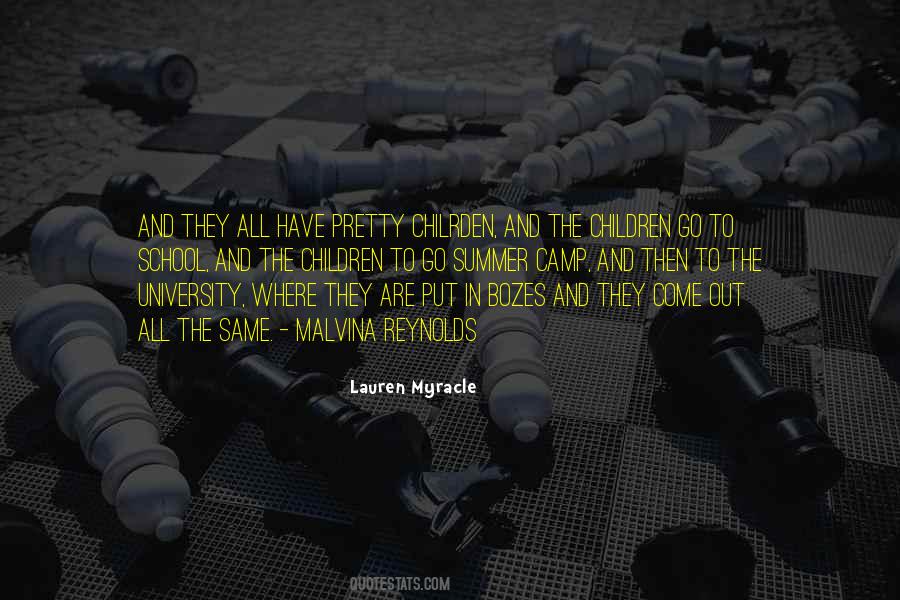 #19. In my final year of attending a Christian sports camp in rural Missouri, the year before I started high school, they began to offer an elective Bible study group for young Christians who wanted a chance to read in the afternoons instead of learn to water-ski.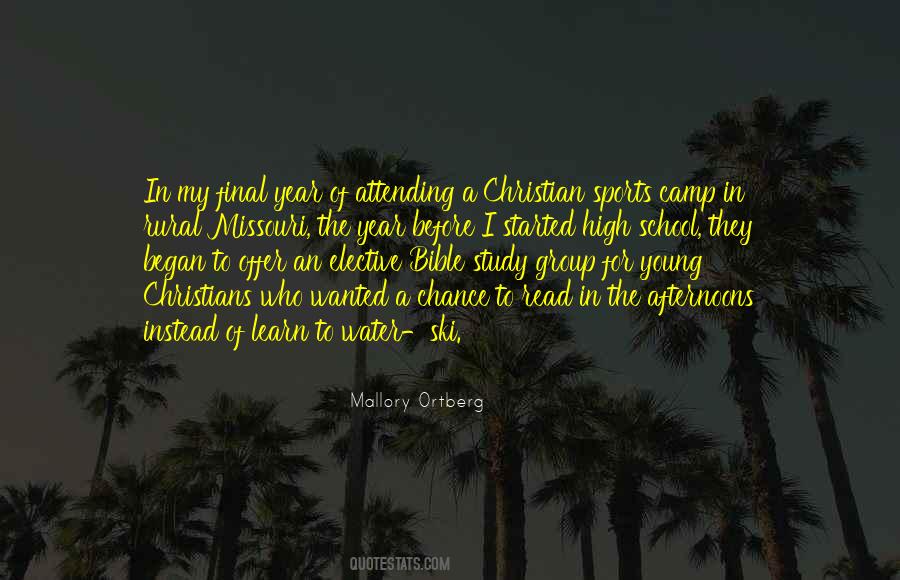 #20. I always wanted to be an actor. It sort of prevented that whole - I never had any of that kind of angsty period old and doing musicals at camp and community theater and plays at school; it was just always what I most enjoyed and always what I intended to pursue.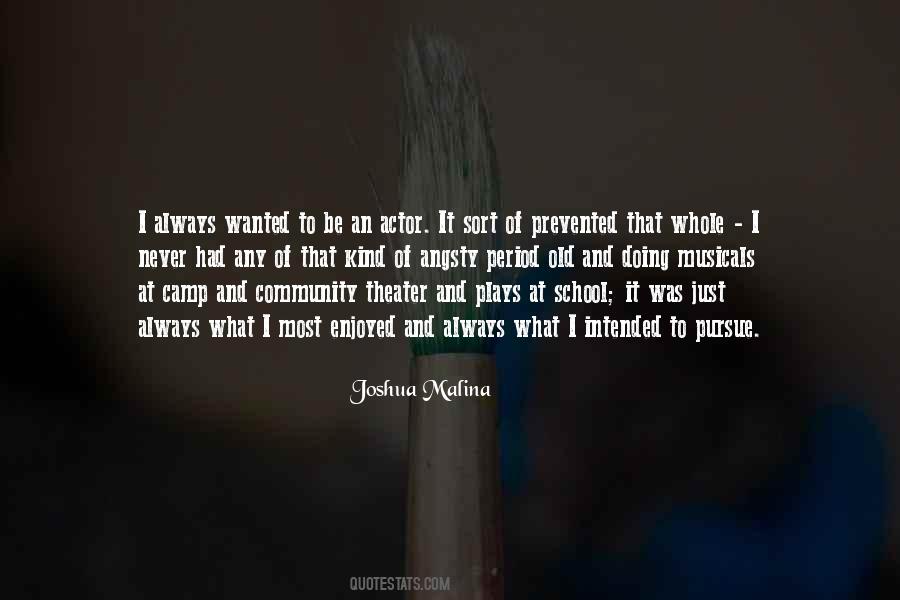 #21. She hates the fact that she won't know. It's feels like the last day of school, the final night at summer camp, like everything is coming to an abrupt and dizzying end.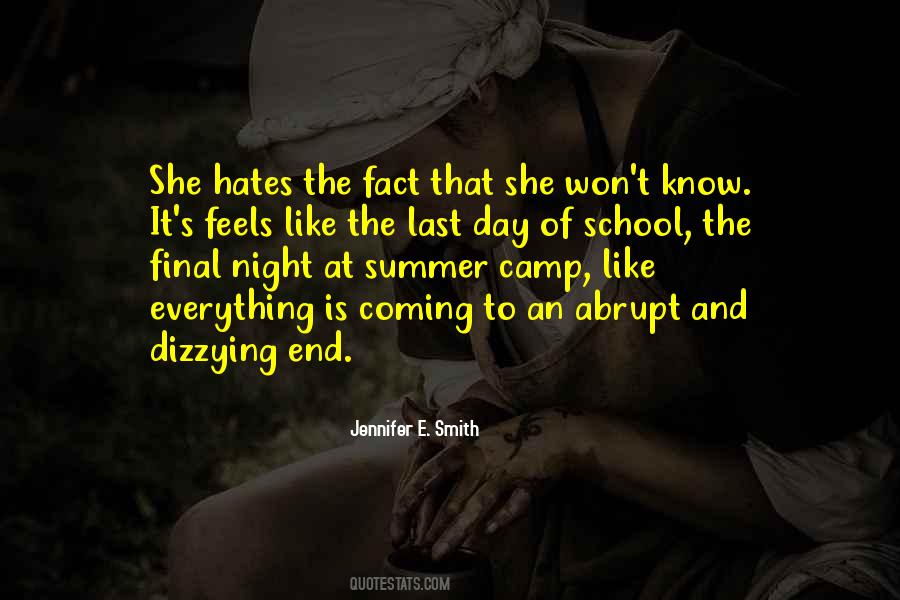 #22. Just let it out.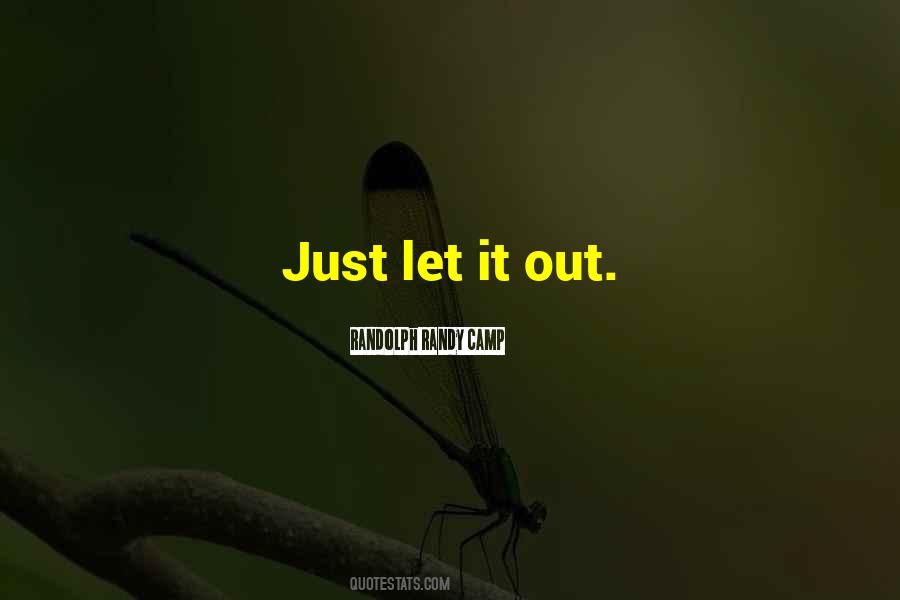 #23. Something about being rejected at Church Camp felt so much more awful than being rejected at school.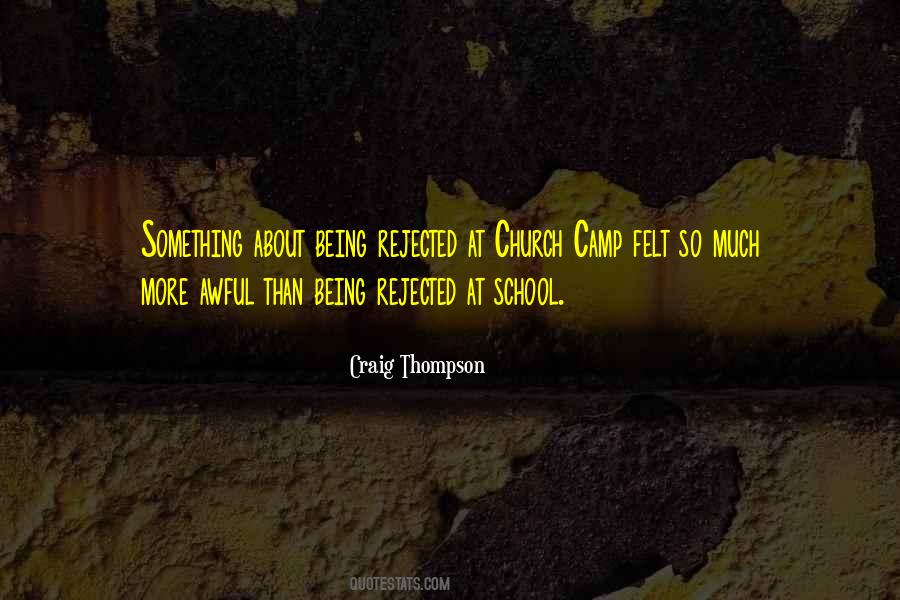 #24. I have a conviction that a few weeks spent in a well organized summer camp may be of more value educationally than a whole year of formal school work.
#25. I went straight from high school to Bible college for two years. Then I started doing music right out of Bible college full time. I did independent stuff for three years.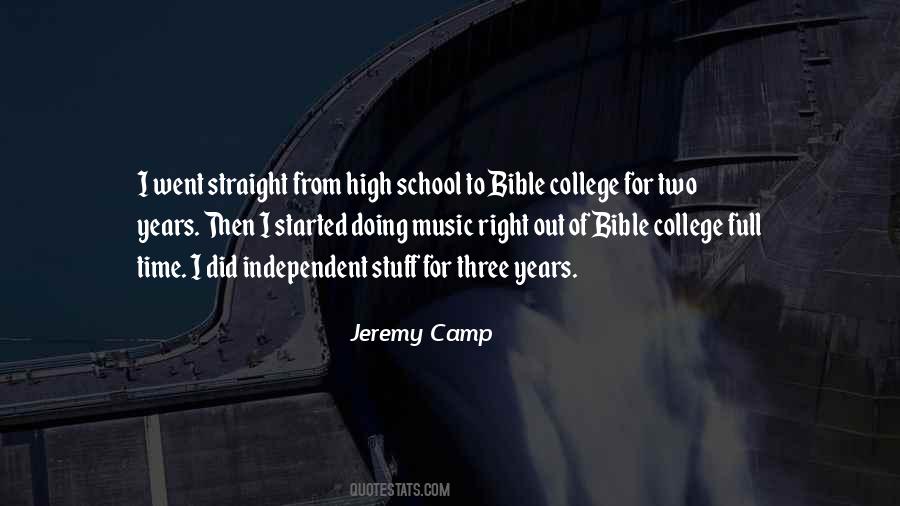 #26. I've always loved working out. When I was little, my dad used to make me and my sister do 10 press-ups every day before we brushed our teeth in the morning. It was like a boot camp! Then I did a lot of athletics at school and was a dancer.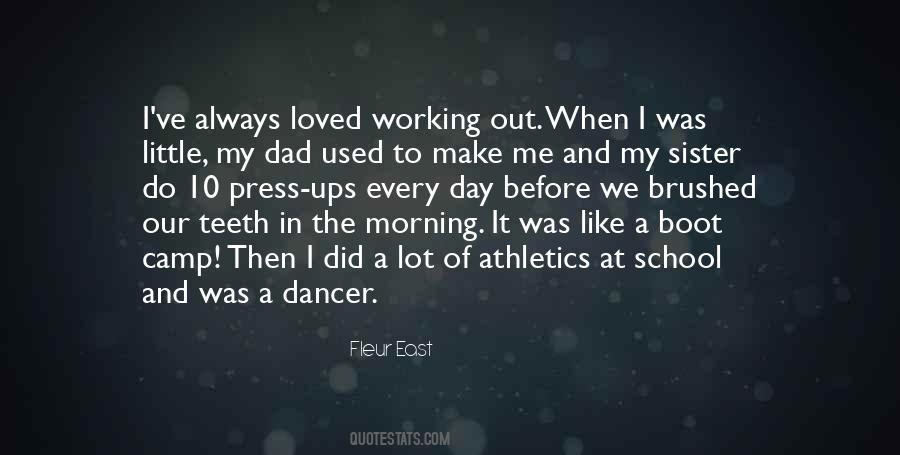 #27. When I was growing up, I was as socially outcast as any nerd could possibly be. I was in the chess club, I brought D&D stuff to school, I had every game system you could imagine, I spent countless hours at arcades, computer camp, loud presence in the Latin Club. All that stuff.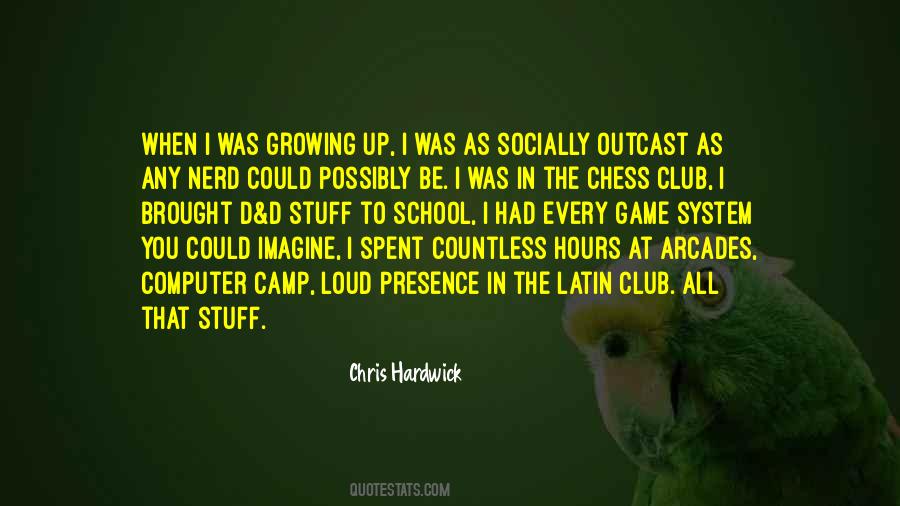 #28. From fifth grade on, I worked at our public library. The pay, a pittance, was almost superfluous. All through high school, I looked forward to summer as the time when I could work at the library four or five days a week. I was never a camp counselor, a lifeguard, a scooper of ice cream.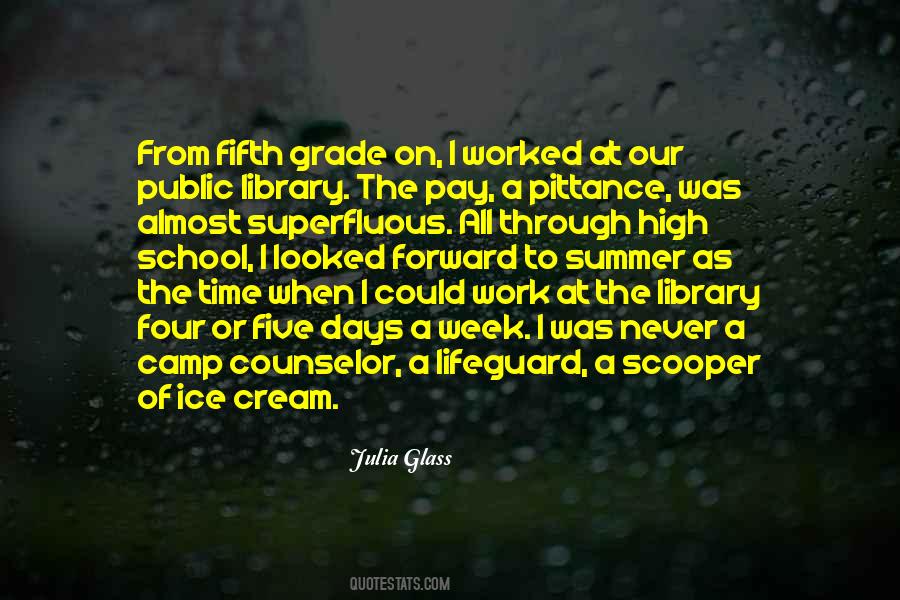 #29. I do revel slightly in the fact that I am what I am - an English, middle-class, public-school-educated bloke. There is a reputation with that of being slightly stiff, but whoever gets to know me will see some other element - whether it be vulnerable or silly or camp.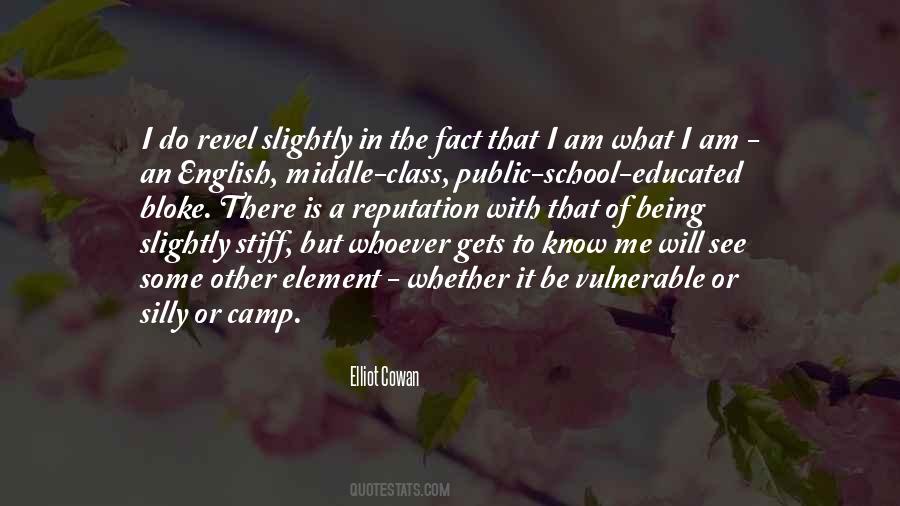 #30. I went to Our Lady of Mercy, parochial school and I started Fordham Prep, but that only lasted about a year and then I - to me, it was like going to some kind of concentration camp. I was not very happy. And I only went there because that's where my brother went, really.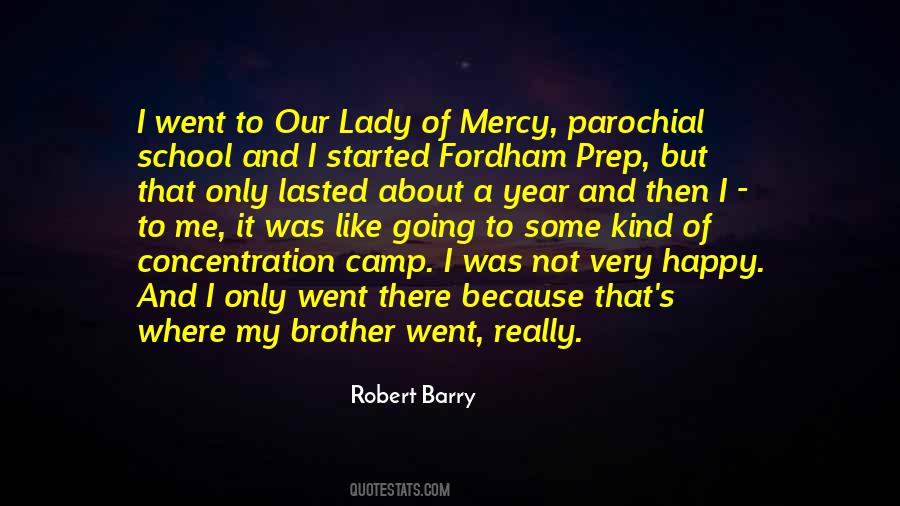 #31. When I was 14 or 15, a camp counselor told me I was smart. I had never been very good in school, but he told me once that I was smart but my mind operated a little differently.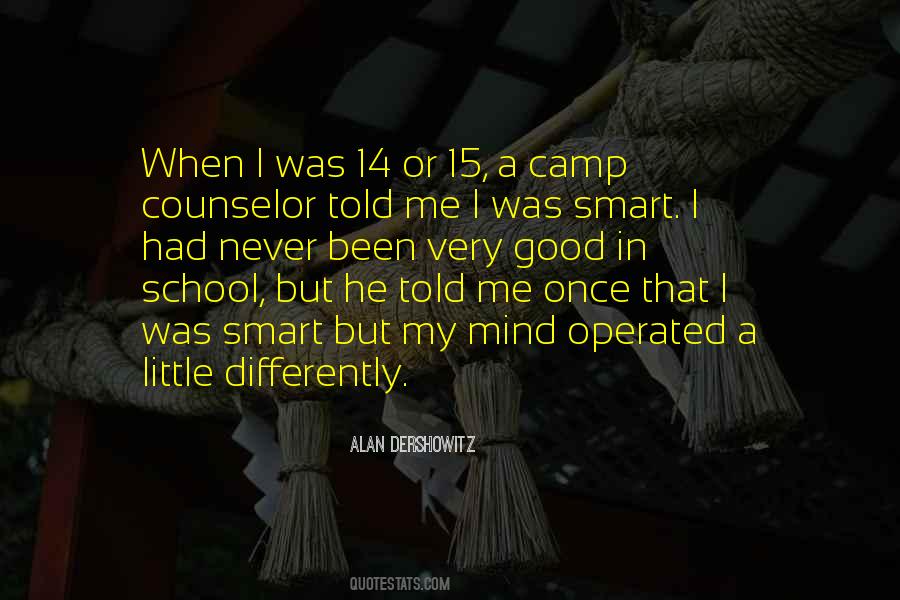 #32. I always did workshops. I would be at theater camp, doing shows, or after-school programs.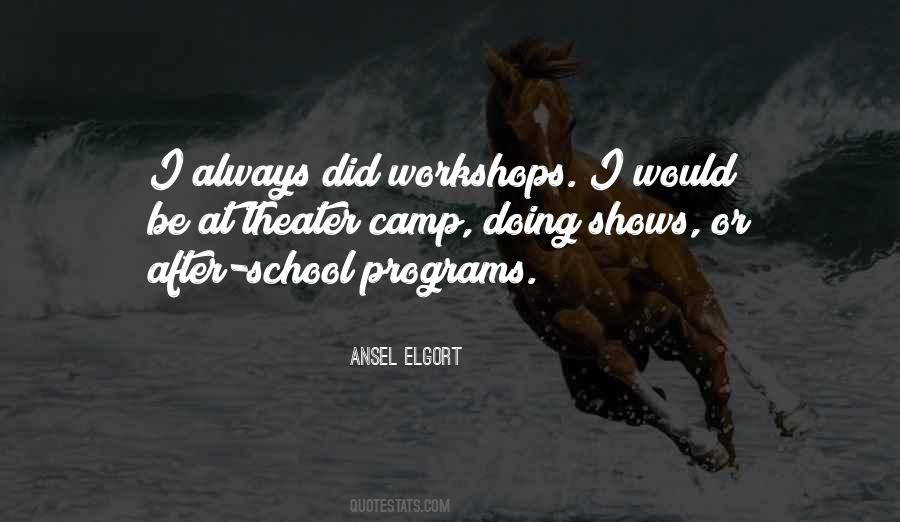 #33. Instead of trying to get to the bottom of why her daughter was floundering through life, she sent me off to ranch boot camp to "prove" myself worthy of art school.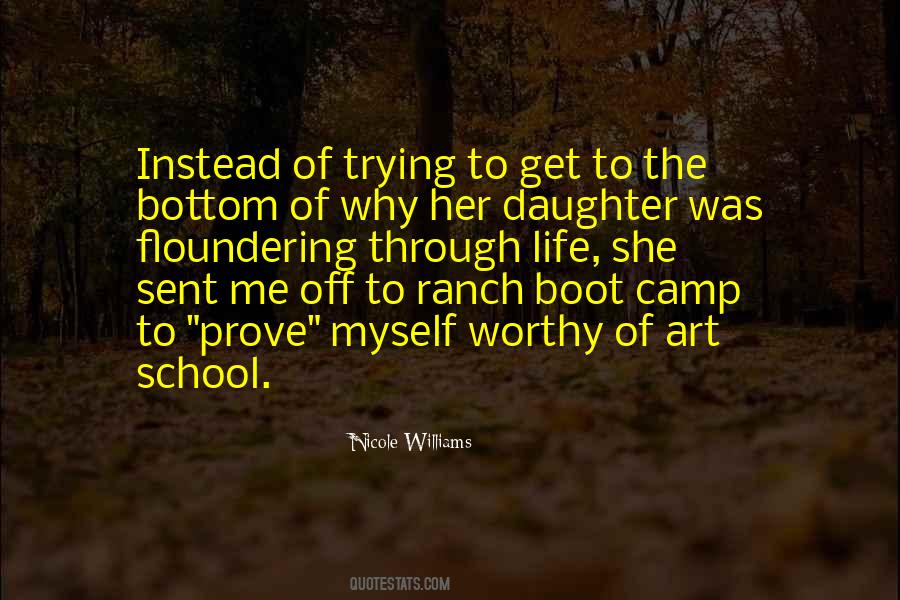 #34. I went to School of the Arts in Winston-Salem, and we had a bunch of singing classes. My first job in New York was an Off-Broadway musical.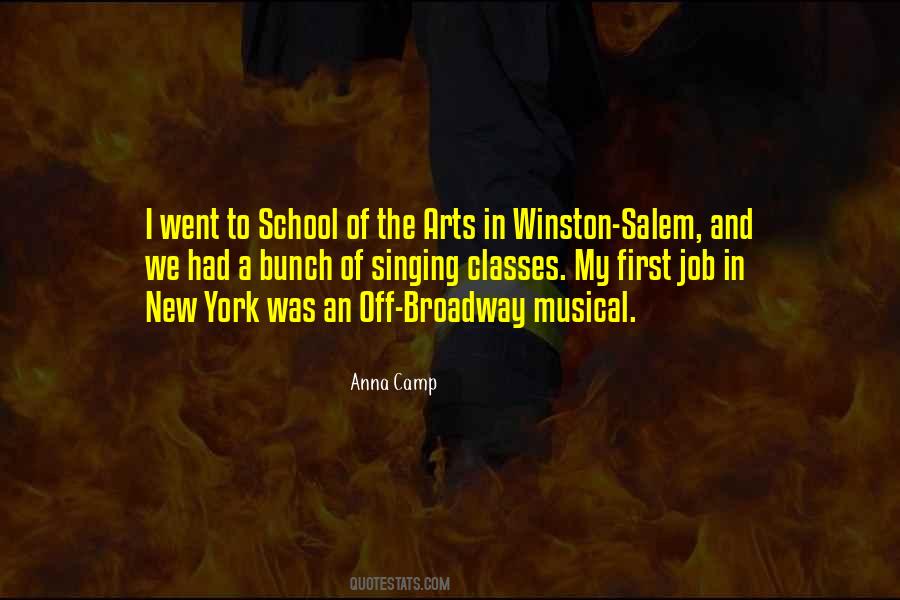 #35. I'd have to say I'm most proud of my mentoring camp that I do in Dallas every year for one hundred boys from single-parent homes. I was raised by a mother who was a Sunday school teacher and a father who worked hard. Together they taught me to give back.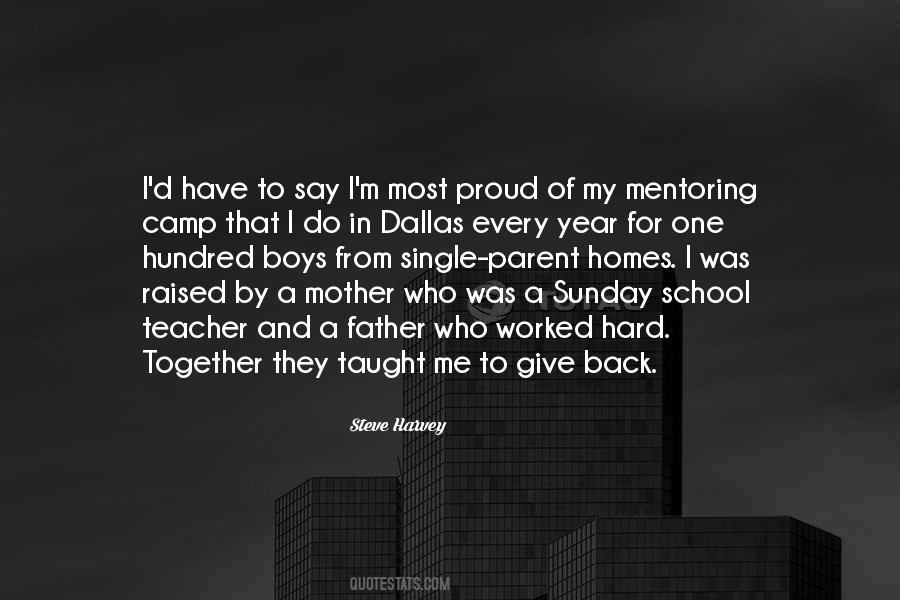 #36. Playing guitar was one of my childhood hobbies, and I had played a little at school and at camp. My parents would drag me out to perform for my family, like all parents do, but it was a hobby - nothing more.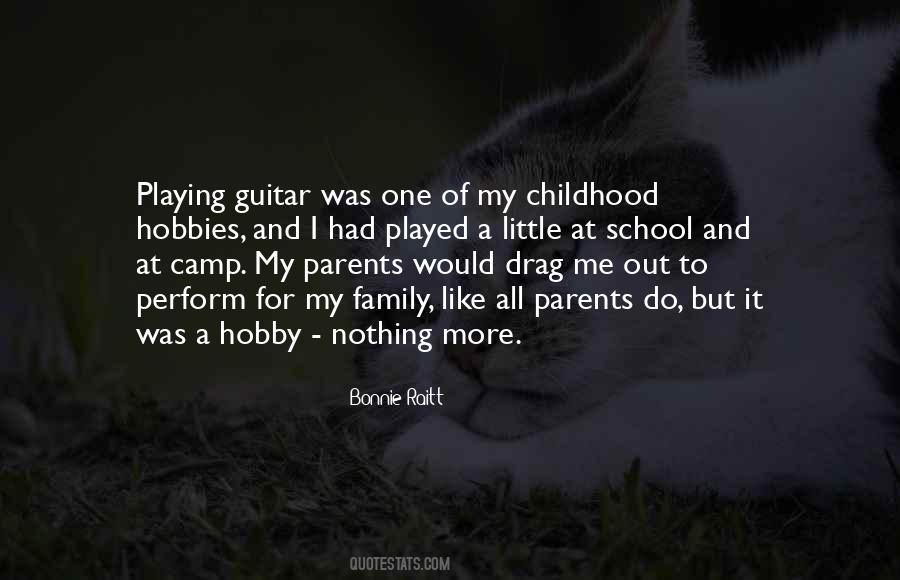 #37. I had always wanted to be an actress. I went to summer theater camp from kindergarten on up until high school, and always had the leads in all the plays - even though they were at the YMCA - but it was something I always wanted to do.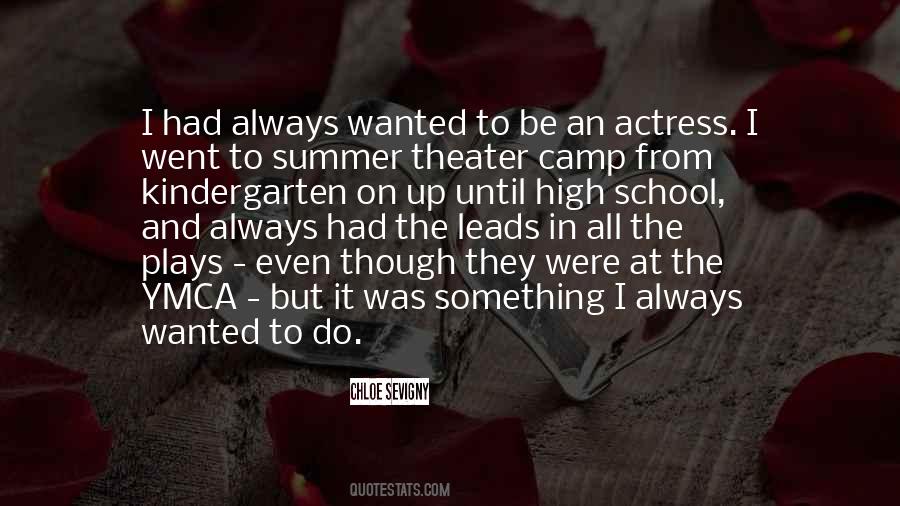 #38. I learned to canoe at summer camp and thought I'd pursue Olympic whitewater canoeing. In my senior year of high school, I instead decided to attend M.I.T. I like to say I've had only two jobs in my life: whitewater canoeing instructor and wilderness guide in college, and C.E.O. of iRobot.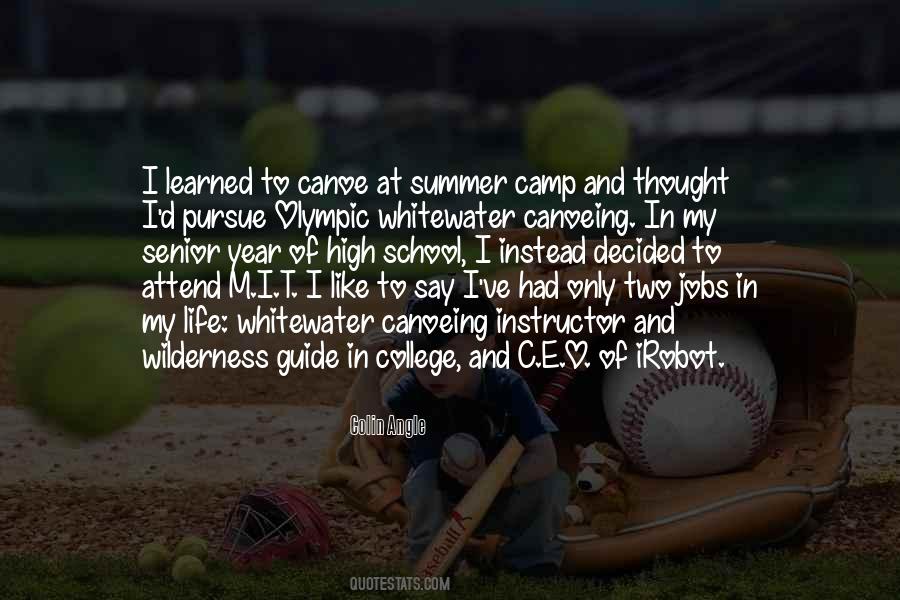 #39. Acting school was summer camp, and I needed concentration camp. I had so many different ideas swirling between culture and how to tie things together.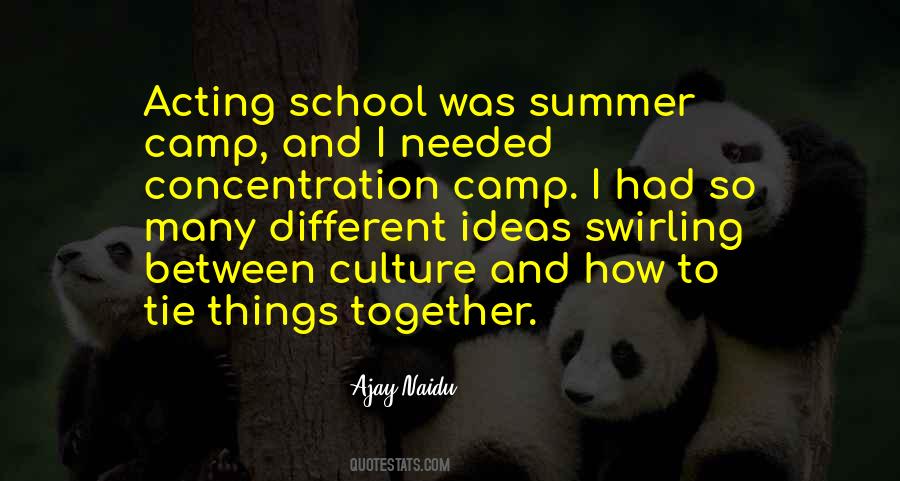 #40. I knew from a young age that I wanted to perform. I went to an arts camp called Brookdale Arts Camp, in New Jersey, from the time I was 6, and then I was a counselor there through high school.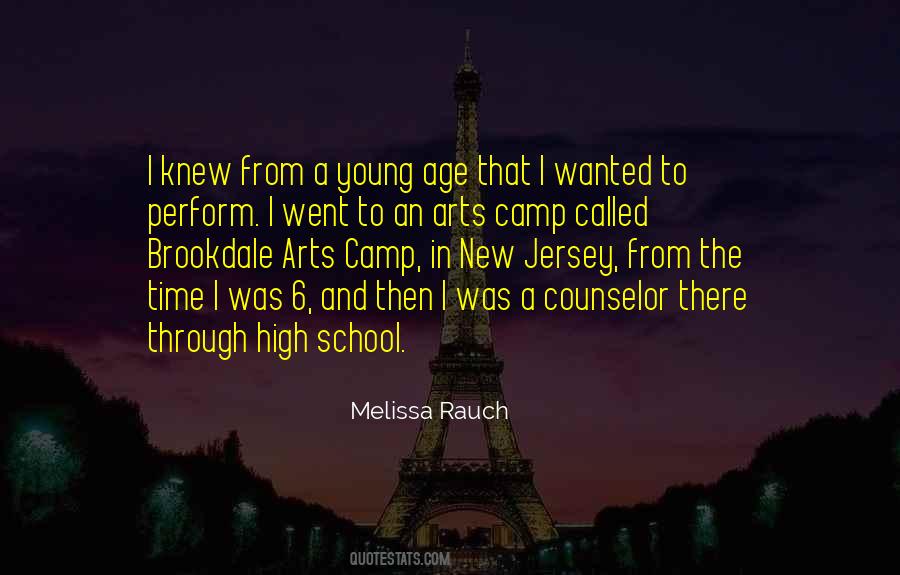 #41. I went to college at North Carolina School of the Arts and took a lot of singing classes, and it really is so connected to emotions.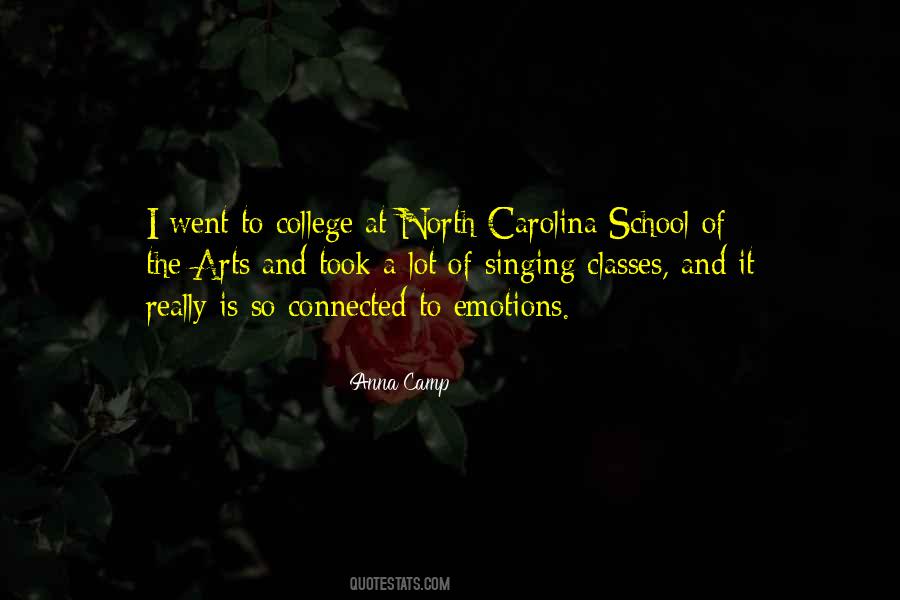 #42. My father died when I was young, and my mother, Ruth, went to work in an office selling theater and movie parties. She put me through private school, Horace Mann, in Riverdale. She sent me to camp so that I would learn to compete. She was a lioness, and I was her cub.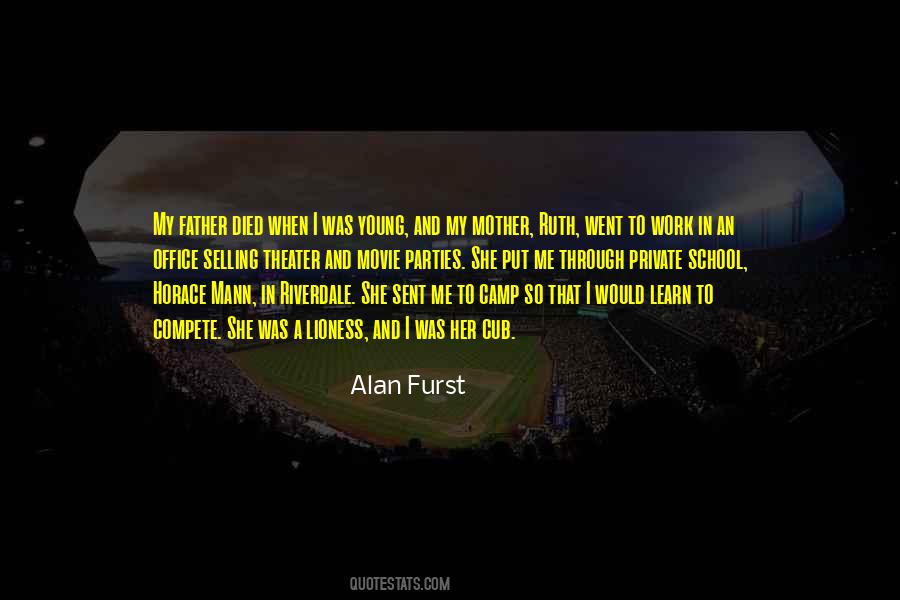 #43. If I could, I would have my son on tour the whole time. But he has school, summer camp, and he has to see his mother.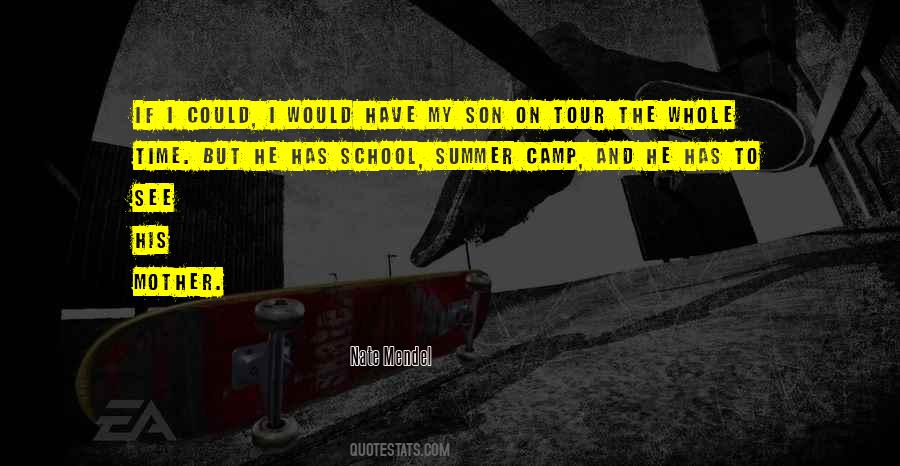 #44. Our parents met at the Lowell Observatory in Arizona at a high school summer science camp. "I'd come to see the heavens," our father always said. "But the stars were in her eyes," a line that used to please and embarrass me in equal measure. Young geeks in love.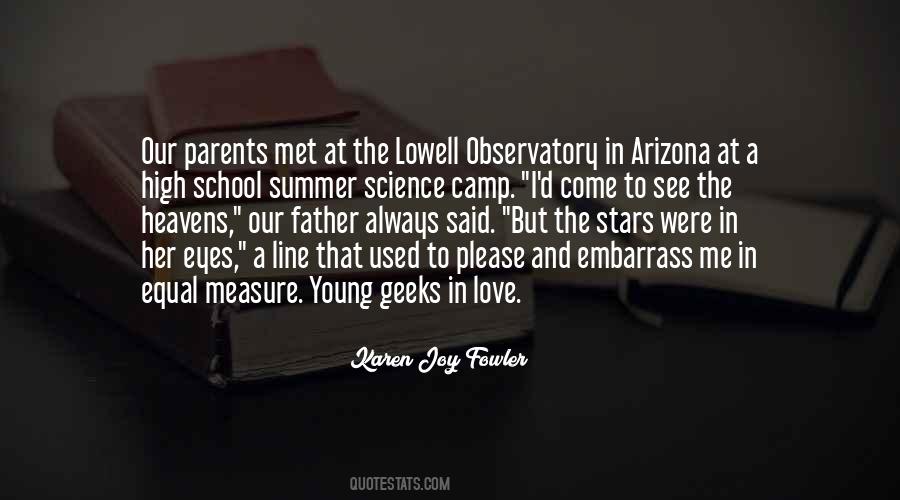 Famous Authors
Popular Topics