Being A President Famous Quotes & Sayings
List of top 100 famous quotes and sayings about being a president to read and share with friends on your Facebook, Twitter, blogs.
Top 100 Sayings About Being A President
#1. Running for president is hard. But it's good preparation. Because being president is a lot harder. - Author: Mark McKinnon
#2. There are some days when history is made. Yesterday was one - and I was honoured to be in Washington to watch Barack Obama being sworn in. During his soaring inaugural address, the new president gazed over a teeming National Mall that was crowded with more than a million people. - Author: Des Browne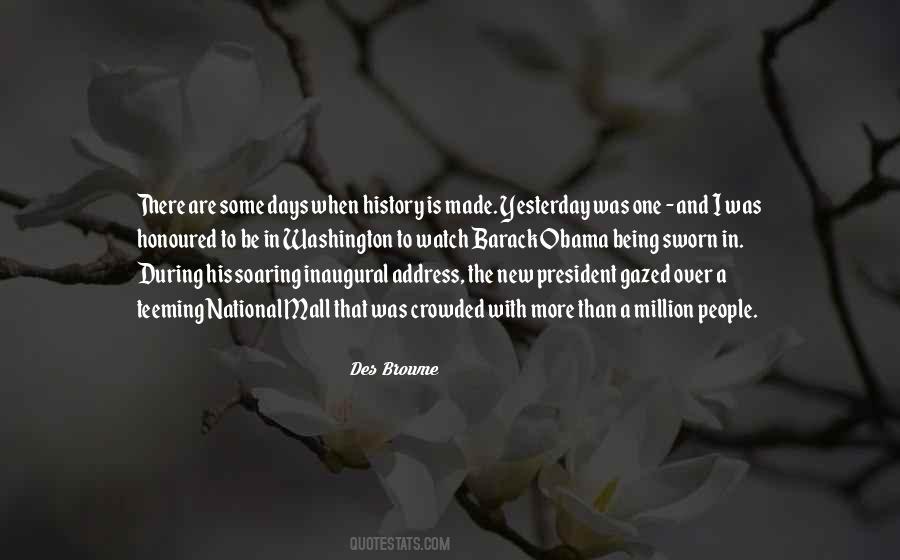 #3. I presumed the president was being truthful until a series of events undercut that confidence. - Author: Bob Graham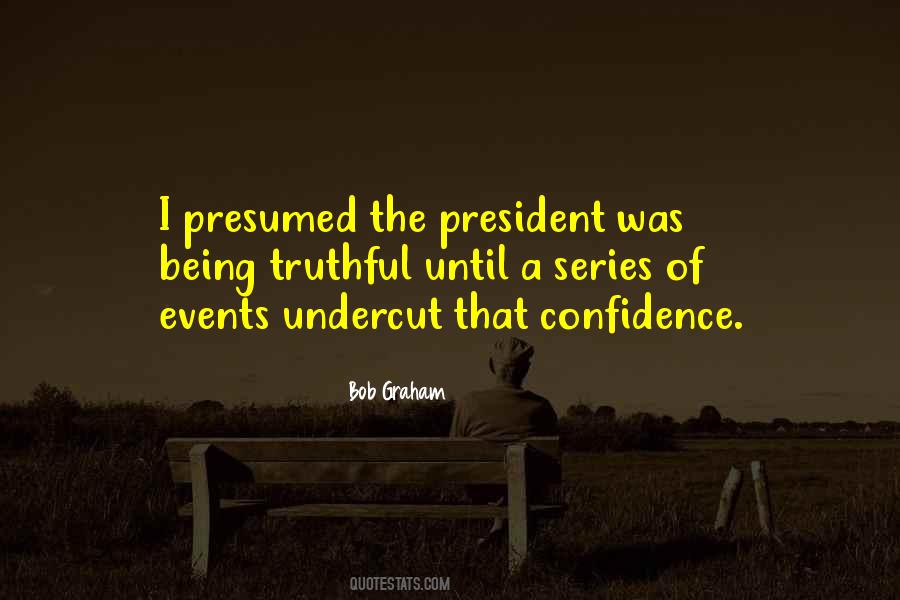 #4. Being President is like the man who was tarred and feathered and ridden out of town on a rail ... A man in the crowd asked how he liked it, and his reply was that if it wasn't for the honor of the thing, he would much rather walk. - Author: Abraham Lincoln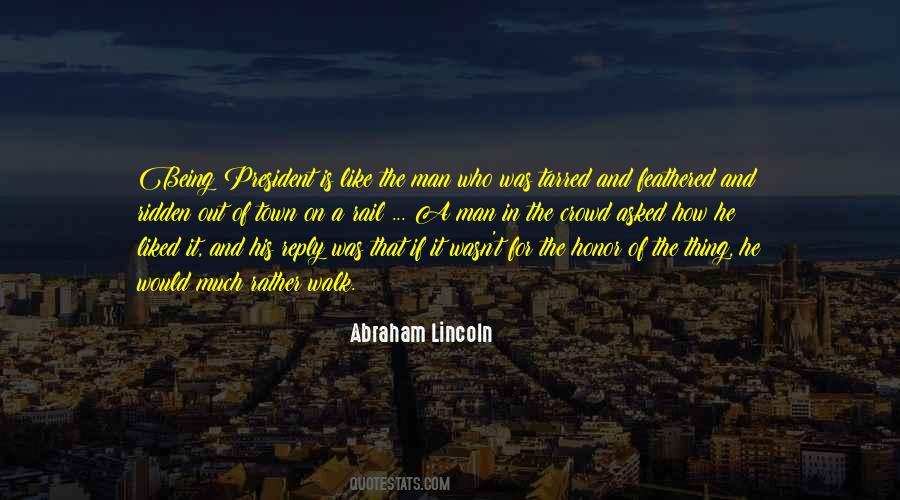 #5. Keeping the Union together, freeing slaves and being assassinated all added up to creating 'Lincoln the myth.' He overcame a lot of his own prejudices and became what many would consider the first black man's president. - Author: Henry Louis Gates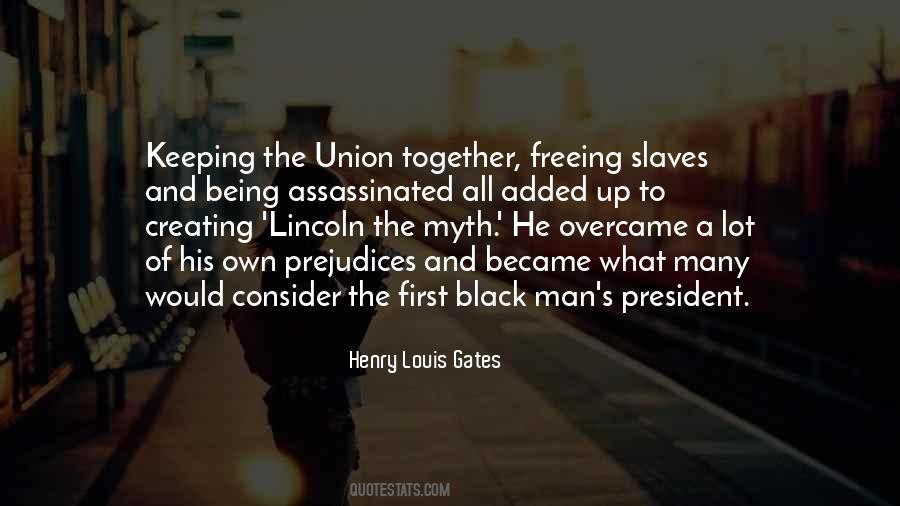 #6. The United States, the President said, "must be a force for good." Americans focused on "good." Much of the world focused on "force," on being handled. - Author: Ron Suskind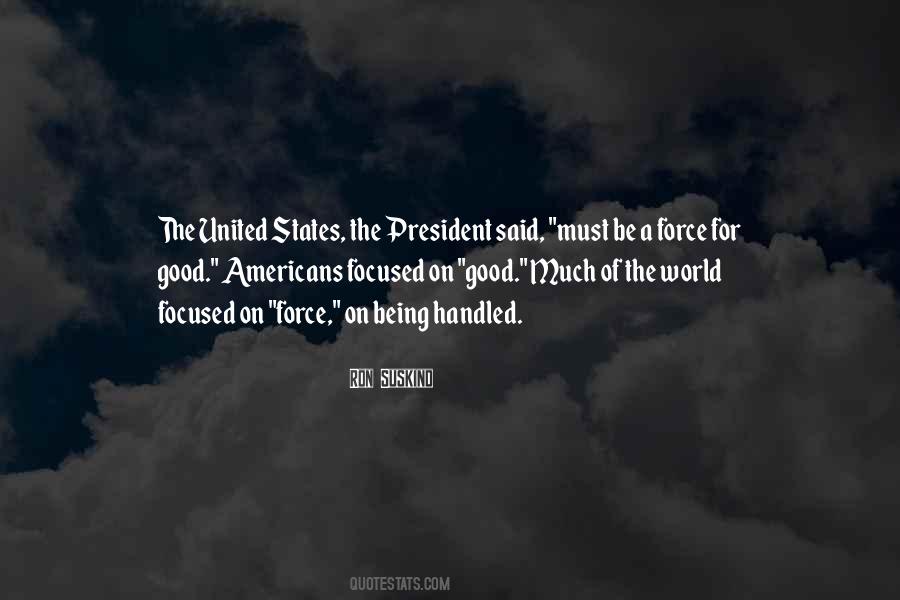 #7. The best thing about being President is that it gets you out of American life. I don't know what the theory is behind this, but it is a fact. The first thing we do with a President is shunt him off to a siding where nothing American can ever happen to him. - Author: Russell Baker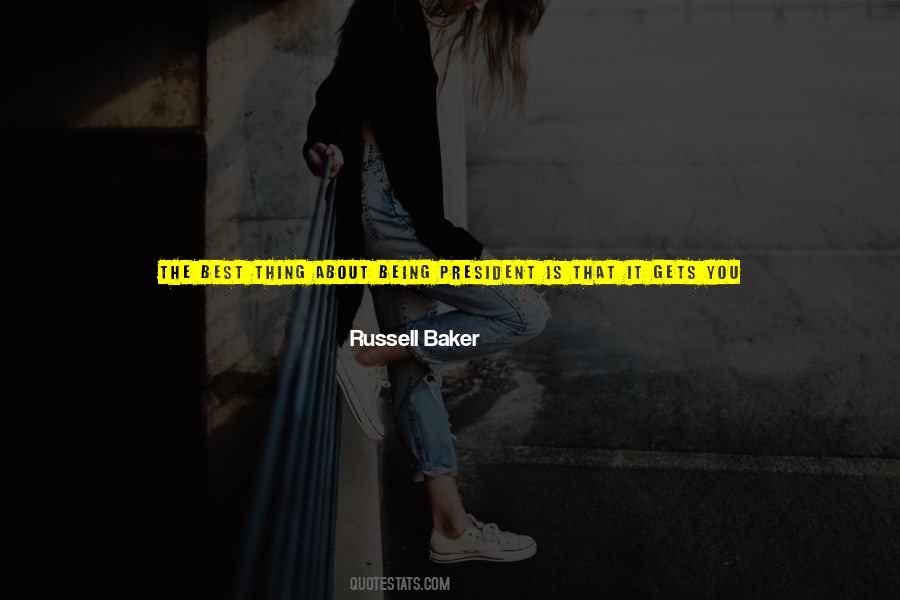 #8. What I find astounding is that we've had a president who is black in office for the past eight years, who gets most of his funding from the liberal elite in Hollywood. Yet, there are not very many roles for people of color. How can that be? And why is it just now being addressed? - Author: Stacey Dash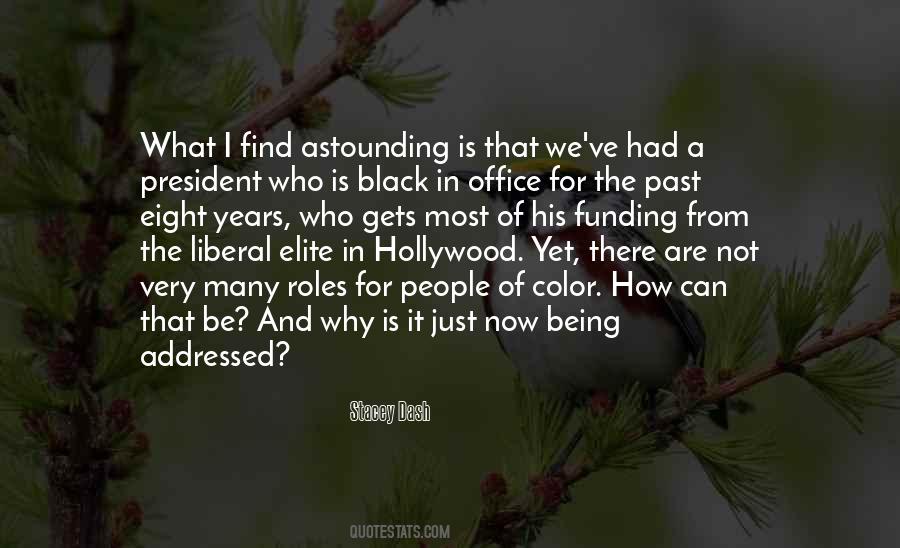 #9. The president is under 50 percent approval ratings in all the battleground states. So, you could say that President Obama is defying gravity by still being in a dead heat with Mitt Romney. And one of the reasons that he is, is because the changing face of the electorate are giving him a small boost. - Author: Mara Liasson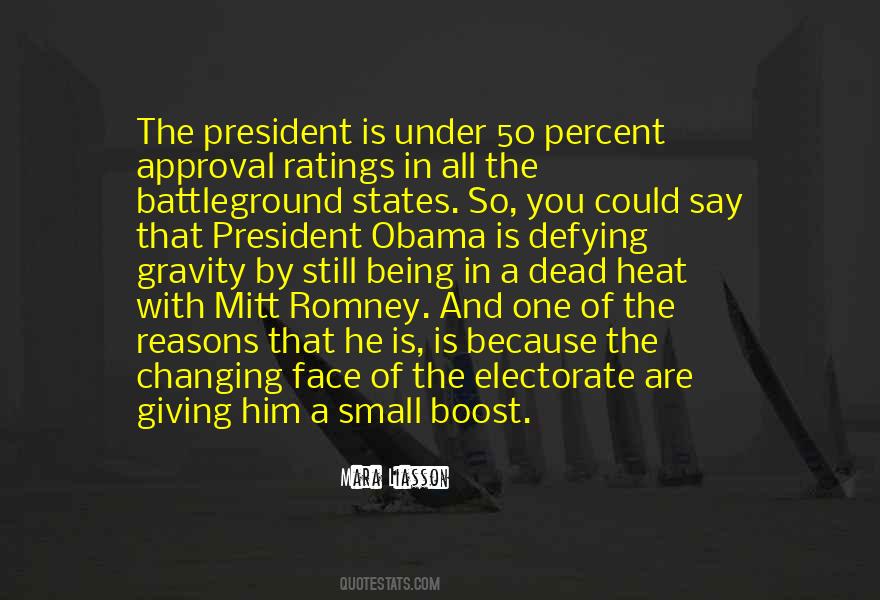 #10. Being president is like running a cemetery: you've got a lot of people under you and nobody's listening. - Author: William J. Clinton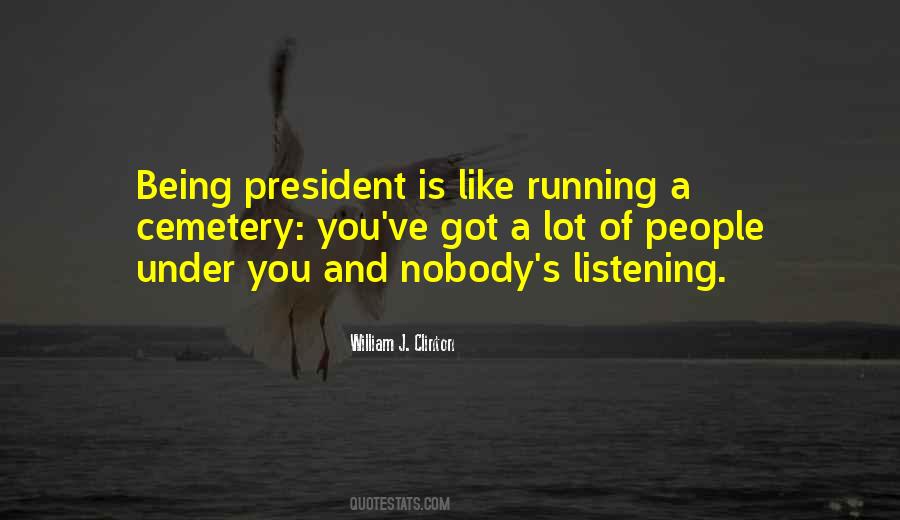 #11. I see this piece of legislation as essentially being a declaration of virtual war. It is giving the President tremendous powers to pursue war efforts against a sovereign nation ... I think it is another example of a flawed foreign policy that we have followed for a good many decades. - Author: Ron Paul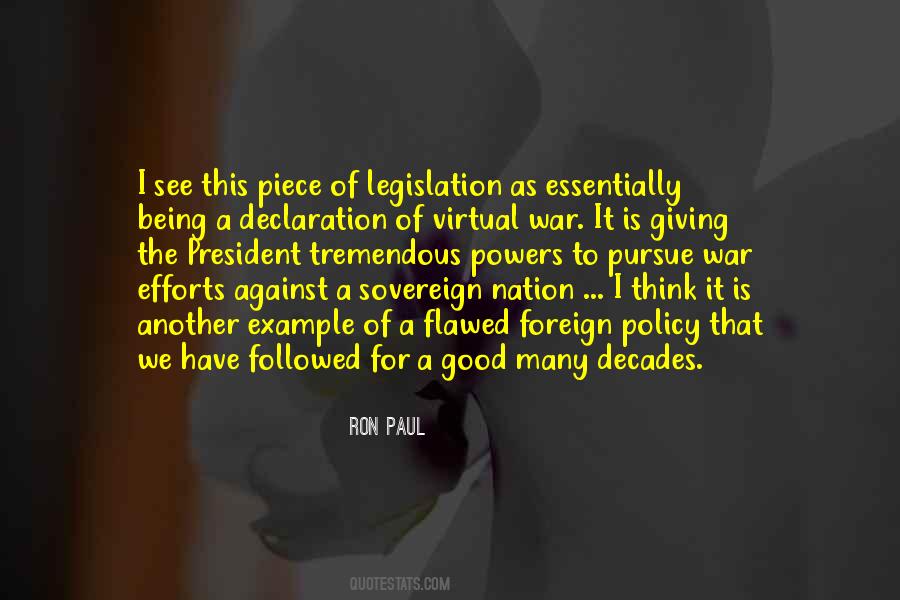 #12. President Coolidge said, 'I don't want the Government to go into business.' Well, if I was Mr. Coolidge I wouldn't worry over that. The Government never has been accused of being a business man. - Author: Will Rogers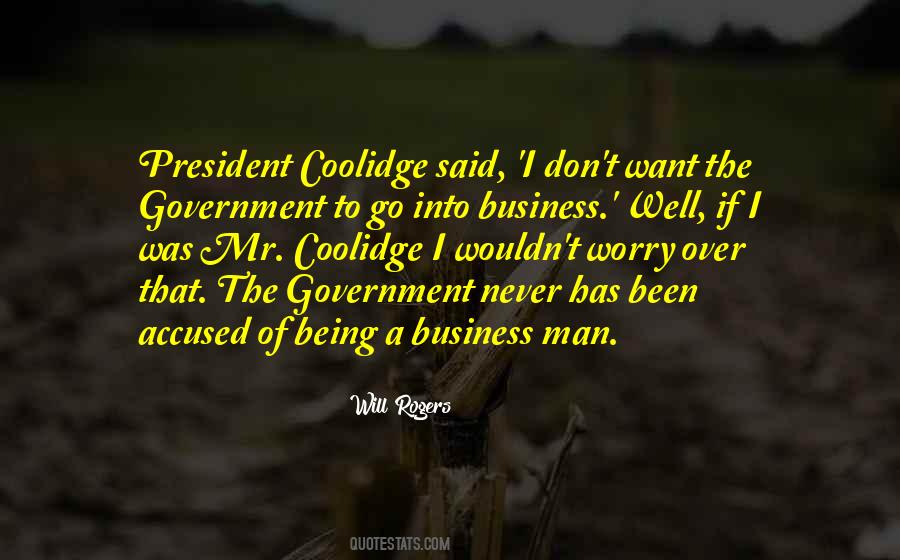 #13. [President George W.] Bush - never mind his well-crafted set speeches; listen to him as he leans on a lectern, chatting to an audience of carpenters - is completely comfortable being himself, a skill still eluding Gore in his 55th year. - Author: George Will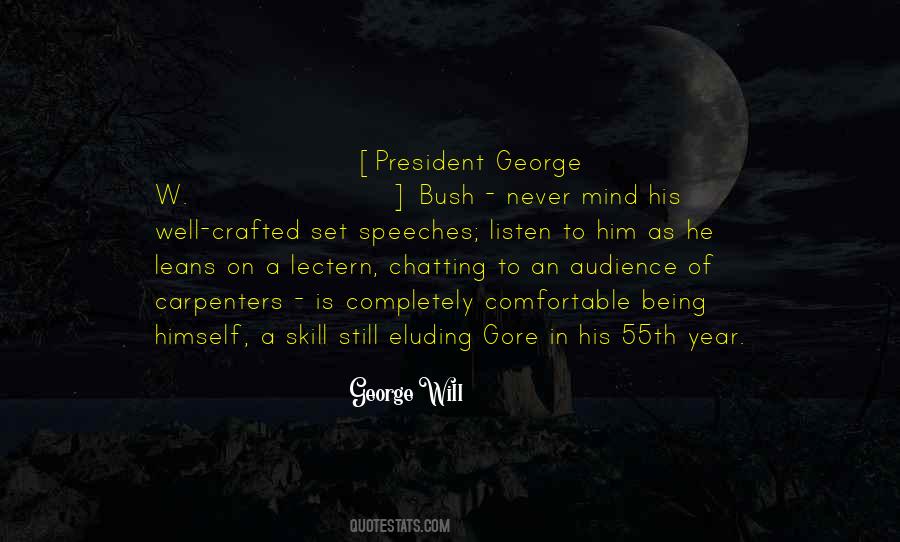 #14. Accomplished a bit more for Bush than for Gore only because there were more question marks for Bush. I think he established that he possesses at least the minimum qualifications for being president. - Author: Stuart Rothenberg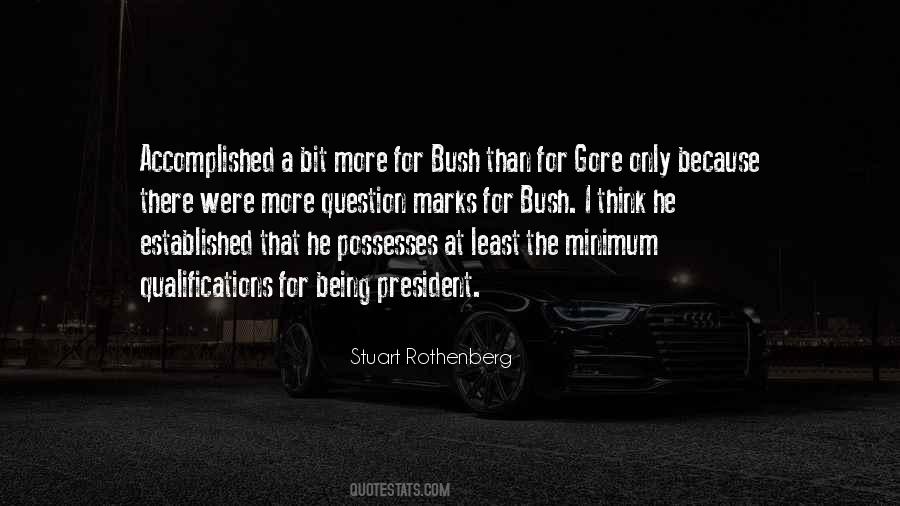 #15. I would even go to Washington, which is saying something for me, just to glimpse Jane Q. Public, being sworn in as the first female president of the United States, while her husband holds the Bible and wears a silly pill box hat and matching coat. - Author: Anna Quindlen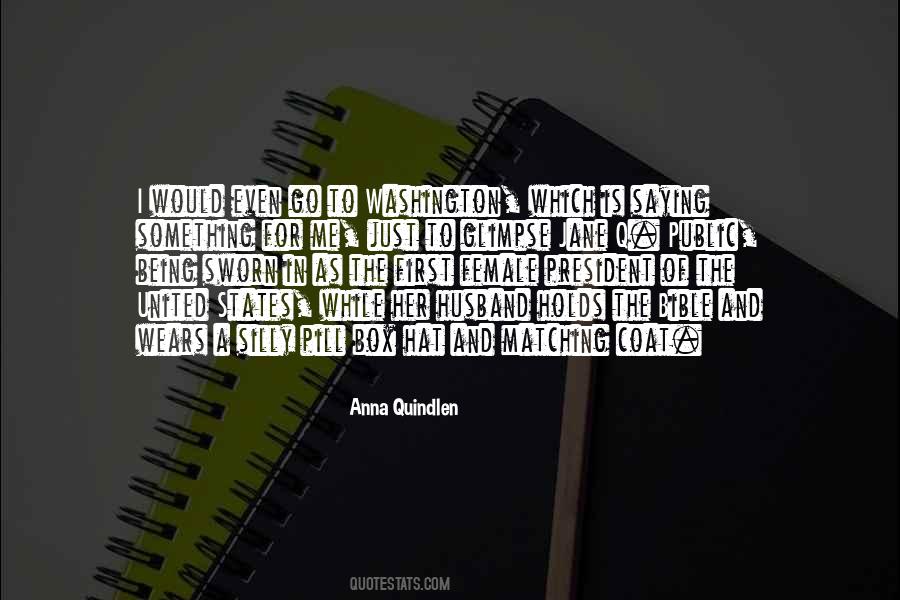 #16. If there is a nuclear tactic being used here, I submit it is the use of that obstruction where a willful minority blocks a bipartisan majority from voting on the President's judicial nominees. - Author: John Cornyn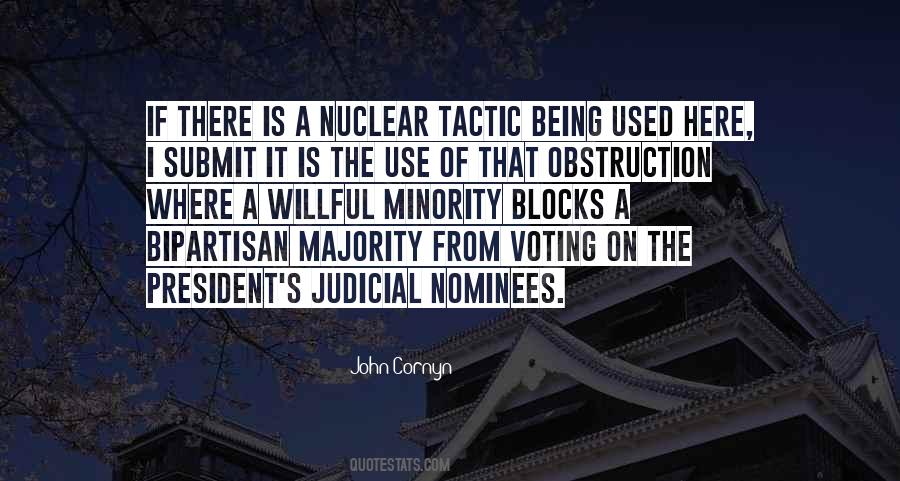 #17. Being president is like being a jackass in a hailstorm. There's nothing to do but to stand there and take it. - Author: Lyndon B. Johnson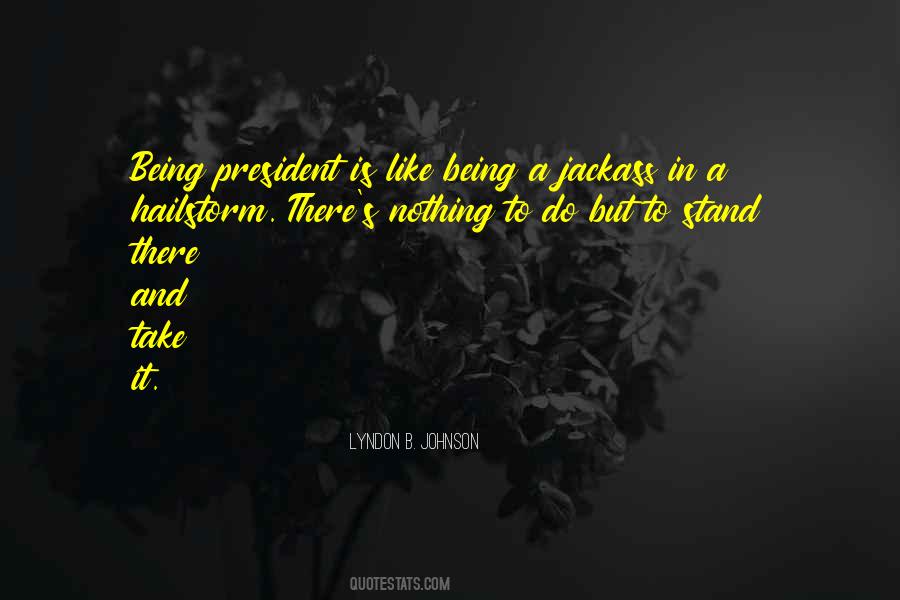 #18. Believe it or not, I supported Richard Nixon on the issue of presidential privilege. How could anyone conceive of being the president of the United States and think that every single thing that you say or do can become a part of the public record? It just seems so stupid to me. - Author: Jack Nicholson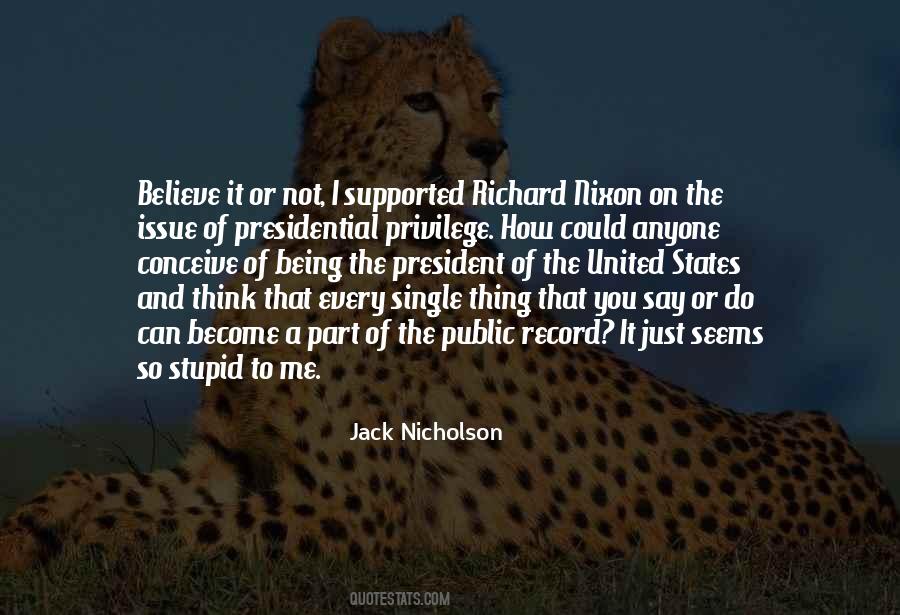 #19. Let me explain something you already know. I'm from Texas and we understand the nature of a border. From what I've seen, vigilant Texans are being ordered to stand down and allow criminals to pass. Mr. President, prepare to see Texans ignoring those orders. - Author: Tommy Lee Jones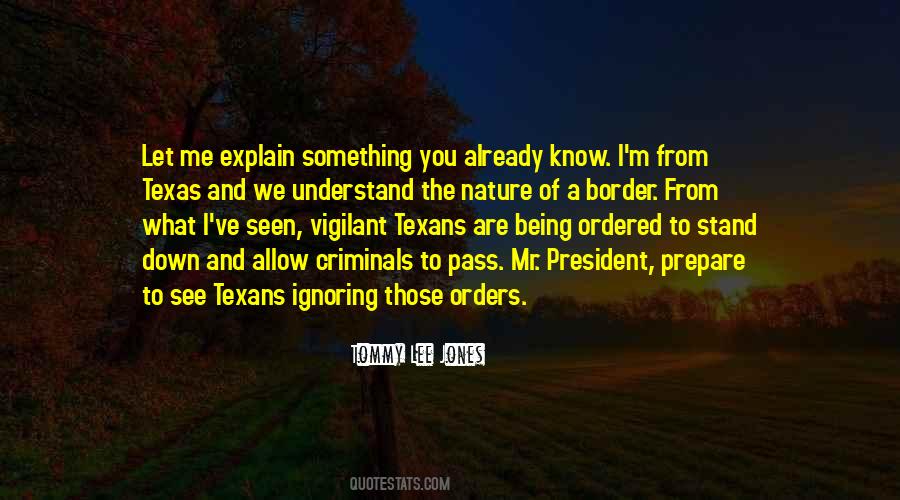 #20. Do I think faith will be an important part of being a good president? Yes, I do. - Author: George W. Bush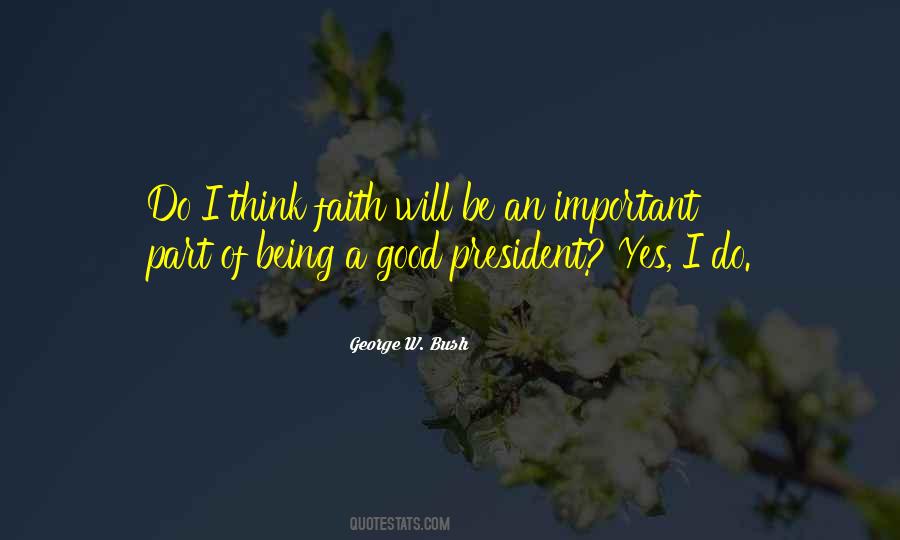 #21. I don't understand why, to rise to the level of being president of my country, one has to be a monster. I used to say that George Bush was defiling the Oval Office, but it's been held by a long line of monsters. We don't have to support our administrations to love our country. - Author: Cindy Sheehan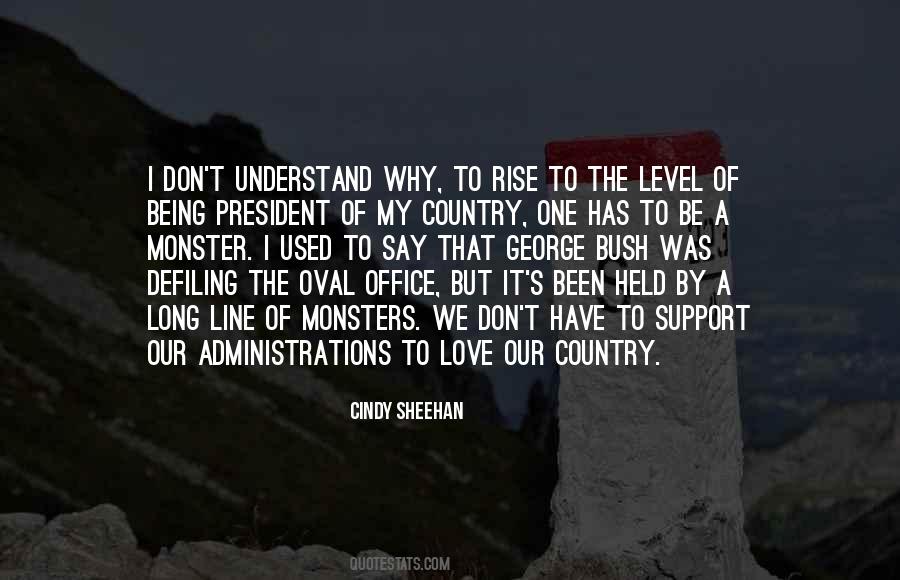 #22. President Obama , I guess, is starting to confess to some of his anxieties. In a recent interview, President Obama said, 'I miss being anonymous.' He said, 'In the old days, I could blend in with all the other Hawaiian Barack Hussein Obamas.' - Author: Conan O'Brien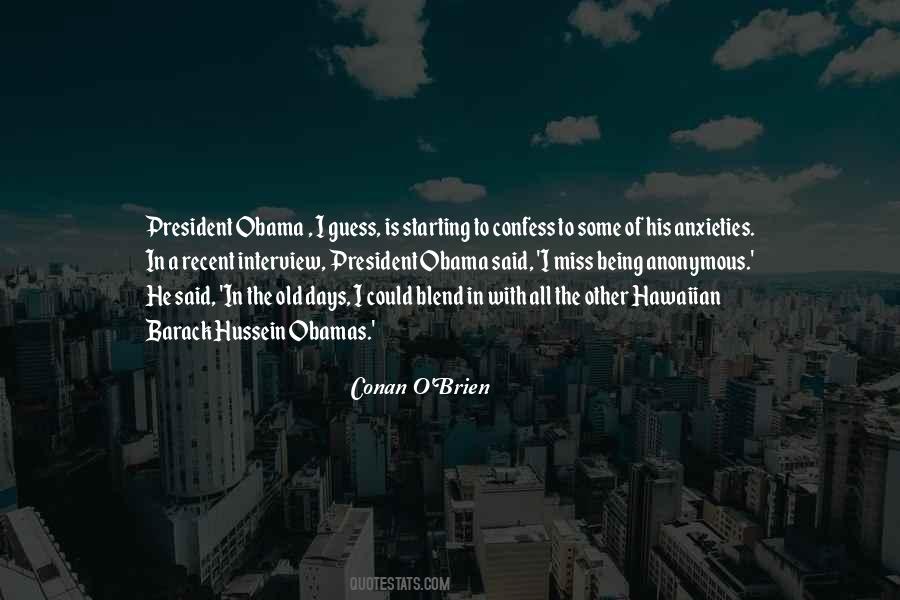 #23. I made a mistake by being ejected from the presidency. Next time, I will choose a Cabinet which will allow me to be life President. - Author: Nelson Mandela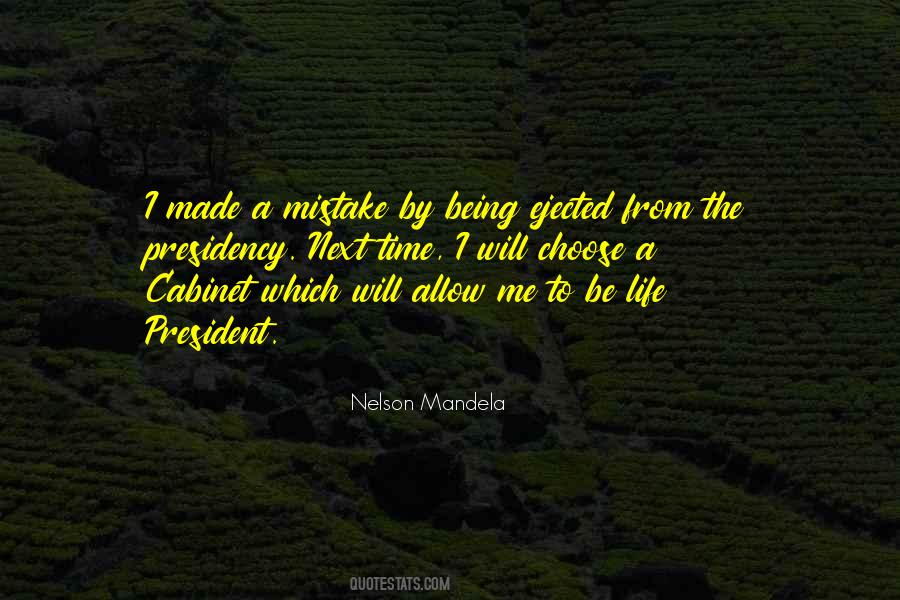 #24. Barack Obama being President of the United States doesn't mean racism has disappeared. It's all a process, and we have to be aware that the work never ends. - Author: Misty Copeland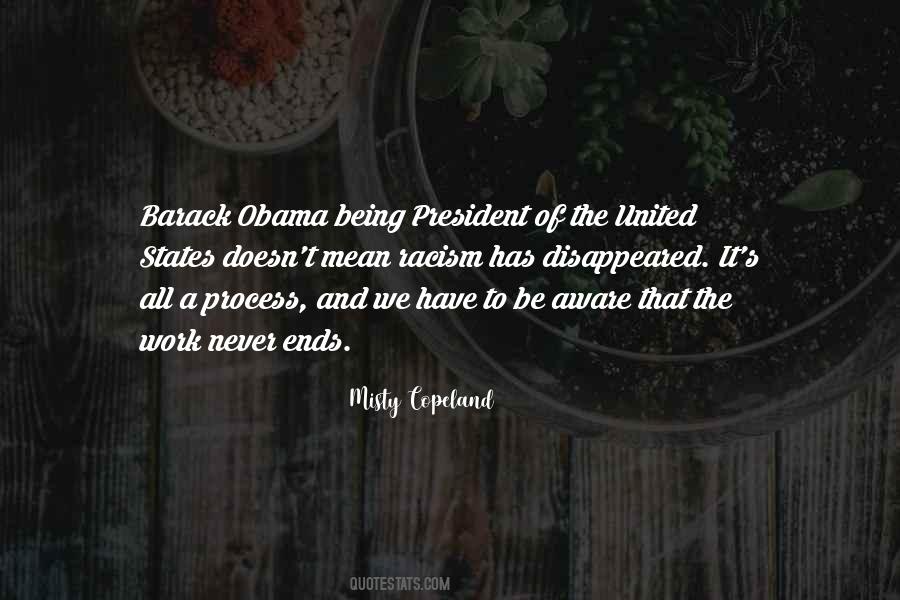 #25. There was always this sense, even early on in the campaign, that if the senator Obama could score this upset victory in Iowa, that there was a pretty good chance that he would end up being president of the United States. - Author: Josh Earnest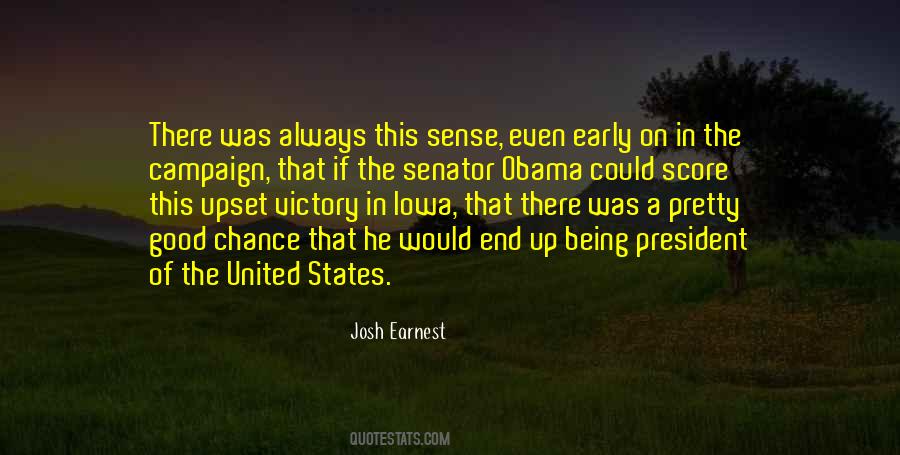 #26. Richard Nixon had a kind of Walter Mitty fantasy life. He was a man with a grandiose thoughts: dreams of not simply being president but maybe becoming one of the truly great presidents of American history. - Author: Robert Dallek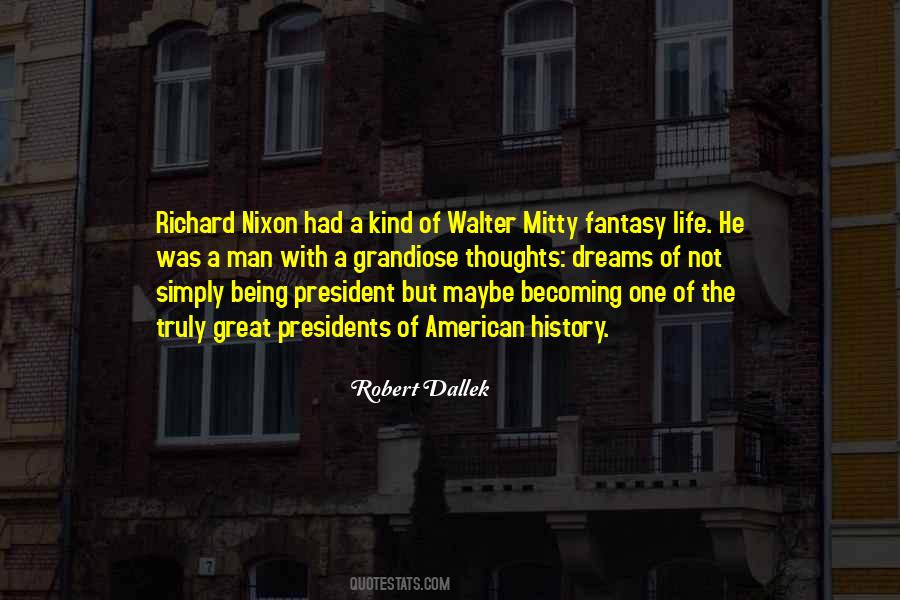 #27. There are a lot of ways to serve, and being president is not the only one, and I would hope that someone else would run. - Author: Barbara Bush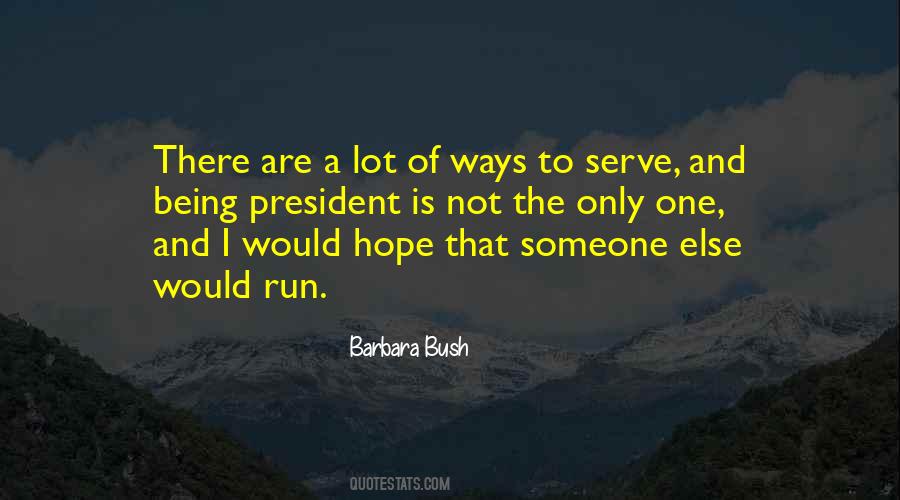 #28. I think George Bush is the most corrupt American president since Harding in the Twenties. He is not the legitimate president. This really is a completely unsupportable government and I look forward to it being overthrown as much as I looked forward to Saddam Hussein being overthrown. - Author: Ken Livingstone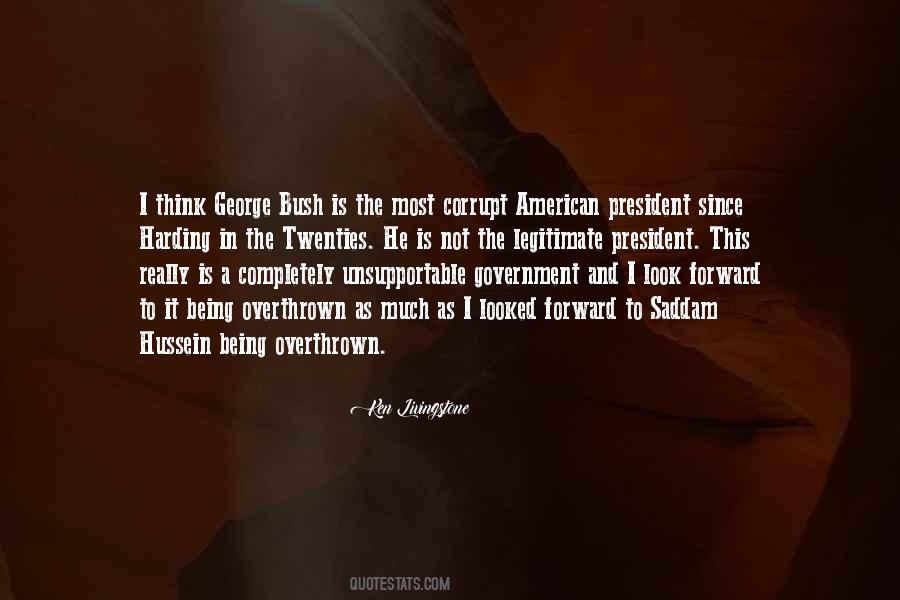 #29. Once upon a time, privacy was valued. For goodness' sake, a disabled president of the United States could ask that the press not photograph him in a wheelchair or being transferred to his car or generally in a weakened state, and the press would oblige. Those were the days. - Author: Julianna Baggott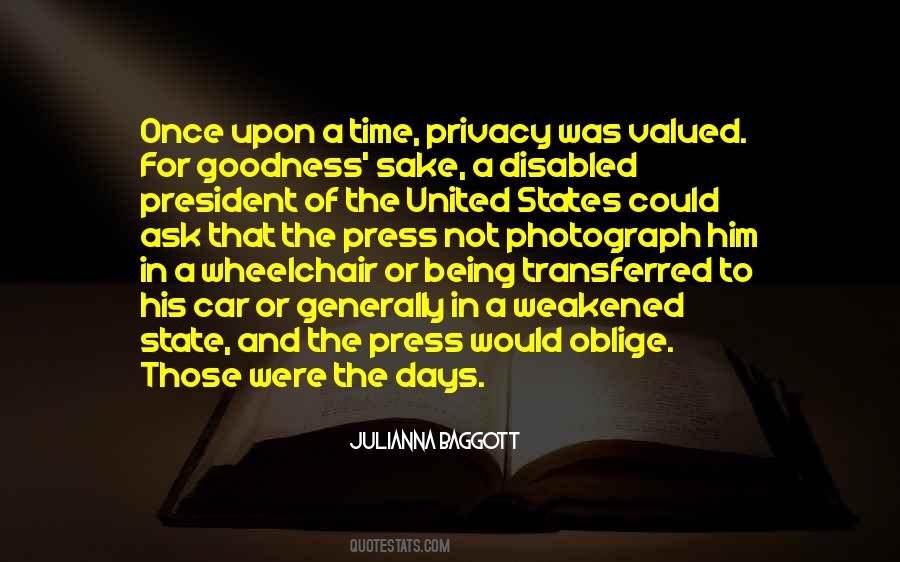 #30. I'm so proud to represent the people of South Florida. I was so honored when President Obama asked me to serve as chair of the Democratic Party. But there's one job I'm even more proud of, and that's being a mom to my three kids, Rebecca, Jake and Shelby. - Author: Debbie Wasserman Schultz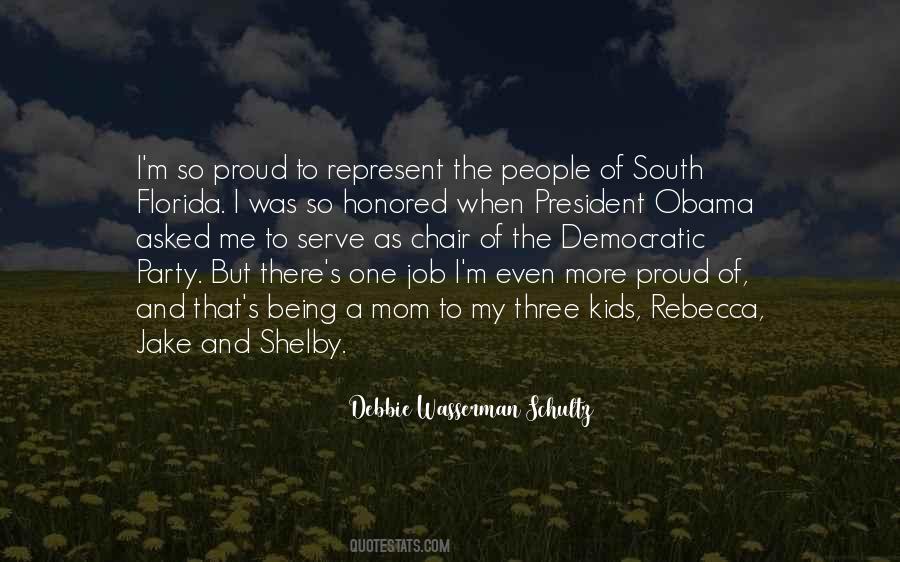 #31. I don't want my president to be a TV star. You don't have to be on television every minute of every day - you're the president, not a rerun of 'Law & Order'. TV stars are too worried bout being popular and too concerned about being renewed. - Author: Bill Maher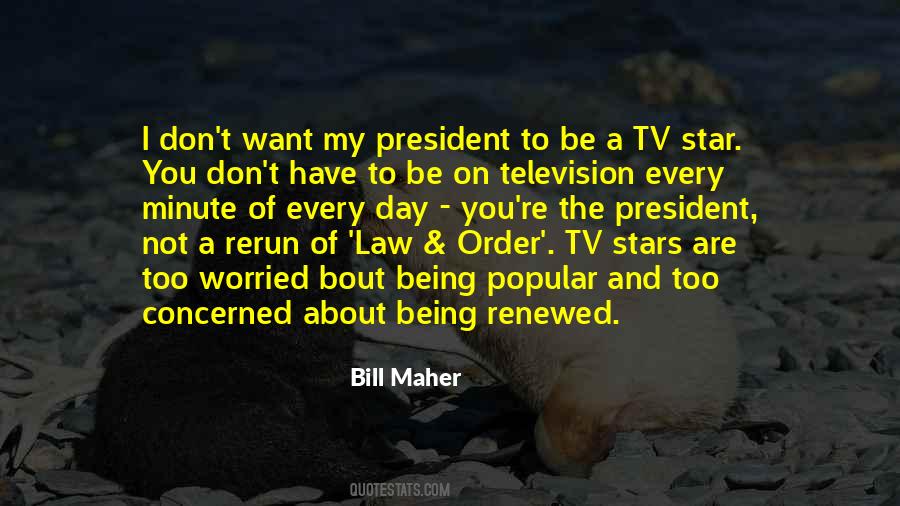 #32. Whenever I look at the history of presidents I deeply admire - the one thing that I'm always struck by is persistence. It's a quality that's underrated. Being able to plough through, being able to stay buoyant in the face of challenges. - Author: Barack Obama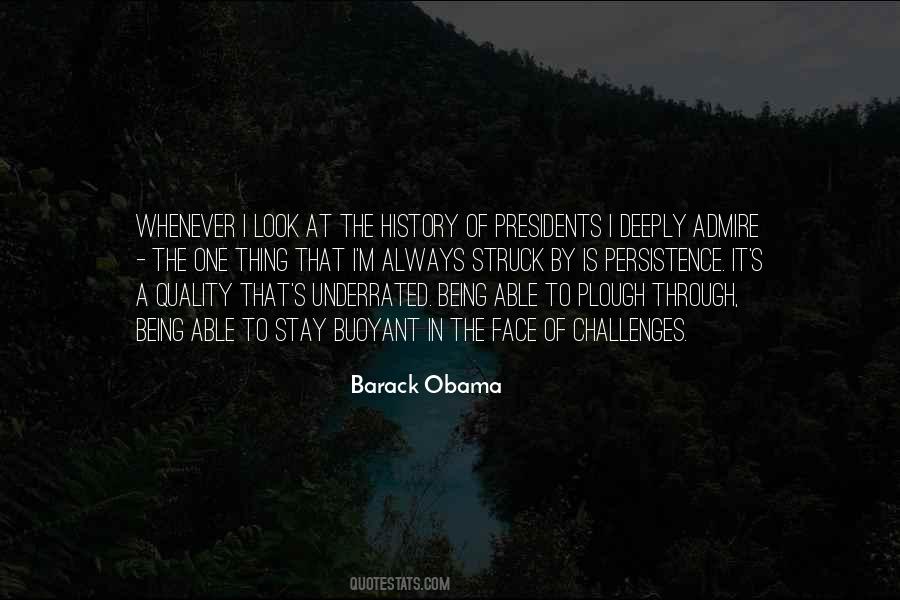 #33. There is no basis to say I'm being coy about running for president. If I chose to explore the presidency, I wouldn't do it in a backward way. I'll say, 'I'm exploring the presidency.' - Author: Mario Cuomo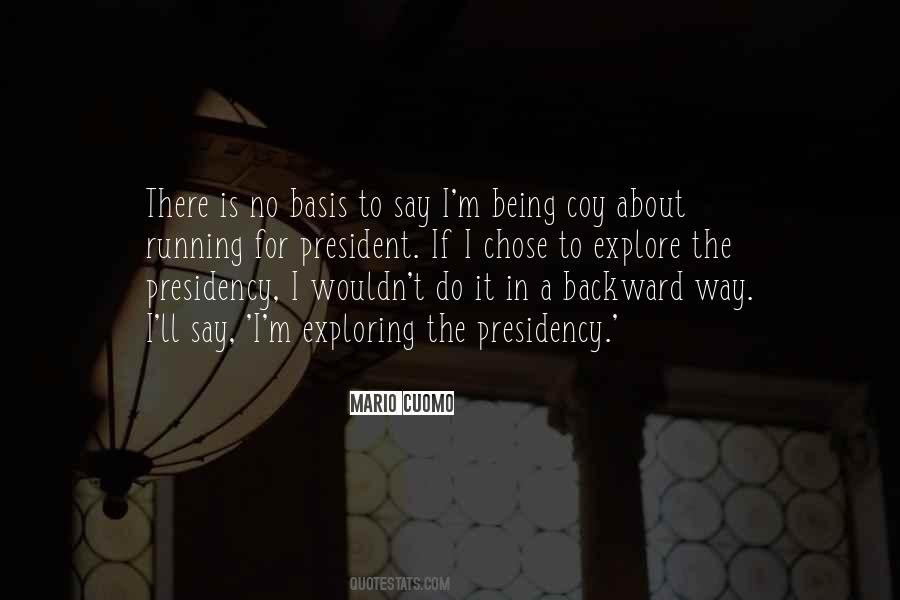 #34. Whenever people say, 'You should be president,' I say, 'I thought you liked me.' Listen, I thought being mayor of Stamford was a wonderful job. Being governor of a state for a period of time is a wonderful job, and I'm not sure I'm at all attracted to Washington. - Author: Dannel Malloy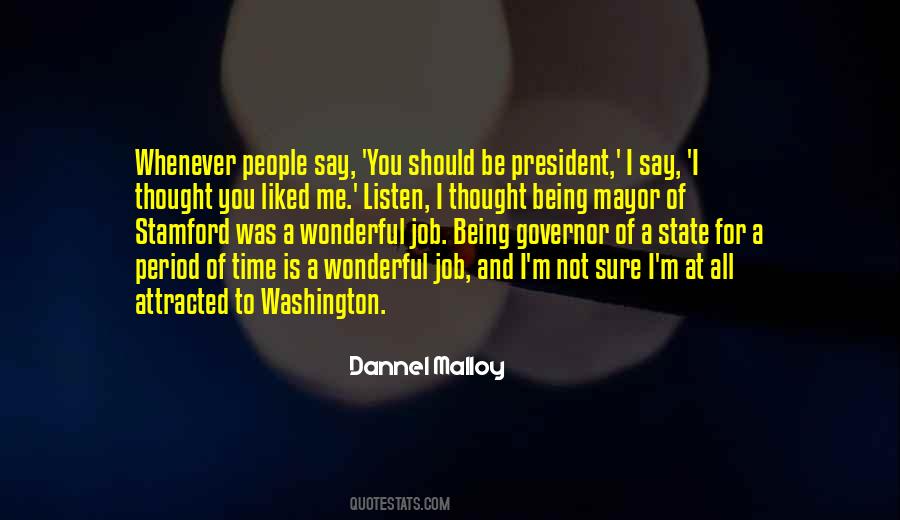 #35. Perhaps the mistake I made at the start of my mandate is not understanding the symbolic dimension of the president's role and not being solemn enough in my acts. A mistake for which I would like to apologise or explain myself and which I will not make again. Now, I know the job. - Author: Nicolas Sarkozy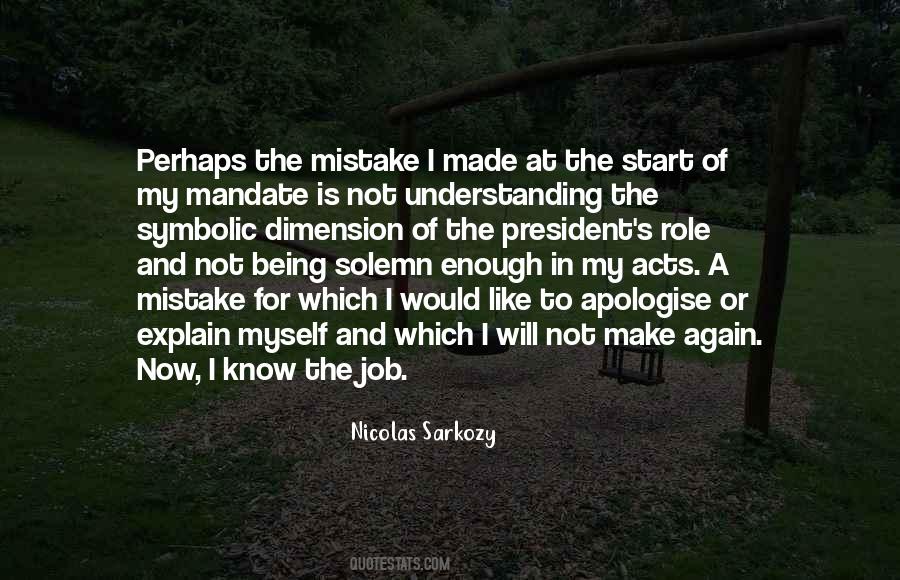 #36. Being president means leaving one's name in the history book of which few men are authors. It is my fortune to be blessed with a proud name, one that parents will employ for generations to instill the values of honesty, independence, and above all, courage in their sons. - Author: Grover Cleveland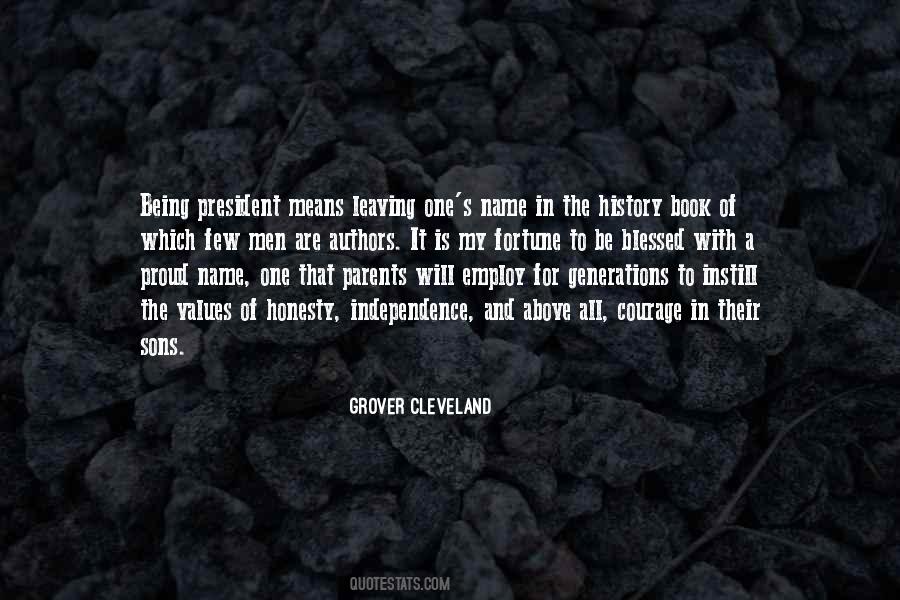 #37. Being a president is being a CEO, essentially. - Author: Geraldo Rivera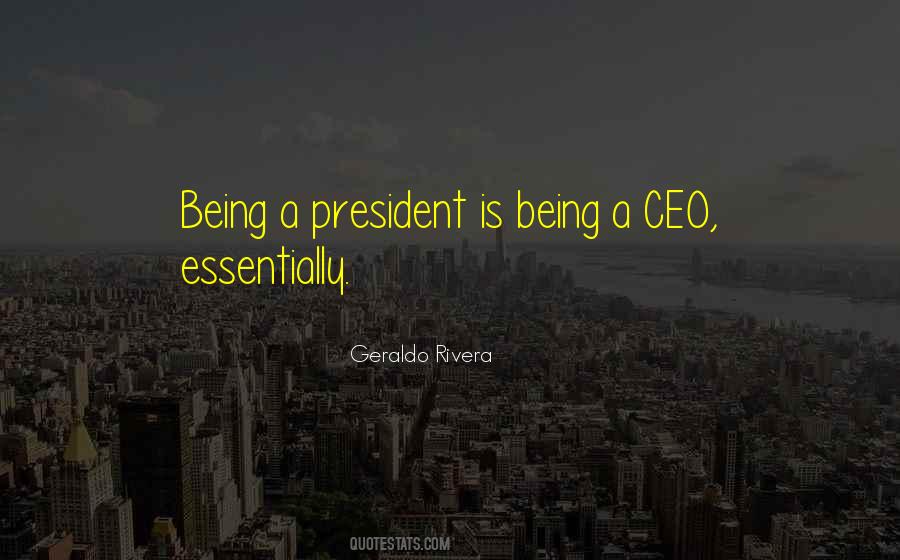 #38. The point being we used to have a system that wasn't as rigged in how the tax structure functioned. The president [Barack Obama] and I have been trying to get rid of some of these loopholes for some time. Look, we have to change the corporate culture. - Author: Joe Biden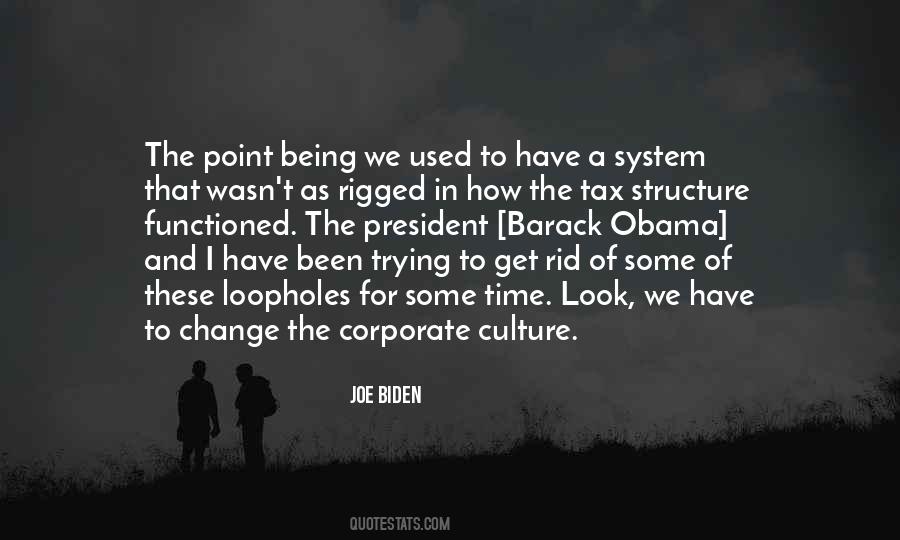 #39. I don't see where people get all this bull about the kid who's gonna be President and being a newsboy made a President out of him. It taught him how to handle his money and this bull. You know what it did? It taught him how to hate the people on his route. And the printers. And dogs. - Author: Studs Terkel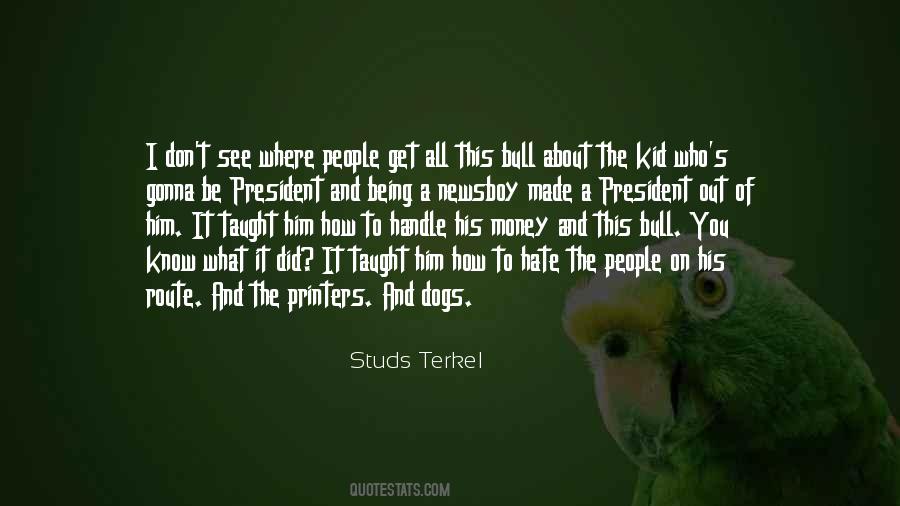 #40. Being lectured by the president on fiscal responsibility is a little bit like Tony Soprano talking to me about law and order in this country. - Author: John F. Kerry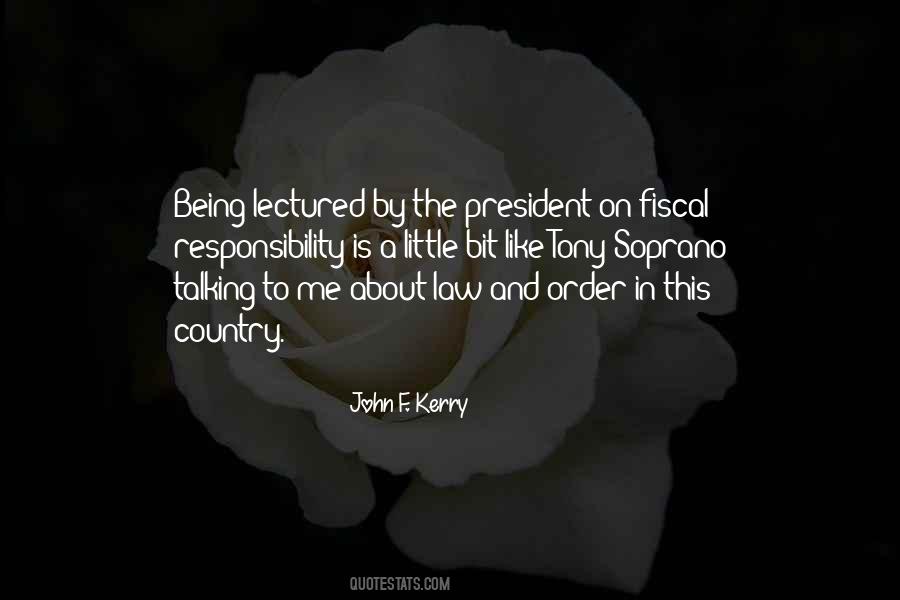 #41. Don't you think that being a person of faith has become a third rail in American politics? If you want to run for president nowadays, you'd better get out there and say you're a very faith-based person. - Author: Bill Maher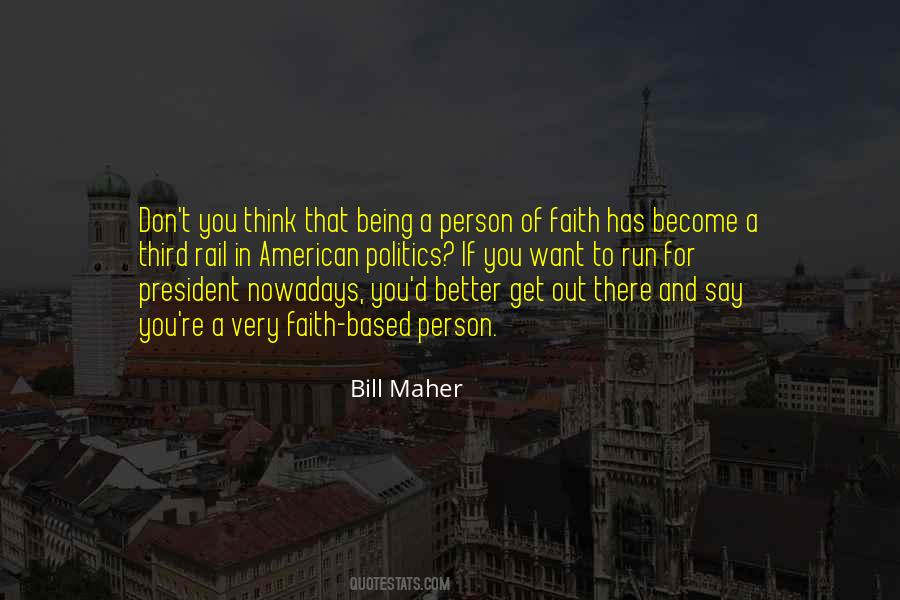 #42. President Clinton not only benefits by gay and lesbian votes, but he benefits by showing the nation that he is a strong leader who implements his beliefs, who stands firm by those who he believes are being treated unfairly, and I think people respect that kind of leadership in the country. - Author: David Mixner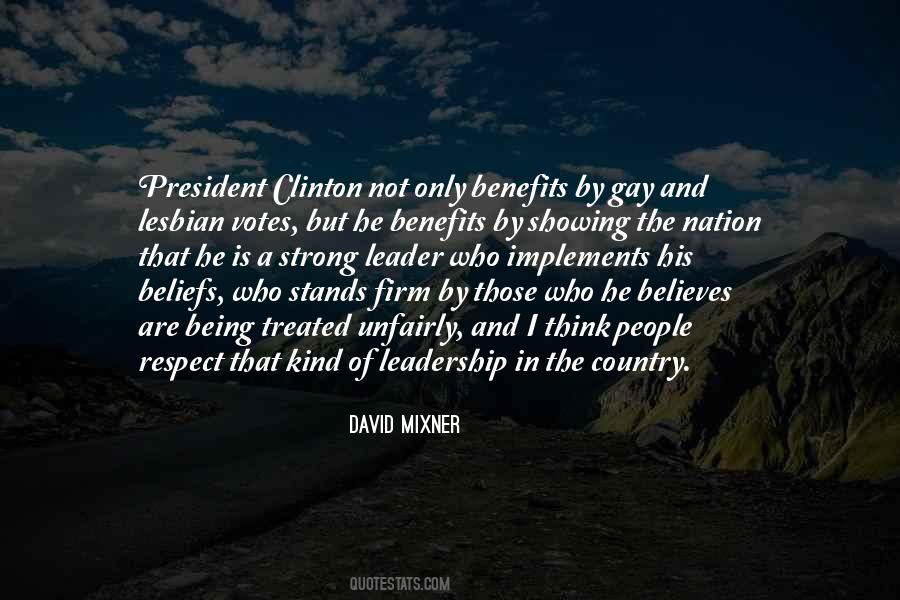 #43. Obama's got a great sense of humor, but mainly he has a great thinking presence, which is uncommon. It's hard to imagine being able to do, think over answers and deliver them on television. If I were president I would constantly be spluttering. - Author: Roy Blount Jr.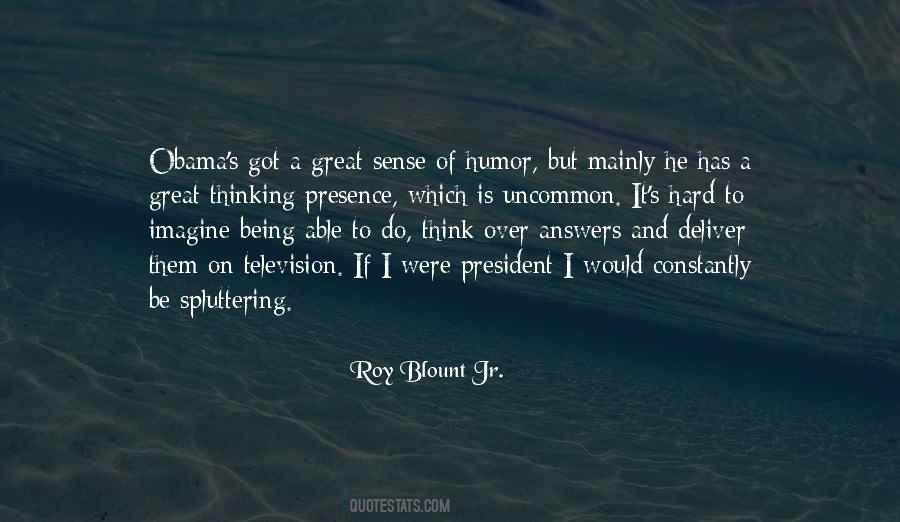 #44. I think a lot of presidents learn to be president by being president. - Author: Dee Dee Myers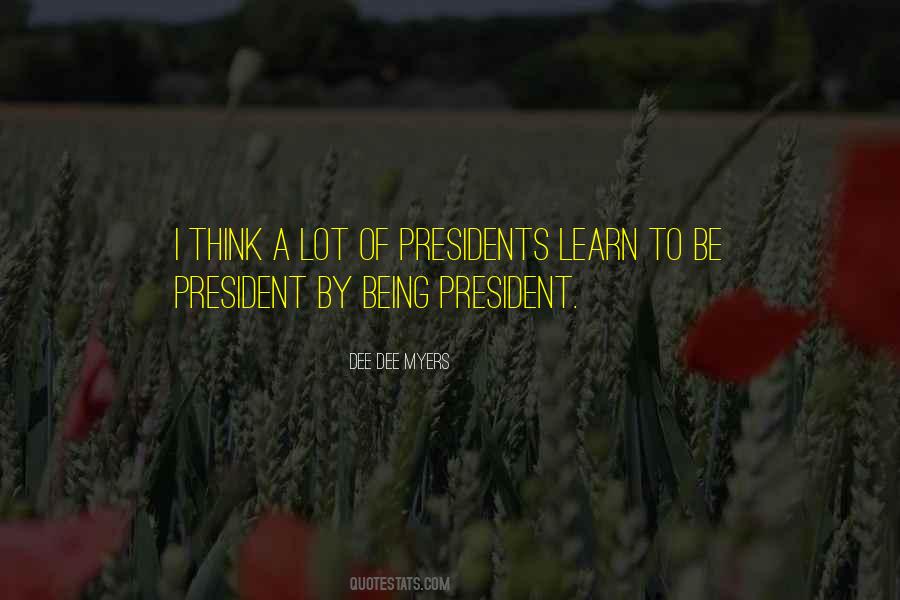 #45. I like being president because i get a cool house - Author: Barack Obama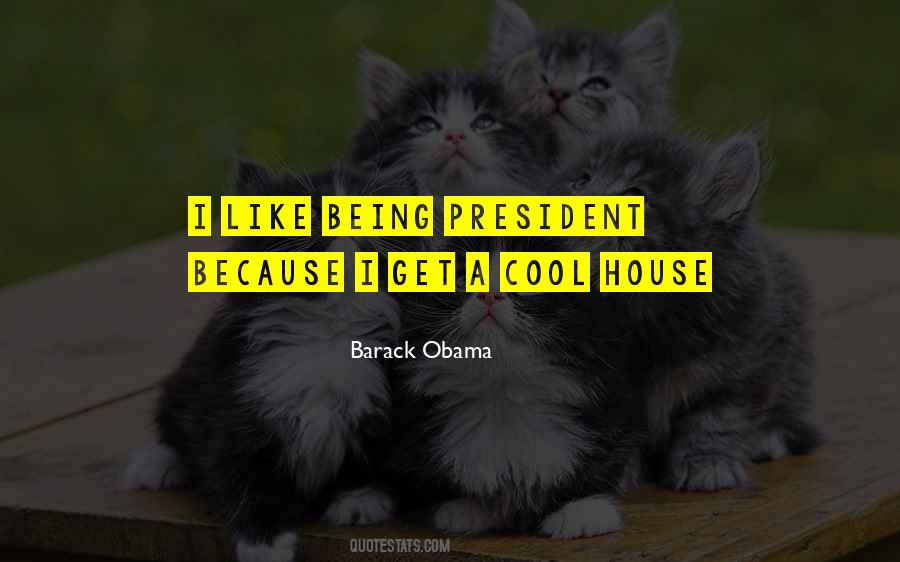 #46. I love Obama, and I love the fact that it's a black president of the United States of America, but he's not the first black president. Robert Mugabe is a black president, too, so let's not get to talking about precedents being set. - Author: Lupe Fiasco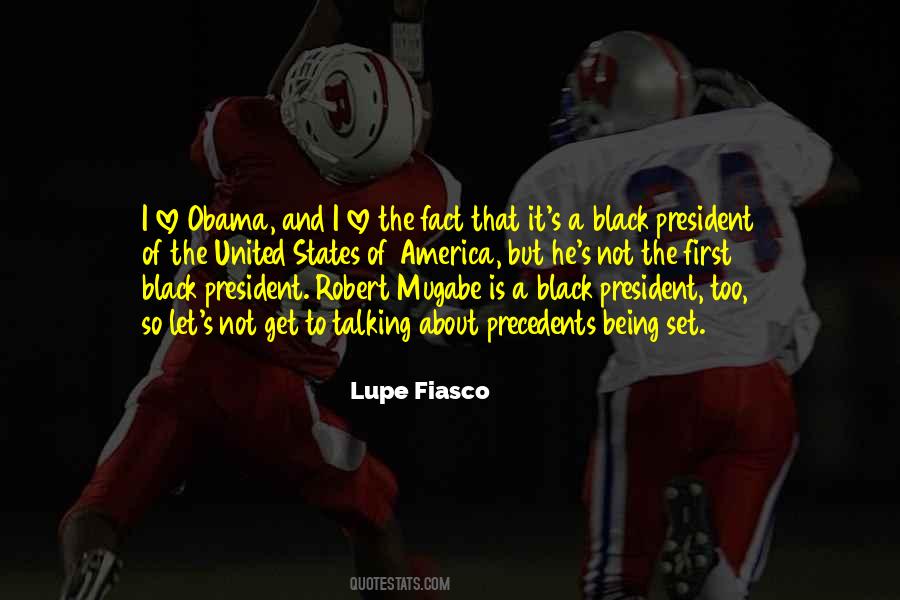 #47. President Bush's approval ratings have taken somewhat of a dive. A senior slump, if you will. Leading President Bush to one conclusion: He is the only one who realizes what a great job he's being doing. - Author: Jon Stewart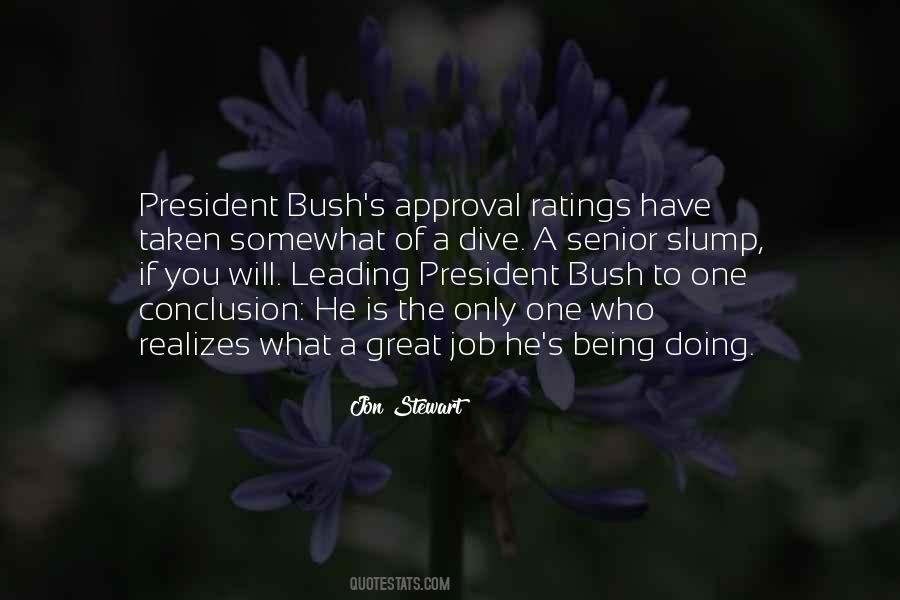 #48. Being president of a major public university is the most political nonpolitical office around. - Author: Gordon Gee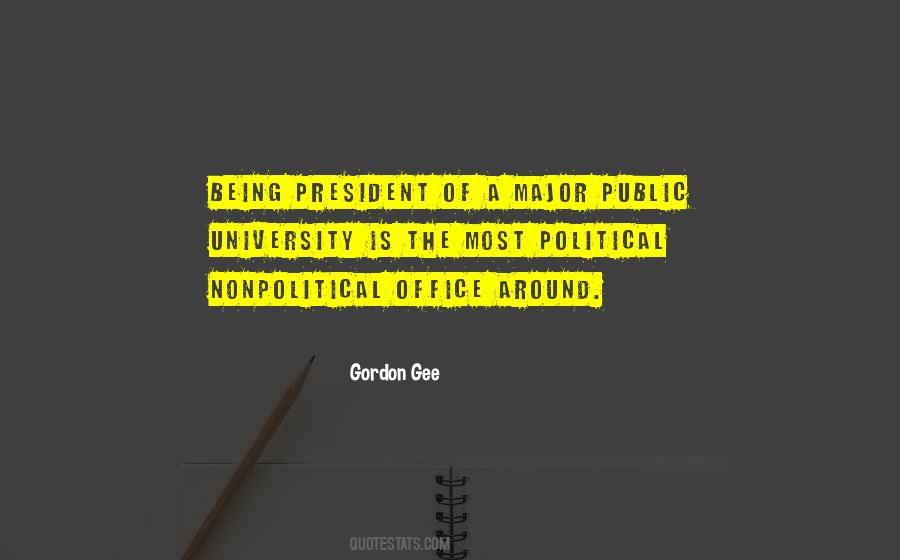 #49. The nonsense about President Obama being a Muslim has got to stop. I rise to defend him from this absurd accusation by pointing out that he is obviously an atheist. - Author: Ann Coulter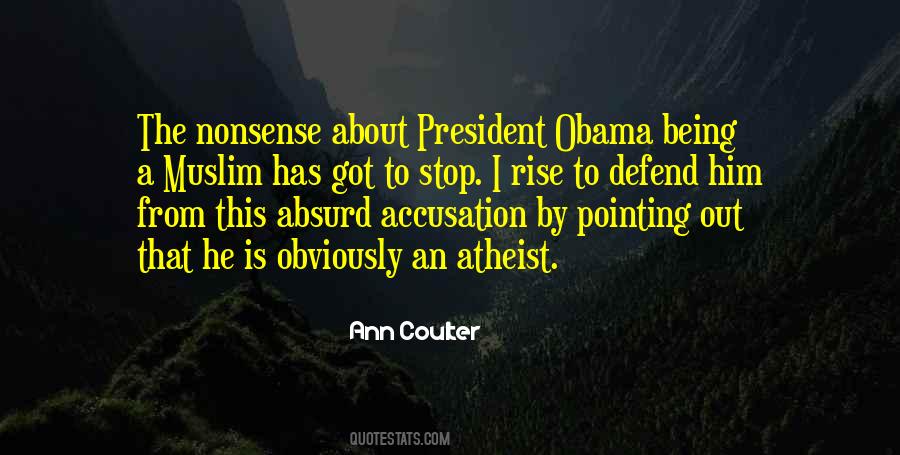 #50. I don't intend to spend my morning being lectured to by a president whose failed policies have put our children and grandchildren in a huge burden of debt. - Author: Jeff Landry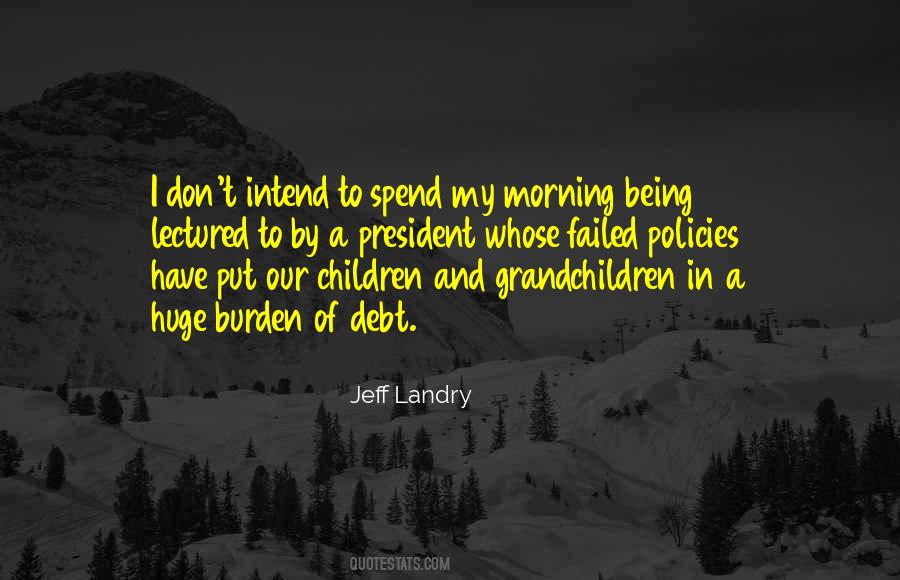 #51. I wanted the influence. In the end I wasn't very good at being a president. I looked out of the window and thought that the man cutting the lawn actually seemed to have more control over what he was doing. - Author: Warren Bennis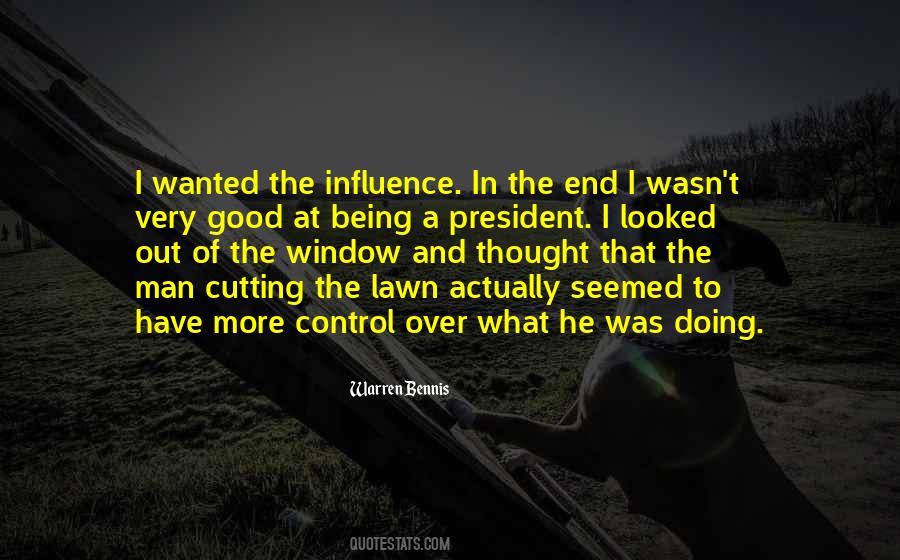 #52. I think I've done more right than wrong on foreign policy. I've criticized the president for being weak and indecisive. I've been a problem solver in Washington and I think I've got something to offer the party and nation. - Author: Lindsey Graham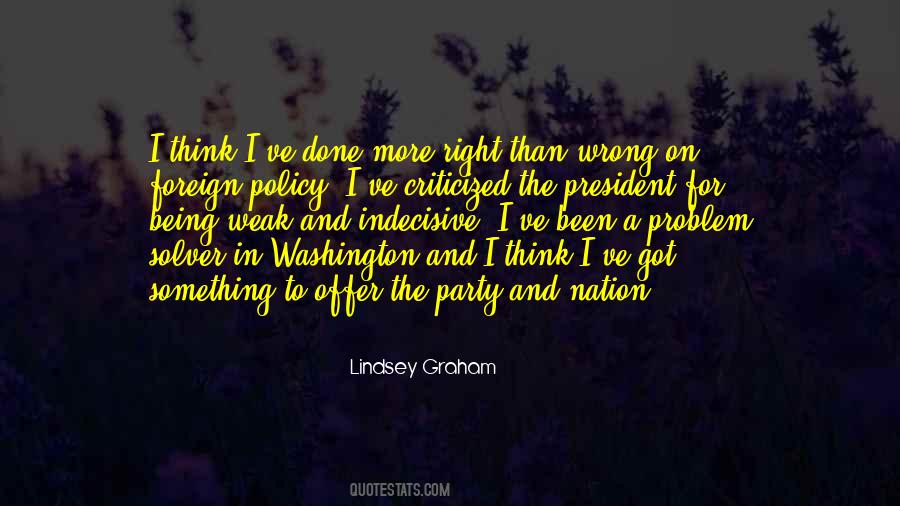 #53. You don't like a particular policy or a particular president? Then argue for your position. Go out there and win an election. Push to change it. But don't break it. Don't break what our predecessors spent over two centuries building. That's not being faithful to what this country's about. - Author: Barack Obama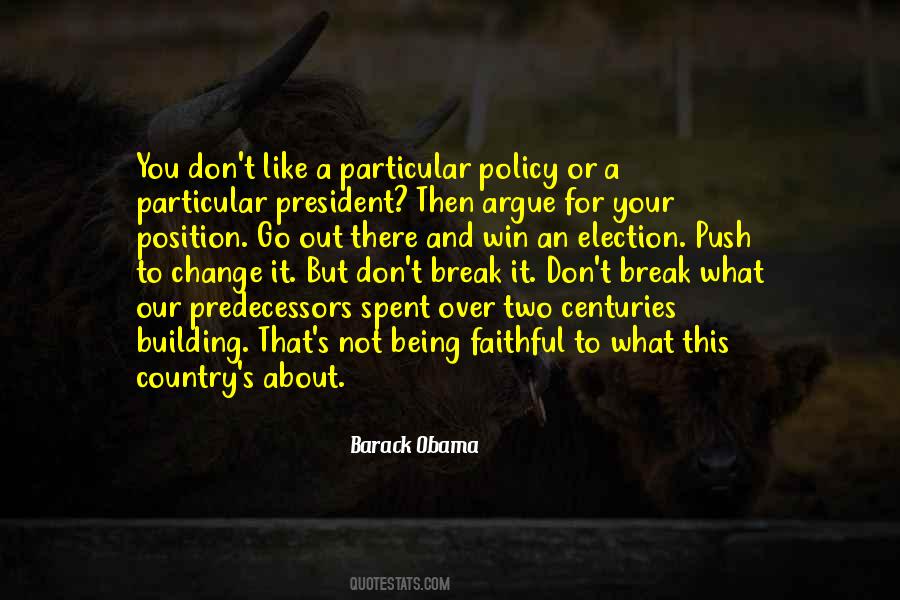 #54. In interviews with dozens of black advisers, friends, donors and allies, few said they had ever heard Mr. Obama muse on the experience of being the first black president of the United States, a role in which every day he renders what was once extraordinary almost ordinary. - Author: Jodi Kantor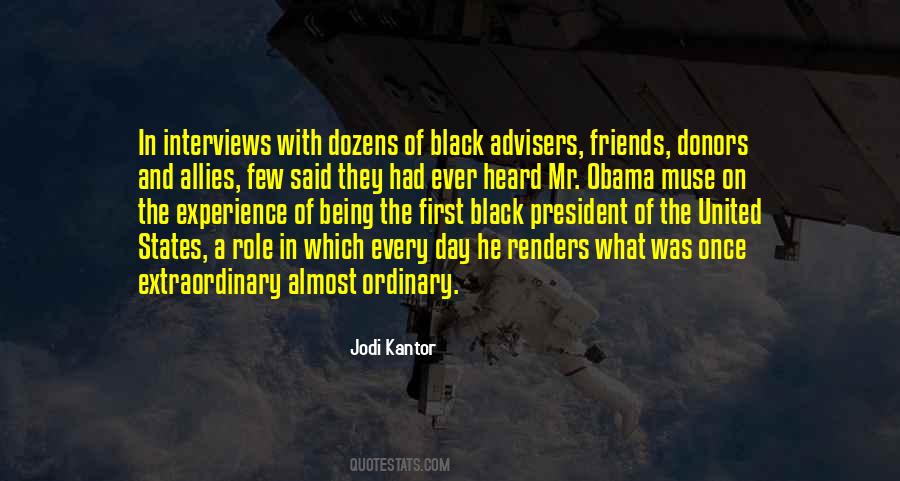 #55. You know, my dad served in the President's Cabinet after his time as a governor. He told me he enjoyed being governor a lot more. Now, I understand why. If I do my job well, I can make a difference in people's lives and I can help our children realize their dreams. - Author: Mitt Romney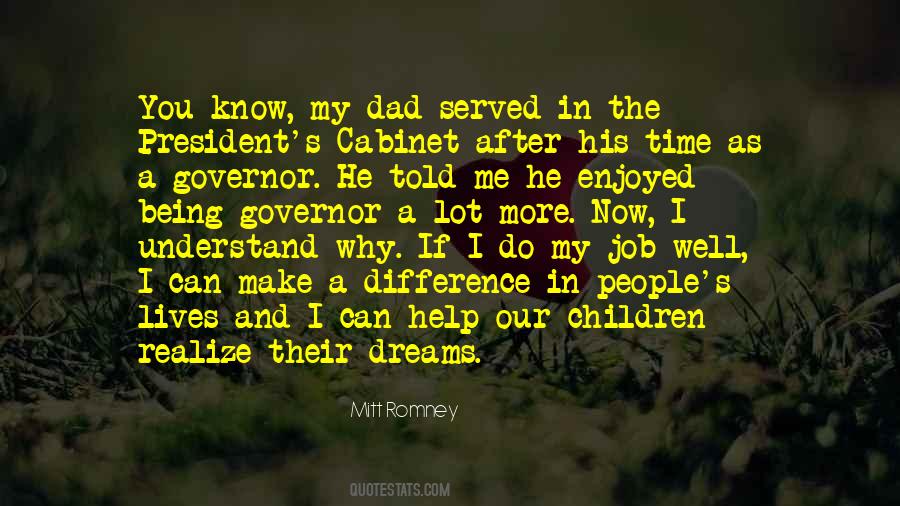 #56. Being president is as difficult as writing the perfect poem. And being president is as effortless as writing the perfect poem. Always a Reckoning, my first collection of poetry, was described by Booklist as 'keenly evocative.' - Author: Jimmy Carter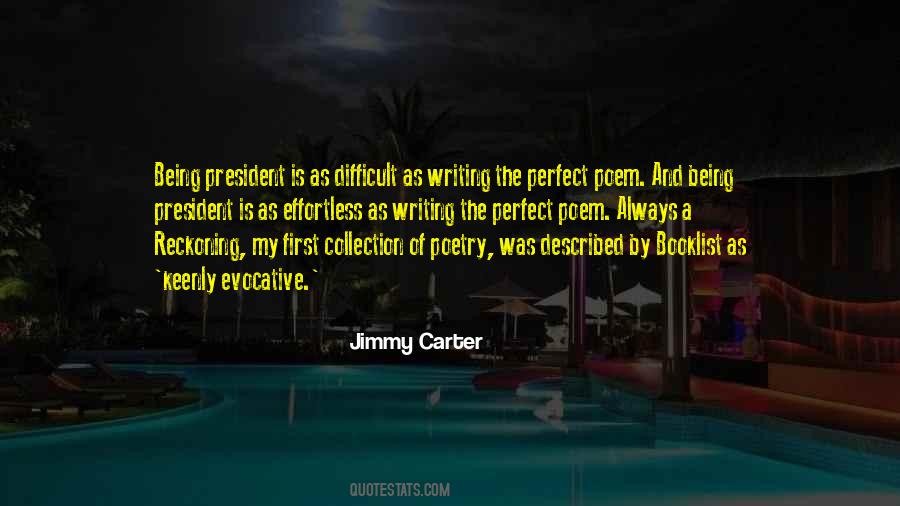 #57. Look, being president of the United States is the toughest job in the world and I can tell you, as someone who has worked with Secretary Clinton and competed against her that she is a tough person who is ready to do this job. - Author: Martin O'Malley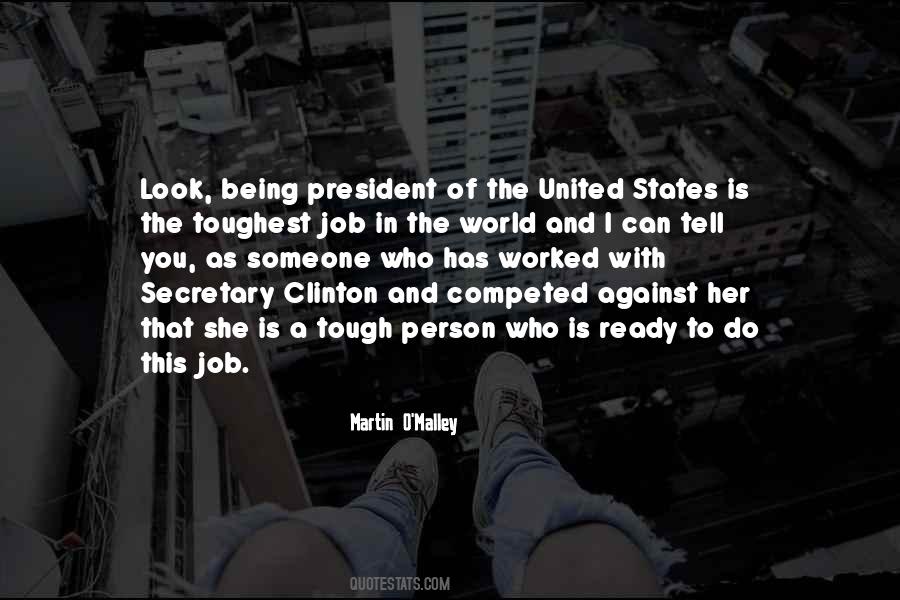 #58. We haven't been happy with the way the war has been handled. The president has changed his reasons for being over there every time a reason is proven false or an objective reached. - Author: Cindy Sheehan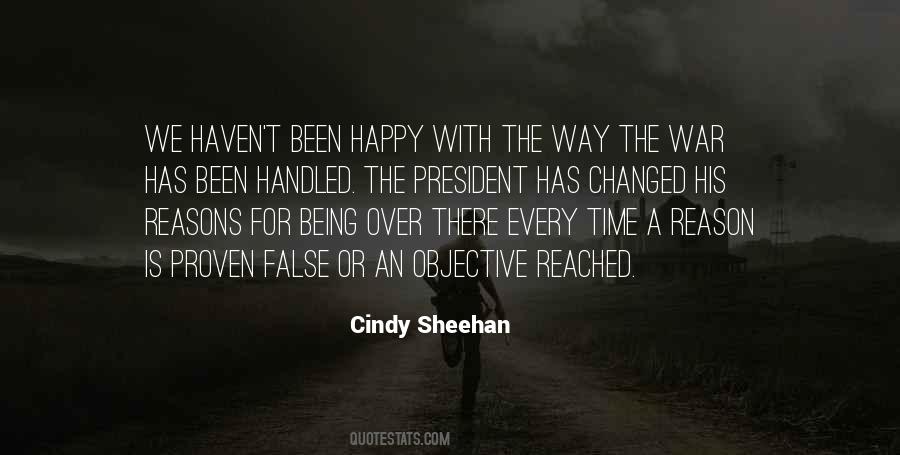 #59. Being a king, emperor, or president is mighty small potatoes compared to being a mother. - Author: Billy Sunday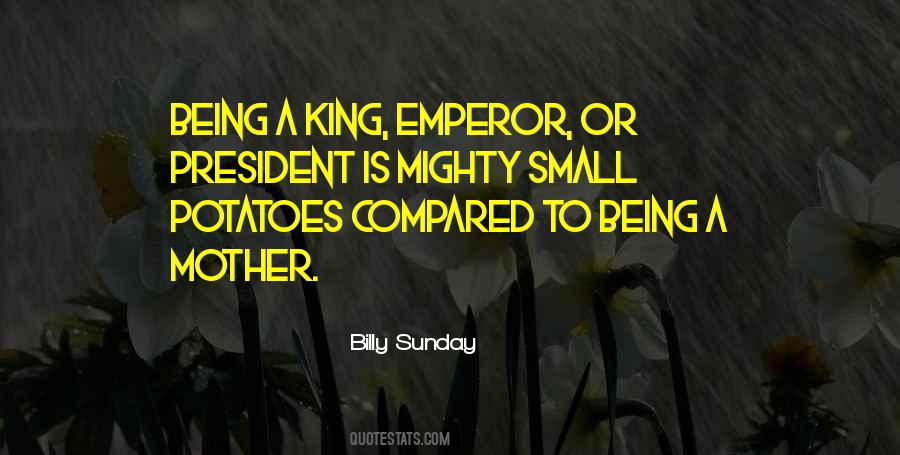 #60. As Bob Dole found out, you can't keep a positive image while being your party's mouthpiece in Congress. That's why no legislative leader since James Madison has ever been elected president. - Author: Dick Morris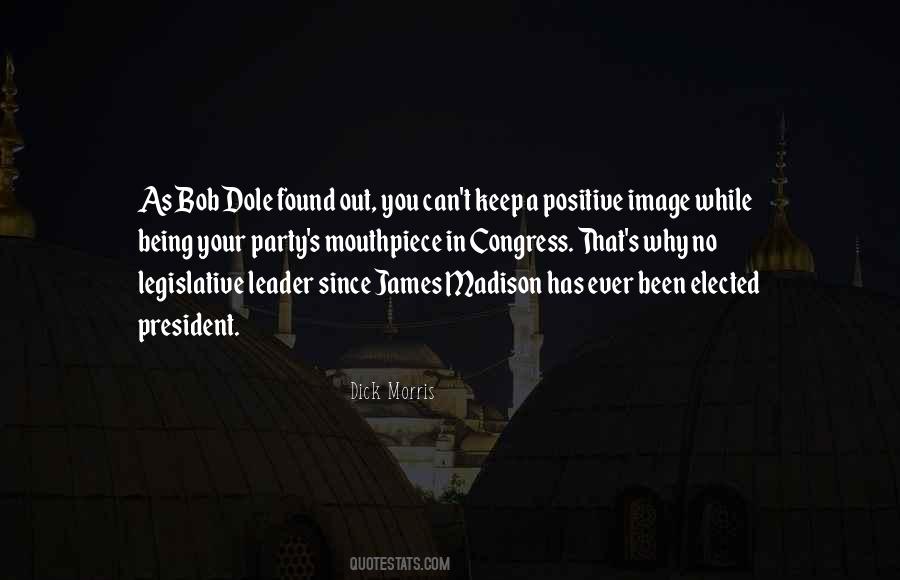 #61. I see myself as real. Like I mean if I was the President I would have a responsibility, because people put me there. Nobody put me here. They just buy my records. They wouldn't buy my records if my records wasn't good. I'm being who i am in the record. - Author: Tupac Shakur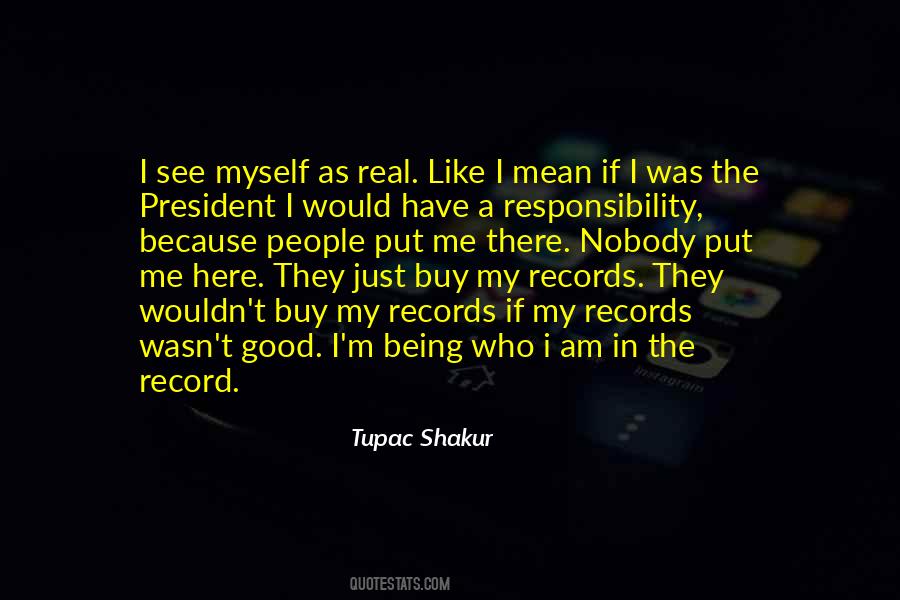 #62. I had a recurring fantasy in which I took (Rudy Giuliani) out during a press conference (it was nonlethal, just something that put him out of commission for a year or so), saving America from the horror of a President Giuliani. If that sounds like I had some trouble being 'objective,' I did. - Author: Michael Hastings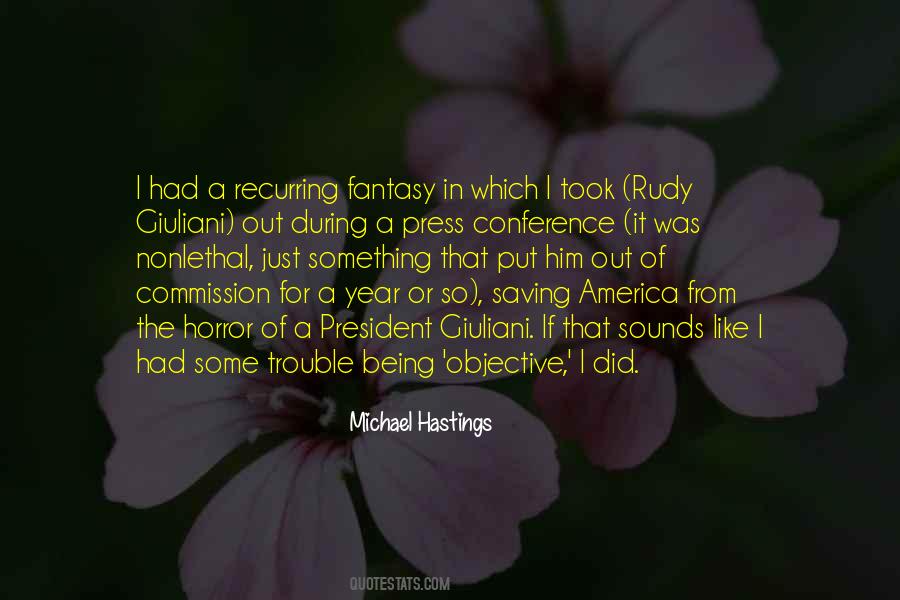 #63. The main problem with being president is the constant sense that you are inside a glass bowl for everyone to see, or in a kind of barometric chamber with an artificial atmosphere where you must stay all the time. - Author: Boris Yeltsin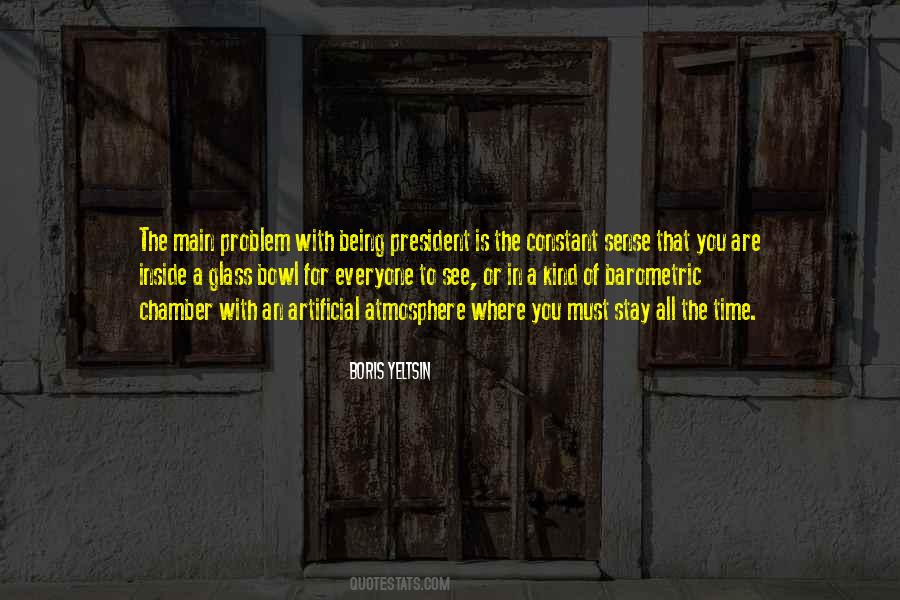 #64. This is what I've been waiting for my whole life. A President who's not afraid to tell the truth about being a lying a**hole. - Author: Lewis Black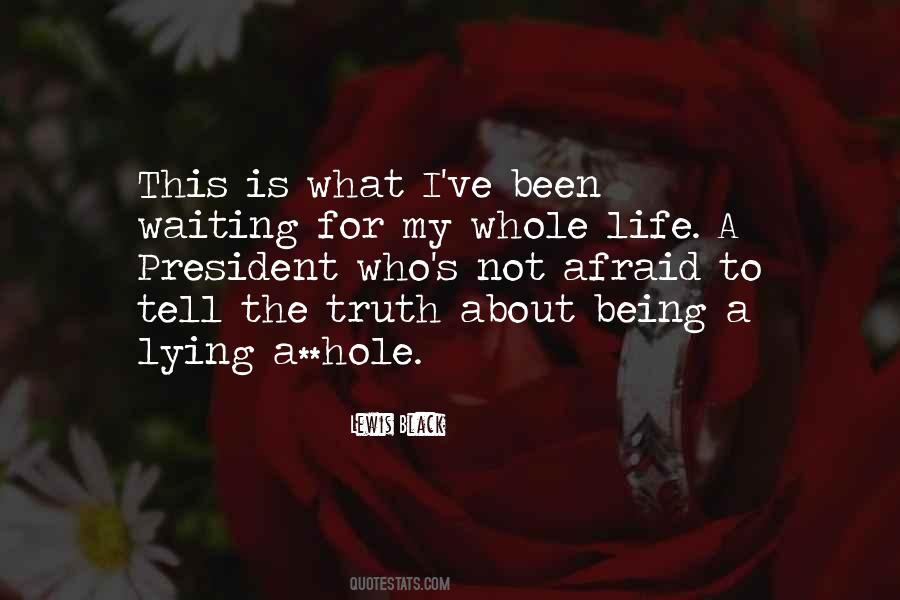 #65. I joke that being a university president is akin to being a pinata. But there are also notions of redemption. - Author: Gordon Gee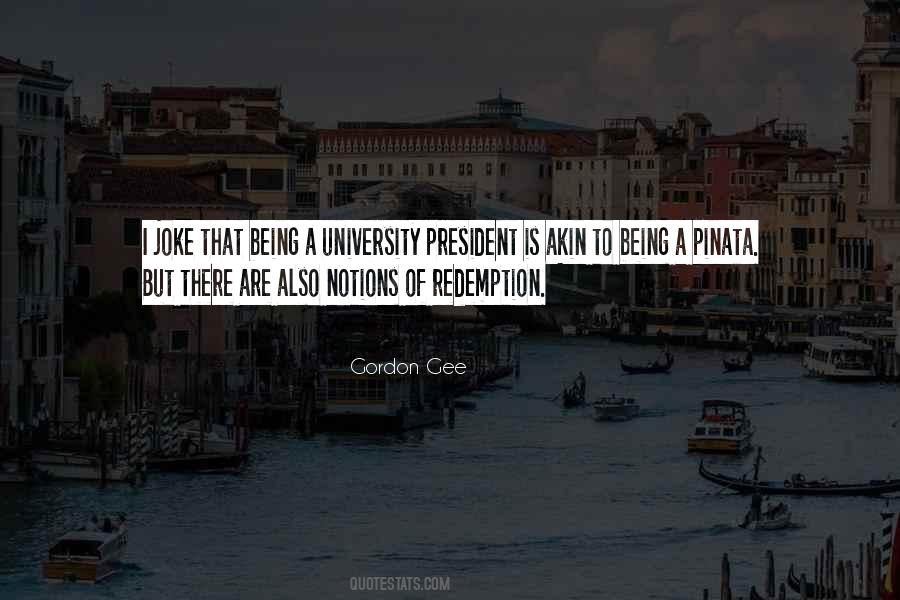 #66. Whatever it took to get elected president of the United States, I don't think being a complete and utter moron is one of those predicates. - Author: James Woods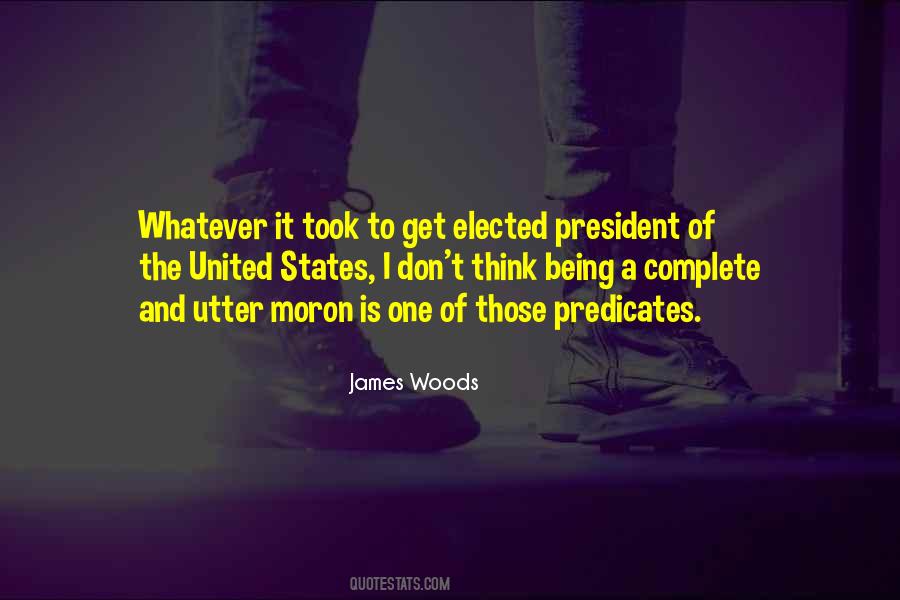 #67. In the wiretapping, despite all the momentum for a more assertive Congress, you're seeing Congress backing down, because there are many Republicans and even Democrats who are afraid of being seen as preventing the president from protecting the nation. - Author: Bill Vaughan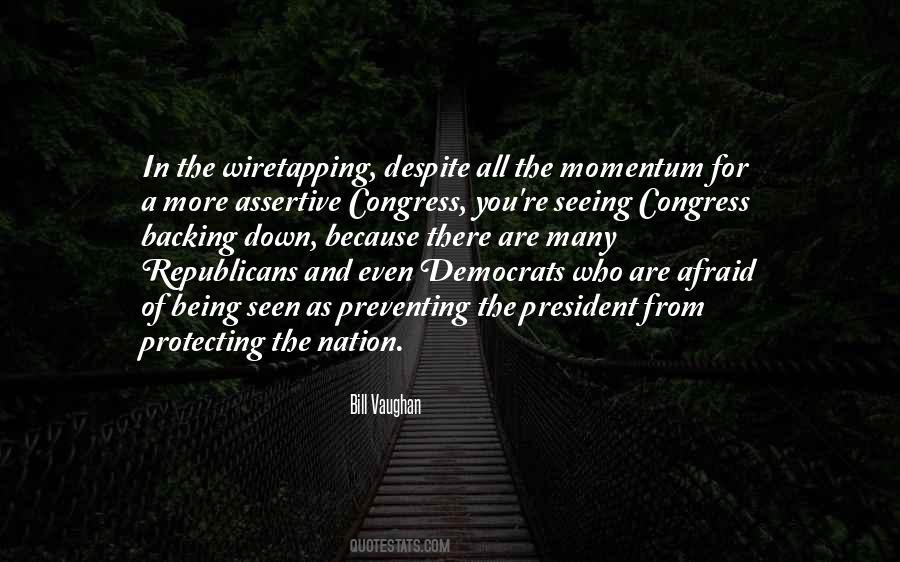 #68. I do not want to be president because I am a woman. Being a woman is important, but it's not the most important. I want to be president because we have the talent and the platform and the vision of a Mexico that we want for all Mexicans, not only for a select few. - Author: Josefina Vazquez Mota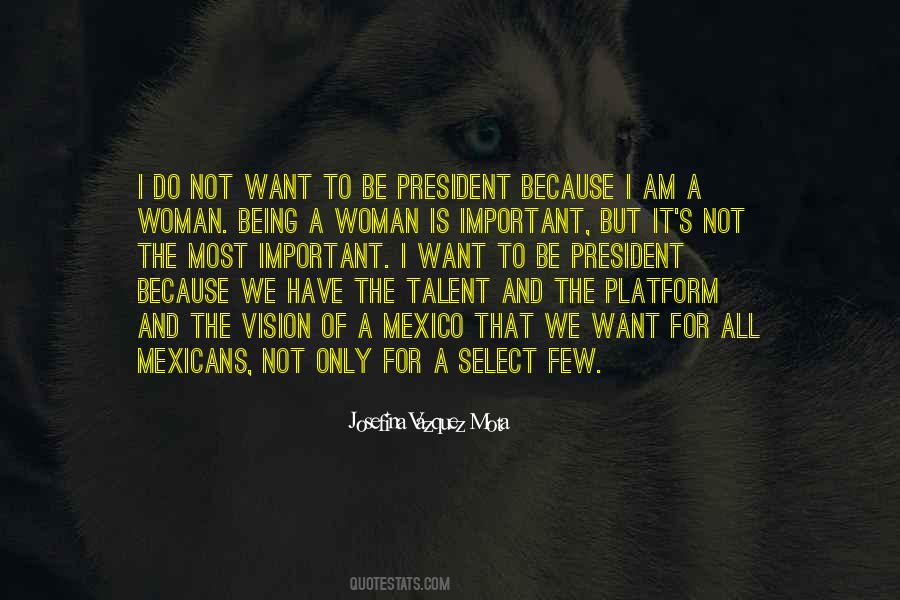 #69. If a hurricane strikes, we can blame the president for not being there; we can blame Congress and FEMA; we can blame the state governments; but in the end, it's the mayors and the local city governments that have to be prepared for emergencies and be prepared to act. - Author: Michael Bloomberg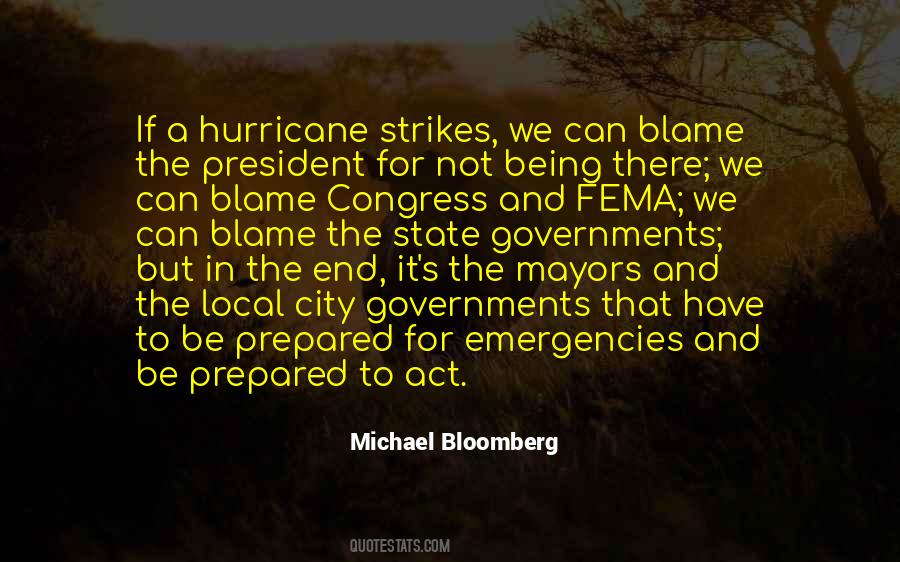 #70. People are being really picky about the upcoming election. I read that Americans do not want the next president to be a first-term senator, be over 65, or have a former president in the family. Then the Secret Service said, 'Hey, whoever slips through slips through. No promises.' - Author: Jimmy Fallon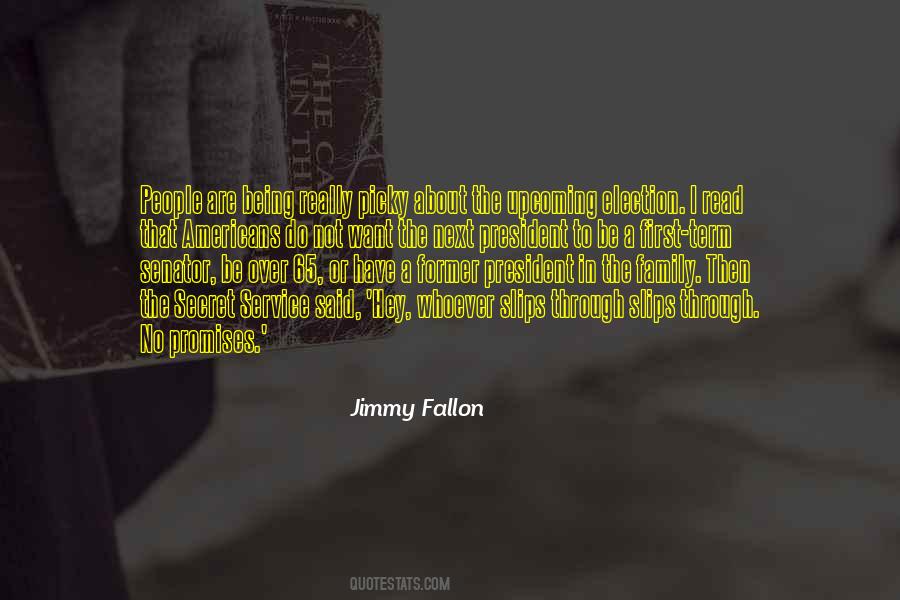 #71. That tax relief can spur the economy and thereby benefit all Americans is something that Washington Democrats used to understand. President Kennedy, for example, aggressively cut taxes after being elected to stimulate the economy as a means of helping all Americans. - Author: Mike Bouchard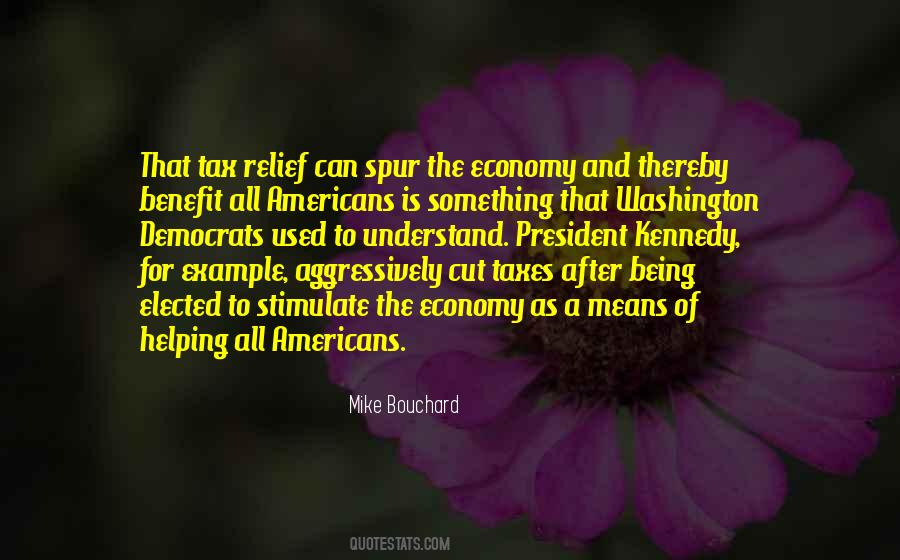 #72. You really have to experience the feeling of being with the president in the Oval Office ... It's a disease I came to call Ovalitis. - Author: John The Apostle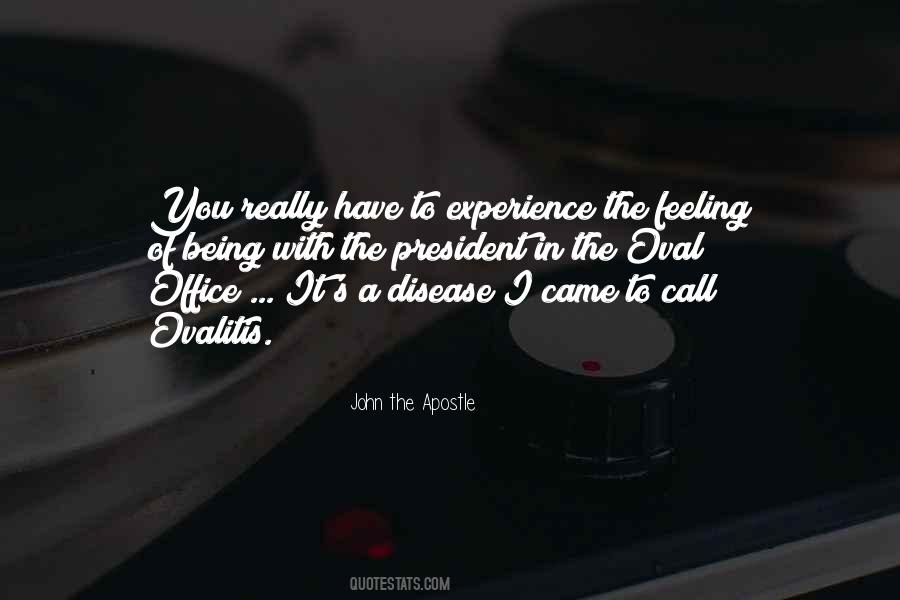 #73. Being a press secretary is like learning to type: You're hunting and pecking for a while and then you find yourself doing the touch system and don't realize it. You're speaking for the president without ever having to go to him. - Author: Larry Speakes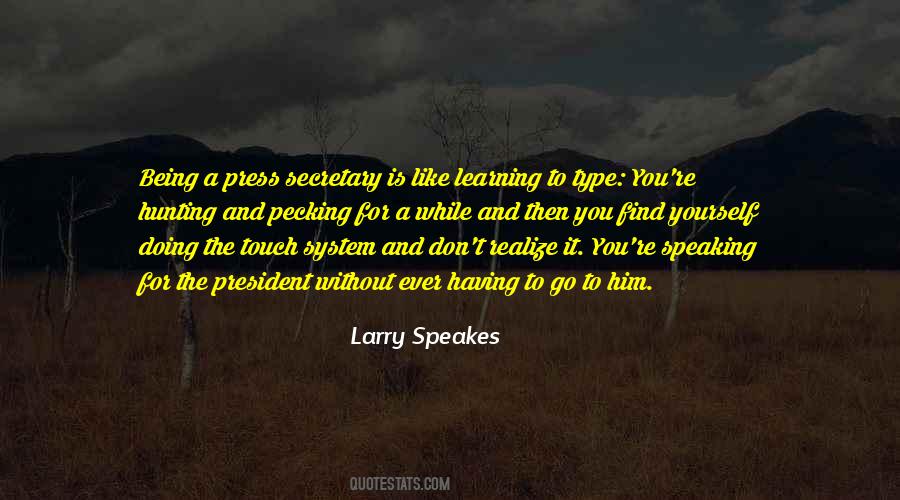 #74. Thanks to President Obama, being a woman will no longer be a pre-existing condition! - Author: Cecile Richards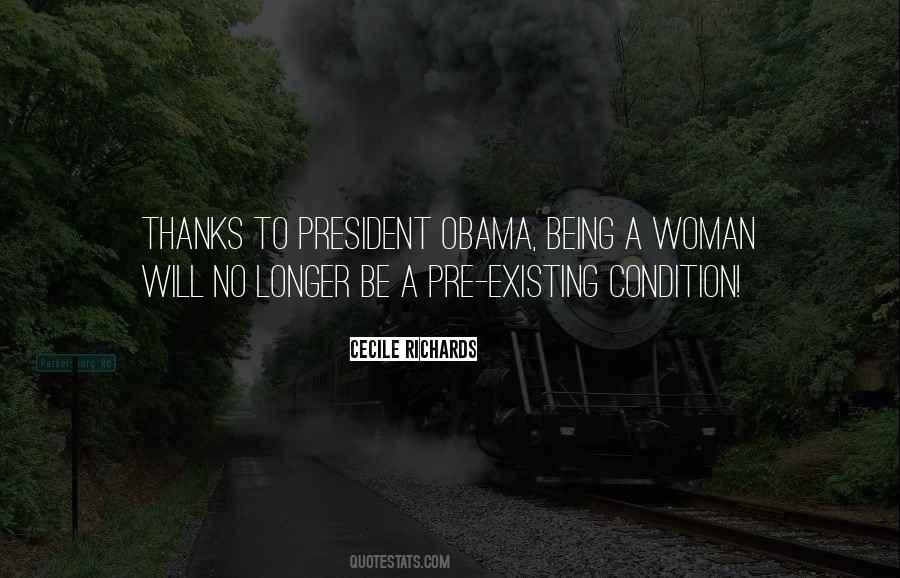 #75. President Kennedy was willing to go to war. He was not a coward. The man had been in war and so had Ken O'Donnell. He was ready to protect this nation, but he was not ready for a military solution just because it was being rammed down his throat. - Author: Kevin Costner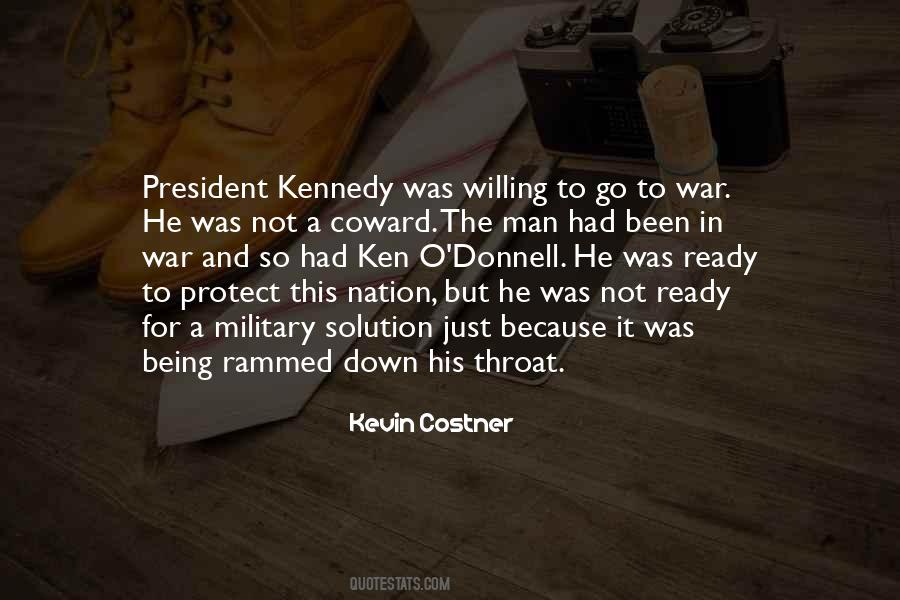 #76. He glosses over and doesn't even tell the truth ... Here is a guy who is the ultimate flip-flopper running for president, and he's attacking me for not being principled? That doesn't wash. - Author: Rick Santorum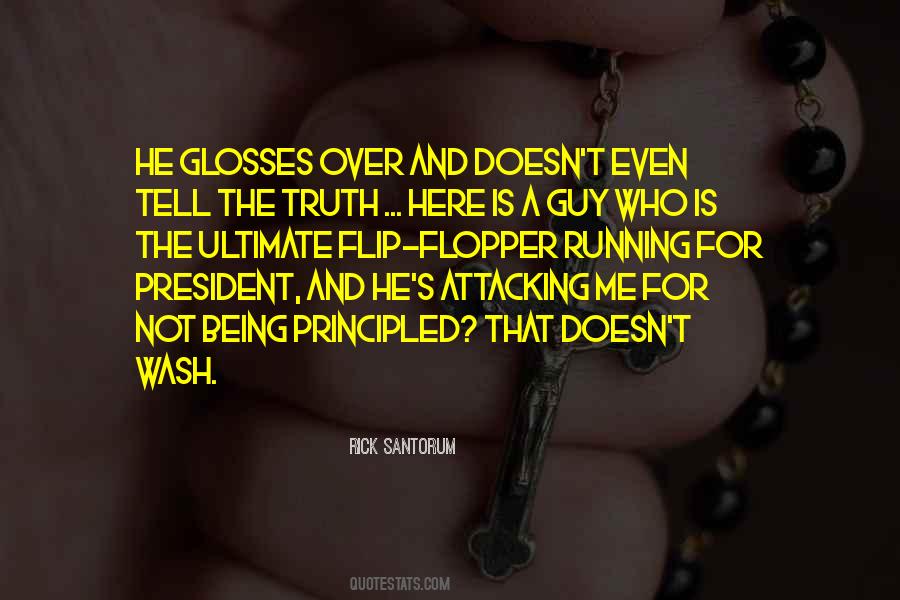 #77. The elder Bush explained later that "watching your son taking a pounding from his critics was much, much harder" than being president. "Barbara quit reading the papers and watching the new, but I couldn't do that - Author: Nancy Gibbs; Michael Duffy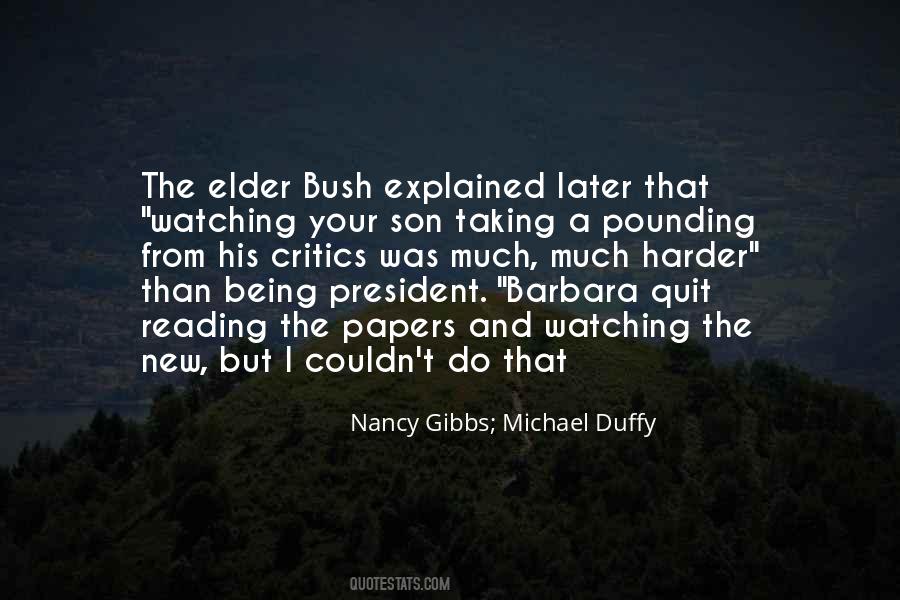 #78. The President was in seventh heaven when he heard himself being teased like this; he strutted about and thrust his chest out; never did a man of the robe stick out his neck so far, not even one who has just hanged a man. - Author: Marquis De Sade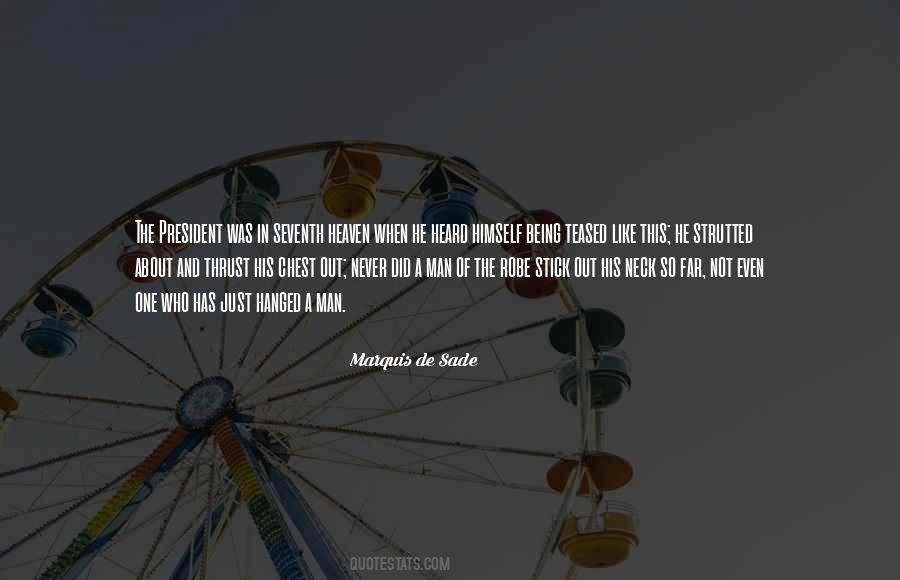 #79. Is America ready for a black president? Well, I say we just had a retarded one. When did being black become a bigger deterrent than being retarded? - Author: Chris Rock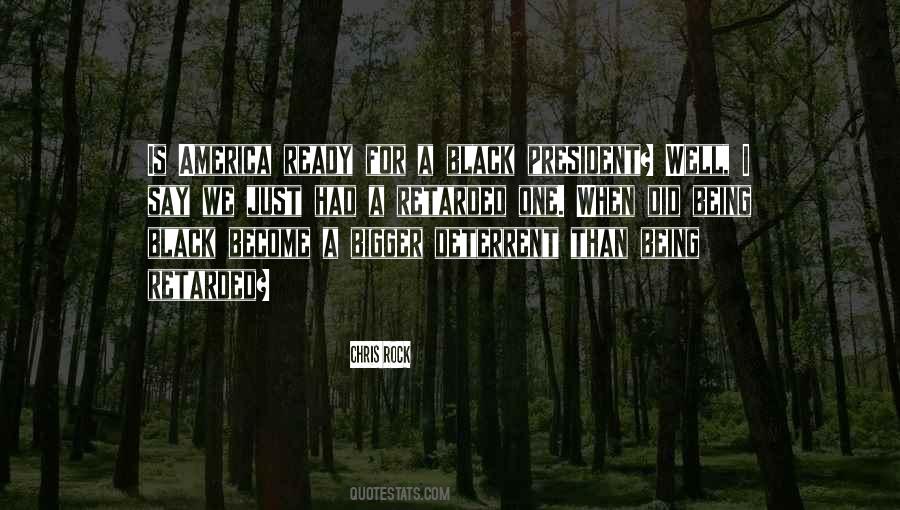 #80. SIR! SIR! SIR! FORGET THAT 'SIR' STUFF, WILL YOU? I'll bet if that were the president or governor or mayor or some rich son of a bitch, there would be doctors all over that room doing something! Why do you just let them die? What's the sin in being poor? - Author: Charles Bukowski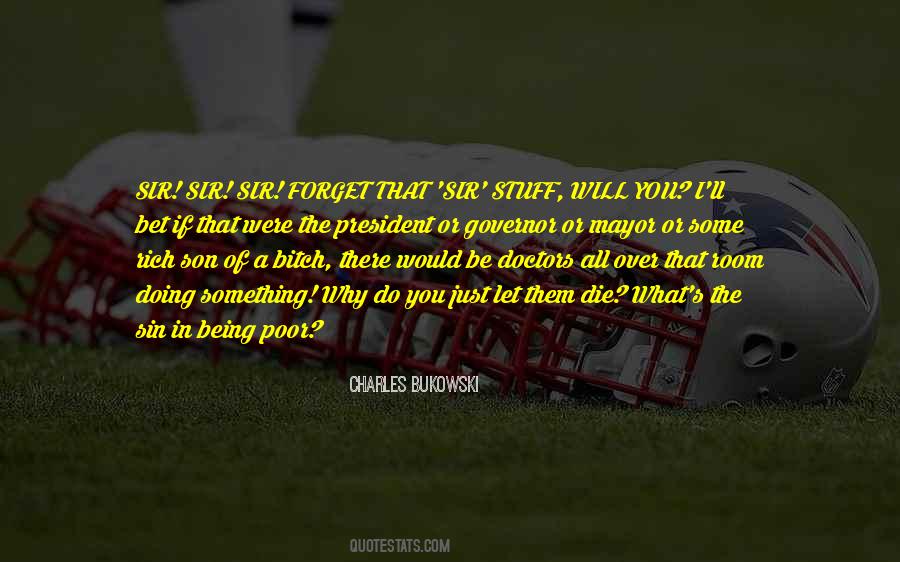 #81. At the age of 12 my ambition was to become a gangster. To be a wiseguy. Being a wiseguy was better than being President of the United States. To be a wiseguy was to own the world. - Author: Henry Hill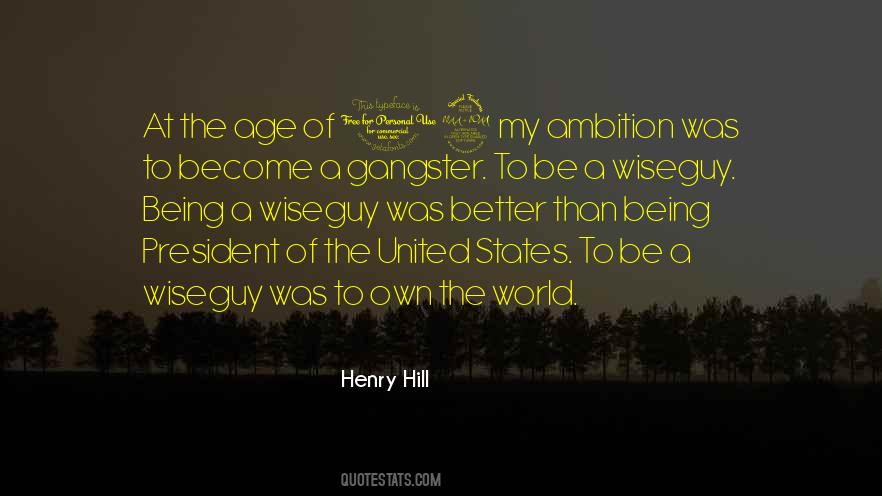 #82. Remember the picture of the president in the classroom, being told of the attack by chief of staff Andy Card? The American people thought they were seeing a man suddenly thrust into a grave challenge no one could have anticipated. - Author: Howard Fineman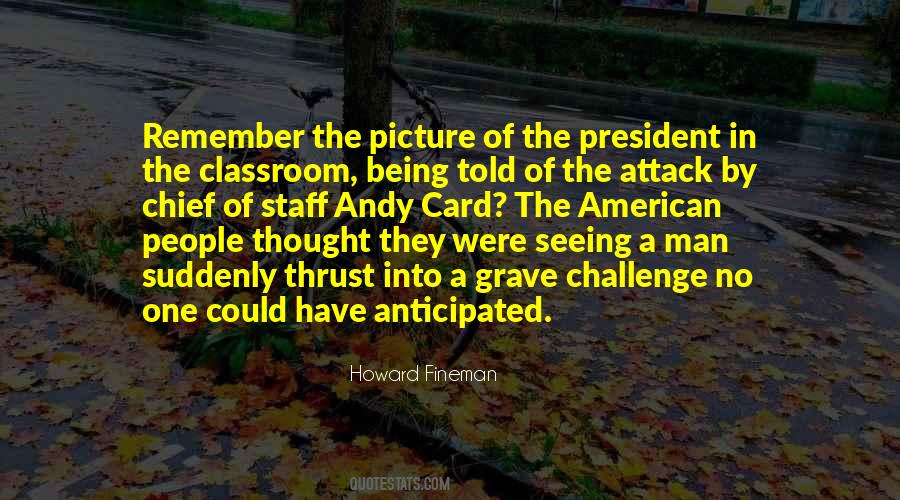 #83. If the president is failing to disclose material facts with regard to legislation being presented to the Congress on a question as important as war and peace, I think it does impair the level of trust that the House and the Senate have for this administration. - Author: John Dingell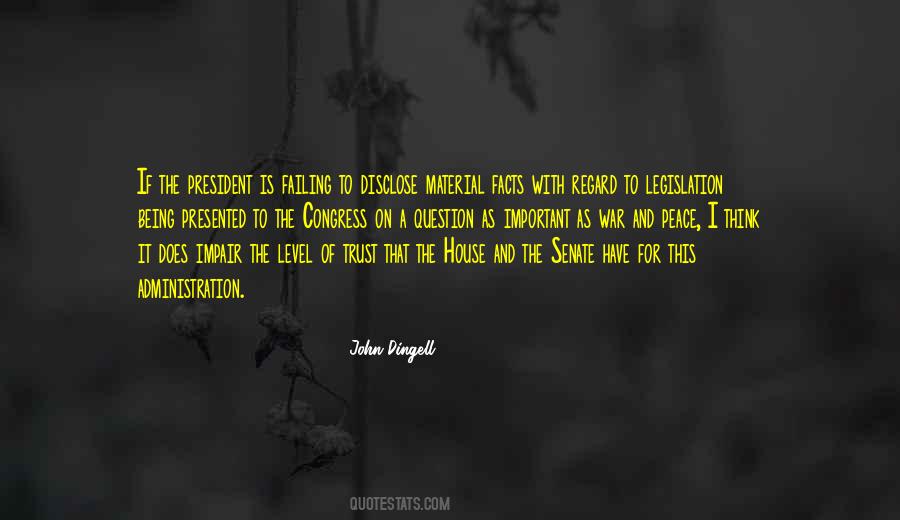 #84. As an Independent, she has no party backing ... Her being the first Independent president trumps the fact that she's a woman. It causes even more upheaval in Washington than her being female. - Author: Geena Davis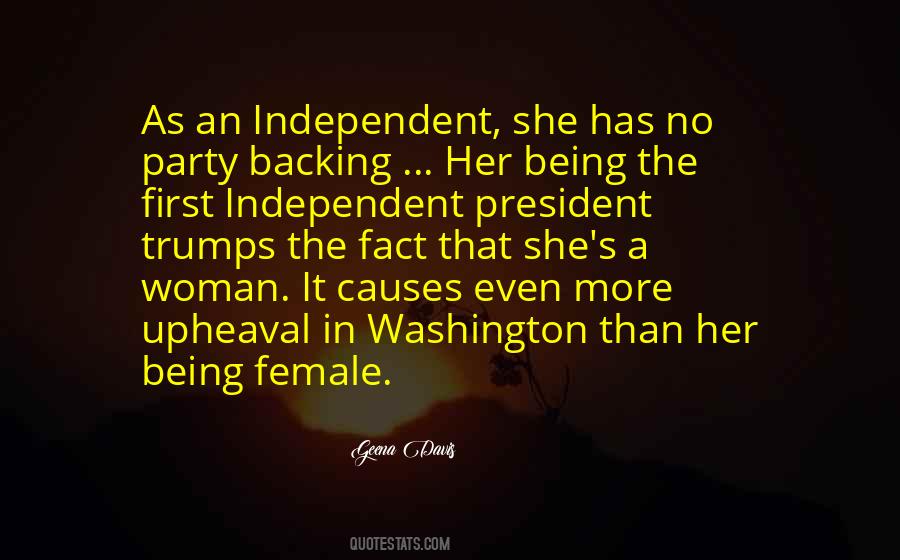 #85. I saw that on Small Business Saturday, the president went shopping at a bookstore and bought 17 books, including "The Laughing Monsters," "Being Mortal," and "Heart of Darkness." Or as the cashier put it, "You OK, man? Maybe a little 'Chicken Soup for the Presidential Soul?' - Author: Jimmy Fallon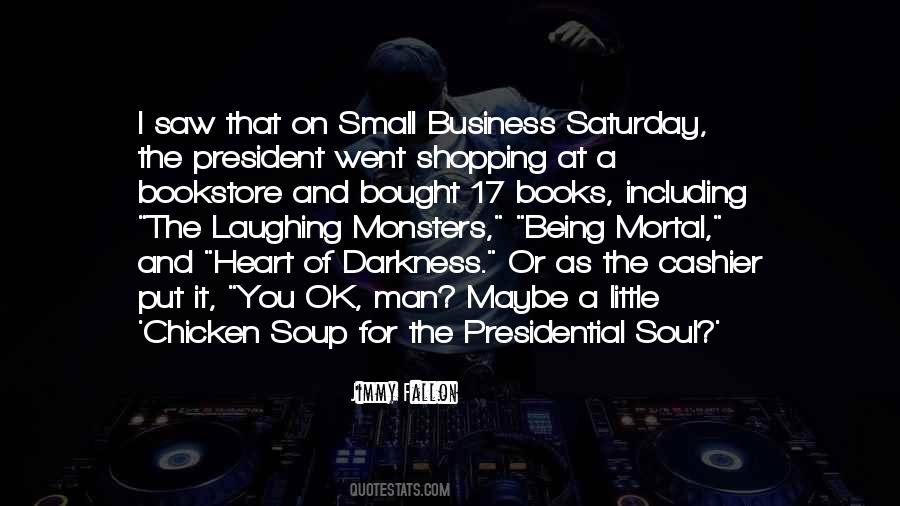 #86. Being a president is like riding a tiger. A man has to keep on riding or he is swallowed. - Author: Harry S. Truman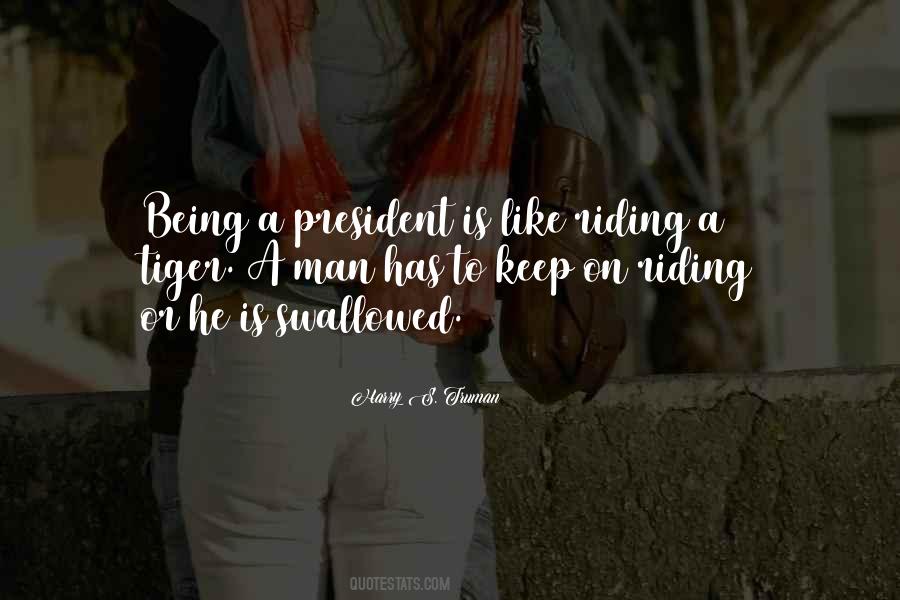 #87. Donald Trump isn't really running for president, come on! This is obviously a new reality show, Celebrity Presidential Apprentice. It ends with the incompetent celebrity being berated, humiliated, then unceremoniously fired. - Author: Michael R. Burch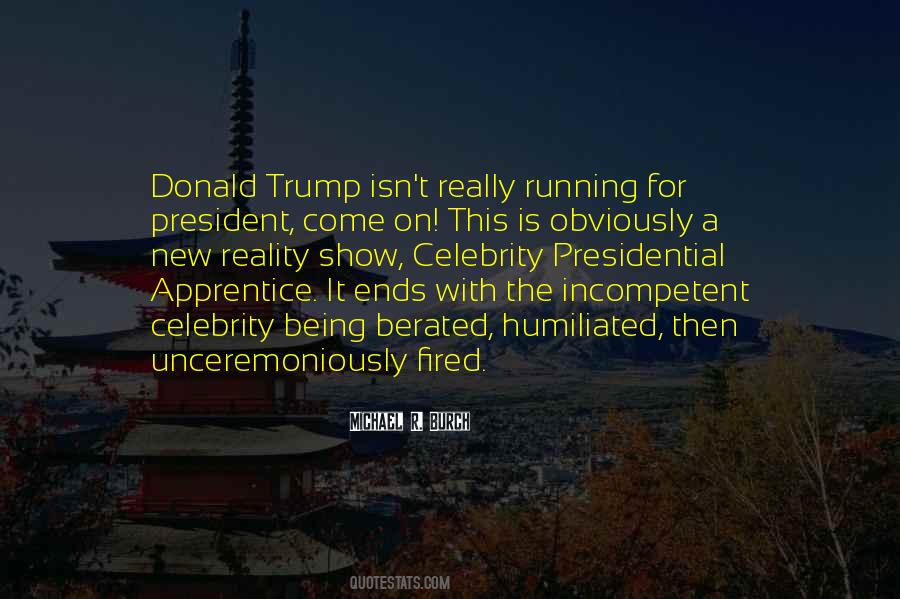 #88. Being president of the University of California is like being manager of a cemetery: there are many people under you, but no one is listening - Author: Mark Yudof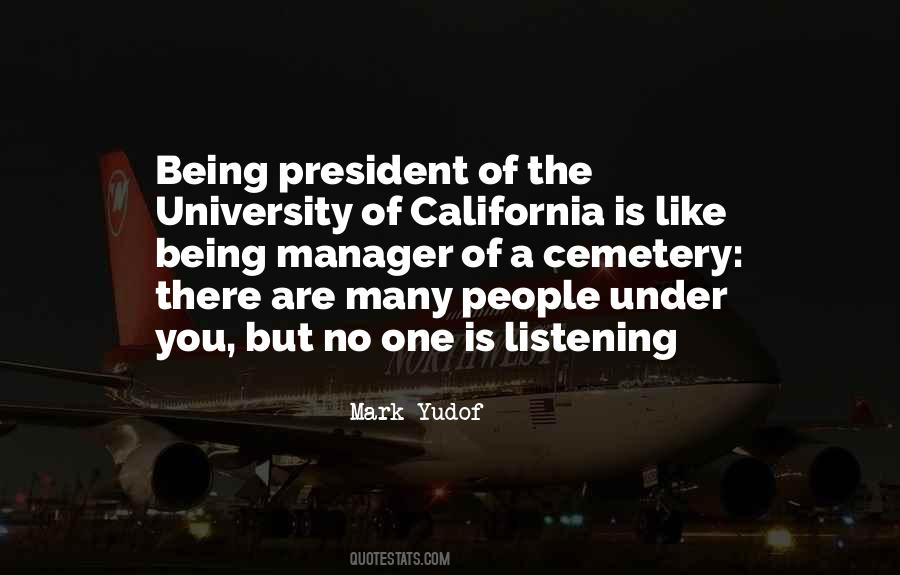 #89. He was a great president in his first term; in his second term, he wasn't the same Grover Cleveland he was to begin with ... Cleveland reestablished the presidency by being not only a chief executive but a leader. - Author: Harry S. Truman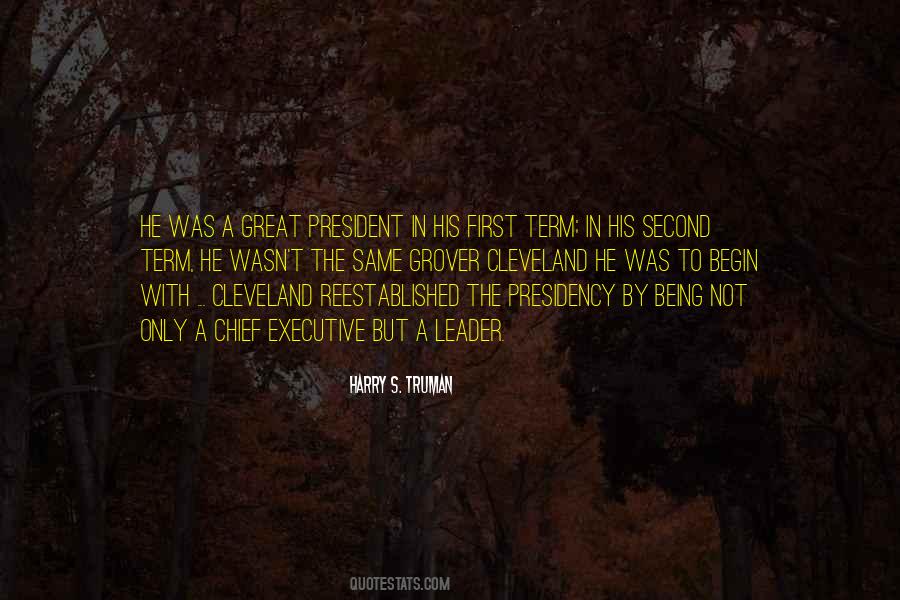 #90. I'm not looking to be anyone's vice president. I looking to be the president of the United States. Or, I'll be a private citizen, there's nothing wrong with being a private citizen. - Author: Marco Rubio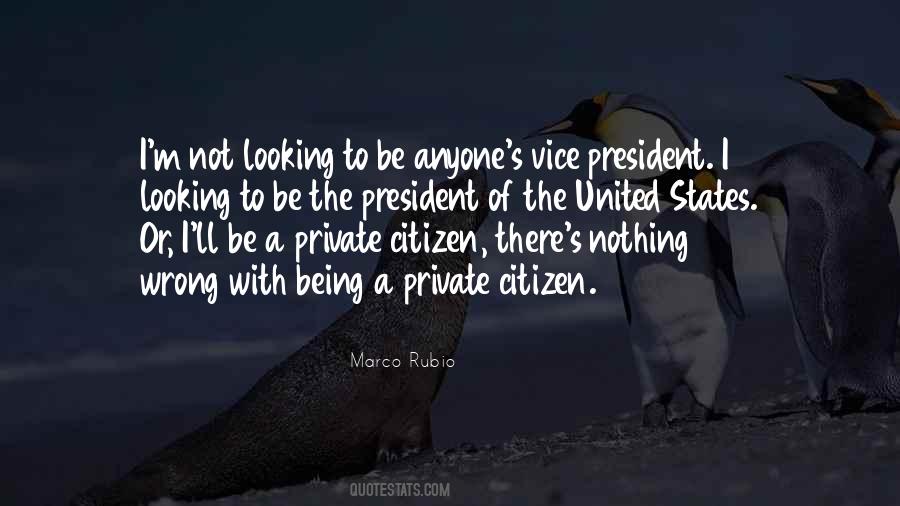 #91. It occurs to me that John McCain is as intellectually shallow as our current President ... Bush goes bumbling along, grinning and spewing moronic one-liners, as though nobody understands what a colossal failure he has been ... I fear to the depth of my being that John McCain is just like him. - Author: Jack Cafferty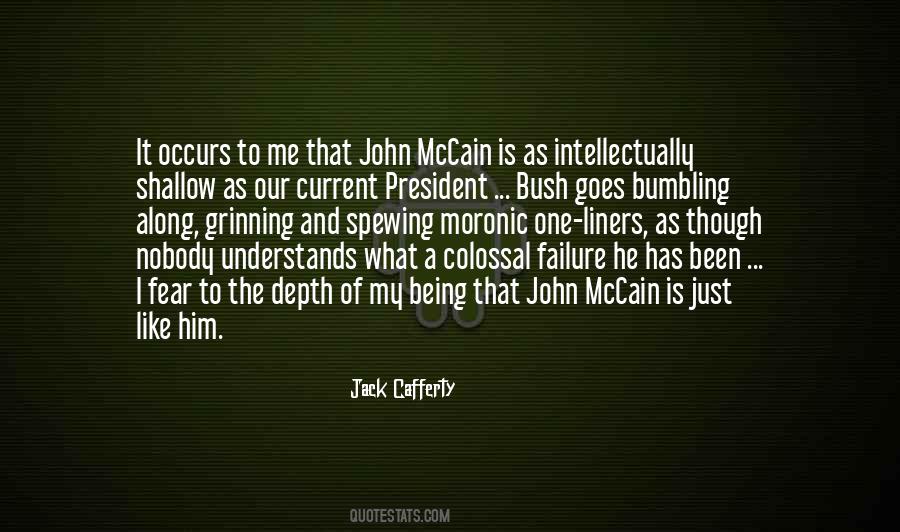 #92. While we dance in the streets and pat ourselves on the back for being a nation great enough to reach beyond racial divides to elect our first African-American president, let us not forget that we remain a nation still proudly practicing prejudice. - Author: Harvey Fierstein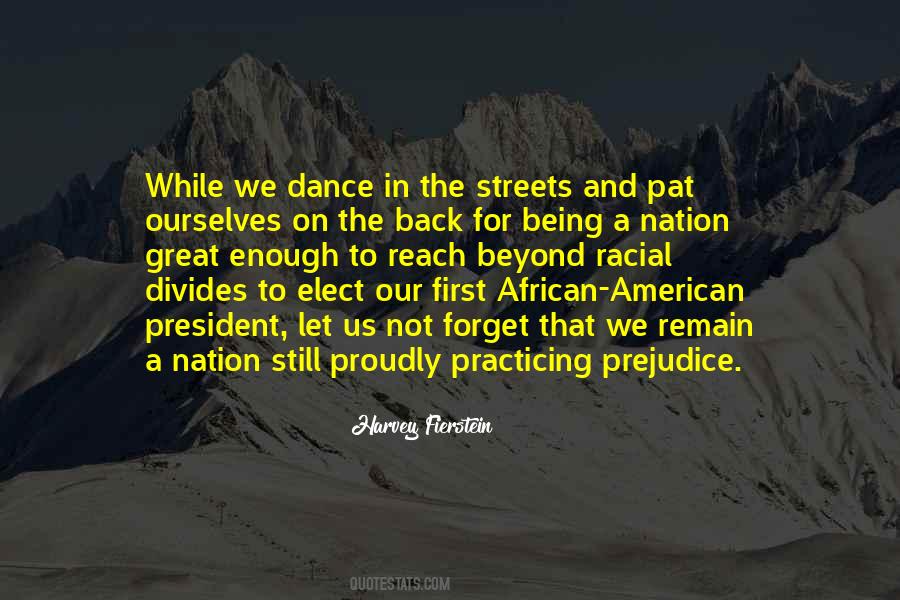 #93. While the President leads his potential adversaries in almost every state, his support is soft. He is seen as honest, sincere, just, and friendly but gets mediocre or relatively poor ratings being competent strong, intelligent, and a forceful leader. - Author: Robert Teeter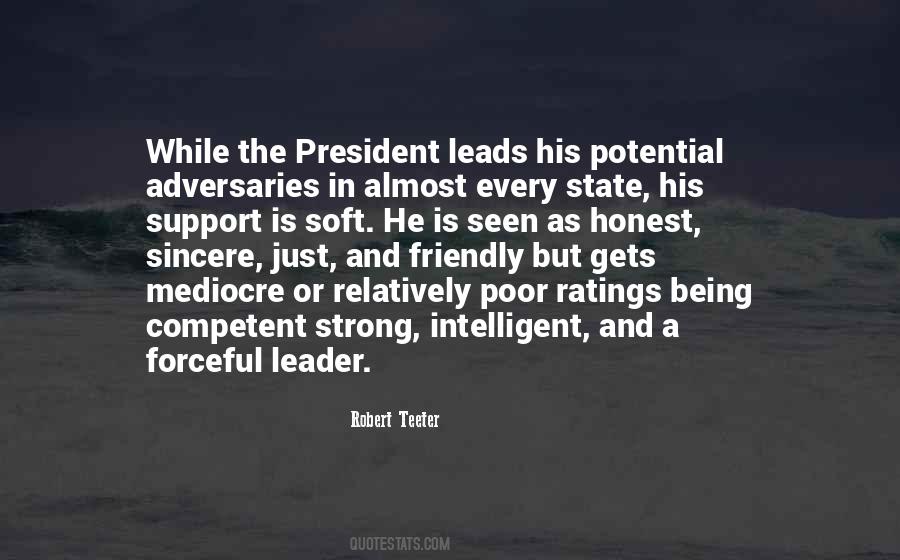 #94. He was, after all, like other high officials. I wondered why I thought he would be different. These men, who depended on the President's favour for everything, were bundles of nerves. The great power they excercised went with a constant fear of being destroyed. - Author: V.S. Naipaul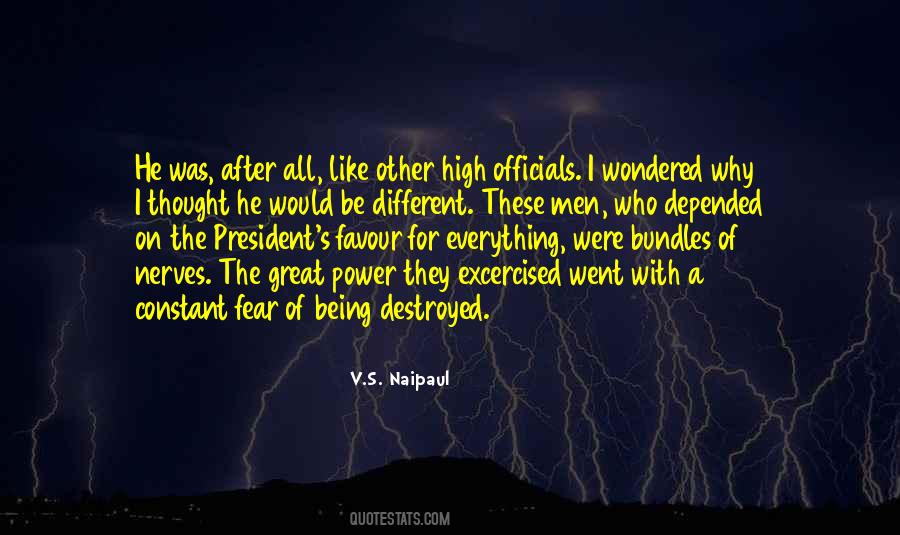 #95. We know that this man has a proven record of being a 'strict constructionist.' Our President has given us his word that he will interpret the Constitution rather than make new laws from the bench. - Author: Rod Parsley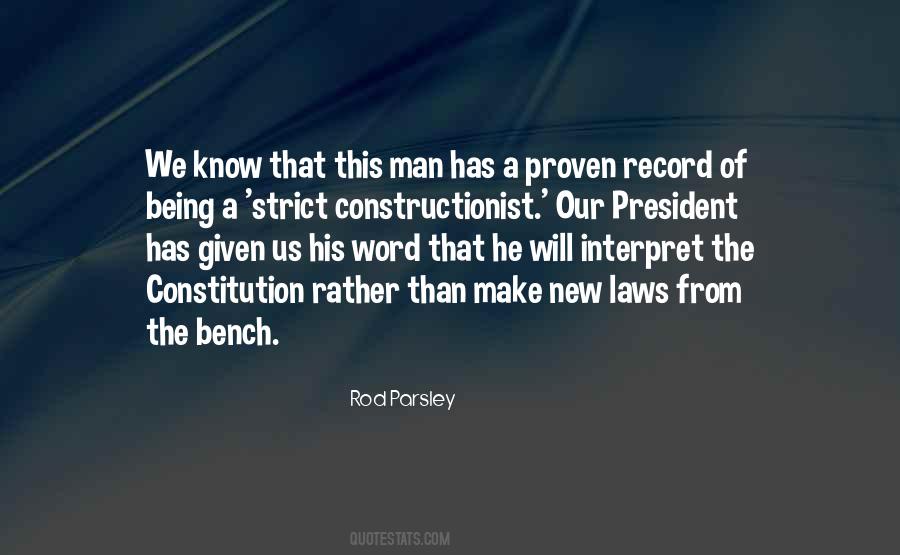 #96. Over the course of two terms, President Reagan revolutionized the Republican Party and changed the political atmosphere in a way still being felt today. - Author: William L. Jenkins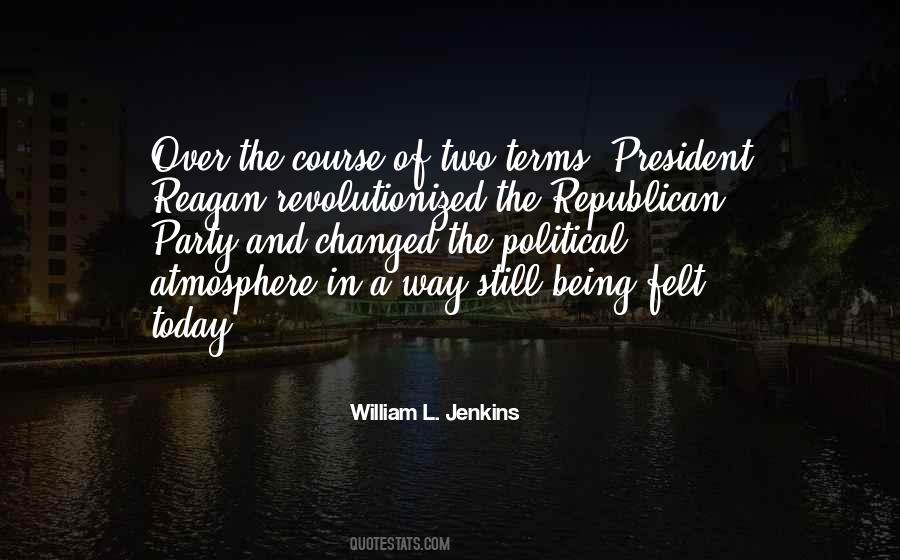 #97. He [John F. Kennedy] might have envisioned himself being "alone, at the top" but, like Woodrow Wilson, he would find out that not even a President moves free of human entanglement, human needs, human illusions; not even a President can be independent of those around him. - Author: Tom Wicker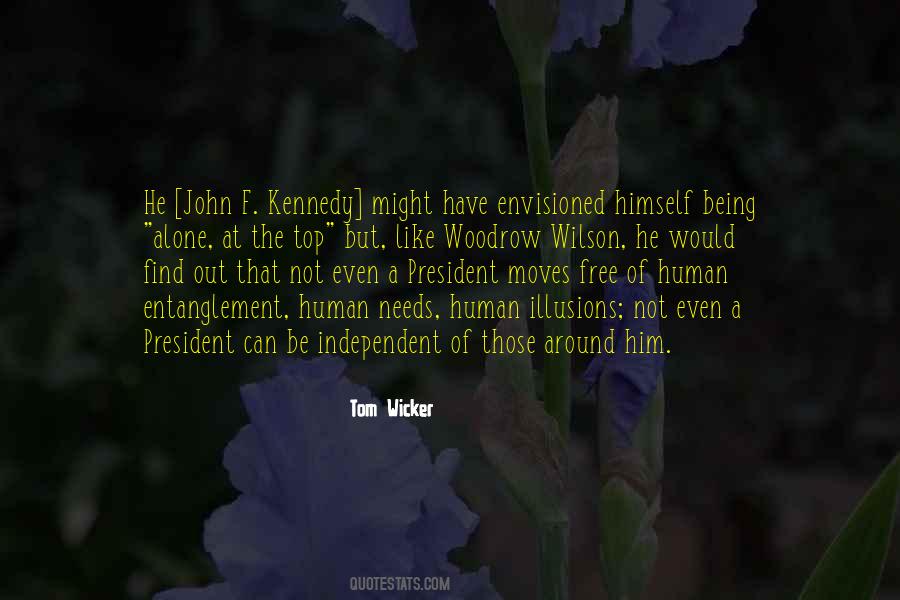 #98. The president [Barack Obama] himself has said he thought part of his job was to remind the American people that being president and commander in chief is a serious responsibility. - Author: Hillary Clinton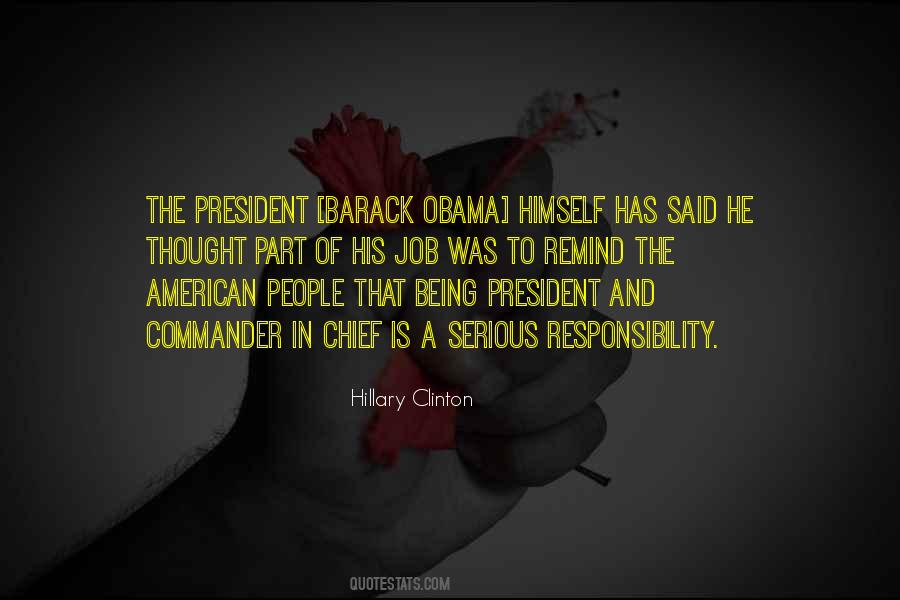 #99. [Hillary Clinton] has talked about not being a natural campaigner. And she has this big shadow because her husband, the former president [Bill Clinton], and President [Barack] Obama both are natural campaigners. And so this is a challenge for her. - Author: Tamara Keith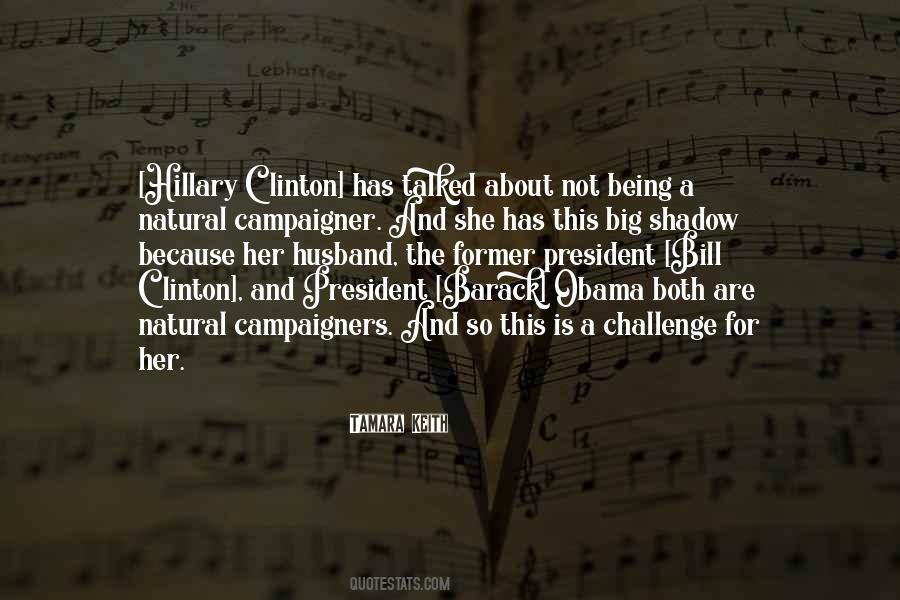 #100. I cannot imagine a worse job than being president of these Untied States in these most trying of times. President Barack Obama has been under siege from every side for the entirety of his time in office. - Author: Beth Broderick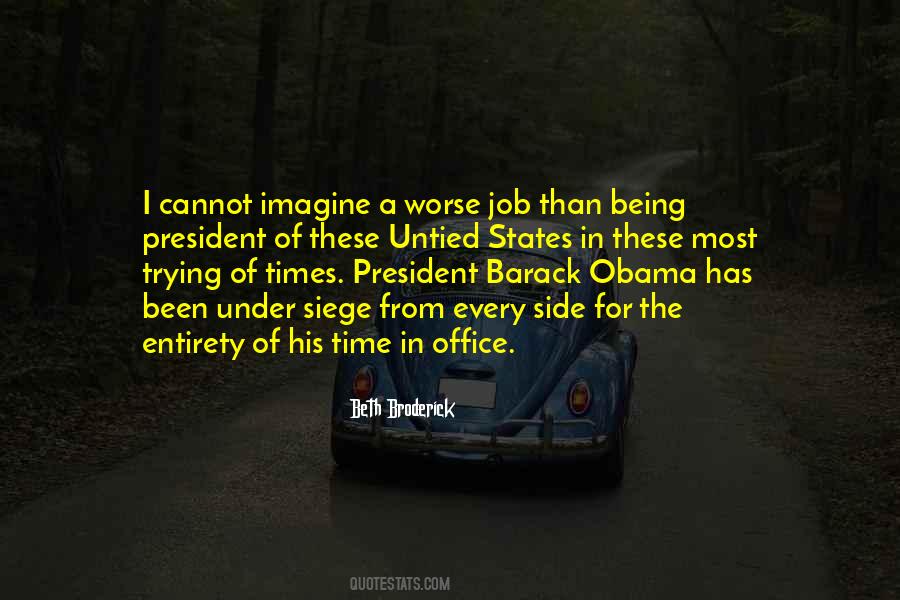 Famous Authors
Popular Topics