List of top 100 famous quotes and sayings about writing and life to read and share with friends on your Facebook, Twitter, blogs.
Top 100 Quotes About Writing And Life
#1. Alan Alda and his wife Arlene are two of the most life-affirming people I've ever met. He espoused equal rights for women while producing, writing, acting in and directing 'M*A*S*H'; he used to commute between the set and home because he didn't want to disrupt his kids' schooling.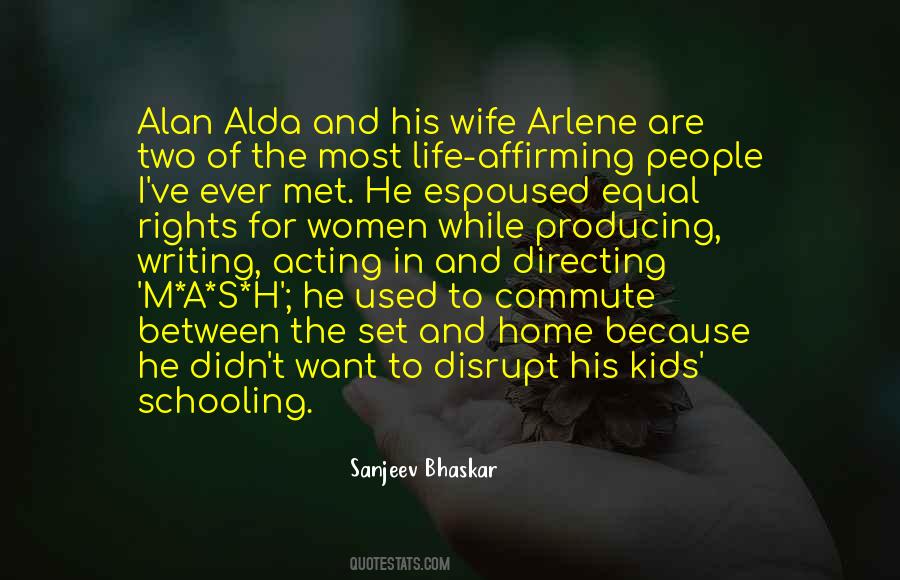 #2. As I inch forward to embrace my life again by being mindful, writing books, and planning adventures, I sense my dad would approve. I know he would want me to be happy.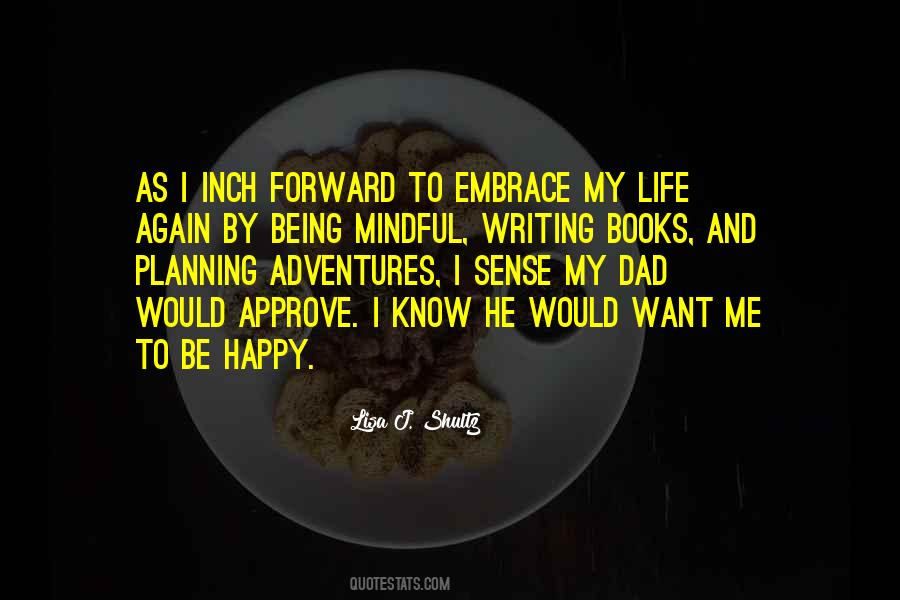 #3. Generally speaking, writers who have been at it for a while, and who are any good at it, suffer from an acute kind of self-knowledge. The unexamined life is not a risk for them.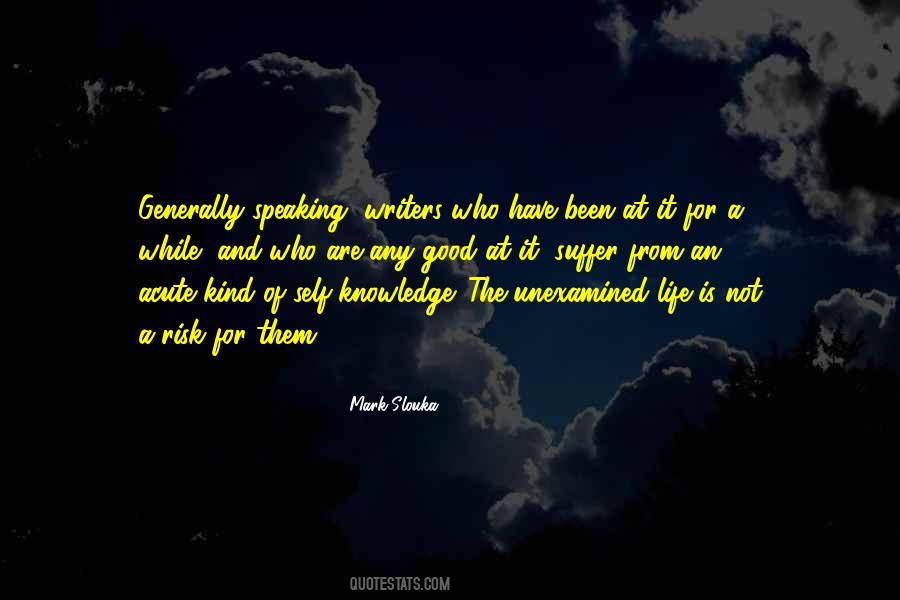 #4. When writing a book what is more important? Grammar and spelling or telling a great story? I know which I would choose.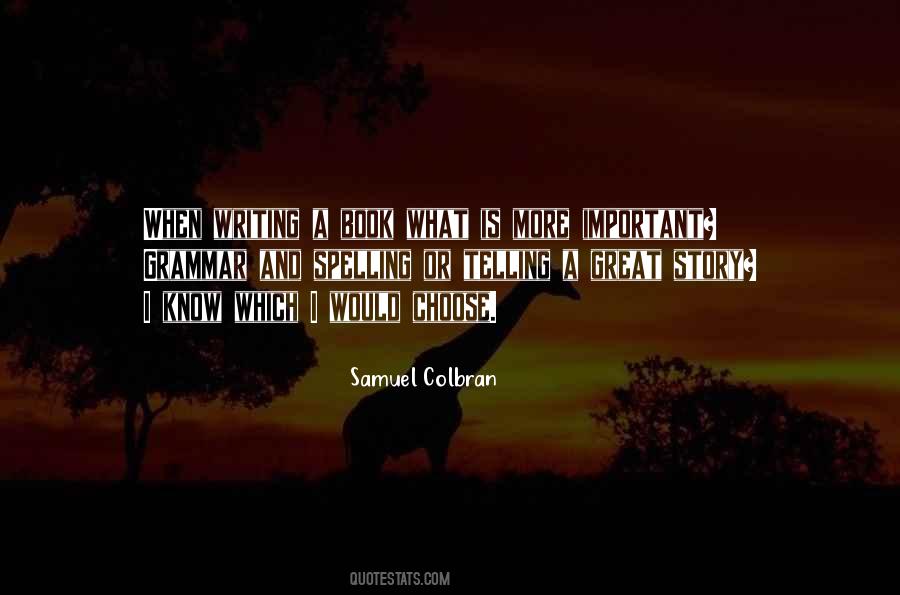 #5. Does it matter that people and things
Have words,
Have names?
If not,
Why read any book?
A litany of useless letters
Detached from bone, muscle.
Or are words the only things that make the muscle, bone, memory, movement,
Person
Real?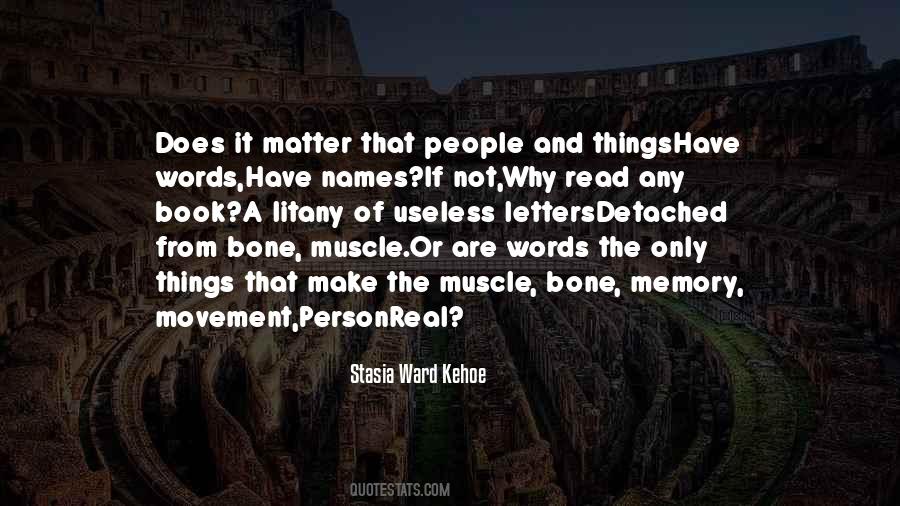 #6. A great writer has a high respect for values. His essential function is to raise life to the dignity of thought, and this he does by giving it a shape.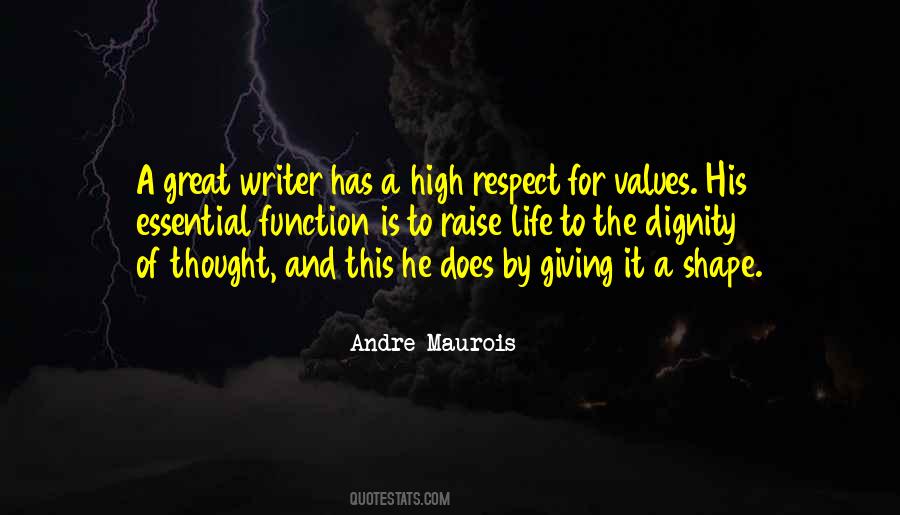 #7. Your writing should be filled with simple complexities and complex simplicities. Because that is life.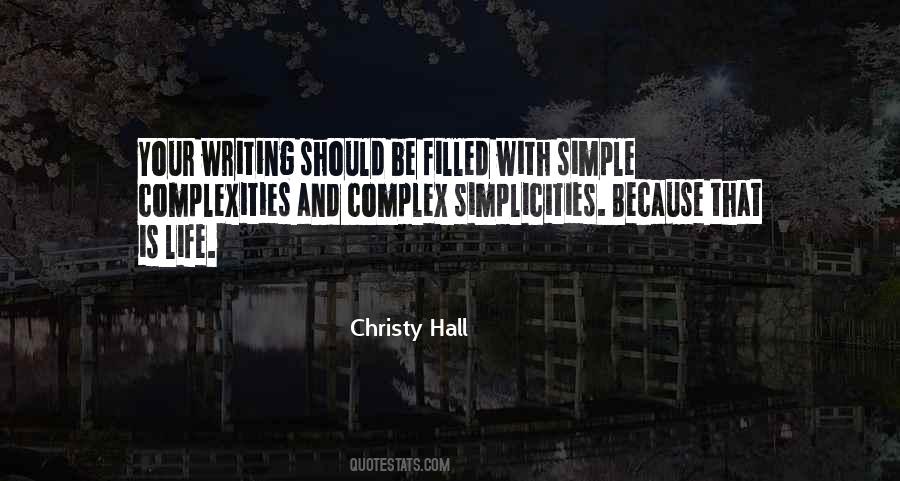 #8. Every time I flicked channels, there I was, talking. I was talking too much and writing too little. So Naomi and I went to Hawaii. The phone was cut off and we lost touch. This gave me the chance to have a good think about my life.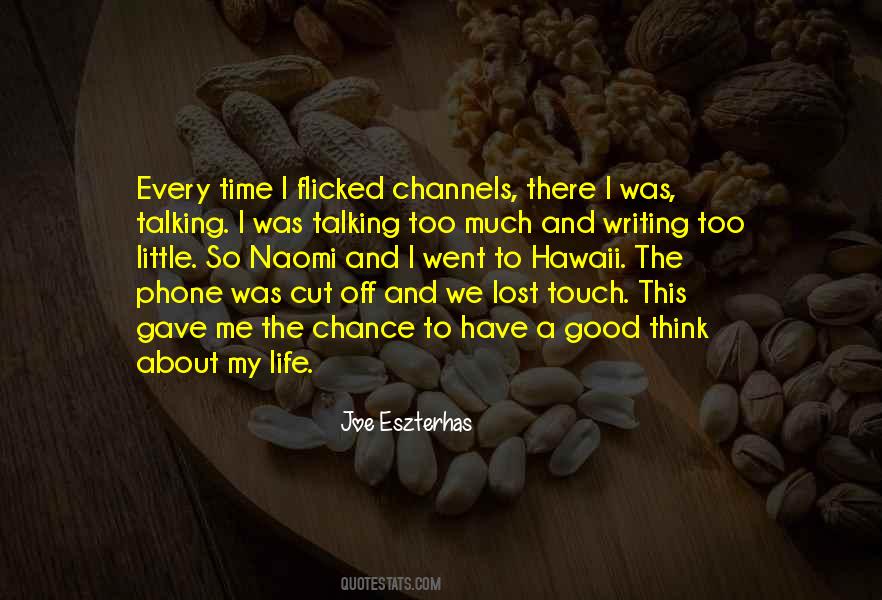 #9. Only when one is connected to one's inner core is one connected to others. And, for me, the core, the inner spring, can best be re-found through solitude.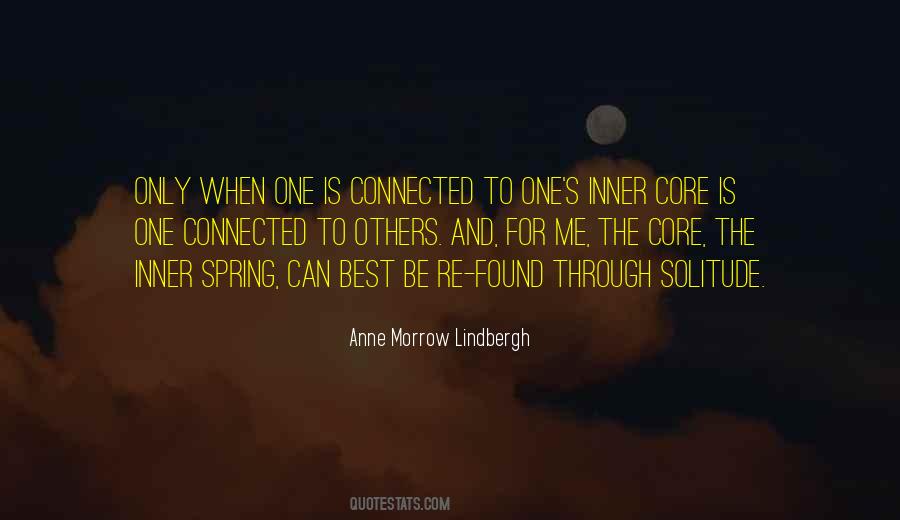 #10. Confront the page that taunts you with its whiteness. Face your enemy and fill it with words. You are bigger and stronger than a piece of paper.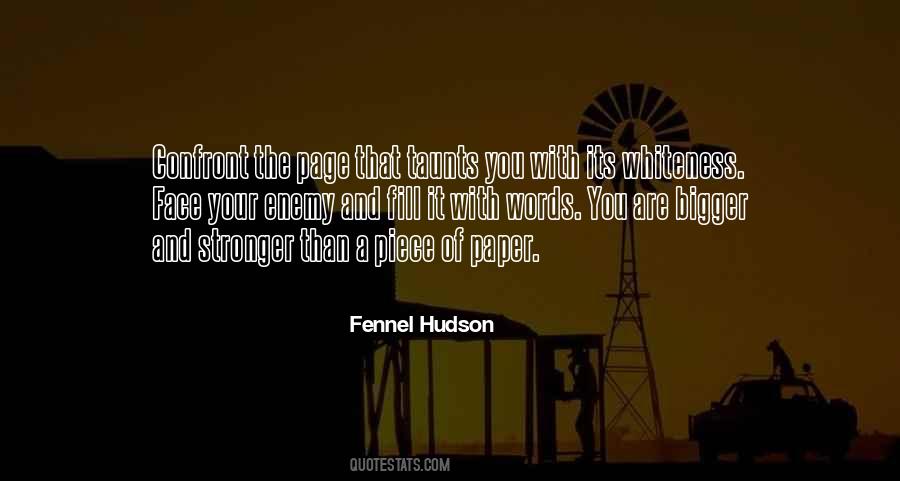 #11. The time comes in life when we have read enough. It's time to stop reading. It's time to lay down the books and write.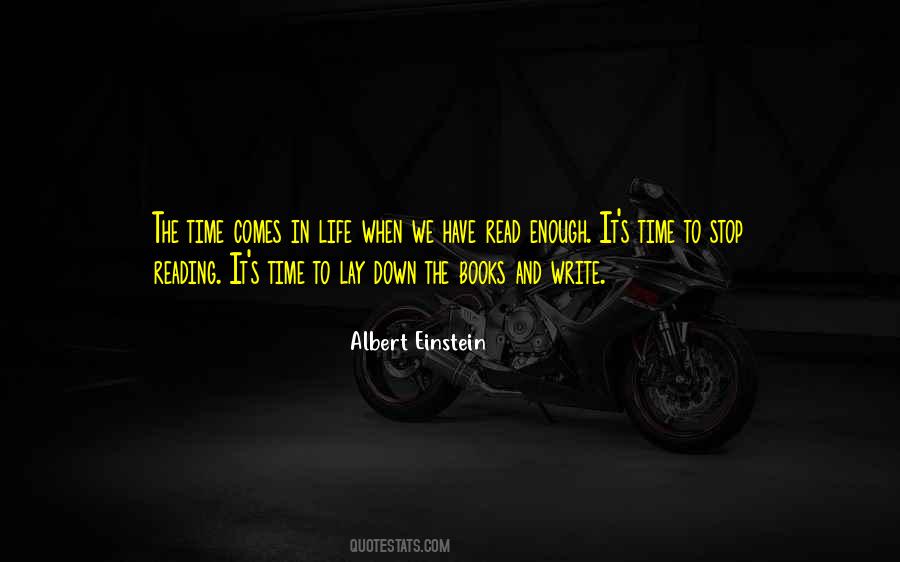 #12. As regards plot I find real life no help at all. Real life seems to have no plots. And as I think a plot desirable and almost necessary, I have this extra grudge against life.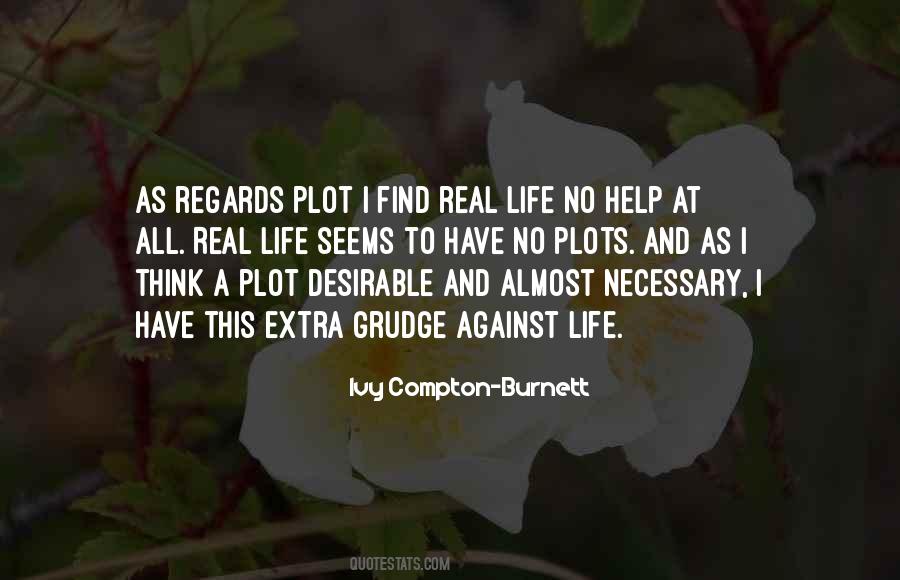 #13. With words ... one can cut & kill:but also one can cure and heal.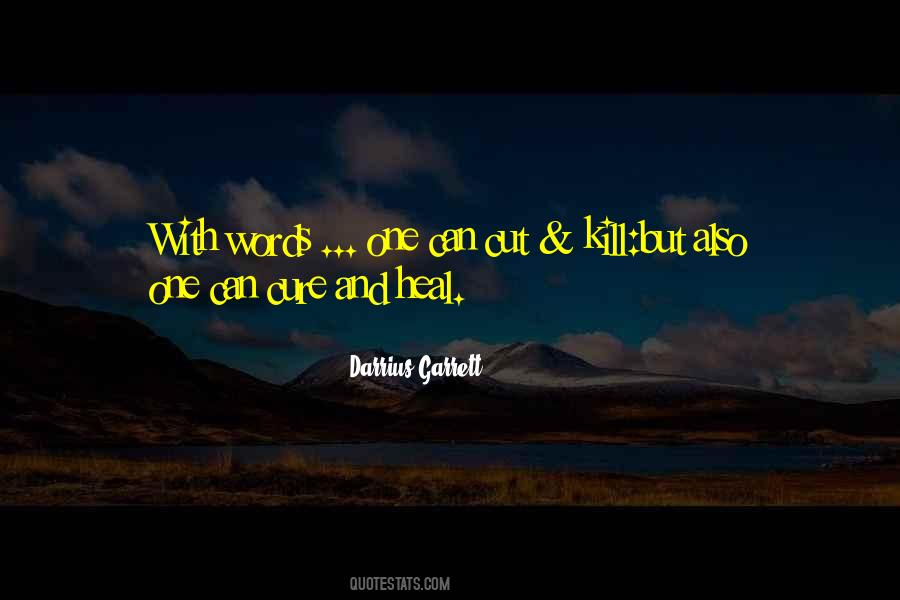 #14. There are times when I can't believe how much ridiculous stuff happens to me and how brilliant it is to be in a position to write about it.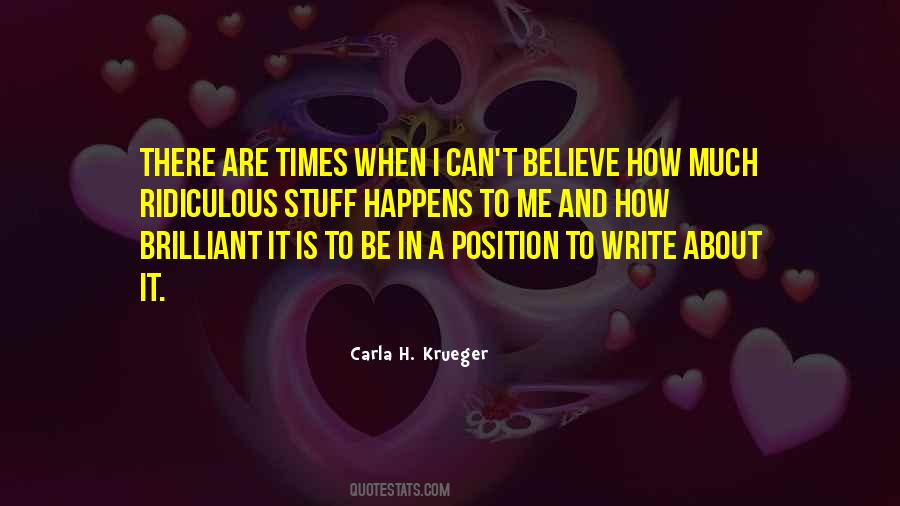 #15. When I as reading and writing, I was in that exhilarating place where the life of the imagination is more real than the tiles and soil and rock under my feet.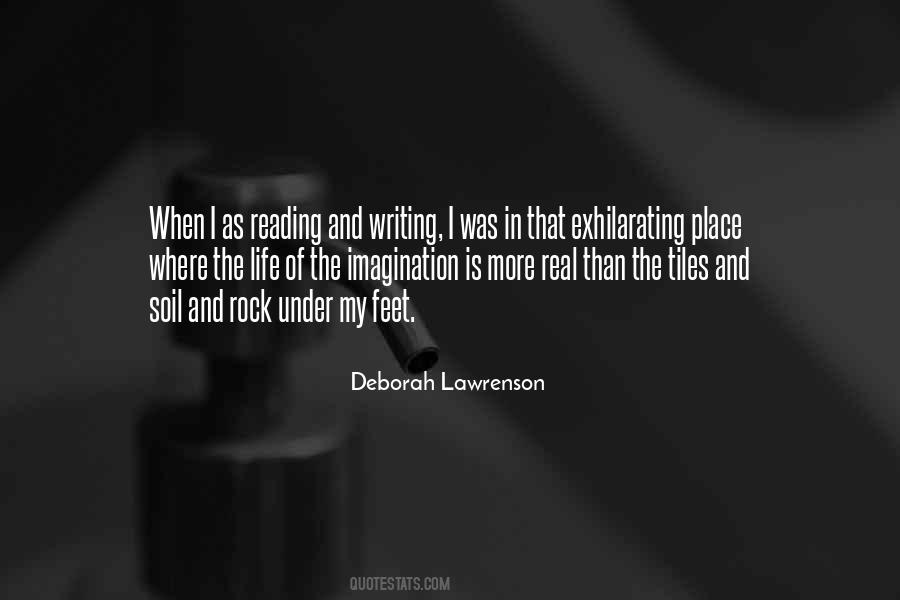 #16. It's hard to explain how this works, and I admit that it's fairly implausible or untenable as a way of life, but that seems to be how I go about my days: peaceably in person, fiercely on paper.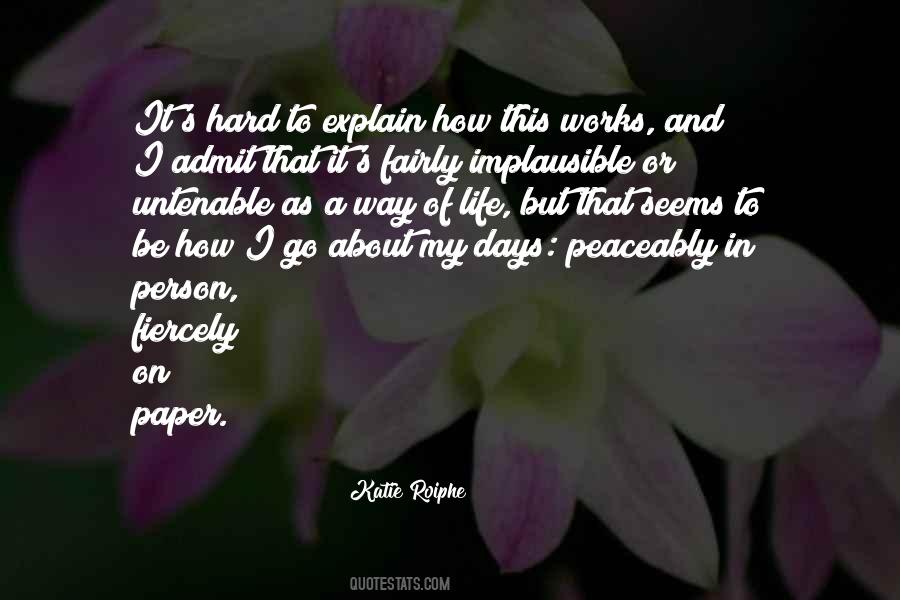 #17. When the writing fit came on, she gave herself up to it with entire abandon, and led a blissful life, unconscious of want, care, or bad weather, while she sat safe and happy in an imaginary world, full of friends almost as real and dear to her as any in the flesh.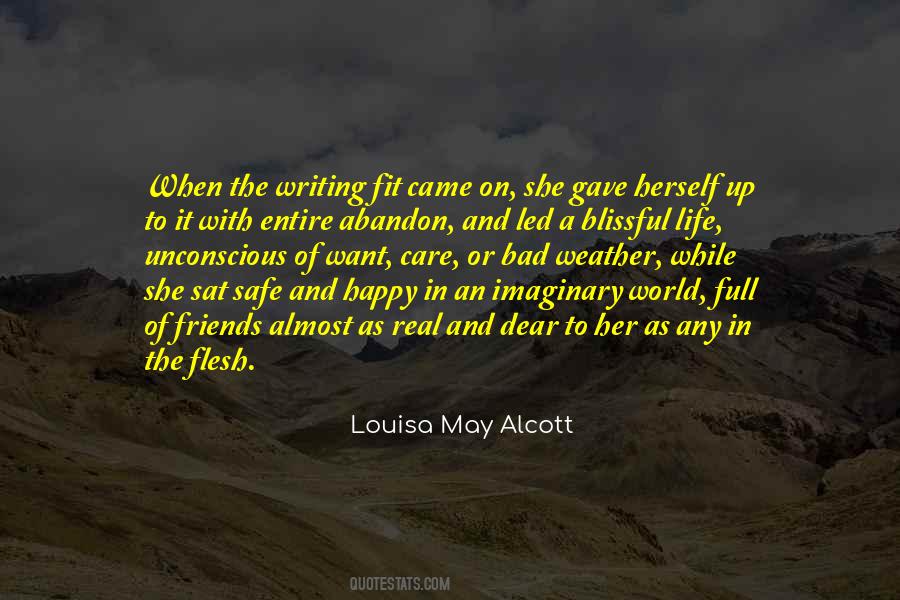 #18. Like everyone else in this world, I have had struggles. There's disappointment and obstacles in everybody's life. I feel like I was writing 'Second Chance' not just for myself, but also for the people who have struggled.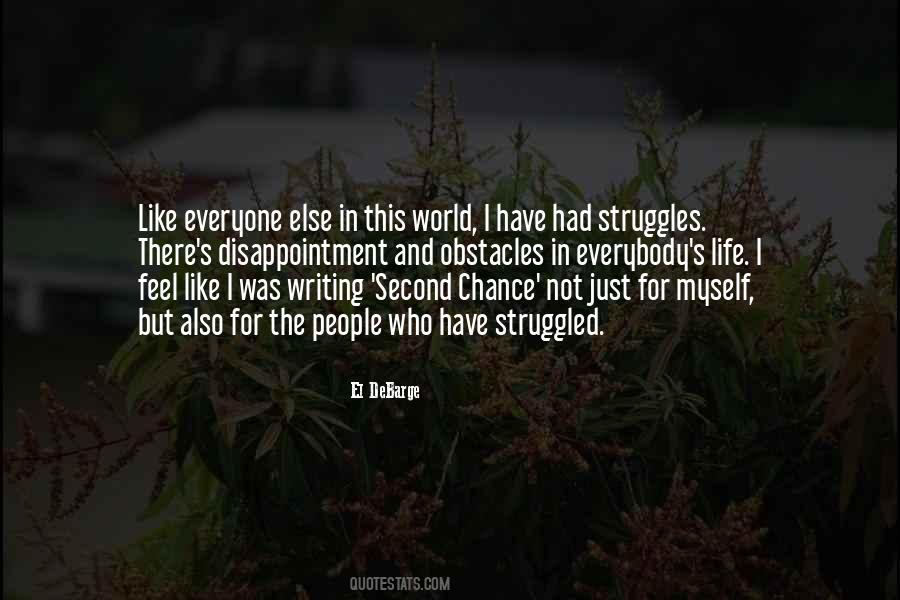 #19. We still and always want waking. We should amass half dressed in long lines like tribesmen and shake gourds at each other, to wake up; instead we watch television and miss the show.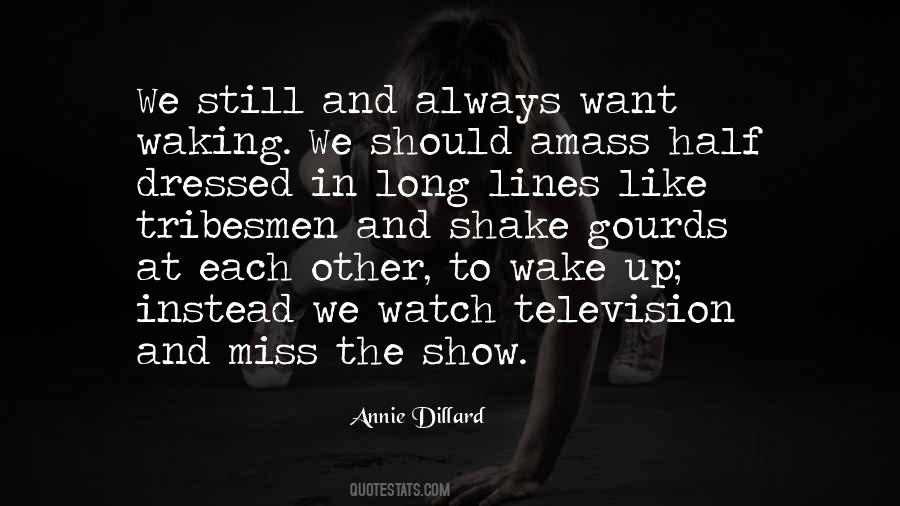 #20. One thing that's paramount in my life is that I am alone. I'm a loner. And yet I have many friends and I don't feel lonely. And I even like my own company. But when I'm alone, it's to read or write. I'm in my thoughts. Mostly I'm learning.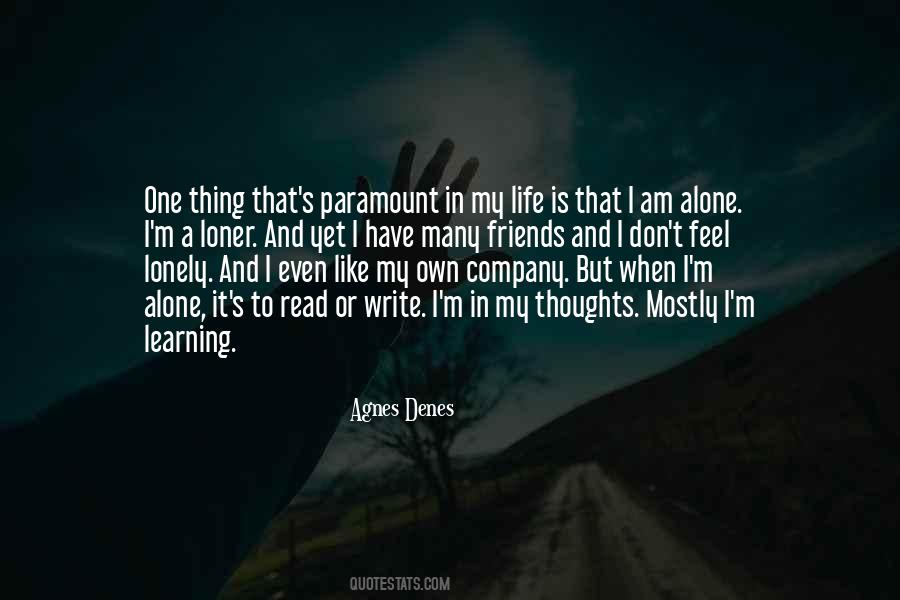 #21. It is in writing of the emotions that style becomes most individual, in moments of passion, betrayal, of life and death.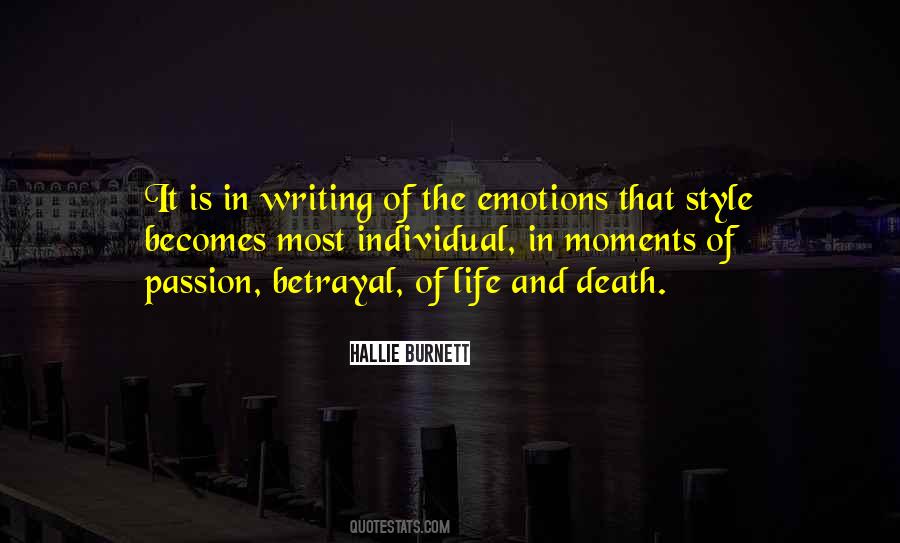 #22. When I began writing songs, there was a pretty direct line between what was happening in my life and what I wrote about. So my first album was really all about my failed attempts to make a particular relationship work.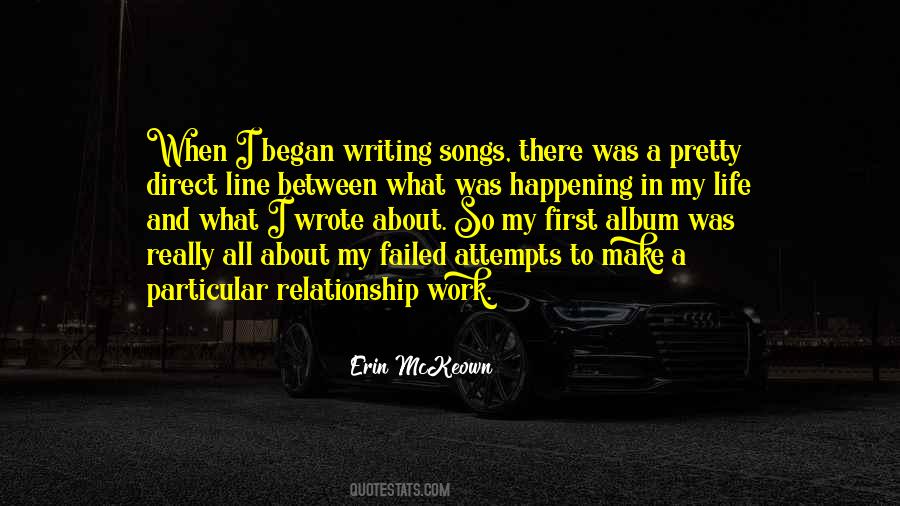 #23. I can only speak for myself. But what I write and how I write is done in order to save my own life. And I mean that literally. For me literature is a way of knowing that I am not hallucinating, that whatever I feel/know is.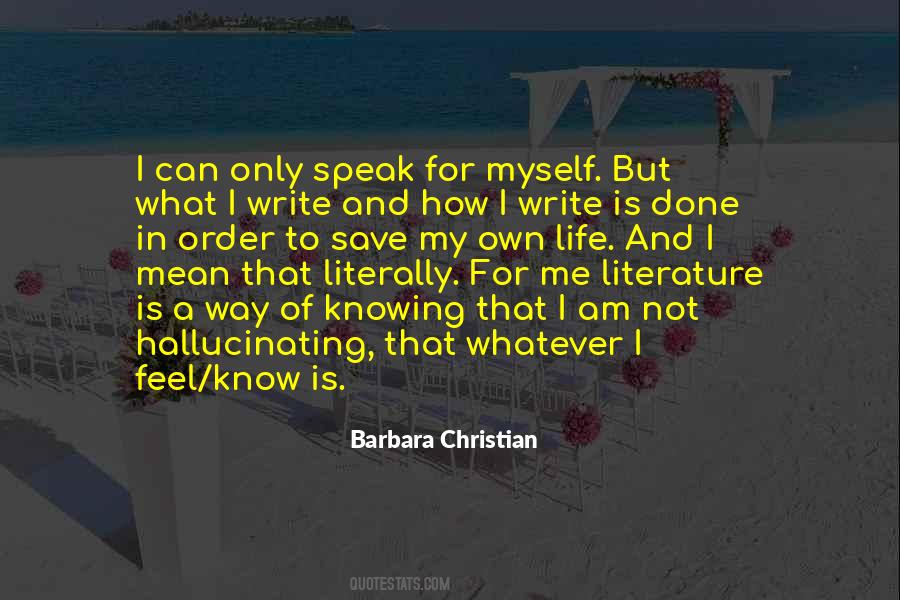 #24. I have no credentials. I have no money. I literally come from a poor place. I was a servant. I dropped out of college. The next thing you know I'm writing for the 'New Yorker,' I have this sort of life, and it must seem annoying to people.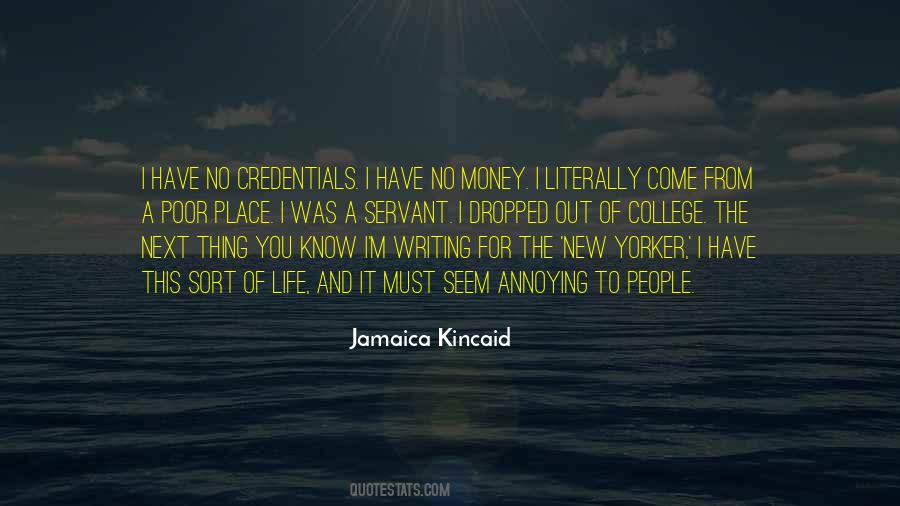 #25. If you see it in Strunk and White it's so.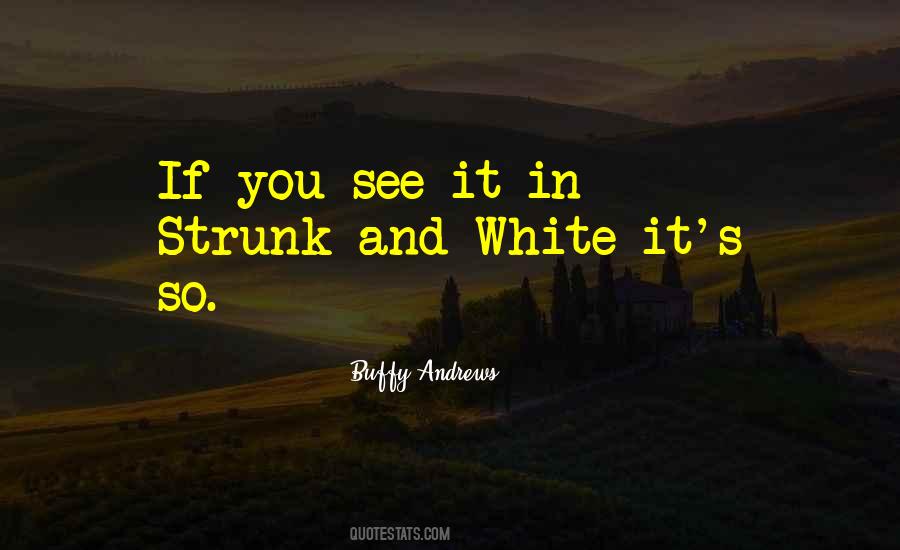 #26. You are lovelier than all the roses in the world.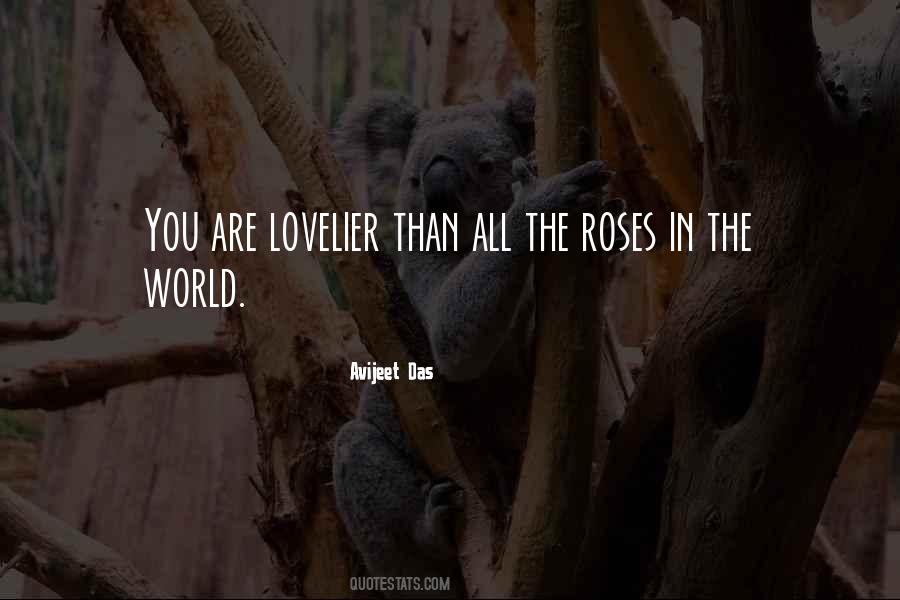 #27. I spend all my time trying to keep thoughts away and ignore them ... But here you are, trying to remember your own life, writing your thoughts down so that you don't forget. I suddenly realized what it would be like not to know, not to remember.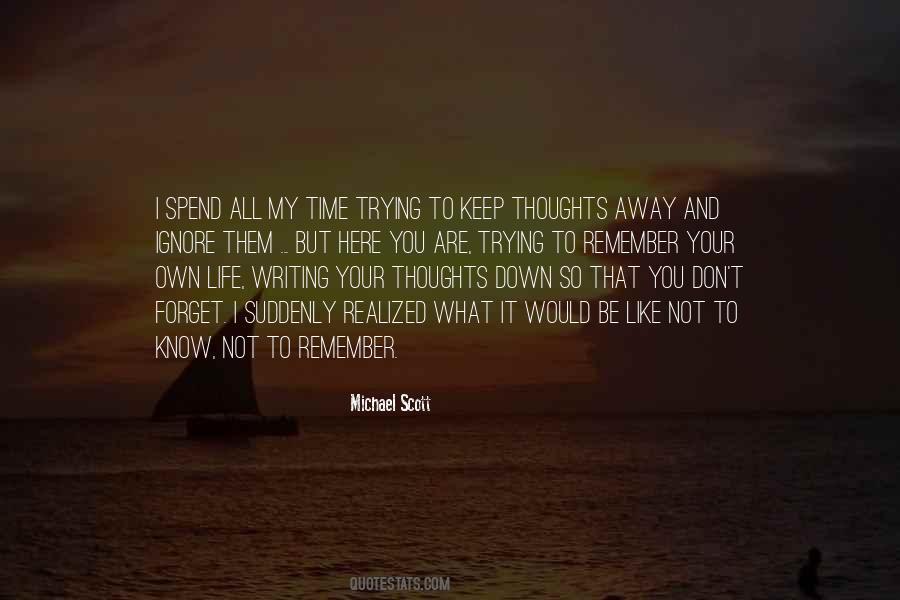 #28. Use original detail in your writing. Life is so rich, if you can write down the real details of the way things were and are, you hardly need anything else.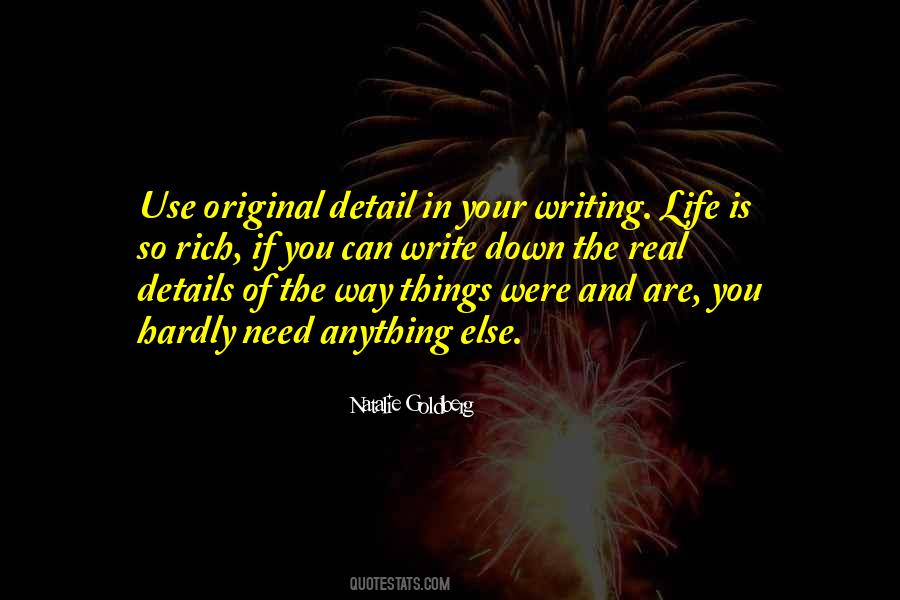 #29. It's a very excruciating life facing that blank piece of paper every day and having to reach up somewhere into the clouds and bring something down out of them.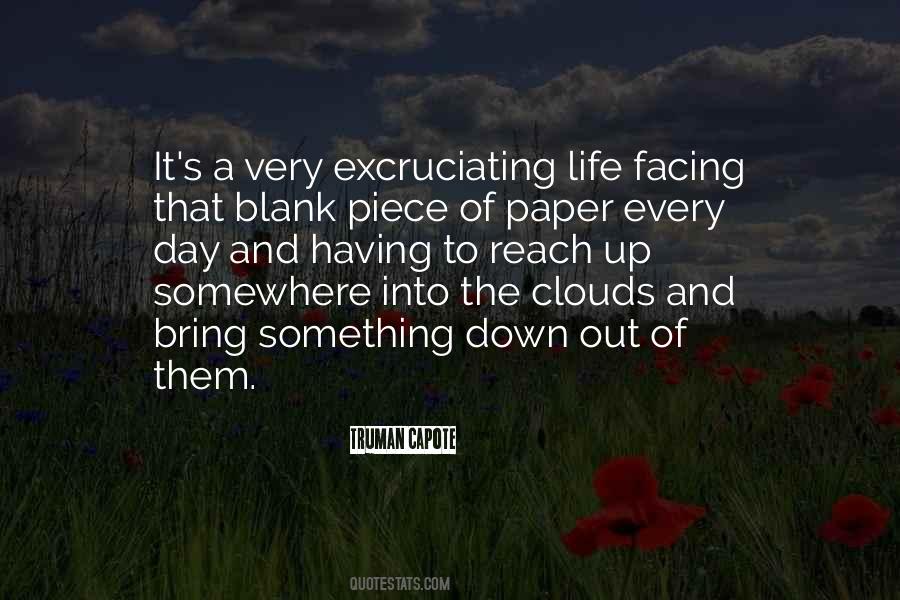 #30. It is human nature to look away from illness. We don't enjoy a reminder of our own fragile mortality. That's why writing on the Internet has become a life-saver for me. My ability to think and write have not been affected. And on the Web, my real voice finds expression.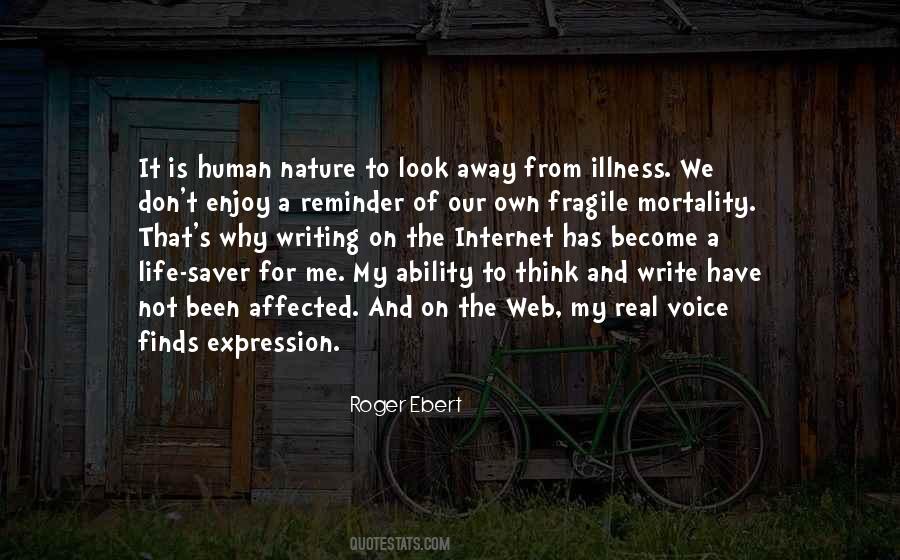 #31. It's hell writing and it's hell not writing. The only tolerable state is having just written.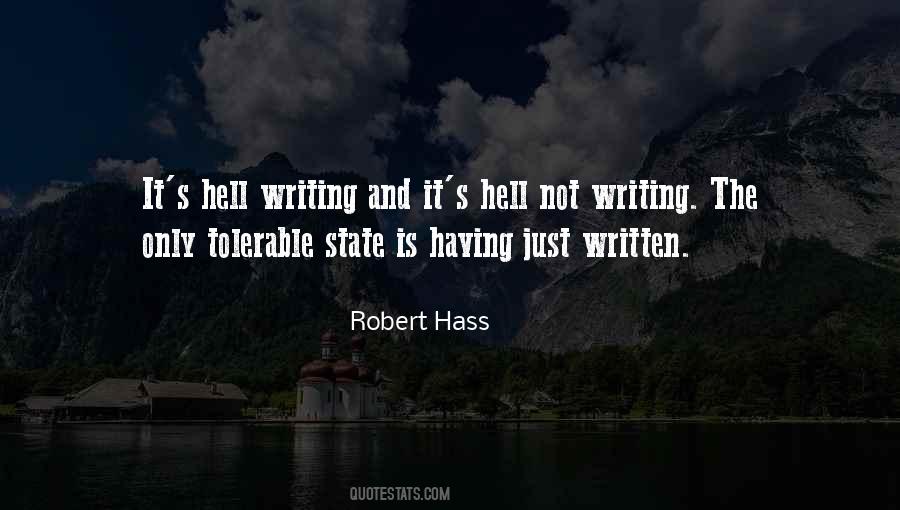 #32. In no way am I demeaning writing or any other form of art because it's popular. What I'm saying is that anything fed into the industrial machinery to comply with rules of size and length and shelf-life has a hard time surviving as art.
#33. I want to write because I have the urge to excel in one medium of translation and expression of life. I can't be satisfied with the colossal job of merely living. Oh, no, I must order life in sonnets and sestinas and provide a verbal reflector for my 60-watt lighted head.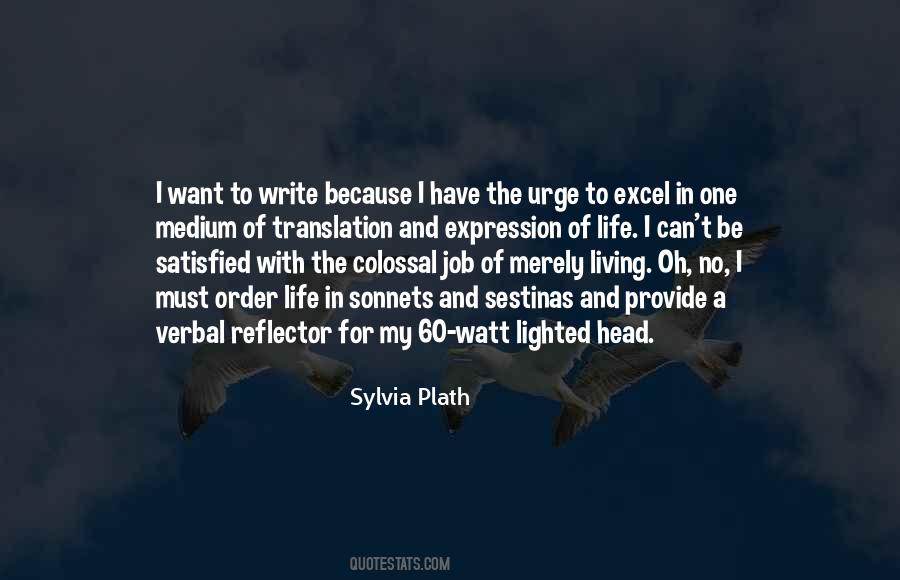 #34. I like my whiskey neat and strong just as I like my women. Women who have matured in their minds and bodies; women who have faced the storms of life!

Because my life has always been about the thrill with the raging storms!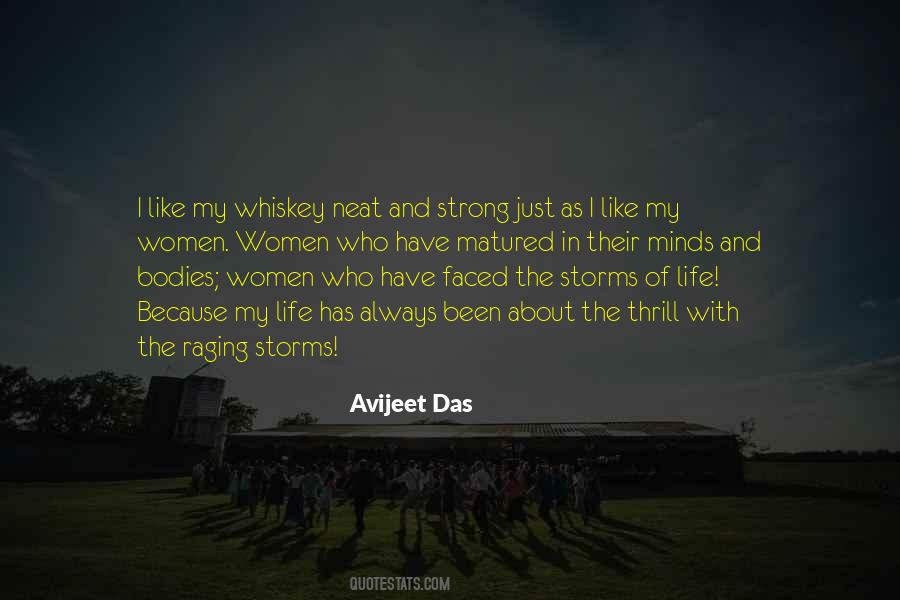 #35. In a longish life as a professional writer, I have heard a thousand masterpieces talked out over bars, restaurant tables and love seats. I have never seen one of them in print. Books must be written, not talked.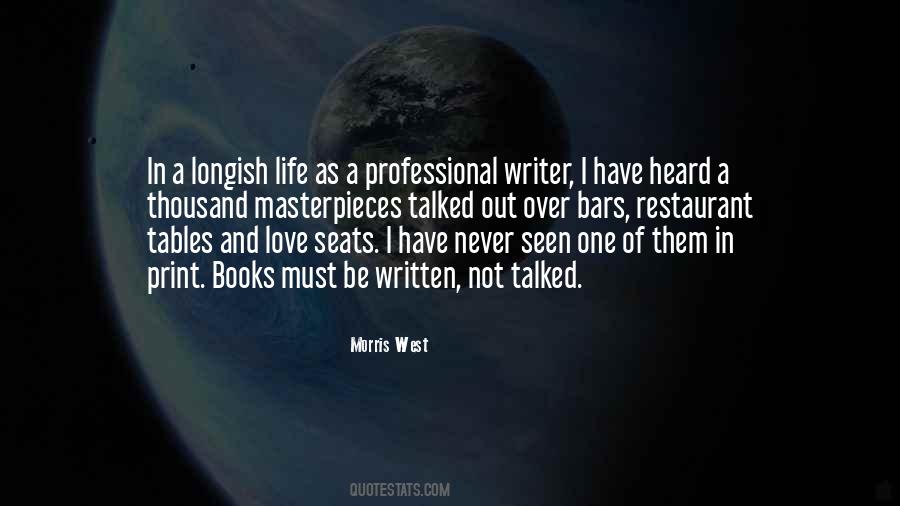 #36. In The End The Words Are The All And The Nothing.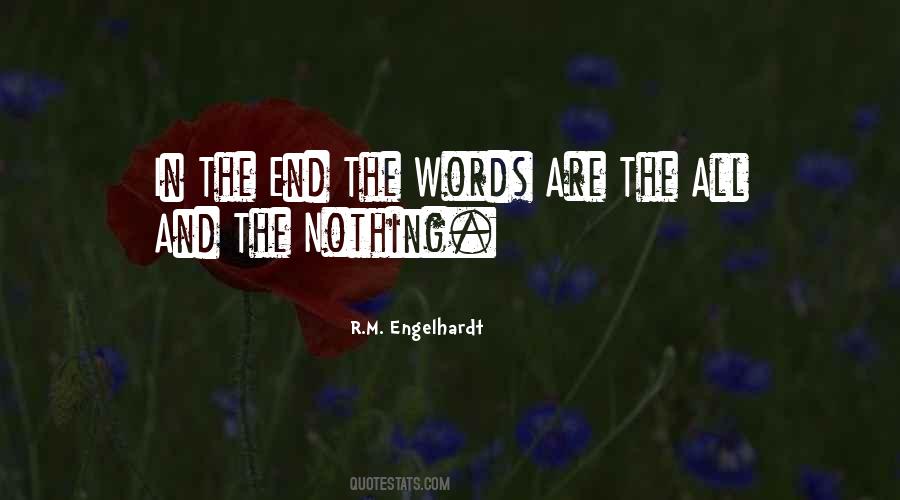 #37. I don't even do anything in real life. I just sit in my studio and write, I call my friends, I watch television. I don't do anything.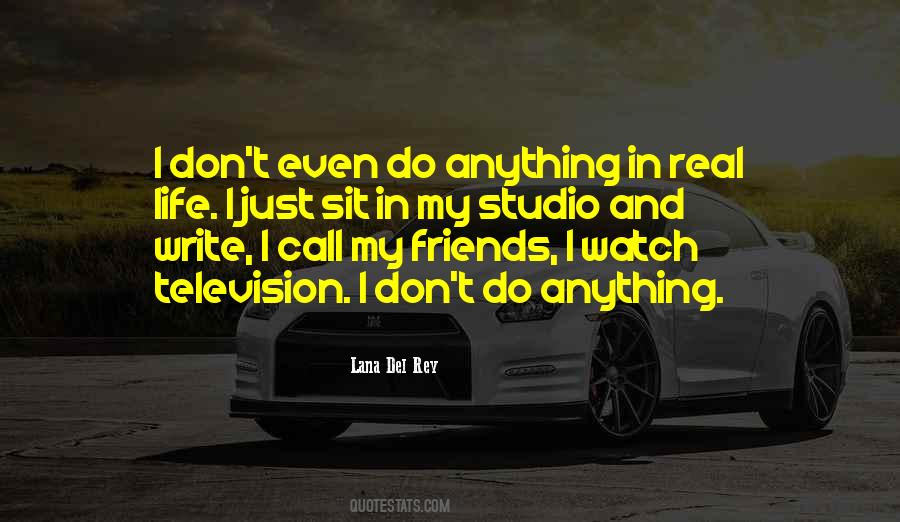 #38. I'll be writing as long as I can hold a pen in my curled, crimped arthritic hands and then I'll dictate it, if it comes to that. They'll have to pry my pen out of my cold, dead fingers - and even then, I'll fight 'em for it. Guaranteed.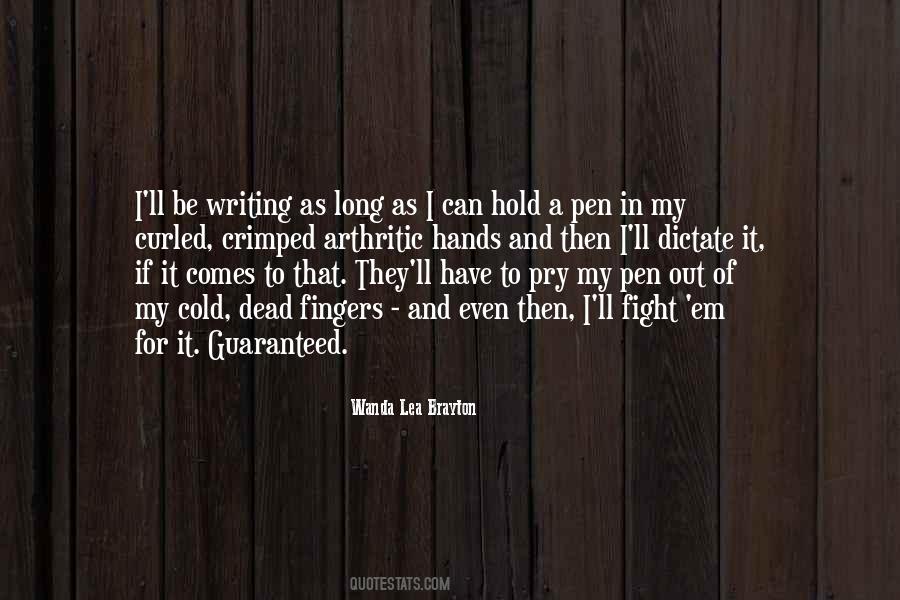 #39. Unlike motor sport, I didn't get into music for the live performances. I like writing and studio work and seeing how a song can come to life.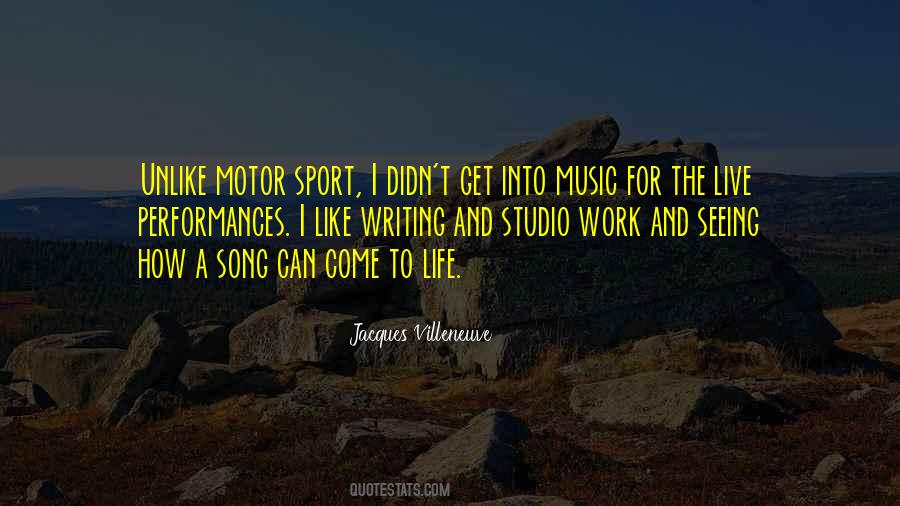 #40. In my life, looking at other women who have been pregnant while writing, I always feel like it's kind of their most musical or the closest to themselves. I think for me it's such a validating moment, you know. I always knew I wanted to have kids, and I've been making music all my life.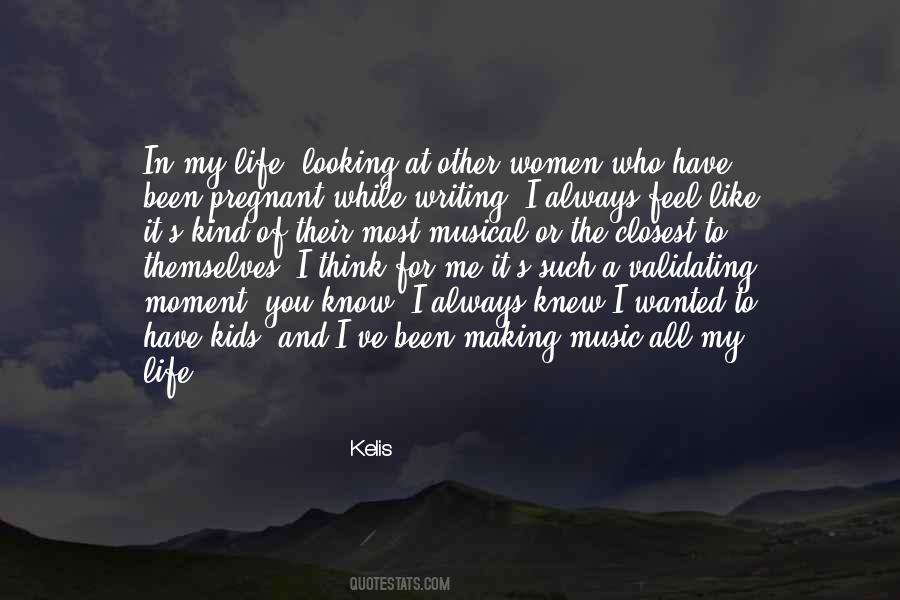 #41. Anyone who has ever been privileged to direct a film also knows that, although it can be like trying to write 'War and Peace' in a bumper car in an amusement park, when you finally get it right, there are not many joys in life that can equal the feeling.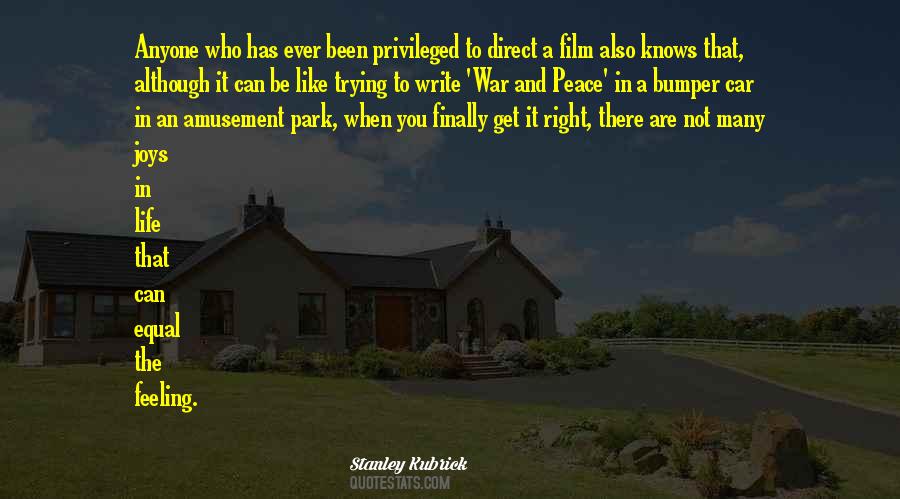 #42. You and you alone are the only person that can live the life that writes the story that you were meant to tell. And the world needs your story because the world needs your voice.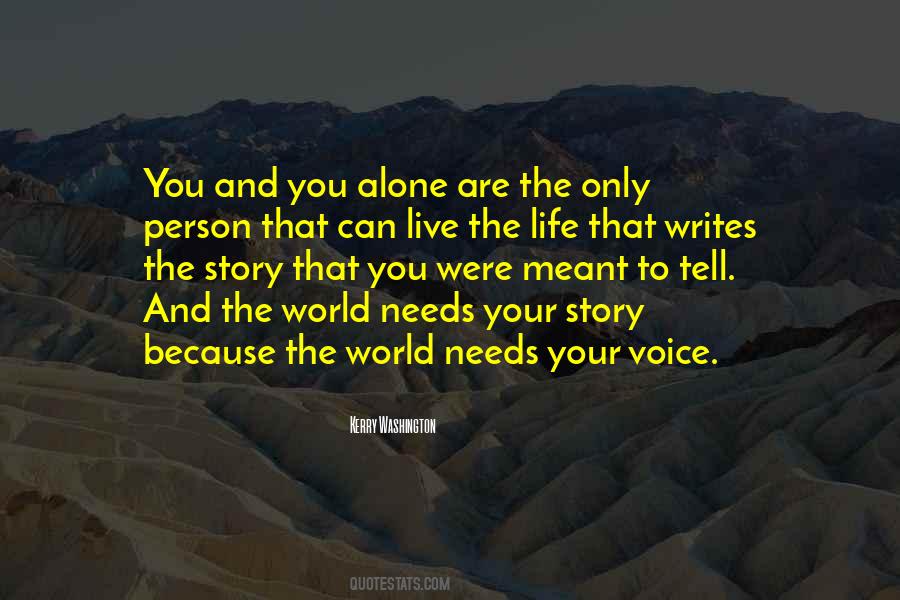 #43. I'm simply interested in what is going to happen next. I don't think I can control my life or my writing. Every other writer I know feels he is steering himself, and I don't have that feeling. I don't have that sort of control. I'm simply becoming. I'm startled that I became a writer.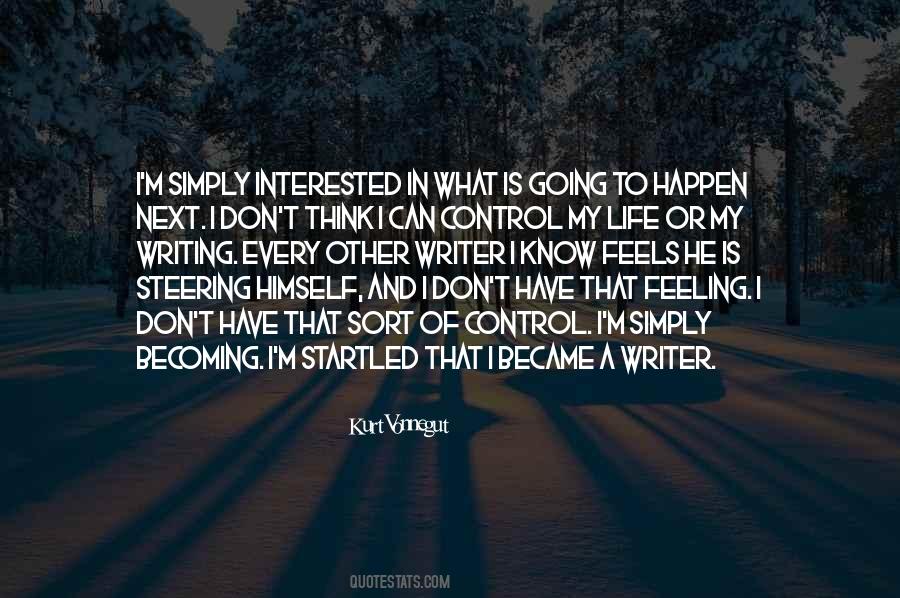 #44. Love and ruin are explained with letters of the alphabet.
The power of the word can describe the glory of the universe. It only requires an open mind and heart.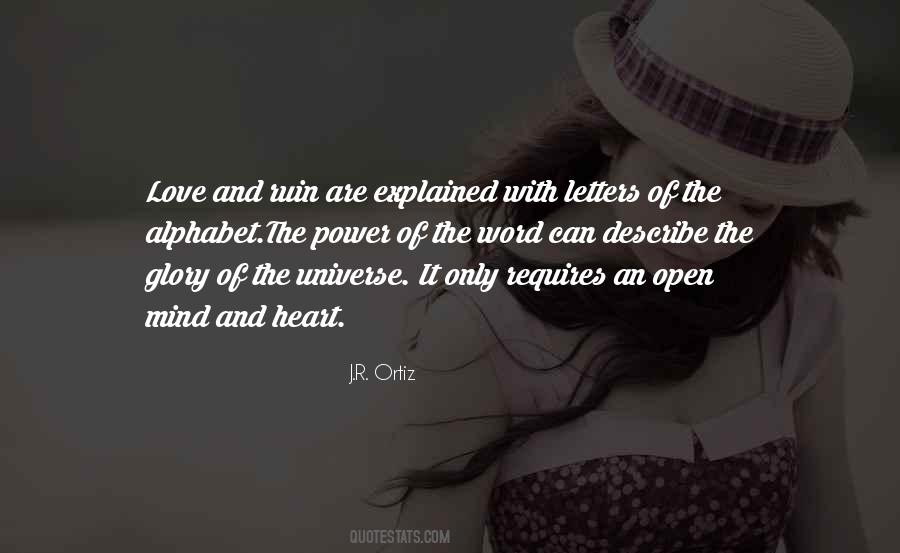 #45. Don't lament so much about how your career is going to turn out. You don't have a career. You have a life. Do the work. Keep the faith. Be true blue. You are a writer because you write. Keep writing and quit your bitching. Your book has a birthday. You don't know what it is yet.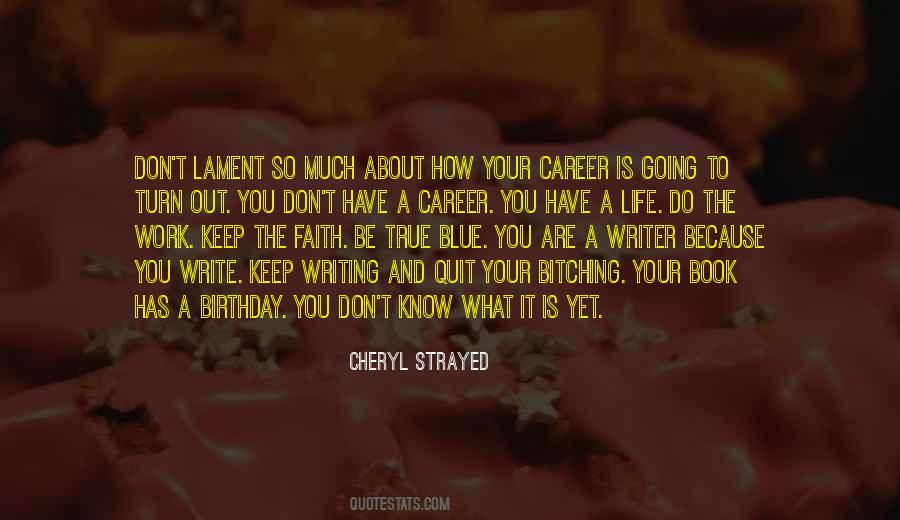 #46. Take a great adventure to a place, learn the rich history and make your own observation about the place.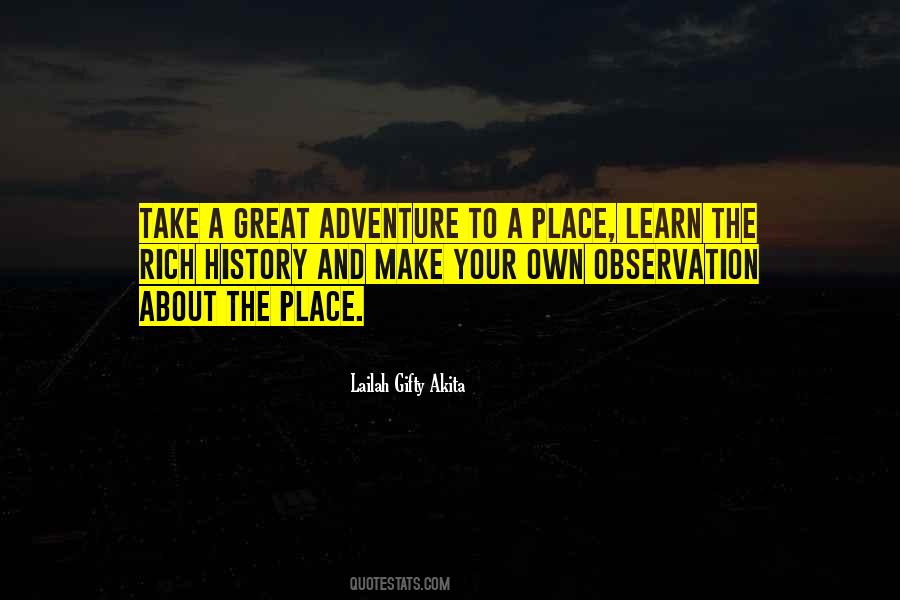 #47. It's good for you to write down your thoughts. It's
therapeutic because it forces you to slow down and think about
life.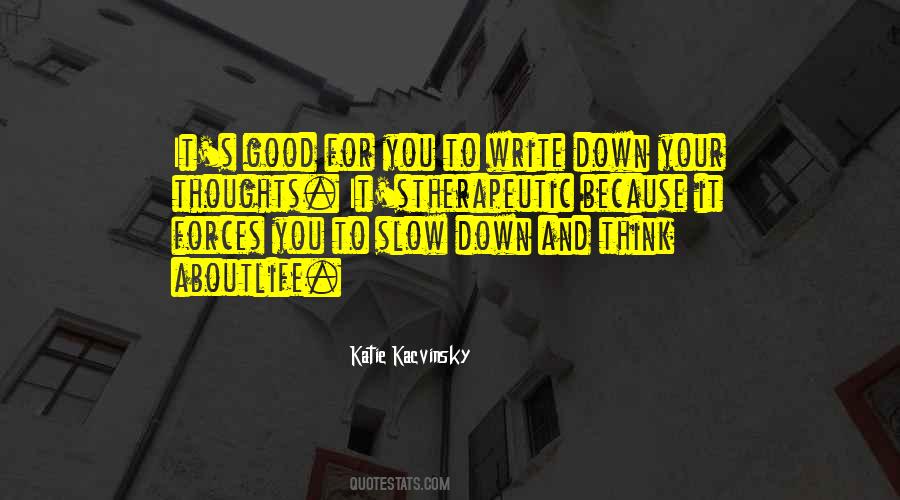 #48. And so I've written everything down, too afraid of my demons and what they may say, the doubt that eats at me from the inside. Too afraid that I'll forget and it'll all be a madwoman's dream.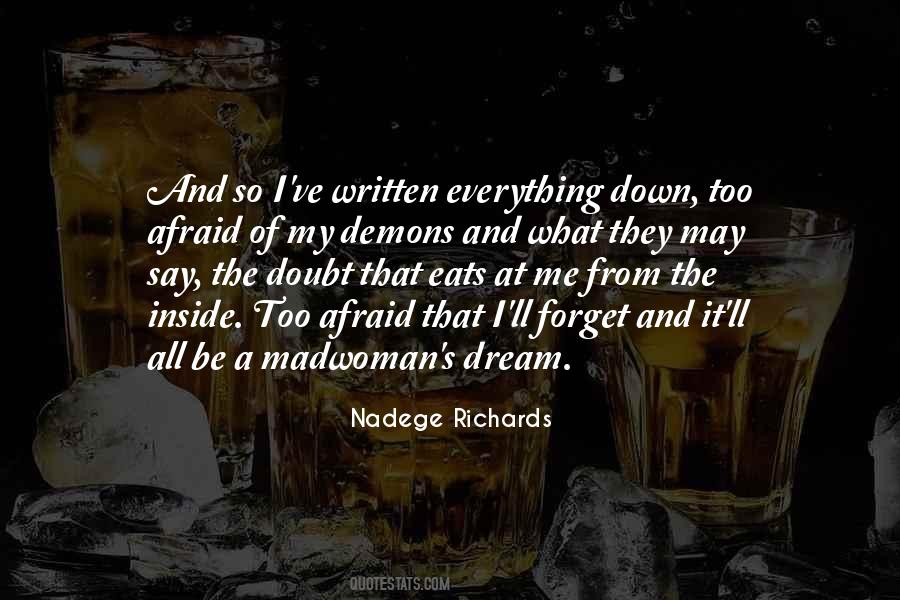 #49. Delicious days ahead for solitude and writing and, oh yes, the holiday meal with family. Live with my characters until term starts in 2012!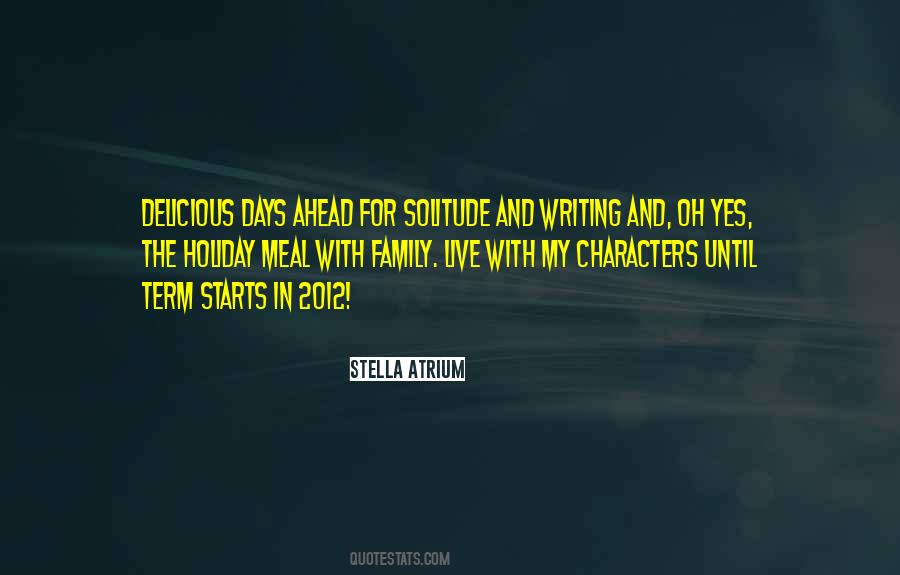 #50. I don't sit down with a goal of writing. I read books or magazines. I watch TV. I go to the doctor. I get on airplanes. I live a normal life and sometimes I'll notice something or read things or experience things.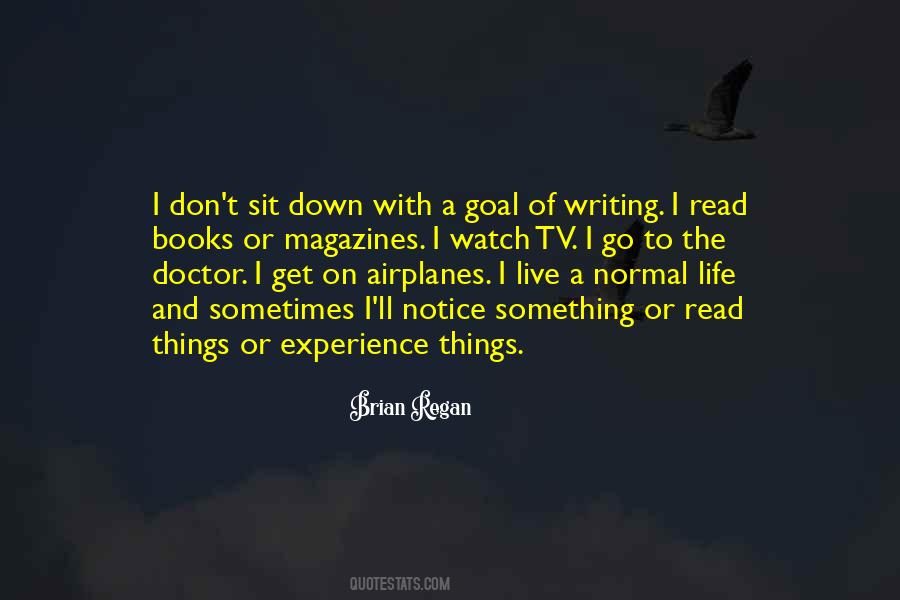 #51. People should know better than to be an ass in front of writers. We immortalize things. Lots of things. And we take liberties with character descriptions.
#52. And you must not worry about me. You must follow your dreams. You have your life ahead of you. I am just a wanderer passing by.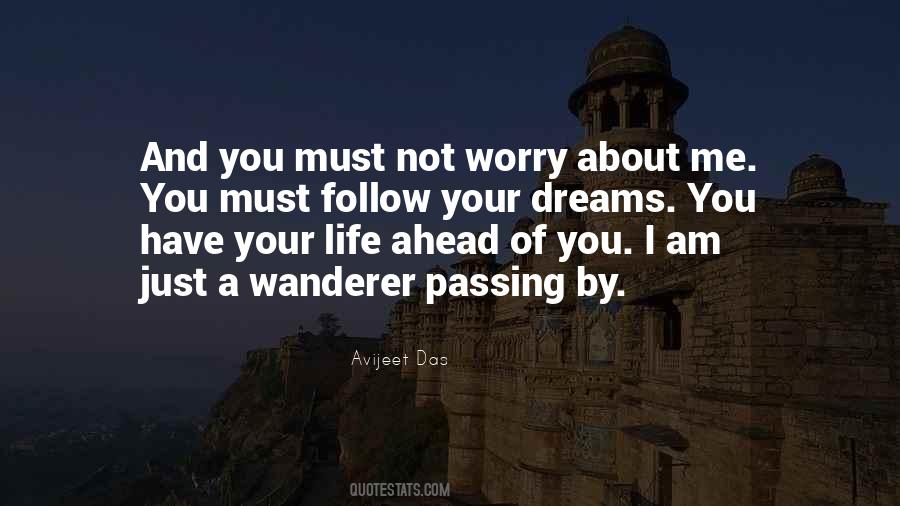 #53. Anybody can write a three-volume novel. It merely requires a complete ignorance of both life and literature.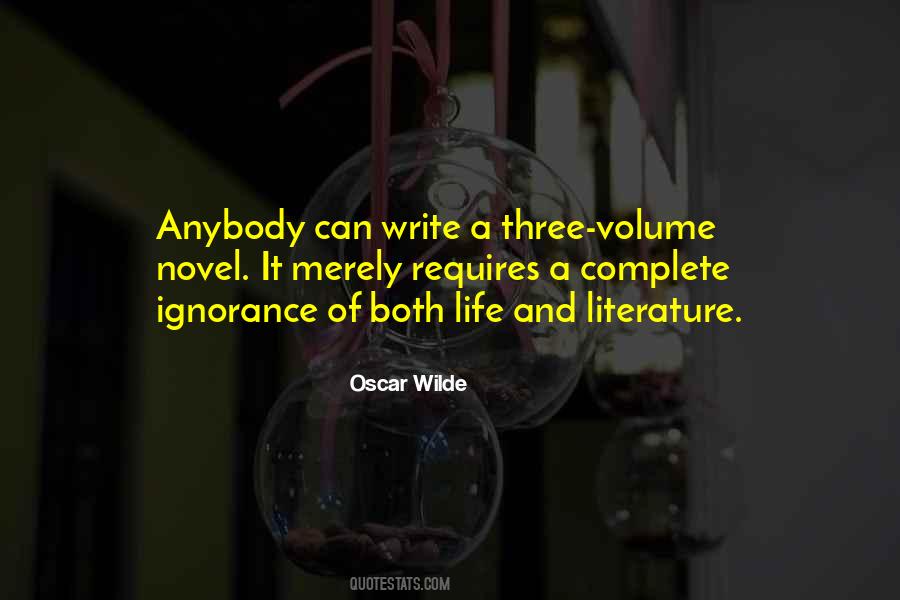 #54. Search your own life for the story only you can tell. The best thing about writing from life is that you can be sure of using original material. And no research is needed beyond the time you spend looking deep inside your own heart.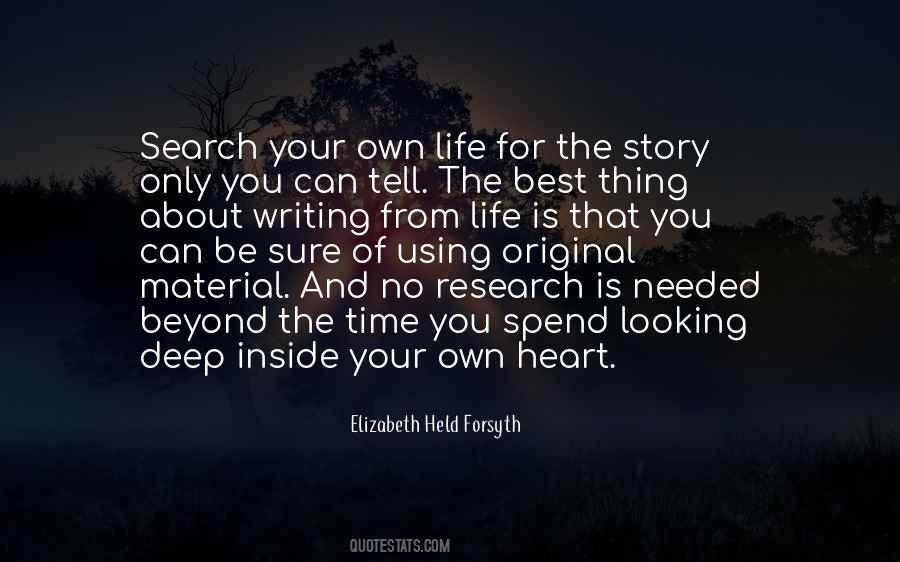 #55. I've never been high. Writing is my drug of choice. You don't ever have to come down from that kind of high, I tell ya. And, best part is, it's free.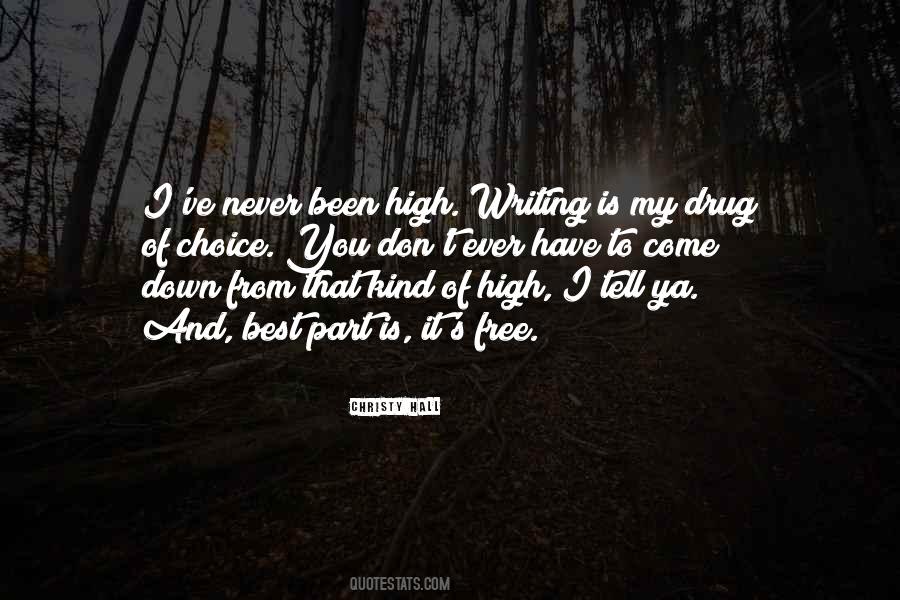 #56. Writing fiction is ... an endless and always defeated effort to capture some quality of life without killing it.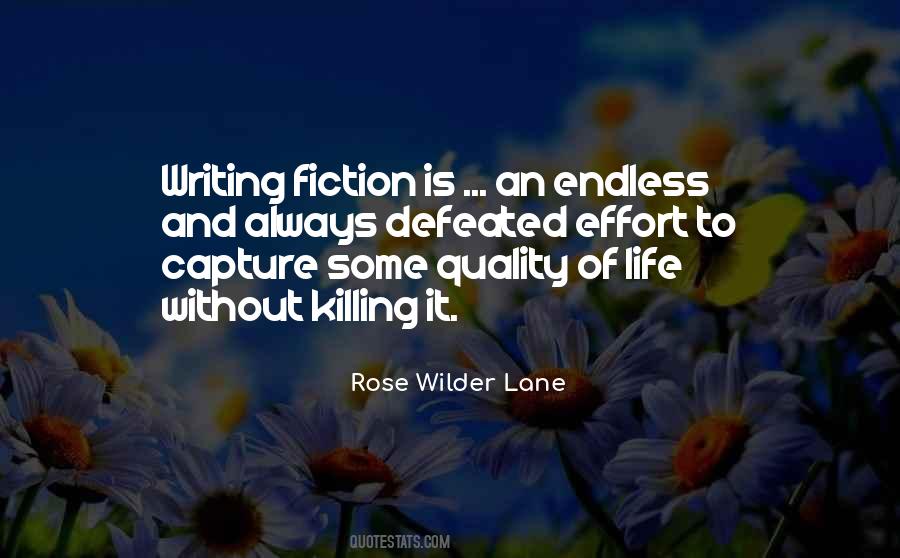 #57. I haven't written a word of fiction since 2009. I have no desire to write fiction. I did what I did and it's done. There's more to life than writing and publishing fiction. There is another way entirely, amazed as I am to discover it at this late date.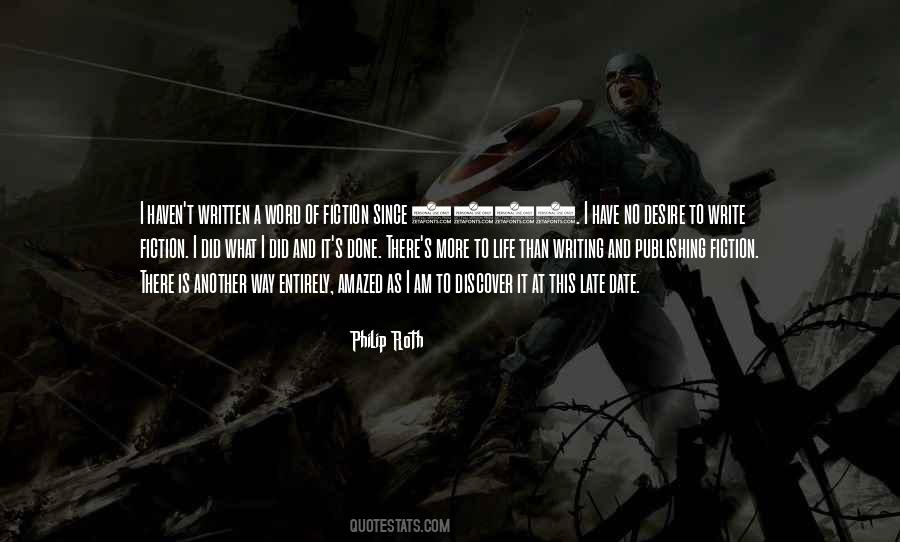 #58. Now write this: 'The greatest rapture of my life was afforded me on a boat in Nassau by Fatima Blush,' and sign it 'James Bond, 007.'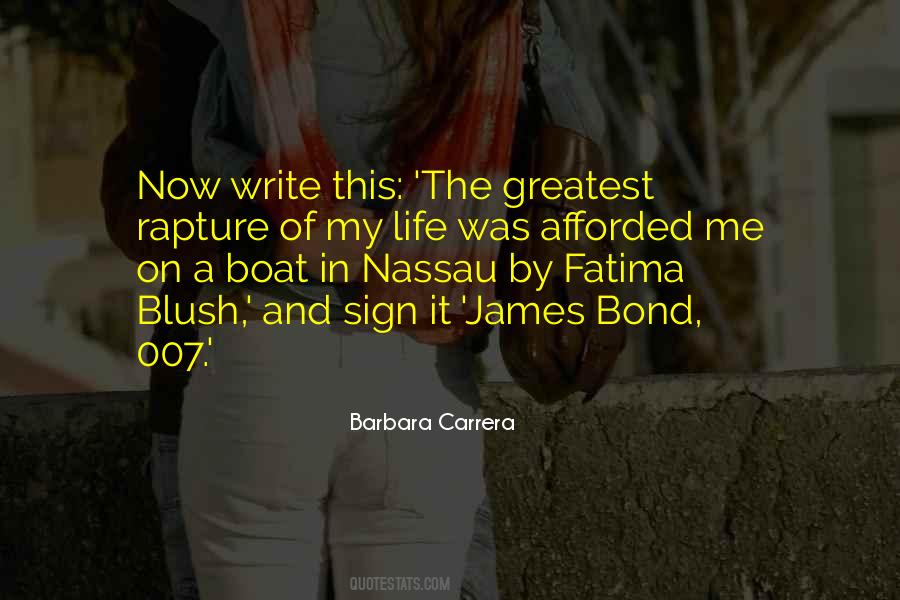 #59. I am writing My Life so that I may laugh at myself, and I am succeeding.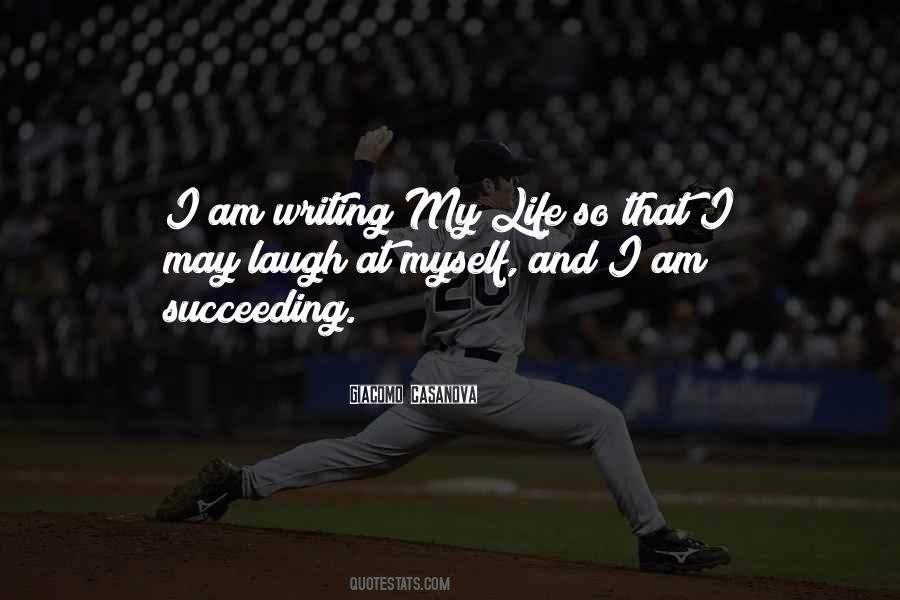 #60. You know you've spent a lot of time writing fiction when you meet a new person and instead of asking them about what they do, or where they're from, you ask "what's your backstory?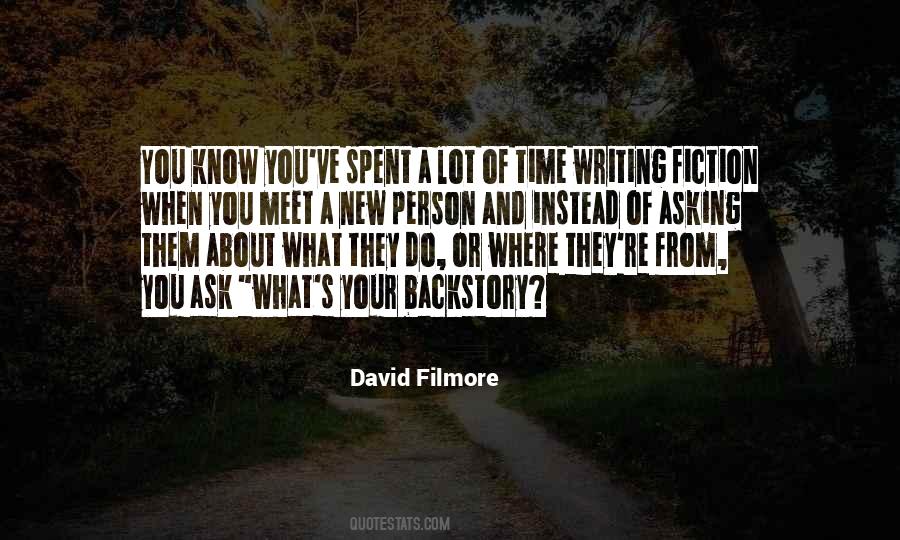 #61. I've always tried to insert consciousness and spirituality in my records, interpreting the writings of all cultures and religions and how they apply to life in modern times.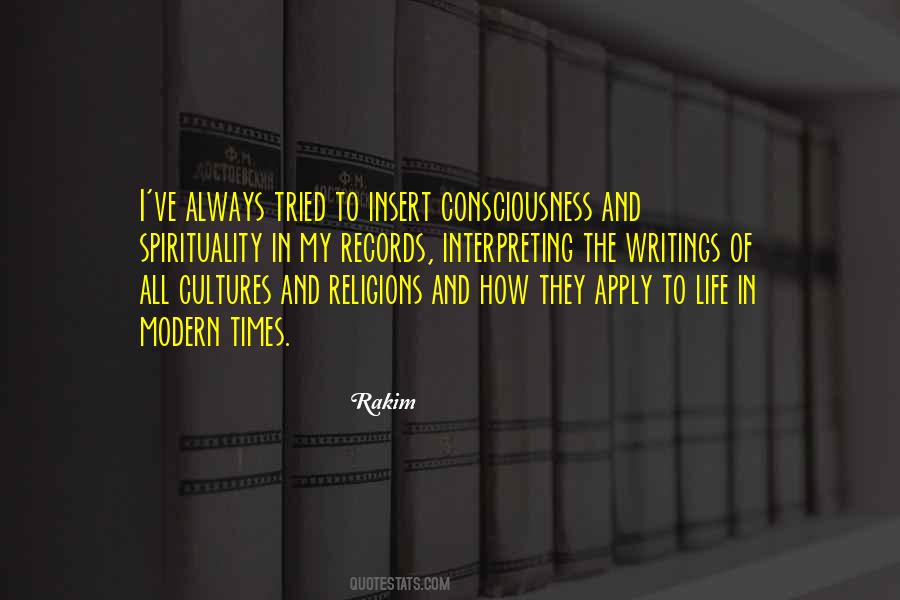 #62. Famed value investor Guy Spier has managed to write what is both a gripping memoir and a fascinating study of what it takes to succeed in investing and life. A must read!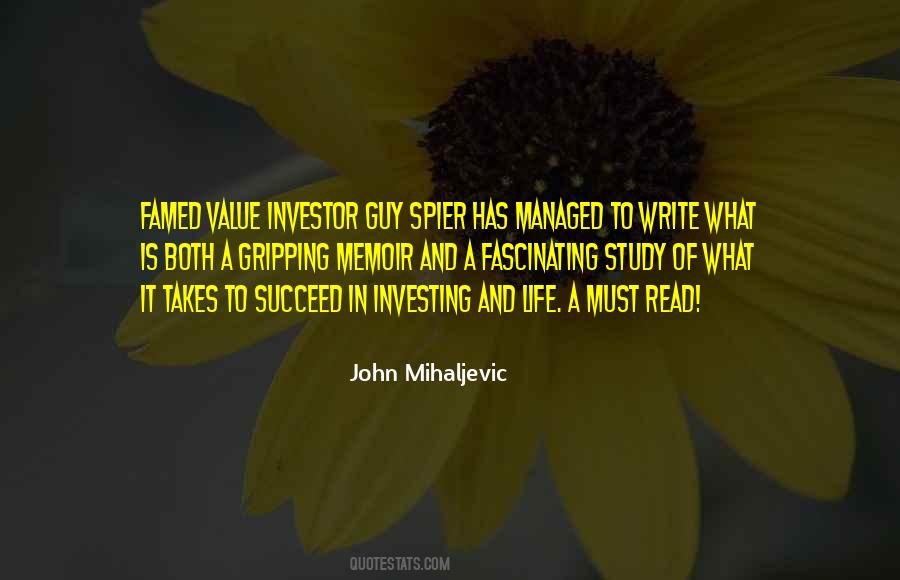 #63. Writers are a savage breed, Mr. Strike. If you want life-long friendship and selfless camaraderie, join the army and learn to kill. If you want a lifetime of temporary alliances with peers who will glory in your every failure, write novels.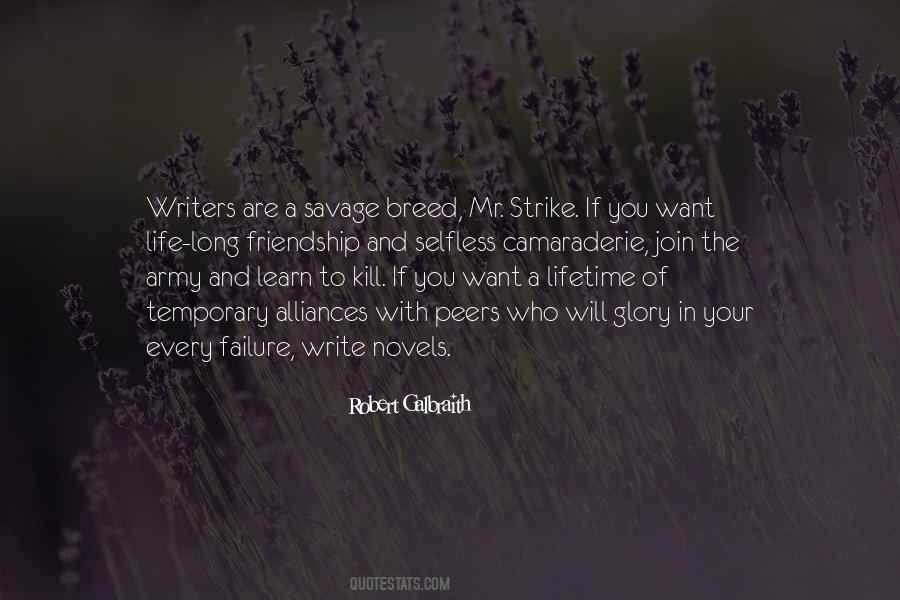 #64. And perhaps,frozen somewhere with time,
Our words will never cease to rhyme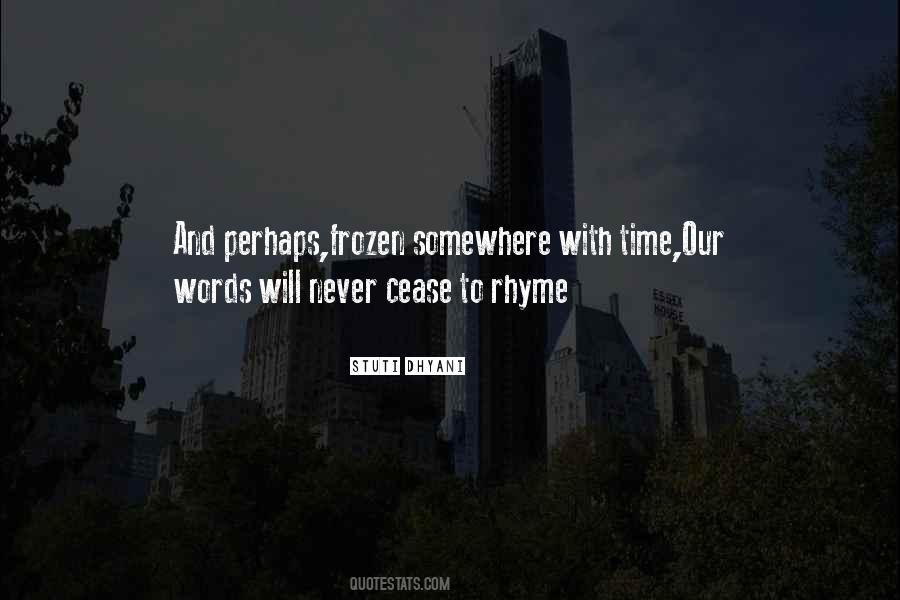 #65. Keep traveling, even if you don't know where the road will end.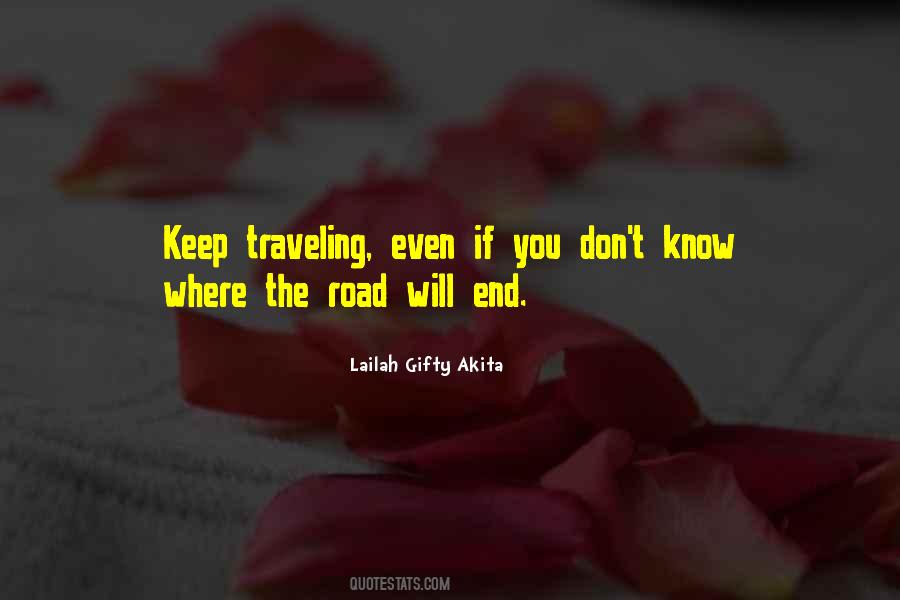 #66. And here you see me working out, as cheerfully and thankfully as I may, my doom of sharing in the glass a constant change of customers, and of lying down and rising up with the skeleton allotted to me for my mortal companion.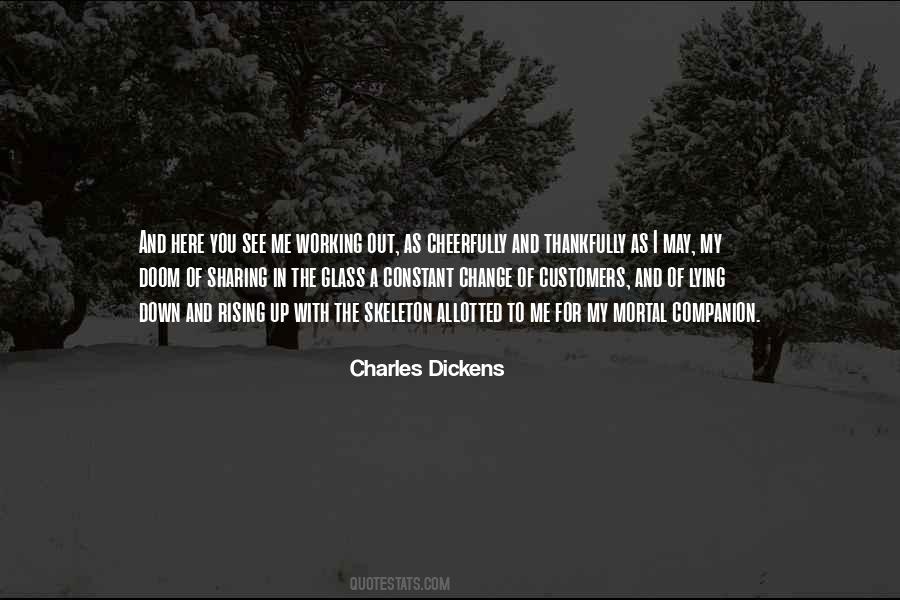 #67. There are only two things to write about: life and death.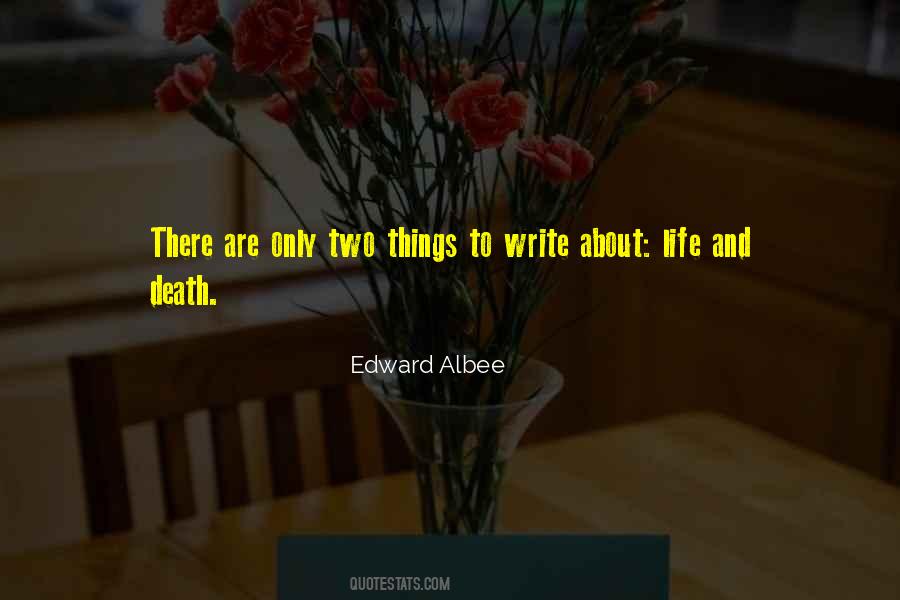 #68. I tended to do anything as long as it felt like an adventure, and to stop when it felt like work. Which meant that life did not feel like work.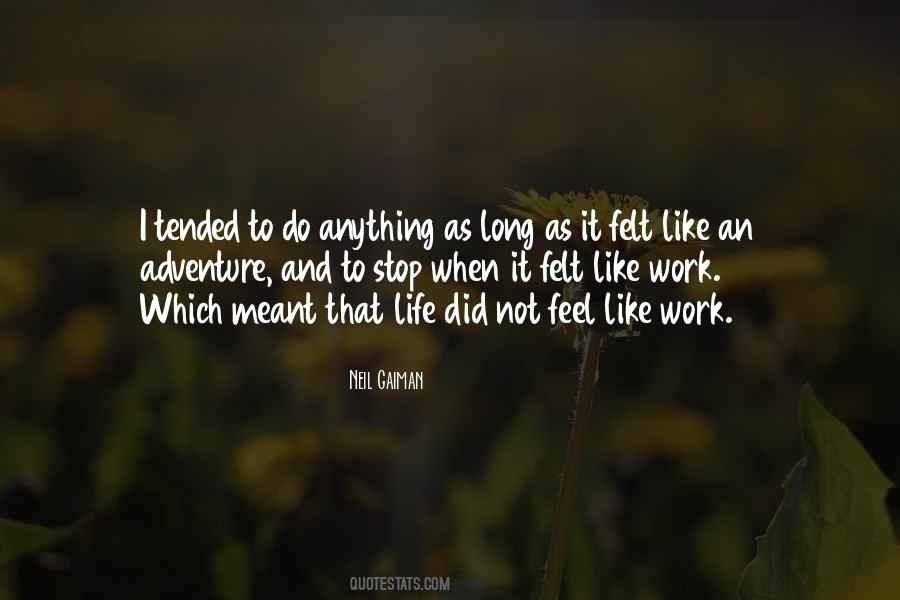 #69. I believe that, for those who love to write, time spent writing is never wasted. And then isn't it from book to book that we approach the book that we really want to write?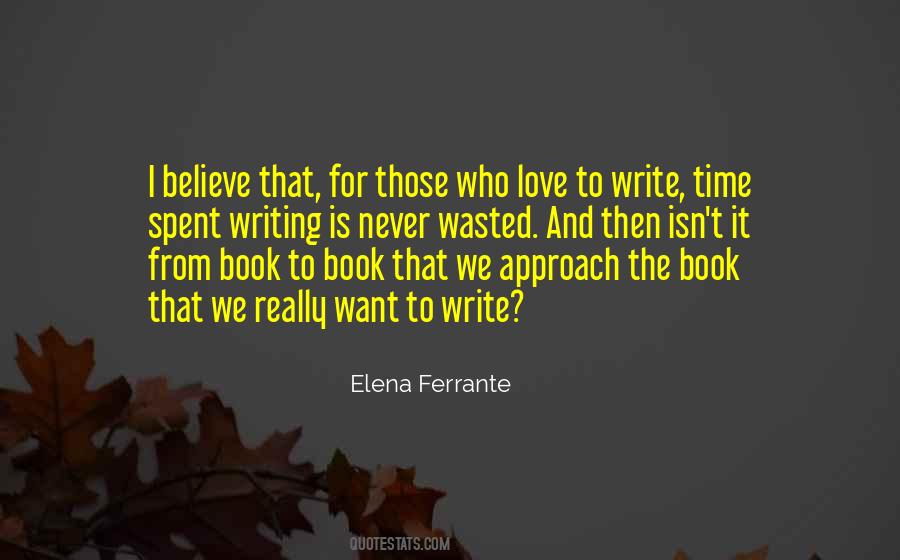 #70. I think that every decision I make in my life is based off of an emotion - and it definitely hurts me in some situations, and helps in some situations, like obviously writing and stuff is my favourite thing to do because I get to use all of my emotions and express them in that way.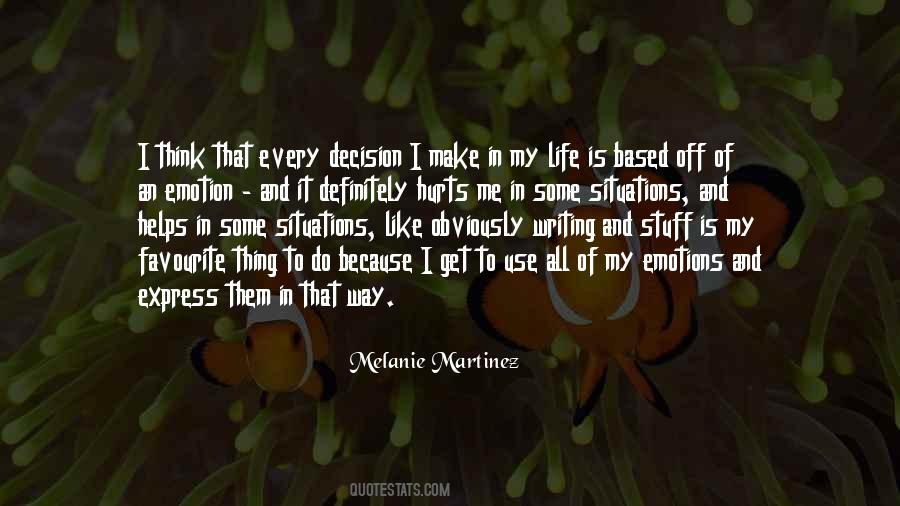 #71. Writing is the birth of my closure. Either it splits me open and comes out easy with tears or it pushes me to hysterics. Whichever way, it brings me a new life.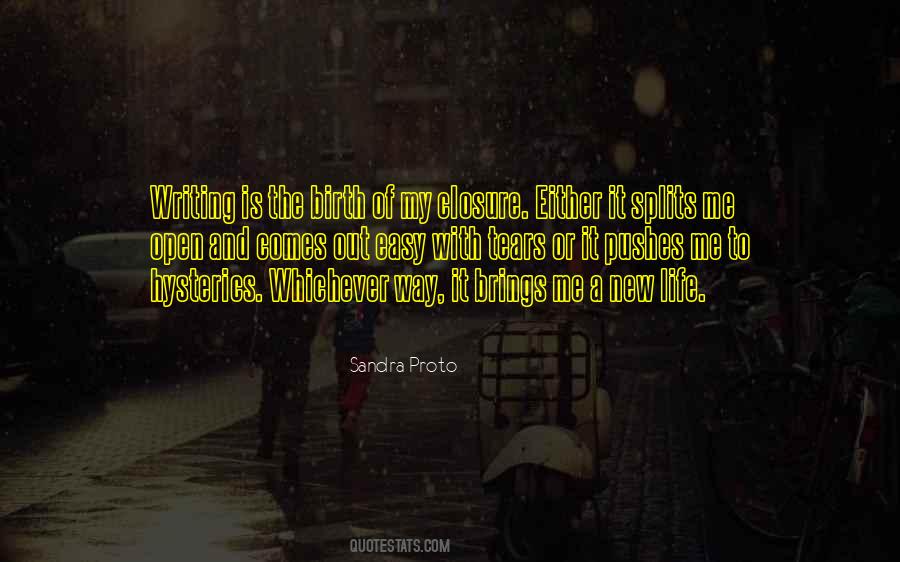 #72. The blazing fire makes flames and brightness out of everything thrown into it.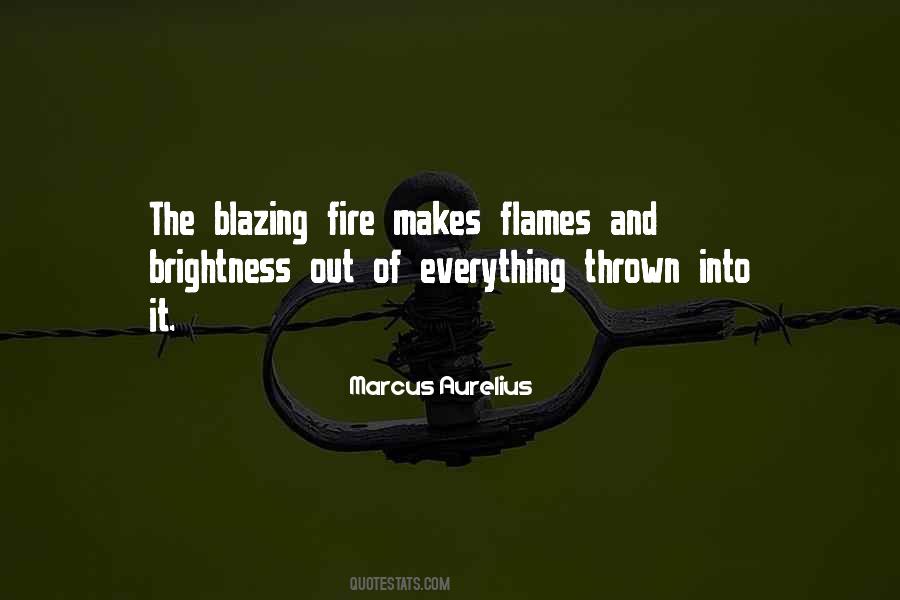 #73. Don't be afraid to start at the bottom of the ladder. And have the courage to climb to the top.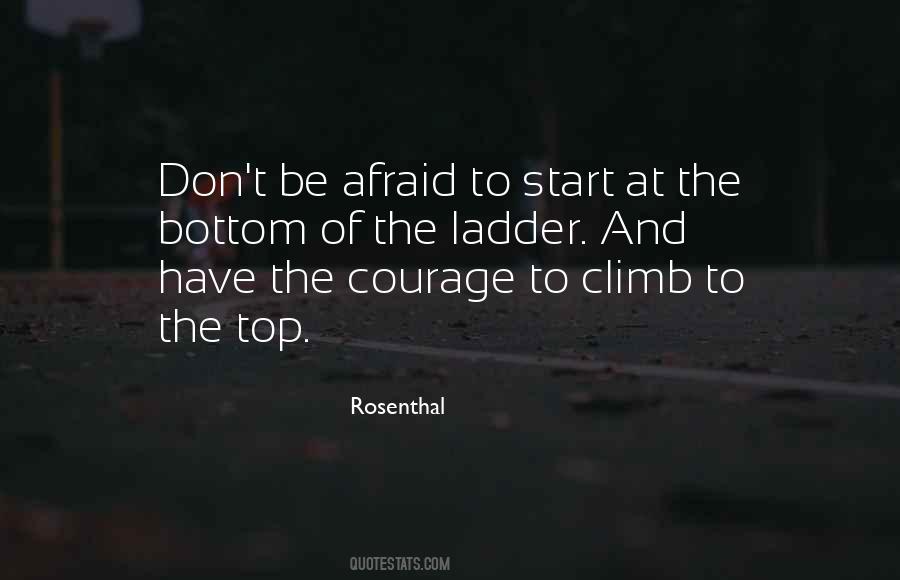 #74. I do believe it is possible to create, even without ever writing a word or painting a picture, by simply molding one's inner life. And that too is a deed.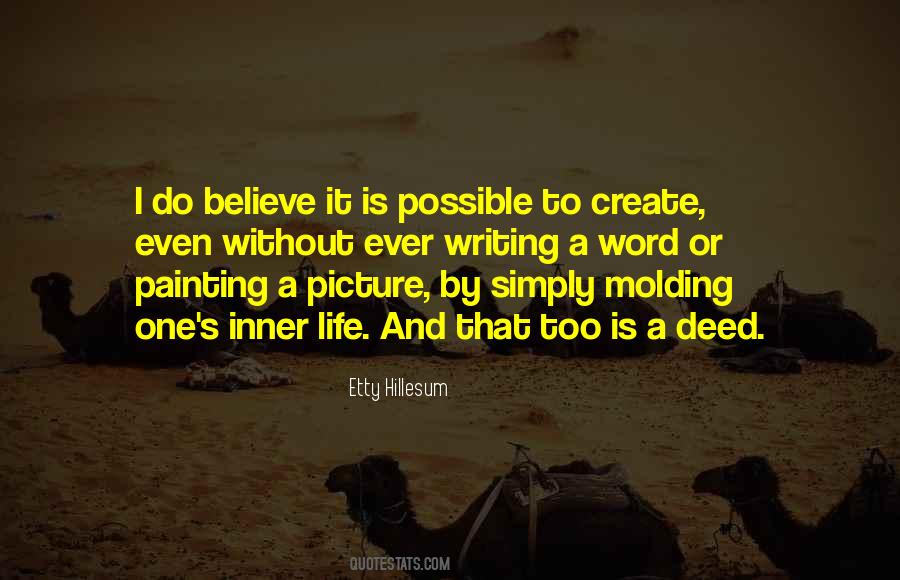 #75. On Writing About Nora Hawks
I write about a female character to try, in vain, to understand two things: the purpose of life, and women.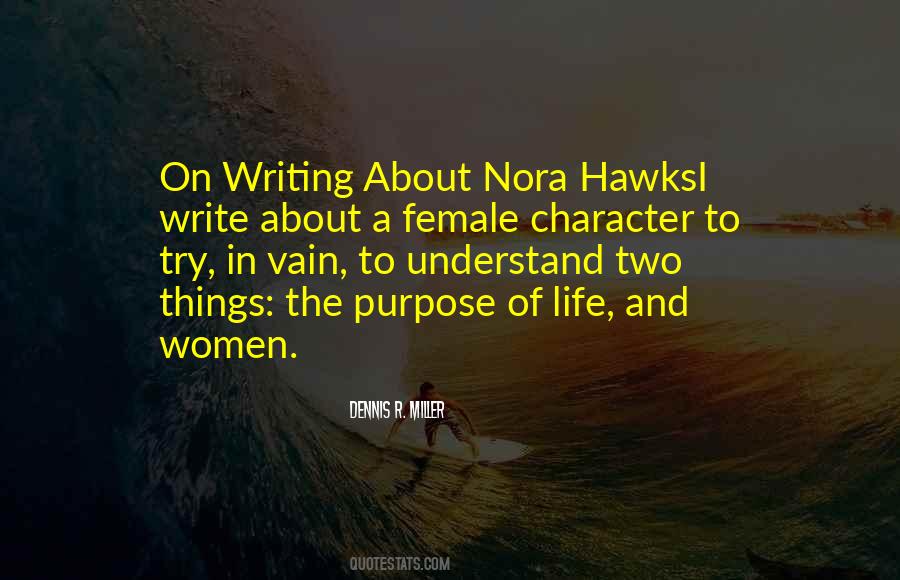 #76. Song-writing is therapy for me. I'm a very moody person, very difficult to live with. There's a lot going on and a lot of contradictions. My life is always one step away from disaster.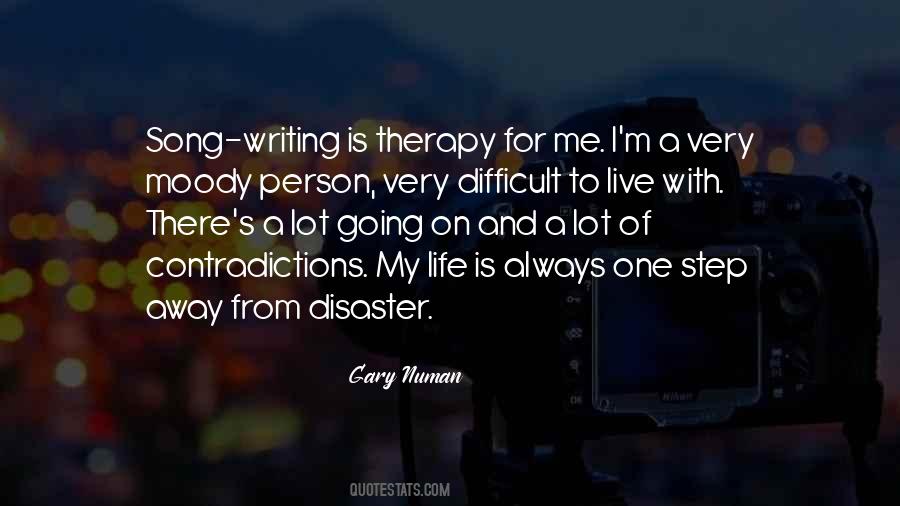 #77. You hope for that with anything, but with a TV show, the writer and the actor being the right mix are more important than the actual writing of the pilot because you hope it's something that can have a long life.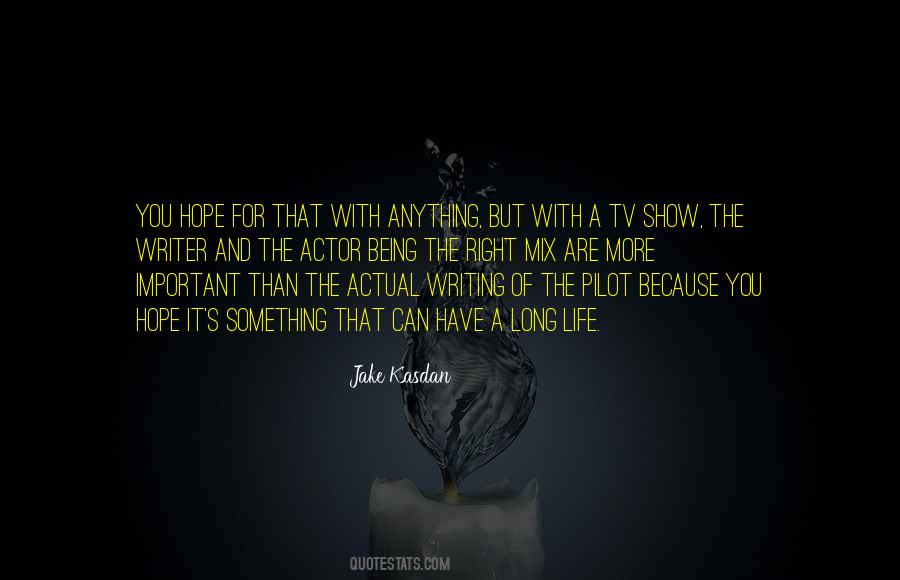 #78. The myth of 'You have to be a tortured artist' is a myth," says Lin. "You can have a happy, healthy life and still go to all these crazy dark places in your writing, and then go play with your child and hug your wife.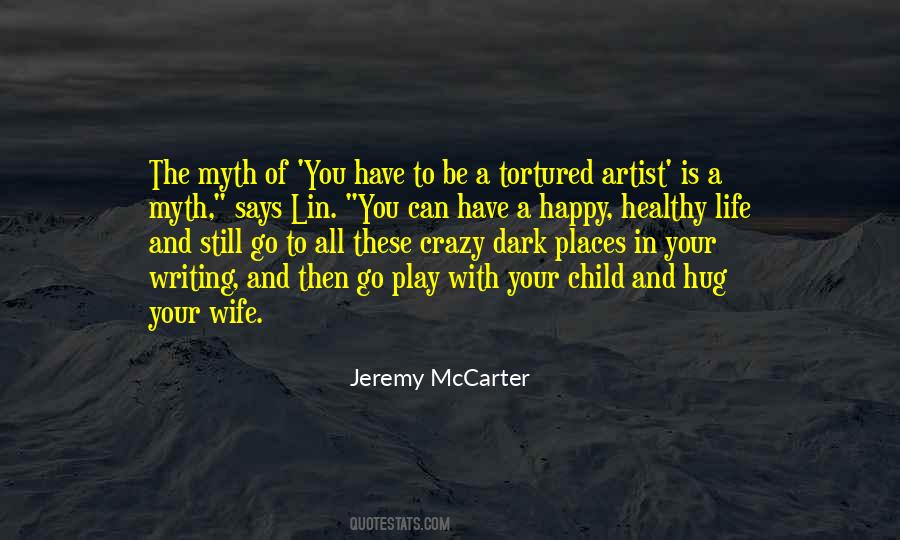 #79. Time is not something to be killed. Doing so suffocates a part of us, writing off part of our life that could, or rather should, be spent doing something meaningful.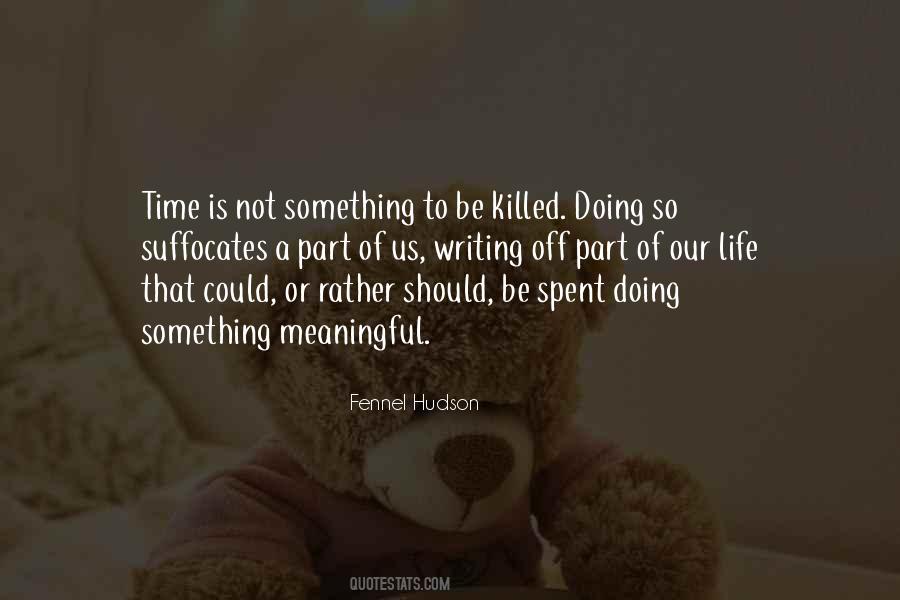 #80. He who writes poetry is not a poet. He whose poetry has become his life, and who has made his life his poetry - it is he who is a poet.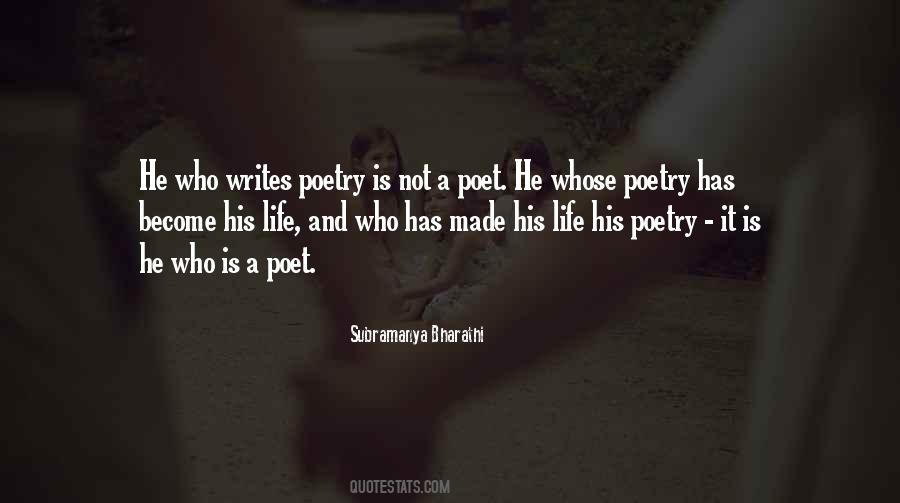 #81. Most people assume I write at night because of the kind of books I write, but I can shut out the light with my mind.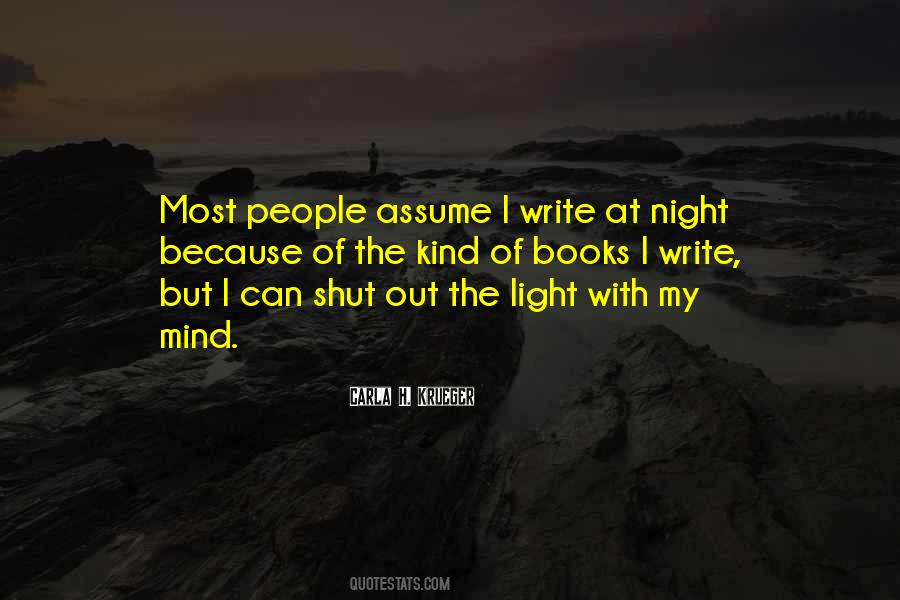 #82. So I think writers are made and not born. But what you choose to write is buried so deeply inside it's like lodestones inside you and sooner or later you come near something that you're supposed to be doing with your life and it's like a magnet. It attracts.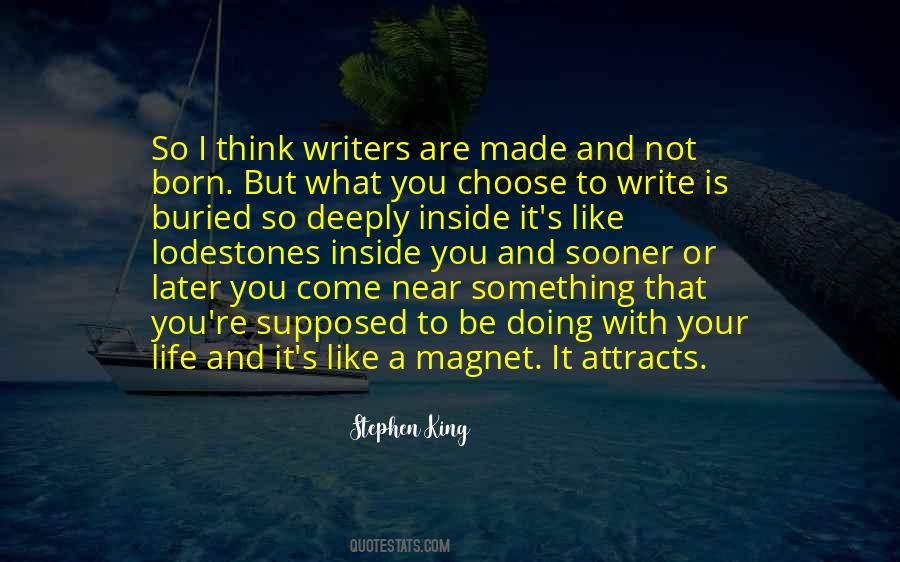 #83. To put it bluntly but fairly, anyone today who doubts that the variety of life on this planet was produced by a process of evolution is simply ignorant - inexcusably ignorant, in a world where three out of four people have learned to read and write.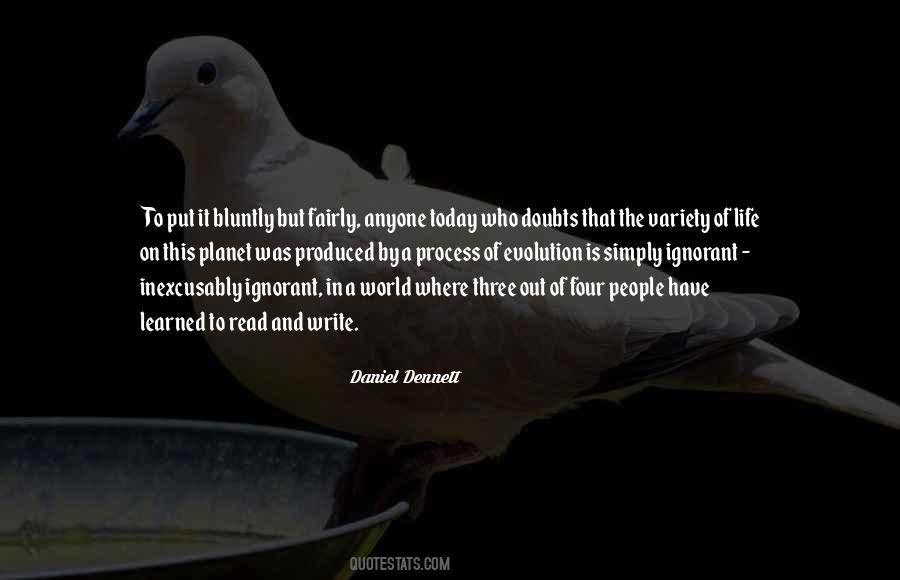 #84. Obviously this all gets tricky/complicated when your writing reveals so much of your private/intimate life, and the nature of writing on the Internet comes with a lot of focus on your "personal brand."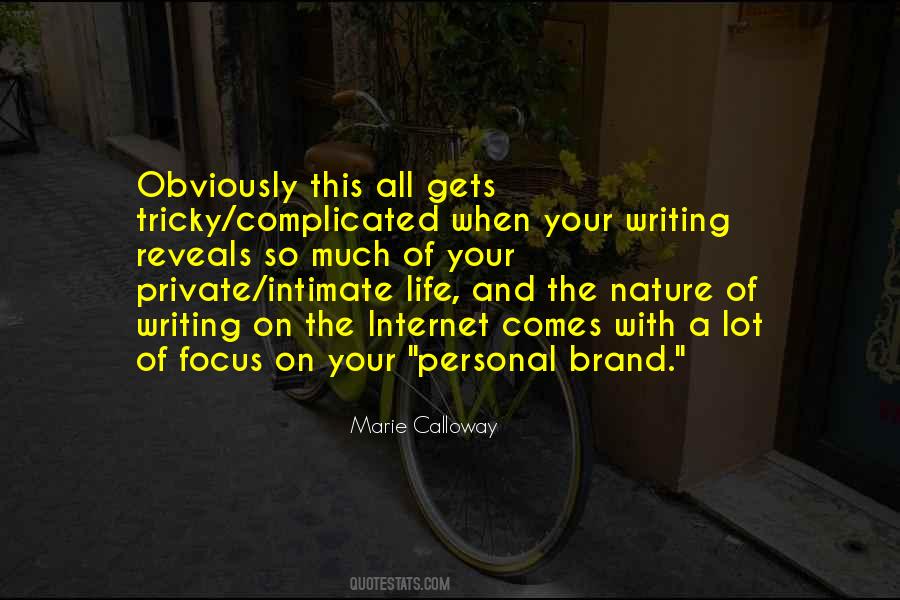 #85. I definitely write about my life and the issues I might have or the dilemmas I'm going through, but usually I write about it in a general way and make metaphors. Like "I'm the wolf and you are the moon ".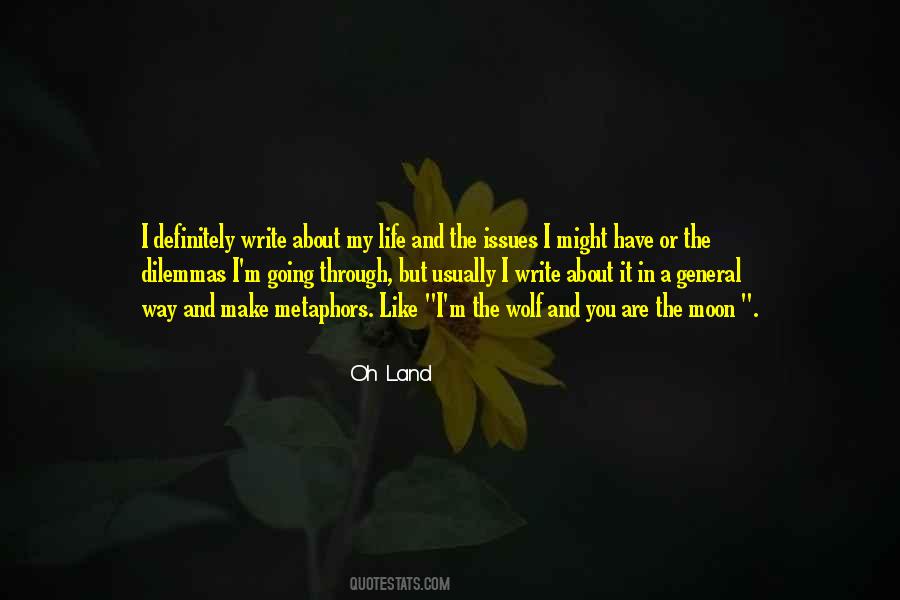 #86. And of course, in my writing, there is the constant theme of music, love of, preoccupation with, music. Music is the single thread making my life into a coherency.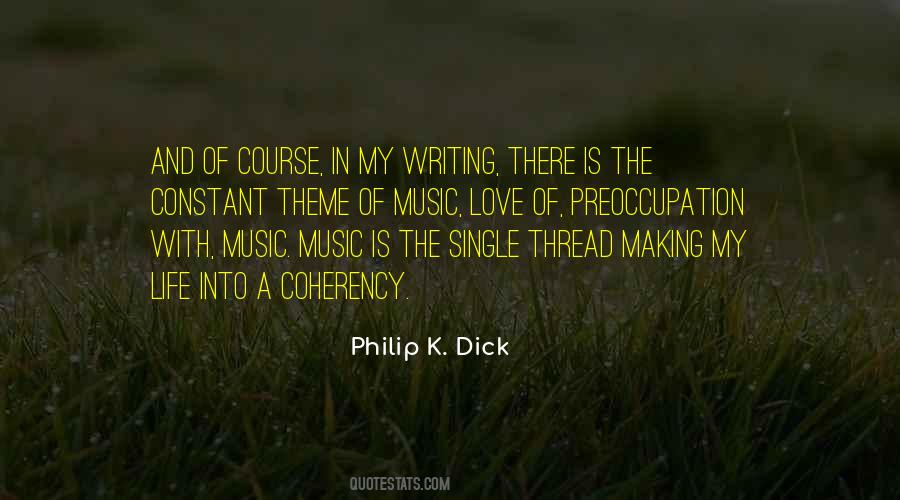 #87. Success and failure on the public level never mattered much to me, in fact I feel more at home with the latter, having breathed deep of its vivifying air all my writing life up to the last couple of years.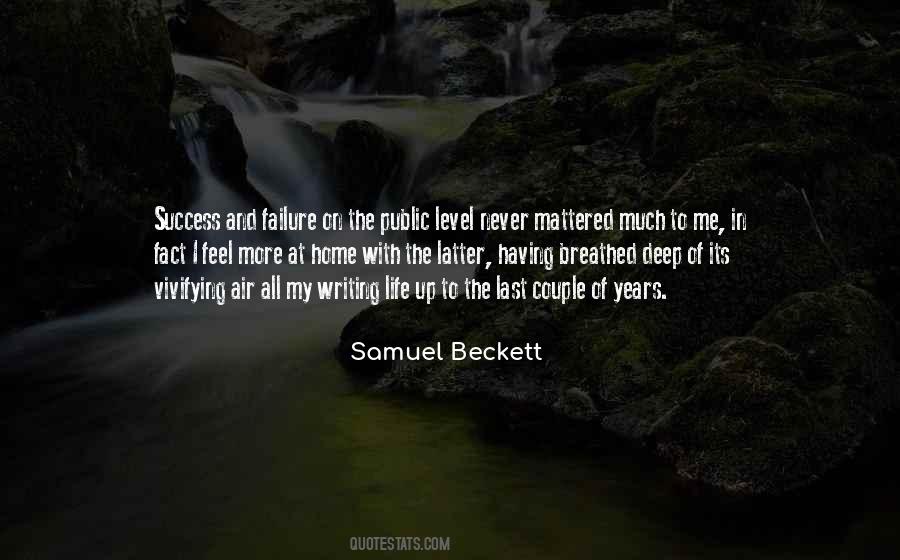 #88. And what, you ask, does writing teach us? First and foremost, it reminds us that we are alive and that it is a gift and a privilege, not a right.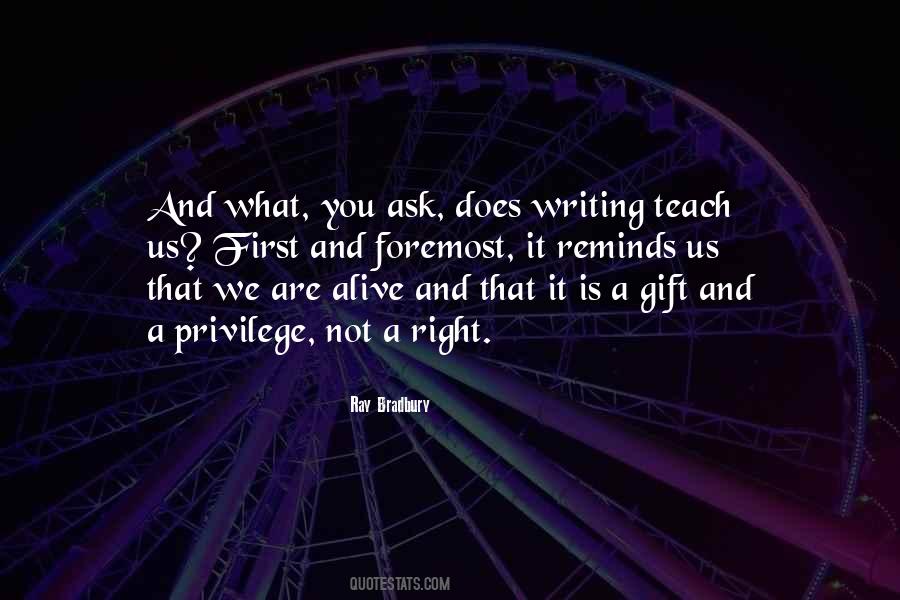 #89. Reading, Writing, and Enjoying A Creative Life.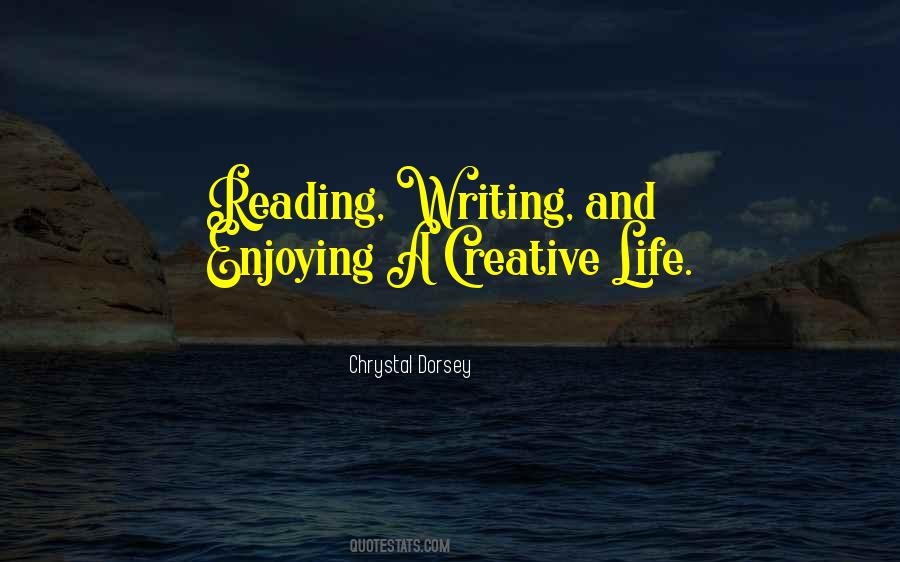 #90. The prose is deeply inspired by the tension between post- totalitarianism and consumer democracy. I am constantly probing the soft fleshy parts of the American dream.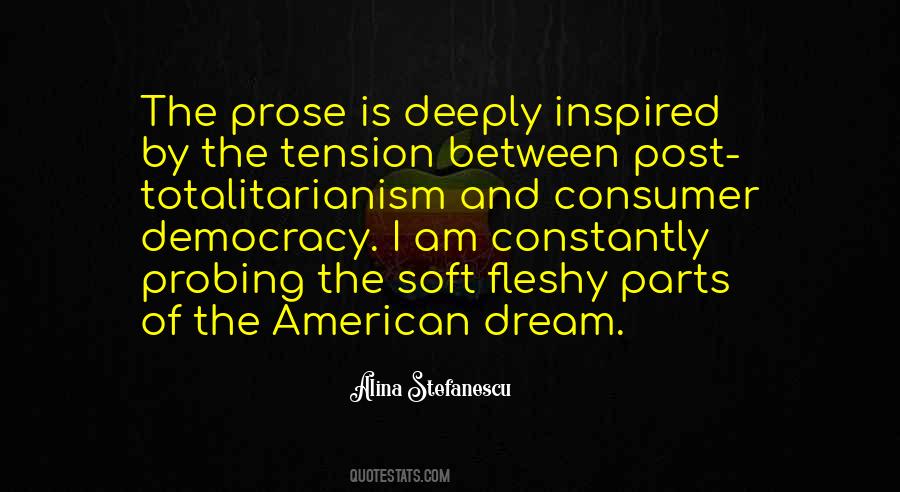 #91. He has discovered the truths that keep writers chained to their desks: the primacy of the inner life and the sheer exhilaration of creating a world from scratch.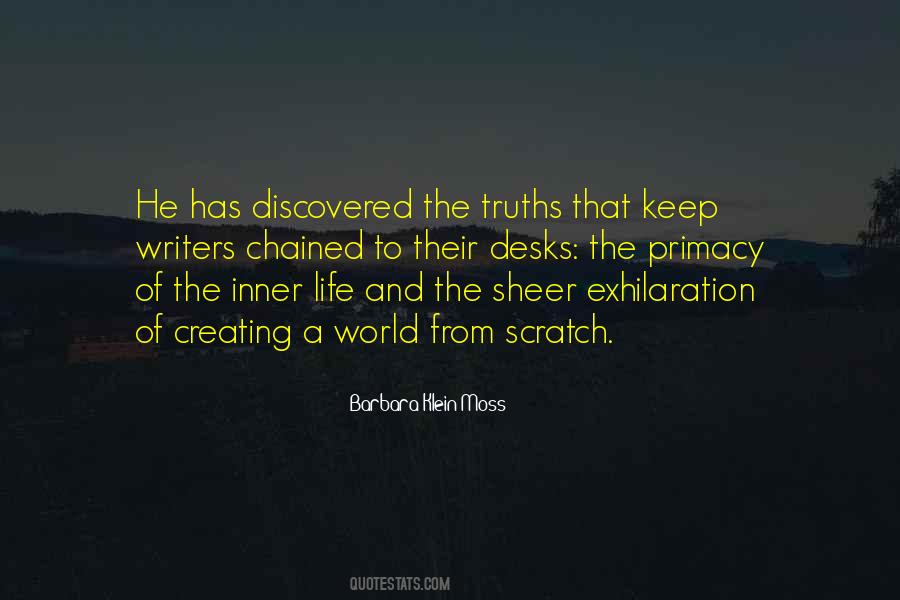 #92. Life baffles me most days. Maybe that's why I write. To try and make sense of it all.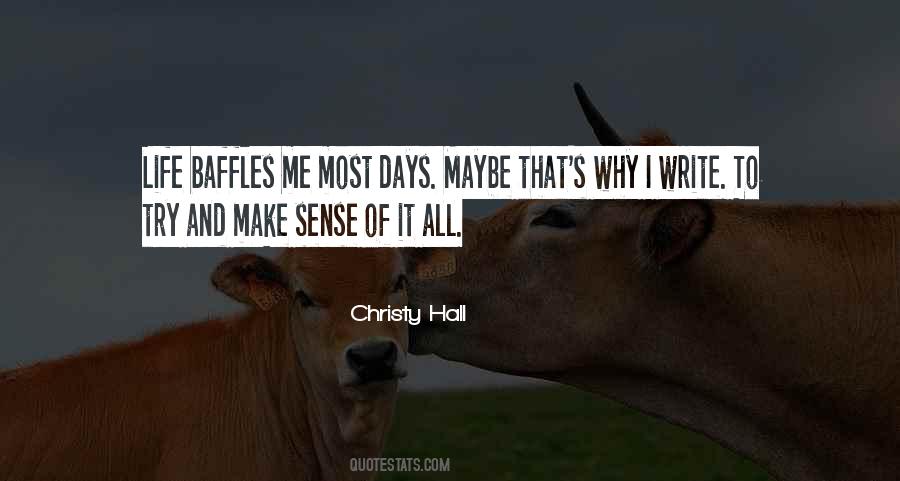 #93. Ask yourself, "Why do I want to be in shape?" and write all ... Put your list everywhere to constantly remind yourself why you're doing what you're doing and how your life will improve by becoming fitter.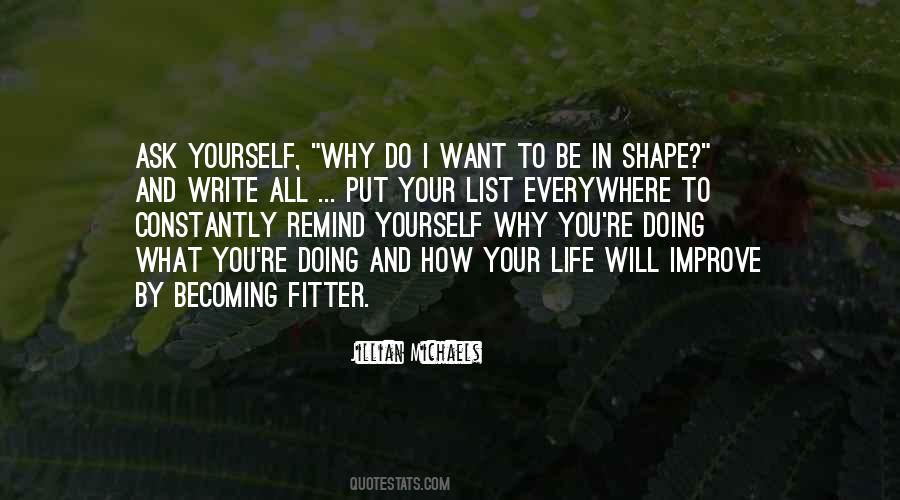 #94. Many leave the labours of half their life to their executors and to chance, because they will not send them abroad unfinished, and are unable to finish them, having prescribed to themselves such a degree of exactness as human diligence can scarcely ontain.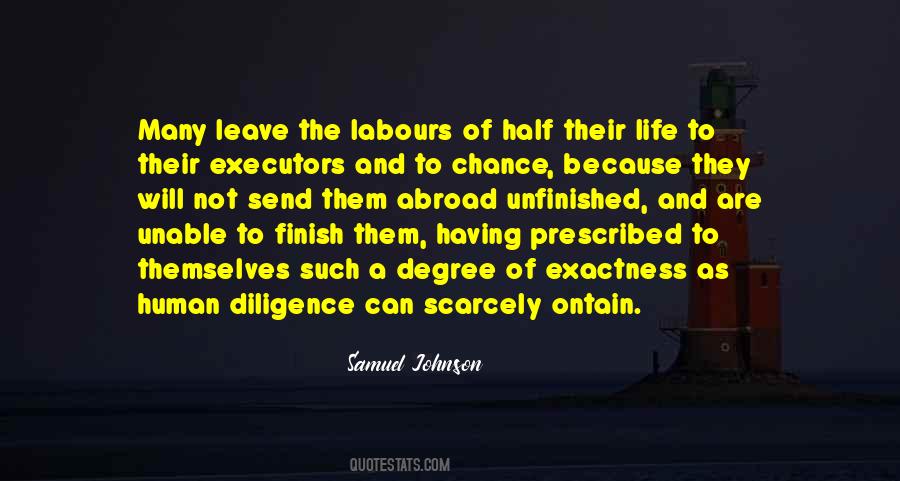 #95. I came across humanity in Istanbul, and all I know about life comes from Istanbul, and definitely, I am writing about Istanbul. I also love the city because I live there, it has formed me, and it's me. Of course it is natural. If somebody lived all his life in Delhi, he will write about Delhi.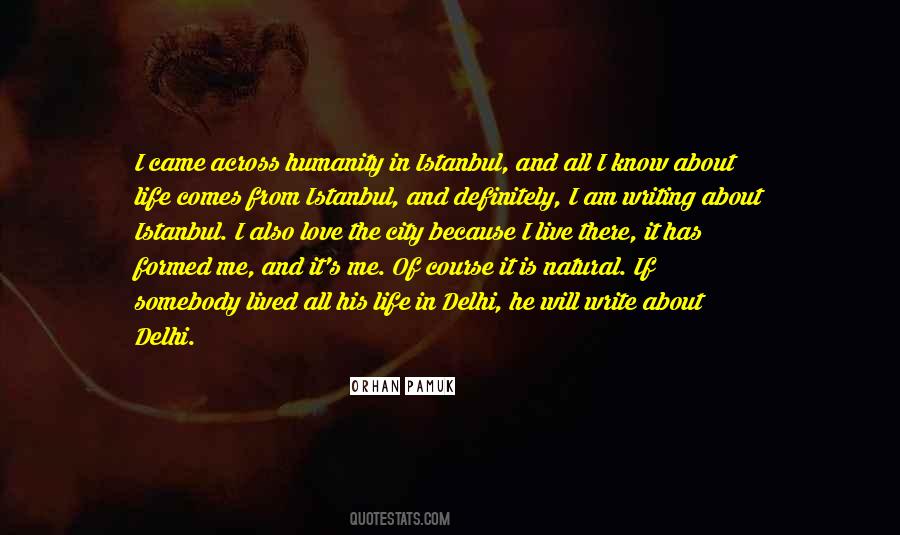 #96. Writing is not just my Hobby . Pen is mouthpiece of my feelings,I have no another one But paper is my best friend. and My Best Friend always Listen so patiently whatever,whenever i speak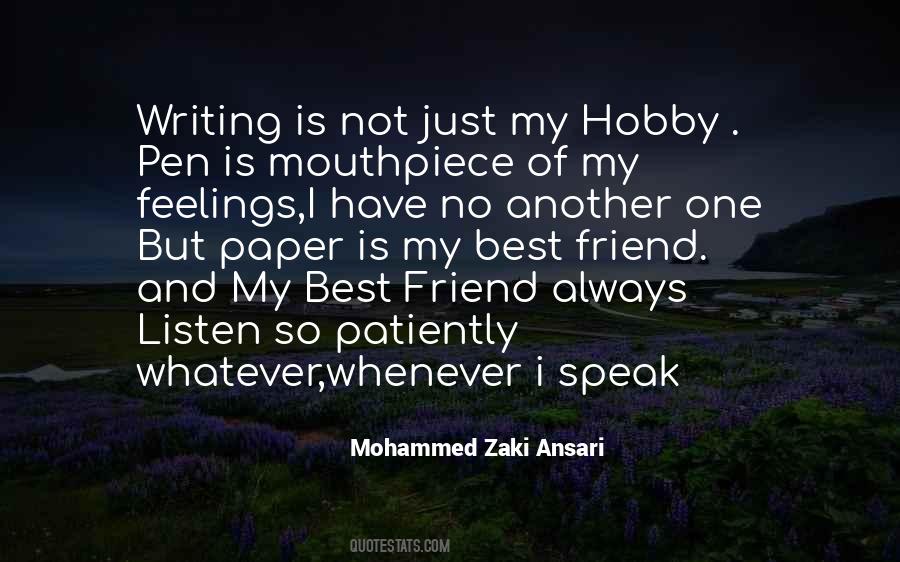 #97. If a man comes to the door of poetry untouched by the madness of the Muses, believing that technique alone will make him a good poet, he and his sane compositions never reach perfection, but are utterly eclipsed by the performances of the inspired madman.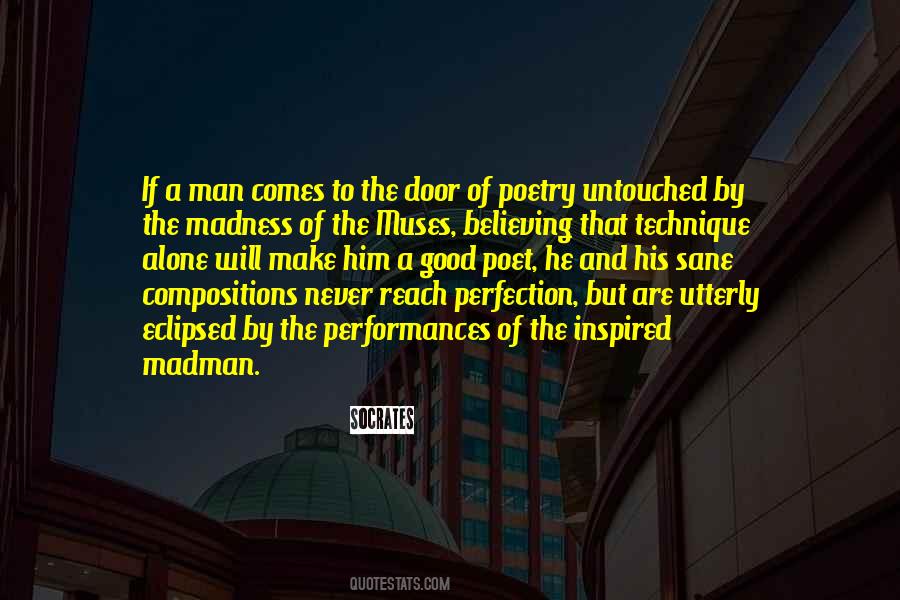 #98. The night is the balm for the wounded souls of the world.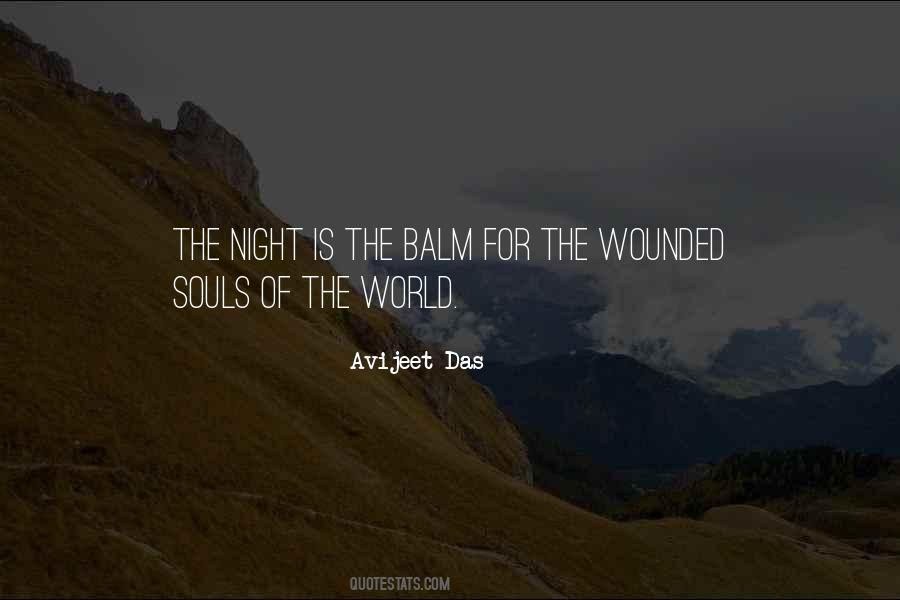 #99. I write because I can remember and to keep those memories alive. I write for pleasure. I write because I must.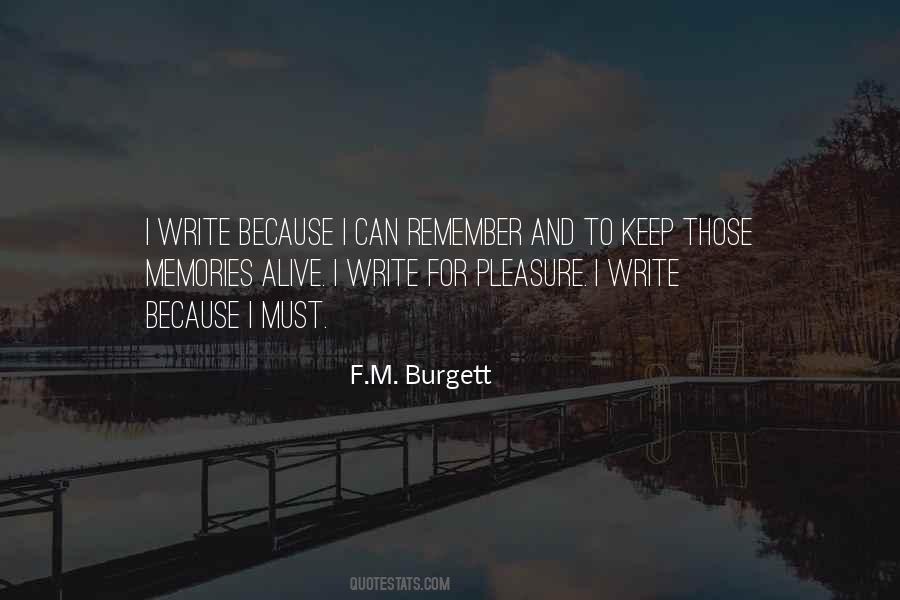 #100. It's a memoir of various events in my own life, but it's also a teaching book: along the way I explain the writing decisions I made. They are the same decisions that confront every writer going in search of his or her past: matters of selection, reduction, organization and tone.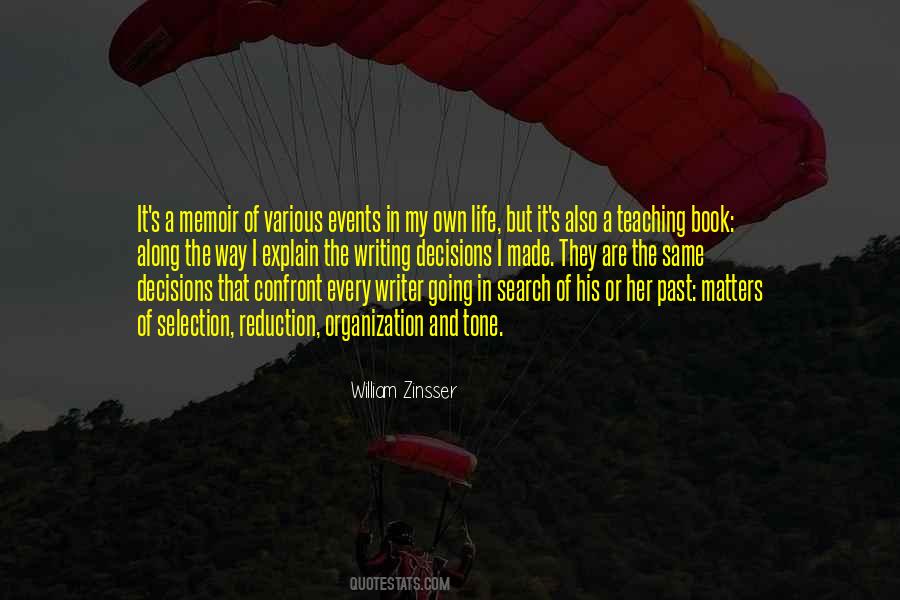 Famous Authors
Popular Topics