Wild Love Famous Quotes & Sayings
List of top 100 famous quotes and sayings about wild love to read and share with friends on your Facebook, Twitter, blogs.
Top 100 Quotes About Wild Love
#1. Love is a wild fire that cannot be contained by any mere element known to man. - Author: Cristina Marrero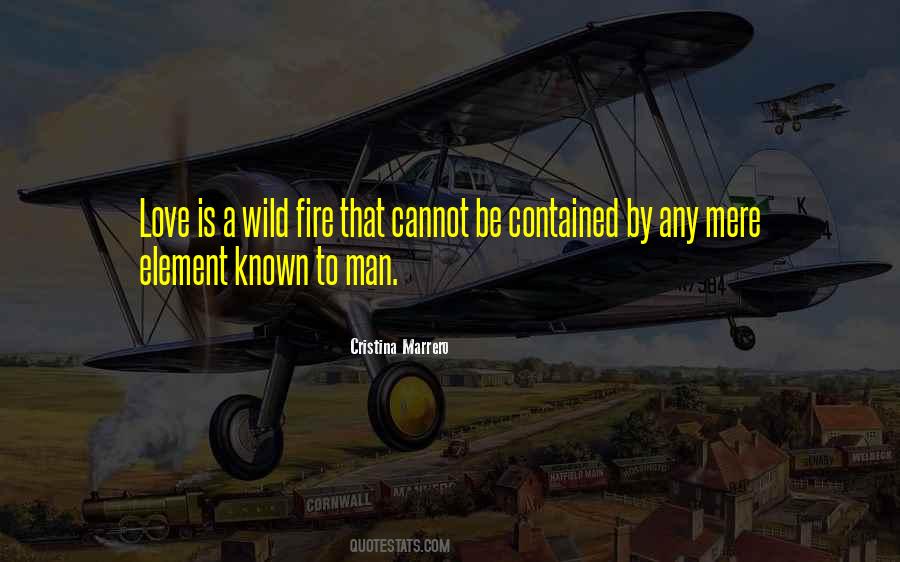 #2. Let me arise and open the gate,
to breathe the wild warm air of the heath,
And to let in Love, and to let out Hate,
And anger at living and scorn of Fate,
To let in Life, and to let out Death. - Author: Violet Fane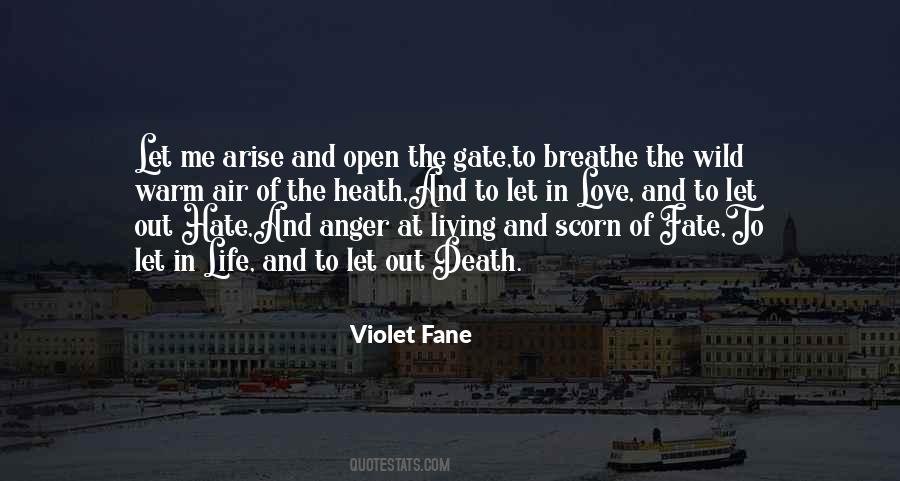 #3. Watch carefully
the magic that occurs
when you give a person
enough comfort
to just be themselves. - Author: Atticus Poetry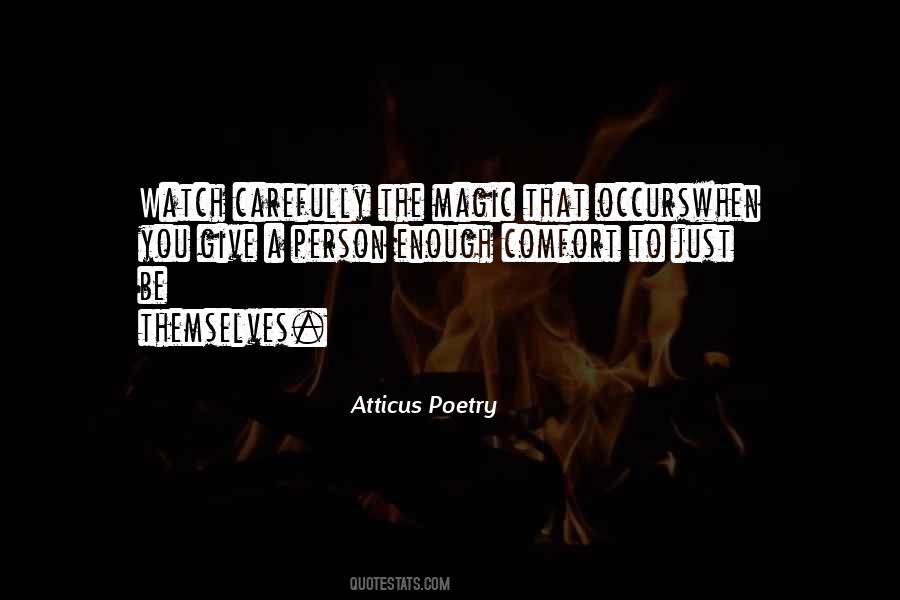 #4. The year I turned ninety, I wanted to give myself the gift of a night of wild love with an adolescent virgin. - Author: Gabriel Garcia Marquez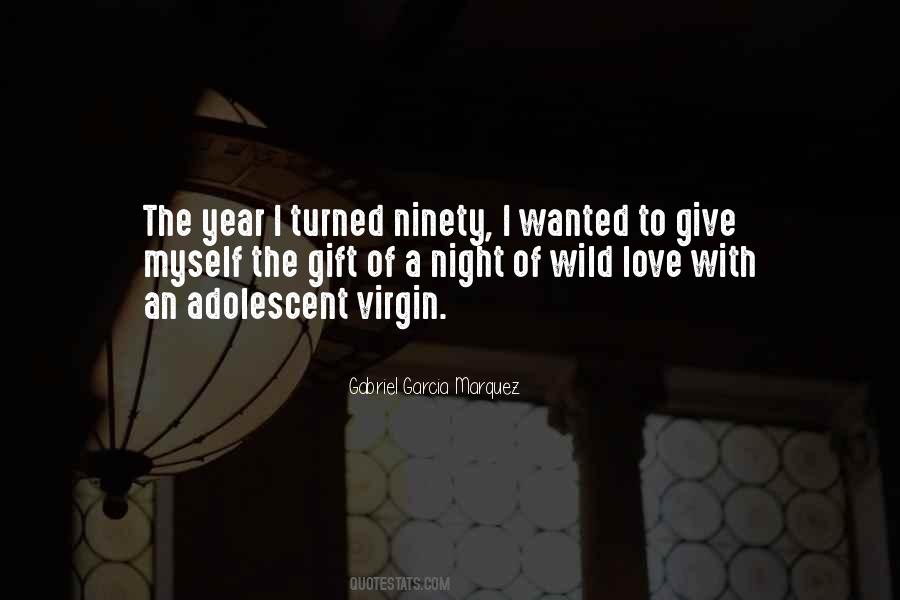 #5. What we find in a soul mate is not something wild to tame, but something wild to run with. - Author: Robert Brault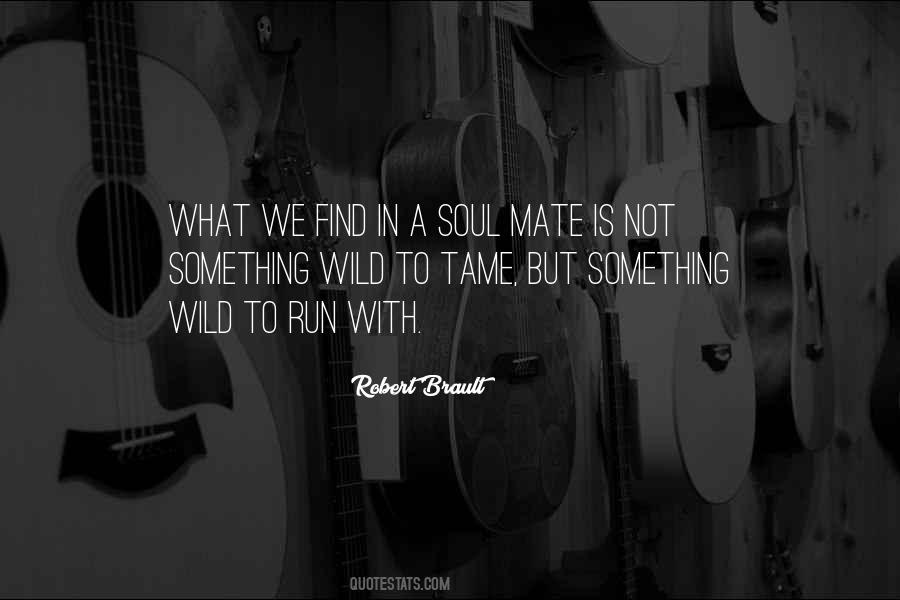 #6. You & I, Love, together we ratify the silence,
while the sea destroys its perpetual statues,
collapses its towers of wild speed and whiteness:
because in the weavings of those invisible fabrics,
galloping water, incessant sand,
we make the only permanent tenderness. - Author: Pablo Neruda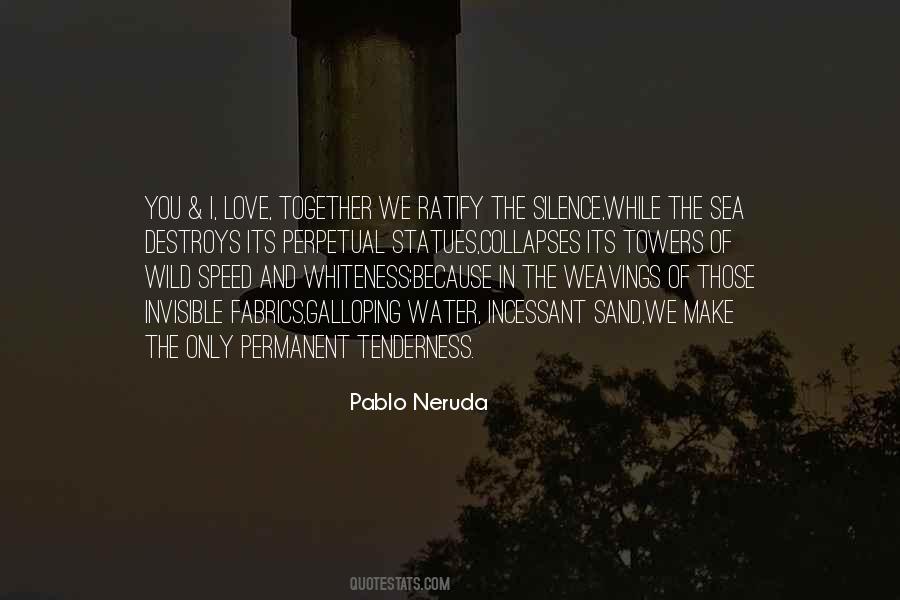 #7. Viv, I just made you wild-caught Alaskan salmon baked with mango chutney, on a bed of garlic red potatoes and arugula. While talking about an Audrey Hepburn movie. I think you are maybe falling in love with me. - Author: Emery Lord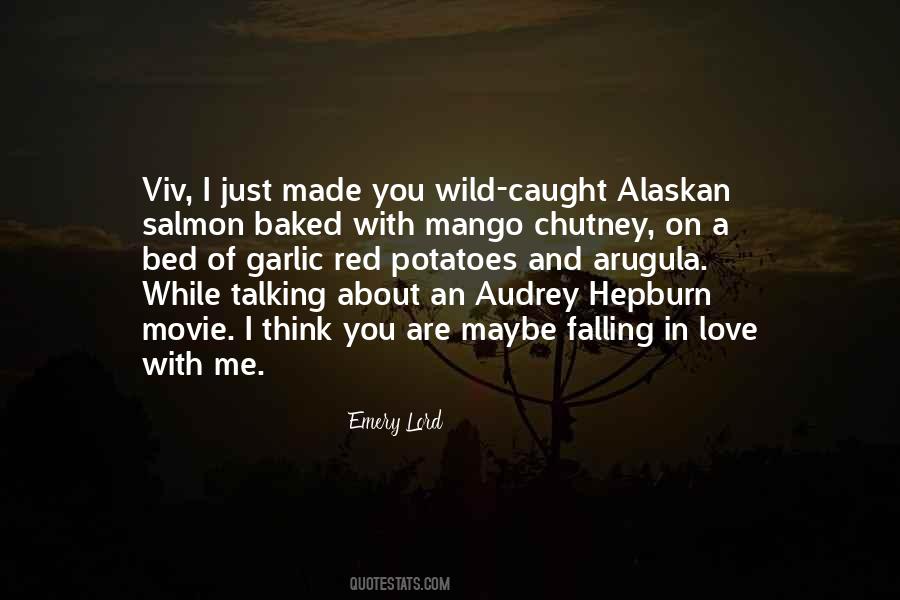 #8. Myself, I love the woods. I love the wild places. Ask me where I'd go for a vacation and it invariably involves the open country. Ask me where I'd live, however, and it would always be in the center, in the beating heart of a city. - Author: C.J. Cherryh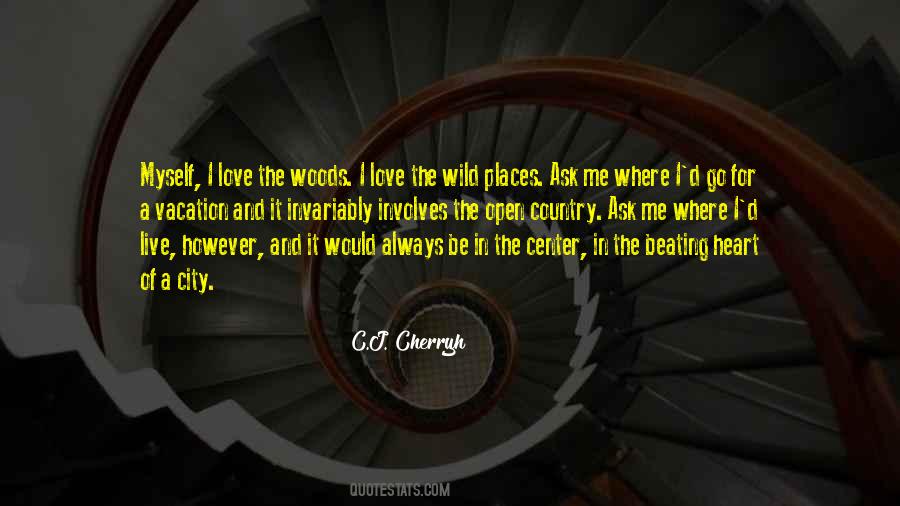 #9. Ah, Christ, I love you rings to the wild sky
And I must think a little of the past:
When I was ten I told a stinking lie
That got a black boy whipped ... - Author: Allen Tate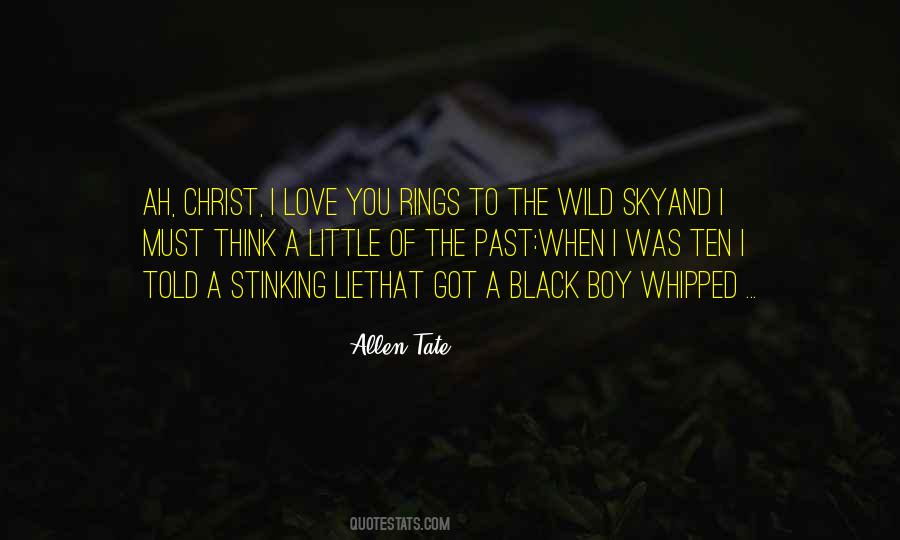 #10. There are many possible approaches to Australian garden design, and they all reflect the designer's individual response to gardens. For my part, I love all things most gardeners abhor ... I like the whole thing to be as wild as possible, so that you have to fight your way through in places ... - Author: Edna Walling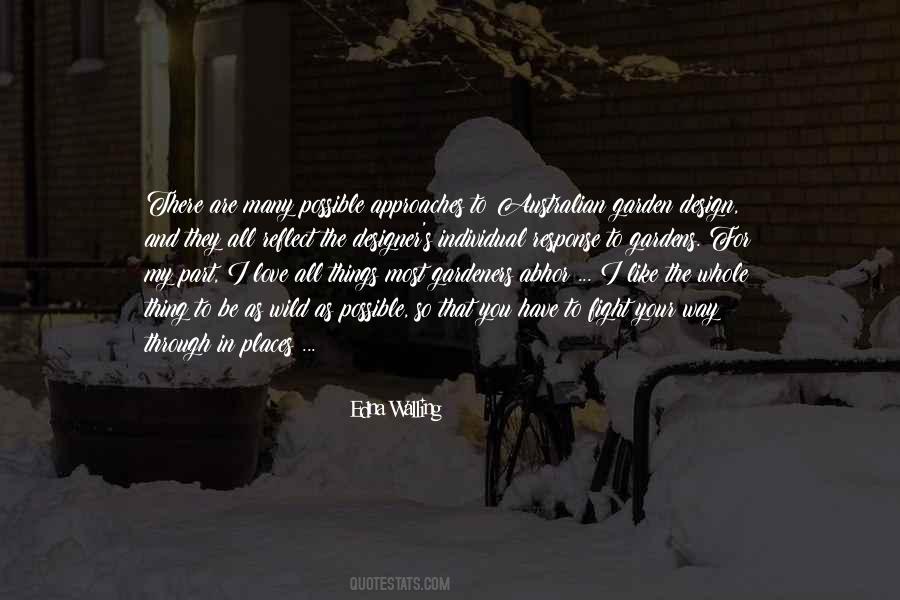 #11. Love me...with all the abandon
of a sudden wild rain. - Author: Sanober Khan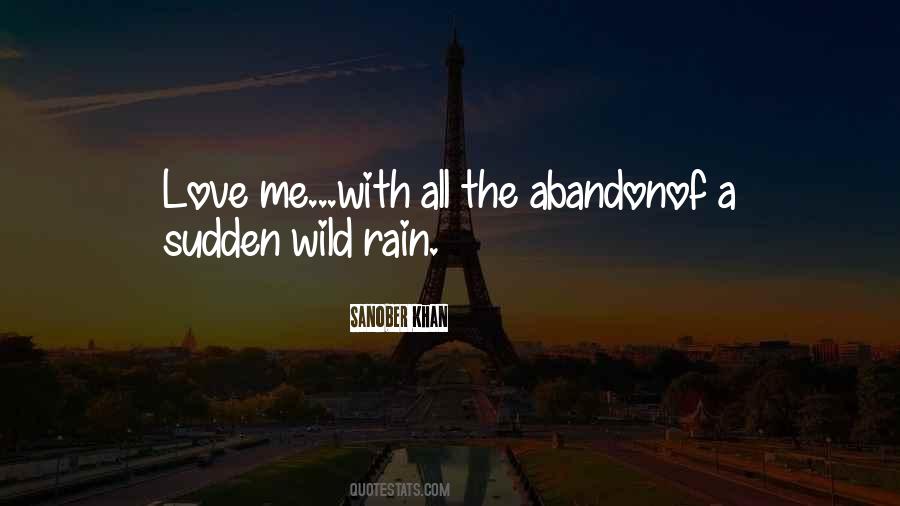 #12. I have seen your
darkest nights
and brightest days
and I want you to know
that I will be here
forever
loving you
in dusk. - Author: Atticus Poetry
#13. To fall in love is easy;
to forget, wild and crazy. - Author: Debasish Mridha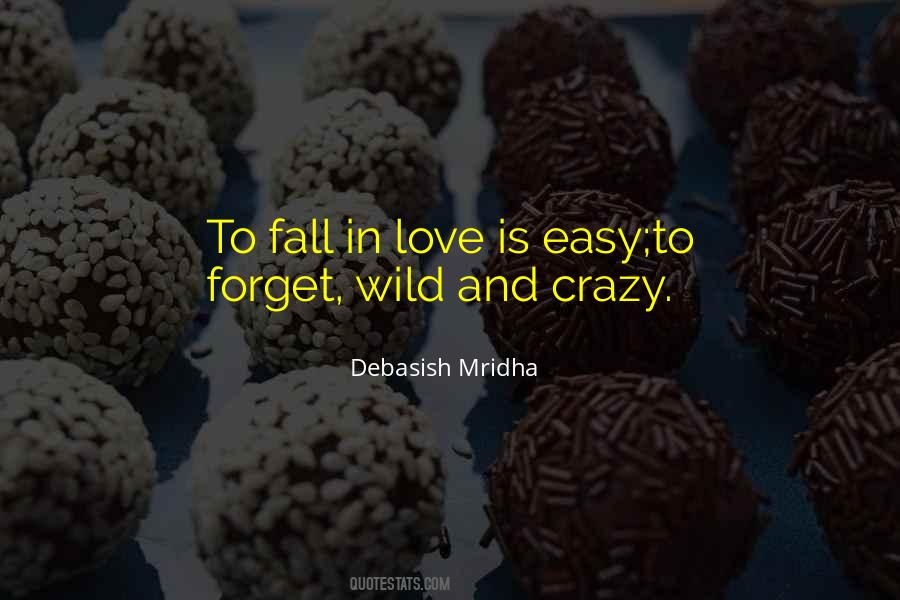 #14. Or maybe spring is the season of love and fall the season of mad lust. Spring for flirting but fall for the untamed delicious wild thing. - Author: Elizabeth Cohen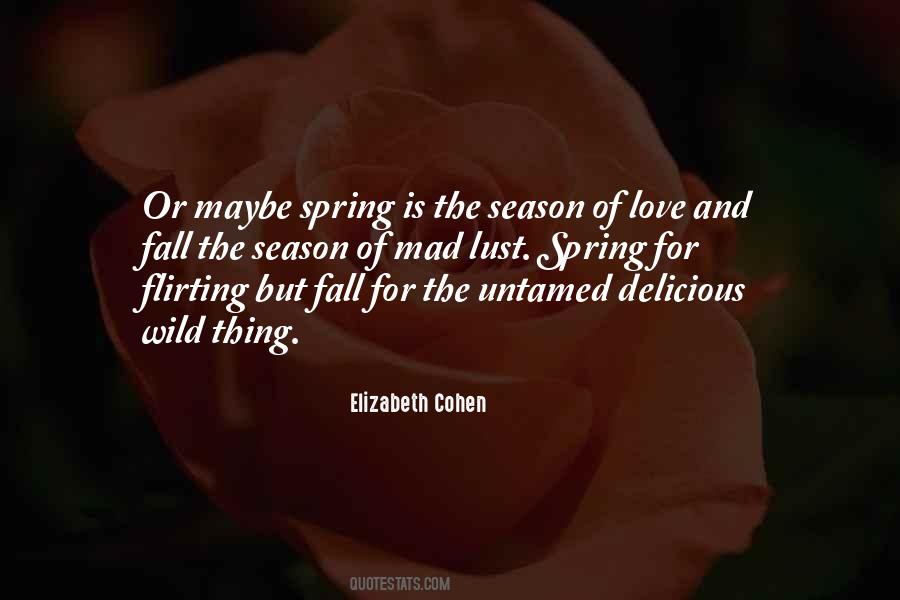 #15. Young love is wild and outrageous, laughing at moderation and blinding us to common sense. - Author: H. Jackson Brown Jr.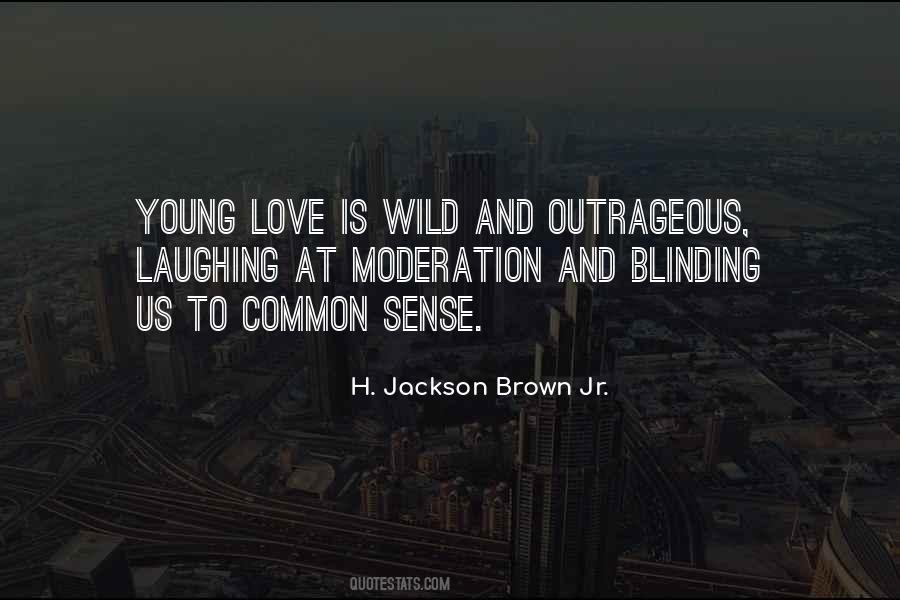 #16. One must distance oneself from the idea of strict realism. It seems to me that real nature doesn't exist anymore, this idea of "the wild." This is why I love parks, and why I chose to use them in my work - they are beyond nature. I see nature as a resource. - Author: Sergio Chejfec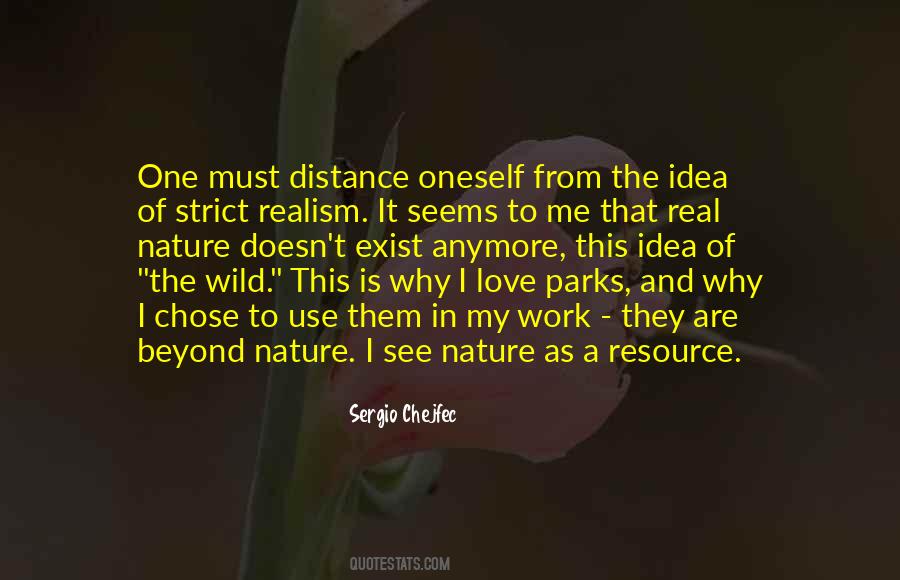 #17. Forty years ago my mother died," he said. "She captured by Comanches, nine years old. Love Indian and wild life so well, no want to go back to white folks. All same people anyway, God say. I love my mother. - Author: S.C. Gwynne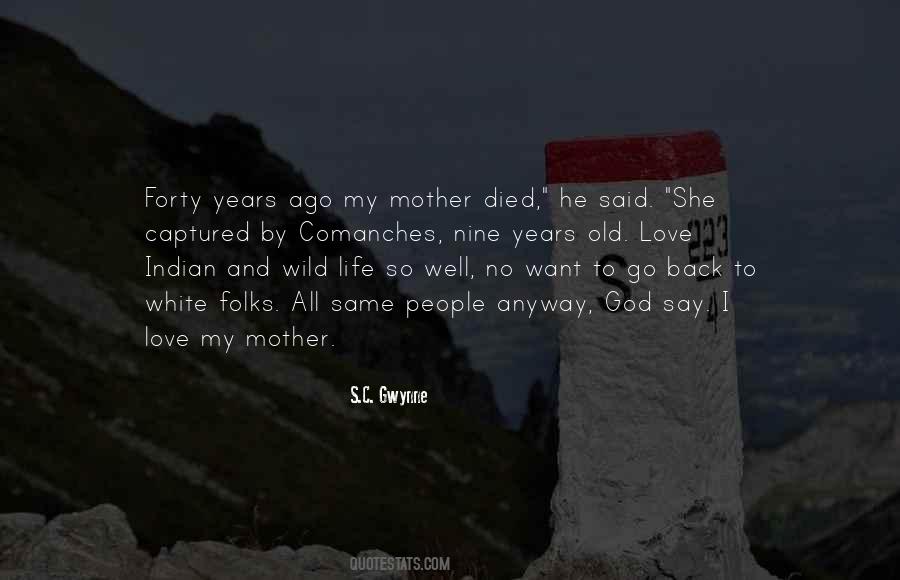 #18. Love isn't a quilt. Love isn't patient, love isn't kind. Love is a game, a chase, a thrill. Love is wild and war-like, and every man and woman must fight for themselves. - Author: Lauren Blakely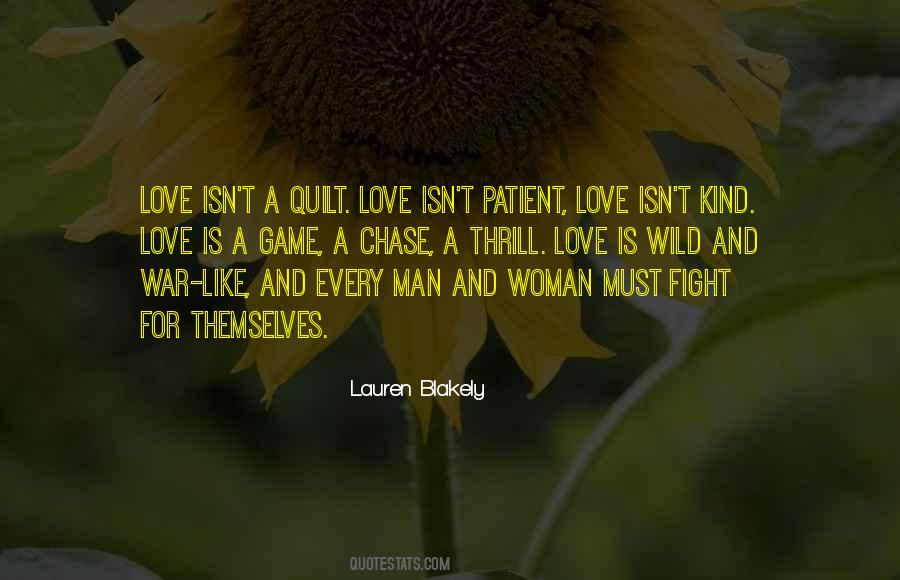 #19. There is a man waiting for a woman like you, don't settle for someone who only opens half of your heart. - Author: Nikki Rowe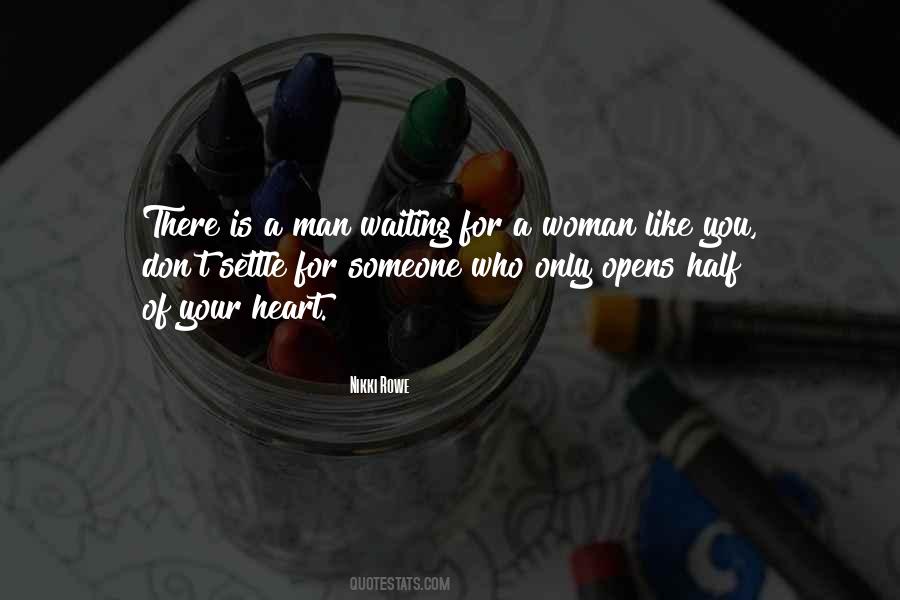 #20. Brushing a girl's hair
behind her ear
once a day
will solve more problems
than all those
therapists
and drugs. - Author: Atticus Poetry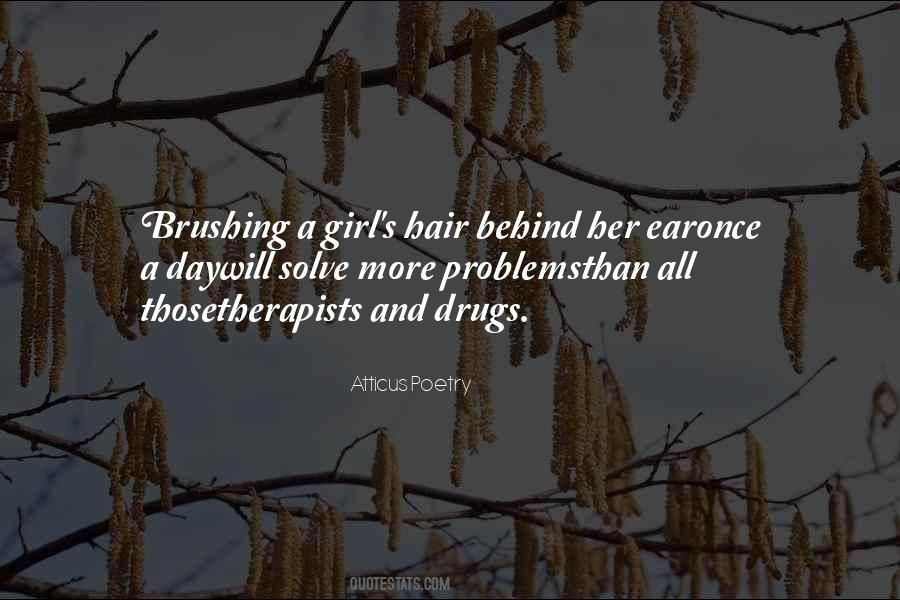 #21. She was drawn to the wild warriors, they had to have a little gypsy in their veins. - Author: Nikki Rowe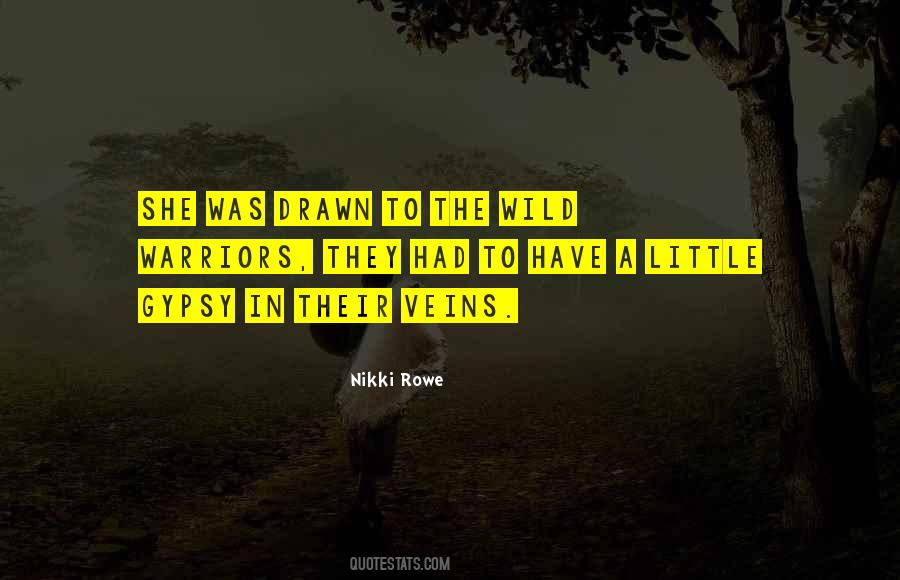 #22. I want to know without words. I want to fall so violently that I risk breaking into a million pieces. I want to love so desperately it's indecent. I want it to be wild and fated and forever. A no-choice connection. - Author: Tia Williams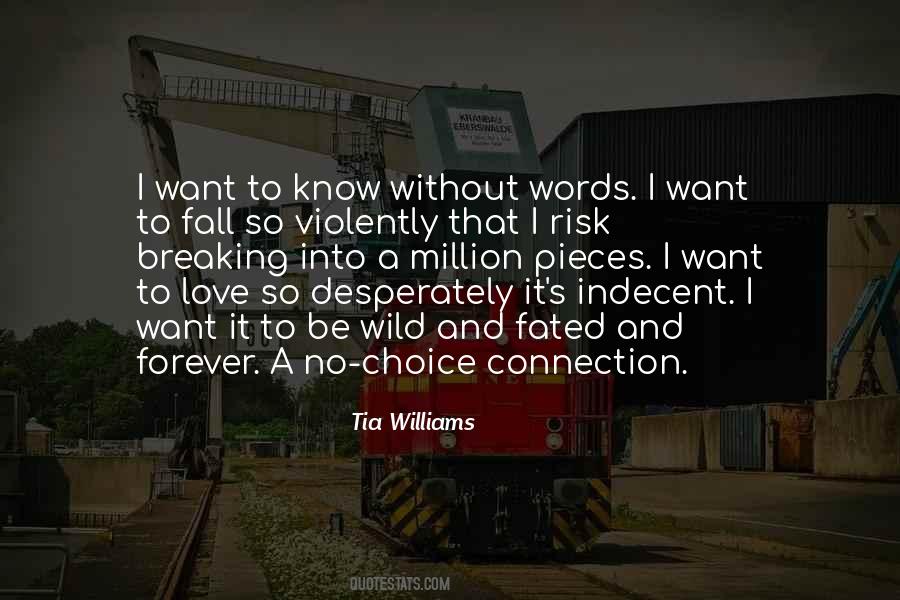 #23. Princesa came to rancho one day after her owner no want her. Says too much horse for him, too wild. But he's wrong. She's not wild, she's spirited. 'Wild' means 'I no care about what I do.' But 'spirited' means, 'I love what I do.' Big difference. - Author: Stacey Lee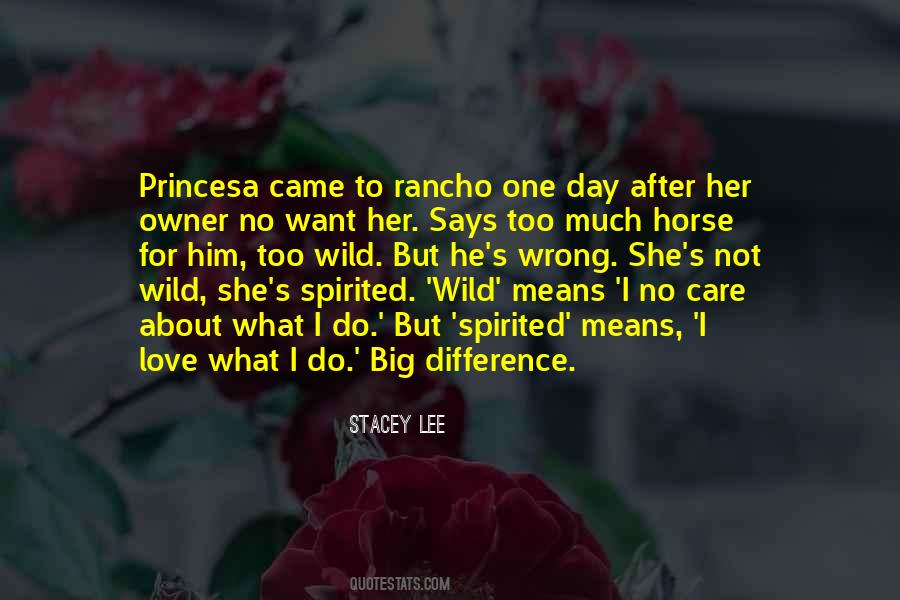 #24. We are all born free
and spend a lifetime
becoming slaves
to our own
false truths. - Author: Atticus Poetry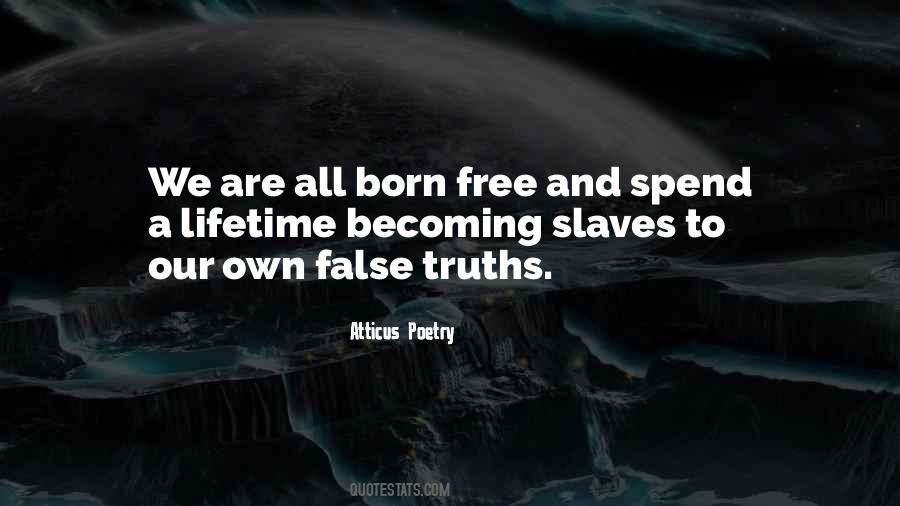 #25. No one had ever called her wild before. She wanted to be wild now, for him. Wild seemed more enticing then a bowl of berries. - Author: Shannon Hale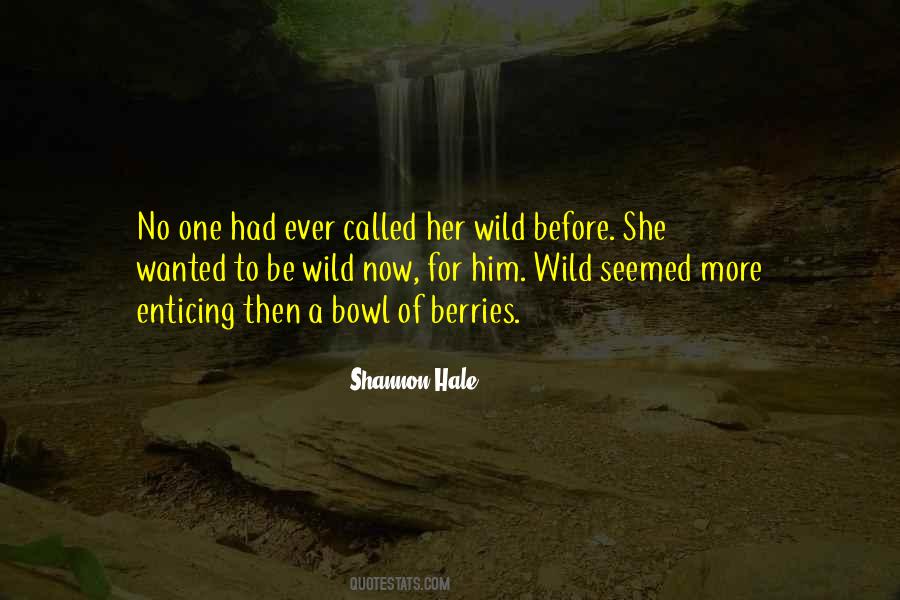 #26. I found in myself, and still find, an instinct toward a higher, or, as it is named, spiritual life, as do most men, and another toward a primitive rank and savage one, and I reverence them both. I love the wild not less than the good. - Author: Henry David Thoreau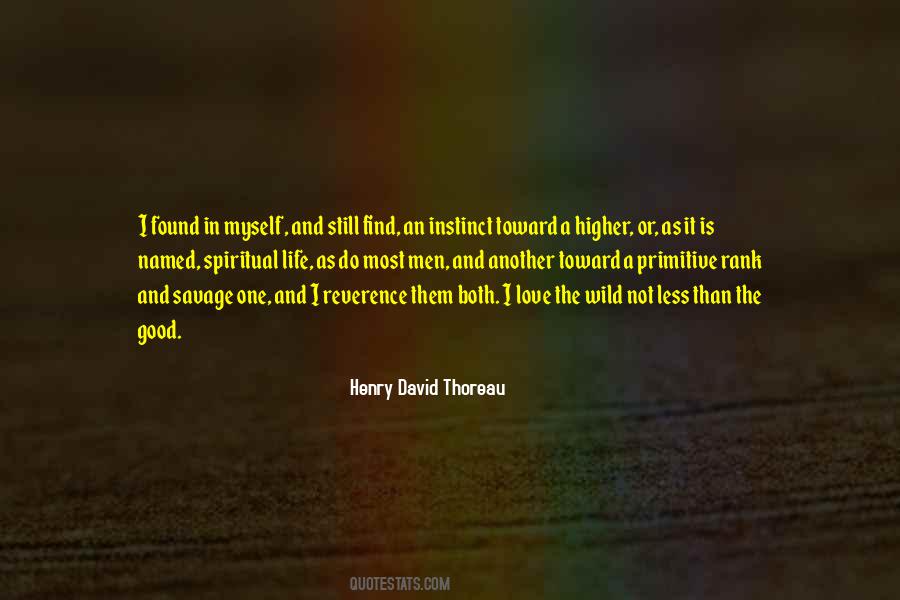 #27. My love is like the wind and wild is the wind. Give me more than one caress, satisfy my hungriness. Let the wind blow through your heart for wild is the wind. - Author: Nina Simone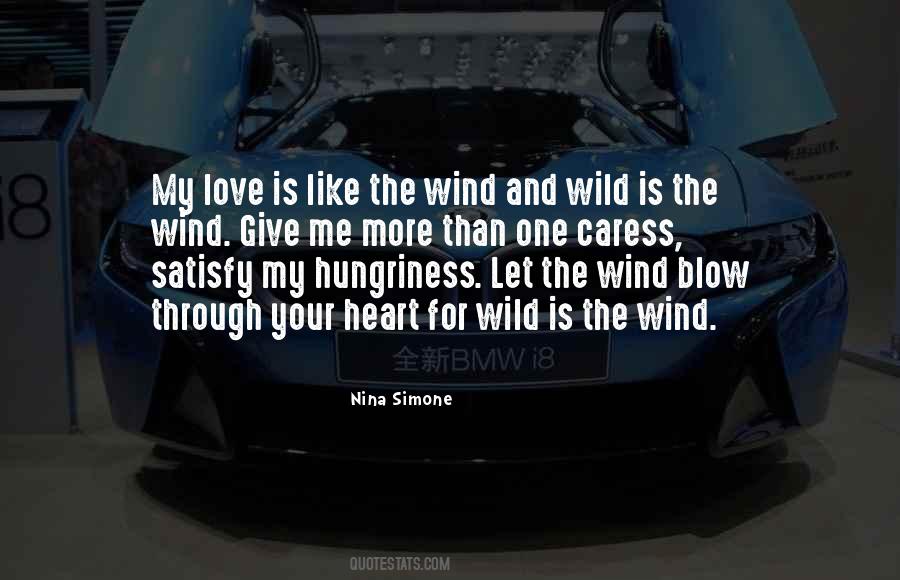 #28. And Max, the king of all wild things, was lonely and wanted to be where someone loved him best of all. - Author: Maurice Sendak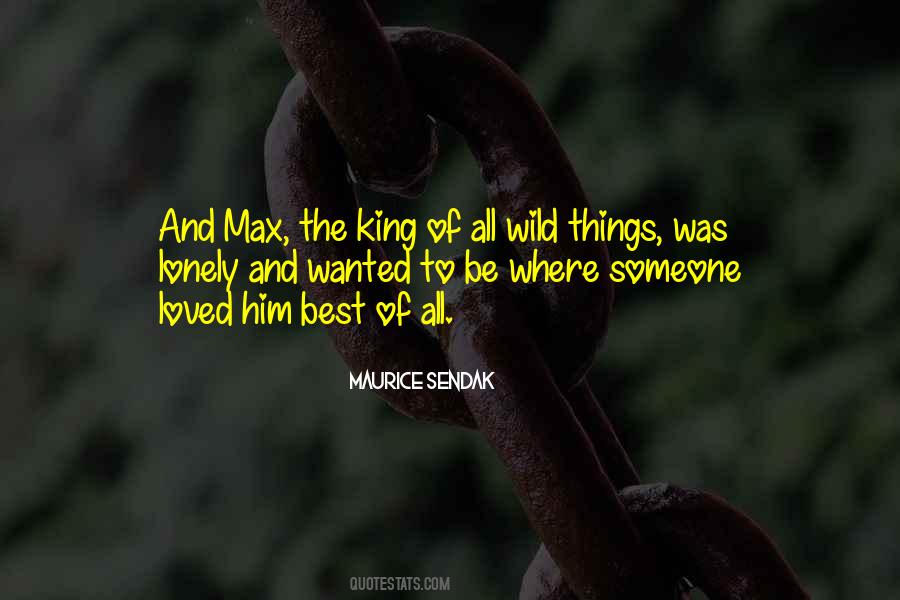 #29. Dear as remembered kisses after death, And sweet as those by hopeless fancy feign'd On lips that are for others; deep as love, Deep as first love, and wild with all regret; O Death in Life, the days that are no more! - Author: Alfred Lord Tennyson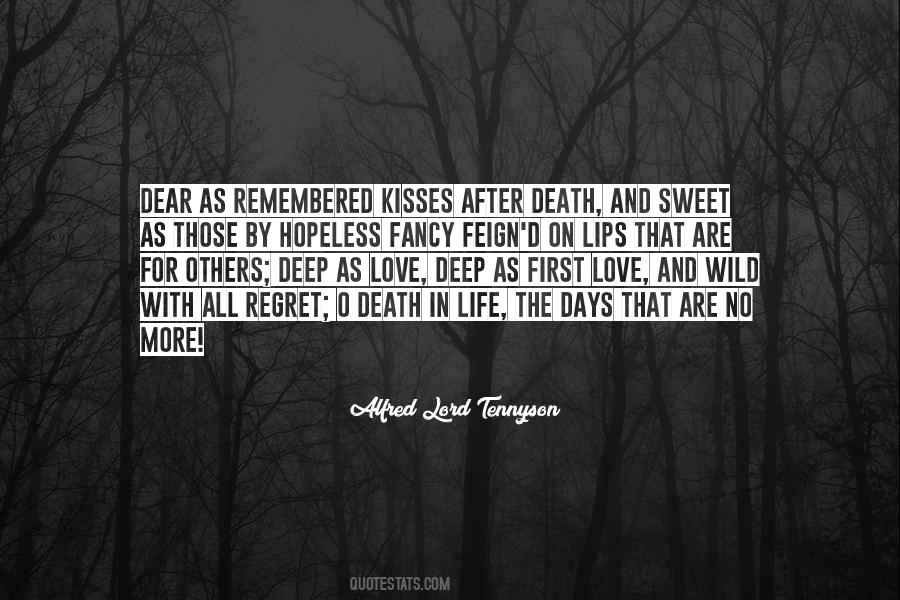 #30. Songs live longer than kingdoms. - Author: Atticus Poetry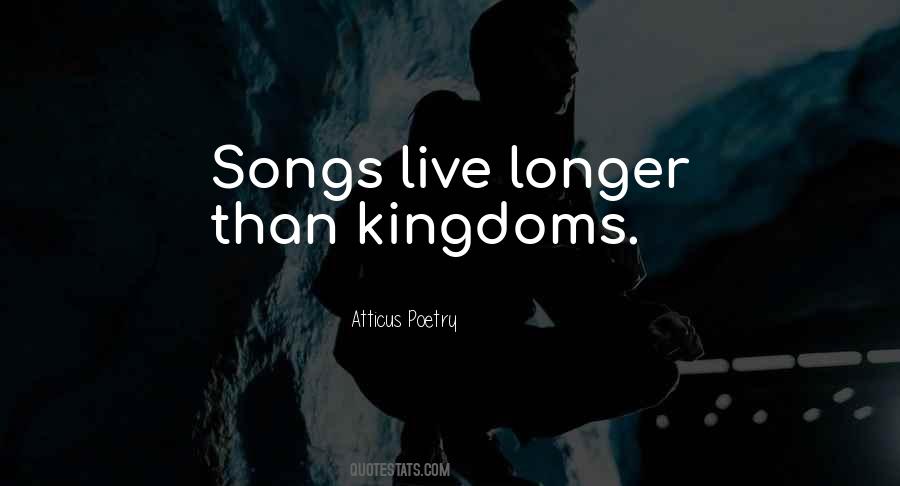 #31. She would follow, her dream of love, the dictates of her heart that told her he was her all in all, the only man in all the world for her for love was the master guide. Come what might she would be wild, untrammelled, free. - Author: James Joyce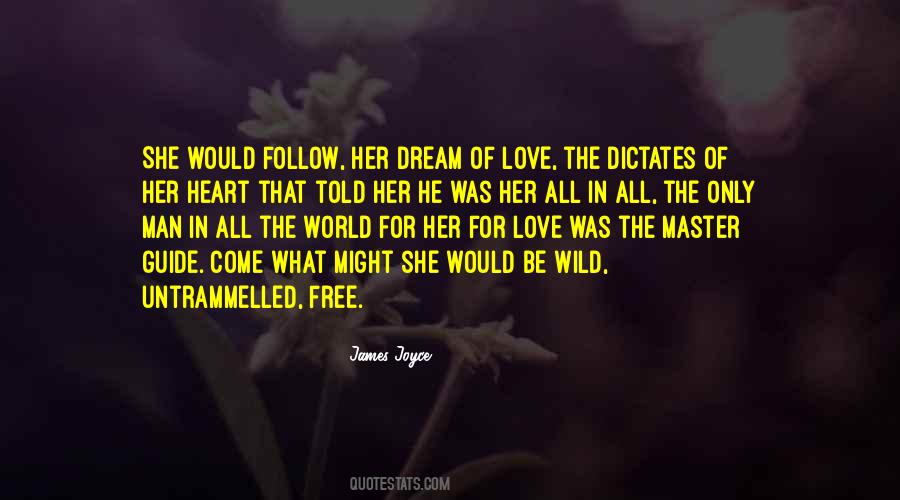 #32. Life on the blue part of the globe for eight years had suited me - the wild open spaces, the bliss of buoyancy, the volatile, soul-powered wind. Sailing had struck a nerve both primal and poetic. On and near the ocean life made sense, It made every sense work. - Author: Kaci Cronkhite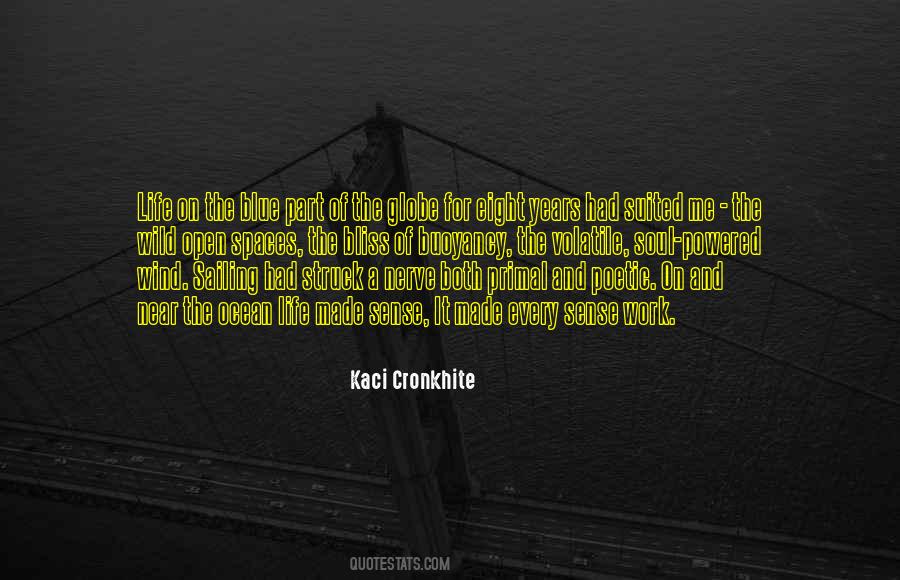 #33. You're beautiful and wild and kind, and I can't stop thinking about you." A sunny, foolish smile breaks across his face. "It's wrong and stupid and wonderful, Zahra. I didn't mean for it to happen, but here I am. I love you. - Author: Jessica Khoury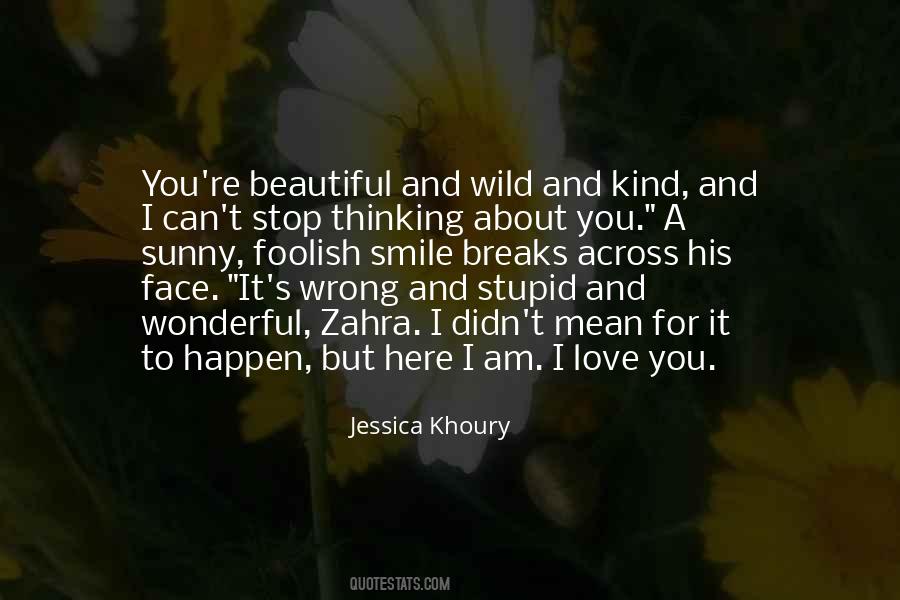 #34. Sanity is to the mind, insanity is for the heart,
Docility is to the mind, wildness is to the heart,
Tamable is the mind, Untamable is the heart,
Freedom is to the mind, cages are for the heart. - Author: Pushpa Rana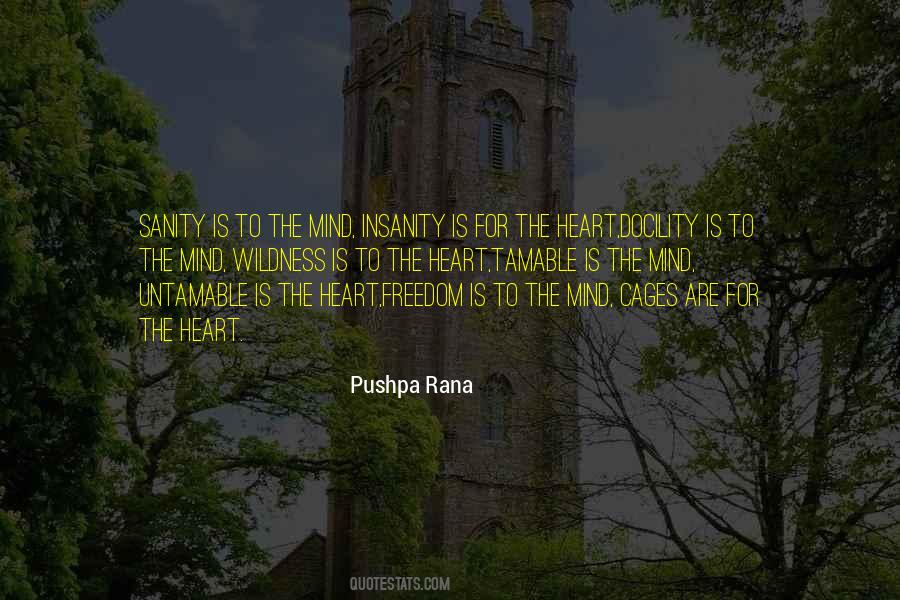 #35. There's too much risk in loving,'
the young boy said,
'no,'
said the old man,
'there's too much risk in not. - Author: Atticus Poetry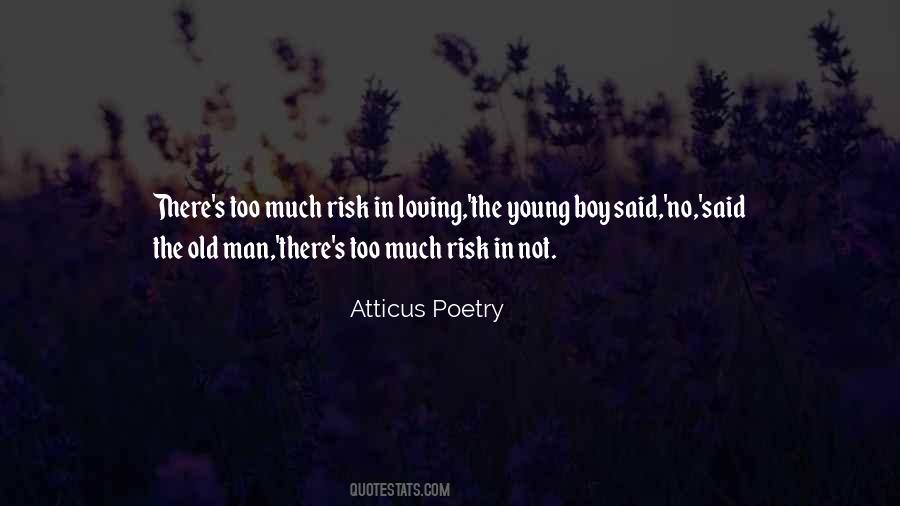 #36. The Love of Europa: She called herself Europa. She was wild in her wandering, a drop of free water. She believed only in her life and in her dreams. She called herself Europa, and her god was Beauty. - Author: Roman Payne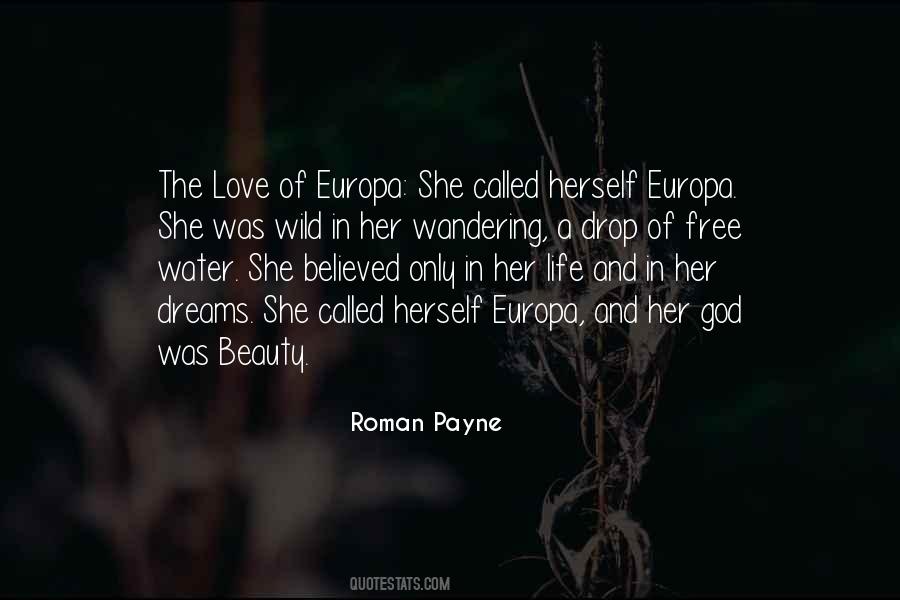 #37. What was it about that short creature with her wild hair and spurious air of purity and why would anyone much less two men love her and to such disastrous ends. - Author: Anna Godbersen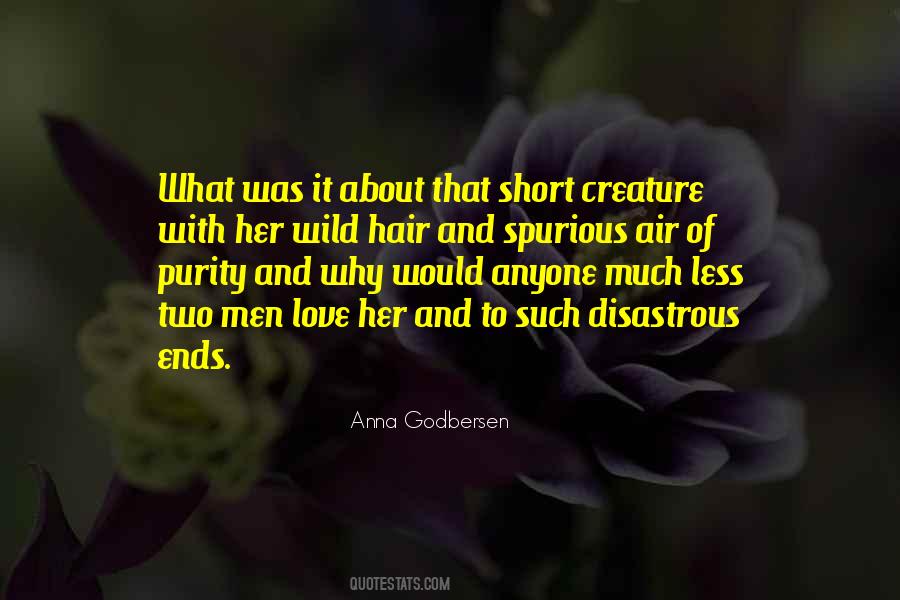 #38. Break my heart and you will find yourself inside. - Author: Atticus Poetry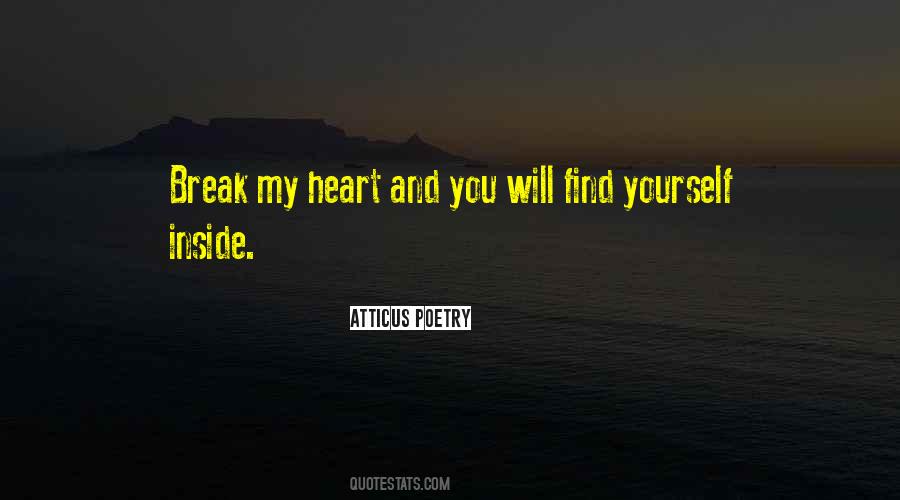 #39. Promises of his love, that he'd always protect me and keep me safe, filled the air around us until I believed it, with every ounce of my soul. - Author: Meredith Wild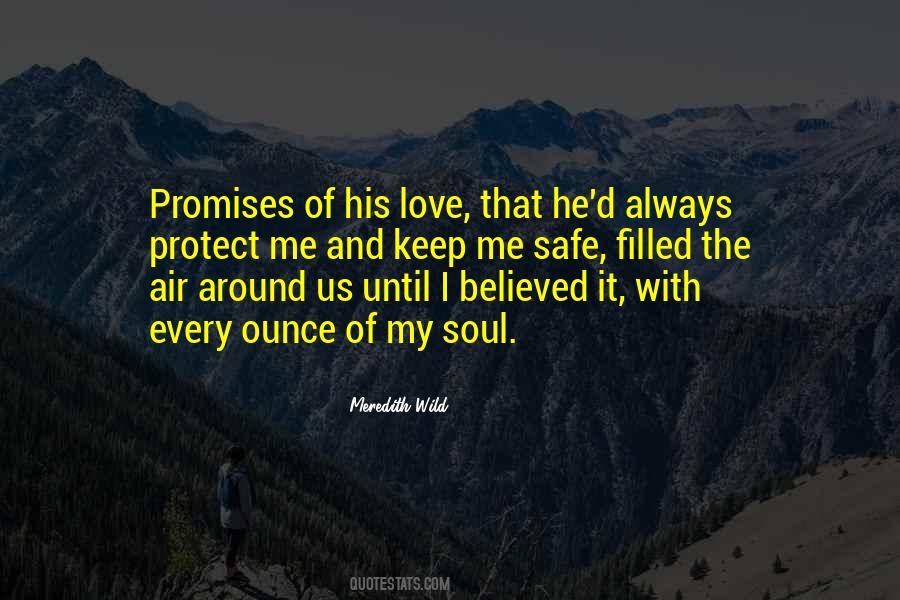 #40. I love California. It definitely represents wild freedom. - Author: Jenny O.
#41. I will be gone from here and sing my songs/ In the forest wilderness where the wild beasts are,/ And carve in letters on the little trees/ The story of my love, and as the trees/ Will grow letters too will grow, to cry/ In a louder voice the story of my love. - Author: Virgil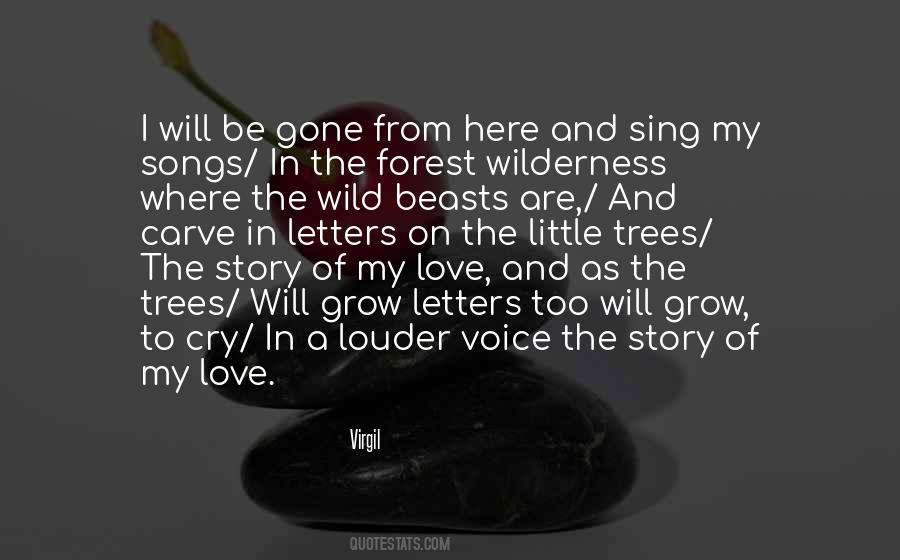 #42. I would have touched it like a child But knew my finger could but have touched Cold stone and water. I grew wild, Even accusing heaven because It had set down among its laws: Nothing that we love over-much Is ponderable to our touch. - Author: William Butler Yeats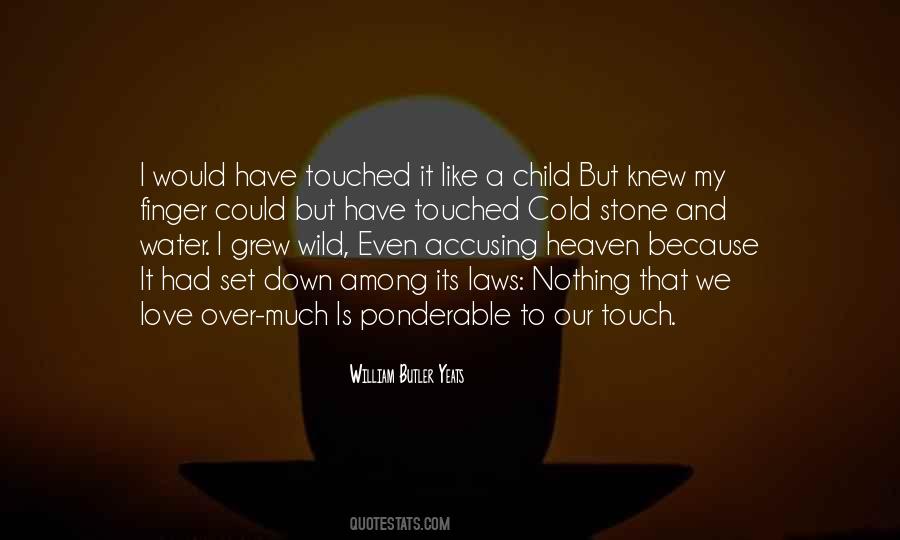 #43. It's so English to hate L.A. I'd like to say I love it, but I don't. It's such a weird place. If it were my choice, I wouldn't spend a day there. Everything shuts at 11. And everyone thinks they're so crazy and wild and liberal, and they're not! - Author: Amelia Warner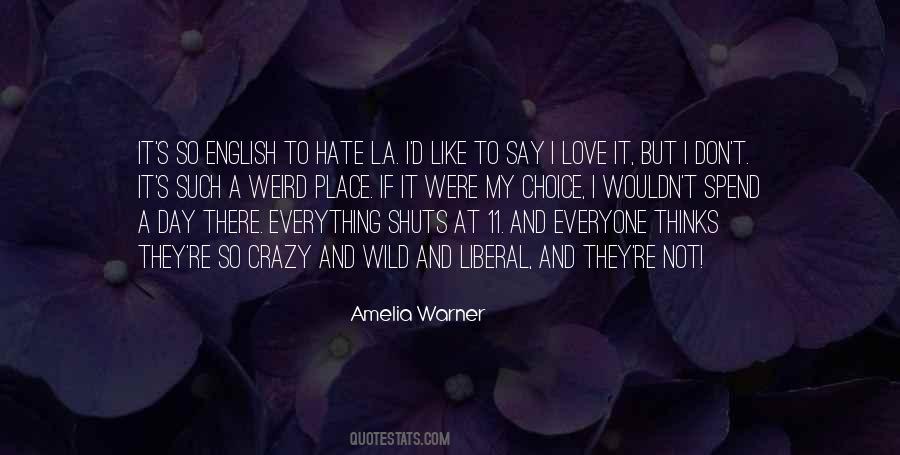 #44. It more or less has the shape of a love song, but 'Crescent Moon' reflects more my longing for an ancient romantic context that includes wild animals, fire, danger of death, stellar navigation, and seasonal intuition. - Author: Frank Black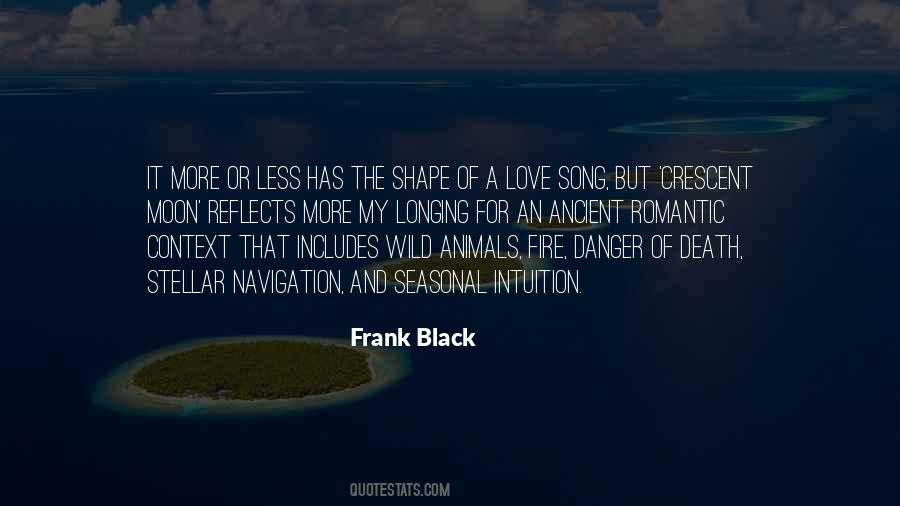 #45. The wild bird that flies so lone and far has somewhere its nest and brood. A little fluttering heart of love impels its wings, and points its course. There is nothing so solitary as a solitary man. - Author: Edwin Hubbel Chapin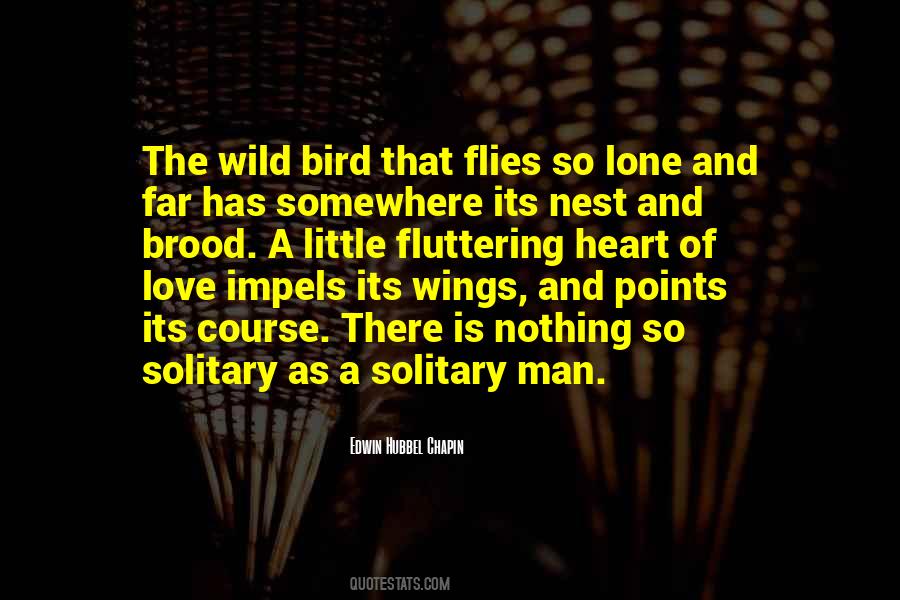 #46. How many young men, in all previous times of unprecedented steadiness, had turned suddenly wild and wicked for the same reason, and, in an ecstasy of unrequited love, taken to wrench off door-knockers, and invert the boxes of rheumatic watchmen! - Author: Charles Dickens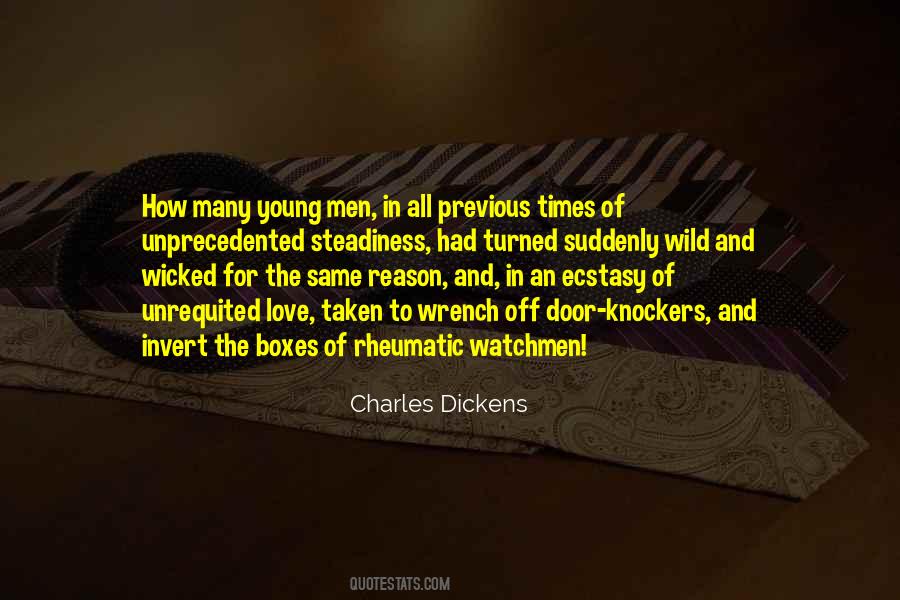 #47. When it comes to love
we are primates breaking sticks
while pointing to our hearts. - Author: Atticus Poetry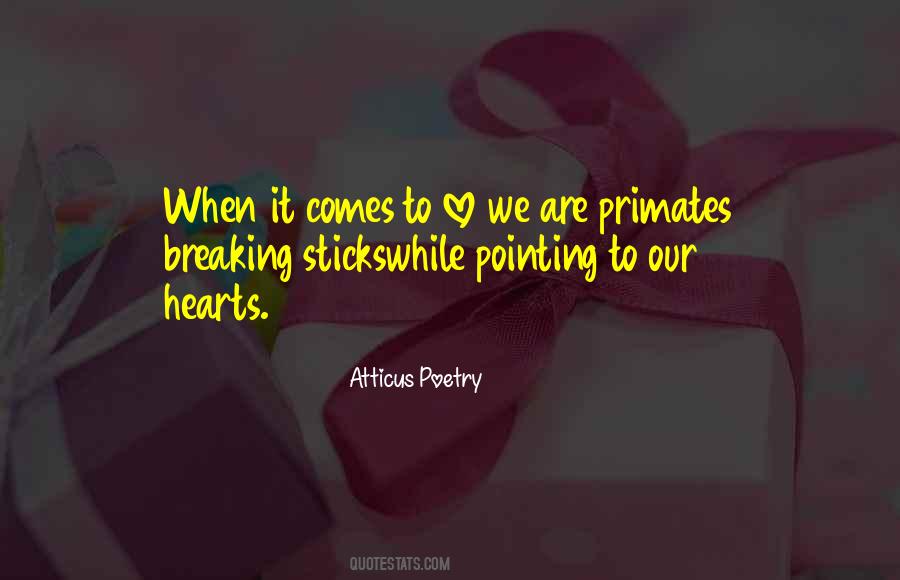 #48. Love is anything but safe, it's wild and raw and will rip at your heart strings but once you've tasted it for the very first time it becomes like an addiction feeling nostalgia when seperated for another beating heart & before them you question where you called home. - Author: Nikki Rowe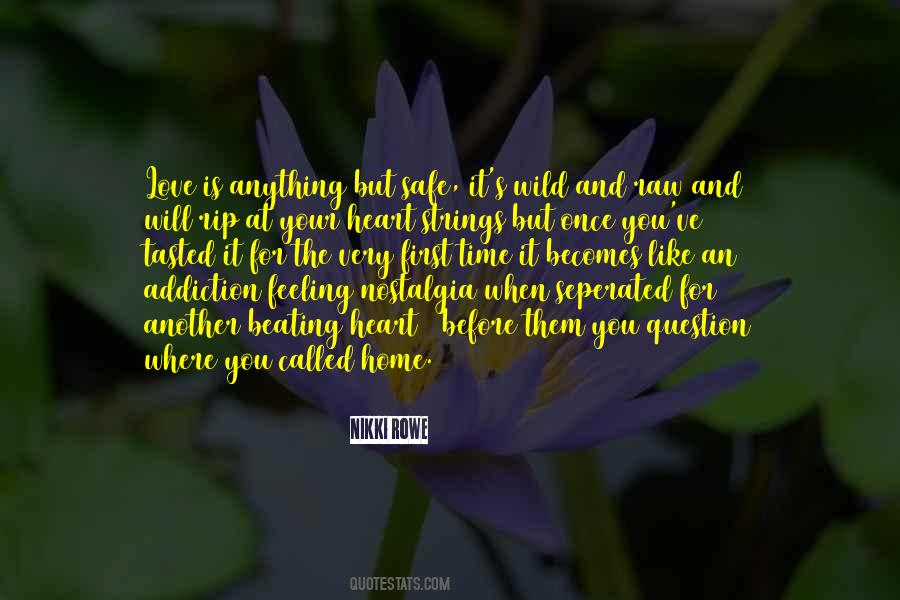 #49. And that heart which was a wild garden was given to him who only loved trim lawns. And the imbecile carried the princess into slavery. - Author: Antoine De Saint-Exupery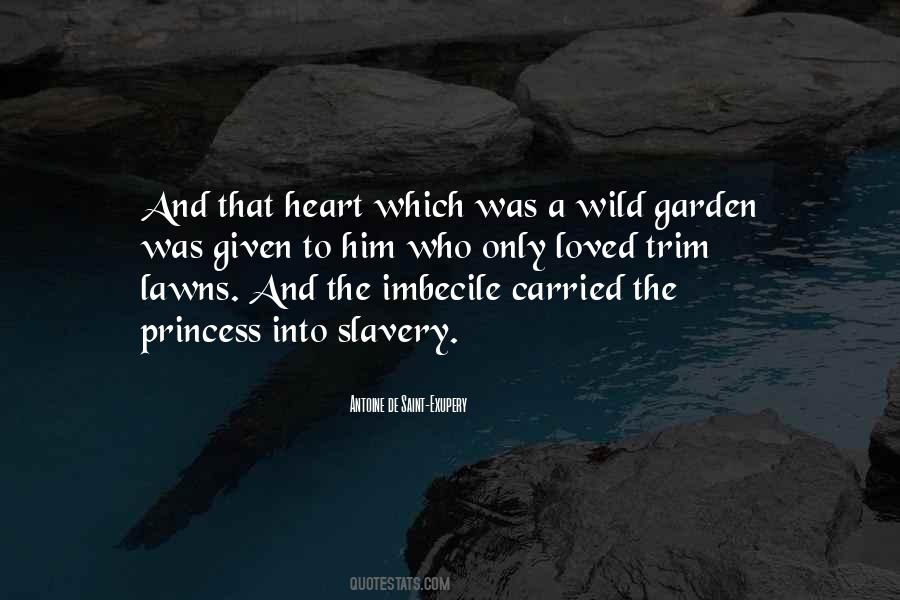 #50. Love doesn't grow at a steady rate, but advances in surges, bolts, wild leaps, and this was one of those. - Author: Ian McEwan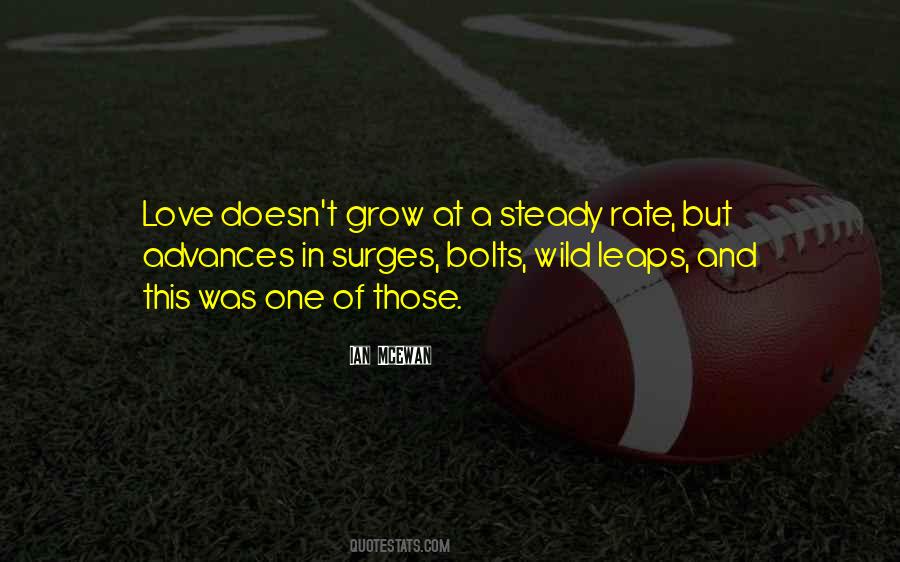 #51. I've learned that you can't predict [love] or plan for it. For someone like me who is obsessed with organization and planning, I love the idea that love is the one exception to that. Love is the one wild card. - Author: Taylor Swift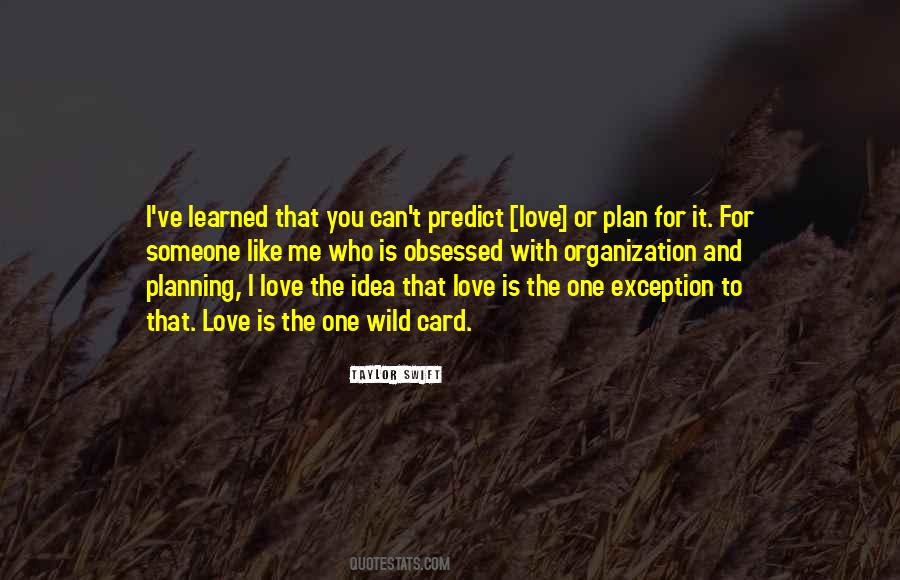 #52. I know the expression love bloomed is metaphorical, but in my heart in this moment, there is one badass flower, captured in time-lapse photography, going from bud to wild radiant blossom in ten seconds flat. - Author: Jandy Nelson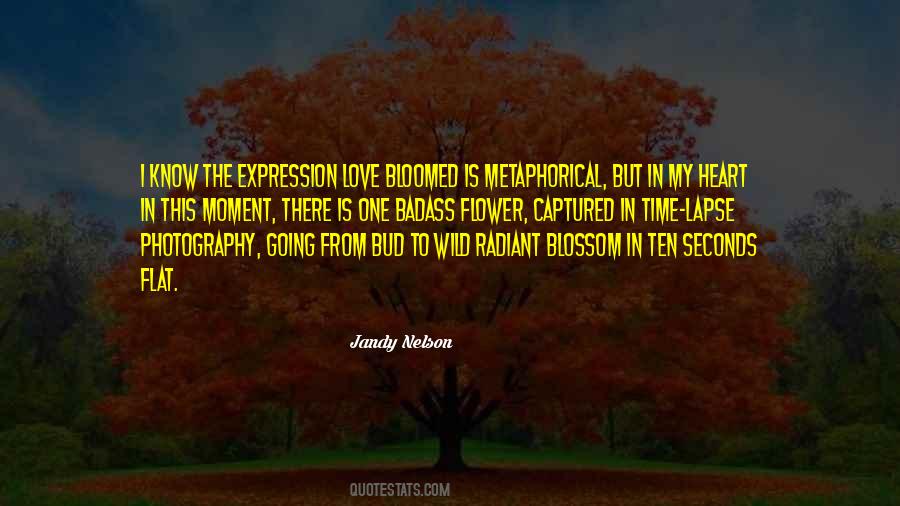 #53. I love you, Blake. You're the only one. My only love. - Author: Meredith Wild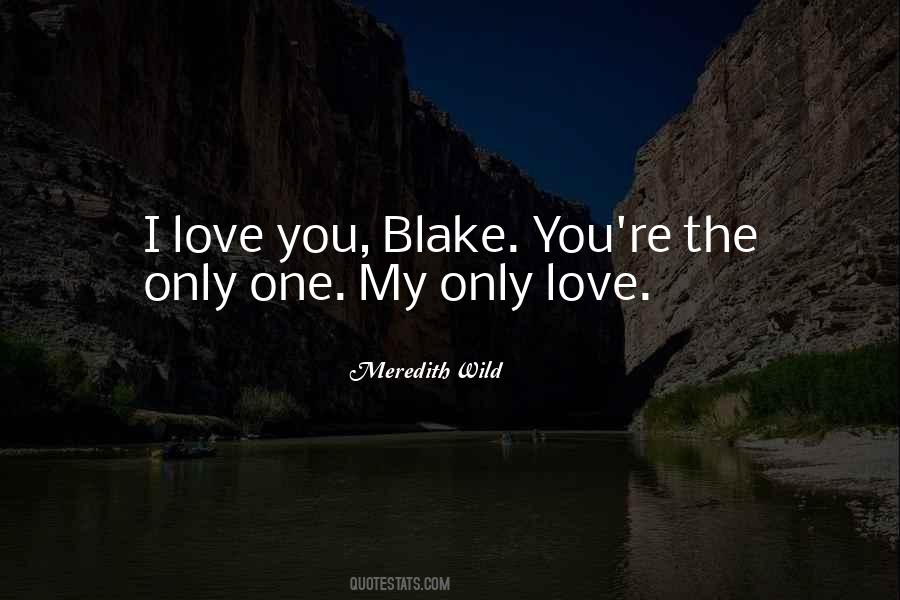 #54. Do you speak Gaelic Noah? she suddenly asked.
His heart clenched. It actually hurt, as though spikes of steel had been dug into it.
should I?
Maybe not ... - Author: Lora Leigh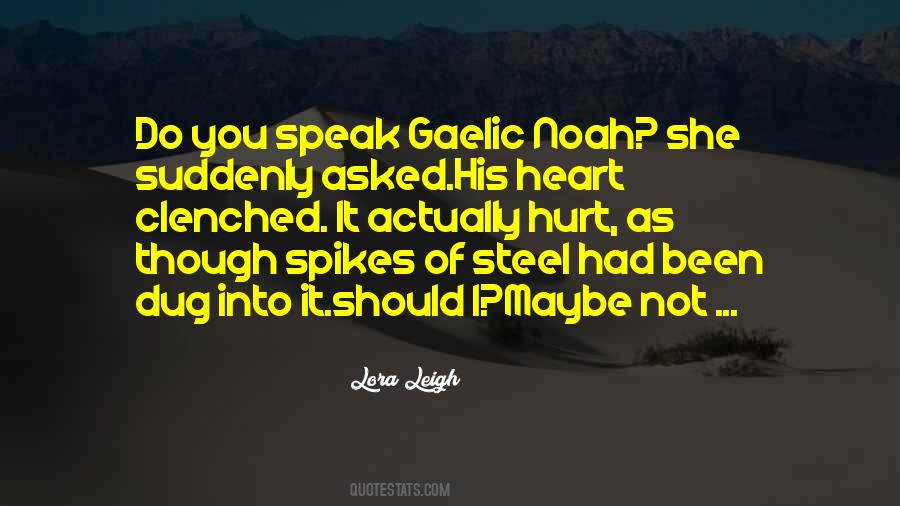 #55. Where would I be if not for your wild heart?
I ask this not from love, but selfishly -
how could I live? How could I make my art? - Author: Gregory Orr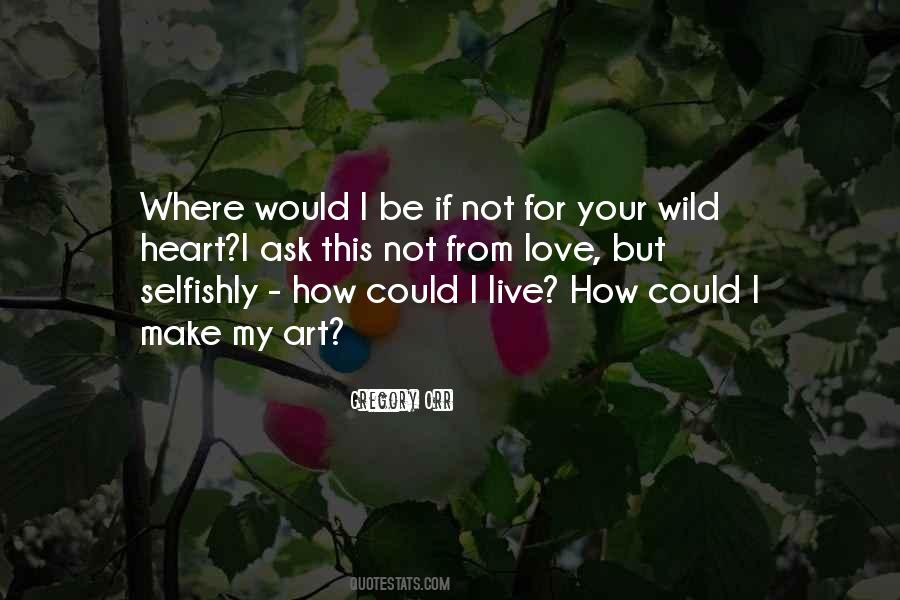 #56. Be daring enough to be different,
humble enough to make mistakes,
wild enough to be burnt in the fire of love,
real enough to make others see how phony you are. - Author: Brennan Manning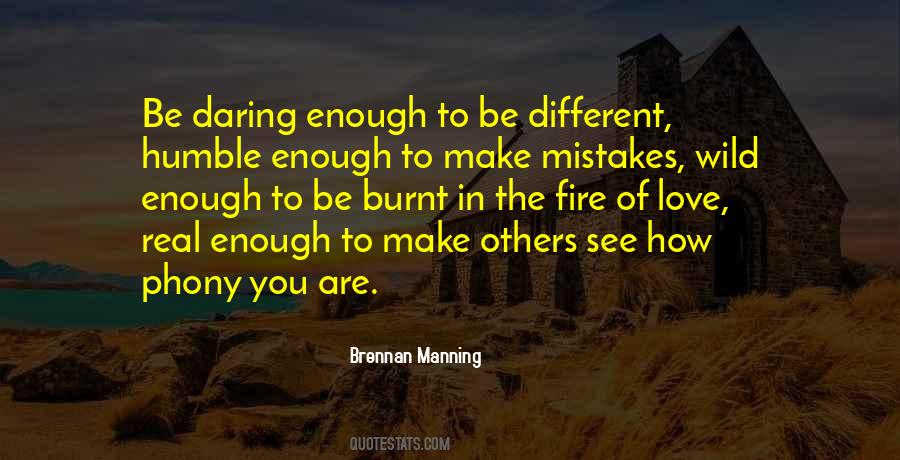 #57. And if i
if i ever let love go
because the hatred and the whisperings
become a phantom dictate i o-
bey in lieu of impulse and realities
(the blossoming flamingos of my
wild mimosa trees)
then let love freeze me
out.
(from i must become a menace to my enemies) - Author: June Jordan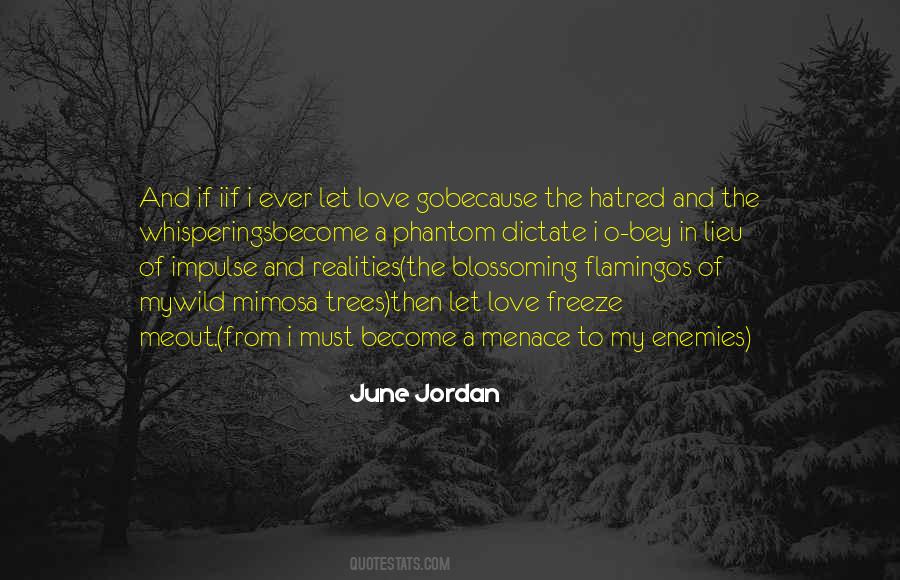 #58. Kind, reasonable, thoughtful. It wasn't 'love' or an admission of wild, passionate feelings, but he realized he liked her three words more. 'Love' would have been easy, another easy lie in a long line of lies. 'Love' would be easy to dismiss. - Author: Amy Tintera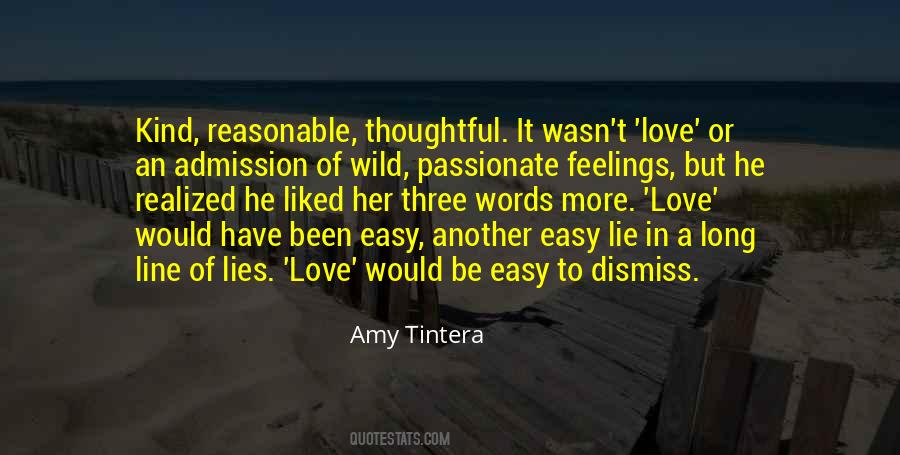 #59. She was afraid of heights
but she was
much more afraid
of never flying. - Author: Atticus Poetry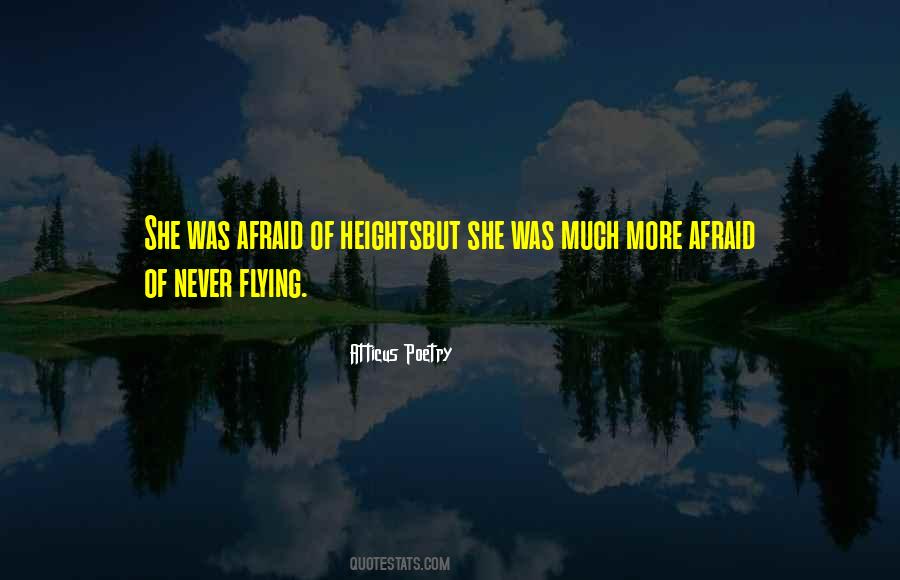 #60. Any real, beautiful thing in this world shouldn't be tamed or claimed or broken. It should be allowed to be, worked with, not against, appreciated. Don't be afraid of the wild she has left. It makes her special. - Author: Carly Kade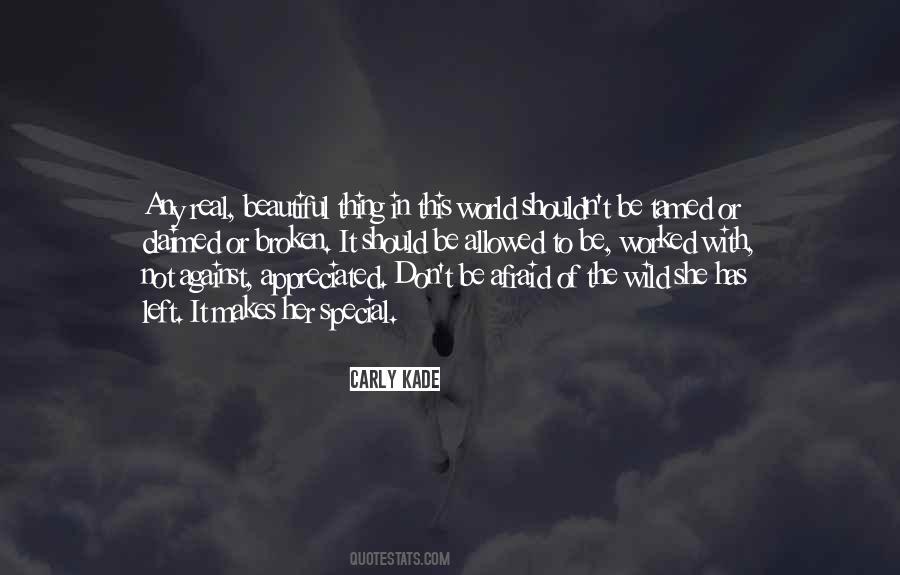 #61. Good Shepherd, You have a wild and crazy sheep in love with thorns and brambles. But please don't get tired of looking for me! I know You won't. For You have found me. All I have to do is stay found. - Author: Thomas Merton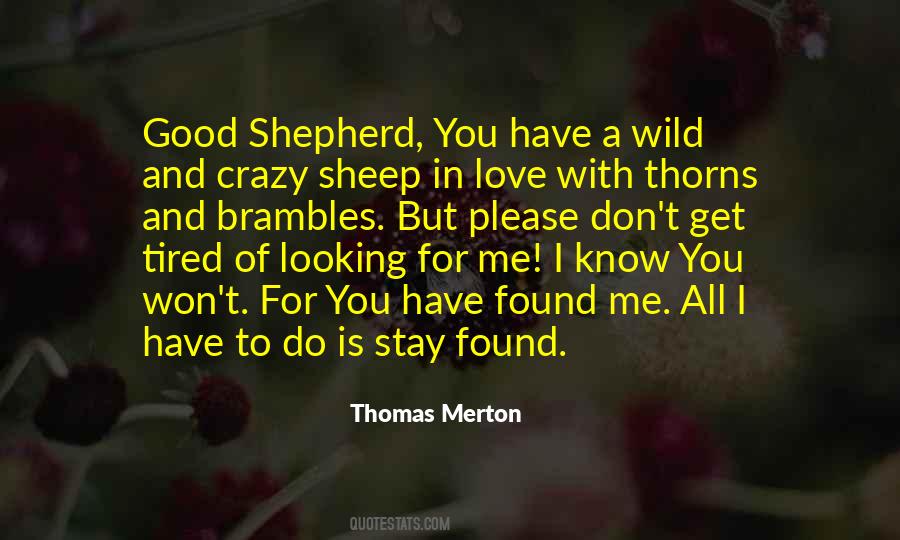 #62. He supposed many men meant no more than that when they said they were in love- not a wild submerge cd of soul, a dipping of all colors into an obscuring dye, such as his love for Nicile had been. - Author: F Scott Fitzgerald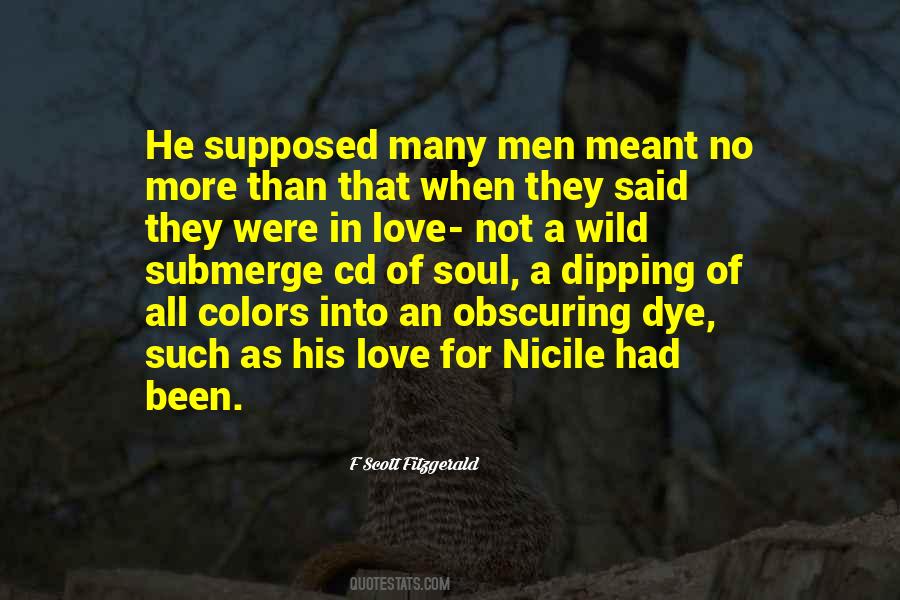 #63. A sky
full
of stars
and he
was staring
at her.

- ATTICUS - Author: Atticus Poetry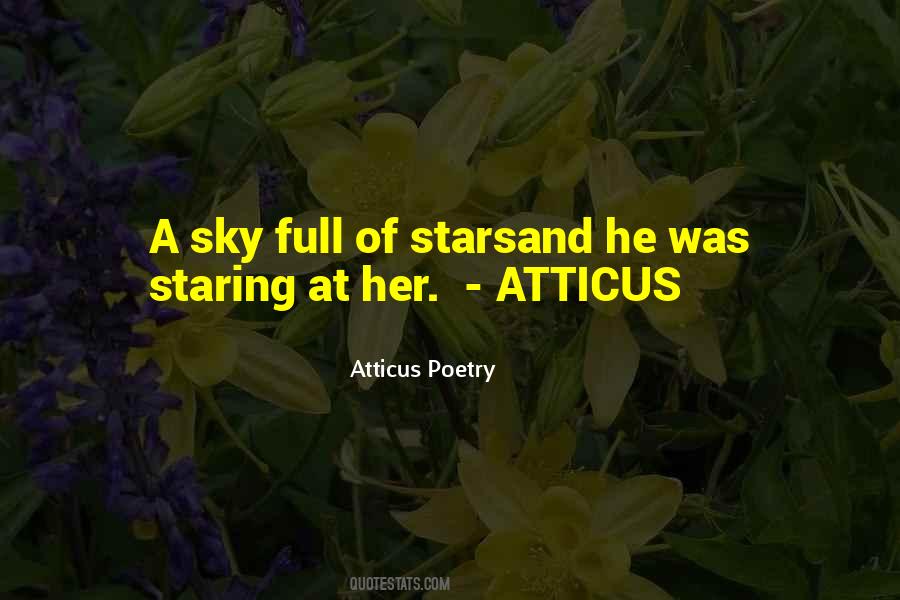 #64. I think music is a big, big wide world, and I am voyager on this particular ship in this sea of wild music, and I'm gonna dive in and find as many fish as I can and catch them all. I love music. - Author: Phil Anselmo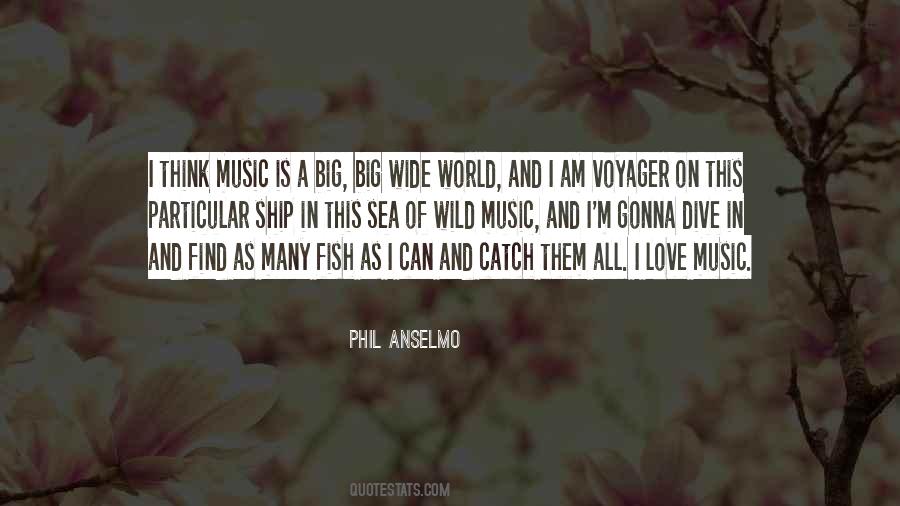 #65. Why kill a wild thing
when you can take it home and tie it down? - Author: Danabelle Gutierrez
#66. Courtney Love is a loose cannon. She says what she thinks. She's wild on the red carpet. You get the best sound bites from Courtney Love. - Author: Steven Cojocaru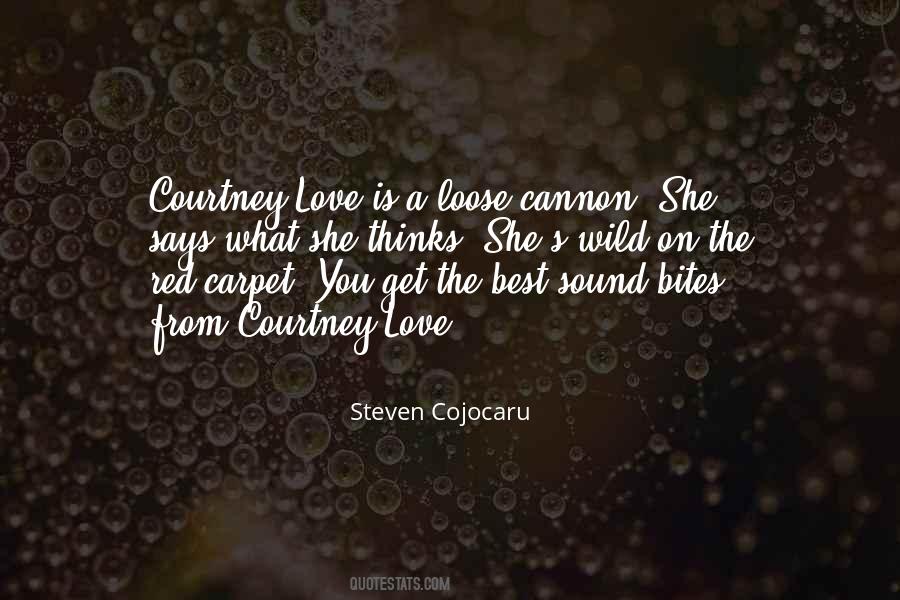 #67. To move wild laughter in the throat of death?
It cannot be, it is impossible:
Mirth cannot move a soul in agony. - Author: William Shakespeare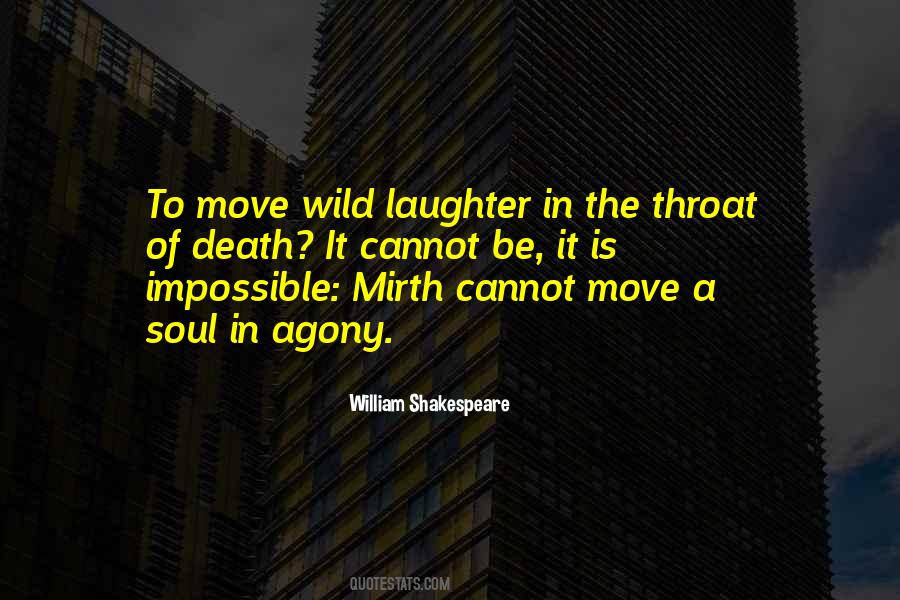 #68. Because as any writer will tell you, an IDEA for a book is like falling in love, it's all wild emotion and headlong rush, but the ACTUAL ACT of writing a book is like building a relationship: it is joyous, slow, fragile, frustrating, exhilarating, painstaking, exhausting, worth it. - Author: Ben H. Winters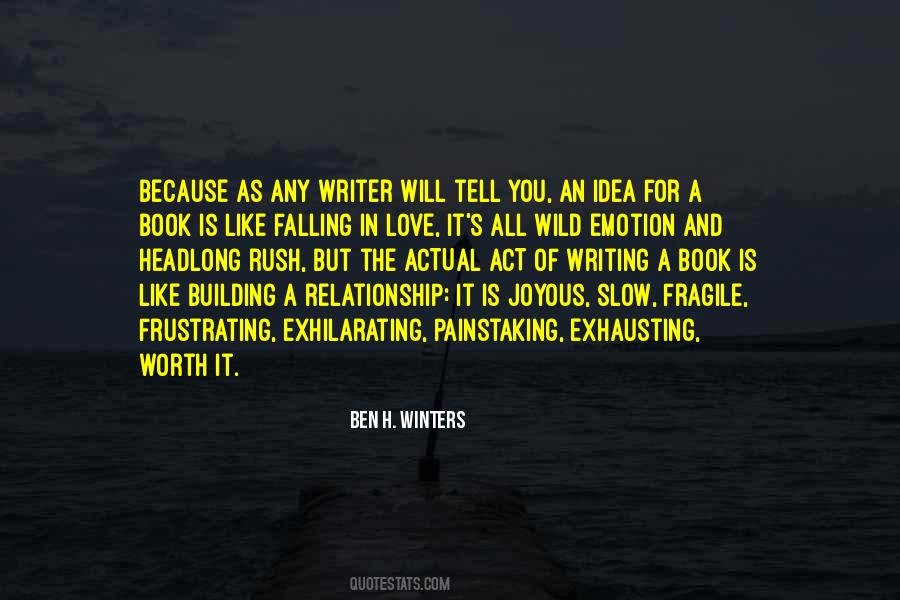 #69. But I'm shocked by the tenderness in his voice. The sincerity with which he wants to know. He's like a feral dog, crazed and wild, thirsty for chaos, simultaneously aching for recognition and acceptance.
Love. - Author: Tahereh Mafi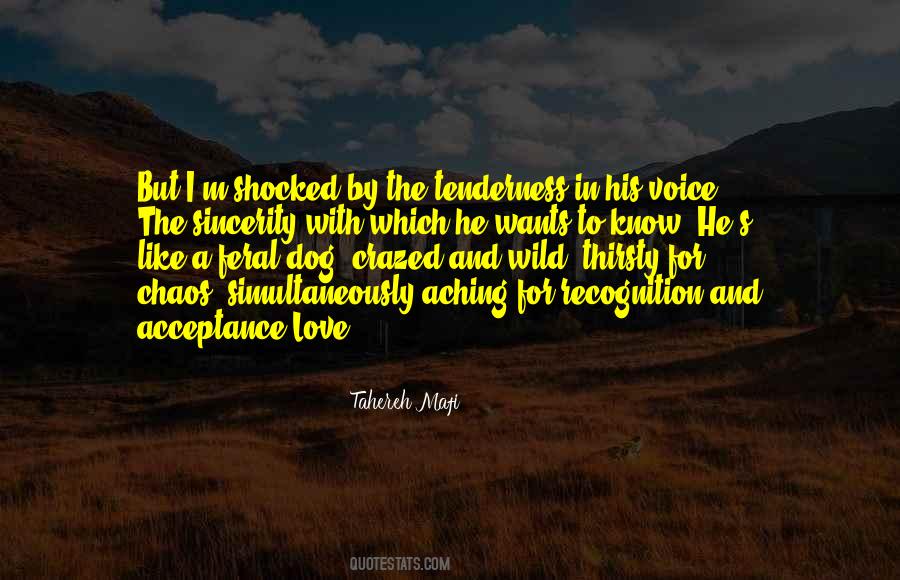 #70. A girl I fall in love with will not have been like I was. I would like the girl who's had serious boyfriends, with maybe a wild phase where she had a couple one-night stands and that was that. Not the one who went for it like I did. - Author: Stephen Dorff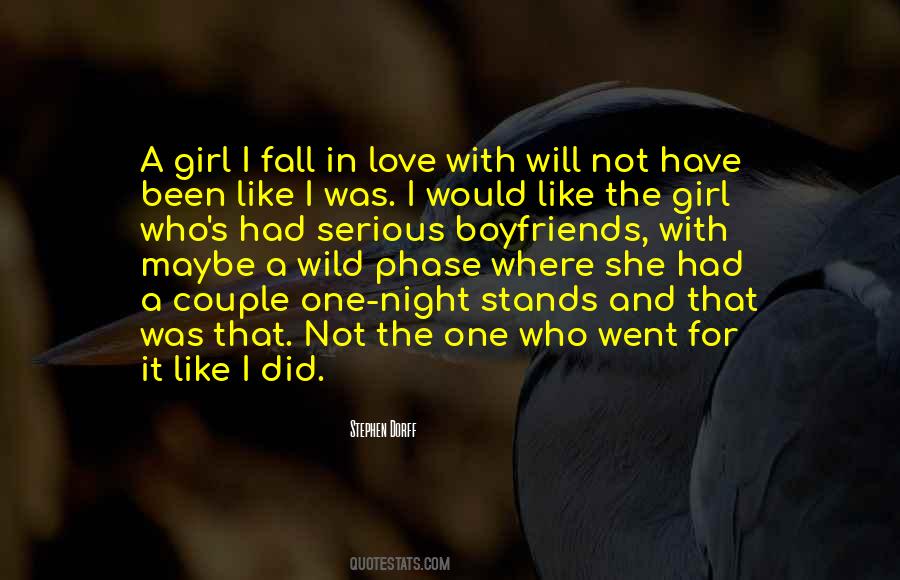 #71. The unconditional love of God leads to a life of freedom and transforms each day into a potentially wild adventure. - Author: Randy Elrod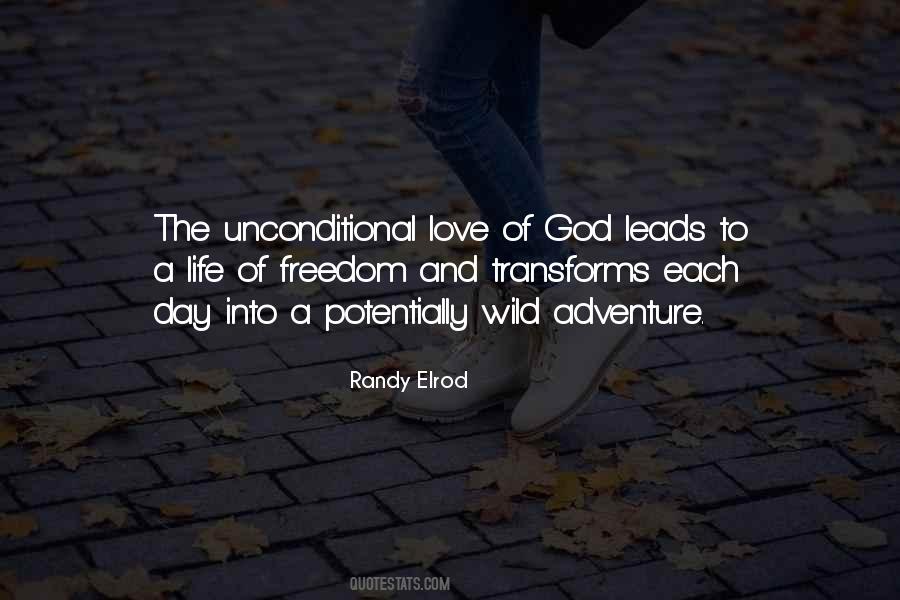 #72. Love is wild and when it is cut returns again, stronger whether you want it to or not. - Author: Jessica Anthony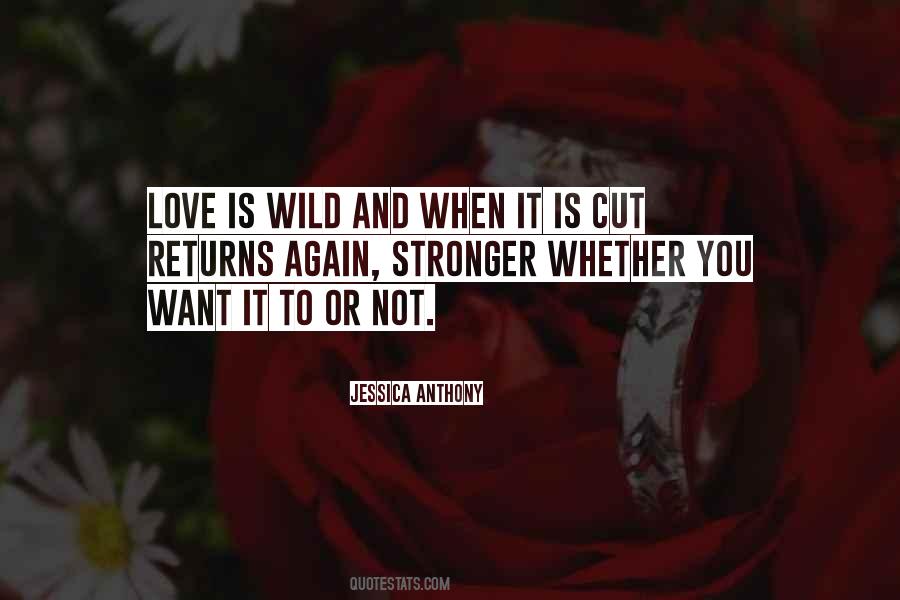 #73. Sleep late, have fun, get wild, drink whiskey and drive fast on empty streets with nothing in mind but falling in love and not getting arrested. - Author: Hunter S. Thompson
#74. You bound him to you with your courage and your tales. You hold him to you now. You captured a wild creature when you had no place you could keep him. - Author: Juliet Marillier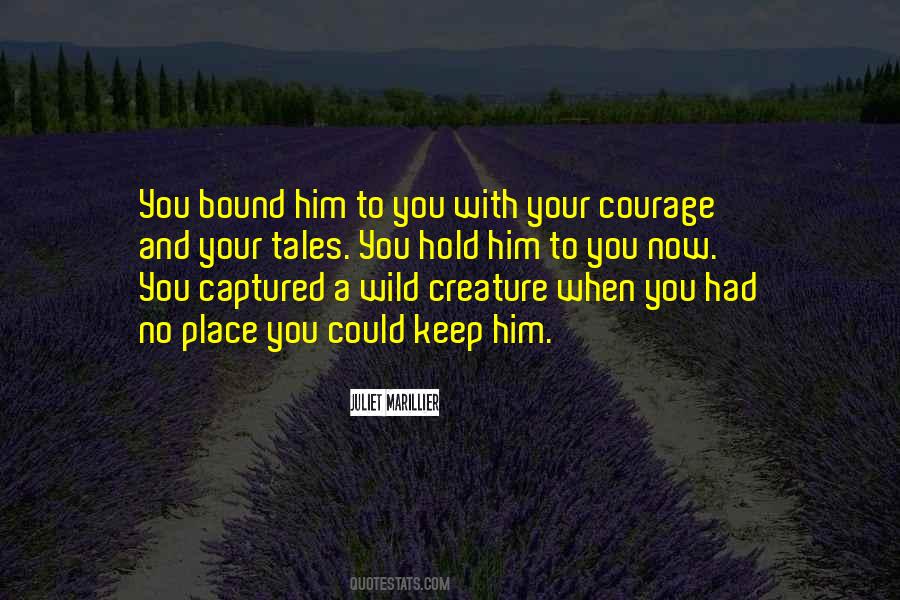 #75. Words
will
scratch
more
hearts
than
swords. - Author: Atticus Poetry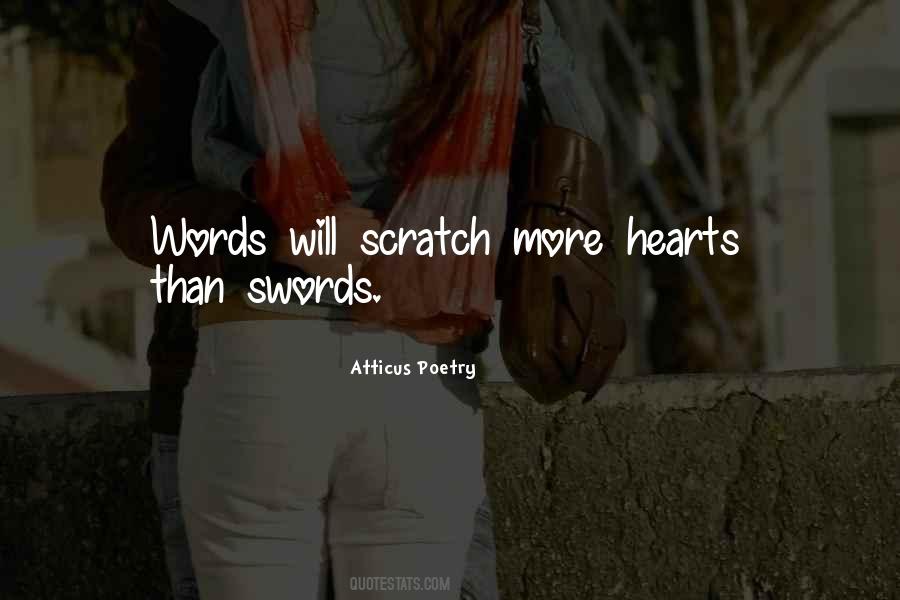 #76. Love is no hot-house flower,
but a wild plant, born of a wet night,
born of an hour of sunshine; sprung
from wild seed, blown along the road
by a
wild wind. - Author: John Galsworthy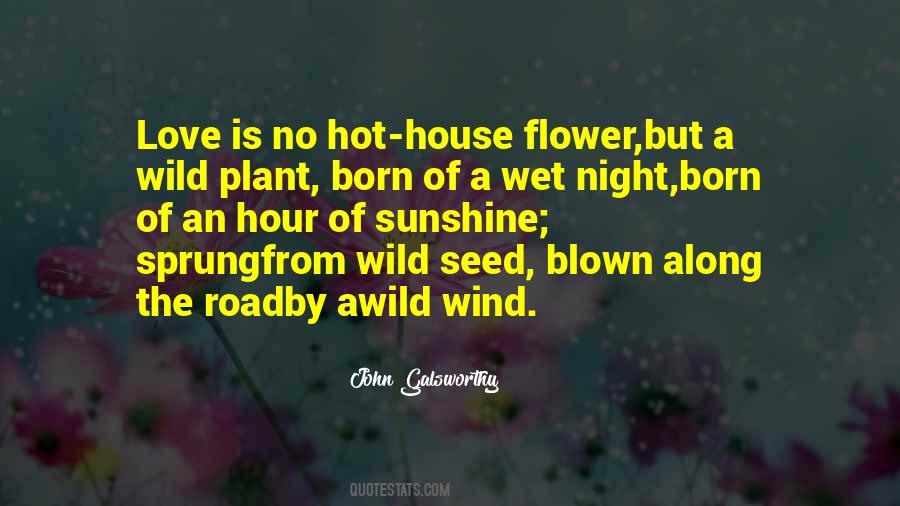 #77. Never love a wild thing - Author: Truman Capote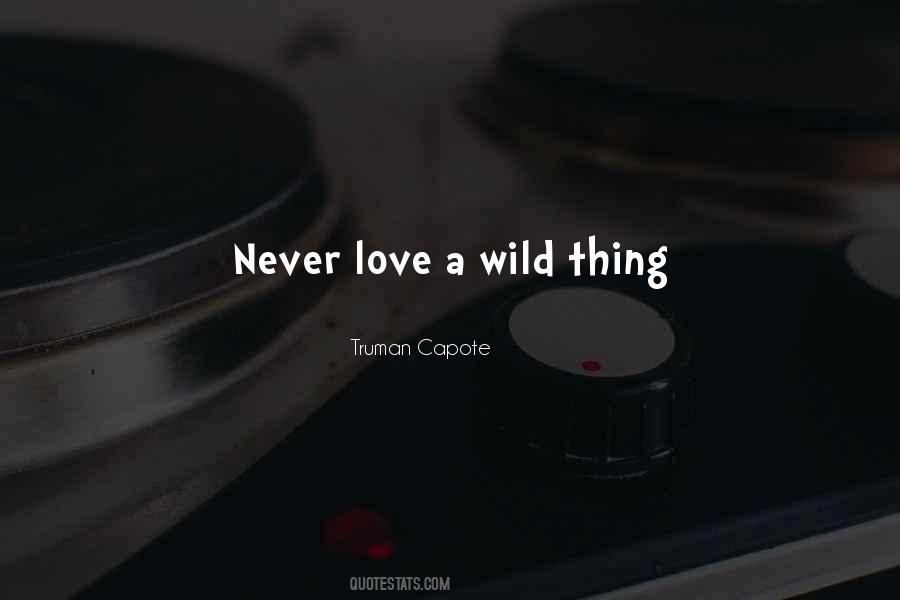 #78. Her love is rare but she'll keep you wild. - Author: Nikki Rowe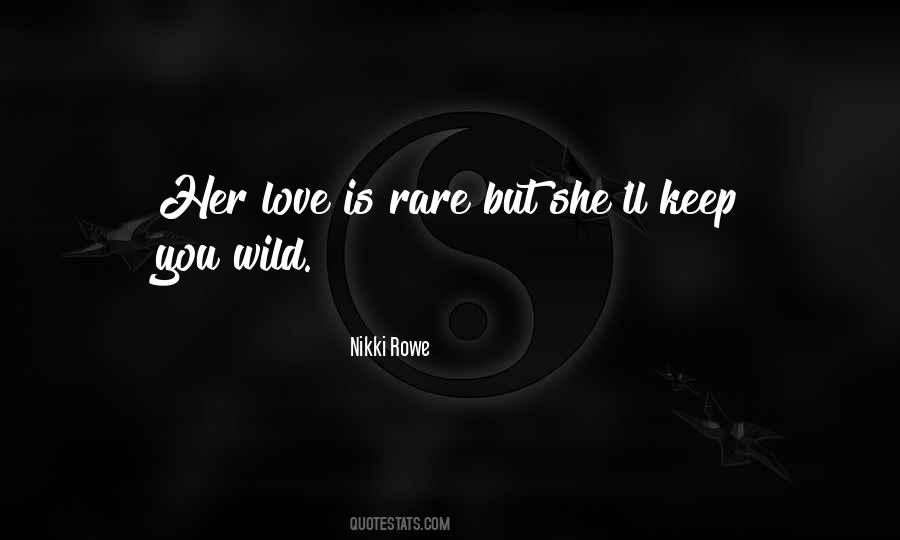 #79. Sex and love went together like bad boys and leather, and with Ryder, she couldn't do one without the other. She could lie to herself and say she just wanted one last night of wild sex, but her heart would surely follow her body. - Author: Cindy Skaggs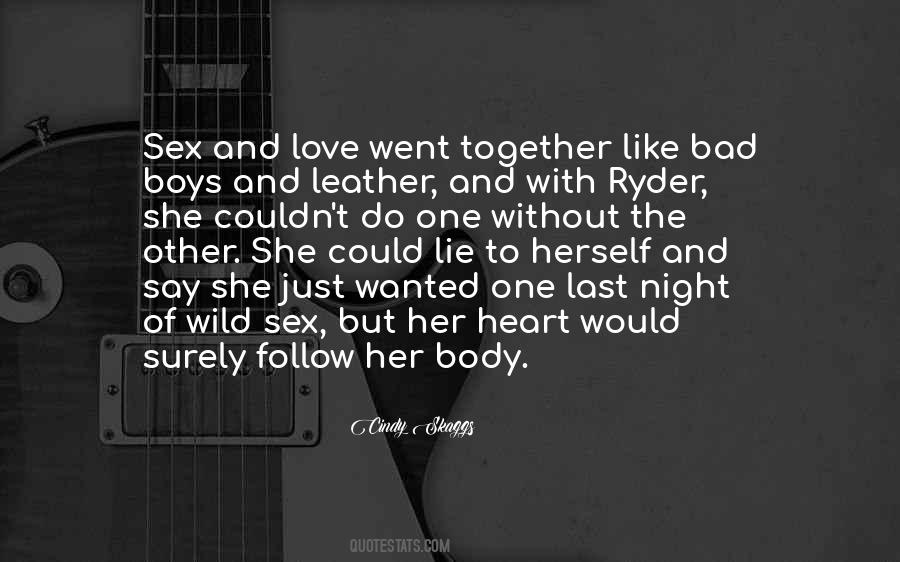 #80. What good are wings without the courage to fly? - Author: Atticus Poetry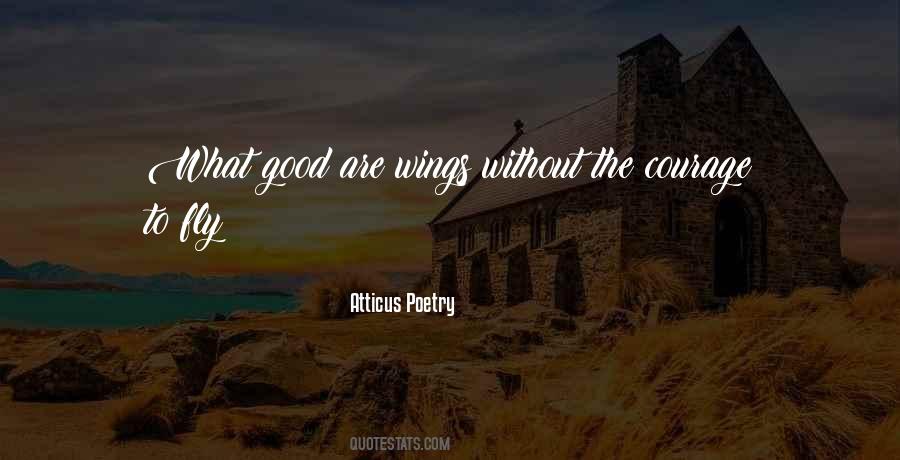 #81. Now they are lovers. The first, wild courses are ended. They have founded their domain. A satanic happiness follows. - Author: James Salter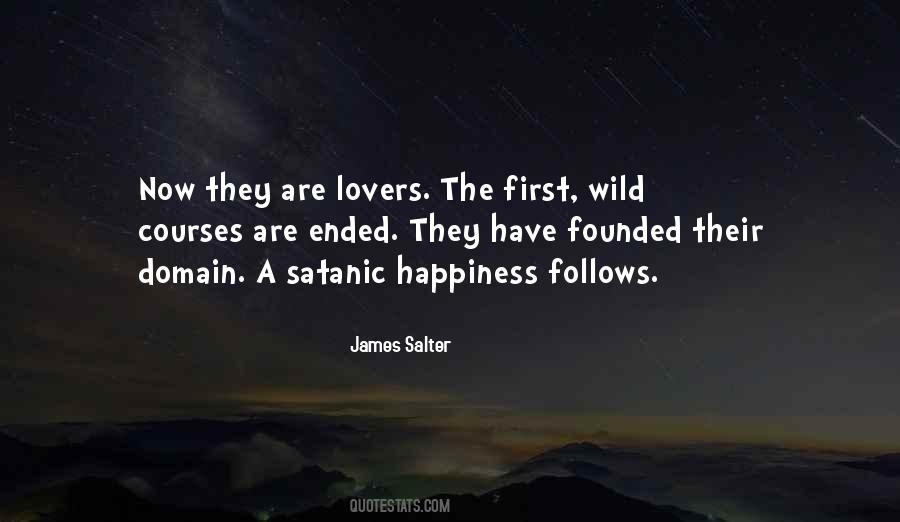 #82. I aspire to be
an old man
with an old wife
laughing at old jokes
from a wild youth. - Author: Atticus Poetry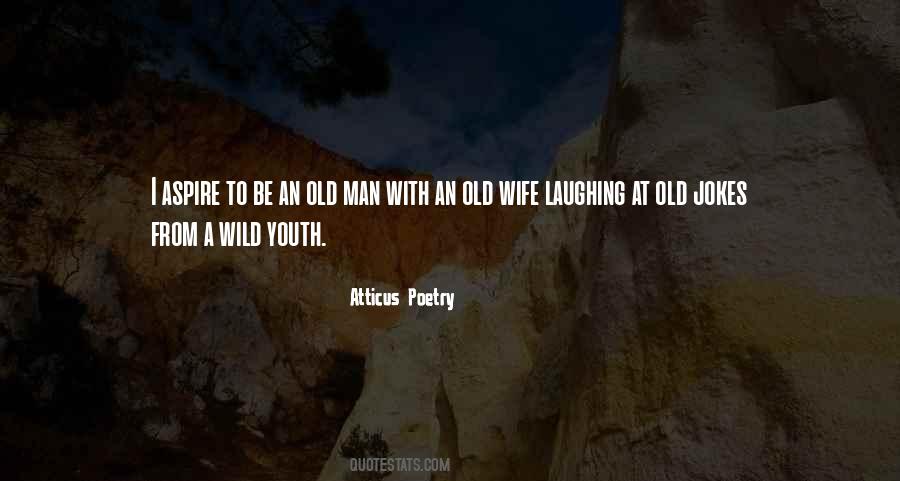 #83. Hmm, What did I love? I think all the scents. Mama's lilac trees, and the wild iris in the fields, and rain on the breeze on a hot day. Apple and pear blossoms. The hay just cut. The mix of odors in the barn when the sunlight was shafting through the cracks in the boards, heating everything up. - Author: Jane Smiley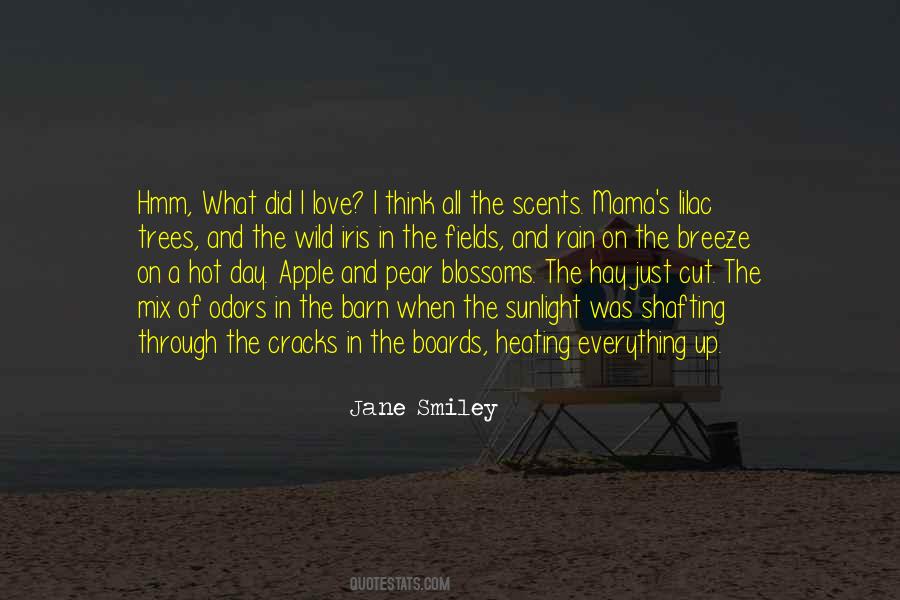 #84. Grief moves through the system much as love does. It seeks expression. So I put my grief where it naturally belonged, in the company of an old and experienced wound. I gathered my feelings, shattered, scattered, and wild, and locked them in the same place where I kept my feelings about my daughter. - Author: Kate Mulgrew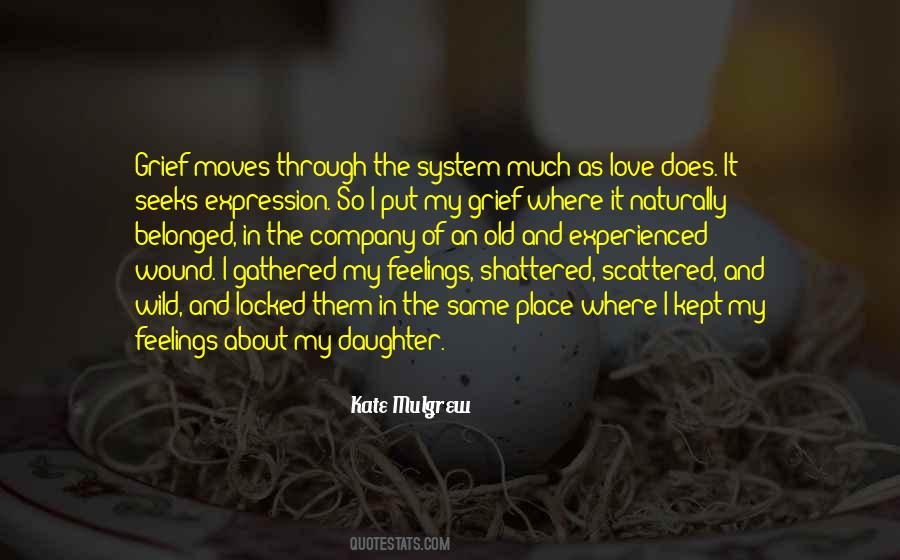 #85. You'll walk with me out on the wire, cuz baby, I'm just a scared and lonely rider, but I gotta know how it feels ... I want to know love is wild, babe, I want to know love is real. - Author: Bruce Springsteen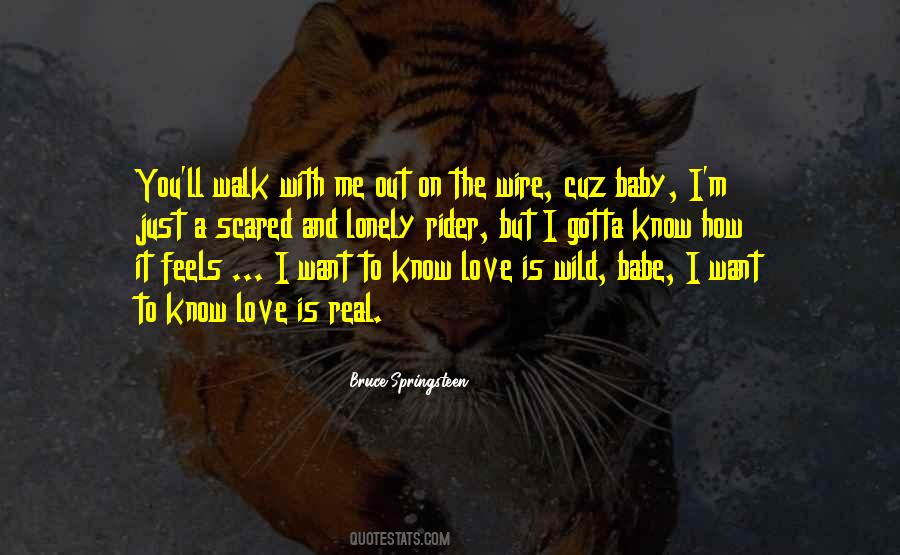 #86. A friend drops their plans when you're in trouble, shares joy in your accomplishments, feels sad when you're in pain. A friend encourages your dreams and offers advice
but when you don't follow it, they still respect and love you. - Author: Doris Wild Helmering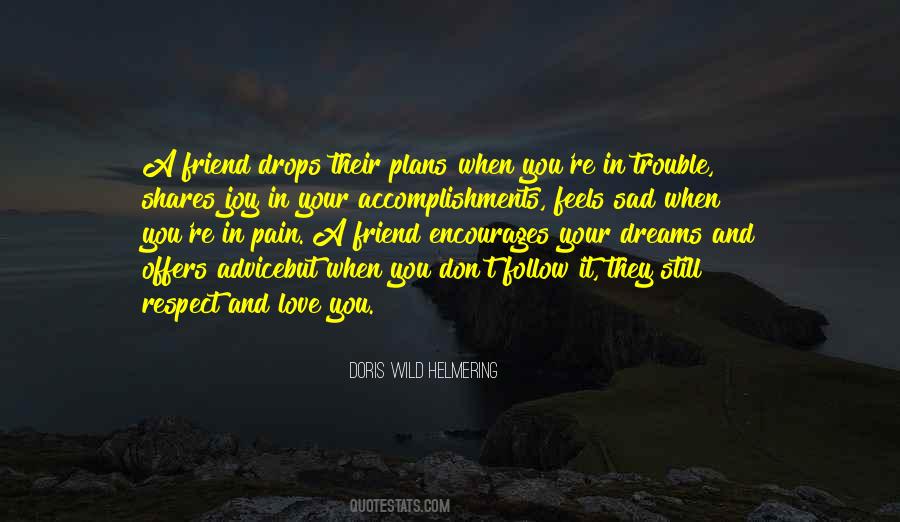 #87. Be humble!! Be wise!! Be wild!! Be love!! Be cute!! Be sexy!! Be sweet!! Be bold!! Okaaaayyyy... Be whatever you wanna be!! It's your life!! **Someone's opinion of you doesn't have to be your reality! (Les brown)** - Author: Abhishek Kumar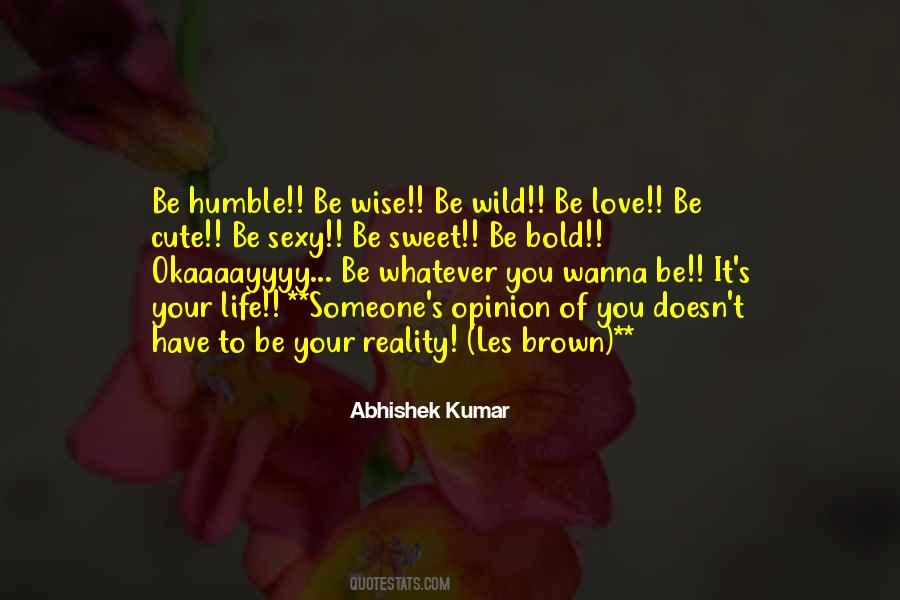 #88. At the heart of the gospel is a God who deliberately surrenders to the wild, irresistable power of love. - Author: Philip Yancey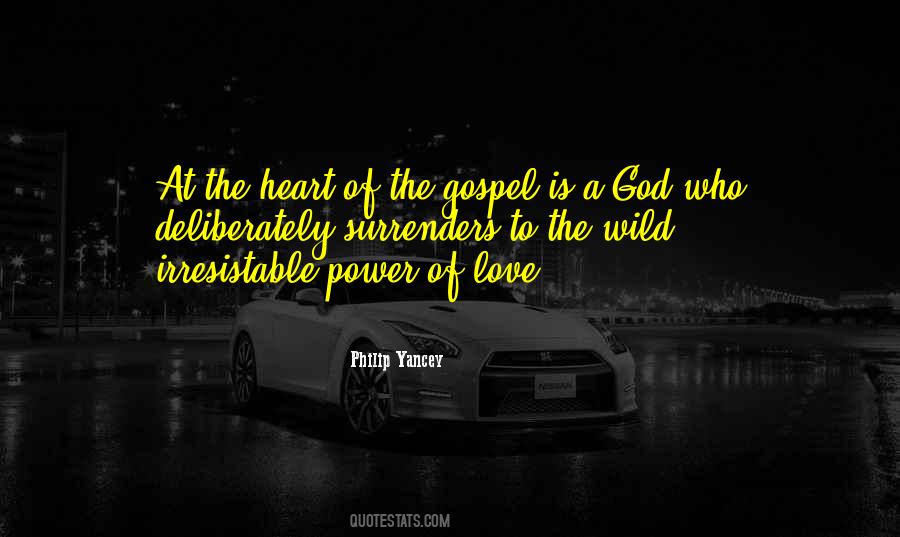 #89. I've never been a believer in fate. I like to think I'm in control, that my life hasn't been plotted out ahead of time. Sometimes all it takes is one wild thought, one brave decision to change everything. This must be one of those times. - Author: Kyle Richardson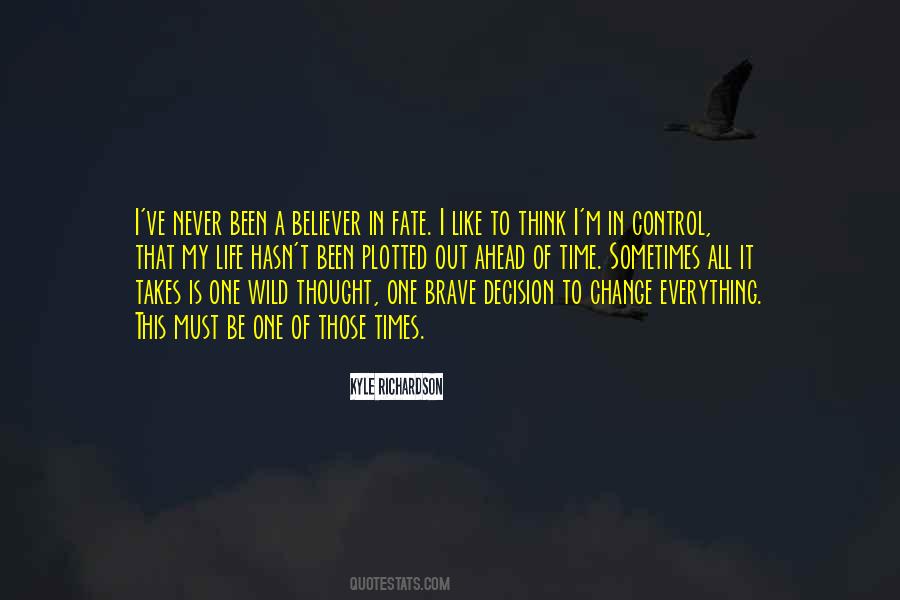 #90. Love is such a wild and reckless creature. It cannot be planned or threaded. It cannot be controlled. Love can coexist with Fate, or it can undo it. Love is the only thing more powerful than Fate. - Author: Jennifer L. Armentrout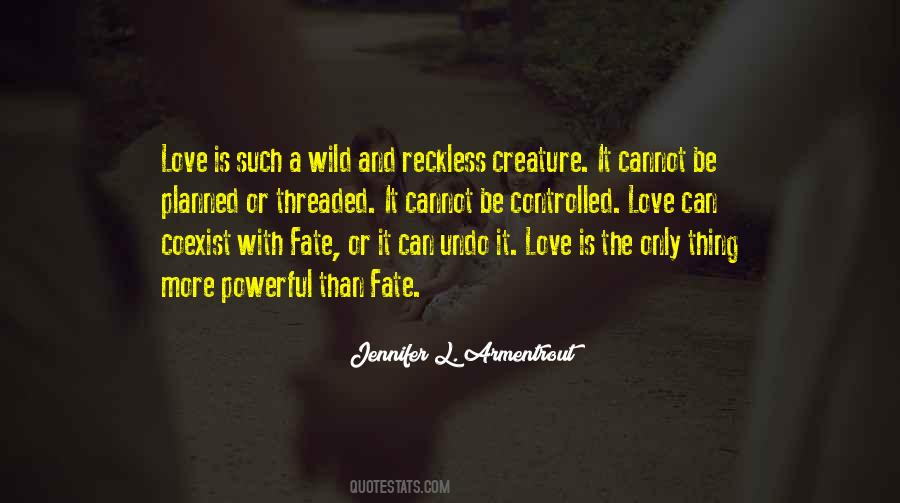 #91. A few drinks and the world was hers -
she wore her whiskey like a loaded gun. - Author: Atticus Poetry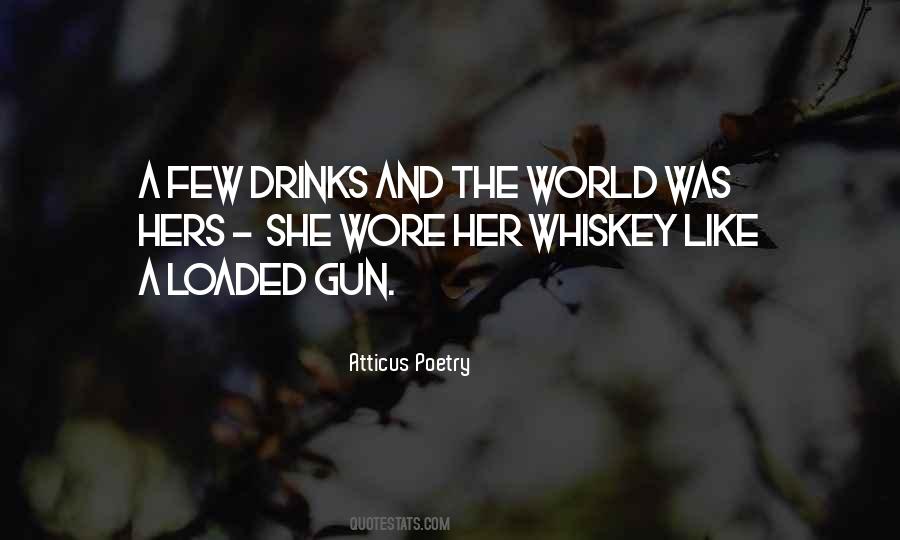 #92. Elephants love reunions. They recognize one another after years and years of separation and greet each other with wild, boisterous joy. There's bellowing and trumpeting, ear flapping and rubbing. Trunks entwine. - Author: Jennifer Richard Jacobson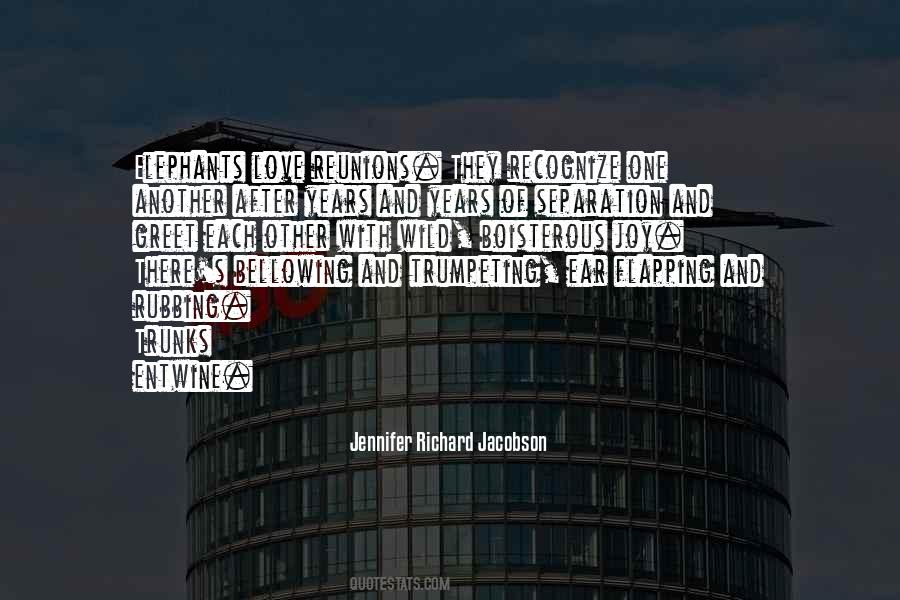 #93. Rappers act so wild, and love to profile,
Frontin' hard, but ain't got no style. - Author: Big Daddy Kane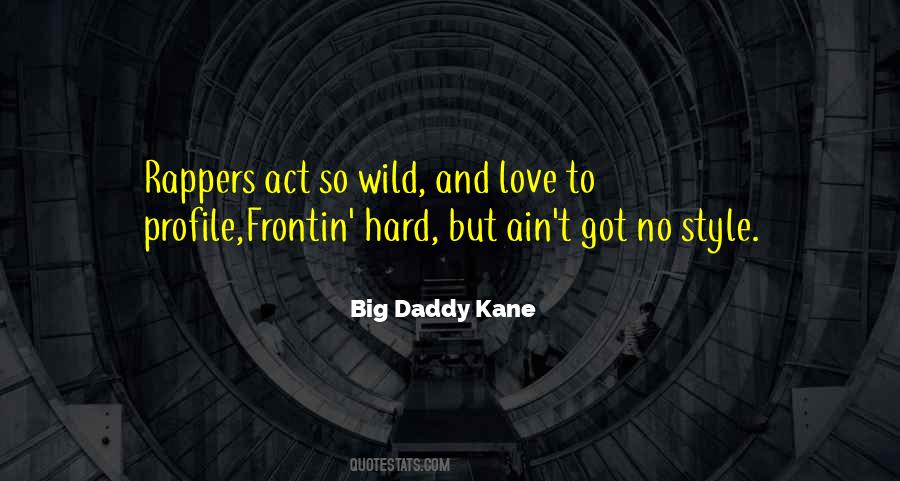 #94. Zeal is that pure and heavenly flame,The fire of love supplies ;While that which often bears the name,Is self in a disguise.True zeal is merciful and mild,Can pity and forbear ;The false is headstrong, fierce and wild,And breathes revenge and war. - Author: John Newton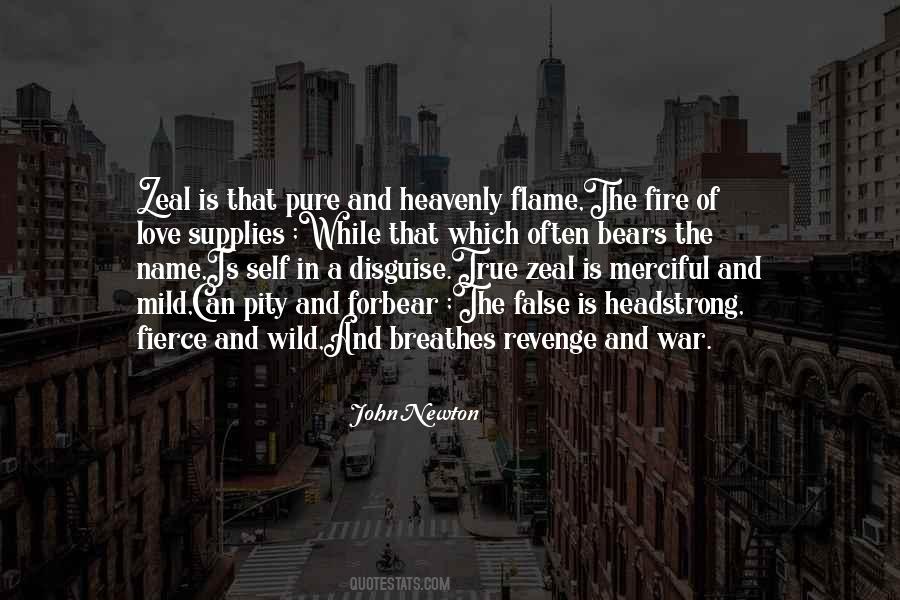 #95. The Herondales are a rather infamous line, as you probably know. Many of them heroes, some of them traitors, so many of them brash, wild creatures consumed by their passions, whether it be love or hate. - Author: Cassandra Clare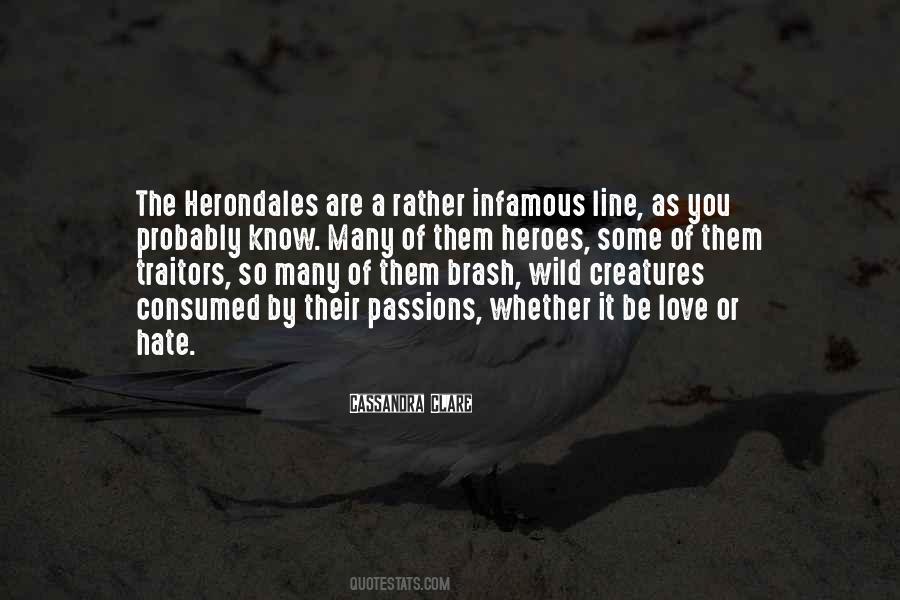 #96. I have six brothers, and in the past I've done quite a few girlie films, like 'Wild Child' and 'Angus, Thongs and Perfect Snogging' - so when they've been to those, they've been incredibly embarrassed. They won't be embarrassed going to see 'Black Death' - I reckon they're going to love it. - Author: Kimberley Nixon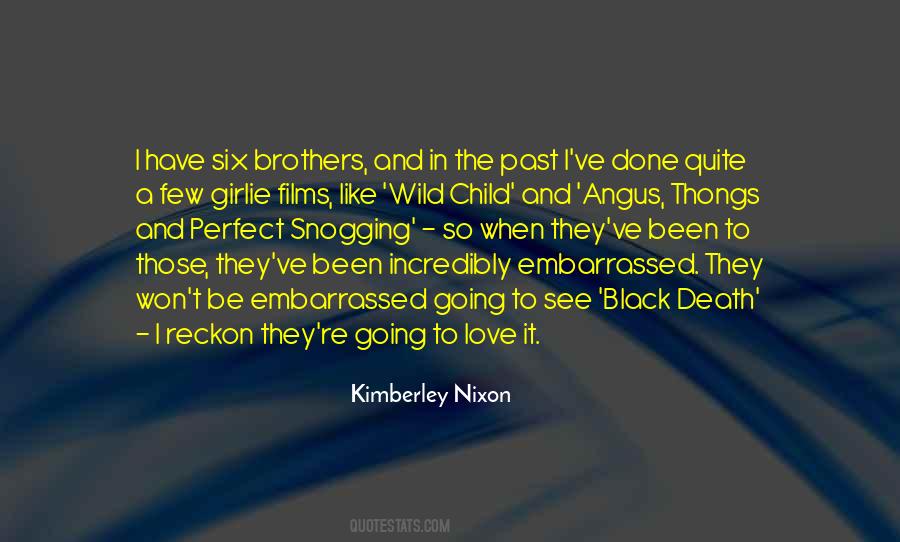 #97. True art
comes
from flying
with the madness
so close
you burn
your eyelashes. - Author: Atticus Poetry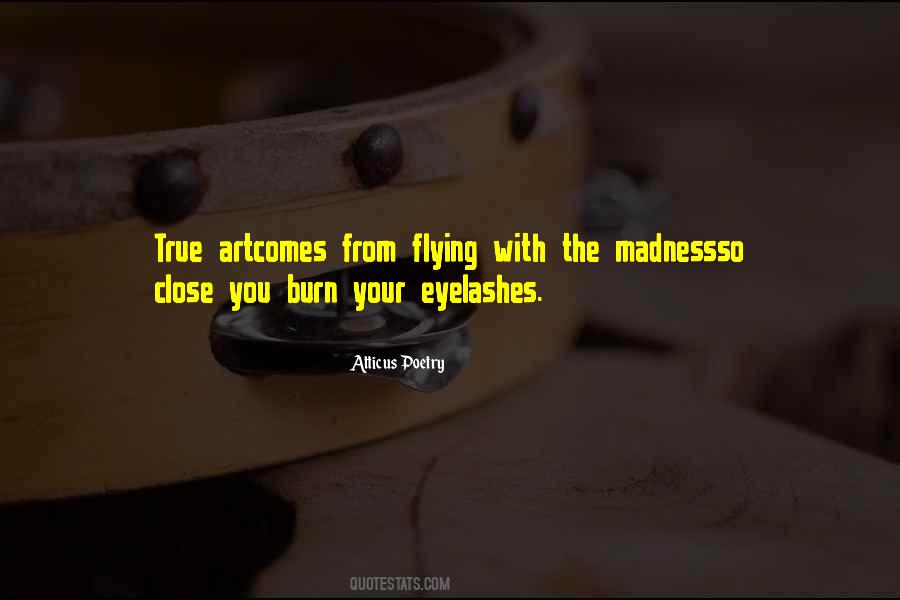 #98. What a rebellious act it is to love yourself naturally in a world of fake appearances. - Author: Nikki Rowe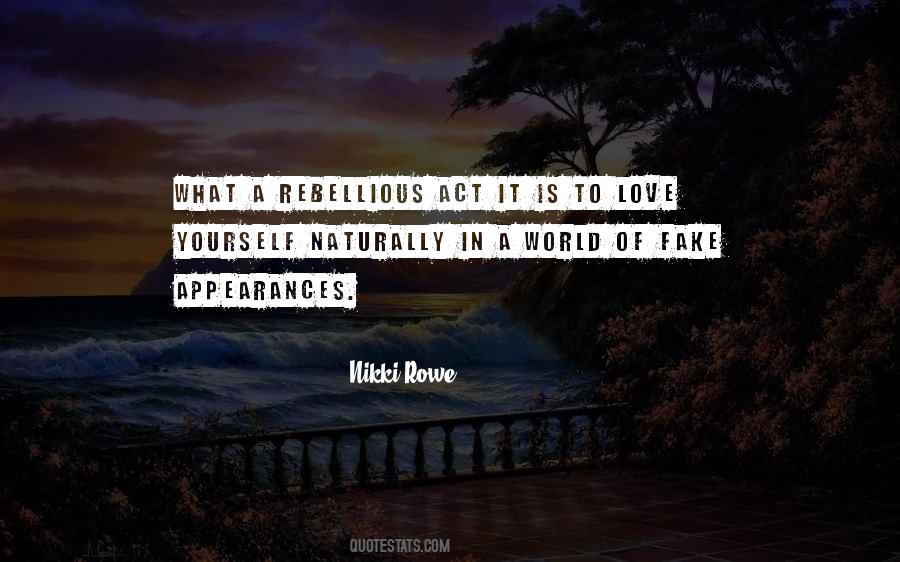 #99. A most mediocre person can be the object of a love which is wild, extravagant, and beautiful as the poison lillies of the swamp. - Author: Carson McCullers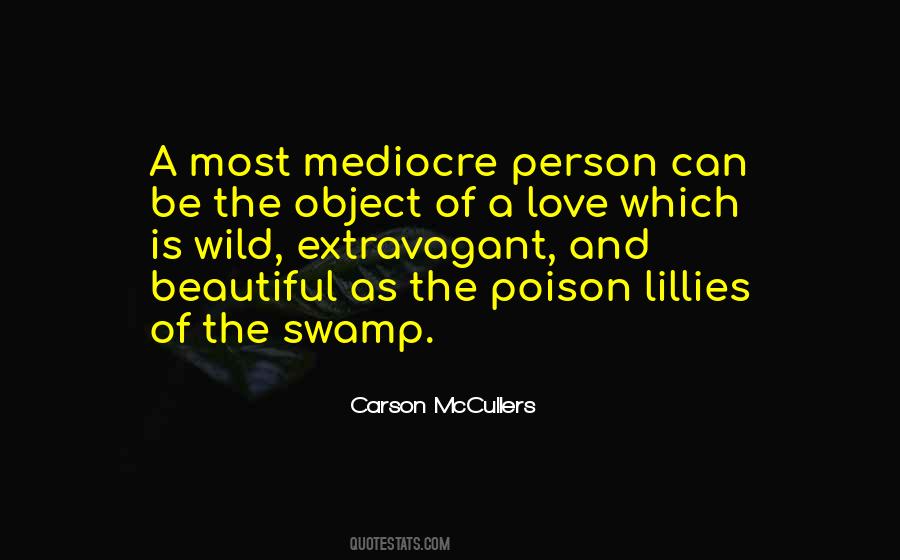 #100. She was too busy wishing
on shooting stars
to see the dreams
come true around her. - Author: Atticus Poetry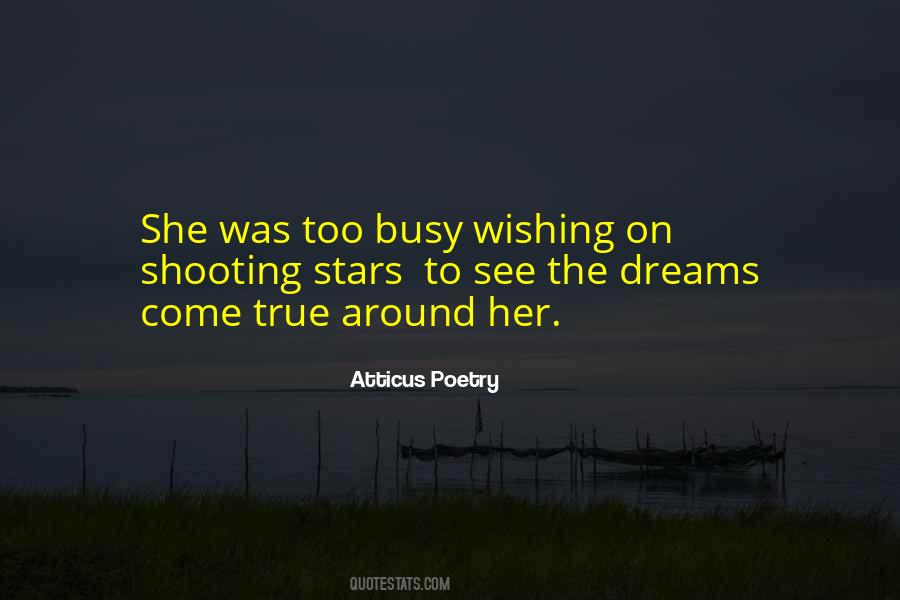 Famous Authors
Popular Topics