Violence And Hatred Famous Quotes & Sayings
List of top 83 famous quotes and sayings about violence and hatred to read and share with friends on your Facebook, Twitter, blogs.
Top 83 Quotes About Violence And Hatred
#1. At least it was love we were showing initially, and not hatred and violence like you did in the end. - Author: Sarah Swainson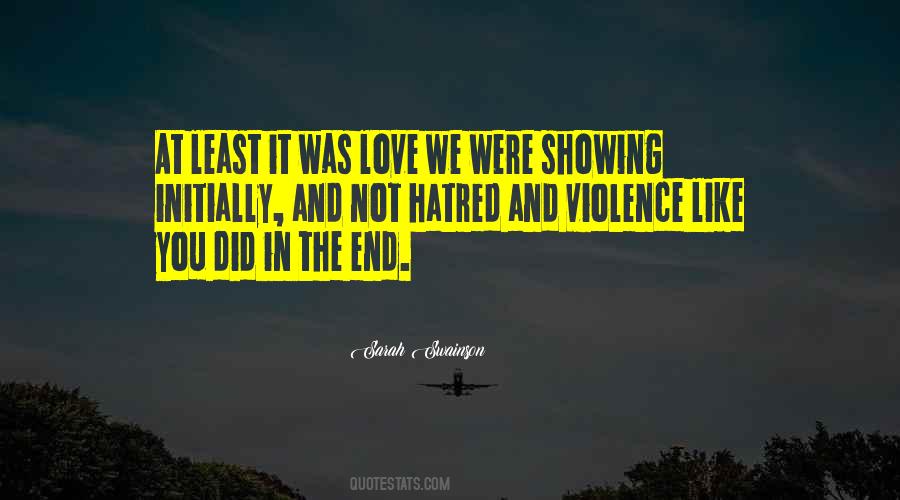 #2. I am opposed to war, to killing people, to any kind of hatred and violence. - Author: John Boyne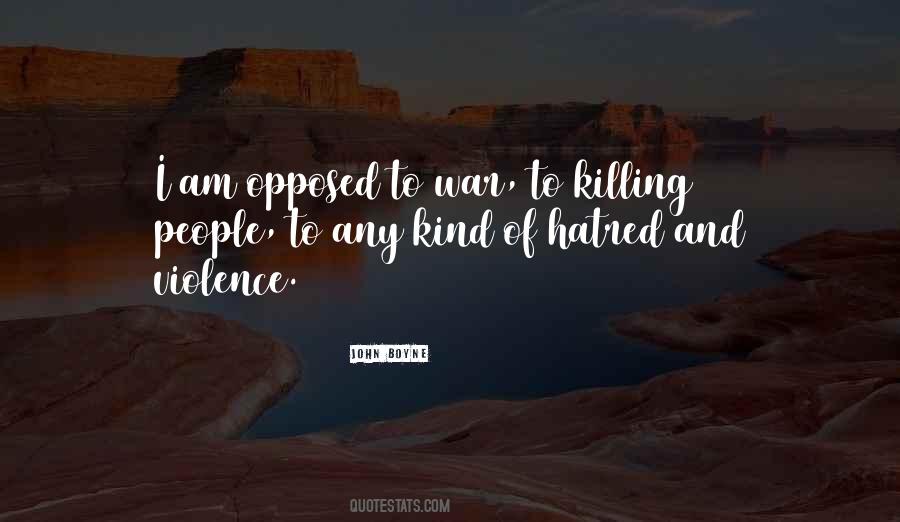 #3. To cure the violence, we must identify and heal the causes of hatred and violence. If we don't deal with the causes we will never be safe. - Author: Peter Yarrow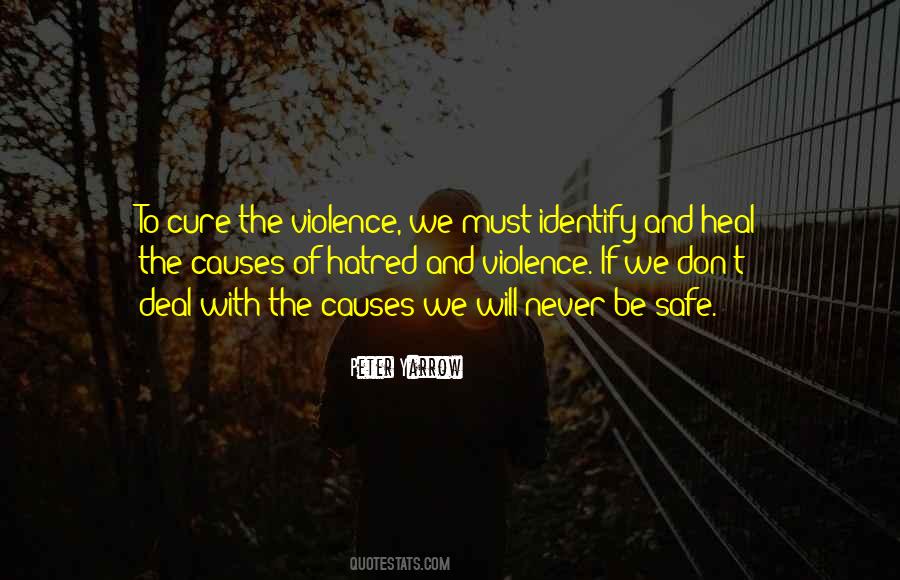 #4. ISIS itself regularly fuels hatred of gay people and violence towards them. It broadcasts gruesome executions of homosexuals thrown blindfolded from rooftops. - Author: George Takei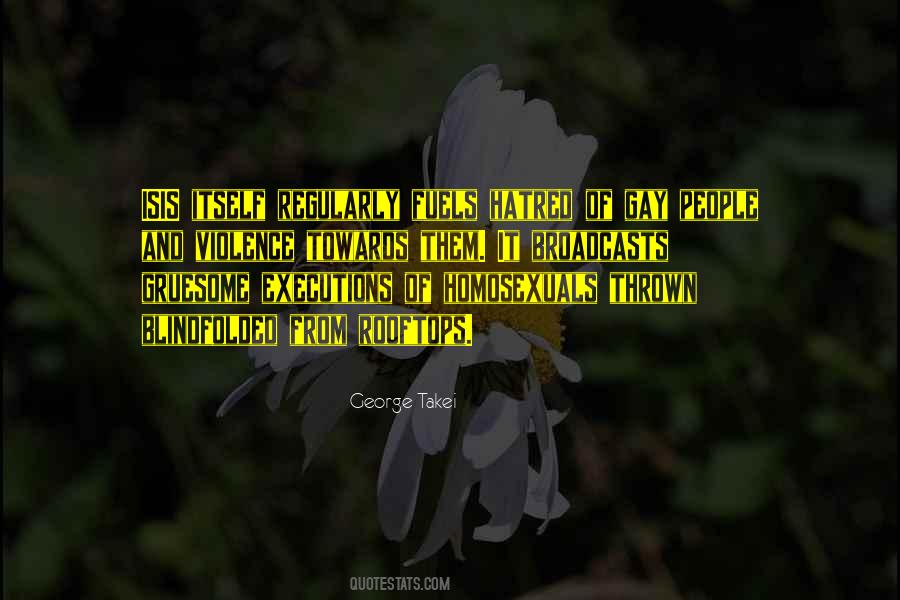 #5. The new living flesh was replicating the old in a game, we were a chain of shadows who had always been on the stage with the same burden of love, hatred, desire, and violence. - Author: Elena Ferrante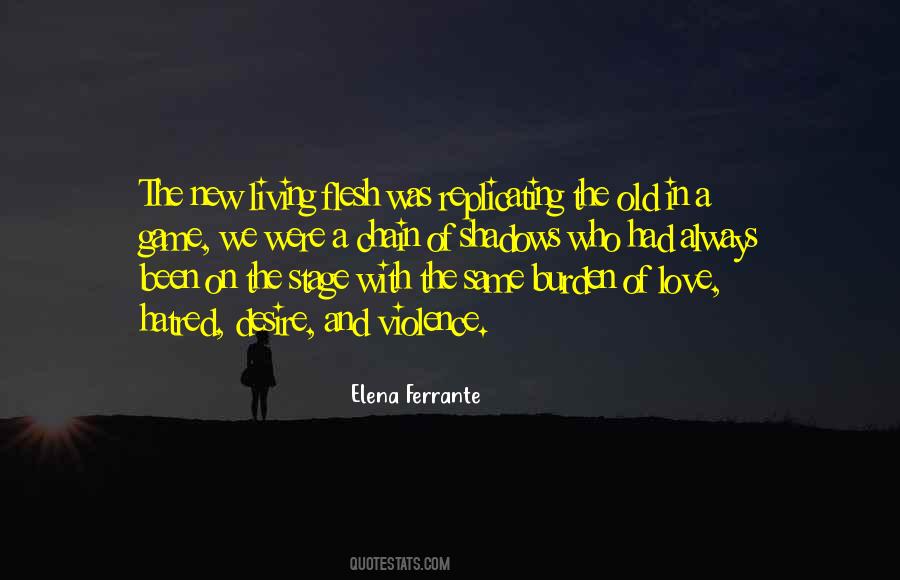 #6. In a world where no one listens, where no one seems to care, where hatred is greater than love, where hearts are hardened by vengeance and pride, where violence is preferable to peace, what else is there for him to do but heal the wounded, and bury the dead, in a war that could go on forever? - Author: Ben Okri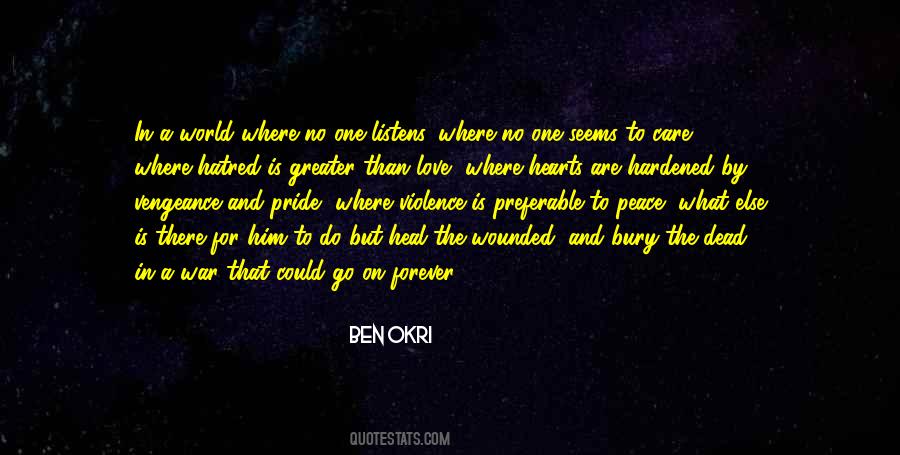 #7. It's naive for us to think that we can end all violence,abuse,hatred and racism ... when as a nation many consider just talking about the subject taboo & uncomfortable. #TRUTH - Author: Timothy Pina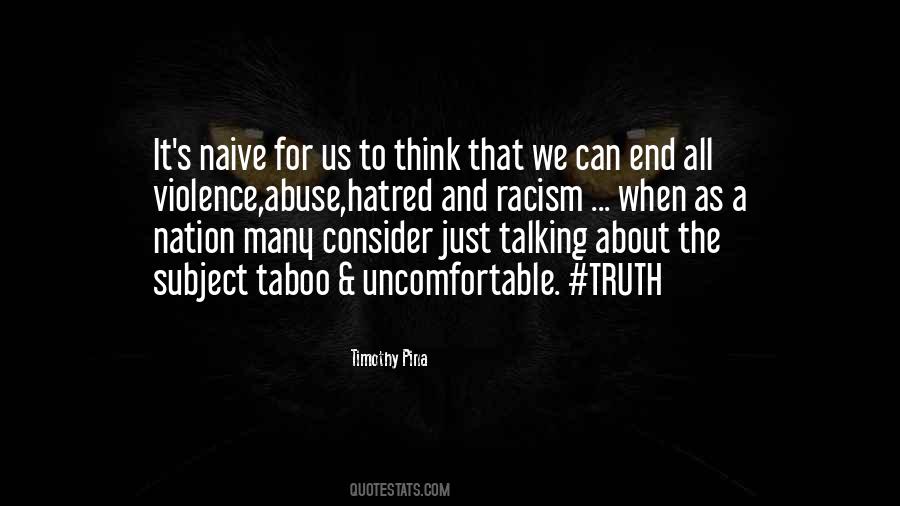 #8. It is intolerable that the world's religions - founded on the values of love and compassion - should provide a pretext for the expression of hatred and violence. - Author: Federico Mayor Zaragoza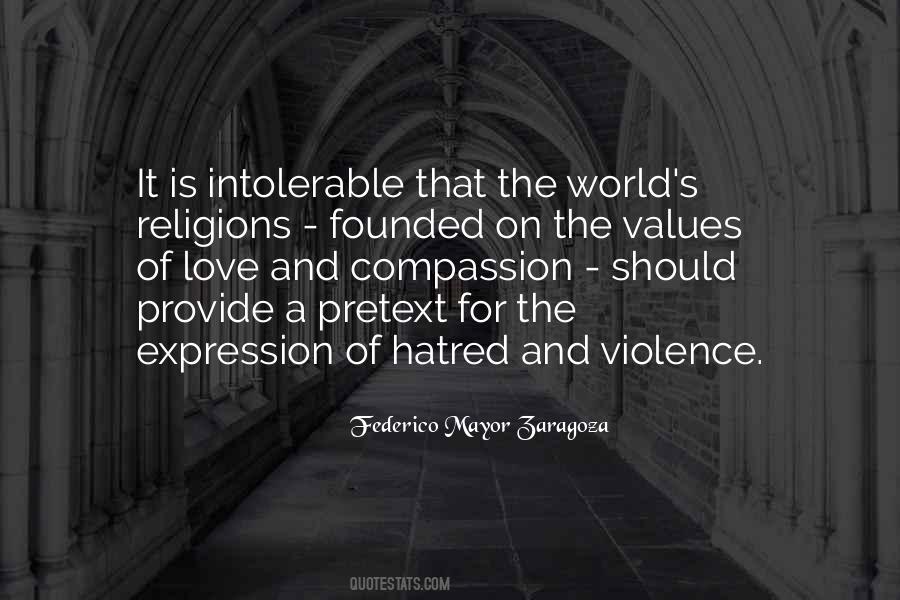 #9. My heart was fashioned to be susceptible of love and sympathy, and when wrenched by misery to vice and hatred, it did not endure the violence of the change without torture such as you cannot even imagine. - Author: Mary Shelley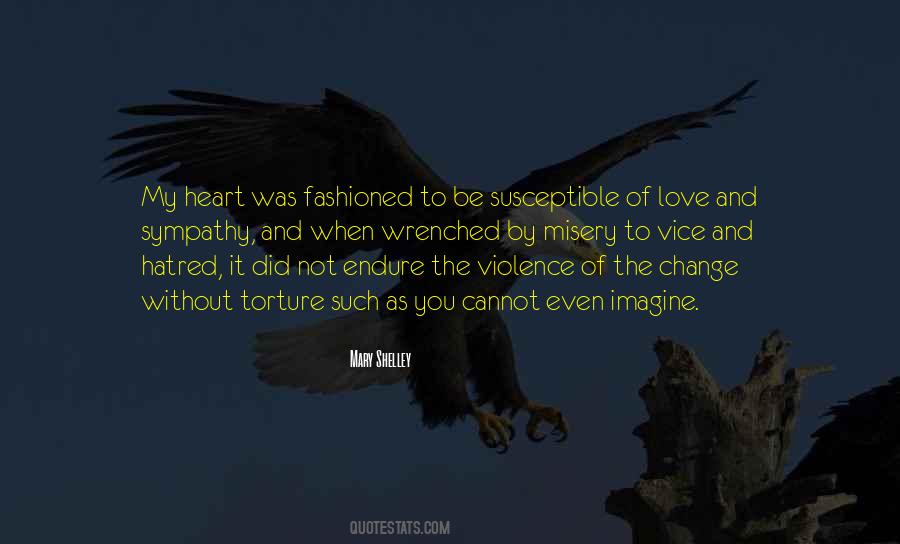 #10. There is merely bad luck in not being loved; there is misfortune in not loving. All of us, today, are dying of this misfortune. For violence and hatred dry up the heart itself; the long fight for justice exhausts the love that nevertheless gave birth to it. - Author: Albert Camus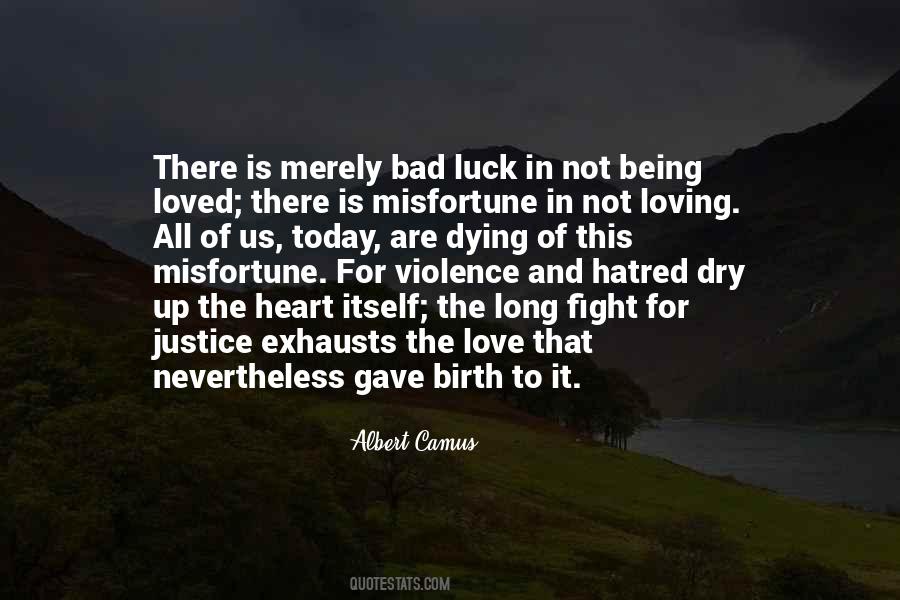 #11. None of us offers resistance when he is seized, or avenges himself for your unjust violence, although our people are numerous and plentiful ... it is not lawful for us to hate, and so we please God more when we render no requital for injury ... we repay your hatred with kindness. - Author: Cyprian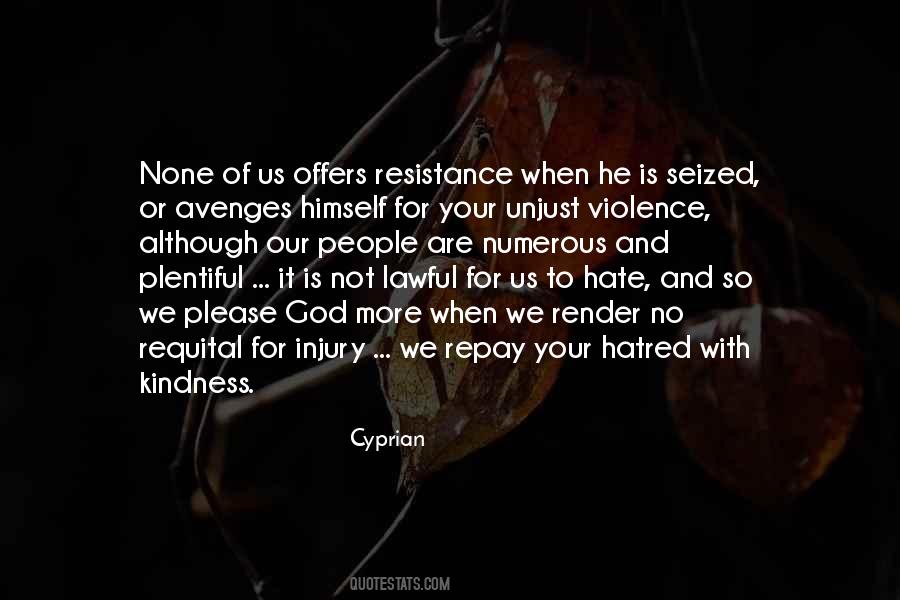 #12. Keep in mind the roots of violence: Lust, envy, anger, avarice, and vengeance ... the taproot ... the killer's ultimate and truest motivation ... is the hatred of truth ... the hatred of truth is a vice. From it comes pride and an enthusiasm for disorder. - Author: Dean Koontz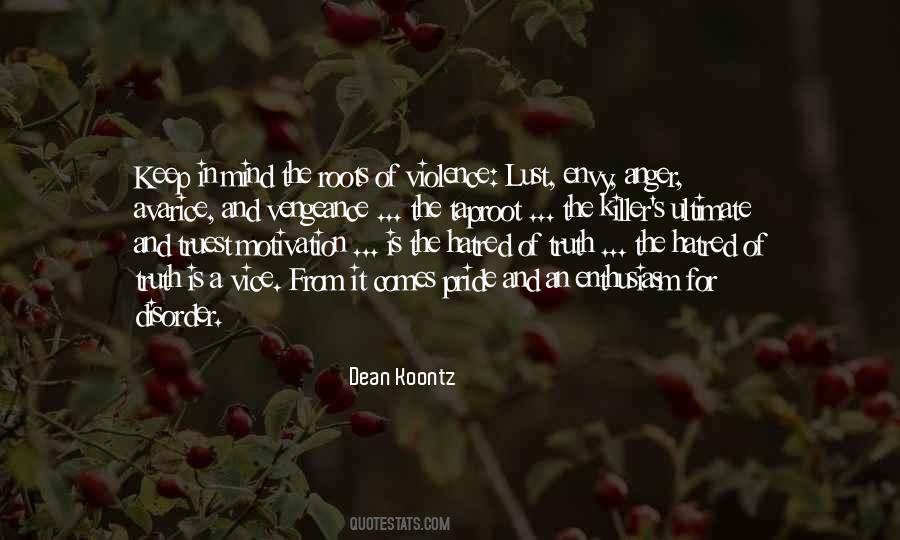 #13. If violence breeds violence and hatred breeds the same ... let's show humanity peace and love. Then we'll truly start making a difference! - Author: Timothy Pina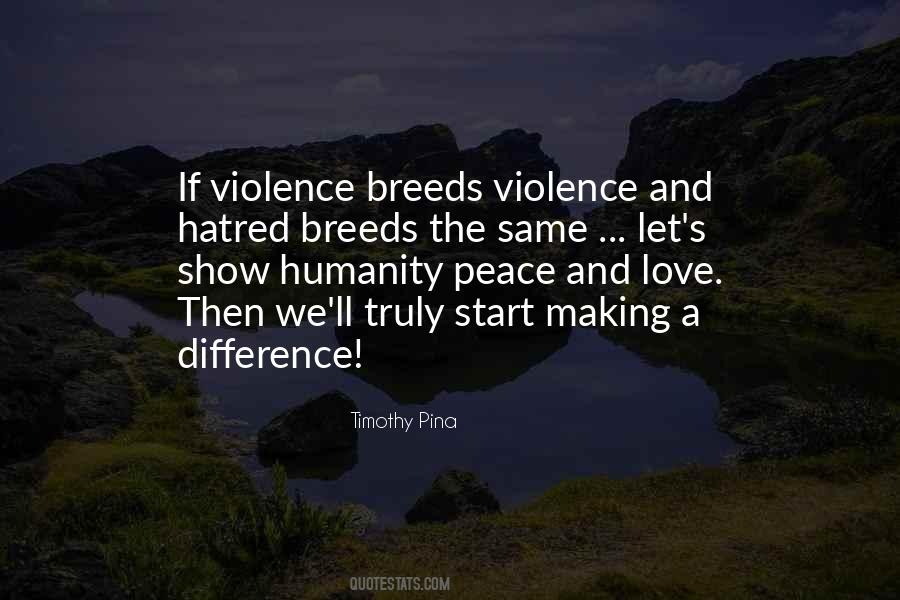 #14. Of course, I'm aware of the animosities destroying brain cells on both sides, and I know all about the obstinacy of the warring parties, their refusal to reach an agreement, their devotion to their own murderous hatred ... . - Author: Yasmina Khadra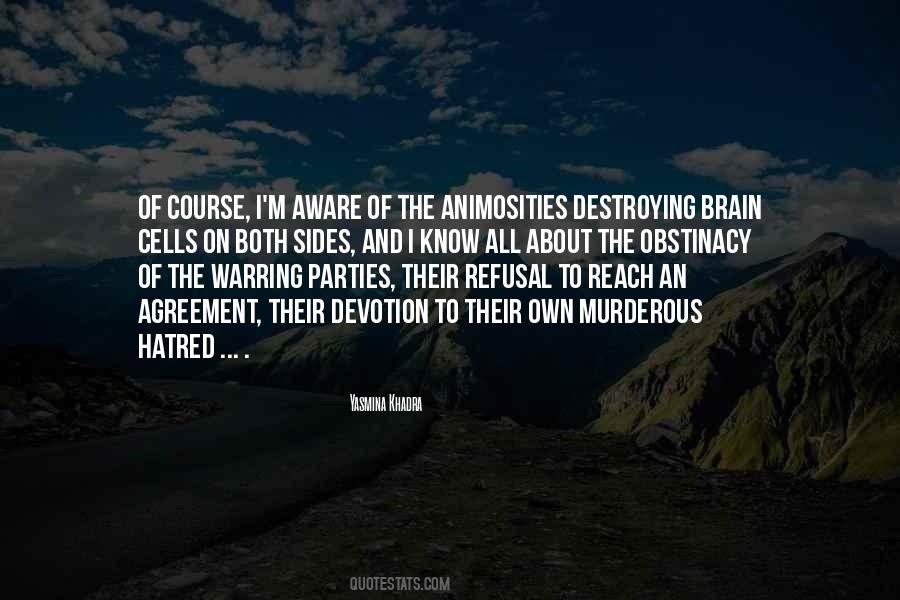 #15. When I first started doing the quieter, more acoustic material in Swans, there was a lot of derision and outright hatred from the audience and press, just as in the early days of Swans when we were rejected outright because of the bludgeoning, single-minded violence of the music. - Author: Michael Gira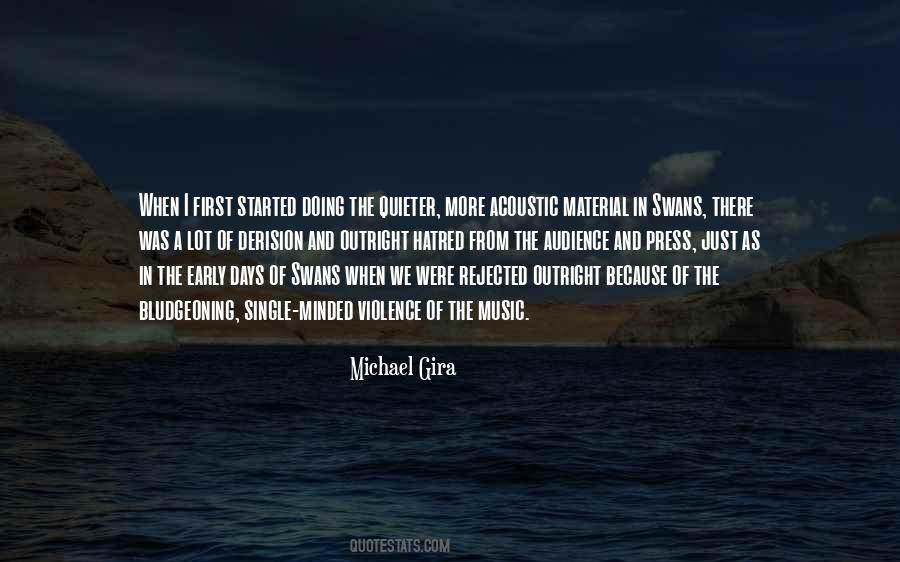 #16. It is jealousy, possessiveness, hatred, anger, violence; it is a thousand and one things except love. It masquerades as love - because all these things are so ugly they cannot exist without a mask. - Author: Osho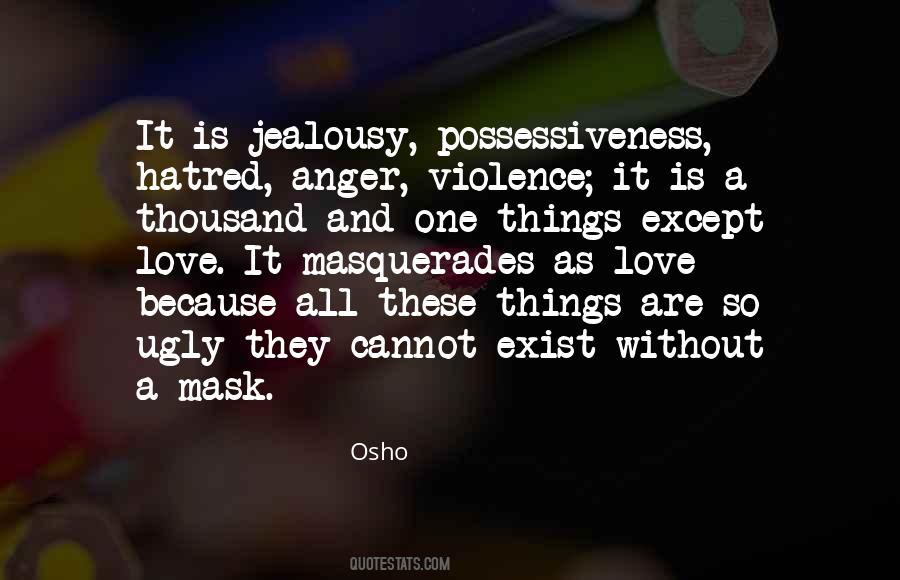 #17. Because even though fear, hatred, and violence conspire to unmake the world, preemptive love unmakes violence. - Author: Jeremy Courtney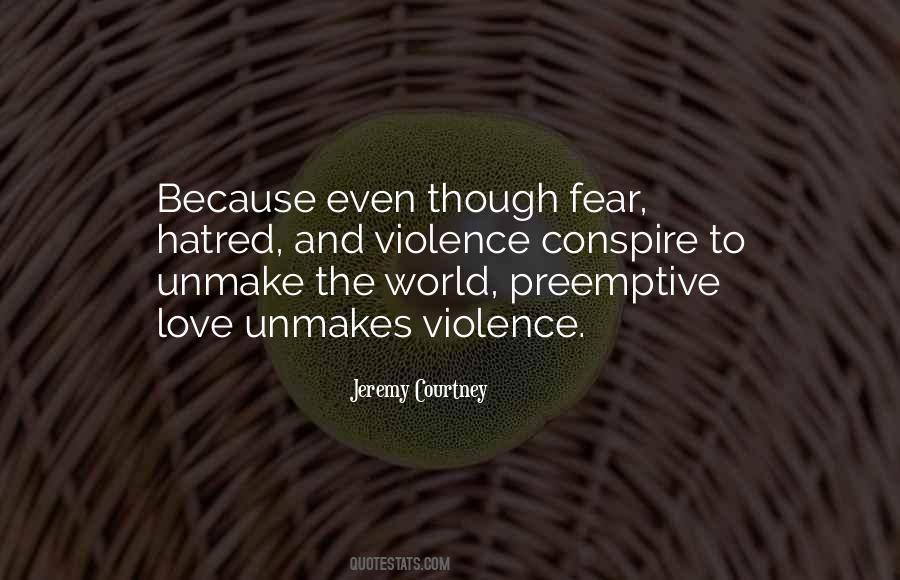 #18. Violence can only breed more violence and suffering. Our struggle must remain non-violent and free of hatred. - Author: Dalai Lama XIV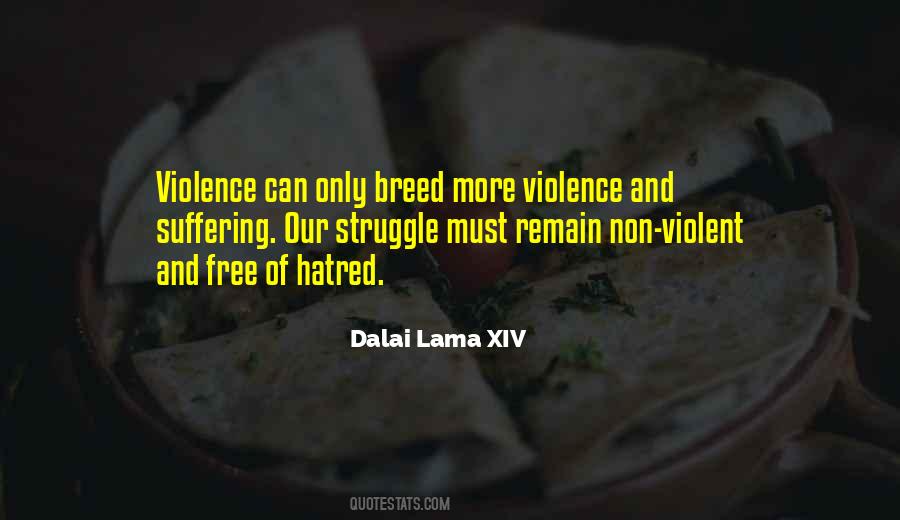 #19. Sports have nothing to do with fair play. They are bound up with hatred, jealousy, boastfulness, disregard of all rules and sadistic pleasure in witnessing violence - Author: George Orwell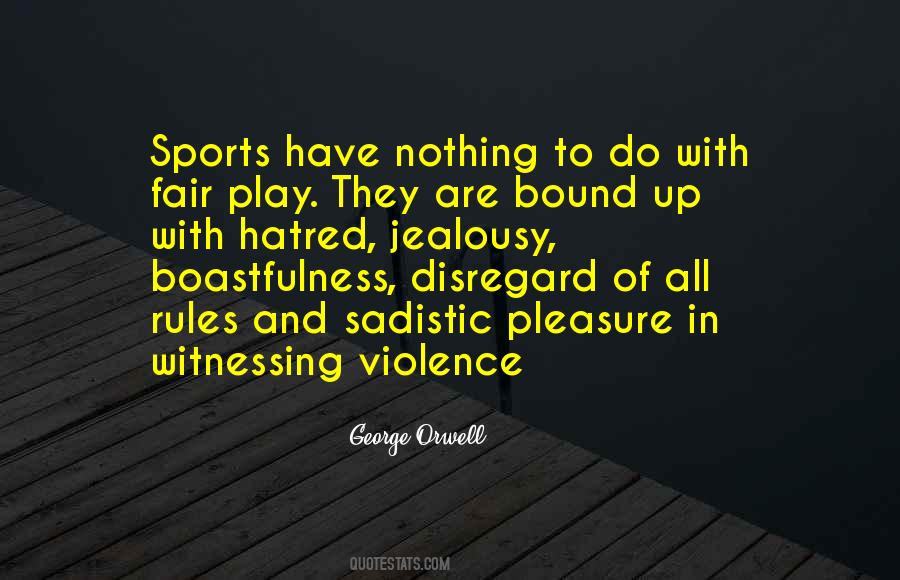 #20. We are stronger than those who oppress us, who seek to silence us. We are stronger than the enemies of education. We are stronger than fear, hatred, violence and poverty. - Author: Malala Yousafzai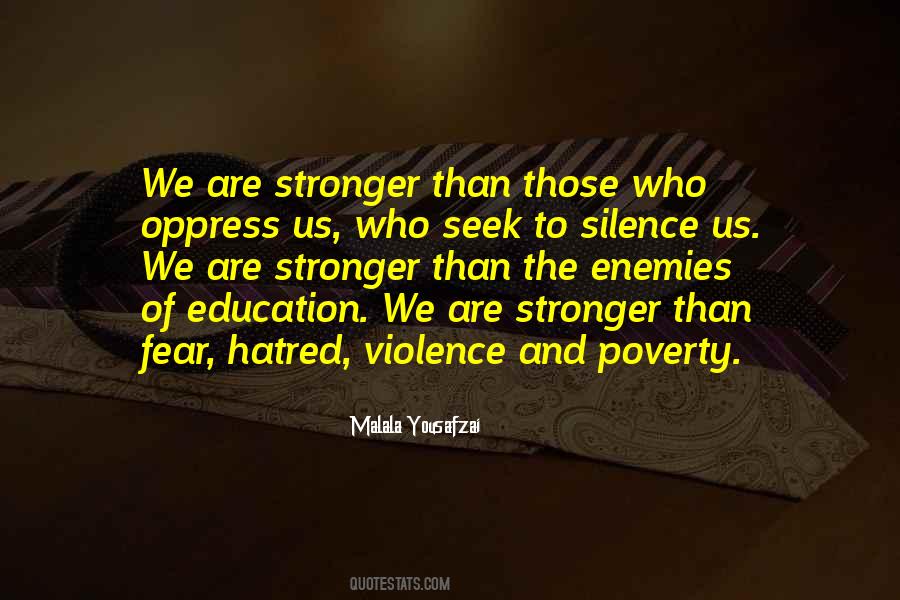 #21. When love of one's people becomes an absolute, it turns into racism. When love of equality turns into a supreme thing, it can result in hatred and violence toward anyone who has led a privileged life. It is the settled tendency of human societies to turn good political causes into counterfeit gods. - Author: Timothy Keller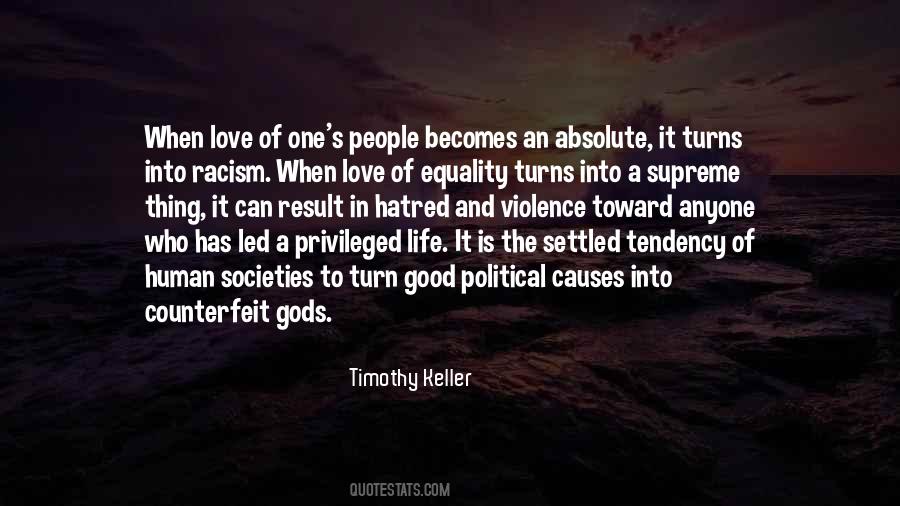 #22. Let us kill each other with love and kindness - not with hatred and guns. - Author: Debasish Mridha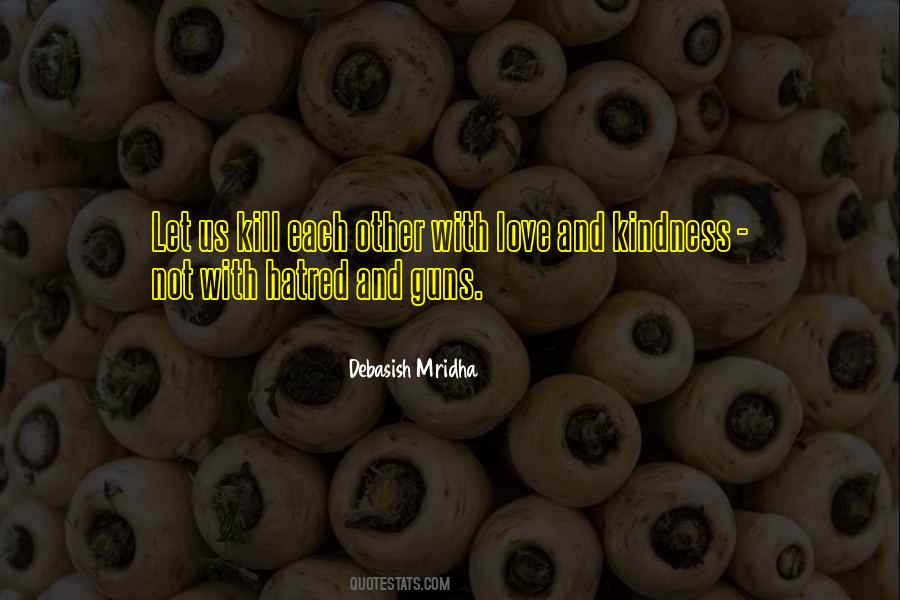 #23. What are world needs is not more violence, hatred and injustice that keeps consuming mankind but love,peace and justice for all of humanity to bask in. - Author: Timothy Pina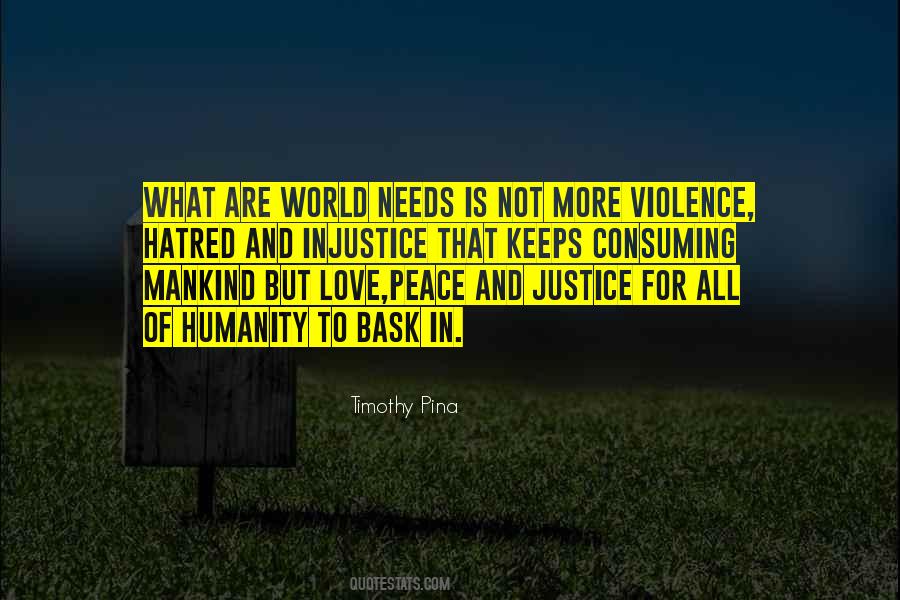 #24. Instead of more violence why isn't there a meeting of religious leaders. It's all got to be dialogue - that's the only way. Get everybody from each religion together and say 'Listen, this can't go on. Why do we have all this hatred?' - Author: Elton John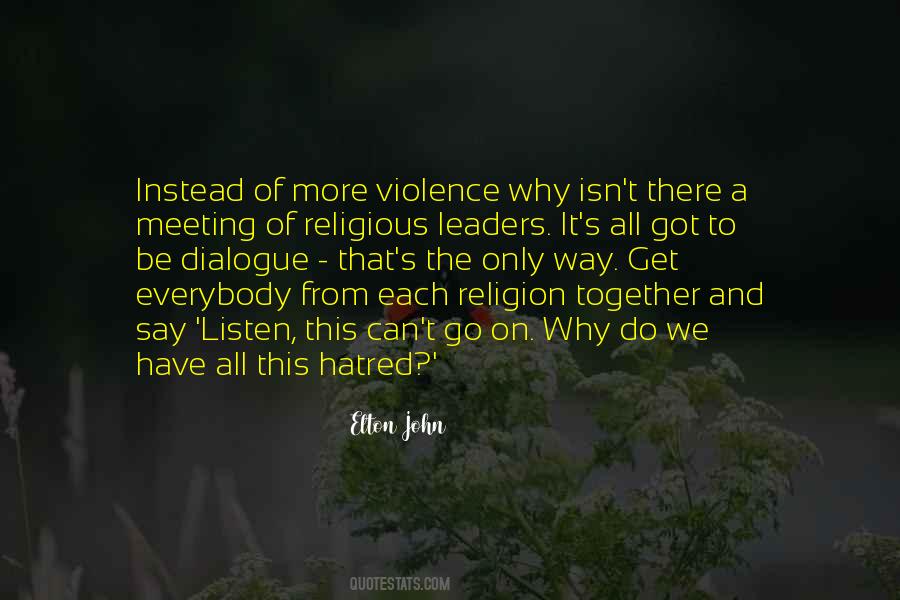 #25. The greatest power of freedom is to overcome hatred and violence, and turn the creative gifts of men and women to the pursuits of peace. - Author: George W. Bush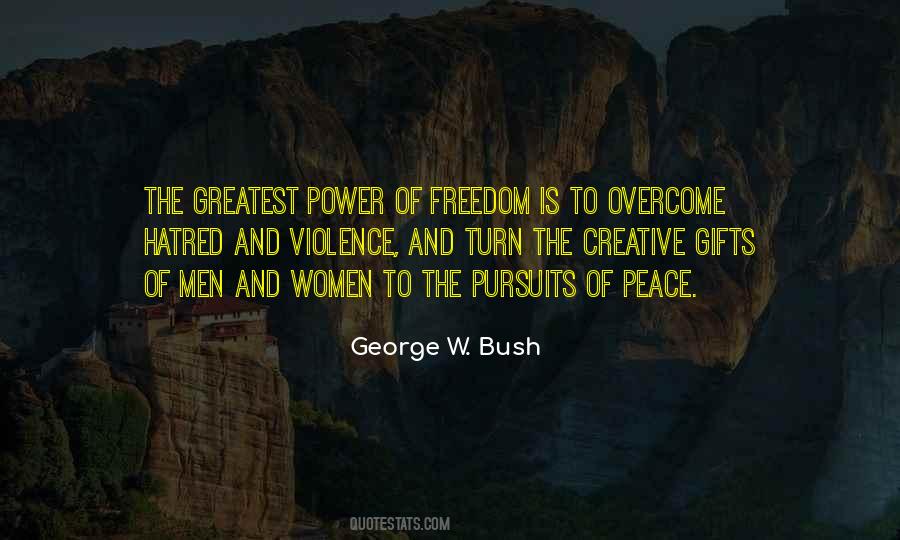 #26. 3. War Peace & Action -
3B.02 LOVE & PEACE
Hatred goes not by hatred,
Violence not by violence,
Disappear hatred and violence,
By love, understanding, non-violence.
[241] - 3B - Author: Munindra Misra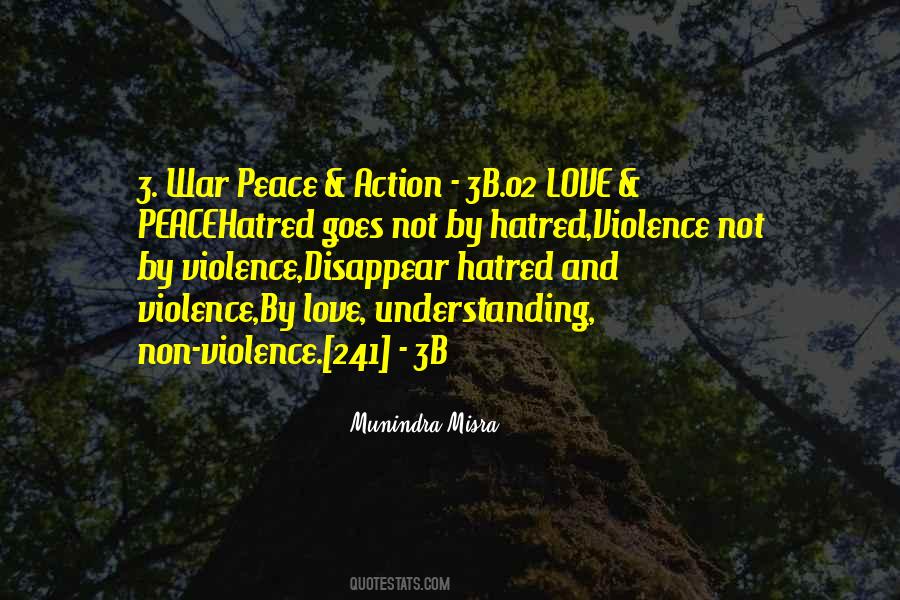 #27. In a world where the name of God is sometimes associated with vengeance and even a duty of hatred and violence, this message is both timely and significant. - Author: Pope John Paul II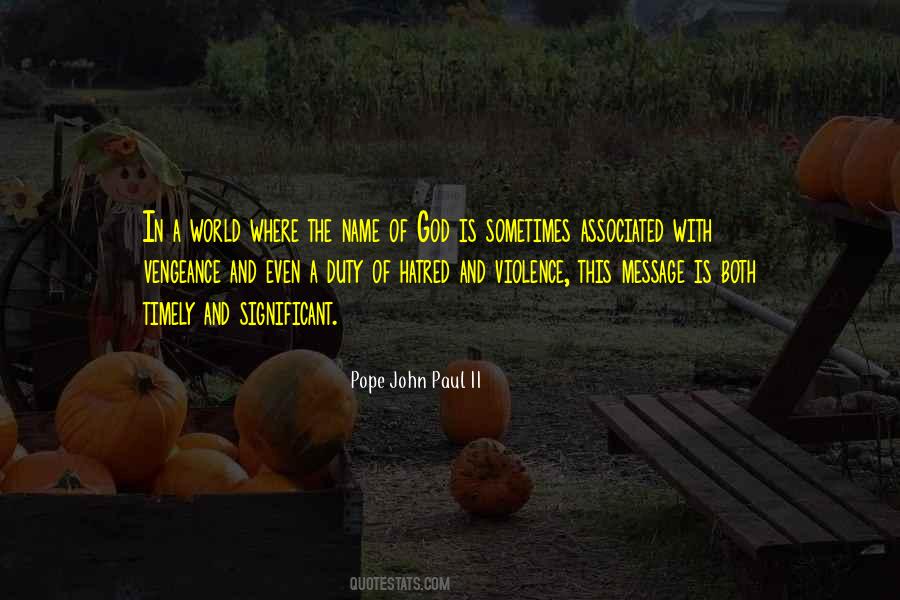 #28. And isn't love between two people better than hatred, in this world of violence and mourning? There seemed to me a fragile kindness in their love that survived through this poisonous war. Even though one of them hadn't. - Author: Jennifer Ryan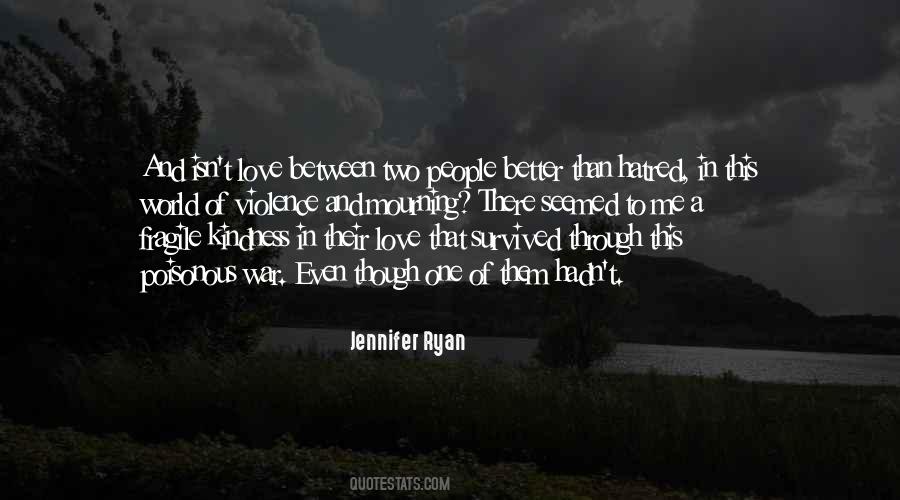 #29. Violence ravaged my life. I was a victim of hatred, and I have dedicated my life to reversing that hatred. - Author: Michelle Bachelet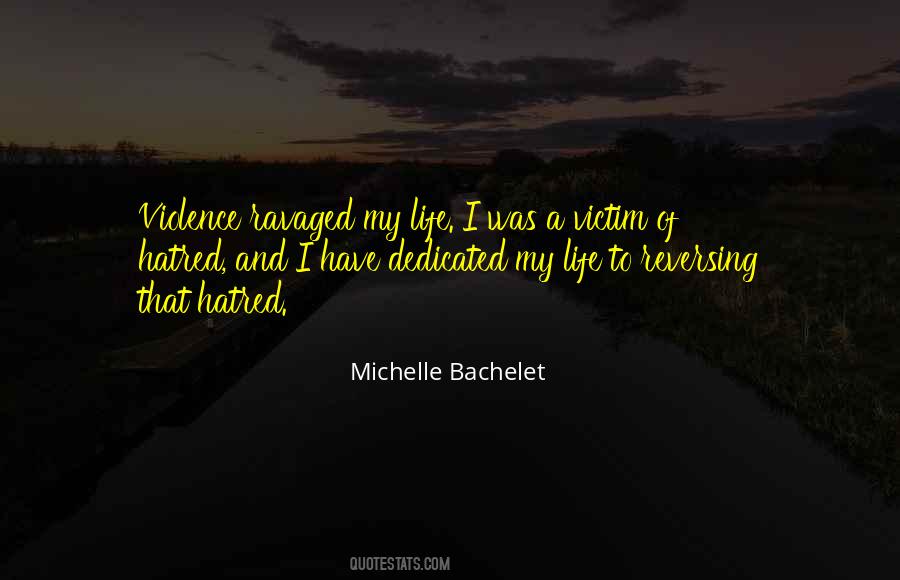 #30. No thanky-you; you can't overcome hatred with more hatred. Force can kill the liar but not the lie, the hater but not the hate, and the violent but not the violence. Hate begets hate, violence begets violence, and war begets war. - Author: Joss Sheldon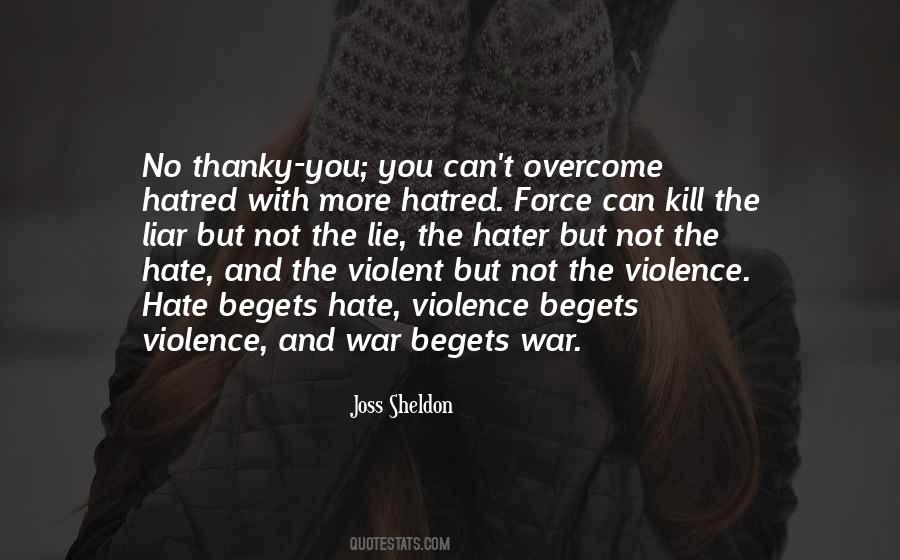 #31. We know that in the attempt to be freed of the enemy without, we can be tempted to feed the enemy within. To imitate the hatred and violence of tyrants and murderers is the best way to take their place. - Author: Pope Francis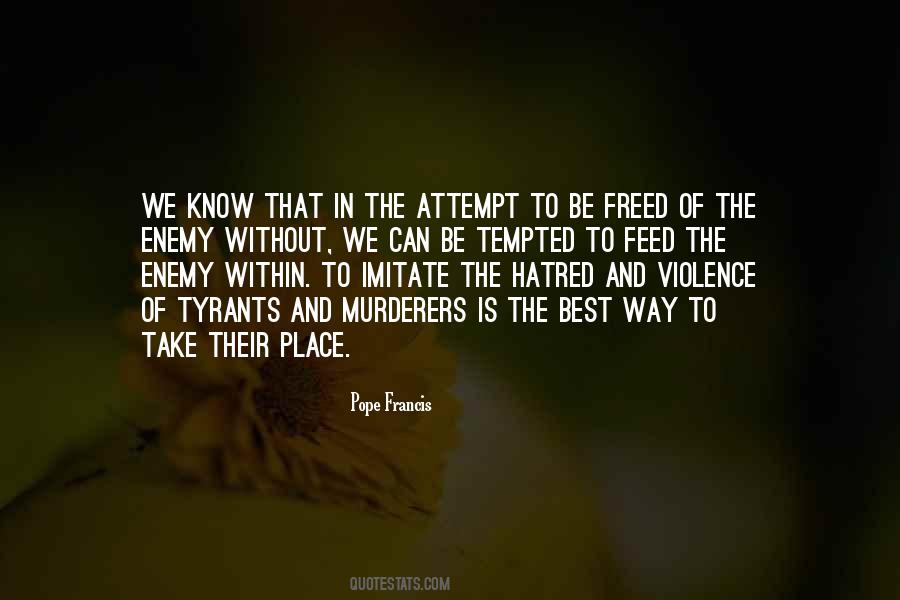 #32. In a world filled with violence, hatred, and suspicion, giving is an expression of faith, trust, and concern. - Author: Douglas A. Lawson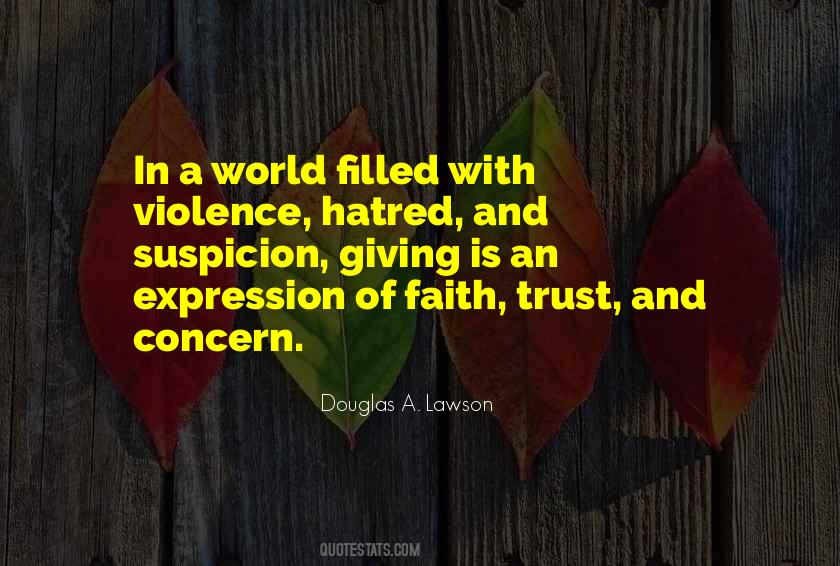 #33. A second way that oppressed people sometimes deal with oppression is to resort to physical violence and corroding hatred. - Author: Martin Luther King Jr.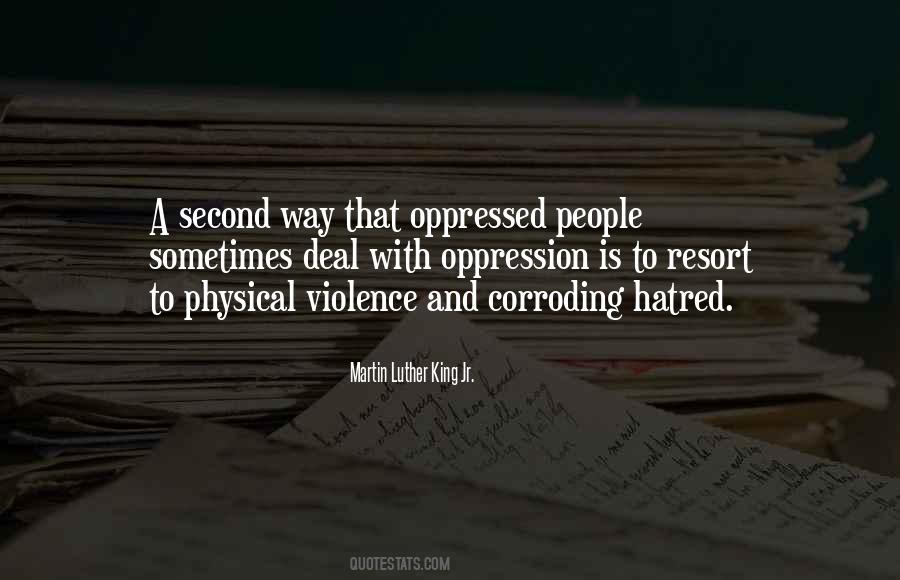 #34. When I recall my own path of life I cannot but speak of the violence, hatred and lies. A lesson drawn from such experiences, however, was that we can effectively oppose violence only if we ourselves do not resort to it. - Author: Lech Walesa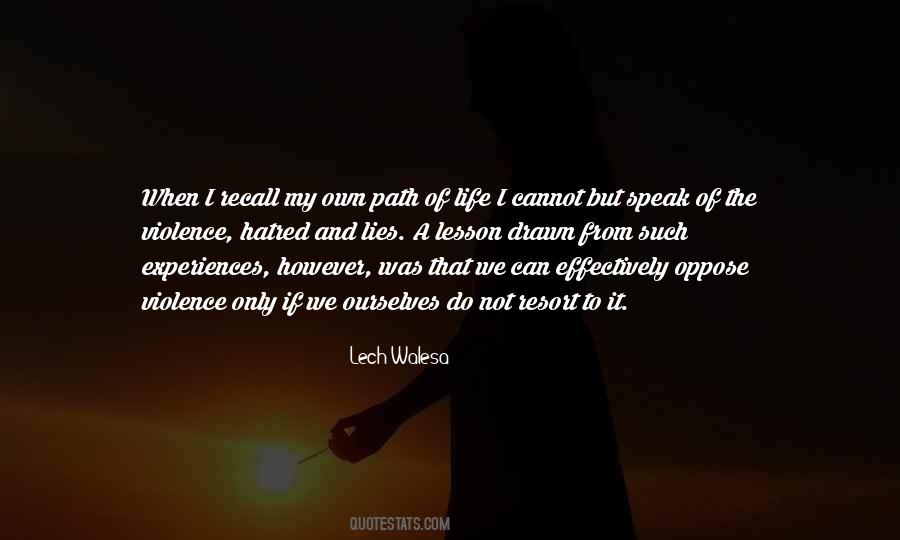 #35. Serious sport has nothing to do with fair play. It is bound up with hatred, jealousy, boastfulness, disregard of all rules and sadistic pleasure in witnessing violence. In other words, it is war minus the shooting.
(in "The Sporting Spirit", Tribune, GB, London, December 1945) - Author: George Orwell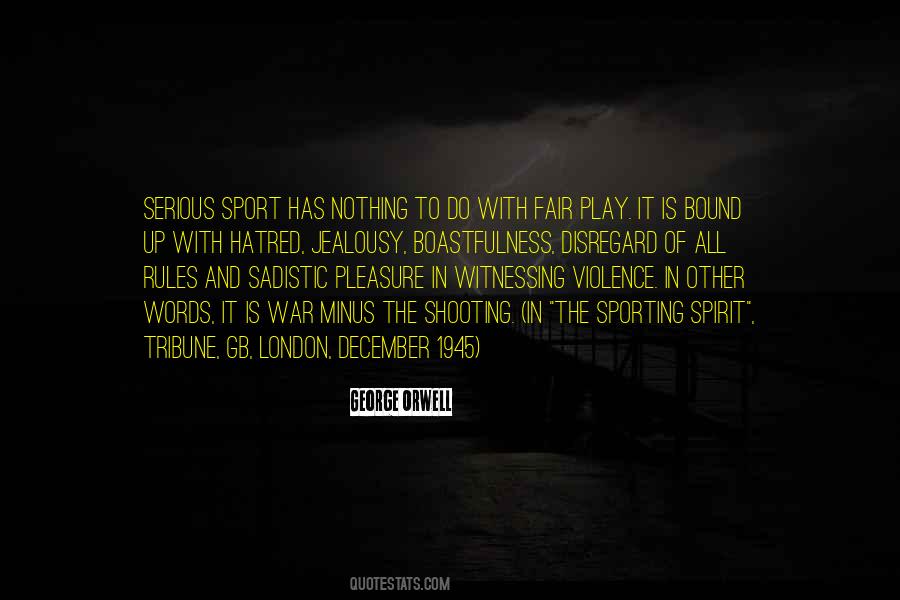 #36. Violence is immoral because it thrives on hatred rather than love. It destroys community and makes brotherhood impossible. It leaves society in monologue rather than dialogue. Violence ends up defeating itself. It creates bitterness in the survivors and brutality in the destroyers. - Author: Martin Luther King Jr.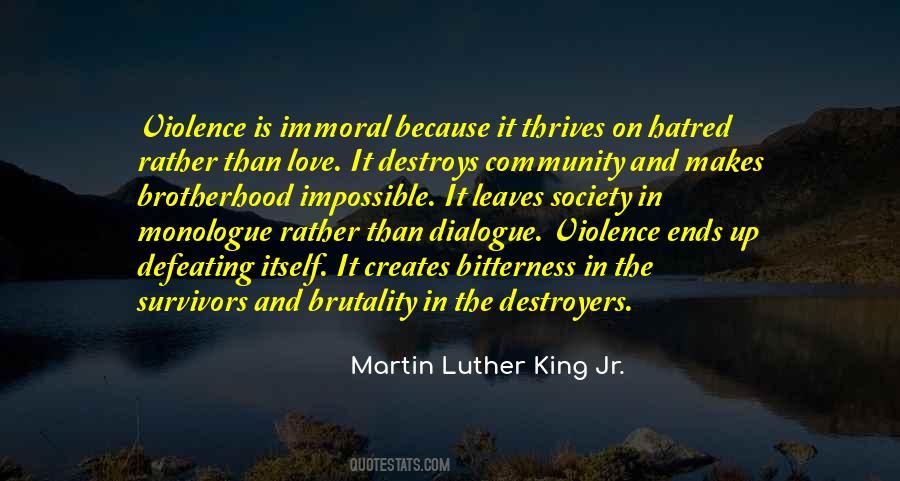 #37. The shackles and the chains, the violence and aggression, the pettiness and scorn, the jealousy and hatred, the tempest and discord. - Author: Joe Walsh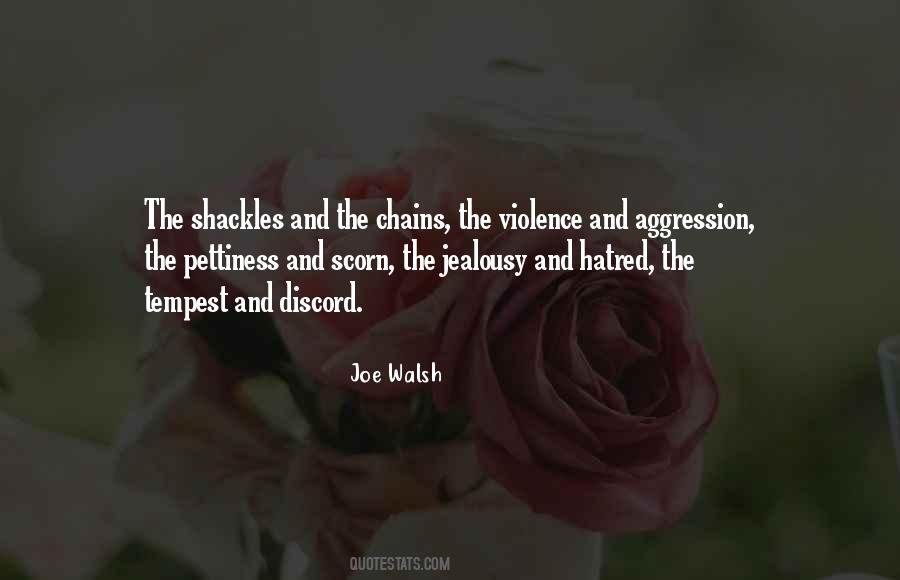 #38. I finally understood what could drive kids to show up with guns and shoot up their schools. - Author: Nenia Campbell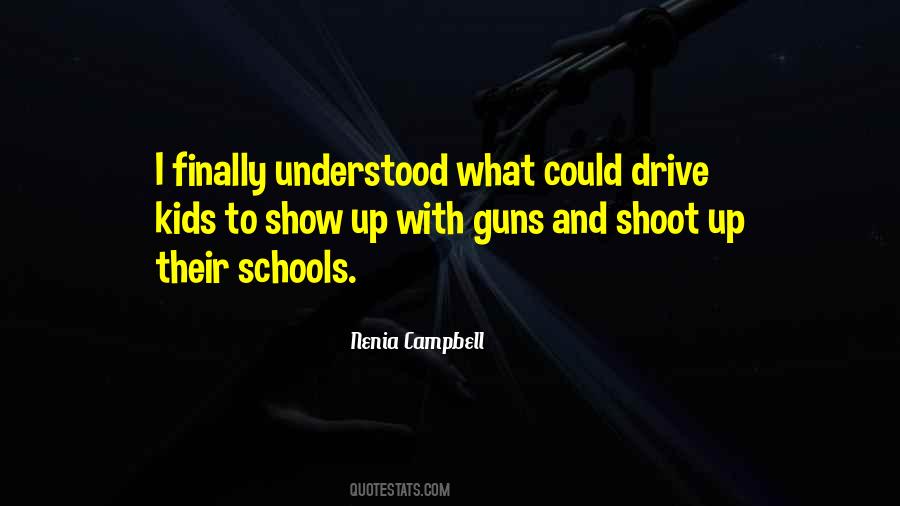 #39. Religious fanaticism and hatred are a world-devouring fire, whose violence none can quench. - Author: Baha'u'llah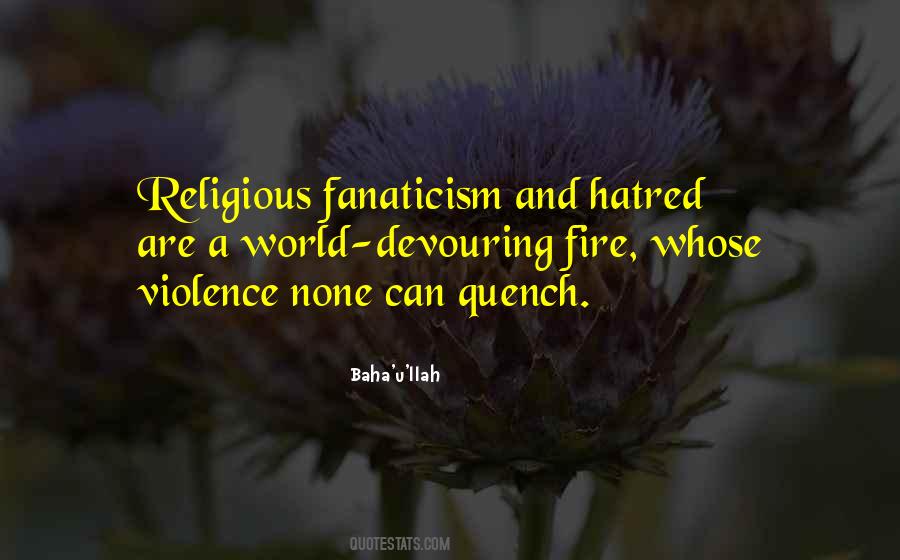 #40. Not everyone is violent in a violence infected country or society. In those countries and societies many parents unknowingly teach their children hatred and violence. - Author: Debasish Mridha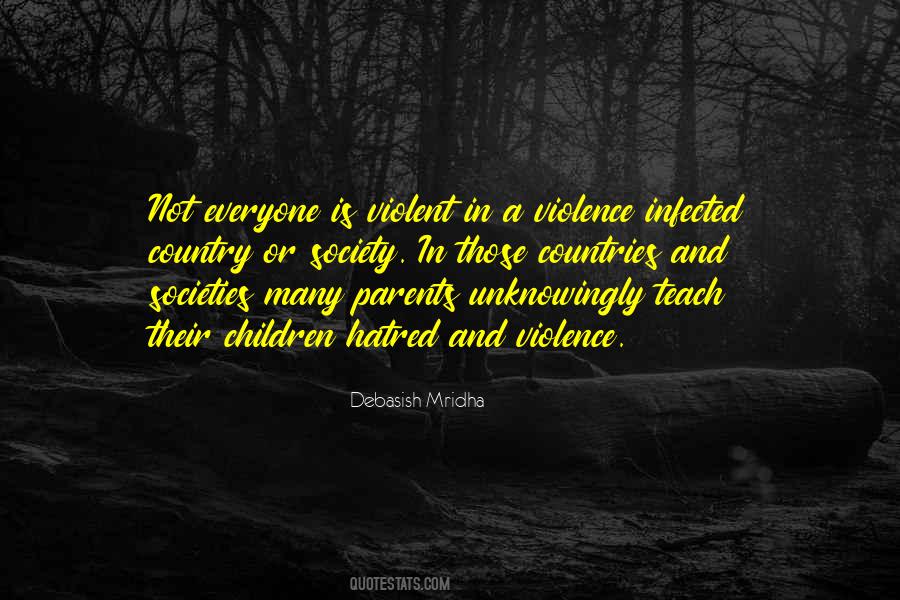 #41. Where was the lecture on how slavery alone catapulted the whole country from agriculture into the industrial age in two decades? White folks' hatred, their violence, was the gasoline that kept the profit motors running. - Author: Toni Morrison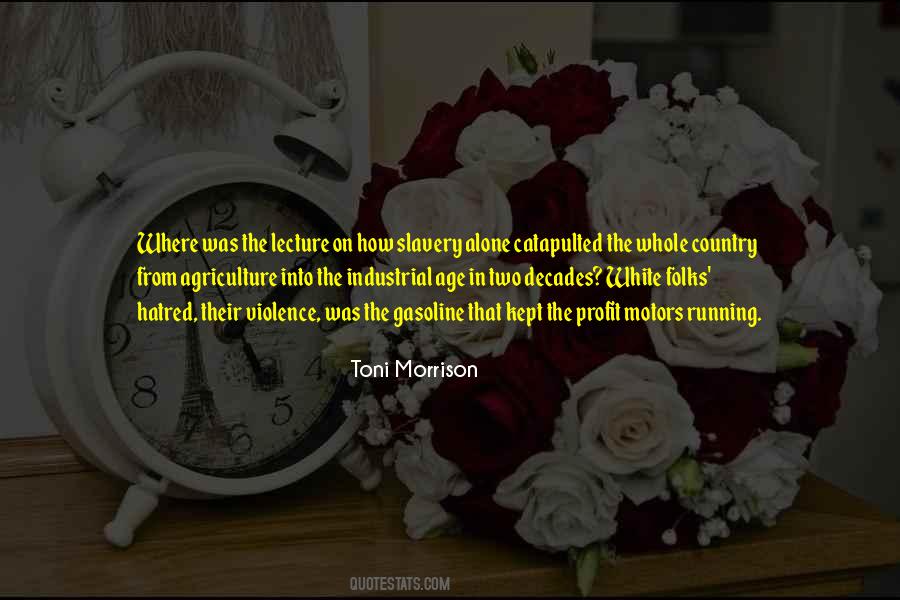 #42. What we thrive on is hatred and violence; if we were a peaceable people we would have peace tomorrow. - Author: Henry Miller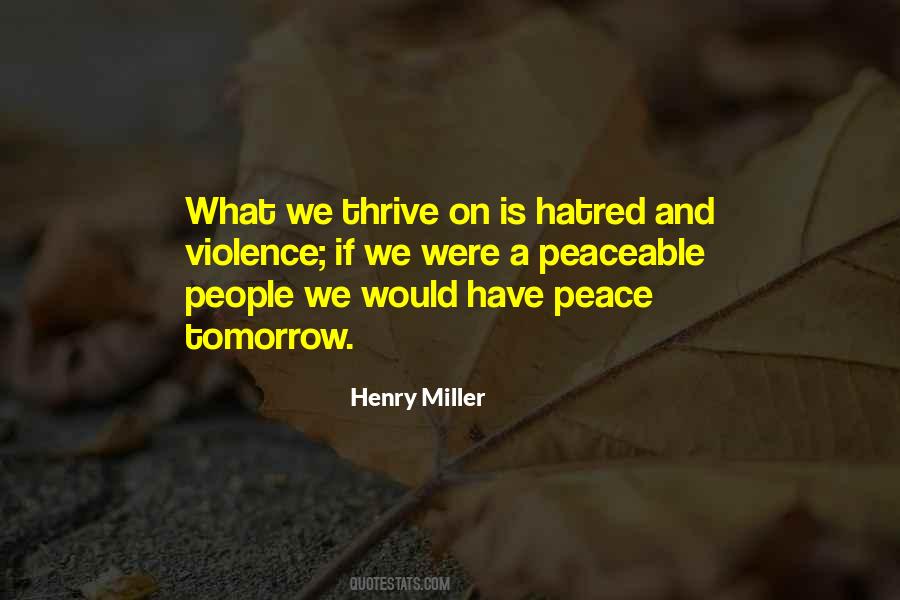 #43. You can never destroy the barbarian culture of hatred, violence, and death by killing barbarians. You have to destroy the philosophy that makes them barbarian. - Author: Debasish Mridha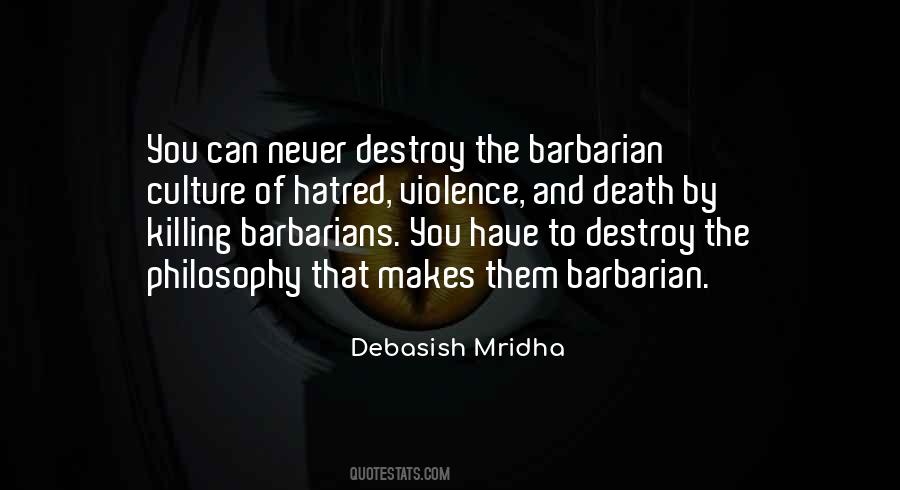 #44. The two brothers looked so alike now and their faces seemed to ripple under the weight of powerful emotions. Hatred, love, violence and fear. The crowd stepped back to form a circle, as though they might be caught between falling buildings. - Author: Peadar O'Guilin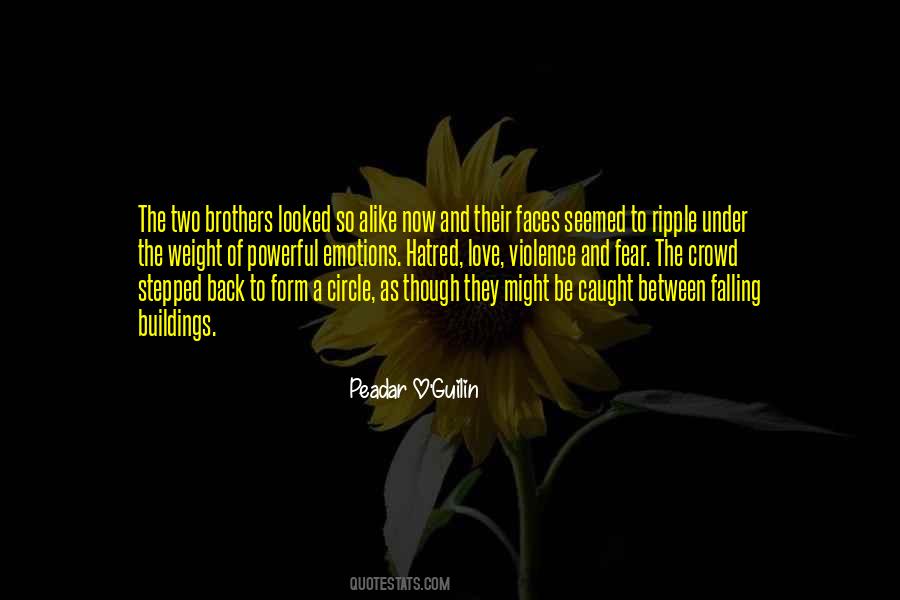 #45. I interviewed dozens and dozens of African women who had endured more hardship and trauma than most Westerners even read about, and they ploughed on. I often openly cried during interviews, unable to process this violence and hatred towards women I was witnessing. - Author: Lynsey Addario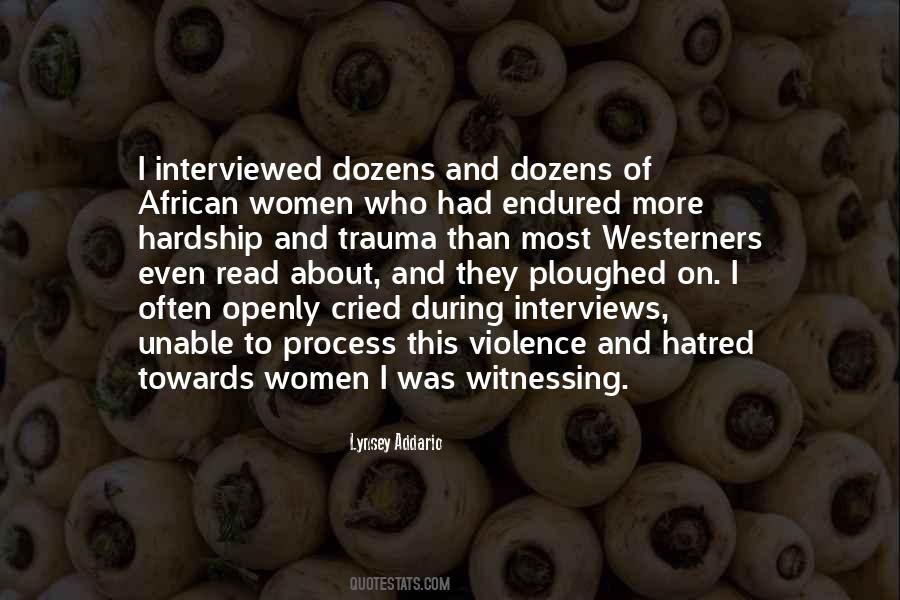 #46. I am a fascist, not a racist. I give the straight arm salute because it is a salute from a 'camerata' to 'camerati'. The salute is aimed at my people. With the straight arm I don't want to incite violence and certainly not racial hatred. - Author: Paolo Di Canio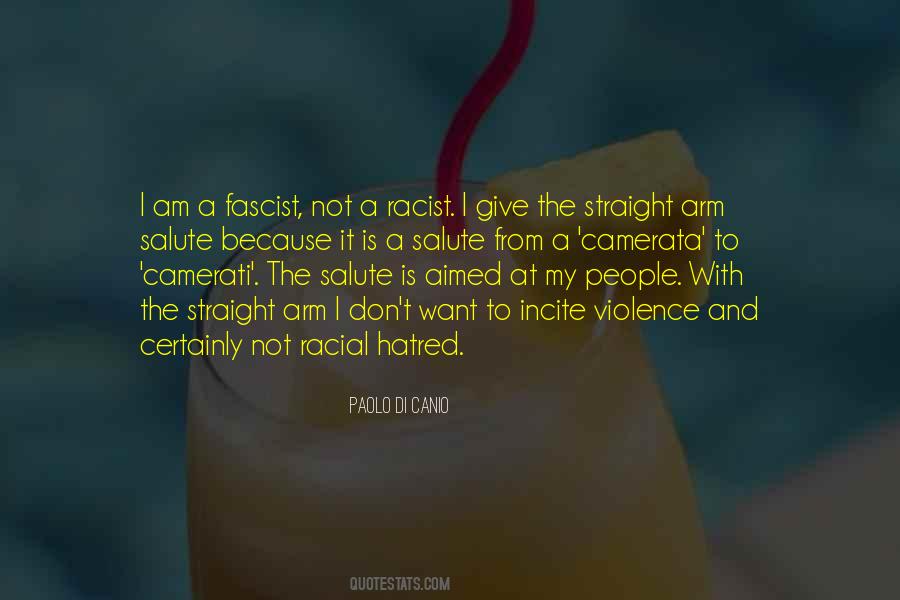 #47. The problem with hatred and violence is that they intensity the fears of the white majority, and leave them less ashamed of their prejudices toward Negroes. - Author: Martin Luther King Jr.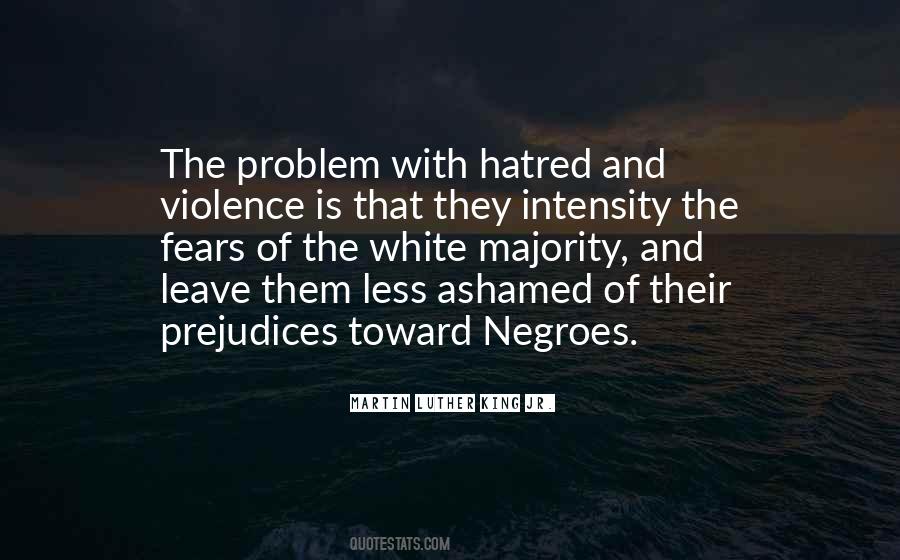 #48. [Football] has nothing to do with fair play. It is bound up with hatred, jealousy, boastfulness, disregard of all rules and sadistic pleasure in witnessing violence: in other words it is war minus the shooting. - Author: George Orwell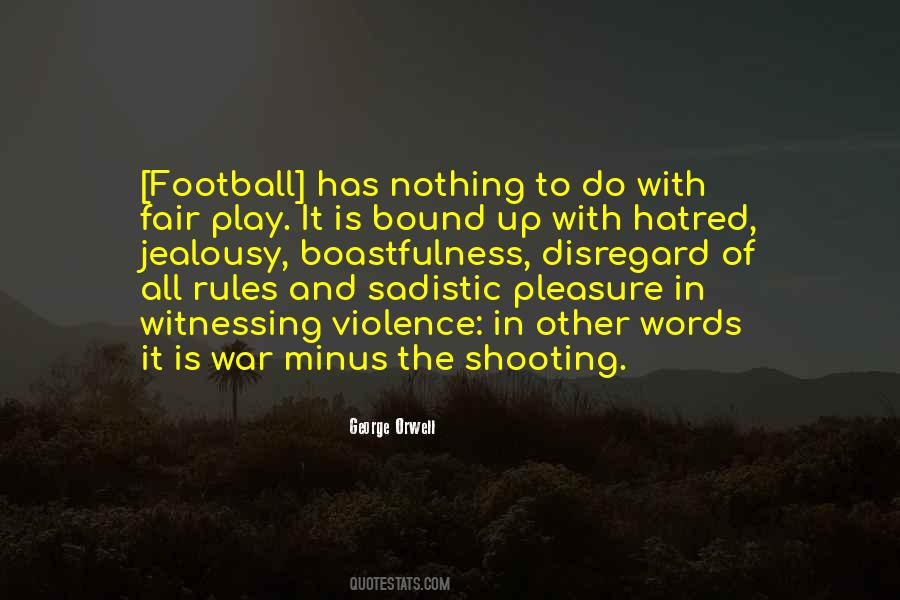 #49. Truth must be integrated with love; morality is not whole without it. Love is the greatest strength of the powerless. Unity founded on love will never be coercion; power guided by love will never be violence. Love is all-powerful and will even overcome hatred. And only love can do this! - Author: Vaclav Havel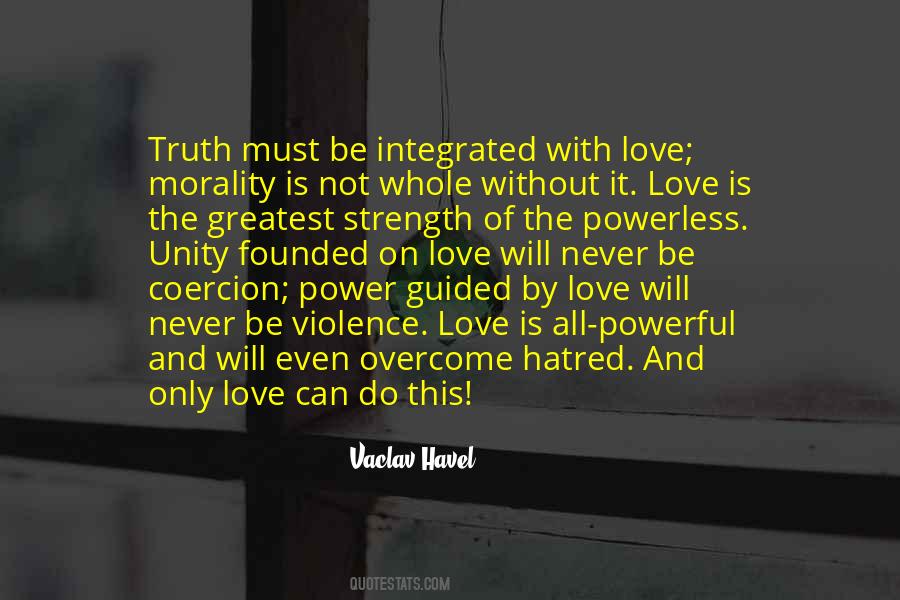 #50. We may win a battle, but if in doing so we have planted thousands of seeds of hatred and fear..the war is not over- only the present conflict has ceased. There will be no peace as long as we react to violence with violence. - Author: Martin Luther King Jr.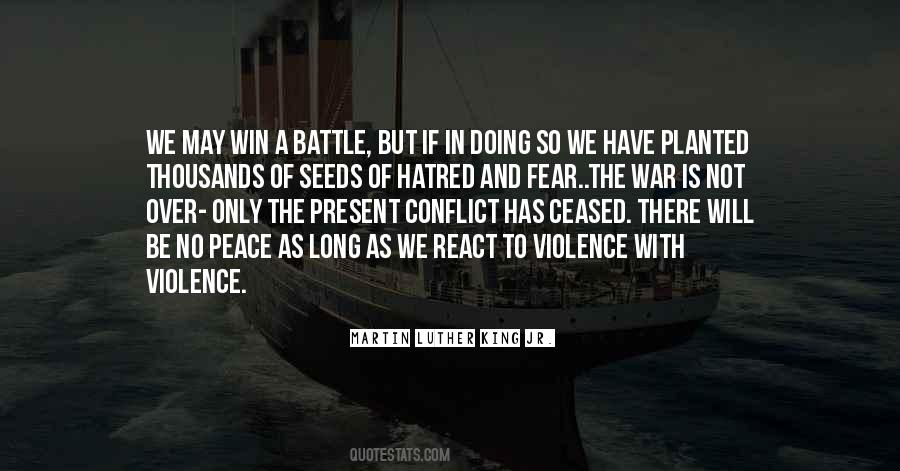 #51. So dry your tears. Fortune has not yet turned her hatred against all your blessings. The storm has not yet broken upon you with too much violence. Your anchors are holding firm and they permit you both comfort in the present, and hope in the future. - Author: Boethius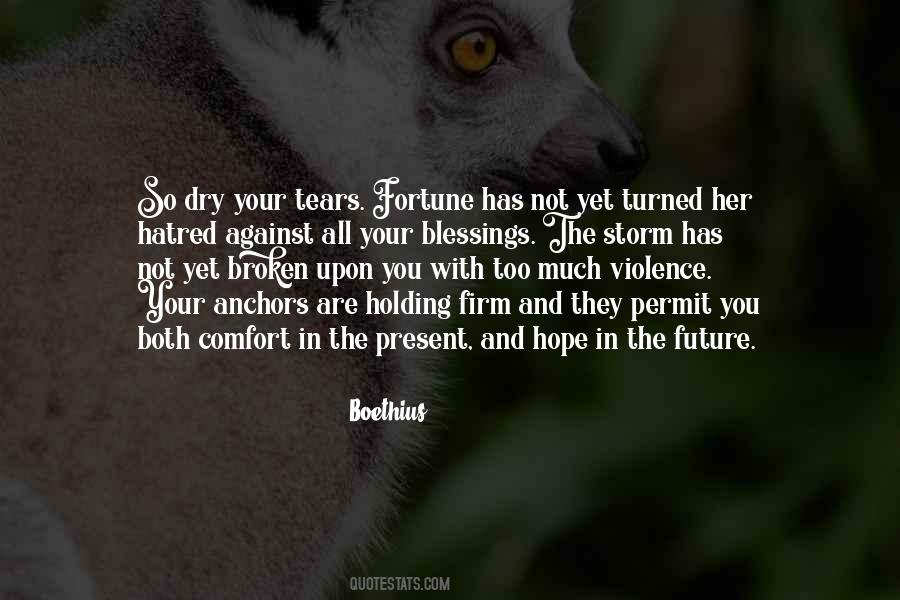 #52. War, hatred, and violence all spring from one infernal idea: that one person, race, creed, or culture is better than another. - Author: Laurence Overmire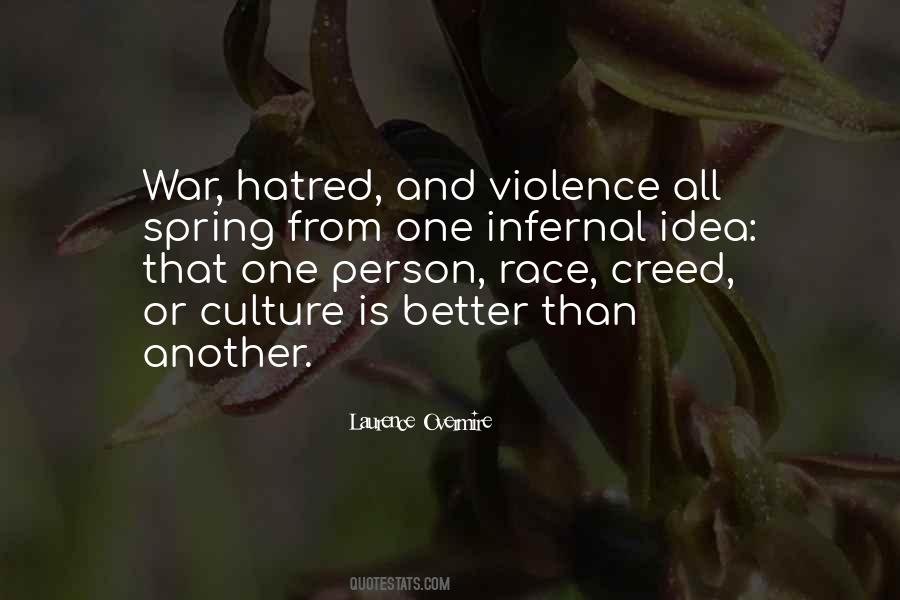 #53. You can't write about the past and ignore religion. It was such a fundamental, mind-shaping, driving force for pre-modern societies. I'm very interested in what religion does to us - its capacity to create love and empathy or hatred and violence. - Author: Geraldine Brooks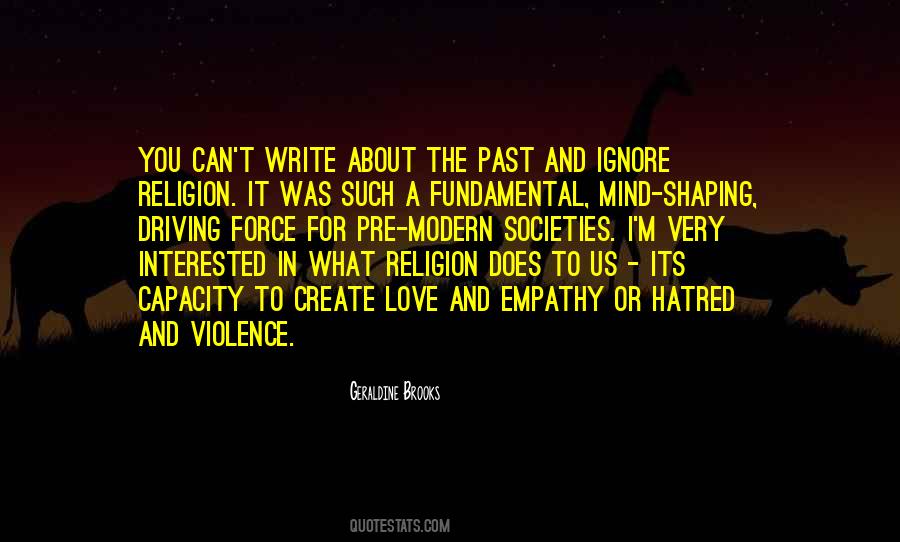 #54. Love soothes wounds, while hatred and violence deepen them. - Author: Willie Stargell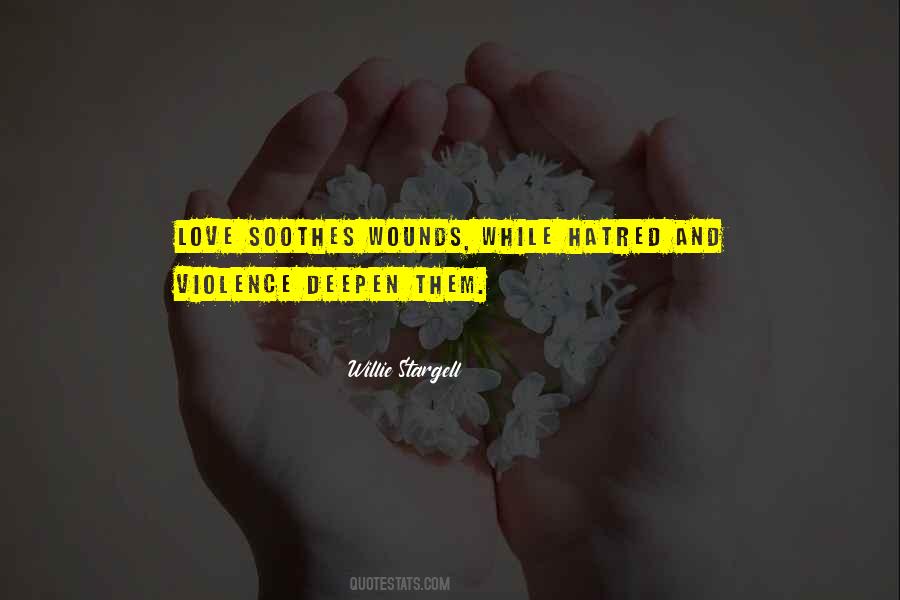 #55. Once one assumes an attitude of intolerance, there is no knowing where it will take one. Intolerance, someone has said, is violence to the intellect and hatred is violence to the heart. - Author: Mahatma Gandhi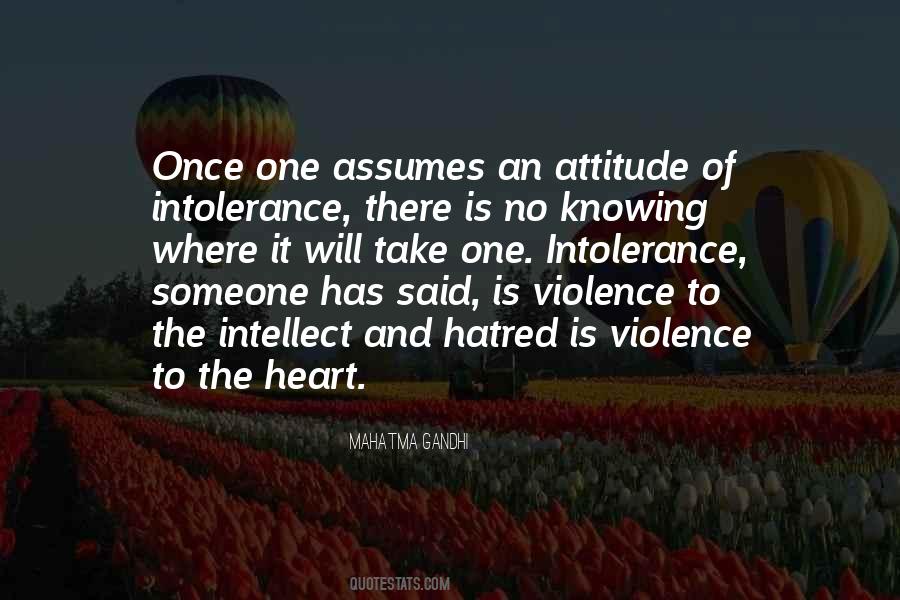 #56. At a time when everything seems so out of control and the people you've elected are bogus and there's so much random violence and hatred, it fills you with such hope and admiration to even be part for a short time in a community where people have connected to strangers to try to put out a hand. - Author: Susan Sarandon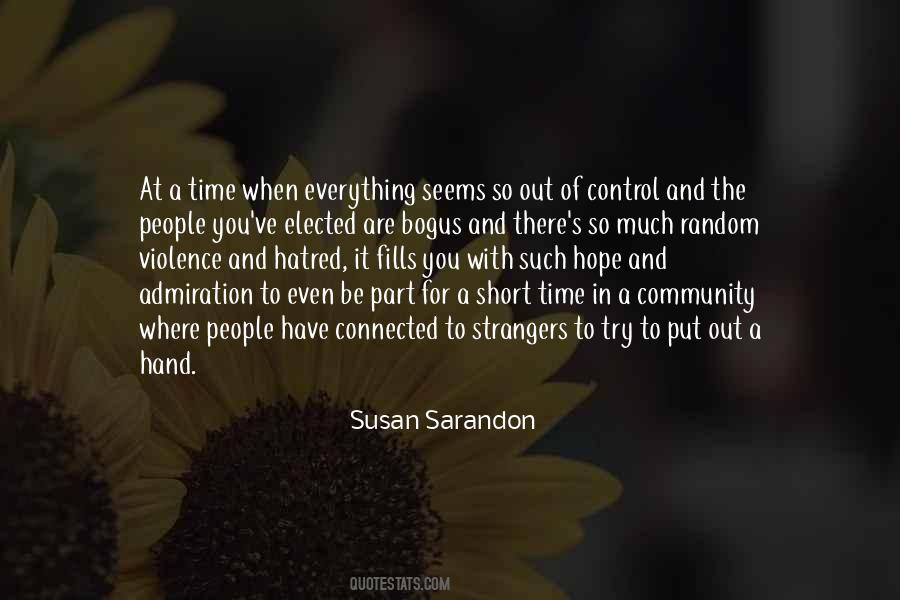 #57. When a nation becomes obsessed with the guns of war, it loses its social perspective ... There is something about a war like this that makes people insensitive. It dulls the conscience. It strengthens the forces of reaction, and it brings into being bitterness and hatred and violence. - Author: Martin Luther King Jr.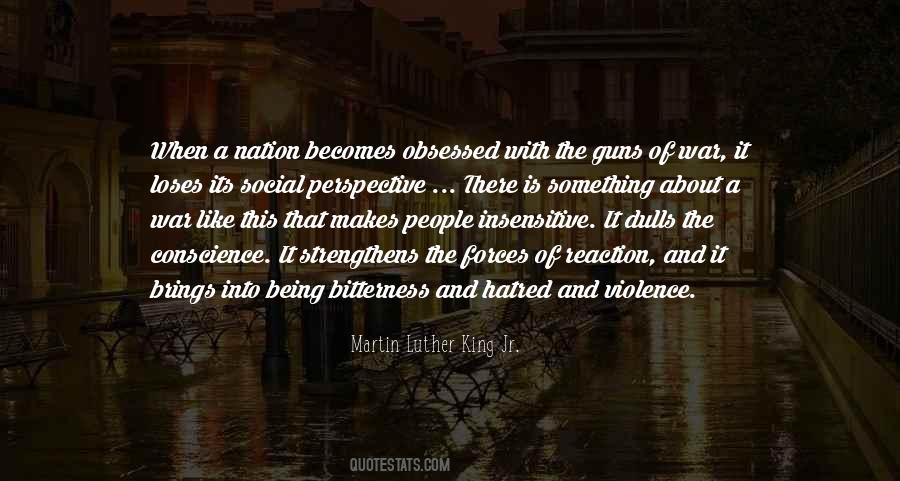 #58. It's not easy to be optimistic and hopeful after you come to know and love some of the young victims of sexual abuse, violence, poverty, neglect, drugs, and rape. It's taking me a while to climb out of this hatred, this noxious cynicism. I'm doing my best. - Author: M.T. Johnson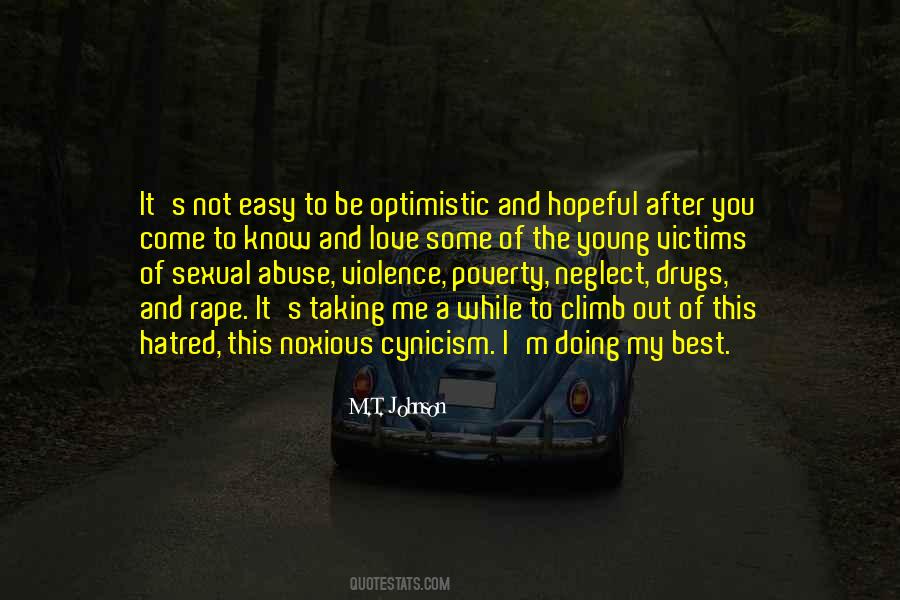 #59. I know that in my family there are histories of violence that are internal family things and that are oftentimes dealt with internally. By internally, I mean inside the family group, but also partly inside ourselves. You know, self-hatred and hostility and rage and this cycle that won't break. - Author: Kara Walker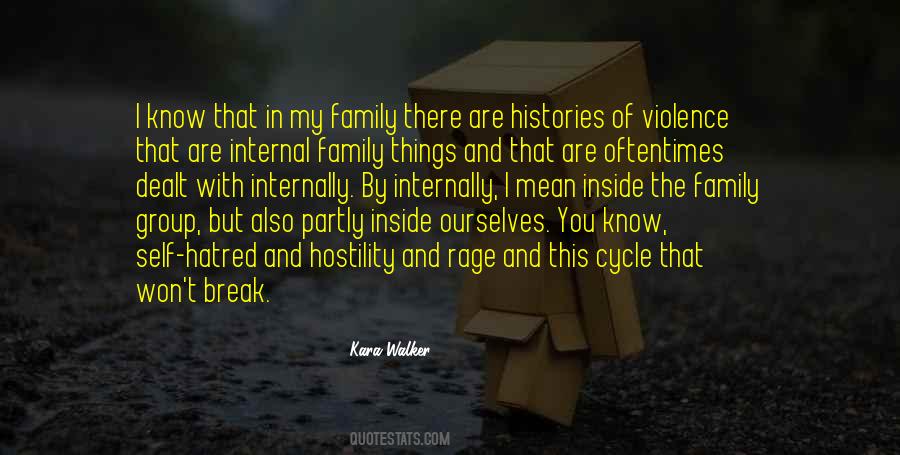 #60. Most Pagans are in agreement, treat yourself, others, animals and nature with respect. Just like many other religions the Pagan belief system often incorporates a desire to be a good person, kind, and understanding. There is no spread of hatred or violence. - Author: Ginger Valentine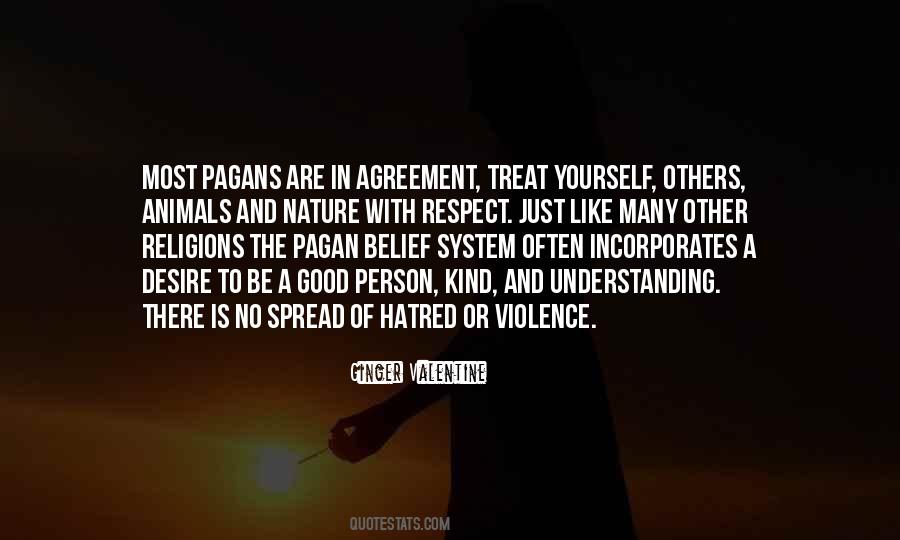 #61. Islam does not preach hatred and violence and destruction. - Author: Chris Hayes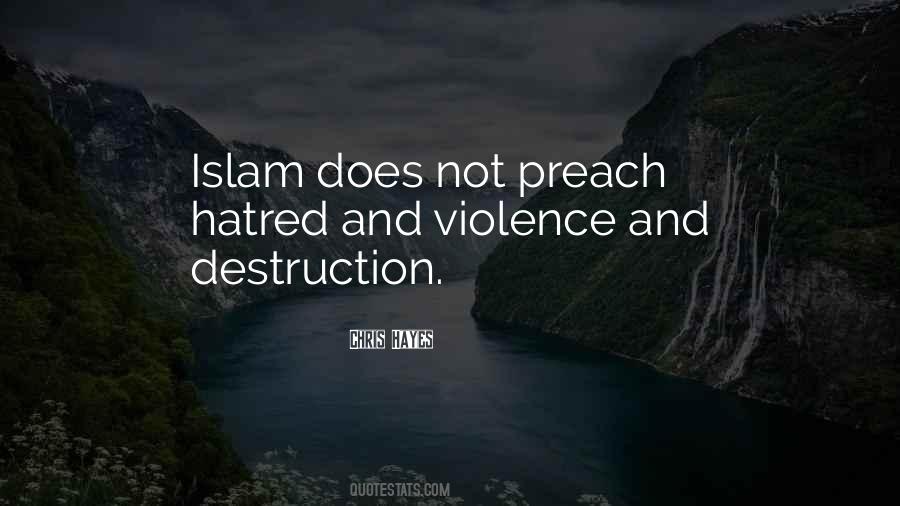 #62. Opting for peace does not mean a passive acquiescence to evil or compromise of principle. It demands an active struggle against hatred, oppression and disunity, but not by using methods of violence. Building peace requires creative and courageous action - Author: Pope John Paul II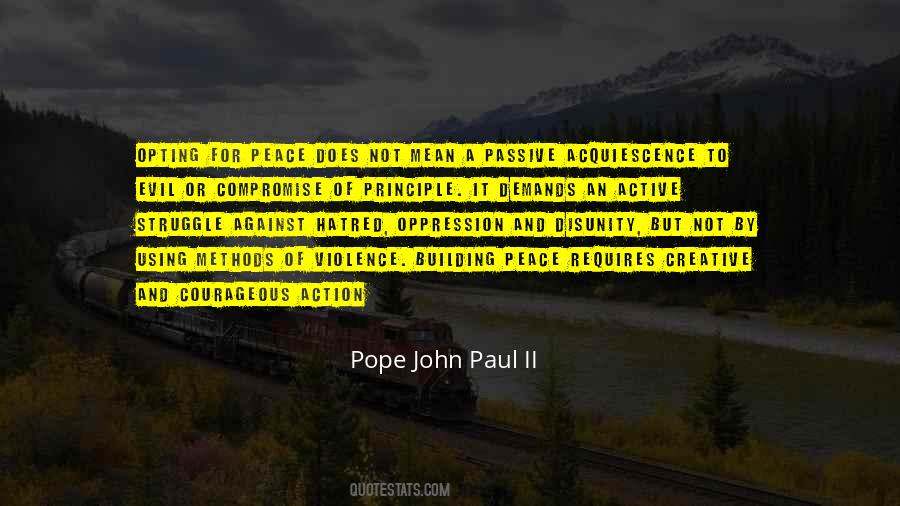 #63. My heart longs for the day when there will be no more suffering, no more hatred or violence, only love and a child will be able to grow up in a world without ever having to know the pain and anguish of an empty belly. - Author: Heather Wolf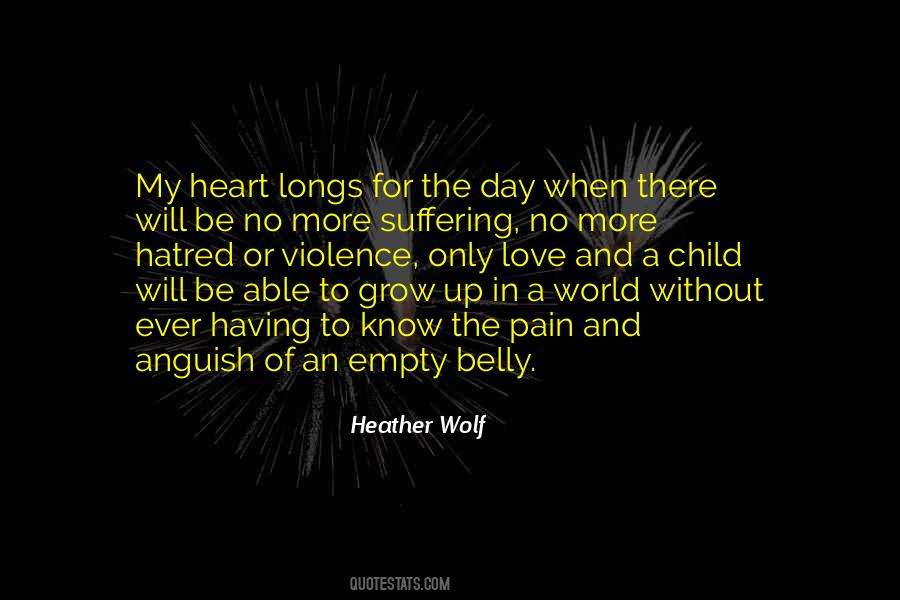 #64. The suffering and the quarreling in a family don't begin with unkindness, they begin with one person's pain and stress. - Author: Thich Nhat Hanh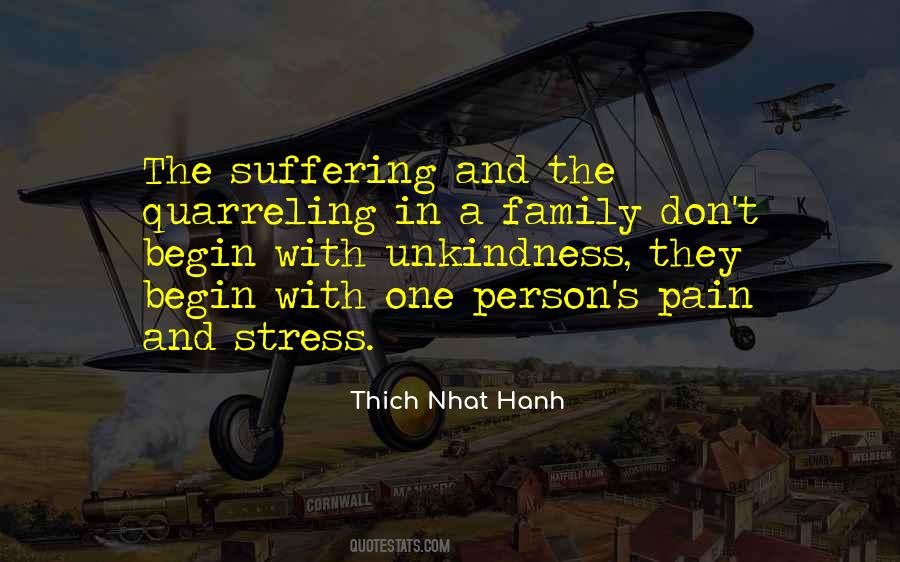 #65. Wars such as those which have occurred in Iraq only allow hatred, violence and terror to proliferate. - Author: Jose Luis Rodriguez Zapatero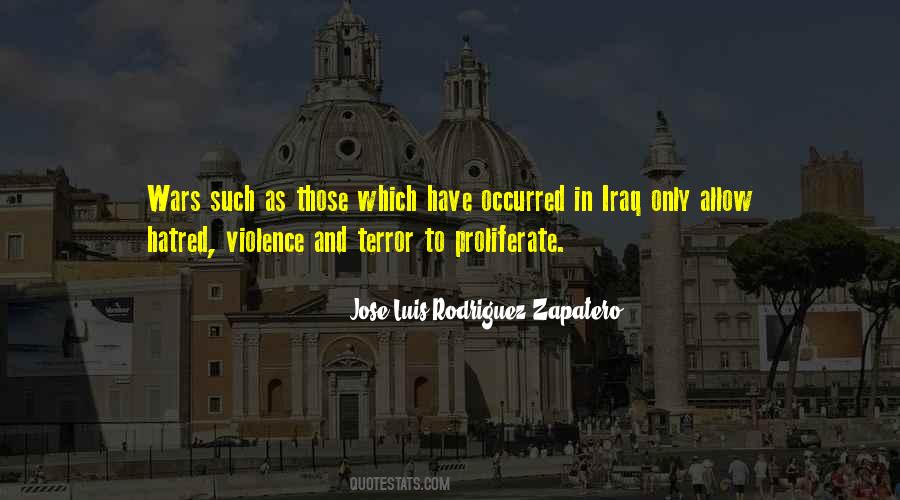 #66. There is a certain kind of dignity we admire, and to which we aspire, in the person who refuses to meet anger with anger, violence with violence, or hatred with hatred. - Author: Desmond Tutu
#67. There is enough treachery, hatred violence absurdity in the average
human being to supply any given army on any given day and the best at murder are those who preach against it
and the best at hate are those who preach love and the best at war finally are those who preach peace - Author: Charles Bukowski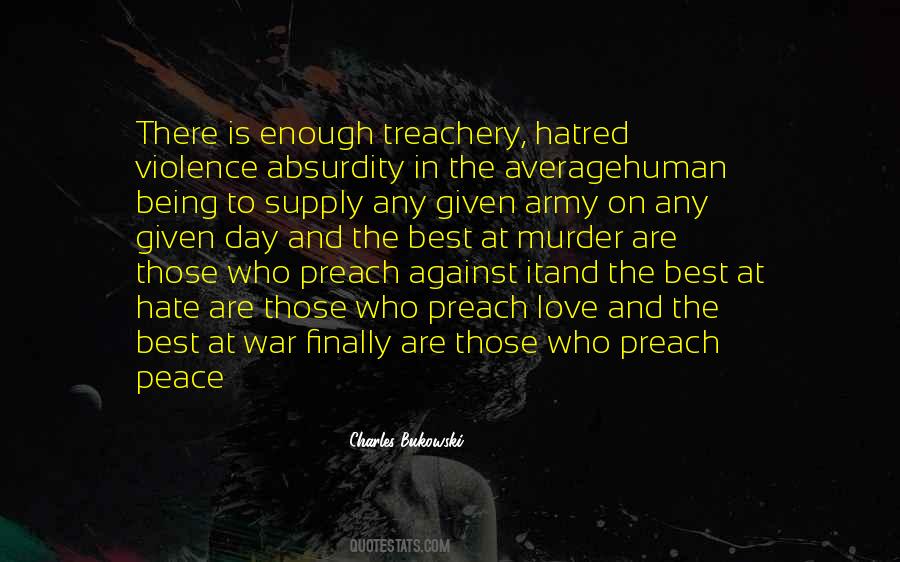 #68. Hate springs from fear. Violence is released hatred. Behind every hateful crime and act of human brutality is an admission of fearfulness. - Author: Kilroy J. Oldster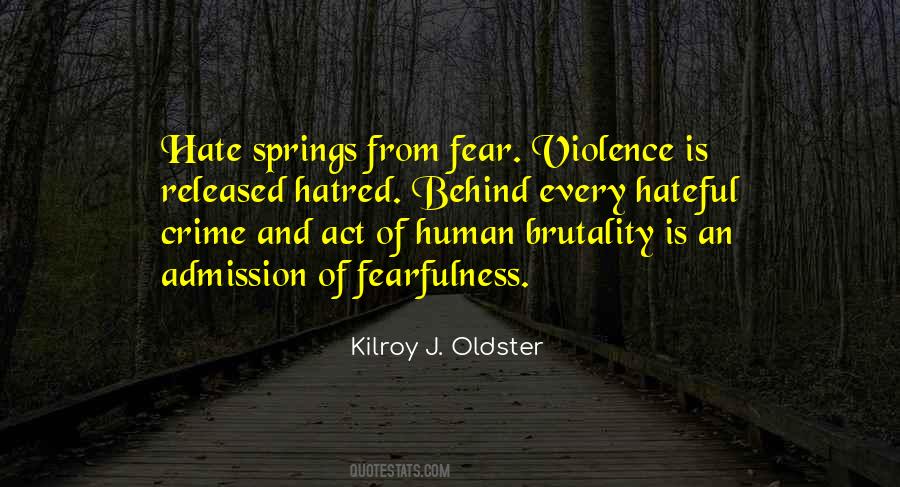 #69. America and its allies are engaged in a war against a terrorist movement that spans all corners of the globe. It is sparked by radical ideologues that breed hatred, oppression, and violence against all of their declared enemies. - Author: Kenny Marchant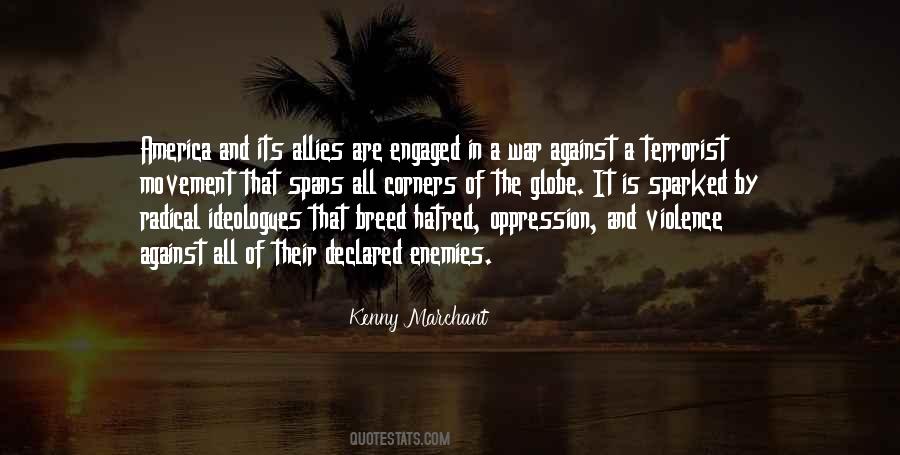 #70. There is a corner in every human heart made to be filled with hatred, fear, and violence. It is our common curse. - Author: William Rivers Pitt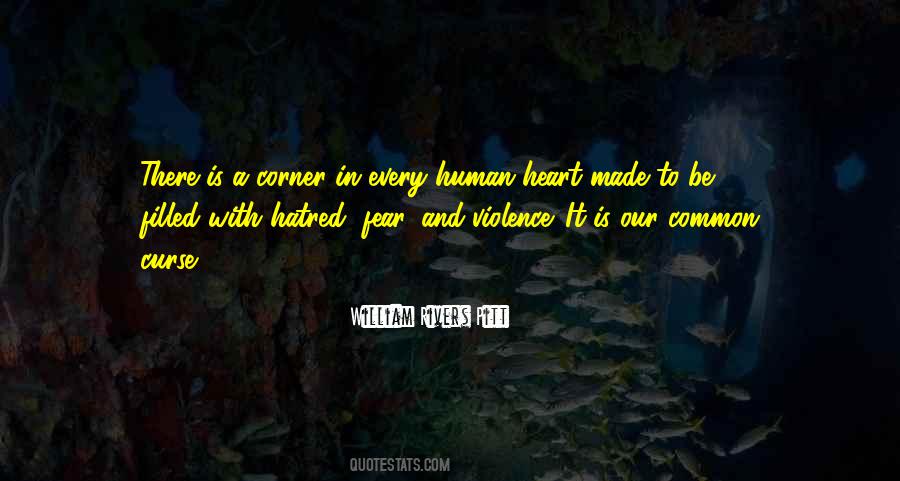 #71. Hatred, intolerance, poor hygienic conditions and violence all have roots in illiteracy, so we're trying to do something to help the poor and the needy. - Author: Abdul Qadeer Khan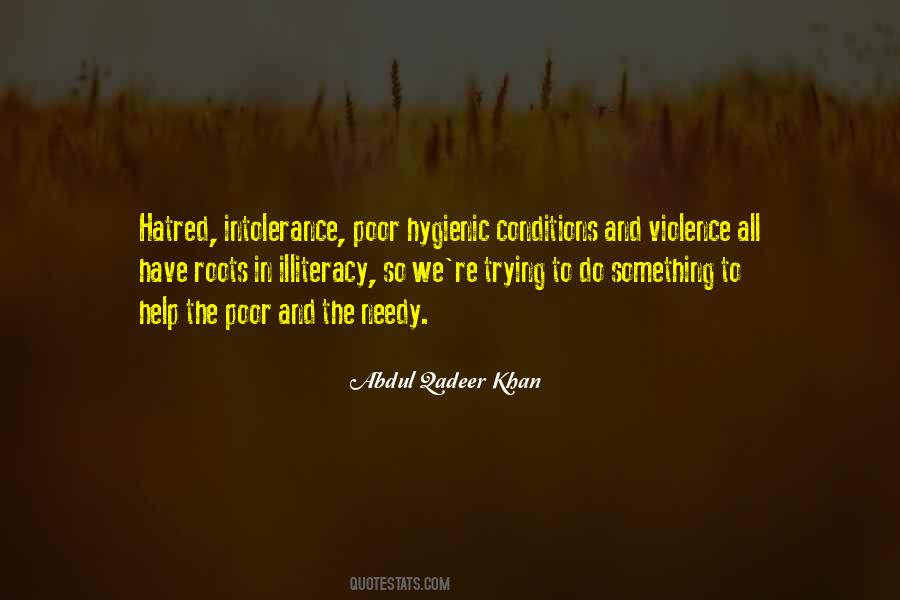 #72. The true cause of hatred and violence is faith versus faith, an outward expression of the ancient instinct of tribalism. - Author: Edward O. Wilson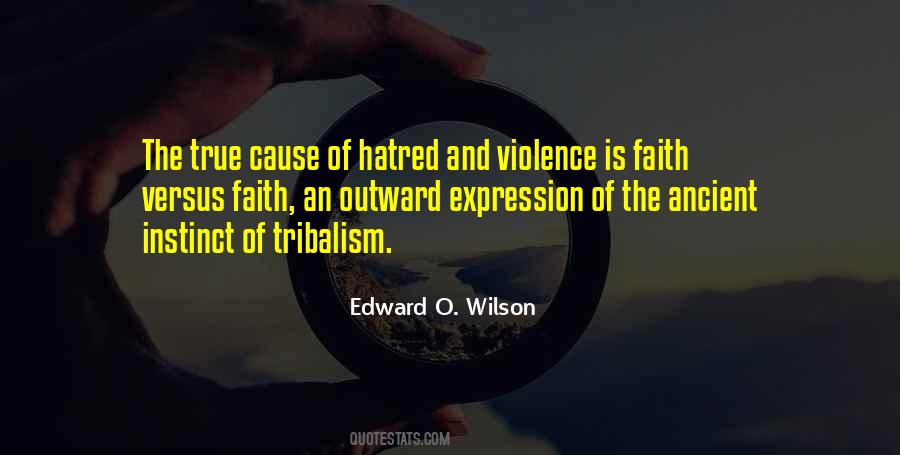 #73. The only struggle which religions can justify, the only struggle worthy of humans, is the moral struggle against humanity's own disordered passions, against every kind of selfishness, against attempts to oppress others, against every type of hatred and violence. - Author: Pope John Paul II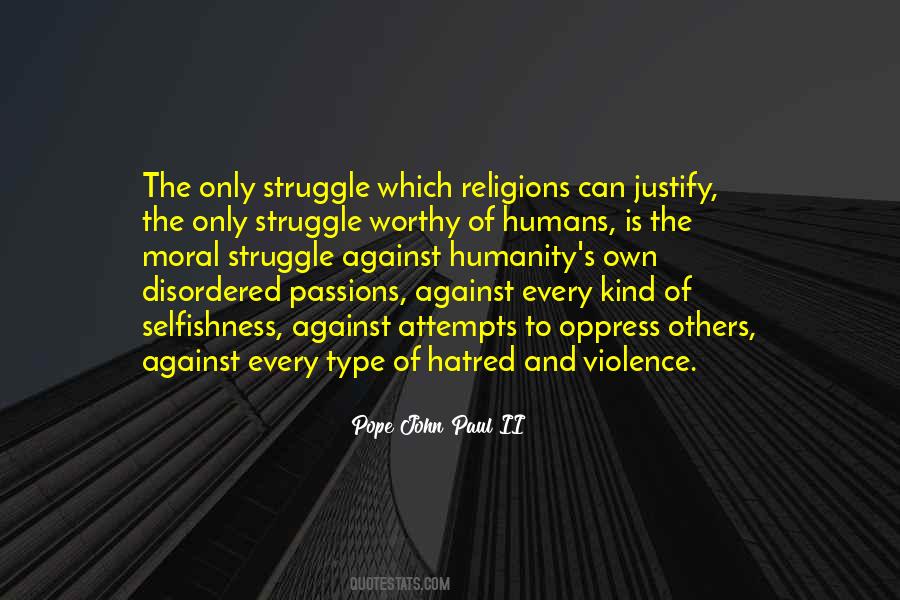 #74. See how it's a philosophy that's been handed to you by a bunch of men who were afraid. So instead, they overcompensate with hatred and violence and repression. - Author: Frederick Lenz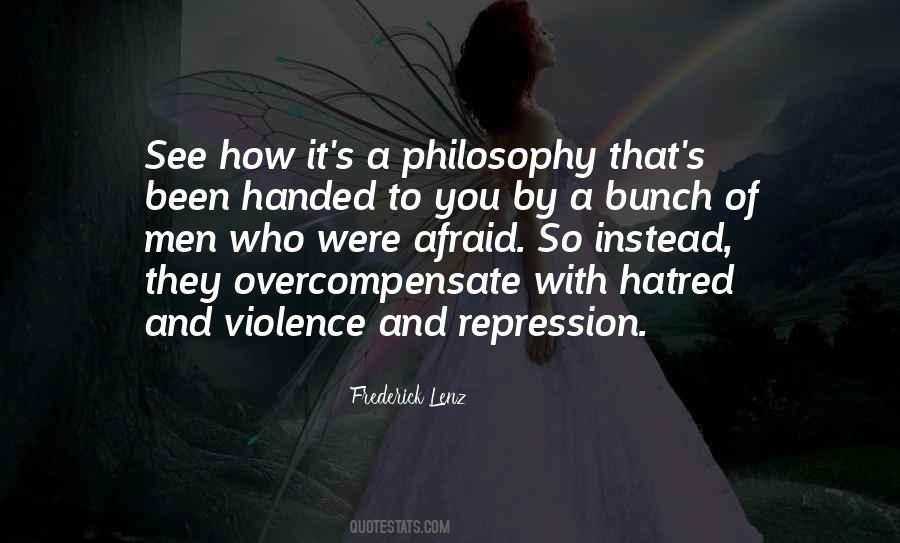 #75. Islam teaches tolerance, not hatred; universal brotherhood, not enmity; peace, and not violence. - Author: Parwez Musharraf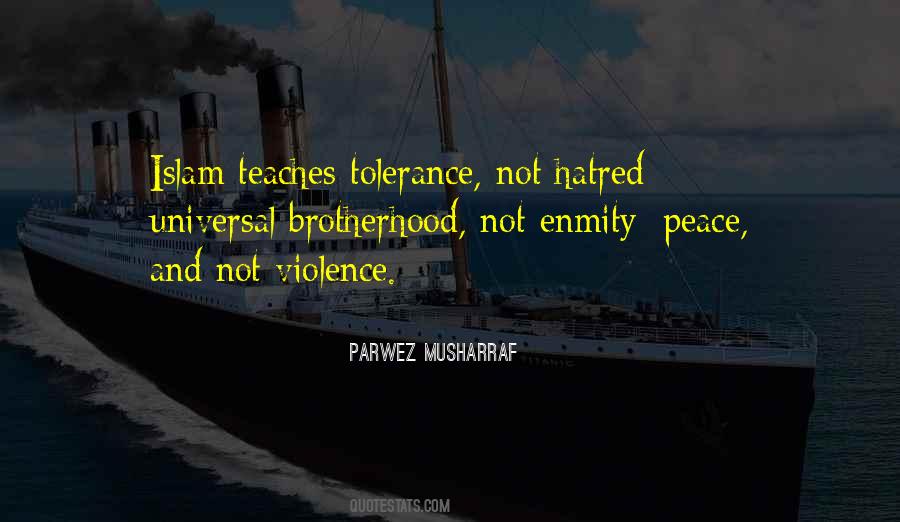 #76. intelligence, its tenets those of division, regression, hatred, violence and persecution. In - Author: Stefan Zweig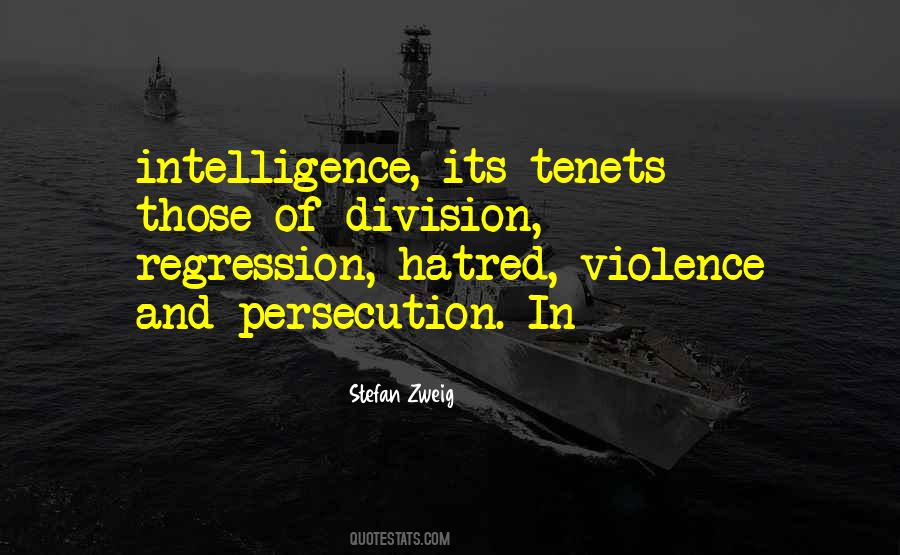 #77. It's the easiest thing in the world to be kind to someone, to show love, to forgive. You are born with this instinct - it should be your first reaction. NOT violence, anger and hatred! That is something we are taught, it's a Choice You Make. - Author: Michelle Horst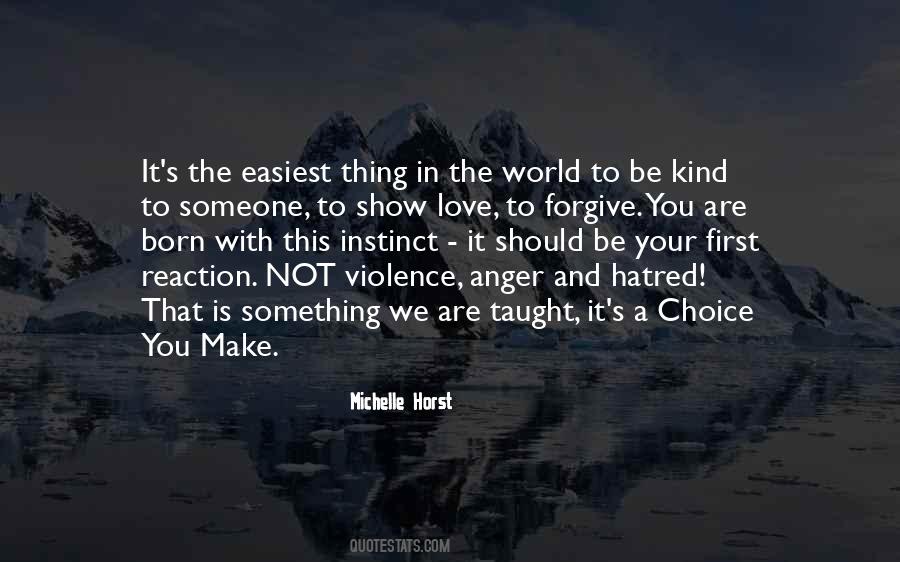 #78. Why should we think nudity is such a revolting thing in a land where there is so much violence and corruption and racism and hatred? Nudity seems like a welcome relief from all the bullshit in life. - Author: Anthony Kiedis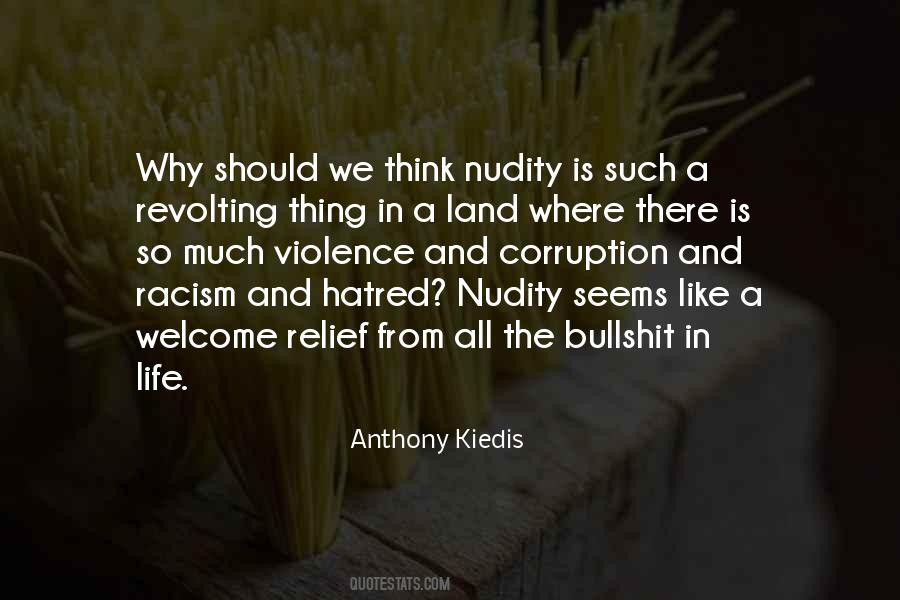 #79. Controversial daily radio host. Considered to be engaging in unacceptable behaviour by seeking to provoke others to serious criminal acts and fostering hatred which might lead to inter-community violence. - Author: Michael Savage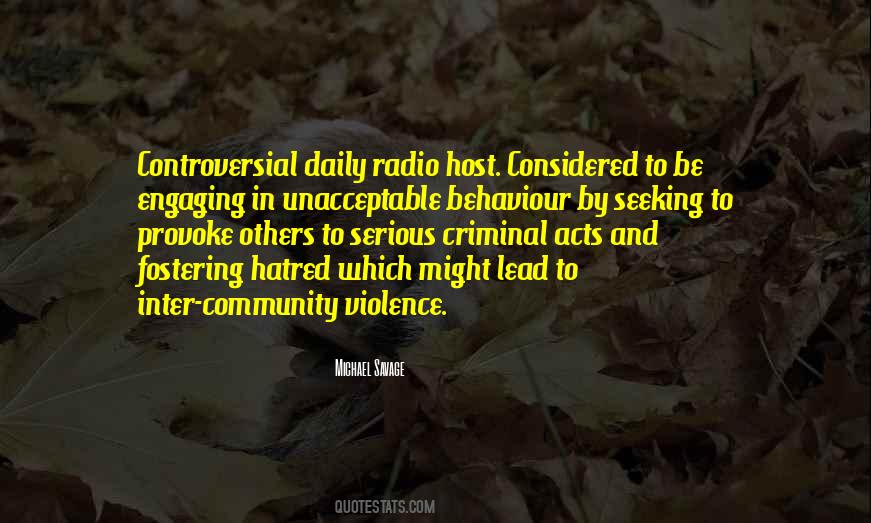 #80. Every living thing is sacred to me. Compassion and love can heal this world, which is set on fire of violence and hatred. I will teach the world about compassion, and end the suffering by halting these floods of sorrow. Said Prince Siddhartha and began his journey of saving the man kind." , - Author: Ama H. Vanniarachchy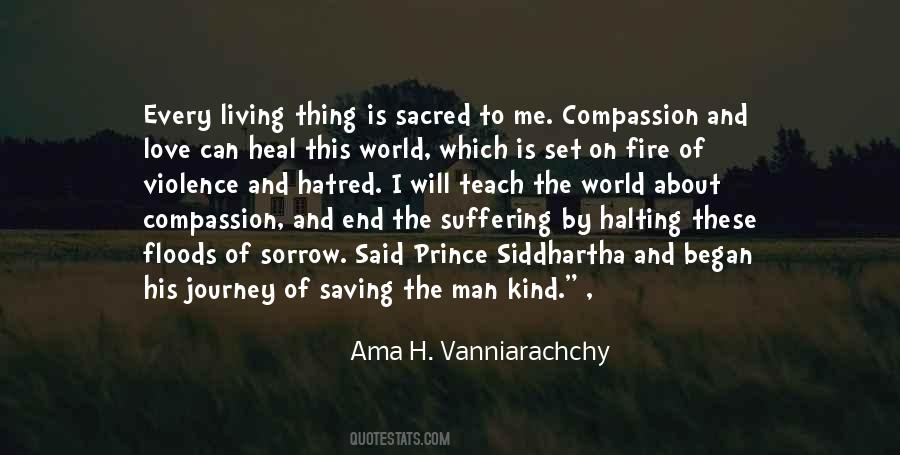 #81. Within hours of a tragedy unfolding, journalists and pundits should not manufacture a blood libel that serves only to incite the very hatred and violence they purport to condemn. That is reprehensible. - Author: Sarah Palin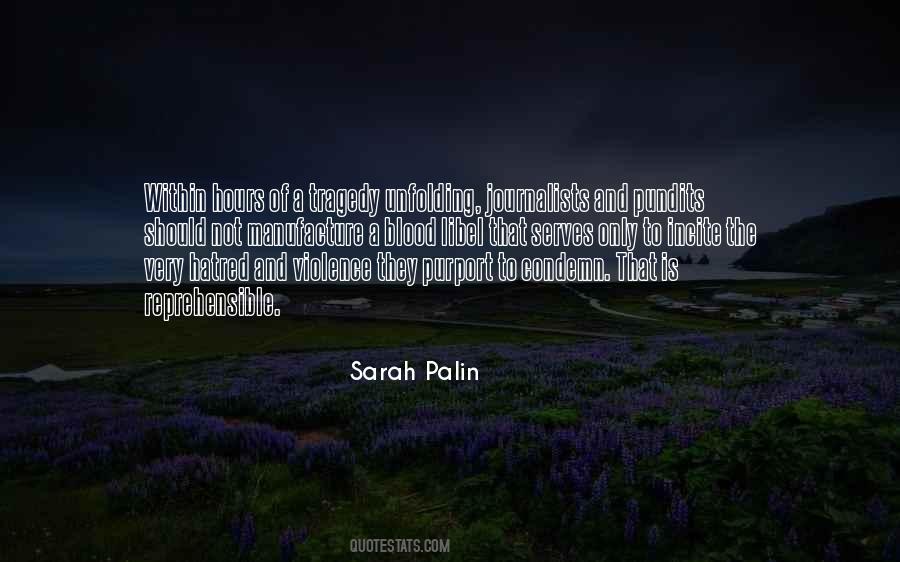 #82. Education in the key to preventing the cycle of violence and hatred that marred the 20th century from repeating itself in the 21st century. - Author: Elie Wiesel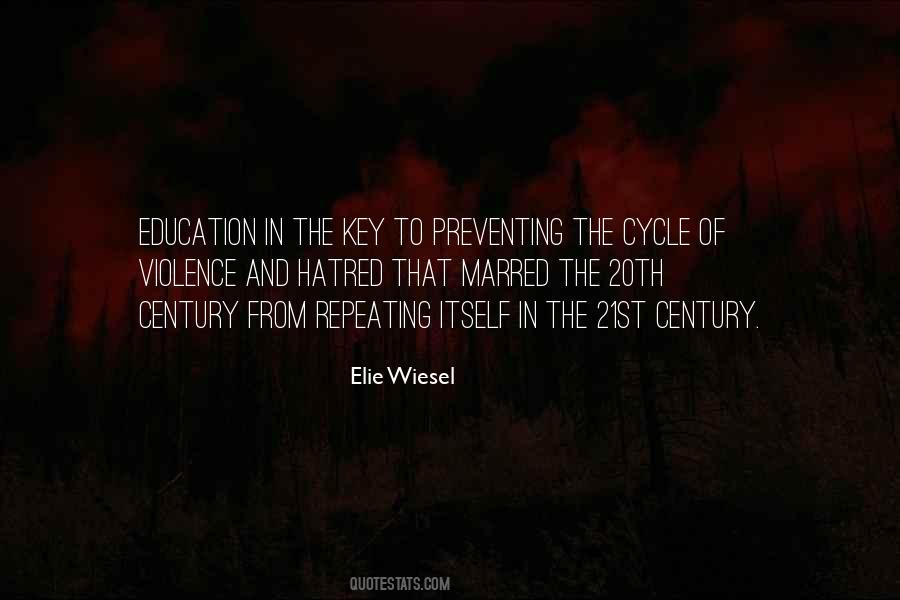 #83. In this dangerous world that we live in, where hatred and violence and natural disasters sometimes collide to almost overwhelm us, we each can help in some way. - Author: Marsha Blackburn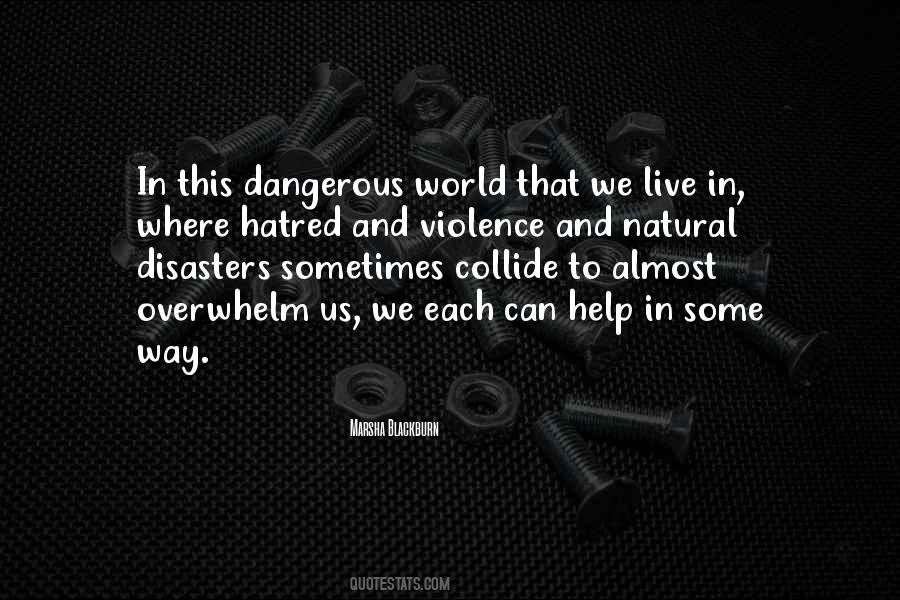 Famous Authors
Popular Topics