Unhappiness In Life Famous Quotes & Sayings
List of top 58 famous quotes and sayings about unhappiness in life to read and share with friends on your Facebook, Twitter, blogs.
Top 58 Quotes About Unhappiness In Life
#1. Oh the piercing sadness of life in the midst of its ordinariness! - Author: Iris Murdoch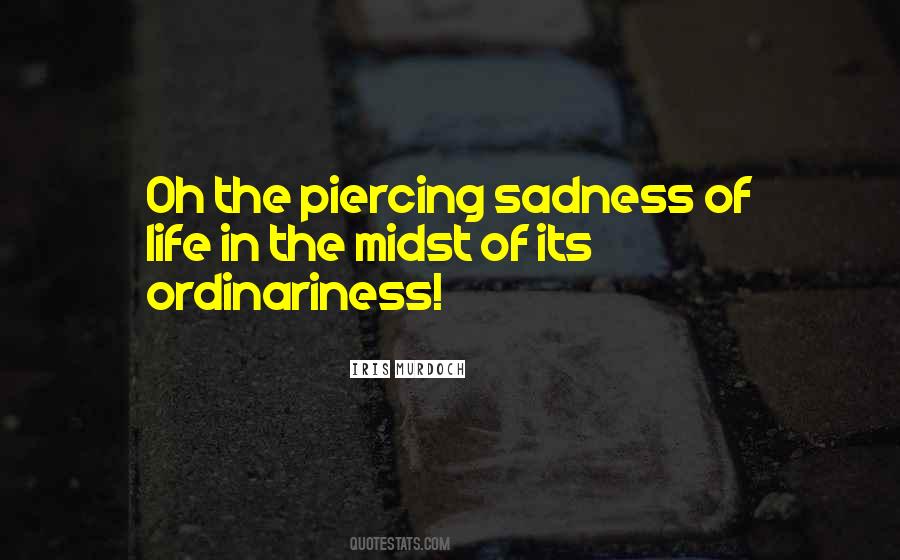 #2. Invest in your work life balance. Time with friends and family is as important as times at work. Getting that out of balance is a path toward unhappiness. - Author: Stephen Gillett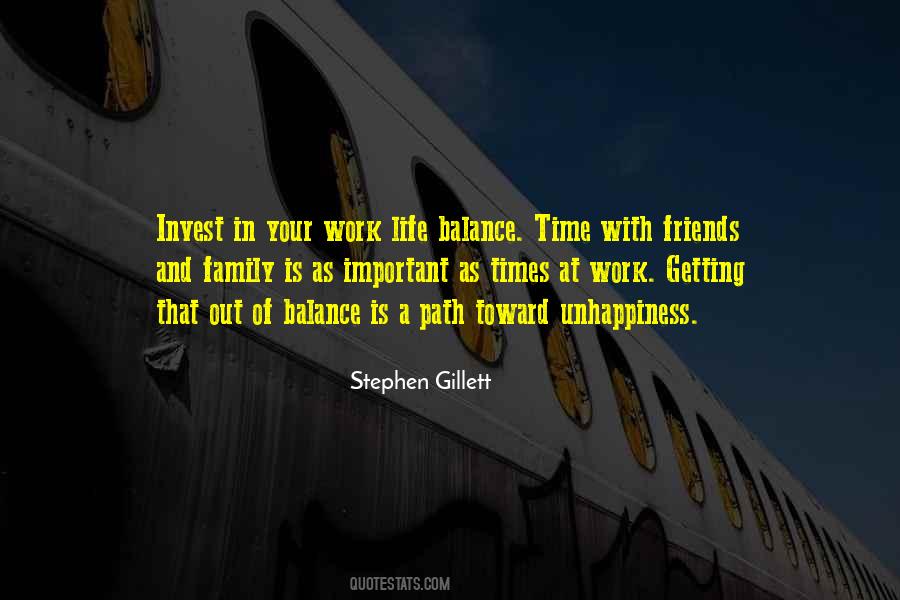 #3. Have you ever been torn between two impossibilities and knew in your heart that no matter which way you went or which path you chose that you were doomed to unhappiness? - Author: Maya Banks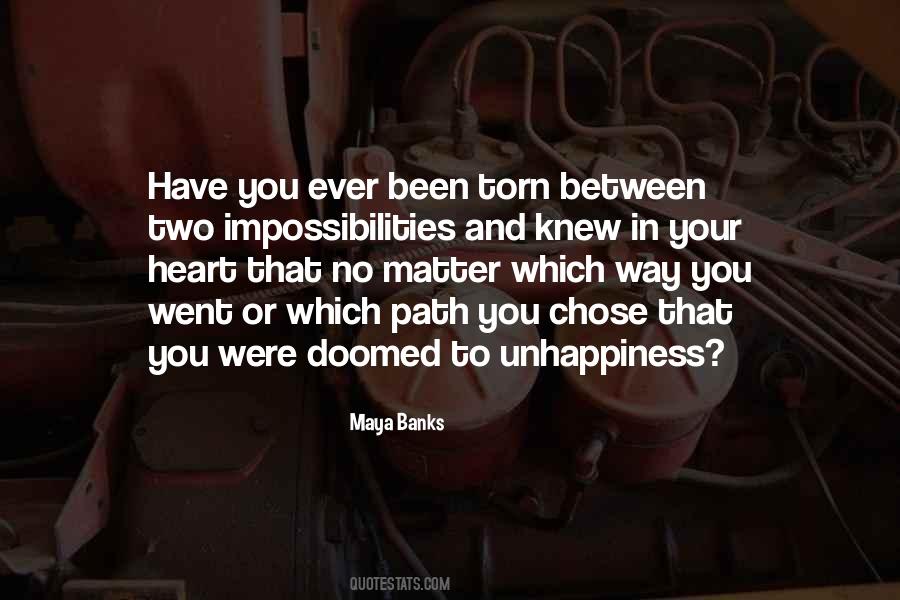 #4. There is no such thing as a perfectly happy or perfectly unhappy man in the world. One has more happiness in his life and another more unhappiness, and the same circumstance may produce widely different effects on individuals of different temperaments. - Author: Giacomo Casanova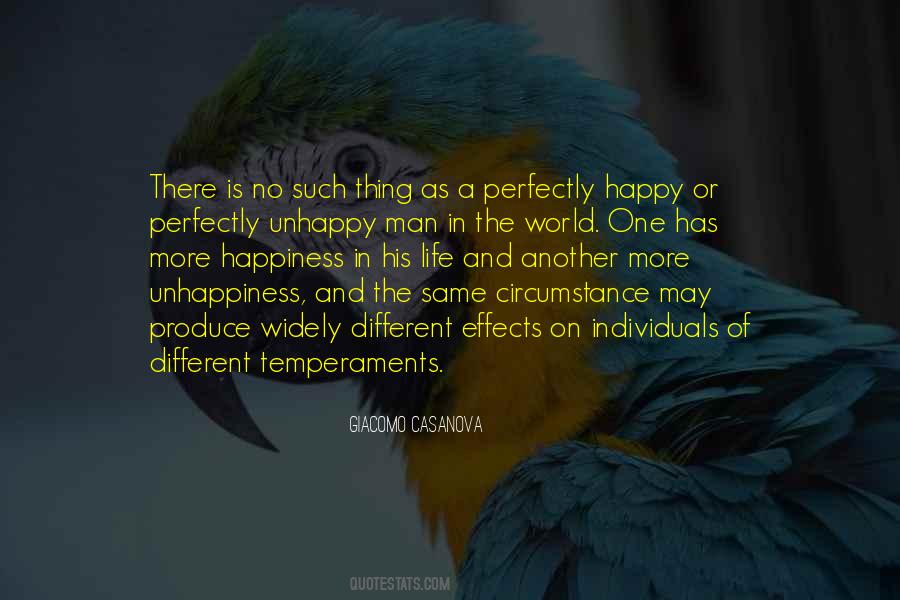 #5. Life will end in death and unhappiness, but we do it anyway. - Author: Hanya Yanagihara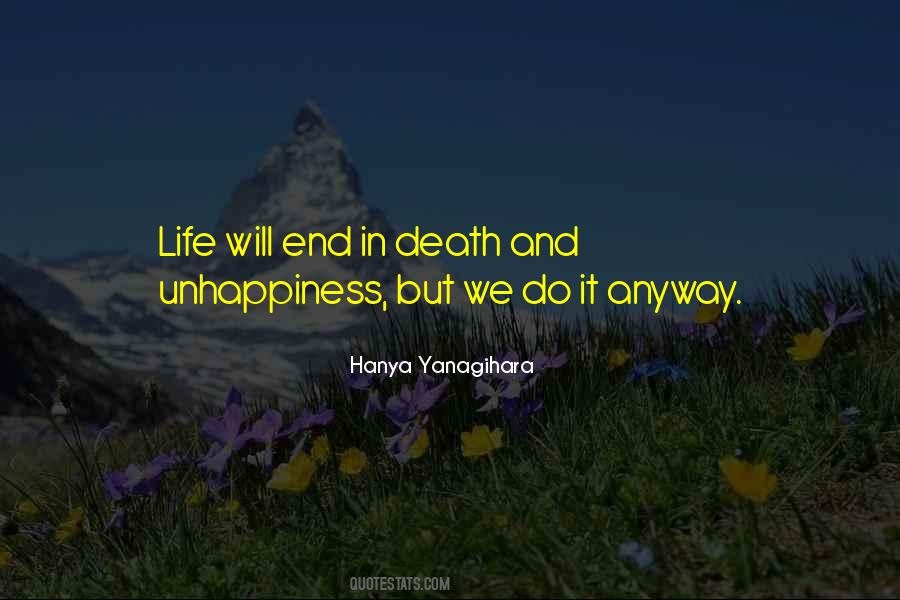 #6. There is a lot of unhappiness in this world. Try not to feed it. - Author: Wayne Gerard Trotman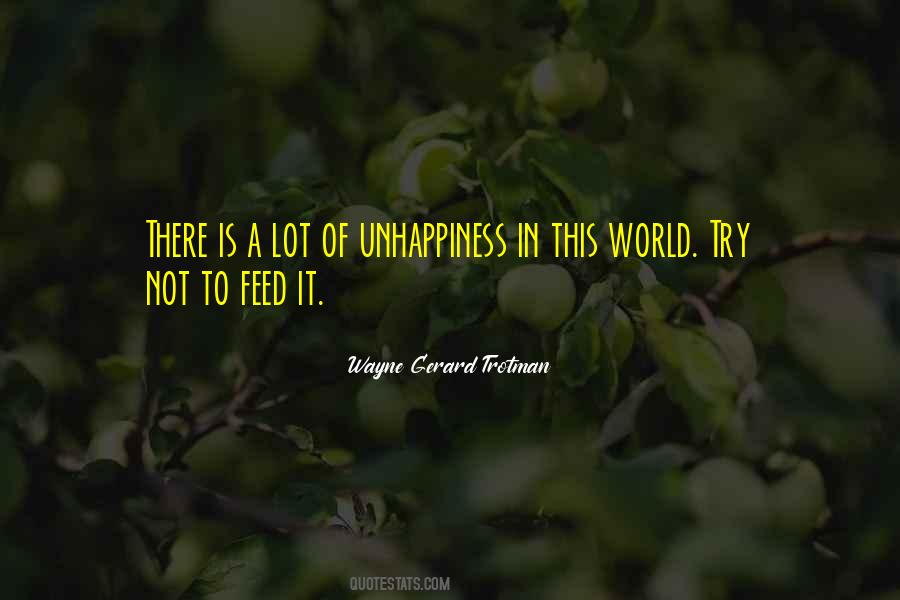 #7. I almost never get lonely. I love being alone. I'm glad I'm married, and I love my wife. But there's never been a situation in my life where my unhappiness was based on loneliness. - Author: Chuck Klosterman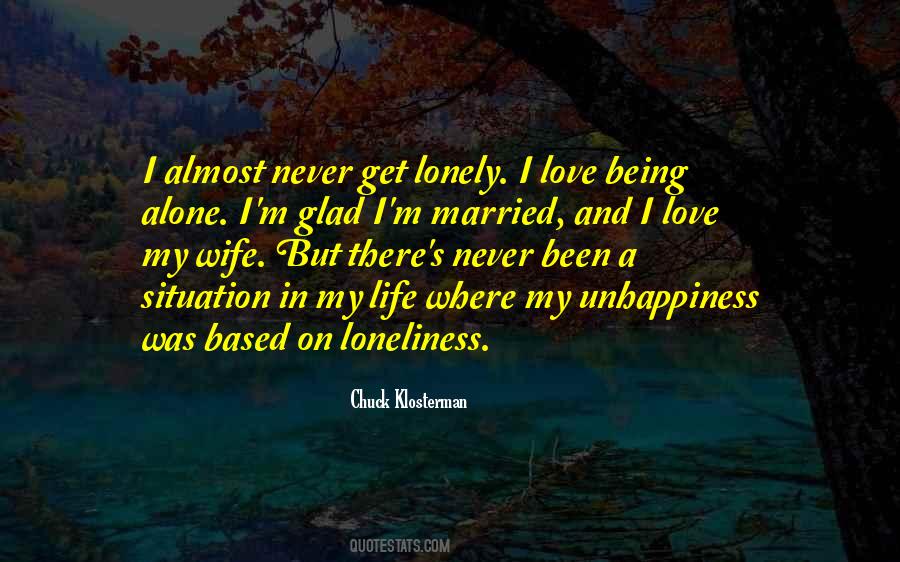 #8. I've had a lot of unhappiness in my life - and a lot of happiness. Who doesn't? Maybe I've learned enough to be able to guide my daughters. - Author: Rita Hayworth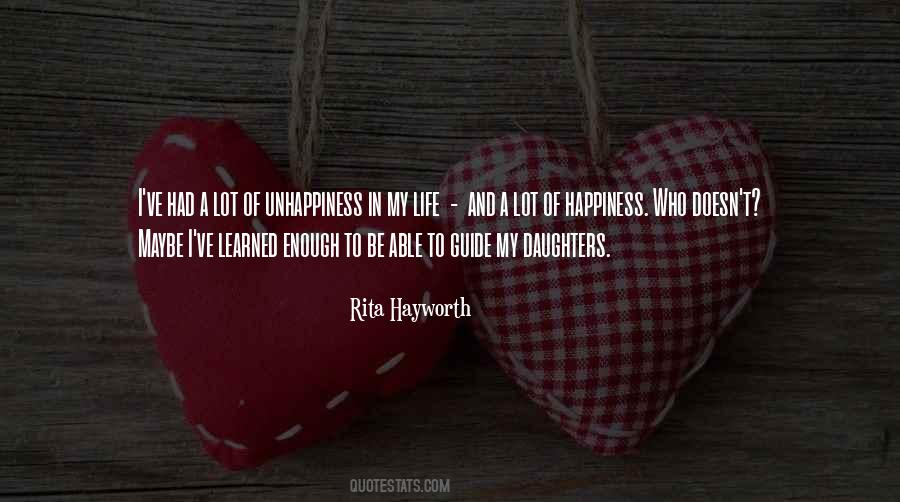 #9. Life, then will, always contain an inevitable surplus, a margin of the gratuitous, a realm in which there is always more than we need: more things, more impressions, more memories, more habits, more words, more happiness, more unhappiness. - Author: James Wood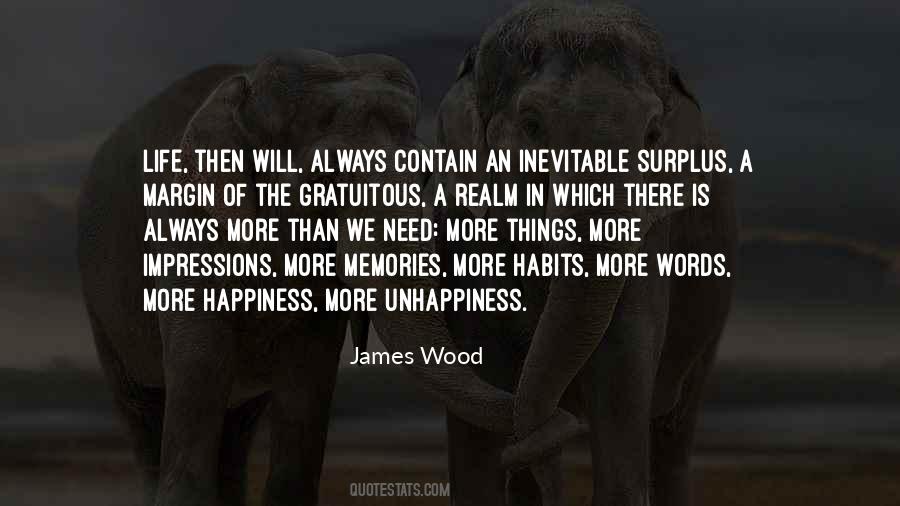 #10. No one can escape death and unhappiness. If people expect only happiness in life, they will be disappointed. - Author: Gautama Buddha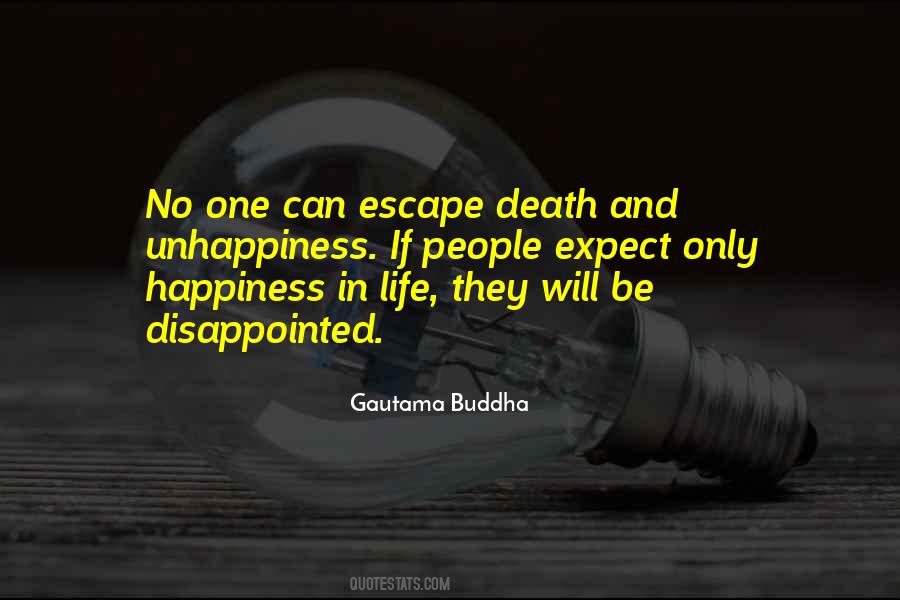 #11. Spiritual depression or unhappiness in the Christian life is very often due to our failure to realize the greatness of the gospel. - Author: David Lloyd-Jones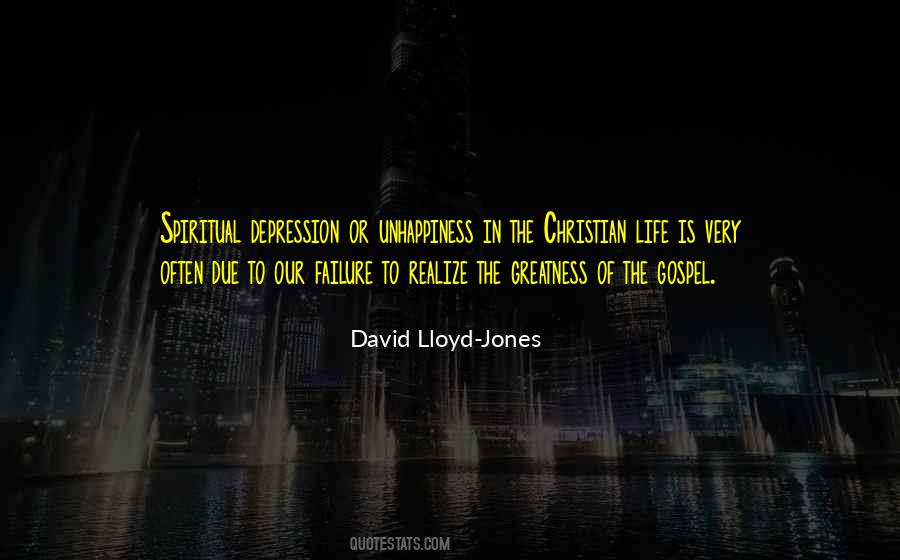 #12. The longer I live, the more I am convinced that the apothecary is of more importance than Seneca; and that half the unhappiness in the world proceeds from little stoppages; from a duct choked up, from food pressing in the wrong place, from a vexed duodenum, or an agitated pylorus. - Author: Sydney Smith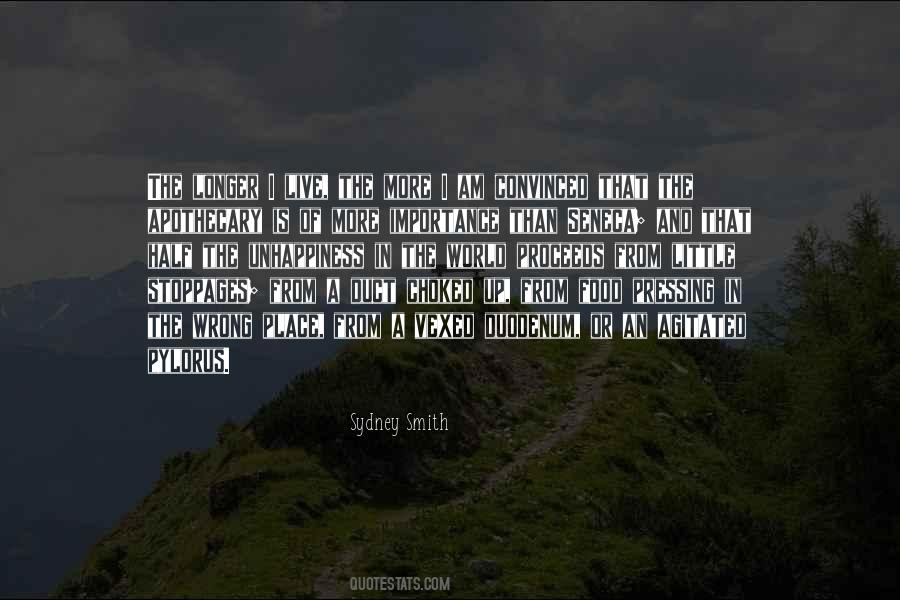 #13. Those authors into whose hands nature has placed a magic wand, with which they no sooner touch us than we forget the unhappiness in life, than the darkness leaves our soul, and we are reconciled to existence, should be placed among the benefactors of the human race. - Author: Denis Diderot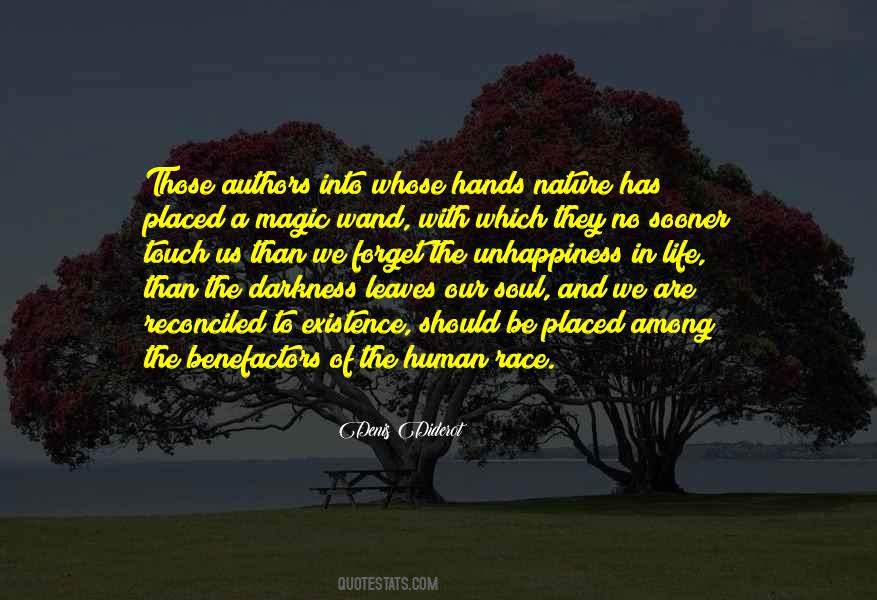 #14. Irresolution on the schemes of life which offer themselves to our choice, and inconstancy in pursuing them, are the greatest causes of all our unhappiness. - Author: Joseph Addison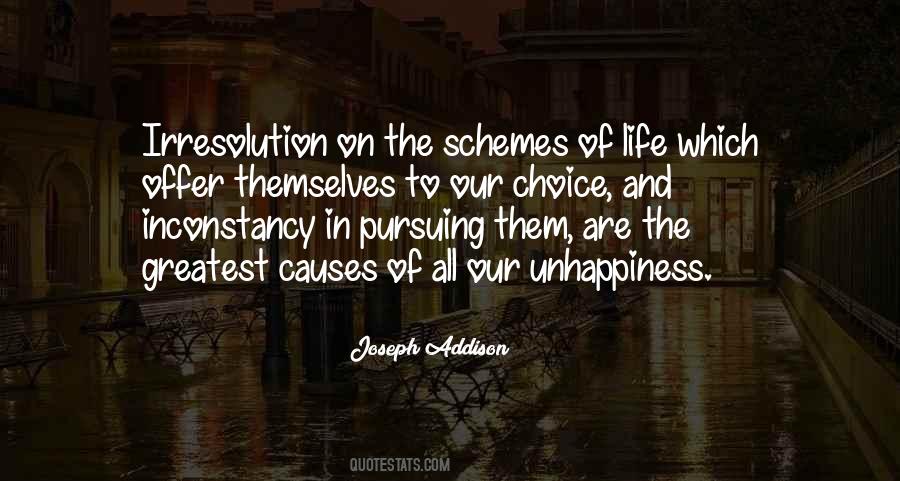 #15. Not just personal unhappiness but all strife in life, including war, is the result of an over-emphasis on temporary things; money, power and material possession - Author: Robert S. Jepson Jr.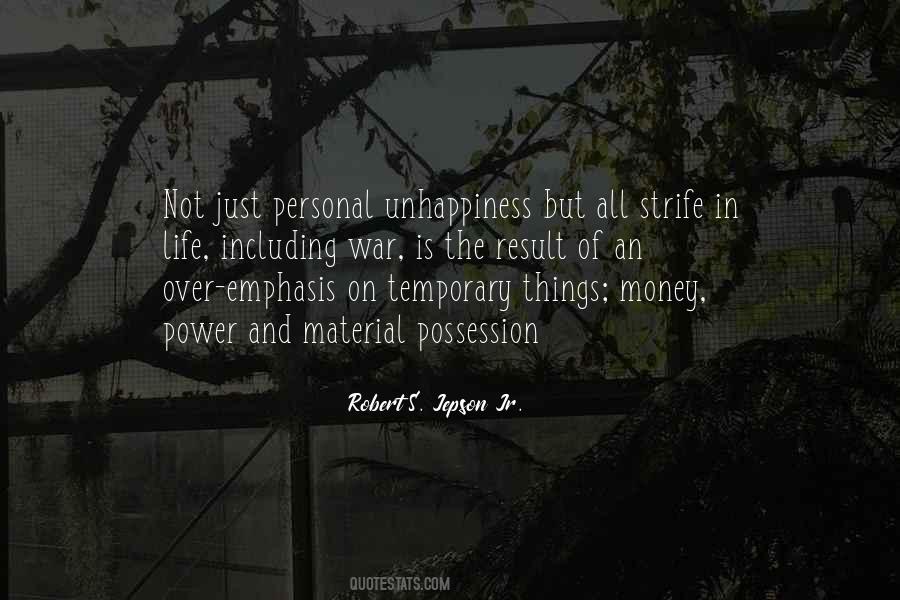 #16. Have you realized that most of your unhappiness in life is due to the fact that you are listening to yourself instead of talking to yourself? - Author: Jim Berg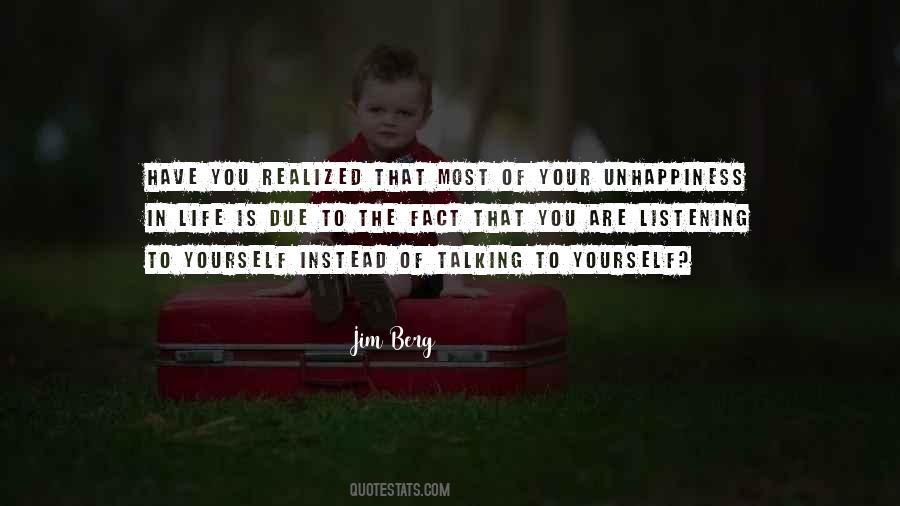 #17. Man is created for happiness, that happiness lies in himself, in the satisfaction of simple human needs; and that all unhappiness is due, not to privation but to superfluity. - Author: Leo Tolstoy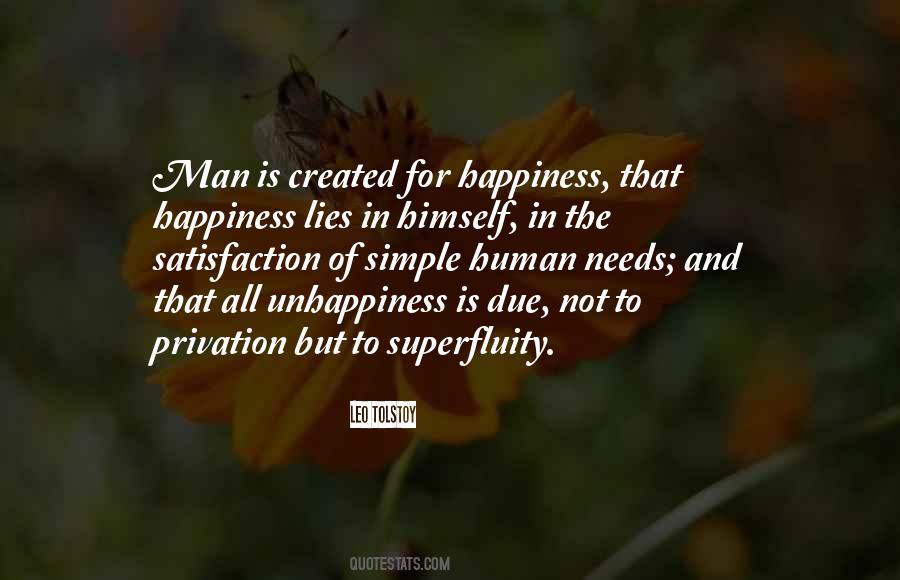 #18. A woman had to choose her own particular unhappiness carefully. That was the only happiness in life: to choose the best unhappiness. An unwise move, good God, you could squander everything. - Author: Lorrie Moore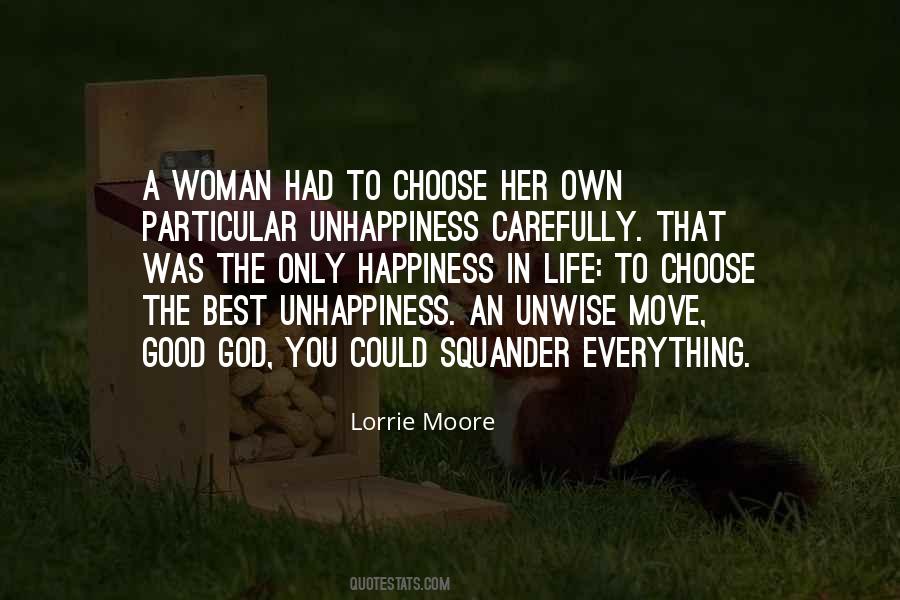 #19. My life had become weariness. It had wandered in a maze of unhappiness that led to renunciation and nothingness; it was bitter with the salt of all human things; yet it had laid up riches, riches to be proud of. - Author: Hermann Hesse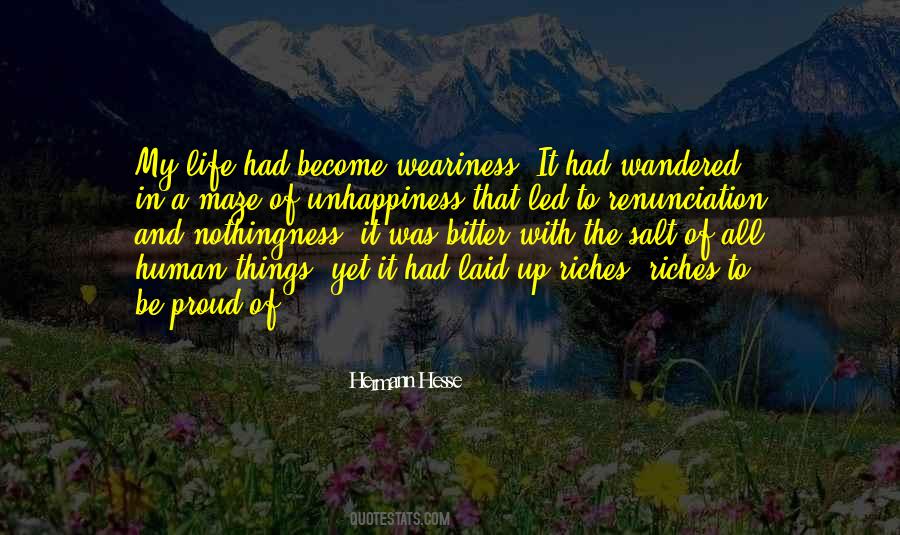 #20. The greatest problem of human life is fear. It is fear that robs us of
happiness. It is fear that causes us to settle for far less than we are
capable of. It is fear that is the root cause of negative emotions,
unhappiness and problems in human relationships. - Author: Brian Tracy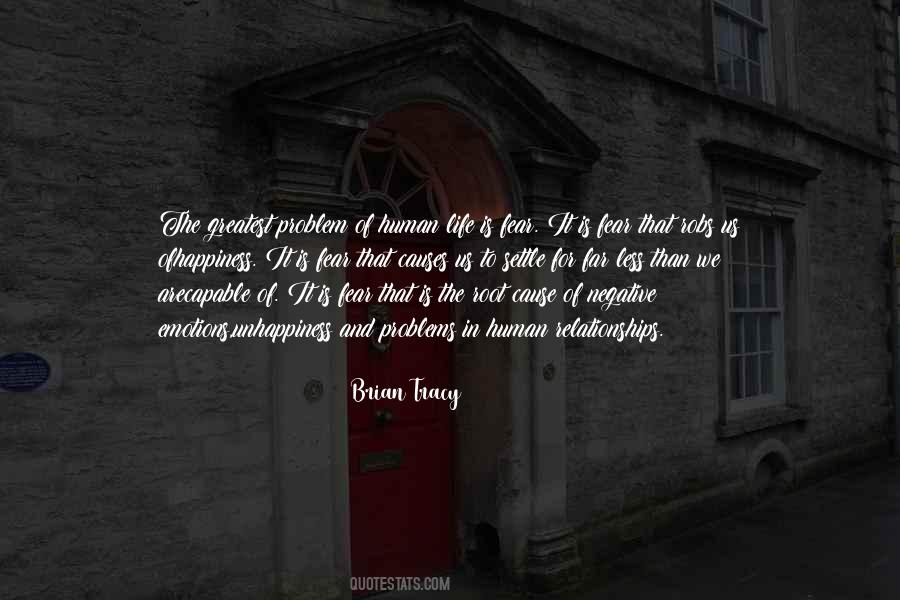 #21. I believe that half the unhappiness in life comes from people being afraid to go straight at things. - Author: Steve Chandler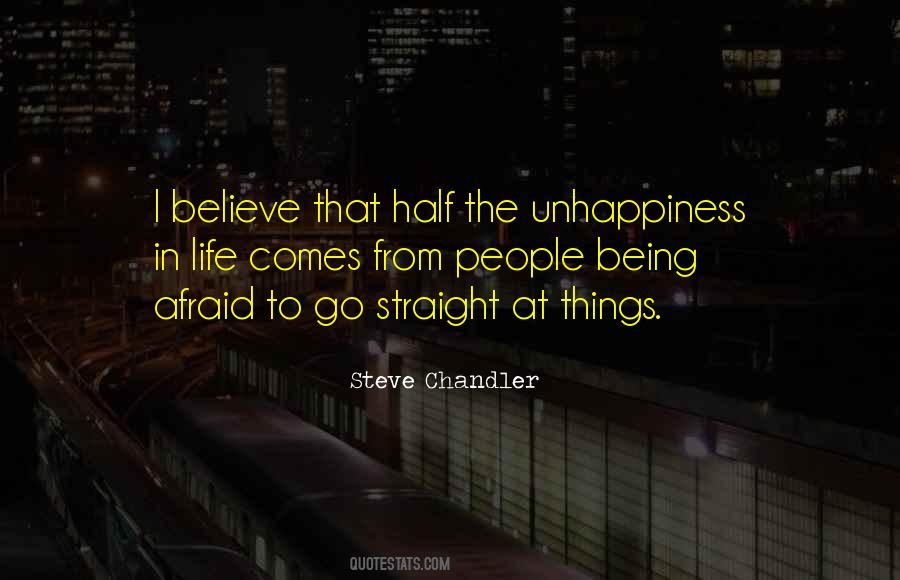 #22. Men go to sea, before they know the unhappiness of that way of life; and when they have come to know it, they cannot escape from it, because it is then too late to choose another profession; as indeed is generally the case with men, when they have once engaged in any particular way of life. - Author: Samuel Johnson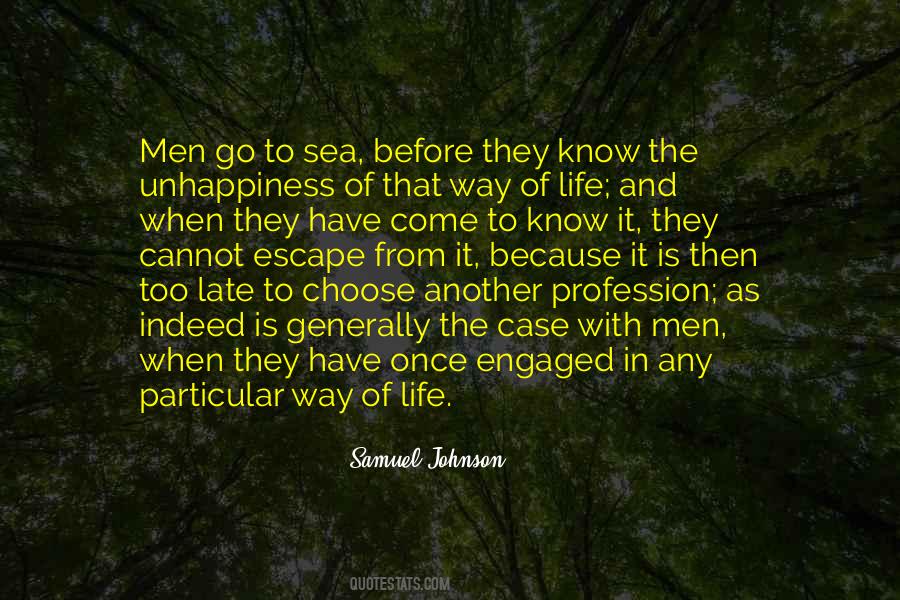 #23. ..the greatest unhappiness a person can feel in life is unmet expectations. - Author: Laura Lee Guhrke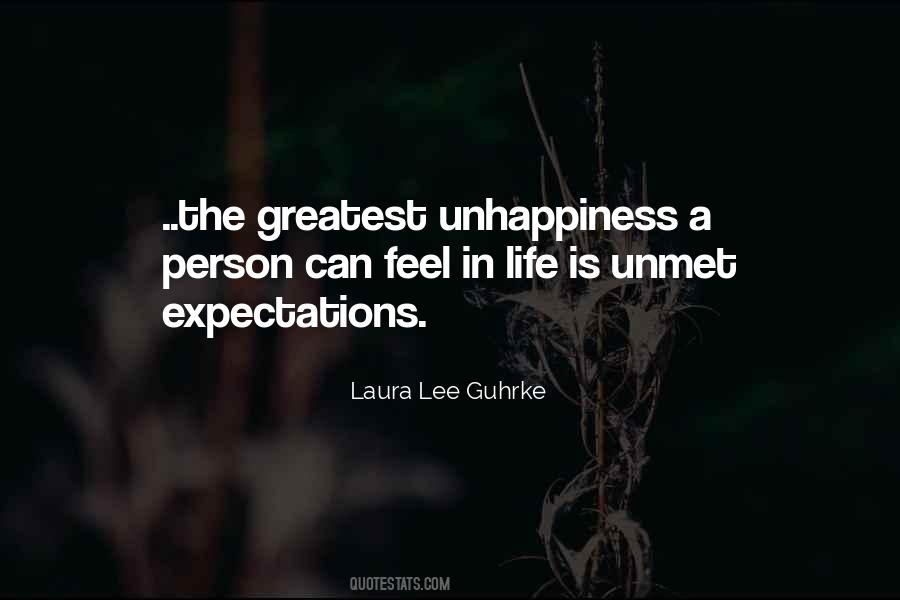 #24. Unhappiness is really an incorrect way of seeing. When we are unhappy we don't see life as it really is. We are in a condition of veiled light, of shadows. - Author: Frederick Lenz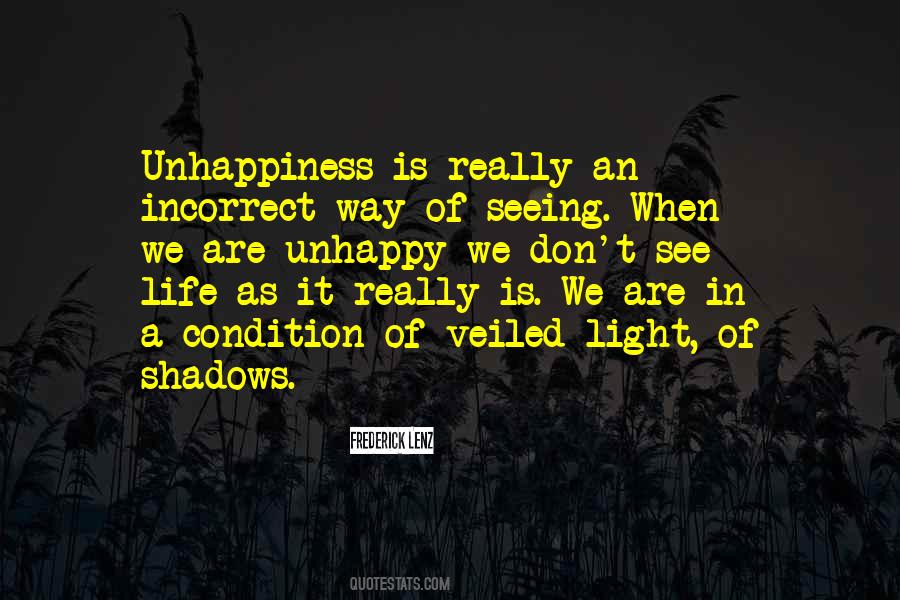 #25. The life even of a just man is a round of petty frauds; that of a knave a series of greater. We degrade life by our follies and vices, and then complain that the unhappiness which is only their accompaniment is inherent in the constitution of things. - Author: Christian Nestell Bovee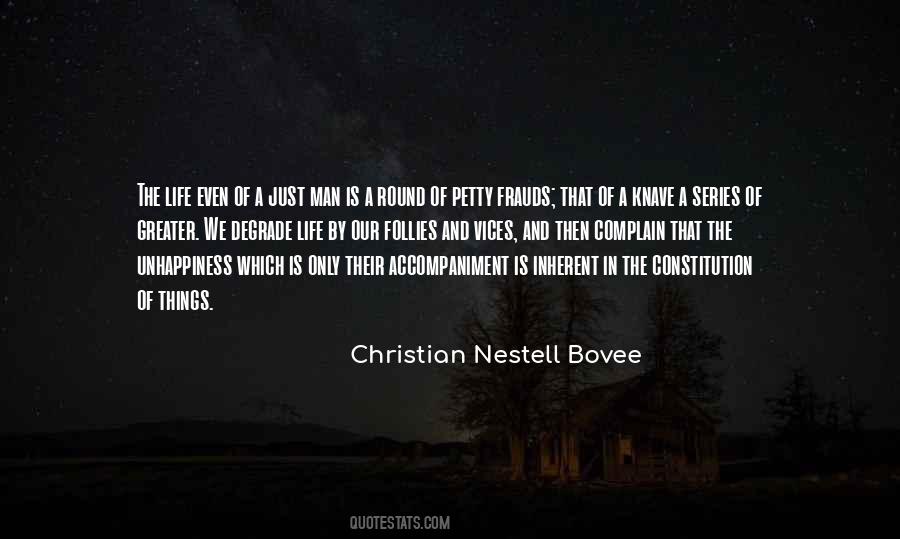 #26. one big problem and a great paradox in the arena of life is the problem of where or how a person is now and what, who and where he wants to be or have tomorrow. Had it not be this problem, we would have been relaxing all day long - Author: Ernest Agyemang Yeboah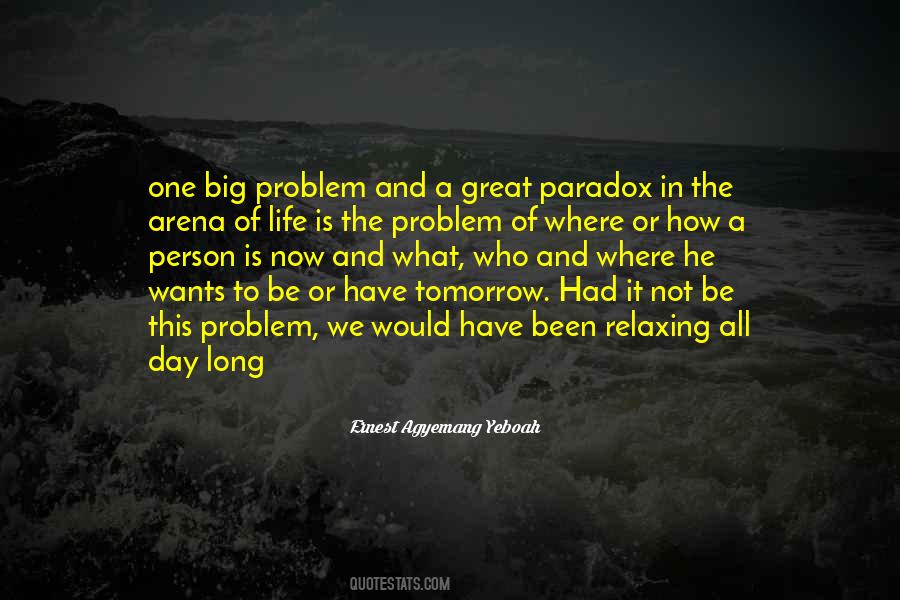 #27. I try to work every day because you have no refuge but writing. When you're going through a period of unhappiness, a broken love affair, the death of someone you love, or some other disorder in your life, then you have no refuge but writing. - Author: Tennessee Williams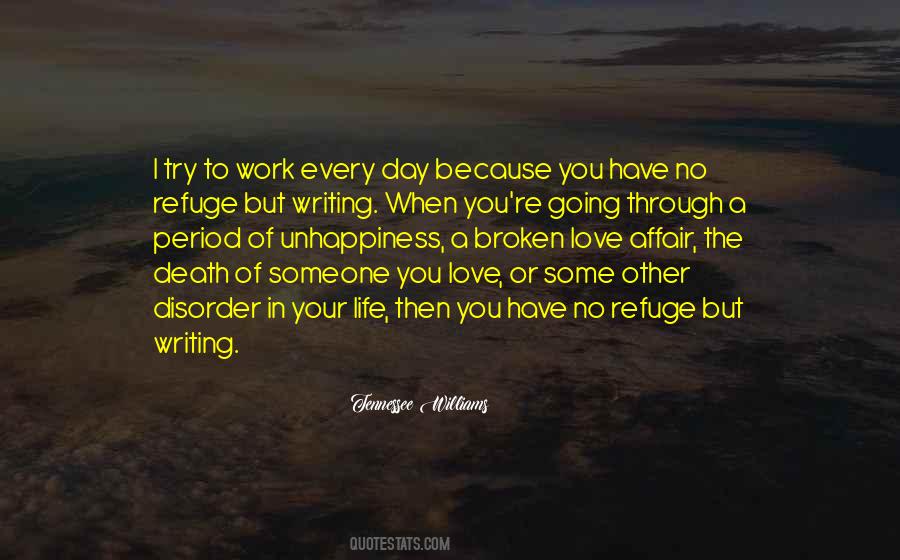 #28. My dearest girl, dearer to me than anything in life, if you are unhappy, let me share your unhappiness. If you are in need of help or counsel, let me try to give it to you. If you have indeed a burden on your heart, let me try to lighten it. For whom do I live now, Agnes, if it is not for you! - Author: Charles Dickens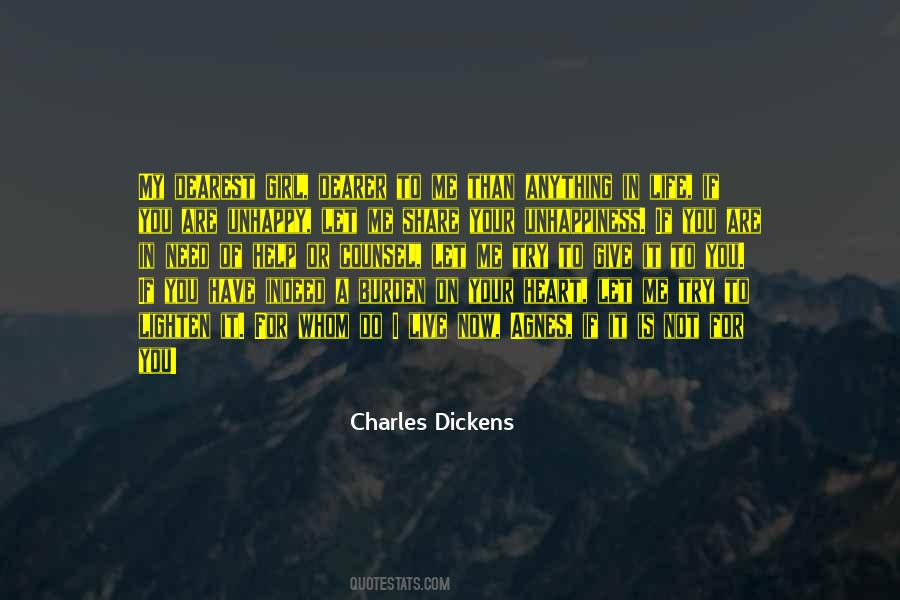 #29. A chief cause of worry and unhappiness in life is trading what we want most for what we want at the moment. - Author: Maralee McKee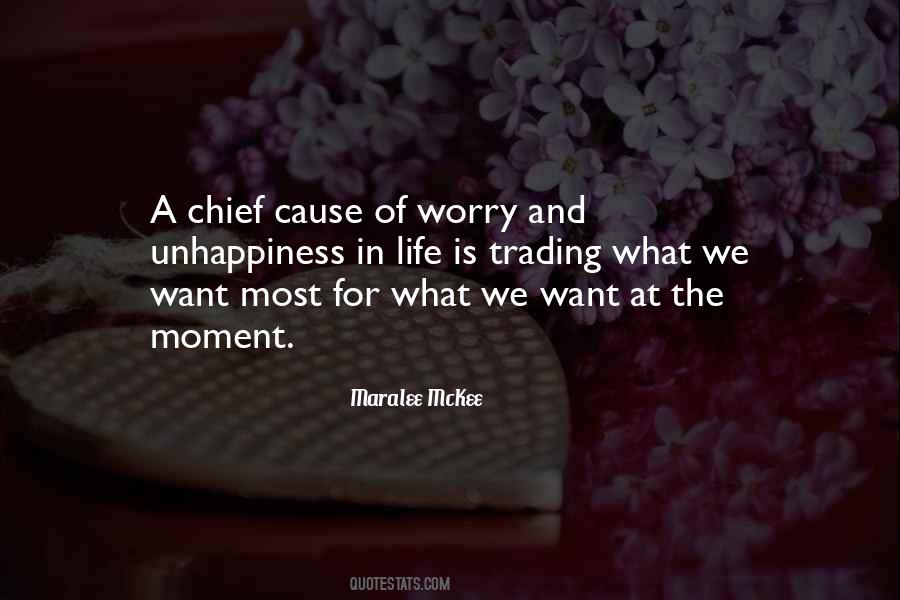 #30. Yet again I was reminded that the way in which things and events unfold does not always coincide with our expectations. Indeed, this fact of life - that there is often a gap between the way in which we perceive phenomena and the reality of a given situation - is the source of much unhappiness. - Author: Dalai Lama XIV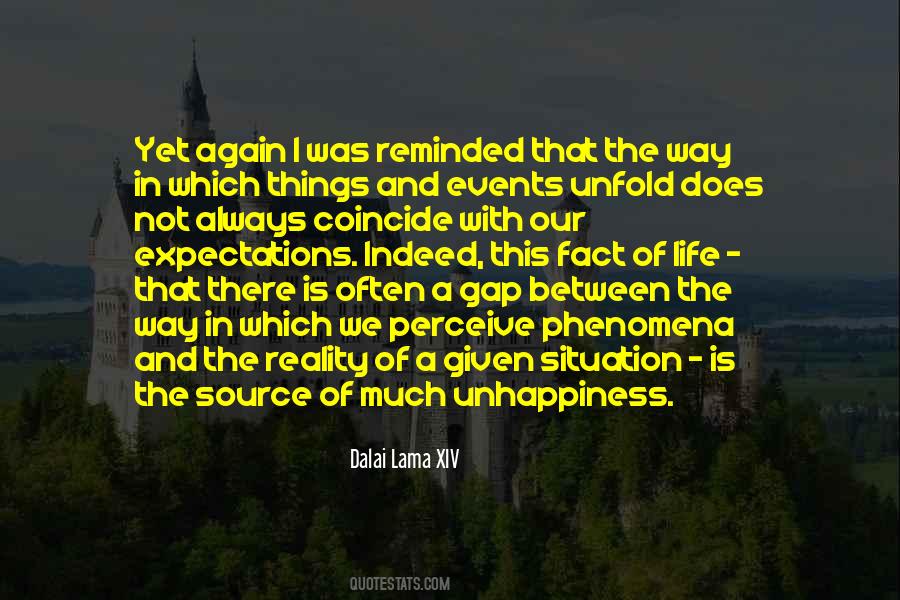 #31. Life seemed too calm; people looked for unhappiness in art as one might look for a raw material in short supply. - Author: Ilya Ehrenburg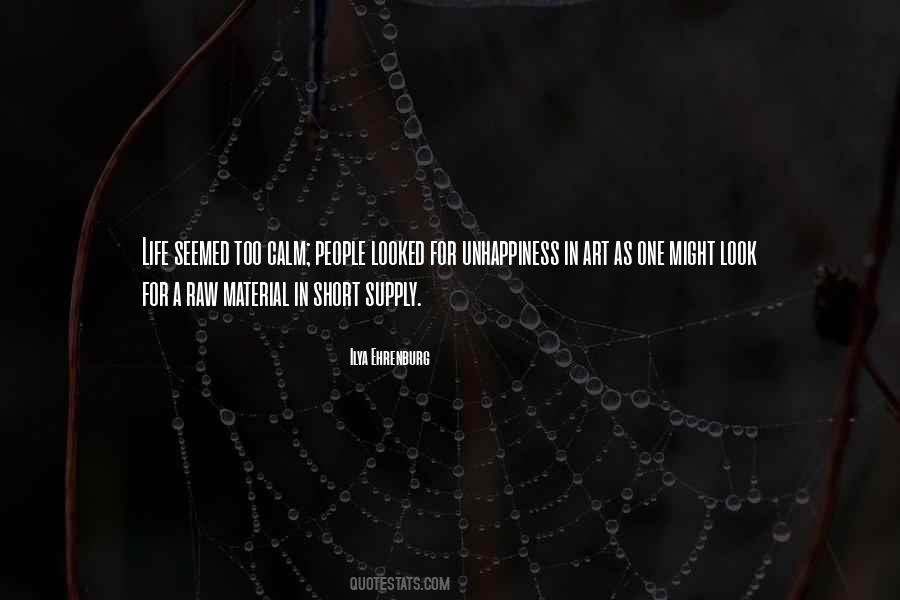 #32. It's not much. You begin by thinking there is something extraordinary about it. But you'll find out, when you've been out in the world a while longer, unhappiness is the commonest thing there is. - Author: Erich Maria Remarque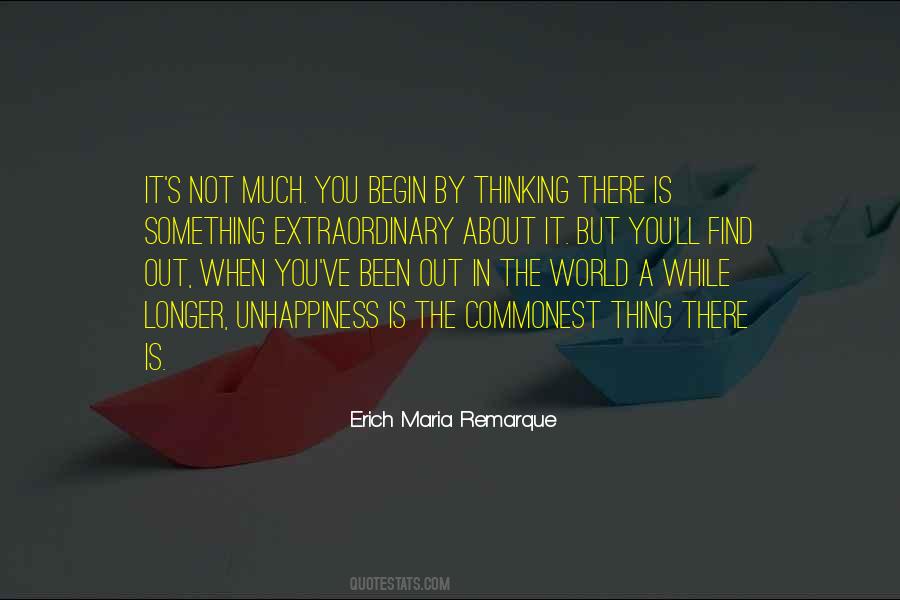 #33. As long as there are people who are not happy with their lot in life, as long as the United States is perceived to somehow be the cause of this unhappiness, there will be terrorism. - Author: Cofer Black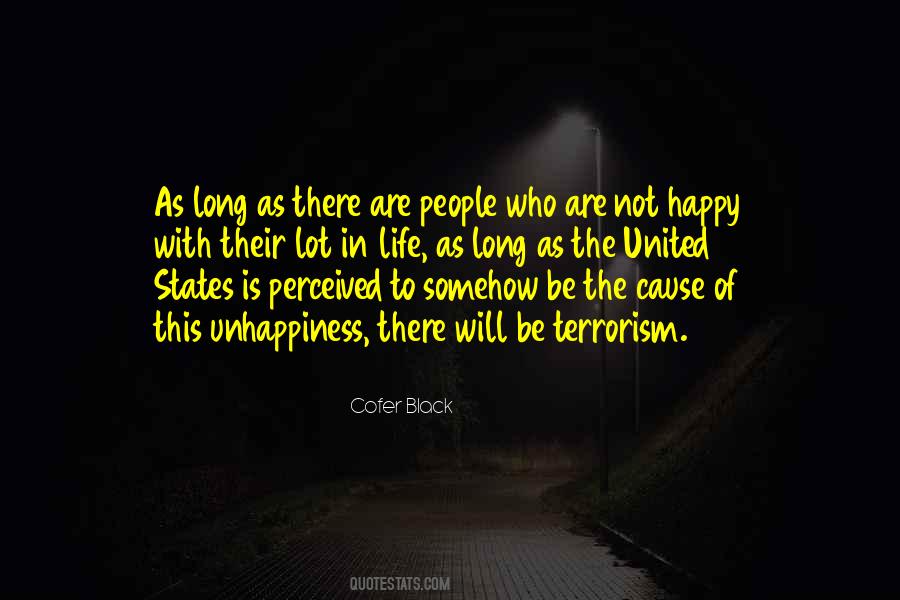 #34. The degree of complications and unhappiness in a person's life corresponds to the degree to which he dwells on the way he thinks the world ought to be rather than the way it really is. and being grateful it isn't worse, while trying to make it better. - Author: Robert Ringer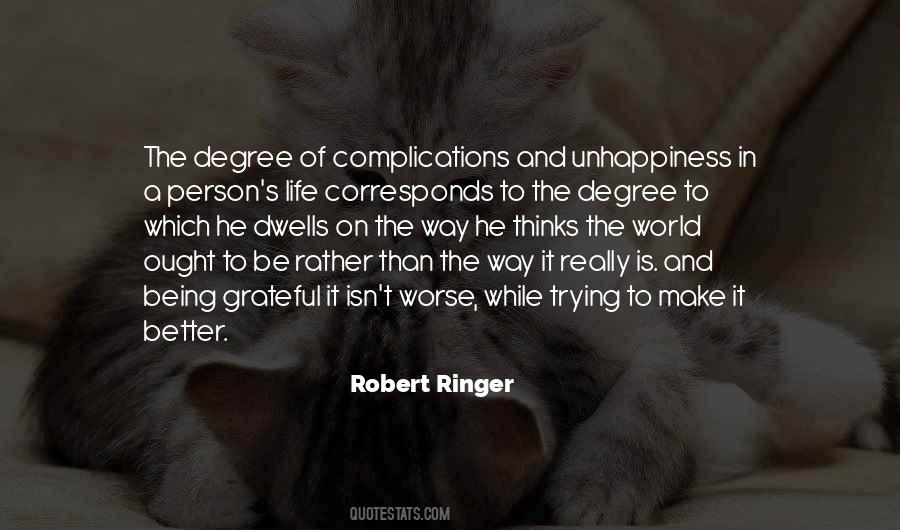 #35. When I was a kid, there was unhappiness in my family - was dealt with partly by escaping to television. And from a very early age, for whatever reason, I became scornful and resistant to and angry about that. And some other time in my life, I realized that there's a lot I loved in television. - Author: Robert Pinsky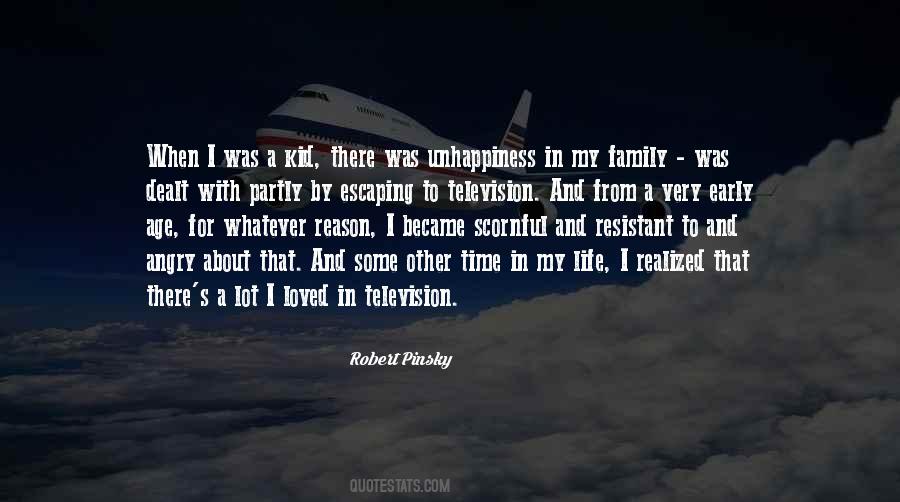 #36. I felt as if something hung there in the back of my mind, waiting to tarnish whatever happiness I might find. Is it safer to be unhappy? Nothing ever wants to take that away. - Author: Storm Constantine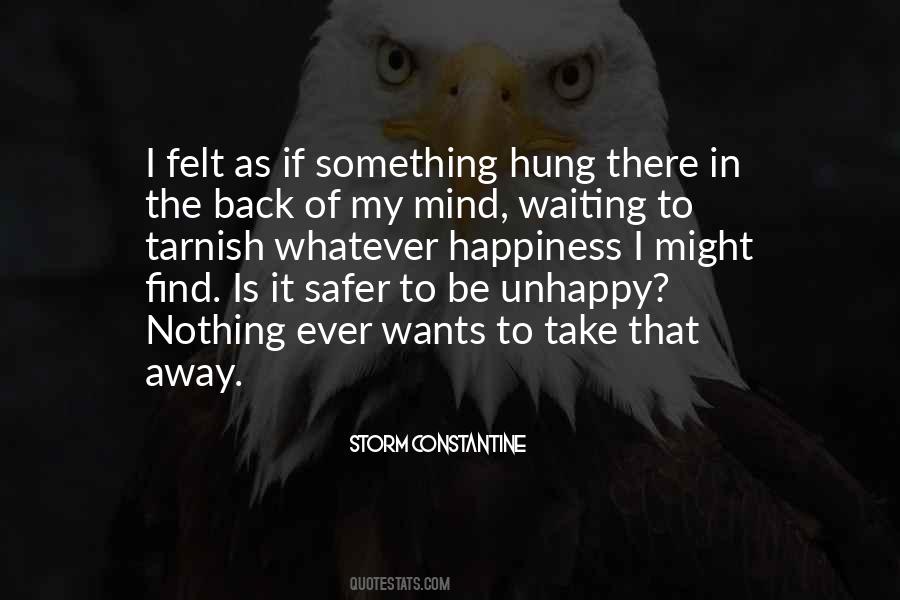 #37. Almost all unhappiness in life comes from the tendency to blame someone else. - Author: Brian Tracy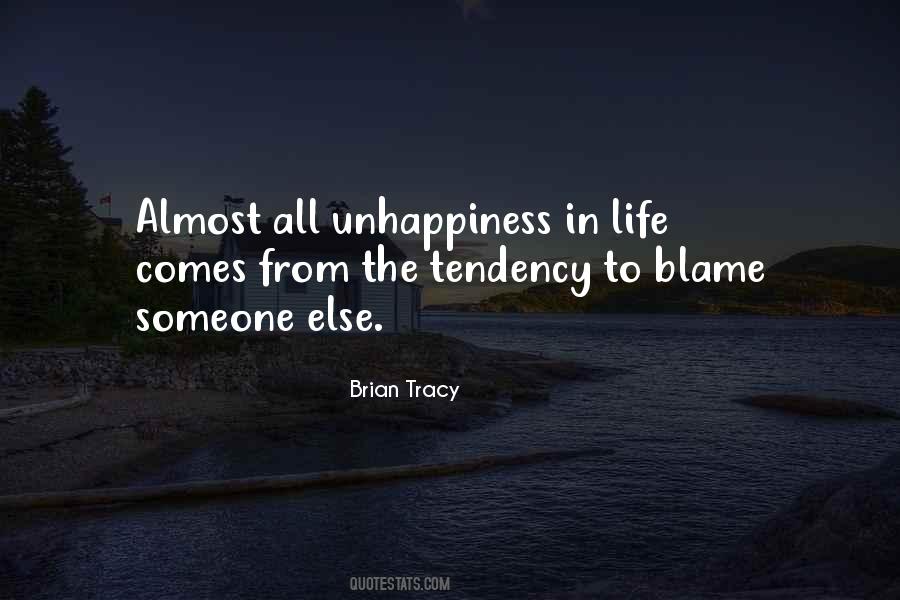 #38. While imprisoned in the shed Pierre had learned not with his intellect but with his whole being, by life itself, that man is created for happiness, that happiness is within him, in the satisfaction of simple human needs, and that all unhappiness arises not from privation but from superfluity. And - Author: Leo Tolstoy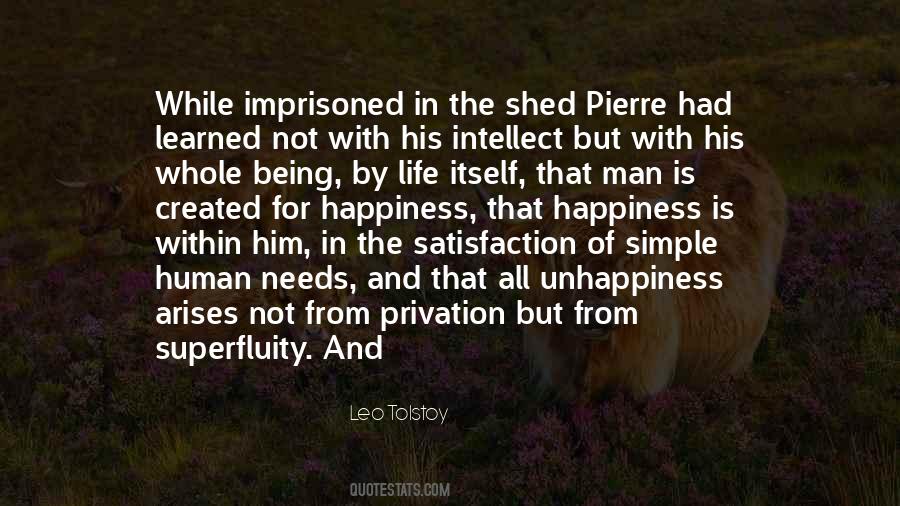 #39. They were bound for college, husbands, child-rearing, unhappiness only dimly perceived - bound, in other words, for life. - Author: Jeffrey Eugenides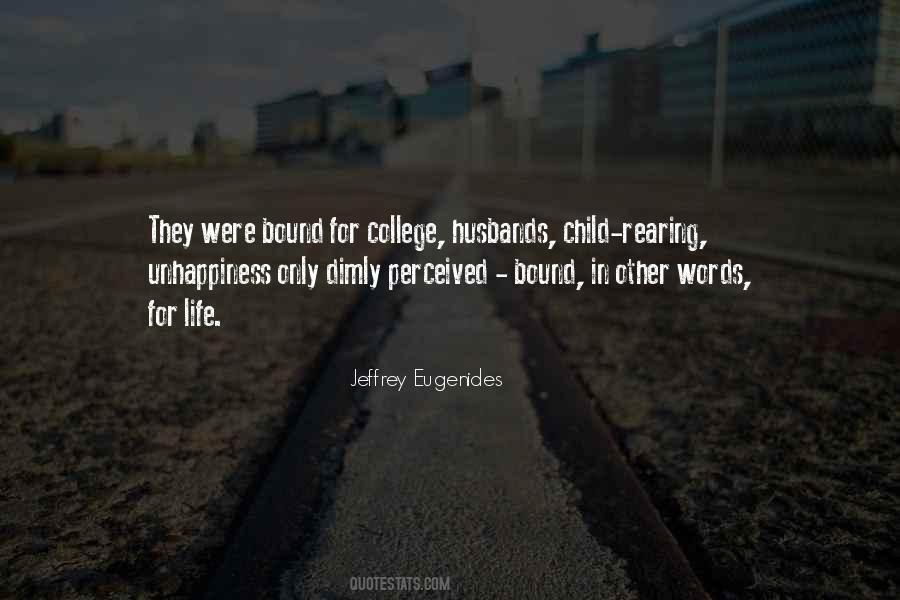 #40. Creating doesn't make us unhappy, unhappiness makes us creative. To create is to live, and in living, we want only to creat more, to set our foundations depper and reach higher toward the sky. If sadness is what makes us creative, then sadness is nothing else but life. - Author: Eric G. Wilson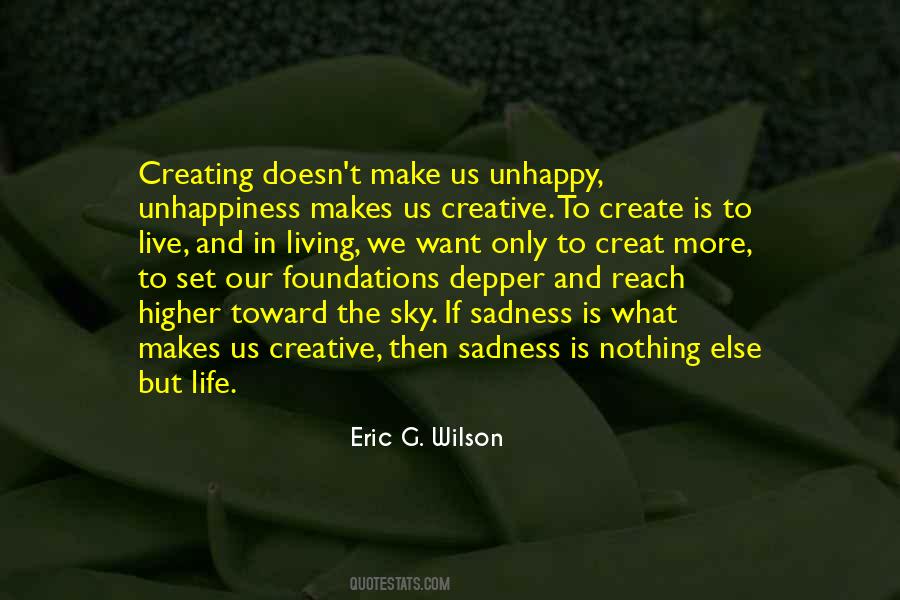 #41. Maybe unhappiness is the continuum through which a human life moves, and joy just a series of blips, of islands in the stream. - Author: Salman Rushdie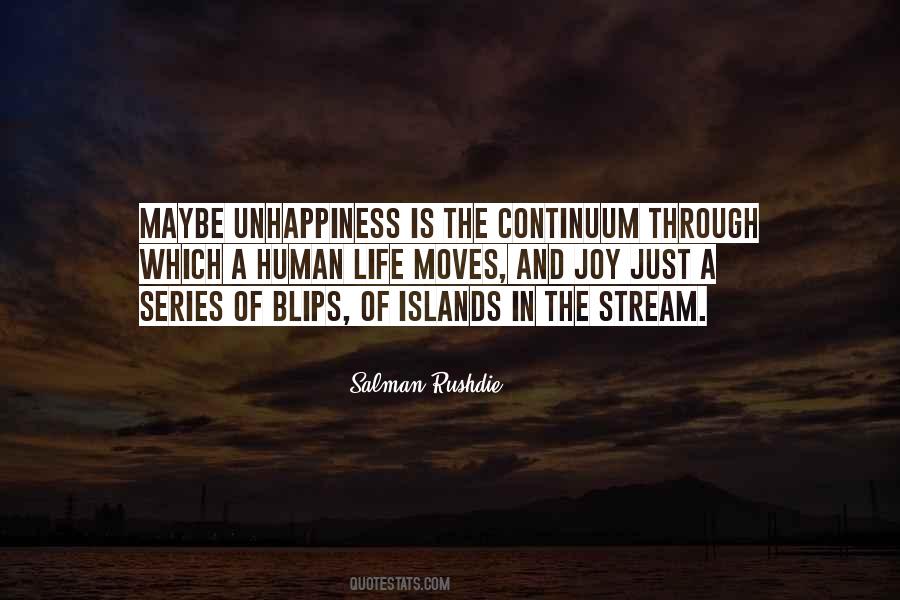 #42. My dark secrets are life threatening. Pockets of unhappiness set in aspic that build and build. I have this primitive feeling that if something good happens, it is going to be followed by something bad. There is always a price to pay. - Author: Sue Townsend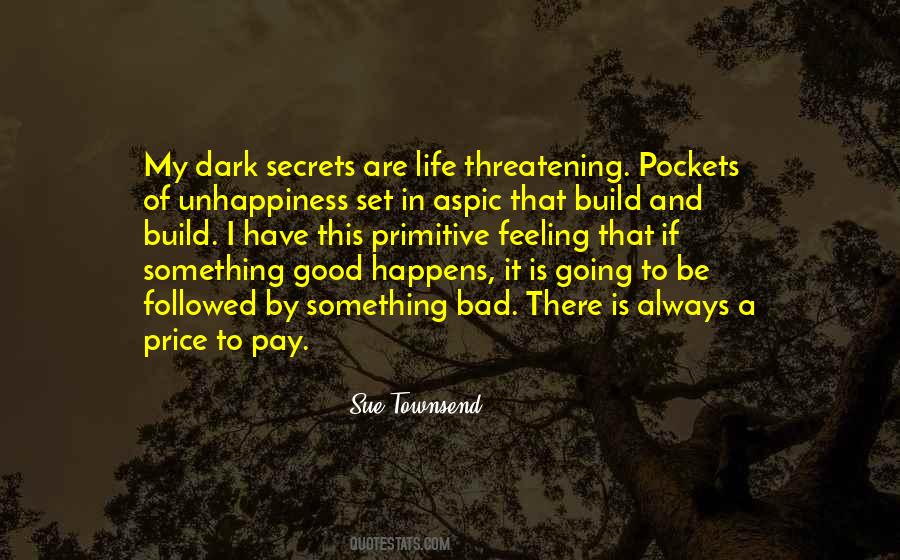 #43. If you're unhappy, what is it in your life that you're not facing? - Author: Brian Tracy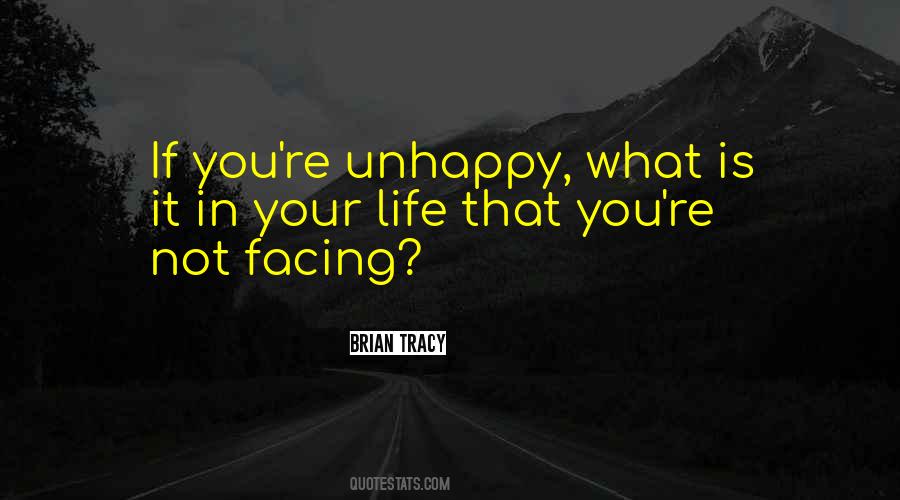 #44. I made an important decision, which was to pursue happiness. Rather than accept unhappiness. That's why I'm here, and it's great. I'm in a very good place in my life. - Author: Laura Marling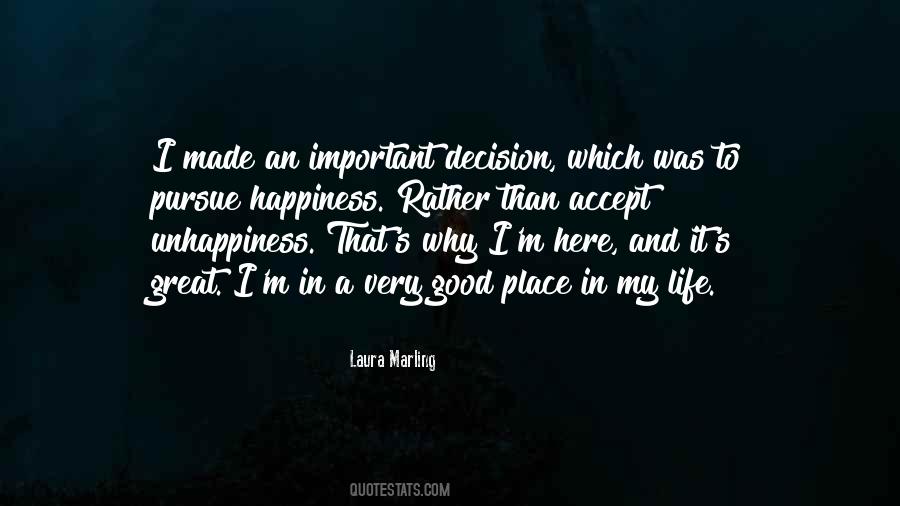 #45. It seems to me that so much unhappiness in life comes not from a lack of answers, but from a lack of knowing the right questions to ask. - Author: Rita Zoey Chin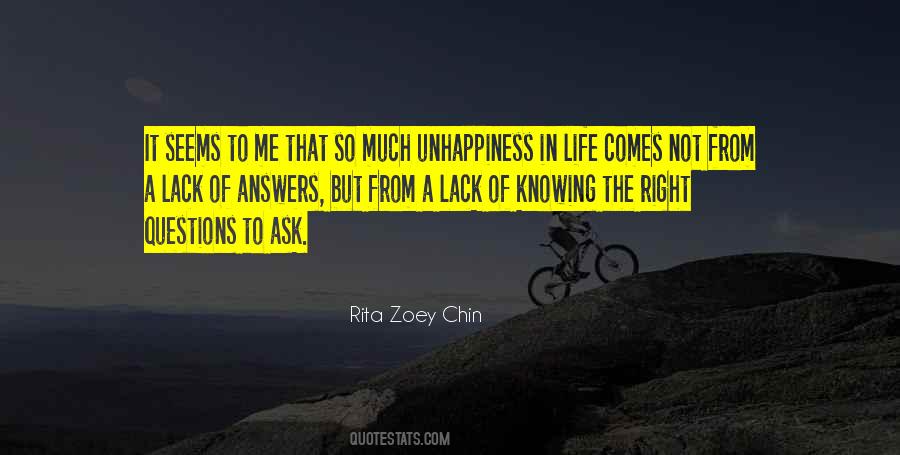 #46. Nothing is forever, he thought beyond closed eyelids somewhere over Asia Minor. Maybe unhappiness is the continuum through which a human life moves, and joy just a series of blips, of islands in the stream. Or if not unhappiness, then at least melancholy. - Author: Salman Rushdie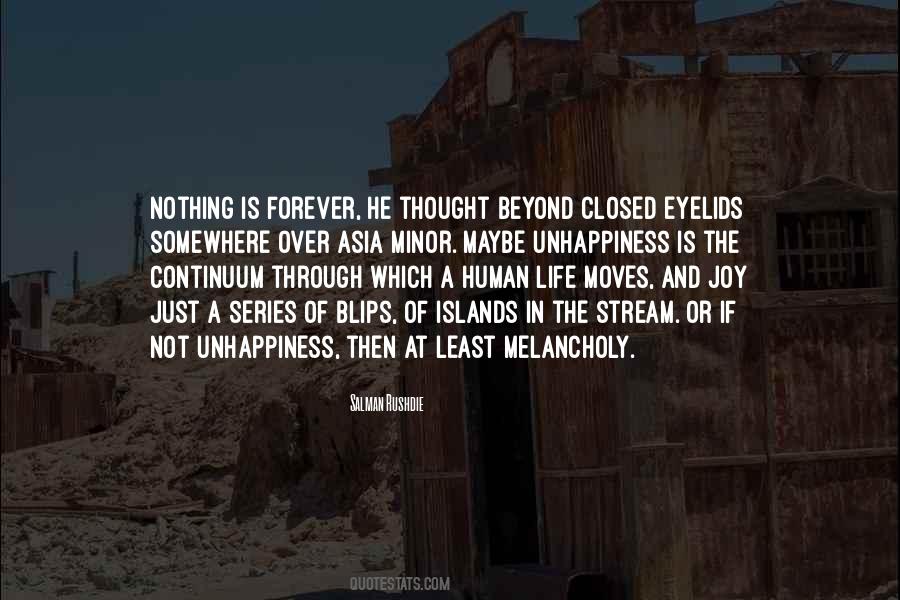 #47. What if God wants us to be happy? What if there's nothing else around the bend? What if all our unhappiness is in the past and from here on out we get an uncomplicated life? Some people get that, you know. Why shouldn't it be us? - Author: Cristina Henriquez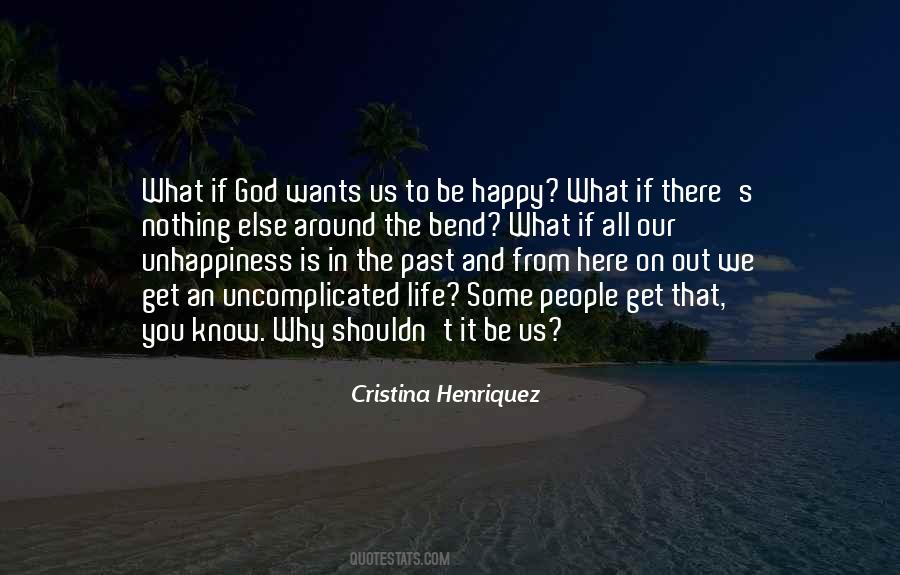 #48. In happiness or unhappiness, living is a duty, and must be done thoroughly. - Author: Ellis Peters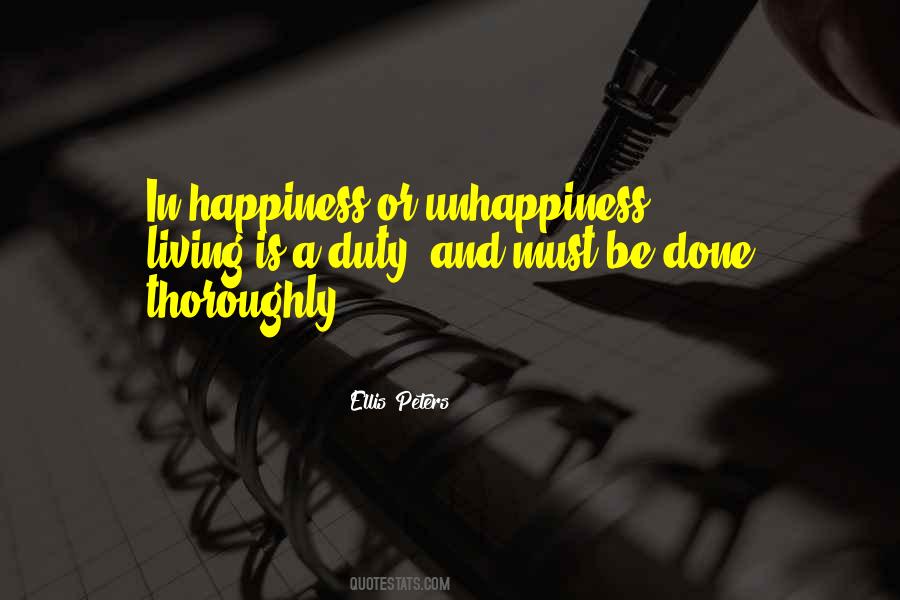 #49. The only means by which one could attain complete happiness is to avoid living in constant expectation of it. It's the expectation that causes our unhappiness and consequent bitterness about life - Author: Mohammed Naseehu Ali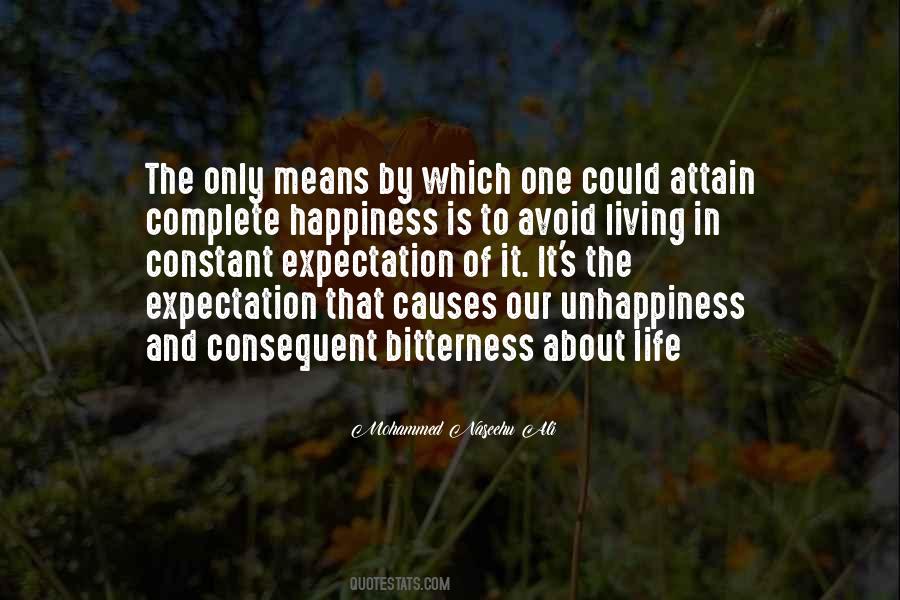 #50. Natasha was happy as she had never been in her life. She was at that highest pitch of happiness, when one becomes completely good and kind, and disbelieves in the very possibility of evil, unhappiness, and sorrow. - Author: Leo Tolstoy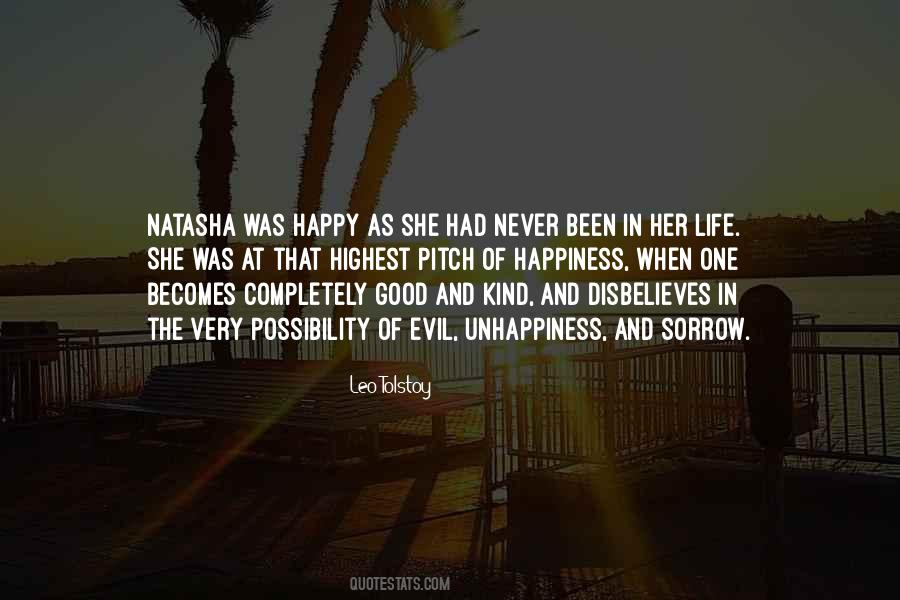 #51. Beyond happiness or unhappiness, though it is both things, love is intensity; it does not give us eternity but life, that second in which the doors of time and space open just a crack: here is there and now is always. - Author: Octavio Paz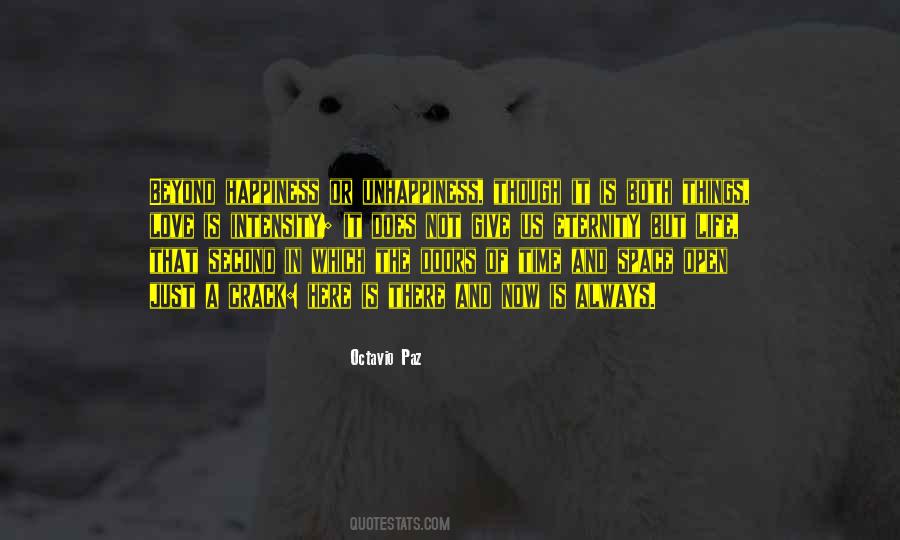 #52. I've spent most of my life trying to think my way to happiness, and my failure to achieve that goal only proves, in my mind, that I am not a good enough thinker. It never occurred to me that the source of my unhappiness is not flawed thinking but thinking itself. - Author: Eric Weiner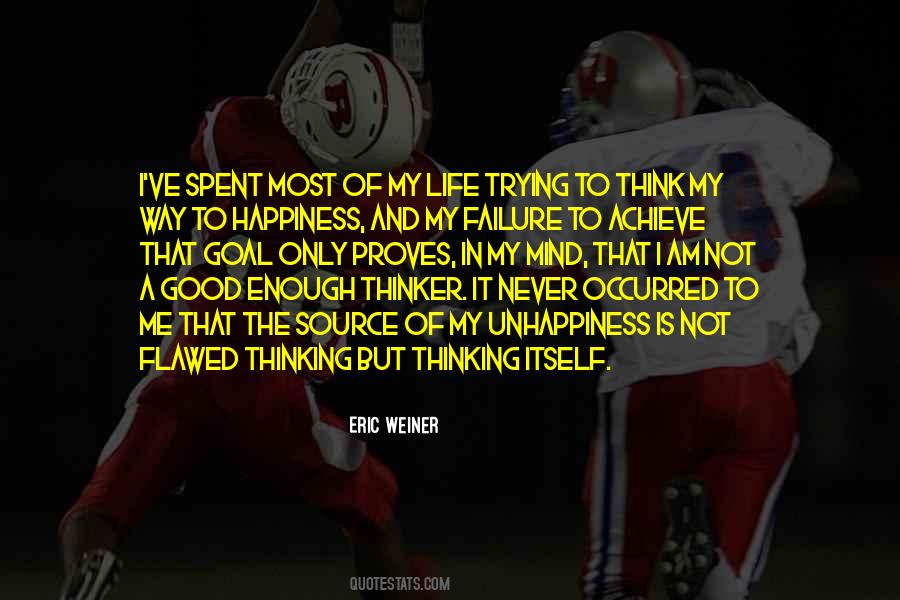 #53. I believe," he said gently, "we all have a perfect right to make ourselves unhappy if that is what we freely choose. But I am not sure we have the right to allow our own unhappiness to cause someone else's. The trouble with life sometimes is that we are all in it together. - Author: Mary Balogh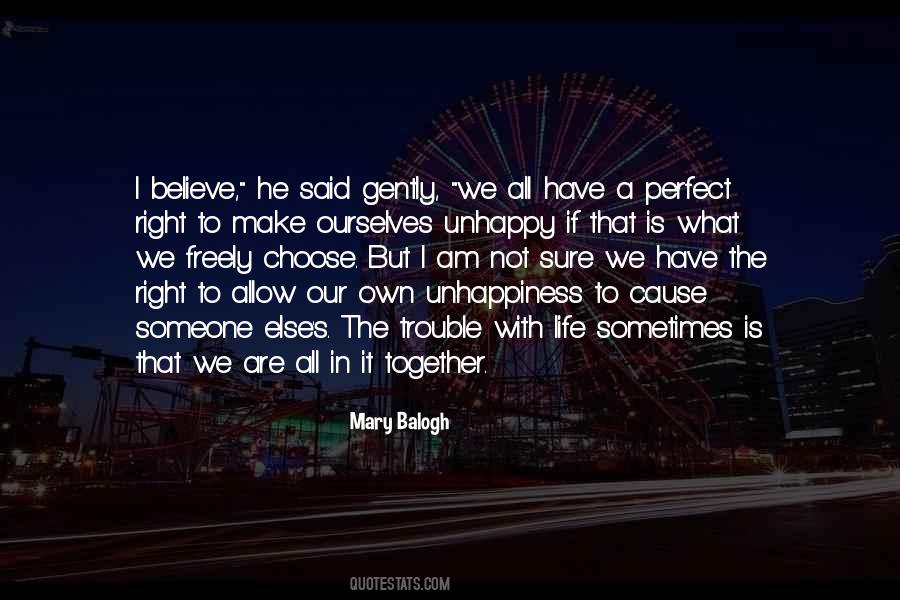 #54. How to deal with problems in life. They are never asked for, but how we deal with them defines our future happiness or unhappiness. - Author: David Michie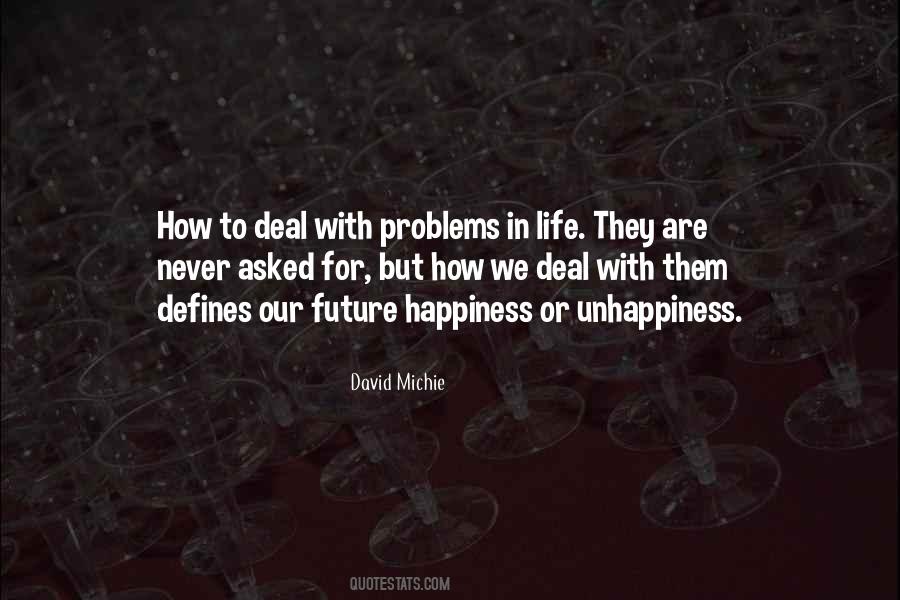 #55. Question everything, even the question mark, that shepherd's crook floating in the air above that small round rock

If you - stubbornly - still wish to be unhappy,
maybe you can grasp it. - Author: Dick Allen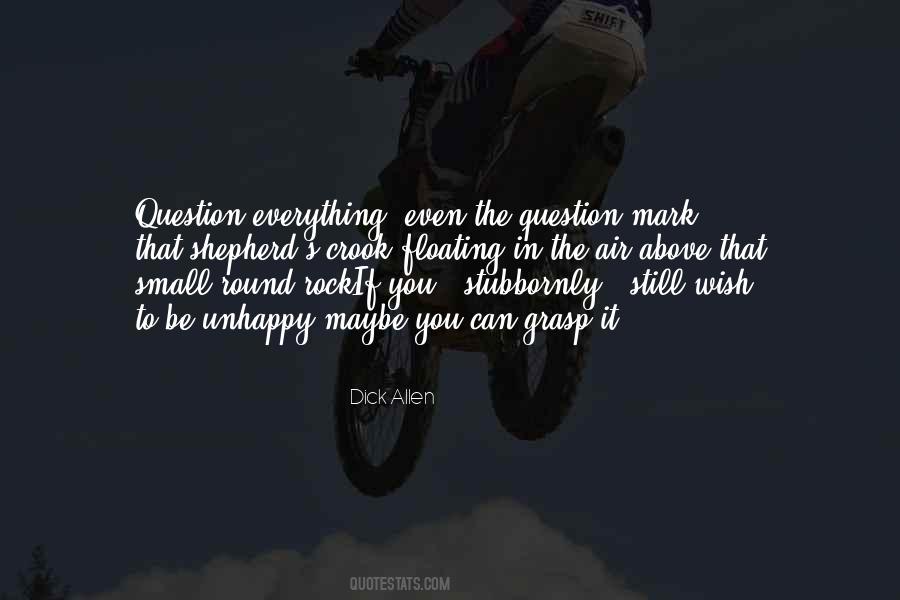 #56. Happiness is the result of inner maturity. It depends on us alone, and requires patient work, carried out from day to day. Happiness must be built, and this requires time and effort. In the long term, happiness and unhappiness are therefore a way of being, or a life skill. - Author: Matthieu Ricard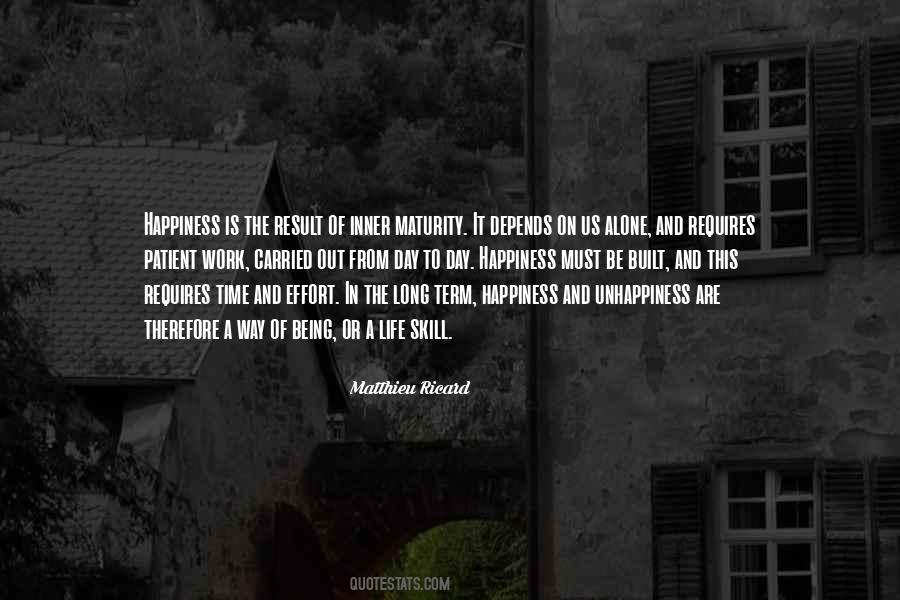 #57. The unhappiest people in this world, are those who care the most about what other people think. - Author: C. JoyBell C.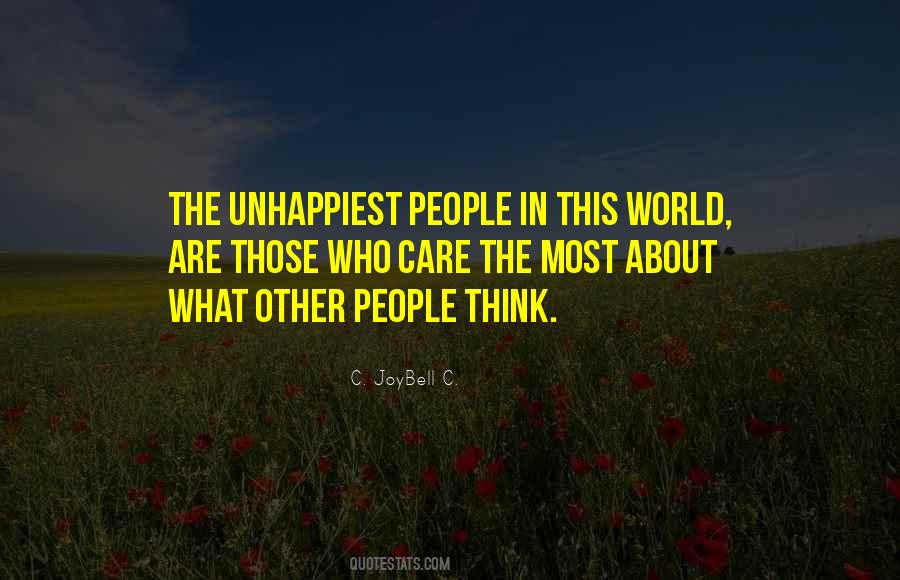 #58. Are you unhappy? Ok. Being unhappy is a part of life; no big deal! Continue your life because neither unhappiness nor happiness drop anchor in your life! - Author: Mehmet Murat Ildan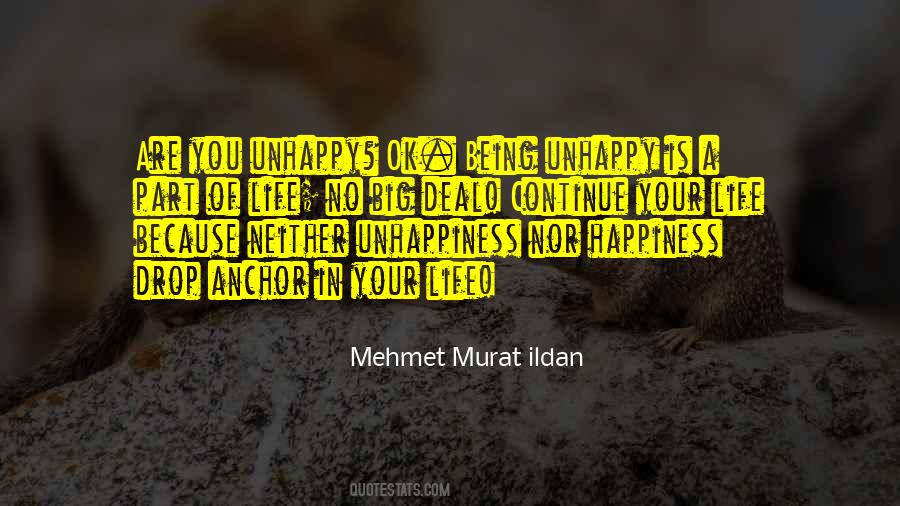 Famous Authors
Popular Topics