Too Much Work Famous Quotes & Sayings
List of top 100 famous quotes and sayings about too much work to read and share with friends on your Facebook, Twitter, blogs.
Top 100 Quotes About Too Much Work
#1. If you start to disrespect the character you're playing, or play it too much for laughs, that can work for a sketch, it will sell some gags, but it's all technique. It's like watching a juggler - you can be impressed by it, but it's not going to touch you in any way. - Author: Steve Coogan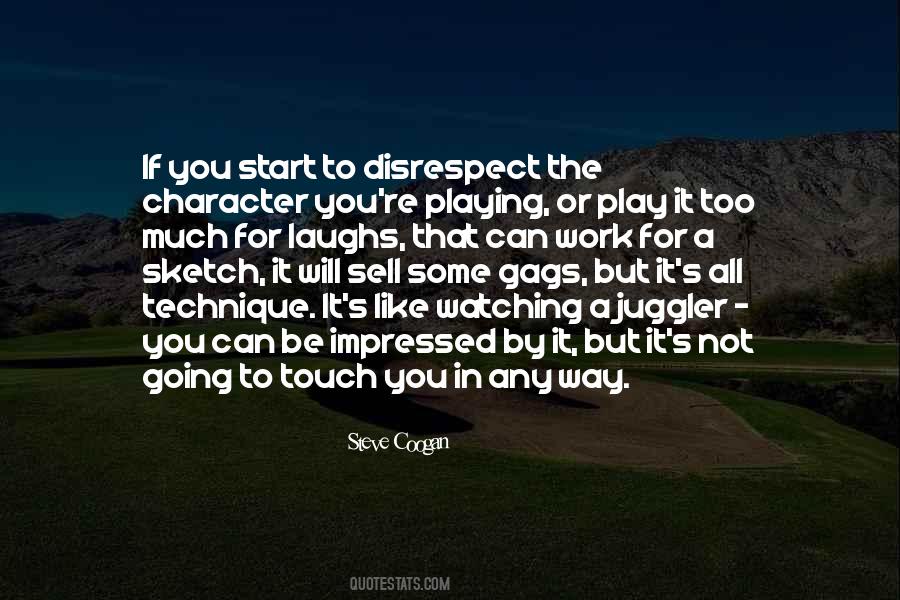 #2. You need to remember to give yourself enough slack to work with, but too much and you'll soon find yourself entangled and bleeding. - Author: Andrew Ervin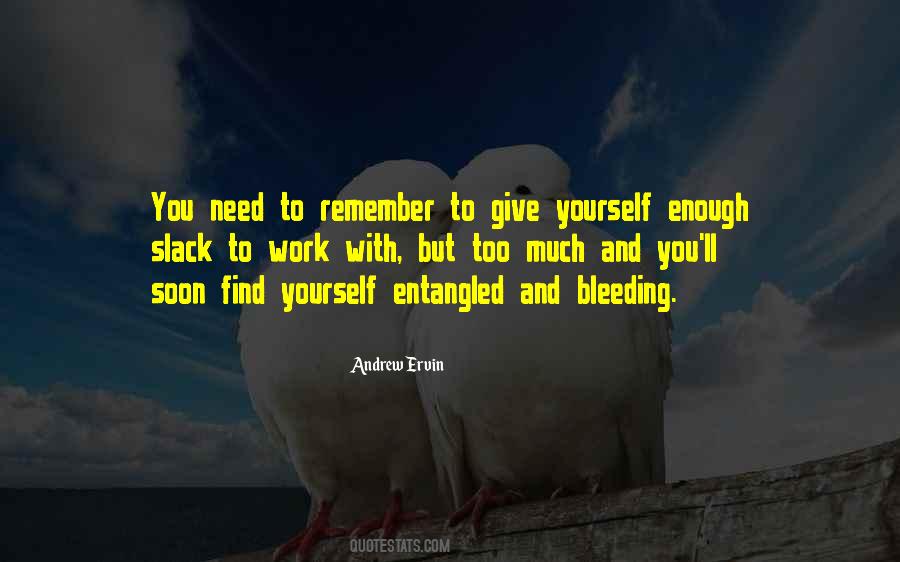 #3. I don't know how anybody can work at home. I know I can't. It's just ... there's too much to do at the house, and now, of course, I have a daughter that's at home, and she's always a draw. I can always drop what I'm doing and go play with her, and I do that all day. - Author: Daniel H. Wilson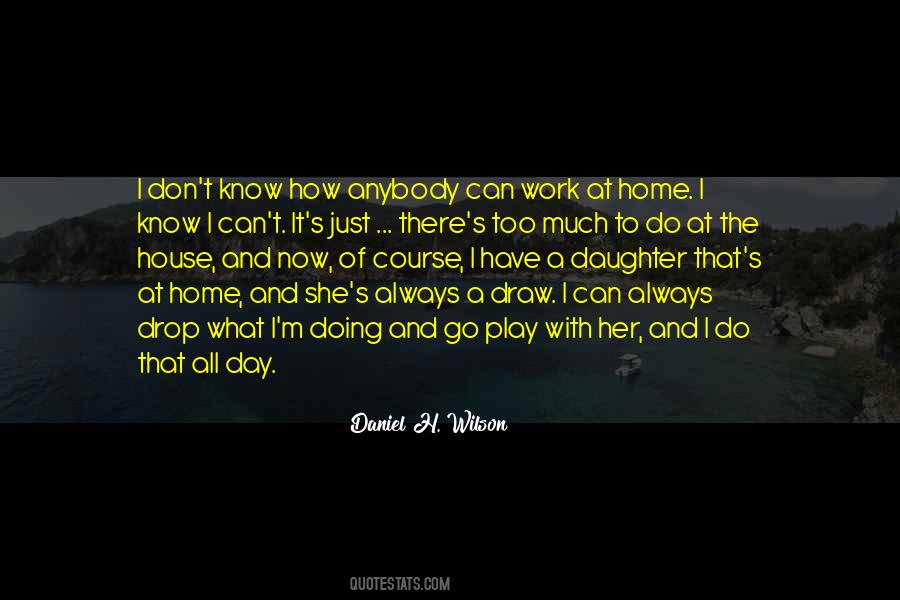 #4. Too much work and too much energy kill a man just as effectively as too much assorted vice or too much drink - Author: Rudyard Kipling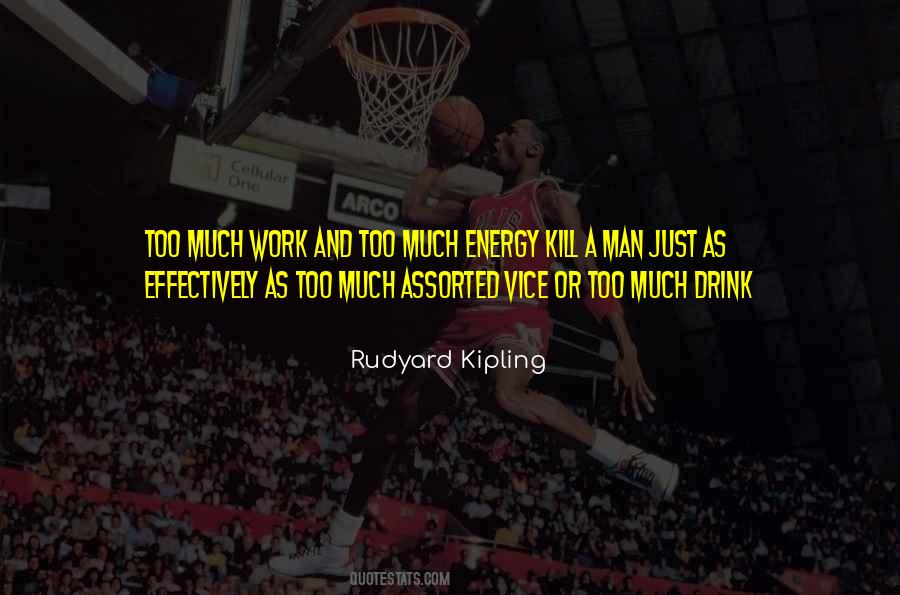 #5. I'd love to do a talk show. But I'm too busy for it. It's just too much work. - Author: Paul Reubens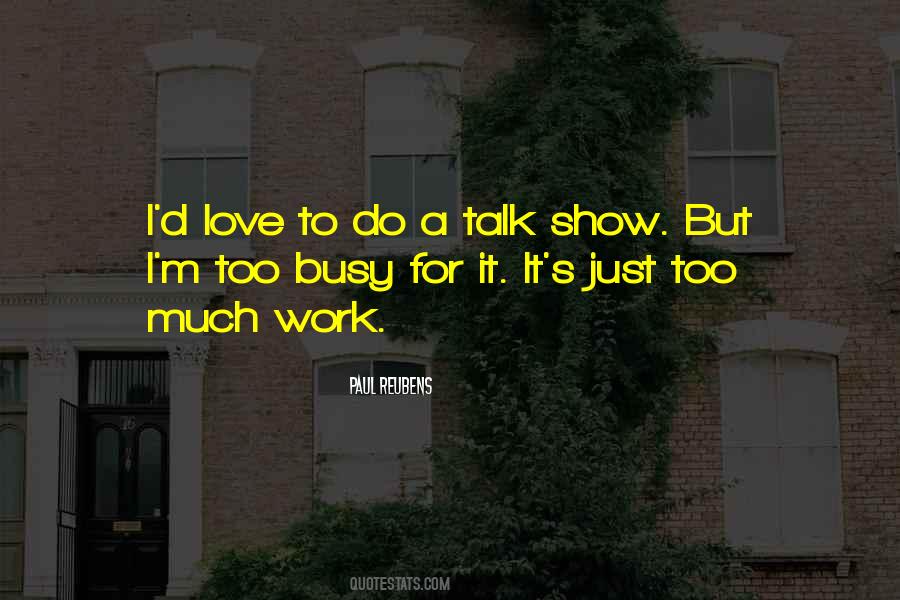 #6. Brothers always. Balthazar is with us too. We make this work,' Finnikin said fiercely. 'We bring peace to these kingdoms. We deserve it. Our women do. All of us have lost too much, Froi. We've lost the joy of being children. Let's not take that from Jasmina and Tariq and those who come after them - Author: Melina Marchetta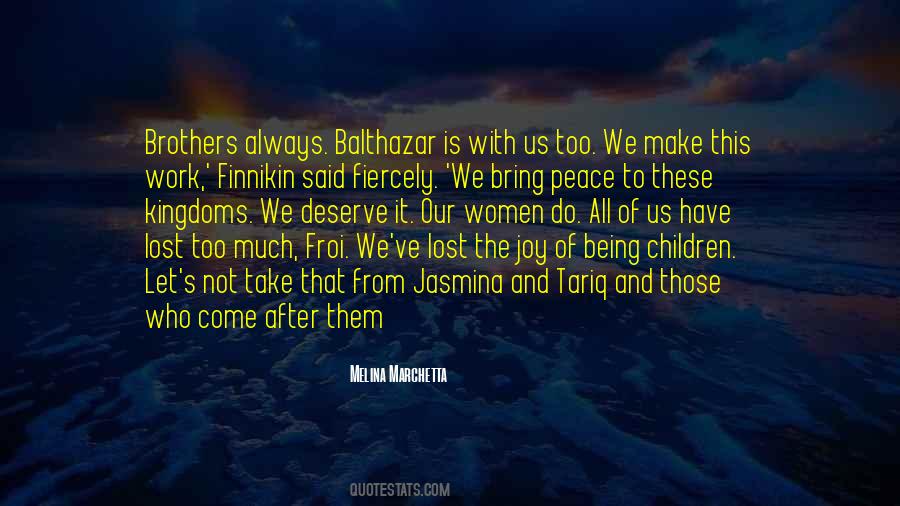 #7. The writer's life: Hard days, lots of work, no money, too much silence. Nobody's fault. You chose it. - Author: Bill Barich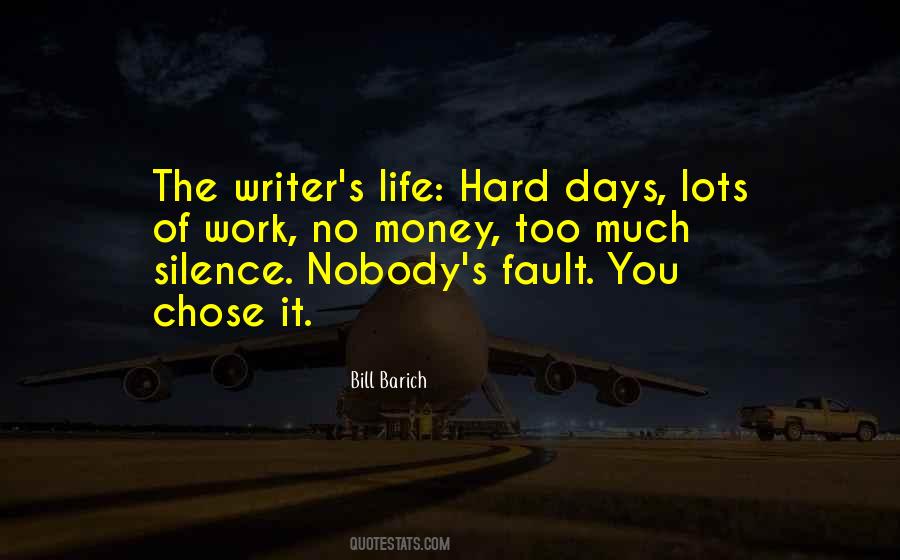 #8. If the audience is made to do not enough work, they resent it without knowing it. Too much and they get lost. There's a perfect pace to be found. And a perfect place that is different for every line of the play. - Author: Tom Stoppard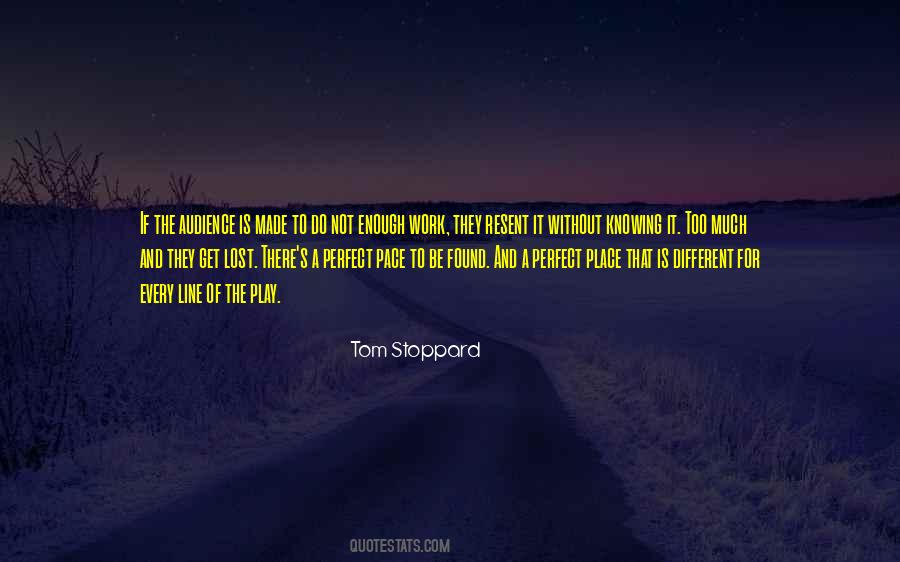 #9. That is, they choose to be ill because being "normal" is too much like hard work. - Author: Paulo Coelho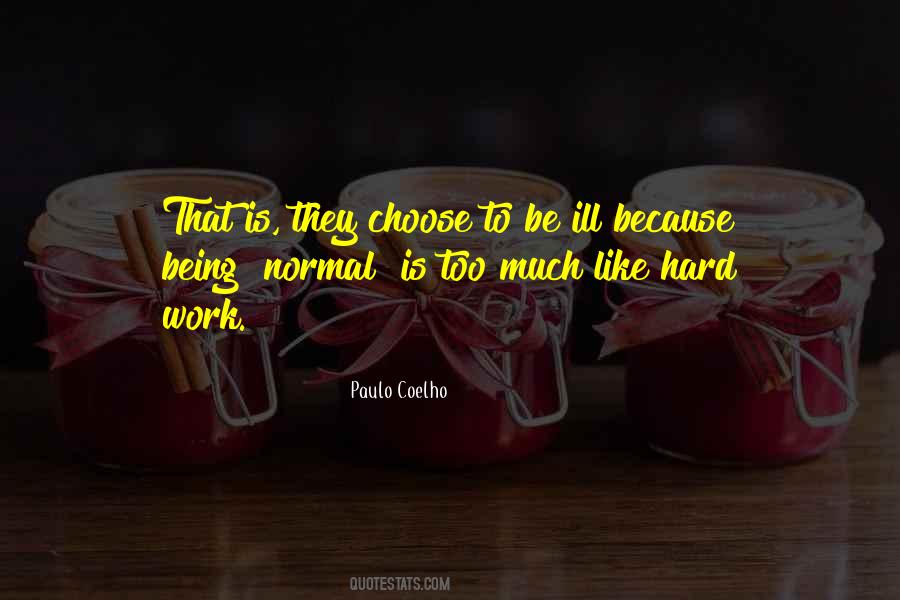 #10. Genius does not have time to stand admiring its reflection; it has too much work to get finished. - Author: Benjamin Wood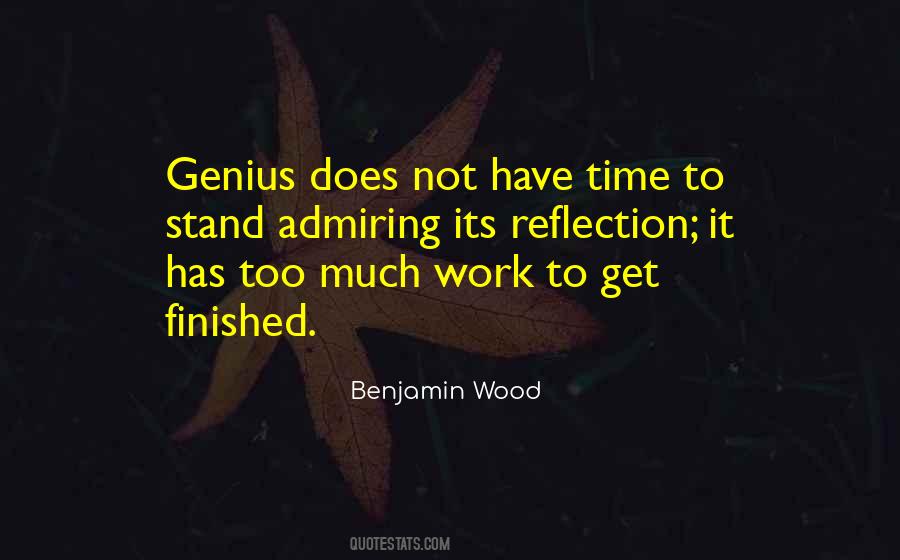 #11. Too much work will create too much motivation for the strong, and a big collapse for the weak! Strength gets great strength from the challenges! - Author: Mehmet Murat Ildan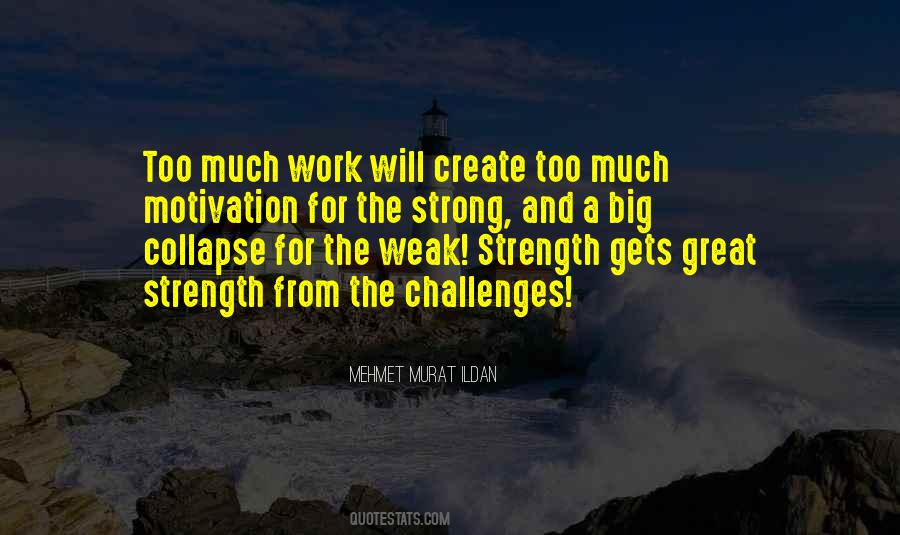 #12. I've felt that if you dwell too much on your errors, you're dealing in the negativity of things. I don't like that. I'd rather work on the positive reinforcement, the things I did well. - Author: Hale Irwin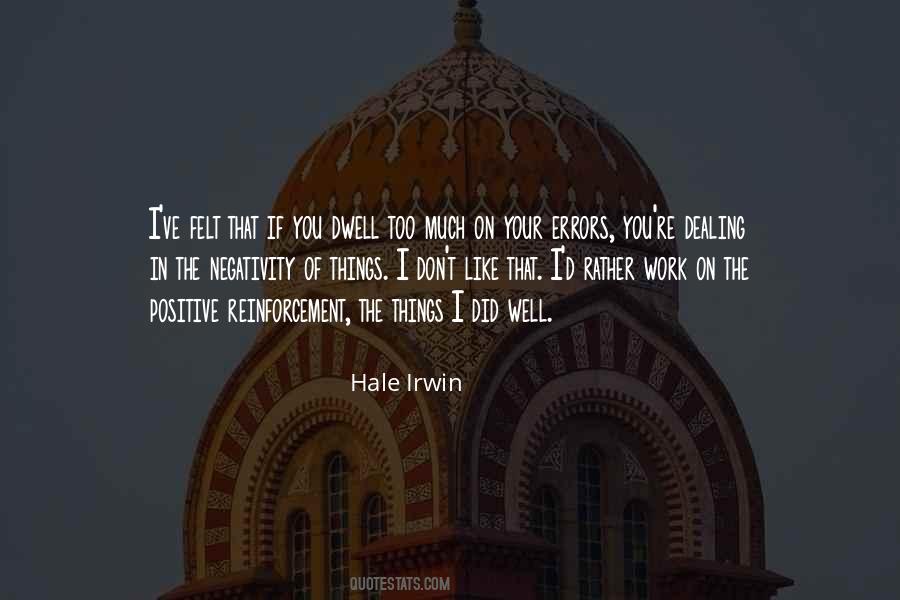 #13. I'm glad I don't have to make a living farming. Too much hard work. Too many variables you don't have control over, like, is it going to rain? All I can say is, god bless the real farmers out there. - Author: Fuzzy Zoeller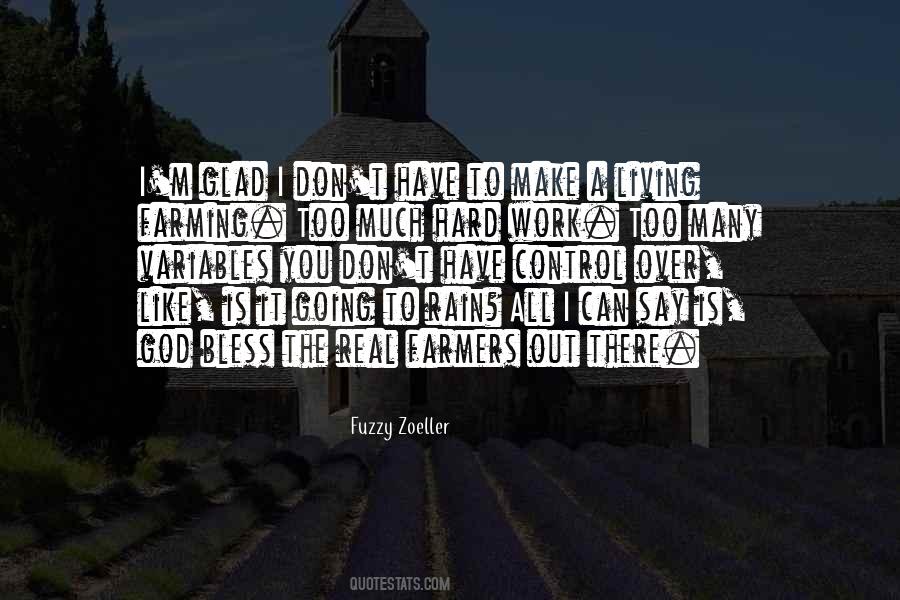 #14. We didn't want to be presidents, or astronouts, or Bill Gates. We had pathetically simple dreams: to do meaningful work that we could be proud of, to be together, and to be happy. That certainly wasn't too much to ask. Or was it? - Author: Tiffanie DeBartolo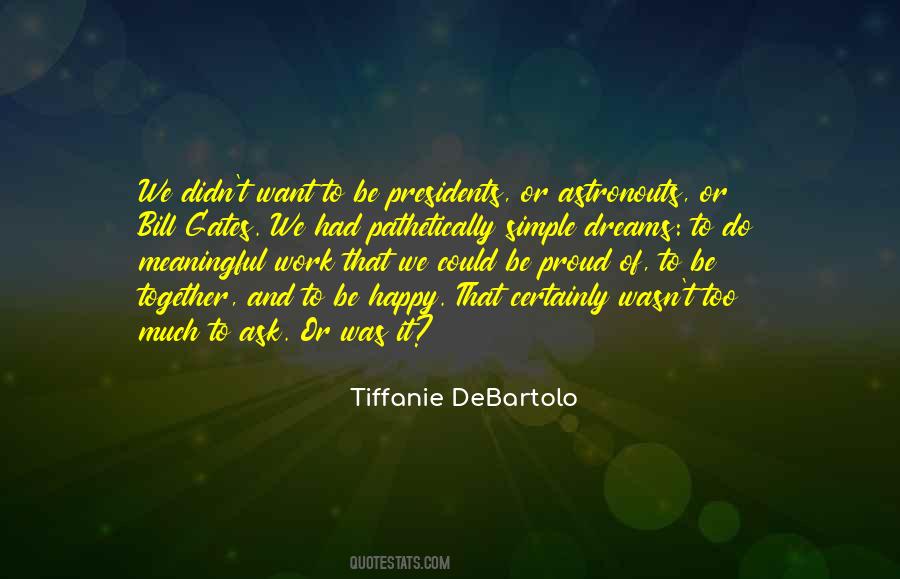 #15. If you over-think, it affects things too much; I work instinctively, like painting in a way. Think too much, and you ruin everything. - Author: Chris Lilley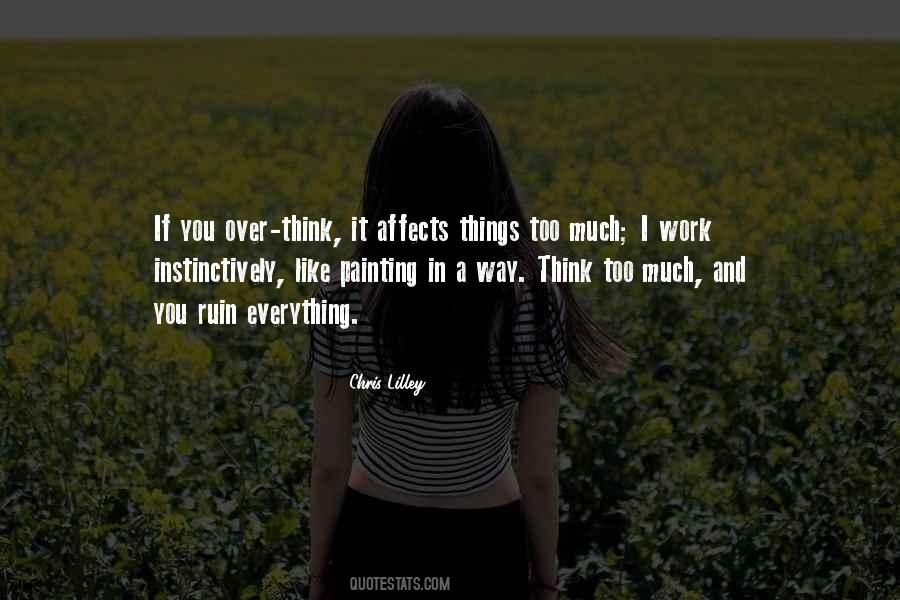 #16. It's business, selling comics, you work out what sells and you don't want to muck about with it too much. - Author: Eddie Campbell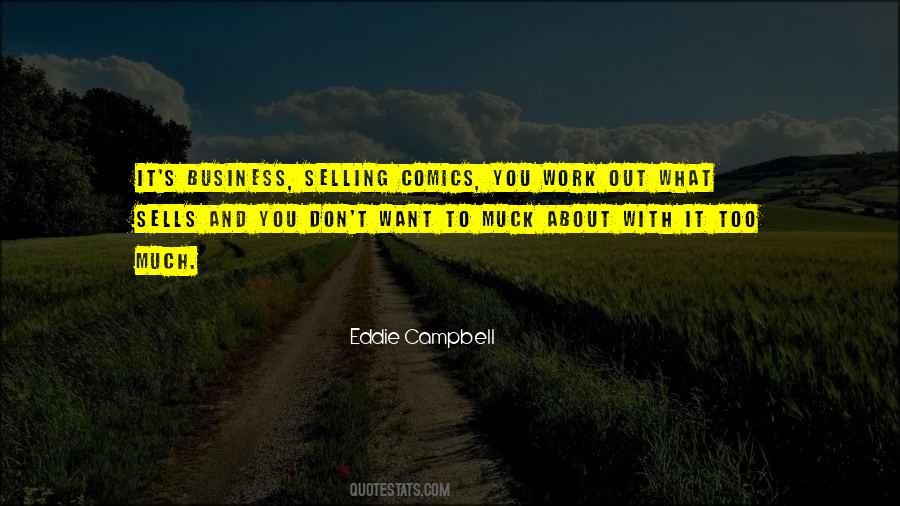 #17. Christians have made too much out of work in the same way that Americans have begun engaging in yoga competitions - twisted-up versions of a purer thing. Christians want to make a difference. So we do, and we do, and we do, and then we find ourselves exhausted. In - Author: Shauna Niequist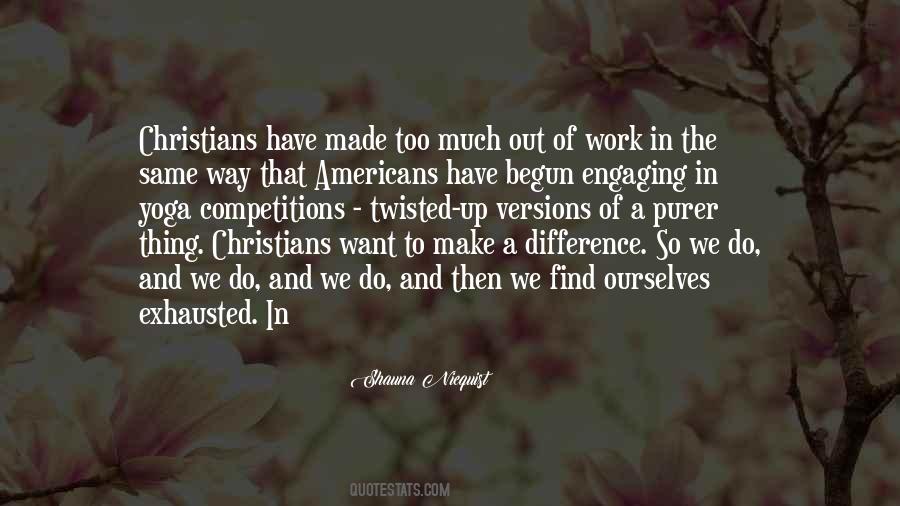 #18. I don't like flirting, and when I love someone, I always give everything, maybe too much. And then you have to work at it all the time. I mean, the first months are always great, but afterwards it becomes hard work. It's not as passionate and crazy. - Author: Eva Green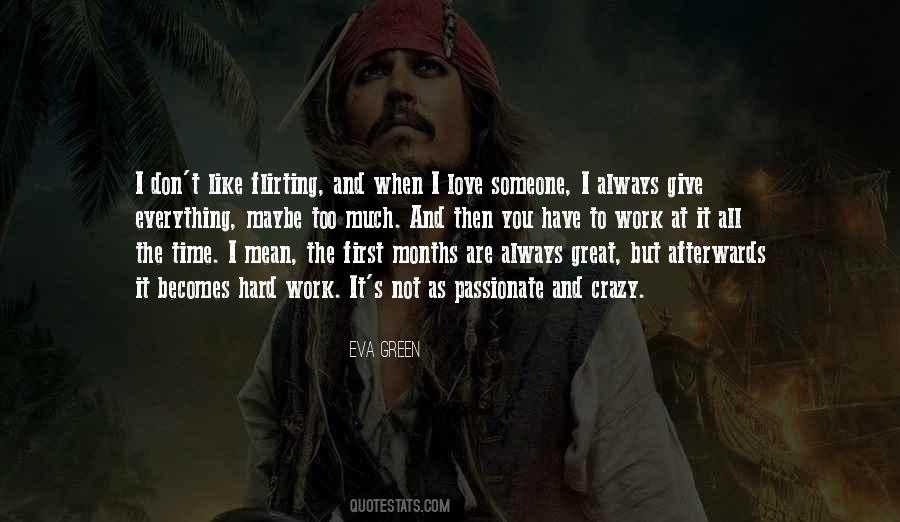 #19. Never trust a mechanic who drives new cars. They're either charging too much money for their work, or they can't keep an old car running - maybe both. - Author: Patricia Briggs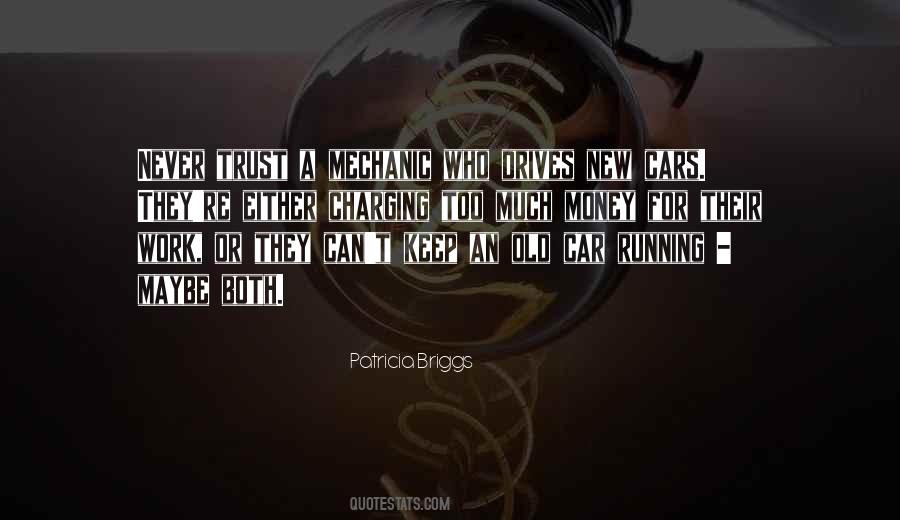 #20. To be honest, I'm not even thinking about America. If I was to start thinking about the enormity of 'Downton' and the size of the project, then I wouldn't be able to be very truthful to the work. I would start to watch myself too much. I'm not even thinking about it. Who knows what will happen. - Author: Tom Cullen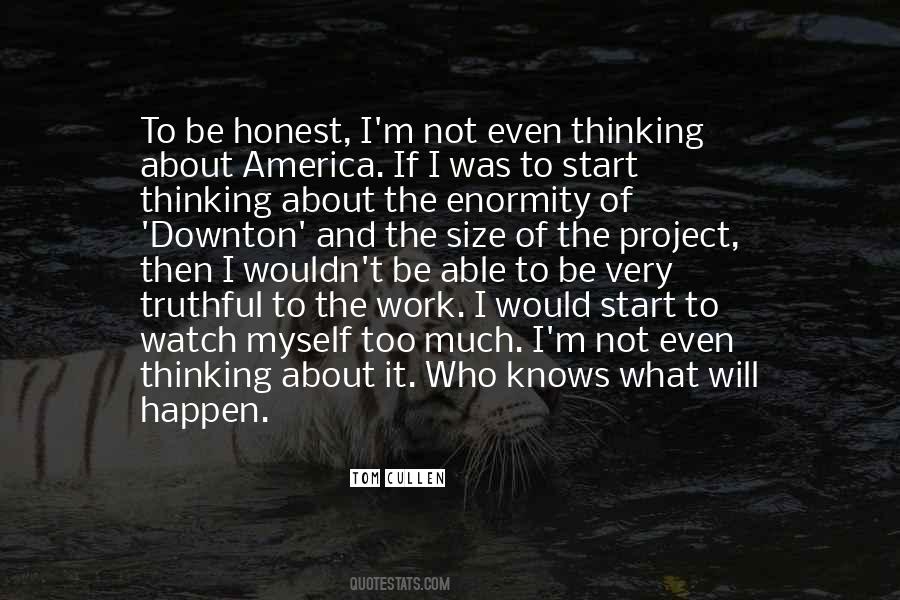 #21. Too much negotiating and not enough work on the court - that's what happened to me during the lockout. Too much talking and not enough training. I couldn't put in my usual offseason work routine. I think that all caught up to me, with my Achilles problems. - Author: Patrick Ewing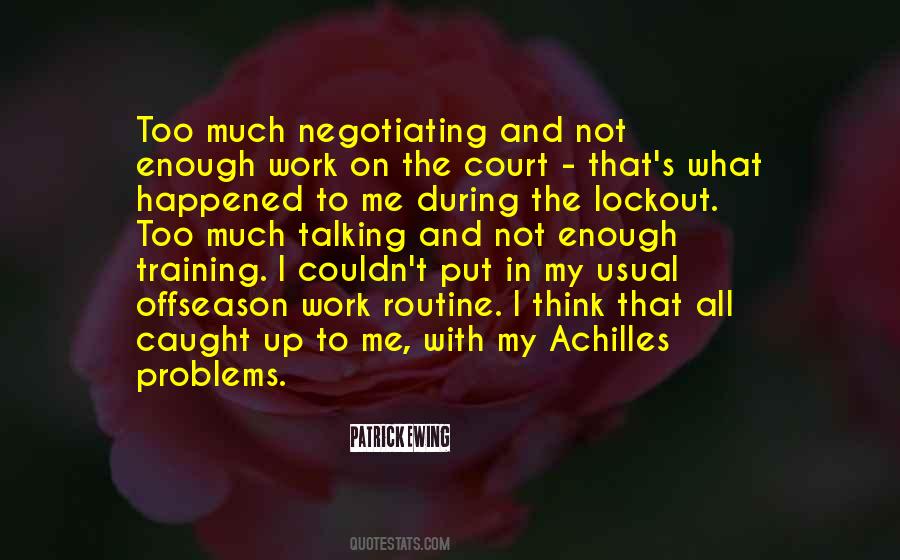 #22. I'm an actress, I live in L.A., I work in Hollywood. But I've learned that if you're too skinny, they'll say something about it. If you're not skinny enough, they'll say something about it. I just try to feel good in my own skin as much as I can. - Author: Jennifer Love Hewitt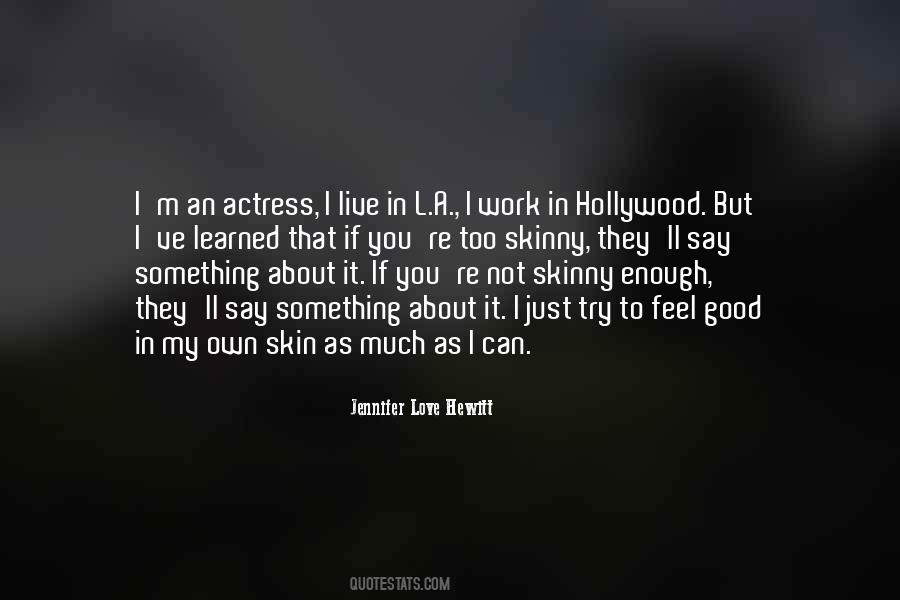 #23. I think we're as different as land and water.'
'James and I were very different too.'
'You were? But you seem so good together, so much in harmony.' And so passionate, but Victoria bit back the too-intimate words.
'It's taken years and lots of hard work to develop that kind of unity. - Author: Jody Hedlund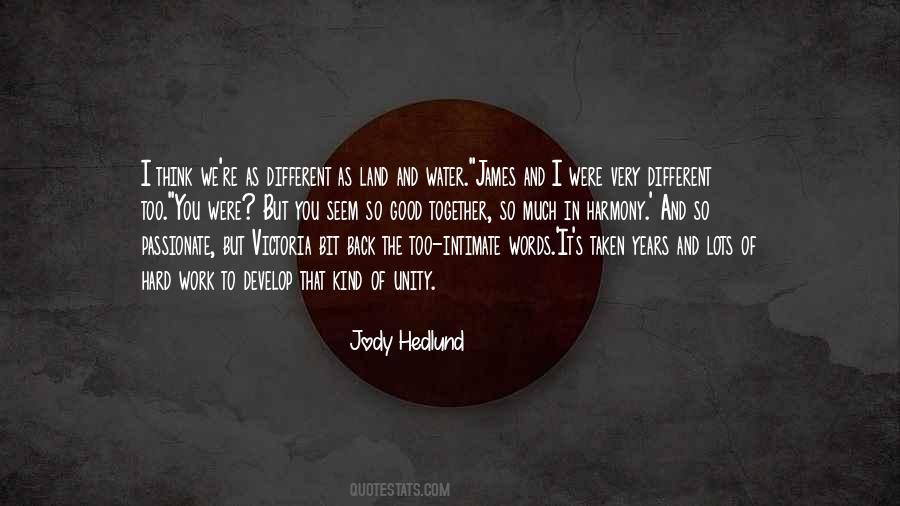 #24. I wanted to write about women and their work, and about valuing the work we, as women, choose to do. Too many women I knew disparaged their work. Many working mothers thought they ought to be home with their children instead, so they carried around too much guilt to enjoy much job satisfaction. - Author: Jennifer Chiaverini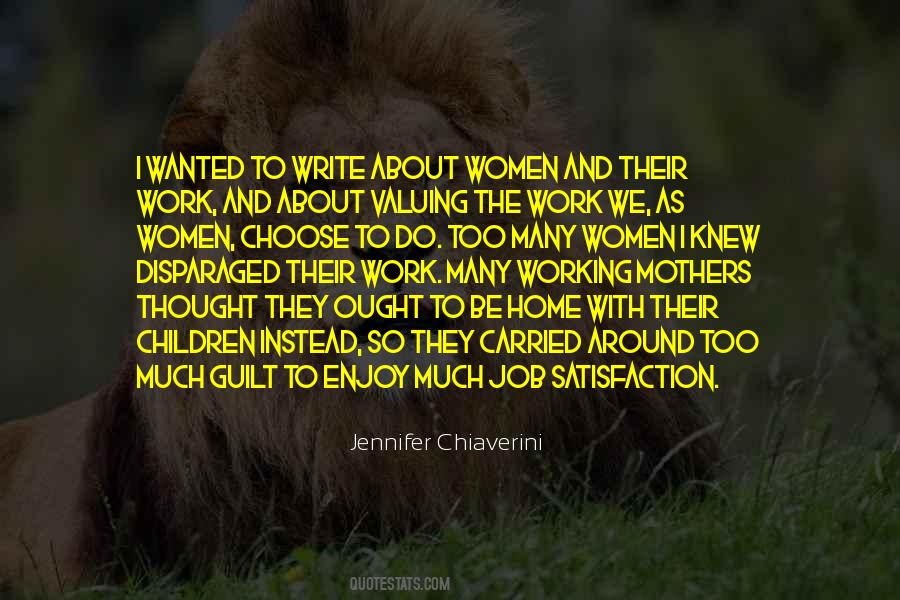 #25. At my age, I realize that my most precious possession is time, and I've got too much unfinished work to do to spend even a minute talking about myself. - Author: Benny Carter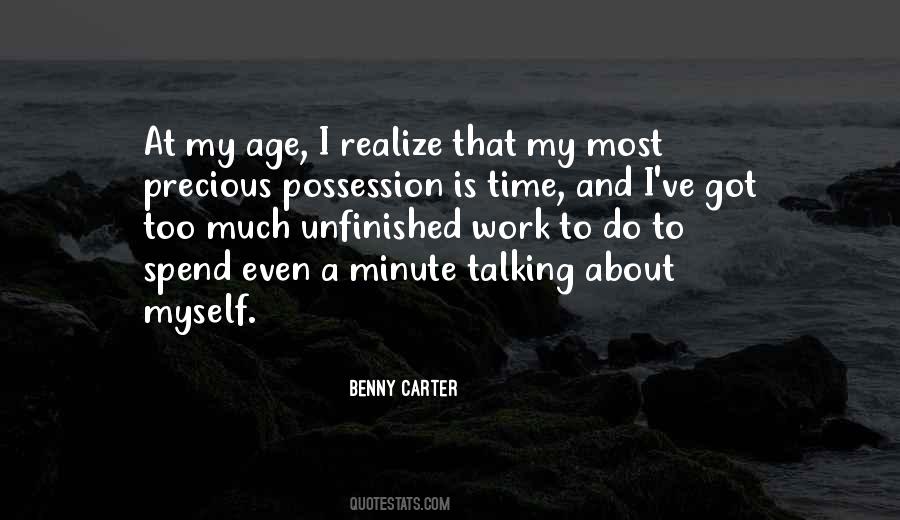 #26. I do jump behind the bar when we're really busy, but by that point I've usually drunk too much to work. - Author: Jason Flemyng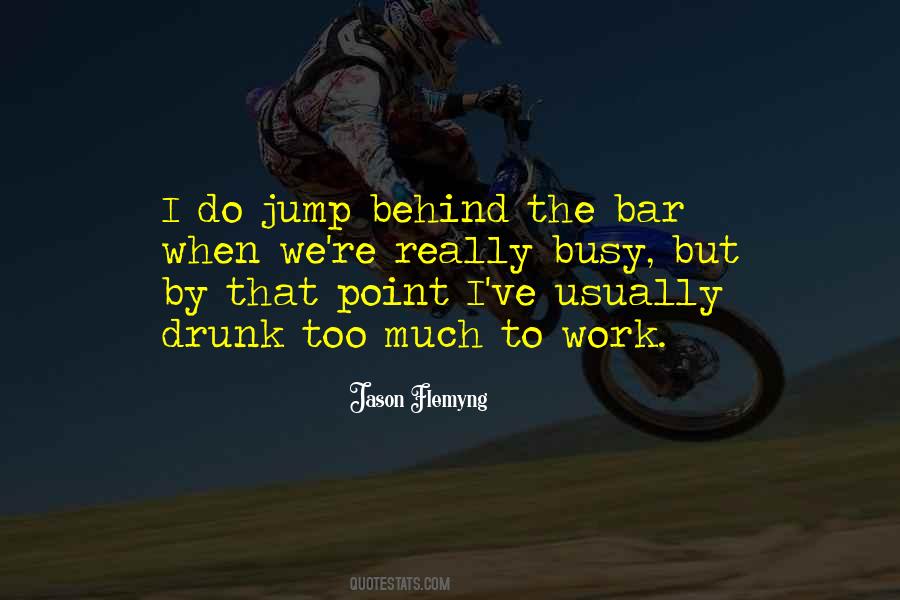 #27. Everyday the opportunity exists to change your life. But most days, the idea of having to change the big things in life just seems like too much work. Should I lie on the couch and watch a movie, or shuld I confront my personal demons? - Author: Jill Davis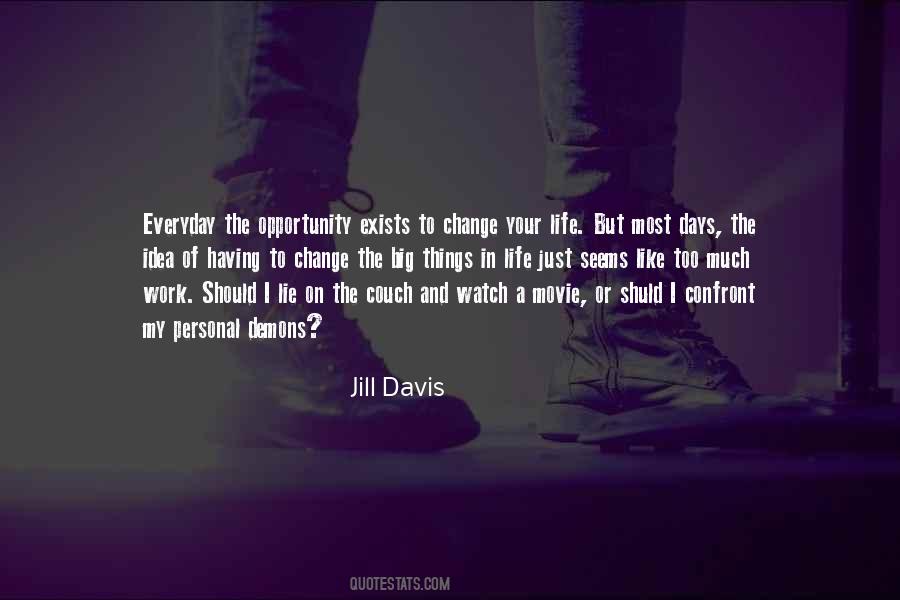 #28. ... I had seen the princess and let her lie there unawakened, because the happily ever after was so damnably much work. - Author: Orson Scott Card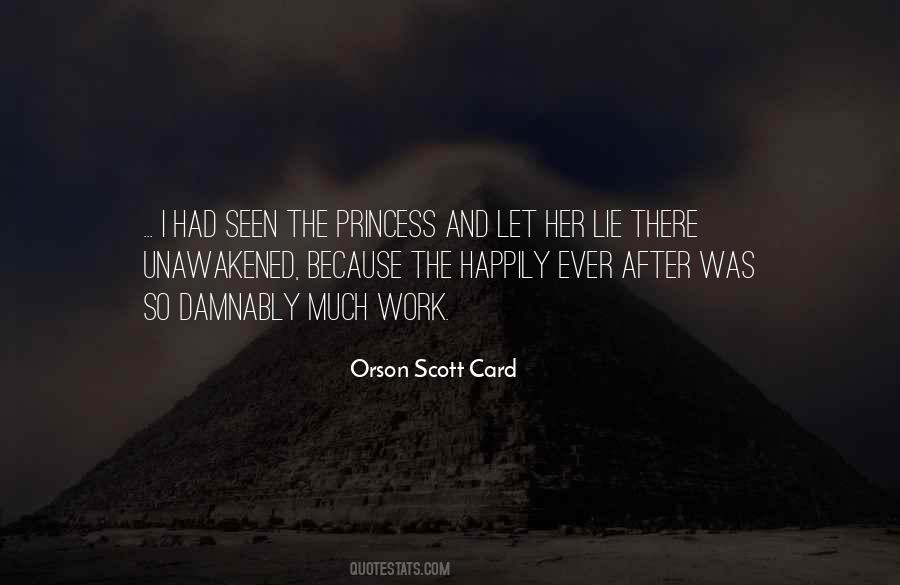 #29. Ma's still spending too much money on clothes. I'm trying to teach her that material possessions don't equal happiness. It's a work in progress. - Author: L. H. Cosway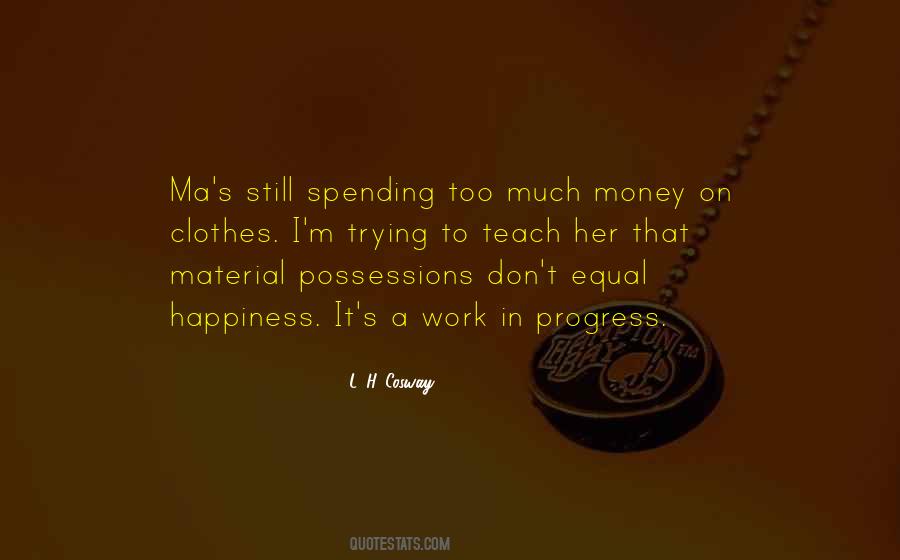 #30. Lovers of words have no place where honest work must be done. - Author: Karen Essex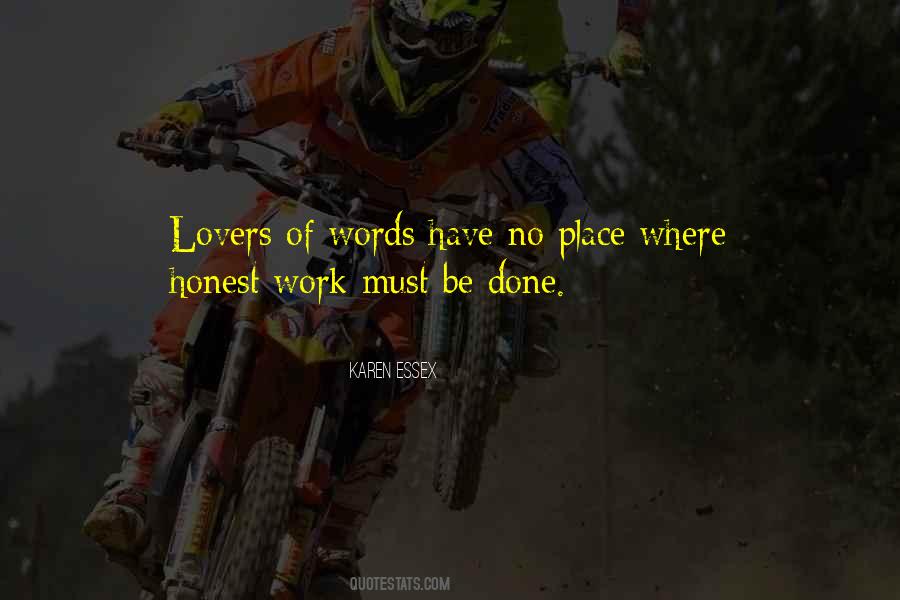 #31. Distinguish yourself [ ... ] in an age where girls often make themselves too available to boys, by making him work a little for your attention. He'll think he's won a prize when he gets it, and he'll work that much harder to keep it. Boys turn into men and men put a premium on what's hard to get. - Author: Karen Marie Moning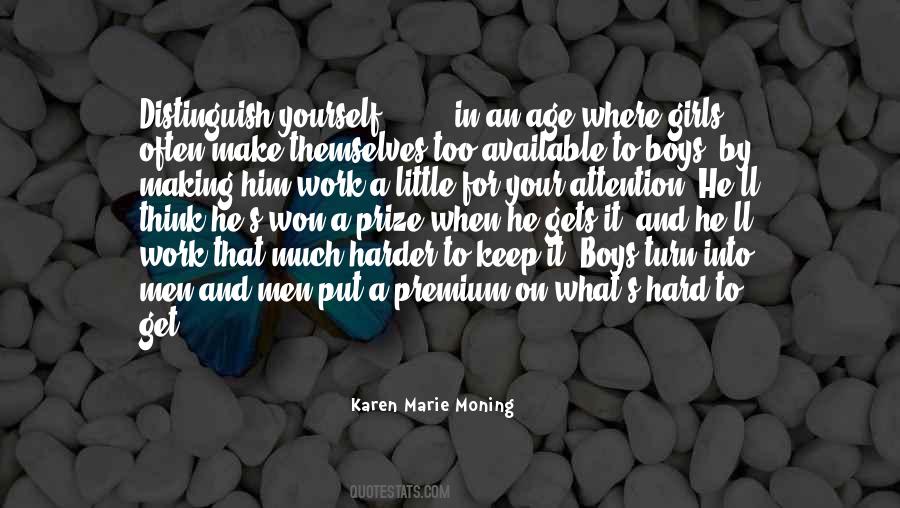 #32. It's got too much hard work slapping them and telling them to shut up. - Author: Jo Brand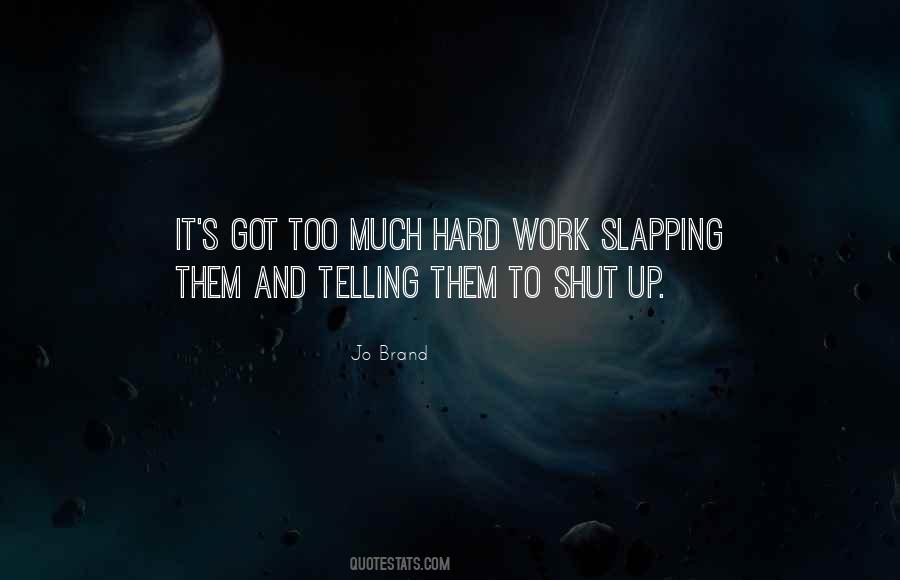 #33. Ministers have received their wages, and some have their minds too much on their wages. They labor for wages, and lose sight of the sacredness and importance of the work. - Author: Ellen G. White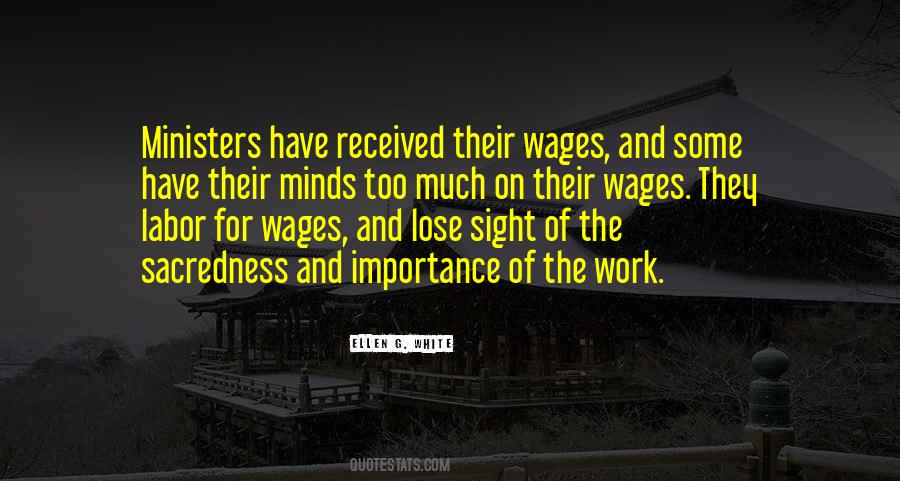 #34. One more thing: don't spend too much time merely reading. The best part of this work is the play, so play and enjoy! - Author: Gary Gygax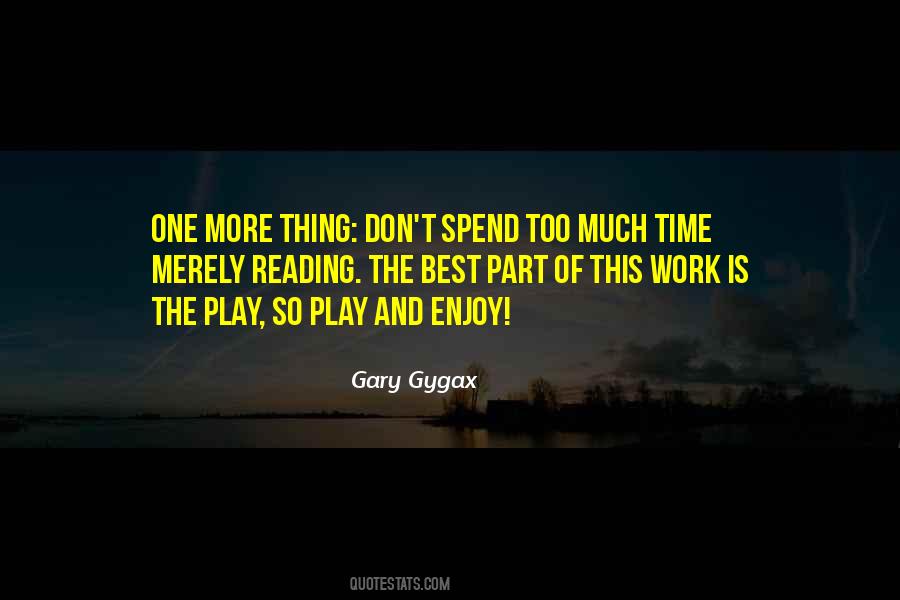 #35. I think it took me a little while to be true to myself as a designer, and in some ways I'm still trying to do that. I have to choose things that come naturally to me. Whenever I challenge something too much or try too hard, it never quite works out. - Author: Stella McCartney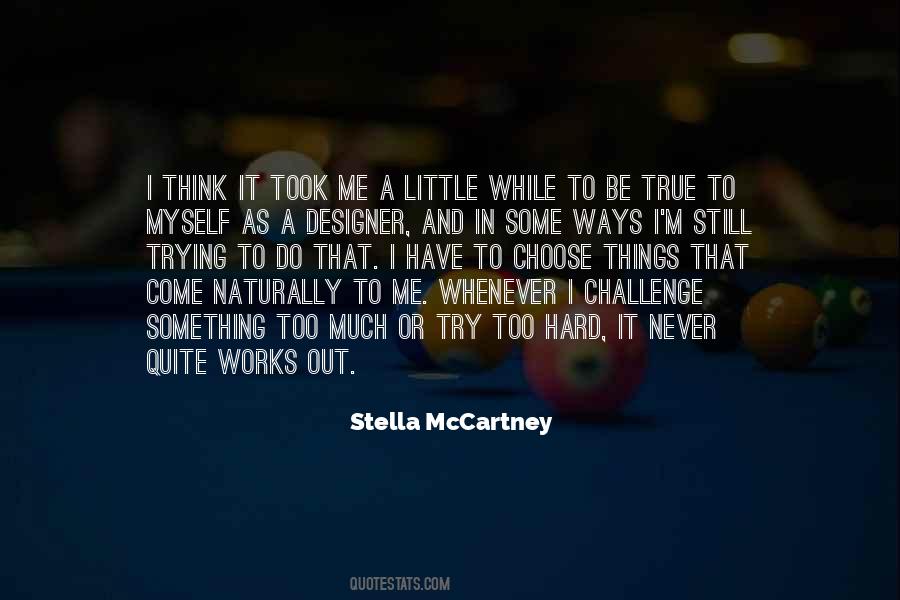 #36. This challenge turned out to be brunette. Feisty. Just the way I like them. But innocent. Too innocent for me. Too innocent to do anything other than sample and toss back. Anything more would be too risky, too much work. - Author: Alessandra Torre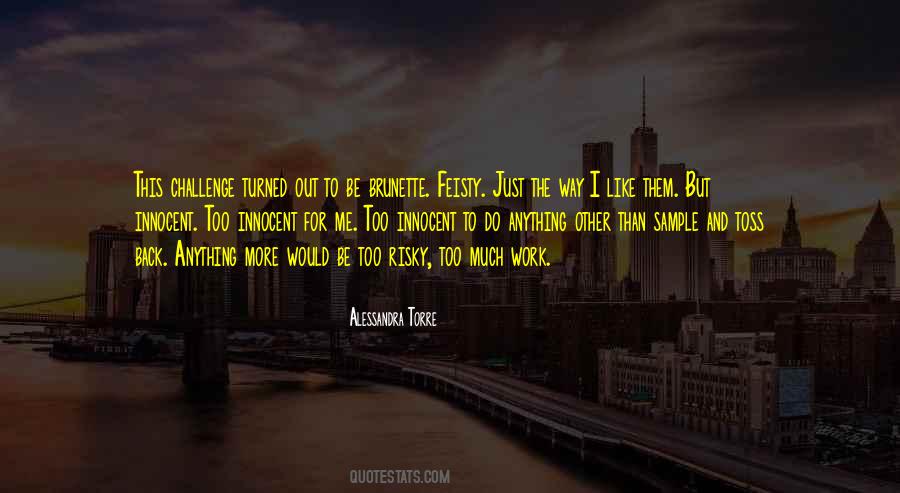 #37. If I've done my work well, I vanish completely from the scene. I believe it is invasive of the work when you know too much about the writer. - Author: Mary Oliver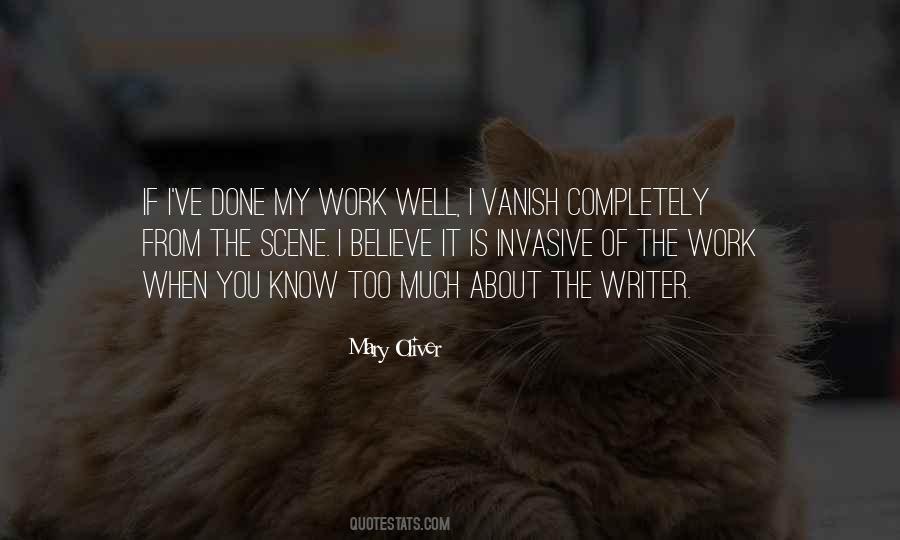 #38. High school taught me a valuable lesson about glasses: Don't wear them. Contacts have always seemed like too much work, so instead I just squint, figuring that if something is more than ten feet away, I'll just deal with it when I get there. - Author: David Sedaris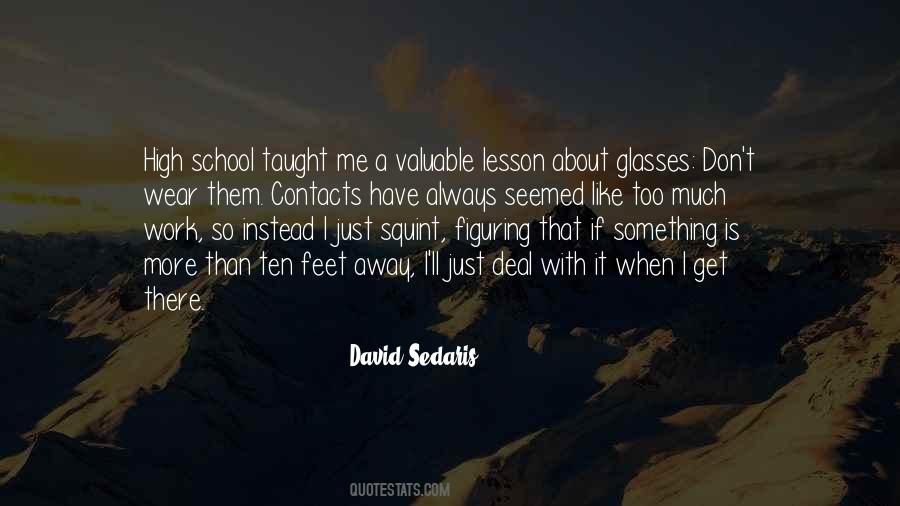 #39. Closet communion needs time for the revelation of God's presence. It is vain to say, "I have too much work to do to find time." You must find time or forfeit blessing. God knows how to save for you the time you sacredly keep for communion with Him. - Author: Arthur Tappan Pierson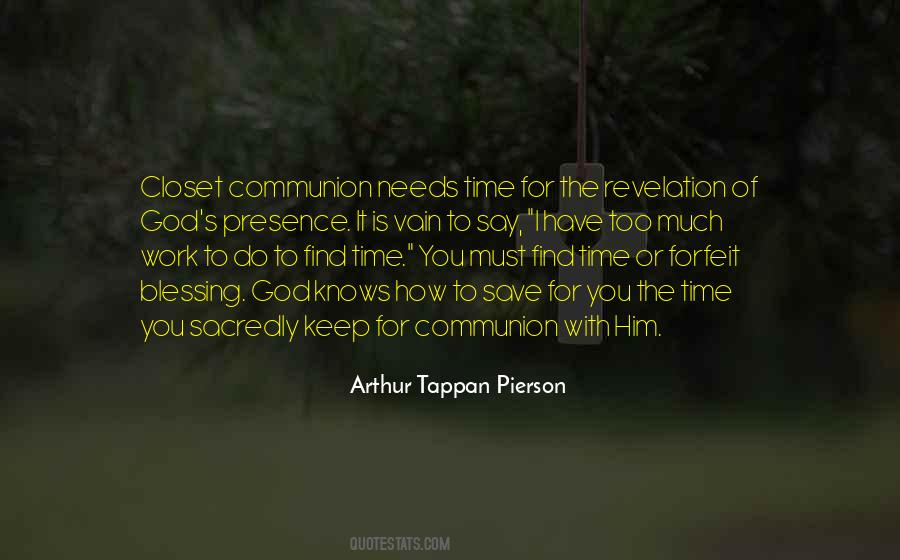 #40. You can have a great character in a really bad script, and the film will never be seen. It's just too much work to commit to a film and not have it released. - Author: Devin Ratray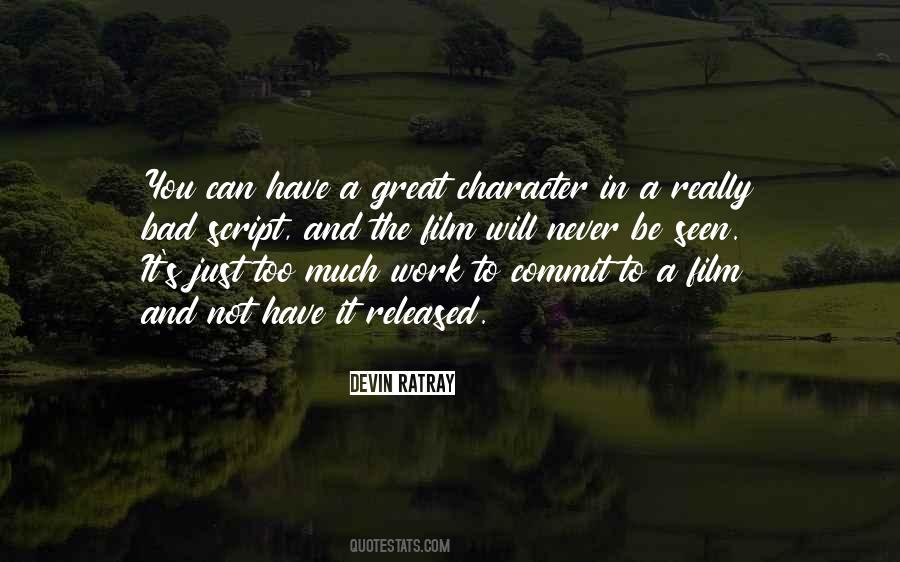 #41. Knowing that conscious decisions and personal memory are much too small a place to live, every human being streams at night into the loving nowhere, or during the day, in some absorbing work. - Author: Rumi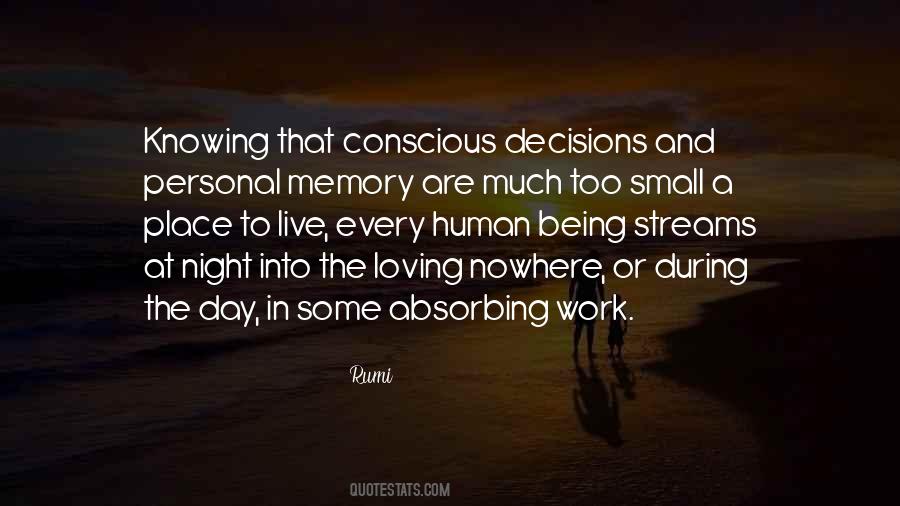 #42. It's good to overexpose yourself with work. But don't expose yourself too much with the press. - Author: Liev Schreiber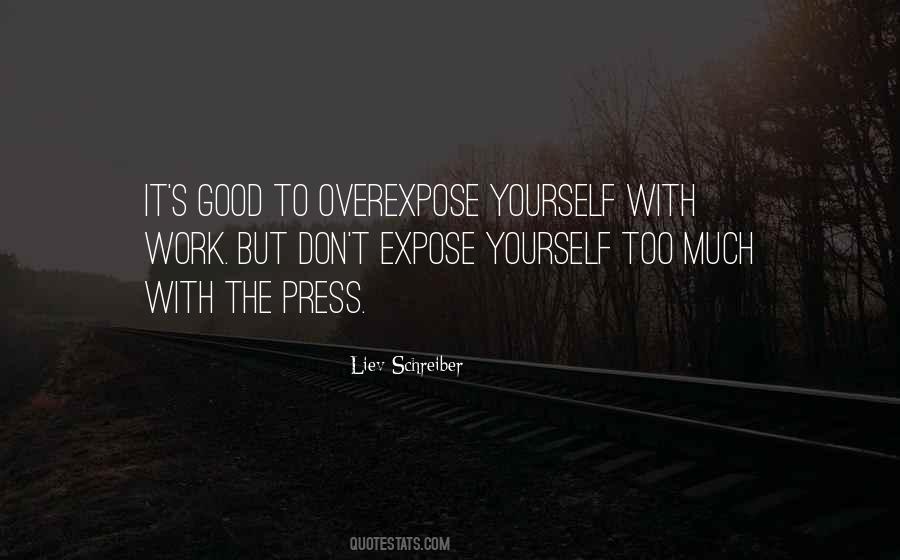 #43. Women will work out their destinies - much better, too, than men can ever do for them. All the mischief to women has come because men undertook to shape the destiny of women. - Author: Swami Vivekananda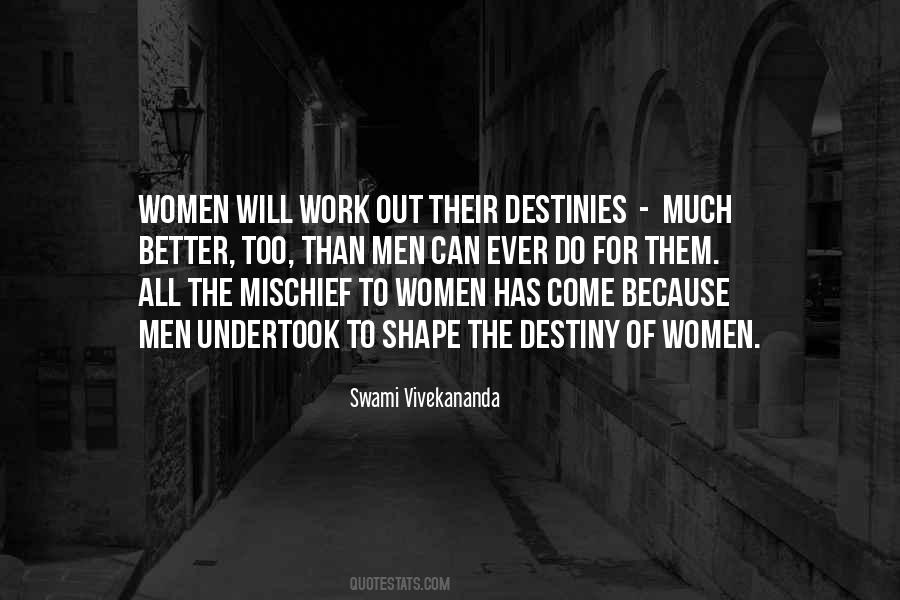 #44. You can't ever work too much because there's no such thing as being in too good condition. You can't ever lift too many weights because you can't ever get too strong. You can't ever wrestle too much because you can always do better. - Author: Dan Gable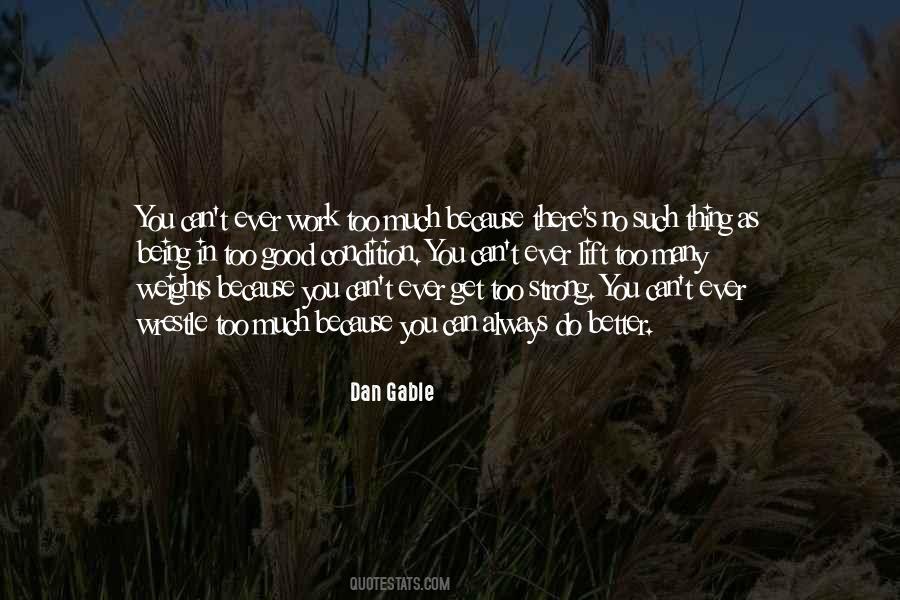 #45. Do not finish your work too much. An impression is not sufficiently durable for its first freshness to survive a belated search for infinite detail; in this way you let the lava grow cool ... - Author: Paul Gauguin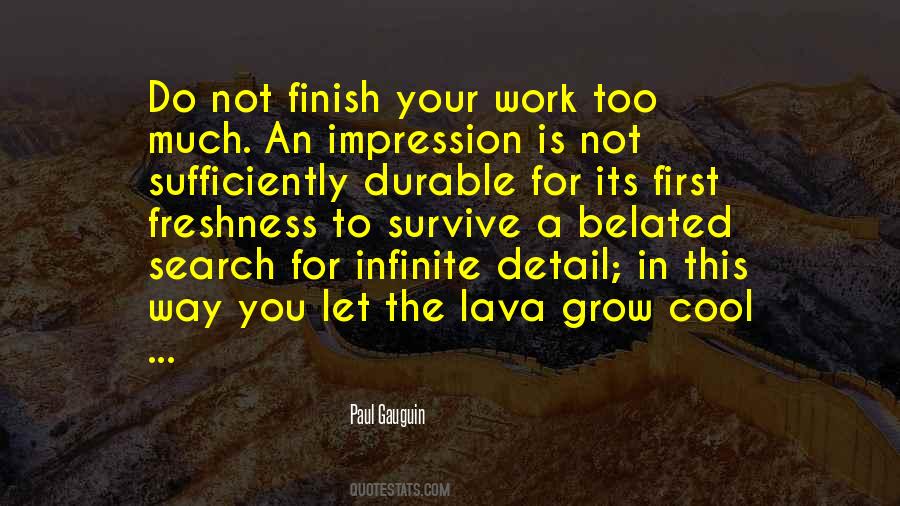 #46. The bad ones want you to work around them and their time and the decent ones want too much time. I just don't have it. I am in grind mode. I do not have time to be a mother, a student, a home health care worker and a girlfriend to someone. Now a fuck partner, yea I could get with that. - Author: M.J. Sparks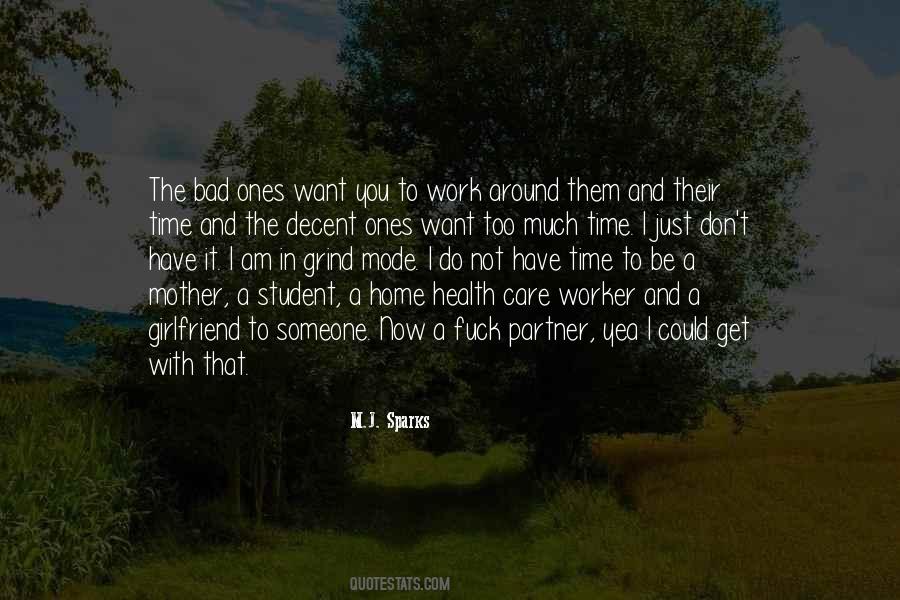 #47. Long ago you may have given up control of your brain and set it on autopilot either because it just felt like too much work. And it is work! But for me, this work was well worth it for the prospect of not waking up sad every day. - Author: Chris Hardwick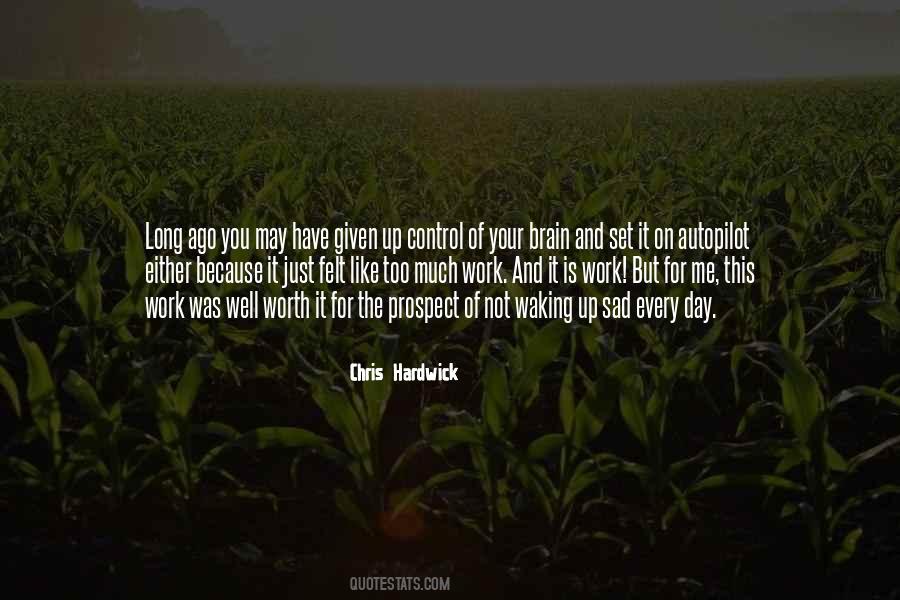 #48. Working smart is harder than working hard. It's just less visible, and we care too much about what others see. - Author: Shane Snow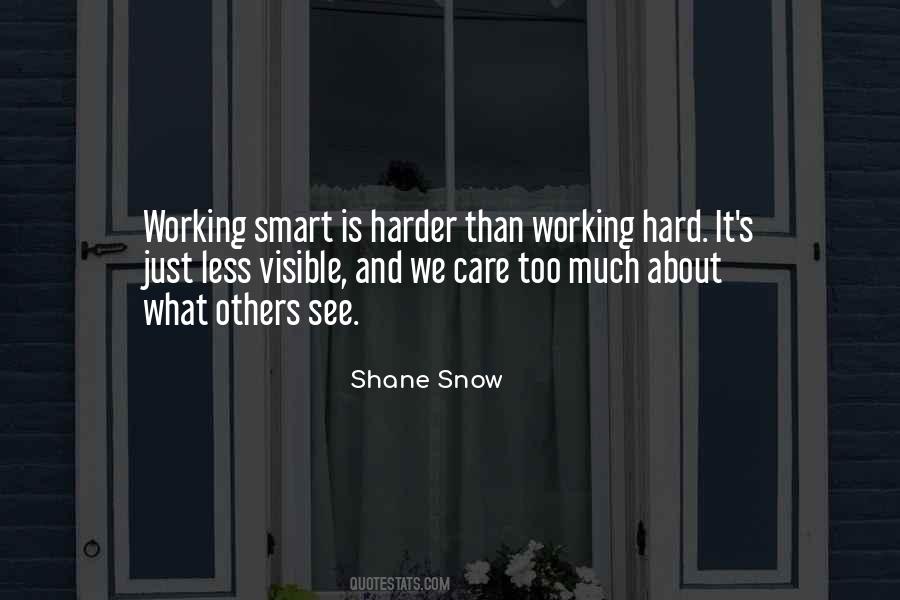 #49. I didn't want to be the lead guy. That's too much work. But I thought that it might be fun to be the lead guy's friend. I'd have days off, and still get a paycheck every week. - Author: Robert Sean Leonard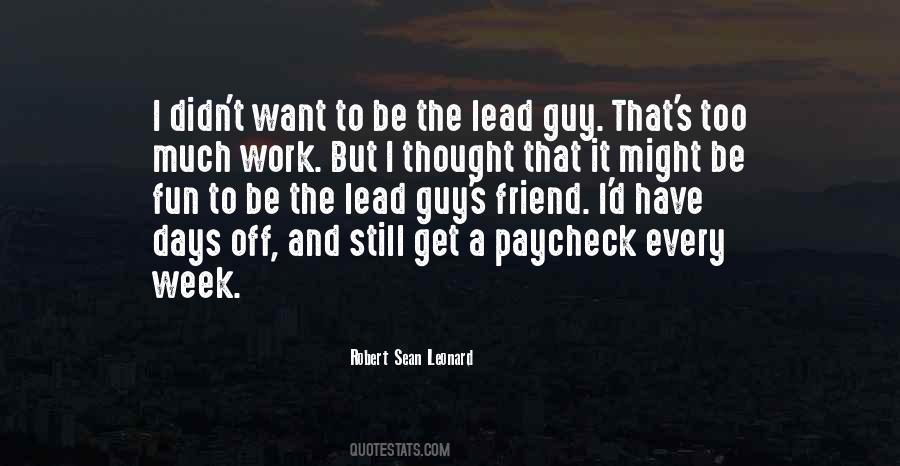 #50. I wanted to work towards the four majors and the Davis Cup. I know to a lot of people it may not mean too much, but to me (Davis Cup) means an awful lot. - Author: Lleyton Hewitt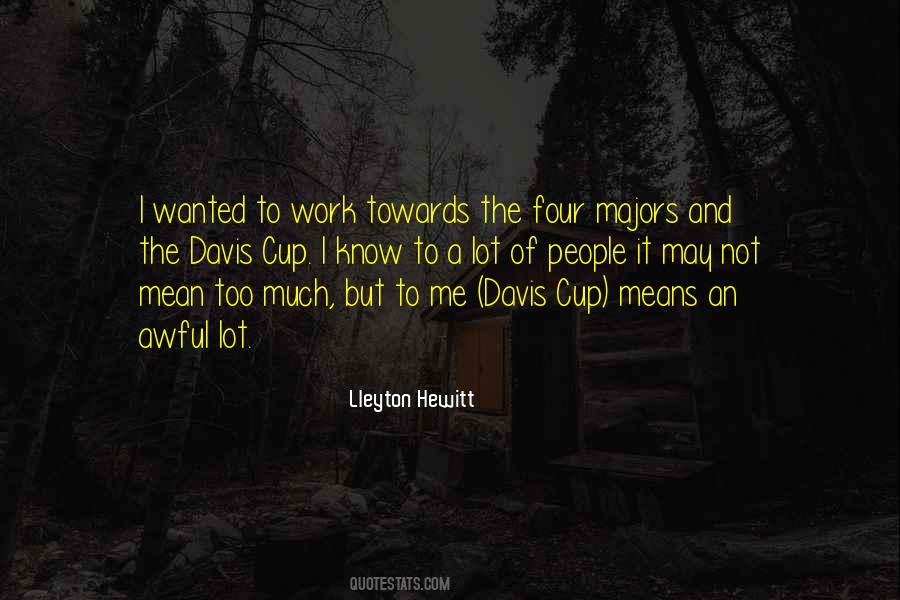 #51. I do not put much stock in "believing in God." The grammar of "belief" invites a far too rationalistic account of what it means to be a Christian. "Belief" implies propositions about which you get to make up your mind before you know the work they are meant to do. - Author: Stanley Hauerwas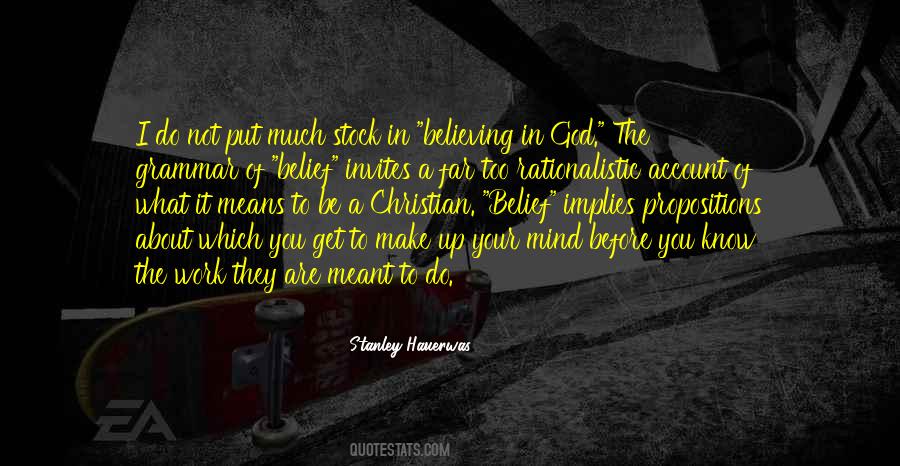 #52. I don't want to work a 9-5 job, because 20 hours a day is just too much. - Author: Jarod Kintz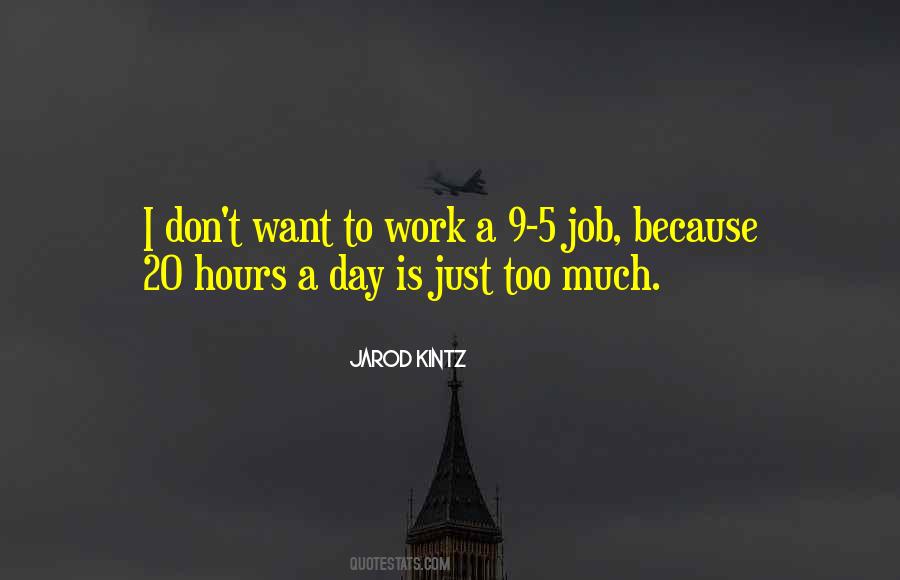 #53. Nobody wants to hear an actor complain about too much work - especially other actors. - Author: John Benjamin Hickey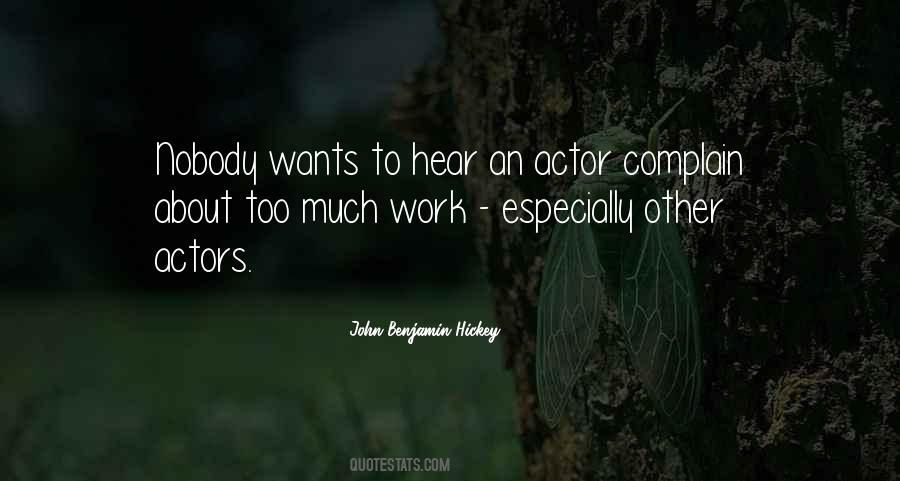 #54. So I drank every night after work, alone, up at my place and I had enough left for a day at the track on Saturday, and life was simple and without too much pain. Maybe without too much reason, but getting away from pain was reasonable enough. - Author: Charles Bukowski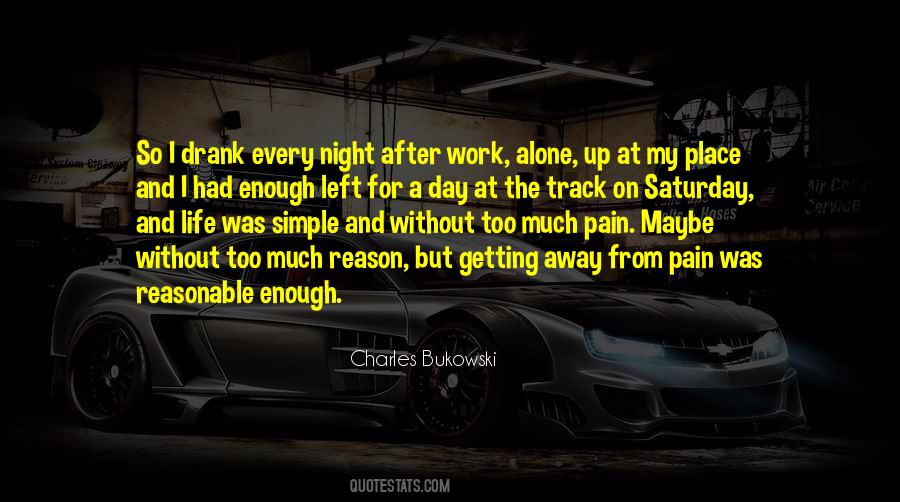 #55. I think people should be given a test much like driver's tests as to whether they're capable of being parents! It's an art form. I talk a lot. And I think a lot. And I draw a lot. But never in a million years would I have been a parent. That's just work that's too hard. - Author: Maurice Sendak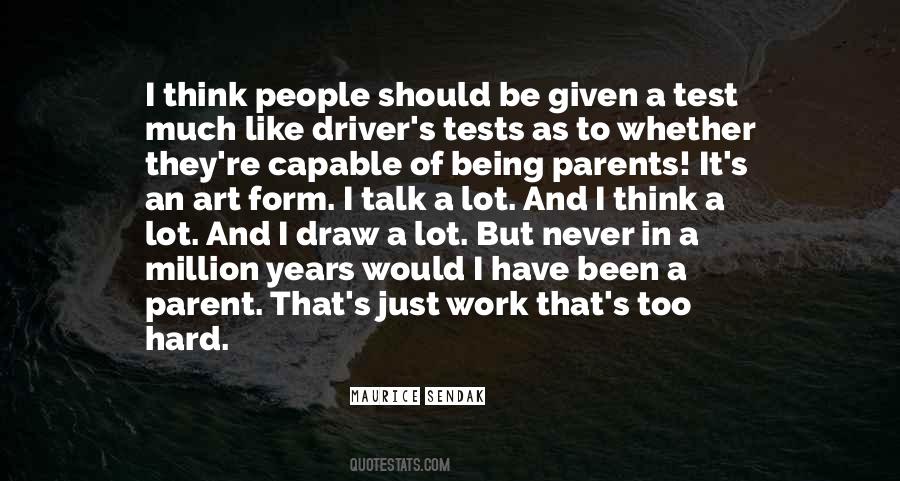 #56. Don't fall into the trap of thinking about politics in your workplace too much. Just work hard, be cheerful, ignore distractions. - Author: Mindy Kaling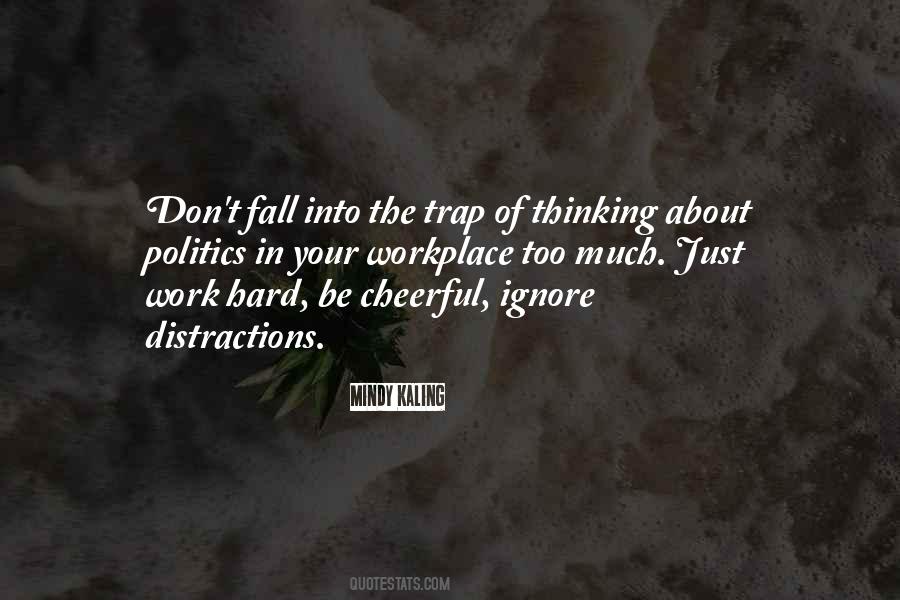 #57. We look back at the 1990 Clean Air Act amendments, where people screamed and hollered it's going to be too expensive, they couldn't afford it, and it wouldn't work. And it worked. It worked faster than people expected, at much less cost. - Author: Frances Beinecke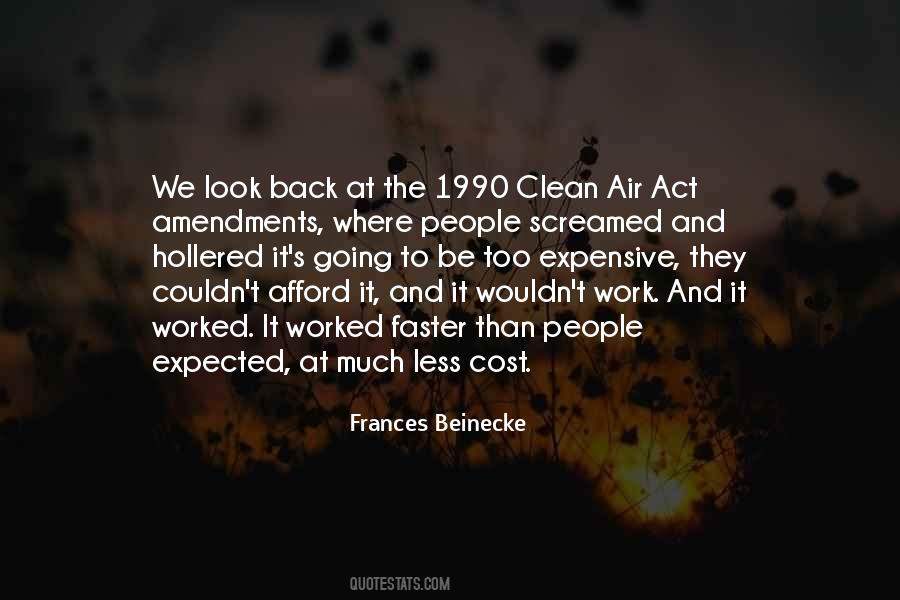 #58. Before I had kids I'd go out on the road for months and months at a time, but now I don't think I'd want to do that anymore, because I'd miss too much time at home, so it's just a matter of monitoring how much work that I do and how much time I'm on the road. - Author: Harry Connick Jr.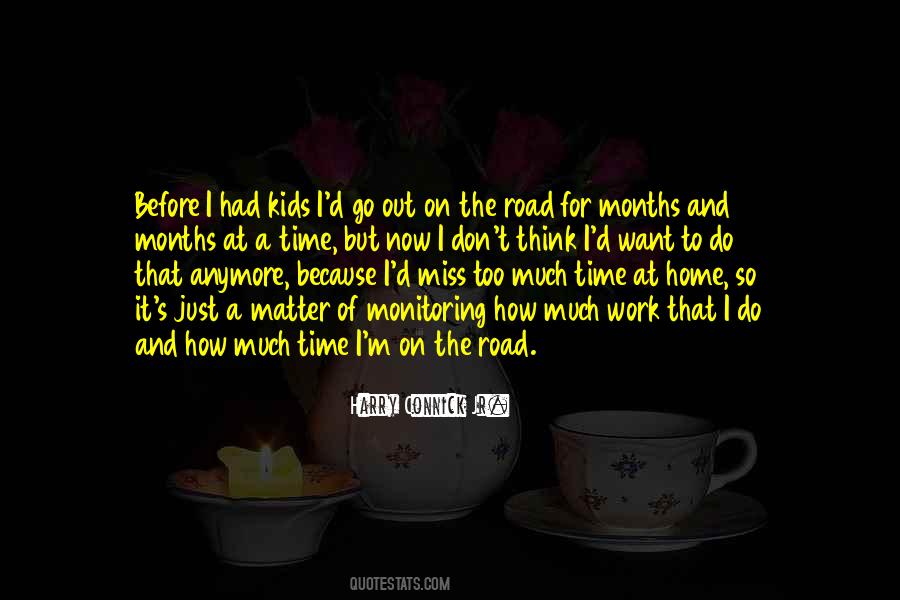 #59. I love politics, but I wouldn't want to be involved in it. Too little money, too much work! - Author: Dennis Quaid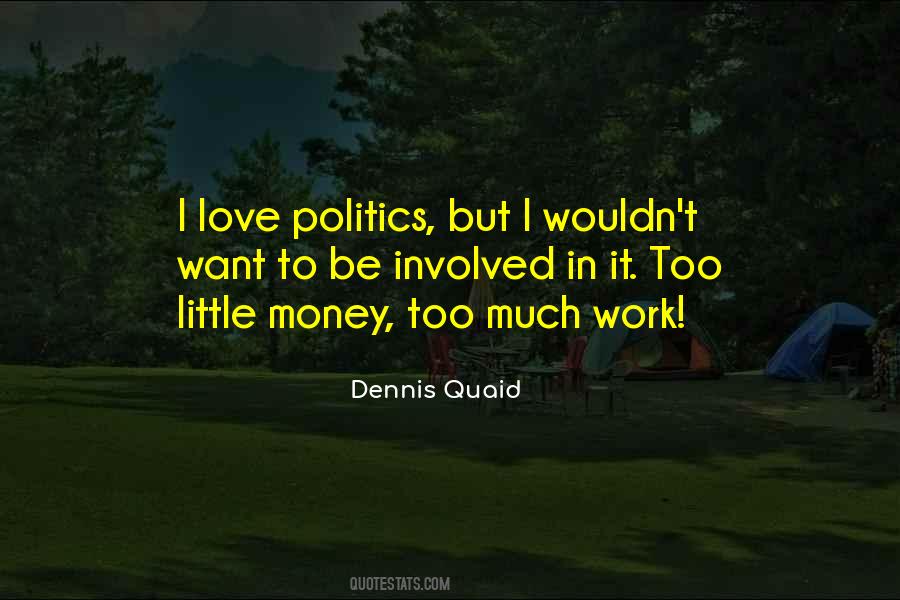 #60. Behavioral economics tells us that people often focus too much on the wrong things, and tend to focus on aspects of the job that are salient. So, for example, the pay is salient, especially the starting pay. - Author: Alan Krueger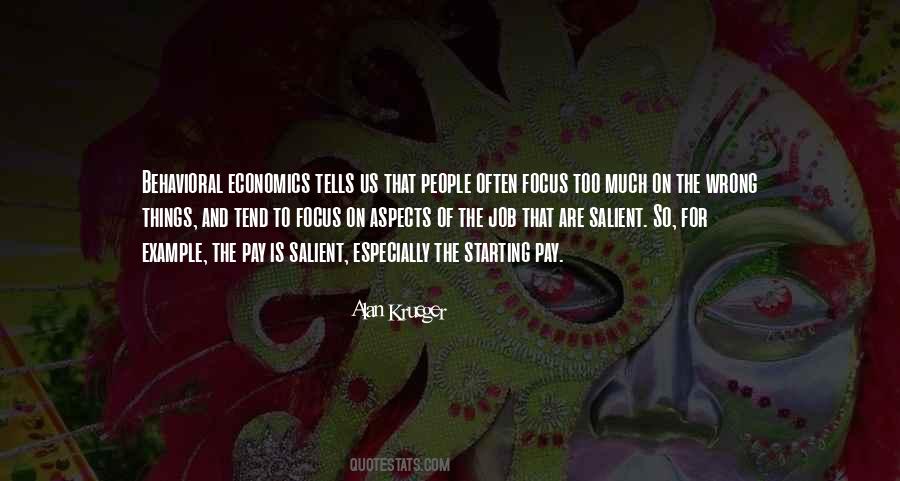 #61. Our grandparents' generation never expected too much out of life and, paradoxically, were happier for it. It never occurred to my granddad that he would enjoy work. He hated it from the day he walked through the factory gates at 14 to when he left at 65. - Author: Mark Barrowcliffe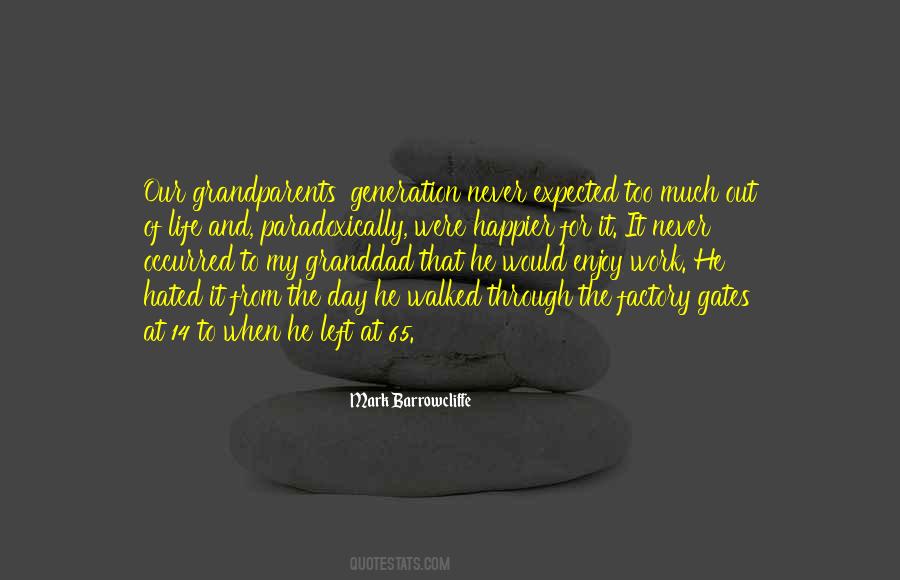 #62. If you were to gather all the minutes wasted on insignificant, immaterial yik yak spent throughout the day and add them up, how much misspent time do you think you'd have? One hour? Two hours? Consider the sunk cost on that. It's unacceptable. One minute wasted is one minute too much. - Author: Ari Gold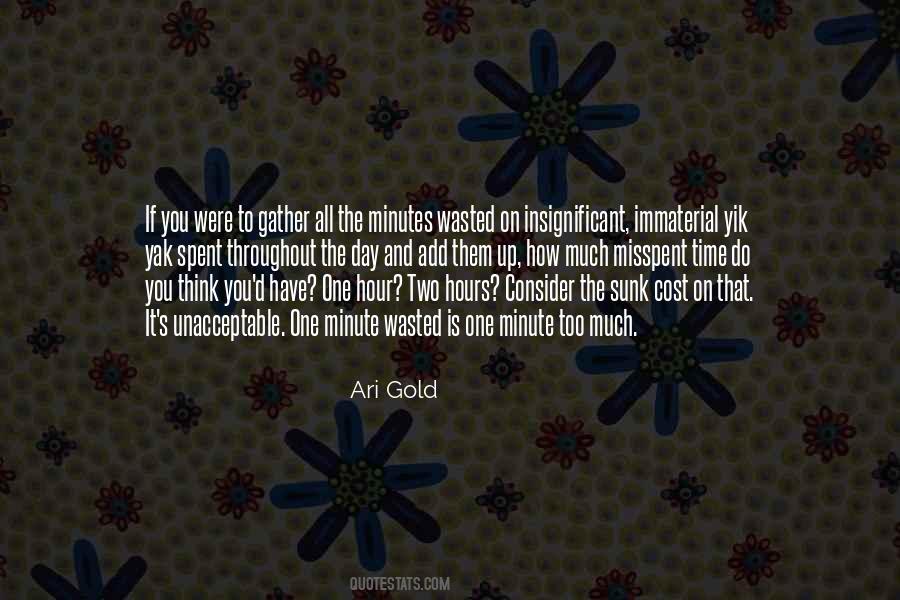 #63. The problem with our region is that there are areas with oil and too much money, and then there are places such as south Lebanon and the Palestinian territories where there is no work, and instead of developing industry, they become dependent on oil money - this results in extremism. - Author: Stef Wertheimer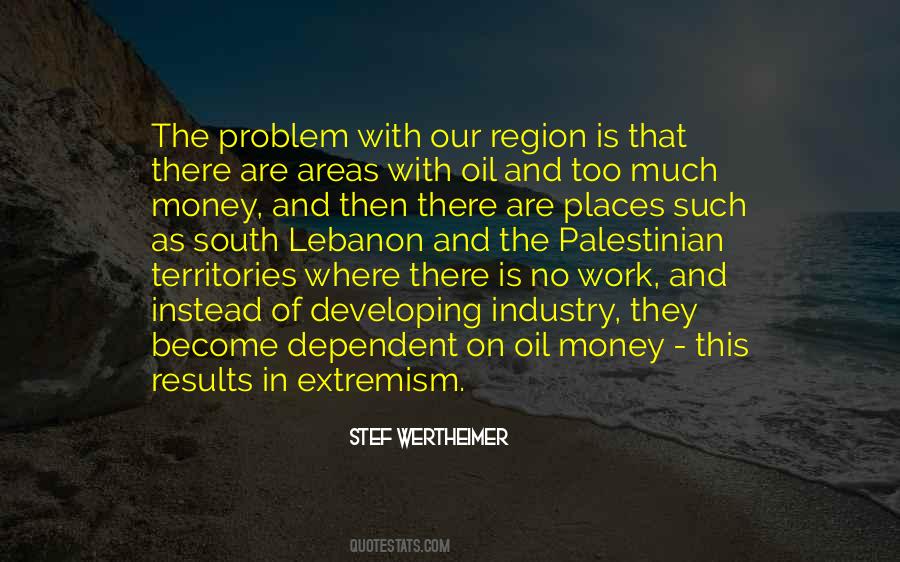 #64. Politicians - in both political parties - spend too much money. And they forget to focus on what matters most: fixing the economic mess they created and putting people back to work. - Author: Brad Wenstrup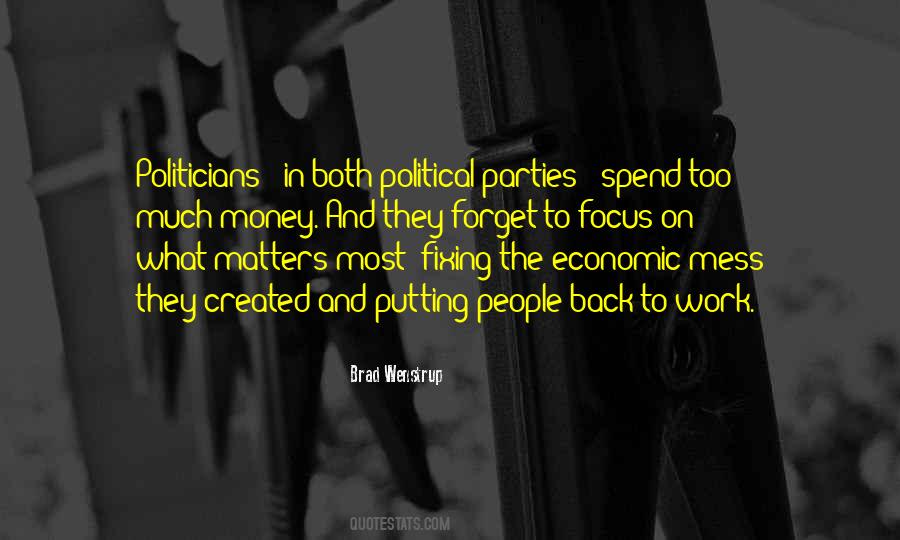 #65. It's a mistake to dwell too much on the consequences of a piece of work that you're making. - Author: Max Irons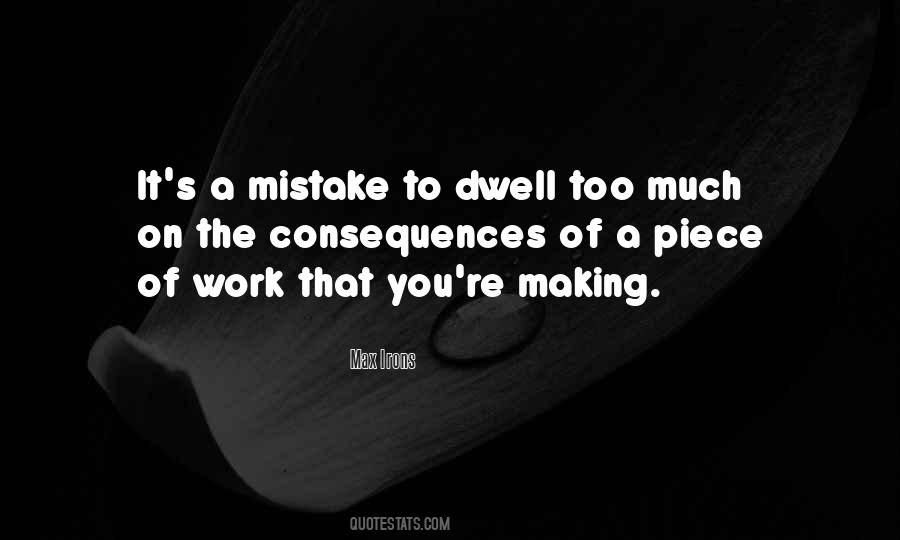 #66. You've got to have as many good times as bad, or it all becomes too painful and too much work. - Author: Sylvia Day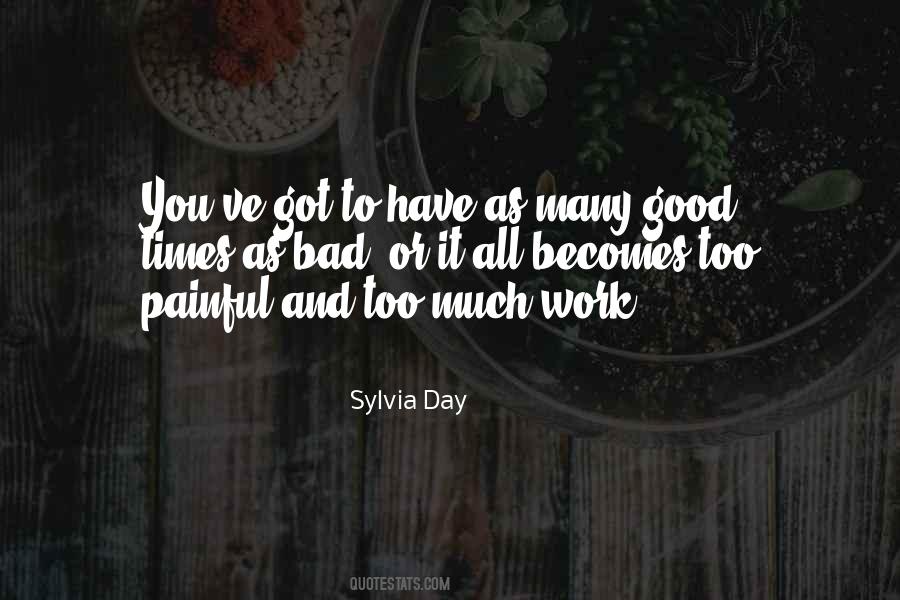 #67. We have got a - we've got a good federal work force, but we have too many people, and we're paying them too much money. - Author: Jason Chaffetz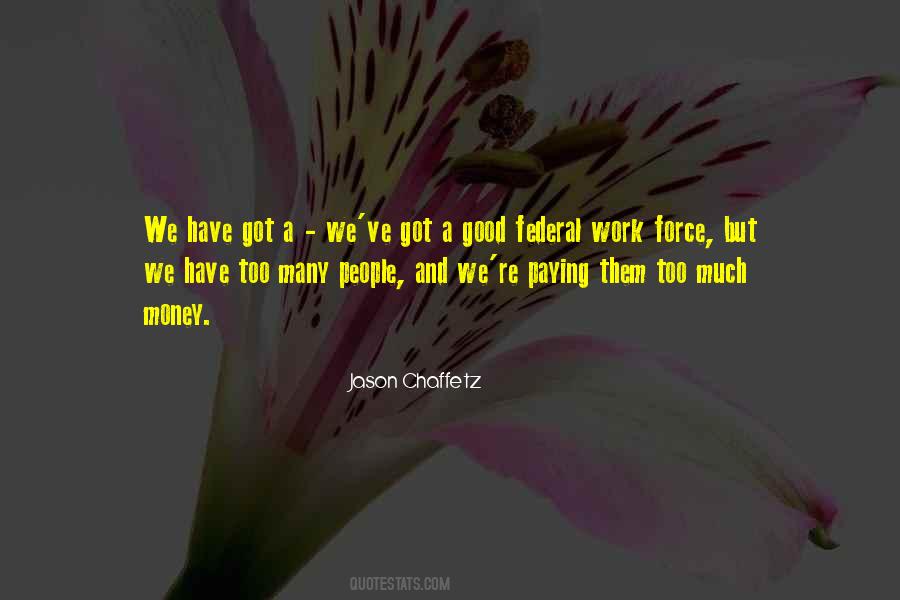 #68. The child is much more spiritually elevated than is usually supposed. He often suffers, not from too much work, but from work that is unworthy of him. - Author: Maria Montessori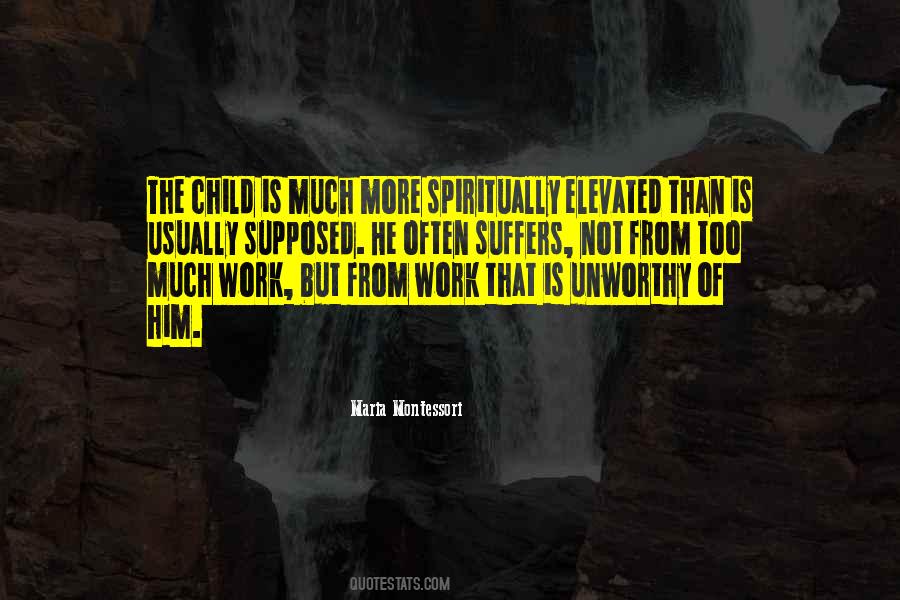 #69. My husband and I have kept a good balance between the work and the rest. I feel so lucky having a job, and I know so may people who focus too much on work, and their home lives suffer. - Author: Jewel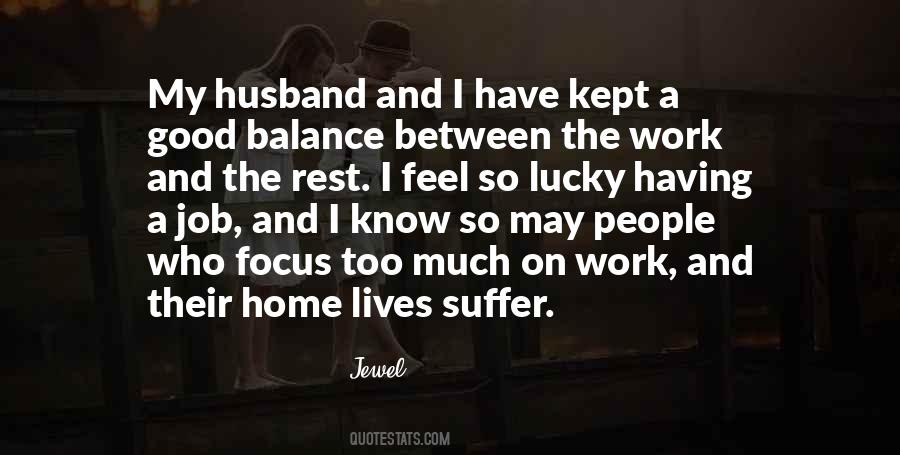 #70. Men always seem to refuse to admit they are sick until they're sick enough to make twice as much work for women. Then they claim they're well too soon, with the same result. - Author: Robert Jordan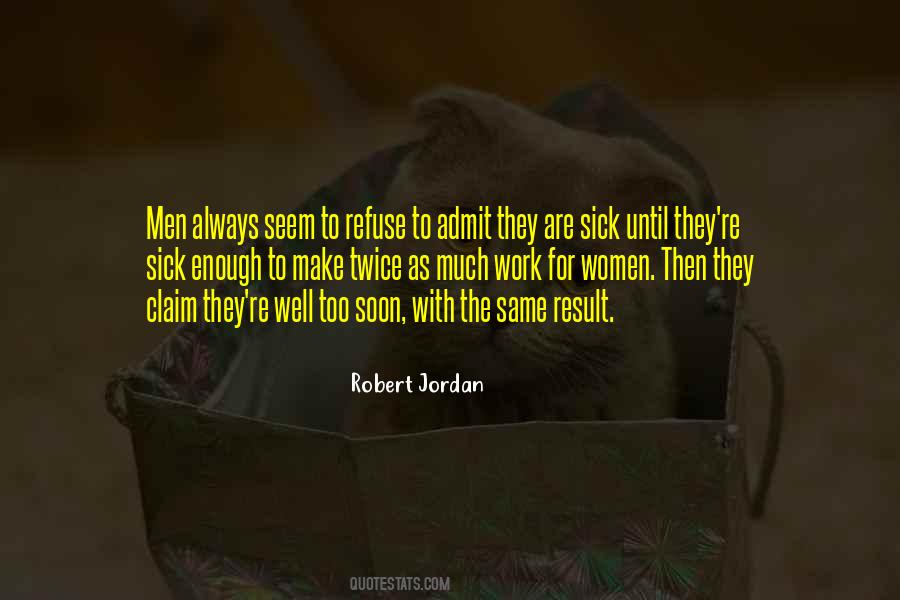 #71. The mind and the soul must work together if you are to experience true bliss. Try not to spend too much time exclusively in your mind. It is a magnificent tool, but it has a limited perspective. - Author: Neale Donald Walsch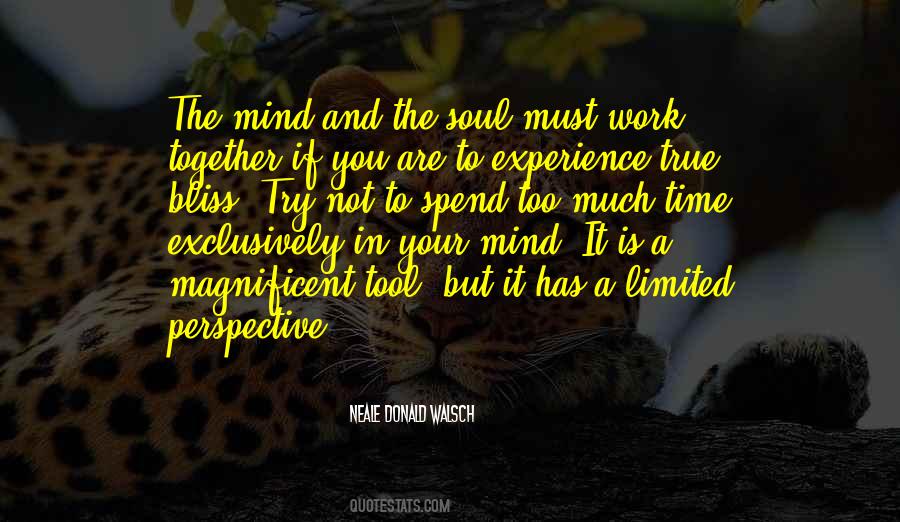 #72. I recognize very much in Hopper that it does look like the United States; it looks like the 30's and my first impressions of everything, all of which I have to deal with and which gets mixed up in my work and probably gets mixed up in everybody else's work too. - Author: Donald Judd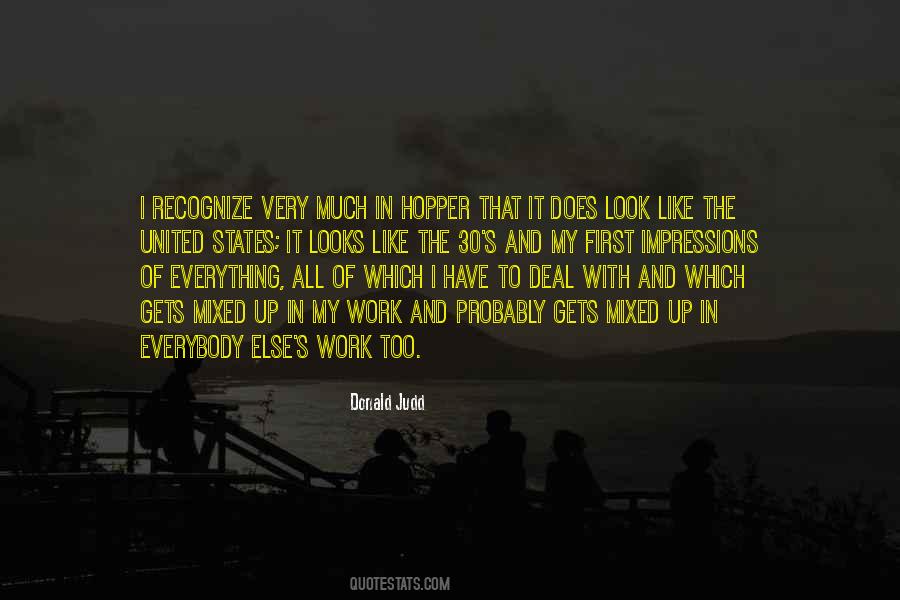 #73. Different types of sex work are differently supportive. If I were working in a strip club, I would be competing with my colleagues, and while there would be support, there would be financial motivation not to offer too much support. - Author: Molly Crabapple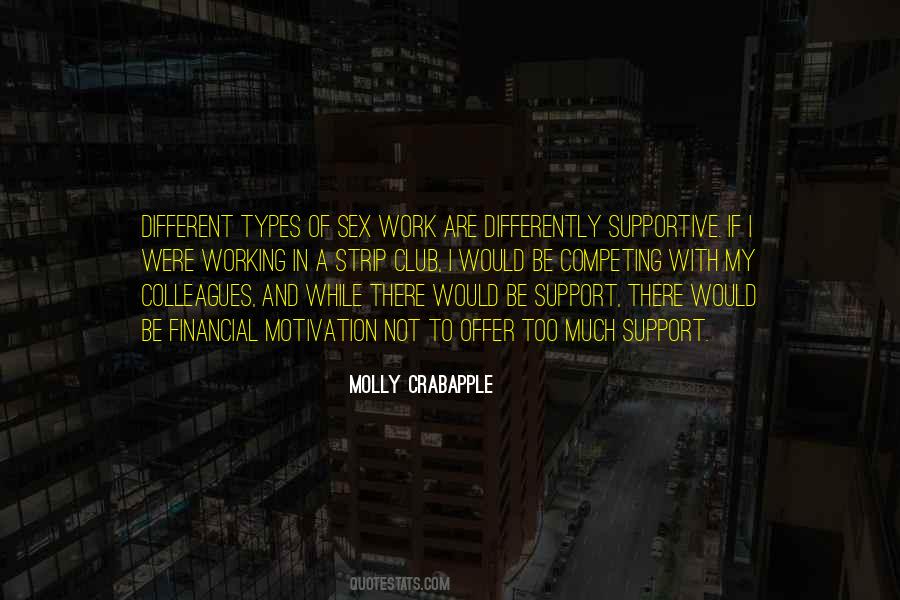 #74. Do you feel bored and stuck in a rut? Is work drudgery? If so, you are spending far too much time bemoaning your fate and how the universe is not cooperating with your desires. Be present with and in your current situation. - Author: Srikumar Rao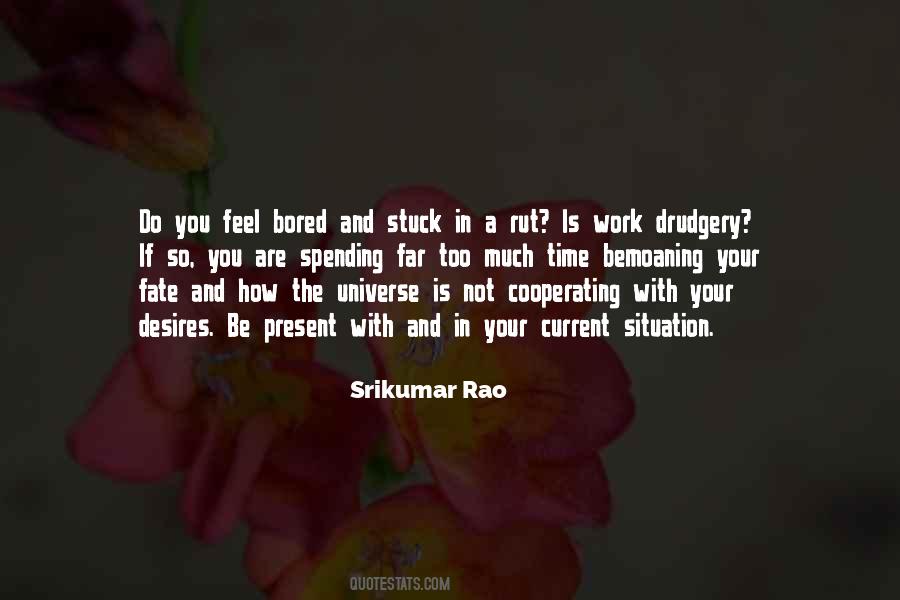 #75. Well, I don't really concern myself too much with what other people make of my work. - Author: P.J. Harvey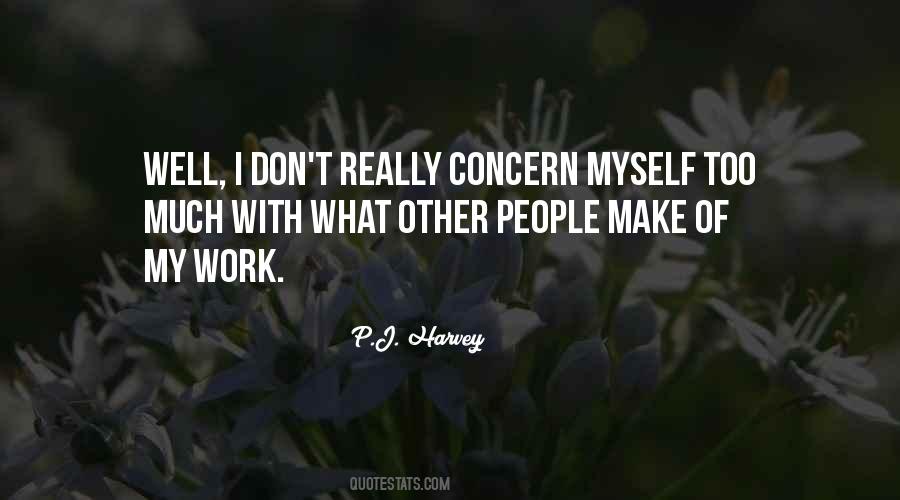 #76. DYER. No, I am not of your Mind, for the Dialogue was fitted up with too much Facility. Words must be pluckt from Obscurity and nourished with Care, improved with Art and corrected with Application. Labour and Time are the Instruments in the perfection of all Work. - Author: Peter Ackroyd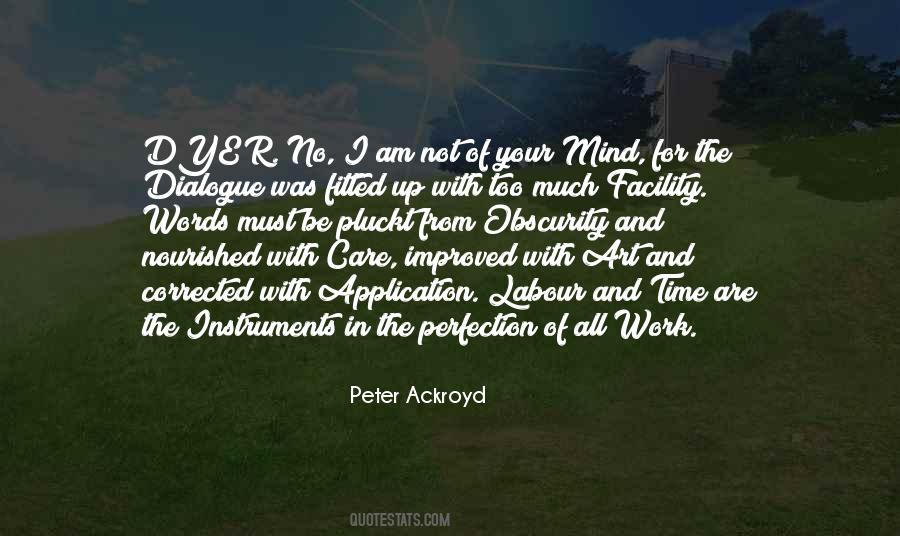 #77. Think ... of the world which you carry within yourself ... and set it above everything that you notice about you. Your inmost happening is worth your whole love, that is what you must somehow work at, and not loose too much time and too much courage in explaining your attitude to people. - Author: Rainer Maria Rilke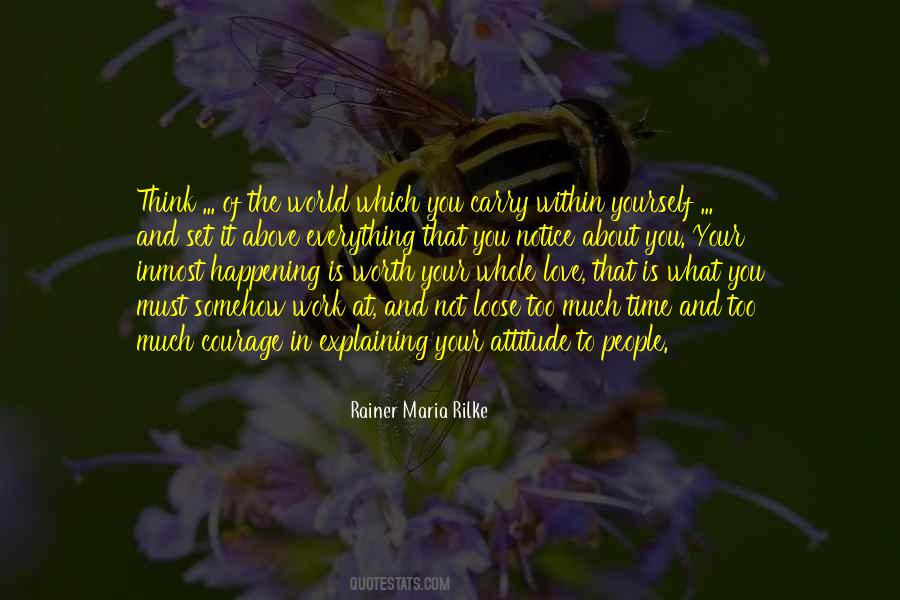 #78. I think that there is far too much work done in the world, that immense harm is caused by the belief that work is virtuous, and that what needs to be preached in modern industrial countries is quite different from what always has been preached. - Author: Bertrand Russell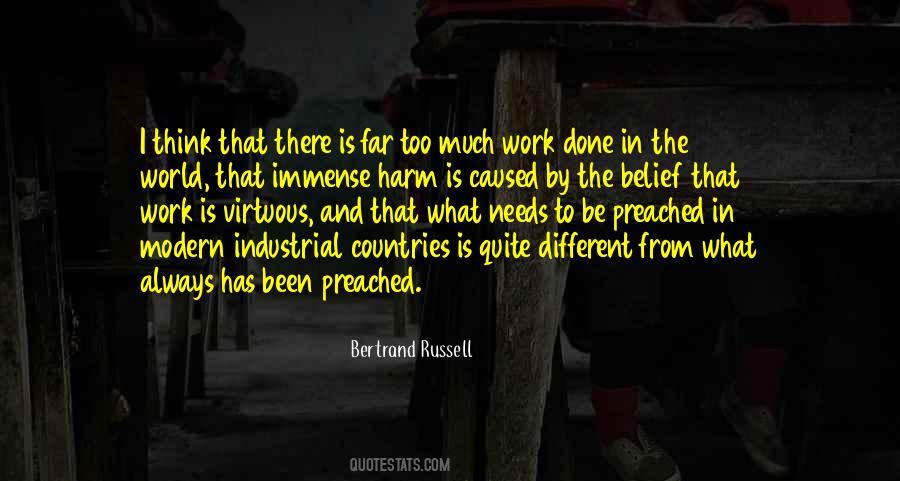 #79. I wanted to tell her that being loved is a talent too, that it takes as much guts and as much work as loving; that some people, for whatever reason, never learn the knack - Author: Tana French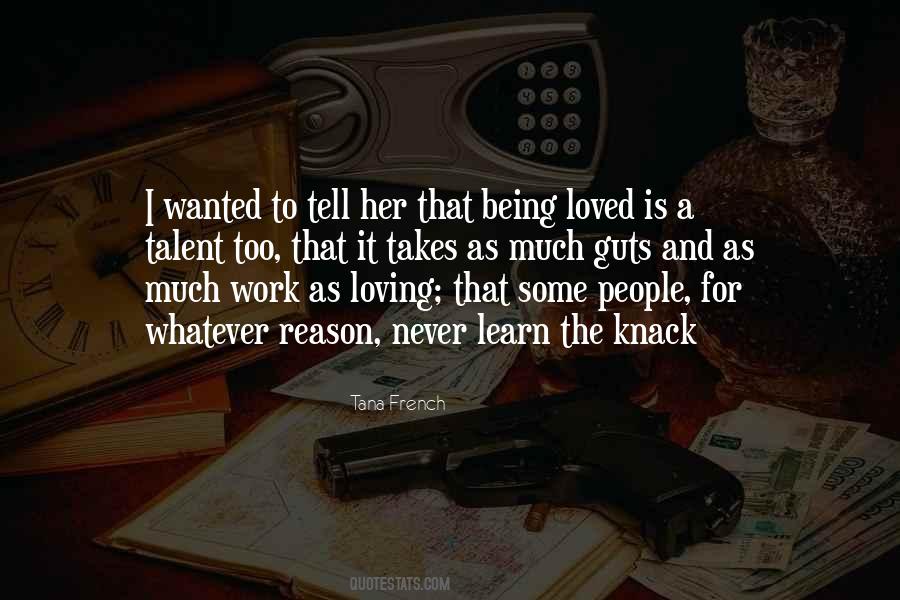 #80. Some days, adulting was too much responsibility. Get up for work. Brush your hair. Pay bills. It was an endless list of too many things and not enough time. The struggle was real, my friends. But - Author: Max Monroe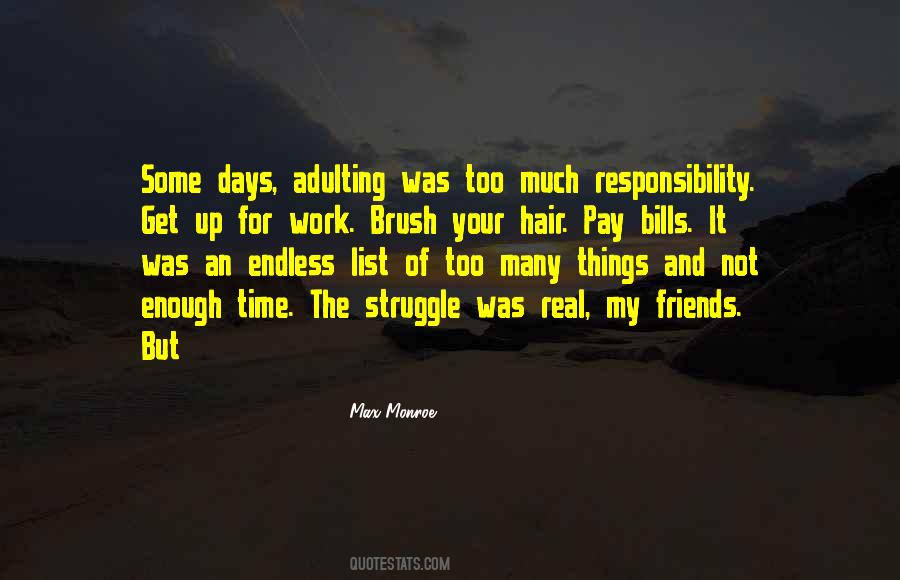 #81. So much of the work is intuitive. The resistance you detect is just that, a kind of evasion, a sense that too much analysis will inhibit creativity. - Author: Peter Weir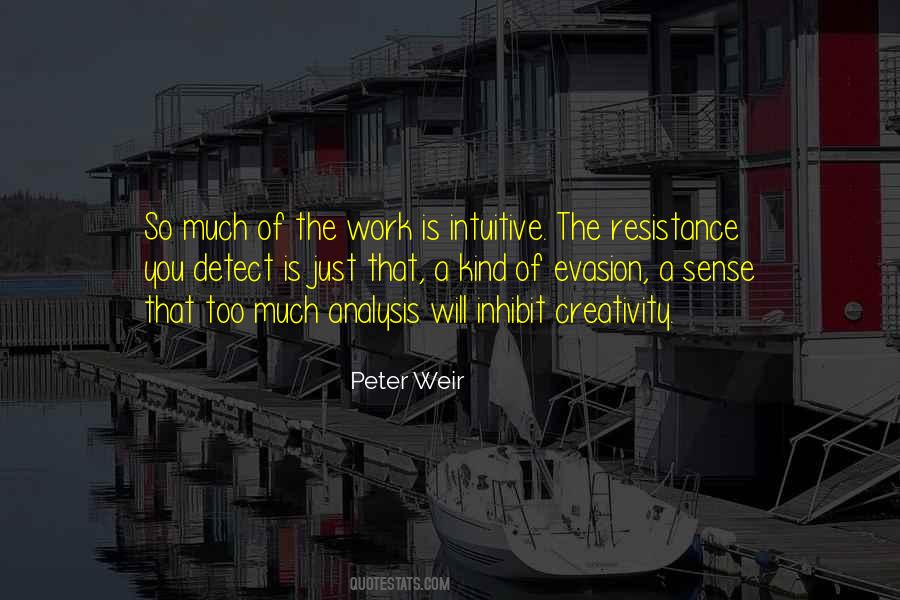 #82. Most writers want to share their essay or book much too quickly. Those who accept the pain of hard work and revising are those who get published. - Author: Lee Gutkind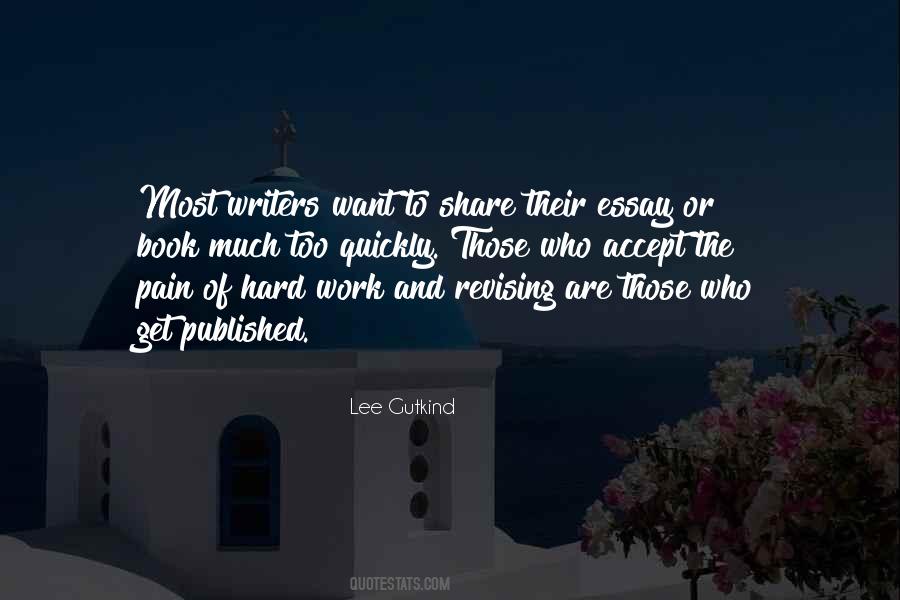 #83. Agile project leaders help their team balance at the edge of chaos - some structure, but not too much; adequate documentation, but not too much; some up-front architecture work, but not too much. Finding these balance points is the "art" of agile leadership. - Author: Jim Highsmith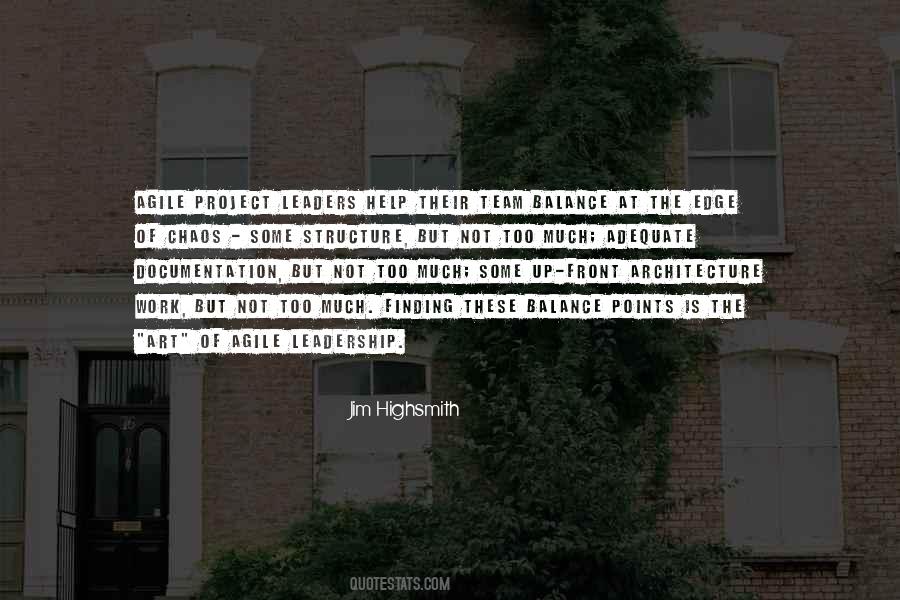 #84. Yes, and I can sit down on a white piece of paper and work because I don't believe too much into inspiration, only I'm waiting for inspiration, work and then inspiration may come. It's a little too easy to say that. - Author: Karl Lagerfeld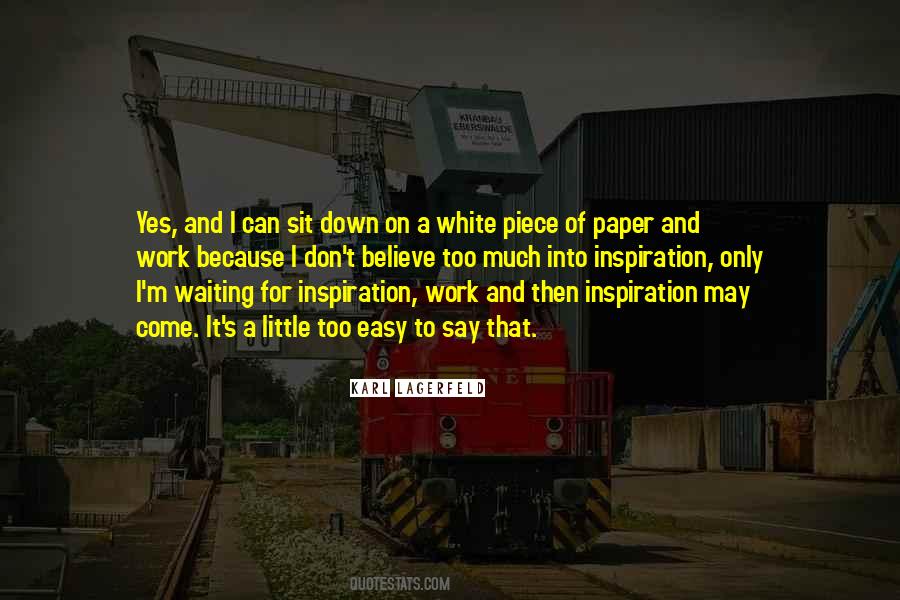 #85. It frightens me that when I'm writing I seem to have some awful second sight, or something like it, an intuition of some kind; a kind of intelligence is at work that is much too painful to use in ordinary life; one couldn't live at all if one used it for living. - Author: Doris Lessing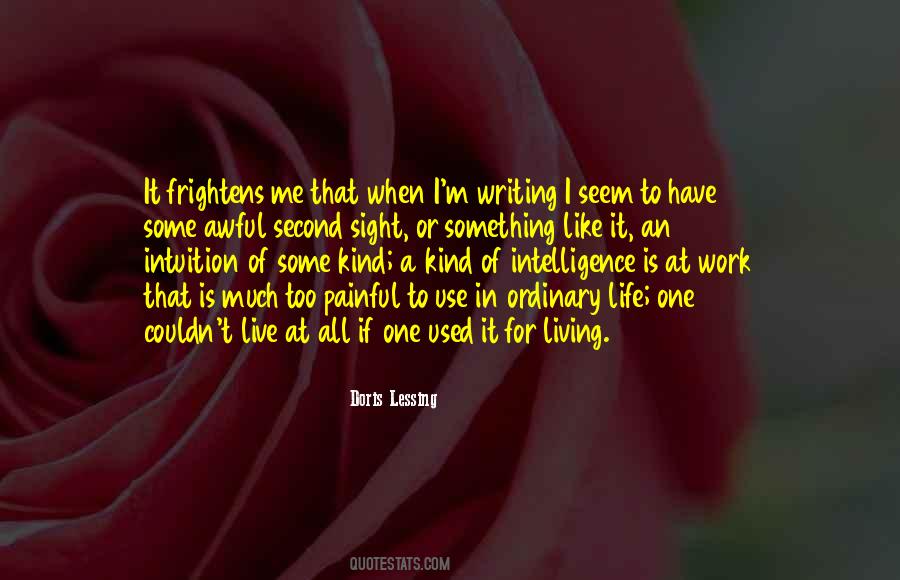 #86. The competition, the naysayers, the owners who talk too much. The people who don't think a 36-year-old can do what I do. I take a lot of pride in my craft, I work really hard at my craft everyday, and I'm a true professional. - Author: Kevin Garnett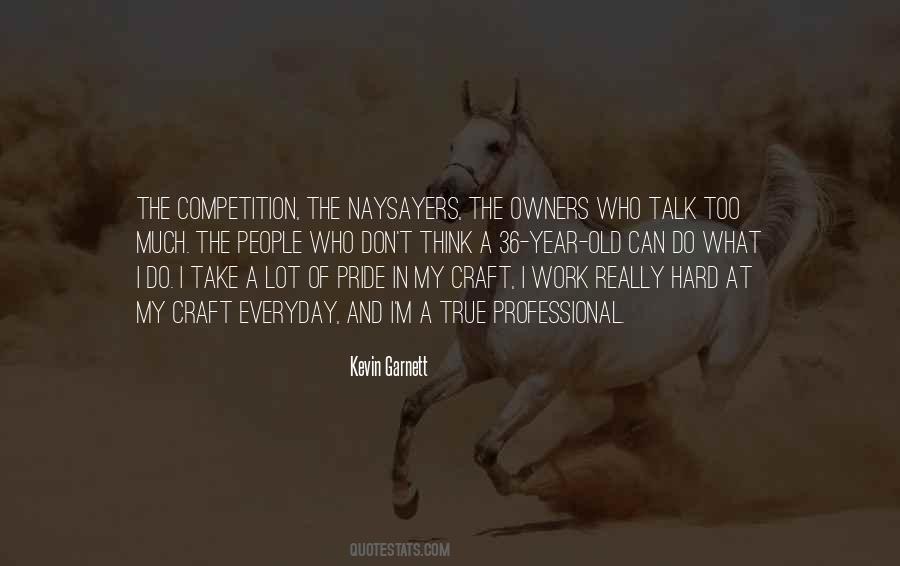 #87. It's continuously humbling to work hard, you know? As long as you've got a good work ethic and a sense of humor, I don't think anybody can become too much of an egoist under those circumstances. - Author: Rachael Ray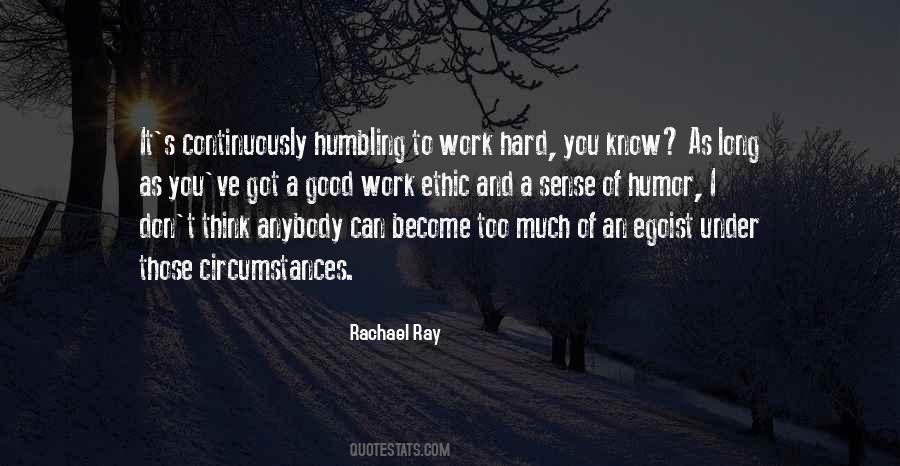 #88. Sway says you've been taking really good care of him for me. (Claria)
Well, his mom did a great job housebreaking him, so he doesn't require too much work. Not to mention Vik doesn't mind walking him once a day. It's all good. (Devyn)
You're such a smartass. (Claria) - Author: Sherrilyn Kenyon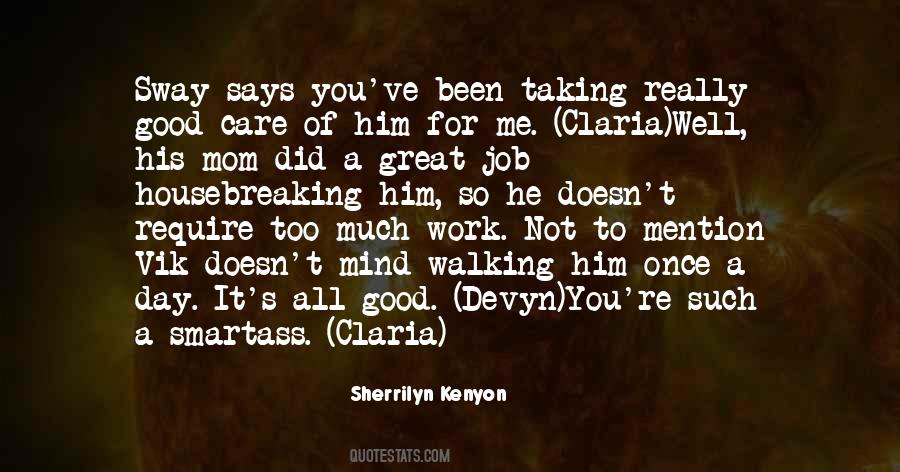 #89. If I had a long-term partner, I don't think I'd be an actor. It'd be too much of a strain; you have to work too hard to balance that life with a family and a mortgage and all that stuff - it would be too much. - Author: Rory McCann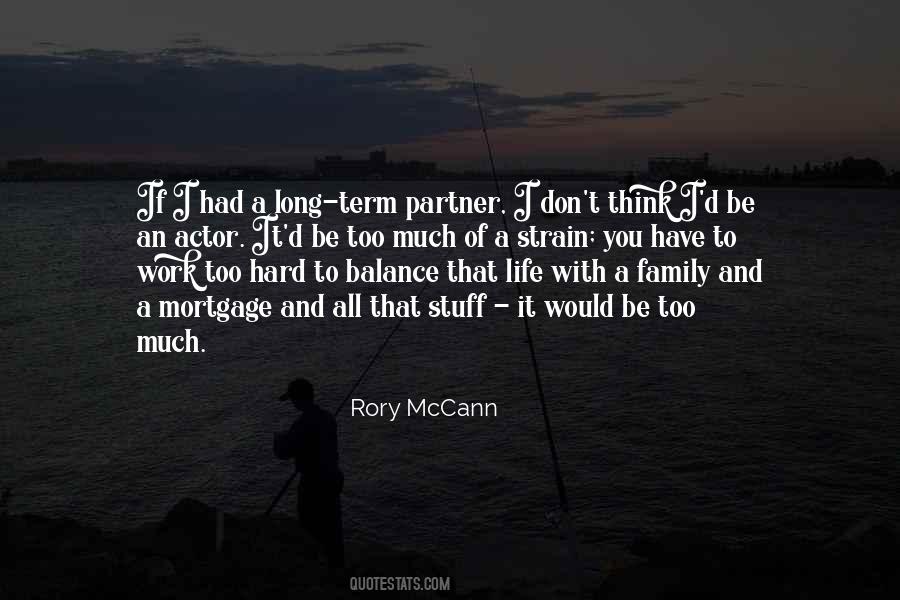 #90. God does not judge us by the multitude of works we perform, but how well we do the work that is ours to do. The happiness of too many days is often destroyed by trying to accomplish too much in one day. We would do well to follow a common rule for our daily lives
DO LESS, AND DO IT BETTER. - Author: Dale E. Turner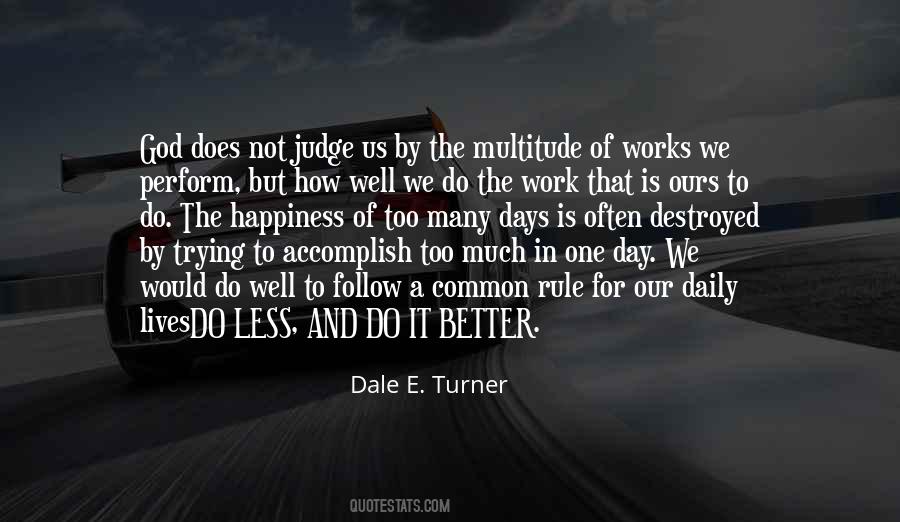 #91. I think the biggest issue for legacy media - both TV and film - is that it just costs too much money to develop a TV series or movie. And most of them don't work. Then the one that works has to pay for the rest. - Author: Shane Smith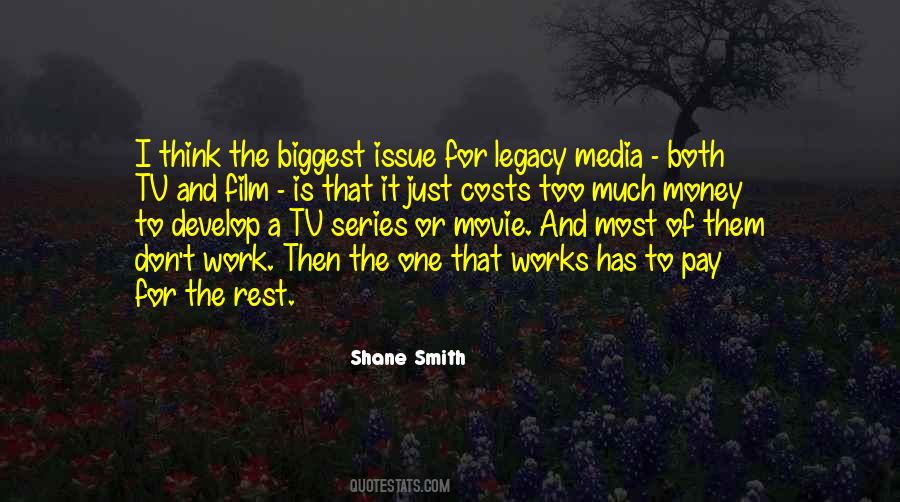 #92. We get through life and this is part of the education process also. In real life, we meet bad bosses and good bosses and good friends and bad friends. I think we should let the teachers do their work and not impose too much stuff on them. - Author: Philippe Falardeau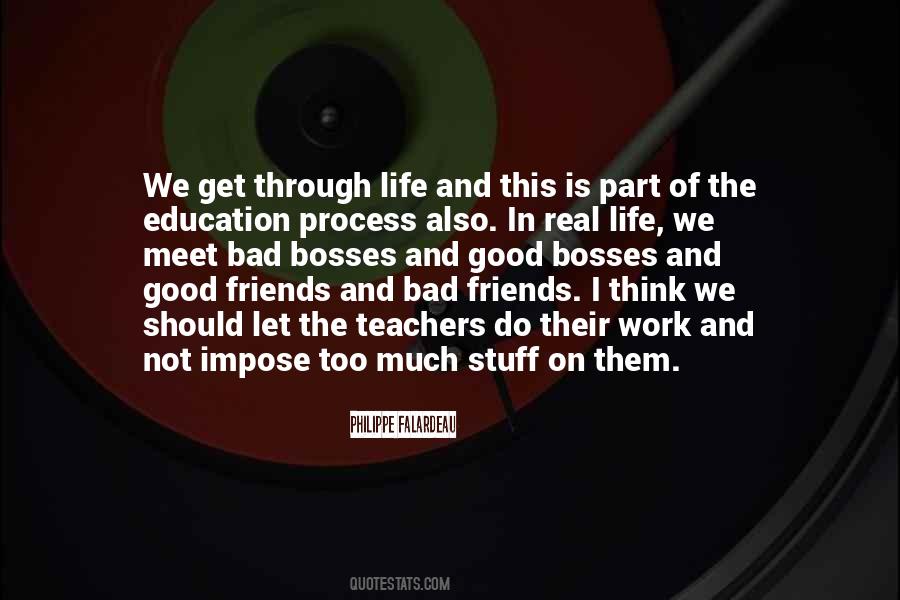 #93. But no, I came by these feelings honestly. And I don't accept bitter. Wounded, yes. Traumatized, sure. Grieving, okay. Anything other than bitter. I put too much work in to be callously tossed aside as bitter. Bitter is for someone who hasn't earned it. - Author: Samantha Irby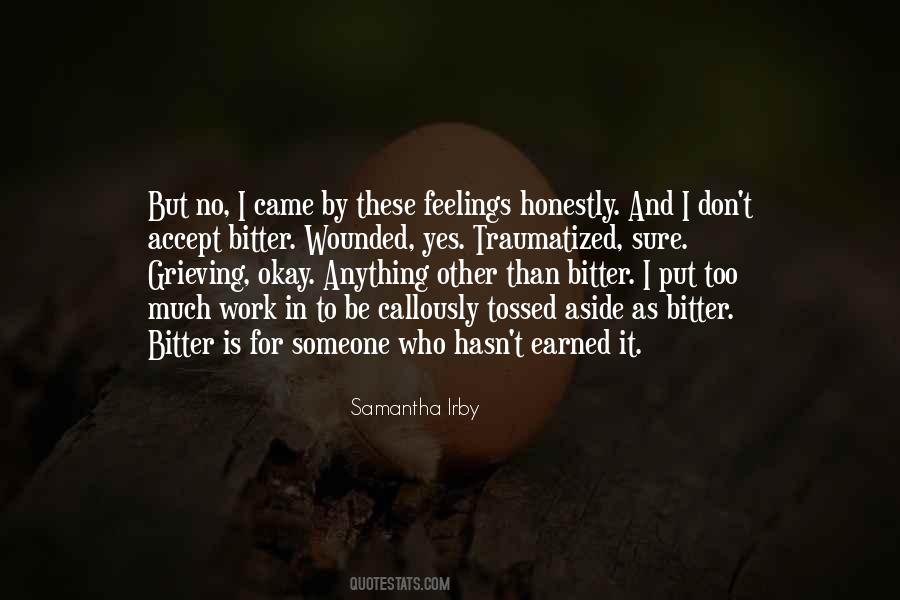 #94. There is far too much talk of love and grief benumbing the faculties, turning the hair gray, and destroying a man's interest in his work. Grief has made many a man look younger. - Author: William McFee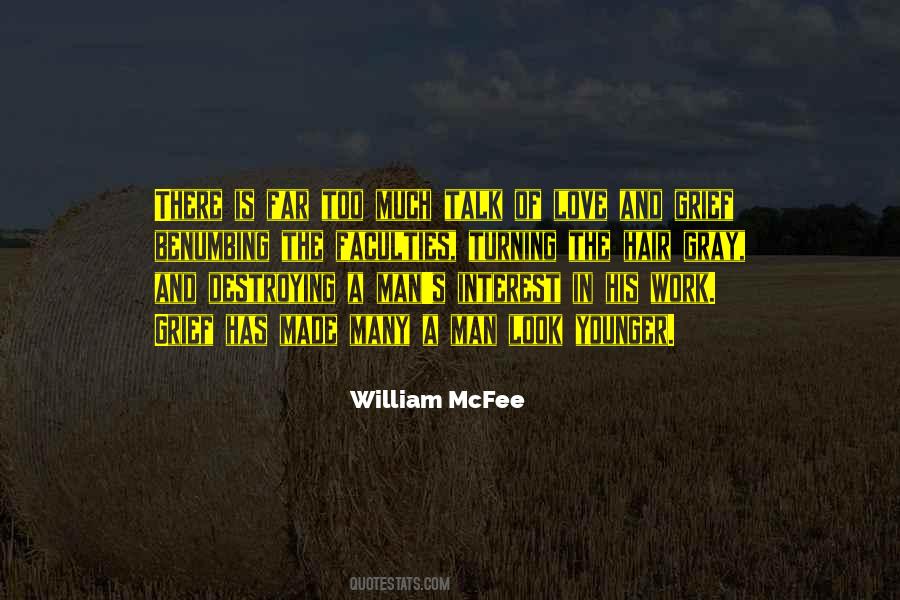 #95. We fail in the work of grace and love when there is too much of us and not enough of God. - Author: Suzanne Woods Fisher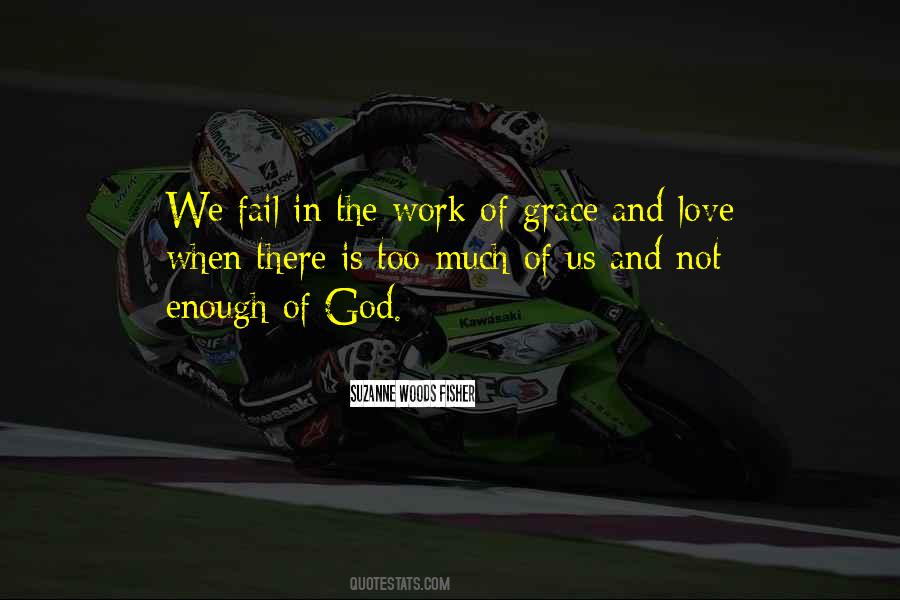 #96. See, the thing about that word, Sharkey, the F-word, is that sometimes I make that word do too much work. I mean, I say that word as if it clearly articulates what I'm really feeling. And it doesn't. It's a shortcut. - Author: Benjamin Alire Saenz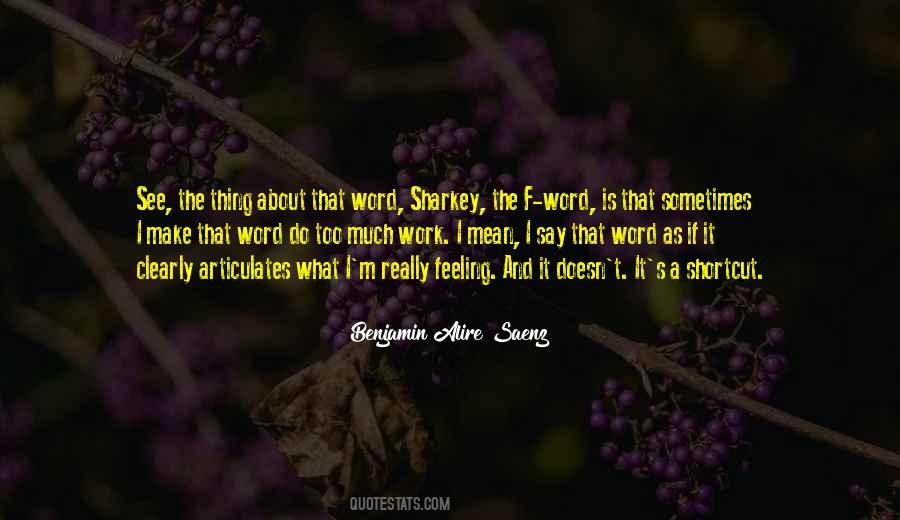 #97. On our first record, man, I didn't know what I was doing. I was just playing. I was over playing. You're as green as you can be with no experience in recording or knowing how sometimes a song can work: when it's too much, when it's not enough, when it's not right. - Author: Tommy Lee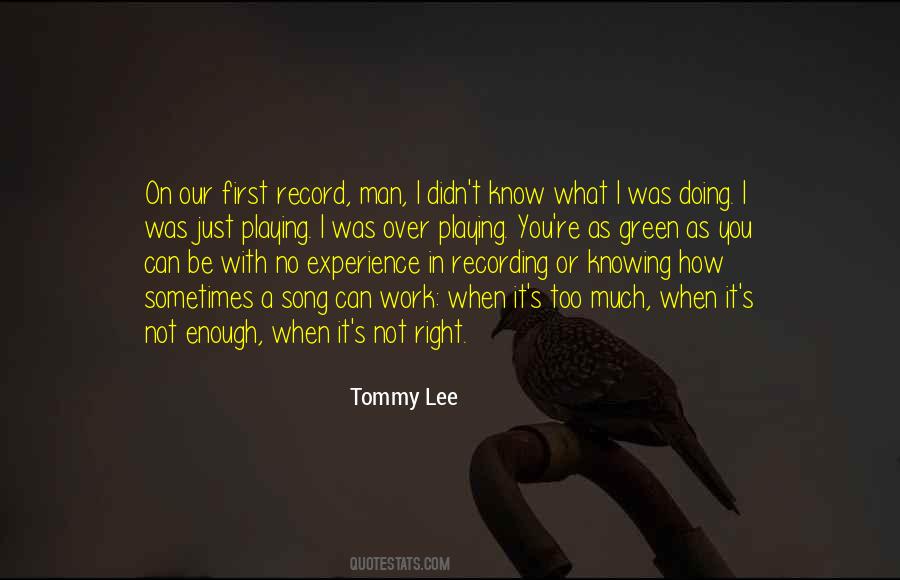 #98. I find, surprisingly, that actors are liberated in their work if there's stuff going on around them, because they can't think too much about who they're supposed to be. - Author: Michel Gondry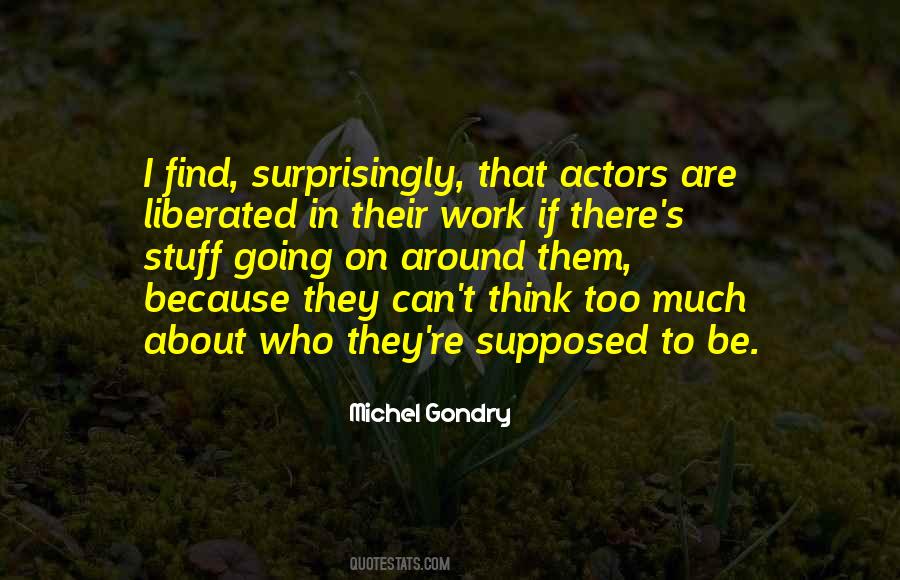 #99. As usual, he had escaped into his work when his private life became too much of a burden. It was typical of a certain type of man, he had read. - Author: Jo Nesbo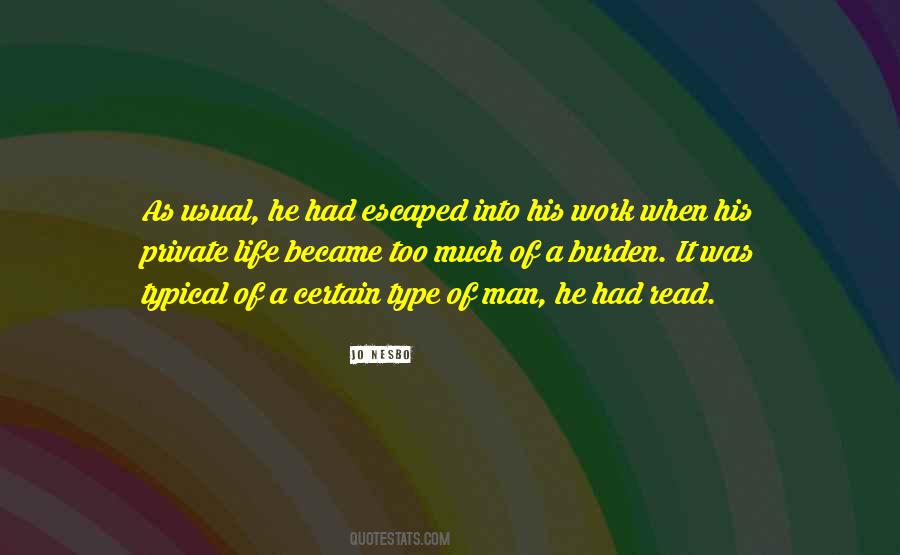 #100. I've still got both kidneys, but one doesn't work, so I have to be careful not to drink too much, even water, and I have to keep myself as healthy as possible. - Author: Liam Payne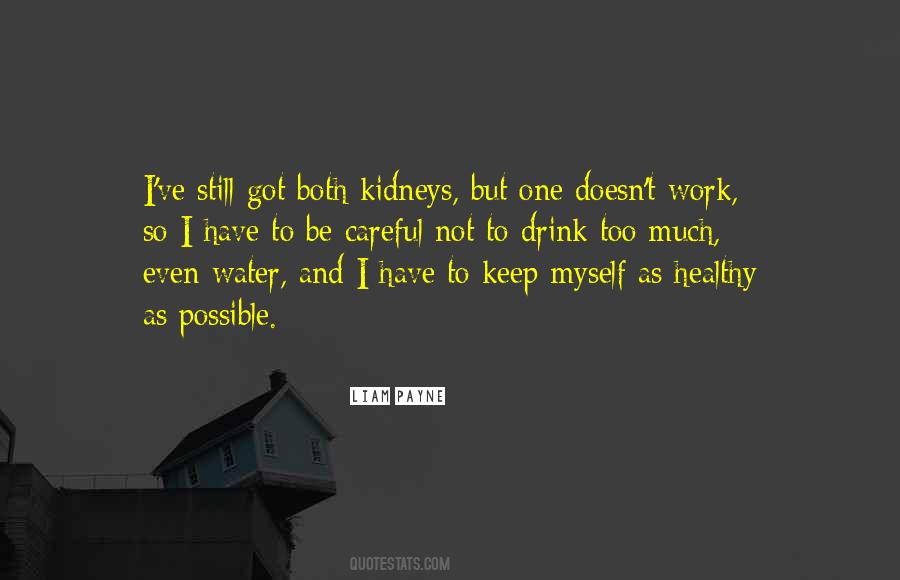 Famous Authors
Popular Topics