Tom Hanks Famous Quotes & Sayings
List of top 100 famous quotes and sayings about tom hanks to read and share with friends on your Facebook, Twitter, blogs.
Top 100 Quotes About Tom Hanks
#1. My wife and I, we met making a movie. This is not just our job, it's our life. It's what we do naturally whether we're working together or not. - Author: Tom Hanks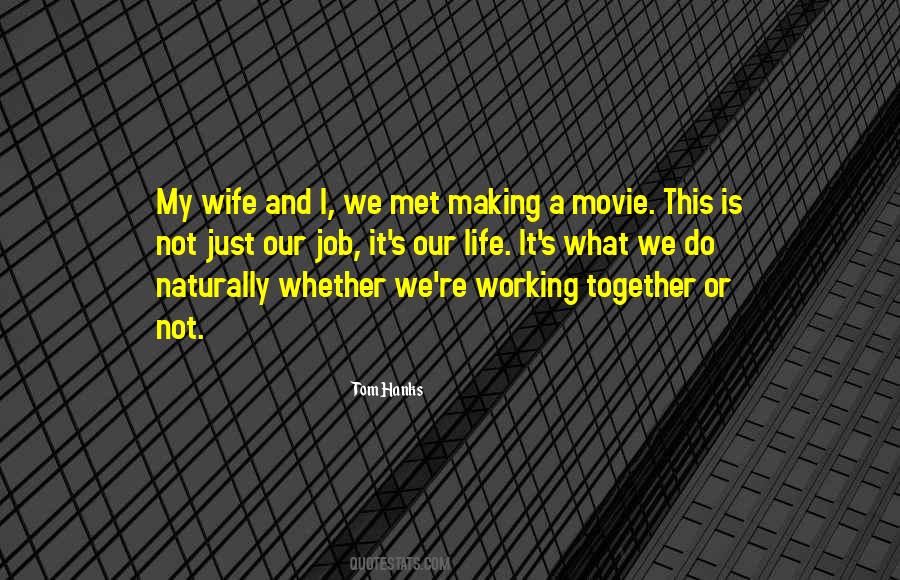 #2. It's always a combination of physics and poetry that I find inspiring. It's hard to wrap your head around things like the Hubble scope. - Author: Tom Hanks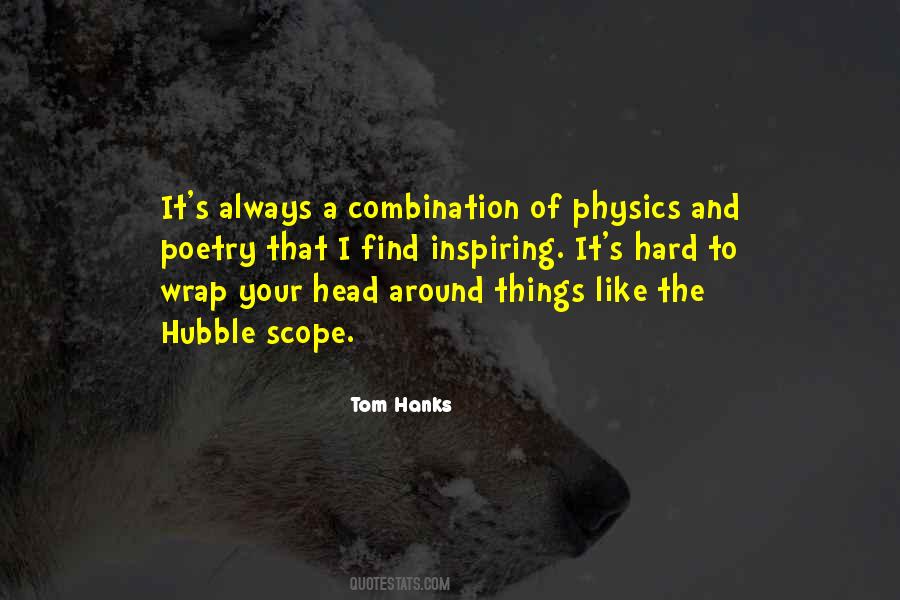 #3. Tom Hanks, who starred in 'The Da Vinci Code,' turns out to be related to a number of the historic characters that feature in 'The Da Vinci Code,' including William the Conqueror and Shakespeare. - Author: Steven Pinker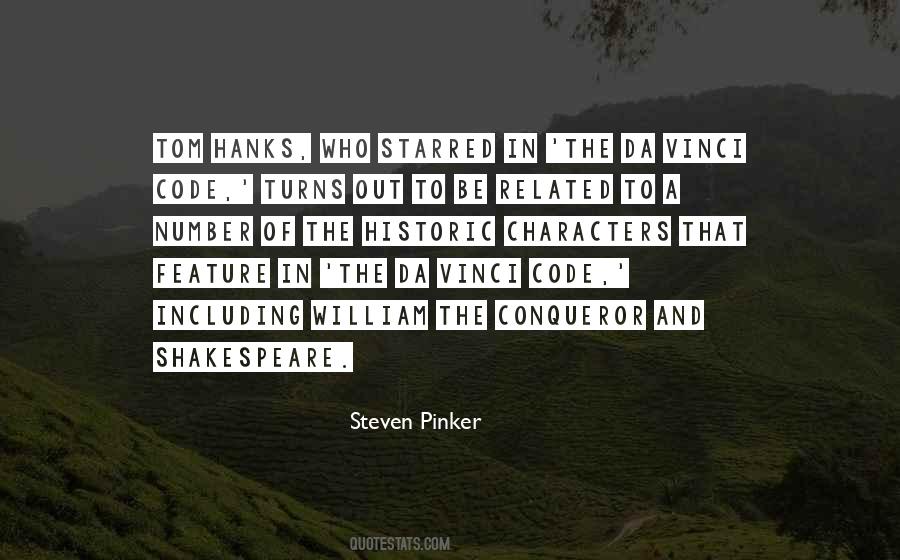 #4. Some people are cowards ... I think by and large a third of people are villains, a third are cowards, and a third are heroes. Now, a villain and a coward can choose to be a hero, but they've got to make that choice. - Author: Tom Hanks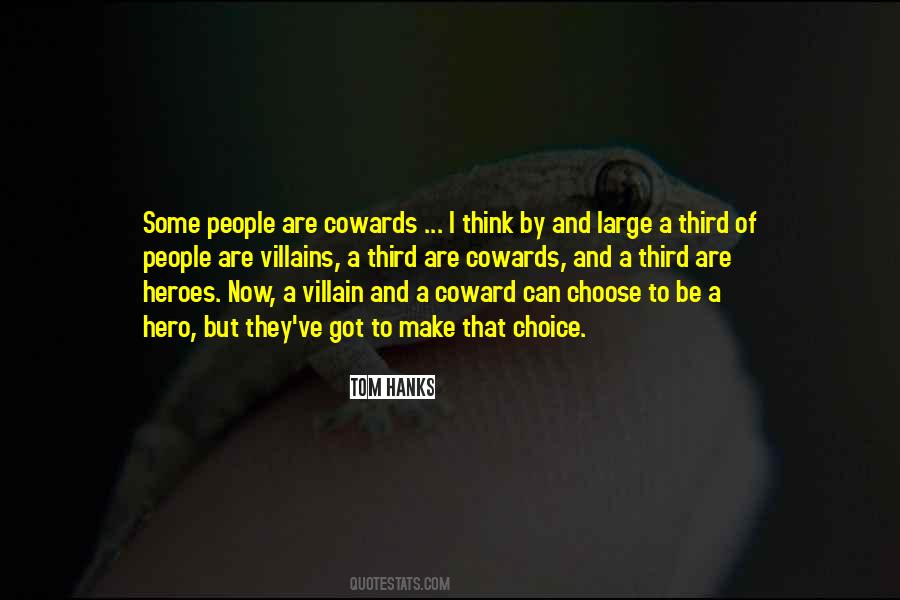 #5. I did a 'Love Boat!' And based on my trip on the 'Love Boat,' I said, 'I'd just as soon not do 'Fantasy Island.' - Author: Tom Hanks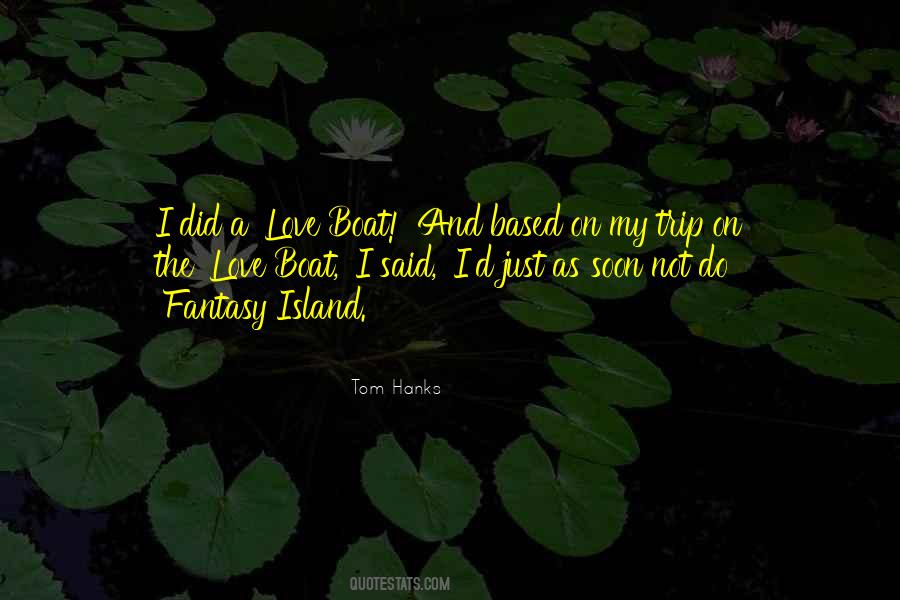 #6. Human beings do things for a reason, even if sometimes it's the wrong reason. - Author: Tom Hanks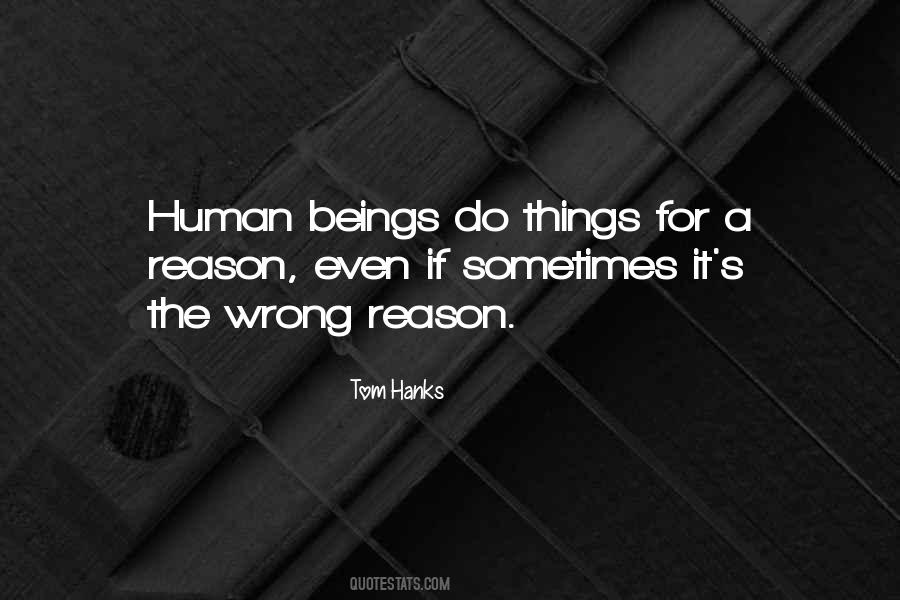 #7. If I was to direct Ron Howard, I guarantee you, I would put him through a living hell every day. I would demand so much of him. We wouldn't quit until he leaves the set crying. Weeping! Spent! - Author: Tom Hanks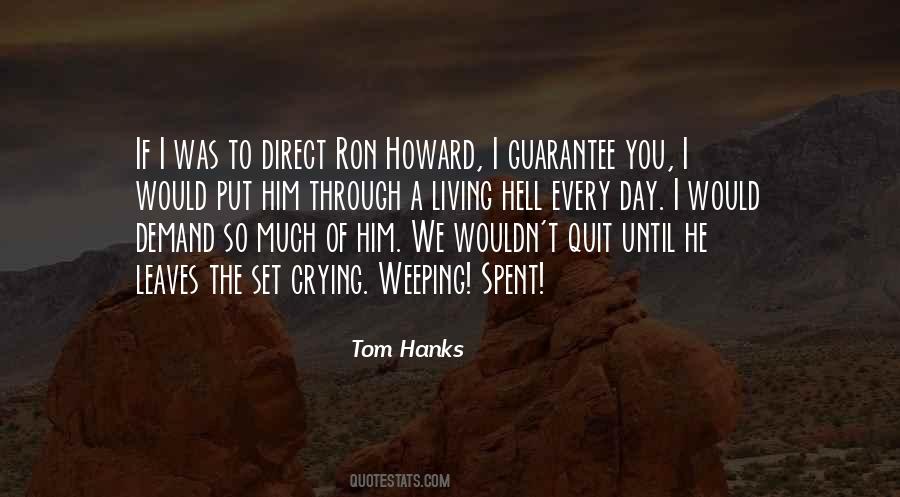 #8. When you're a kid, Kermit is Tom Hanks. He's Tom Hanks for kids or Jimmy Stewart for kids. He's truly the every man. - Author: Jason Segel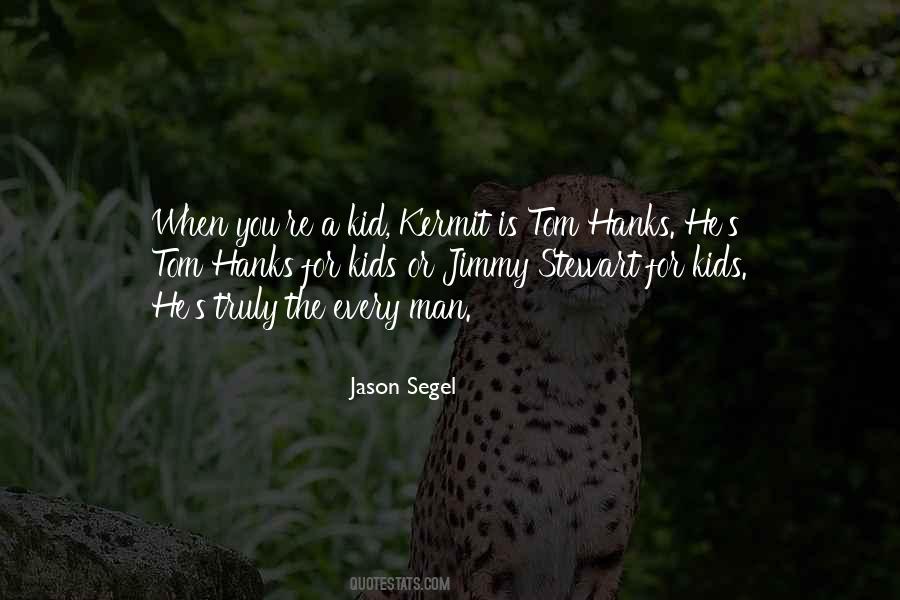 #9. When I was 21 years old, I had a job playing Santa Claus in a shopping centre in Sacramento. I was rail thin, so it's not like I was a traditional Santa Claus even then. I had a square stomach; that was the shape of the sofa cushion that I had stuffed into my pants. - Author: Tom Hanks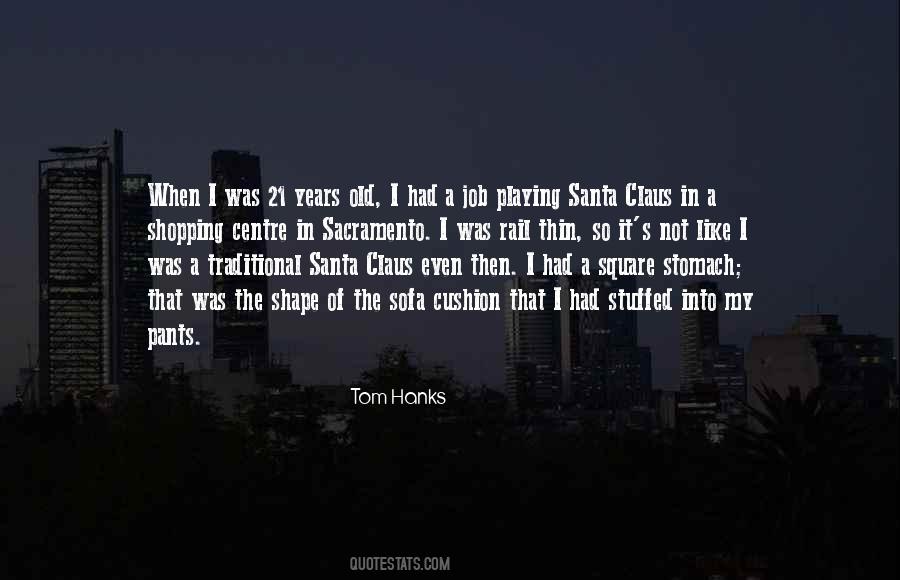 #10. I come from the school of That Horse is Not Dead. - Author: Tom Hanks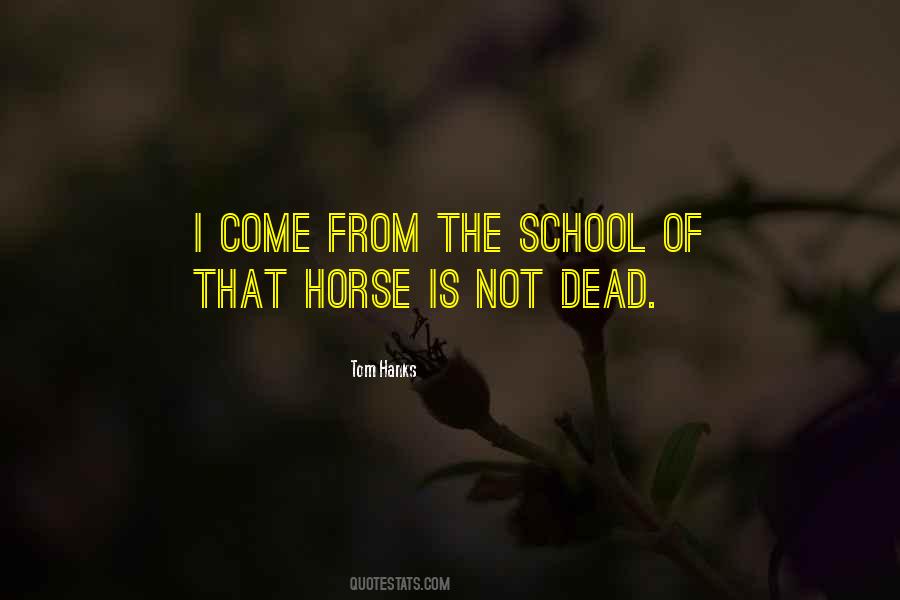 #11. Prior to Saving Private Ryan I never worked with men. I was always working with some babe, and it was always about falling in love, and it just got turned around. I'm not looking for any particular kind of story. I wait until it comes across my desk. - Author: Tom Hanks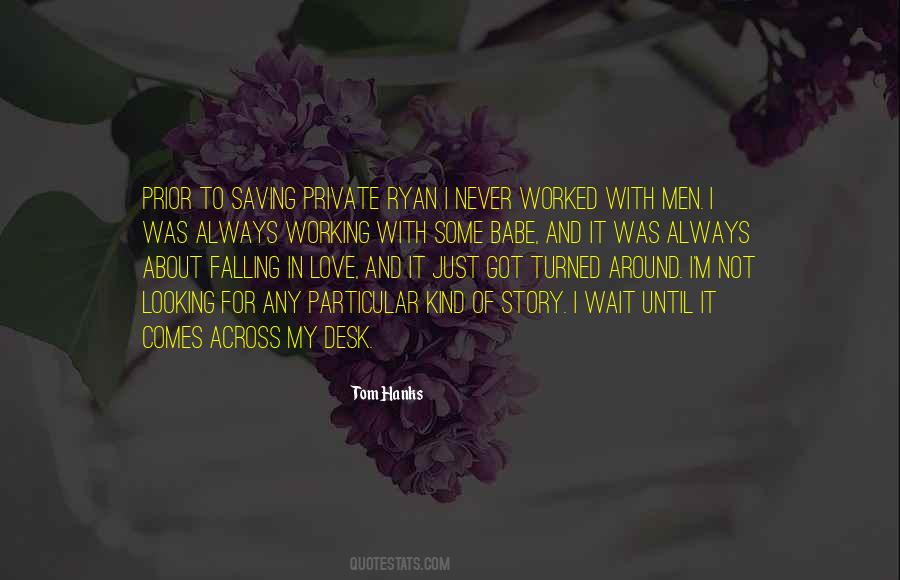 #12. College isn't necessary for everybody and it's only from what you put into it what you go there for. - Author: Tom Hanks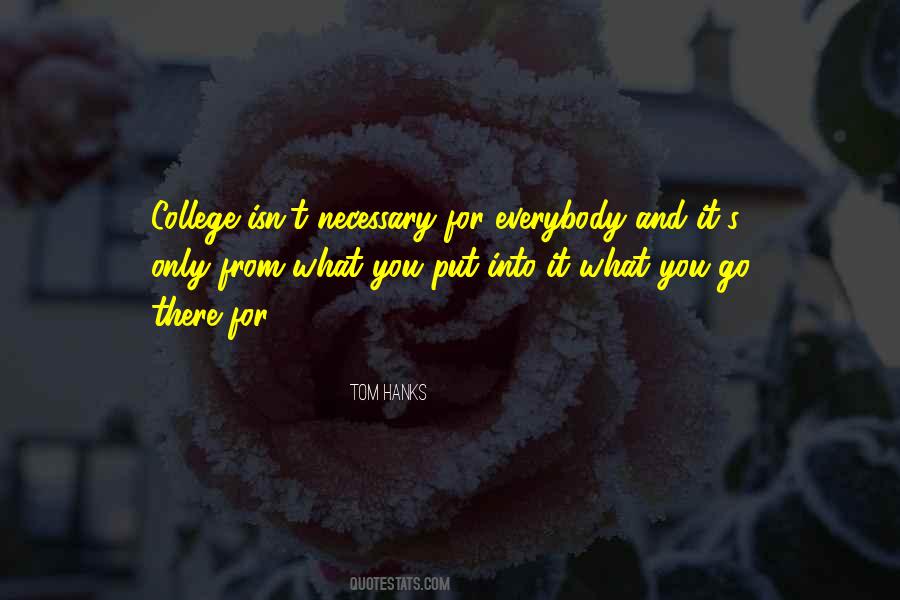 #13. I played in 'From the Earth to the Moon,' working with Tom Hanks. He is a great guy, very smart. - Author: Tom Verica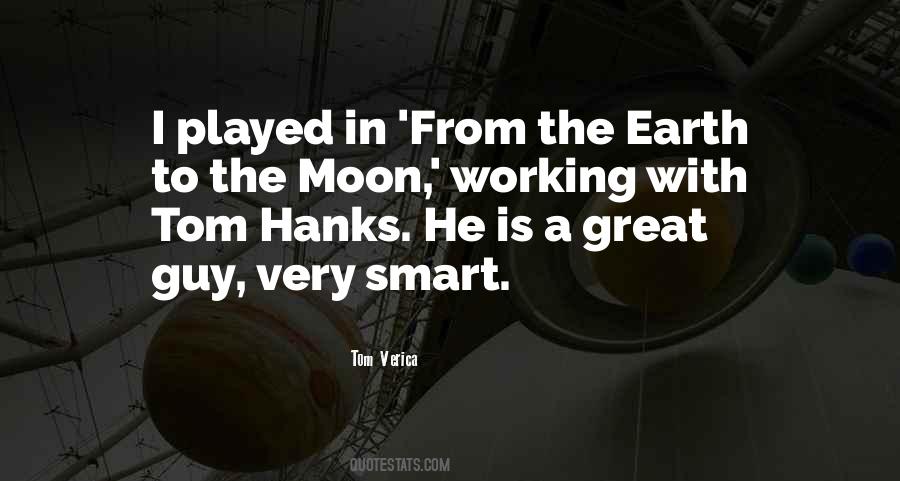 #14. I wouldn't trade my career with anybody's. I'd trade a few movies with Tom Hanks - 'Apollo 13' and 'Forrest Gump' - but other than that, I love my career. - Author: John Travolta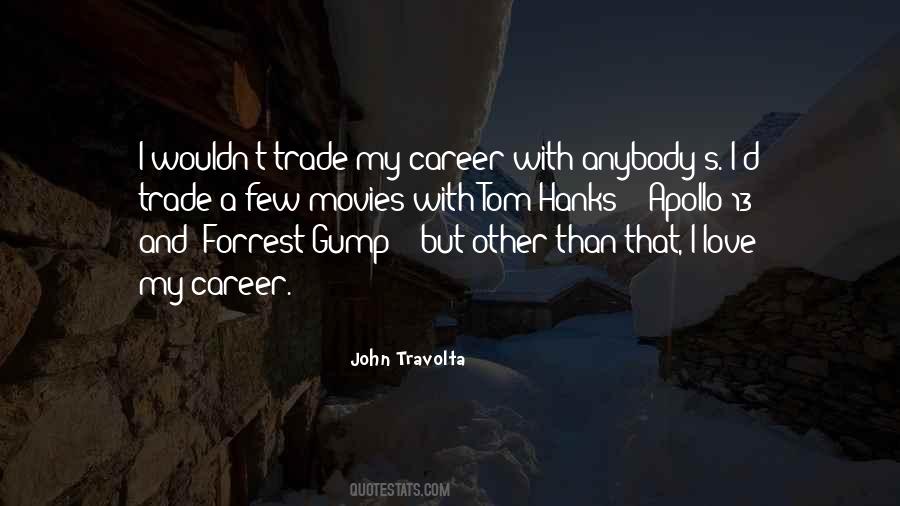 #15. Even the simplest choice can make a jaw-dropping difference in our world. - Author: Tom Hanks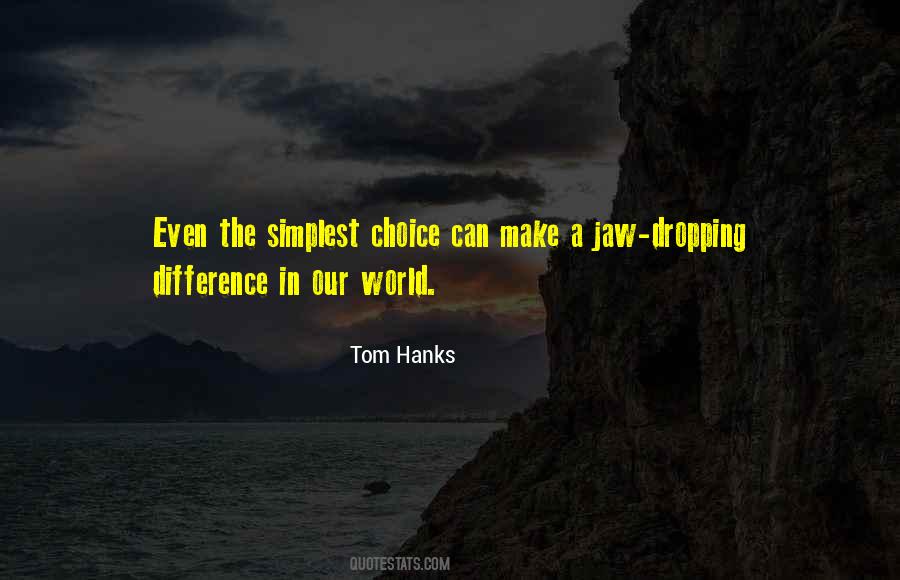 #16. But television, when I was doing it, was all about scoring. You had to make these jokes bang, do whatever you could to make the material really pop. And if it didn't, there was something wrong with the material, or with you. - Author: Tom Hanks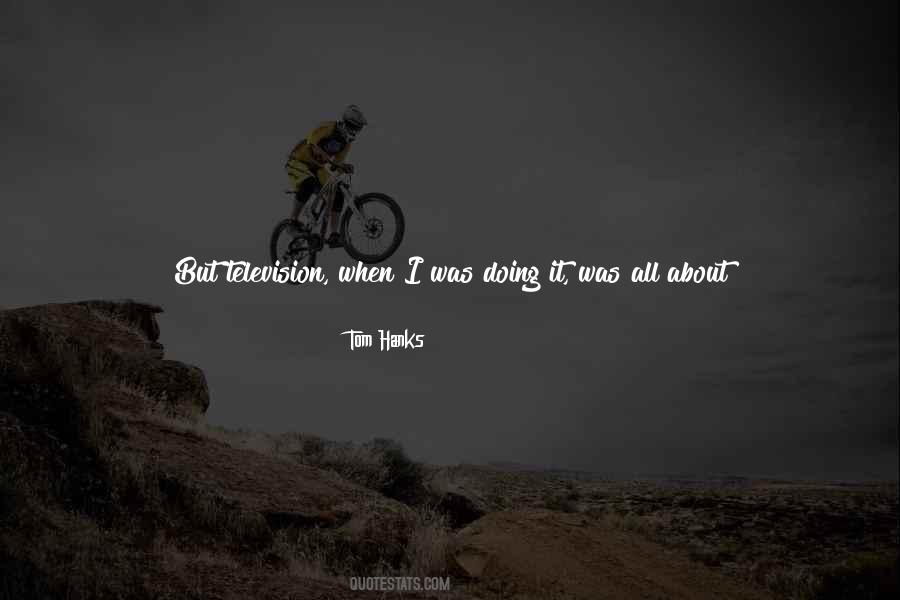 #17. If you have ten grand, set a date and move forward. If Tom Hanks calls you on Sunday and tells you he wants to be in the film, if he's not there Monday morning, you're shooting without him. - Author: William Dickerson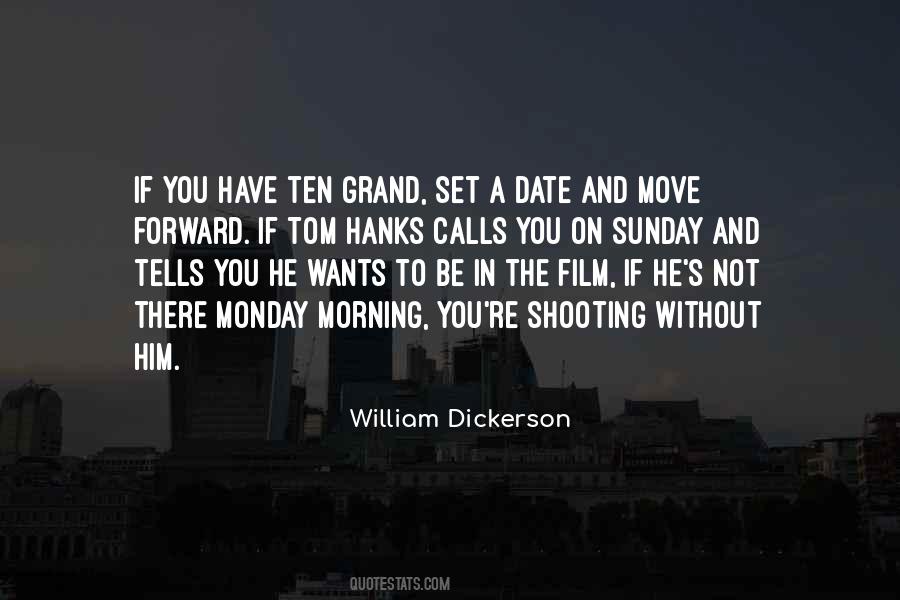 #18. I've made over 20 movies, and 5 of them are good. - Author: Tom Hanks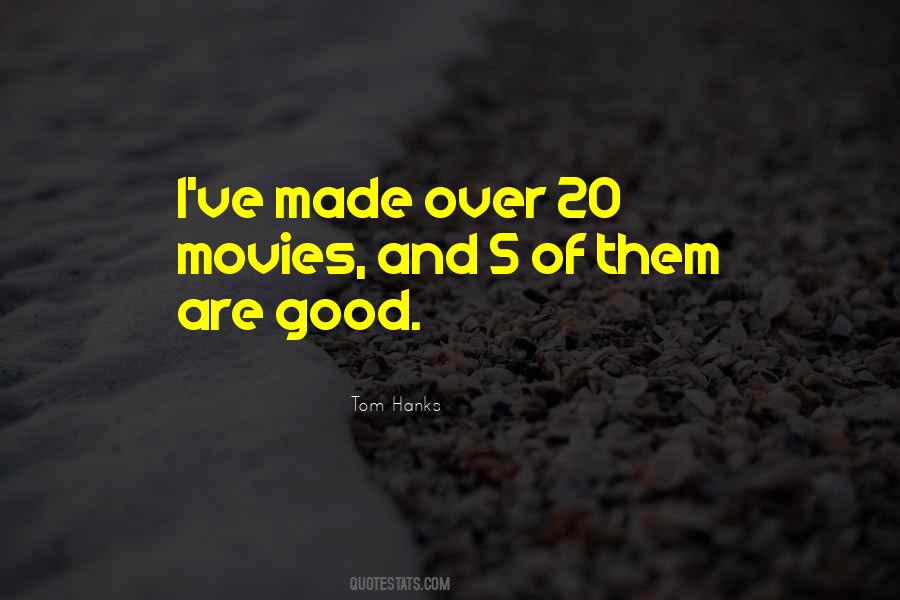 #19. If things were easy to find, they wouldn't be worth finding. - Author: Tom Hanks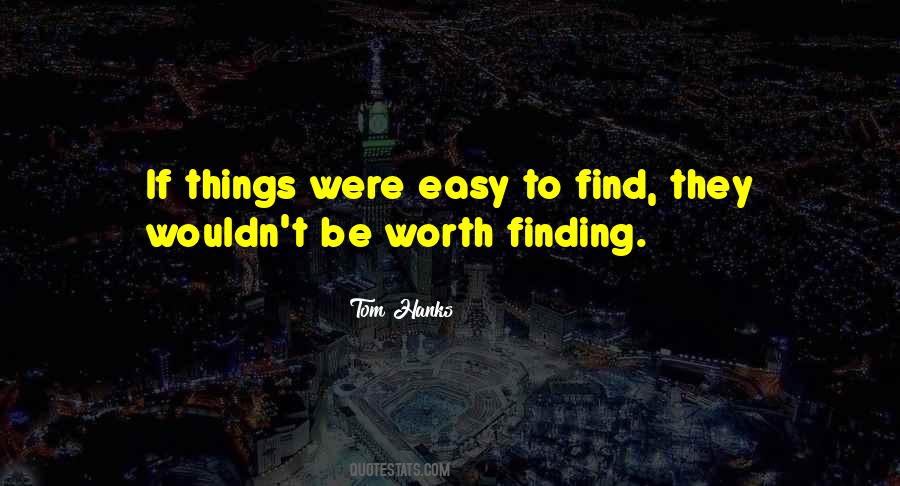 #20. I'm not a smart man, but I know what love is. - Author: Tom Hanks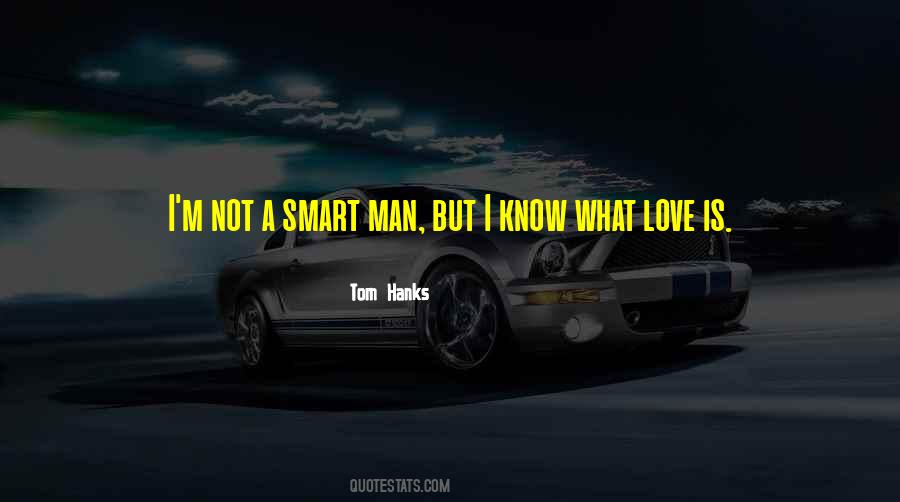 #21. I just want somebody I can have a decent conversation with over dinner." - Tom Hanks, Sleepless in Seattle (1993) 11 - Author: Jenn Bennett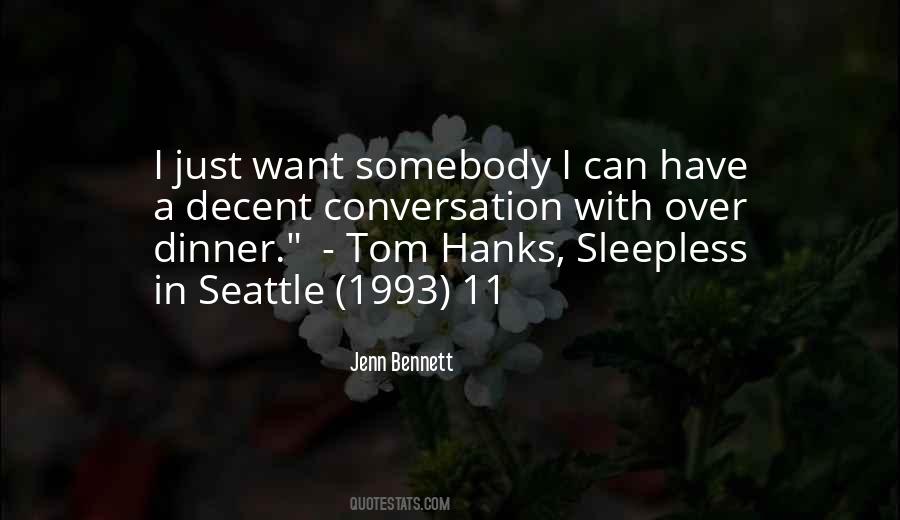 #22. Dear God, thank you for my life. I forgot how big and wonderful it is. - Author: Tom Hanks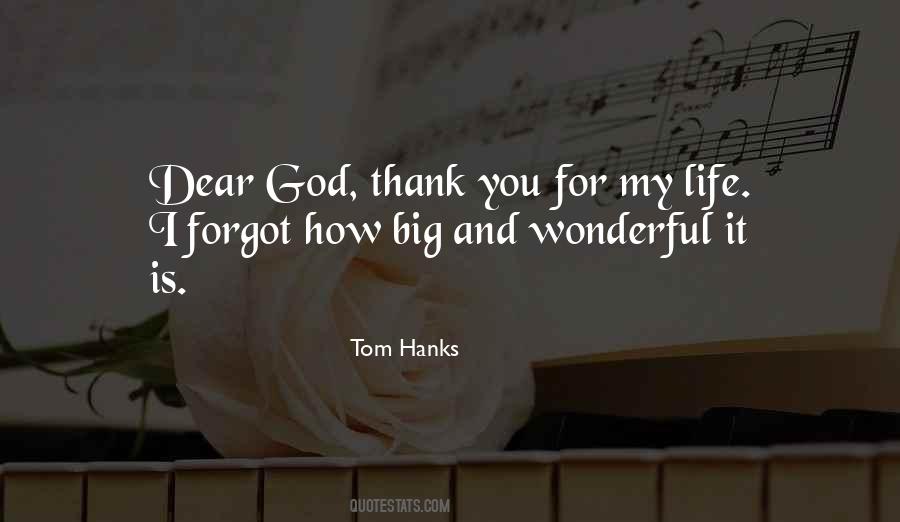 #23. I think I'm lucky that I had kids as spread out as much as I did, 'cause my son, my oldest, was born when I was 21. And my youngest is 15 now. He was born when I was 40, you know? - Author: Tom Hanks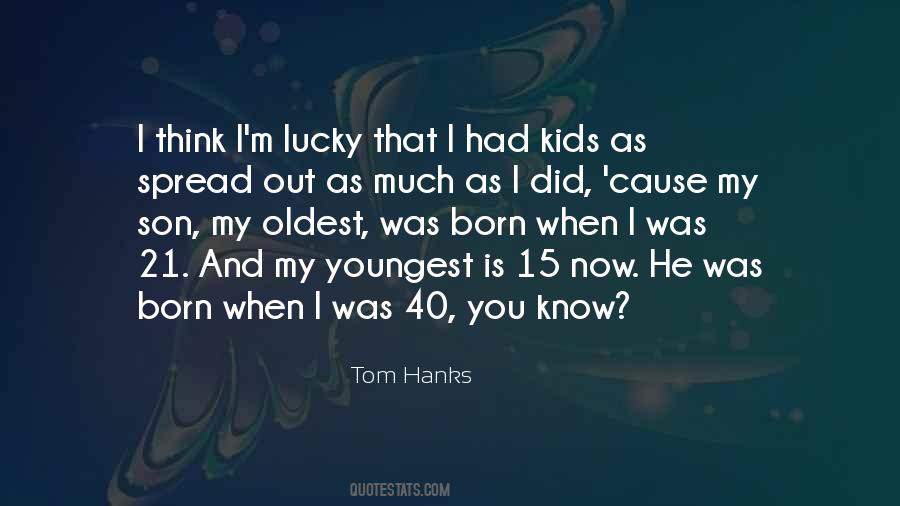 #24. The "Toy Story" films accomplish what timeless classics aim for - innocent characters who face an endless trail of adventures. - Author: Tom Hanks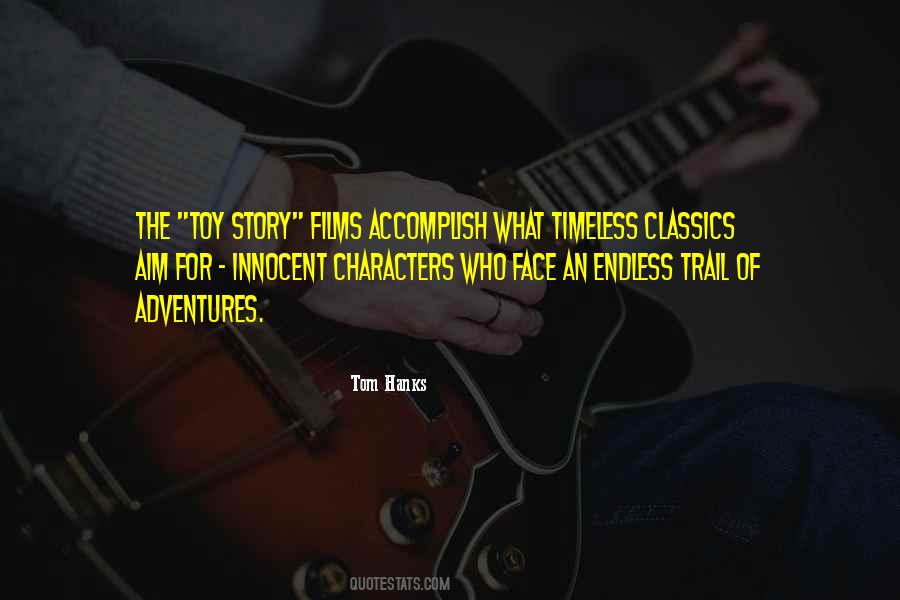 #25. You learn more from getting your butt kicked than getting it kissed. - Author: Tom Hanks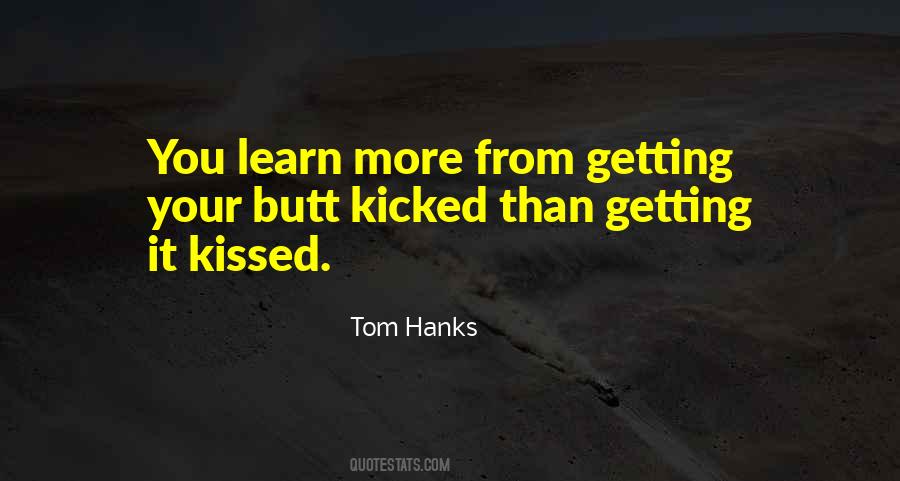 #26. If not for John Adams leading a revolution against Great Britain ... This would be the BAFTAs. - Author: Tom Hanks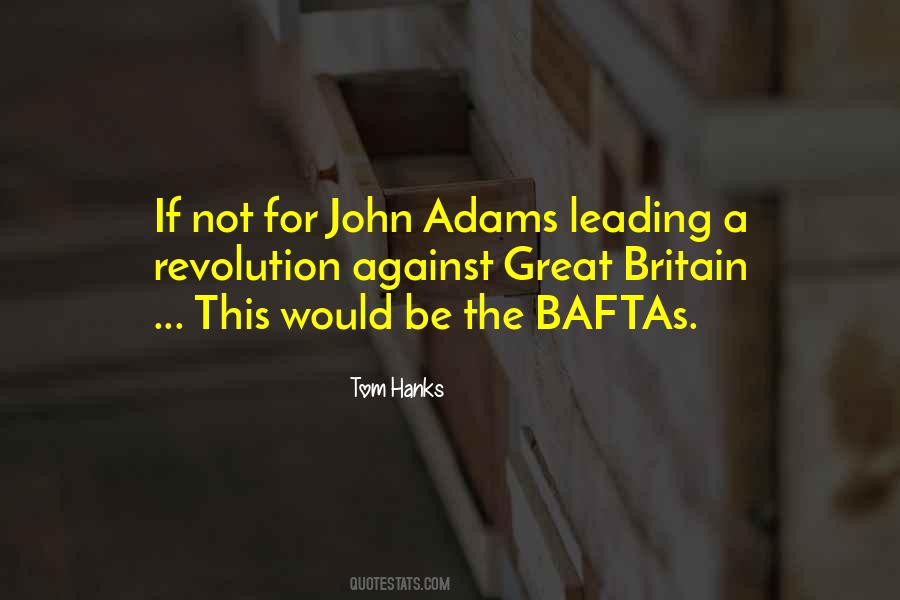 #27. You cannot look up at the night sky on the Planet Earth and not wonder what it's like to be up there amongst the stars. And I always look up at the moon and see it as the single most romantic place within the cosmos. - Author: Tom Hanks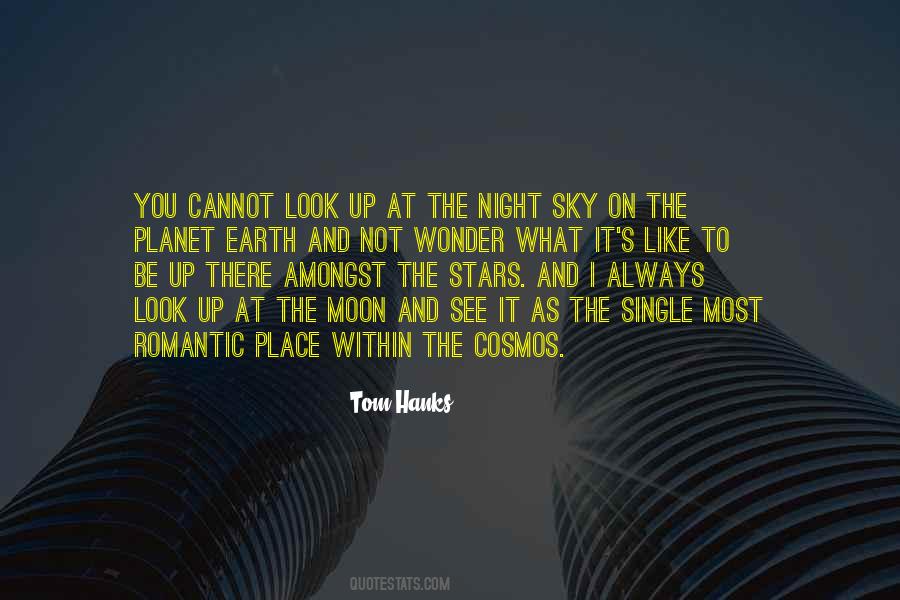 #28. The only way you can truly control how you are seen is by being honest all the time. - Author: Tom Hanks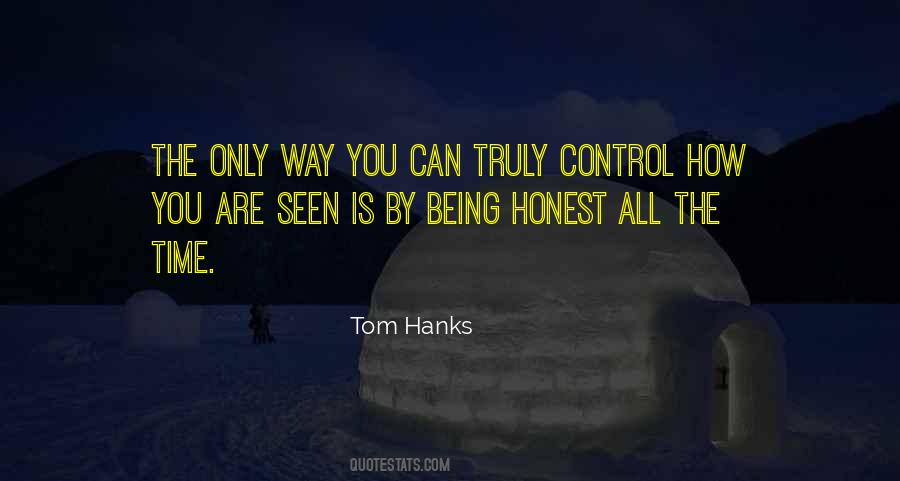 #29. Mass-market movies have become about one thing. They kind of declare themselves right off the bat ... But when I go to see (a film), I want to be surprised. I want to see something I never expected. And when you get that, it should be celebrated. - Author: Tom Hanks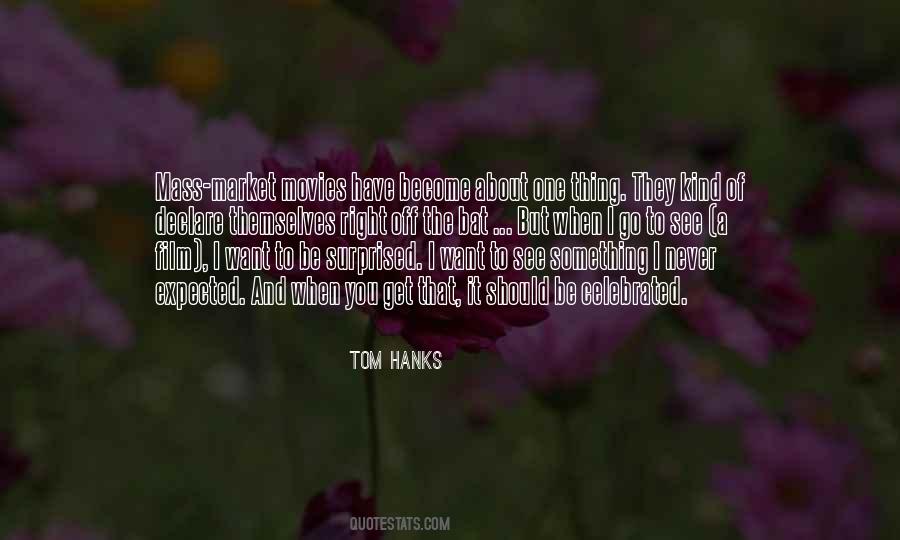 #30. In a perfect world, my tennis game gets better. I have kids and a beautiful wife and live on some hill somewhere that's not in Los Angeles. And the script that Tom Hanks just barely turned down gets in my hands. - Author: Matthew Perry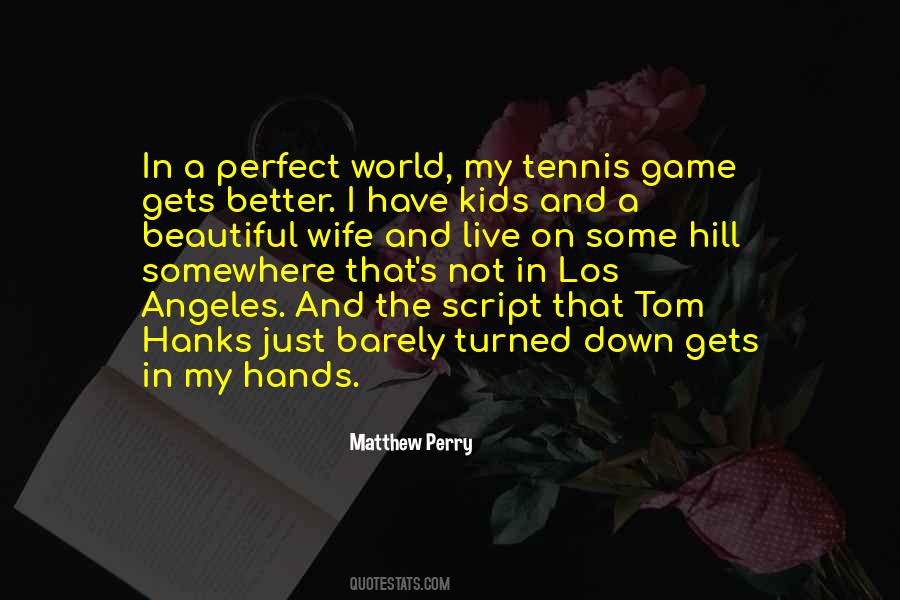 #31. I will entertain anything; it doesn't matter. You know, it's not obviously about the price, it's not about who, it's kind of about when and what. It's material, that's all. - Author: Tom Hanks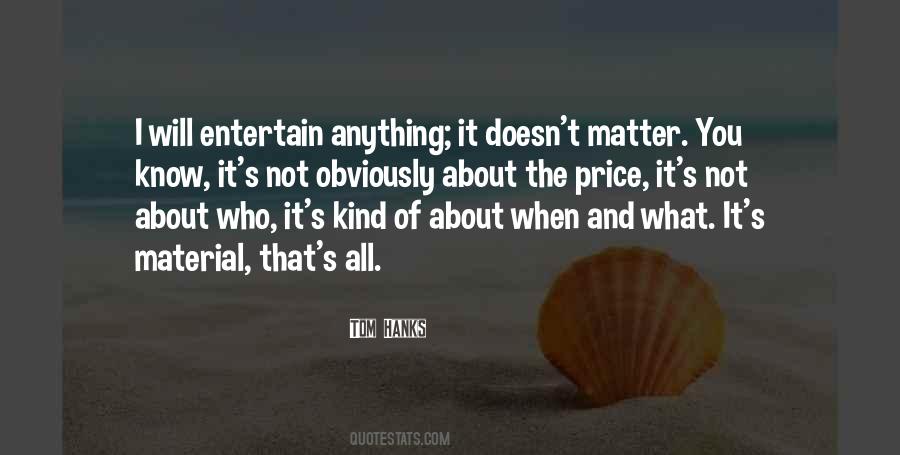 #32. No journalist has ever been in my house and no photographs have ever been taken of where I live. I don't parade my family out for display, which is the way it will stay. - Author: Tom Hanks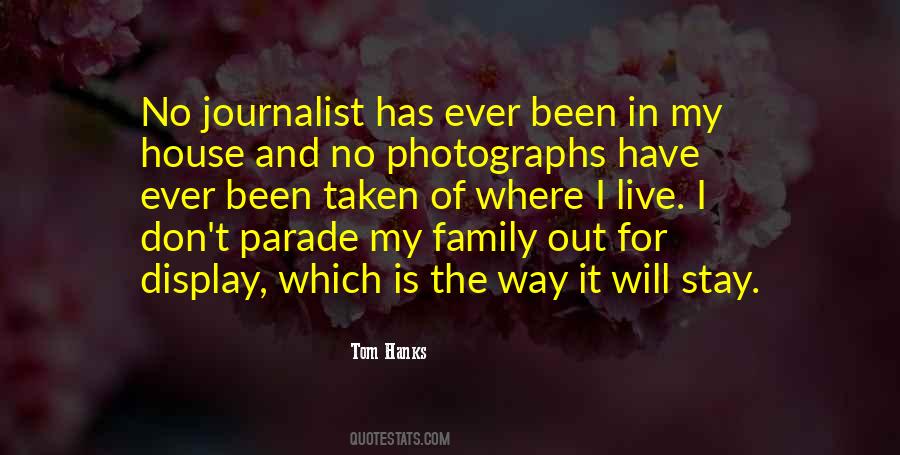 #33. Tom Hanks hits a new career peak. One of the best films of the year. - Author: Peter Travers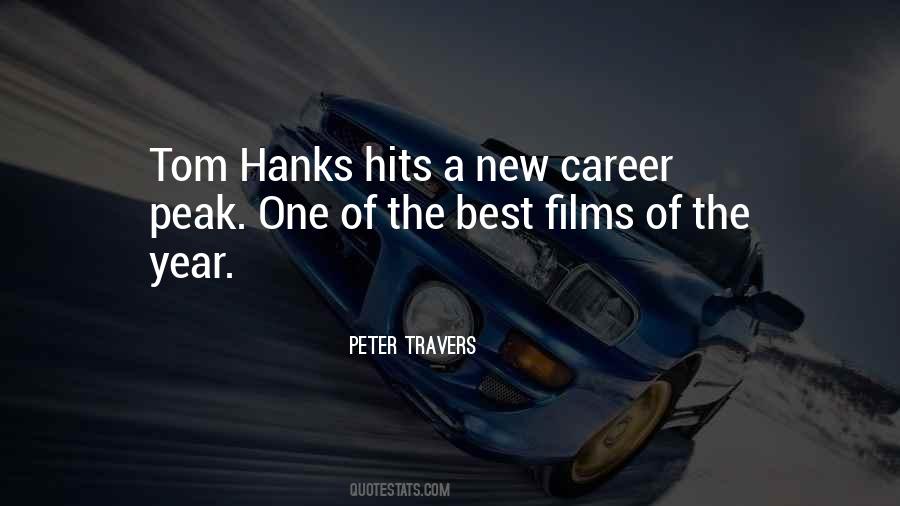 #34. Sandler's always good. Tom Hanks gave me some good advice. - Author: Jimmy Fallon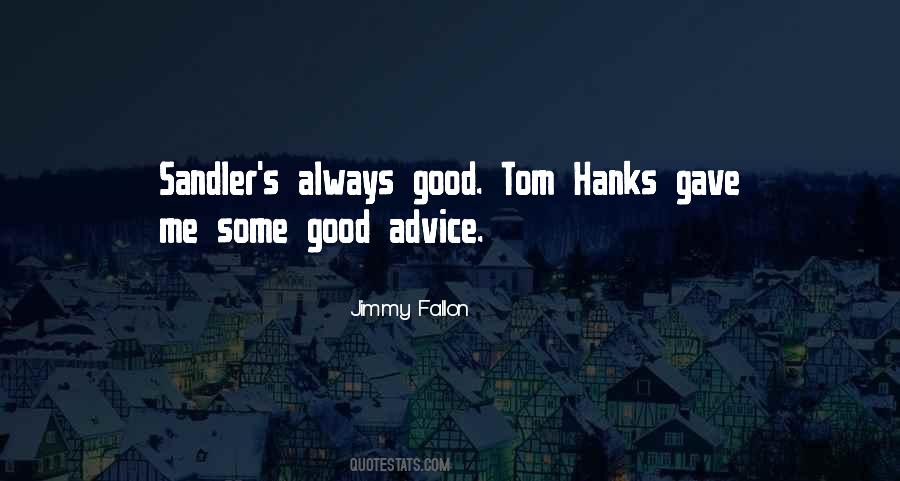 #35. Tom Hanks comes with a lot of credibility. - Author: Peter Landesman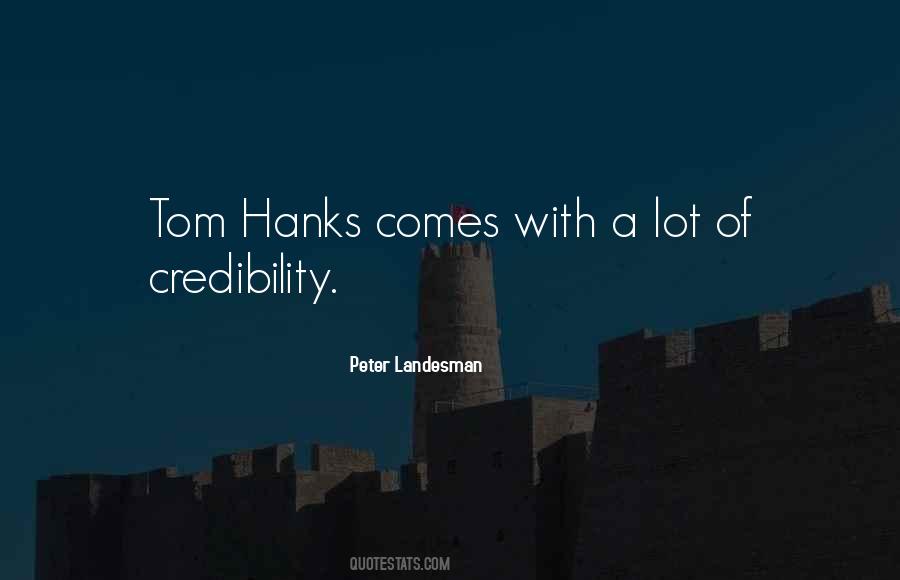 #36. I think my friend Tom Hanks knows me. He understands me very well. He's always had a sort of parental feeling toward me. He knows I'm a big mush ball, which is just part of my personality. - Author: John Travolta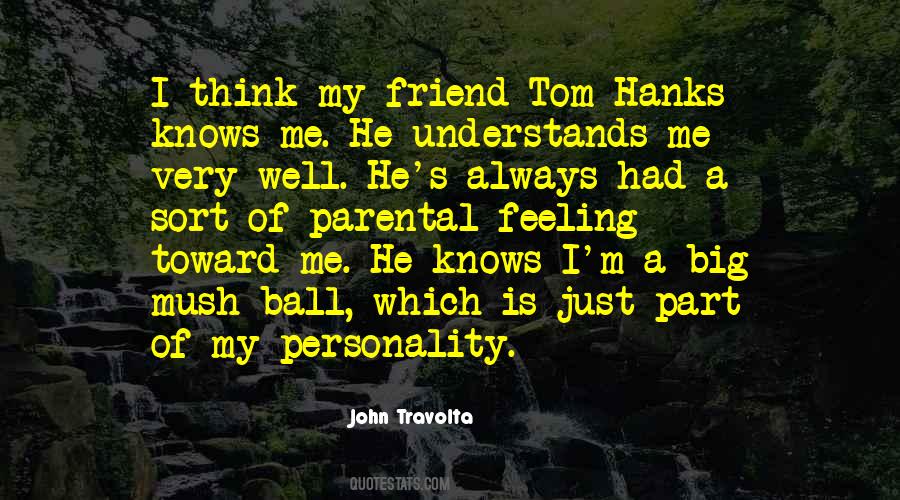 #37. Houston, we have a problem. - Author: Tom Hanks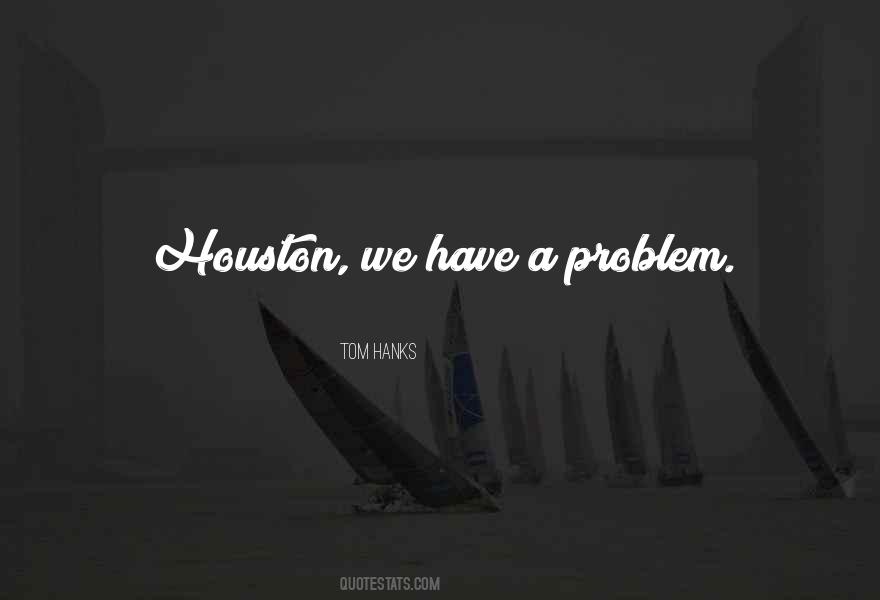 #38. So you write to our congressmen
With bleeding pens
Of the sorrow within
And in return they just send
Tickets to the latest Tom Hanks show - Author: Jewel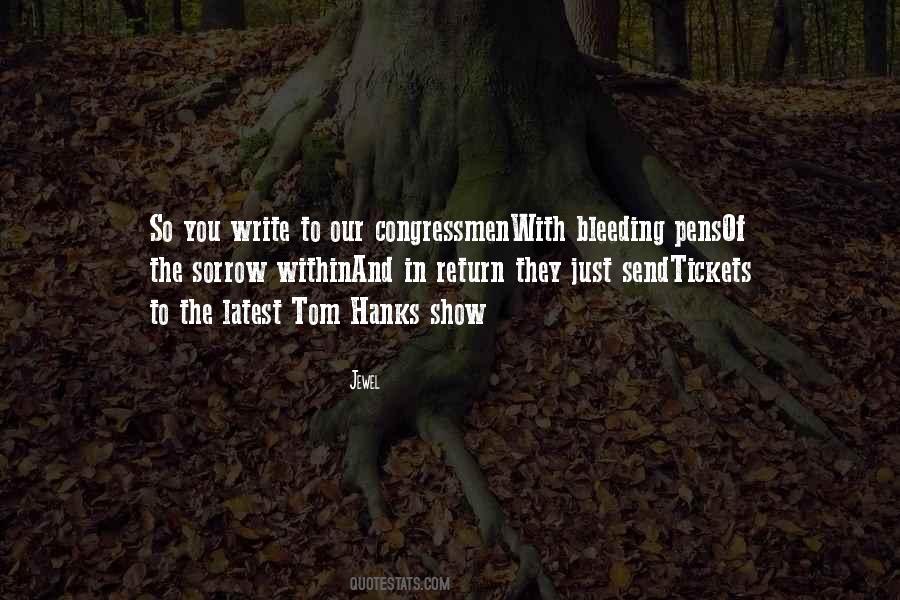 #39. Mama always said, dying was a part of life. I sure wish it wasn't. - Author: Tom Hanks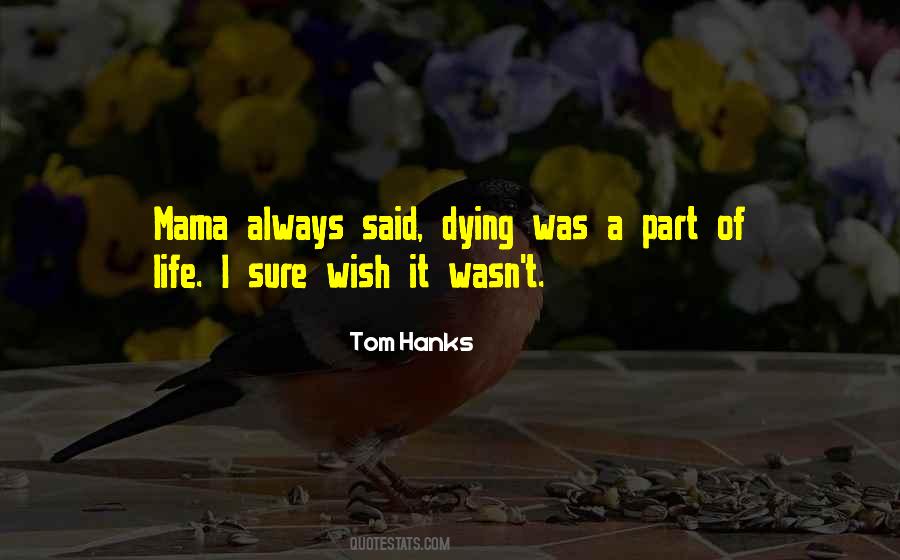 #40. In this business, you have a hierarchy of stars. Russell Crowe, Tom Hanks - you name 'em, they can play any part they want. Guys like me who are somewhere down in the middle of the pack, that's a different story. I can do things in the theater that I can't do anyplace else. - Author: Brian Dennehy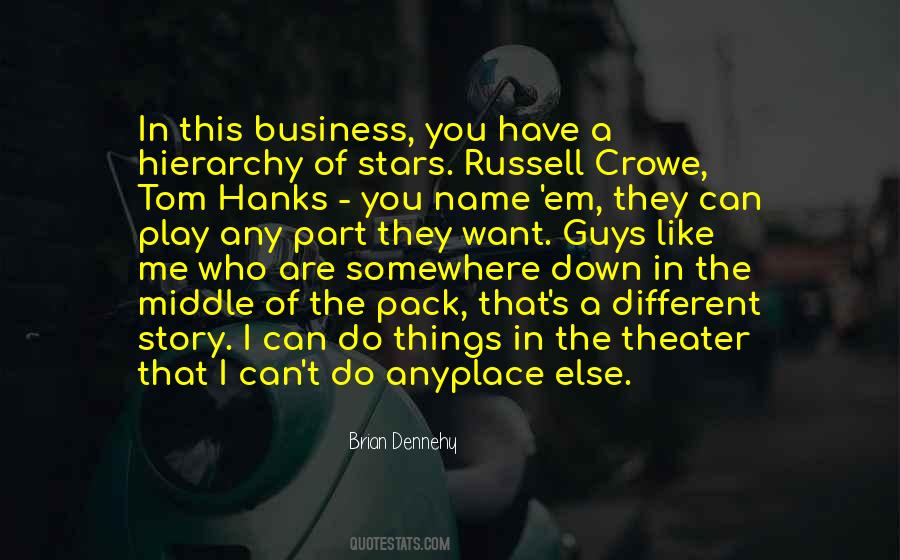 #41. 'In Search of Excellence' - even the title - is a reminder that business isn't dry, dreary, boring, or by the numbers. Life at work can be cool - and work that's cool isn't confined to Tiger Woods, Yo-Yo Ma, or Tom Hanks. It's available to all of us and any of us. - Author: Tom Peters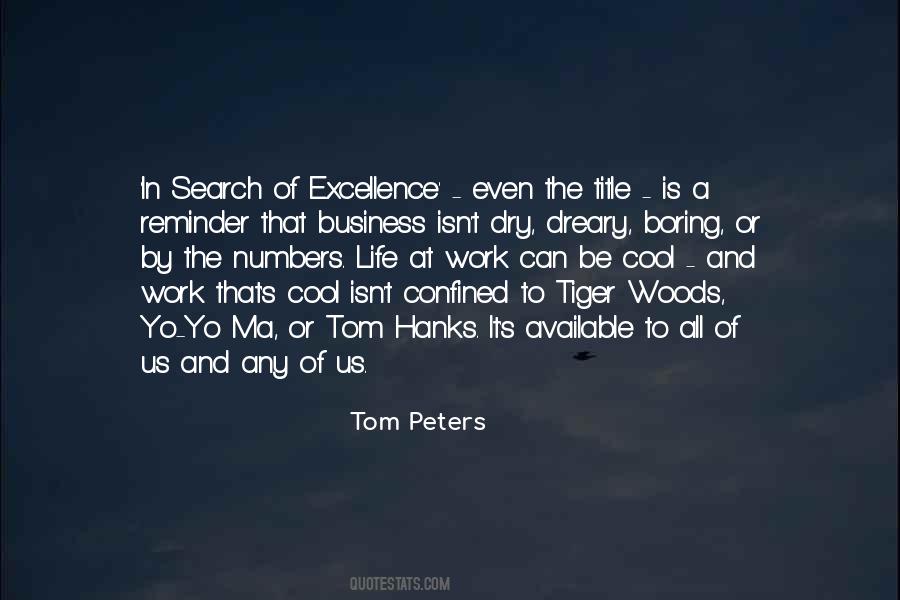 #42. Help, and you will make a huge impact in the life of the street, the town, the country and our planet. If only one out of four of each one hundred of you choose to help on any given day, in any given cause, incredible things will happen in the world you live in. - Author: Tom Hanks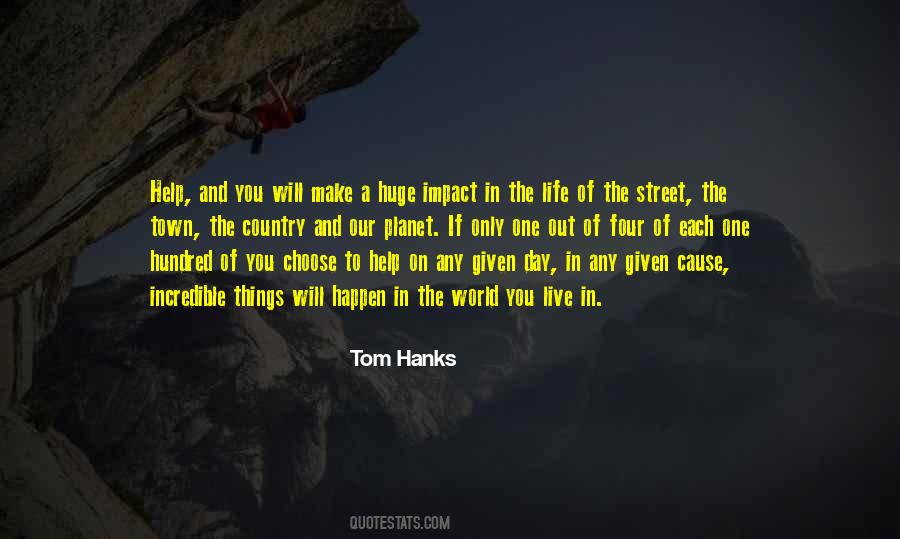 #43. As an actor I am always waiting for my luck to run out. - Author: Tom Hanks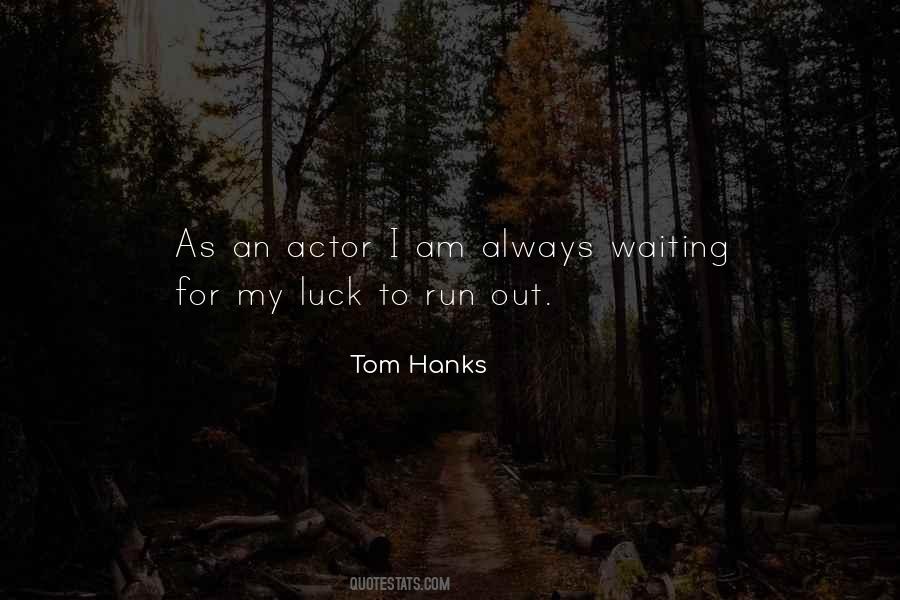 #44. My wife keeps on telling me my worst fault is that I keep things to myself and appear relaxed. But I am really in a room in my own head and not hearing a thing anyone is saying. - Author: Tom Hanks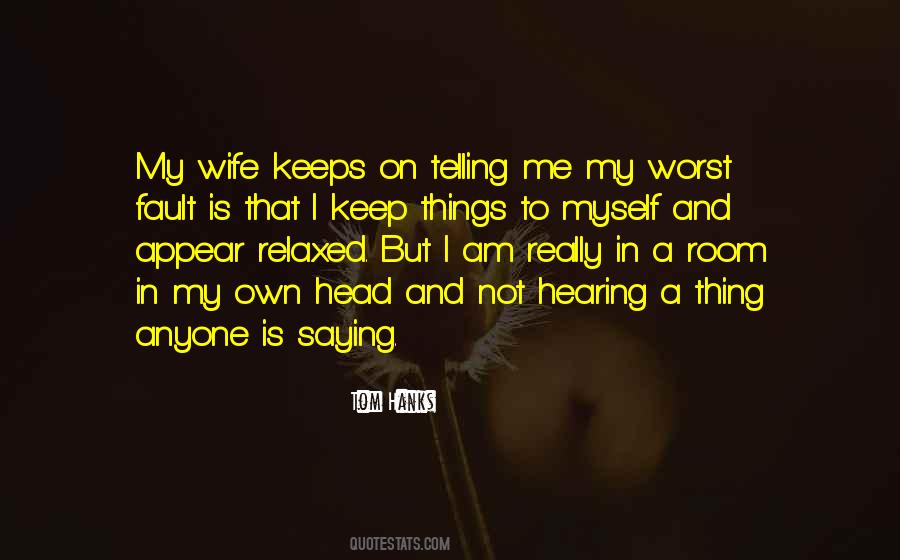 #45. For actors, when you first get the project and you see that it's a Steven Spielberg, Tom Hanks and Gary Goetzman-produced project, right away, from an acting standpoint, you go, 'Wow. That'd be great to be part of that. What a career move that'd be.' - Author: Jon Seda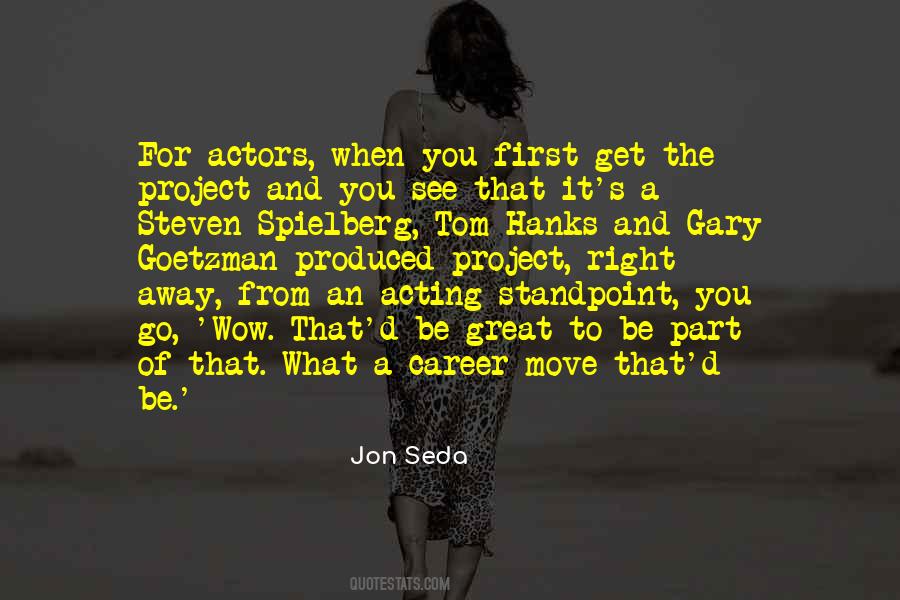 #46. So now I know what I have to do. I have to keep breathing. And tomorrow the sun will rise, and who knows what the tide will bring in. - Author: William Broyles Jr.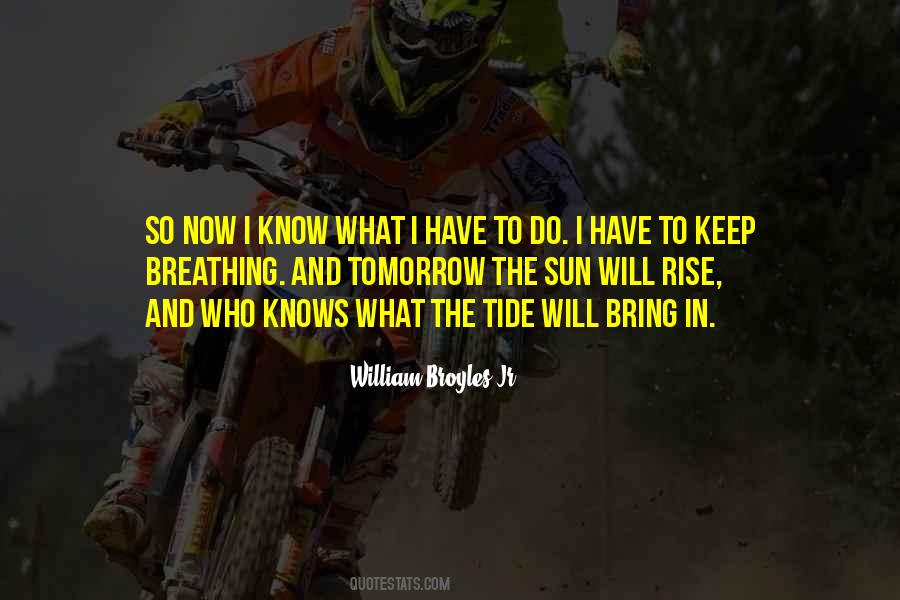 #47. I just know that every man I kill the farther away from home I feel. - Author: Tom Hanks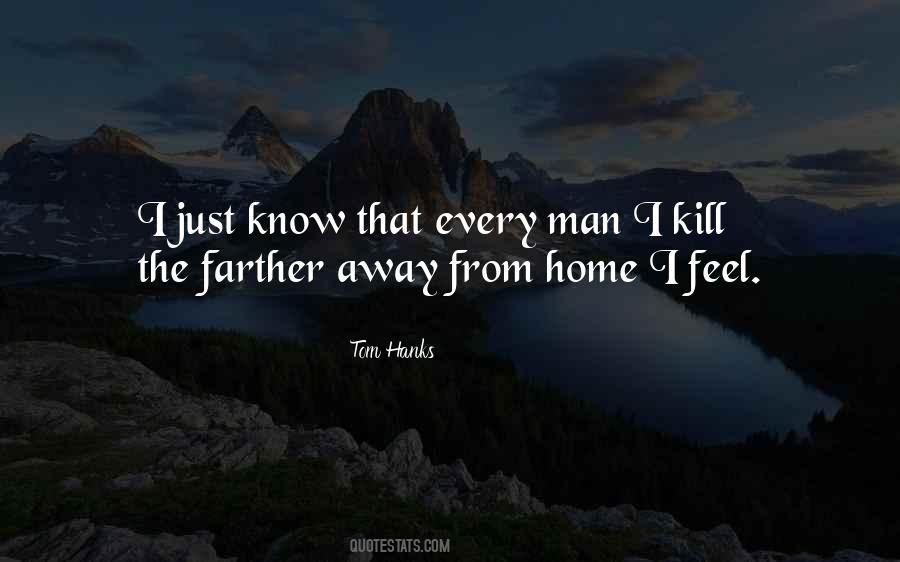 #48. The nature of the movies is different than it was five years ago, and they're all driven by the possibilities of CGI, which means you can make anything happen on screen that you can possibly desire. - Author: Tom Hanks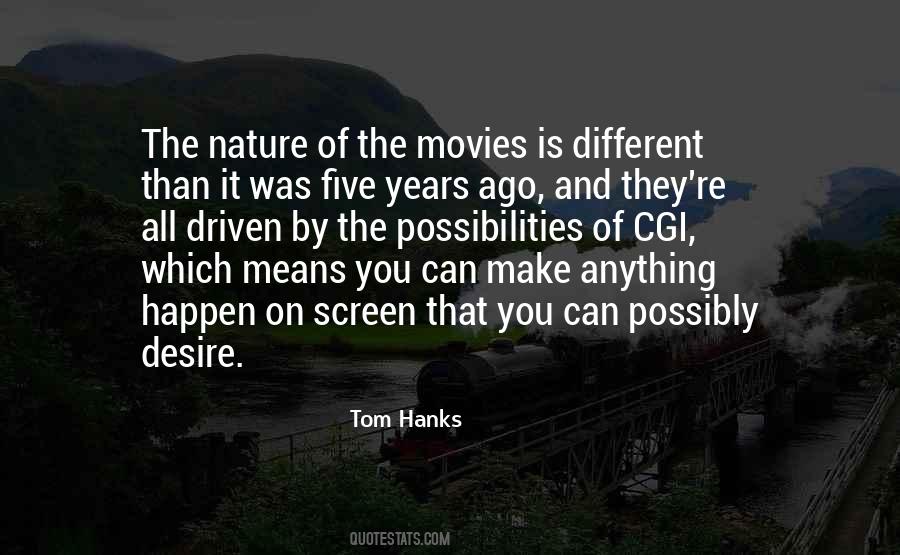 #49. I get a lot of comments from people that I remind them of a young Tom Hanks. - Author: Brendan Robinson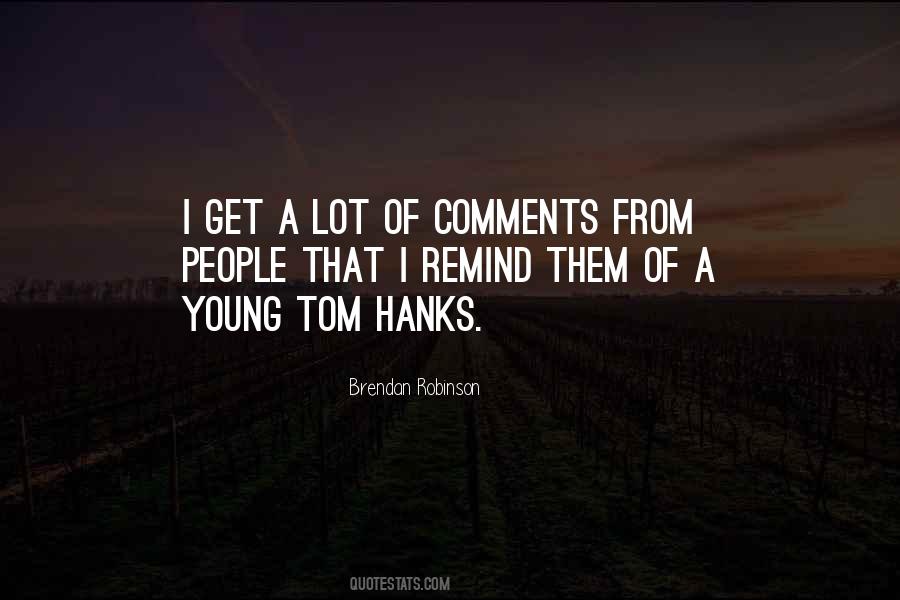 #50. Several of the actors I've had the good fortune of working with stand out in my mind as 'ultimate'. I guess the obvious would be Tom Hanks, because he really is as fun and as genuine as he comes across in his films and interviews. - Author: Barry Pepper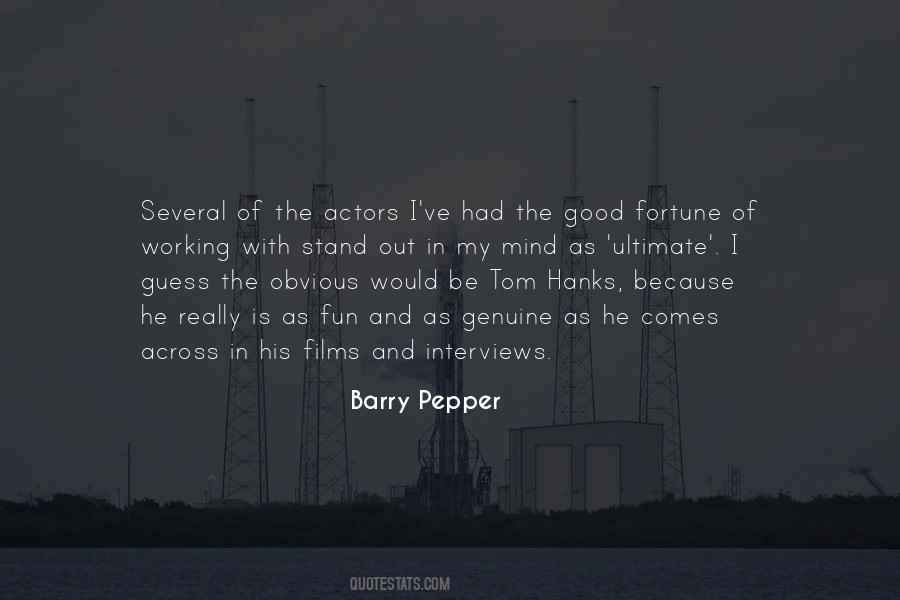 #51. Some people go to bed at night thinking, 'That was a good day.' I am one of those who worries and asks, 'How did I screw up today?' - Author: Tom Hanks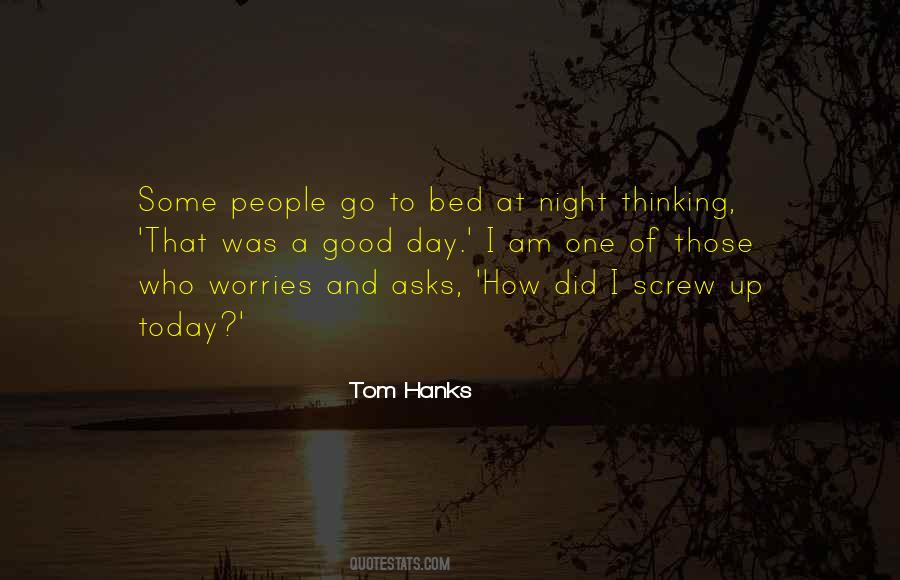 #52. 'Forrest Gump' was great, it was fabulous. It lasted much longer than anybody thought, and brought me a degree of attention that no human being on the face of the planet deserves. - Author: Tom Hanks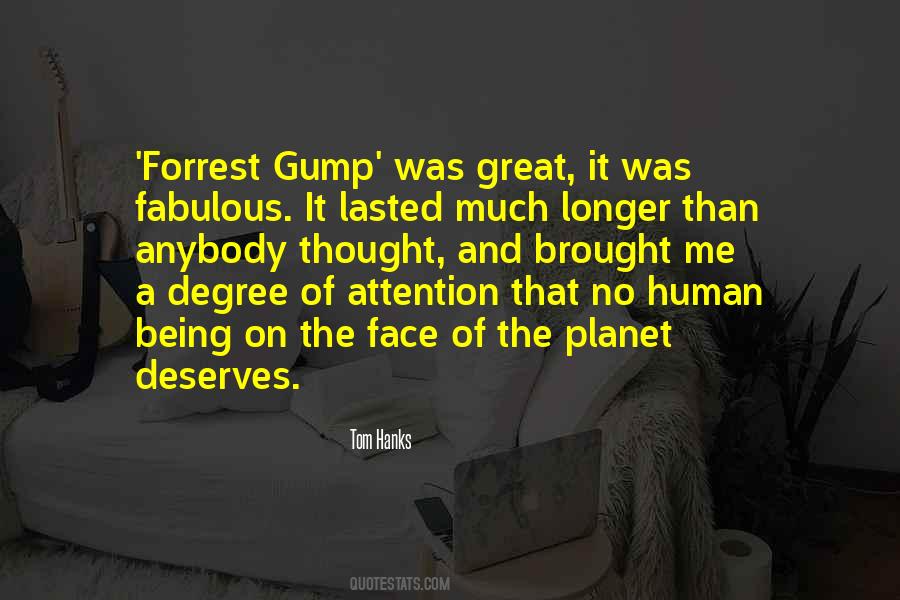 #53. Acting still rings my bell as much as it did in high school. Plus, I can now indulge my interests as a producer as well. My work is more fun than fun but, best of all, it's still very scary. You are always walking some kind of high wire. - Author: Tom Hanks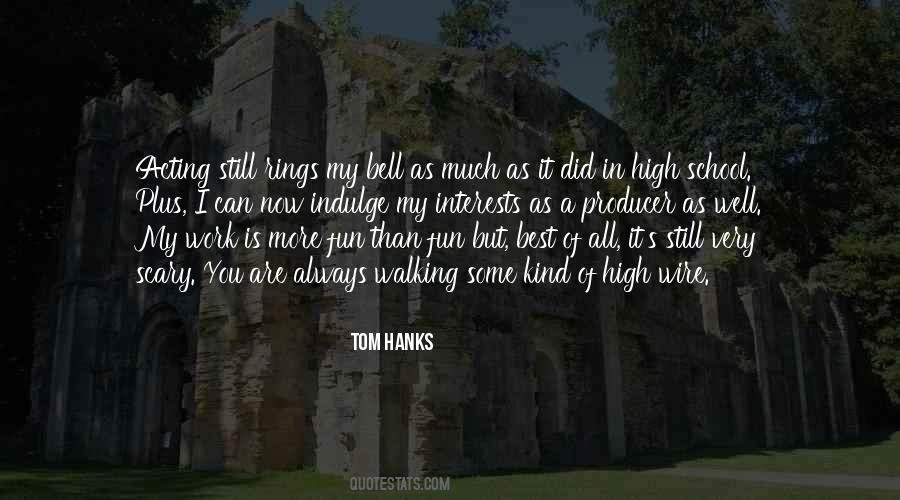 #54. Oprah Winfrey today you are surrounded by nothing but love. - Author: Tom Hanks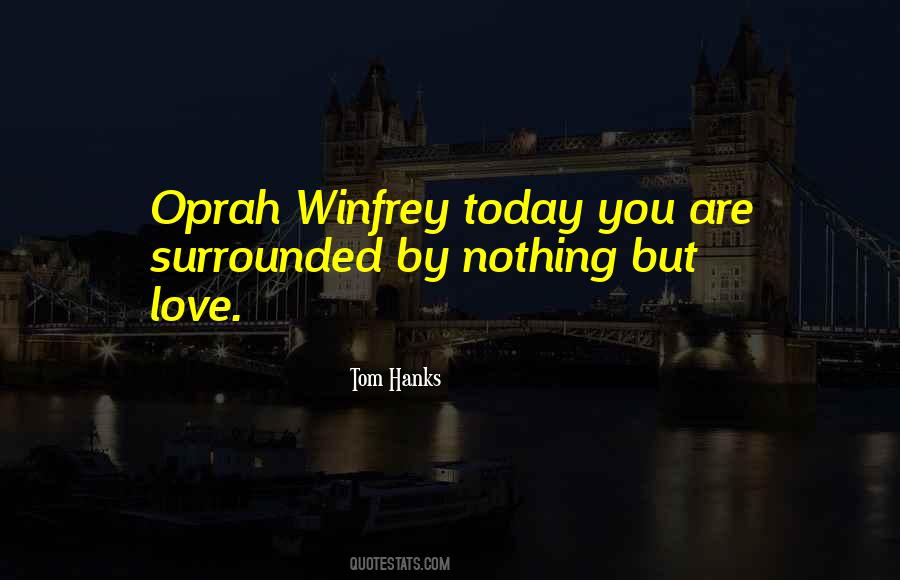 #55. There was nothing to react to except wind and trees [in Cast Away]. It was like making a silent movie. - Author: Tom Hanks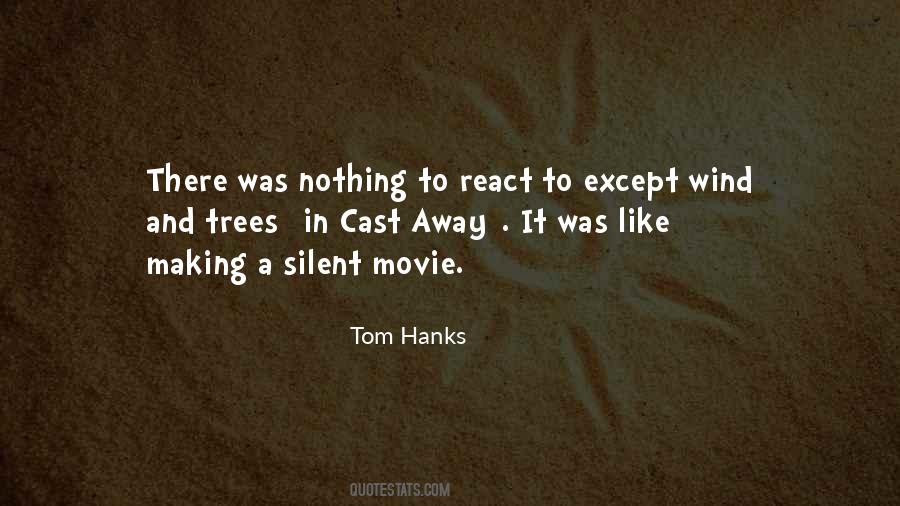 #56. I don't really have a lot of fun playing just straight good guys. It's not my thing. It's like Tom Hanks territory. - Author: Denis Leary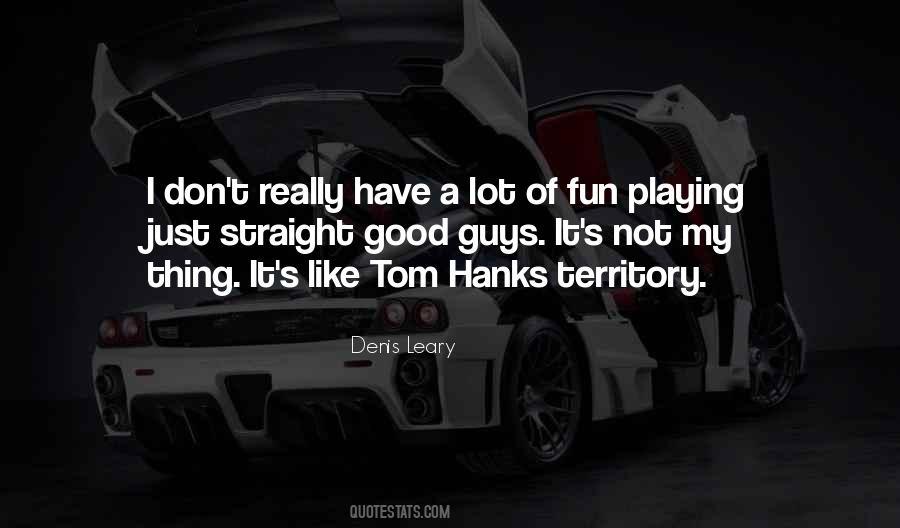 #57. The more men I kill, the more far away from home I feel
Saving Private Ryan - Author: Tom Hanks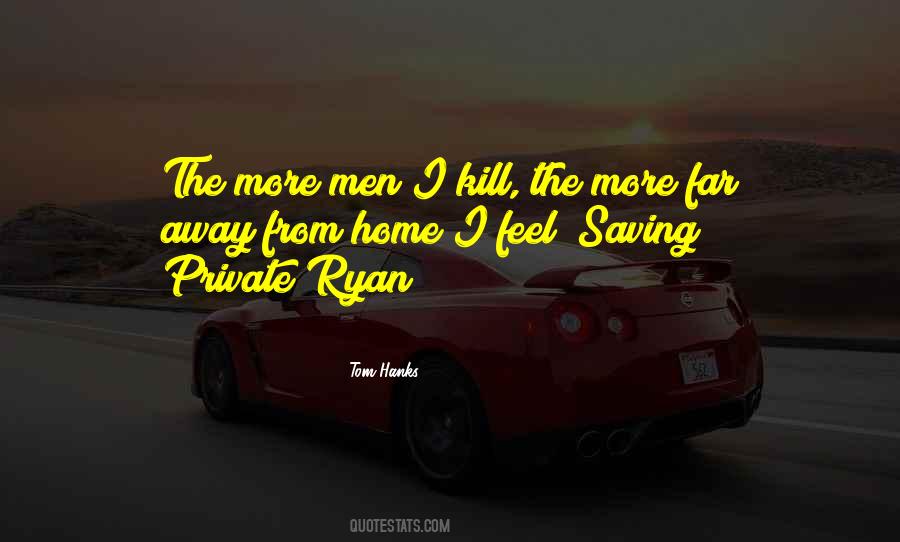 #58. But look, I was born in 1956, the peak year for births in US history. I think I'm very representative of many of the thought processes my generation have been through and, by and large, people of my age have had their imprint planted on the consciousness of western society for a long time. - Author: Tom Hanks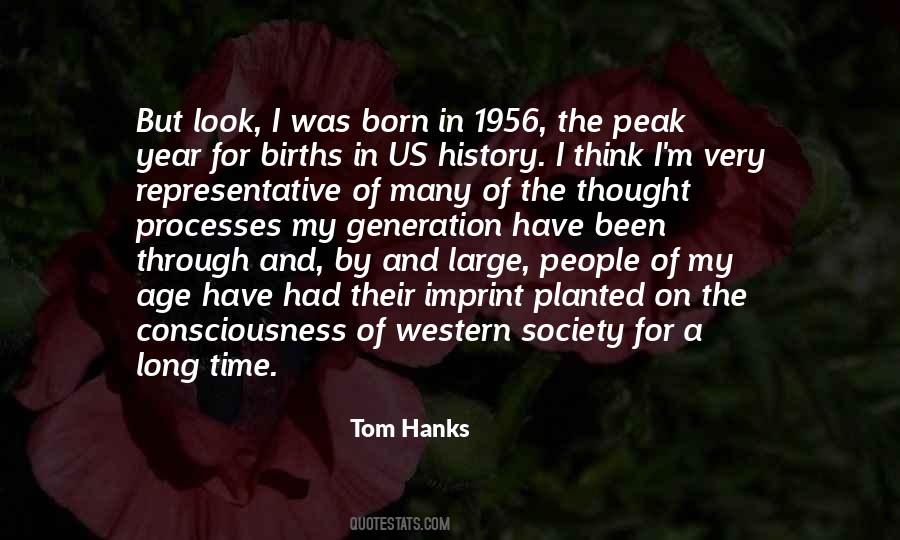 #59. The truth is that everyone pays attention to who's number one at the box office. And none of it matters, because the only thing that really exists is the connection the audience has with a movie. - Author: Tom Hanks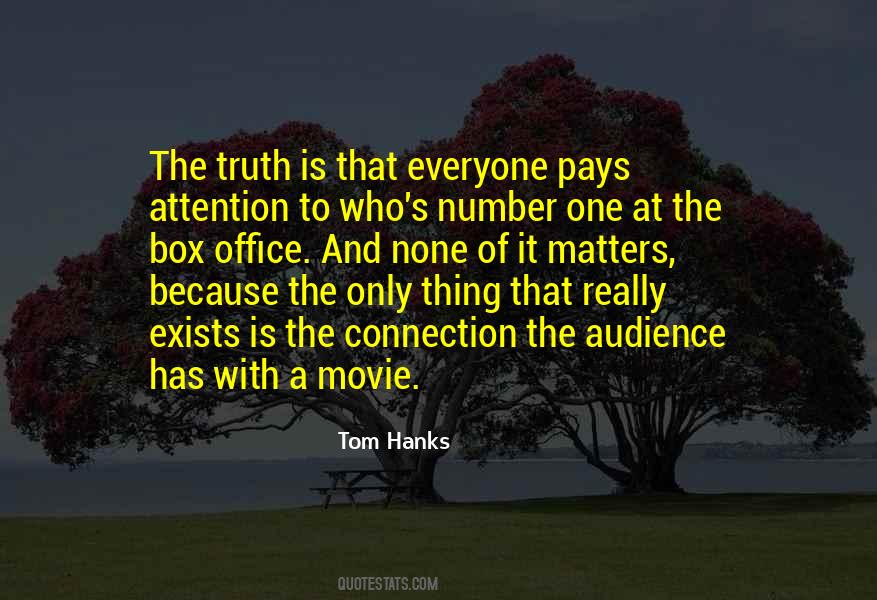 #60. I have high blood sugars, and Type 2 diabetes is not going to kill me. But I just have to eat right, and exercise, and lose weight, and watch what I eat, and I will be fine for the rest of my life. - Author: Tom Hanks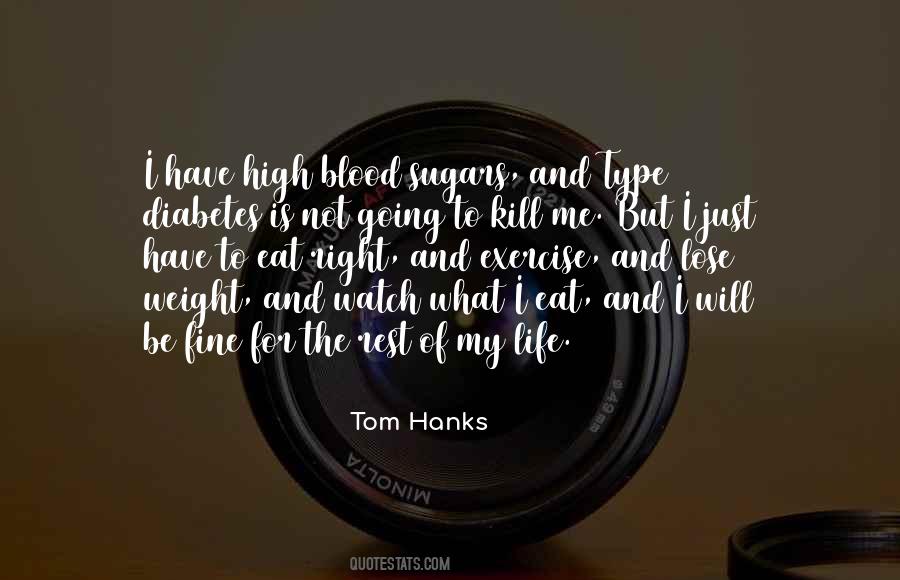 #61. I'm lucky enough to be able to make only movies I'm interested in seeing. That has to be an instinctive thrust. The audience knows when you're faking it. They can hang any kind of moniker they want on me. - Author: Tom Hanks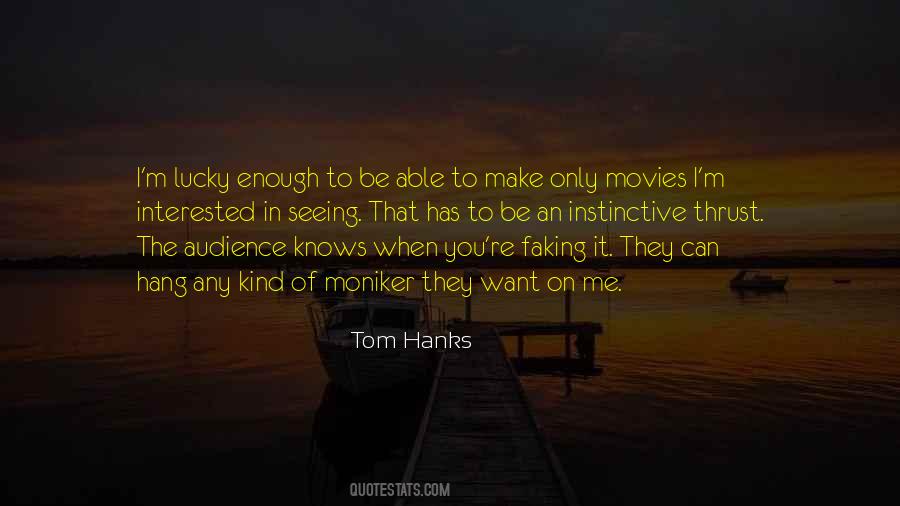 #62. If there was ever someone to look up to, it's Tom Hanks. - Author: John Krasinski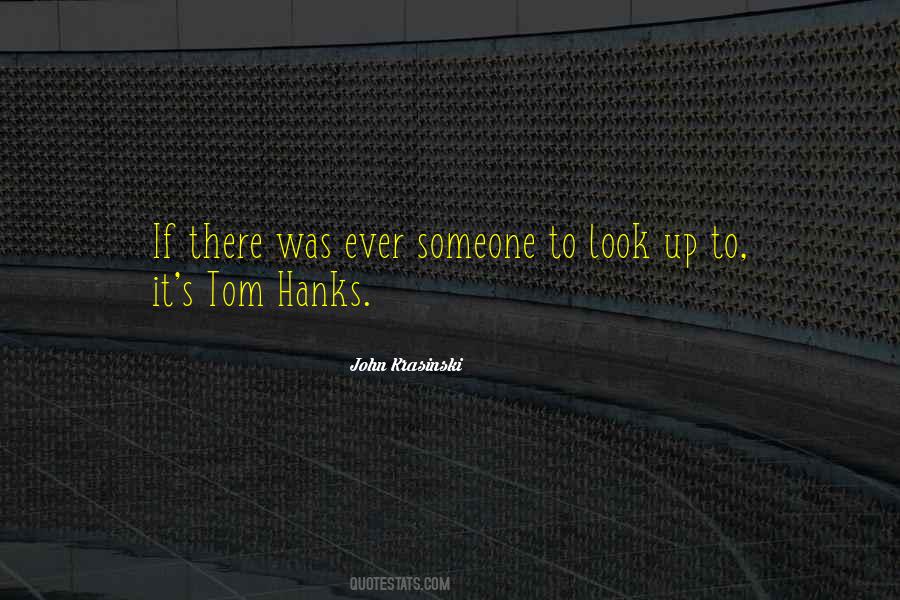 #63. The guy I've never worked with that is pissing me off is Tom Hanks. I want to work with Tom Hanks more than anyone. - Author: Peter Farrelly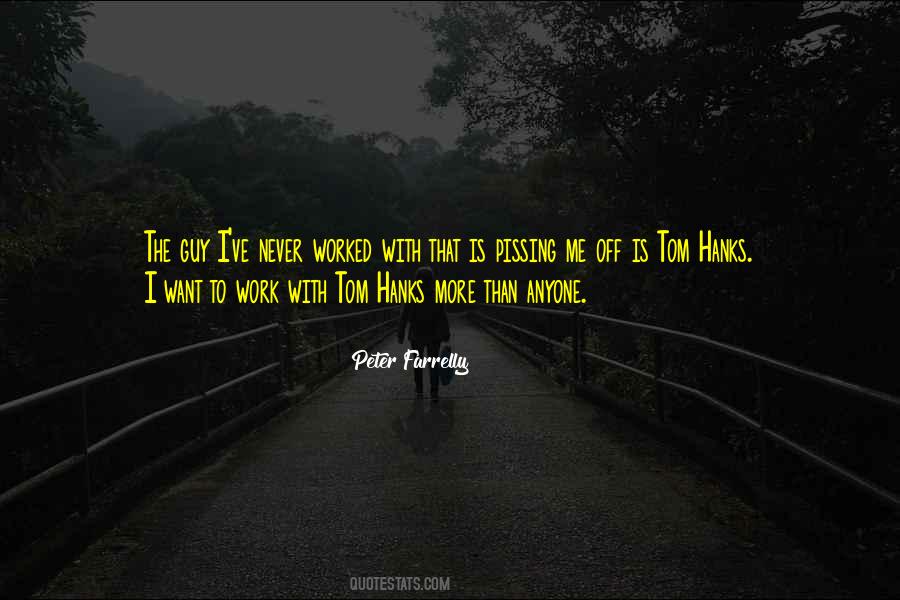 #64. When are we going to stop labeling everyone? How many times have I been referred to as 'out gay actor?' Do we say, 'out heterosexual actor' when we refer to Tom Hanks? - Author: Bryan Batt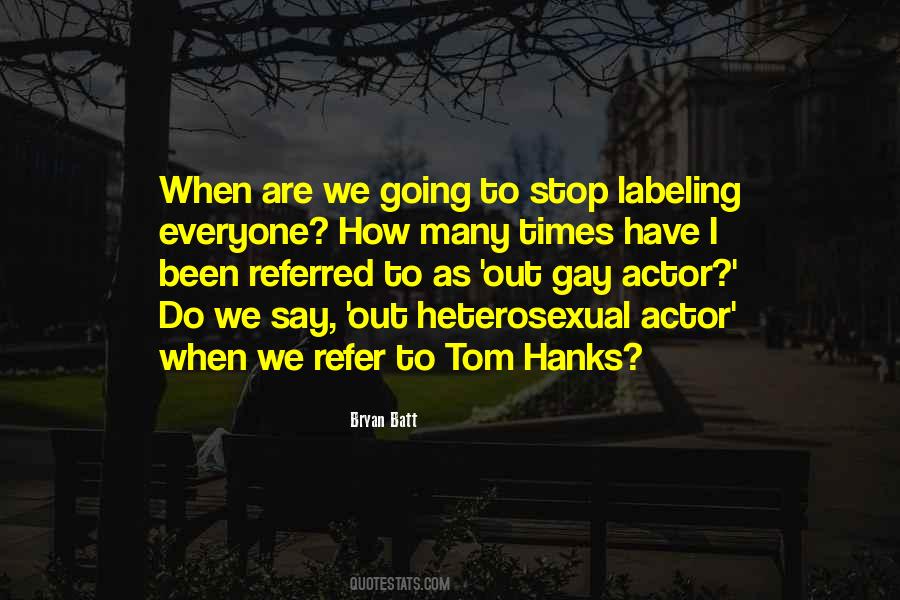 #65. Reading a script is usually as exciting as reading a boilerplate legal document, so when you read one that makes you feel as if you're seeing the movie, you know it's something different. - Author: Tom Hanks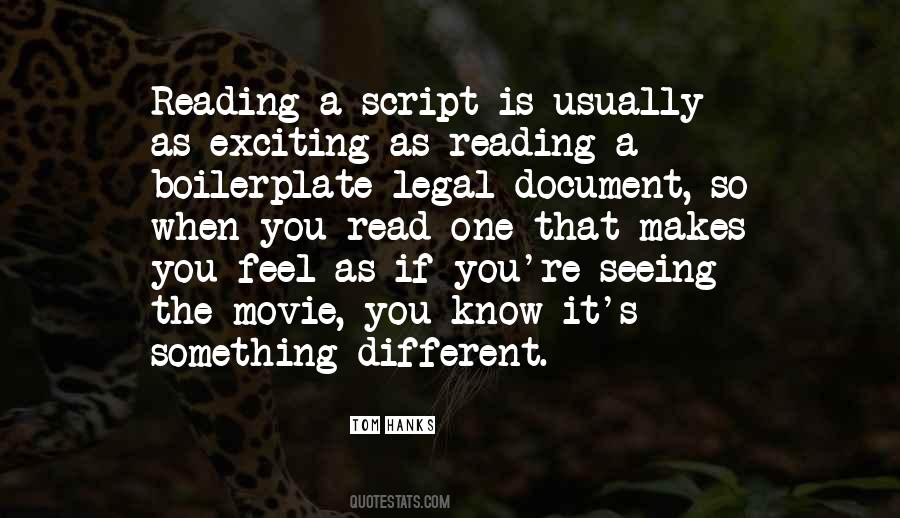 #66. We are still in the position of waking up and having a choice. Do I make the world better today somehow, or do I not bother? - Author: Tom Hanks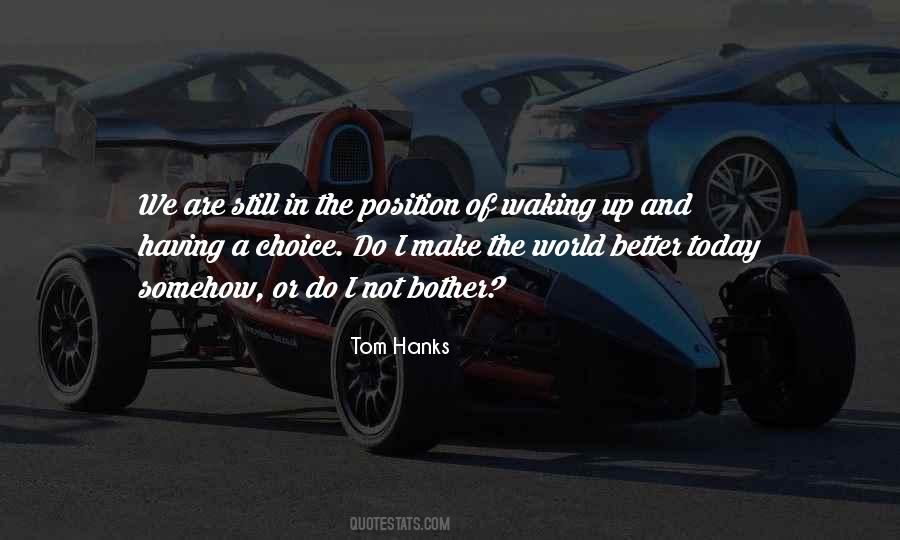 #67. I think it's better to feel good than to look good. - Author: Tom Hanks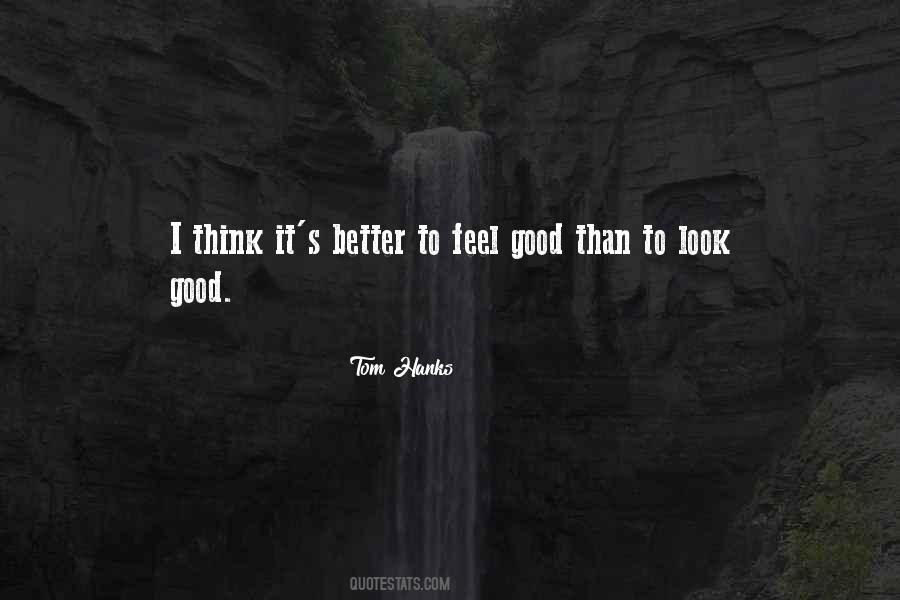 #68. Growing up in northern California has had a big influence on my love and respect for the outdoors. When I lived in Oakland, we would think nothing of driving to Half Moon Bay and Santa Cruz one day and then driving to the foothills of the Sierras the next day. - Author: Tom Hanks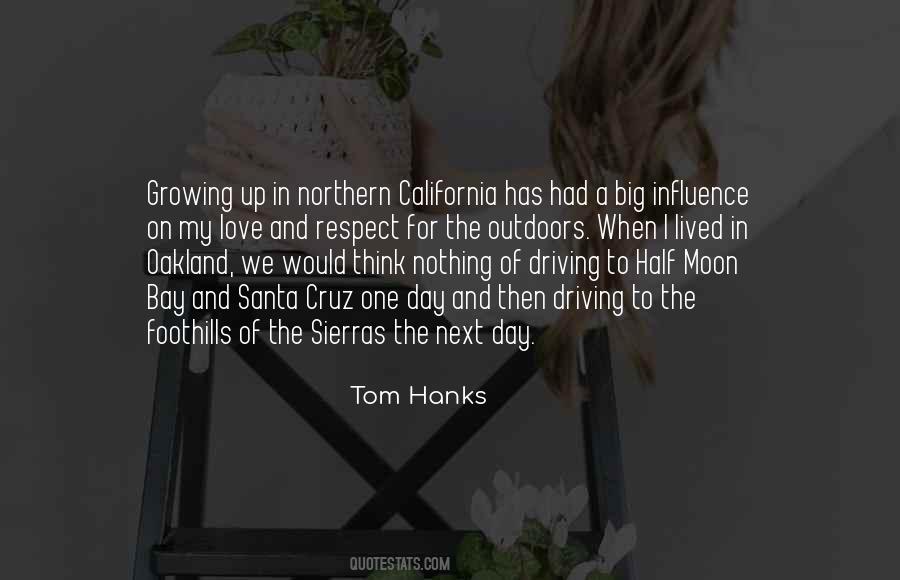 #69. And I'm not apolitical - I'm very specific in my politics. But a lot of the time it's nobody's business unless you're over at my house having dinner. - Author: Tom Hanks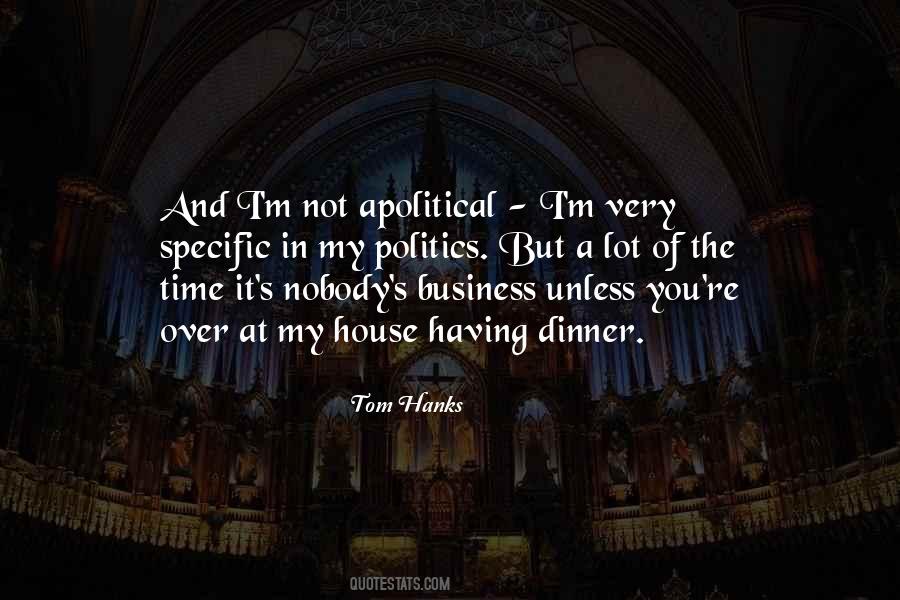 #70. In your mid-30s, it's time to start playing guys of compromise. And as you get older, men of bitter compromise - Author: Tom Hanks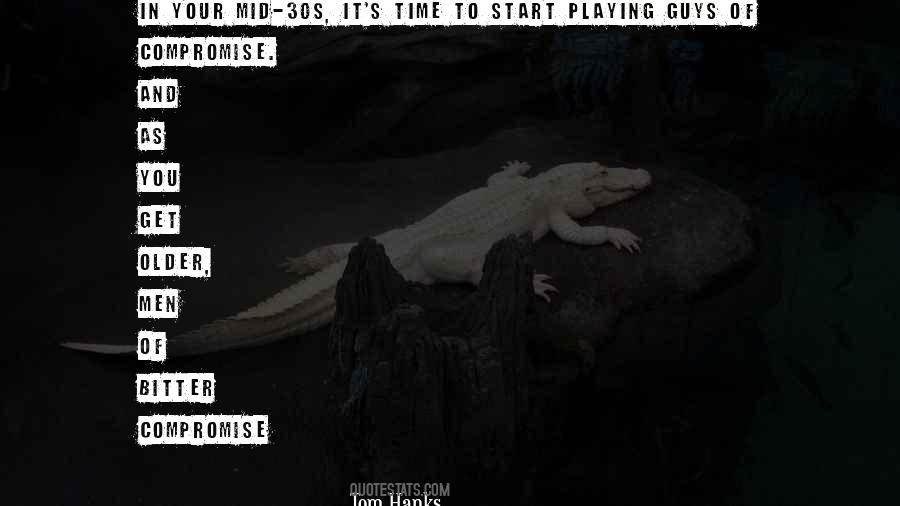 #71. Kermit was the Everyman, the original Tom Hanks, but I have a special place in my heart for Fozzie Bear. The classic borderline hacky entertainer. - Author: Jason Segel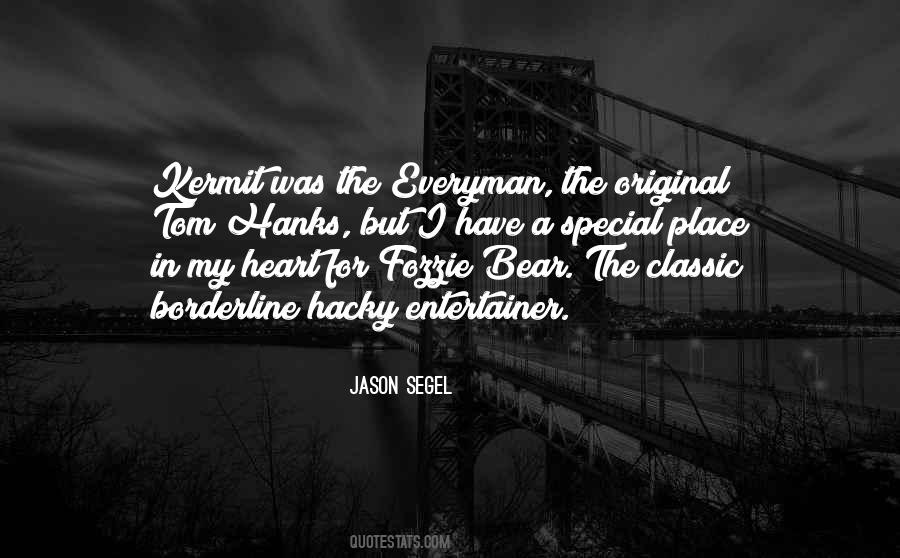 #72. A hero is somebody who voluntarily walks into the unknown.
Tom Hanks - Author: Tom Hanks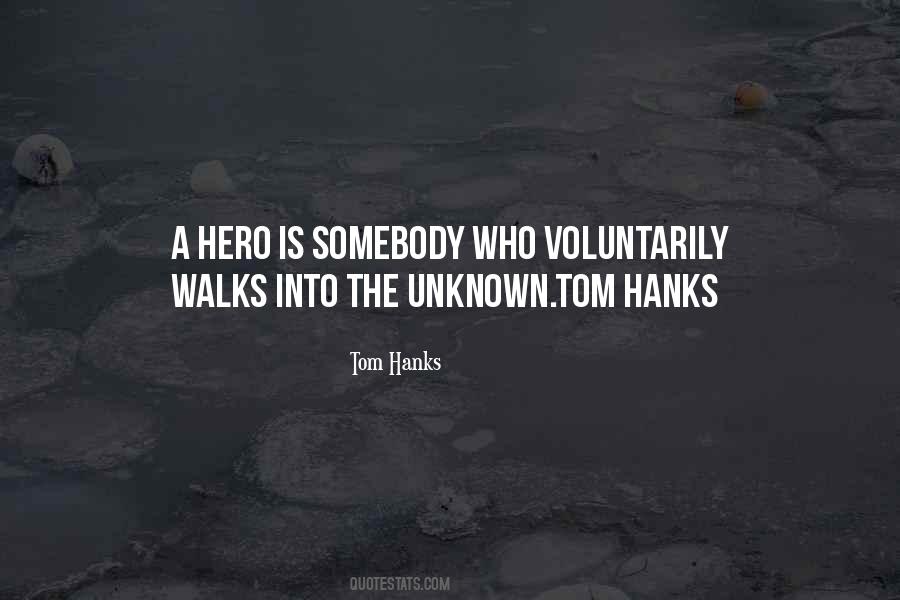 #73. Tom Hanks has taken George Clooney's place as the big-hitter driving a lot of liberal causes. - Author: Bill O'Reilly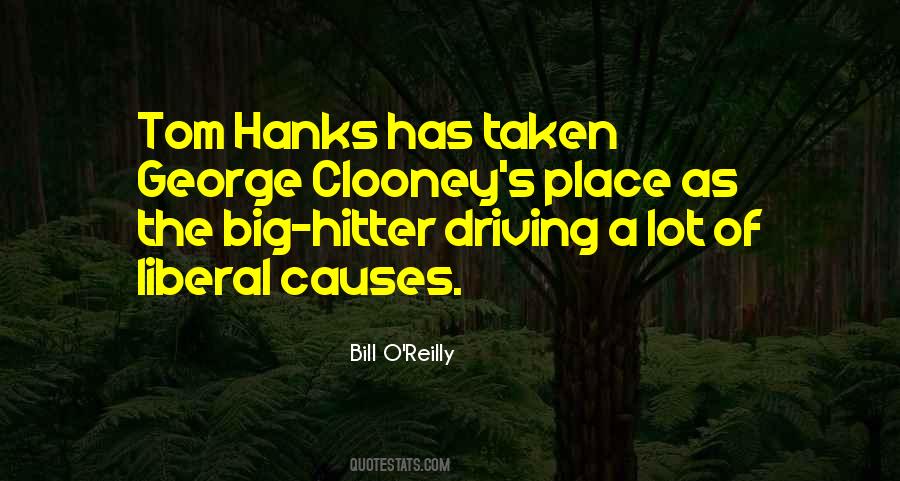 #74. Audiences crave something they've never seen before. That's what they want. They want to be dazzled. They want to go in either to have their expectations blown out of the water, or have no expectations and are dazzled by the decisions that we [filmmakers] made. - Author: Tom Hanks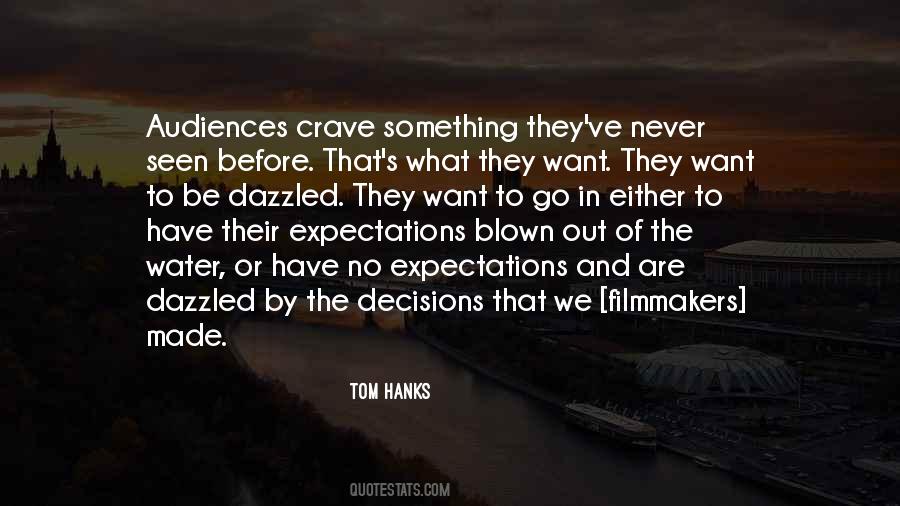 #75. It was incredibly cheesy set with torches [TV's Survivor] - it looked like the lobby of the Enchanted Tiki Room at Disneyland. And here as some guy pulling names out of a coconut, and I said, 'This is the thing that has made American mass media stop in their tracks? - Author: Tom Hanks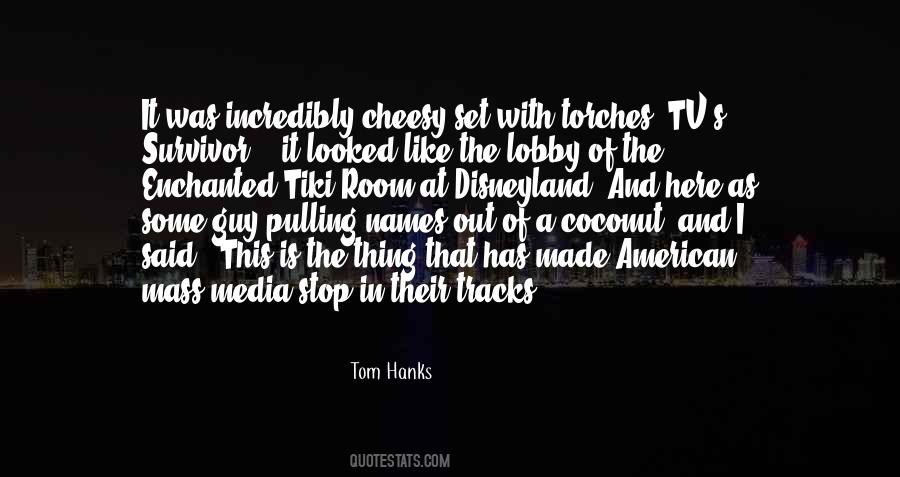 #76. I really love young Tom Hanks. He's just one of my favorites. He's a great, quirky every-man. I also love Zach Braff. I really love actors that are quirky and interesting, that sort of try to portray 'normal' people. - Author: Jake Epstein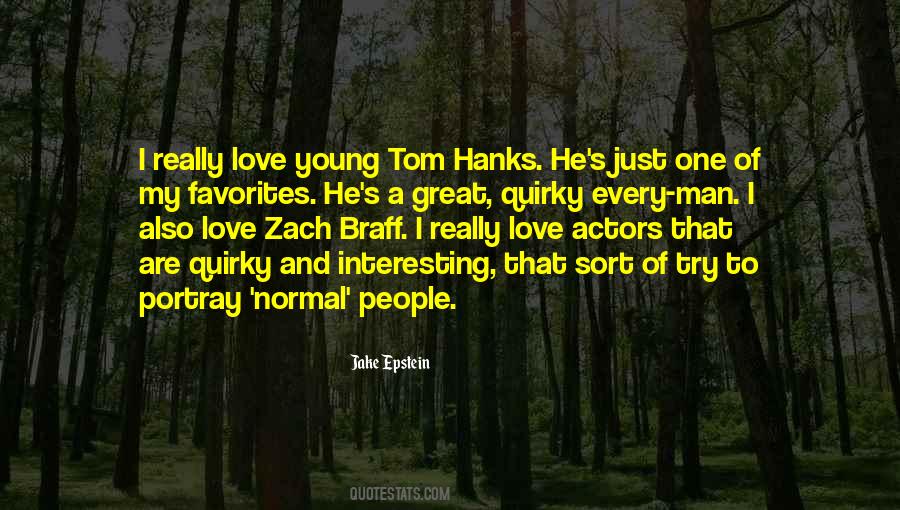 #77. One thing that was amazing about World War II was that everybody signed up for the duration plus six months. Fliers got to leave combat after 25 missions, or 35 missions, but other than that, you were in it. You were part of the great effort, until, oh boy, six months after it was over. - Author: Tom Hanks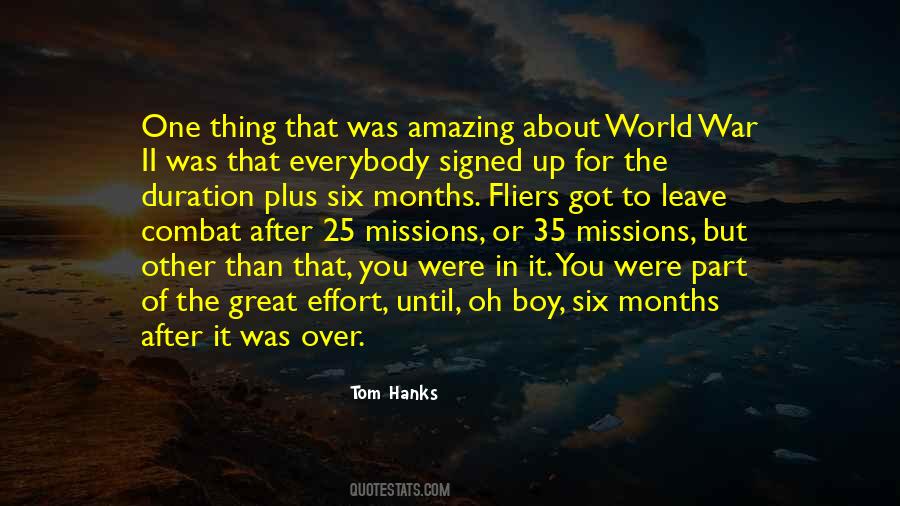 #78. My kid could get a bad X-ray and I could get a call from the doctor saying I have something growing in my bum and that would change my perspective on everything instantaneously, on what is and what is not important. - Author: Tom Hanks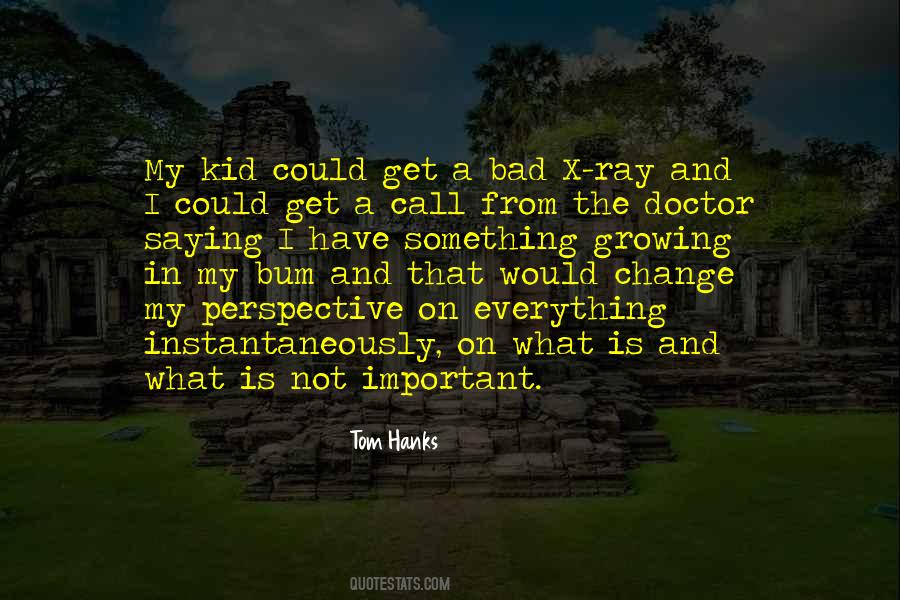 #79. I don't cause riots, but I do cause confusion. People freeze when they spot me. - Author: Tom Hanks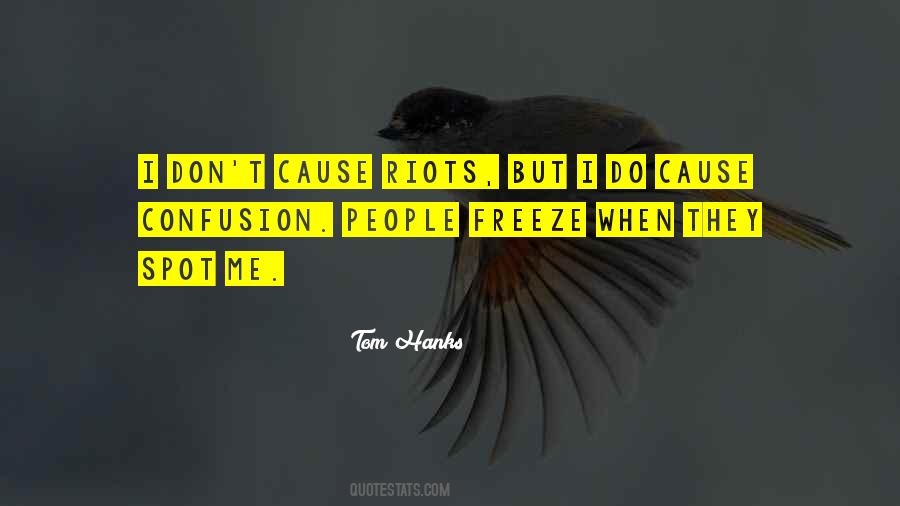 #80. My favorite traditional Christmas movie that I like to watch is All Quiet on the Western Front. It's just not December without that movie in my house. - Author: Tom Hanks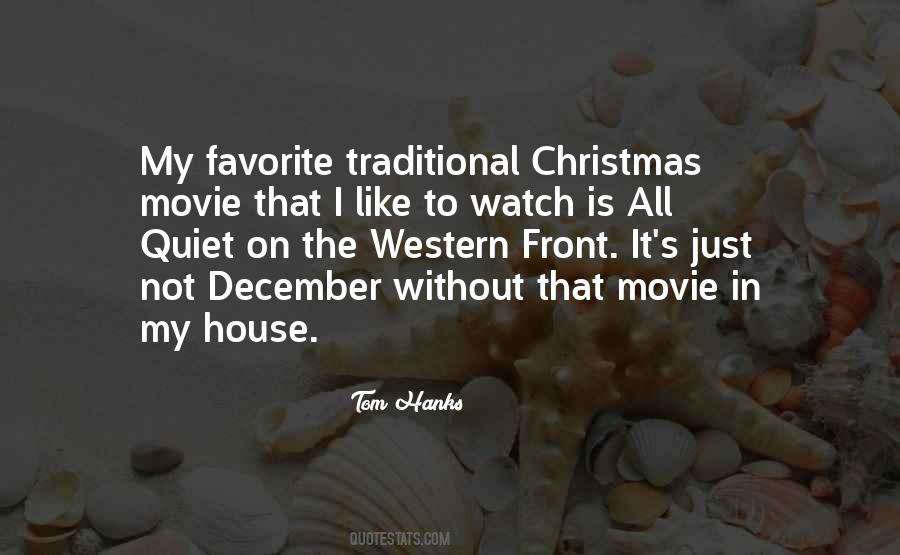 #81. But I also think all of the great stories in literature deal with loneliness. Sometimes it's by way of heartbreak, sometimes it's by way of injustice, sometimes it's by way of fate. There's an infinite number of ways to examine it. - Author: Tom Hanks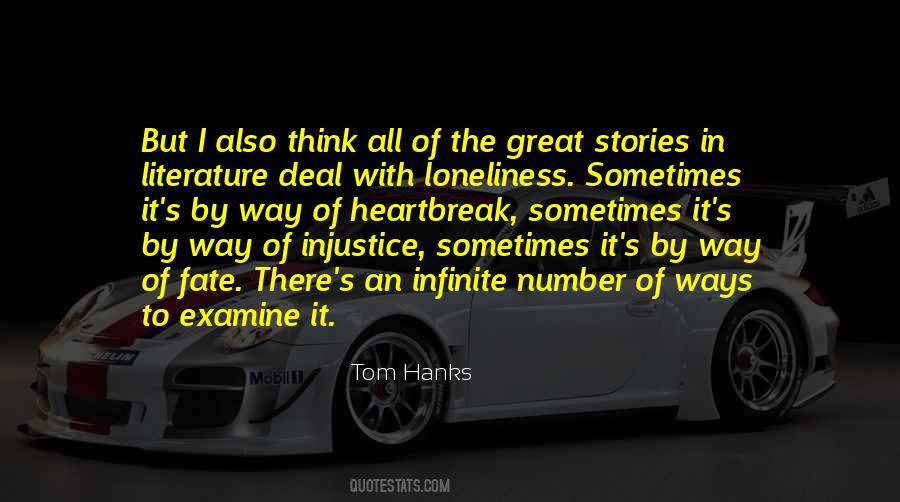 #82. I've talked to a number of actors who have gained weight for roles, and just the sheer physical toll it puts on one's knees and shoulders - no one wants to do it again. I'm 57 and I don't think I'm going to take on any job or go on vacation again and see to it that I can gain 30 pounds. - Author: Tom Hanks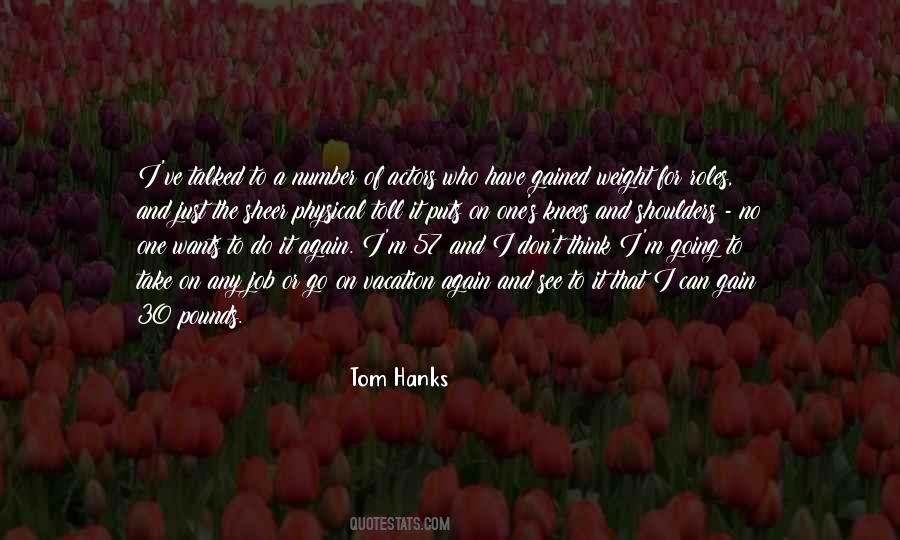 #83. I don't really know a lot of famous people. I've met a lot of famous people. If I ran into Tom Hanks today, I would have to remind him who I was and he would then remember me. But he wouldn't come up to me and say, 'Hi Dave!' - Author: David Zucker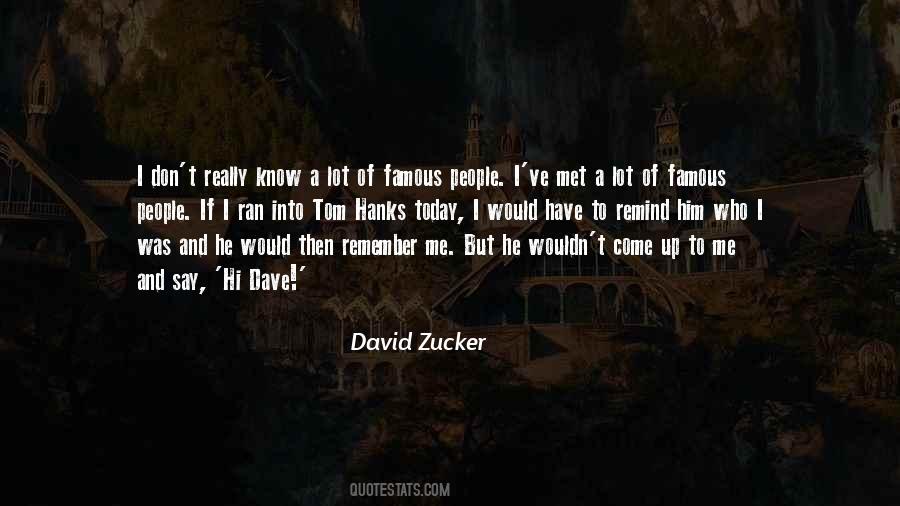 #84. They [Tom Hanks and Paul Newman] were simply always high level masters, and taught me as a kid actor never to be an a*shole to anybody, because it would be very tough to get past where they are. - Author: Tyler Hoechlin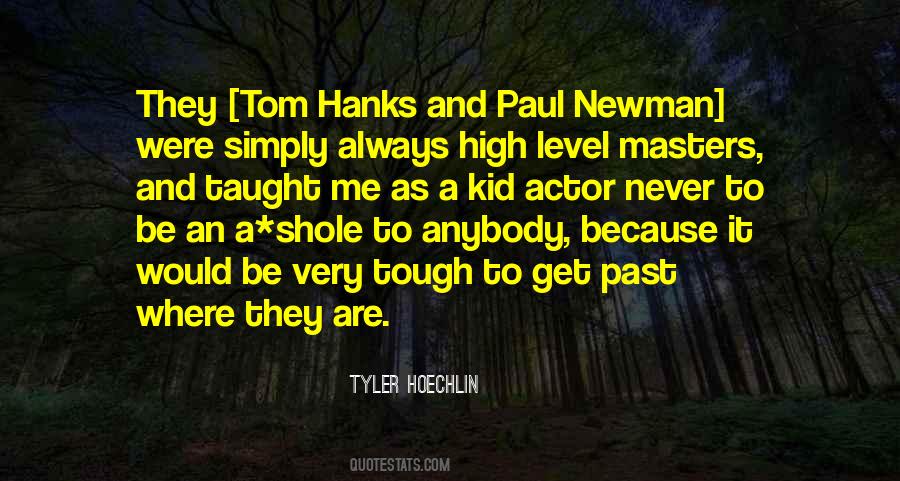 #85. I did get Tom Hanks to say, Life is just a box of chocolates. - Author: James Lipton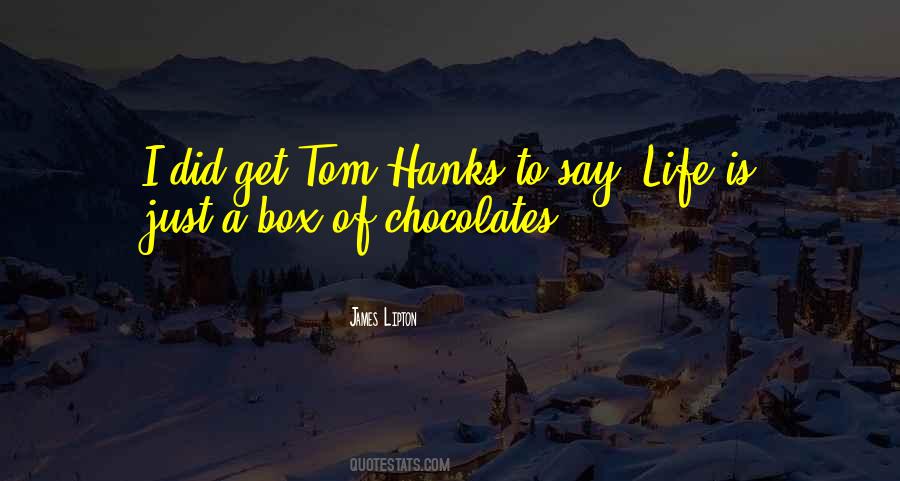 #86. It was a million tiny things that, when you added them all up, they meant we were supposed to be together ... and I knew it. - Author: Tom Hanks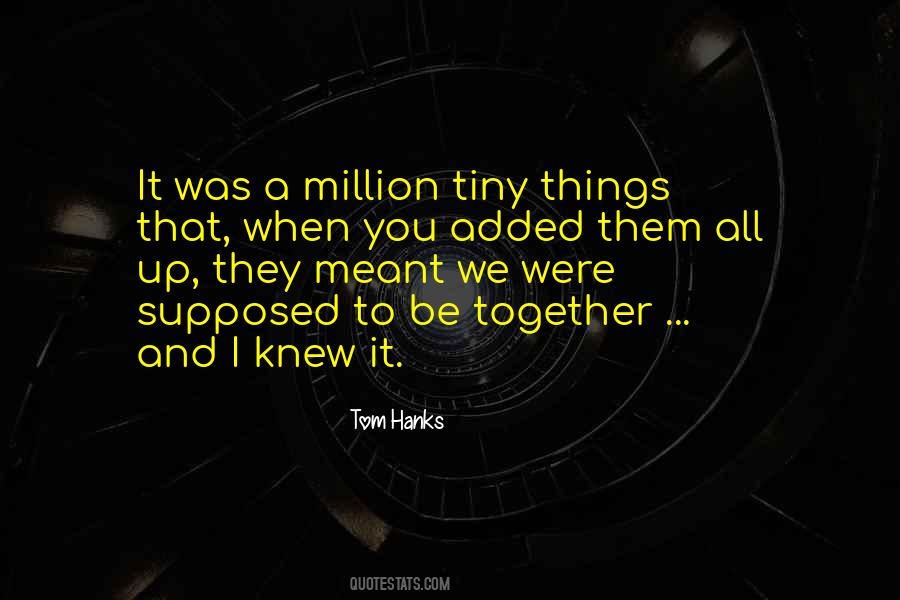 #87. I don't really have aspirations to be Tom Hanks. - Author: Will Ferrell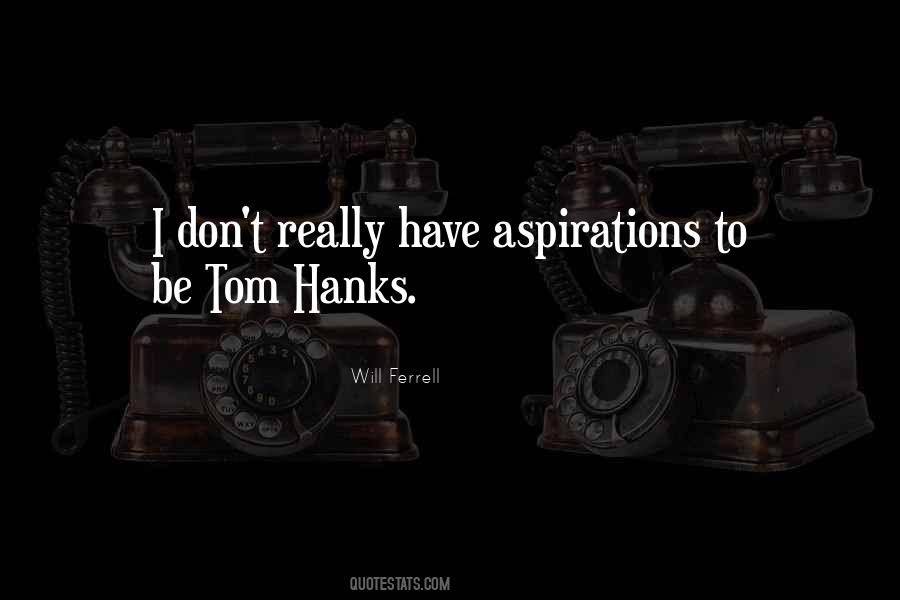 #88. Even if a story has nothing to do with my life, if I can recognise something of myself in the character and think, 'Oh yeah, that's what I'd do ... ' Yeah, that's what I look for. - Author: Tom Hanks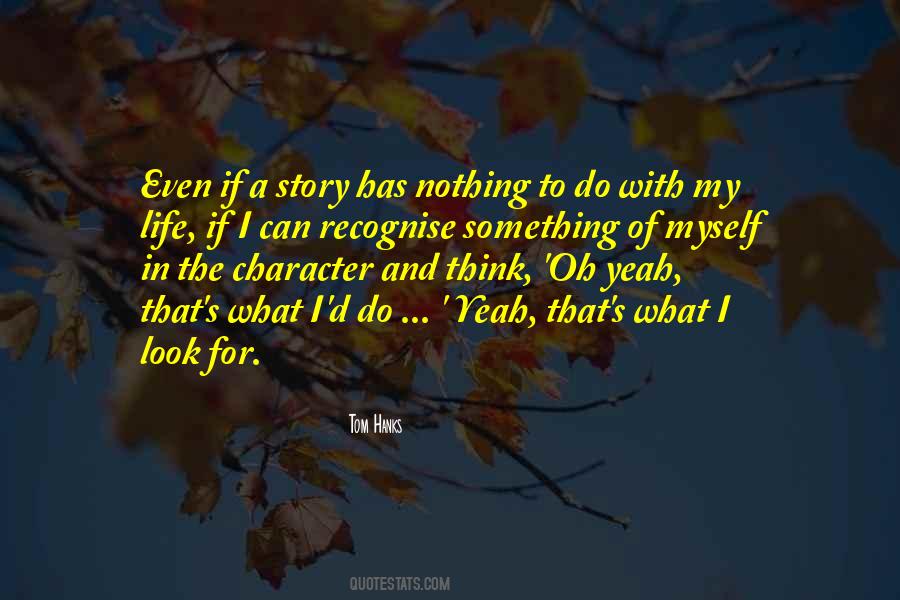 #89. I must say that I do wrestle with the amount of money I make, but at the end of the day what am I gonna say? I took less money so Rupert Murdoch could have more? - Author: Tom Hanks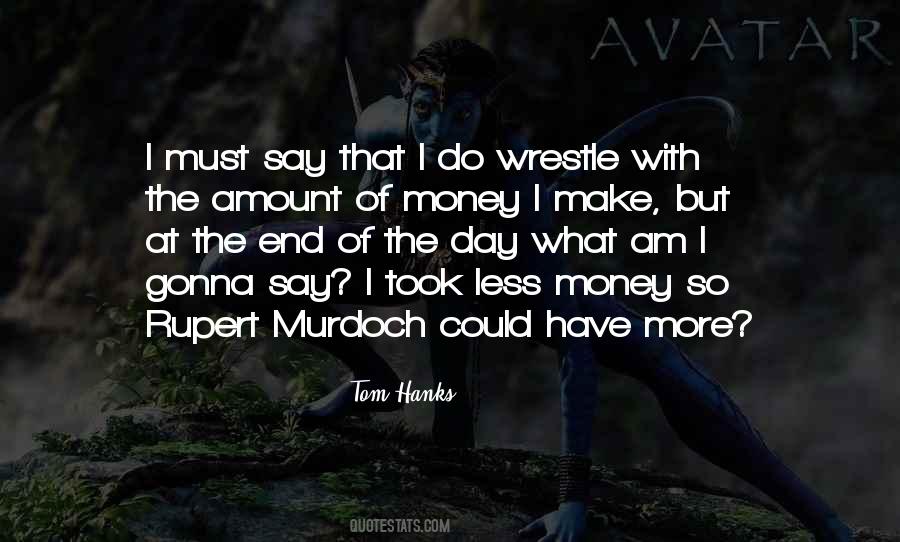 #90. One feature film that I am most proud of is Forrest Gump which starred Tom Hanks. Once you are called out to work in film, yes it is a small industry and your name gets around pretty fast. - Author: Leland Sklar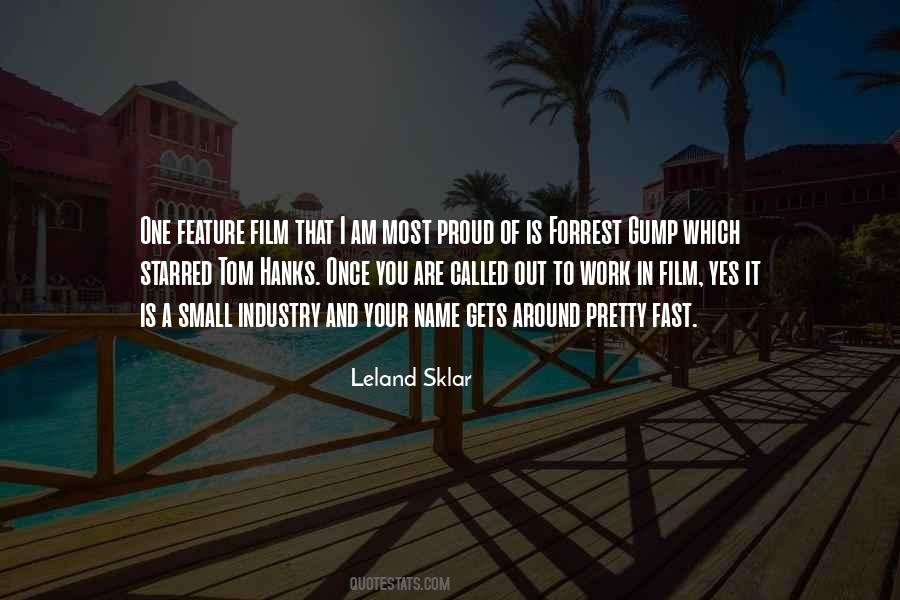 #91. My heroes are guys like Tom Hanks, Leonardo DiCaprio, and Matt Damon. These are amazing actors with amazing careers that every actor should aspire to. I'm not saying I'm going to get anywhere close. It's not going to be an easy feat. I'm just in awe of their careers. - Author: Dylan O'Brien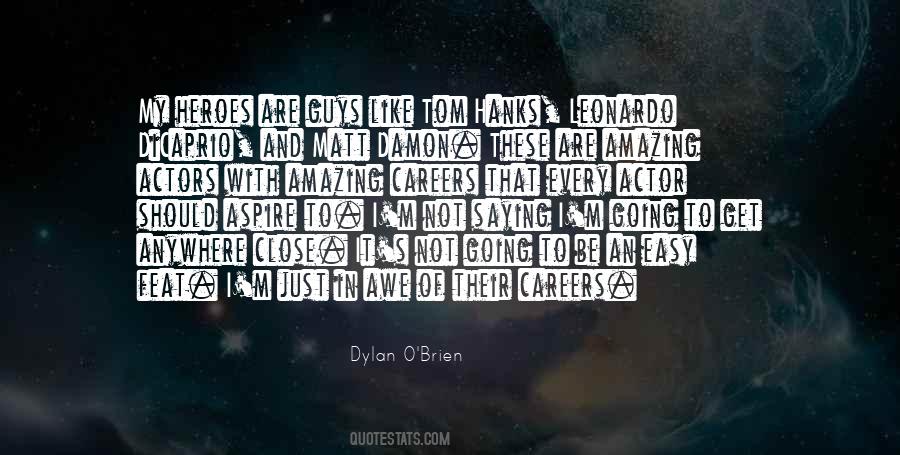 #92. Once humankind has been some place and found it
entrancing, they always go back, I think in the history of the
human race, the moon has been the first place we've gone to and said,
'OK, we don't need to go back there again. - Author: Tom Hanks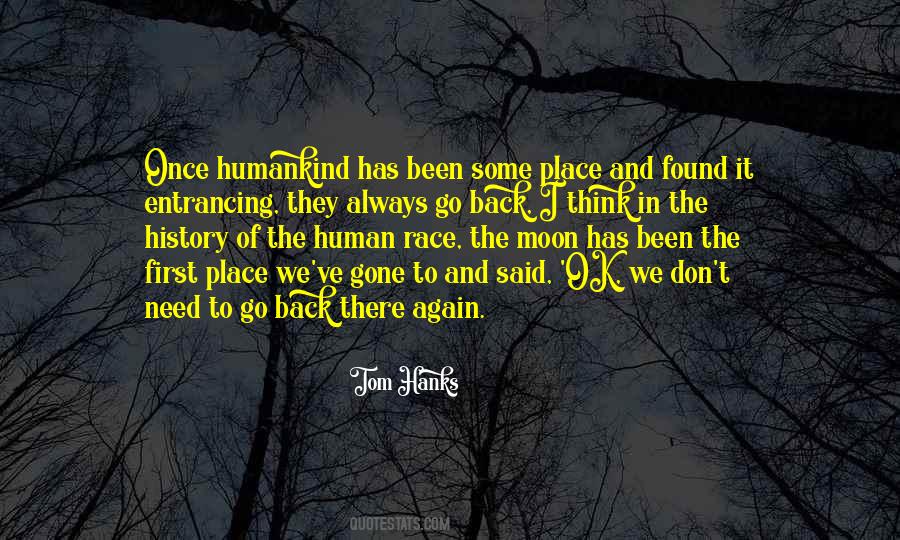 #93. I saw "Forrest Gump" several times. I personally thought it was Tom Hanks' greatest role and I think it was one of the most eloquent love stories of our time. - Author: Frederick Lenz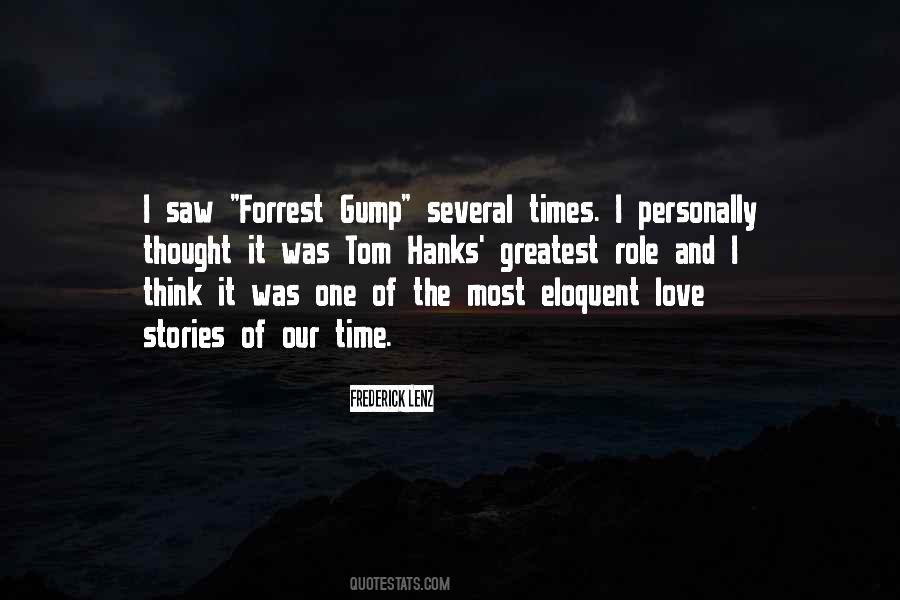 #94. Childish, selfish, immature - that's right, I am. But do you know how much money I make for thinking this way? - Author: Tom Hanks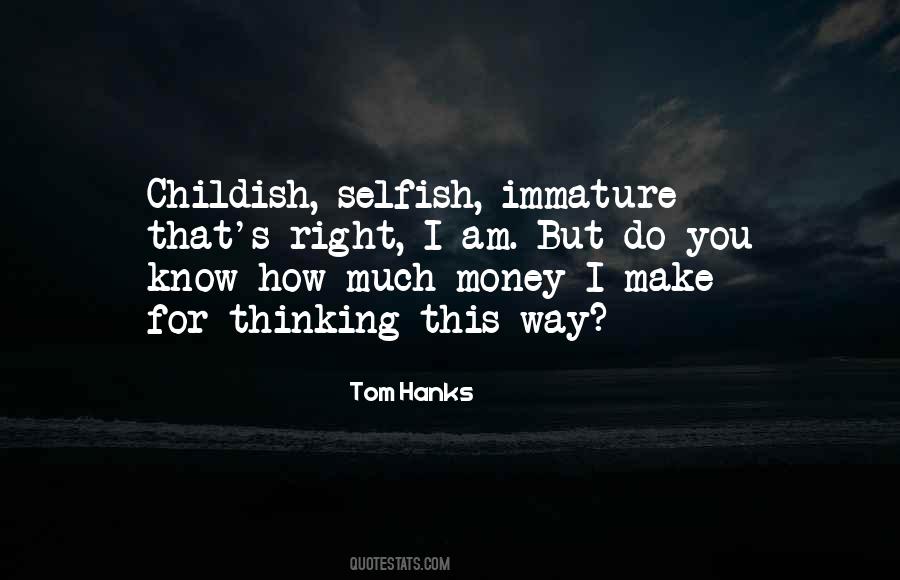 #95. It's just as hard ... staying happily married as it is doing movies. - Author: Tom Hanks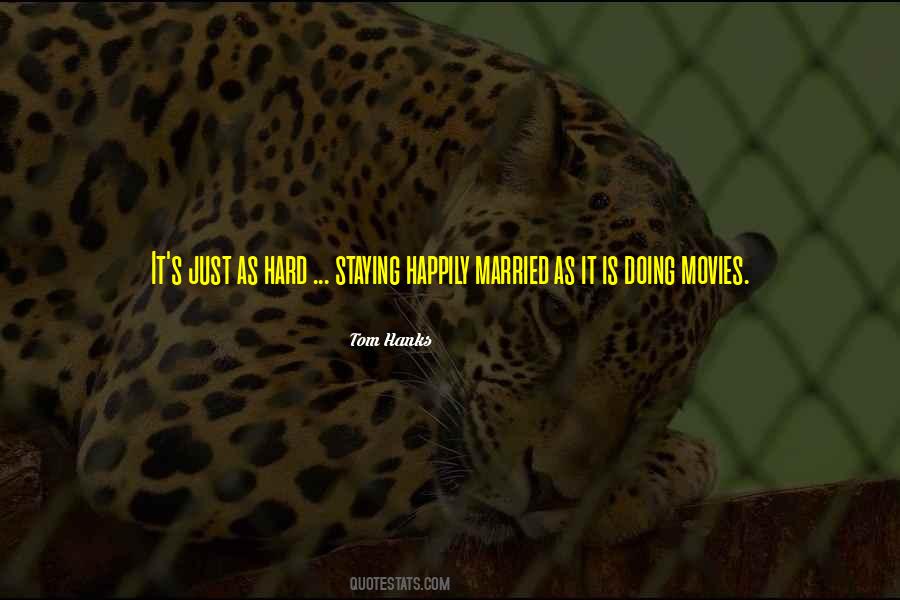 #96. If you look at romantic comedies as pieces of commerce, the audience is looking for wish fulfillment. - Author: Tom Hanks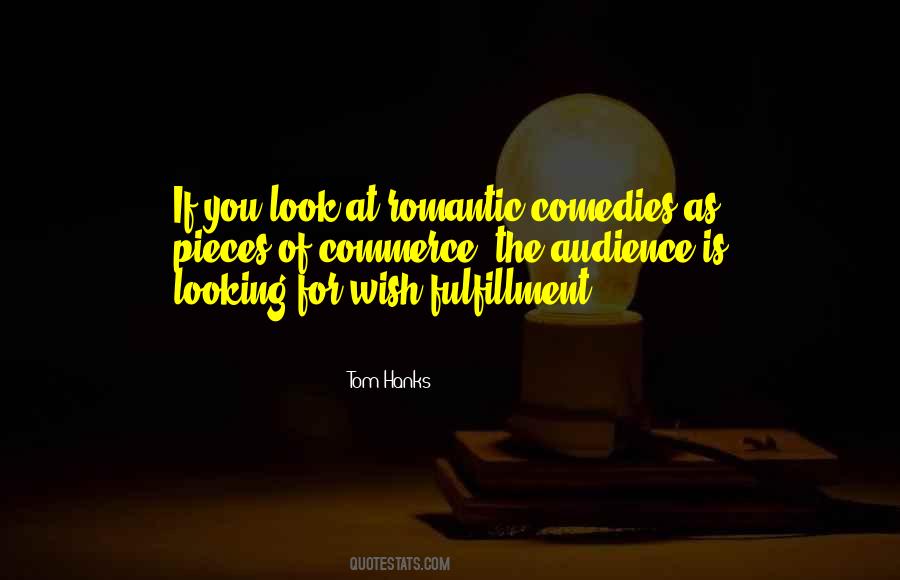 #97. As a boy Id often spend my days biking on riverbeds and arroyos and come home exhausted. I realize now how much I took for granted having the natural world so close at hand. It wasnt until I moved away, first to New York and then to Los Angeles, that I realized how much I missed the outdoors. - Author: Tom Hanks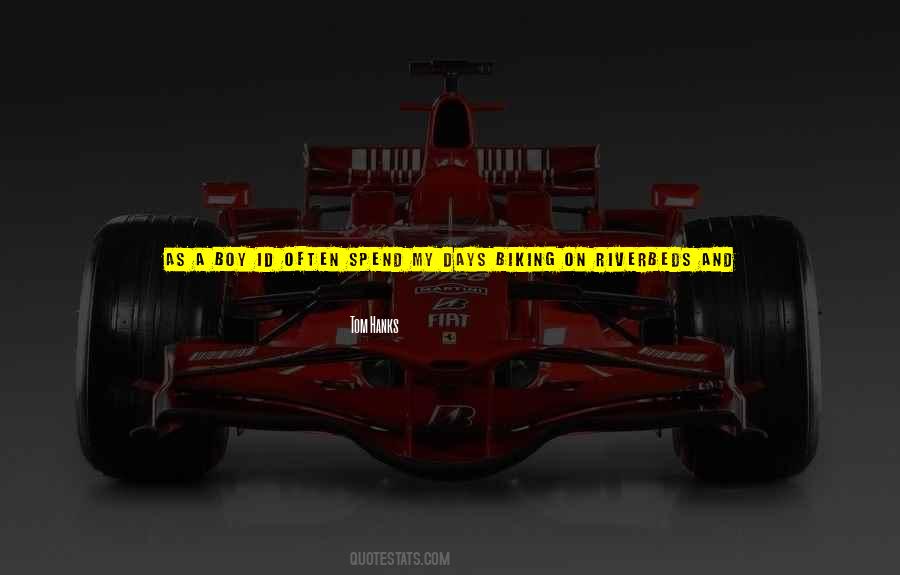 #98. Repertory theater is all about being part of the whole, one of the many colors in this vast palette. - Author: Tom Hanks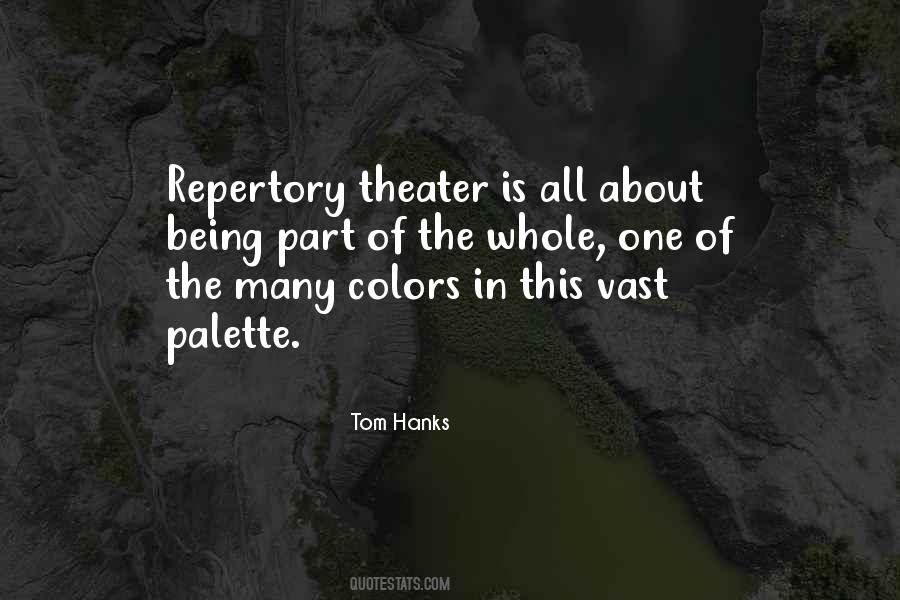 #99. Everybody has something that chews them up and, for me, that thing was always loneliness. The cinema has the power to make you not feel lonely, even when you are. - Author: Tom Hanks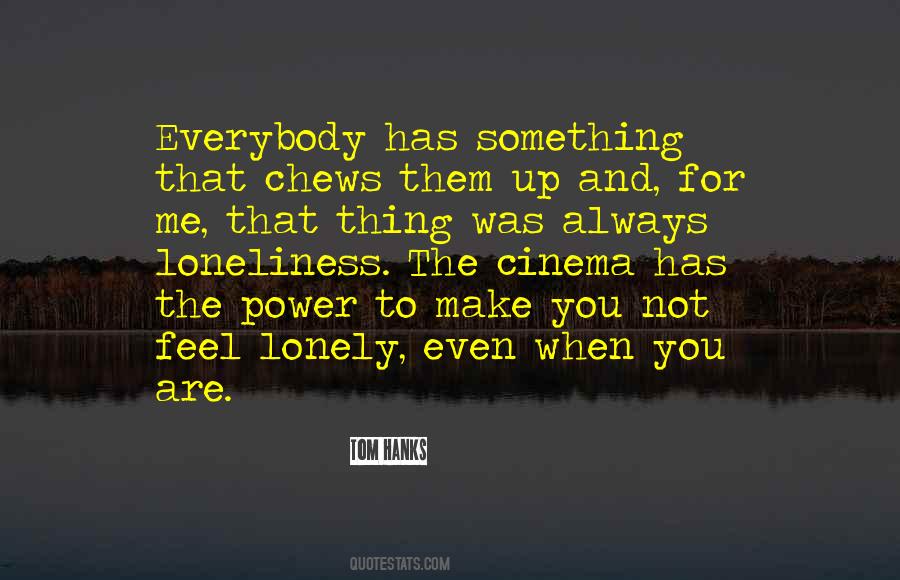 #100. I'm not an Adonis, that's for damn sure. I've never really thought of myself that way, and it doesn't matter to me. My favorite actors aren't Adonises. Dustin Hoffman is a flawed-looking man; he's amazing to me. Tom Hanks is flawed-looking; people love him. Same with Gene Hackman. - Author: Shia Labeouf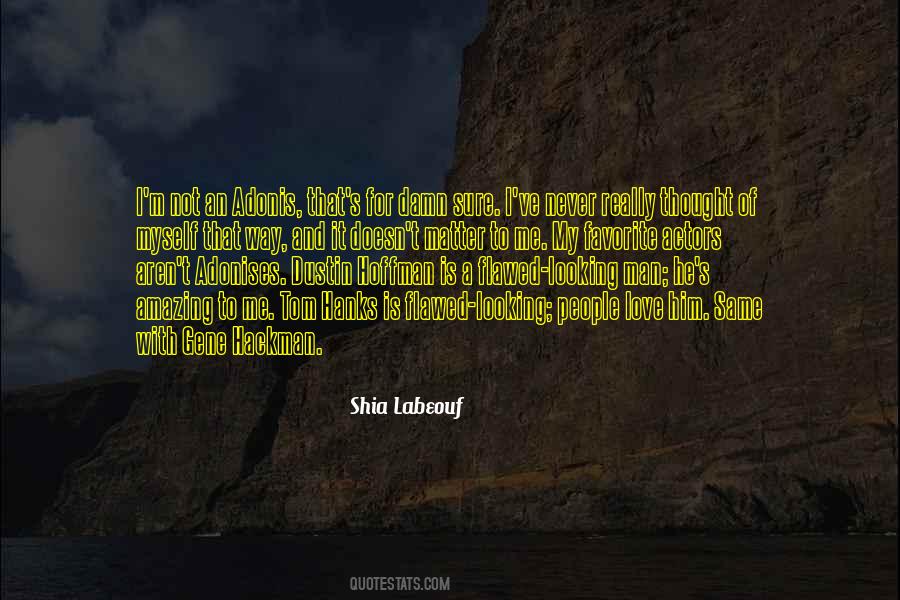 Famous Authors
Popular Topics