Time And Life Famous Quotes & Sayings
List of top 100 famous quotes and sayings about time and life to read and share with friends on your Facebook, Twitter, blogs.
Top 100 Quotes About Time And Life
#1. Once upon a time there was a boy who loved a girl, and her laughter was a question he wanted to spend his whole life answering. - Author: Nicole Krauss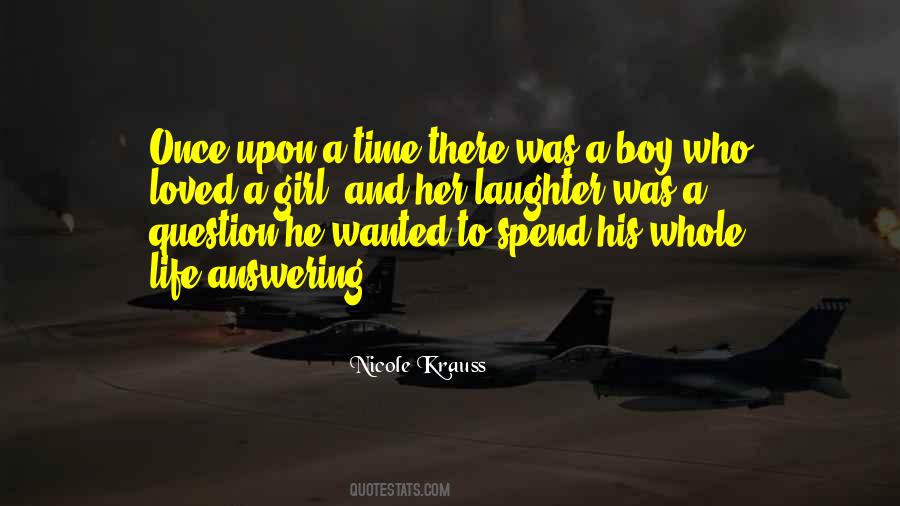 #2. We all have to start with ourselves. It is time to walk the talk. Take the journey of making very difficult decisions. Start removing things from your life that are not filling your cup and adding things that bring joy in to your life. - Author: Lisa Hammond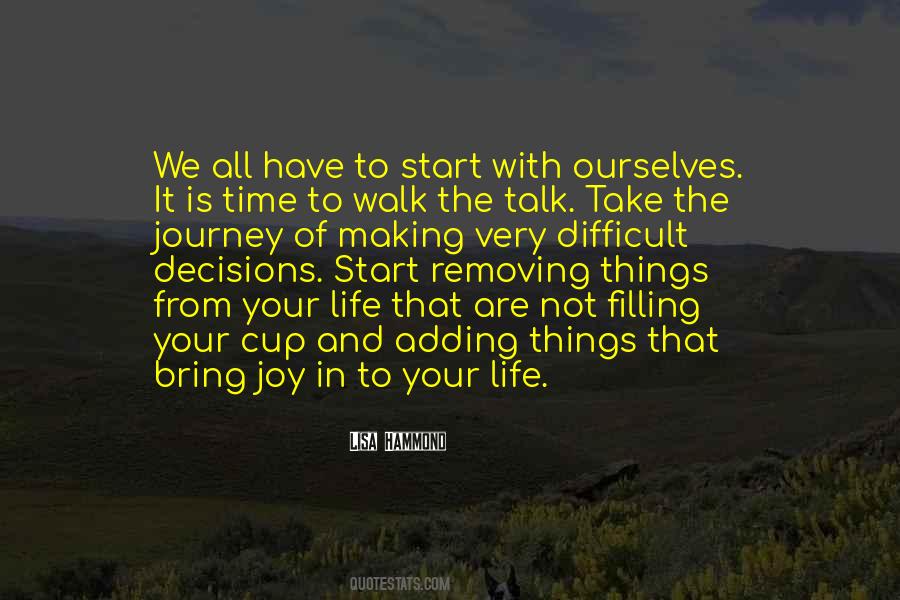 #3. Life and death are of supreme importance. Time swiftly passes by and opportunity is lost. Each of us should strive to awaken. Awaken! Take heed, do not squander your life. - Author: Dogen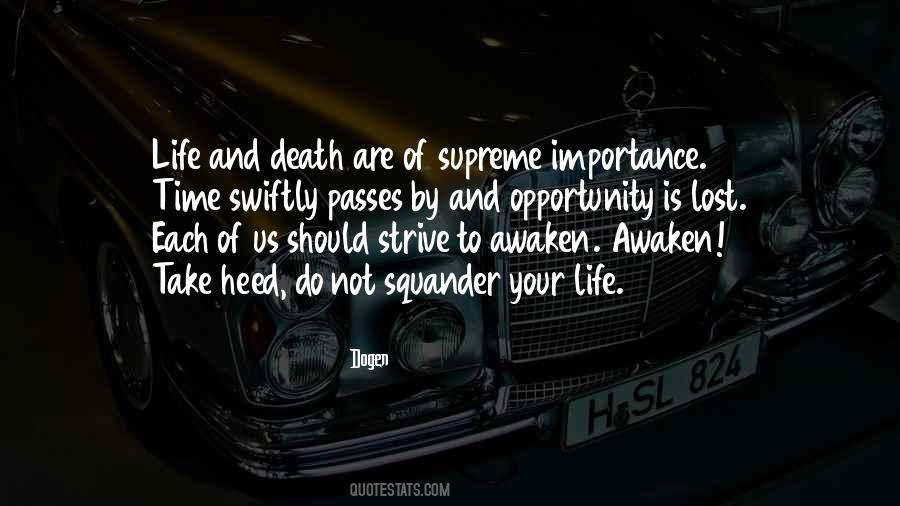 #4. Whenever you get an appetite, you feed yourself. Therefore, fill your belly on wisdom of things old and new. Only swallow the truth, less you choke on the lies. - Author: Amaka Imani Nkosazana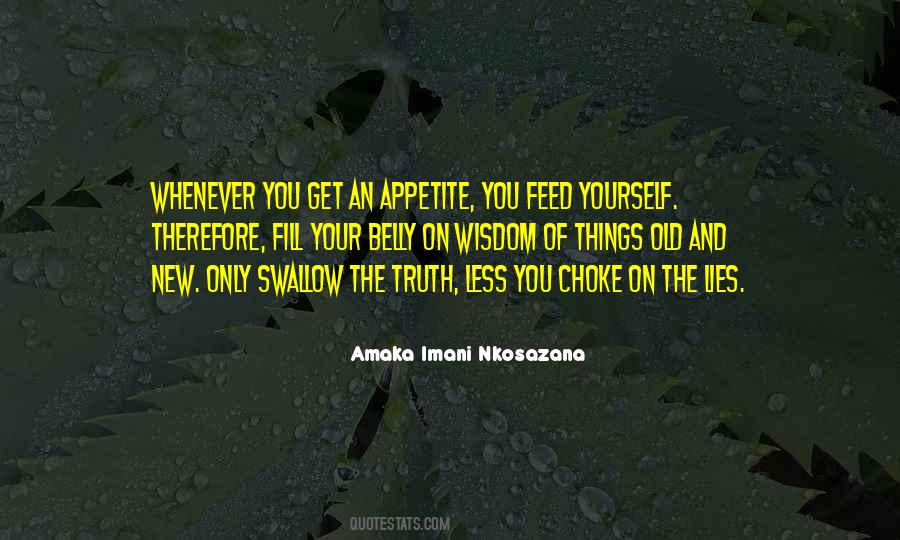 #5. It's life, that's all. There are no happy endings, just happy days, happy moments. The only real ending is death, and trust me, no one dies happy. And the price of not dying is that things change all the time, and the only thing you can count on is that there's not a thing you can do about it. - Author: Jonathan Tropper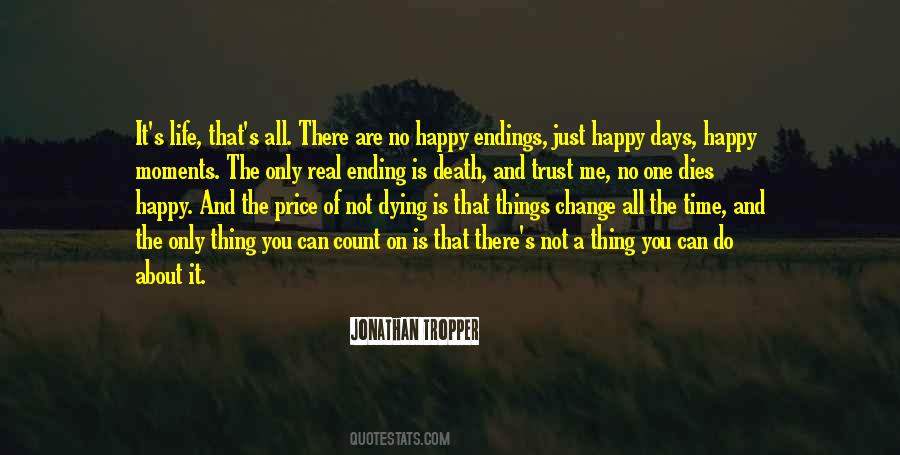 #6. She comes to naught, my dear one, she comes to naught, all that there business. What the hell, maybe twice in your life you have yourself a whore of a good time, and then you spend every night of the rest of your life trying to get that good time back. But she comes to naught. - Author: Lynn Coady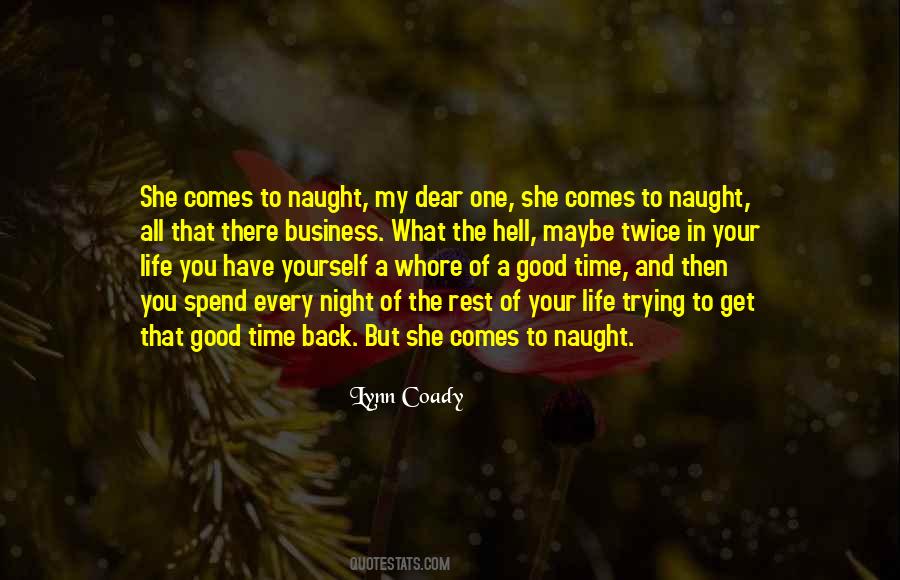 #7. When spring knocks at your door, regardless of the time of year or season of our lives, run, do not walk to that door, throw it open with wild abandon, and say, Yes! Yes, come in! Do me, and do me big! - Author: Jeffrey R. Anderson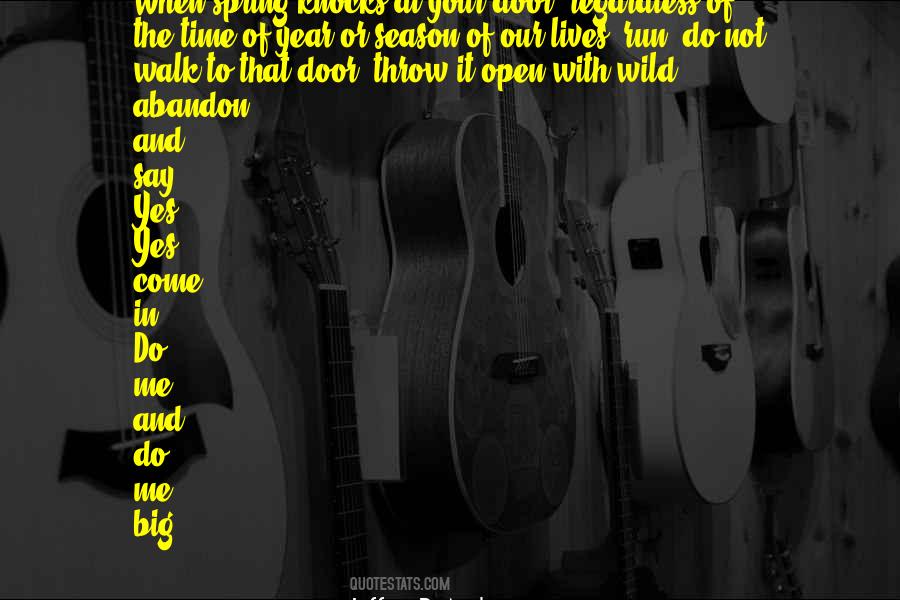 #8. 'She's an era for you, an era of your life. If and when you break with her, you break with the only one alive who has shared that time with you. You fear that, the isolation of it, the burden, the scope of eternal life. - Author: Anne Rice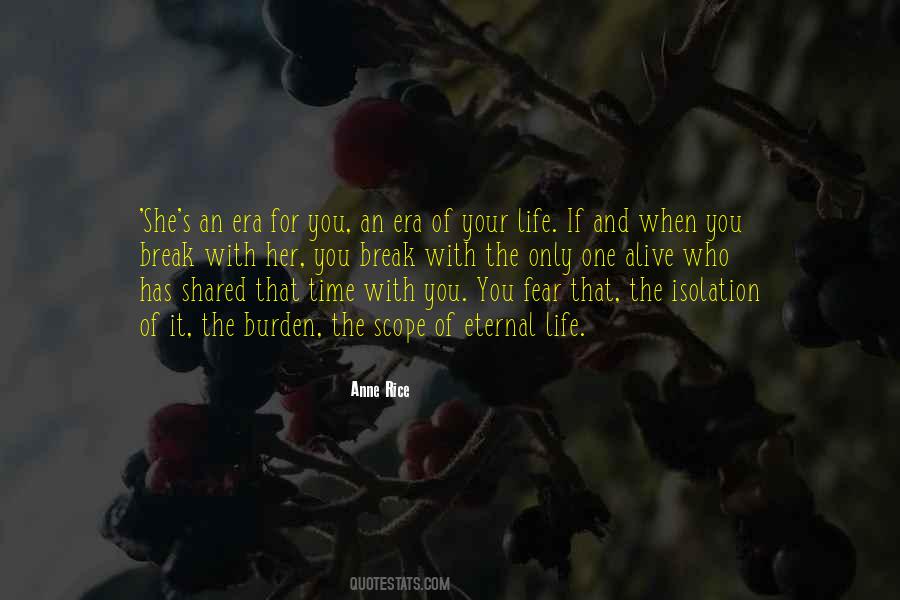 #9. 'Evil Dead' was such a big movie in my life. It's one of the few that I really remember when I watched it for the first time. I mean, I don't remember when I first saw 'The Empire Strikes Back,' and it's one of my favourite movies. - Author: Fede Alvarez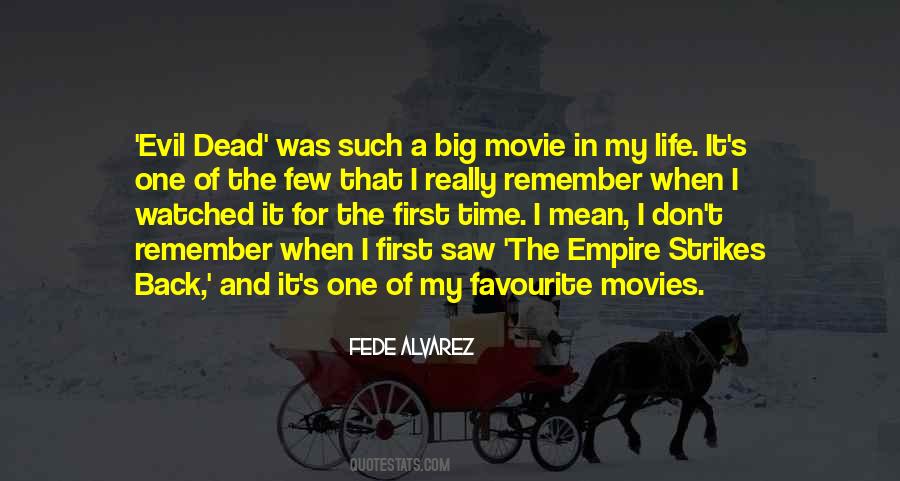 #10. The time will come when all people will view with horror light way in which society and its courts of law now take human life; and when that time comes, the way will be clear to device some better method of dealing with poverty and ignorance and their frequent byproducts, which we call crime. - Author: Clarence Darrow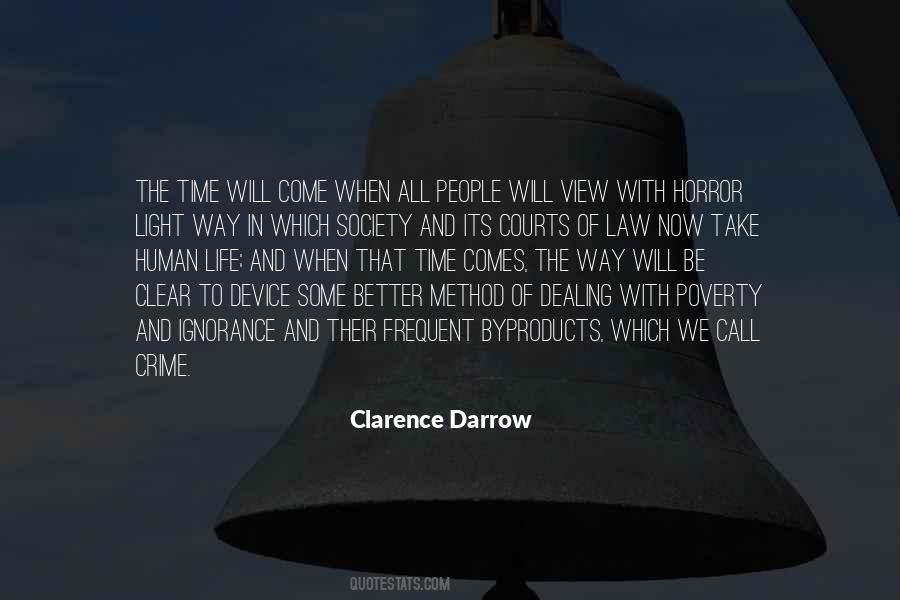 #11. A wave of intense happiness washed over me, and I told myself to carry this moment as a talisman of a time in my life when I was both truly content and lucky enough to realize it. - Author: Heather Cocks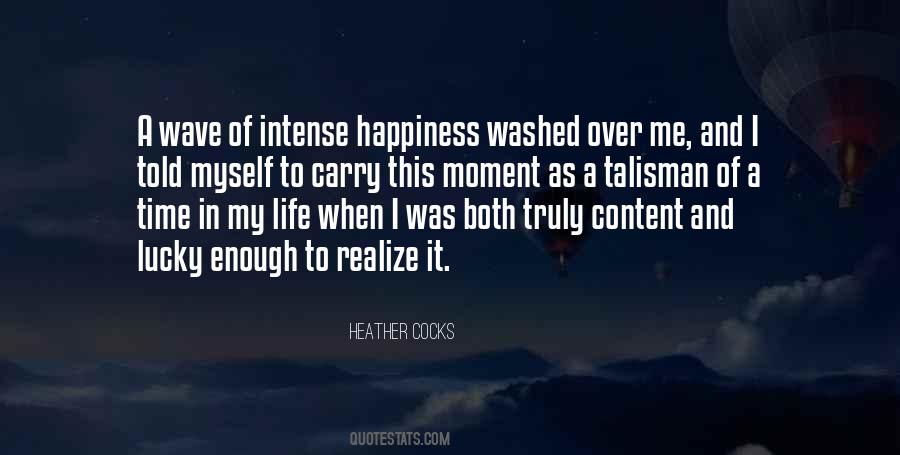 #12. Every time you get a chance to move forward, you just hijack your own future. it's like - you don't actually want to... You're in control of your own life. And yet you act like you're permanently buffeted by events outside your control. - Author: Jojo Moyes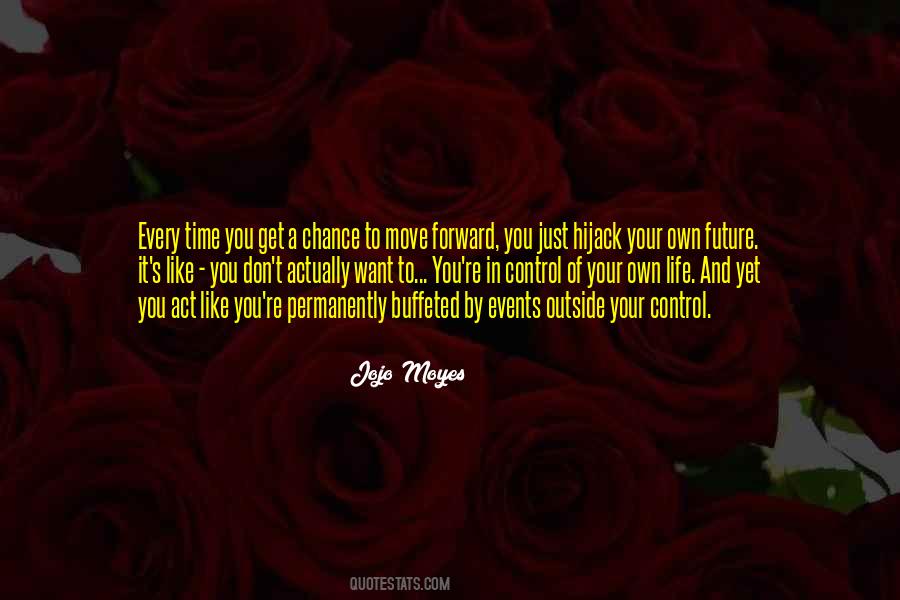 #13. I grew up in the church and had religion in my life for a long time. I'm not really a church goer, but I definitely have a hunger for a spiritual connection to the world and for my soul to be healed. - Author: Wes Bentley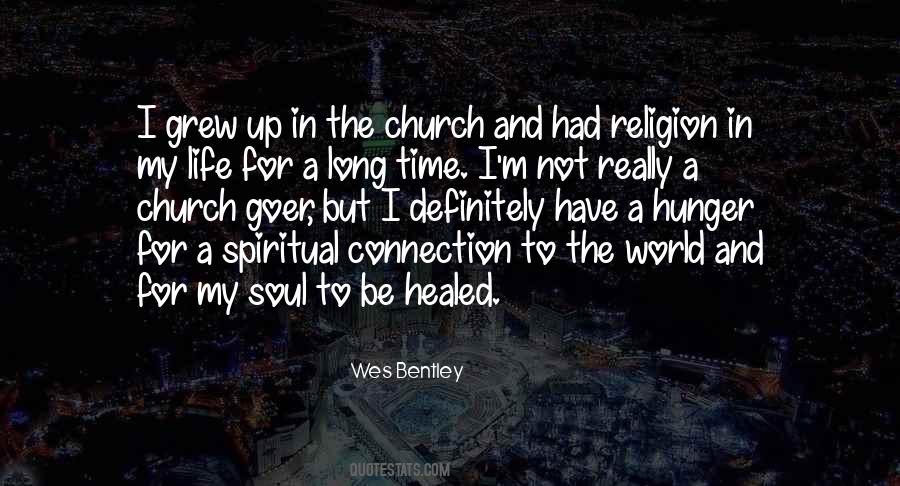 #14. In recent years, many research studies have come to the same conclusion: Babies who are held, caressed, and kissed develop a healthier emotional life than those who are left for long periods of time without physical contact. - Author: Gary Chapman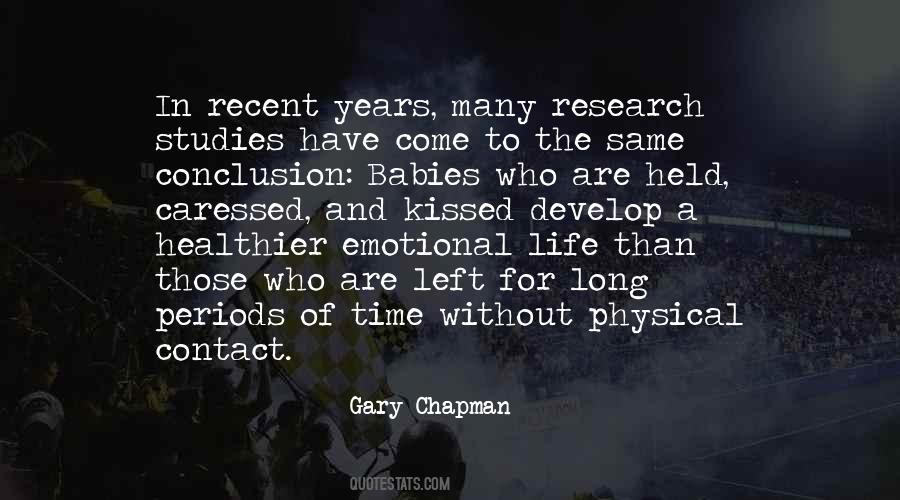 #15. I have all the time in the world from life to life to do what is to do, to do what is done, to do the timeless doing, infinitely perfect within, why cry, why worry, perfect like mind essence and the minds of banana peels. - Author: Jack Kerouac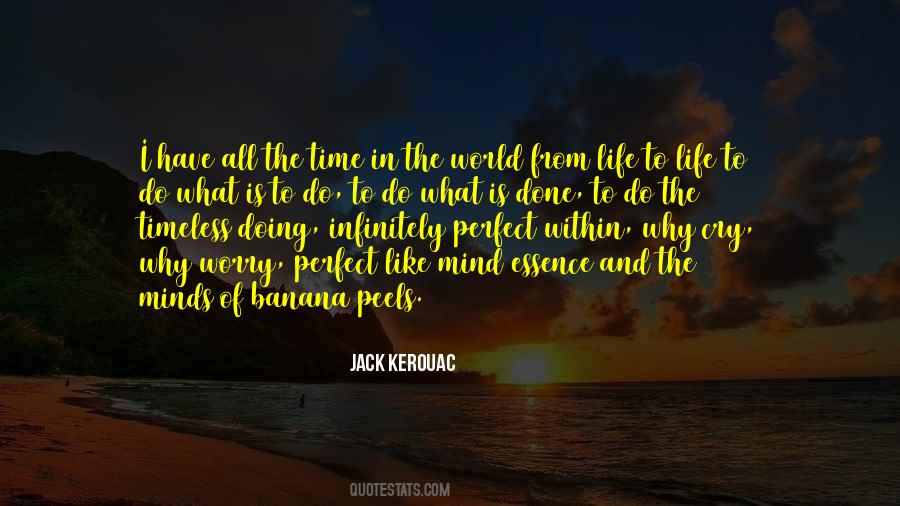 #16. When it comes to making the right moves at the right time, your dance partner is life itself or what can be referred to as your destiny. The more you pay attention and practice intuitive decision making skills, the better you will become at sensing the unique rhythm of your life. - Author: Paul O'Brien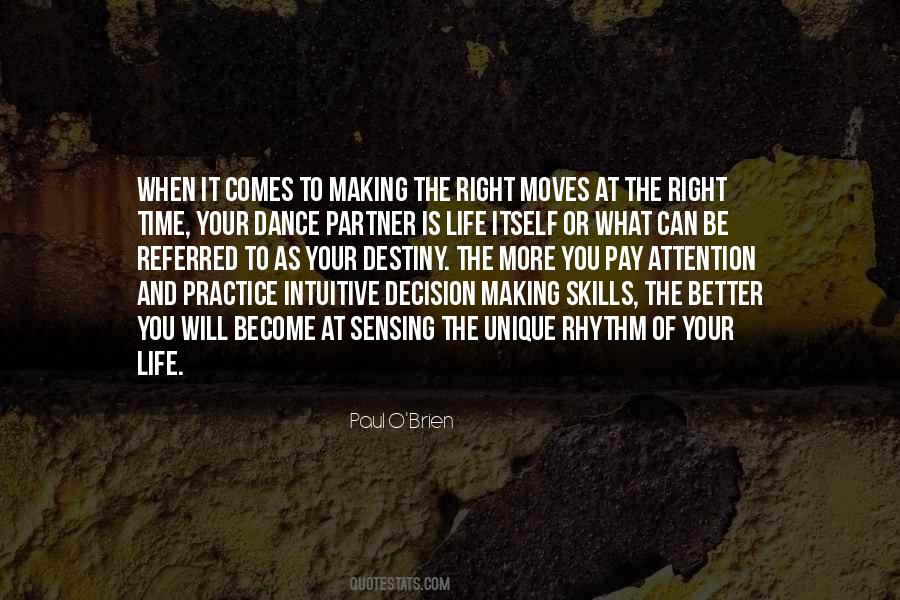 #17. My life is great. It's just not exceptional. And there was a time when it could have been." "You killed your ambition, didn't you?" "It died of natural causes. Of neglect. - Author: Blake Crouch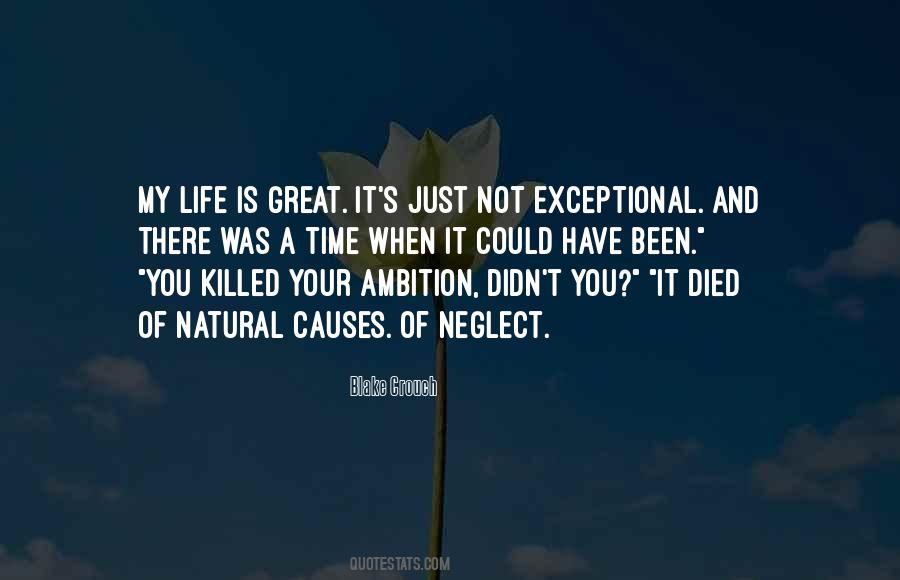 #18. I always say that life is not easy for anybody. People hear about the young actors who have a rough life, but there are plenty of other kids who aren't actors who have a rough time, too, and I don't know if the ratio is any different. - Author: Johnny Crawford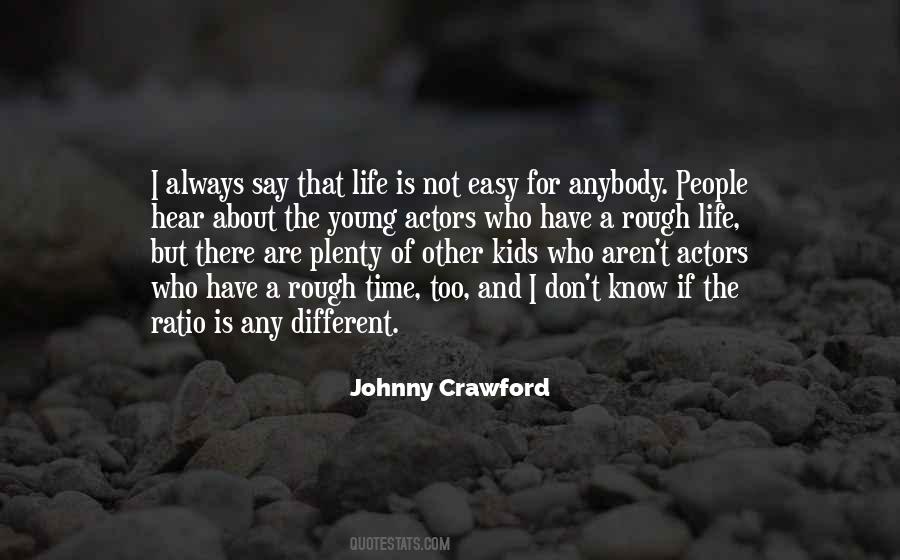 #19. Is it possible for white America to really understand blacks' distrust of the legal system, their fears of racial profiling and the police, without understanding how cheap a black life was for so long a time in our nation's history? - Author: Philip Dray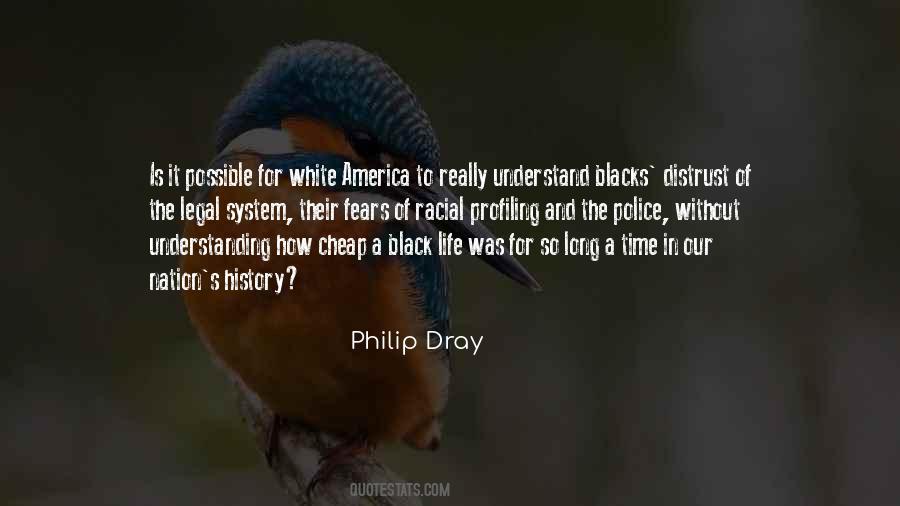 #20. Time, energy, and focus; these are the resources at your disposal each and every day. - Author: Noel DeJesus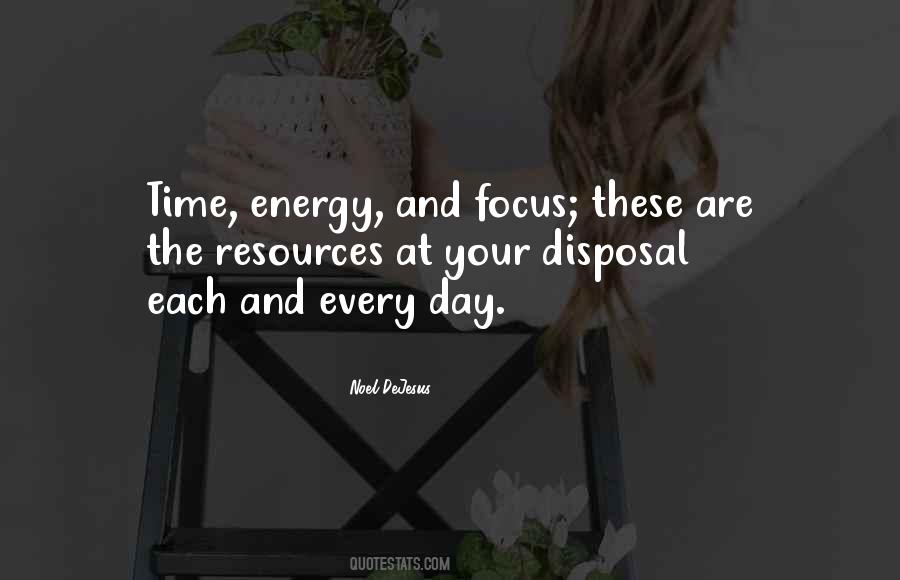 #21. Most couples get married because it's time, not because they're in love. They might have money issues, parental pressure, or they're simply tired of being alone - so they pick Mr. Good Enough and tie the knot. - Author: H.M. Ward
#22. The only time I felt a little too exposed was for a week then I started life-streaming for a couple of hours a day on Qik and Ustream. It became very much like the film 'We Live in Public.' - Author: Jason Calacanis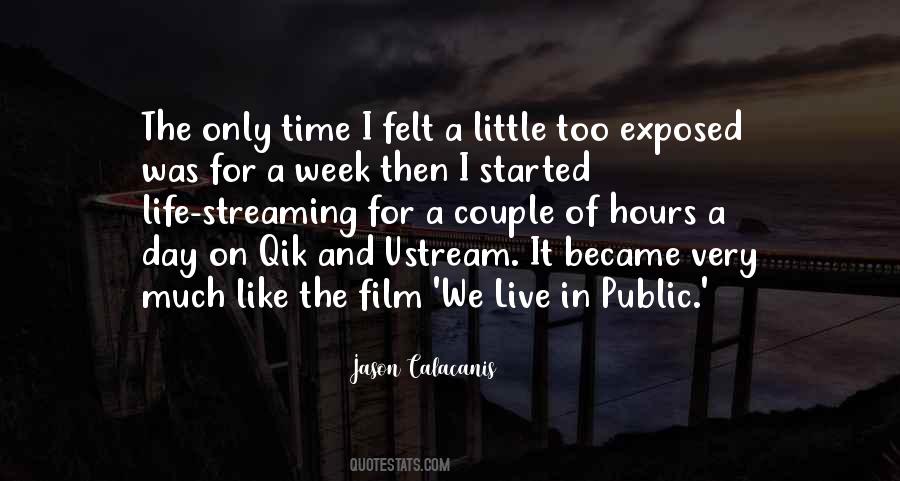 #23. I was working for Time-Life Books from 1962 to 1970, as a staff writer, and after that, I was a journalist. Eventually, I became an editor at 'The Saturday Review' and 'Horizon.' - Author: Edmund White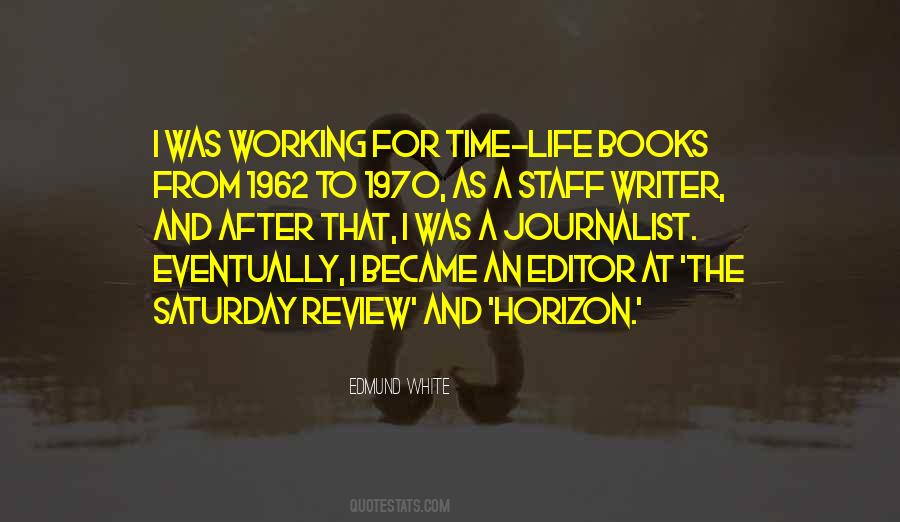 #24. The historian must be a poet; not to find, but to find again; not to breathe life into beings, into imaginary deeds, but in order to re-animate and revive that which has been; to represent what time and space have placed at a distance from us. - Author: Philibert Joseph Roux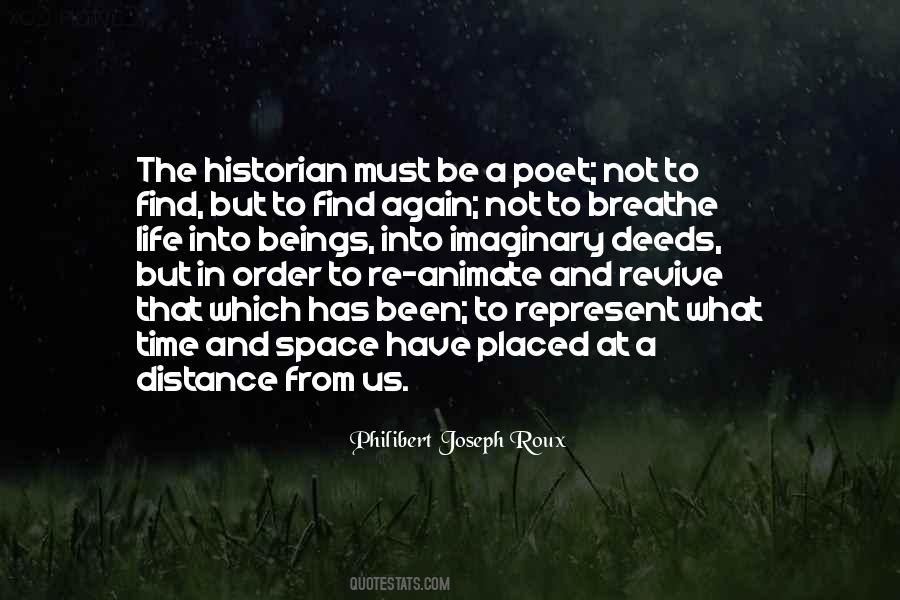 #25. A man thirty years old, I said to myself, should have his field of life all ploughed, and his planting well done; for after that it is summer time. - Author: Lew Wallace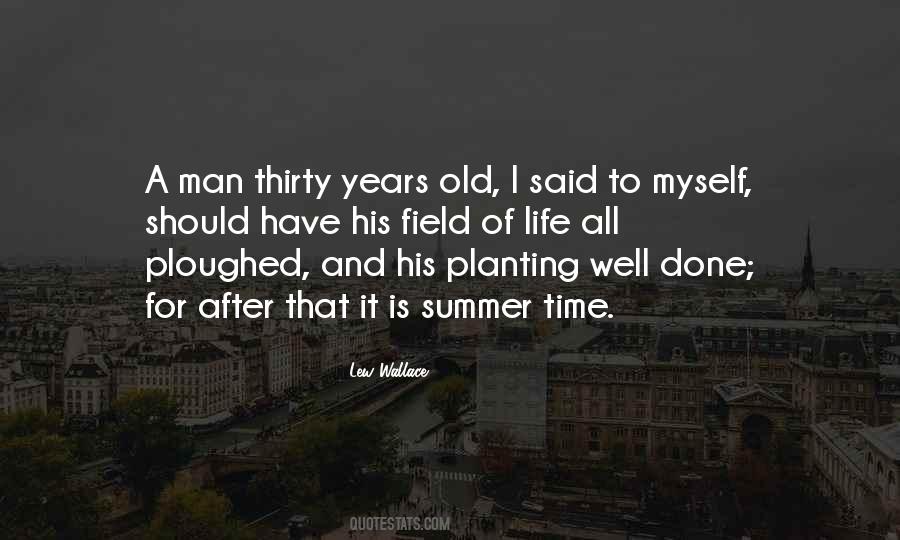 #26. I've gone through a really hard divorce, and anyone who has gone through a divorce will speak about how hard the journey is from start to finish. It's a life-uprooting time. - Author: Christina Aguilera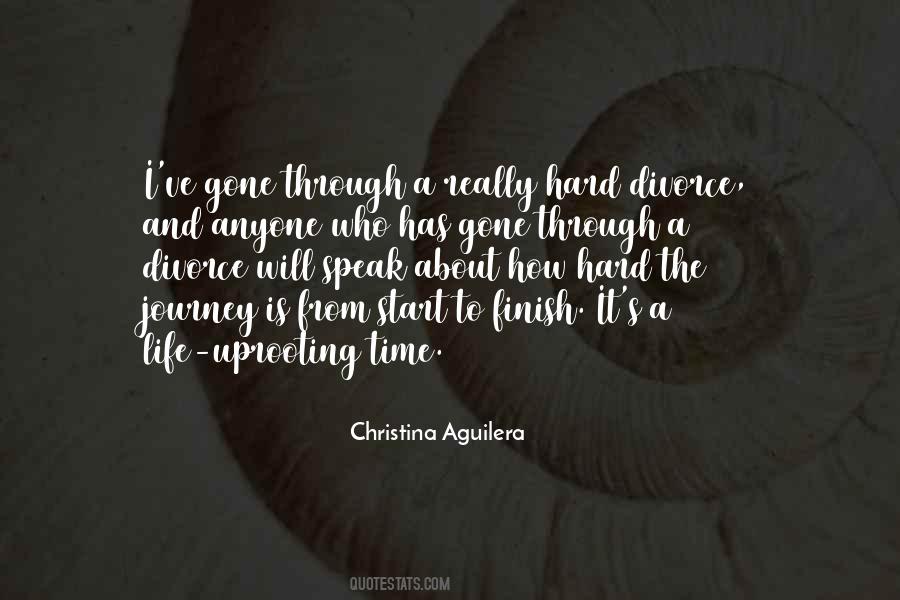 #27. Every time she kissed him, every time he opened his arms and she crawled into them, felt like a miracle. Coming to her made him feel perfectly welcomed, perfectly at home, as he had never in his life felt before. - Author: Celeste Ng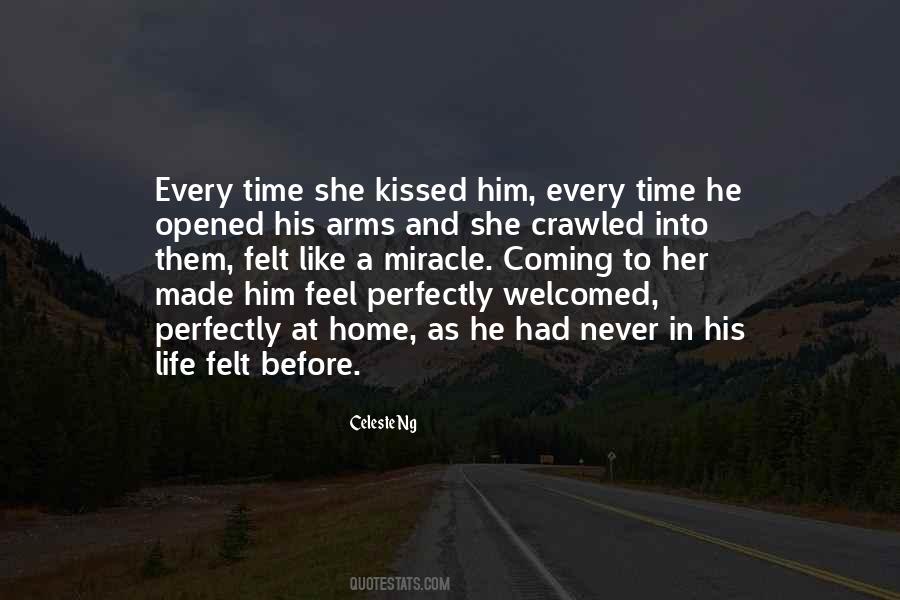 #28. We are asked to orient our "strategies" and "tactics" around poverty and material immiseration at a time when revolutionary sentiment is being generated by the banality of life under conditions of material abundance. - Author: Murray Bookchin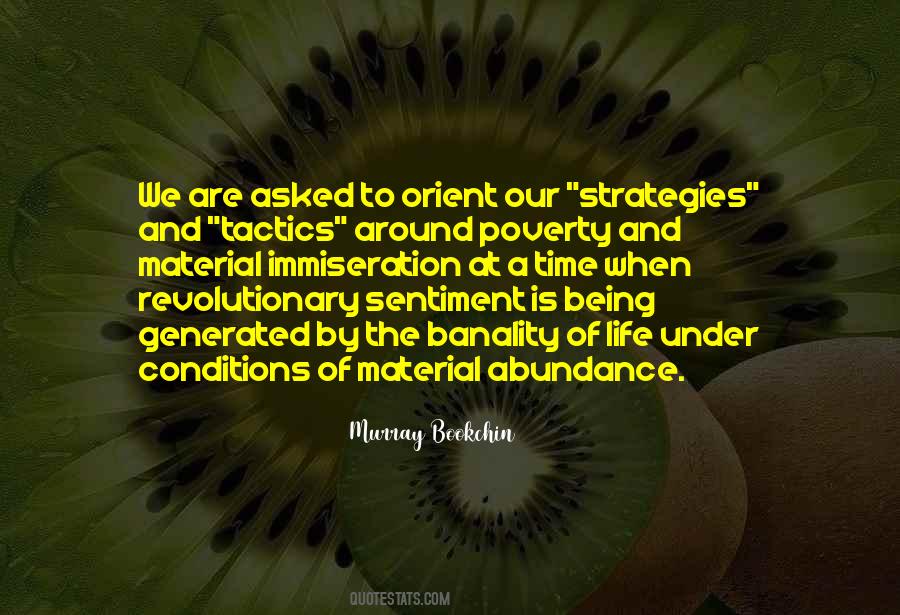 #29. Life is like watching Fast and the Furious 6. Its not easy, most of the time its just dumb and pointless, everything is fake, there is a lot of noise, but if you close your eyes and picture yourself in an open field or a quiet forest, you can maybe make it to the end without killing yourself - Author: Jon Lajoie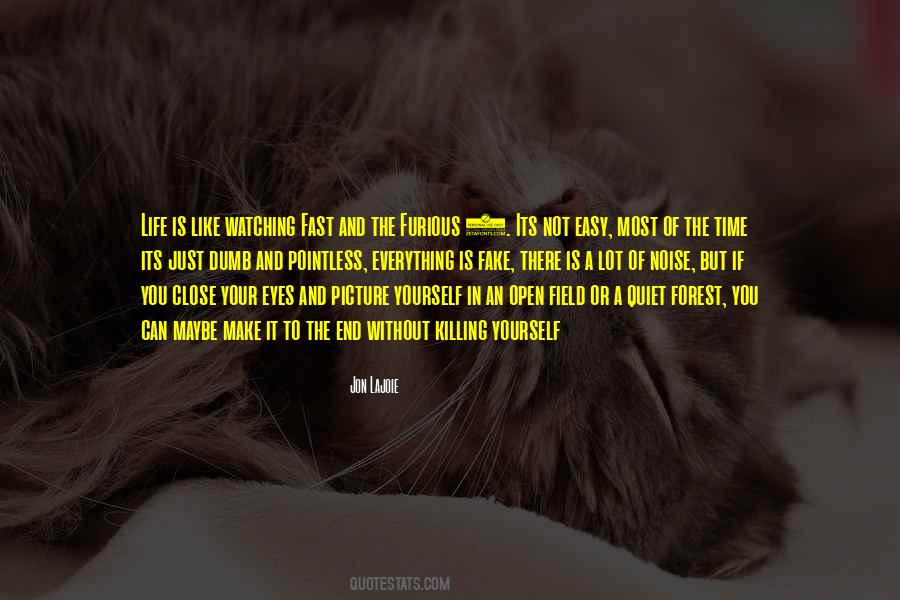 #30. They are so very cultivated, so very rich and so utterly charming. At the end of each day, they all ask themselves: 'Is it time I stopped?' And they all reply: 'If I did, there would be no meaning to my life.'
As if they actually knew what the meaning of life was. - Author: Paulo Coelho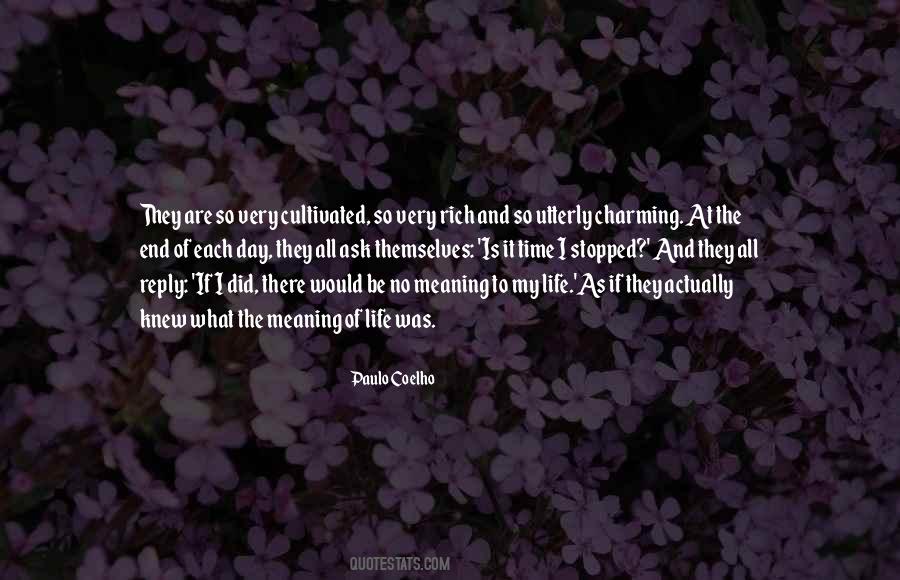 #31. As to war, I am and always was a great enemy, at the same time a warrior the greater part of my life and were I young again, should still be a warrior while ever this country should be invaded and I lived. - Author: Daniel Morgan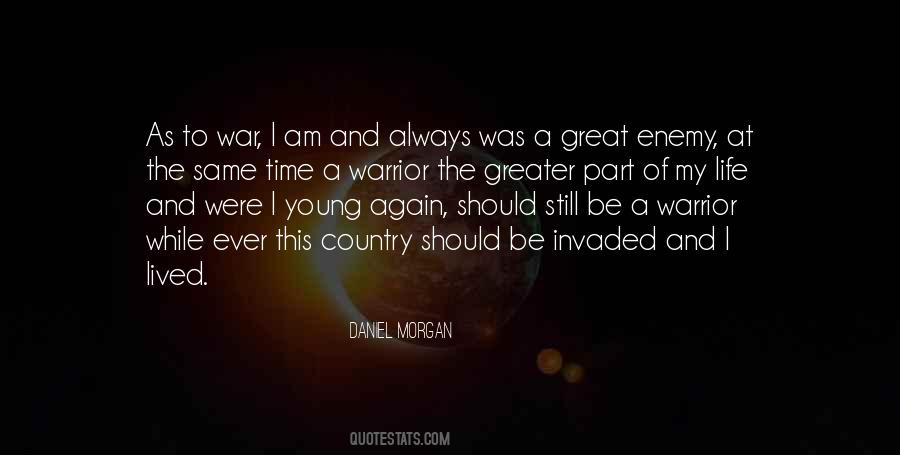 #32. What happens in life is more important than the Time and Date ... - Author: Ranu Das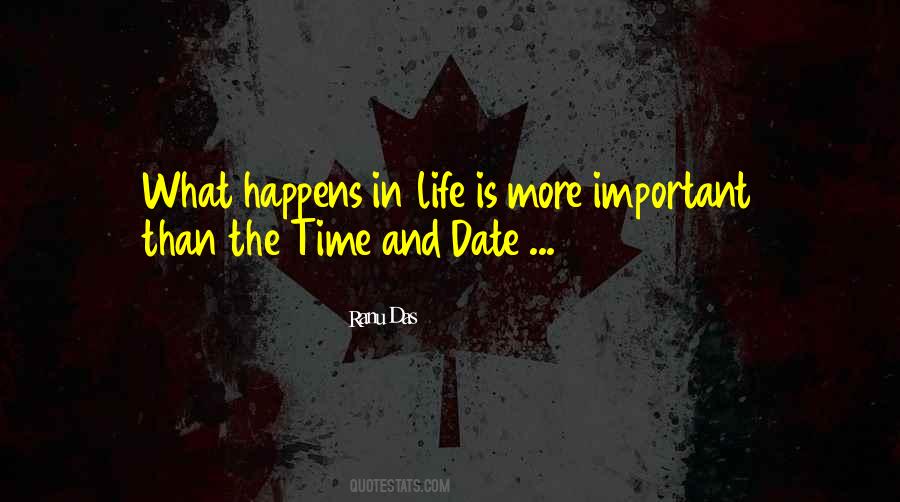 #33. Writers spend too much time among dead things. I thought that was profound and actually true, that you're trying to pump life into something that is inanimate. You see what a sort of audacious thing it is to move these sort of imaginary people around in a very stylized and patterned world. - Author: Martin Amis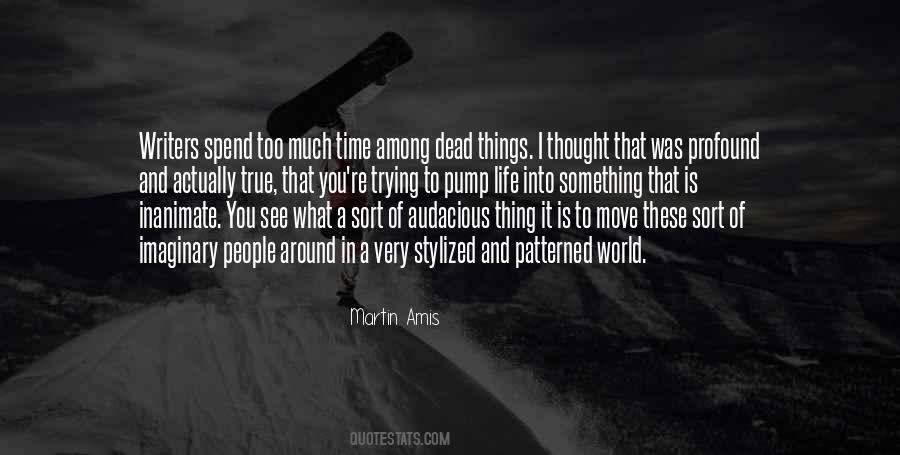 #34. Reflect and meditate on yourself and discover ways to multiply yourself - Author: Sunday Adelaja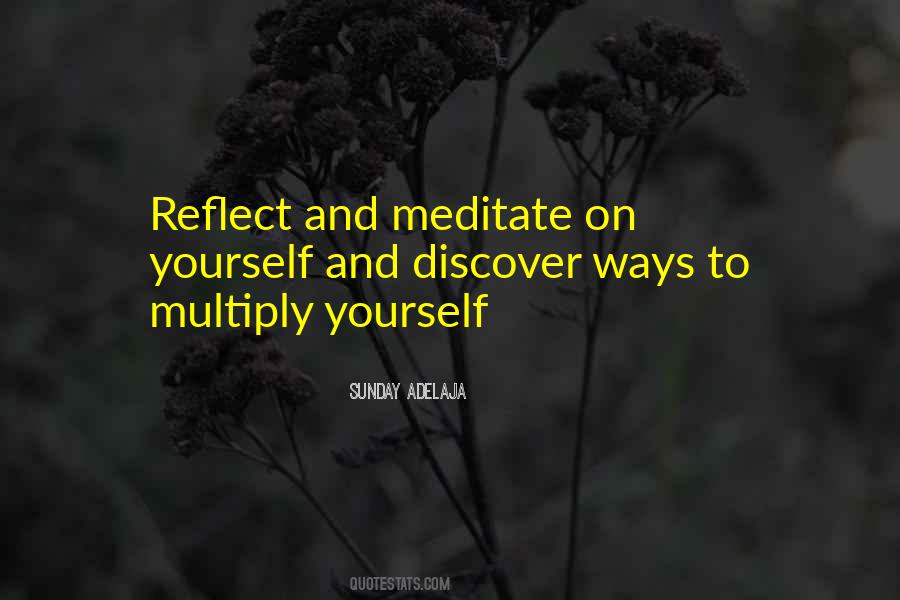 #35. You're my dream, Alaric McCabe. And I love you. I've loved you from the moment your horse dumped you at my cottage. I spent so much time being resentful and lamenting the circumstances of my life, but 'tis true that I wouldn't change a single thing because then I would have never known your love. - Author: Maya Banks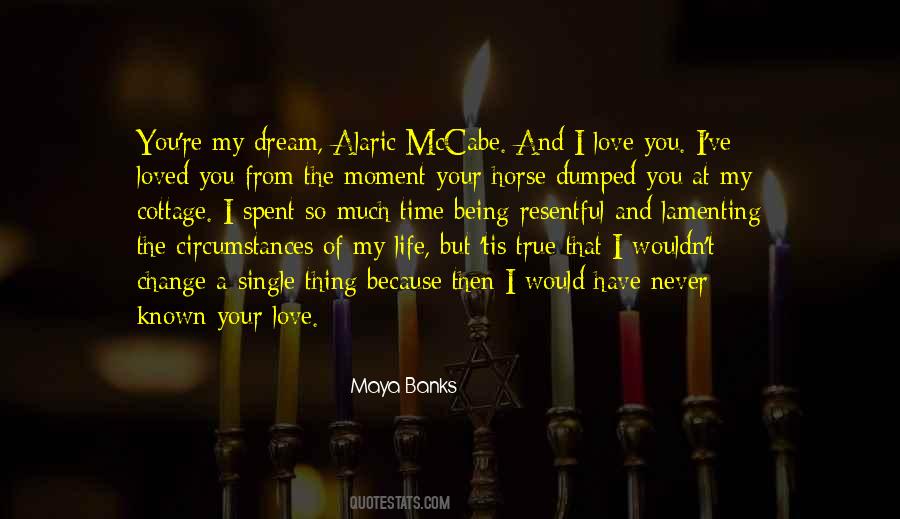 #36. People are drawn to preaching that is passionate and offered with conviction. Passion comes when the preacher has spent significant time with the text, and when God has spoken through the text in a way that addresses the preacher's life first. - Author: Adam Hamilton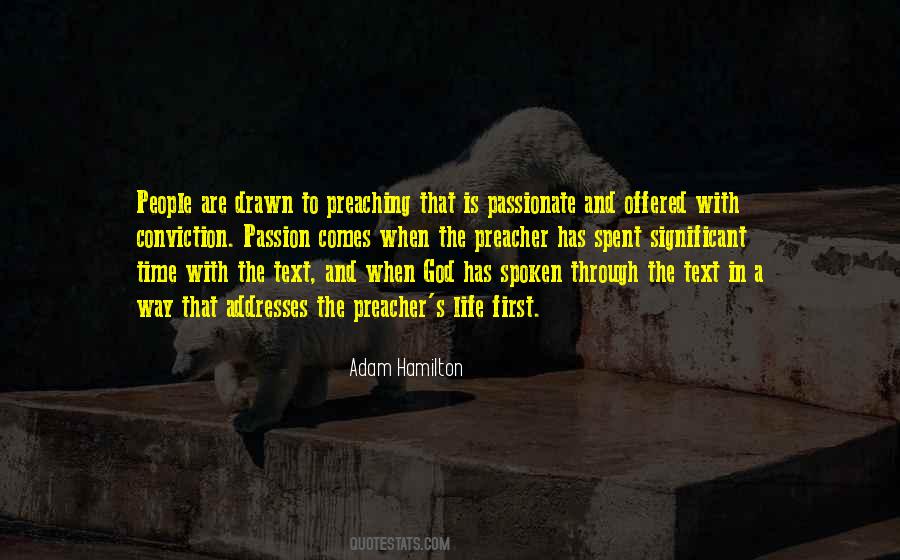 #37. Living your life is a long and doggy business ... And stories and books help. Some help you with the living itself. Some help you just take a break. The best do both at the same time. - Author: Anne Fine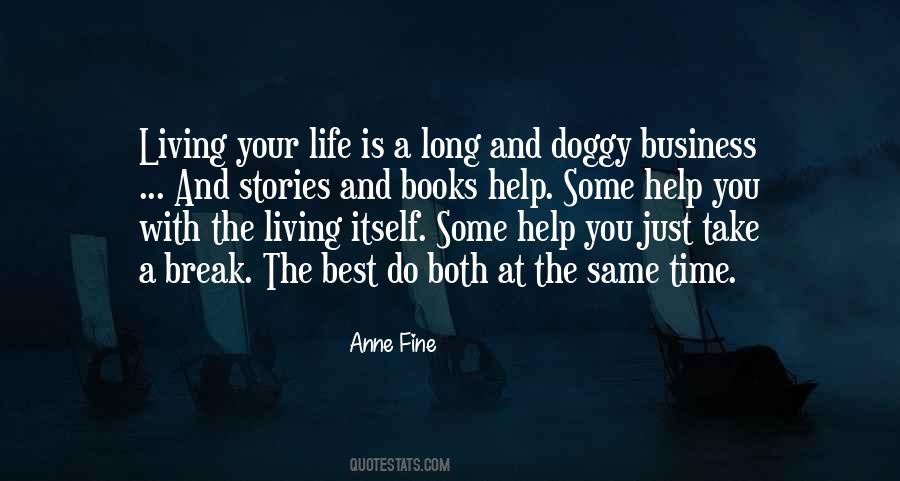 #38. Let's embrace more of life, not less. Balanced people don't change the world, and I'd rather spend my time feeling worn out from meaningful activities and projects. - Author: Chris Guillebeau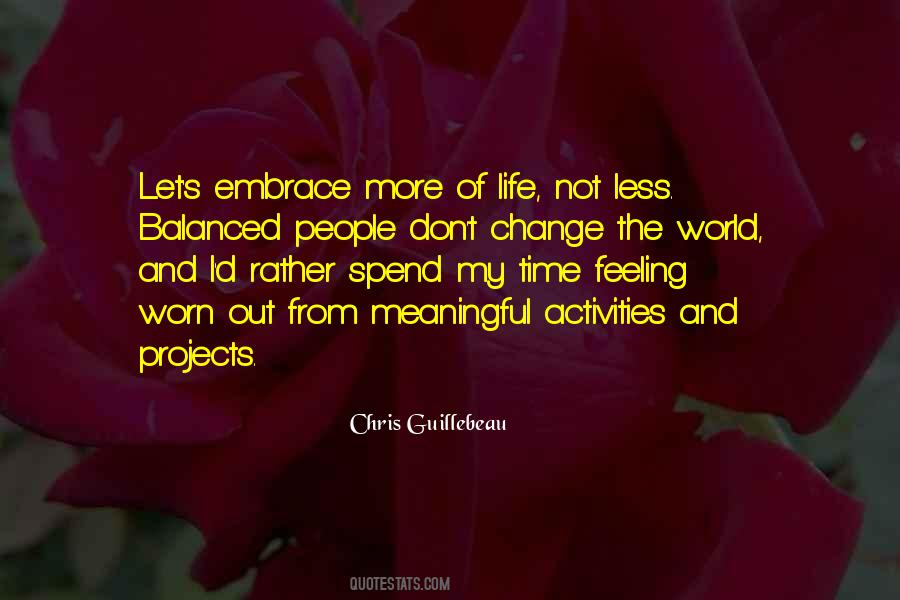 #39. Every time I flicked channels, there I was, talking. I was talking too much and writing too little. So Naomi and I went to Hawaii. The phone was cut off and we lost touch. This gave me the chance to have a good think about my life. - Author: Joe Eszterhas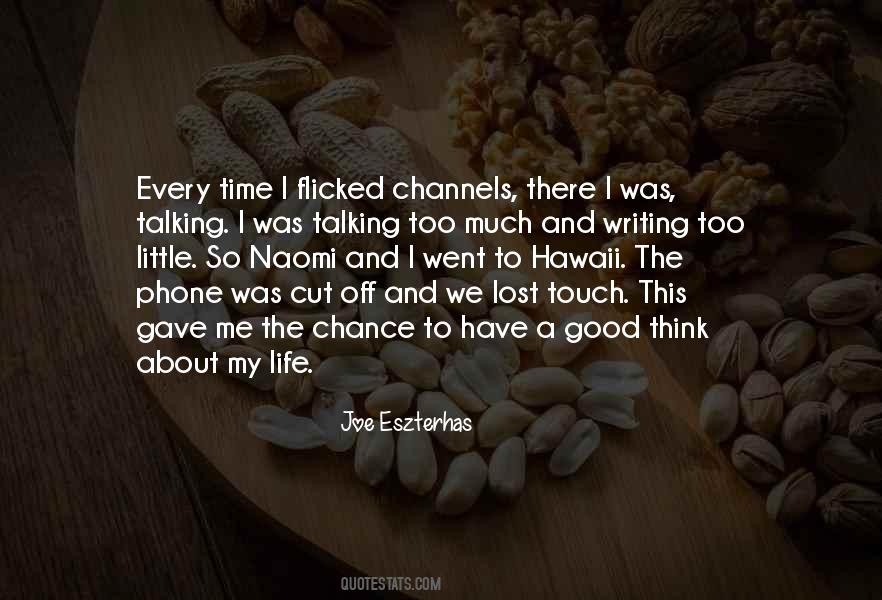 #40. Childhood was not a time in a person's life, but a country, a country under siege, from which certain individuals were taken too soon and never allowed to return. All people were exiled eventually, but whatever happened to them there marked them all their days. - Author: Kate Green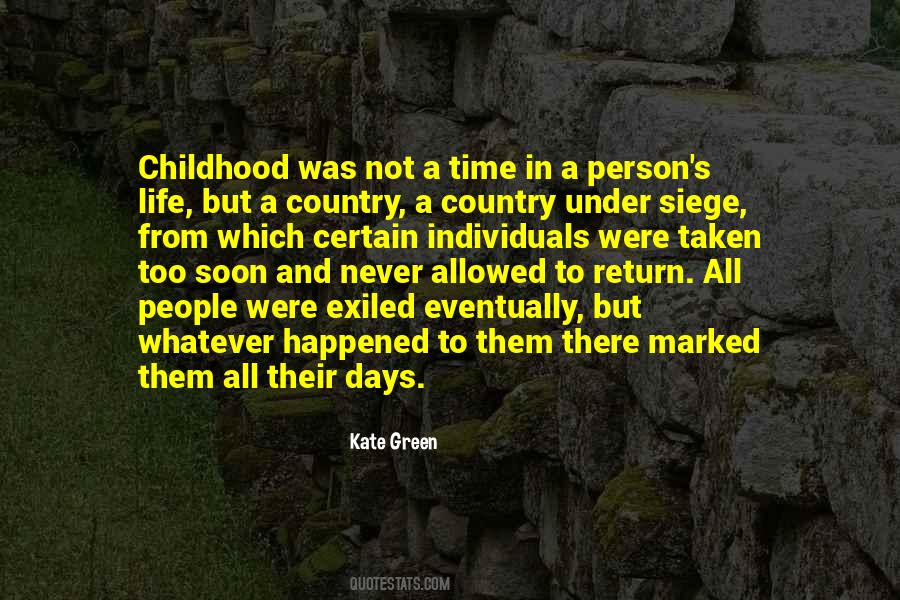 #41. But in life, every moment can be said to be critical; all is revealed and concealed, created, maintained, and destroyed in the great dance of time. - Author: Kate Elliott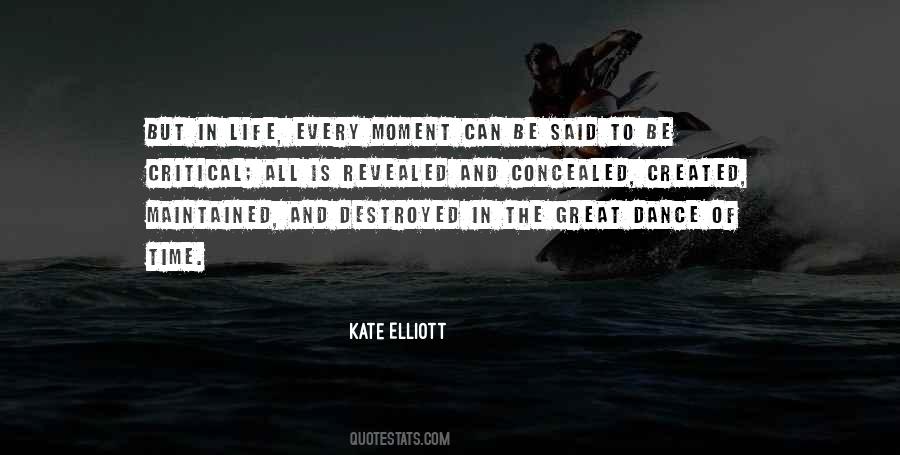 #42. I think we live in a unique time - the verbs that make up our online and mobile lives haven't been completely invented or imagined for us. That was kind of a life path I was on. - Author: Mark Pincus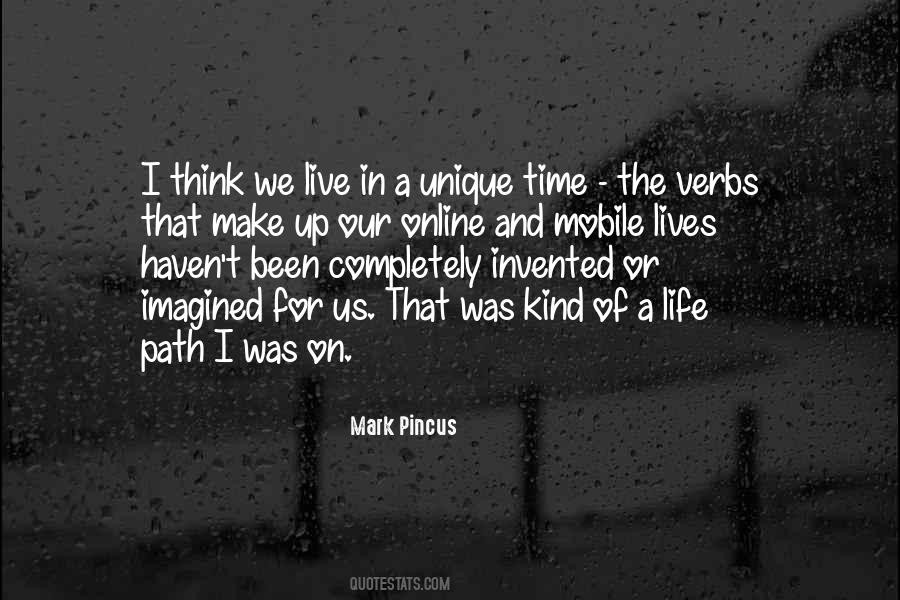 #43. The time comes in life when we have read enough. It's time to stop reading. It's time to lay down the books and write. - Author: Albert Einstein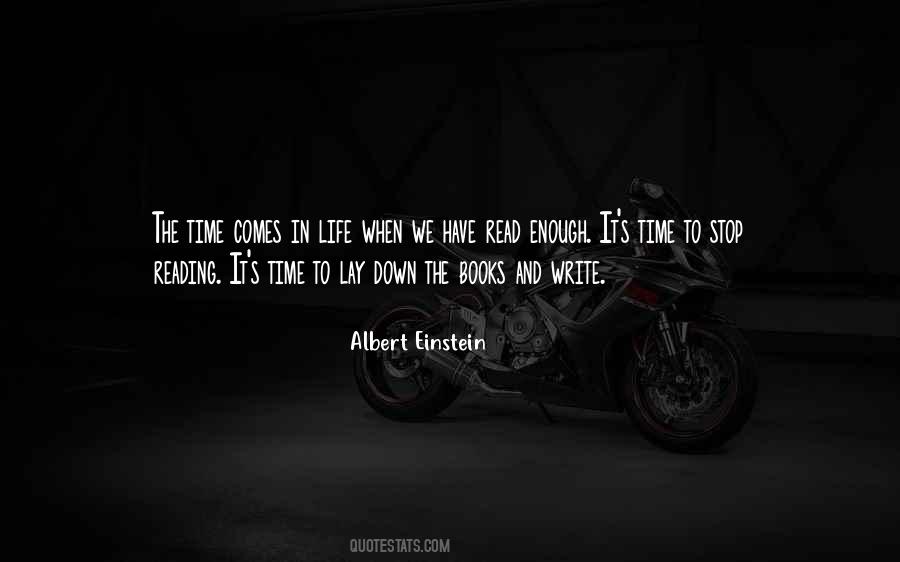 #44. Life is eternal and, at the same time, ephemeral. - Author: Debasish Mridha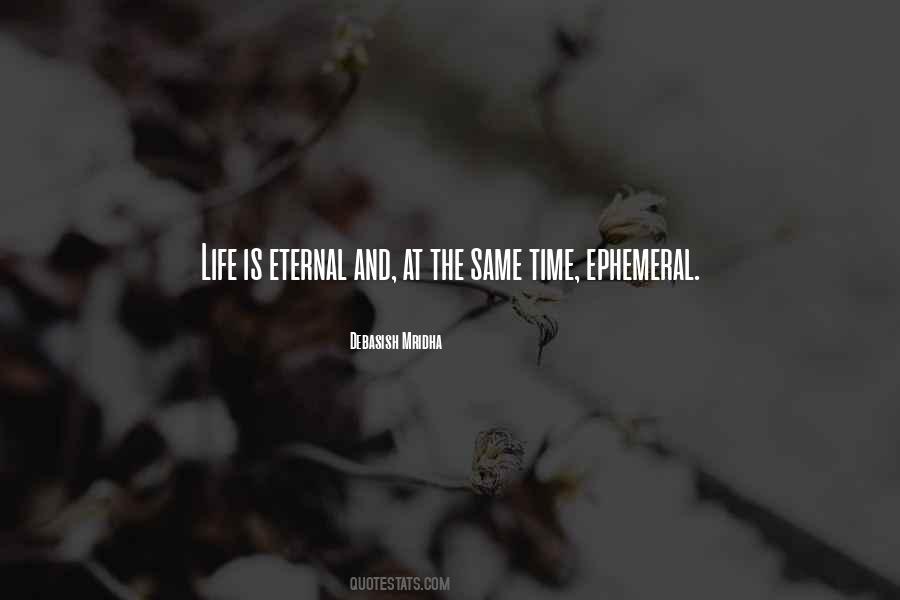 #45. Life is a long road with lots of junctions and every time you chose to go one way, you may just have easily have gone the other. We don't make choices so much as choices are made like a new fashion we slip into without realising. - Author: Chloe Thurlow
#46. Life's too short to spend all the time in the gym. I just like to have a few beers and enjoy myself too. - Author: Ian Woosnam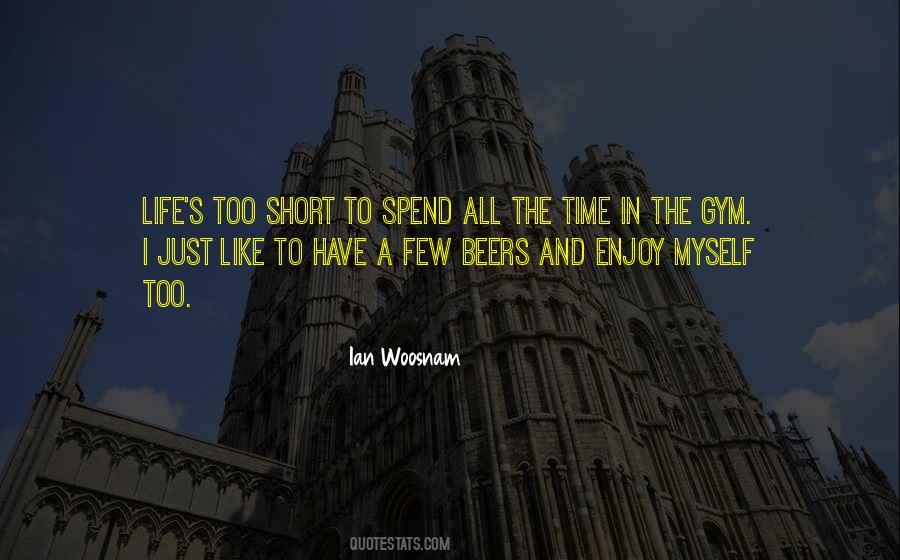 #47. But I was ready for it and I knew I could do it. I've just turned 40, I have a son and I feel more settled and driven than ever. I think my 40s will be my most prolific time. It's a very rare life you get to lead as a sitcom guy. - Author: Eric McCormack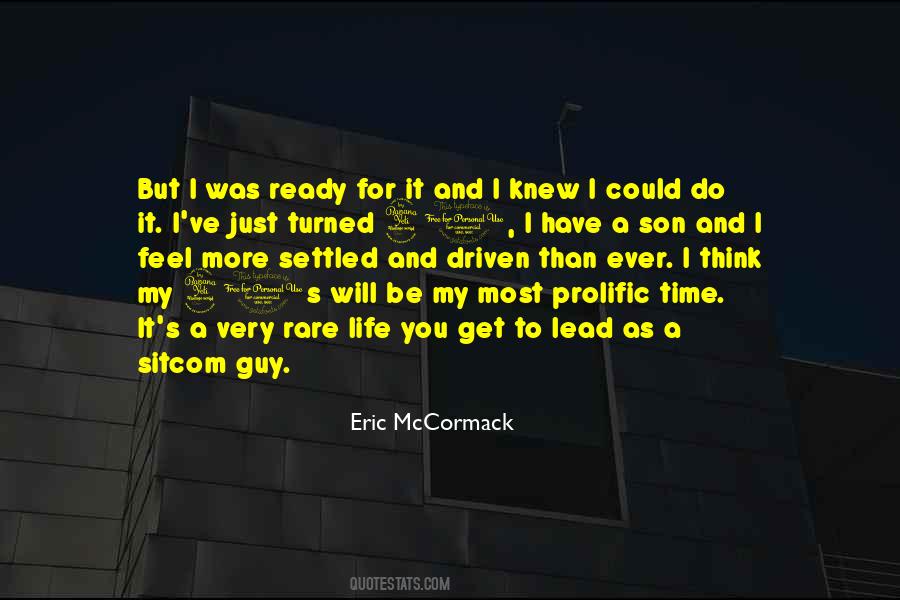 #48. My life is not balanced and not everything is perfect all the time. - Author: Kelly Cutrone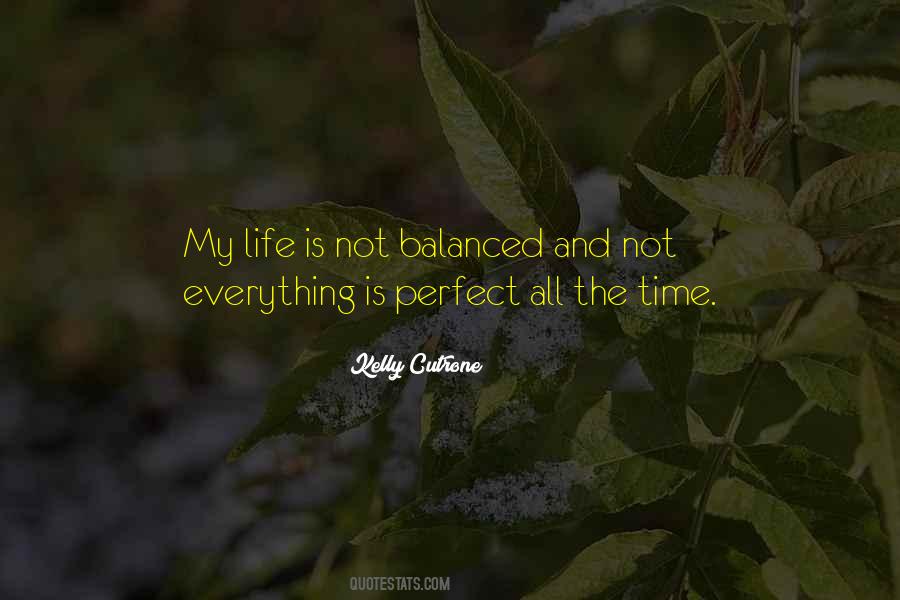 #49. You can't care what other people think of whom you choose to love, or not to love. When it comes to your love life, it's NOT the time to be satisfying other people's opinions. The difference between what's good for you and what's good for everyone else is happiness. - Author: Chrissy Anderson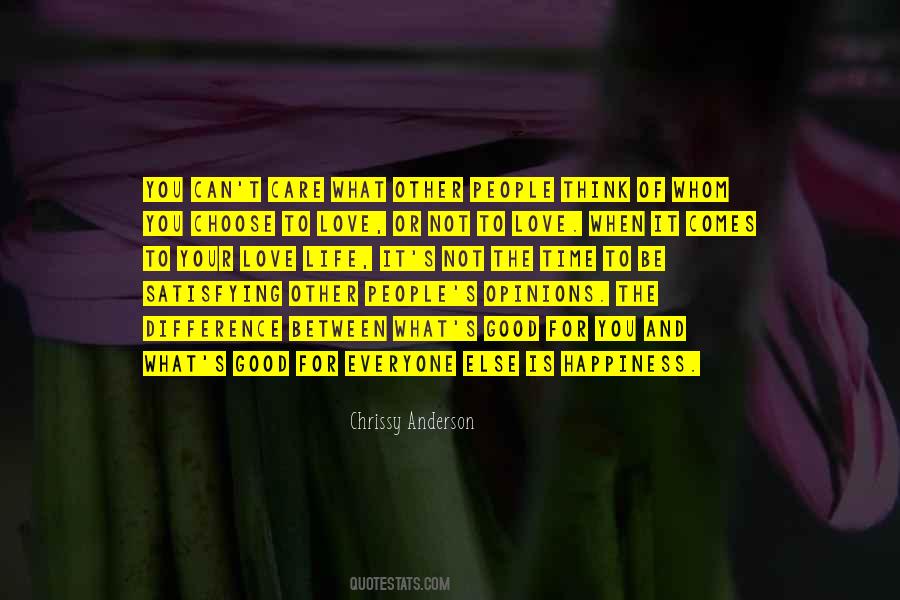 #50. I am trying to both be happy and pay attention to the world around me. I do not know if it is possible to do both at the same time. - Author: Blythe Baird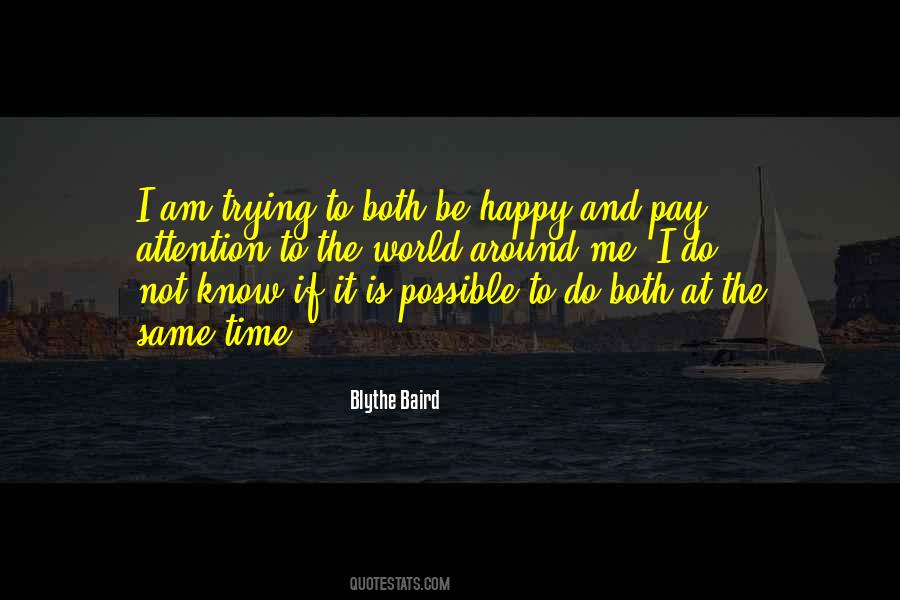 #51. I always wanted to be a hero
to sacrifice my life in a big way one time
and yet, God has required my sacrifice to be thousands of days, over many years, with one more kiss, one more story, one more meal. - Author: Sally Clarkson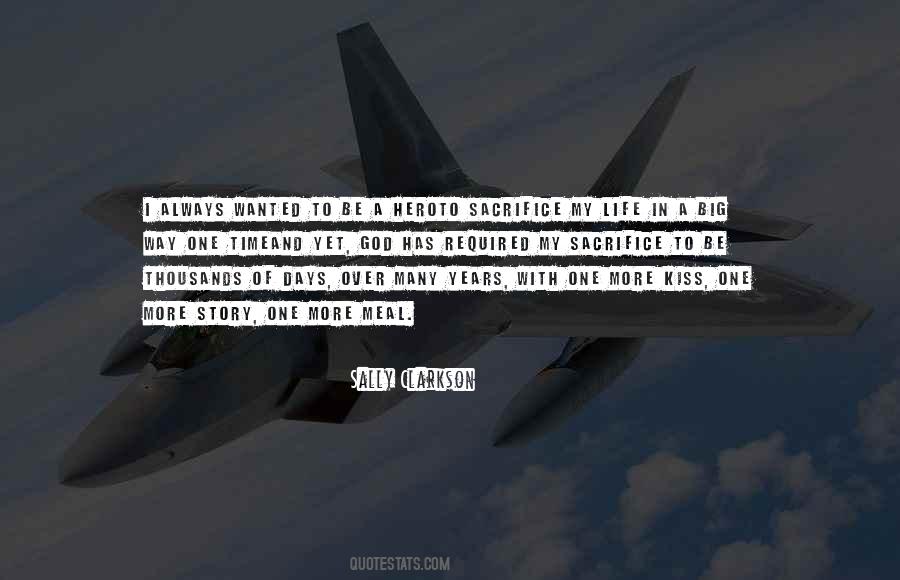 #52. We didn't intend to hurt each other, and we don't have time to do so. Life is too short to blame others. It's now the past. I hope that everybody will do well in the long run. - Author: Jay Park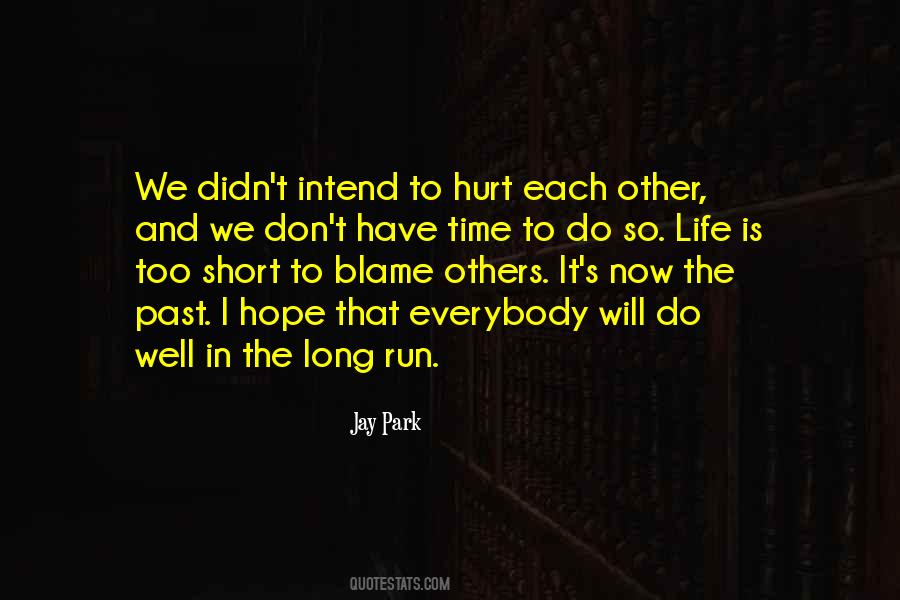 #53. One day you'll make peace with your demons, and the chaos in your heart will settle flat. And maybe for the first time in your life, life will smile right back at you and welcome you home. - Author: Robert M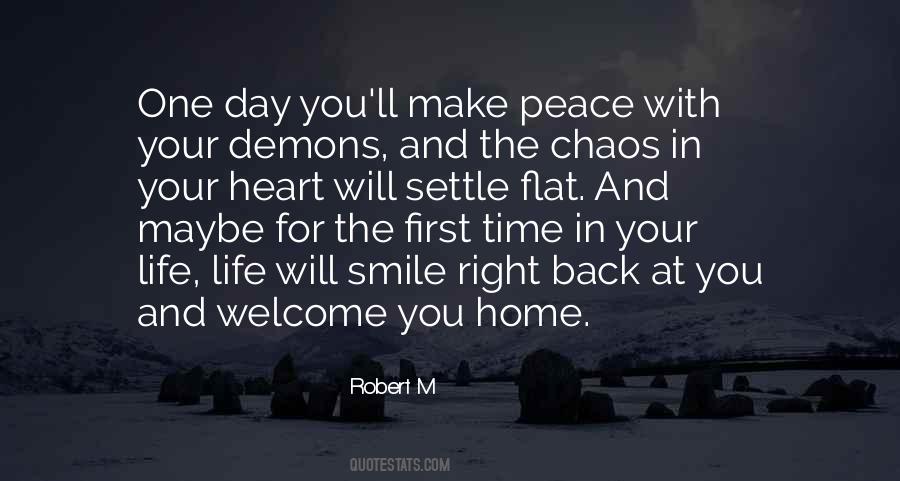 #54. If we never leave our house except to drive to work, do we need to be even remotely aware of this powerful, humbling, extraordinary and eternal life force that surges and ebbs around us all the time? Apparently not. Because we have stopped paying attention. - Author: Elizabeth Gilbert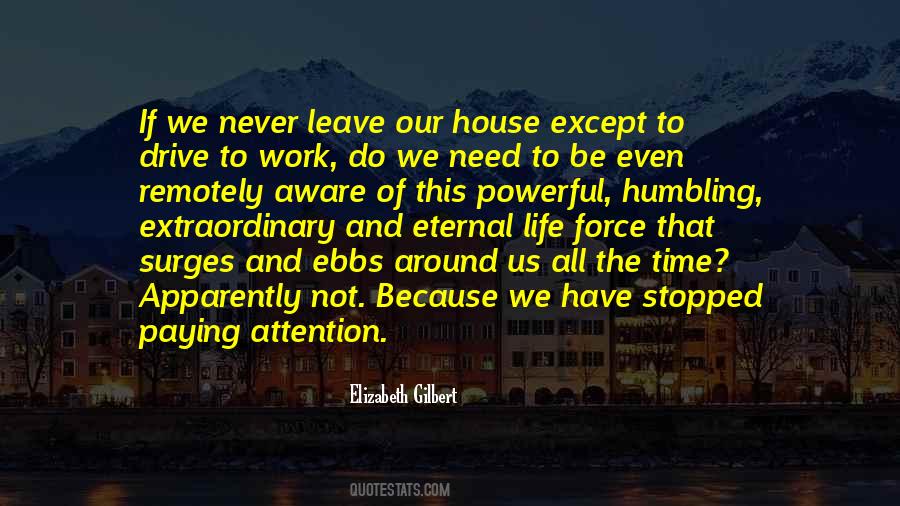 #55. I could write pages and pages about the delights of being a full-time housewife and mother and trying to write and support a family with two babies - but I don't use that kind of language in public. - Author: Marion Zimmer Bradley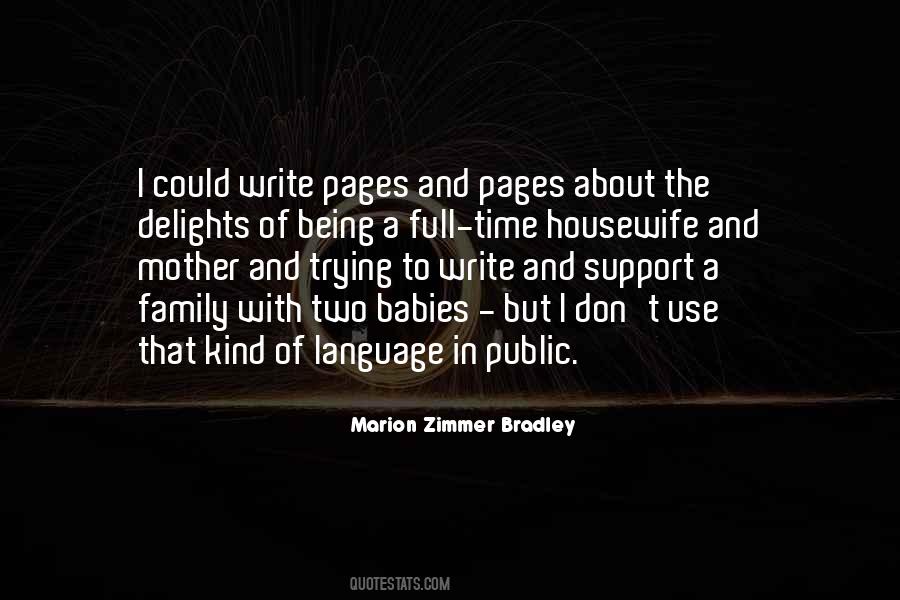 #56. I've gone through so much in my life. I should have been dead a long time ago, but I am still here, and I'm the happiest I've ever been. - Author: Etta James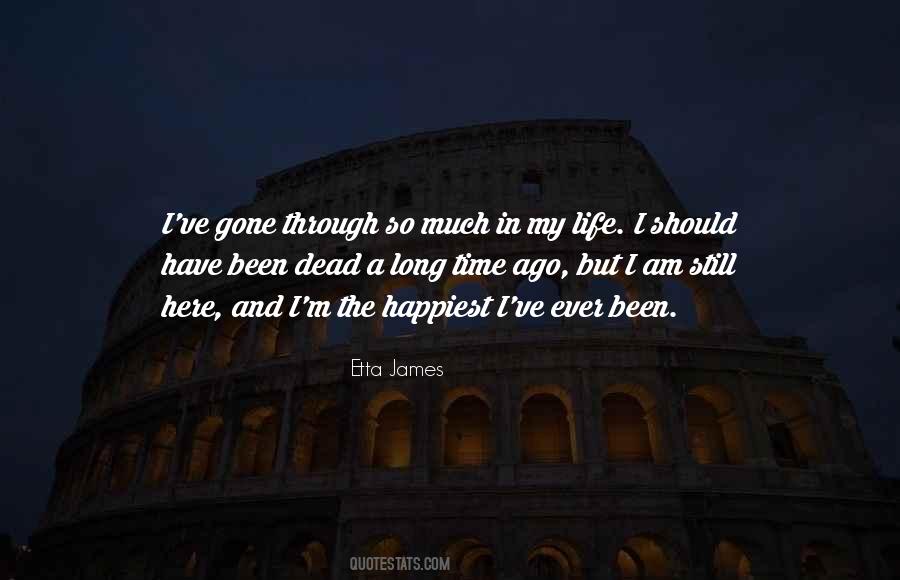 #57. - and there, on the table under her bedroom window, lies the voice that has set her dreaming again. Fragments of a life lived a long, long time ago. Across a hundred years the woman's voice speaks to her - so clearly that she cannot believe it is not possible to pick up her pen and answer. - Author: Ahdaf Soueif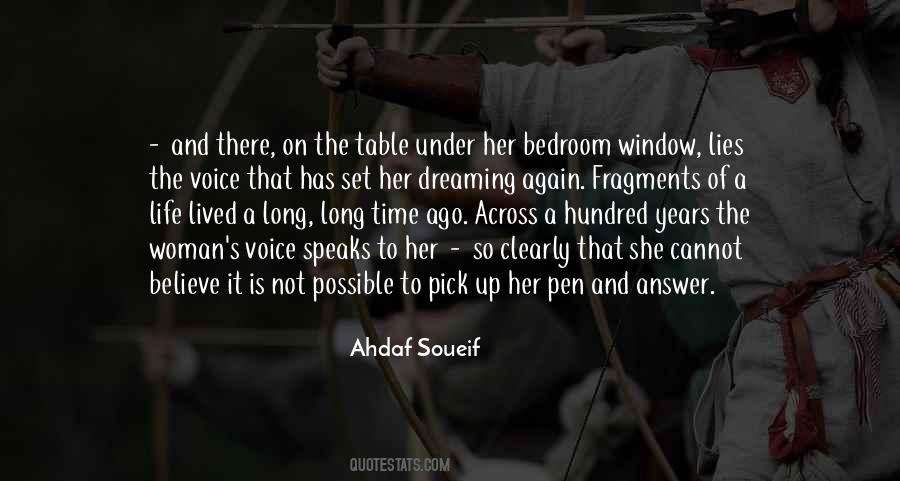 #58. I was always taught as a kid that if there's anything you want in life, you've got to work towards it. I guess that sort of stayed with me, really. But also, for me, from the time I was, like, 10 years old, all I ever wanted to do was be in a band and make music. - Author: Paul Weller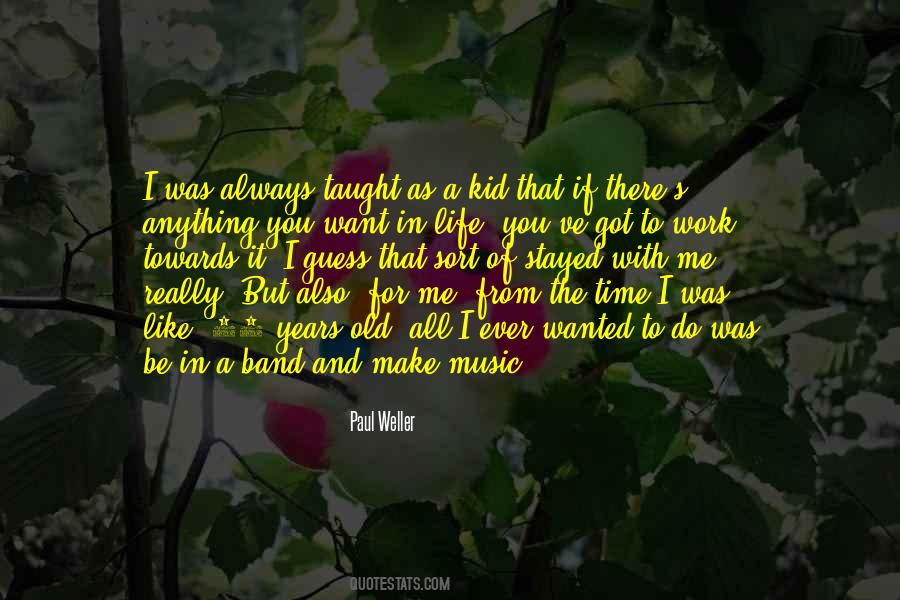 #59. If I have to hold a note for a long time, I imagine it as moving and spinning, for the note has to have life. In a way, a singer actually refreshes a note with every beat that it's held. - Author: Renee Fleming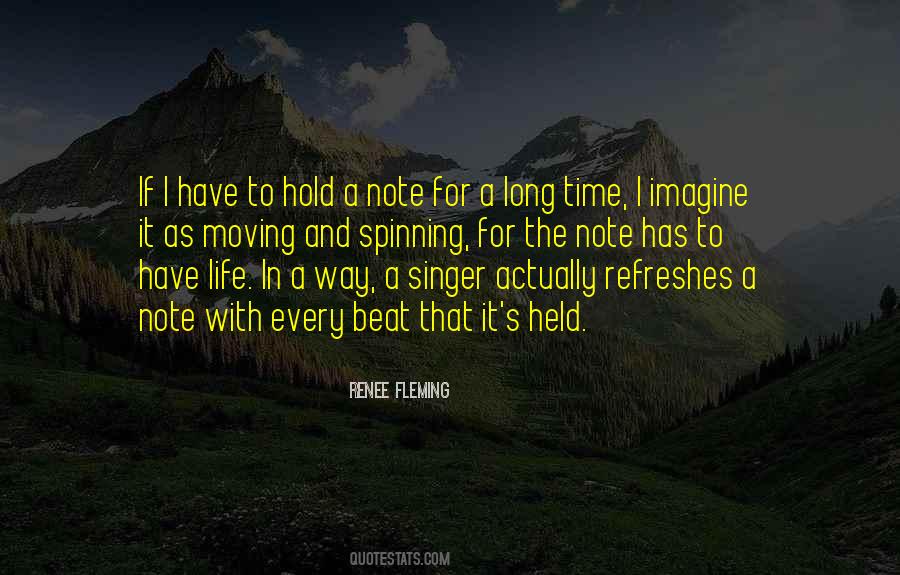 #60. Sometimes we exist long enough to lead the next generation; other times, only to plant a seed and let its resonations of our time here on Earth ripple into new waves. - Author: A.J. Darkholme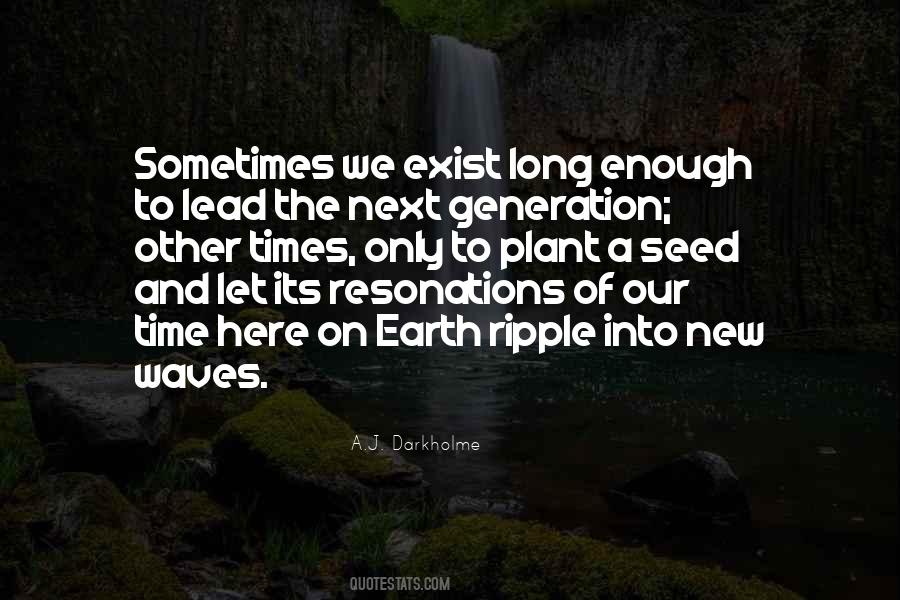 #61. Prayer is such a basic foundation of a Christian's relationship with God. It's how we communicate and fellowship with Him. But a surprising number of people, young and old, new and even long-time Christians, say they're not satisfied with their prayer life. - Author: Joyce Meyer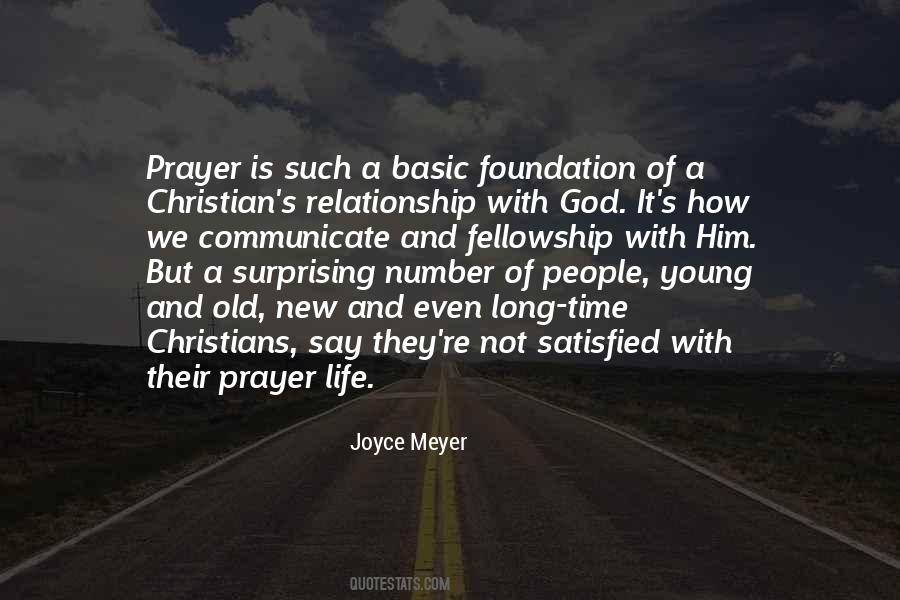 #62. There is some kind of a sweet innocence in being human- in not having to be just happy or just sad- in the nature of being able to be both broken and whole, at the same time. - Author: C. JoyBell C.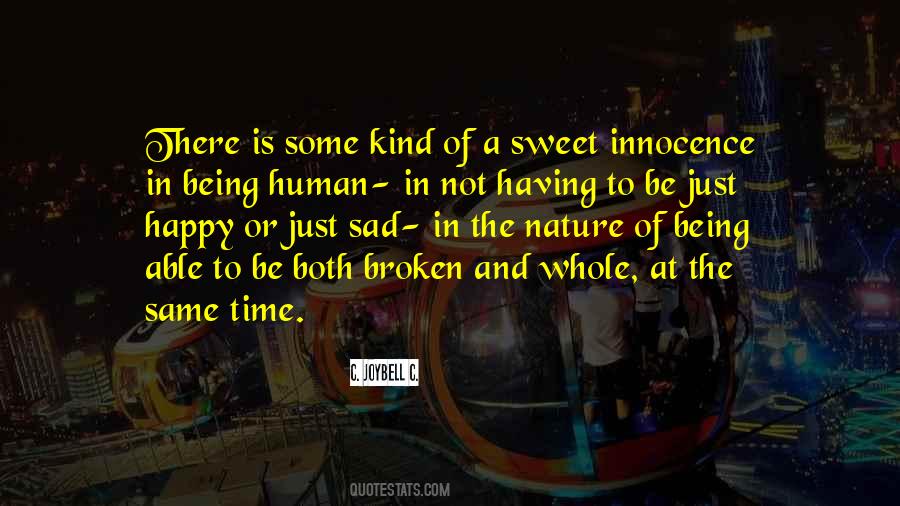 #63. I had gone through life thinking that I was better than everyone else and at the same time, being afraid of everyone. I was afraid to be me. - Author: Dennis Wholey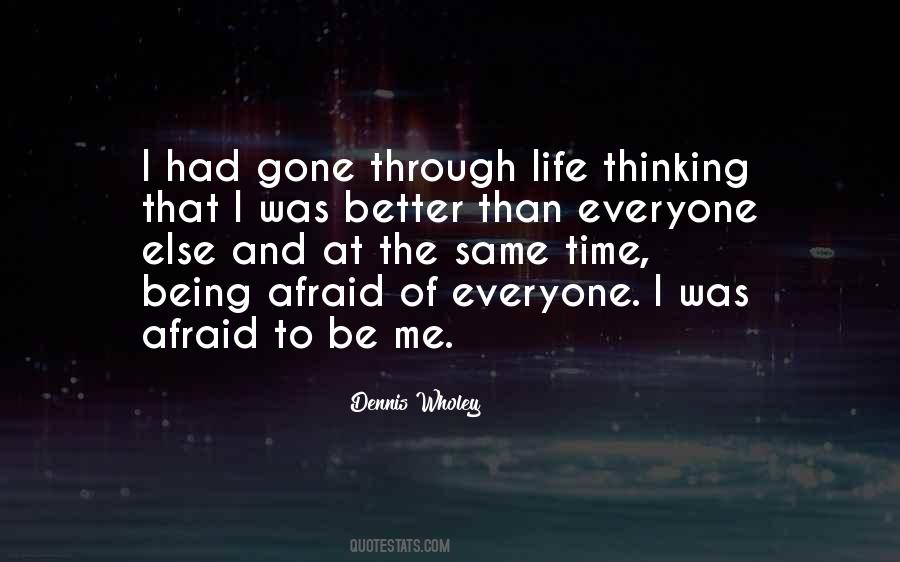 #64. A man who has made up his mind on a given subject twenty-five years ago and continues to hold his political opinions after he has been proved to be wrong is a man of principle; while he who from time to time adapts his opinions to the changing circumstances of life is an opportunist. - Author: A.P. Herbert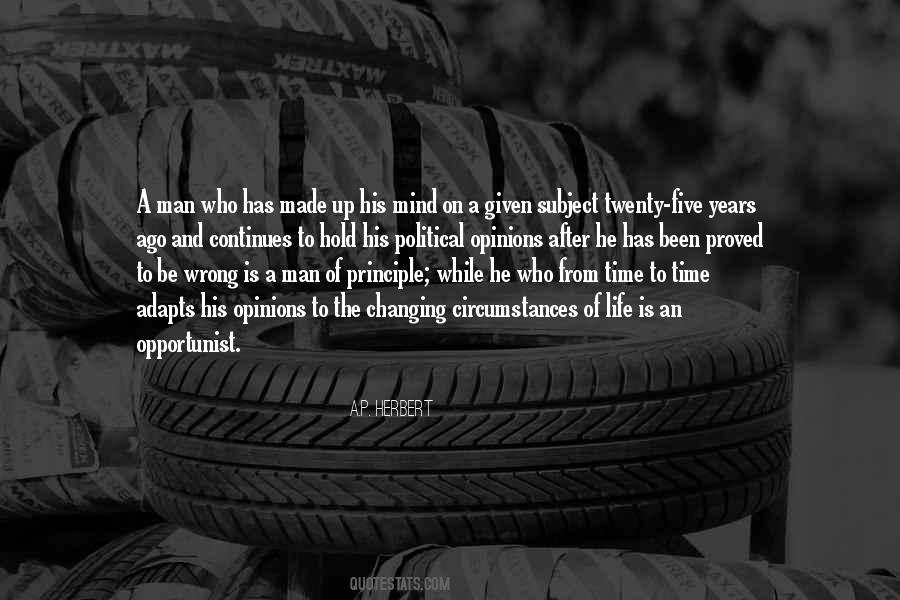 #65. Every cloud doesn't have a silver lining but making time to look at the beauty of clouds can give you peace of mind - Author: C.L. Bennett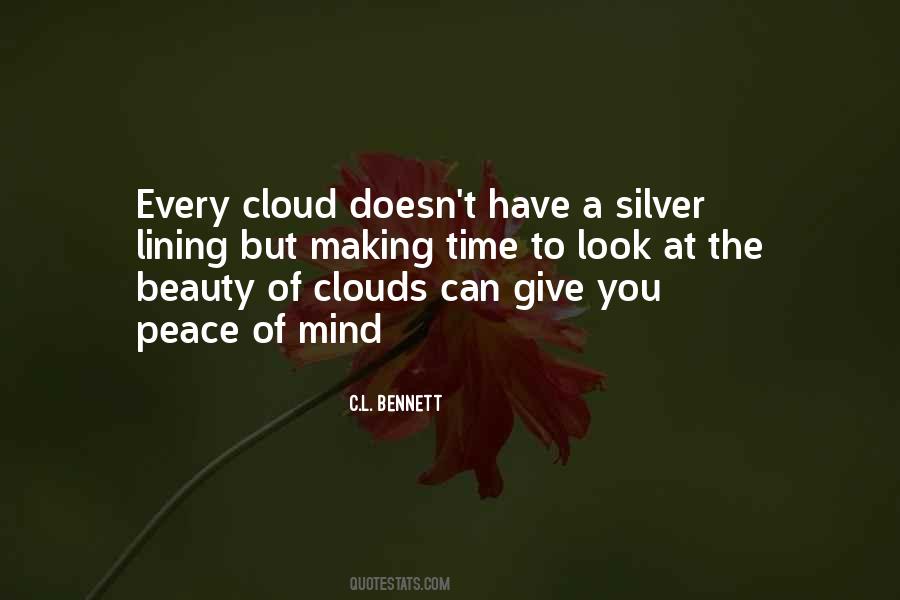 #66. She works on her never-ending project for hours at a time. In art school they talked about day jobs in tones of horror. She never would have imagined that her day job would be the calmest and least cluttered part of her life. - Author: Emily St. John Mandel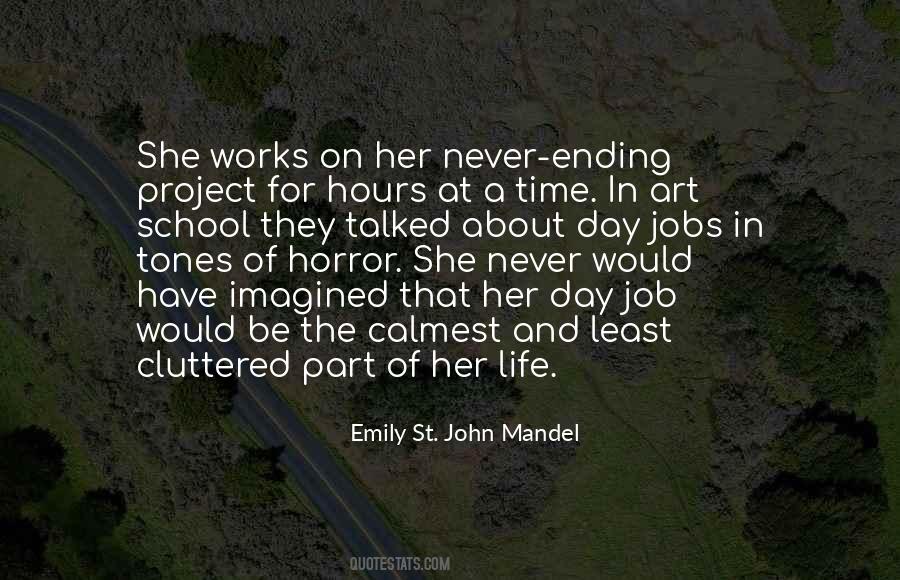 #67. Life is a short walk. There is so little time and so much living to achieve. - Author: John Oliver Killens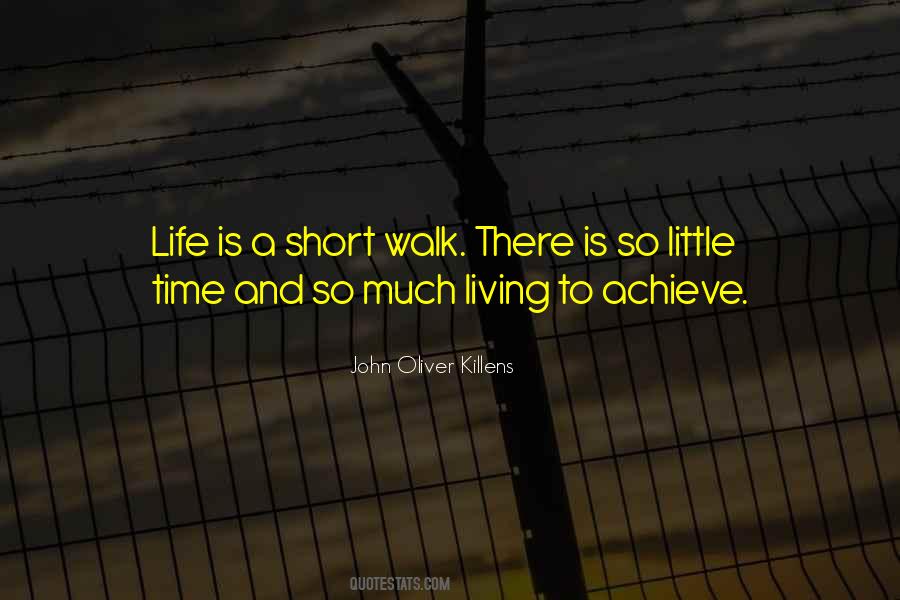 #68. Everyone, everywhere, and all the time, used to laugh at me when I was growing up. So, when I was around 18, I thought, 'I'll become a comedian, and then if everyone laughs at me, I'll be famous.' So I went on stage one night and, for the first time in my life, everyone stopped laughing at me. - Author: Emo Philips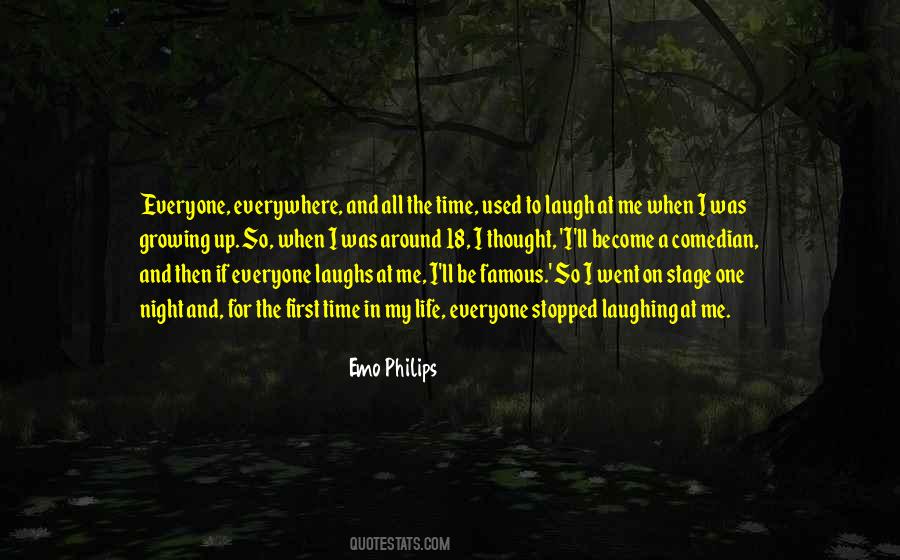 #69. I'm very headstrong and I know what I want from life. I listen to peoples' opinions, but a lot of the time I'll trust my own instincts. I'm also really clumsy, so I'm always getting hurt. - Author: Ashley Tisdale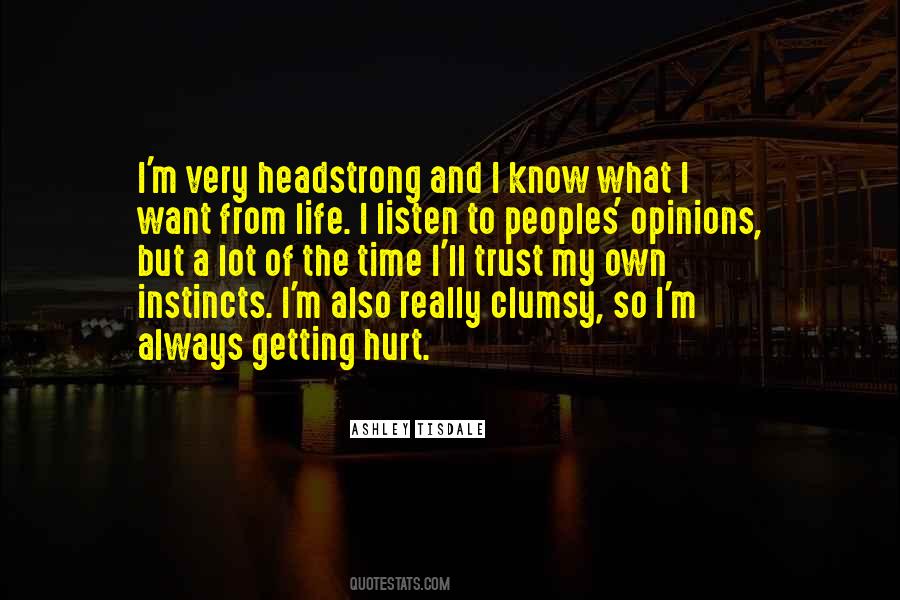 #70. My river of words and her silence seemed to demonstrate that my life was splendid but uneventful, which left me time to write to her every day, while hers was dark but full - Author: Elena Ferrante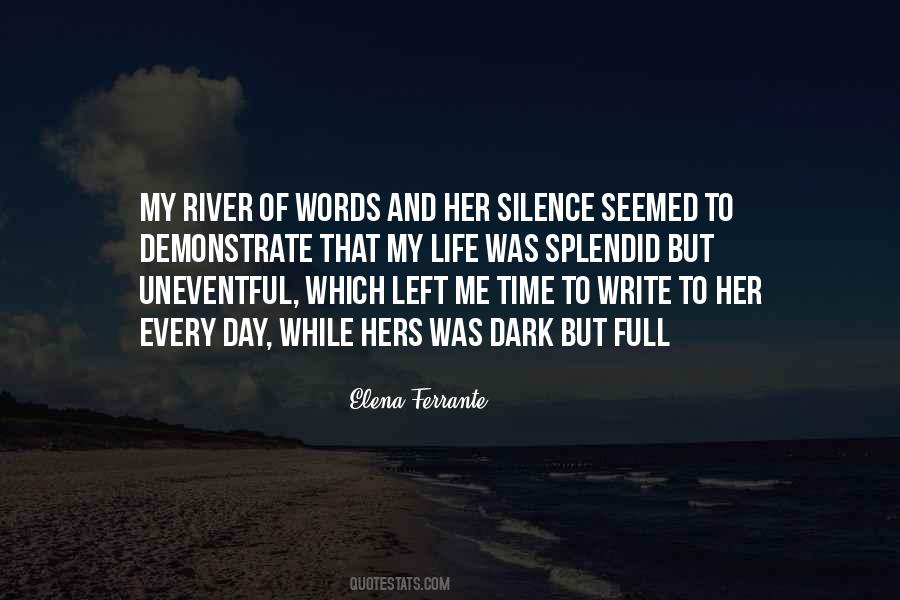 #71. When it is mid week, pause and ponder! The very single days we disregard are what become the very years we wished to have used effectively and efficiently. If we disregard today, we shall remember our had I know tomorrow. Time changes therefore think of the changing times. - Author: Ernest Agyemang Yeboah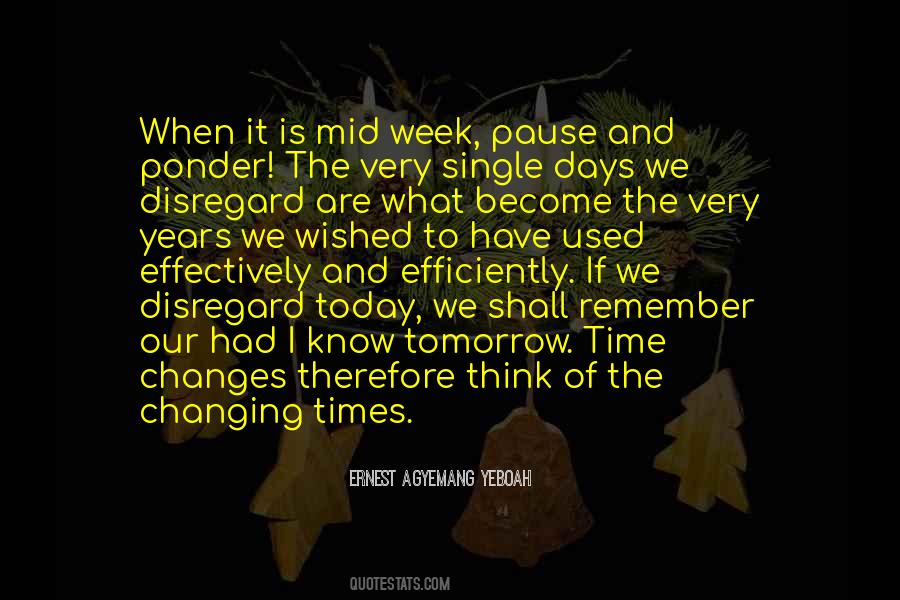 #72. I love life, man, and I embrace every minute of it so maybe I bring that on the set. I love people and I want to have a good time. - Author: John Leguizamo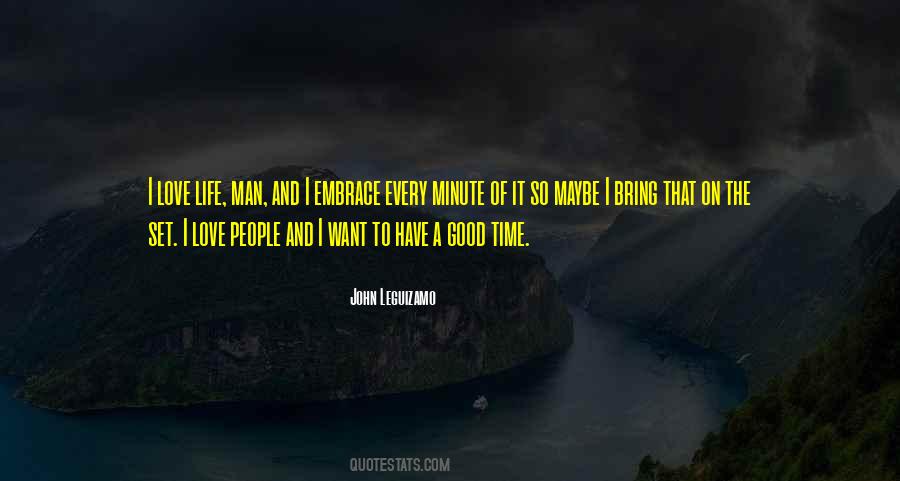 #73. She had kept well behind the safety barrier her entire life, but now she was standing there at the edge of the precipice for the very first time, fumbling blindly with the realization that there were other ways to live, at how intense and rich life could be. - Author: Katarina Bivald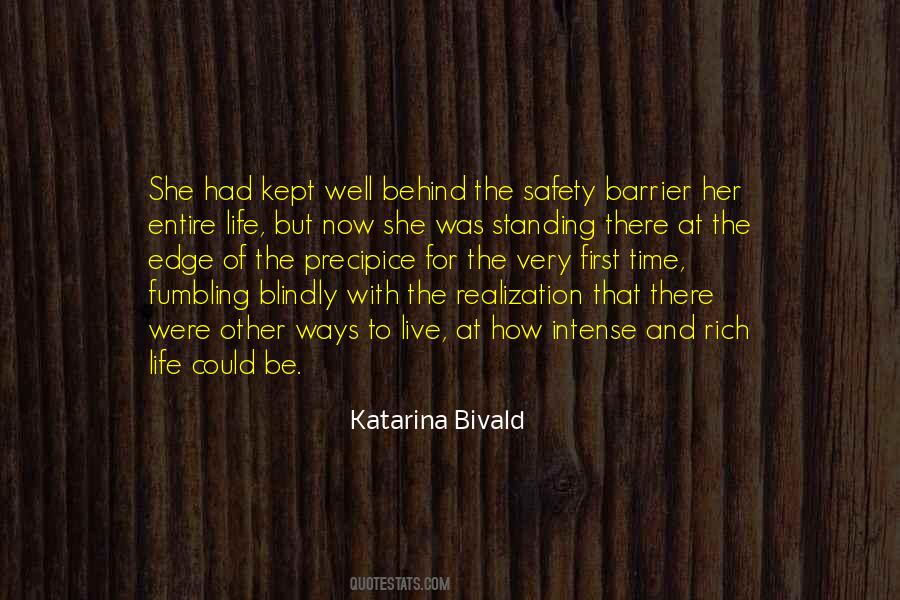 #74. He'd made her laugh and smile. He'd made her feel beautiful.
For the first time in her life.
For the only time in her life. - Author: Sarah MacLean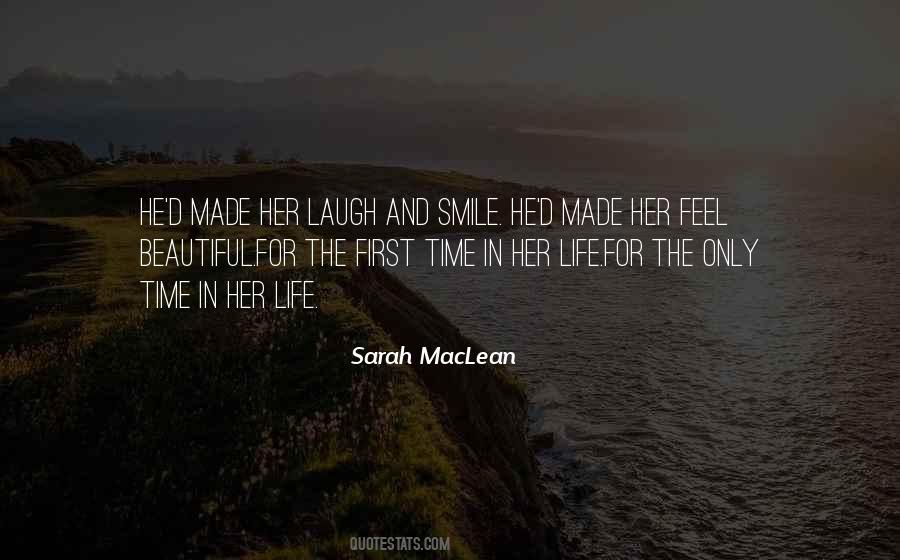 #75. Women call me all the time and tell me, 'You inspired me to get out of a bad situation,' or 'You inspired me to take the reigns for myself and go and do this.' I try to tell people to live their best life, and do what you know you need to do for yourself and your family. You need to be supported. - Author: Kimora Lee Simmons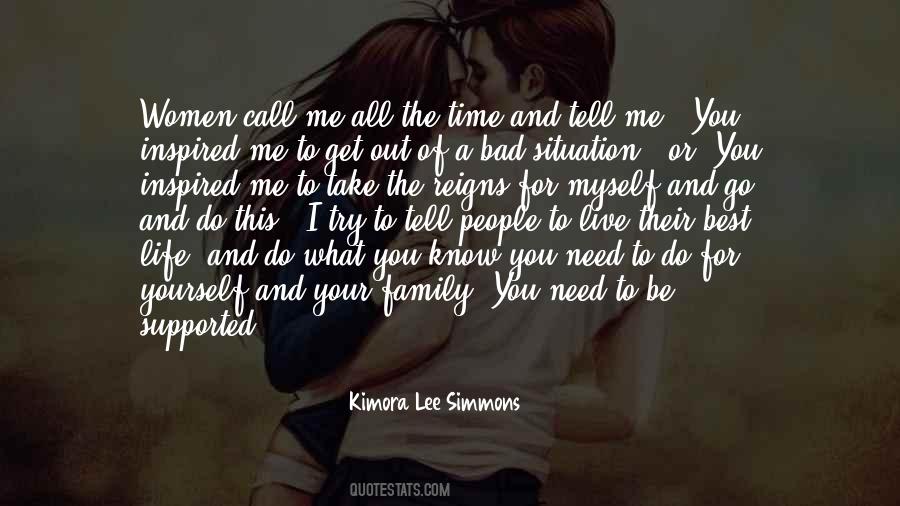 #76. Life is short and information endless: nobody has time for everything - Author: Aldous Huxley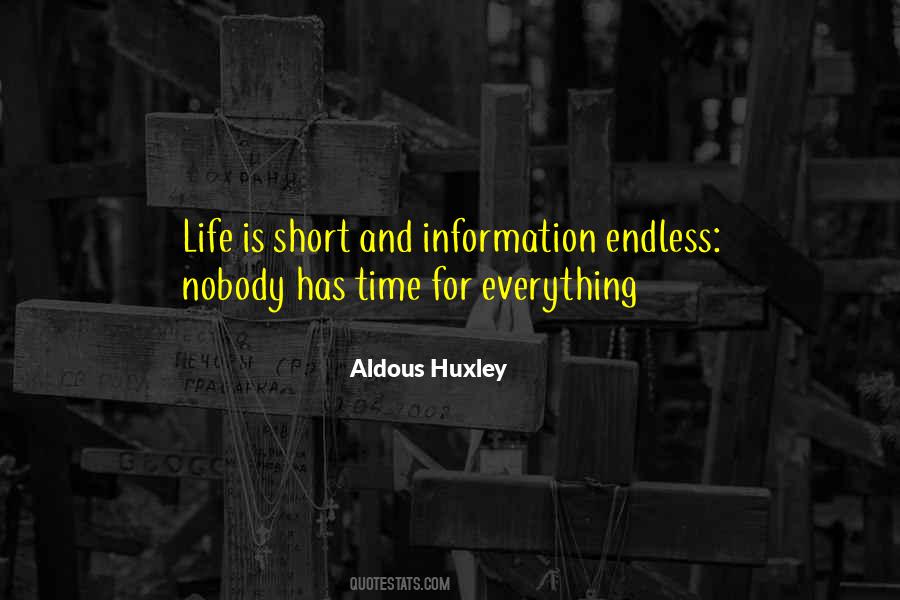 #77. But there's not enough time in life to go sit at a party, have a drink, and make idle conversation. There's too many important things to do. Just being together with my husband, spending time alone, which I have very little of. - Author: Pia Zadora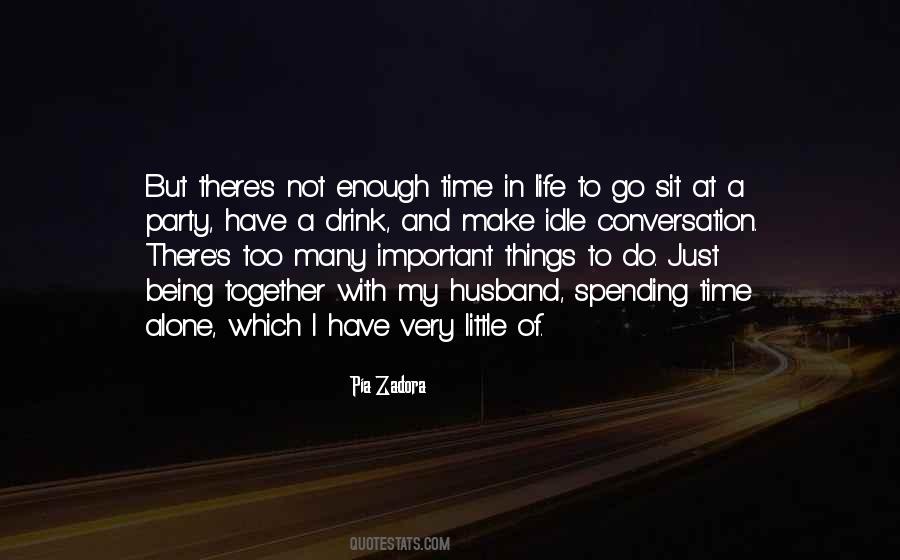 #78. All the light was now coming from the East; and it looked breathtakingly new. In a very short time, everything was nationalized, from banks to factories, from pharmacies to little distilleries. - Author: Teodor Flonta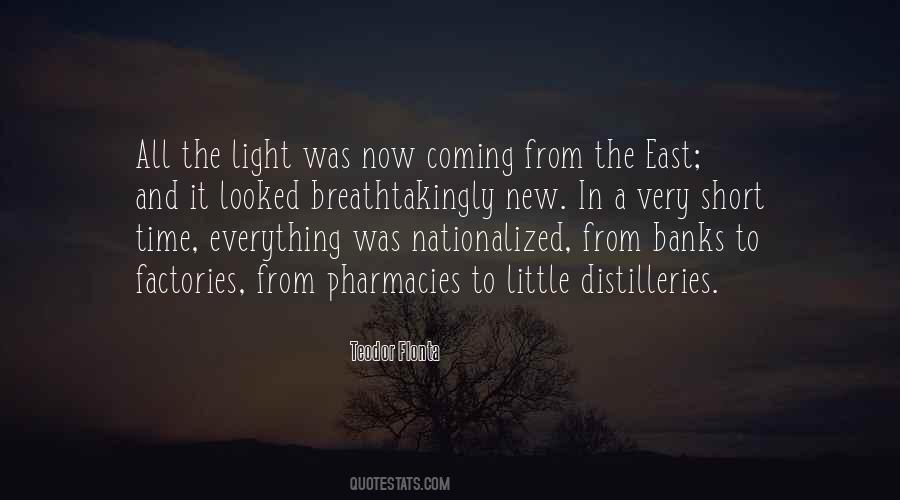 #79. He was a typical workaholic, driven to succeed and willing to put in the hours to do so. It didn't leave much time for a social life. (Greg) - Author: Lynsay Sands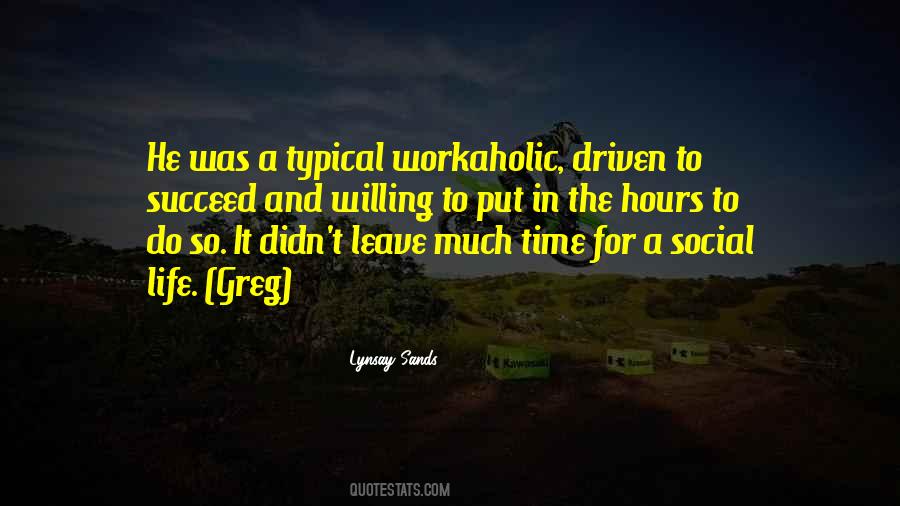 #80. I have no regrets in my life, but this. That we did not have time. That I did not have time with you, Nesta. I will find you in the next world - the next life. And we will have that time. I promise. - Author: Sarah J. Maas
#81. When life was worrying about a car payment or a rent payment and a bill, you're so consumed with that, you really don't have time to know yourself. That's surviving and getting by. - Author: Fred Durst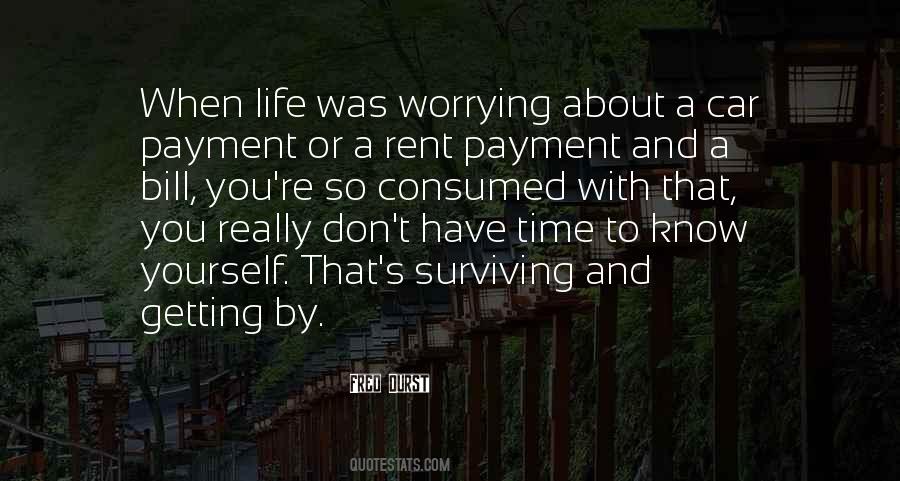 #82. In a day and age when, unfortunately, so few write letters or keep a diary any longer, the Wright Papers stand as a striking reminder of a time when that was not the way and of the immense value such writings can have in bringing history to life. - Author: David McCullough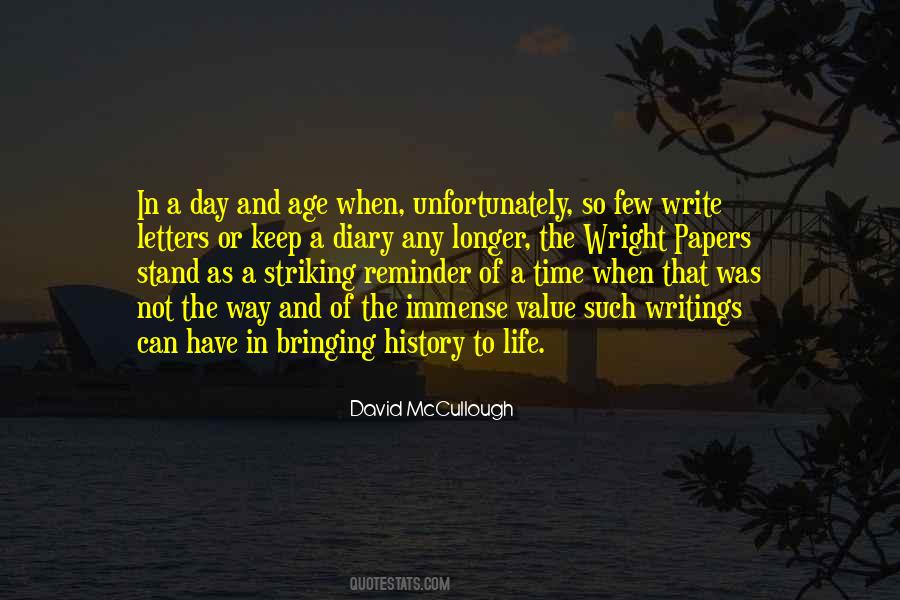 #83. In studying ourselves, we find the harmony that is our total existence. We do not make harmony. We do not achieve it or gain it. It is there all the time. Here we are, in the midst of this perfect way, and our practice is simply to realize it and then to actualize it in our everyday life. - Author: John Daishin Buksbazen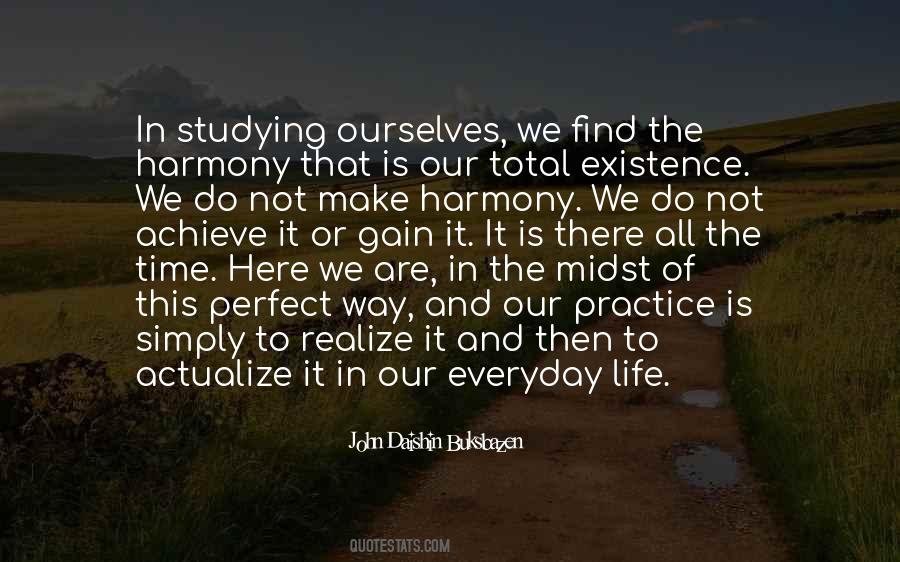 #84. The timeless in you is aware of life's timelessness. And knows that yesterday is but today's memory and tomorrow is today's dream. - Author: Kahlil Gibran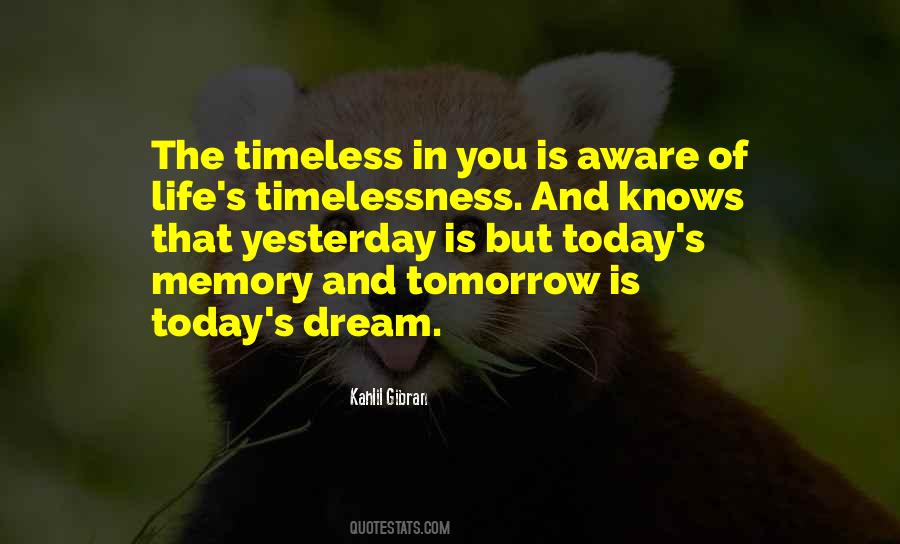 #85. Brod's life was a slow realisation that the world was not for her, and that for whatever reason, she would never be happy and honest at the same time. - Author: Jonathan Safran Foer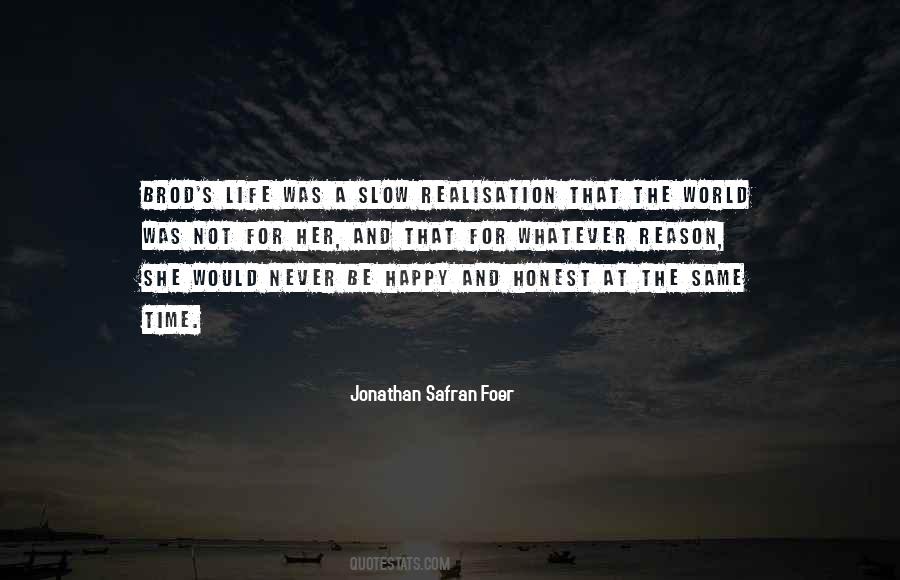 #86. There is a story I always tell my students ... when I came for the 1st time to the US. I didn't speak English (Only Spanish) & I saw on every door the word "exit" which in Spanish means Success = Exito. And then I said :"No wonder Americans are winners ,every door they open leads to success - Author: Pablo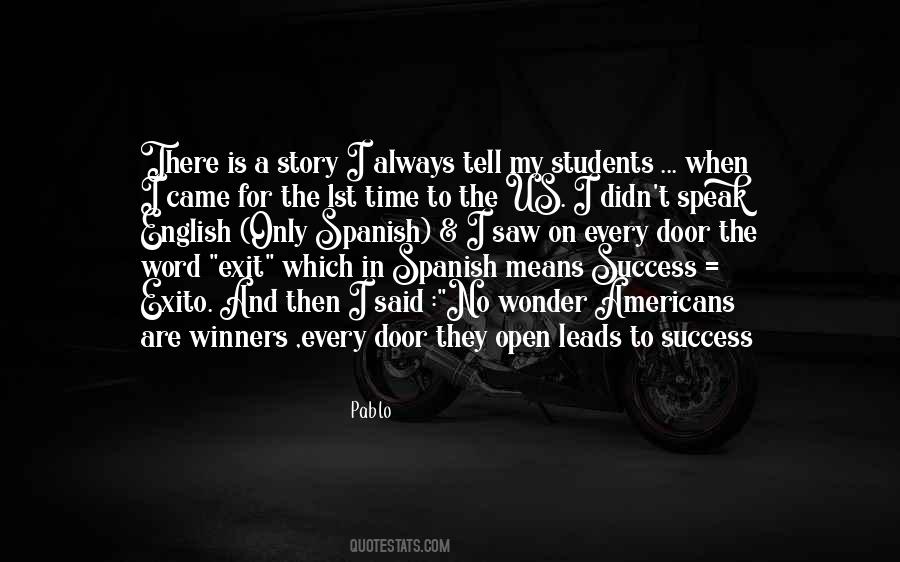 #87. When you fall in love for the first time, you're naive to every feeling that you're feeling, and you're almost obsessed with or addicted to that person. Your life is consumed by them, and everything you want to do revolves around them. I think it's great. - Author: Alex Pettyfer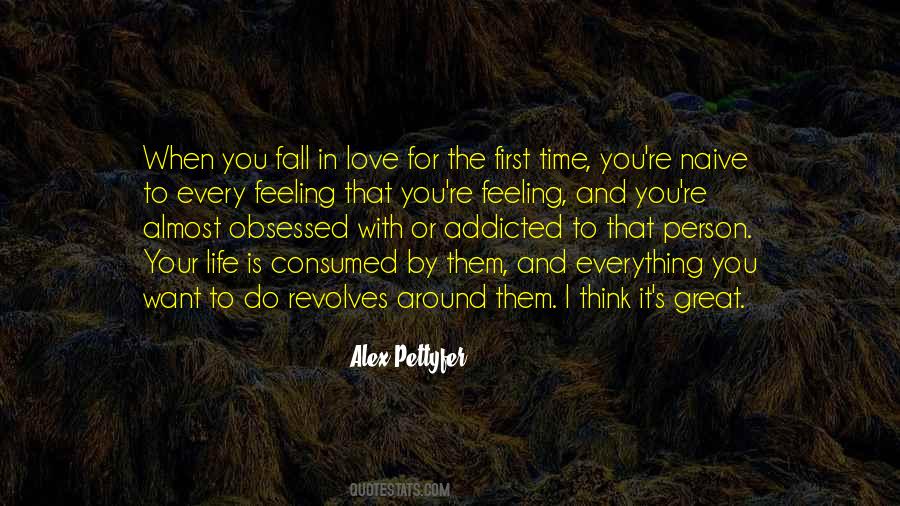 #88. Love isn't all rainbows and unicorns all the
time. And neither is life. Sometimes life is really
freaking hard. - Author: J. Sterling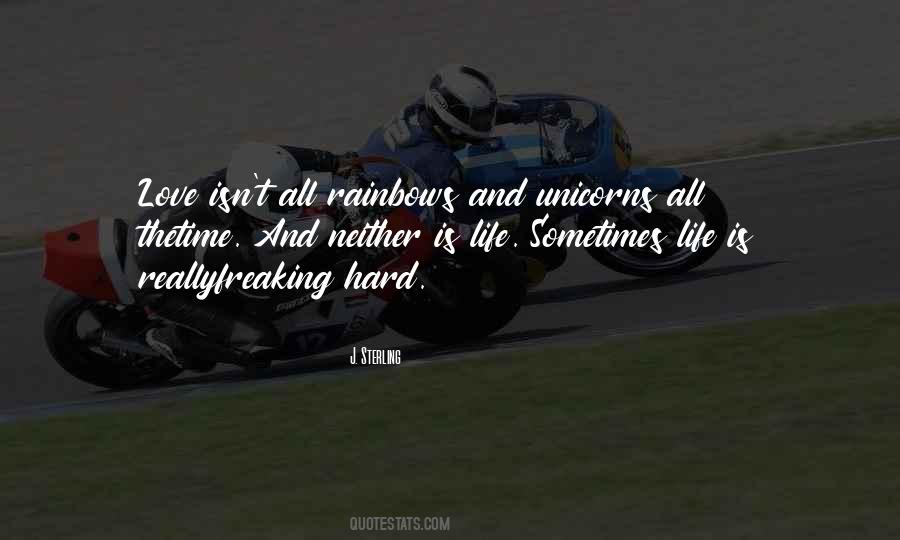 #89. The best adventures in life is in the present. Seize the present and make it great adventure. - Author: Lailah Gifty Akita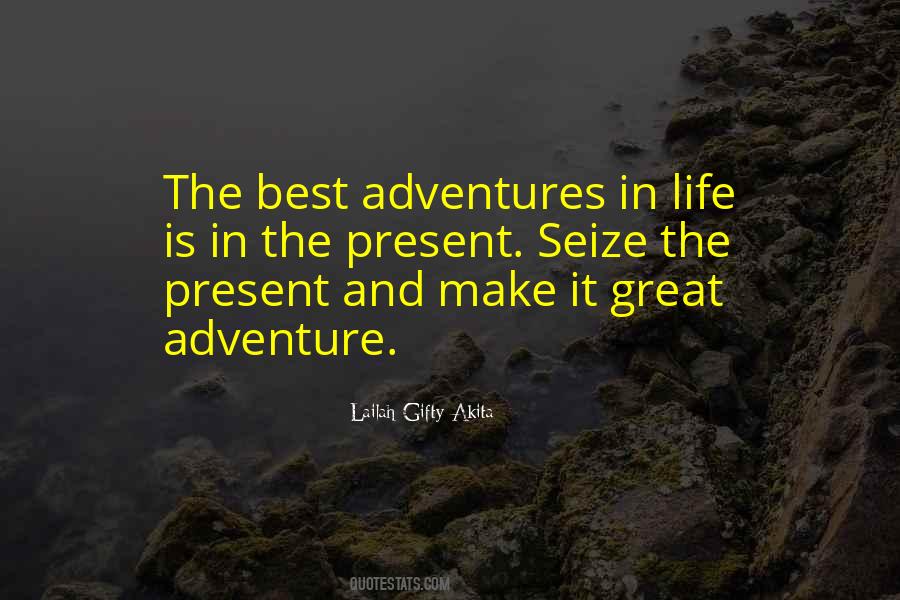 #90. We dedicate most of the time worrying about our deficiencies and self-criticism instead of concentrating on our goals and believing in our destination - Author: Sunday Adelaja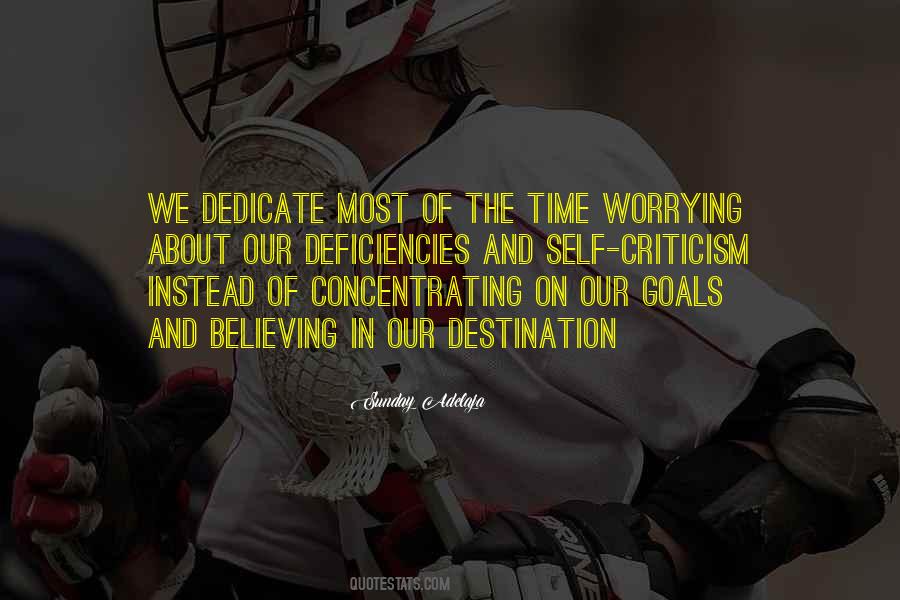 #91. Keep travelling. You will discover new paths and new places. - Author: Lailah Gifty Akita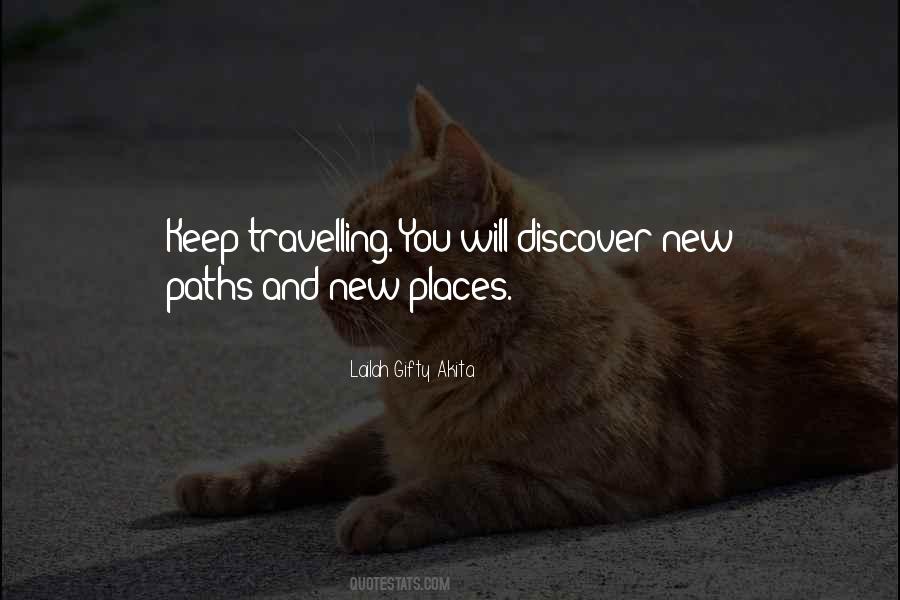 #92. Anything can happen to anyone at any time and you shouldn't just live through the days, or you lose them. You should do what you can to enjoy every moment. - Author: Sarah Brightman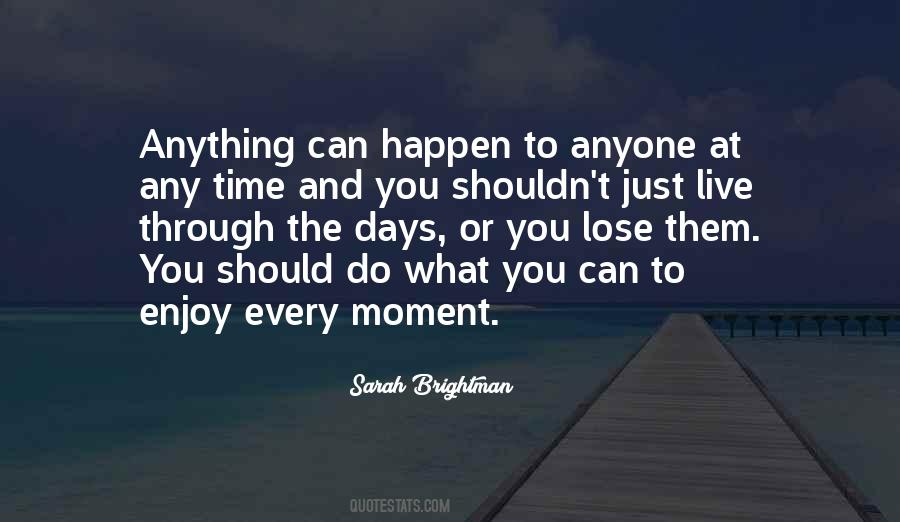 #93. I spend all my time trying to keep thoughts away and ignore them ... But here you are, trying to remember your own life, writing your thoughts down so that you don't forget. I suddenly realized what it would be like not to know, not to remember. - Author: Michael Scott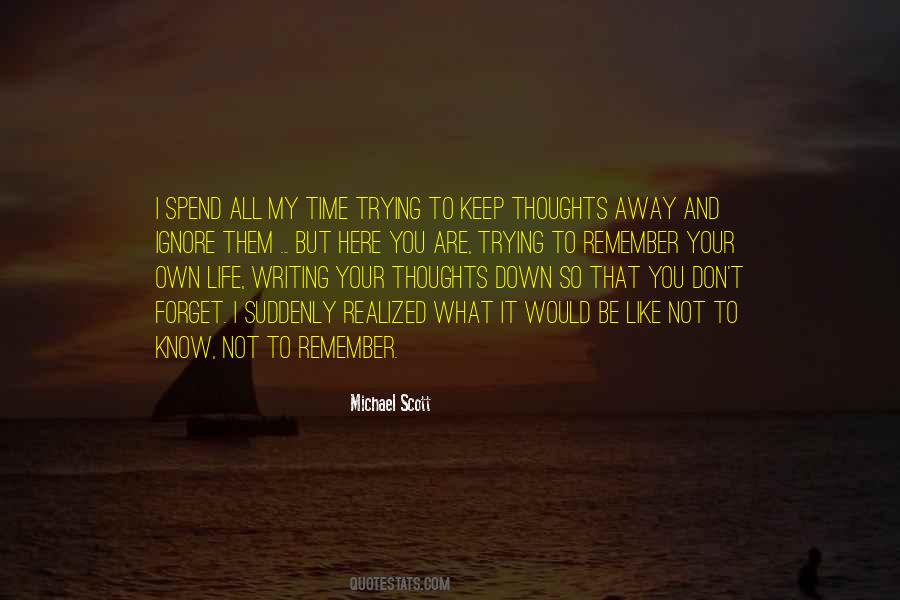 #94. In life, one is entitled to a side dish of either coleslaw or potato salad, and the choice must be made in terror, with the knowledge that not only is our time on earth limited but most kitchens close at ten. - Author: Woody Allen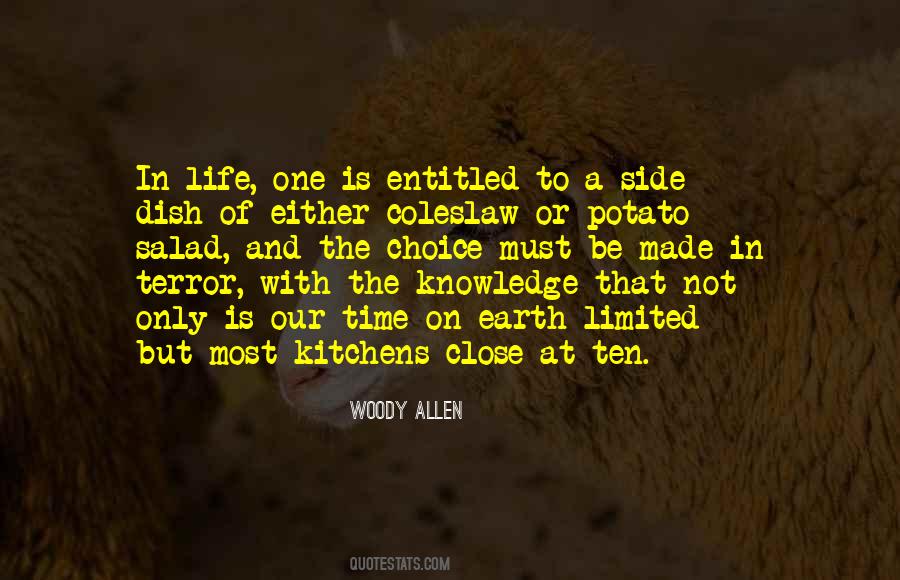 #95. Any time I sit down at my laptop to write and I'm feeling lazy, or that I can't be bothered, or if I'm generally just lacking inspiration, I sit there and remember life with my ex-wife, and the words flow from my fingertips. - Author: Shane K.P. O'Neill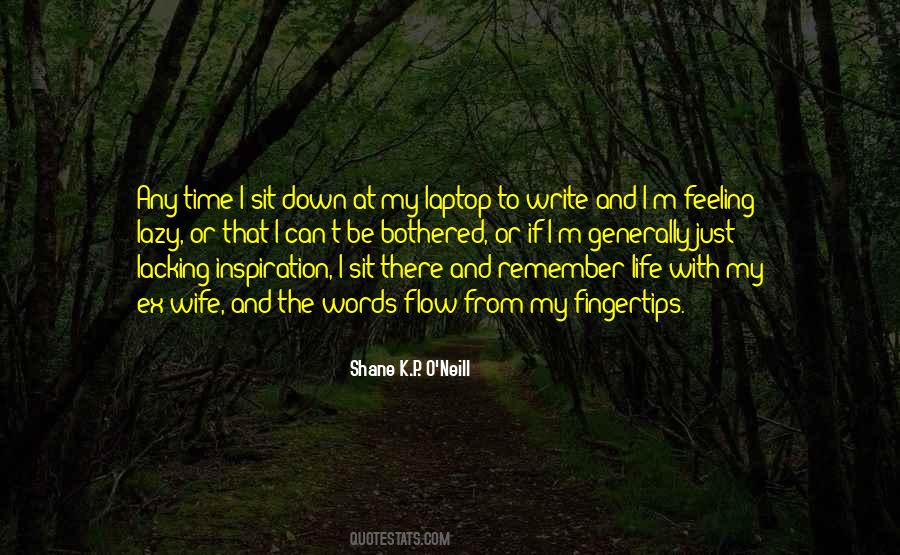 #96. Depression and hopelessness are not the only reasons terminally ill patients wish to end their lives. Many individuals see nothing undignified about choosing to end their lives at the time and manner of their choosing - and many view such a choice as the meaningful culmination of a good life. - Author: Jacob M. Appel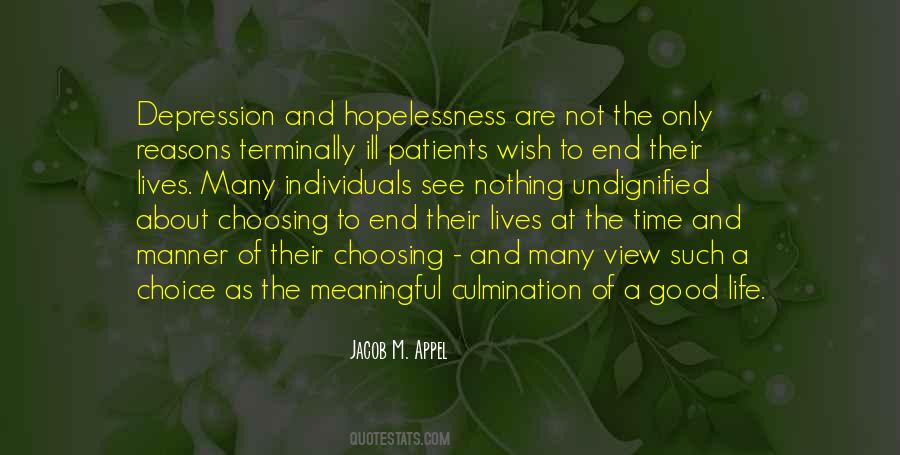 #97. Always be intentional and purposeful in life - Author: Sunday Adelaja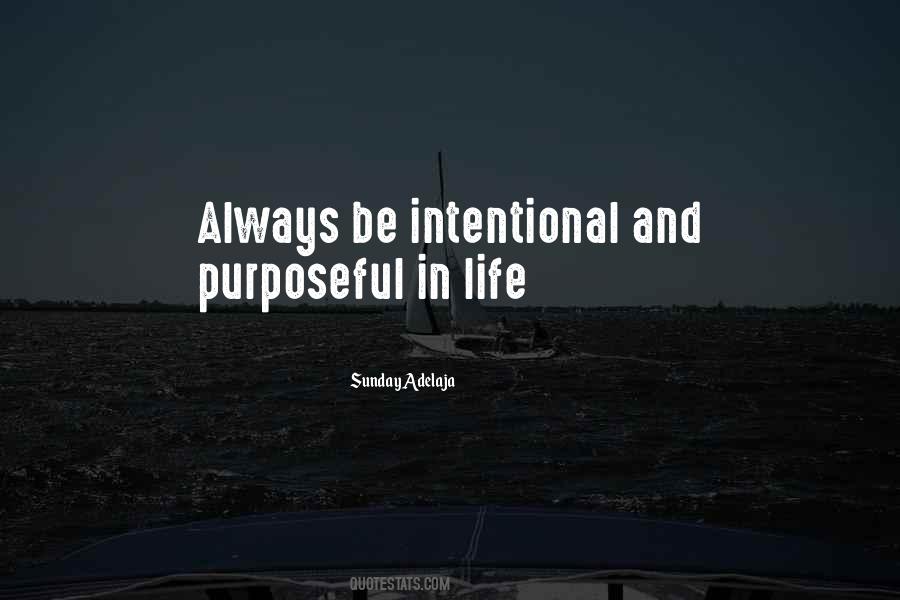 #98. Youth is a frame of mind. If you get out there and enjoy it, you can have it at any time of your life. - Author: Kenny Rogers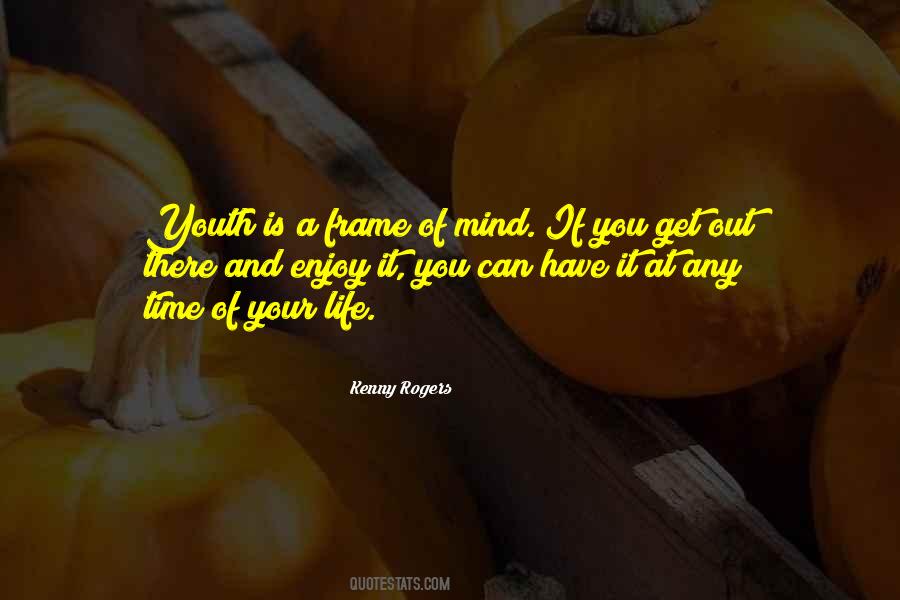 #99. Now I'm having the time of my life being on the road with one of the world's all-time great big bands, and performing with symphonies. I wouldn't trade it for anything. - Author: Doc Severinsen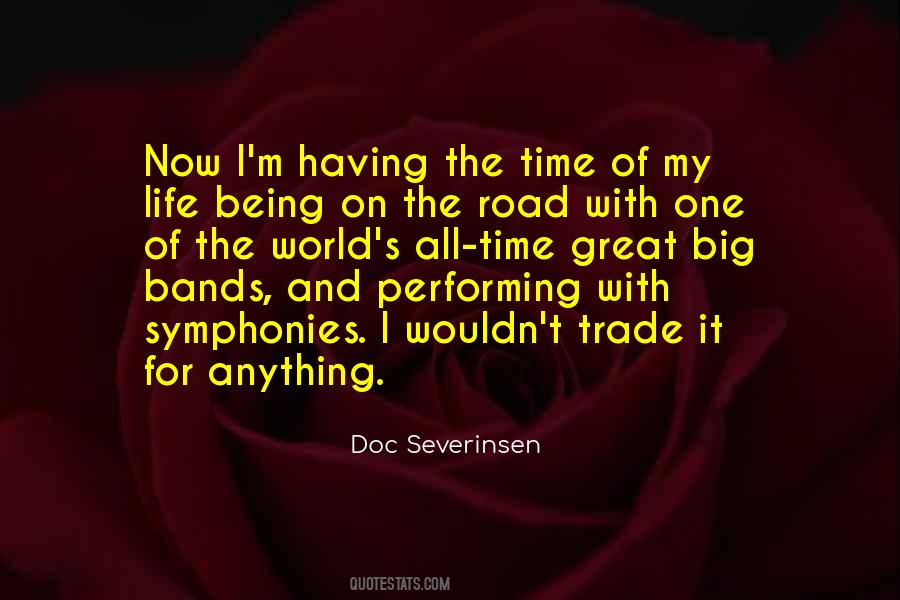 #100. Life is never as long as we want it to be, and wasted time can never be recovered. - Author: J.D. Robb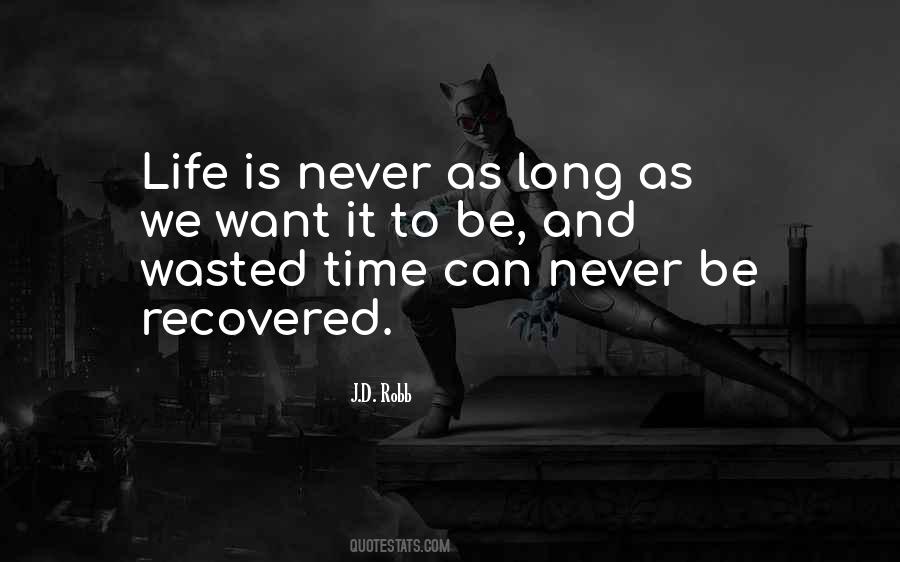 Famous Authors
Popular Topics