Think Too Much Famous Quotes & Sayings
List of top 100 famous quotes and sayings about think too much to read and share with friends on your Facebook, Twitter, blogs.
Top 100 Quotes About Think Too Much
#1. I'm not sure anybody's ready to see me in a drama. And loving movies so much, I've seen a lot of comics try to make that transition too fast, and it can be detrimental. And I don't think I've had as much success as I need in the comedy genre to open up those opportunities. - Author: Seann William Scott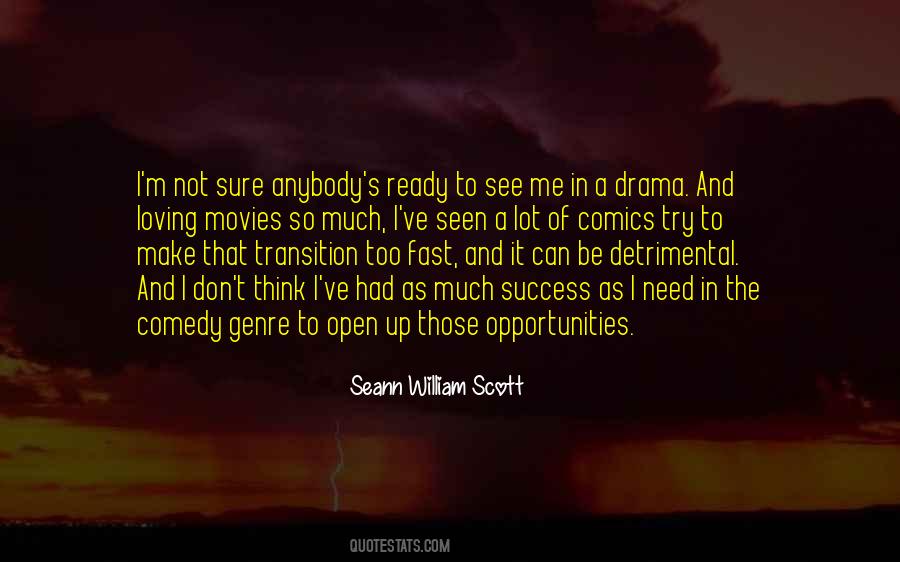 #2. I find, surprisingly, that actors are liberated in their work if there's stuff going on around them, because they can't think too much about who they're supposed to be. - Author: Michel Gondry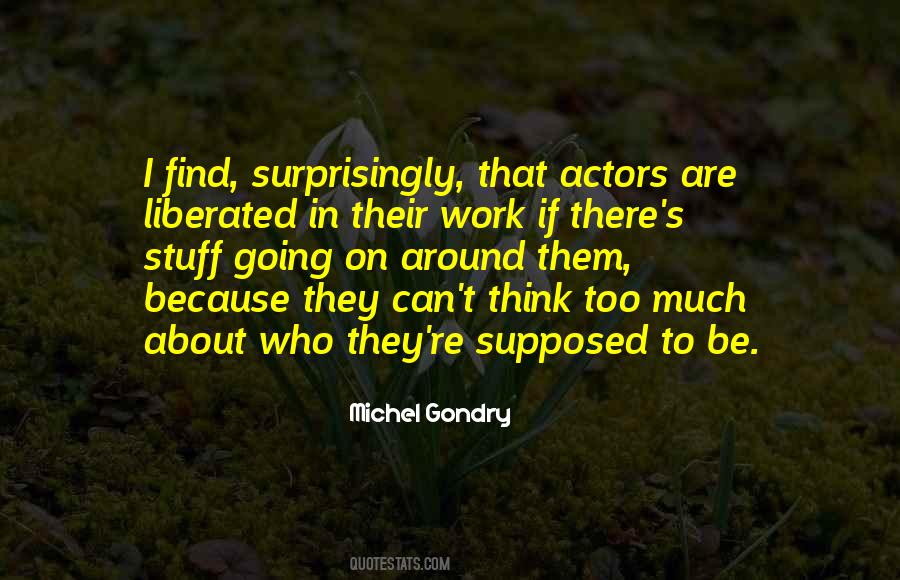 #3. I never think too hard about a look. When you consider an outfit too much, that's when it goes wrong. - Author: Rita Ora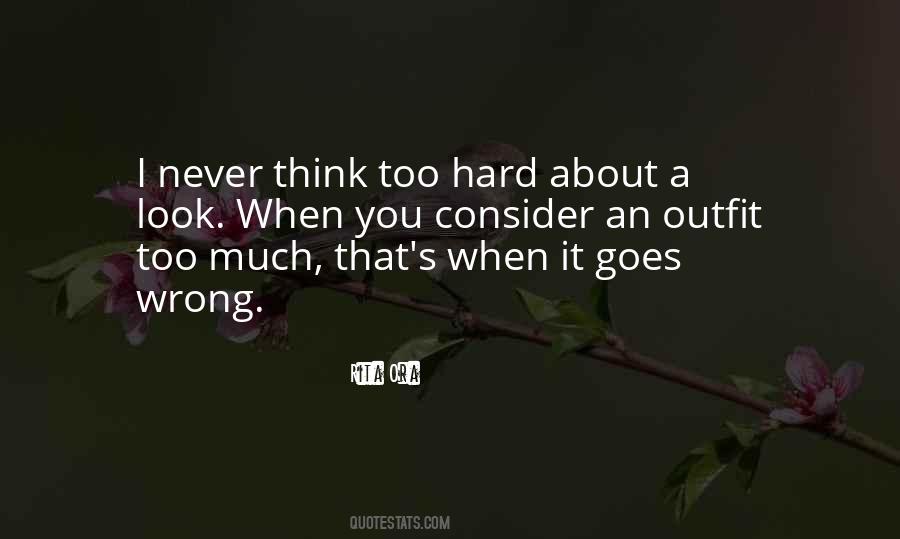 #4. Tennis can be a grind and there's always the danger of going stale if you think about it too much. You can get embittered if you train too hard and have nothing else on your mind. You have to be able to relax between matches and between tournaments. - Author: Maureen Connolly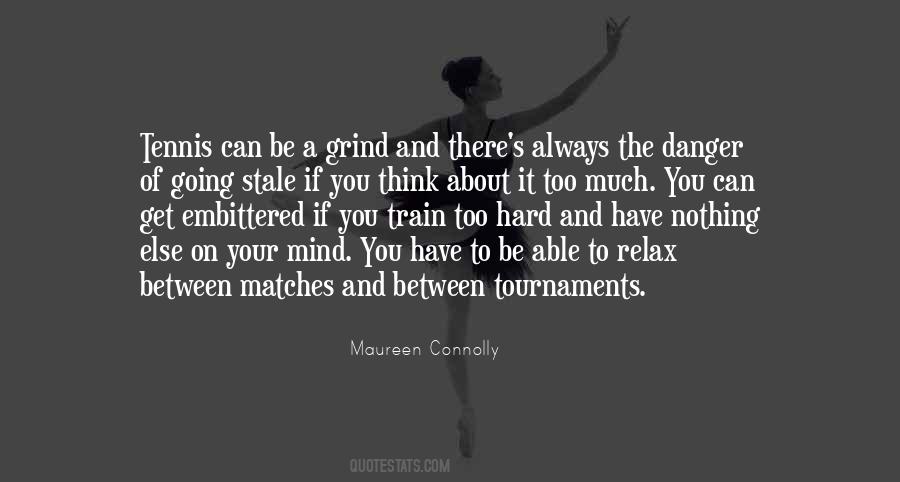 #5. For being a young guy, I'm articulate and can hold a decent conversation with somebody. But I've been able to do that since I was young. I don't think that has to do too much with schooling, it has more to do with the people I was raised around, my parents. I have respect for adults. - Author: Larry Fitzgerald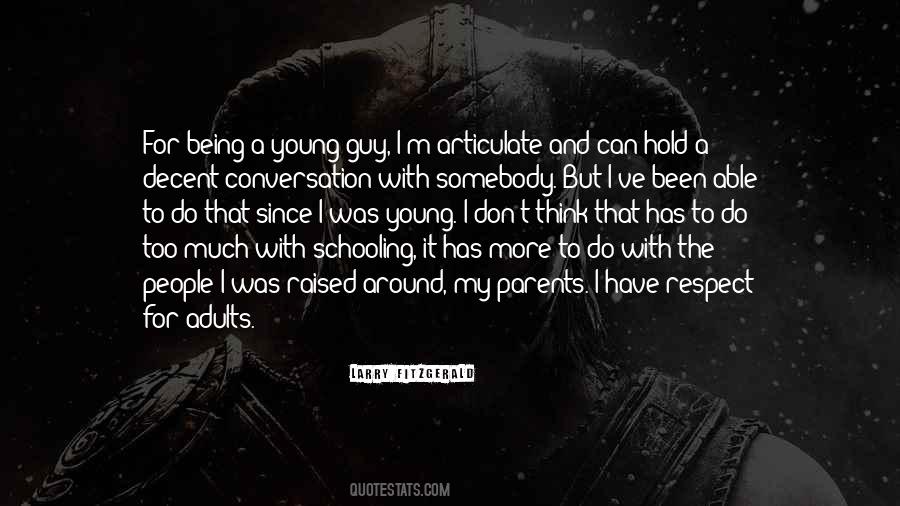 #6. I just wanted to fit in, so probably early on I knew, but it was ... social life was such a distant part of my existence when I was in school that I didn't even think about it too much. - Author: John Amaechi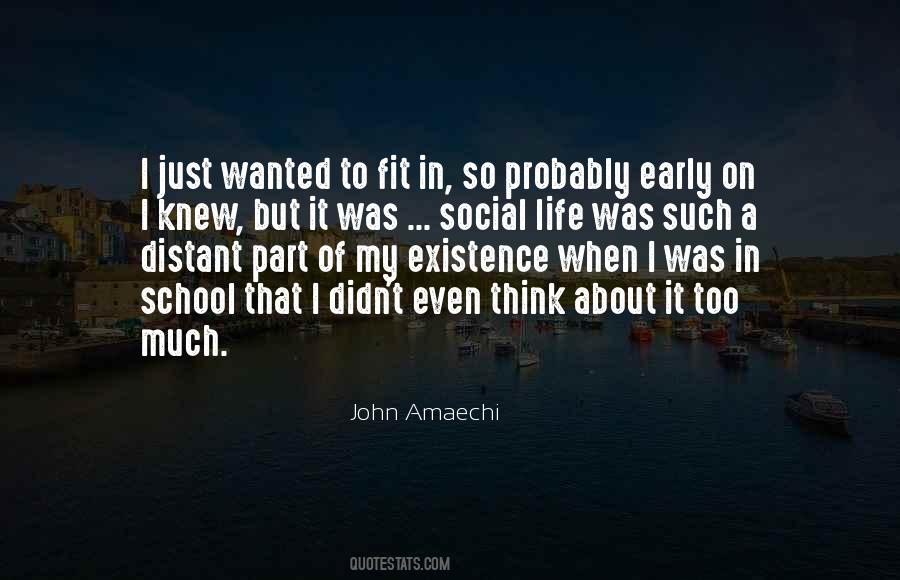 #7. I can't help it, Alexis," he said "I want to make you think too much ... and then I want to hear the things you've been thinking too much. - Author: Katie Alender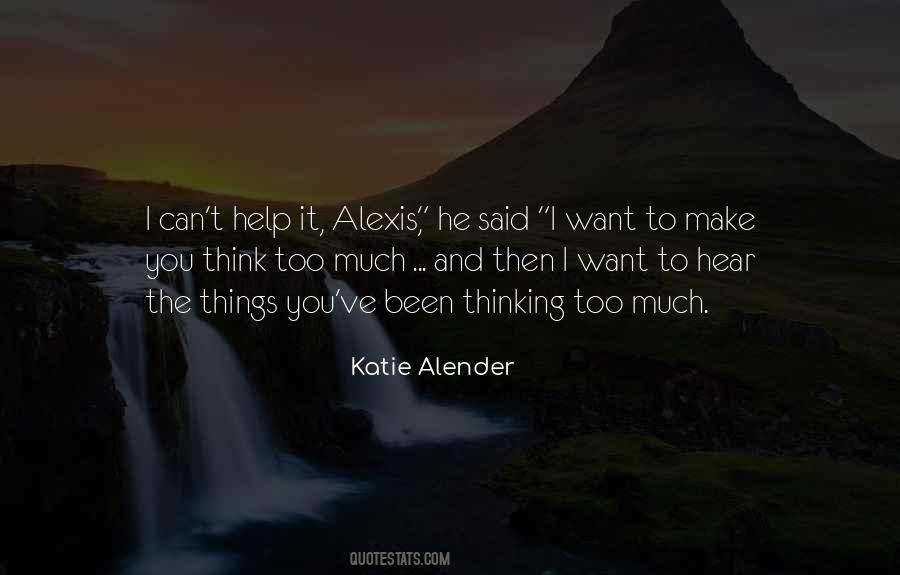 #8. The minute you start to strategize too much, the more you start to think you're in control of your own fate. And you're not, really. - Author: James McAvoy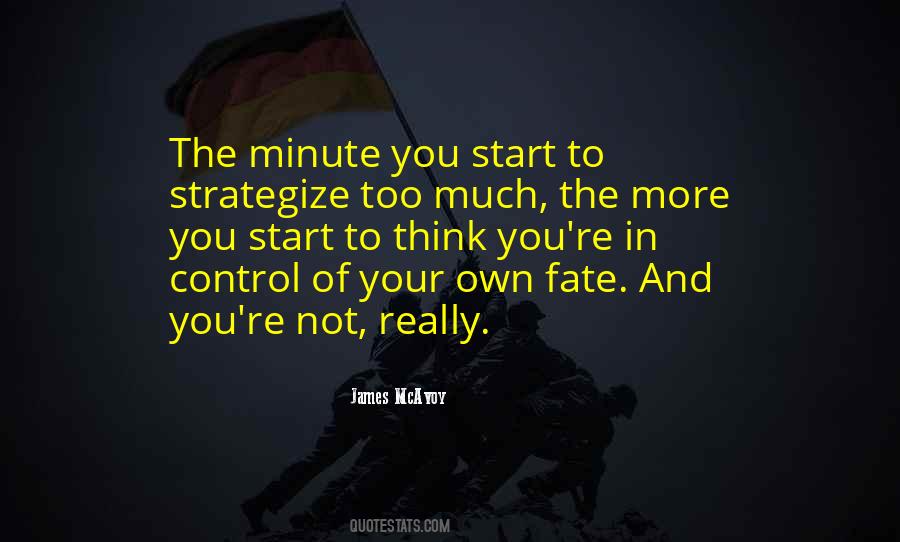 #9. I'm the type of skater that needs to stay upbeat and relaxed, open, because if I stay quiet, I get in my head, and then I start to think too much and start to doubt. - Author: Ashley Wagner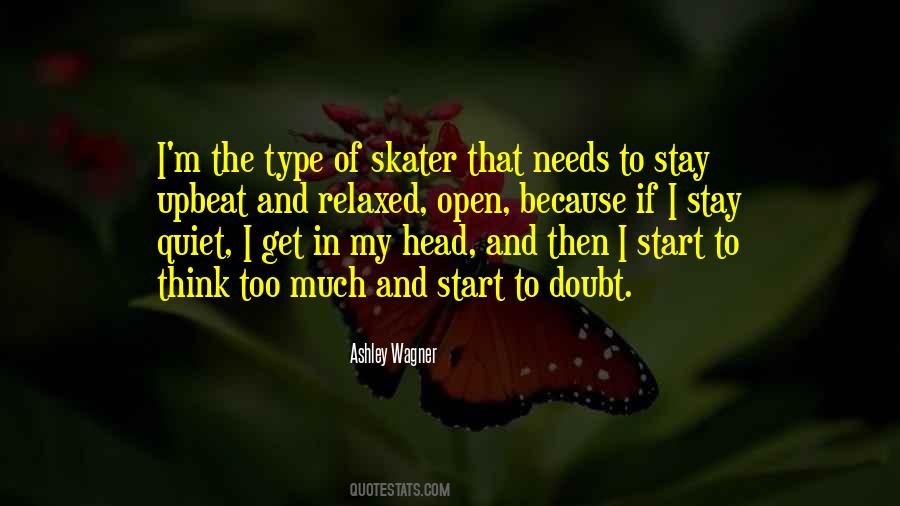 #10. There's too much love in the world. Sometimes I think that's what heaven is
a place where everybody's happy because nobody loves anybody else, ever. - Author: Gregory David Roberts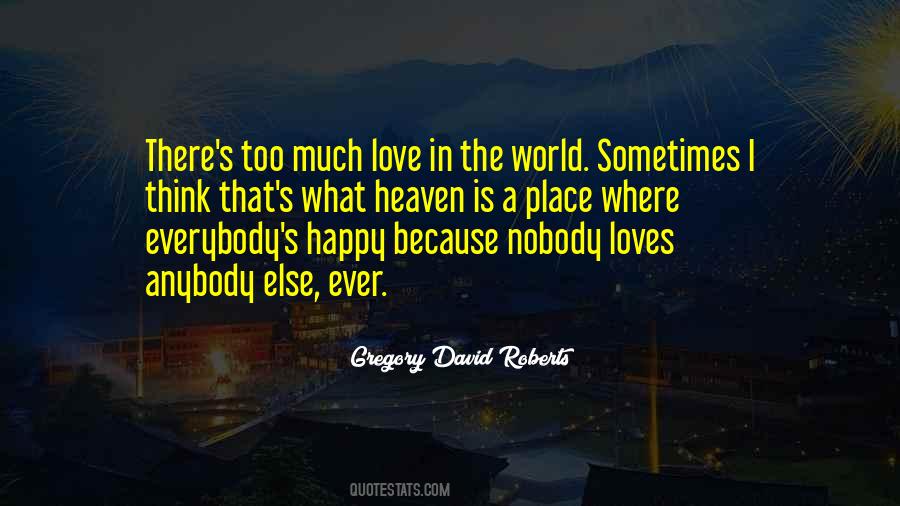 #11. By not caring too much about what people think, I'm able to think for myself and propagate ideas which are very often unpopular. And I succeed. - Author: Albert Ellis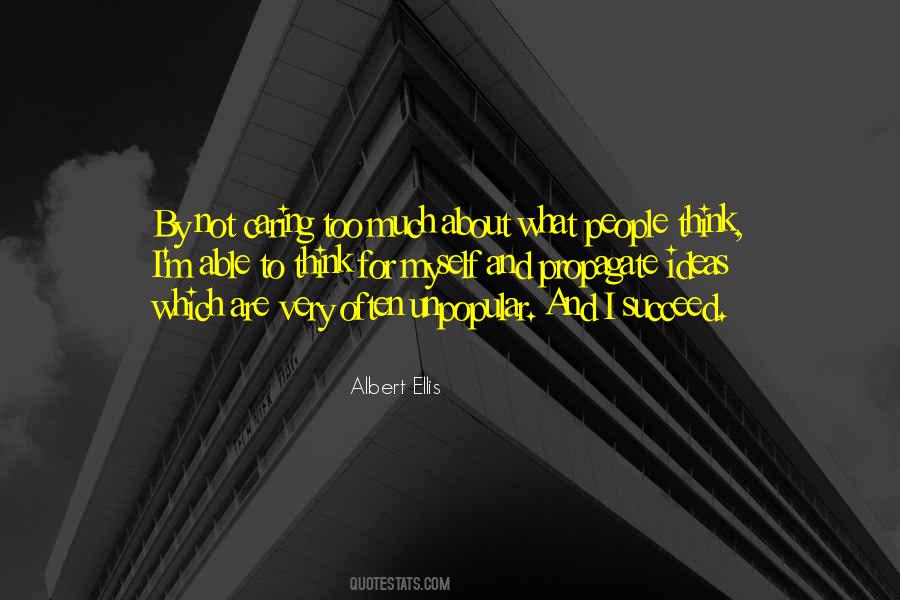 #12. I think that politics could be a positive thing. My beef is that people focus on the personal aspect of a politician too much. They should focus on the results. - Author: LL Cool J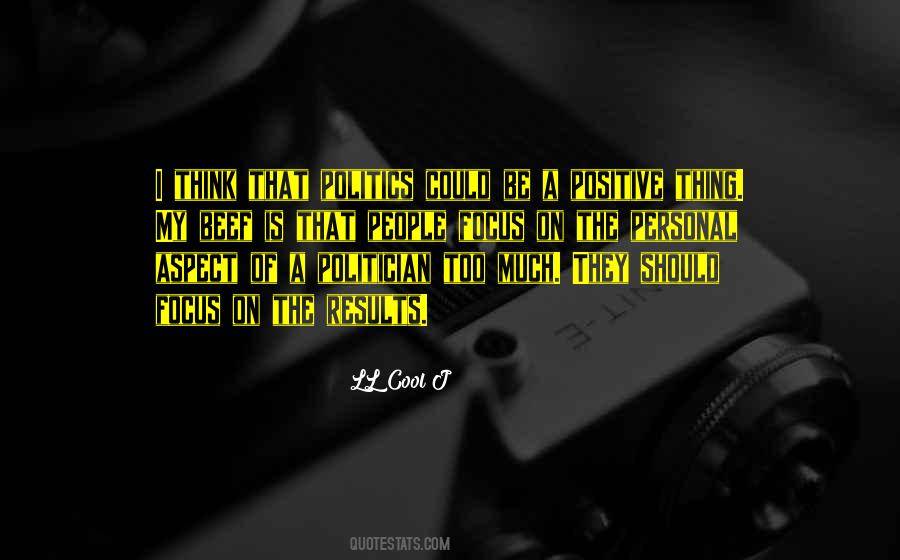 #13. I can't listen to so much music at the same time. I think you really have to have a diet. You're just processing too much, there's no place to put it. If you go a long time without hearing music, then you hear music that nobody else hears. - Author: Tom Waits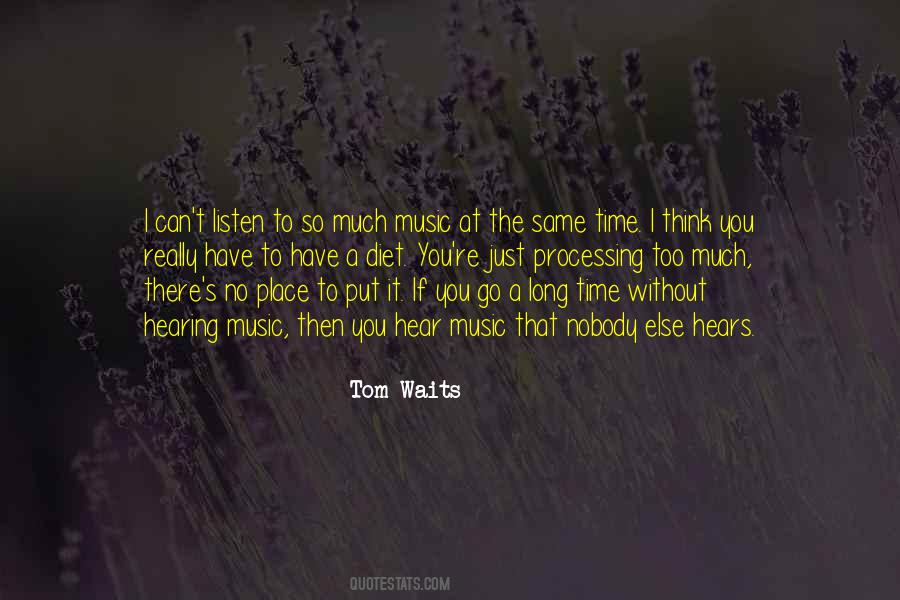 #14. Most of our fans seem to be very intelligent people who don't stand out too much, but they're still total freaks. I like that - they're smart and sadistic, which I think is a reflection at us. - Author: Gene Ween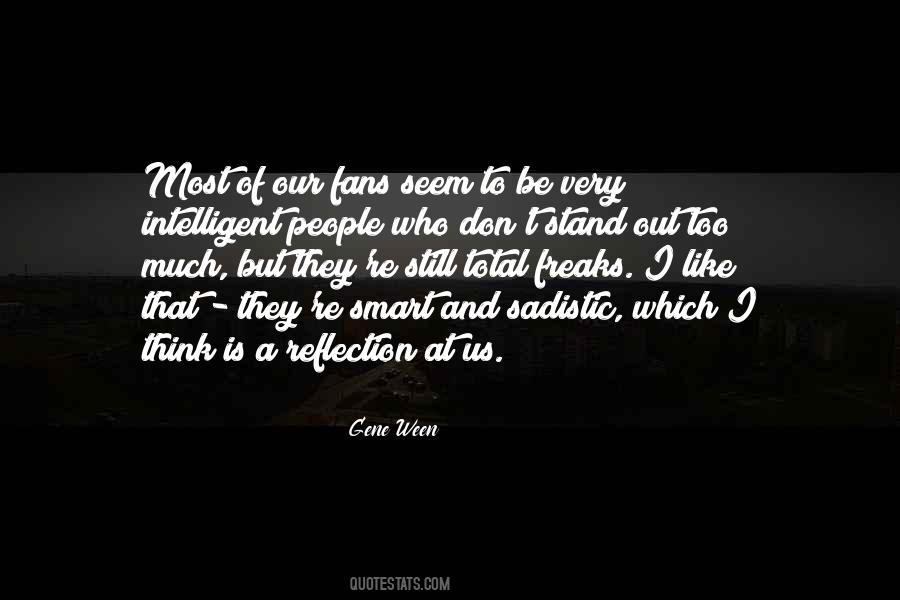 #15. Take some more advice from Dr. Micah. Don't give women too much time to think. It never ends up good for either of you. - Author: Melissa Schroeder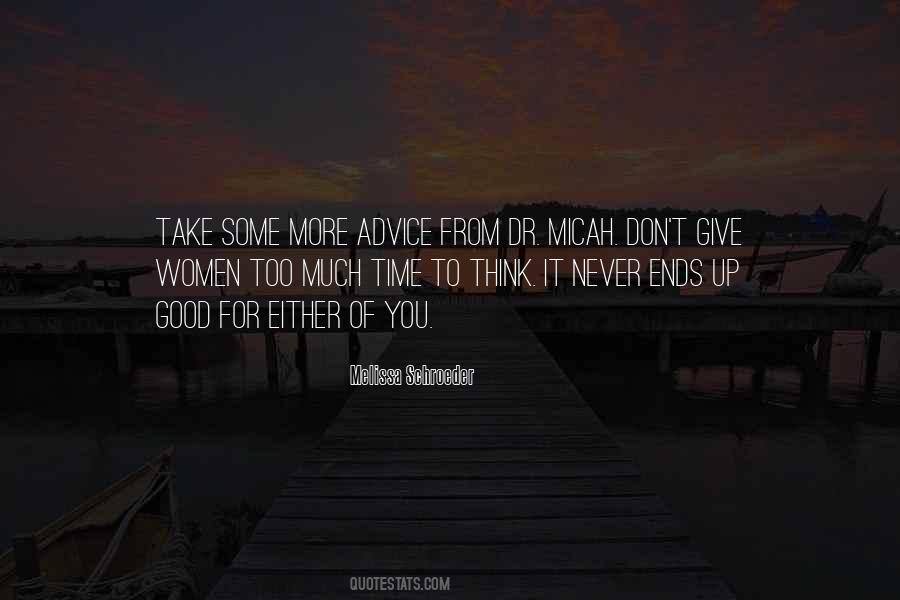 #16. You can never have too much coffee", I said
He turned and smiled at me. "You think so, but the rest of us get a little OD'ed on your level of caffeine. - Author: Laurell K. Hamilton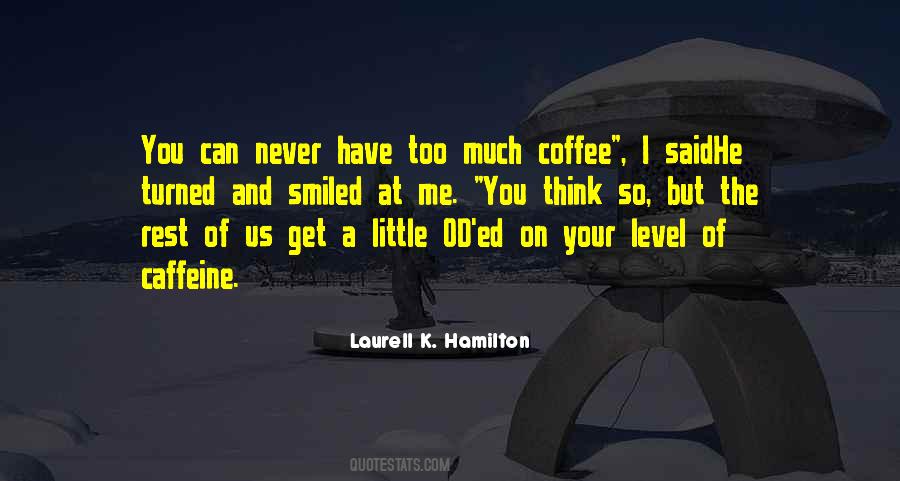 #17. I never - when I go into a project, I don't think too much about if there's a lot of other sci-fi books out there or horror books or whatever. I just tell the stories I want to tell, and I think that is evident on the page. - Author: Jeff Lemire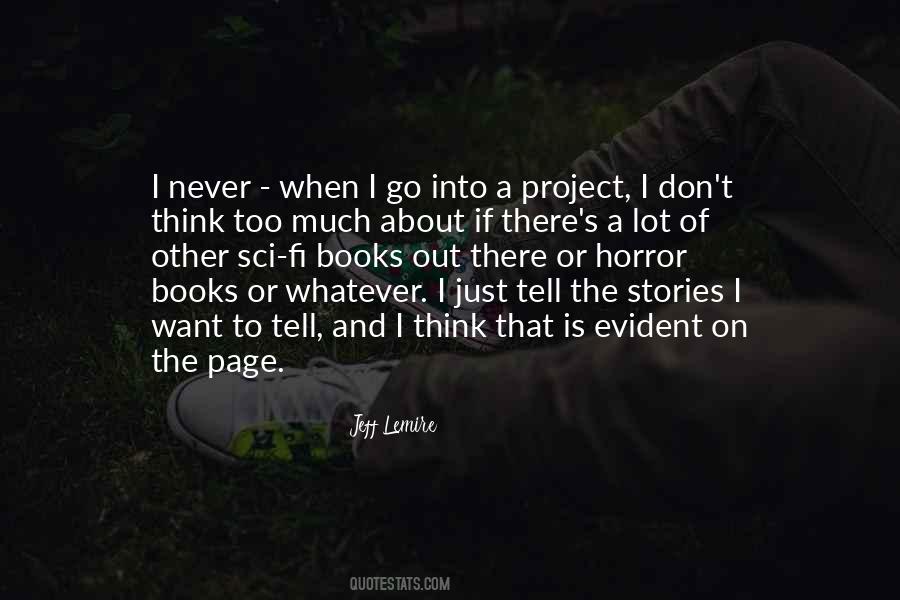 #18. I think Julianne Moore is the most radiantly beautiful human being and isn't messing with nature too much. She seems like a woman who treats her body like a temple. I cannot relate to that! - Author: Mackenzie Davis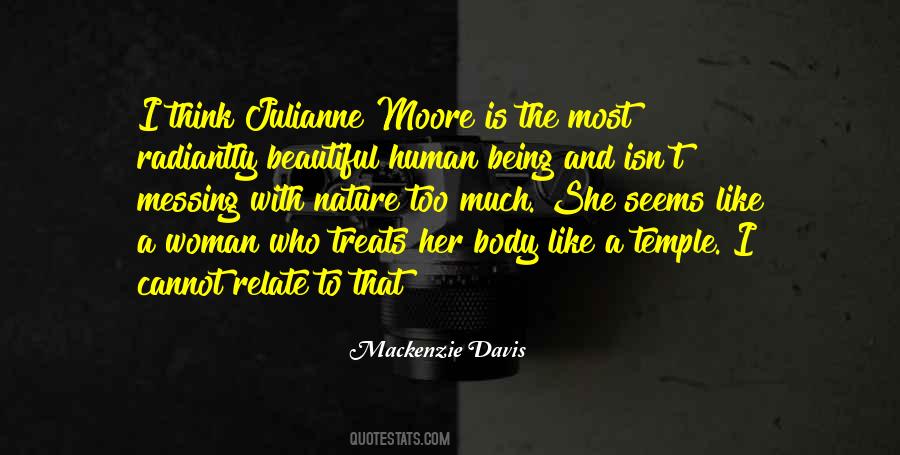 #19. If ordinary people complain that I speak too much of myself, I complain that they do not even think of themselves. - Author: Michel De Montaigne
#20. I do believe in God. I think God has given so much power to people, and intelligence, and said, 'Well, you are on your own. Maybe I'm tired, I need a nap. You are mature. Why don't you look after yourselves?' And I think He's been sleeping too much. - Author: Tracy Kidder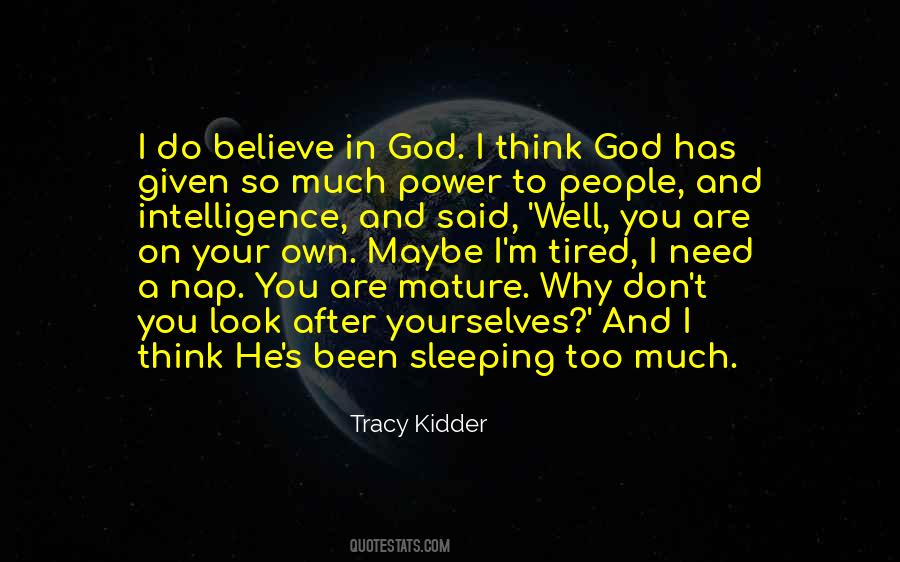 #21. If I stop to think about fans, or best-selling, or not best-selling, or good reviews, or not-good reviews, it just becomes too much. It's like staring at the mirror all day. - Author: Jhumpa Lahiri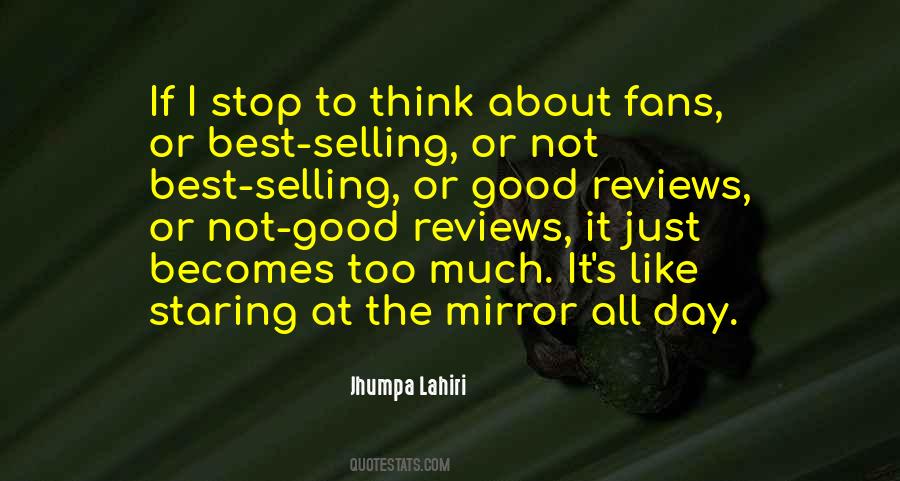 #22. It's a fragile thing,this life we lead if I think too much I can get overwhelmed by the grace by which live our lives with death over our shoulder. - Author: Eddie Vedder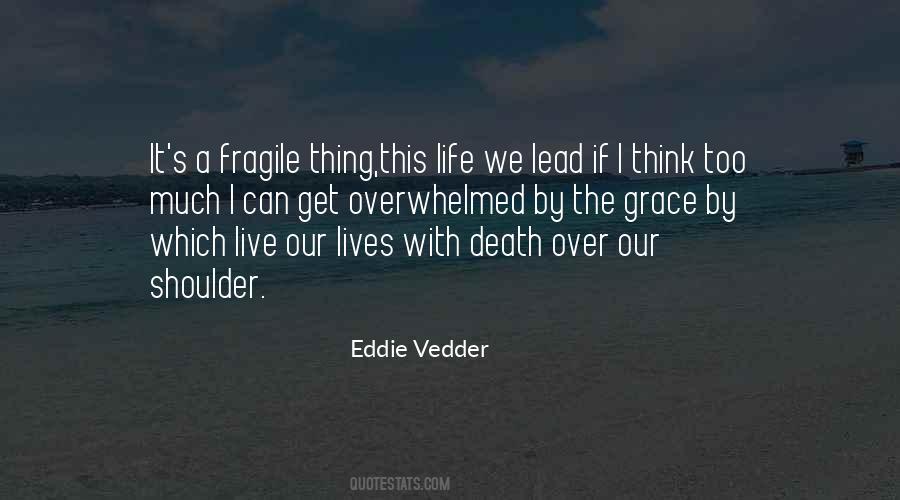 #23. Why the fuck do you think I'm so tired?" I say to her.
"Because you play too much online poker?" she says. - Author: Sarah Noffke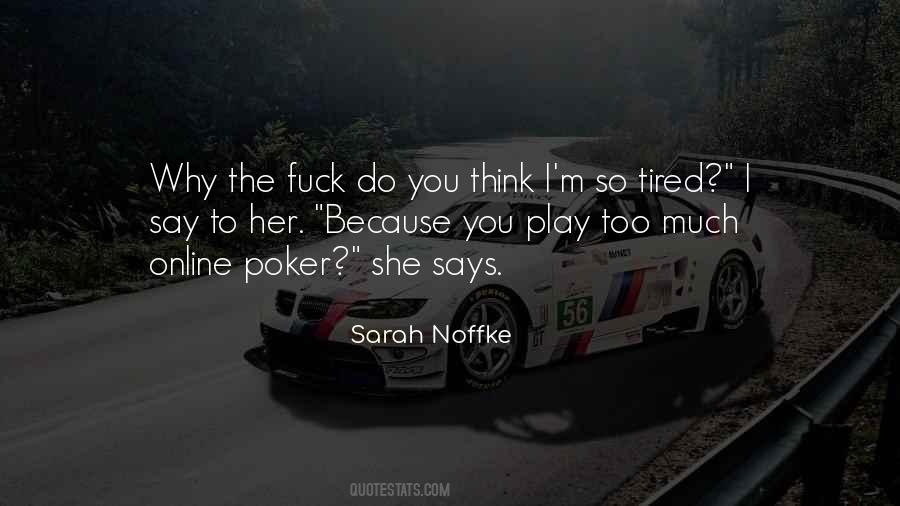 #24. There are things that I would avoid, so I have the choice to say no, when I feel I'm repeating myself too much. But then there could be a reason to do that with a good director. So I think actors have to have a loose philosophy. - Author: Toby Jones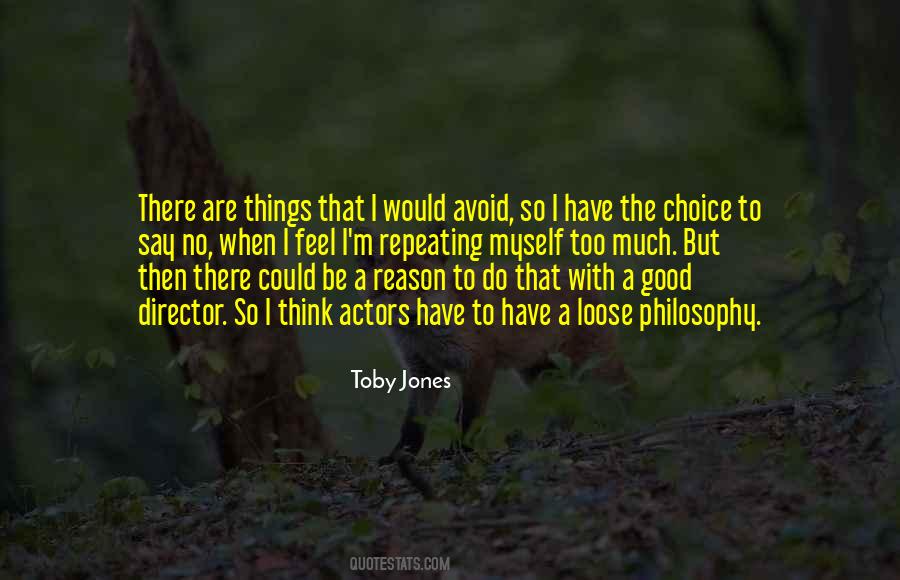 #25. We've pretended too much in our family, Luke, and hidden far too much. I think we're all going to pay a high price for our inability to face the truth. - Author: Pat Conroy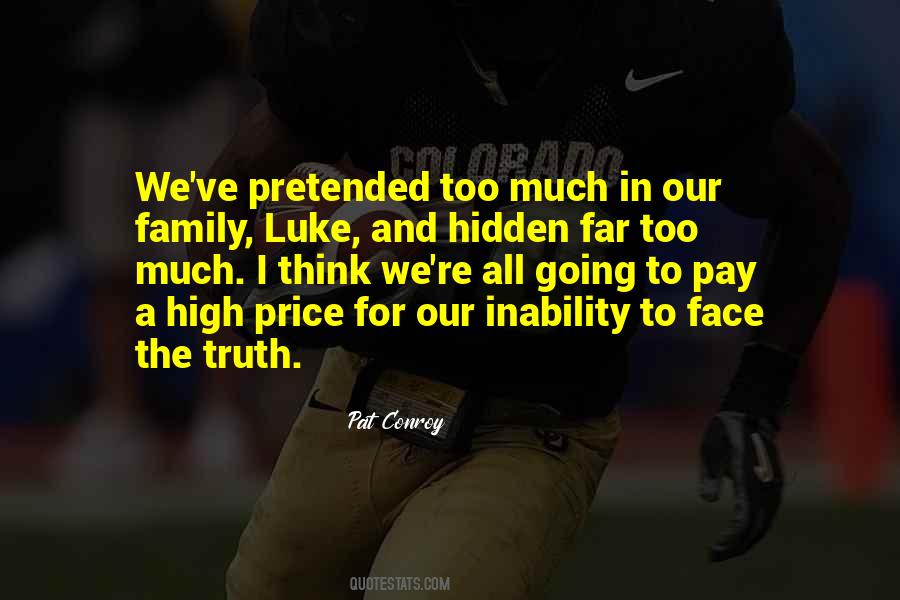 #26. So I don't really focus too much on that, and I think it's dangerous if your goal in life is to get the other guy, then you're not going to be doing a really quality job yourself. - Author: Katie Couric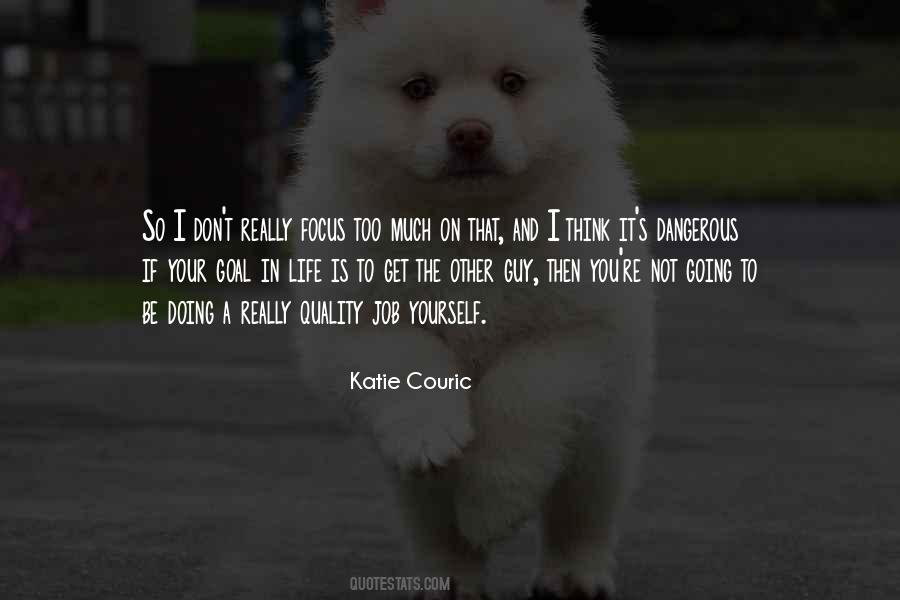 #27. Very much in my books people find not surrogate families because they are real families. We've got families that we're related to by blood but we've also got families that we acquire. And those too I think are pretty much part of my books. - Author: Jackie French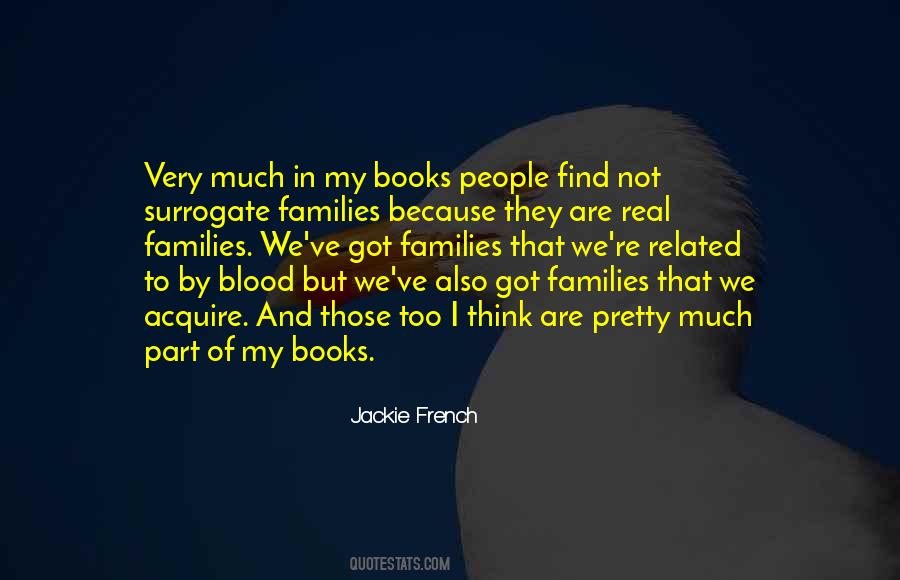 #28. I think the cartoons that they're children are watching, particularly 'The Simpsons,' they're OK. I think that the adult audience is making much too much of the danger that they imply. That's not the case. The danger for children today, honey, is the news. Keep them away from news on television. - Author: Jerry Lewis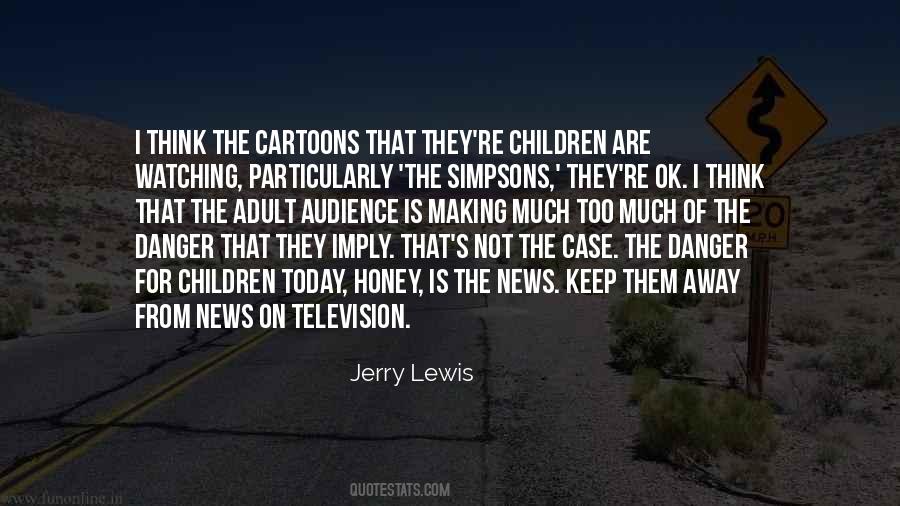 #29. We have no need to learn to think much of ourselves, to care for ourselves, to consider our own needs, wants, and desires. We already do that far too much. The problem is getting us to think of others, to have a lowliness of mind that springs from humility and love. - Author: Nancy Wilson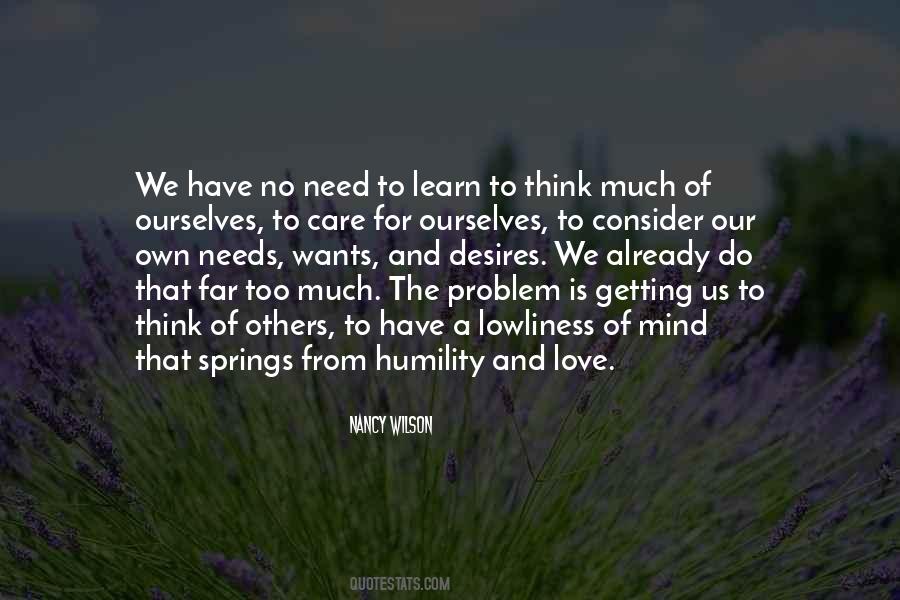 #30. There's a reason people say everything happens for a reason, but don't think about that reason too much, because then you'll turn into the unhappy "skeptical one" of the group. - Author: Jay Clark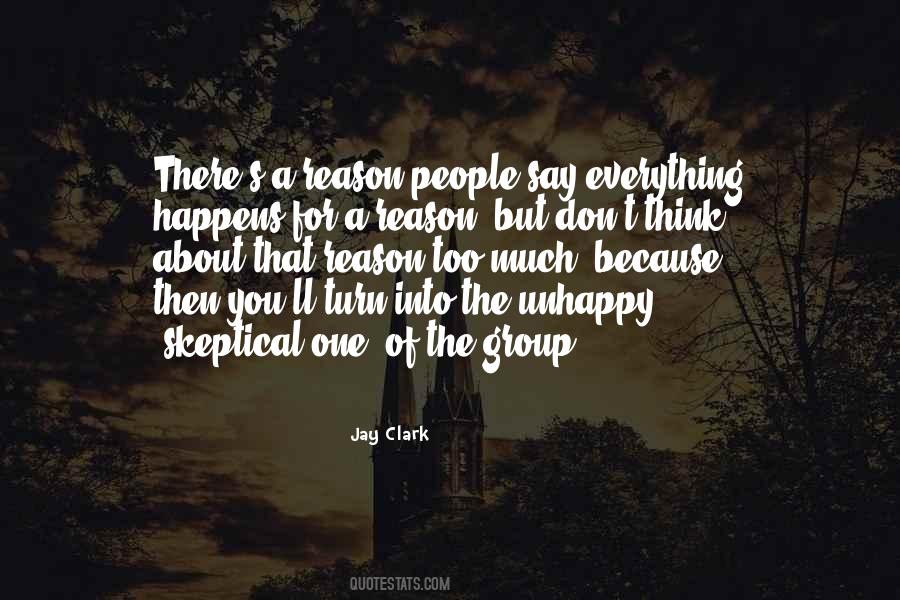 #31. I had high hopes for that girl, but too much of that sort of nonsense and I think her intelligence will explosively dismantle - Author: Iain M. Banks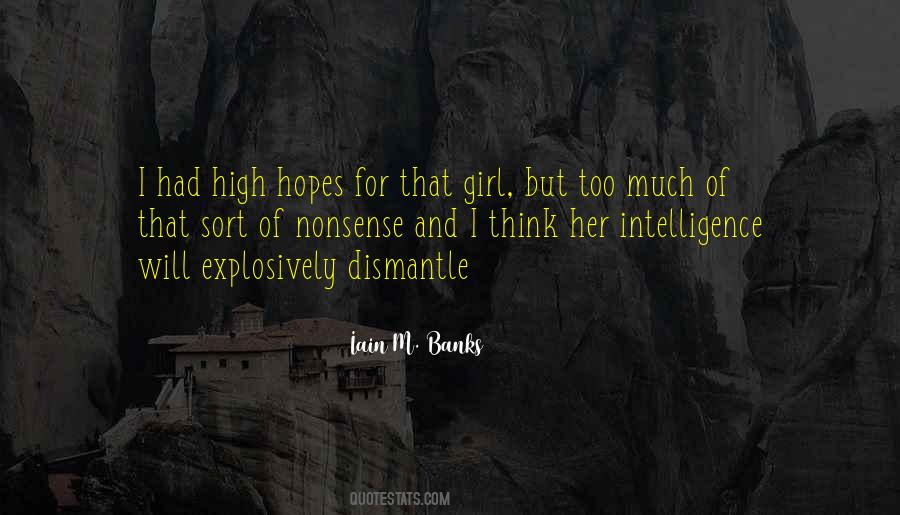 #32. I think to be a movie critic is troubling from one major respect. If you are forced to watch ten movies a week, it's really only something you can do for a few years. After a while, it's a bit too much. - Author: James Gray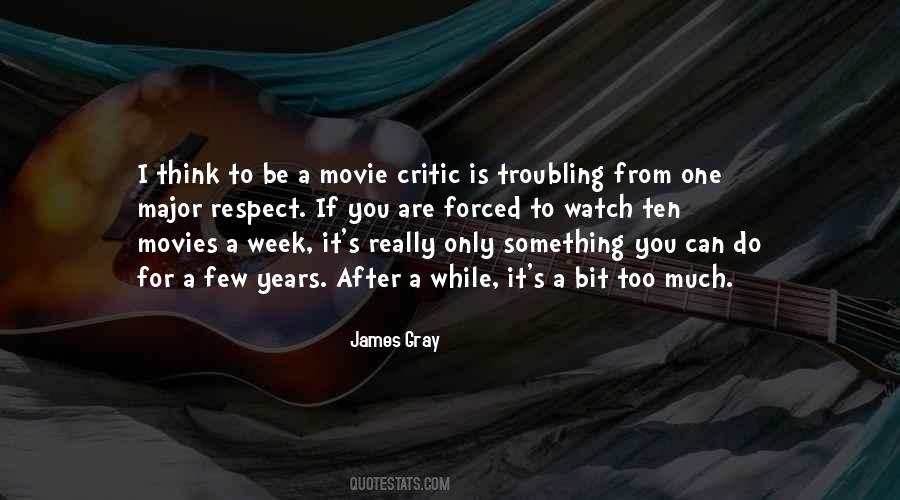 #33. I walk into the office of the counselor and figure out a few things. His name is Bob. It's written on the plastic sign his door. Bob Kissock. Also, he wears too much cologne. It smells up the tiny room and makes me think of men wearing towels around their waists on TV commercials. - Author: Janet Gurtler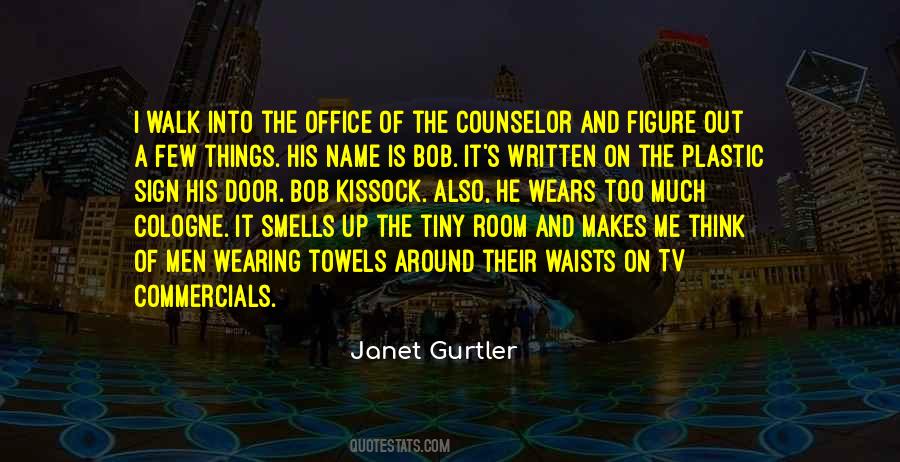 #34. It's silly for me to raise expectations too much, but I think I'm right on the basic trend, which is shifting power to consumers. - Author: Steve Case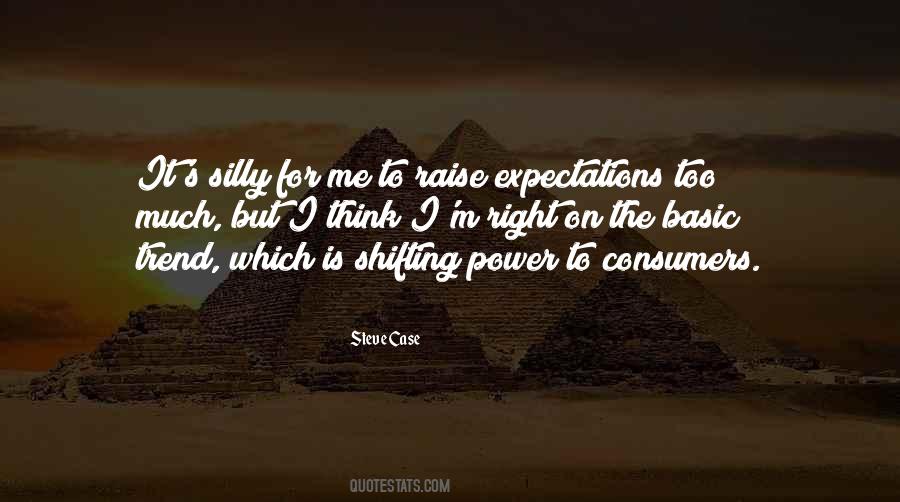 #35. You can't think about what you're going to do. It just gets in the way. You have to be just available for life, otherwise you're not bringing anything to the party. So I don't lie awake thinking about what I'm going to do workwise. There's just too much going on. - Author: Bill Murray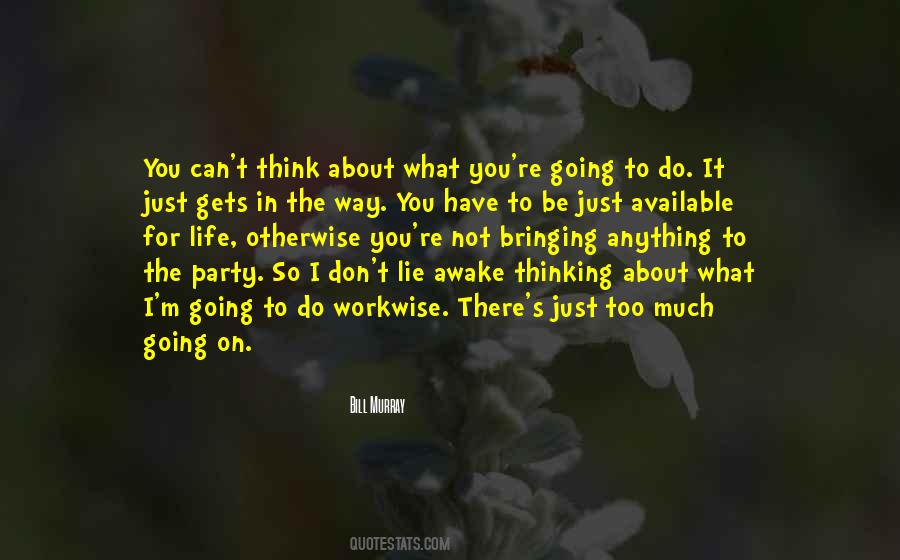 #36. Actually, most people don't think I have too much sense because I would rather be fairly intelligent and act dumb instead of not having any sense at all and try to act smart. - Author: Phil Robertson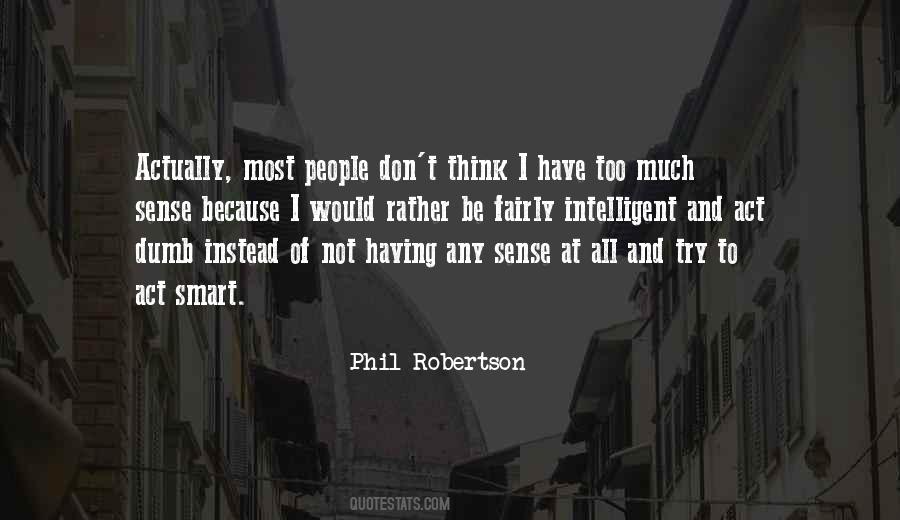 #37. I think the biggest issue for legacy media - both TV and film - is that it just costs too much money to develop a TV series or movie. And most of them don't work. Then the one that works has to pay for the rest. - Author: Shane Smith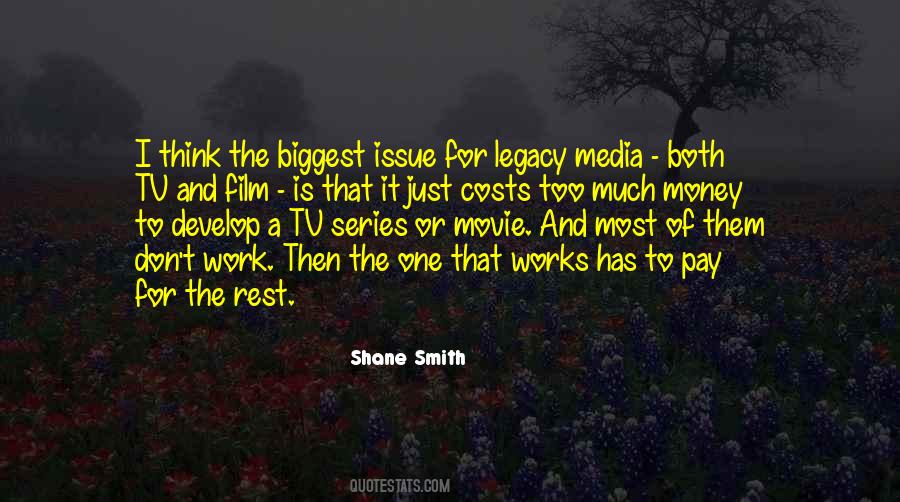 #38. We get through life and this is part of the education process also. In real life, we meet bad bosses and good bosses and good friends and bad friends. I think we should let the teachers do their work and not impose too much stuff on them. - Author: Philippe Falardeau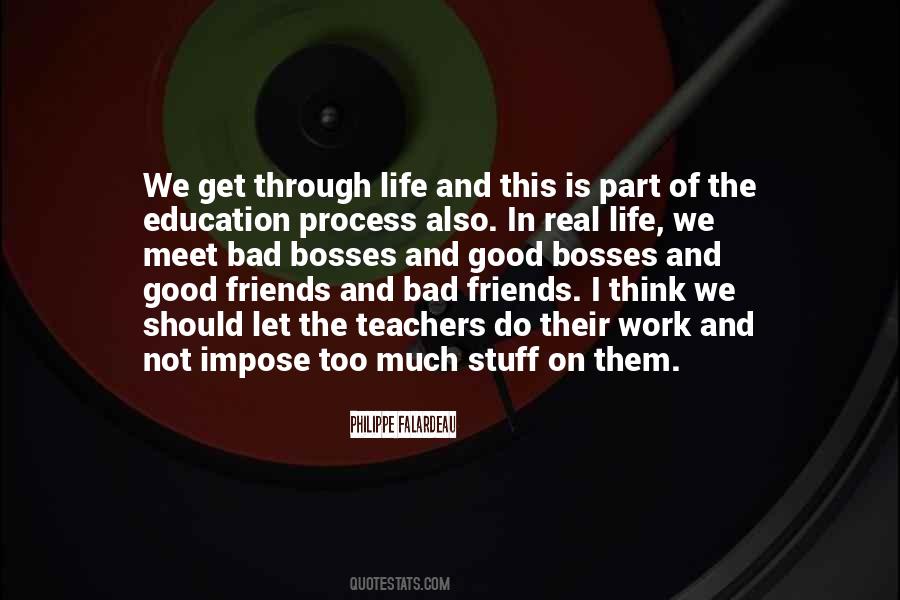 #39. I have never consciously exploited the fact that I am a woman. I wouldn't dare try that even if I knew how to. I have too much respect for my male colleagues to think they would be particualrly impressed. - Author: Barbara Castle, Baroness Castle Of Blackburn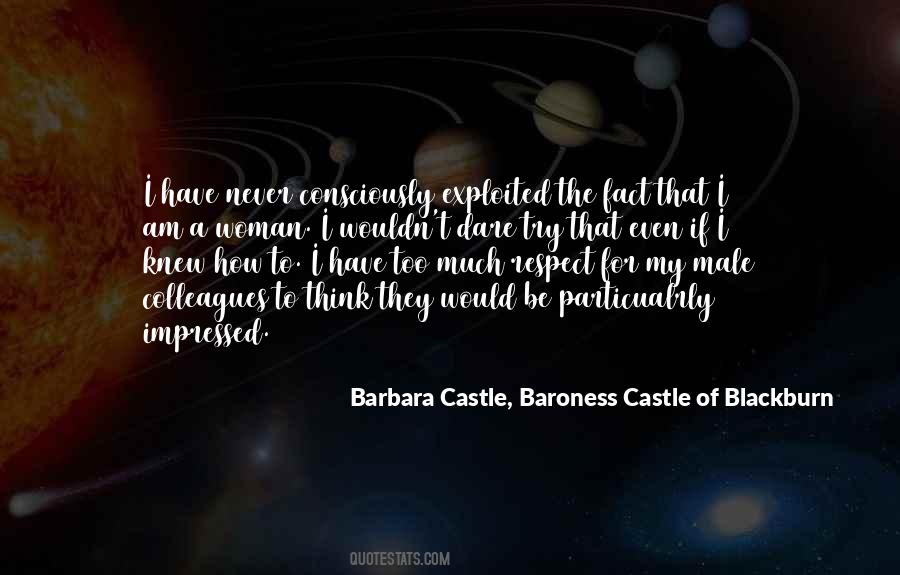 #40. I think sometimes when you love something too much, you're that much more aware of how much you have to lose - Author: Karina Halle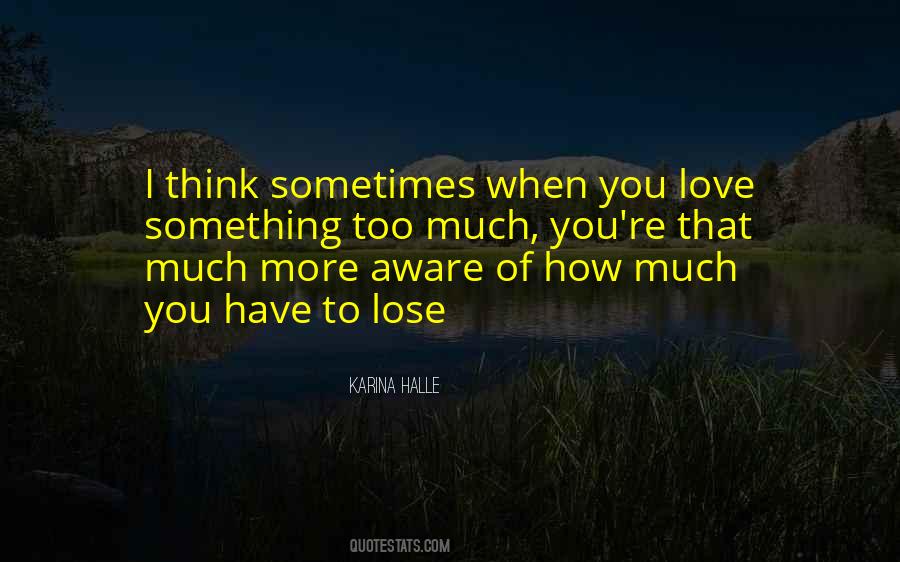 #41. No matter how powerful our political and religious leaders think they are, they are as dust before the immense and implacable forces of history and progress. I just hope that they don't make too much of a mess or take too many more people down with them. - Author: Alan Moore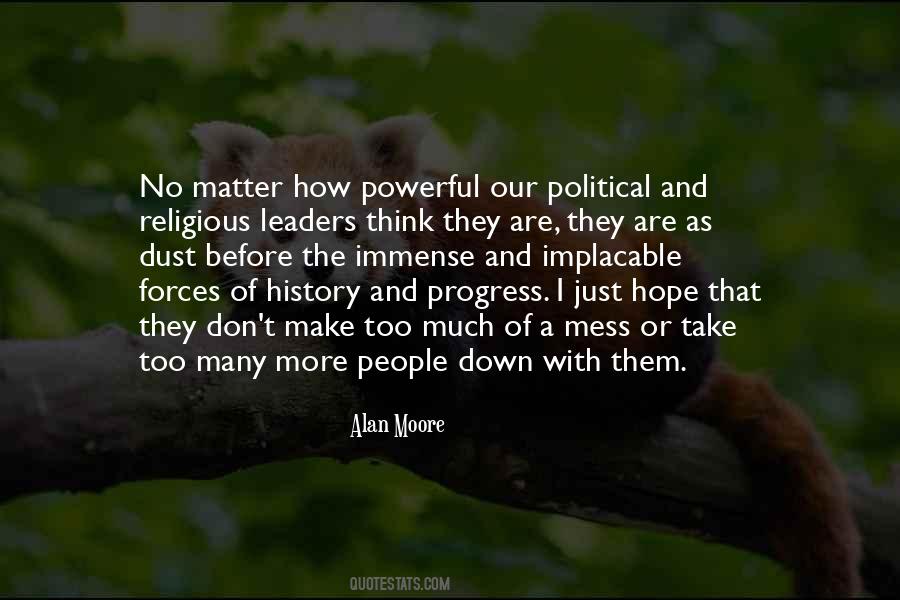 #42. Wickedness is too common in the world
for us to think much of why and wherefore.
It is more natural to ask about the rarer thing
and wonder why people sometimes do good. - Author: Barry Unsworth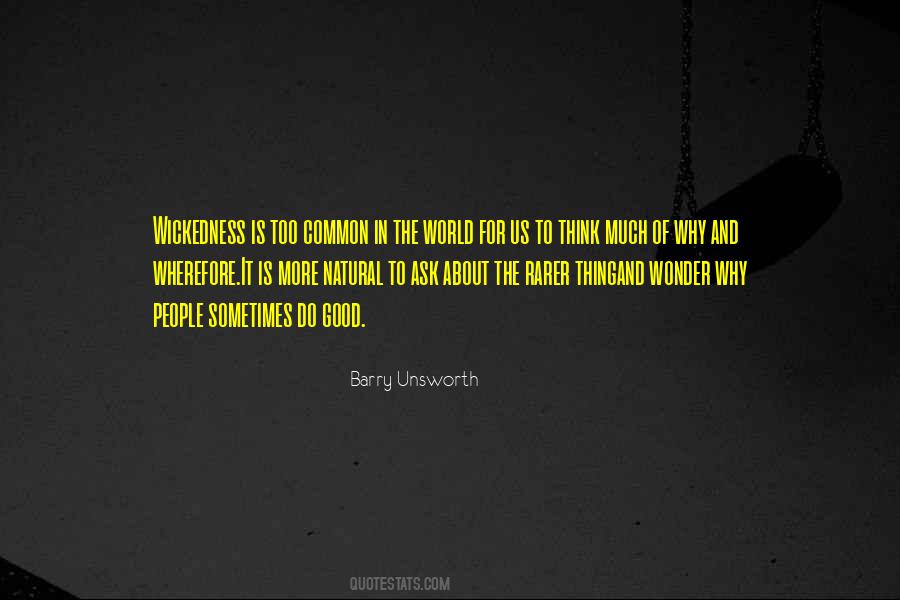 #43. What's wrong with a bit of nostalgia between friends? I think nostalgia sometimes gets too much of a bad press. - Author: Terry Eagleton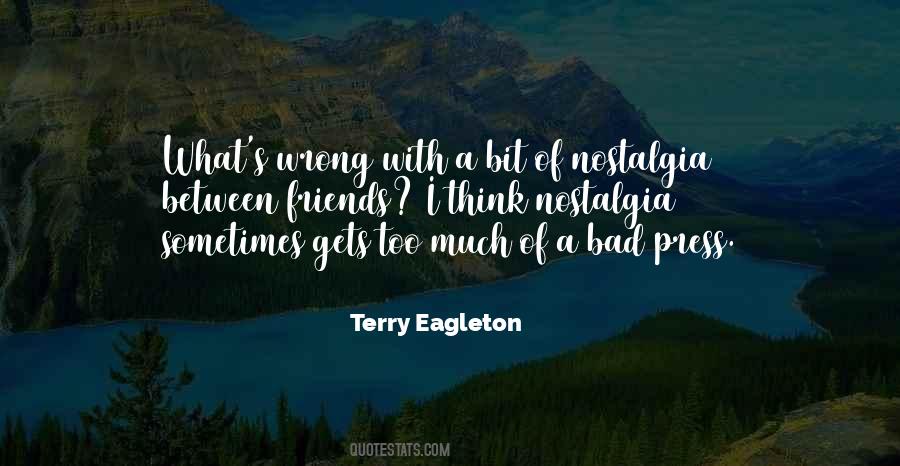 #44. Perhaps I was being picky, but I really didn't think being able to spell orgasm without being spotted a vowel was asking too much. - Author: Summer Daniels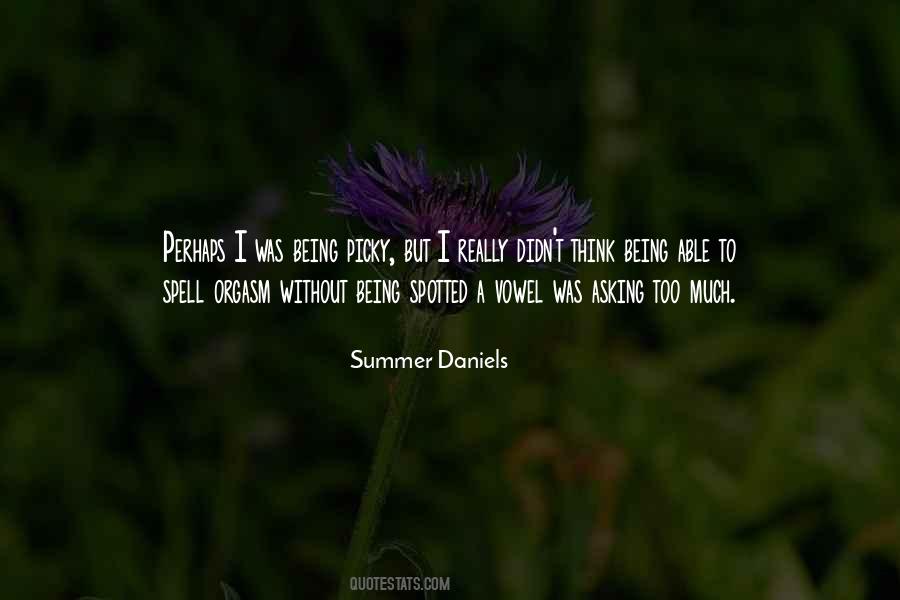 #45. Most would think that I'm a god with every reason to be happy. But I'm a mistake God made. Too much power doesn't create happiness. It steals it. To have it all means there's no struggle and without having to pay a price, nothing has value. I wasn't gifted with powers. I was cursed with them. - Author: Sarah Noffke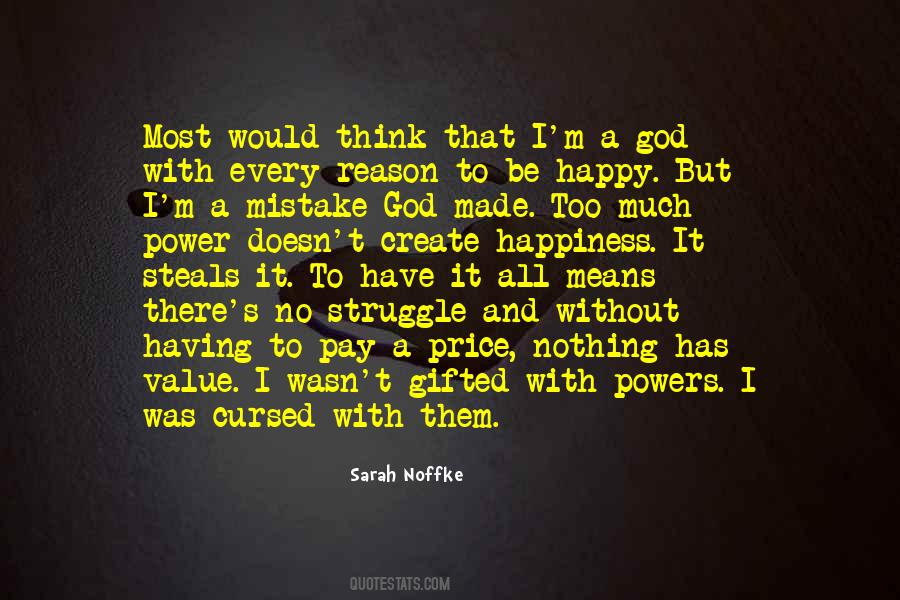 #46. I think of myself as a serious artist. Sometimes you can get in your head too much about that and forget that you have to have fun. I've been guilty in my career about that at times. But the more I thought about it, the more I thought I didn't want anybody else to have a hit with it! - Author: Tim McGraw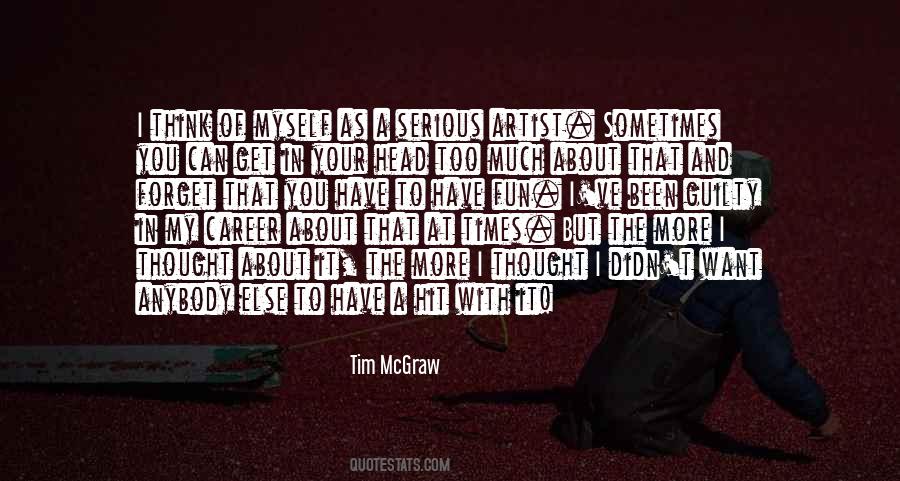 #47. In America ... who is to stop congress from spending too much money. They will not stop themselves, that is certain. Everybody has to think about that now. Who is to stop them. - Author: Gertrude Stein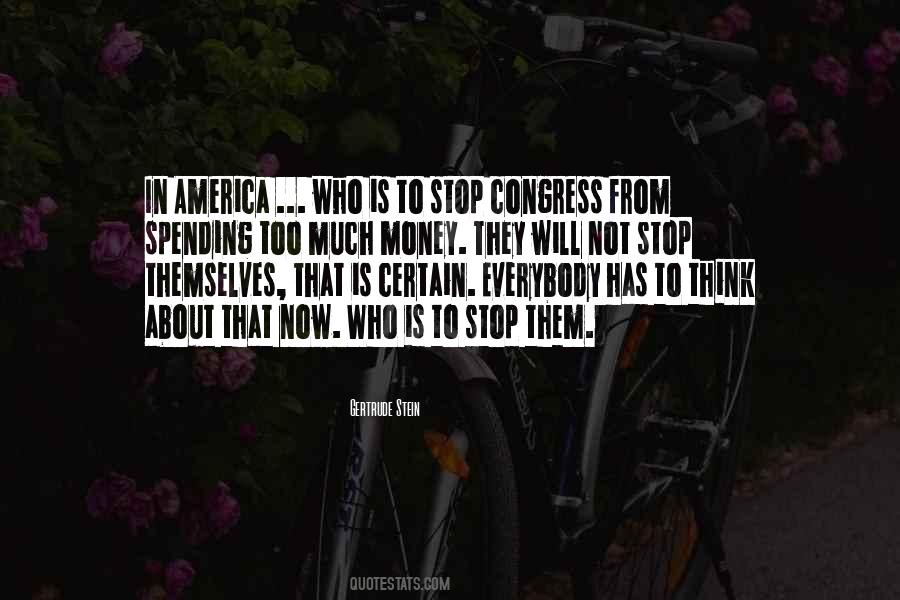 #48. That's a mistake,' he said. 'You miss an awful lot of life that way. That's why you Yankees are so cold,' he said. 'You think too much. That's why you marry so seldom. - Author: Kurt Vonnegut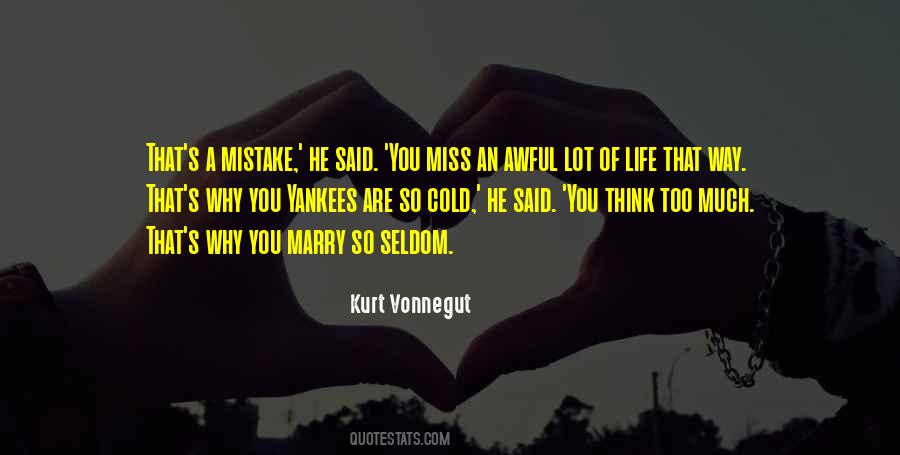 #49. We're going to be very strong with employers in all of our aspects, because I think there's been too much of this idea let's try and get along here, and we've eroded some of our standards. - Author: James P. Hoffa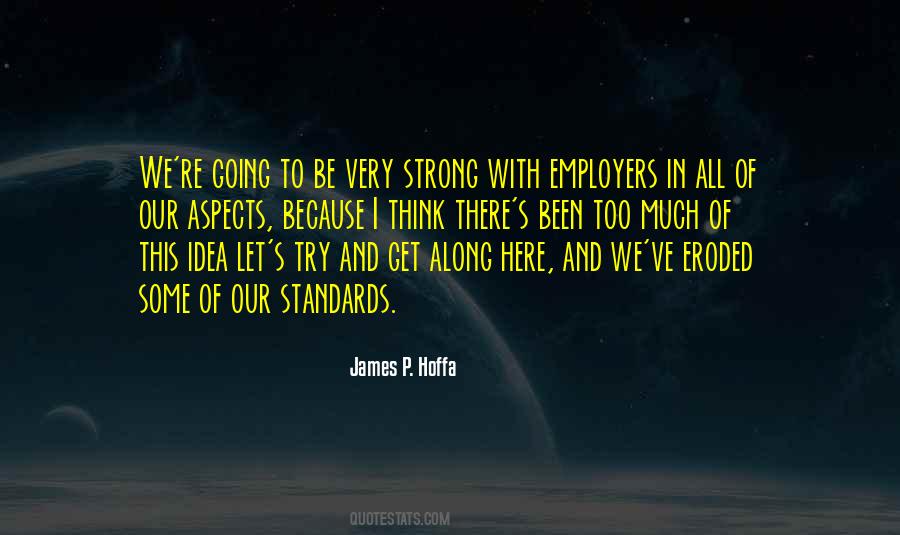 #50. You loved him when he was alive and you loved him after. If you love him, it is not a sin to kill him. Or is it more? 'You think too much, old man' he said aloud. - Author: Ernest Hemingway,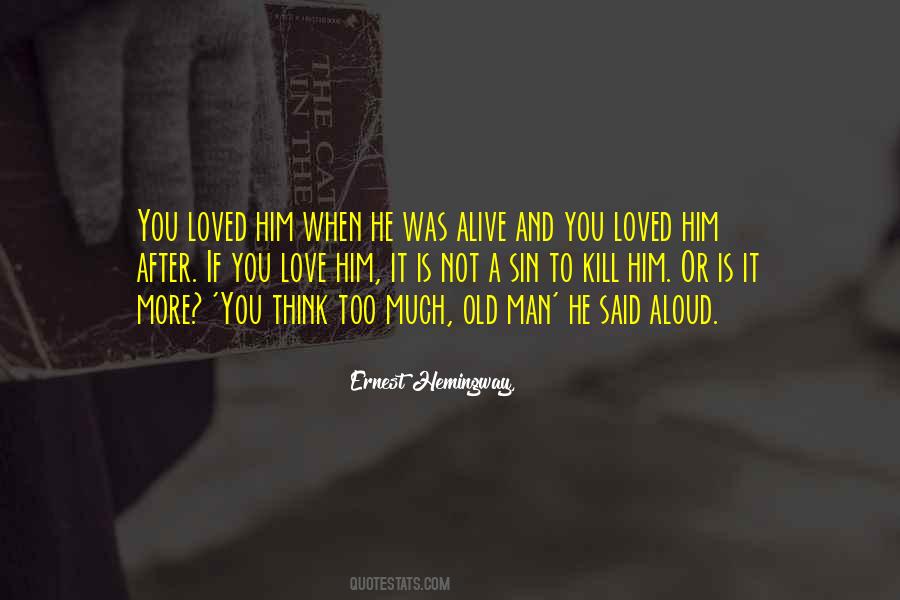 #51. The American people think the government in Washington is too big. That it spends too much. And - and that it's totally out of control. They want something done about it. - Author: John Boehner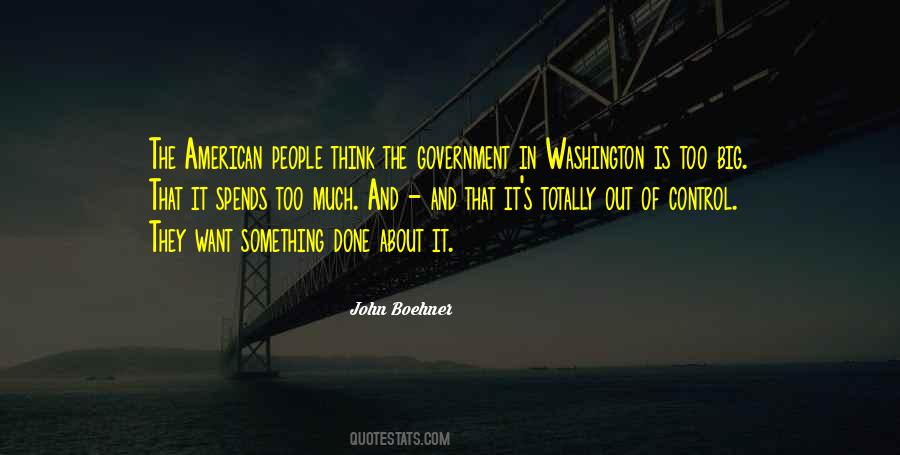 #52. How is it that there are not many who are led by sermons to forsake open sin? Do you know what I think? That is because preachers have too much worldly wisdom. - Author: Teresa Of Avila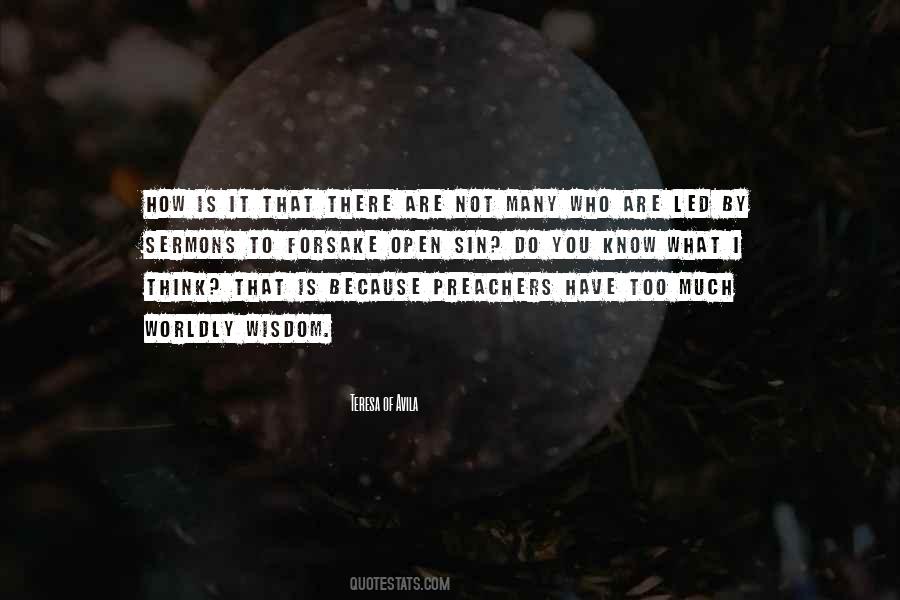 #53. I think you're an improvement on my imagination," I said, flipping back through the pages.
"You, too," he said. "My imagination - well, what little imagination I have - doesn't quite live up to the real thing."
"Agreed," I said. "The real thing is much better. - Author: Francesca Zappia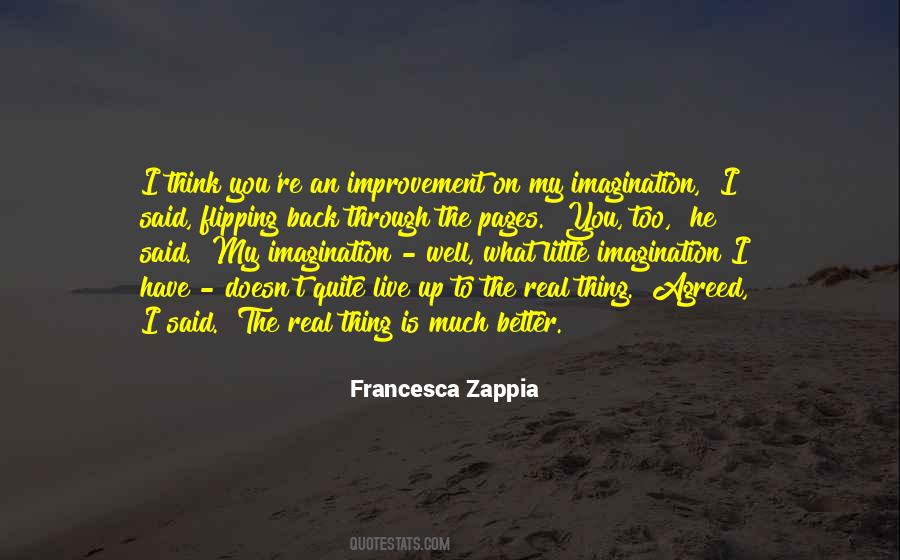 #54. Ah?" he said, vaguely. "No, I dinna think so. Still," he said with a smile, pulling his attention suddenly back to her, "I wouldna be likely to. A young burke of sixteen's too taken up wi' his own grand self to pay much heed to what he thinks are naught but a rabble of snot-nosed bairns. - Author: Diana Gabaldon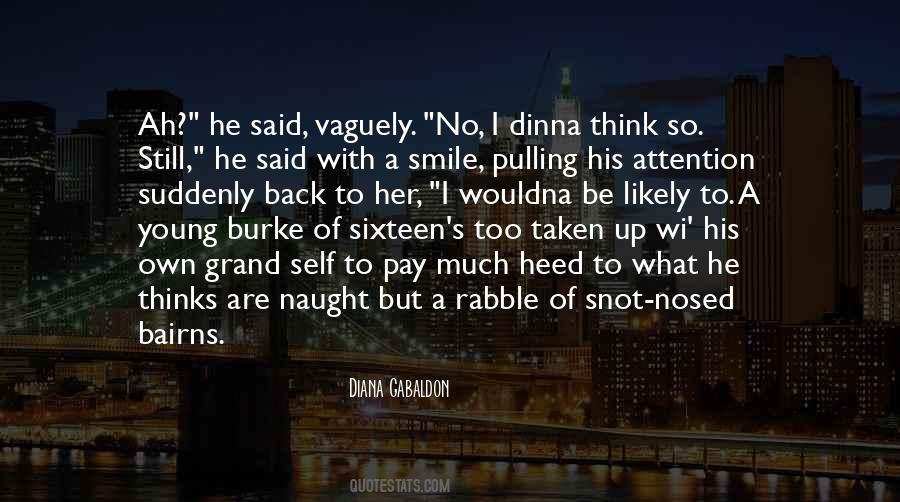 #55. I wanted to forget you, too," Sage said morosely. "Even now, I still do. With you right here in front of me. Even after last night. It still hurts to think about when you left. How it felt to be so alone. How much I don't want to care about you anymore. - Author: Sibylla Matilde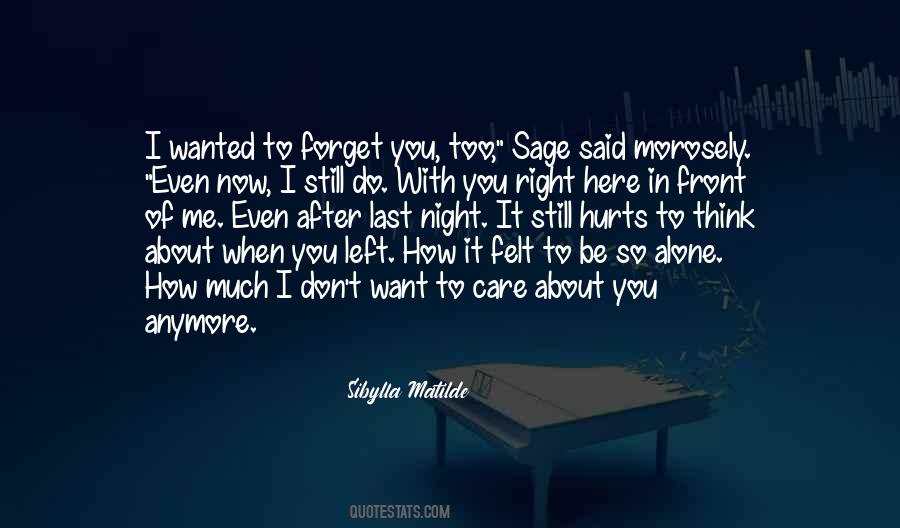 #56. The most important thing is not to think very much about oneself. To investigate candidly the charge; but not fussily, not very anxiously. On no account to retaliate by going to the other extreme
thinking too much. - Author: Virginia Woolf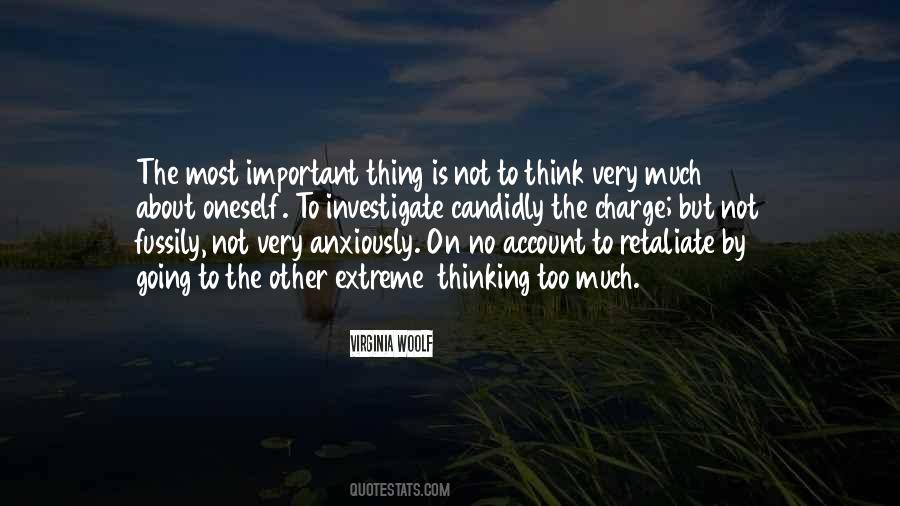 #57. I think L.A. is impossible. There's just too much media focus. You can't live a normal life. - Author: Brad Pitt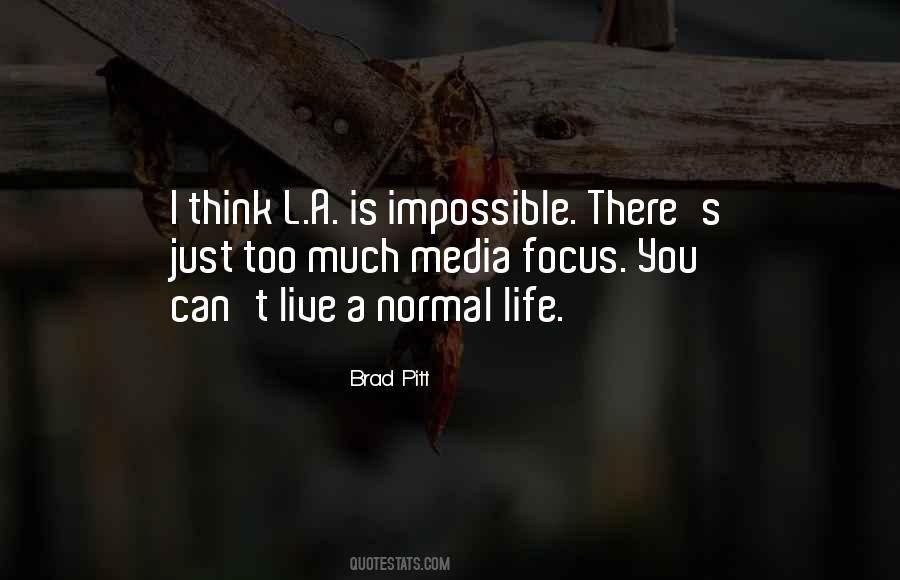 #58. I think I was just too young to even understand what was going on. When I was still living in South Africa, there was still so much racial tension. - Author: St. Lucia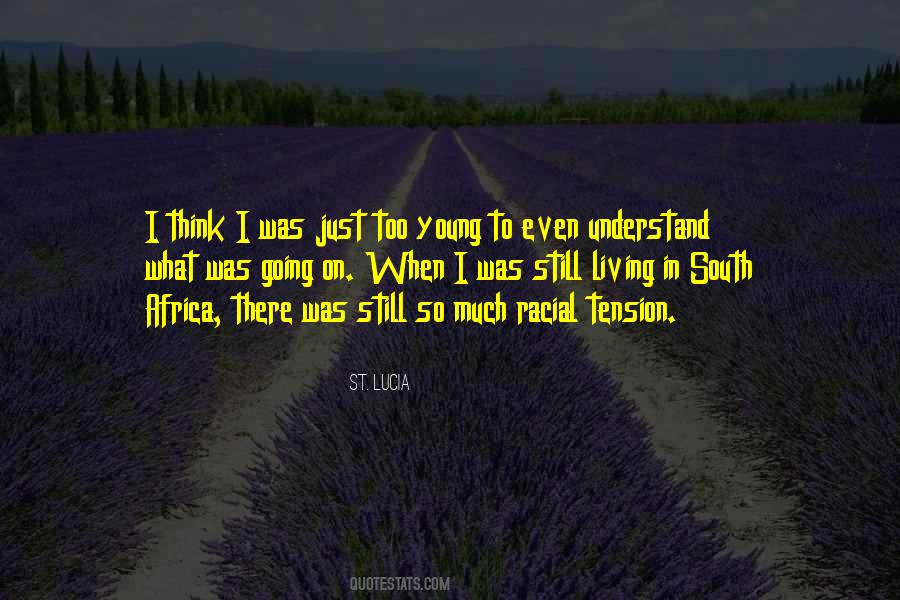 #59. I think to just single out a highlight of Elvis's career is pretty much impossible. As far as being a fan of his, a lifetime fan, there were just too many highlights. - Author: Jackie DeShannon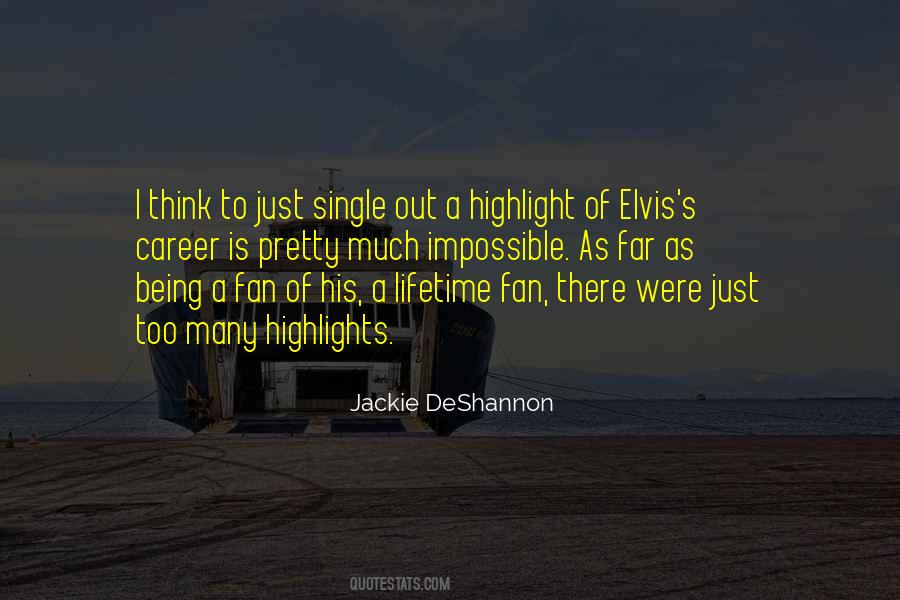 #60. We writers don't really think about whether what we write is good or not. It's too much to worry about. We just put the words down, trying to get them right, operating by some inner sense of pitch and proportion, and from time to time, we stick the stuff in an envelope and ship it to an editor. - Author: Garrison Keillor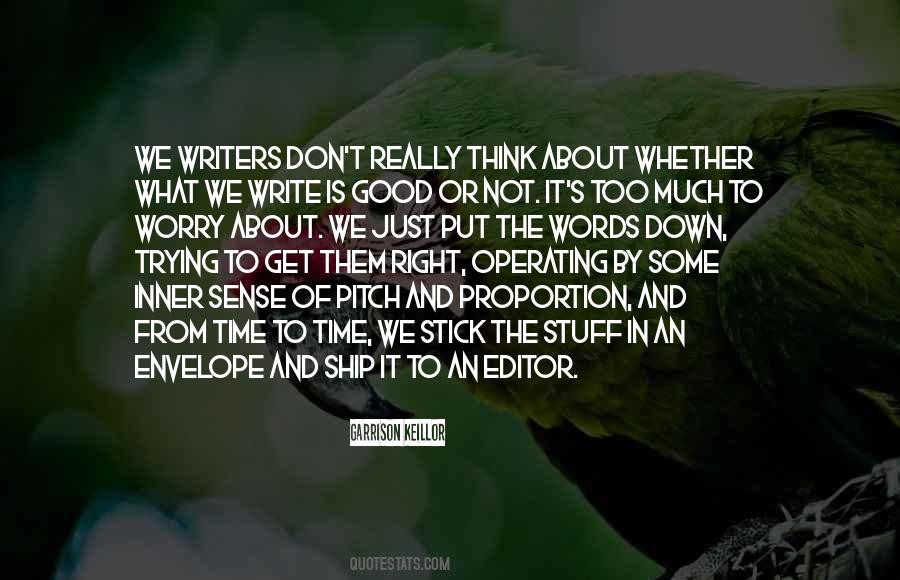 #61. If you think too much about the future, about seeing me again, you won't exprience anything. You'll just be a slave to time. - Author: Katie Kacvinsky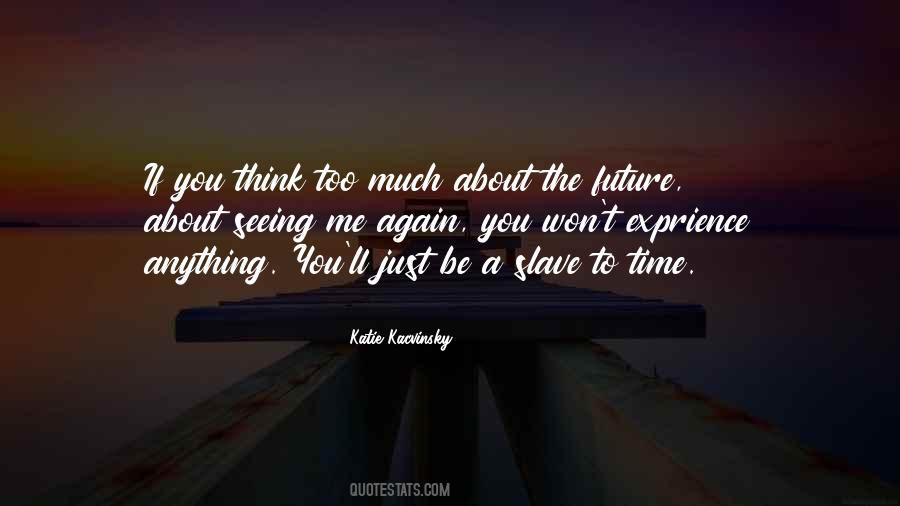 #62. The reason people have problems is that they have too much time to think. - Author: Richard Bandler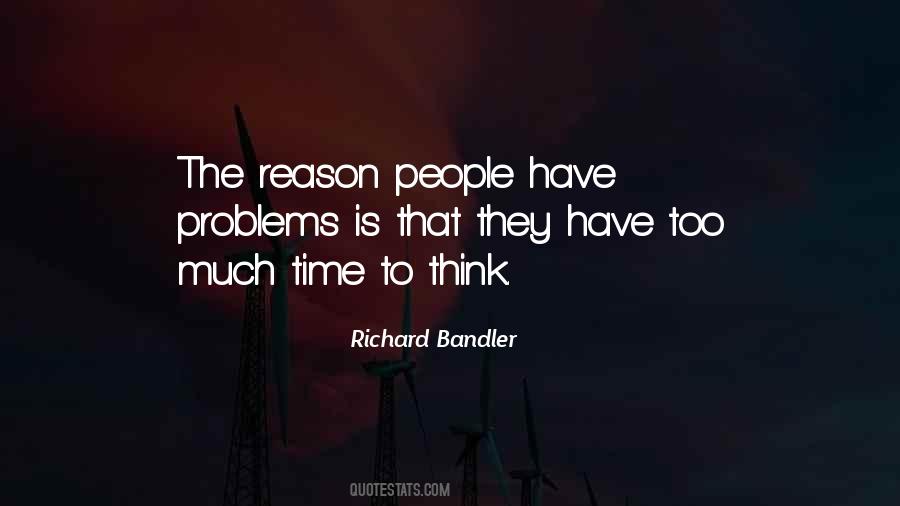 #63. I don't expect too much from the afterlife, I think that I know very well what pain is. When I think of the end of my life, I think mainly: I didn't do nothing, but I could have done more. - Author: Sylvia Kristel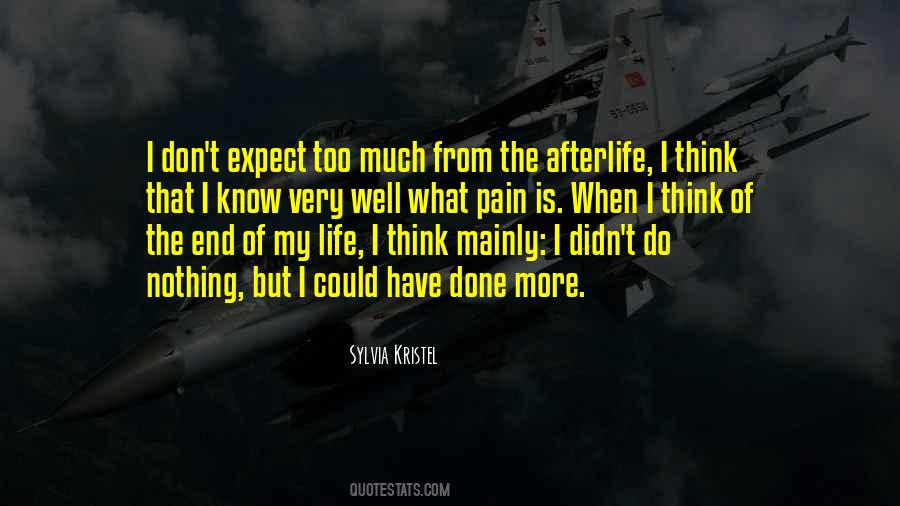 #64. I like acting too much and it's too, I'm just too busy doing that and I'm too hungry for it, to get behind the camera. I mean, unless I could act in it, too. I don't think I've got the right brain. I'm too disorganized. - Author: Rachel Weisz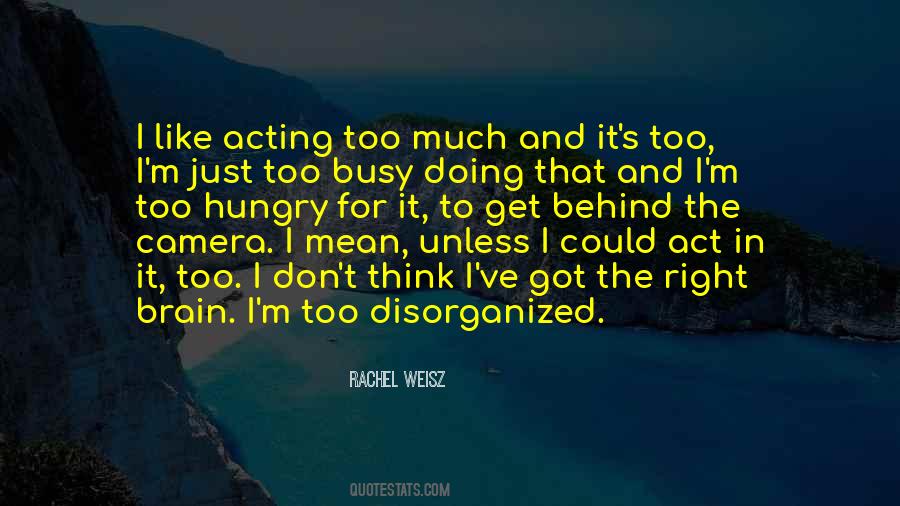 #65. I don't think you can spend too much time as an artist believing what other people think. - Author: Liz Phair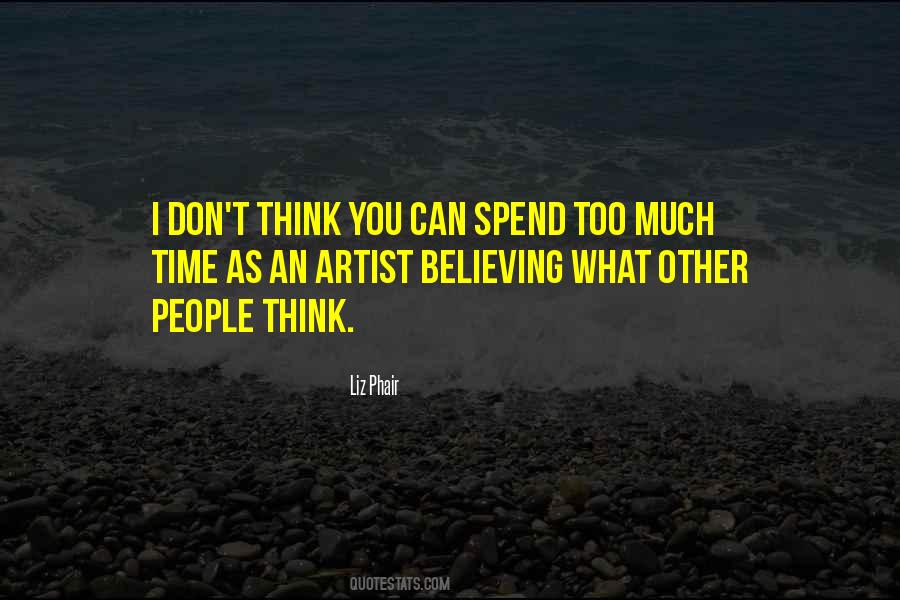 #66. Every time I flicked channels, there I was, talking. I was talking too much and writing too little. So Naomi and I went to Hawaii. The phone was cut off and we lost touch. This gave me the chance to have a good think about my life. - Author: Joe Eszterhas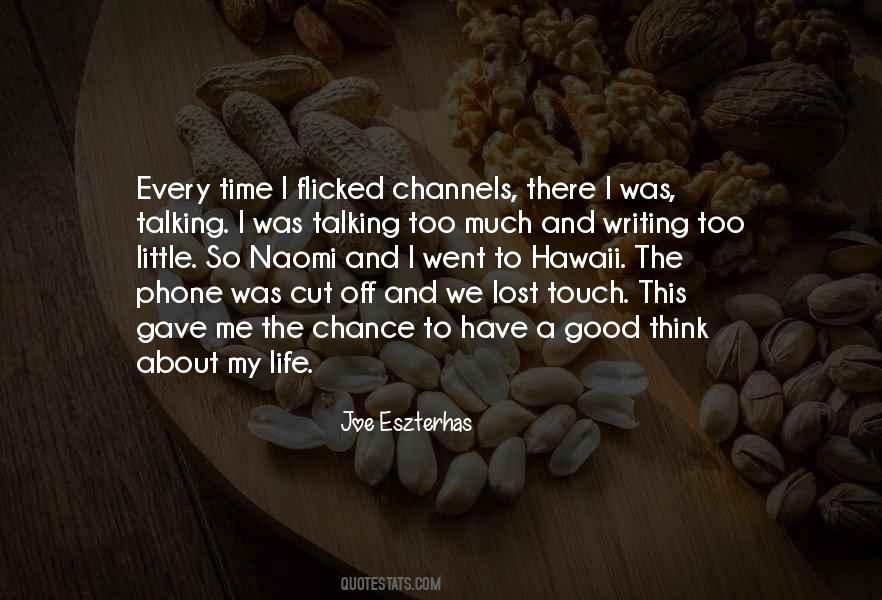 #67. Over time, I have realized that at 20, you can wear too much makeup and people assume you're a slut. Do it at 40 and they think you're a sea witch. - Author: Melodie Ramone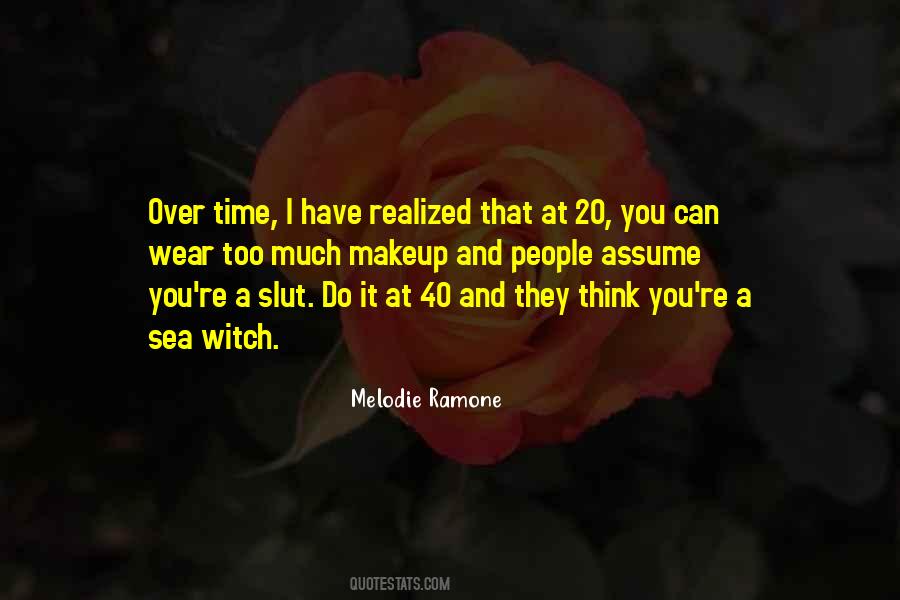 #68. He saw during the Weimar Republic that the left intelligentsia hated capitalism, and hence social democracy as well, far too much to think that Nazism could be worse. - Author: Clive James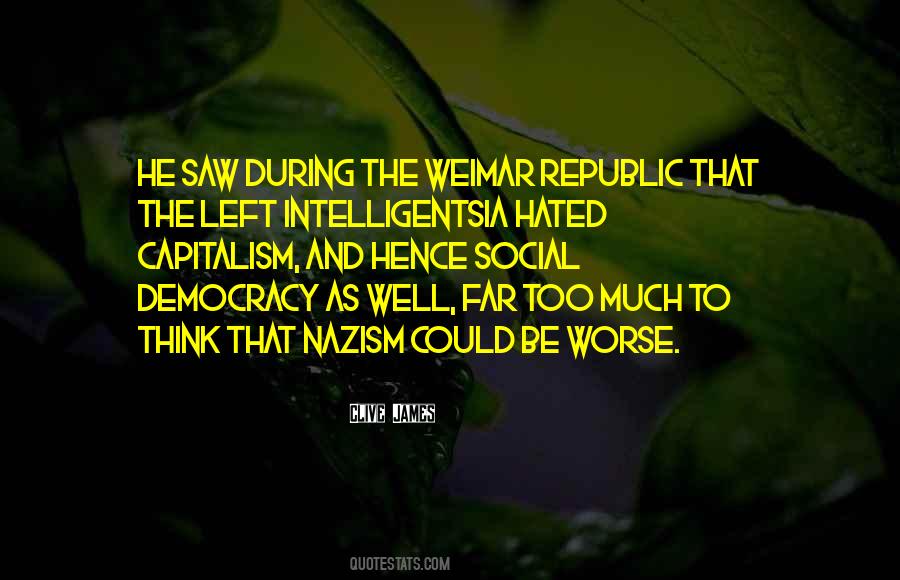 #69. If I think about it too much, I can't get dressed. - Author: Daphne Guinness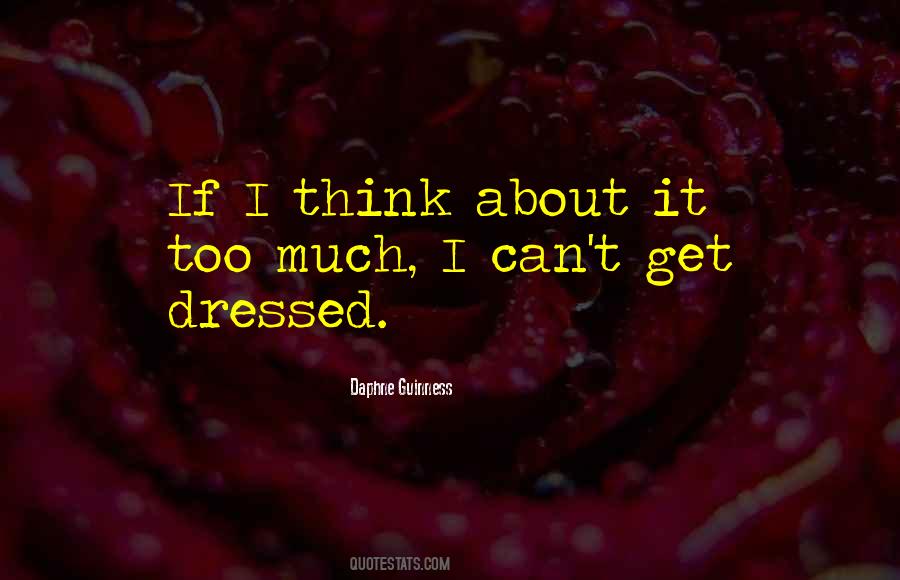 #70. You'll never see the president carry his own luggage, and why? Because even though we know he has luggage, it would reduce his stature if he was too much like us. We need to think of our leaders as being above us, even though they must still relate to us. - Author: Simon Sinek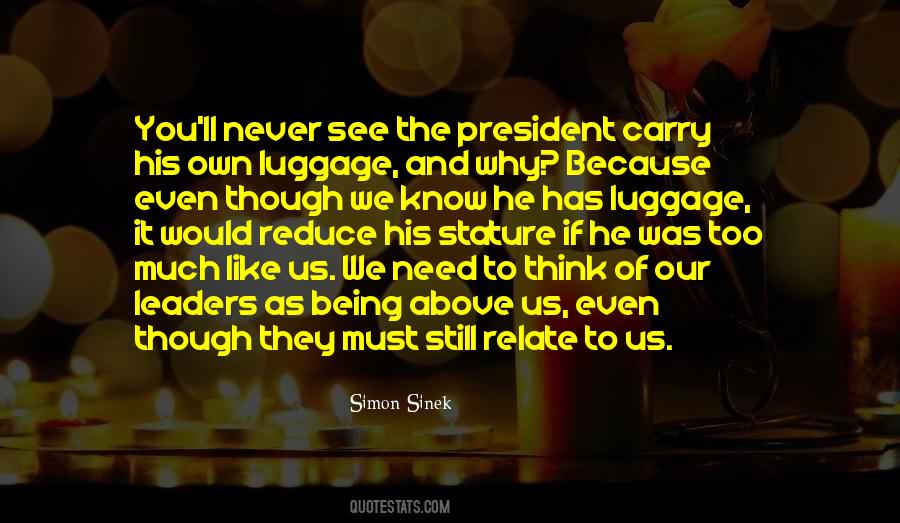 #71. If I had a long-term partner, I don't think I'd be an actor. It'd be too much of a strain; you have to work too hard to balance that life with a family and a mortgage and all that stuff - it would be too much. - Author: Rory McCann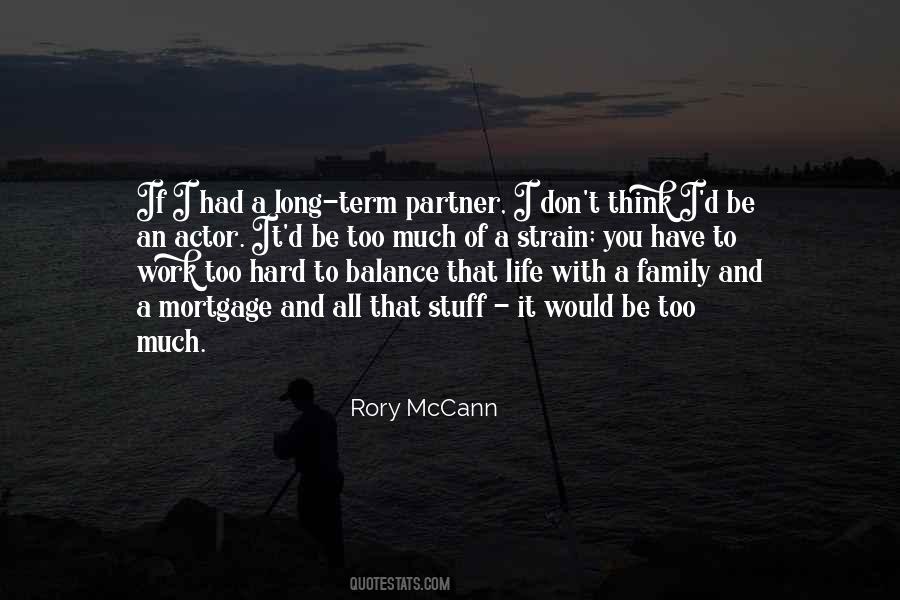 #72. I never put too much pressure on myself when I'm the central thing, just because I don't think I could handle it mentally. I haven't really thought about the implications of carrying a movie. It still has to be just a fun, weird thing. - Author: Will Ferrell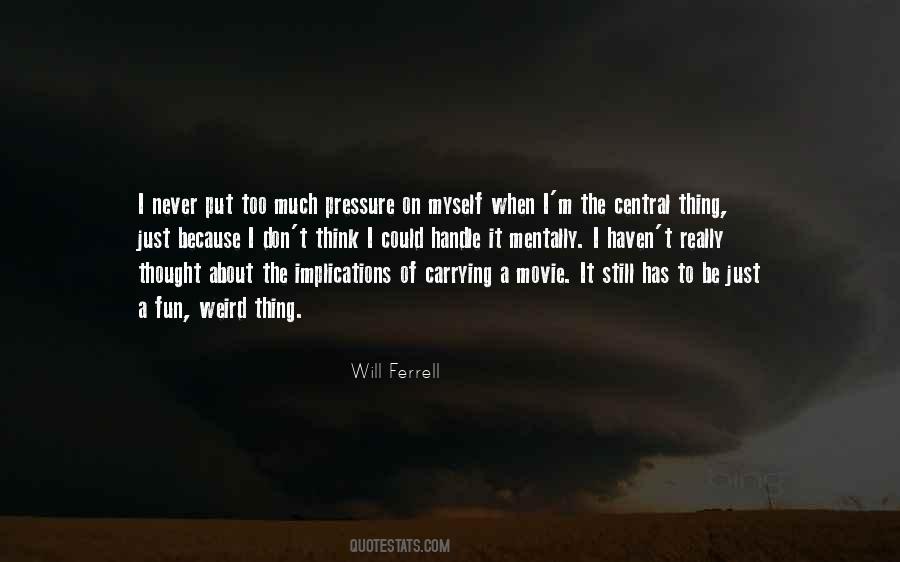 #73. I laugh when Floyd Mayweather says that if he went back in time he would beat us all. I'll tell you this: if he was in the same era as Hagler and Hearns and Leonard and me, I don't think he would be such a big name. There is too much talk. - Author: Roberto Duran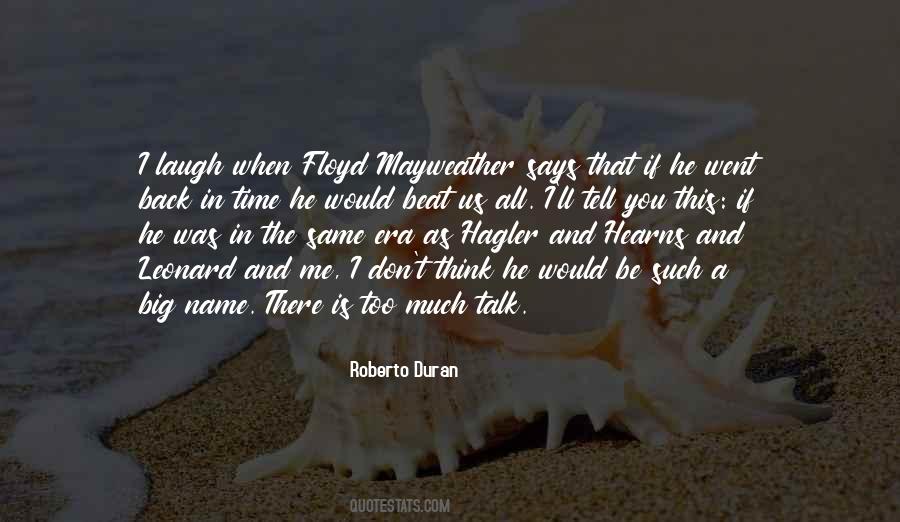 #74. I think everyone has been annoyed at school or in their life, that's a type of bullying. So, you can take those feelings and make them bigger. But I try not to use too much from my real life, because you'll be stuck with that all day. - Author: Kodi Smit-McPhee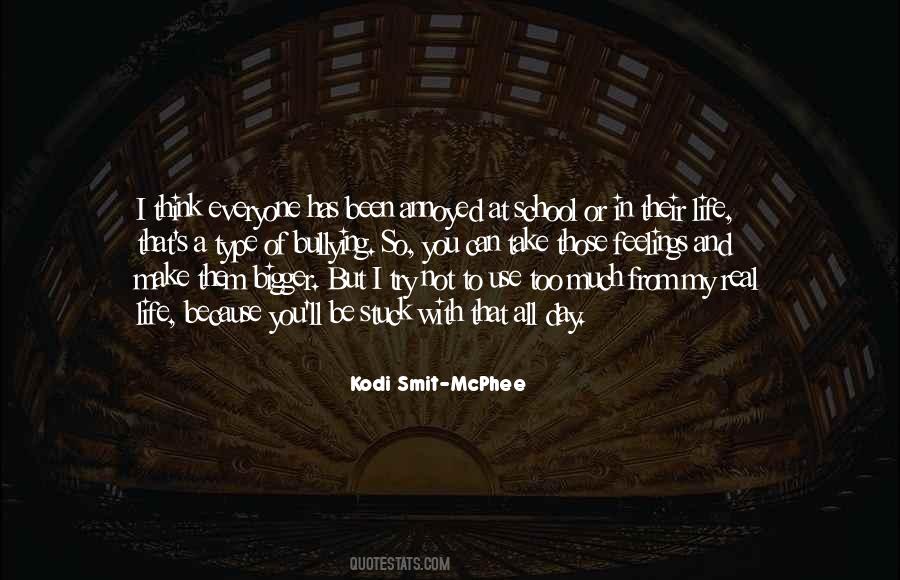 #75. But I sometimes think we have too much of a fixation about 2012. - Author: Linford Christie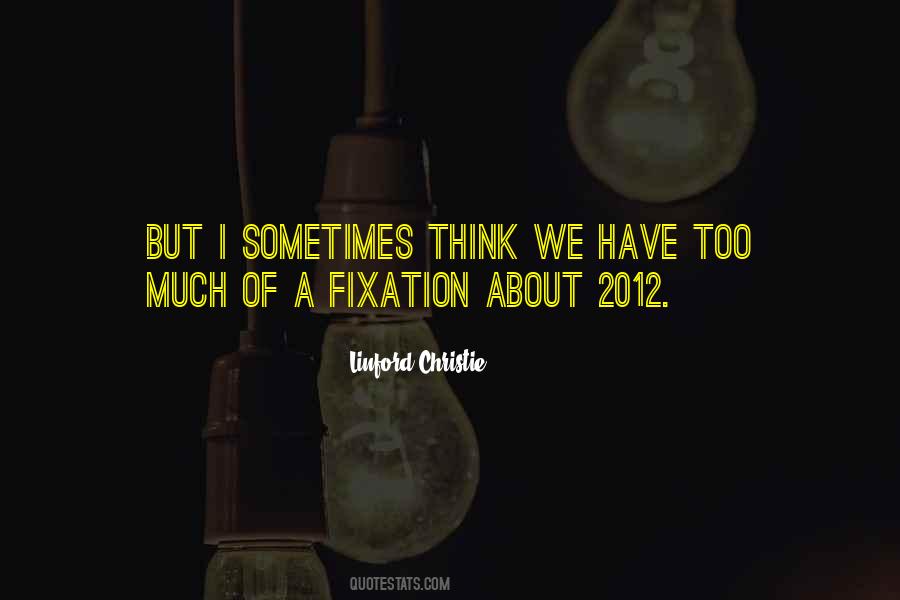 #76. I swear to you that to think too much is a disease, a real, actual disease. - Author: Fyodor Dostoyevsky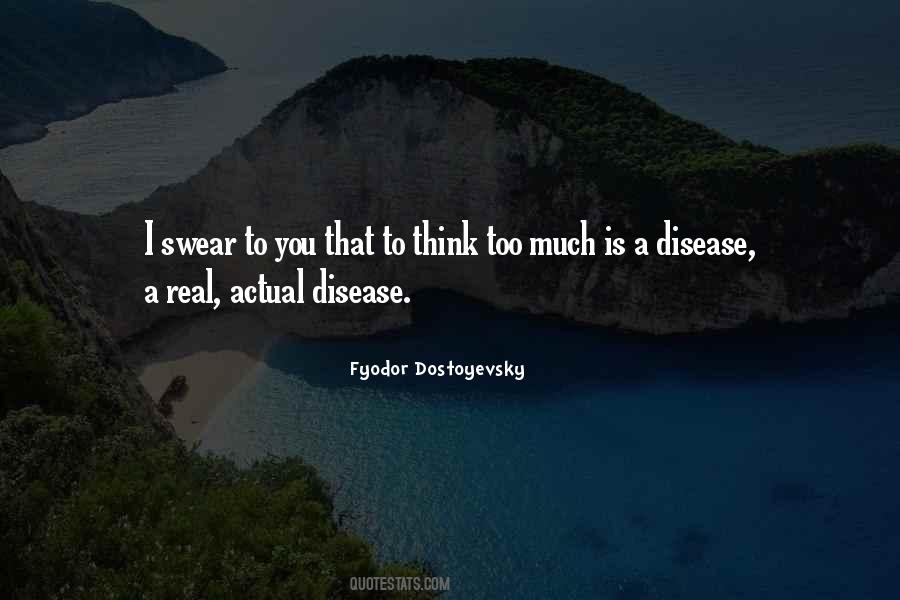 #77. The funny thing is, I don't care too much. You think you love something so badly, but when it's gone you find out you don't care so much. - Author: Damon Galgut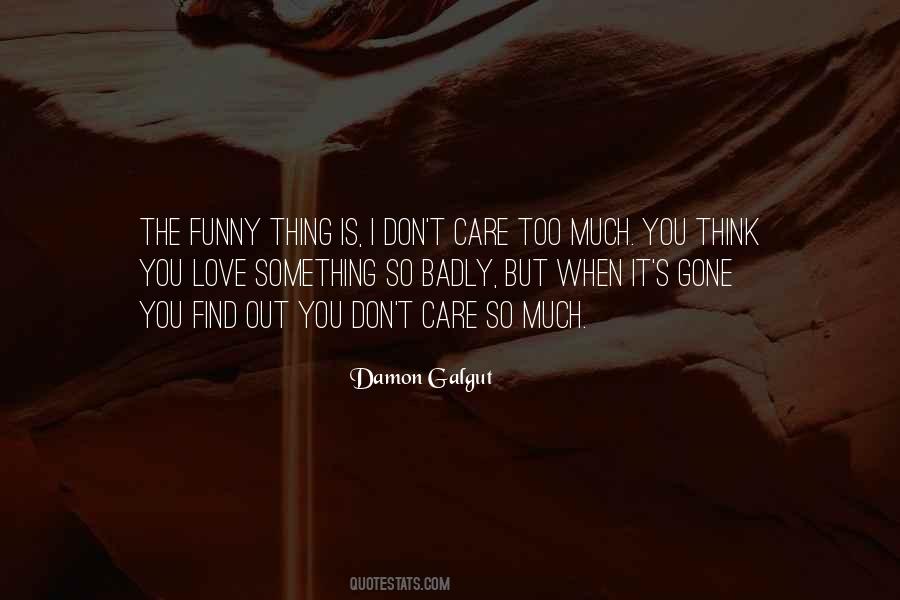 #78. I think people should be given a test much like driver's tests as to whether they're capable of being parents! It's an art form. I talk a lot. And I think a lot. And I draw a lot. But never in a million years would I have been a parent. That's just work that's too hard. - Author: Maurice Sendak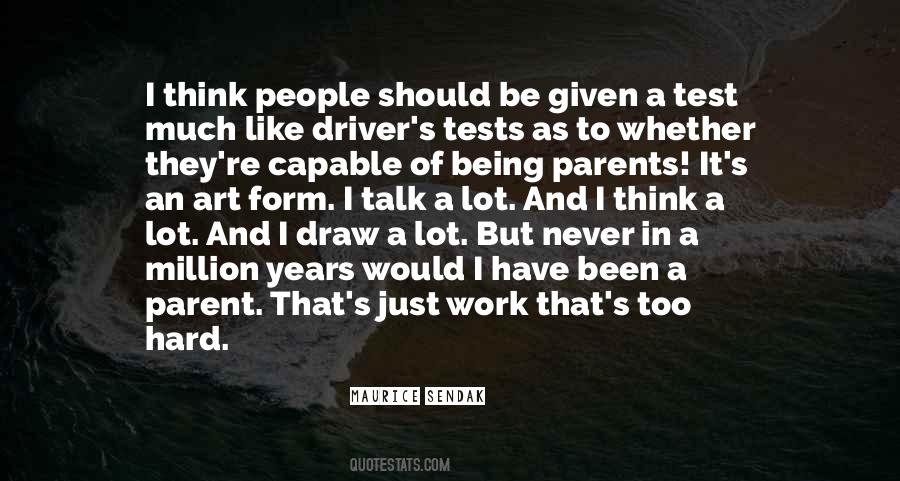 #79. Woody Allen - nobody has been a better joke teller than him - and even in his great films, it's always coming out of the character. If you don't have that, jokes are just empty and I think that people rely too much on jokes. - Author: Brett Gelman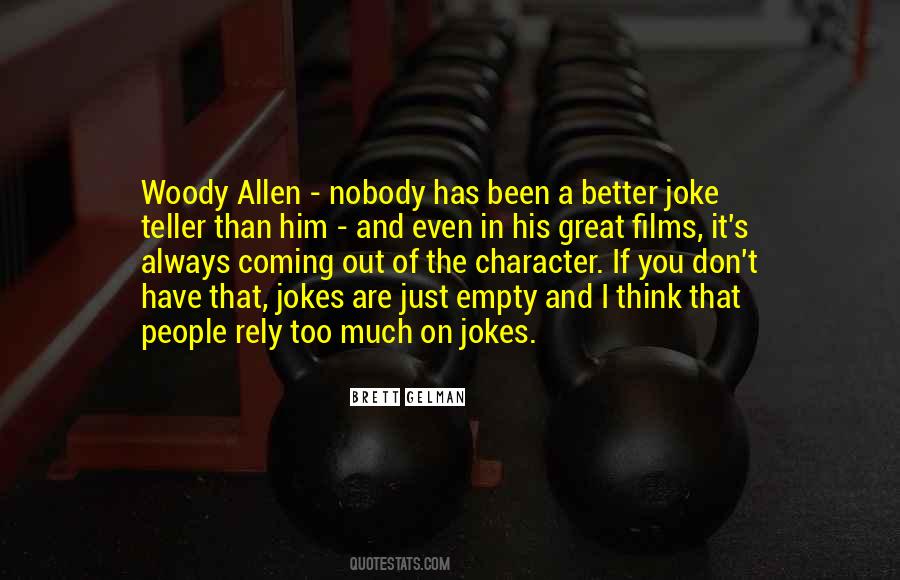 #80. I think the action is ninety-three percent, and the consideration is peppered throughout but pretty short ... Once I start it, I feel as though I don't want to look over my shoulder too much. I want to trust the preparations I've made. - Author: Chang-rae Lee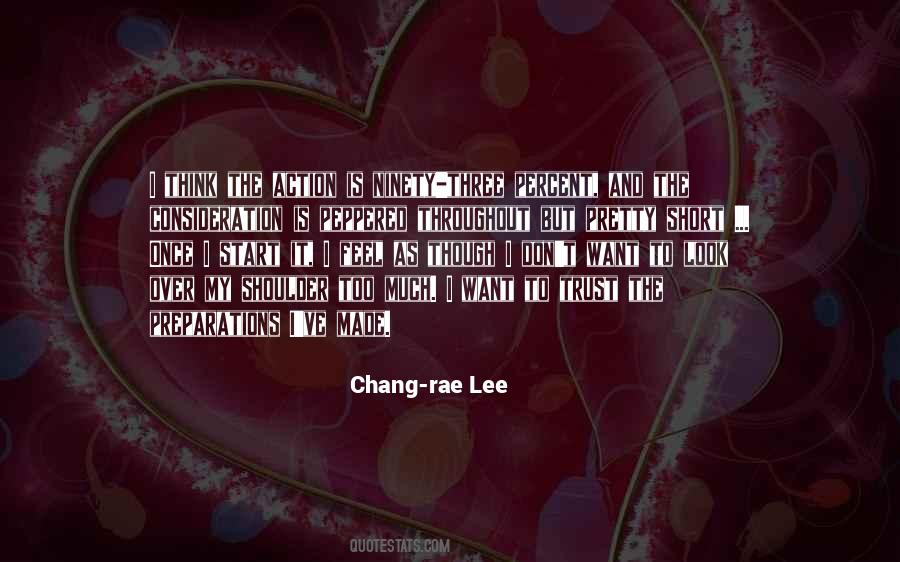 #81. If you think too much about things, life sometimes just passes you by. - Author: David Baldacci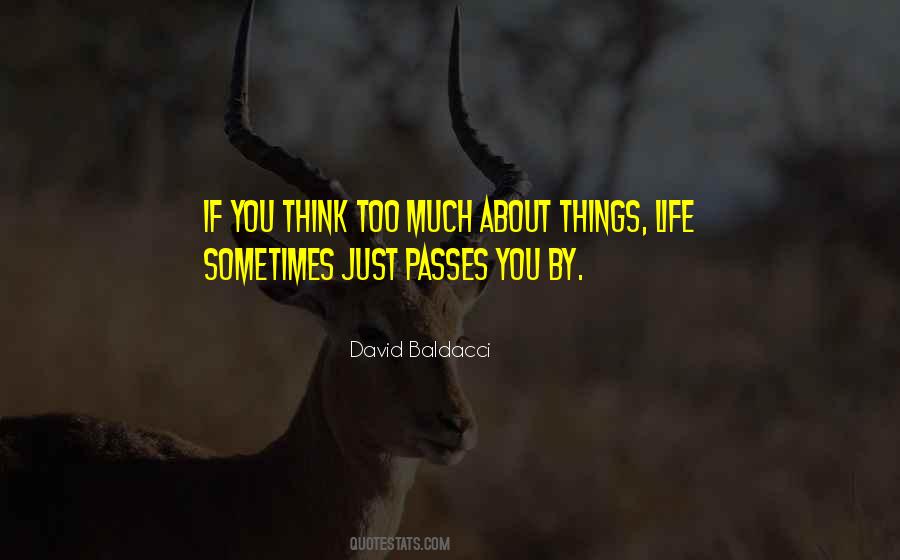 #82. I tend to think too much, Bast. My greatest successes came from decisions I made when I stopped thinking and simply did what felt right. Even if there was no good explanation for what I did." He smiled wistfully. "Even if there were very good reasons for me not to do
what I did. - Author: Patrick Rothfuss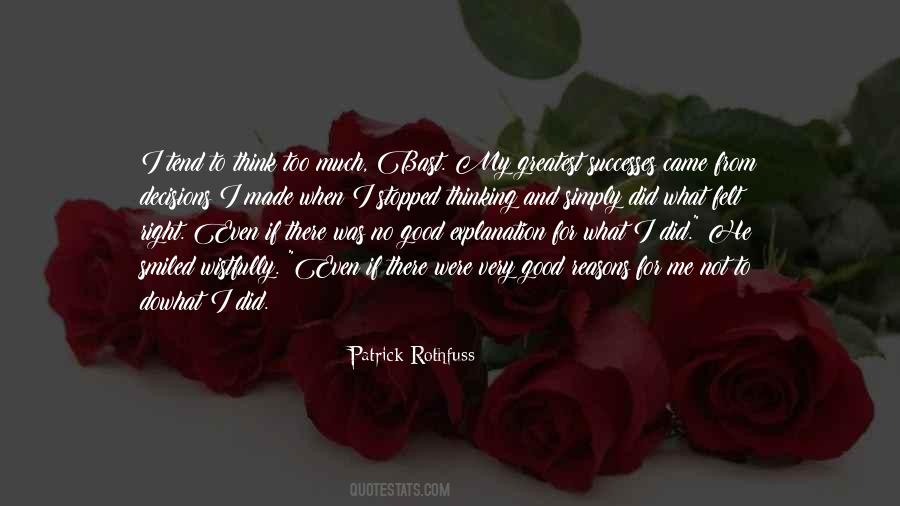 #83. I think it's important never to look yourself up on Wikipedia. I think the temptation to correct any interesting factual errors would be too much. - Author: Marcus Brigstocke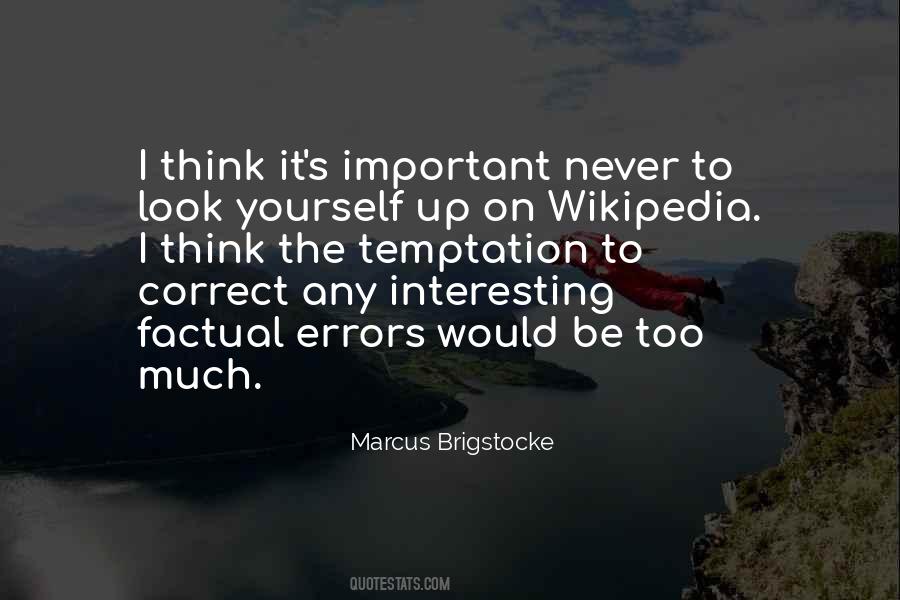 #84. Before I had kids I'd go out on the road for months and months at a time, but now I don't think I'd want to do that anymore, because I'd miss too much time at home, so it's just a matter of monitoring how much work that I do and how much time I'm on the road. - Author: Harry Connick Jr.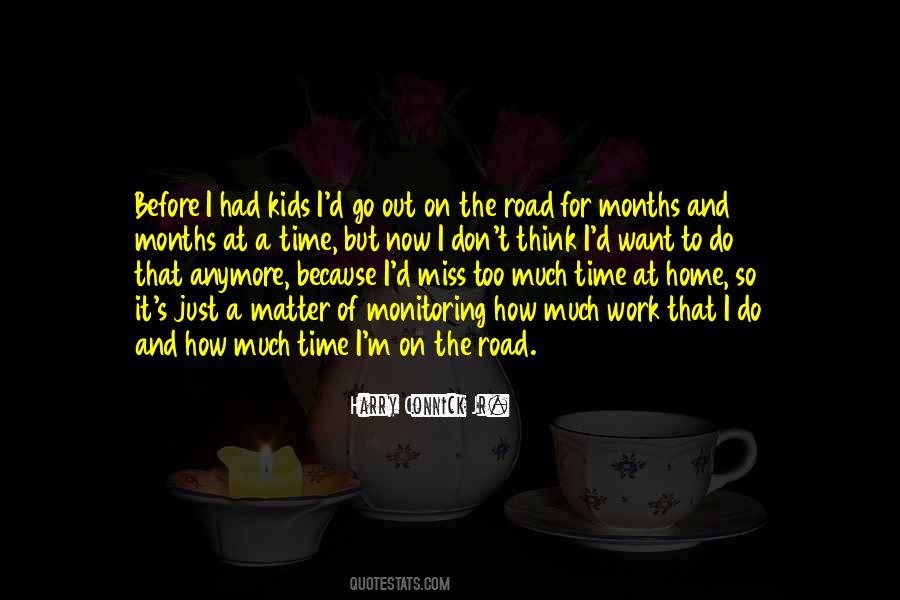 #85. You don't dare to think ahead too much, for you don't want this melted under the heat of your attention, don't want it gone from your life. - Author: Nikki Gemmell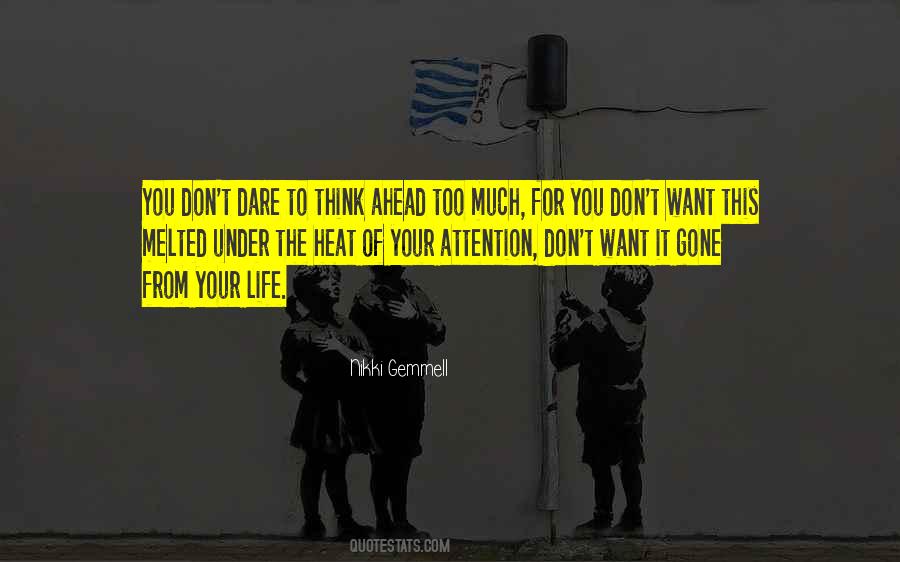 #86. I think one of the serious breakdowns in modern evangelism is this: it has offered too much for too little. What we do mostly is offer forgiveness. We need cleansing! There is no true conversion until a man takes up his cross. - Author: Leonard Ravenhill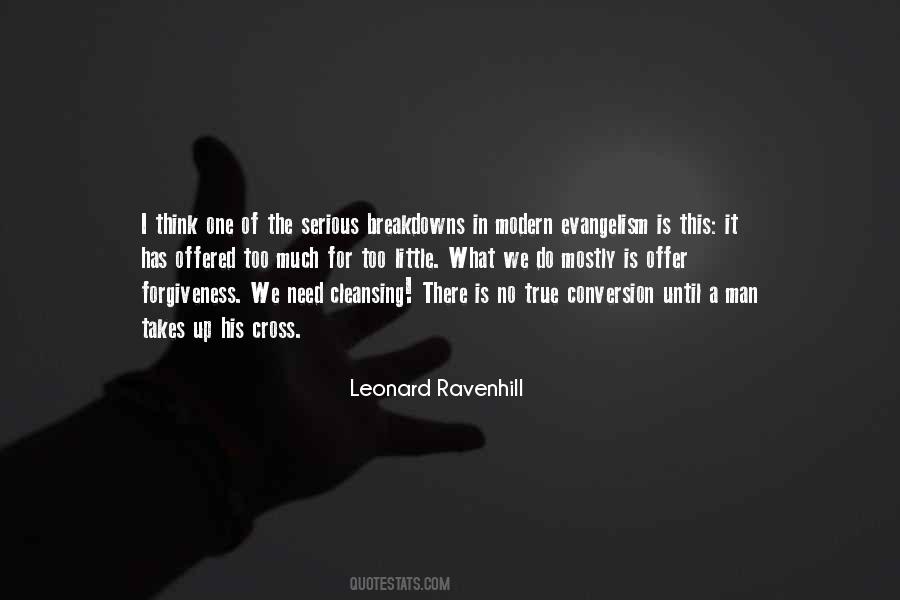 #87. You think giving you a hug would give away too much?" he says.
"You know," I say. "I really don't care."
I stand on my tiptoes and press my lips to his.
It is the best moment of my life. - Author: Veronica Roth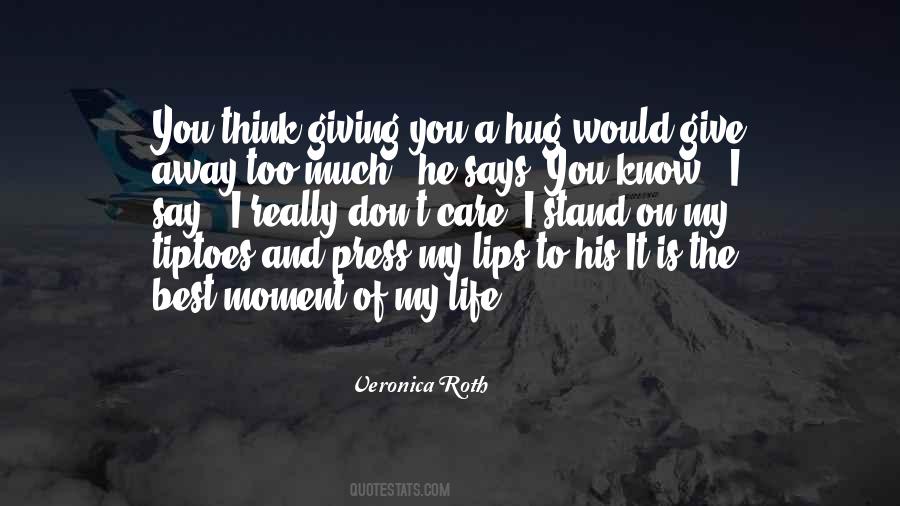 #88. I haven't even thought about a world record. I just want to go out there and have fun. I think when you focus too much on the numbers, you don't see anything that's out there. - Author: Missy Franklin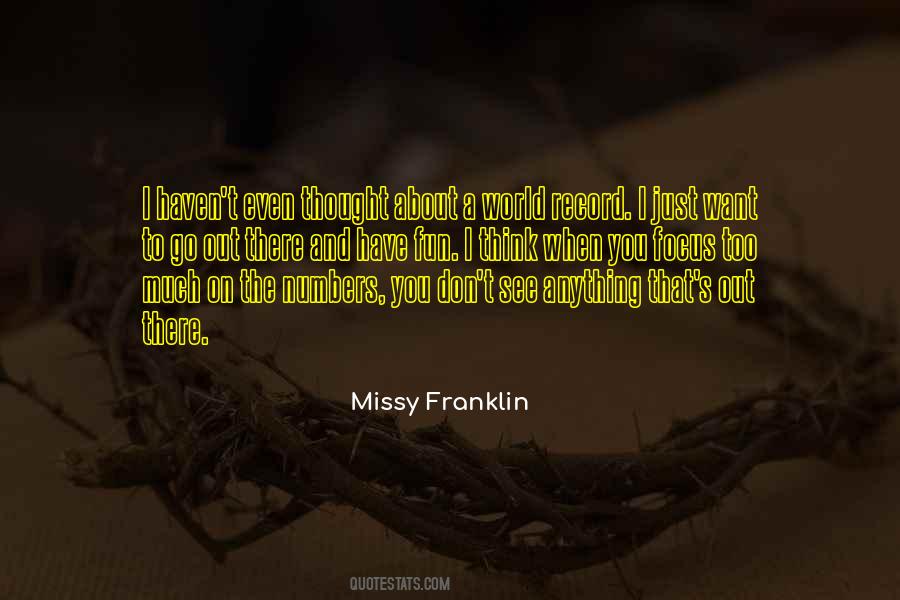 #89. People with a lot of money don't dress as well as people who have to make do, who have to be inventive. Those are the people who are always more interestingly dressed, I think. Everything I do, I do with gut instinct. If I think too much, it won't come out right. - Author: Iris Apfel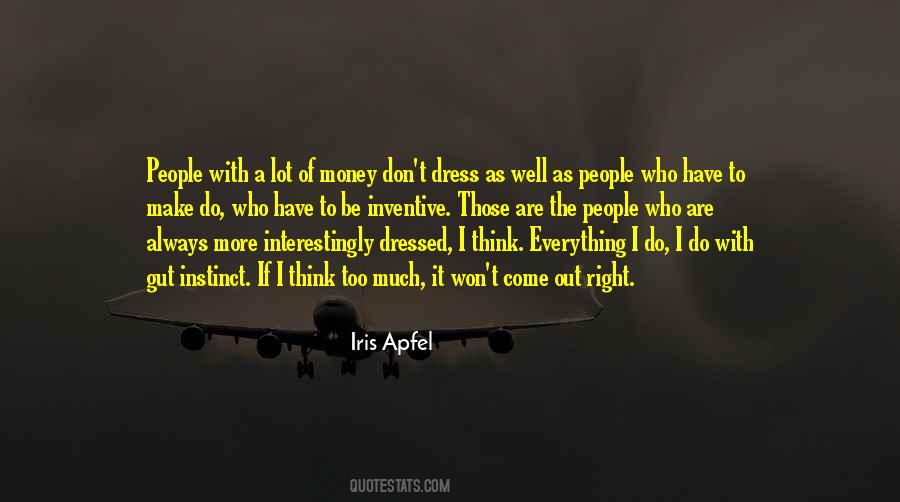 #90. Not everybody can create a foundation that's worth a billion dollars, but all of us can figure out those things we do. I really think God loves us too much to give us an assignment we don't enjoy doing. - Author: Max Lucado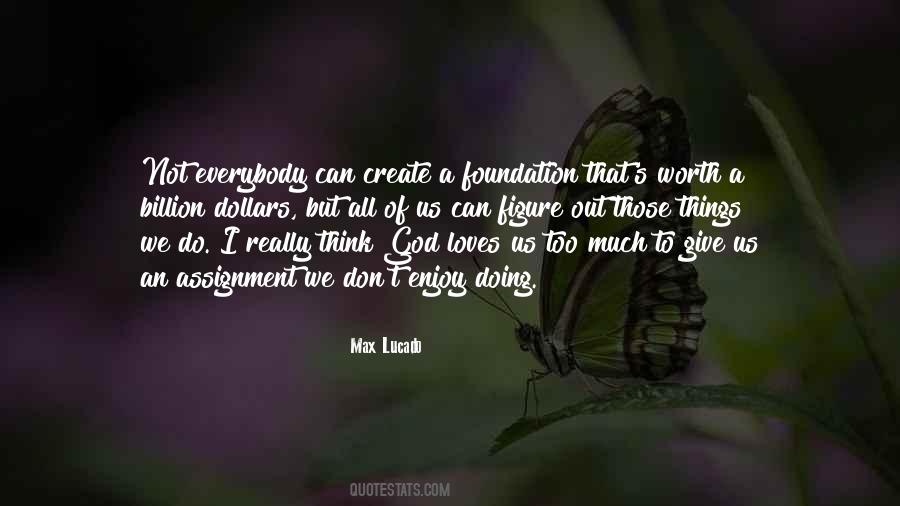 #91. If you were to gather all the minutes wasted on insignificant, immaterial yik yak spent throughout the day and add them up, how much misspent time do you think you'd have? One hour? Two hours? Consider the sunk cost on that. It's unacceptable. One minute wasted is one minute too much. - Author: Ari Gold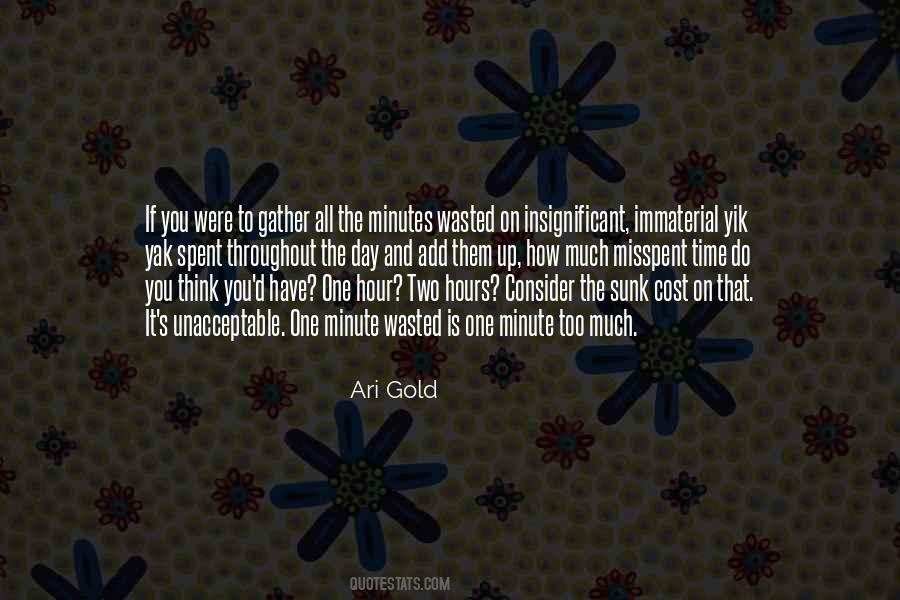 #92. I think too much of the music industry is for the lawyer and accountant mentality. - Author: Chuck D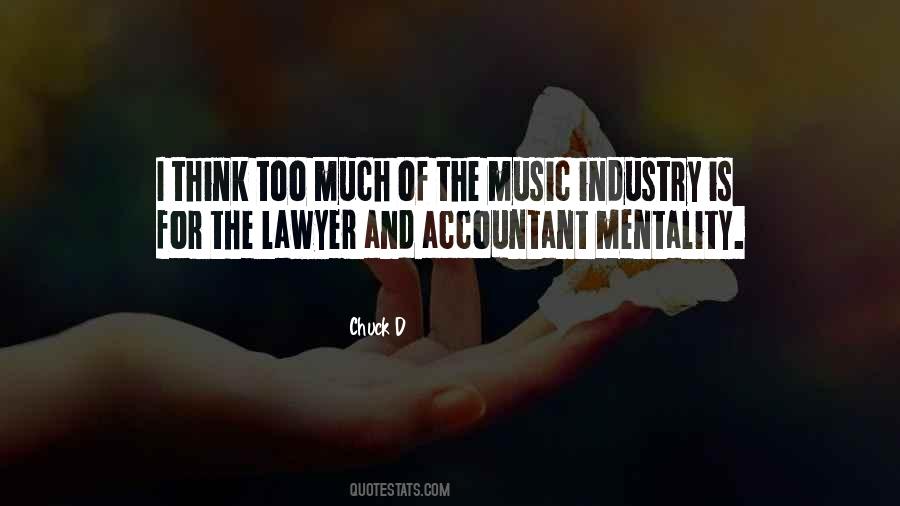 #93. I dunno," i said, "but i have an idea that people who don't think too much tend to look younger longer - Author: Charles Bukowski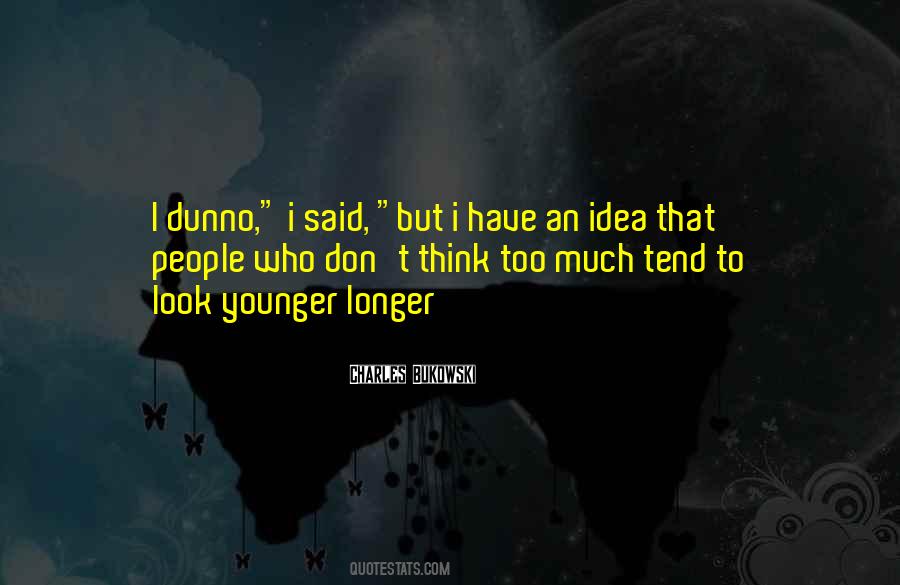 #94. Curiosity is very important I think, and I think too much of education, starting with childhood education, is either designed to kill curiosity or it works out that way anyway. - Author: Myles Horton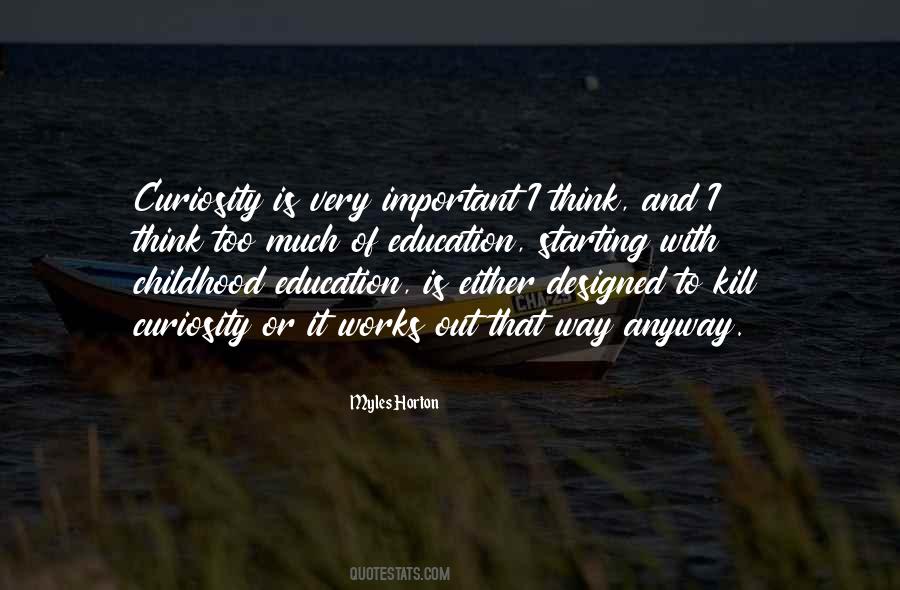 #95. When I go out to direct a film, every day we prepare too much, we think too much. Knowledge becomes a weight upon wisdom. You know, simple words lost in the quicksand of experience. - Author: Shekhar Kapur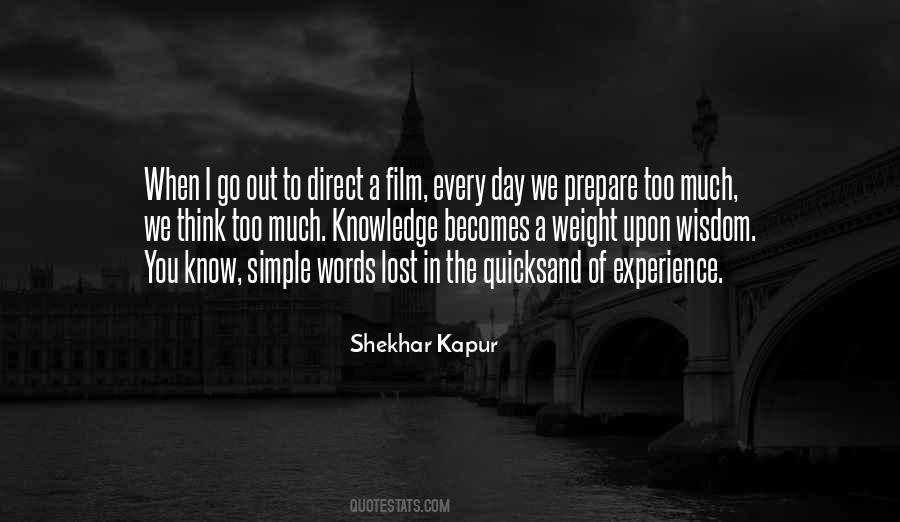 #96. I think part of me doesn't want to remember him, for fear of missing him too much. - Author: Francesca Marciano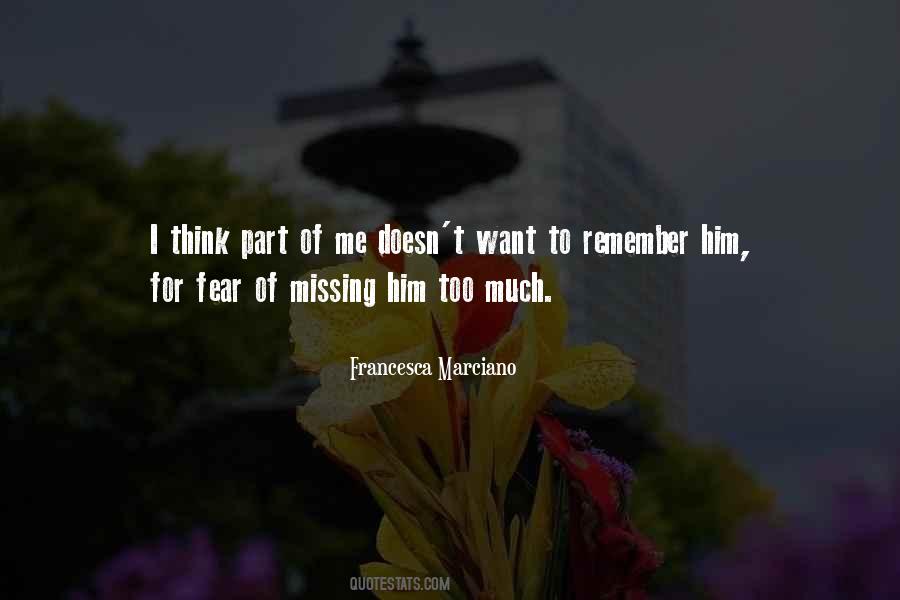 #97. I think in part the reason is that seeing an economy that is, in many ways, quite different from the one grows up in, helps crystallize issues: in one's own environment, one takes too much for granted, without asking why things are the way they are. - Author: Joseph Stiglitz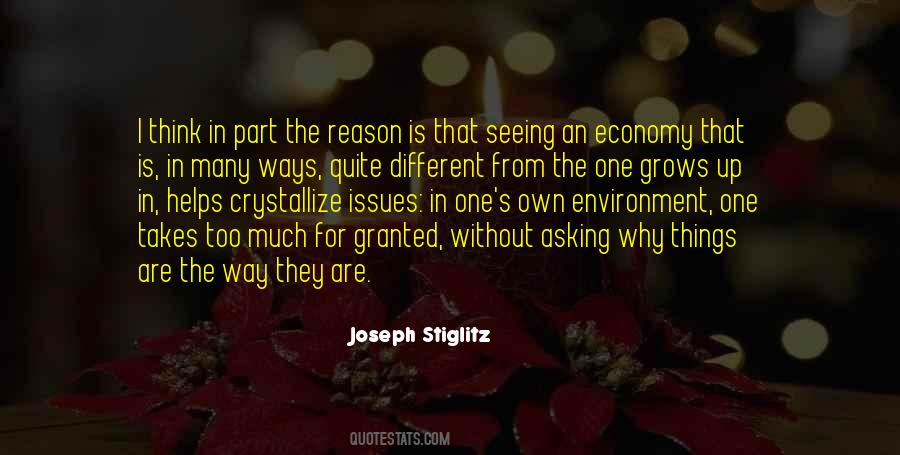 #98. I think it's damaging to know too much about a person, about an actor. - Author: Molly Parker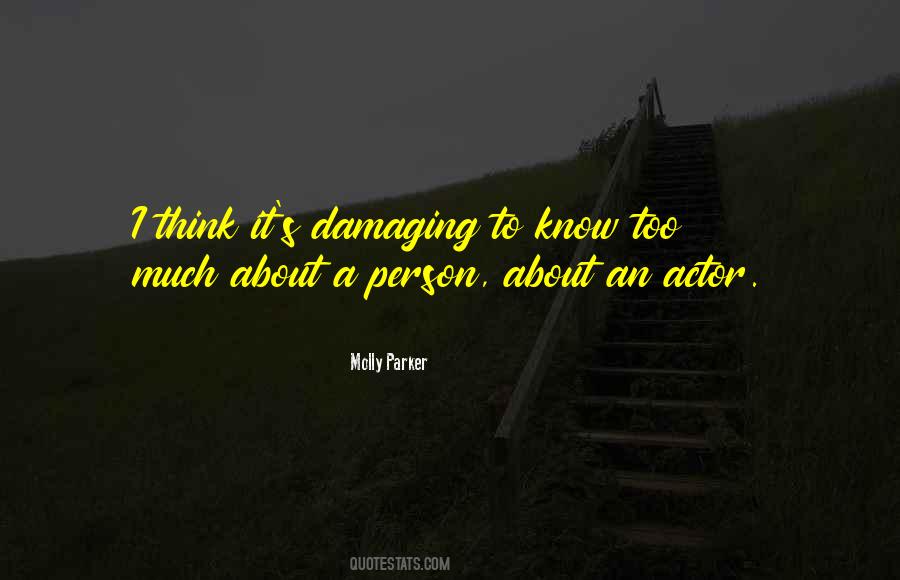 #99. Sometimes I think to talk too much about music almost cheapens it. - Author: Ben Harper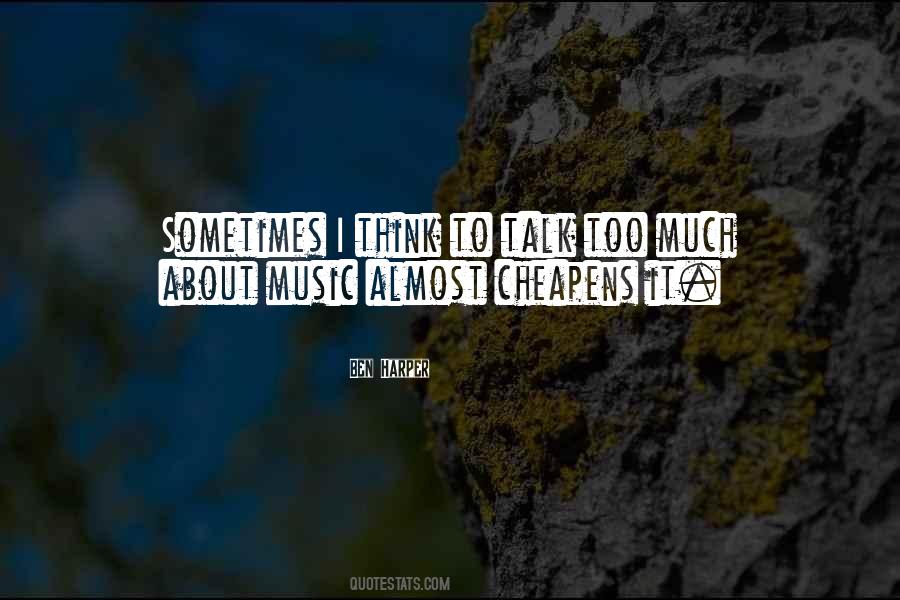 #100. When I was a kid, I got really great advice from someone who is so important to me and someone who I respect so much, and they told me, 'Don't do too many endorsements. Don't throw your name on things; think of your longevity.' - Author: Drew Barrymore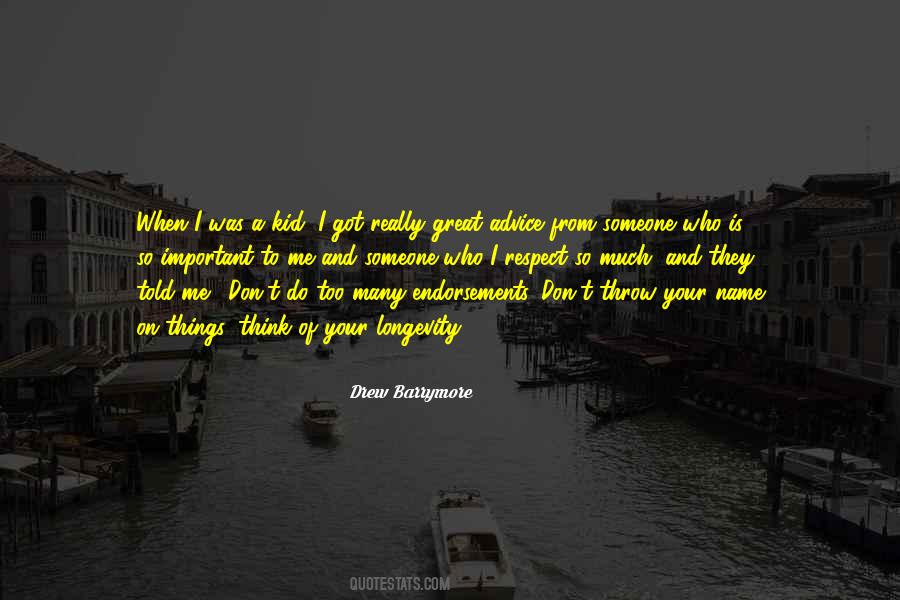 Famous Authors
Popular Topics