The Forces Of Evil Famous Quotes & Sayings
List of top 62 famous quotes and sayings about the forces of evil to read and share with friends on your Facebook, Twitter, blogs.
Top 62 Quotes About The Forces Of Evil
#1. The devil, darkness, and death may swagger and boast, the pangs of life will sting for a while longer, but don't worry; the forces of evil are breathing their last. Not to worry ... He's risen! - Author: Charles R. Swindoll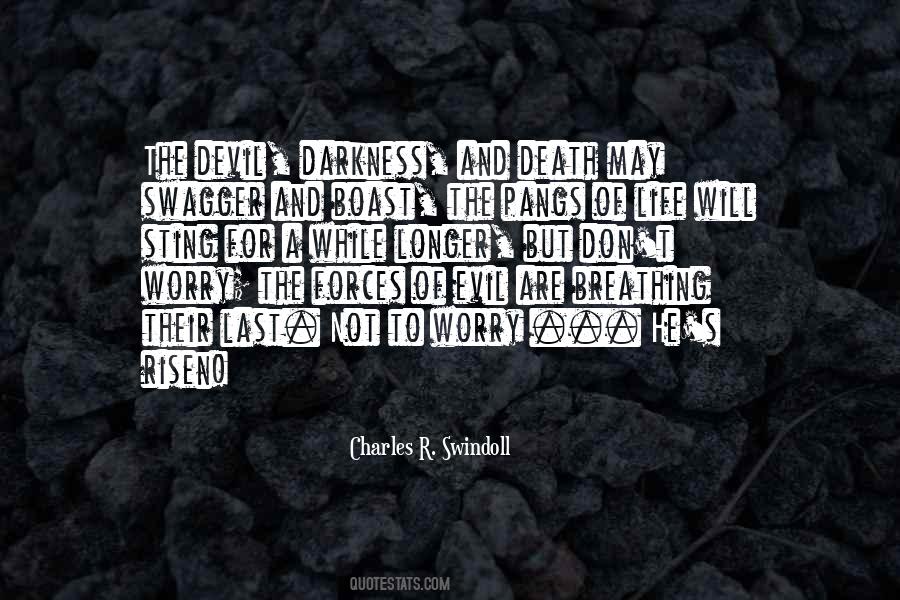 #2. Bridget adds, "Did Anyone bring a weapon?"
"Confiscated," Zach admits for both of us.
Vesper holds up her metal fingernail file. "They didn't take this."
We're dealing with the forces of evil," I point out. "Not the TSA. - Author: Cynthia Leitich Smith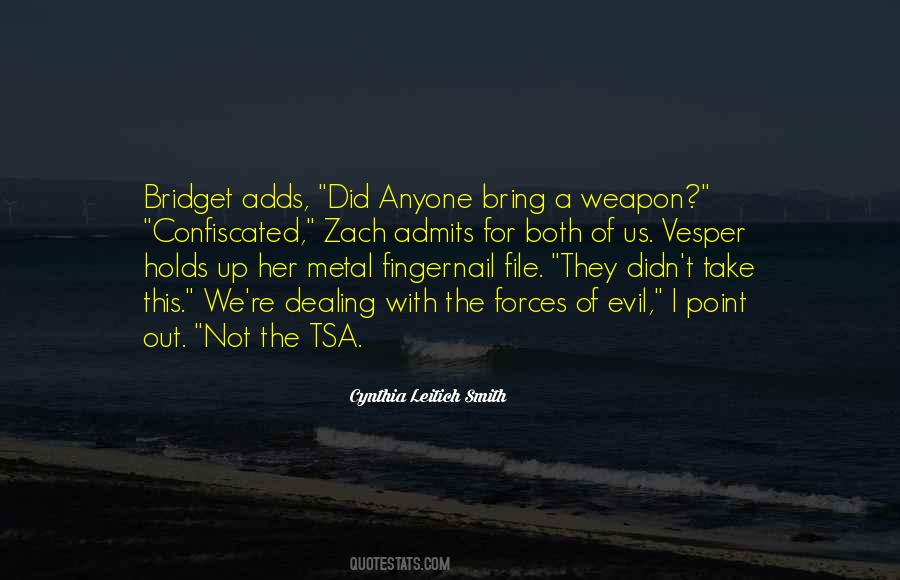 #3. We face a dark time in the history of God's people ... the forces of evil seem to be gathering for a colossal assault on the work of God in the world. In the darkest hour God can still revive His people, and by the Holy Spirit breathe new vigor and power into the body of Christ. - Author: Billy Graham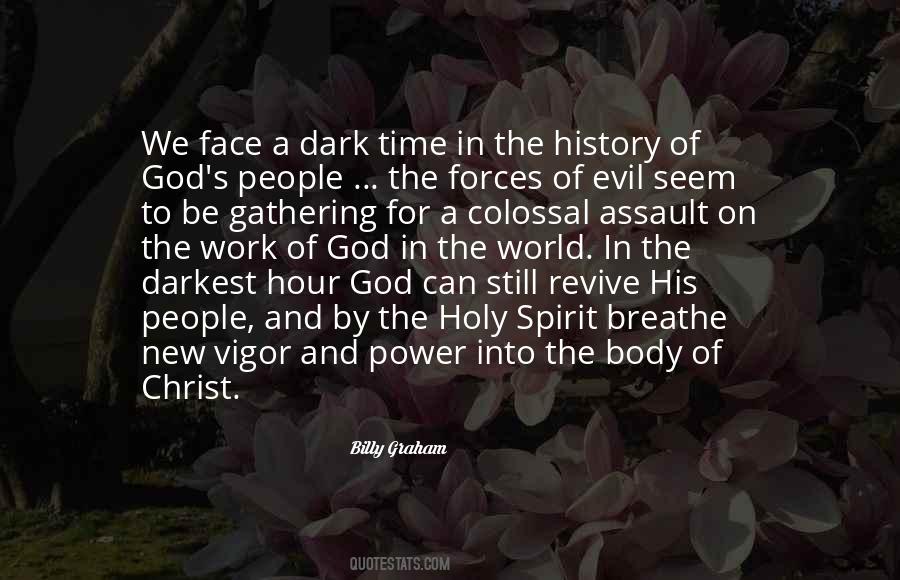 #4. And I believe that if 100 million people became embodiments of peace, the world would transform, because consciousness is a collective phenomenon. And what we see as good and evil is the balance between forces. - Author: Deepak Chopra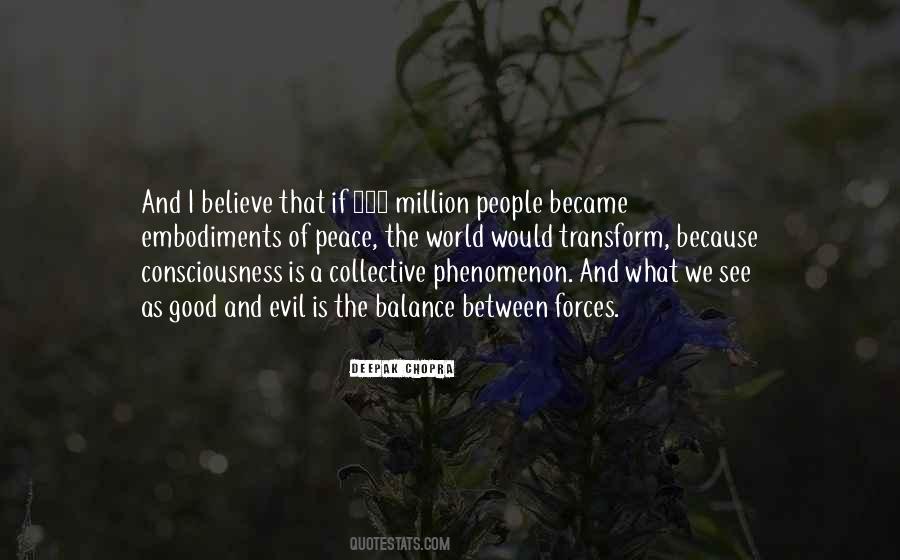 #5. Or perhaps about acknowledging that life is a delicate balance of great forces, and that good would lose its potency if there was no evil left to fight in the world. - Author: Anne Fortier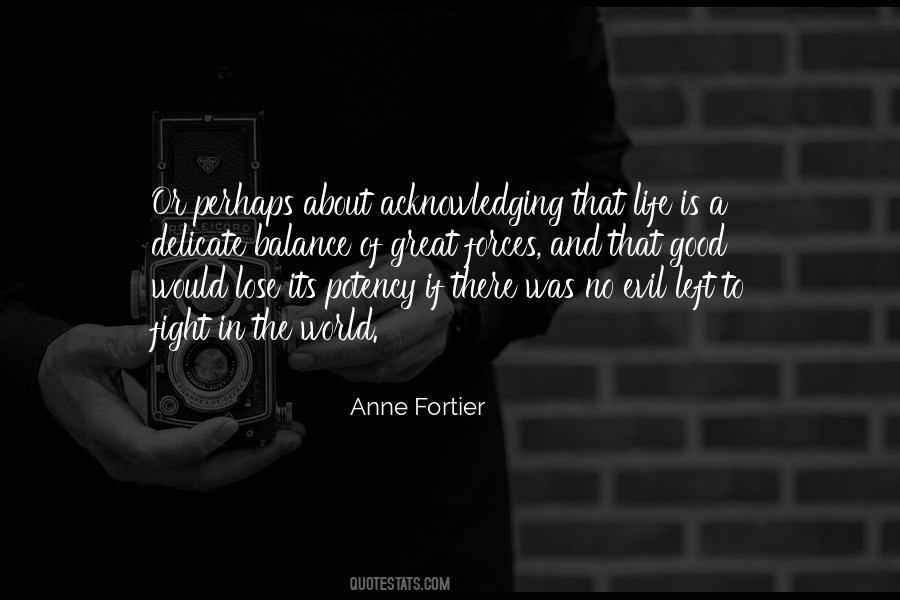 #6. There are two great forces, God's force of good and the devil's force of evil, and I believe Satan is alive and he is working, and he is working harder than ever, and we have many mysteries that we don't understand. - Author: Billy Graham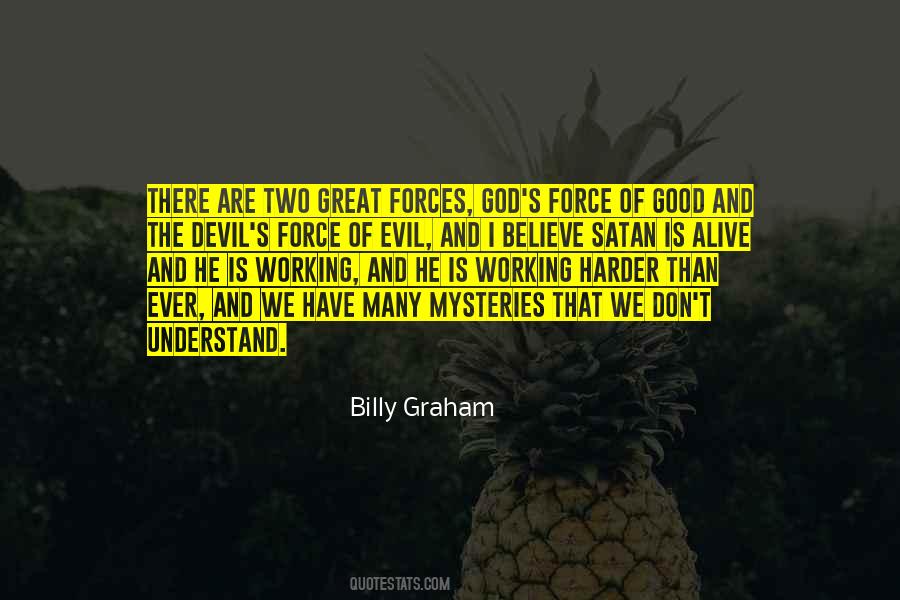 #7. Spiritual warfare is very real. There is a furious, fierce, and ferocious battle raging in the realm of the spirit between the forces of God and the forces of evil. Warfare happens every day, all the time. Whether you believe it or not, you are in a battlefield. You are in warfare. - Author: Pedro Okoro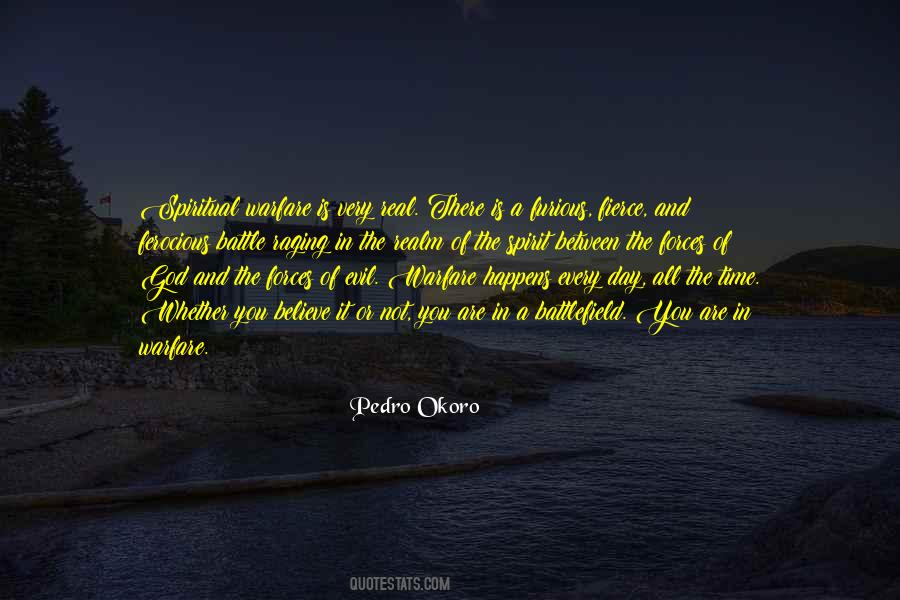 #8. Do not let the forces of evil take over to make this a Christian America. - Author: Howard Metzenbaum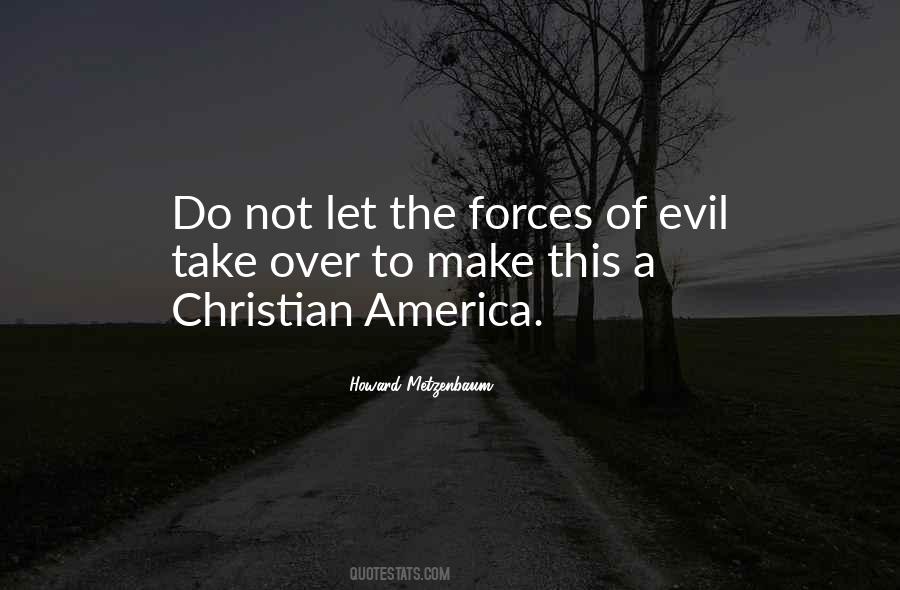 #9. At the best of times, democracy is a seesaw between complete chaos and tolerable confusion. You see, to make a democratic omelette you have to break a few democratic eggs. To fight fascism and other evil forces threatening our country, there is nothing wrong in taking strong measures. - Author: Rohinton Mistry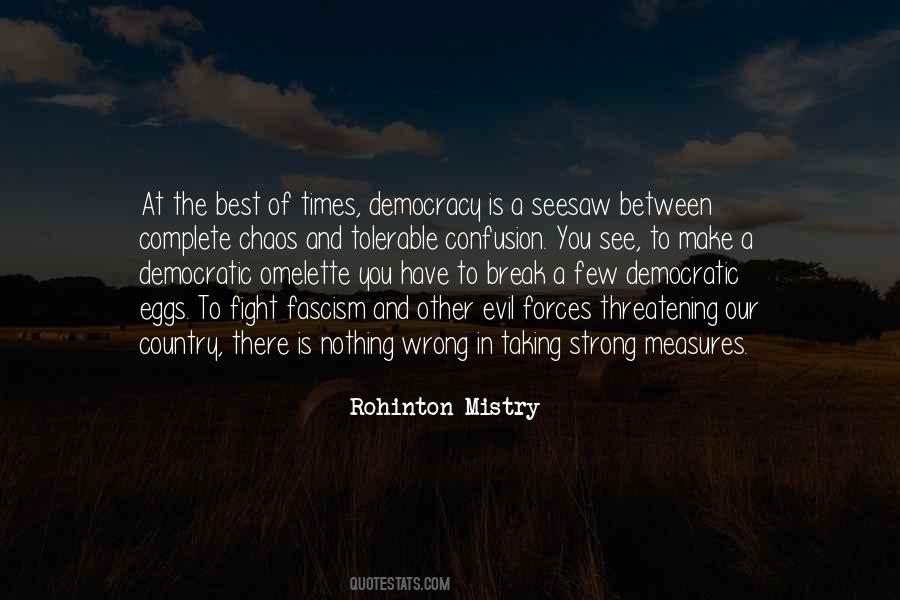 #10. The forces of immorality and Marxism and evil count on one thing: Us not showing up. And often, they're justified in that. And I think if you look at some of the things that have happened this year with the Freedom Agenda, it should encourage you, that when you show up, we actually win. - Author: Matt Shea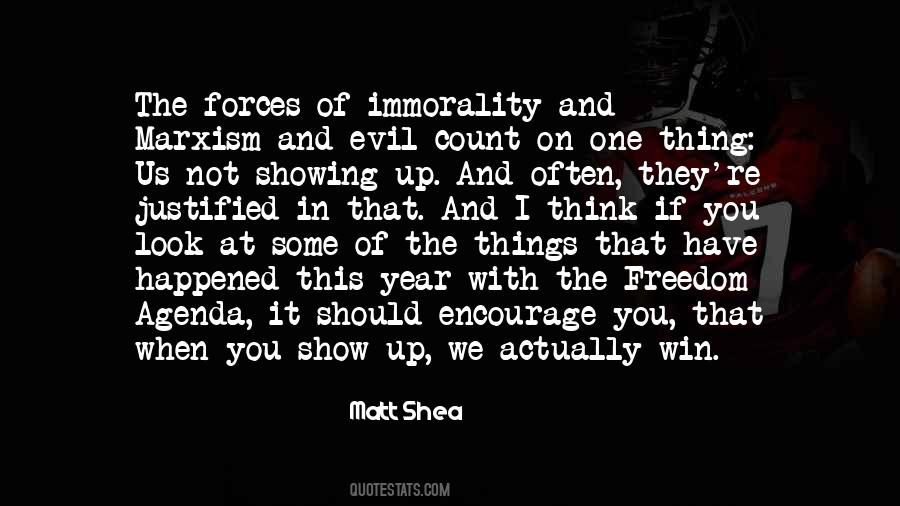 #11. The town was full of murderers, gamblers and whores, few of whom might be called upon to set aside their differences and fight against the supernatural forces of evil. - Author: Robert Davis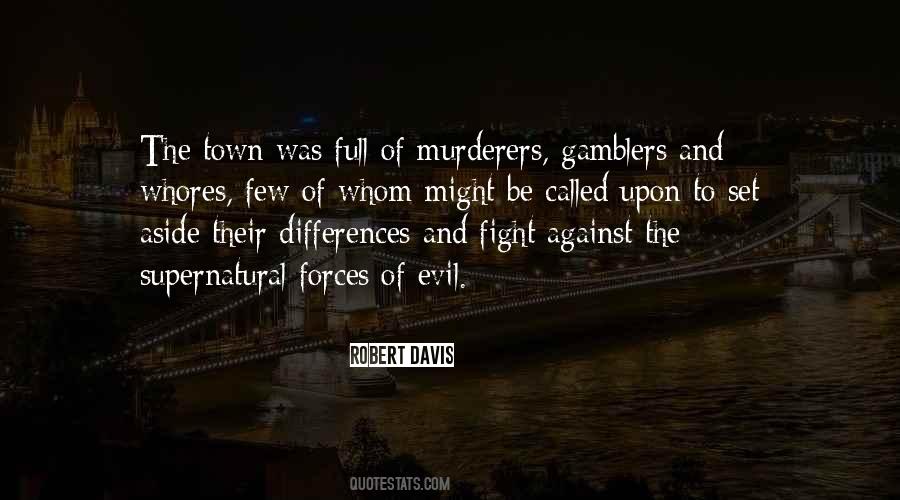 #12. For we do not wrestle against flesh and blood, but against the rulers, against the authorities, against the cosmic powers over this present darkness, against the spiritual forces of evil in the heavenly places. - EPHESIANS 6:12 - Author: Frank E. Peretti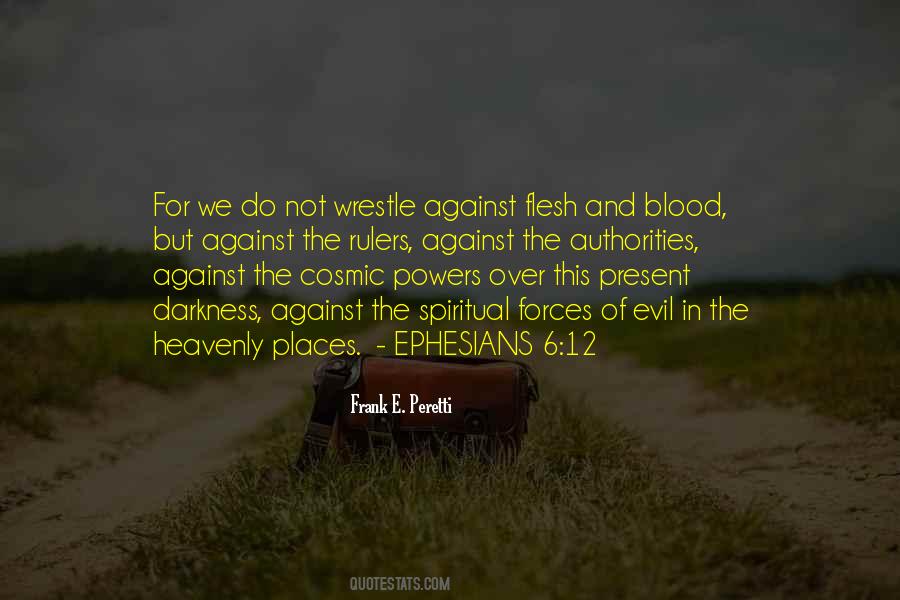 #13. Those that set in motion the forces of evil cannot always control them afterwards. - Author: Charles W. Chesnutt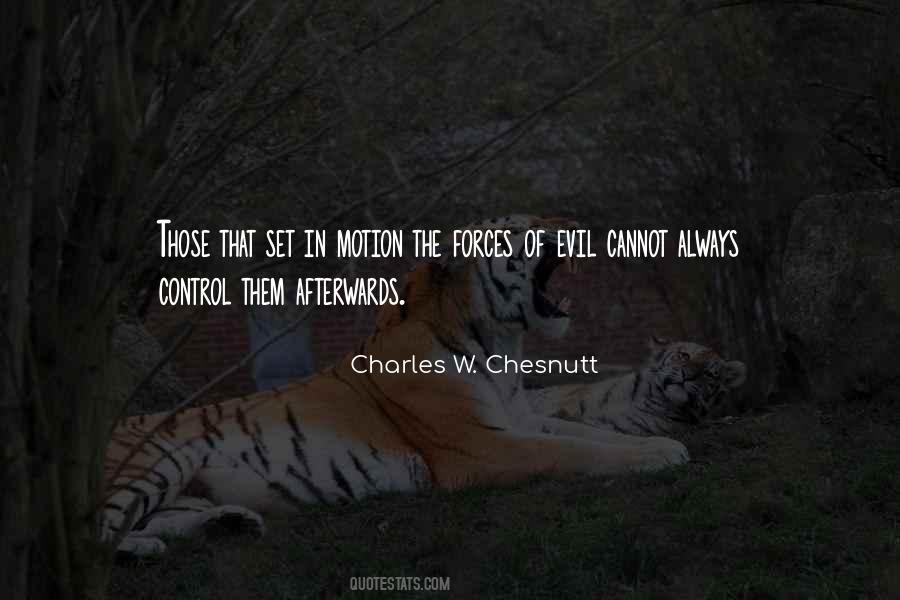 #14. Throughout his career, Jobs liked to see himself as an enlightened rebel pitted against evil empires, a Jedi warrior or Buddhist samurai fighting the forces of darkness. IBM was his perfect foil. He cleverly cast the upcoming battle not as a mere business competition, - Author: Walter Isaacson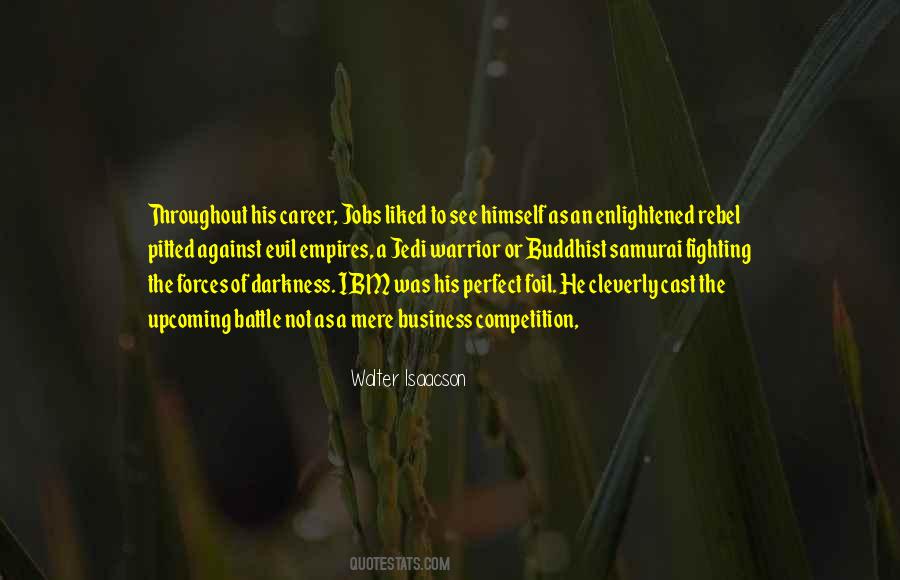 #15. We must recognize that we are living in an imperfect world in which human and superhuman forces of evil are at work and so long as those forces affect the political behaviour of mankind there can be no hope of abiding peace. - Author: Christopher Dawson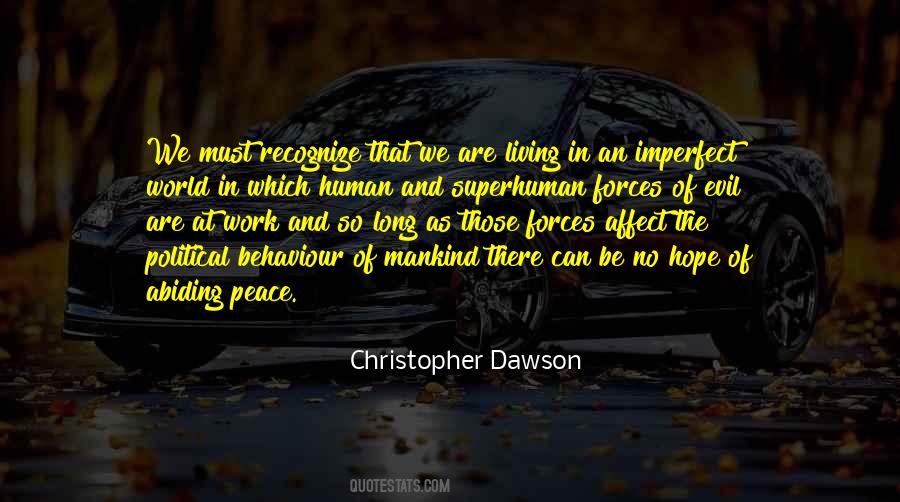 #16. ... a precarious balance between the forces of good and evil ... - Author: Jostein Gaarder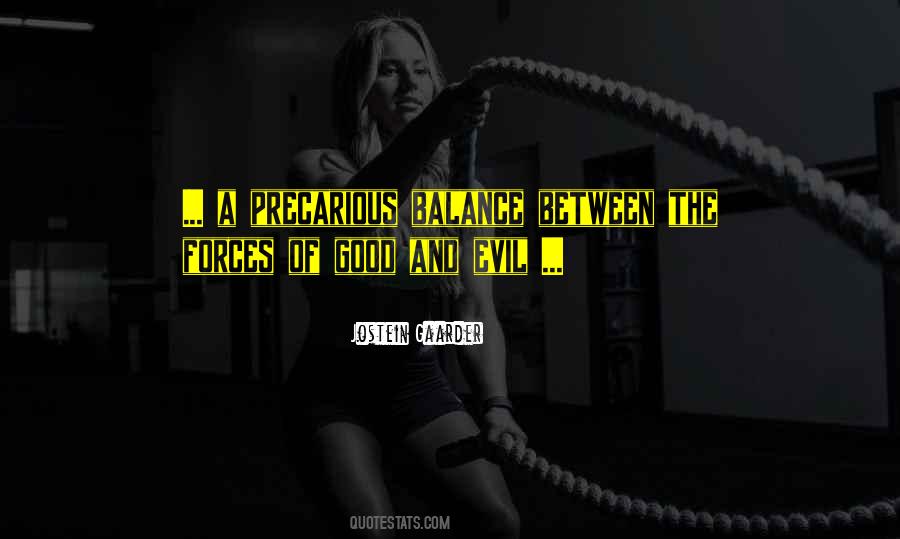 #17. The Book of Revelation is all about the conflict, the contest between the forces of Good and Evil. - Author: Elaine Pagels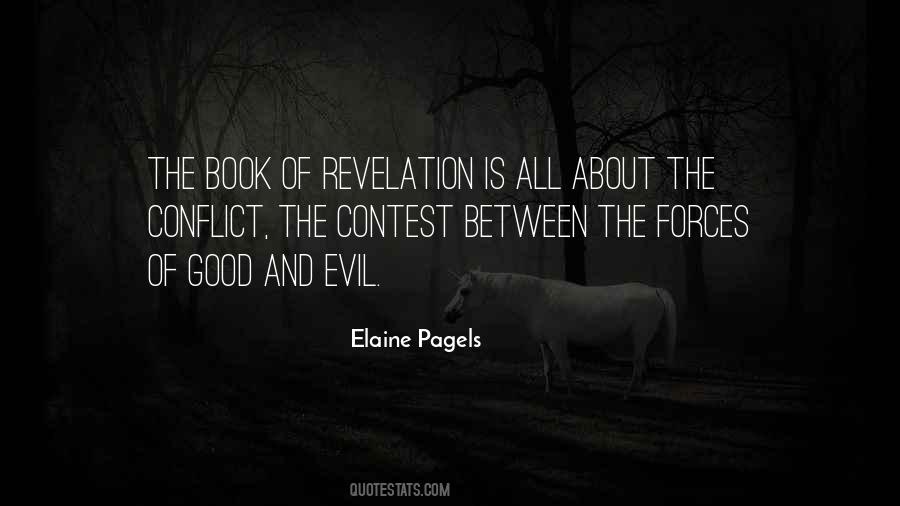 #18. I am perhaps a late follower of Zoroaster and I believe that the foundation of life is built upon the struggle between the two opposing forces of Good and Evil. - Author: Eugenio Montale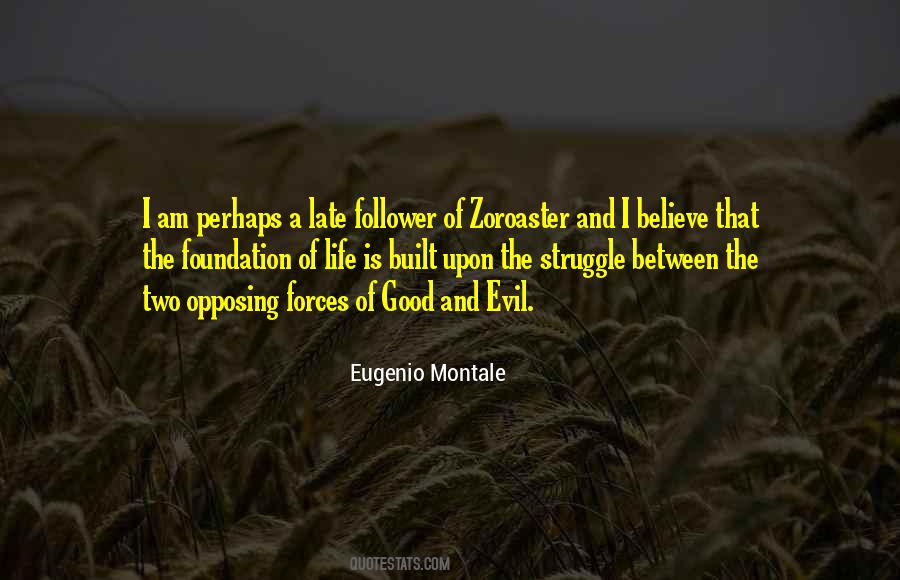 #19. The history of this world was divided into two phases: the present age, which was controlled by the forces of evil, and the age to come, in which God would rule supreme. - Author: Bart D. Ehrman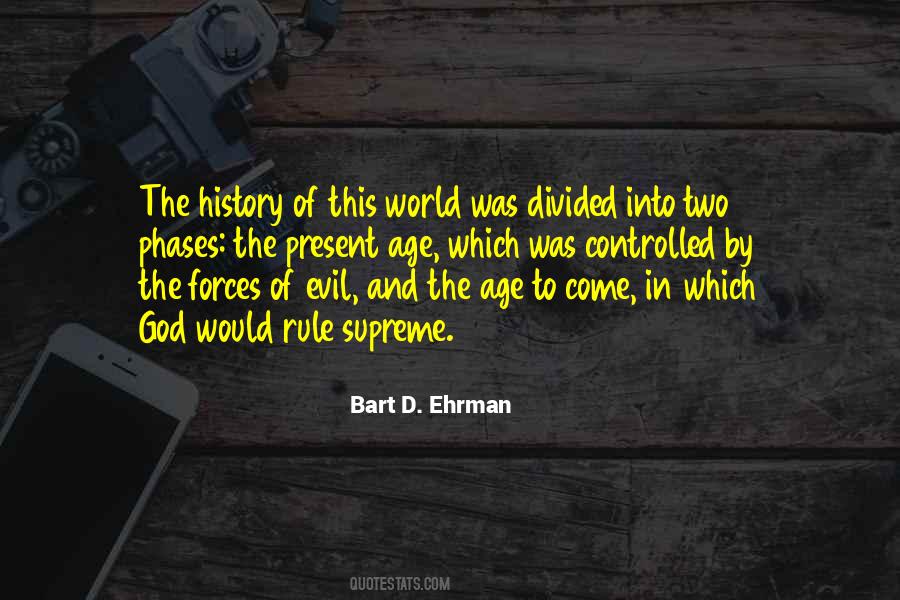 #20. Communism is evil. Its driving forces are the deadly sins of envy and hatred. - Author: Peter Drucker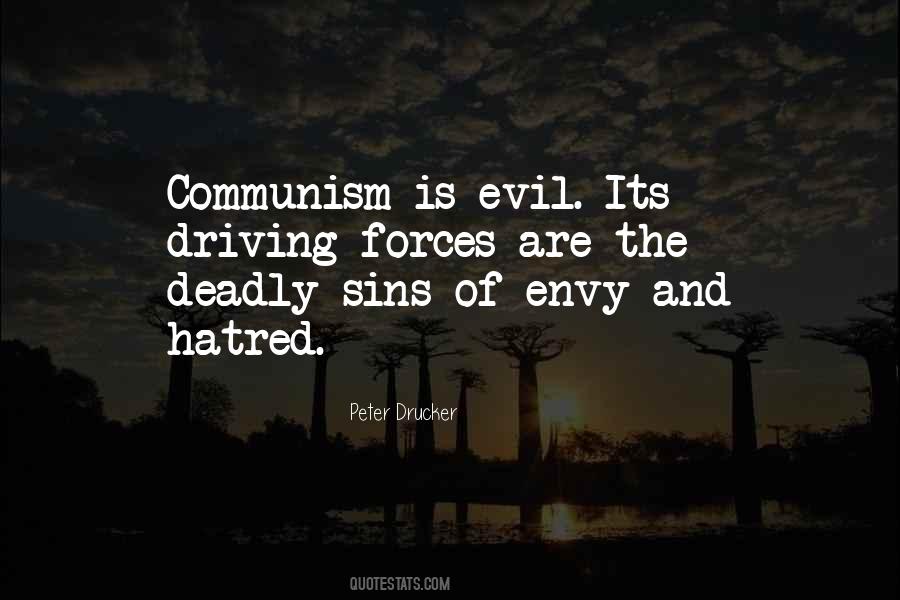 #21. Hardest of all for Europeans to negotiate are traditional African religions, whose transactions with unseen powers are central to the running of life in many areas, the main weapon in the struggle against the forces of evil. - Author: Neil MacGregor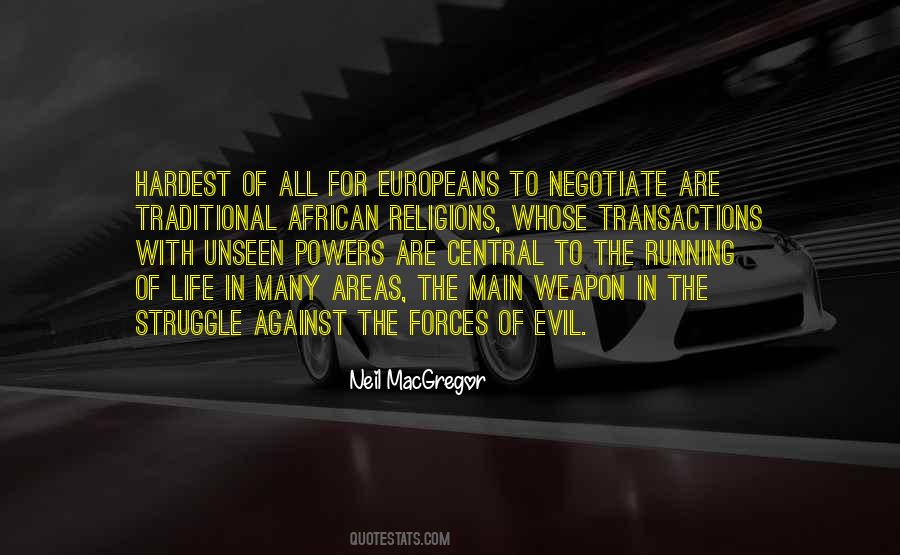 #22. My painting represents the victory of the forces of darkness and peace over the powers of light and evil. - Author: Ad Reinhardt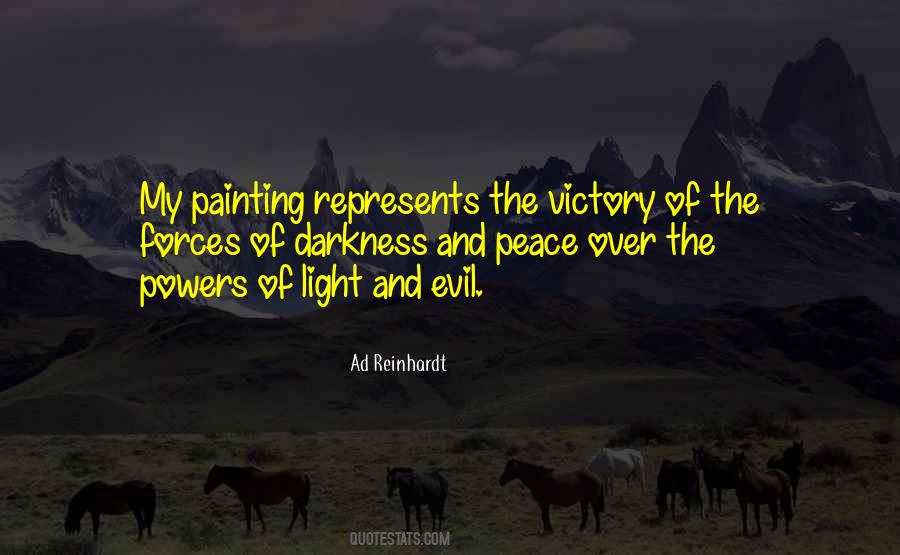 #23. I don't know how it will be in the years to come. There are monstrous changes taking place in the world, forces shaping a future whose face we do not know. Some of these forces seem evil to us, perhaps not in themselves but because their tendency is to eliminate other things we hold good. - Author: John Steinbeck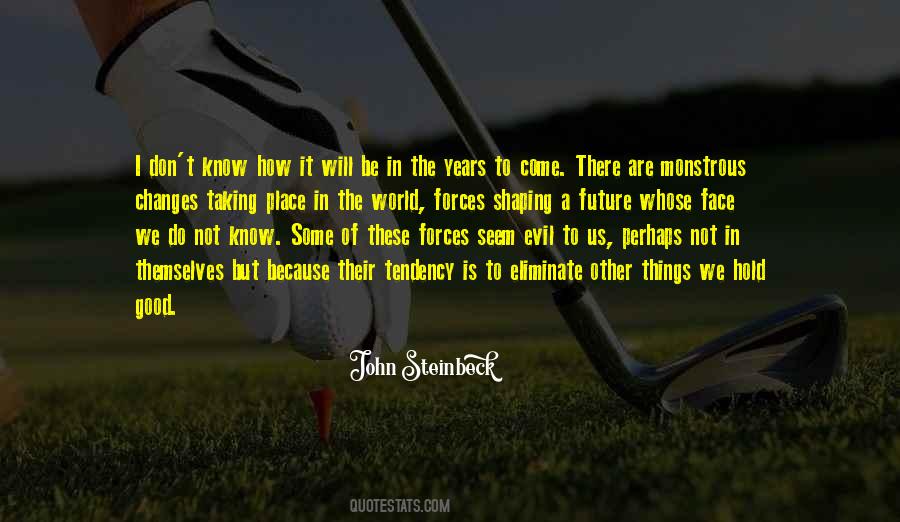 #24. All that is necessary for the forces of evil to win is for enough good women to do nothing. - Author: Kate Atkinson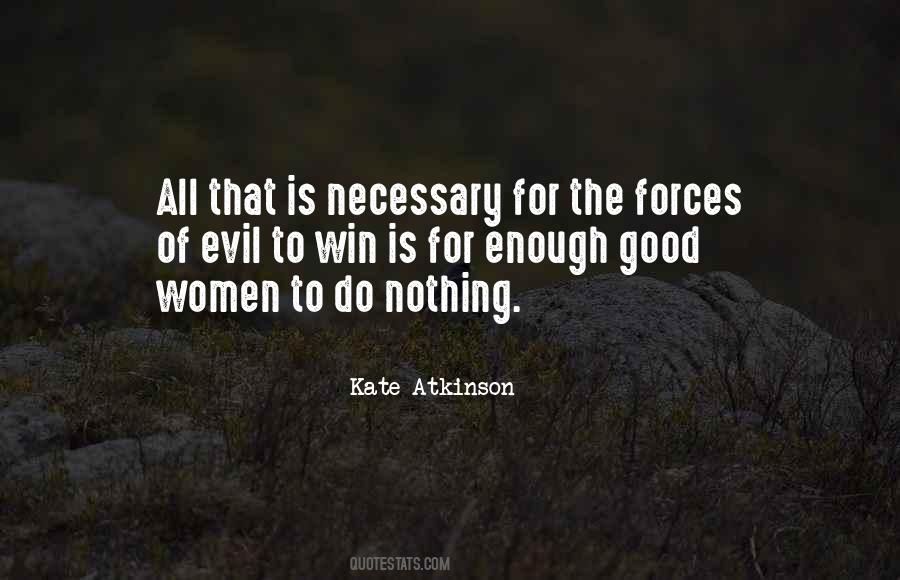 #25. Don't be disheartened by the forces of evil. Nothing can happen that God hasn't allowed. Even resistance is all part of grand orchestration. The devil always has you right were God wants you. - Author: Steve Maraboli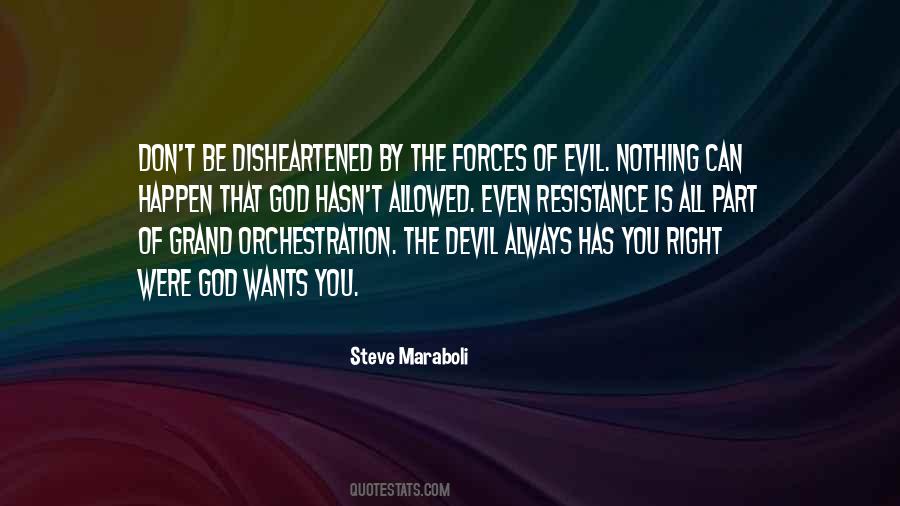 #26. May the forces of evil become confused on the way to your house. - Author: George Carlin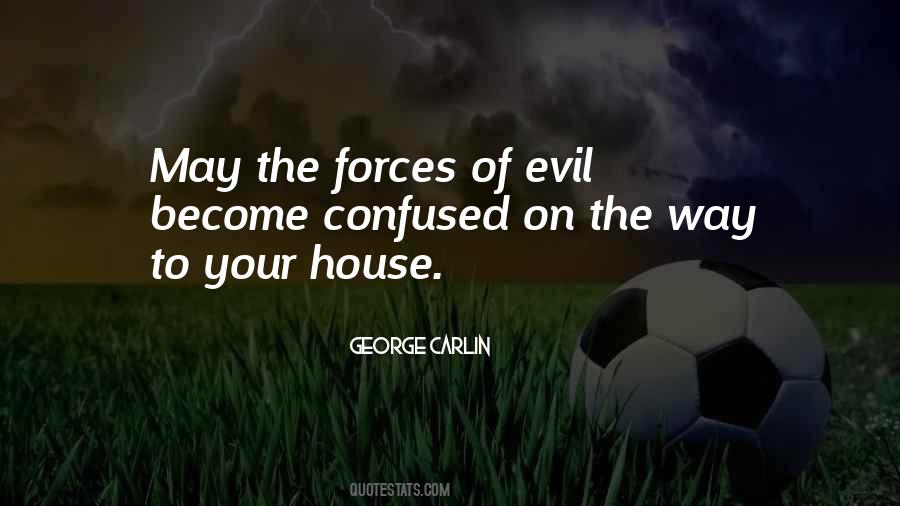 #27. I have always regarded global development as a struggle between the forces of good and evil. Not to be simplified as a struggle between Jesus and Satan, since I do not consider that the process is restricted to our own sphere of culture. - Author: Alva Myrdal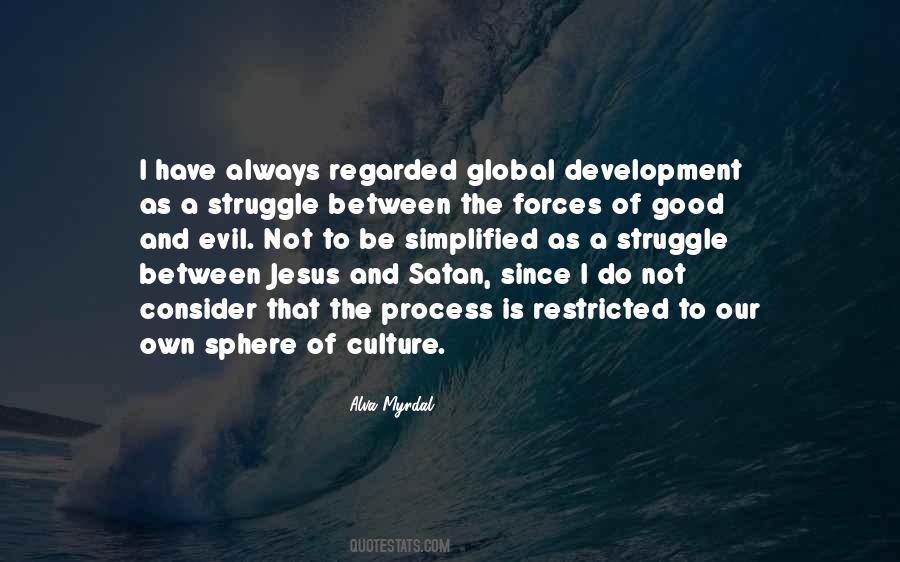 #28. Forces of good and evil are massed and armed and opposed as rarely before in history. Freedom is pitted against slavery; lightness against the dark ... In the final choice, a soldier's pack is not so heavy a burden as a prisoner's chains. - Author: Dwight D. Eisenhower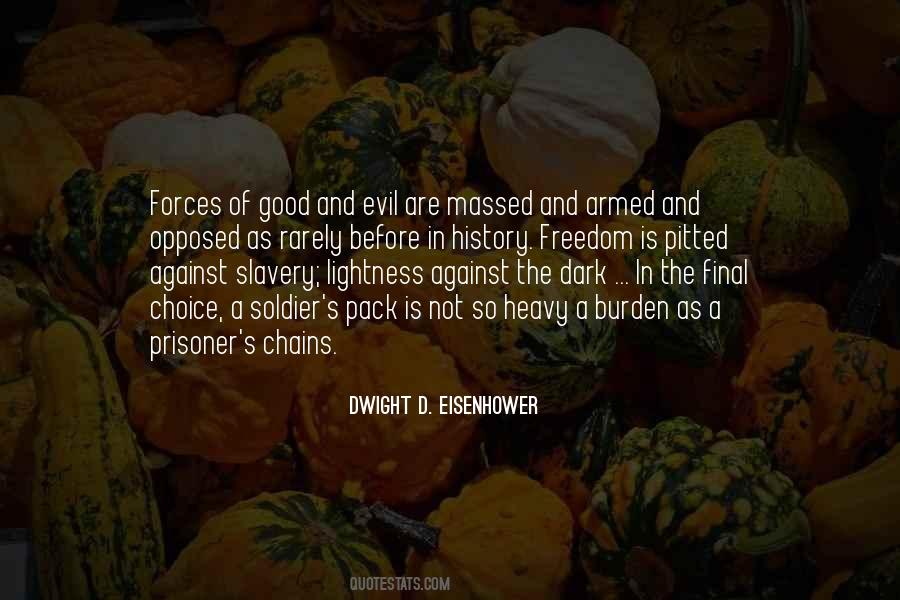 #29. God shapes the world by prayer. The more prayer there is in the world the better the world will be, the mightier the forces of against evil - Author: Edward McKendree Bounds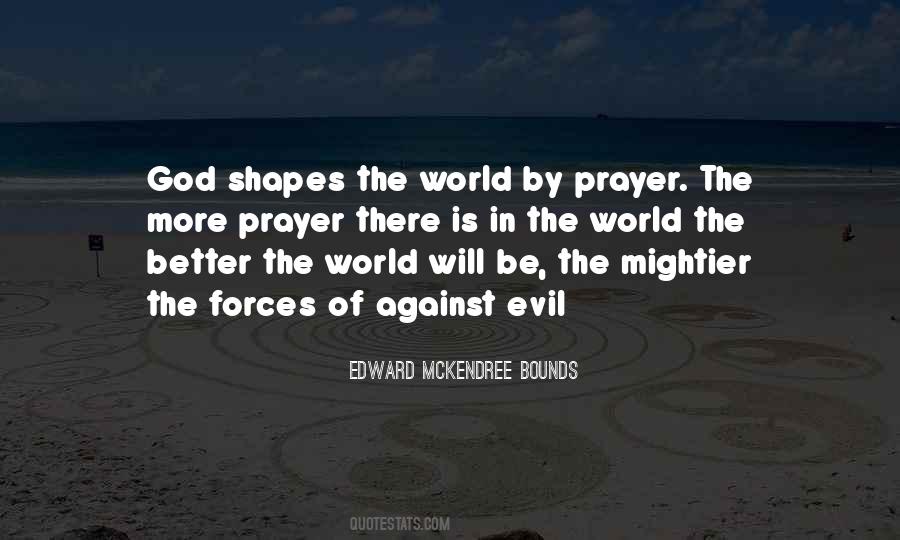 #30. Our vision of war is probably too influenced by the biggest one of all, World War II, where the forces of evil were so unambiguous and so relentless that there was no choice but to commit to total war and to demand unconditional surrender. Seldom, though, is it quite that clear cut. - Author: David Horsey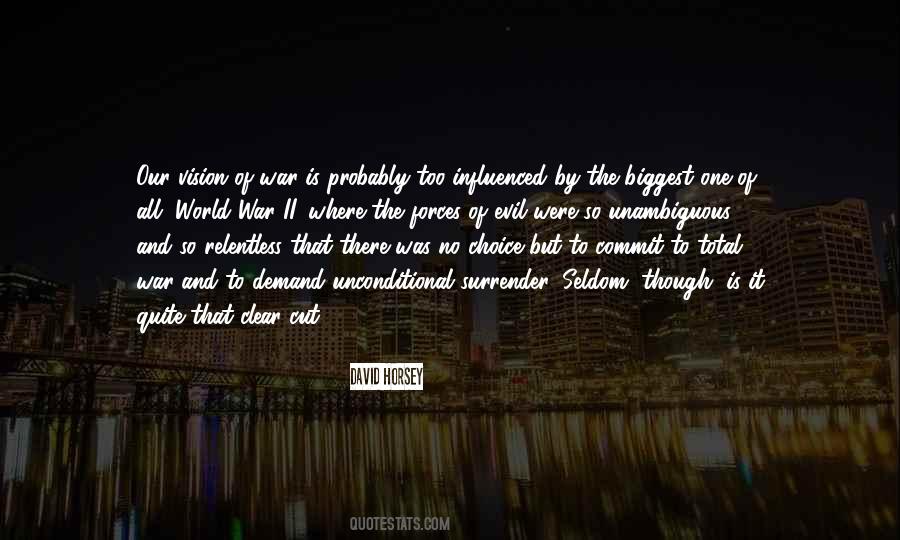 #31. So. You get handed a holy sword by an archangel, told to go fight the forces of evil, and you somehow remain an atheist. Is that what you're saying? - Author: Jim Butcher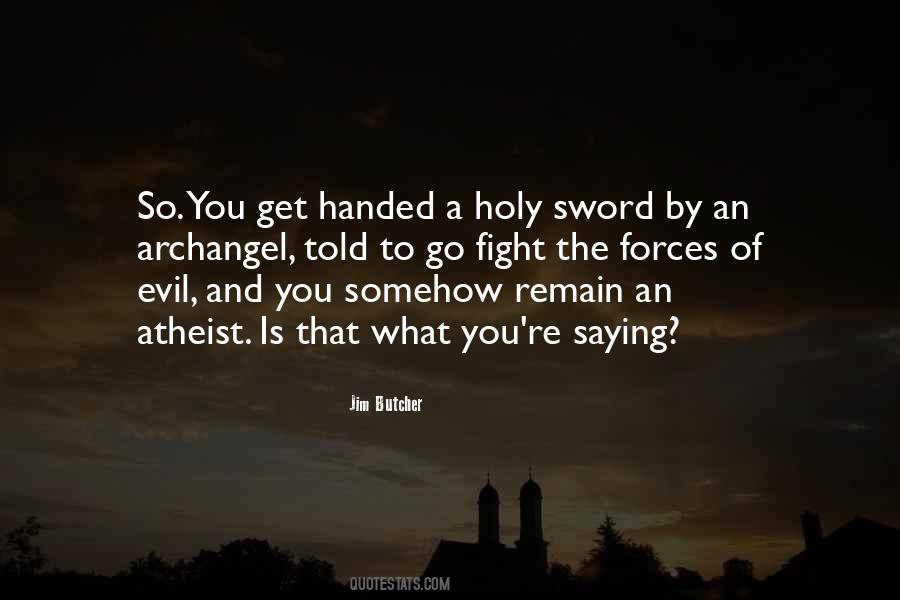 #32. Our brave men and women have made many sacrifices in just wars to defeat the forces of evil. We have exported our greatest values: freedom and opportunity, which have lifted millions out of poverty. At home, these values allow Americans to use their God-given potential and make their dreams reality. - Author: Marco Rubio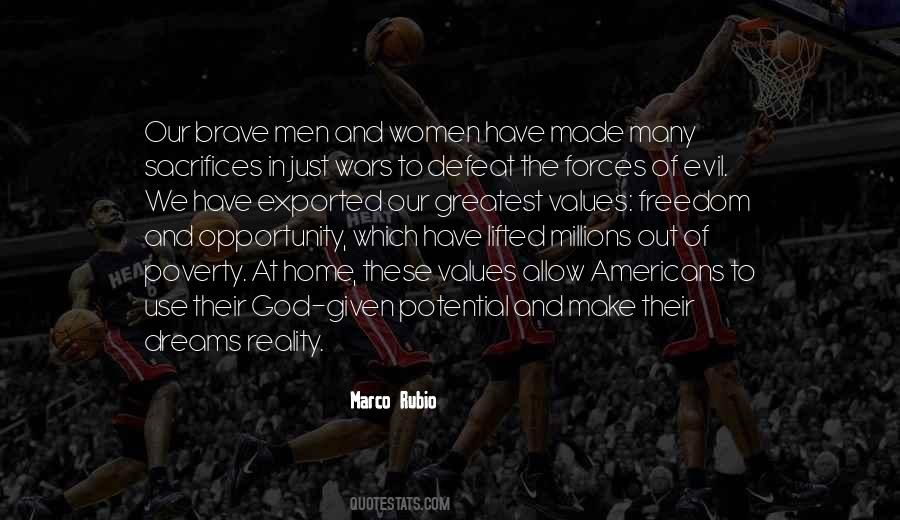 #33. All good things come from love; God used the cross a symbol of His love, to paralyze and defeat all forces of evil. God is love. John 3:16 - Author: Felix Wantang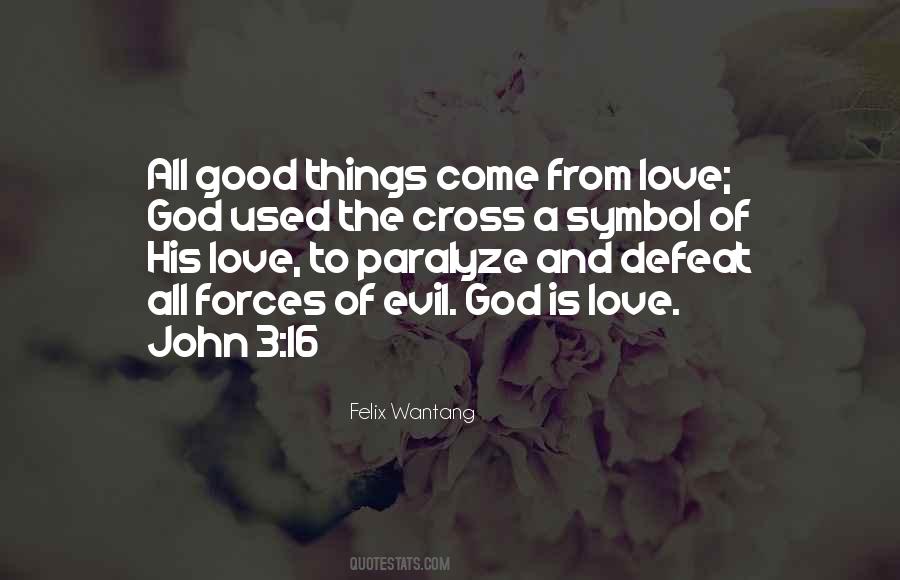 #34. The forces that tend for evil are great and terrible, but the forces of truth and love and courage and honesty and generosity and sympathy are also stronger than ever before. - Author: Theodore Roosevelt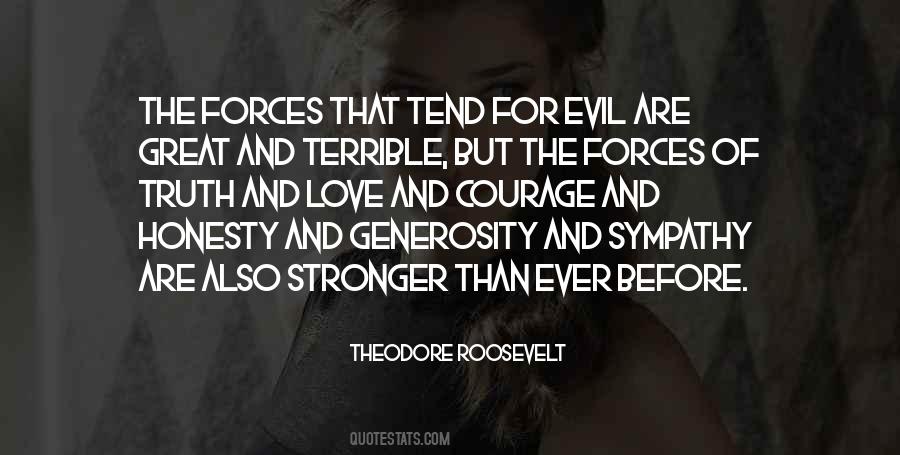 #35. What quantities evil - the amount of blood spilled the body count, the intentional destruction of innocent masses? Regardless of how evil is defined, there will always be those in power to discriminately judge it and their corrupt policing forces that enforce it. - Author: Mahima Martel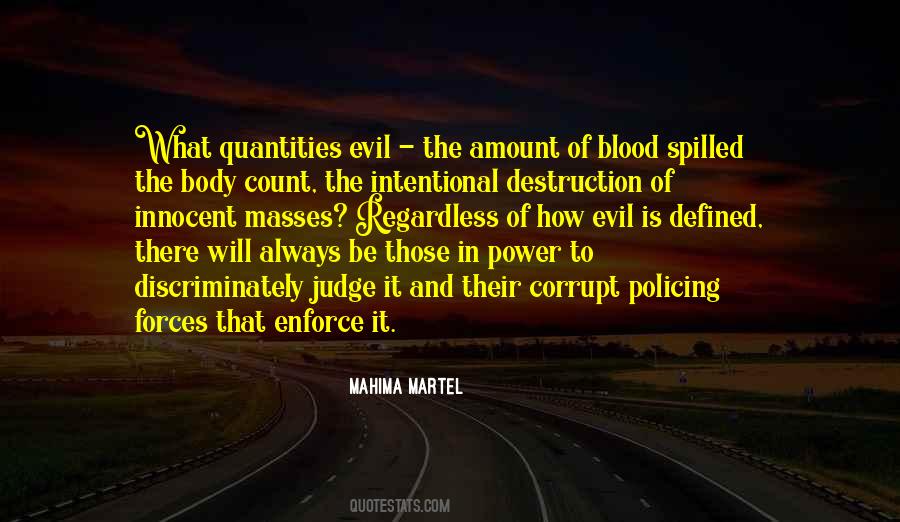 #36. Was not merely weak but also evil to throw away your life when so many had their lives or the promise of their future taken from them by cruel people or by the brutal forces of nature. - Author: Dean Koontz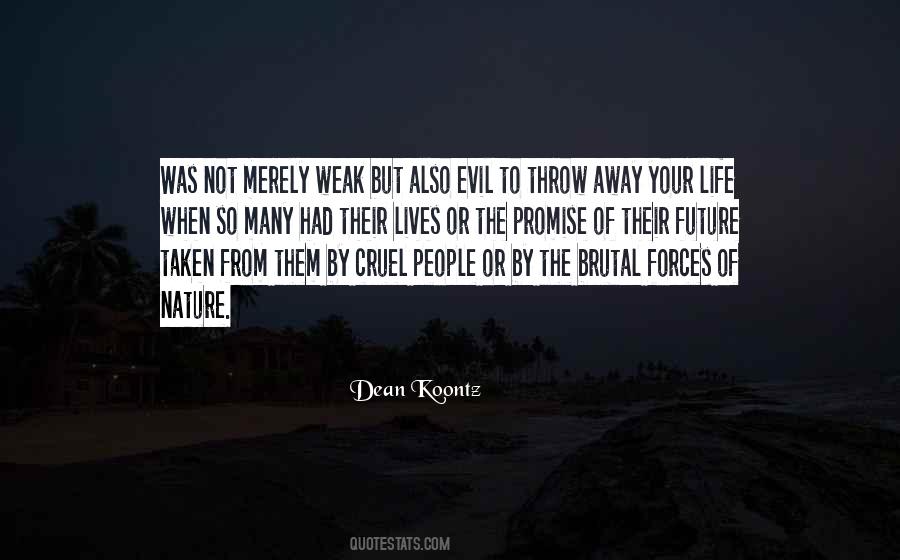 #37. Nationalism and patriotism are the two most evil forces that I know of in this century or in any century and cause more wars and more death and more destruction to the soul and to human life than anything else. - Author: Oliver Stone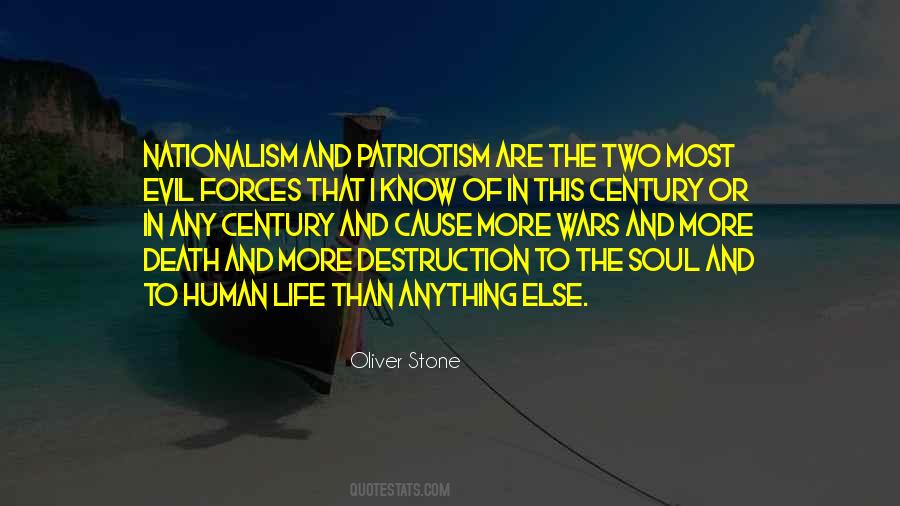 #38. Example moves the world more than doctrine. The great exemplars are the poets of action, and it makes little difference whether they be forces for good or forces for evil. - Author: Henry Miller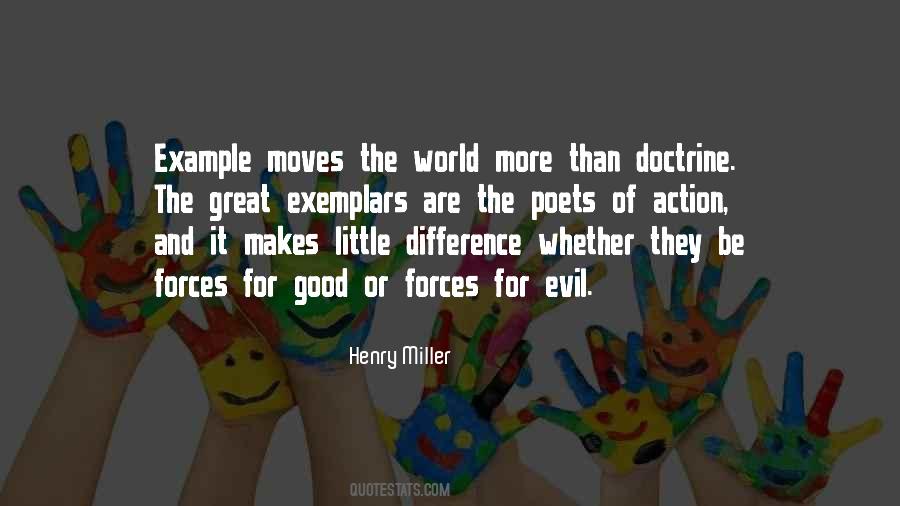 #39. The word "salvation" denotes rescue. Rescue? What from? Well, of course, ultimately death. And since it is sin that colludes with the forces of evil and decay, sin leads to death. So we are rescued from sin and death. - Author: N. T. Wright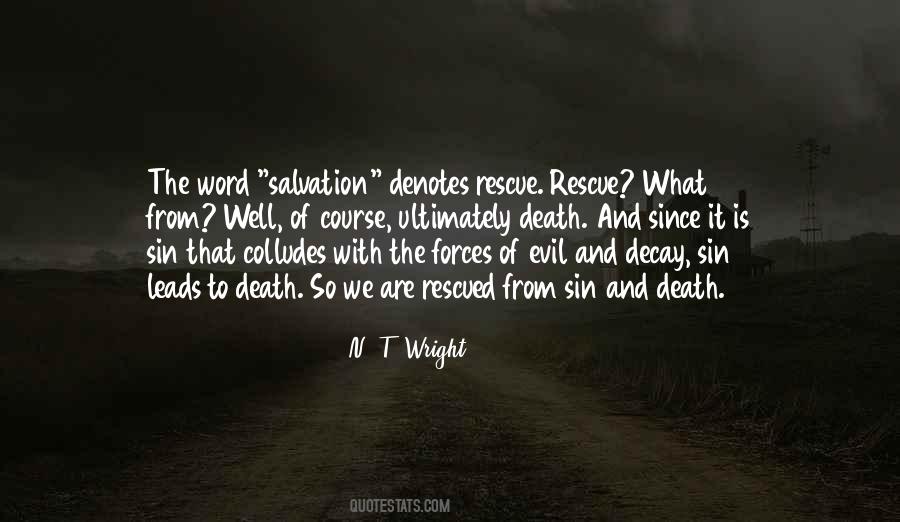 #40. The gospel of Jesus Christ must be defended in every generation. It is always the center of attack by the forces of evil. - Author: R.C. Sproul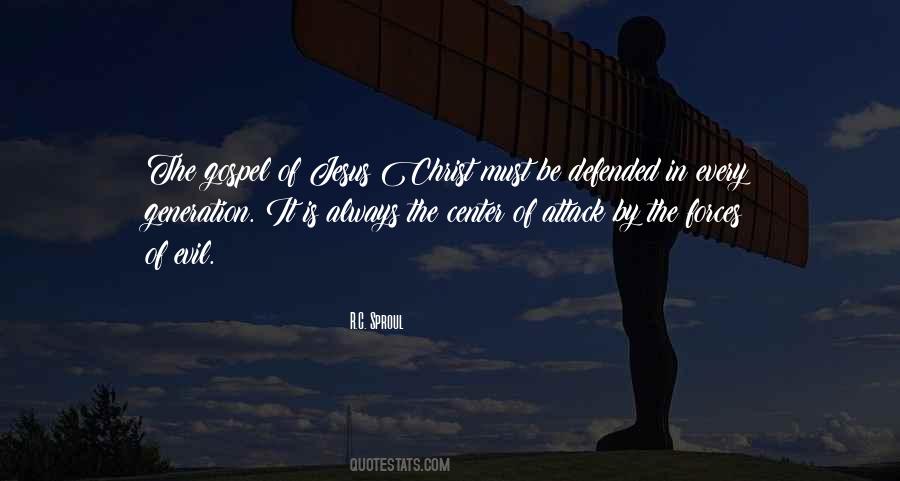 #41. Both the forces of good and evil will keep the universe alive for us, until we awake from our dreams and give up this building of mud pies. - Author: Swami Vivekananda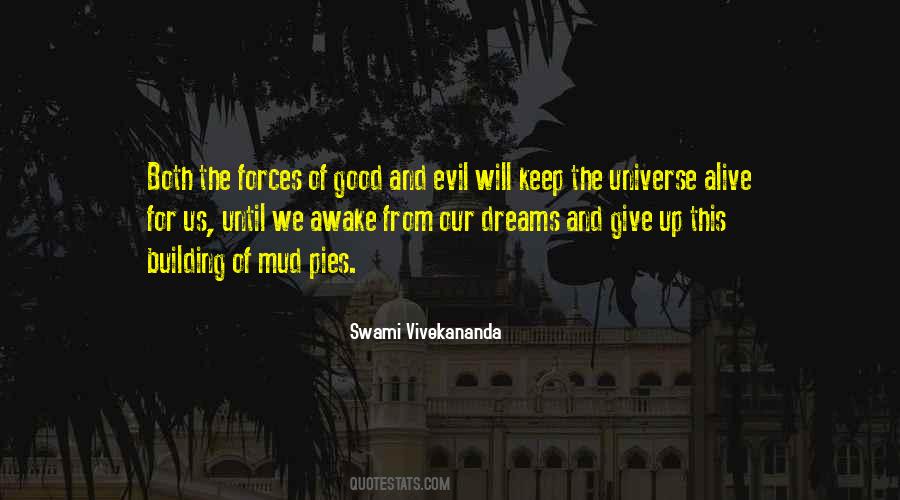 #42. There are two apparently opposing forces that govern our lives. No, not good and evil. Love and fear.
That's right: the opposite of love is not hate, but fear - Author: John C. Parkin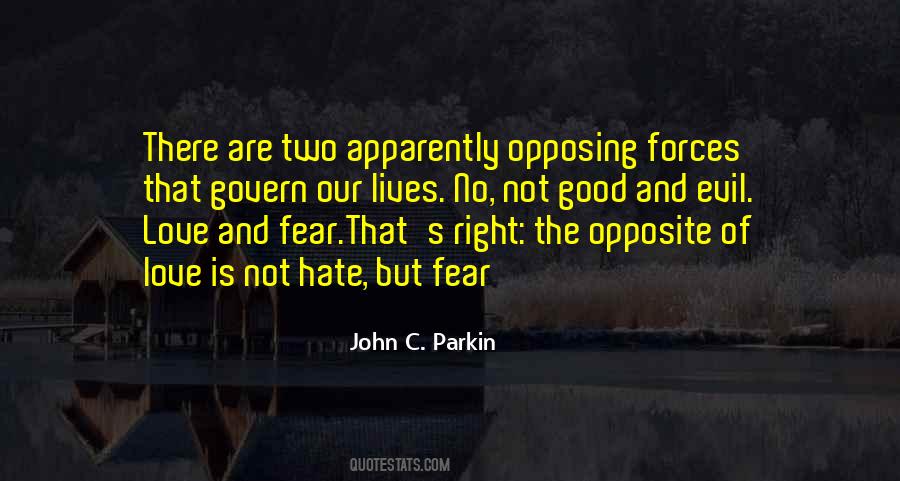 #43. Jesus himself has shown us by his own example that prayer and fasting are the first and most effective weapons against the forces of evil. - Author: Pope John Paul II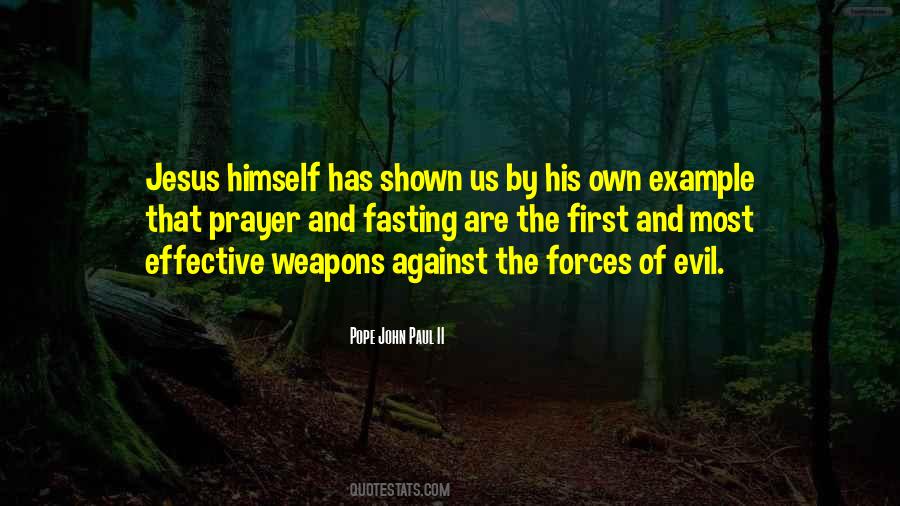 #44. Even if the forces of darkness appear to prevail, those who believe in God know that evil and death do not have the final say. - Author: Pope John Paul II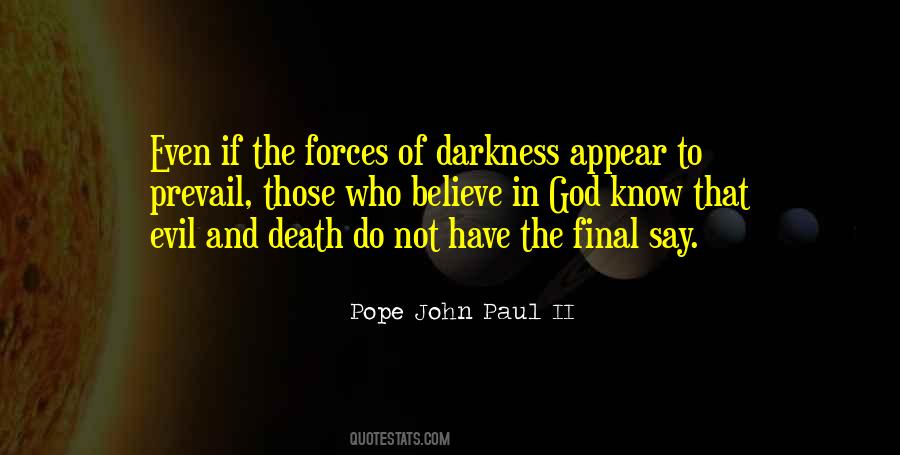 #45. Mary joins us, she fights at our side. She supports Christians in the fight against the forces of evil. Especially through prayer, through the rosary. Hear me out, the rosary ... Do you pray the Rosary each day? - Author: Pope Francis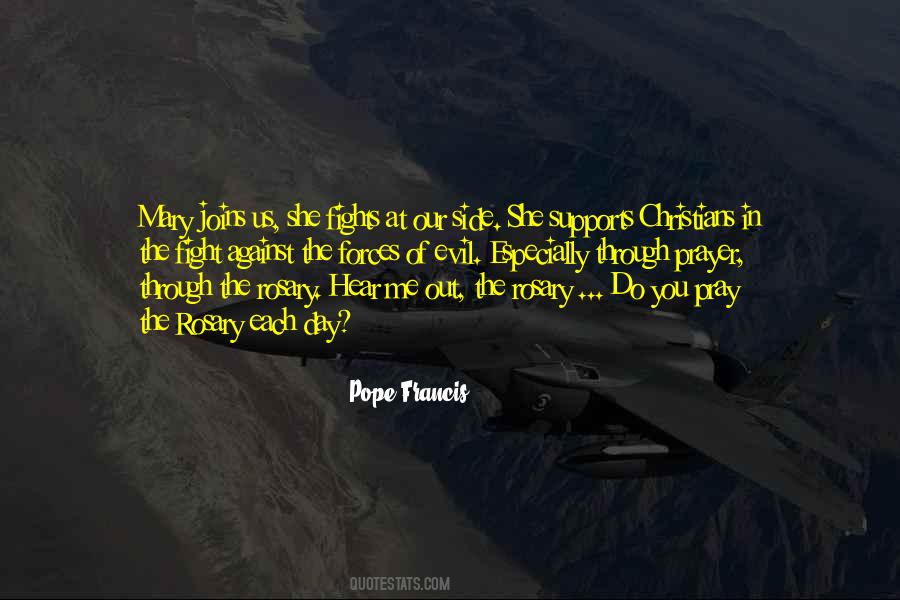 #46. The forces of good and evil are working within and around me, I must choose, and in a free will universe I do have a choice. - Author: Martin Luther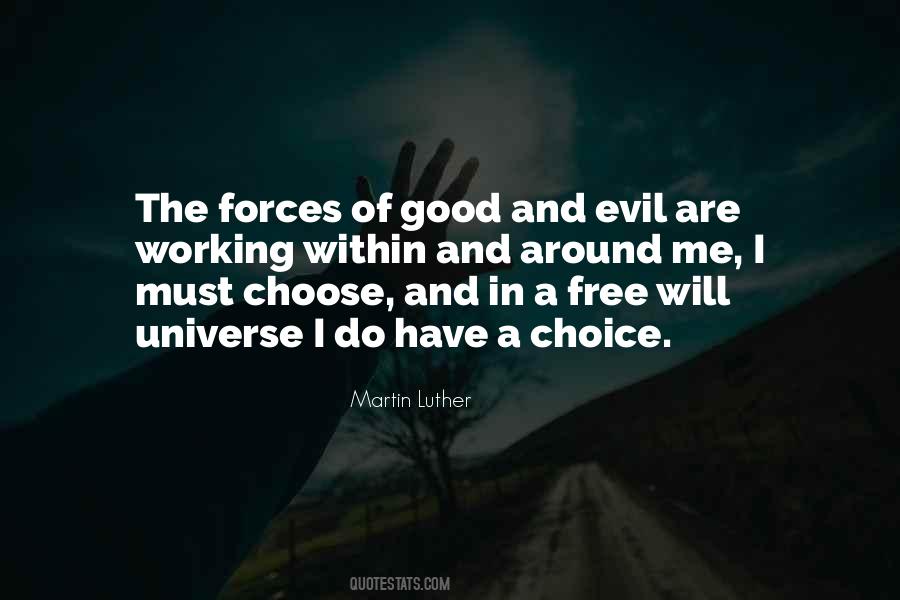 #47. The most satisfying thrillers send ordinary people into battle against the forces of evil - otherwise known as greed, ego, rage, fear and laziness - and bring them out bloodied but whole. - Author: M.J. Rose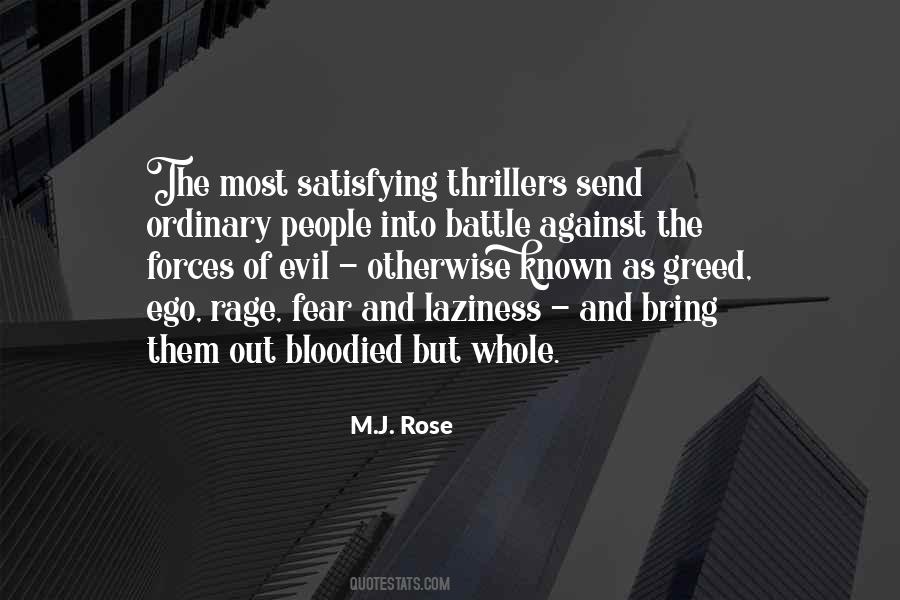 #48. [Nonviolence] is directed against forces of evil rather than against persons who happen to be doing the evil. It is evil that the nonviolent resister seeks to defeat, not the persons victimized by evil. - Author: Martin Luther King Jr.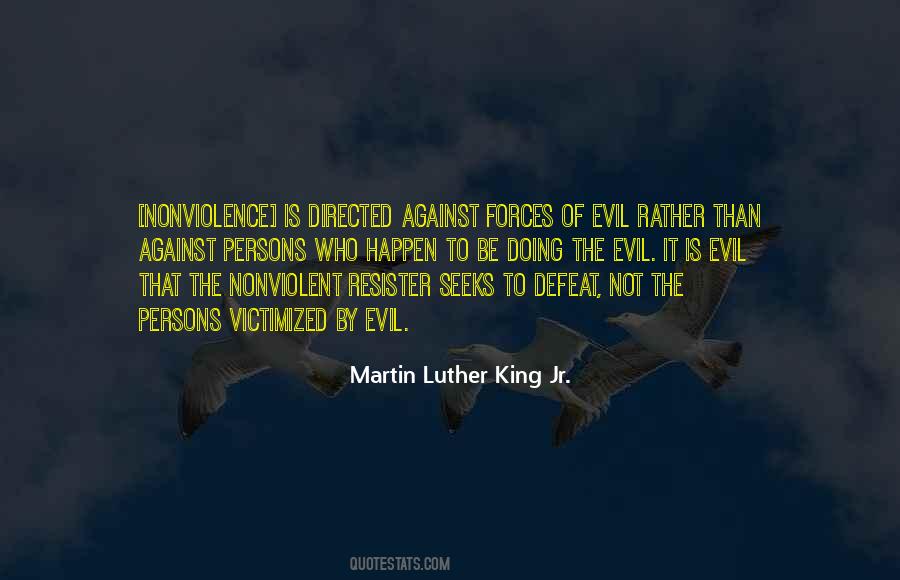 #49. One man alone can't defeat the forces of evil, but many good people coming together can. - Author: Harold S. Kushner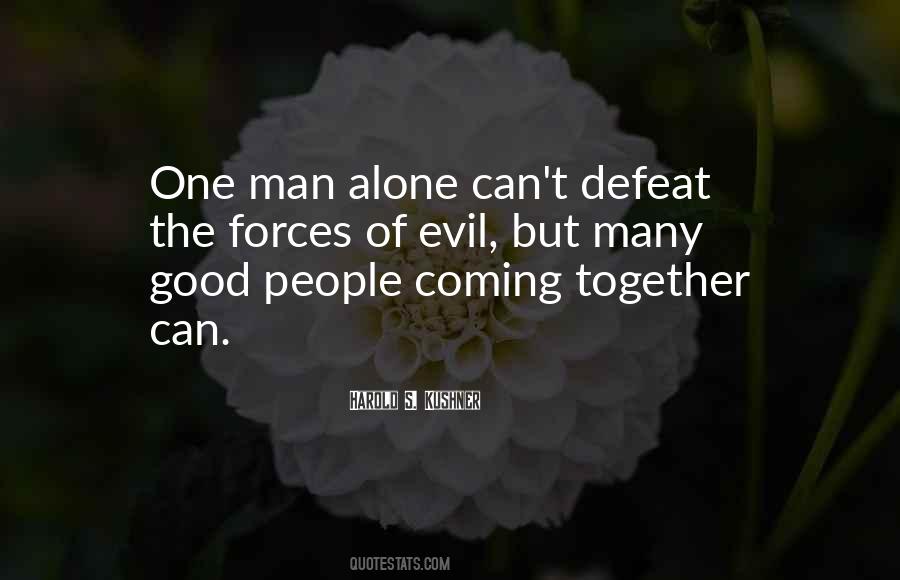 #50. War is a grim, cruel business, a business justified only as a means of sustaining the forces of good against those of evil. - Author: Dwight D. Eisenhower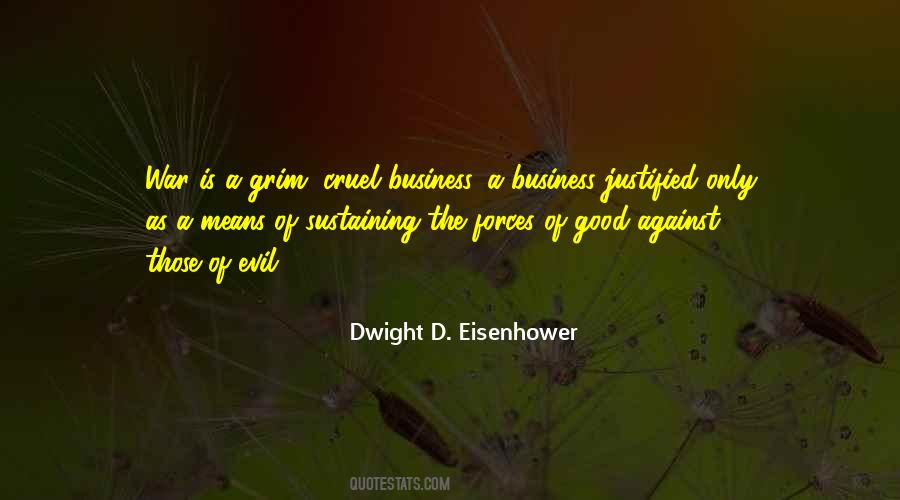 #51. When Jesus hung on the cross, a great unseen cosmic battle raged in the heavens - and in the end, Christ triumphed over all the forces of evil and death and hell. - Author: Billy Graham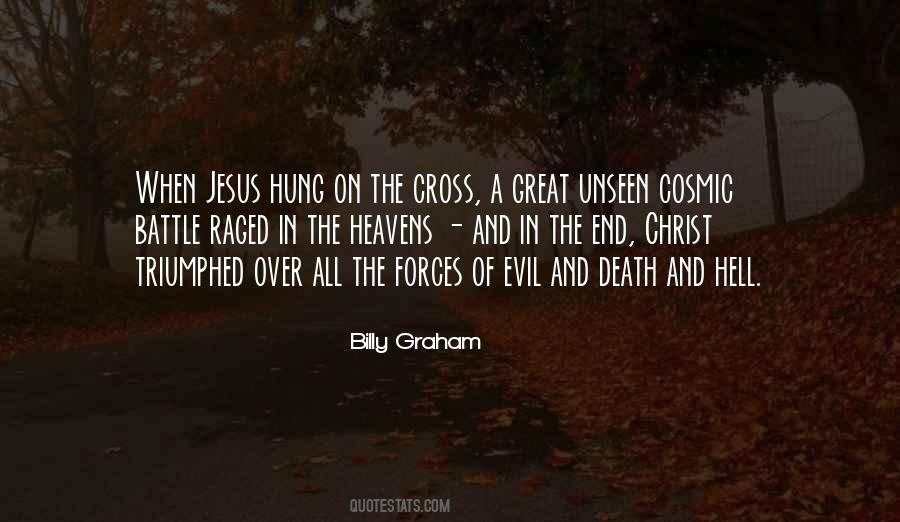 #52. Thor - the Batman or James Bond of the gods - has once again conquered the forces of evil. - Author: Jostein Gaarder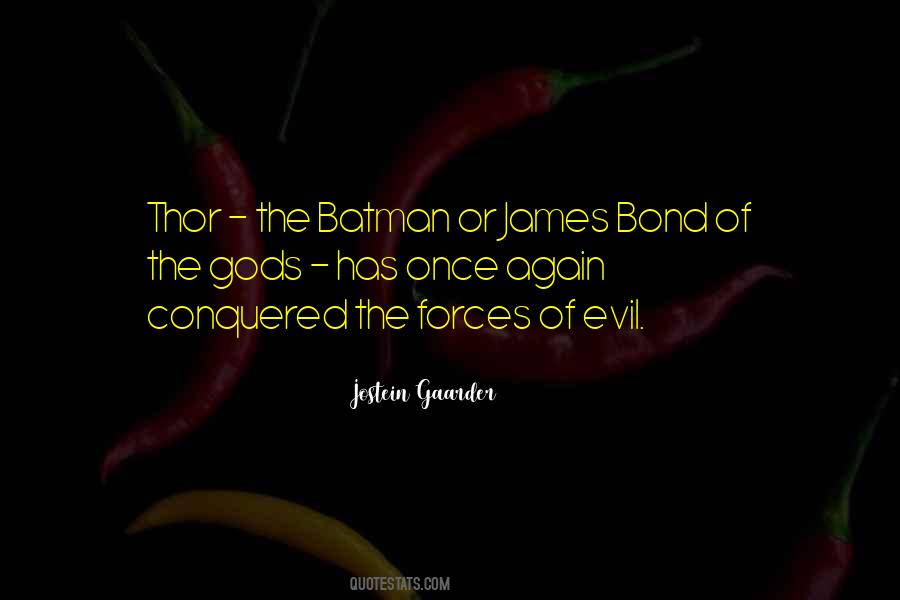 #53. Surprise is the tool of the Devil and it is the greatest power of the evil forces! - Author: Mehmet Murat Ildan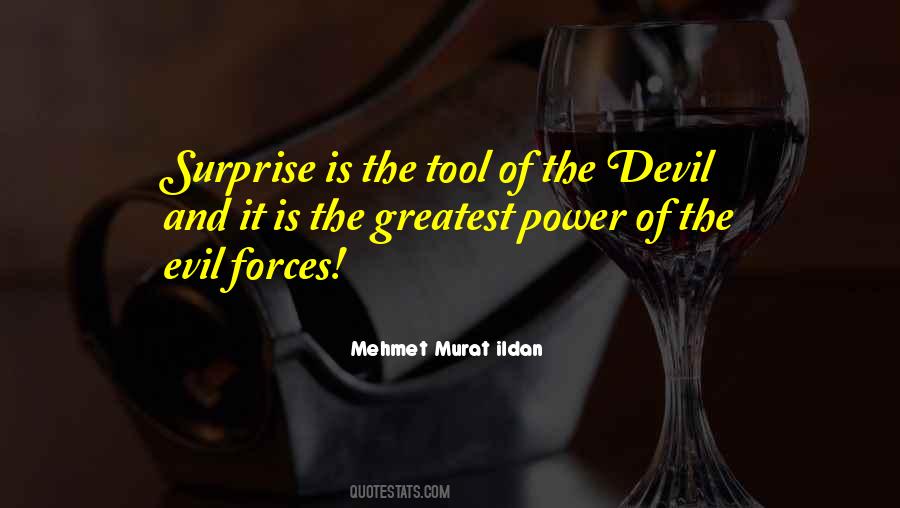 #54. The world is no longer man's theatre. Man has been made into a helpless spectator. The two evil forces he has created- science and the state- have combined into one monstrous body. We're at the mercy of our monster... - Author: Eugene Burdick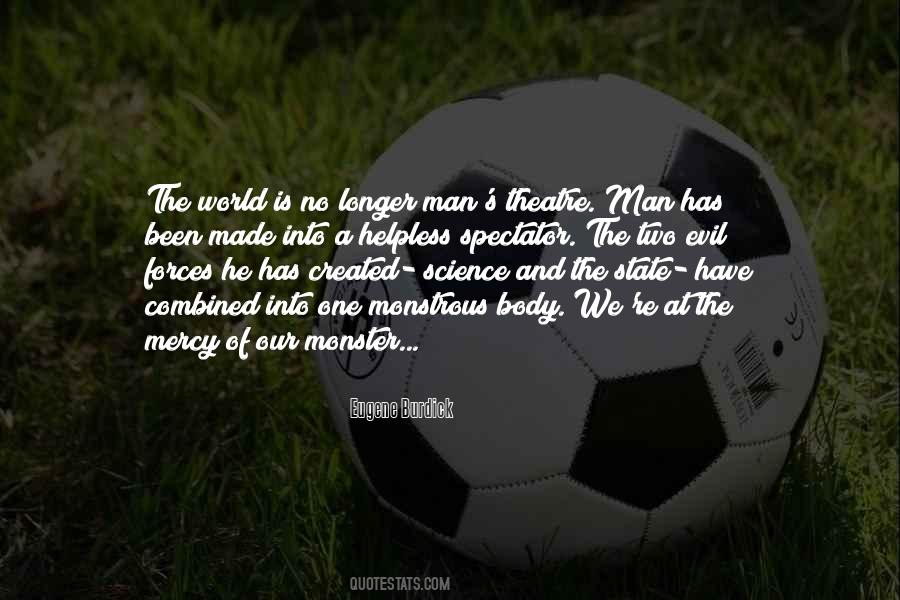 #55. For our struggle is not against flesh and blood, but against the rulers, against the authorities, against the powers of this dark world and against the spiritual forces of evil in the heavenly realms. Eph. 6:12 (NIV) - Author: Anonymous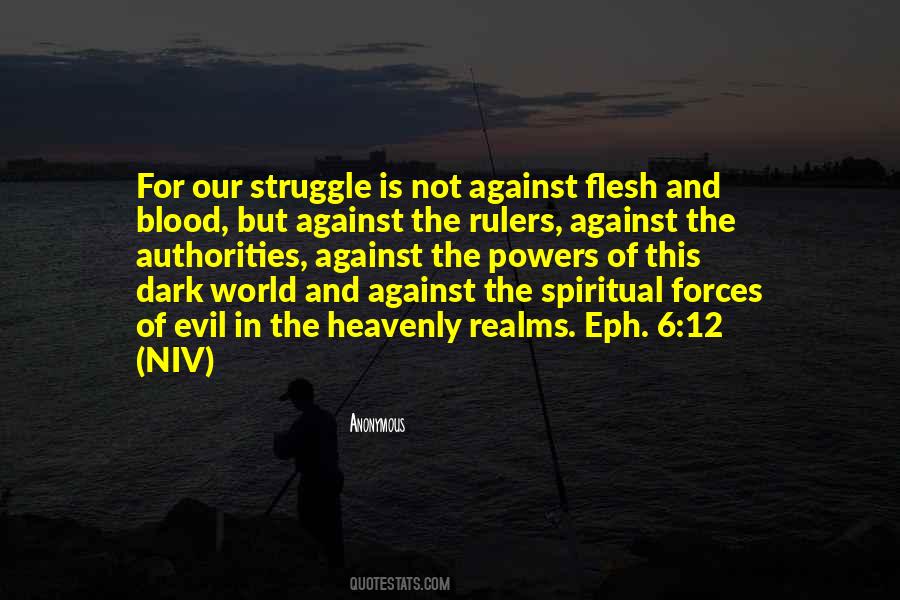 #56. Well, either you've been out fighting the forces of evil or you've come from a much wilder party than we have," Jace said.
"Hello, there, Blackthorns. - Author: Cassandra Clare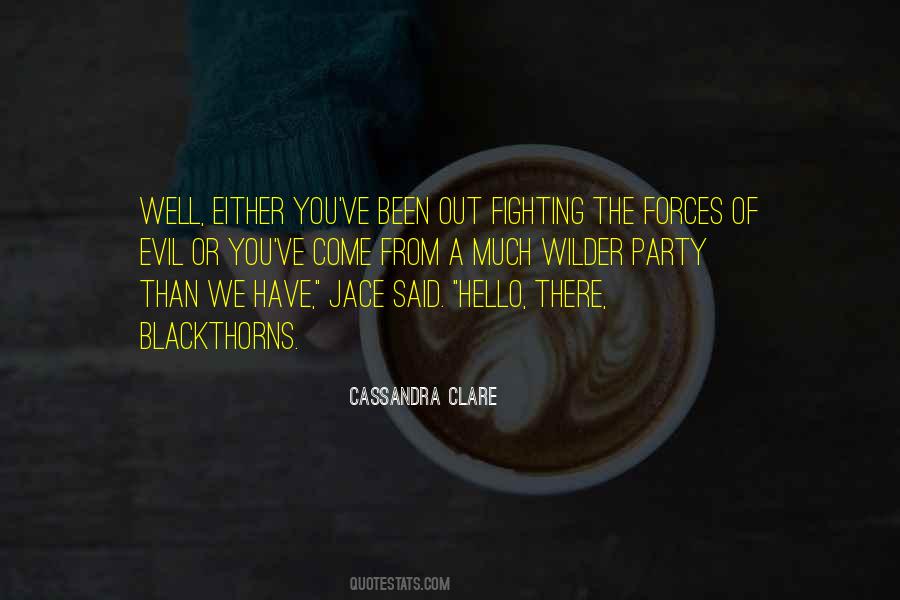 #57. Are human beings intrinsically good but corruptible by the forces of evil, or the reverse, innately sinful yet redeemable by the forces of good? - Author: Edward O. Wilson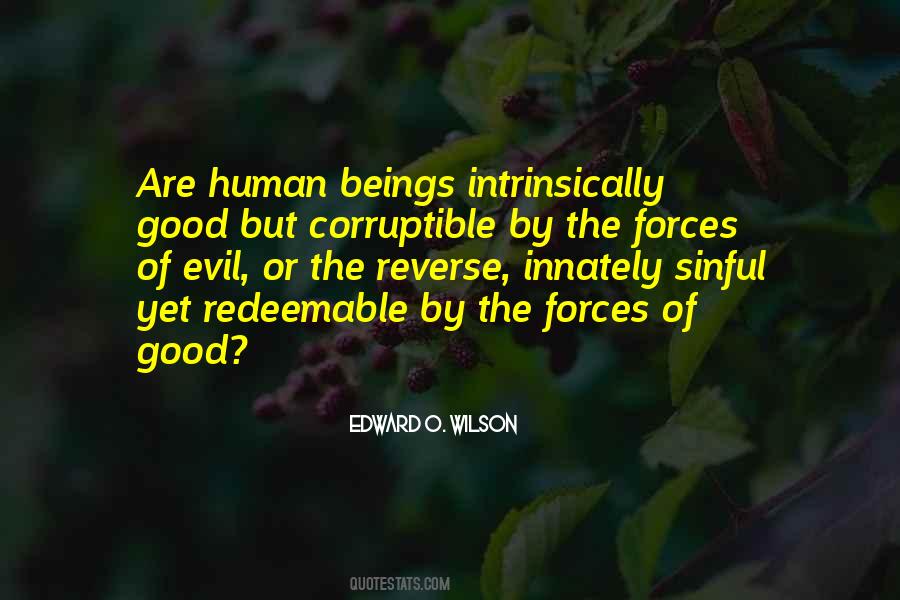 #58. I propose that the forces of corporate totalitarianism are deliberately destroying this entire world in order to sell their simulated version of it back to us at a profit. - Author: Diane Harvey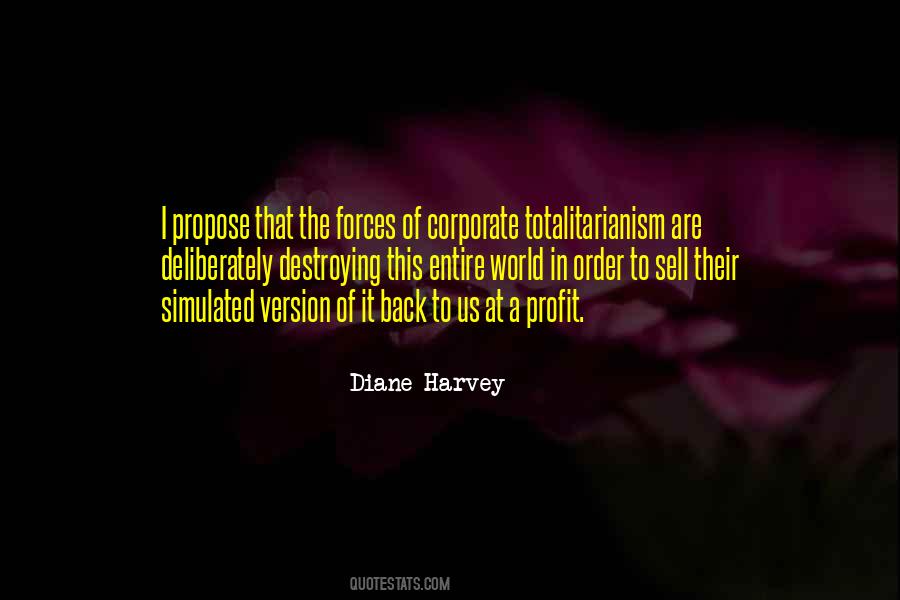 #59. Over the centuries, mankind has tried many ways of combating the forces of evil ... prayer, fasting, good works and so on. Up until Doom, no one seemed to have thought about the double-barrel shotgun. Eat leaden death, demon ... - Author: Terry Pratchett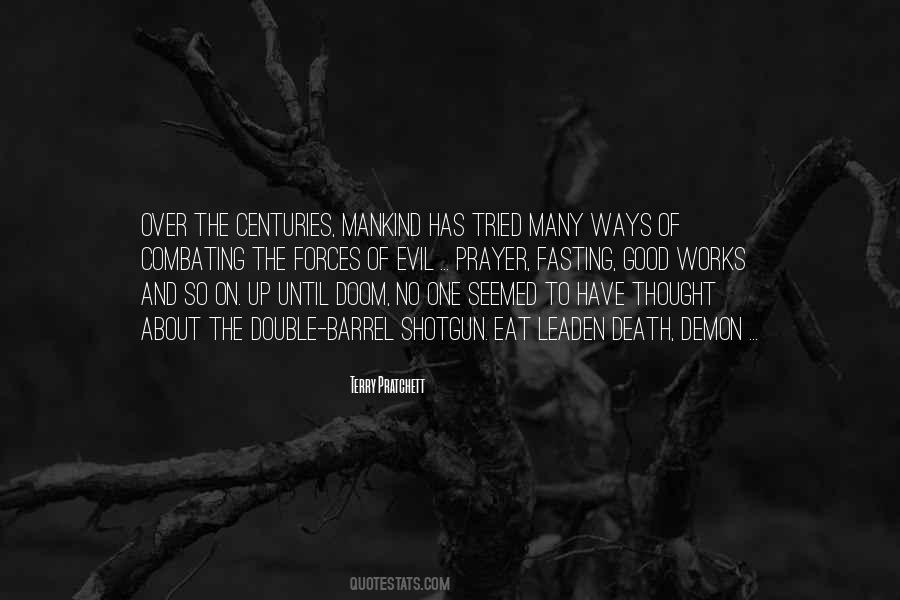 #60. Evil is a force and, like the physical and chemical forces, we cannot annihilate it; we may only change its form. We light upon one evil and hit it with all the might of our civilization, but only succeed in scattering it into a dozen of other forms - Author: James Weldon Johnson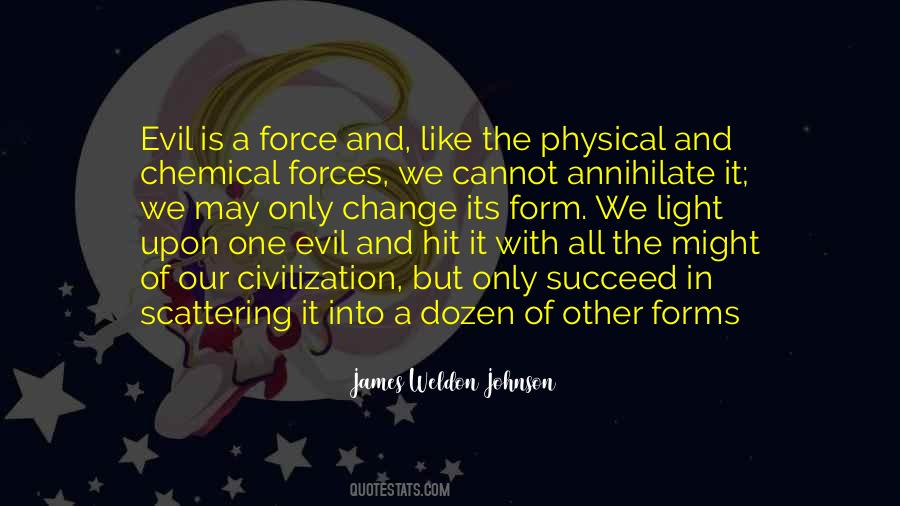 #61. The character of human life, like the character of the human condition, like the character of all life, is "ambiguity": the inseparable mixture of good and evil, the true and false, the creative and destructive forces-both individual and social. - Author: Paul Tillich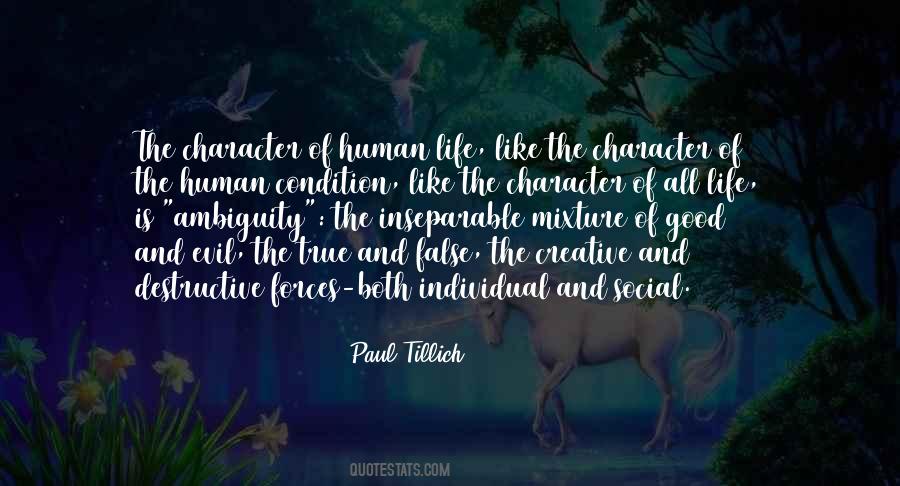 #62. Okay, yes, I am a bit of a geek. I enjoy escapist entertainment. Listen, I'd rather watch a bunch of elves and wizards trying to save Middle Earth from the forces of evil than, I dunno, the Bachelorette or the Real Housewives of wherever getting their butt fat injected into their lips. - Author: Meagan Brothers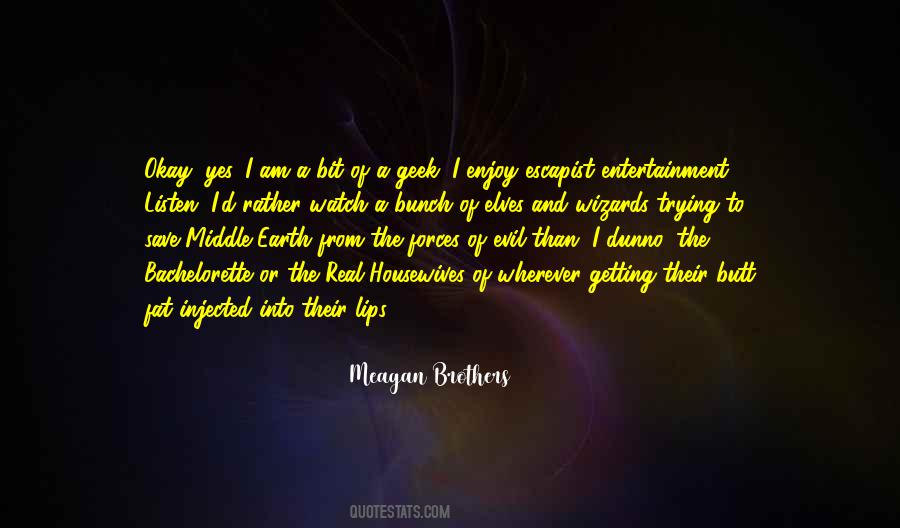 Famous Authors
Popular Topics