The First Dance Famous Quotes & Sayings
List of top 100 famous quotes and sayings about the first dance to read and share with friends on your Facebook, Twitter, blogs.
Top 100 Quotes About The First Dance
#1. The only time I've really been away from my kids to do work was doing Shall We Dance because they both were in camp and it was the first time in twenty years that I haven't been with my kids. - Author: Susan Sarandon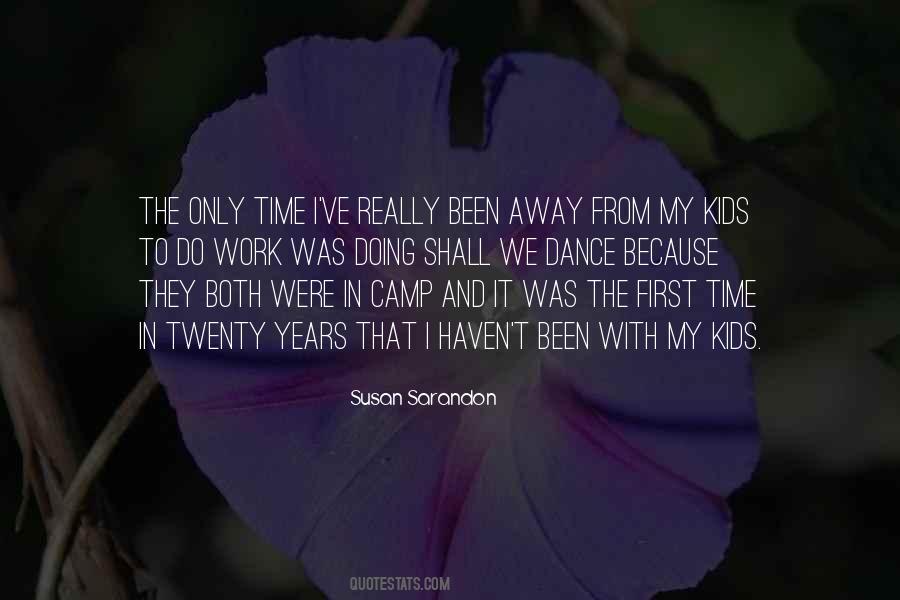 #2. I was always an introvert as a kid. Then, when I first kind of came out as a human being, I used to be one of those guys who'd go nuts on the dance floor, and people would gather around. - Author: Daryl Hall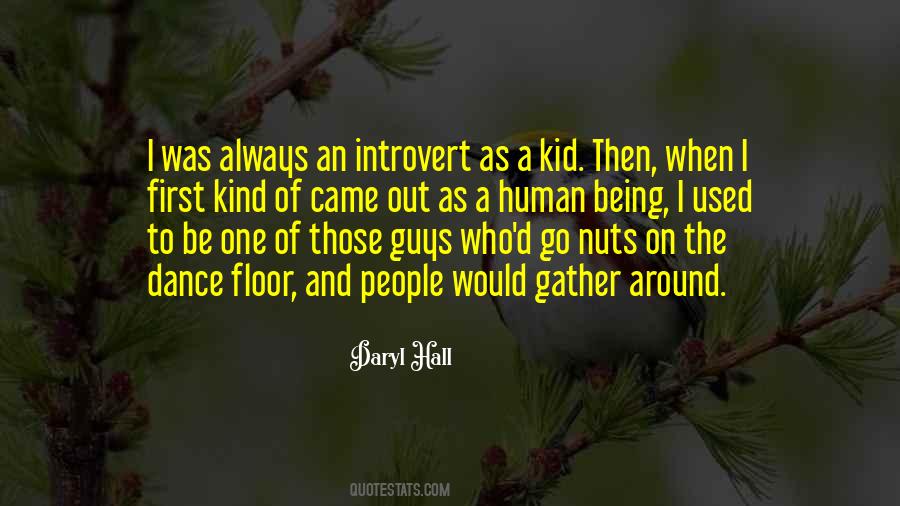 #3. Dancehall has always had a homophobic problem, but you go to dance parties in Jamaica, and some of the biggest dancers are kinda gay, just not outspoken about it. Dancehall was the first kind of music I was DJing, and it was always more about the rhythm. - Author: Diplo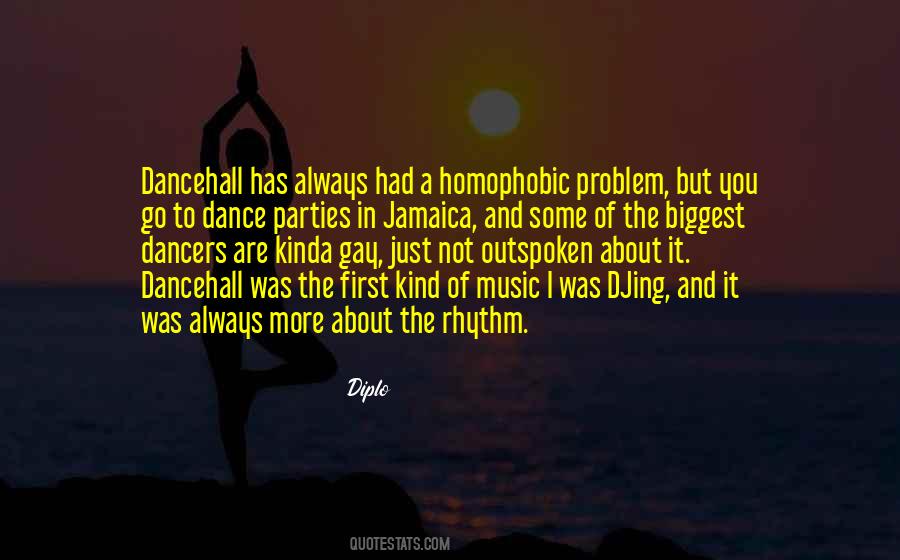 #4. To me, the body says what words cannot. I believe that dance was the first art. - Author: Martha Graham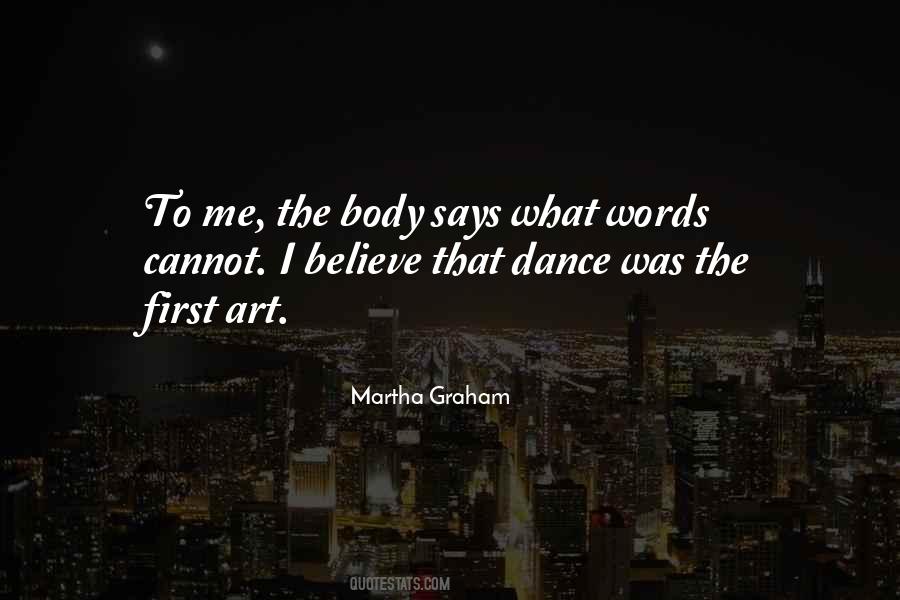 #5. What would you give to remember everything? I have this power. I absorb your memories; when you hear me, you relive them. A first dance. A wedding. The song that played when you got the big news. No other talent gives your - Author: Mitch Albom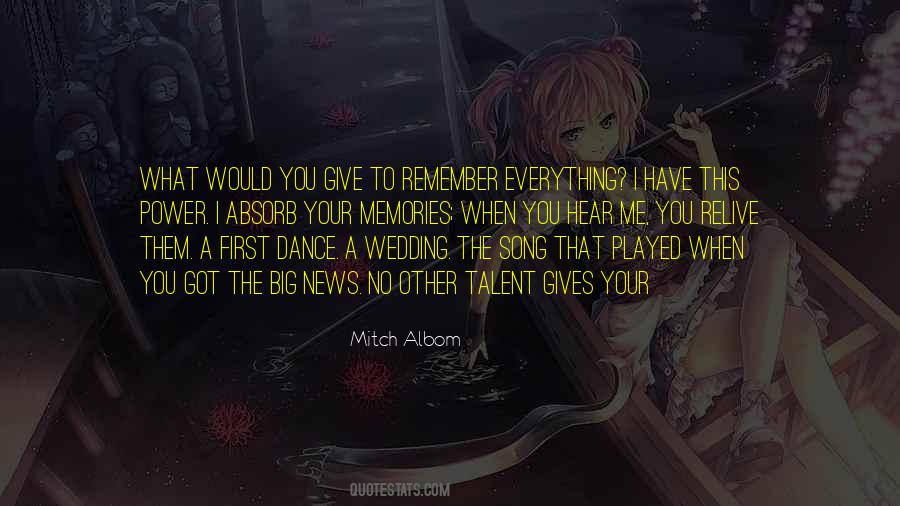 #6. If he had any compassion for me' cried her husband impatiently 'he would not have danced half so much! For God's sake, say no more of his partners. Oh! that he sprained his ankle in the first dance! - Author: Jane Austen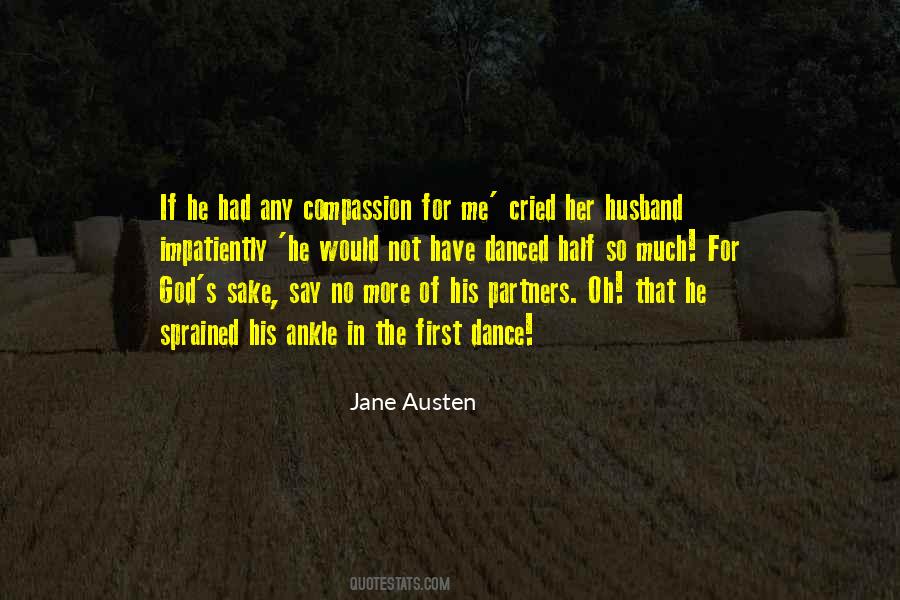 #7. I believe that dance was the first art. A philosopher has said that dance and architecture were the first arts. I believe that dance was first because it's gesture, it's communication. That doesn't mean it's telling a story, but it means it's communicating a feeling, a sensation to people. - Author: Martha Graham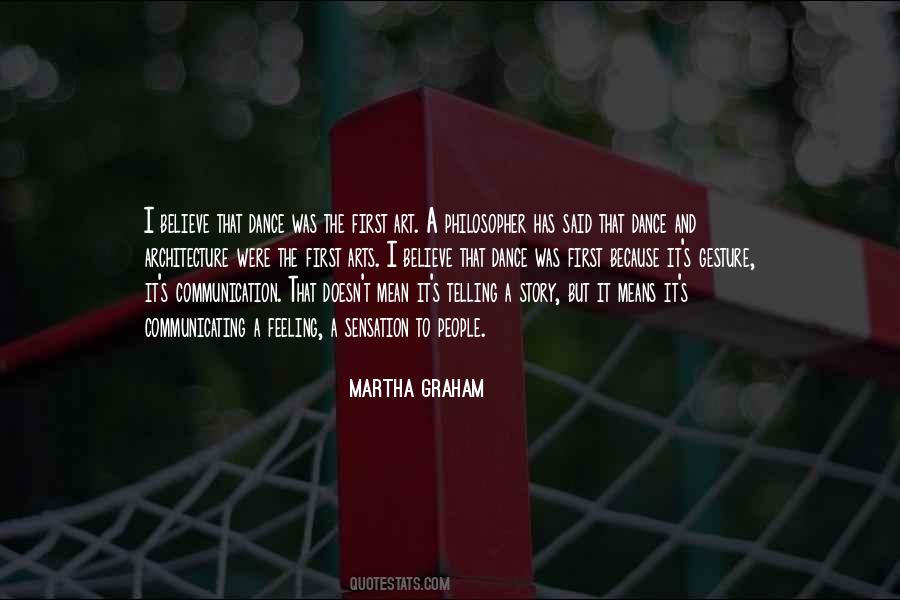 #8. In all the years that I have lived, the time that I have spent with you has been the most exquisite ... and this moment, our first dance, I will never forget if I live forever. - Author: Amy A. Bartol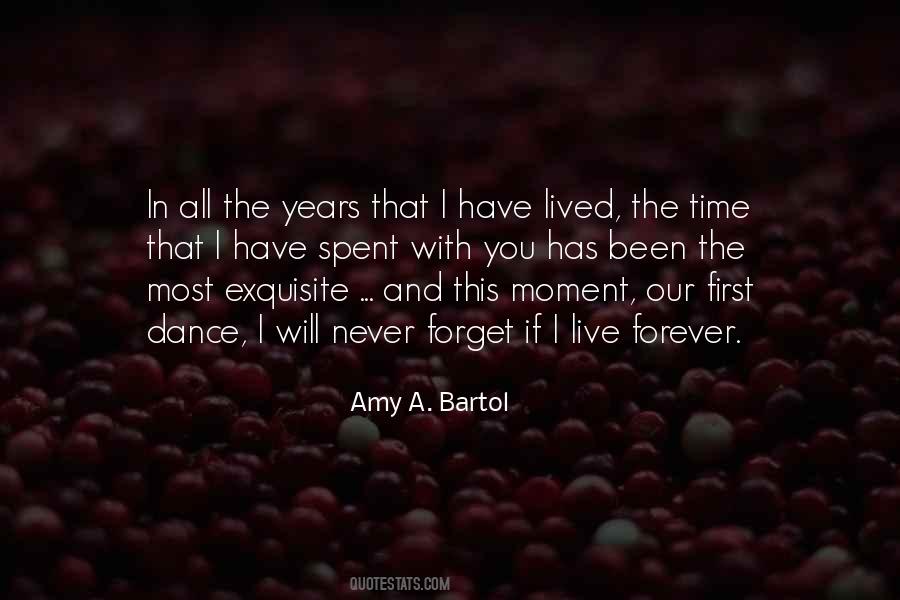 #9. She stood in front of the speakers instead and closed her eyes, not really dancing, just bouncing and whispering the lyrics. After the first verse, she was dancing. - Author: Rainbow Rowell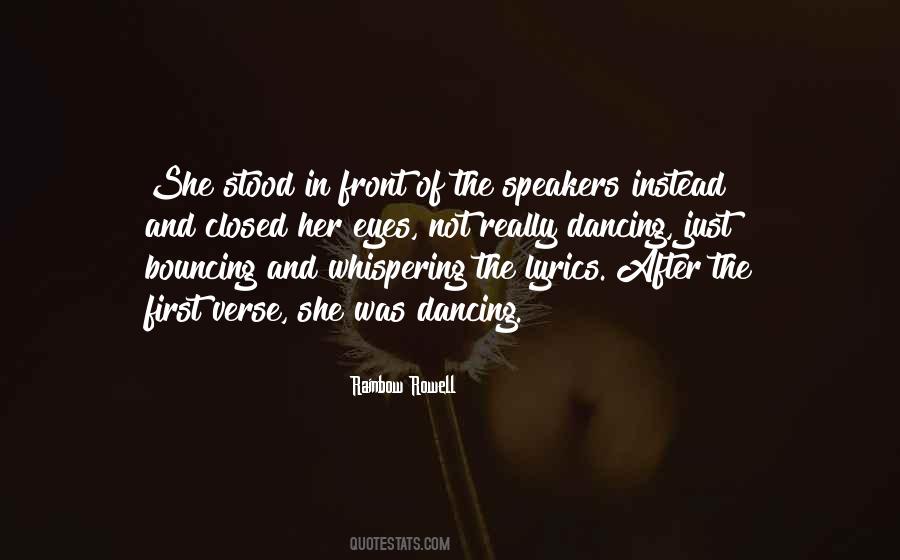 #10. I doubted it. Some people say trying is all that matters, but unfortunately it's only the first step. Sometimes you're got to catch a break and win one, too. You've got to stand up on the bar and do the antler dance. Plus, as I now knew as well as anyone, people really suck at consoling themselves. - Author: James Patterson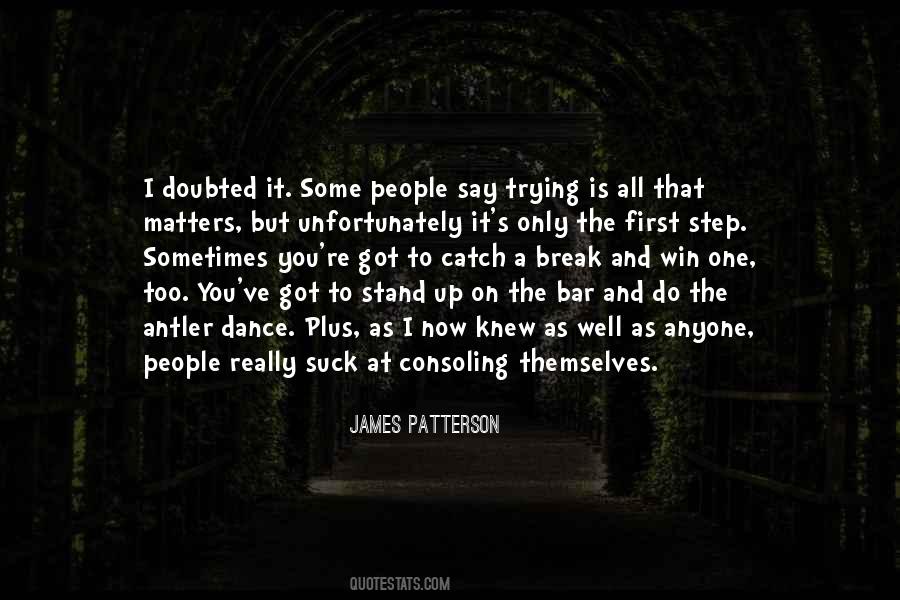 #11. I wished that I were the owner of every southern slave, that I might cast off the shackles from their limbs, and witness the rapture which would excite them in the first dance of their freedom. - Author: Thaddeus Stevens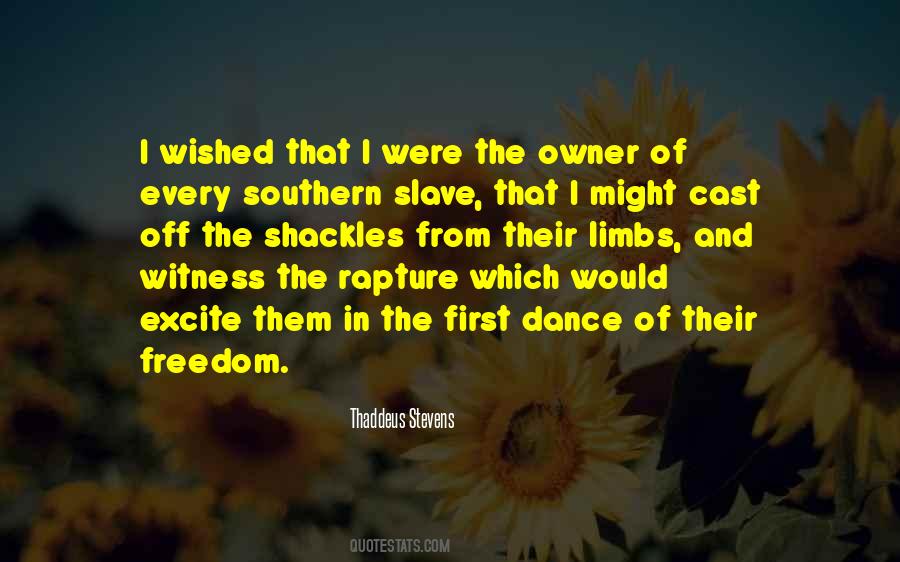 #12. Holland was one of the first countries to adopt dance music into their culture, and we were the first ones to have really big raves. I grew up in that atmosphere in the early 1990s, and I was very interested in how dance music was made. - Author: Armin Van Buuren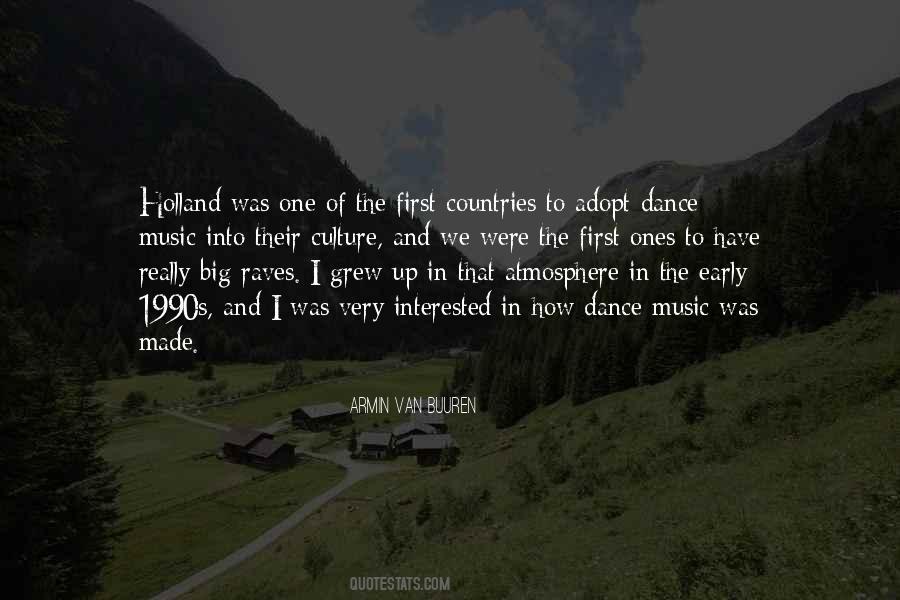 #13. You don't enter a dance studio and say "I can't do that." If you do, then why are you in the studio in the first place? - Author: Judith Jamison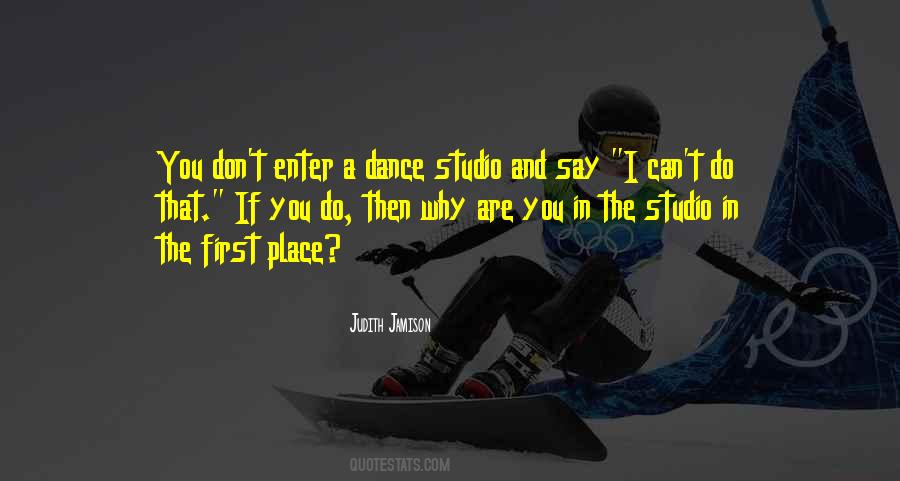 #14. The first expression of religion was the dance, and the first motive of the dance was religion. - Author: La Meri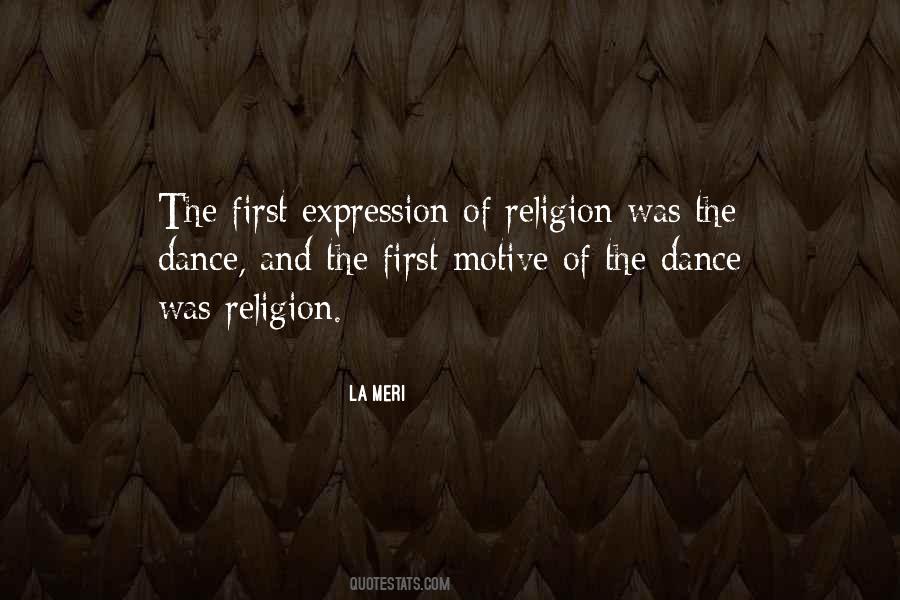 #15. You should first follow the plow if you want to dance the harvest jig. - Author: Ken Follett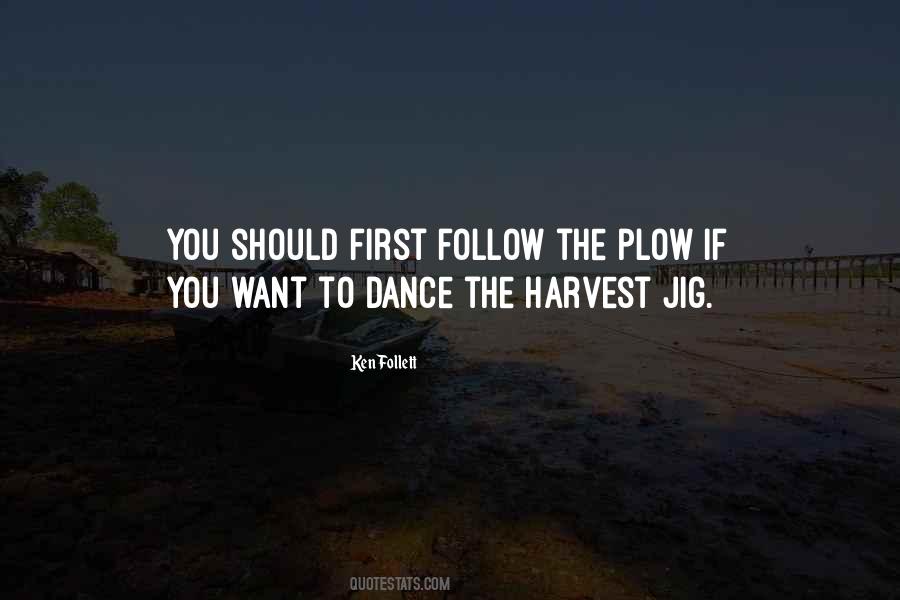 #16. In the dance of life, pull down your own oxygen mask first, then take a deep breath and help everyone else. They'll thank you for it, believe me. - Author: John C. Parkin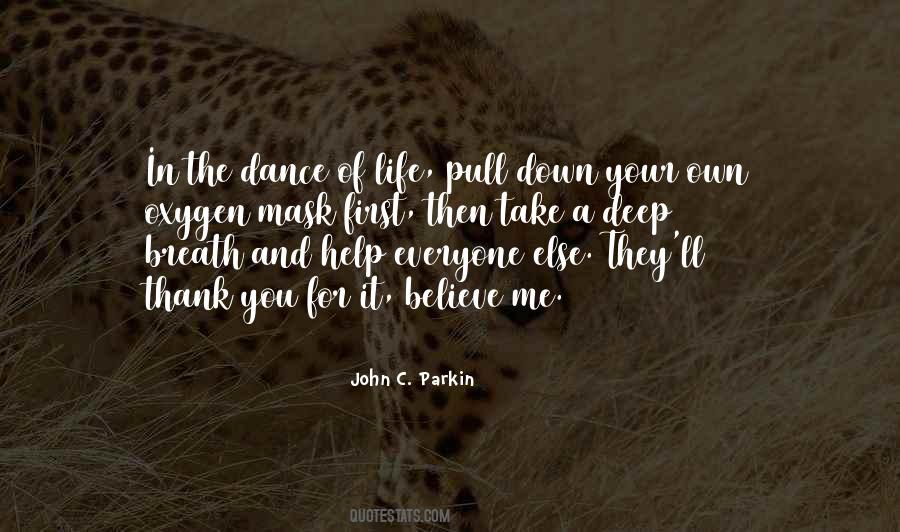 #17. My first idea of movement, of the dance, certainly came from the rhythm of the wave. - Author: Isadora Duncan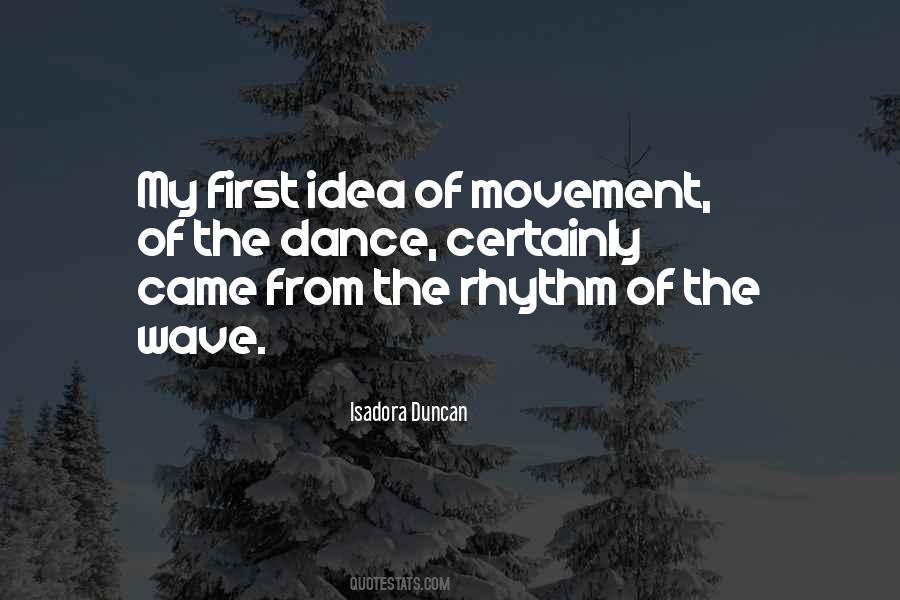 #18. There was a dance that everyone was doing that was heavily skewed with the power in one direction, but the dance was basically working, and then the dance got really disrupted with the first wave of feminism, and nobody found their footing yet - not the guys, not the women. - Author: Amanda Palmer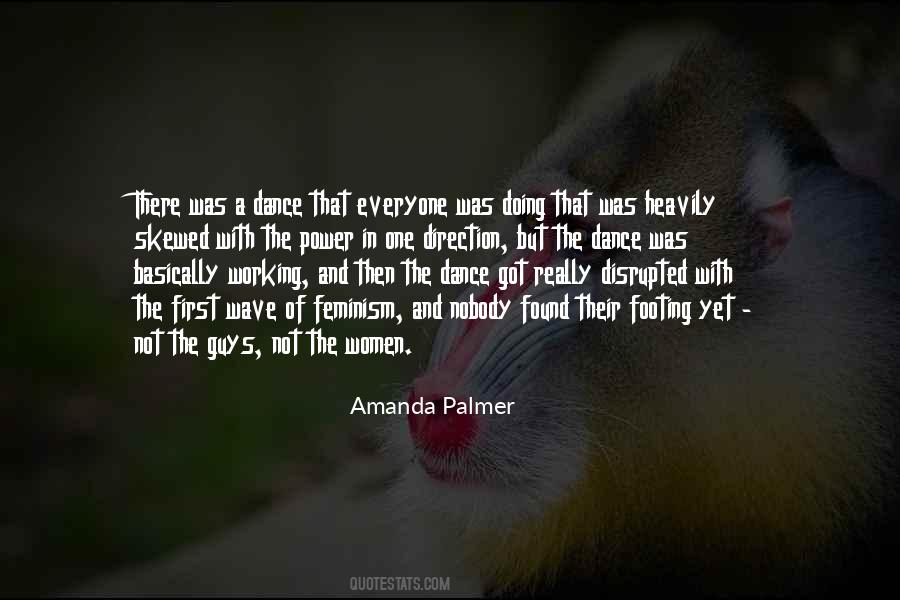 #19. People are self-conscious at first. But it gets better as we kind of dance with each other ... it's like a date, in a way. We get more comfortable together. The best pictures are usually the last ones. - Author: Nicholas Nixon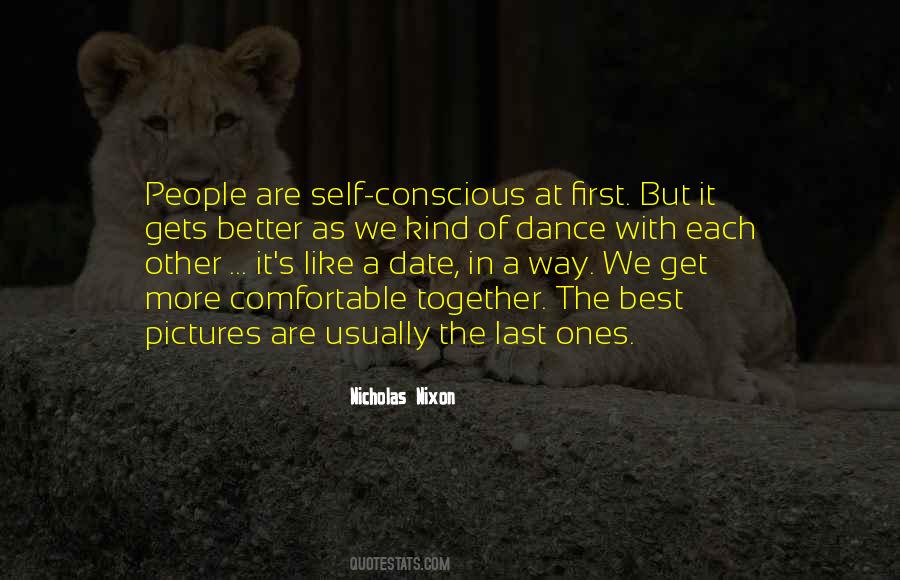 #20. Forget about sex. Just play first. Dance, sing, read to each other, breathe together - communicate. Don't count on sex to be the door to intimacy. It's the other way around: first develop intimacy skills. Then make love to enjoy them. - Author: Margot Anand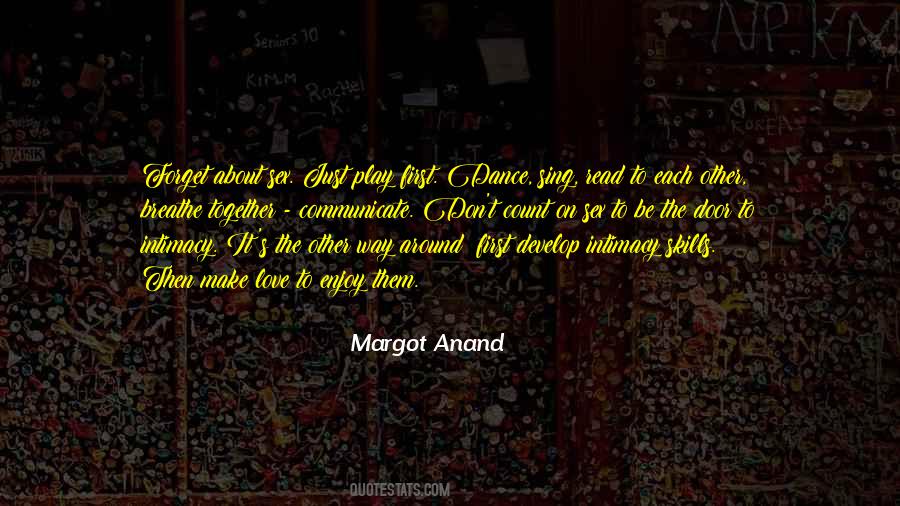 #21. I loved 'Rock Lobster.' I probably heard 'Rock Lobster' first at a party or dance. Then we would do the Rock Lobster - get down on the floor and do the whole dance. I thought that was really cool and exciting, that there was actually a band that had their own dance at that point. - Author: Corin Tucker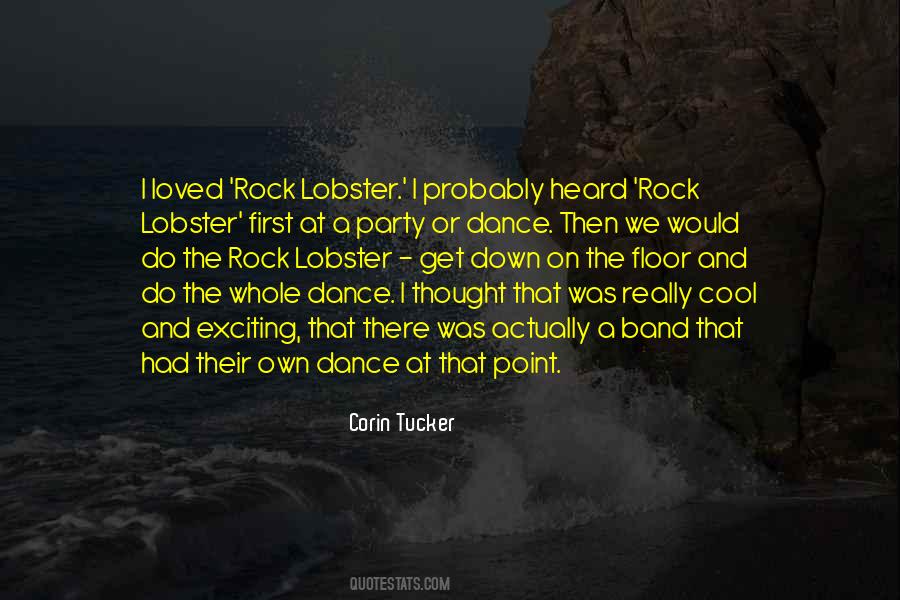 #22. With my ninth mind I resurrect my first
and dance slow to the music of my soul made new. - Author: Aberjhani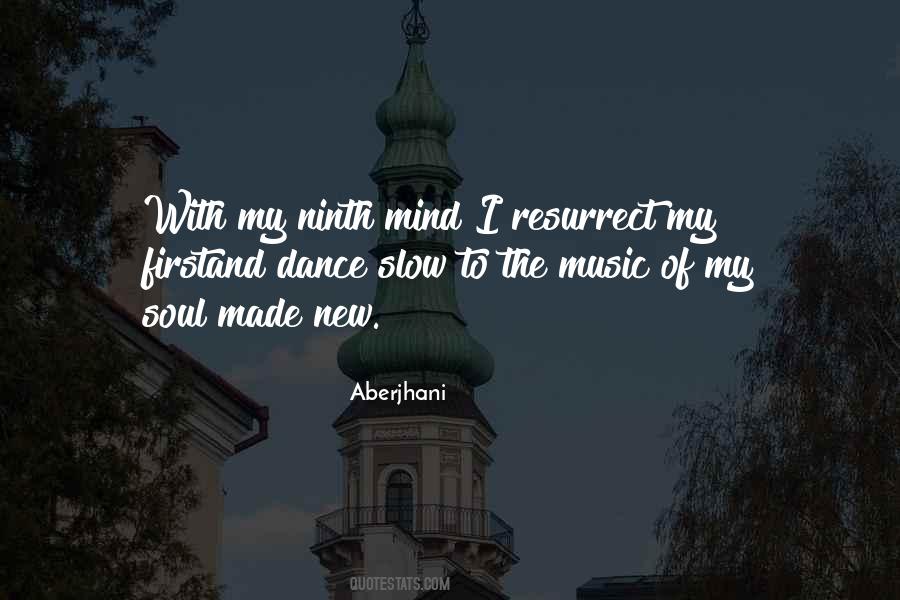 #23. 'Man In The Mirror' by Michael Jackson - I used to have my very first dance parties with my kids to this song when they were little, even carried them around to it. It just makes you want to be a better person and be inspired. - Author: Summer Sanders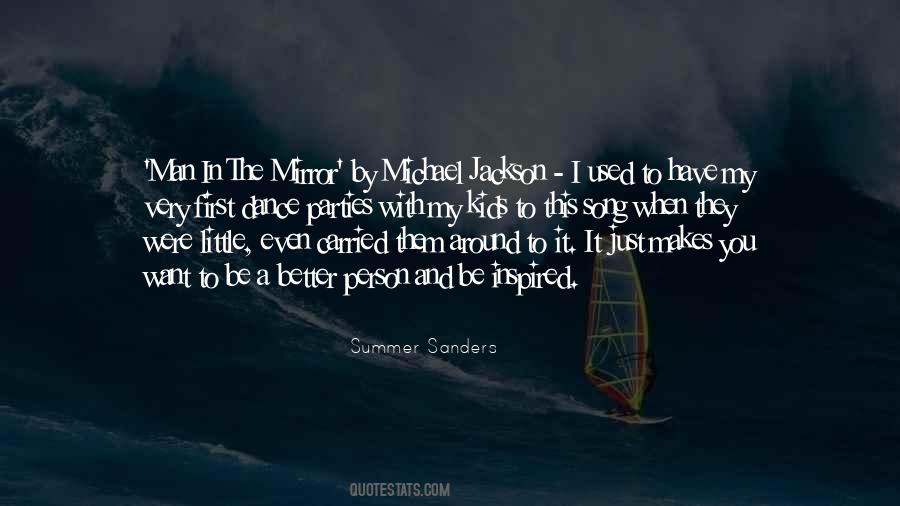 #24. During 'Saturday Night Fever' at the end of the first act dance number I tried to perform a split-jump, only I can't do them so I ended up on my ass followed by the most unsightly backward roll out of it, followed by the cast falling over in laughter and a good portion of the audience too. - Author: Adam Garcia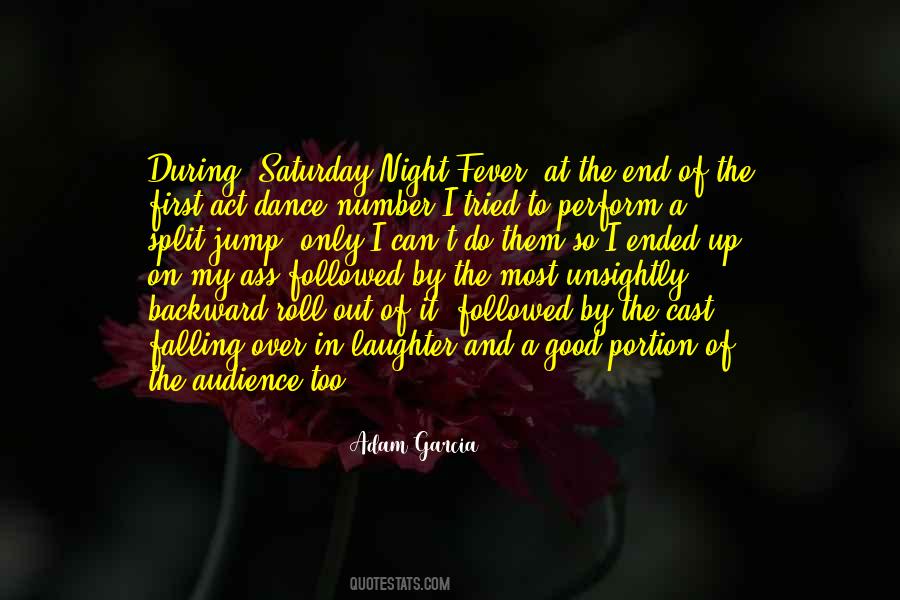 #25. Beatrix had met Christopher Phelan on two occasions, the first at a local dance, where she had judged him to be the most arrogant man in Hampshire. The next time she had met him was at a picnic, where she had revised her opinion: he was the most arrogant man in the entire world. - Author: Lisa Kleypas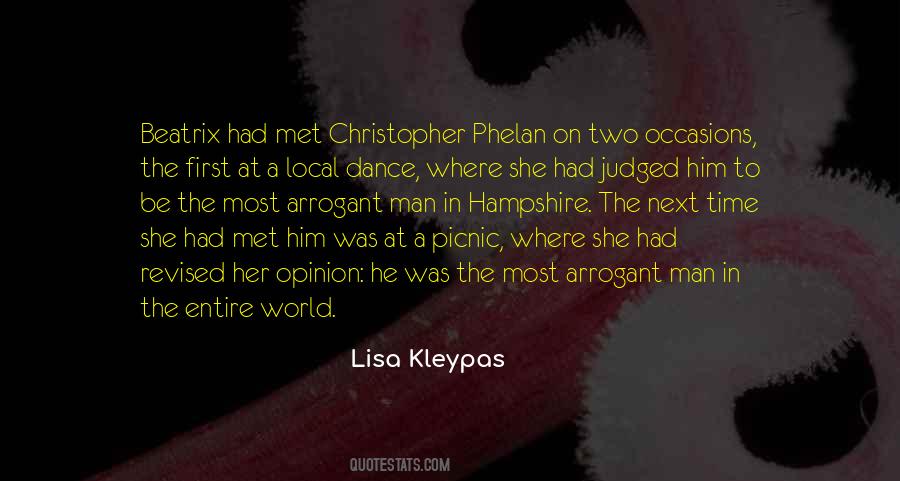 #26. In this age of electronic money, investors are no longer seduced by a financial 'dance of a thousand veils.' Only hard and accurate information on reserves, current accounts, and monetary and fiscal conditions will keep capital from fleeing precipitously at the first sign of trouble. - Author: Lawrence Summers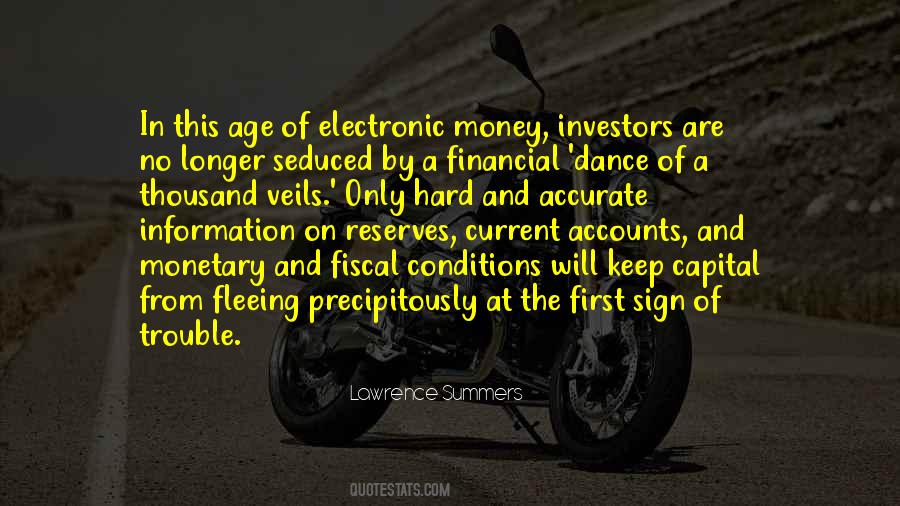 #27. When I had my first gig, I was 18 in January in 2007. My first gig that I got paid, I was playing for 10 people in a 250 people capacity venue. The promoter wanted to book me because he liked my music. I played a couple of songs that made people dance. To me, that rush has always stayed the same. - Author: Afrojack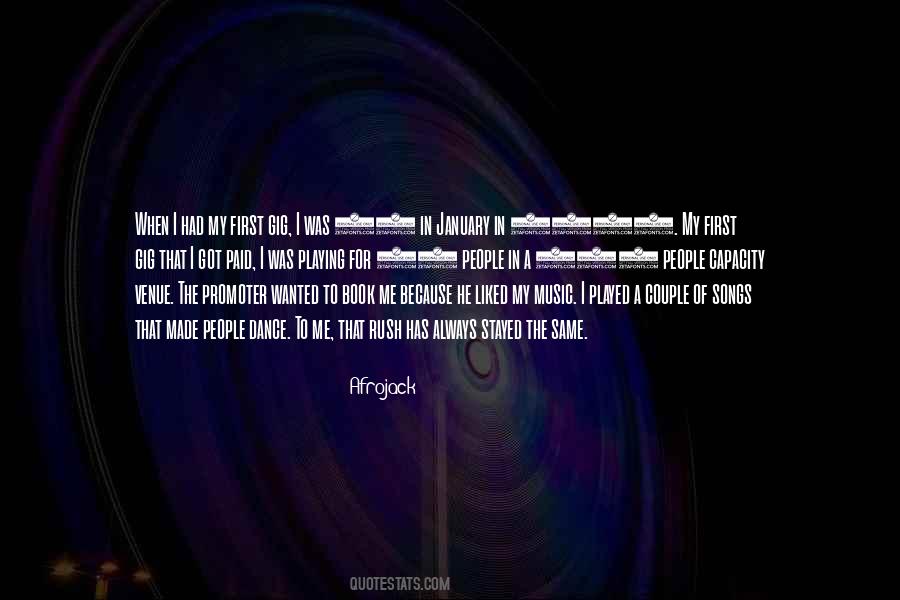 #28. I was born by the sea, and I have noticed that all the great events of my life have taken place by the sea. My first idea of movement, of the dance, certainly came from the rhythm of the waves. - Author: Isadora Duncan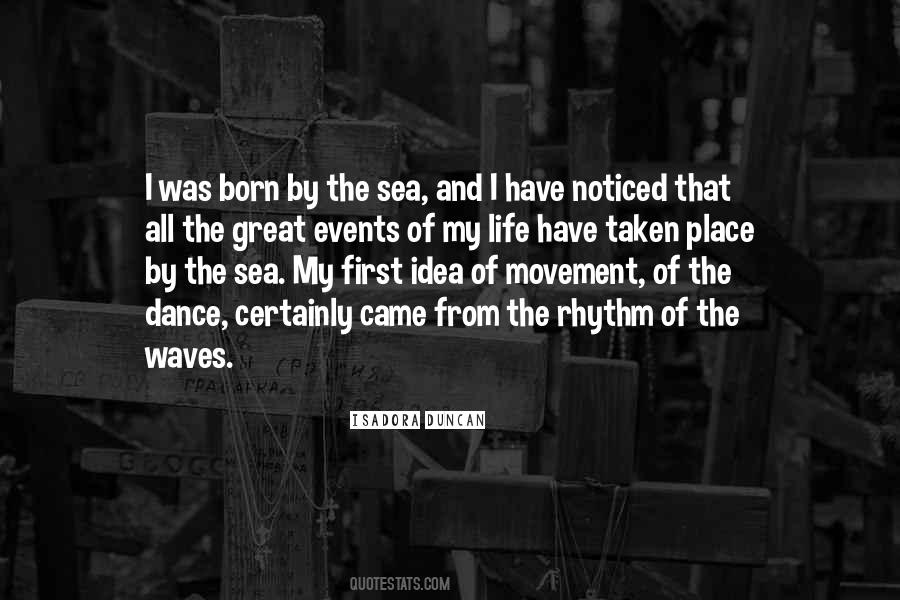 #29. Dance first. Think later. It's the natural order. - Author: Samuel Beckett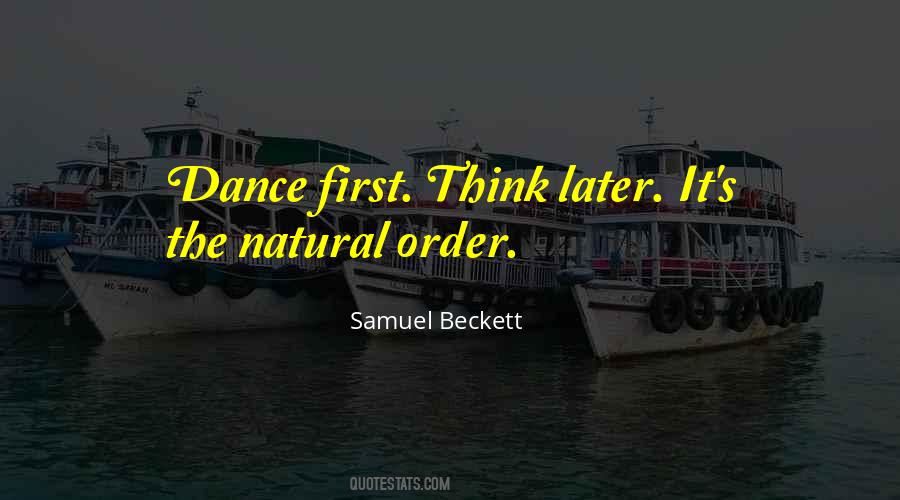 #30. My first dance ever on 'Dancing With the Stars' was to 'Let's Hear it for the Boy.' - Author: Julianne Hough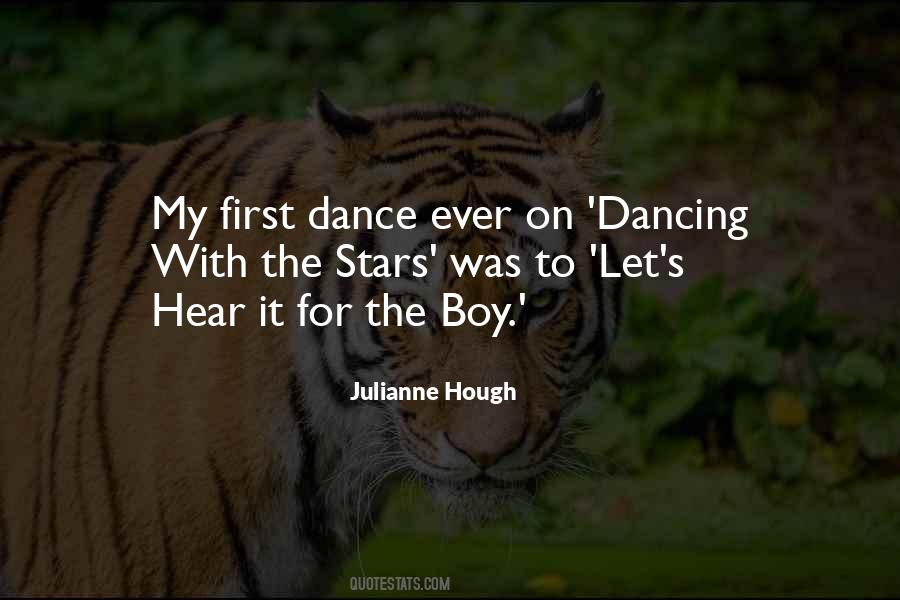 #31. I tried to interest my daughter in dancing, but she didn't take to it. As a five-year-old, she got lost on the way to her first class. After that she didn't go to dance class again. - Author: Nita Ambani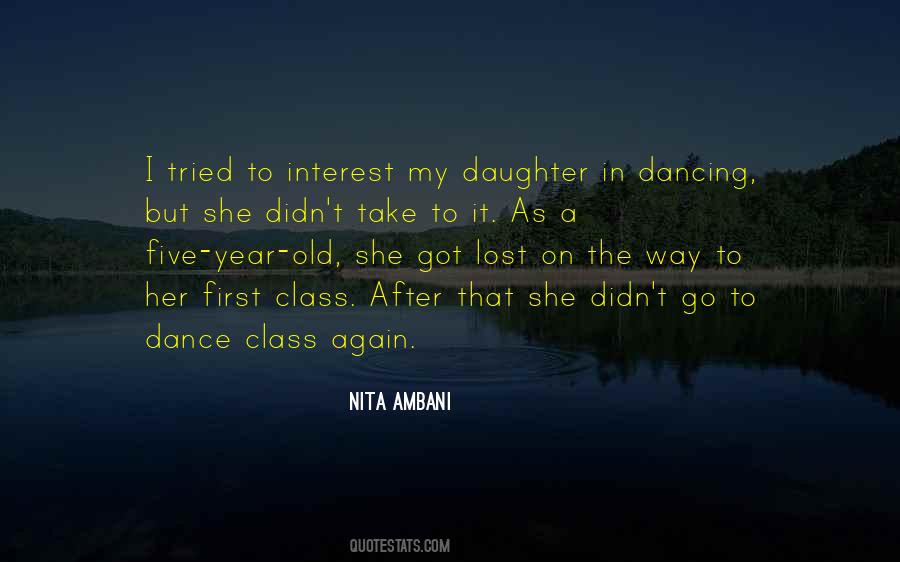 #32. Miami is a really special place for me, particularly in the U.S. It was one of the first places in the country to really embrace dance music, and I've been going there for many, many years. - Author: Tiesto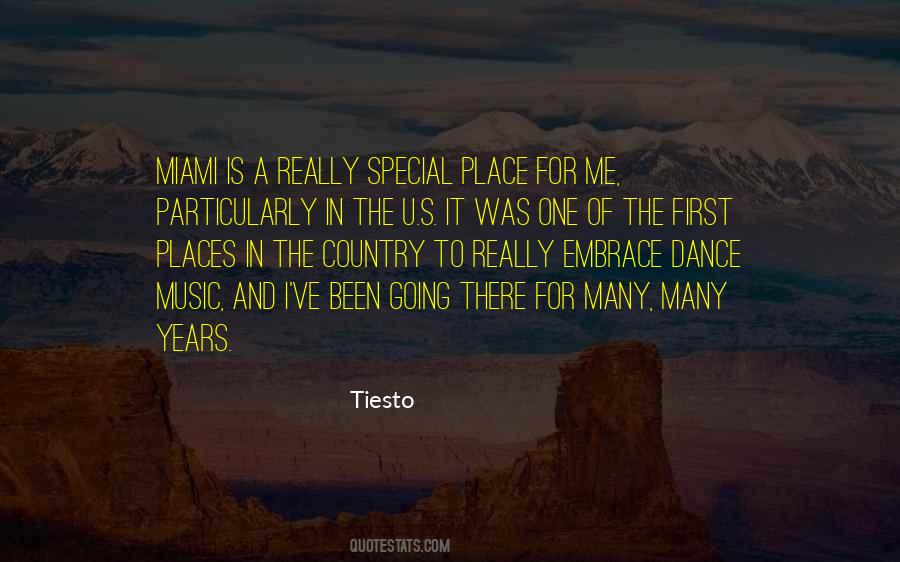 #33. Why, for mercy's sake, did boys try to dance who didn't know the first thing about dancing; and who had feet as big as boats? - Author: L.M. Montgomery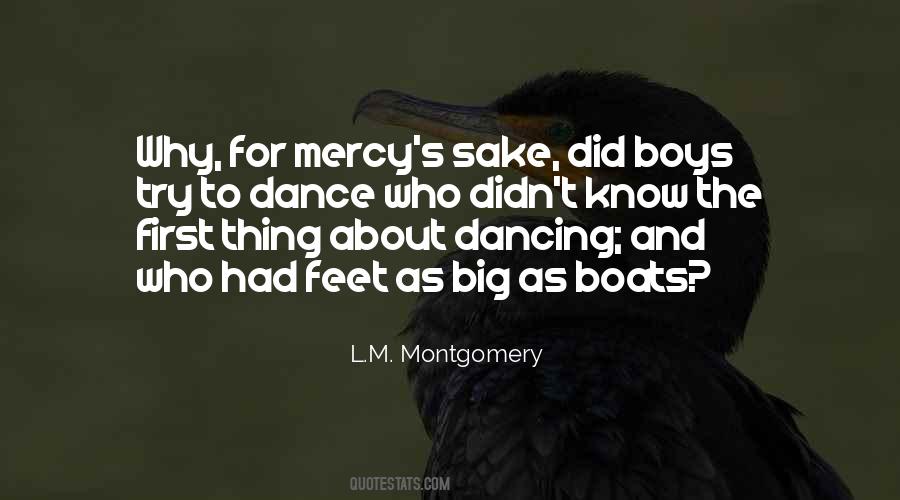 #34. Wrestling was my first success, the first thing that confirmed that I could be good at anything. Devoting yourself to wrestling, or tennis, or skiing, or dance, or to a musical instrument is a longing to be disciplined for a purpose. - Author: John Irving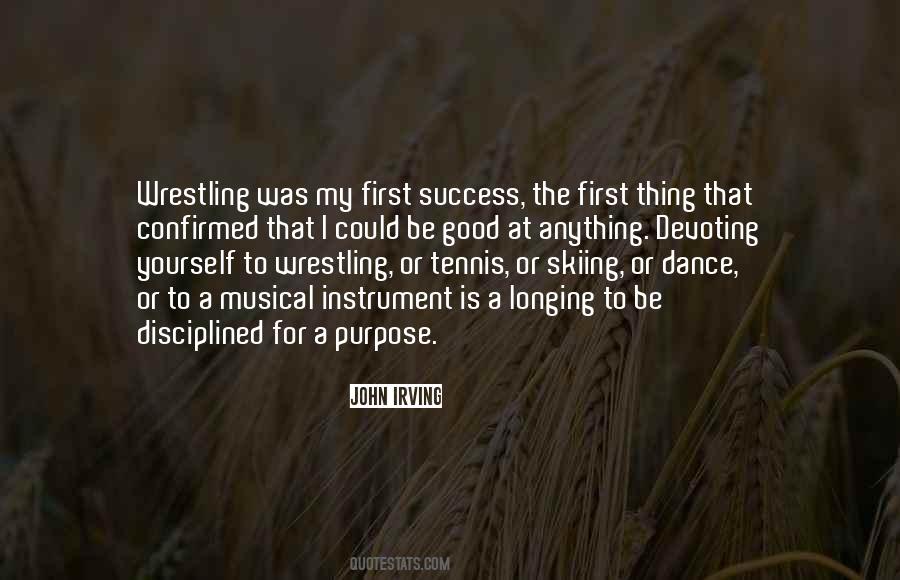 #35. The first dance performance I saw was Joffrey Ballet doing 'Billboards' to Prince. - Author: Kyle Abraham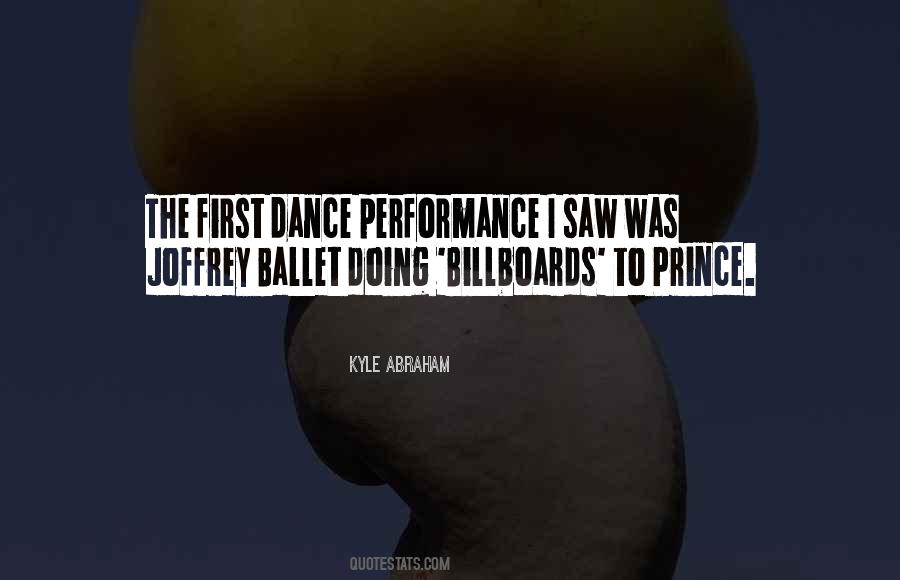 #36. 'The Firebird' just symbolizes a lot for me and my career. It was one of the first really big principal roles that I was ever given an opportunity to dance with American Ballet Theatre, and it was a huge step for the African-American community, I think, within the classical ballet world. - Author: Misty Copeland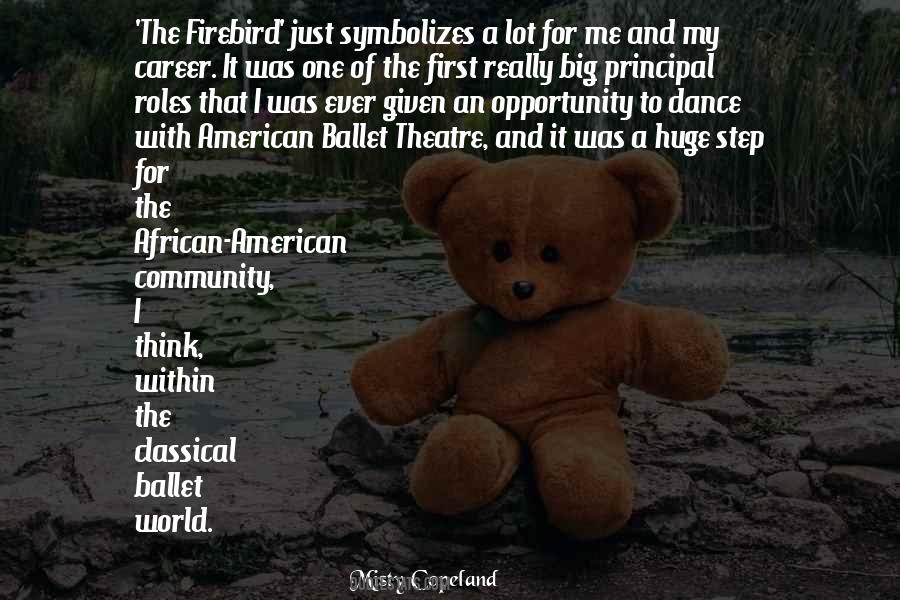 #37. I remember seeing this video for the first time in college - miserable, half-drunk on Keystone Light, a Camel Light smoldering in my mouth, about to desperately tap-dance my way through another social interaction - and saying out loud: "I fucking *get* you, Bee Girl. - Author: Dave Holmes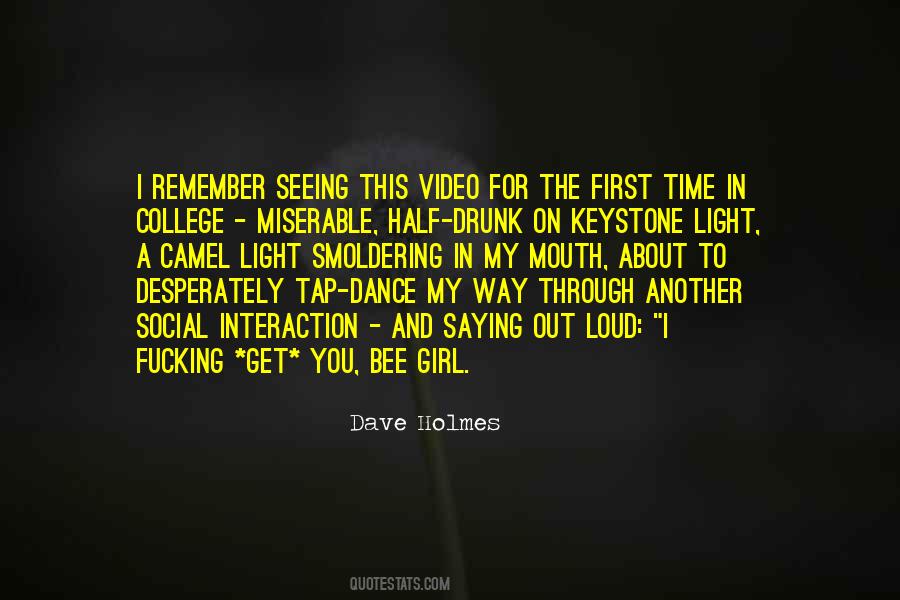 #38. I felt the pull toward you the first time we met. - Author: Lia Davis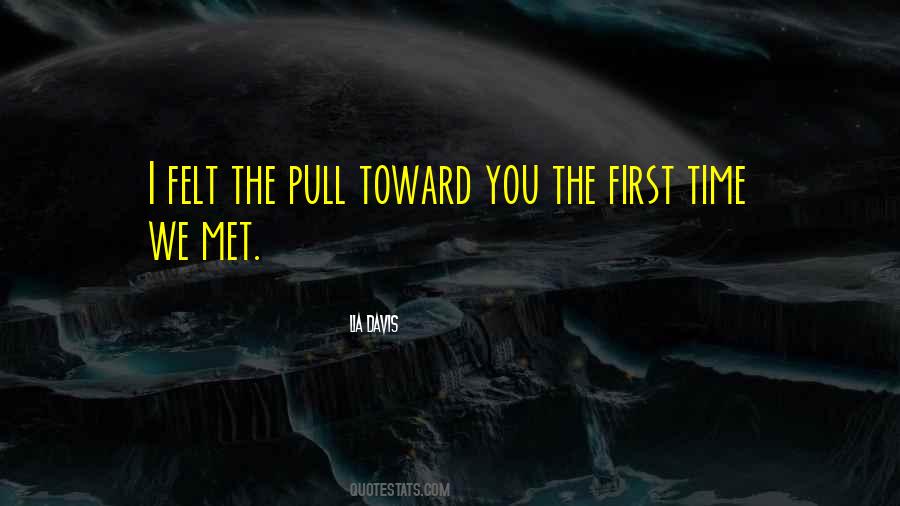 #39. I was the first person in my family who was ever interested in dance, or fine art of any kind for that matter - I came from a very humble beginning in San Pedro, California. - Author: Misty Copeland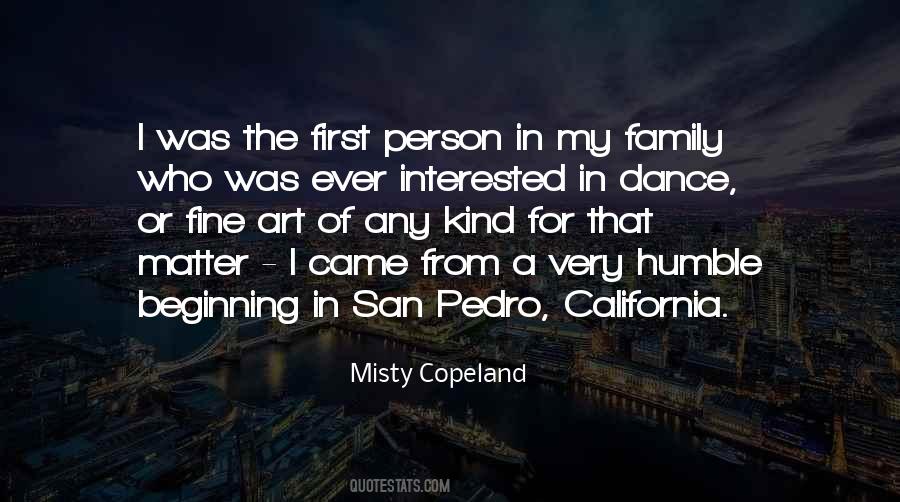 #40. The effort of learning. It's the same when you approach any new skill or technique, from a dance step to driving a car. The effort of learning stops you, at first, from doing it well. - Author: Antony Sher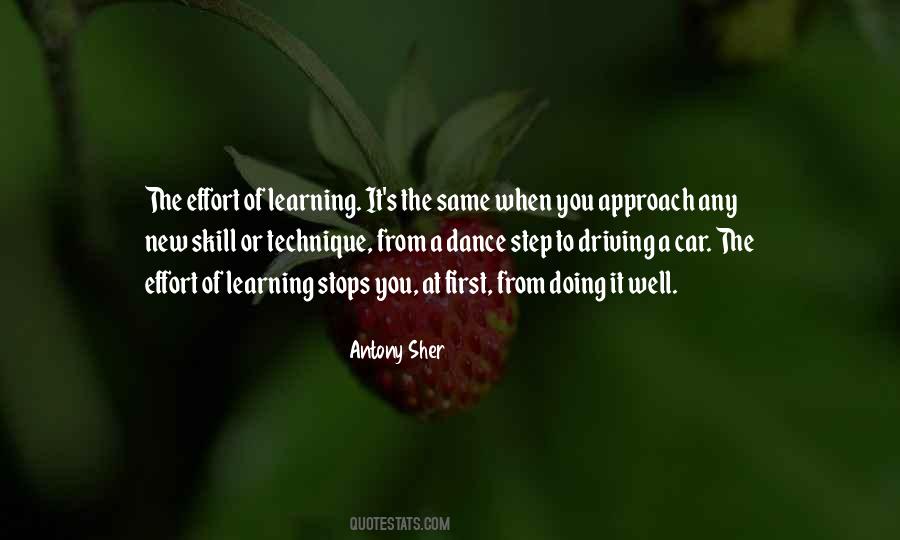 #41. Love is fireworks. It's the first dance. It's the first kiss. It's the first time you make love. It's the first hateful word. It's the first fight. It's the first tear you shed. It's the first time you made up. - Author: Nessie Q.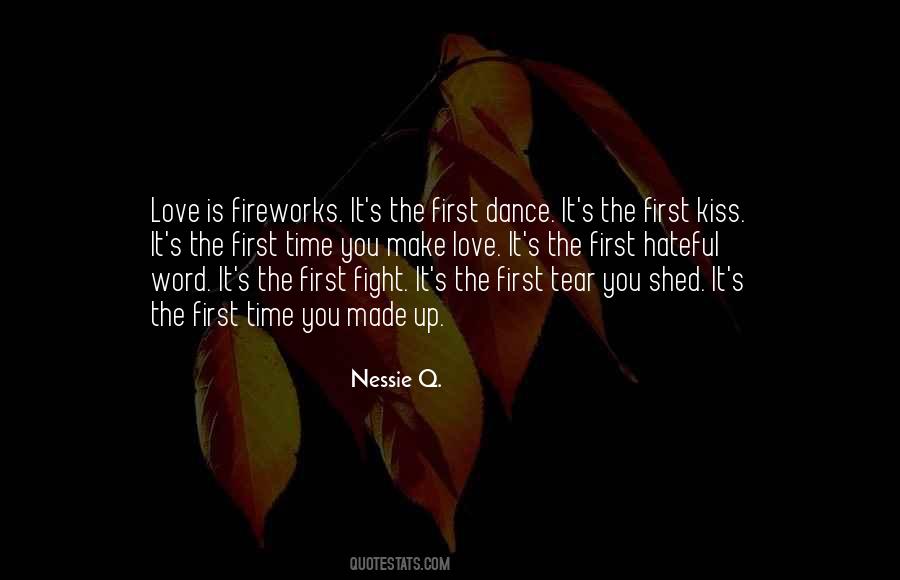 #42. I recognised the air - it was a wild Hungarian dance popular in the theatres, and I reflected for a moment that this was the first time I had ever heard Zann play the work of another composer. - Author: H.P. Lovecraft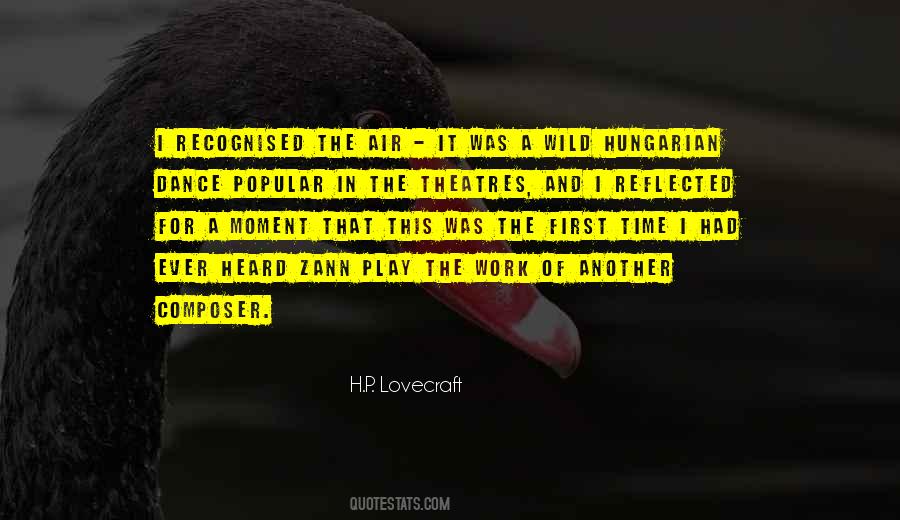 #43. I remember taking my demo to every dance person in London. People were like, 'We don't know what this is!' The first people to champion me were a club in Manchester. - Author: M.I.A.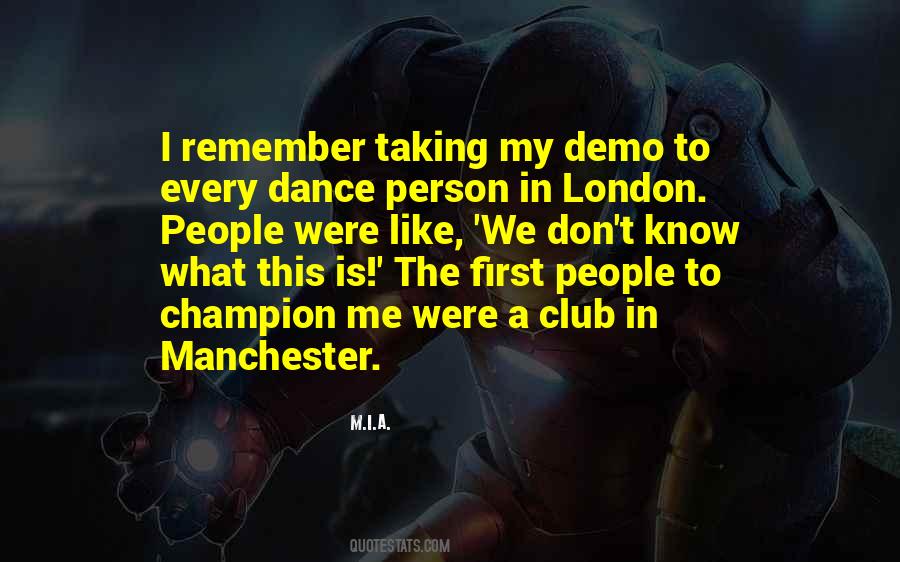 #44. In my heart, my first desire was to be a dancer. I always wanted to dance and I danced from the time I was 7 till I was well into my 30s. - Author: Phyllis Smith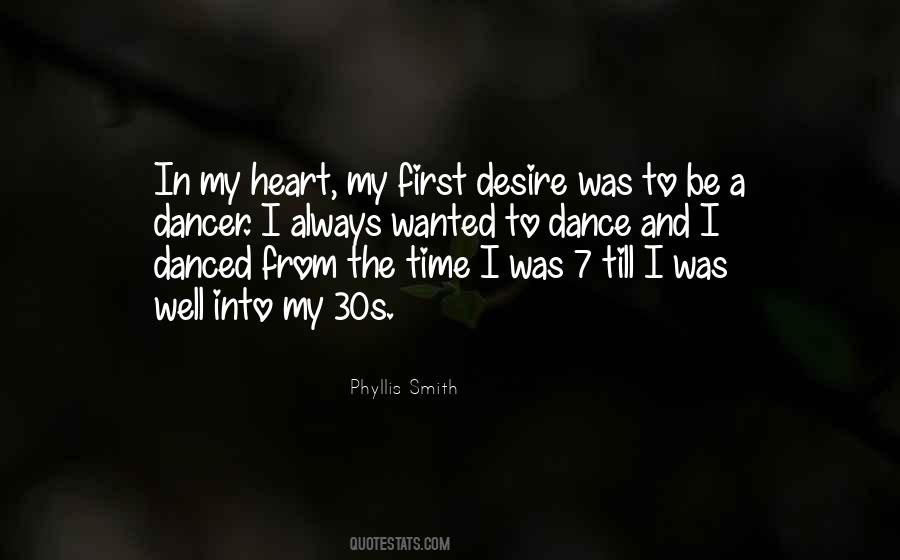 #45. Nothing is done easily, first have the thing, then the thing has a success, then all sorts of difficulties arise through the success. - Author: Ninette De Valois
#46. The first thing I notice is that there isn't really anybody "dancing." Everybody is grinding. I guess that's all people do now. Nobody really knows how to dance; they just know how to move their hips to the beat. - Author: Riley Shasteen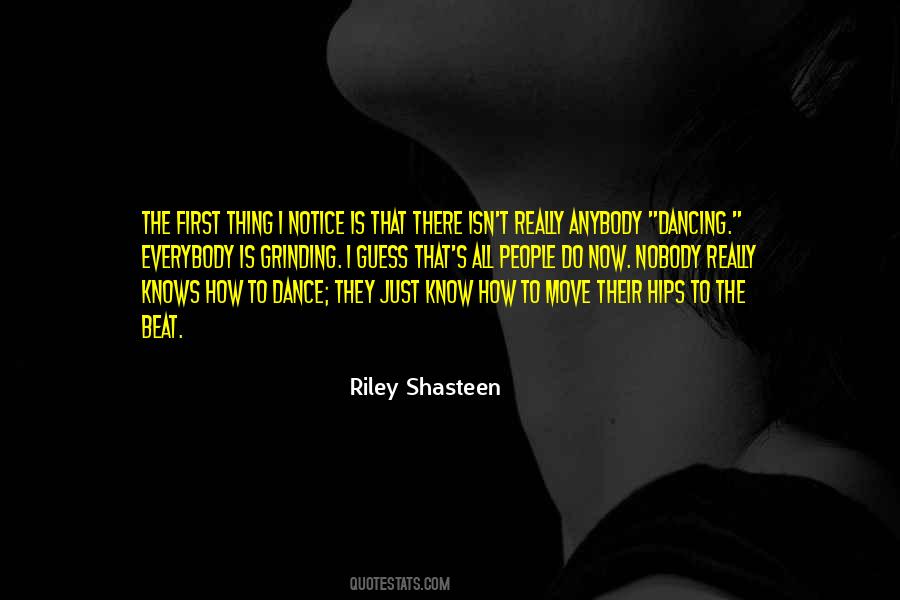 #47. The ocean makes its music; the wind does its dance. We hold on. At first we hold on to one another, but then it starts to feel like we are holding on to something even bigger than that. Greater. - Author: David Levithan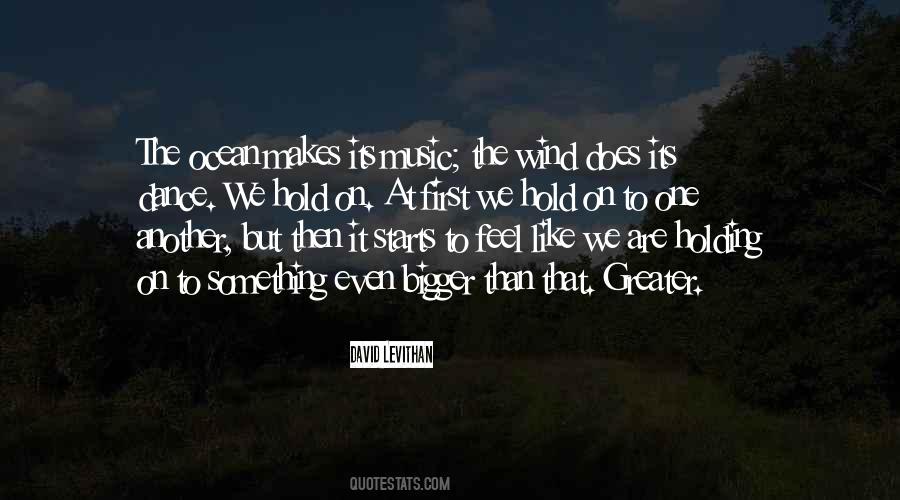 #48. I think the most significant moment at a wedding is when you say "I do" and when you do the first dance. - Author: Tyrese Gibson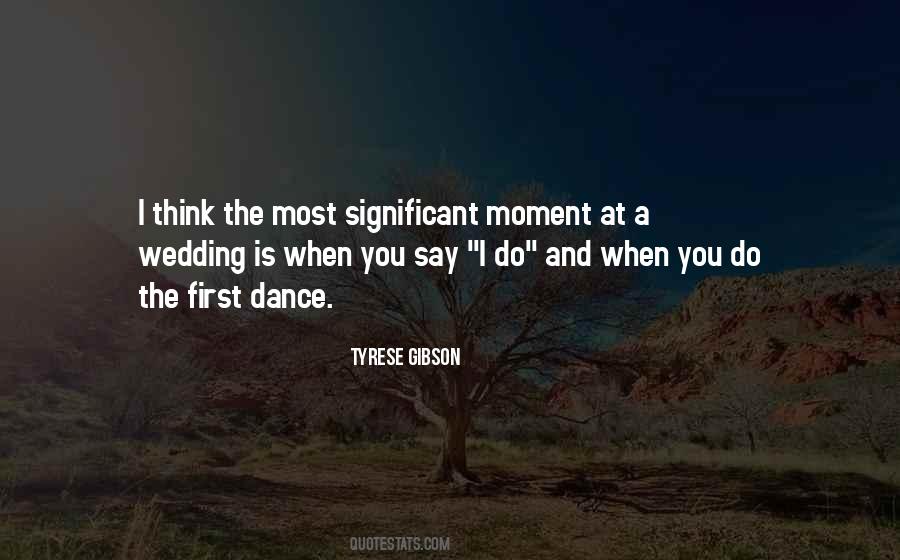 #49. The first religious experience that I can remember is getting under the nursery table to pray that the dancing mistress might be dead before we got to the Dancing Class. - Author: Gwen Raverat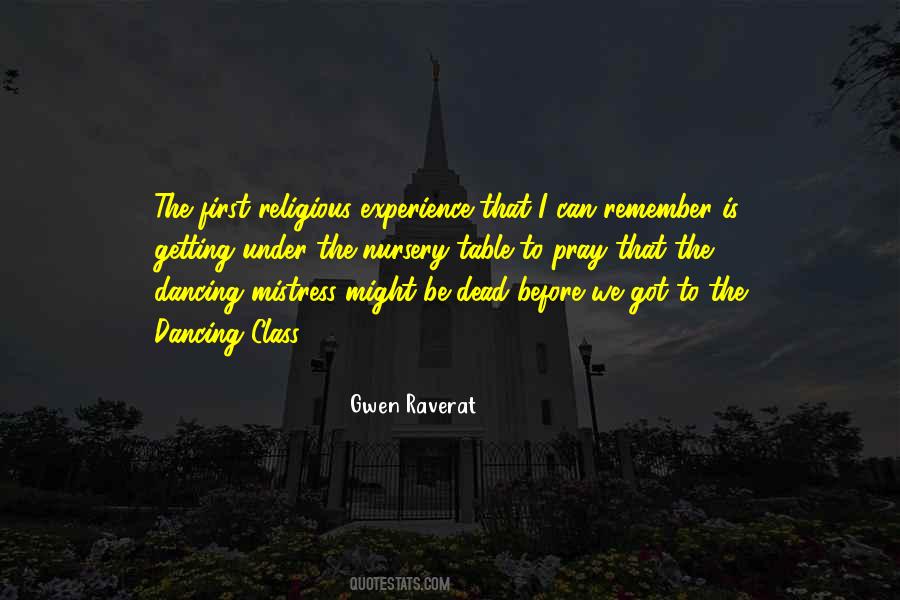 #50. While we dance in the streets and pat ourselves on the back for being a nation great enough to reach beyond racial divides to elect our first African-American president, let us not forget that we remain a nation still proudly practicing prejudice. - Author: Harvey Fierstein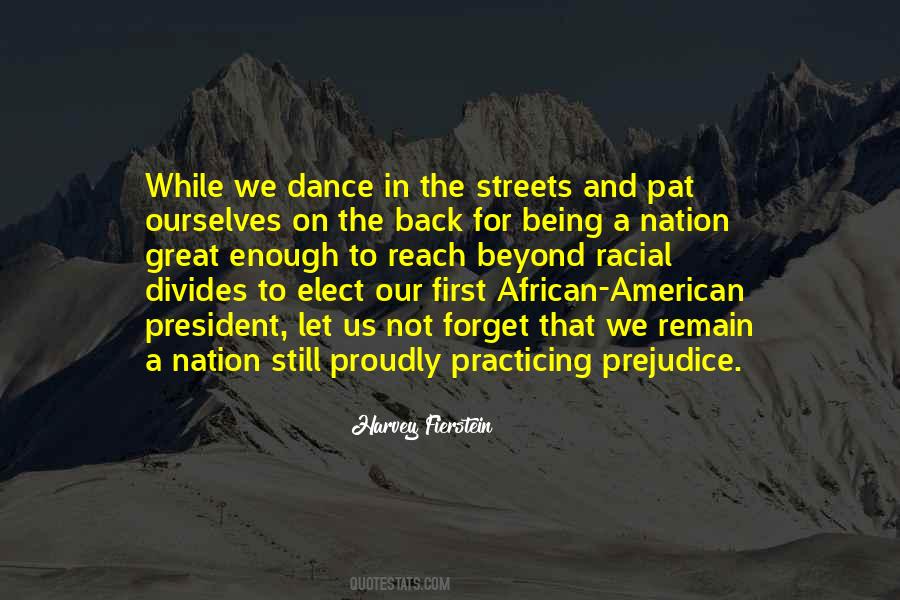 #51. The daisies and buttercups nodded in the breeze, like skinny-necked old ladies listening to dance music.

What if necessary evil had an opposite? This is what it would be. This unnecessary good.

For the first time in days, Mo smiled. - Author: Tricia Springstubb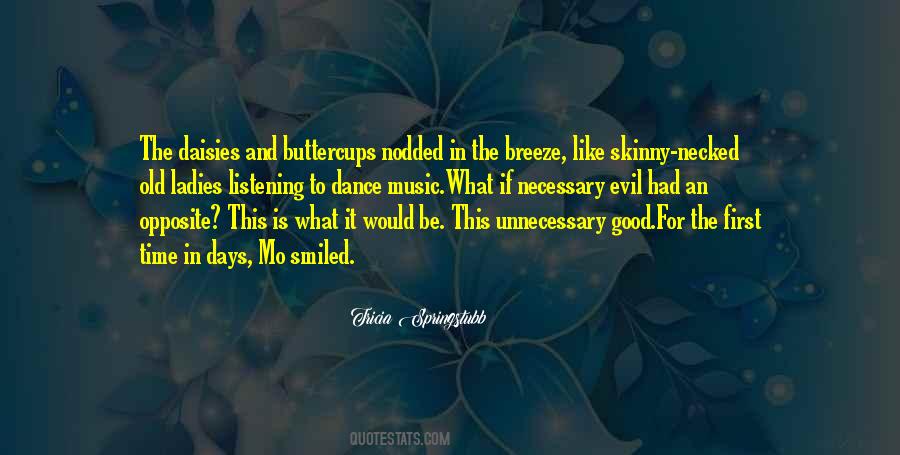 #52. I still study dance, and it's definitely something I want to incorporate in the future. It's always been my first love. - Author: Maisie Williams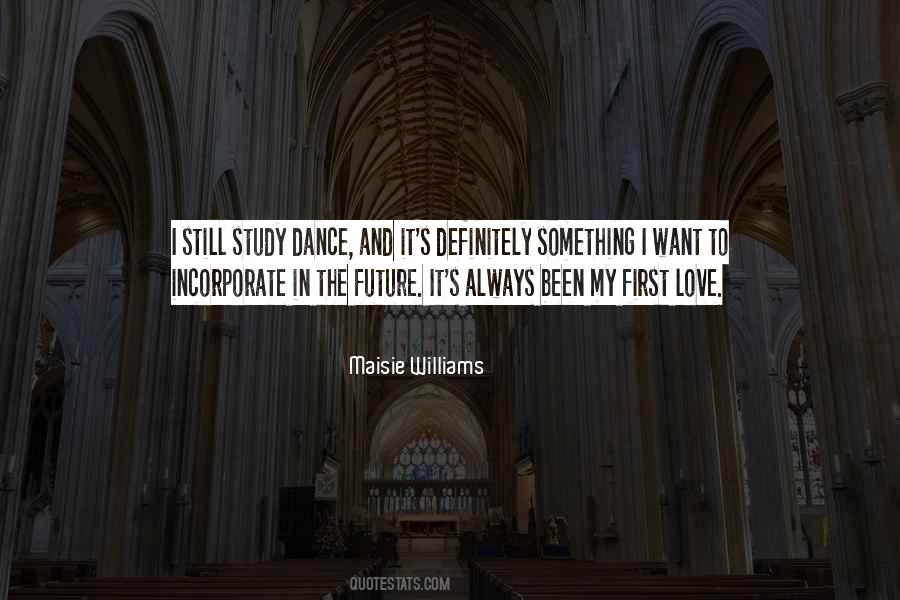 #53. The dance of the palm trees, the oceans calling, the first rays of sun and heaven is here. - Author: Michael Dolan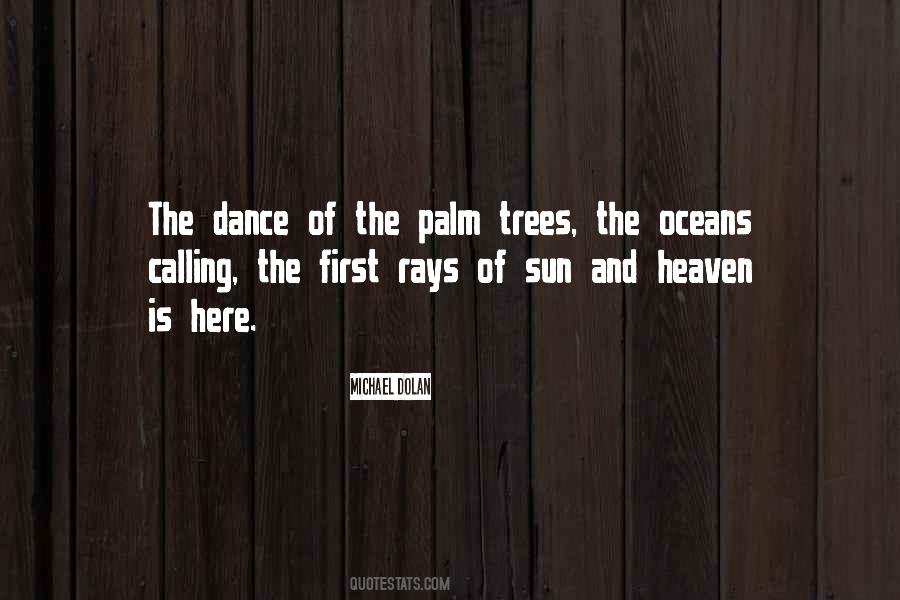 #54. I couldn't enjoy 'A Dance With Dragons,' unfortunately. Of course, I enjoyed it, but it was the first of the books I read as a writer on 'Game of Thrones,' so all I could do is think, 'We're going to have to shift that,' 'We won't be able to afford that,' or 'That's a great scene.' - Author: Bryan Cogman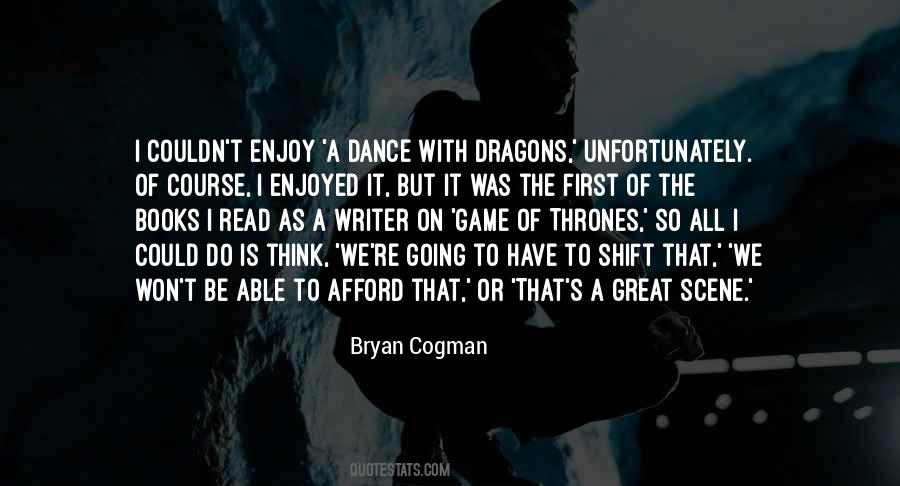 #55. On Hanukkah, the first dark night,
Light yourself a candle bright.
I'll you, if you will me invite
To dance within that gentle light. - Author: Nick Gordon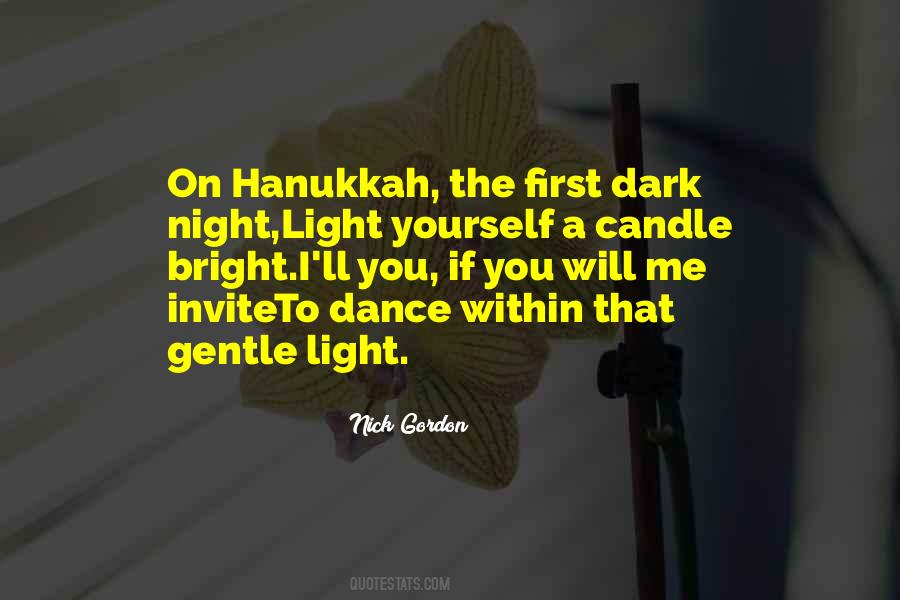 #56. First comes the sweat. Then comes the beauty if you're very lucky and have said your prayers. - Author: George Balanchine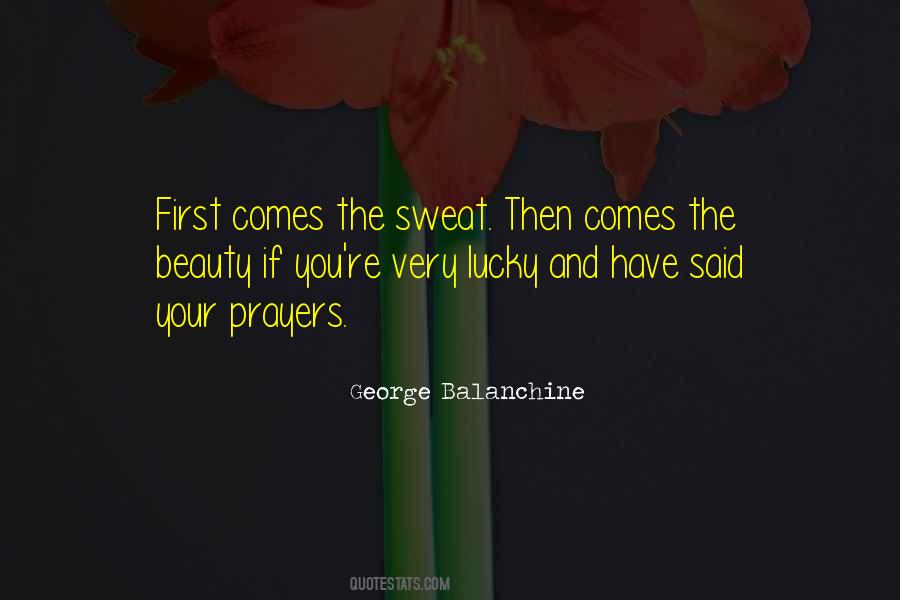 #57. I wasn't a ballet baby. My first dance class was in an outdoor pavilion when I was three. It was called 'creative movement.' The teacher gave us chiffon scarves in beautiful colors. She turned on some music and said, 'Now go dance.' So for me, dance has always been about self-expression. - Author: Carrie Ann Inaba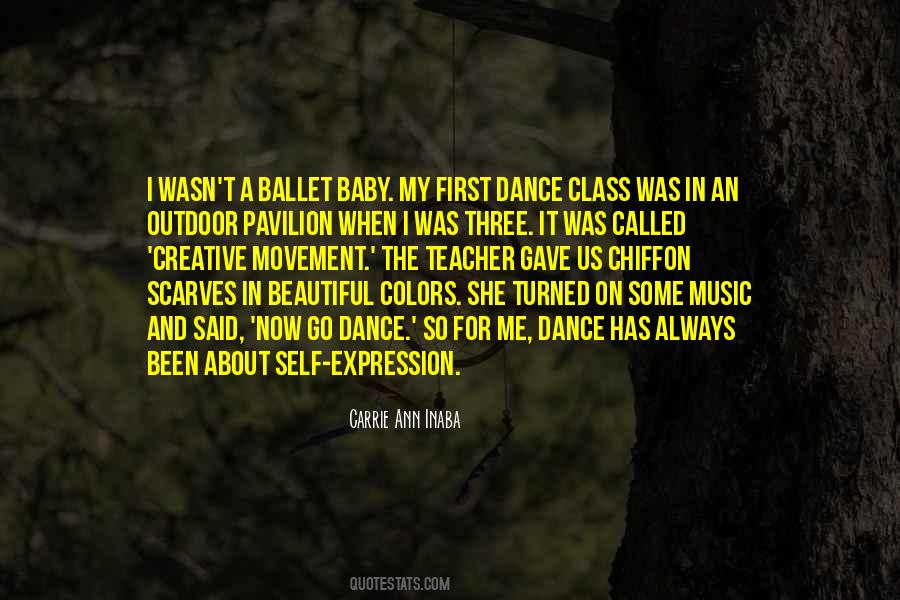 #58. She hadn't pulled her punches, and he certainly wasn't holding back for fear of hurting her feelings. He was the first person she'd come across in a long time who didn't dance around her for fear of saying something that would hurt her. - Author: Katee Robert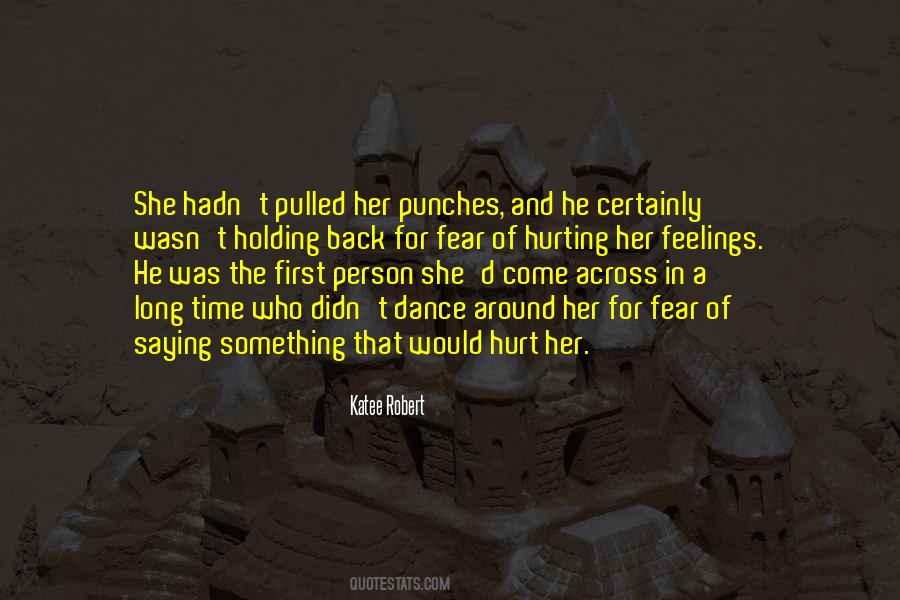 #59. The second time they made love was even better than the first. Their bodies fit perfectly together, the eager desperation of their first time segueing into a slower, more fully realized sensual dance. - Author: Claire Thompson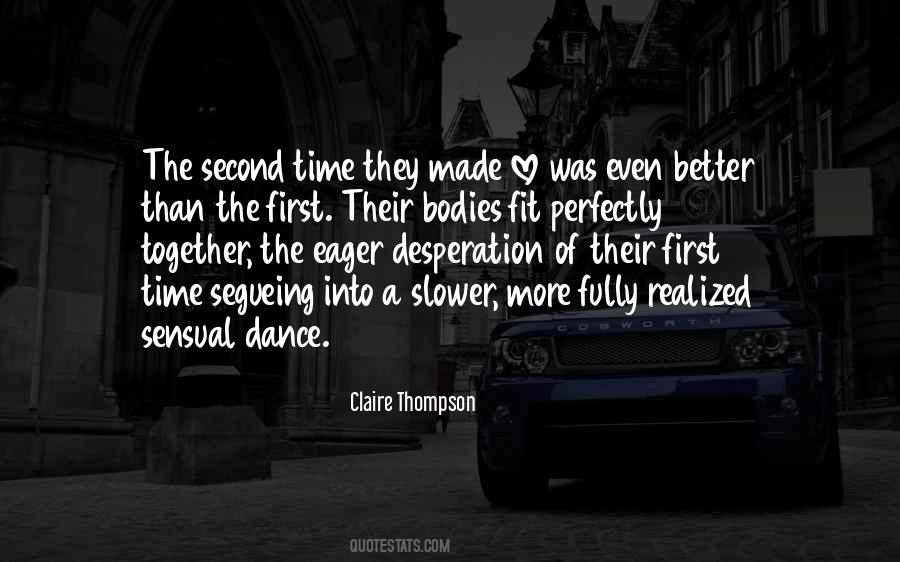 #60. My first show was when I was a high school freshman, but it was at the junior class dance. My older friend and bandmate booked it. - Author: Frank Iero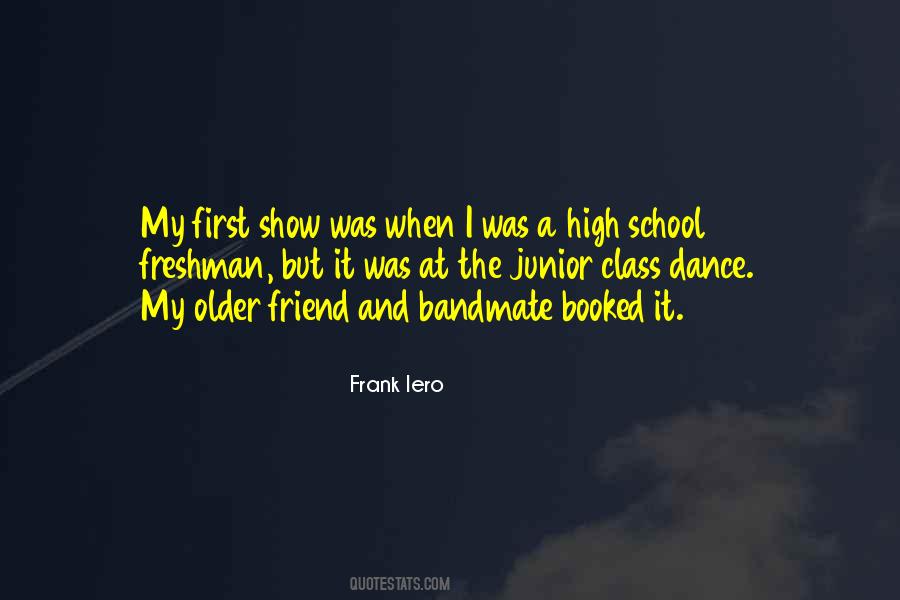 #61. When I die I'm going to dance first in all the galaxies ... I'm gonna play and dance and sing. - Author: Elisabeth Kubler-Ross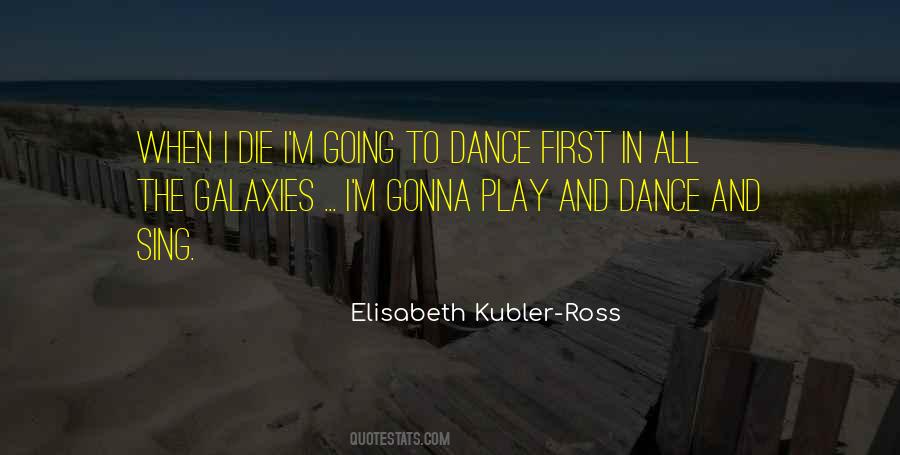 #62. The first three issues of 'Cemetery Dance' were mainly horror, but now it's really a cross-genre magazine. It's all just snowballed. - Author: Richard Chizmar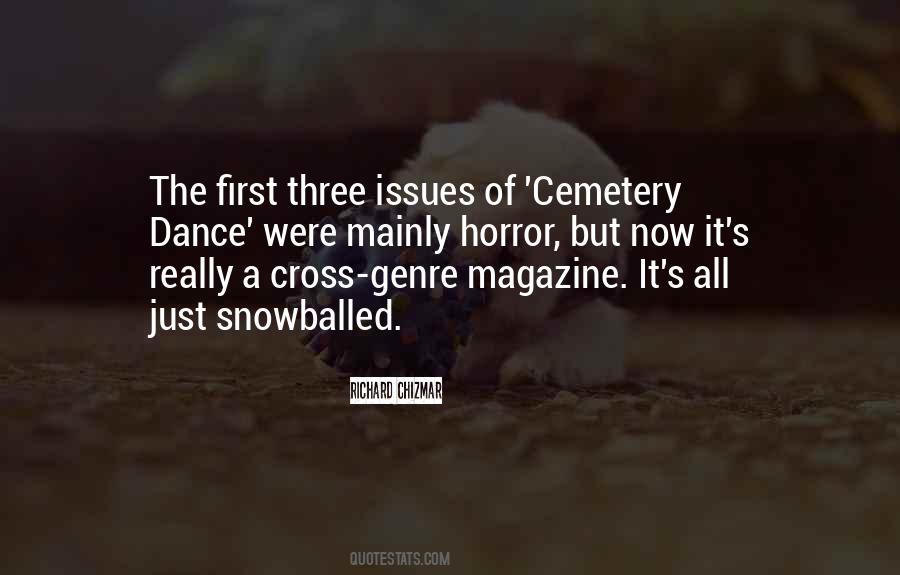 #63. Let us first teach little children to breathe, to vibrate, to feel, and to become one with the general harmony and movement of nature. Let us first produce a beautiful human being, a dancing child. - Author: Isadora Duncan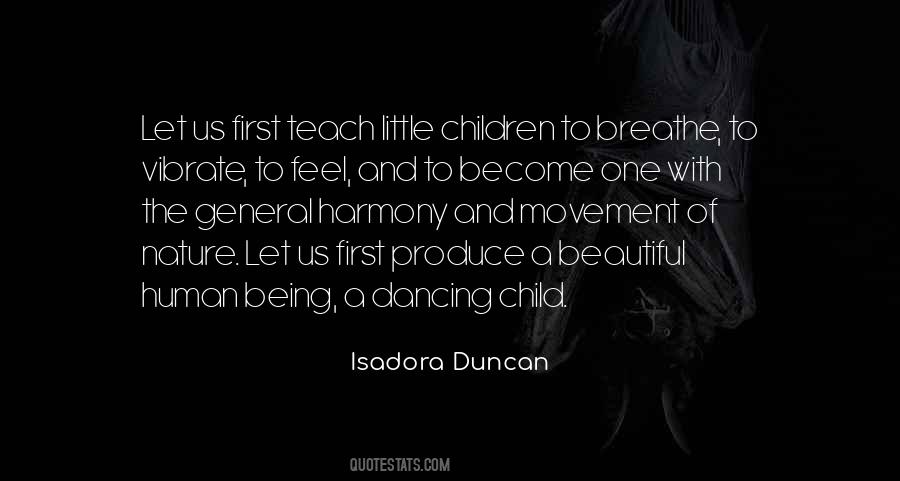 #64. When I was two and a half or three, my mom got a call from someone asking if wanted to go on an audition. I ended up getting the job; it was a commercial for Hasbro. It was my first audition and first commercial. I just had to smile and laugh and dance around. - Author: Megan Charpentier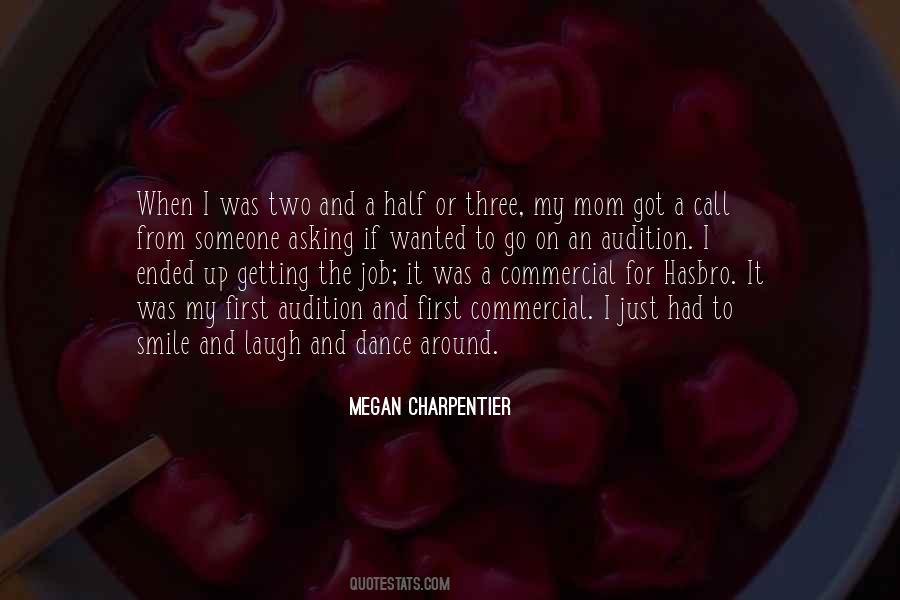 #65. Girls love guys who dance, and I'm definitely going to be the first one on the dance floor. Usually, you just see guys sitting around, but I definitely don't hold back when it comes to dancing. - Author: Jacob Artist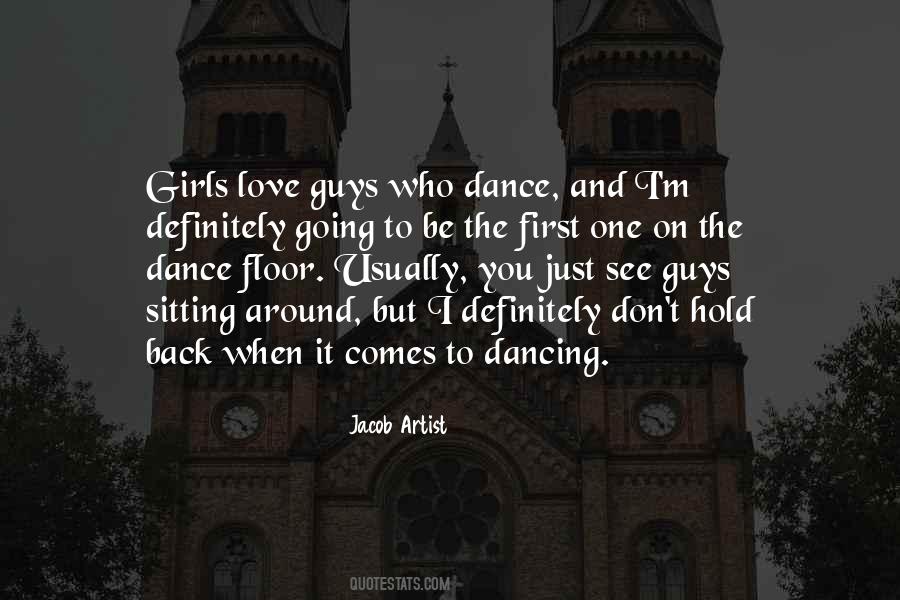 #66. The modern dance is no dance in the first place, and when you've finally learned it, it's not modern any more. - Author: Evan Esar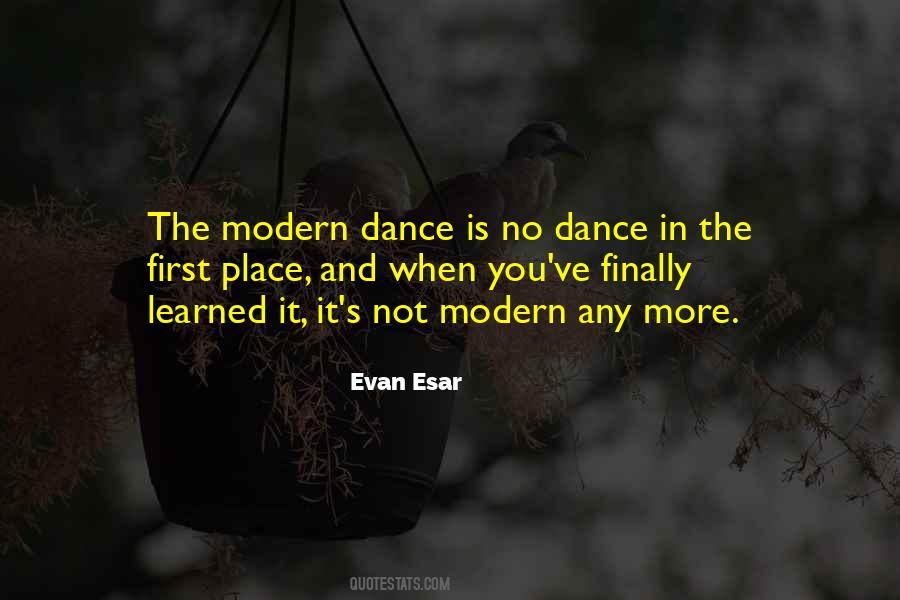 #67. I remember when I first rocked in it was a great big dance hall and Tommy Young was blowing trombone and Louis [Armstrong] was singing a tune and it was just Satchmo and you could hear it resounding through the dance hall and people were dancing. It was a highlight. - Author: Gordon Lightfoot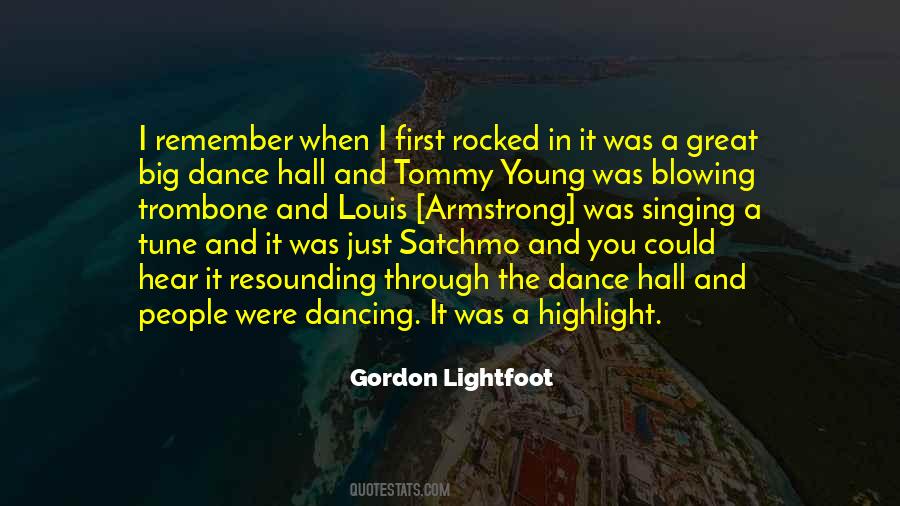 #68. I certainly love a boogie and once the music starts I'm usually one of the first out there on the dance floor. Although I haven't had any formal dance training and something tells me I'm really going to notice the difference. - Author: Ainsley Harriott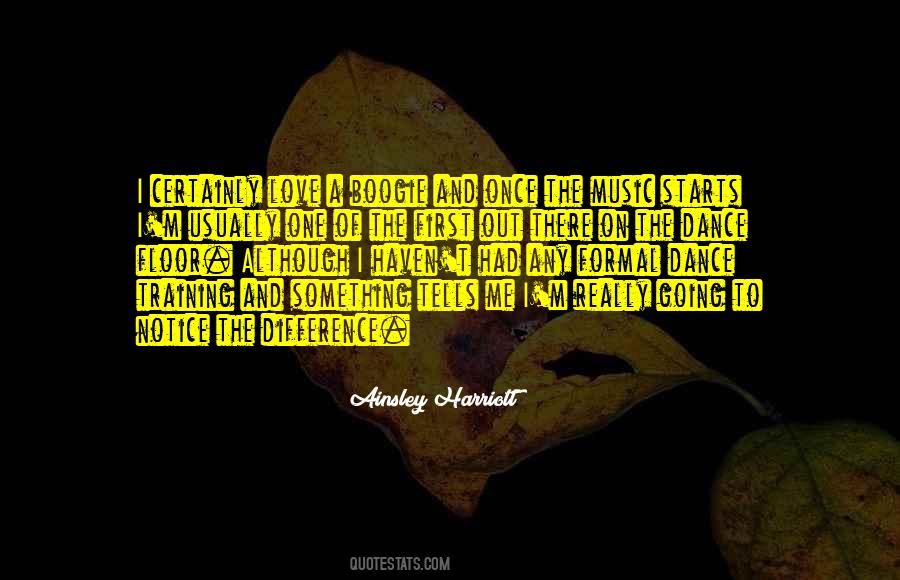 #69. I went to James Monroe High School, a big school in the East Bronx. My first promotion was the first alumni reunion dance. I got all the names and addresses out of the yearbook. It came off very well. - Author: Sid Bernstein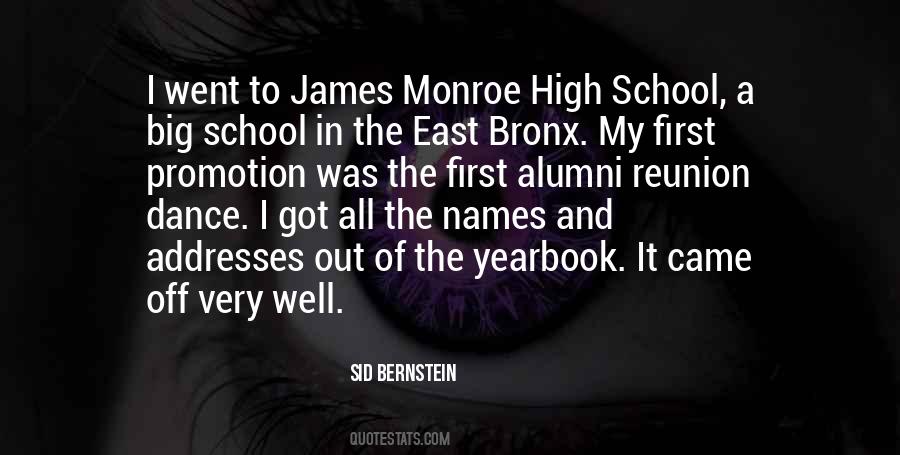 #70. The subject says: I see first many things which dance ... then everything gradually becomes connected. - Author: Jim Morrison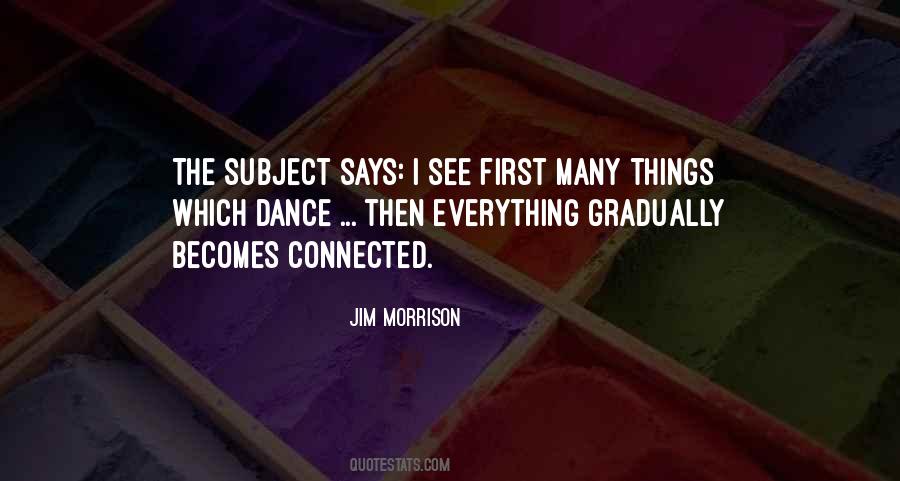 #71. As I bounced her on my knee, AJ undid the first three buttons on his shirt and ripped off his tie. "I'm ready to dance."
"You've been dancing the entire time we haven't been on stage." I replied.
"No, I mean I really want to dance."
"Ugh," I groaned. "You mean that mexican shit. - Author: Katie Ashley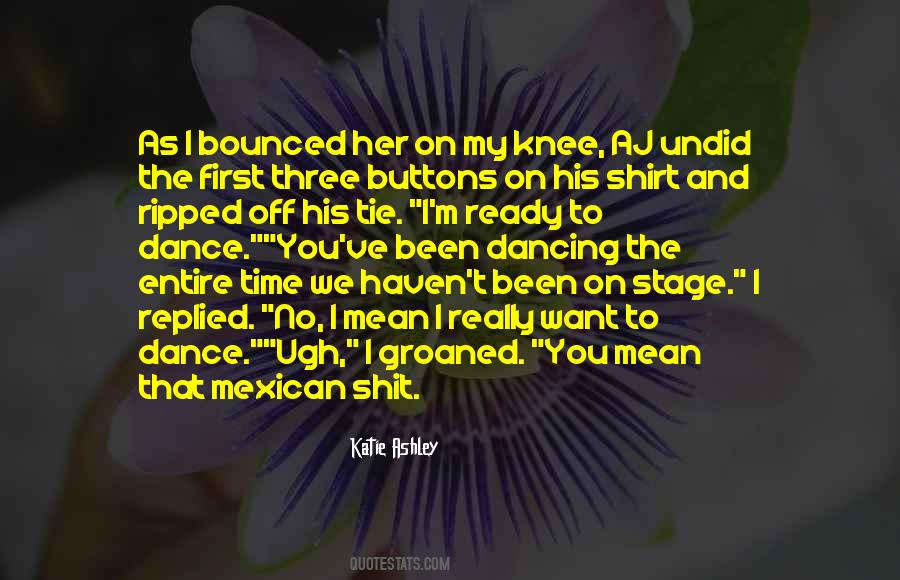 #72. To be able to explore the genre of the musical is nice. It was great to be able to sing professionally, for the first time, and dance, which was something that I did growing up, but I had not done for many, many years. - Author: Penelope Cruz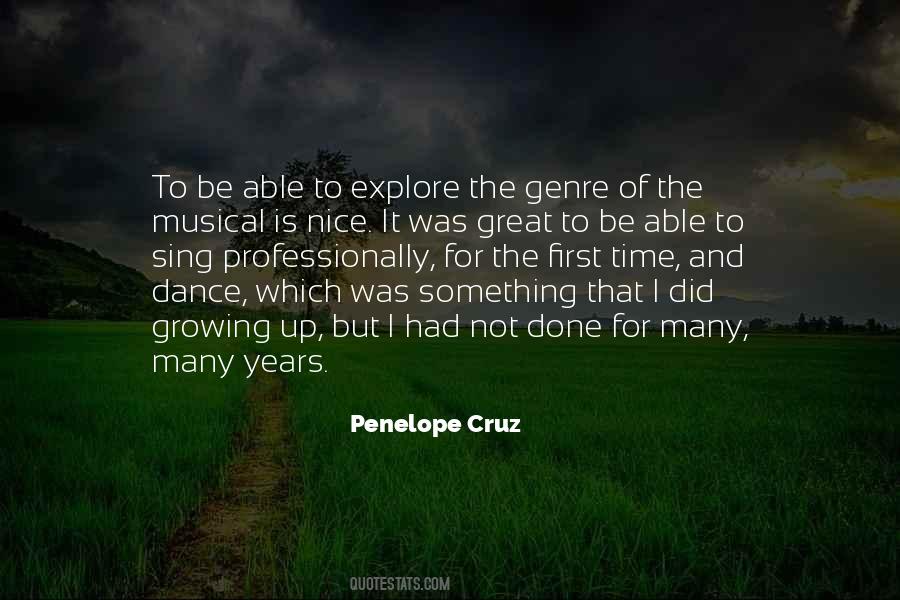 #73. If I do find myself walking up the aisle and dancing at my own wedding reception, I want the first dance to be both spontaneous and dramatic. - Author: Anton Du Beke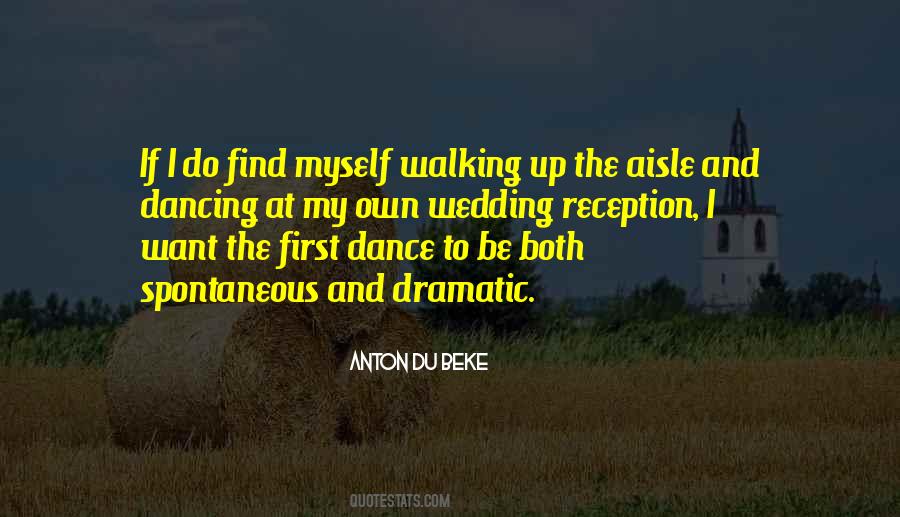 #74. My father was in a dance band, and I wanted to do what he did, play the saxophone, but I couldn't blow a note, so he suggested the guitar. Chromatic harmonica was actually my first instrument, and I got very good at it - not quite Stevie Wonder, but very good. - Author: Pete Townshend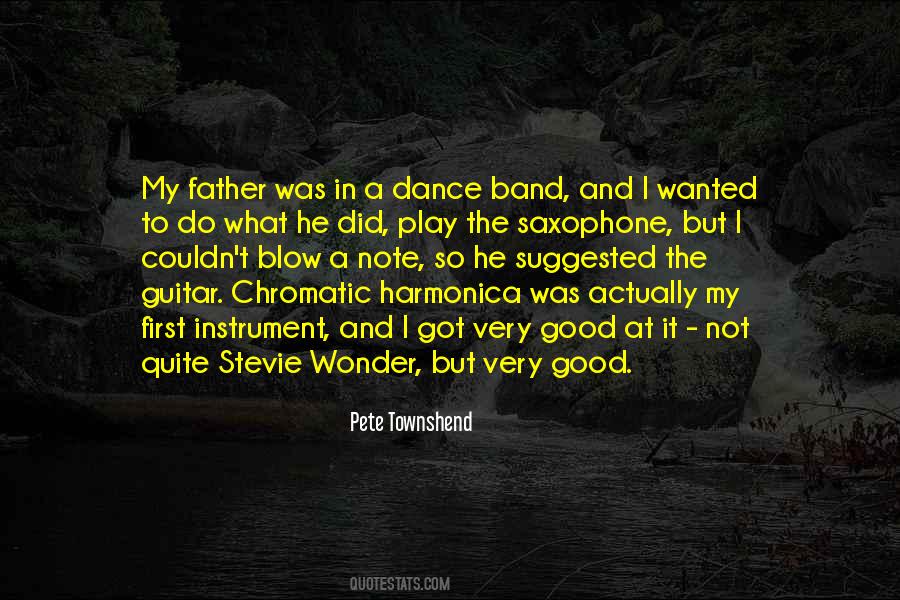 #75. My first professional relationship, I danced with the Parsons Dance Company, and David Parsons, my former boss, allowed me to choreograph on the company. - Author: Robert Battle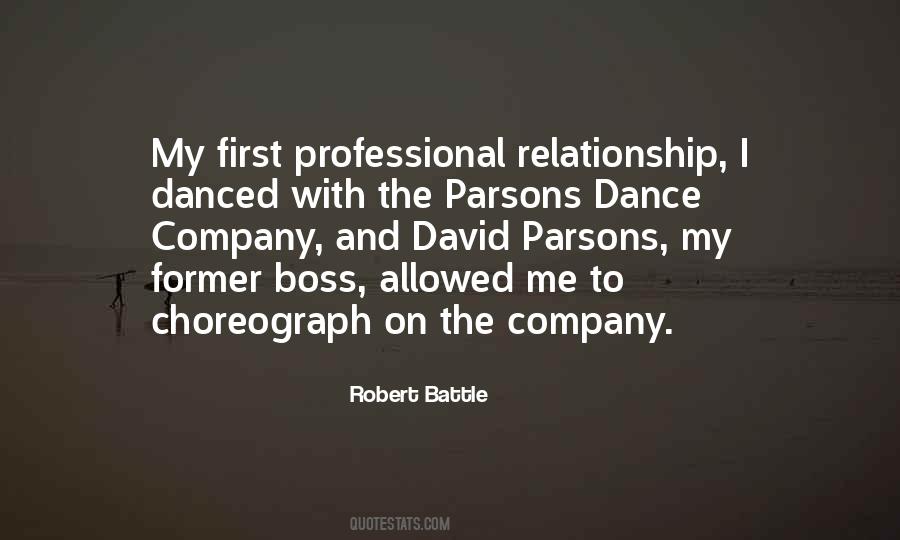 #76. He turned back to her. "And may I have the pleasure of the first dance, Miss Rowan?" She gave him a slightly wide-eyed stare, while his eyes narrowed and crinkled at the corners, full of mischief. Mercy . . . he does work quite a spell. - Author: Laura Frantz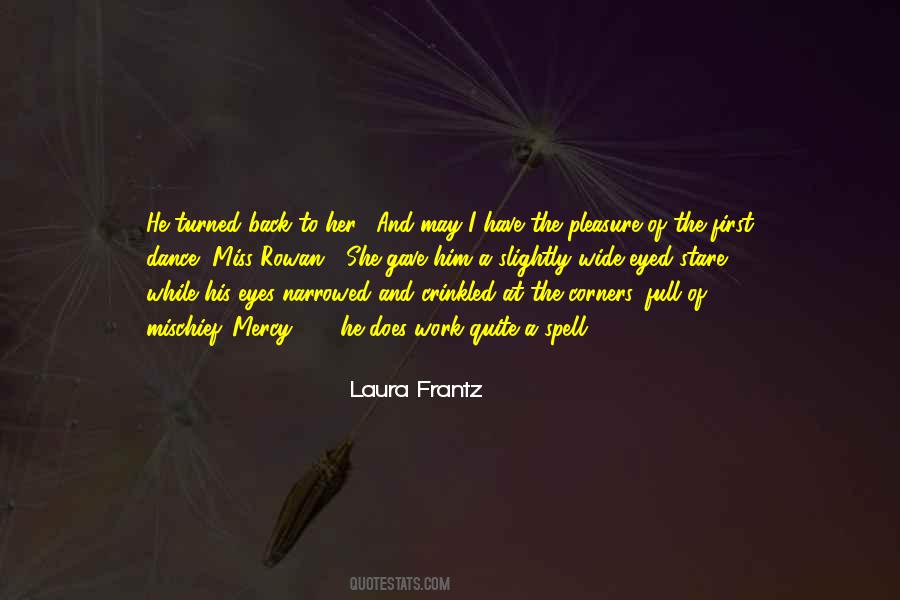 #77. Diaghilev was the first to notice good character dancers and that sort of thing. - Author: Ninette De Valois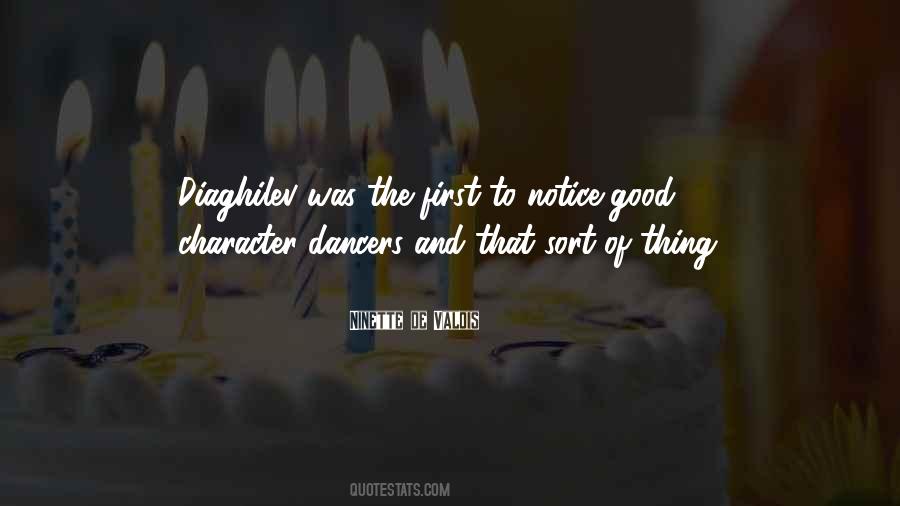 #78. Artistic integrity is not a guest whom one may choose not to invite to a gala. She must be the first you invite, the first you seat, the first you serve food and wine, the one who calls the orchestra's tunes, the one who is offered her choice of dance partners throughout the night. - Author: Doug Dorst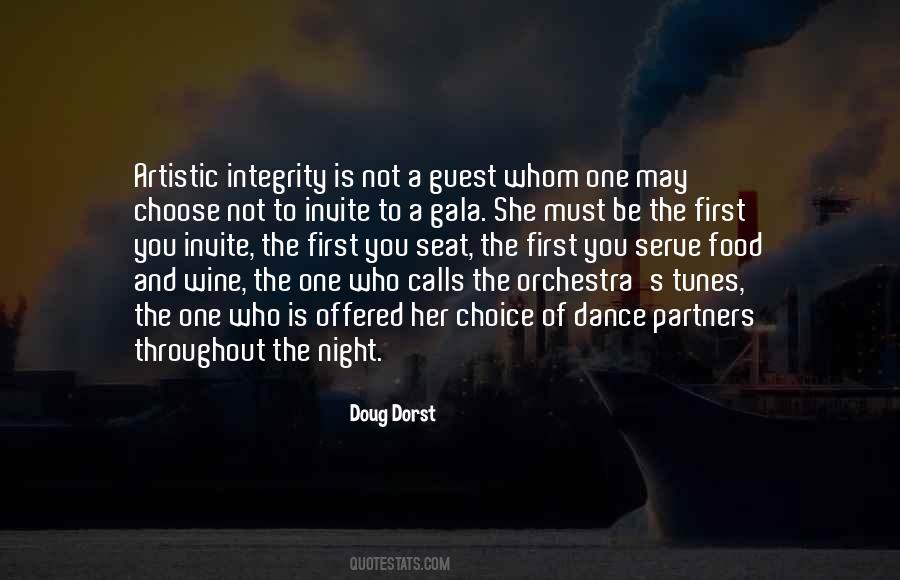 #79. There are three things you need to learn in life, Sofie. First, how to dance like you're alone. Second, to love like you mean it. And, third, you need to learn to laugh at the rain. Learn how to do those three things, and you'll be happy, always. - Author: Tori Carrington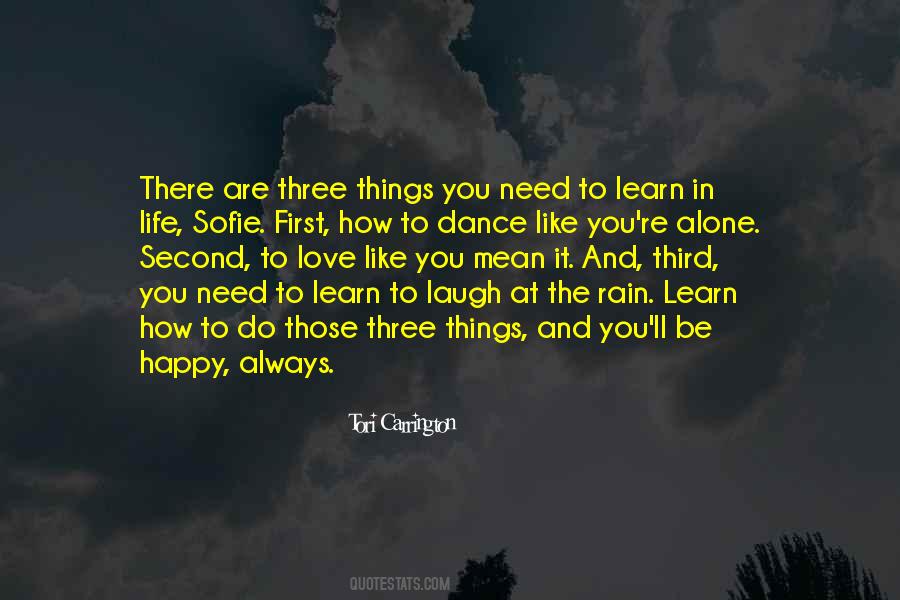 #80. From the bow of the canoe she asked, "Do you know a rain dance?"
"First I need a virgin. - Author: Carl Hiaasen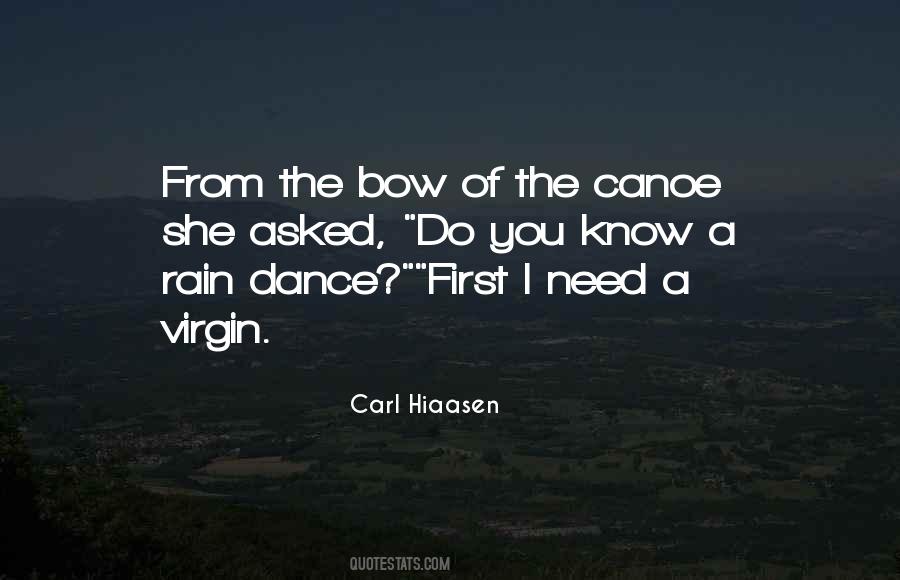 #81. 'Dance to the Music' was just Sly Stone being his natural crazy self right from the beginning. The man was an original and his first AM hit was nothing if it wasn't the example per excellence of the Sly Stone music machine. - Author: Jon Landau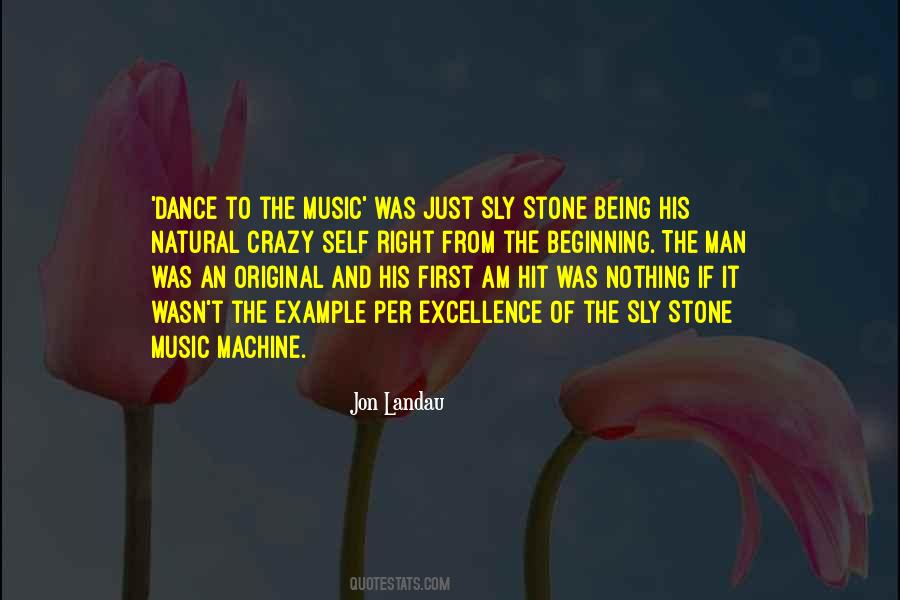 #82. Love is a flame. It's when you get to know each other again. It's the fights that will follow your first. It's you finding another reason to fall in love with each other. It's both of you never getting tired of swaying to your first dance's song. - Author: Nessie Q.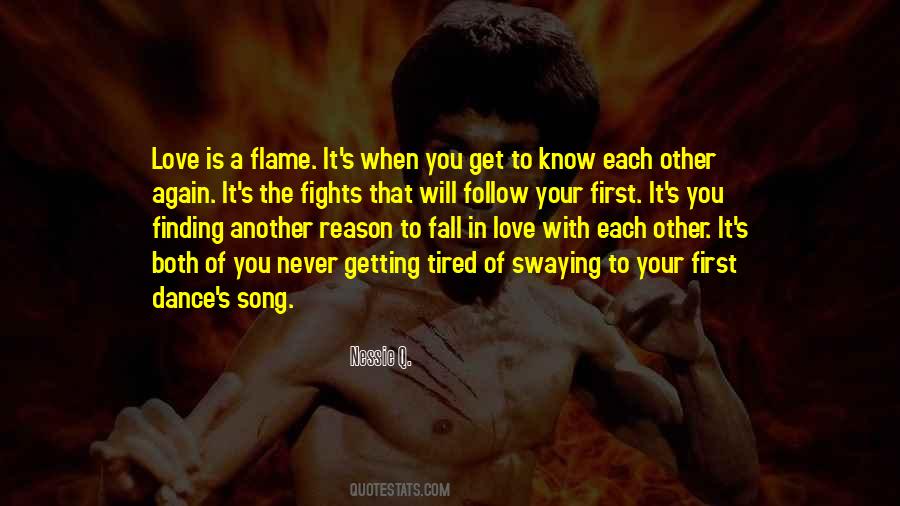 #83. It felt like we were reliving the first day of the school year, when students and teachers do the get-to-know-you dance - teachers tell students something about who they are, students pretend to care, and then vice-versa. - Author: Tucker Elliot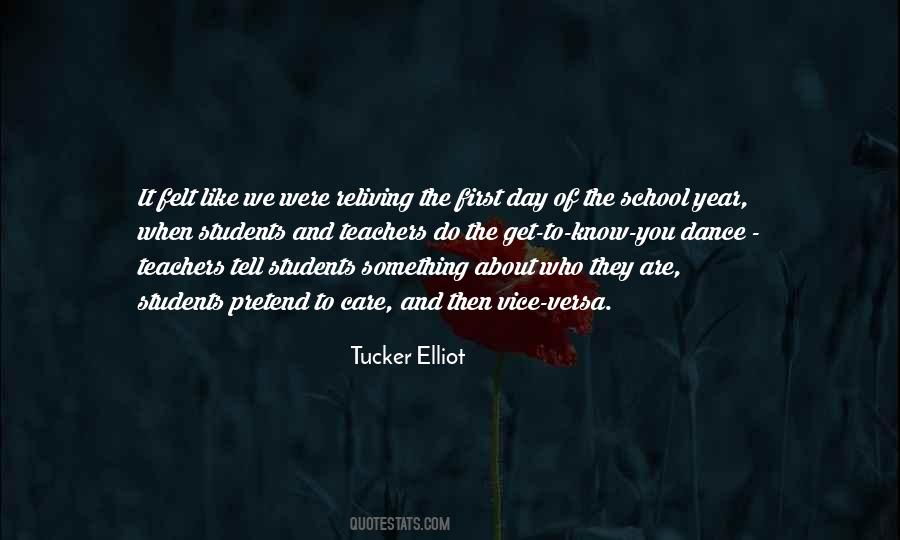 #84. At the time I just was like, I can't believe I am on the show, and the first thing I have to do is an entire song and dance routine for the whole cast of 'Mad Men.' - Author: Jessica Pare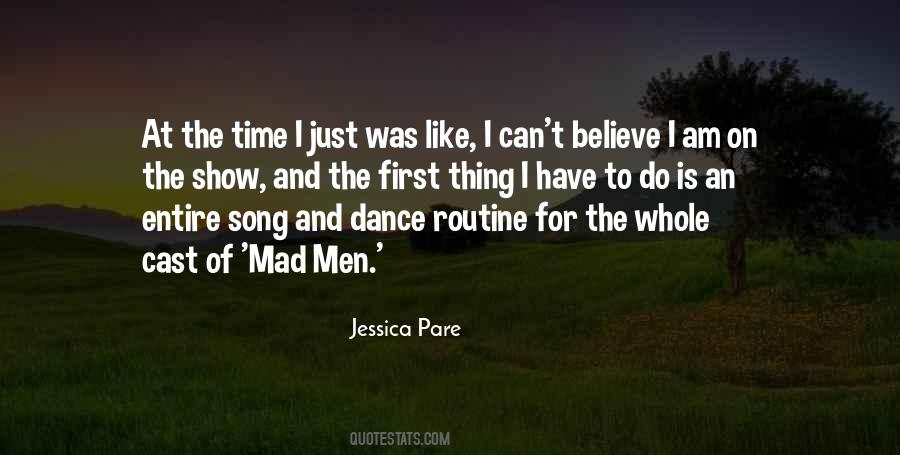 #85. When I return to the writing process after being away from it for a while, the first part of it always is being honest with myself: What am I into right now? Is it rock bands and guitars, is it noise, is it dance beats and electronics? Is it space, is it clutter? - Author: Trent Reznor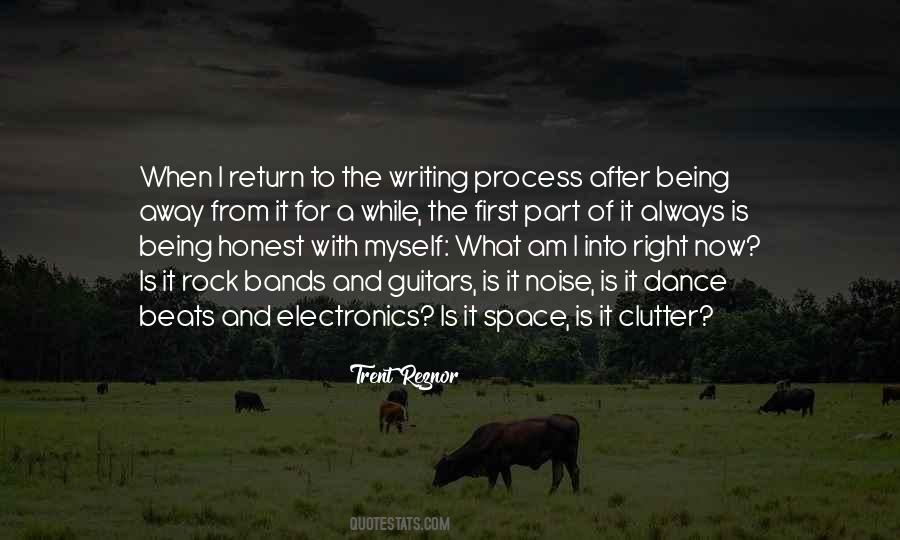 #86. When we meditate we are dancing with each moment. Just like the very first dance we remember: We are self-conscious, but eager. We hope for a connection, but we're cautious of intimacy. - Author: Andrew Furst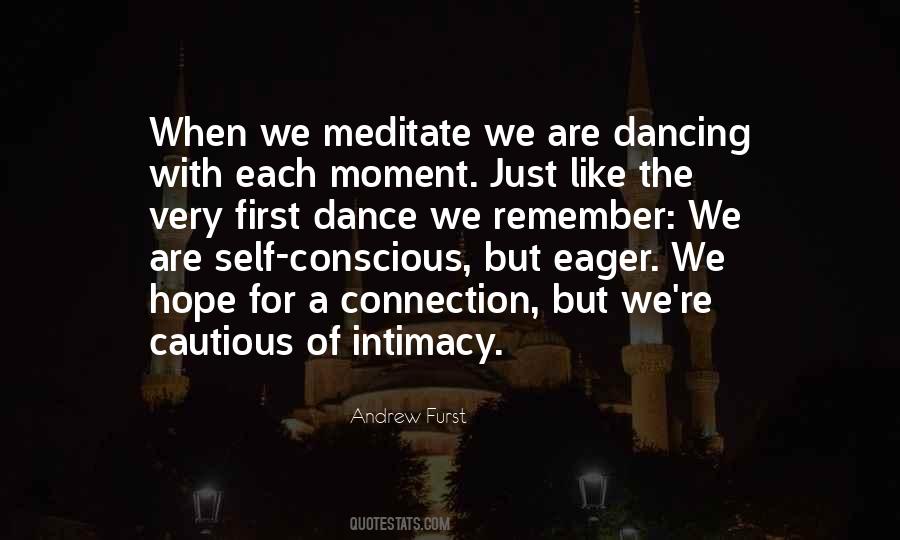 #87. I have always been the first on the dance floor. Before fame, people thought it made me a good laugh; now, people point and call me an attention seeker! I'm very aware of the way people can view me, but I'm very aware that I have to just enjoy my life. - Author: Jessie J.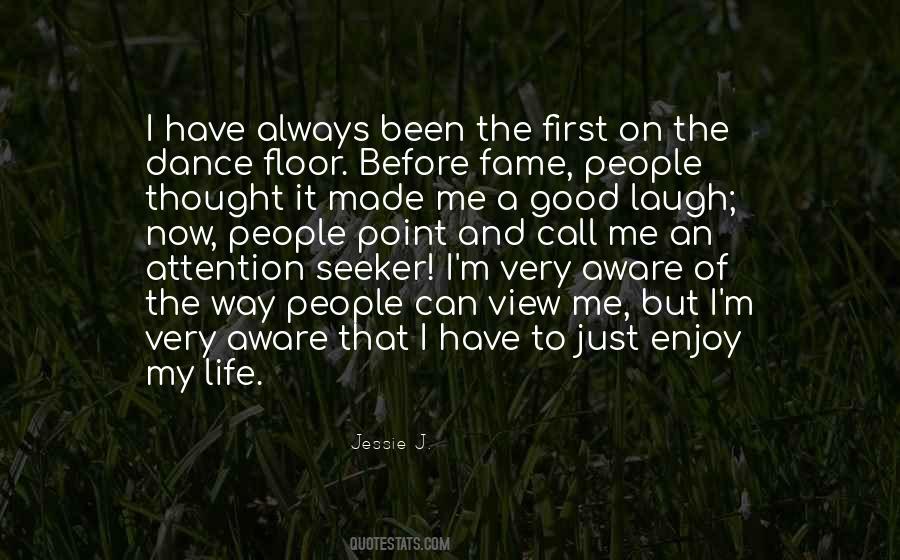 #88. I'd studied dance in Chicago every summer end taught it all winter, and I was well-rounded. I wasn't worried about getting a job on Broadway. In fact, I got one the first week. - Author: Gene Kelly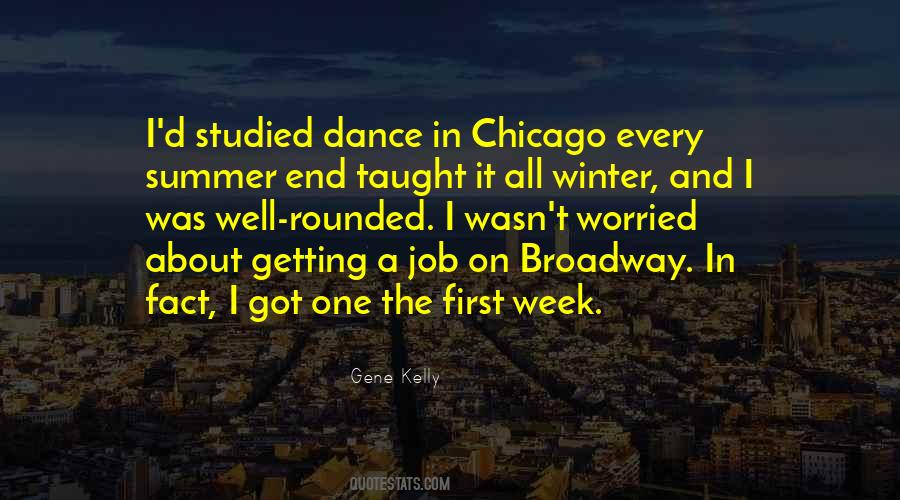 #89. Fine, you do that, and you tell them that at the very first opportunity, I'm coming down there and killing all of them. Mass murder. And after they're all dead, I'm going to kick the bodies around, dance on top of them, and sing a happy song. No jury will convict me. - Author: Nora Roberts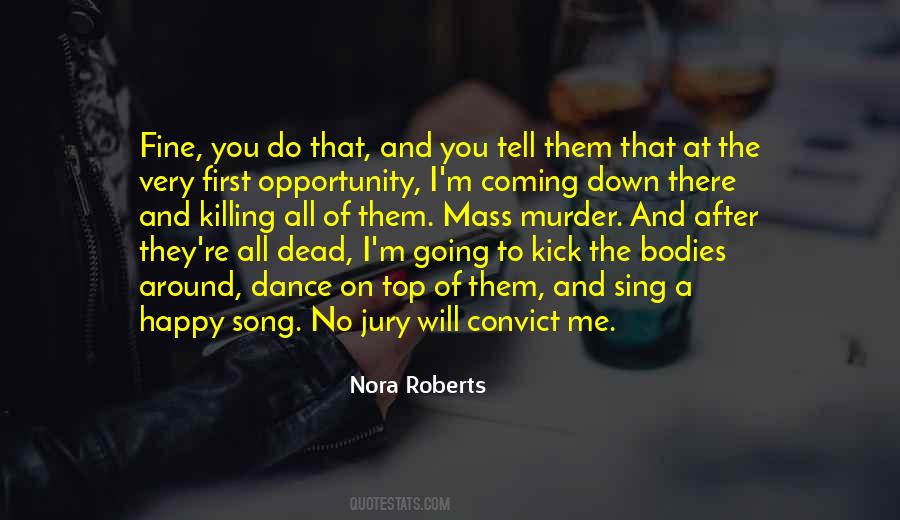 #90. I performed in public for the first time at three years old. I remember it like it was yesterday. It was on a big stage. There were probably three or four hundred people in the audience. We were doing this dance, this Kermit the Frog routine, all of us in our little green leotards. - Author: Jaime Pressly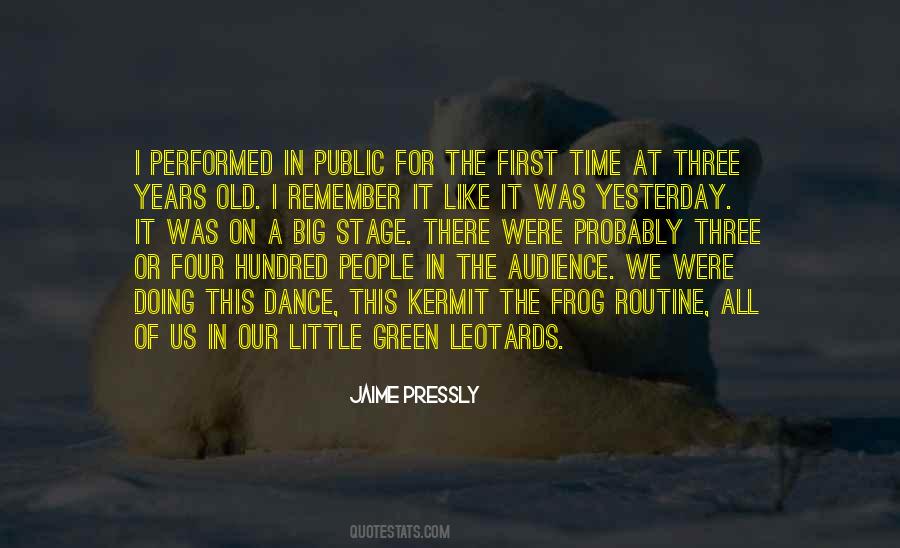 #91. She pushed back to arm's length, returning them to the acceptable distance of strangers - or of a mechanic dancing with her emperor. For the first time, Kai missed a dance step, eyes blinking in surprise. She ignored the guilt scratching at her throat. - Author: Marissa Meyer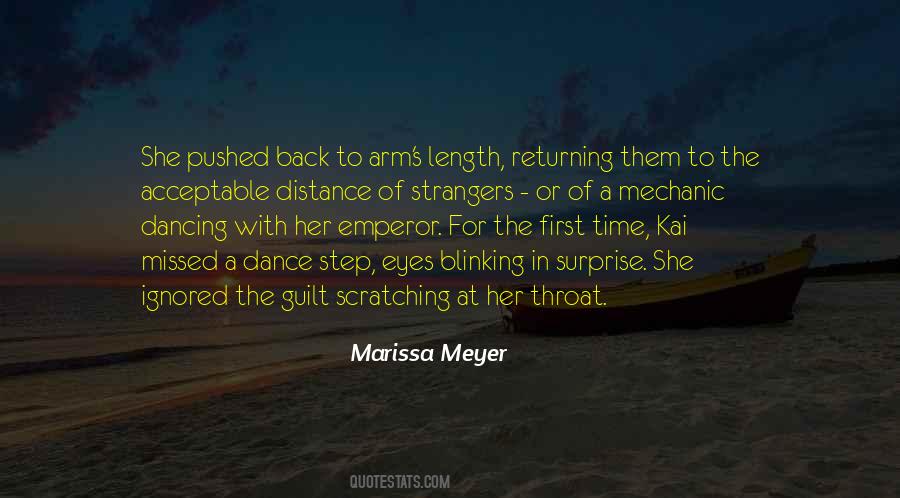 #92. I know, basketball is a dance. I didn't understand the significance of that type of training at first. I was supposed to read poems ... - Author: Dirk Nowitzki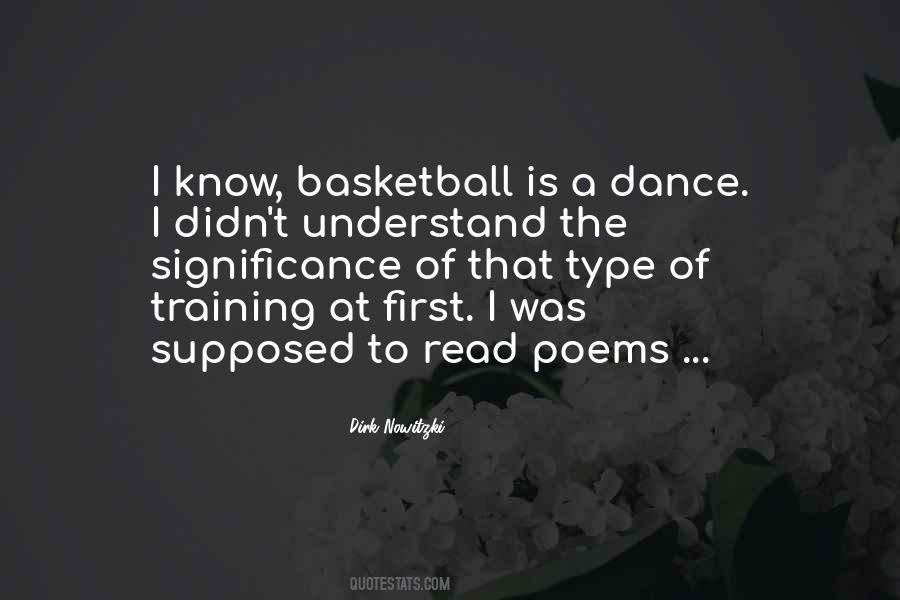 #93. When you have achieved a state of calmness and readiness, then you are ready to know, ready to understand in a deep way the dance between emptiness and appearance. Once you catch a glimpse of that dance, don't hang on to it. Just let it go, like your first glimpse of essence love. - Author: Tsoknyi Rinpoche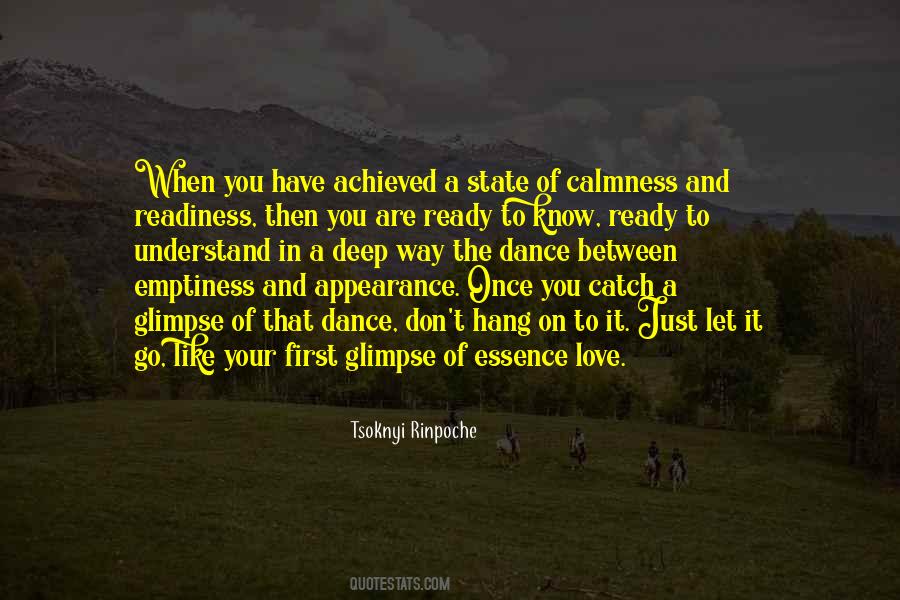 #94. Here in New Orleans, what a lot of the musical families do - and this is a romantic concept on my part - is they teach their kids to tap dance first. Then after tap dance, you learn piano, and after piano, you get to pick between all the instruments that are out there. - Author: Dave Pirner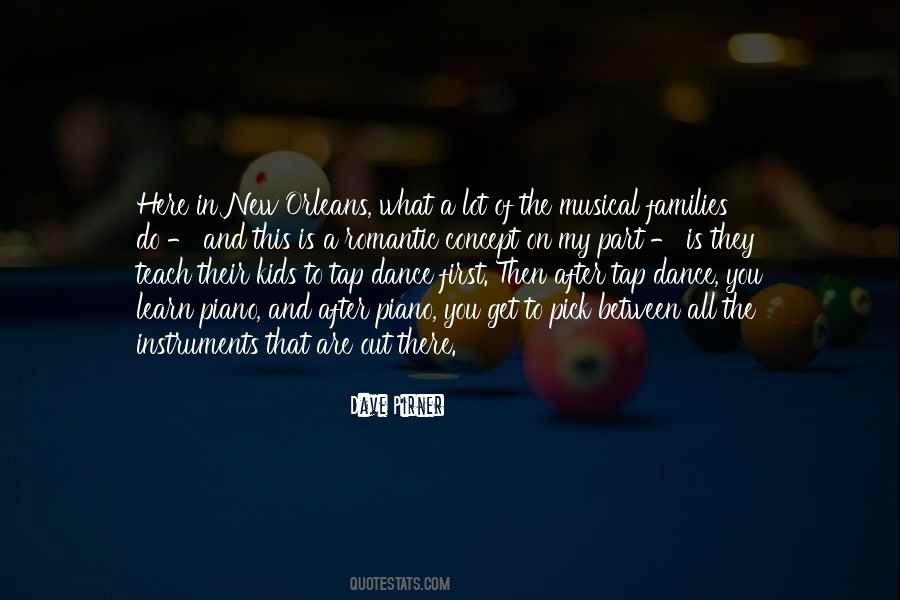 #95. On reading the first part of Anthony Powell's four-part masterpiece, 'A Dance to the Music of Time,' I was struck by one of the characters - an irritating peripheral character- who keeps showing up in the main protagonist's life. - Author: Rebecca Pidgeon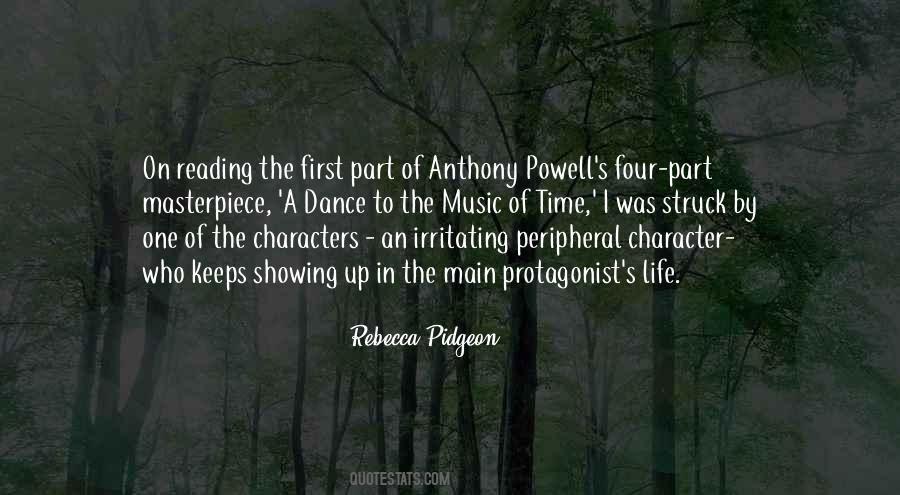 #96. I never play all new stuff, because you got to "dance with the girl that brought you" what is that saying? You got to play the songs that got you there, so I love playing the songs from my very first record. - Author: Mat Kearney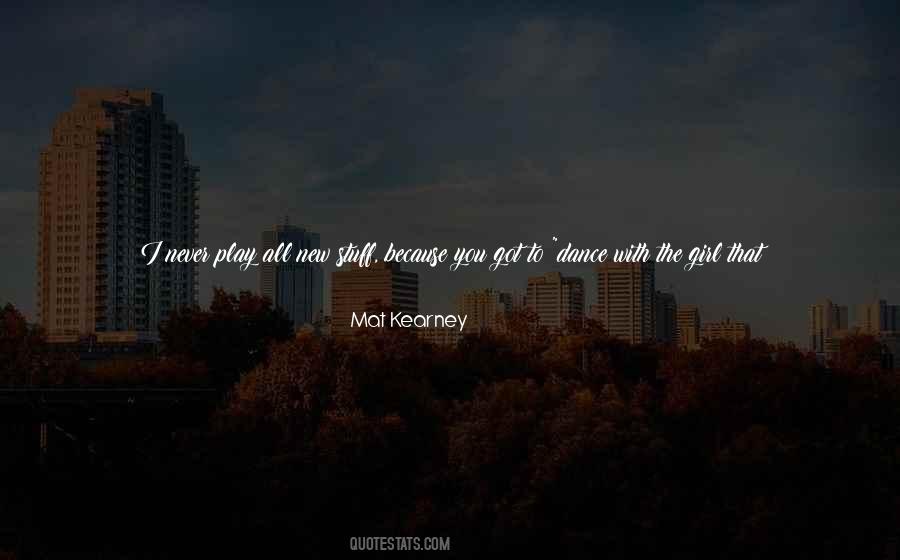 #97. Comics brought me to the dance. It'll always be my first loyalty. - Author: Brian K. Vaughan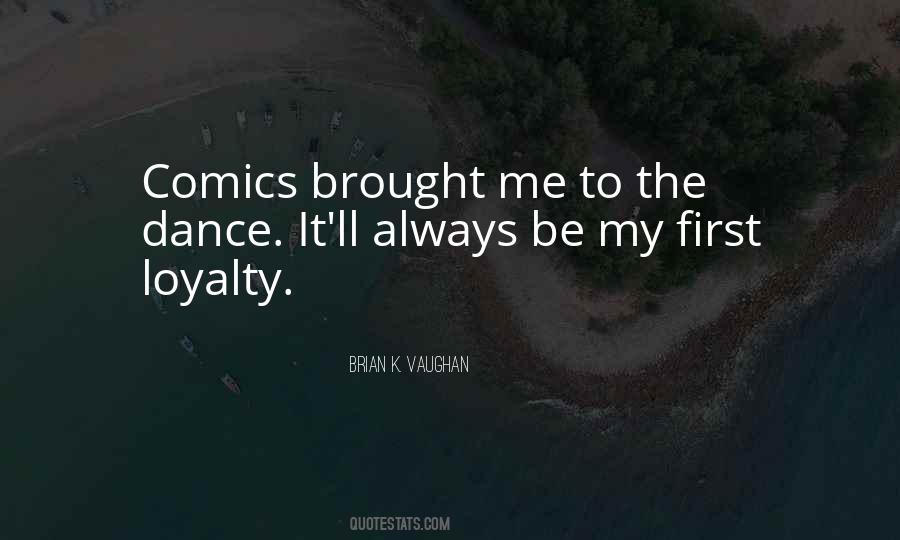 #98. I asked him what the amulet meant to him, what its meaning was. At first, I thought he wasn't going to answer. But then, in a haunting voice, he said that it represented the dance with death. I was horrified by that. He said the dance with death was the way of the War Wizard. - Author: Terry Goodkind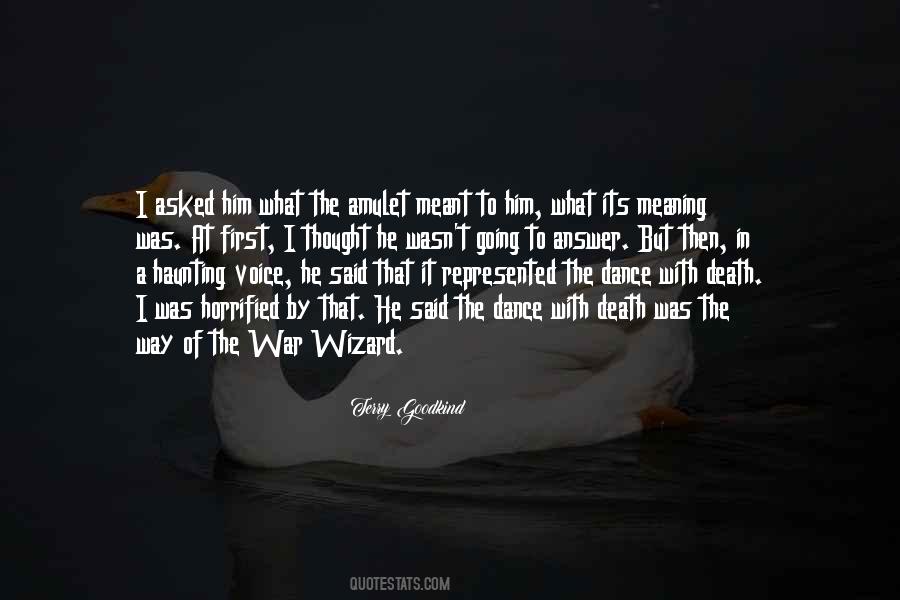 #99. I made a big mistake with him the first day I shot. We're shooting the scene where I come back from the party, the dance, in the sleigh with Julie Christie and we turn the corner and go past the camera and the camera follows us just a little bit and we disappear. - Author: Rod Steiger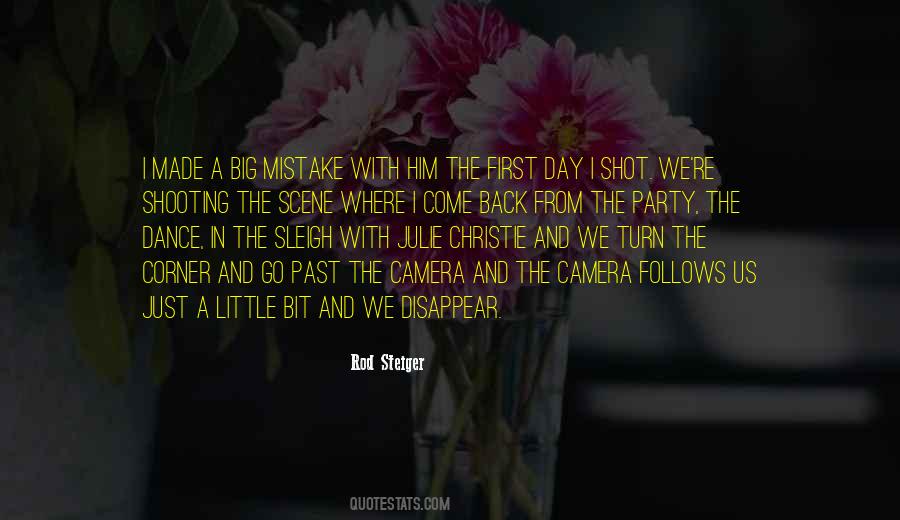 #100. I never danced a step in my life so naturally. My first motion picture was a musical, and Bob Fosse was the choreographer. I didn't exactly dance for Fosse, I just did the best that I could to do what he taught us to do. - Author: Dick York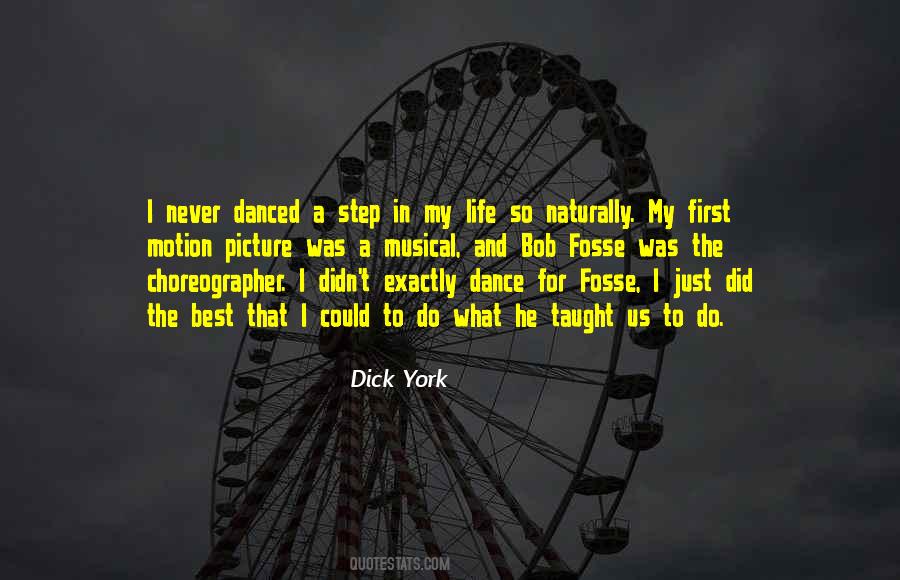 Famous Authors
Popular Topics