The Art Of Literature Famous Quotes & Sayings
List of top 100 famous quotes and sayings about the art of literature to read and share with friends on your Facebook, Twitter, blogs.
Top 100 Quotes About The Art Of Literature
#1. I never had the idea of moving to Paris and becoming something. I liked the idea of living in Paris because it seemed to have so many parts of life I really enjoyed. The people there seemed to prize literature and art, food and drinking, a more hedonistic way of living. - Author: Rosecrans Baldwin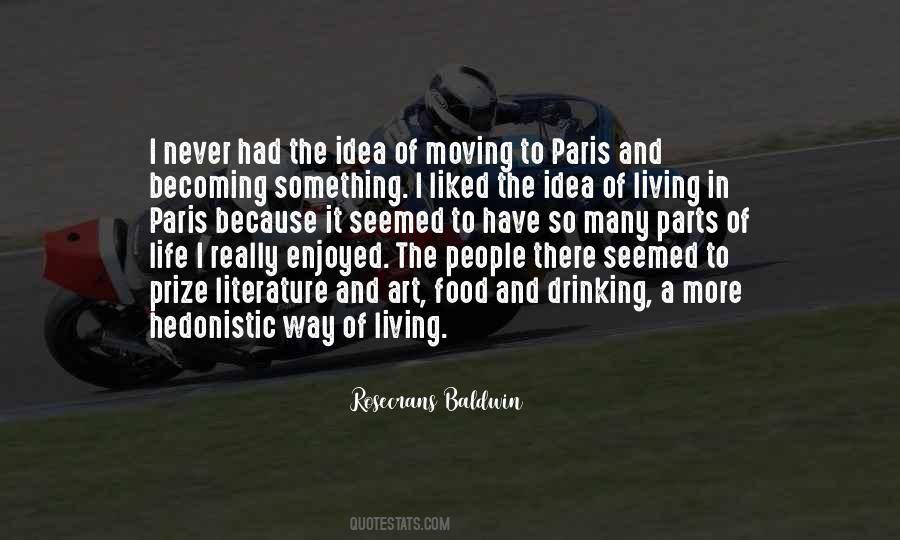 #2. Young would-be novelists and poets believe that art is eternal. Au contraire: we are in the business of ephemera, the era of floating islands of trash, and most of the things we feel deeply and inscribe on the page will disappear. - Author: Julie Schumacher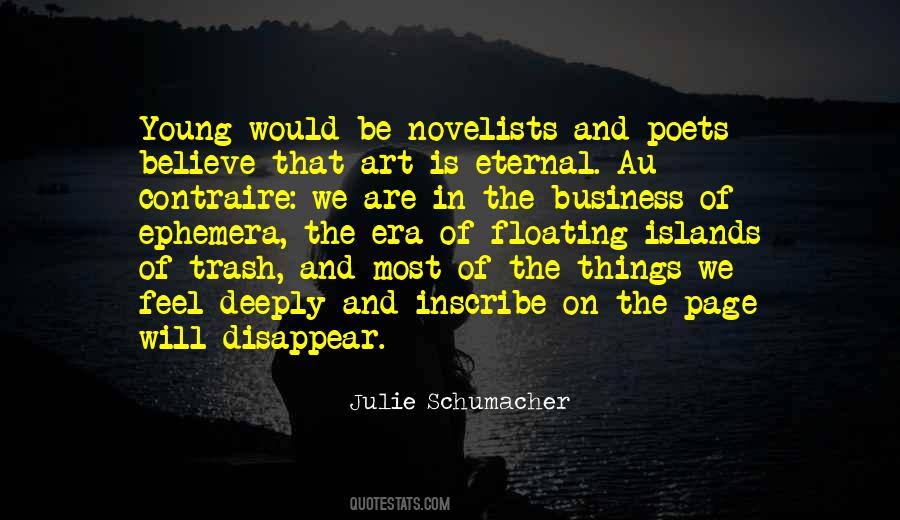 #3. Man needs music, literature, and painting - all those oases of perfection that make up art - to compensate for the rudeness and materialism of life. - Author: Fernando Botero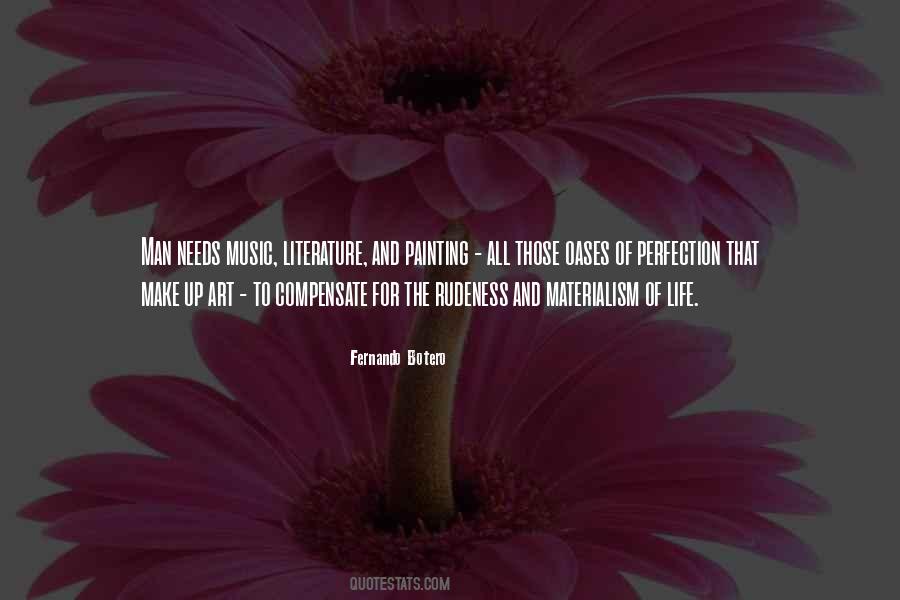 #4. What I've always seen in writers and artists is the courage it takes to make an original work of art. I think the real risks in literature are linguistic and intellectual, and I hope we can highlight those, as well as political courage. - Author: Salman Rushdie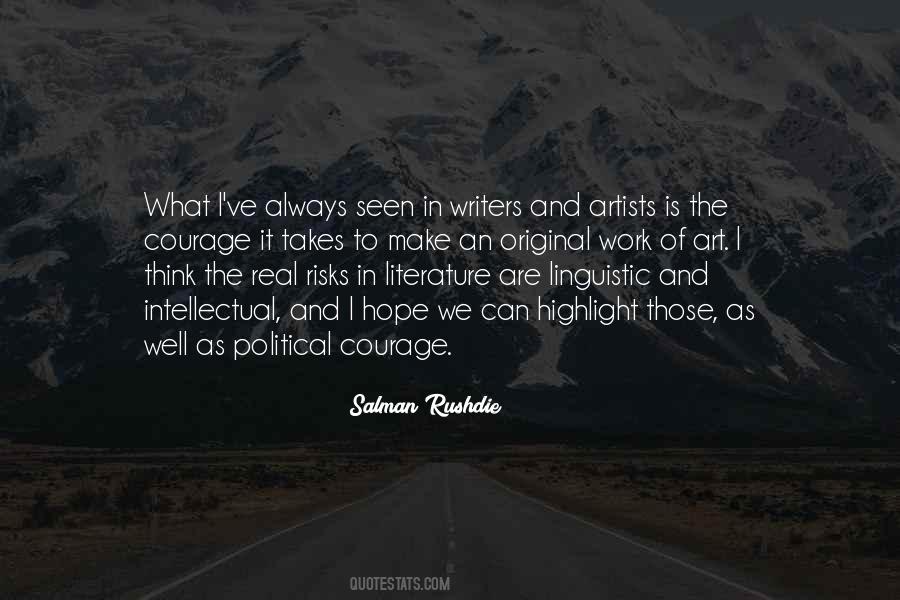 #5. The literature of the immediate future will inevitably turn away from painting, whether respectably realistic or modern, and from daily life, whether old or the very latest and revolutionary, and turn to artistically realized philosophy. - Author: Yevgeny Zamyatin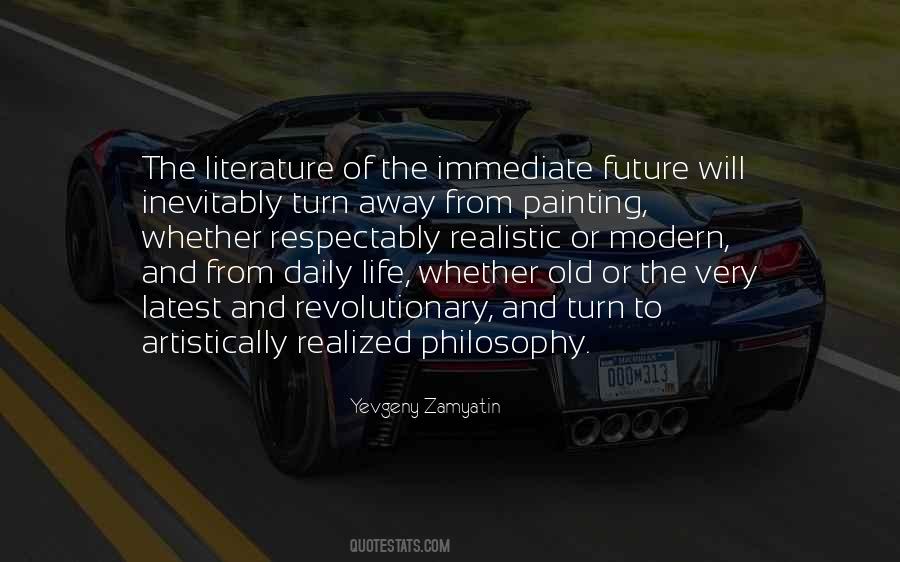 #6. Literature, art, science, and religion degenerate when polemical struggle supplants the independent creation of ideas. - Author: Semen Frank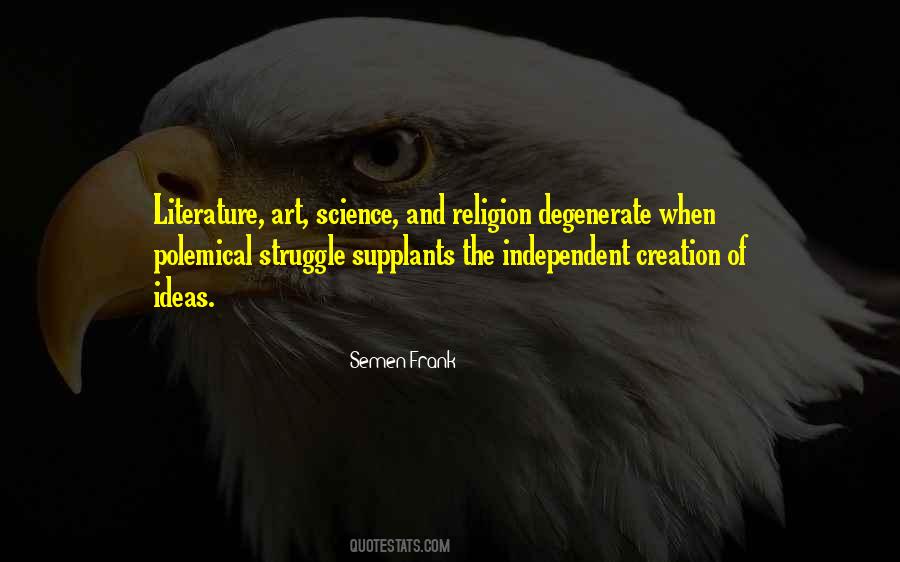 #7. Alas, if our children lose the crown of life, it will be but a small consolation that they have won the laurels of literature or art. - Author: Charles Spurgeon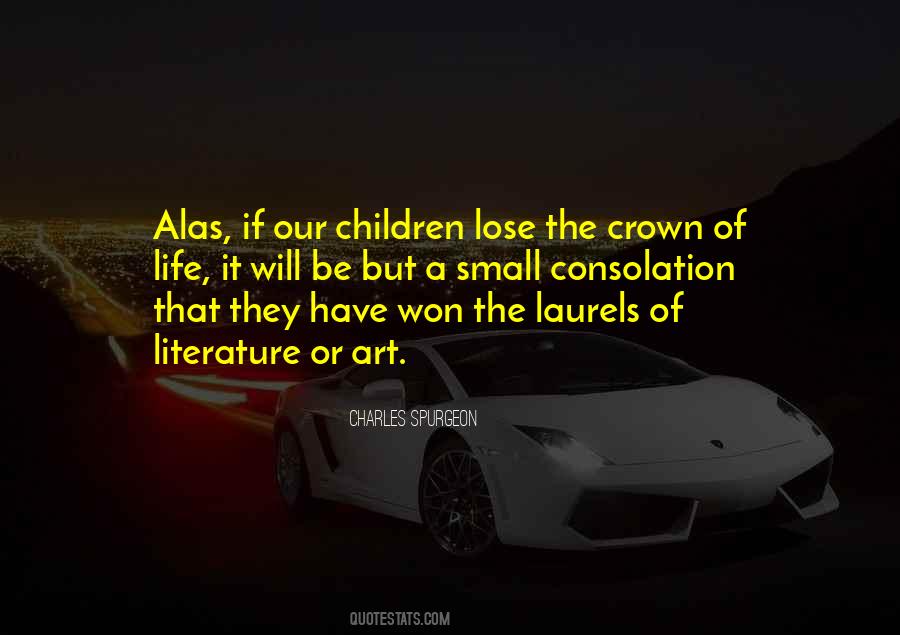 #8. The first demand any work of art makes upon us is surrender. Look. Listen. Receive. Get yourself out of the way. (There is no good asking first whether the work before you deserves such a surrender, for until you have surrendered you cannot possibly find out.) - Author: C.S. Lewis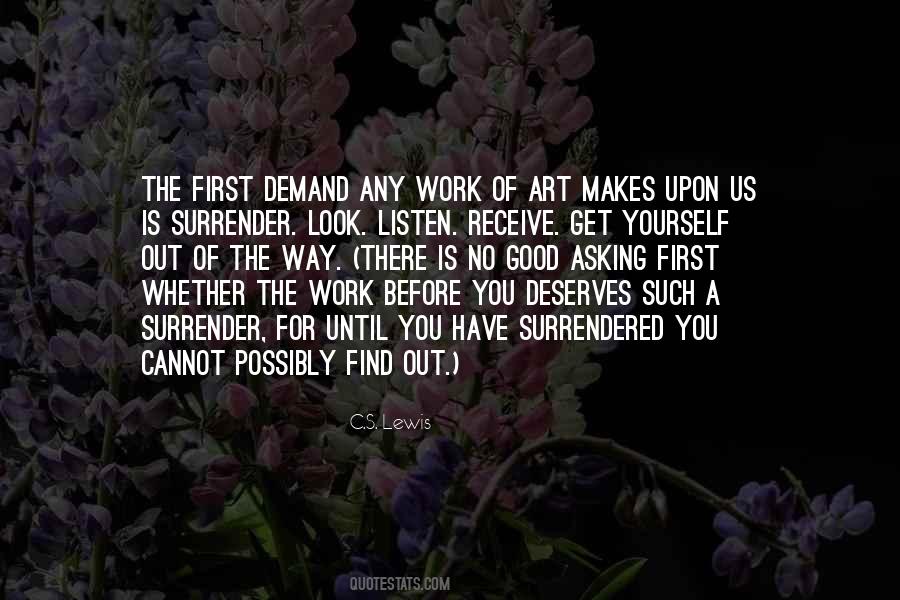 #9. Each of us, deep down, believes that the whole world issues from his own precious body, like images projected from a tiny slide onto an earth-sized screen. And then, deeper down, each of us knows he's wrong. - Author: Chad Harbach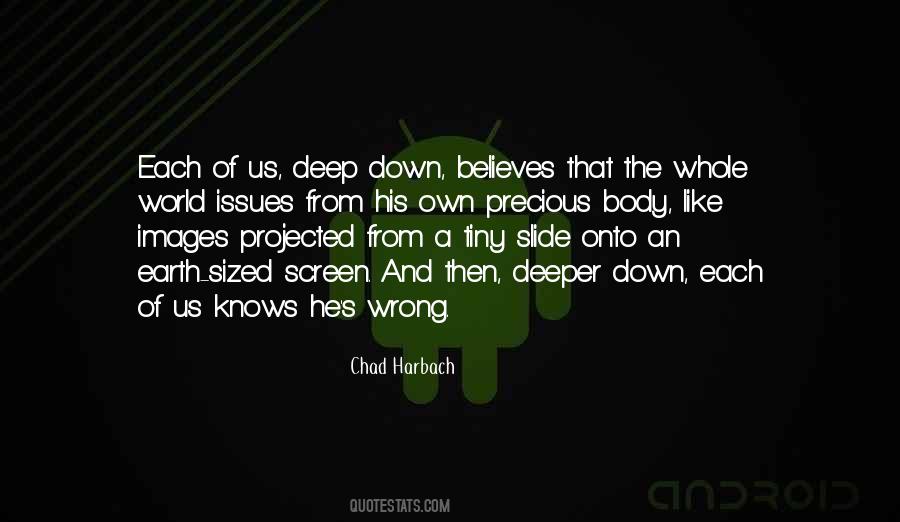 #10. It is the duty of every generation of writers and artists to find fresh ways of expressing the habitual circumstances of the human condition. To serve up the lukewarm remains of yesterdays dinner is easy, profitable and popular, (for a while). It is also wrong. - Author: Jeanette Winterson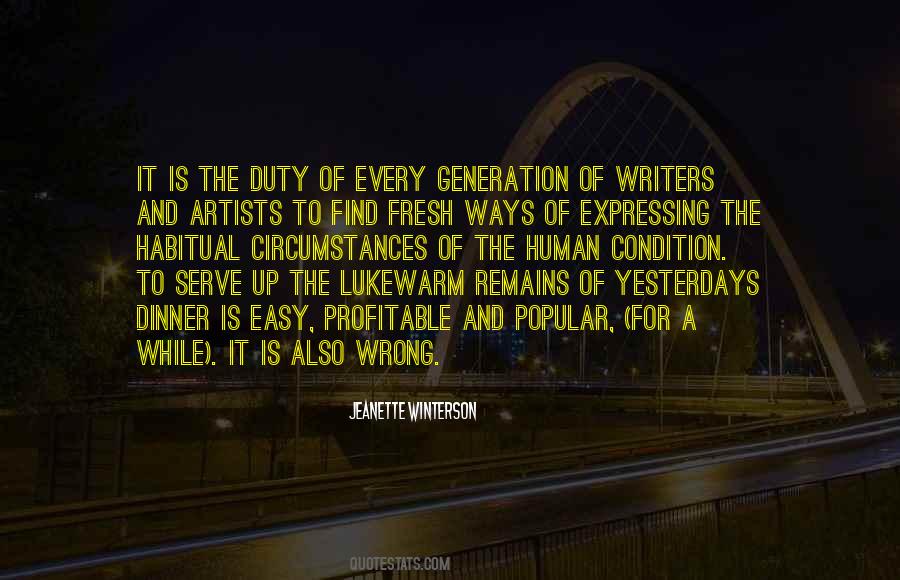 #11. Every page should explode, either because of its staggering absurdity, the enthusiasm of its principles, or its typography. - Author: Tristan Tzara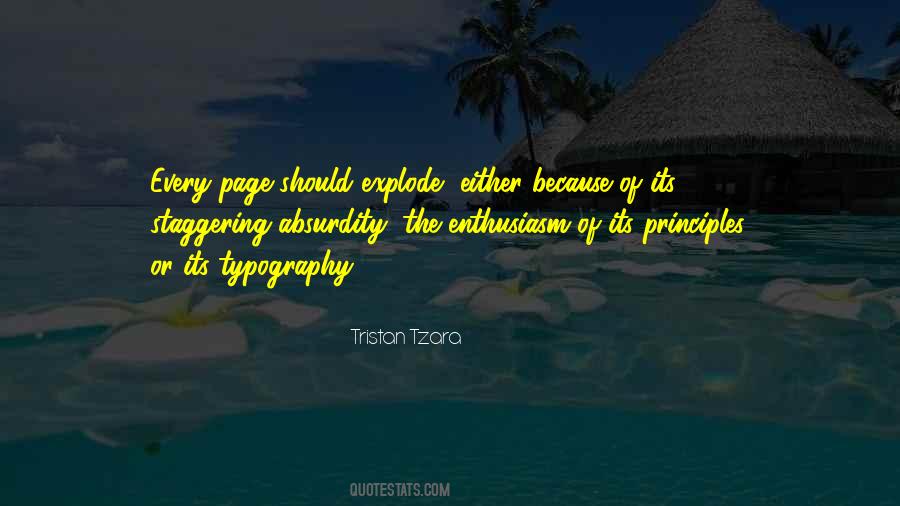 #12. No matter how much experience we may gather in life, we can never in life get the dimension of experience that the imagination gives us. Only the arts and sciences can do that, and of these, only literature gives us the whole sweep and range of human imagination as it sees itself - Author: Northrop Frye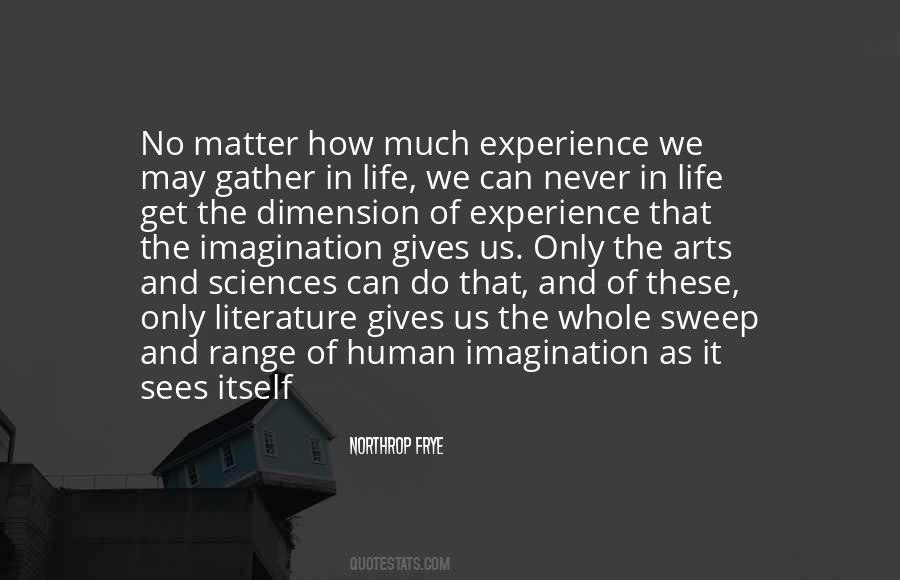 #13. I think in space or music or art or literature of any kind there has to be some kind of void where the viewer or the spectator or the listener or the reader can insert themselves into it, and there is a certain kind of architectural space which is totalitarian, which does not allow you to do that. - Author: Jonathan Meades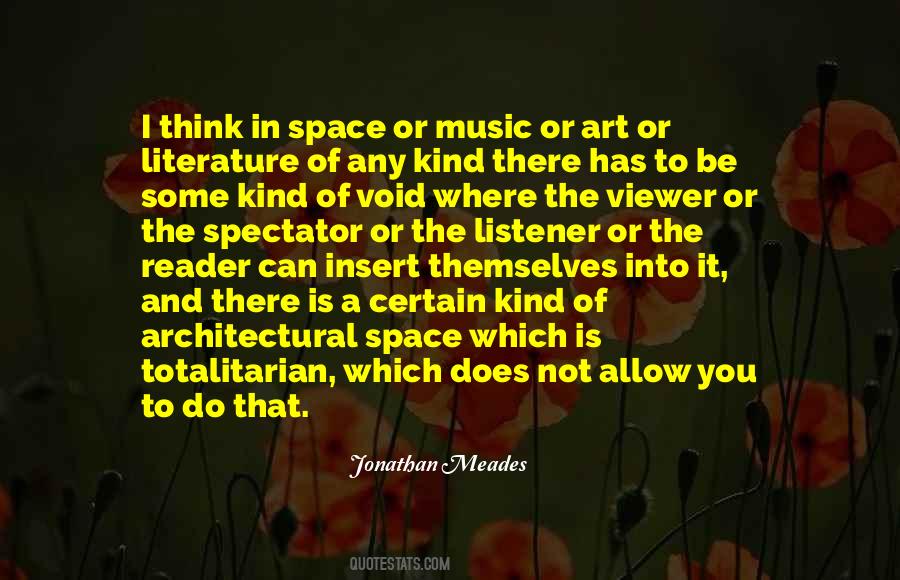 #14. Thai society rarely attempts to control literature in the same way that it vigilantly polices visual art. It's ironic because people in this society are more aware of literature than they are of art. - Author: Araya Rasdjarmrearnsook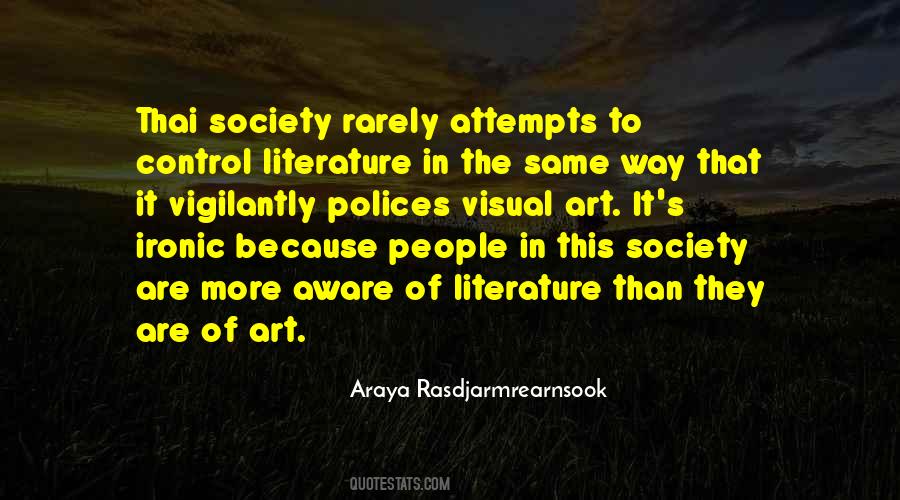 #15. True education does not consist merely in the acquiring of a few facts of science, history, literature, or art, but in the development of character. - Author: David O. McKay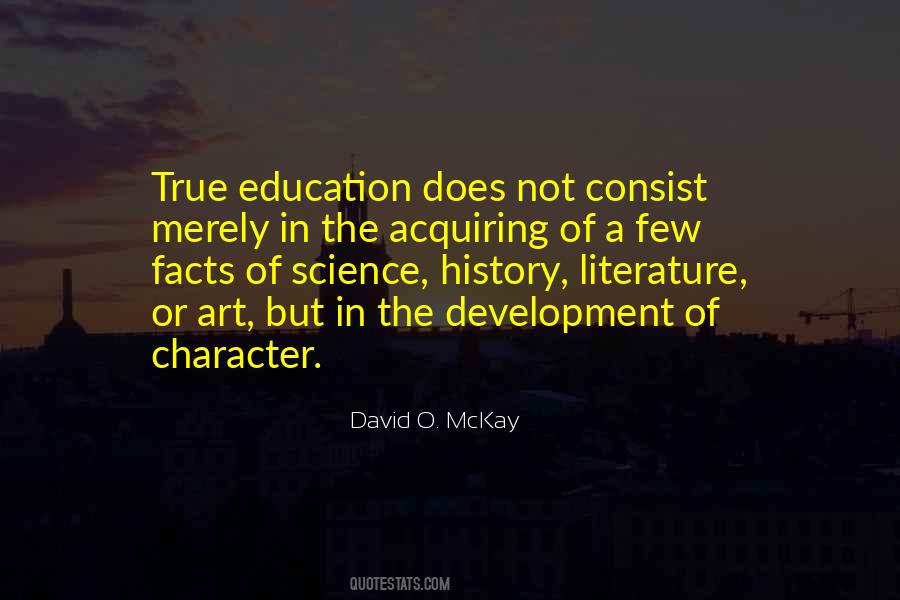 #16. A book can never be anything more than the impress of its author's thoughts; and the value of these will lie either in the matter about which he has thought, or in the form which his thoughts take, in other words, what it is that he has thought about it. - Author: Arthur Schopenhauer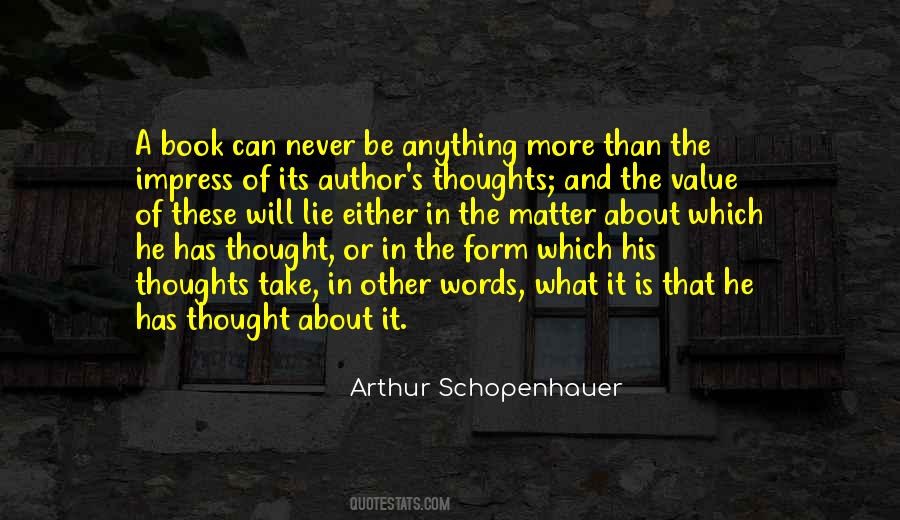 #17. A cardinal principle of good fiction [is]: the theme and the plot of a novel must be integrated - as thoroughly integrated as mind and body or thought and action in a rational view of man. - Author: Ayn Rand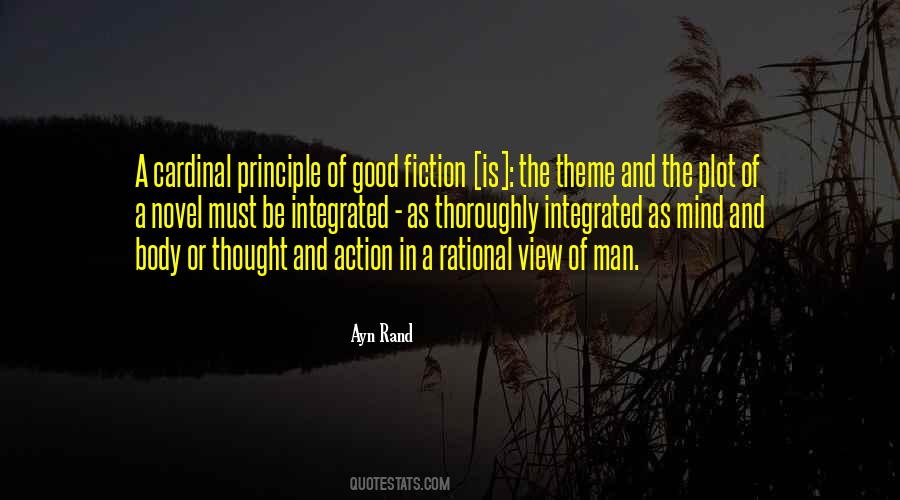 #18. Rhetoric takes no real account of the art in literature and morality takes no account of the art in life. - Author: Joseph Wood Krutch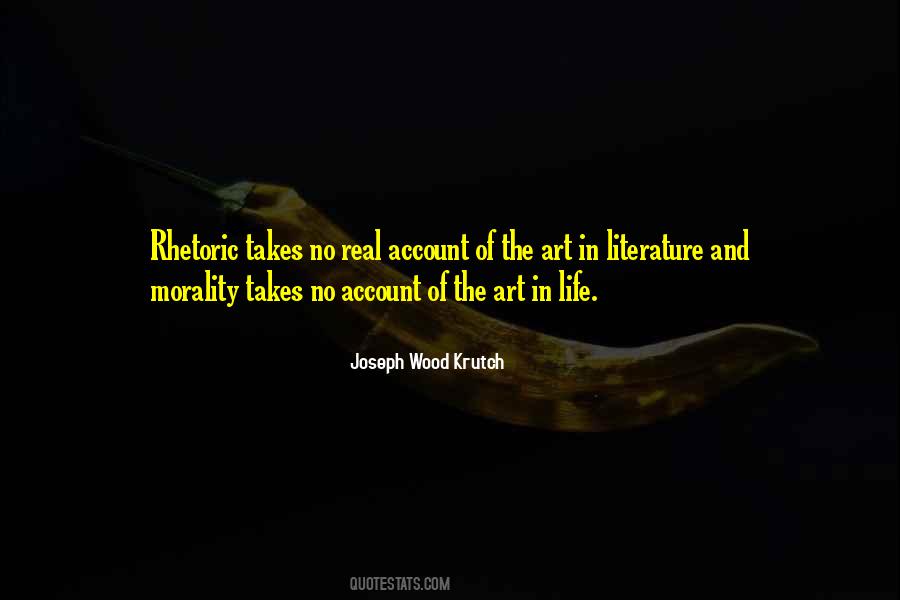 #19. When science, art, literature, and philosophy are simply the manifestation of personality they are on a level where glorious and dazzling achievements are possible, which can make a man's name live for thousands of years. - Author: Denis Diderot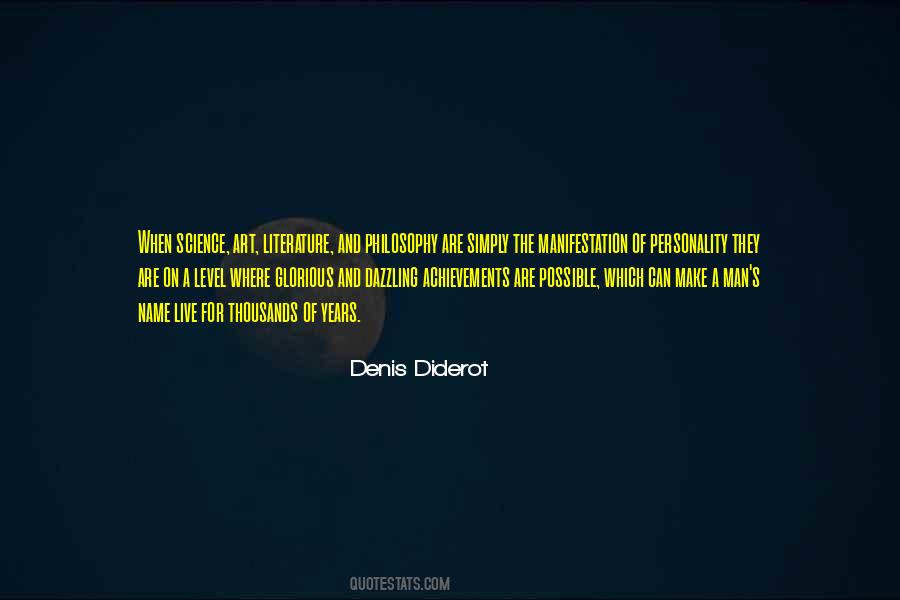 #20. Time: Change experienced and observed. Time measured by the angle of the turning earth as it rotates through its axis. The earth turning slowly on its spit under the fire of the sun. - Author: Jeanette Winterson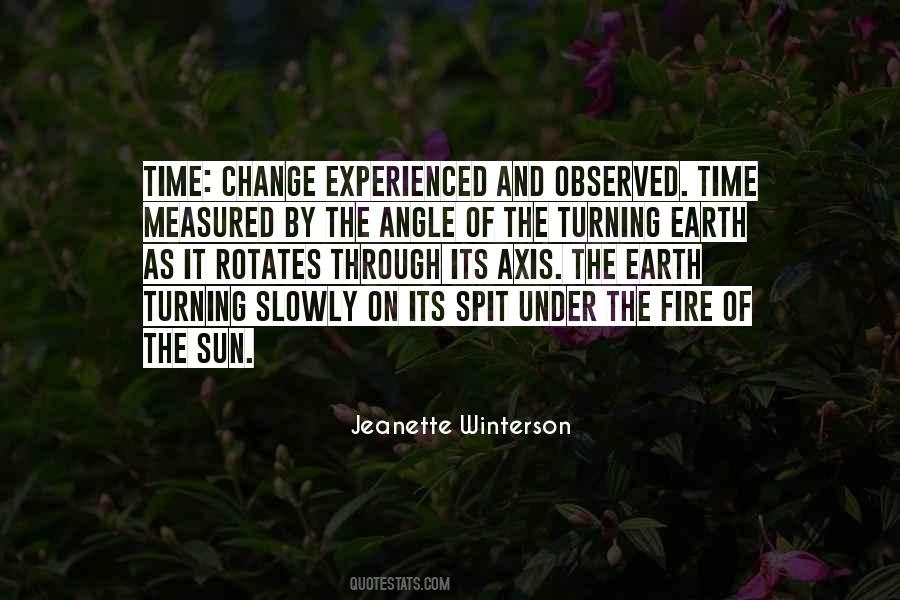 #21. The two World Wars came in part, like much modern literature and art, because men, whose nature is to tire of everything in turn ... tired of common sense and civilization. - Author: F.L. Lucas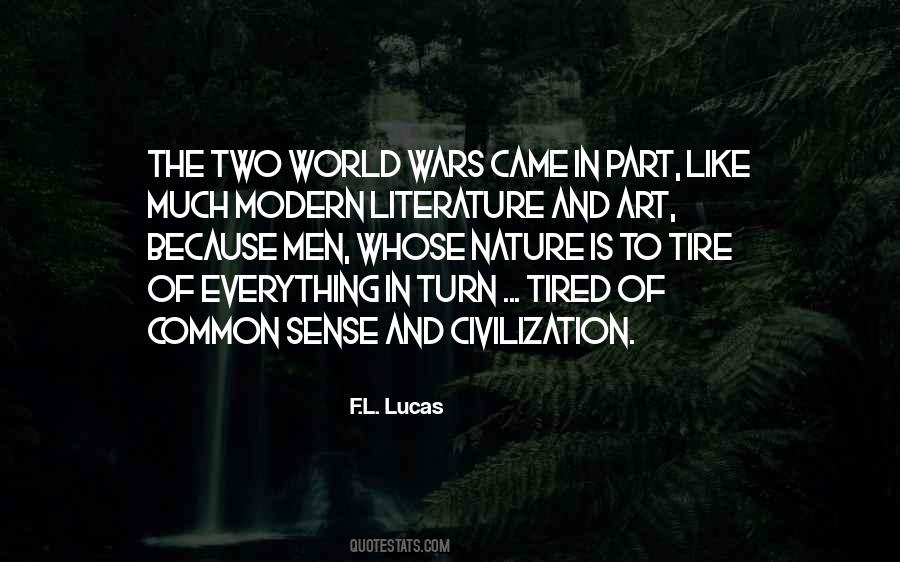 #22. The aim of good prose words is to mean what they say. The aim of good poetical words is to mean what they do not say. - Author: Gilbert K. Chesterton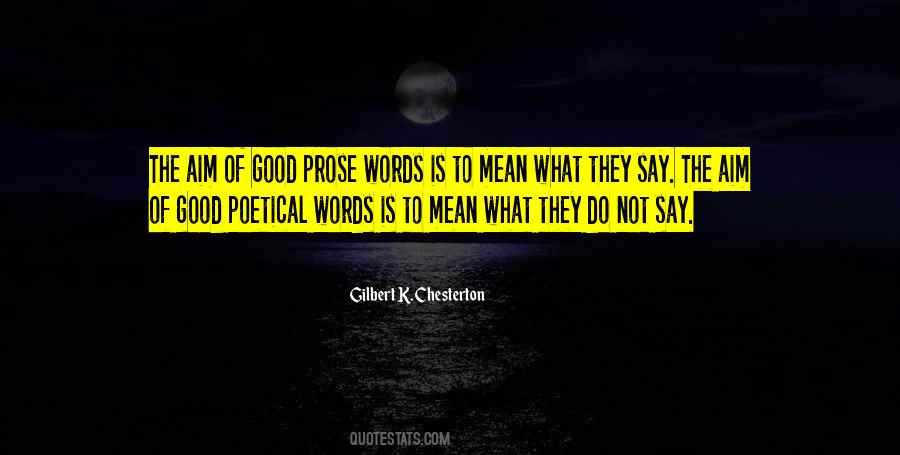 #23. Of course the illusion of art is to make one believe that great literature is very close to life, but exactly the opposite is true. Life is amorphous, literature is formal. - Author: Francoise Sagan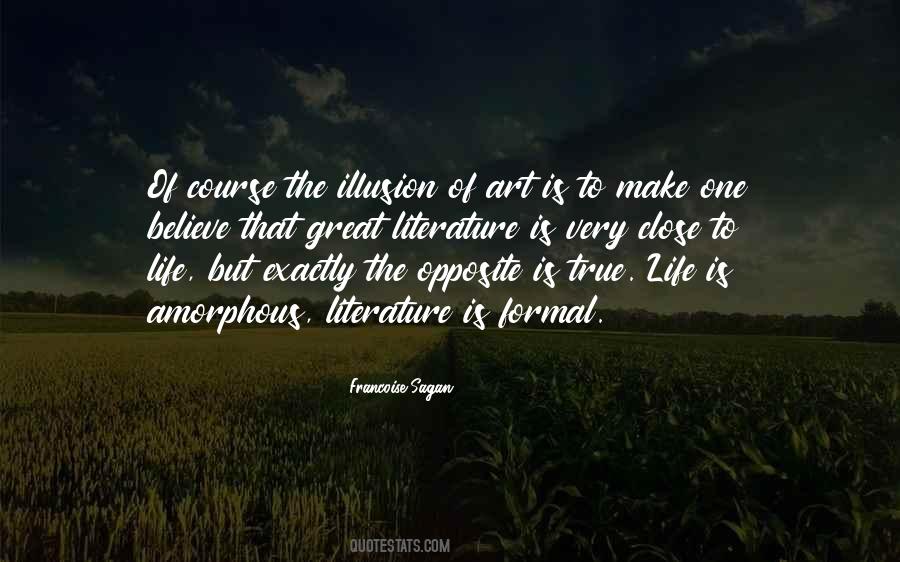 #24. The sinews of art and literature, like those of war, are money. - Author: Samuel Butler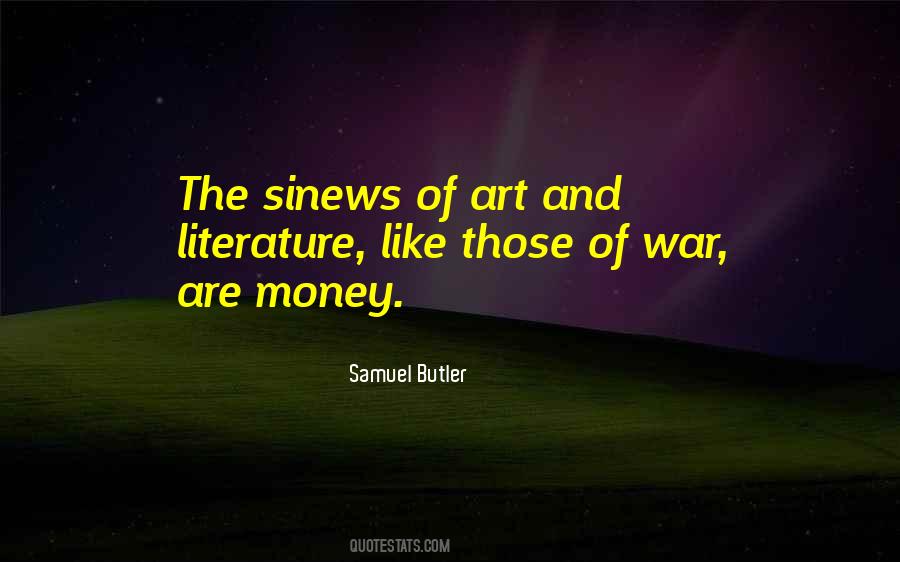 #25. Orlando said it was important for scientists to have minds kept open by literature, and souls touched by the creativity of art. - Author: Megan Frazer Blakemore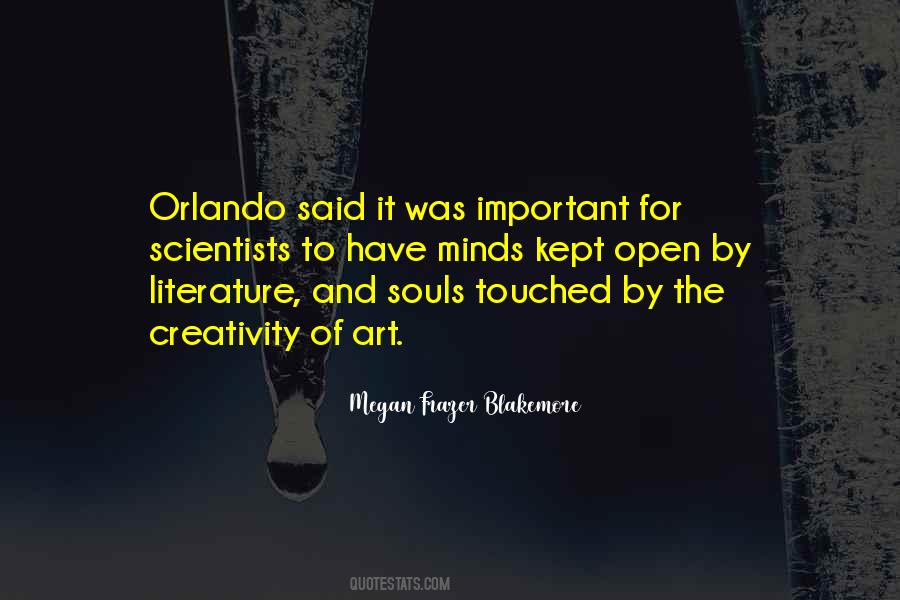 #26. Ever since childhood, I've been interested in history and myth. Not just the facts and figures of the past, but everything that contributes to shape our perception of an age: architecture, art, literature and so forth. - Author: Anne Fortier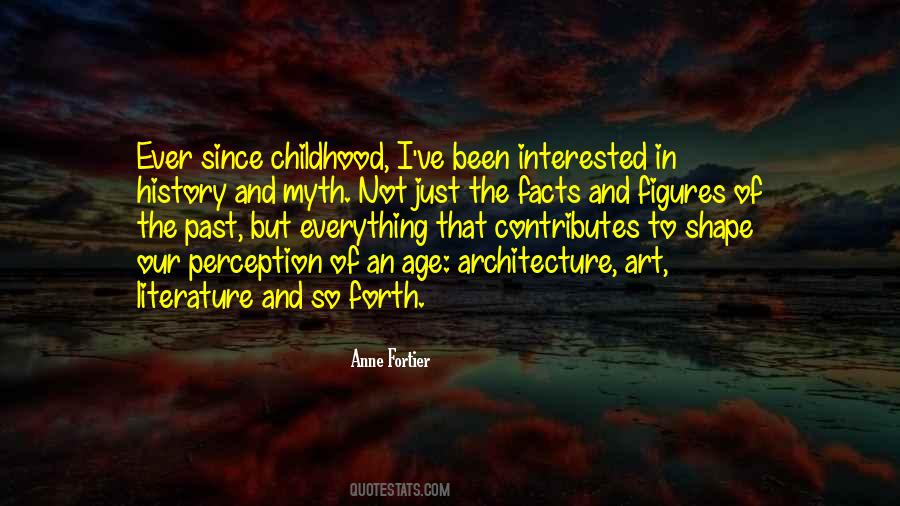 #27. Art and literature have given so many people the relief of feeling connected - pulled us out of isolation. It has let us know that somebody else breathed and dreamed and had sex and loved and raged and knew loneliness the way we do. - Author: Adrienne Rich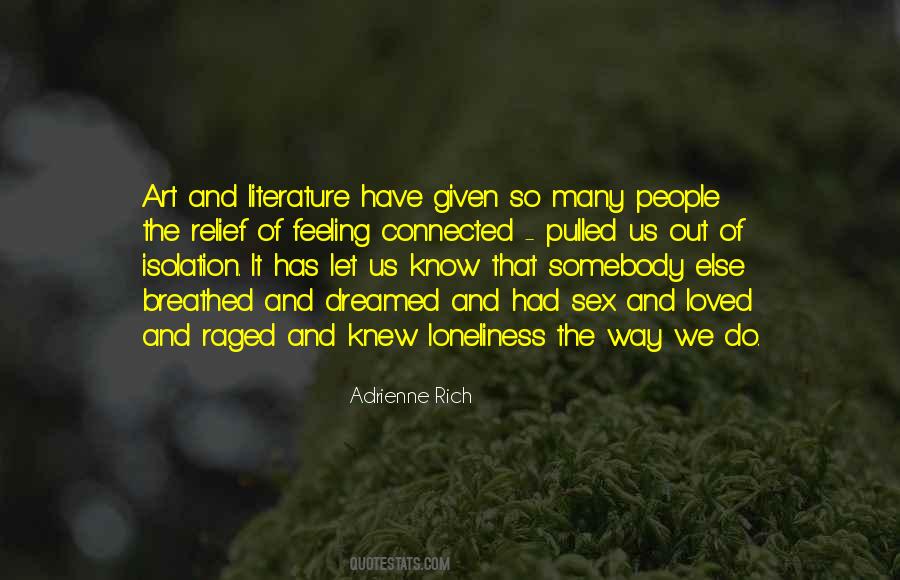 #28. There is so much in the world for us all if we only have the eyes to see it, and the heart to love it, and the hand to gather it to ourselves
so much in men and women, so much in art and literature, so much everywhere in which to delight, and for which to be thankful. - Author: L.M. Montgomery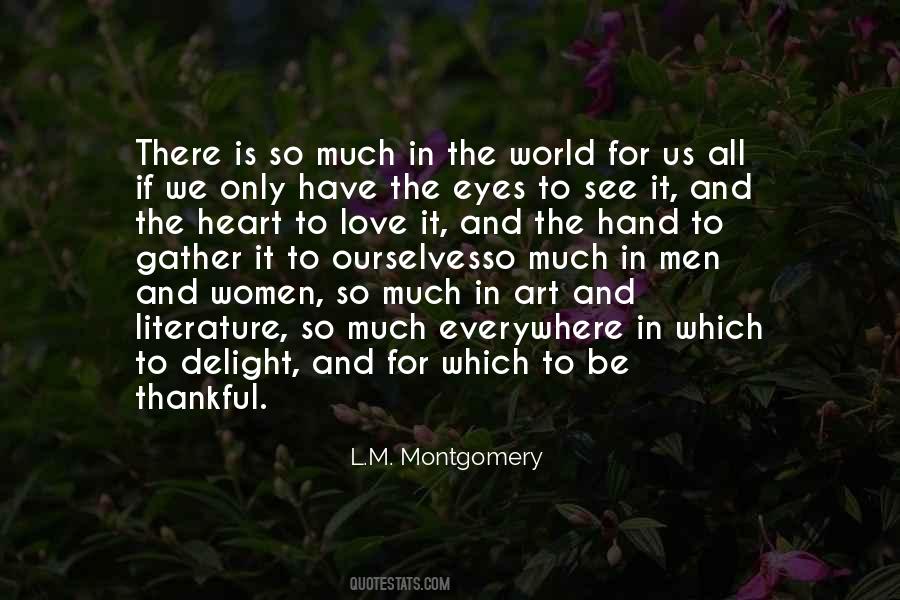 #29. The study of history and philosophy, accompanied by some acquaintance with art and literature, should be for lawyers and engineers as well as for those who study in arts faculties. - Author: Terry Eagleton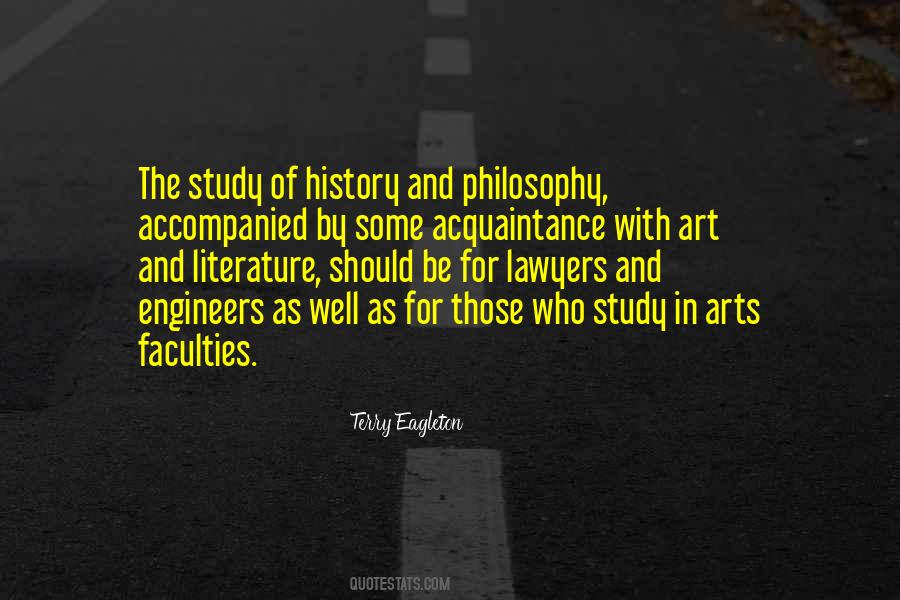 #30. A man may be accomplished in art, literature, and science, and yet, in honesty, virtue, truthfulness, and the spirit of duty, be entitled to take rank after many a poor and illiterate peasant. - Author: Samuel Smiles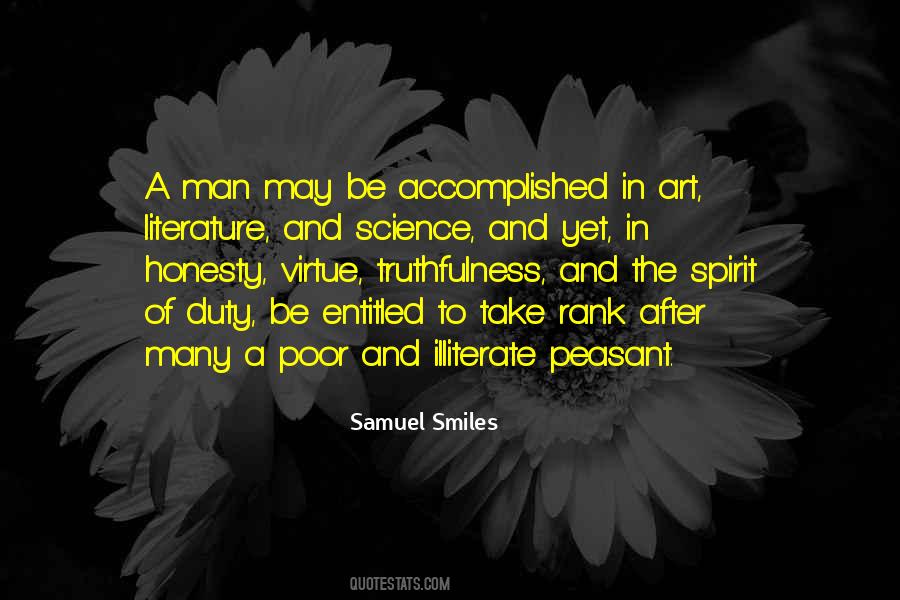 #31. Its badness is so potent that it seems to undermine the very idea of literature, to expose the whole endeavour of making art out of language as essentially and irredeemably fraudulent - Author: Mark O'Connell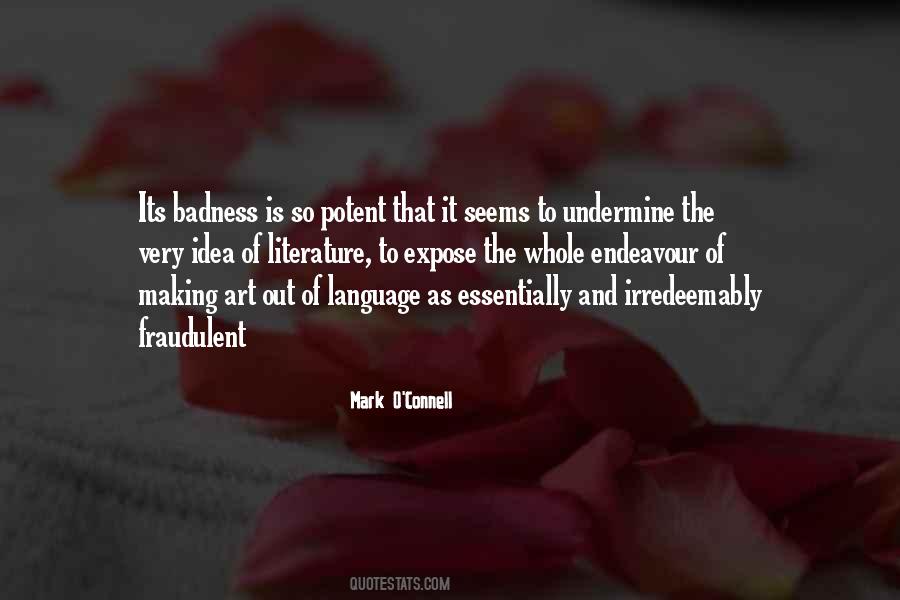 #32. Literature has neglected the old and their emotions. The novelists never told us that in love, as in other matters, the young are just beginners and that the art of loving matures with age and experience. - Author: Isaac Bashevis Singer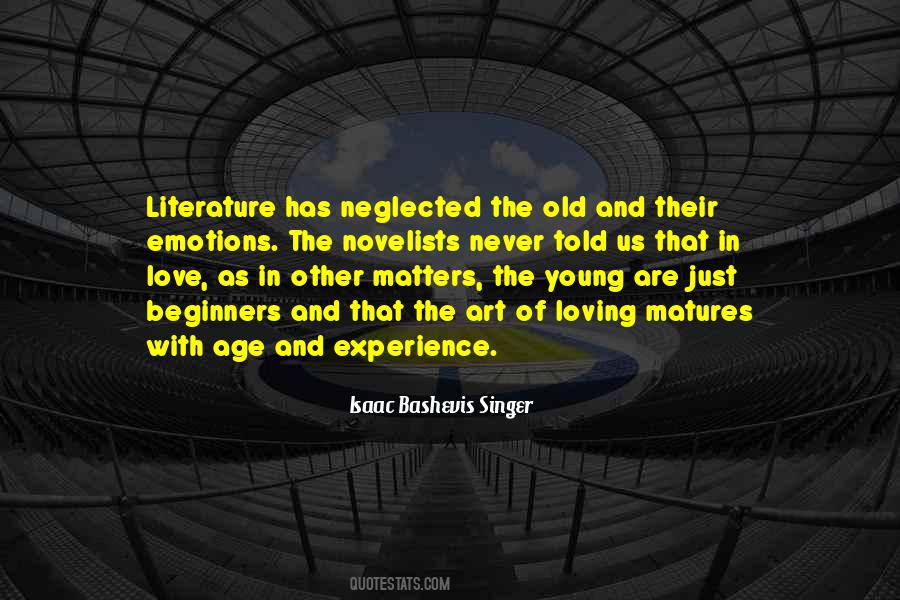 #33. I grow weary of the love
That lasts for a night
When it should be there
The next sunrise - Author: Irum Zahra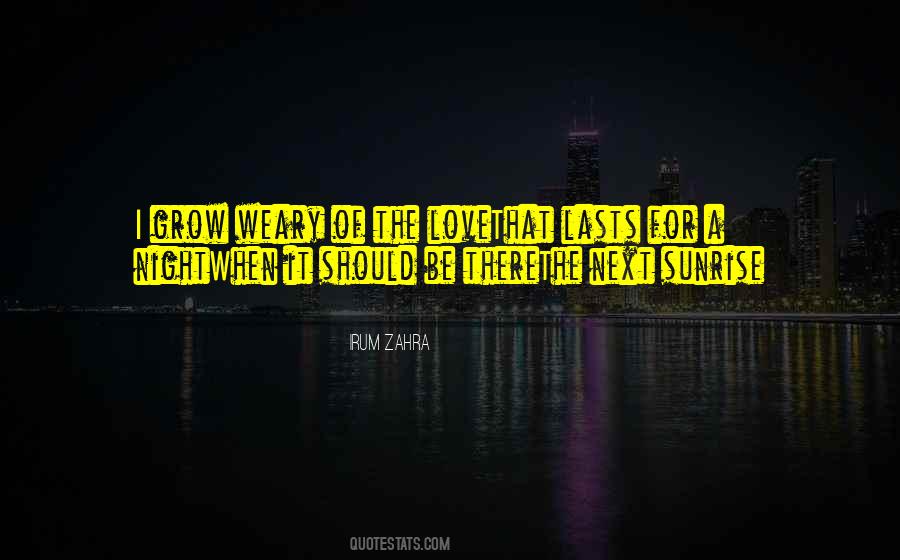 #34. A short story padded. A species of composition bearing the same relation to literature that the panorama bears to art. As it is too long to be read at a sitting the impressions made by its successive parts are successively effaced, as in the pa - Author: Ambrose Bierce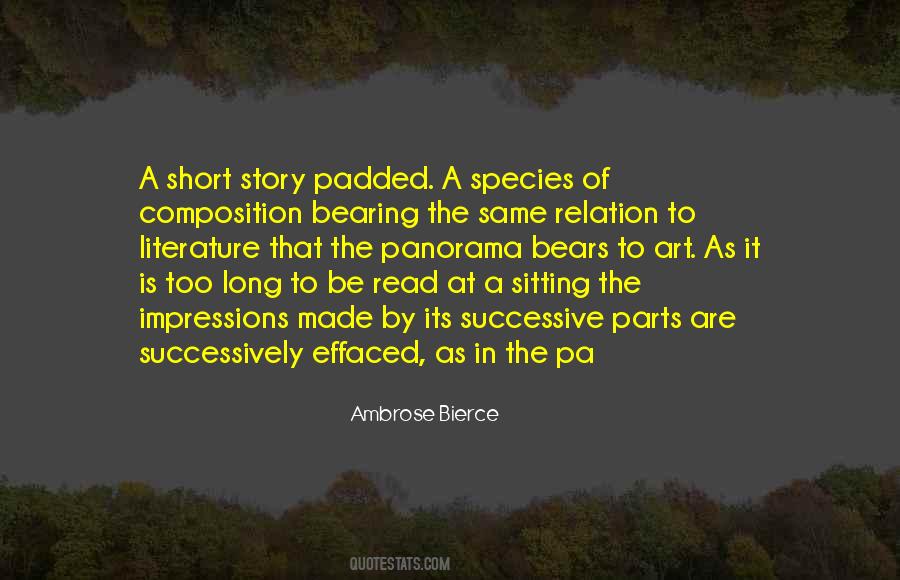 #35. It is always understood as an expression of condemnation when anything in Literature or Art is said to be done for effect; and yet to produce an effect is the aim and end of both. - Author: George Henry Lewes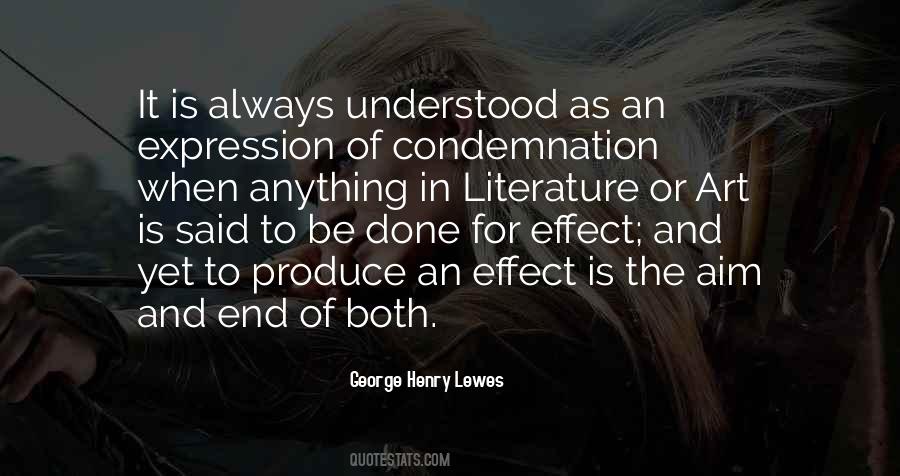 #36. Writers who teach tend to prefer literary theory to literature and tenure to all else. Writers who do not teach prefer the contemplation of Careers to art of any kind. - Author: Gore Vidal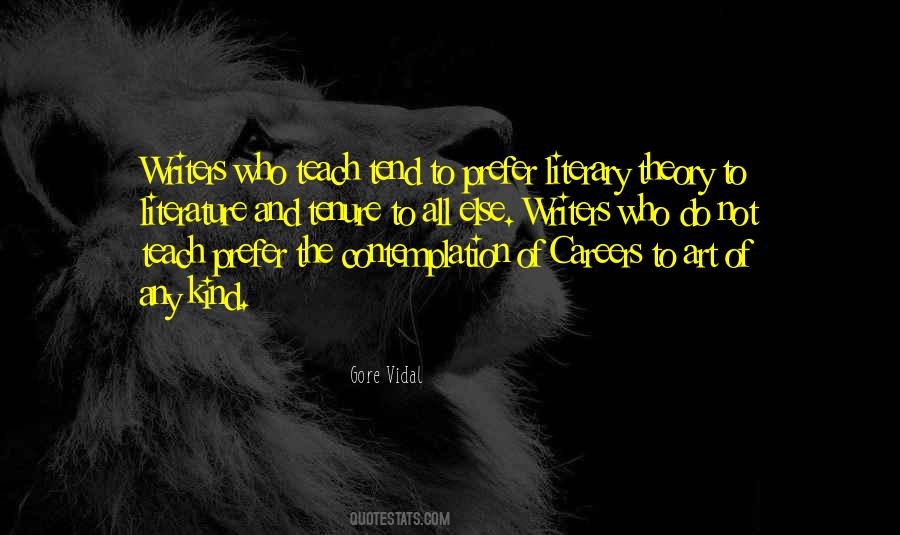 #37. Every man lives in two realms: the internal and the external. The internal is that realm of spiritual ends expressed in art, literature, morals, and religion. The external is that complex of devices, techniques, mechanisms, and instrumentalities by means of which we live. - Author: Martin Luther King Jr.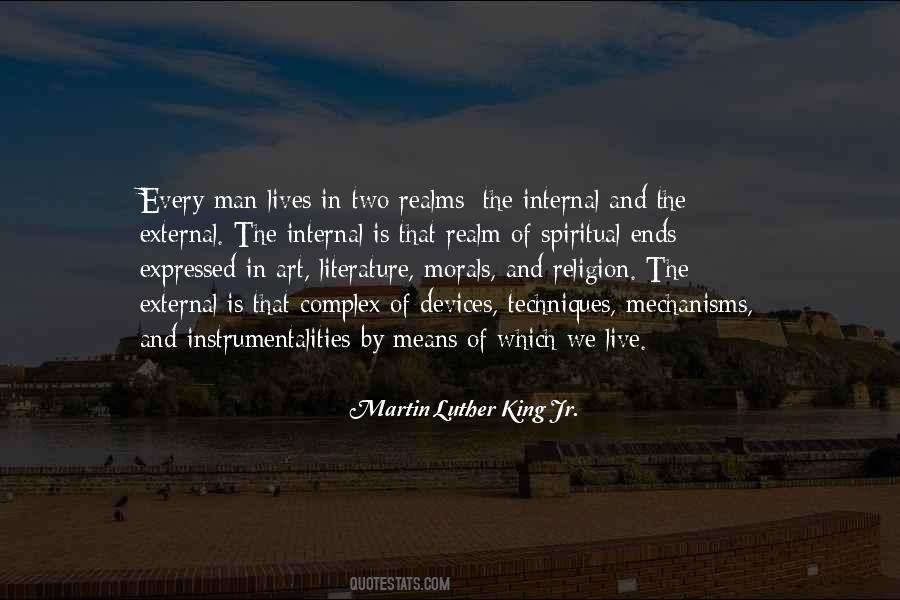 #38. In trying to be perfect,
He perfected the art of anonymity,
Became imperceptible
And arrived nowhere from nowhere. - Author: Dejan Stojanovic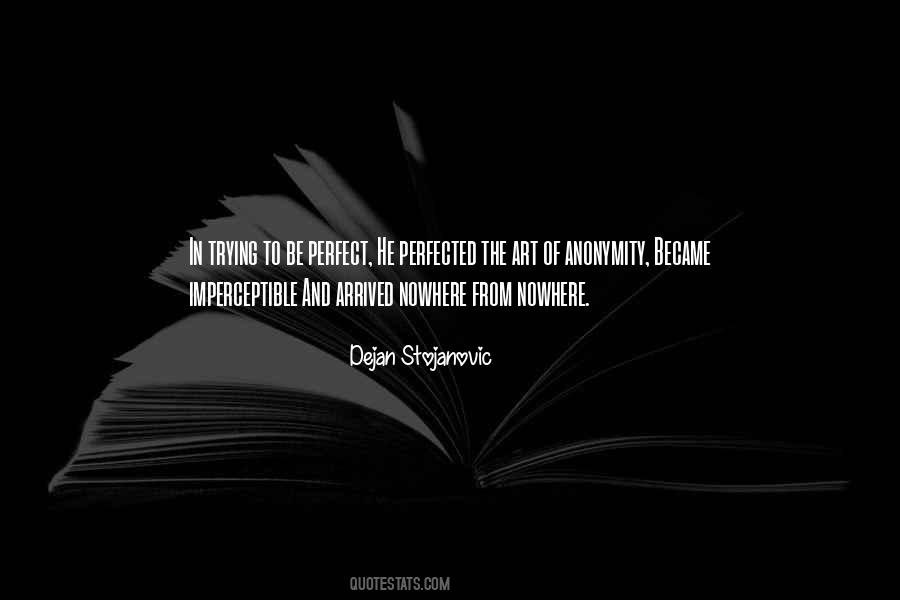 #39. Yet torture is above all an art, an artistic discipline just like literature , cinema, or contemporary dance. All detained in the City-State ghettos bitterly missed the torturers of yesteryears, those monsters who worked with the precision of a Swiss watch-maker. - Author: Fiston Mwanza Mujila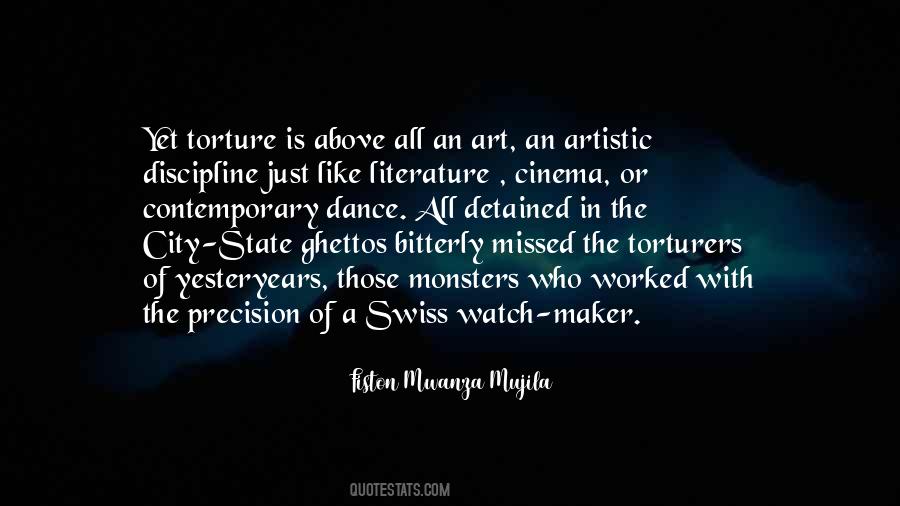 #40. Literature will save me it's the only certainty i am sure of. - Author: Nikki Rowe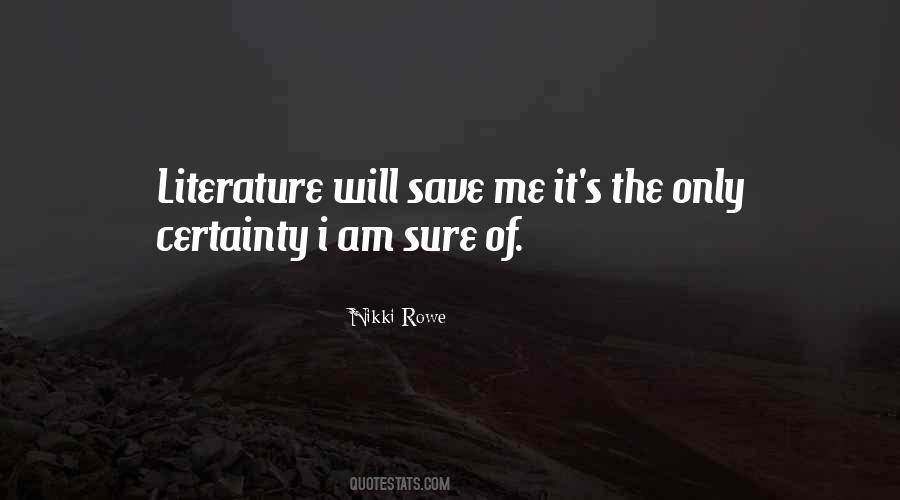 #41. Wealth protects and animates art and literature, as the dew enlivens the fields." Nonsense! Wealth animates art and literature, as the whistle of the master animates the dog and makes him wag his tail. - Author: Various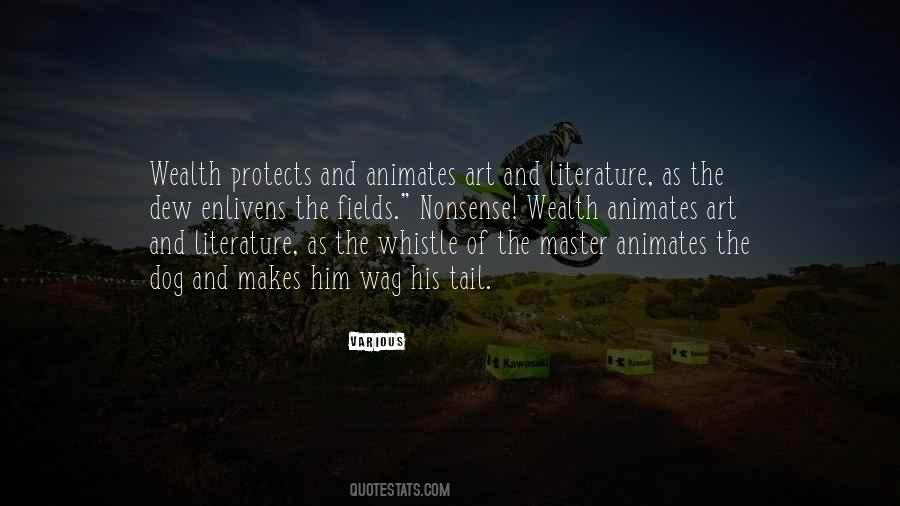 #42. Criticism as a form of knowledge is capable of robbing literature not only of its own implicit and explicit ideology but of its ideas as well; it can dismiss the difficult, arduous work writers do to make an art that becomes and remains part of and significant within a human landscape. - Author: Toni Morrison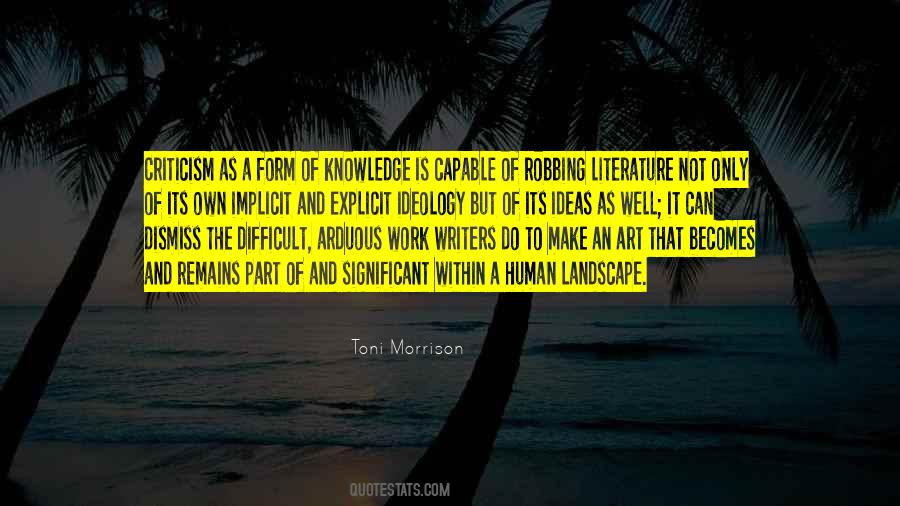 #43. A community united by the ideals of compassion and creativity has incredible power. Art of all kinds
music, literature, traditional arts, visual arts
can lift a community. - Author: Martin O'Malley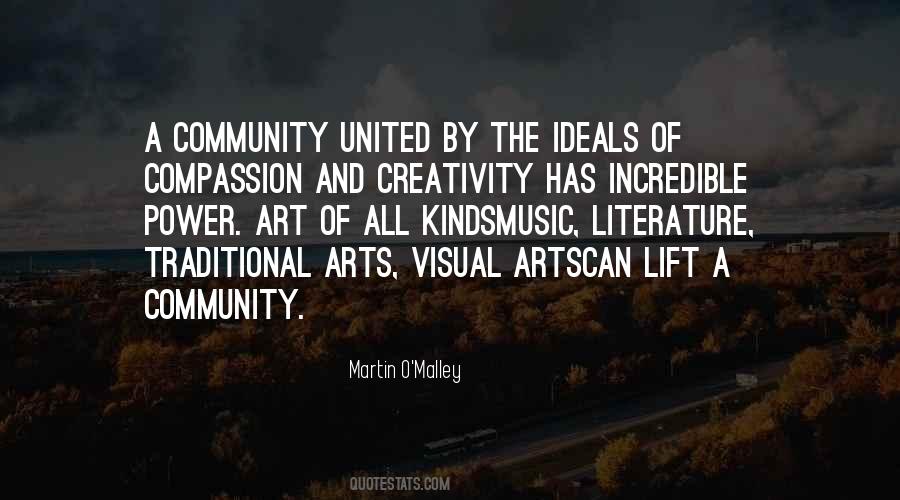 #44. Art works because it appeals to certain faculties of the mind. Music depends on details of the auditory system, painting and sculpture on the visual system. Poetry and literature depend on language. - Author: Steven Pinker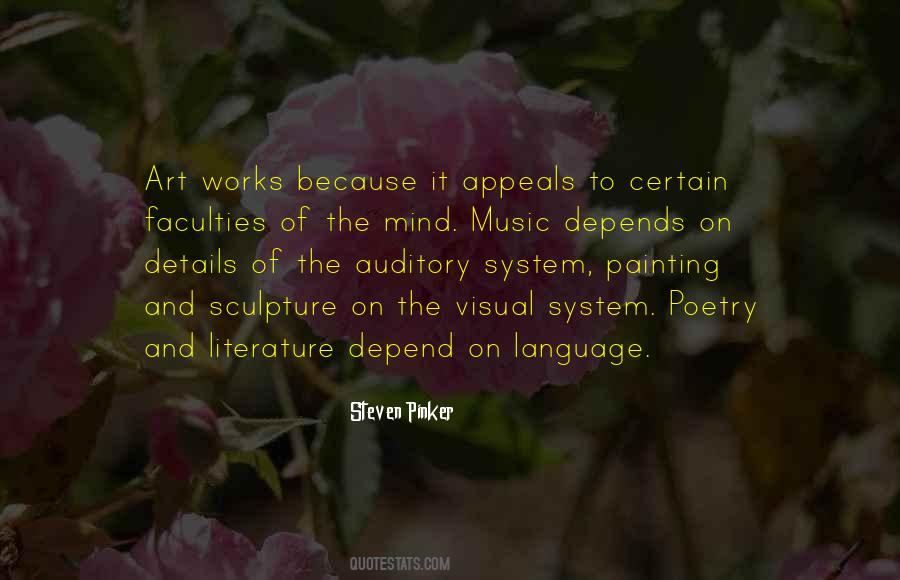 #45. Work! labor the asparagus me of life; the one great sacrament of humanity from which all other things flow - security, leisure, joy, art, literature, even divinity itself. - Author: Sean O'Casey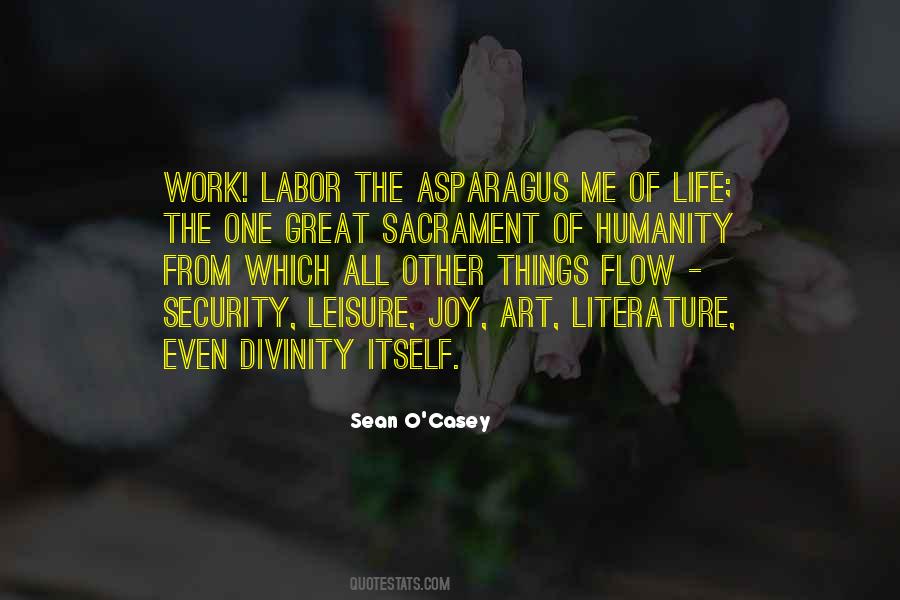 #46. No matter what is happening in life or in the world - war, natural disaster, poor health, pain, the death of loved ones - if existence is filled with art, music and literature, life will be fulfilling, a joy. - Author: Karen DeCrow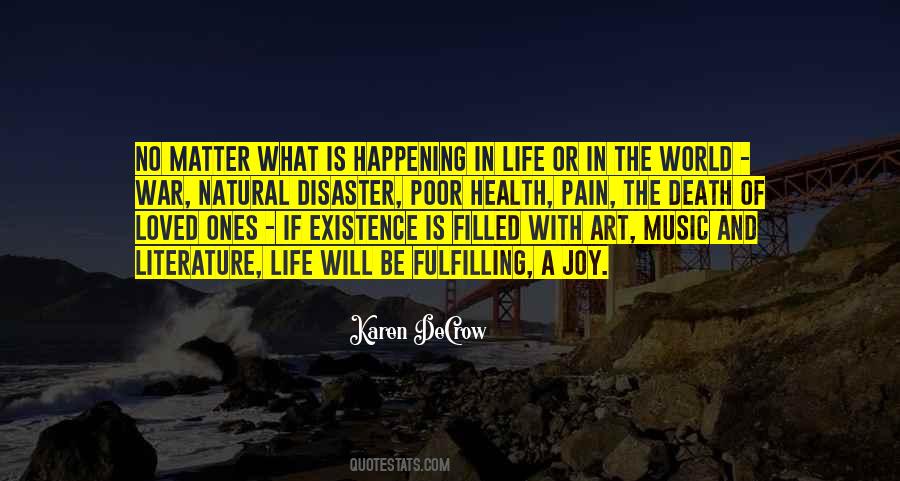 #47. In art, and in literature, the end and the means, or the subject and the style, must be worthy of each other.
That which is not worth contemplating in life, is not worth re-creating in art. - Author: Ayn Rand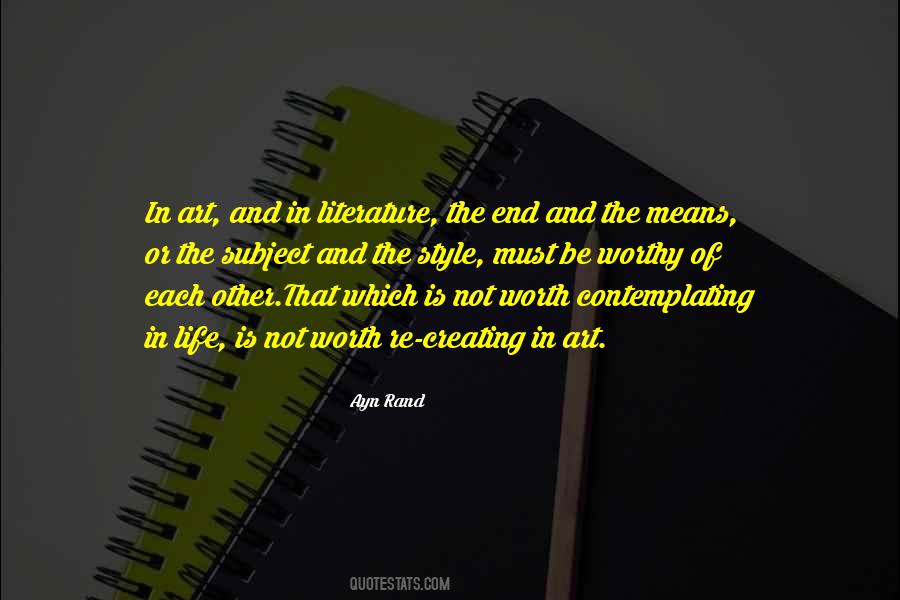 #48. Now, I can smile at the stock quality of these friends, these uniforms. these looking-glasses, these sharers. Each is a character lifted straight from literature and yet, life successfully aping art, they are alive, and fulfil their destinies - or act their parts - flawlessly. - Author: Hal Porter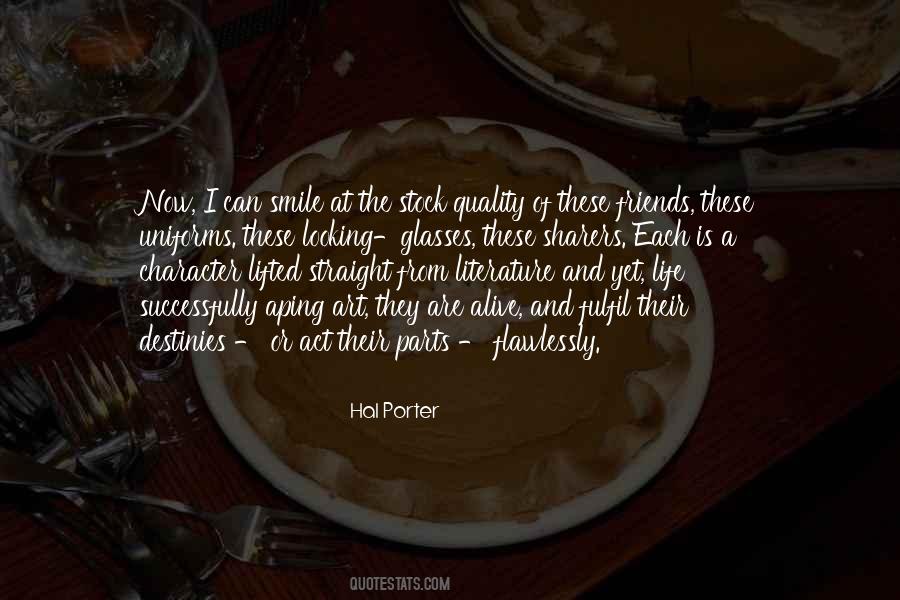 #49. Like every other form of art, literature is no more and nothing less than a matter of life and death. The only question worth asking about a story - or a poem, or a piece of sculpture, or a new concert hall - is, Is it dead or alive? - Author: Mavis Gallant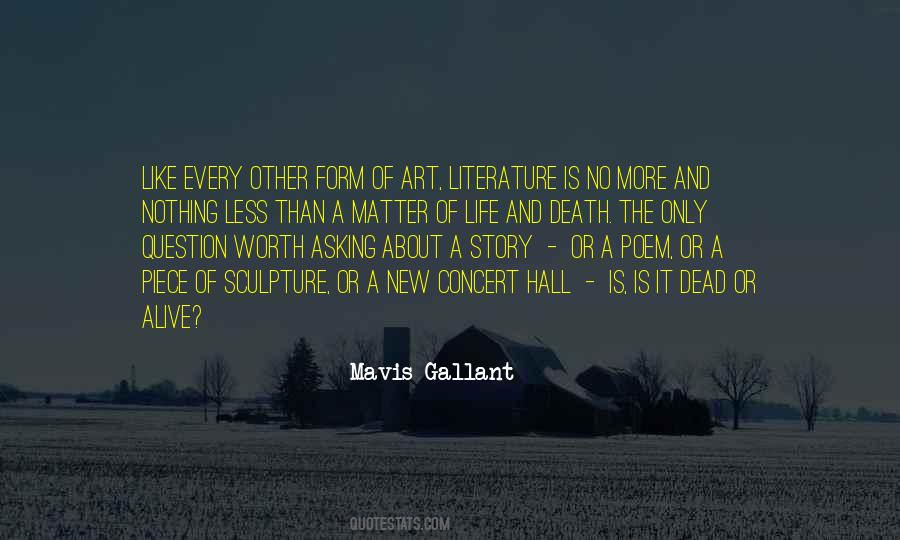 #50. This is the second Old Master I have encountered that has the signatures of another artist forged over it. A painting that has been created by another artist entirely. It's like they played mix and match. - Author: Dayna S. Rubin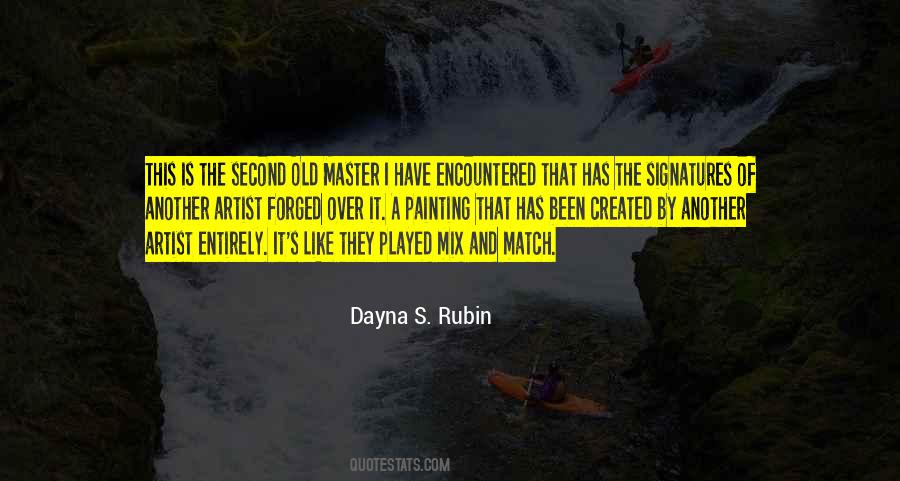 #51. ...if you were convinced that the world had forgotten how to think and teach, if you believed it had discarded the beauty of art and literature, if you thought it had crushed the power of truth, would you let that world educate your children? - Author: Natalia Sanmartin Fenollera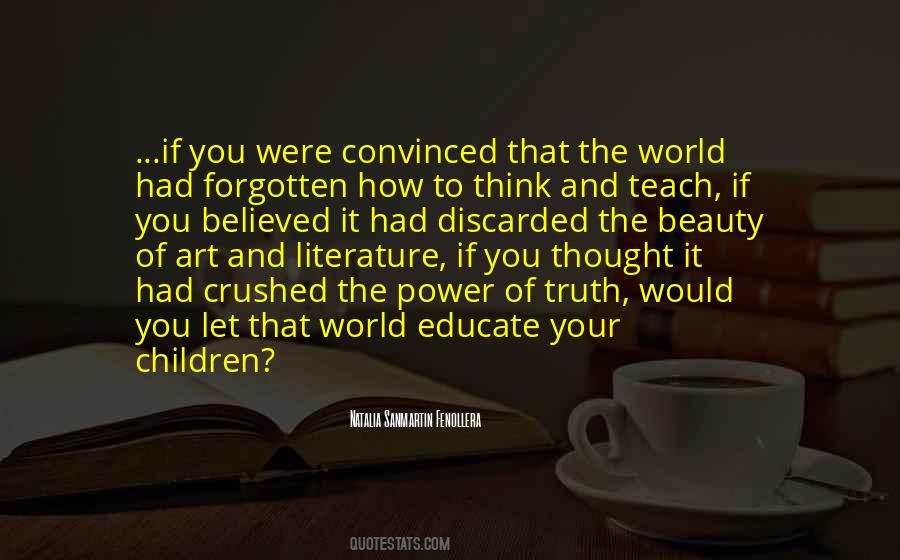 #52. Ordinary people waited till life disclosed to them its secrets, but to the few, to the elect, the mysteries of life were revealed before the veil was drawn away. Sometimes this was the effect of art, and chiefly of the art of literature, which dealt immediately with the passions and the intellect. - Author: Oscar Wilde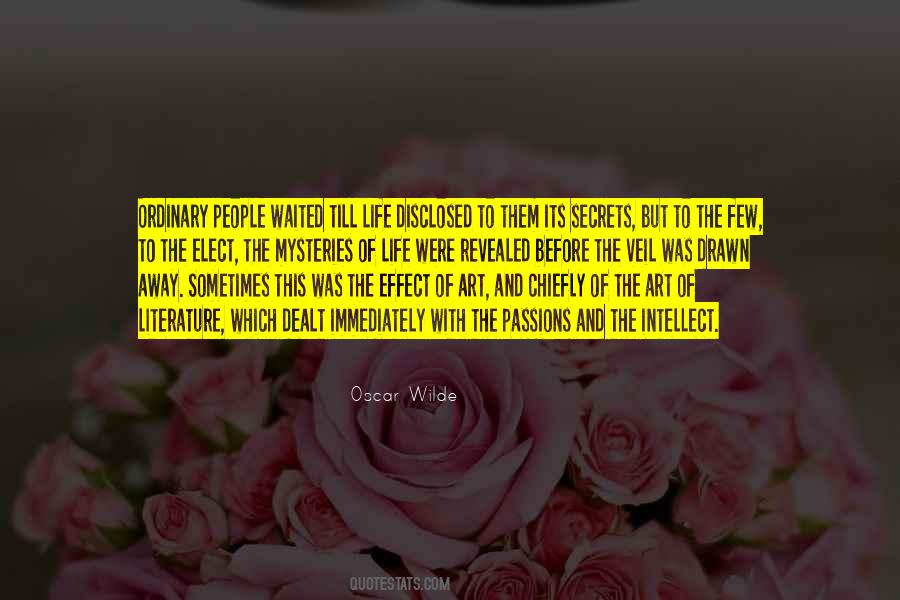 #53. When literature becomes overly erudite, it means that interest in the art has gone and curiosity about the artist is what's important. It becomes a kind of idolatry. - Author: Isaac Bashevis Singer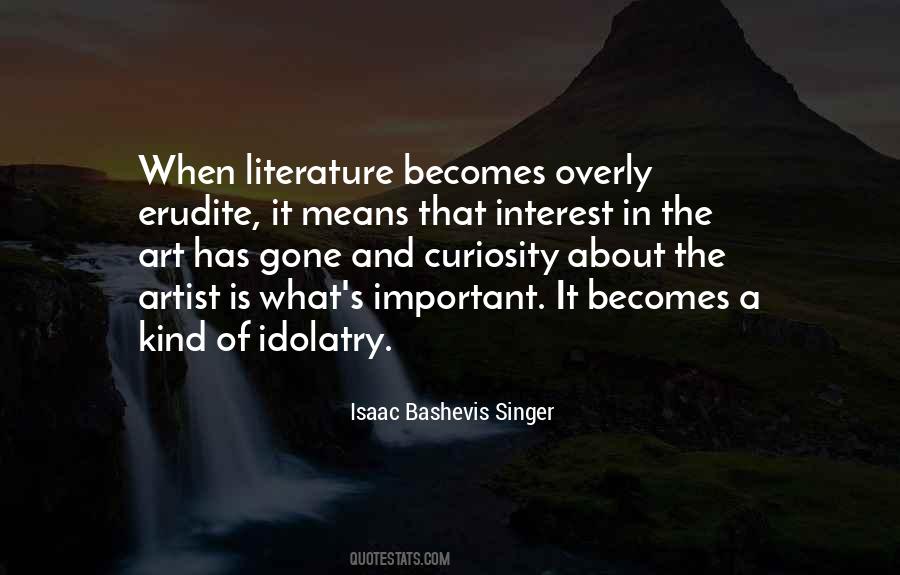 #54. A poet or philosopher should have no fault to find with his age if it only permits him to do his work undisturbed in his own corner; nor with his fate if the corner granted him allows of his following his vocation without having to think about other people. - Author: Arthur Schopenhauer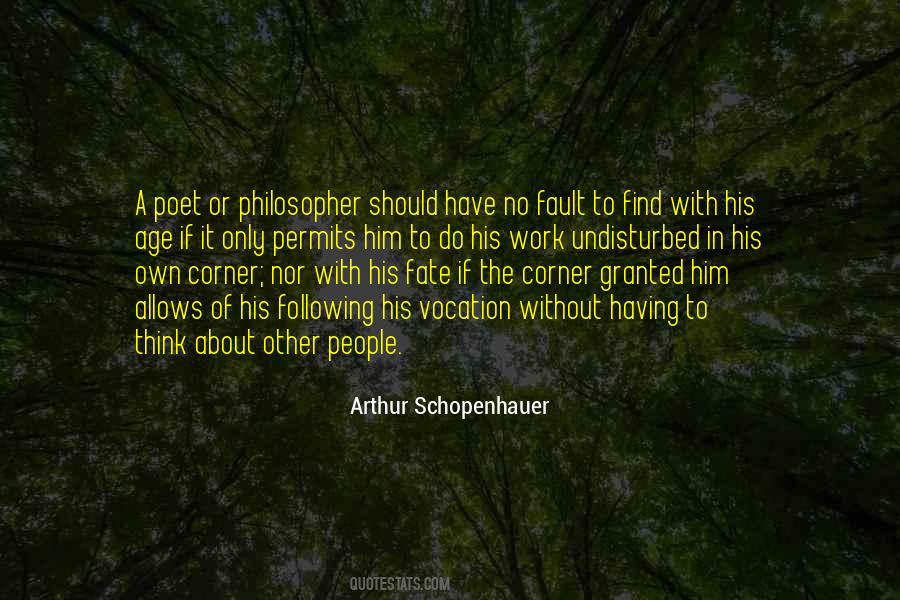 #55. In any period it is upon a very small minority that the discerning appreciation of art and literature depends ... They are still a minority, though a larger one, who are capable of endorsing such first-hand judgement by genuine personal response. - Author: F.R. Leavis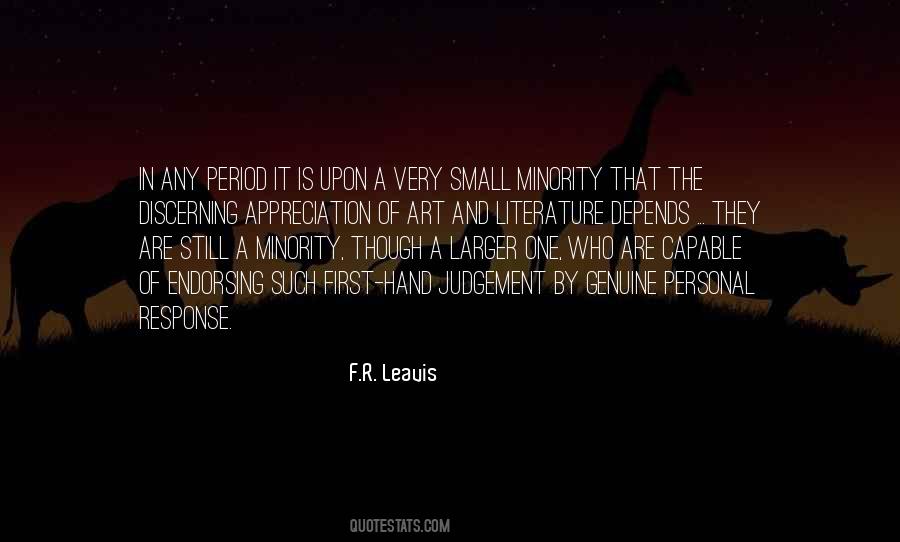 #56. Literature is the art of writing something that will be read twice. - Author: Cyril Connolly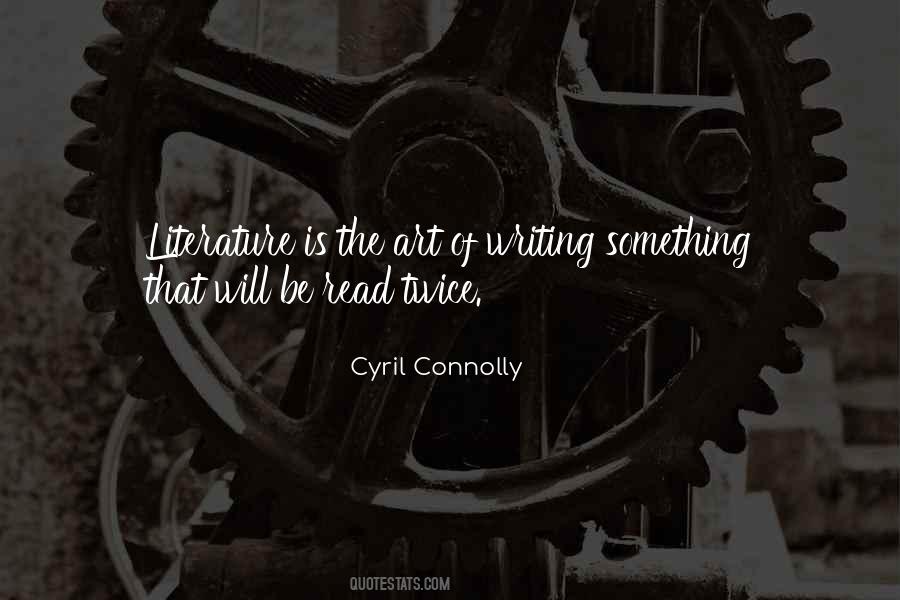 #57. The existence of good bad literature - the fact that one can be amused or excited or even moved by a book that one's intellect simply refuses to take seriously - is a reminder that art is not the same thing as cerebration. - Author: George Orwell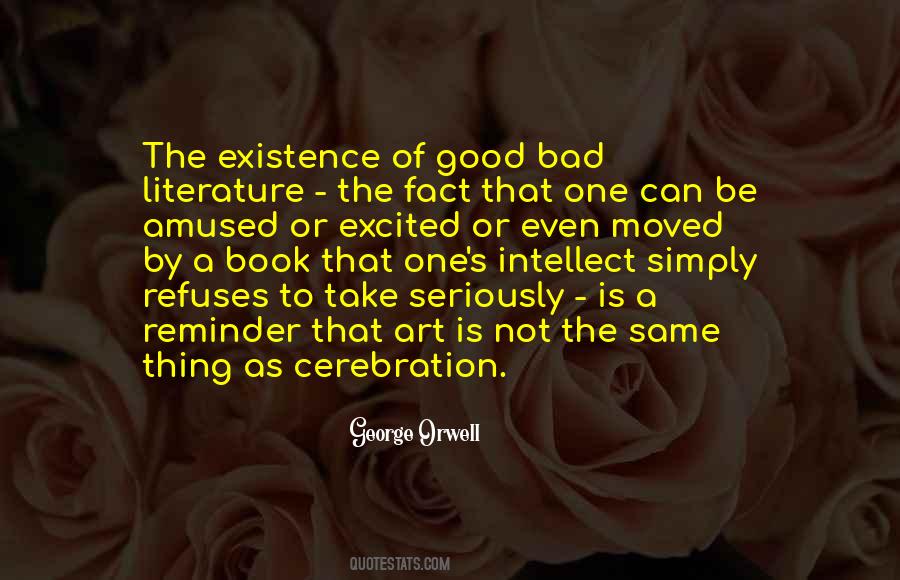 #58. Therapy is to make one happy. What is the point of that? Happy people are not interesting. Better to accept the burden of unhappiness and try to turn it into something worthwhile, poetry or music or painting: that is what he been believes. - Author: J.M. Coetzee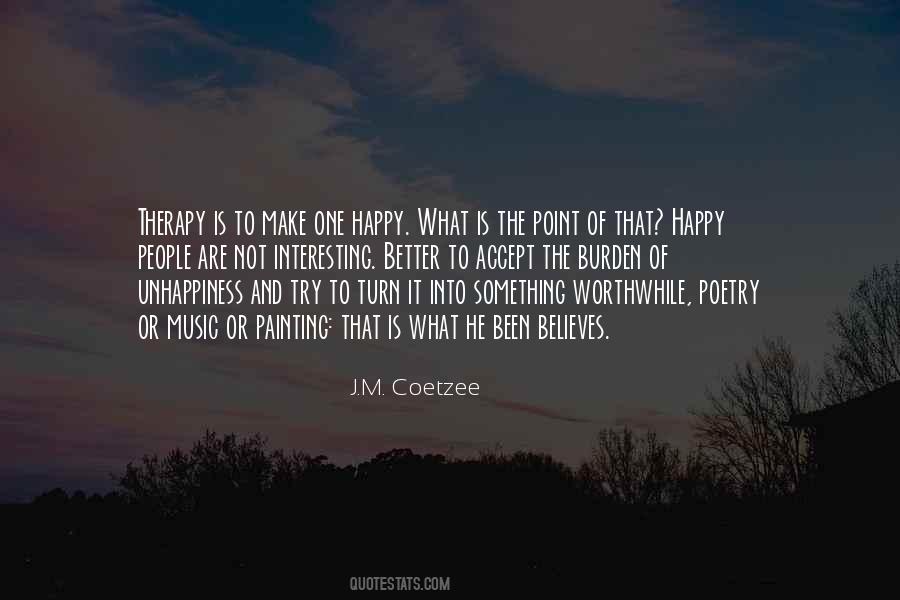 #59. When my words are concealed
With lies and disguises, truth and beyond
Insecurities in the veil of trust
Betrayal in bounds of lies
It's just the charm of words darling
Giving the illusion of happiness inside misery - Author: Irum Zahra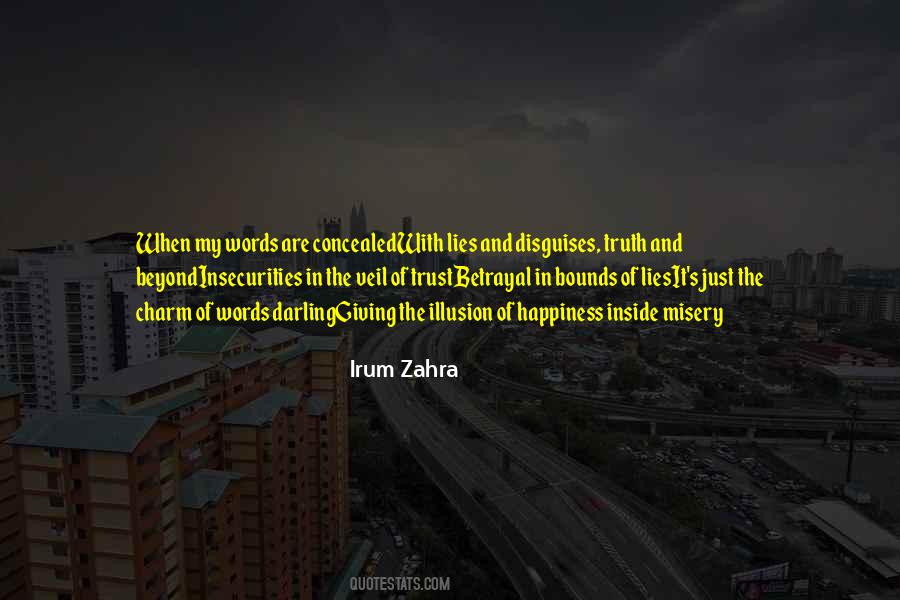 #60. It is a law woven into the nature of man, attested by history, by science, by literature and art, and by dally experience, that strength of mind and force of character are the supreme rulers of human affairs. - Author: Lucius Quintus Cincinnatus Lamar II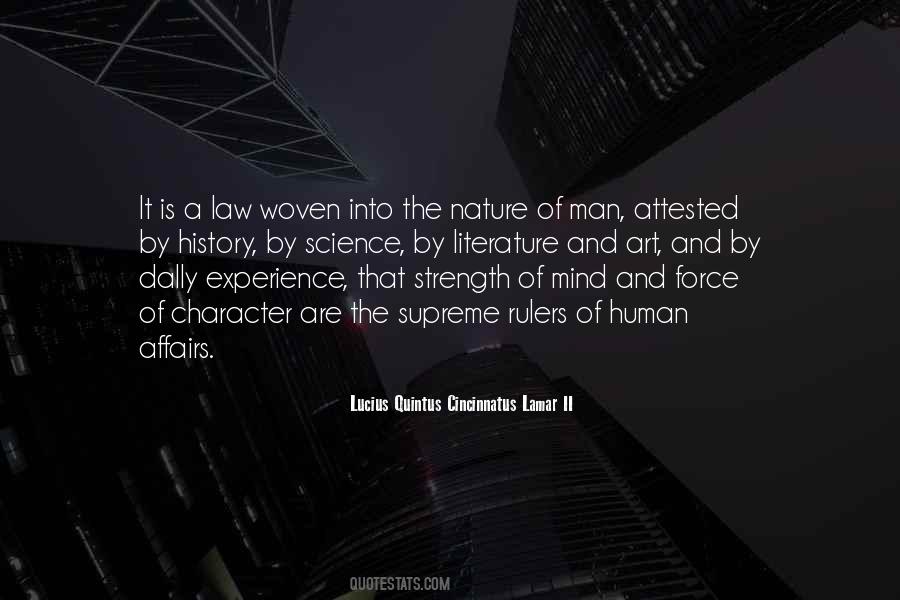 #61. Trying to live up to yourself is the most trying thing. - Author: Ren Garcia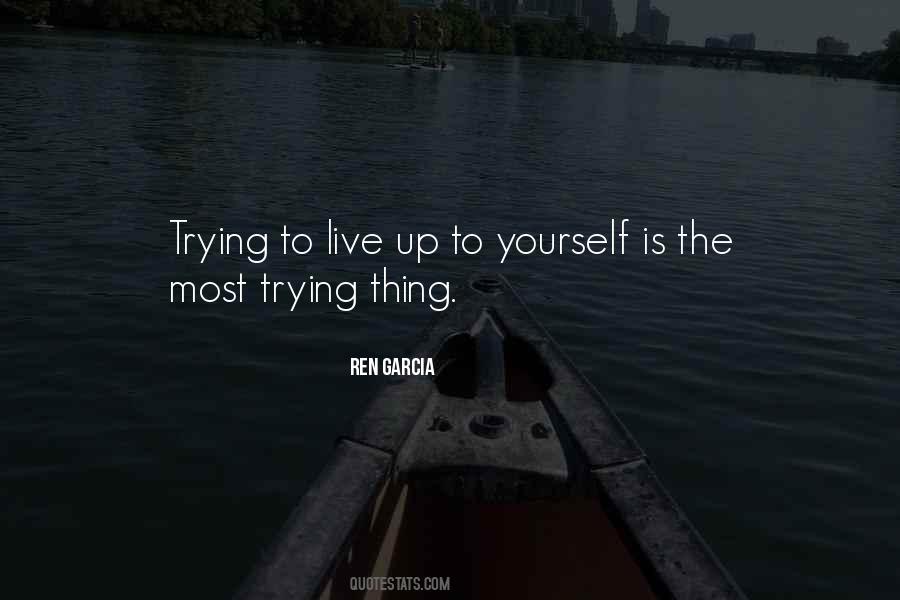 #62. Good art is always dangerous, always open-ended. Once you put it out in the world you lose control of it; people will fit it into their minds in all sorts of different ways. - Author: Greil Marcus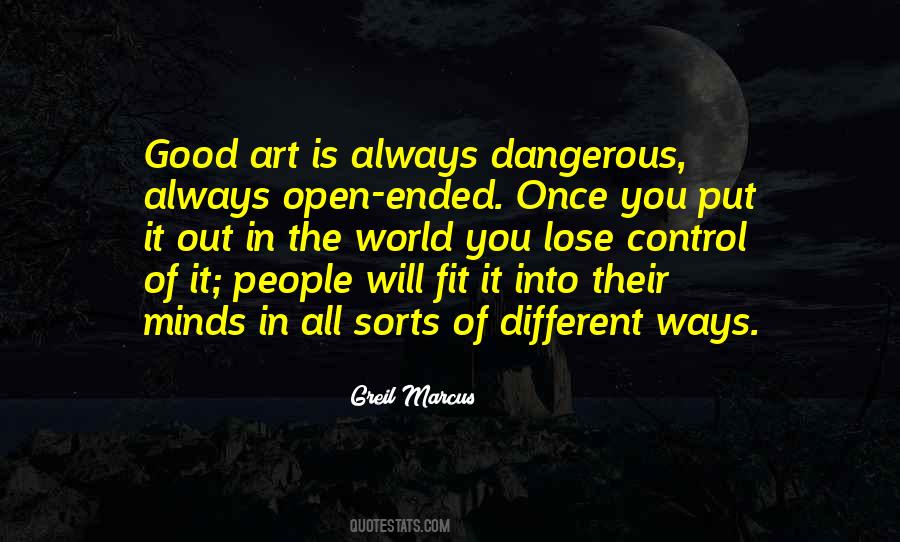 #63. To be scientifically illiterate is to remain essentially uncultured. And the chief virtue of a cultural activity
be it art, music, literature, or science
is the way it enriches our lives. - Author: Lawrence M. Krauss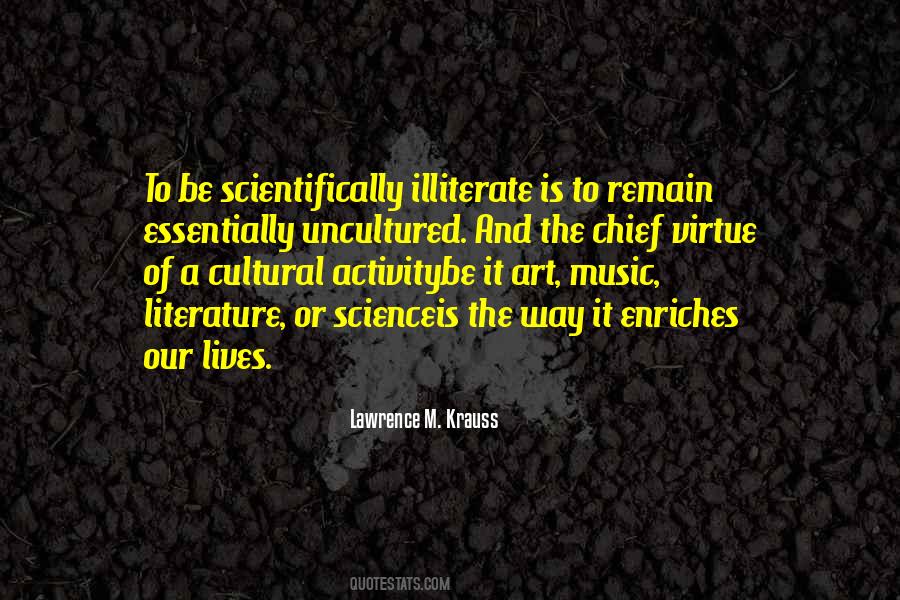 #64. What do you think of the Wilcoxes? Are they our sort? Are they likely people? Could they appreciate Helen, who is to my mind a very special sort of person? Do they care about Literature and Art? That is most important when you come to think of it. Literature and Art. Most important. How - Author: E. M. Forster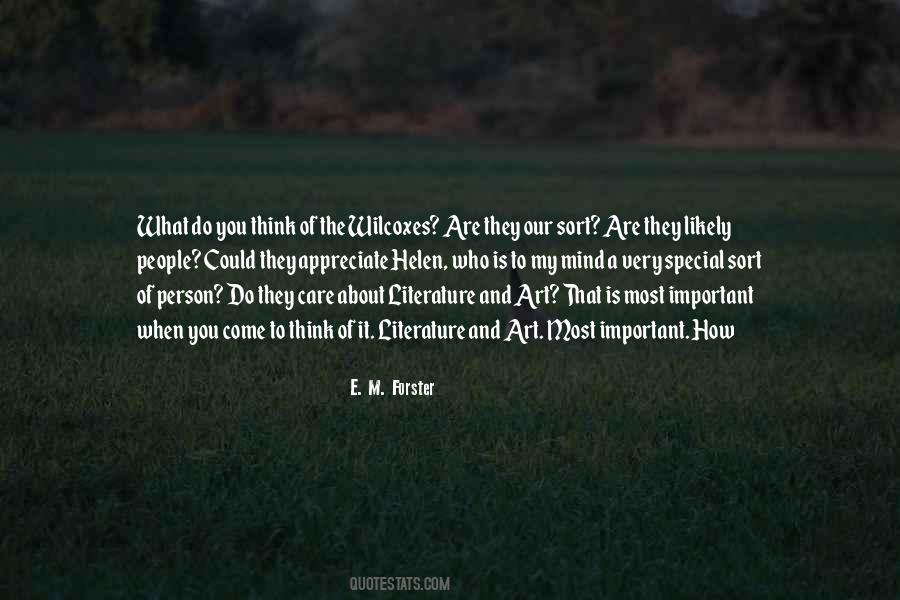 #65. Not even the visionary or mystical experience ever lasts very long. It is for art to capture that experience, to offer it to, in the case of literature, its readers; to be, for a secular, materialist culture, some sort of replacement for what the love of god offers in the world of faith. - Author: Salman Rushdie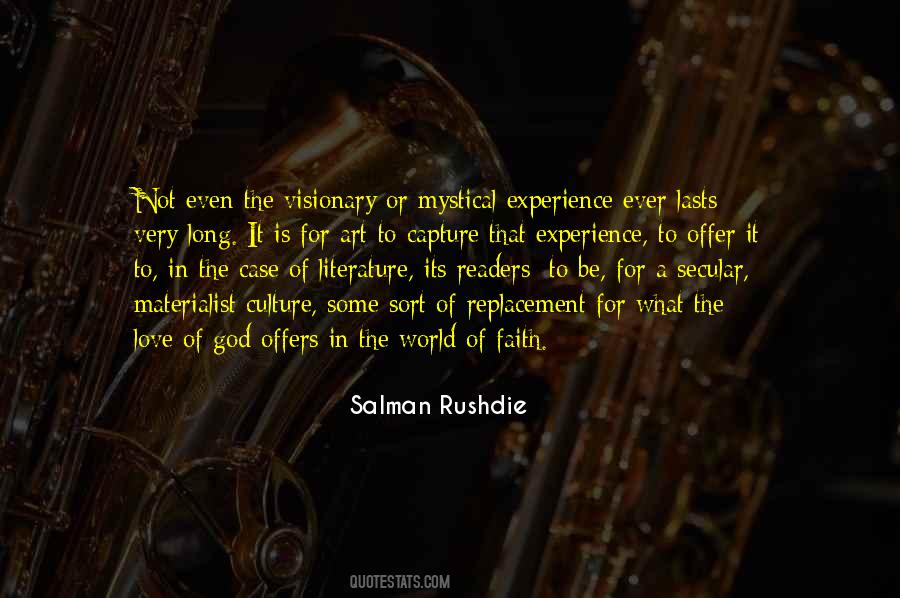 #66. The measure of a work of art is how much art it has in it, not how much 'relevance'. Relevant to whom? Relevant to what? Nothing is more ephemeral than a hot topic. - Author: Edward St. Aubyn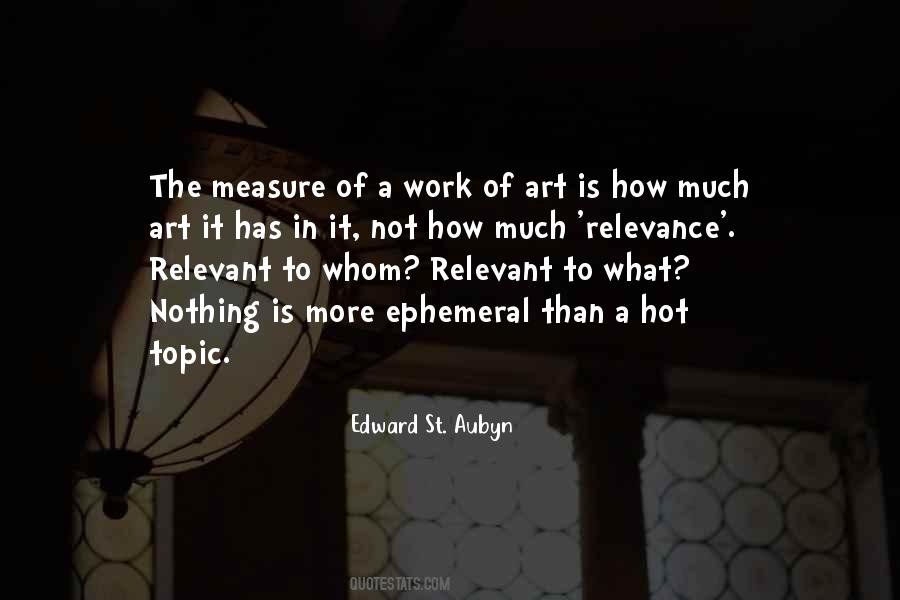 #67. What makes up a life; events or the recollection of events?
How much of recollection is invention?
Whose invention? - Author: Jeanette Winterson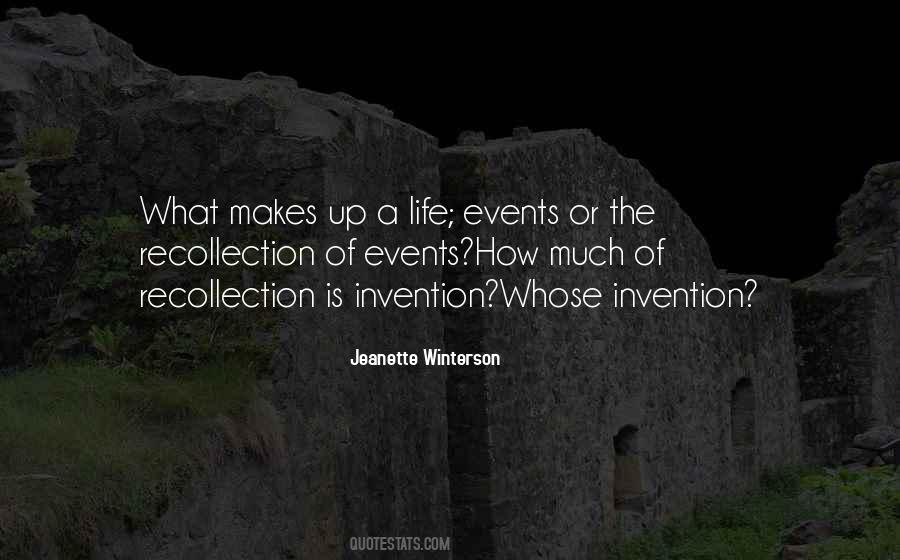 #68. There will still be things that machines cannot do. They will not produce great art or great literature or great philosophy; they will not be able to discover the secret springs of happiness in the human heart; they will know nothing of love and friendship. - Author: Bertrand Russell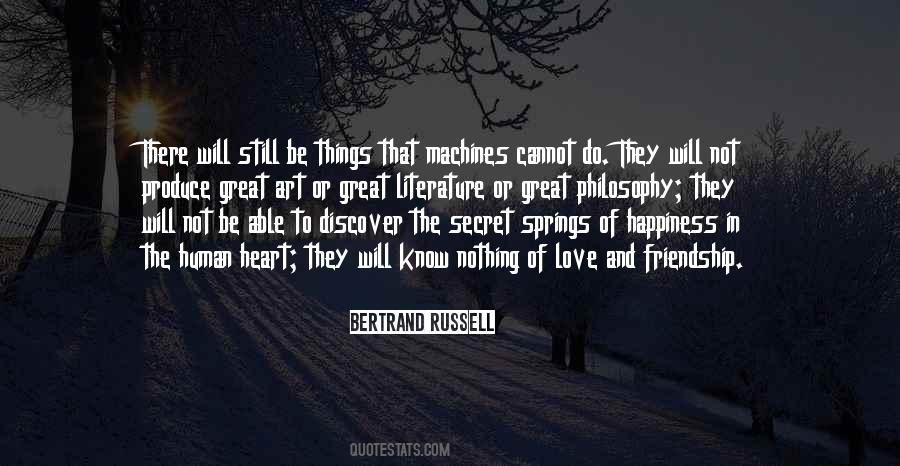 #69. I suppose it's true that most great television, literature, and other forms of high art (and basic cable) benefit from a little hindsight. 'M.A.S.H.' comes to mind. So does 'The Iliad.' - Author: Kevin Bleyer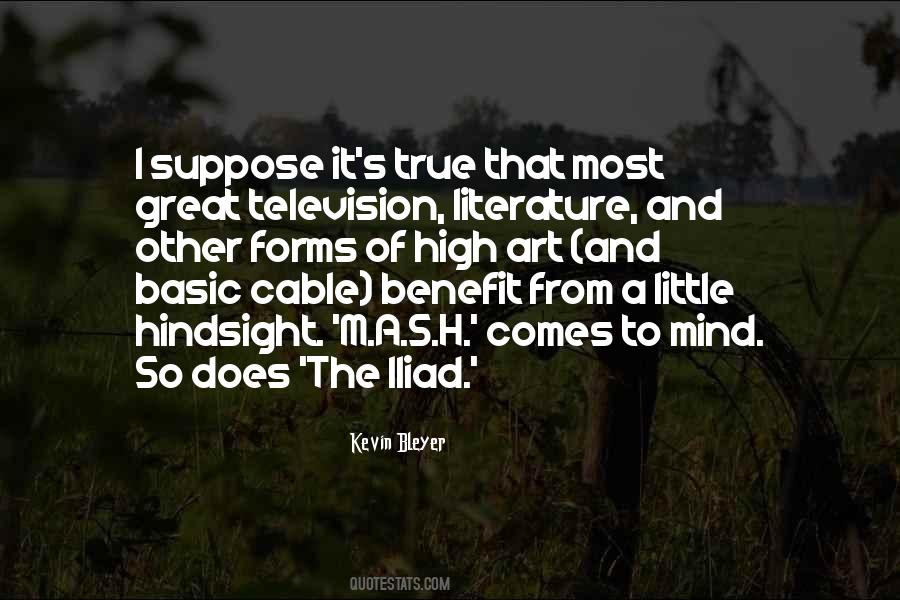 #70. In literature and art memory is a synonym for invention. It is the life-blood of imagination, which faints and dies when the veins are empty. - Author: Robert Aris Willmott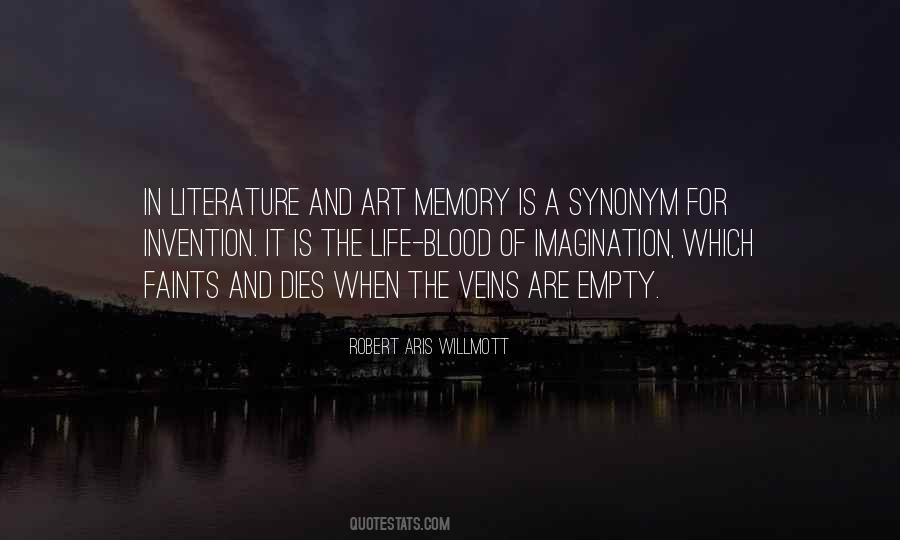 #71. My dad's side of the family had lots of artists and musicians. There's an emotional, quite sentimental quality to Slavic culture. It's very open, it loves art, it loves music, it loves literature. It's very warm, it's very up, it's very down. I would celebrate that. - Author: Nick Clegg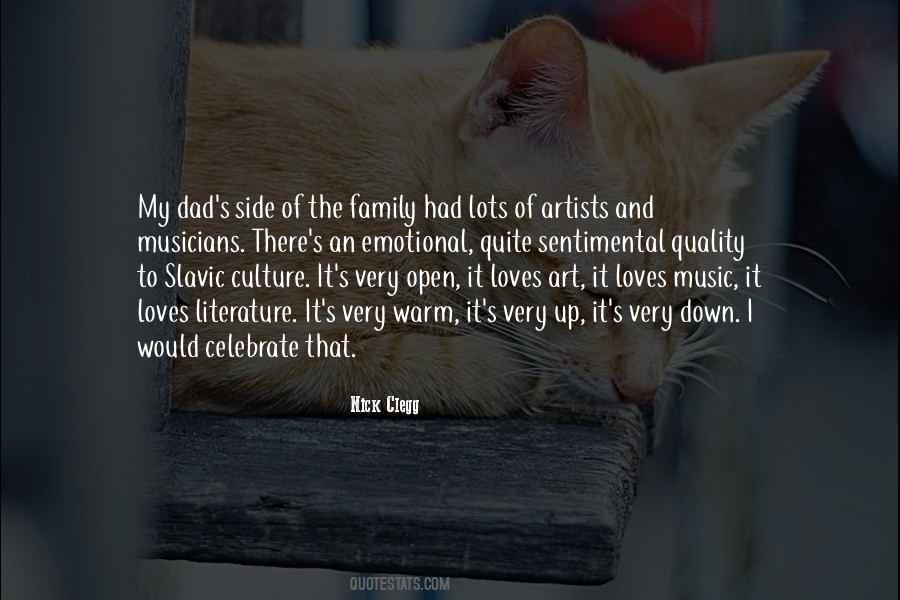 #72. The first forms of writing emerged not for art, literature, or love, not for spiritual or liturgical purposes, but for business - all literature could be said to originate from sales receipts (sorry). - Author: Daniel J. Levitin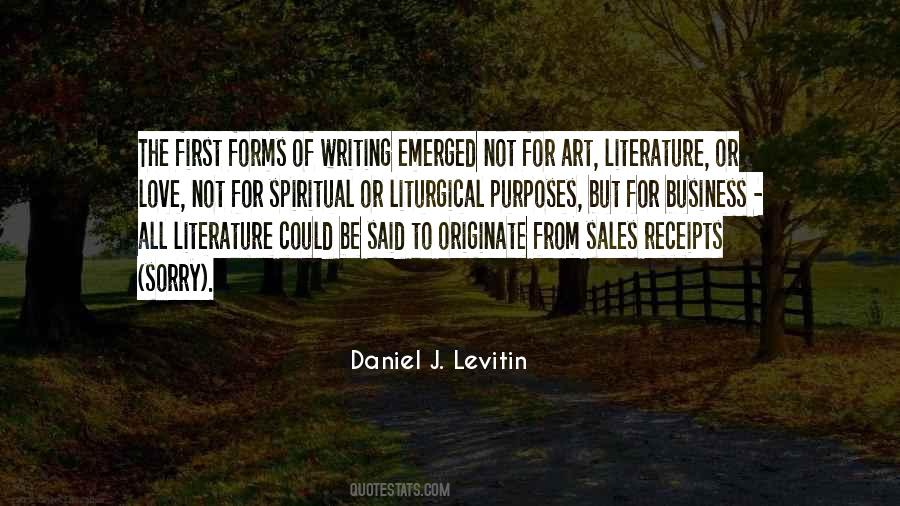 #73. But then people don't read literature in order to understand; they read it because they want to re-live the feelings and sensations which they found exciting in the past. Art can be a lot of things; but in actual practice, most of it is merely the mental equivalent of alcohol and cantharides. - Author: Aldous Huxley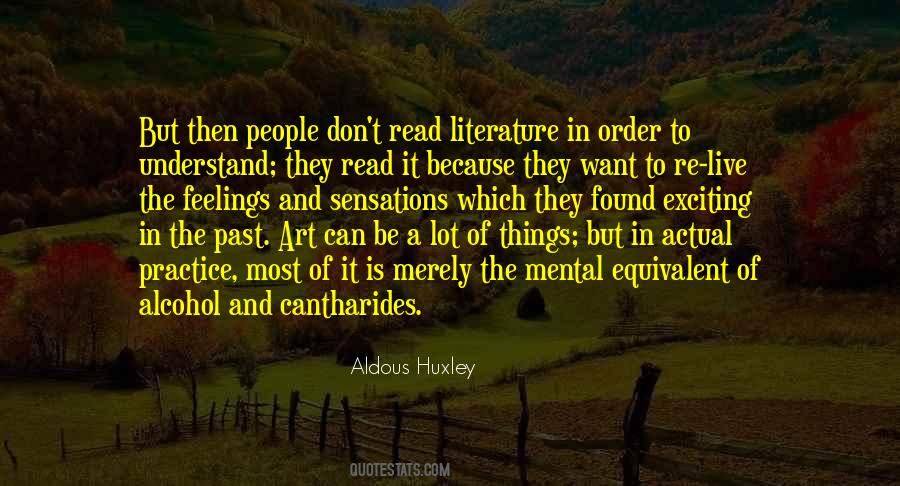 #74. There is in fact no such thing as art for art's sake, art that stands above classes, art that is detached from or independent of politics. Proletarian literature and art are part of the whole proletarian revolutionary cause. - Author: Mao Zedong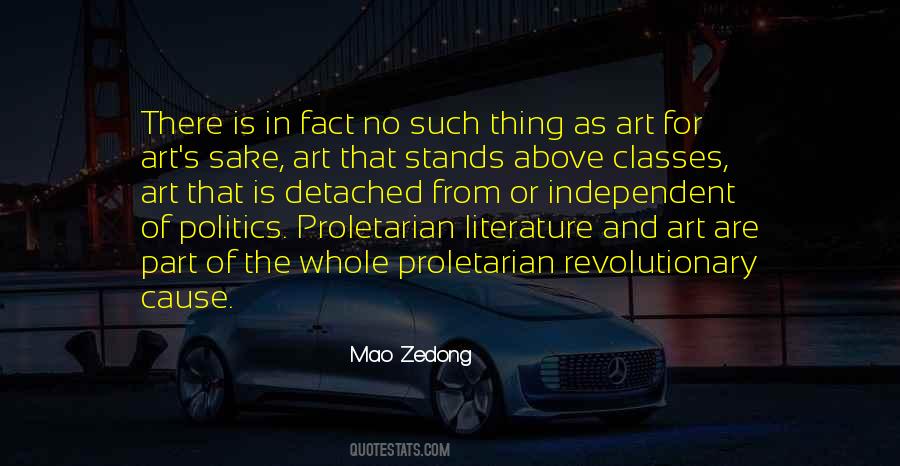 #75. The morality of art consists, for everyone, in the side that flatters its own interests. People do not like literature. - Author: Gustave Flaubert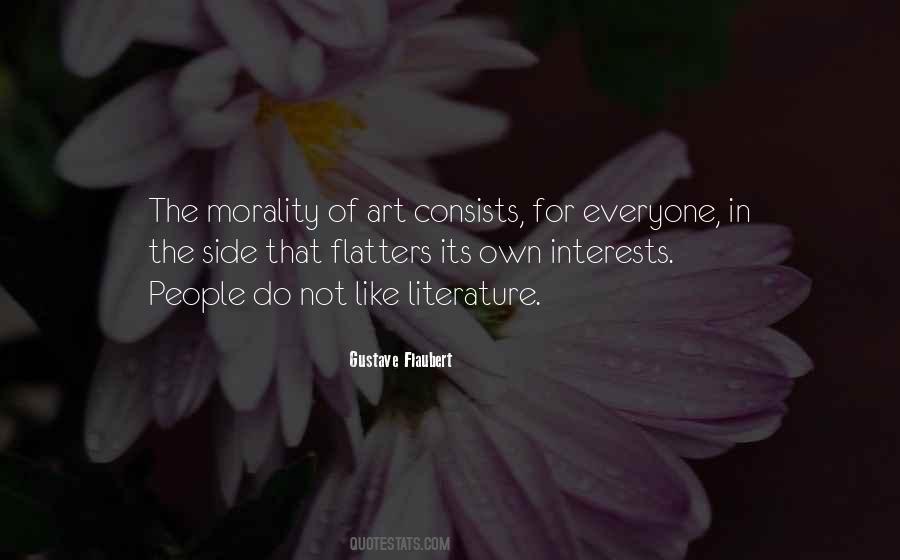 #76. We are not immune to the lure of wonder and mystery and awe: we have music and art and literature, and find that the serious ethical dilemmas are better handled by Shakespeare and Tolstoy and Schiller and Dostoyevsky and George Eliot than in the mythical morality tales of the holy books. - Author: Christopher Hitchens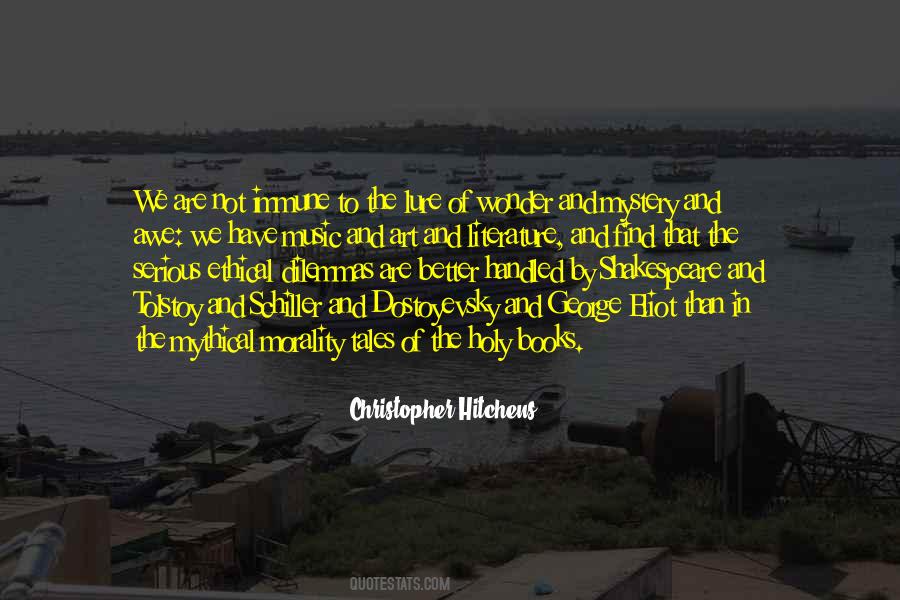 #77. Maybe we're all ongoing stories, defined at various stages of life, or whenever people oblige us to declare ourselves. Fiction is marvelous for studying this, allowing the writer and reader to leap decades in a sentence. No other art lets you bend time as much. - Author: Tom Rachman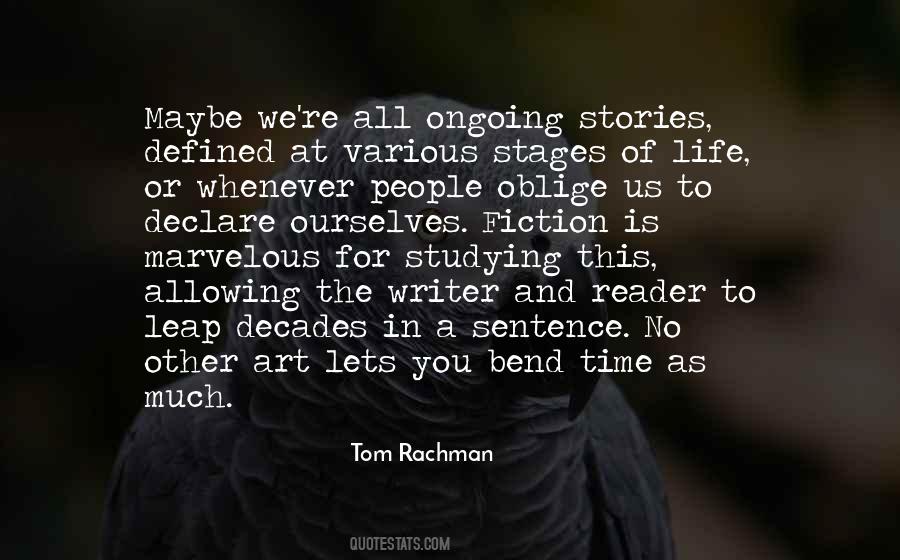 #78. We live mindfully by harvesting evocative scenes to pay attention to including the mountains and oceans, flowers and trees, love and friendship, music and literature, art and poetry. - Author: Kilroy J. Oldster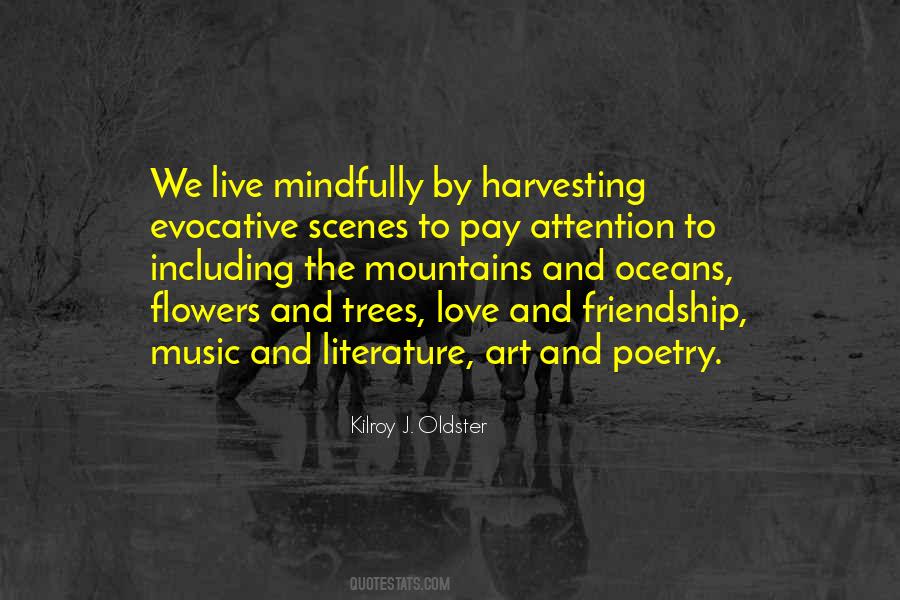 #79. Every day in my consultancy, I meet men and women who are out of their minds. That is, they have not the slightest idea who they really are or what it is that matters to them. The question 'How shall I live?' is not one I can answer on prescription. - Author: Jeanette Winterson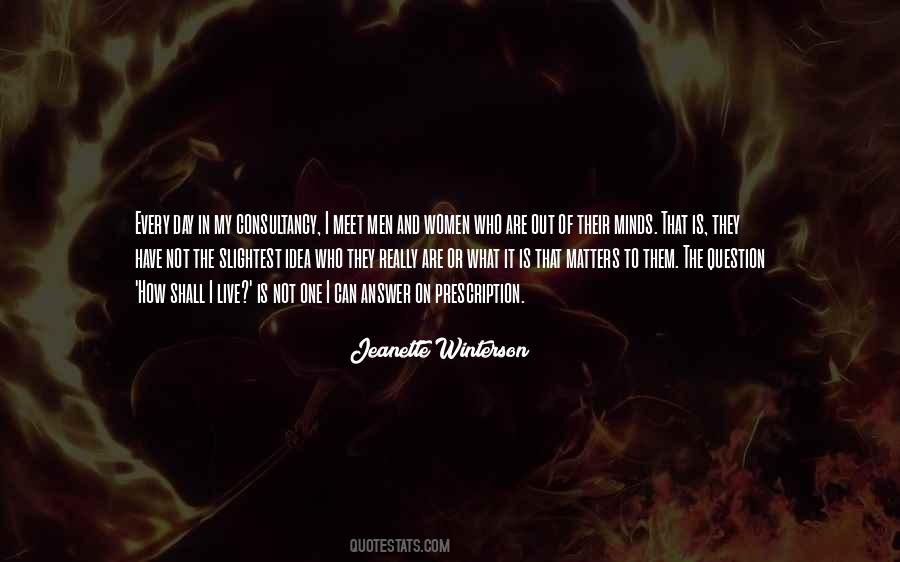 #80. Literature is an art, and the essence of all art is mood. - Author: Salvador De Madariaga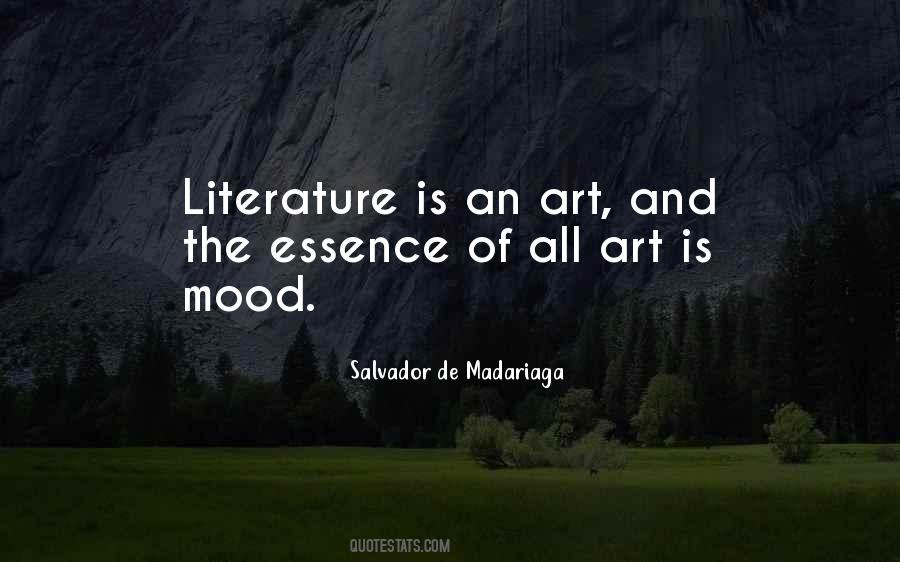 #81. In the face of legalized pornography, the conscience of America seems to be paralyzed. More serious than our fakery in art, literature, and pictures is the collapse of our moral standards and the blunting of our capacity as a nation for righteous indignation. - Author: Billy Graham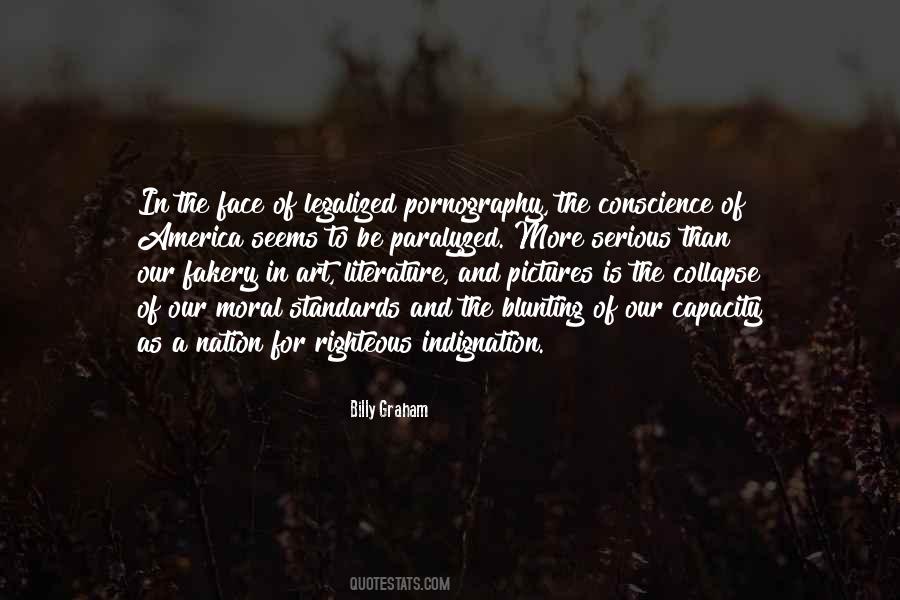 #82. Encourage good music and art and literature in your homes. Homes that have a spirit of refinement and beauty will bless the lives of your children forever. - Author: Ezra Taft Benson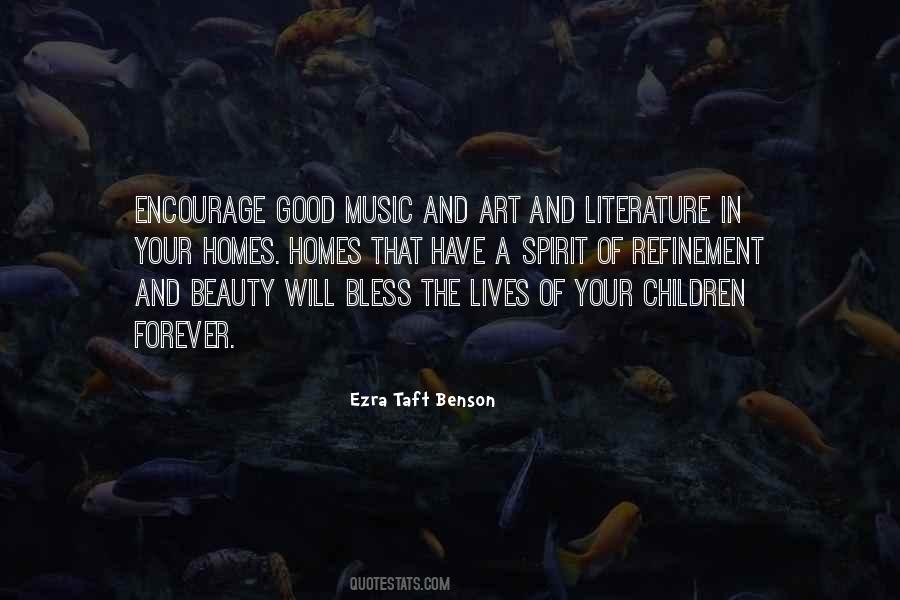 #83. He couldn't imagine using the word 'rewarding' about a work of art - for instance that such and such a book has given me so much, taught me so much, etc etc. - but thought solely that it enlightened him, made him see, cynically and withough false expectations, so that he felt he was alive. - Author: Dag Solstad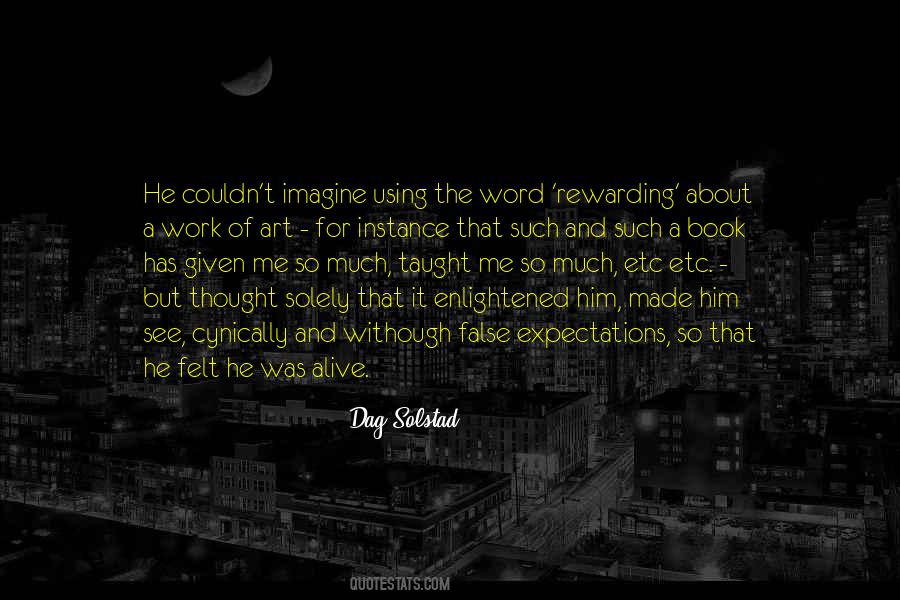 #84. The notion of "cause and effect" is sometimes useful in real life, and it can even be interesting in art, but I'm more interested in "cause and cause" or "effect and effect" or "and and and". - Author: Kevin Mcpherson Eckhoff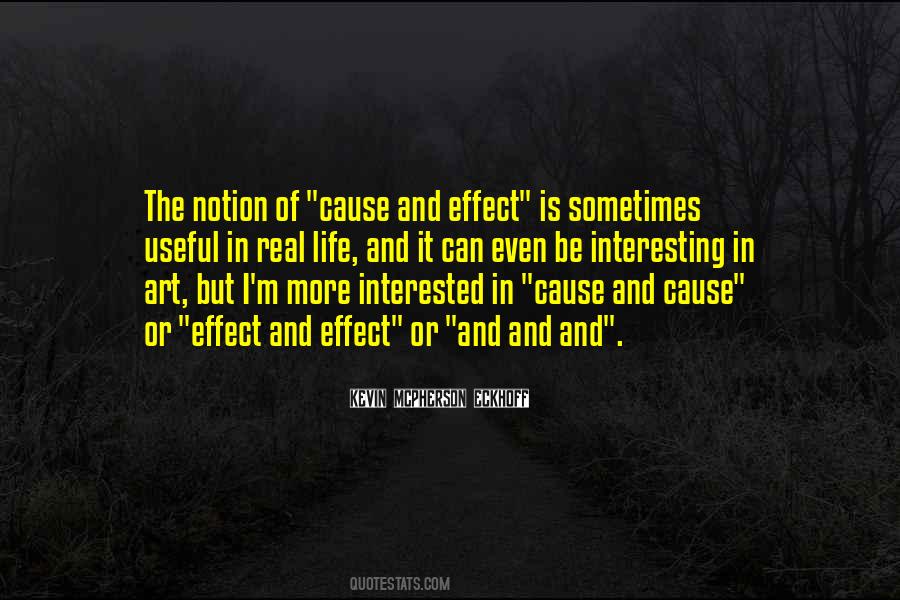 #85. We don't have the choice to control our emotions, but we do have the power to educate our emotions. And we do that through literature and through art and music to give ourselves a repertoire of emotional experiences. - Author: David Brooks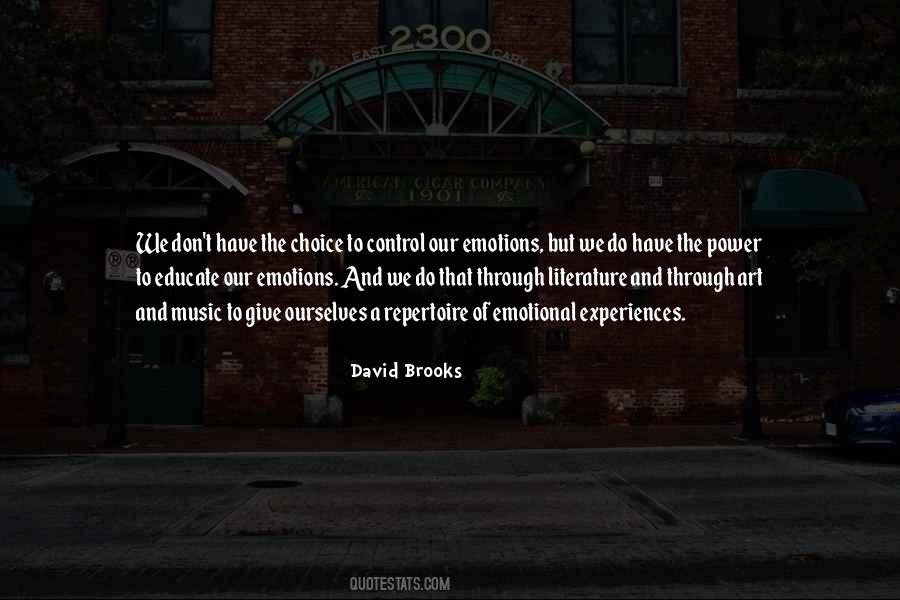 #86. A list of the thirteen types of photograph (plus an afterthought): Aide-memoire Reportage Work of art Topography Erotica/Pornography Advertisement Abstract image Literature Text Autobiography Compositional Functional illustration Snapshot - Author: William Boyd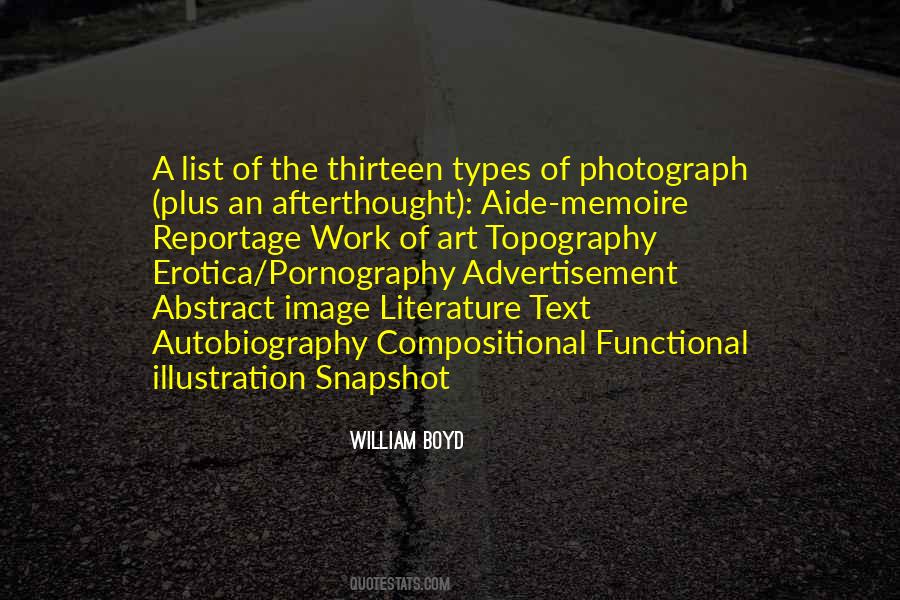 #87. Literature, for example, serves a pragmatic purpose. Like any form of Art, literature's mission is to make the fulfillment of our essential duties more bearable. - Author: Muriel Barbery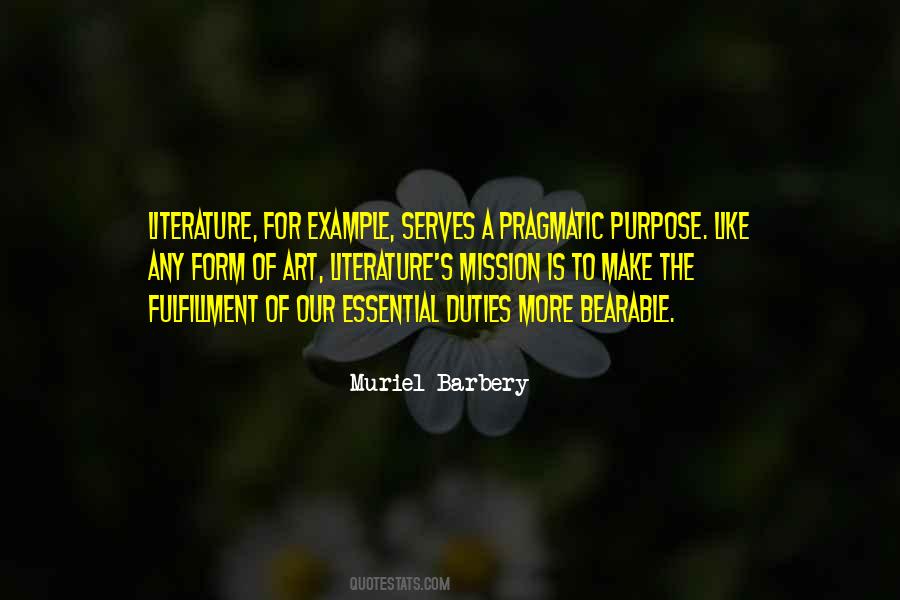 #88. Literature is the aesthetic exploitation of language - Author: Anthony Burgess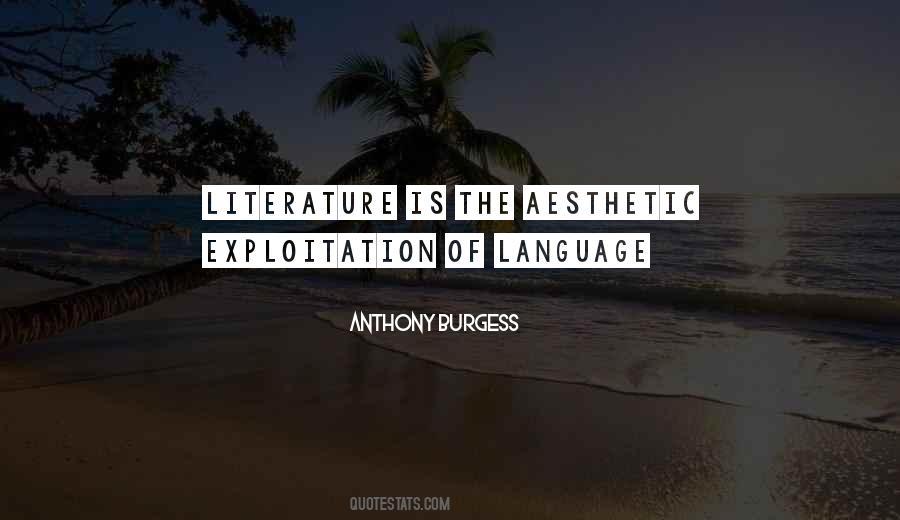 #89. I would say if you are familiar with our history and the history of our art and literature that you see a clear cut pattern of people wanting to contribute, not only artistically, but in some practical purpose, for the benefits of the community. - Author: Gil Scott-Heron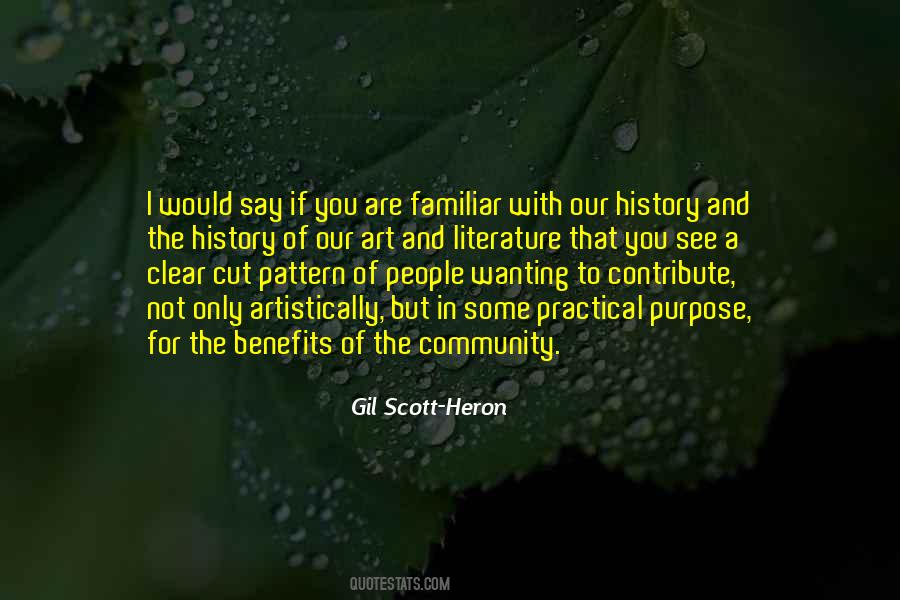 #90. In the first book of my Discworld series, published more than 26 years ago, I introduced Death as a character; there was nothing particularly new about this - death has featured in art and literature since medieval times, and for centuries we have had a fascination with the Grim Reaper. - Author: Terry Pratchett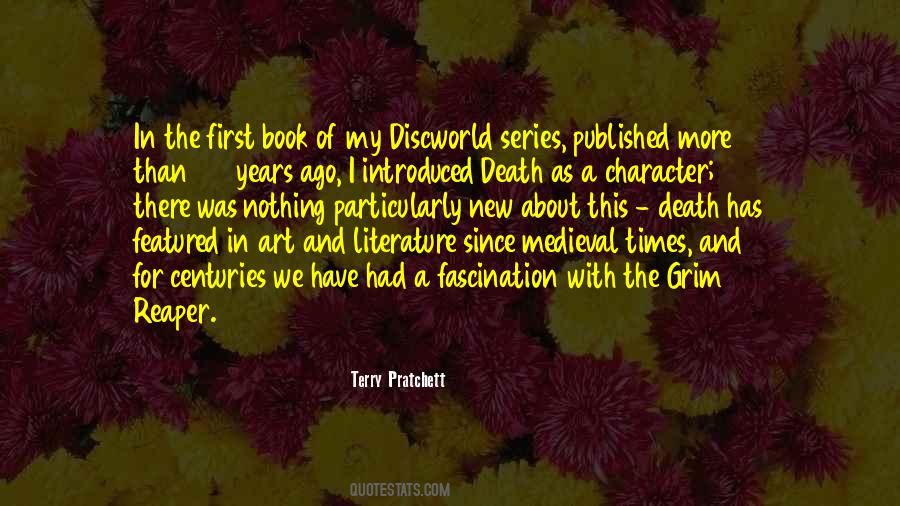 #91. We are liable to miss the best of life if we do not know how to tingle, if we do not learn to hoist ourselves just a little higher than we generally are in order to sample the rarest and ripest fruit of art which human thought has to offer. - Author: Vladimir Nabokov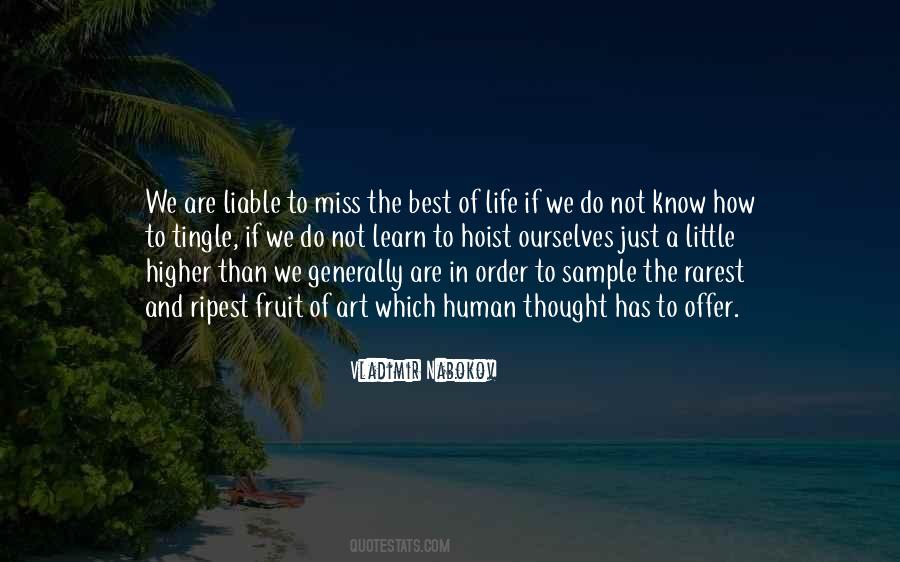 #92. Never run upstairs when someone's chasing you. Don't try to quick-draw a man who already has his gun out. Never light a match in the dark in a strange building. Half of staying safe is just keeping your head and being prudent. - Author: Mark Zero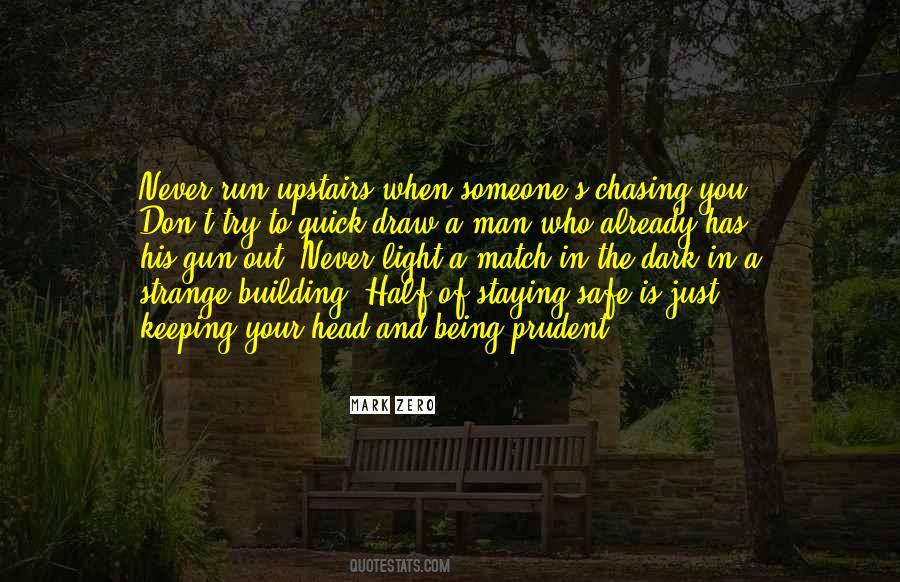 #93. Of a life of luxury the fruit is luxury, whether in agriculture, or commerce, or literature, or art. - Author: Henry David Thoreau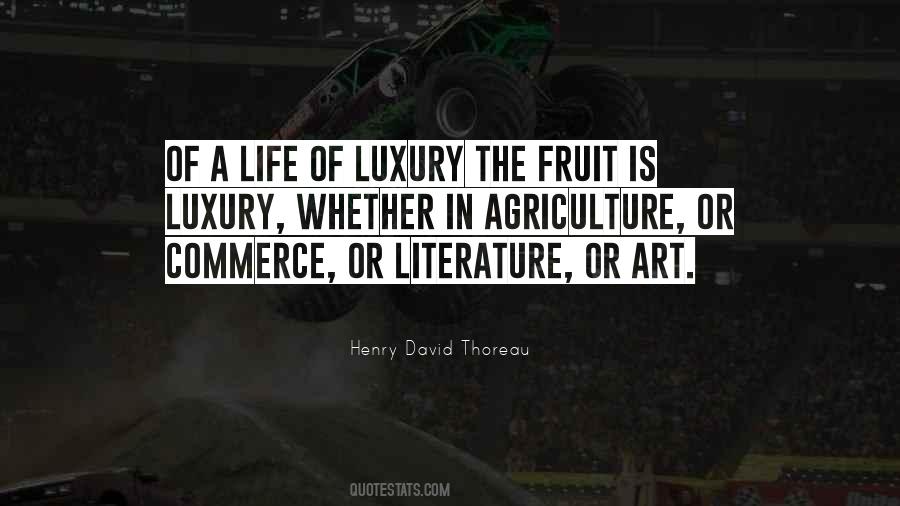 #94. The contemplation of beauty in nature, in art, in literature, in human character, diffuses through our being a soothing and subtle joy, by which the heart's anxious and aching cares are softly smiled away. - Author: Edwin Percy Whipple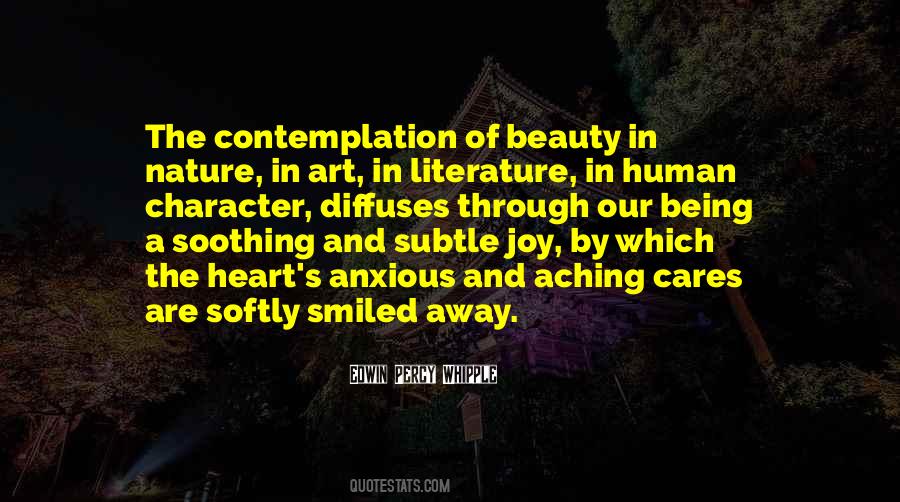 #95. Life is seen as an ongoing war between art and philistinism - and although the philistines may win some of the battles, it is literature that always wins the war. - Author: Helon Habila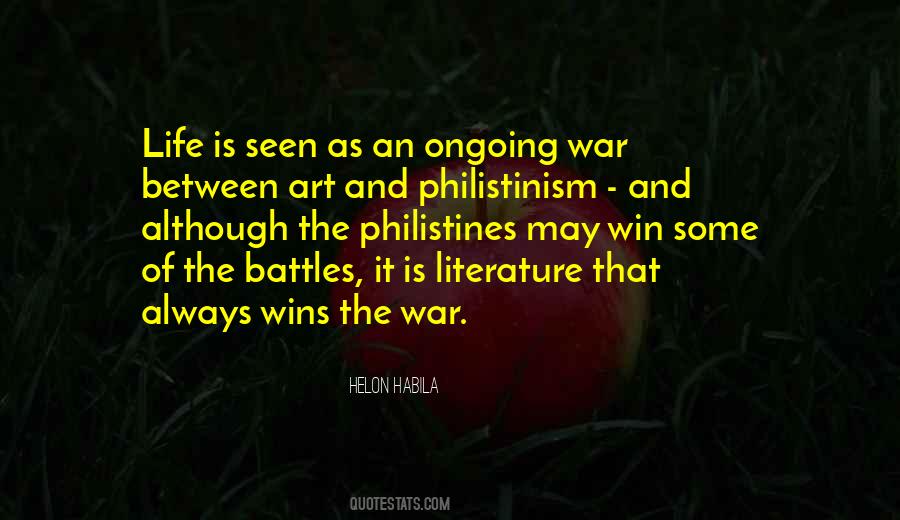 #96. Only when I make movements away from the tribe of indie art and literature. Maybe that's something important for me to keep thinking about. What you gain, what you lose, why and how. Maybe the edge of the page is the place for me. Maybe that's OK. - Author: Lidia Yuknavitch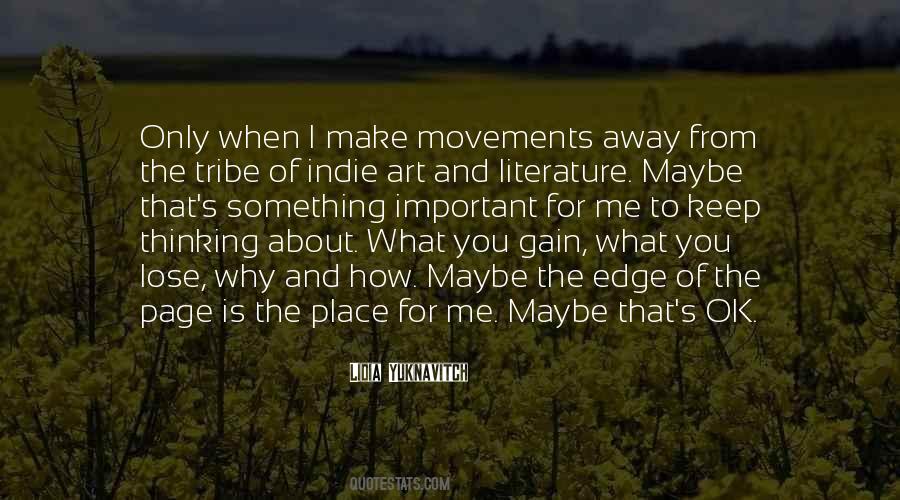 #97. All forms of madness, bizarre habits, awkwardness in society, general clumsiness, are justified in the person who creates good art. - Author: Roman Payne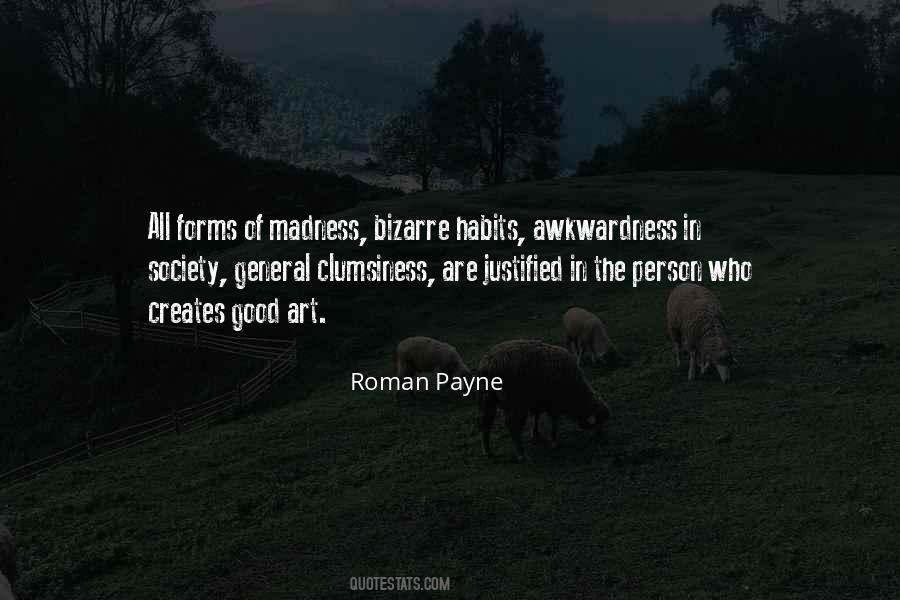 #98. The web, then, or the pattern, a web at once sensuous and logical, an elegant and pregnant texture: that is style, that is the foundation of the art of literature. - Author: Robert Louis Stevenson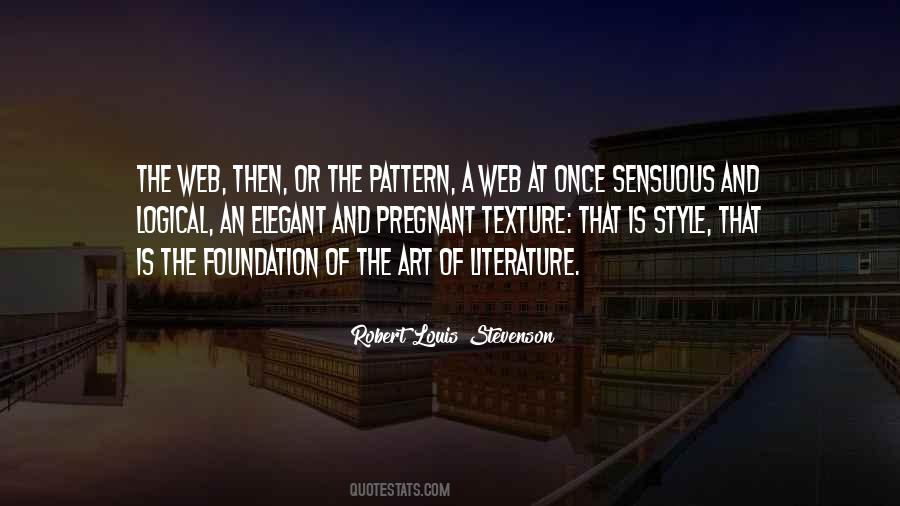 #99. When I went through the break-up, I really looked for some kind of music, or art or literature that could say, "I've been in the same situation." I couldn't find anything at the moment, and that made me really sad. - Author: Jens Lekman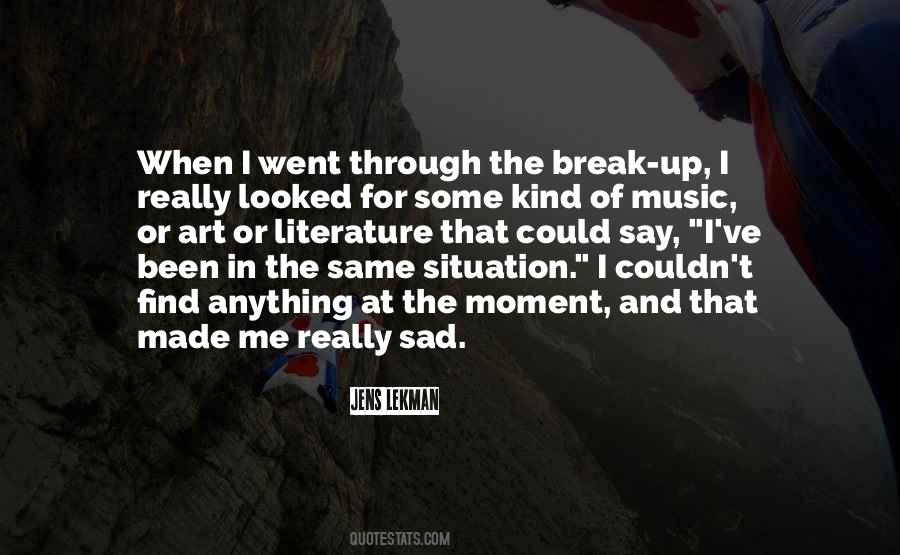 #100. Since the last decades of the nineteenth century, revolt against the objectified world has determined the character of art and literature. - Author: Paul Tillich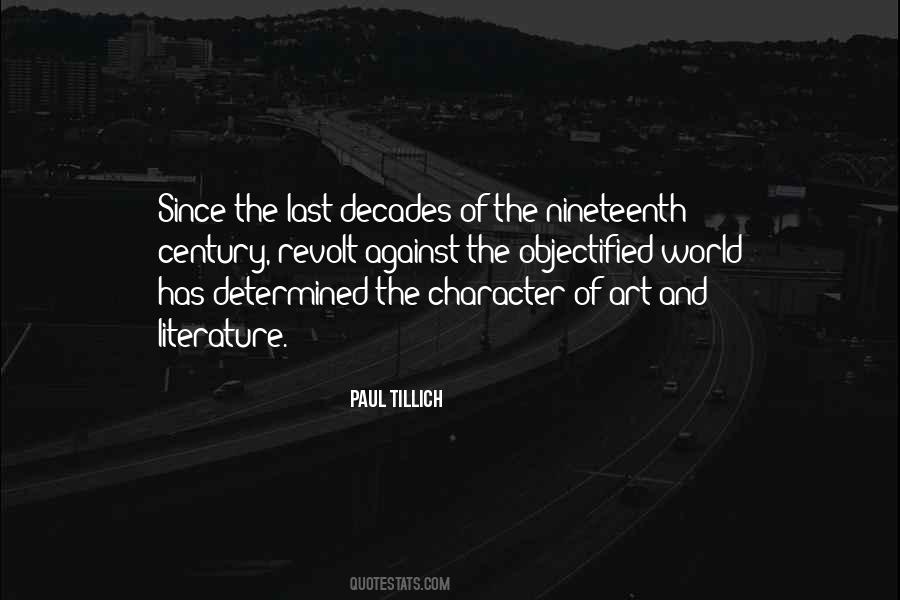 Famous Authors
Popular Topics