Street Life Famous Quotes & Sayings
List of top 100 famous quotes and sayings about street life to read and share with friends on your Facebook, Twitter, blogs.
Top 100 Quotes About Street Life
#1. I want to reveal in a simple way the usual - and unusual - life of the city; the corporation workman, the busmen, policemen, the civil servants, the theatres, Moore Street and also, what occupies so large a place in Dublin's life, the literary and artistic. - Author: Patrick Kavanagh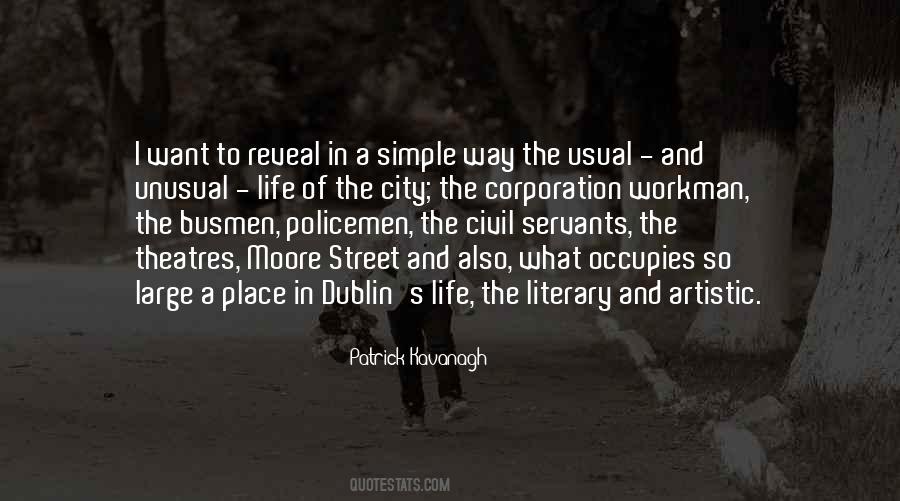 #2. It is time to float on the waters of the night.
Time to wrap my arms around this book
and press it to my chest, life preserver
in a sea of unremarkable men and women,
anonymous faces on the street,
a hundred thousand unalphabetized things,
a million forgotten hours. - Author: Billy Collins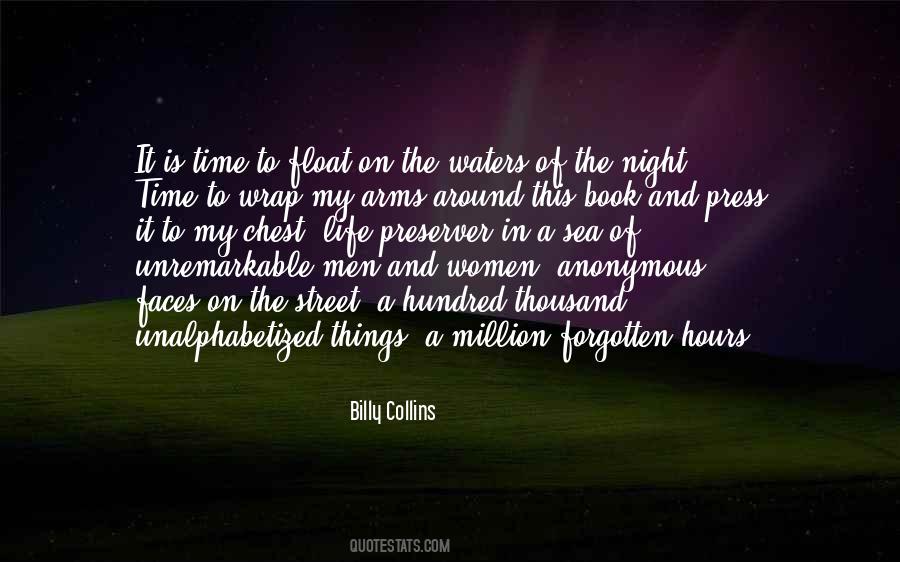 #3. The man who goes through life with an uncertain doctrine not knowing what he believes, what a poor, powerless creature he is! He goes around through the world as a man goes down through the street with a poor, wounded arm, forever dodging people be meets on the street for fear they may touch him. - Author: Phillips Brooks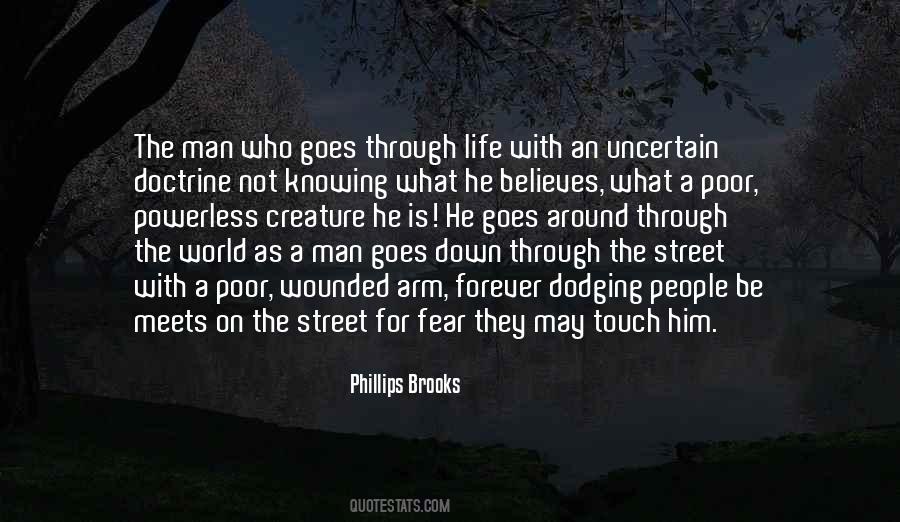 #4. I have never felt at any point in my life, good or bad, any ill will ever from the man or woman on the street. - Author: Rob Lowe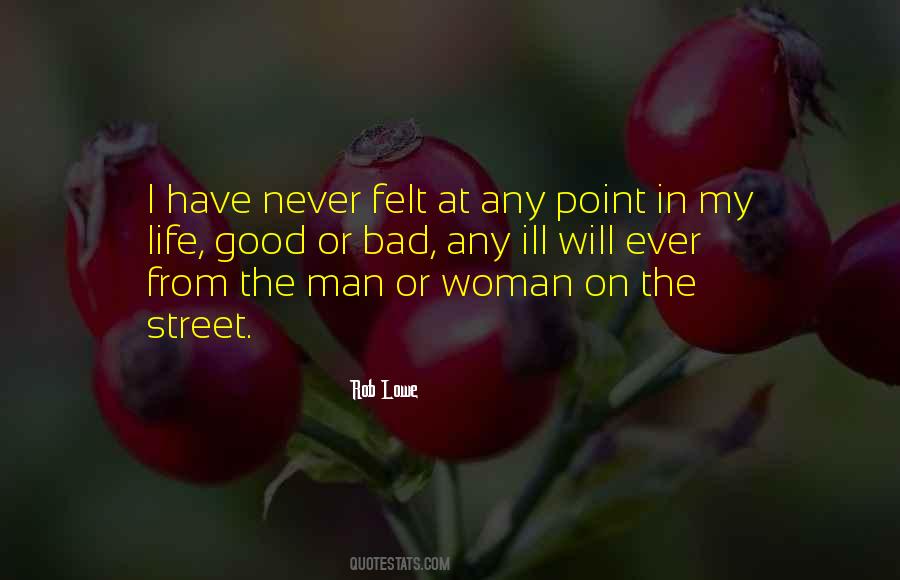 #5. The other problem in my life is Dimitri. He's the one who killed Natalie, and he's a total badass. He's also pretty good-looking. Okay - more than good-looking. He's hot - like, the kind of hot that makes you stop walking on the street and get hit by traffic. - Author: Richelle Mead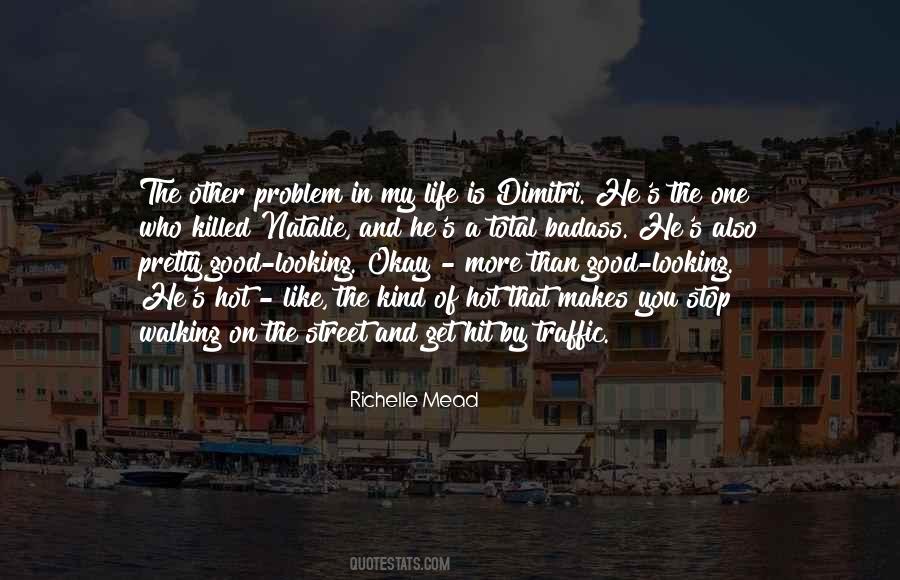 #6. I walk along a street and see in the faces of the passersby not the expression they really have but the expression they would have for me if they knew about my life and how I am, if I carried, transparent in my gestures and my face, the ridiculous, timid abnormality of my soul. - Author: Fernando Pessoa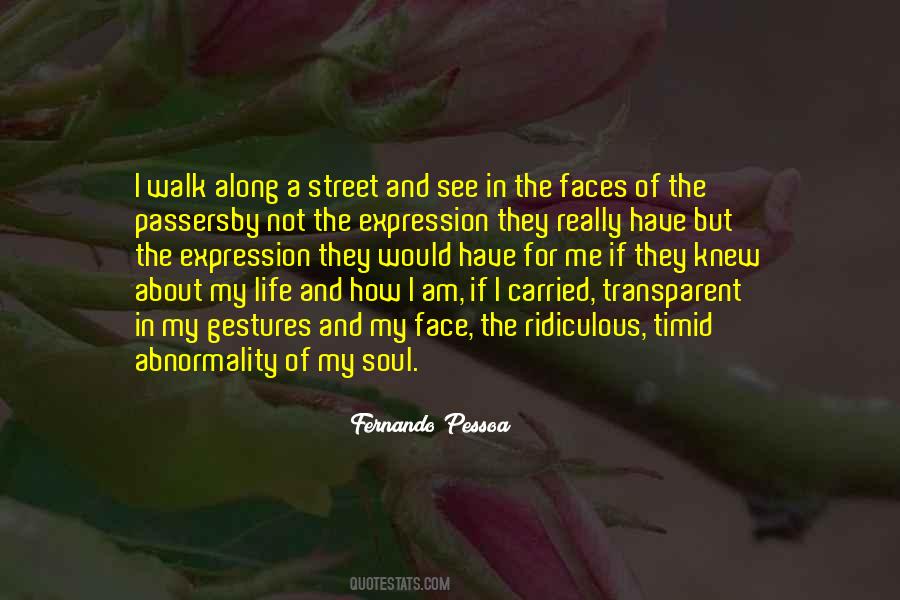 #7. Even now it comes as a shock if by chance I notice in the street a face resembling someone I know however slightly, and I am at once seized by a shivering violent enough to make me dizzy. - Author: Osamu Dazai
#8. One side of me is very busy paying attention to the details of life, the humanity of people, catching the street voices, the middle-class, upper-middle-class secret lives of Turks. The other side is interested in history and class and gender, trying to get all of society in a very realistic way. - Author: Orhan Pamuk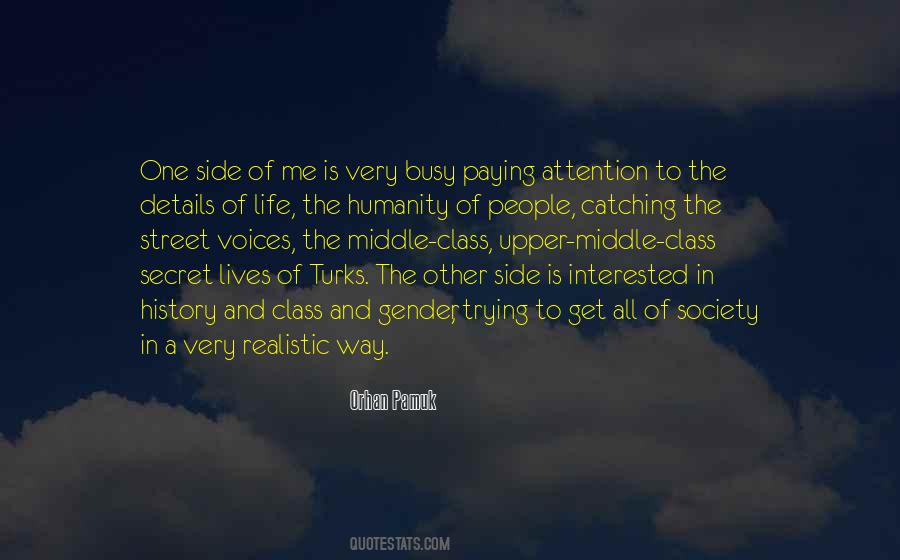 #9. New York used to be so much more than just a place to shop. It was life on the street for the eccentrics; it was an eccentric city. It had many different tastes. Now it's just one - a really rich one - with big tall glass buildings. - Author: Chris Noth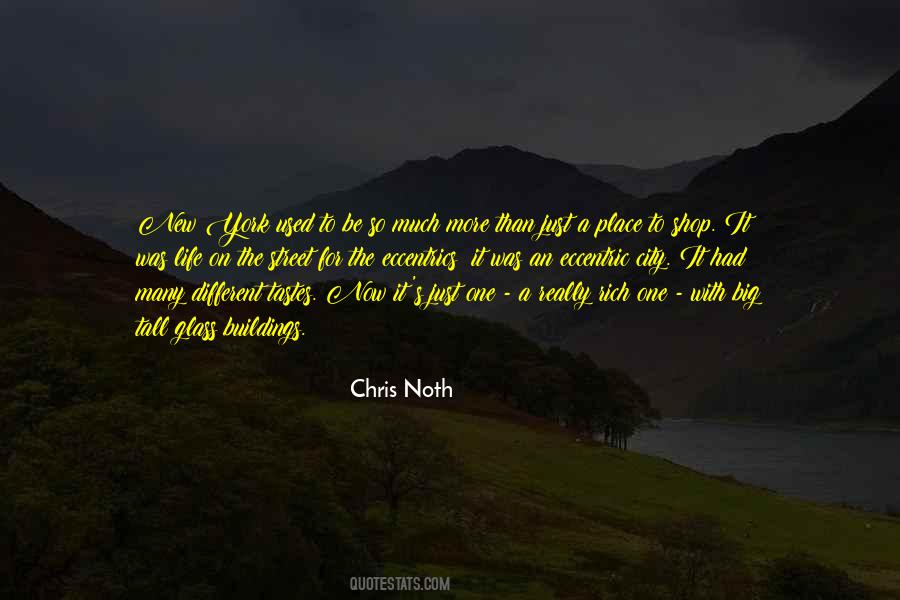 #10. I'm a woman of color. I've lived in black neighborhoods all of my life, and most of the time I get hit on in my neighborhood - and mostly by black men. And so I wanted to have my specific experience and my perspective on street harassment out there. - Author: Tatyana Fazlalizadeh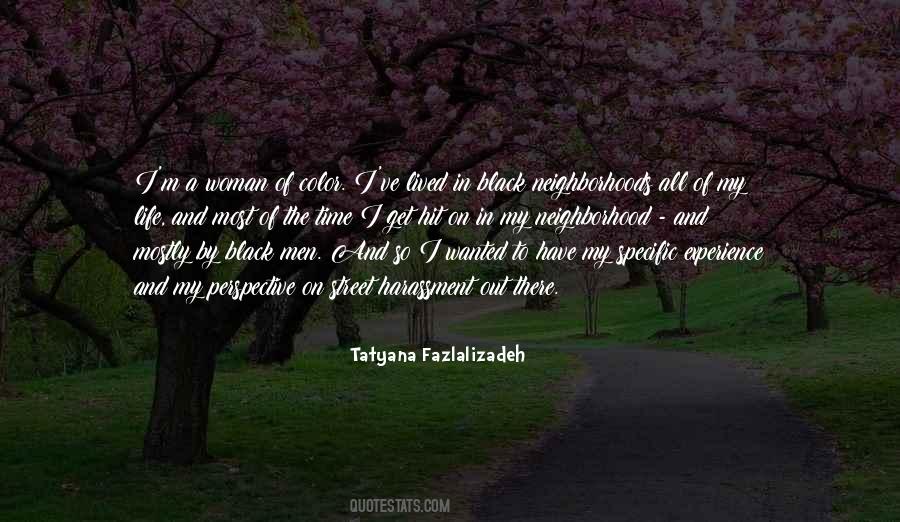 #11. You can learn from everyone, the president or the cleaner. You need teachers in life, but they're not always school teachers or professors. You learn from ordinary people. You learn from travel, from just walking down the street. - Author: Lapo Elkann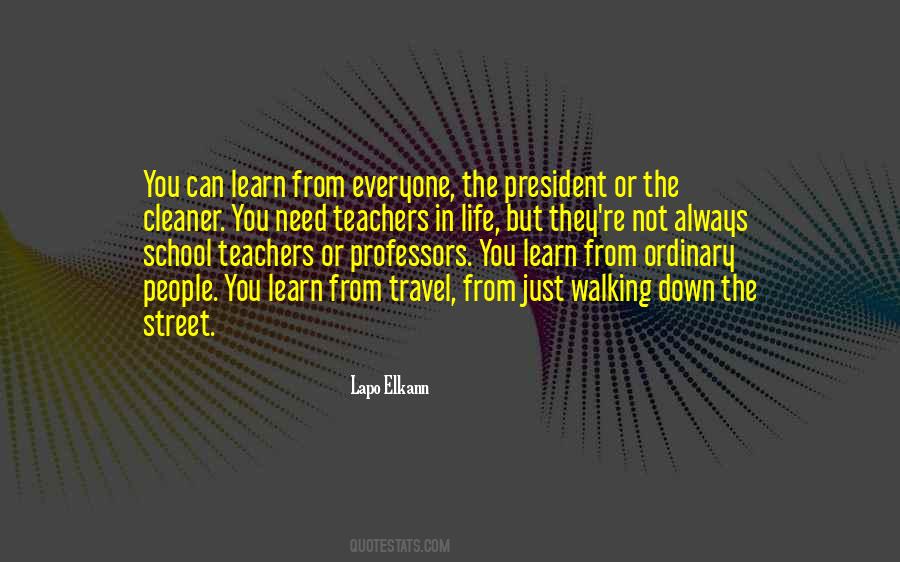 #12. The Beatles were in a different stratosphere, a different planet to the rest of us. All I know is when I heard 'Love Me Do' on the radio, I remember walking down the street and knowing my life was going to be completely different now the Beatles were in it. - Author: Justin Hayward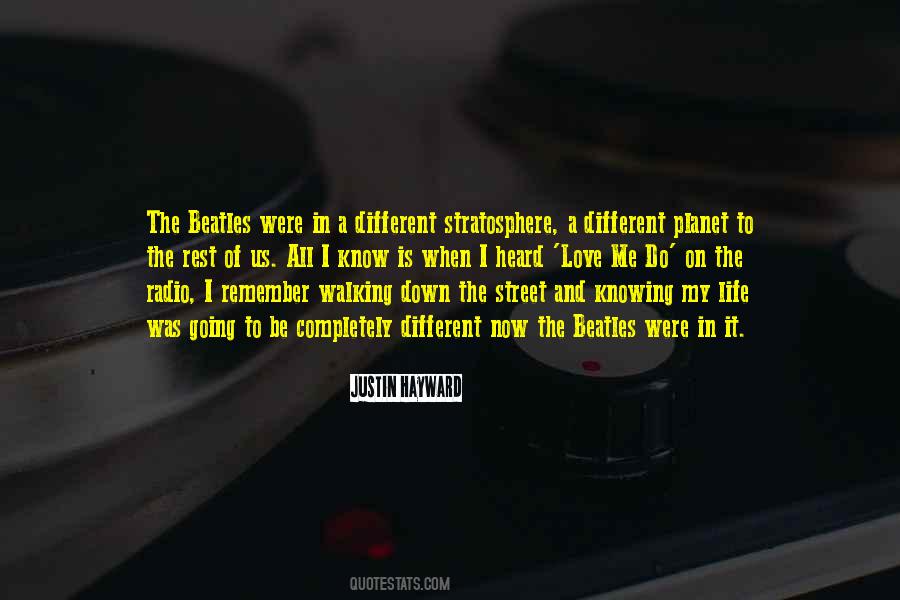 #13. You will find glimpses of my friends, my family, and strangers off the street in everything I write, because I steal from life and then put it in a blender. - Author: Catherine Cruzan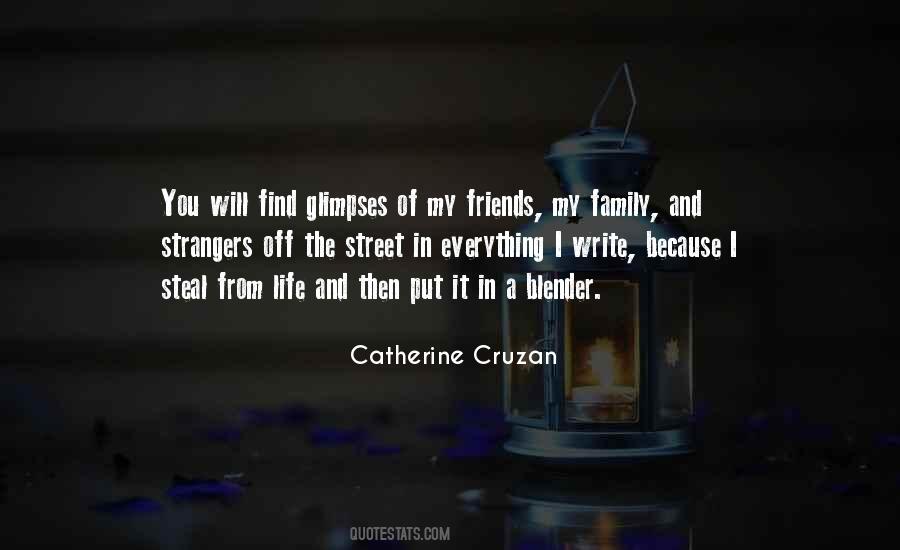 #14. When life looks like easy street there is danger at your door - Author: Robert Hunter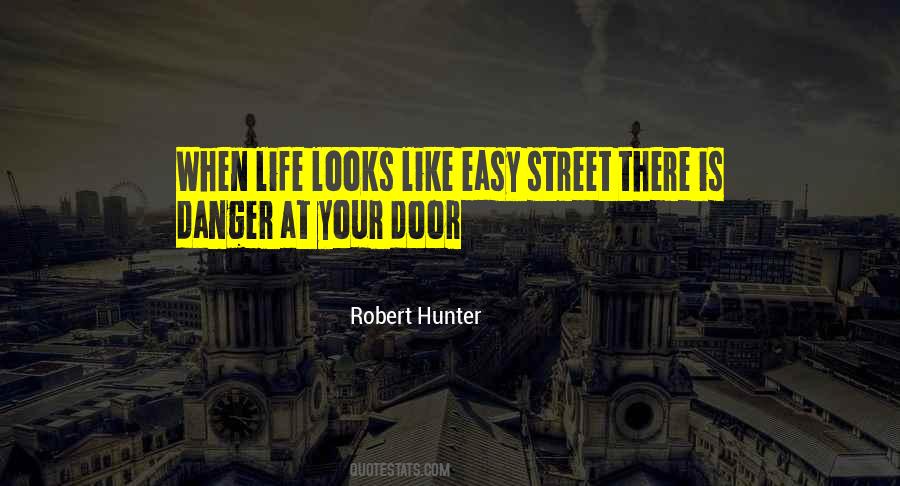 #15. I had walked along that street all my life, but had never been so aware that my back was to my home - Author: Tracy Chevalier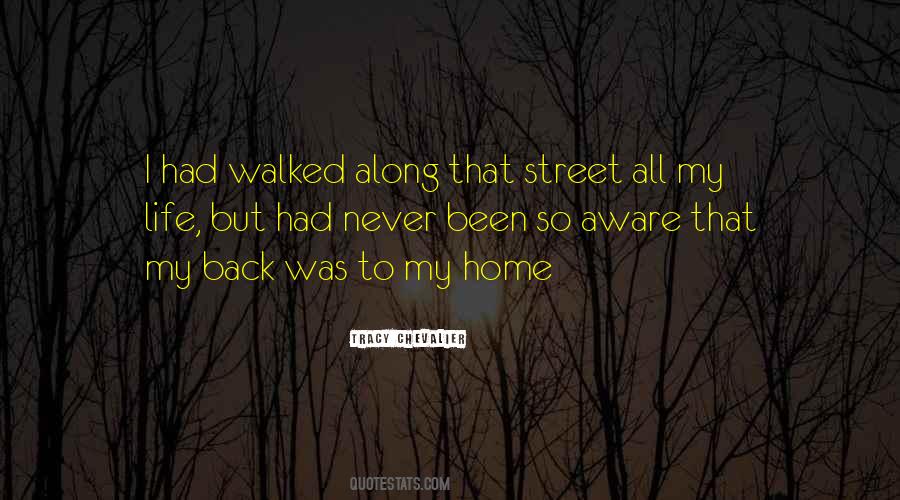 #16. At some point you have to stop acting as though life is happening to you and acknowledge the ways you are happening to it. Once you take responsibility for your side of the street, you grant yourself the power to improve every aspect of your life by simply acting and behaving differently. - Author: Jillian Michaels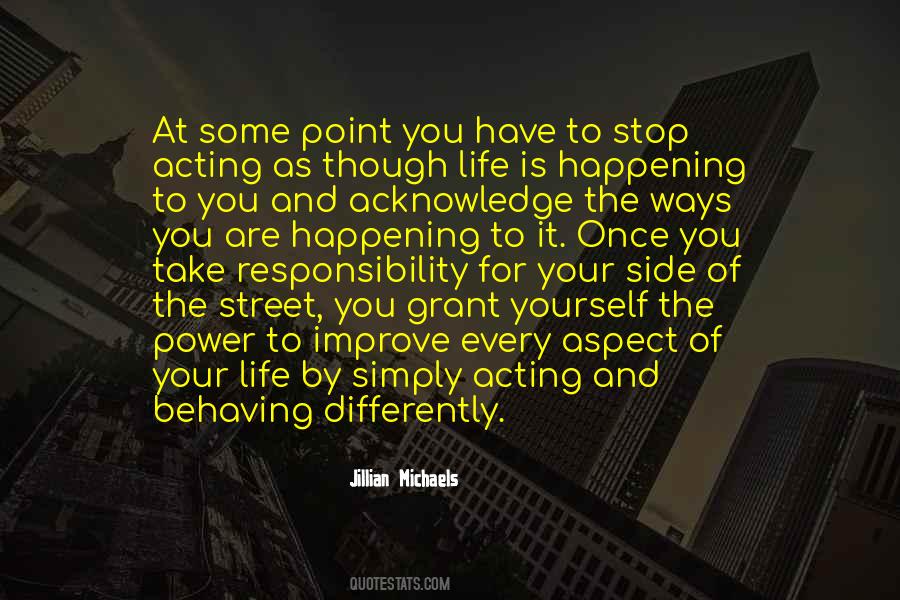 #17. This is no dream
just my oily life
where the people are alibis
and the street is unfindable for an
entire lifetime. - Author: Anne Sexton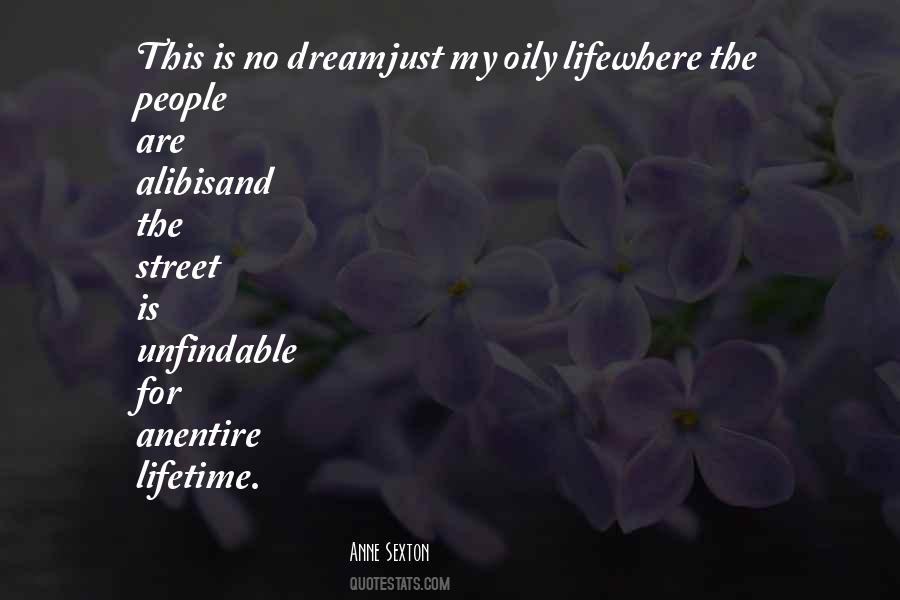 #18. I have spent much of my life where the boys are, first as a tomboy and then on Wall Street. Growing up, I loved every and any sport. I was frustrated by girls who didn't, so I spent most of my afternoons with the boys. - Author: Karen Finerman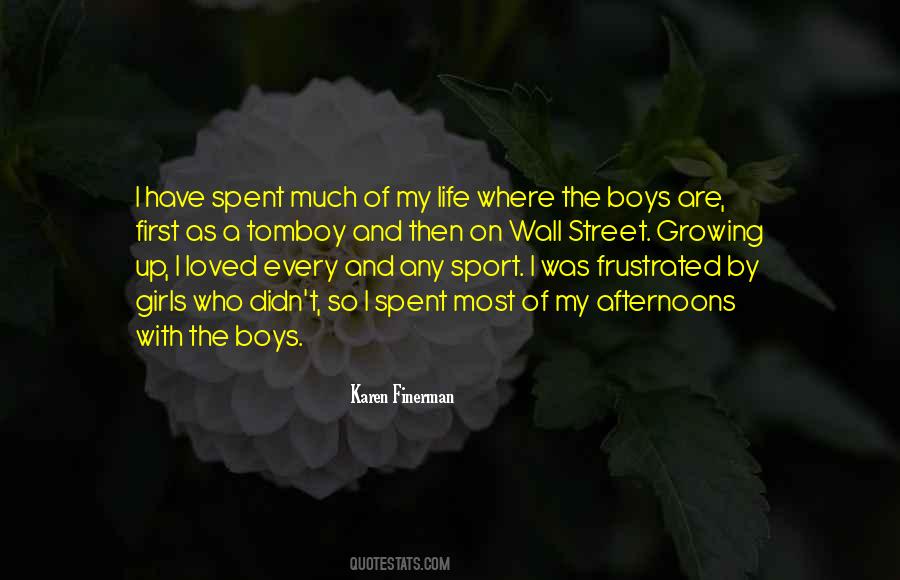 #19. The street is the river of life of the city, the place where we come together, the pathway to the center. - Author: William H. Whyte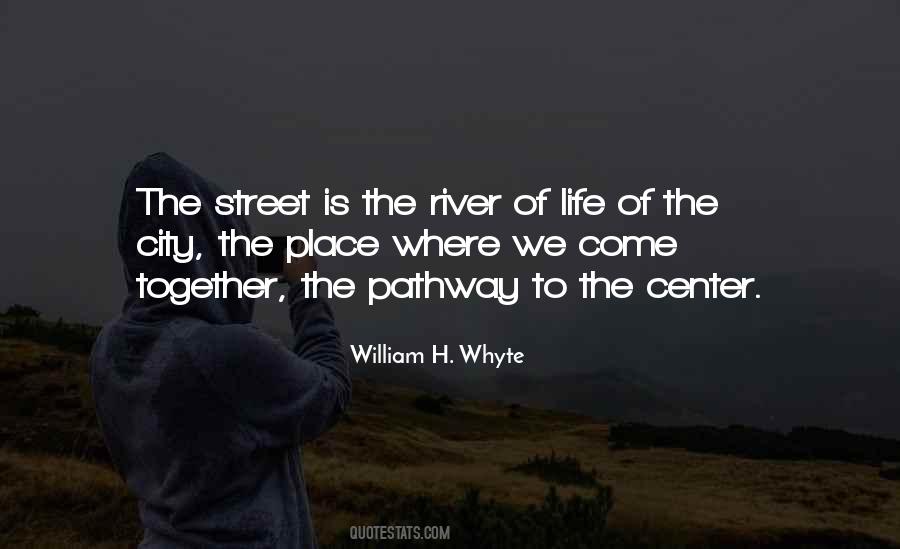 #20. I don't know about you, but I only have one life, and I don't want to spend it in a sewer of injustice. - Author: Wallace Shawn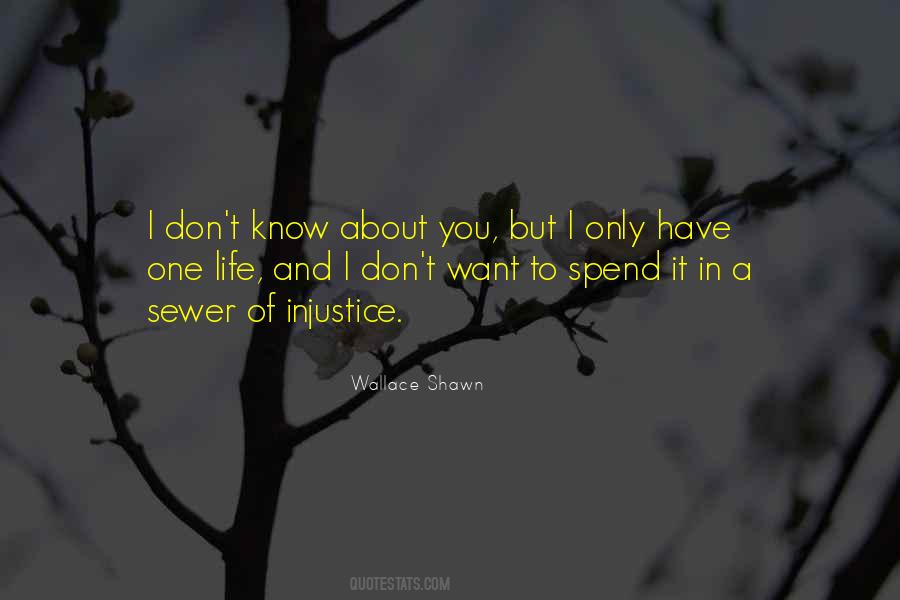 #21. NEXT LIFE. My embroidery studio on the main street of Bayeux will be just one part of my Institute of Slow Information. I will also teach letter writing, listening, miniature portrait painting, and the art of doing one thing at a time. - Author: Vivian Swift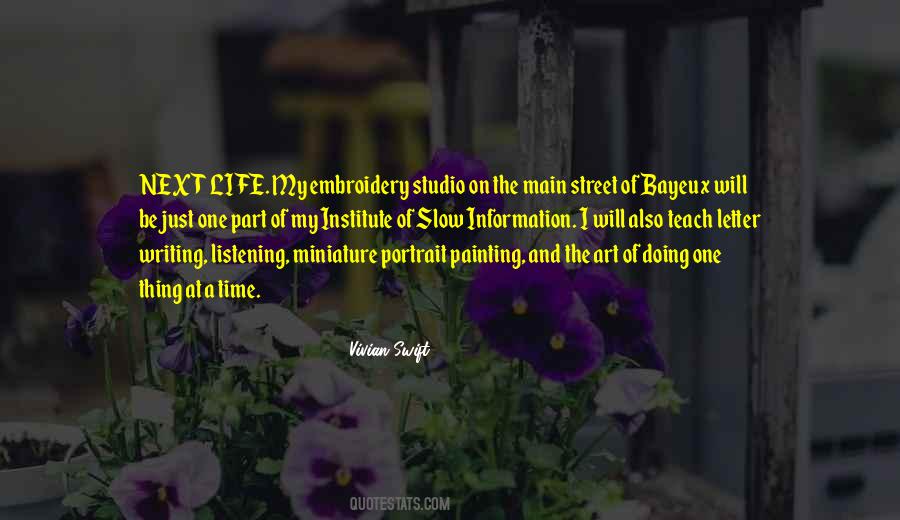 #22. Although the fact that someone was lying face-down in the street gutter and leaking blood into it did detract somewhat from the otherwise pleasant scene of life flowing through the less salubrious arteries of Crath City. - Author: Mark Lawrence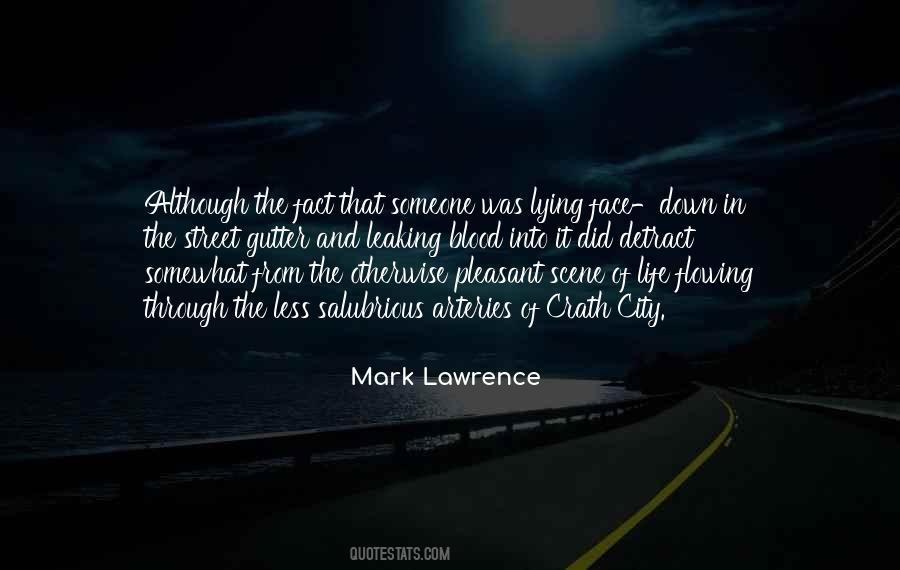 #23. I want kids to have a chance to dream of becoming something like I did in my life, and when you're living in a home that's dysfunctional and unhealthy that way, you don't dream like that. - Author: Picabo Street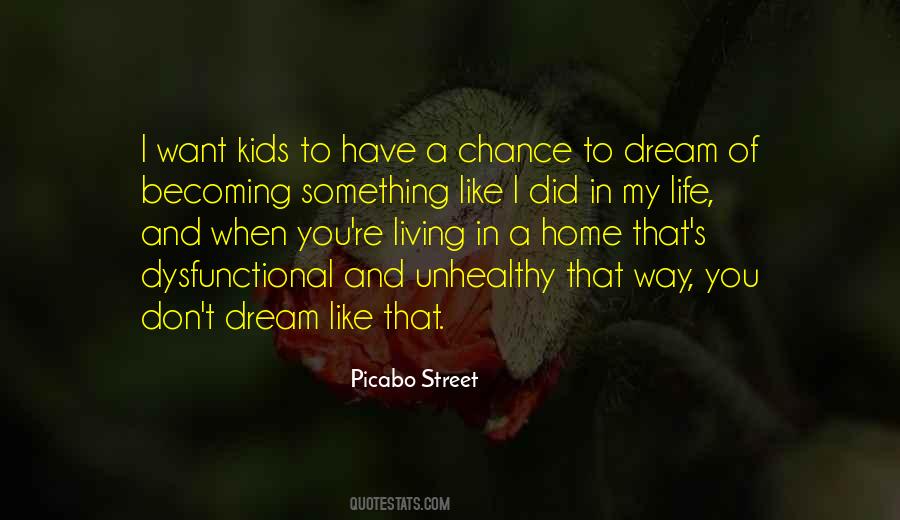 #24. That became the signature Ice-T style - rhymes that were "topical" and "vividly optical." To me it was street-level journalism, real-life observations told in poetry. That's the vision I tried to bring to all my recordings. - Author: Ice-T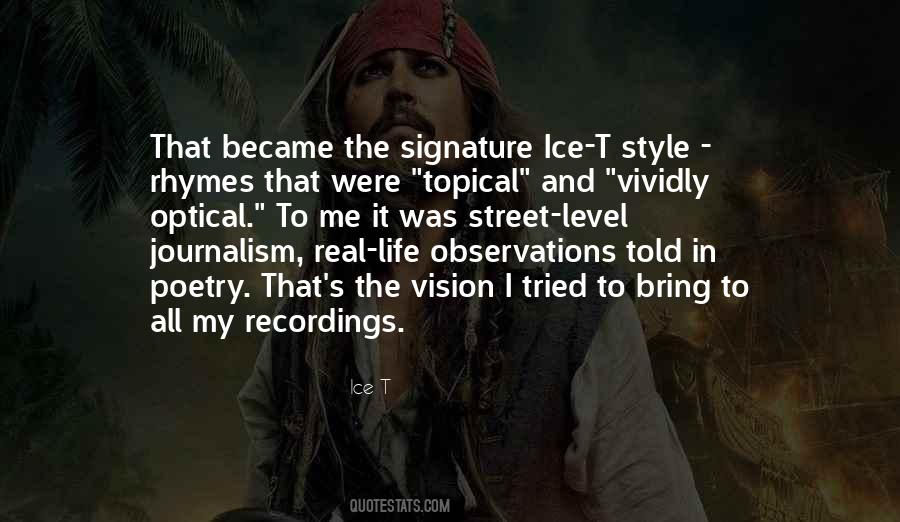 #25. Barack Obama's life was so much simpler in 2009. Back then, he had refined the cold act of blaming others for the bad economy into an art form. Deficits? Blame Bush's tax cuts. Spending? Blame the wars in Iraq and Afghanistan. No business investment? Blame Wall Street. - Author: John Sununu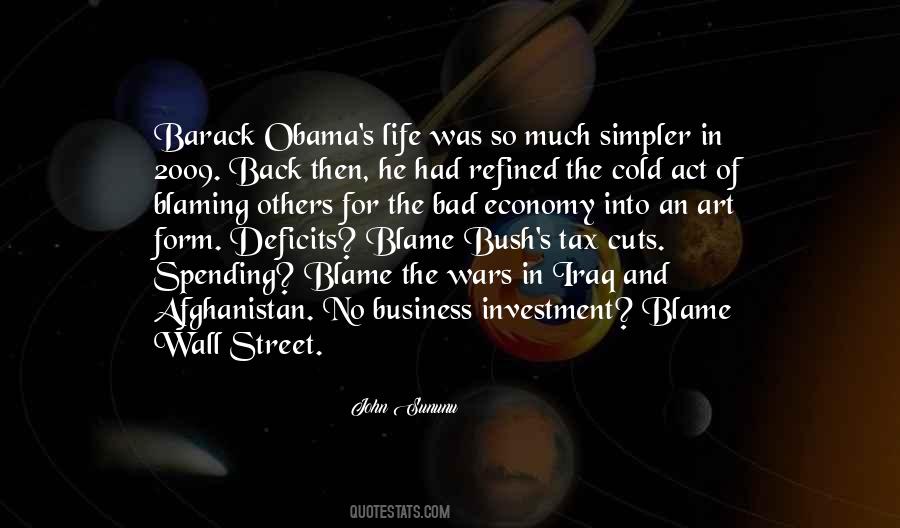 #26. I think life without Coronation Street would be unthinkable. It's part of all our lives. - Author: Michael Parkinson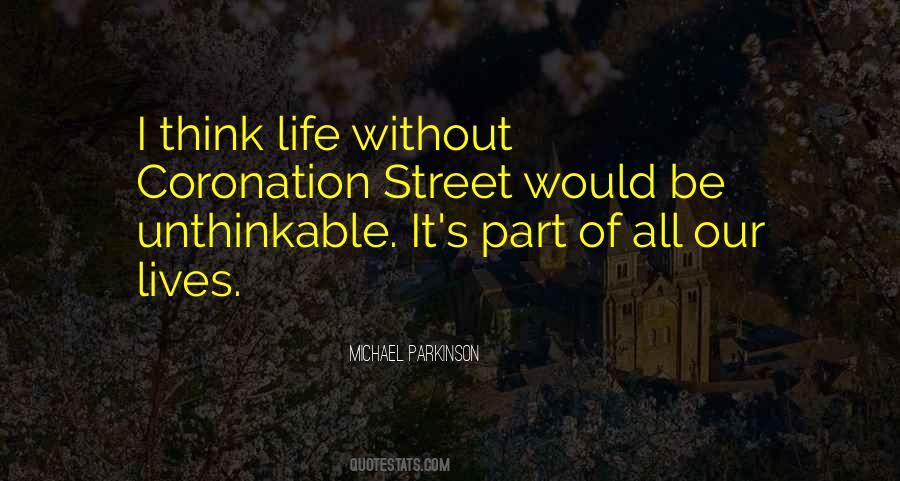 #27. The musty smell, the bugs, the lonliness, this room, which is part of the street outside-this is all I want from life. - Author: Jean Rhys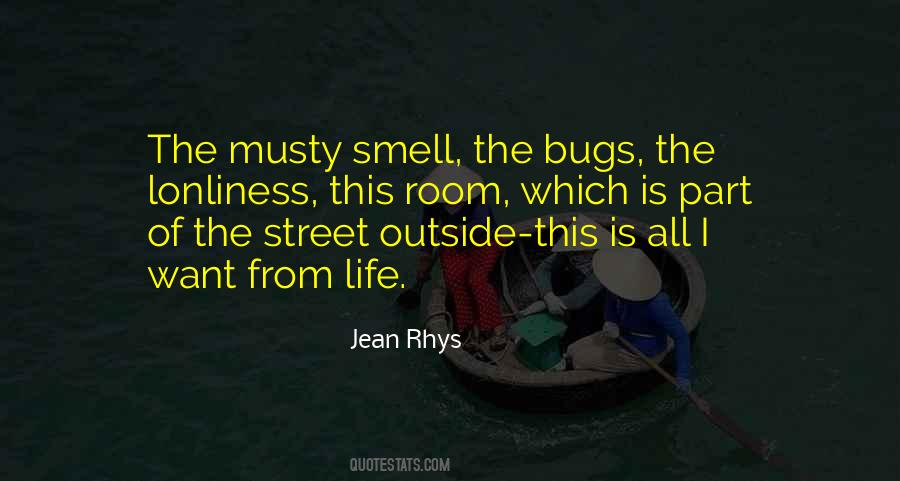 #28. Help, and you will make a huge impact in the life of the street, the town, the country and our planet. If only one out of four of each one hundred of you choose to help on any given day, in any given cause, incredible things will happen in the world you live in. - Author: Tom Hanks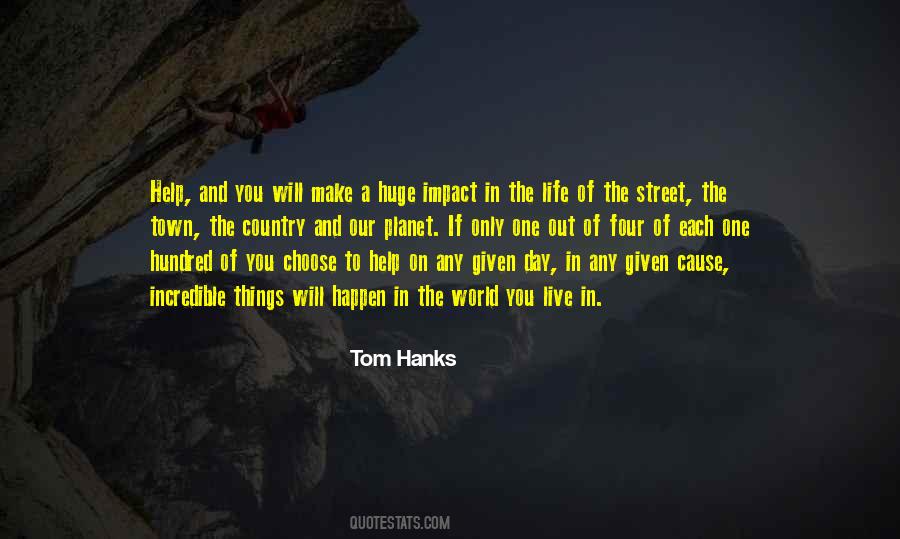 #29. From where I stood it was a pose that collapsed many periods in her life into one: mother and lover, big sister, best friend, superstar and diplomat, billionaire and street kid, foolish girl and woman of substance. - Author: Zadie Smith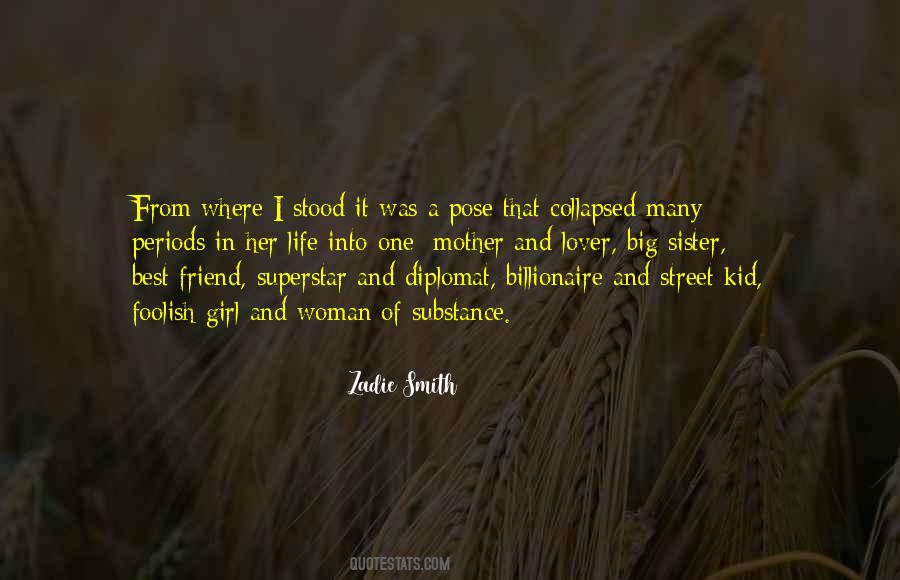 #30. Growing up, there was always music around, whether across the street, or on the next-door neighbor's stereo. So, as in life, music is always around, and it helps to heighten any emotion. Music is amazing. - Author: Tyler Perry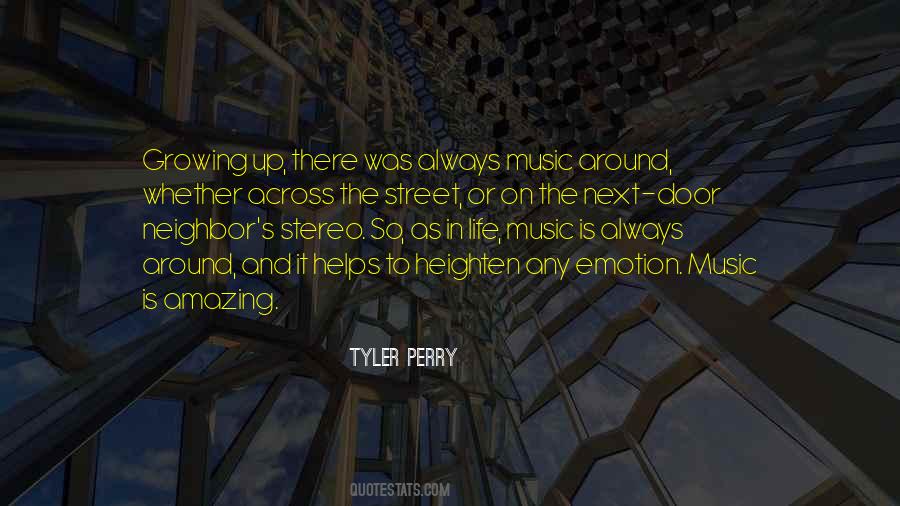 #31. His work has some meaning. When he lights his street lamp, it is as if he brought one more star to life, or one flower. When he puts out his lamp, he sends the flower, or the star, to sleep. That is a beautiful occupation. And since it is beautiful, it is truly useful. - Author: Antoine De Saint-Exupery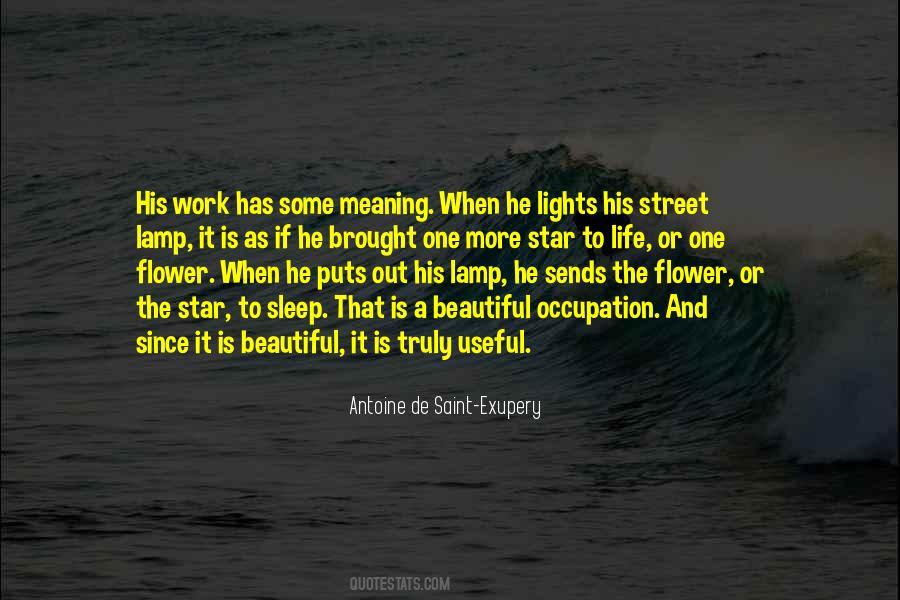 #32. Sam marvelled at how easily people walked off the street and into these decadent dioramas. It was spooky how easily people's inner landscapes were expressed in enclosed booths and glittering bars. Their private nightmares slid into the moulded furniture as if it had been designed for them. - Author: Guy Mankowski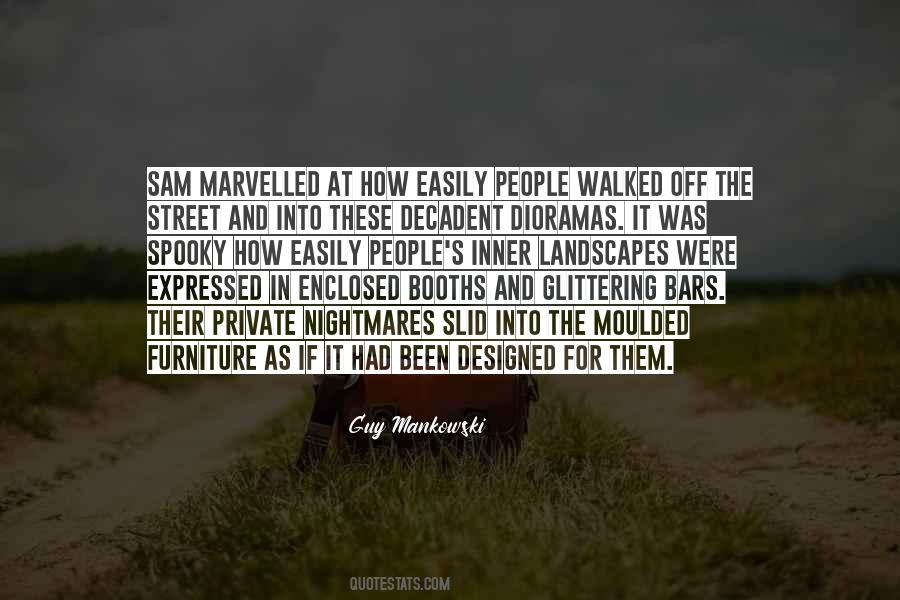 #33. The revelation of privacy: she can walk down the street and absolutely no one knows who she is. It's possible that no one who didn't grow up in a small place can understand how beautiful this is, how the anonymity of city life feels like freedom. - Author: Emily St. John Mandel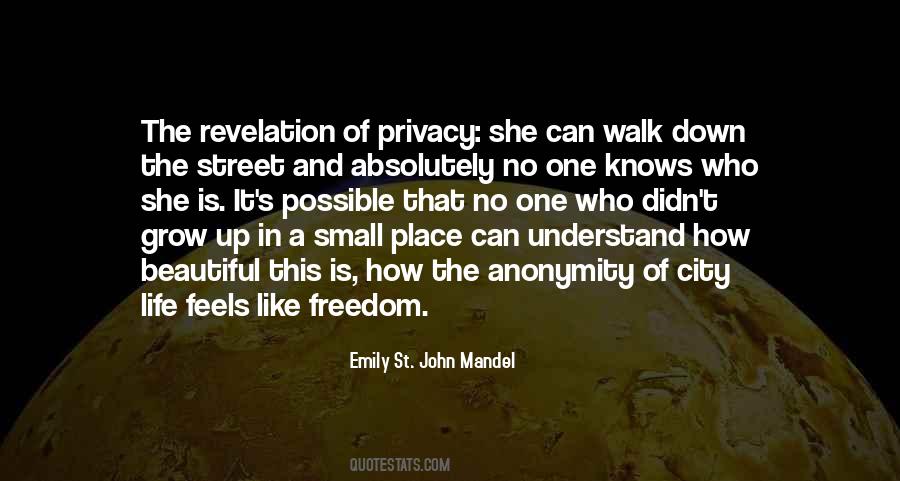 #34. ...she saved a dance between the sheets...and a walk down life's street, for her kind of beautiful... - Author: Bemy Wells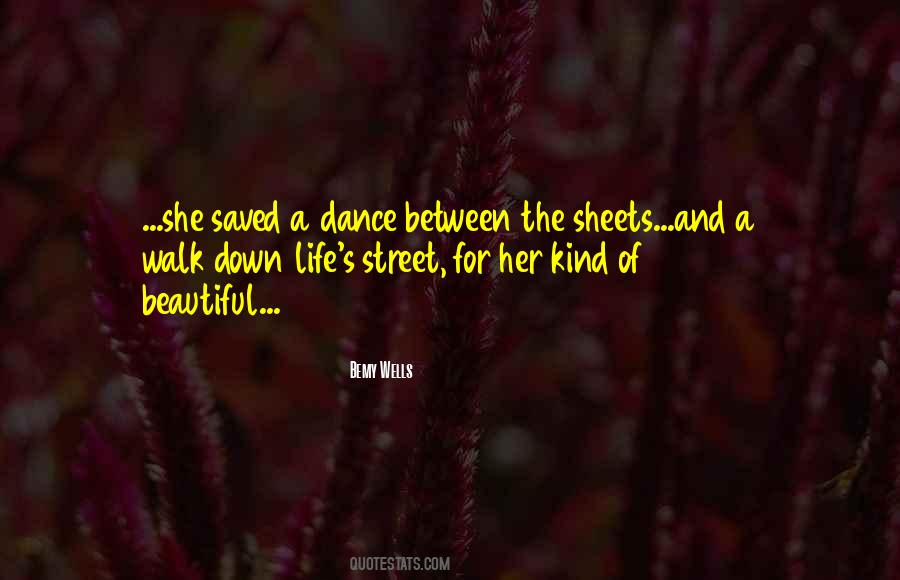 #35. I was drawn to street photography because there are pictures everywhere there: a woman holding a dog, a baby screaming to be put in a pram, kids playing punch ball, stores with huge barrels of kosher pickles outside. I wanted to photograph life, and here it was. - Author: Harold Feinstein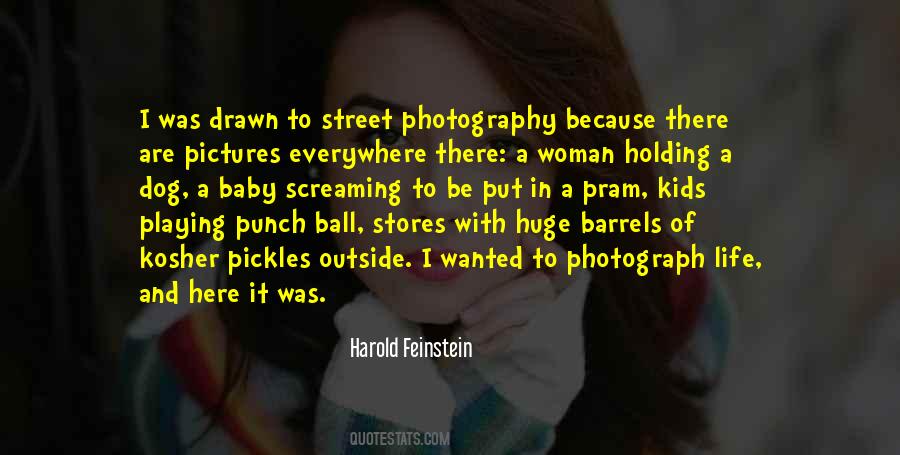 #36. I became a larger than life figure for one reason only. When you're quoted in the 'Wall Street Journal', the 'New York Times', constantly as the expert in the business people assume you're a lot bigger than you are. And then I had to run like hell to catch up with my own image. - Author: Barbara Corcoran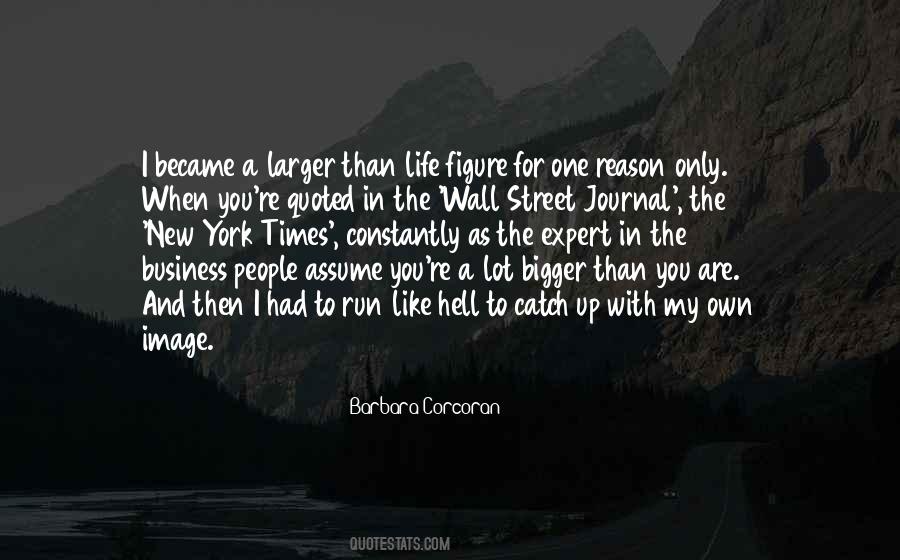 #37. Loving life is a two-way street ... We don't receive care and compassion if we don't extend them to others. - Author: George Shinn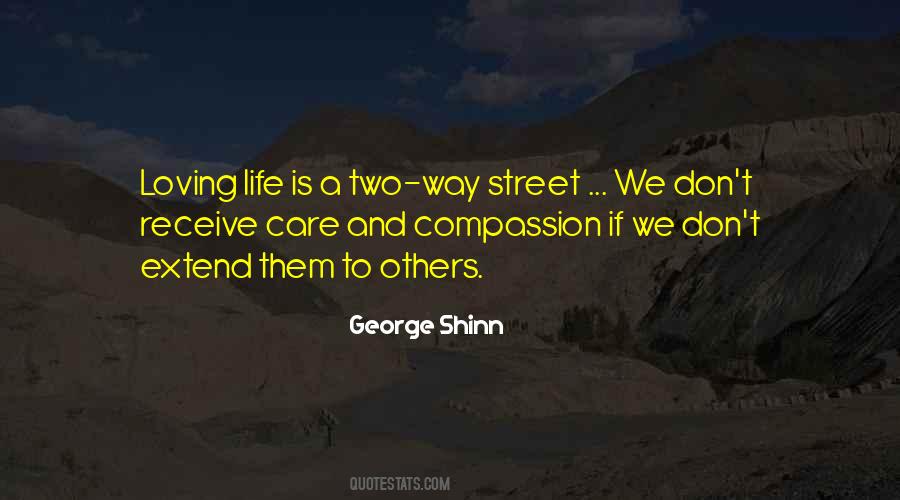 #38. I think control is a two-way street; sometimes people want to control things to keep them safe if they are afraid of life. - Author: Paul Dano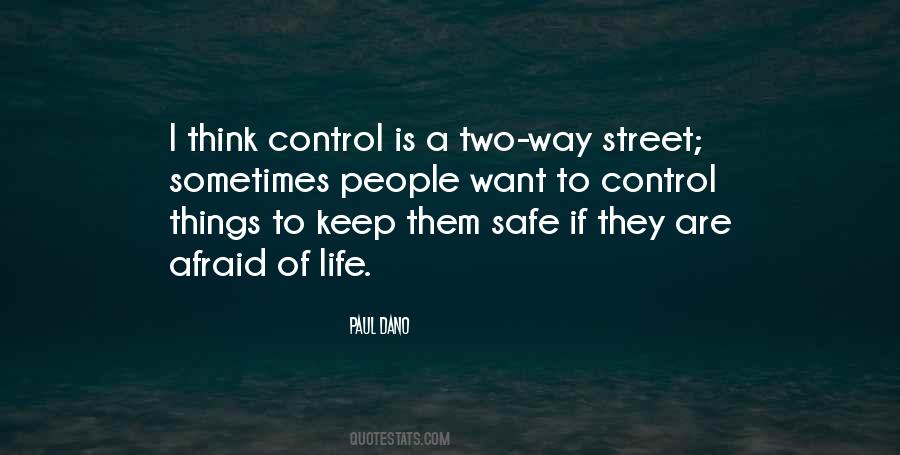 #39. Here you play in the street, little chicken. Some day an automobile will run over you; and if it kills you, that will be the best thing that can happen. It may only break your leg or your wing. Then all of your life you will drag along in misery. Life is too hard for you, little bird. - Author: John Steinbeck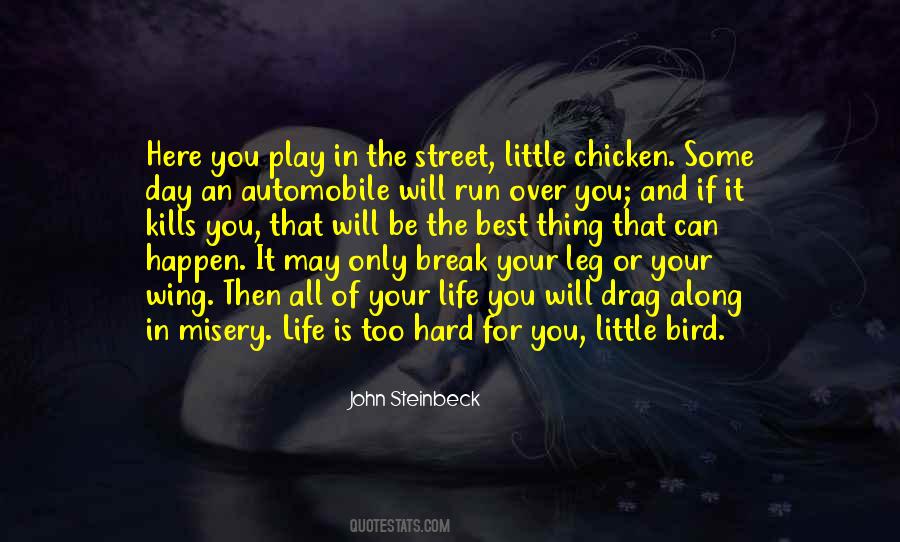 #40. This is Wall Street, and today is important. Because tomorrow, July 4th, I intended to make my first million dollars
an excitingday in a man's life. The enterprise was slightly illegal. - Author: Abraham Polonsky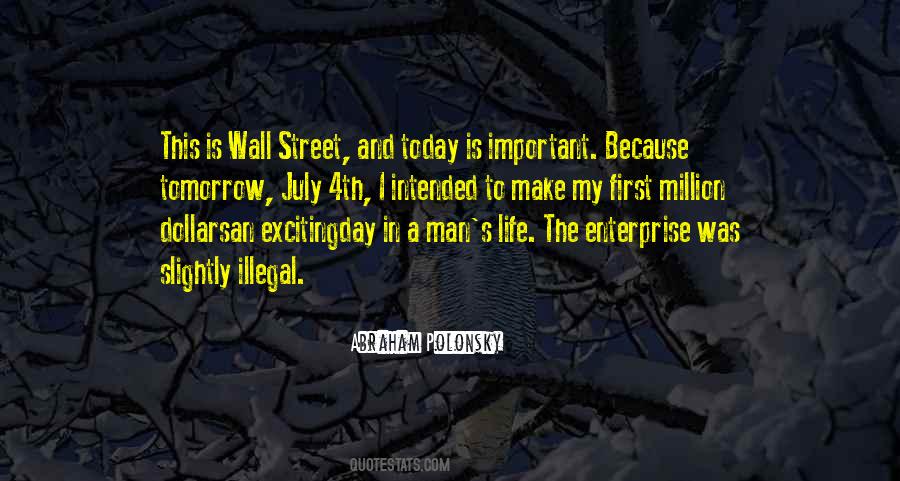 #41. One of my dreams in life is to do fund-raising for the youth. - Author: Picabo Street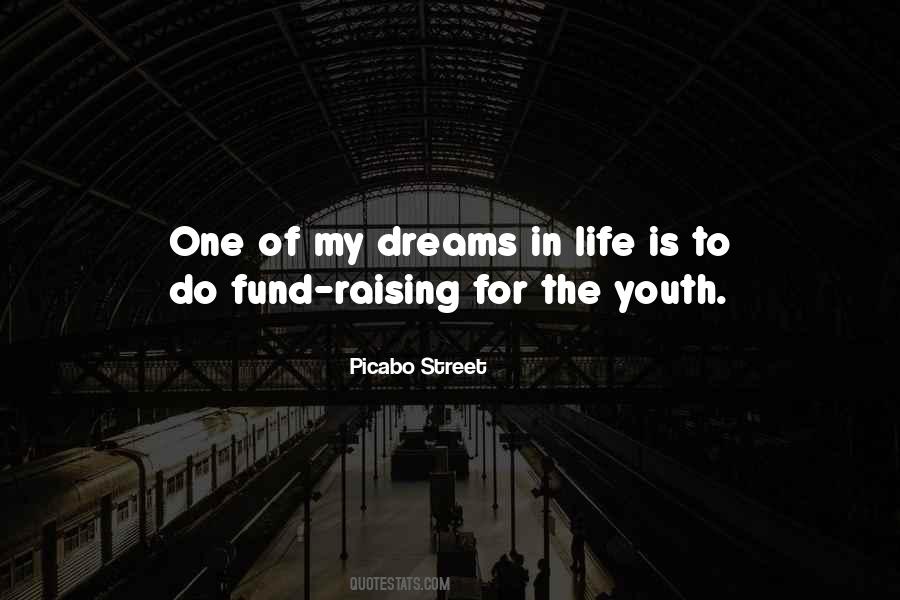 #42. Idealism, unrealistic idealism, is always contrasted with the reality of the people, of the man in the street. The details of daily life are always more convincing than the political fantasies of the earlier generations. - Author: Orhan Pamuk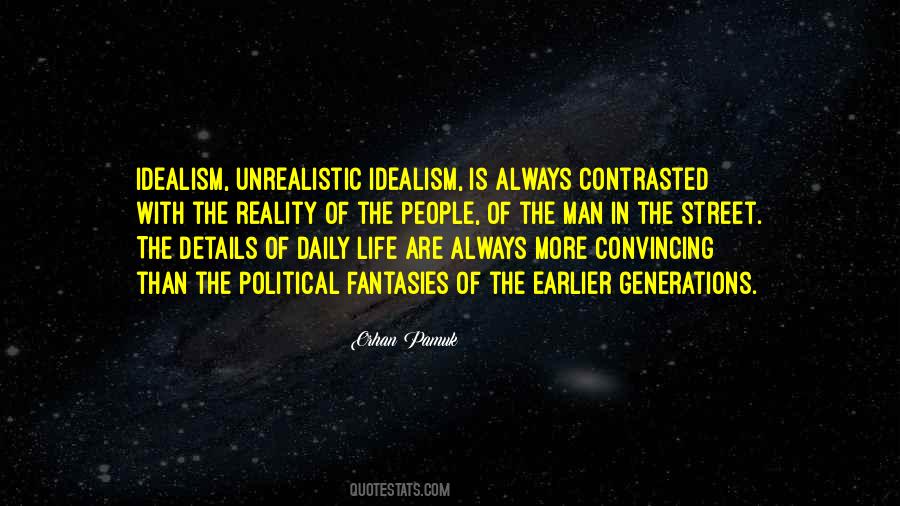 #43. I would willingly stand at street corners, hat in hand, begging passerby to drop their unused minutes into it. - Author: Bernard Berenson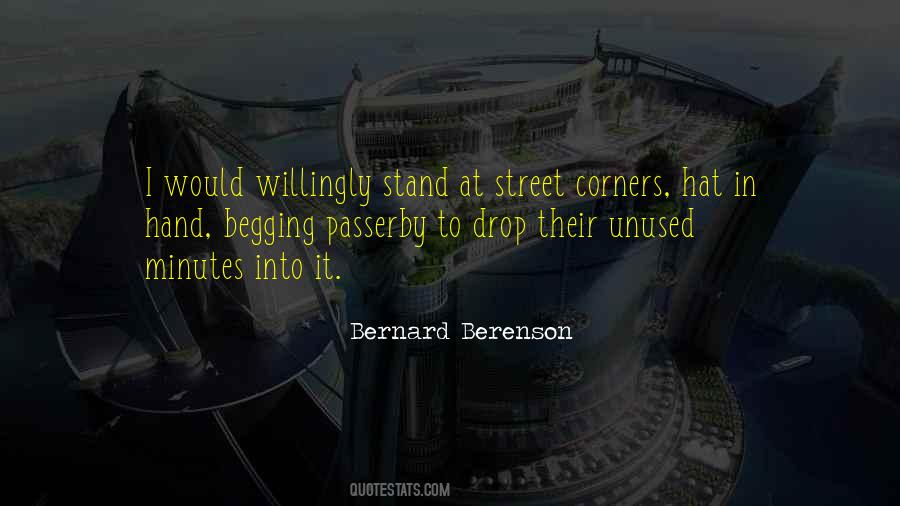 #44. If you want to write what the world is about, you have to write details ... real life is in the dishes. Real life is pushing strollers up the street, folding T-shirts, the alarm clock going off early and you dropping into bed exhausted every night. That's real life. - Author: Anna Quindlen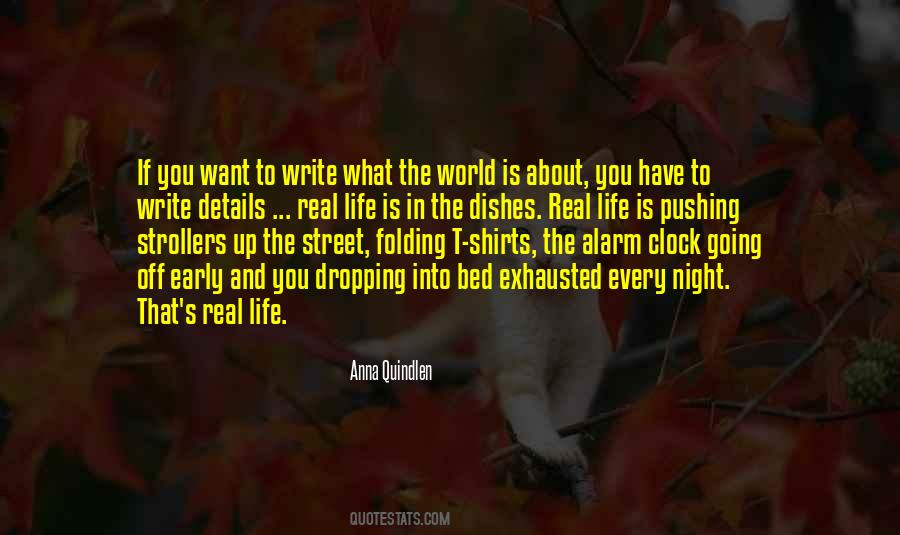 #45. The life of a bestselling novelist sounds like it ought to be spectacularly glamorous and fun, but in fact I spend most of my time incognito, and in fact were you to pass me in the street you would think I was just another dowdy suburban mom. - Author: Jane Green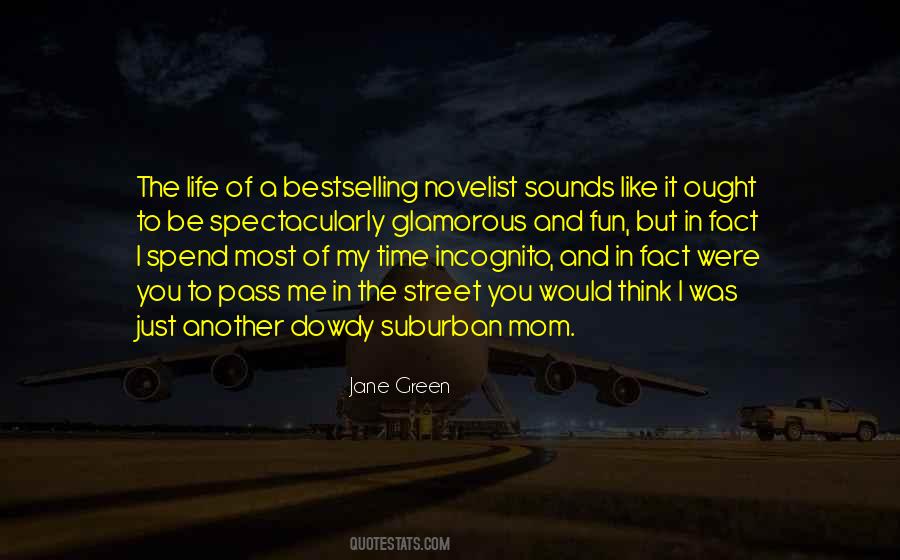 #46. I found out too that you are bound to be jostled in "the crowded street of life." That in itself need not be dangerous unless you have the open razors of personal vanity in your pants pocket. The passers-by don't hurt you, but if you go around like that, they make you hurt yourself. - Author: Zora Neale Hurston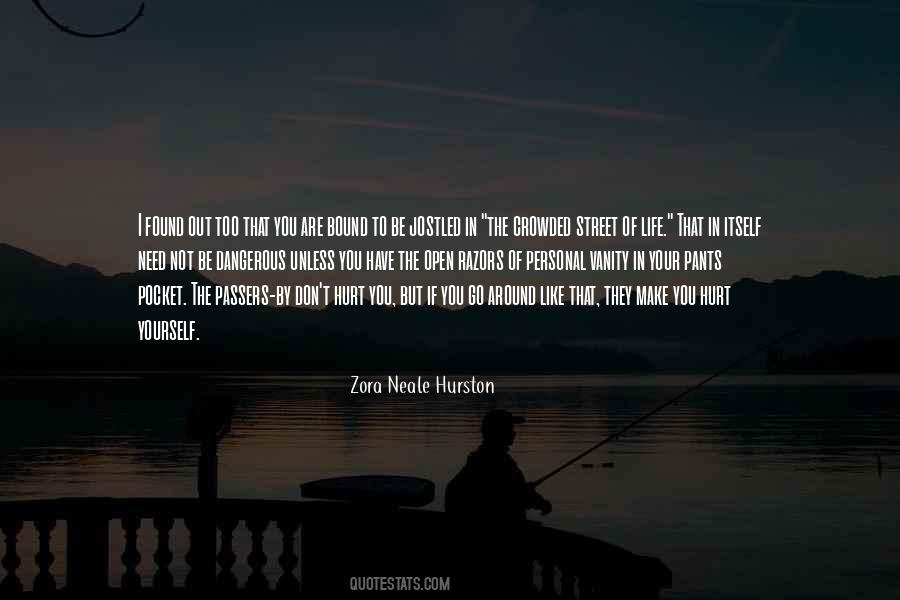 #47. You can't NOT cross the street because you might get hit by a car. - Author: Tanya Masse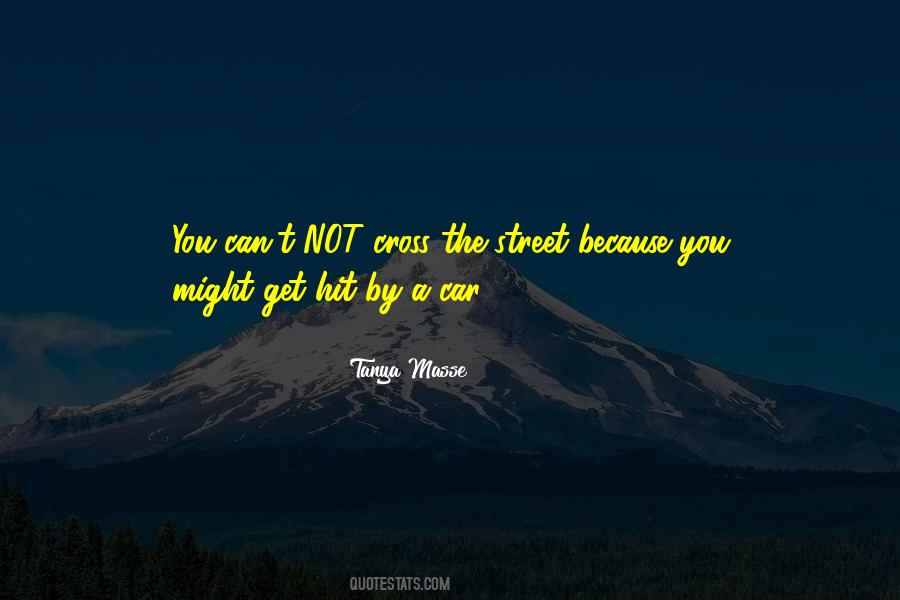 #48. Every time I see a coin on the street, I stop, pick it up, put it into my pocket, and say out loud "Thank you, God, for this symbol of abundance that keeps flowing into my life" Never once have I asked, "Why only a penny, God? You know I need a lot more than that." - Author: Wayne Dyer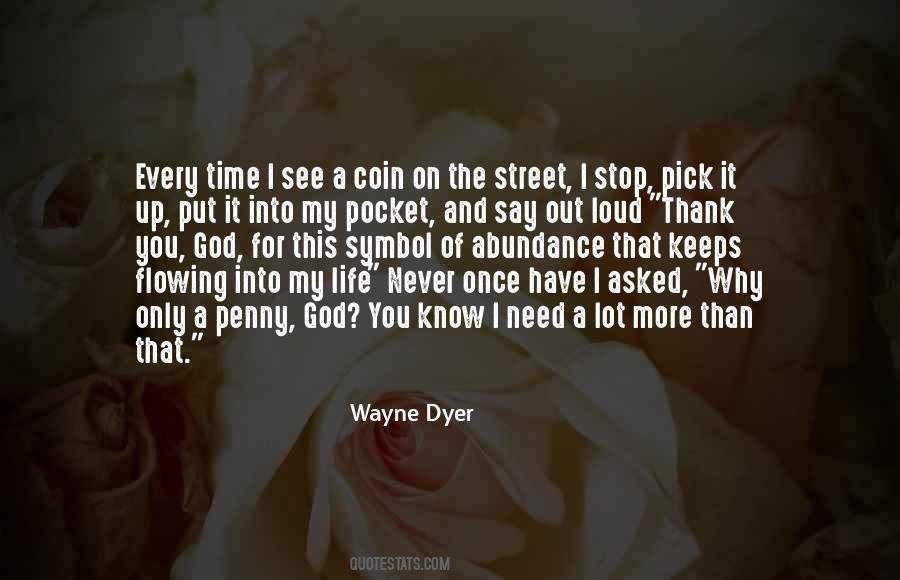 #49. I'd sooner be smashed into a mangled pulp by a bus when we cross the street than look forward to a life like yours. - Author: W. Somerset Maugham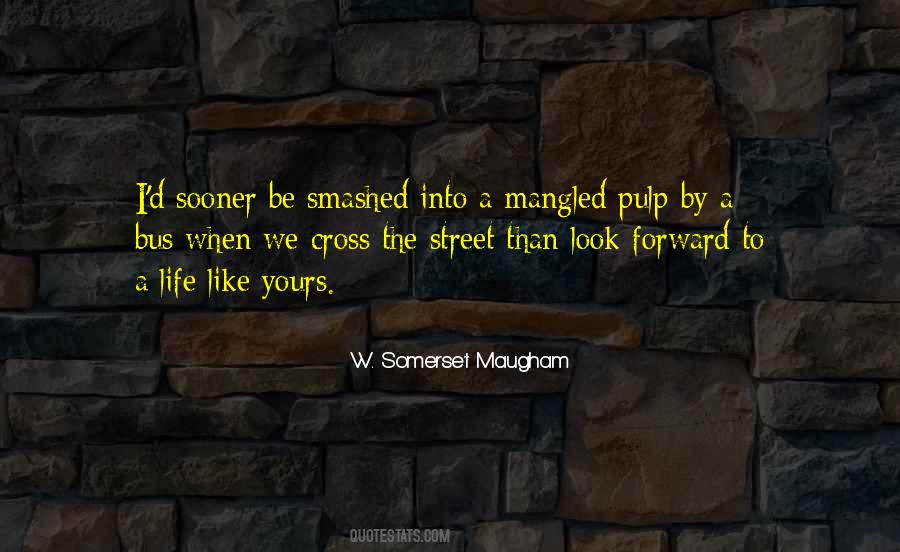 #50. Did you ever stand on a street corner in American at five o'clock in the morning?
I did. - Author: Jack Kerouac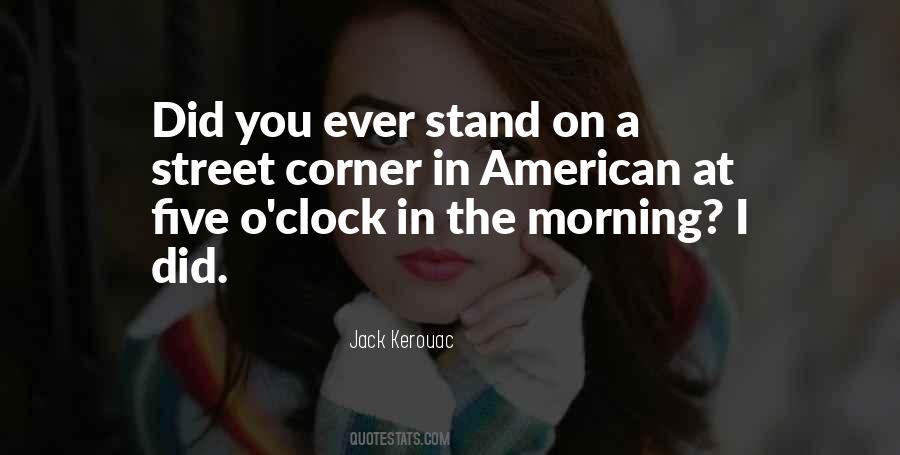 #51. The evolution revolution is here. Global sense makes common sense. - Author: Judah Freed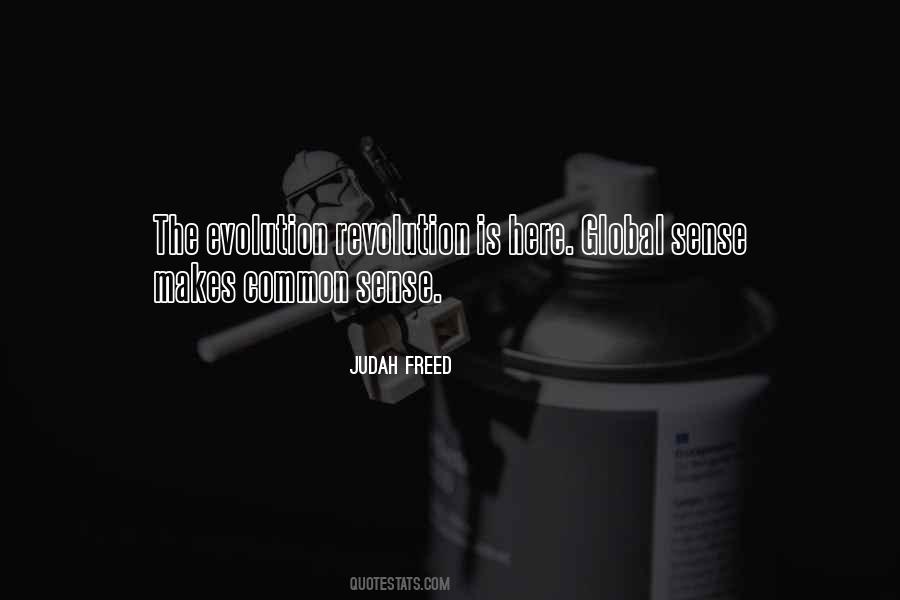 #52. Our highest ambition is to be included in the stream of American life, to be permitted to "play the game" as any other American; and is opposed to anything that aids in the exclusion; the face may be Africa, but the heart has the beat of Wall Street. - Author: Chester Himes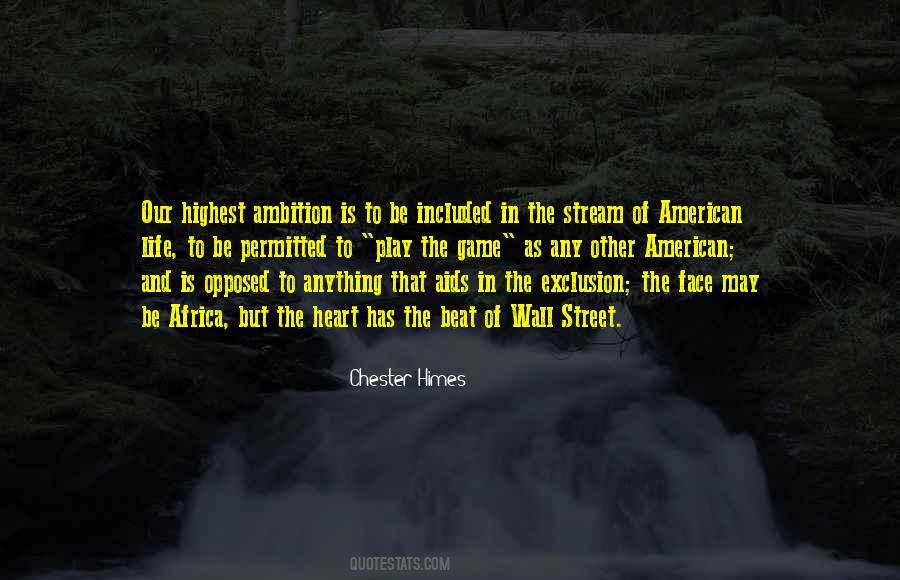 #53. I paint mostly from real life. It has to start with that. Real people, real street scenes, behind the curtain scenes, live models, paintings, photographs, staged setups, architecture, grids, graphic design. Whatever it takes to make it work. - Author: Bob Dylan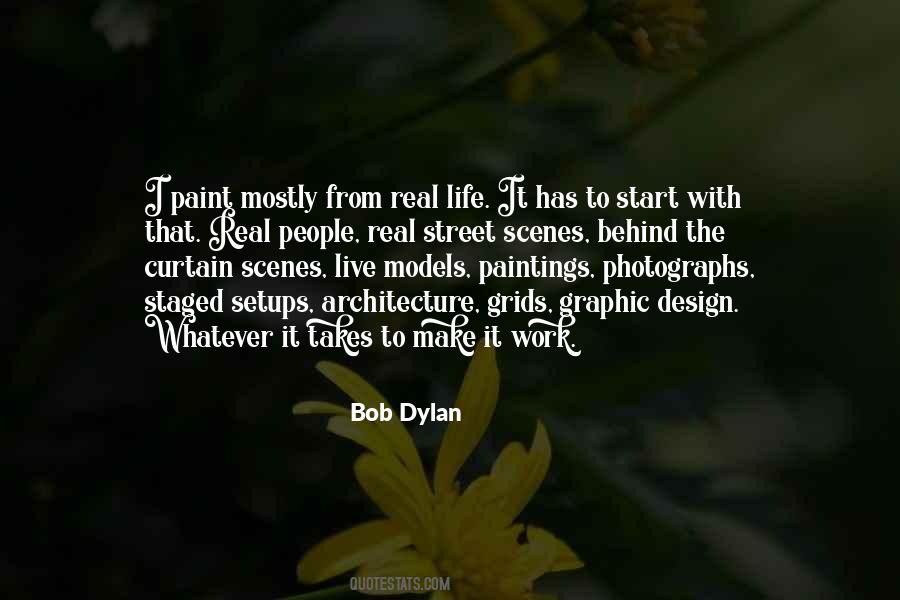 #54. On the long dusty ribbon of the long city street,
The pageant of life is passing me on multitudinous feet,
With a word here of the hills, and a song there of the sea
And-the great movement changes-the pageant passes me. - Author: John Masefield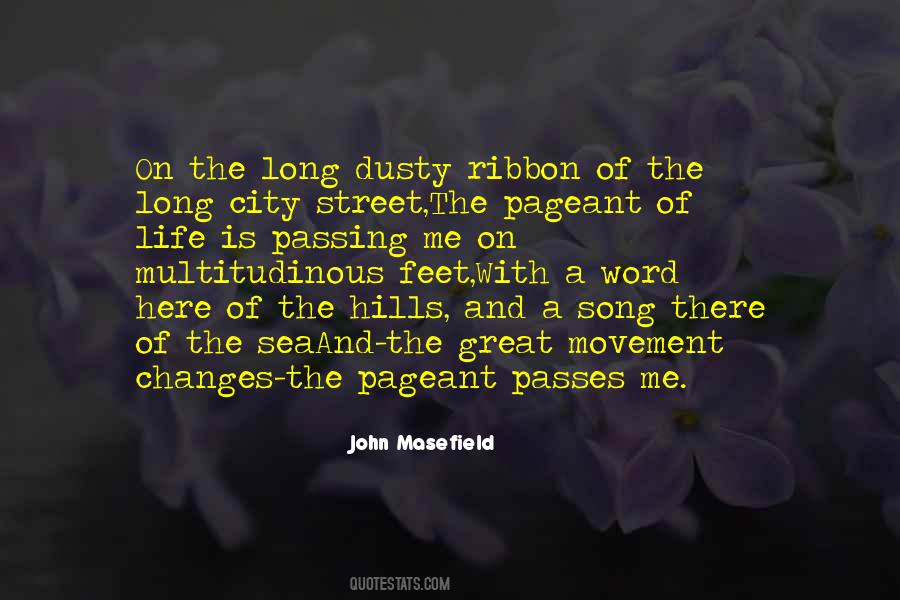 #55. The thing is, and Americans are starting to realize this now, that while street gangs are violent, the Democrats and Republicans are worse. They are worse because their decisions affect your life. - Author: Jesse Ventura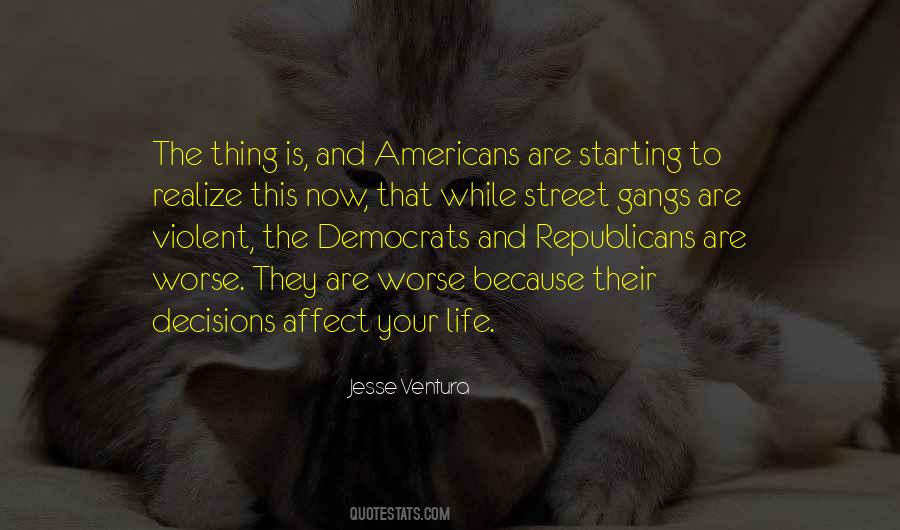 #56. Strong and in control - I don't necessarily feel that way. I'm a little bit more scattered in my life. I'm more of a street girl, in a way. - Author: Rene Russo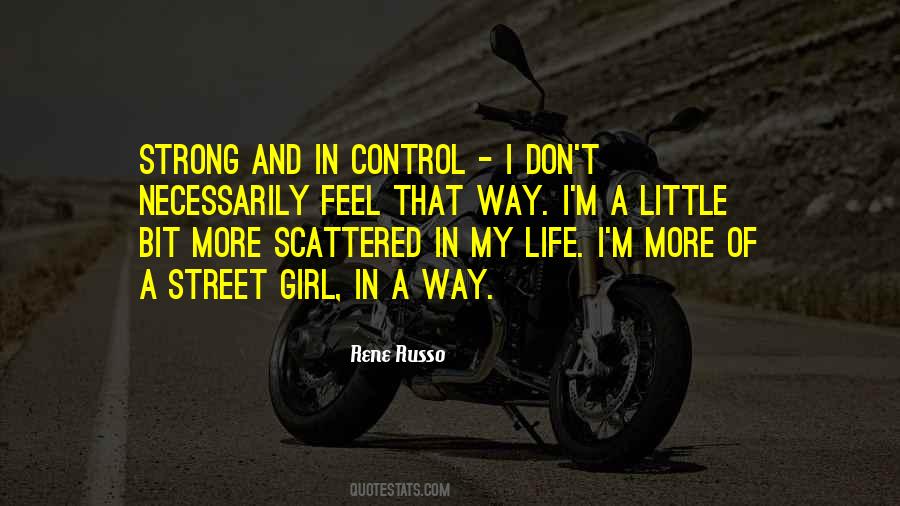 #57. ... The shocking thing about any stripper gathering, I discovered, was that you have never heard women talk so fast and so explicitly about money in all your life. They make the guys on the trading floor on Wall Street look like a bunch of pansies. - Author: Susie Bright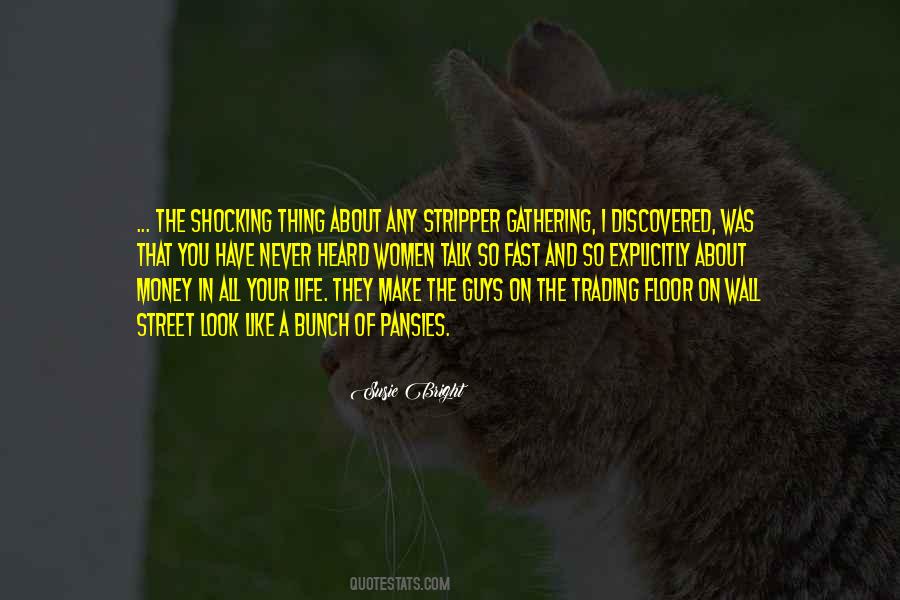 #58. Pimping is an art, Whoreson. There are very few pimps in this world who can really take the title of being a pimp. Just because a man gets his money from a whore, that don't make him no true pimp. Real pimps are really rare. - Author: Donald Goines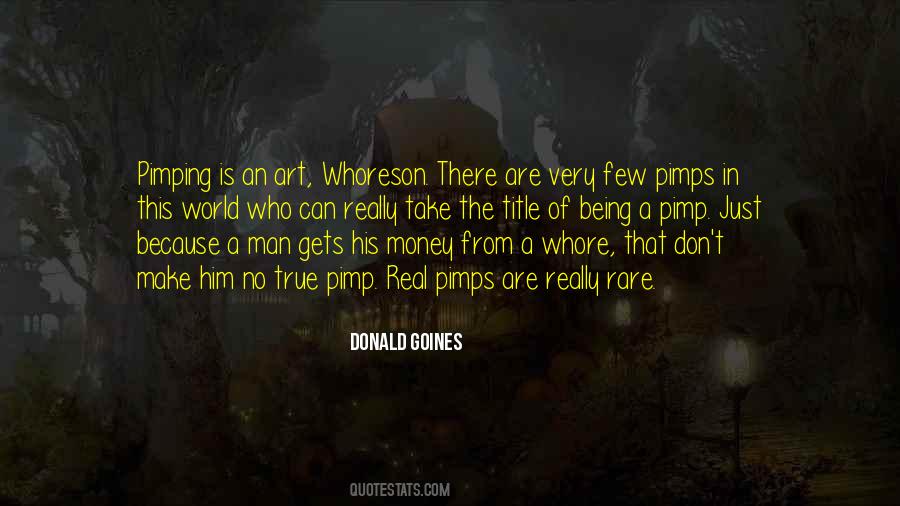 #59. I think it was Milosz, the Polish poet, who when he lay in a doorway and watched the bullets lifting the cobbles out of the street beside him realised that most poetry is not equipped for life in a world where people actually die. But some is. - Author: Ted Hughes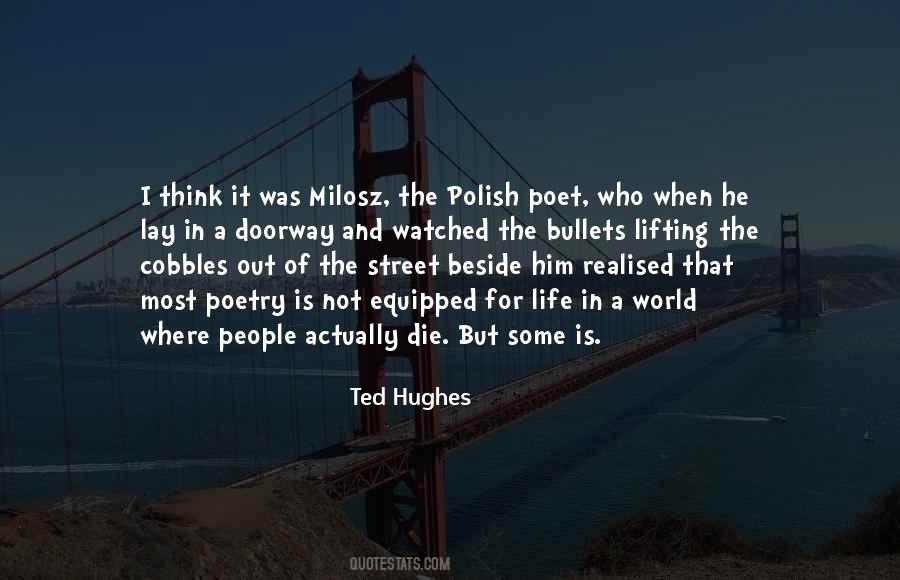 #60. The city was a hive from this height, the people and the yellow cabs moving about in the street below like pre-programmed insects. (Dark City Lights) - Author: David Levien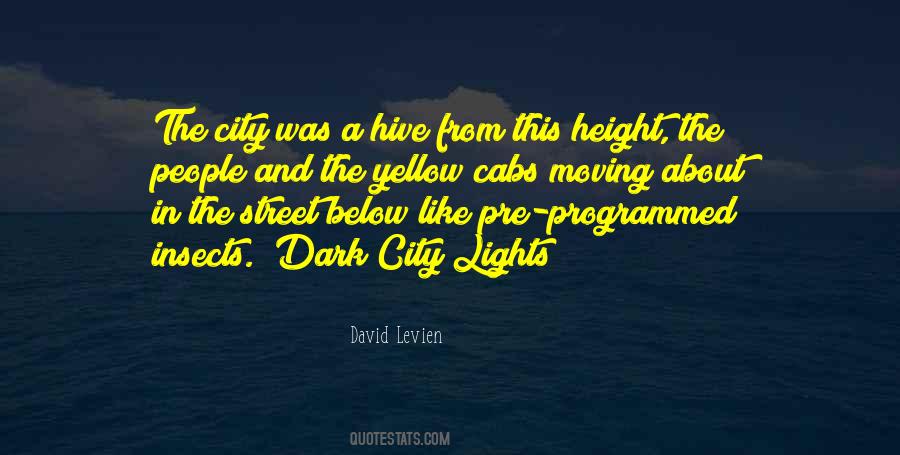 #61. I believe in the city as a natural human environment, but we must humanize it. It's art that will re-define public space in the 21st Century. We can make our cities diverse, inspirational places by putting art, dance and performance in all its forms into the matrix of street life. - Author: Antony Gormley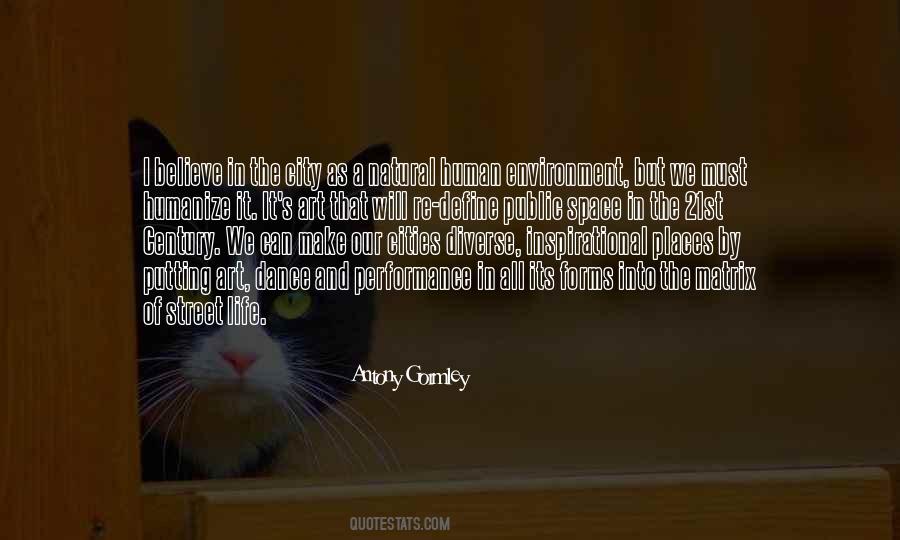 #62. Morality and religion are but words to him who fishes in gutters for the means of sustaining life, and crouches behind barrels in the street for shelter from the cutting blasts of a winter night. - Author: Horace Greeley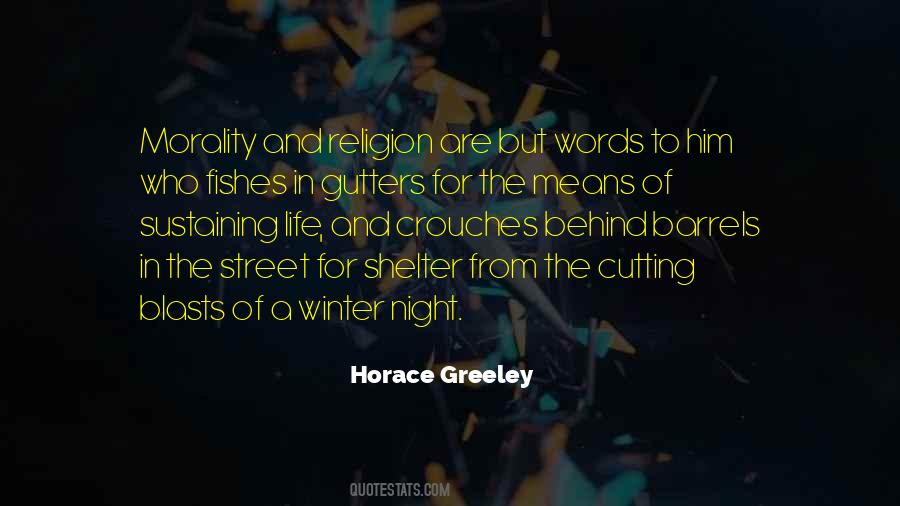 #63. Do not love me as if I were a flower!
I want to live a worthy life -
as an atom in a mass of troubles
as a child of the street mobs! - Author: Shushanik Kurghinian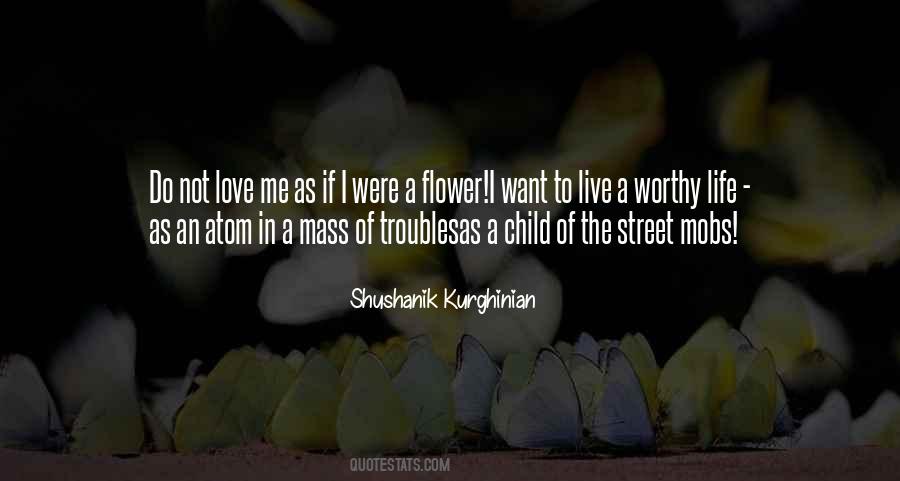 #64. Great geniuses have the shortest biographies. Their cousins can tell you nothing about them. They lived in their writings, and sotheir house and street life was trivial and commonplace. If you would know their tastes and complexions, the most admiring of their readers most resembles them. - Author: Ralph Waldo Emerson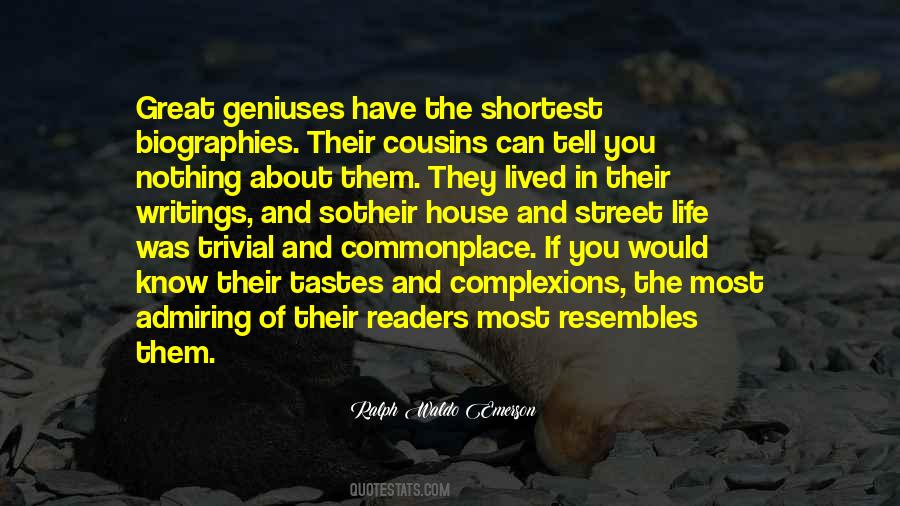 #65. We take life so seriously. But at the end, the billionaire gets buried next to the street sweeper. - Author: Robin S. Sharma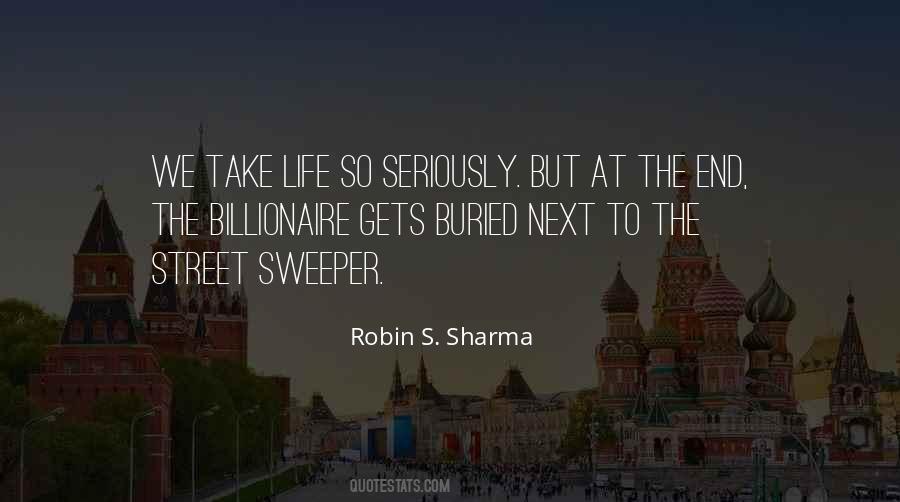 #66. Before, I was so stupid. But, you know, when you have friends who died on the street, you say, okay, let's calm down. It's not the kind of energy I want to have in life. I want to go slower, and longer. - Author: Olivier Martinez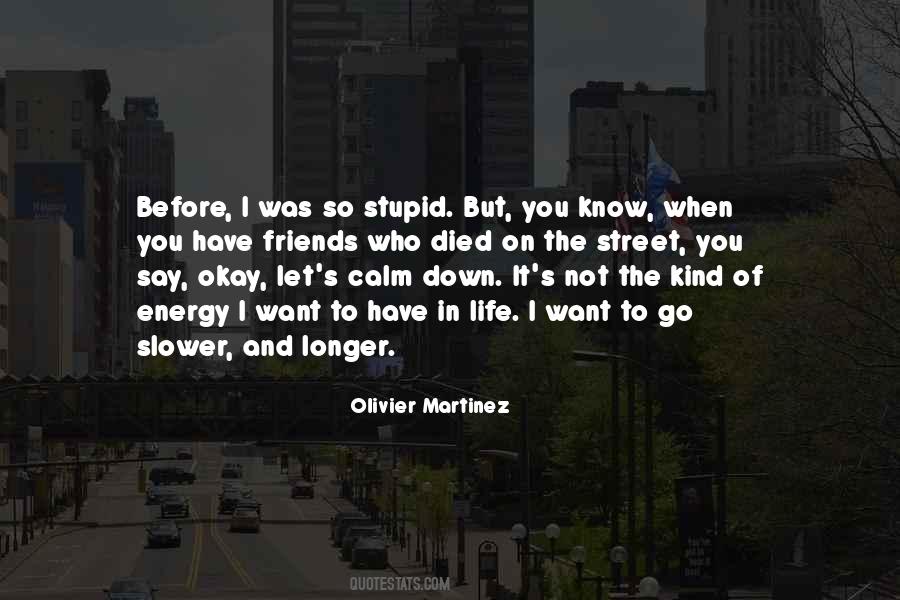 #67. Obviously I've spent most of my working life with men and they have this way of operating which seems a bit alien to me. - Author: Janet Street-Porter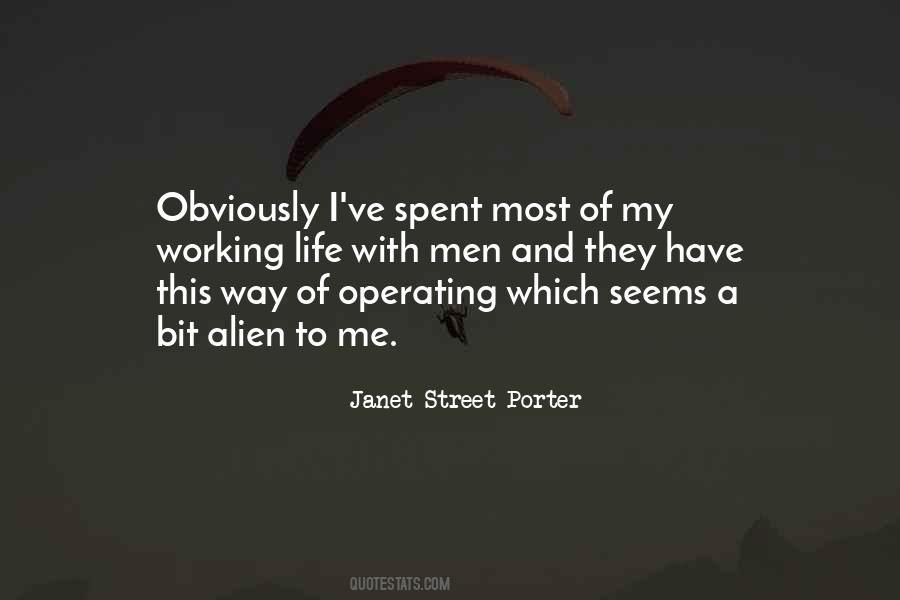 #68. Barbarianism and finesse cannot be rolled into one, Pricey defeats this theory. The barbarianism born from his fight to make it in life, his finesse brought about by his sensitivity that was deprived of him when he was a child. - Author: Stephen Richards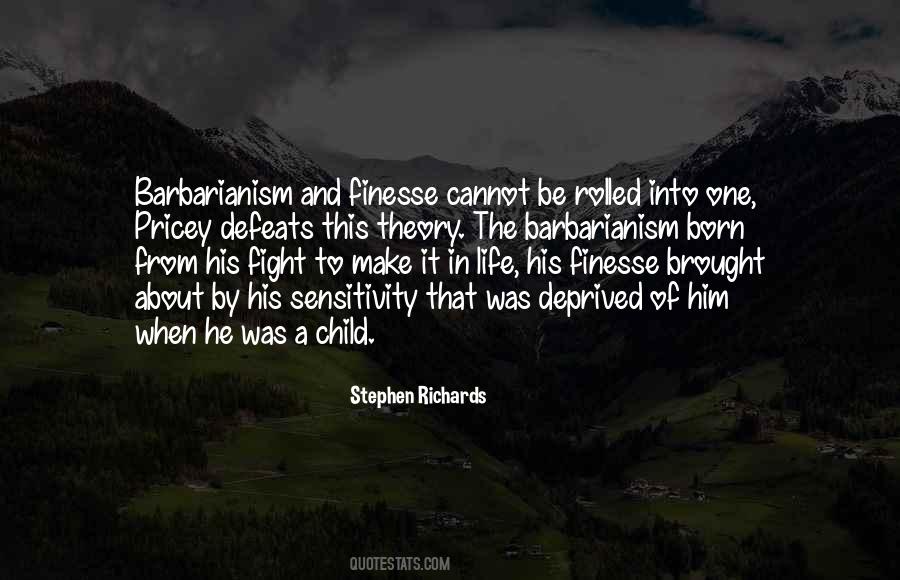 #69. Absolutely, it's a really weird stage because at the minute, I can walk down the street and be unrecognised, lead a normal life, but my label and everybody is warning me that will be changing and I'm in for a rollercoaster ride. - Author: James Blunt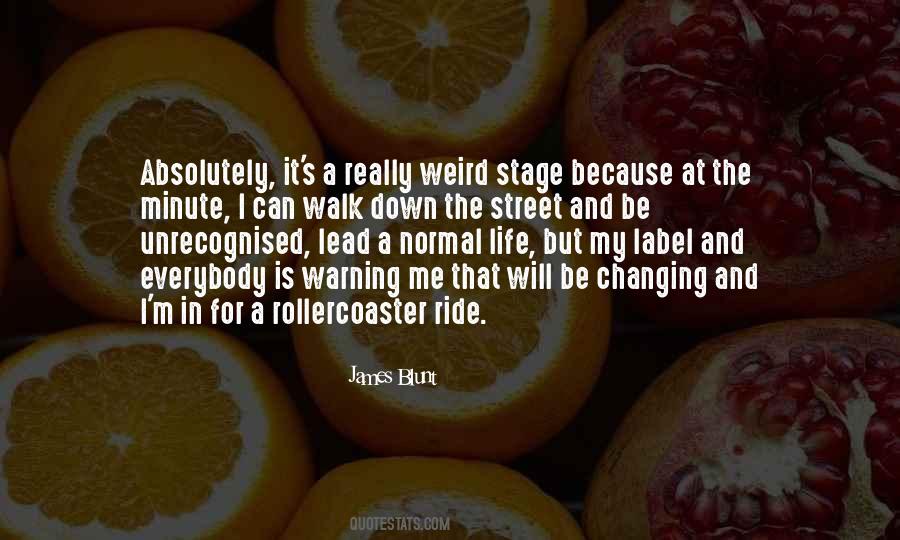 #70. That's what life is, it's the small struggles. You walk down the street for half an hour, you see half an hour of drama. You don't need convoluted plot lines. You don't need long-lost brothers. You don't need it's set on the future; it's set on the moon. - Author: Ricky Gervais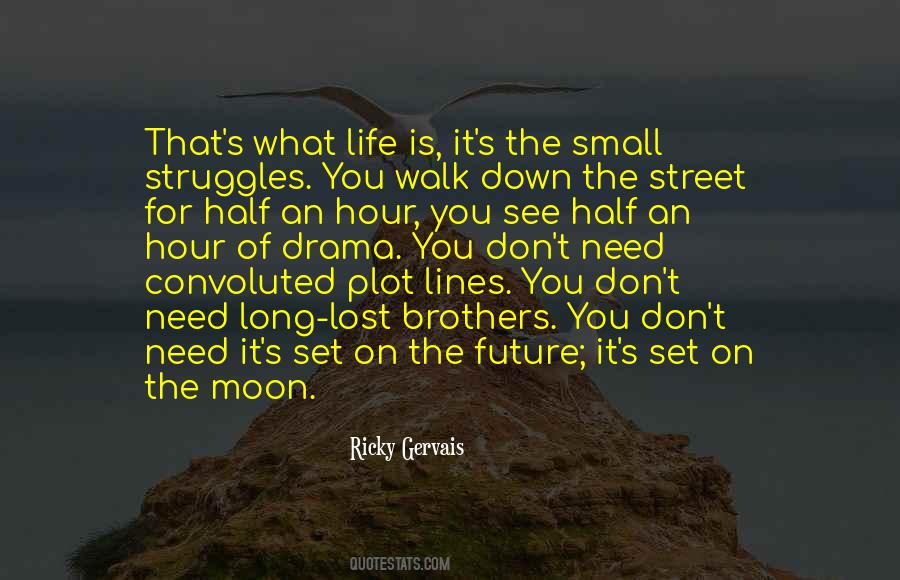 #71. In real life, the most important decision you ever make is, where does reality leave off and make-believe begin? If you make a mistake about that, you're dead. You know, you're out on the street corner. You think there's no bus coming. You step out, you're dead. - Author: Teller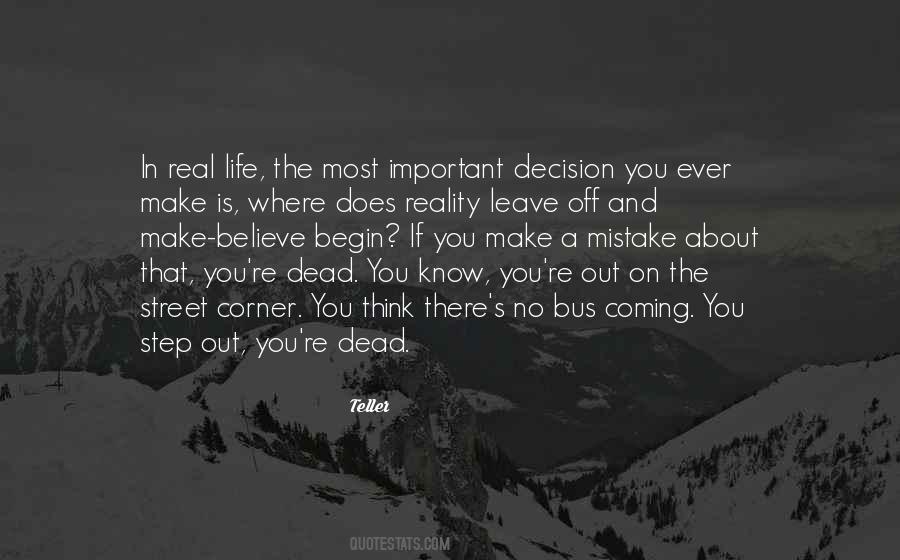 #72. I don't like having people pick me out on the street. I don't like the status - good, bad or indifferent. I don't like it. I want my private life back, and I'm never going to have it. - Author: Mark Fuhrman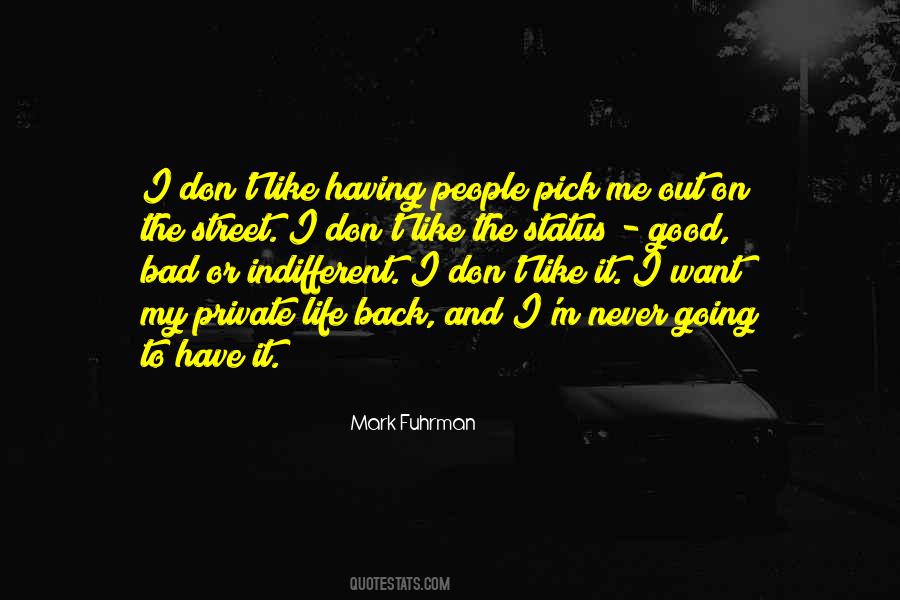 #73. If you meet someone on the street that likes something that you did or likes the way you brought this character to life, that's really rewarding. That's really cool. - Author: Elden Henson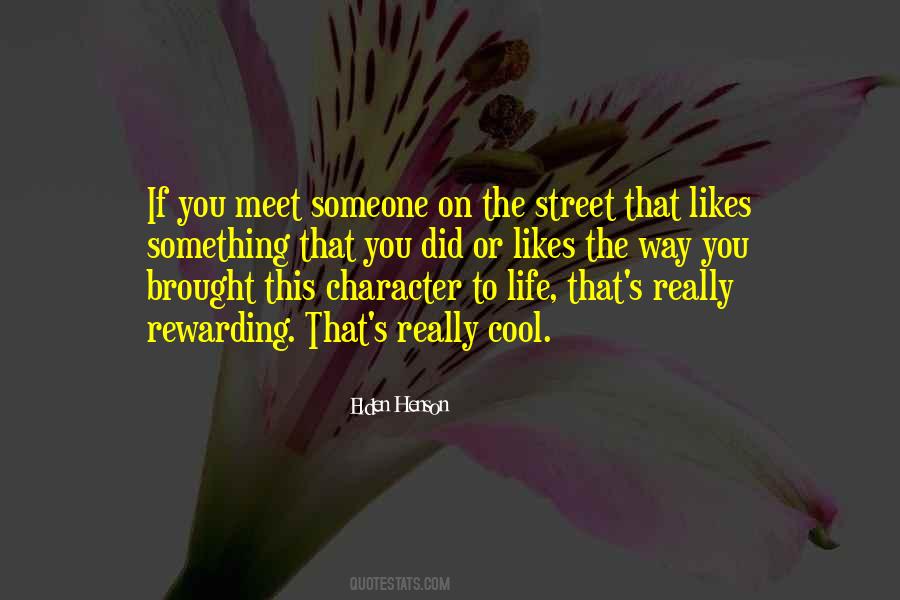 #74. The jobs crisis has reached a boiling point, which is why we see Occupy Wall Street protestors crying out for an America that lets all of us reach for the American Dream again - a dream that says if you work hard and play by the rules, you can have a good life and retire with dignity. - Author: John Garamendi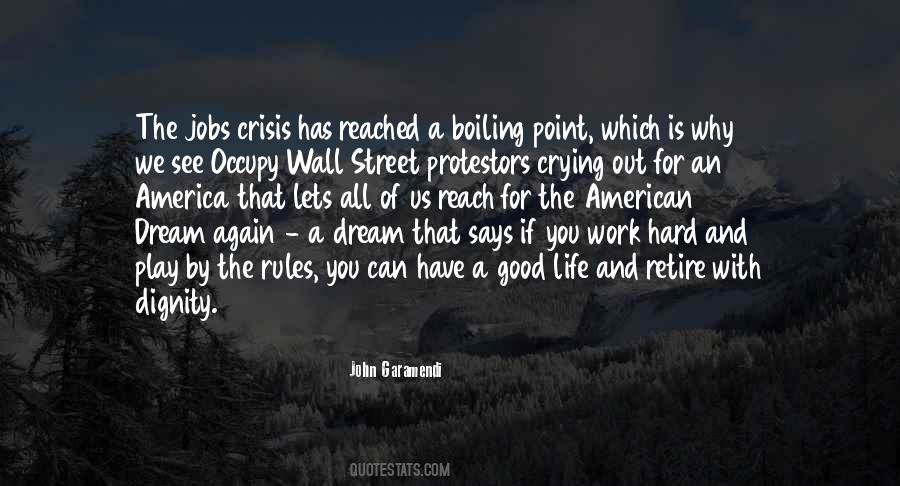 #75. Dementia resembles delirium in the same way an ultra-marathon resembles a dash across the street. Same basic components, vastly different scale. If you've run delirium's course once or twice in your life, try to imagine a version that never ends. - Author: Floyd Skloot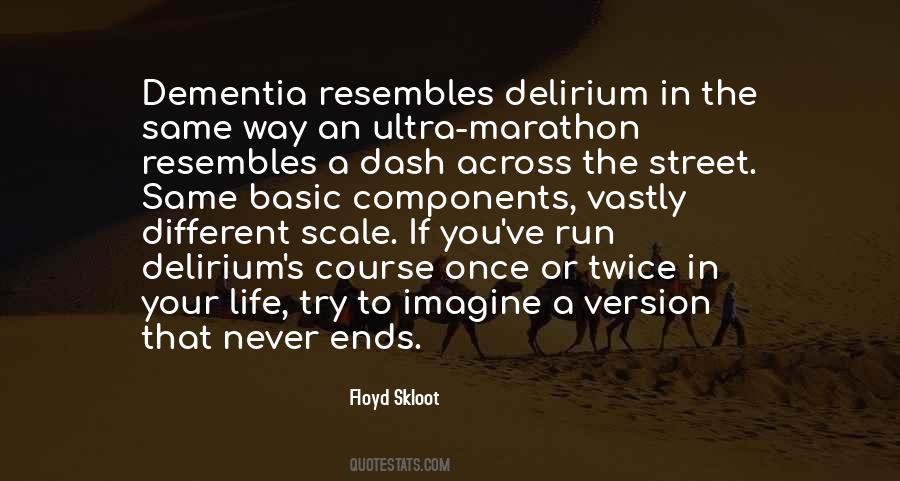 #76. I saw my ex-husband in the street. I was sitting on the steps of the new library.
Hello, my life, I said. We had once been married for twenty-seven years, so I felt justified.
He said, What? What life? No life of mine. - Author: Grace Paley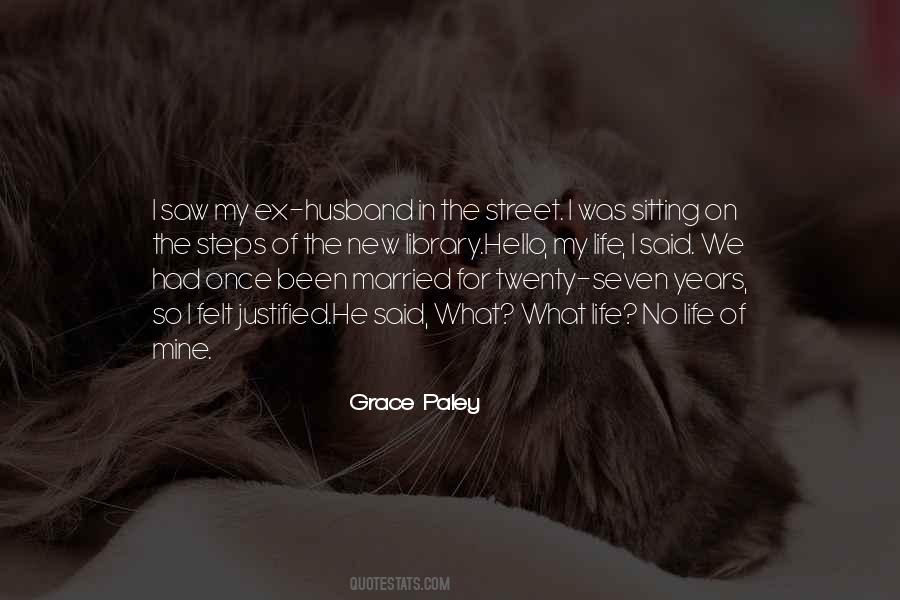 #77. Sometimes we miss our blessings in life because they do not arrive the way we think they should. Because our minds are so shallow, so limited, we think our blessings have to come a certain way and sometimes we miss them walking up and down the street. Open your mind: get your blessing. - Author: Bobby F. Kimbrough Jr.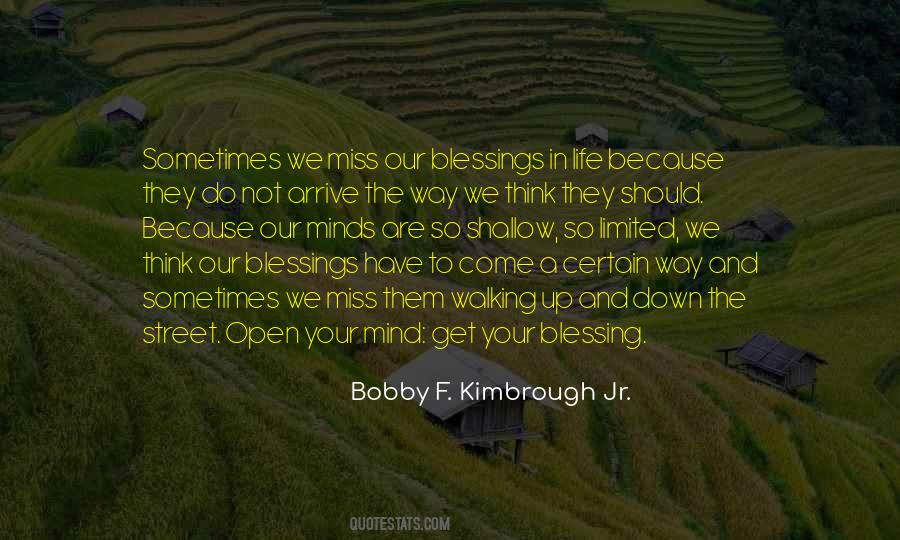 #78. Life is like walking along a crowded street
there always seem to be fewer obstacles to getting along on the opposite pavement
and yet, if one crosses over, matters are rarely mended. - Author: Thomas Huxley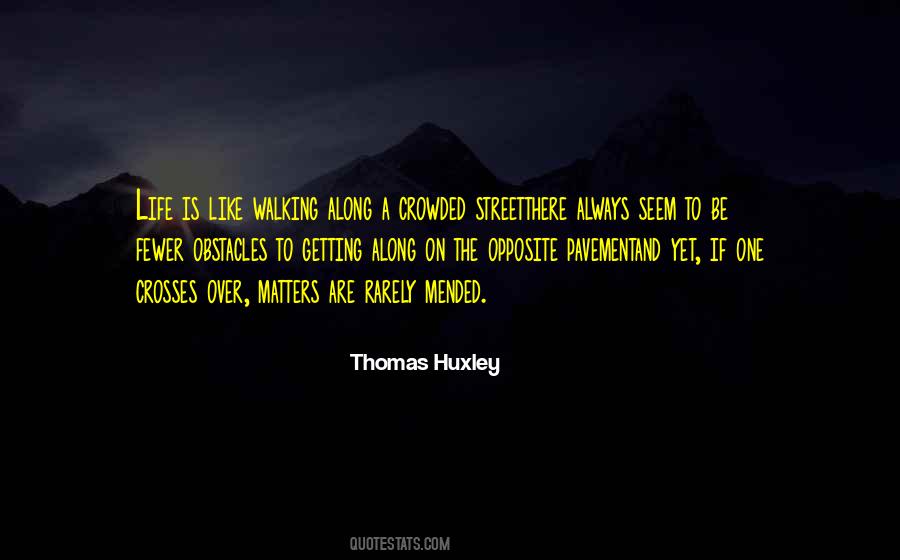 #79. I'll tell you, in my life I've never once have seen a Hispanic panhandler, because in our community, it would be viewed as shameful to be out on the street begging. Those are all conservative values - faith, family, hard work, responsibility. - Author: Ted Cruz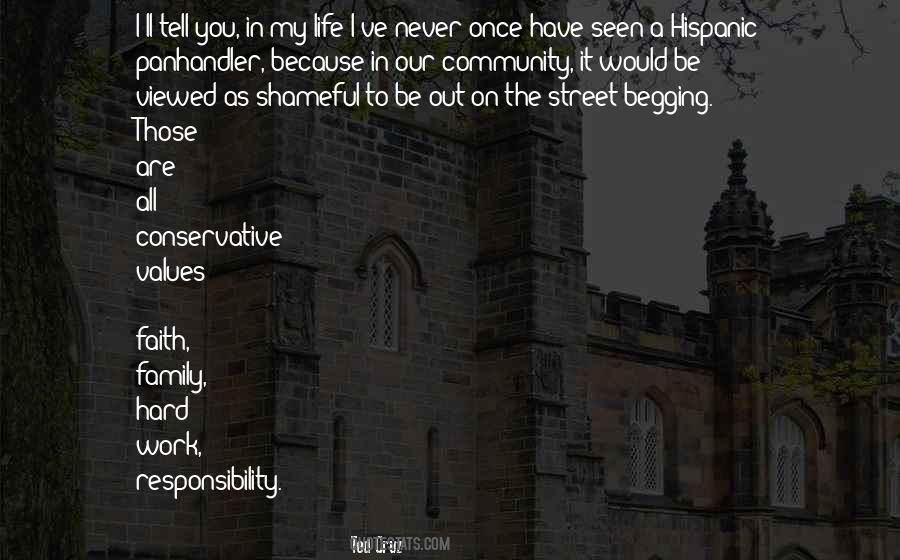 #80. I started to turn my life around for the better and try to instil a bit of stability and balance back in to it and take a back seat to violence. I wanted to leave that part of my life behind. The leopard wanted to ditch its spots! - Author: Stephen Richards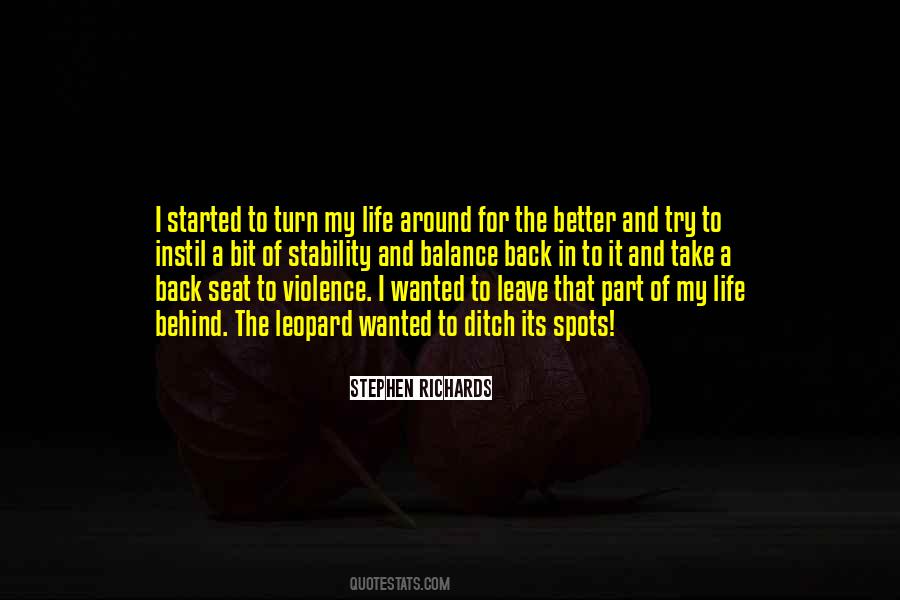 #81. I could care less about the radio or the TV or album sales. I want that connection with people because when I'm able to walk down the street, I want them to feel like I've done something for them and helped their life because I've never felt that way about a musician. - Author: Vince Staples
#82. Consensus reality seemed like a dull, dead-end street compared to the intense, mutable reality of visions or whatever they were - neurological misfires. I expected life to be full of sudden, inexplicable surprises. When these things didn't happen for a while, life seemed dull and painful. - Author: Jim Woodring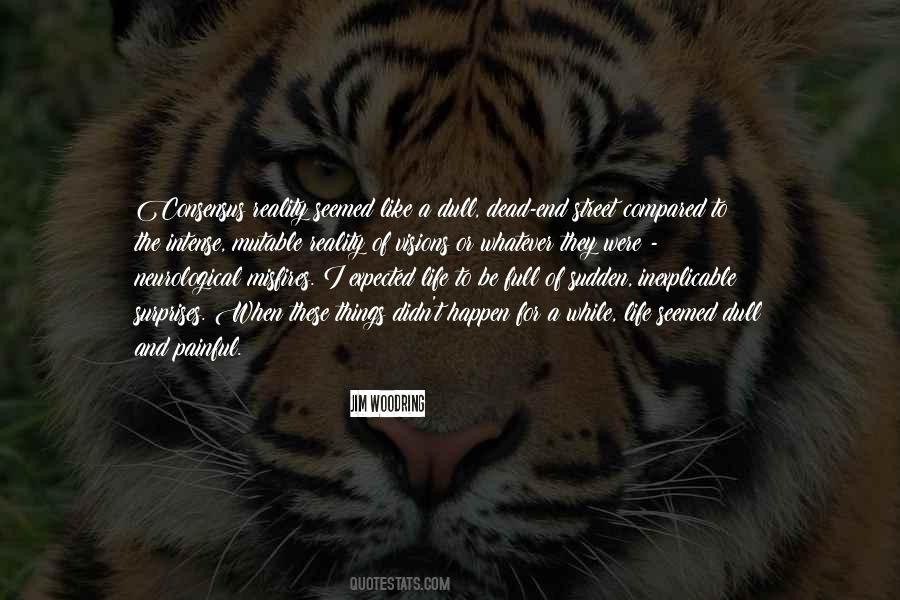 #83. Kindness can come from someone on Twitter, it can come from someone on the street, it can come from someone at work. Without kindness, I don't know what I would do. The greatest part of life is the simple things. - Author: Andie MacDowell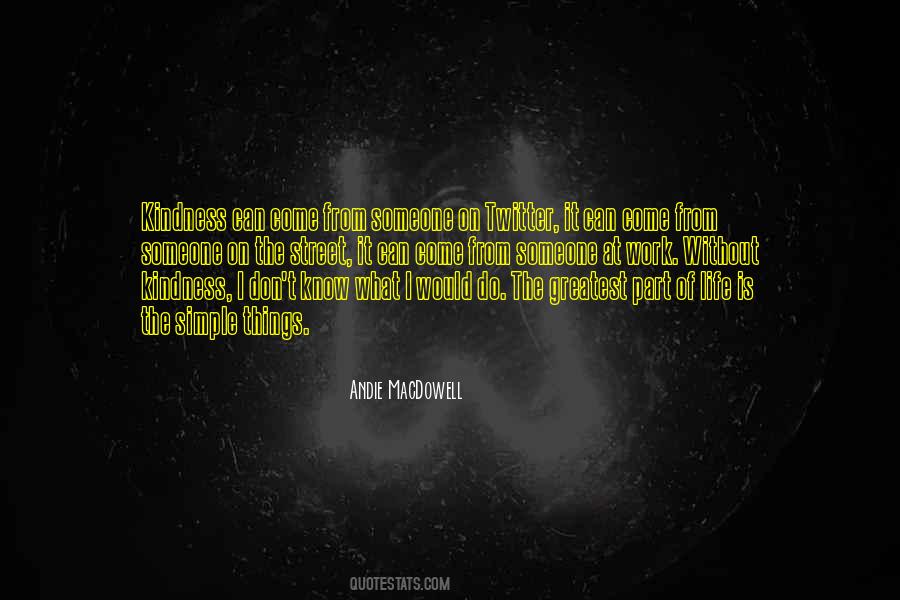 #84. The only real failure in life is giving up. On looking back let it stand to our credit in life's balance sheet that at least we tried, and tried hard. - Author: A.G. Street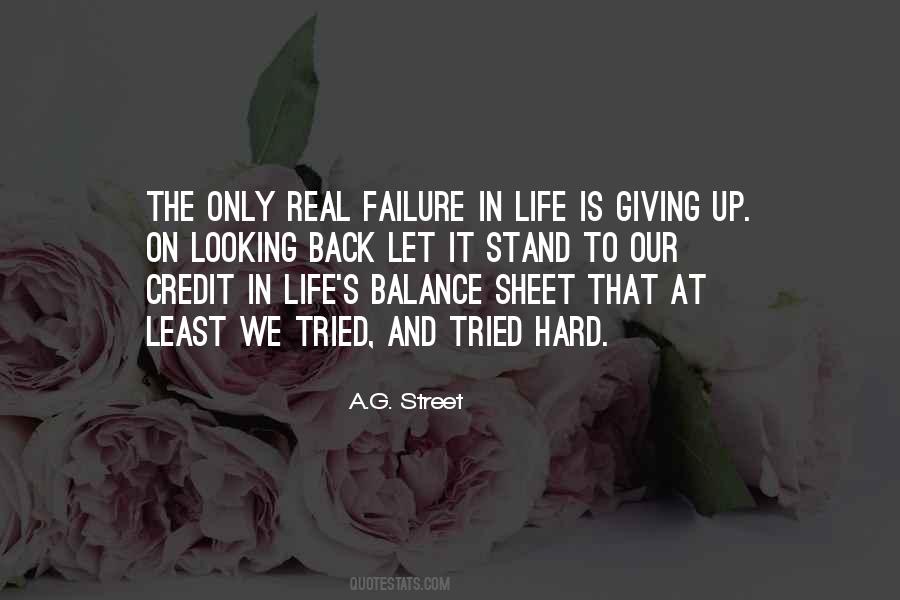 #85. What if it's the there
and not the here
that I long for?
The wander
and not the wait,
the magic
in the lost feet
stumbling down
the faraway street
and the way the moon
never hangs
quite the same. - Author: Tyler Knott Gregson
#86. The ultimate goal of those who blame workers for Wall Street's economic crisis is to unravel the fabric of our common life in pursuit of greed and power. - Author: Richard Trumka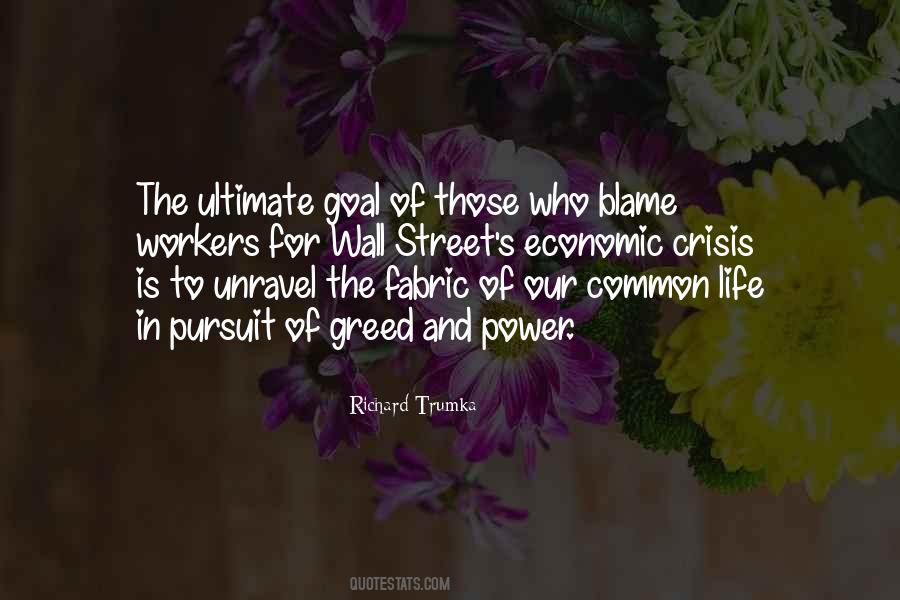 #87. They're not parallel at all. They're my concerns, but how they're expressed particularly on the page is completely divorced from who I am in my street life. - Author: Chang-rae Lee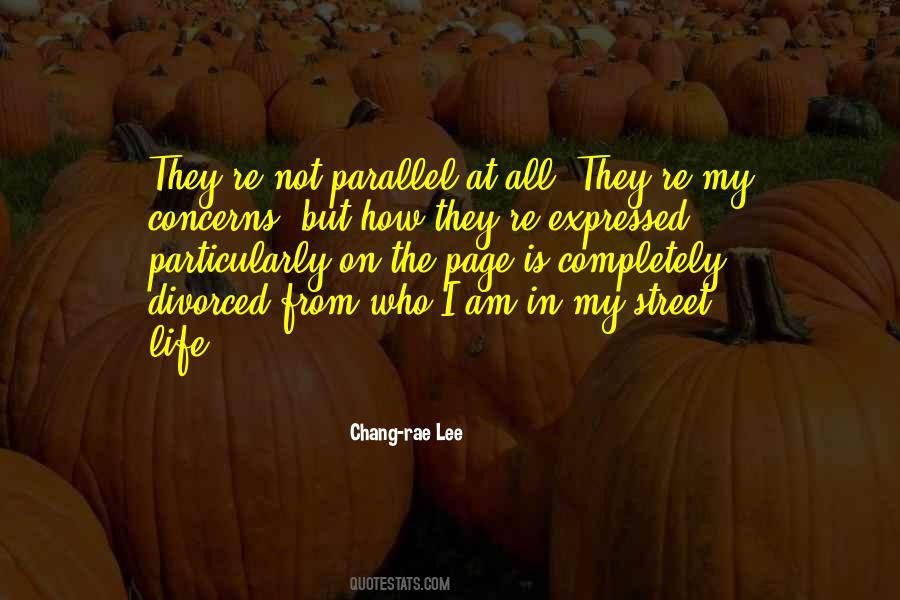 #88. I walk down the street and people don't go, 'My God, there he is.' I lead as normal a life as you can lead in New York City. - Author: Graydon Carter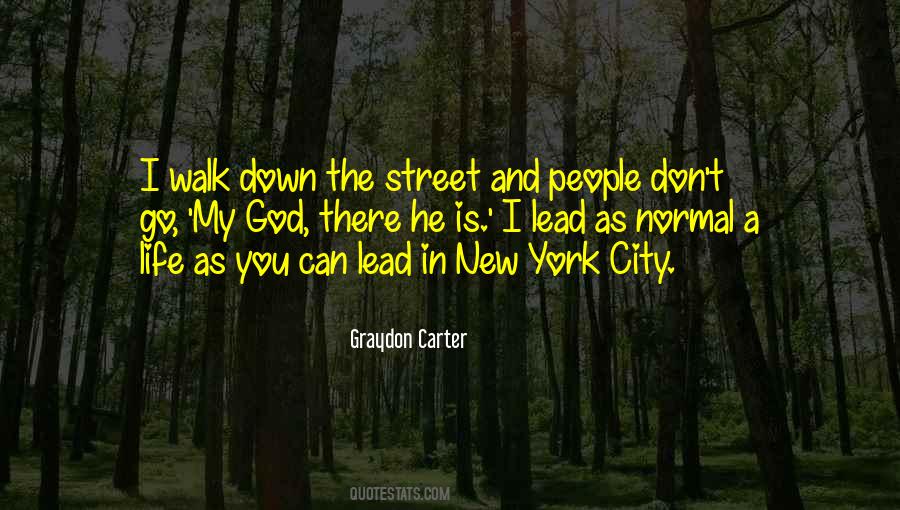 #89. As he thought about his life, he felt both tears and mockery welling up inside him. All that lay before him was madness or suicide. He walked down the darkening street alone, determined now to wait for the destiny that would come to annihilate him. - Author: Ryunosuke Akutagawa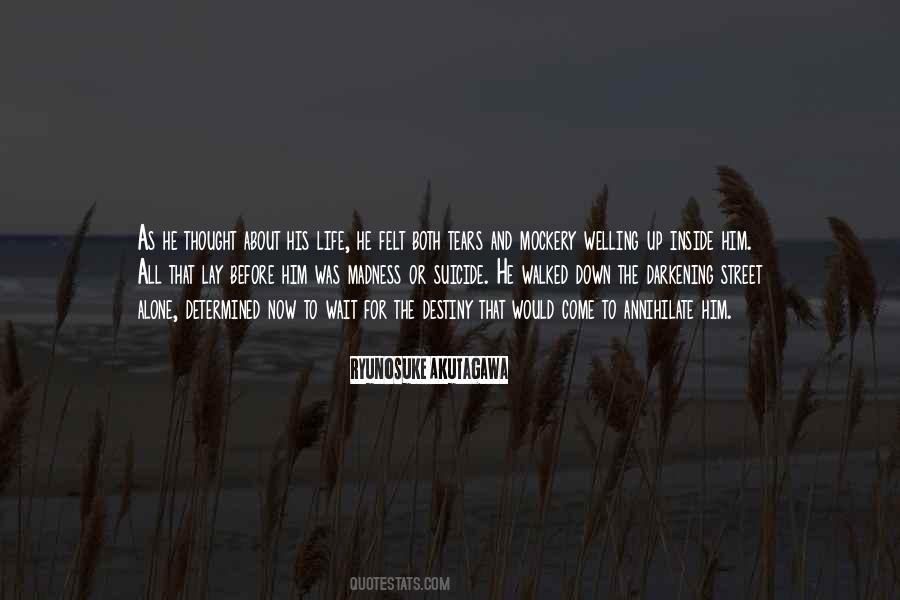 #90. To the man-in-the-street, who, I'm sorry to say, is a keen observer of life. The word Intellectual suggests straight away. A man who's untrue to his wife. - Author: W. H. Auden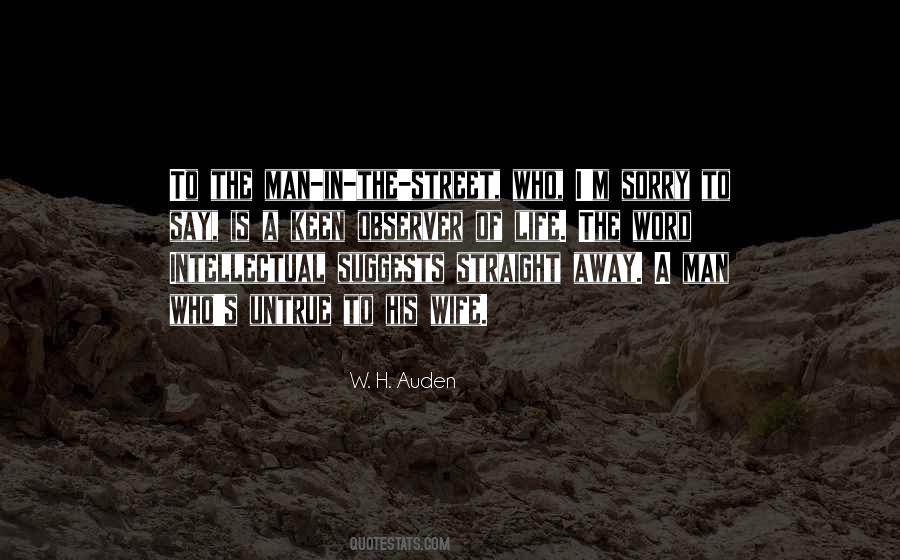 #91. Every life has its years in which one progresses as on a tedious and dusty street of poplars, without caring to know where he is. - Author: Max Muller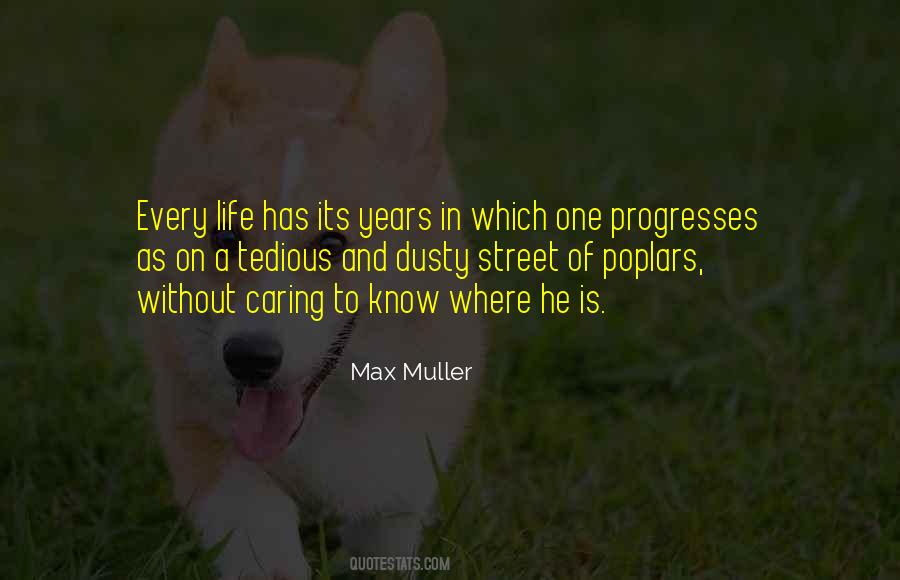 #92. Quality of life actually begins at home - it's in your street, around your community. - Author: Charles Kennedy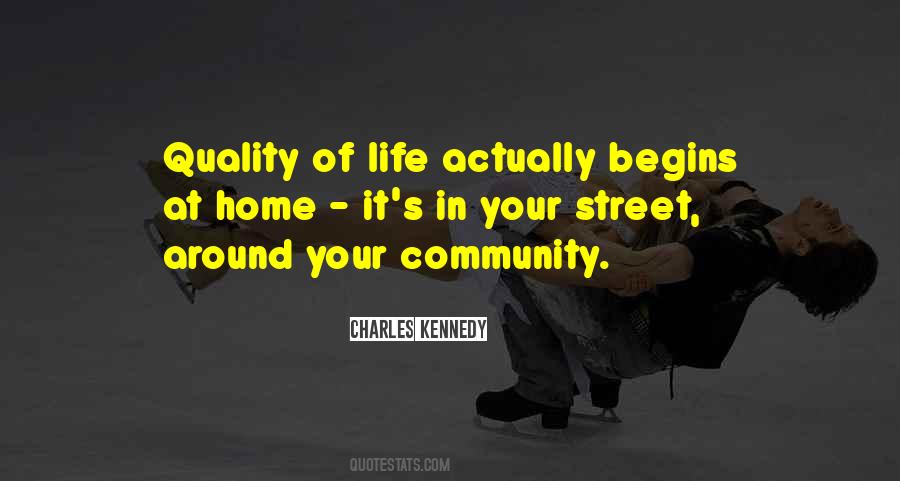 #93. They [the Reagan Administration] want to put street criminals in jail to make life safer for the business criminals. They're against street crime, providing that street isn't Wall Street. - Author: George Carlin
#94. There has never been a meaningful life built on easy street. - Author: John Paul Warren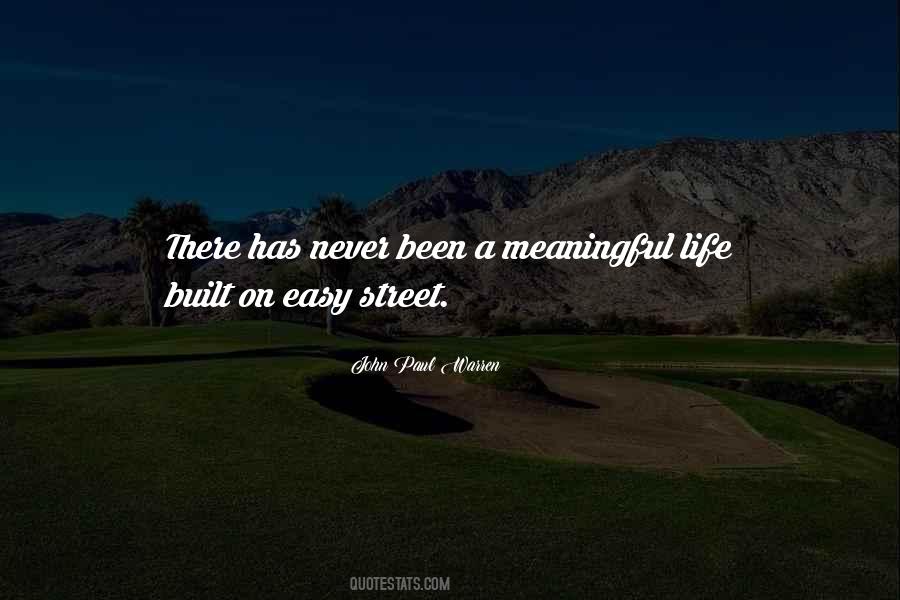 #95. When I auditioned for '21 Jump Street,' it was a last minute thing. I had one of the worst flus that I've ever experienced in my life, and I was forced to go to the audition, the screen test. - Author: Johnny Depp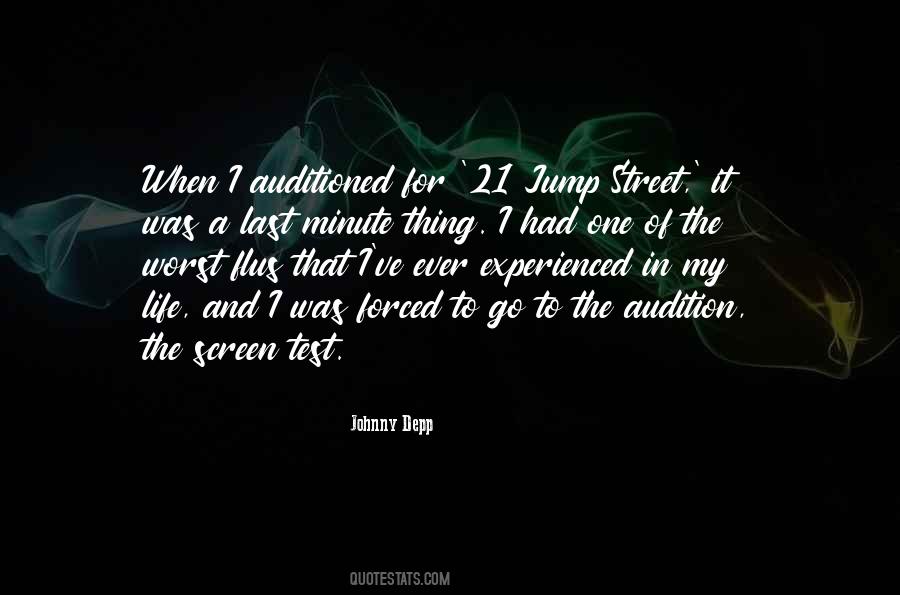 #96. Honestly, musicals? I just can't. What if this was real life and I was just walking down the street on Rodeo Drive and all of a sudden I just burst into song about how much I love shoes? - Author: Miley Cyrus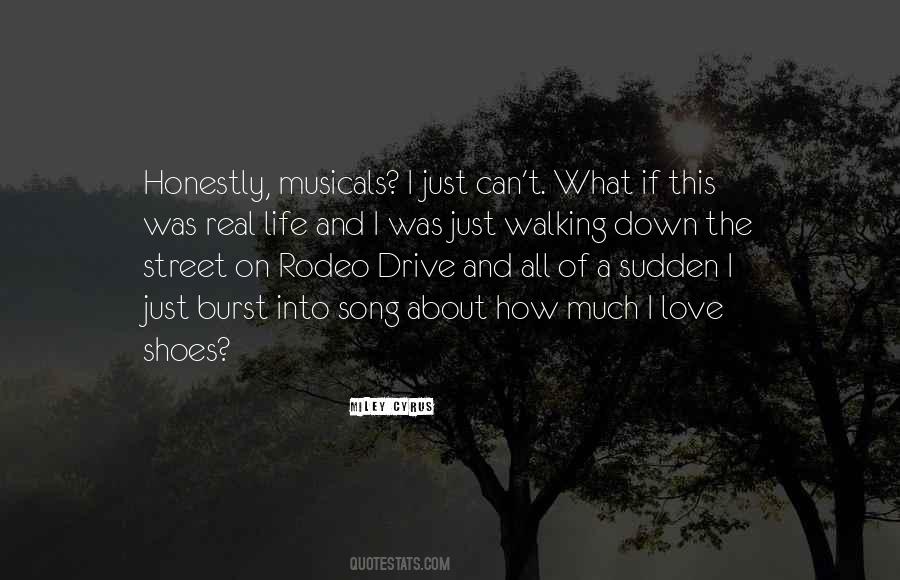 #97. You can't expect to go both ways when you're driving on a one-way street. - Author: Benjamin Alire Saenz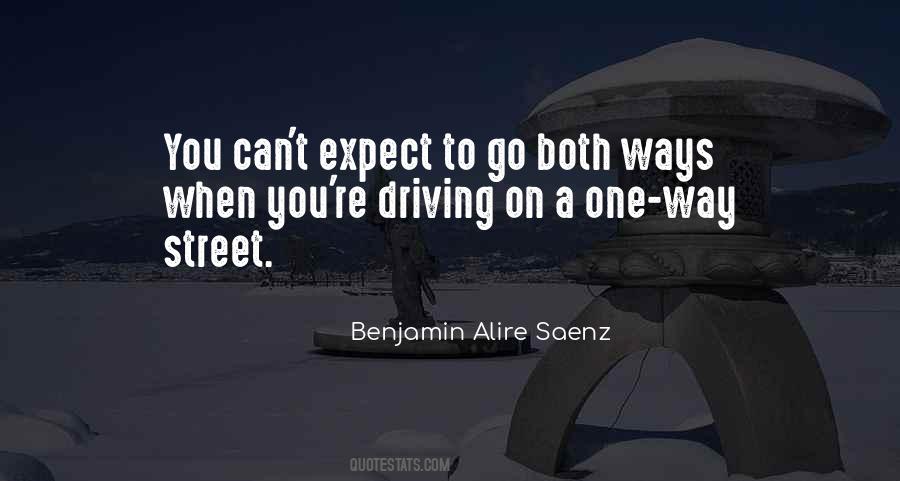 #98. Wandering down the street in an aimless sort of way, cold too, in a dress from last night that made young men stop and stare in the street, Charity Hill found herself hating the single life for the very first time. - Author: Elizabeth Jane Howard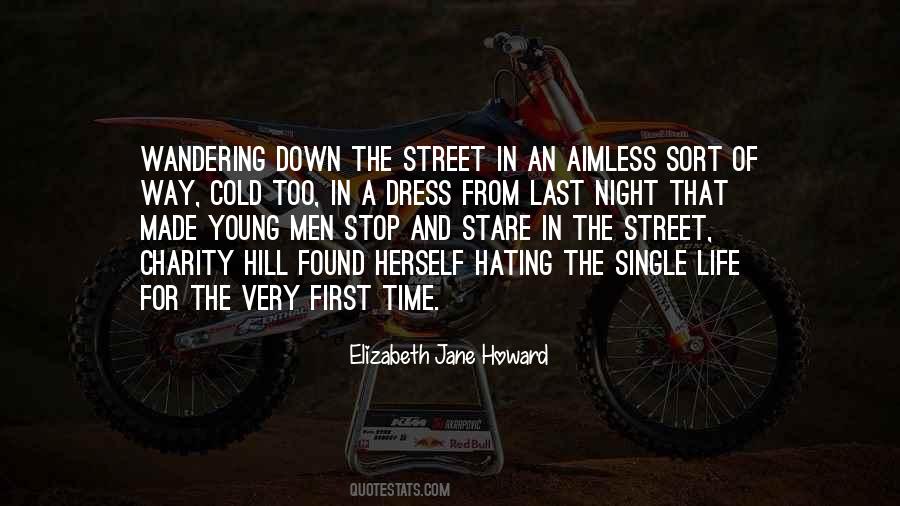 #99. It changed my life," the first-grader said of the iPad. "I'm reading everything on the street." To prove his point, he read all the words on a pizza box he cradled on his lap. - Author: Anonymous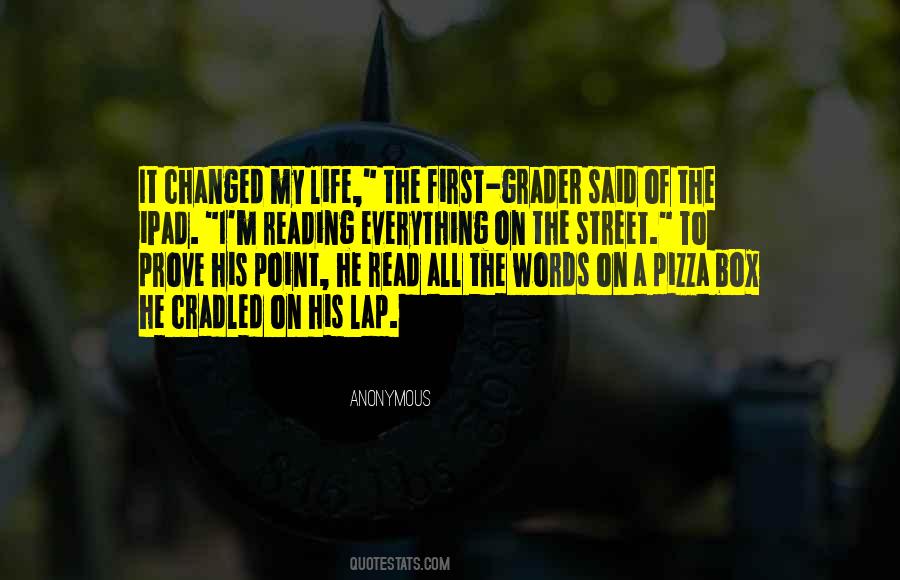 #100. My dear fellow," said Sherlock Holmes as we sat on either side of the fire in his lodgings at Baker Street, "life is infinitely stranger than anything which the mind of man could invent. - Author: Anonymous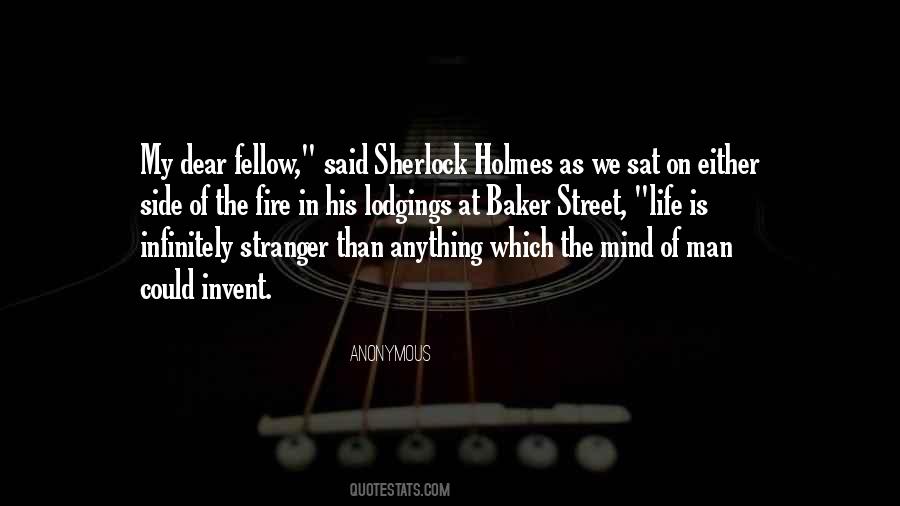 Famous Authors
Popular Topics