Somebody You Like Famous Quotes & Sayings
List of top 100 famous quotes and sayings about somebody you like to read and share with friends on your Facebook, Twitter, blogs.
Top 100 Quotes About Somebody You Like
#1. In all honesty, if somebody asked me the secret of auditioning for Americans, I don't know. Often, I do what's called self-taping for America. I go over there quite a lot to sit in a room and do stuff in front of people. You feel like a performing monkey. It's bizarre. - Author: David Wenham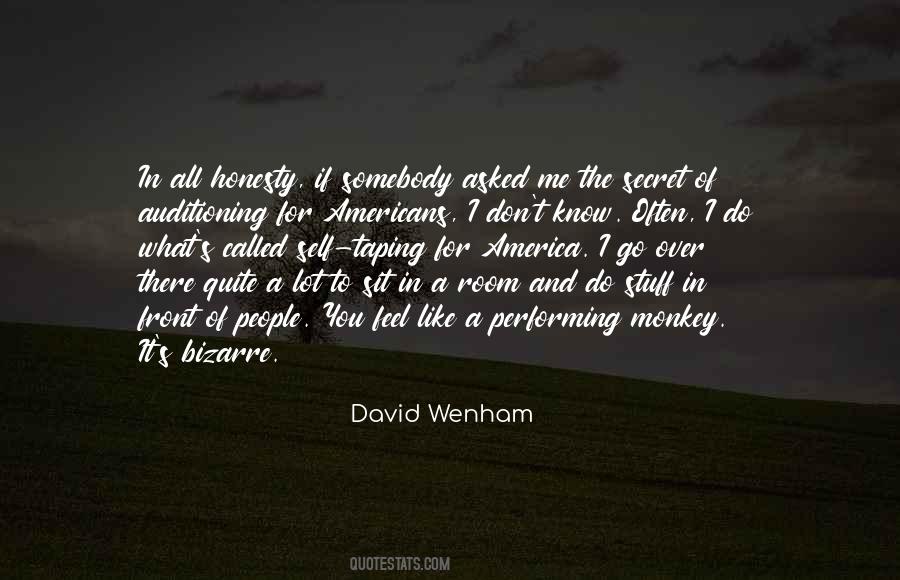 #2. Somebody came up to me after a talk I had given, and say, "You make mathematics seem like fun." I was inspired to reply, "If it isn't fun, why do it?" - Author: Ralph P. Boas Jr.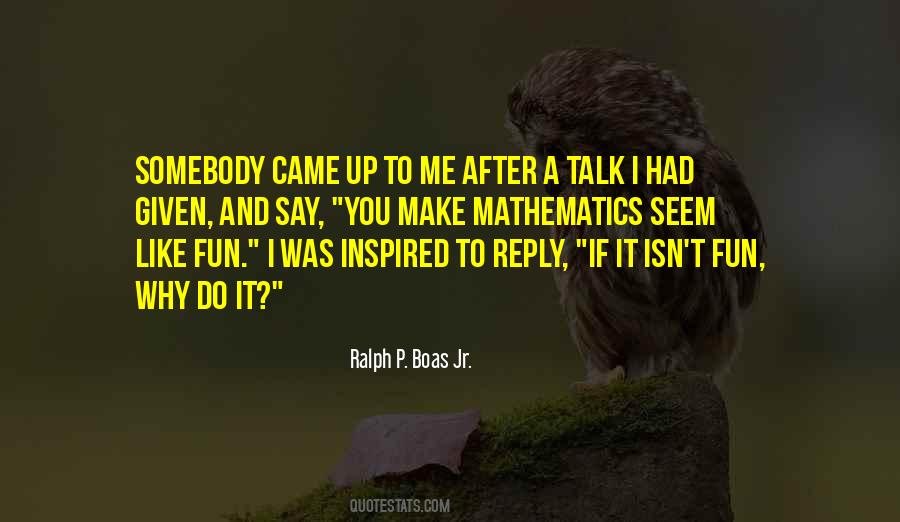 #3. I think the most important recipe for a good date is just spending time with somebody and really connecting and feeling like the best version of yourself regardless of what you may be doing. - Author: Sophia Bush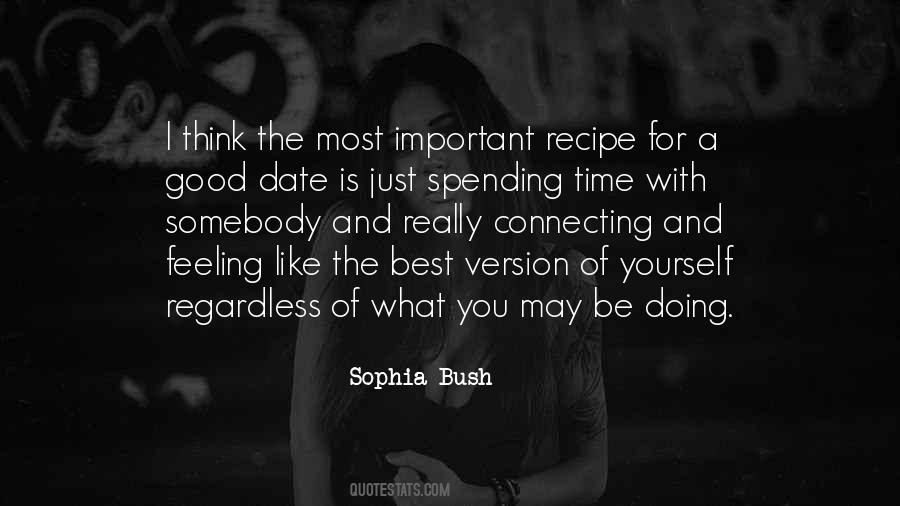 #4. My Latin education teaches me that religion comes from religio, which means, 'to bind.' To bind with rope. And that's all it means. So whenever I hear somebody go, 'I feel so religious right now!' I'm like, 'Well, you're tying yourself up in knots, are you?' - Author: James Callis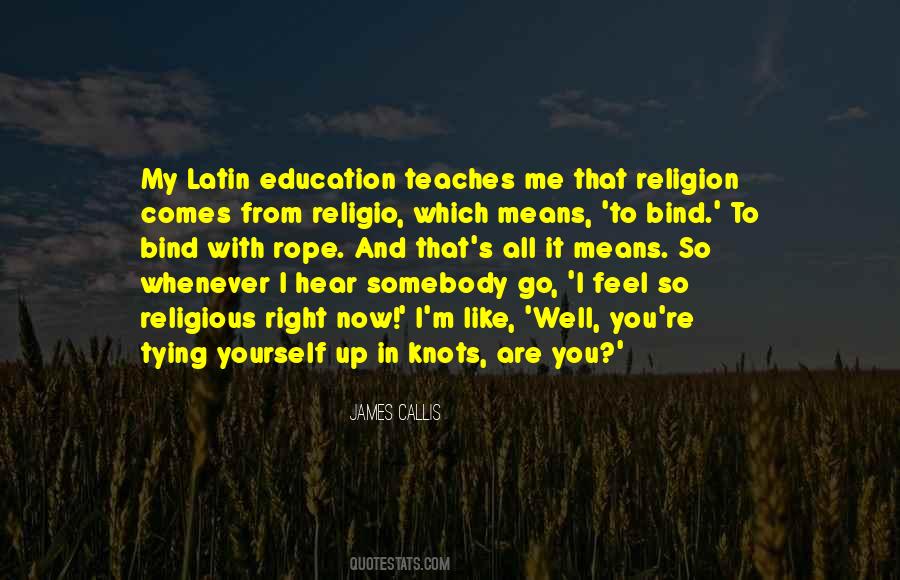 #5. I fire people that win gold medals, great champions, everything else, and, you know, it's not - it's not easy. People say oh well it comes easy for me, it doesn't. And it's never fun. It's all to easier though when I don't like somebody or when they're really, really bad then it becomes much easier. - Author: Donald Trump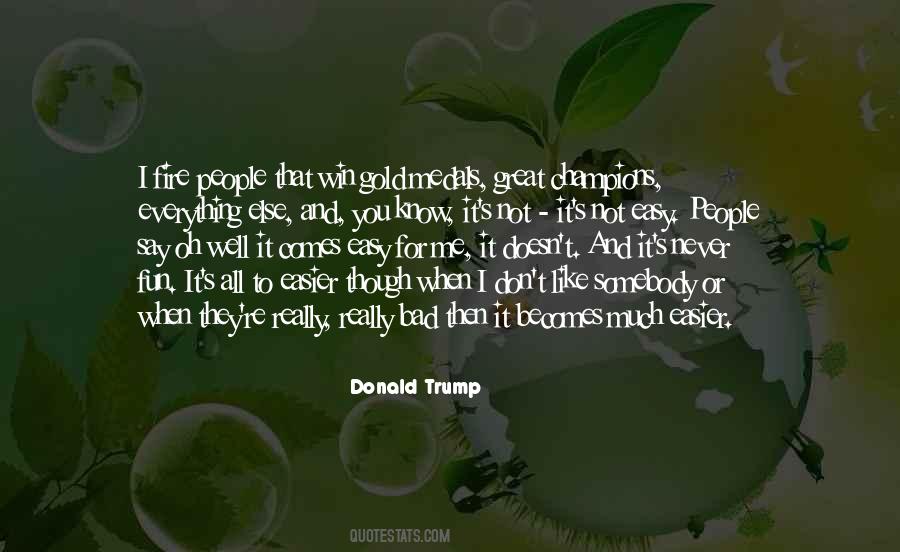 #6. What's the point of making a nice guy like me?" Georgie said. "Nice guys like everybody."
"You shouldn't have to make anybody like you, Georgie. You should want to be with somebody who can't help but like you. - Author: Rainbow Rowell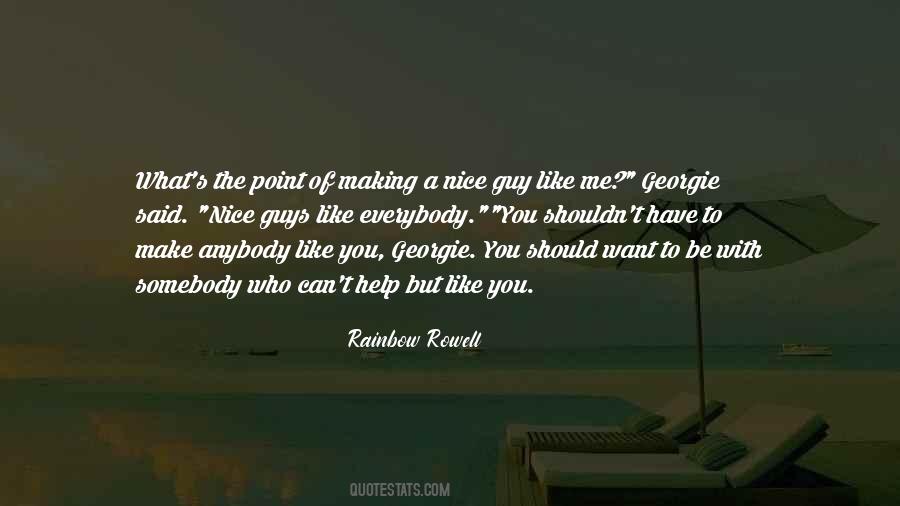 #7. You don't have to love somebody to miss them. You get used to having them around, like a cat or a bird. - Author: Ann Rinaldi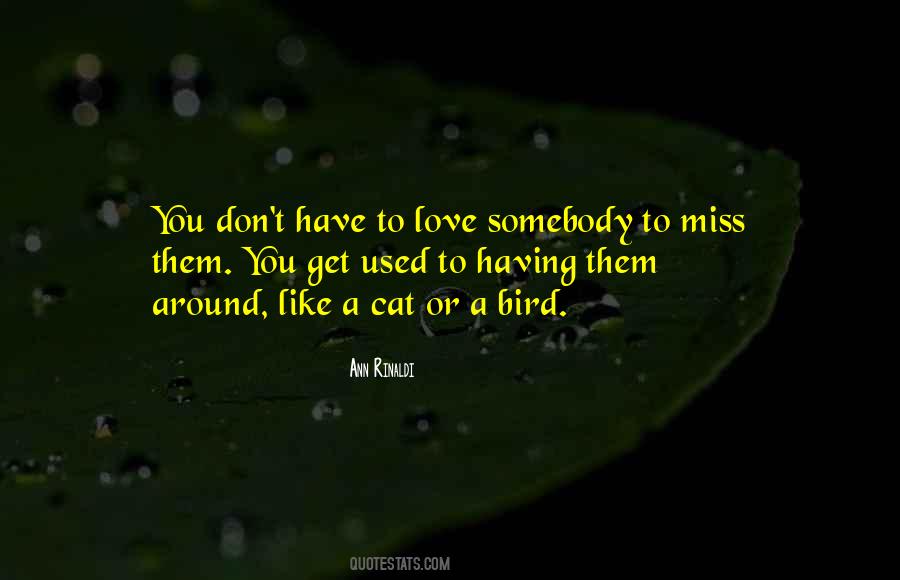 #8. How would you describe the #feeling of #love in 140 or less characters?
Answer : Like somebody is gripping your heart, but you don't want them to let go because the ache would worsen without them. - Author: Claire Contreras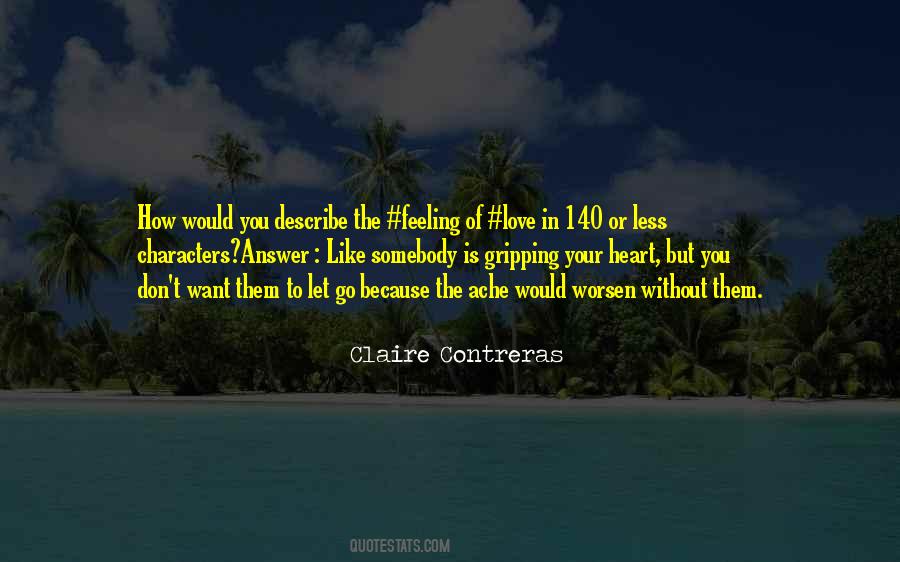 #9. Bad news doesn't hurt as much, if you hear it in good company. It's like, if somebody pushes you out of a 5th floor window and you bounce off an awning, a car roof, and a pile of plastic garbage bags before you smash onto the pavement, you've got a pretty good chance of surviving. - Author: Patricia Gaffney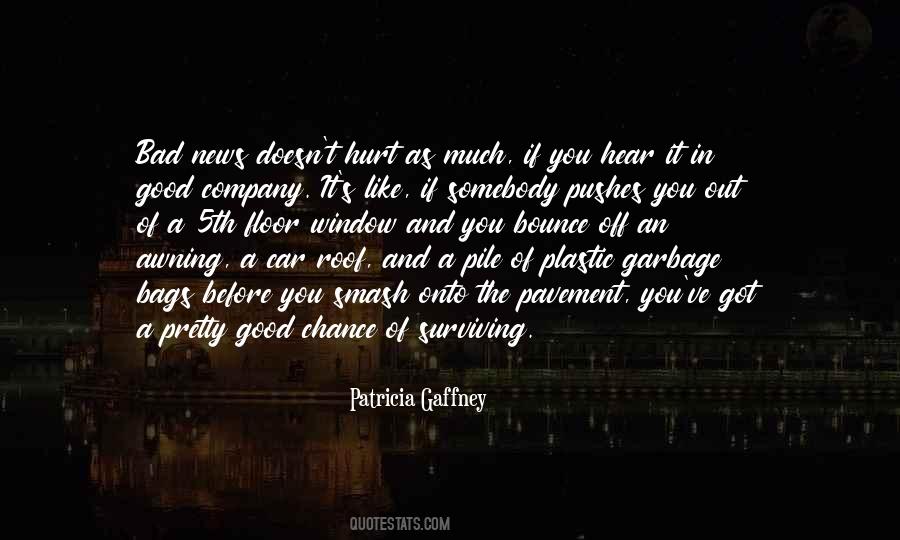 #10. Don't start an argument with somebody who has a microphone when you don't. They'll make you look like chopped liver. - Author: Harlan Ellison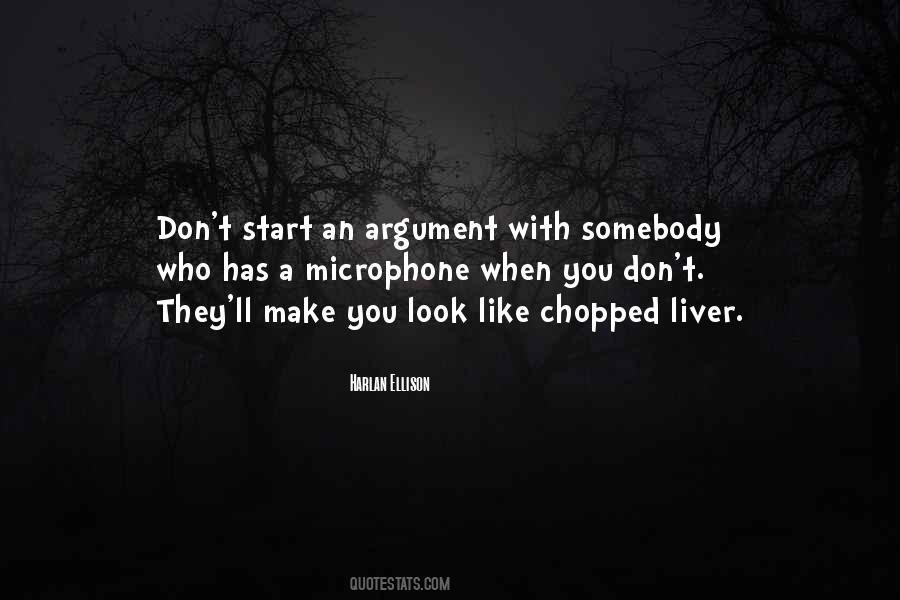 #11. The moment in which you make somebody laugh, you're only doing it to make them laugh and be happy. Then afterward you can be like, 'Oh, I just want the attention. I feel so good that everybody's listening to me and I got the approval that I need.' - Author: T. J. Miller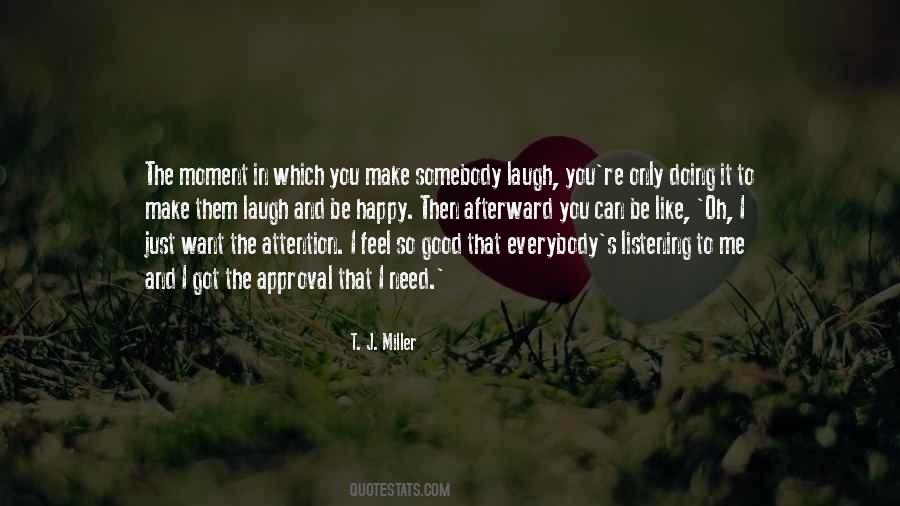 #12. We have a broad array of teams. And if somebody asked me whether a team is a good buy, my response is, 'You'd better hurry up, they're going like hot cakes, and they're going to be even more valuable when we get a system that is even more sustainable.' - Author: David Stern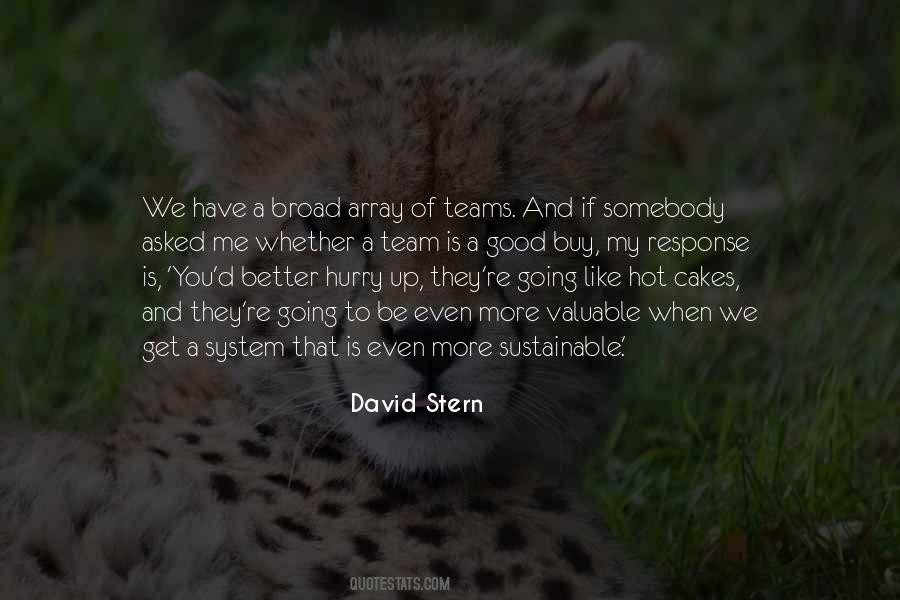 #13. You know what's fun? You pick somebody at random, like out of the phone book, and send them about 100 'Just Because' cards. They can't even ask you why you did it. - Author: Brian Regan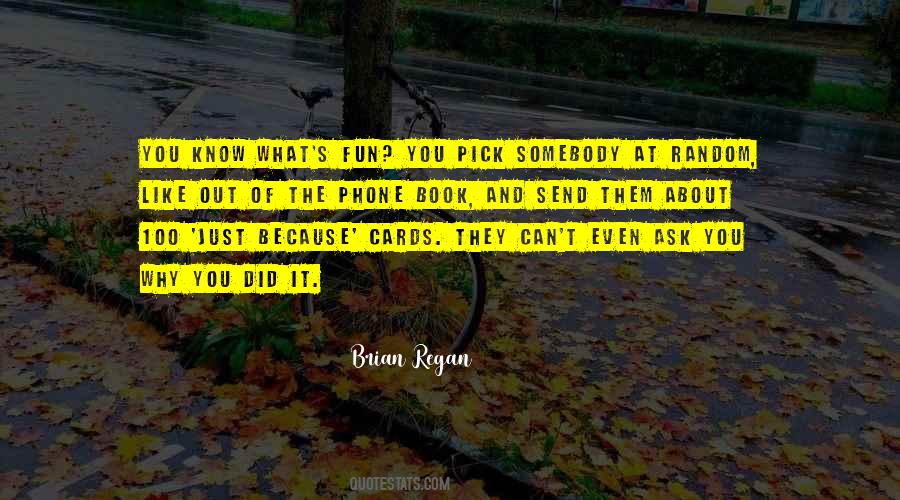 #14. When you are seeing somebody, then obviously it's a commitment. And if you don't want to commit, then don't be in a relationship. Every relationship deserves a certain credibility and respectability. For me, it's always been like that. - Author: Shahid Kapoor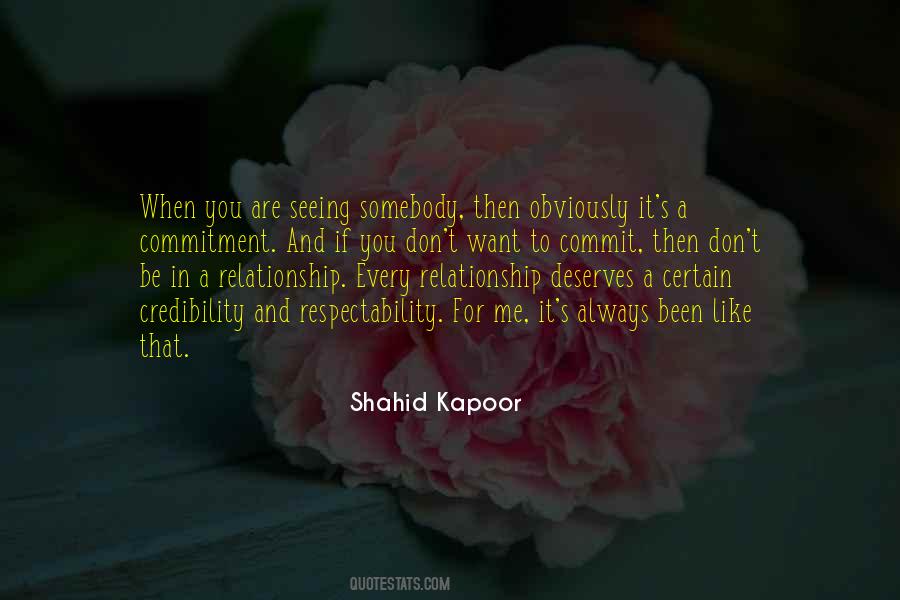 #15. In a sense, the artwork is the most important thing in getting somebody to buy a book. The person probably won't buy a book if he doesn't like the artwork. Once you buy it for the artwork, you hope that the story will also be good. - Author: Stan Lee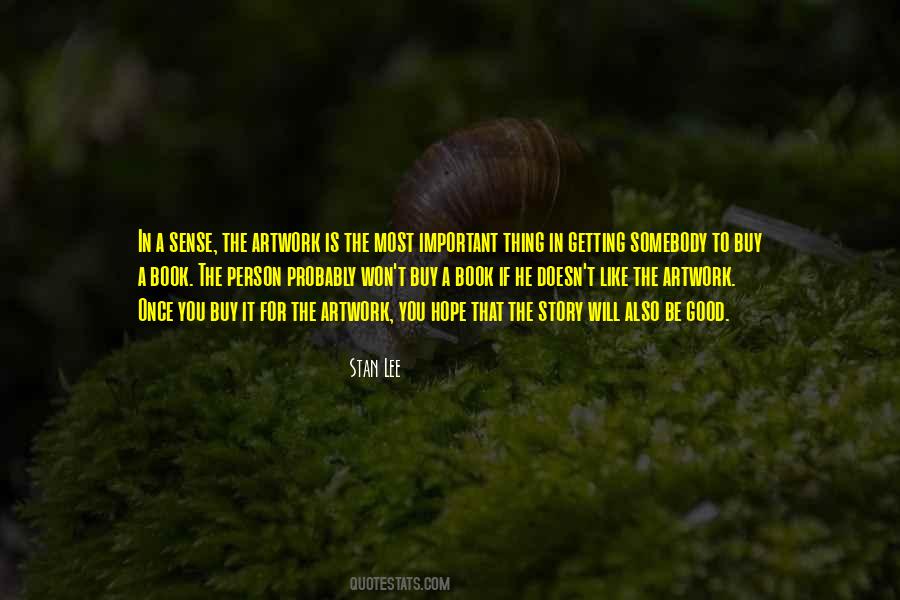 #16. Defining art is huge; I feel like it's such a subjective thing. It's more like what's not art. You know what I mean? I think there can be an art in the way people live their lives, and art can be a gift someone gives to somebody. - Author: Kathleen Hanna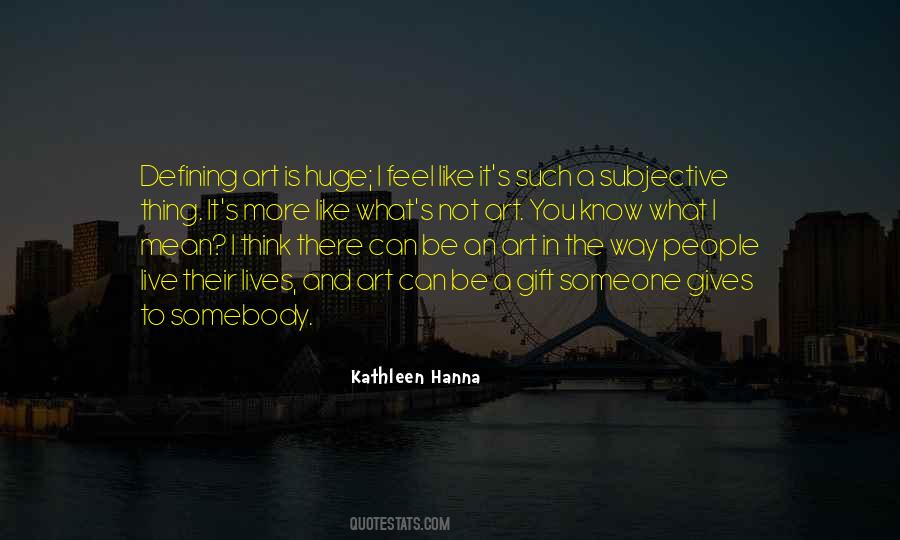 #17. I hate your reasons. I don't want reasons. If you see somebody in pain, people like you reason and reason. You say - pain is a good thing, perhaps he'll be better for it one day. I want to let my heart speak ... Yes. At the end of a gun. - Author: Graham Greene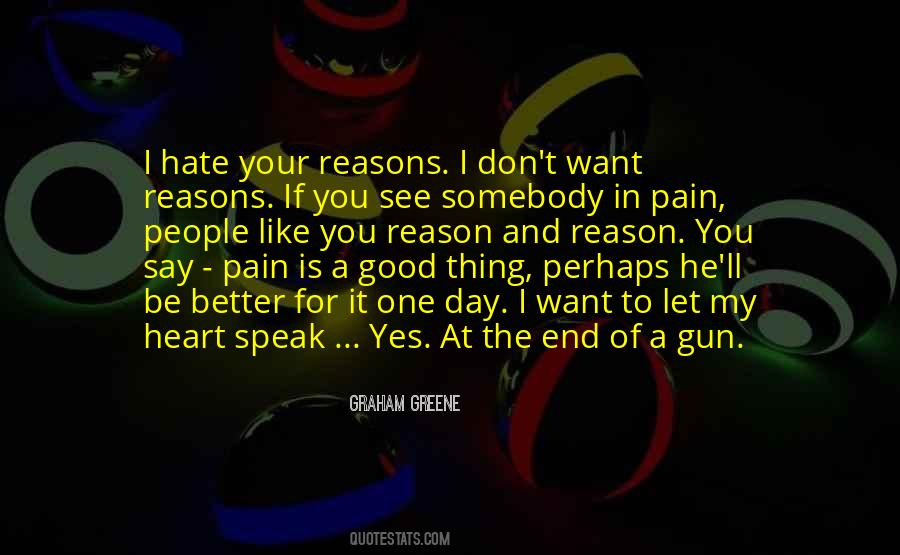 #18. Like somebody once said, you can't force yourself to trust. so you put all your doubts in a little box and then try to forget where you buried it. -Cassie - Author: Rick Yancey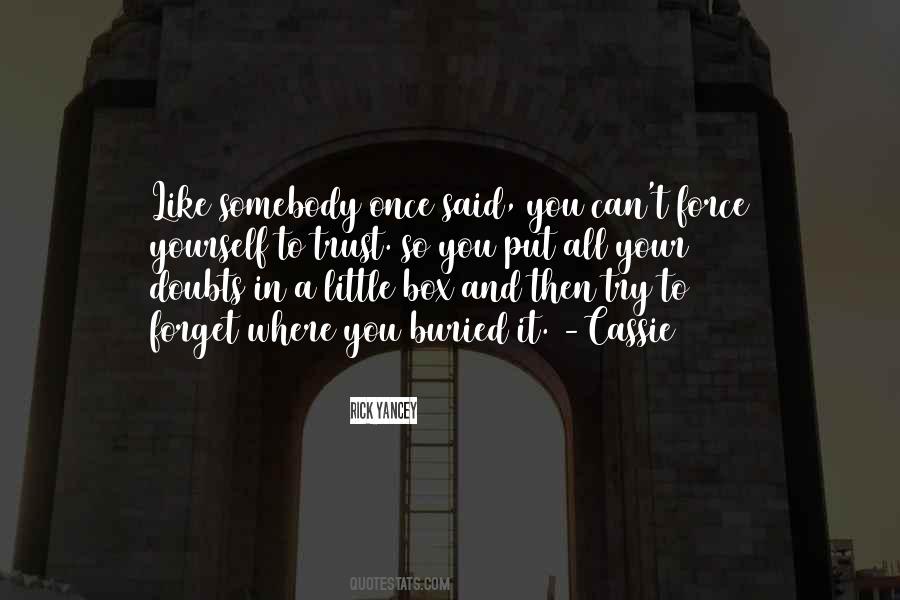 #19. I like creating something from nothing and hearing it on the radio or on stage or from somebody driving down the street singing it. It's like building a house, taking a vacant piece of land, and next thing you know, there's a house with somebody living in it. - Author: Harvey Mason Jr.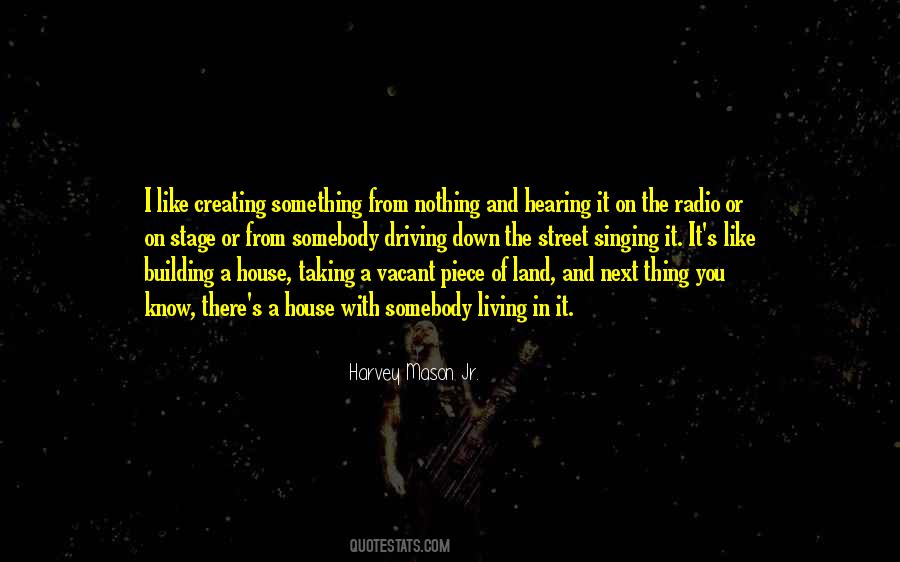 #20. Avoid working directly under somebody you don't admire and don't want to be like. - Author: Charlie Munger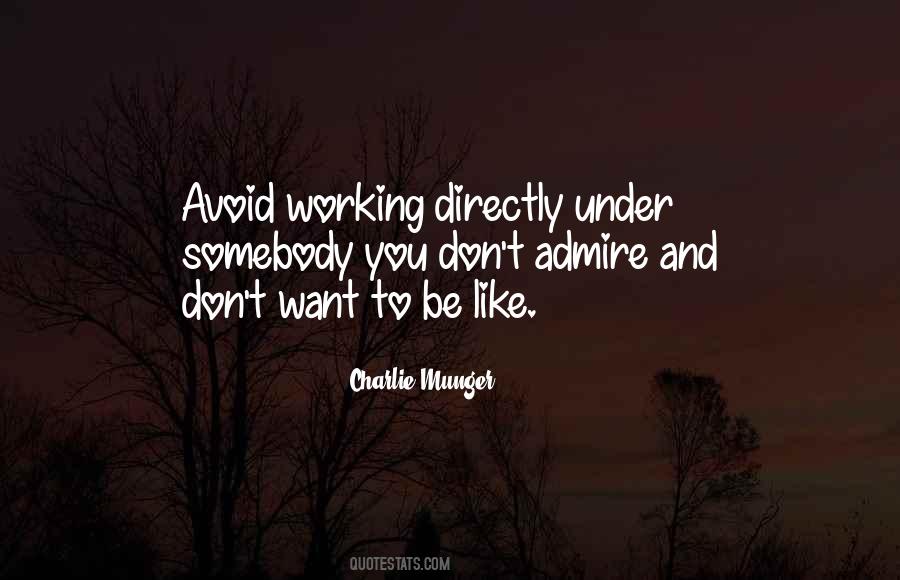 #21. I'd carry the mail for you, Ethel,
Stop running around with that pup,
He's got a car, sure, and jack to throw
Like water but what does he want?
What do they all want? something easy,
Something that somebody else worked for.
Ethel, lay off rich kids, you'll end dirty. - Author: Kenneth Patchen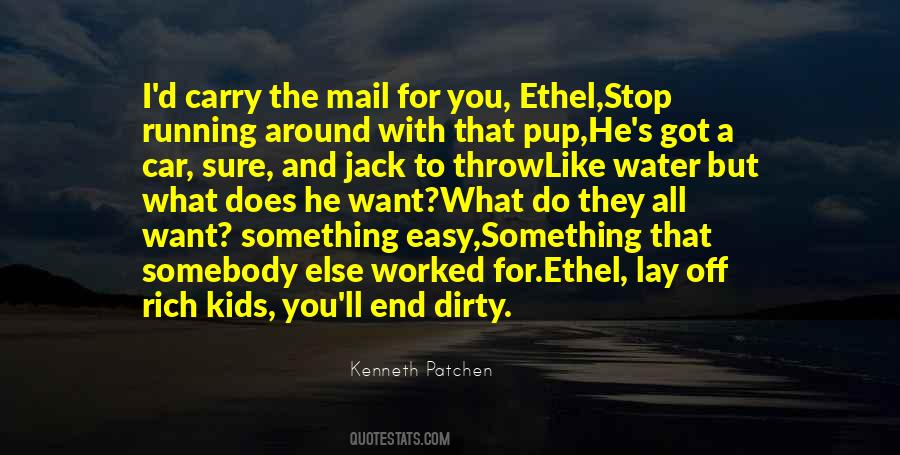 #22. Worse, you all present tense and have to deal with sudden past tense all around you. It's like realizing somebody rob you a year late. - Author: Marlon James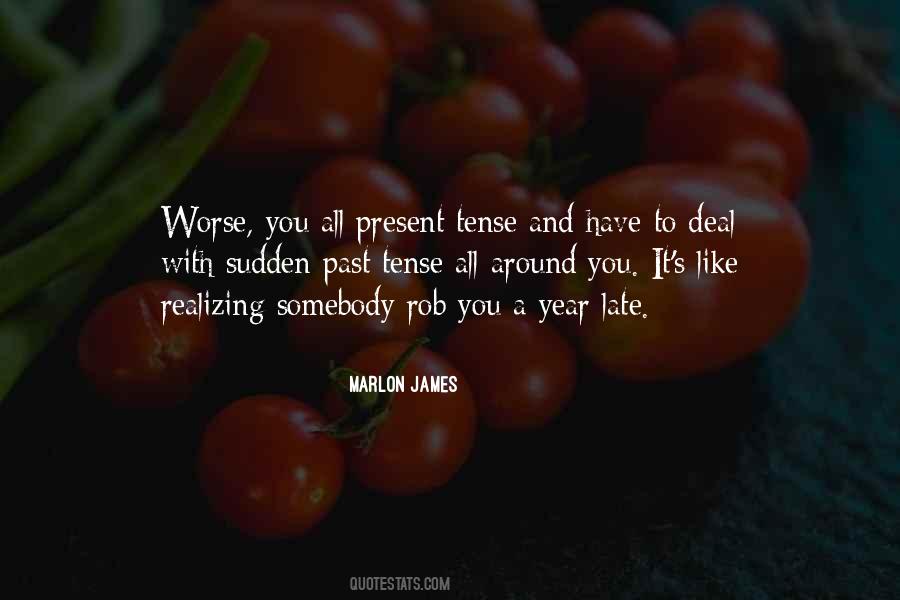 #23. Playing somebody who's real, you can bring all kind of nuances and things to him that you get from source material and things like that, but the more popular or known the person is, the more impossible it is. To get it right, that is the goal. - Author: Anthony Mackie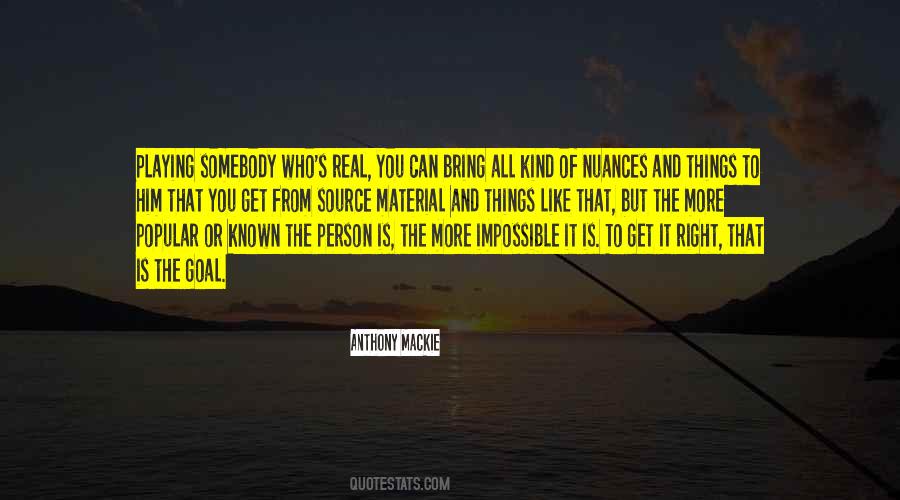 #24. I would challenge anybody in their darkest moment to write what they're grateful for, even stupid little things like the green grass that made them feel good, the friendly conversation they had with somebody on an alevator. You start to realize how rich you are. - Author: Jim Carrey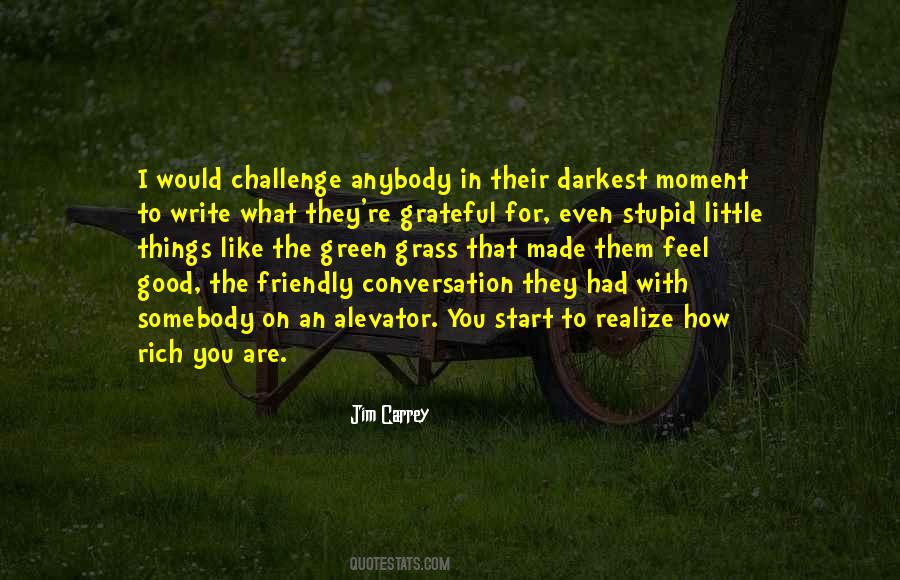 #25. You can't be everything. Nobody is everything. You just do what you do, and you try to do that as well as you can. And if somebody doesn't like it, too bad. - Author: Vinnie Colaiuta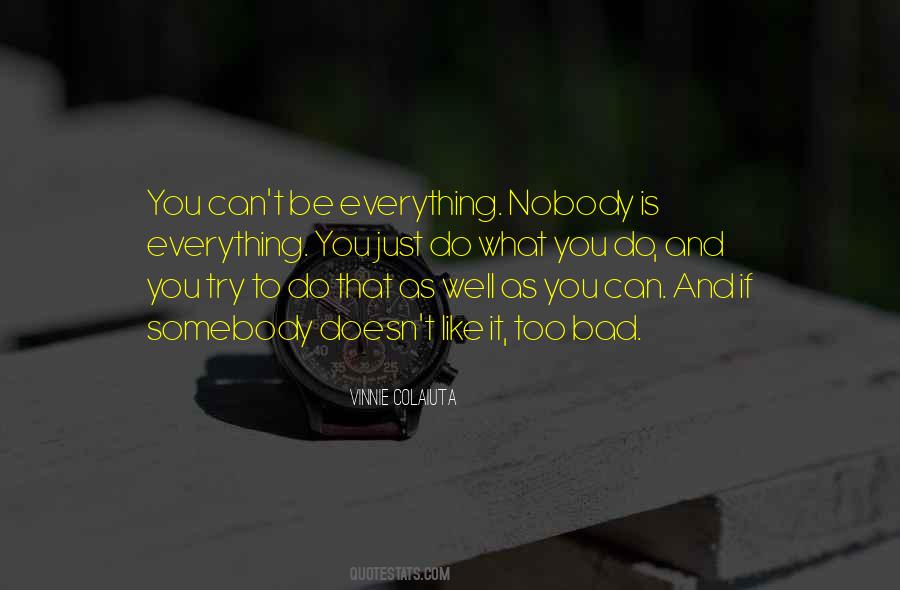 #26. It's not about going around trying to stir up trouble. As long as you're honest and you articulate what you believe to be true, somebody somewhere will become your enemy whether you like it or not. - Author: Criss Jami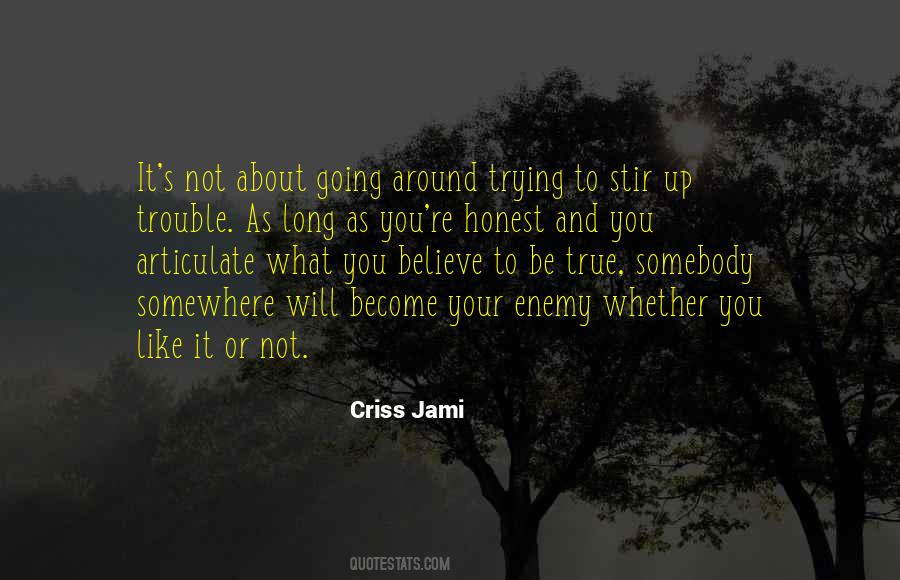 #27. We judge on the basis of what somebody looks like, skin color, whether we think they're beautiful or not. That space on the Internet allows you to converse with somebody with none of those things involved. - Author: Bell Hooks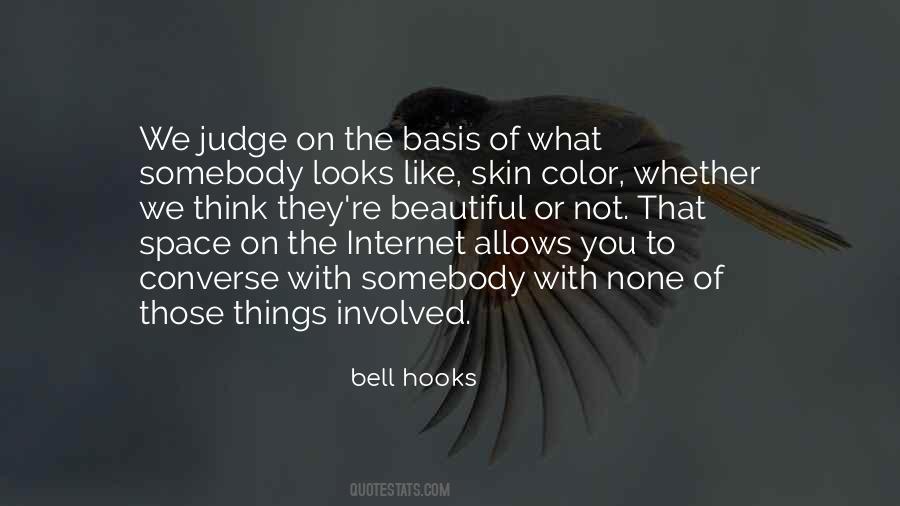 #28. You know," he said, "I keep wanting to say that it's like Simon Snow threw up in here ... but it's more like someone else ate Simon Snow - like somebody went to an all-you-care-to-eat Simon Snow buffet - and then threw up in here. - Author: Rainbow Rowell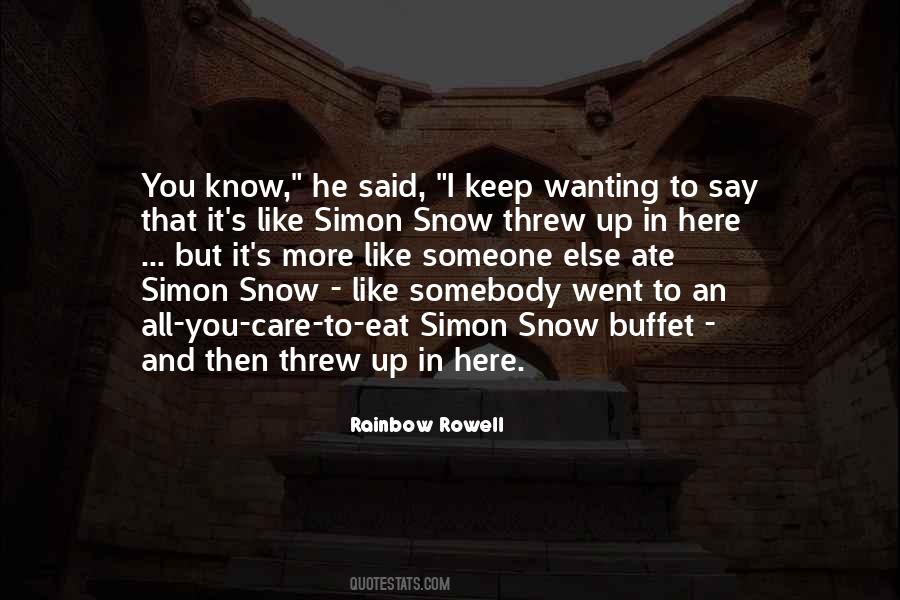 #29. Some of those things come out and you don't know where they came from - somebody's leaking totally false information. They follow you for years and you have to be like, "I don't know anything about that." - Author: Mary Elizabeth Winstead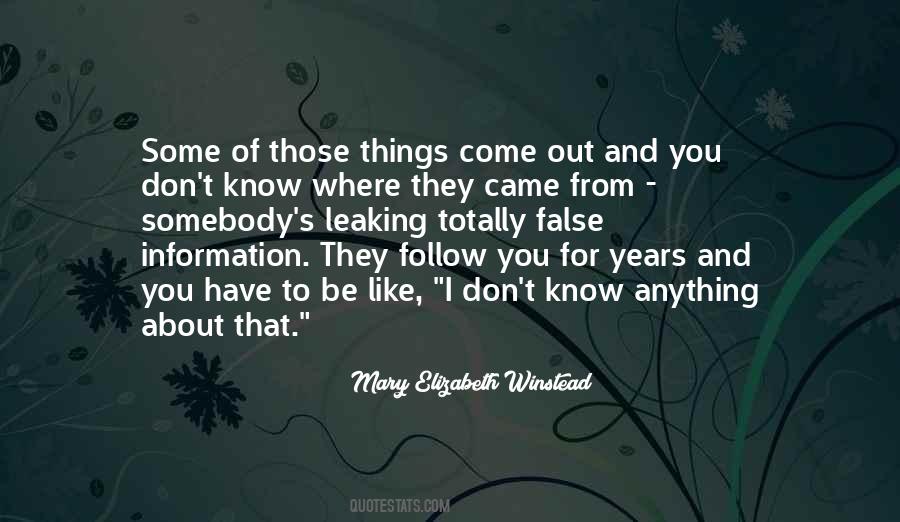 #30. When somebody's never heard you, that's the way to do it: Just give them music for free and let them decide for themselves if they like it or not. - Author: Sam Hunt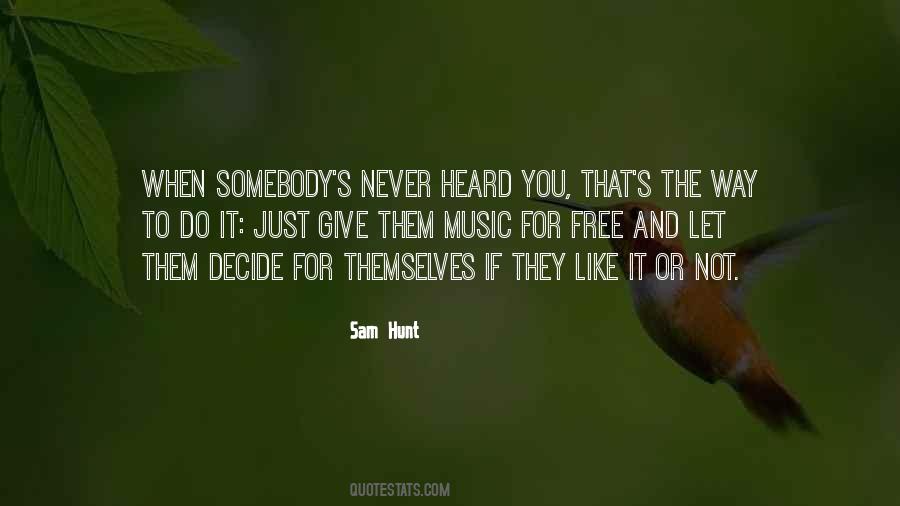 #31. I am somebody who usually writes out the rough draft in longhand. Then I type it into the computer, and that is where I do my editing. I find that if I write it on the computer, I go too quick. So I like getting that first draft out and then typing it in; you are less self-conscious about it. - Author: Barack Obama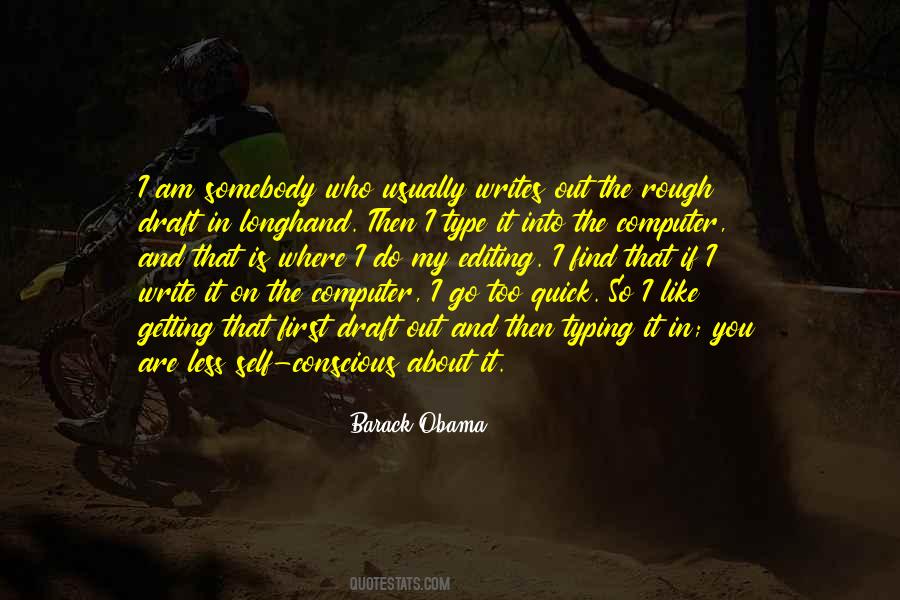 #32. It's not about fooling somebody, it's actually giving somebody a measure of their own belief: how much you want to be fooled. That's why we pay to go to magic shows and things like that. - Author: Vik Muniz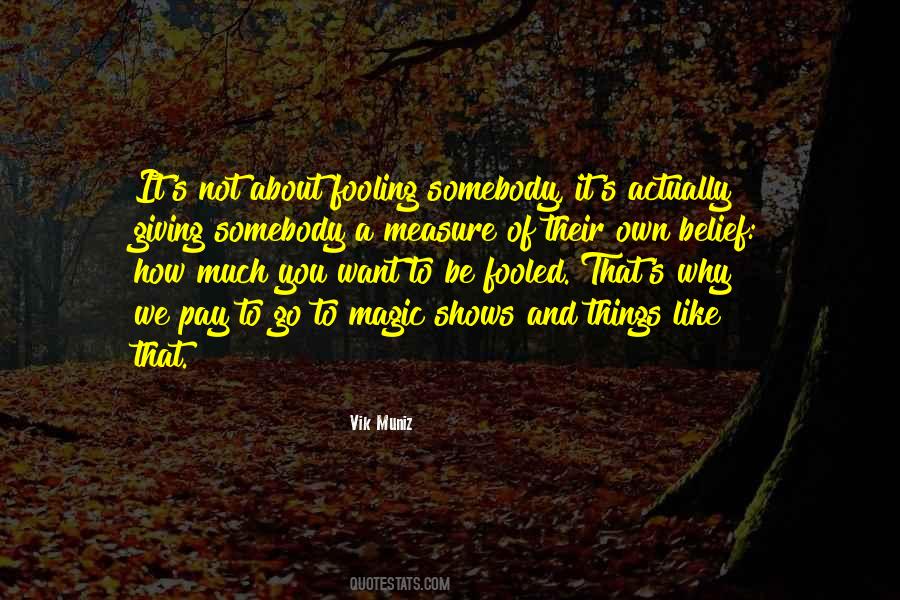 #33. My opinion is that somebody certainly has the right to do cartoons that make fun of somebody else's religion. But to reprint them just to provoke a fight and just to provoke it like thumbing your nose at someone else and going, What are you gonna do about it? - Author: David Byrne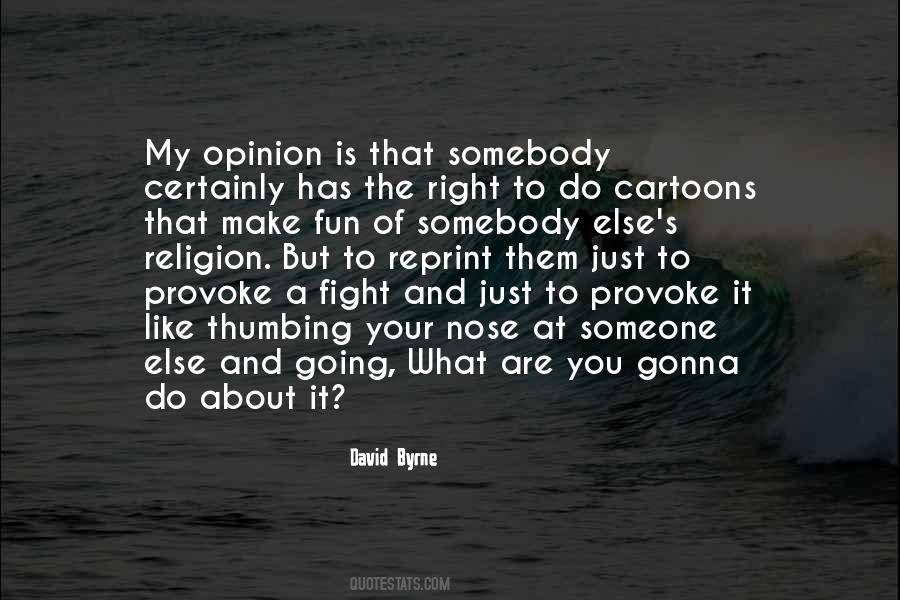 #34. Punch a man on the nose, kick an old man downstairs, shoot somebody or any old thing like that, that's my job. But argue with women in love - no thank you! - Author: Mikhail Bulgakov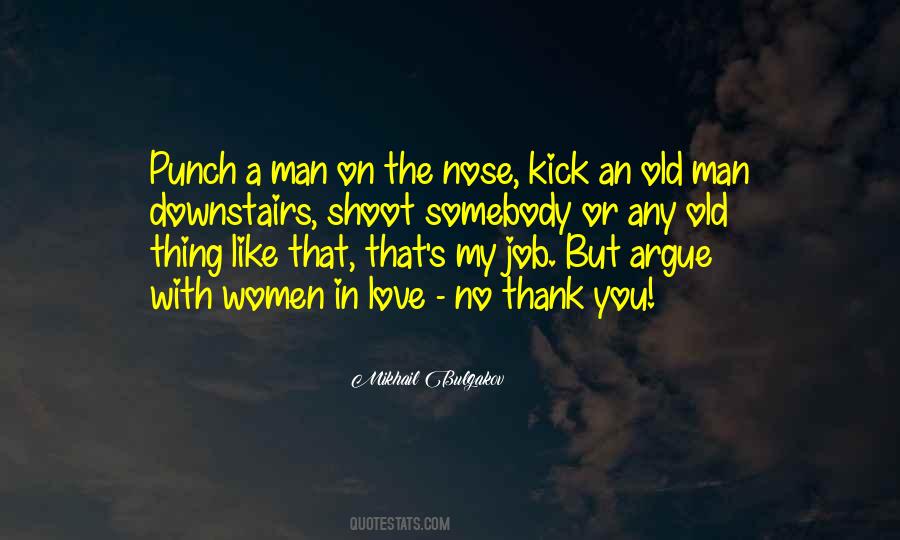 #35. You either like me or you don't. It took me twenty-something years to learn how to love myself, I don't have that kinda time to convince somebody else. - Author: Daniel Franzese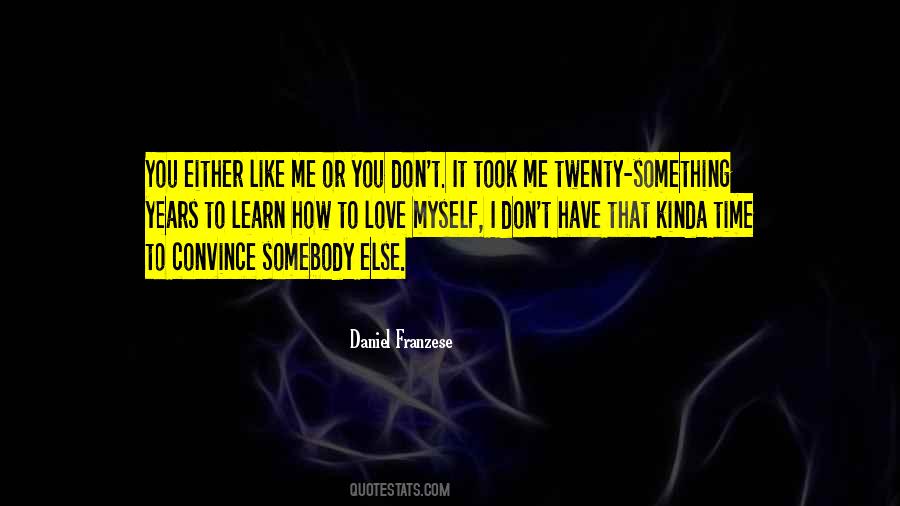 #36. I knew Quintessentially was a success when my father, who does a lot of business in Beirut, introduced himself to somebody and they said, 'Oh, do you know Ben Elliot? I'd really like to meet him.' I remember him ringing me up, really annoyed. - Author: Ben Elliot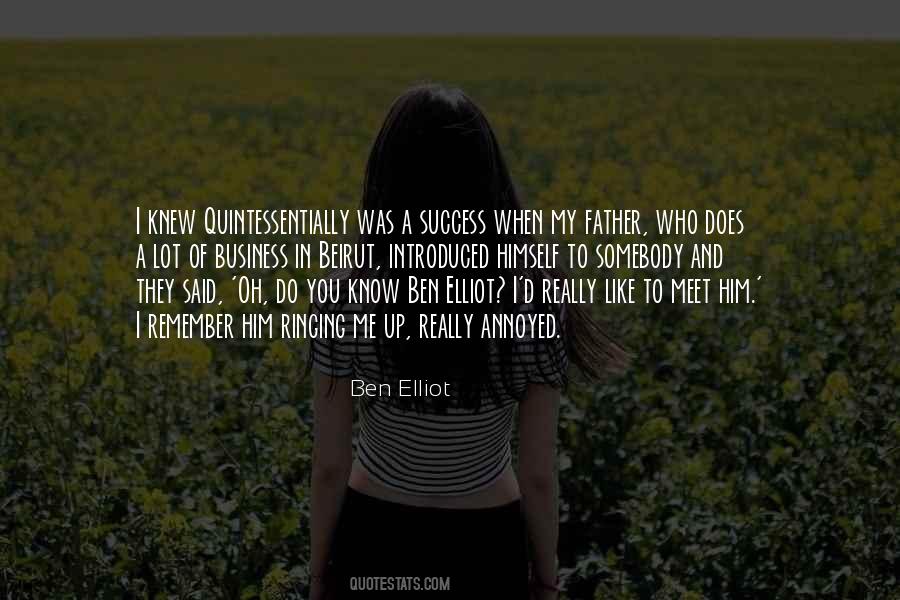 #37. When I came to England, the first director I met was Charles Sturridge, who told me, 'You speak like somebody out of the 1950s.' - Author: Richard E. Grant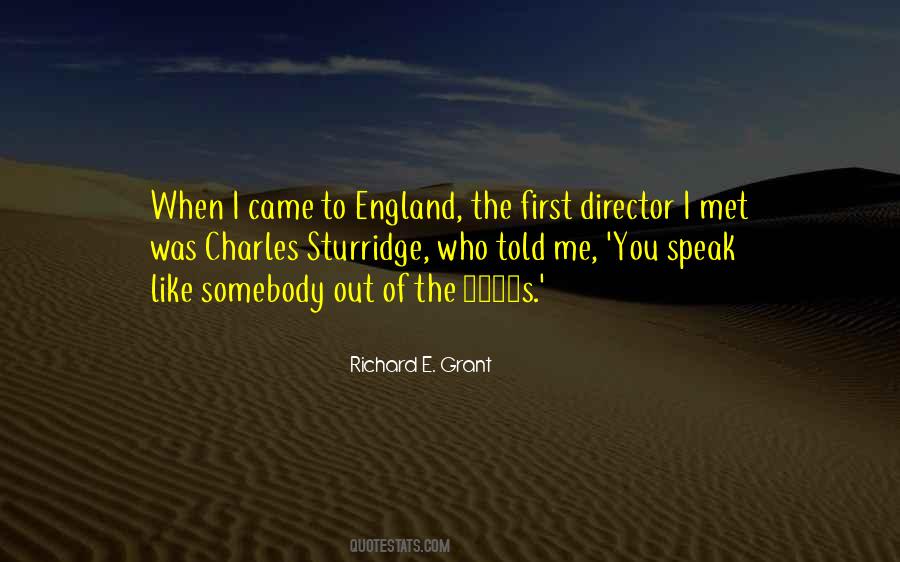 #38. Like a horse, honey, somebody's gonna break you.'
'Never. Going. To. Happen. - Author: Karen Marie Moning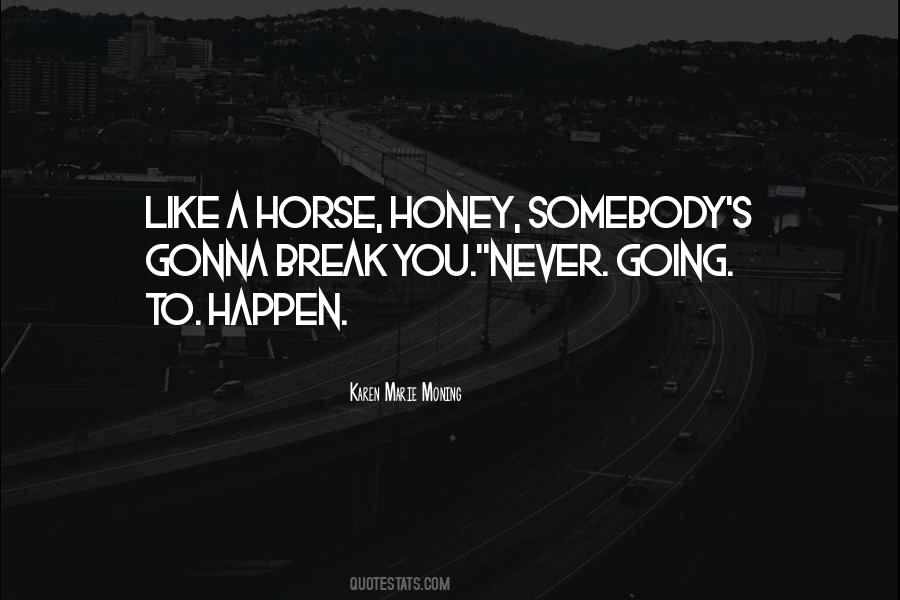 #39. America takes credit for giving you freedom that you had anyway. It's like going to a wedding and putting your tag on somebody elses box. - Author: Doug Stanhope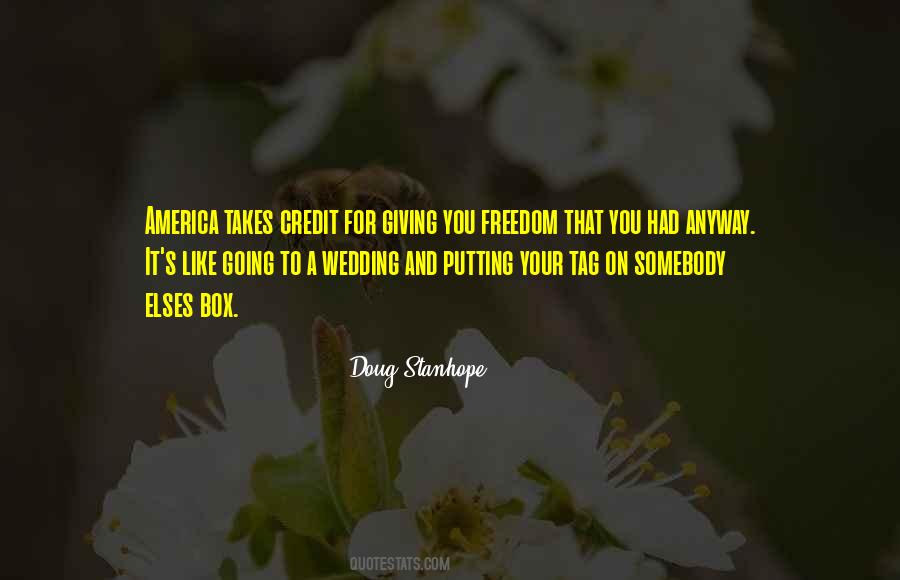 #40. Being good to somebody is just like being mean to somebody. Risky. You don't get nothing for it. - Author: Toni Morrison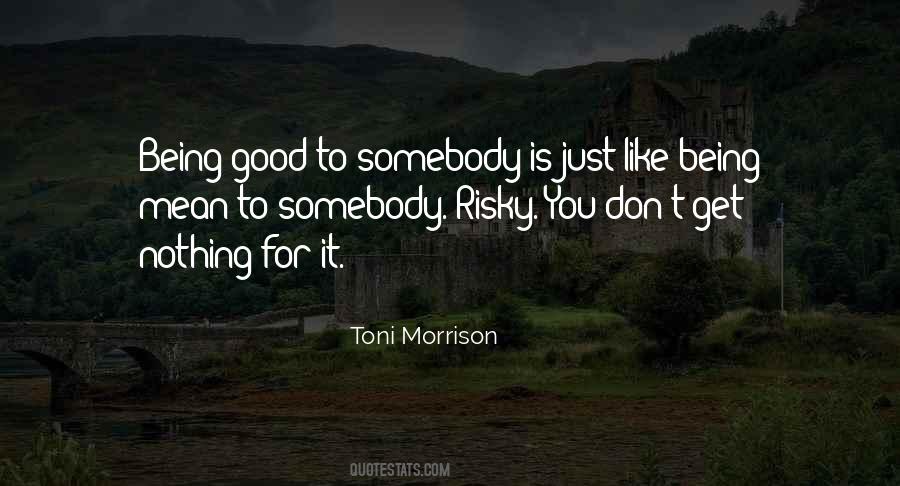 #41. Usually I like playing other people. I like finding myself through other characters. But when you do cabaret, you are yourself. I think it's the most fun, and I tell you, if somebody had told me that, I would have done it fifteen years earlier than I did. - Author: Faith Prince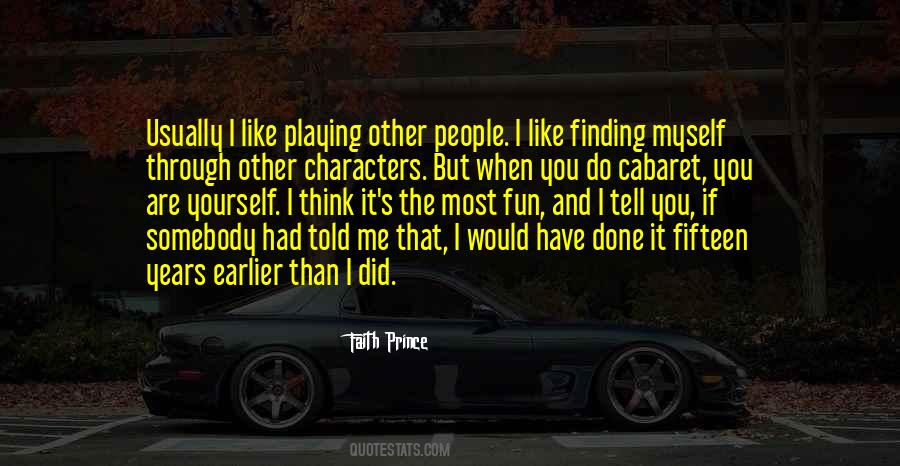 #42. You can meet somebody at a club. You can meet somebody at a restaurant. But maybe that person is not on the same page. Maybe that person is like, 'I'm starting out, I don't want to get married now.' Or, 'I don't want to have kids.' - Author: Juan Pablo Galavis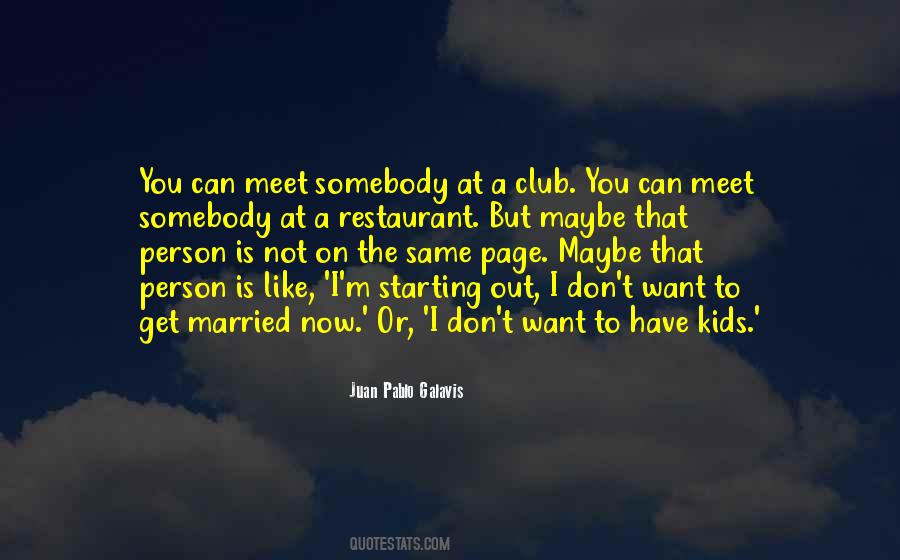 #43. The worst thing you can do is say to yourself, "I want to be just like somebody else." You have to absorb knowledge from someone else, but ultimately you have to find your own voice. - Author: Yo-Yo Ma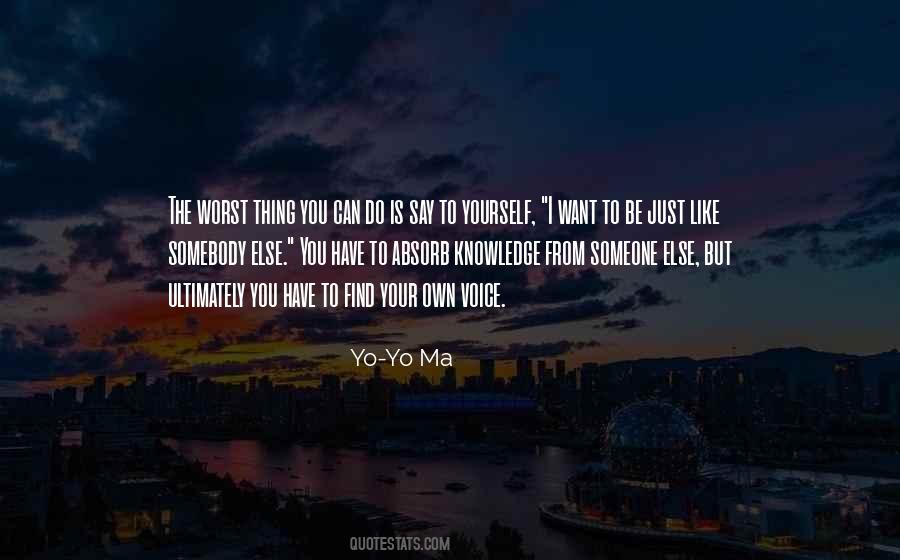 #44. It's fabulous when you do that, when you discover somebody who you like, when you kind of feel those feelings, even though he articulates them better. - Author: Bryan Ferry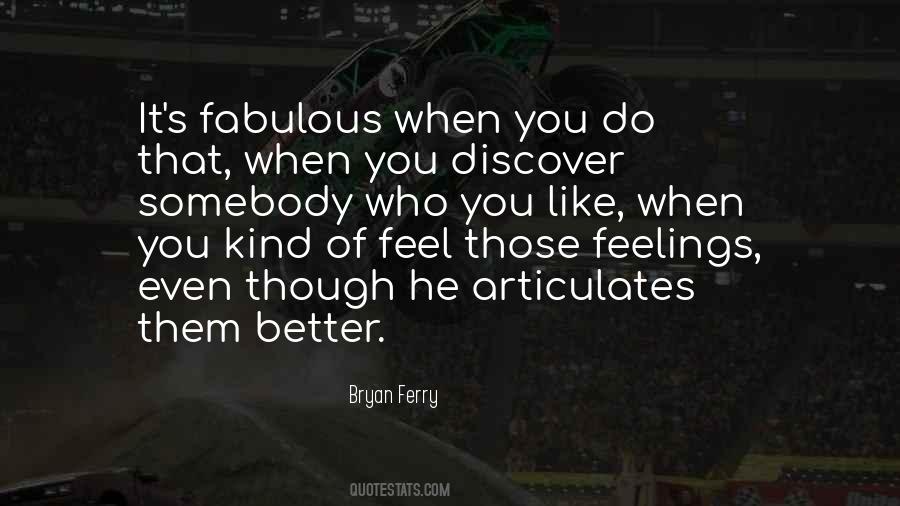 #45. For me, the political part of being an actor is very tough. To sit somewhere and tell somebody why you should feel this way or that way about my character does not feel like my responsibility. It feels like the responsibility of the writer and the person who created it. - Author: Emma Stone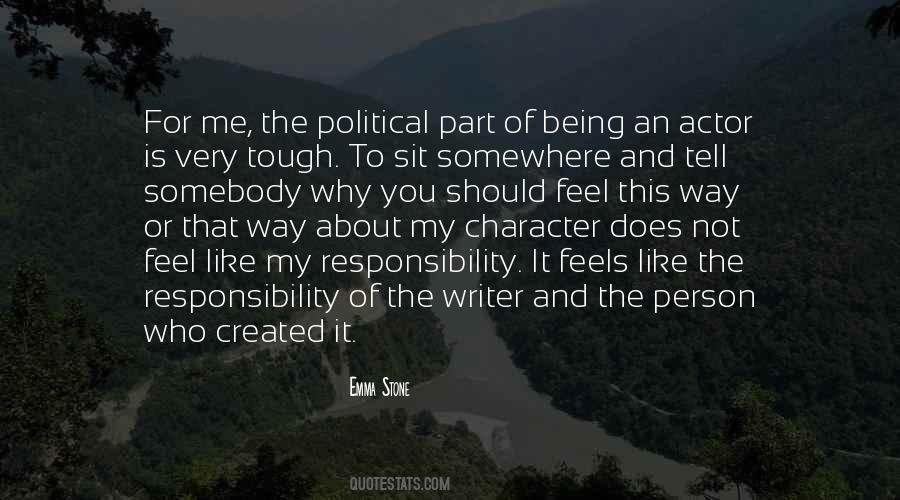 #46. It's easy to be foolish ... It's dead simple, really. All you have to be is human and to allow yourself to do the human things, like fall in love with somebody when you know that there's no point and when you know, too, that it's just going to make you unhappy. - Author: Alexander McCall Smith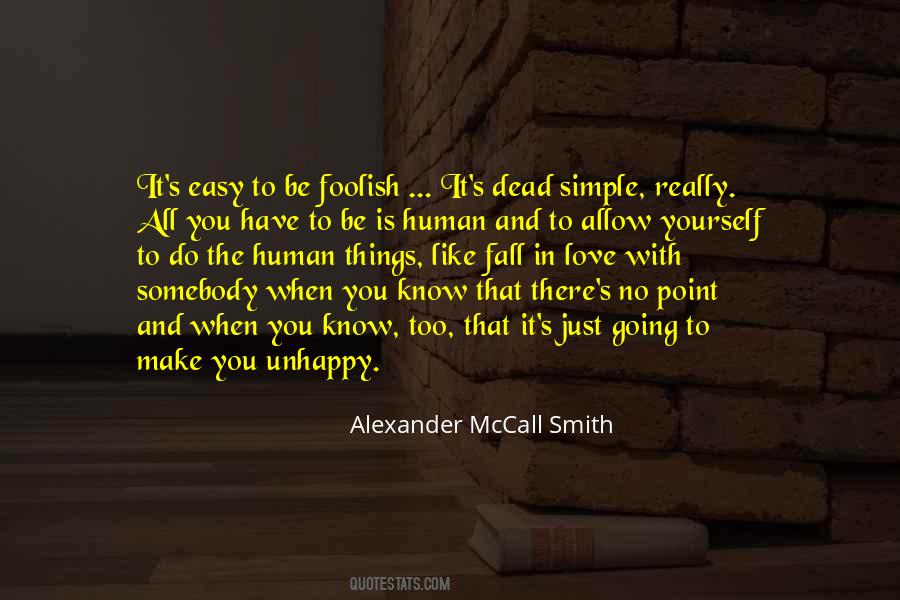 #47. I like to throw my own punches when I can, as would any guy. You can always tell when it's somebody in a wig. It's cool when it comes up to your face and it's still you in the fight. - Author: Jason Dohring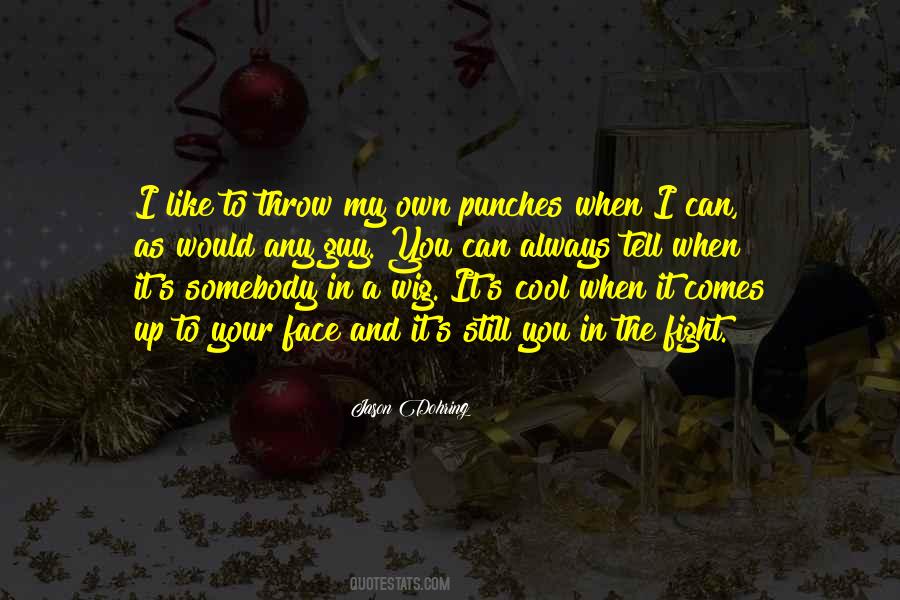 #48. Dress yourself in heavy fishing waders, put on an overcoat and boxing gloves and a bucket over your head, then have somebody strap two sacks of cement across your shoulders and you will know what a space suit feels like under one gravity. - Author: Robert A. Heinlein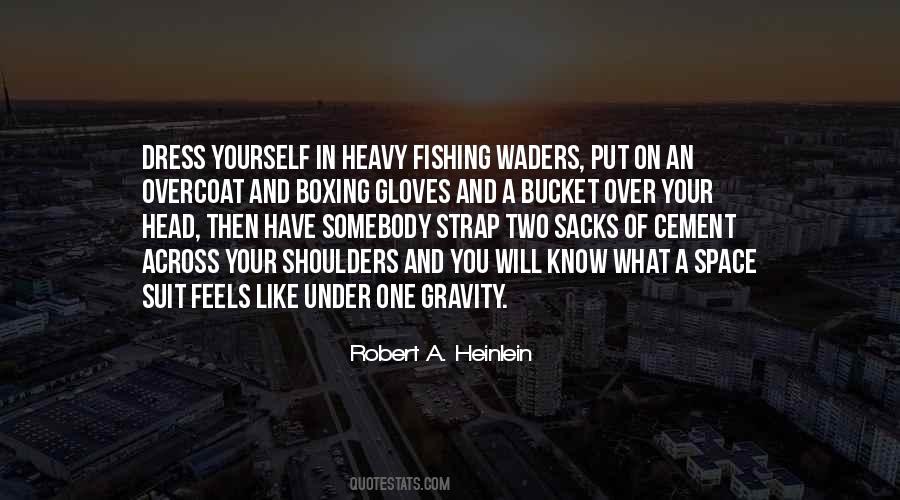 #49. You can't put nothing past these southern boys. They just sit around waiting for somebody to kill their brother so they can get started on some vengeance. It's like a dang vocation with them - Author: Alden Bell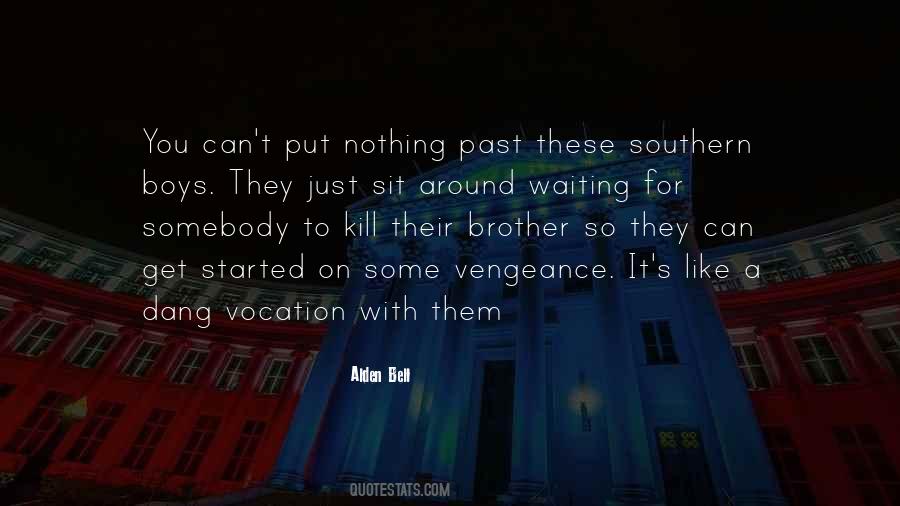 #50. I love looking at you, hundred-year-old tree, loaded with shoots and boughs as though you were a stripling. Teach me the secret of growing old like you, open to life, to youth, to dreams, as somebody aware that youth and age are merely steps towards eternity. - Author: Helder Camara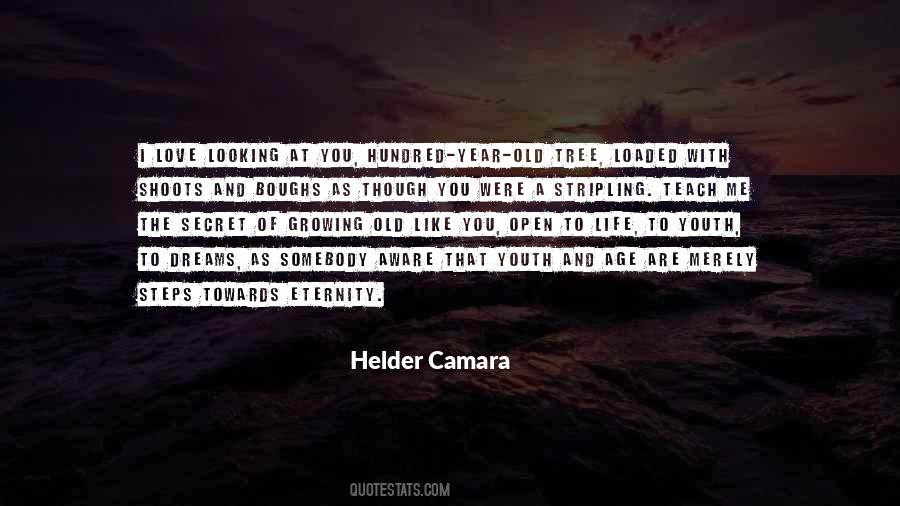 #51. When you're a kid and you're trying to find your own voice, it's rather daunting to hear somebody like Howlin' Wolf, because you know that you'll never achieve that. - Author: Tom Waits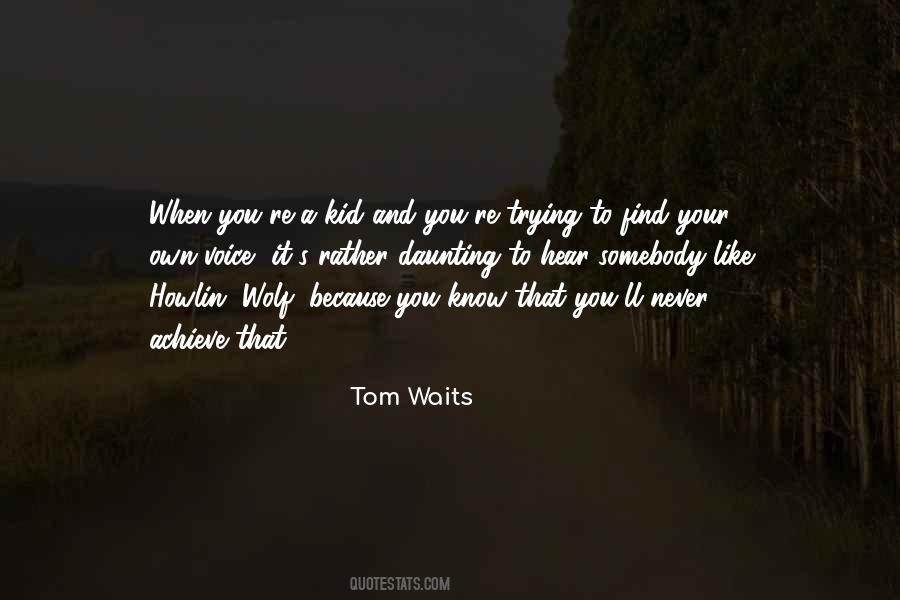 #52. Apology is pointless. Apologies are for when you forget something. Or bump into somebody. Apologies are for accidents. You can't apologise for something you chose to do. That's like apologising for being you. - Author: Steven Camden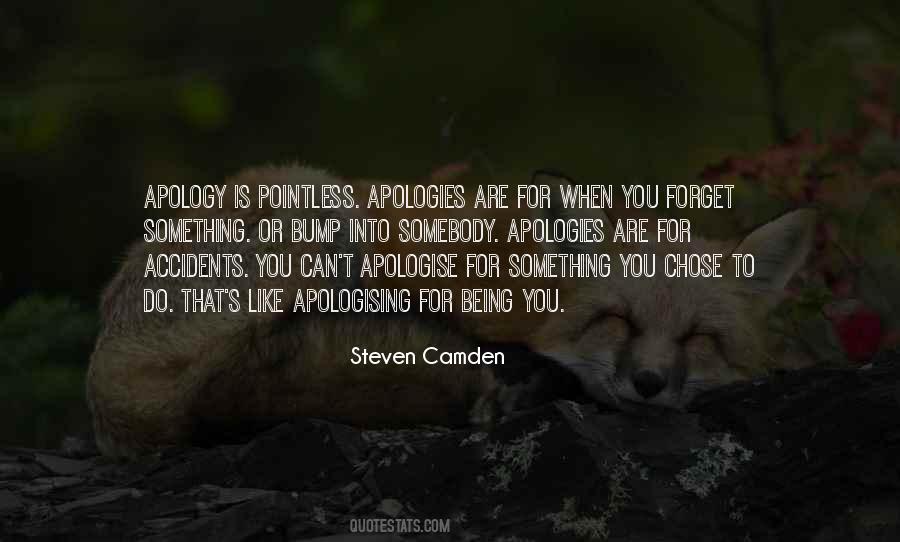 #53. I don't like to see a president who is just out campaigning all year long or for the last four years. I'd like to see somebody who's going in the office. In fact, I'd like to not see them because that way you'd be sure that they'd be working. - Author: Clint Eastwood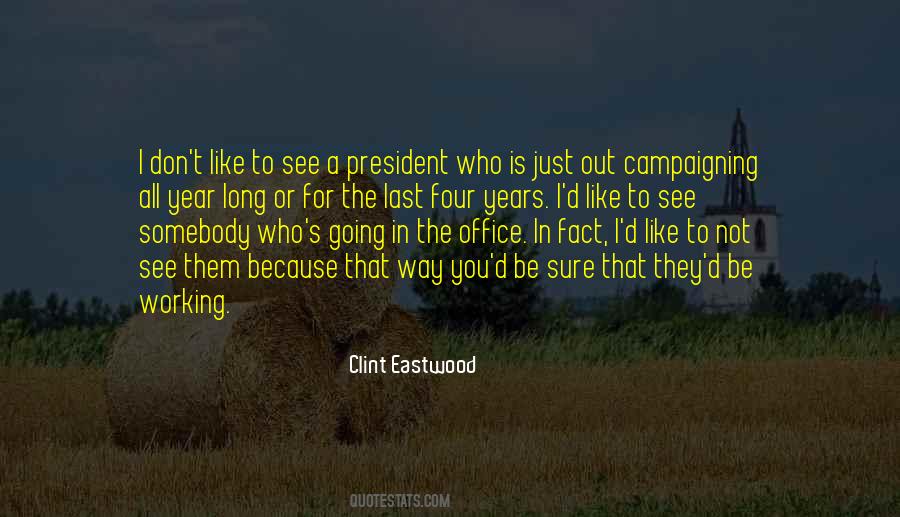 #54. Jah know, sometimes I don't learn till too late, and to know something too late? Well is better you never know as my mother used to say. Worse, you all present tense and have to deal with sudden past tense all around you. It's like realizing somebody rob you a year late. So - Author: Marlon James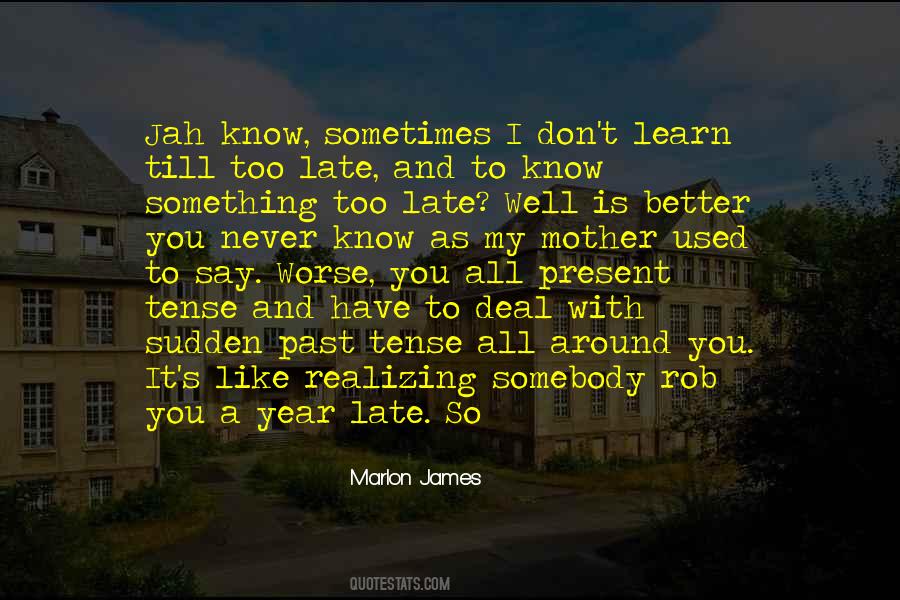 #55. The number one characteristic of an alpha male is the smile," he said, beaming an artificial beam. "Smile when you enter a room. As soon as you walk in a club, the game is on. And by smiling, you look like you're together, you're fun, and you're somebody. - Author: Neil Strauss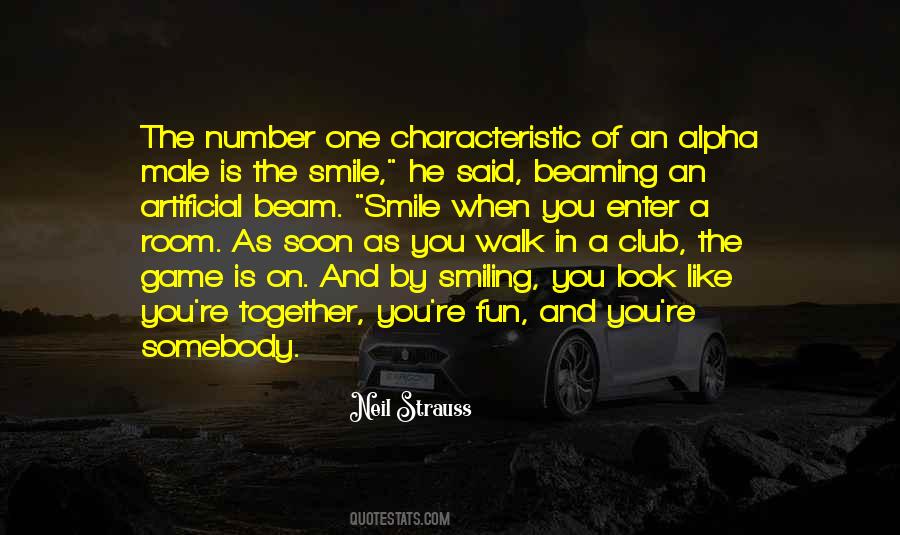 #56. You know the way there are two kinds of actors - the De Niro kind who's always De Niro, and then somebody like Daniel Day-Lewis, who transforms himself eerily? Well, I aim to be the Daniel Day-Lewis kind of writer. I don't have a house style. - Author: Emma Donoghue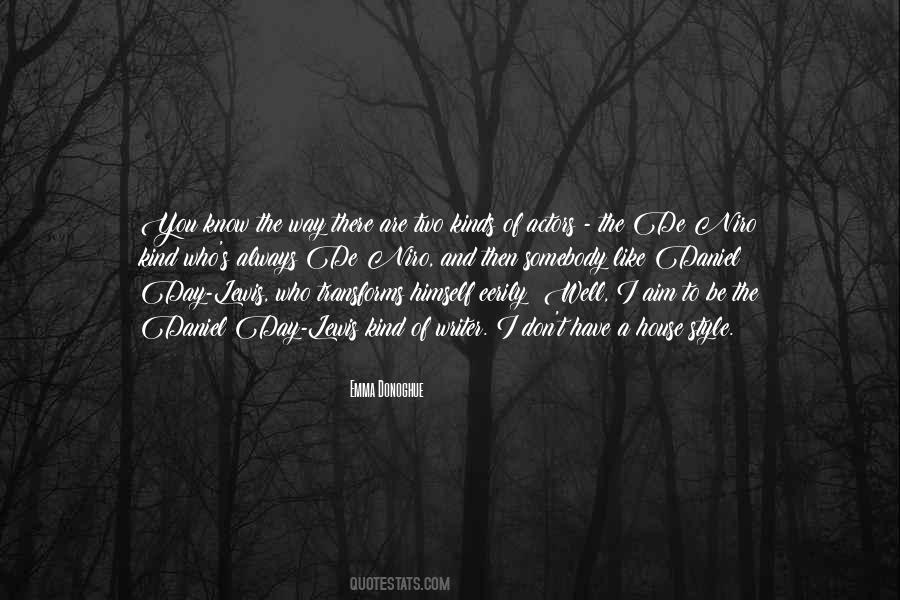 #57. I'm a substitute mom."
"You're more like a crazy aunt who only gets called when somebody needs bailing out of jail. - Author: Ilona Andrews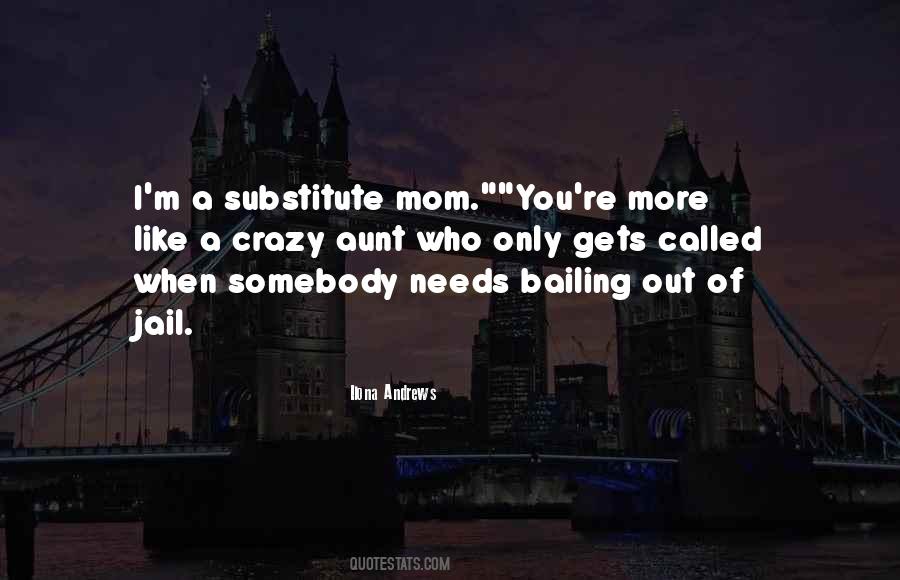 #58. TV is tricky. You can do some stuff and people will tune out and never tune back in. It's sort of like putting a bad taste in somebody's mouth. Some people may not ever tune in again. And then there's some people that will tune in just to tune in and see what's gon' happen. - Author: NeNe Leakes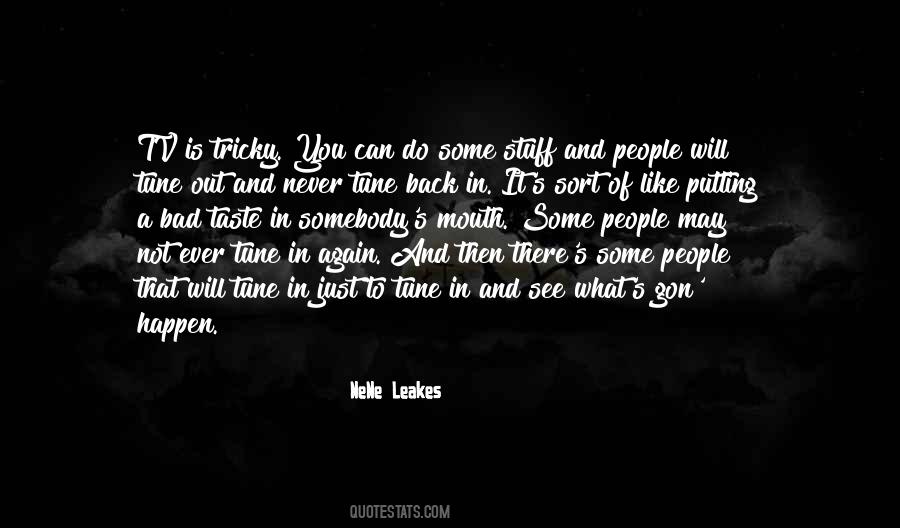 #59. If you're supposed to sock somebody in the jaw, and you sort of feel like doing it, you should do it. I'm just no good at it, though. I'd rather push a guy out the window or chop his head off with an ax than sock him in the jaw. - Author: J.D. Salinger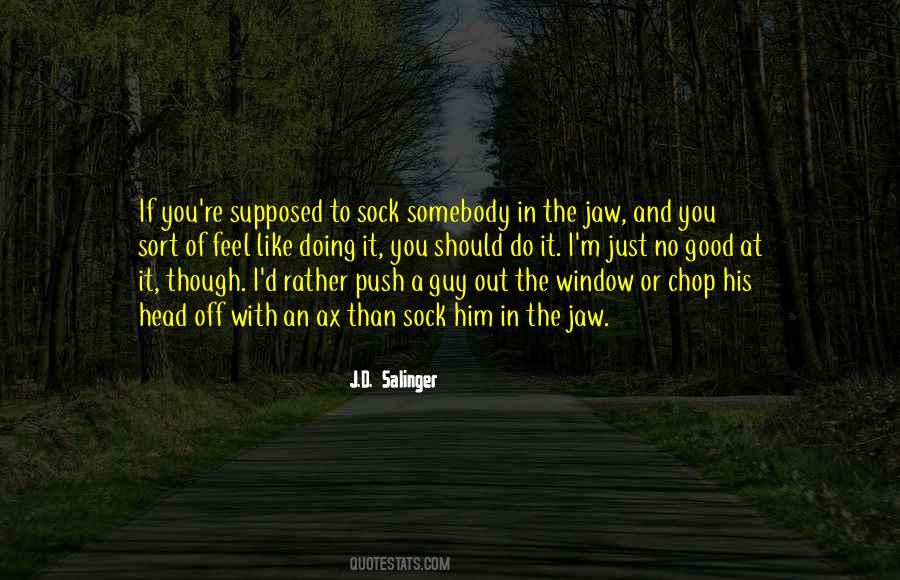 #60. You don't want to be mean to people, but some people are real assholes. And you can't say that on TV - or, you can, but probably, as a celebrity, I can't get away with it. Trust me. Unless you're somebody who can say anything they want, I guess, like Donald Trump. - Author: Jackee Harry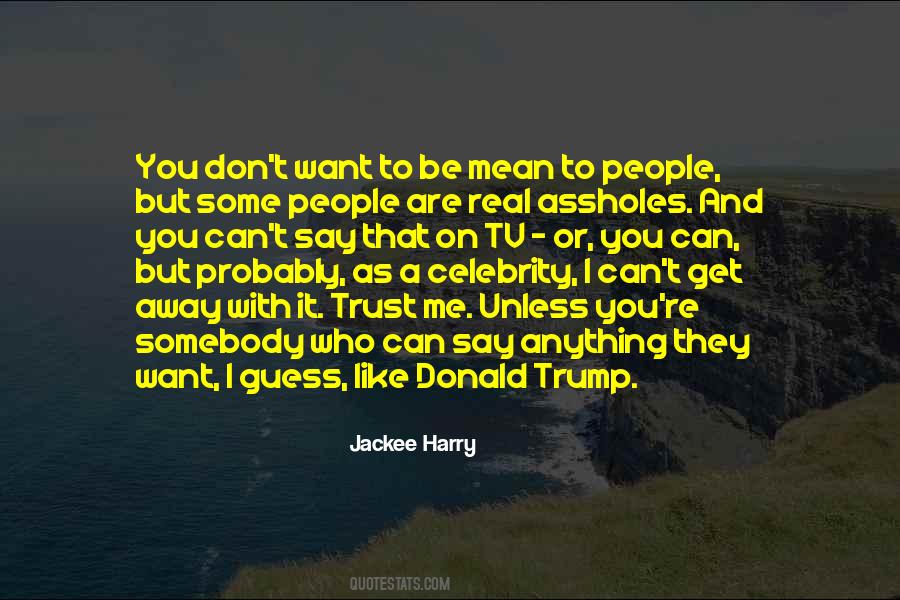 #61. I feel like the great filmmakers who have a true voice, yeah they take the notes, they understand the notes, but it's really about the notes underneath the notes. When you do a test screening and somebody says, 'Well, I didn't like the love story,' but it was probably just too long. - Author: Louis Leterrier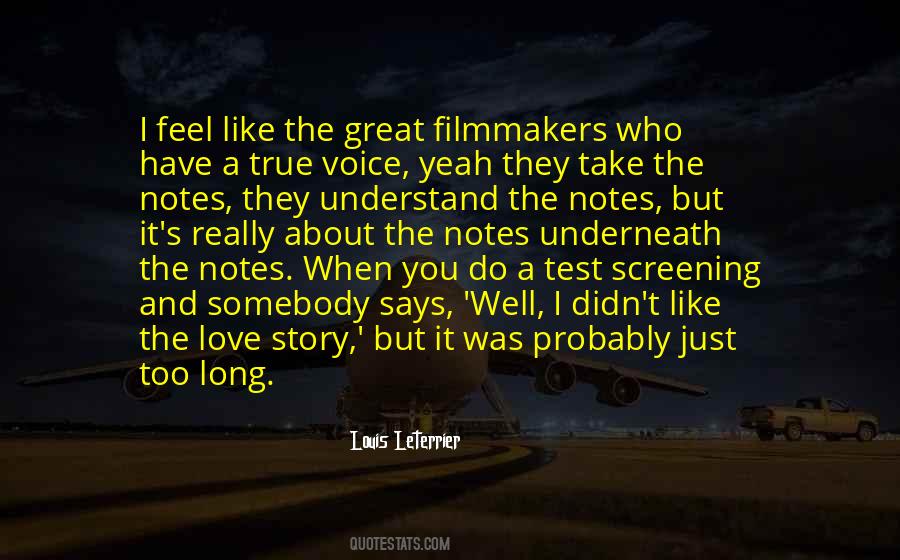 #62. Sometimes I don't like people. And, you know, it doesn't bother me. The hard ones are when you really like somebody, really respect somebody and they make a mistake. - Author: Donald Trump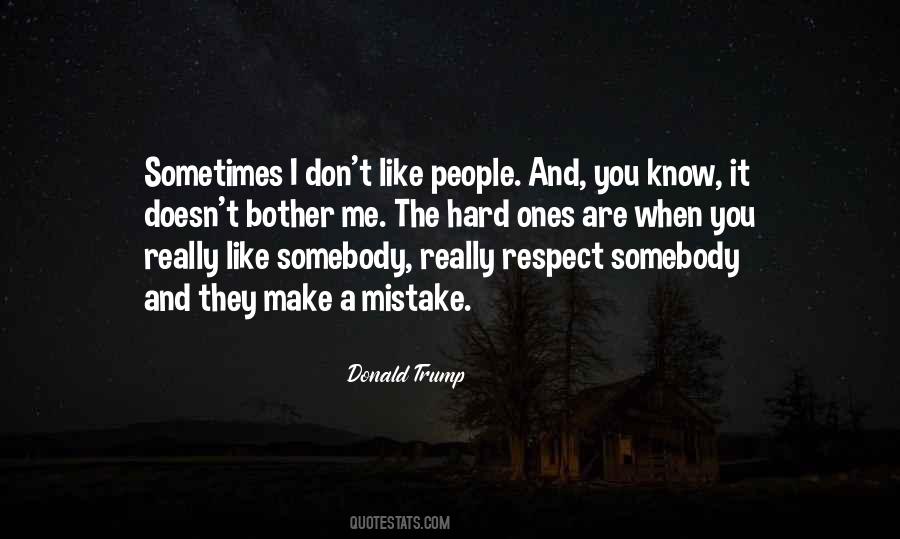 #63. You know how sometimes you can be going along and do something or say something, and suddenly you *know* yourself? I mean, it's like you're looking at somebody else, and it's just so fucking clear you want to hit something. - Author: Sarah Monette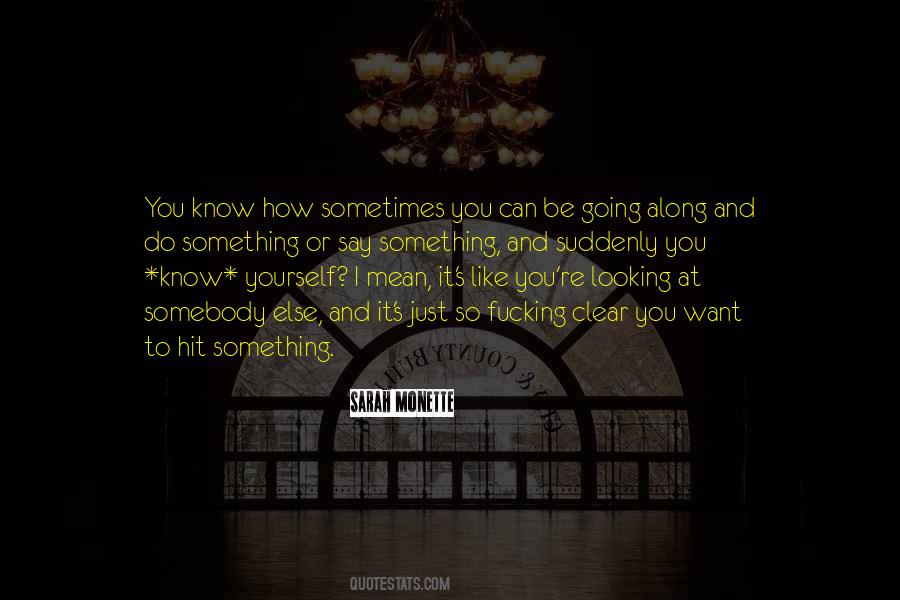 #64. Working with him was sort of like trying to defuse a bomb with somebody standing behind you and every now and then clashing a pair of cymbals together. In a word, upsetting. - Author: Stephen King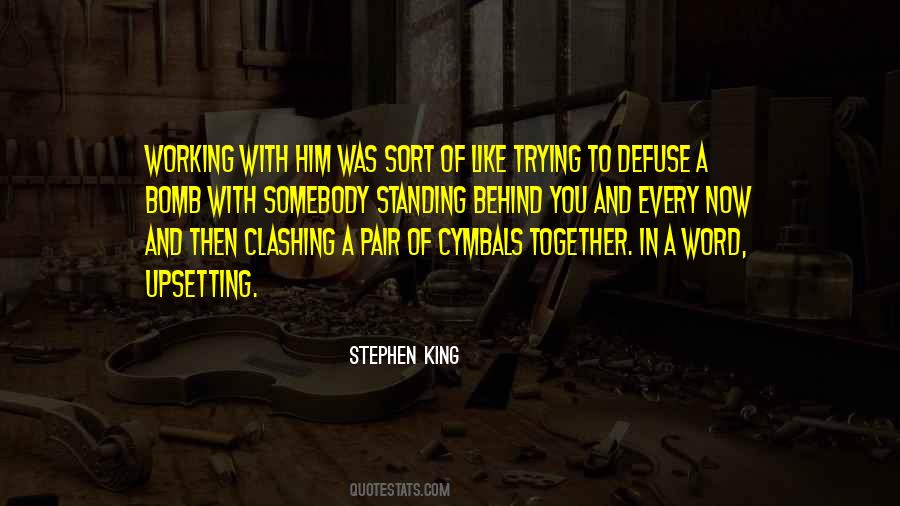 #65. I don't understand what people are talking about in different rhymes glorifying jail. If you like going to bed early, getting yelled at, seeing a fight, seeing somebody getting their head split open, or fighting over the TV then that's the place for you. - Author: Sadat X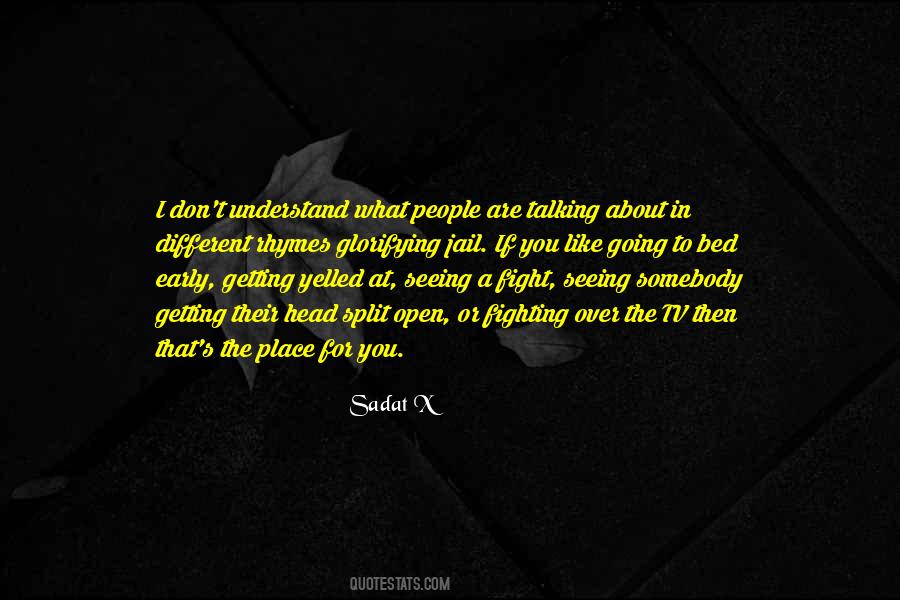 #66. If you're a sports fan you realize that when you meet somebody, like a girlfriend, they kind of have to root for your team. They don't have a choice. - Author: Jimmy Fallon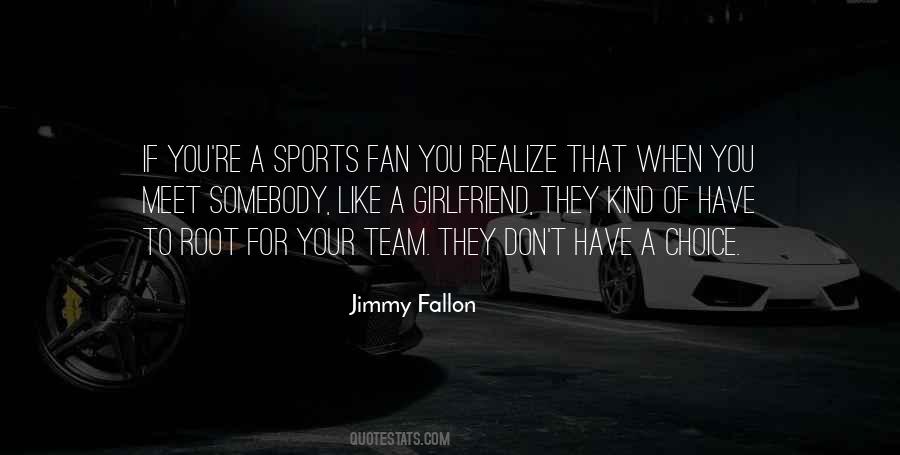 #67. I have no intention of flattering people. I like wrinkles and crow's feet and flaws, and somebody should know, if I'm going to photograph them, that's going to show up, you know? - Author: Chuck Close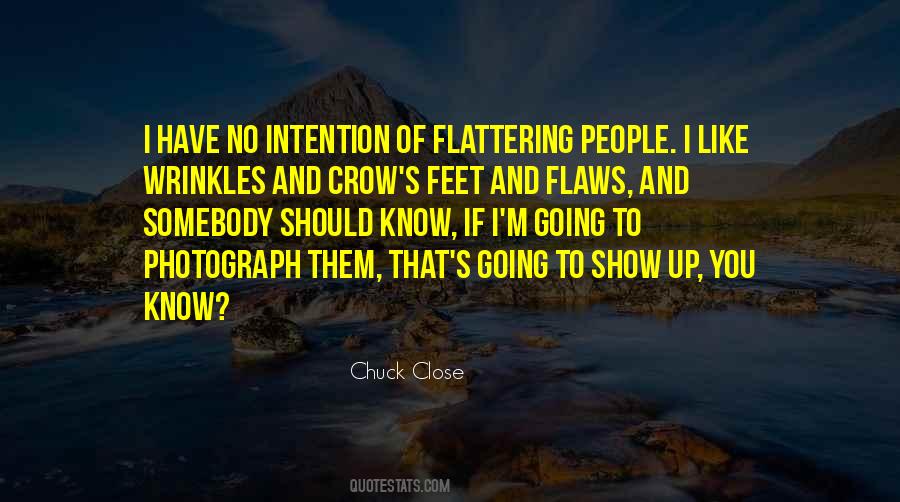 #68. Those you have followed passionately, gladly, zealously have made you feel like somebody. It wasn't merely because they had the job or the power
they somehow made you feel terrific to be around them. - Author: Irwin Federman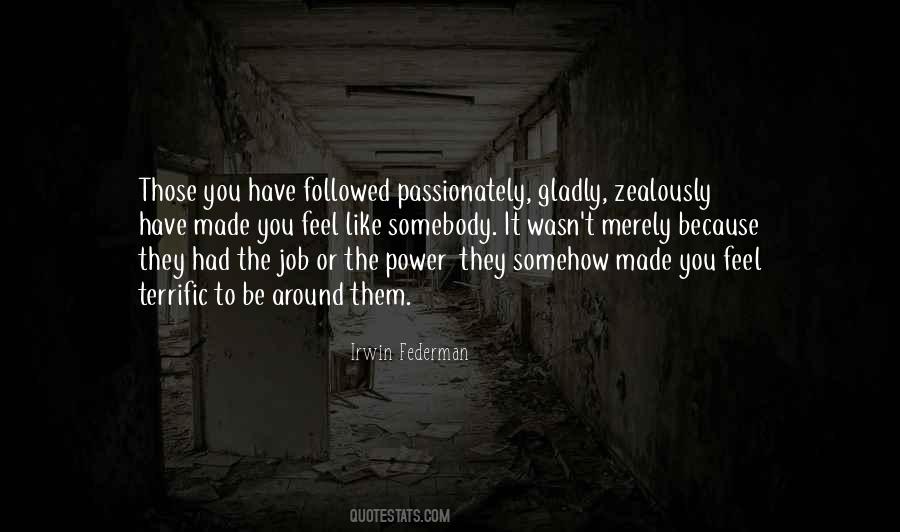 #69. I would much rather have somebody say, "You know what? I just didn't like what you were doing," then say, "They didn't know what they were doing." I know what I'm doing. If it's going to be bad, or if it's great, it's me, in either case. - Author: J.H. Wyman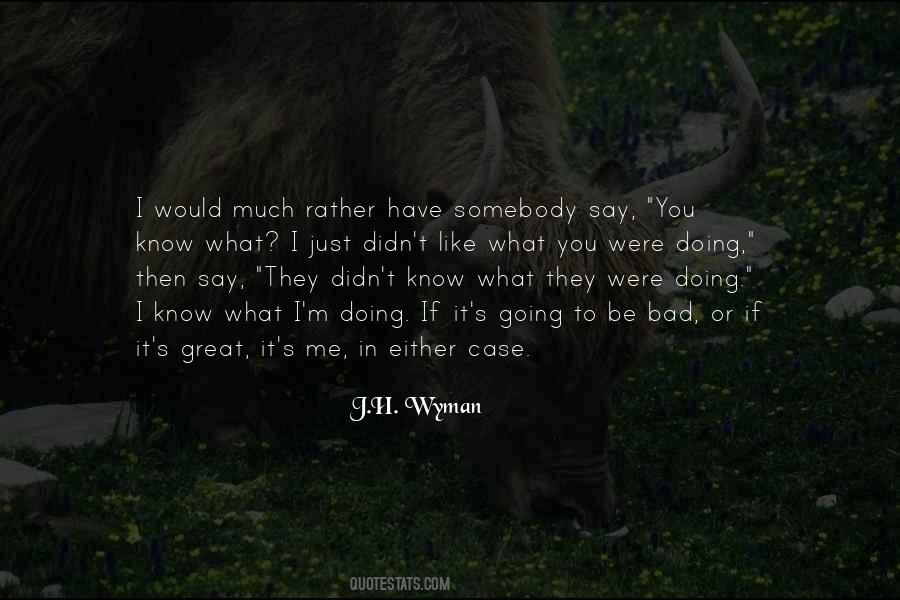 #70. I'm somebody who doesn't work with a stylist. I'll be honest with you, I'm a mom and it's just not something I want to put money toward because it's expensive to have somebody who helps dress you and I feel like I have to pay for preschool and so many things ... so I don't have a stylist. - Author: Busy Philipps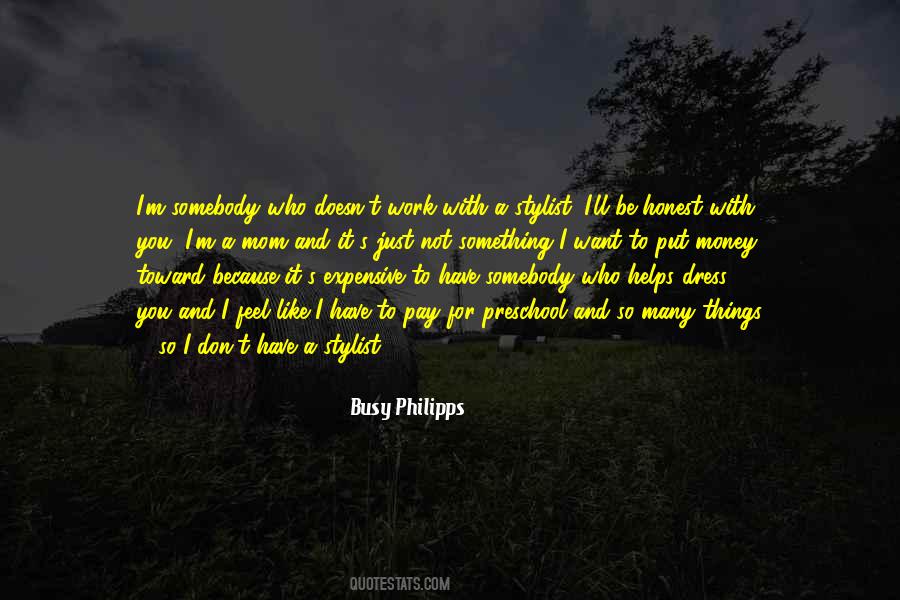 #71. Most of us go through the world never seeing anything. Then you meet somebody like Herb and Dorothy, who have eyes that see. Something goes from the eye to the soul without going through the brain. - Author: Richard Tuttle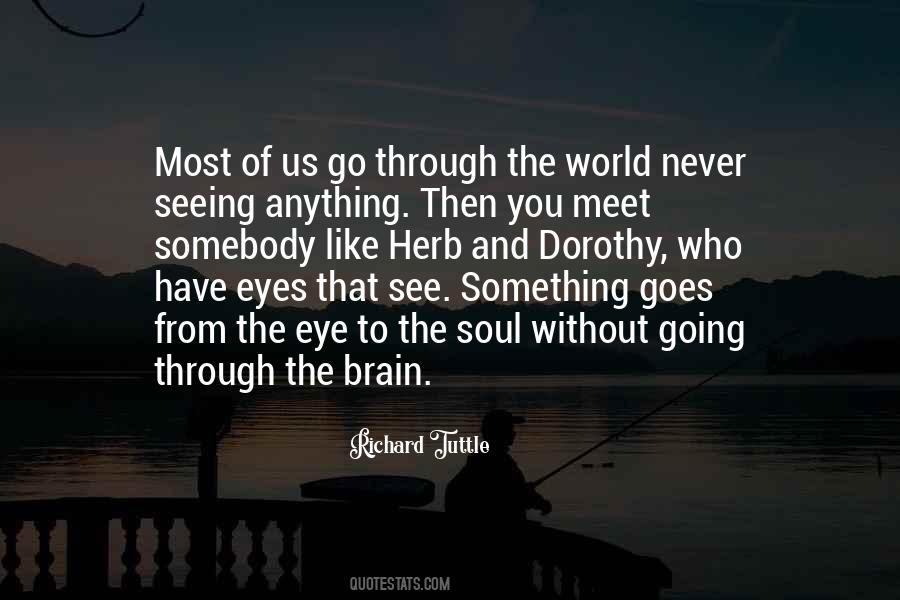 #72. There's nothing like having a bit of somebody else in you. - Author: Kevin Rudd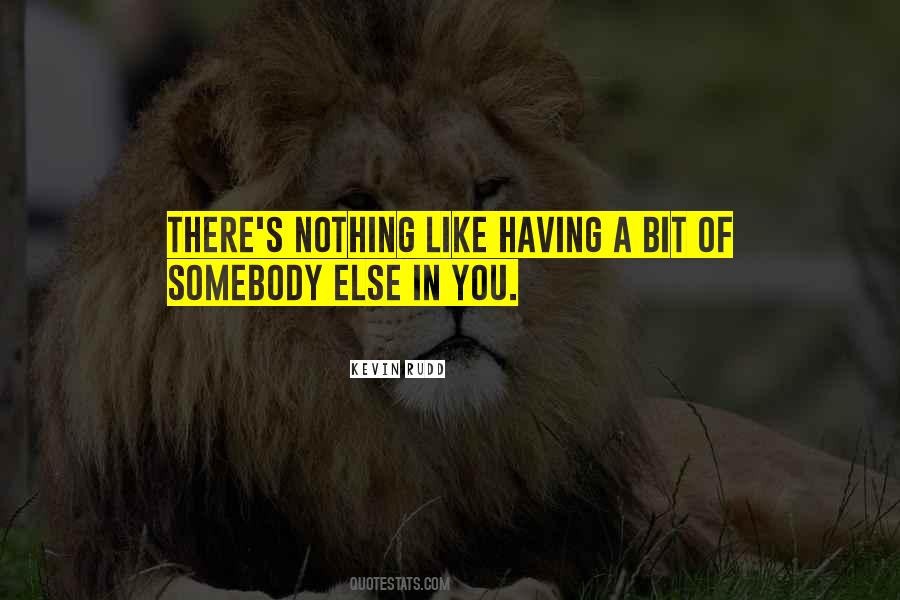 #73. Somebody says, 'Do a Tom Bodett, a folksy kind of thing,' and it sounds like something out of 'Hee Haw,' very insulting. They turn wry humor into disparaging sarcasm, and you get what amounts to insulting advertising. - Author: Tom Bodett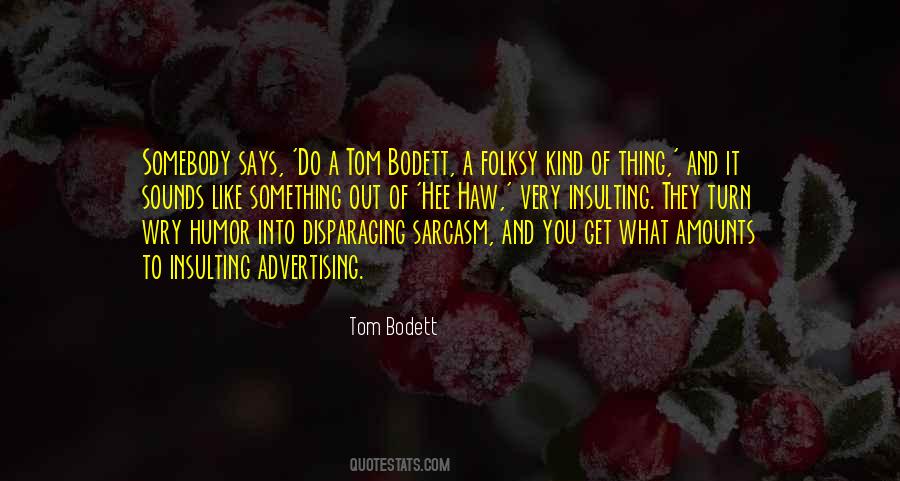 #74. My goal all along has just been to work and support myself. I've been really lucky to walk away from the 'Twilight' series unscathed. Somebody asked me recently what it's like to be a star. I thought that was the strangest question. If you saw my day-to-day life, the word 'star' just doesn't apply. - Author: Anna Kendrick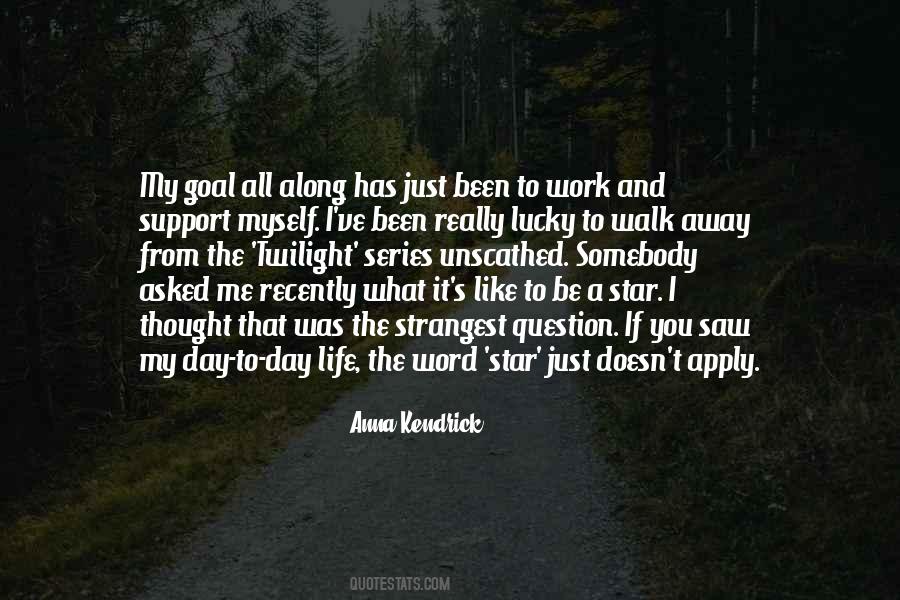 #75. I remember the first time somebody played me Janis Joplin. My friend Donna put on Janis Joplin, and she said, 'You're like her.' At the time, I wasn't even a singer; I was a drummer. I just wanted to play the drums. - Author: Sophie B. Hawkins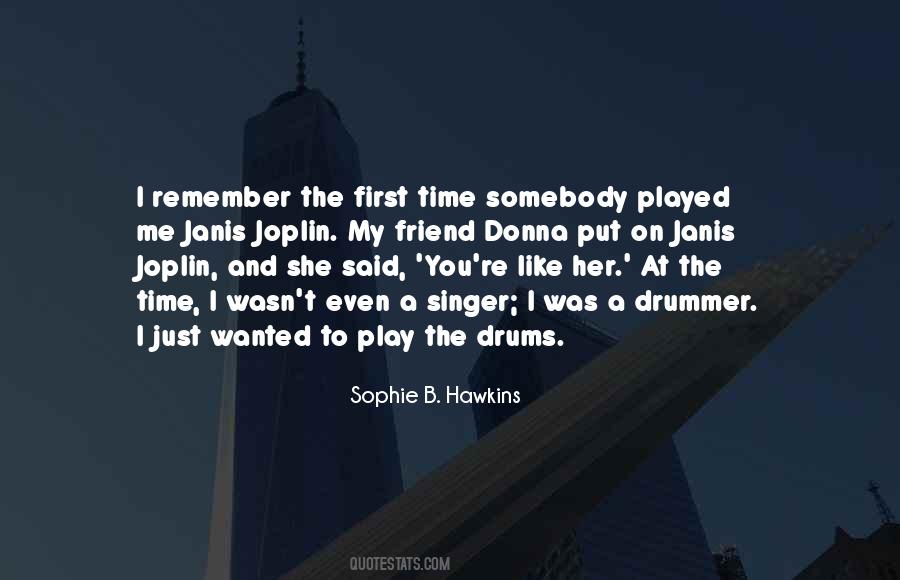 #76. Any image I have, it's just what I do, but it comes off as being very pretentious. When you're a bit in the public astigmatism, anything you do seems like you did it so somebody would see you do it, like showing up at the right parties. - Author: Tom Waits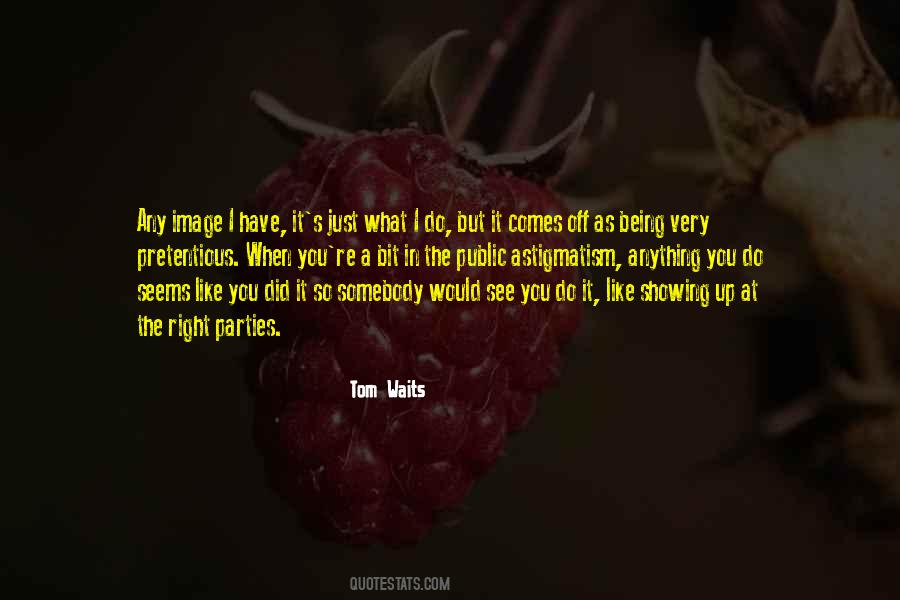 #77. I've decided to trust him, but like somebody once said, you can't force yourself to trust. So you put all your doubts in a little box and bury it deep and then try to forget where you buried it. My problem is that buried box is like a scab I can't stop picking at. - Author: Rick Yancey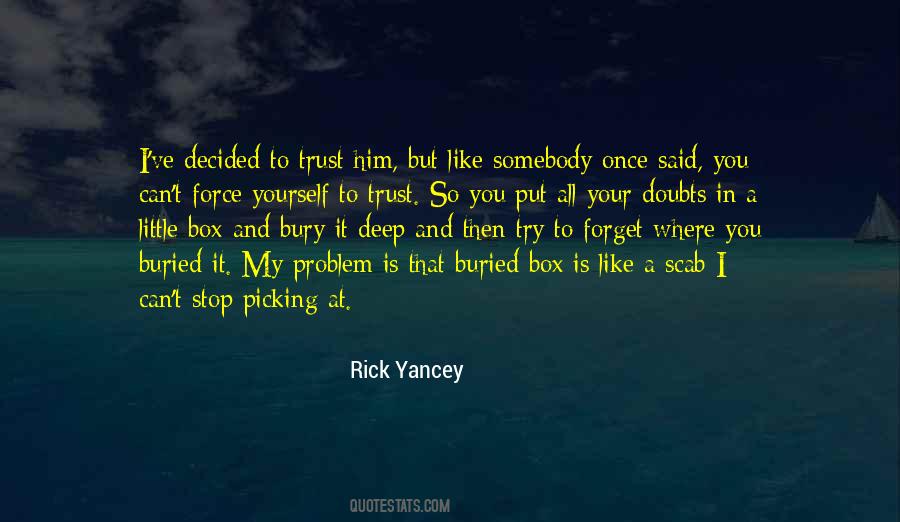 #78. You're lucky if you find something you like to do, and it's a miracle if somebody will pay you to do it. - Author: James Patterson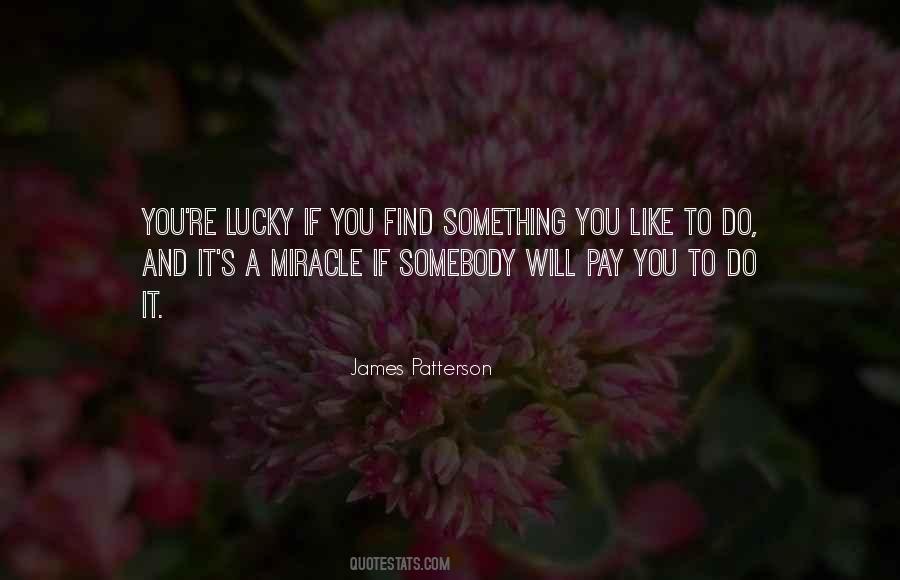 #79. What's the feeling everyday somebody to say right in your face lie... ( like a woman which sucks your dick and your semen goes right in her
mouth) and you can't do anything on this problem??

And what to tell you move on, soon or later?? - Author: Deyth Banger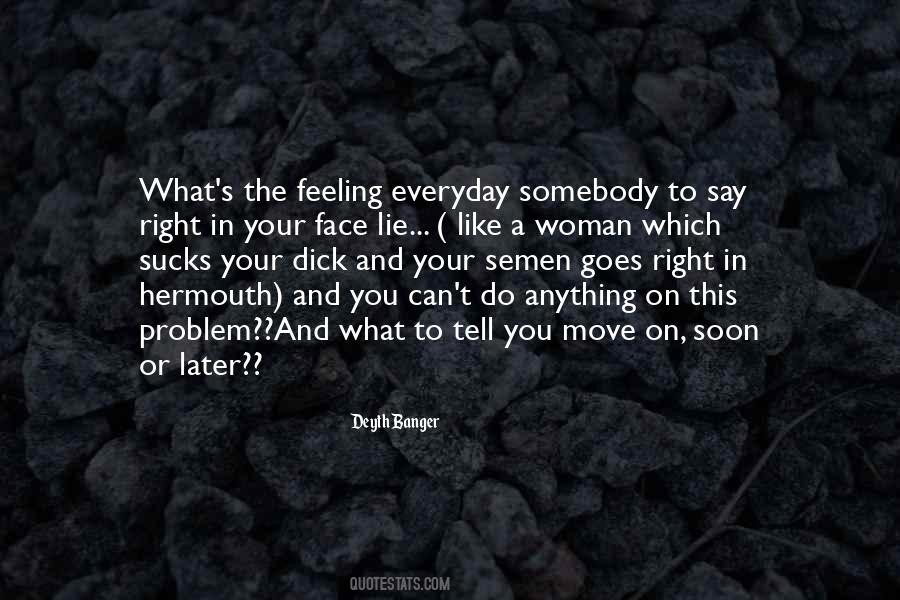 #80. You can always tell somebody's sense of humor by if they like this movie or not. - Author: Kurt Russell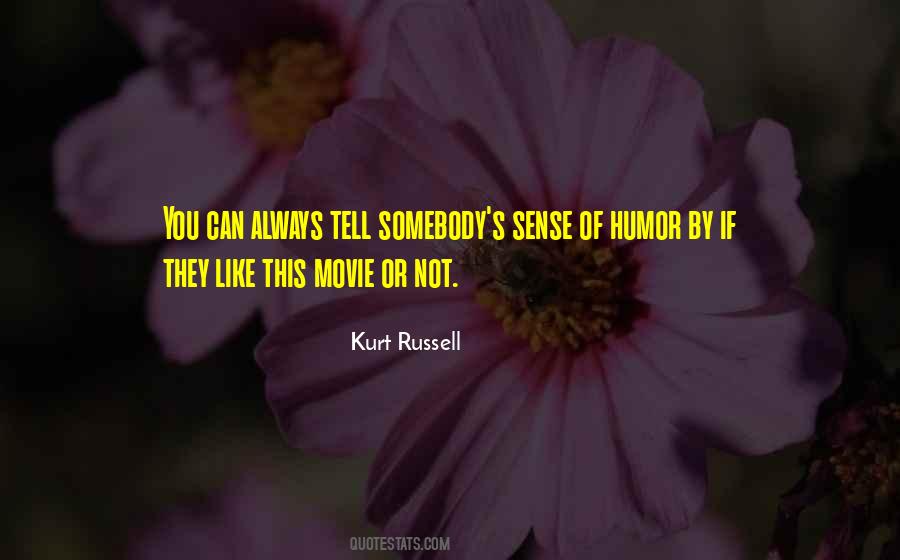 #81. When you play a doctor, you have to look like you can do it but you don't actually go and do it. It's not like you learn how to cut open somebody and go do surgery. You have to think of a human being and not play the idea of what that would look like. - Author: Carrie-Anne Moss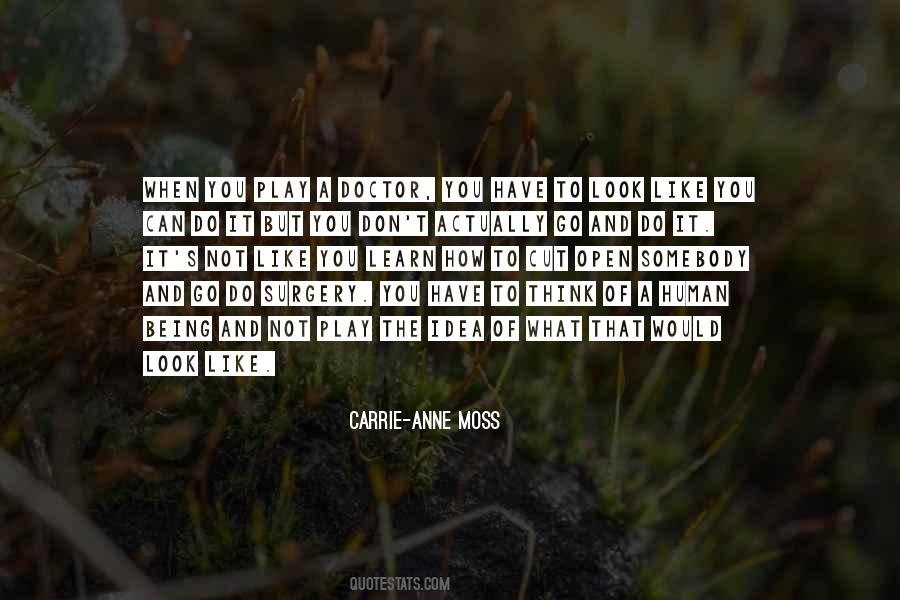 #82. Don't say you love somebody and then change your mind ... Love isn't like picking what movie you want to watch. - Author: Natalie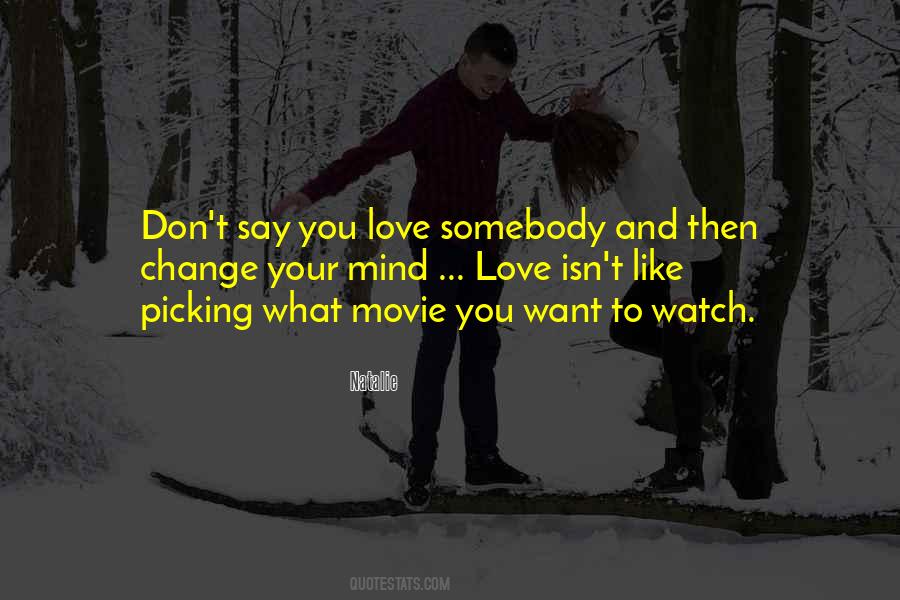 #83. It's a big error to think that because you like somebody's work, you're going to like him. - Author: Paul Simon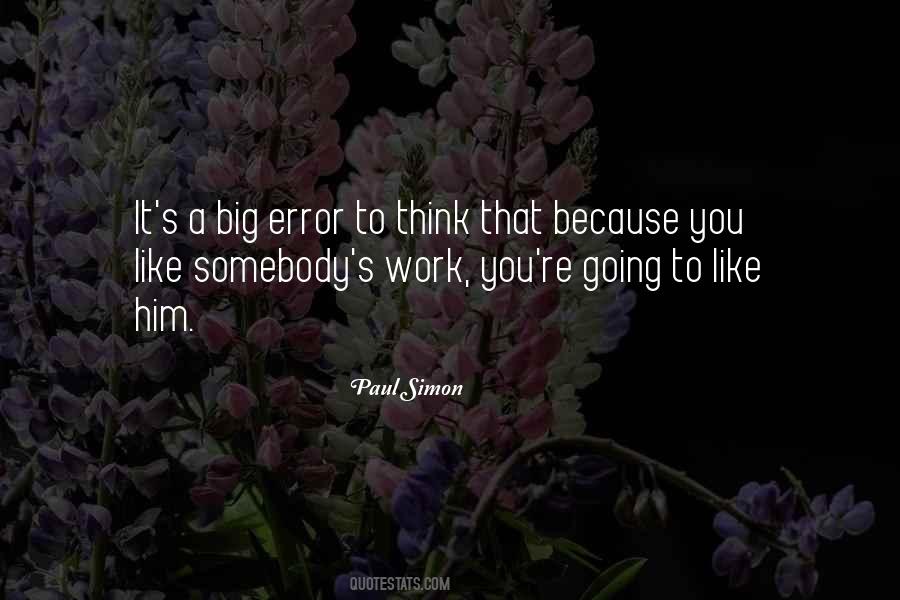 #84. How can you not respect somebody like me? If you don't respect me, it's because you got hatin' all over you. If you don't like me, you don't like yourself. - Author: Keyshawn Johnson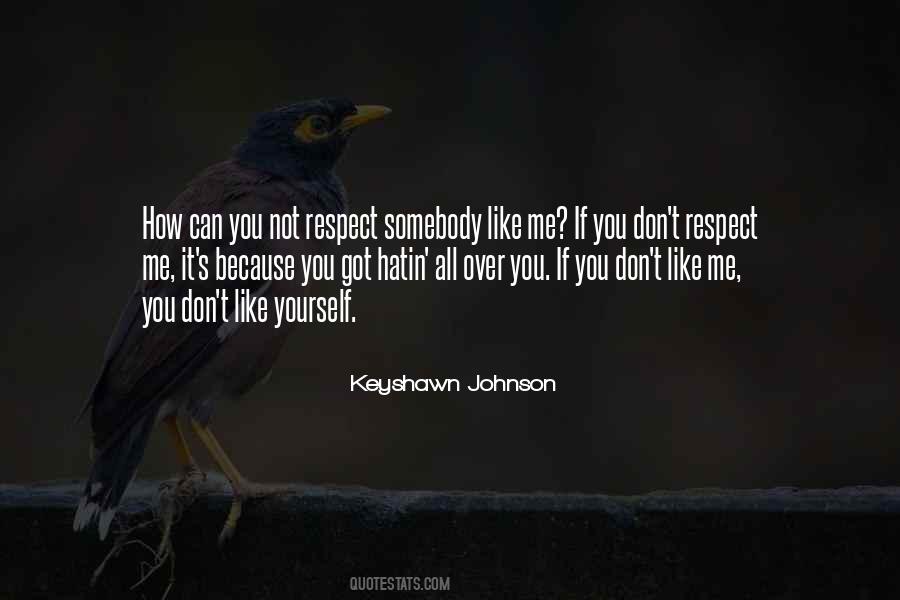 #85. Somebody has to give a wakeup call to our coaching world to ask them real questions and show them that if you have kids, then you know there is no way you can talk to somebody else like that, because that's somebody's child. - Author: Ray Lewis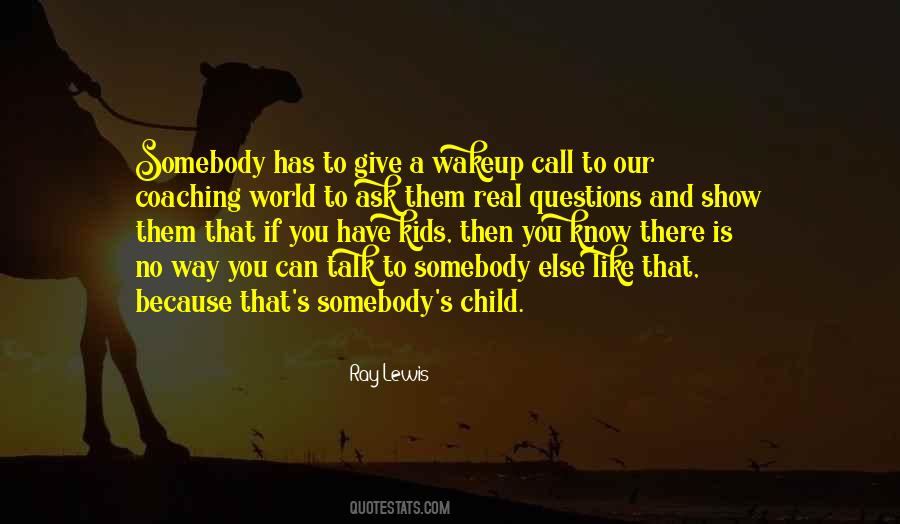 #86. Being isolated and on-location can be helpful in terms of being completely dedicated to the work, but somebody like me can also be dangerous in terms of this intense sort of void that you kind of potentially fall into. - Author: Michael Raymond-James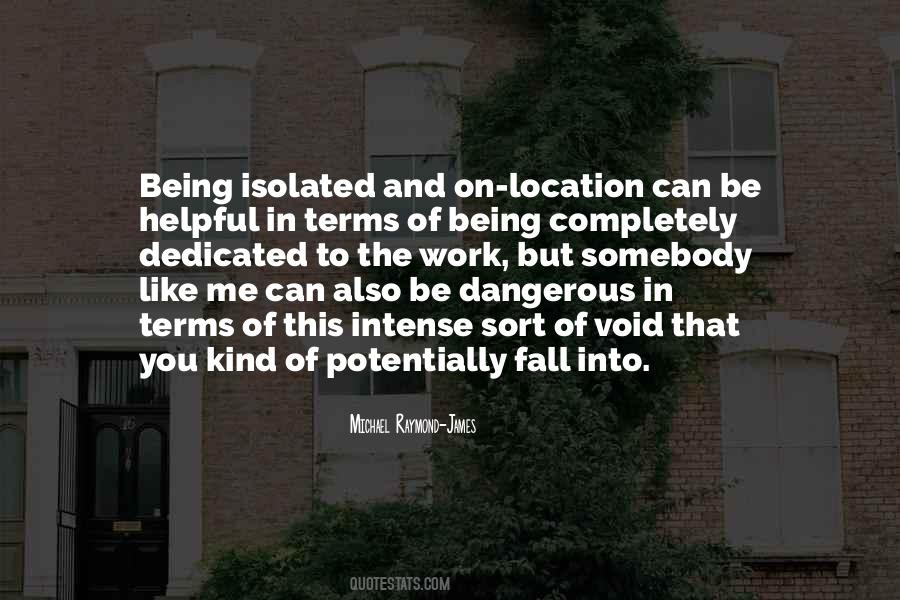 #87. Maybe, when you meet the right person, it's like meeting a piece of yourself that you never knew existed because somebody had to open it up for you. Pull it out of you. Point it out to you. - Author: Katie Kacvinsky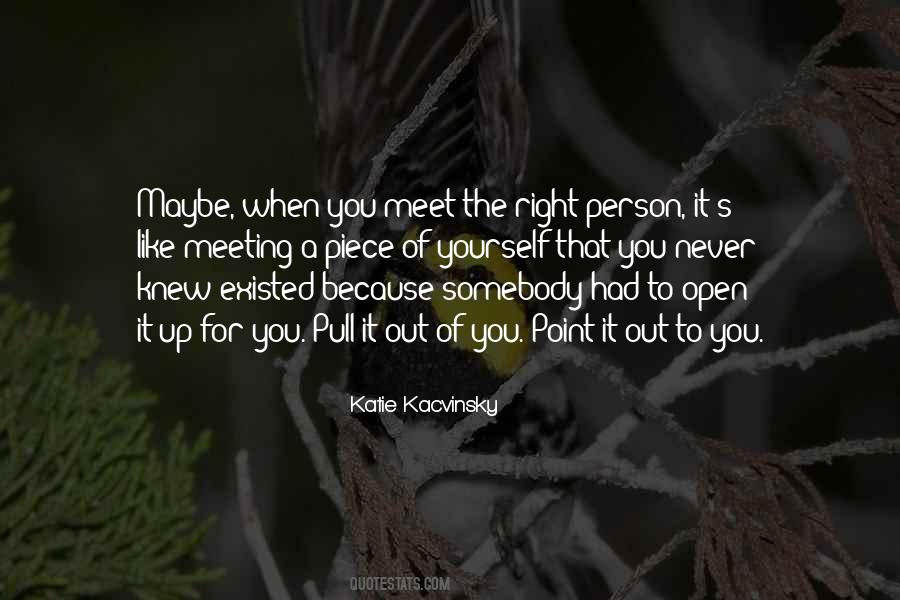 #88. Ultimately, making movies is a really, really small world. Being on sets and going to the same locations, like shooting in Shreveport, you're always working with somebody from another set that you worked with. - Author: Taylor Handley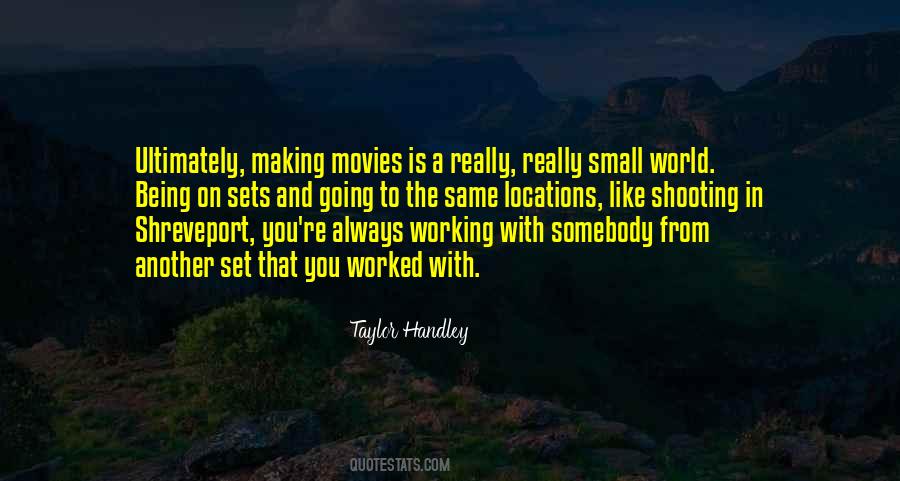 #89. And maybe she had certain beliefs that if you love somebody, [you're] gonna like them too. And that isn't necessarily true. - Author: Tori Amos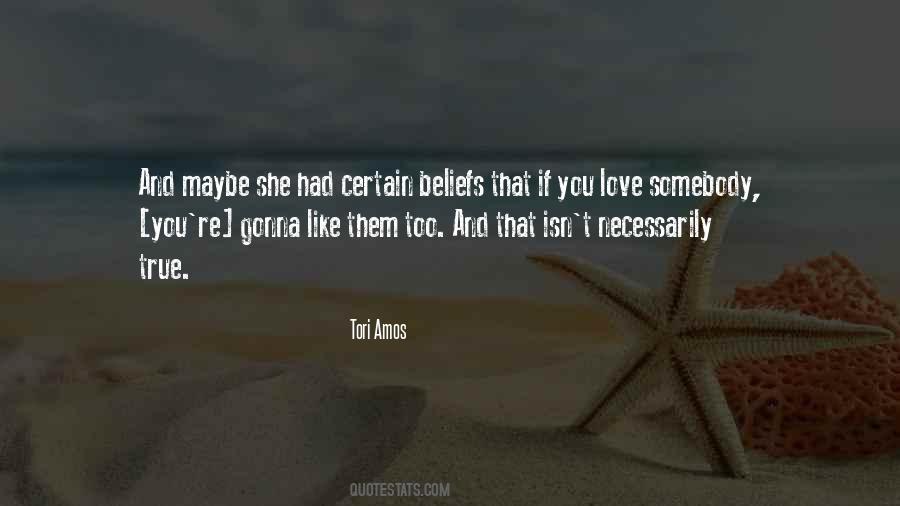 #90. A person with grace is somebody who's socially graceful or is a classy person, but sometimes you just feel the opposite of that, and you just feel like a jerk and a loser and a weirdo. - Author: Matt Berninger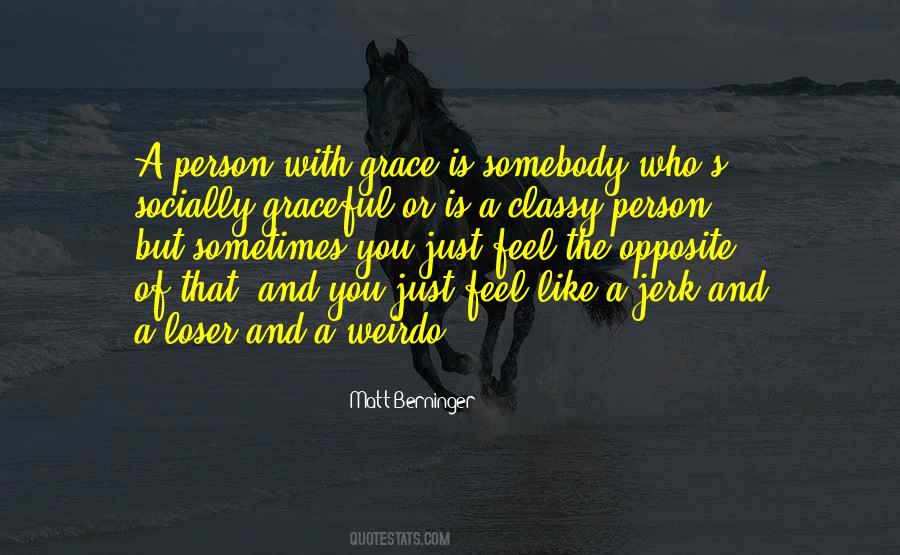 #91. Somebody who is purified with life enough would be able to read your feeling before it becomes a word in your mouth. It is not very hard to understand - and you meet people like that. Almost everything is very factual and scientific and not exaggerated. - Author: Karan Bajaj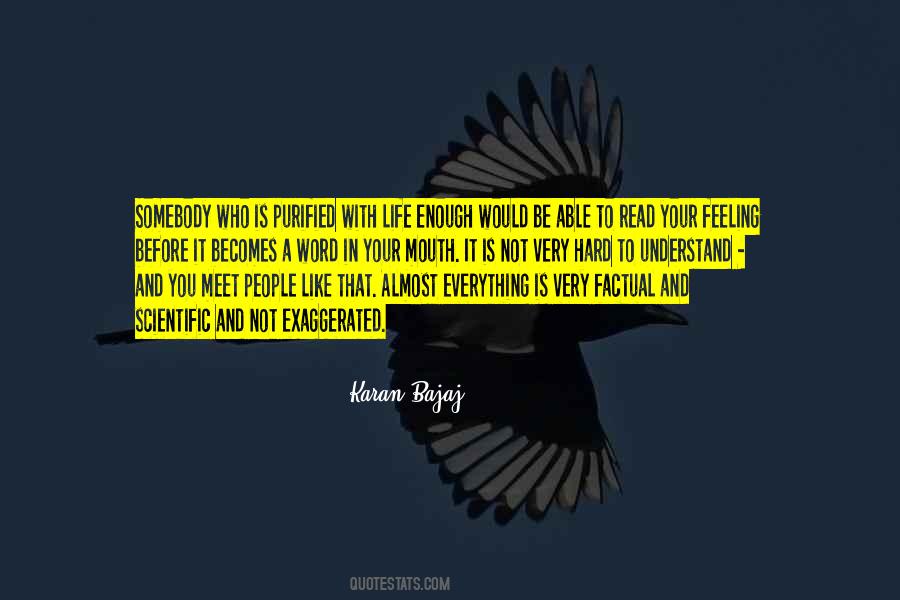 #92. The pop-star thing bores me because it's somebody programming someone else. Stand over here, sing that, no, sing it like this, talk like that, when they ask you this, don't say that, say this, hold that, drive this, stay here, live there - you're not even a human being. You're a puppet. - Author: Randy Jackson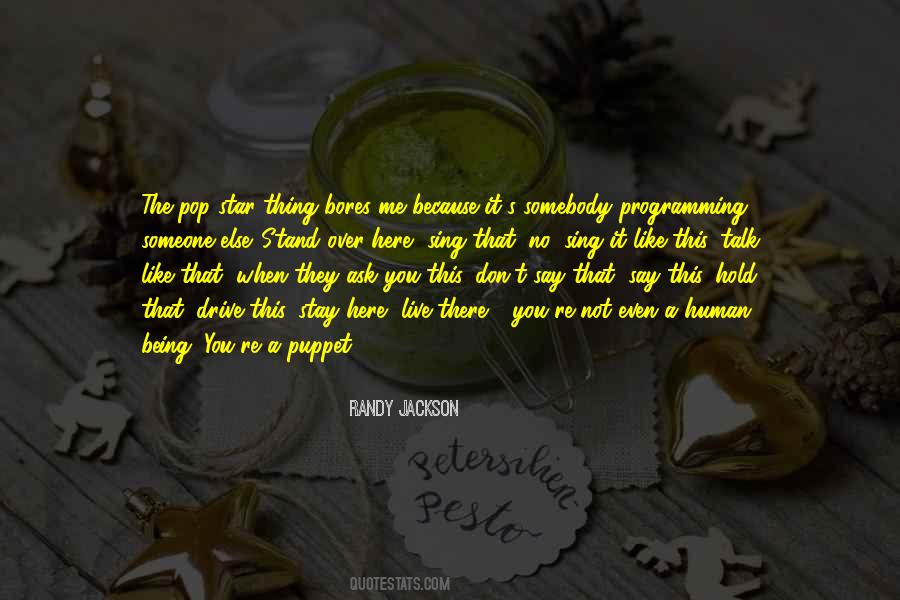 #93. It's worth being clear - you know, I think that the ideas that somebody like Richard Spencer endorses and that other members of the self-identified white nationalist groups endorse - those ideas really are repellent to most people. - Author: Evan Osnos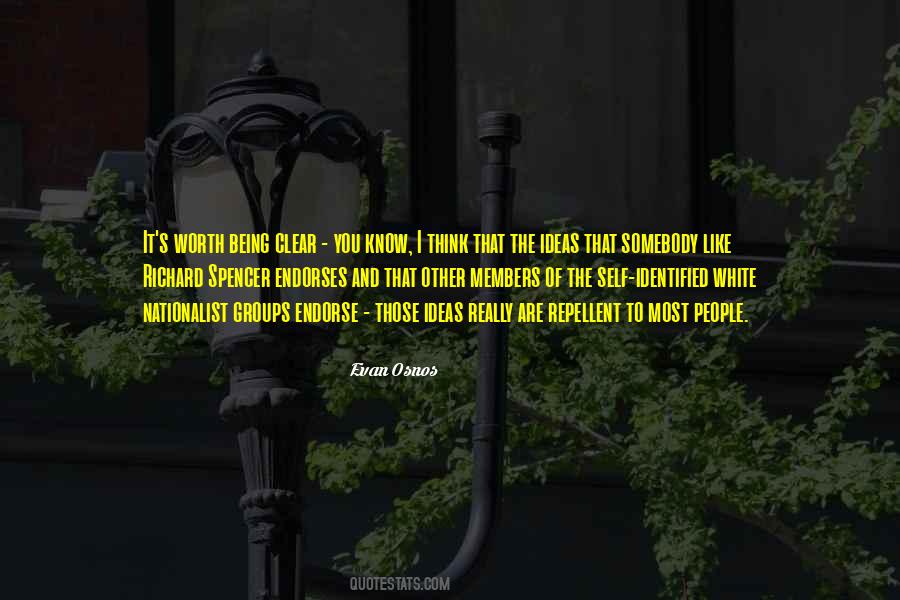 #94. As a cartoonist, I'm a caricaturist. First you find out what somebody really looks like, and then you find out what they 'really' look like. - Author: Frank Miller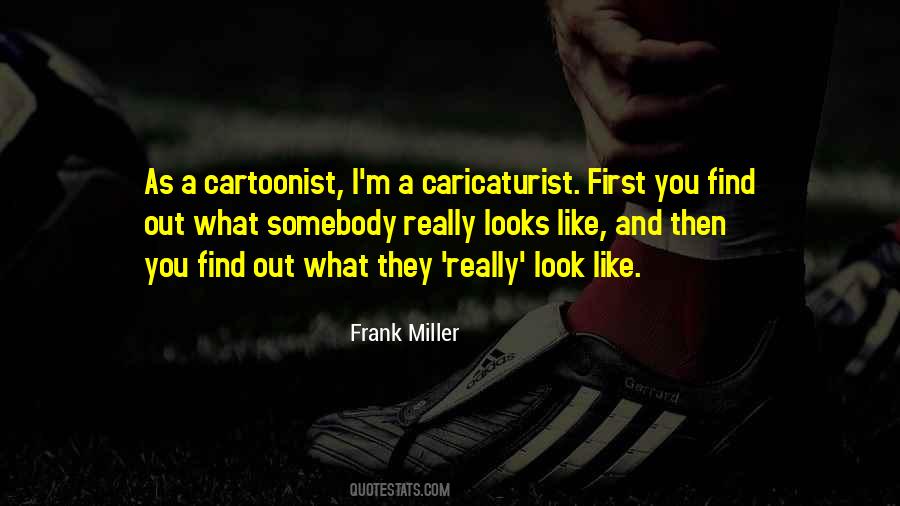 #95. Somebody like you taught somebody like me. - Author: Jeffrey R. Holland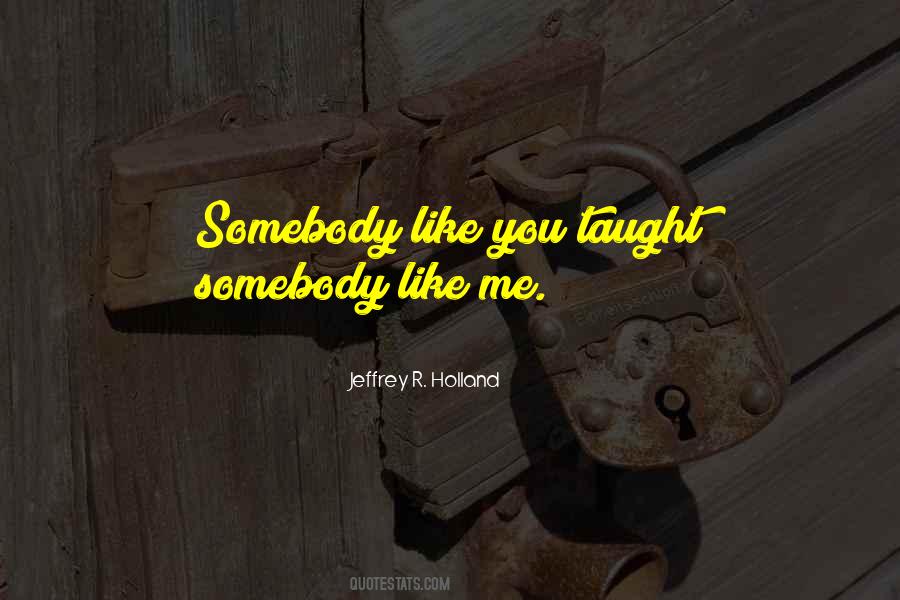 #96. We all have those days when you feel like you're against the world, every little thing goes wrong and your blood pressure is up. And you feel like punching somebody! - Author: Josh Turner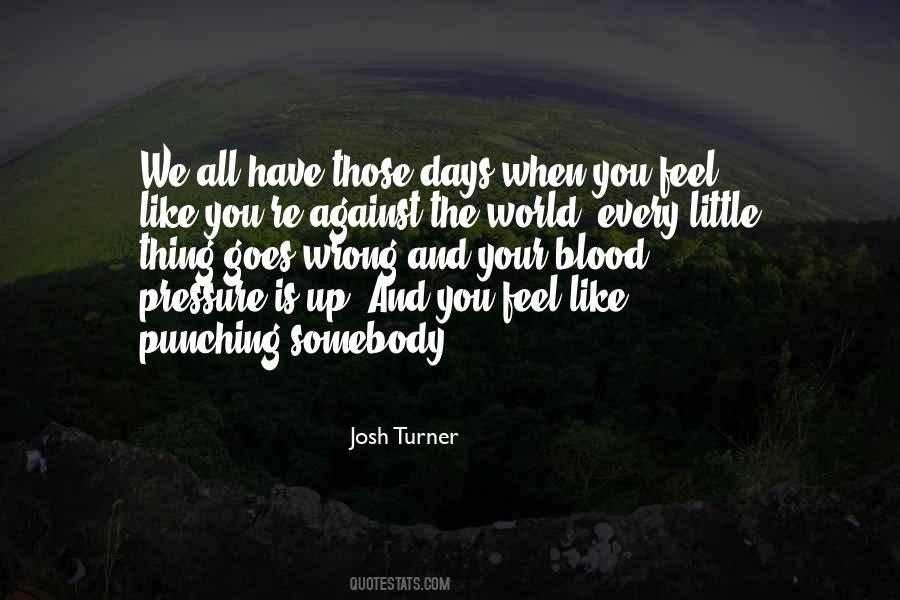 #97. There is nothing like puking with somebody to make you into old friends. - Author: Sylvia Plath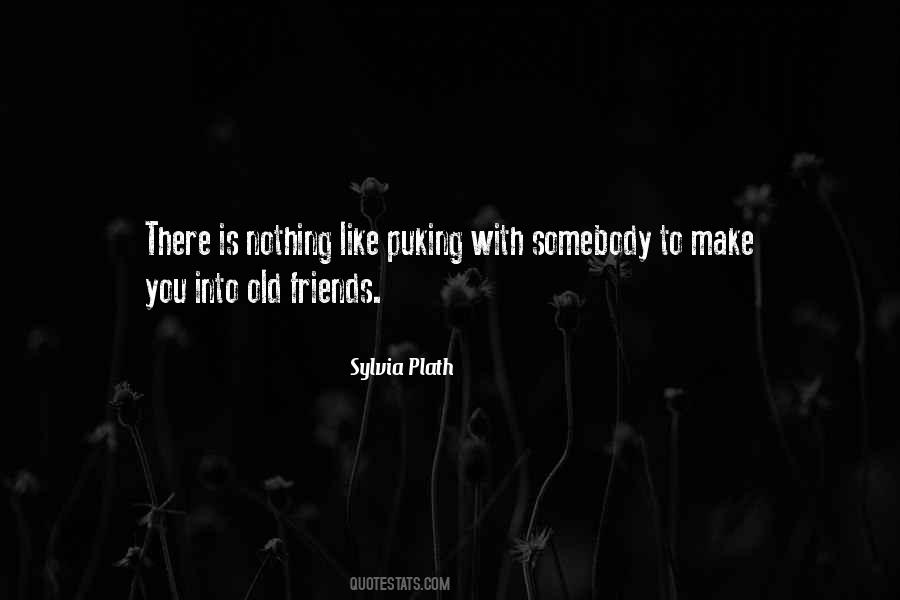 #98. Donald Trump is writing a different theme, which is it's midnight in America and that things are bad, and they're bleak, and they're gloomy and they're doomy, and the only thing that is going to save you is someone with the authority and power of somebody like me. - Author: Mark Shields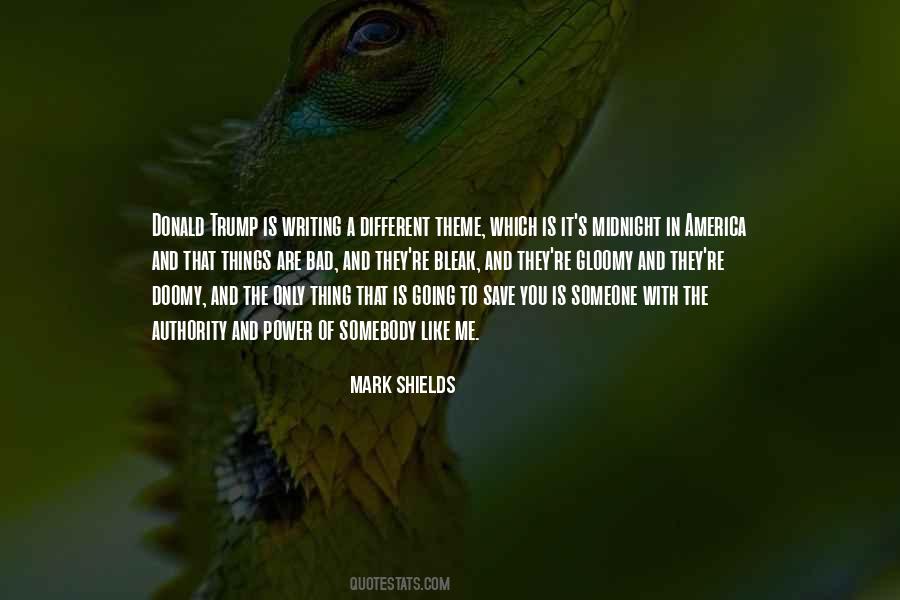 #99. She had the kind of smile you see in toothpaste commercials, where you can see practically all of somebody's teeth. She should smile like that all the time, Park thought; it made her face cross over from weird to beautiful. He wanted to make her smile like that constantly. - Author: Rainbow Rowell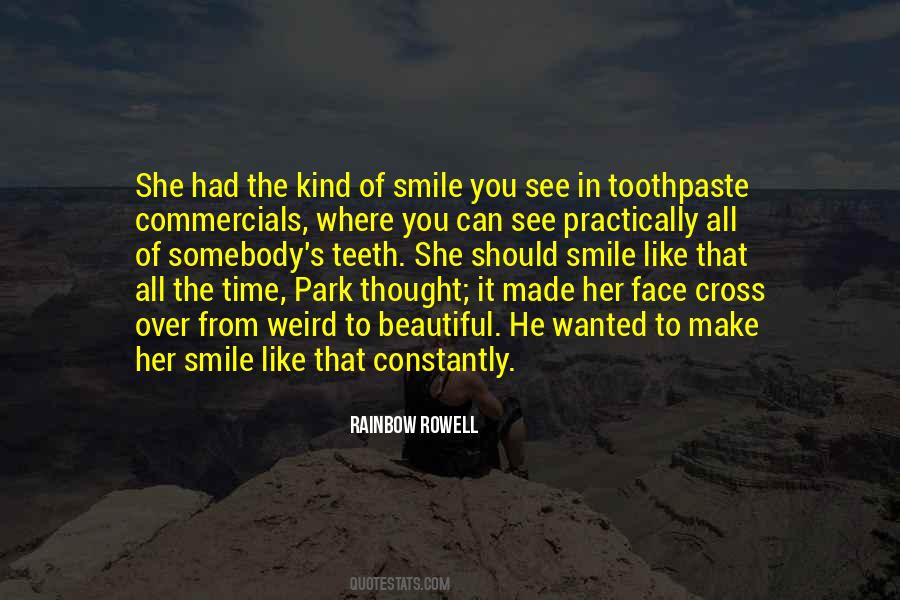 #100. You may be a person I admire, but you can't be a person that everyone admires. You are not everyone's favourite, but you are someone's favourite whether you like them or not. - Author: Michael Bassey Johnson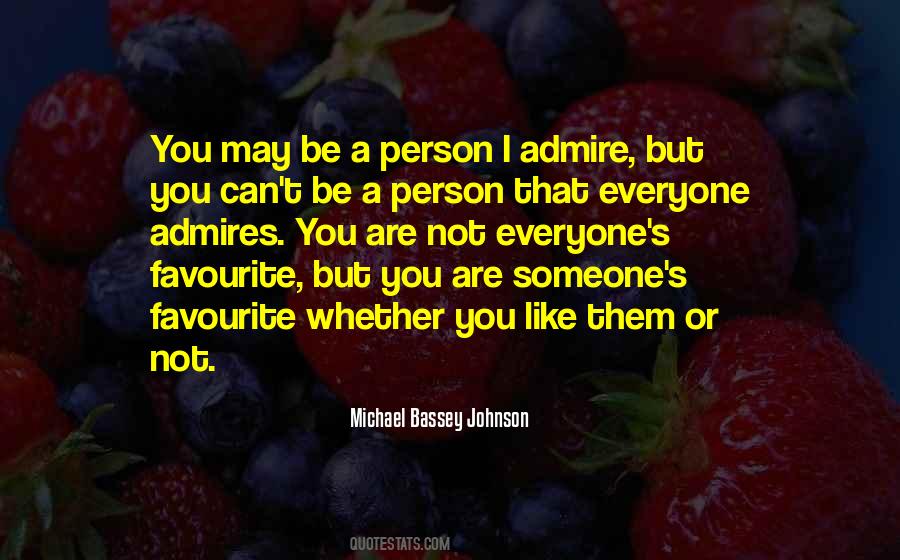 Famous Authors
Popular Topics