List of top 63 famous quotes and sayings about slow progress to read and share with friends on your Facebook, Twitter, blogs.
Top 63 Quotes About Slow Progress
#1. The reason for the slow progress of the world seems to lie in a single fact. Every man is born under the yoke, and grows up beneath the oppressions of his age.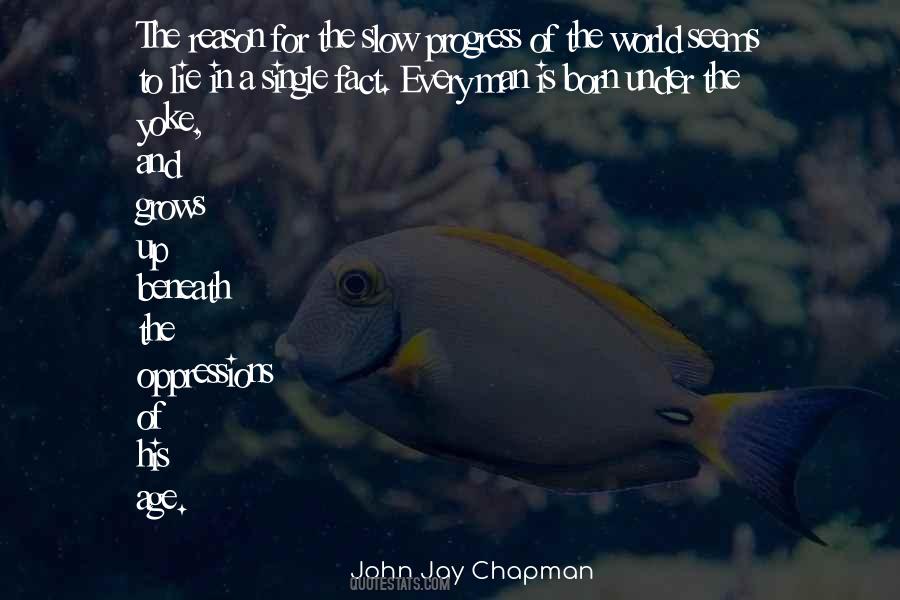 #2. Progress is not an illusion; it happens, but it is slow and invariably disappointing.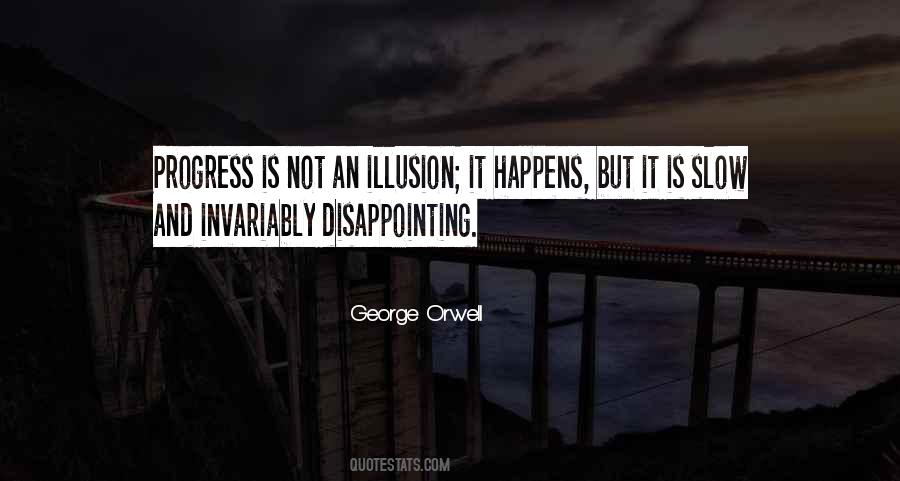 #3. God works according to the law of gradual growth, so don't be discouraged if your progress seems slow,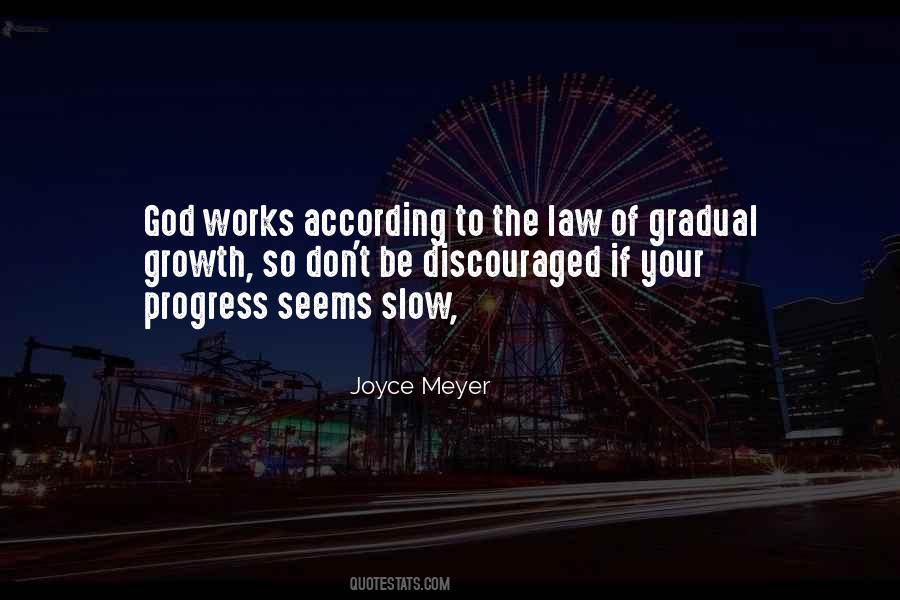 #4. If workmen are denied any increase in real wages and they can look forward only to a better standard of living through reduction of prices, progress for them is terribly slow, and they become impatient and dissatisfied.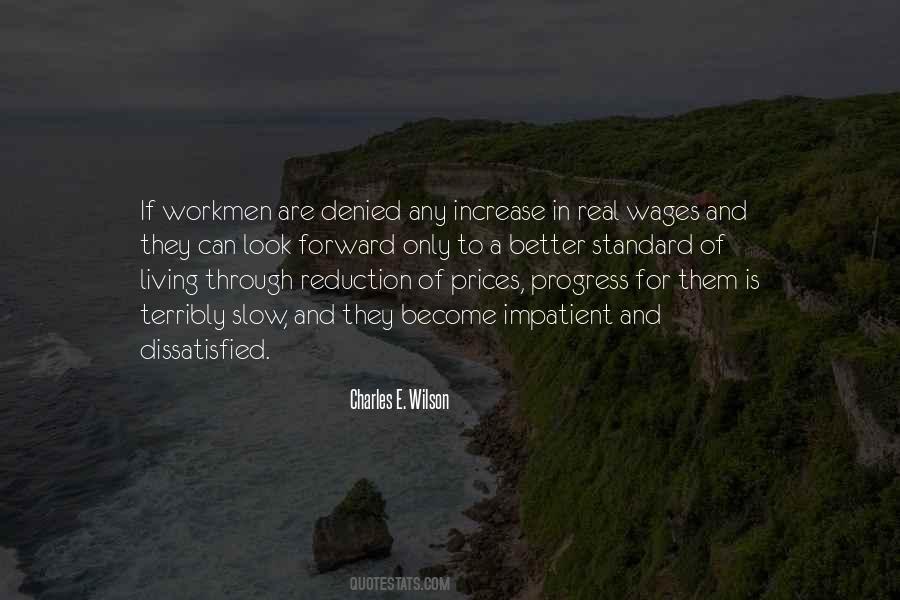 #5. I kept praying that I might be able to prevent a repetition of this stupidity called war. I have tried to keep the promise I made to myself, but the progress that the world is making toward peace seems like the crawling of a little child, very halting and slow.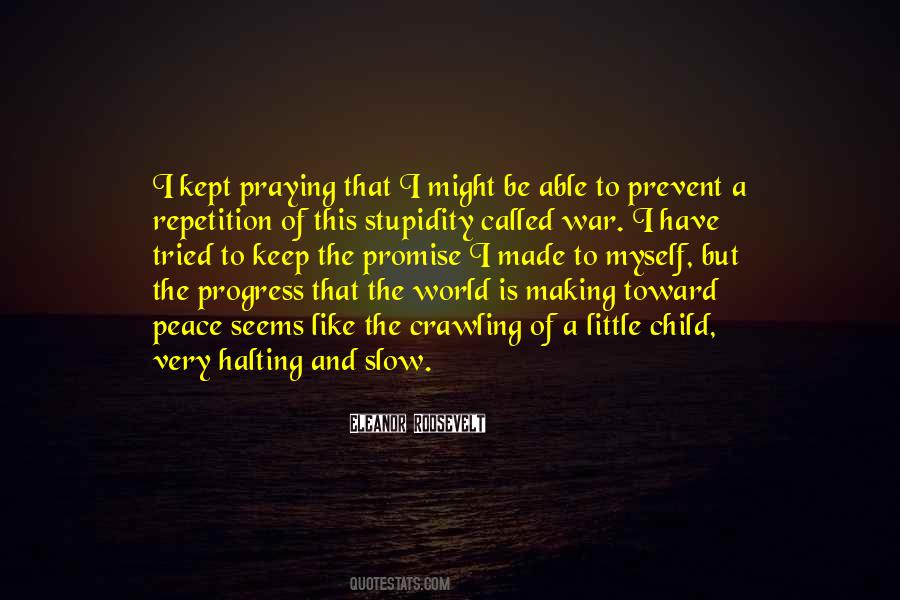 #6. Progressing at a snail's pace is still progress, and slow progress is better than no progress. Never be stagnant, and never give up.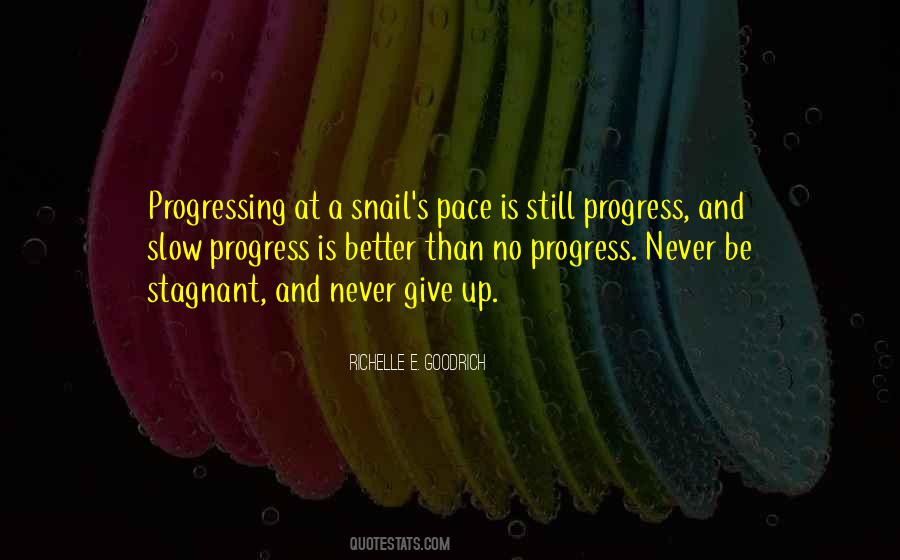 #7. Believing as I do that man in the distant future will be a far more perfect creature than he now is, it is an intolerable thought that he and all other sentient beings are doomed to complete annihilation after such long-continued slow progress.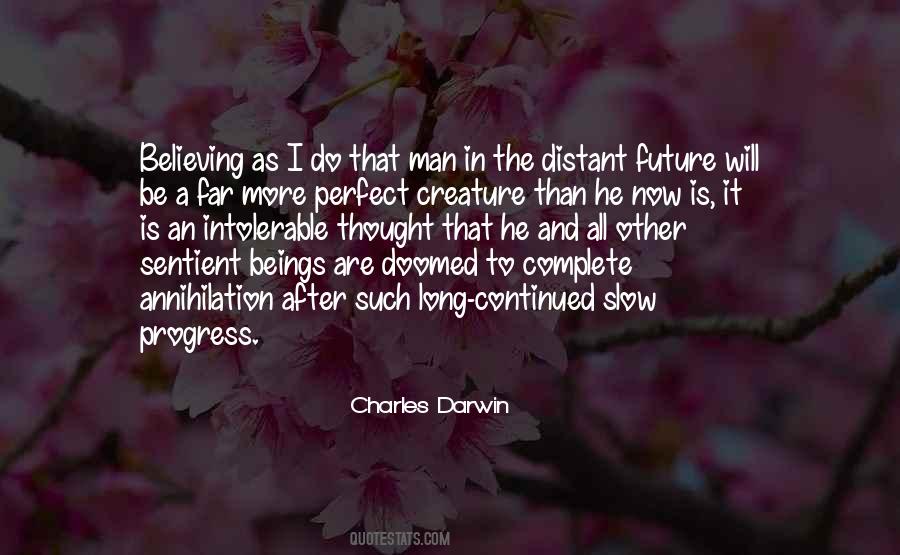 #8. Men do not often dare to avow, even to themselves, the slow progress reason has made in their minds; but they are ready to follow it if it is presented to them in a lively and striking manner, and forces them to recognize it.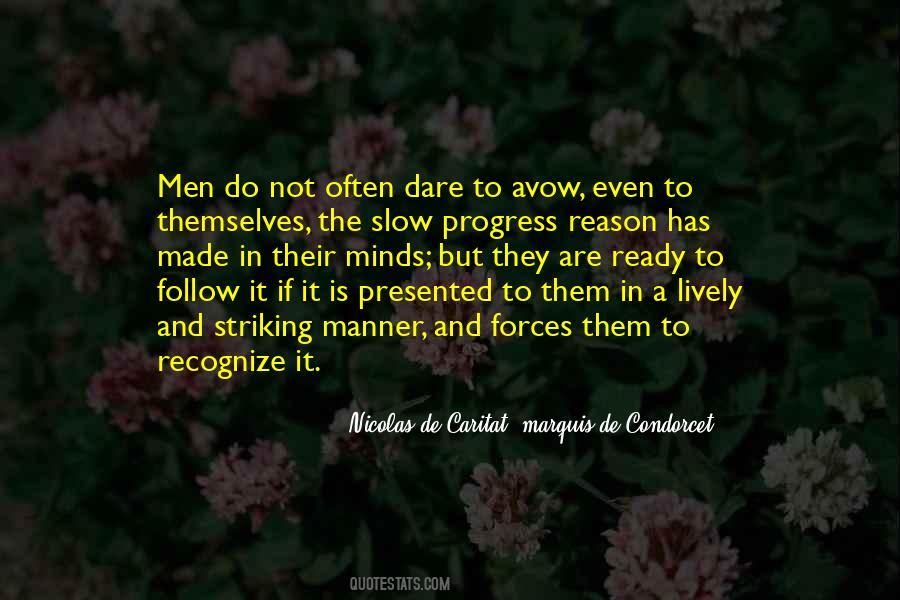 #9. I have been learning English on the road since I started when I was 15, so it is a slow process but making some progress. Now I think I am much more comfortable with my English. However, it is difficult, still, when I speak about something that is not tennis.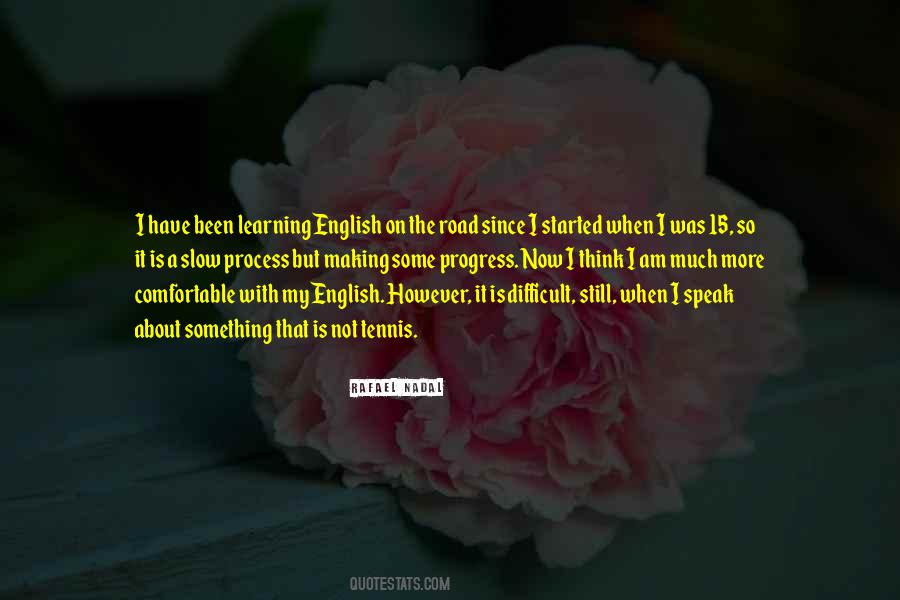 #10. Let the progress of the meal be slow, for dinner is the last business of the day; and let the guests conduct themselves like travelers due to reach their destination together.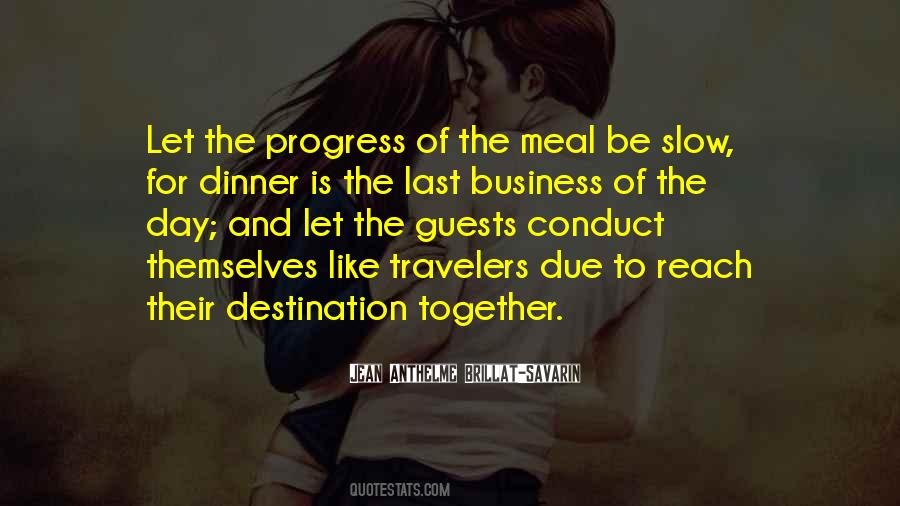 #11. Happy are those few nations that have not waited till the slow succession of human vicissitudes should, from the extremity of evil, produce a transition to good; but by prudent laws have facilitated the progress from one to the other!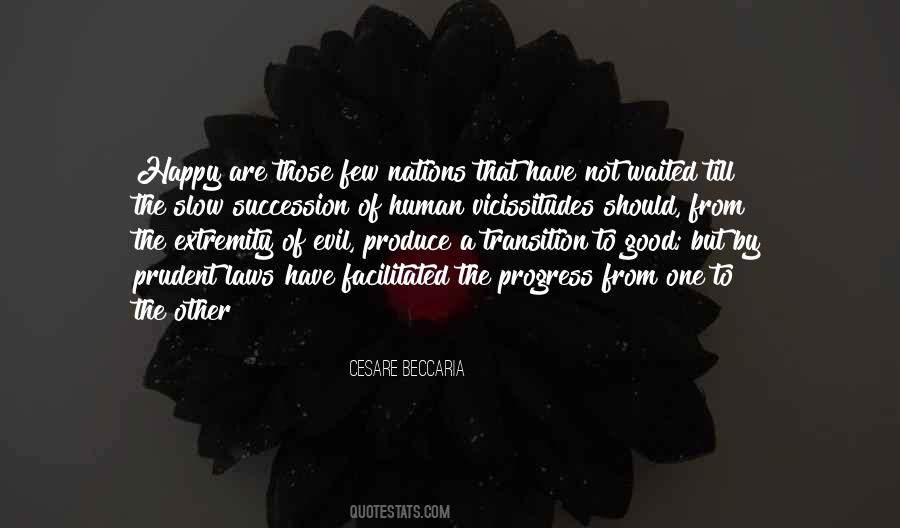 #12. Our object in these remarks has been not only to account for the slow progress which has as yet been made by Political Economy, and to suggest means by which its advancement may be accelerated, but also to warn the reader of the nature of the following Treatise.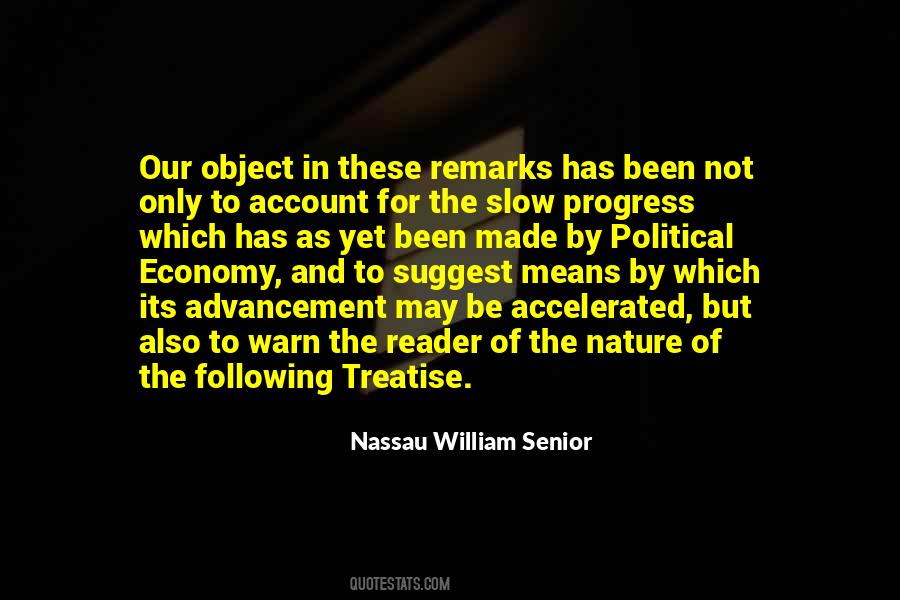 #13. It seems strange to me that mechanical progress always seems to leave the slower demands of elegance far behind.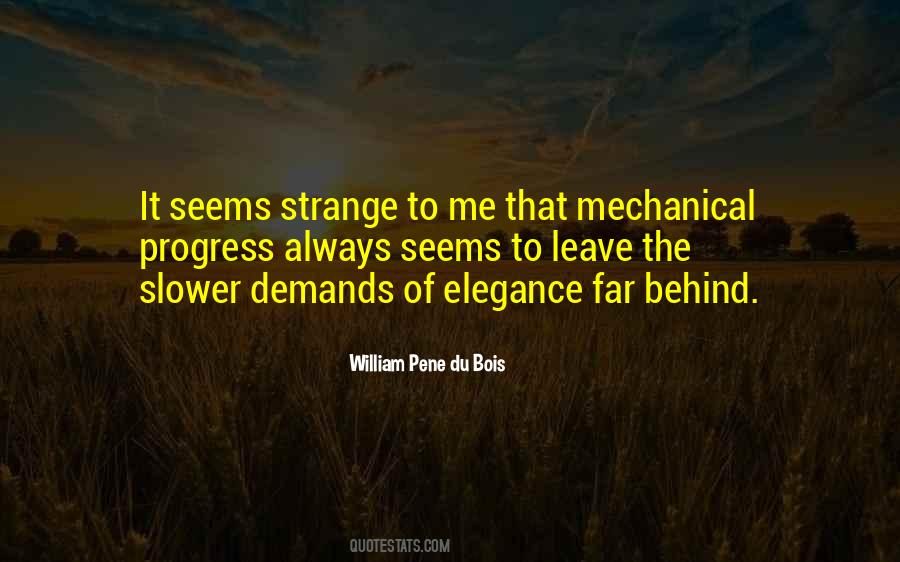 #14. If we contrast the rapid progress of this mischievous discovery [of gunpowder] with the slow and laborious advances of reason, science, and the arts of peace, a philosopher, according to his temper, will laugh or weep at the folly of mankind (Chapter 65,p. 68)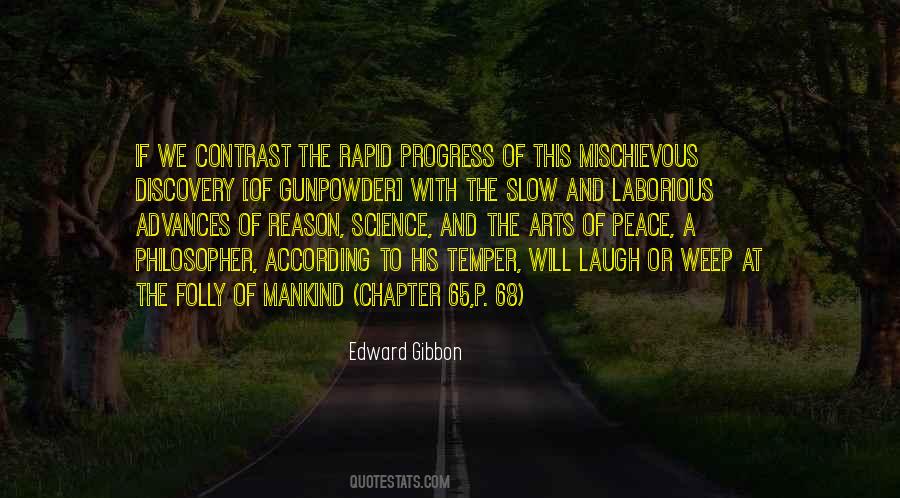 #15. As long as outmoded ways of thinking prevent women from making a meaningful contribution to society, progress will be slow. As long as the nation refuses to acknowledge the equal role of more than half of itself, it is doomed to failure.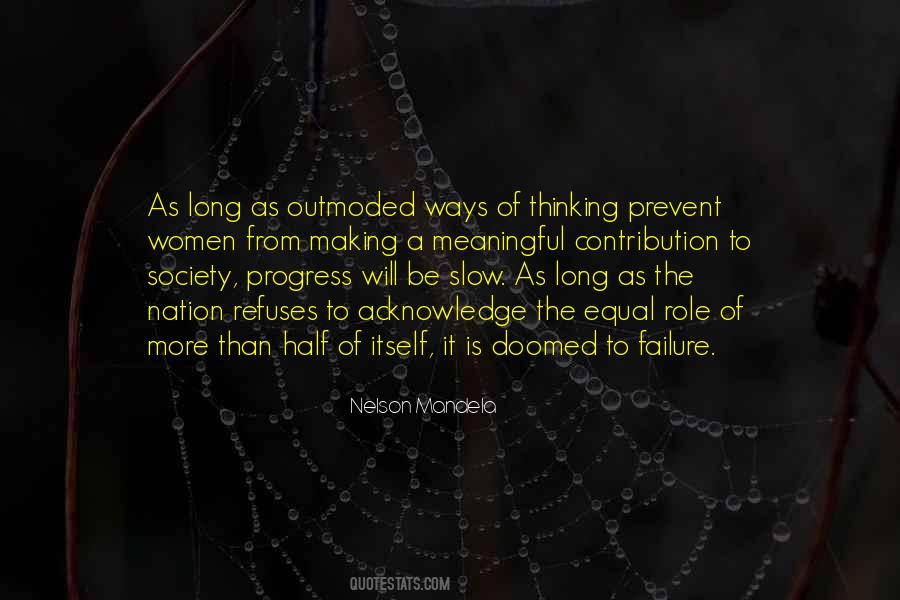 #16. It wasn't science and technology that cause a slow progress,
but collective knowledge of the society and market demands.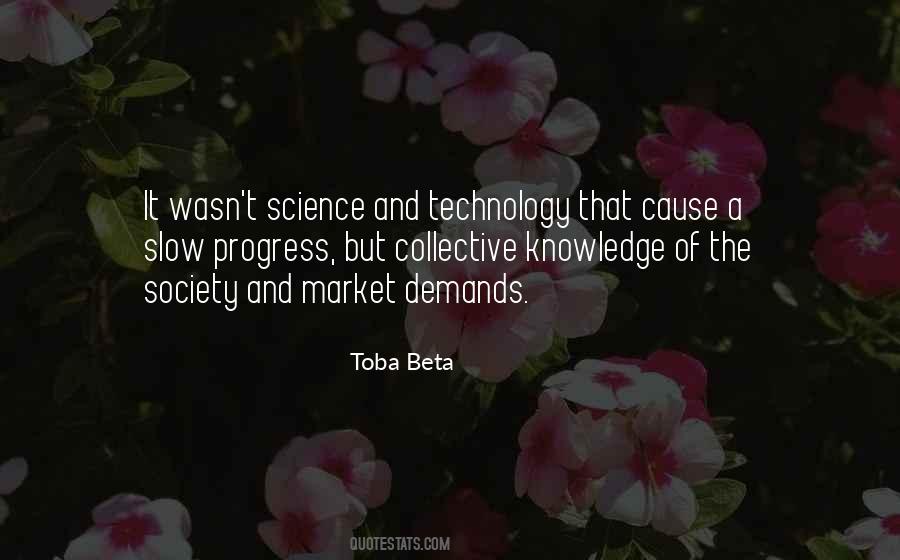 #17. Esoteric things progress not according to time, but by activity, they can be slow or quick, depending upon the efforts made.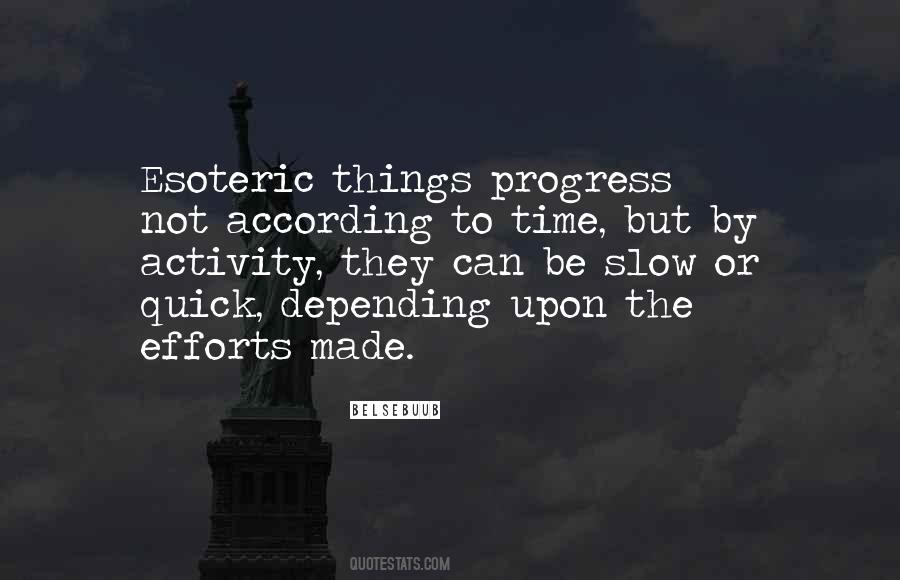 #18. If there's anything I have learned since returning to Congress, it's that talk is still cheap, progress is still slow, and our liberties continue to erode every day.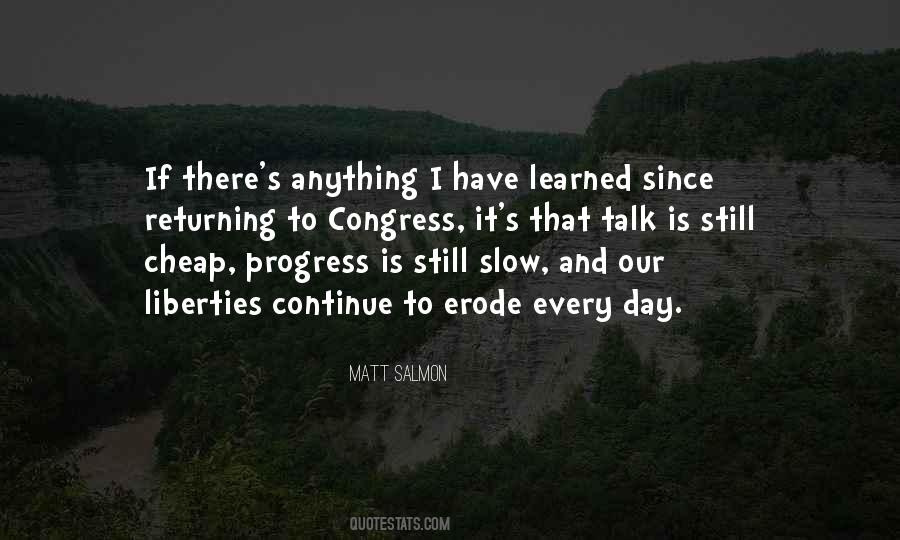 #19. Regeneration is the beginning of a journey. It is a journey with successes and failures, with growth amid stumbling. At times, the progress seems painfully slow, but progress is there.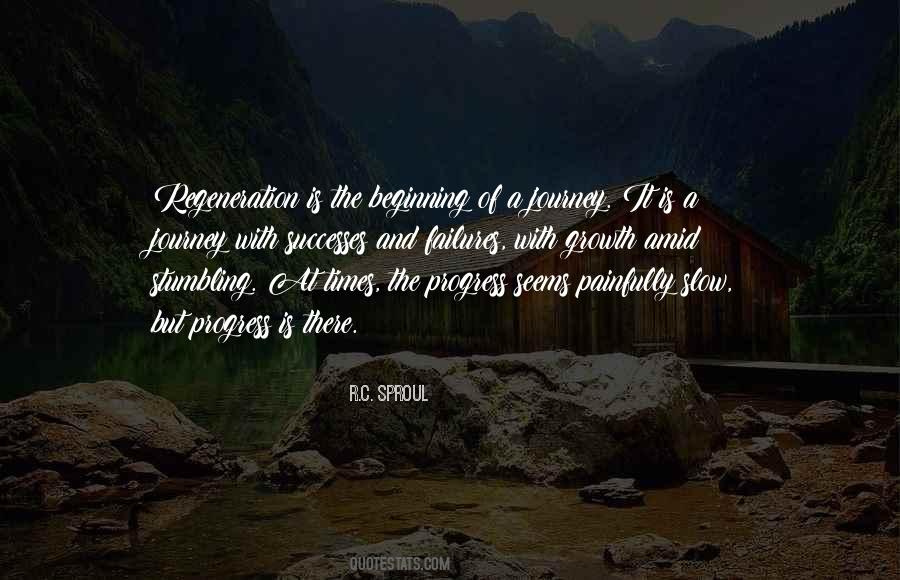 #20. Life is short and progress is slow.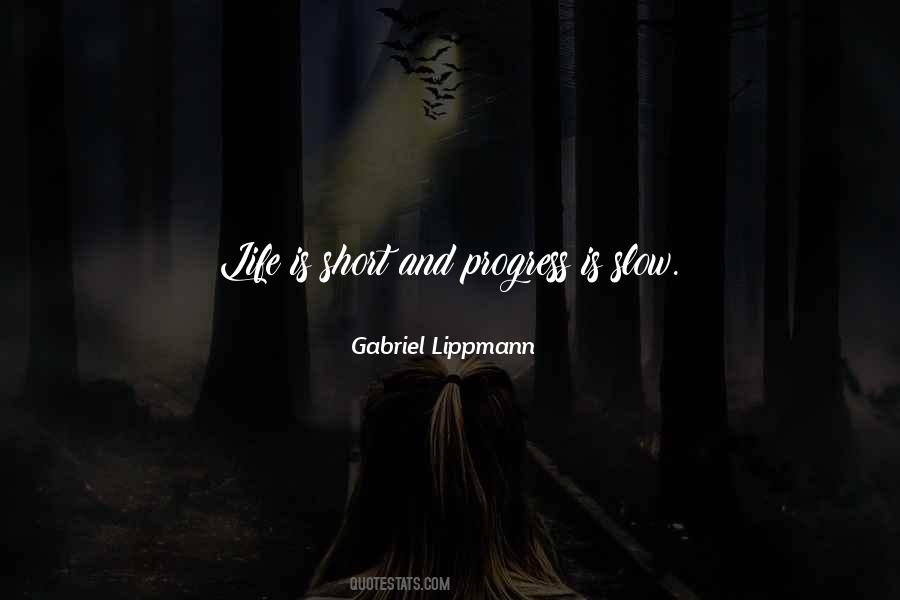 #21. In a recent interview, Jeb Bush revealed that his brother George gave him the nickname 'tortoise' because he's making slow, steady progress. Though I think the bigger story here is that compared to George, Jeb is the slow one.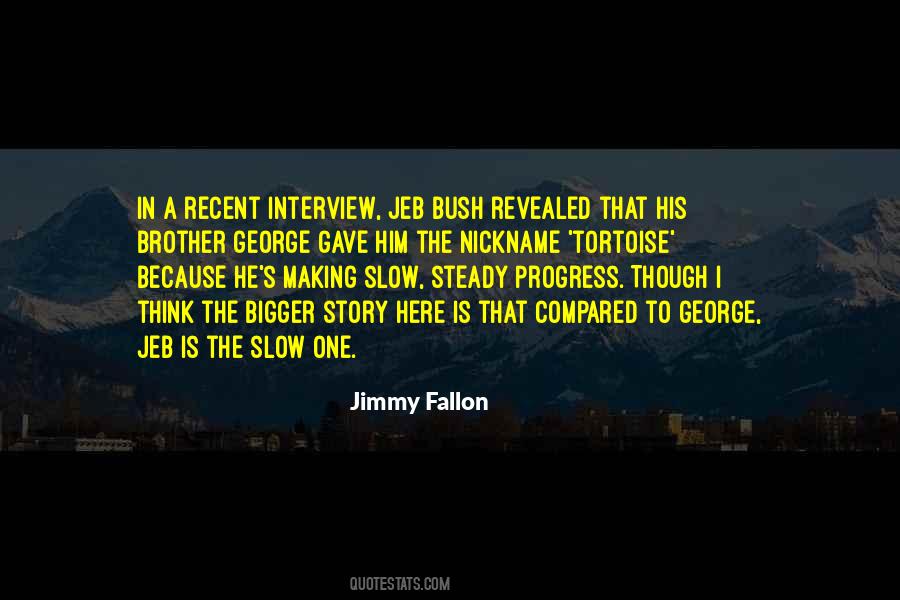 #22. I wouldn't want [the people of Baleyworld] to live that long as a general thing. The pace of historical and intellectual advance would then become too slow. Those at the top would stay in power too long. Baleyworld would sink into conversation and decay - as your world has done.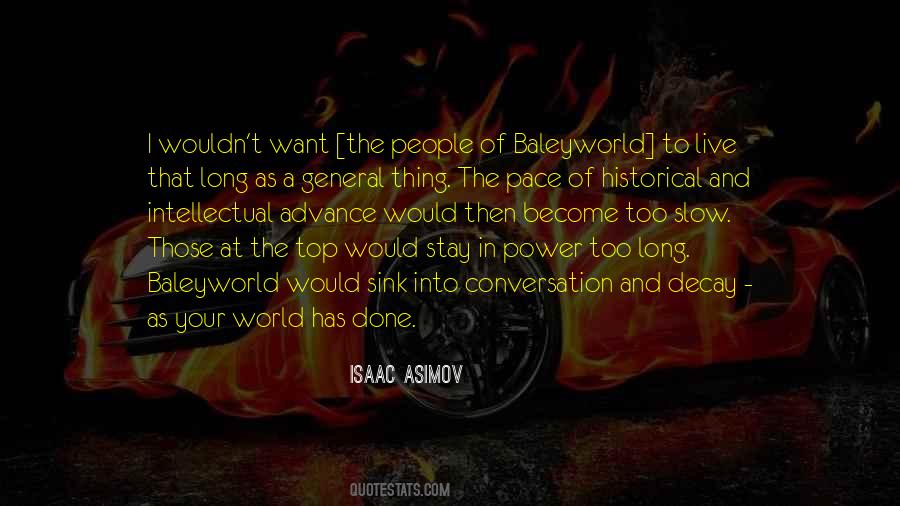 #23. Progress however slow is still progress, but be it for the better if sped up quicker.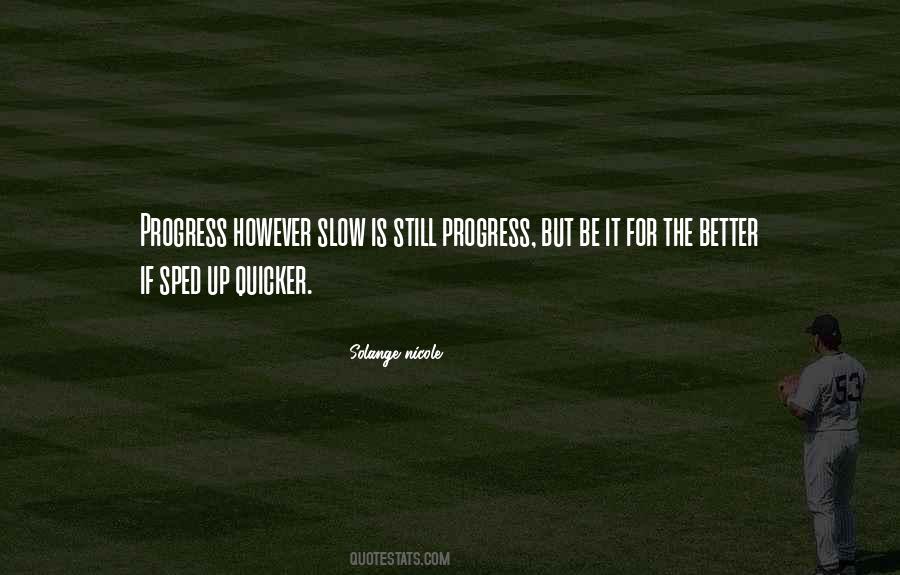 #24. I am a slow walker, but I never walk back.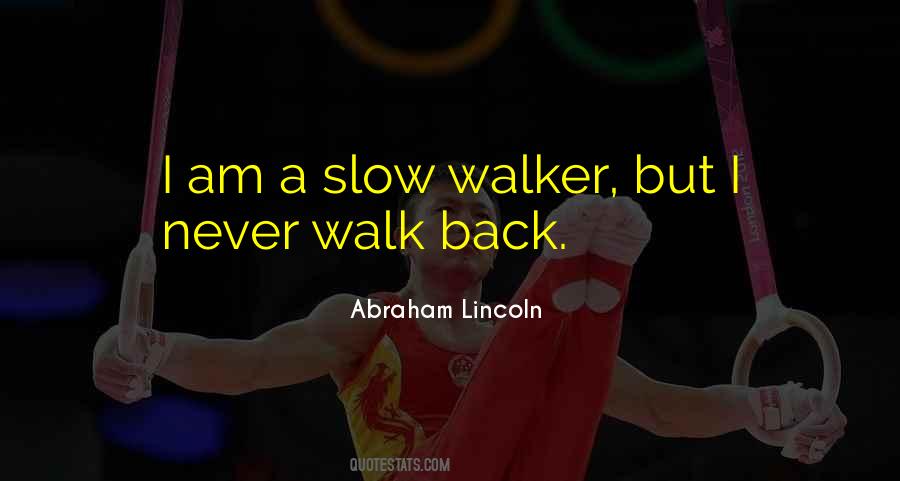 #25. Progress is slow, it is uneven, it is fragile and in some parts of the world it is being erased.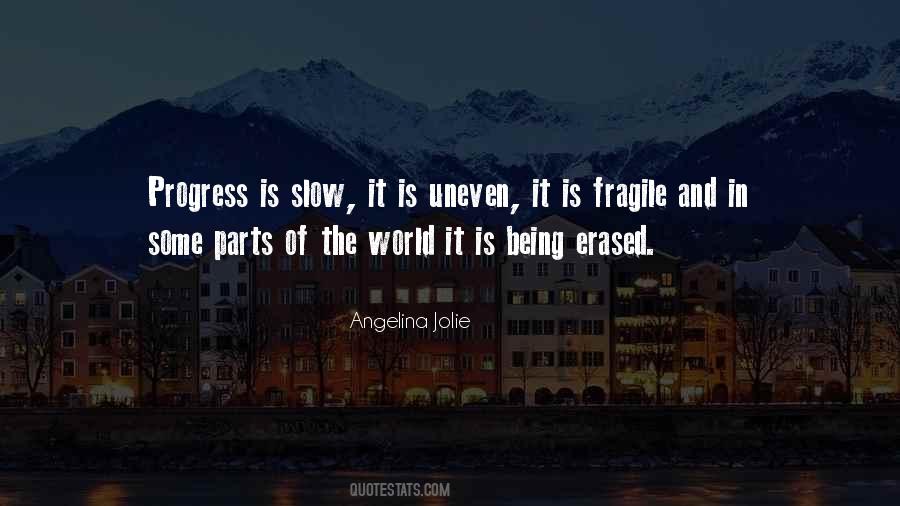 #26. Painting is a slow process; it takes time to get there, you learn little by little and always want the next painting to be better than the last. For me, success is about this, seeing the slow progress in my work.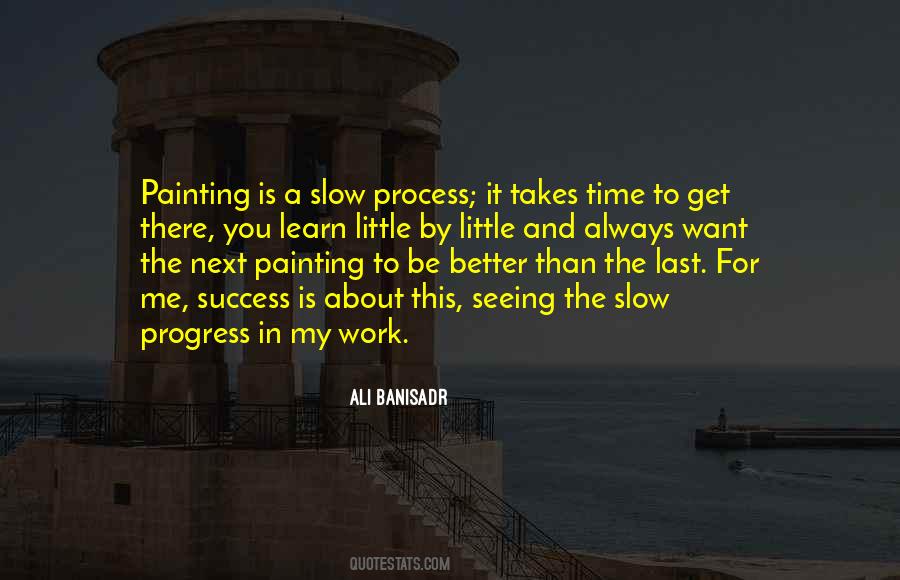 #27. In running, it doesn't matter how fast or slow you are relative to anyone else. You set your own pace and you measure your own progress. You can't lose this race because you're not running against anyone else. You're only running against yourself, and as long as you are running, you are winning.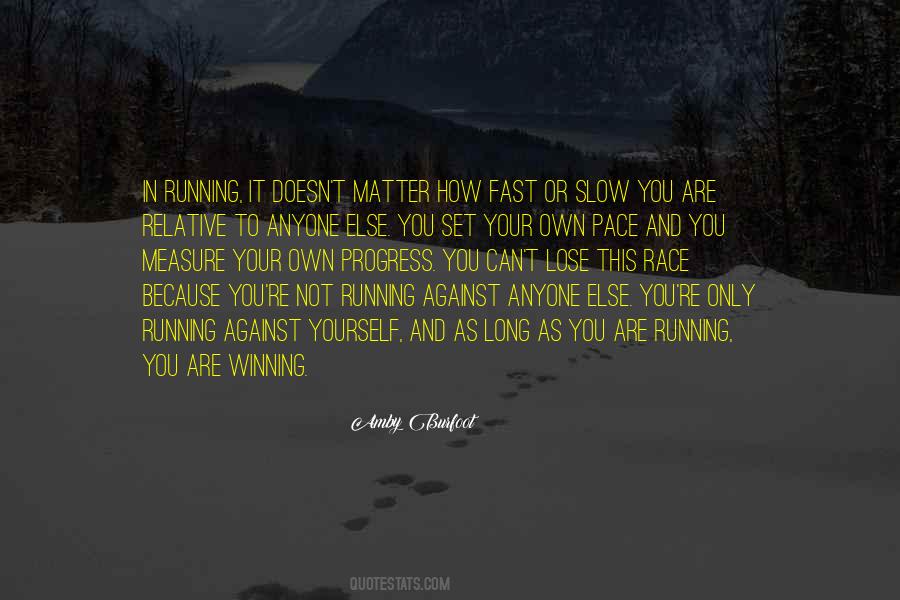 #28. You can hardly convince a man of an error in a lifetime, but must content yourself with the reflection that the progress of science is slow. If he is not convinced, his grandchildren may be.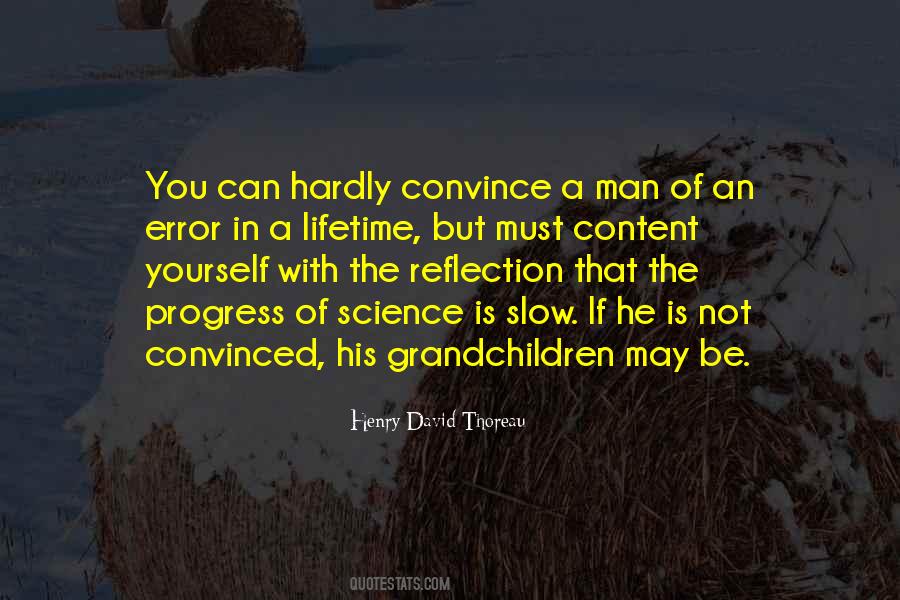 #29. How do we slow down what matters the most and speed up what benefits change and progress? We don't want to impede progress, but we are seeking reconnection to ourselves, to each other, and with the world.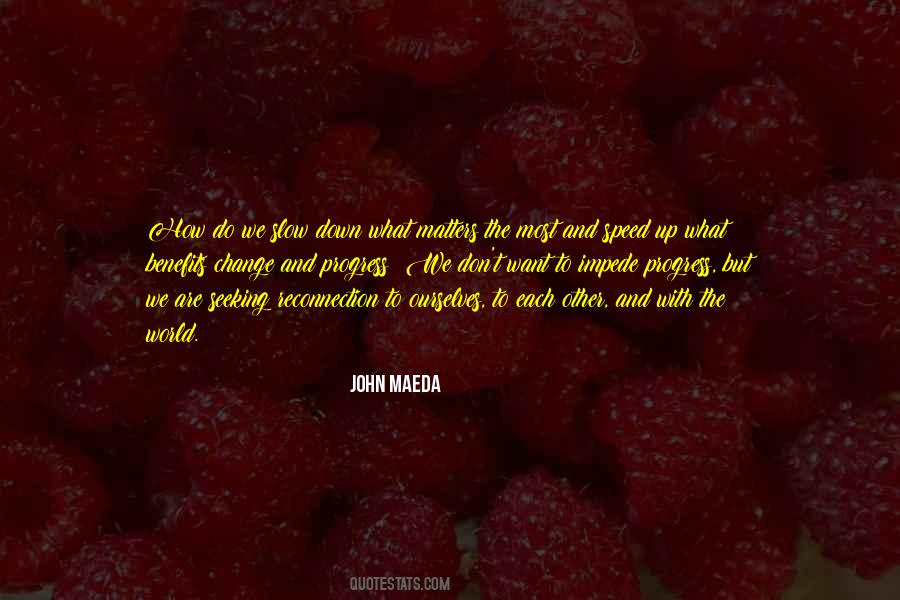 #30. But America is a great, unwieldy Body. Its Progress must be slow ... Like a Coach and six - the swiftest Horses must be slackened and the slowest quickened, that all may keep an even Pace.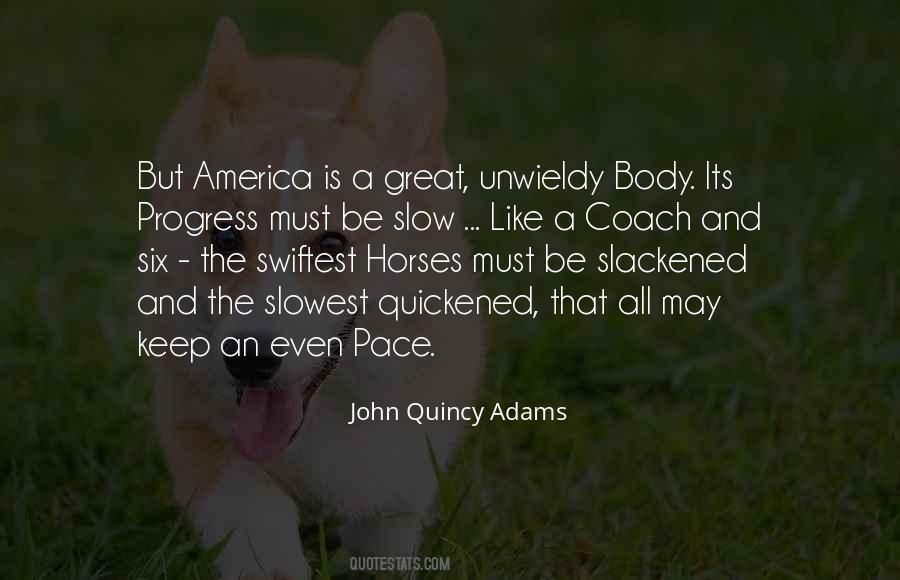 #31. Unfortunately, the current pace of progress is not nearly rapid enough, with many rich industrialised countries being slow to make the transition to cleaner and more efficient forms of economic growth.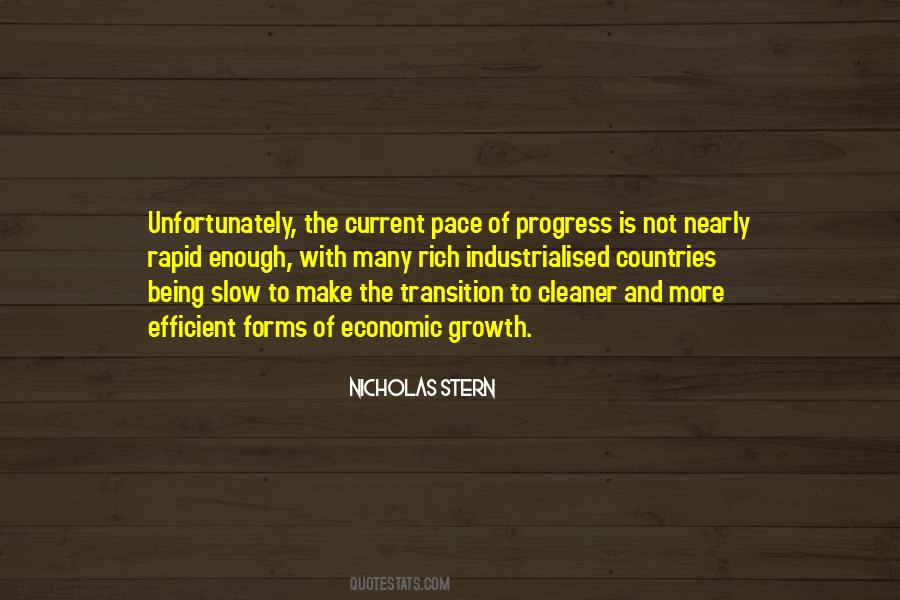 #32. Genuine scientific progress is a slow climb, which requires a stable society to support thinkers and theorists over many generations.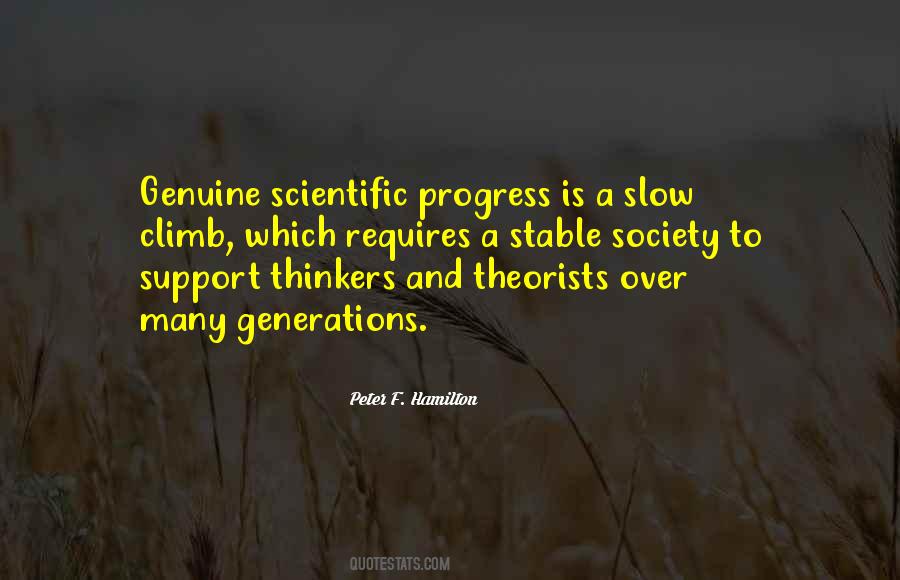 #33. I think every high school student who was alert during the early '60s got very embittered by the slow progress and the violence surrounding the Civil Rights Movement.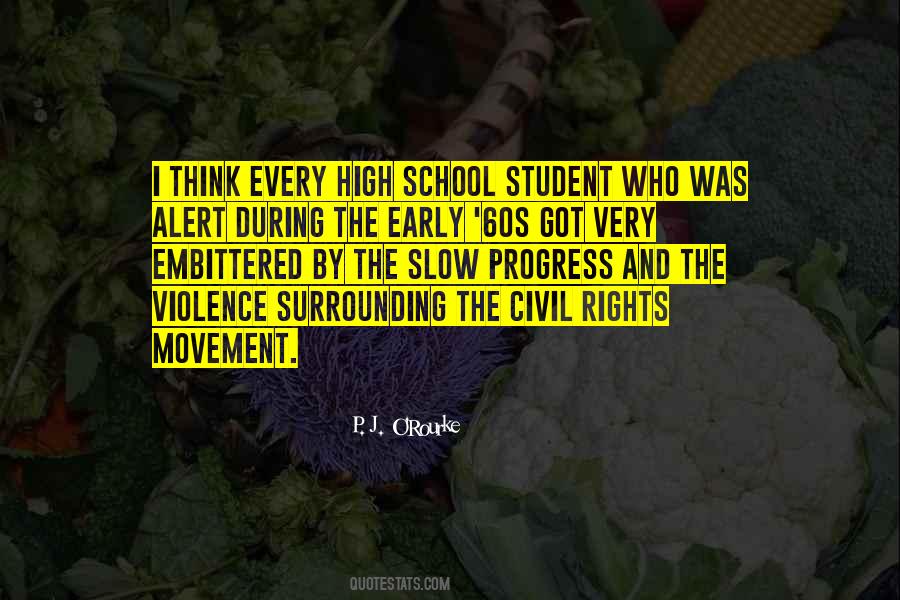 #34. Preferring steady progress, slow and imperfect, is a good philosophy for the defeated.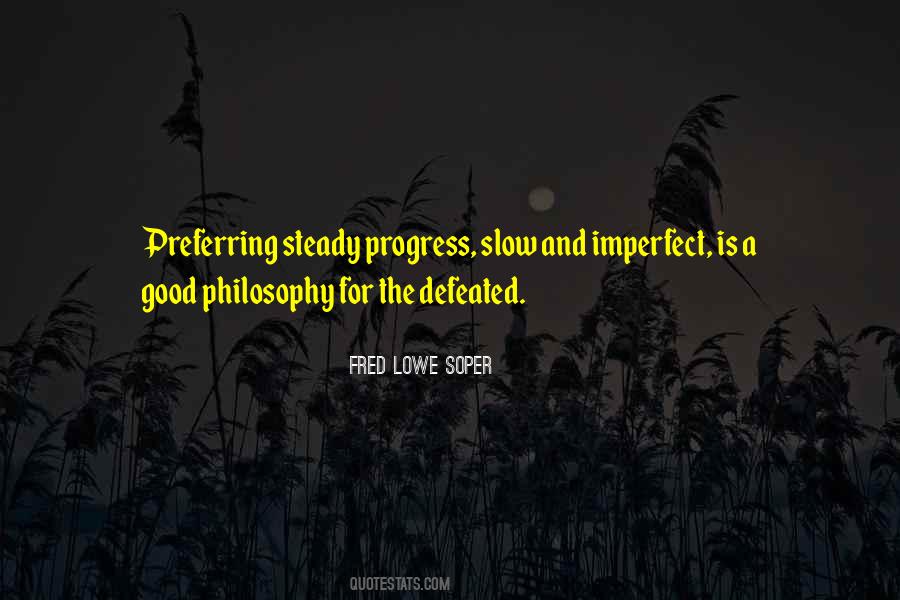 #35. How can the arts overcome the slow dying of men's hearts that we call progress ?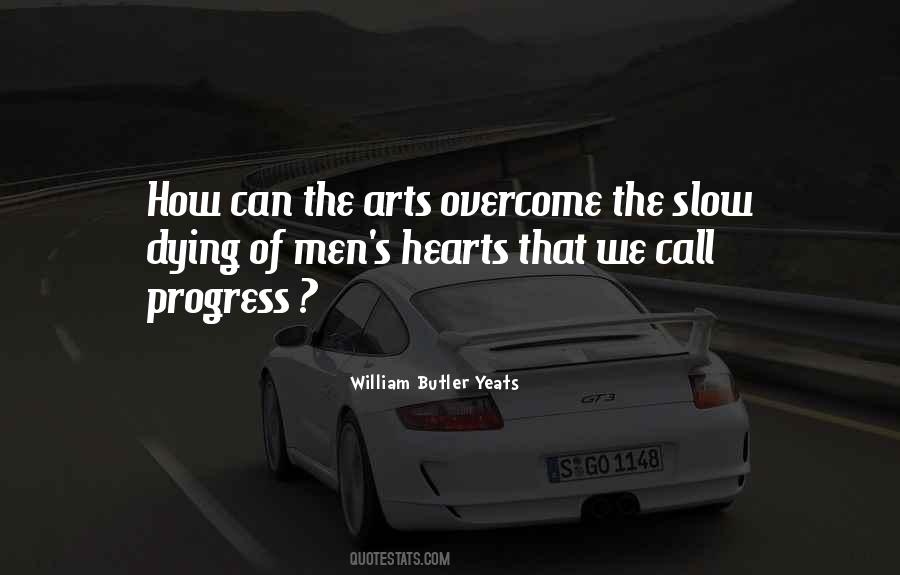 #36. True progress is slow but sure.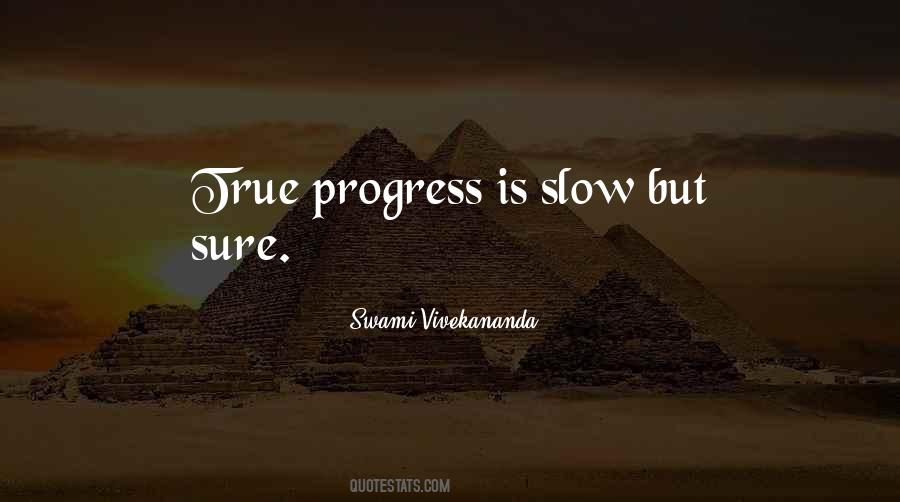 #37. A nation which depends upon others for its new basic scientific knowledge will be slow in its industrial progress and weak in its competitive position in world trade.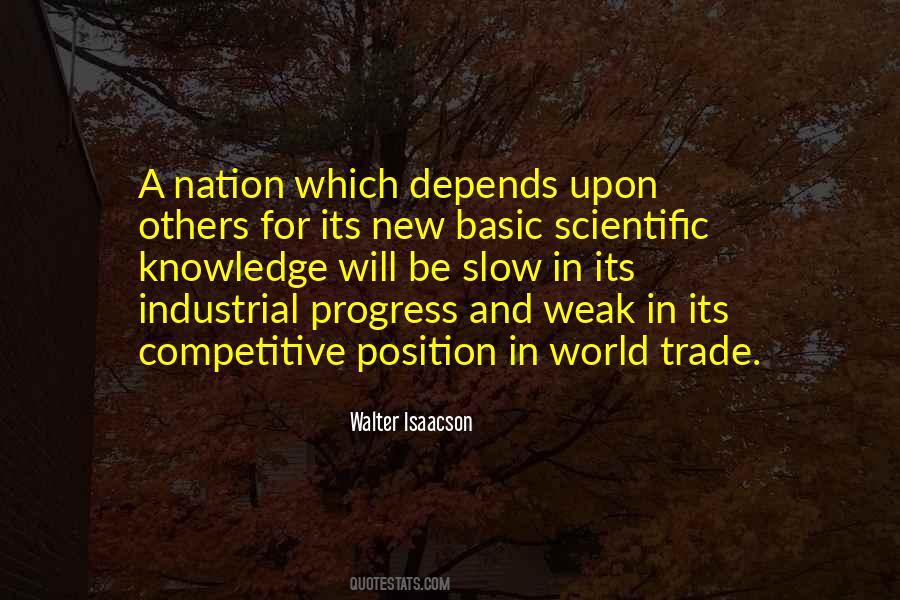 #38. It is a mistake to hire huge numbers of people to get a complicated job done. Numbers will never compensate for talent in getting the right answer (two people who don't know something are no better than one), will tend to slow down progress, and will make the task incredibly expensive.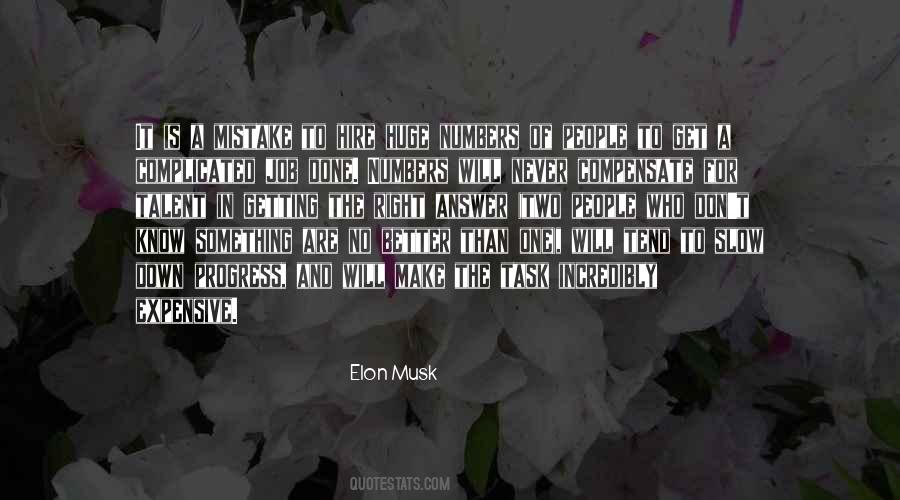 #39. Slow, steady progress is better than fast, daily excuses.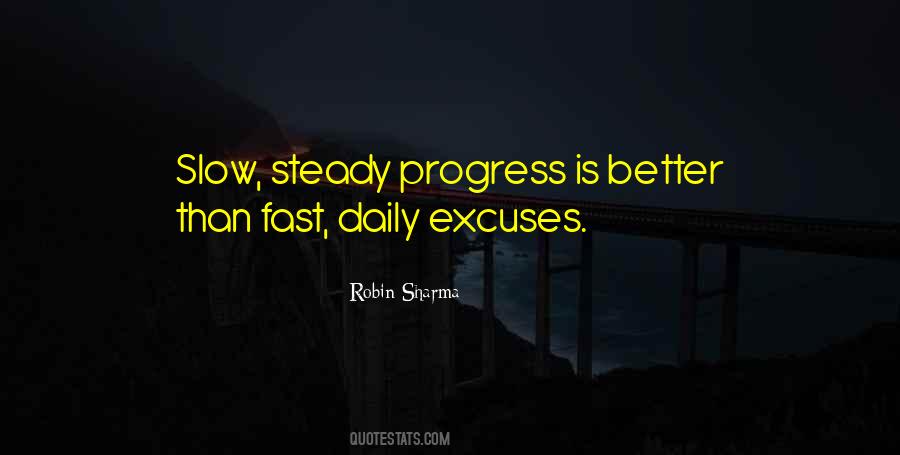 #40. Judge men less by the labels they wear than by their persistent labour for sure if slow progress.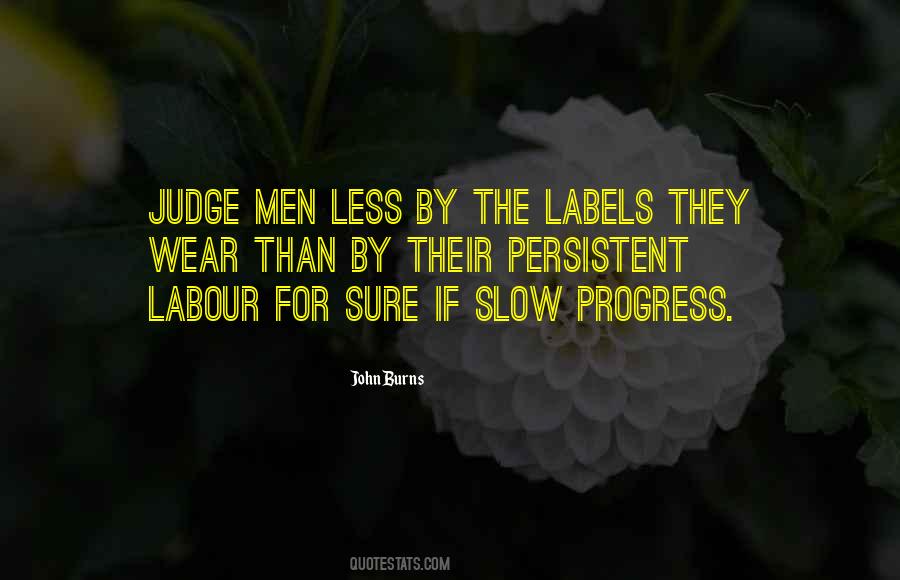 #41. Here's a secret: fictive text doesn't necessarily flow easily. Most of the time it's more like cutting a highway through a mountain. You just have to keep working with your pick, chipping away at the rock, making slow progress.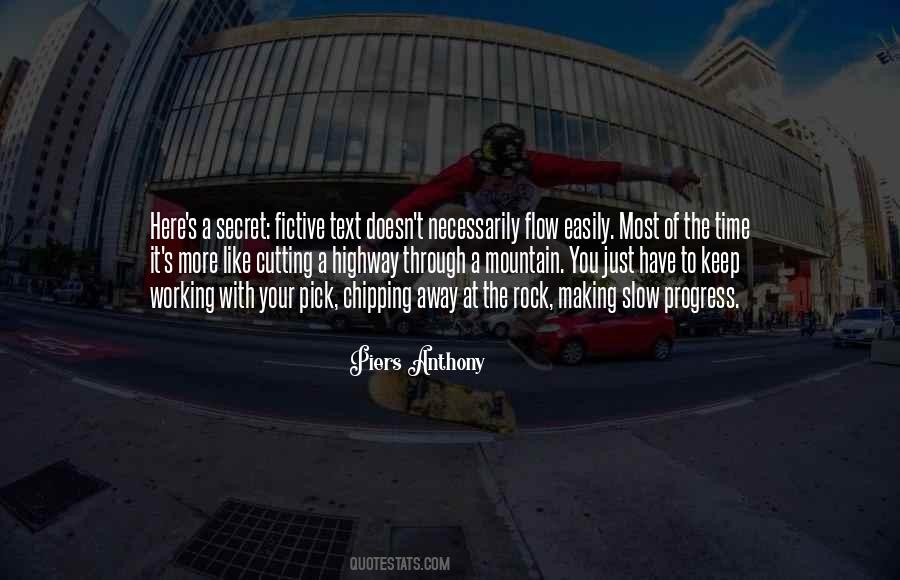 #42. It's only recently women got to be action heroes on TV. Progress is slow, and often non-existent. There's plenty of cool comics with female characters ... But all it takes is one Catwoman to set the cause back a decade.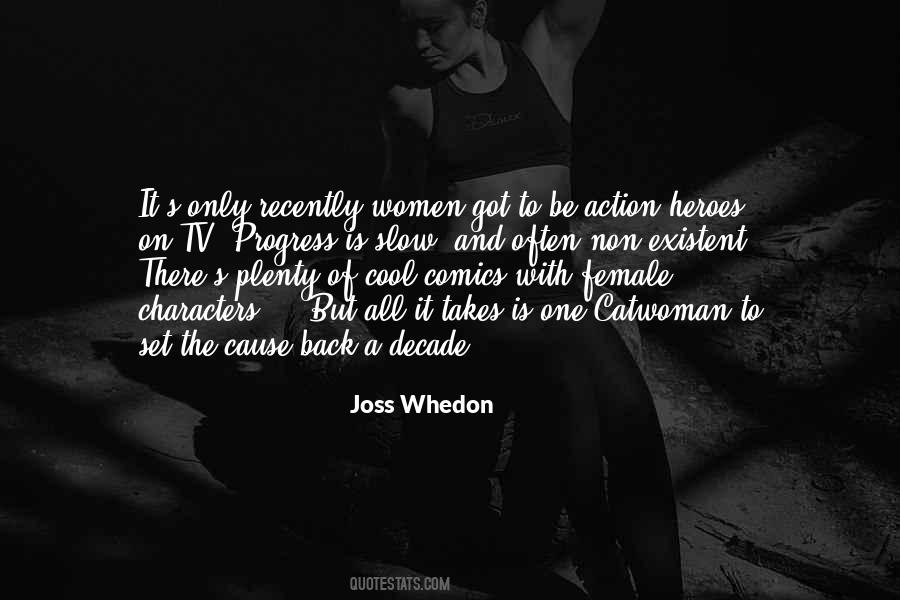 #43. Progress can be slow and gradual. Continue putting in effort with patience, enthusiasm and faith.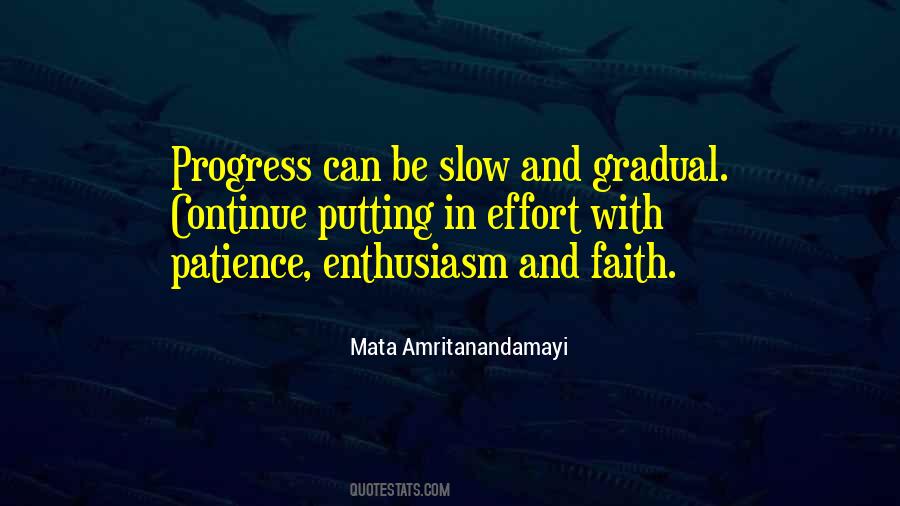 #44. The evolution of man is slow. The injustice of men is great.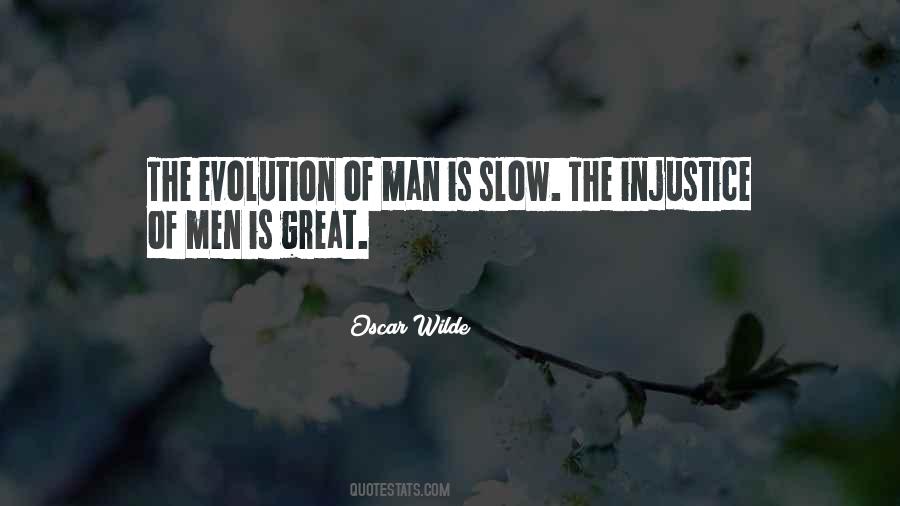 #45. As long as algebra and geometry have been separated, their progress have been slow and their uses limited; but when these two sciences have been united, they have lent each mutual forces, and have marched together towards perfection.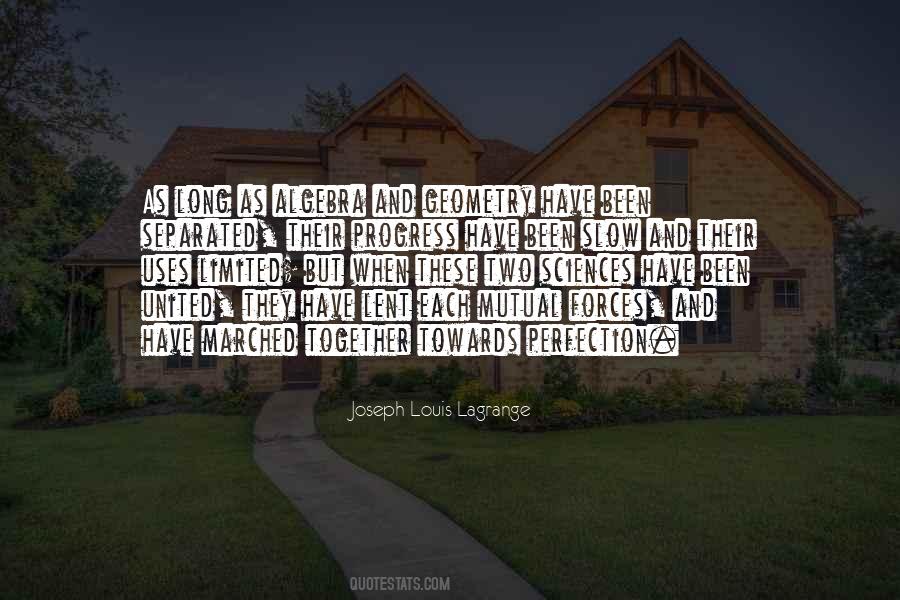 #46. In these days the invention of printing, and the diffusion of knowledge, render historical calumnies a little less dangerous: truth will always prevail in the long run, but how slow its progress!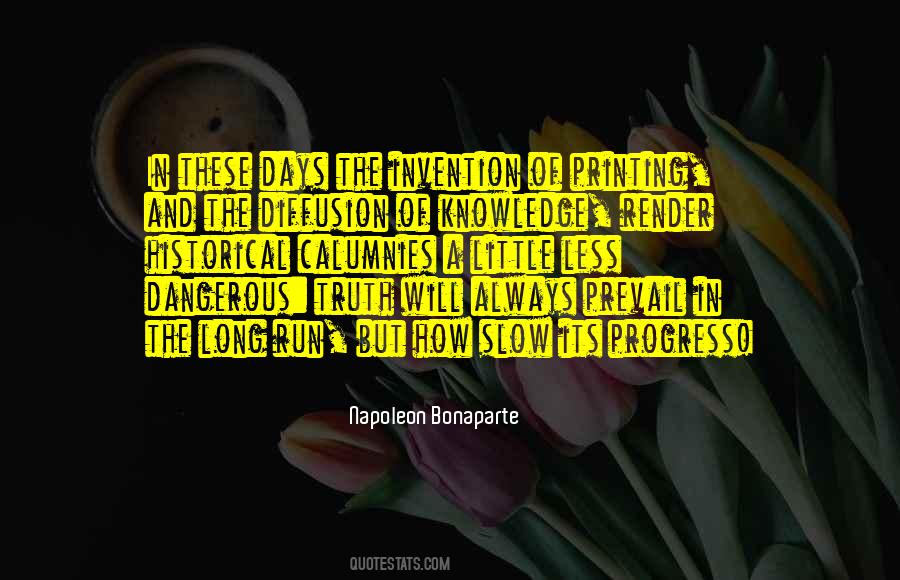 #47. But the surest way to slow your own progress is to rush yourself into situation you're not ready for.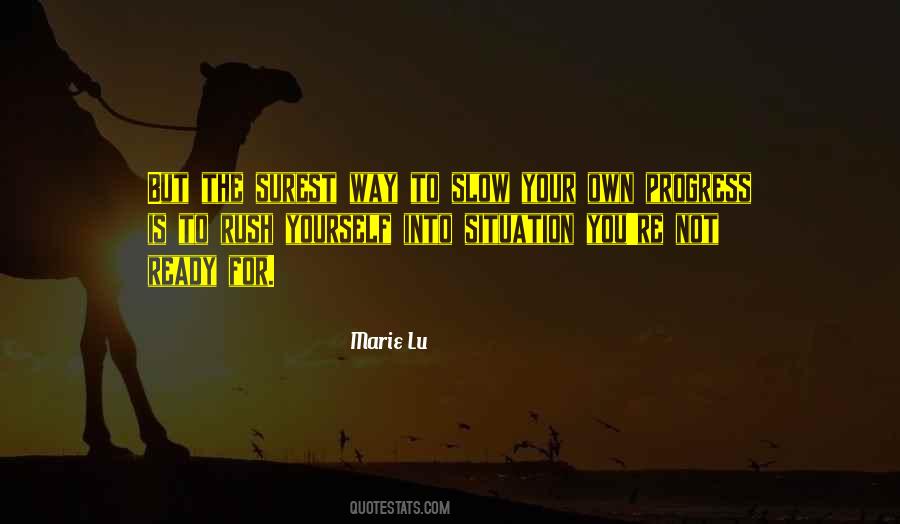 #48. Never discourage anyone ... who continually makes progress, no matter how slow.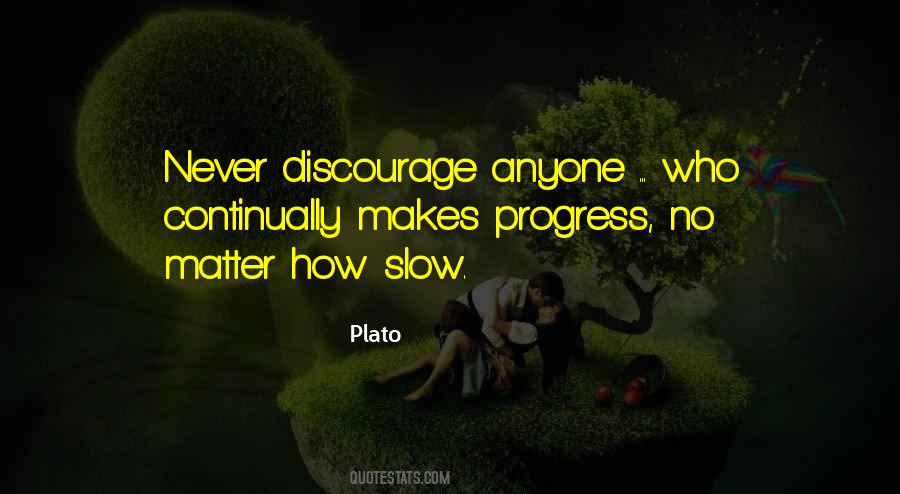 #49. We are accustomed to say, that the mass of men are unprepared; but improvement is slow, because the few are not materially wiser or better than the many.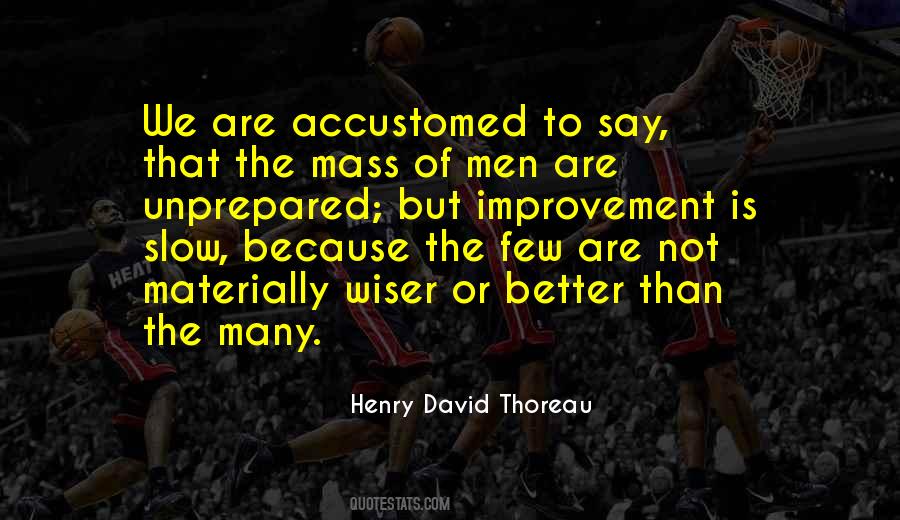 #50. I avoid looking at the clock, fearing the slow passing of time that will only seem slower if I watch its progress.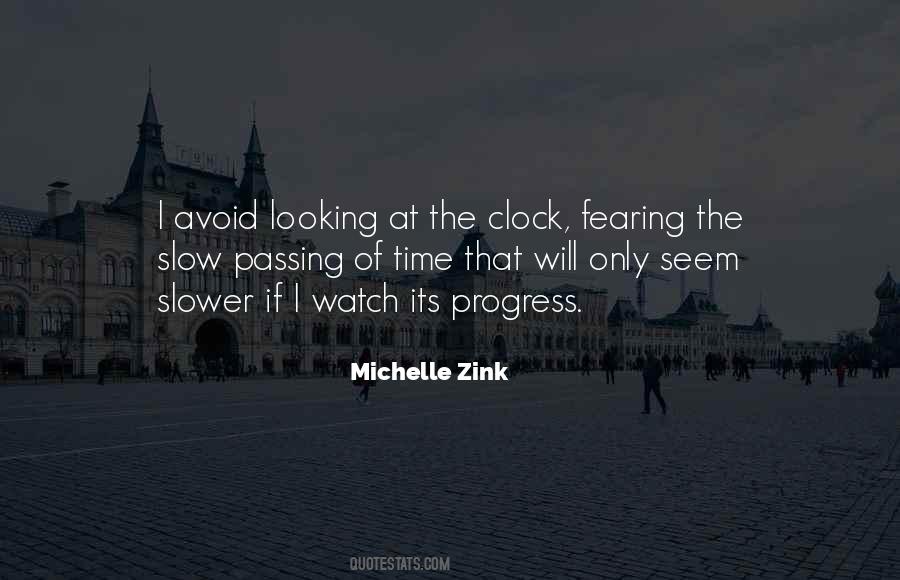 #51. No matter how many mistakes you make or how slow you progress, you are still way ahead of everyone who isn't trying.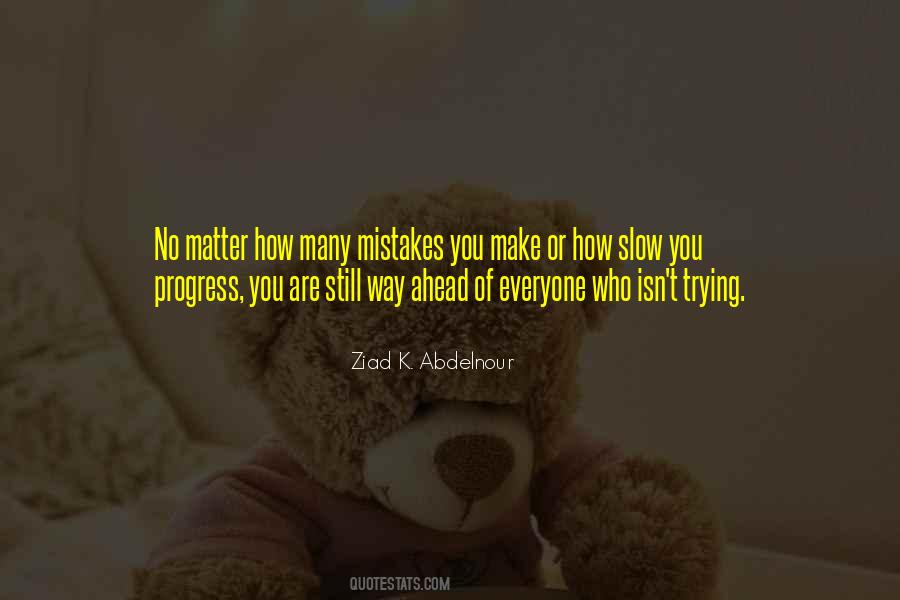 #52. Progress, of the best kind, is comparatively slow. Great results cannot be achieved at once; and we must be satisfied to advance in life as we walk, step by step.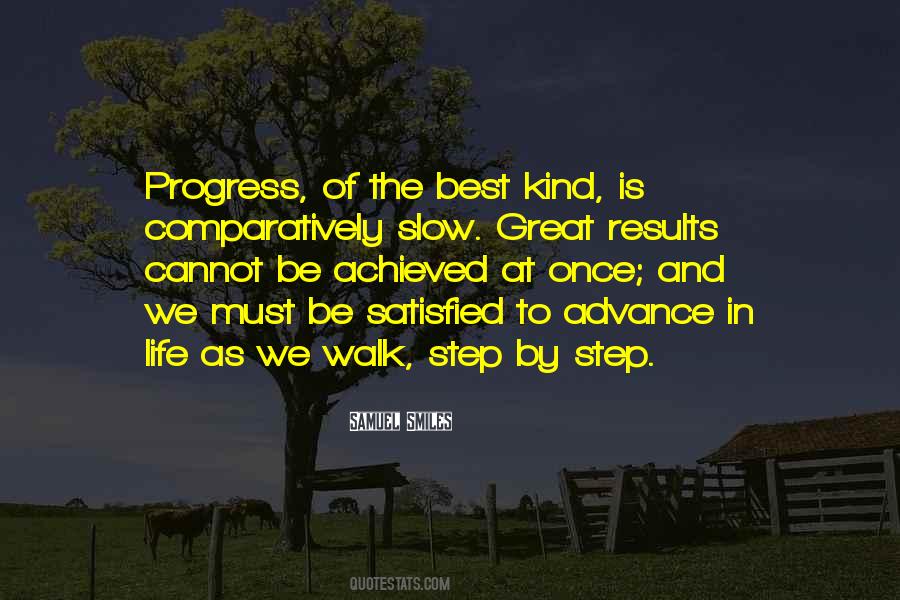 #53. All real progress must be slow.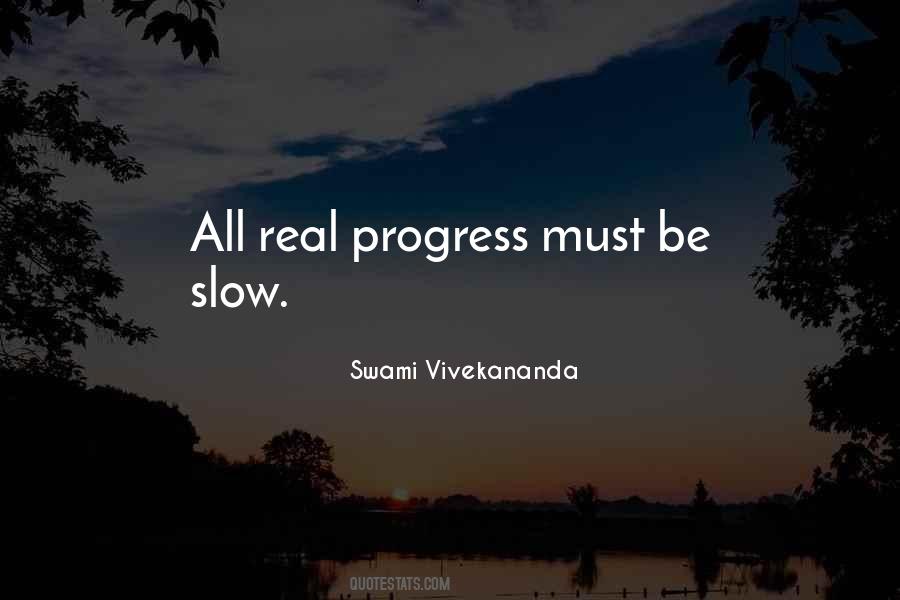 #54. Think how slow would be your progress in learning without printed books: you could study only manuscripts, and those necessarily must be very few in number. Learn from this to value your books, and always handle them with care.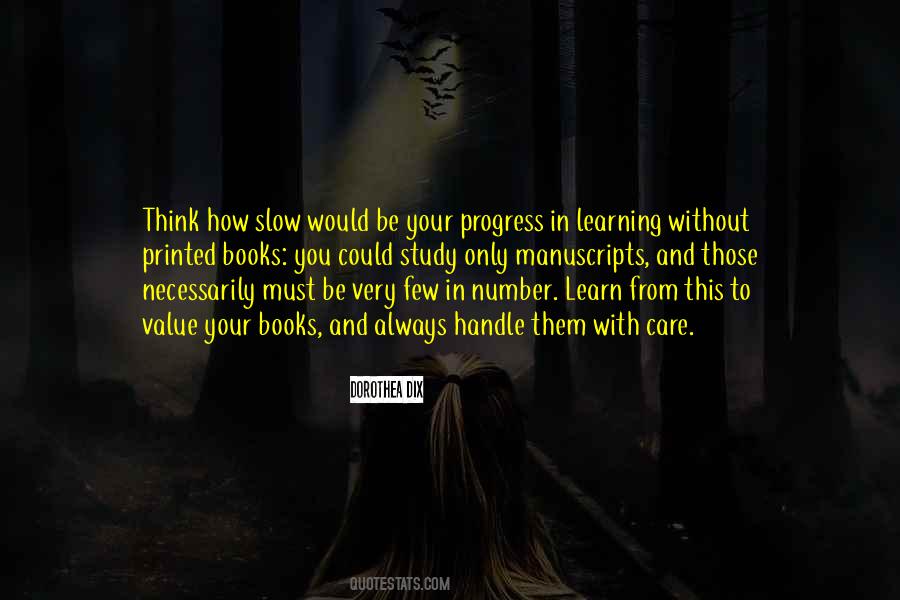 #55. I think there's a very clear recognition and understanding that the progress of women in business at the very highest decision-making levels is too slow. This is a discussion that's going on in every country around the world, actually.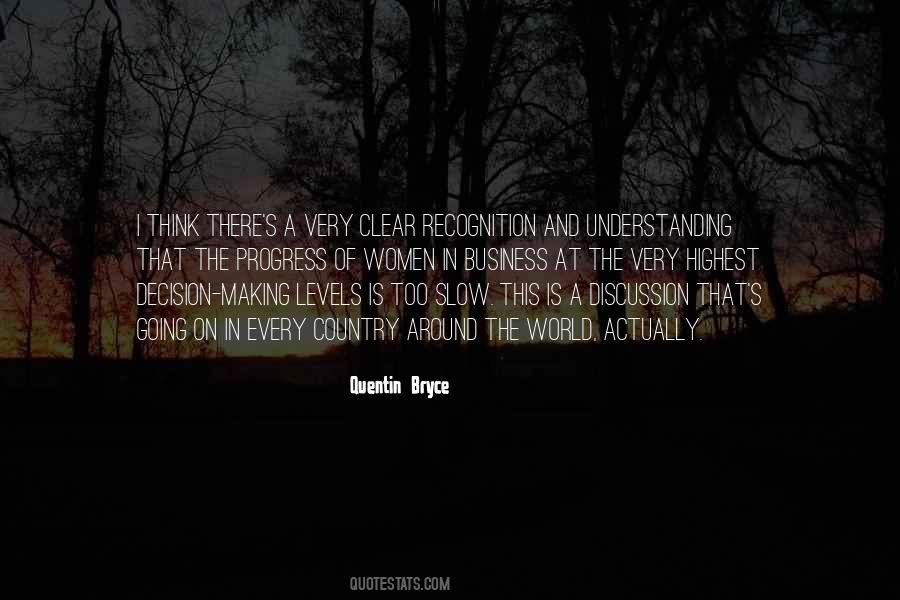 #56. But with the slow menace of a glacier, depression came on. No one had any measure of its progress; no one had any plan for stopping it. Everyone tried to get out of its way.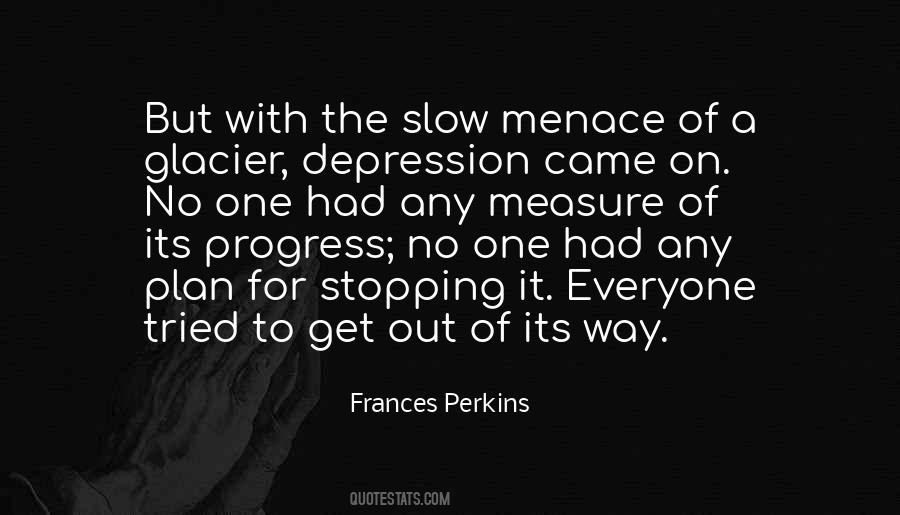 #57. Perhaps this is how you know you're doing the thing you're intended to: No matter how slow or how slight your progress, you never feel that it's a waste of time.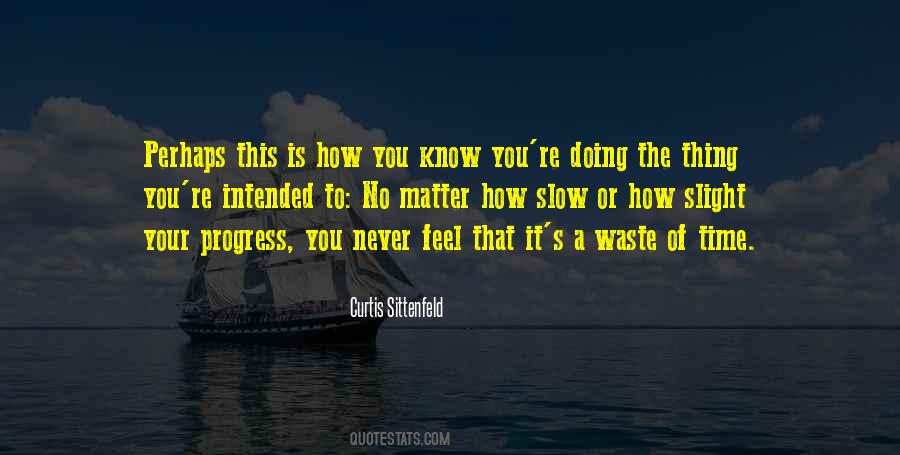 #58. Leg locomotion was, for decades, thought to be an incredibly difficult problem. There has been very, very painstakingly slow progress there, and robots that essentially lumbered along at one step every 15 seconds and occasionally fell over.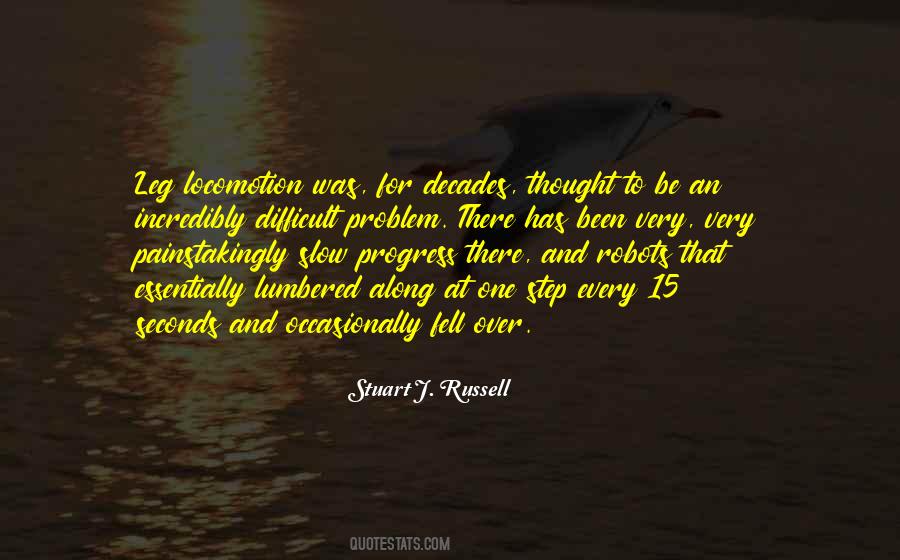 #59. Don't aim for perfection. Aim for progress. Learn to slow the process down when your adrenaline gets pumping.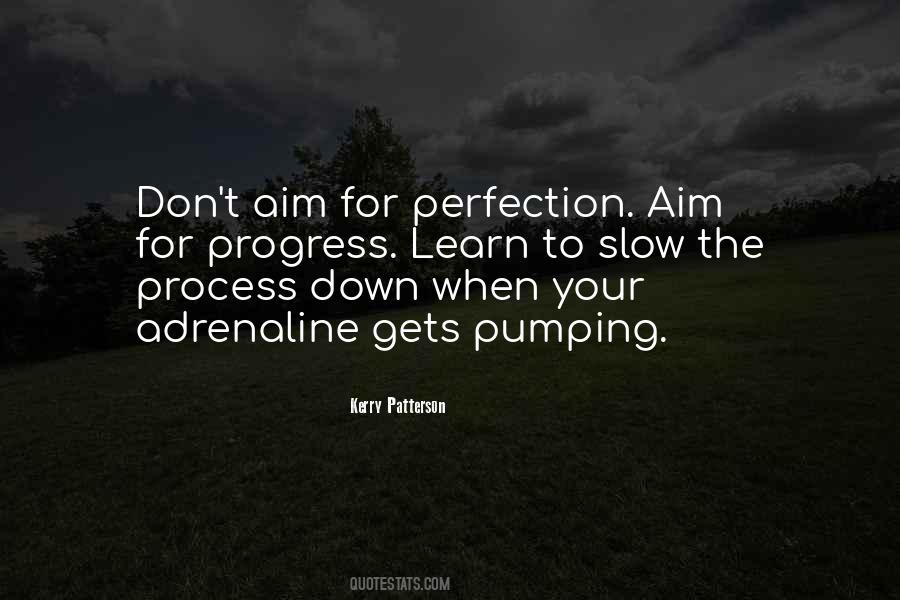 #60. We slow the progress of science today for all sorts of ethical reasons. Biomedicine could advance much faster if we abolished our rules on human experimentation in clinical trials, as Nazi researchers did.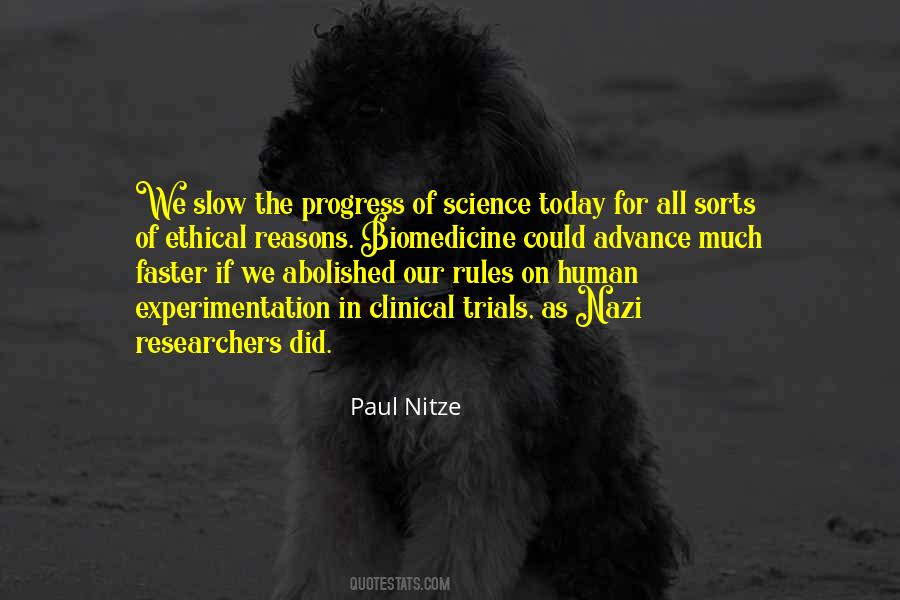 #61. The reason progress is slow is that we always expect other men to be the heroes and to live the heroic lives. But we all have hero stuff in us. In our sphere of life we can always live more heroically and triumphantly and grow in heroic stature.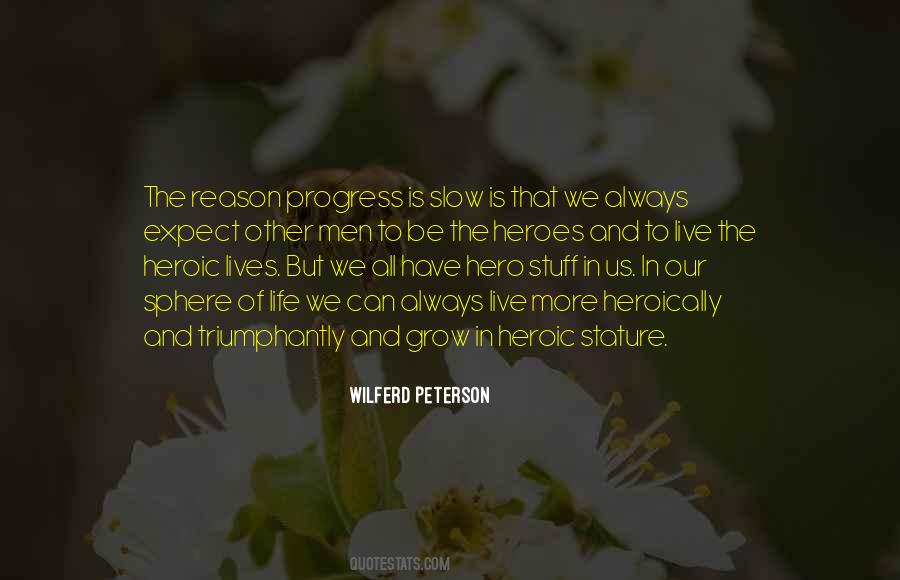 #62. Only those who do not fill the places they are holding slow the progress of the world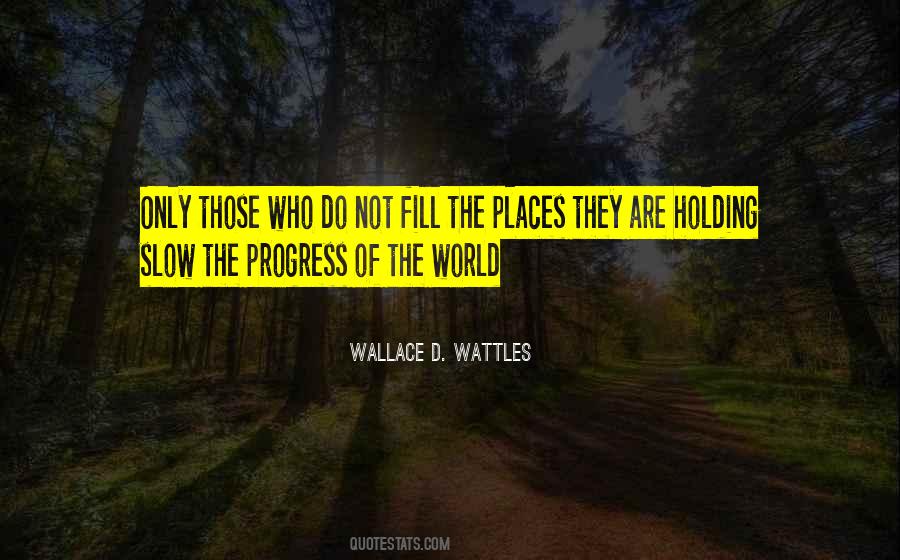 #63. Be content to progress in slow steps until you have legs to run and wings with which to fly.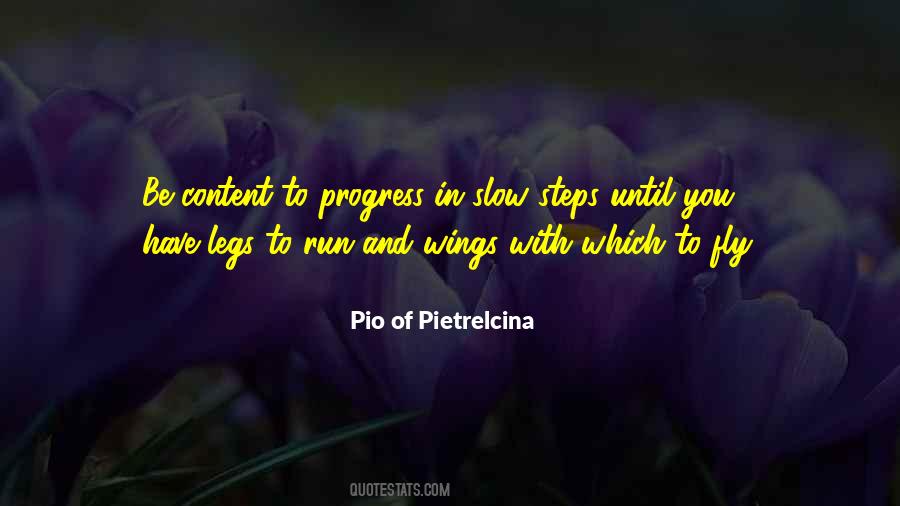 Famous Authors
Popular Topics