List of top 100 famous quotes and sayings about simple happiness to read and share with friends on your Facebook, Twitter, blogs.
Top 100 Quotes About Simple Happiness
#1. The point of simple living, for me has got to be:
A soft place to land
A wide margin of error
Room to breathe
Lots of places to find baseline happiness in each and every day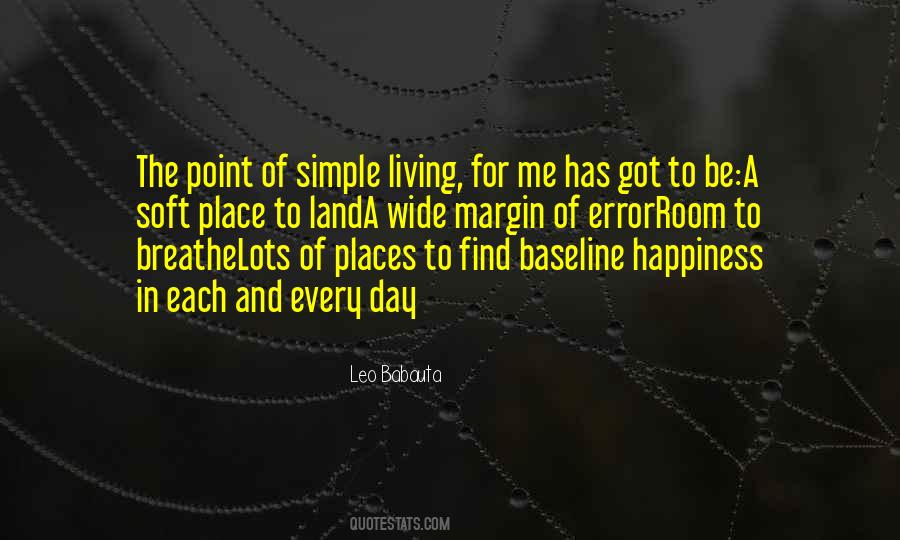 #2. Happiness is actually found in simple things, such as taking my nephew around the island by bicycle or seeing the stars at night. We go to coffee shops or see airplanes land at the airport.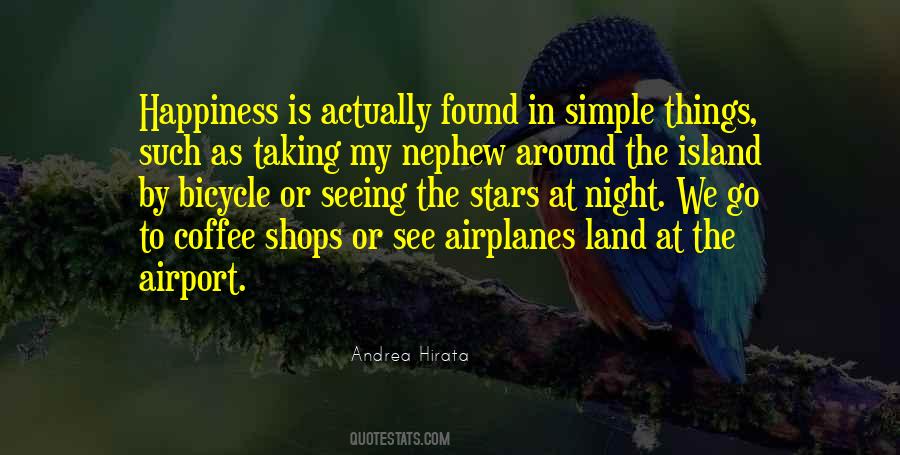 #3. The more loving, kind and simple we are, the more we resemble the God.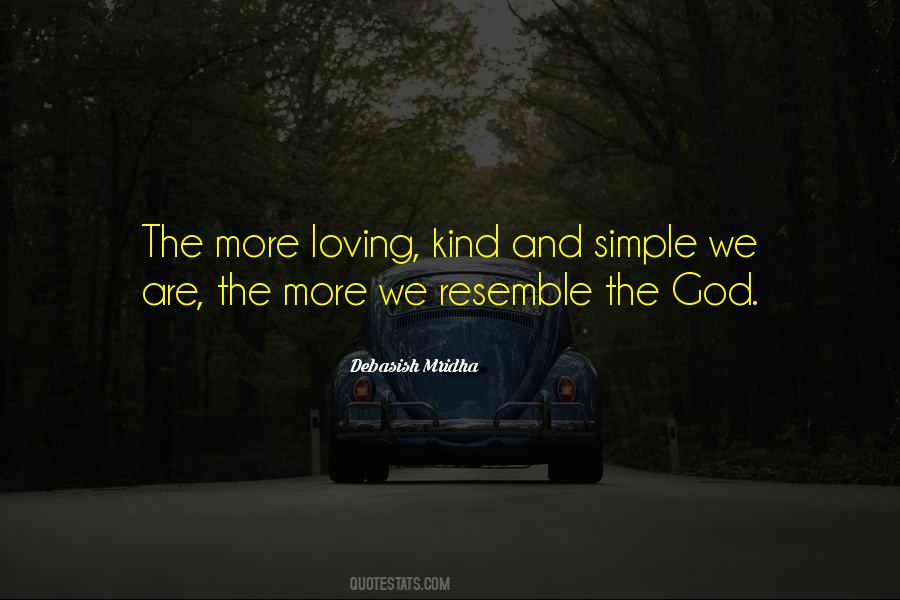 #4. To be a winner in life, be simple and be kind.
You will win the heart and you will win the mind.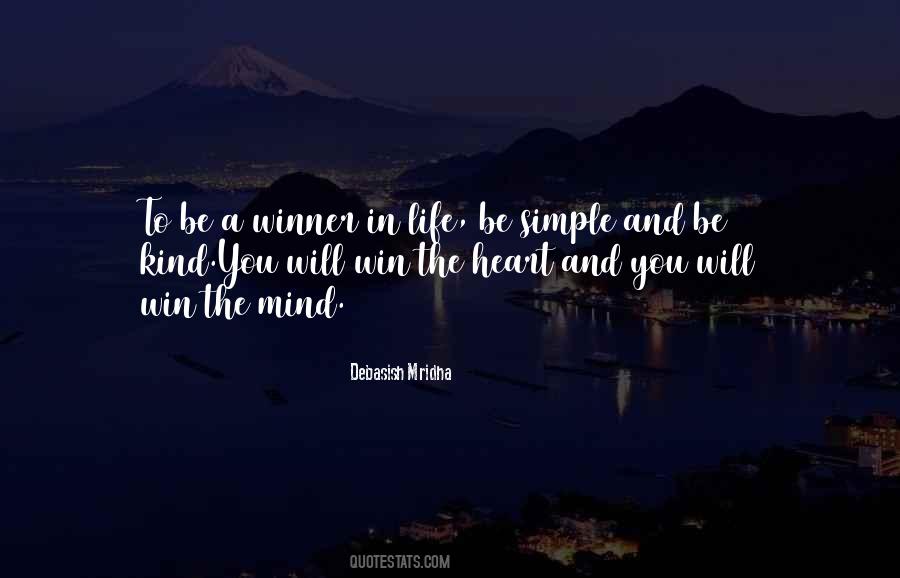 #5. Life itself is simple...it's just not easy.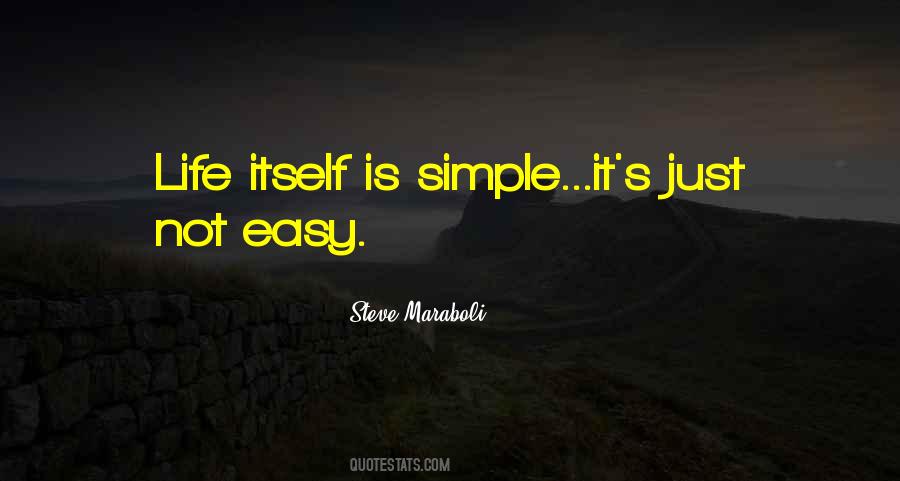 #6. A simple equation for the production of successful art work is lots of reference material plus lots of art supplies equals lots of painting happiness.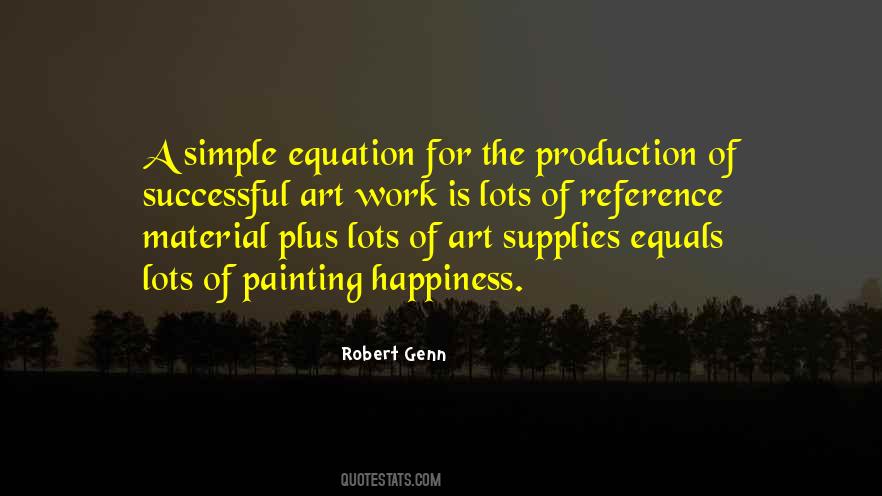 #7. Happy is the person who has learned the secret of being content with whatever life brings him, and has learned to rejoice in the
simple and beautiful things around him.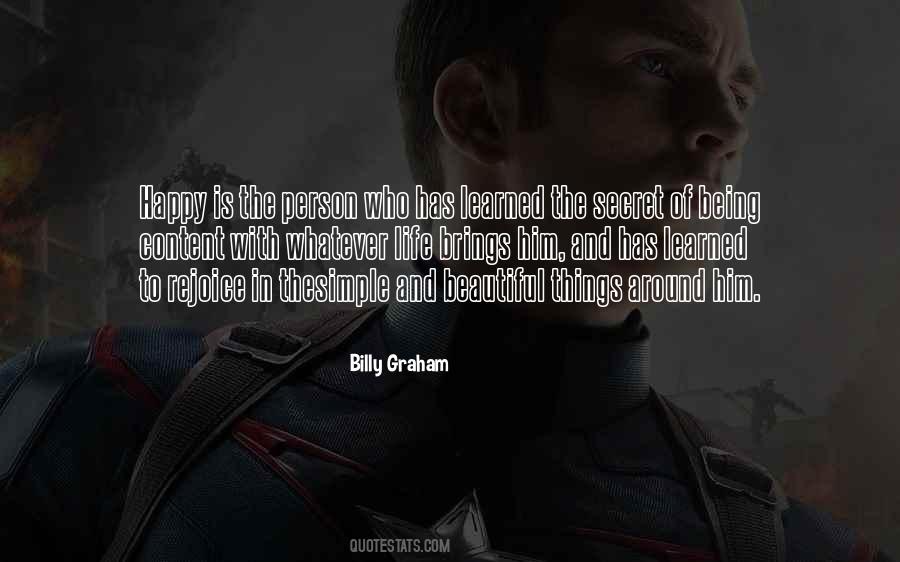 #8. His hand lay across my stomach as he slept soundly. I entwined my fingers with his and breathed through the warmth that seeped through my chest. Such a simple, sweet thing to do, yet holding hands in bed was incredibly intimate.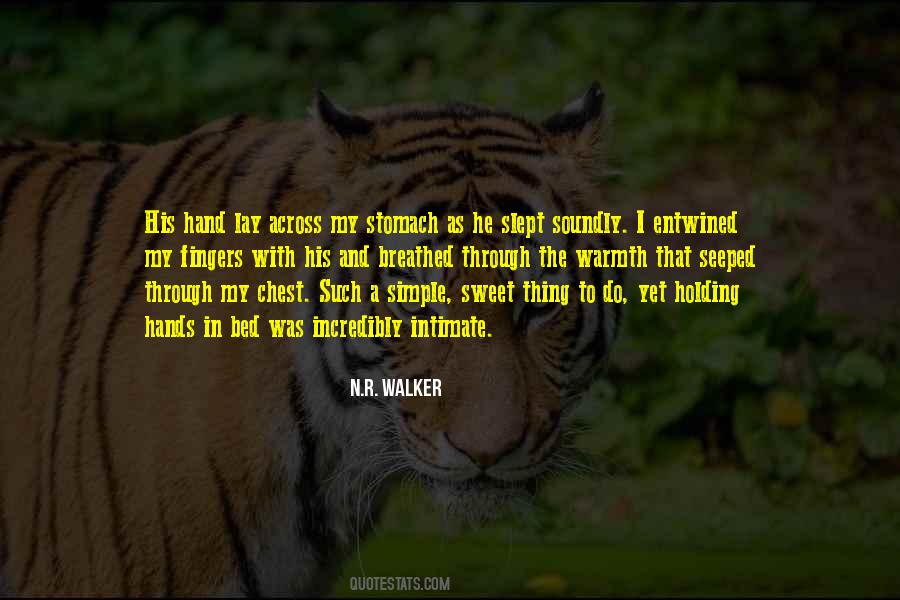 #9. Historians desiring to write the actions of men, ought to set down the simple truth, and not say anything for love or hatred; also to choose such an opportunity for writing as it may be lawful to think what they will, and write what they think, which is a rare happiness of the time.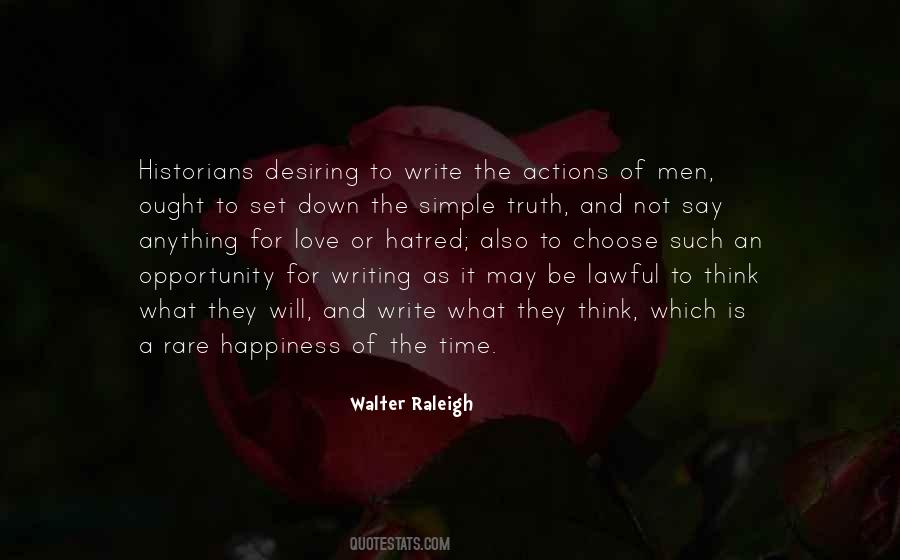 #10. The Buddha's message was simple but profound. Neither a life of self-indulgence nor one of self-mortification can bring happiness. Only a middle path, avoiding these two extremes, leads to peace of mind, wisdom, & complete liberation from the dissatisfactions of life.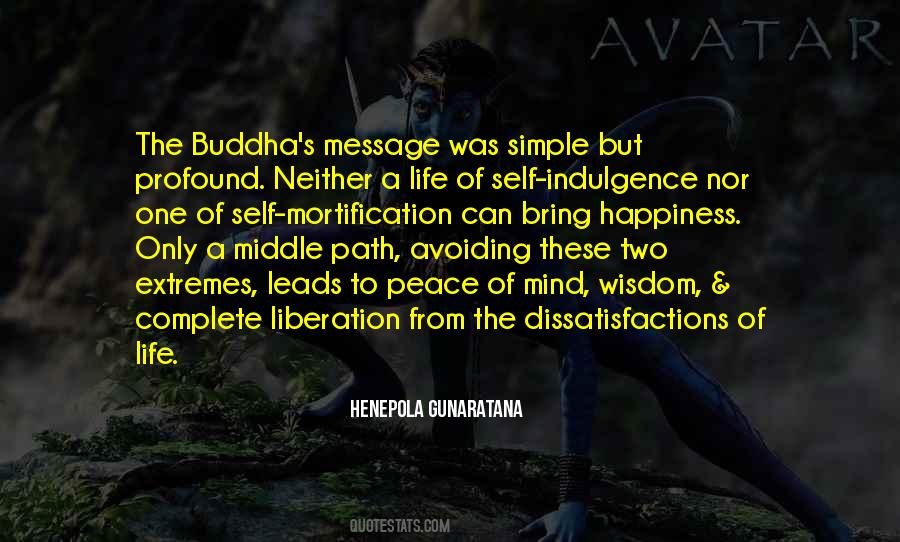 #11. Happiness is an attitude of mind, born of the simple determination to be happy under all outward circumstances.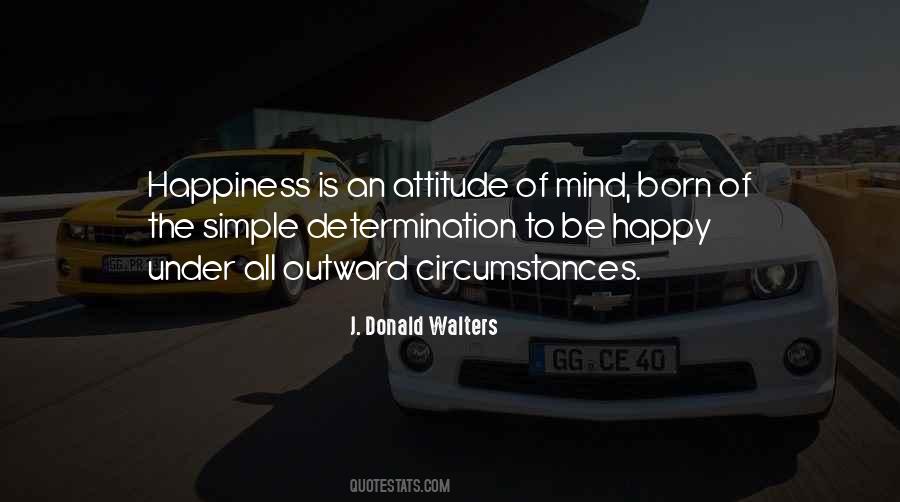 #12. Thankfulness is the life of contentment.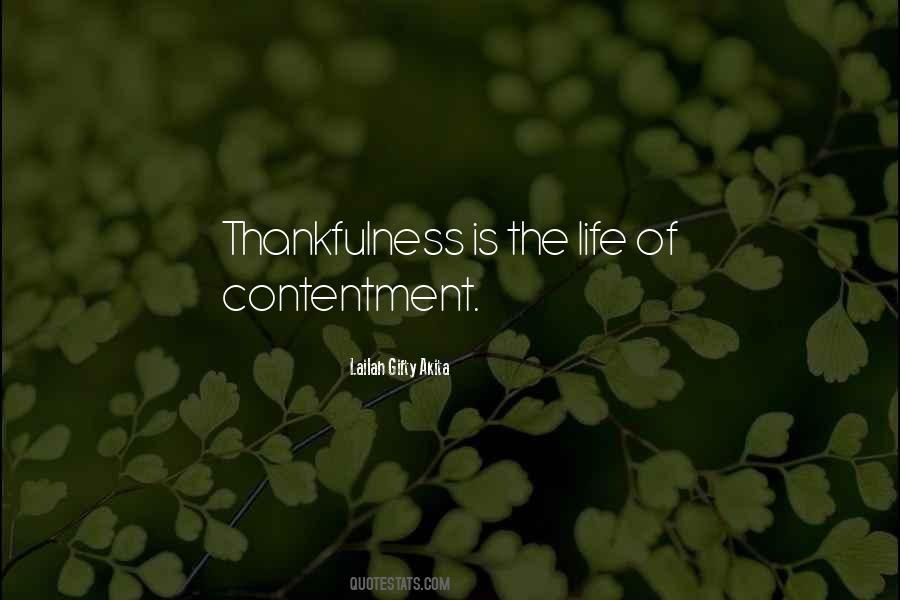 #13. Happiness is self-generated. It depends on one's attitude of mind. The basis of happiness, is the simple fact that the deepest reality of our own nature is ever-existing, ever-conscious, ever-new joy.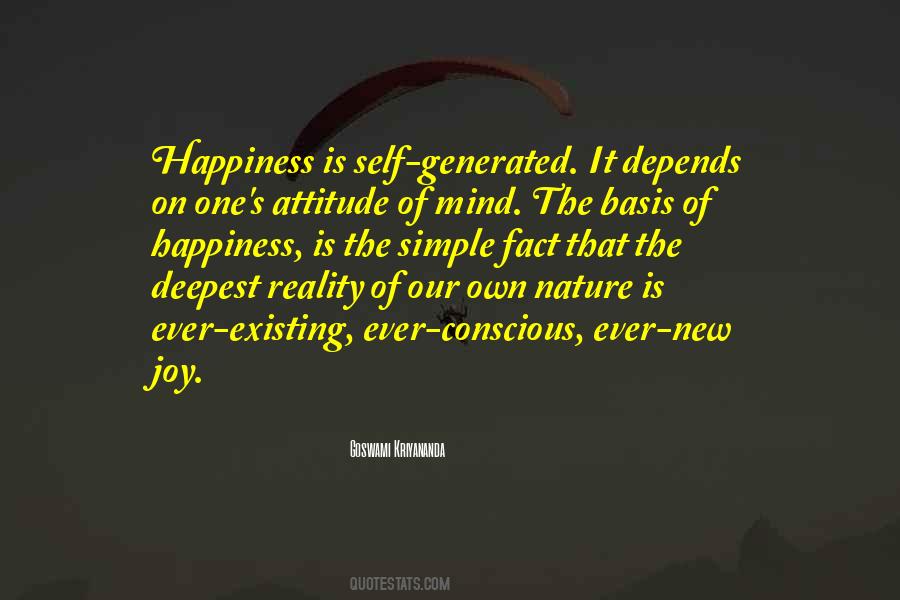 #14. If happiness could be bought, we'd probably be unhappy at the price tag. If only the secret of happiness was as simple as getting wealthy and spending more.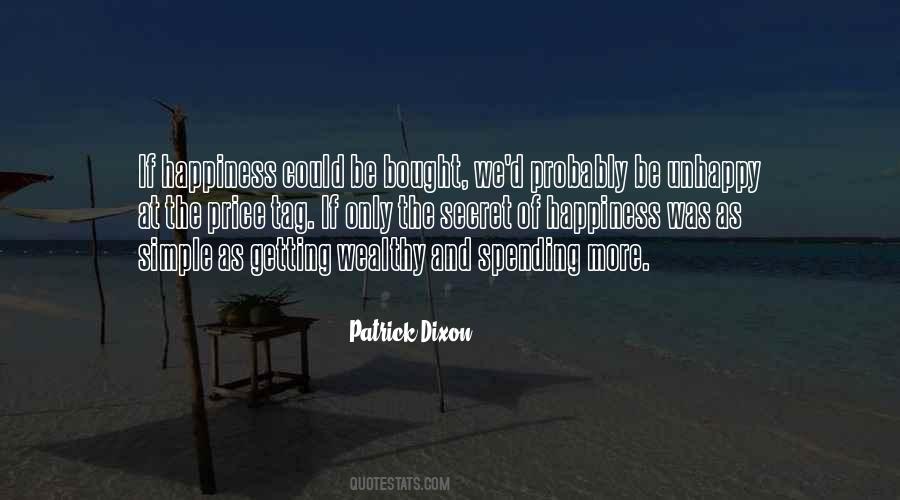 #15. Simple kindness can move the world.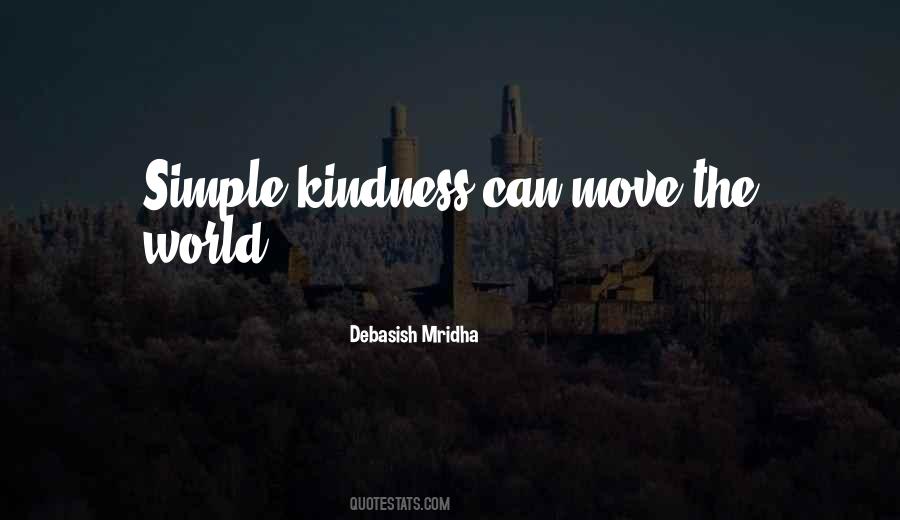 #16. The happy are an exception who enjoy innocently their simple happiness.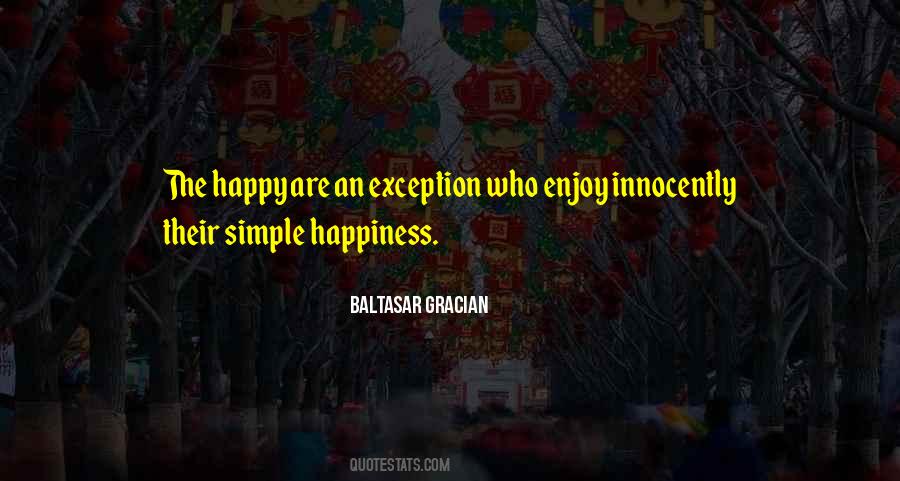 #17. There's no simple aritmetic for life's distribution of happiness and sorrow, no such thing as a standard share.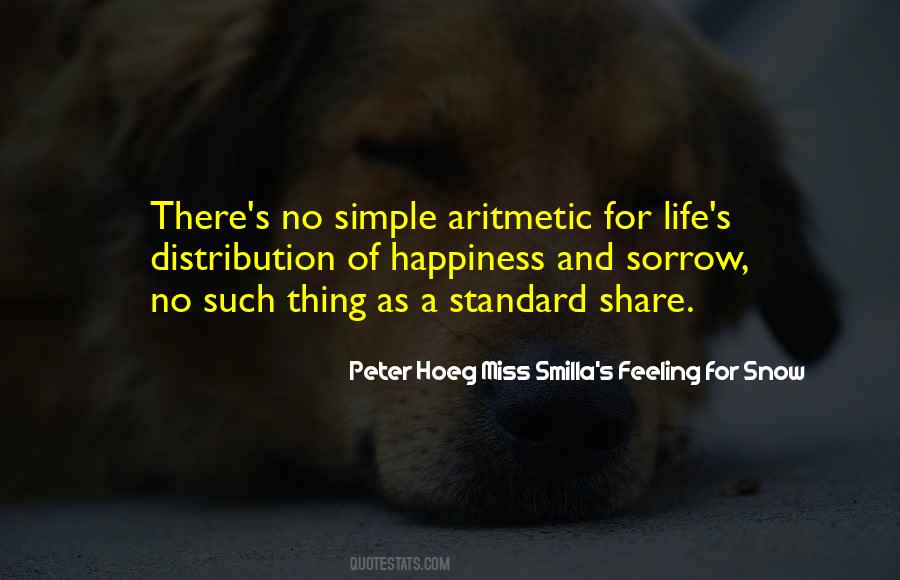 #18. Alright, the secret of happiness is simple: find out what you truly love to do and then direct all of your energy towards doing it.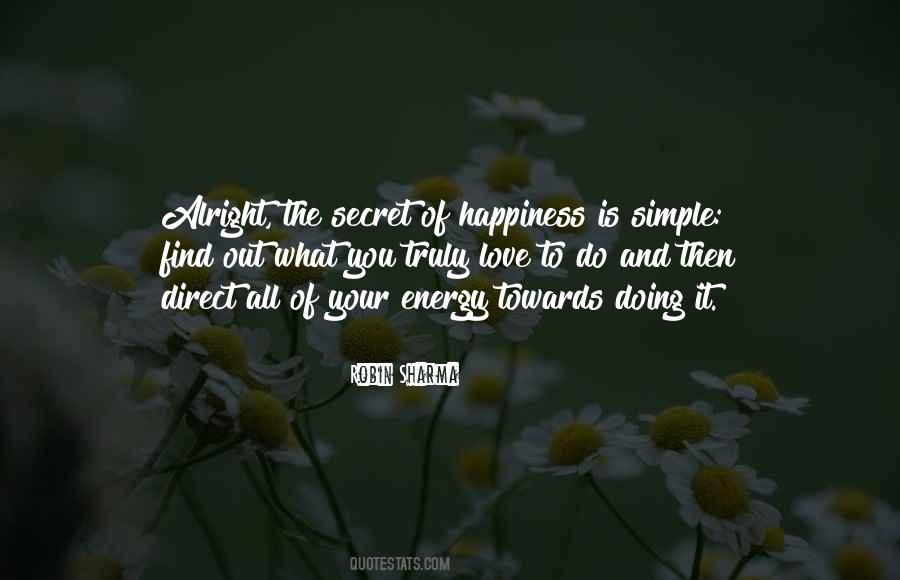 #19. We take simple preferences and turn them into conditions for our own happiness.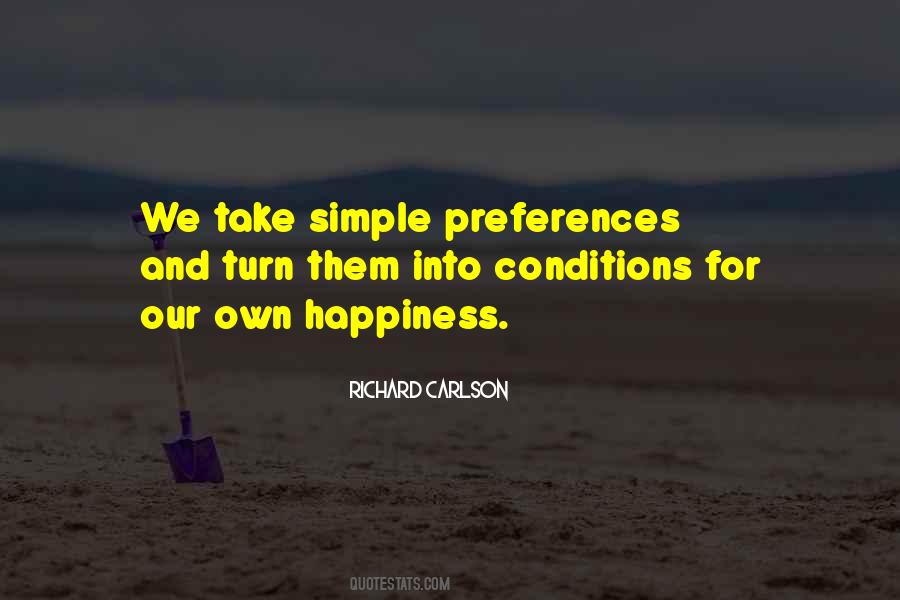 #20. At present the globe goes with a shattered constitution in its orbit ... No doubt the simple powers of nature, properly directed by man, would make it healthy and a paradise; as the laws of man's own constitution but wait to be obeyed, to restore him to health and happiness.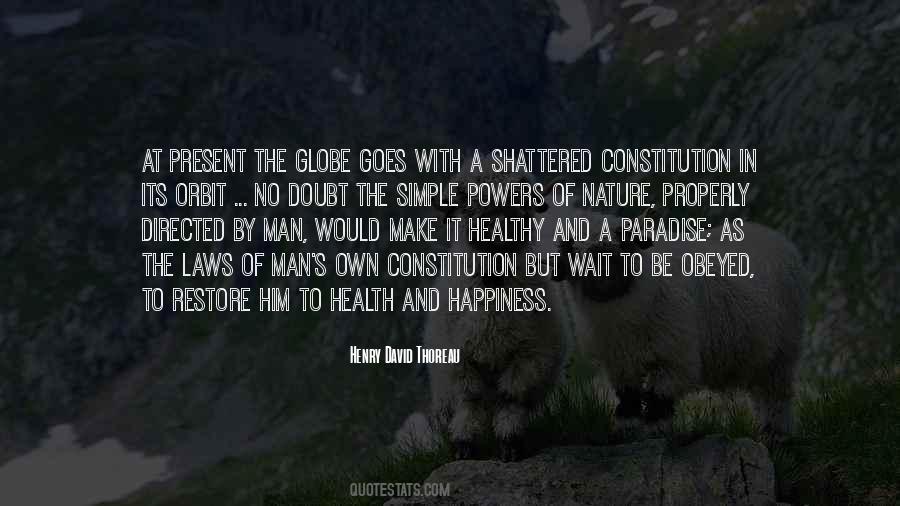 #21. My philosophy of life is very simple; I want to be very simple, loving, and kind.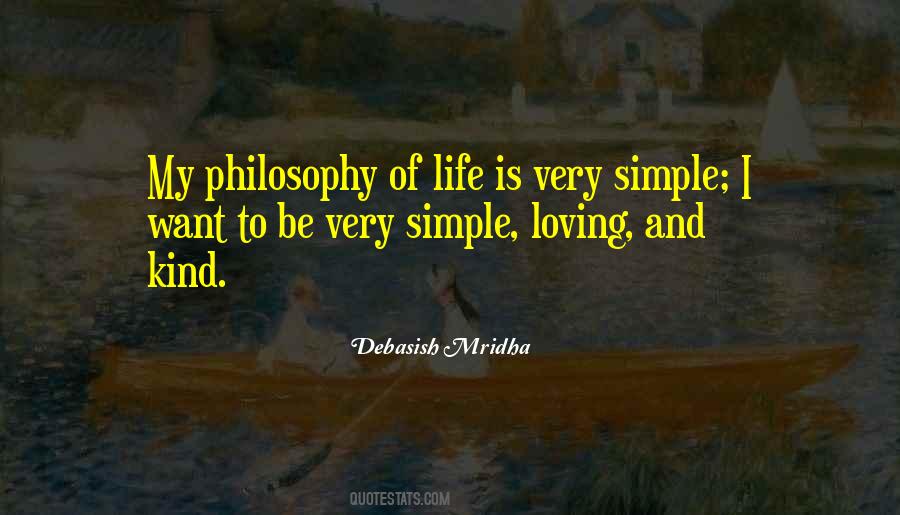 #22. When you are happy with what you have, you are the happiest.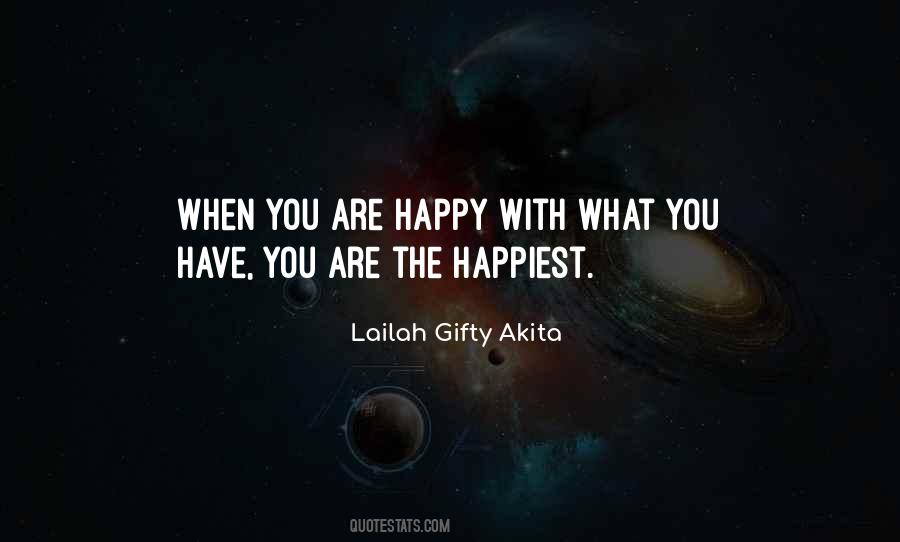 #23. Life is simple if simplicity is your passion.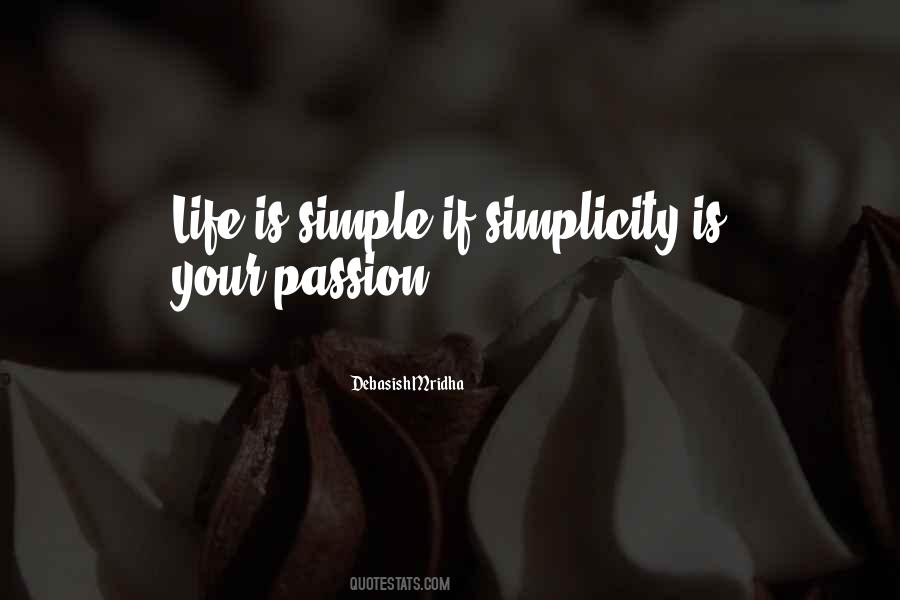 #24. In short, the world abounds with simple delusions which we may call "happiness", if we be but able to entertain them.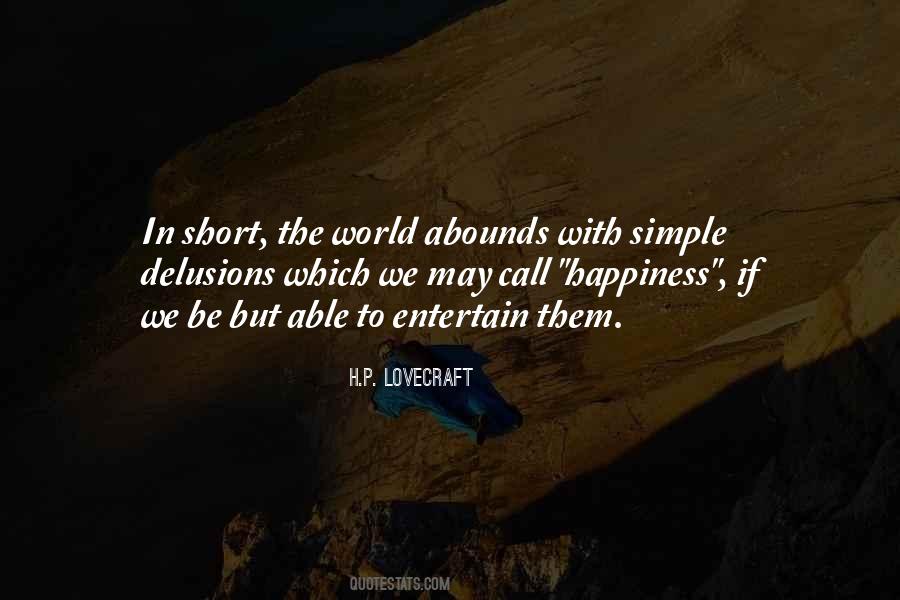 #25. When you are very simple, honest, and kind, people may take advantage of you and cheat you, but be loving and kind. Remember that no one can cheat you except you and yourself.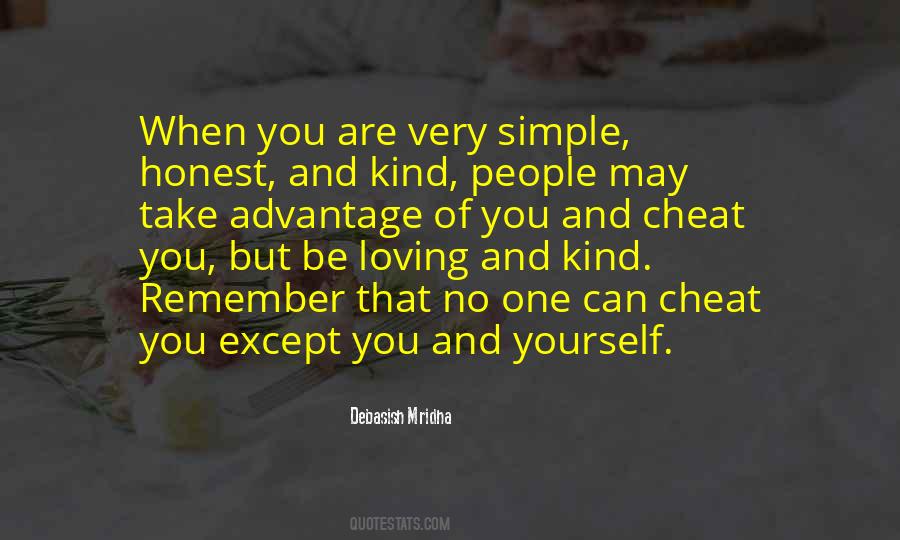 #26. Life is simple; WE create the complexity.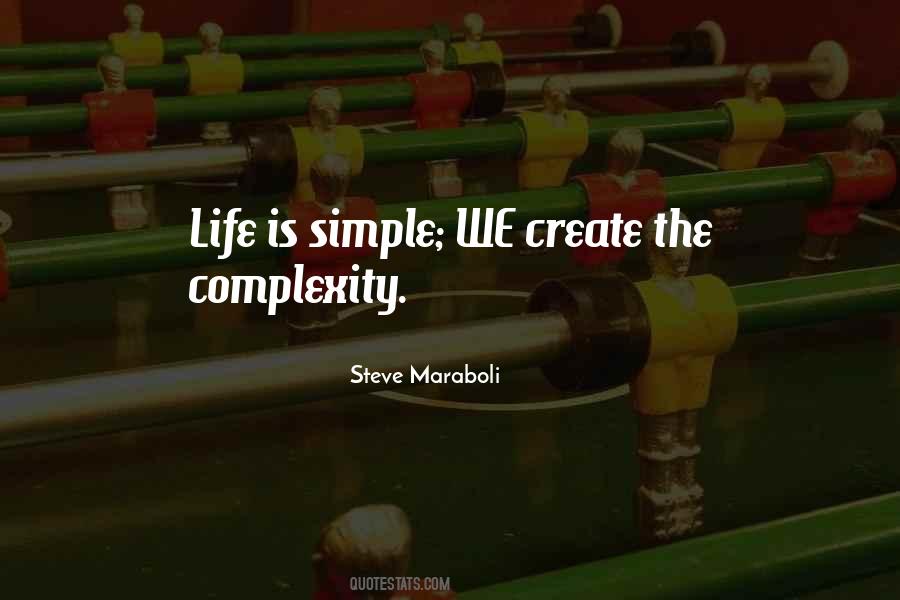 #27. The doctrines of Jesus are simple, and tend to all the happiness of man.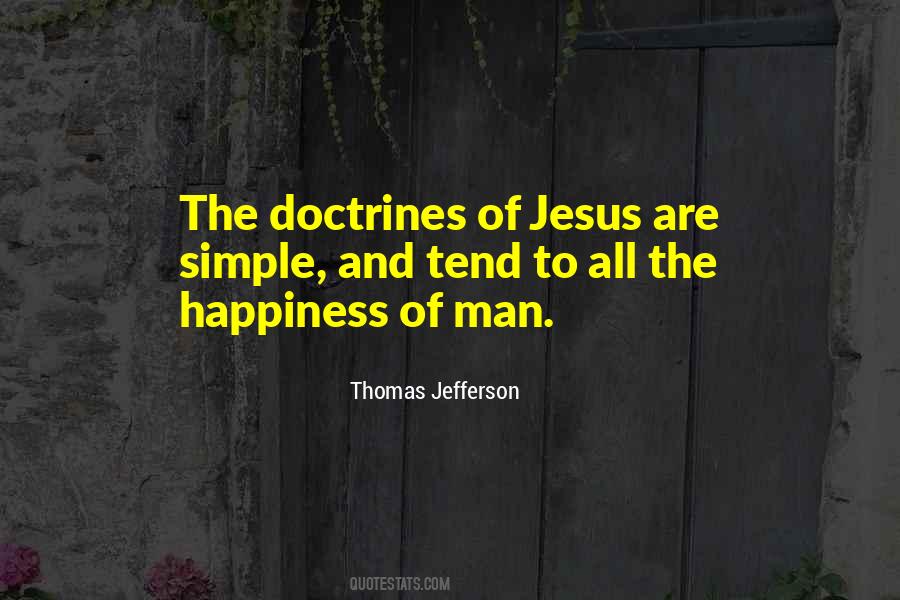 #28. While imprisoned in the shed Pierre had learned not with his intellect but with his whole being, by life itself, that man is created for happiness, that happiness is within him, in the satisfaction of simple human needs, and that all unhappiness arises not from privation but from superfluity. And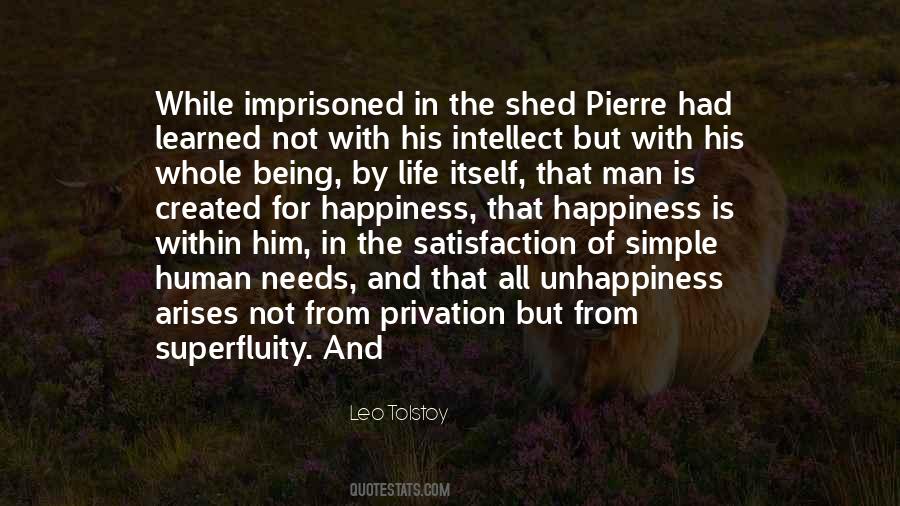 #29. Live by your own sacred standard.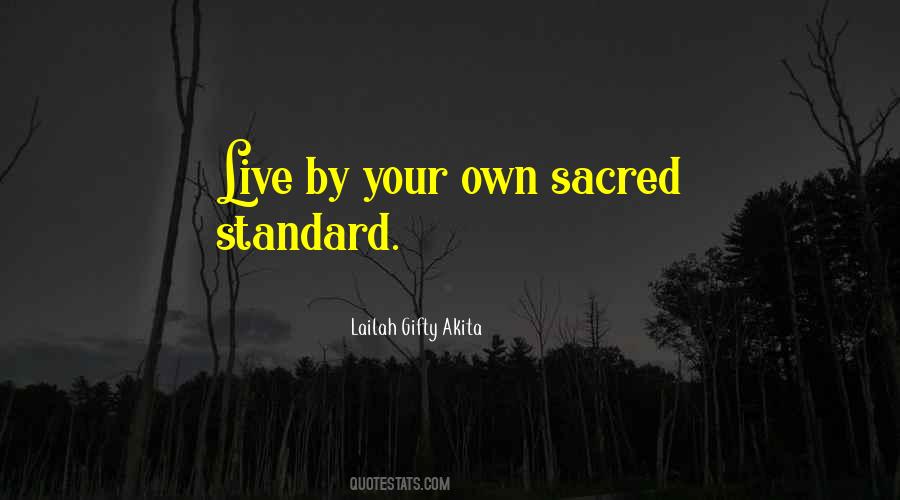 #30. Happiness, after all, is found in the simplest of things.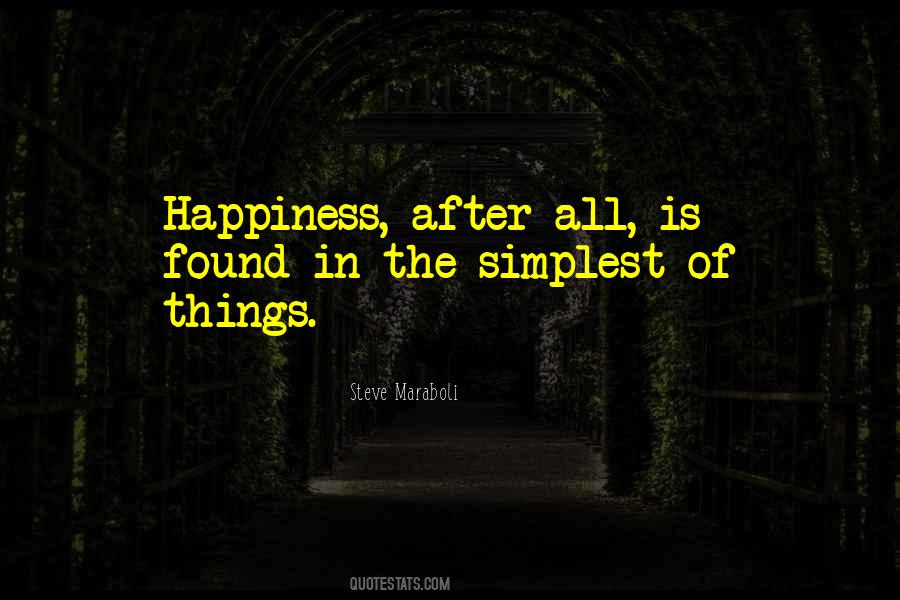 #31. Happy people tend to be those who take pleasure in simple things.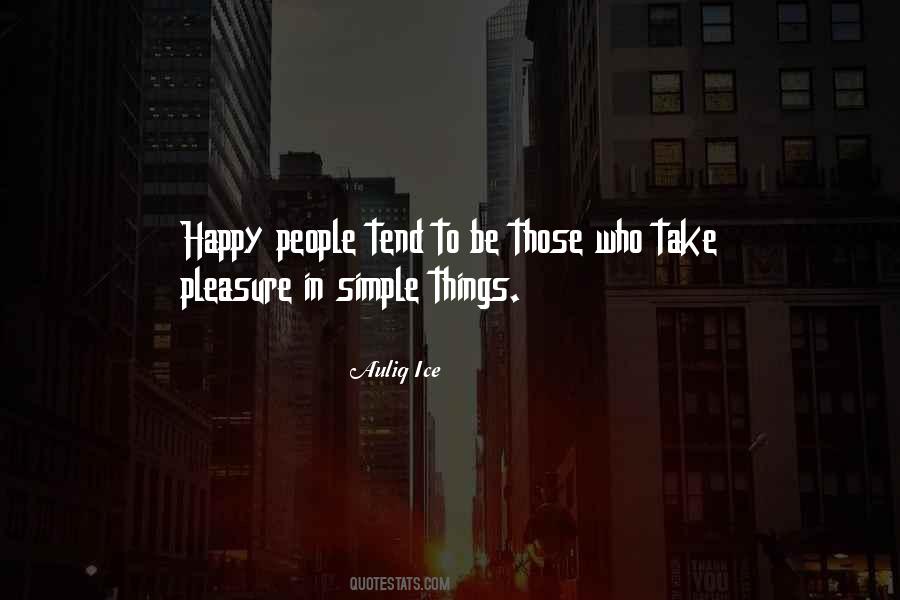 #32. A Godly Person Is Living Simple And Yet Happy
An Ungodly Person Is Living Luxuriously And Yet So Sad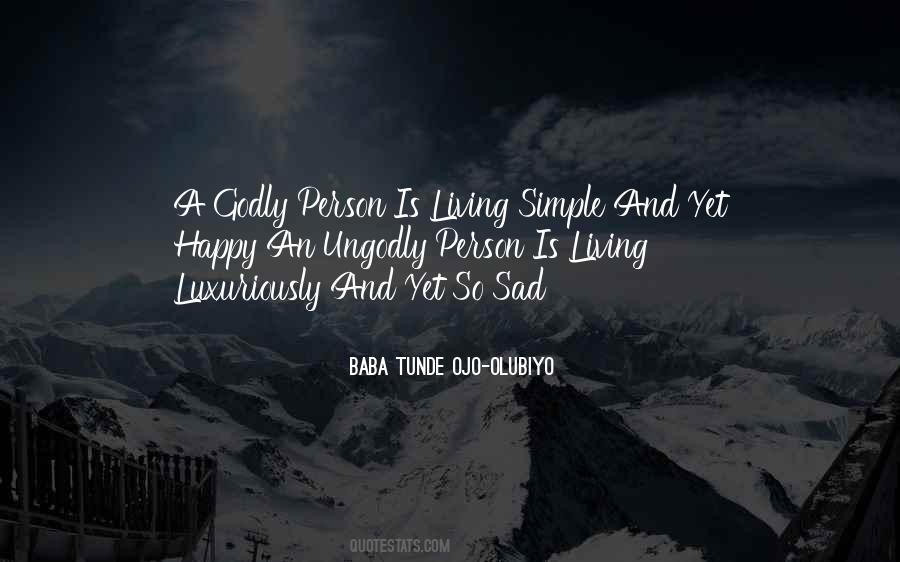 #33. Throughout my career, I have discovered and rediscovered a simple
truth.It is this: the ability to concentrate single-mindedly on your
most important task, to do it well and to finish it completely, is the
key to great success, achievement, respect, status and happiness in
life.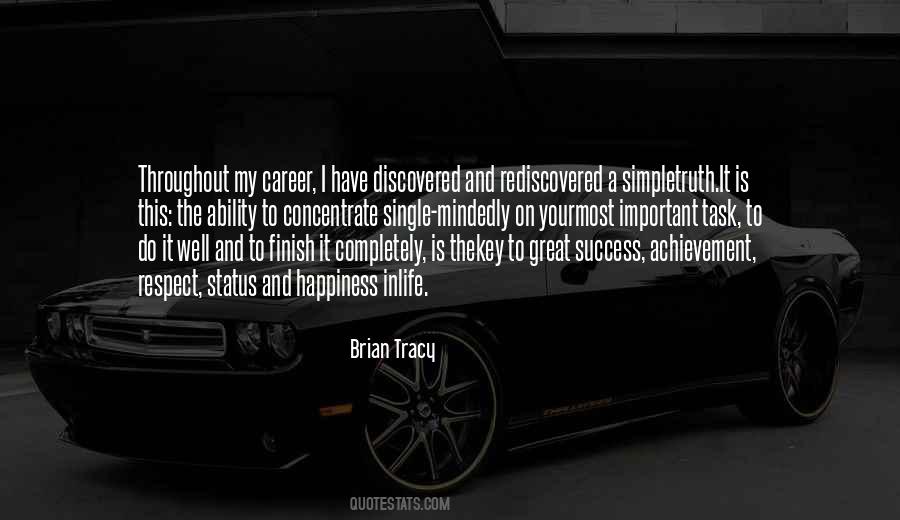 #34. An honest and wise man is always a very simple man.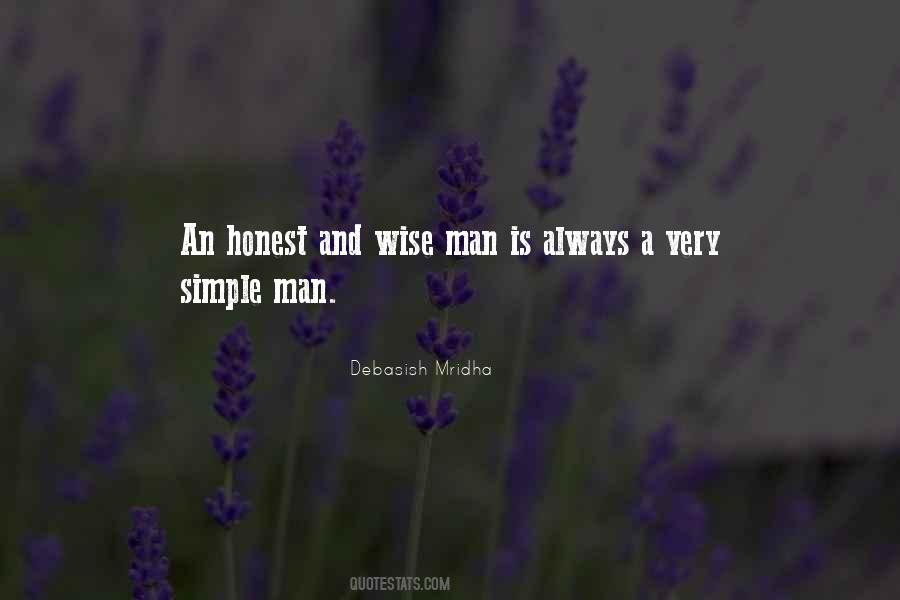 #35. We wonder what true happiness would be like. Not realizing that one simple thought connected to our hearts can make the difference between us wondering and experiencing it.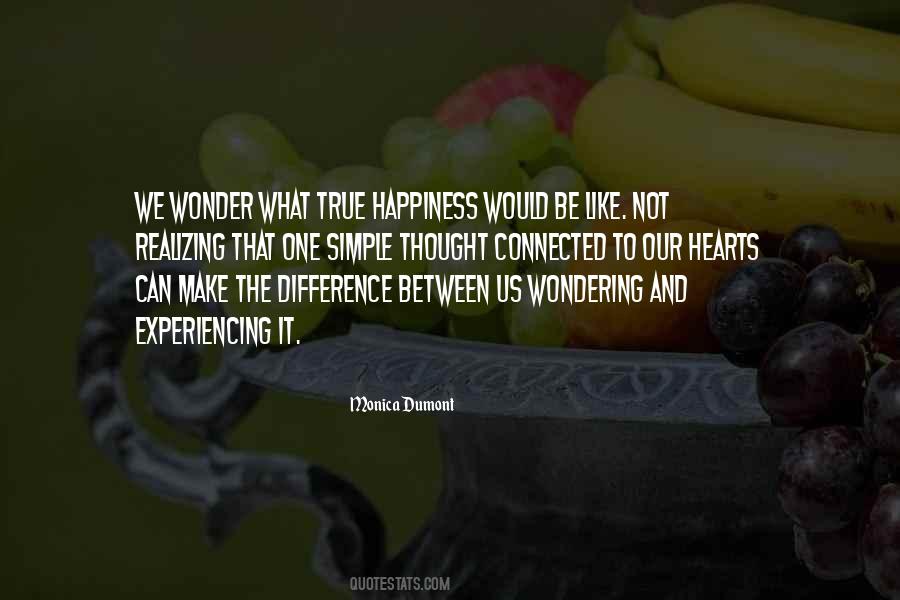 #36. The components of happiness are quite simple. Happiness is gentleness, peace, concentration, simplicity, forgiveness, humor, fearlessness, trust, and now. In its true form each quality includes all the rest, for happiness is whole, and one feels whole when genuinely happy.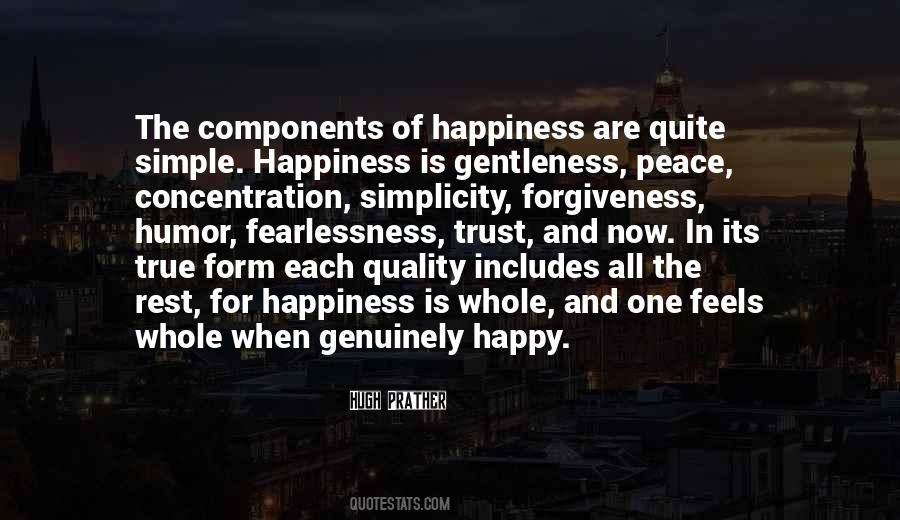 #37. The simple act of opening a bottle of wine has brought more happiness to the human race than all the collective governments in the history of earth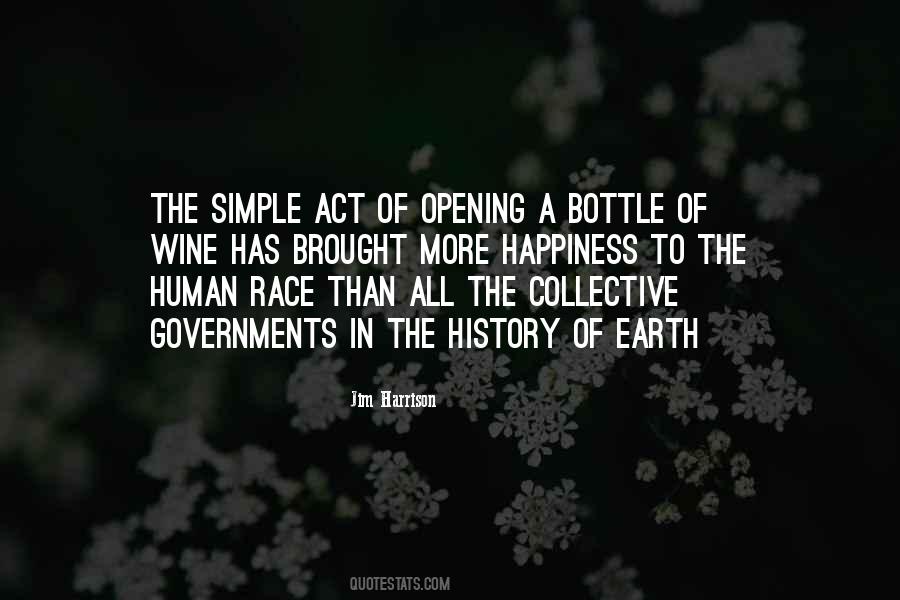 #38. It had been wishful thinking, plain and simple, dangerous for me to indulge in. Hope, happiness and freedom were not in my future.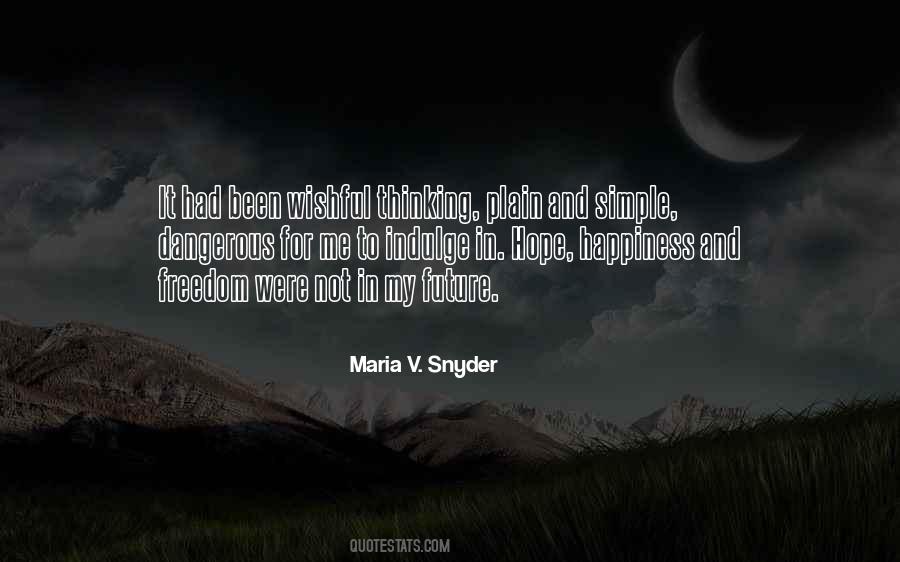 #39. There's another wonderful Italian expression: l'arte d'arrangiarsi-the art of making something out of nothing. The art of turning a few simple ingredients into a feast,or a few gathered friends into a festival. Anyone with a talent of happiness can do this, not only the rich.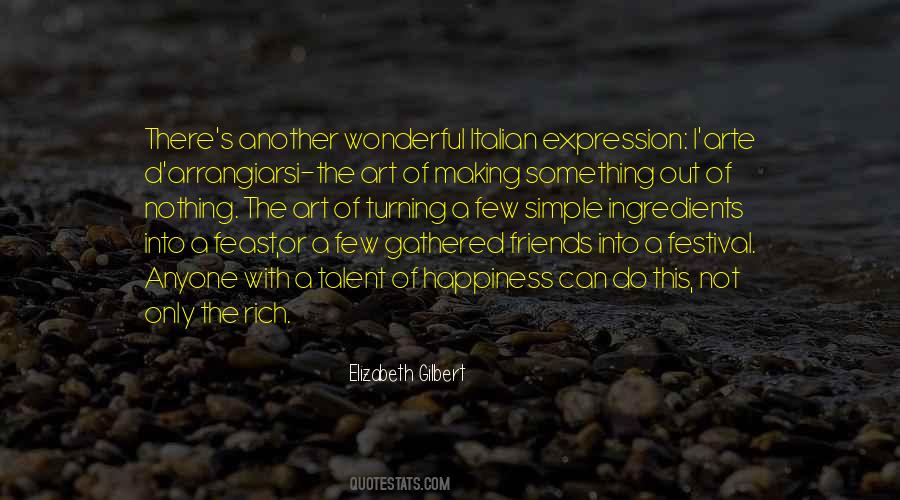 #40. Happiness can be a simple thing just like dreaming of someone you've missed for a long time.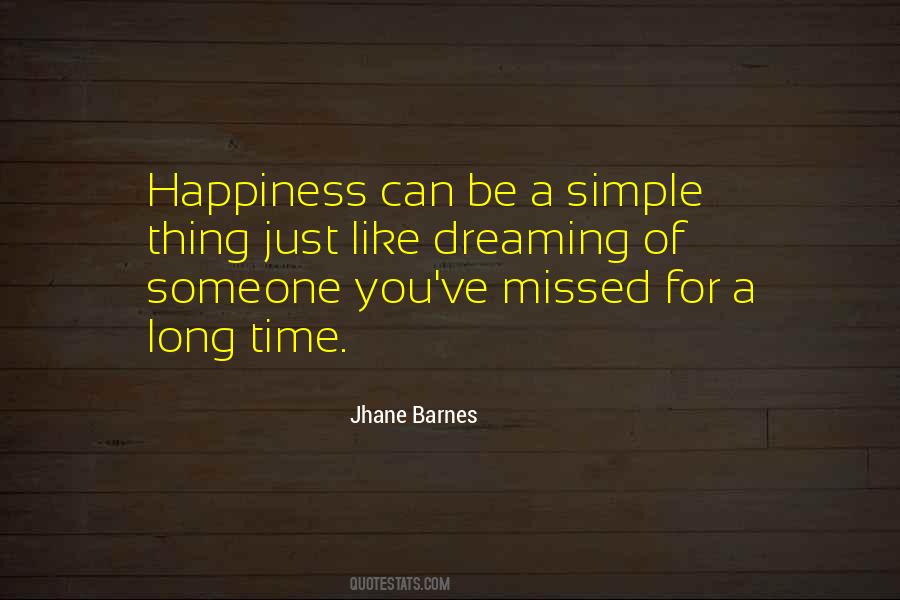 #41. I believe that being happy is the only important thing. Happiness. Simple as a glass of chocolate or torturous as the heart. Bitter. Sweet. Alive.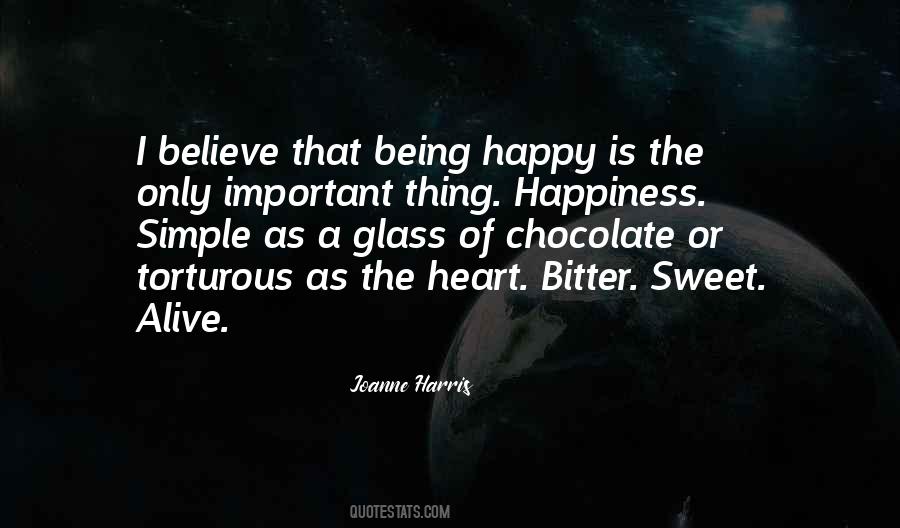 #42. There are no simple congruities in life or history. The cult of happiness erroneously assumes them.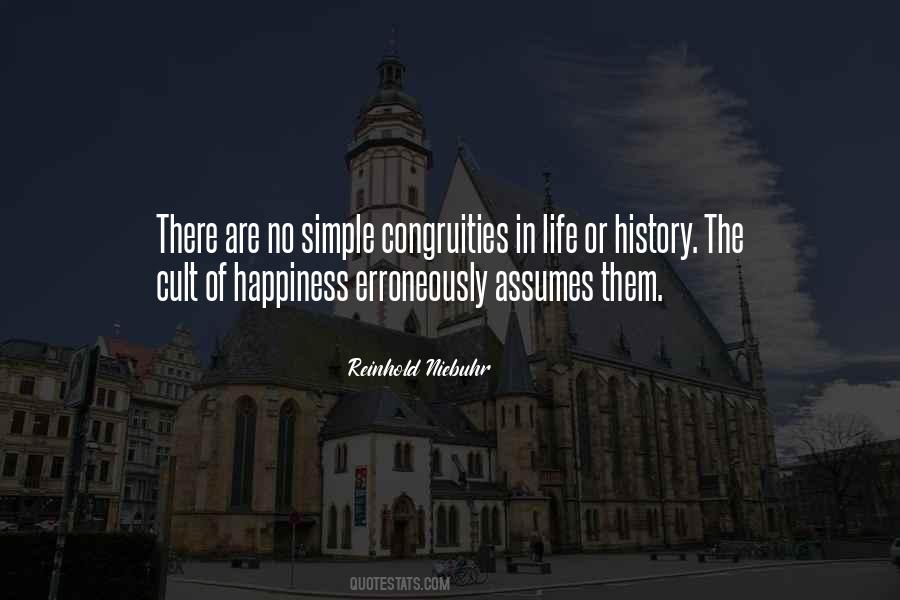 #43. Happiness, contentment, the health and growth of the soul, depend, as men have proved over and over again, upon some simple issue, some single turning of the soul.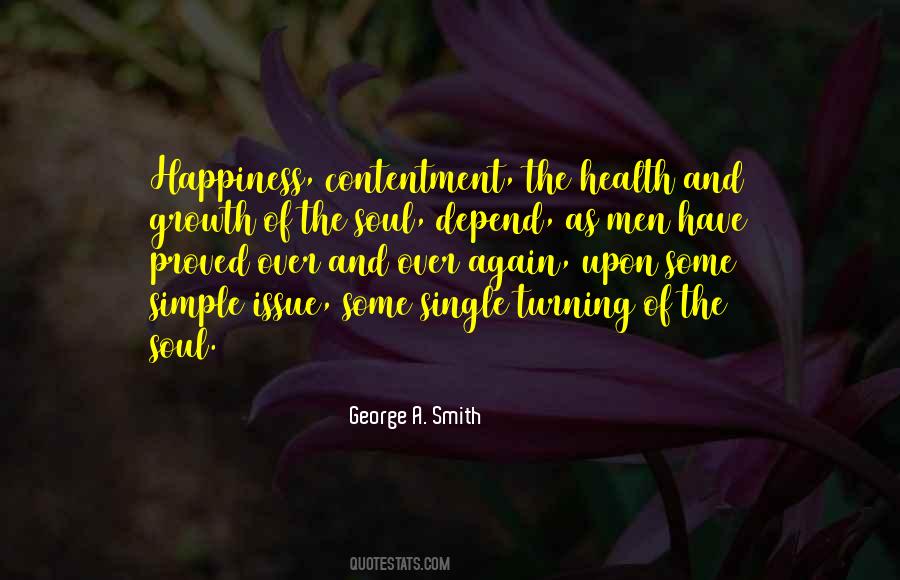 #44. You can be happy with simple life.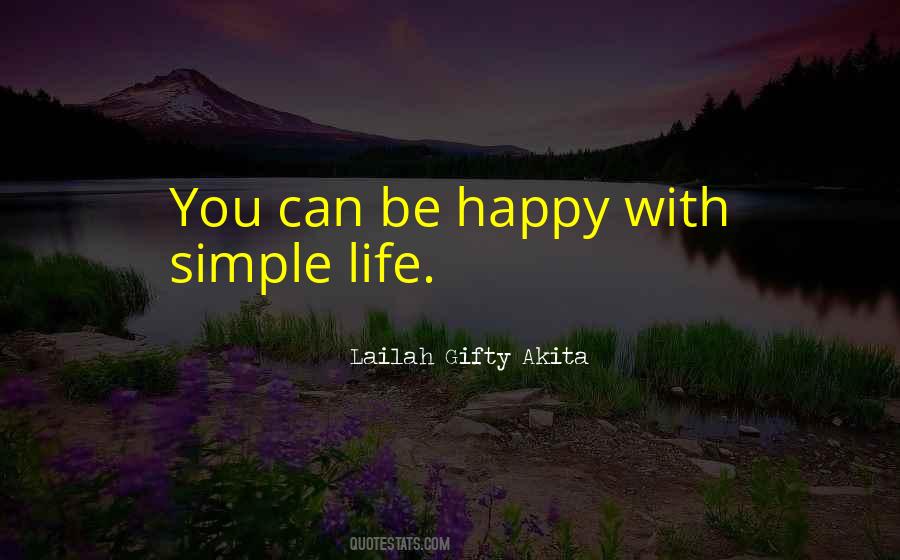 #45. Get out of your own way ... stop the paralysis by analysis ... decide what you want, create a simple plan, and get moving!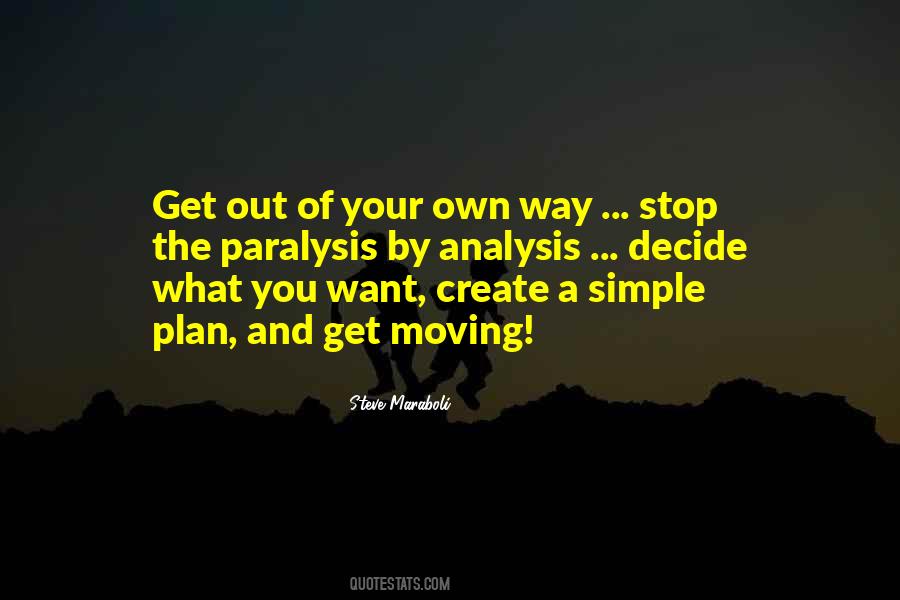 #46. Wisdom is better than knowledge, for wisdom is simple but knowledge is complex.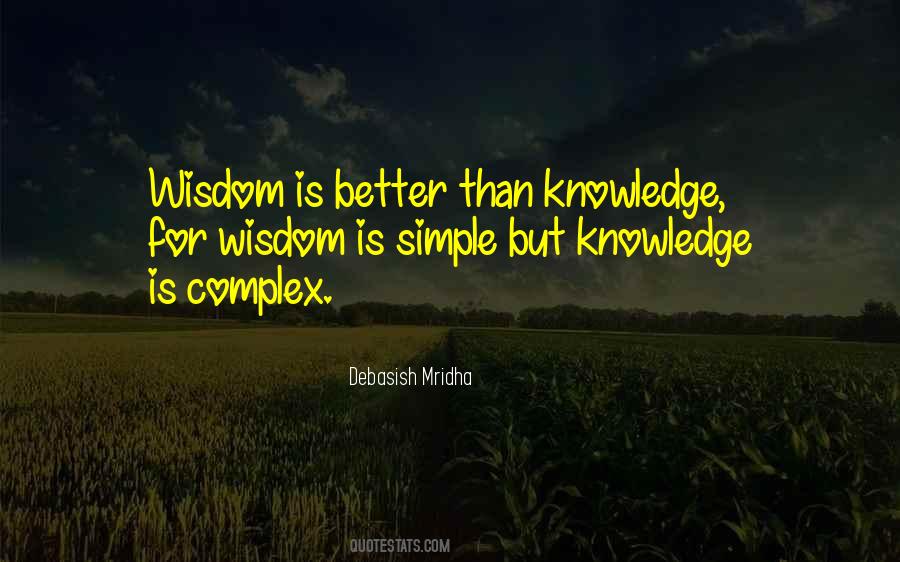 #47. The road to happiness lies in two simple principles: find what it is that interests you and that you can do well, and when you find it put your whole soul into it-every bit of energy and ambition and natural ability you have.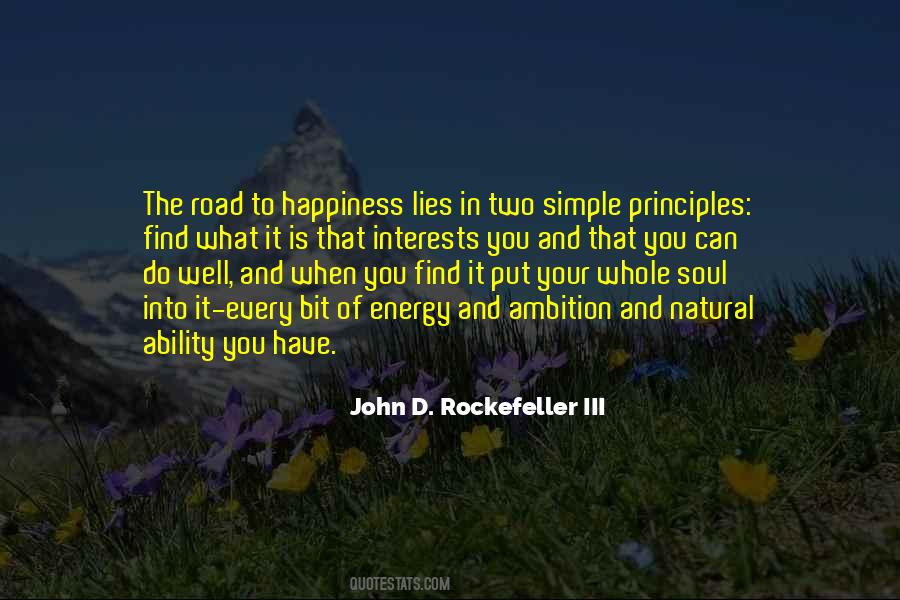 #48. Make up your mind to be happy. Learn to find pleasure in simple things.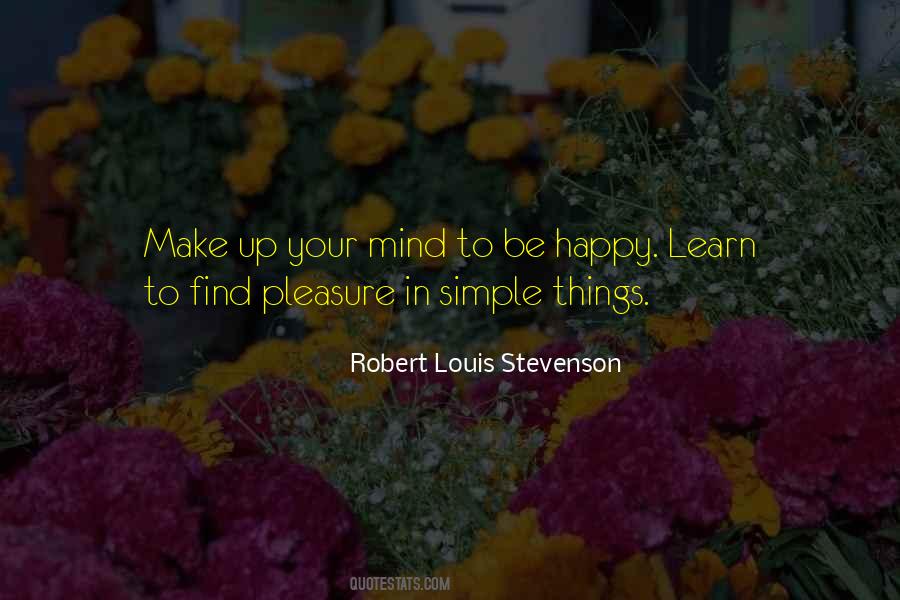 #49. I will live a joyful simple life, doing what I love.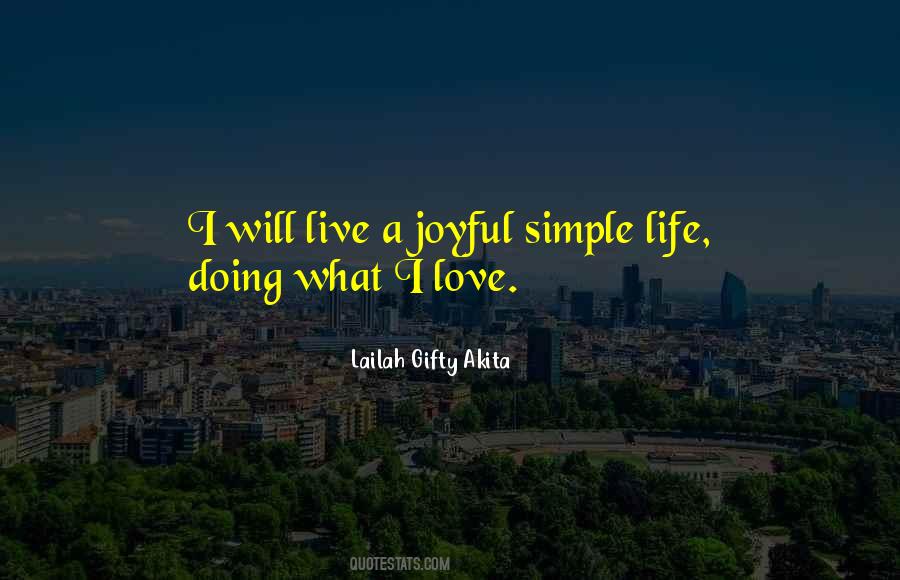 #50. Happiness is pretty simple: someone to love, something to do, something to look forward to.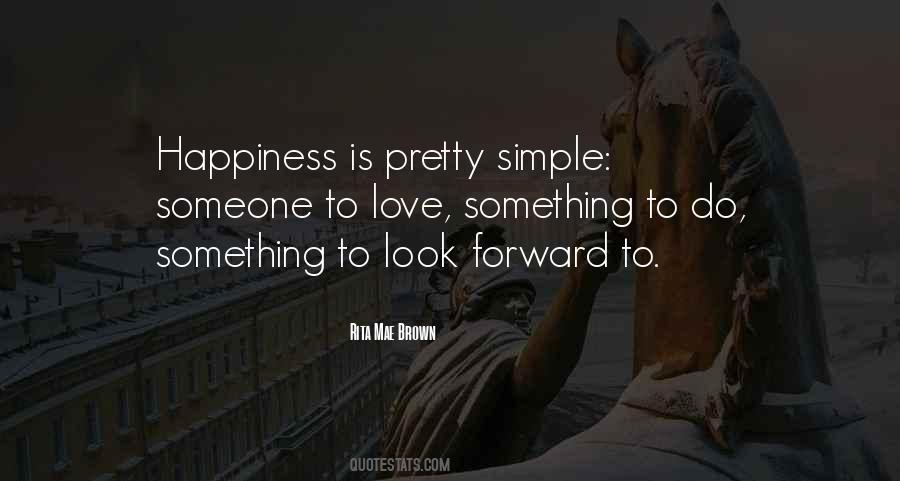 #51. The idea of Disneyland is a simple one. It will be a place for people to find happiness and knowledge.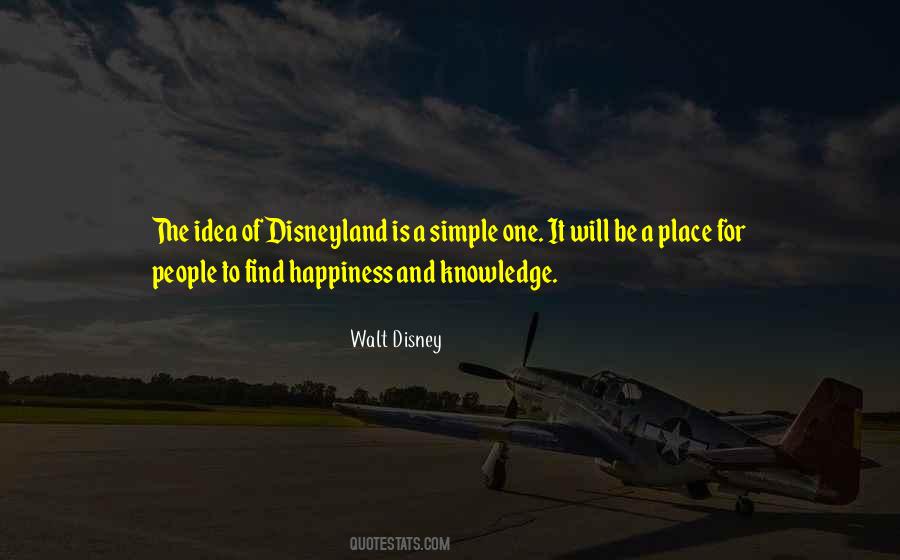 #52. Nothing is so powerful as love and simple kindness.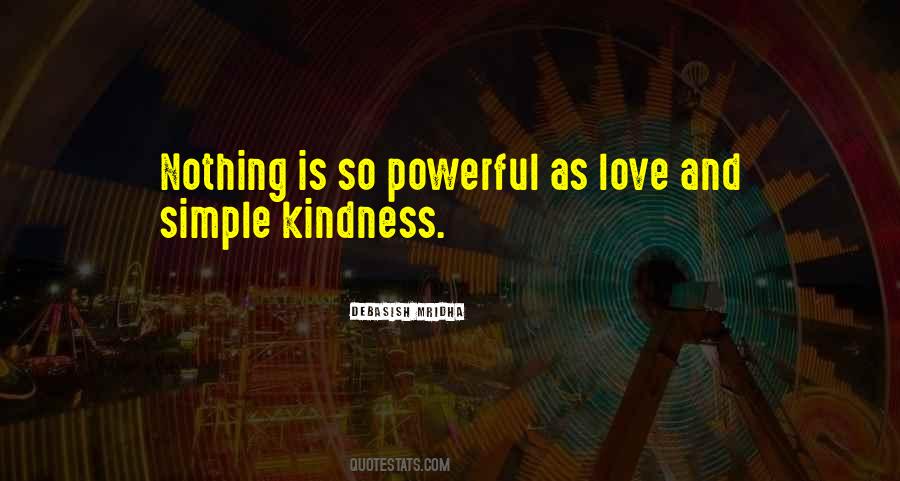 #53. We are very simple human until we learn to use the power of our divine love.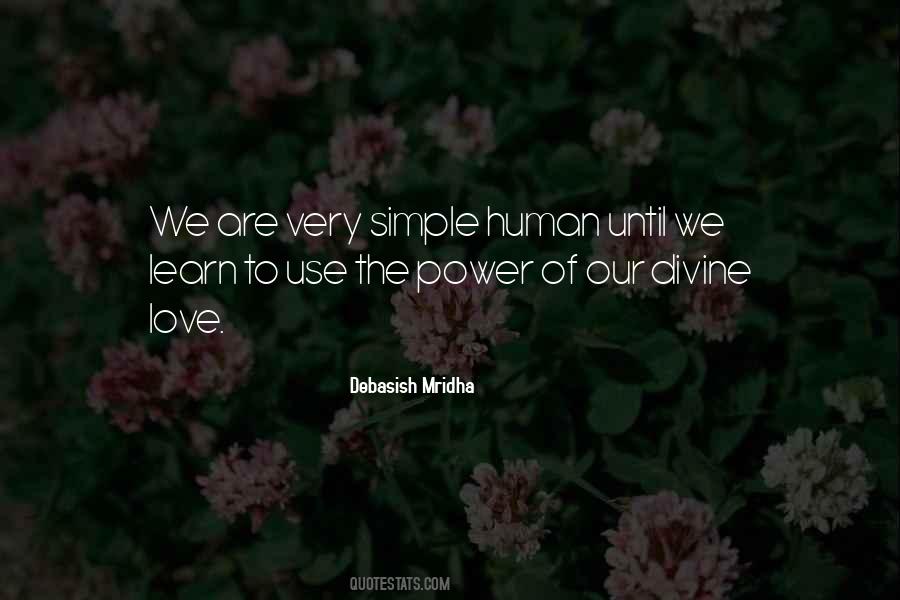 #54. Cleverness is egocentric, dramatic, gives you an illusion of success. We are always running behind it and ultimately suffer. Whereas simplicity is spiritual, blissful, not dramatic, simple but joyful and gives inner peace. Which is our ultimate goal.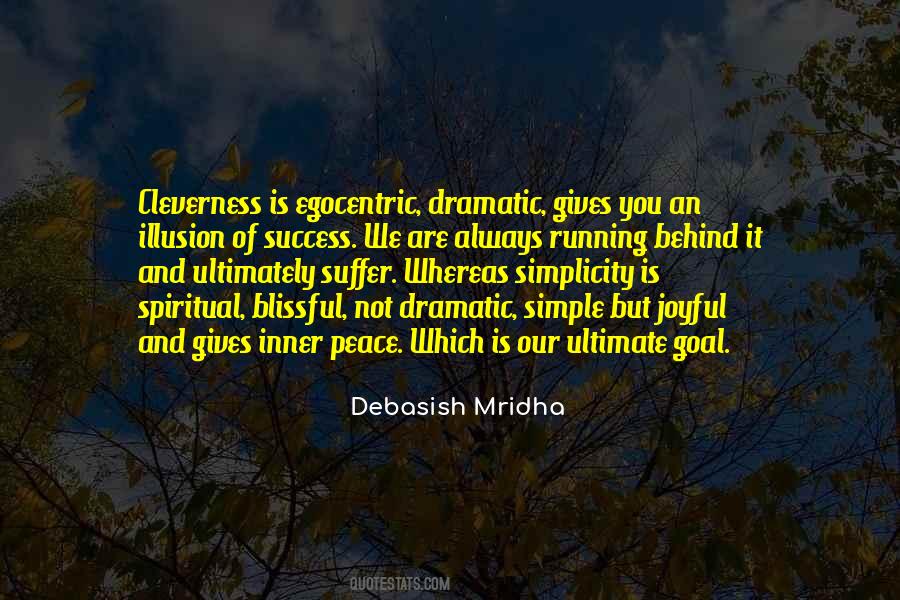 #55. They think I'm simpleminded because I seem to be happy. Why shouldn't I be happy? I have everything I ever wanted and more. Maybe I am simpleminded. Maybe that's the key: simple.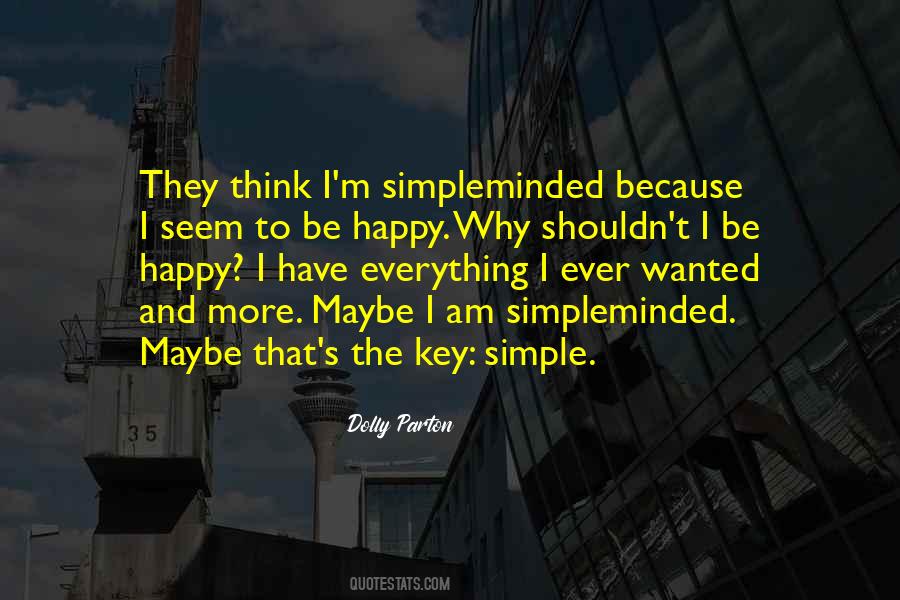 #56. A simple act of kindness can touch someone's mind, so in every interaction be loving and be kind.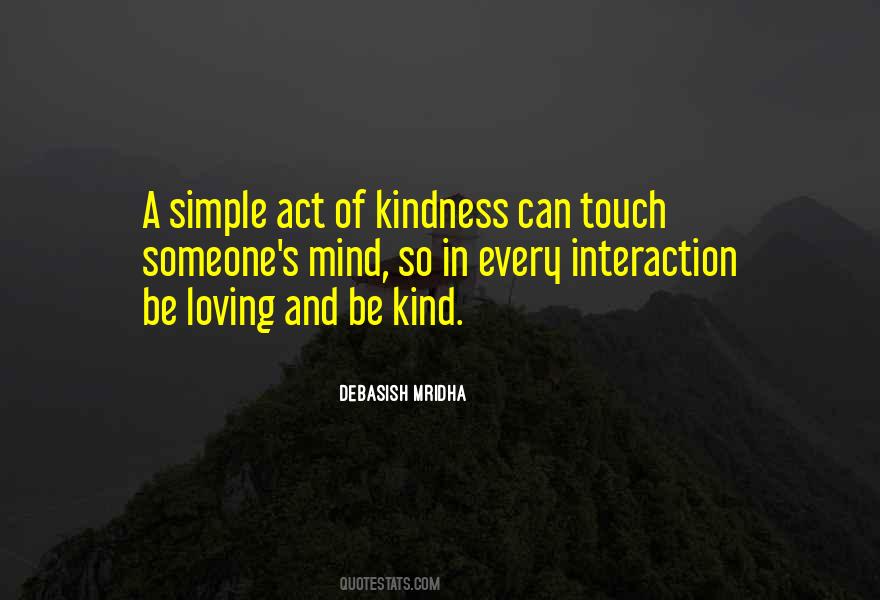 #57. Happiness has a simple recipe. Cherish your dearest, welcome your nearest, admire the simplest, honor the littlest, ignore the meaningless.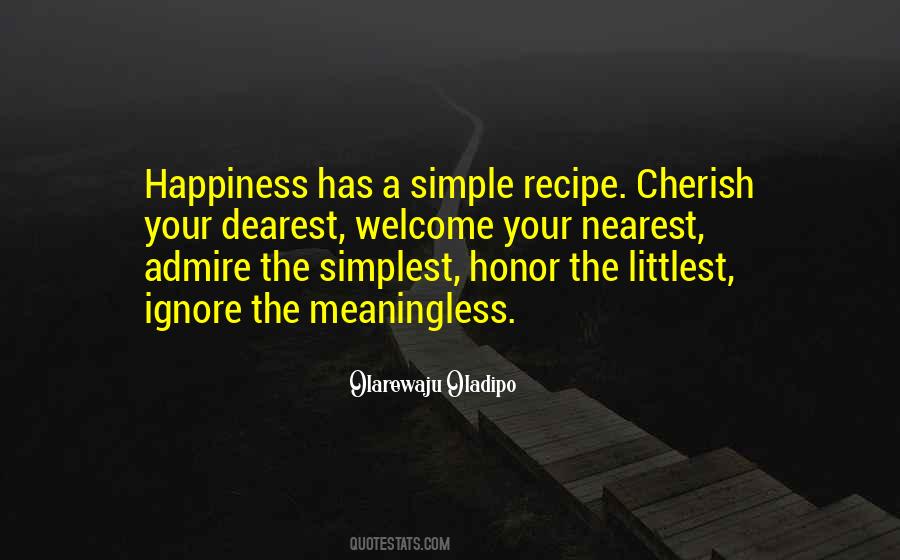 #58. Architecture was my way of expressing my ideals: to be simple, to create a world equal to everyone, to look at people with optimism, that everyone has a gift. I don't want anything but general happiness. Why is that bad?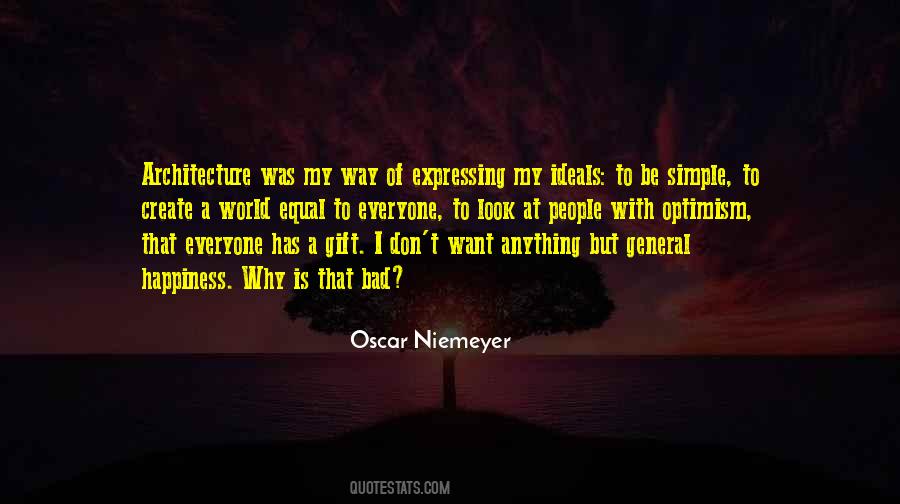 #59. Human happiness does not seem to have been included in the design of creation. It is only we with our capacity to love that fives meaning to the indifferent universe, and yet most human beings seem to have the ability to keep trying and even to find joy from simple things.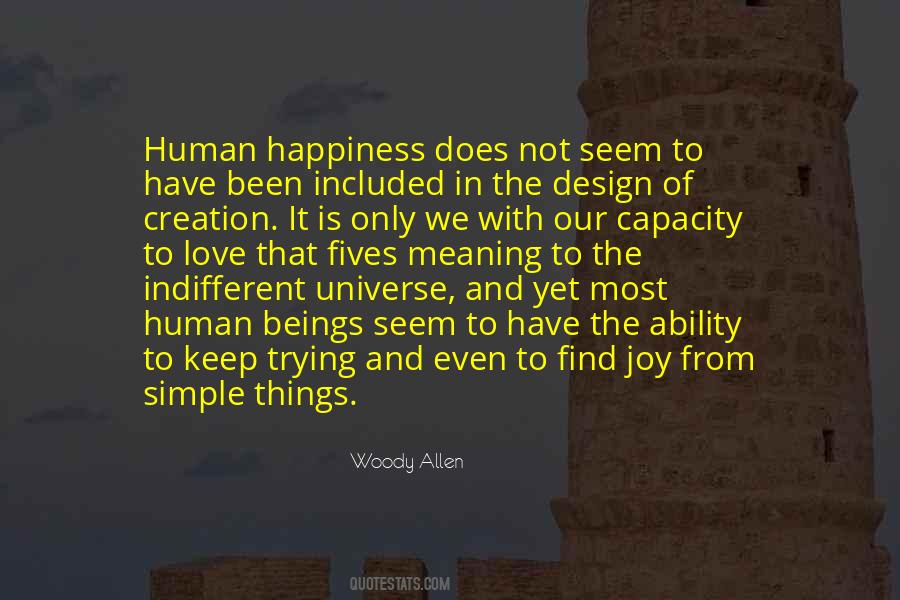 #60. A wise person explains complex things in simple way. An intelligent person explains simple things in complex way.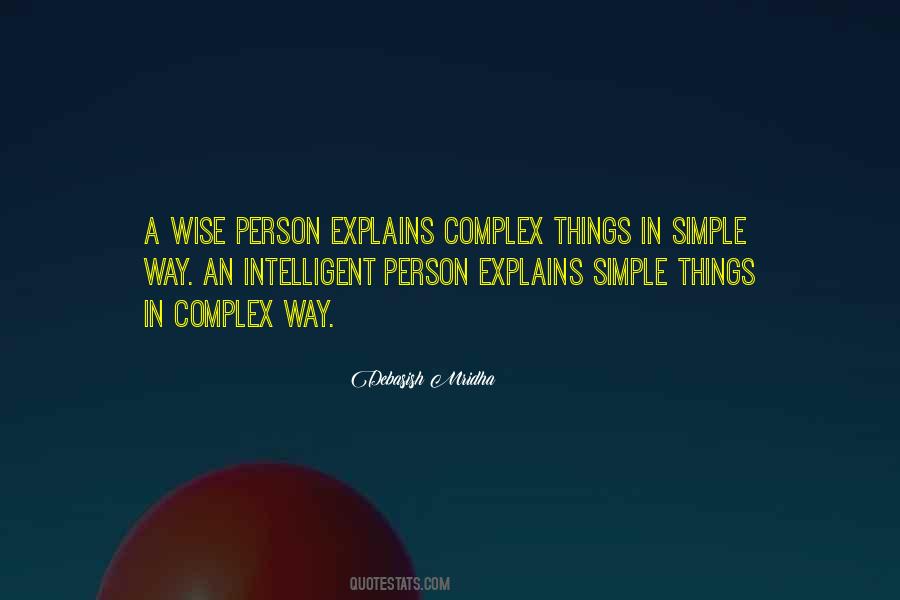 #61. This is what happiness is, past the rubbish of its overuse as a word, past the cracked gloss of the letters that mean nothing when strung together. They mean something now, and I know what it's like when you and someone else are right together. How simple is is, and how amazing.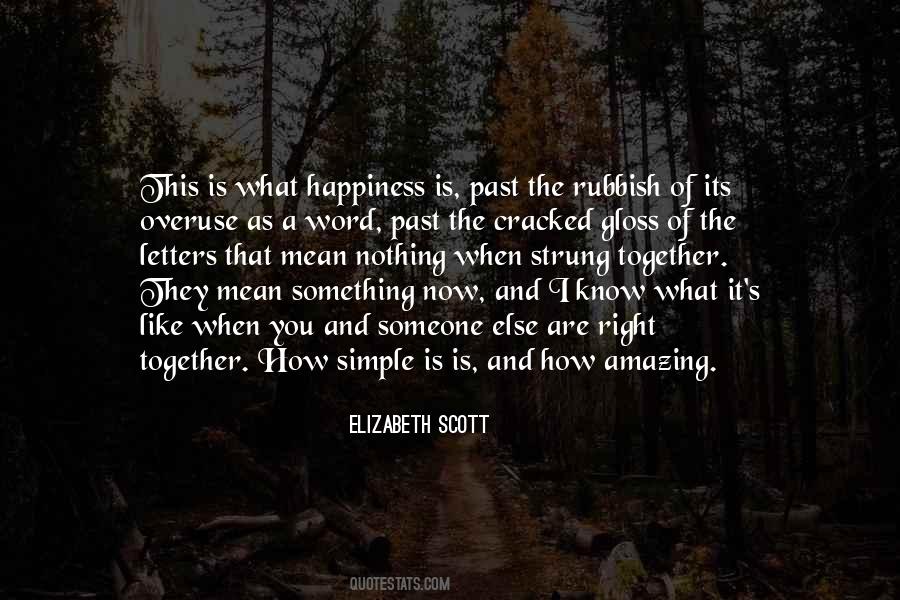 #62. Be an example, be kind and be simple.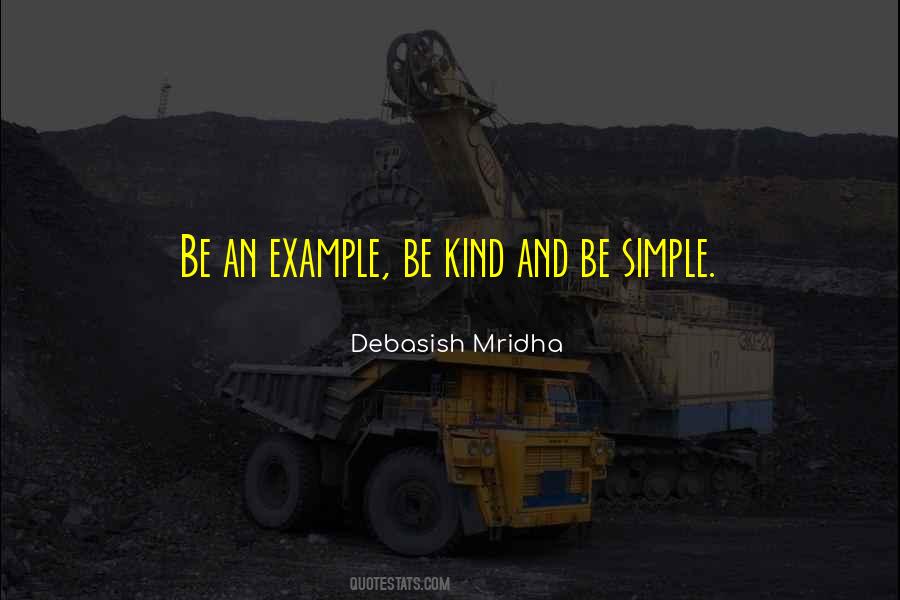 #63. No man with a complex life can be happy! The simple secret of the happiness is simple life!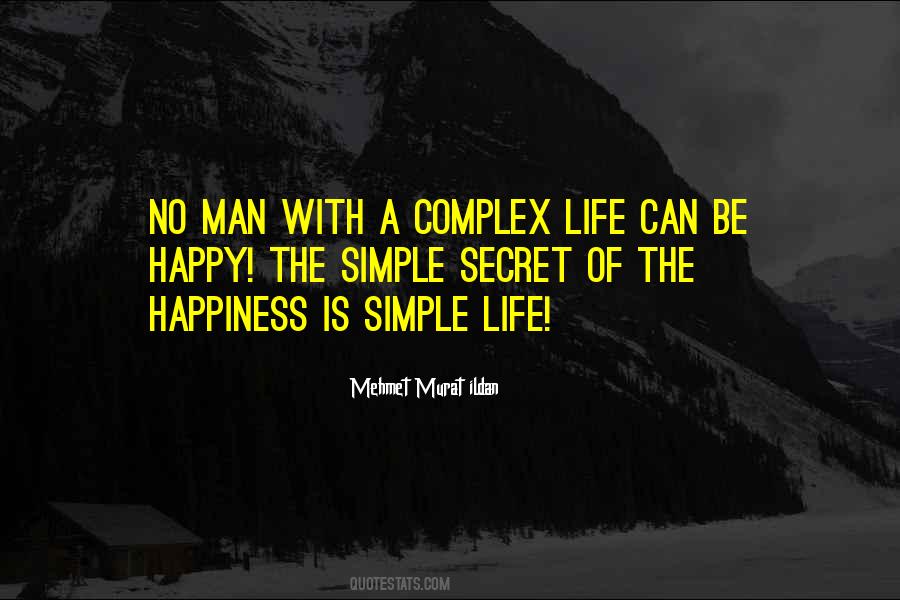 #64. Happiness is a simple everyday miracle, like water, and we are not aware of it.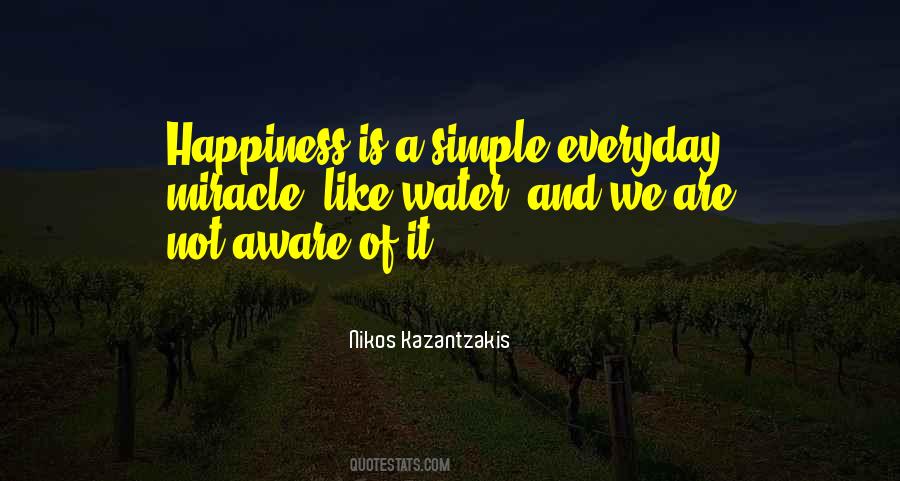 #65. How to be happy in life? The short and simple answer is to SMILE more often!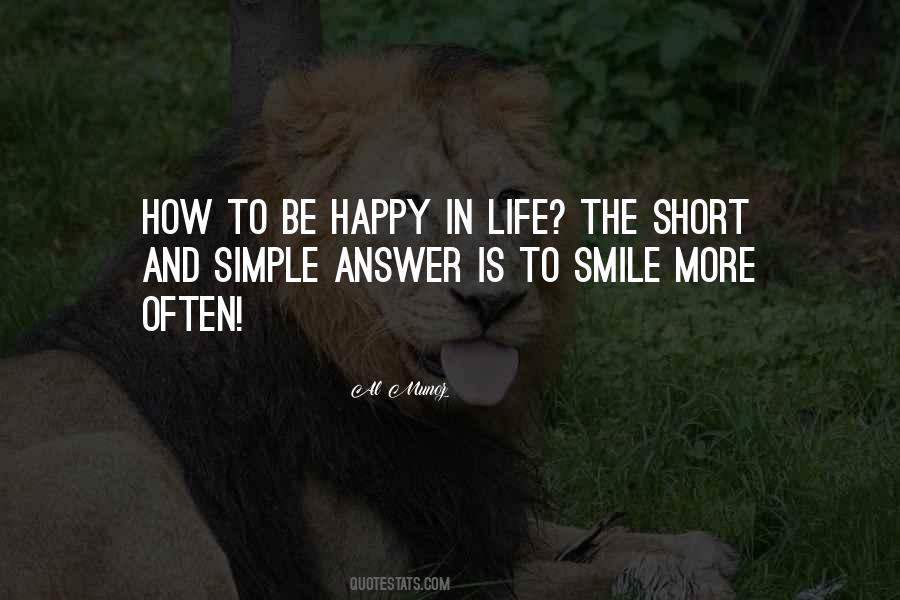 #66. The secret of happiness is simple: find out what you truly love to do and then direct all of your energy towards doing it. Once you do this, abundance flows into your life and all your desires are filled with ease and grace. The Monk Who Sold His Ferrari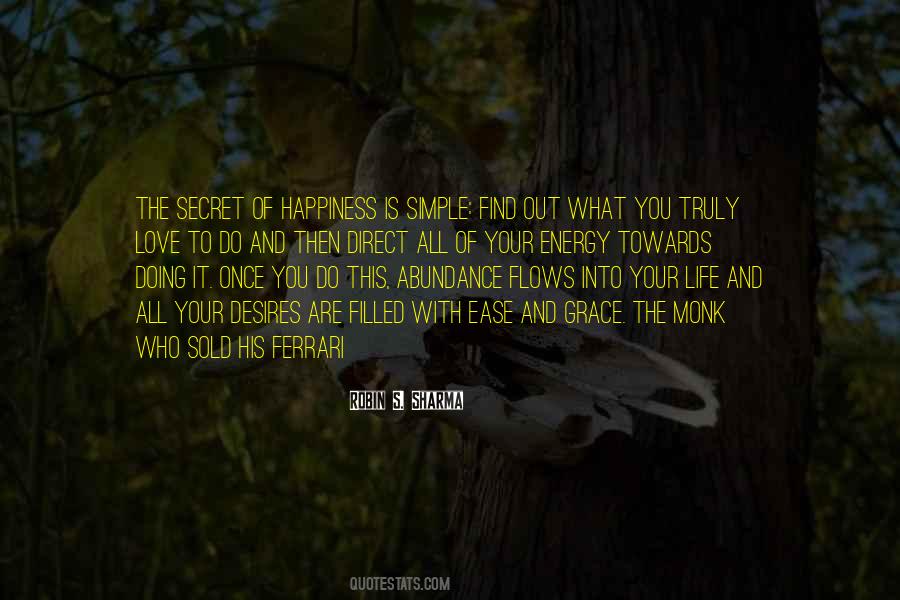 #67. I have a theory that the secret of marital happiness is simple: drink in different pubs to your other half.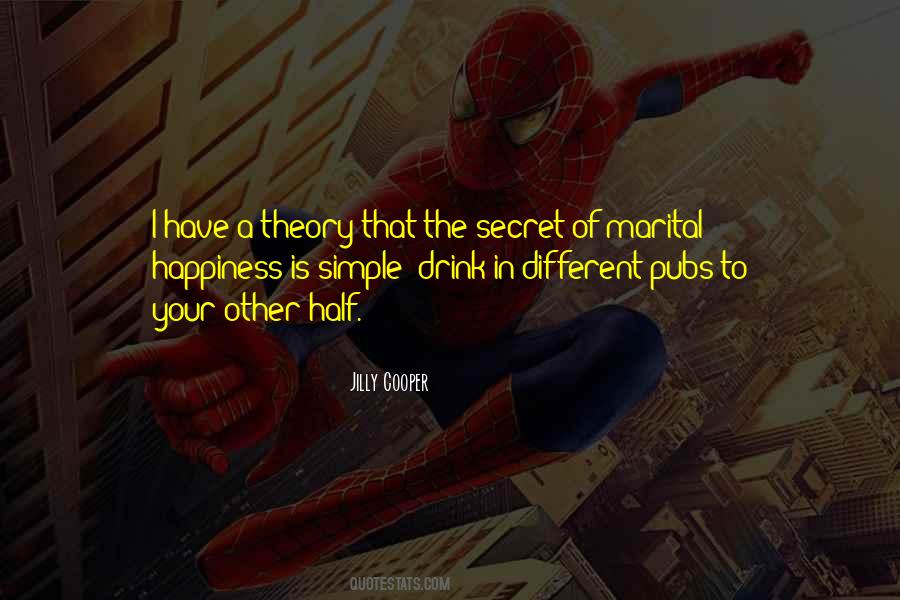 #68. The happiness is a simple algorithm coded by the crowd or by one or two people!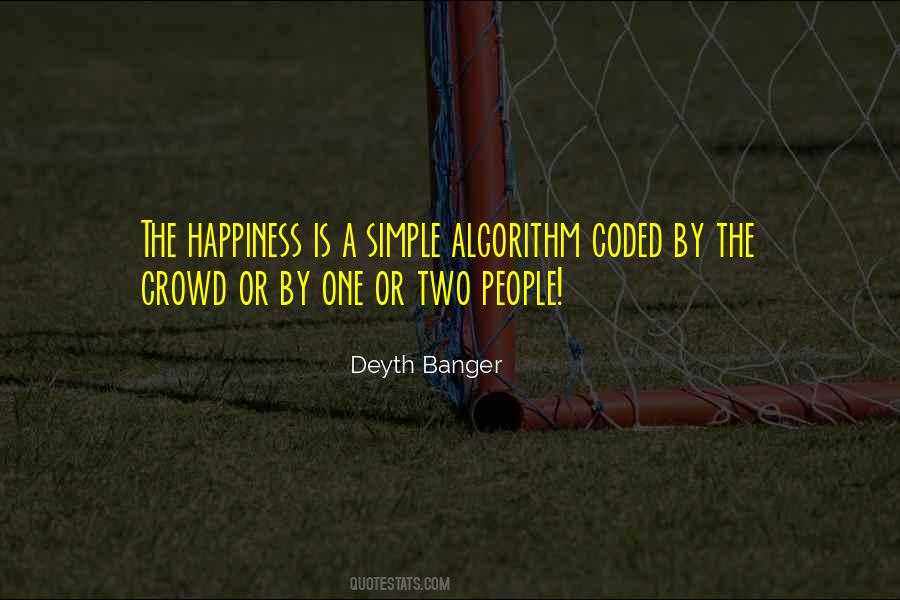 #69. Simple, practical, brilliant. What a wonderful world it will be when all families give their children the gifts presented in Dr. Reznick's book. Joy, success ... and health and happiness are just around the corner!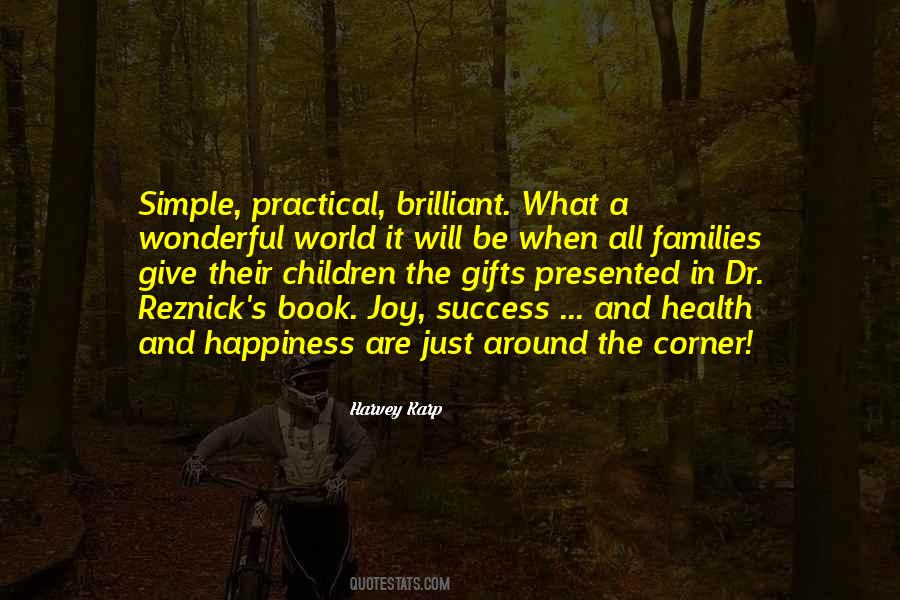 #70. We often forget that we are simple human beings, here to enjoy the beauty, magic, and mysteries of life and the nature to wonder. Not to live a complex, mechanical, stressful corporate life to death.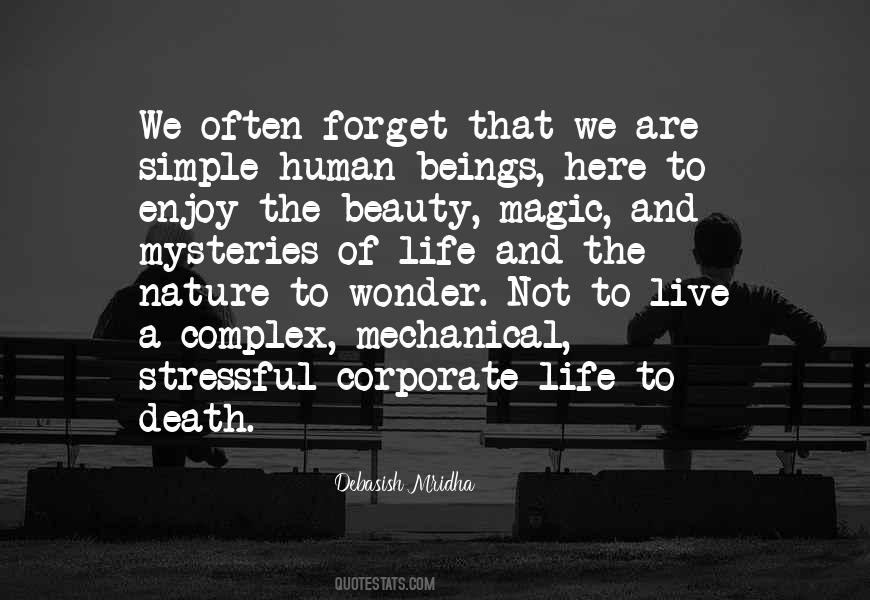 #71. Happiness is achieved by flowing with the known and the unknown within you, being in a state of simplified simplicity.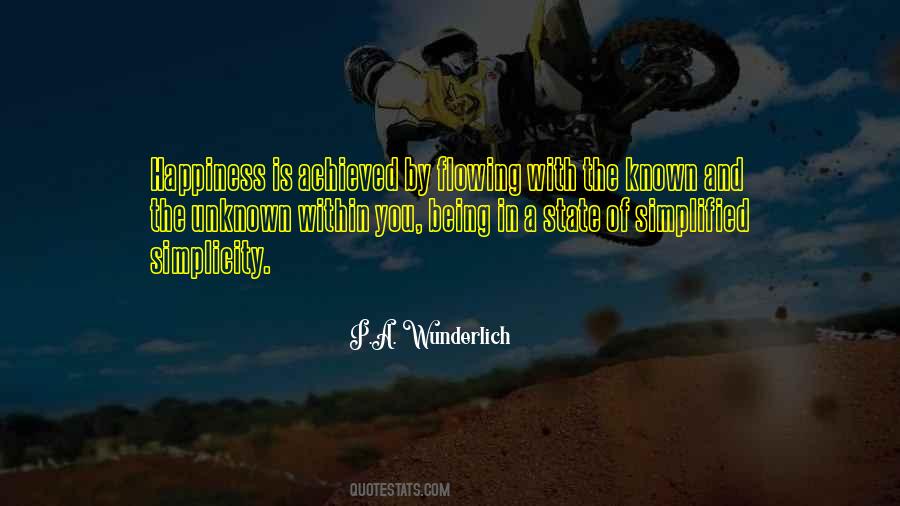 #72. Happiness does not have a simple meaning and should not be used as if it does.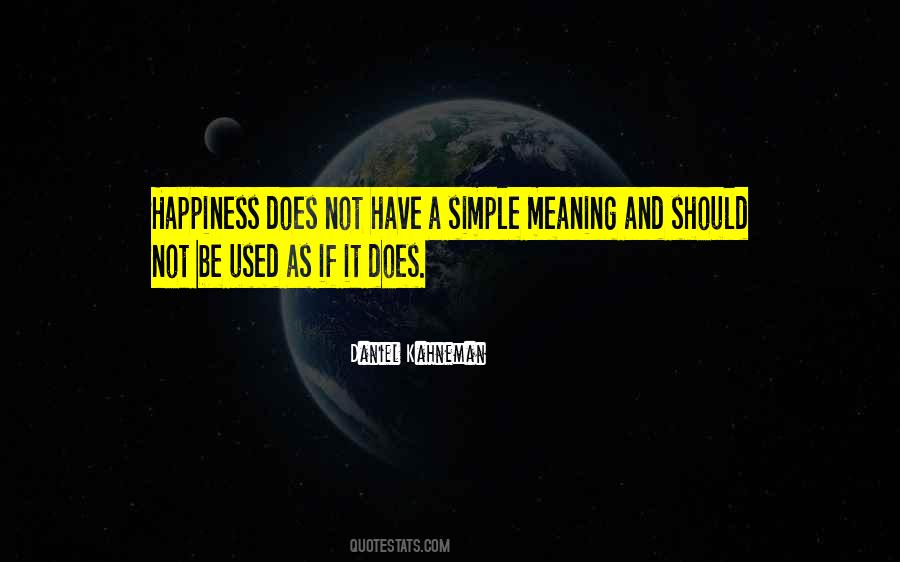 #73. Just be simple, just be kind, just be loving.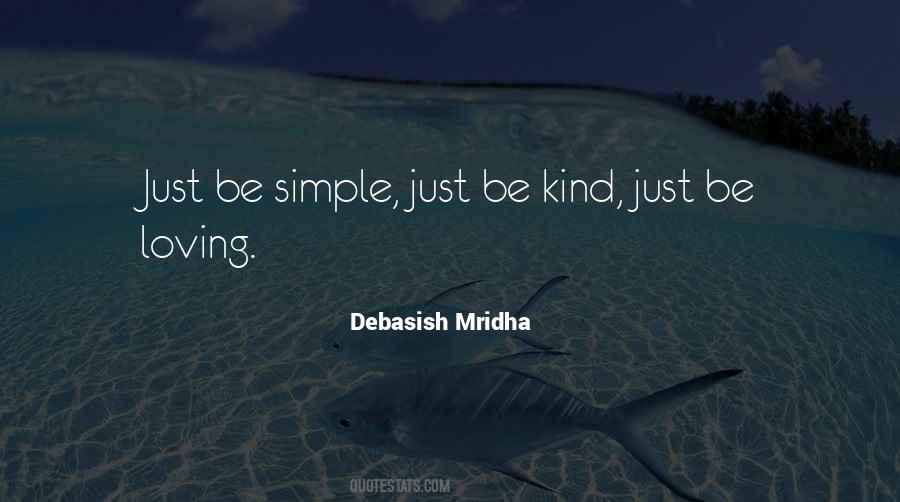 #74. We can never know the impact a simple smile has on another. Smiling is one of the easiest things we can do. Is there a simpler, more effortless way to give everyone you meet a moment of joy, even a sense of worth?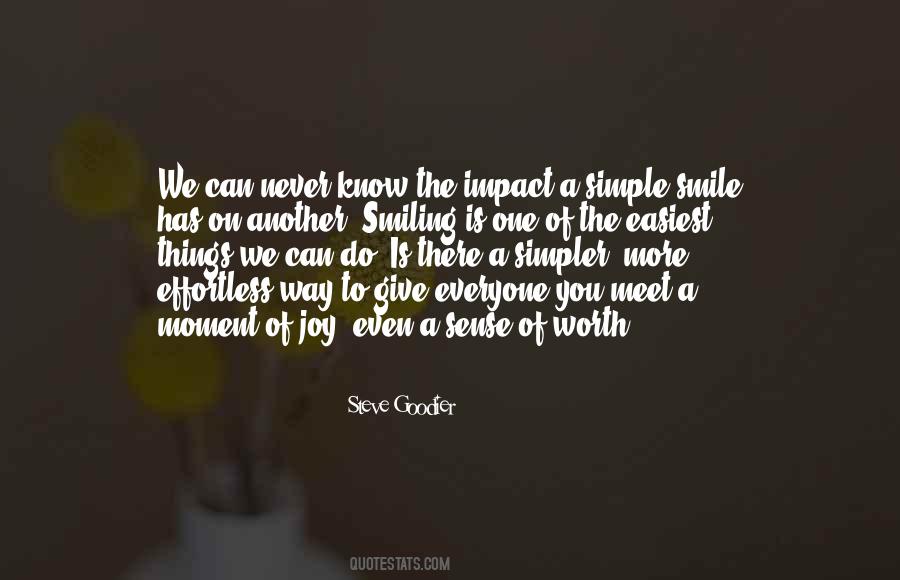 #75. The ingredients of happiness are so simple that they can be counted on one hand. Happiness comes from within, and rests most securely on simple goodness and clear conscience.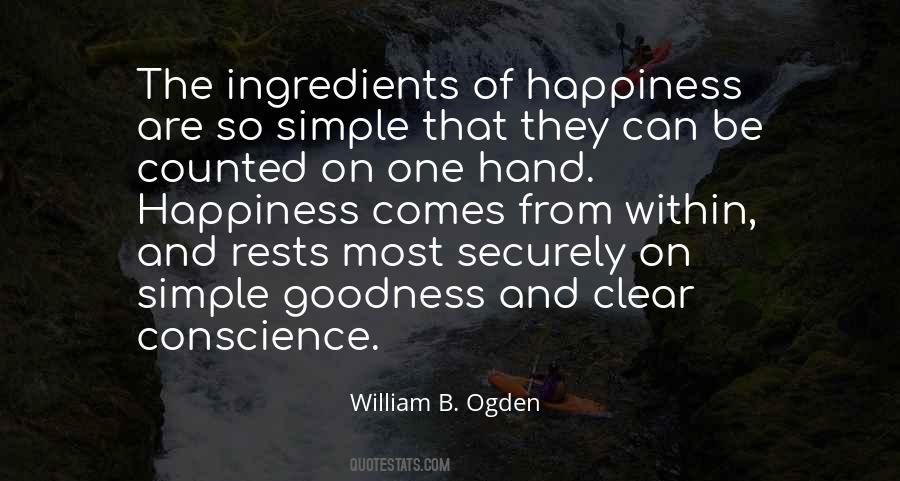 #76. It is so simple, to be happy think happiness.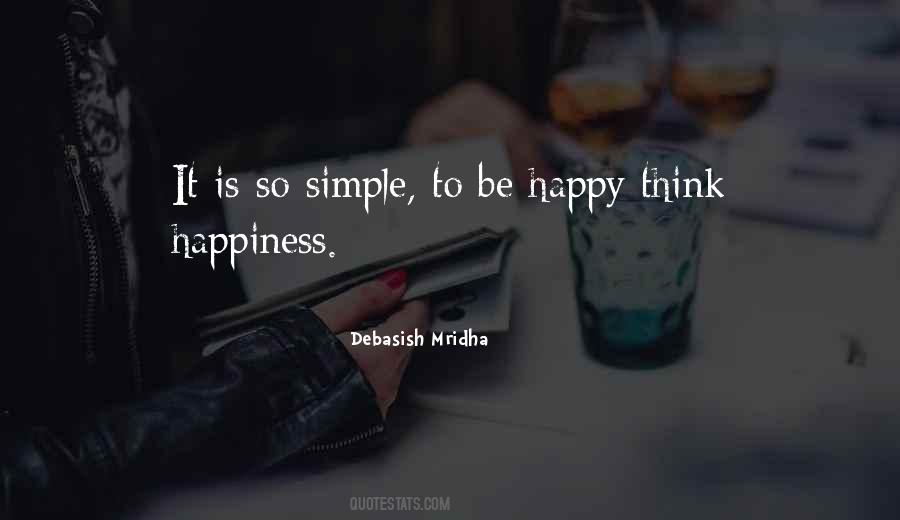 #77. It seems so simple now, but it took me a long time to figure out that happiness is experienced when we finally give ourselves permission to let go of the things that make us sad.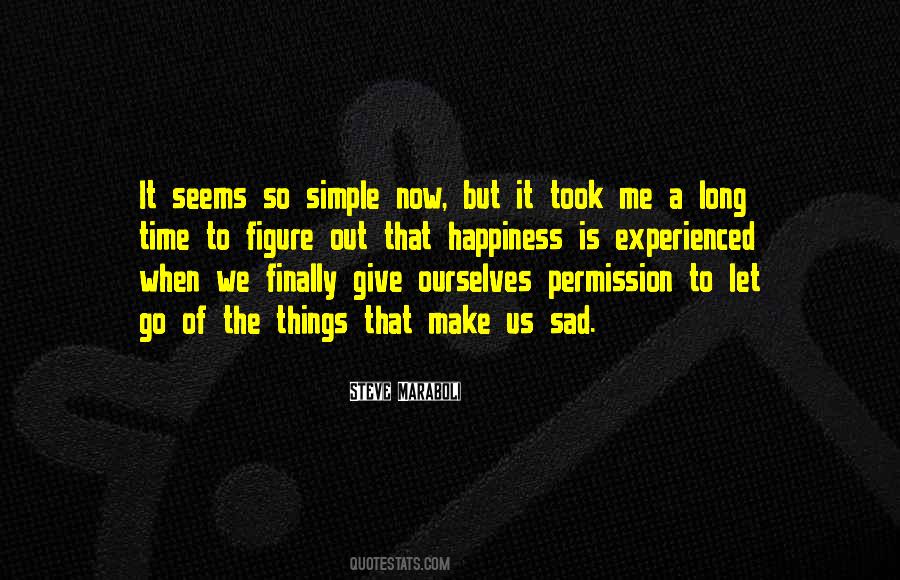 #78. Real happiness is so simple that most people do not recognize it. They think it comes from doing something on a big scale, from a big fortune, or from some great achievement, when, in fact, it is derived from the simplest, the quietest, the most unpretentious things in the world.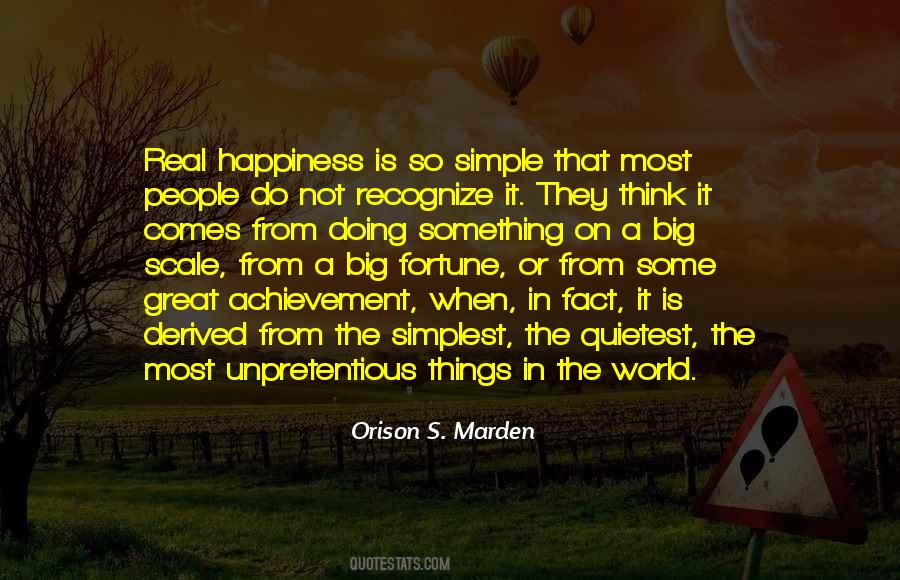 #79. While the lake lapped at their feet and the mountains absorbed their calls and the sky flung its blue parachute over their heads, he thought how wonderful it was that life was, after all, more simple than he had ever imagined.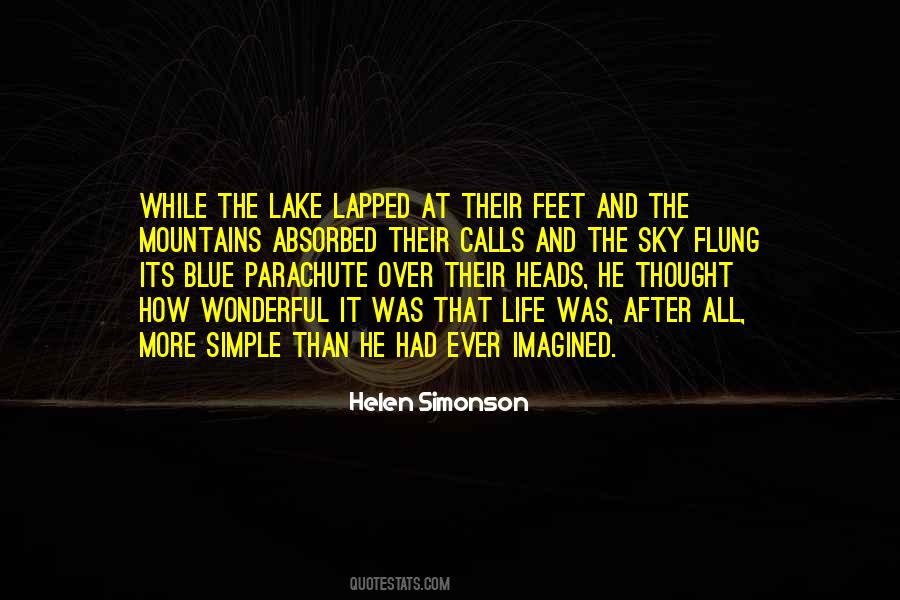 #80. Joy is found in the simple and ordinary things of life: the smile of a newborn baby, the kiss from a sweet new puppy, and the warm sunshine on a spring day.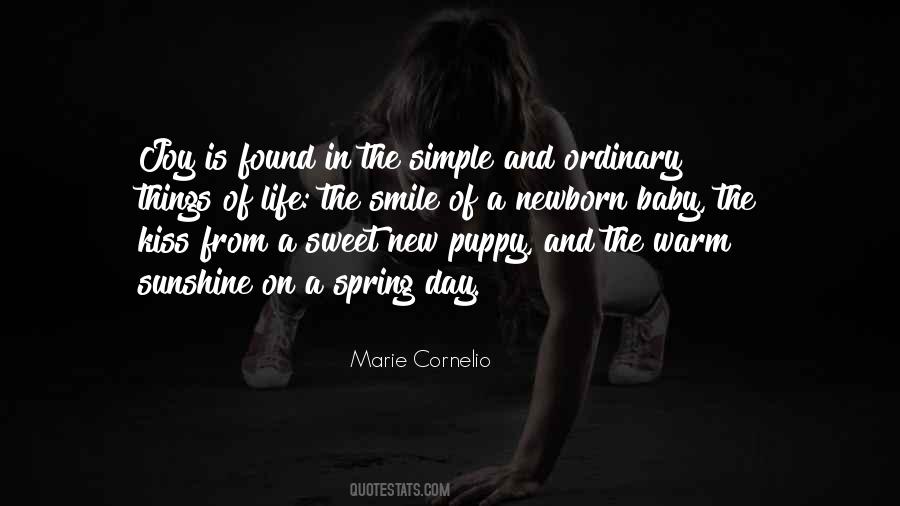 #81. Be nice. Be good. Be happy.
If people everywhere were to keep to this simple creed, there'd be few problems left in the world to fret about.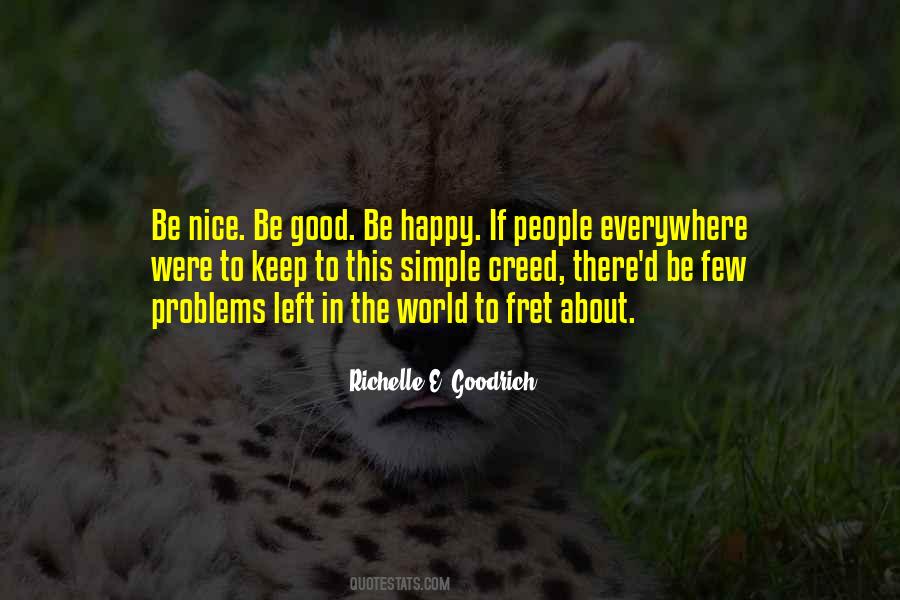 #82. Perhaps this sounds very simple, but simple things are always the most difficult. In actual life it requires the greatest discipline to be simple, and the acceptance of oneself is the essence of the moral problem and the epitome of a whole outlook upon life.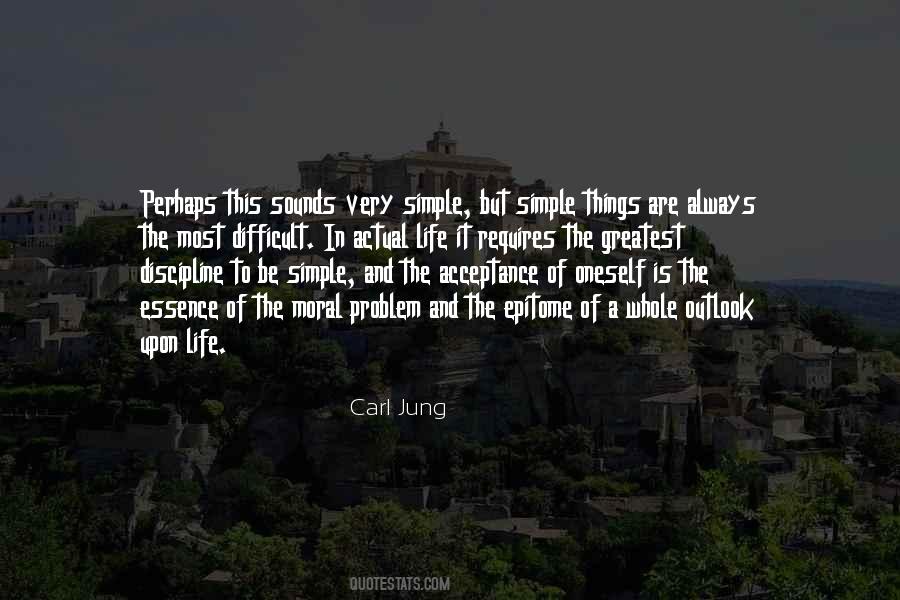 #83. I am very simple but I am very kind and loving.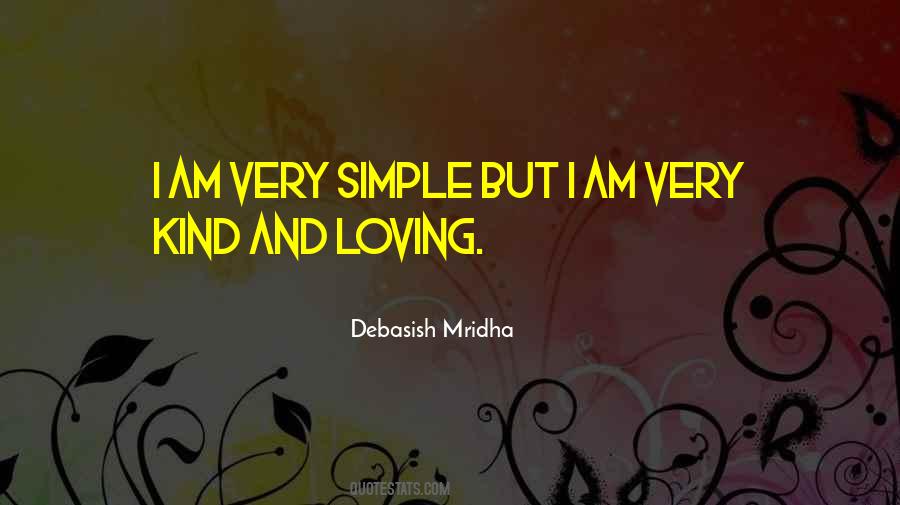 #84. The man is happiest who lives from day to day and asks no more, garnering the simple goodness of life.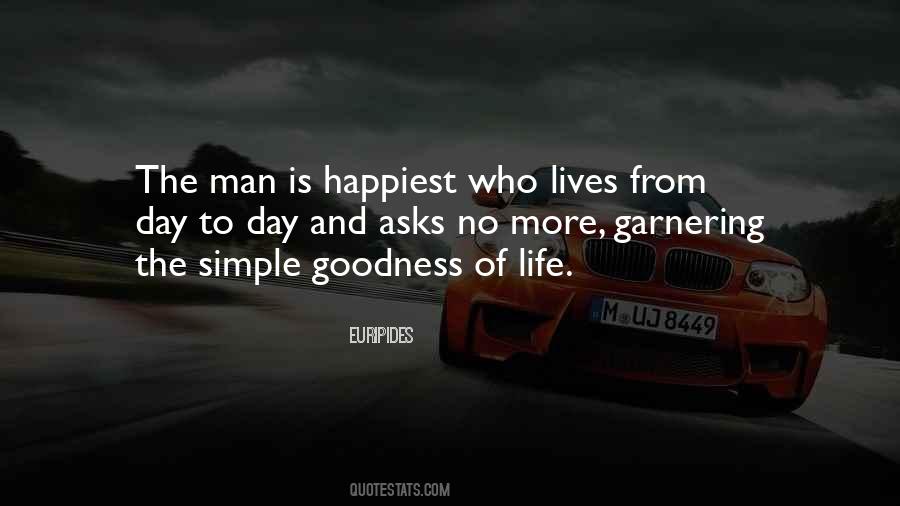 #85. To be happy without your wants is greatest contentment.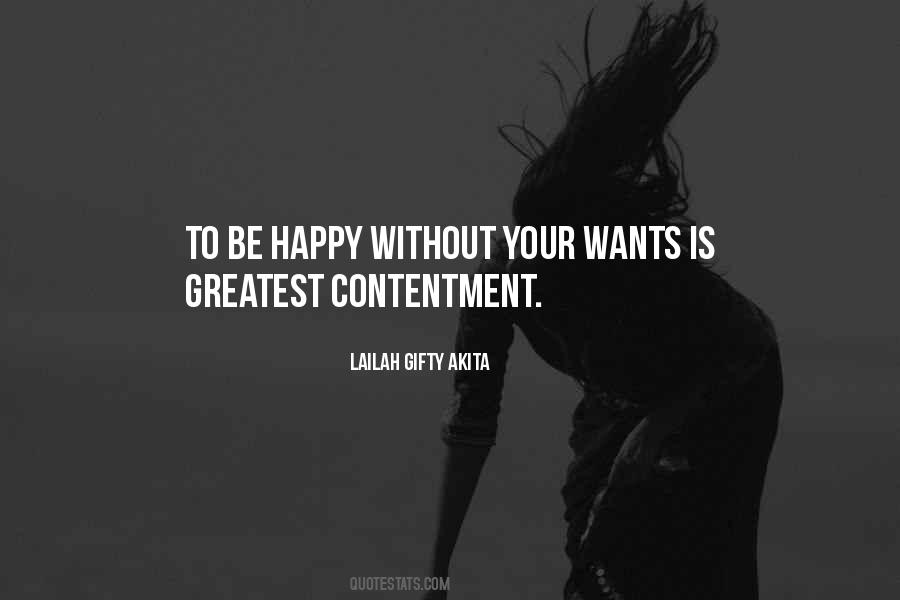 #86. I think the key to happiness is maximizing each day. So if you're unhappy, here's a simple prescription: Live harder.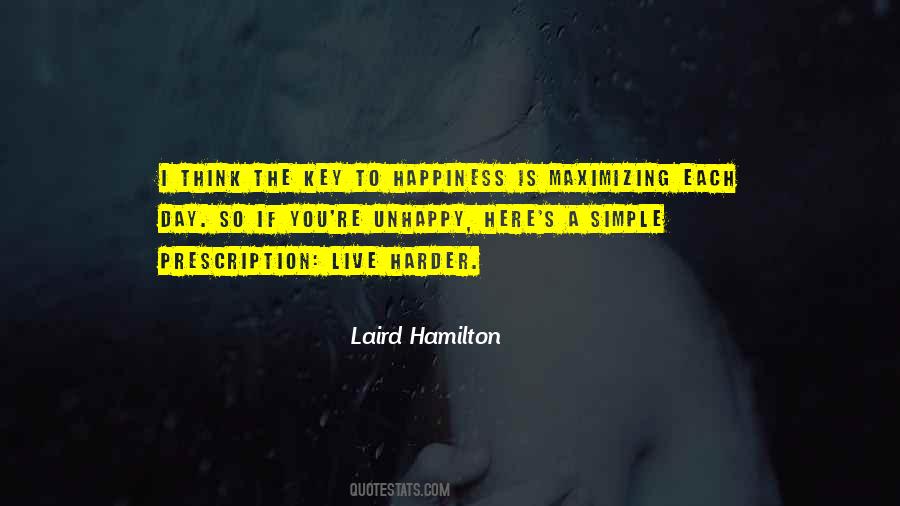 #87. To be wise, be always simple, loving and kind.
#88. Happiness is a great contentment.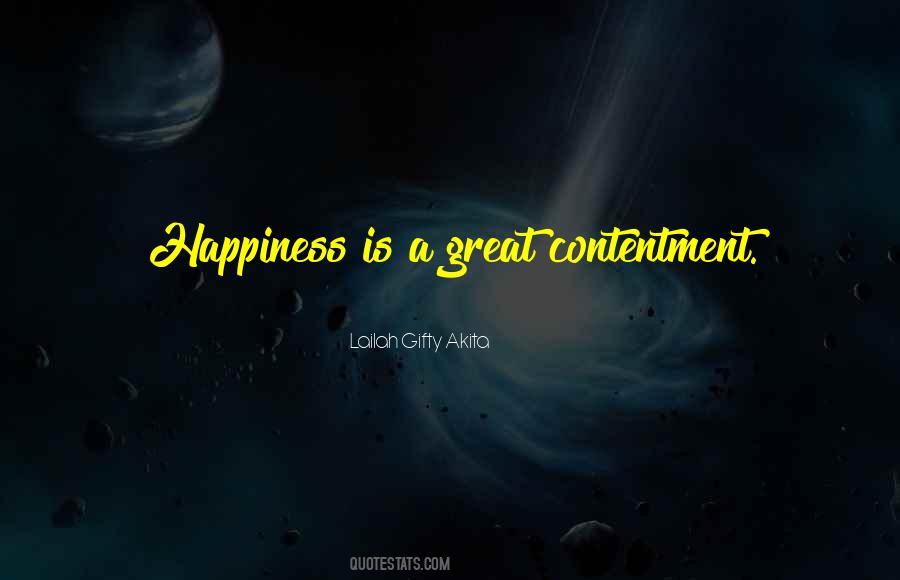 #89. Happiness is like a genre of music that nearly everyone knows how to dance to. Happiness has a very simple tempo, catchy phrasing, and memorable lyrics. It's the song at the wedding that makes everyone excited to run to the dance floor.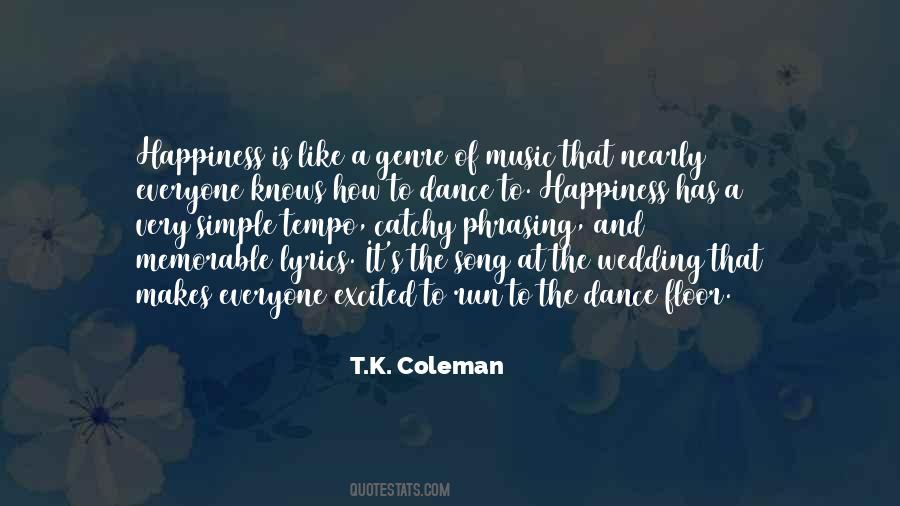 #90. Don't make your life complicated.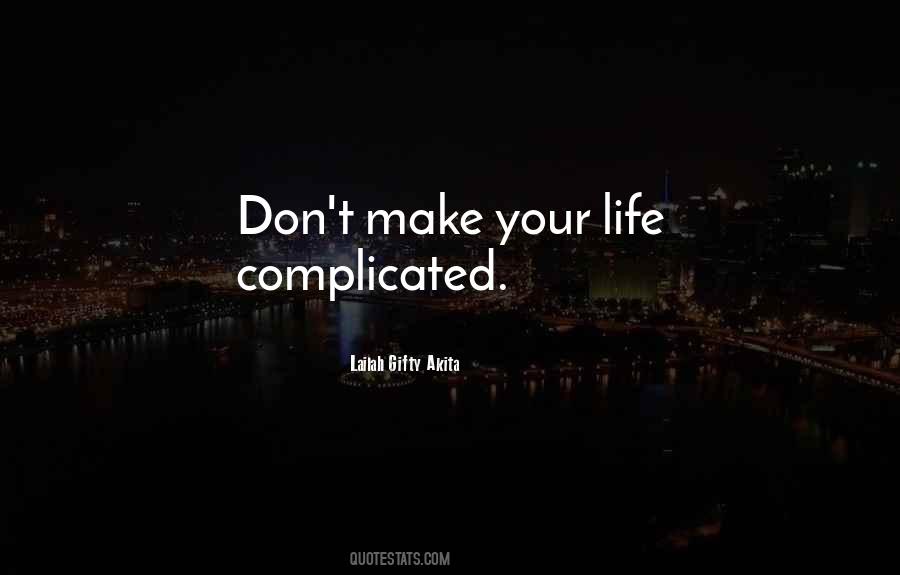 #91. A sacred spiritual-life is the greatest gratification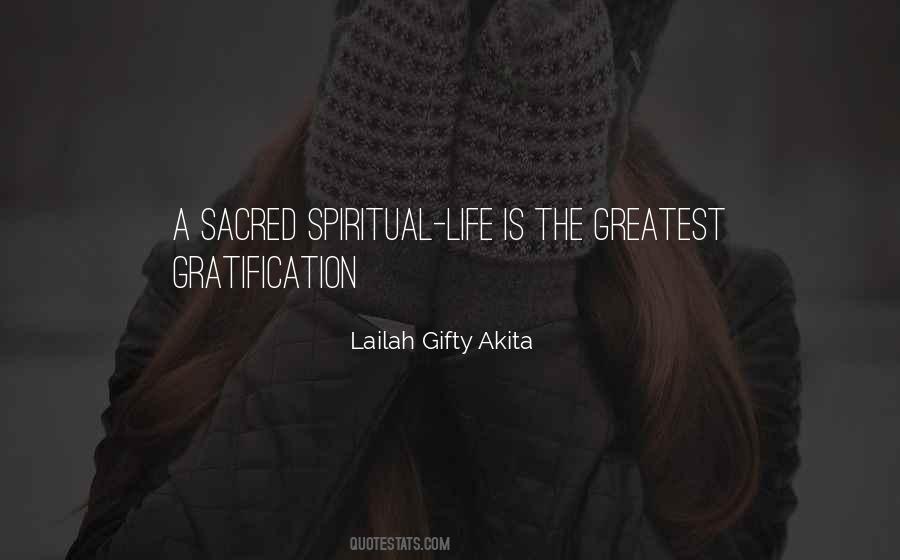 #92. They did not speak, surprised to see how simple, almost poor, happiness could be, yes, materially poor and yet so abundant.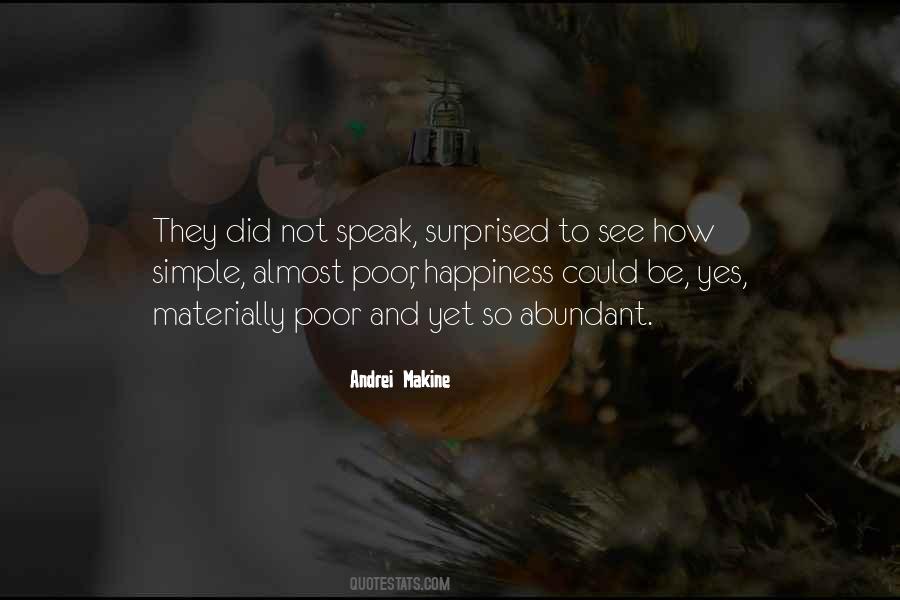 #93. It doesn't really seem possible that being happy is as simple as deciding to focus on what is good in the world and not on what is bad
#94. It's submission," Rediger murmured. "The shocking and simple idea, which had never been so forcefully expressed, that the summit of human happiness resides in the most absolute submission.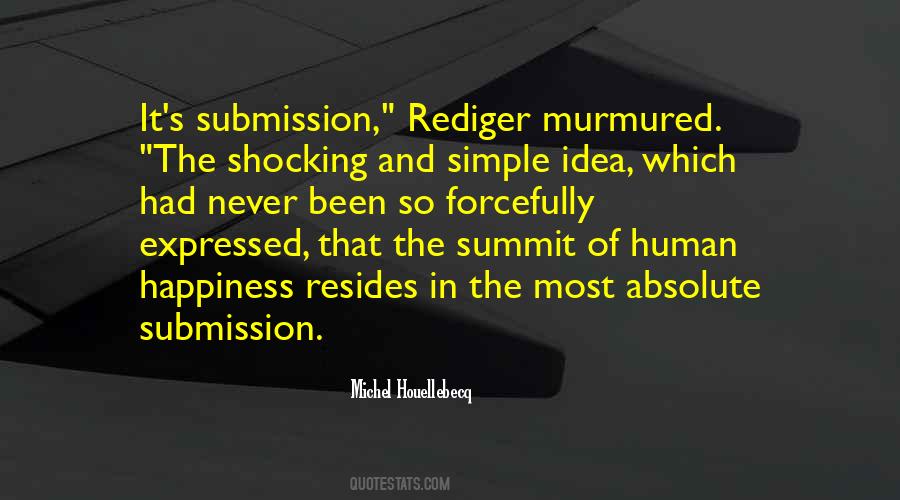 #95. he came to realize a simple truth: Working right trumps finding the right work. He didn't need to have a perfect job to find occupational happiness - he needed instead a better approach to the work already available to him.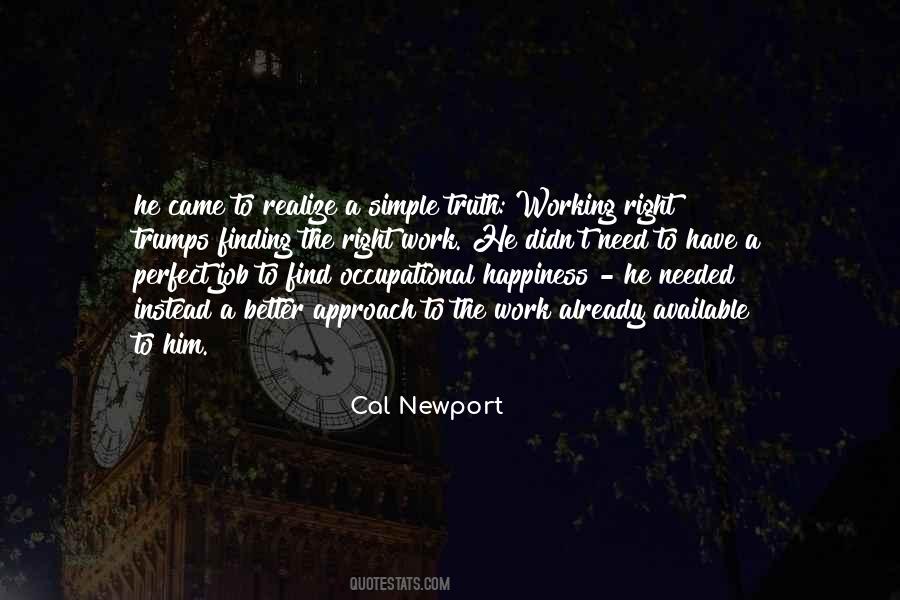 #96. One is happy once one knows the necessary ingredients of happiness: simple tastes, a certain degree of courage, self denial to a point, love of work, and above all, a clear conscience.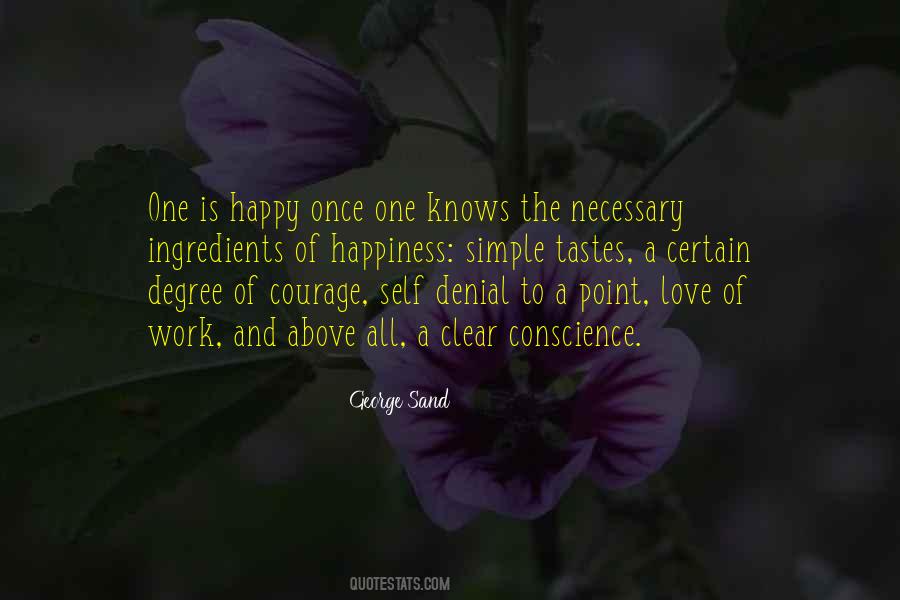 #97. In this world, the greatest rewards of success, wealth and happiness are usually obtained not through the exercise of special powers such a genius or intellect but through one's energetic use of simple means and ordinary qualities.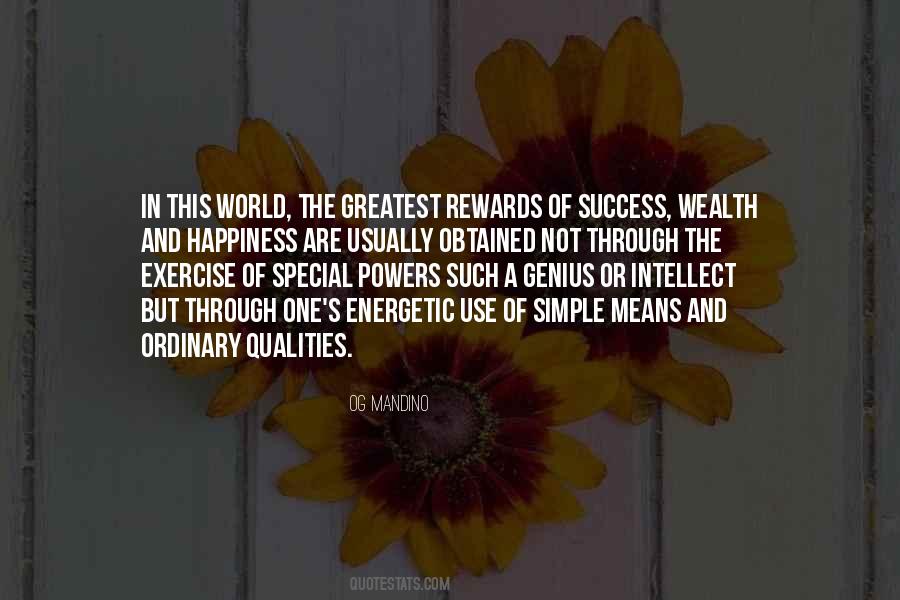 #98. The purpose is not the destination but the journey itself. Only those who understand this simple truth can experience true happiness.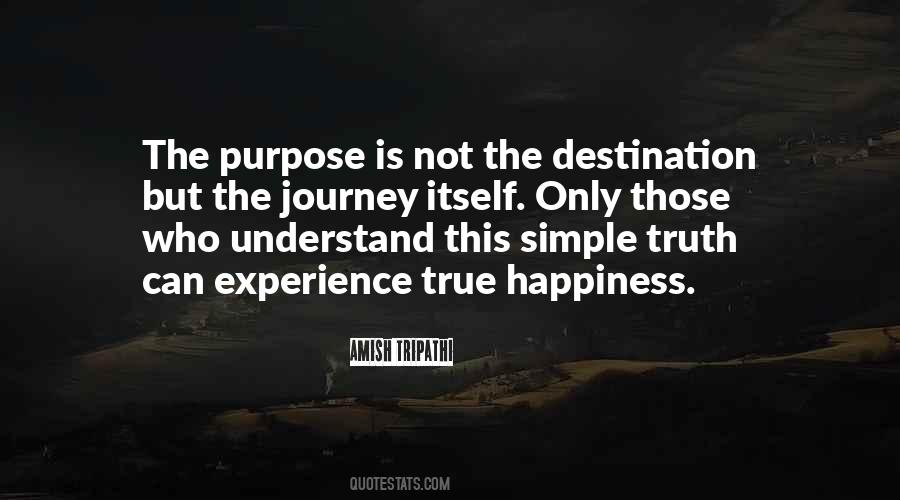 #99. Be courageous, but humble,
passionate, but simple,
have beliefs, but be flexible.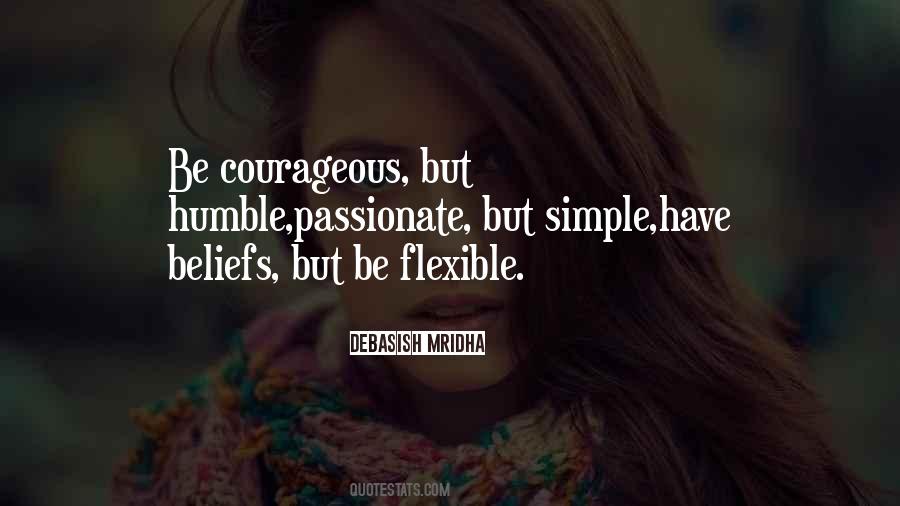 #100. I believe the world is as we choose to view it. Simple as that. Our happiness is, in the end, up to us, and to no one else.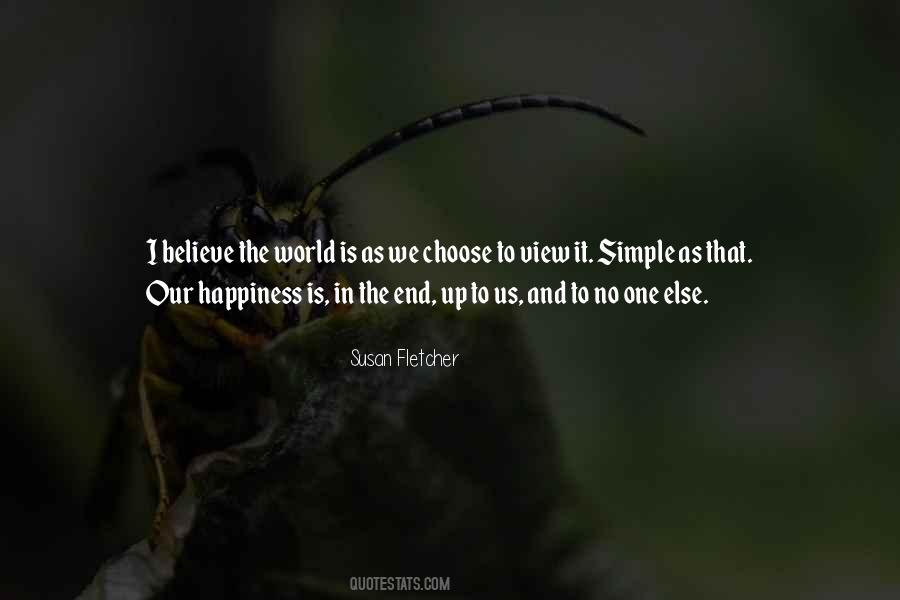 Famous Authors
Popular Topics