Ship Life Famous Quotes & Sayings
List of top 100 famous quotes and sayings about ship life to read and share with friends on your Facebook, Twitter, blogs.
Top 100 Quotes About Ship Life
#1. These great turning-days of life cast no shadow before, slip by unconsciously. Only a trifle, a little turn of the rudder, and the ship goes to heaven or hell. - Author: Rebecca Harding Davis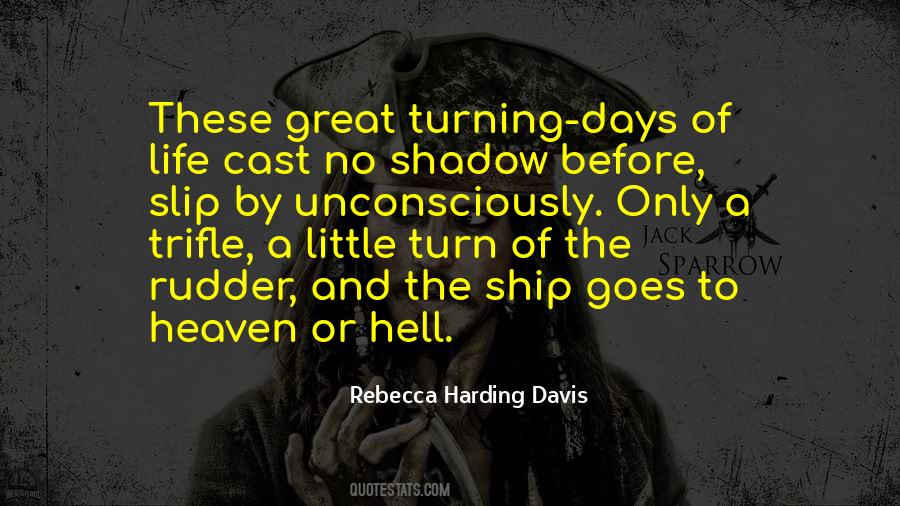 #2. Sometimes in life, we reach a right place by departing from a wrong port with a wrong ship! - Author: Mehmet Murat Ildan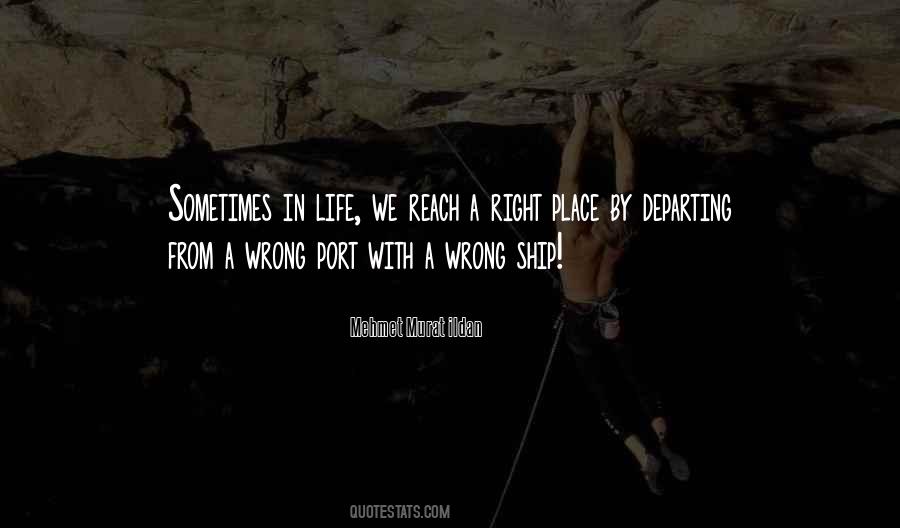 #3. Every life leaves a trace, every ship a wake, and even though it was often just a glimmer of phosphorescence in the dark, - Author: Terry Hayes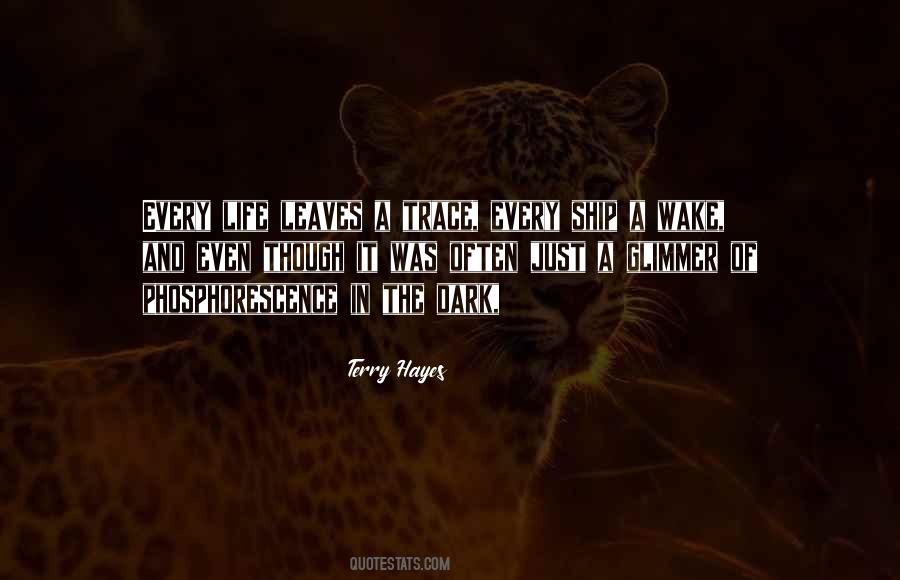 #4. All the details of my life were in exact order and yet I was tumbling in them-out of order like a tremendous wave had hit me and I was thrown off the ship and I awoke or dreaming, or dead I knew not-no I couldn't speak. - Author: Eileen Myles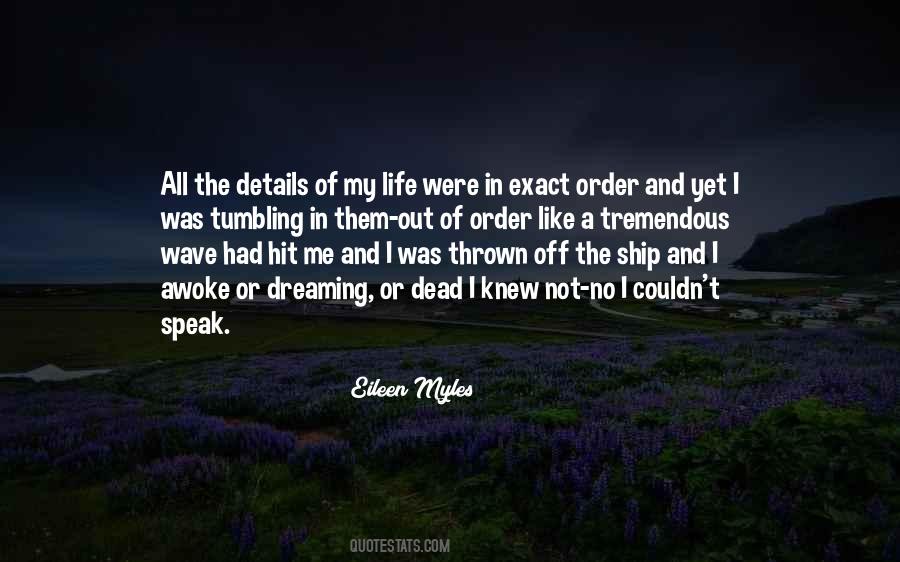 #5. Life is as the sea, art a ship in which man conquers life's crushing formlessness, reducing it to a course, a series of swells, tides and wind currents inscribed on a chart. - Author: Ralph Ellison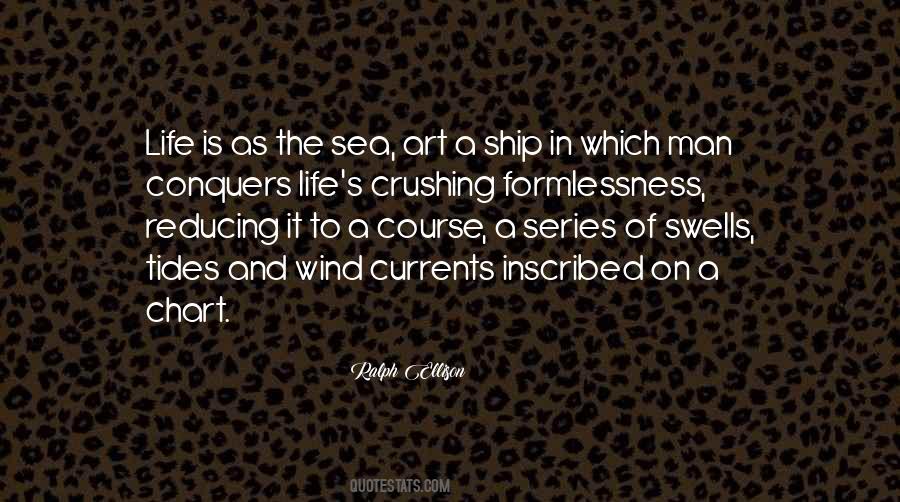 #6. The captain doesn't think about death, or life, he thinks about saving his ship, - Author: Bashar Al-Assad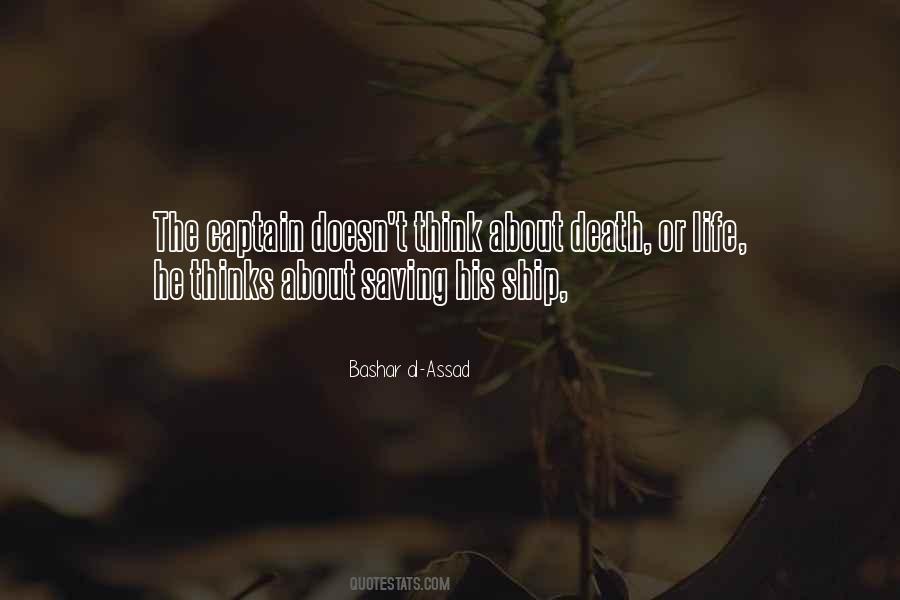 #7. Love contending with friendship, and self with each generous impulse.
To and fro in his breast his thoughts were heaving and dashing,
As in a foundering ship. - Author: Henry Wadsworth Longfellow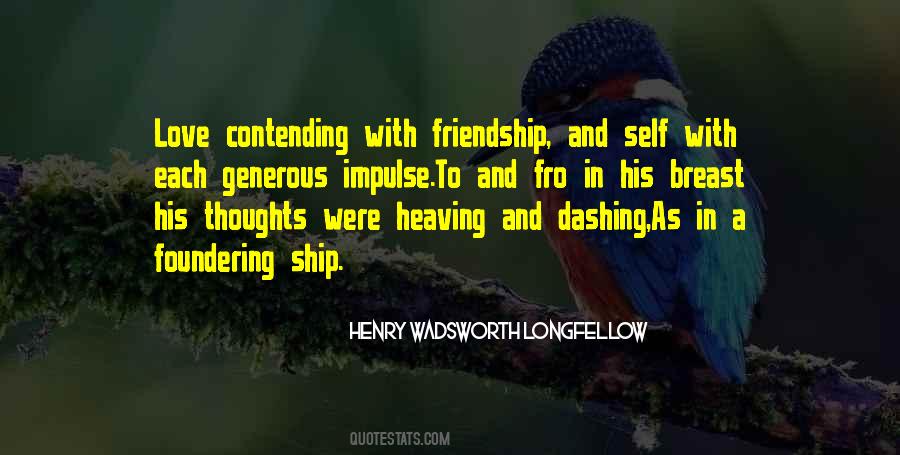 #8. Who hadn't at some point in his life wanted to climb to the top of a sailing ship in full flight? - Author: Lev Grossman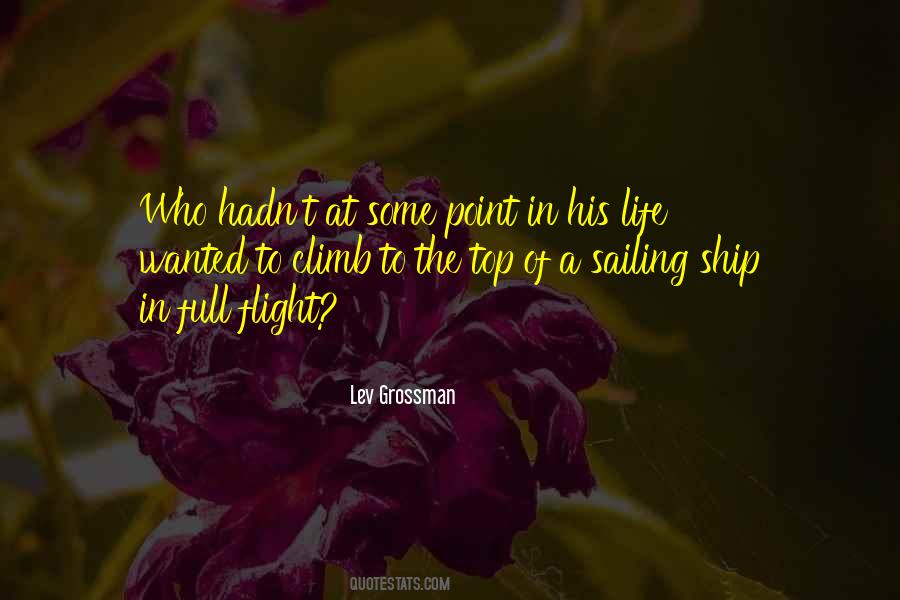 #9. Were it not for love, Poor life would be a ship not worth launching. - Author: Edwin Arlington Robinson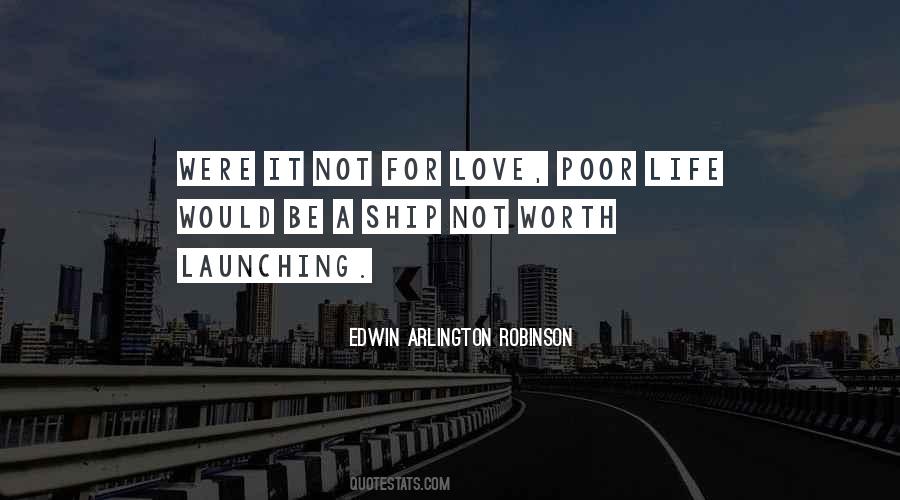 #10. I don't wilt easily, and a director can't either. He's the captain of the ship and he's got to be in total control. He also has to have respect for the people he's working for. From being an actor and being on a set my whole life, I'm very comfortable there. And I'm not afraid. - Author: Ricky Schroder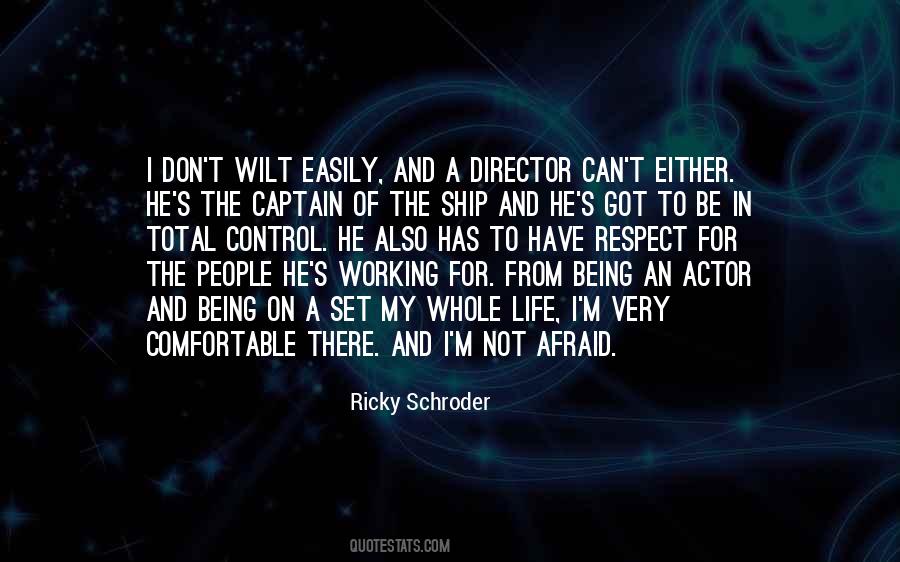 #11. Out of the nameless and unfathomed weavings of billion-footed life, out of the dark abyss of time and duty, blind chance had brought these two together on a ship, and their first meeting had been upon the timeless and immortal seas that beat forever at the shores of the old earth. - Author: Thomas Wolfe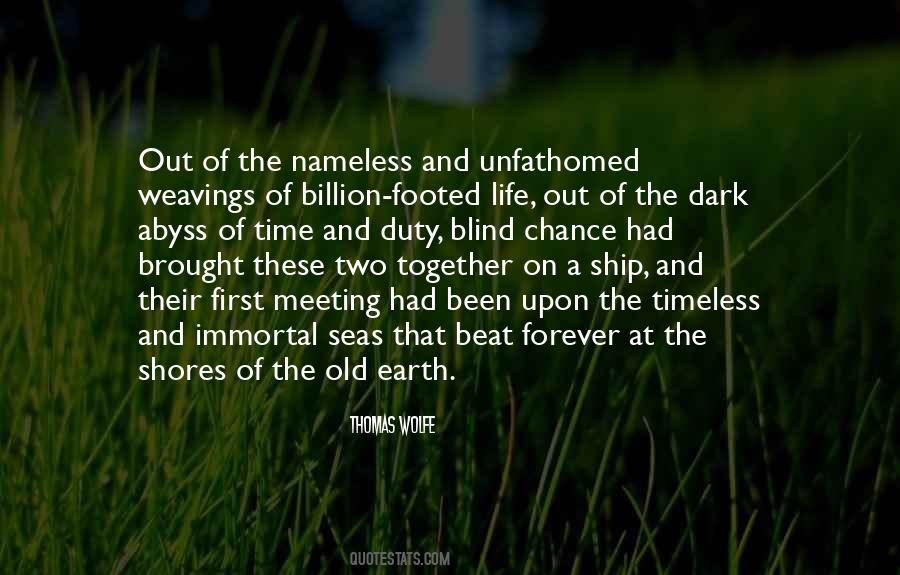 #12. A life without vows is like a ship without an anchor or like an edifice that is built on sand instead of a solid rock. - Author: Mahatma Gandhi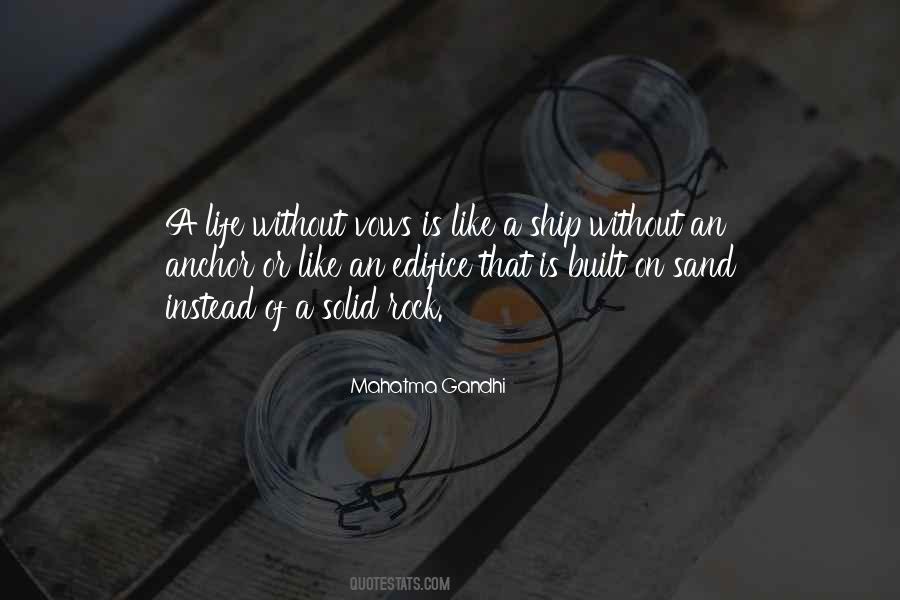 #13. Your ability to consummate Leadership or follower-ship brings fulfillment at each appointed time in life - Author: Ikechukwu Joseph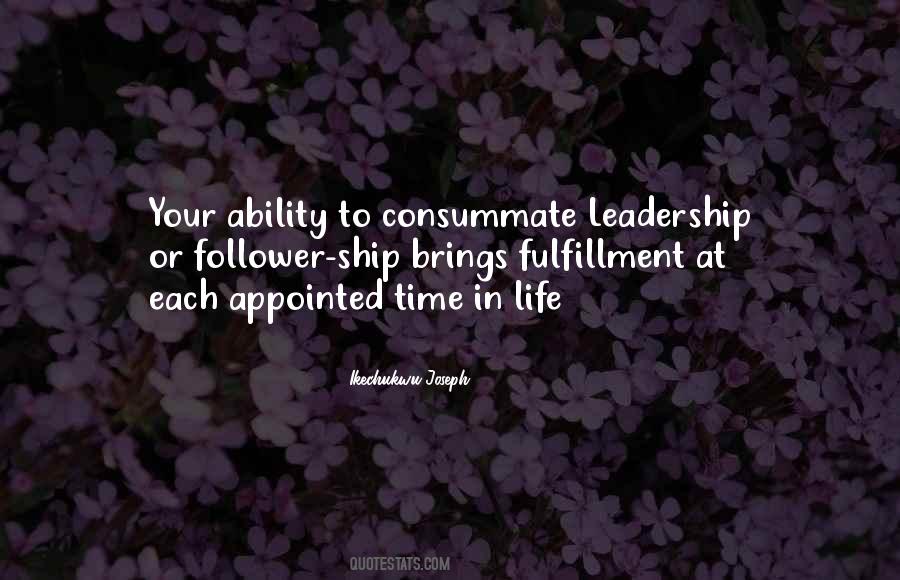 #14. The two most beautiful sights I have witnessed in my life are a full blown ship at sail and the round-bellied pregnant female. - Author: Benjamin Franklin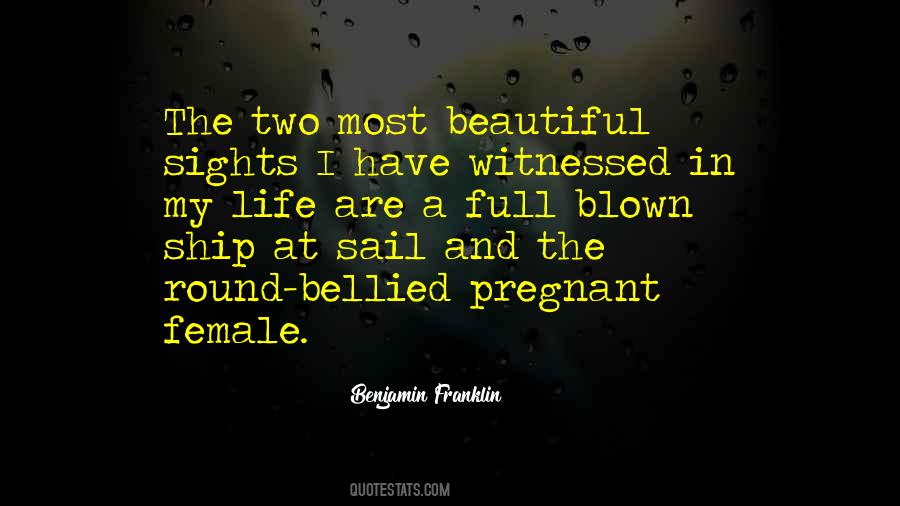 #15. When the ship goes down, the waves very quickly roll over the top of it, and attention shifts elsewhere. It's just the natural order of things in TV - in life - and is as it should be. - Author: Hugh Laurie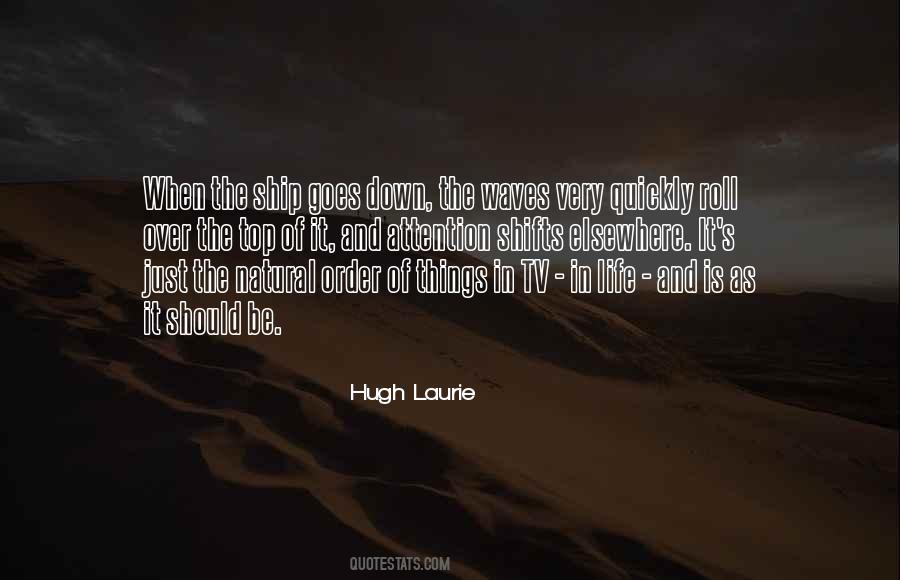 #16. One moment of company with the holy makes a ship to cross this ocean of life. Such is the power of association. - Author: Swami Vivekananda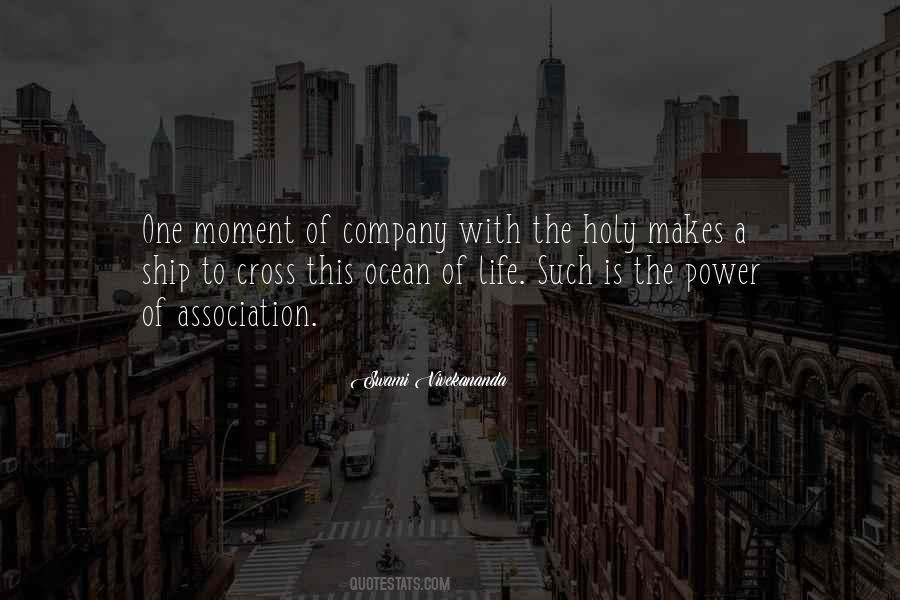 #17. The powe if fate is something terrible. It cannot be escaped
not with wealth or by war,
not with a tower ir a sea-lashed black ship. - Author: Sophocles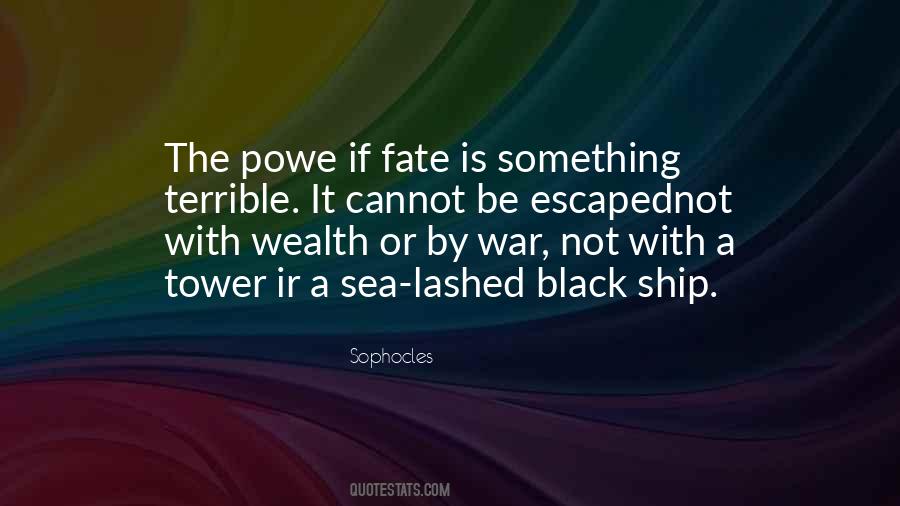 #18. Without the men, ships are nothing but empty shells of metal. It's the men who give the ship life, who turn it from a soulless hulk into a
valiant lady. - Author: Douglas Mumphrey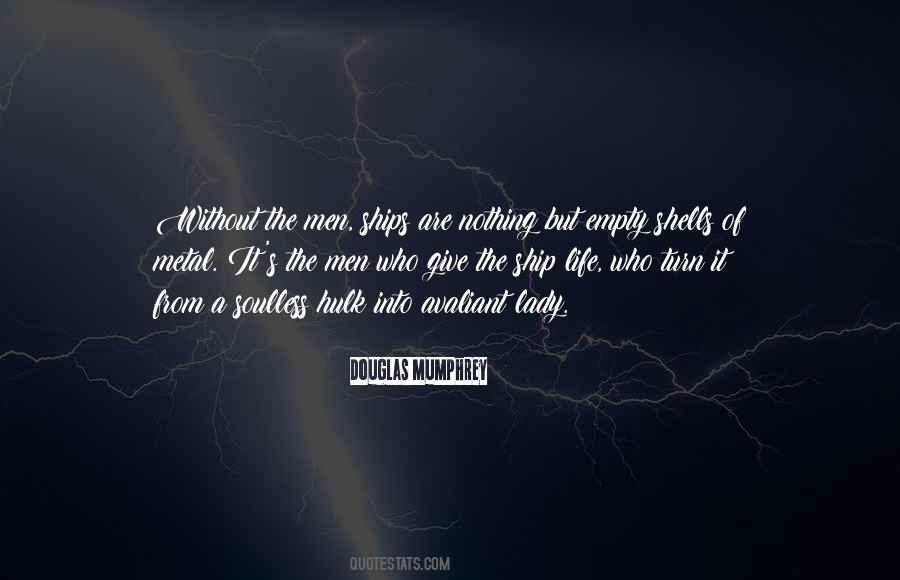 #19. If a pastor's activity in the church is merely a once-a-week attempt to tow the congregation's cargo ship a little closer to eternity, the whole thing comes to nothing. A human life, unlike a cargo ship, cannot lie in the same place until the next Sunday. - Author: Soren Kierkegaard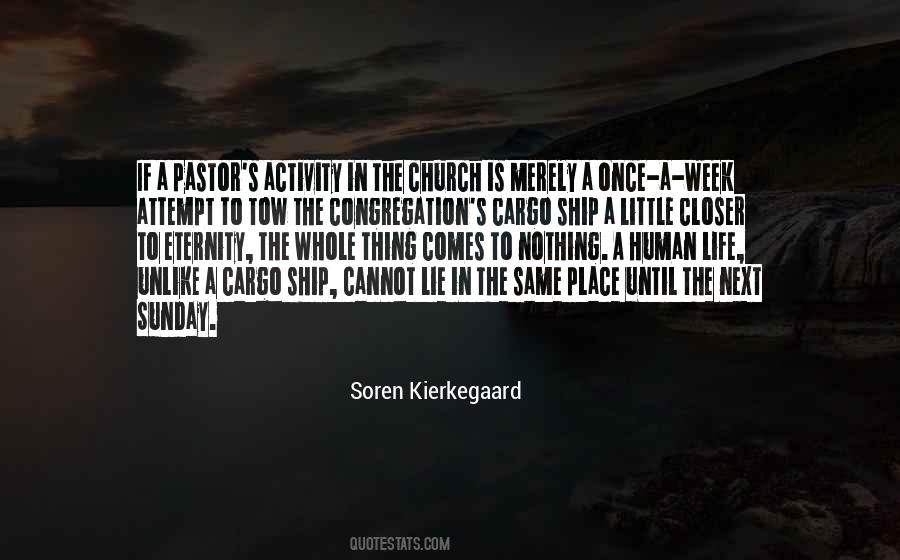 #20. We are increasingly open to understanding how we are all connected and that if we sink the ship that we are all on, we all drown. However, we have simultaneously become so focused on our own life experiences that we think we are alone. - Author: Yehuda Berg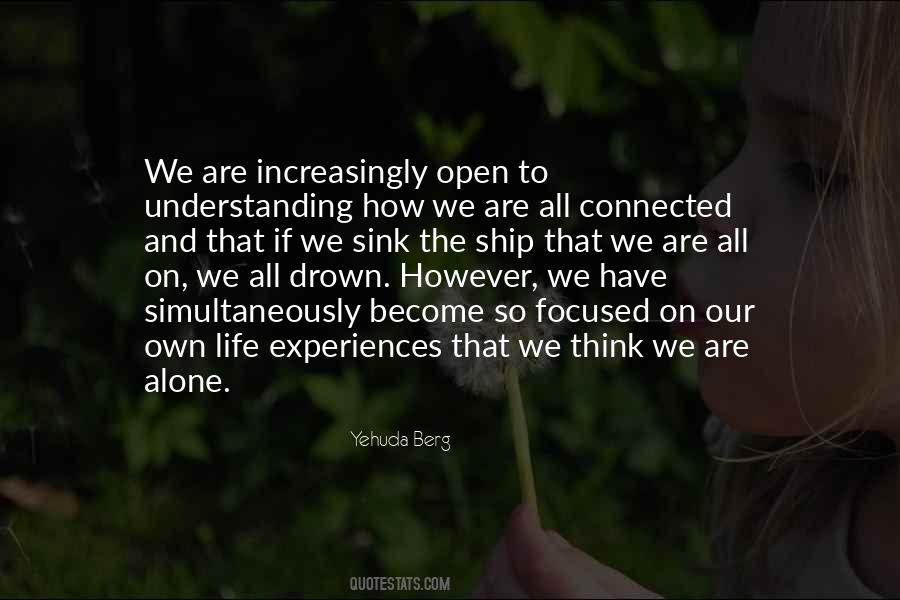 #21. It's indispensable to fully understand the basis and modus operandi of the Law of Karma to orientate the ship of our life in a positive and exemplary way. - Author: Samael Aun Weor
#22. Life is short
And pleasures few
And holed the ship
And drowned the crew
But o! But o!
How very blue
the sea is. - Author: Clive Barker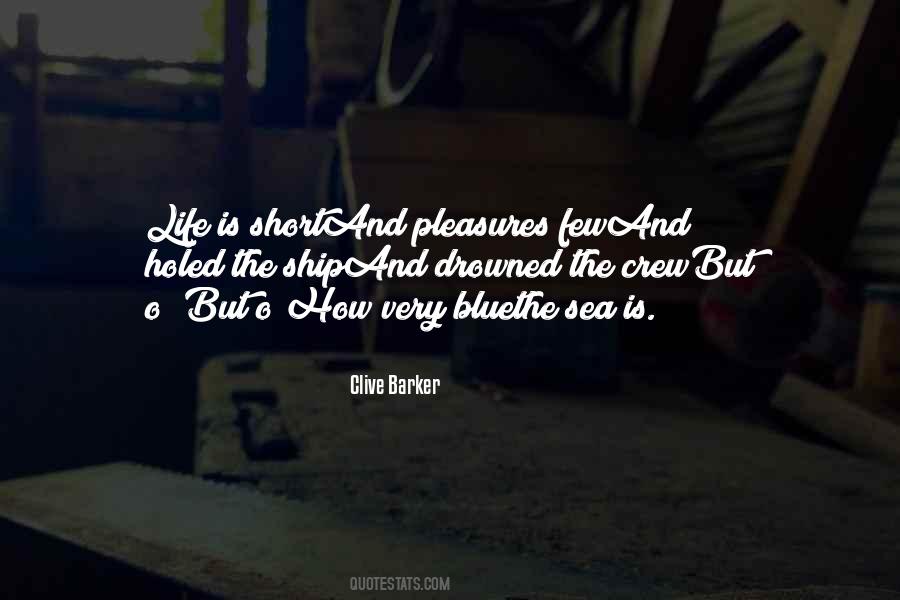 #23. His style has the desperate jauntiness of an orchestra fiddling away for dear life on a sinking ship. - Author: Edmund Wilson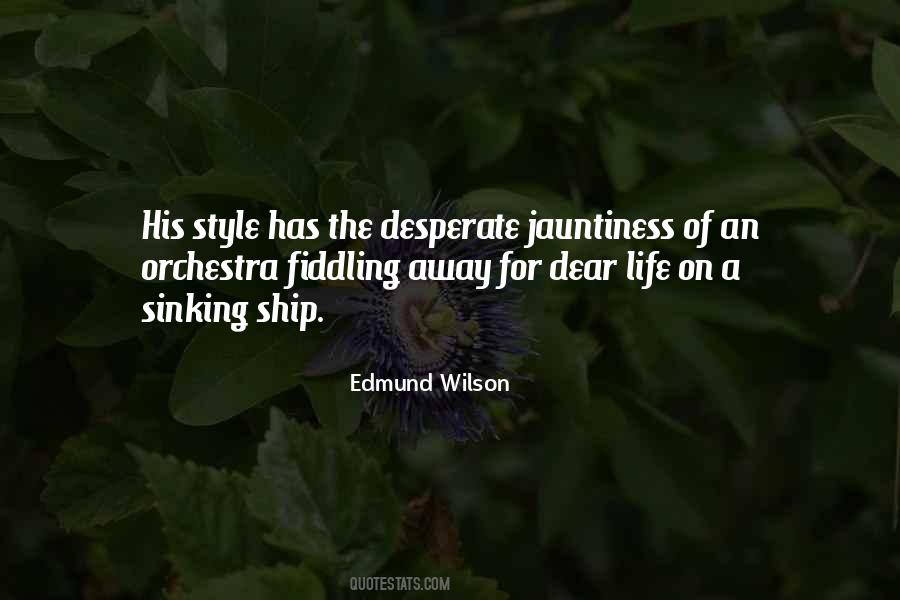 #24. Gliding o'er all, through all,Through Nature, Time, and Space,
As a ship on the waters advancing,
The voyage of the soul - not life alone,
Death, many deaths I'll sing. - Author: Walt Whitman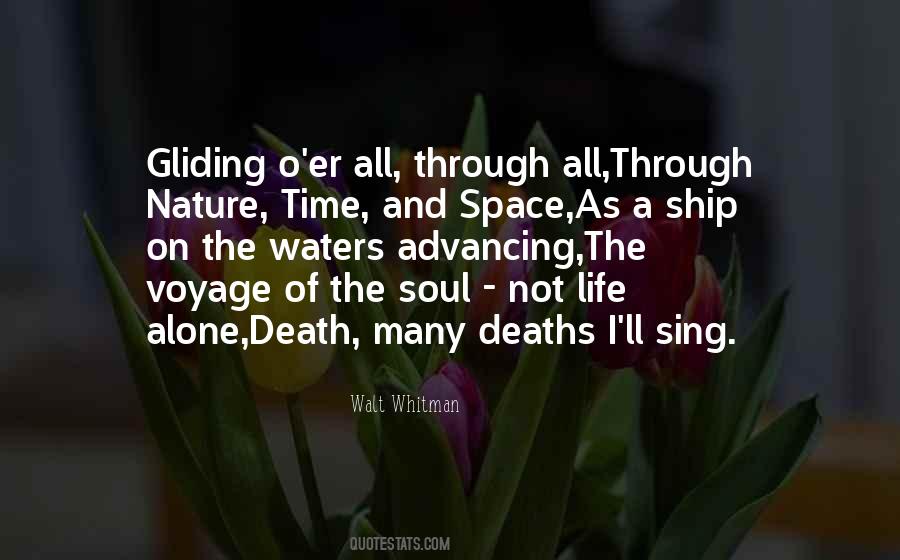 #25. It was a far more terrifying idea to imagine how much control he really had over how his life turned out. Easier to believe that he was a gallant ship tossed by fate than to captain it himself.
He would steer it now, and if there were rocks near shore, so be it. - Author: Maggie Stiefvater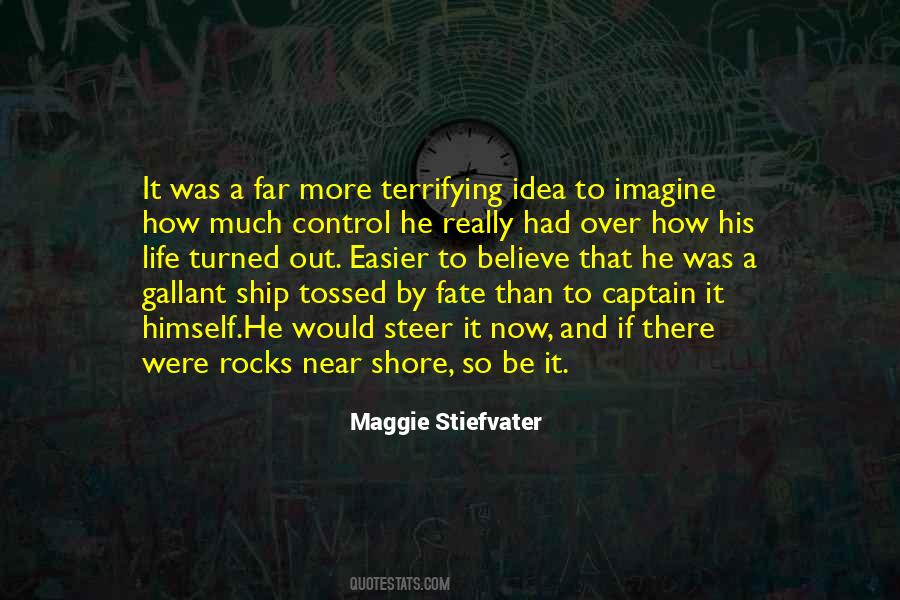 #26. Every experience is a gift and happens for a reason. No matter how big or small, we are reminded that we are the captains of our ship. - Author: Alexz Johnson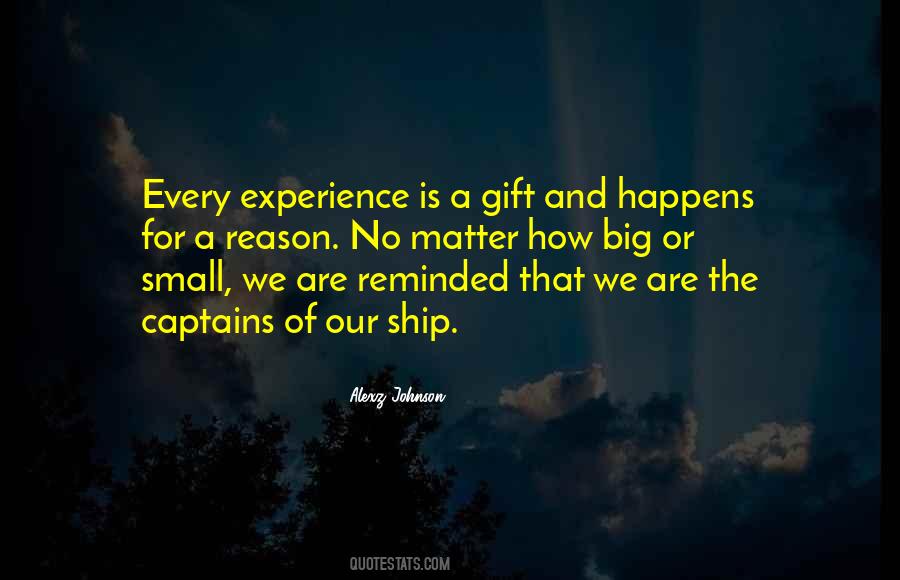 #27. Do you have one where you're riding a horse or a camel? Or sitting on a rocket ship? Those are always wildly popular with men looking for sex.
- SINGLE-MINDED - Author: Lisa Daily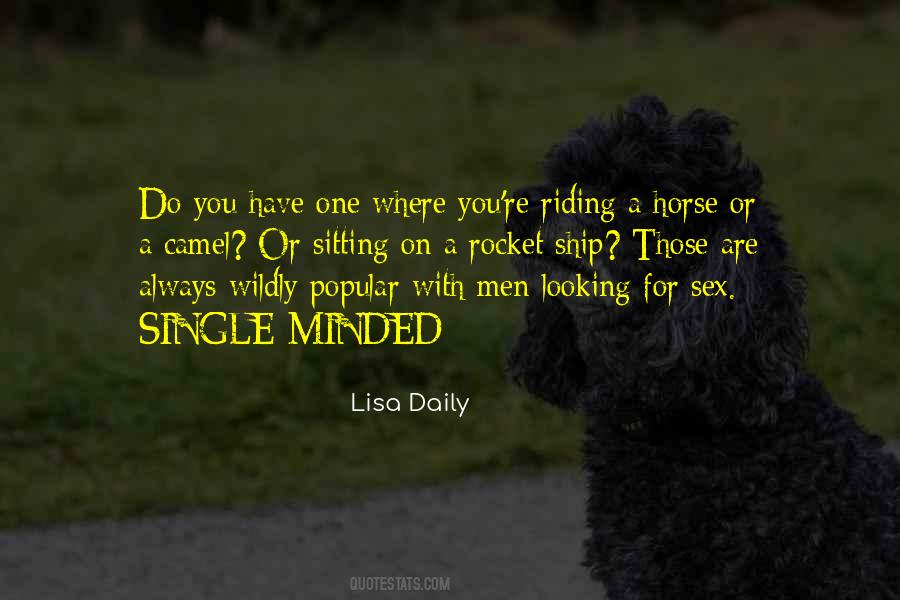 #28. I am abandoned on the ship of life." "I know." "Jas, you are not really cheering me up." "Well, I know and that is because there is really nothing to be cheerful about; I would hate to be you." in - Author: Louise Rennison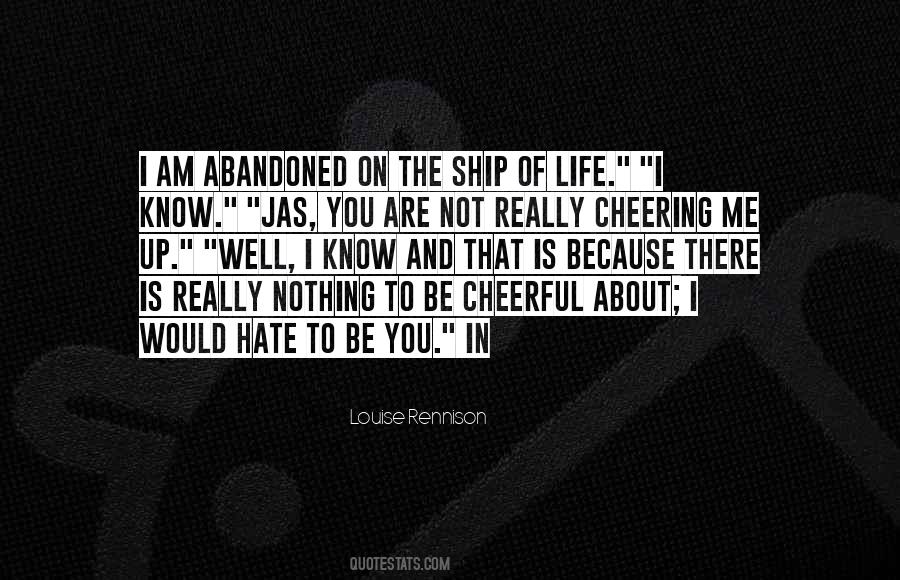 #29. Even a life raft is only supposed to get you from the sinking ship back to land, you were never intended to live in the life raft, to drift years on end, in sight of land but never close enough. - Author: Nick Flynn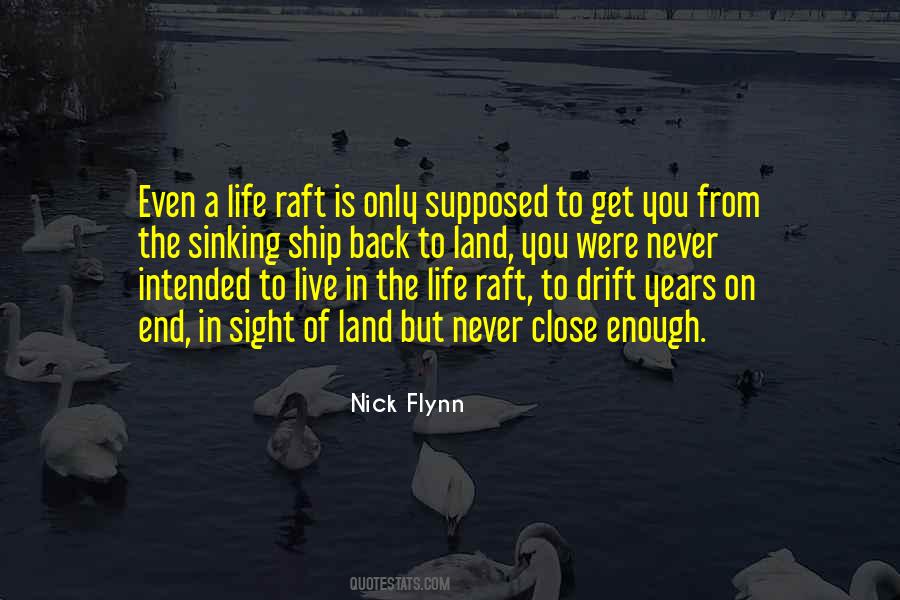 #30. A life without goal is a ship without rudder! - Author: Mehmet Murat Ildan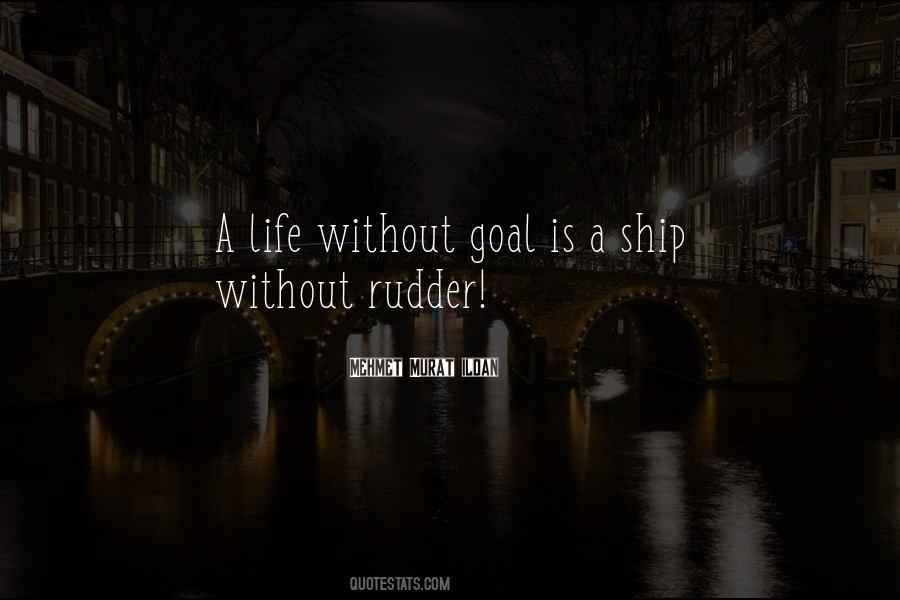 #31. If your ship doesn't come in, swim out to meet it. - Author: Jonathan Winters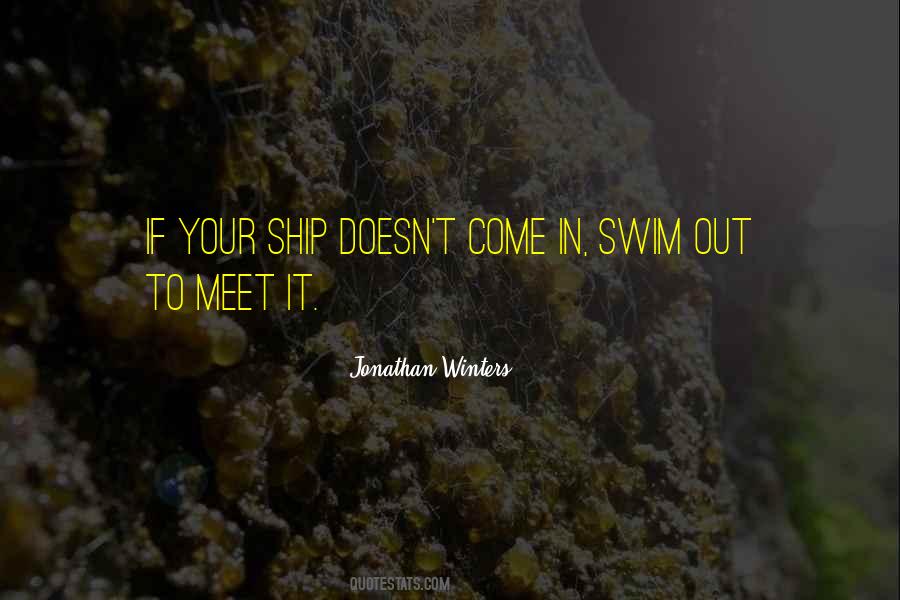 #32. We're all the same. We all want the same thing in life. Everybody going around like they know how to sail but there is no captain and we are all only passengers aboard the same sinking ship. - Author: Donal O'Callaghan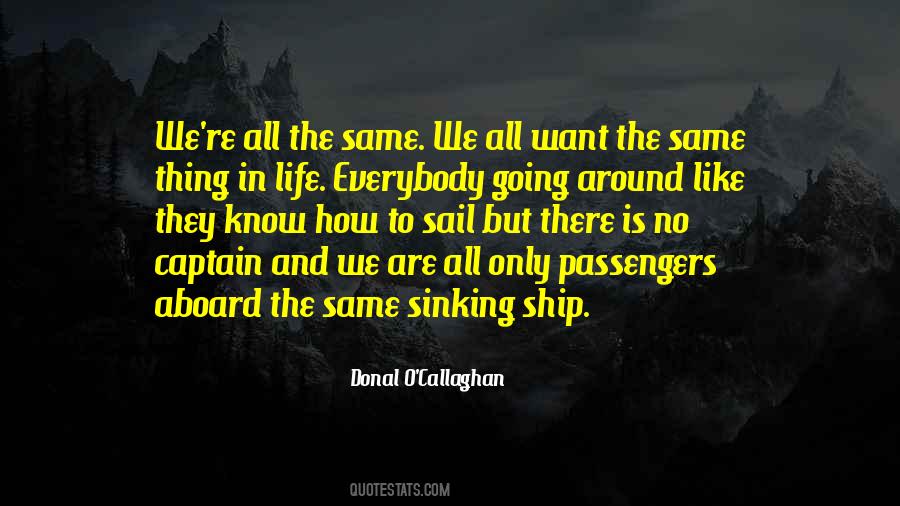 #33. There is this blessing, that while life has but one entrance, it has exits innumerable, and as I choose the house in which I live, the ship in which I will sail, so will I choose the time and manner of my death. - Author: Seneca The Younger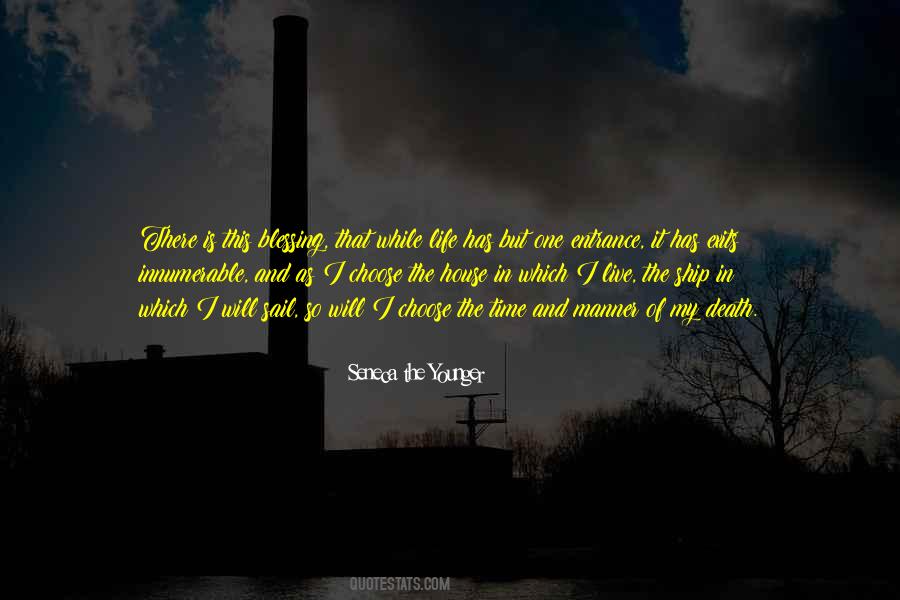 #34. Every ship sailing the sea of life needs to have the divine Pilot on board; but when storms arise, when tempests threaten, many persons push their Pilot overboard, and commit their bark into the hand of finite man, or try to steer it themselves. - Author: Ellen G. White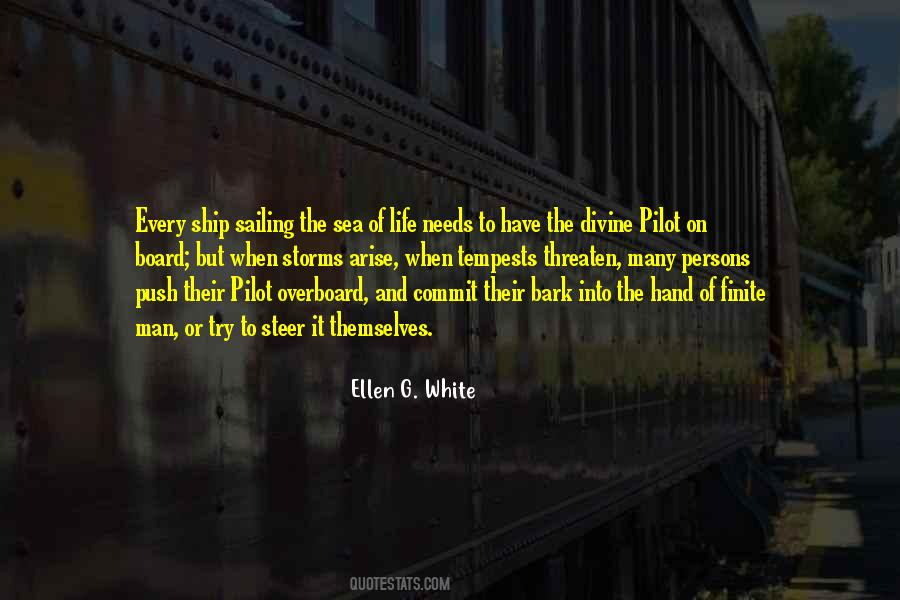 #35. Wouldn't you know it. My ship finally comes in and I'm at lunch. - Author: Kait Carson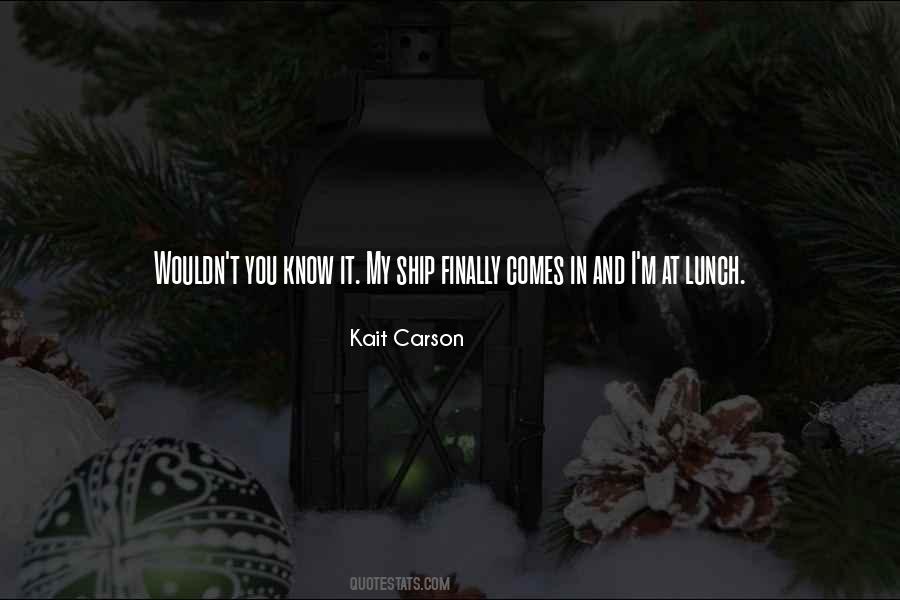 #36. What if I said I wanted a friend?' The ship crouches among the fresh-cut stalks. 'Or a lover? That's how you make a person, yes? By affection and intimacy. By touches like knives in a salted bed. - Author: Benjanun Sriduangkaew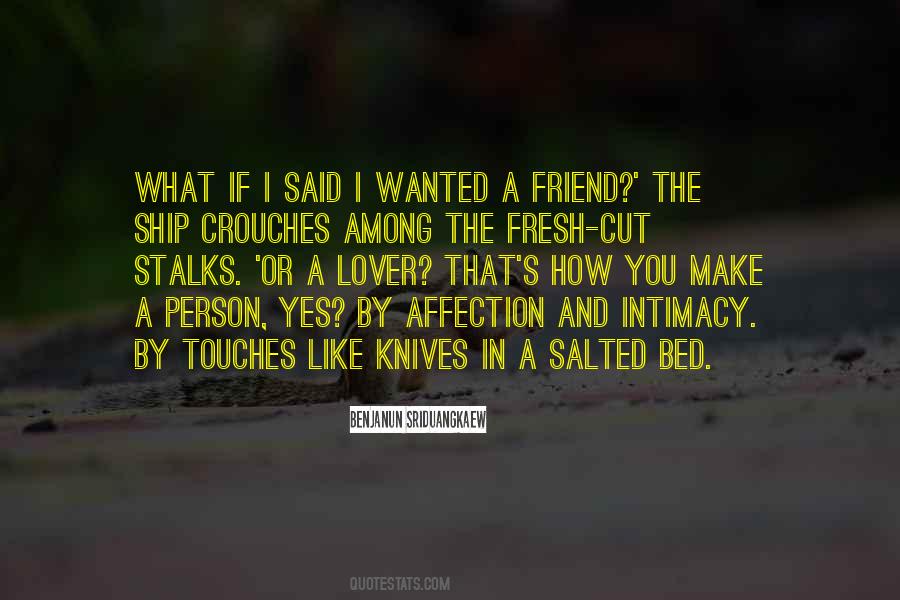 #37. It's things like this that makes a ship seem like home. Help you forget what a load of tedious old shit life out here can be. - Author: Scott Lynch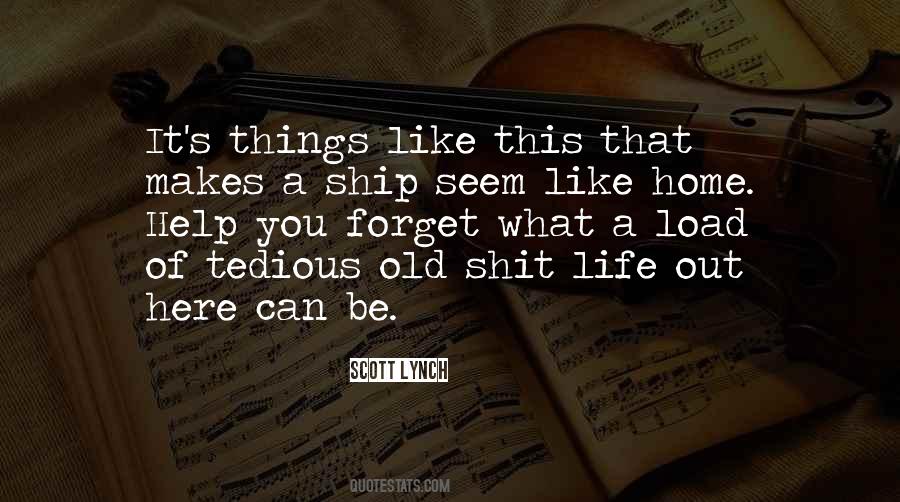 #38. That was before I'd started thinking about how life stuck on a ship wouldn't be so bad if Elder walked around pantless more. - Author: Beth Revis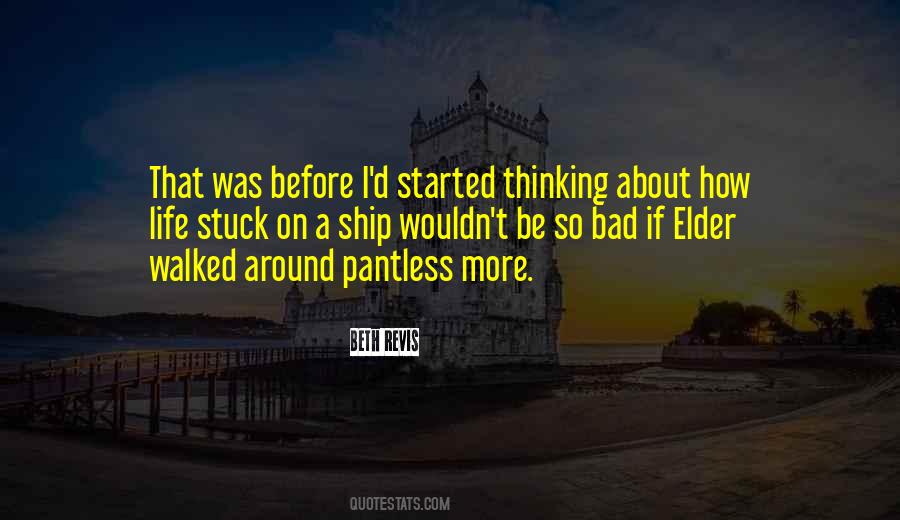 #39. What's in a life without Camaraderie? For setting sail on a ship with a band of merry brothers by your side is much more gratifying than drifting aimlessly on a boat lost alone at sea. - Author: Saim .A. Cheeda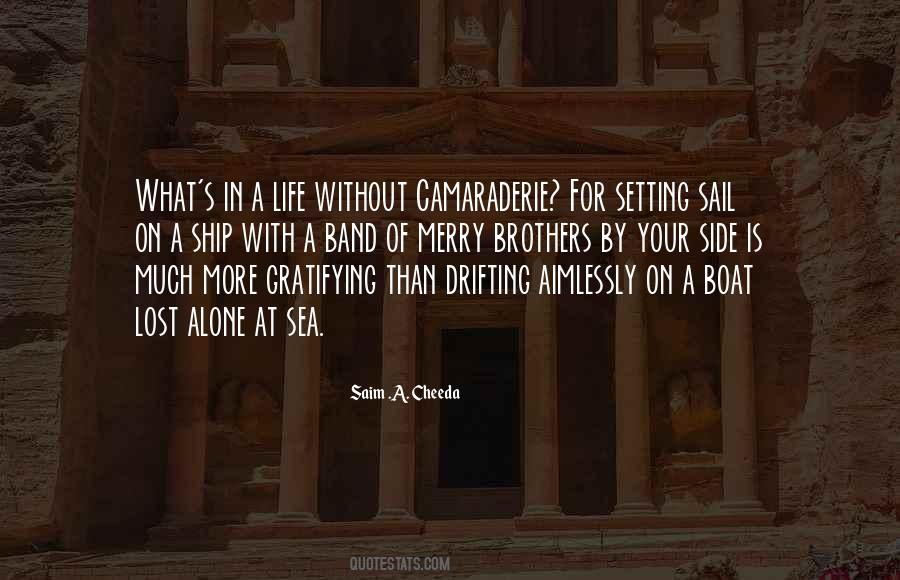 #40. Just as I shall select my ship when I am about to go on a voyage, or my house when I propose to take a residence, so I shall choose my death when I am about to depart from life. - Author: Seneca.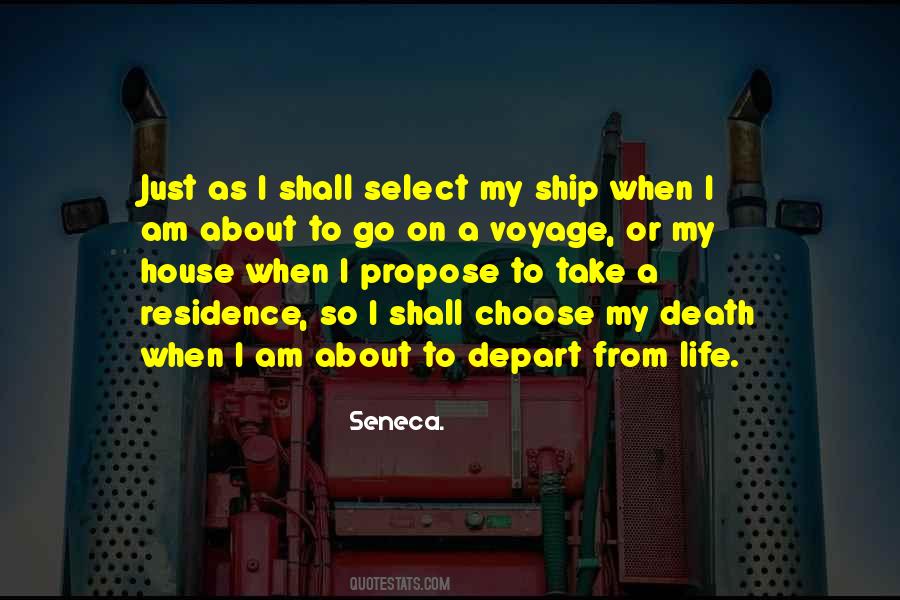 #41. World is just like a ship in the sea, having each type of mankind, it depends upon you, whether you join good community or bad to completer your journey. - Author: Arbab Jehangir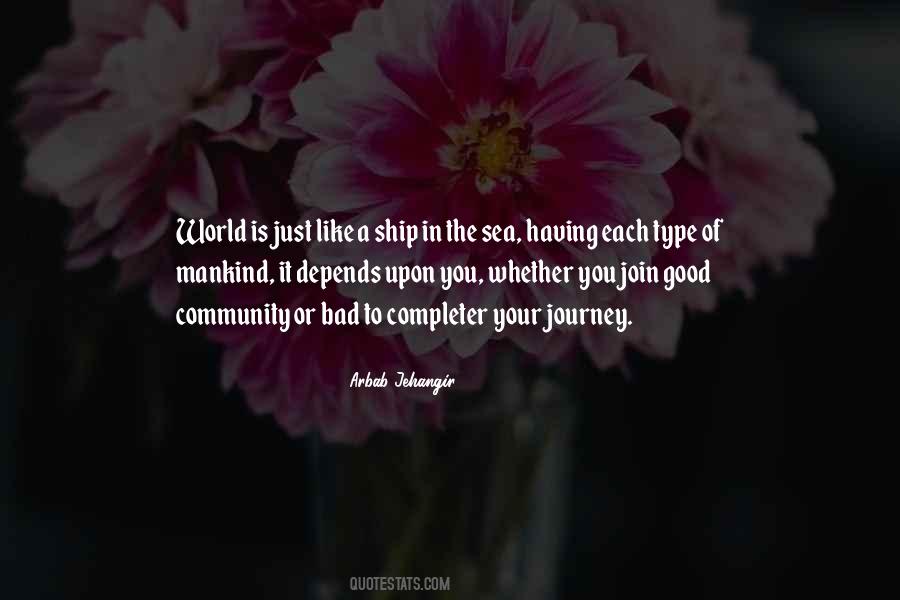 #42. I am absolutely enraptured by the atmosphere of a wreck. A dead ship is the house of a tremendous amount of life-fish and plants. The mixture of life and death is mysterious, even religious. There is the same sense of peace and mood that you feel on entering a cathedral. - Author: Jacques-Yves Cousteau
#43. Love's ship has foundered on the rocks of life. We're quits: stupid to draw up a list of mutual sorrows, hurts and pains. - Author: Vladimir Mayakovsky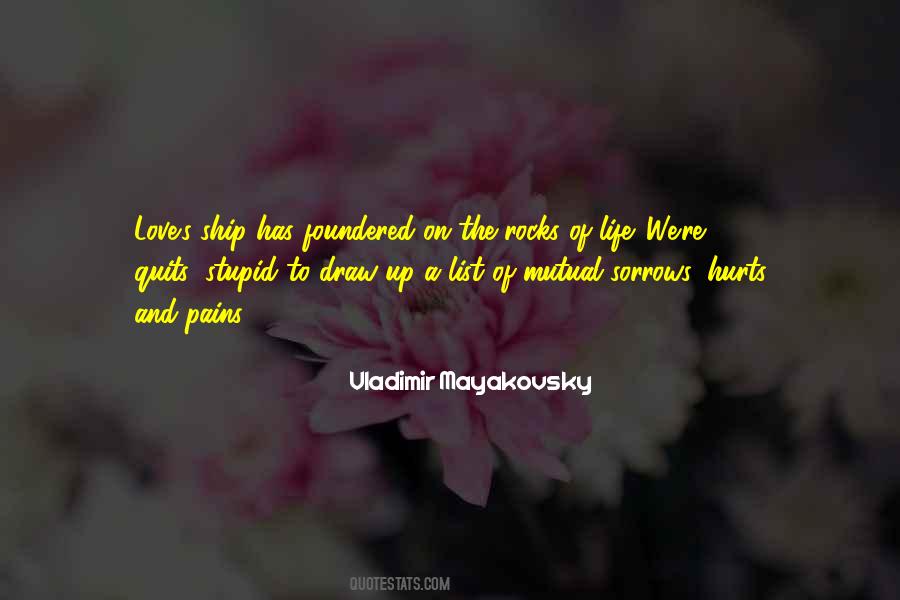 #44. Life changes so quickly and like a sailboat you either wait for whatever cross wind comes your way to move you on your journey or you can actually decide where you want to go and use the ship's engine to stay on course. - Author: Wes Adamson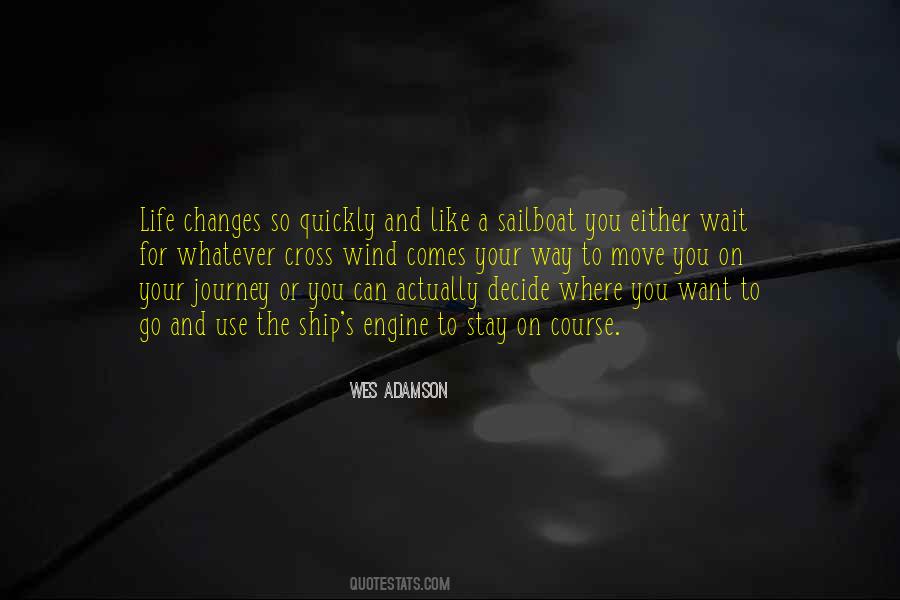 #45. Friends are necessary to a happy life. When friendship deserts us, we are as helpless as a ship left by the tide high upon the shore. When friendship returns to us, it's as though the tide came back, giving us buoyancy and freedom. - Author: Harry Emerson Fosdick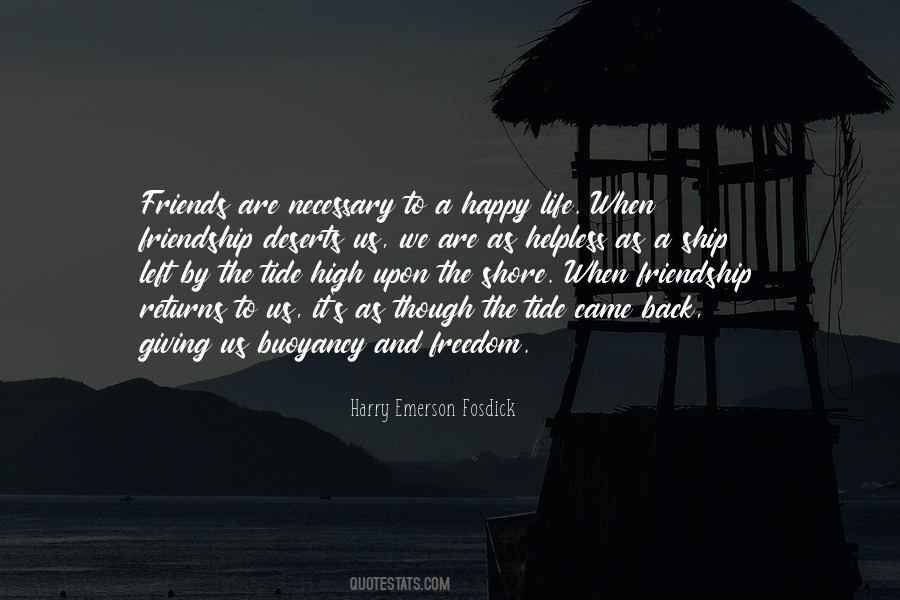 #46. In this world we're all travelers on the same ship that has set sail from one unknown port en route to another equally foreign to us; we should treat each other therefore with the friendliness due to fellow travelers. - Author: Fernando Pessoa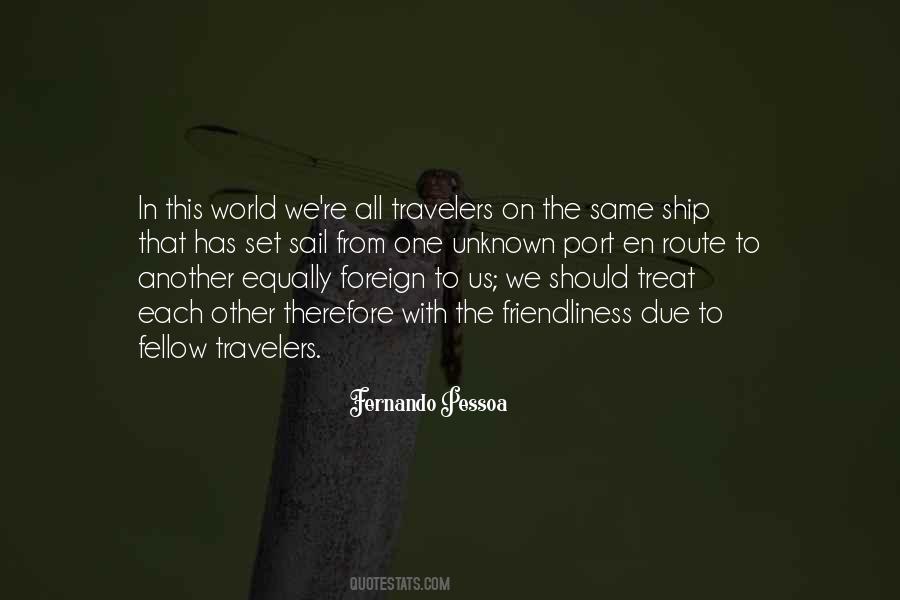 #47. A ship should not ride on a single anchor, nor life on a single
hope - Author: Epictetus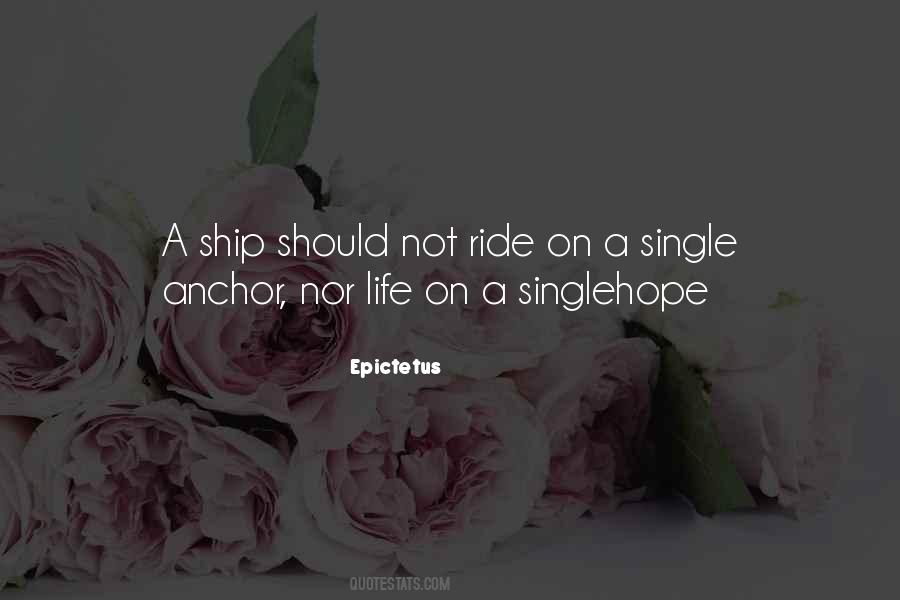 #48. But all the love in the world won't save a sinking ship. You have to either bail or jump overboard. - Author: Sarah Dessen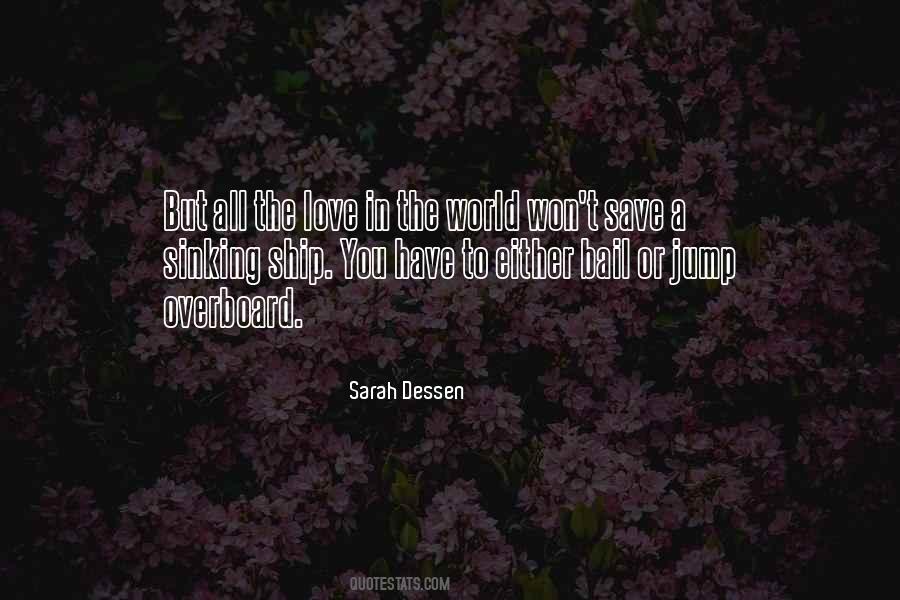 #49. An order given in battle, an instruction issued by the master of a sailing ship, a cry for help, are as powerful in modifying the course of events as any other bodily act ... You utter a vow or forge a signature and you may find yourself bound for life to a monastery, a woman or prison. - Author: Bronislaw Malinowski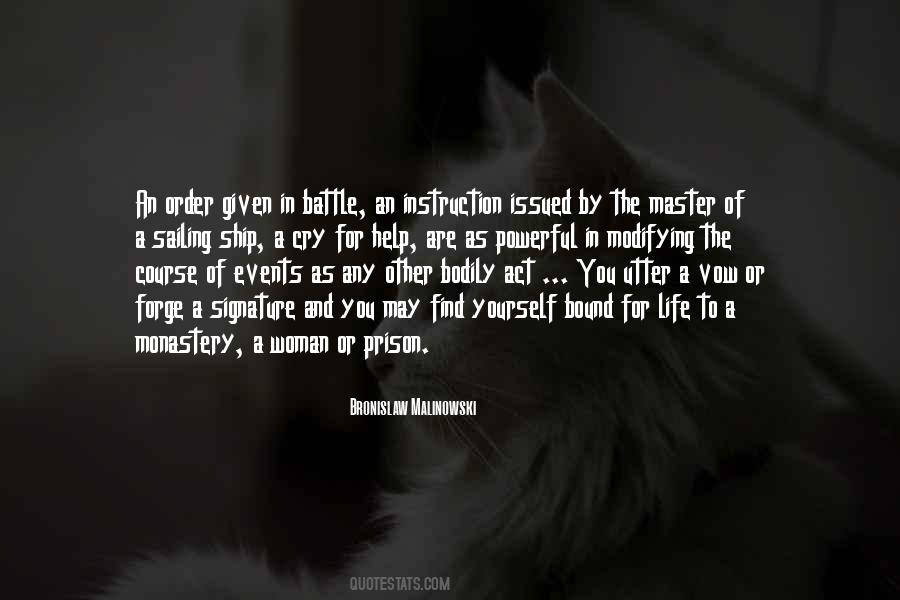 #50. We must develop a deeper interest and greater understanding of the people we meet here or abroad. Like us, they are passengers on board that mysterious ship called life. - Author: Ella Maillart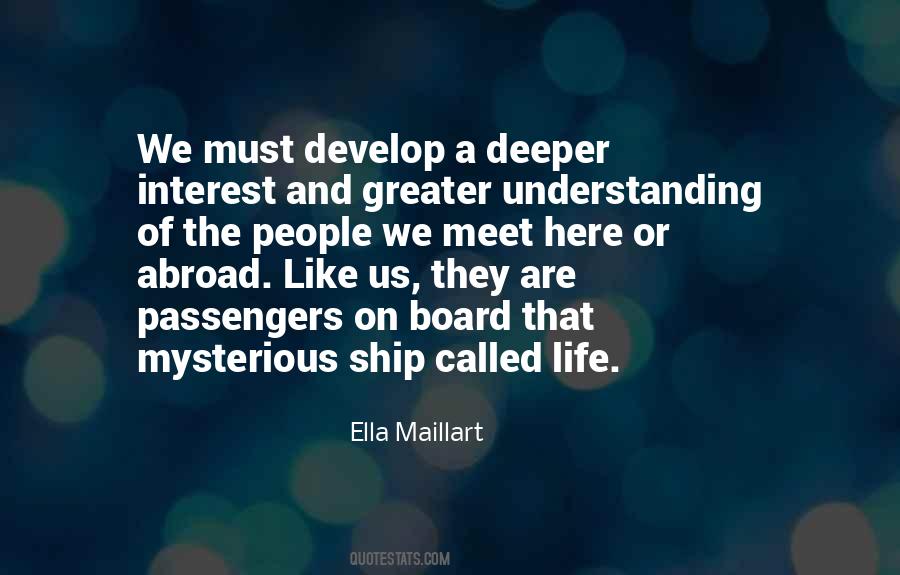 #51. The day watch stayed on deck, running the rigging and undertaking the never-ending chores of ship life. A few favoured me with a customary glare or two, but none attempted to converse, a mercy for which I was grateful. - Author: Anthony Ryan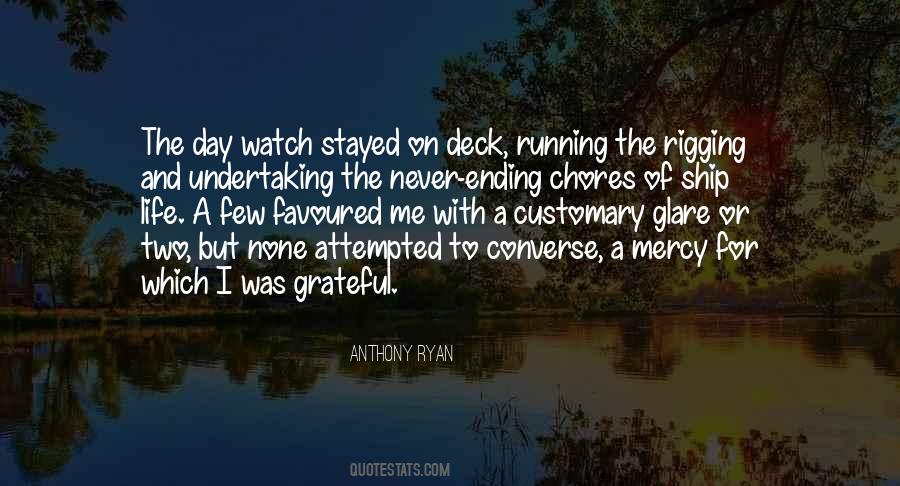 #52. Develop distinct habits of wreaking havoc on any stinking thinking addicted to launching mental missiles aimed at sinking your unique magic. - Author: Curtis Tyrone Jones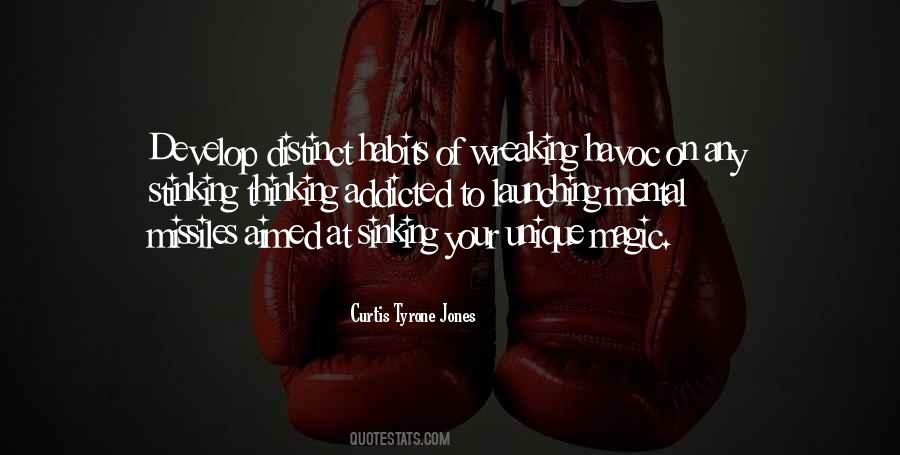 #53. Neither should a ship rely on one small anchor, nor should life rest on a single hope. - Author: Epictetus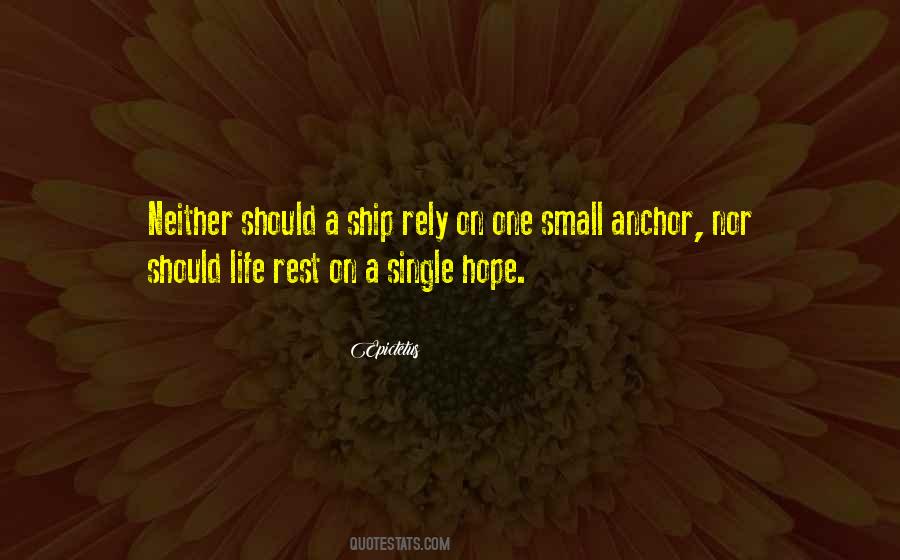 #54. His reading suggested a man swimming in the sea among the wreckage of his ship, and trying to save his life by greedily clutching first at one spar and then at another. - Author: Anton Chekhov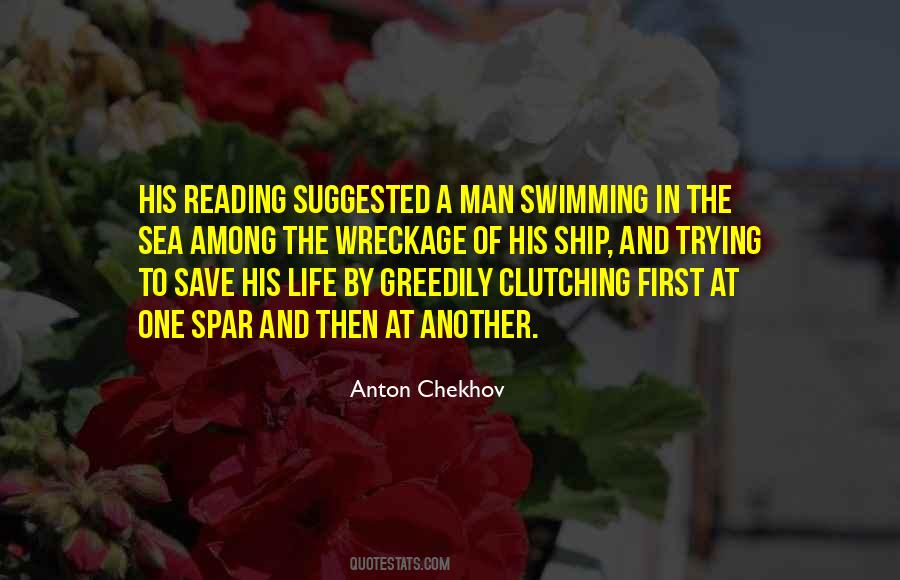 #55. We simply can't abandon ship every time we encounter a storm in our marriage. Real love is about weathering the storms of life together. - Author: Seth Adam Smith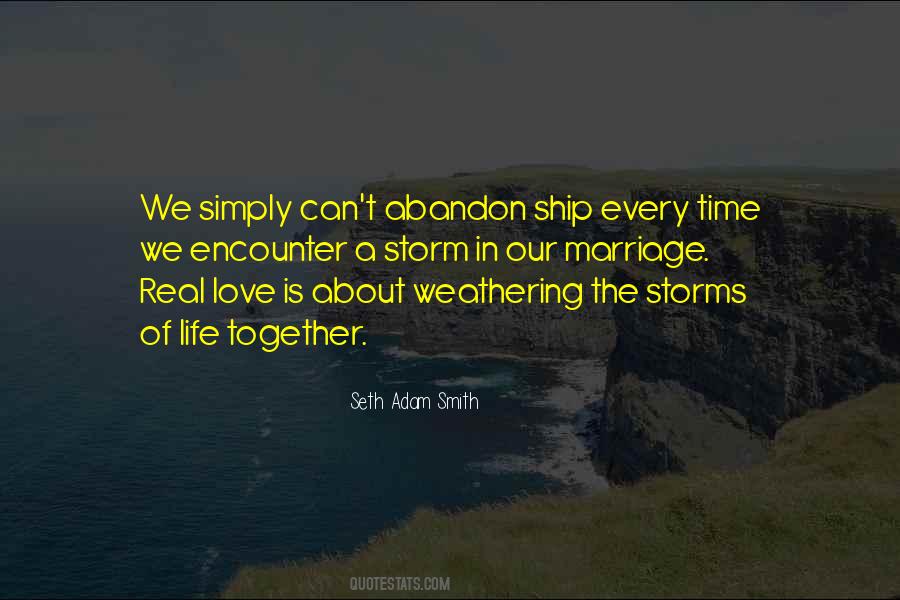 #56. Are you a passenger on a ghost ship or are you the pilot? - Author: Chris Hardwick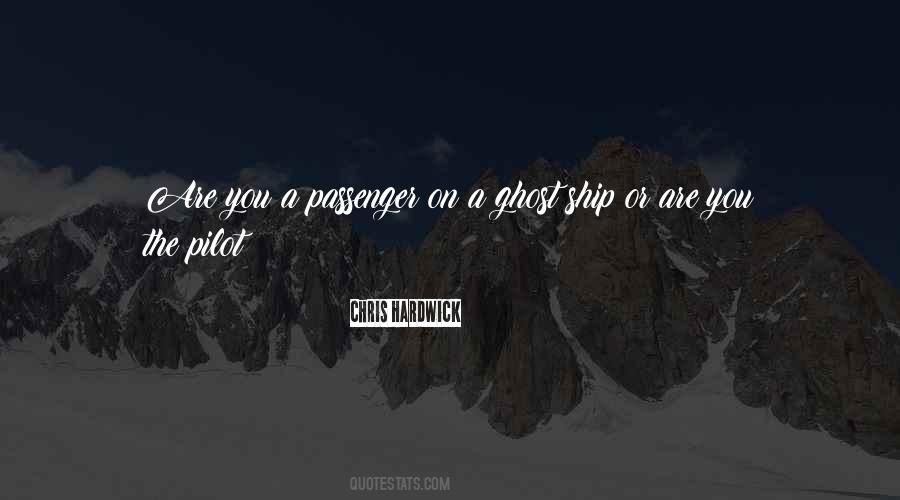 #57. The entity that gives life and motion to the human body is finer still and lies infinitely beyond the reach of our finest scientific instruments. When this entity deserts the body, the body is like a ship without a rudder - deserted, motionless, dead. - Author: Thomas A. Edison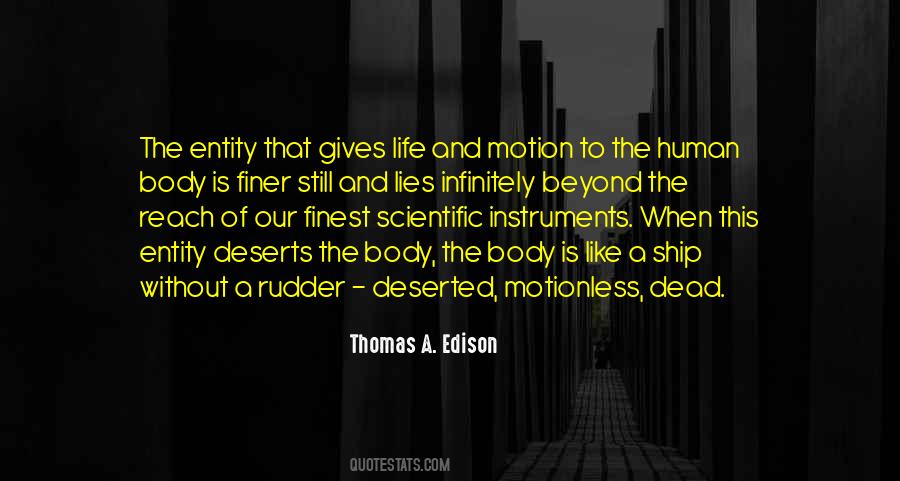 #58. To have meaning, our lives require both passion and purpose. A life without passion is like a furnace without fuel, and without purpose, like a ship without a rudder. - Author: Mardy Grothe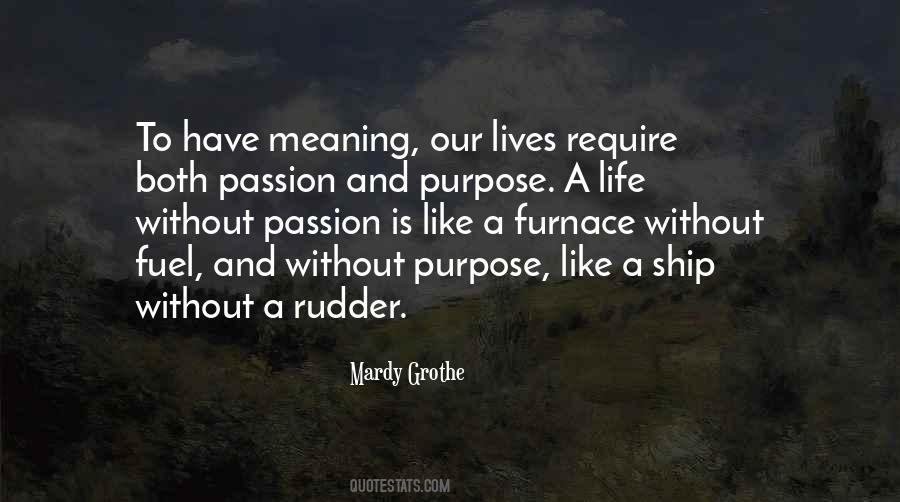 #59. I'll never know, and neither will you, of the life you don't choose. We'll only know that whatever that sister life was, it was important and beautiful and not ours. It was the ghost ship that didn't carry us. There's nothing to do but salute it from the shore. - Author: Cheryl Strayed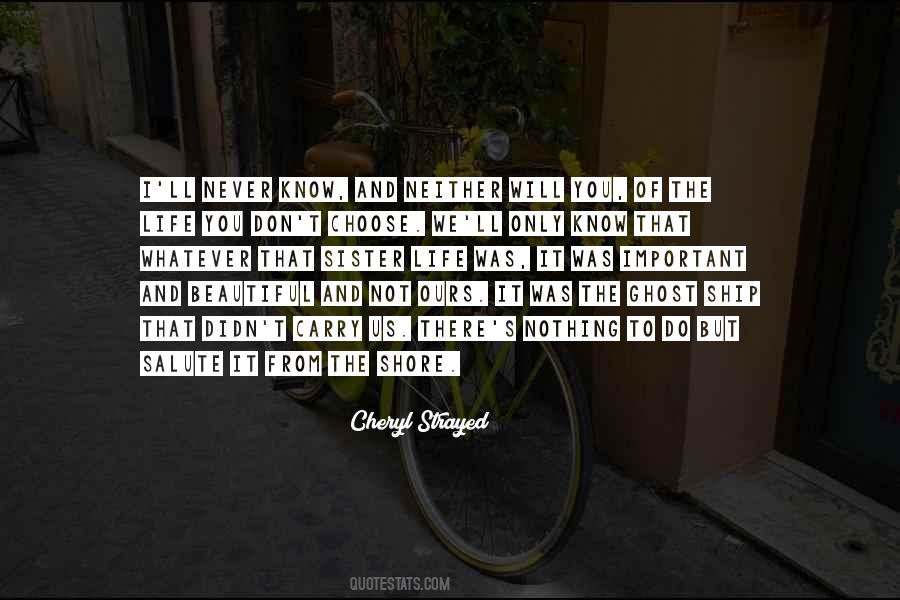 #60. We should not moor a ship with one anchor, or our life with one hope. - Author: Epictetus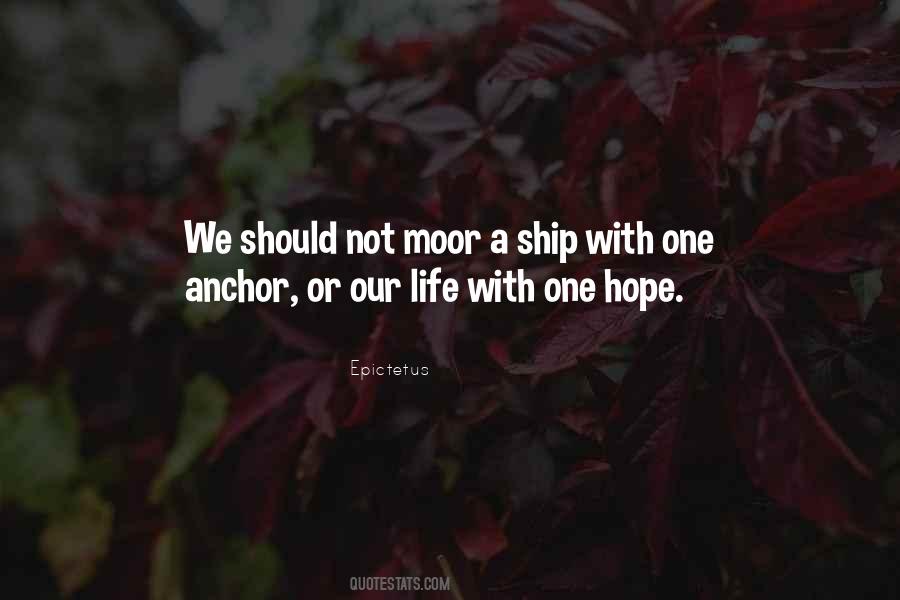 #61. The locust continues
to devour the world
Hunger persists
Love lurches on
listing to starboard
like a ship in a bottle
Human longing goes on
Loneliness a curse
Innocence persists
Ignorance persists - Author: Lawrence Ferlinghetti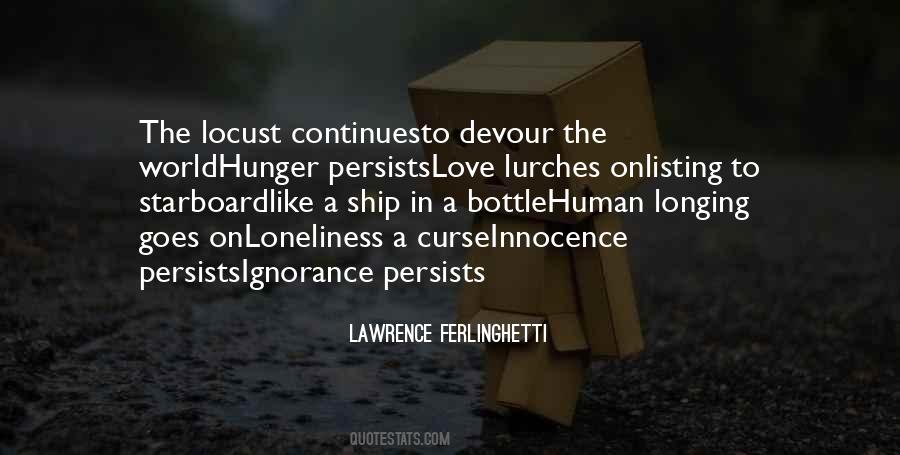 #62. On landing at New York I caught the yellow fever. The kind man who commanded the ship that brought me from France took charge of me and placed me under the care of two Quaker ladies. To their skillful and untiring care I may safely say I owe my life. - Author: John James Audubon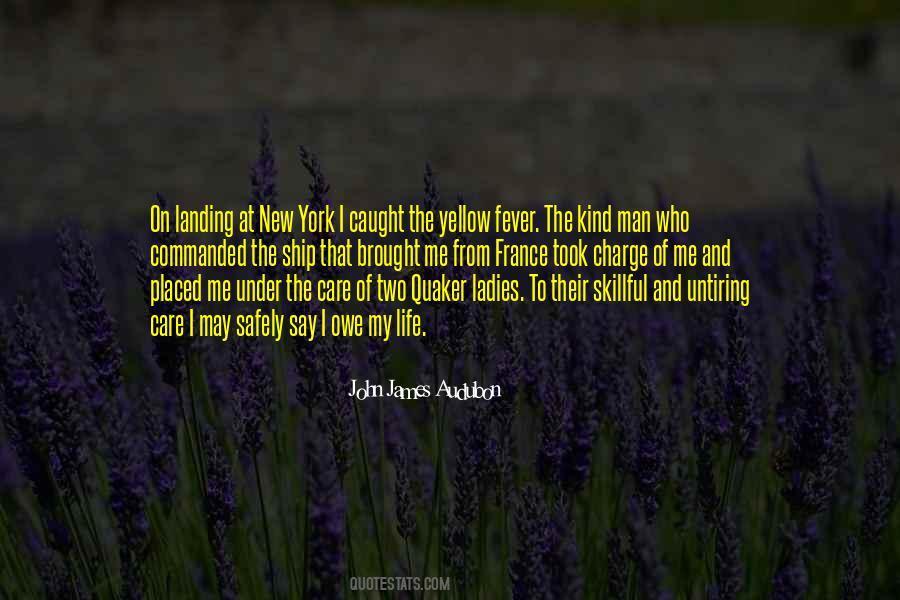 #63. shall sail the iron ship with warriors of bone, You shall find what you seek and make it your own, But despair for your life entombed within stone, And fail without friends, to fly home alone. - Author: Rick Riordan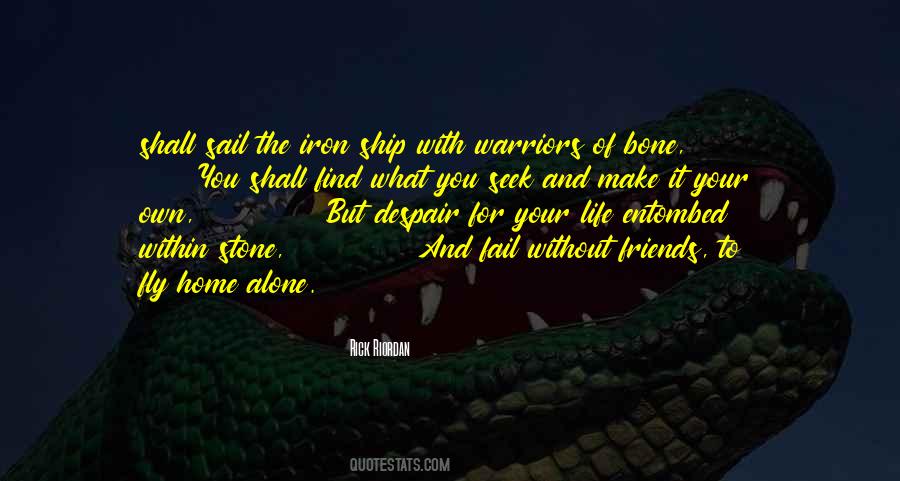 #64. Even in dying, a Thennanin ship was reputed to be not worth putting out of its misery. In battle they were slow, unmaneuverable - and as hard to disable permanently as a cockroach. - Author: David Brin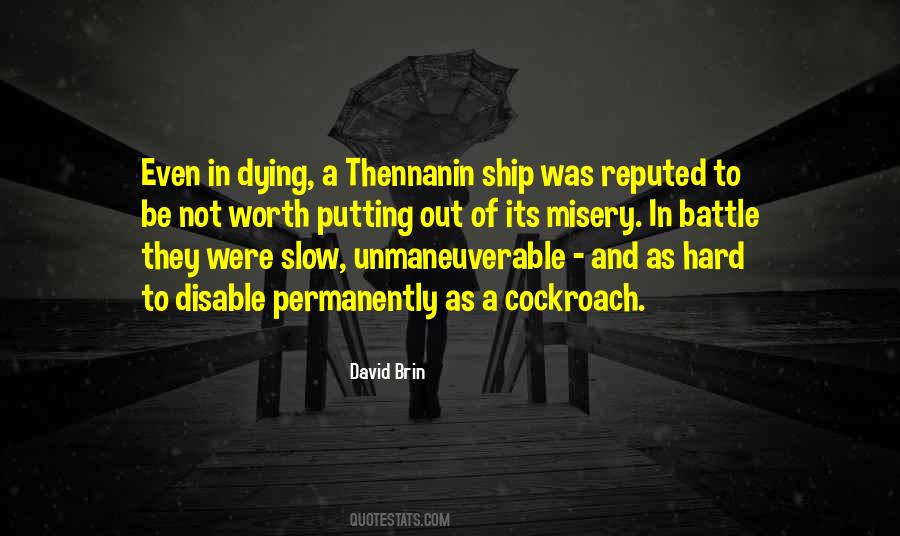 #65. A ship should not be held by a single anchor; neither should life depend upon a single hope. - Author: Epictetus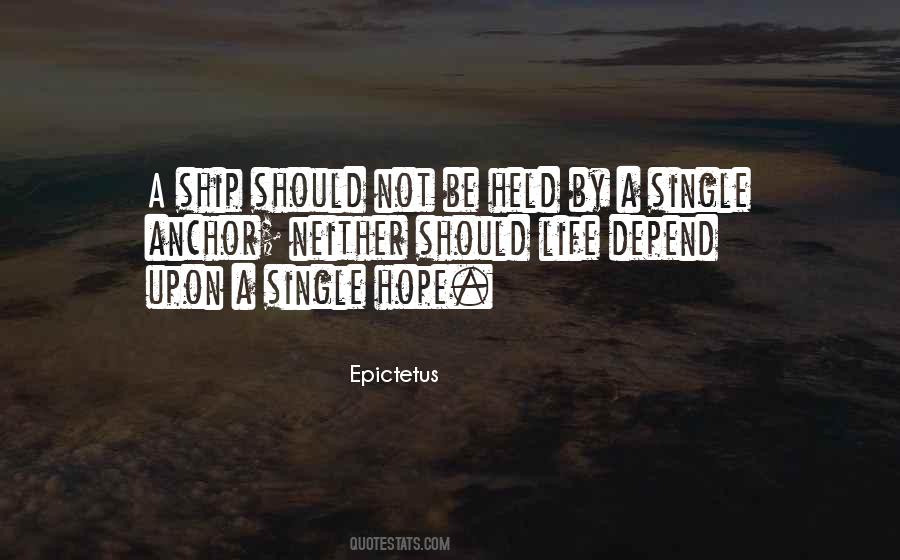 #66. I beg You, O my God, to be my life, my ship, my haven. You have made me ascend the cross of Your Son and I struggle to accept it as best I can. I am sure that I shall never come down from
it. - Author: Pio Of Pietrelcina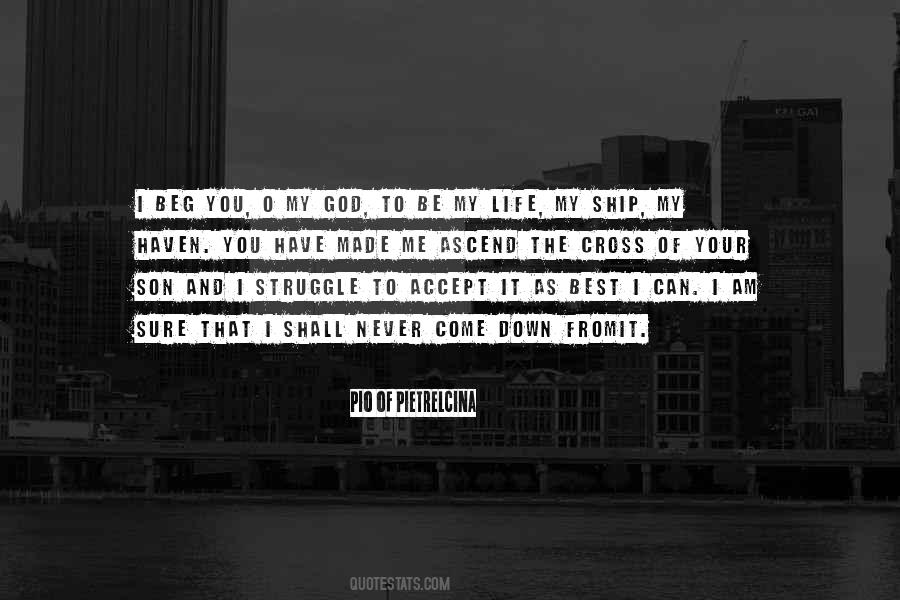 #67. Let our virtuous deeds, keep us afloat as a well maintained ship and safely, cross this ocean of worldly life. - Author: Rajen Jani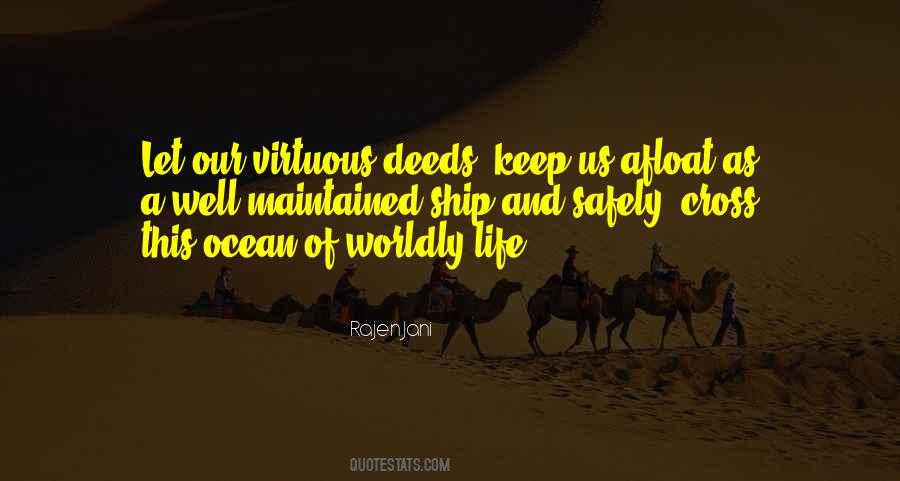 #68. All we have to do is preserve our personality, to live our own life, be captain of our own ship, and all will be well. - Author: Edward Bach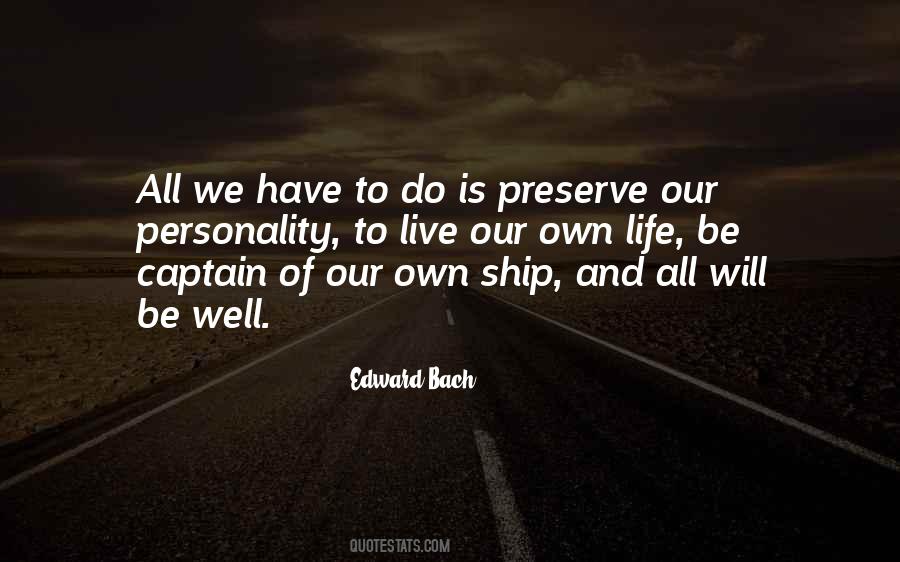 #69. My 30 year attempt (and subsequent failure) to reach "normal" has brought me to ponder whether "normal" even exists, or if it is nothing more than delusional grandeur based in the sounds of those sweet sirens drawing my ship in all the wrong directions. - Author: Dan Pearce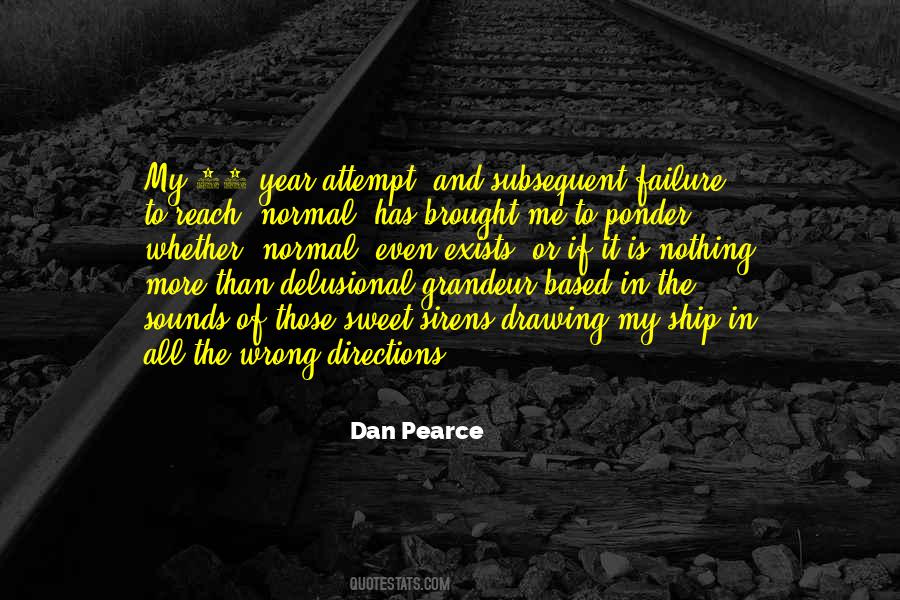 #70. 3,2,1 ... Launch! A lot of preparation goes into launching a rocket ship. No short cuts or cheating will get that rocket to its destination. A lot of hard work and dedication goes into every launch. What are you doing to launch? Are you doing the proper work needed? Are you dedicated? - Author: Robert D. Kintigh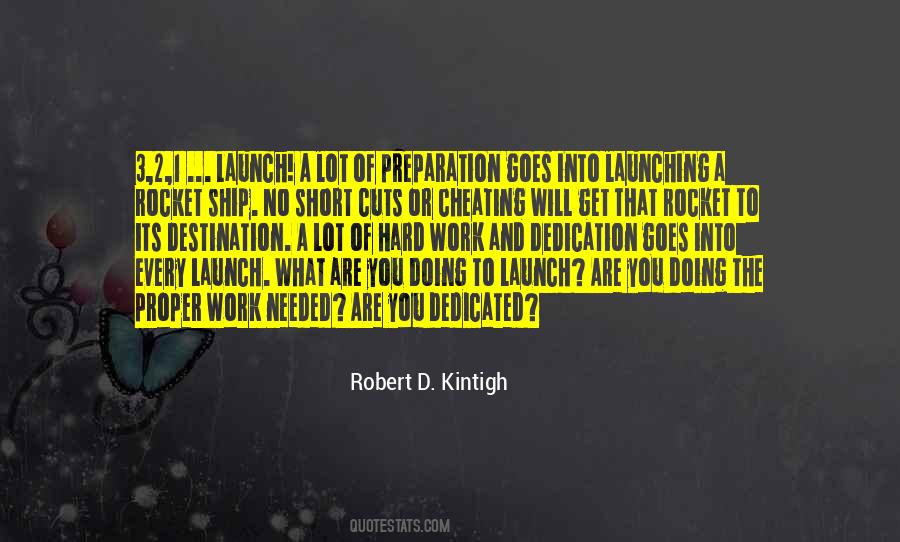 #71. I am sailing on a ship bound for life.
a line in a song - Author: Phil Wickham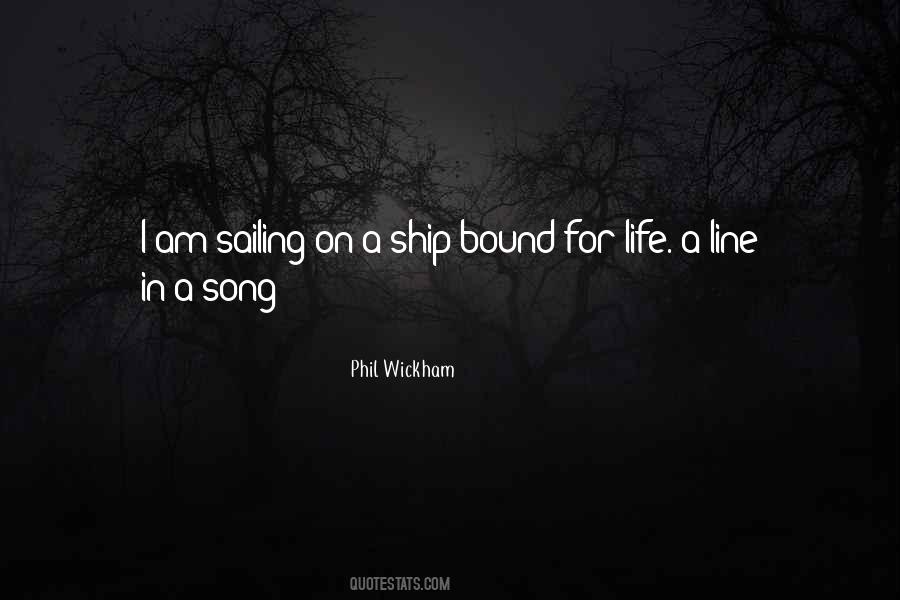 #72. Without goals, and plans to reach them, you are like a ship that has set sail with no destination. - Author: Fitzhugh Dodson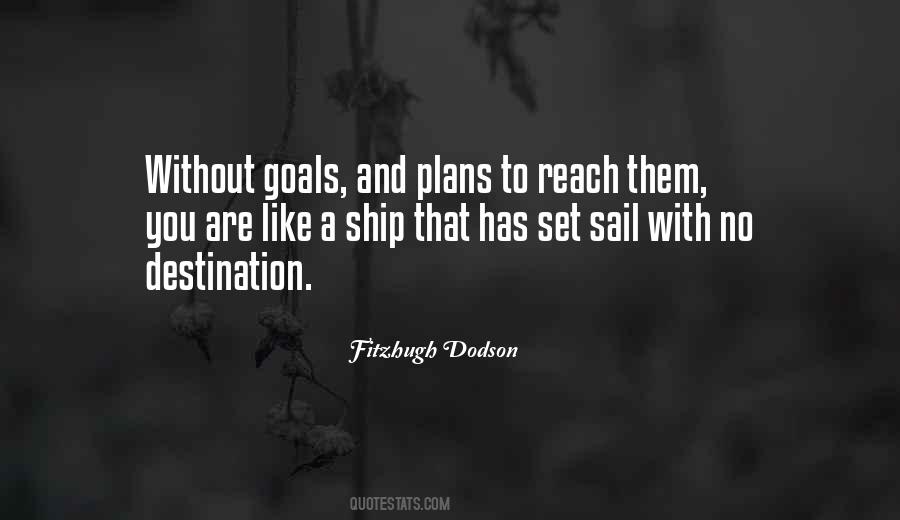 #73. I'll disappear in the fog as a foreigner to all life, as a human island detached from the dream of the sea, as a uselessly existing ship that floats on the surface of everything. - Author: Fernando Pessoa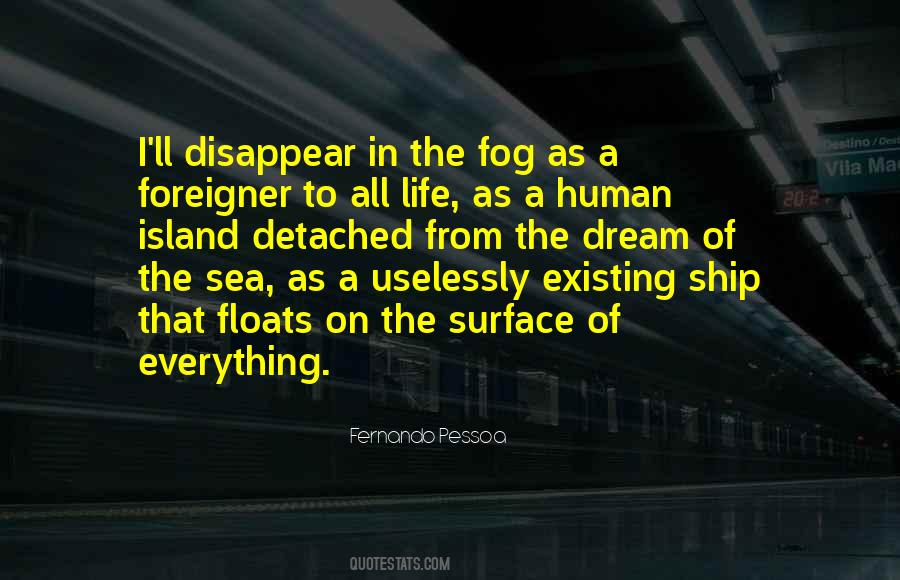 #74. Give me a spirit that on this life's rough sea Loves t'have his sails filled with a lusty wind, Even till his sail-yards tremble, his masts crack, And his ship run on her side so low That she drinks water, and her keel plows air. - Author: George Chapman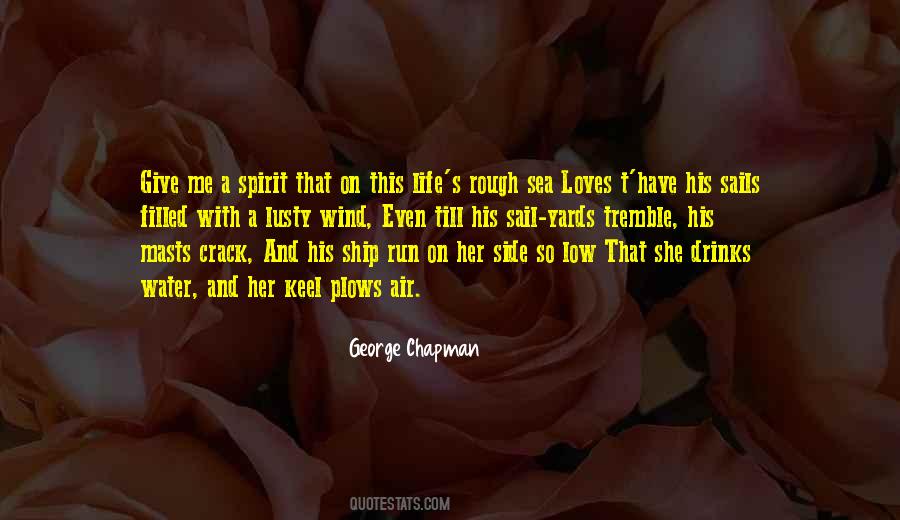 #75. The only ship you can truly steer in this ocean is the one you're sailing. Quit trying to alter the winds; harness them. - Author: Richelle E. Goodrich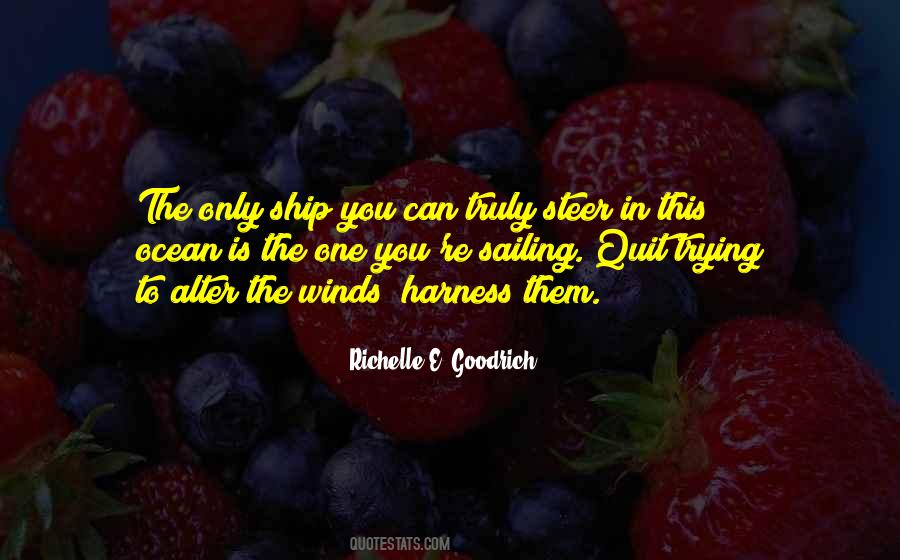 #76. The ship, built on one element, but designed to have its life in another, seemed an image of the soul, formed and fashioned with many a weary hammer-stroke in this life, but finding its true element only when it sails out into the ocean of eternity. - Author: Harriet Beecher Stowe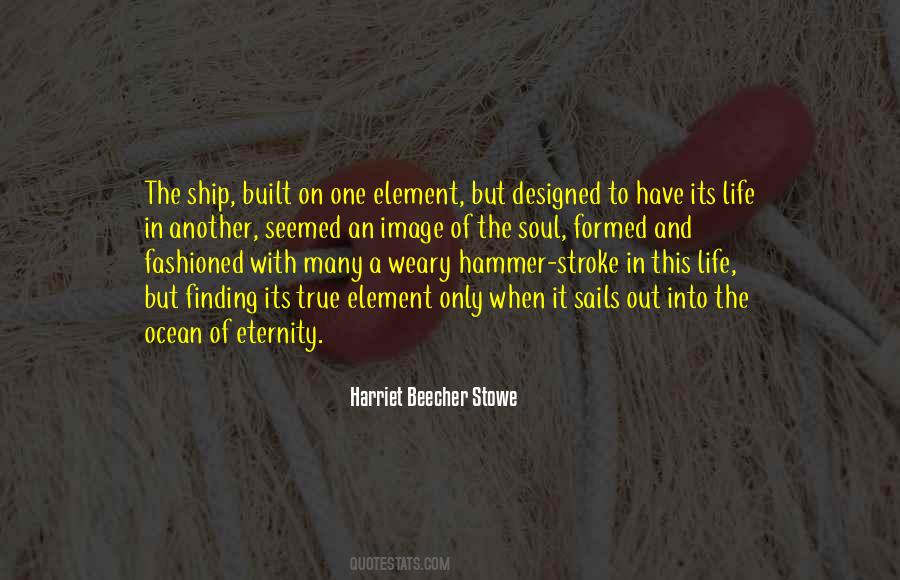 #77. Life is like a ship. There's people dancing on a ship.There's a lot of money on the ship, but I cannot integrate on the ship or get equality on the ship.And I never could. I'm just in the galley working and I never could get up to see the captain of the ship. - Author: Muhammad Ali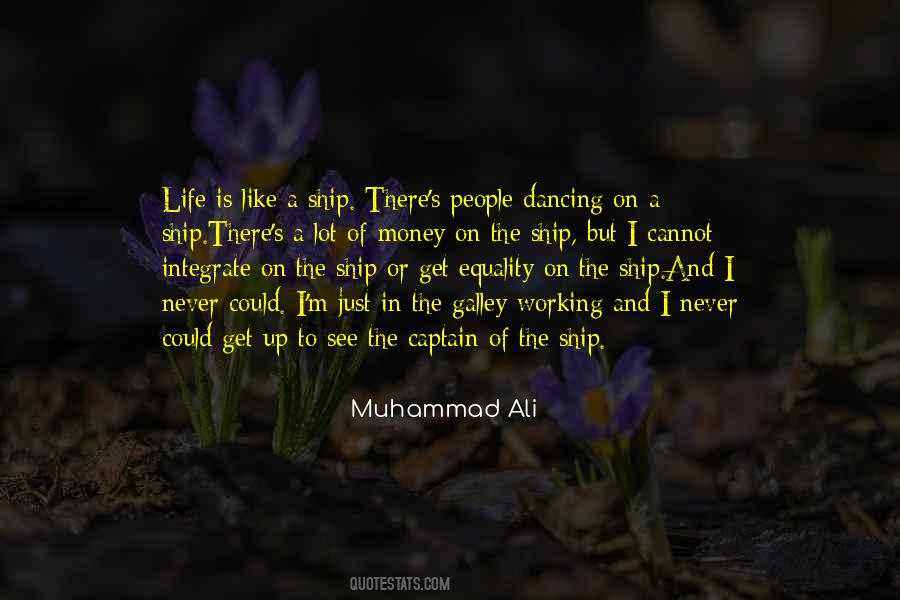 #78. How happy is the Optimist / To whom life shows its sunny side / His horse may lose, his ship may list, / But he always sees the funny side. - Author: Phyllis McGinley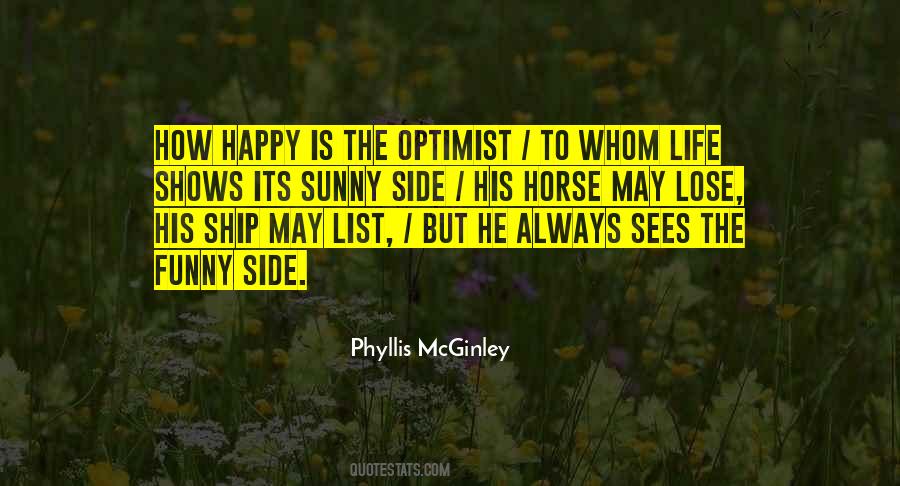 #79. One of the problems in the Navy is that tradition of being captain of the ship. And an awful lot of people can be retired in the Navy, get over it, get a life, and go on. But there's a lot who can't. And when they have to give up the ship, they got to be captain of something, every single day. - Author: Patricia Schroeder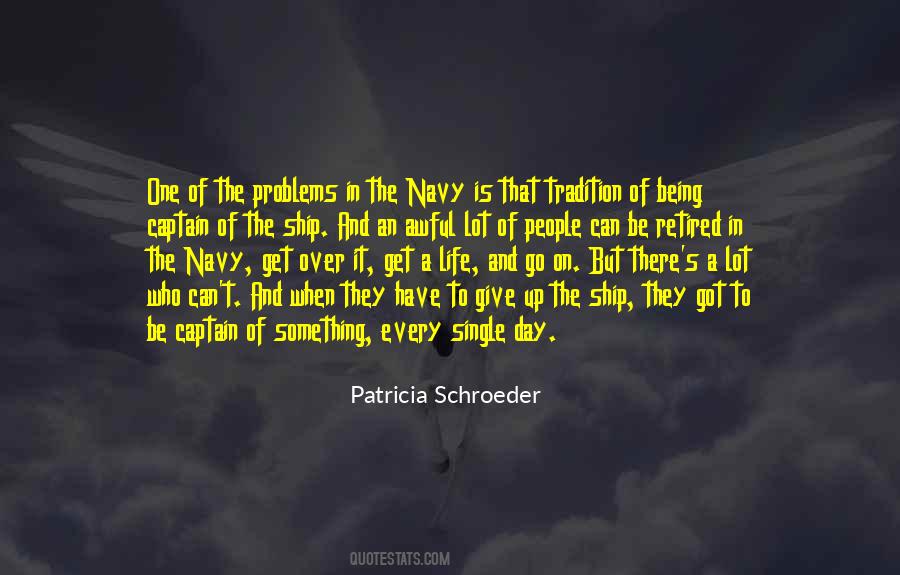 #80. Yet the evil still increased, and, like the parasite of barnacles on a ship, if it did not destroy the structure, it obstructed its fair, comfortable progress in the path of life. - Author: William Banting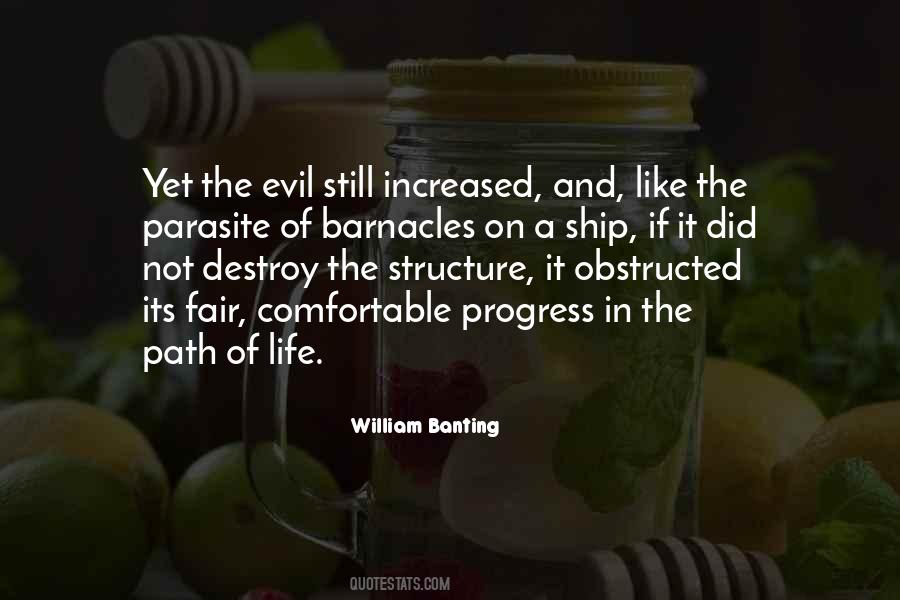 #81. This was life; you went down with the ship. Who was to say that wasn't a love story? - Author: Matthew Thomas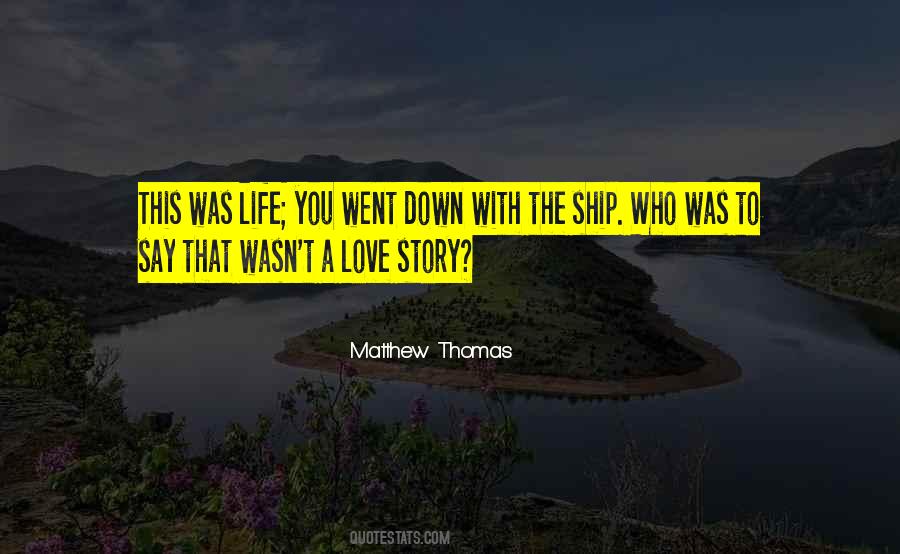 #82. they ask for water we give them sea
they ask for bread we give them sea
they ask for life we give them only the sea - Author: M. NourbeSe Philip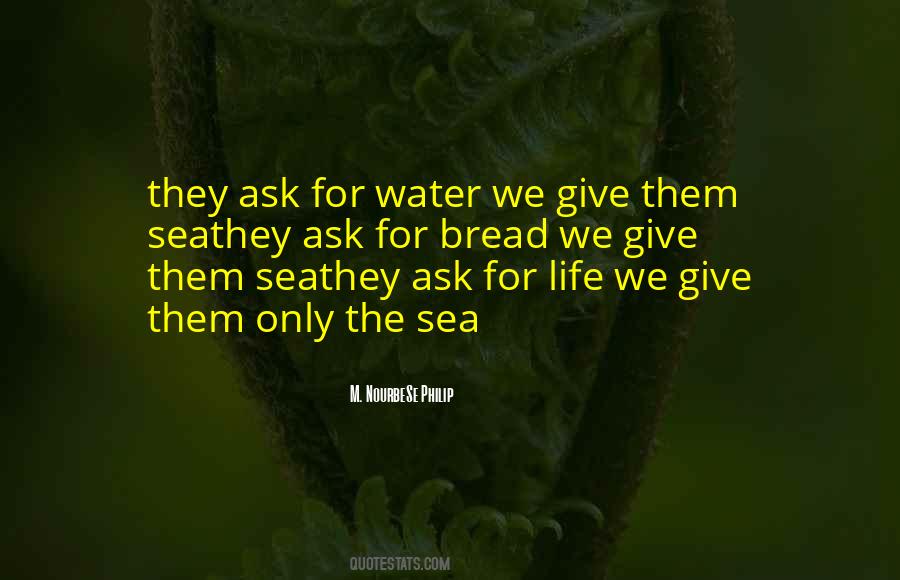 #83. Of all the things that man has made, no is so full of interest and charm,
none possesses so distinct a life and character of its own, as a ship. - Author: Henry Van Dyke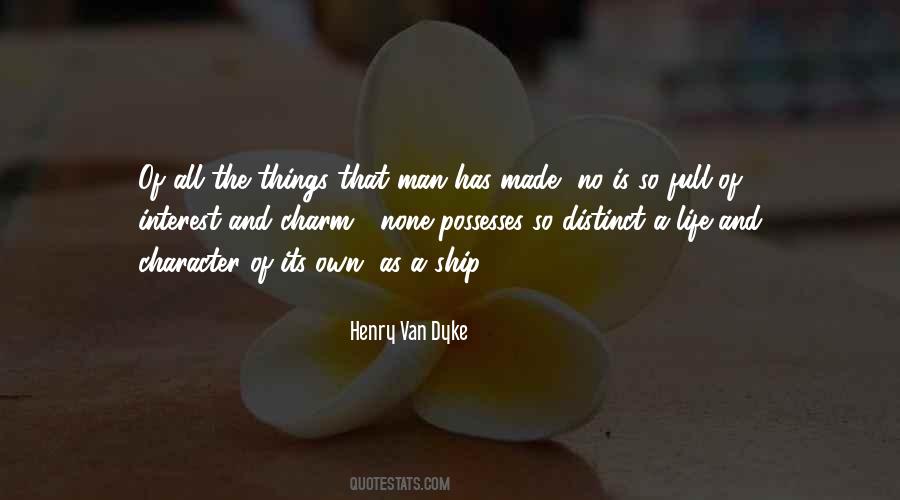 #84. But that's how it is on a sailing ship, and in this respect its journey parallels that of life: simply knowing where you want to go isn't enough, because life is a windblown voyage, consisting mainly of the detours imposed by alternating calm and storm. - Author: Carsten Jensen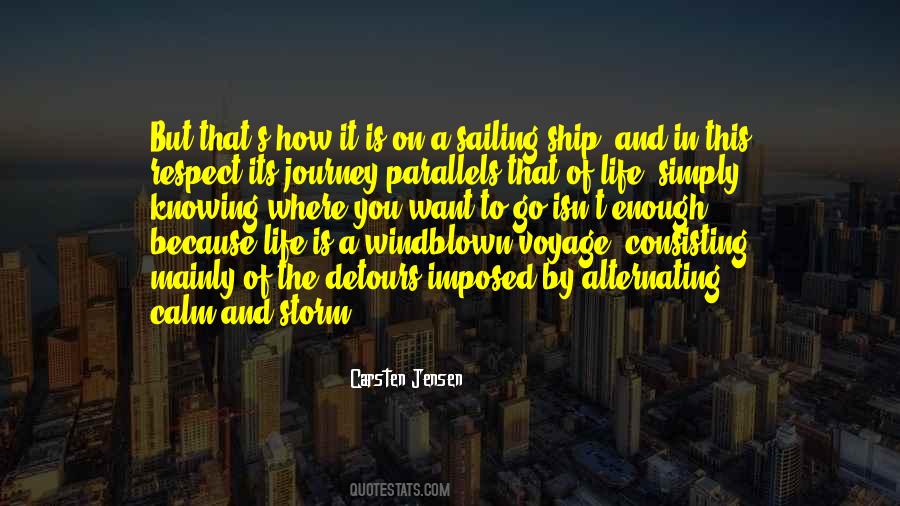 #85. Most people stand on the dock of life waiting for their ship to come in when deep down inside they know it has never left port. - Author: Zig Ziglar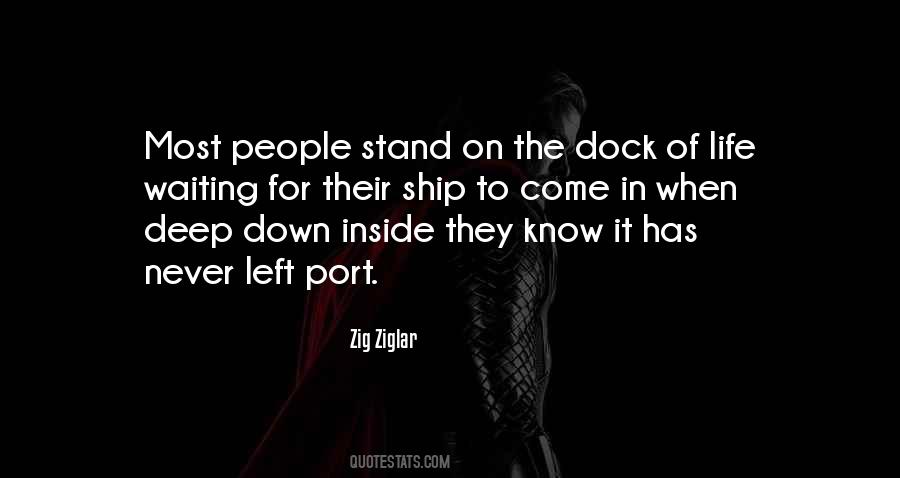 #86. Emperor of Mars: We should be rid of the Earthling now.

Count Rochefort: Was your daughter on the ship?

Emperor of Mars: Yes.

Emperor of Mars: Life is sad. - Author: Jason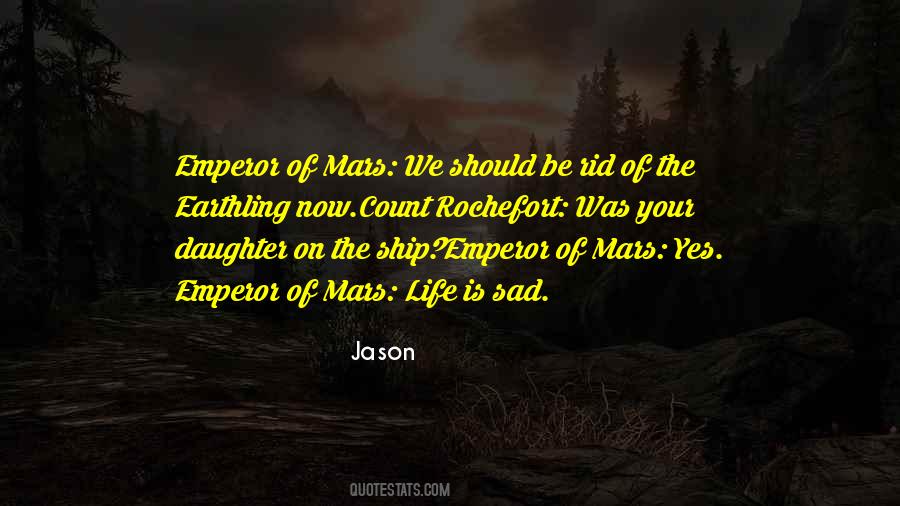 #87. Woe is me! Bitter is me! For what is my life? Why didn't the ship go under and drown me before I came to America? - Author: Anzia Yezierska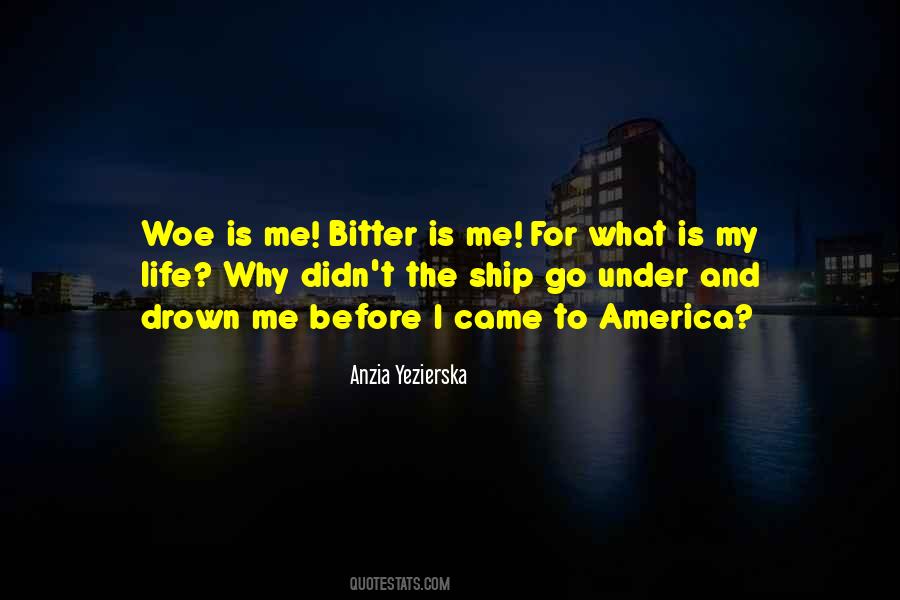 #88. Every man beholds his human condition with a degree of melancholy. As a ship aground is battered by the waves, so man, imprisonedin mortal life, lies open to the mercy of coming events. - Author: Ralph Waldo Emerson
#89. Everyone should have at least one magnificent obsession. It's a life jacket when the ship goes down - Author: Melanie Jackson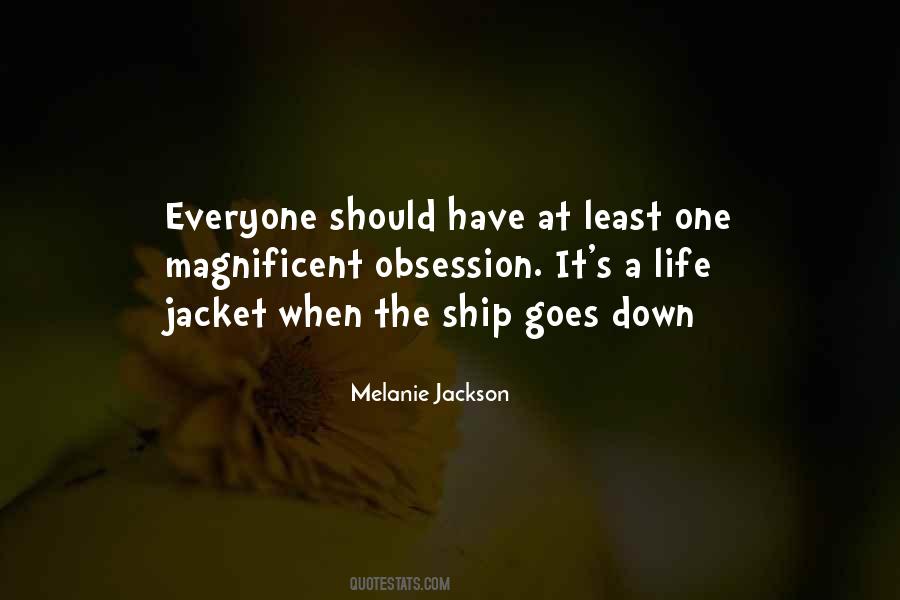 #90. A sailor chooses the wind that takes the ship from a safe port. Ah, yes, but once you're abroad, as you have seen, winds have a mind of their own. Be careful, Charlotte, careful of the wind you choose. - Author: Avi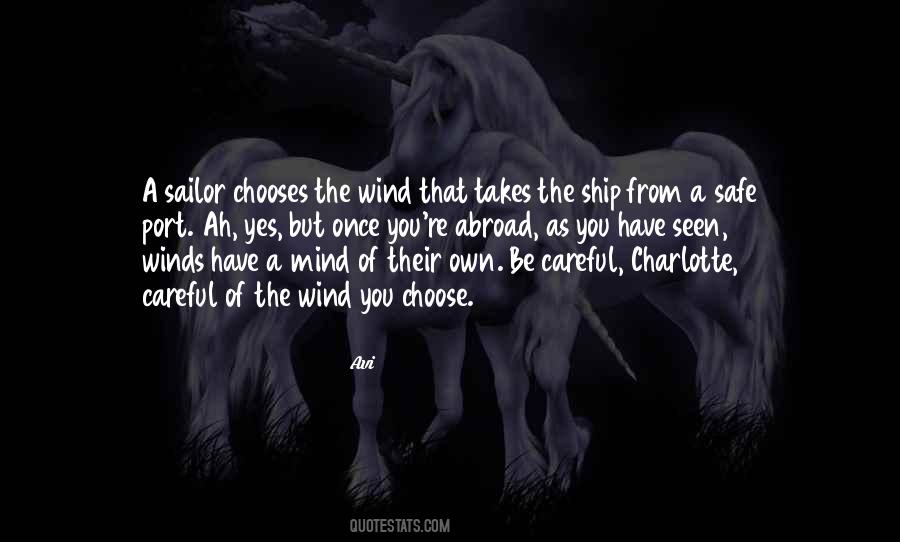 #91. The ship is always off course. Anybody who sails knows that. Sailing is being off course and correcting. That gives a sense of what life is about. - Author: Michael Meade
#92. When Christ came into my life, I came about like a well-handled ship. - Author: Robert Louis Stevenson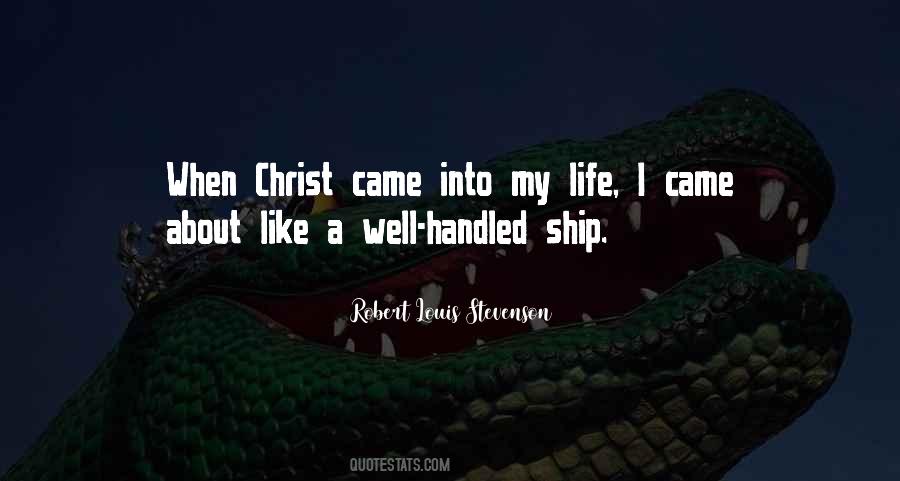 #93. Your life is your ship and you are the captain. Choose your course, take the wheel firmly and get on your way. - Author: Michael Josephson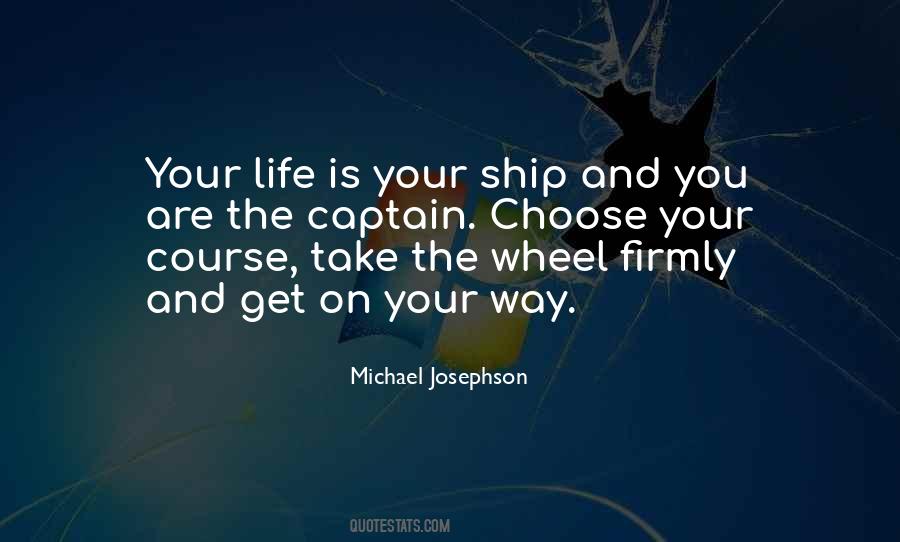 #94. Joy, shipmate, joy! (Pleased to my soul at death I cry), Our life is closed, our life begins, The long, long anchorage we leave, The ship is clear at last, she leaps! She swiftly courses from the shore, Joy, shipmate, joy! - Author: Walt Whitman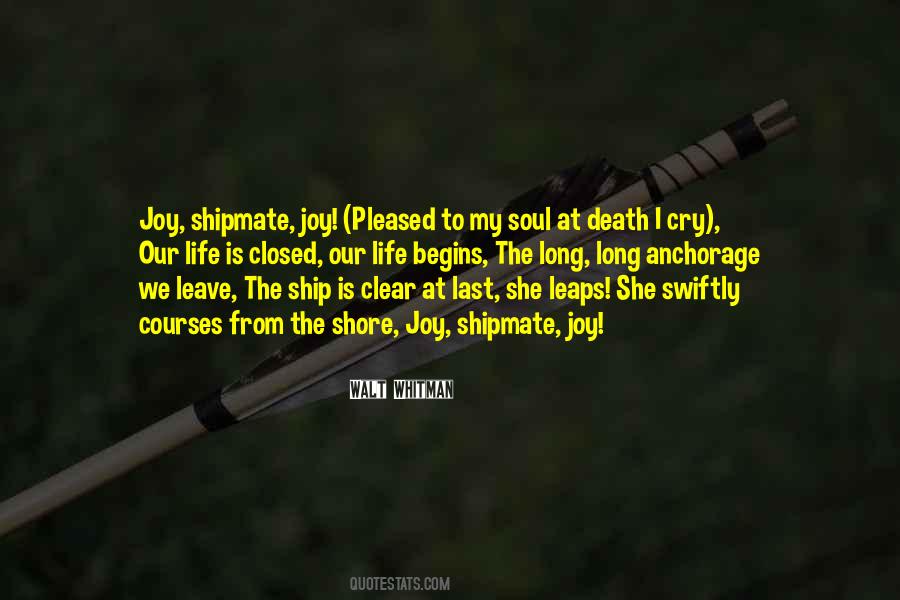 #95. Life is like riding a ship into the storm. For every wave you take up, you have to drop just as deep. - Author: Felix O. Hartmann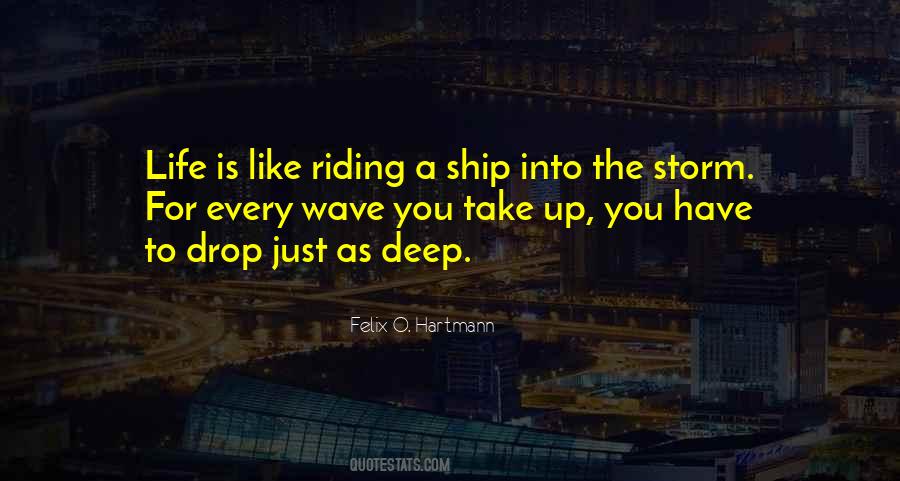 #96. You will always end up in this city. Don't hope for things elsewhere:
there is no ship for you, there is no road.
As you've wasted your life here, in this small corner,
you've destroyed it everywhere else in the world - Author: Constantine P. Cavafy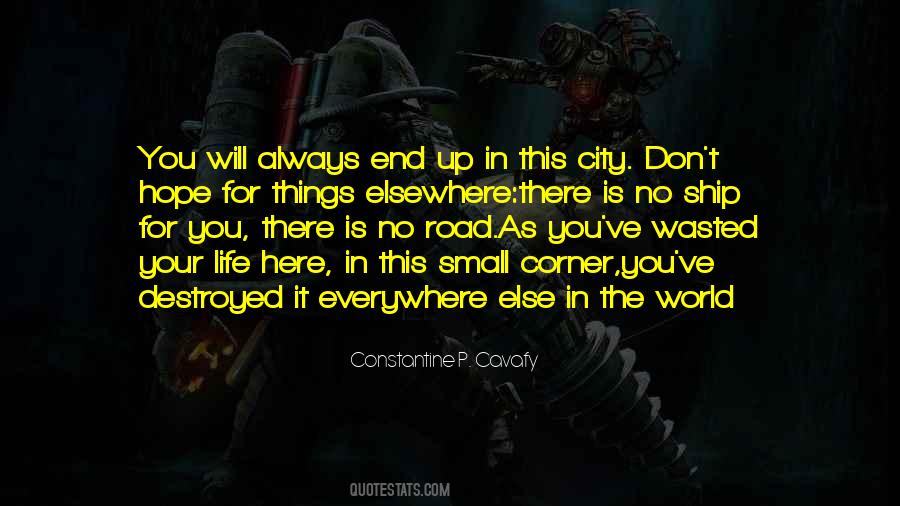 #97. What did it clarify for you?" Pinky asked.
Mrs. Brown laughed. "Told me to keep doing and saying what I dam well please, and not be bamboozled by anyone. Life is too short - no mulling things over for a dozen years or so. What about you?"
"I wasn't on the ship - Author: Kate Alcott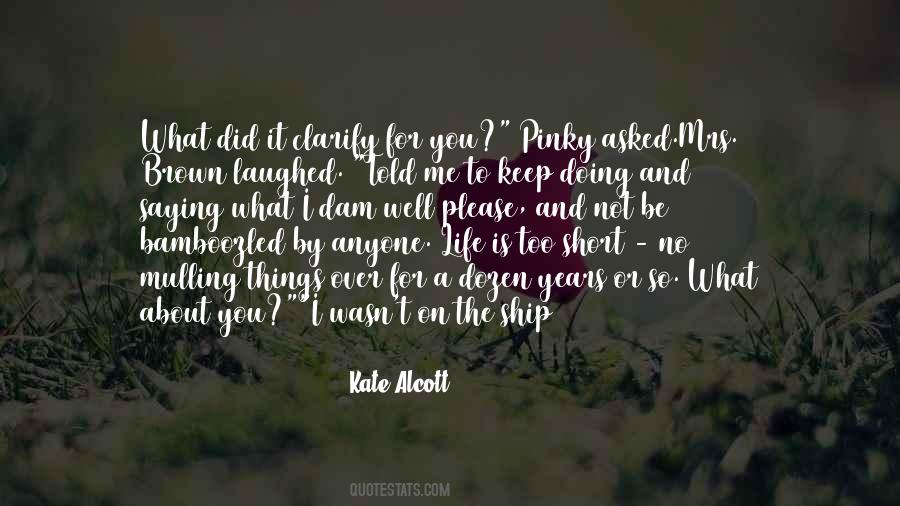 #98. On the ocean of life let your mind be the ship and your heart be the compass. - Author: James David Manning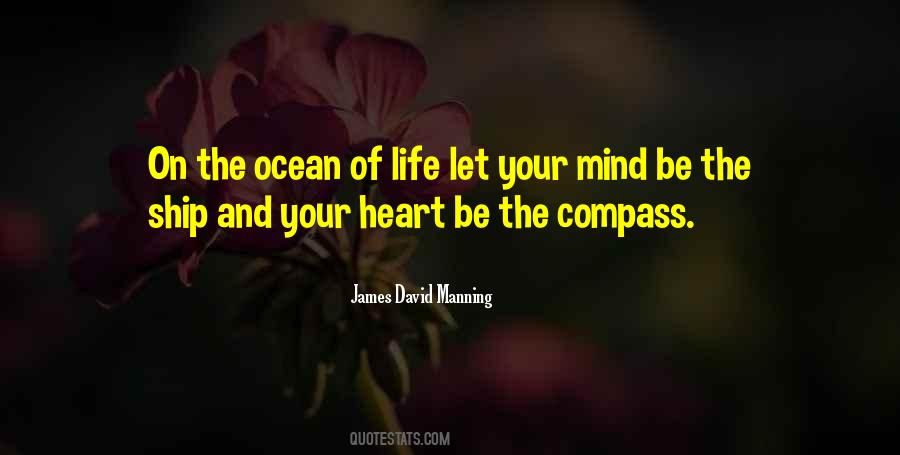 #99. I think you will like your life in the Transport Service, but it'll be far from normal. Being a slave ... or a goatherd's wife ... is closer to normal. A deep-space response ship pilot is a very, very rare thing. - Author: J.Z. Colby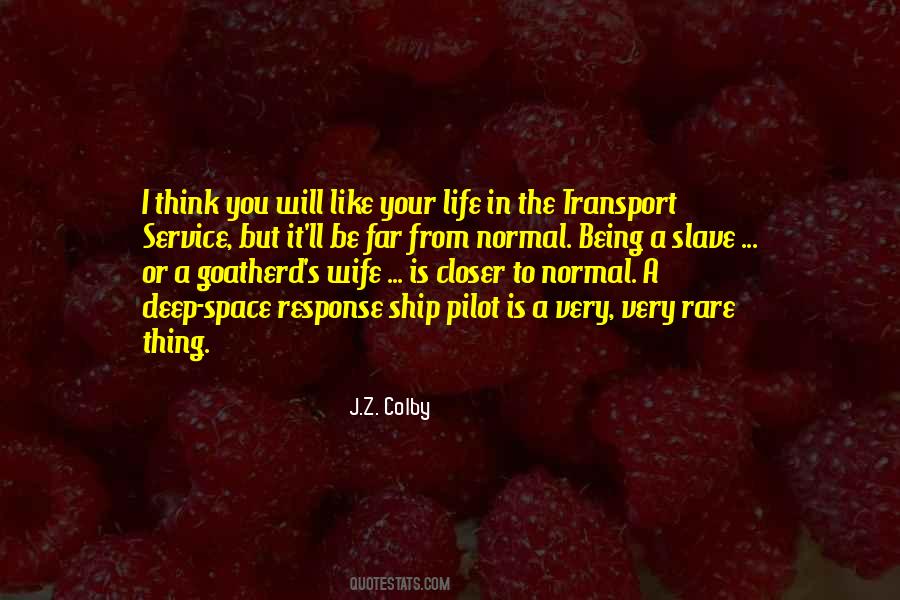 #100. When life's great storms come, the weak sink, the cowardly jump ship, the strong drop an anchor, the mighty adjust their sails, and the great sail on to their destiny. - Author: Matshona Dhliwayo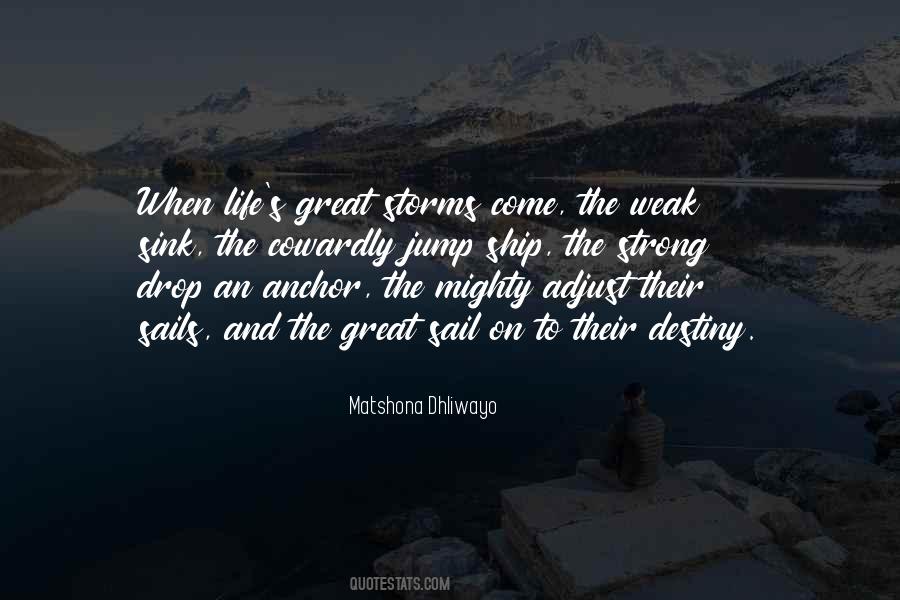 Famous Authors
Popular Topics