Serious Illness Famous Quotes & Sayings
List of top 38 famous quotes and sayings about serious illness to read and share with friends on your Facebook, Twitter, blogs.
Top 38 Quotes About Serious Illness
#1. Let me ask you a question: If you never ate a balanced diet, what would happen to your body? You know the answer: Eventually you'd grow weak; you might even open yourself to serious illness or disease. We all need a balanced diet if we are to stay healthy. - Author: Billy Graham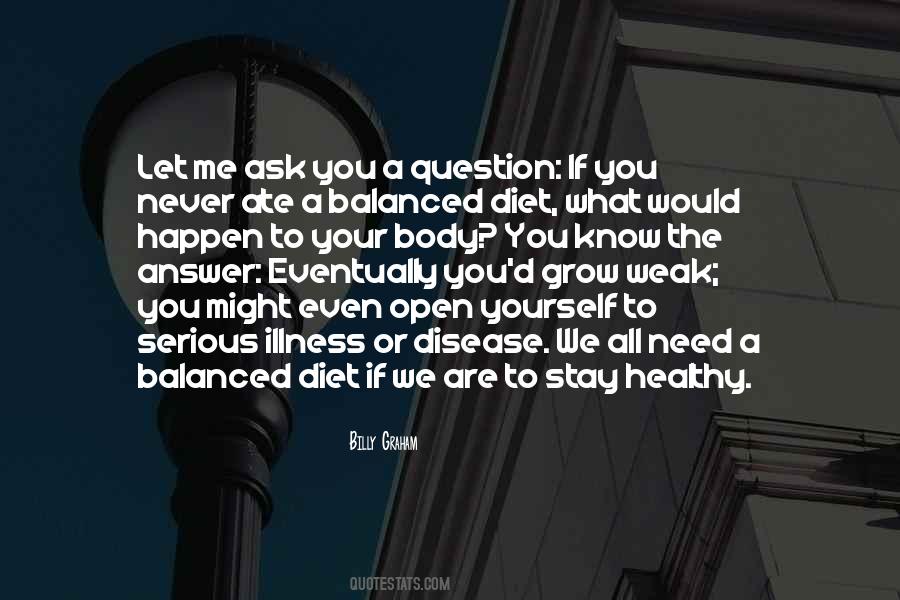 #2. Am I cured?"
"No. You're someone who is different, but who wants to be the same as everyone else. And that, in my view, is a serious illness. - Author: Paulo Coelho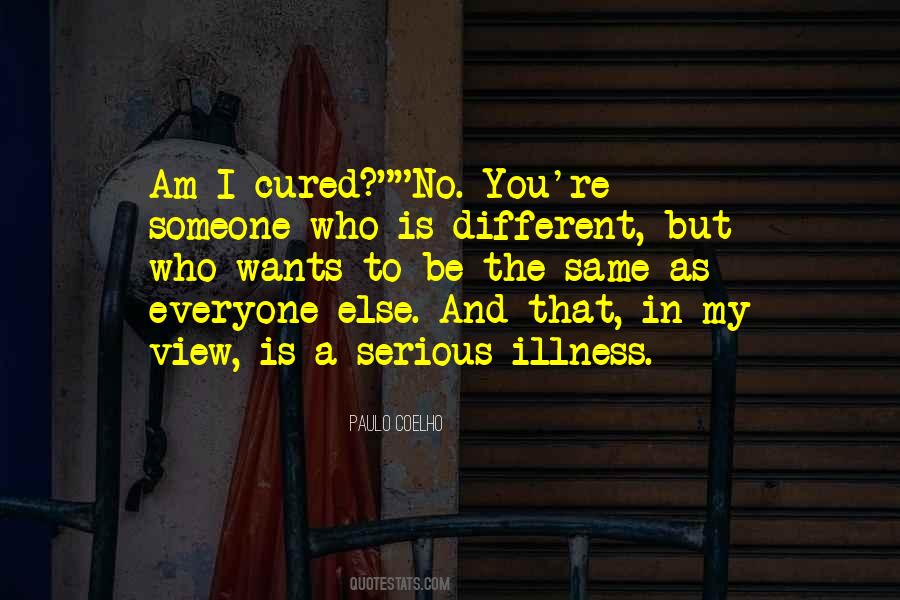 #3. I'm tired of having such a happy, perfect life. And that can only be a sign of mental illness. That's what I fall asleep thinking. Perhaps I really do have a serious problem. - Author: Paulo Coelho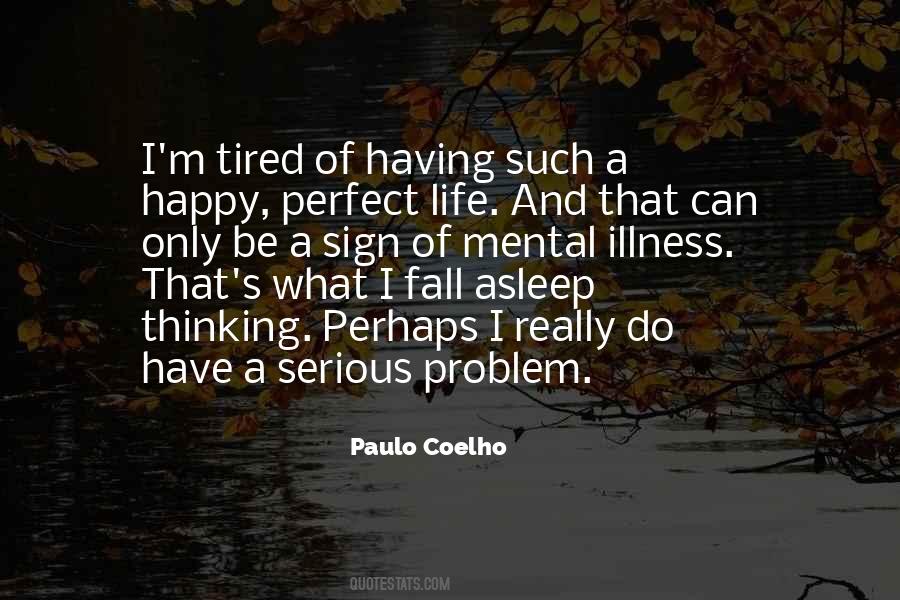 #4. A naturopath once told me you should never take antibiotics except if you have pneumonia, a kidney infection or some other serious illness. That's my philosophy, too. - Author: Pamela Sue Martin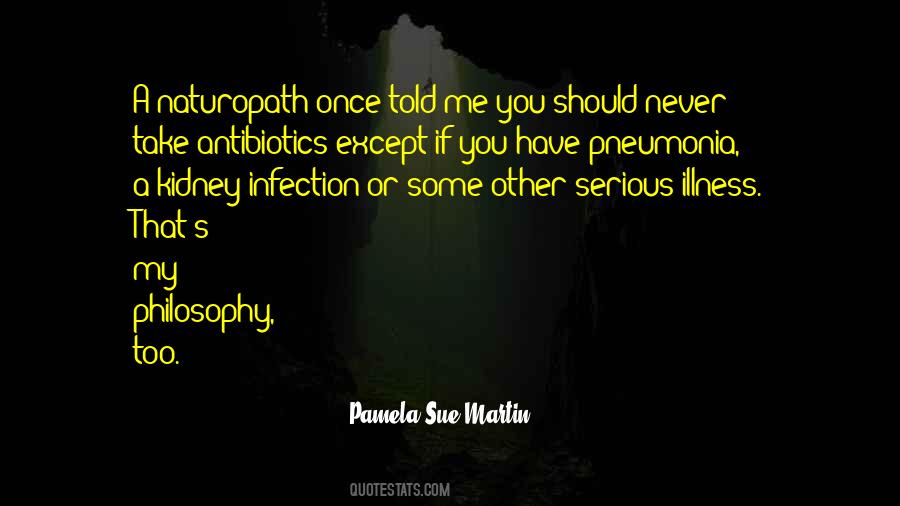 #5. You are someone who is different, but who wants to be the same as everyone else. And that in my view is a serious illness. God chose you to be different. Why are you disappointing God with this kind of attitude? - Author: Paulo Coelho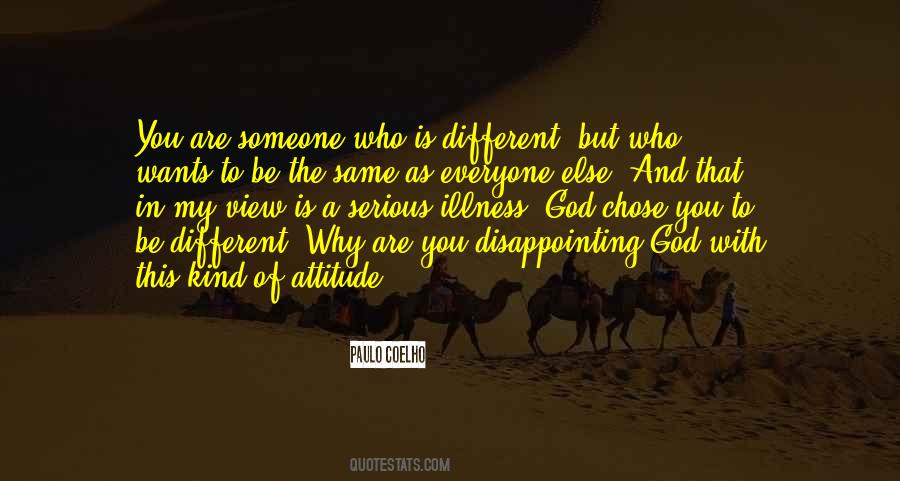 #6. For many people, illness - loss of health - represents the crisis situation that triggers an awakening. With serious illness comes awareness of your own mortality, the greatest loss of all. - Author: Eckhart Tolle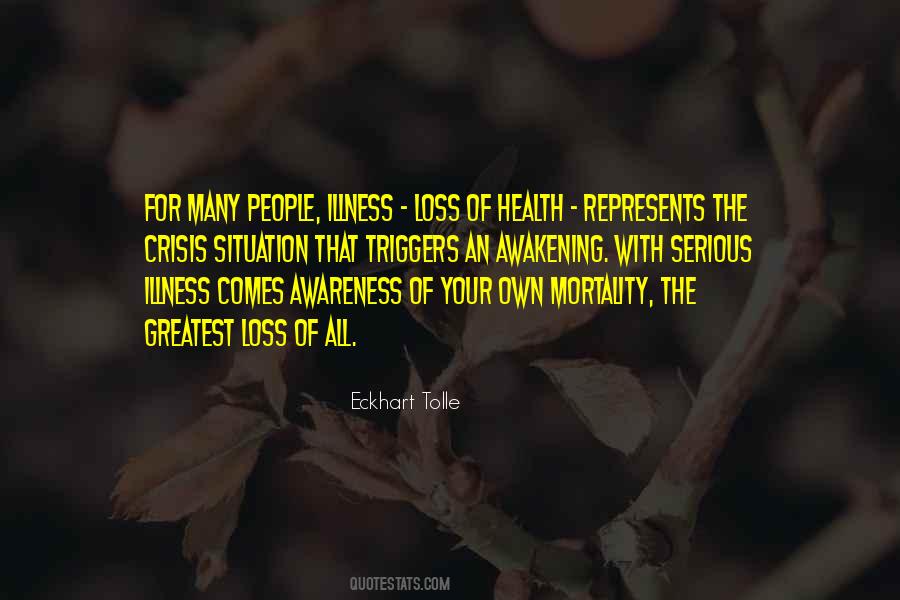 #7. In childhood I developed a serious throat infection, and my heart stopped beating. I recovered from that illness with a voice that boomed forth like Kate Smith's! - Author: Patsy Cline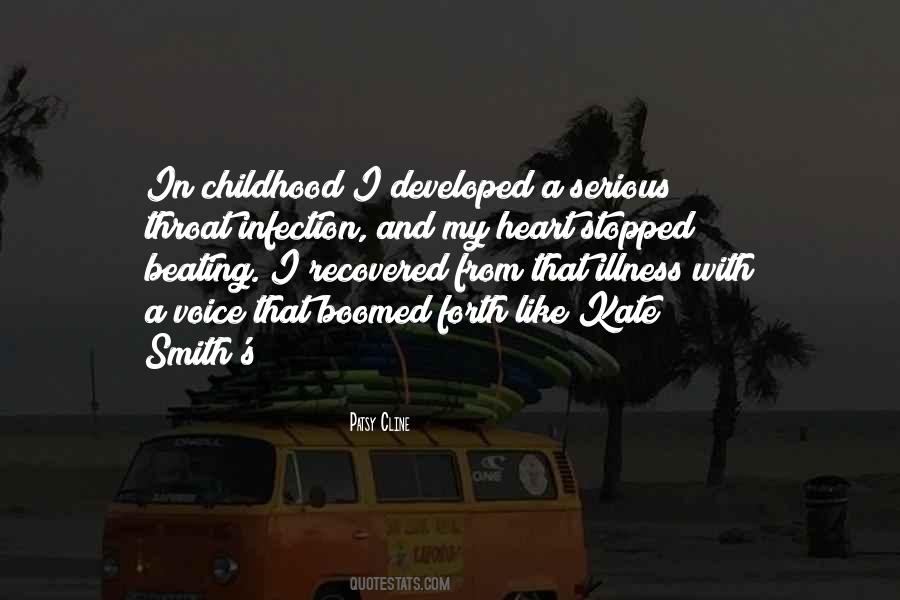 #8. Love is a serious mental illness - Author: Plato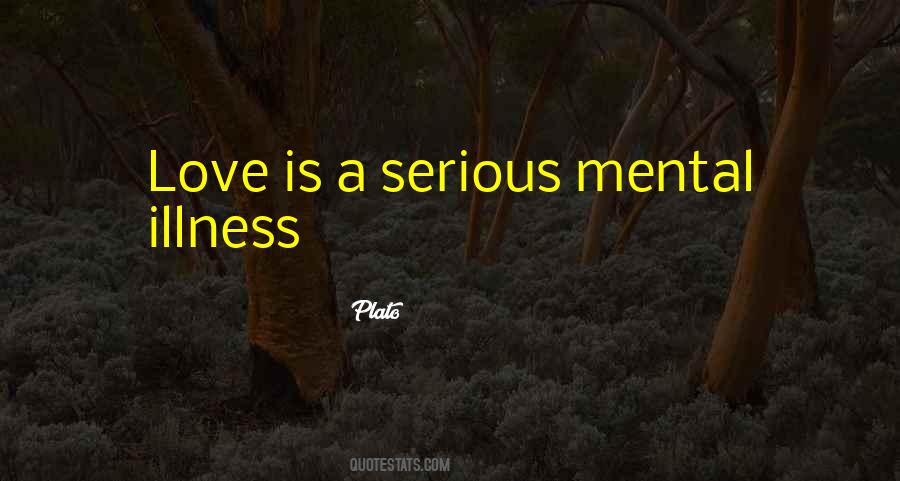 #9. I still have in my memory, almost agonizing impressions of a serious illness which I had when I was about eight years old. Those about me called it scarlet fever, and its very name seemed to have a diabolical quality. - Author: Pierre Loti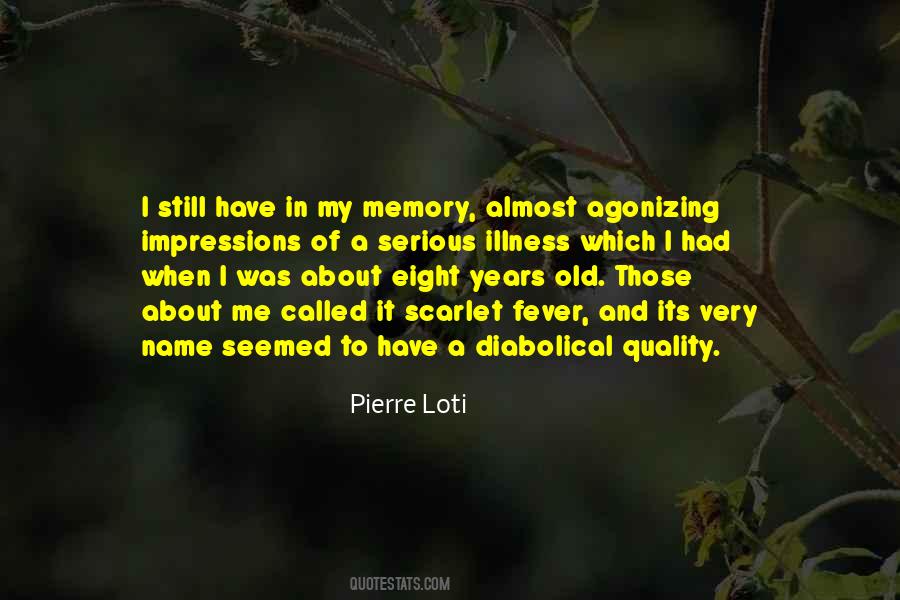 #10. Laziness is a serious illness and one must cure it immediately; yes, even from early childhood. If not, it will kill you in the end. - Author: Carlo Callodi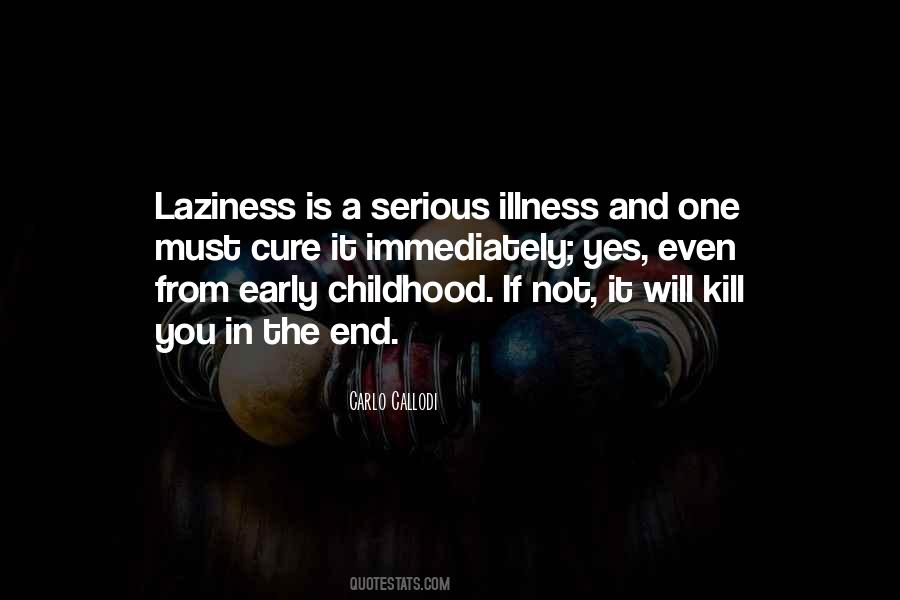 #11. A serious illness or a death advertises the doctor exactly as a hanging advertises the barrister who defended the person hanged. - Author: George Bernard Shaw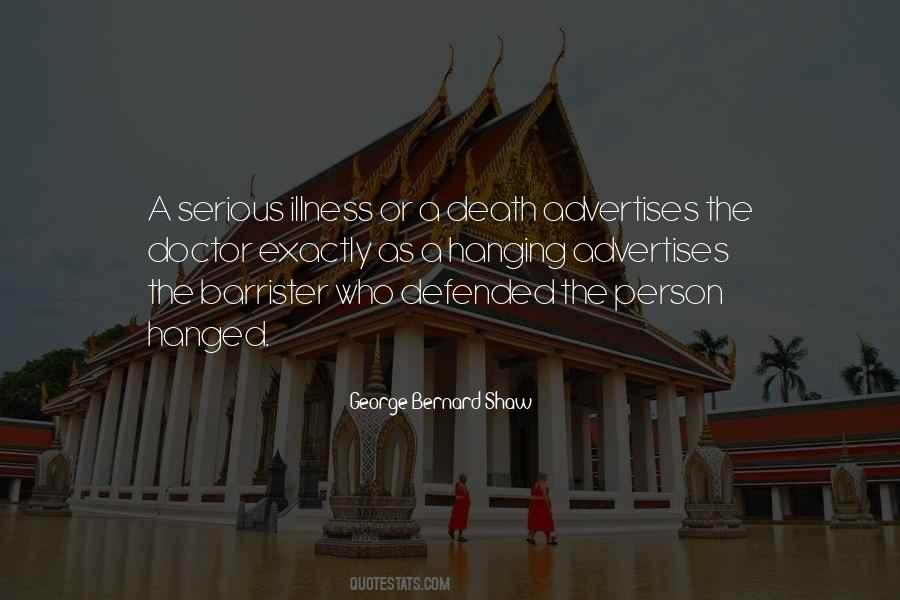 #12. Scientists have demonstrated that dramatic, positive changes can occur in our lives as a direct result of facing an extreme challenge - whether it's coping with a serious illness, daring to quit smoking, or dealing with depression. Researchers call this 'post-traumatic growth.' - Author: Jane McGonigal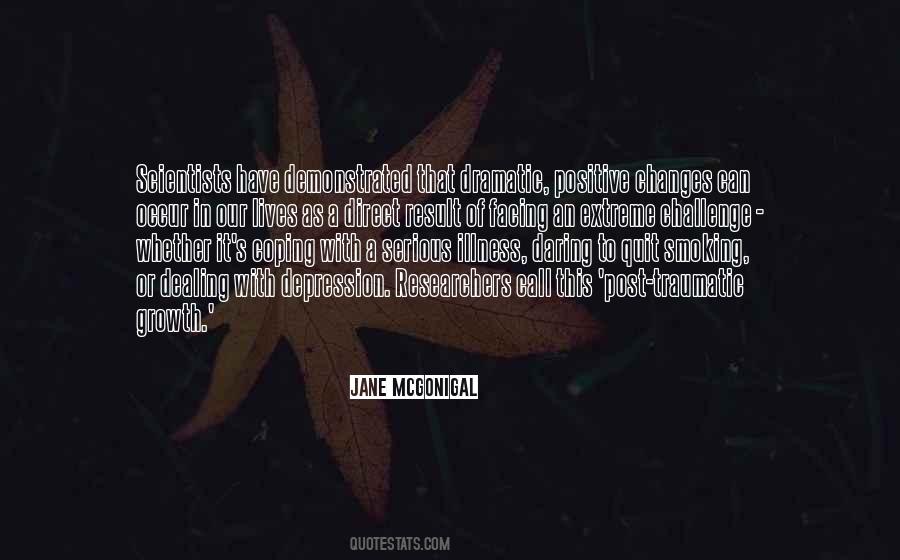 #13. In our well-policed society we recognize that an illness is serious from the fact that we don't dare speak of it directly. - Author: Albert Camus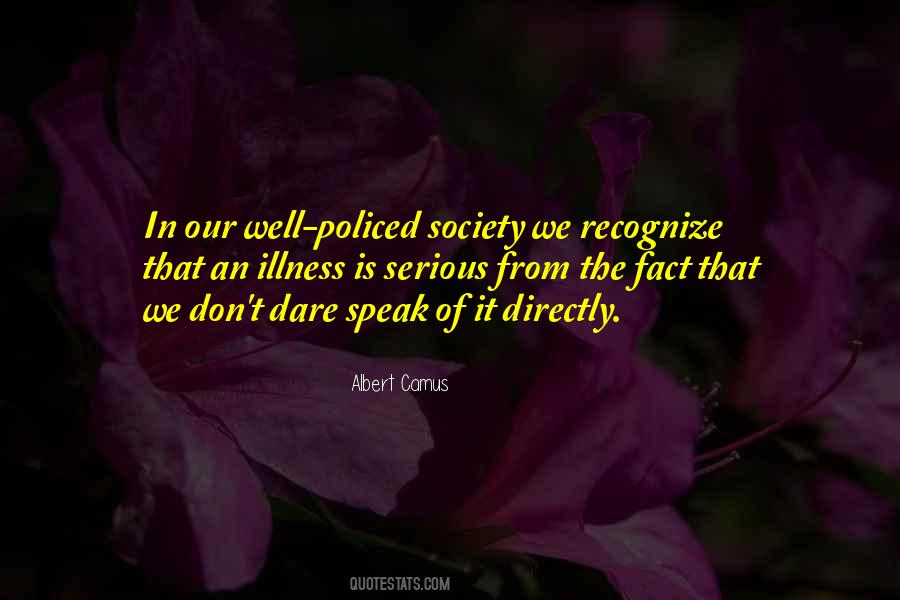 #14. That's the thing with dementia. If you're with somebody who has a serious illness, you can usually talk to them, have a laugh every now and then - the person is still with you. With dementia, there's no conversation; there's no togetherness, no sharing. - Author: Judy Parfitt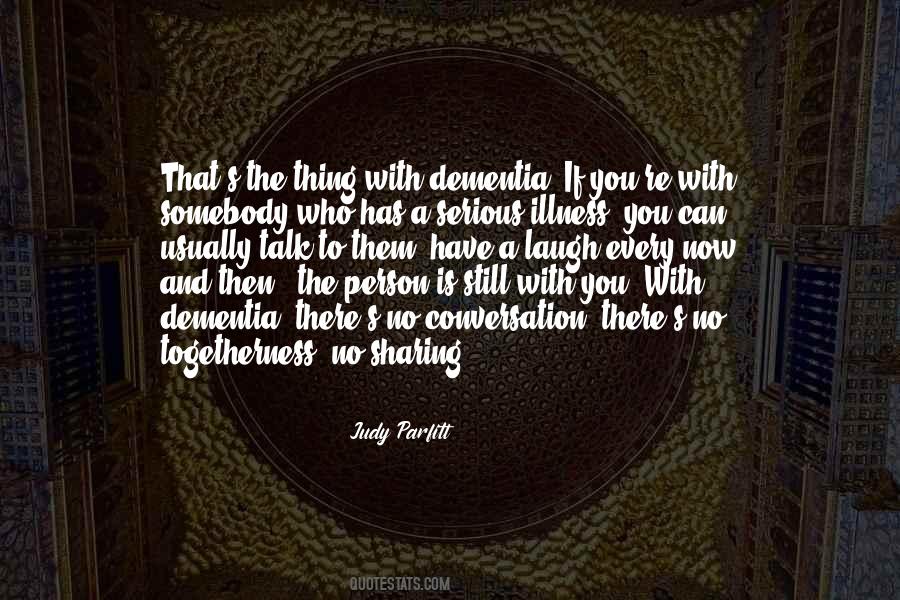 #15. Serious illness doesn't bother me for long because I am too inhospitable a host. - Author: Albert Schweitzer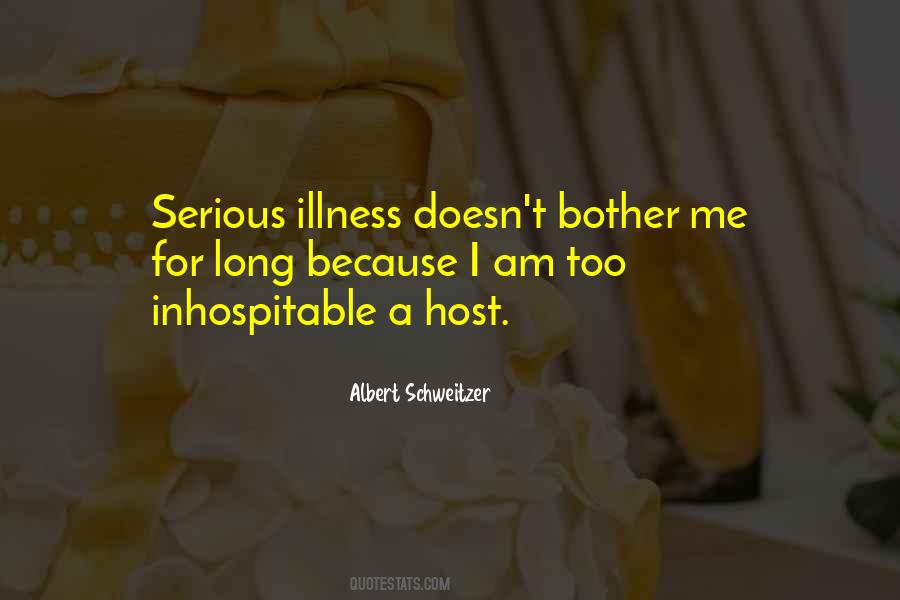 #16. For a thinking person, the most serious mental illness is not being sure of who you are. - Author: Benoit B. Mandelbrot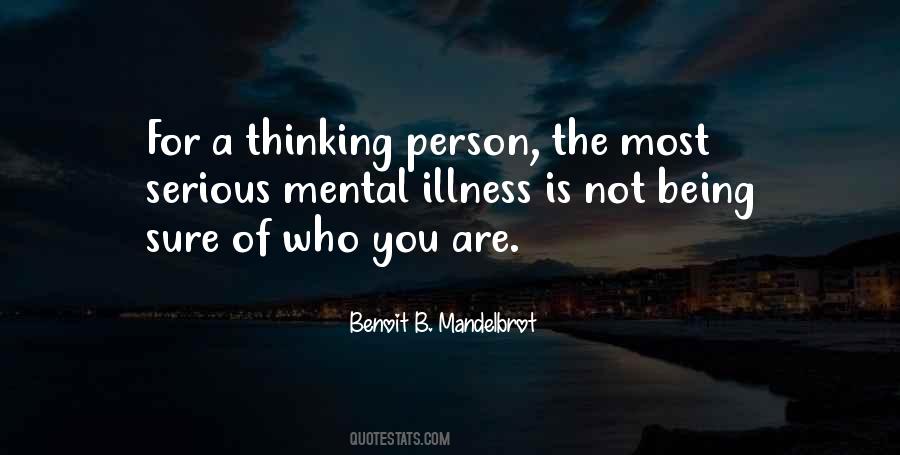 #17. People that go through serious illness - you can either go one way or the other. You can either become despondent about it all. Or it kind of rejuvenates you, makes you focus on what's important. - Author: Jack Layton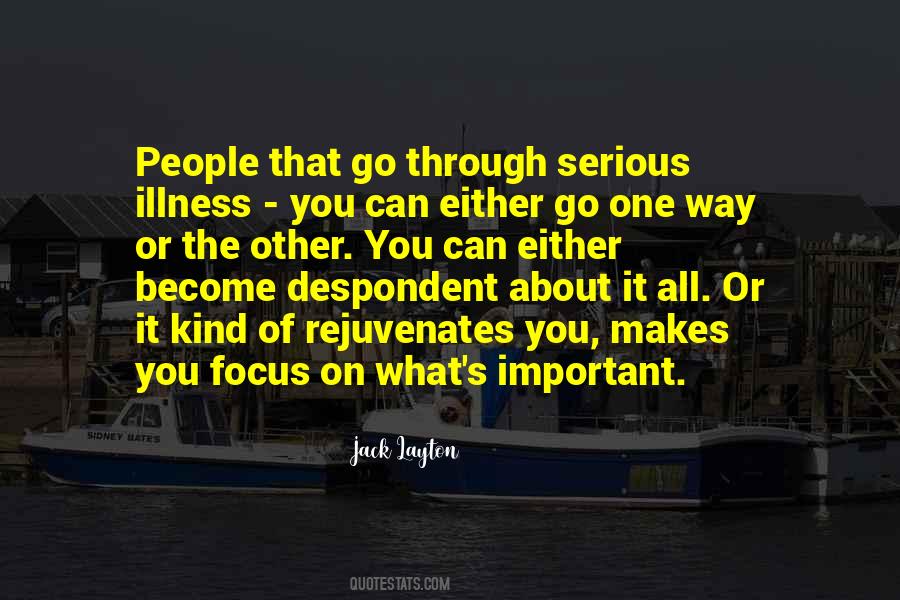 #18. A love like that was a serious illness, an illness from which you never entirely recover. - Author: Charles Bukowski
#19. The buildup of negative auric vibrations initially impairs our ability to perceive psychically. They can eventually cause us to become ill. Most serious illnesses, including many types of cancer, are the result of auric toxicity. - Author: Frederick Lenz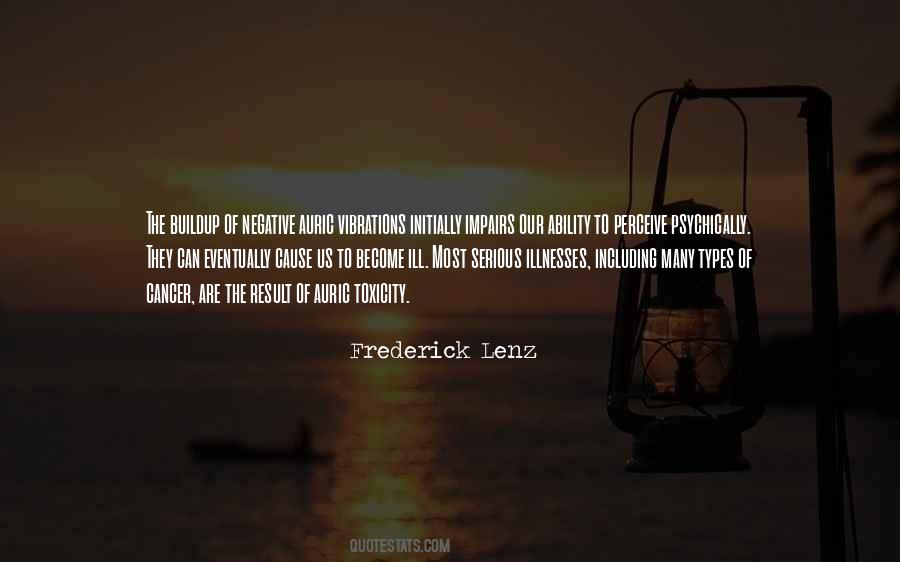 #20. Kisses are like cardiograms. They reveal how serious the illness is. - Author: Rom Amor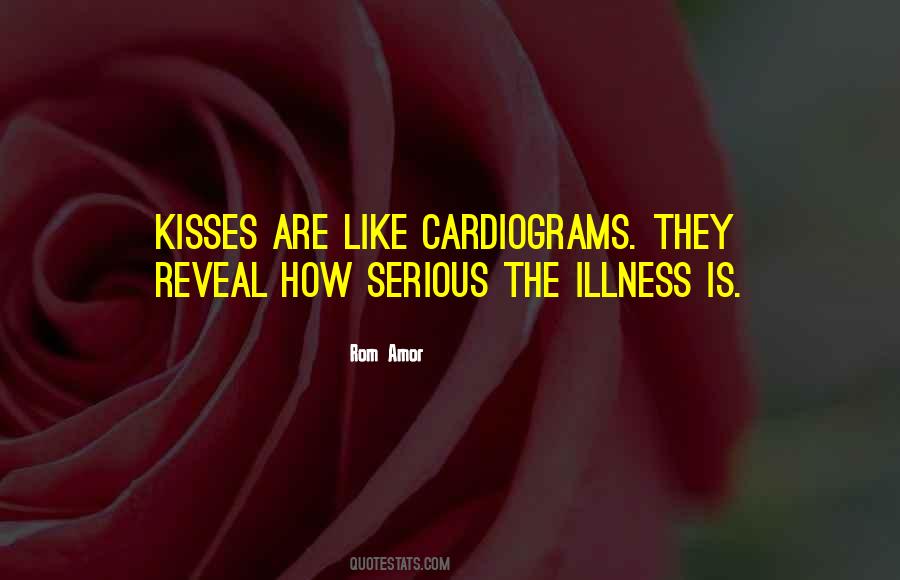 #21. I went through a pretty serious illness early in my life and I made a movie about that. - Author: Robert Schwentke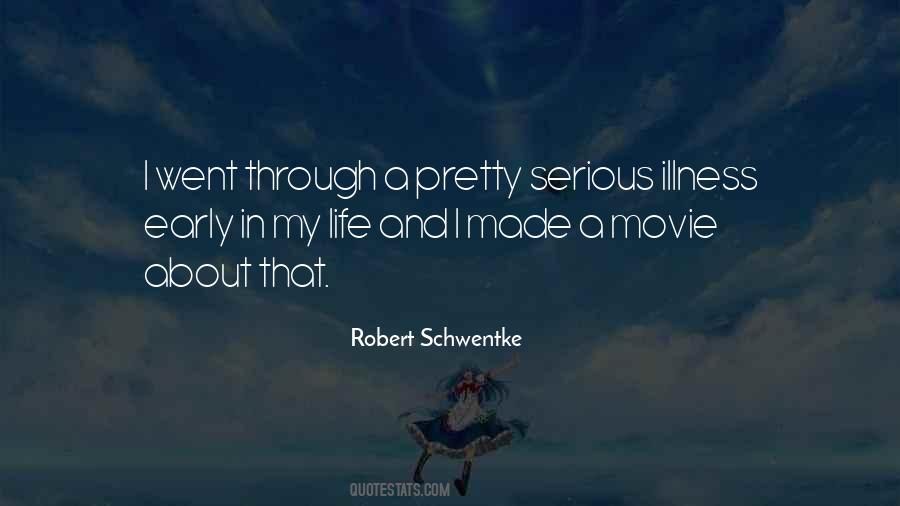 #22. As an entrepreneur, I knew that if my company failed, I could always try again. So I often felt that the only real risk of true financial ruin came from the possibility of a serious illness that either exceeded my insurance plans lifetime limits, or was not covered due to rescission. - Author: Eric Ries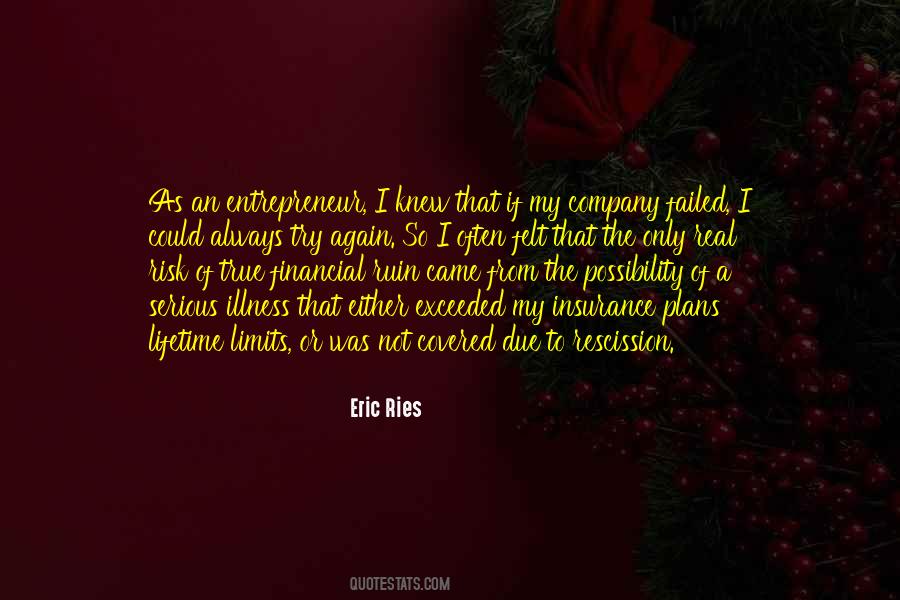 #23. The more serious the illness, the more important it is for you to fight back, mobilizing all your resources-spiritual, emotional, intellectual, physical. - Author: Norman Cousins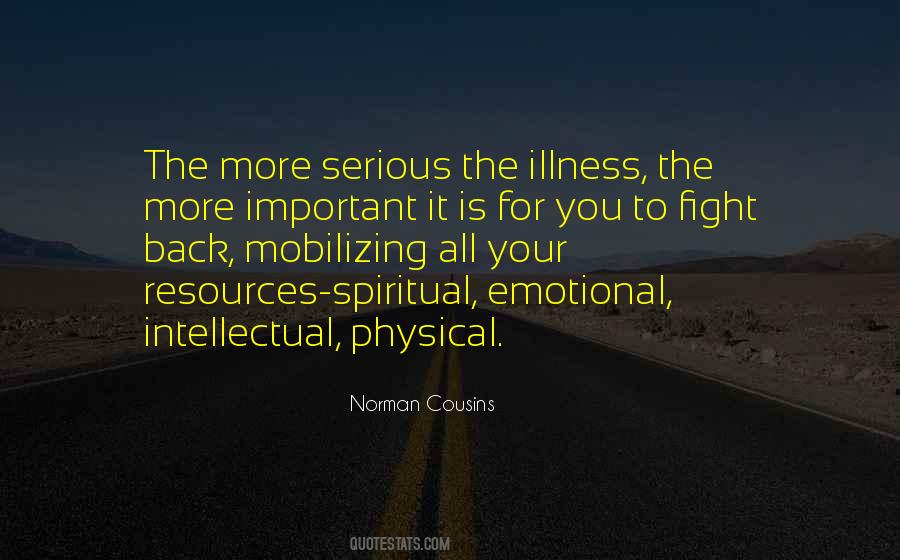 #24. I believe it should be possible for someone stricken with a serious and ultimately fatal illness to choose to die peacefully with medical help, rather than suffer. - Author: Terry Pratchett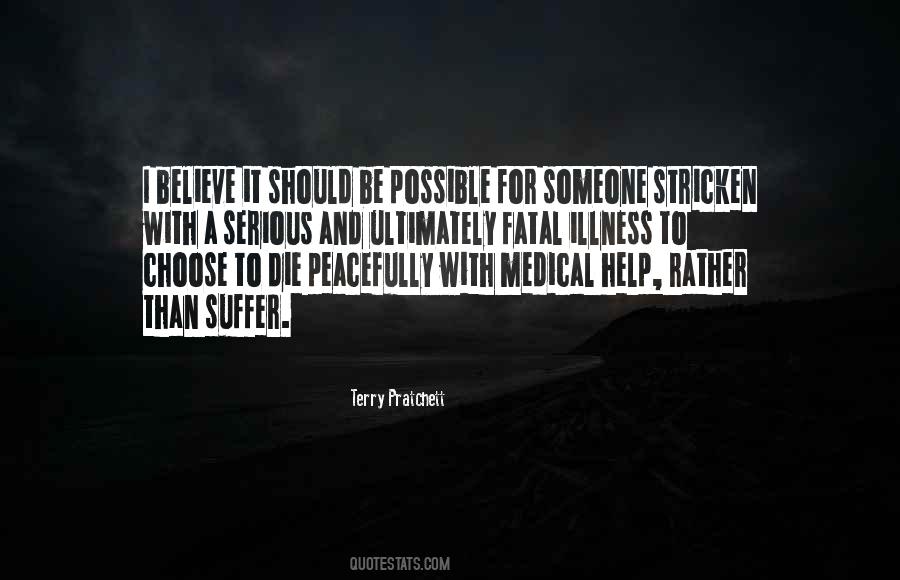 #25. The serious student of the Bible cannot dismiss homosexual behavior simply as an alternate lifestyle. Nor can it be argued that homosexuals were "born this way" or that such behavior is an illness. - Author: Billy Graham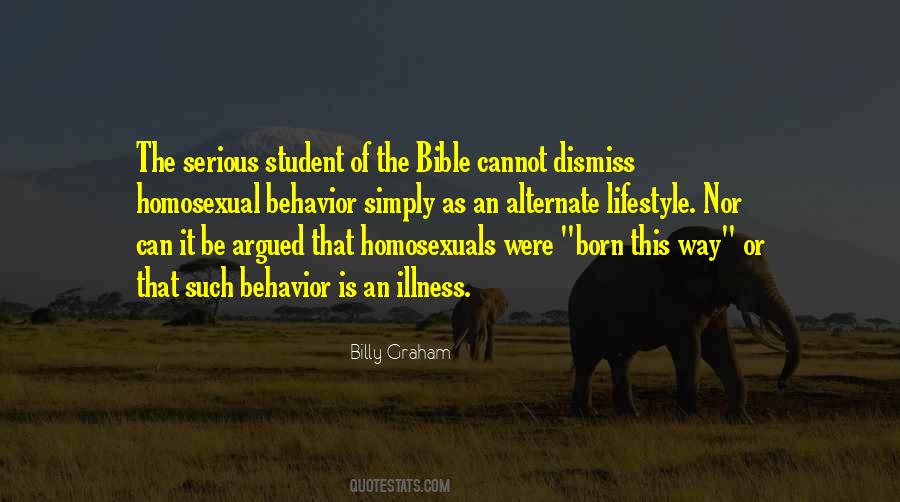 #26. Soul loss is regarded as the most serious diagnosis and the single greatest cause of premature death or serious illness by the traditionals, and it's not even mentioned in our Western medical textbooks. - Author: Deepak Chopra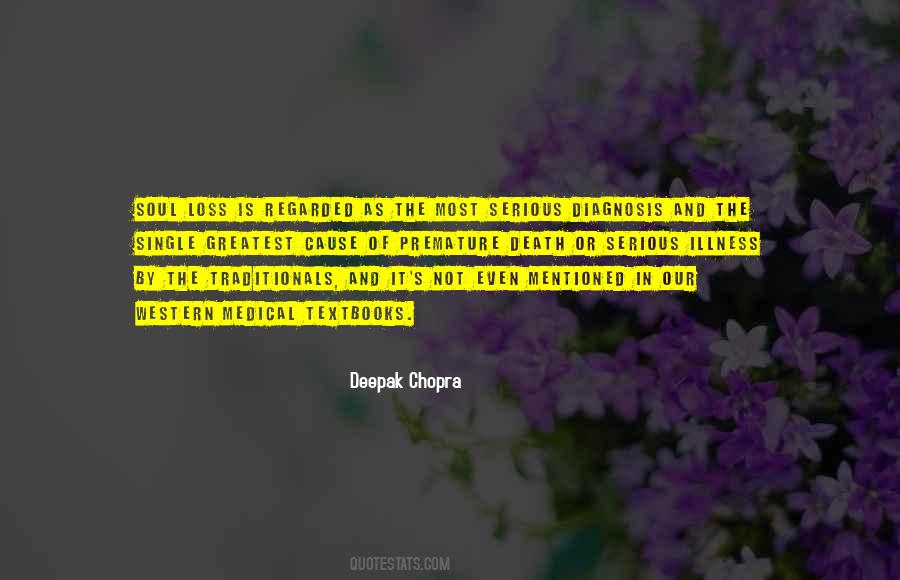 #27. Incredible shame is associated with mental illness. People will confide the most intimate details of their love life before they'll mention a relative who had a serious mental breakdown. But the brain is just another organ. It's just a machine, and a machine can go wrong. - Author: Candace B. Pert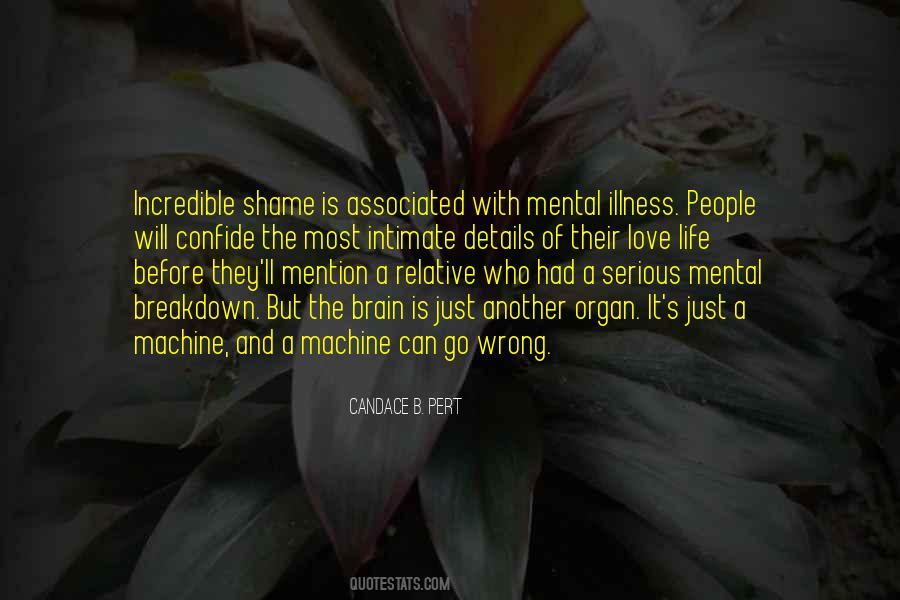 #28. Sometimes, patients with serious mental illness, just as with other serious medical illnesses, require hospitalization. In the absence of available public or private hospital beds, there are few options. - Author: Thomas R. Insel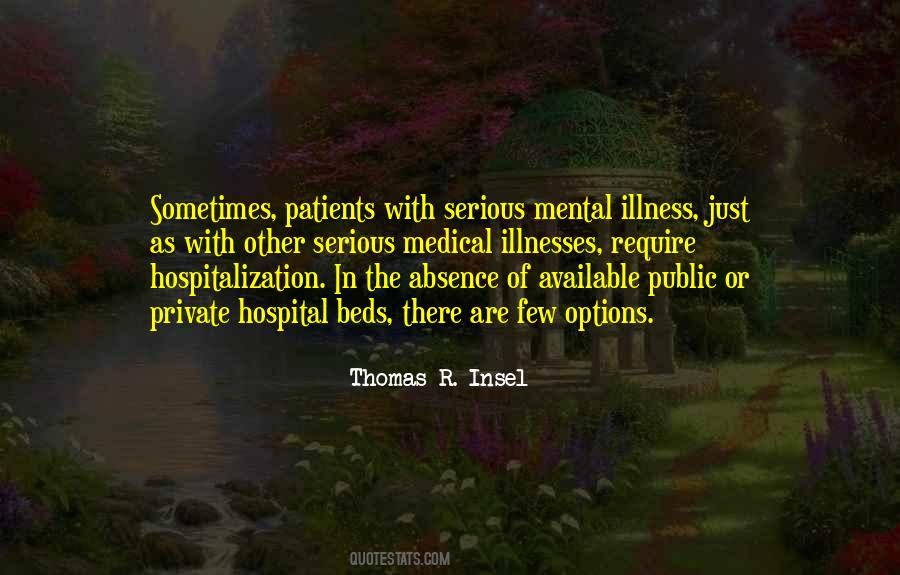 #29. Enemy number one was now the disease. It had a presence as solid as that of a person - I think all serious illnesses do. - Author: A.P.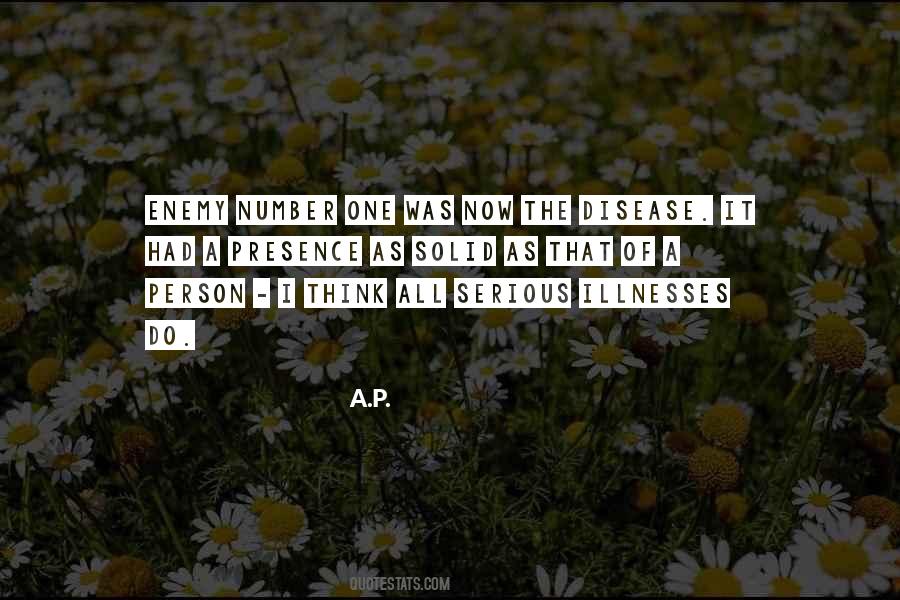 #30. As a child, I had a serious illness that lasted for two years or more. I have vague recollections of this illness and of my being carried about a great deal. I was known as the 'sick one.' Whether this illness gave me a twist away from ordinary paths, I don't know; but it is possible. - Author: Jacob Epstein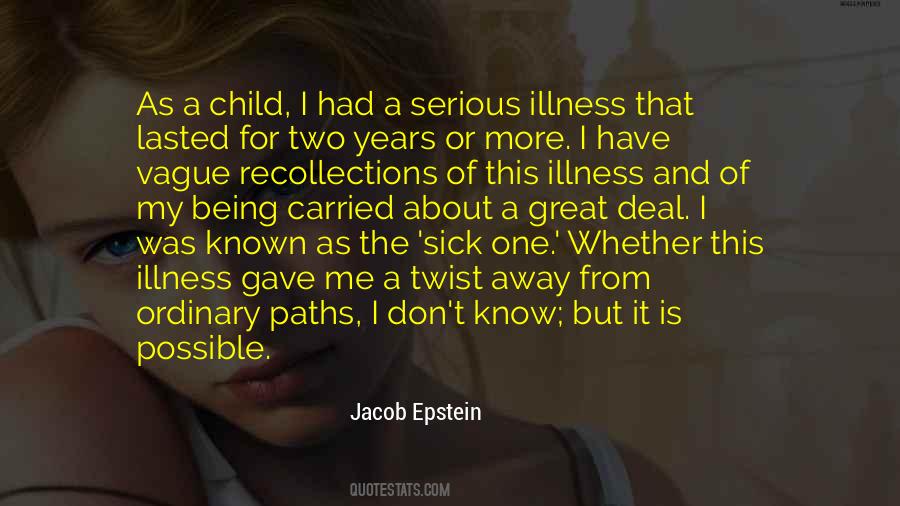 #31. I think a lot of people see the flu as a common cold, but it's not: it's a serious respiratory illness that could lead to hospitalization and the young are extremely vulnerable. - Author: Tia Mowry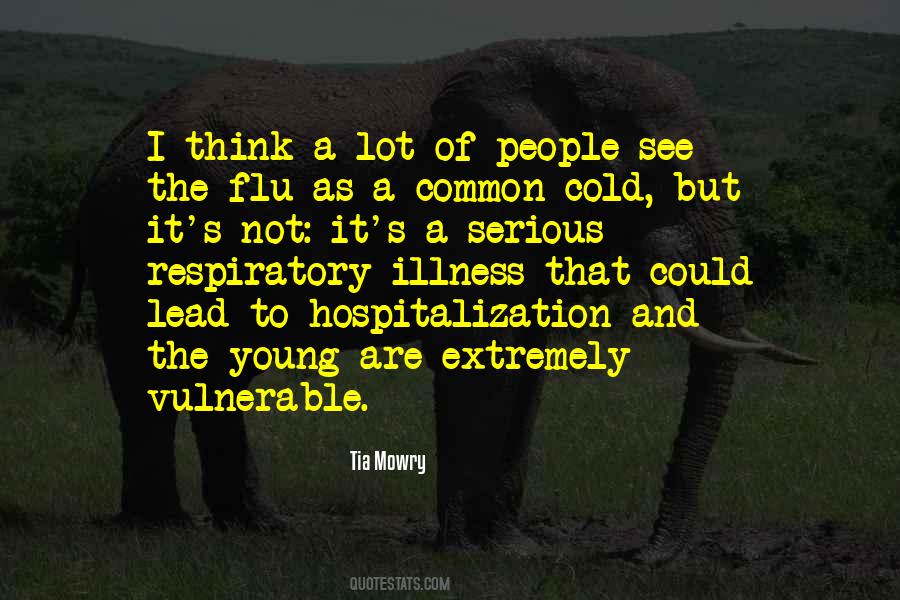 #32. We will continue to do all we can to protect the public health against these dietary supplements that have been found to cause serious illness and injury. - Author: Andrew Von Eschenbach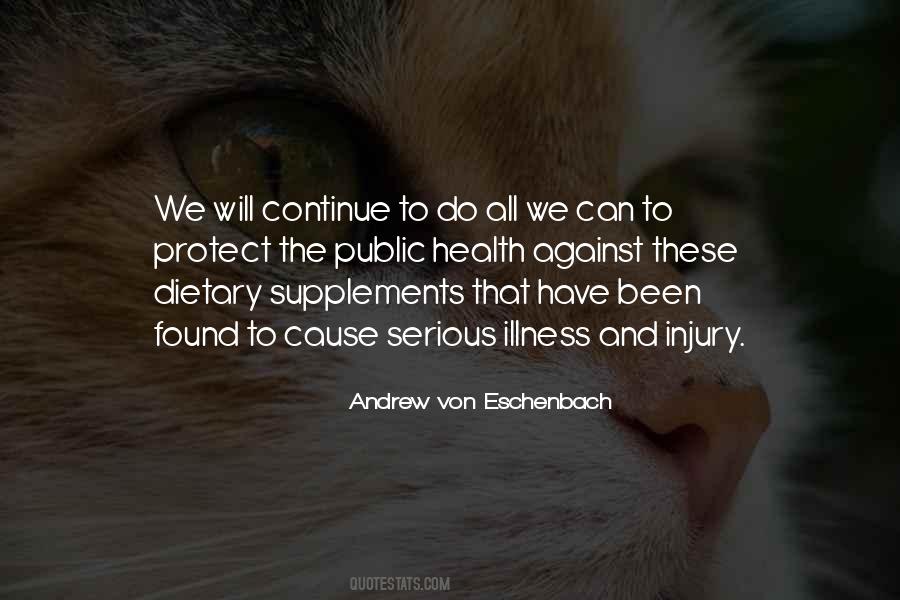 #33. The presuming social view that mental health is not as serious as the media says it is, blocks progress. This too is political. - Author: Tamara Hill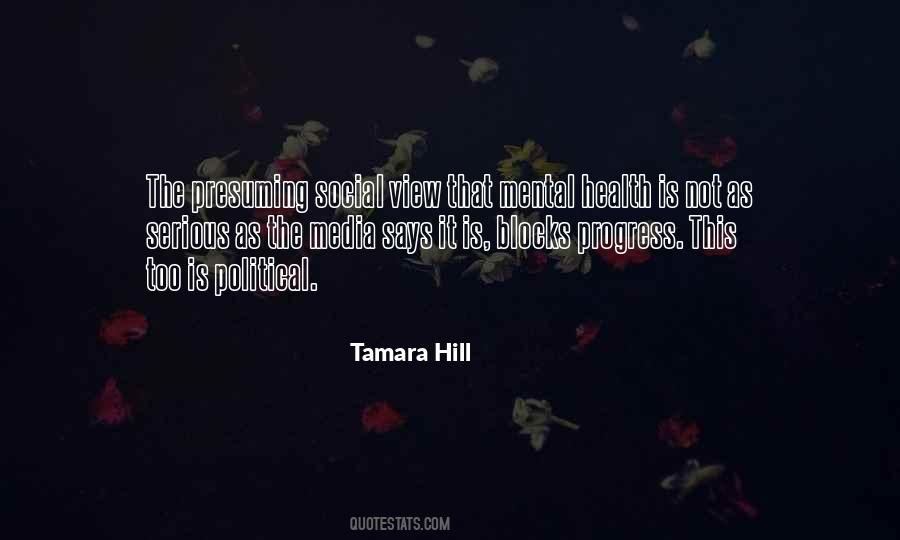 #34. There are sins much more serious than socio-pathologies which really are mental illnesses, whereas self-righteousness is an illness of the soul. - Author: R. Alan Woods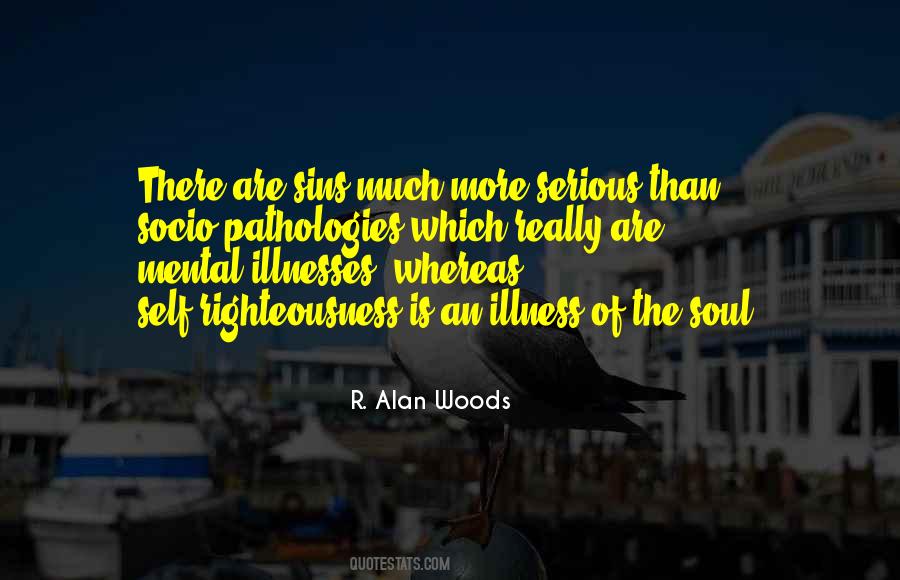 #35. Is suffering so very serious? ... I'm referring to the kind of suffering a man inflicts on a woman or a woman on a man. It's extremely painful ... hardly bearable. But I very much fear that this sort of pain ... is no more worthy of respect than old age or illness. - Author: Sidonie Gabrielle Colette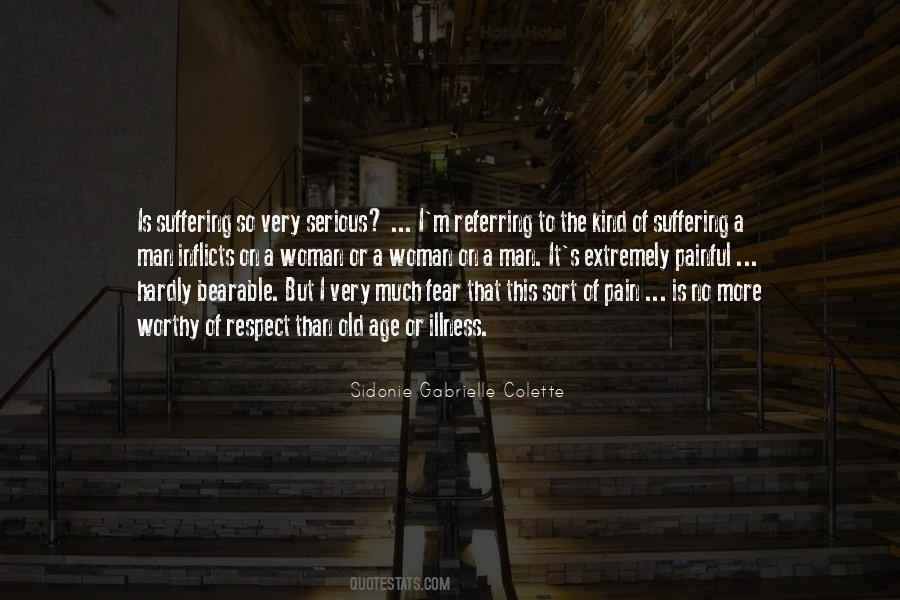 #36. There is a certain solipsism to serious illness which claims all of one's attention as certainly as an astronomical black hole seizes anything unlucky enough to fall within its critical radius. - Author: Dan Simmons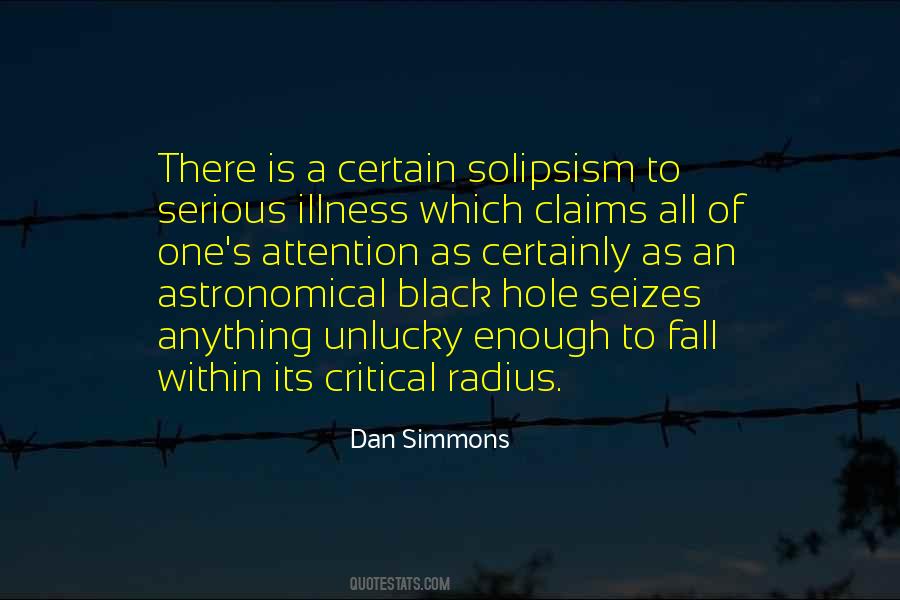 #37. You realize how selfish you were to wish that your wife survived you. It was your selfishness that made you deny that your wife had a serious illness. - Author: Kyung-Sook Shin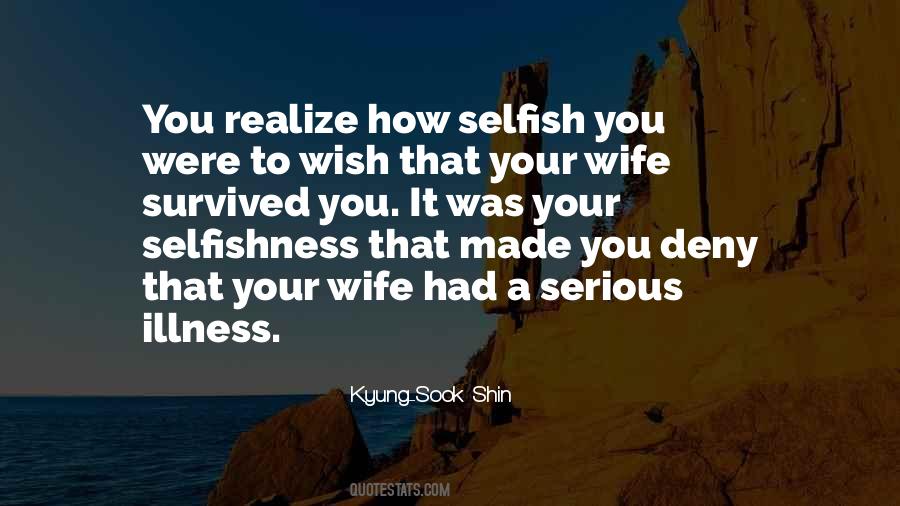 #38. I had a serious childhood illness - sort of like spinal meningitis - that led to a three-month hospitalization. Afterward, I couldn't be insured because of a pre-existing condition. - Author: Tammy Baldwin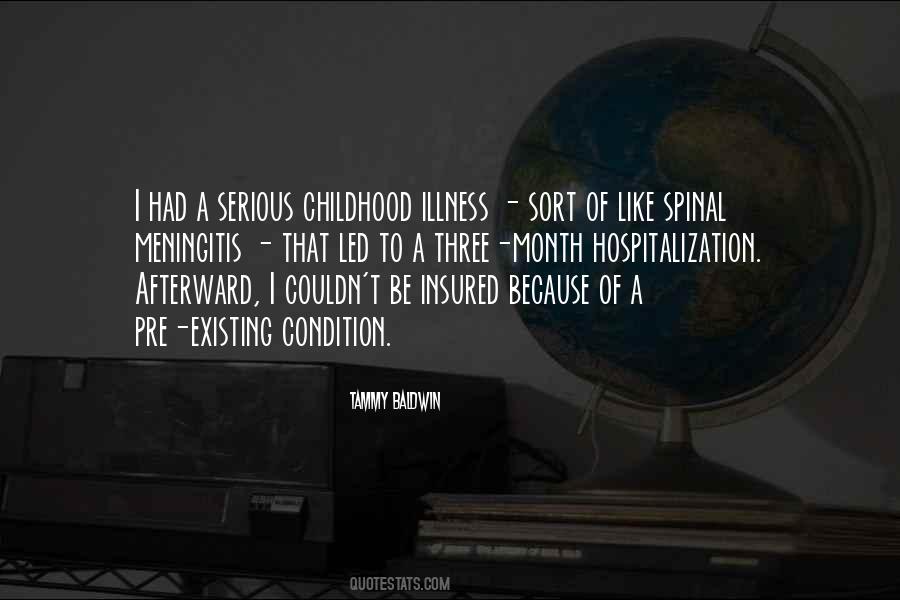 Famous Authors
Popular Topics