Scriptures Famous Quotes & Sayings
List of top 100 famous quotes and sayings about scriptures to read and share with friends on your Facebook, Twitter, blogs.
Top 100 Quotes About Scriptures
#1. I suppose that one of the greatest benefits of studying Isaiah is the process of studying Isaiah. Searching the scriptures puts you in a pondering, searching frame of mind in which inspiration can come, allowing you to find ways to apply scriptural truths to your life. - Author: John Bytheway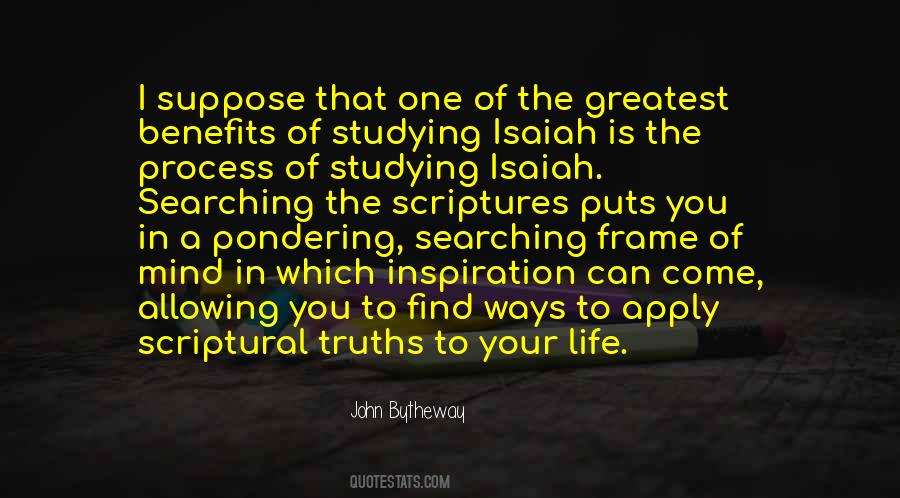 #2. Some Christians see the biblical teaching on homosexuality as reflecting the culture and times in which the Bible was written and not reflecting God's eternal perspective on homosexual people. Others believe these scriptures represent God's timeless will for how human beings practice intimacy. - Author: Adam Hamilton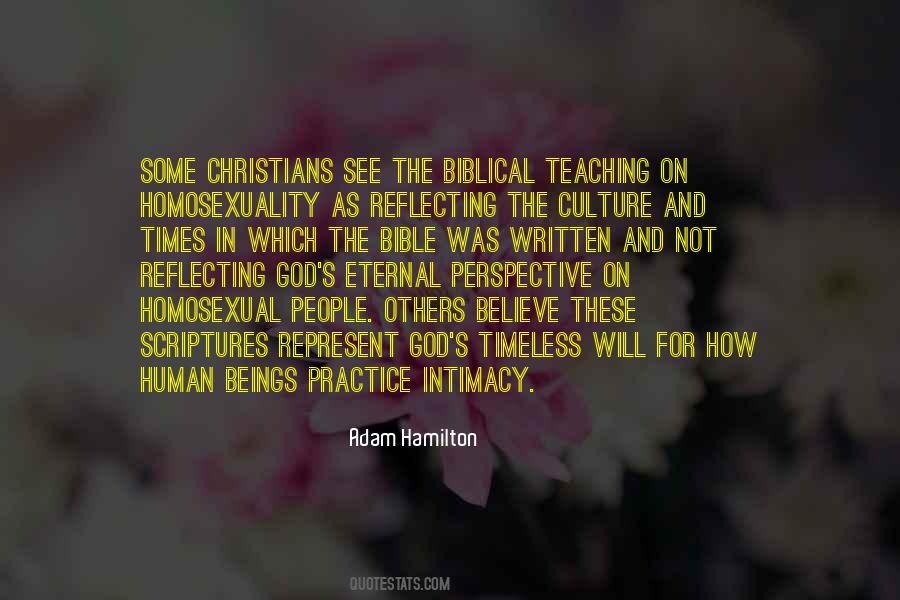 #3. Doctrines, scriptures, sutras, essays, are not to be regarded as systems to be followed. They merely contribute to understanding. They should be for us a source of stimulation, and nothing more ... Adopted, rather than used as a stimulus, they are a hindrance - Author: Wei Wu Wei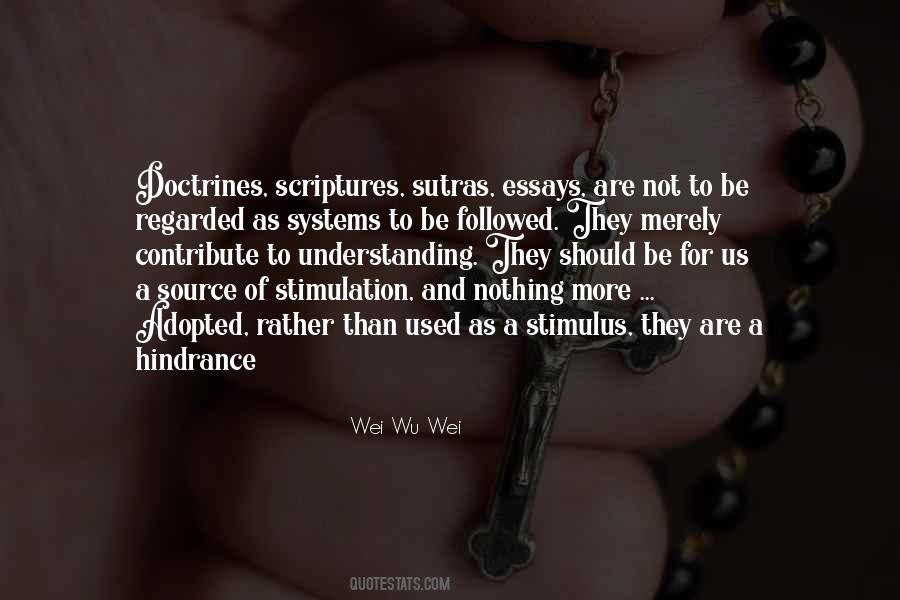 #4. It does happen, of course, that the priesthood has been on bad terms with womankind for some three thousand years. You see, Buddhism teaches that women are evil. Fiends. Messengers of hell. I've spent years immersed in the scriptures, so it's no accident that you and I fight all the time. - Author: Eiji Yoshikawa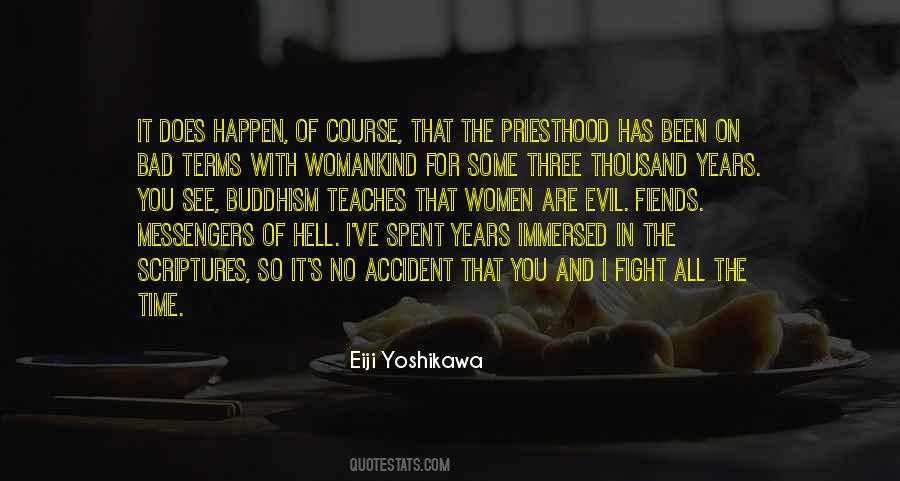 #5. I start work by spending time in personal Bible study. Because my projects center on a question in my own faith walk, I find Bible study essential. And God gives me scriptures daily that speak to the question with which I'm struggling. - Author: Francine Rivers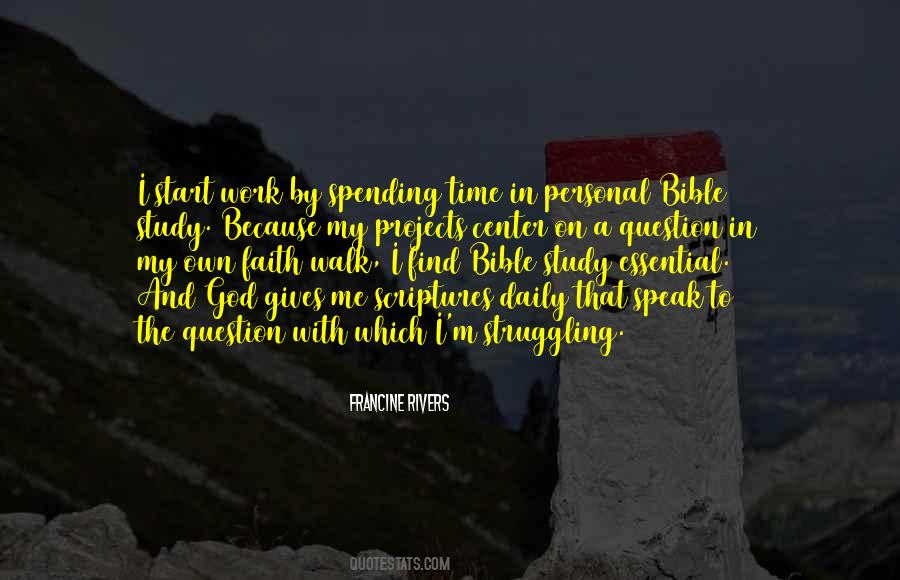 #6. We have quoted freely from the Scriptures and have sought to furnish proof-texts for every statement we have advanced. - Author: Arthur W. Pink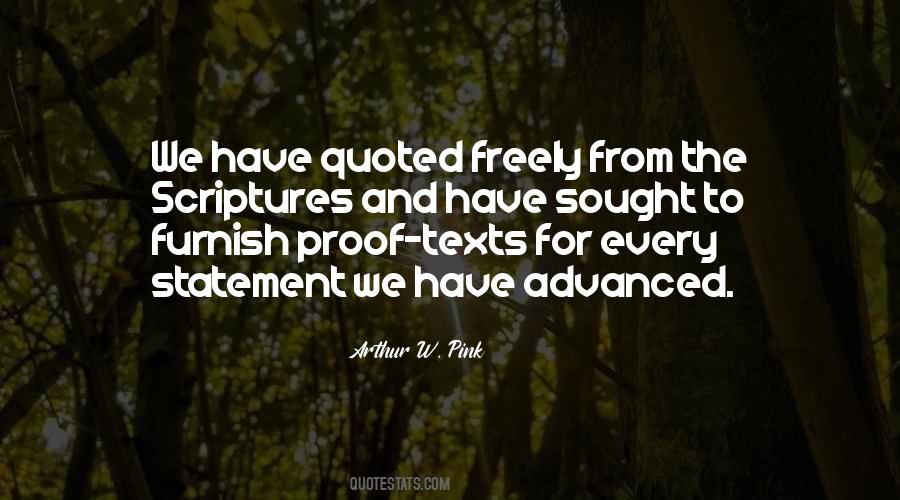 #7. As long as quick numerical growth remains the primary indicator of church health, the truth will be compromised. Instead, churches must once again begin measuring success not in terms of numbers but in terms of fidelity to the Scriptures. - Author: Mark Dever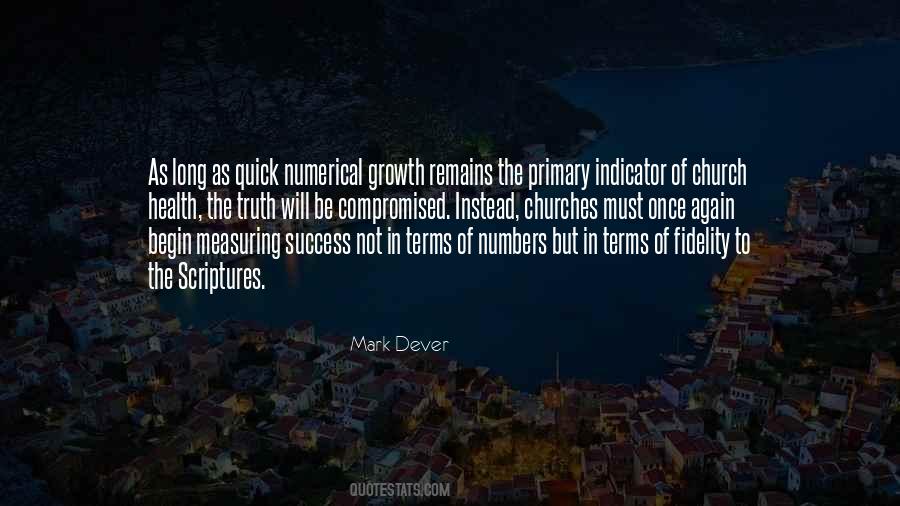 #8. If you study the scriptures continually, you find sacredness of life. - Author: Lailah Gifty Akita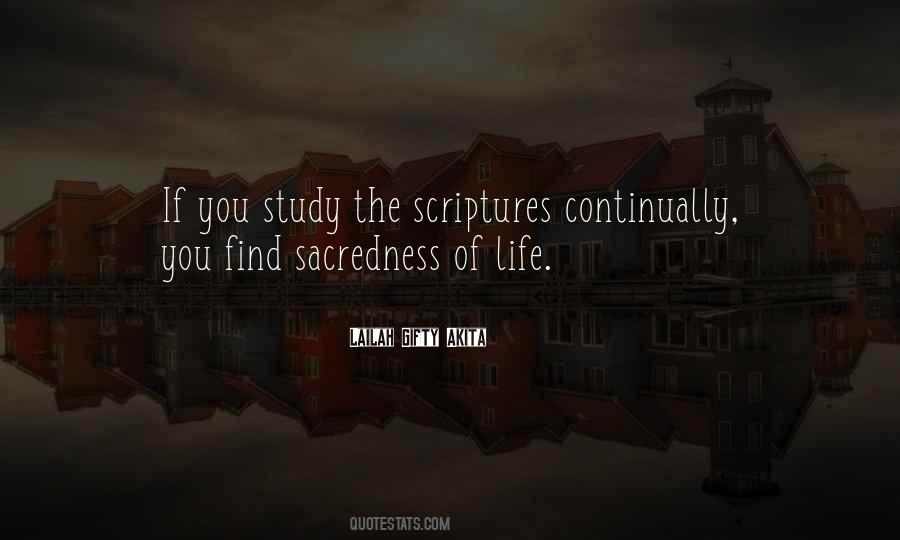 #9. 10 As the Scriptures say, No one is righteous - not even one. 11 No one is truly wise; no one is seeking God. 12 All have turned away; all have become useless. No one does good, not a single one. - Author: Anonymous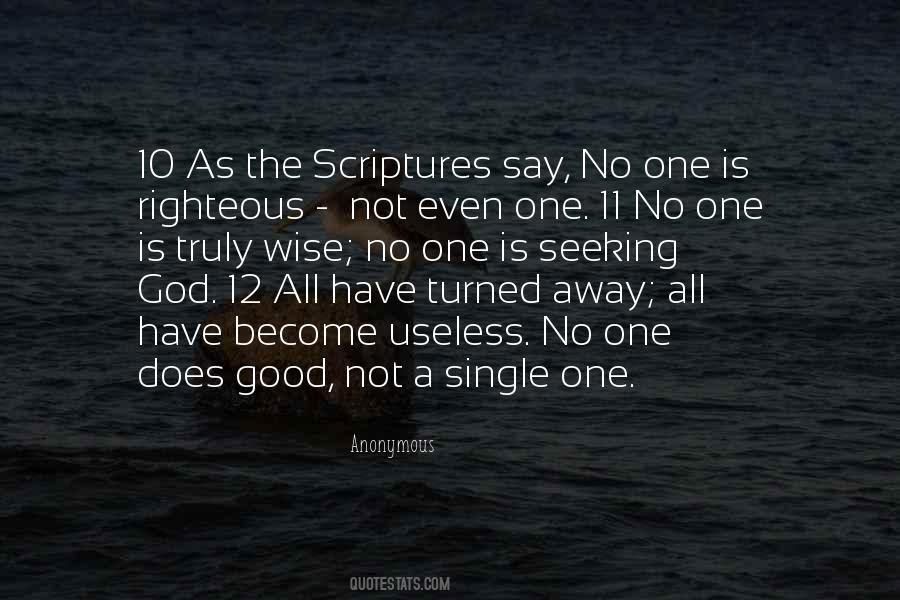 #10. The holy scriptures contain no proclamation more relevant, no responsibility more binding, no instruction more direct than the injunction given by the resurrected Lord as He appeared in Galilee to the eleven disciples. - Author: Thomas S. Monson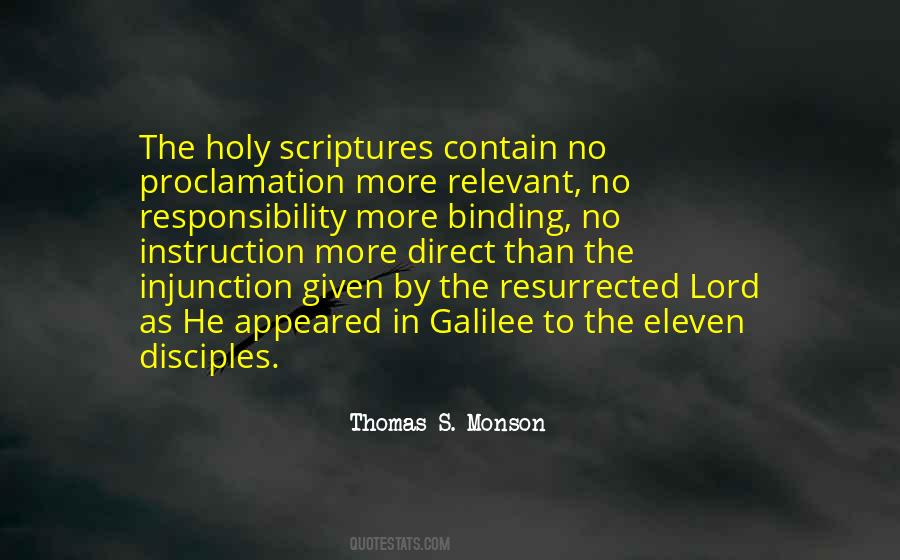 #11. Know will of God and keep to His ways. - Author: Lailah Gifty Akita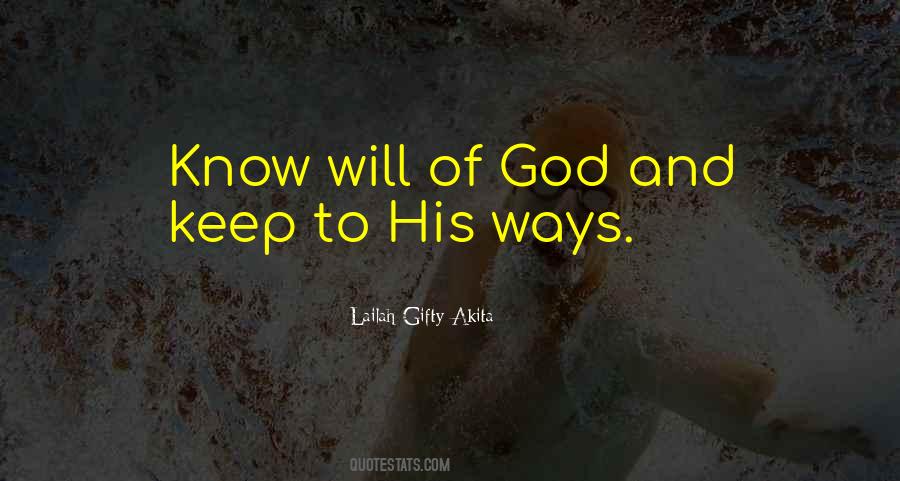 #12. For me, the reading of the scriptures is not the pursuit of scholarship. Rather, it is a love affair with the word of the Lord and that of His prophets. - Author: Gordon B. Hinckley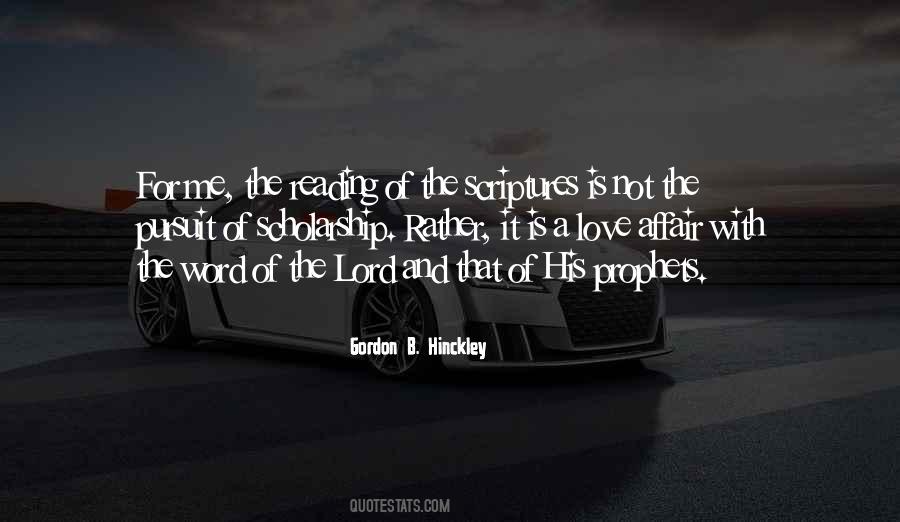 #13. The Holy Scripture is the Spirit of Holy One. - Author: Lailah Gifty Akita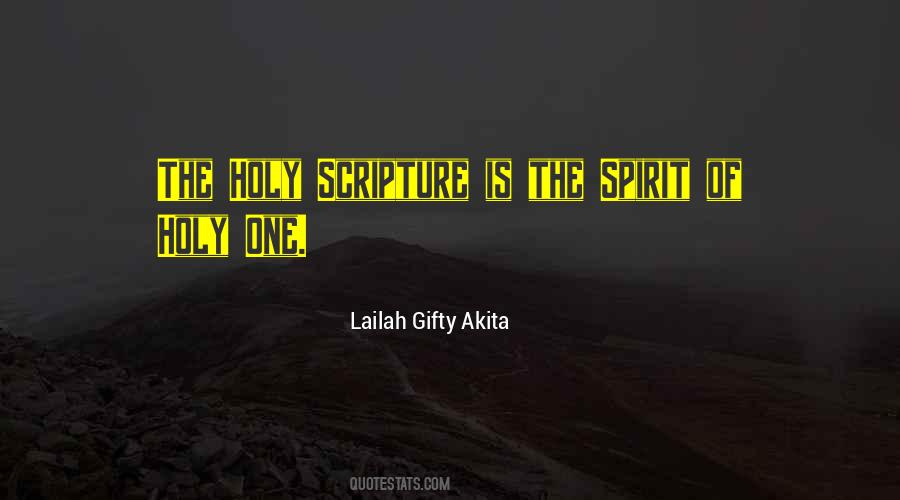 #14. Peace can be settled in the heart of each who turns to the scriptures and unlocks the promises of protection and redemption that are taught therein. - Author: Boyd K. Packer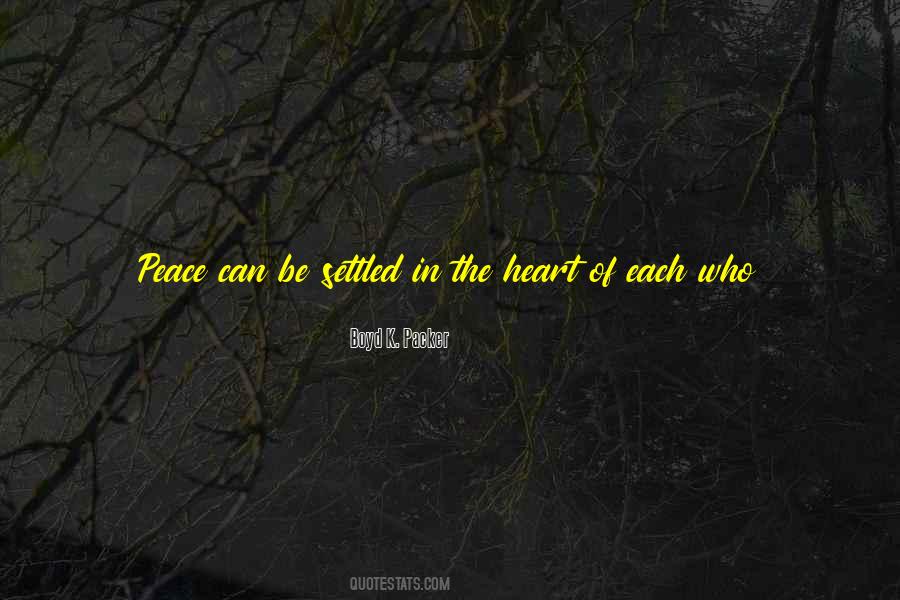 #15. Properly understood, then, the scriptures counsel us to be virtuous not because romantic love is bad, but precisely because romantic love is so good. It is not only good; it is pure, precious, even sacred and holy. - Author: Bruce C. Hafen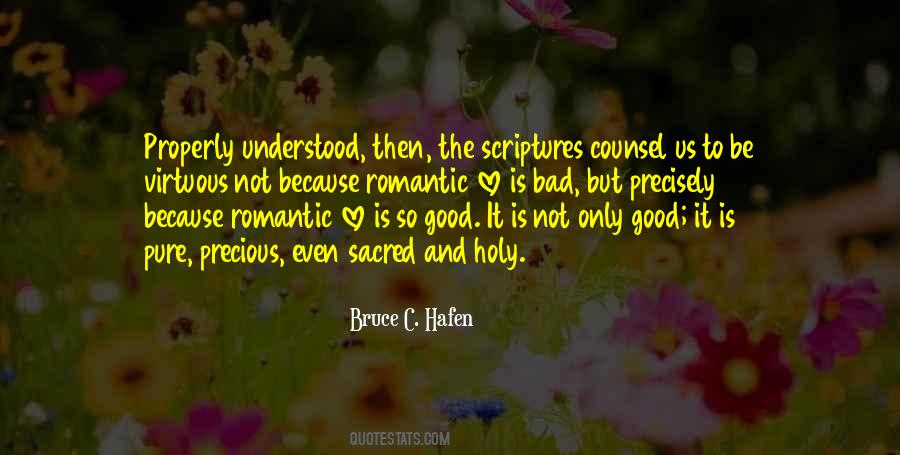 #16. Every family has its scriptures, but most can't articulate them - Author: Chuck Palahniuk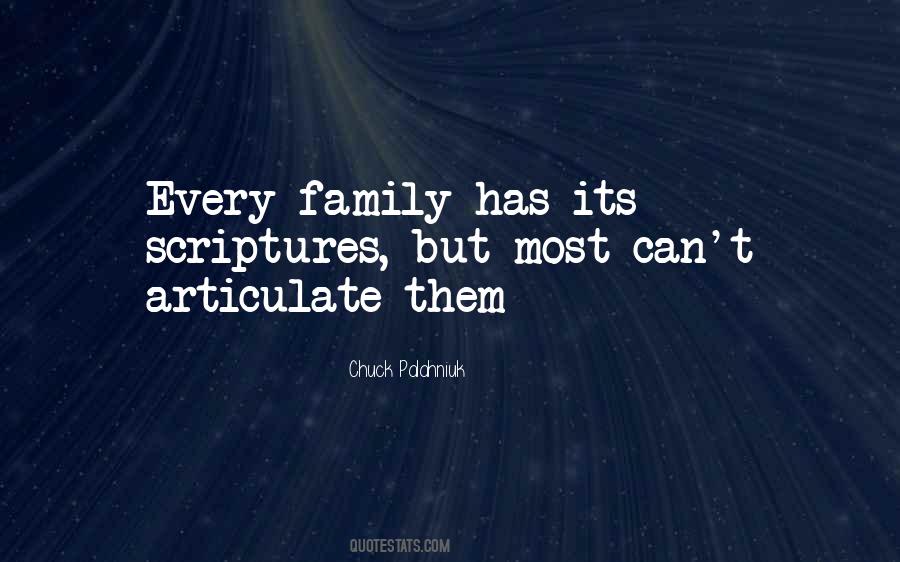 #17. The weapon of life is the word of God. - Author: Lailah Gifty Akita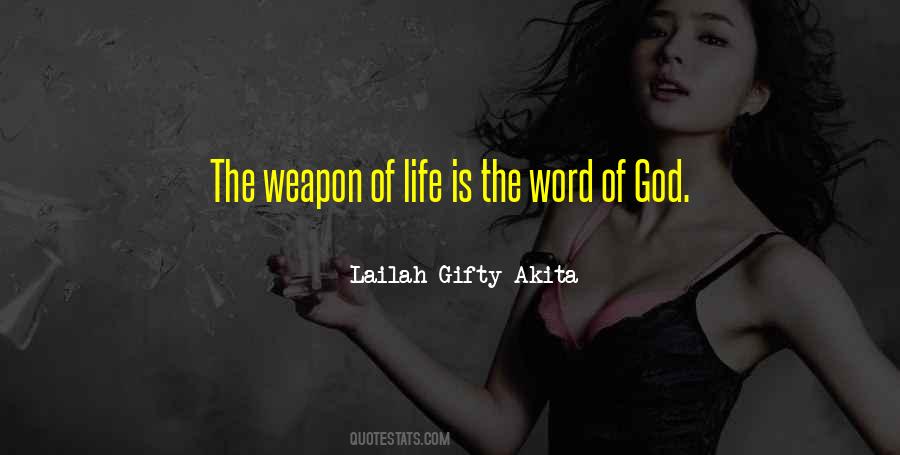 #18. Art is prayer - not the vulgarized notations handed down to us in the scriptures, but a fresh vital discovery of one's own special presence in the world. - Author: Joseph C Zinker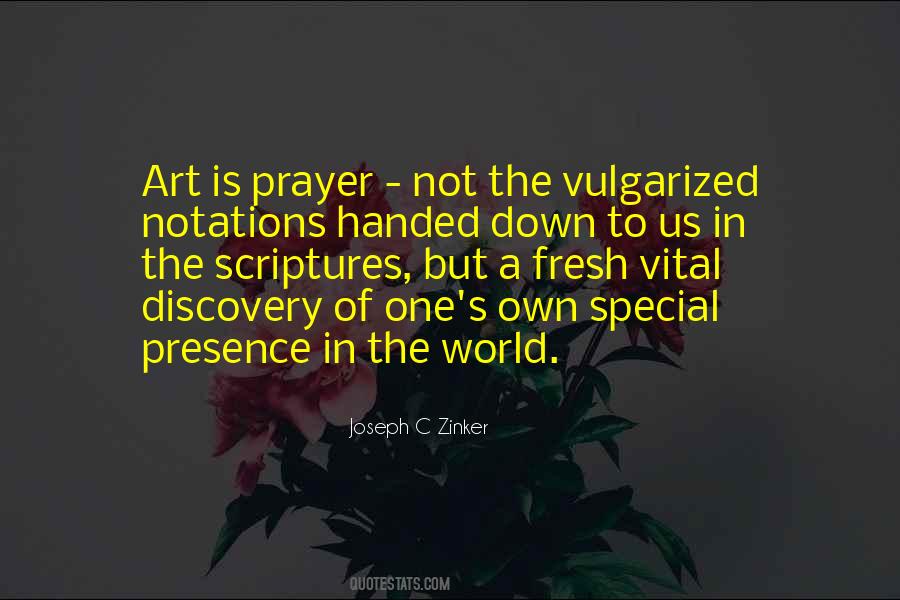 #19. Good teaching gains its authority from having consistent and repeated support from multiple scriptural sources, and it builds a firm base for our unity and our confidence in Christ. - Author: Reid A. Ashbaucher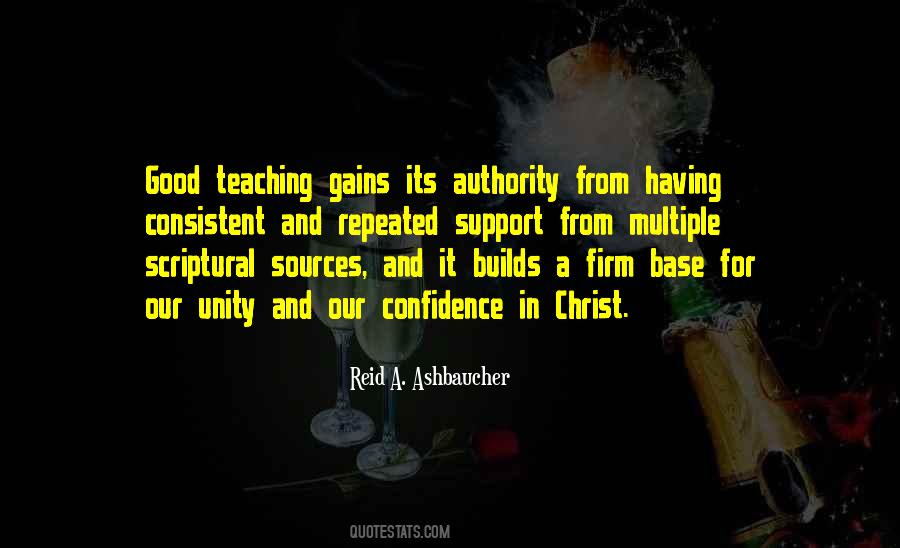 #20. It vexes me when they would constrain science by the authority of the Scriptures, and yet do not consider themselves bound to answer reason and experiment. - Author: Galileo Galilei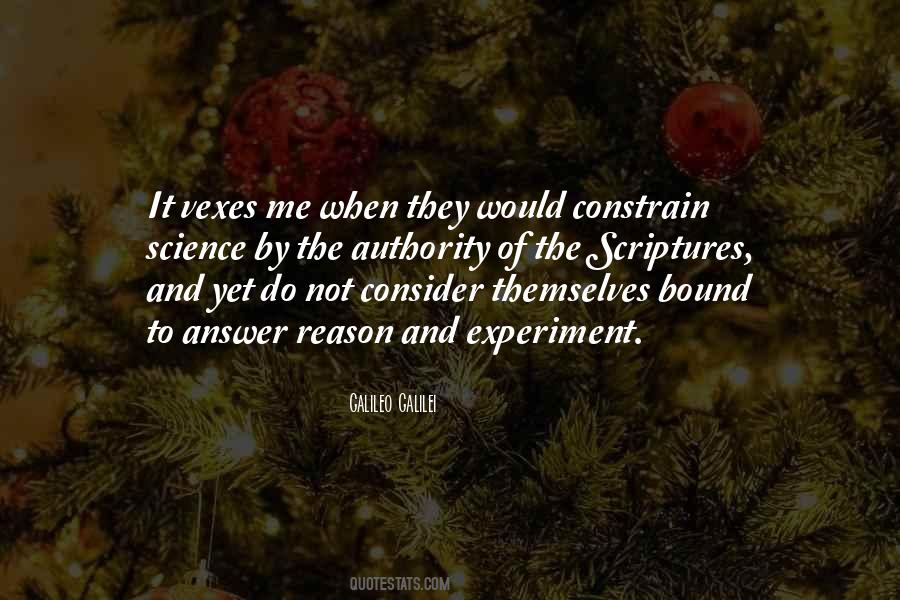 #21. Through reading the scriptures, we can gain the assurance of the Spirit that that which we read has come of God for the enlightenment, blessing, and joy of his children. - Author: Gordon B. Hinckley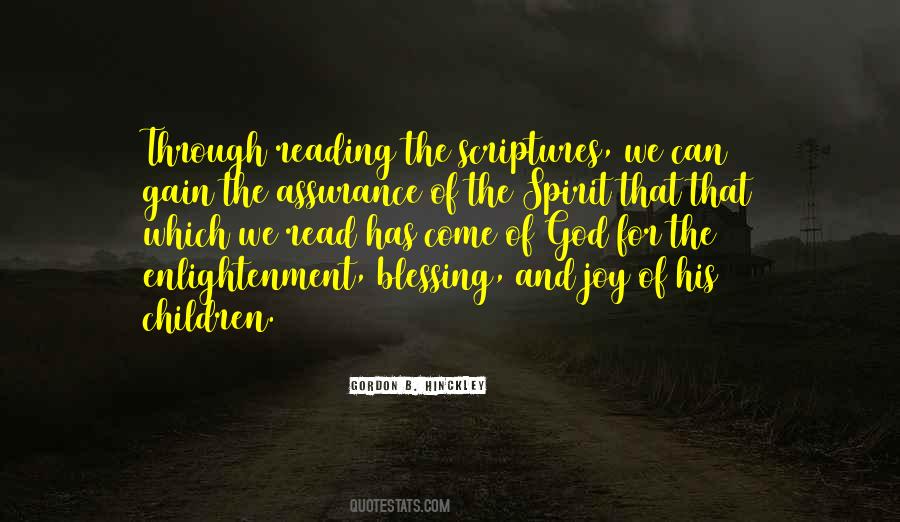 #22. In the scriptures the term light-mindedness means making light of sacred things or not taking seriously those eternally significant things that should be treated with reverence (D&C 84:54). - Author: Brent L. Top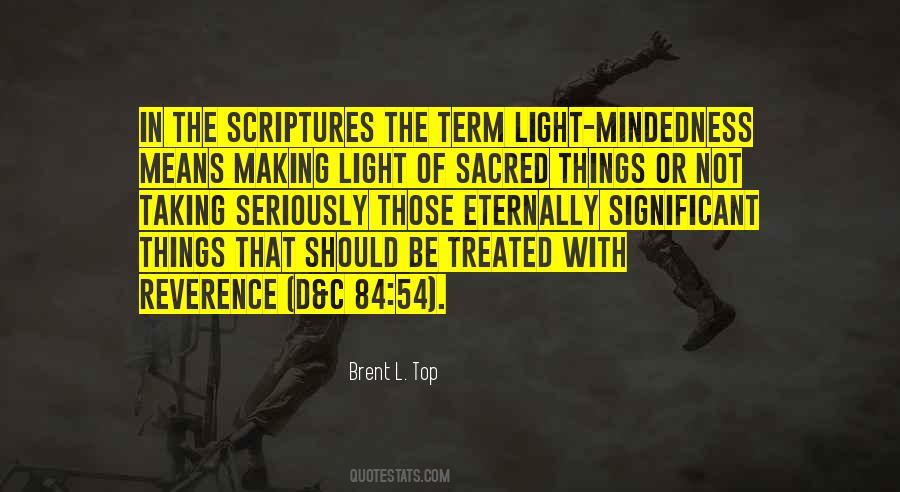 #23. Study the scriptures and study the mortals who have been most consistently accurate about the most important things. When your freedom and your eternal welfare are at stake, your information best be accurate. - Author: Ezra Taft Benson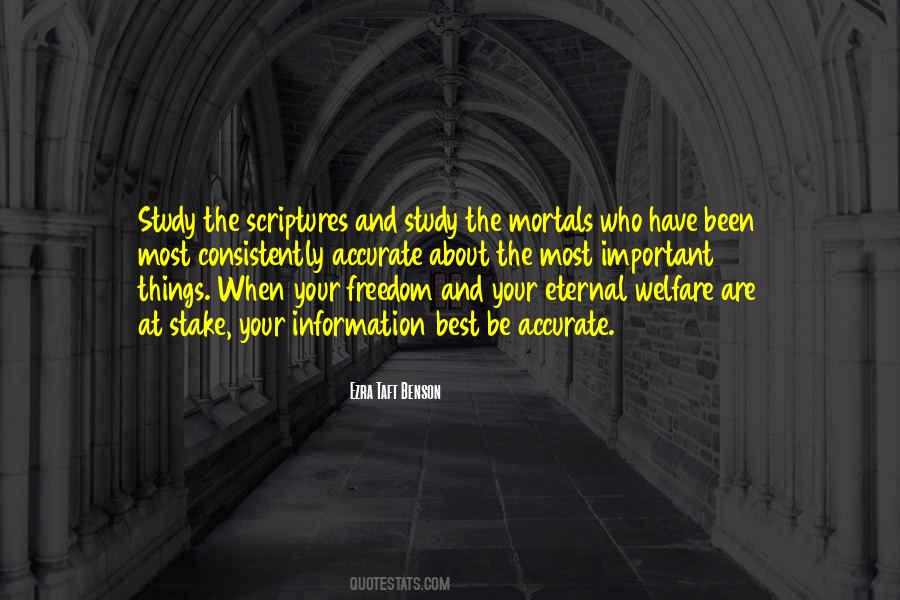 #24. What the purpose of my life is about is I want to become the kind of person that God wants me to become, and through my study of the scriptures, I can articulate the kind of person that God would be happy if I become. - Author: Clayton Christensen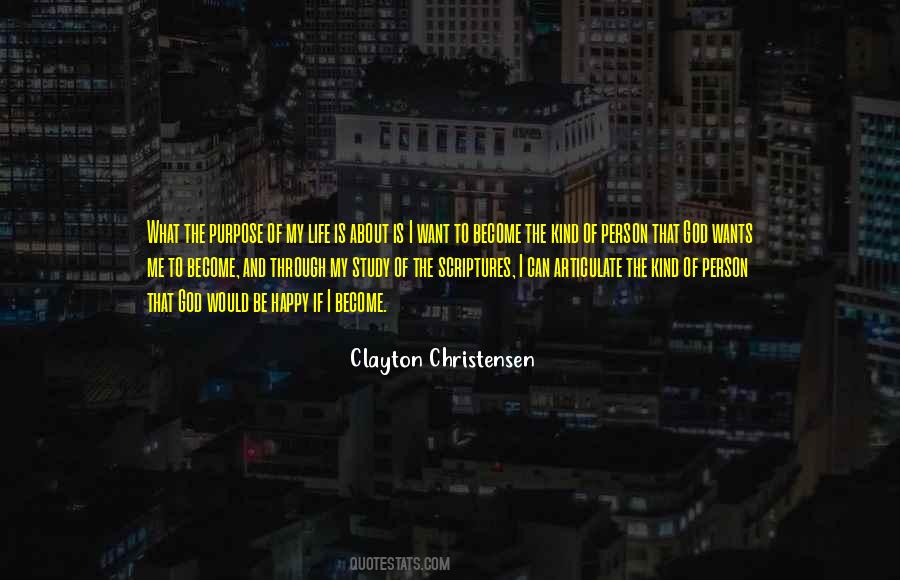 #25. We treasure the word of God not only by reading the words of the scriptures, but by studying them. We may be nourished more by pondering a few words, allowing the Holy Ghost to make them treasures to us, than to pass quickly and superficially over whole chapters of scripture. - Author: Henry B. Eyring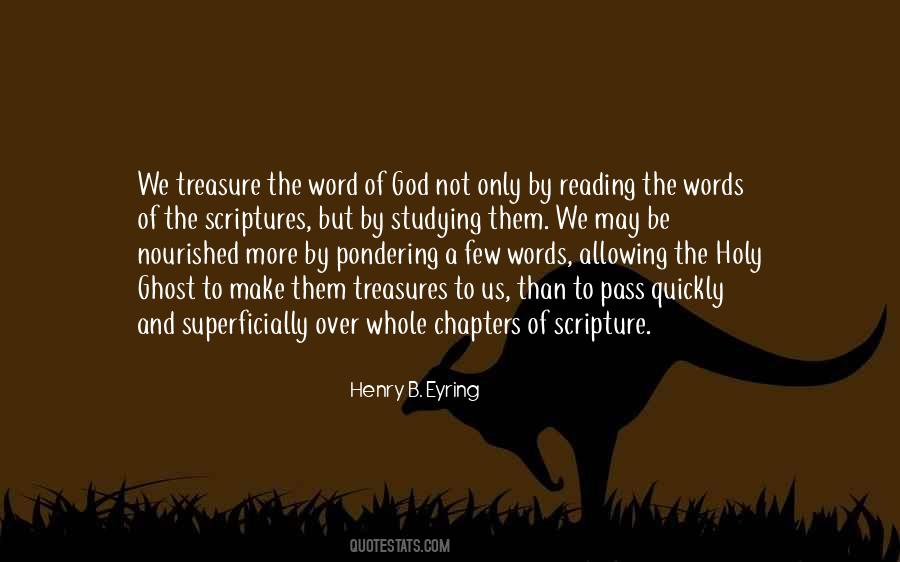 #26. Never stop studying the Holy Scriptures . - Author: Lailah Gifty Akita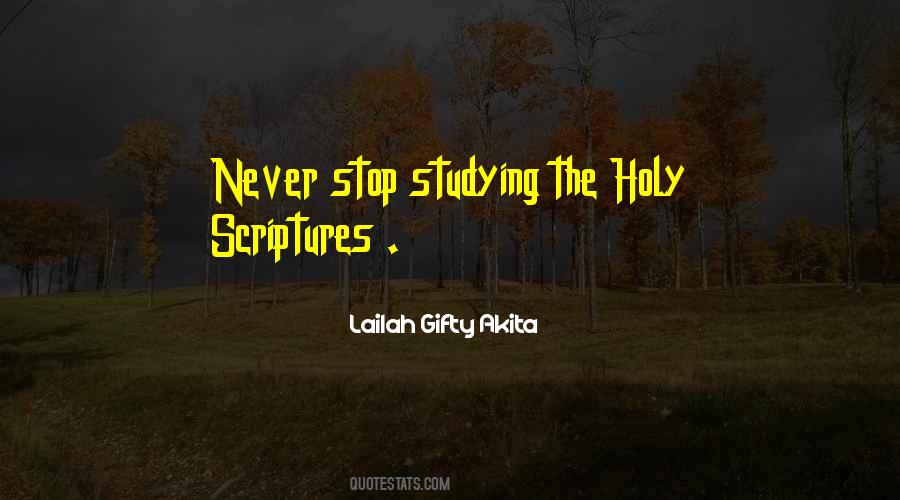 #27. Our true wisdom is to embrace with meek docility, and without reservation, whatever the holy scriptures have delivered. - Author: John Calvin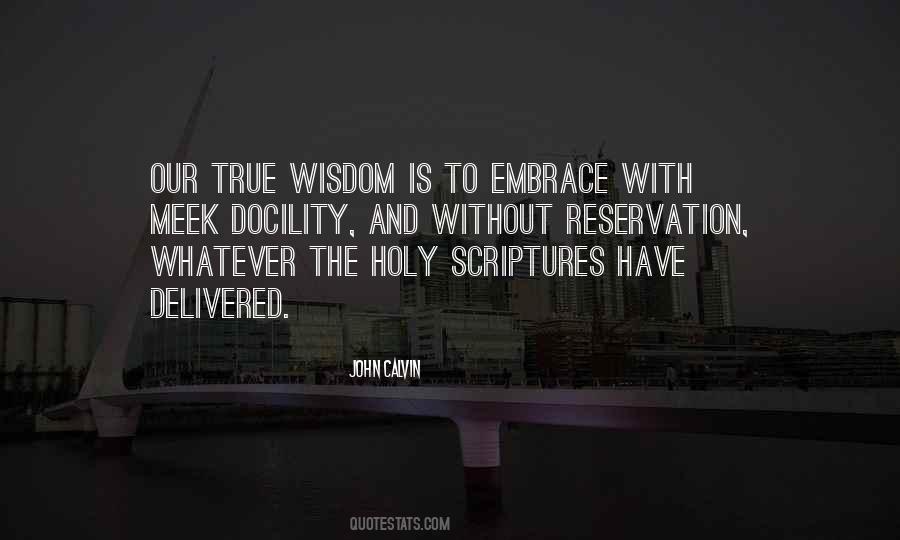 #28. You have to plan it [your devotion to God] every day. And, the best time to plan it is before your day begins. If you don't plan it, your day will plan you. And so, I make a disciplined life of the study of the scriptures, reading the word every day. - Author: Ravi Zacharias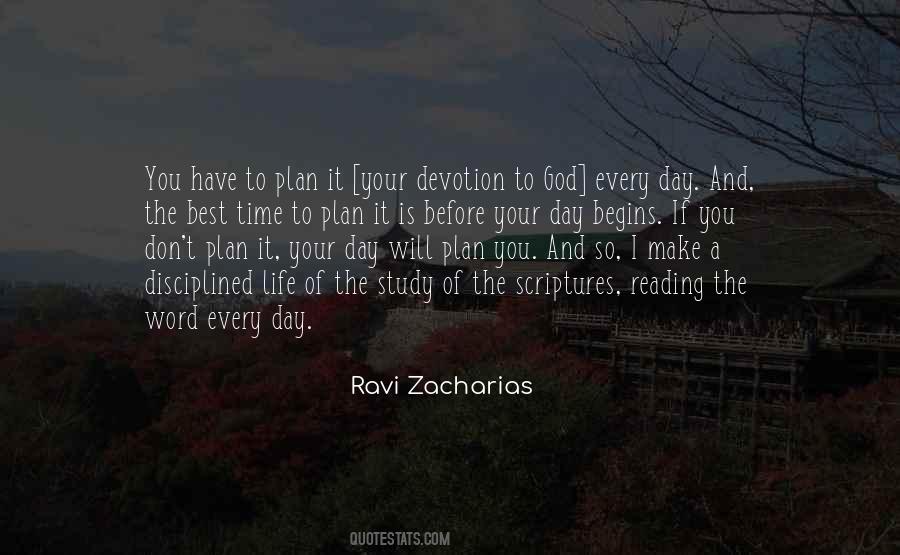 #29. Therefore the whole apparatus of piety, Hindu and Moslem alike - the temple and mosque, idol and holy water, scriptures and priests - were denounced by this inconveniently clear-sighted poet as mere substitutes for reality; dead things intervening between the soul and its love - - Author: Rabindranath Tagore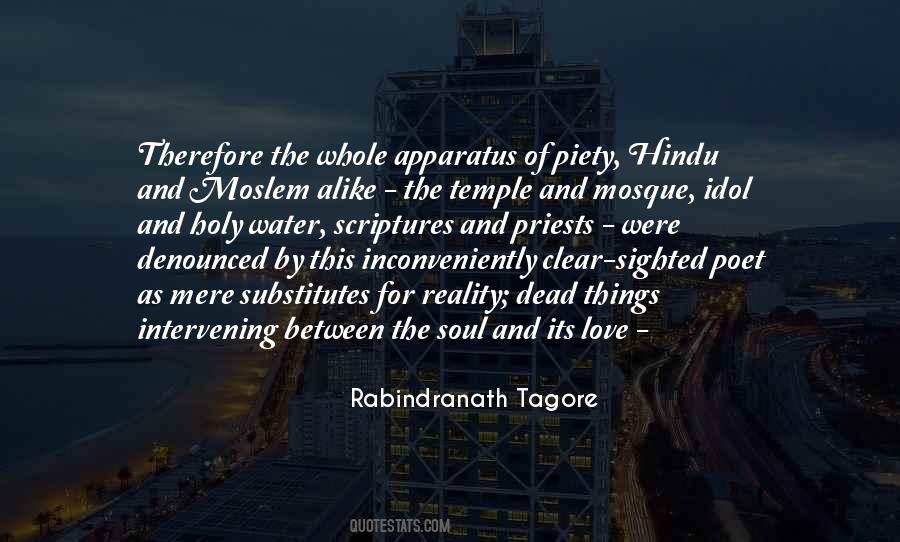 #30. Holiness, as taught in the Scriptures, is not based upon knowledge on our part. Rather, it is based upon the resurrected Christ in-dwelling us and changing us into His likeness. - Author: A.W. Tozer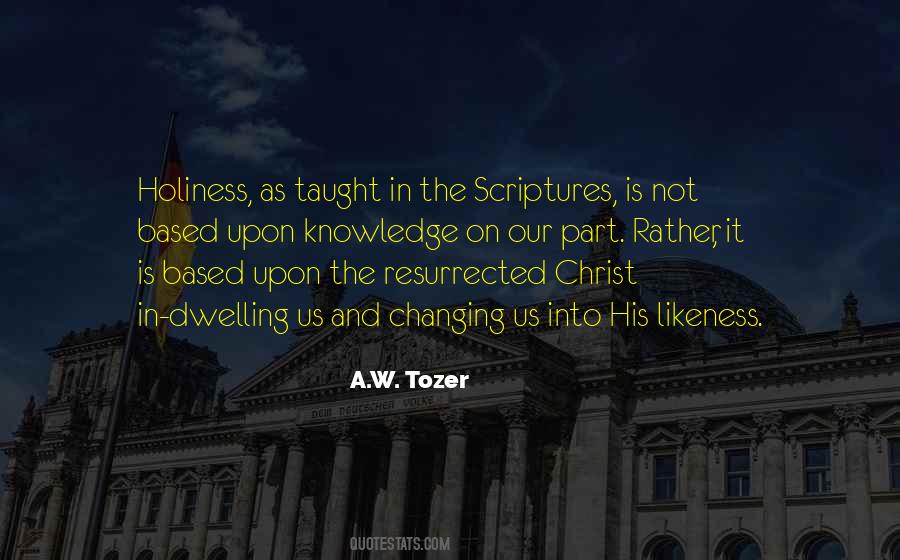 #31. But as I pursued that dream of upward mobility preparing for college, things just didn't fit together. As I read Scriptures about how the last will be first, I started wondering why I was working so hard to be first. - Author: Shane Claiborne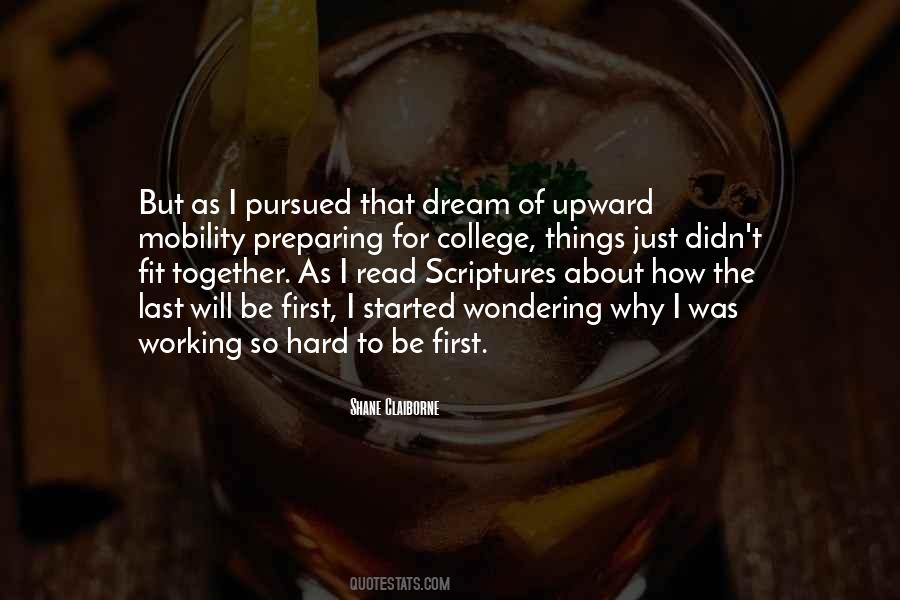 #32. In the scriptures, we are told you can't really understand happiness unless you understand sadness. You don't know pleasure if you don't know pain. It's part of life. So can you learn something from somebody who has gone from success to success to success? I don't think so. - Author: Clayton Christensen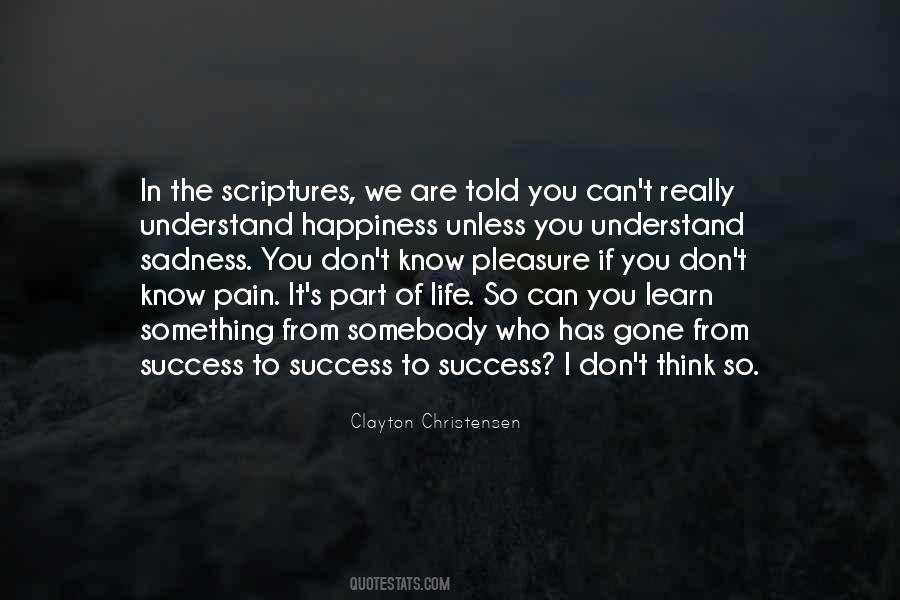 #33. Those who are lacking in bhakti (devotion), lacking in faith, are ill qualified to interpret the scriptures. - Author: Mahatma Gandhi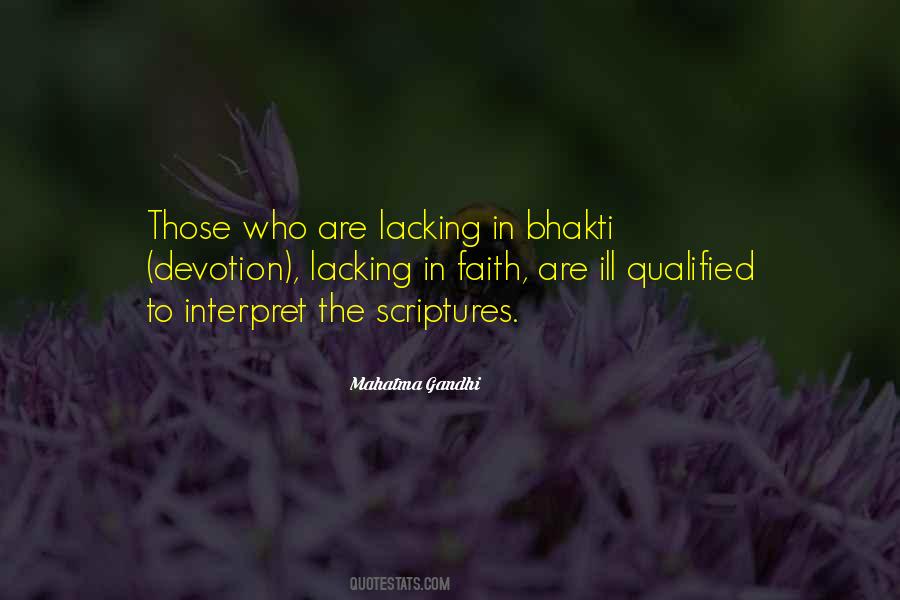 #34. The book of books, the storehouse and magazine of life and comfort, the holy Scriptures. - Author: George Herbert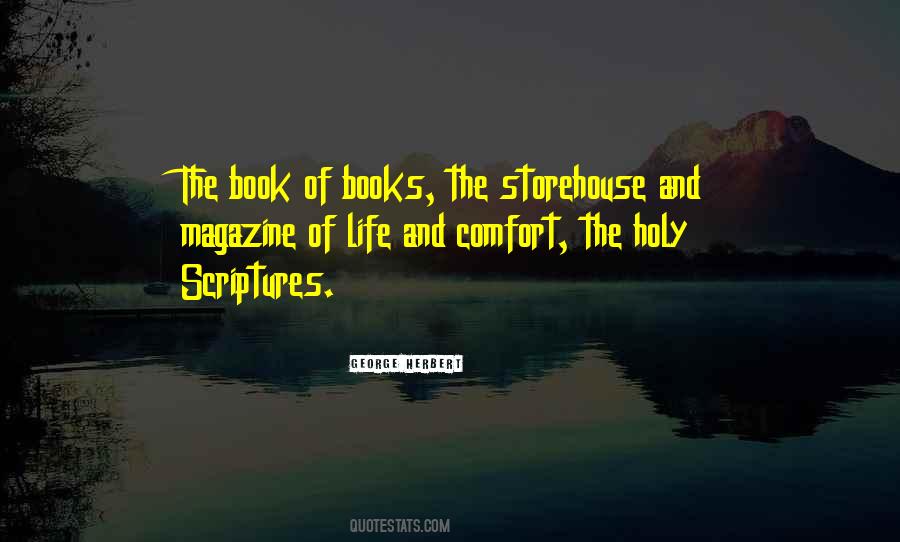 #35. I do not believe for a moment that the Scriptures are against wealth. But the warning to those who make wealth their pursuit is a stern reality. Wealth must be processed through a philosophy of life that is greater than wealth itself. If not, it shapes the mind for bitter disappointments. - Author: Ravi Zacharias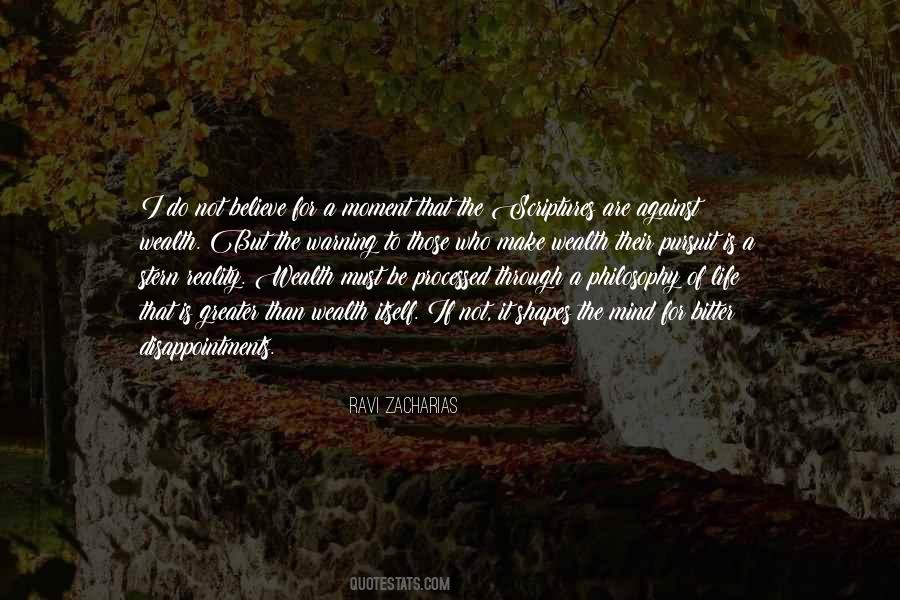 #36. The Lord speaks to us through the Scriptures and in our prayer. Let us learn to keep silence before him, as we meditate upon the Gospel. - Author: Pope Francis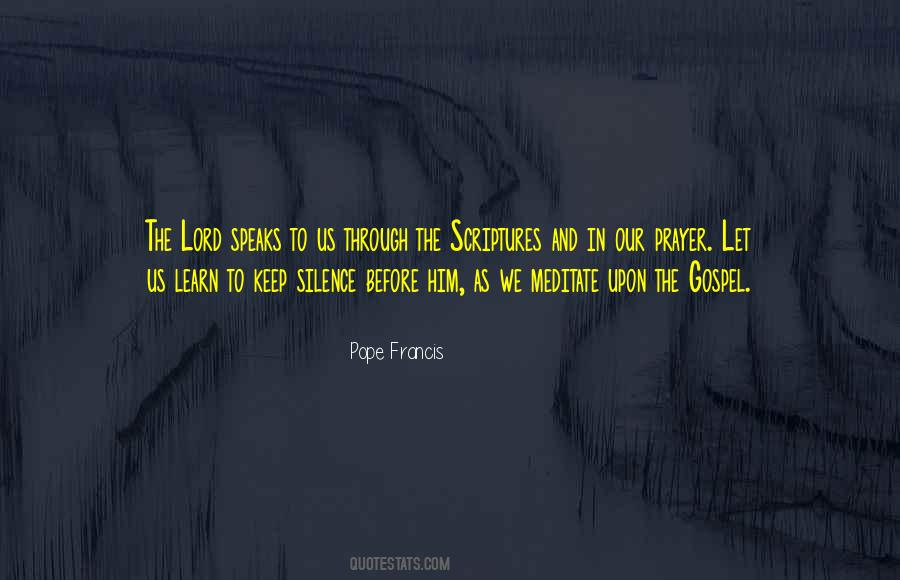 #37. Keep strong and affirm the Scriptures daily. - Author: Lailah Gifty Akita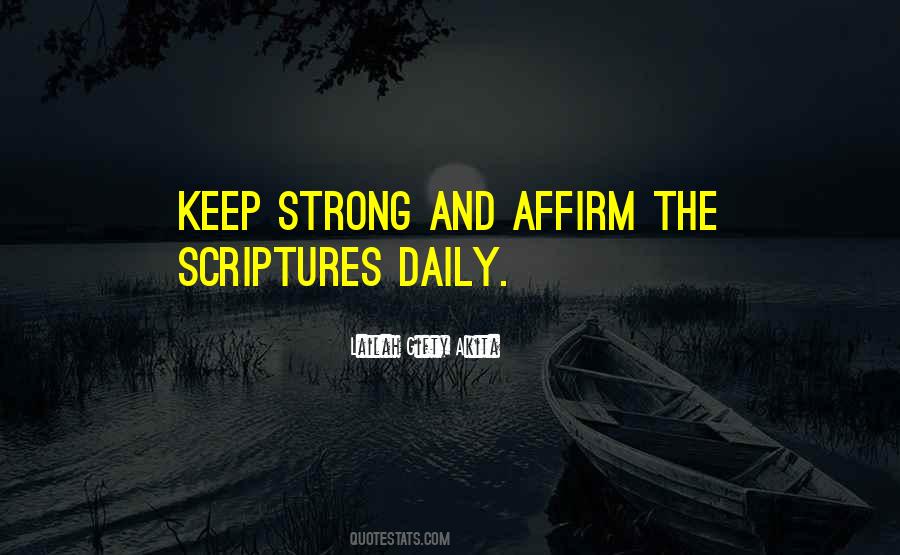 #38. Pray and mediate on the Scriptures. - Author: Lailah Gifty Akita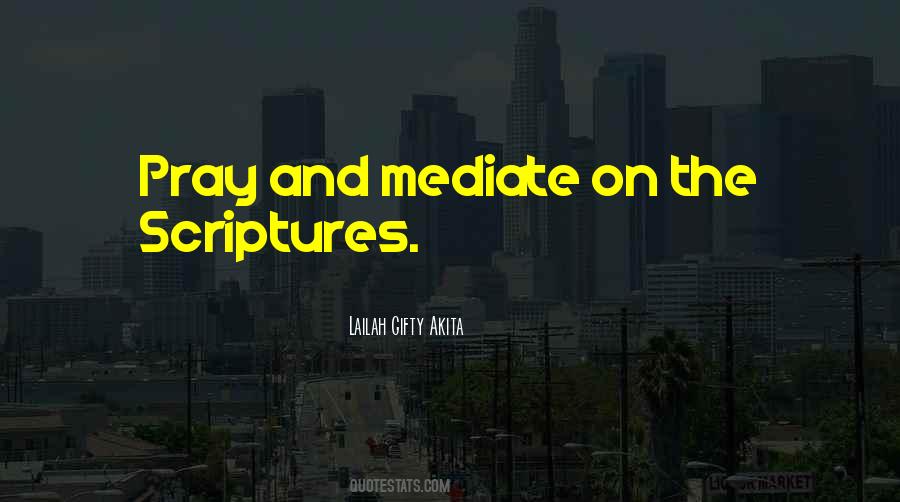 #39. We have never heard the devil's side of the story, God wrote all the book. - Author: Anatole France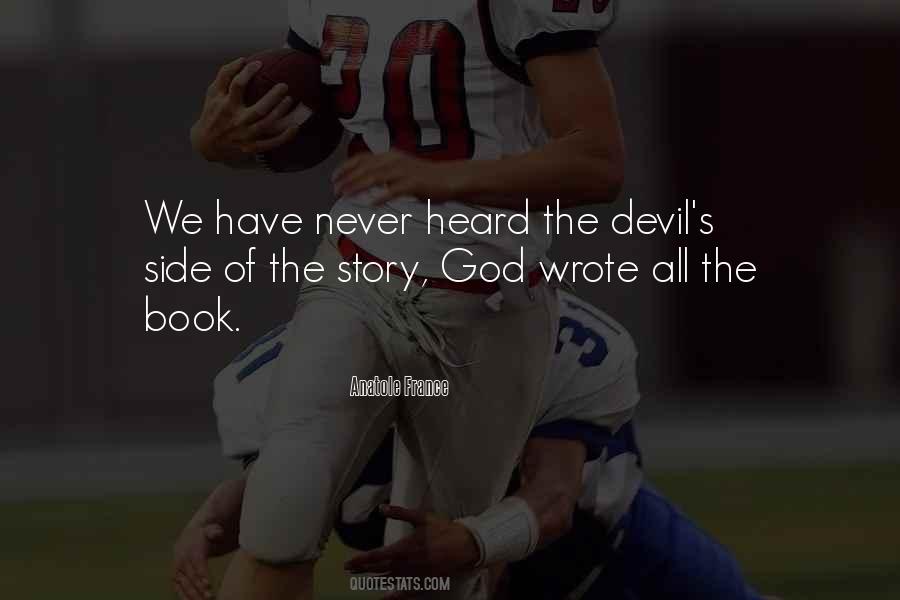 #40. When we want to speak to God, we pray. And when we want Him to speak to us, we search the scriptures. - Author: Robert D. Hales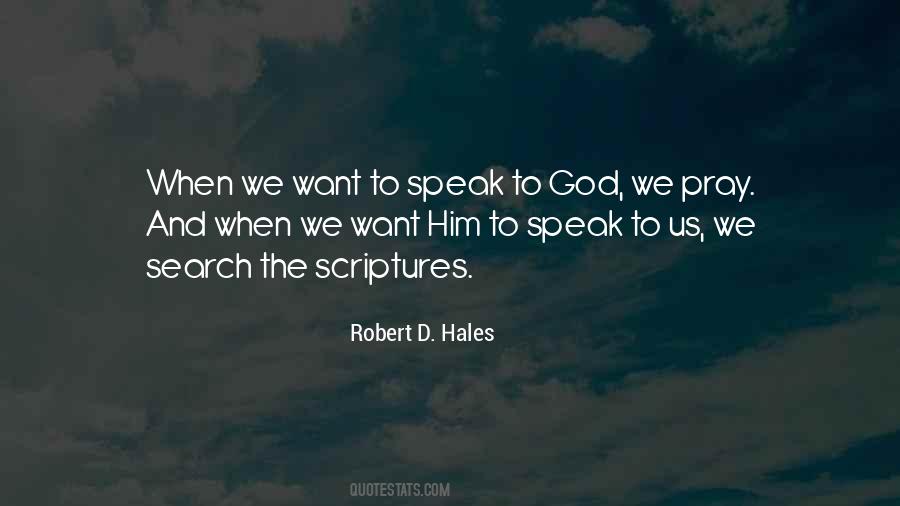 #41. The living WORD, medicine for the soul. - Author: Lailah Gifty Akita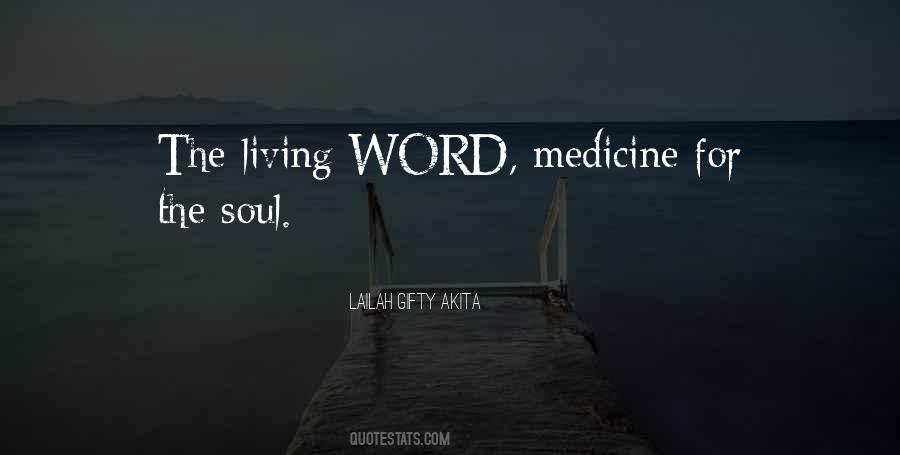 #42. The Scriptures teach us the best way of living, the noblest way of suffering, and the most comfortable way of dying. - Author: John Flavel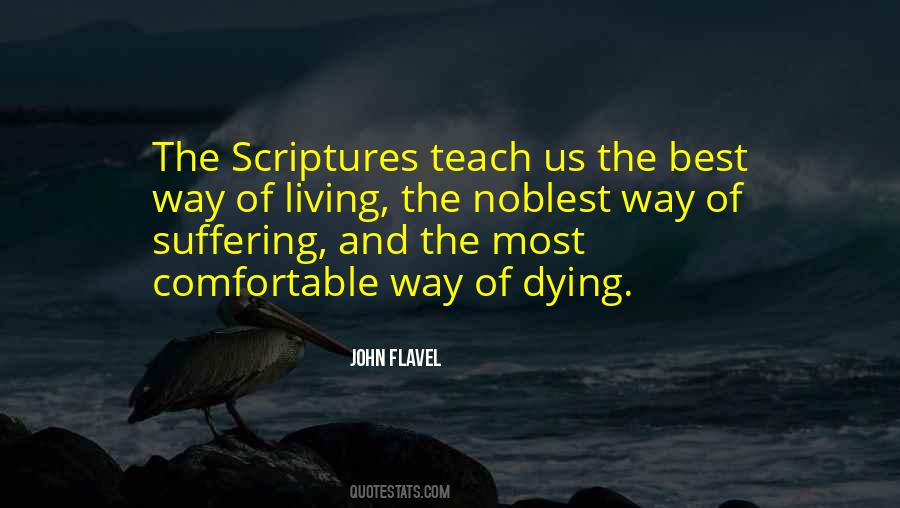 #43. We often confuse spiritual knowledge with spiritual attainment. Spirituality is not a matter of knowing scriptures and engaging in philosophical discussions. It is a matter of heart culture, of unmeasurable strength. - Author: Mahatma Gandhi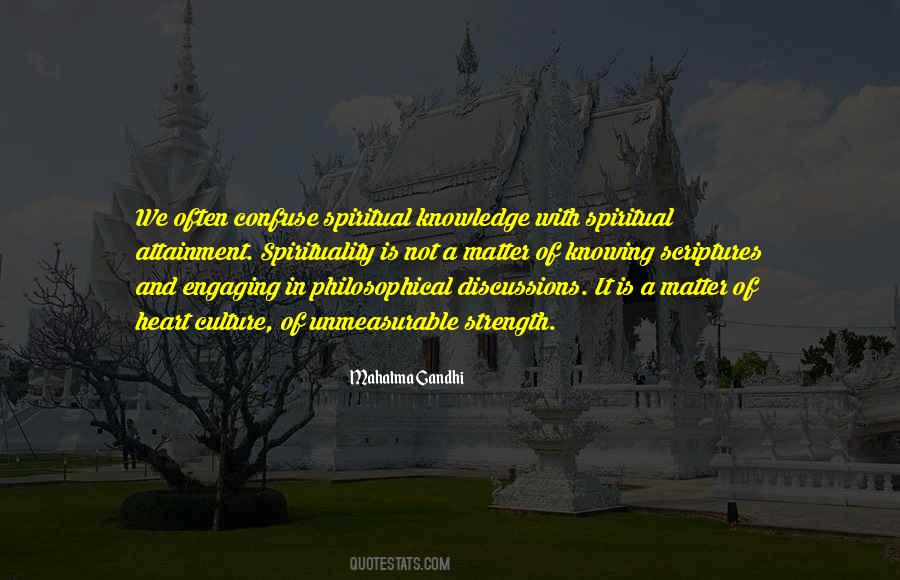 #44. We ought not, as soon as we leave church, to plunge into business unsuited to church, but as soon as we get home, we should take the Scriptures into our hands, and call our wife and children to join us in putting together what we have heard in church. - Author: Saint John Chrysostom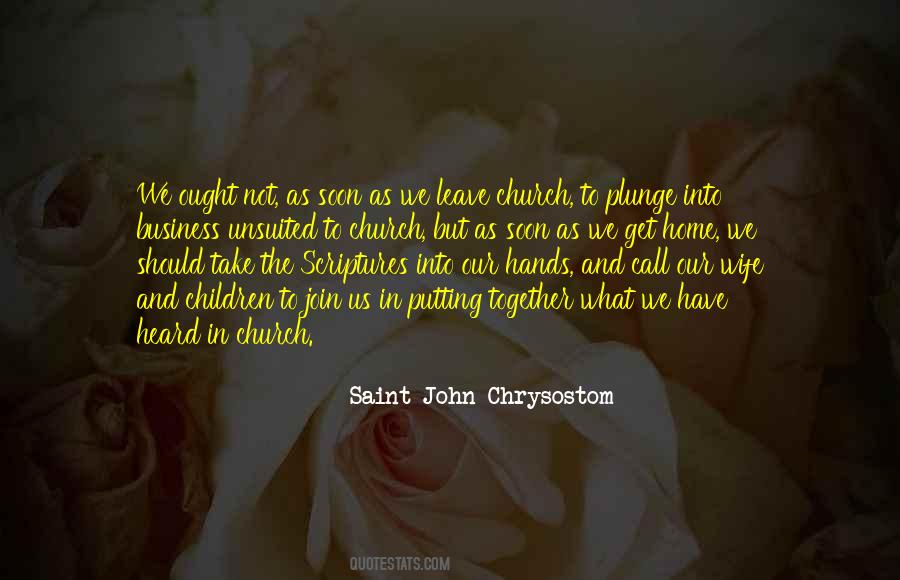 #45. If ever we are to study the Scriptures, if ever we are to spend time in prayer, if ever we are to win souls for Christ, if ever we are to invest our finances for His kingdom - it must be now. - Author: Billy Graham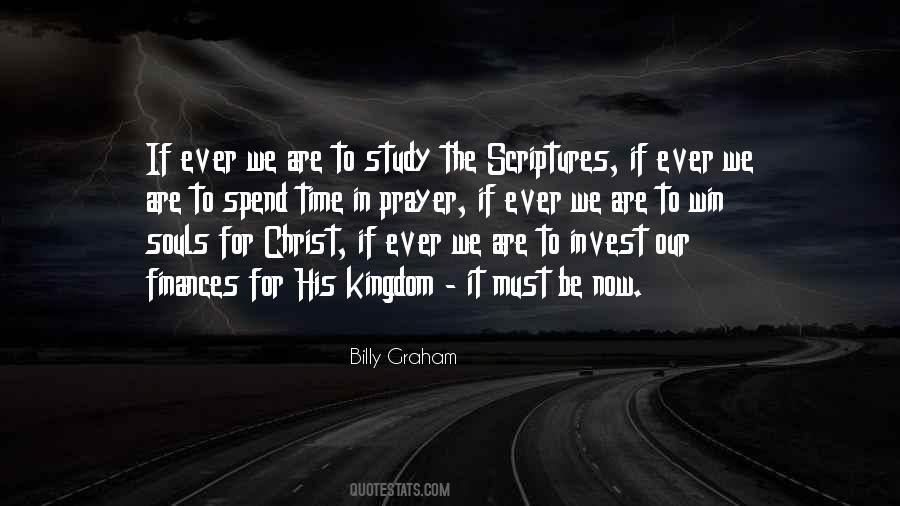 #46. The Deuteronomists had made violence an option in the Judeo-Christian religion. It would always be possible to make these scriptures endorse intolerant policies. - Author: Karen Armstrong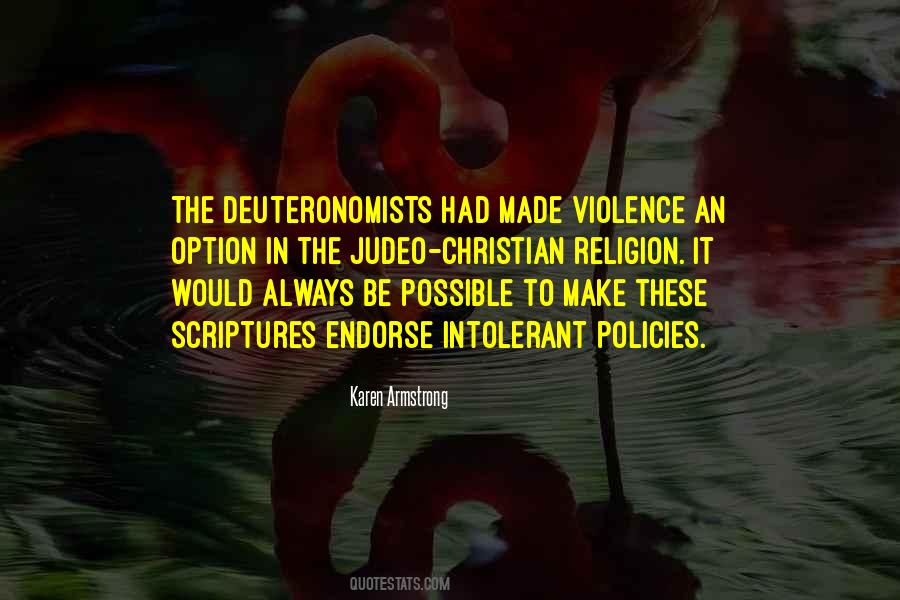 #47. The more you read the gospel, the more you understand God. - Author: Lailah Gifty Akita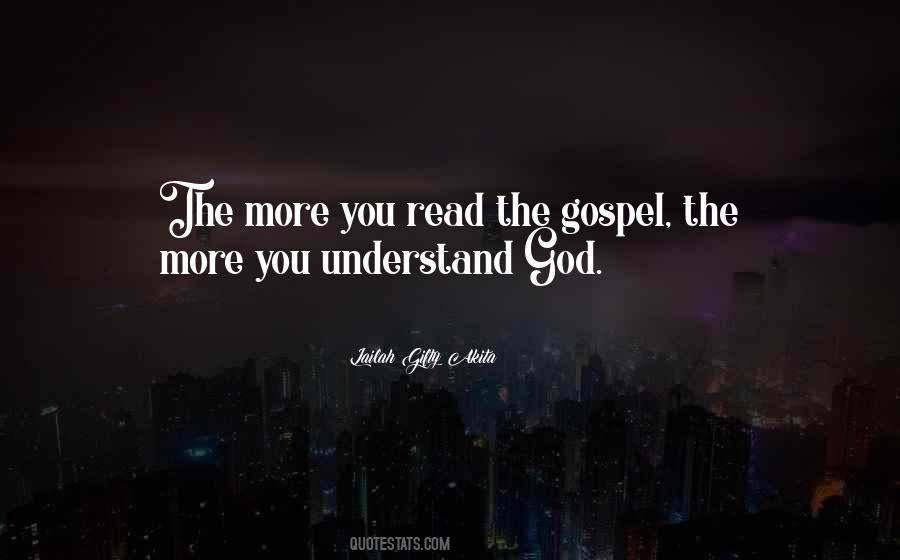 #48. Stop determining your worth and value by what other people say. Be determined by what the Word of God (scriptures)says. - Author: Joyce Meyer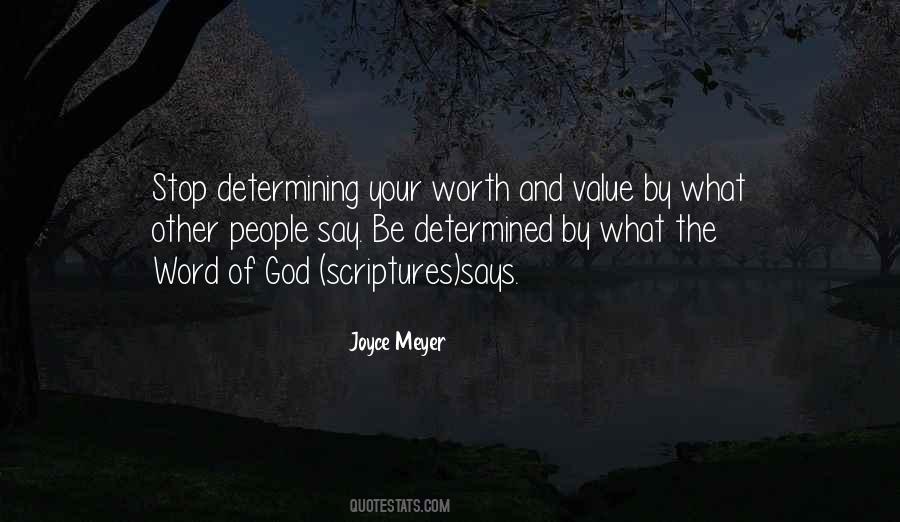 #49. If you will study the scriptures diligently, your power to avoid temptation and to receive direction of the Holy Ghost in all you do will be increased. - Author: Thomas S. Monson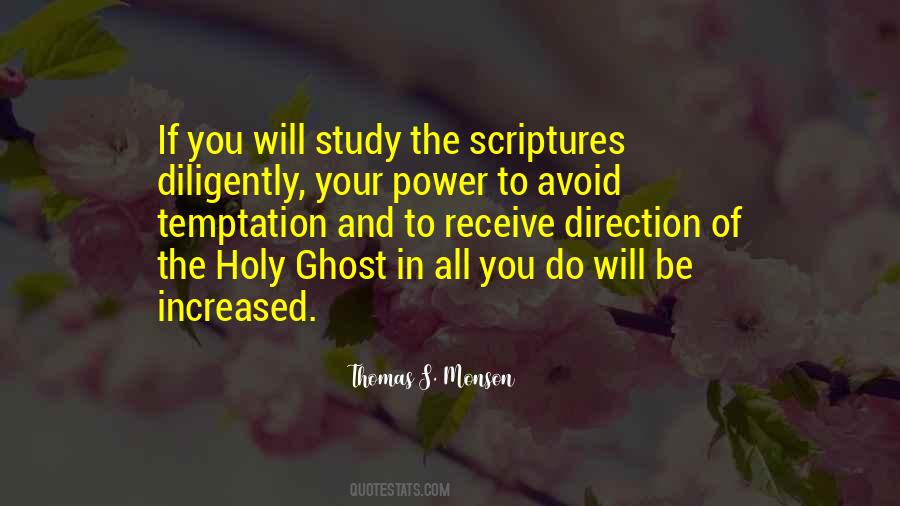 #50. If we read the Scriptures, God will shine in our heart. - Author: Lailah Gifty Akita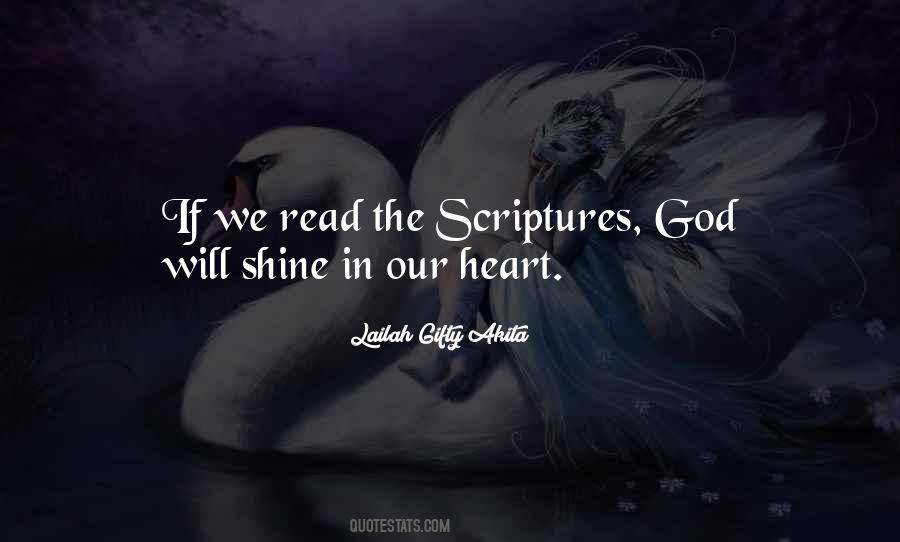 #51. Those of us who preach the Scriptures, along with being nourished by it ourselves, have to figure out along with our congregations how we can incarnate the gospel in our community, or we will preach to a religious ghetto. - Author: John Ortberg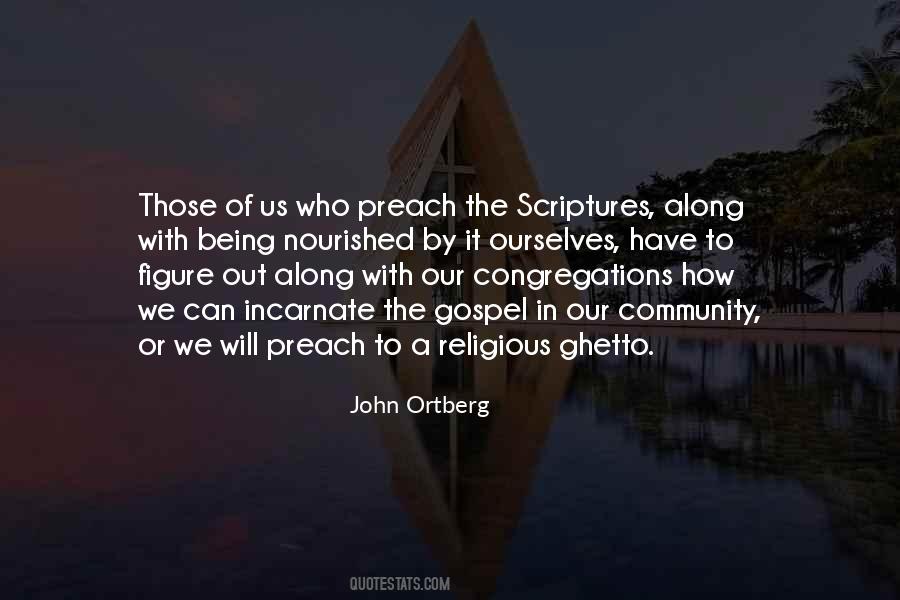 #52. Only two kinds of people can attain self-knowledge: those who are not encumbered at all with learning, that is to say, whose minds are not over-crowded with thoughts borrowed from others; and those who, after studying all the scriptures and sciences, have come to realise that they know nothing. - Author: Ramakrishna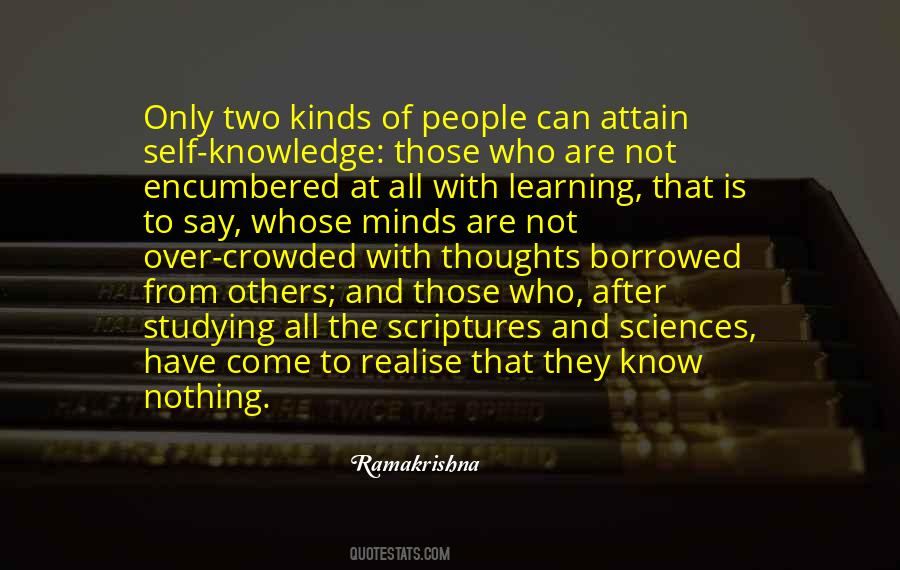 #53. The highest knowledge, knowledge of the Holy Scriptures. - Author: Lailah Gifty Akita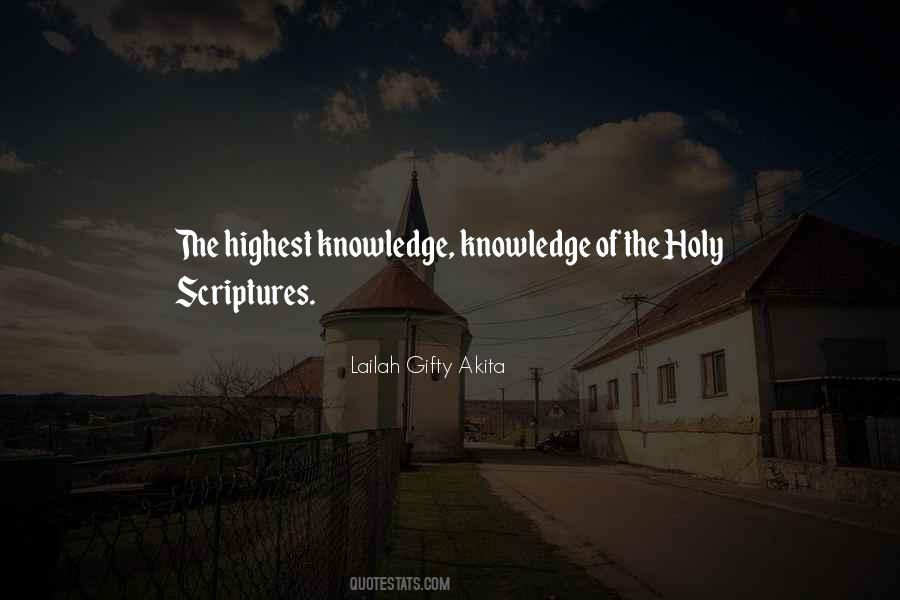 #54. Satan has frightened men from reading the sacred writings, and has rendered Holy Scriptures contemptible, so as to ensure his poisonous philosophy to prevail in the church. - Author: Martin Luther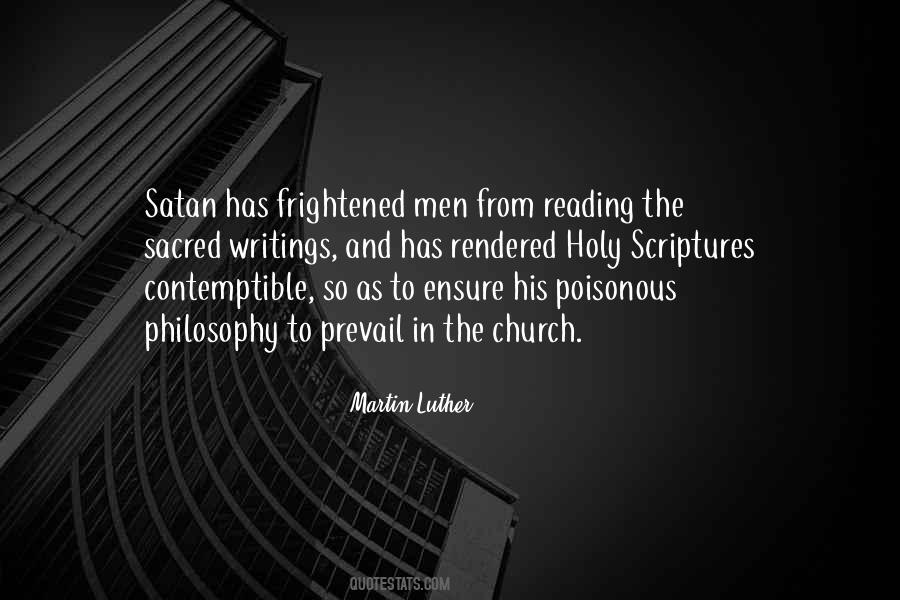 #55. And thus, instead of a mere record of a revelation given in the past, we have the ever-living word of God; instead of a mere tradition however guarded, we have what we have all learned to call in a unique sense "the Scriptures. - Author: Fred G. Zaspel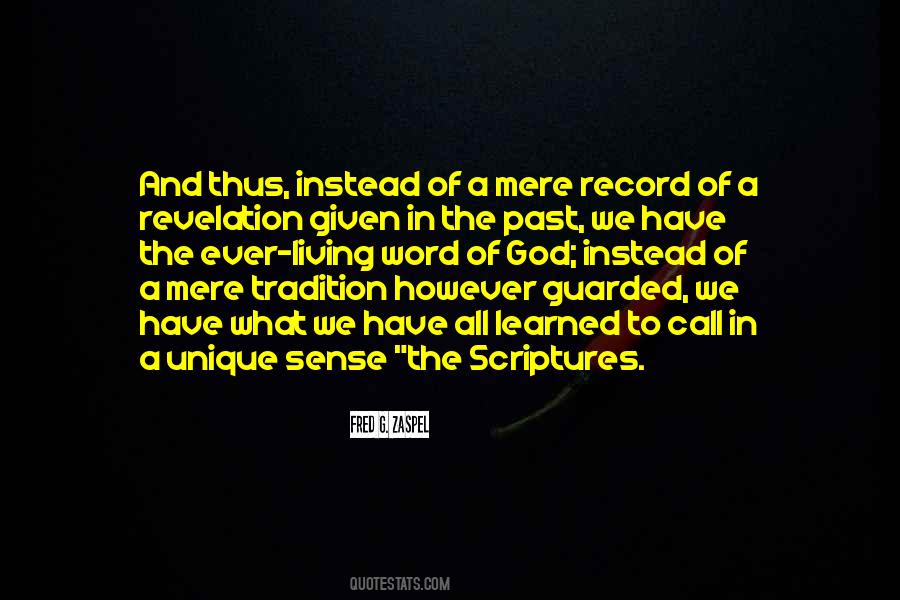 #56. I believe in supremacy of God. - Author: Lailah Gifty Akita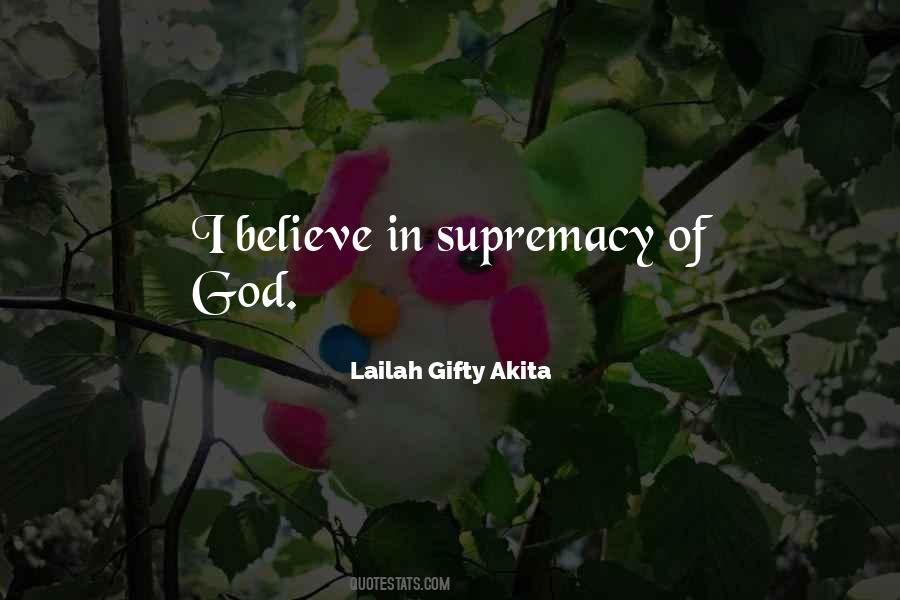 #57. It is proved out of the holy scriptures that an unregenerate man is altogether destitute of the power and liberty of his will, in those things that pertain to faith and salvation. - Author: Peter Du Moulin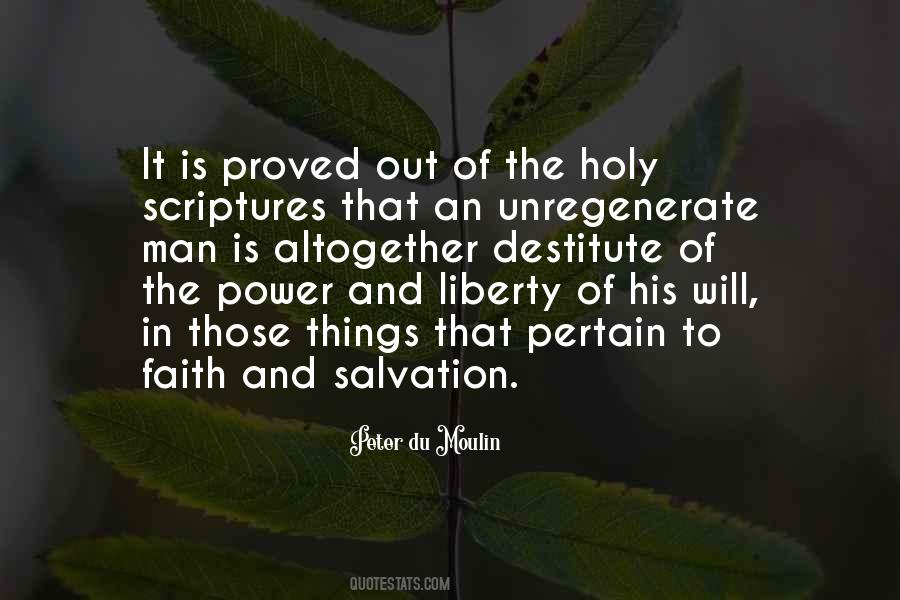 #58. Just as those who are deprived of light cannot walk straight, so also those who do not behold the ray of the Holy Scriptures must necessarily sin, since they walk in the deepest darkness. - Author: Saint John Chrysostom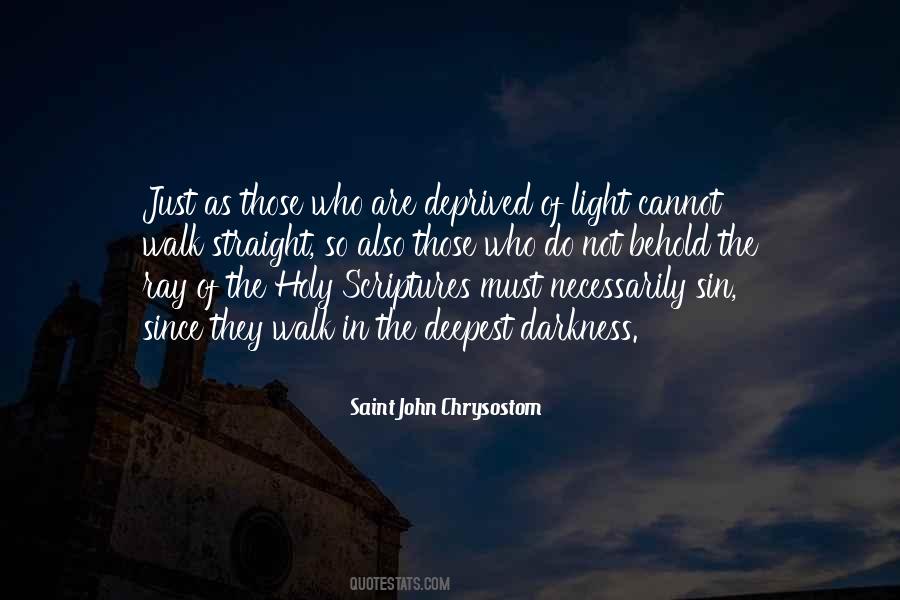 #59. O Lord open our hearts to heed to thy holy word. - Author: Lailah Gifty Akita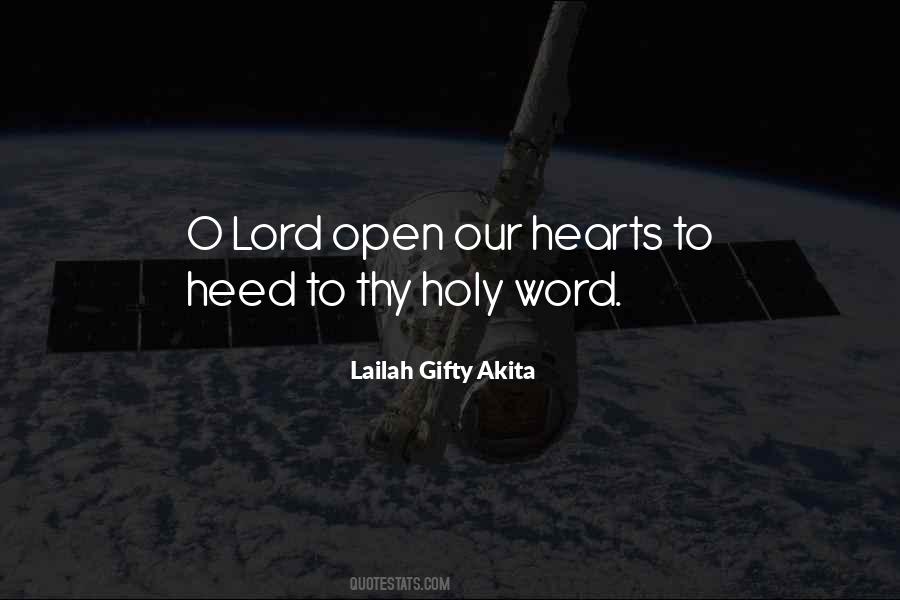 #60. I observe there is in Mr. Hooker no affected language; but a grave, comprehensive, clear manifestation of reason, and that backed with the authority of the Scriptures, the fathers and schoolmen, and with all law both sacred and civil. - Author: Richard Hooker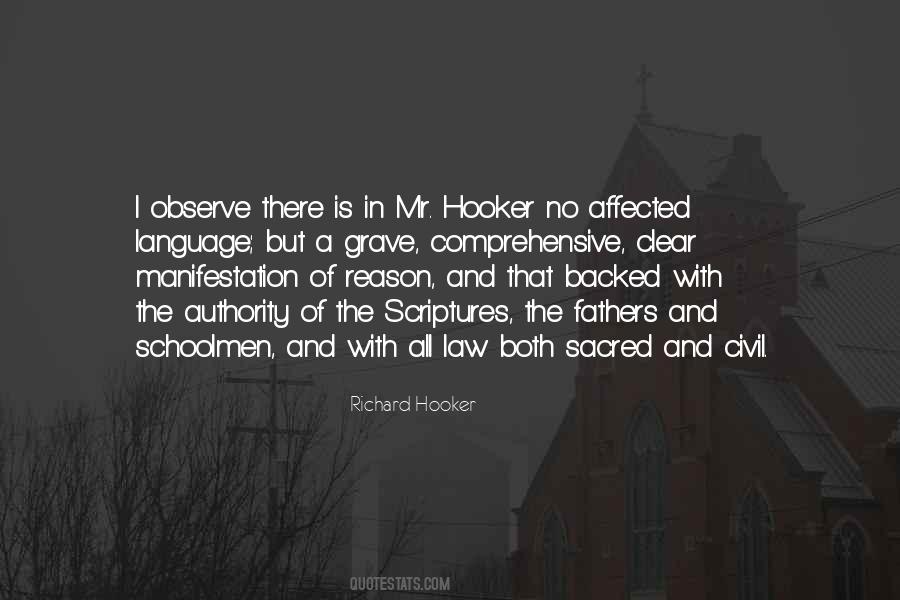 #61. My earlier views of the unsoundness of the Christian scheme of salvation and the human origin of the scriptures have become clearer and stronger with advancing years, and I see no reason for thinking I shall ever change them. - Author: Abraham Lincoln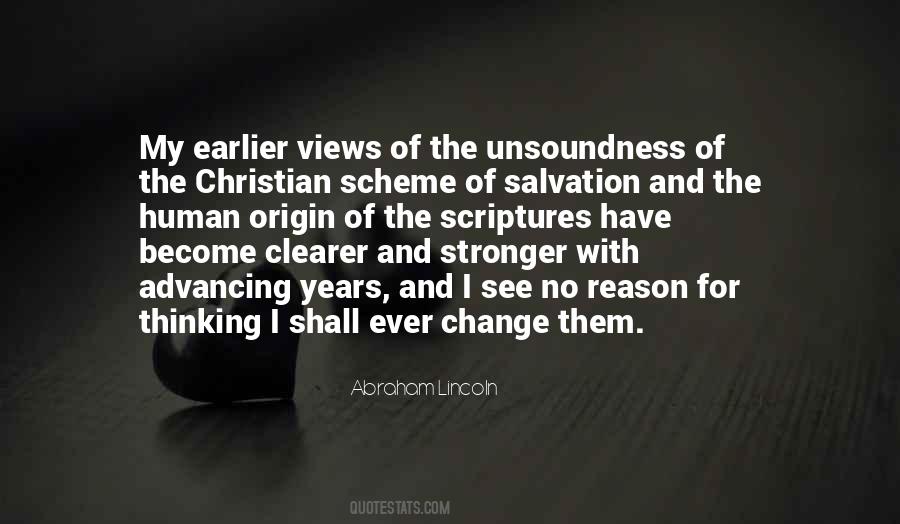 #62. Is there any certainty like the Truth? - Author: Lailah Gifty Akita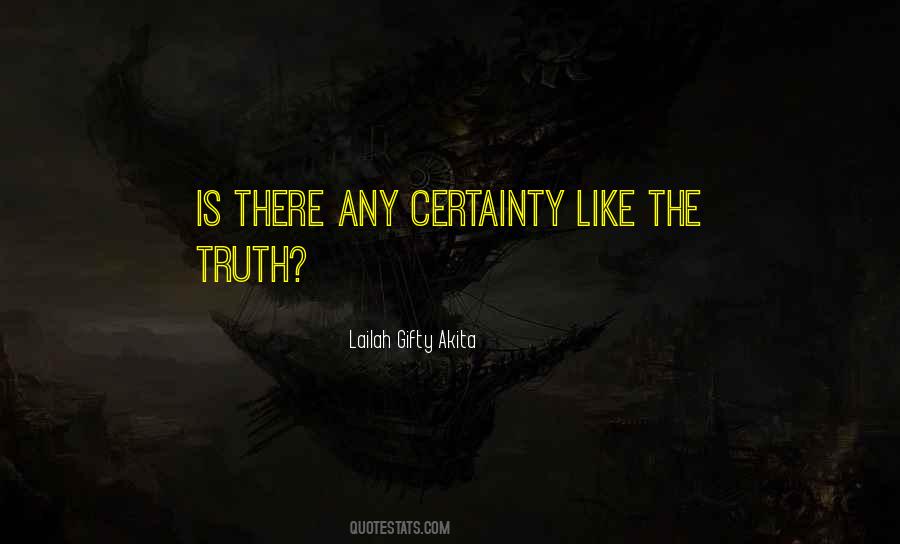 #63. Now if the study of the Scriptures be necessary to our happiness at any time in our life, the sooner we begin to read them, the more we shall be attached to them ... - Author: Benjamin Rush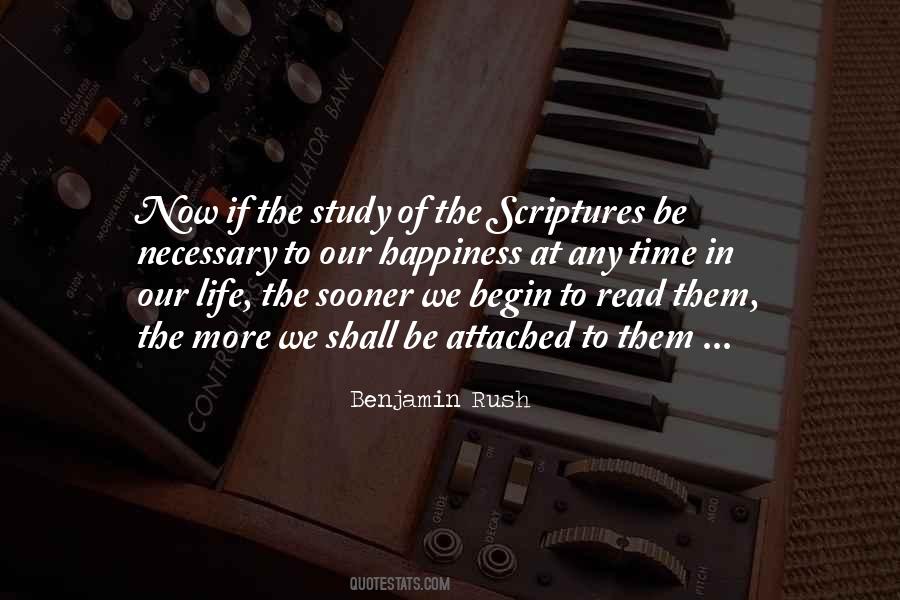 #64. I believe that every Christian ought to be joined to some visible church; that is his
plain duty, according to the Scriptures. God's people are not dogs, else they might go
about one by one; but they are sheep, and therefore they should be in flocks. - Author: Charles Spurgeon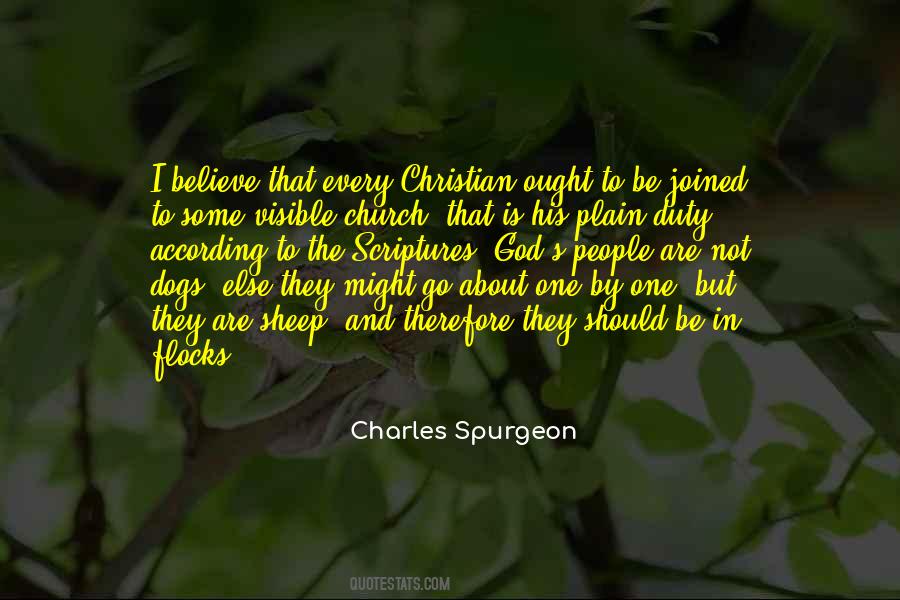 #65. As we learn in [the] scriptures, the fundamental purposes for the gift of agency were to love one another and to choose God. Thus we become God's chosen and invite His tender mercies as we use our agency to choose God. - Author: David A. Bednar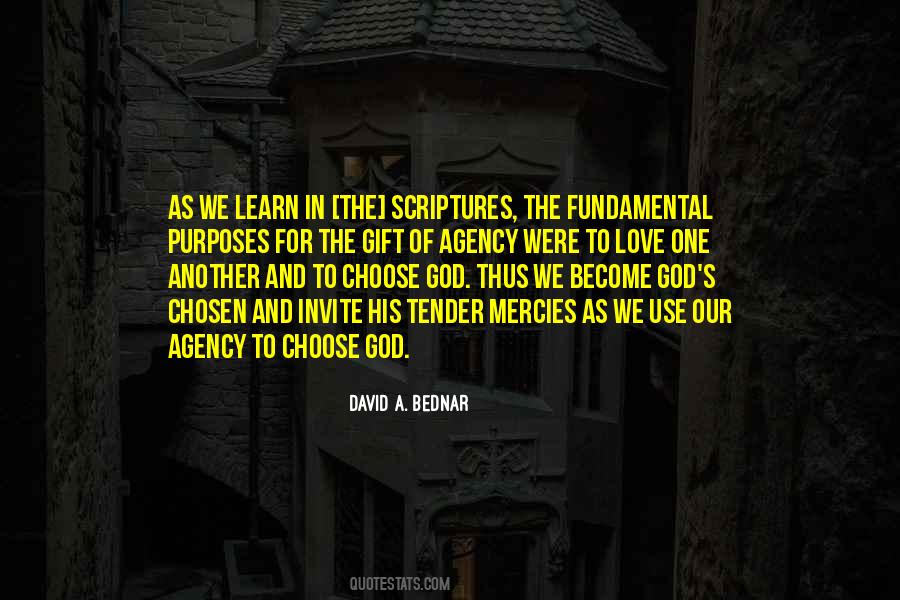 #66. I believe in the word of God. - Author: Lailah Gifty Akita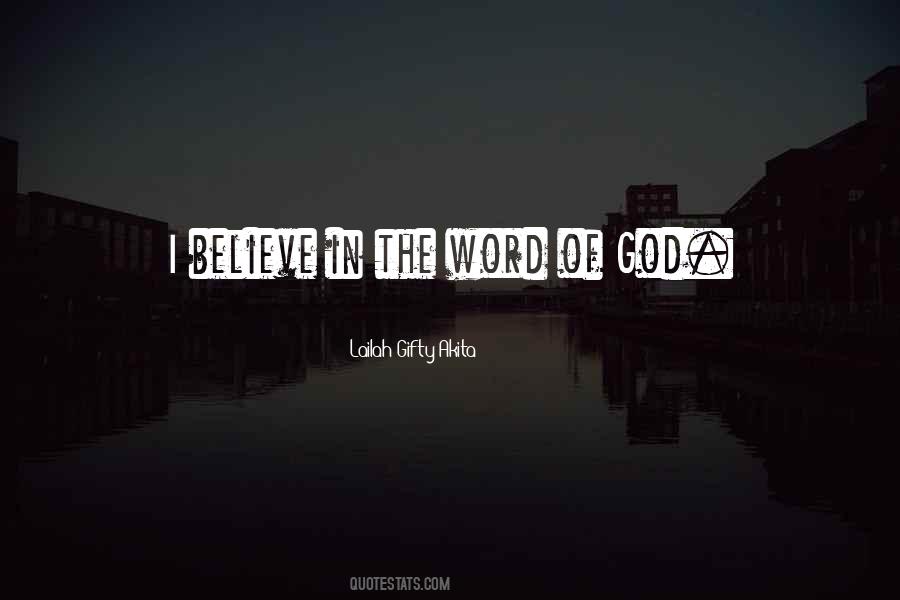 #67. I have covenanted with my Lord that He should not send visions, or dreams or even angels! I am content with this gift of the Scriptures, which teaches and supplies all that is necessary both for this life and that which is to come. - Author: Martin Luther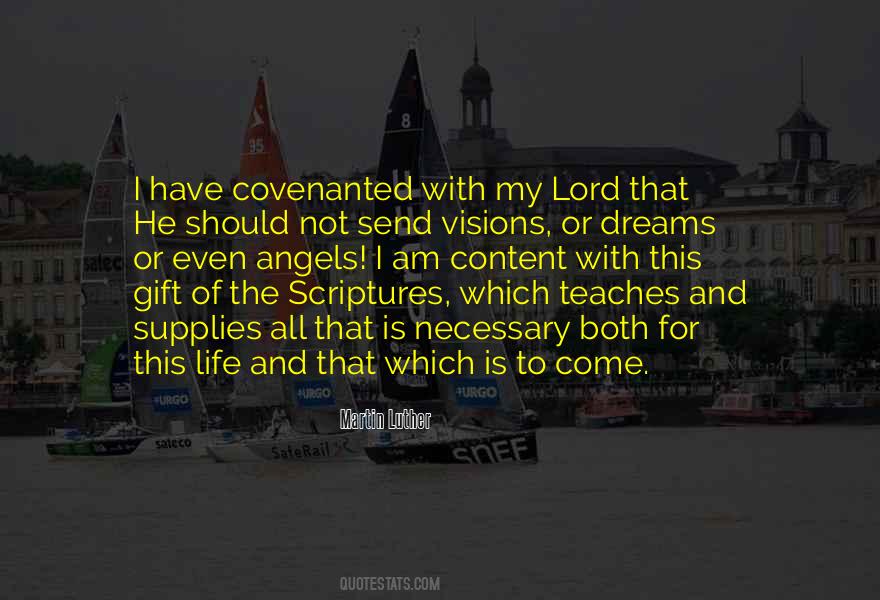 #68. Worldly influences would hinder use of our agency afforded through the Atonement of Jesus Christ. But we are agents who can act, and that affects everything in terms of how we live the gospel in our daily lives. It affects how we pray, how we study the scriptures, how we worship at church. - Author: David A. Bednar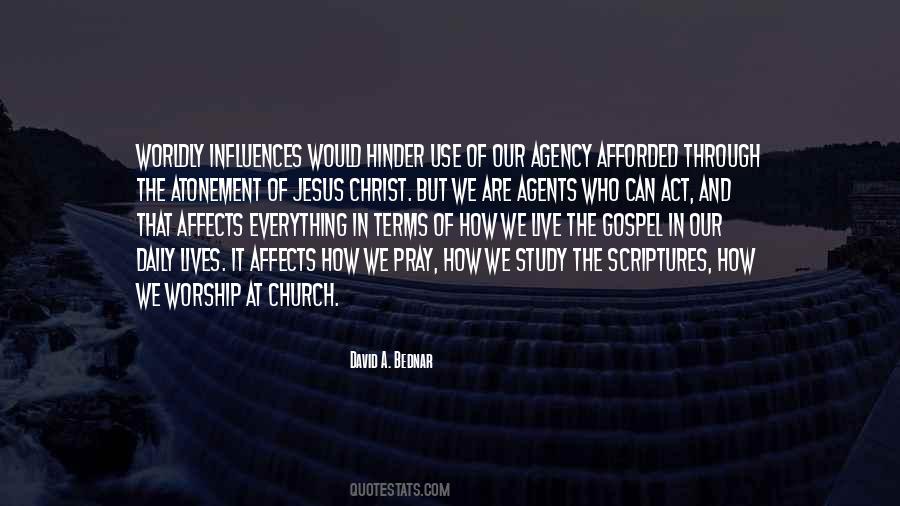 #69. The writers of religious scriptures and texts would have done humanity a grand service if they would have used just one sentence, in one of the pages out of the thousands, to support respectful and peaceful disagreement. - Author: Steve Maraboli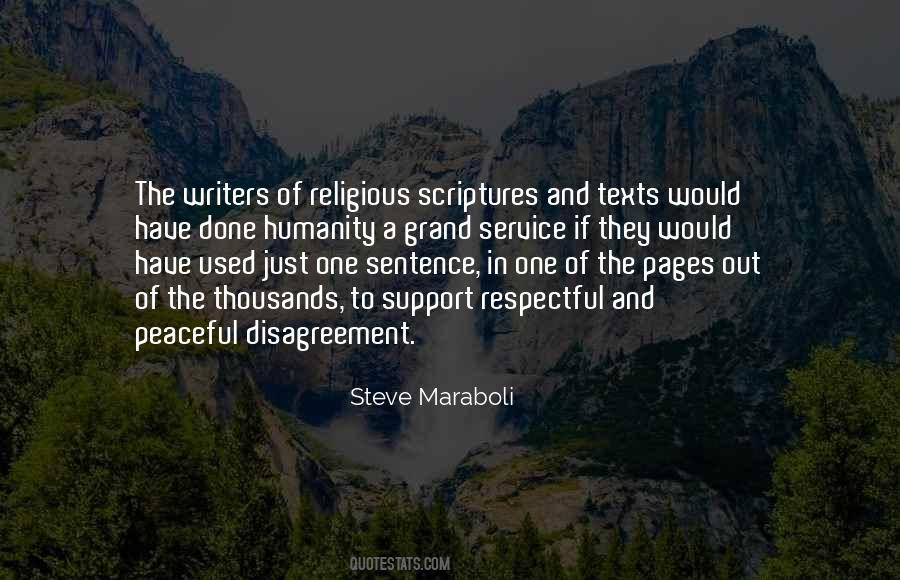 #70. For when it pleased the Lord in Aug. 1829, to bring me really to the Scriptures, my life and walk became very different. And though even since that I have very much fallen short of what I might and ought to be, yet, by the grace of God, I have been enabled to live much nearer to Him than before. "If - Author: George Muller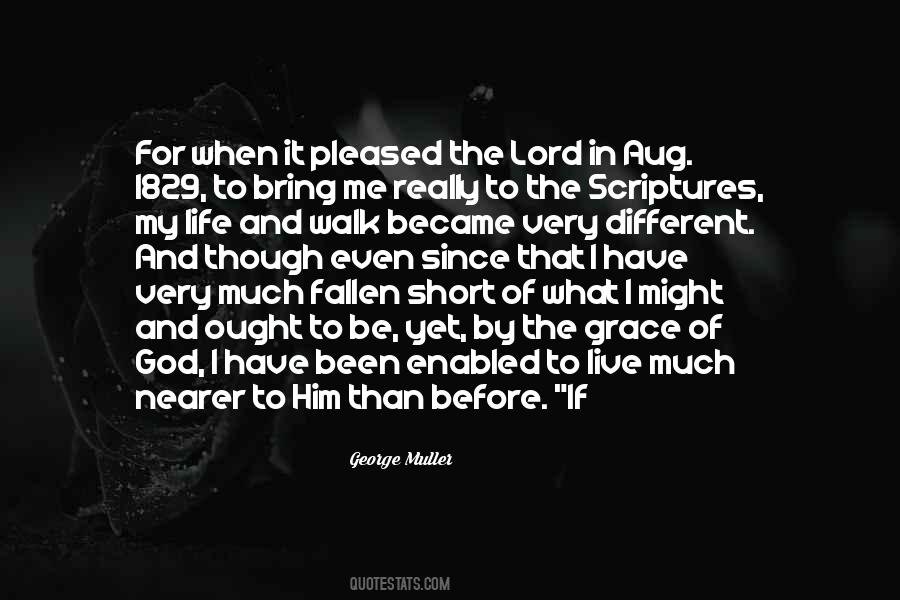 #71. I like the character of Moses. He is the first disunionist we read of in the Jewish Scriptures. - Author: Frances Harper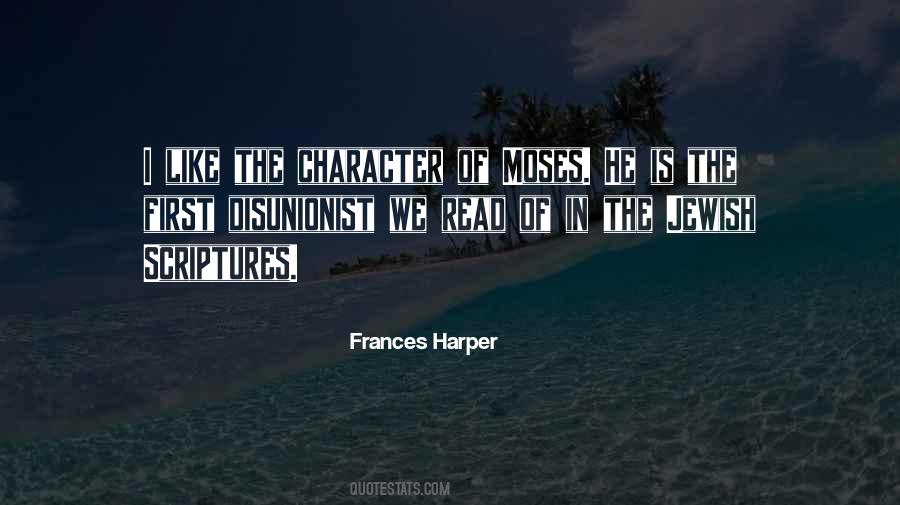 #72. This doctrine of Christ and of the apostles, from which the true faith of the primitive church was received, the apostles at first delivered orally, without writing, but later, not by any human counsel but by the will of God, they handed it on in the Scriptures. - Author: Martin Chemnitz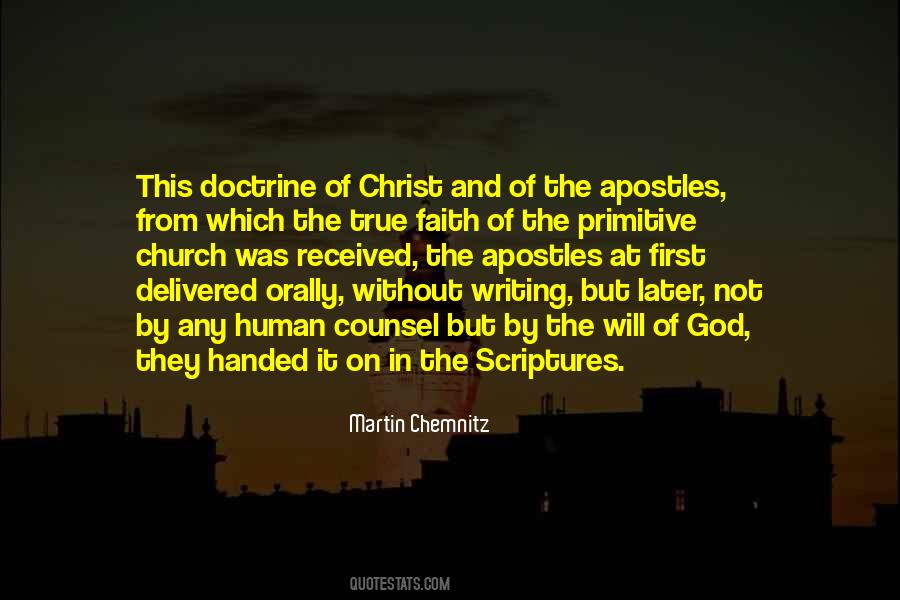 #73. We had better be without God's laws than the Pope's." To which Tyndale passionately responded: "I defy the Pope, and all his laws; and if God spares my life, ere many years, I will cause the boy that driveth the plow to know more of the Scriptures than thou dost! - Author: William Tyndale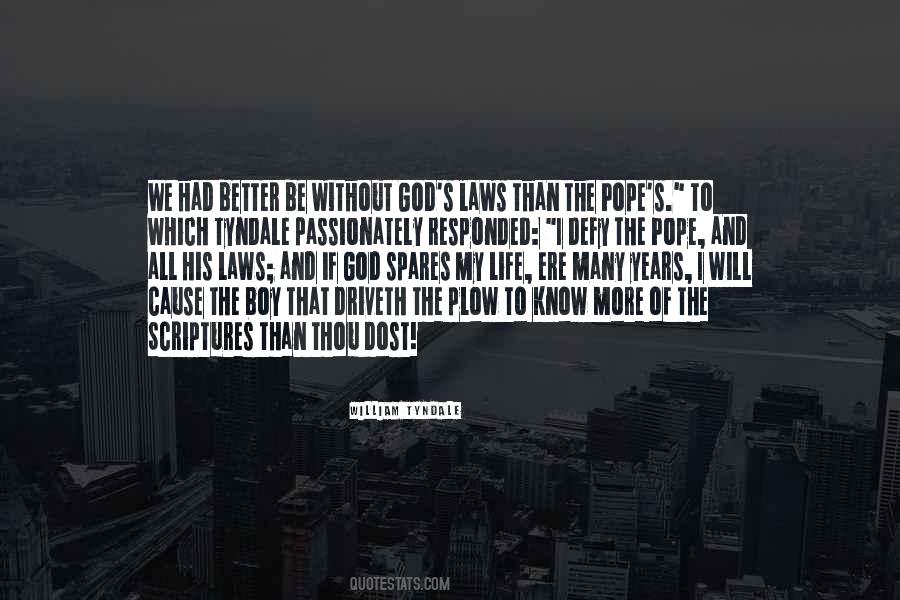 #74. The Scriptures are the truth from God. - Author: Rick Warren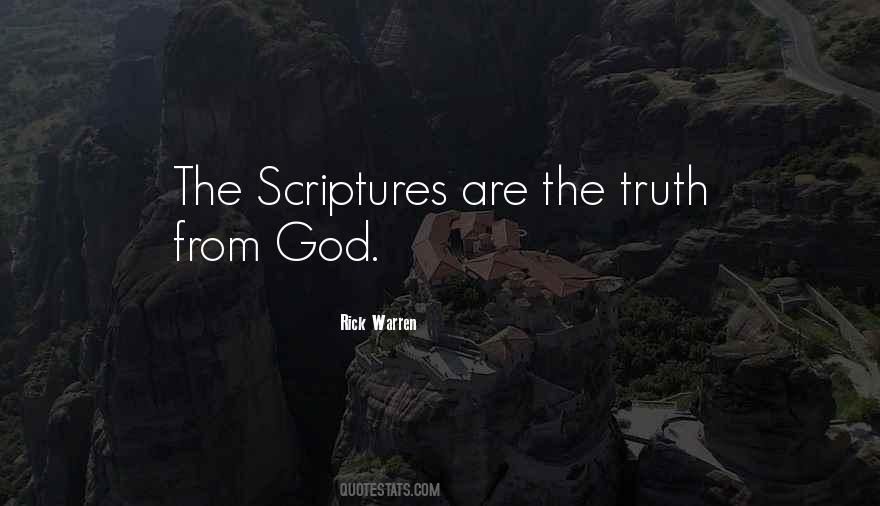 #75. As I read the scriptures, it appears that those who receive the Savior's strongest reproach are often those who hold themselves in high esteem because of their wealth, influence, or perceived righteousness. - Author: Dieter F. Uchtdorf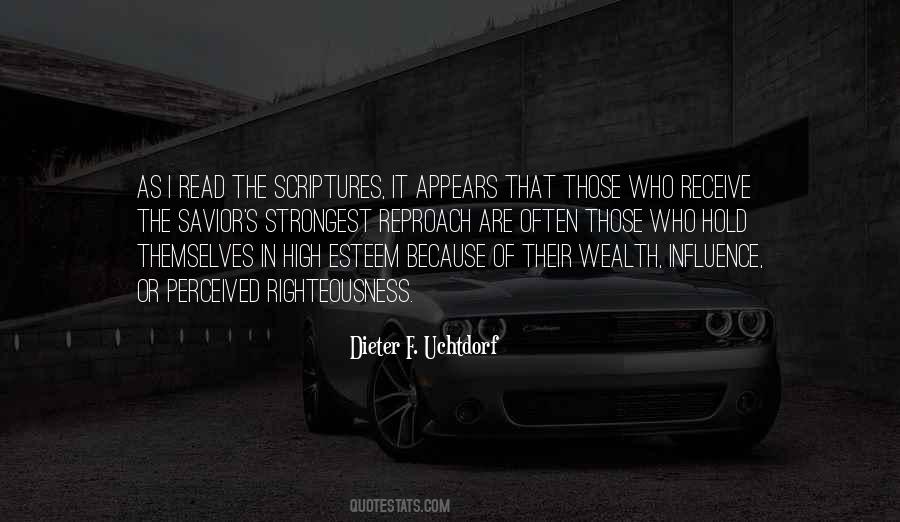 #76. My respectful study of other religions has not abated my reverence for or my faith in the Hindu scriptures. - Author: Mahatma Gandhi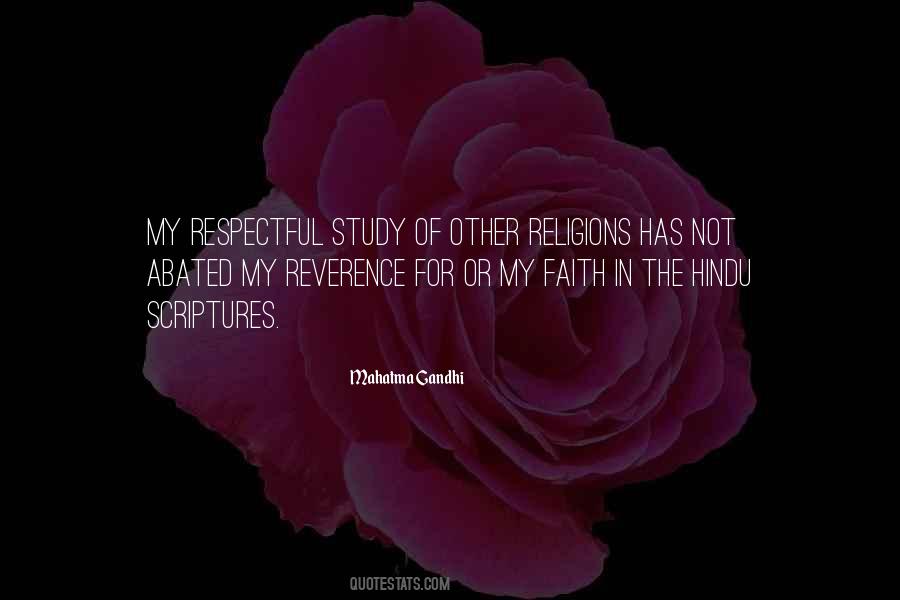 #77. For all other writings should point to the Scriptures, as John pointed to Christ; when he said, "He must increase, but I must decrease." [John 3:30] - Author: Martin Luther
#78. Mr. Perkins adviseth, in the reading of the Scriptures, to begin with the Gospel of John, and this Epistle to the Romans, as being the keys of the New Testament. - Author: Matthew Poole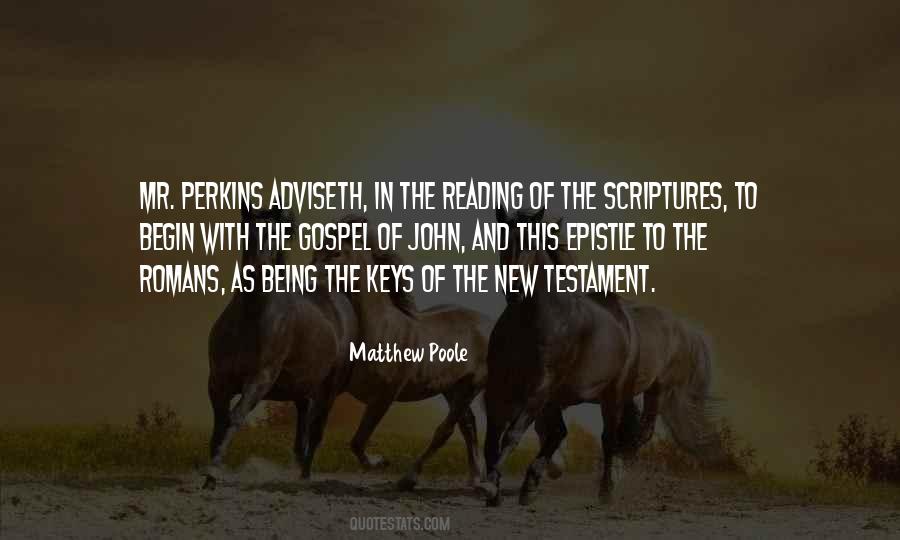 #79. It shall greatly help ye to understand the Scriptures if thou mark not only what is spoken or written, but of whom and to whom, with what words, at what time, where, to what intent, with what circumstances, considering what goeth before and what followeth after. - Author: Miles Coverdale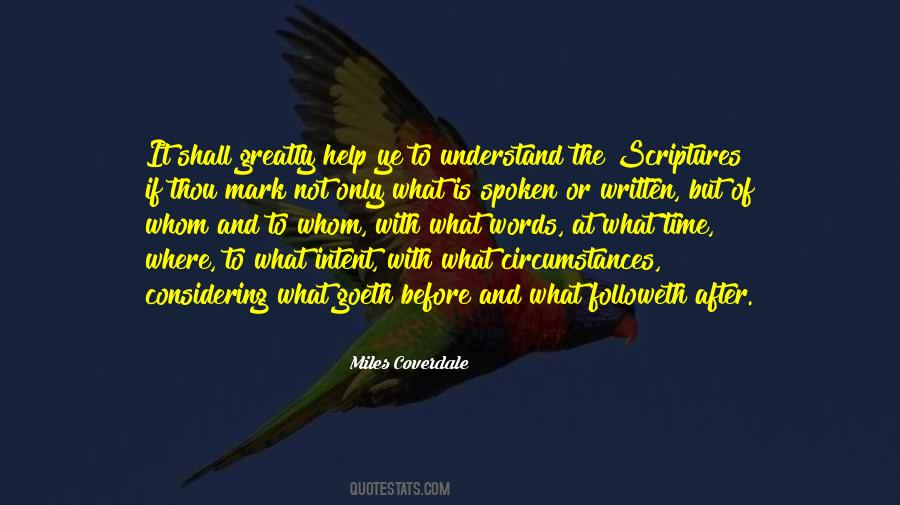 #80. To Latter-day Saints there can be no objection to the careful and critical study of the scriptures, ancient or modern, provided only that it be an honest study - a search for truth. - Author: John Andreas Widtsoe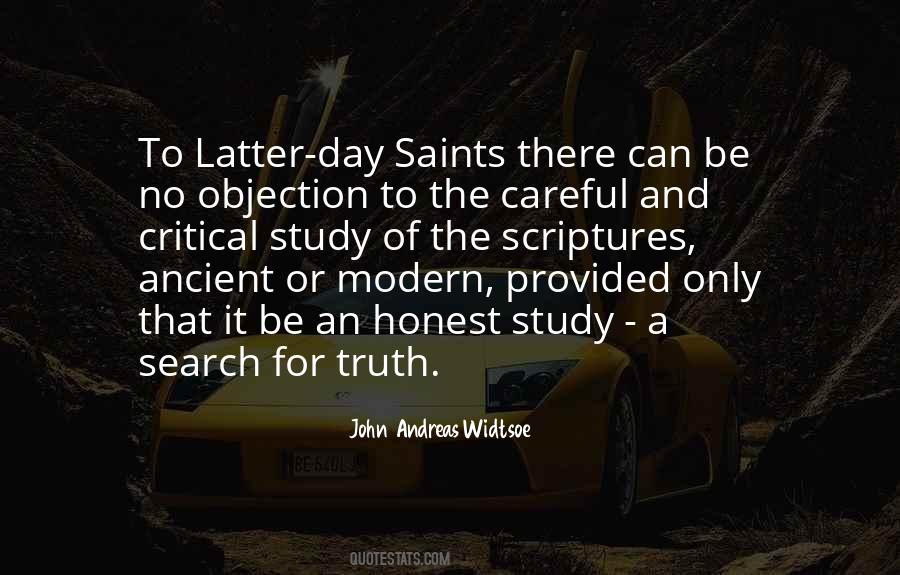 #81. From no source has the author drawn more conspicuously than from the sacred Scriptures. From all these extracts from the Bible I make no apology. - Author: William Holmes McGuffey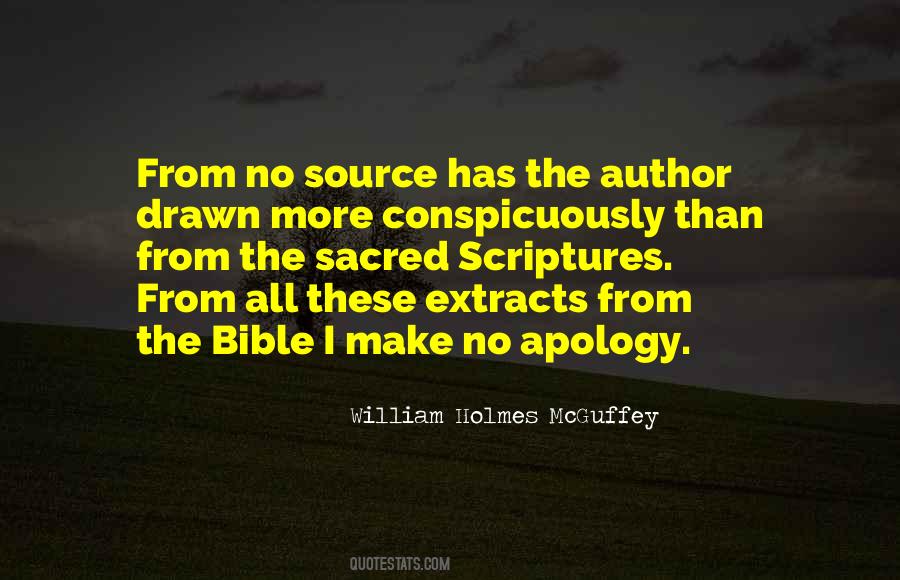 #82. So, given what we learn about the word "faithful" in the Scriptures, if we are to be faithful parents we will be steadfast, trustworthy, and true concerning our commitment to God and his Word.
We will also be like God, reliable in our parental care and in our commitment to our children's good. - Author: Martha Peace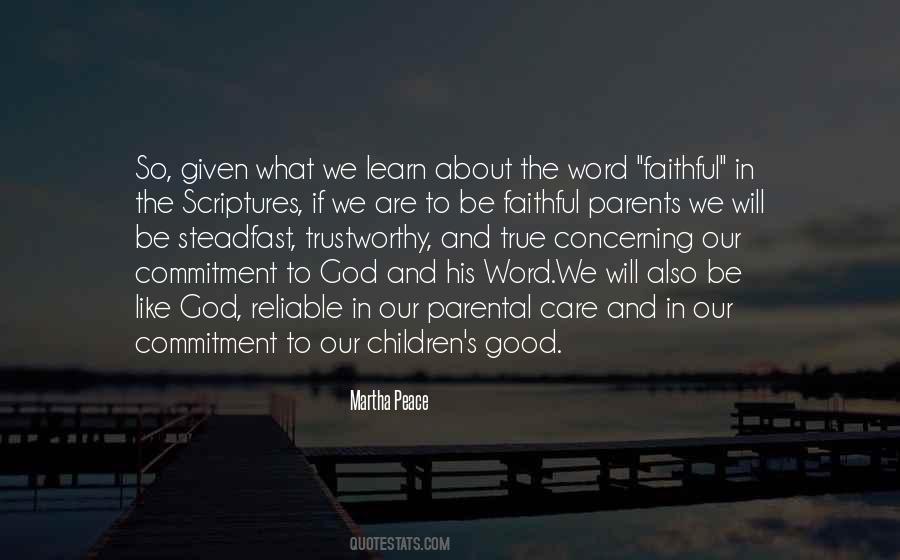 #83. Trying to find answers to why and how my life got into such a dismal mess, I sought answers in the scriptures, in religion and philosophy, but it only confused me further. Stories, on the other hand, helped me cope, heal and recover. - Author: Indu Muralidharan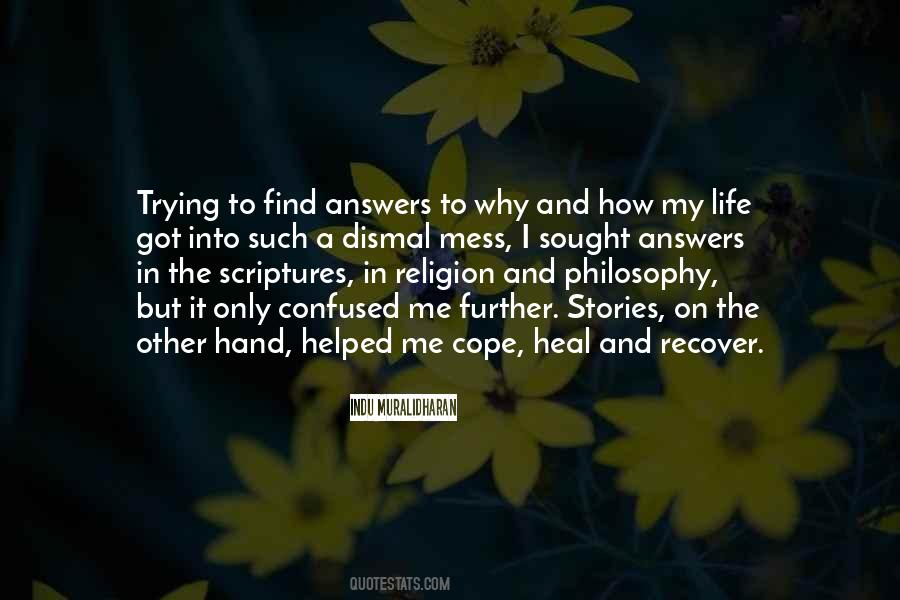 #84. The highest truth is daiji, translated as dai jiki in Chinese scriptures. This is the subject of the question the emperor asked Bodhidharma: "What is the First Principle?" Bodhidharma said, "I don't know." "I don't know" is the First Principle. - Author: Shunryu Suzuki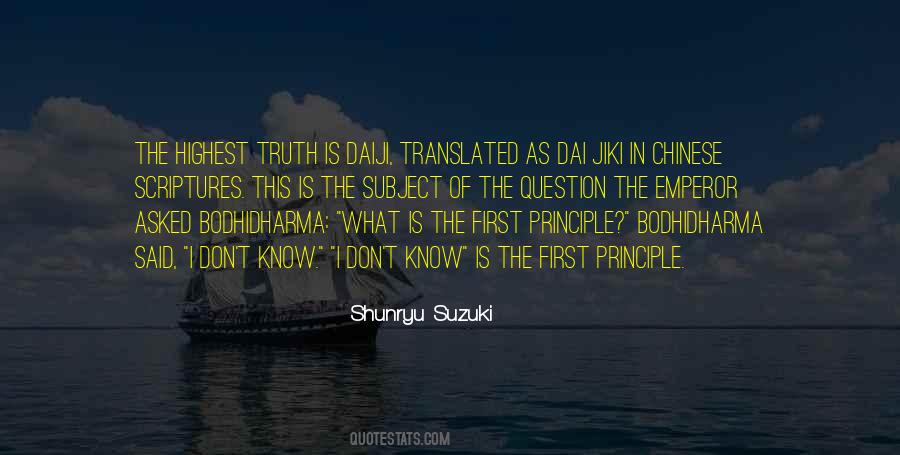 #85. They who are not induced to believe and live as they ought by those discoveries which God hath made in Scriptures would stand out against any evidence whatever, even that of a messenger sent express from the other world. - Author: Francis Atterbury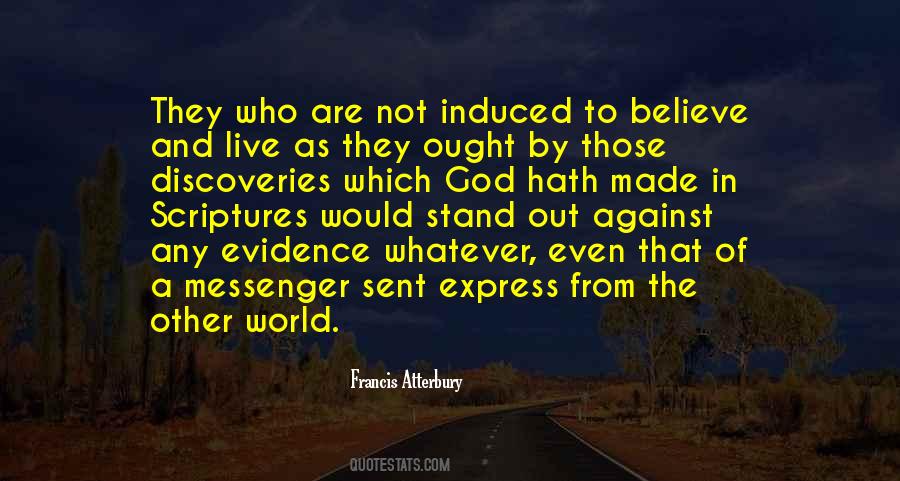 #86. Afflictions, persecutions, imprisonments, and death, we must expect, according to the scriptures, which tell us that the blood of those whose souls were under the altar could not be avenged on them that dwell on the earth, until their brethren should be slain as they were. - Author: Joseph Smith Jr.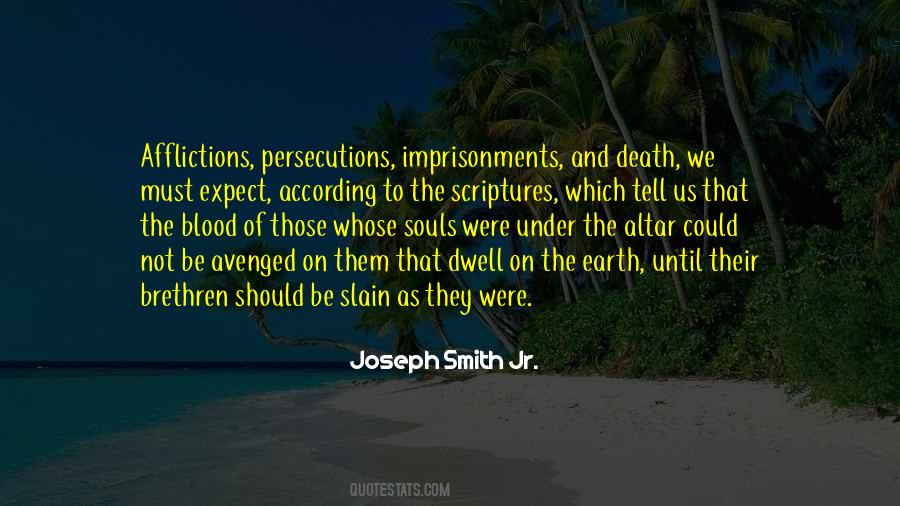 #87. It is a basic tenet throughout the Scriptures that God rewards diligence, faithfulness, endurance, and steadfastness. - Author: Rick Joyner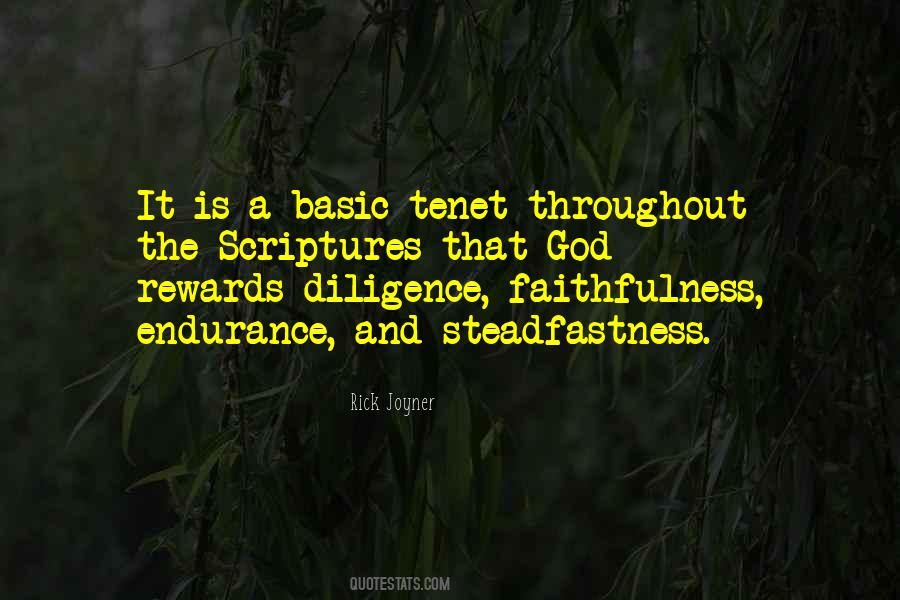 #88. If the Holy Spirit guides us, He will do it according to the Scriptures and never contrary to them. - Author: George Muller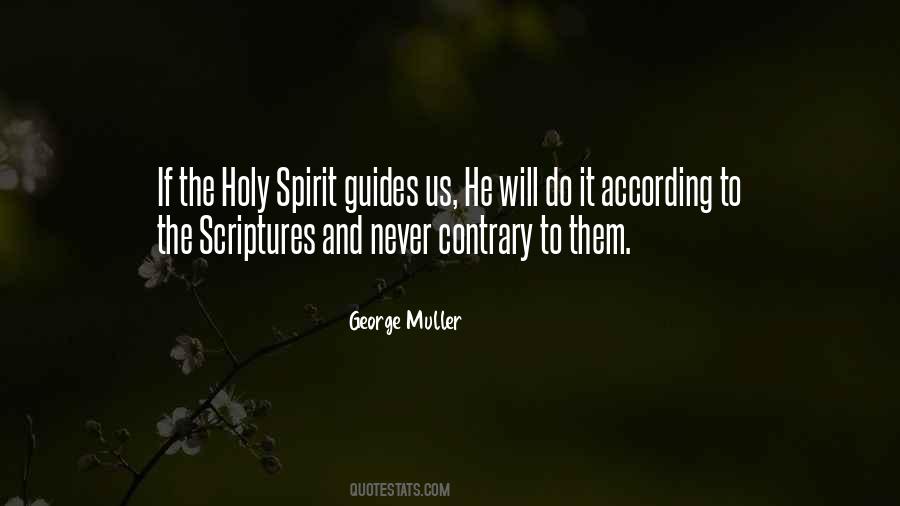 #89. Cursing, telling smutty stories, smearing the good name of another, and referring irreverently to God and the Scriptures may be considered as coming under the expression corrupt speech. Our speech is to be clean, pure, and wholesome. - Author: Billy Graham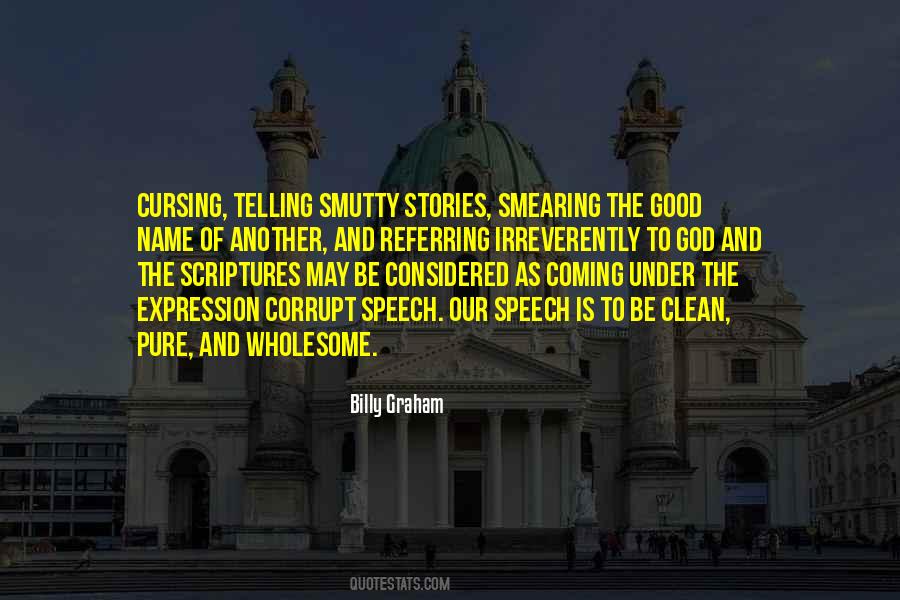 #90. I am blessed to receive a word from God every day in receiving the scriptures and reading the scriptures. And God speaks through the Bible. - Author: Ted Cruz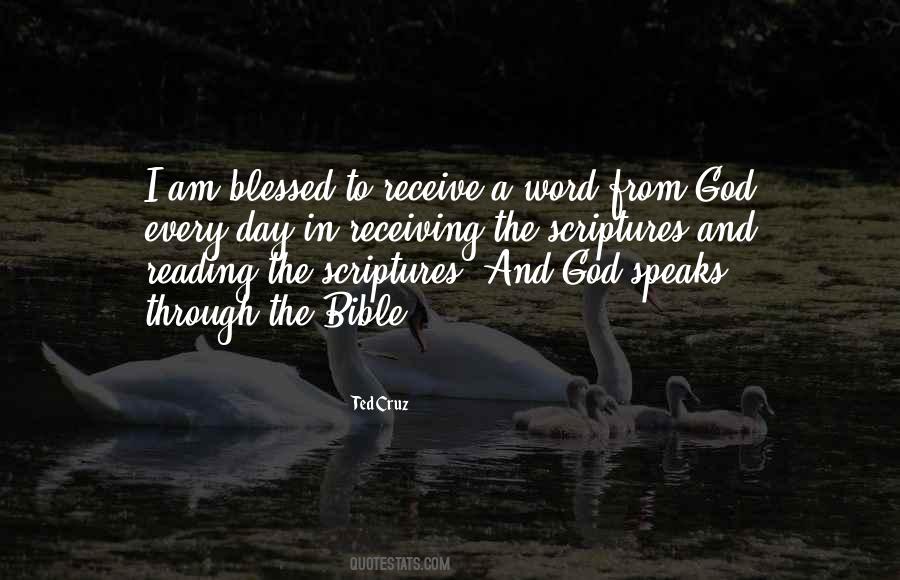 #91. From a clear knowledge of the Bhagavad-gita all the goals of human existence become fulfilled. Bhagavad-gita is the manifest quintessence of all the teachings of the Vedic scriptures. - Author: Adi Shankara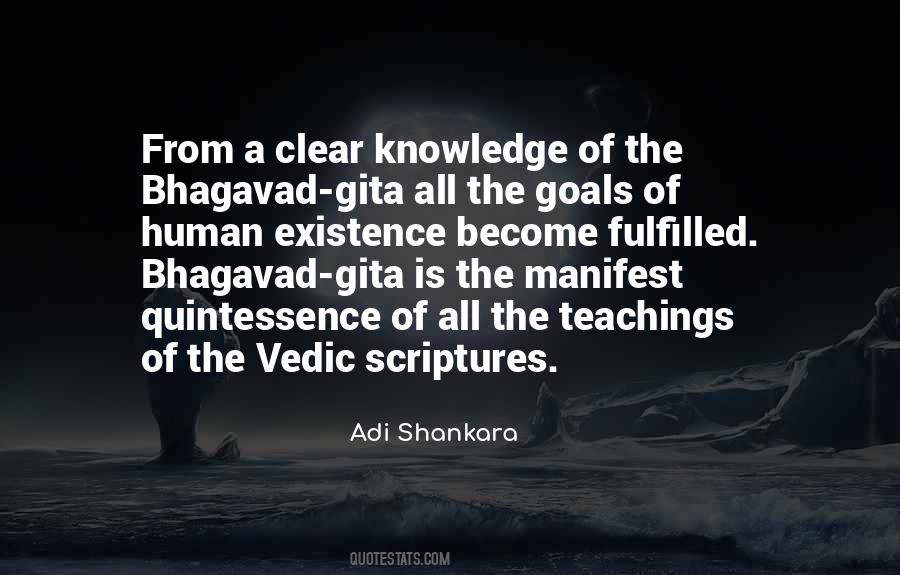 #92. If you want to teach real religion to the kids, throw away the Bible, the Vedas, the Quran and all the scriptures, and teach them the religion of love. - Author: Abhijit Naskar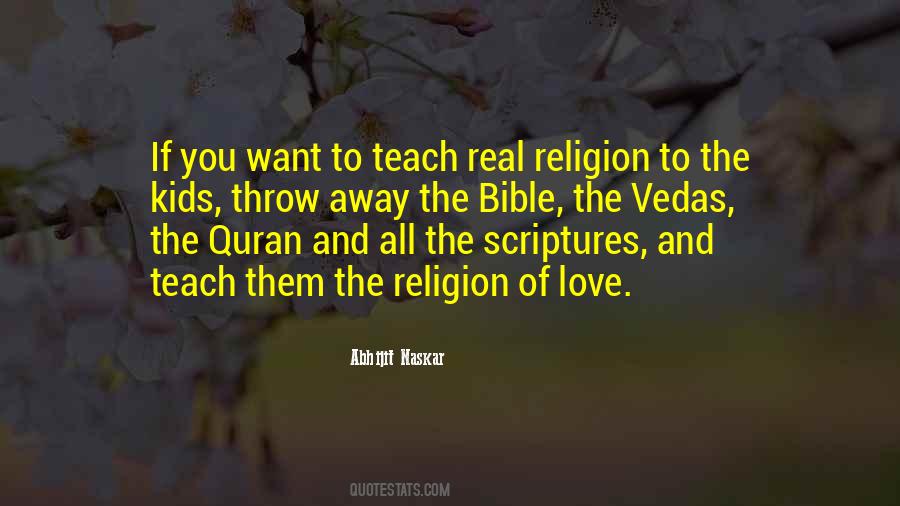 #93. We find Christ in all the Scriptures. In the Old Testament He is predicted, in the Gospels He is revealed, in Acts He is preached, in the epistles He is explained, and in Revelation He is expected. - Author: Alistair Begg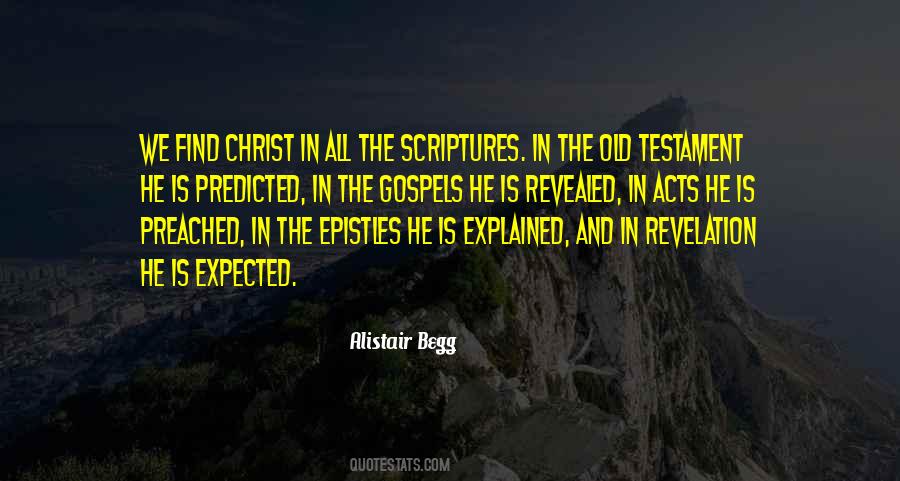 #94. Let the Latter-day Saints be in their homes, teaching their families, reading the scriptures, doing things that are wholesome and beautiful and communing with the Lord on the Sabbath day. - Author: Gordon B. Hinckley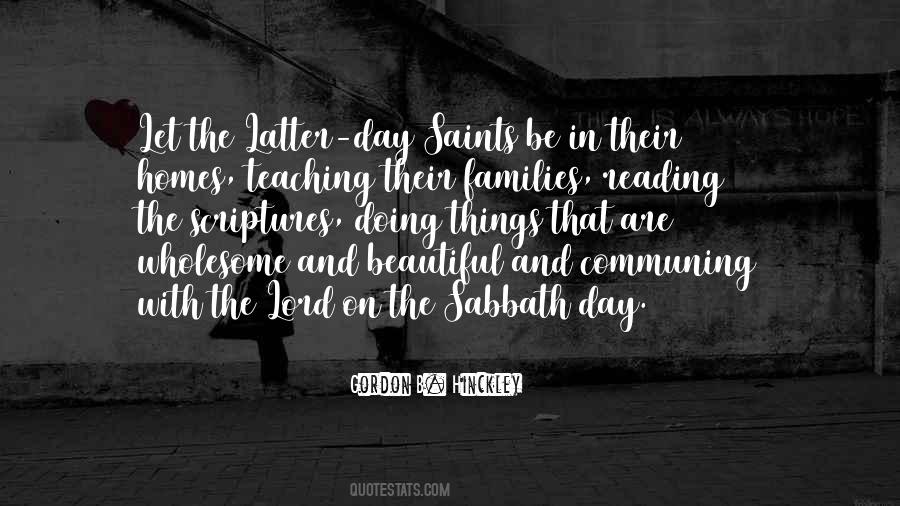 #95. The conferring and comparing of Scriptures is an excellent means of coming to an acquaintance with the mind and will of God in them. - JOHN OWEN - Author: Joel R. Beeke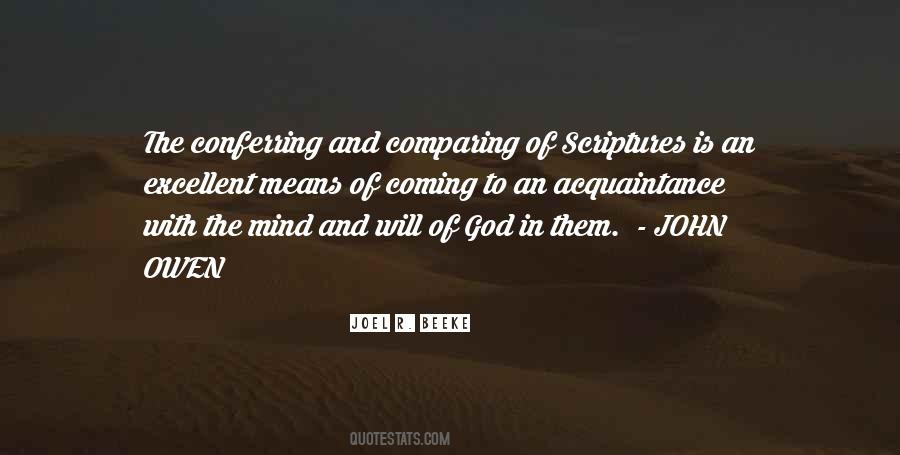 #96. There is a great need of more familiarity with the Scriptures and their teaching in order that we may be crushed to our knees with a sense of humility and be made to cry to God that He would visit us again. - Author: David Lloyd-Jones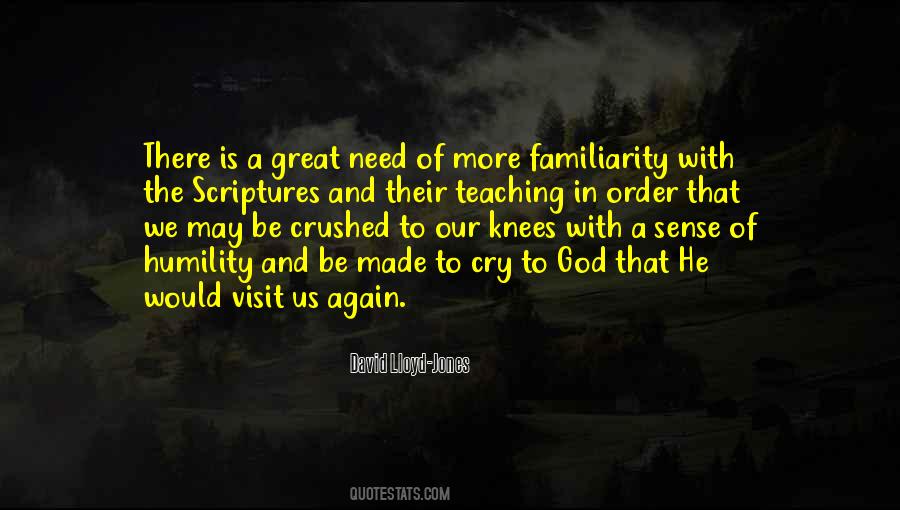 #97. By divine mandate the interpreter and guardian of the Scriptures, and the depository of Sacred Tradition living within her, the Church alone is the entrance to salvation: She alone, by herself, and under the protection and guidance of the Holy Spirit, is the source of truth. - Author: Pope Pius XII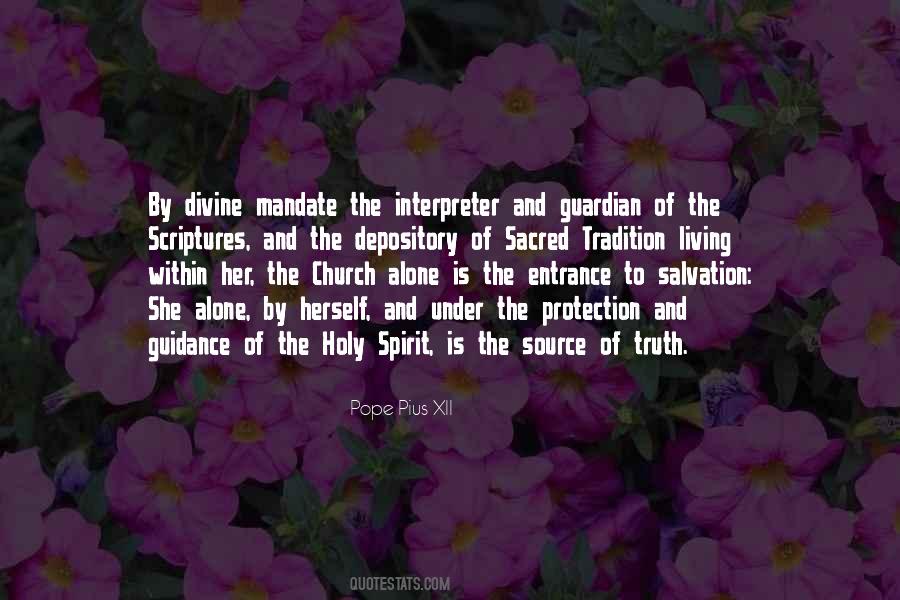 #98. We adorn graves with flowers and redolent plants, just emblems of the life of man, which has been compared in the Holy Scriptures to those fading beauties whose roots, being buried in dishonor, rise again in glory. - Author: John Evelyn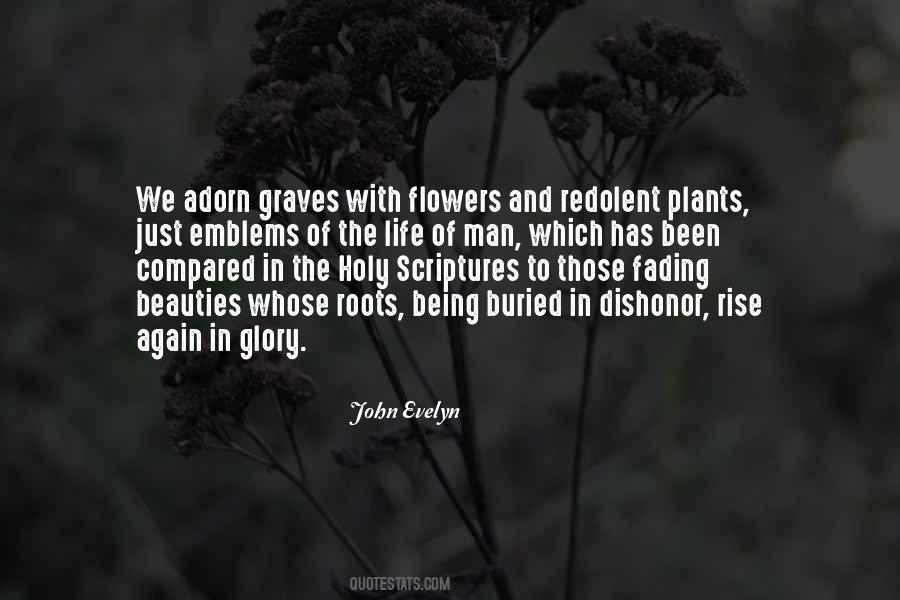 #99. There is nothing which indicates the inspiration of the Scriptures more than the factual and faithful record of men and their failures ... These records are for our warning and instruction. They show us how sinful man needs God. - Author: Billy Graham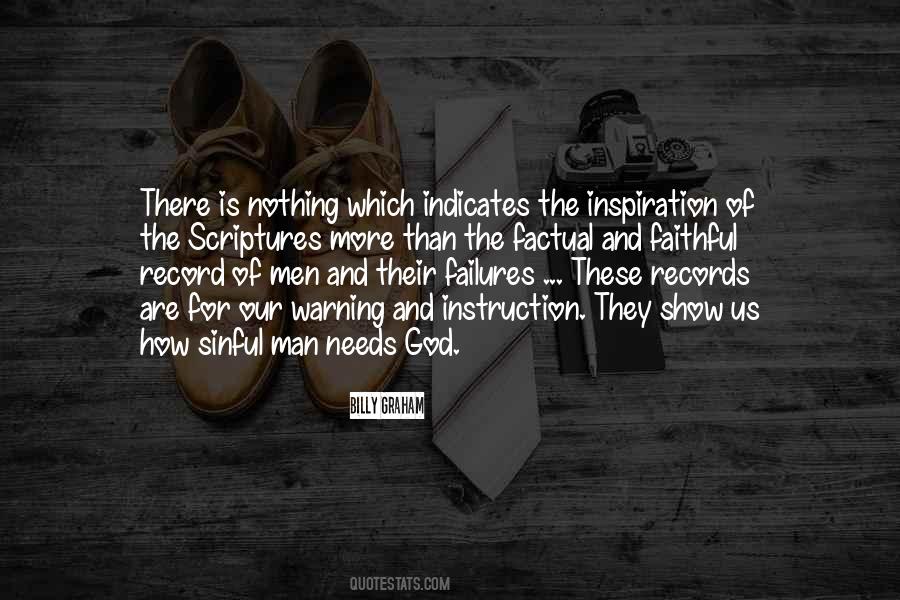 #100. Every scripture, no matter how ancient, must go through rigorous human scrutiny. - Author: Abhijit Naskar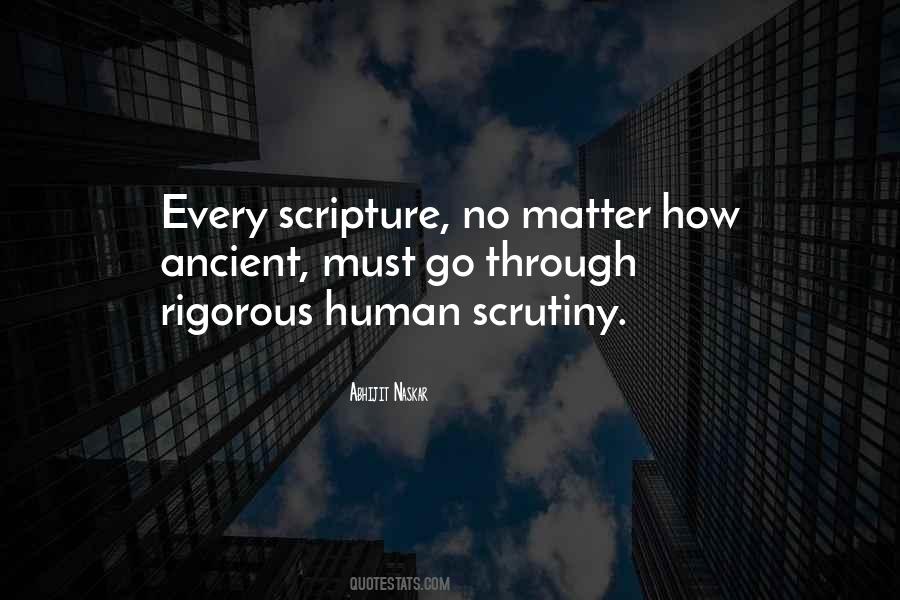 Famous Authors
Popular Topics