List of top 100 famous quotes and sayings about recipes to read and share with friends on your Facebook, Twitter, blogs.
Top 100 Quotes About Recipes
#1. The kitchen is where you put all the ingredients together. The kitchen is where you prepare the plan and put your recipe together. No matter what you do in life, you have to have a plan and put it together.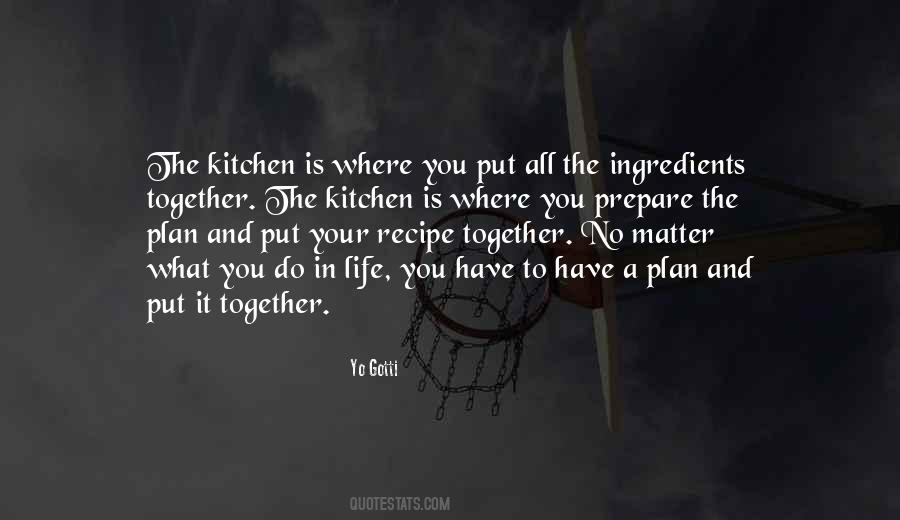 #2. Larousse Gastronomique has always been the first and last word on classic European techniques and recipes. I love that it has expanded its reach to cover world cuisines and modern culinary innovations, making it more indispensable than ever.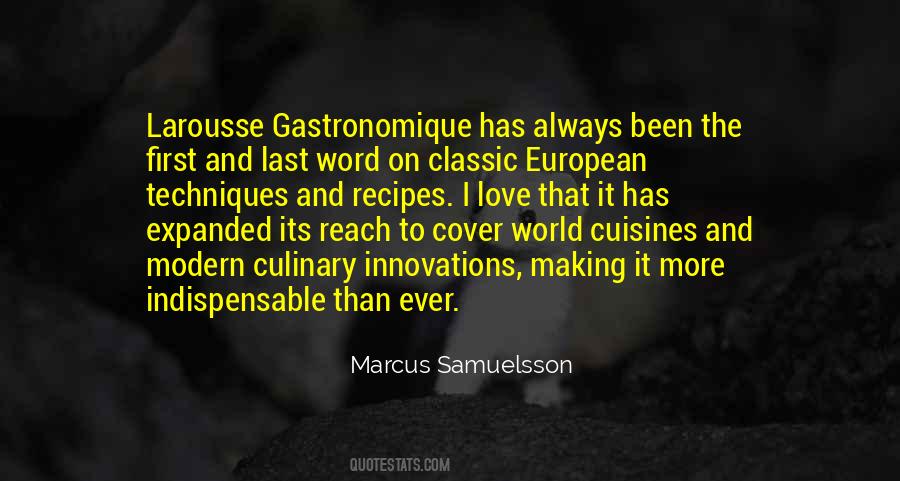 #3. In a few generations you can breed a racehorse. The recipe for making a man like Delacroix is less well known.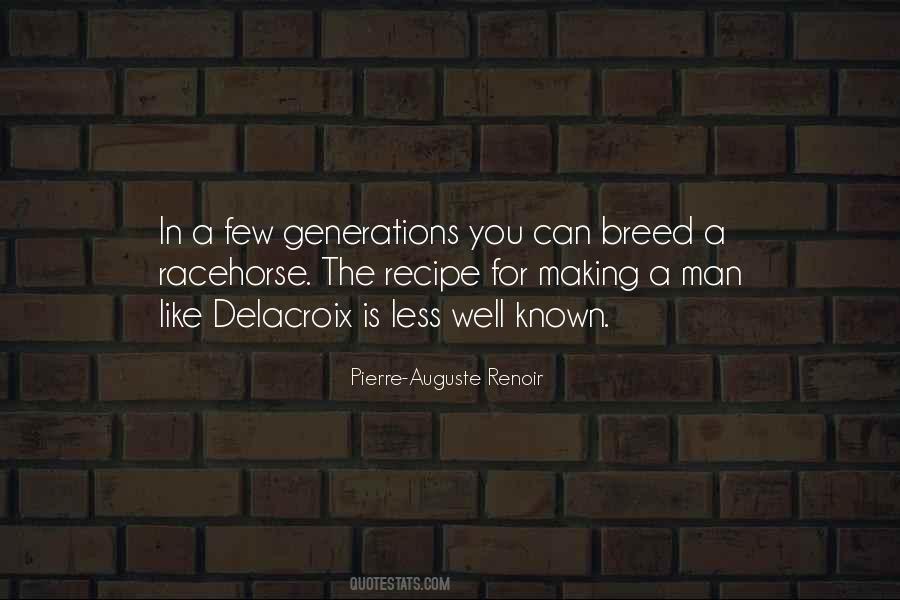 #4. Different brands are indeed different, and that's the challenge of developing recipes for a cooker. But just like anything, you have to be flexible.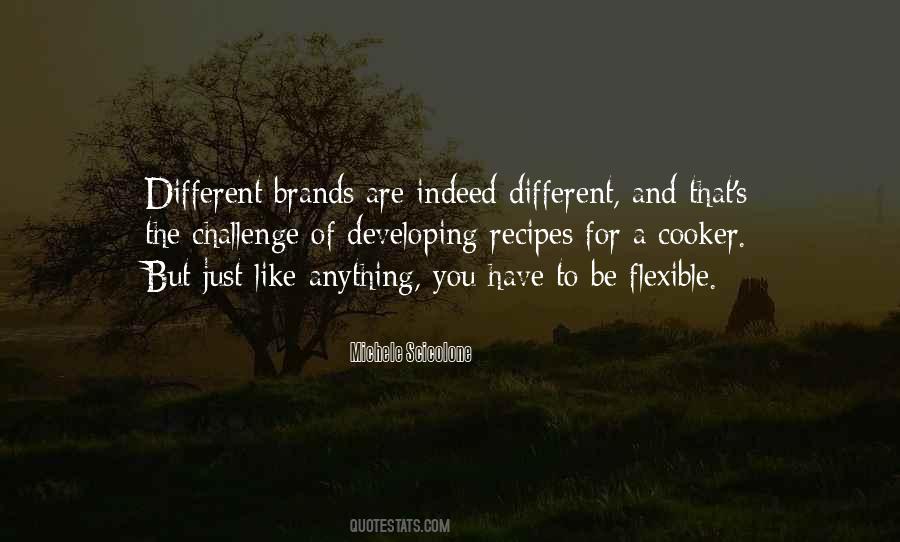 #5. We don't do spells," she said. She sounded a little disappointed to admit it. "We'll do recipes sometimes. But no spells or cantrips. Gran doesn't hold with none of that. She says it's common.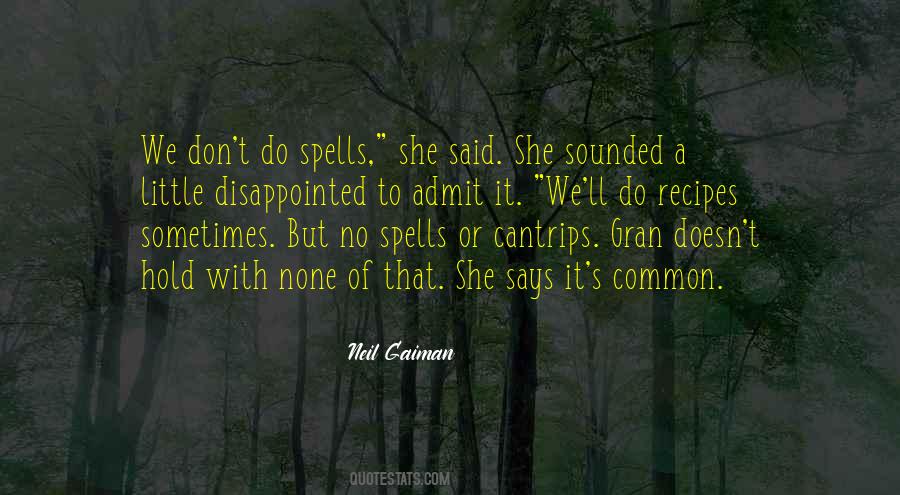 #6. The unlikely combination of potatoes and pasta does appear in some Italian recipes.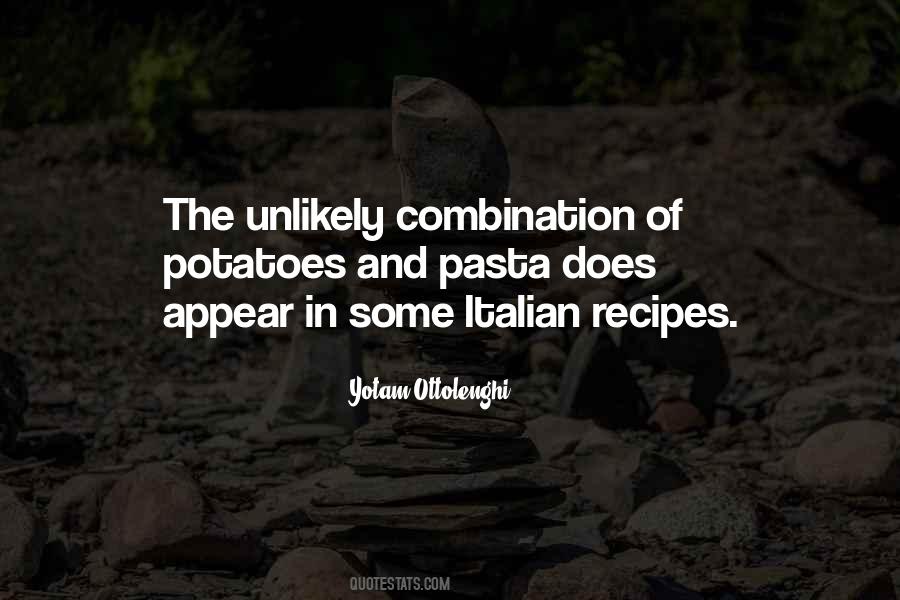 #7. I never dreamed that the little ditties I wrote about annoying customers or bagel recipes would turn into a full-length musical comedy. But a very wise person told me to 'write what you know'. So I did.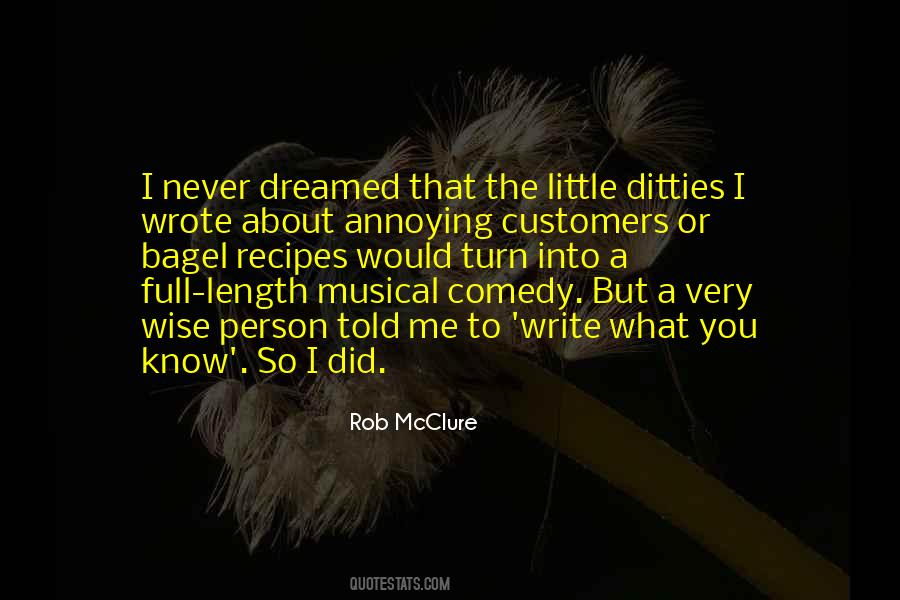 #8. One of the things that often frustrates me with cookbooks is that there are one or two recipes that are really good and the rest of them are not so great.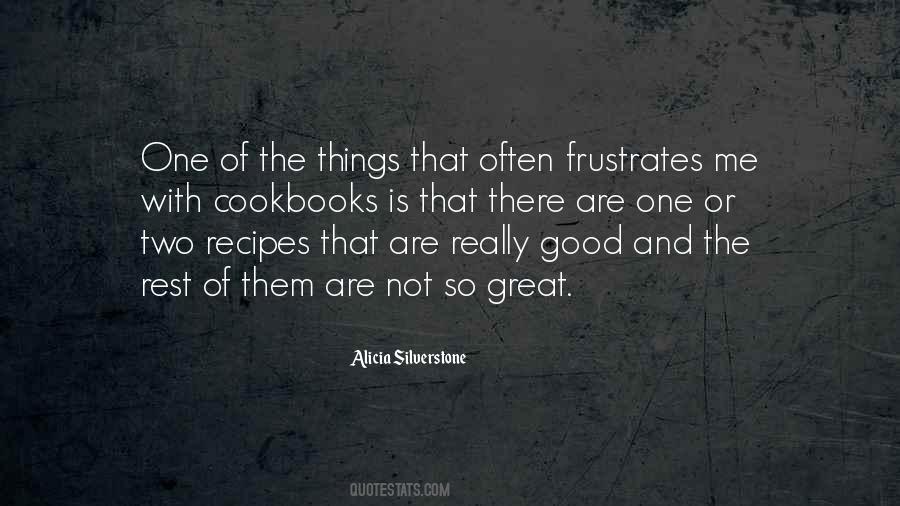 #9. You guarantee a good meal by picking the recipes well, not by following recipes well.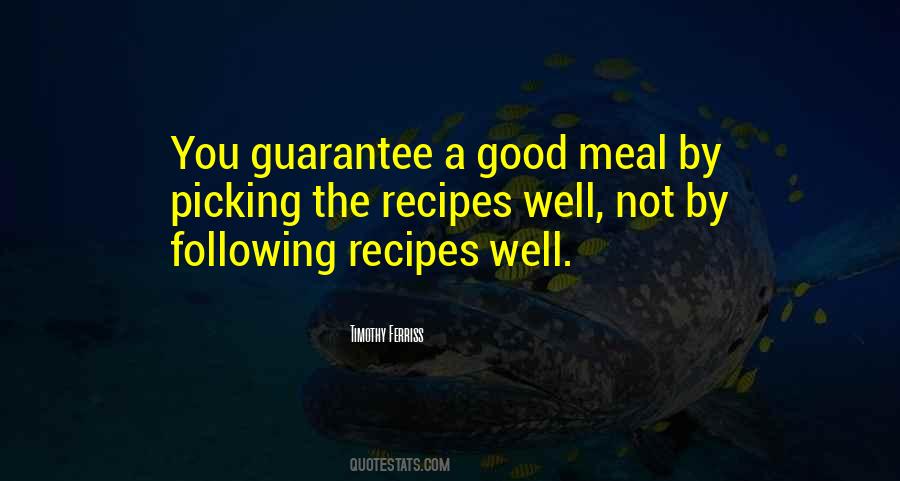 #10. Management, a science? Of course not, it's just a waste-paper basket full of recipes which provided the dish of the day during a few years of plenty and economic growth. Now the recipes are inappropriate and the companies which persist in following them will disappear.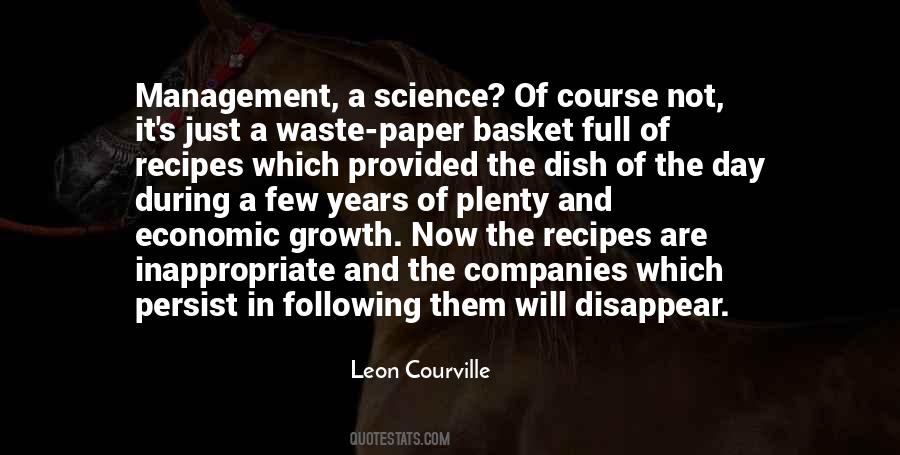 #11. I make some of my best recipes with a simple homemade stock. Keep shrimp shells stored in a plastic bag in the freezer. When you have almost a gallon-bag full, you can make a stock in 30 minutes that you can use in soups and sauces. You can then freeze the stock in ice-cube trays.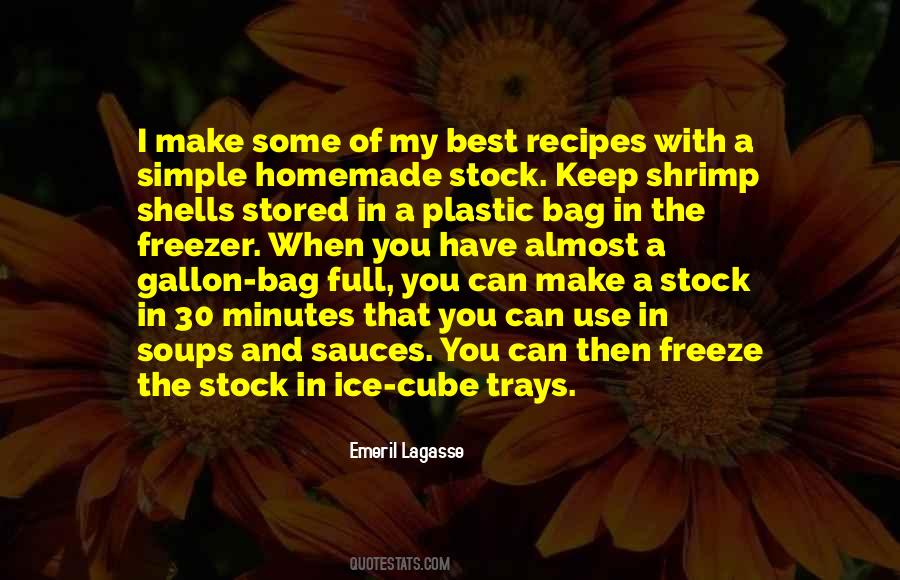 #12. I adore recipes that make use of one cut of meat or a whole animal to create a complex dish, loaded with flavour.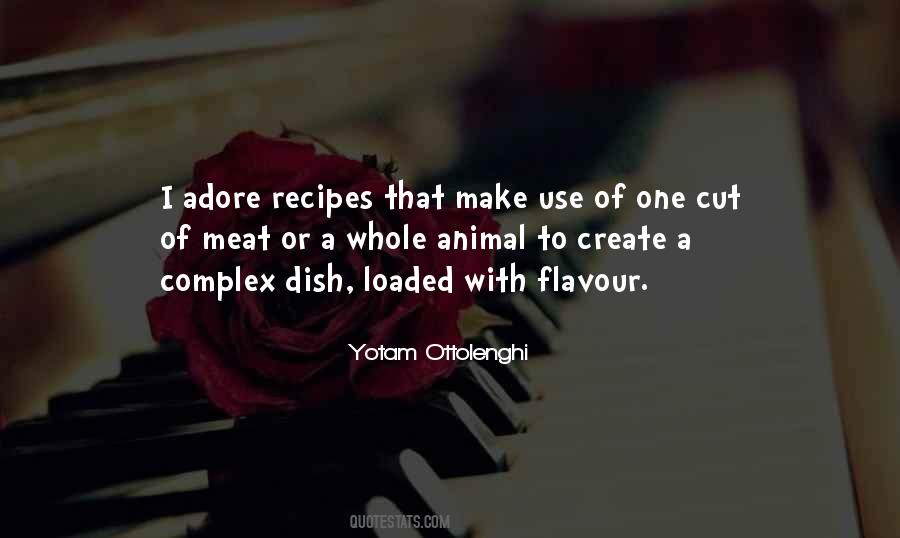 #13. Time is the missing ingredient in our recipes-and in our lives.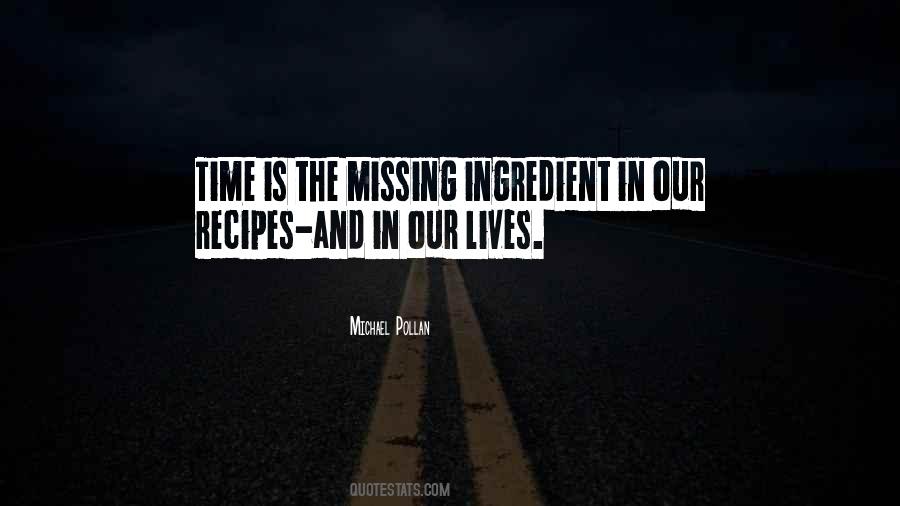 #14. Although her book did include compelling recipes for scrapple, ox cheek, and baked calf's head and tips for the preparation of raccoon, possum, snipe, plovers, and blackbirds (for blackbird pie) and "how to broil, fricassee, stew or fry a squirrel," it was much more than just a cookbook.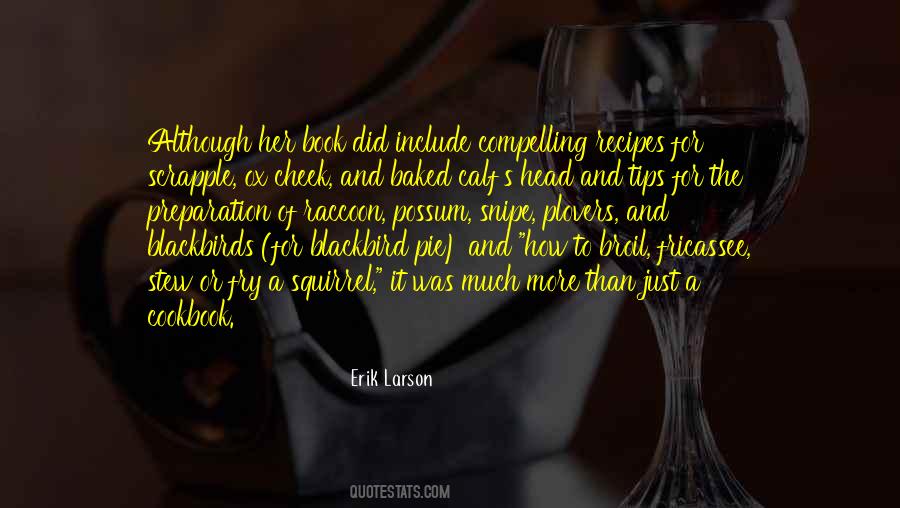 #15. I may find something that looks interesting and then go on to alter the recipe by adding spices, things of my own. I also look for time-saving recipes, dishes that can be prepared ahead and stored.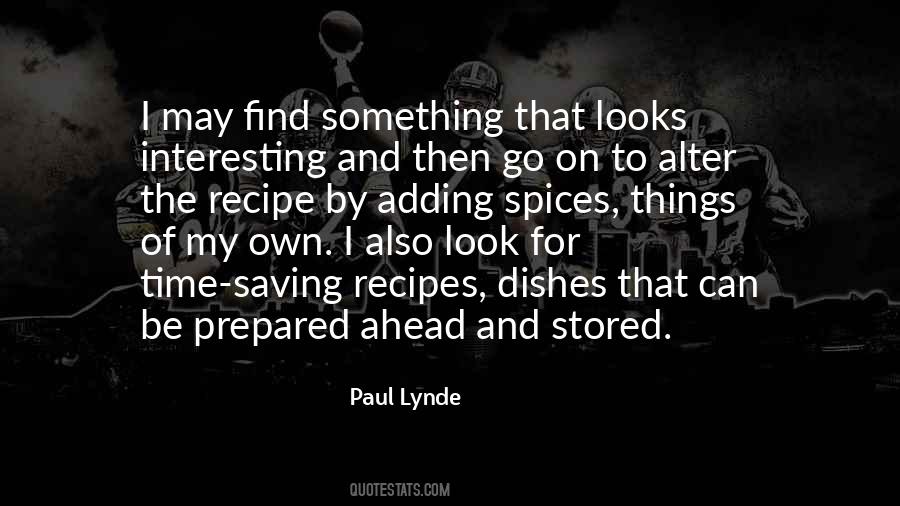 #16. It's incredible what happens when you explain to kids what good food is - they get so excited! They go home and tell their parents ... and they're excited to cook the recipes themselves in class.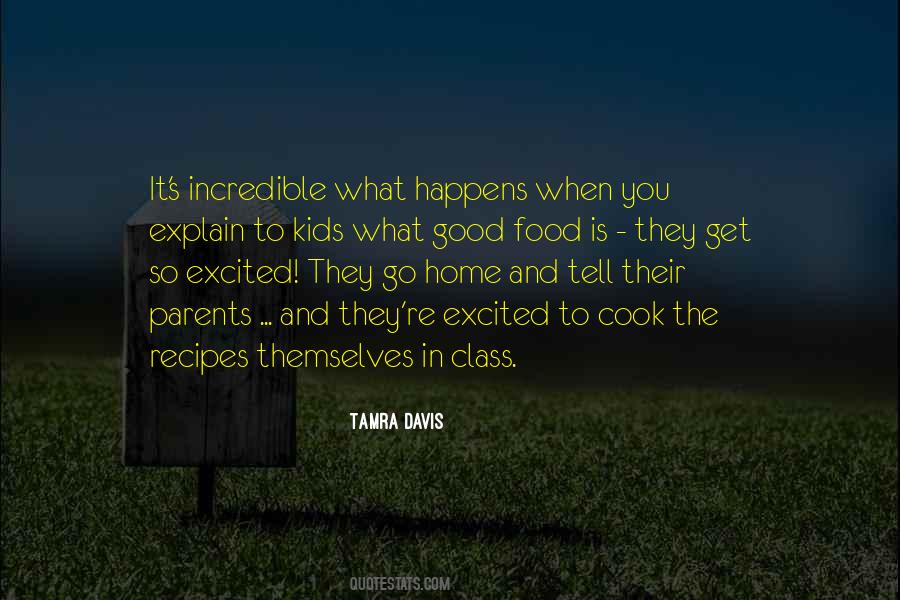 #17. Whether it was the delicious food they filled us with, their humorous antics, or the extreme warmth and acceptance they provided the family, one thing is for sure, nothing could replace the love for and the love felt from Italian grandmothers.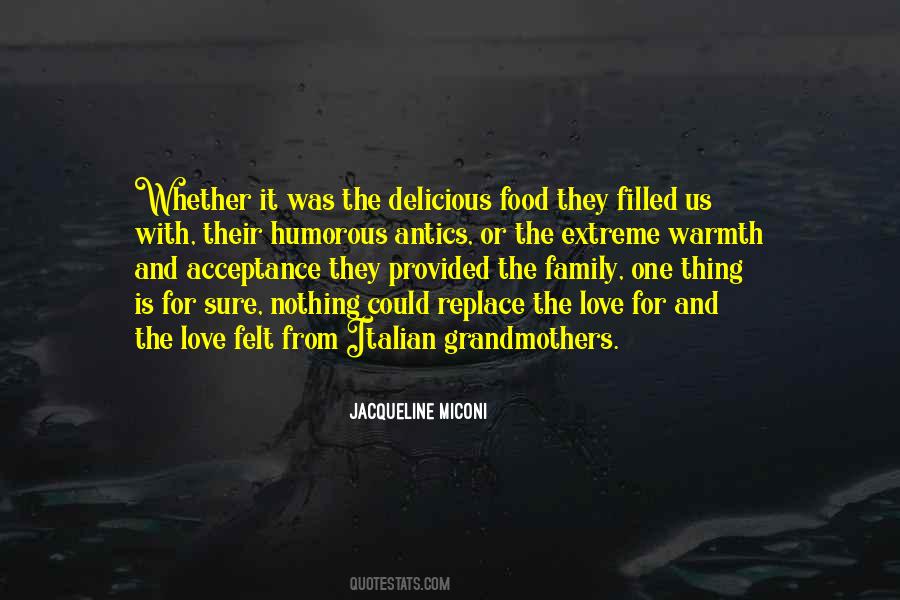 #18. History is not, of course, a cookbook offering pretested recipes. It teaches by analogy, not by maxims. It can illuminate the consequences of actions in comparable situations, yet each generation must discover for itself what situations are in fact comparable.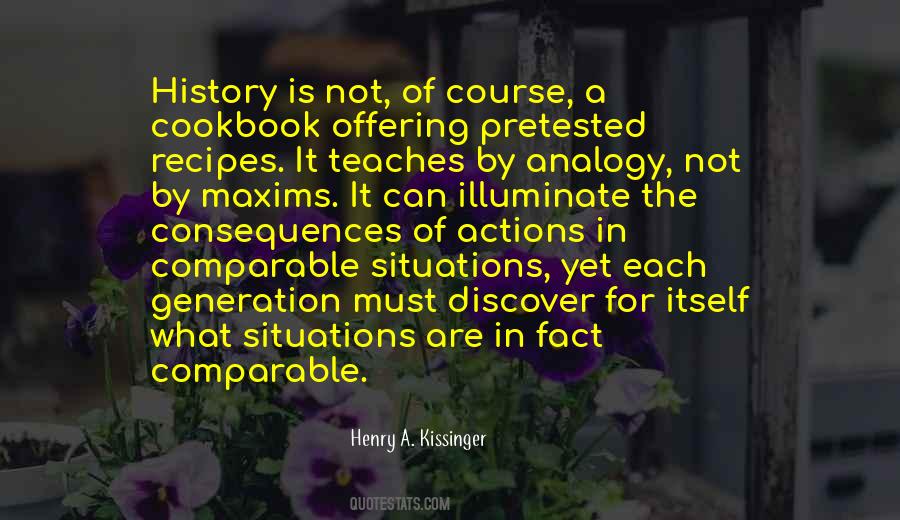 #19. Vianne had been improvising recipes for years, and people, to her mind, were not that much different than food. Both were highly predictable if you paid attention. First,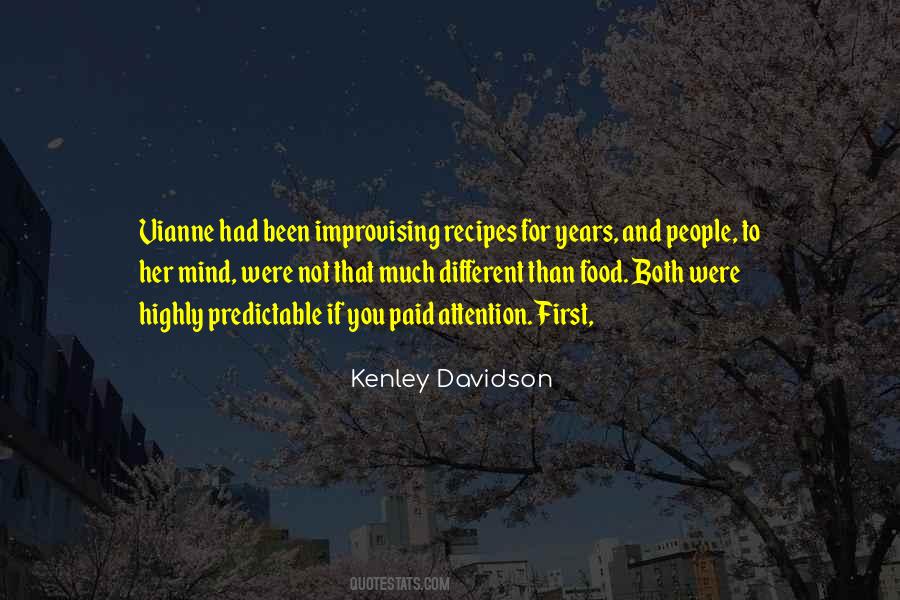 #20. I have a policy about that word "soul." It is strictly prohibited except in cases of converstations having to do with okra recipes or Marvin Gaye.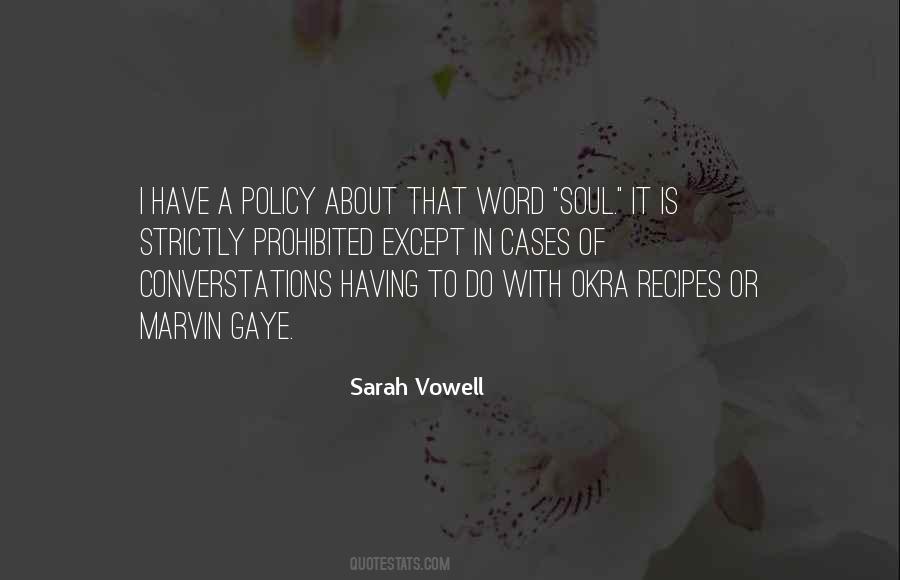 #21. This is my invariable advice to people: Learn how to cook- try new recipes, learn from your mistakes, be fearless, and above all have fun!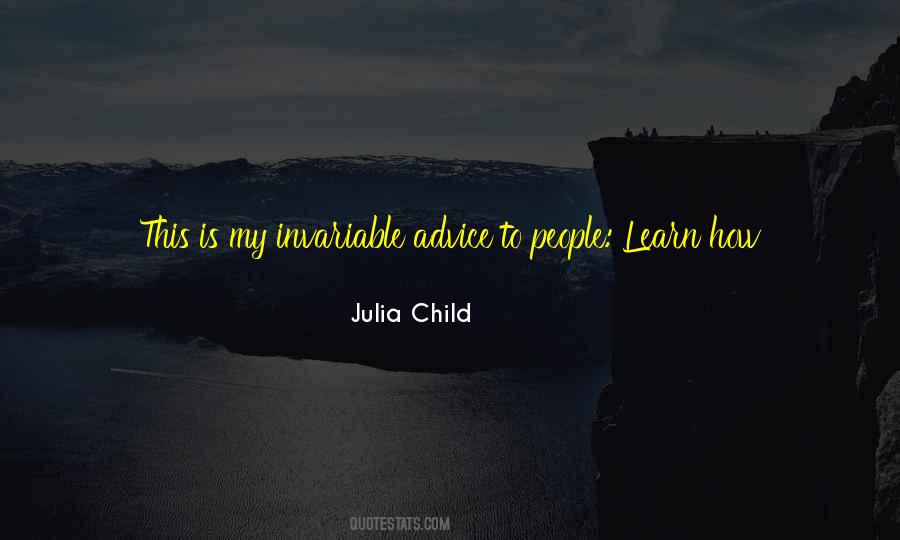 #22. Craig was a nice guy, don't get me wrong, but he was so low-key that once I'd gotten to know him, I was almost completely unable to have even imaginary conversations with him while cooking his recipes. Around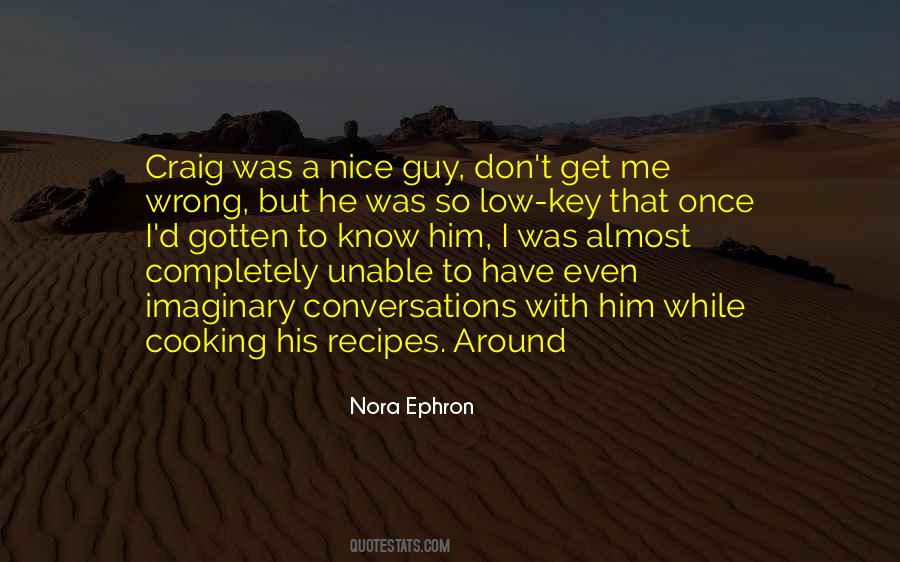 #23. It's like a kitchen, acting. Put a chef in a kitchen and they will have different recipes. Whatever your recipe, what works for you won't work for another.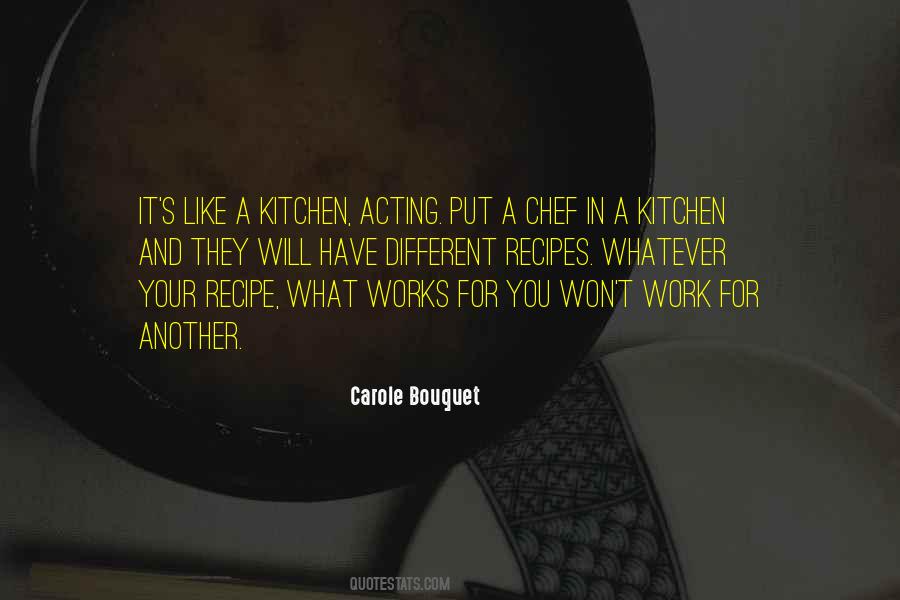 #24. Flavor Five is a book with recipes using five ingredients to possibly be cooked in just five minutes. It will be very user-friendly for the home cook on the run.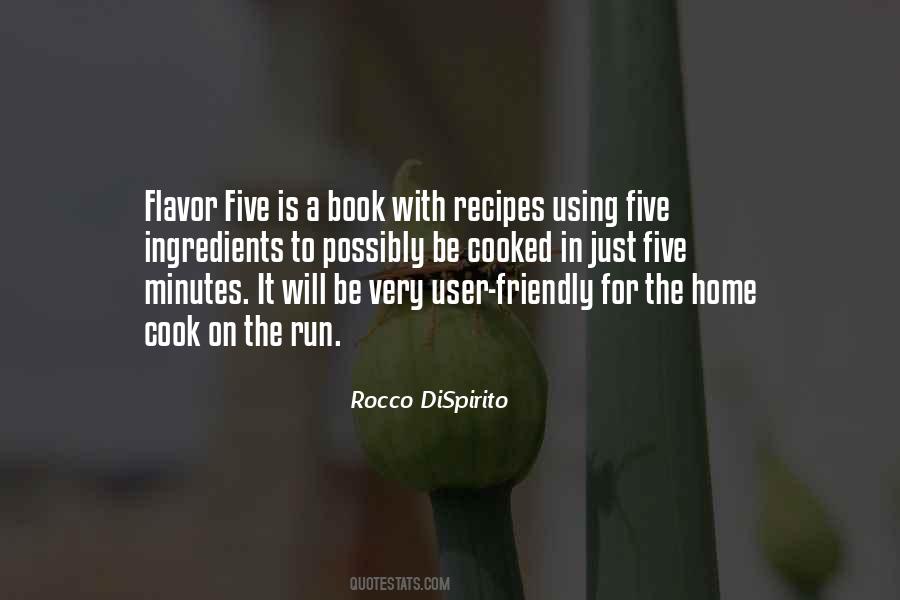 #25. I think, once recipes become digital, pirating a digital recipe and all the questions that you have with music and so forth will become pertinent to food as well.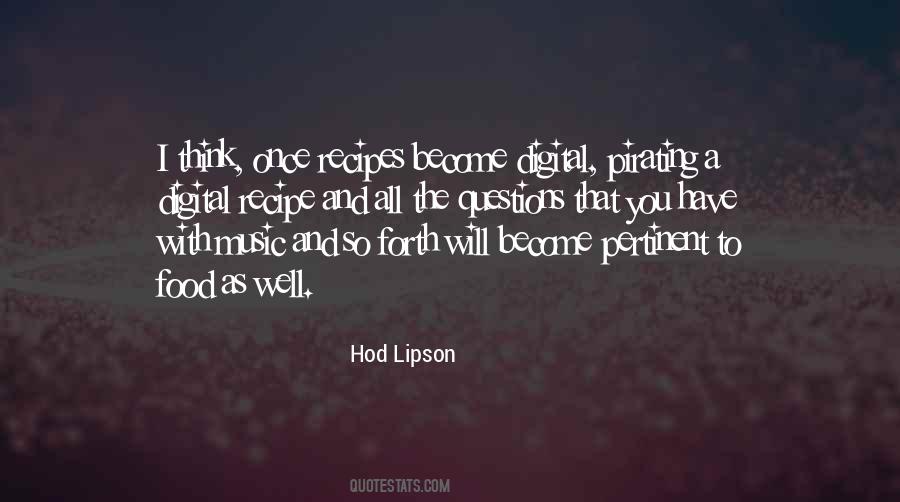 #26. You can't make a recipe for something as complicated as surgery. Instead, you can make a recipe for how to have a team that's prepared for the unexpected.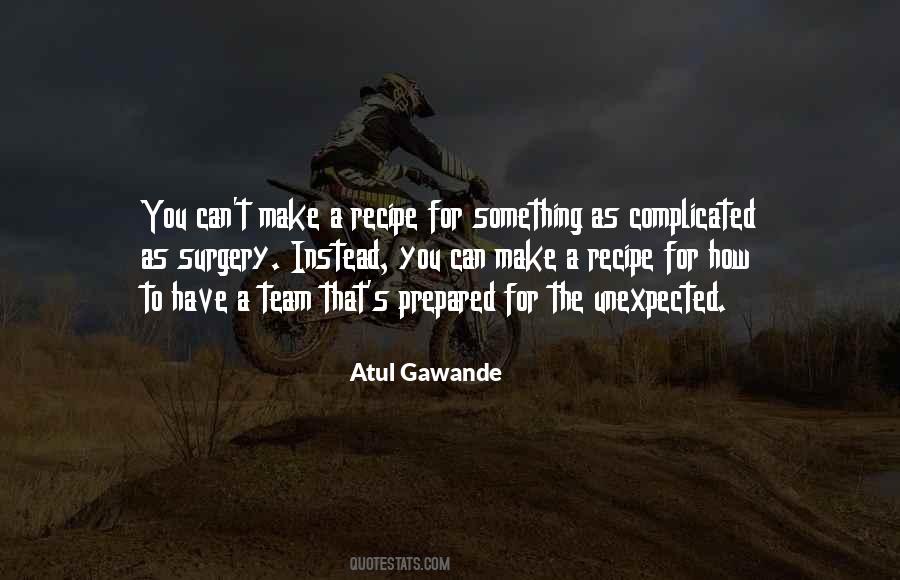 #27. The great recipe for success is to work, and always work.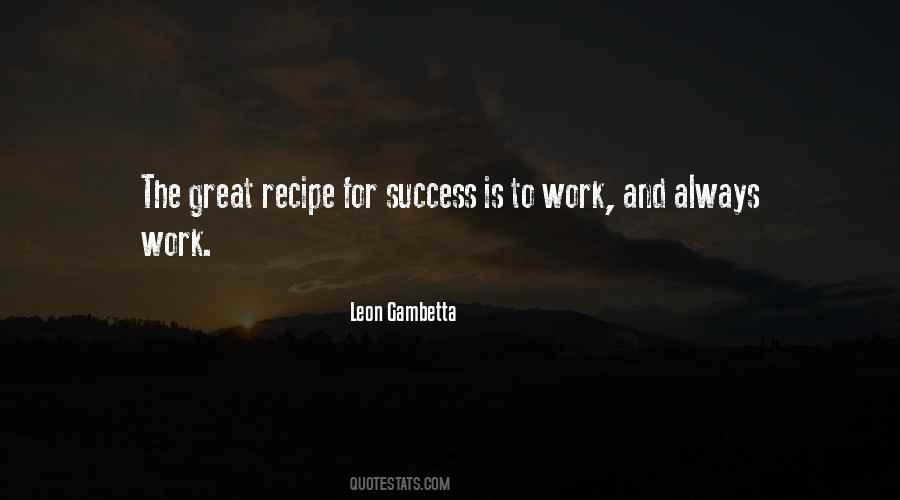 #28. complete guide to Game Day Parties. Many recipes are easy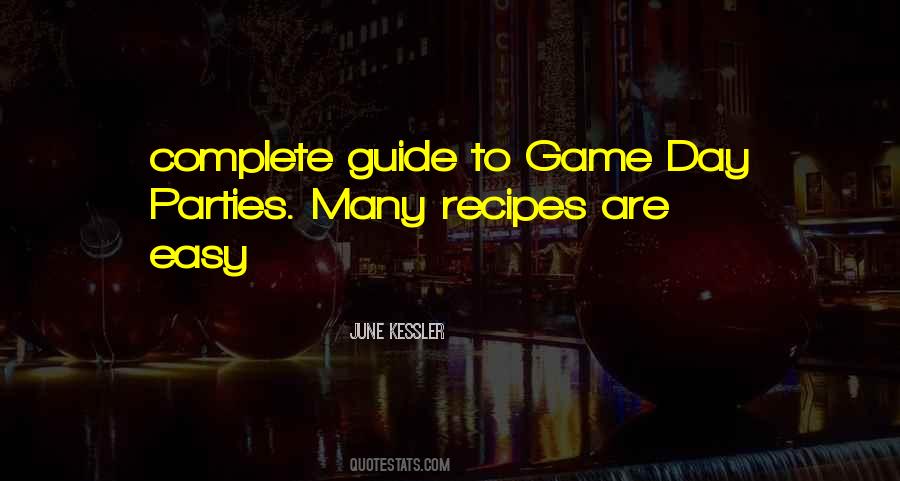 #29. I hate the opera. I think I must have a tin ear. No matter how hard I concentrate it still sounds like a bunch of Italian chefs screaming risotto recipes at each other.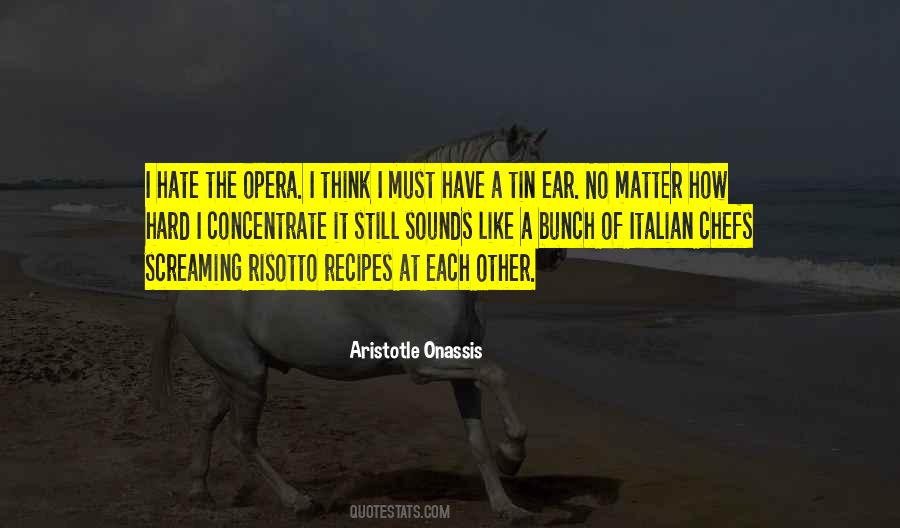 #30. You know, really - actually, it's funny because it's a sore spot with me because I have all these recipes that, you know, you have to measure things out and put them in. And then you bake it and it becomes this thing. And it's not a recipe.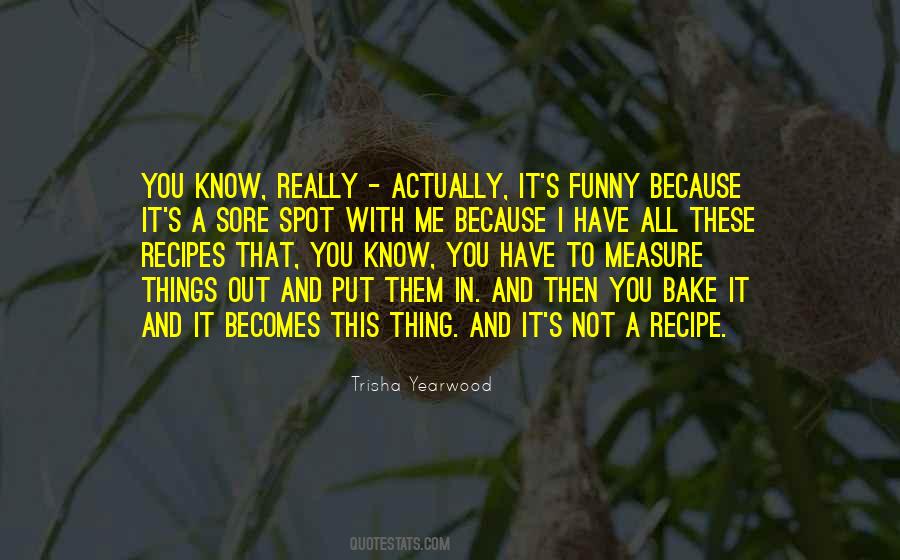 #31. The strange thing is, this truly horrifying experience planted a seed deep within my heart that germinated and grew into a desire that, I have to admit, I've never completely overcome.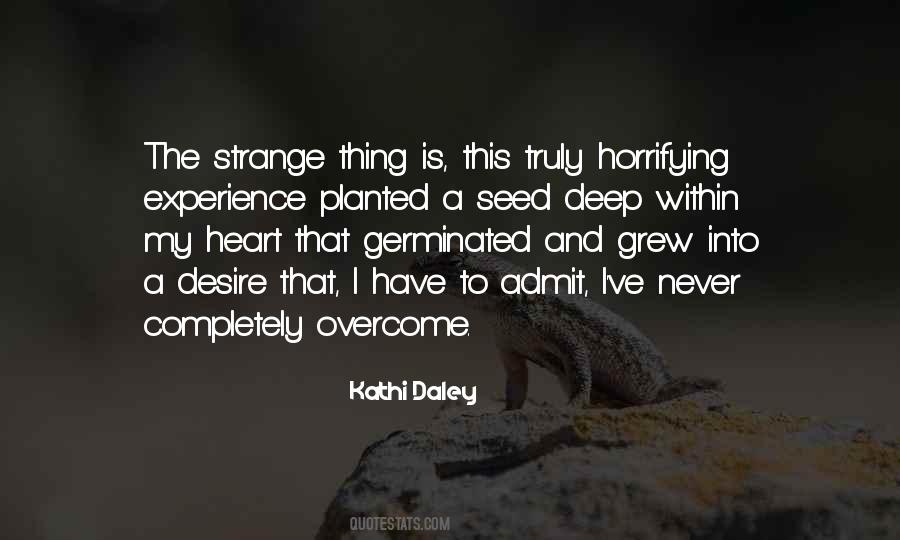 #32. What strikes me, the more I cook, is that the best recipes are ones where the basic anatomy is so sound it will survive multiple adjustments. When a recipe has good bones, you can change the seasoning, double the garlic, swap lime for lemon, and it still turns out delicious.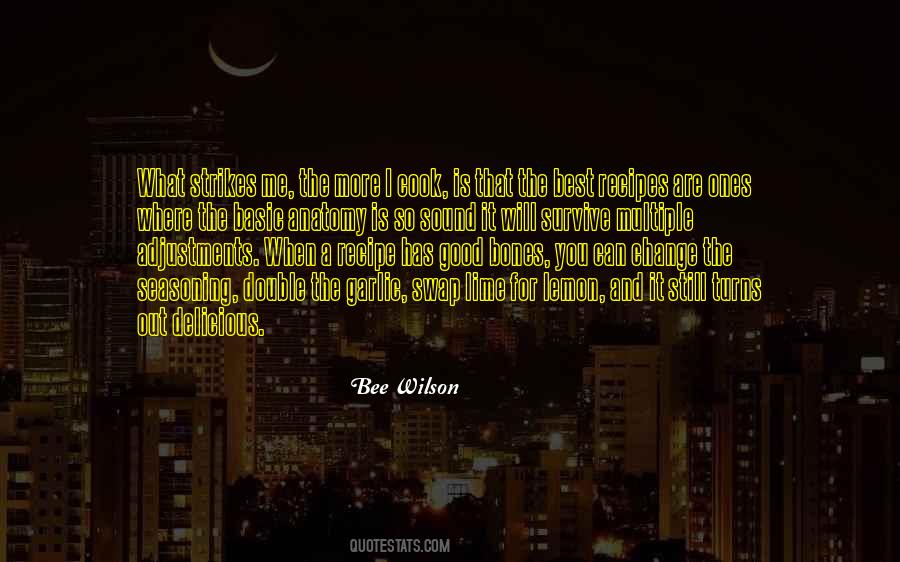 #33. Life is not a recipe. Recipes are just descriptions of one person's take on one moment in time. They're not rules. People think they are. They look as if they are. They say, "Do this, not this. Add this, not that." But, really, recipes are just suggestions that got written down.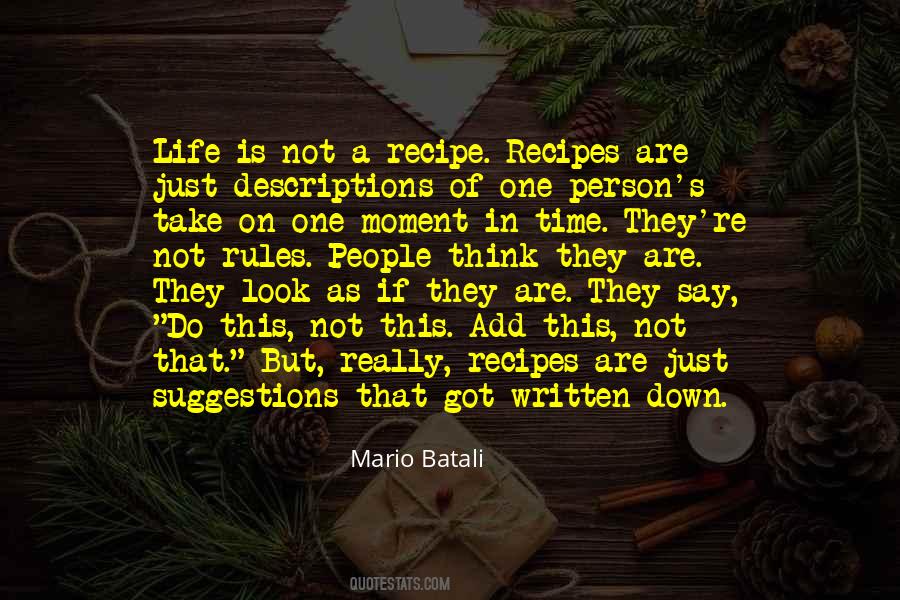 #34. Some of the recipes in the book have evolved for us. Many haven't.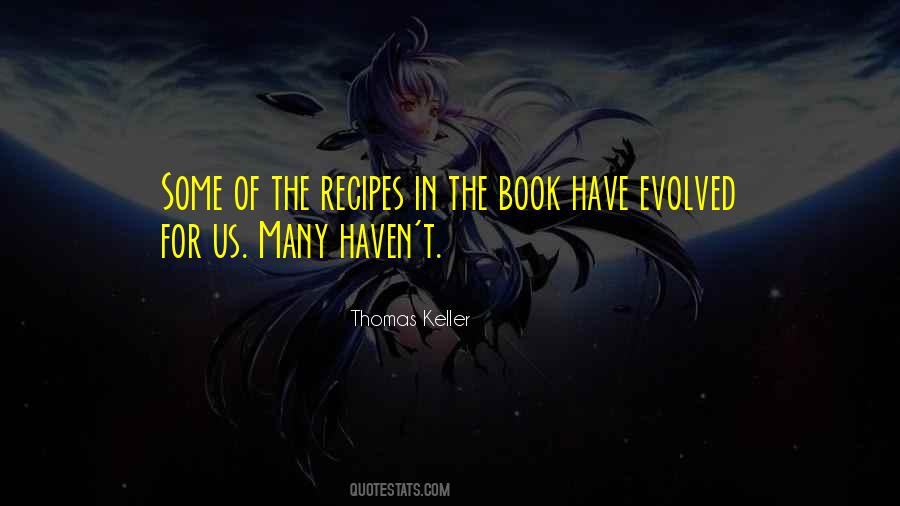 #35. Recipes are not assembly manuals. Recipes are guides and suggestions for a process that is infinitely nuanced. Recipes are sheet music.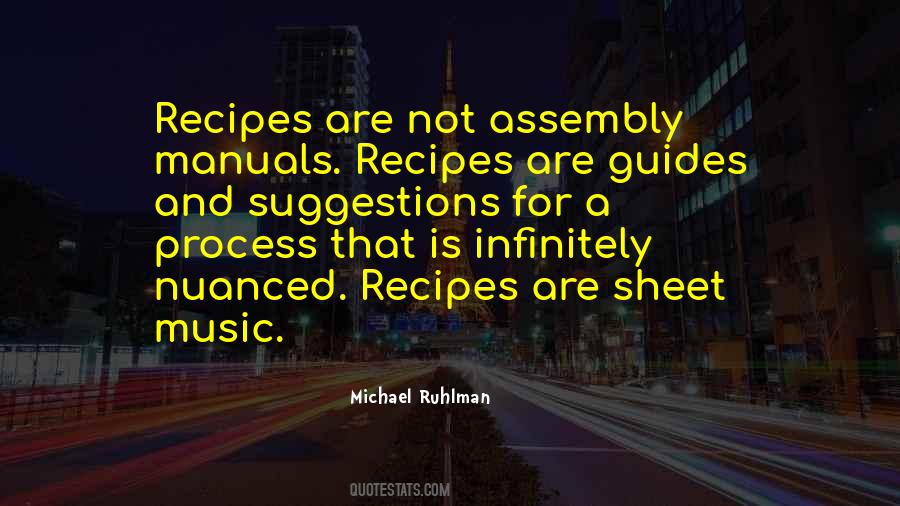 #36. To me, my recipes are priceless.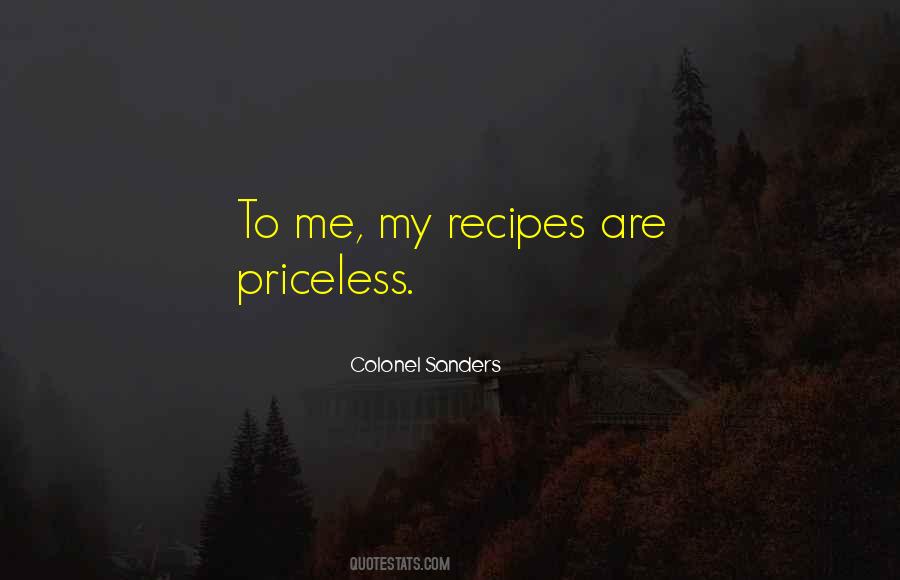 #37. I always hated watching cooking shows where the chef would use ingredients that I couldn't get my hands on, cooking implements that I couldn't afford, recipes that I could never have access to.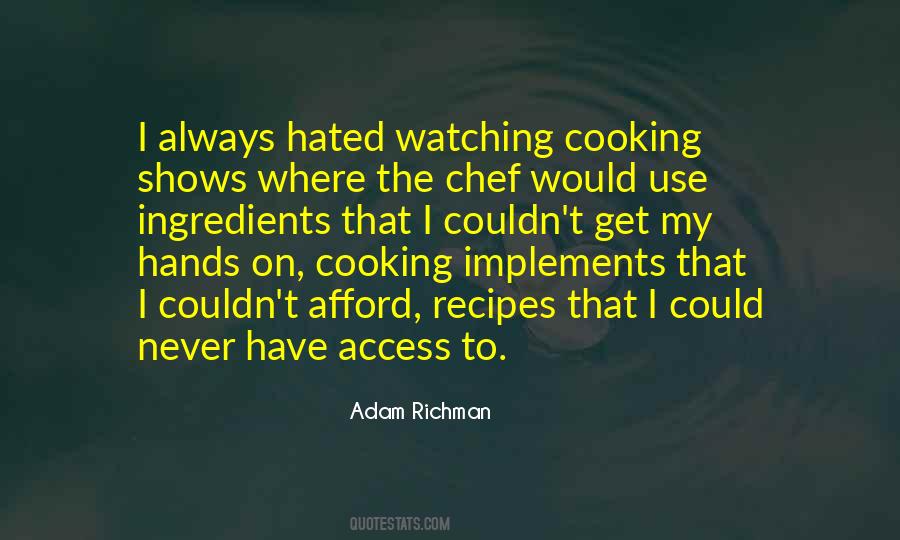 #38. There will never be another woman who owns the look, the personality, and the experience that you do. Those ingredients make up the recipe that defines who you are, and it's your gift from the Lord - own it.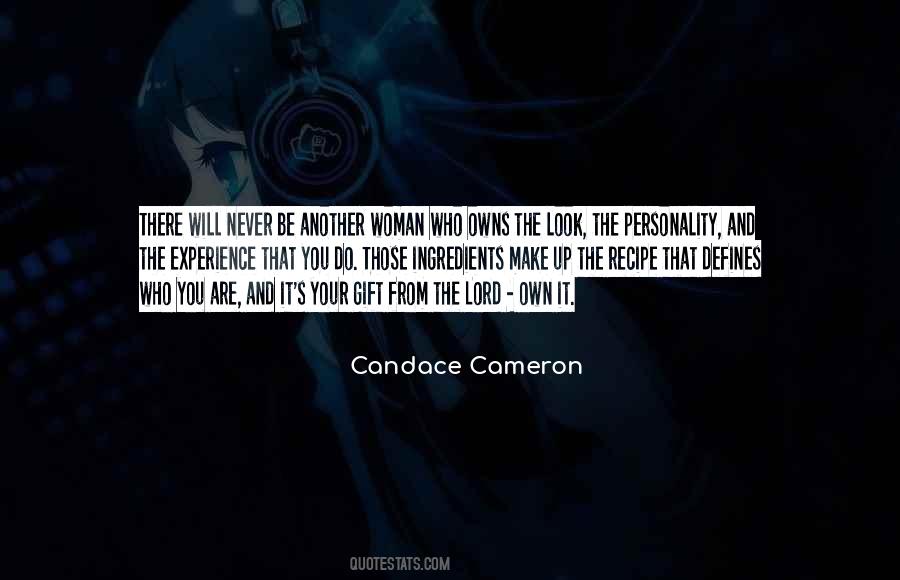 #39. I can cook to please people, but it's quite conventional. I make a good sponge cake. I find it hard to follow recipes.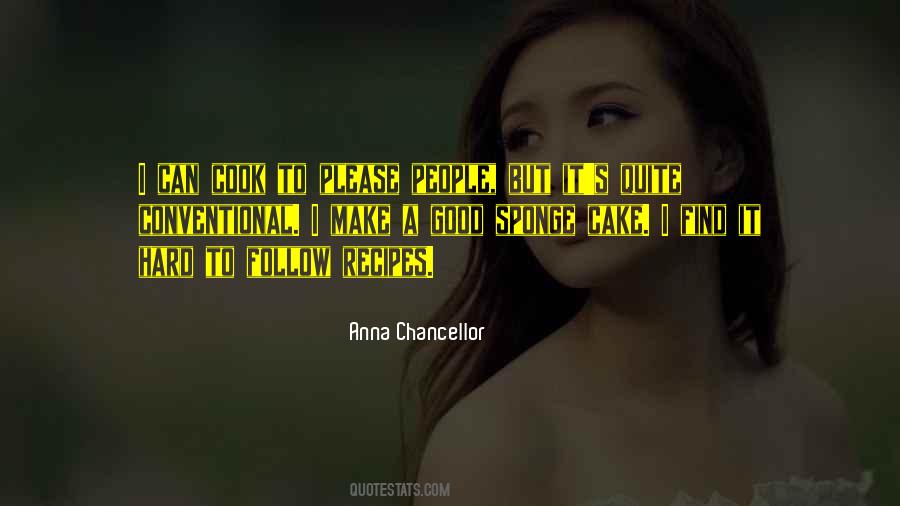 #40. There are three reasons why this book came into being. First, throughout the 33 years I've been writing recipes - although I'm not vegetarian myself - I have greatly enjoyed creating vegetarian recipes, and cooking and serving them at home.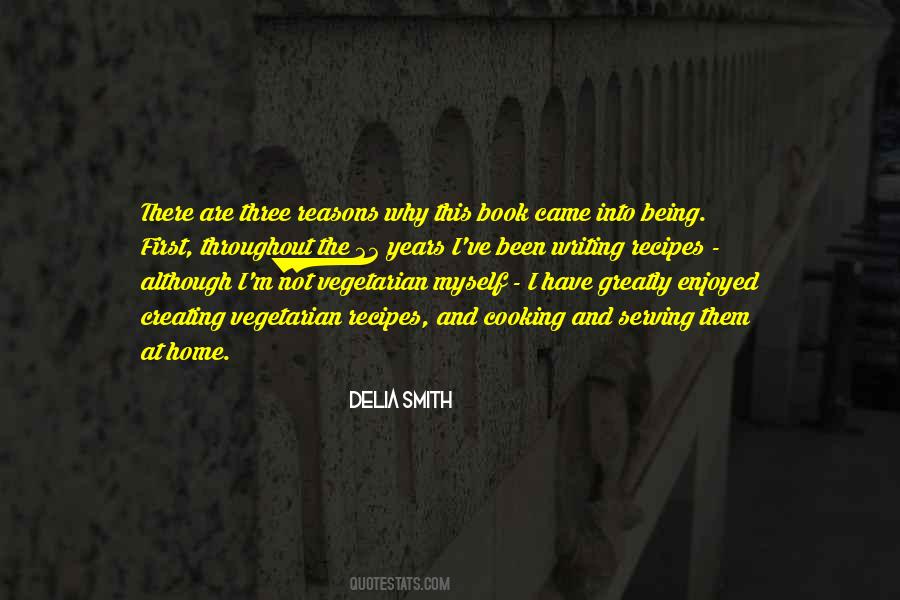 #41. Baking is ... Life. So when you describe what you're making, you must describe life. Do you see? It's not just recipes..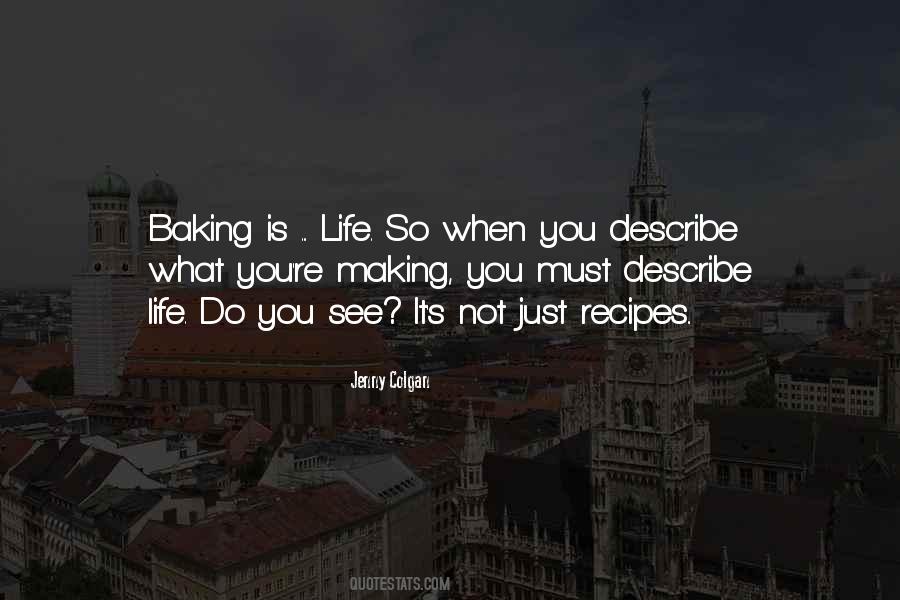 #42. We don't have to waste our time learning how to make pastry when we can use grandma's recipes.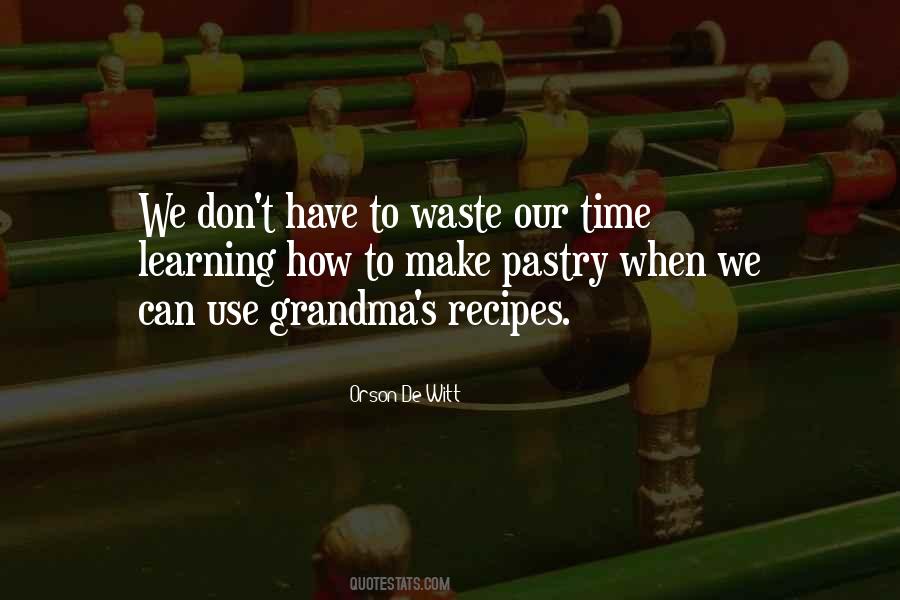 #43. Get married with the feeling it is going to last. Not like the bride I know who doubled the wedding cake recipe and froze one.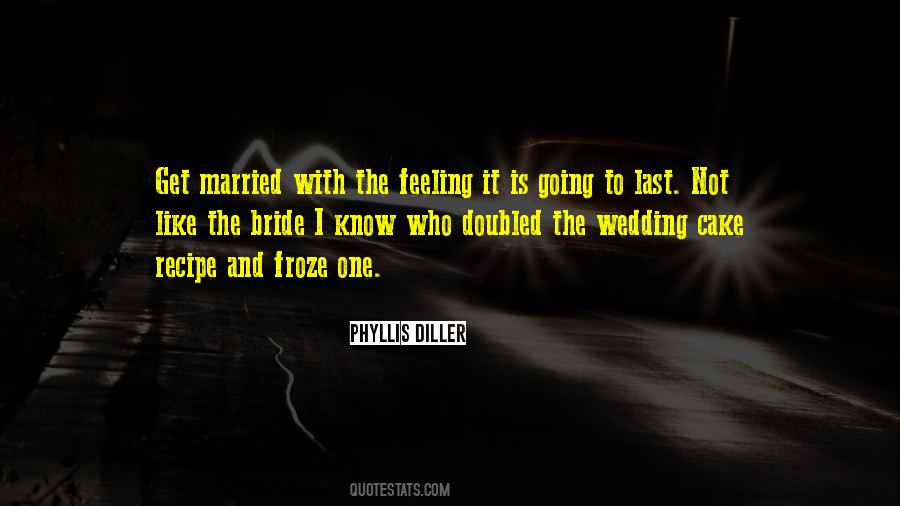 #44. Science means simply the aggregate of all the recipes that are always successful. All the rest is literature.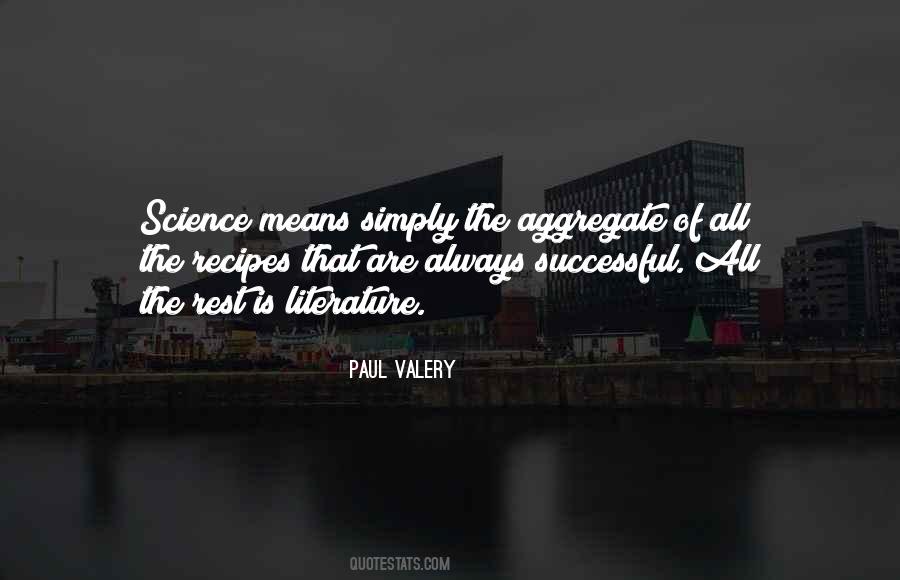 #45. I'm a bartender. I like recipes. They're concretes. Was the drink recipe for seduction one shot charm and two shots self-deception, shaken, not stirred?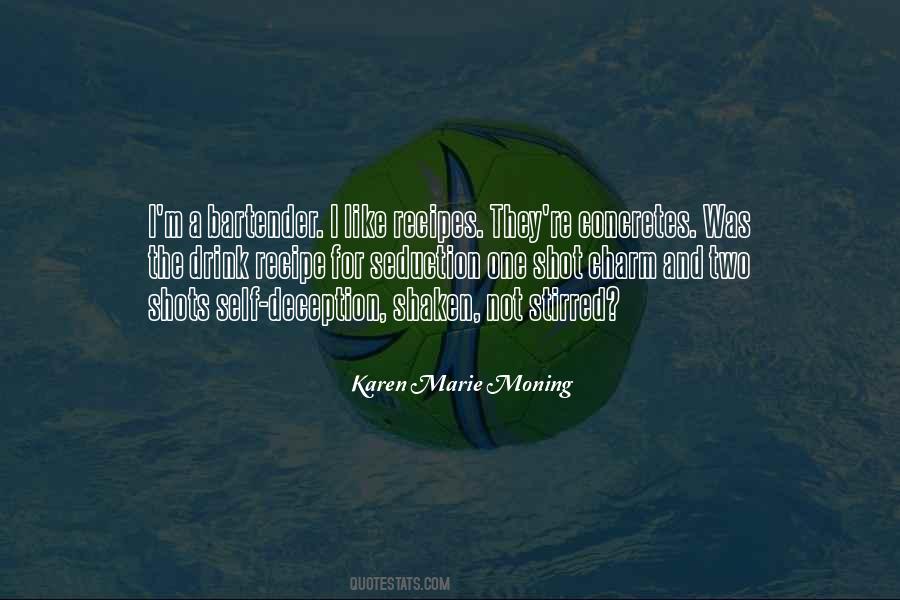 #46. Like parents, cooks shouldn't have favourites, but some recipes inevitably shine more than others.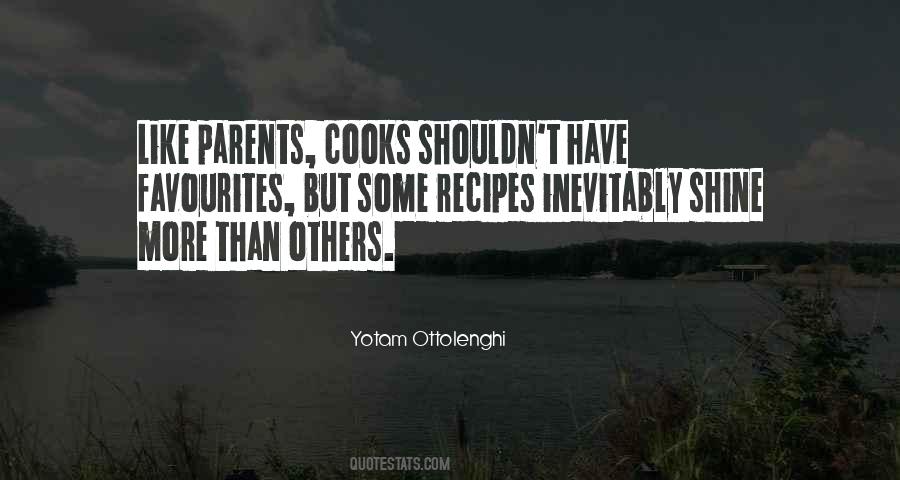 #47. When I finally gathered, invented, stole, simplified, borrowed, and found a publisher for a clutch of reasonably foolproof recipes, I learned I had friends I hadn't known about - more proof that a mutual dislike can be quite as sound a basis for friendship as a mutual devotion.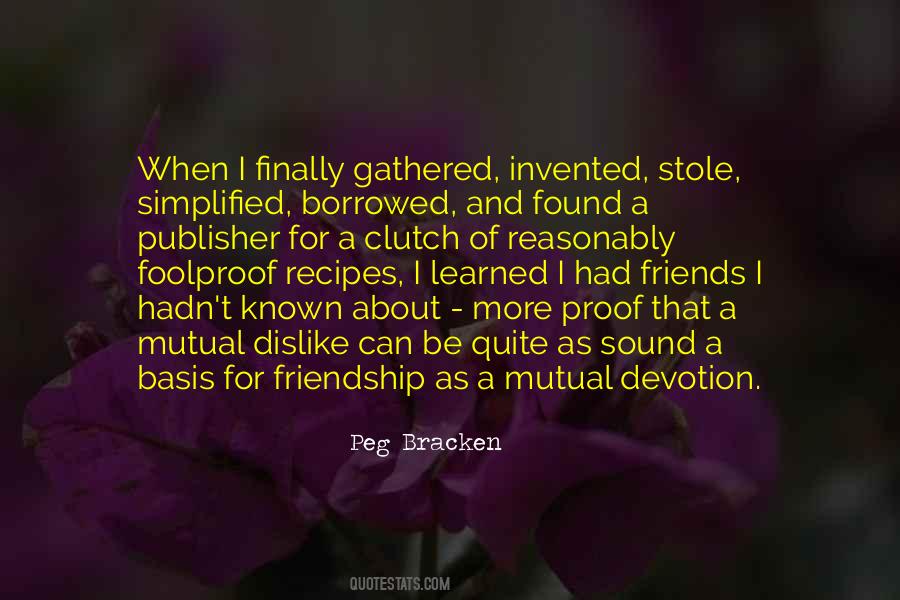 #48. I fell in love with food because of my mother. So, I will definitely be sharing and expanding more recipes from my culture (as well as many other cultures), and will be sharing recipes that I have experienced from my whole culinary life.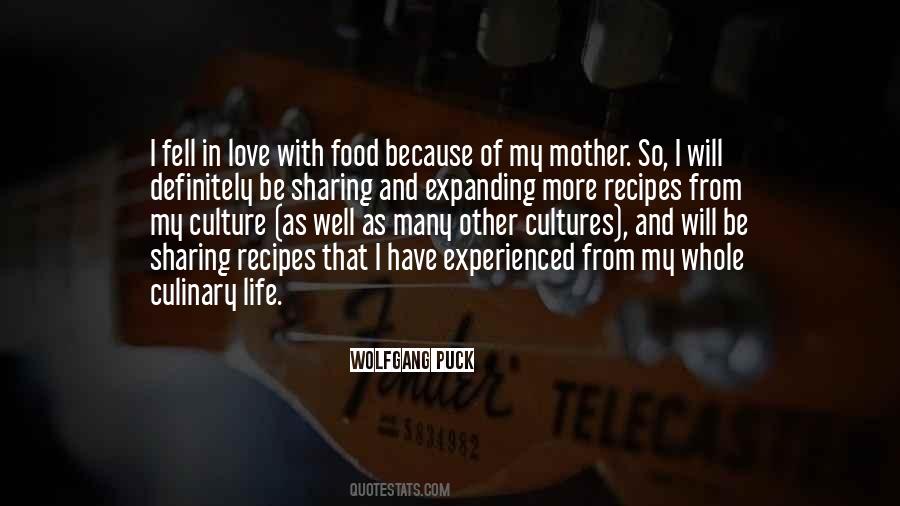 #49. If people just put away what's left at the end of the month, that's a recipe for failure.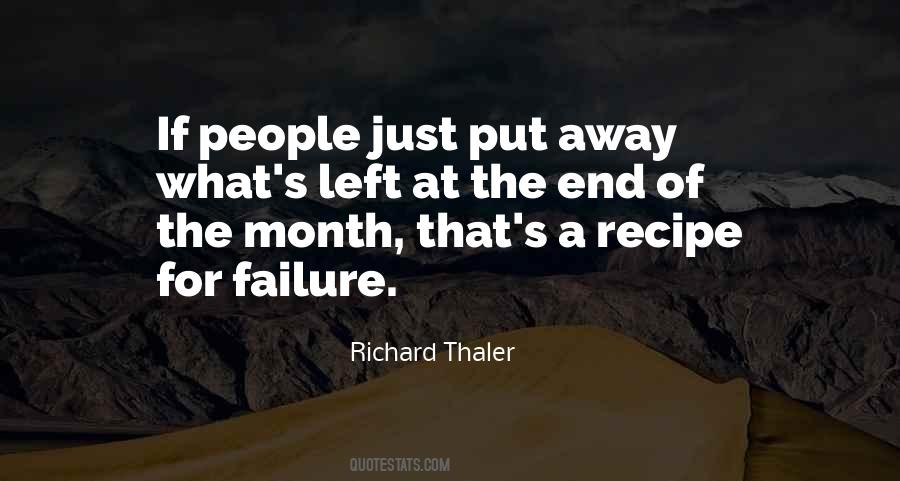 #50. In my food world, there is no fear or guilt, only joy and balance. So no ingredient is ever off-limits. Rather, all of the recipes here follow my Usually-Sometimes-Rarely philosophy. Notice there is no Never.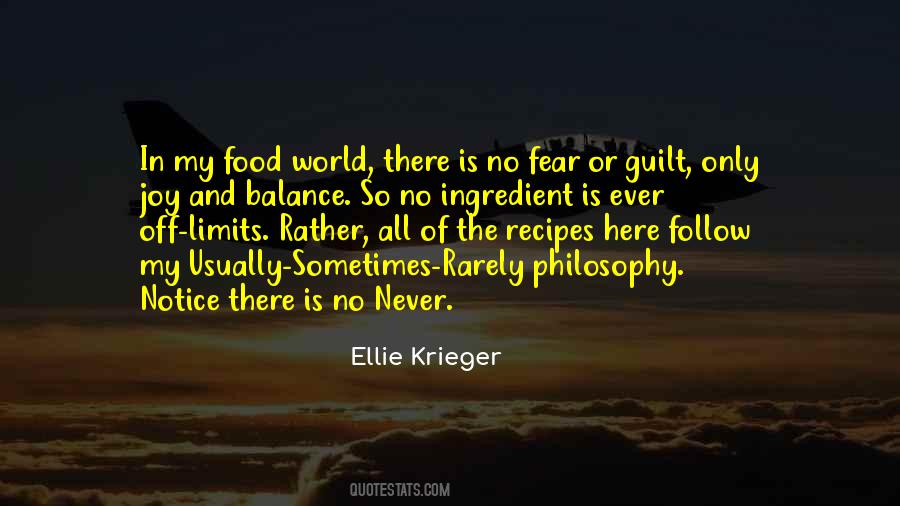 #51. A cookbook must have recipes, but it shouldn't be a blueprint. It should be more inspirational; it should be a guide.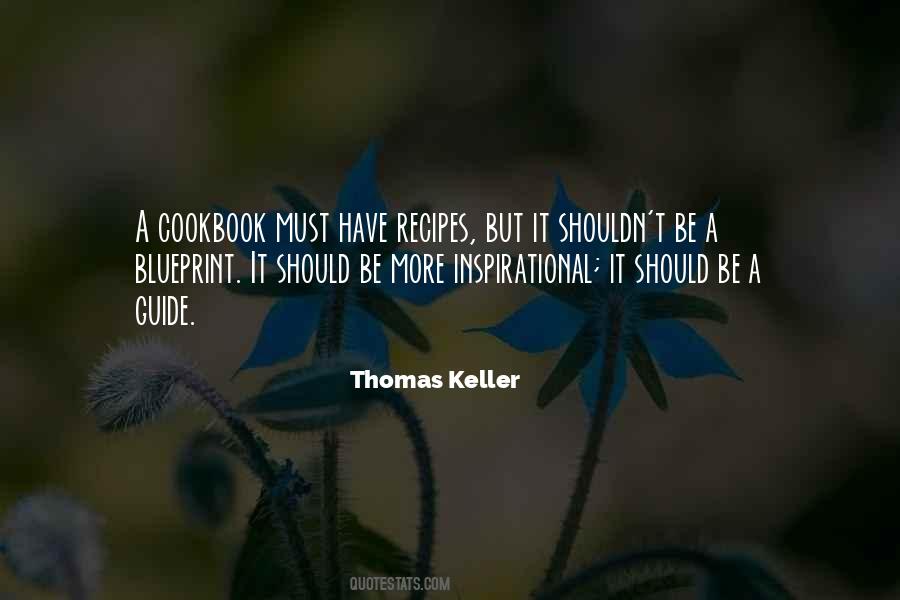 #52. The recipe for success ... customers will get what they want, when they want it ... you will see more revenue, greater brand loyalty, real relationships, and a competitive edge.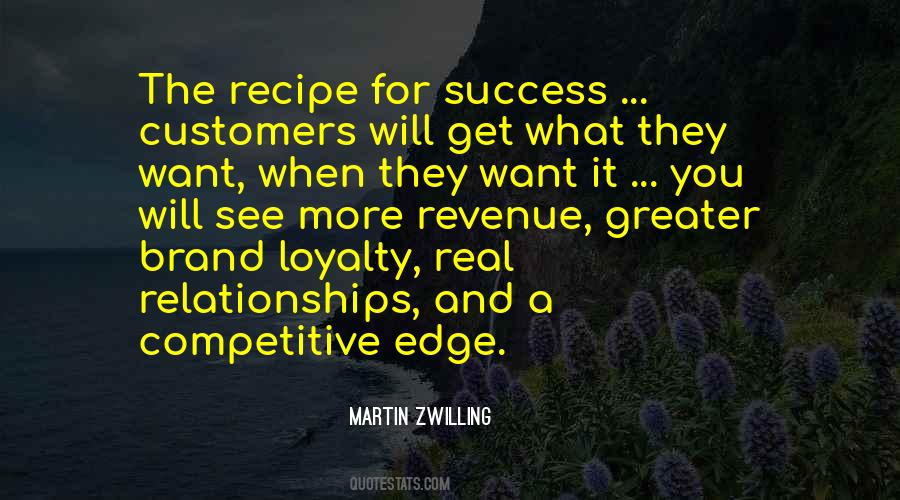 #53. If god had intended us to follow recipes, He wouldn't have given us grandmothers.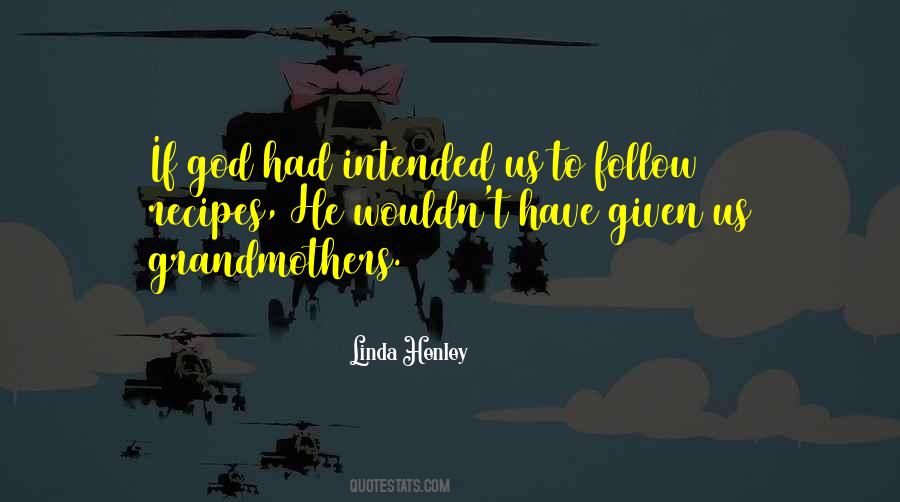 #54. On my show I share all these yummy, fattening recipes, but I tell people, in moderation, in moderation. You can have that little piece of pie.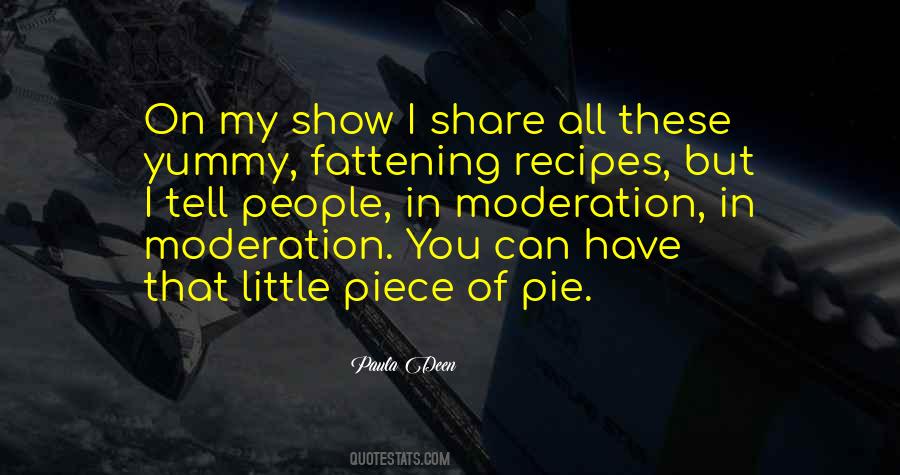 #55. The moment somebody is making money off the recipes, that's when you'll see digital rights management around it.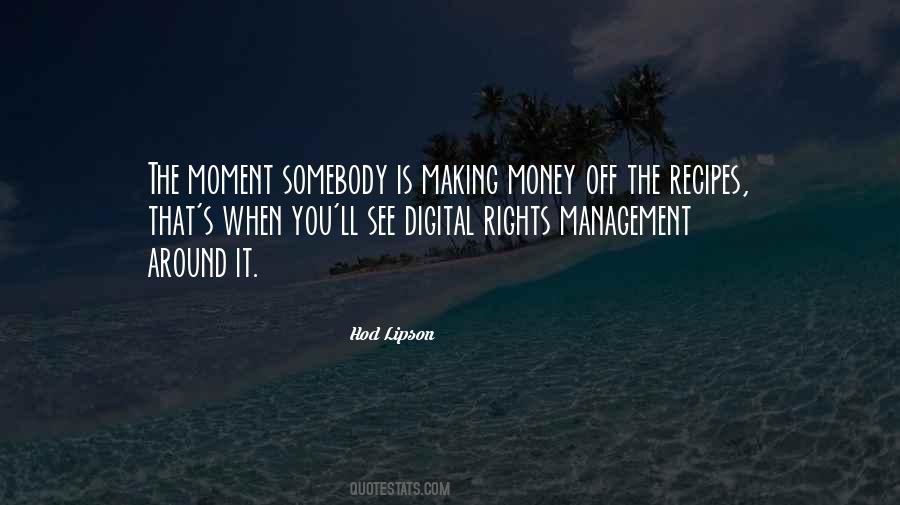 #56. Of course, I will continue to share my favorite Southern recipes, just like my mama, grandmother and family shared with me over the years. And now, I'll be adding a little bit of a lighter touch to some of these wonderful dishes.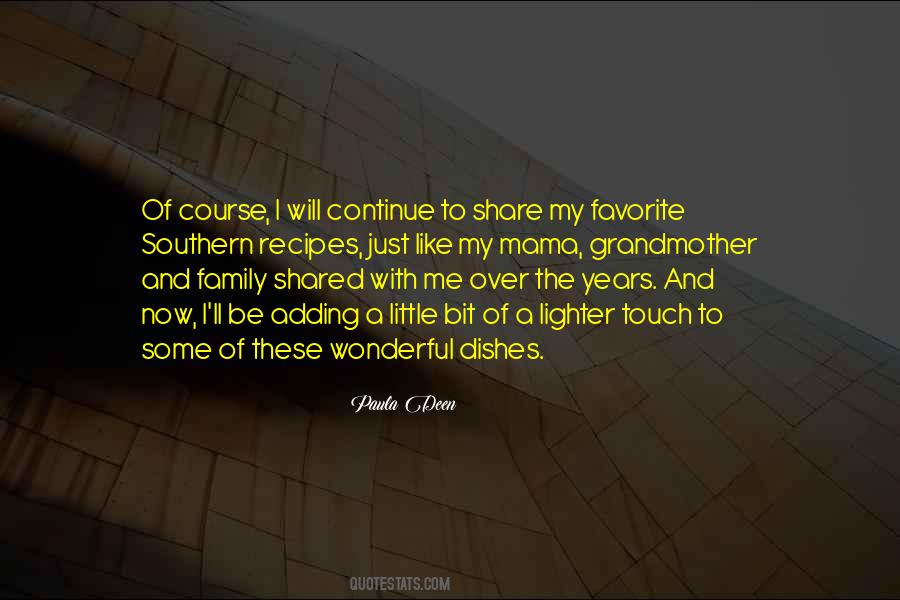 #57. Recipes are overrated.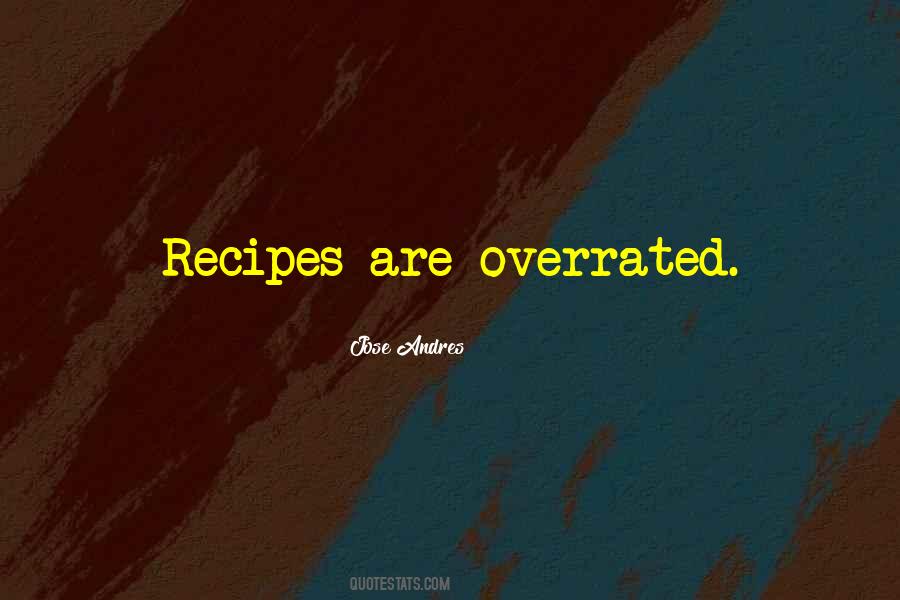 #58. There is no recipe for success - it is as unique as you are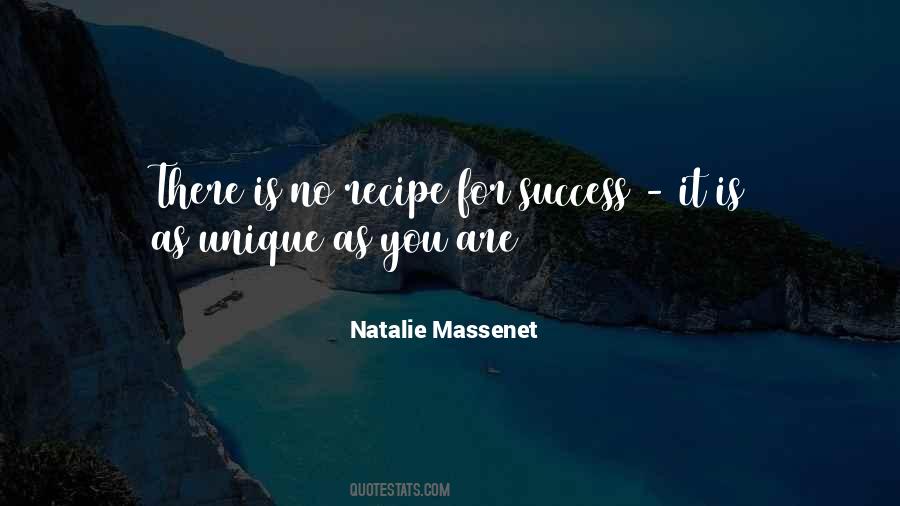 #59. Recipes are important but only to a point. What's more important than recipes is how we think about food, and a good cookbook should open up a new way of doing just that.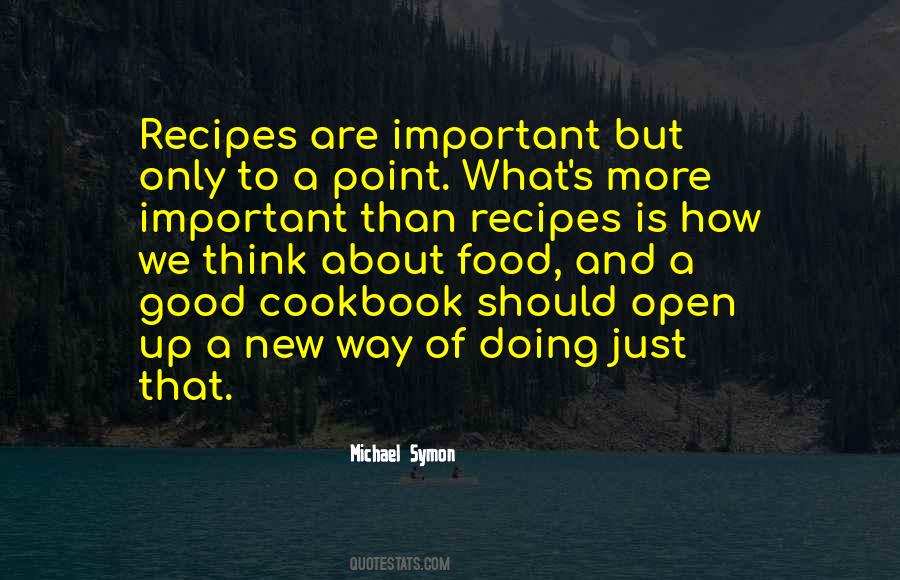 #60. Ten years ago, TV cookery shows were about a man or a woman following recipes. Now, it's all about journeys and campaigns and less about the actual chopping and dicing. That's what I'd like to do with magic.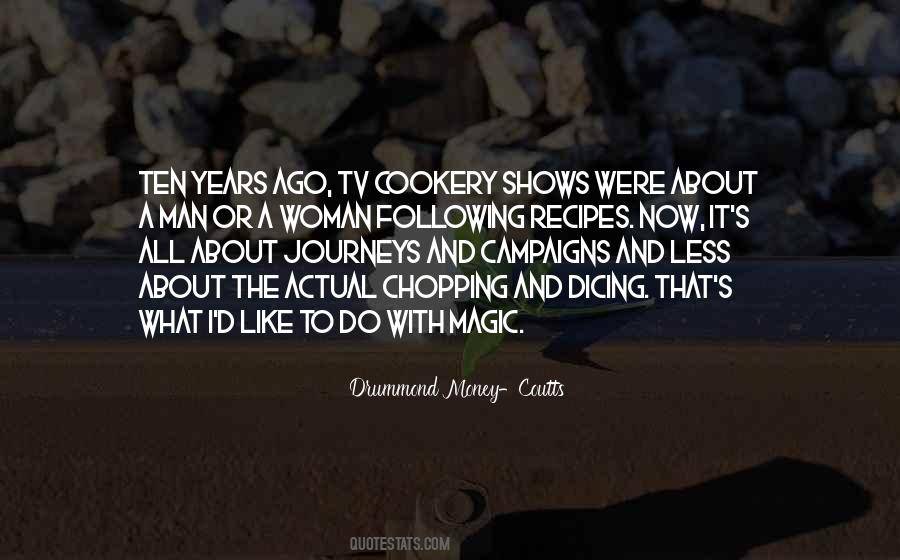 #61. I do 280 episodes of TV a year, write 15 recipes for the magazine, and publish an annual book. With all of that, we try to get one weekend a month with Isaboo at our home in the Adirondacks to relax and recharge.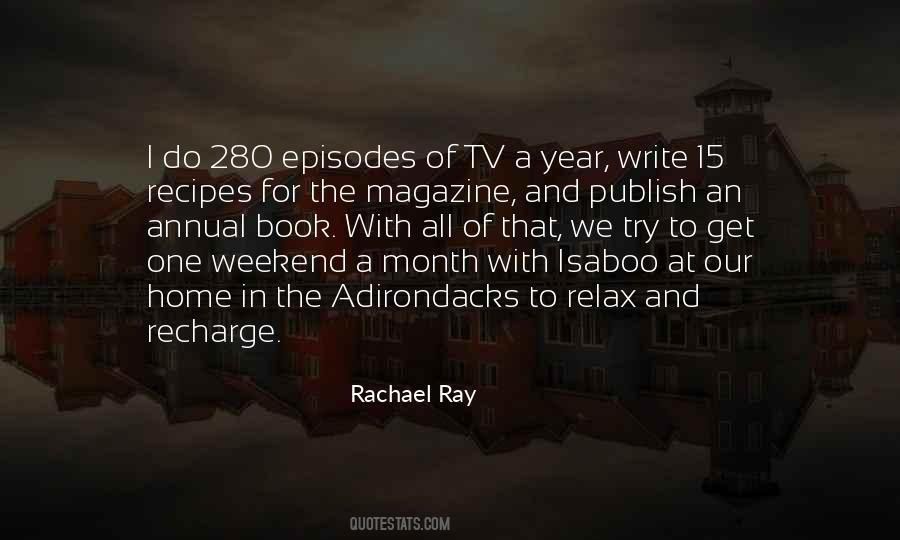 #62. they all offer me recipes for "cheap and easy eats" that usually involve a casserole made from canned soup, butter, and a snack chip.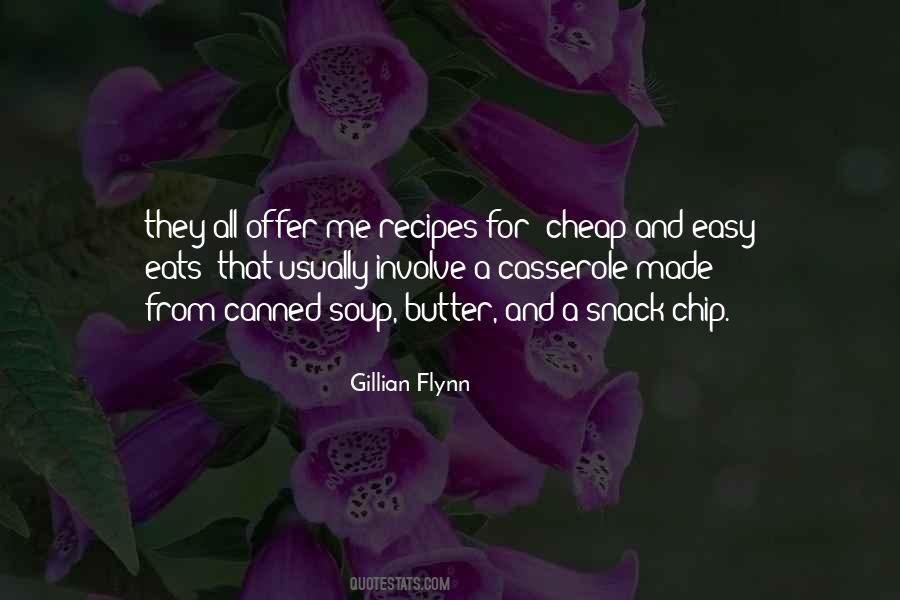 #63. Planning a brilliant menu and preparing it beautifully doesn't guarantee a recipe for success.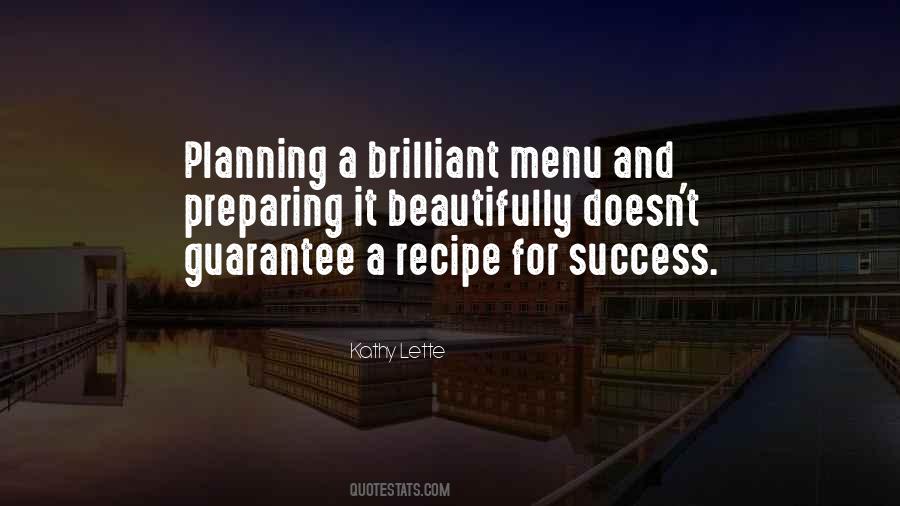 #64. I love anything to do with cooking, from watching the Food Network to reading recipe books by Gordon Ramsay, Jamie Oliver and Levi Roots. My favourite types of cuisine are Asian and Caribbean, and I love cooking new recipes for my family.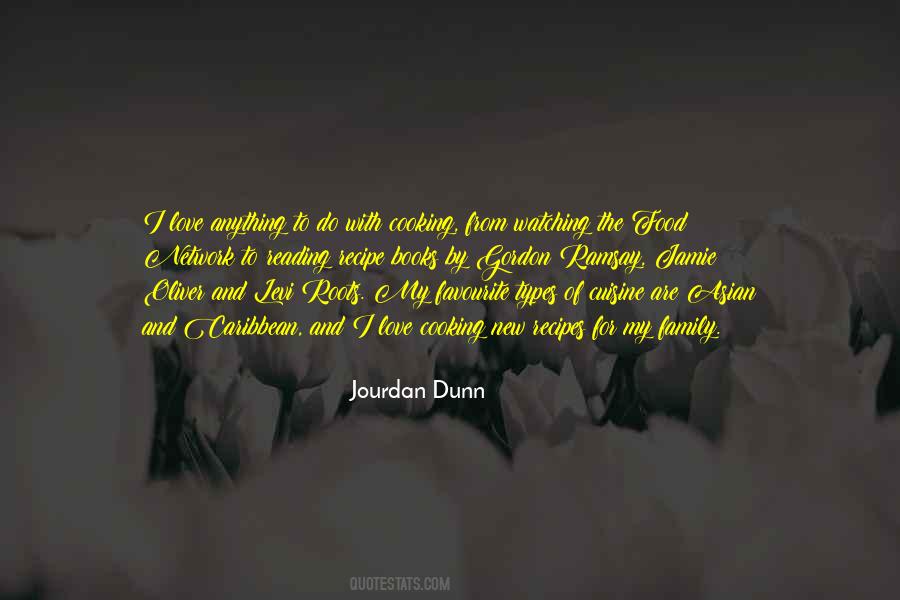 #65. I bought an organic rice milk. Frozen ... I'm not going to make something I don't know how to make, I don't have a recipe for.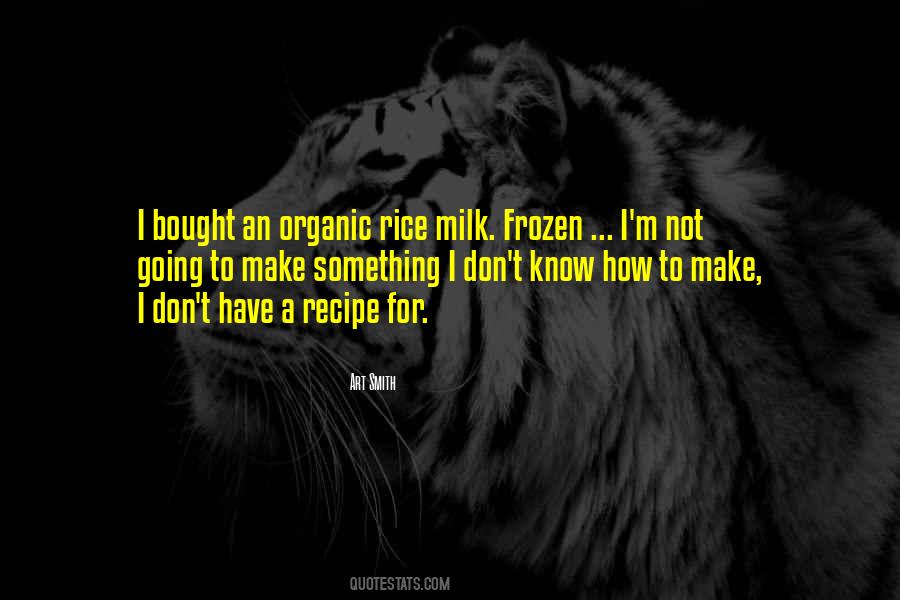 #66. An announcement that my lesson for the day would be Spanish dishes, invariably brought record-breaking crowds in any city in the United States, and a demand for recipes induced me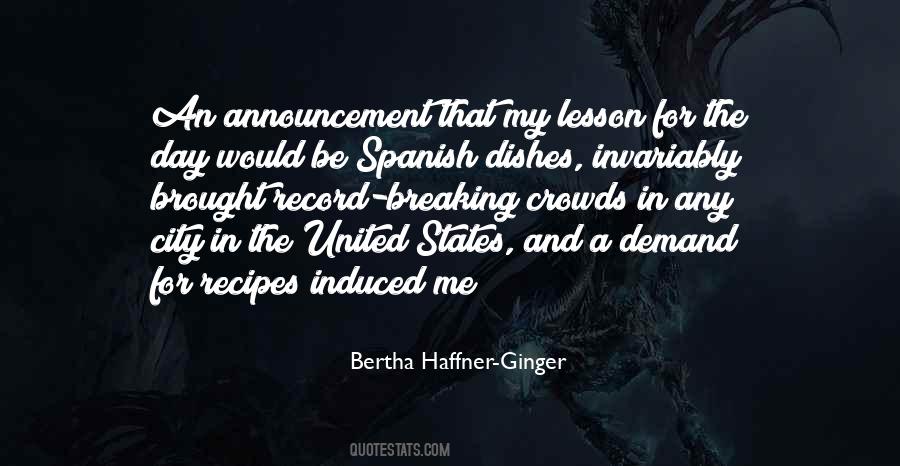 #67. The Pigtronix Envelope Phaser pedal is a definite 'must have' for your Funk recipe cookbook ... it adds definite Funkaliciousness to your WOO stew.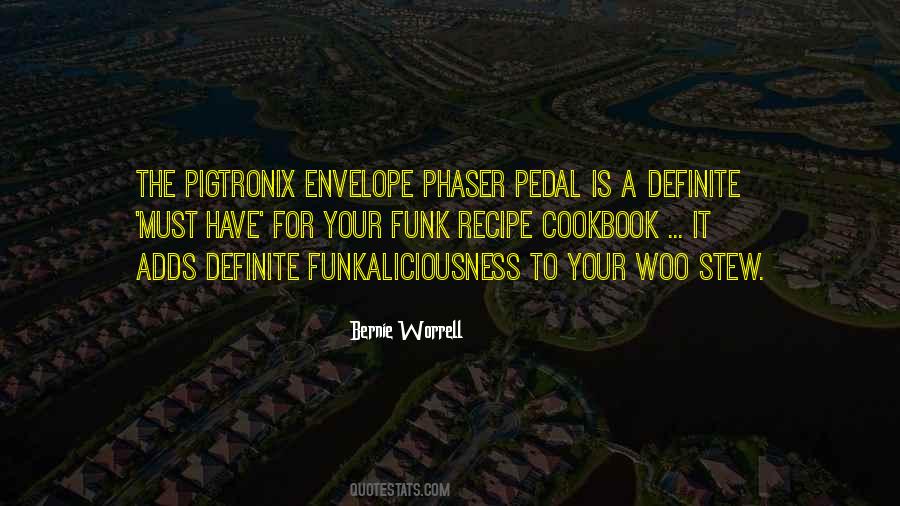 #68. I think the best shortcut is to choose really simple recipes. Because I think you can make simple recipes that are as delicious as complicated ones.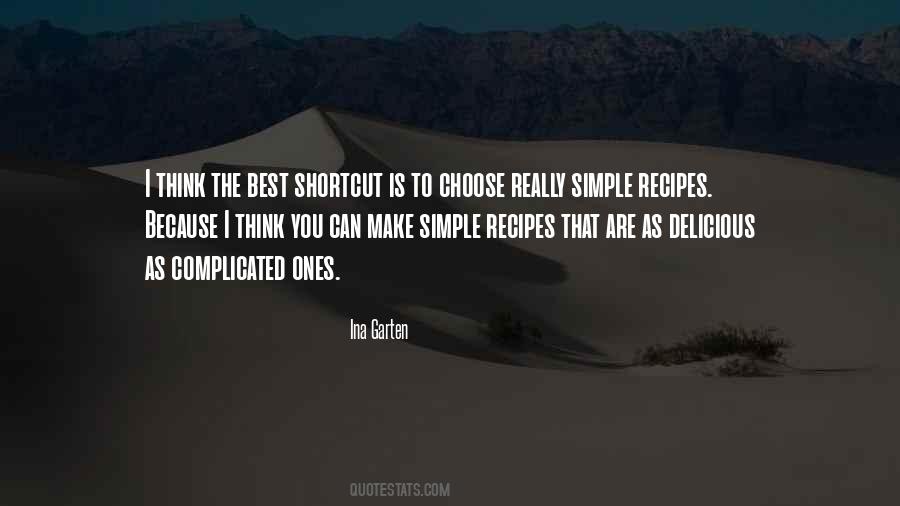 #69. If you want a recipe for relationship failure, just wait for the other person to change first.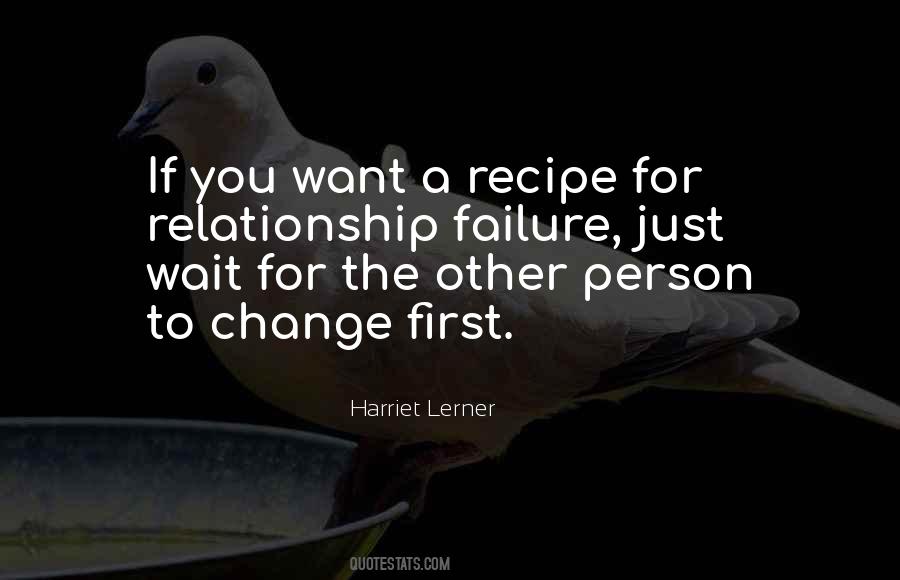 #70. I cook and I chat. That's what I do. I love to write recipes, but basically, if you had to put it in a nutshell, I cook and I chat.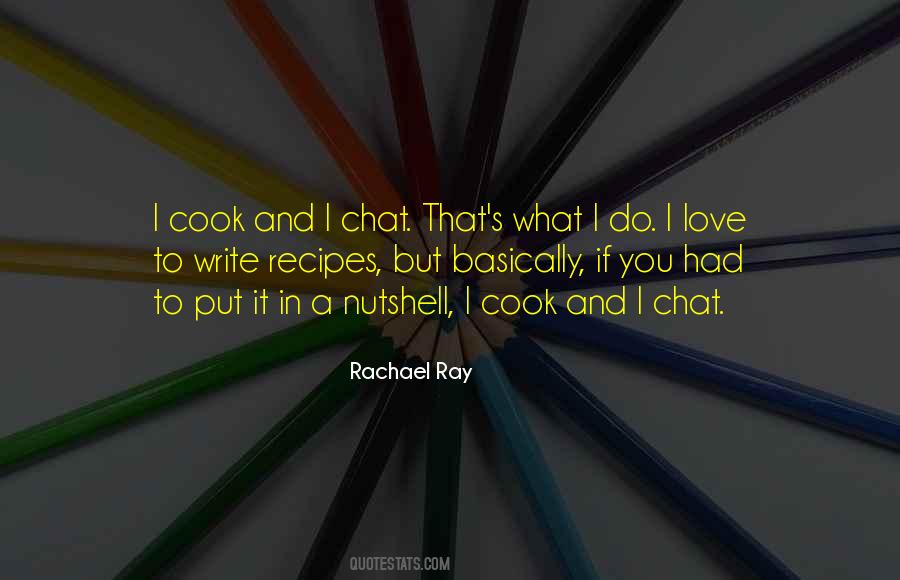 #71. ...behind every Guide Michelin chef there was a woman, usually a four foot cataract-ridden old granny from whom he'd filched his best recipes.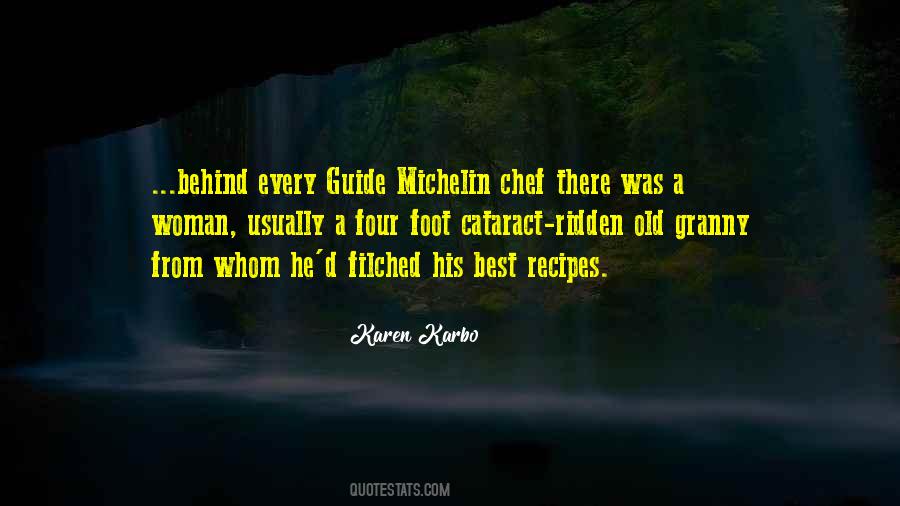 #72. Painting is sometimes like those recipes where you do all manner of elaborate things to a duck, and then end up putting it on one side and only using the skin.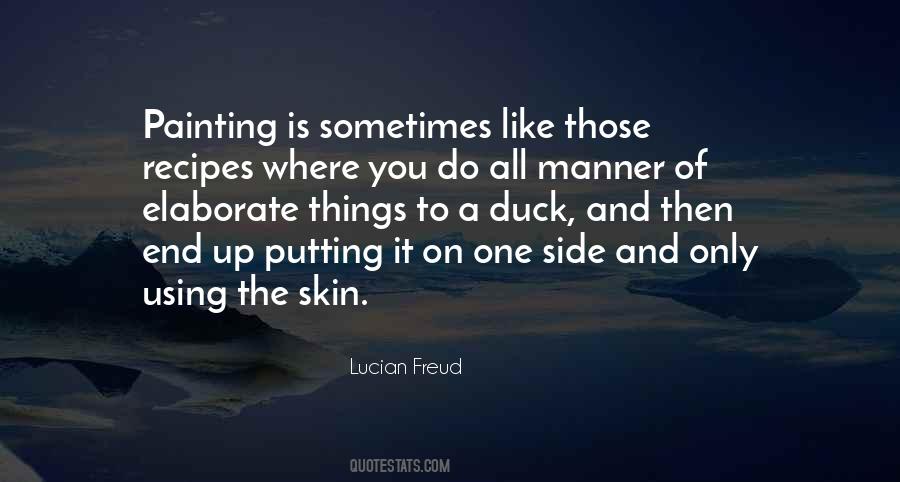 #73. I spend 95% of my time persuading people to take action and just 5% of the time on the recipes.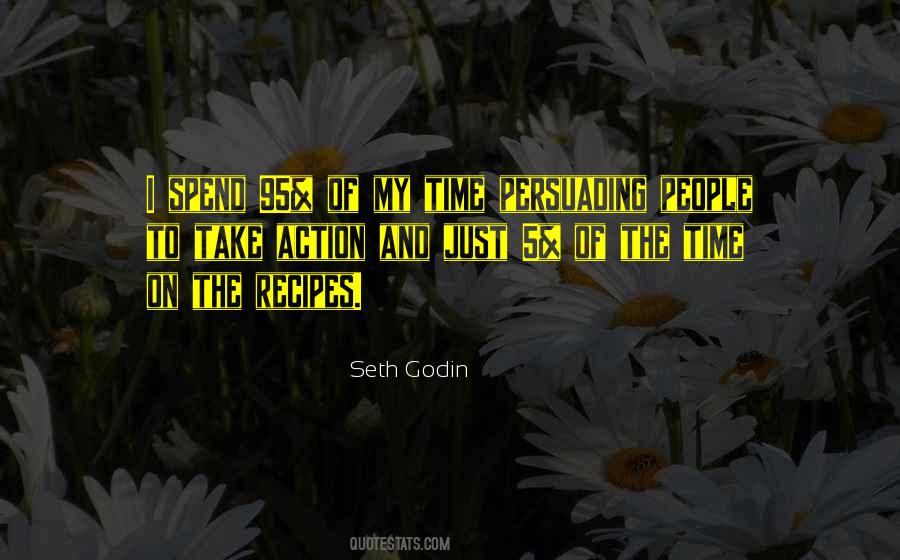 #74. Remember to add the most important ingredient to every recipe you make - your love!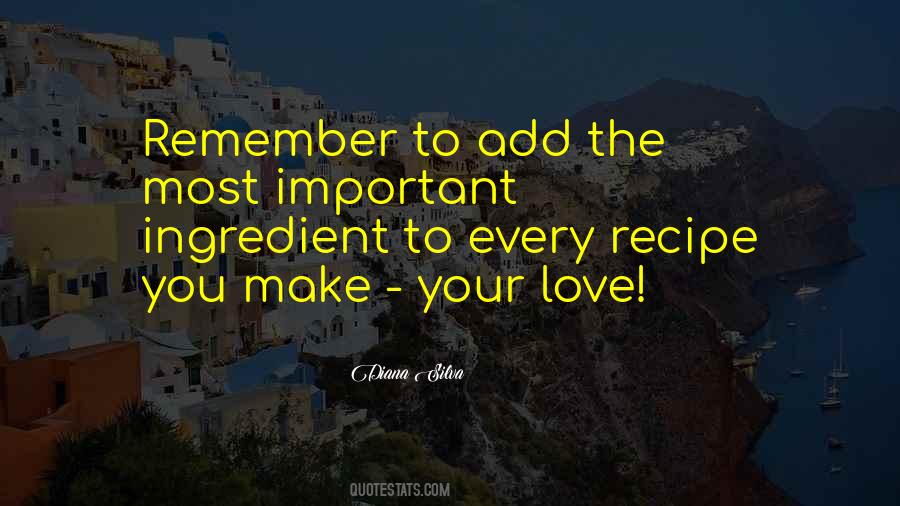 #75. There's just so much love that goes into home cooking, and I think it will really help the American family overall. I'm hoping to maybe get a cookbook out one day because I've got some great family recipes.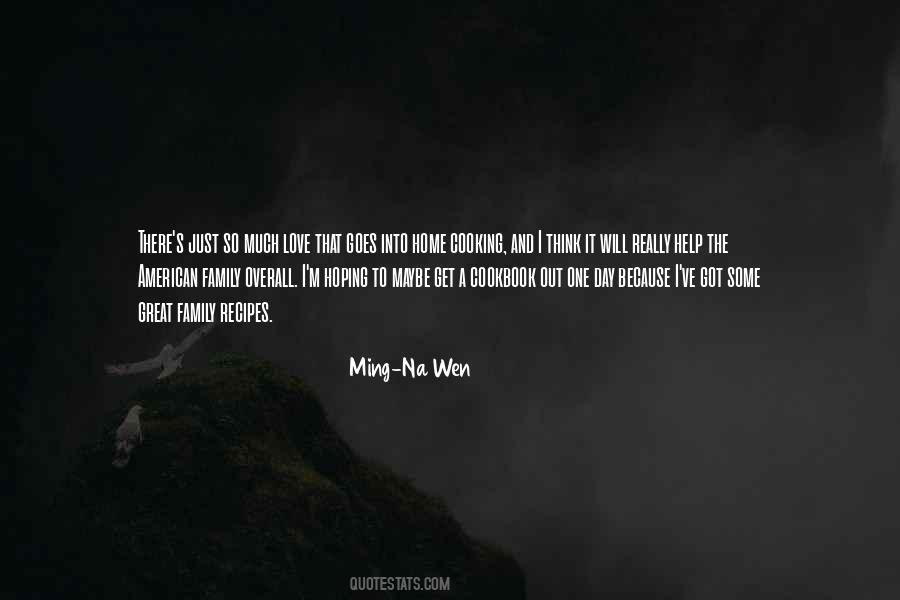 #76. I tested a lot of old cornbread recipes and most of them were bland or tough.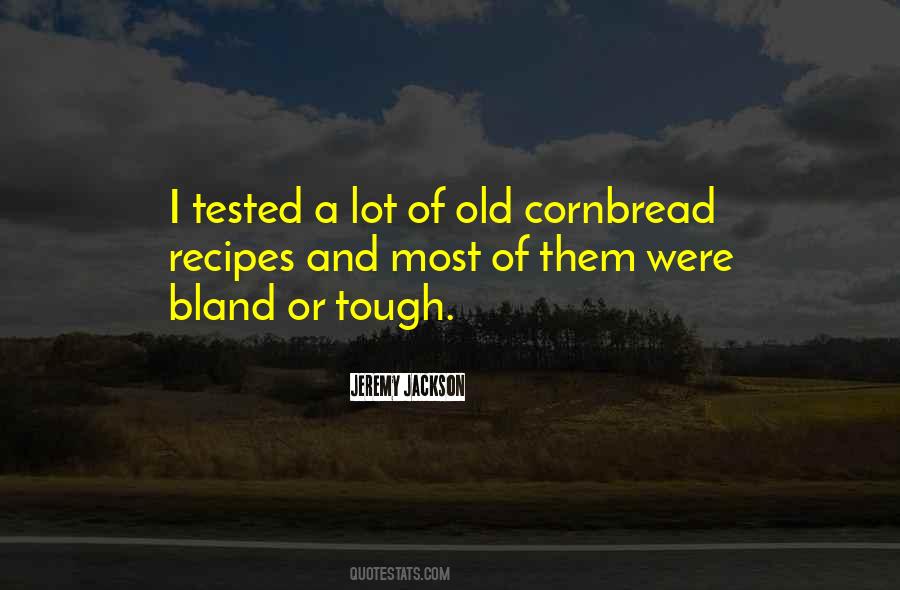 #77. To a billion people around the world surviving on just a dollar a day, the question of what to eat tonight is more about life and death than about recipes. The struggle of poor people around the globe weighs heavily on me, especially now that I am a mother, which is why I work with Oxfam.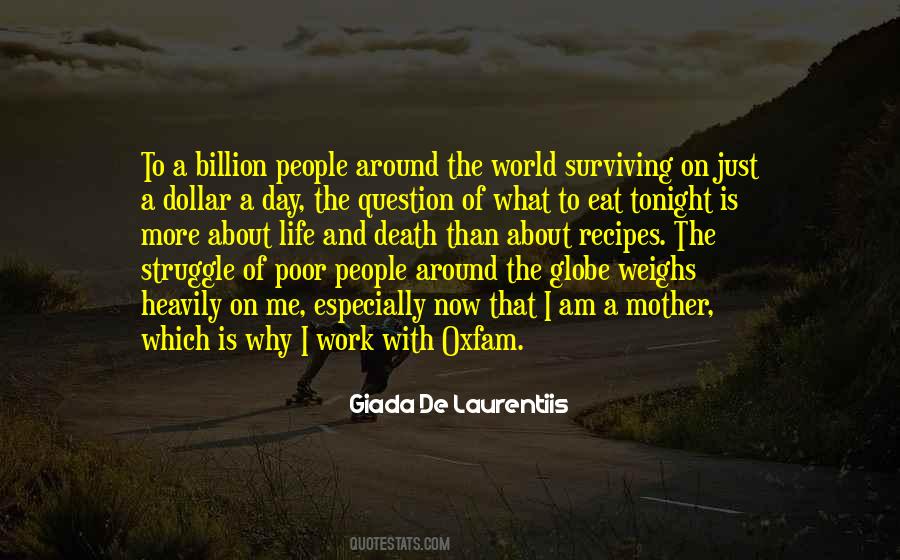 #78. Several years ago, I was creating a Christmas present for the family, a self-published cookbook featuring recipes my grandmother had collected and created over decades. While interviewing her for the biographical section, she began to talk about her courtship with my late grandfather.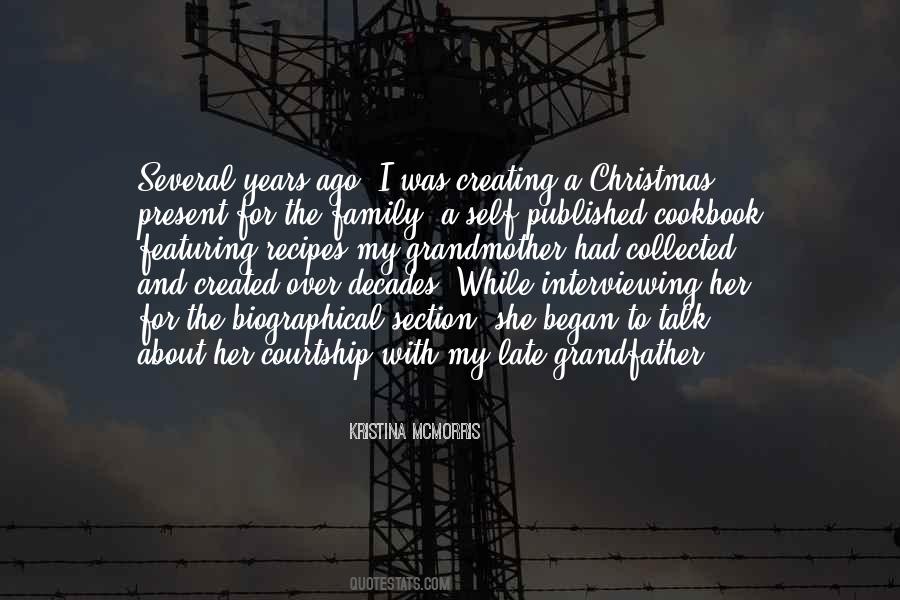 #79. Computer programming is really a lot like writing a recipe. If you've read a recipe, you know what the structure of a recipe is, it's got some things up at the top that are your ingredients, and below that, the directions for how to deal with those ingredients.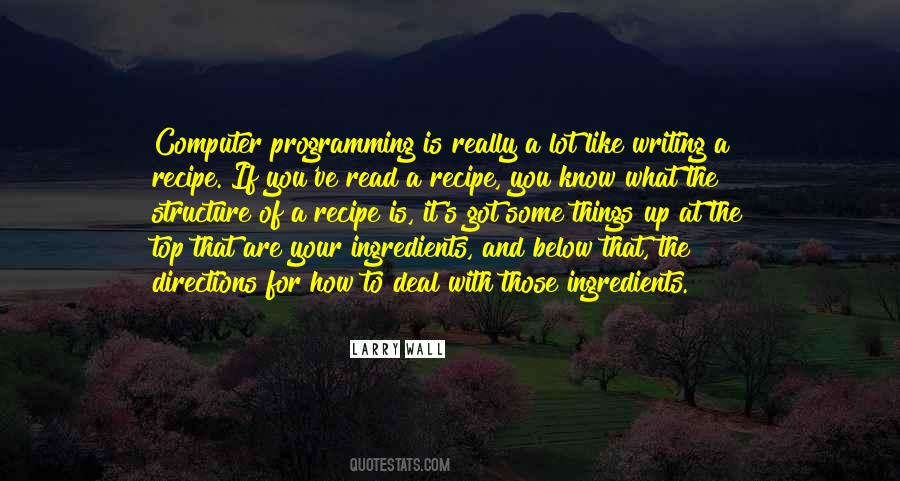 #80. I carried recipes in my head like maps.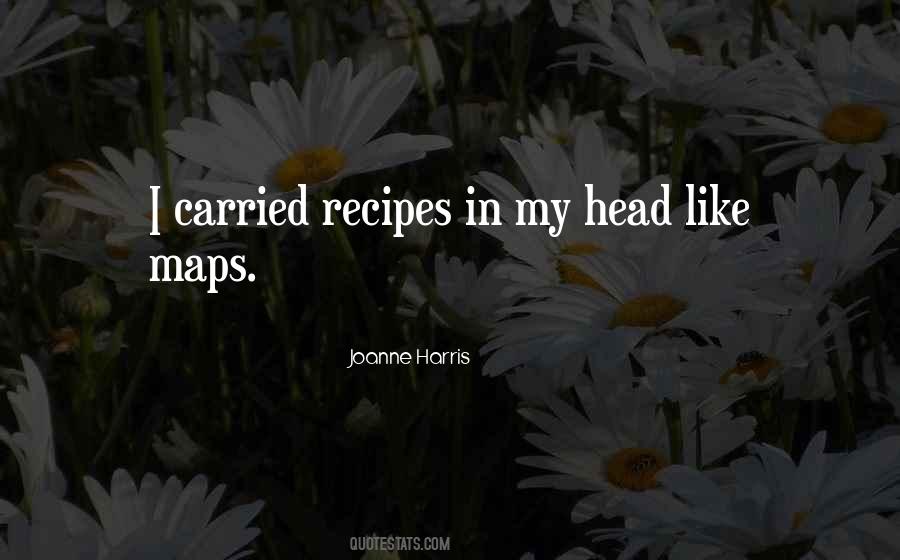 #81. I had these recipes that say do this, do that. Who MAKES these rules?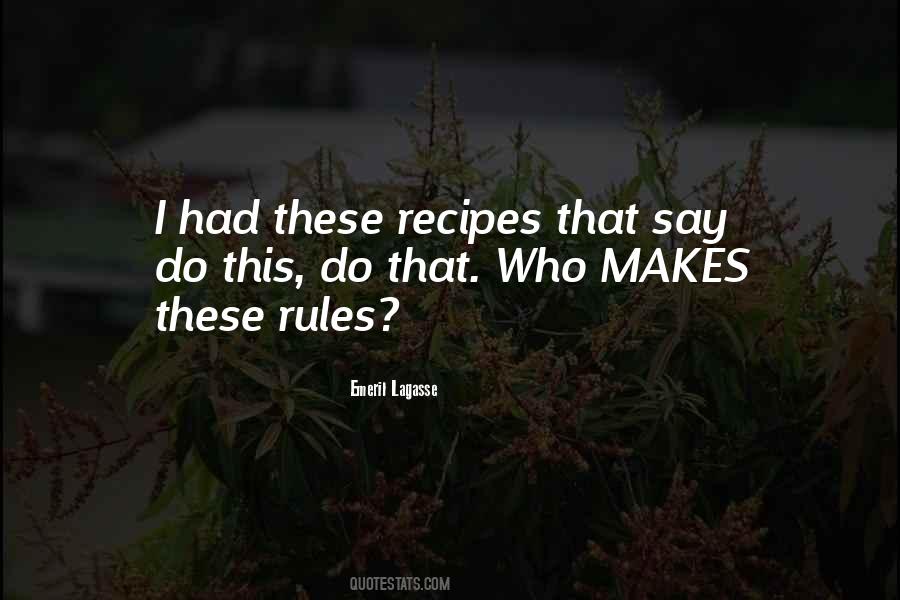 #82. conductor of heat, knowing how to control the temperature and to take advantage of its heating properties is vital when you cook with cast iron. This chapter tells you everything that you need to know. Of course, having a few recipes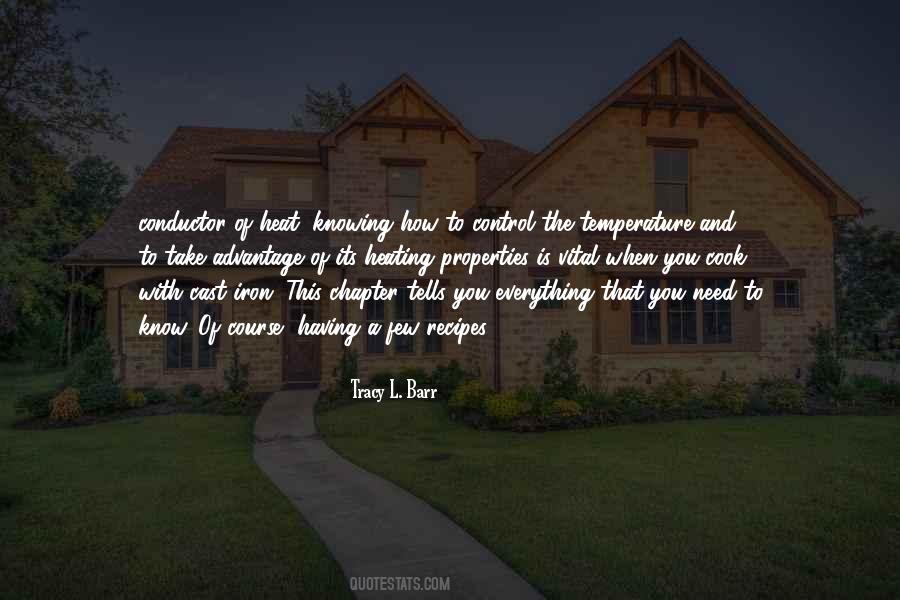 #83. When I wrote 'Fast Food My Way' in 2004, I hoped that my friends would prepare my recipes. Now, more people cook from that book than any other I've written in the past 30 years.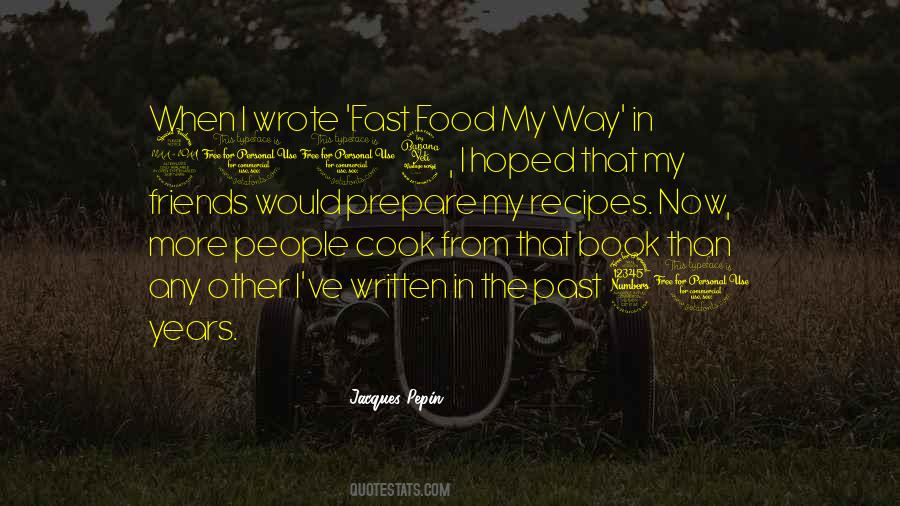 #84. I write in the morning - and then I'm always experimenting and tasting recipes for the books.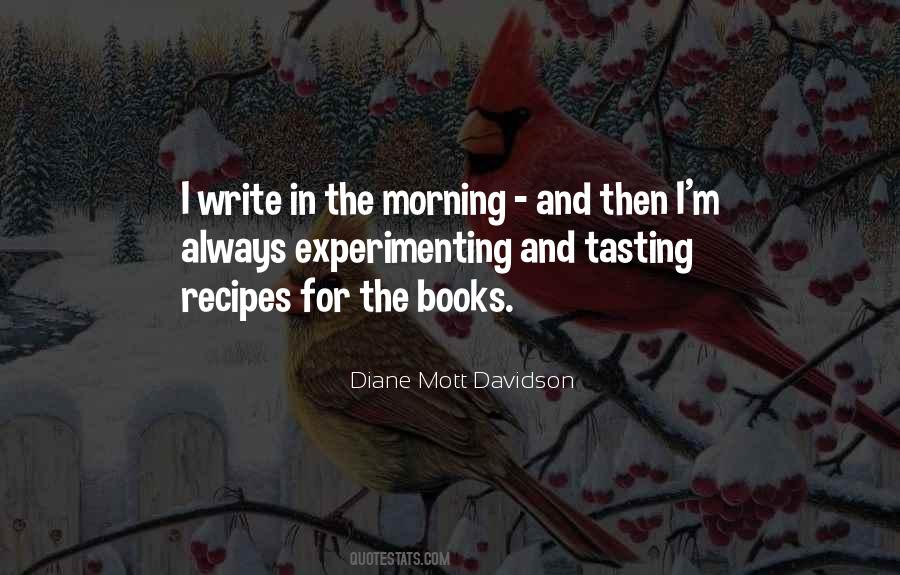 #85. Jesus does not give recipes that show the way to God as other teachers of religion do. He is Himself the way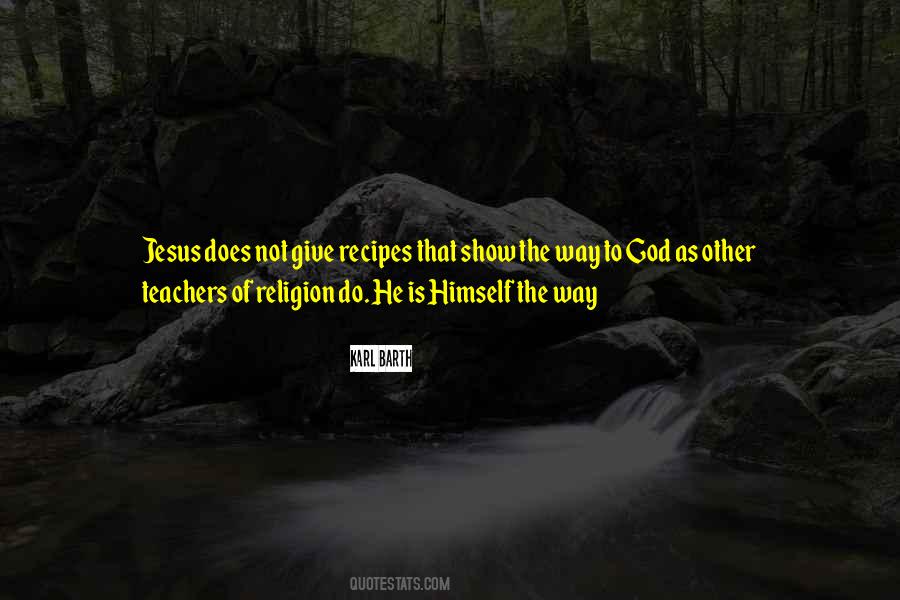 #86. Omit and substitute! That's how recipes should be written. Please don't ever get so hung up on published recipes that you forget that you can omit and substitute.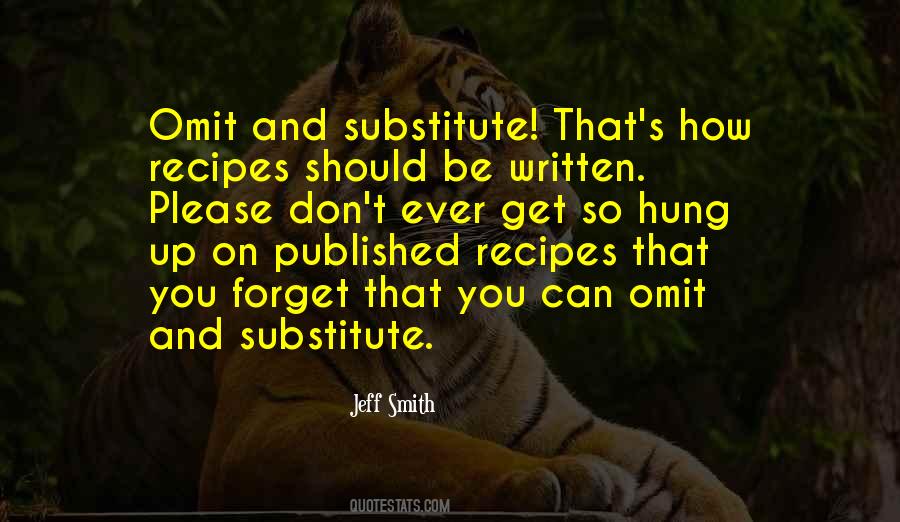 #87. I found that the recipes in most - in all - the books I had were really not adequate. They didn't tell you enough ... I won't do anything unless I'm told why I'm doing it. So I felt that we needed fuller explanations so that if you followed one of those recipes, it should turn out exactly right.
#88. Live happy in lovingkindness.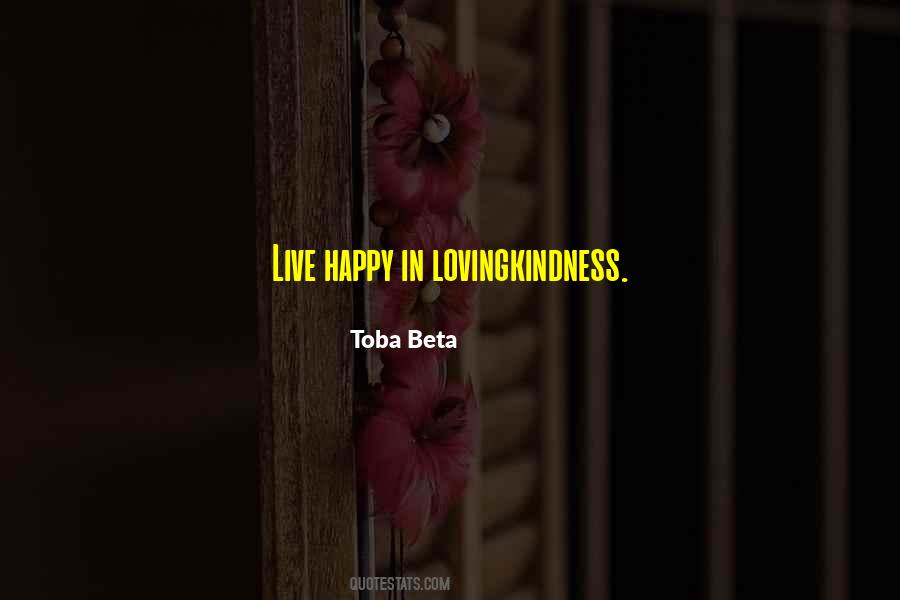 #89. Backyard barbecues are really just about getting together. It's all about making people come over, having a really good time, talking about their lives, and sharing some great recipes.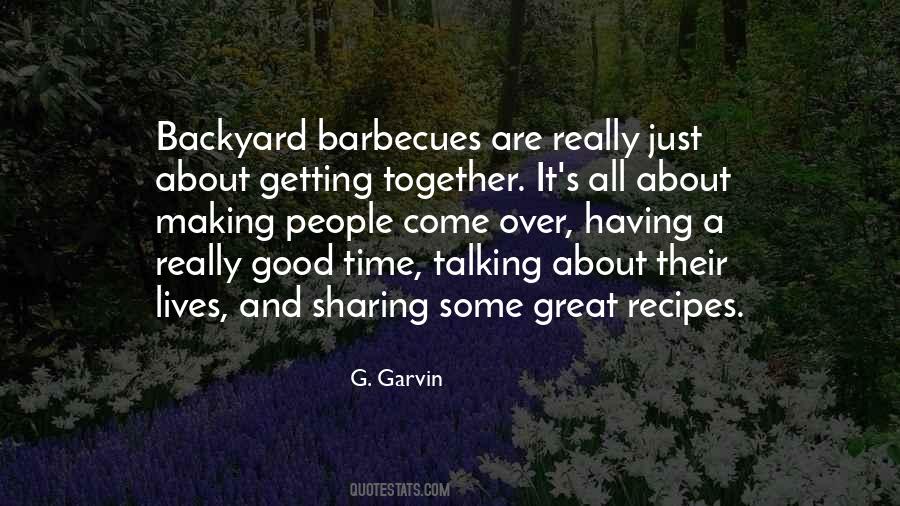 #90. Just because I am a chef doesn't mean I don't rely on fast recipes. Indeed, we all have moments when, pressed for time, we'll use a can of tuna and a tomato for a first course. It's a question of choosing the right recipes for the rest of the menu.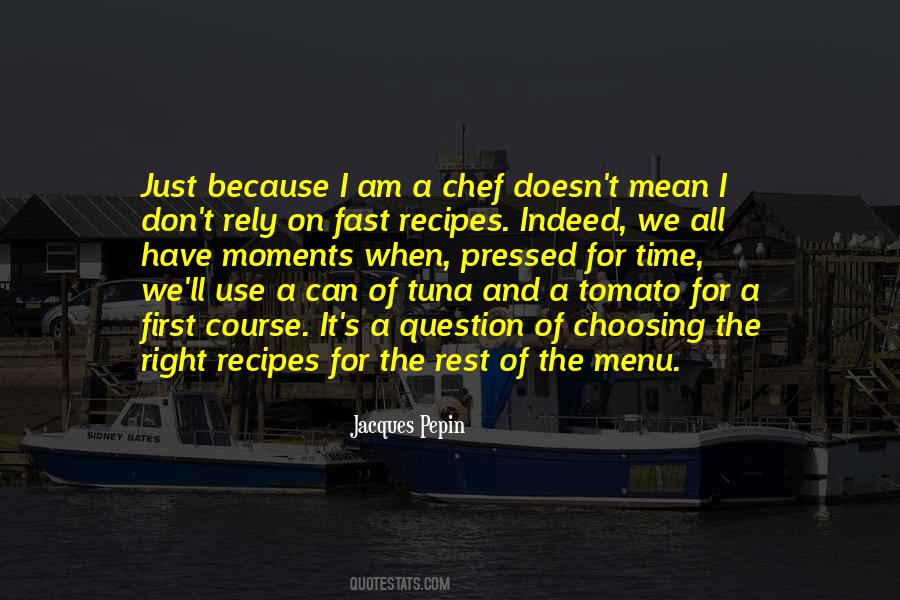 #91. When I'm developing a recipe with brown butter - I know how much butter I want in the end and I so I start with more butter than I'll need.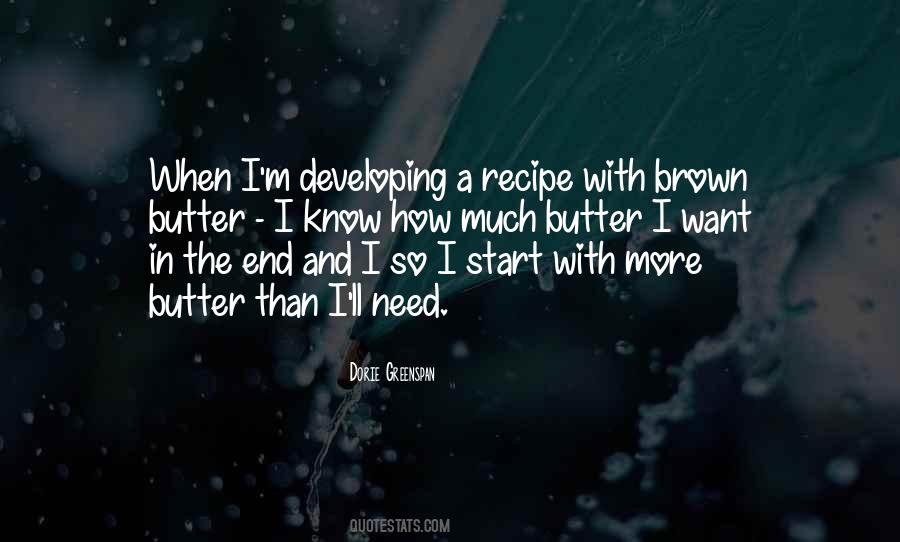 #92. I don't usually give out advice or recipes, but you must let the person looking at the photograph go some of the way to finishing it. You should offer them a seed that will grow and open up their minds.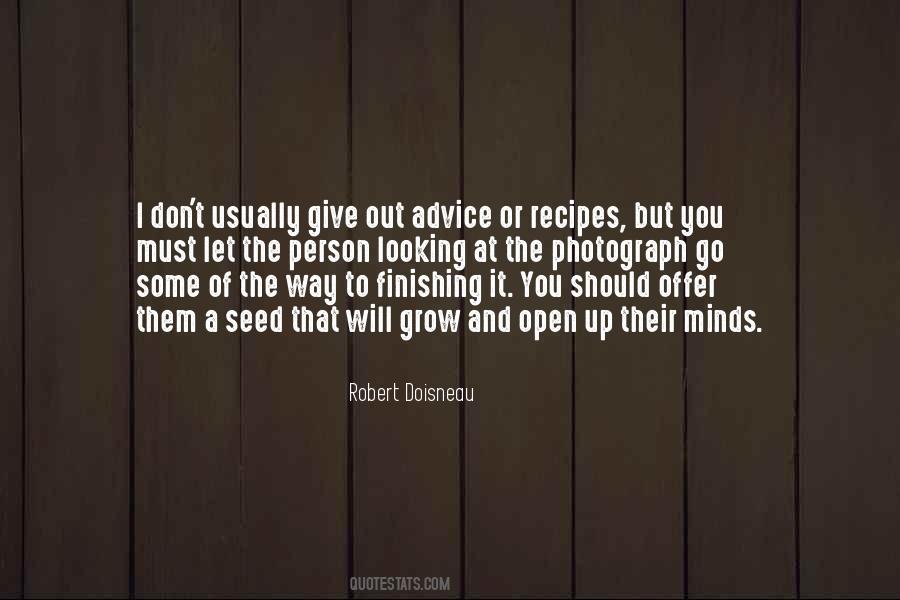 #93. One of the troubles with food is that people take themselves too seriously. This is why I'm very happy for people to change my recipes, alter them, replace one ingredient for another.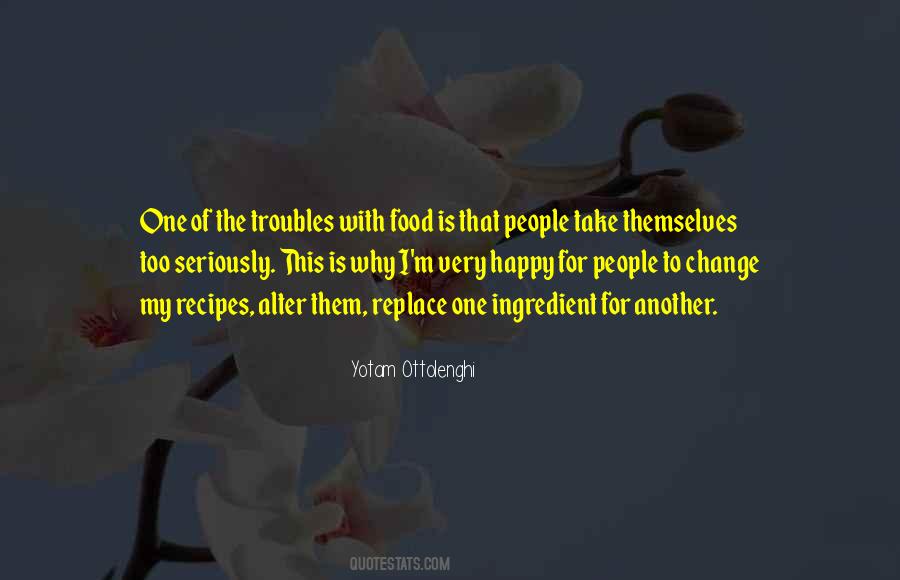 #94. I used to write cookbooks. It was passion to try to bring healthy and fun recipes to people's homes. It was a way to bring my home to theirs.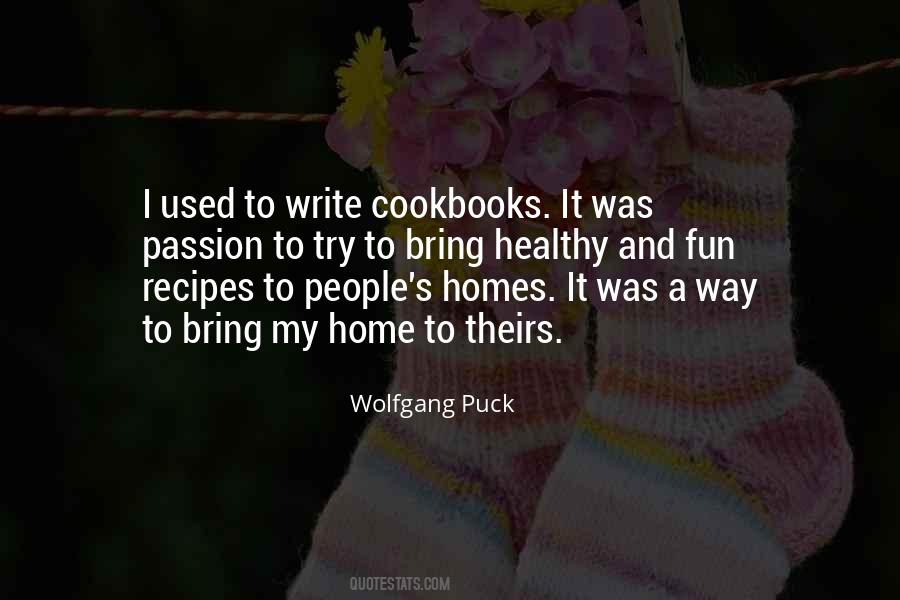 #95. Obviously, the easiest recipes are the most successful when it comes to the home cook, because they're not intimidated by them. If I'm doing 'Boy Meets Grill,' and I do something very simple like grilled hamburgers or steaks or chicken, those are the most sought-after recipes.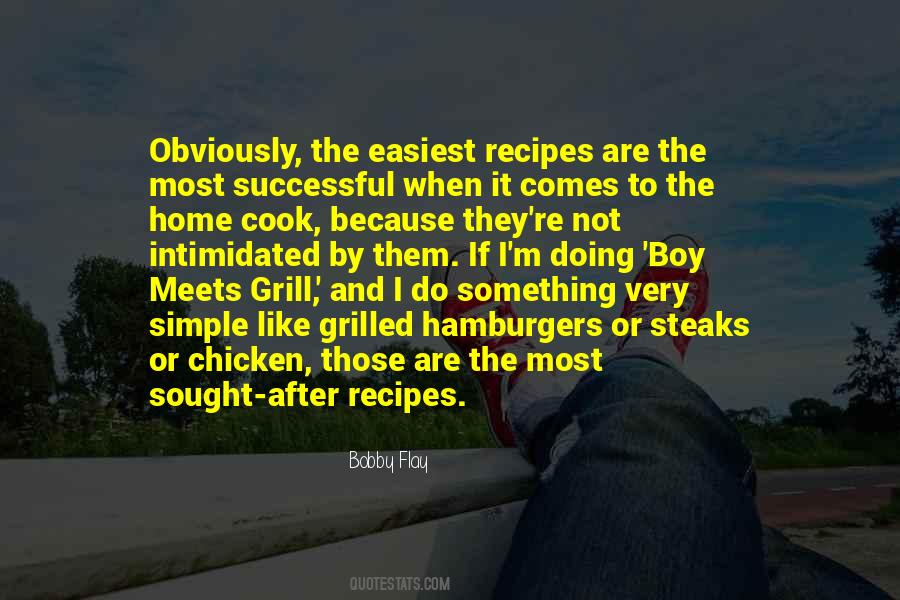 #96. When I wrote 'Barefoot in Paris,' I wanted to make simple recipes that you could make at home that tasted like French classics.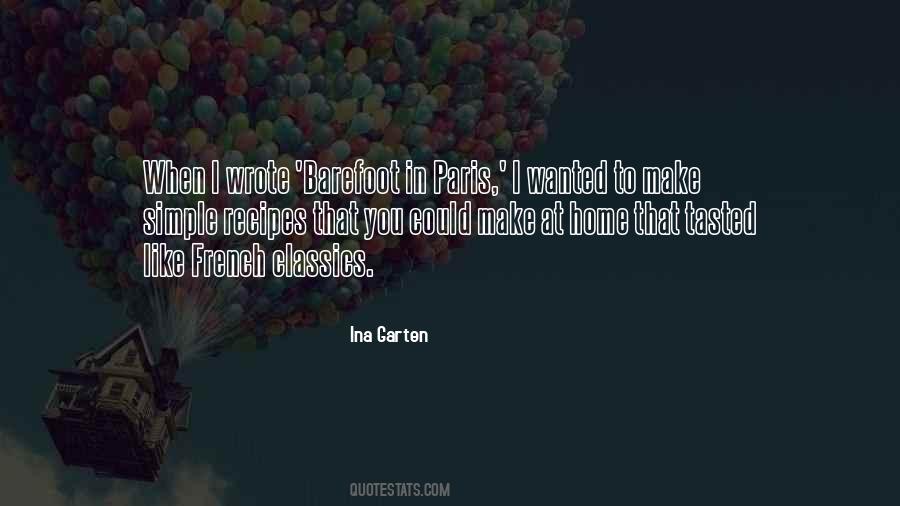 #97. I'm Norwegian and our ghosts don't care about nookie, just raiding, blood feuds, and herring recipes.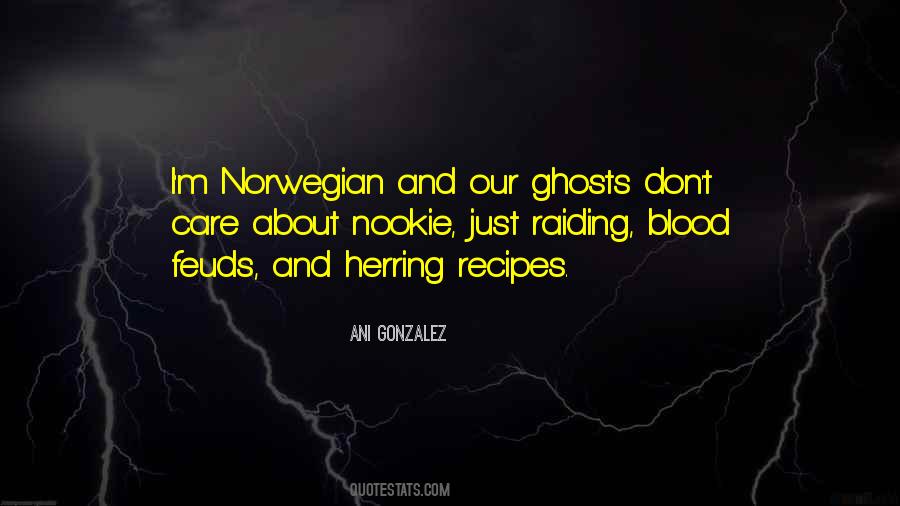 #98. Somehow, when everything is too easy it's not necessarily the right recipe for success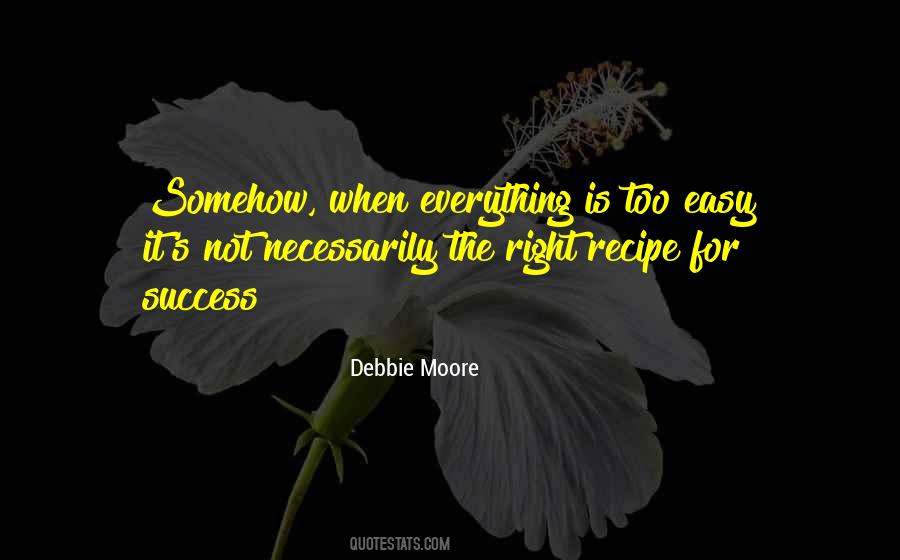 #99. But marrying within one's own family can get monotonous. One has heard all the same family stories, knows all the jokes and all the same recipes. No novelty.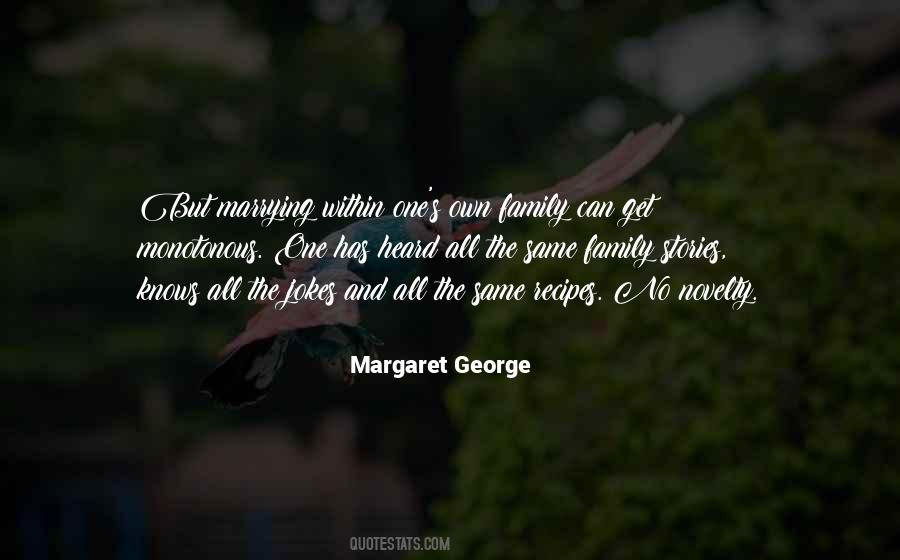 #100. Here in the hospital, I say,that is not my body, not my body.I am not here for the doctorsto read like a recipe.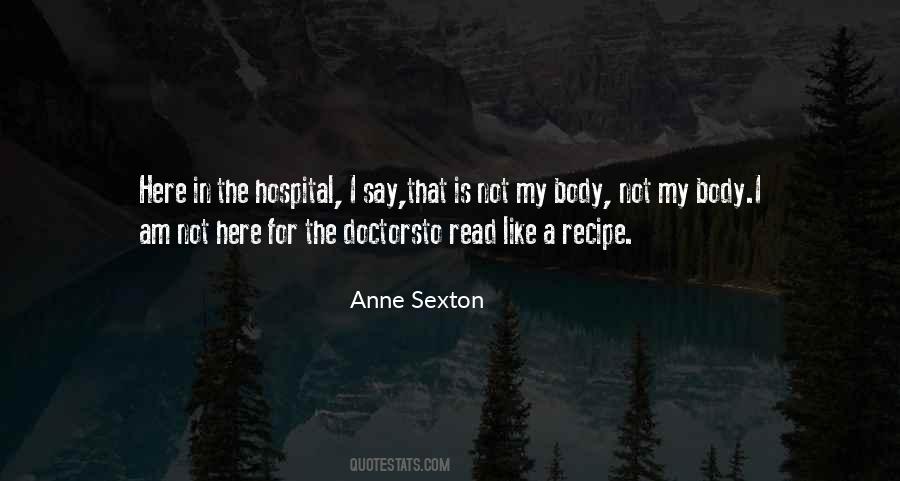 Famous Authors
Popular Topics