Reading Your Mind Famous Quotes & Sayings
List of top 69 famous quotes and sayings about reading your mind to read and share with friends on your Facebook, Twitter, blogs.
Top 69 Quotes About Reading Your Mind
#1. When you're reading something, your imagination goes and you see it in your mind. Sometimes my instincts with that are right, and sometimes they're wrong. - Author: Alexandra Breckenridge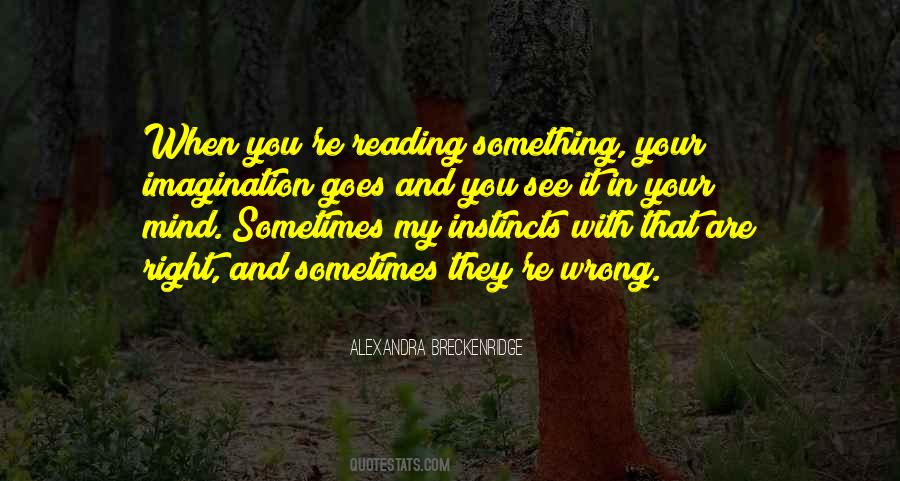 #2. The things you read will fashion you by slowly conditioning your mind. - Author: A.W. Tozer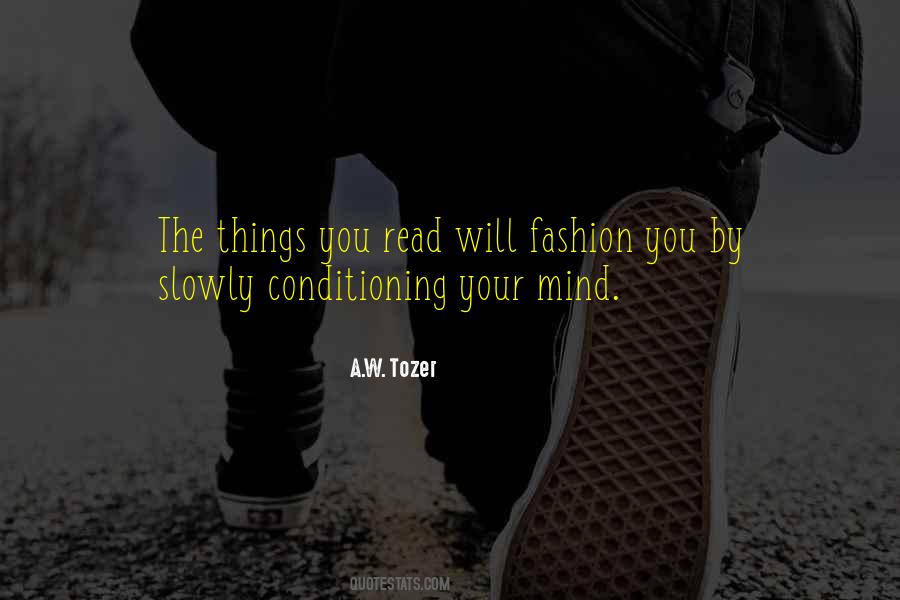 #3. After reading some of my stories, I once had a friend say to me, "I'd love to spend five minutes in your head to see what's going on in there." I warned them, "If you spent five seconds in my mind you'd probably run out screaming and never speak to me again. - Author: Mark W. Boyer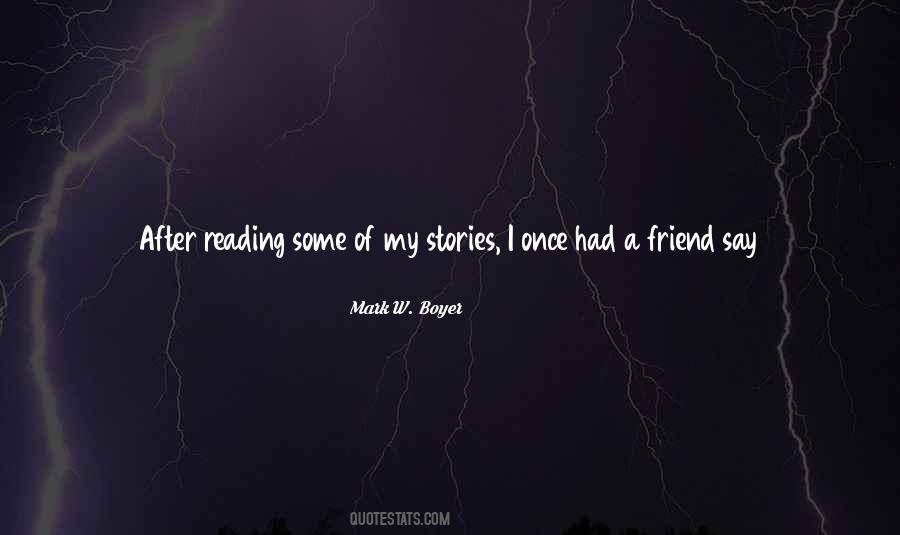 #4. Everyone should read at least 10 books in their lifetime - it helps your mind, develops your imagination, and can help you escape your reality. - Author: Megan Wilson
#5. There is no other escape like a book. Reading expands your mind and opens your world to a myriad of possibilities. - Author: Fran Veal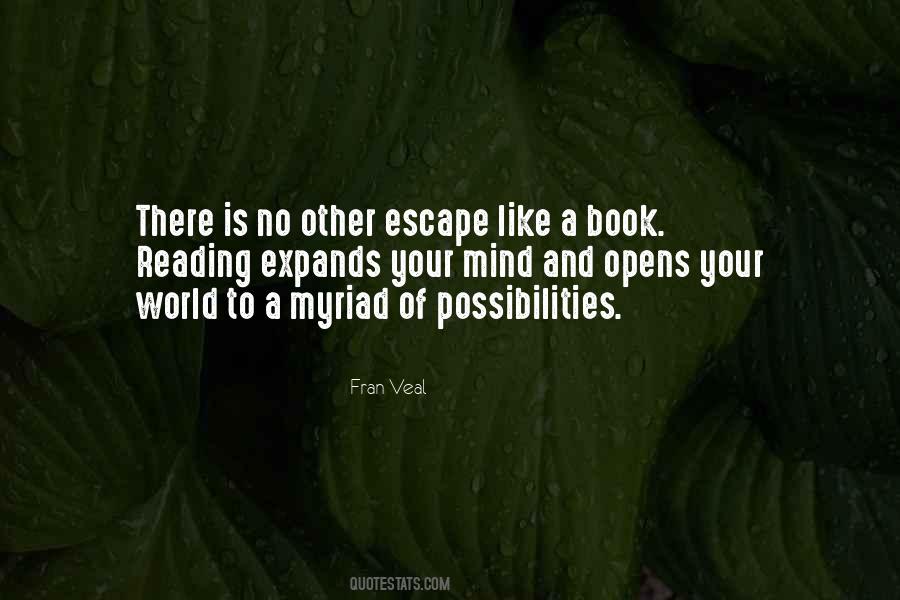 #6. Language is a door. Words en-trance and are an entrance; they draw you in. When you read, the book you cradle disappears and the tales within unfold in your mind. Writing is a shelter of words and reading an interior adventure. - Author: Laurie Seidler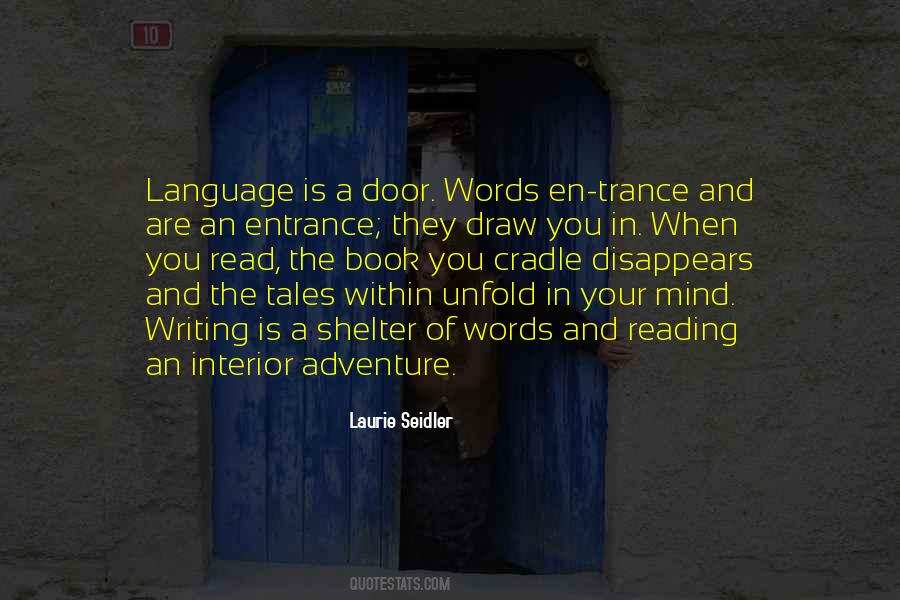 #7. Computers are good at following instructions, but not at reading your mind. - Author: Donald Knuth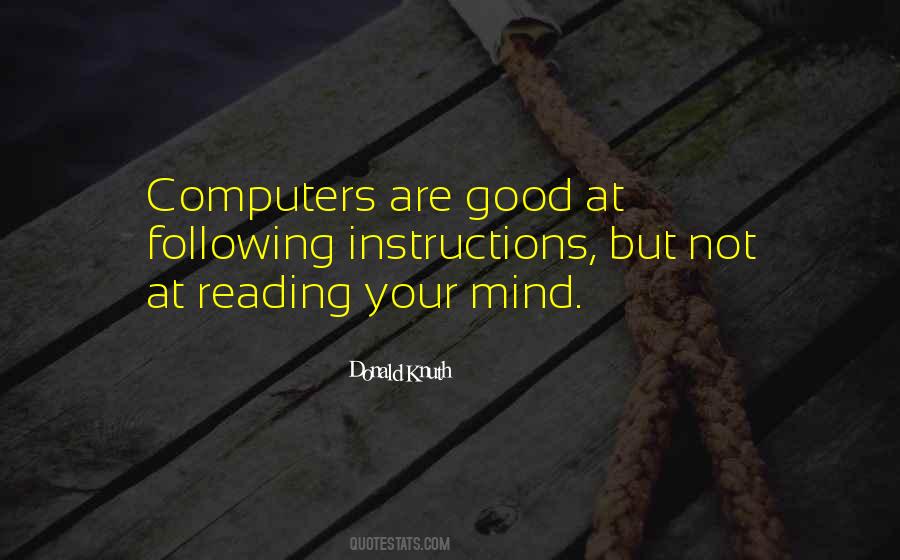 #8. Open the book and read it to renew your mind. - Author: Lailah Gifty Akita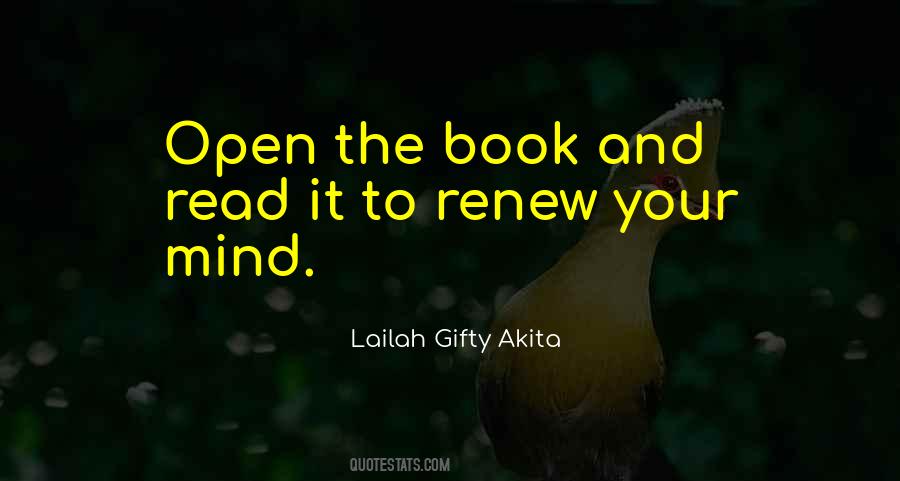 #9. The subjective viewpoint is the only one to use regarding a library. Your true library is a collection of the books you want.You may have deplorably poor taste or bad judgment. Never mind. Correct those traits before you exchange your books. - Author: Carolyn Wells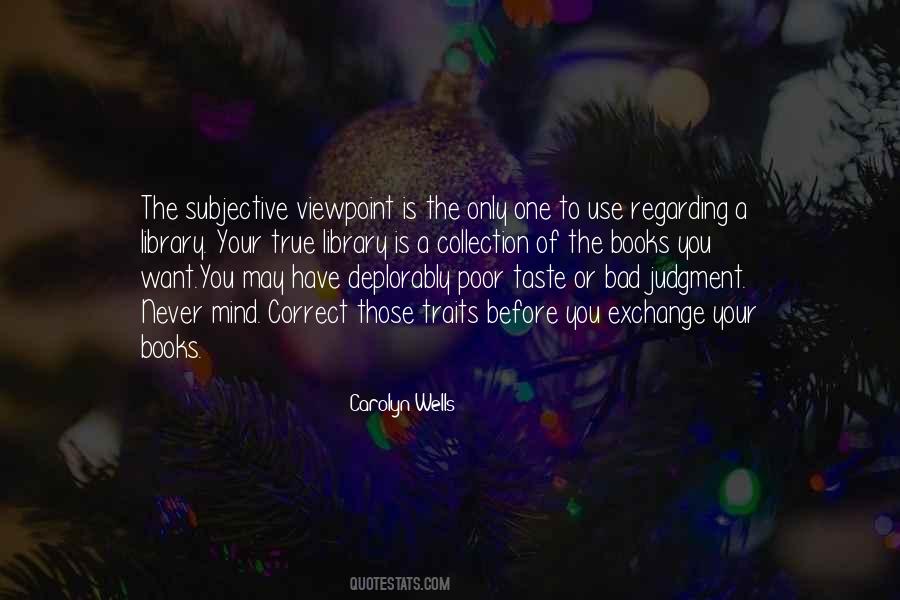 #10. Reading aloud is different from just following sentences with your eyes. Something quite unexpected wells up in your mind, a kind of indefinable resonance that I find impossible to resist. - Author: Haruki Murakami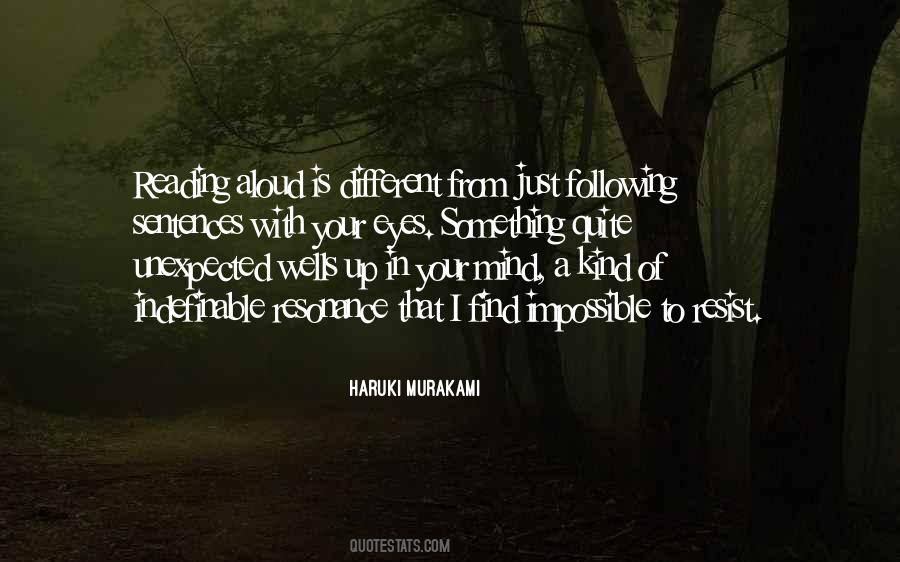 #11. I am most interested in encouraging Christians to think and read well. Christians, of all people, should reflect the mind of their Maker. Learning to read well is a step toward loving God with your mind. It is a leap toward thinking God's thoughts after Him. - Author: James W. Sire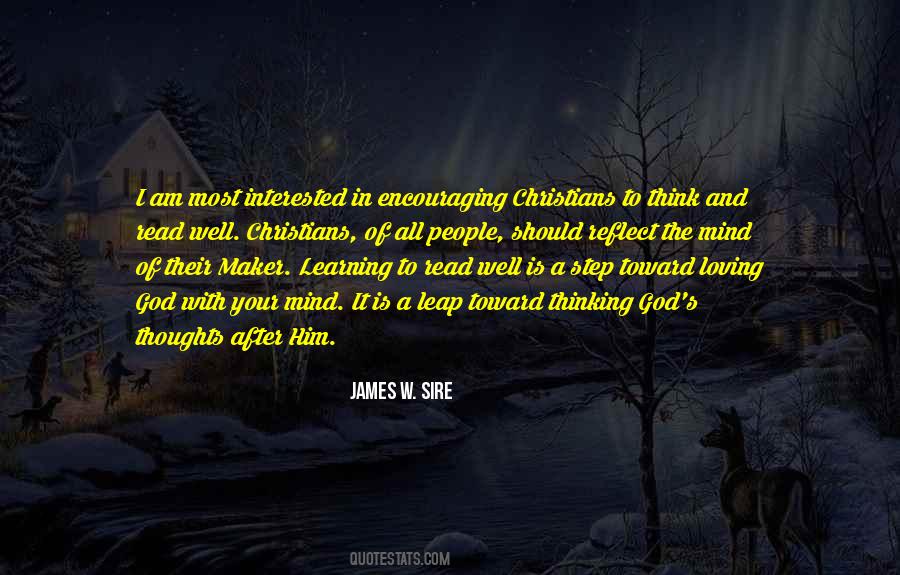 #12. Commit to paper precisely what you would like to have appear in your physical life. By seeing it and reading it repeatedly, you will plant that thought more firmly in your mind and you will begin to manifest that which you are imaging. - Author: Wayne Dyer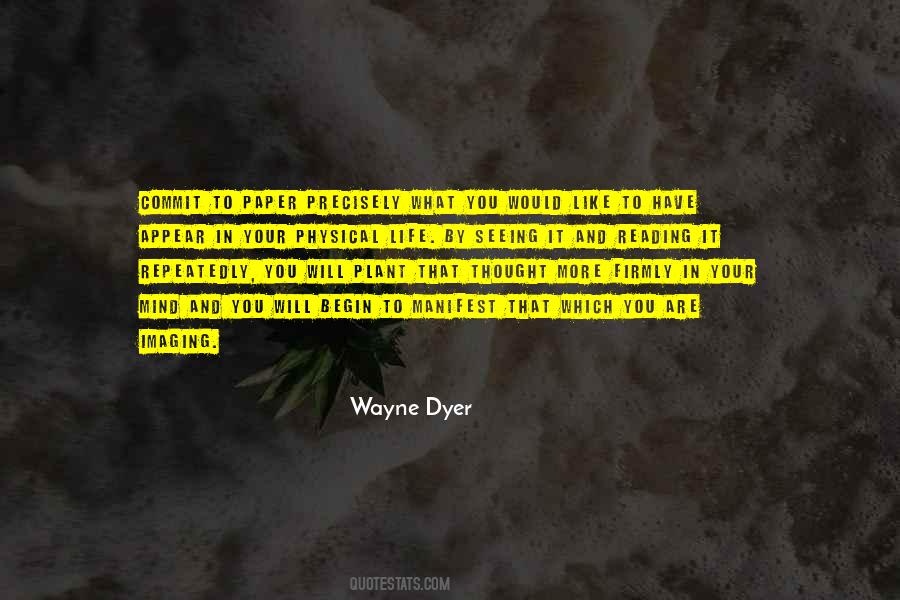 #13. Someone who was just nice didn't remain on your mind an hour after they'd left. - Author: S.A. Tawks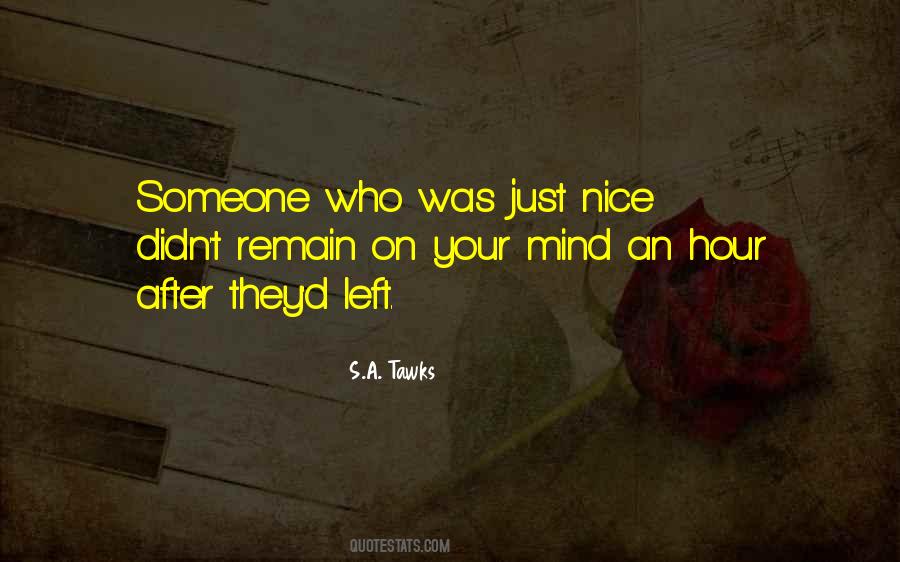 #14. Reading is the best food to your mind - Author: Nourhan Mamdouh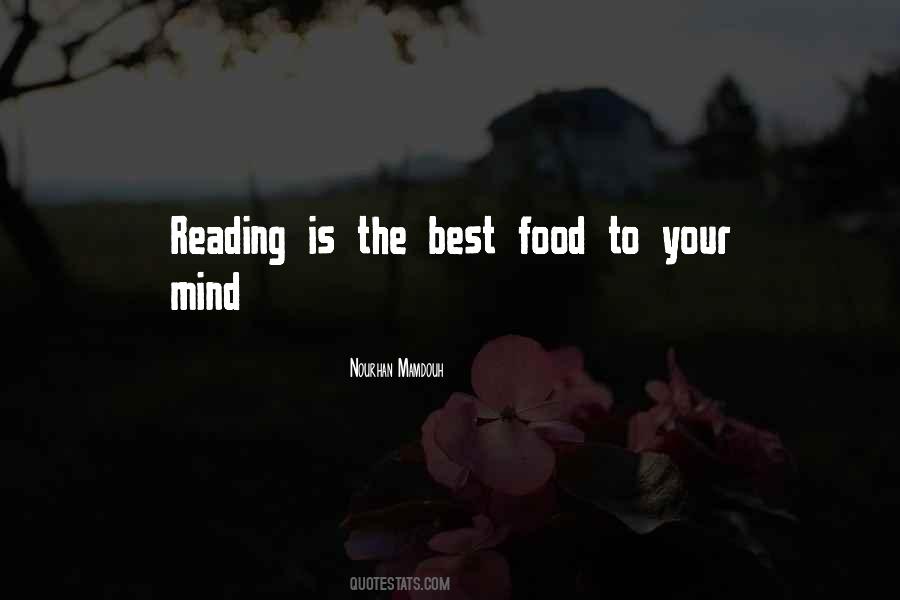 #15. It took a lot to understand that the interest in both writing a story and reading it is not in the objective dangers someone takes. You don't have to fight snakes or wake up in a strange apartment to have a story; it's about what goes on inside your mind and soul. - Author: Etgar Keret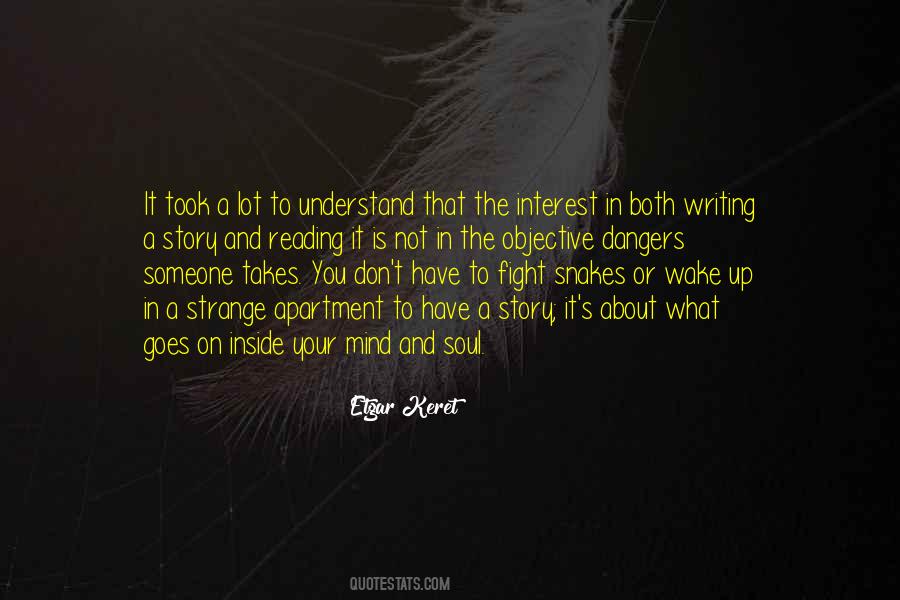 #16. When you read a book and its words agree with what you think, your view of the world or your feelings at the time, you discover that there are people out there that think like you. That takes away a feeling of loneliness. - Author: Innocent Mwatsikesimbe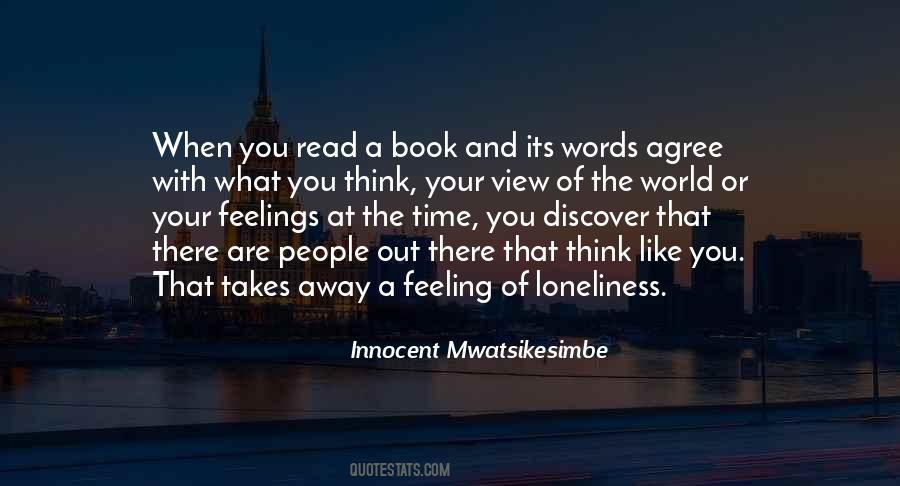 #17. Cruel of heart, lay down my song. Your reading eyes have done me wrong. Not for you was the pen bitten, And the mind wrung, and the song written. - Author: Edna St. Vincent Millay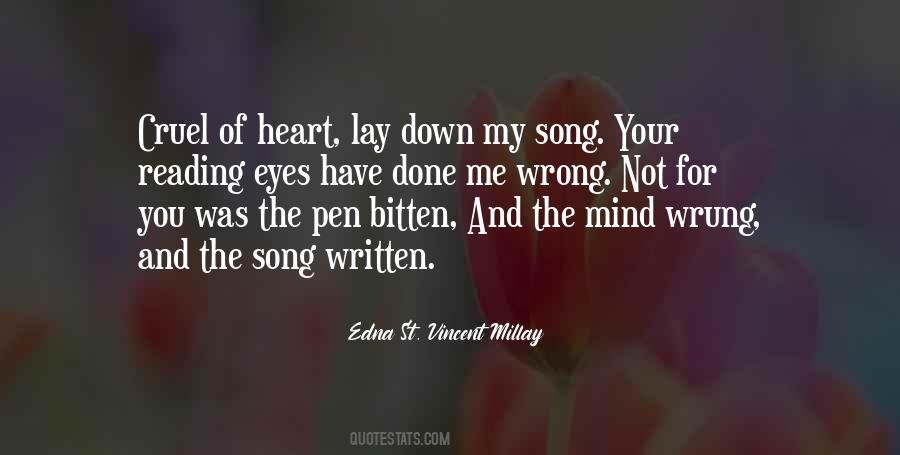 #18. You know, in addition to your mind-reading abilities, I may have absorbed some sluttiness from your blood, - Author: Jeaniene Frost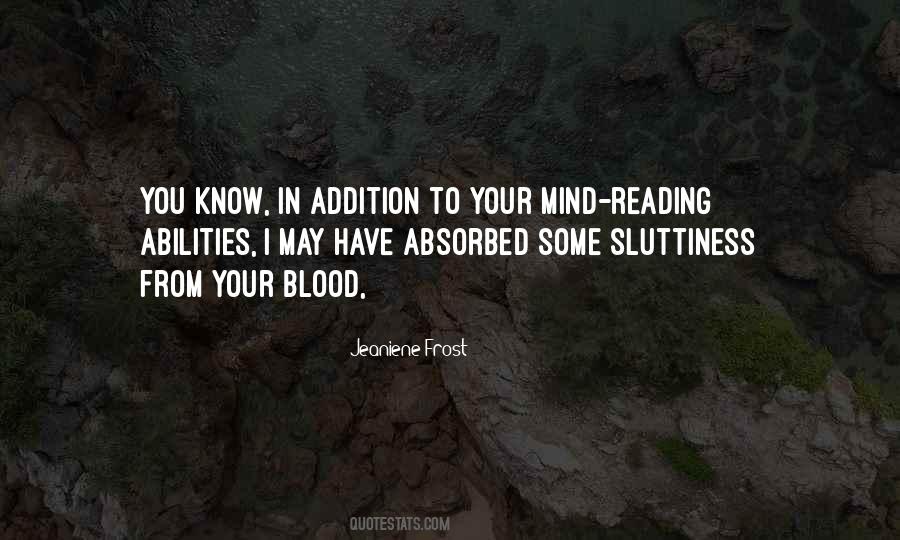 #19. A picture's worth a thousand words. But a single word can make you think of over a thousand pictures in your mind, over a thousand moments, a thousand memories. - Author: Rebecca McNutt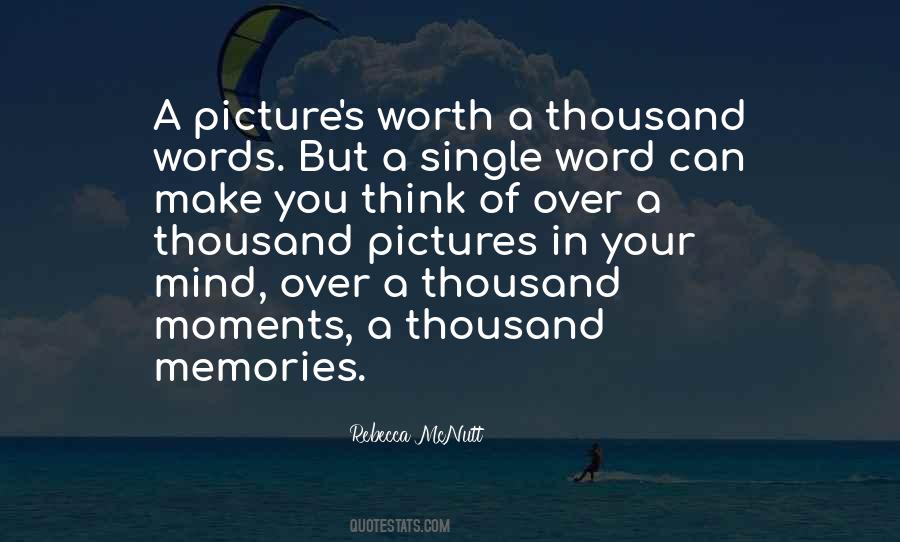 #20. To be original is not creating your own idea; it's the essence of the idea in the reader's mind. - Author: Kaela Marooney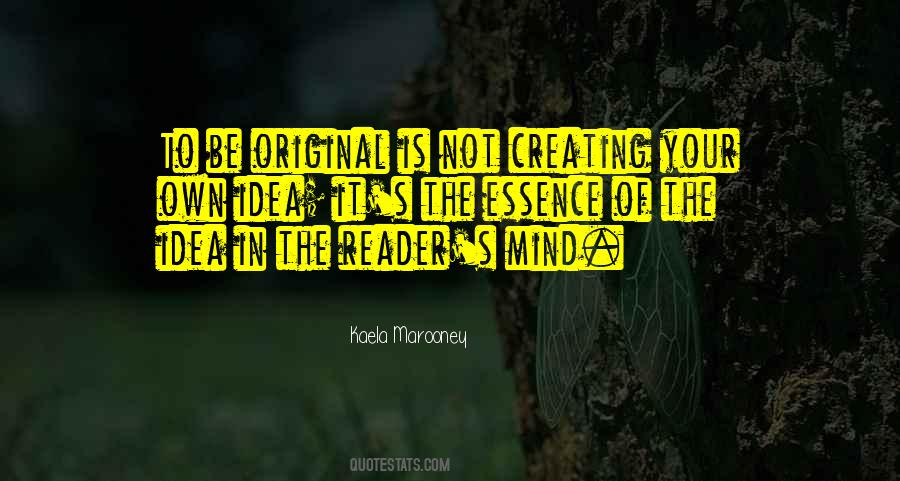 #21. The first essential in any book is that it have something significant to say --a book that leaves the reader with bigger ideas than when he began reading - that stimulates his thinking, stretches his mind, deepens his feelings. A good book sticks to your ribs. - Author: Rebecca Caudill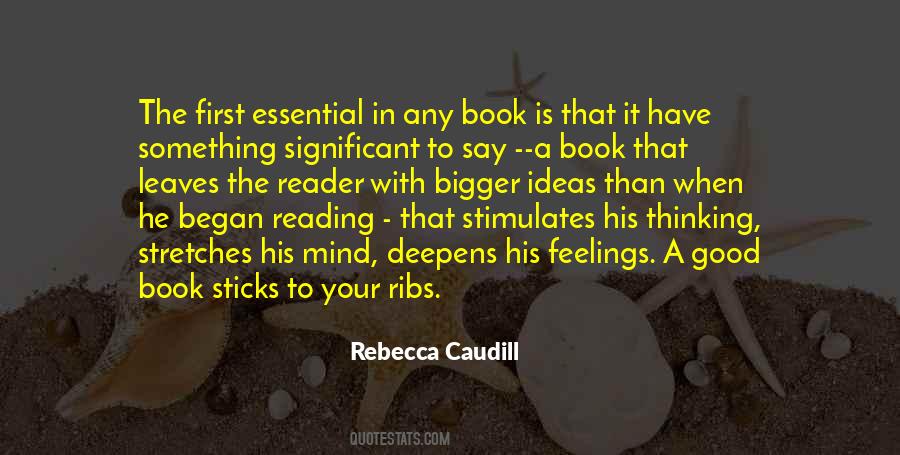 #22. Reading God's Word and meditating on its truth will have a purifying effect upon your mind and heart, and will be demonstrated in your life. Let nothing take the place of this daily privilege. - Author: Billy Graham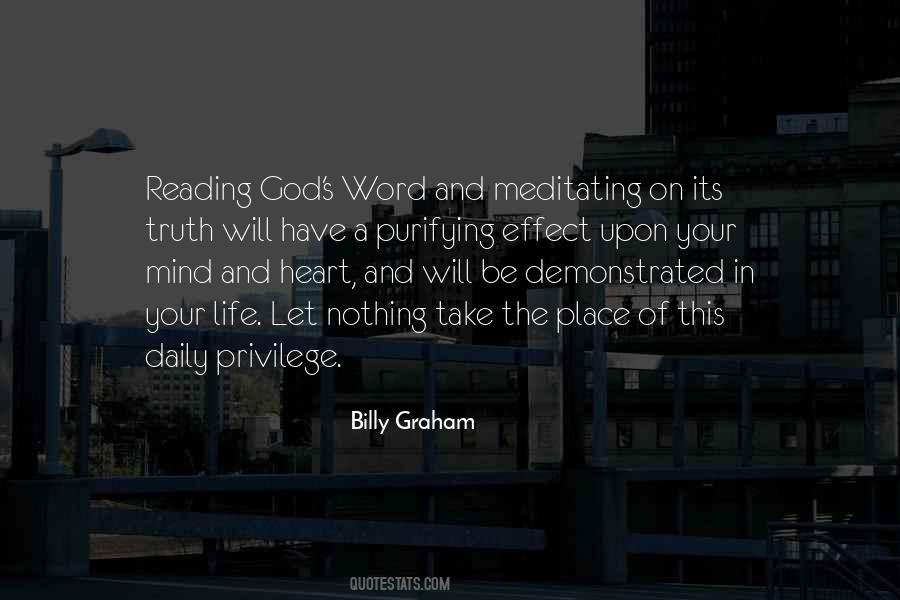 #23. The very practice of reading [the Bible] will have a purifying effect upon your mind and heart. Let nothing take the place of this daily exercise. - Author: Billy Graham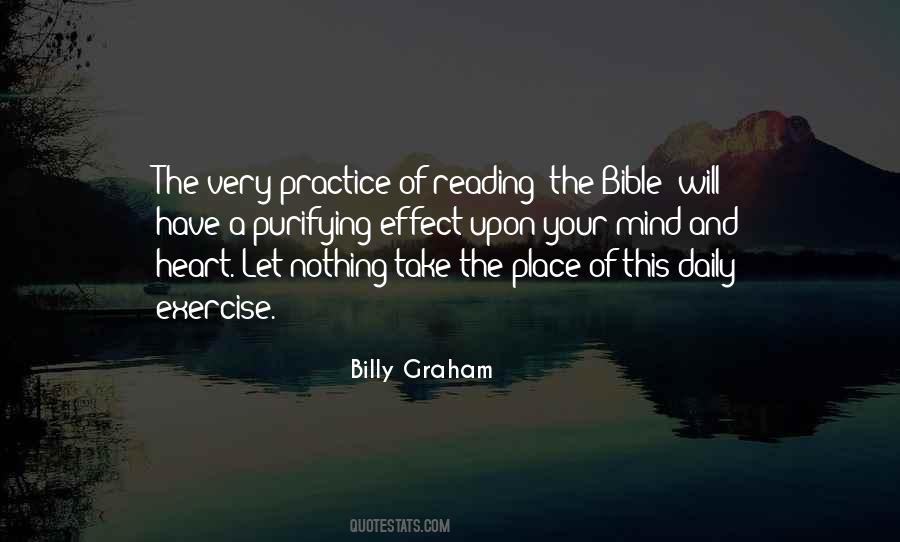 #24. When you're young, you keep reading new writers and you keep changing your mind about how you ought to sound. - Author: Paul Auster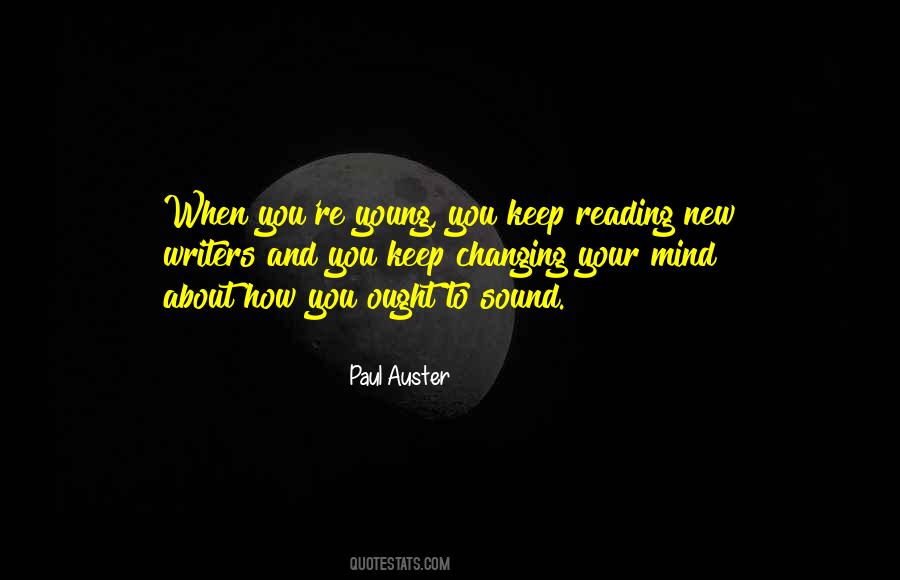 #25. Renew your mind more often by reading variety of books - Author: Lailah Gifty Akita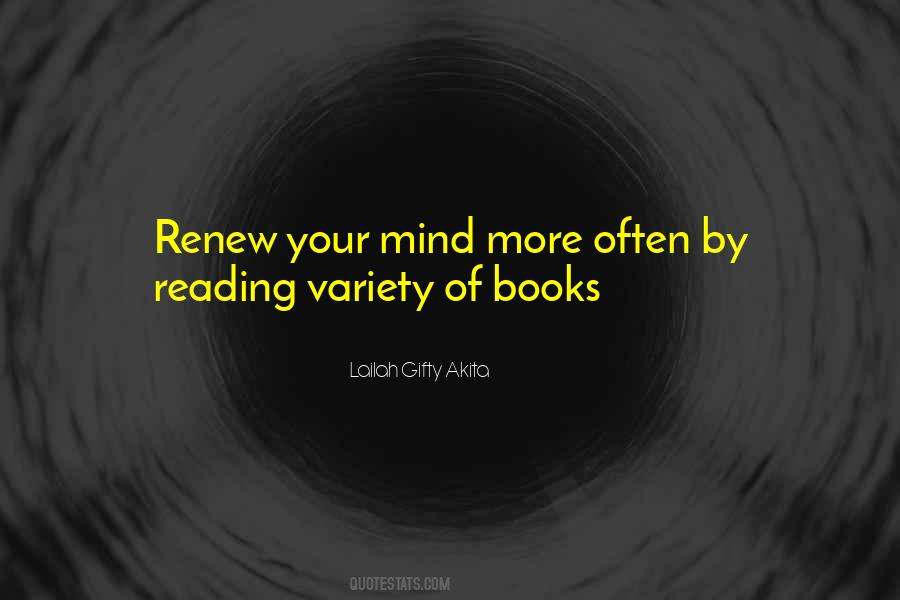 #26. You must feed your mind with reading material, thoughts, and ideas that open you to new possibilities. - Author: Oprah Winfrey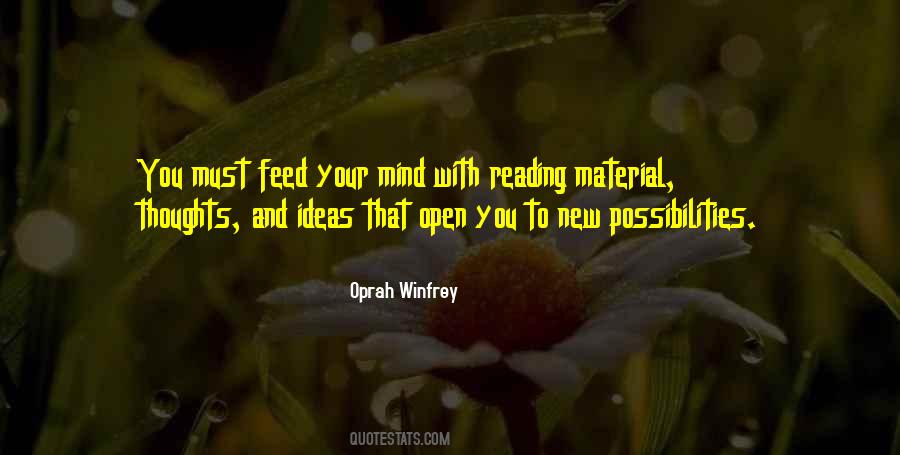 #27. You let your mind rule your reality instead of you ruling your mind."
"Are you reading this stuff out of a Dr. Phil book? - Author: John Corwin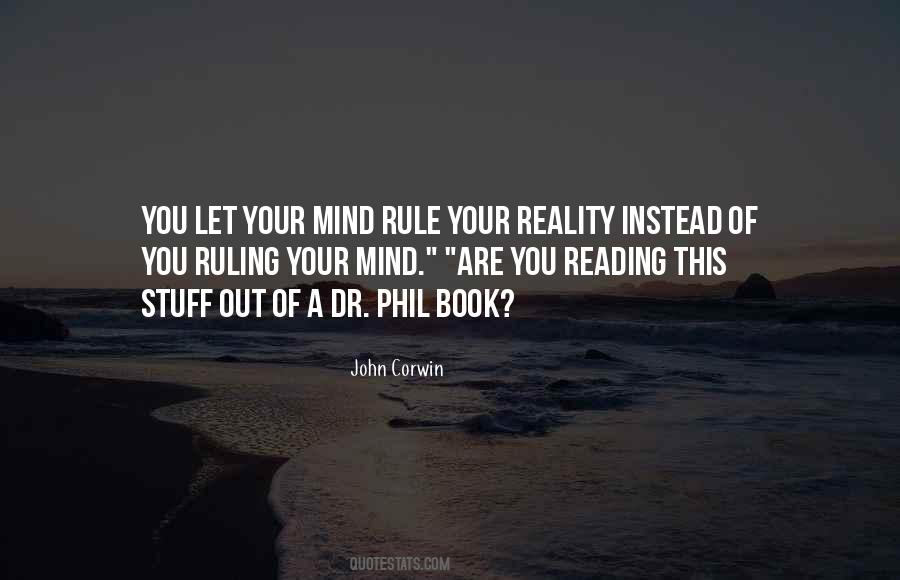 #28. I don't mind opinions, because you like something or you don't like something, but to say things about your personal life? I'm like, "Man, let me quit reading this. 'Cause I'll stab everybody." - Author: Andre Benjamin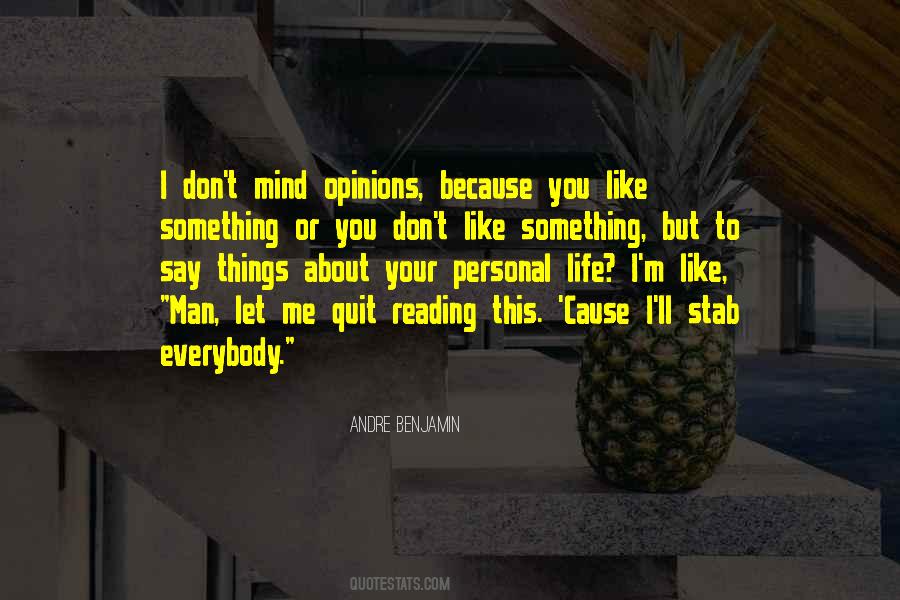 #29. A book is a magical thing that lets you travel to far-away places without ever leaving your chair. - Author: Katrina Mayer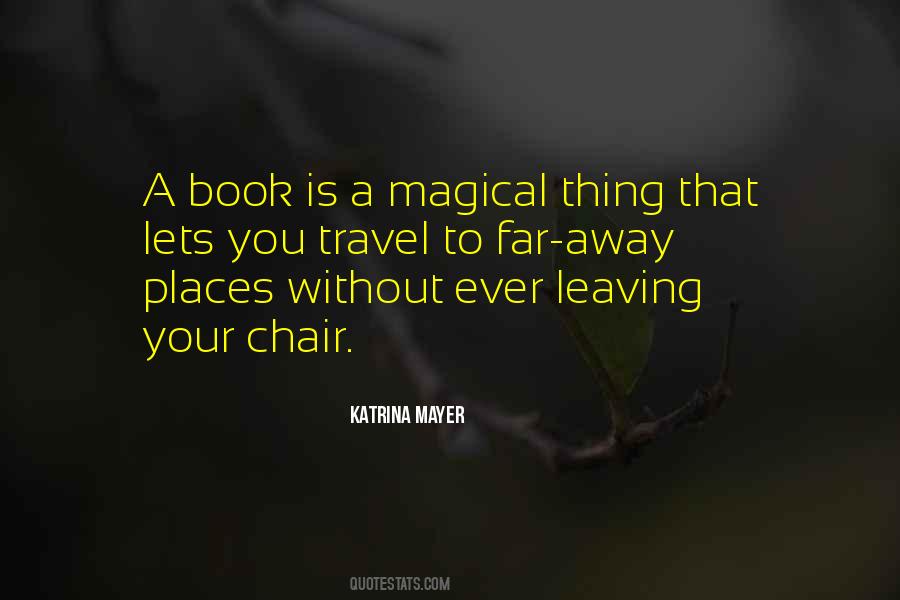 #30. The cool thing about reading is that when you read a short story or you read something that takes your mind and expands where your thoughts can go, that's powerful. - Author: Taylor Swift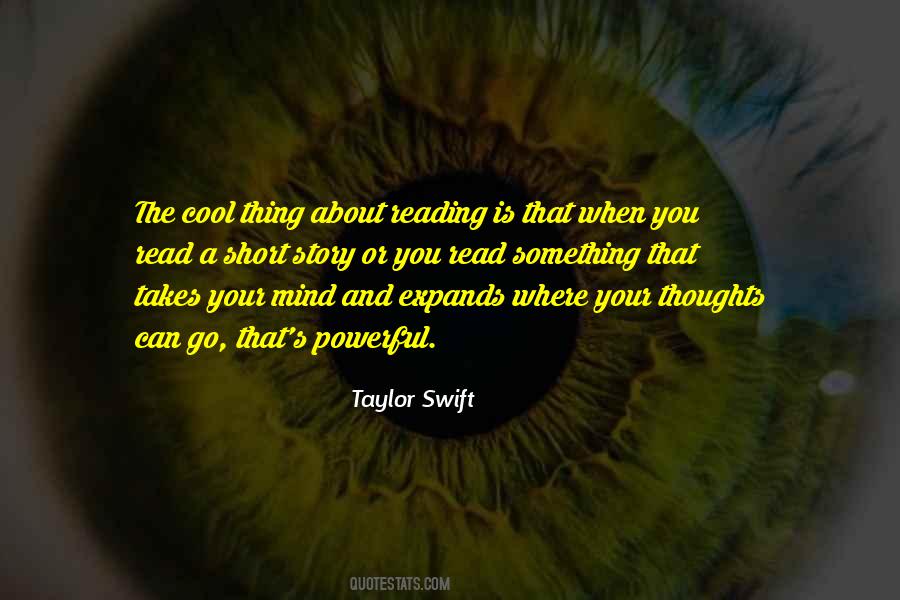 #31. Renew your mind daily by reading the Holy Scriptures. - Author: Lailah Gifty Akita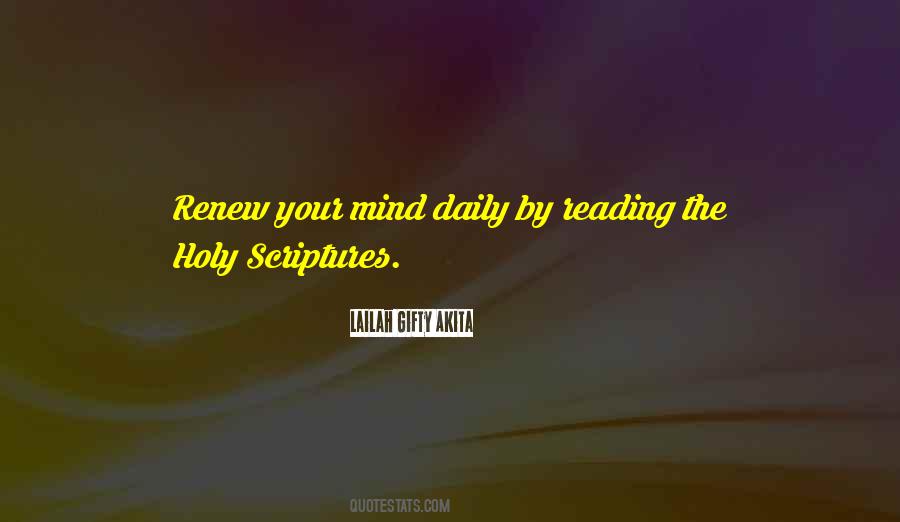 #32. Reading brings power to the mind and power brings freedom to the mind. Though you ought to read, read what is noble and worthy of not just your time, but your lifetime! - Author: Ernest Agyemang Yeboah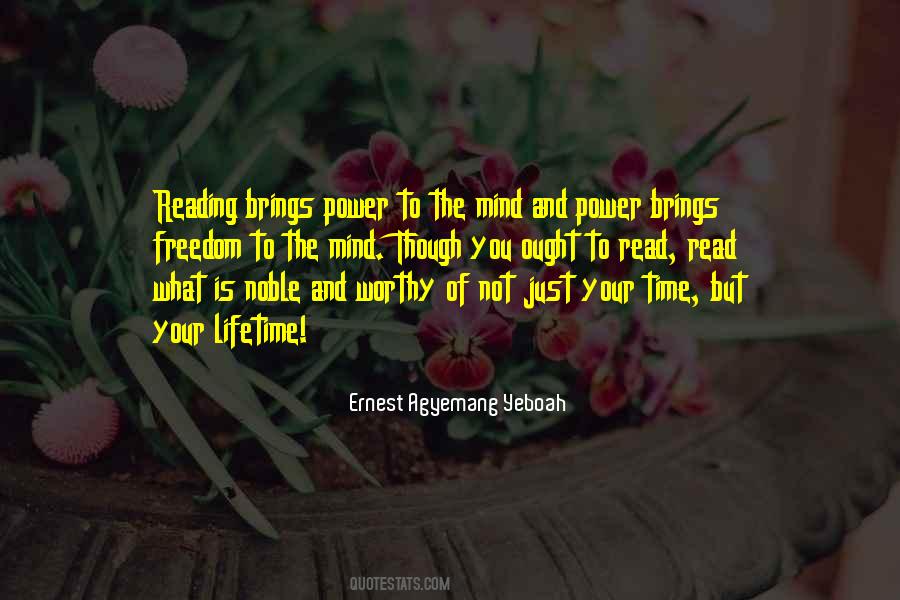 #33. Enlightenment is the culmination of self-knowledge, pure unadulterated knowledge. Not knowledge you can get from reading a book, it comes from perfecting your awareness, your mind. - Author: Frederick Lenz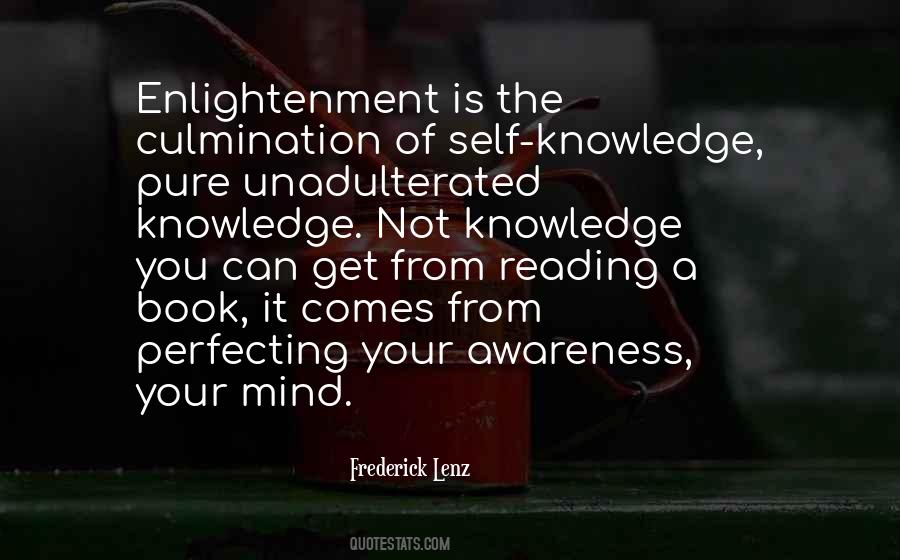 #34. a good book "never steals hours away from you; it always helps make the hours feel like they were spent doing something special. It's like you get extra time, Rachel--the hours you spend reading and the hours your mind spends in that place, that's time that the author gives to you. - Author: E.J. Copperman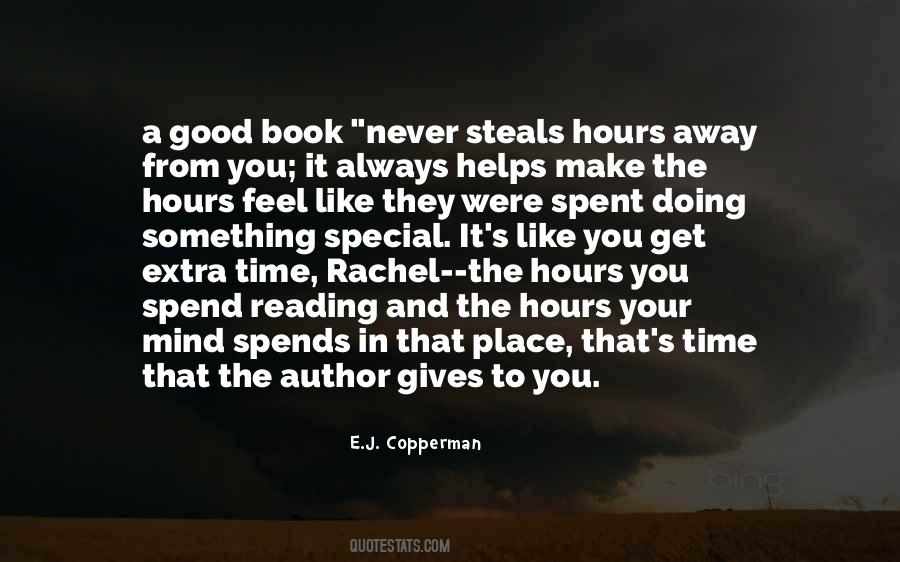 #35. ARE YOU ASKING ME WHAT THOUGHTS YOU SHOULD THINK?? What kind of Orwellian police state do you think I'm running here? Think whatever thoughts come into your thinking device, sir. (response to a reader asking what to keep in mind while reading Warm Bodies) - Author: Isaac Marion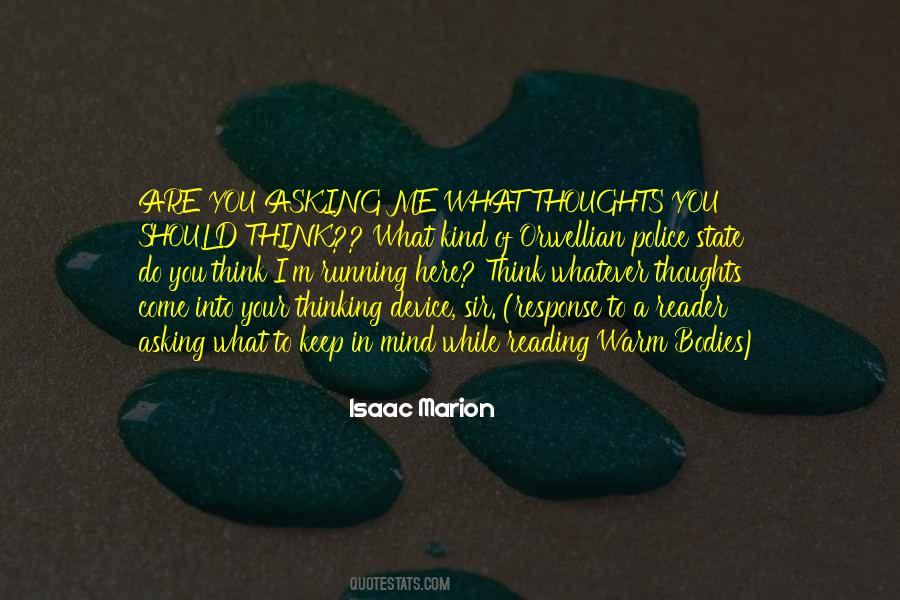 #36. Books are in the mind, Grandfather Alessandro said. Too many books and you forget your body is in the world. - Author: Tom Spanbauer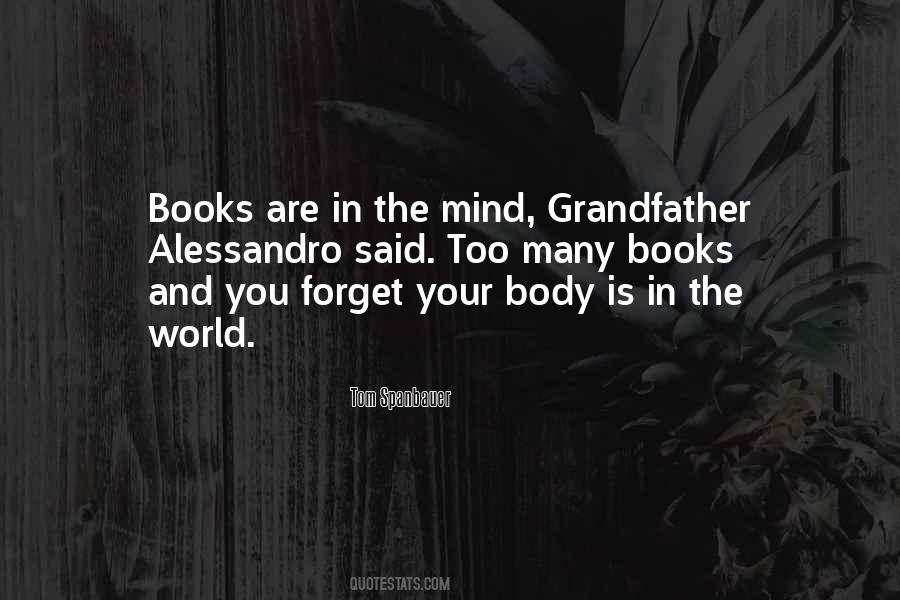 #37. You've rotted your mind with reading books. - Author: Diana Wynne Jones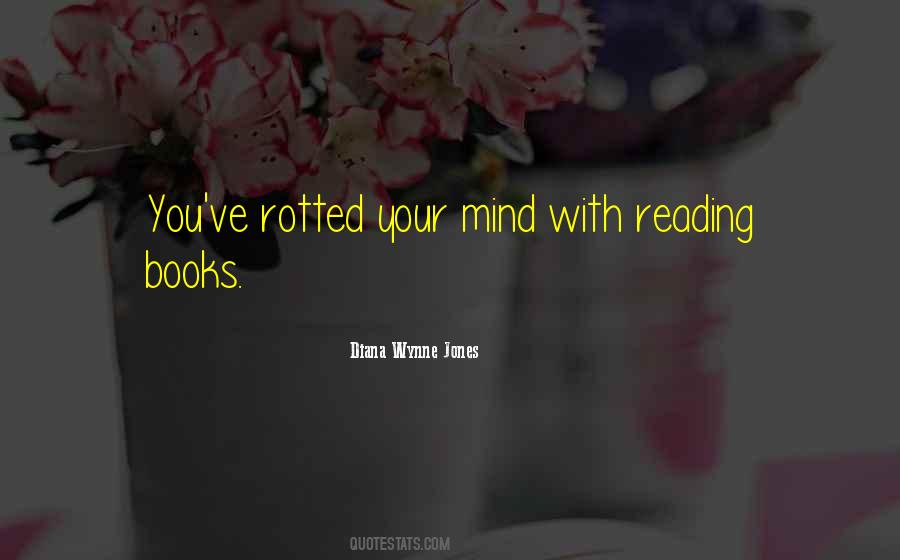 #38. In this job, there are some simple pleasures that really help you cope. One is books, I mean, books are a great escape. Books are a way to get your mind on something else. - Author: George W. Bush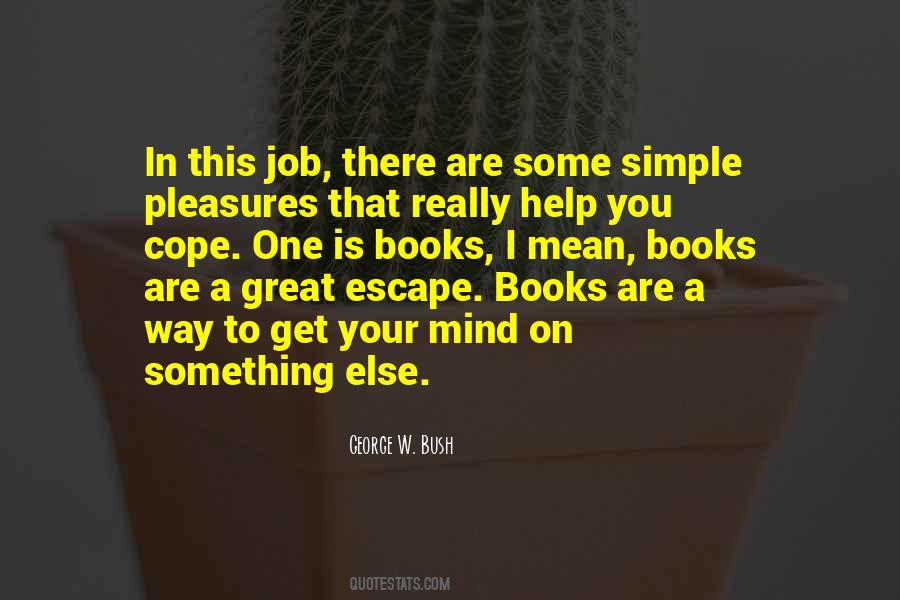 #39. Get your deprived, samall-town, romance-novel reading mind out of of the gutter, Becky. - Author: Maureen A. Miller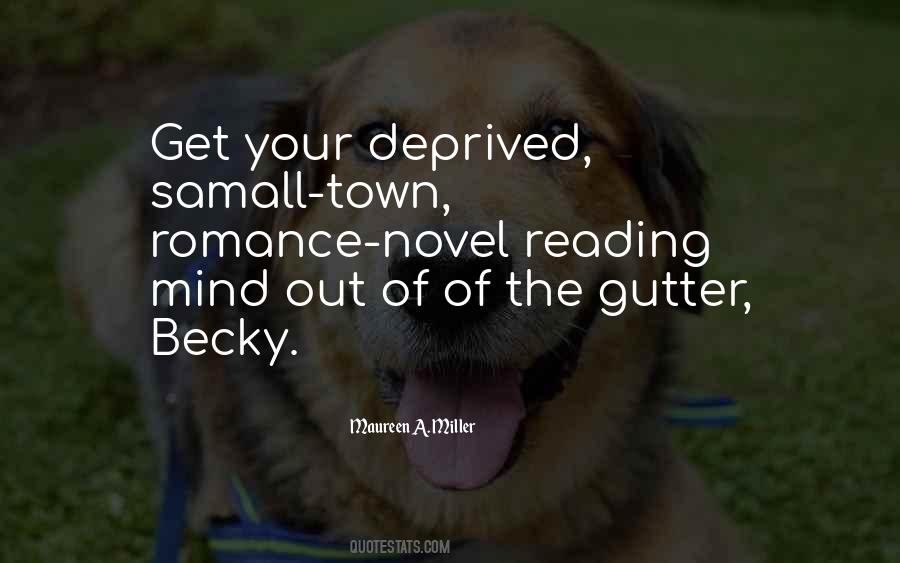 #40. Reading gives liberty to your mind. - Author: Aman Jassal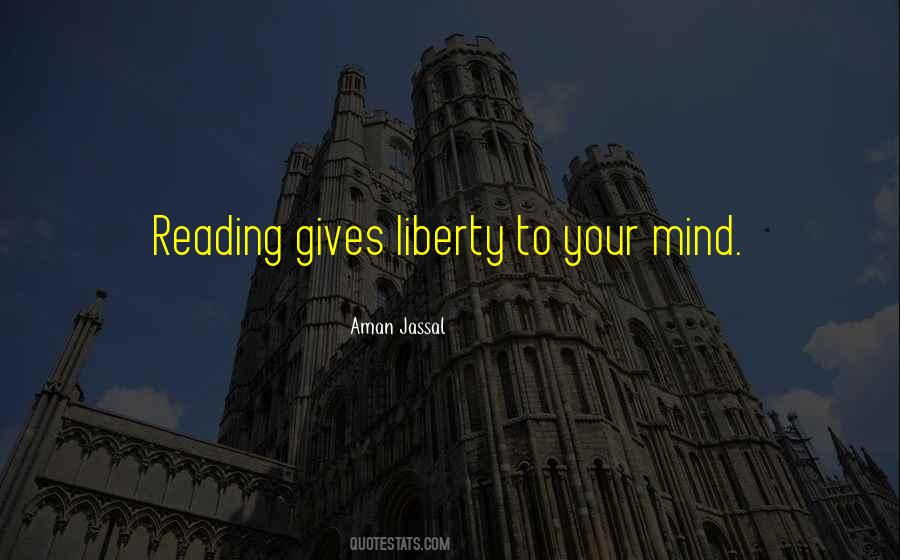 #41. Also bear in mind, when you're choosing your words and stringing them together, how they sound. This may seem absurd: readers read with their eyes. But in fact they hear what they are reading far more than you realize. - Author: William Zinsser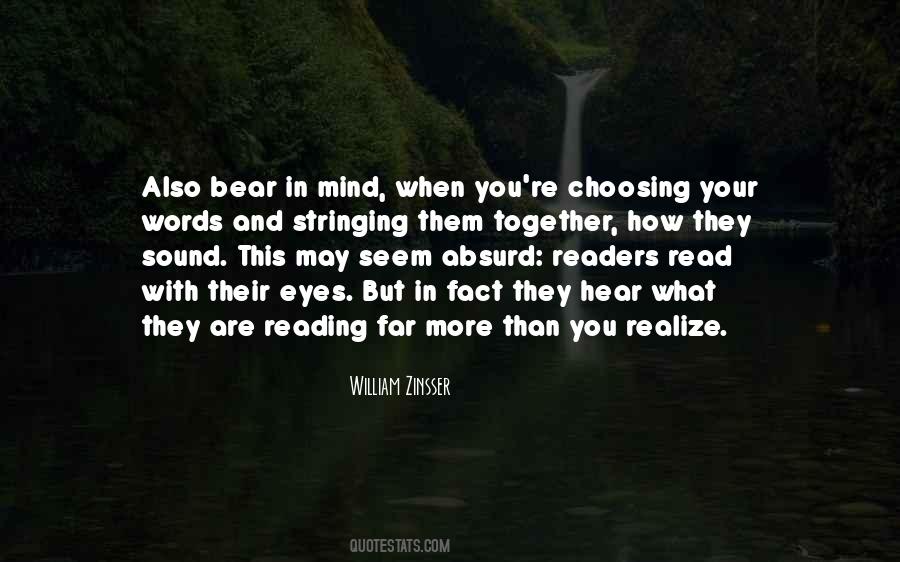 #42. Writing barely differs from Talking and Reading. It appoints your hand while they engage your mouth and eyes respectively. The trio need the mind to combine sensible words from a meaningful arrangement of the 'simple' A B C to Z. - Author: Olaotan Fawehinmi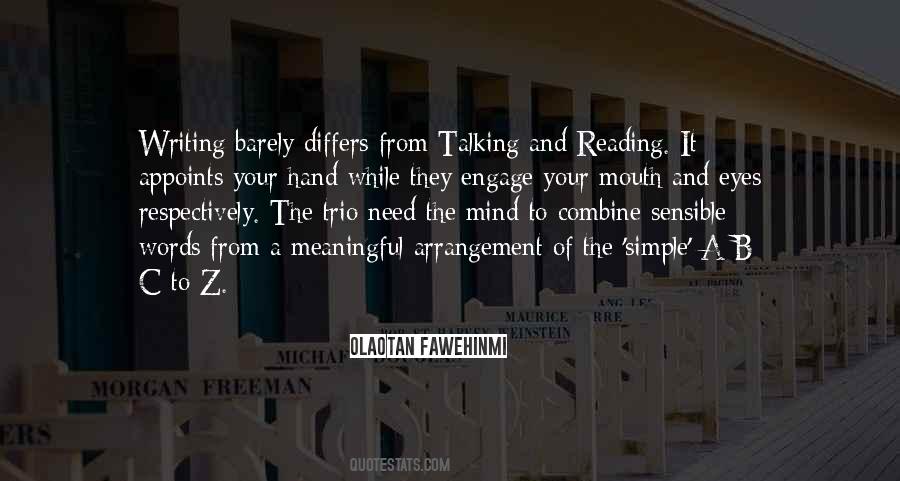 #43. You should be extending your stay among writers whose genius is unquestionable, deriving constant nourishment from them if you wish to gain anything from your reading that will find a lasting place in your mind. To be everywhere is to be nowhere.
-Seneca, Letters from a Stoic, II - Author: Denise Gigante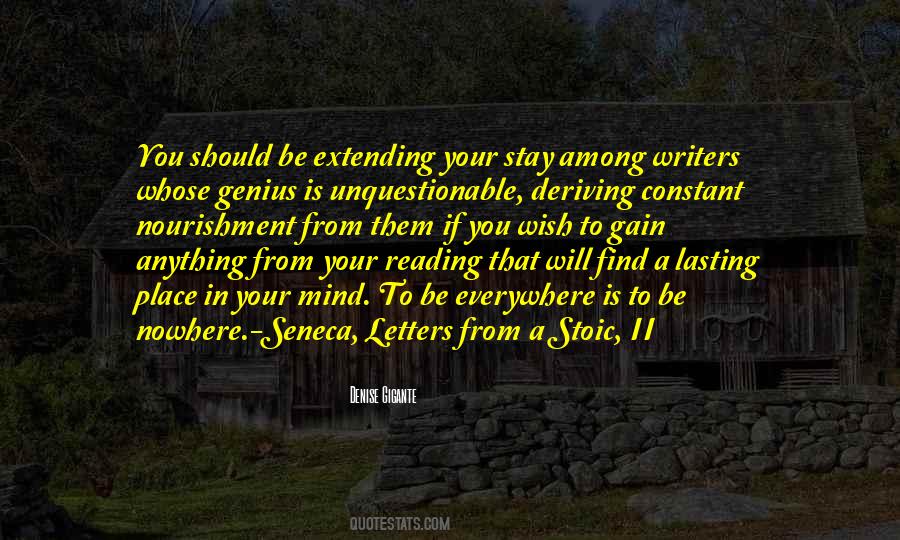 #44. When, after having read a work, loftier thoughts arise in your mind and noble and heartfelt feelings animate you, do not look for any other rule to judge it by; it is fine and written in a masterly manner. - Author: Jean De La Bruyere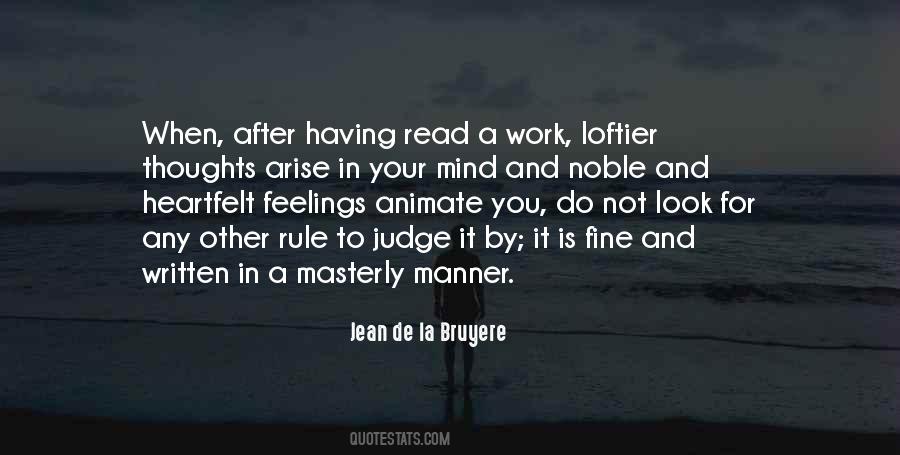 #45. Mediation on the Scriptures will renew your mind. - Author: Lailah Gifty Akita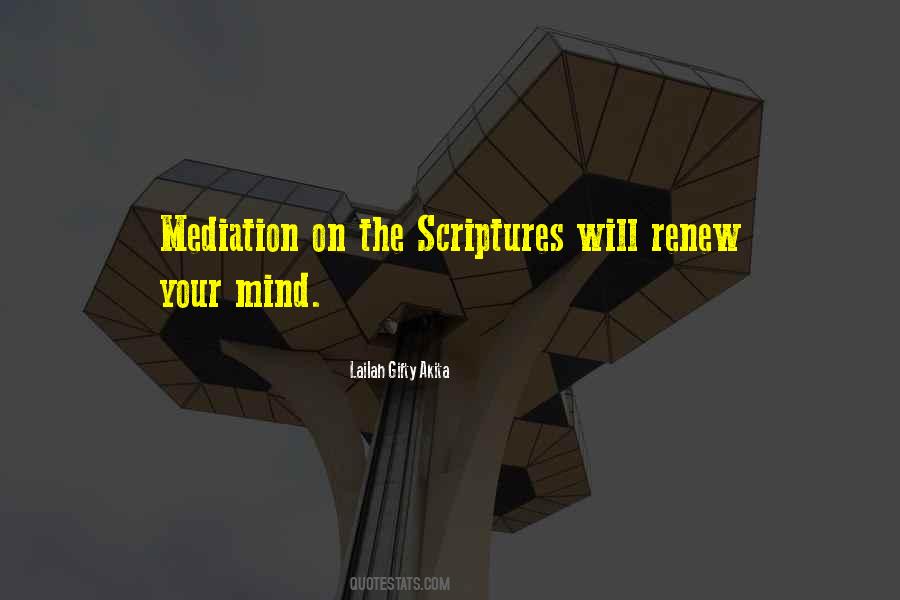 #46. I have to entertain, because if I don't entertain you, you're not going to continue reading. But if I'm not out to enlighten, or change your mind about something, or change your behavior, then I really don't want to take the journey. - Author: Bebe Moore Campbell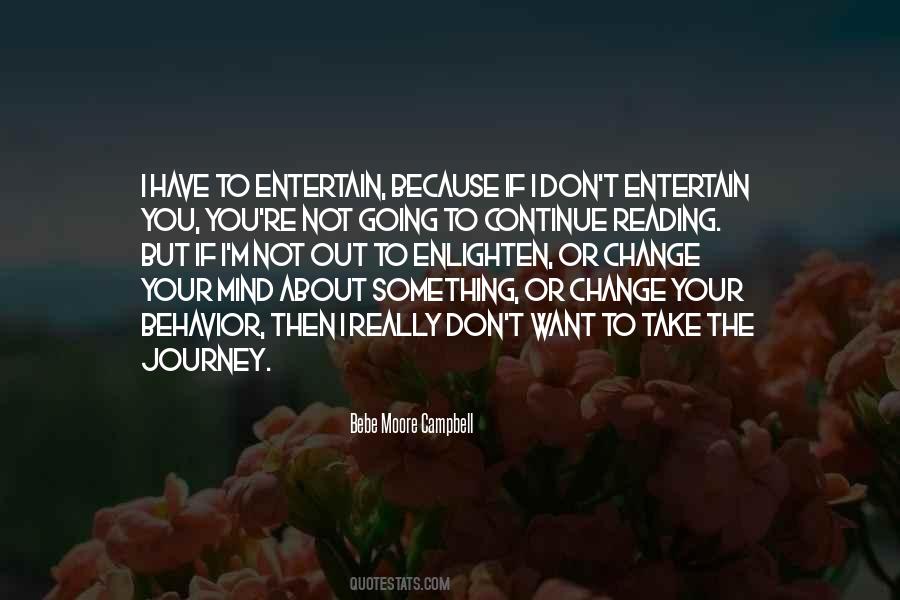 #47. When you discover the joy of reading, your mind opens to a world of wondrous discoveries and infinite possibilities. - Author: Julie Anne Peters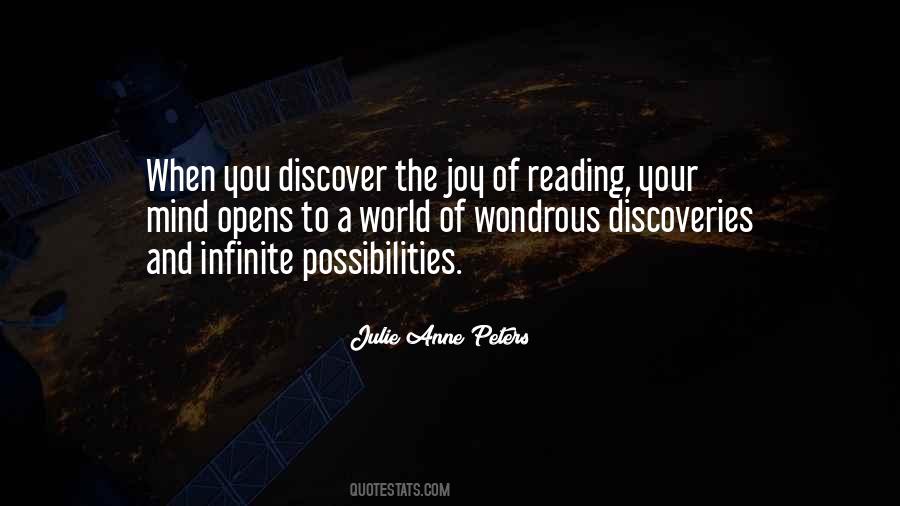 #48. The joy of reading can take you so many different places. In addition to intelligence and stretching your mind, I just think reading is so crucial in terms of being a well-rounded person. - Author: Gayle King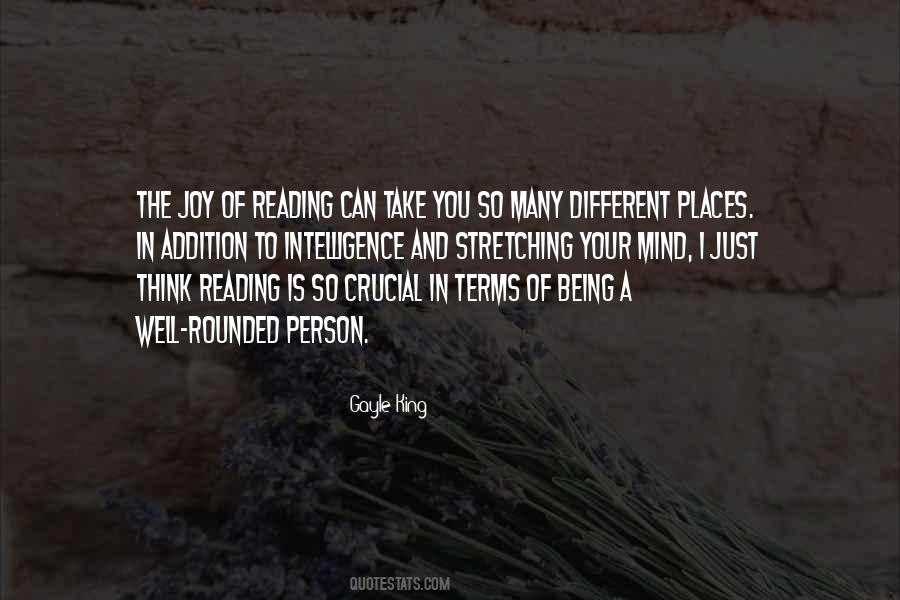 #49. Books are health food for your brain and dessert for your soul. Books are one of the few proven sources of mental exercise known to man. Reading is a workout for your mind. If your body needs thirty minutes of exercise a day, so does your thinker. - Author: Pat Williams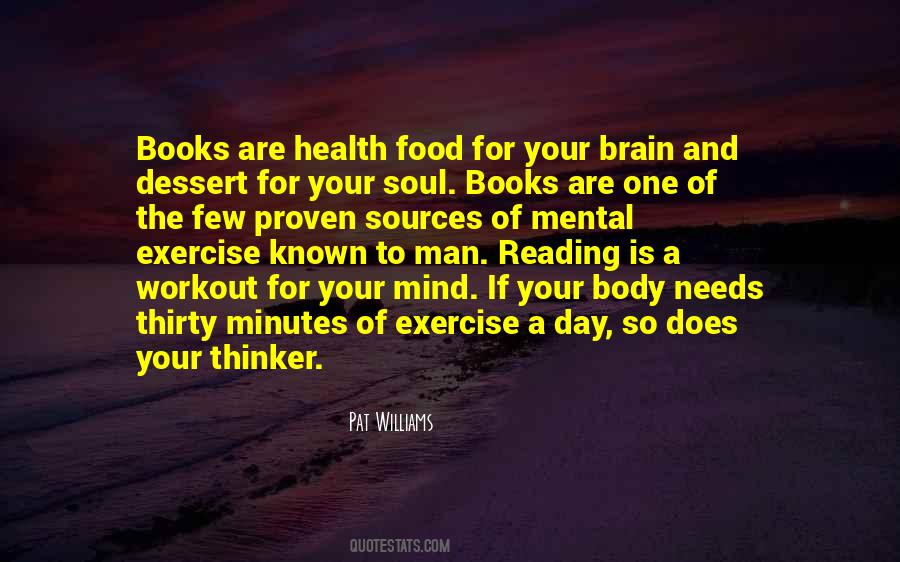 #50. There are no guarantees with love,' her father said, reading her mind. 'You can't hold some of it back, like a deposit, so you can get your money back if something goes wrong. You have to give yourself wholeheartedly, whatever the cost. - Author: Christine Stovell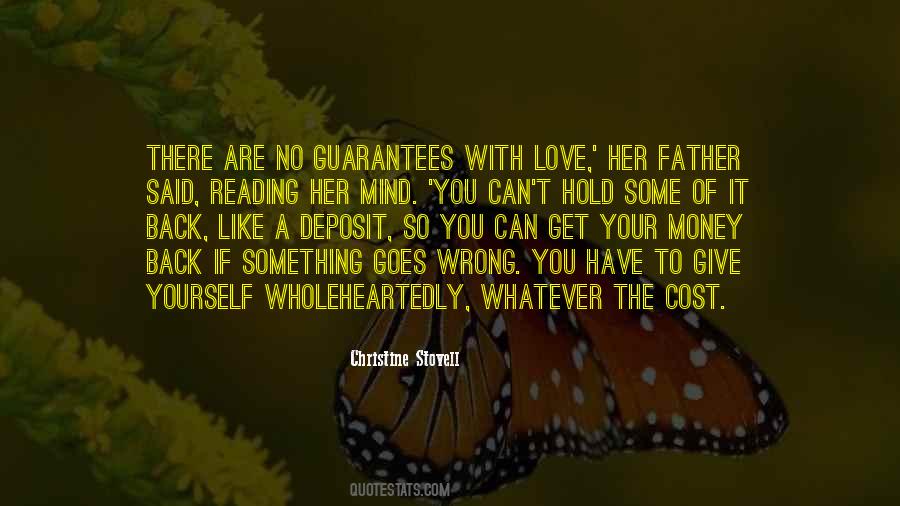 #51. When the old fears, hates, and worries that have haunted you for so long try to edge back in, they will in effect find a sign on the door of your mind reading occupied. - Author: Norman Vincent Peale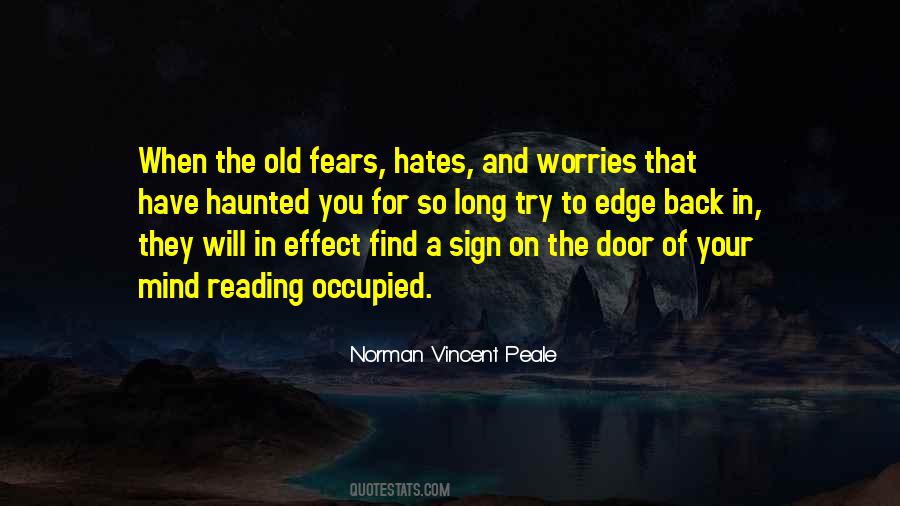 #52. Learn to read deeply. It will slowly open your mind's eye, and will be able to see the secret beauty of the universe and understand its deeper essence. - Author: Debasish Mridha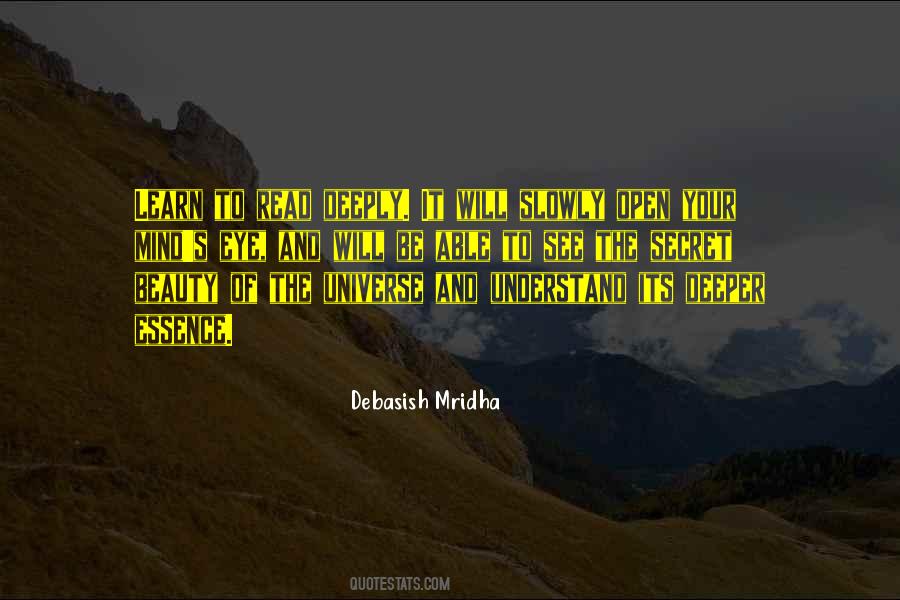 #53. Writing novels worth reading will bugger up your mind, jeopardize your relationships, and distend your life. - Author: David Mitchell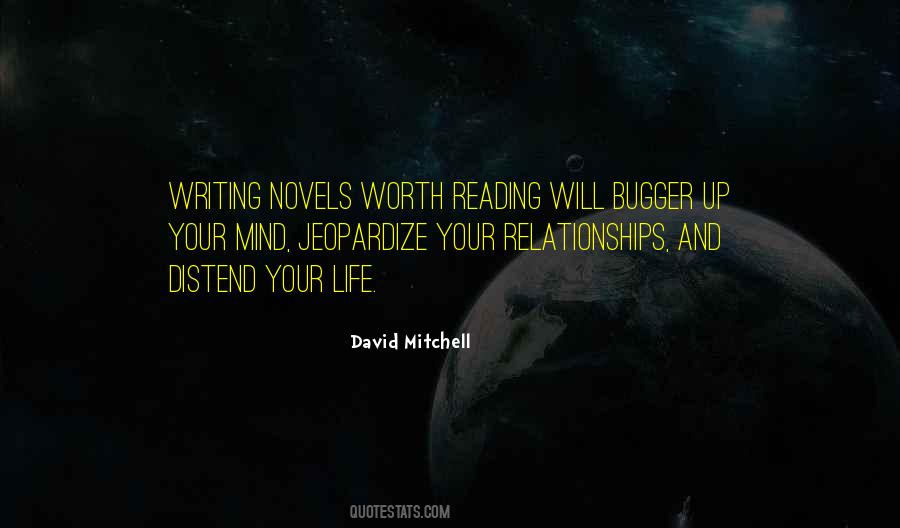 #54. Reading is a means of thinking with another person's mind; it forces you to stretch your own. - Author: Charles Scribner Jr.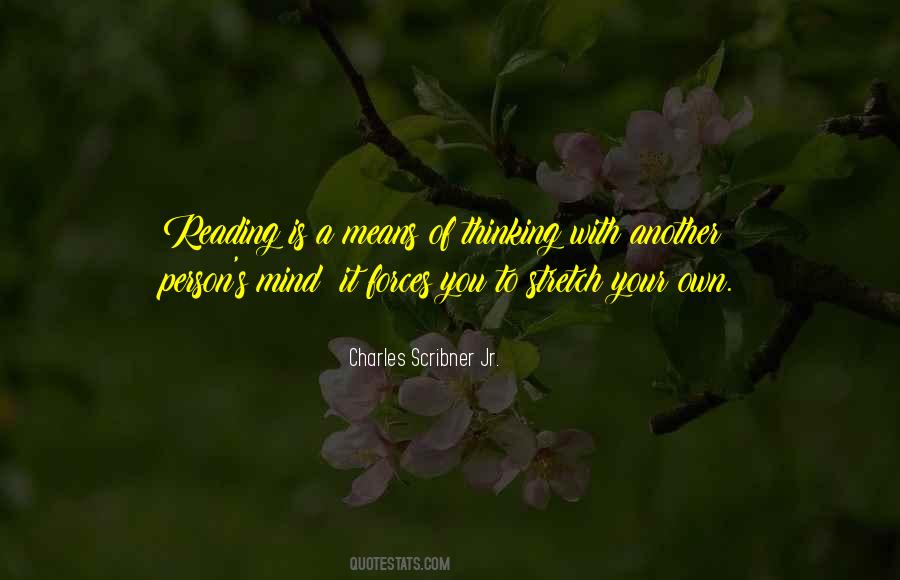 #55. Reading words puts them in your mind. You never forget. Even when you don't get a chance to dwell on the music, you can hear it in your head. - Author: Carolyn Davidson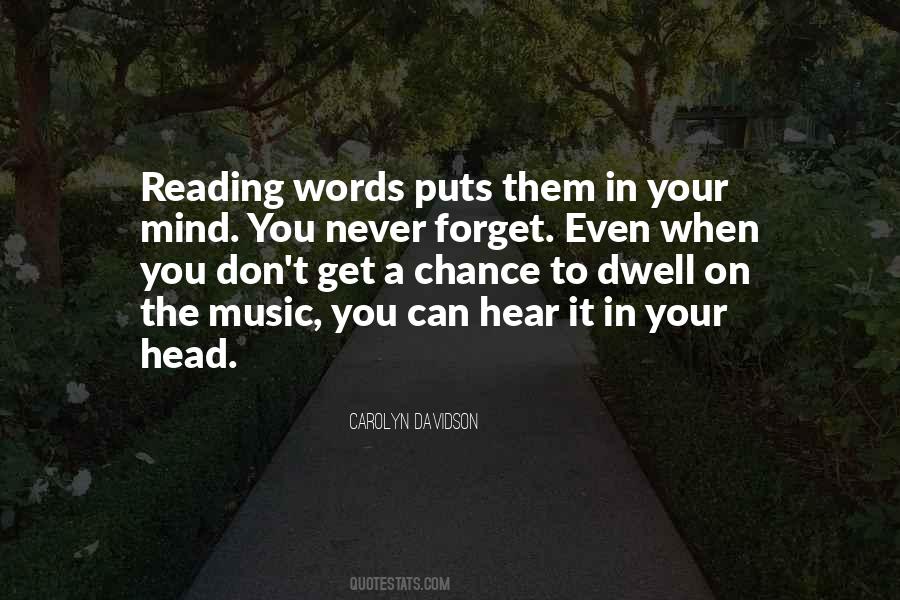 #56. By reading this, you've given me brief control over your mind. - Author: R.M. ArceJaeger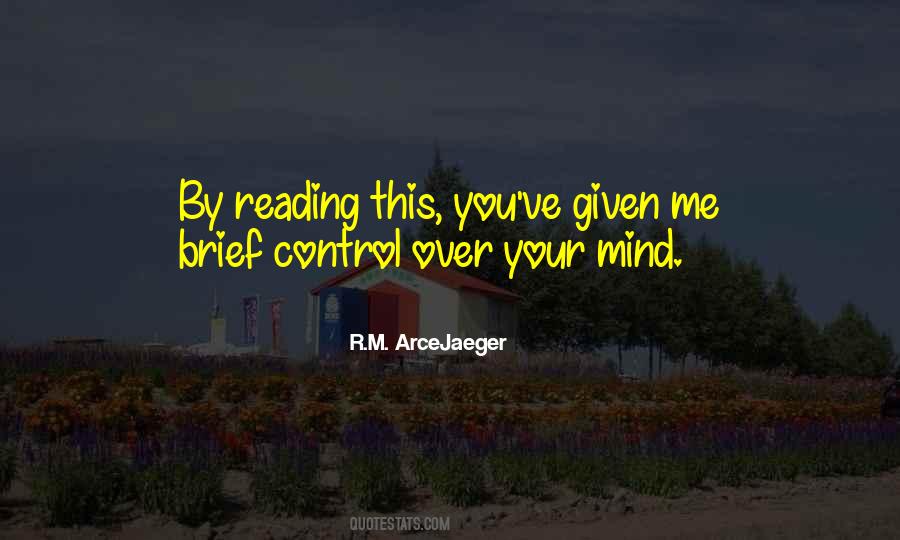 #57. Sit in a room and read
and read and read. And read the right books by the right people. Your mind is brought onto that level, and you have a nice, mild, slow-burning rapture all the time. - Author: Joseph Campbell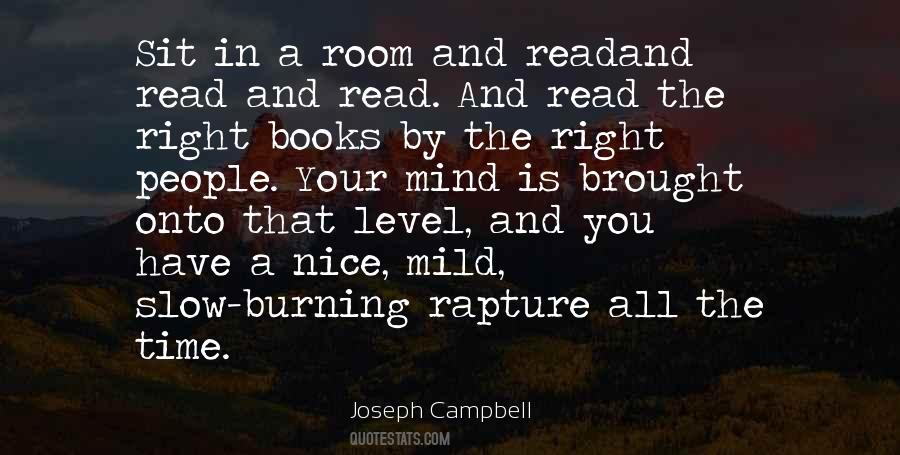 #58. The skill, the art of literacy is a gift. To read is to watch in your mind as a single word explodes into a confetti of images. Truly, of all the gifts given to man, reading is most sacred, For from words come dreams and from dreams come great tomorrows. - Author: Stephen Cosgrove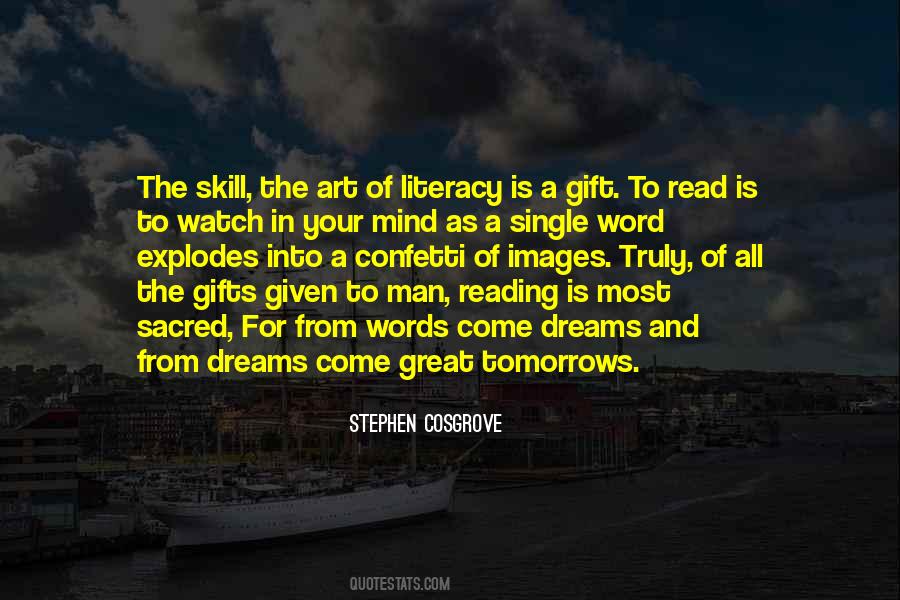 #59. Now you tell your father not to teach you any more. It's best to begin reading with a fresh mind. You tell him I'll take over from here and try to undo the damage
- Author: Harper Lee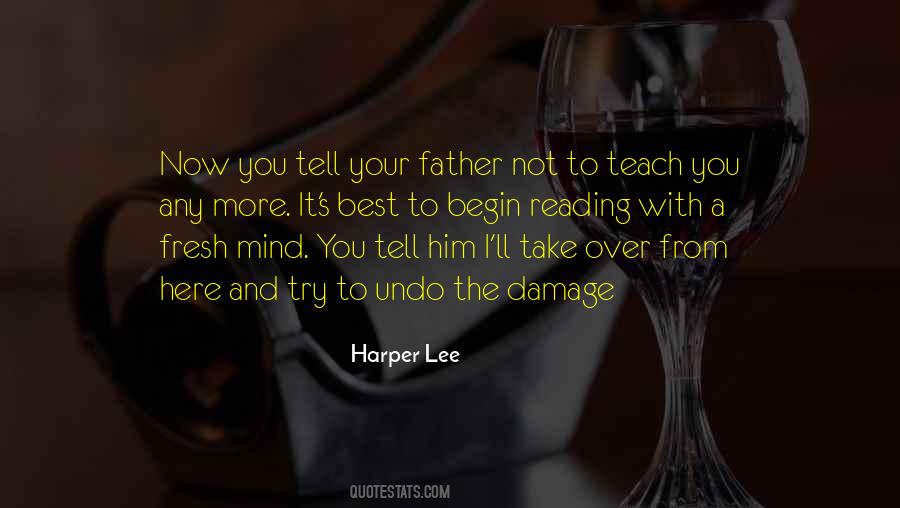 #60. Having a dog or cat will open your heart. Reading a book will open your mind. Having both a pet & a book...absolute heaven. - Author: Mark Rubinstein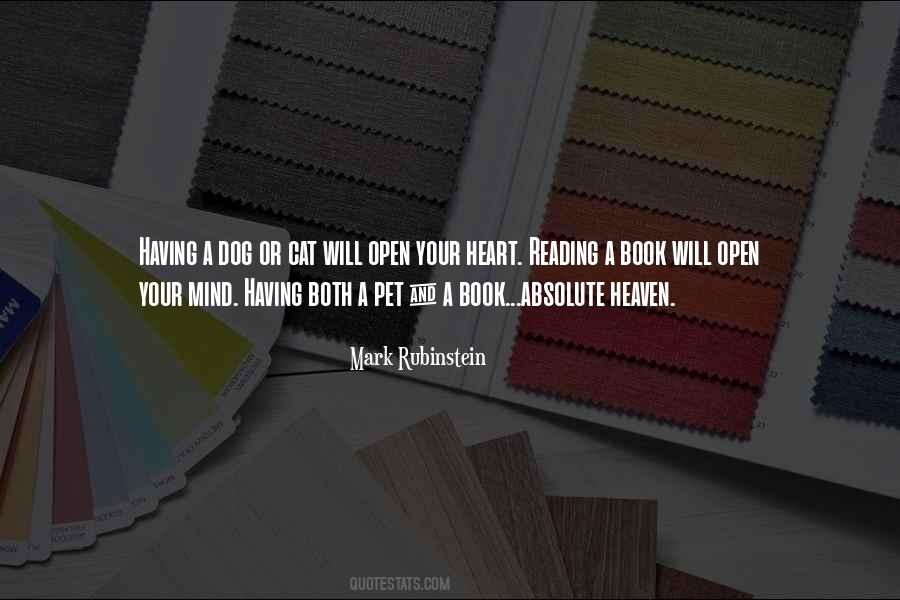 #61. Was a fast easy reading, Good to take your mind off of anything serious for a while - Author: Janet Evanovich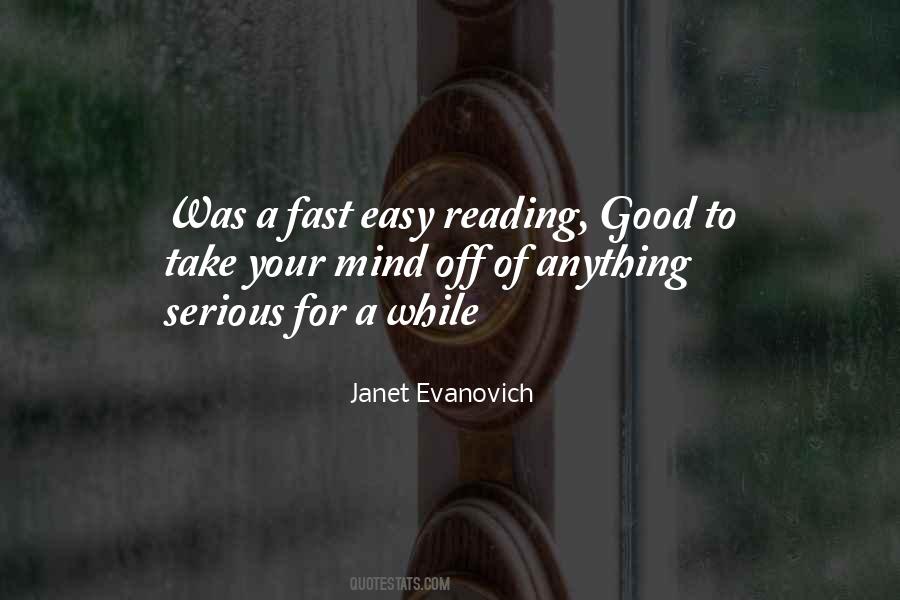 #62. I look around. You'd have to be out of your fucking mind to write, as Marcus did, that Black History Month is a ploy to lever more entitlement money out of Congress, but the ho-hum nonresponse of the white crowd reading this bit of transparent insanity is, to me, even weirder. - Author: Matt Taibbi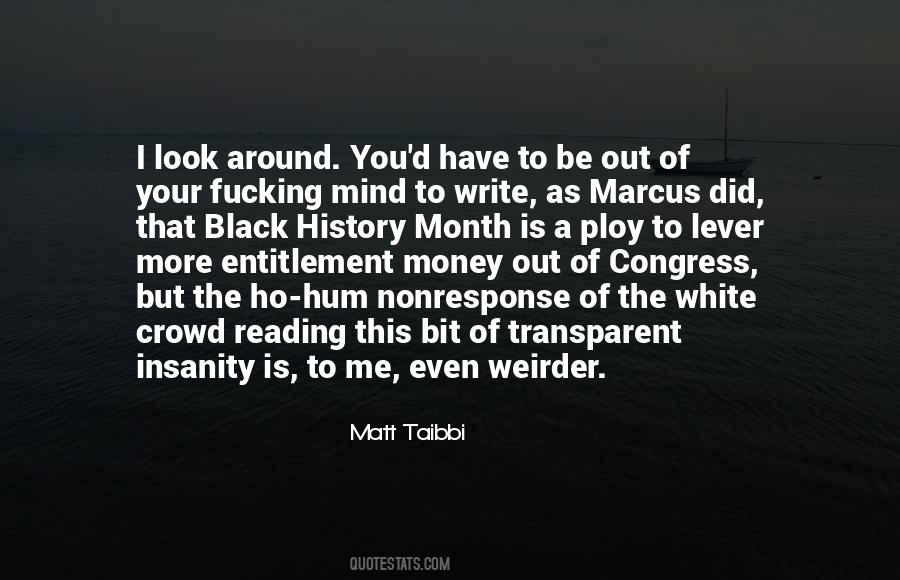 #63. He's not your typical prince, more like a square peg in a round hole, kind of like me. He's the sort of guy who wouldn't mind reading side by side on a date. - Author: Jodi Picoult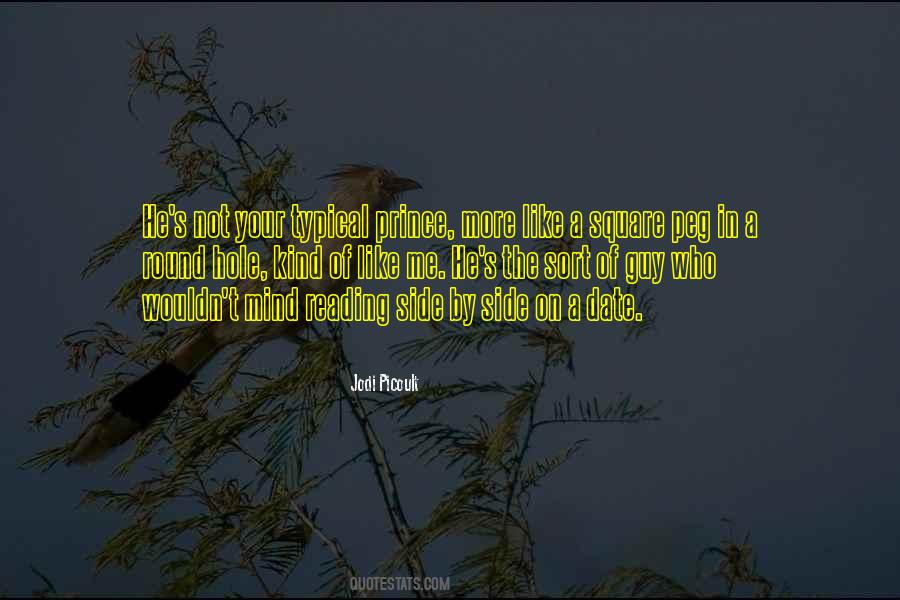 #64. Your mind will never be dull, if you remember there is never enough to learn for it to be to full. - Author: Benny Bellamacina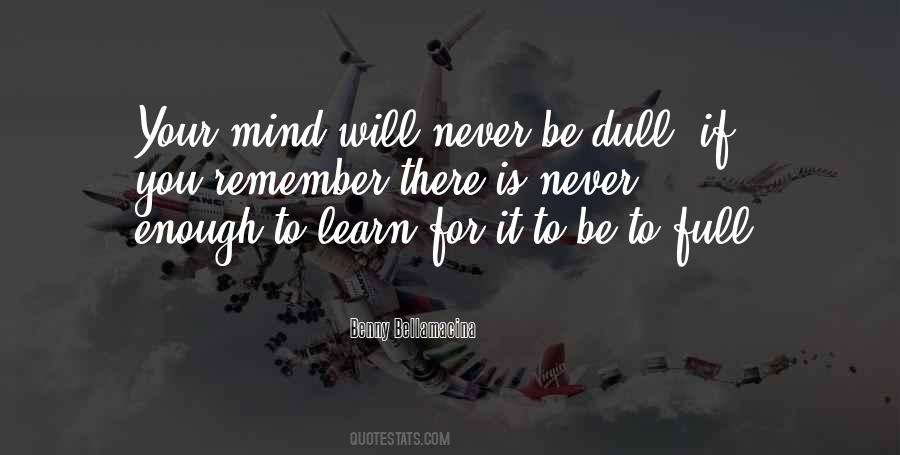 #65. You will get little or nothing from the printed page if you bring it nothing but your eye. - Author: Walter B. Pitkin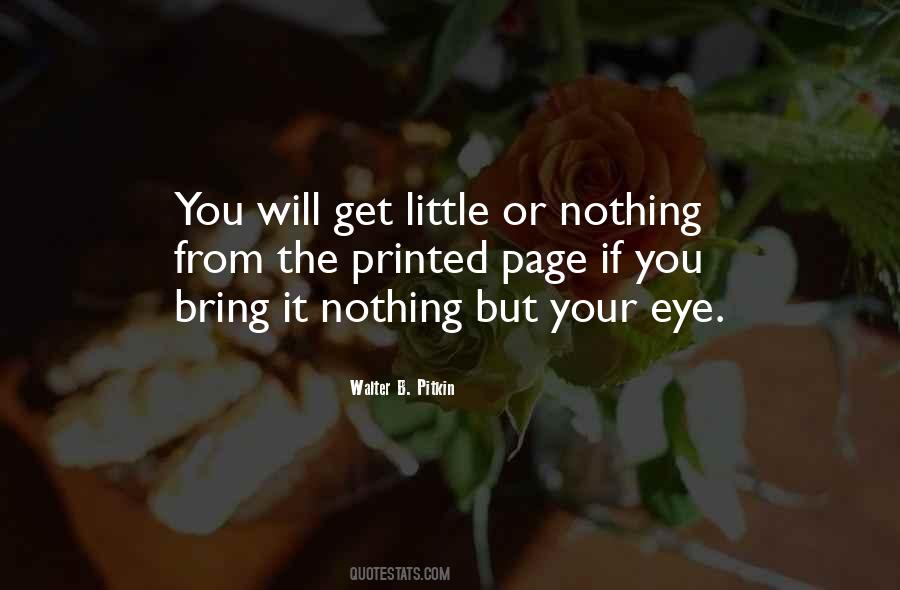 #66. When you are working well with your
energy, you are also making the best
expression of your personal power ... By
reading your own energy, by becoming
aware of the lens through which you see
your world, you can change your mind and change your life. - Author: Caroline Myss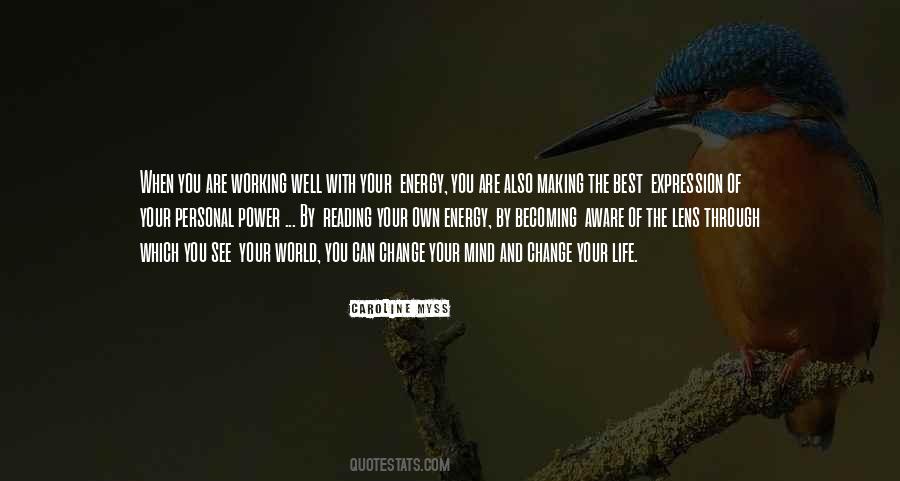 #67. It was a joy! Words weren't dull, words were things that could make your mind hum. If you read them and let yourself feel the magic, you could live without pain, with hope, no matter what happened to you. - Author: Charles Bukowski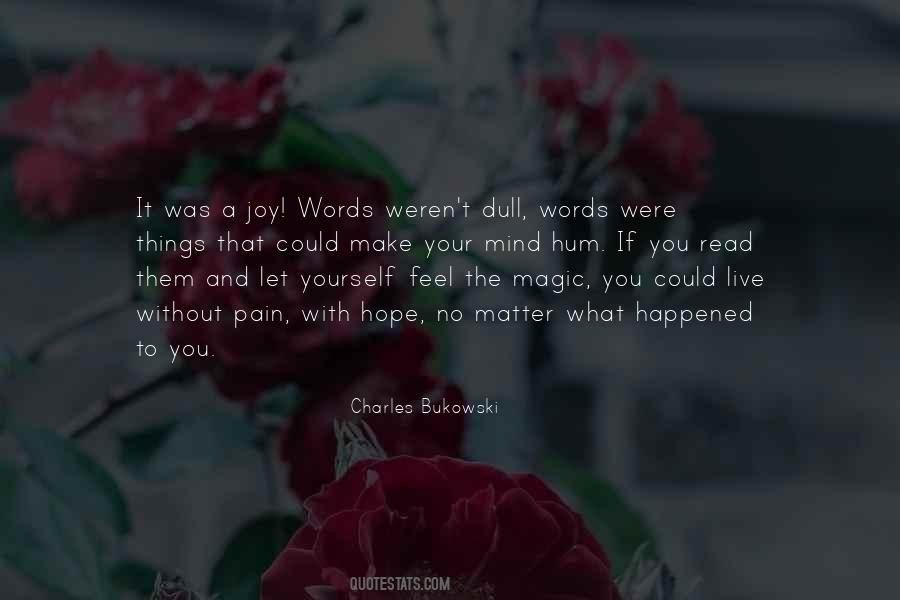 #68. I don't like when people say 'I can't believe I wasted the whole day reading.' Diving into another world to free your mind is hardly a waste. - Author: Christopher Stocking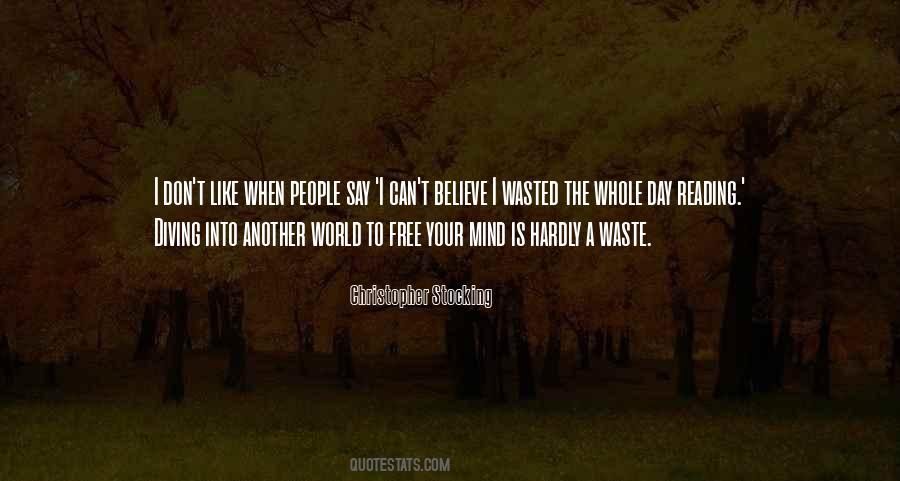 #69. Books can be viewed as food for the mind

Stop reading and your brain can become anemic

Read junk and your thinking can become malnourished

But handle your diet with books well and your life long learning never stops - Author: Jonathan Frakes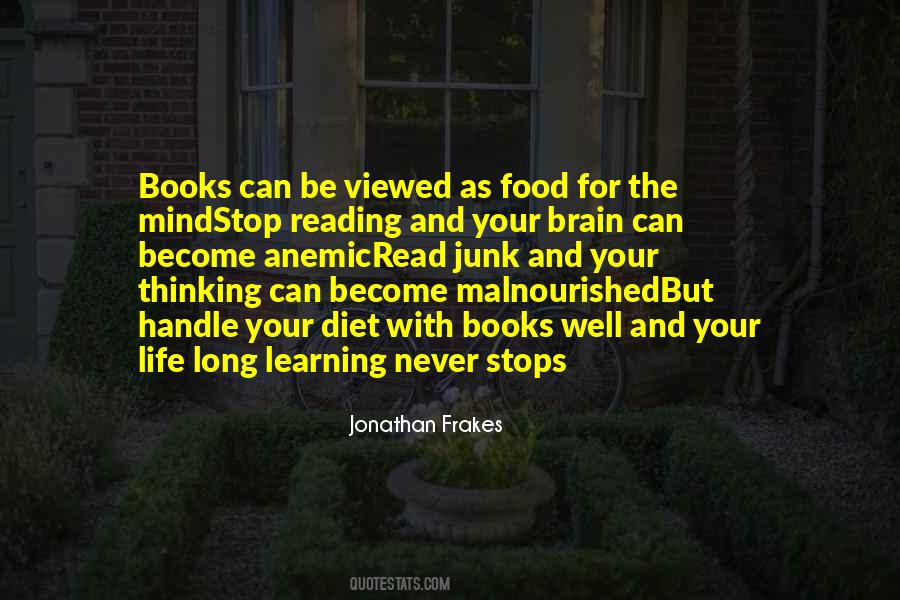 Famous Authors
Popular Topics